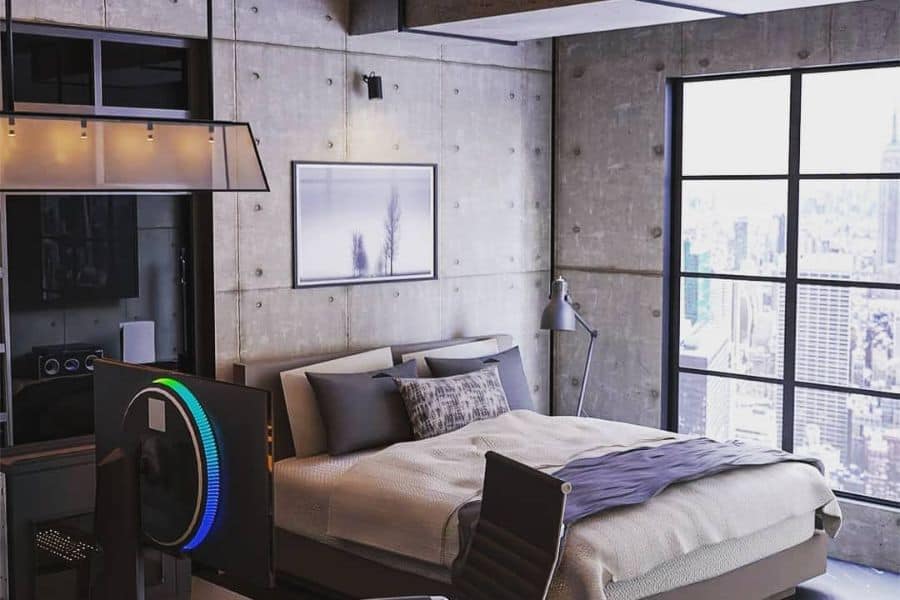 60+ Creative Aesthetic Bedroom Ideas
In modern design lingo, the aesthetic is really just another word for trend. This term is largely used by teens and young adults to describe any fashion or home decor style that elicits a certain emotion or atmosphere.
Unlike home design trends of the past, today's most popular aesthetics don't sacrifice comfort or functionality for a better appearance. Instead, these decor ideas perfectly blend the visual and practical aspects of the living spaces they're used in.
Keep reading for some of our favorite aesthetic bedroom ideas and how to adapt these trends to fit your own personal style.
1. Play With Boho Design Elements
Creating an aesthetically pleasing bedroom starts with a bohemian aesthetic. Pick natural linens like cotton and linen to add earthy tones. Layer the bedding with boho blankets and sheer curtains for extra flair. To bring bohemian vibes to the room, introduce unique furniture pieces like a wicker chair or wooden bench.
Stylized lighting is key for setting the mood in an aesthetic bedroom. Hang string orbs or fairy lights at different levels for a dreamlike atmosphere. Finally, pack the room with beautiful plants of various shapes, heights, and colors to make it a zen space that'll instantly relax you when you walk in.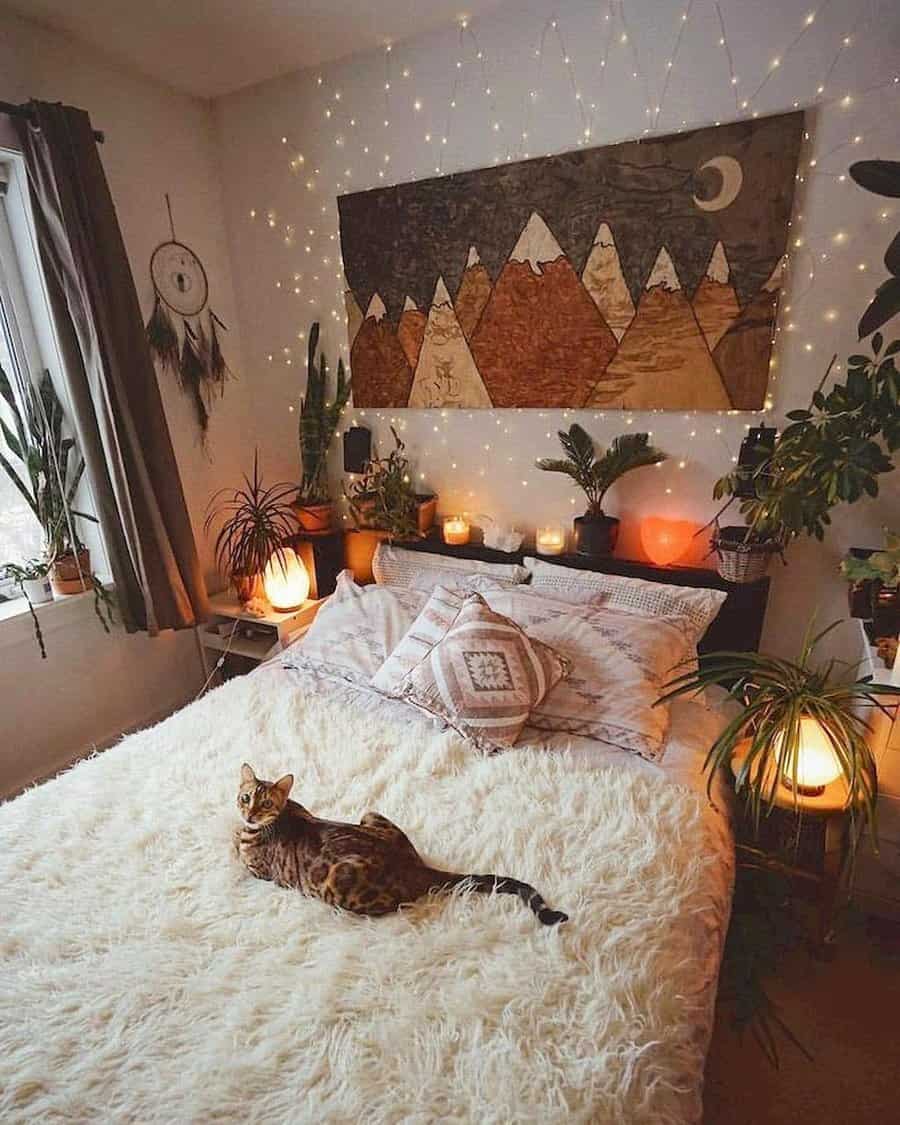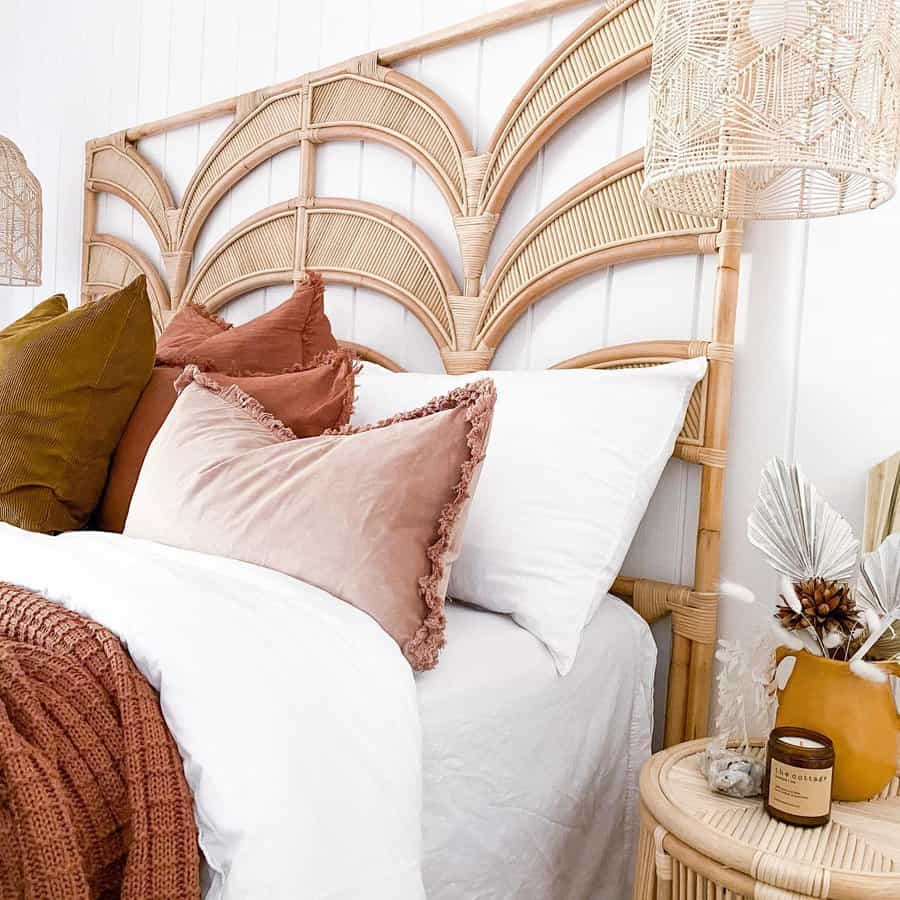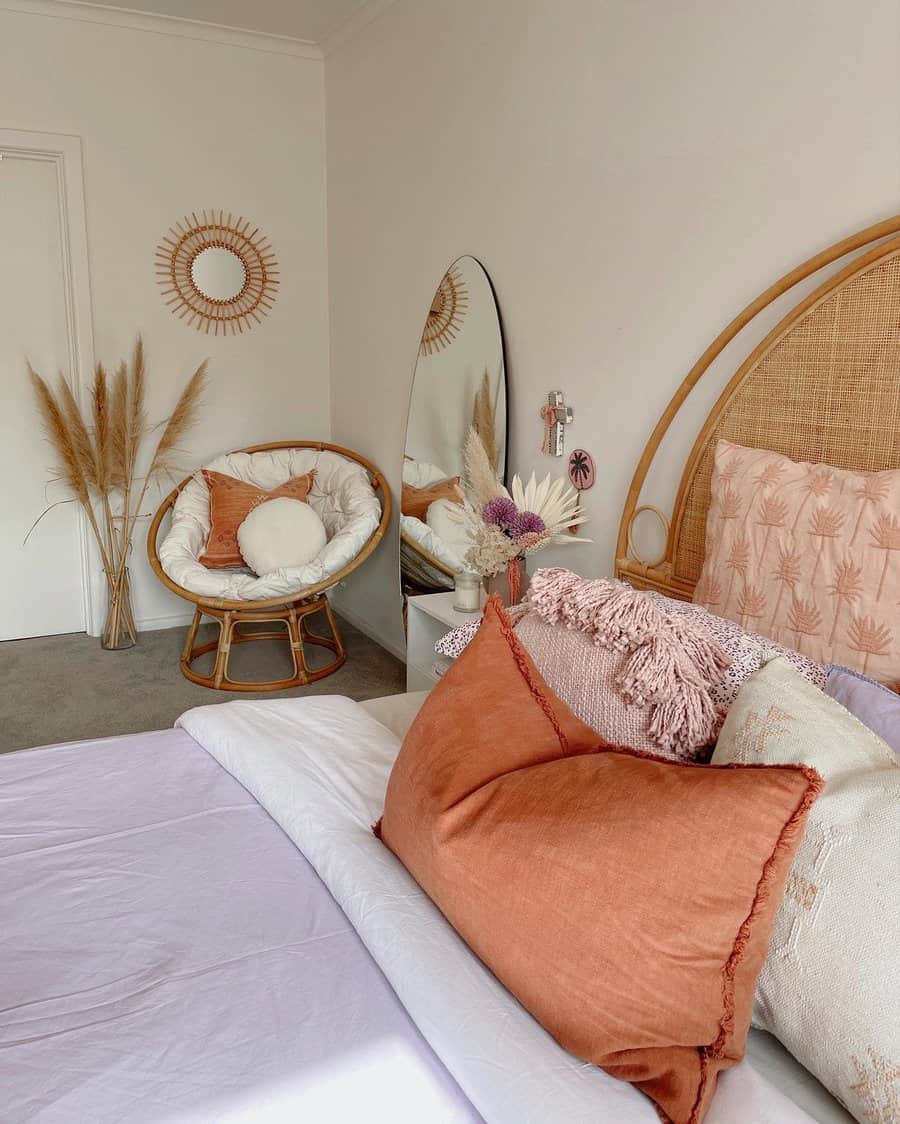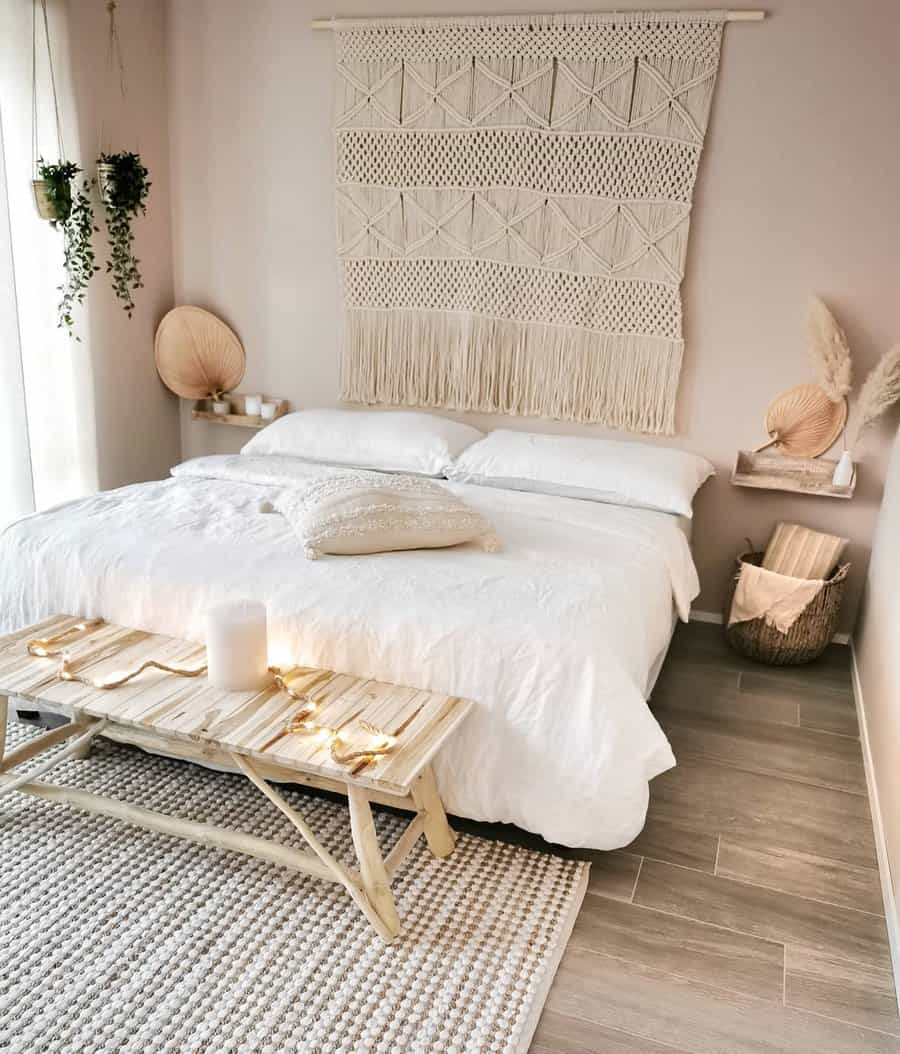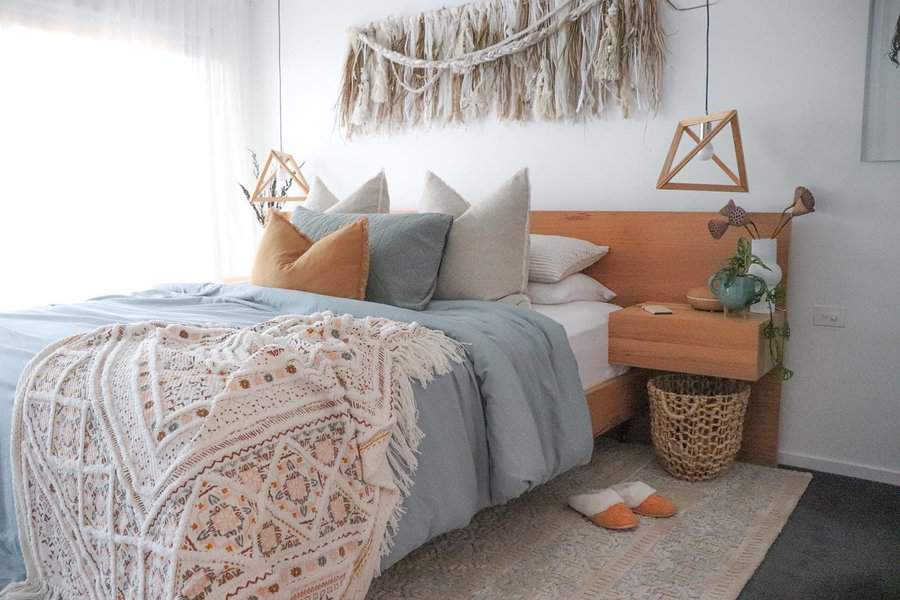 2. Make A Relaxing Vibe With Coastal Interior
Transform your bedroom into a tranquil coastal oasis by incorporating driftwood, woven rope, and dried flowers. Driftwood can be used to create unique wall art or accessories around the room like hanging driftwood clocks, driftwood lamps, driftwood mirrors, or driftwood frames.
You can decorate walls or shelving with cushions and wicker baskets filled with woven rope and dried flowers to bring warmth and texture to your space. Make the most of natural materials like driftwood and incorporate them into your furniture pieces such as driftwood tables, driftwood chairs, or driftwood bed heads.
To complete the look, scatter some coastal-themed accents such as seashells, starfish, and coral branches or go all out with blue-painted textured walls derived from beach scenes!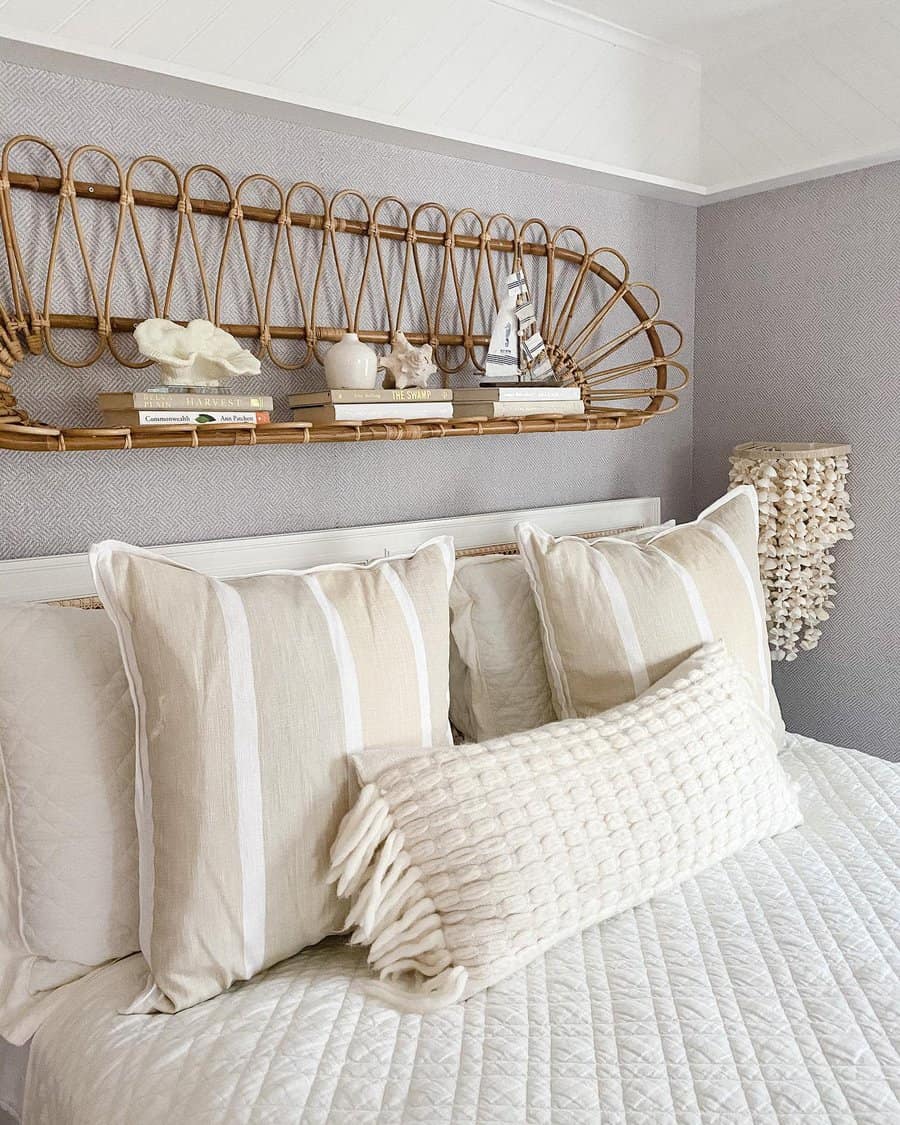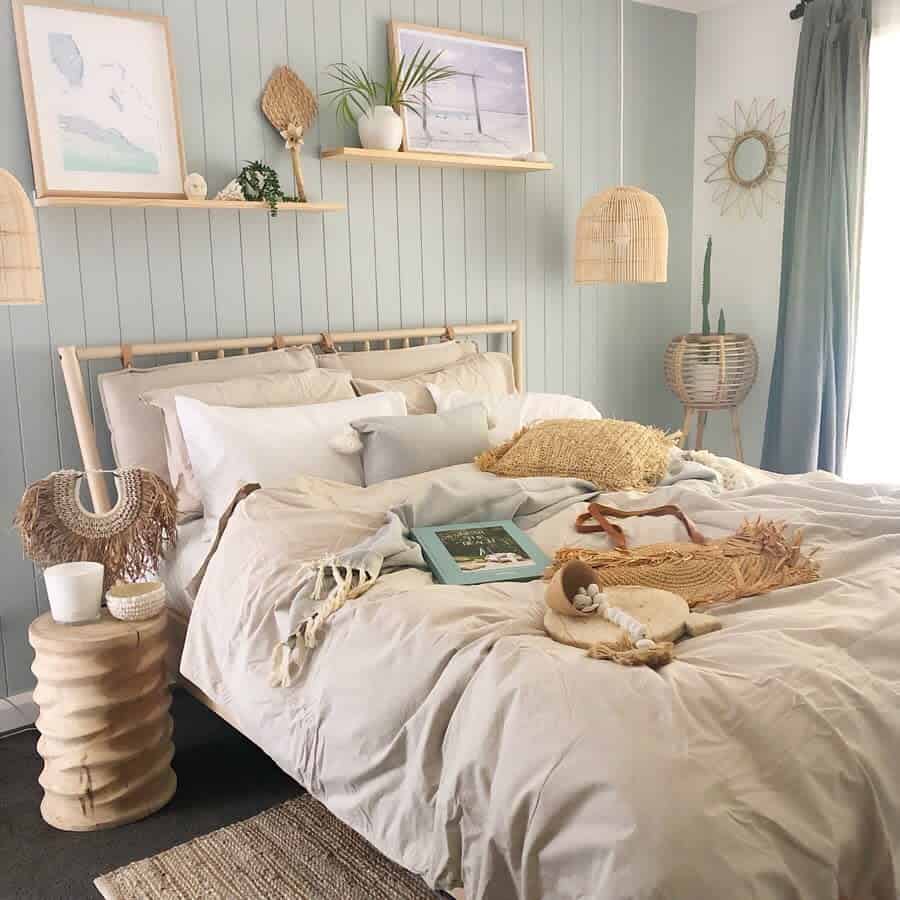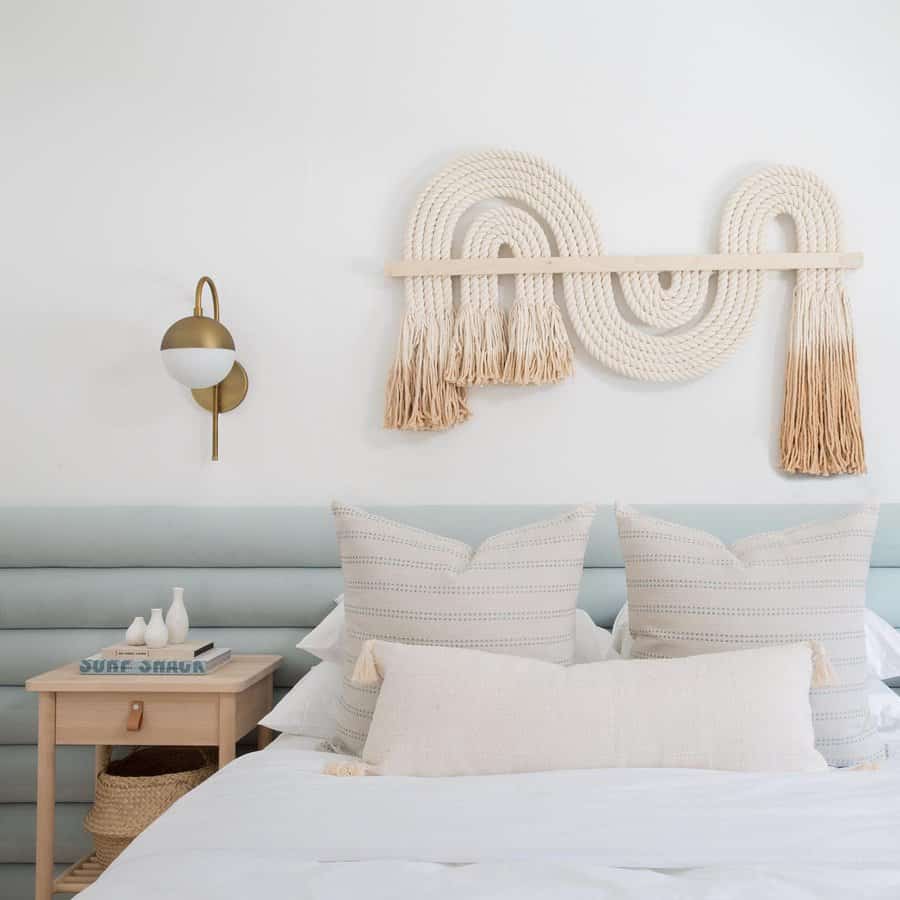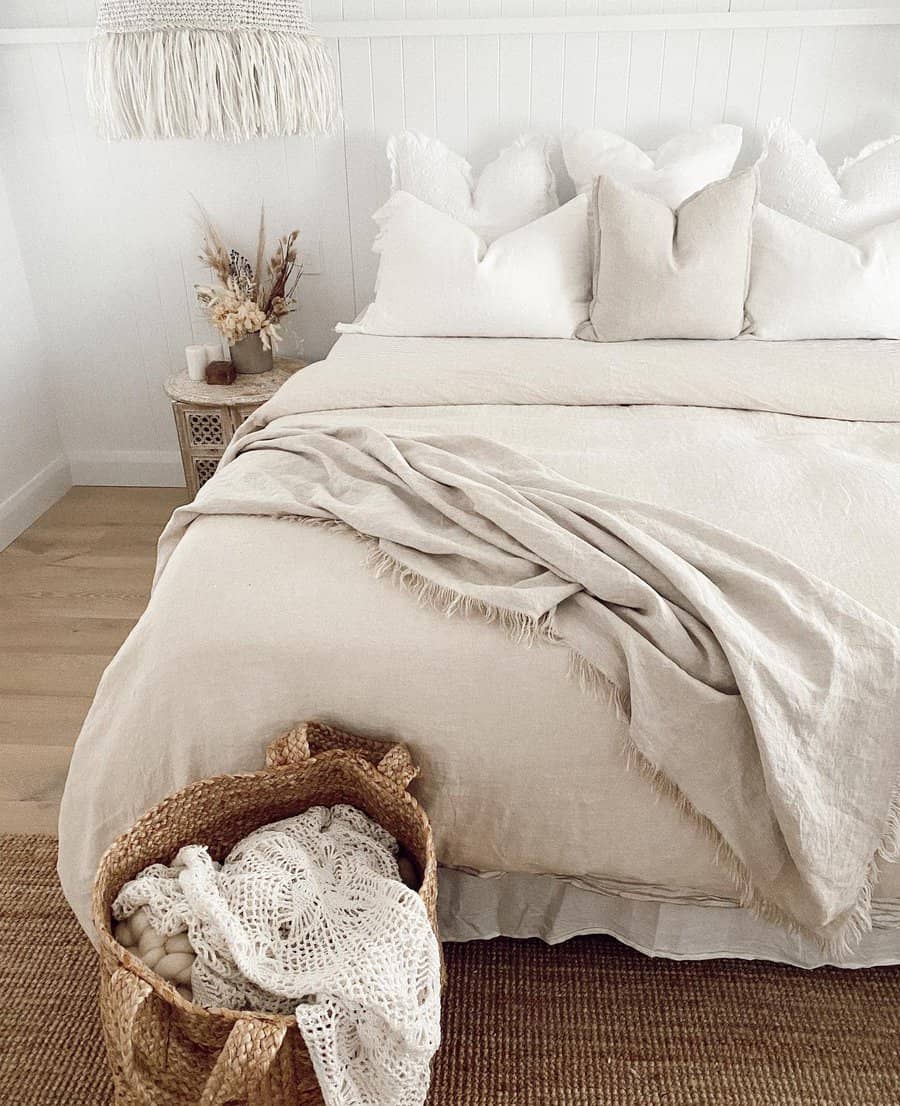 3. Model Your Room With Pastel Pink Tones
If you're looking for a bedroom with a romantic and feminine feel, pastel pink is a great choice. Incorporating pastel pink walls into the bedroom creates an inviting and peaceful atmosphere. When decorating with pastel pink, think of subtlety rather than a bold statement.
It's important to keep the pastel tone soft by strategically adding bedding or another décor in shades of pink or a similar pastel color. This will help maintain the pastel pink mood without overpowering the space. With careful decoration, you can easily create an inviting pastel pink bedroom that's sure to bring out your romantic side.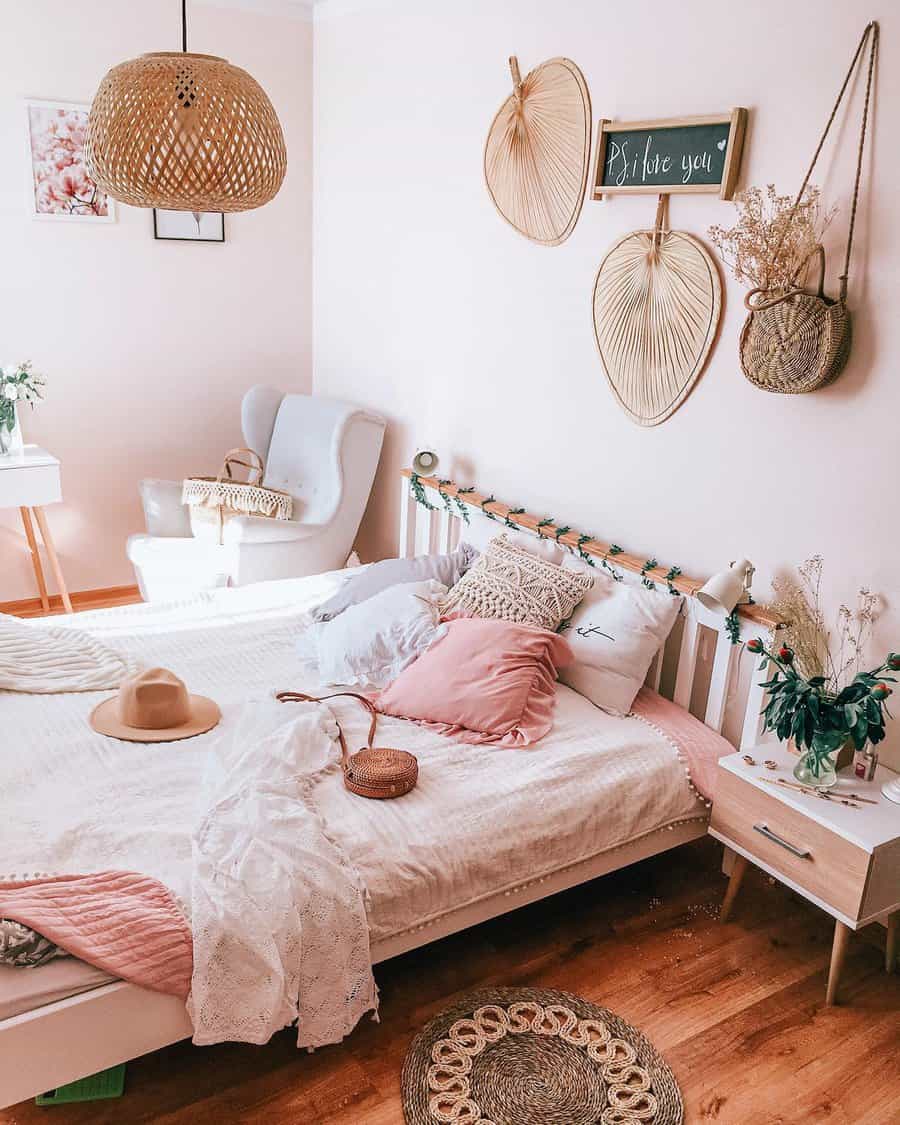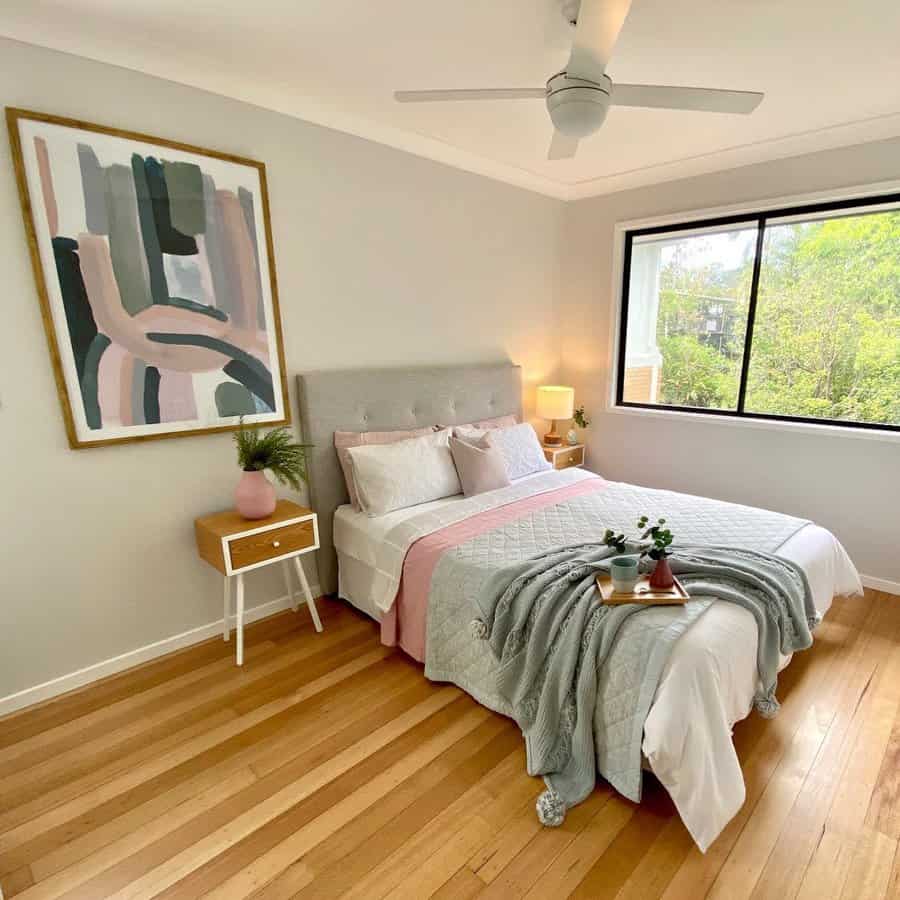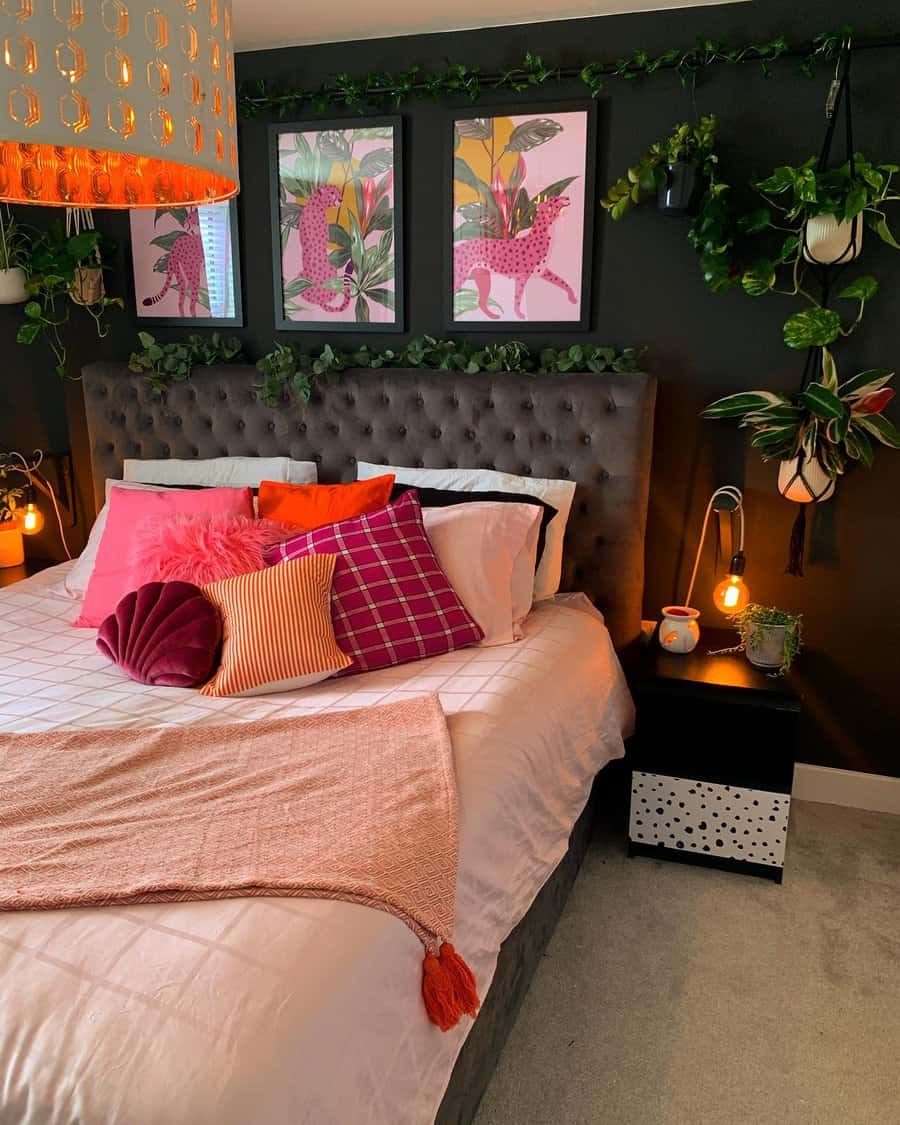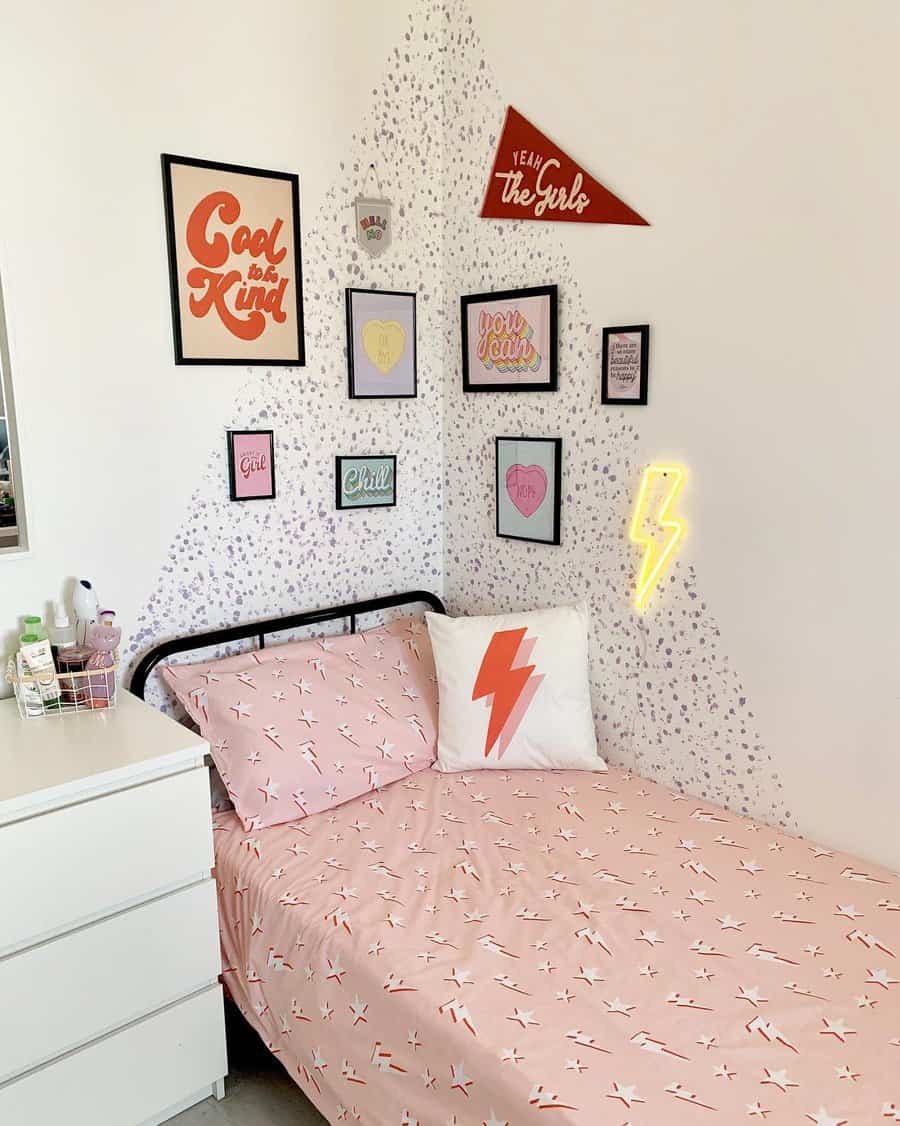 4. Cottage Core For A Soft Feminine Aesthetic
If you want to make your bedroom feel as cozy and quaint as a cottage, try shiplap walls! The shiplap look evokes a feeling of being connected to the outdoors, which is perfect for any room in the house.
But shiplap isn't the only thing that makes cottage core bedrooms so inviting; curtains with delicate patterns such as gingham or jewel tones like emerald green can bring personality to your space. To complete the look, hang a wreath above your bed or window.
This will add both charm and tranquility to your cottage core bedroom, giving it an unmistakable aesthetic.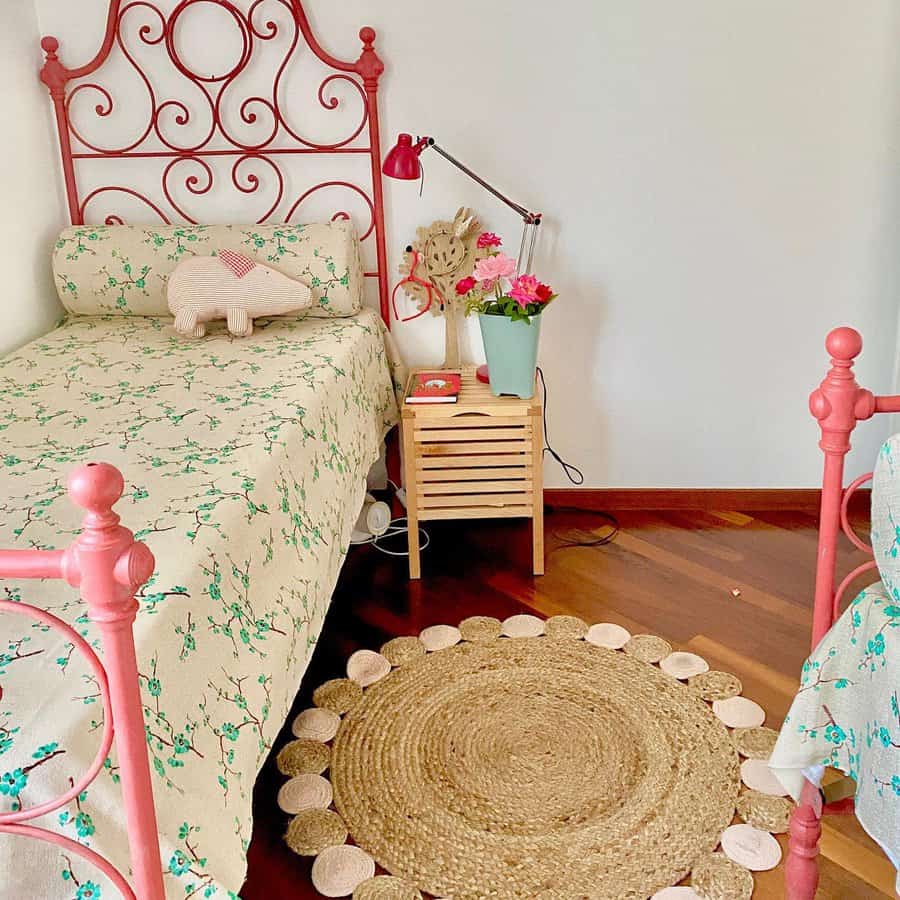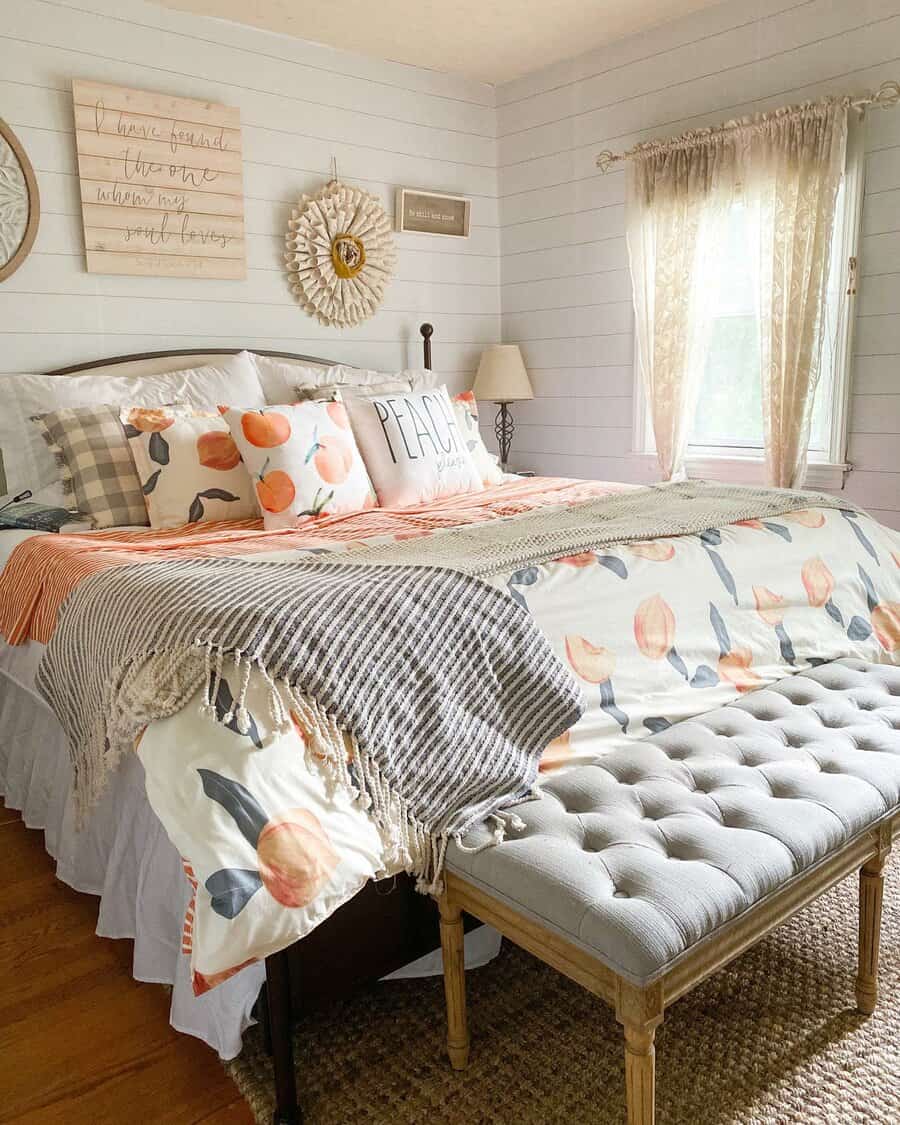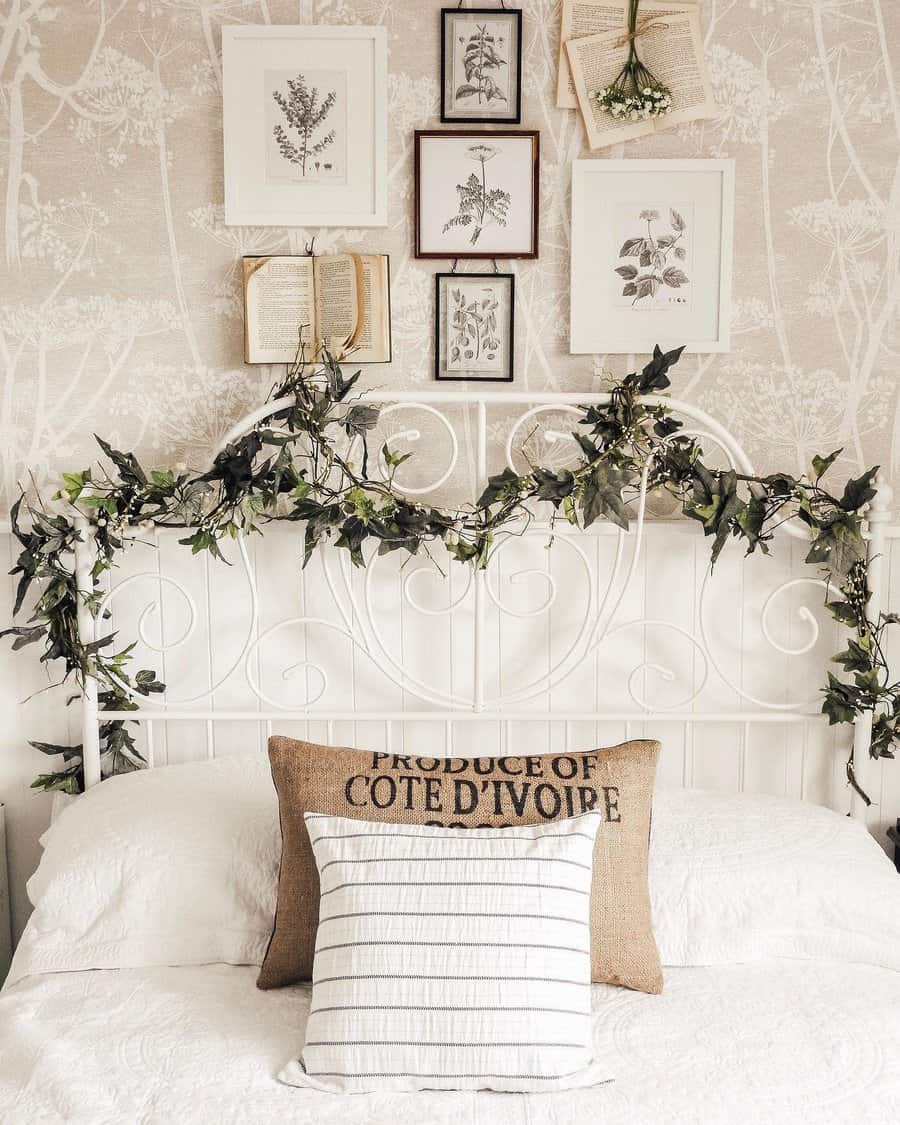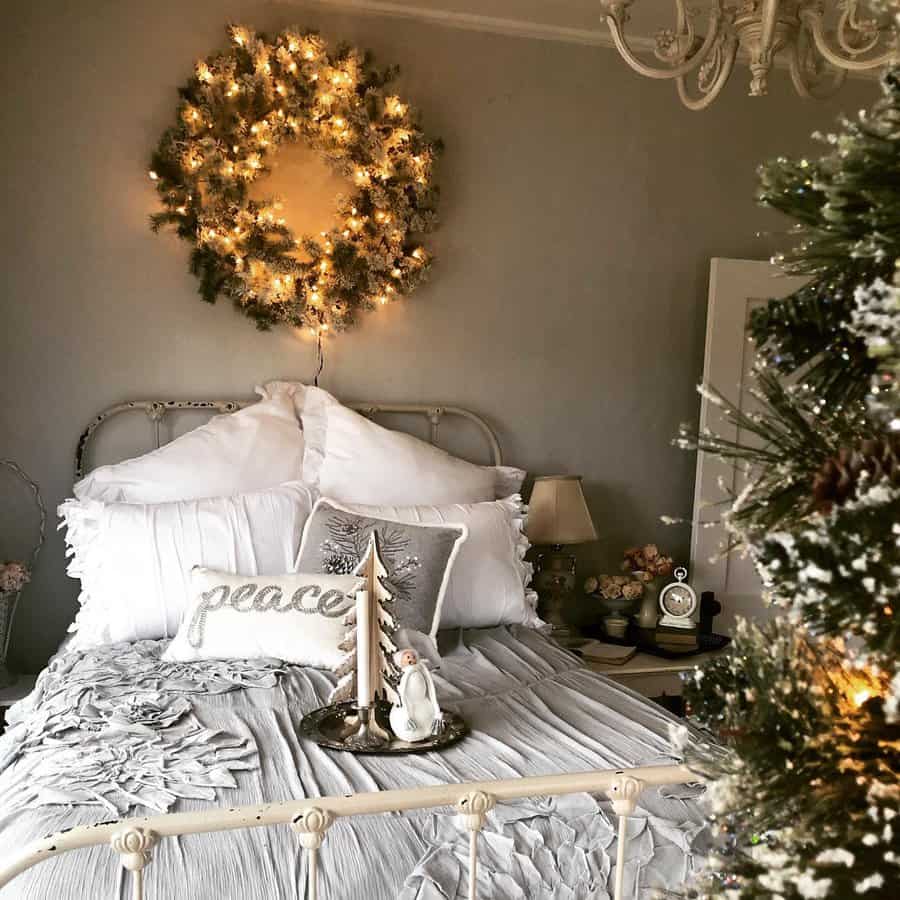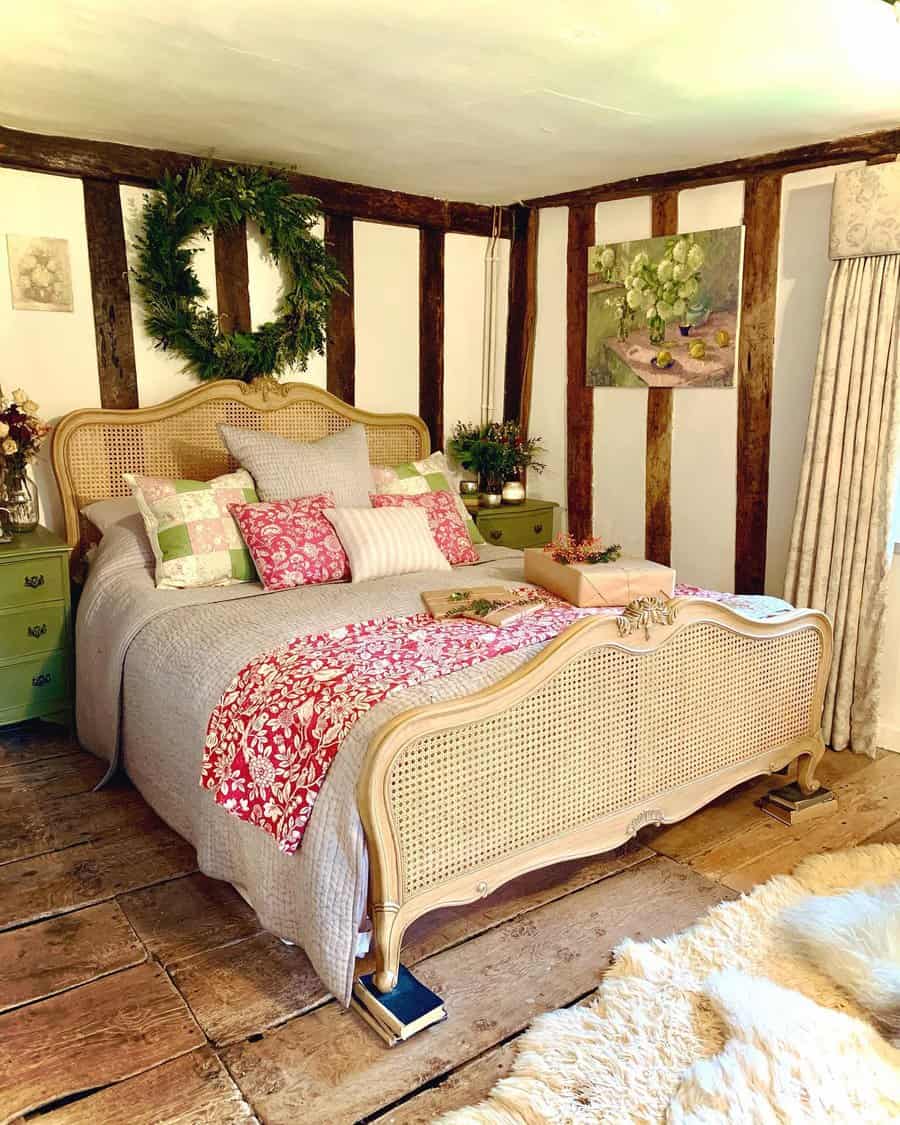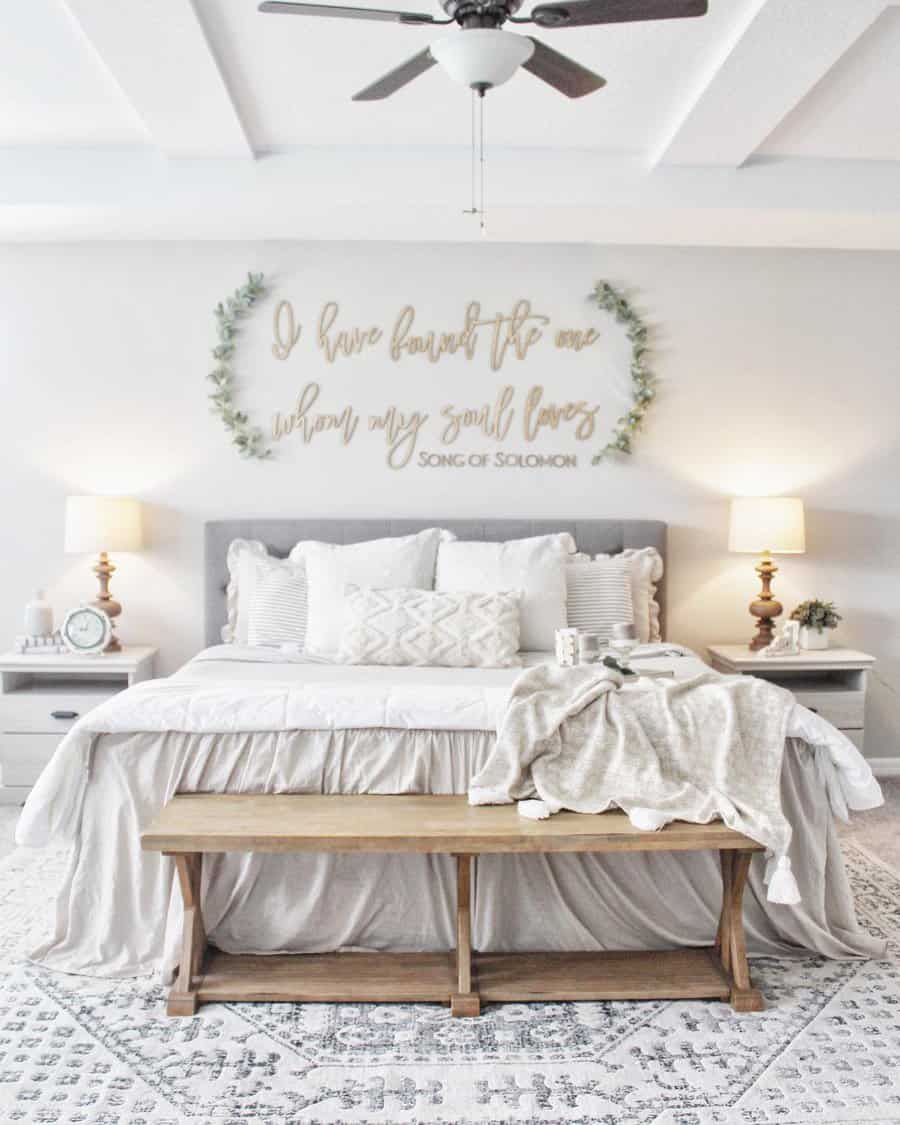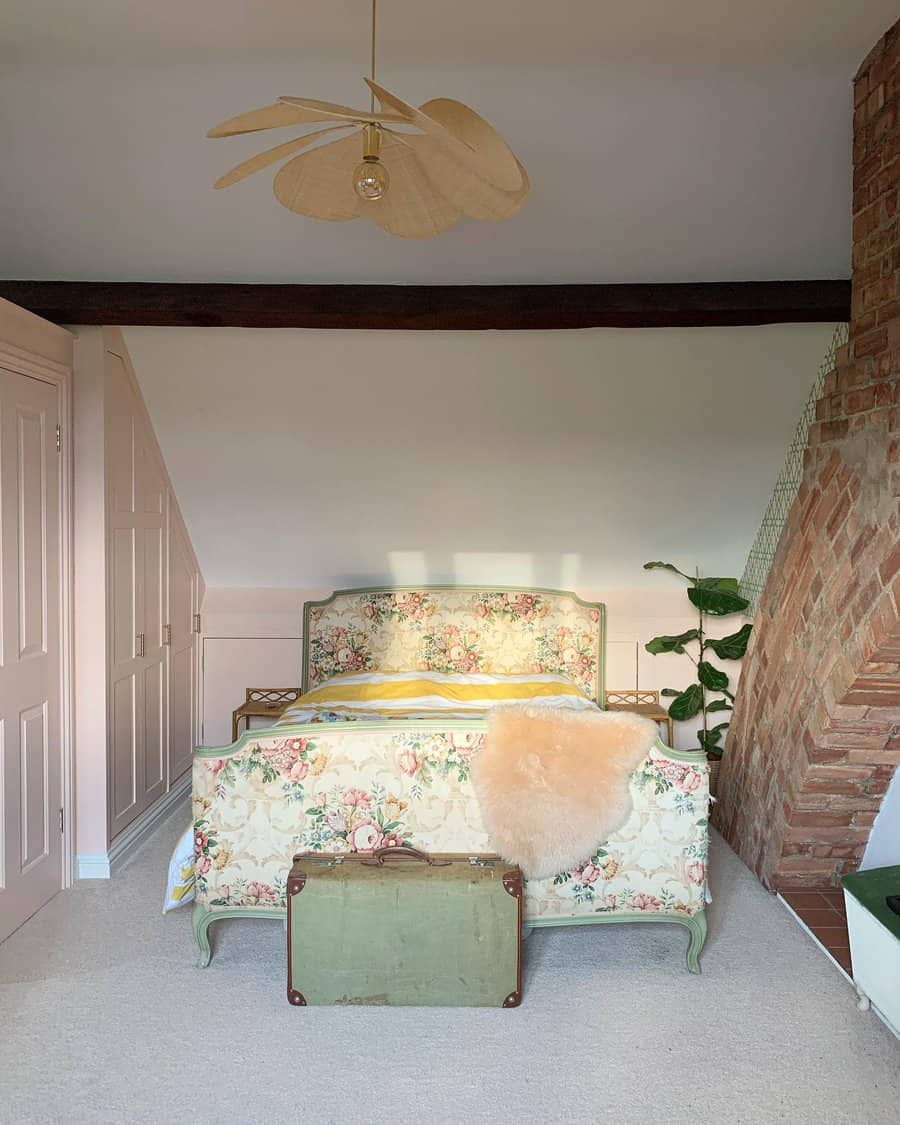 5. Install A Chandelier For A Sophisticated Glam Look
Creating a sophisticated glam bedroom is an easy and enjoyable task. Spice things up with a chandelier put up in the center of the room; it's sure to draw the eye and give your bedroom some added flair.
You can also add silver wall fixtures, such as those shaped like stars or butterflies to further showcase your eye for style. Finish the look off by adding hints of color with pillows and rugs, creating a room that not only looks luxurious but is comfortable too.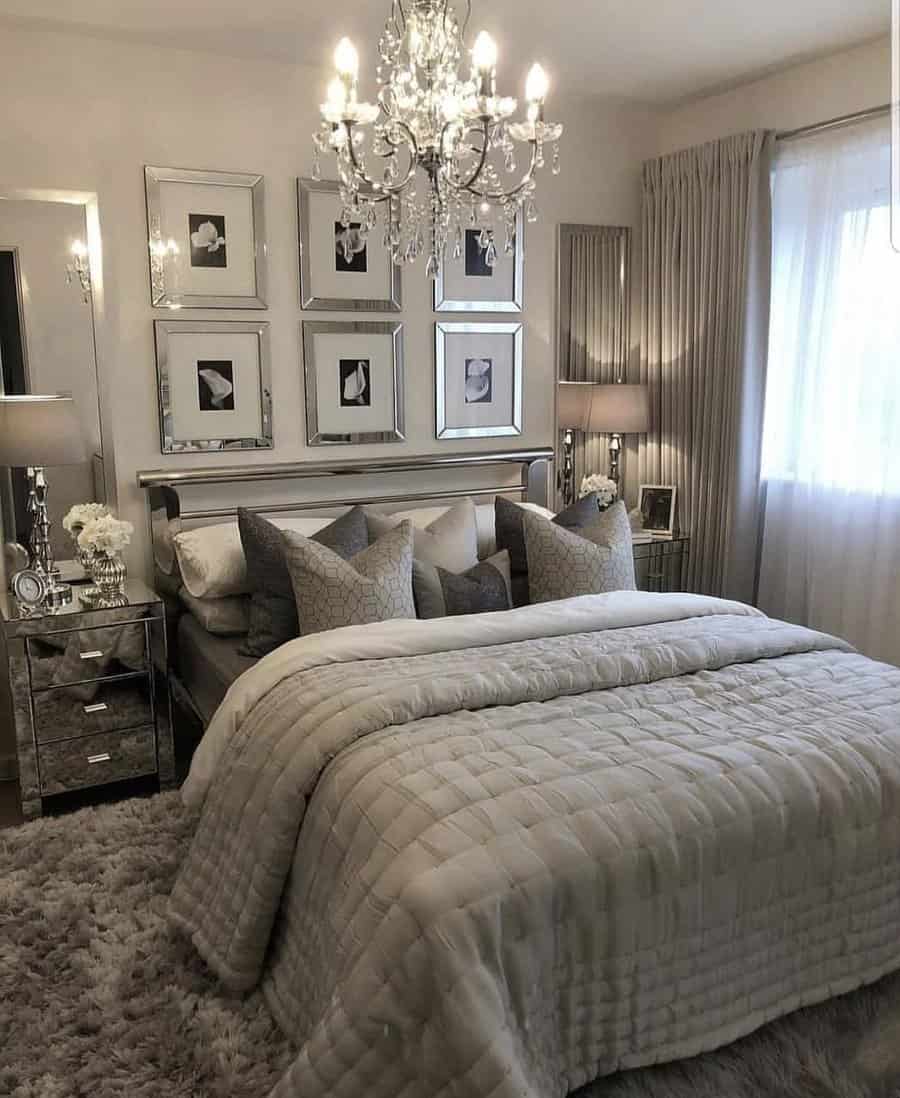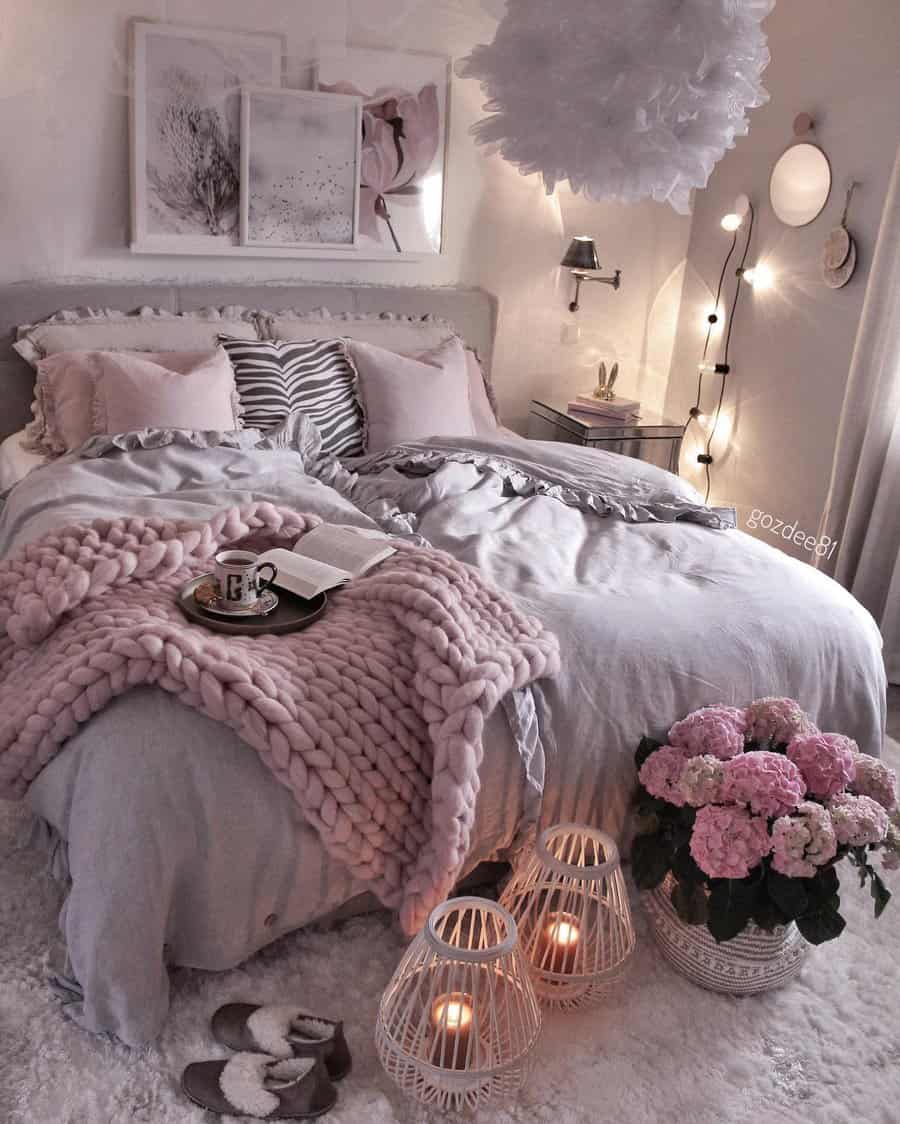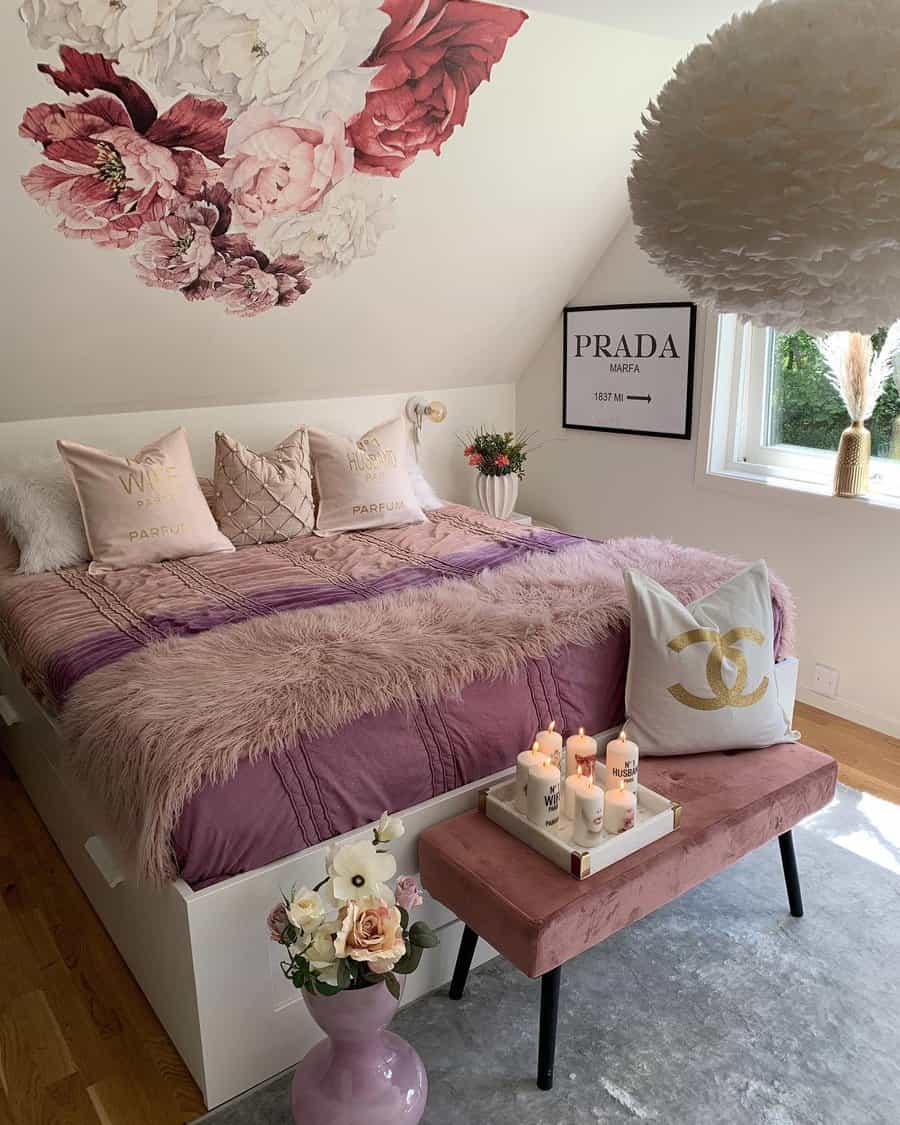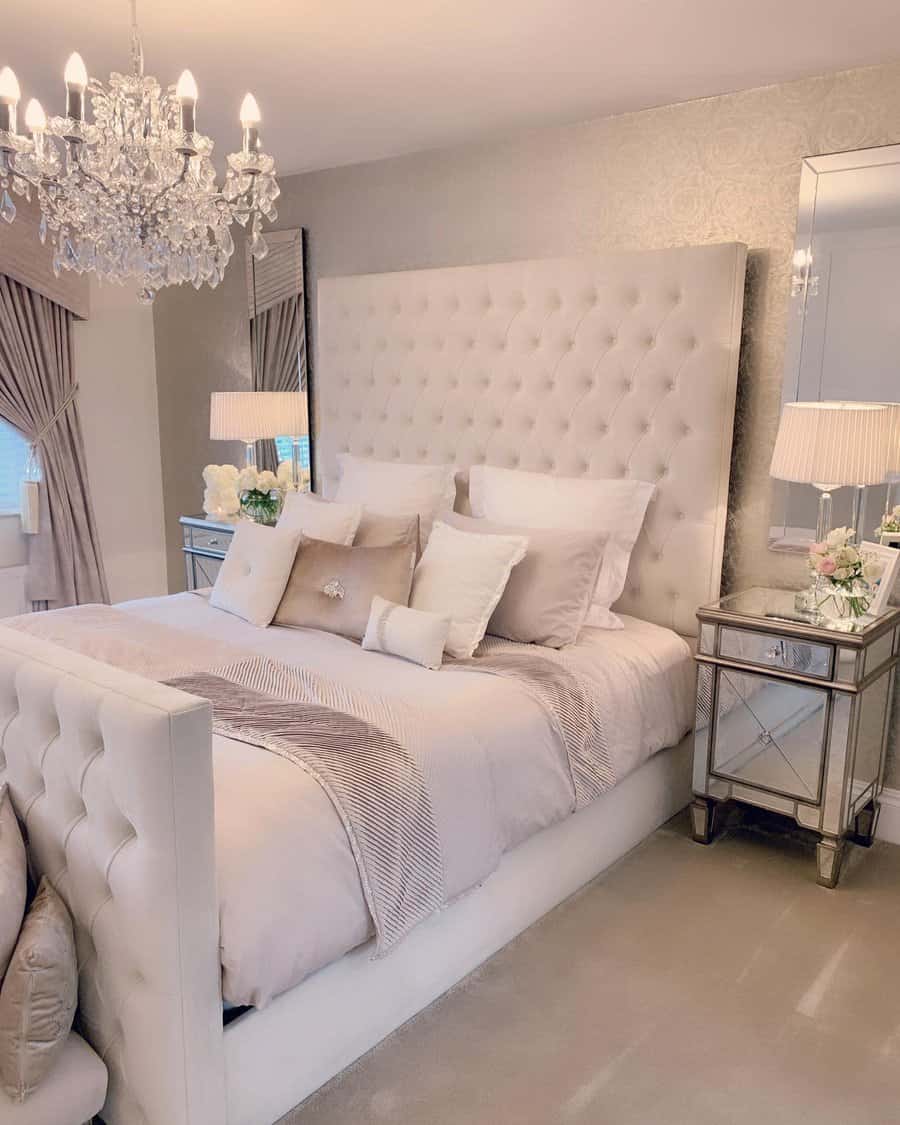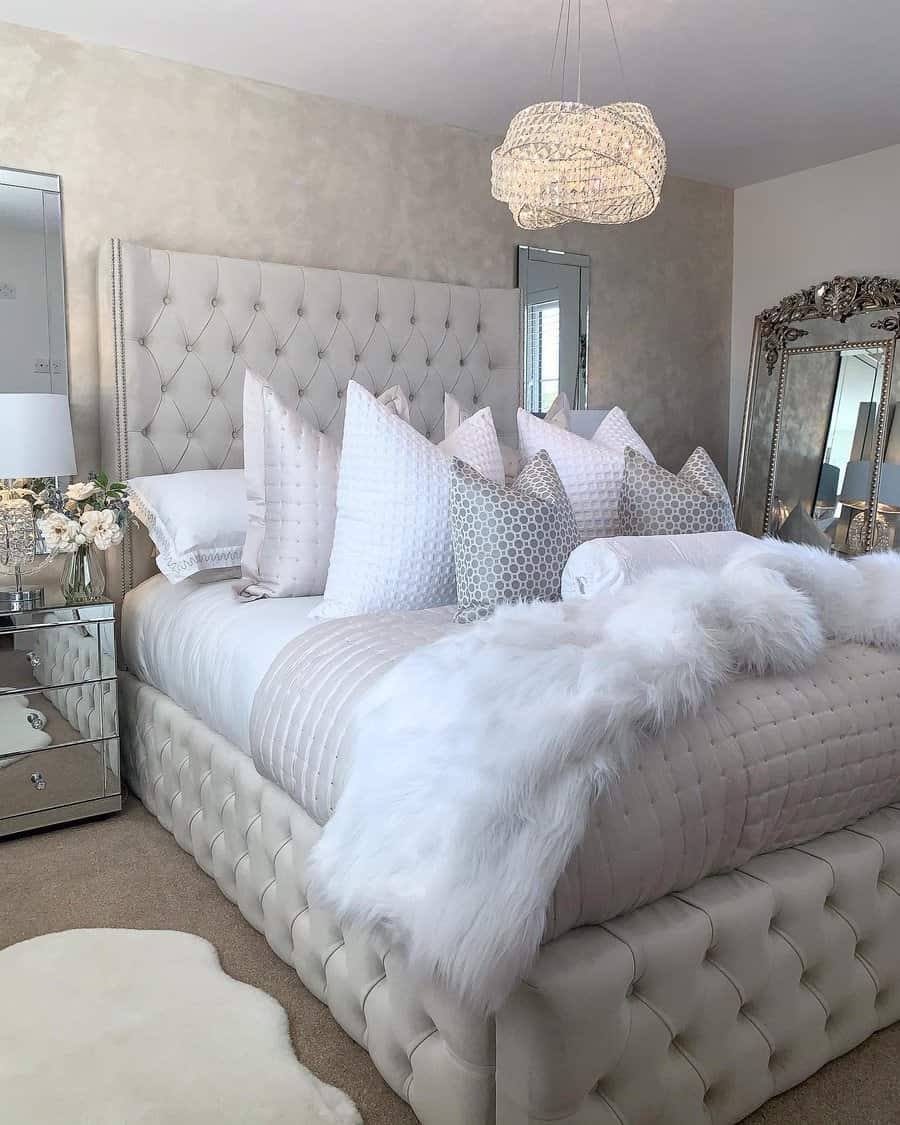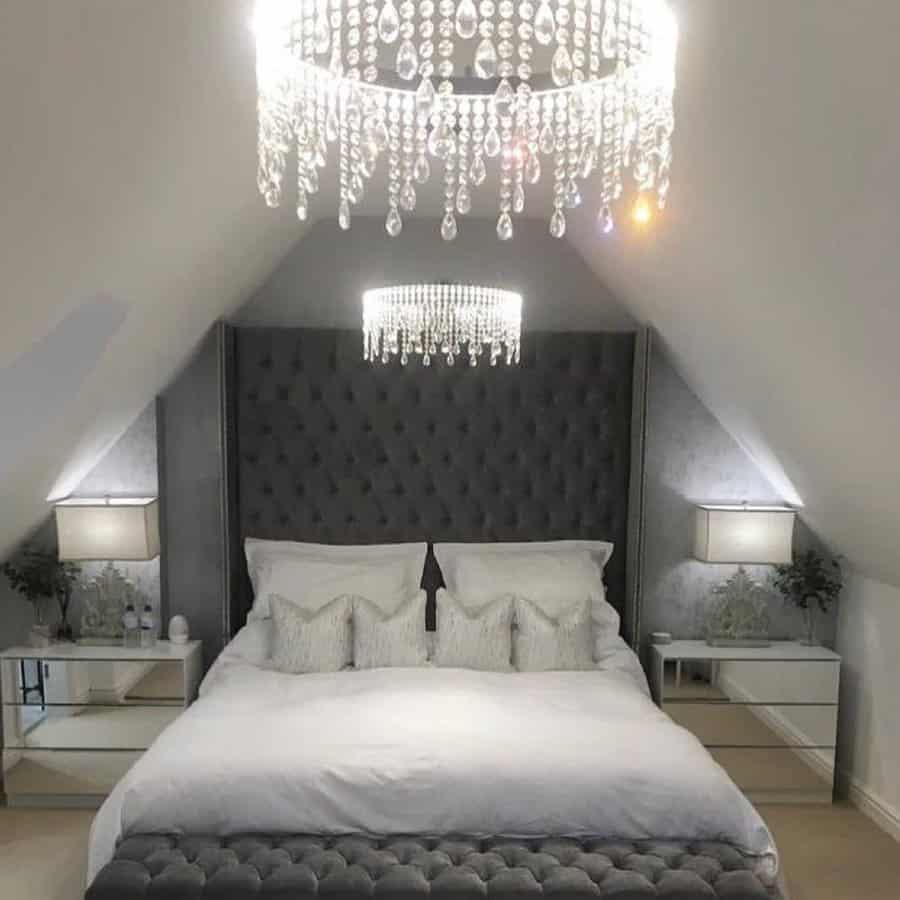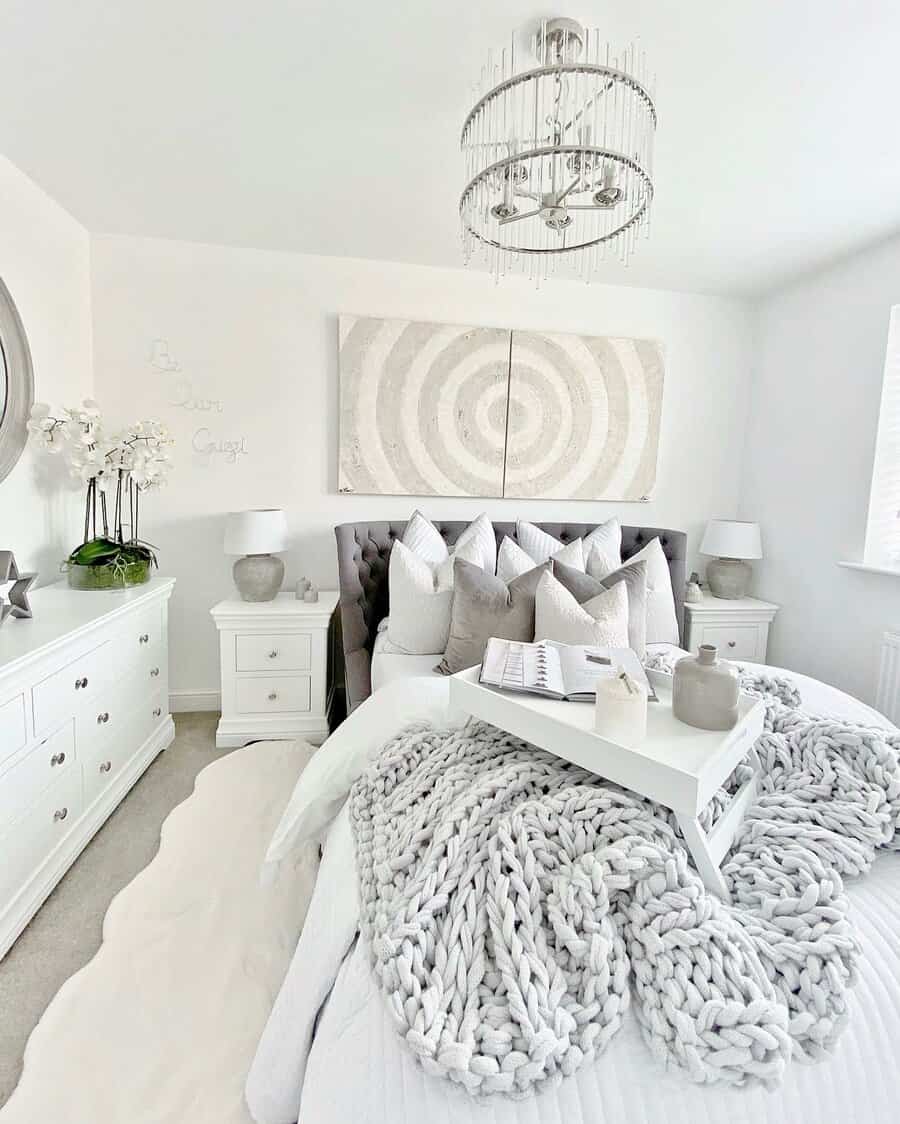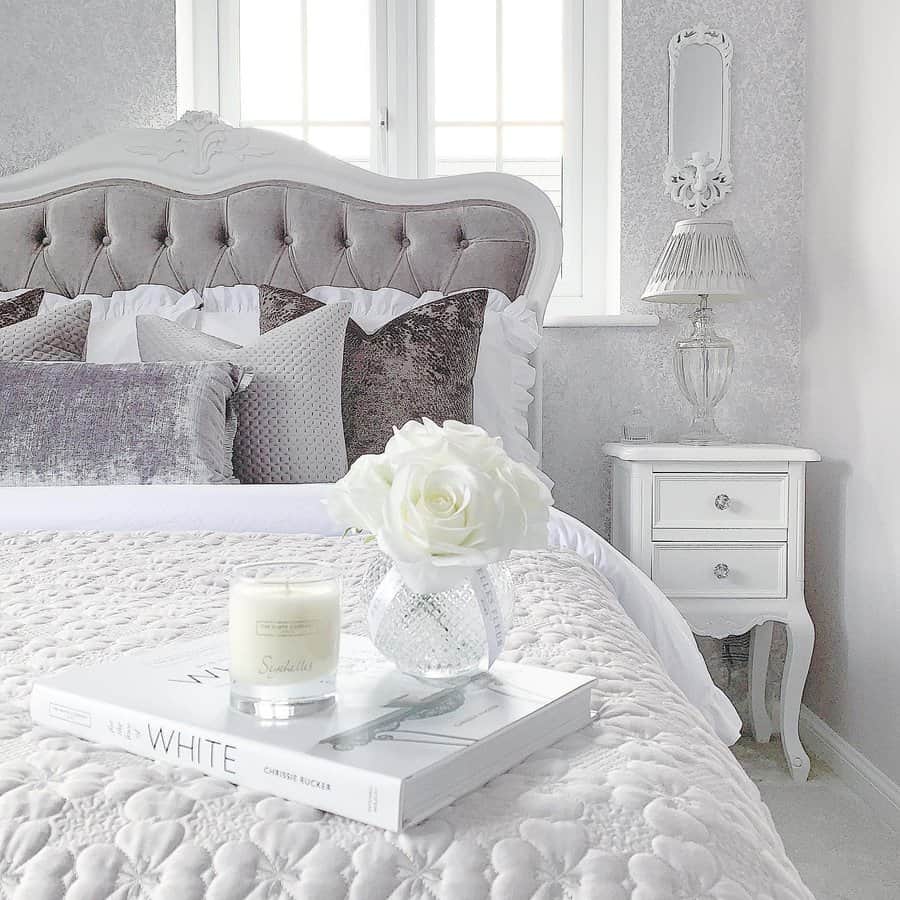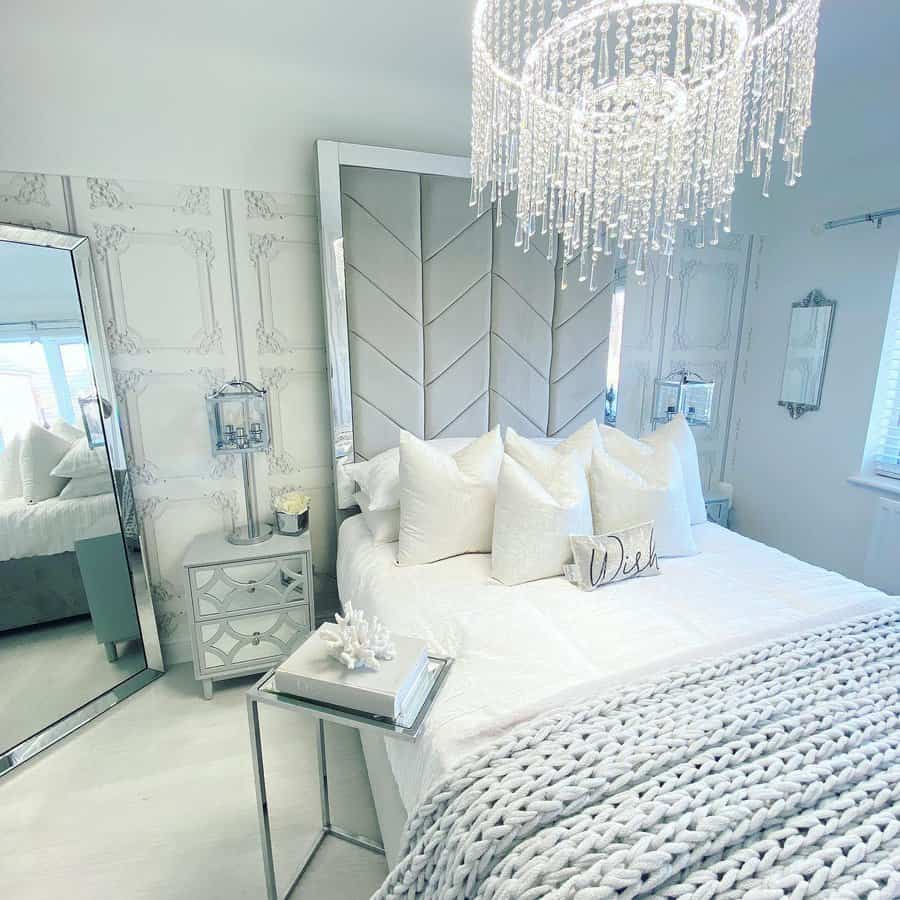 6. Build A Cozy All-Day Nook With Pillows & Blankets
For anyone who's ever wished they could just take a day off, curl up in a cozy space, and read the day away, an all-day nook bedroom is a perfect solution! Curl up on your bed with throw blankets and throw pillows for that extra bit of comfort. Place some plants around to liven up the atmosphere and add some color to your bedroom.
Lastly, carve out a nook for reading since what better way to spend your day than curled up with a book? With an all-day nook bedroom, you can create a warm and comfortable place to unwind on those days when you just want some peace and quiet.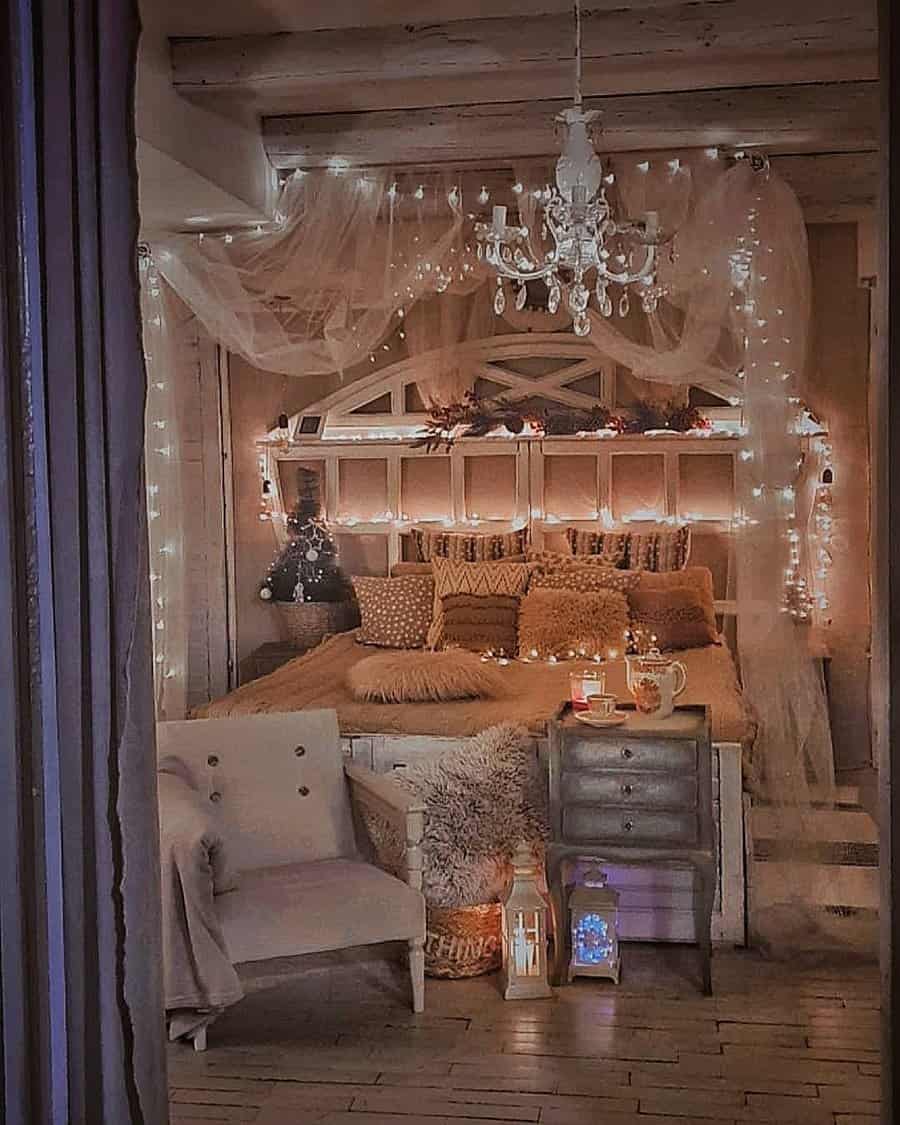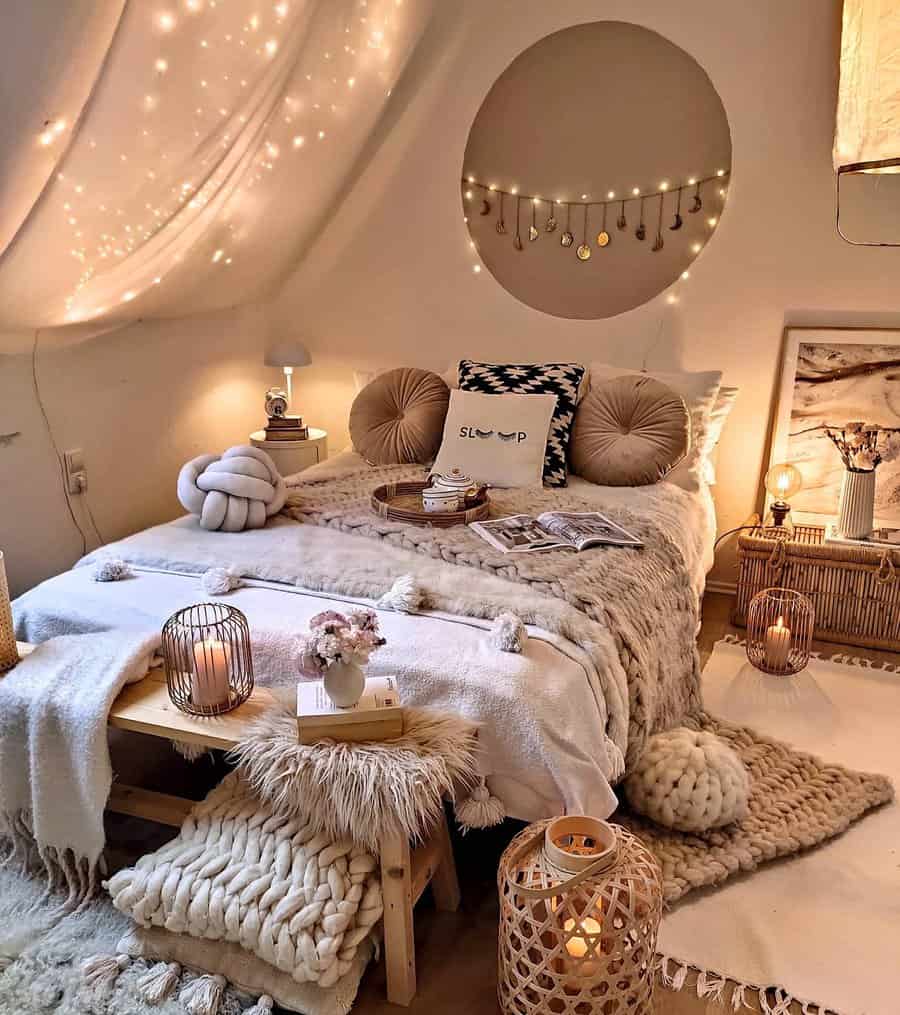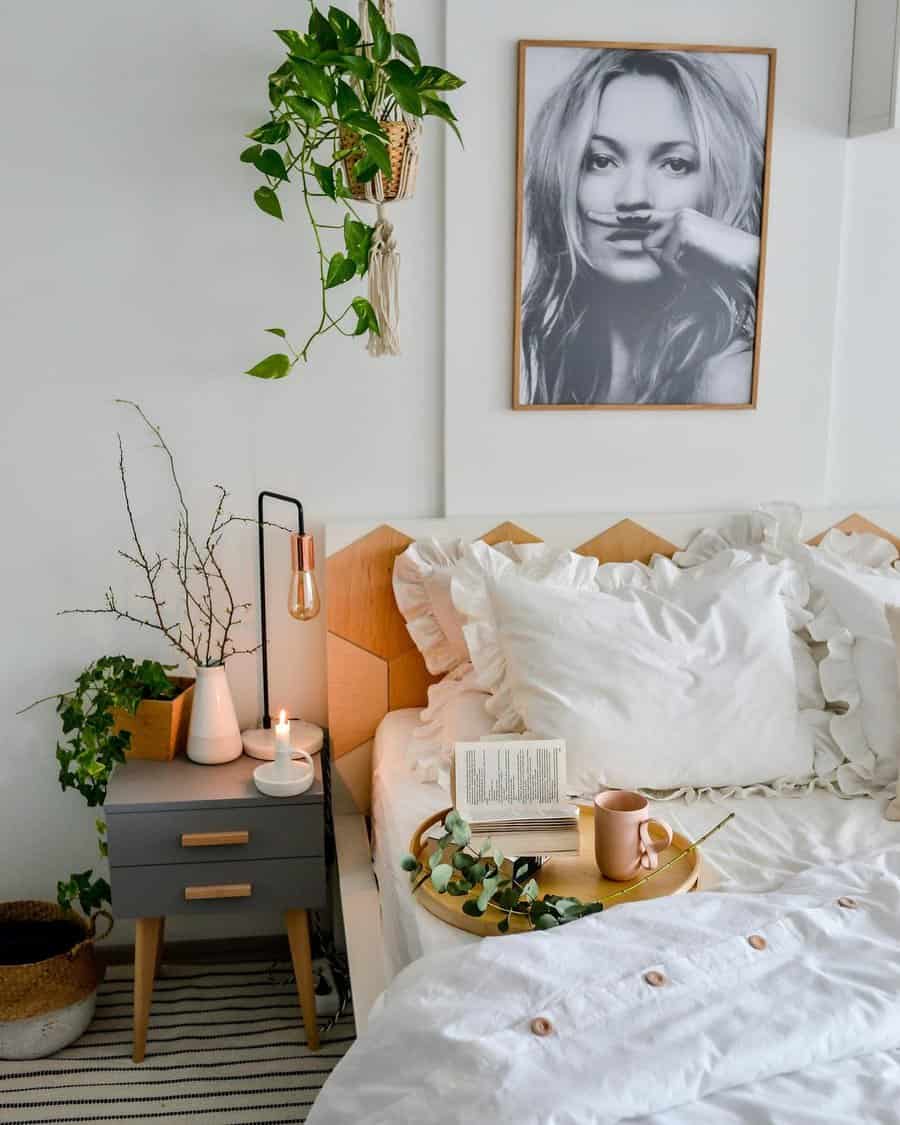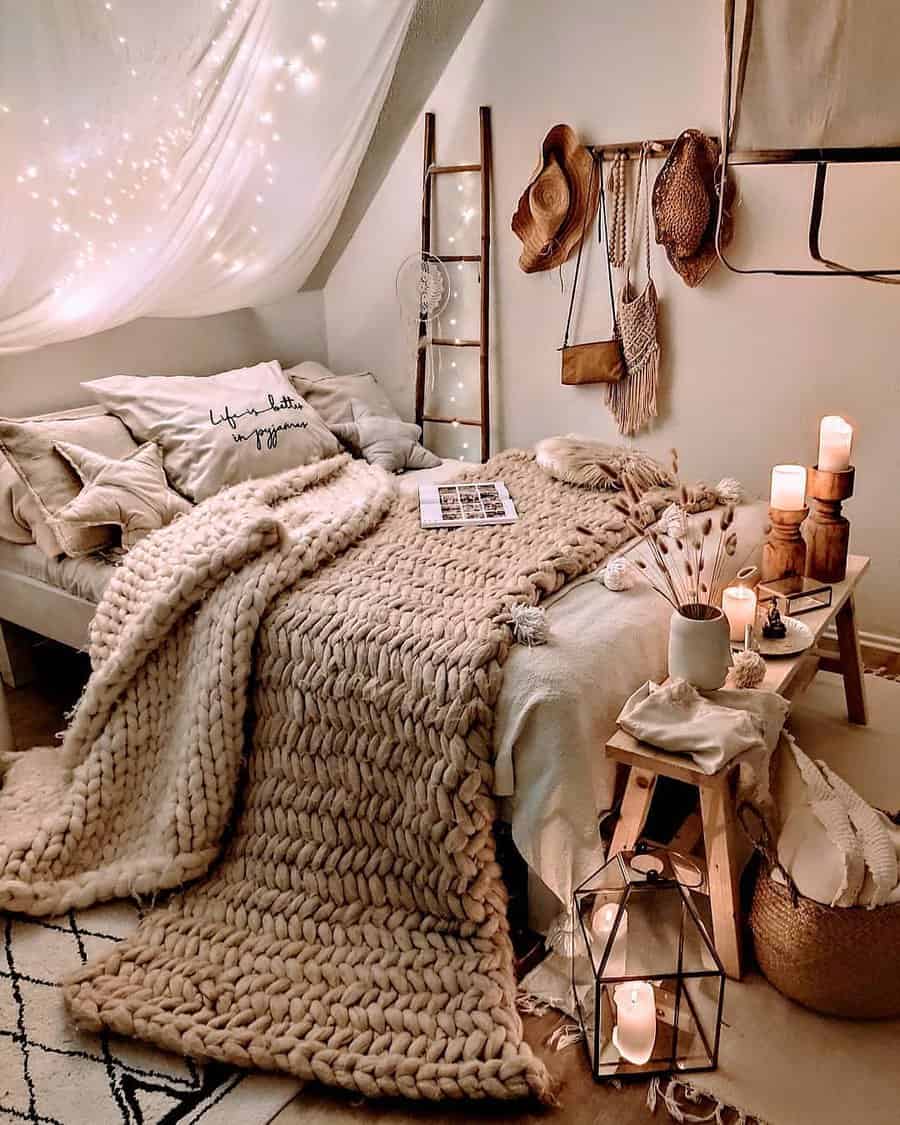 7. Romanticize Your Room With Japan-Scandinavian Interior
If minimalism is your style and you're looking for the perfect Japanese-Scandinavian bedroom look, then go for minimal furniture. Keep the focus on a few staple items such as a rustic bed frame, wooden headboard, gingham bedding with minimal bedside tables, and a minimal lamp or sconce lighting.
Choose neutral tones for walls and flooring that are calming and will help integrate the look together seamlessly. Layer minimal artwork on walls combined with muted colors of rattan baskets, making sure to keep everything minimal yet stylish at the same time.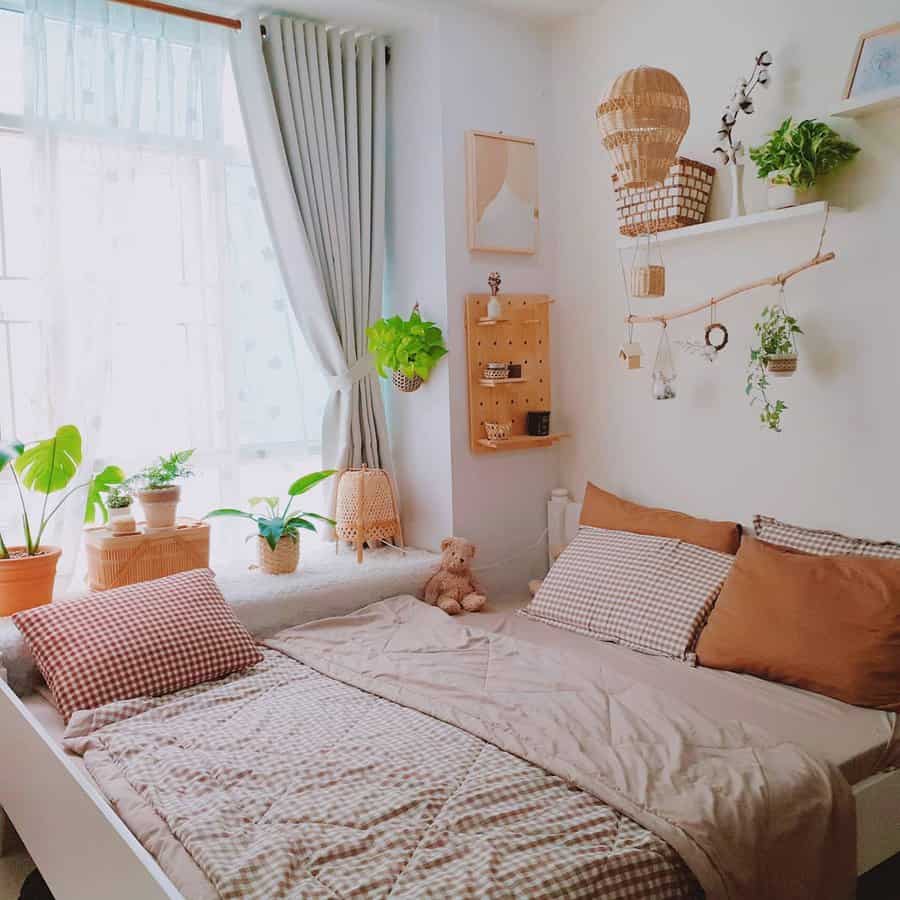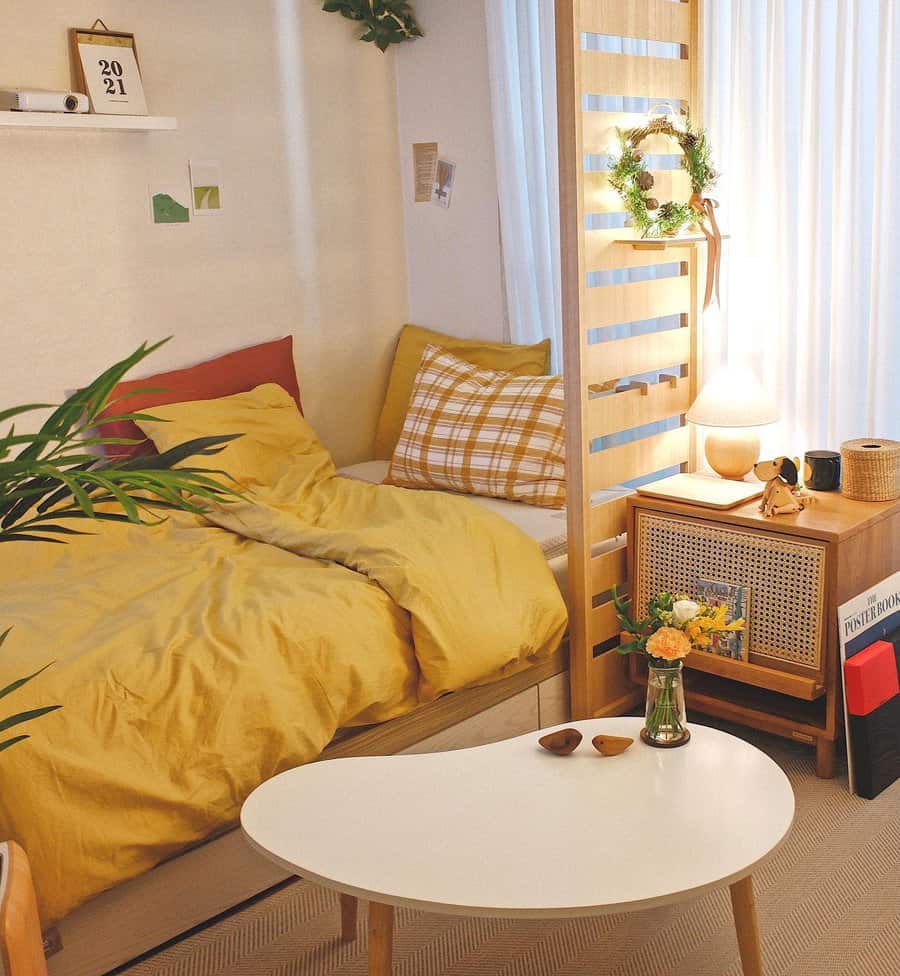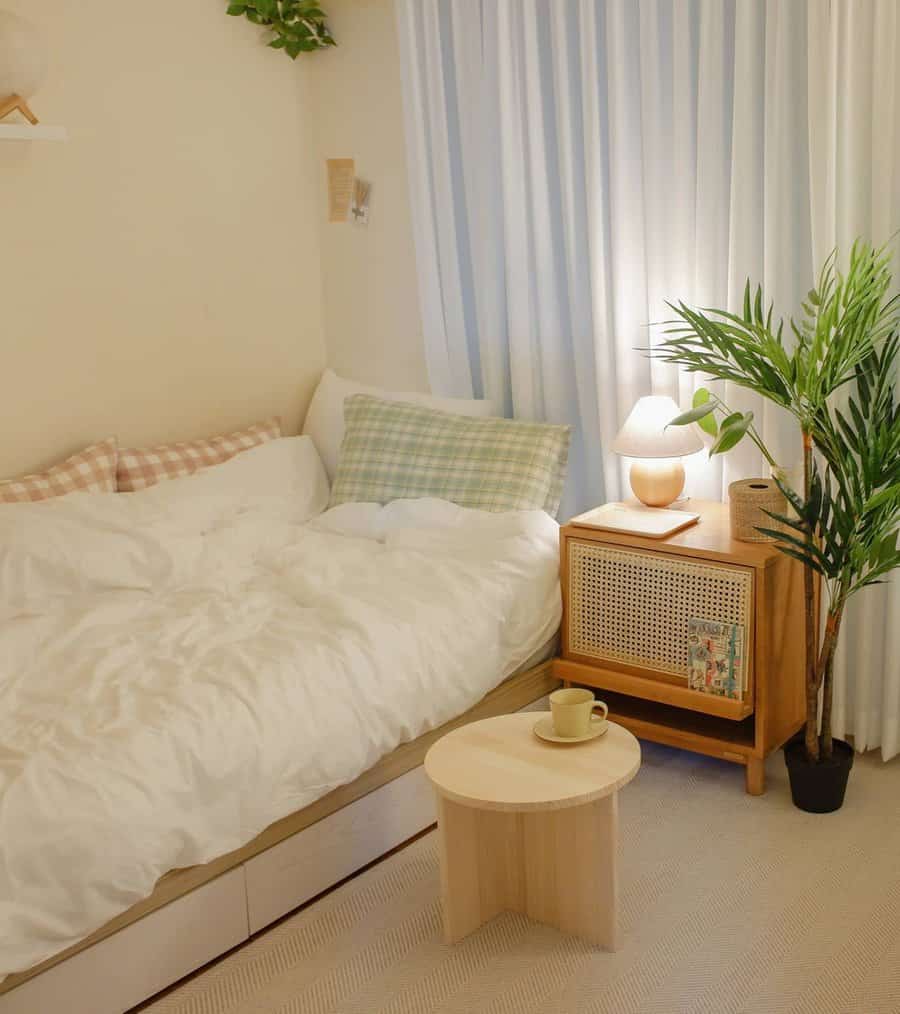 8. Lean Into Industrial Styles For A Masculine Vibe
For the masculine industrial-style bedroom of your dreams, look no further than concrete and exposed brick! This look is classic and timeless with its industrial edge – giving off an urban industrial vibe and providing an energetic atmosphere.
To achieve this effect in your design, use industrial pieces like concrete floors and exposed brick walls, balanced out with wood furnishings. The industrial elements will give a modern visual interest to a masculine-style room – creating that edgy style you're looking for.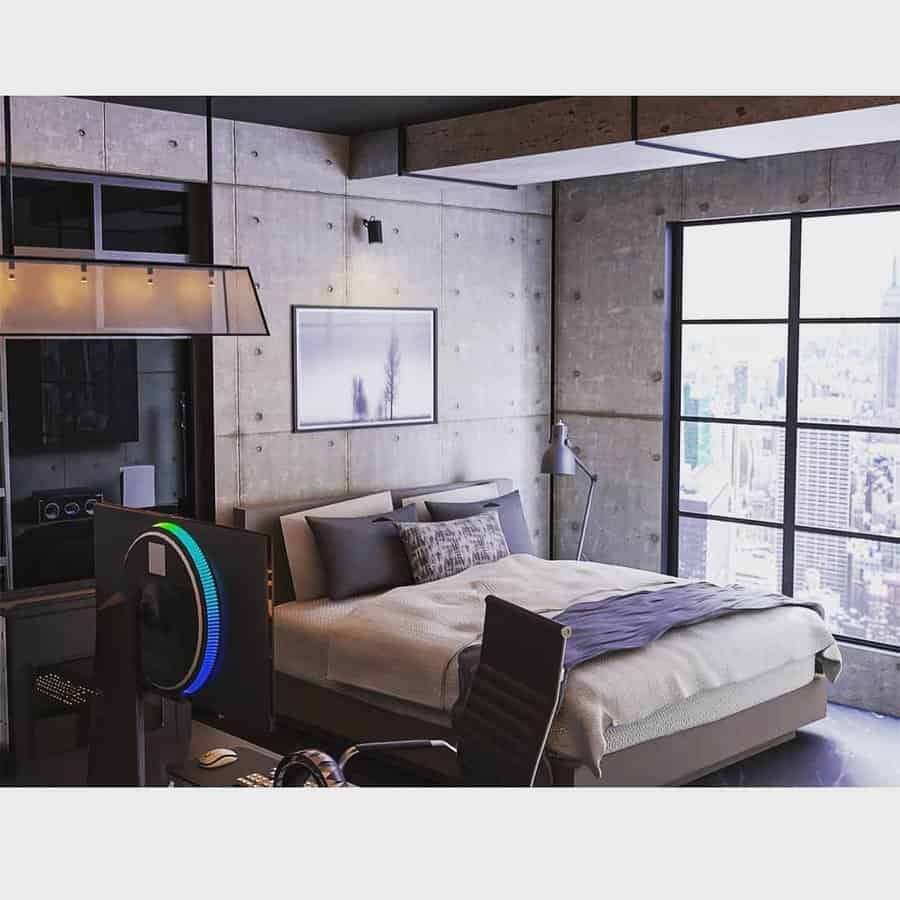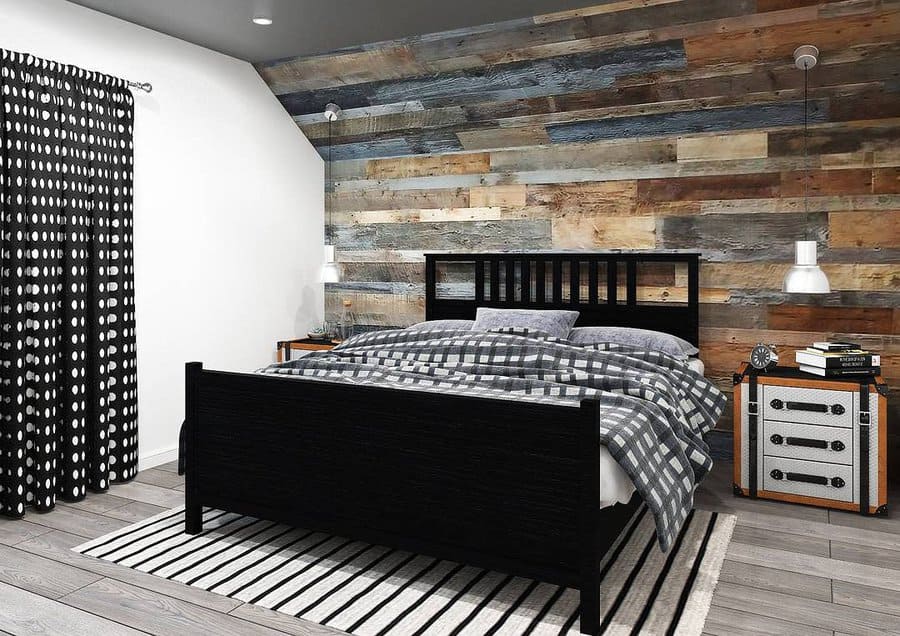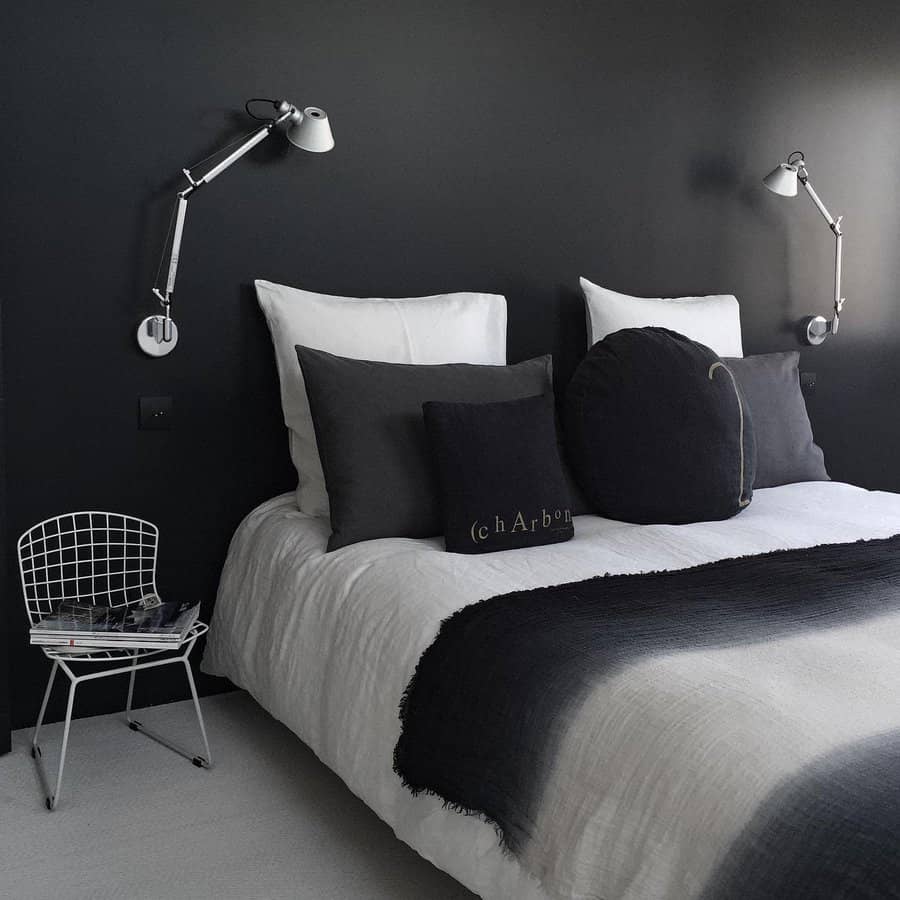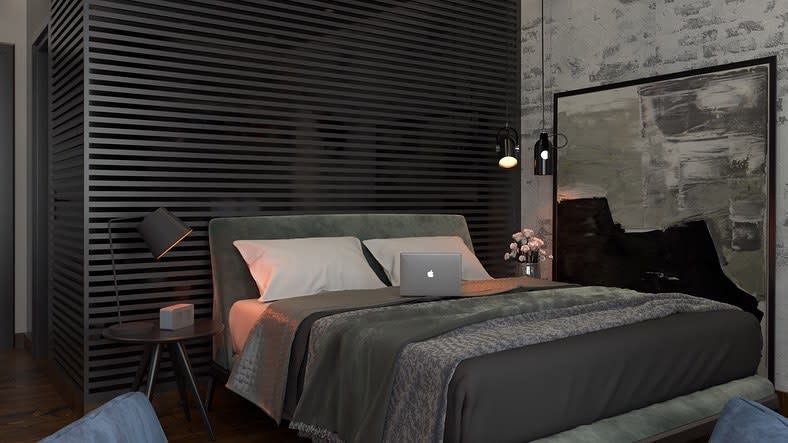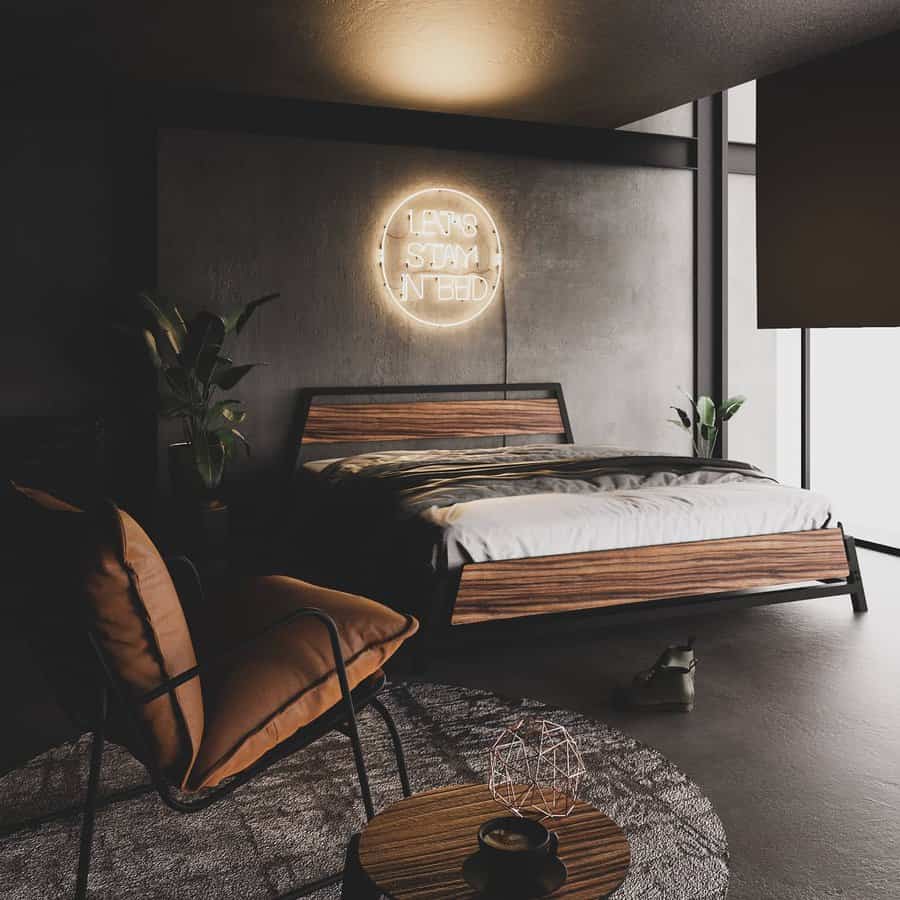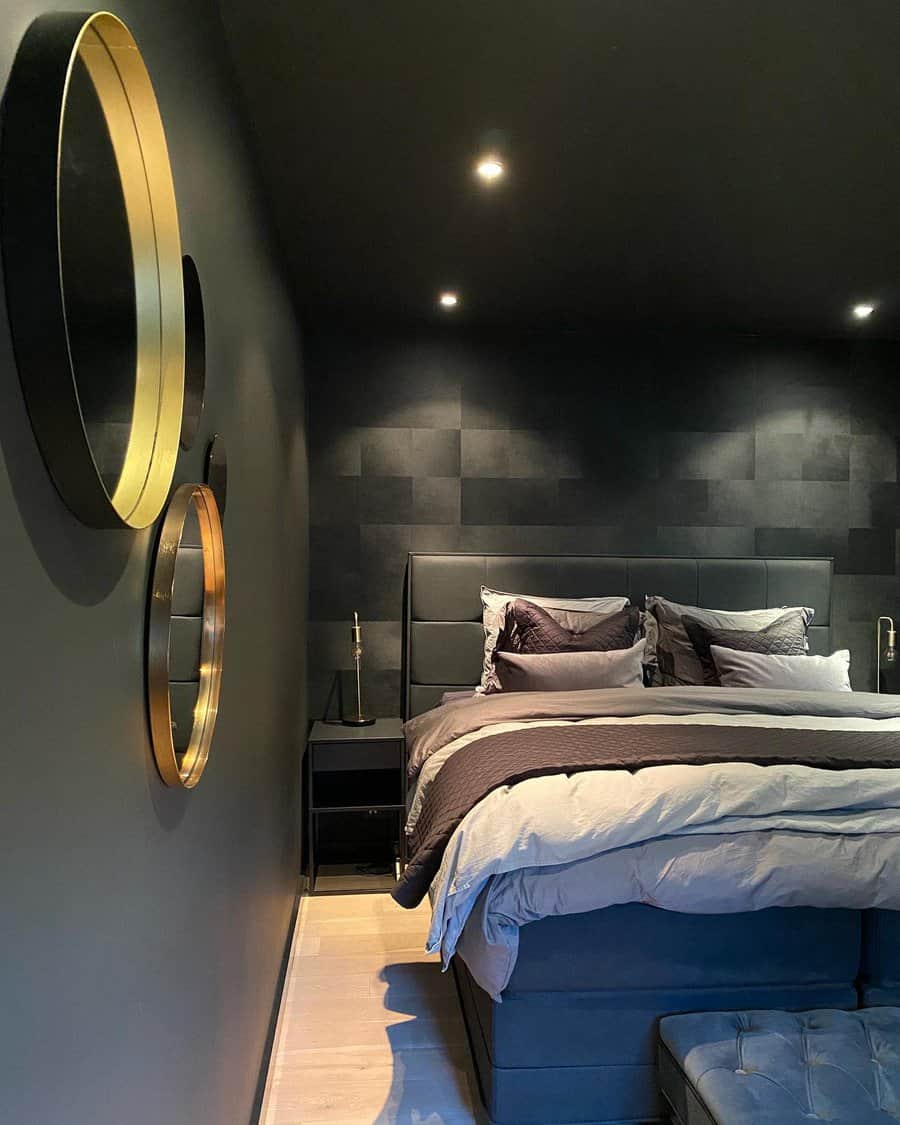 9. Be Creative With Word Play
When decorating a bedroom wall, creativity is key! Introduce wordplay into your wall decor by selecting a letter board with interchangeable letters and symbols. Making it a game to craft clever and motivational phrases that match the atmosphere in your space.
This creative wall decor allows you to bring fun and playfulness to any wall and add a unique personalized touch to your room. So, if you're looking for wall art with an exciting twist, consider an interactive letter board as an inspiring option put wall decoration goals within reach!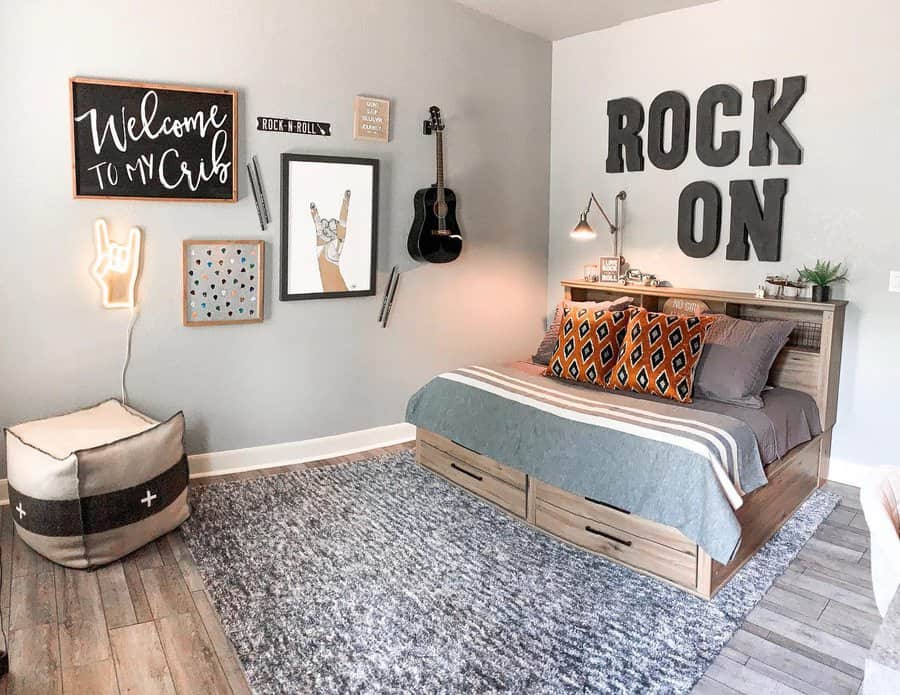 10. Incorporate Plants To Your Room
Adding plants to your bedroom can give it life, while also helping to purify the air and making it far more inviting. Incorporate a variety of potted plants in different sizes and colors for a truly eye-catching outcome.
If you lack space, incorporate hanging plants into empty corners, which will definitely make the room look fresher than ever before. Not only are plants enjoyable to look at but also create a calming atmosphere in any room.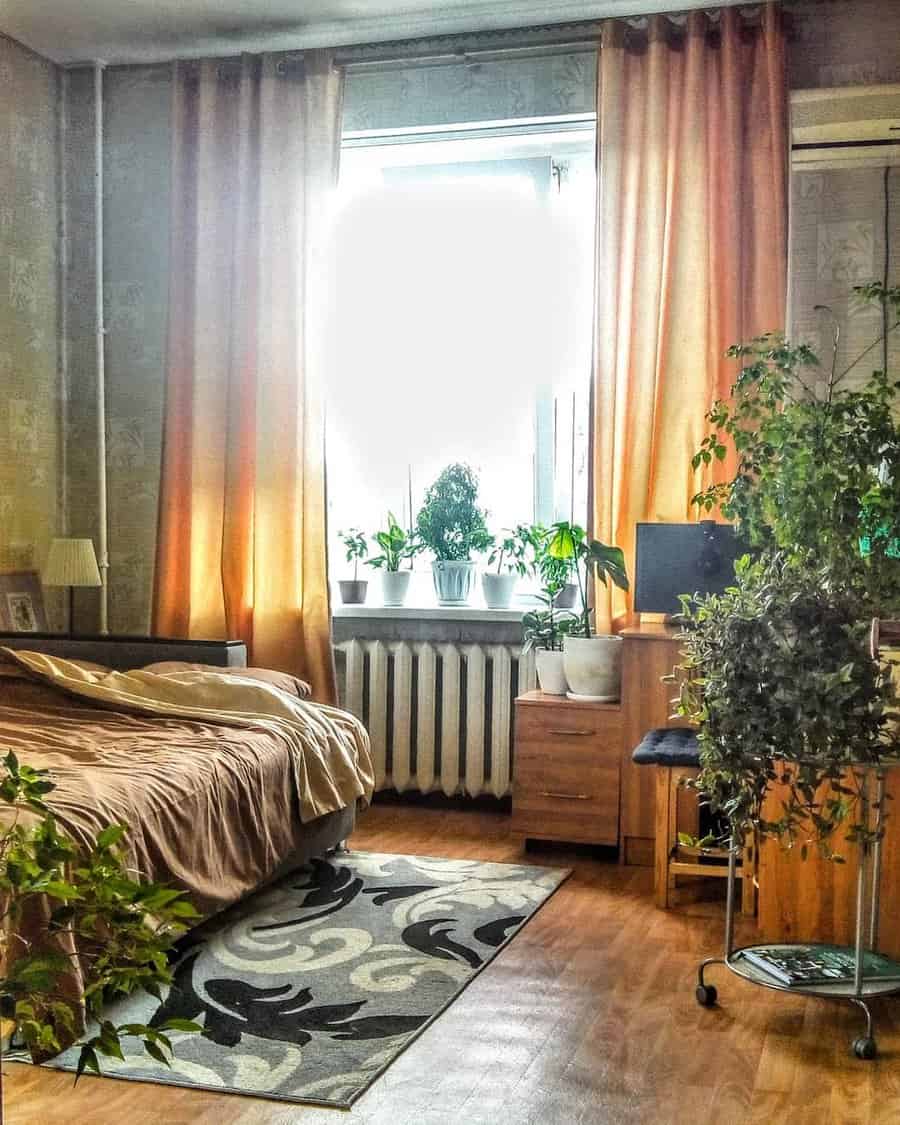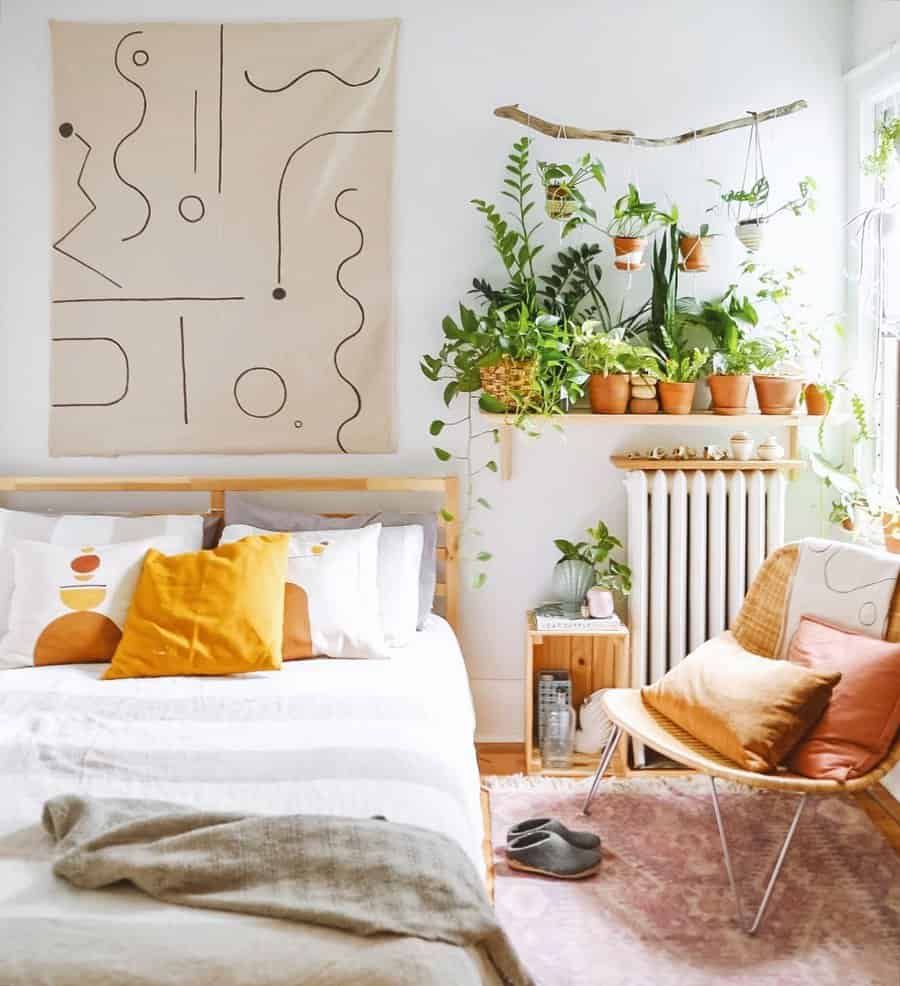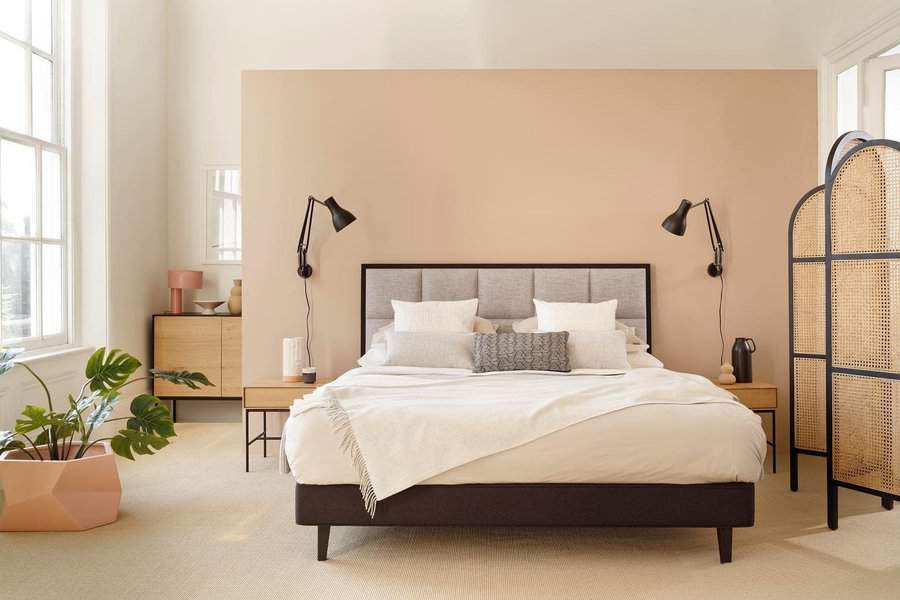 10. Add Weathered Elements For A Rustic Look
Create your own rustic escape and transform a mundane bedroom into a weathered haven with weathered ceiling beams, distressed wood, and wildflowers. These earthy elements bring nature and texture to your interior space while inviting tranquility.
Balance aged textures with plush pillows, woven rugs, and throws for contrast. Nature prints on wallpaper or even stenciled tree branches on the wall add a subtle touch of the outdoors that can enliven any room. Take it one step further by featuring weathered furniture in wood or metal finishes.
Uncluttered and fashioned from natural materials, this style of home decor offers a timeless charm that works in modern and traditional spaces alike.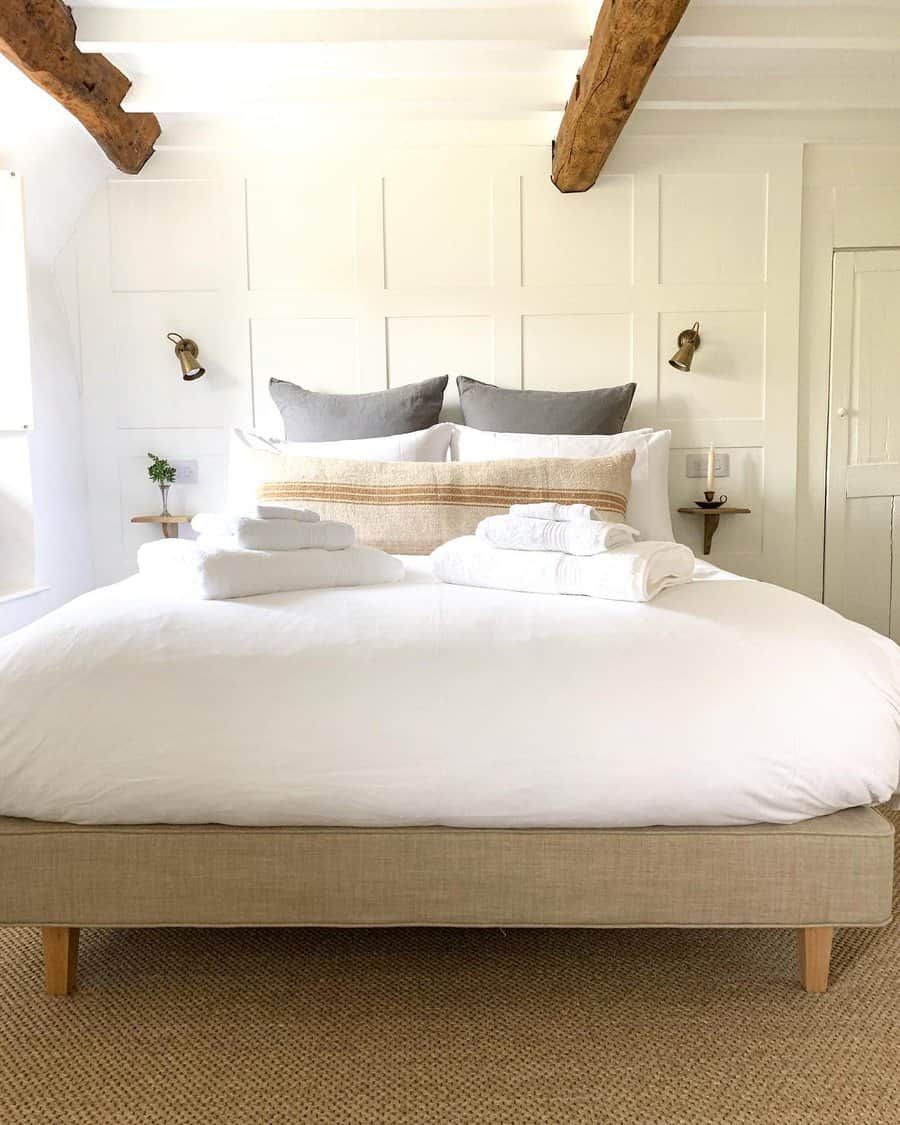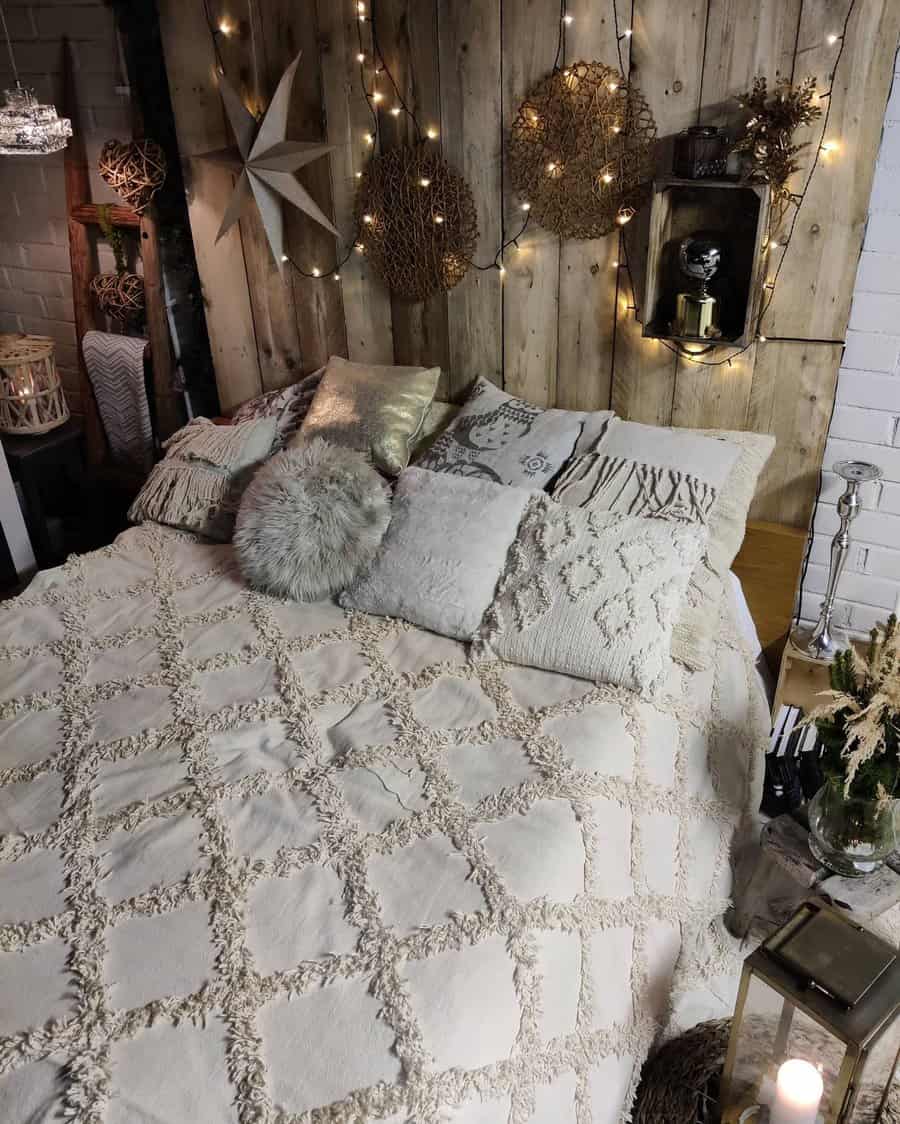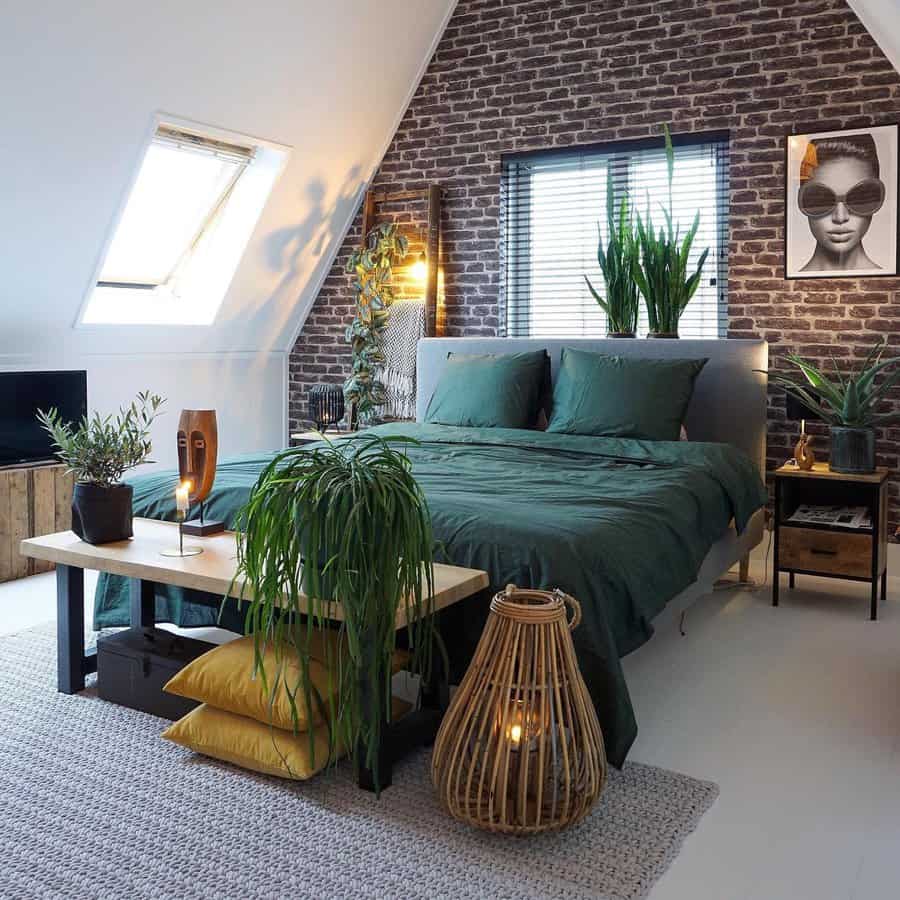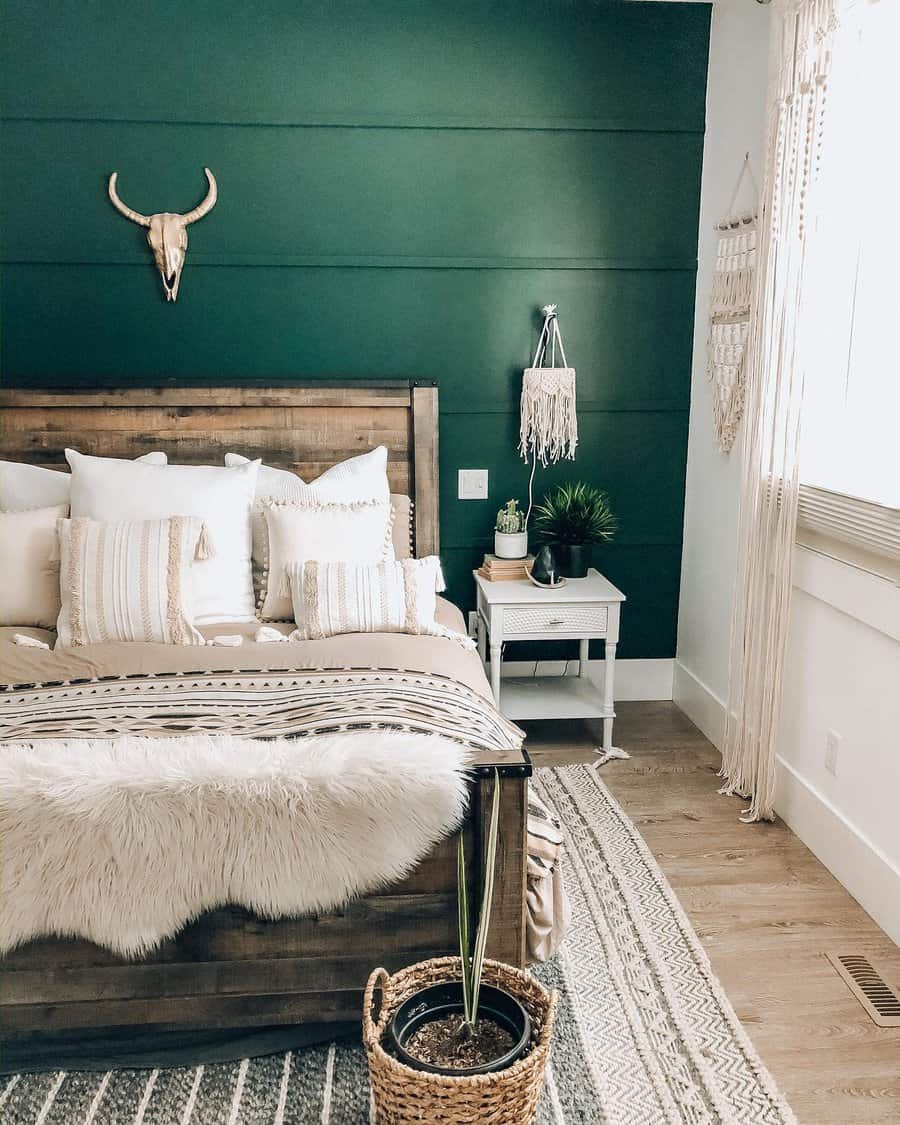 11. Opt For Clean Lines With Scandinavian Decor
Scandinavian-style decor has been sweeping the home design world, and few rooms look better when dressed in Scandinavian style than the bedroom. To recreate this look for your own space, focus on clean lines, muted tones, and natural elements.
For example, a bronze headboard paired with a white or light grey duvet creates an understated yet luxe look. Textured details such as woven rugs and rattan storage pieces bring an earthy feel to the simple Scandinavian bedroom while adding warmth.
Ultimately, Scandinavian bedrooms reflect balance, harmony, and relaxation —so however you choose to make it your own, be sure to honor these elements!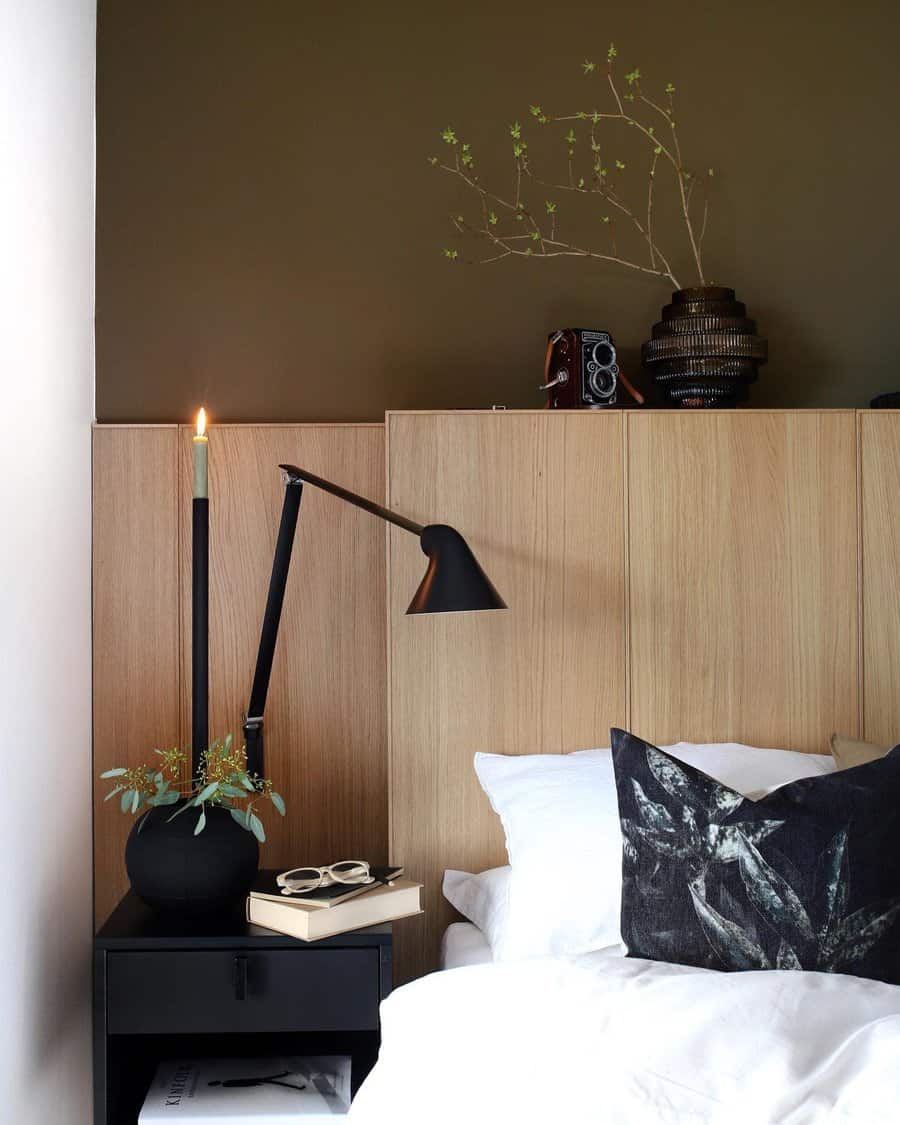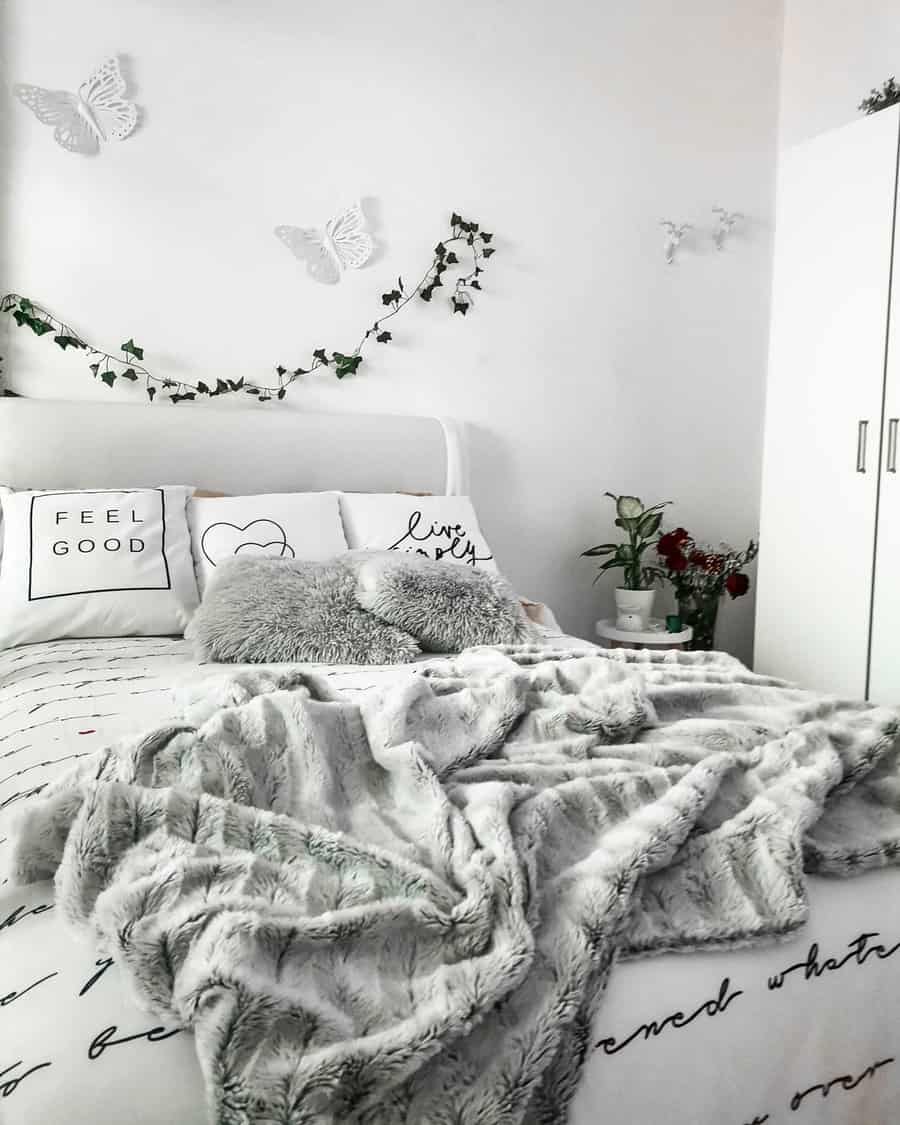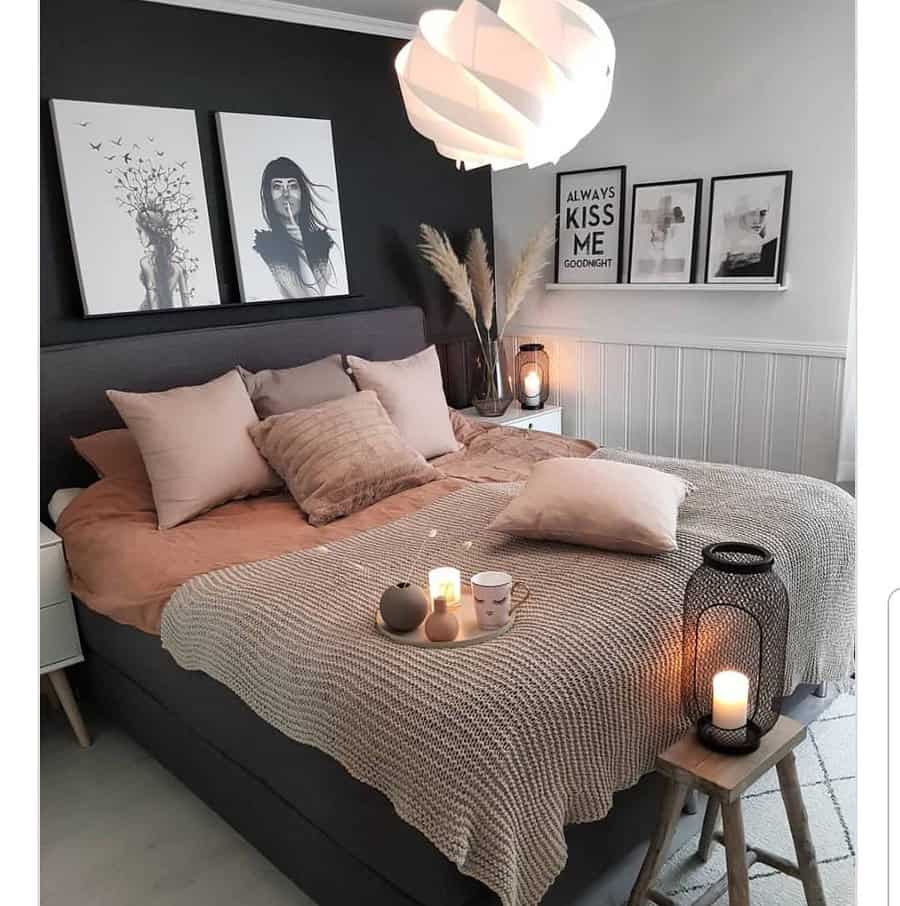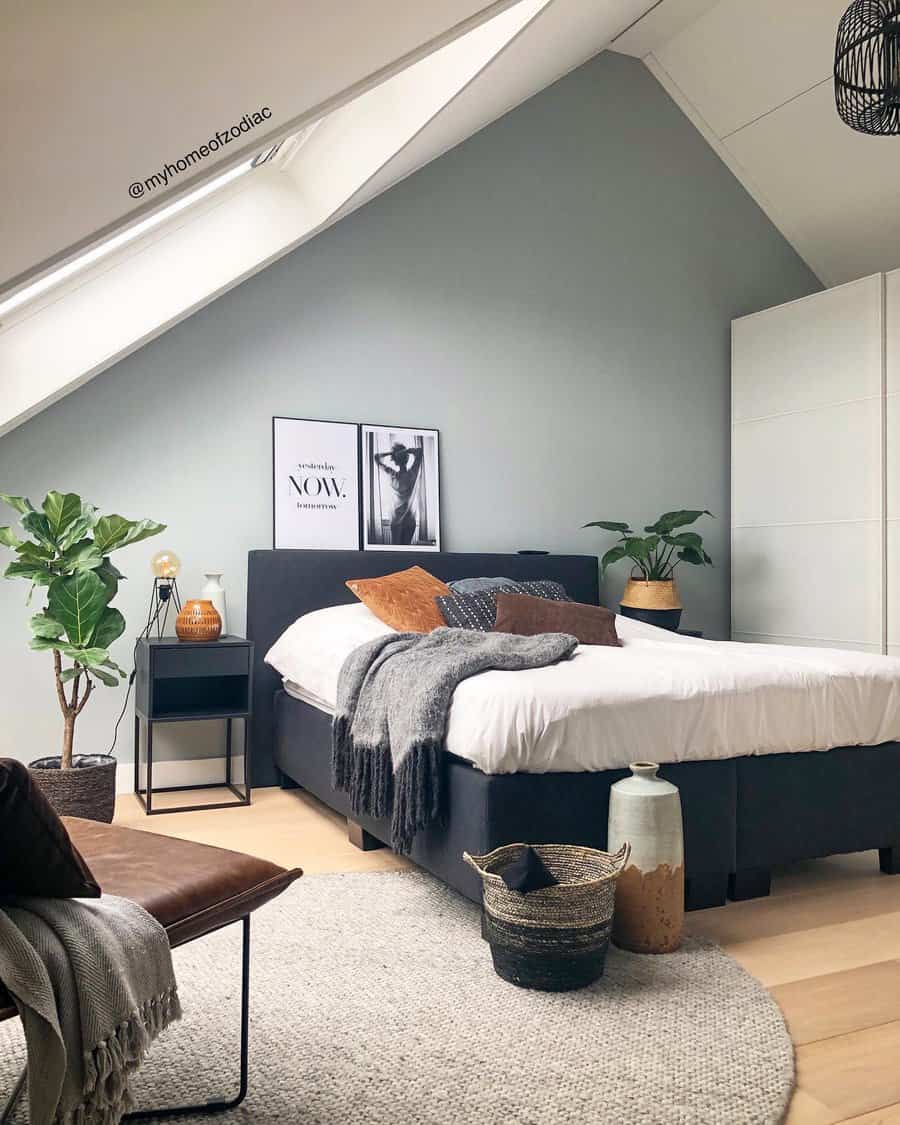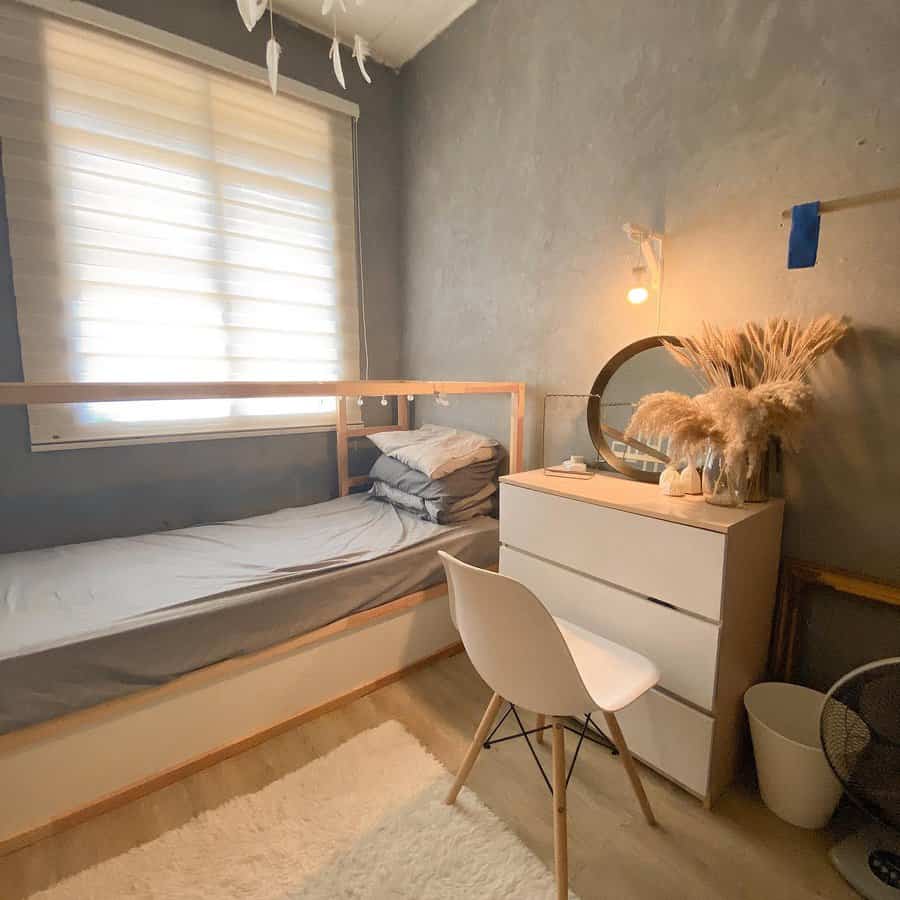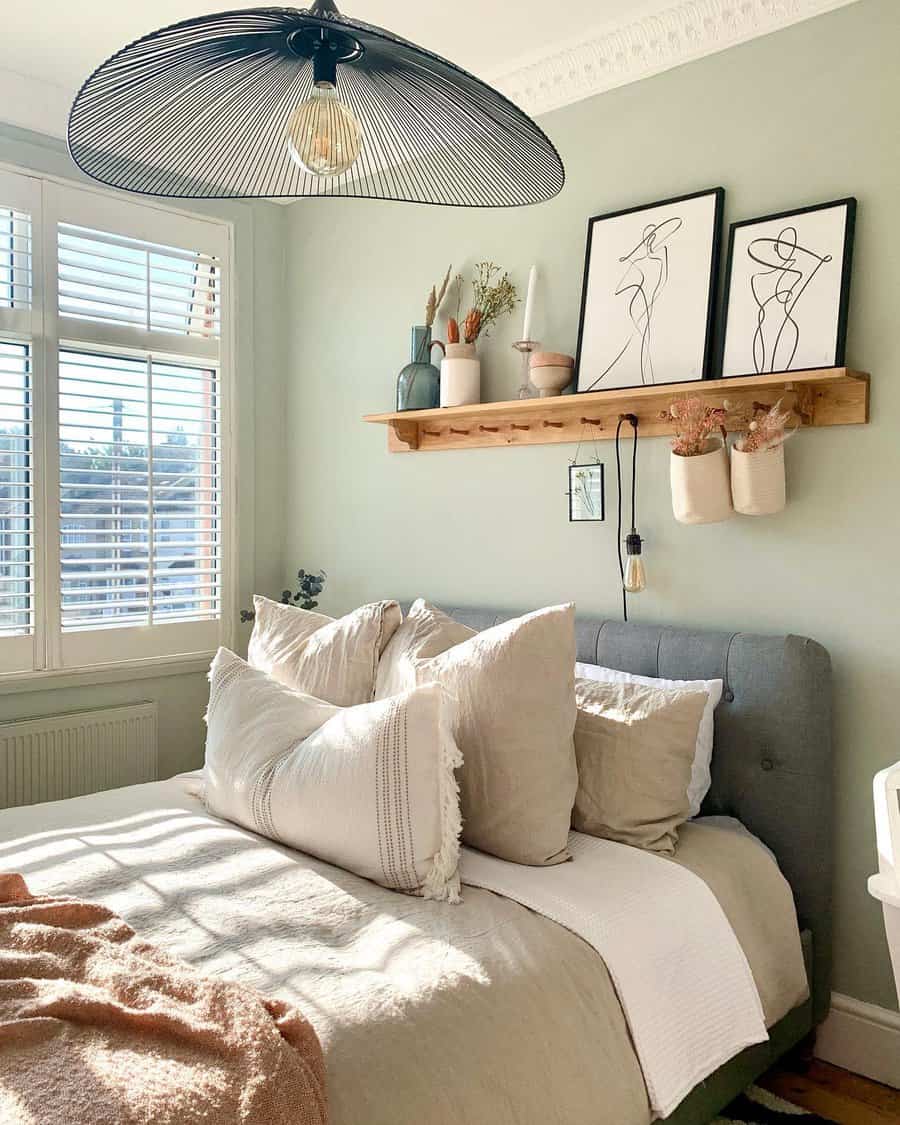 12. Choose Warm Colors
For a truly warm and inviting bedroom, orange is the perfect color to use. Not too bright, but enough to invite warmth into the room. When decorating an orange bedroom, yellow can be used as an accent color to bring the overall atmosphere together. A few simple touches of yellow combined with orange will instantly make the bedroom appear vibrant and cheerful.
For bedding and furniture, sticking mostly to neutral colors will help tie everything together neatly while still allowing orange and yellow accents to shine through. With these small touches, your orange bedroom is sure to come alive in no time!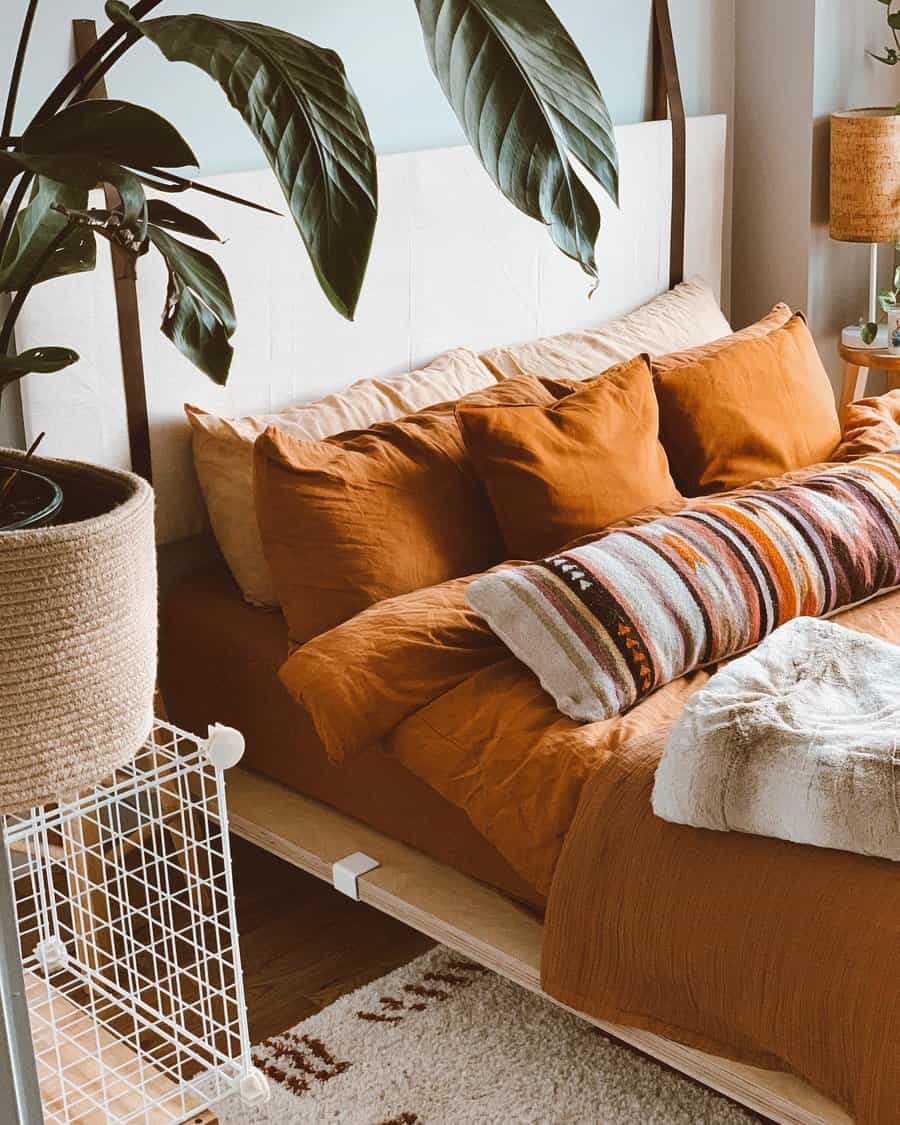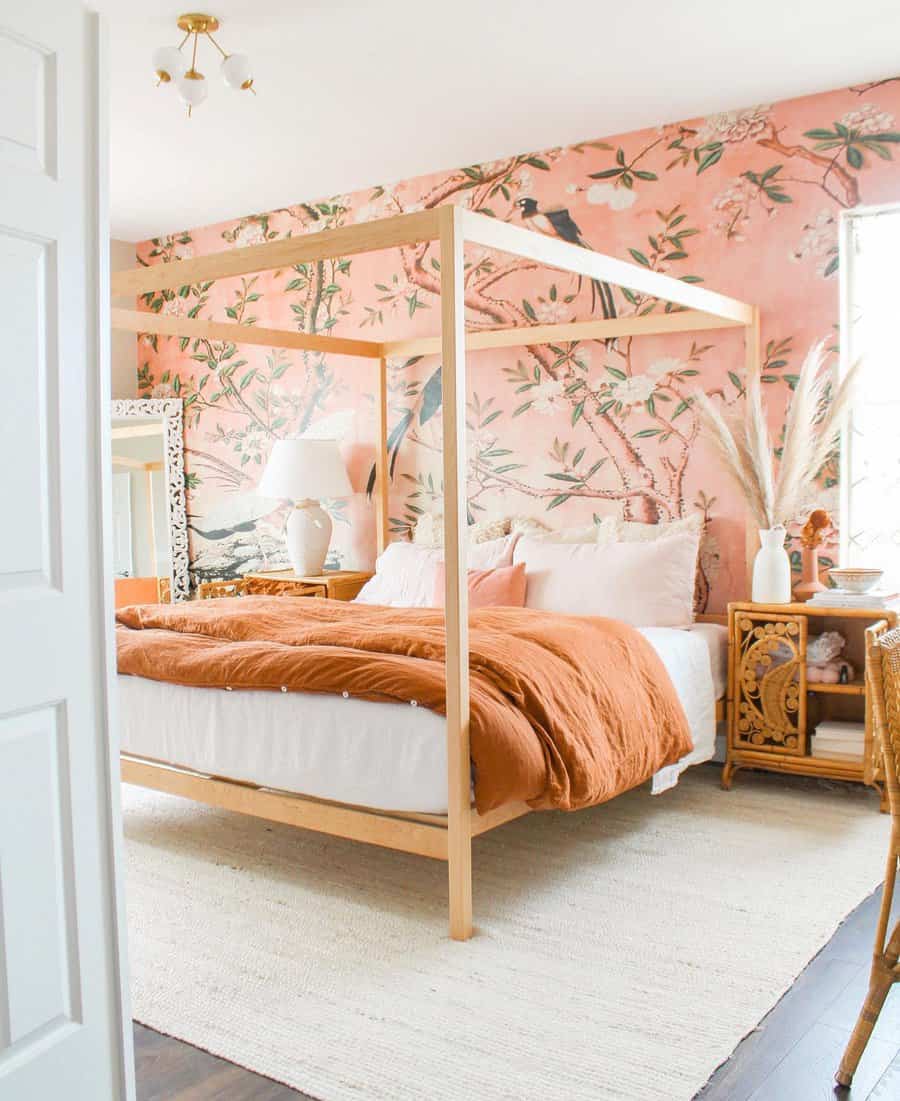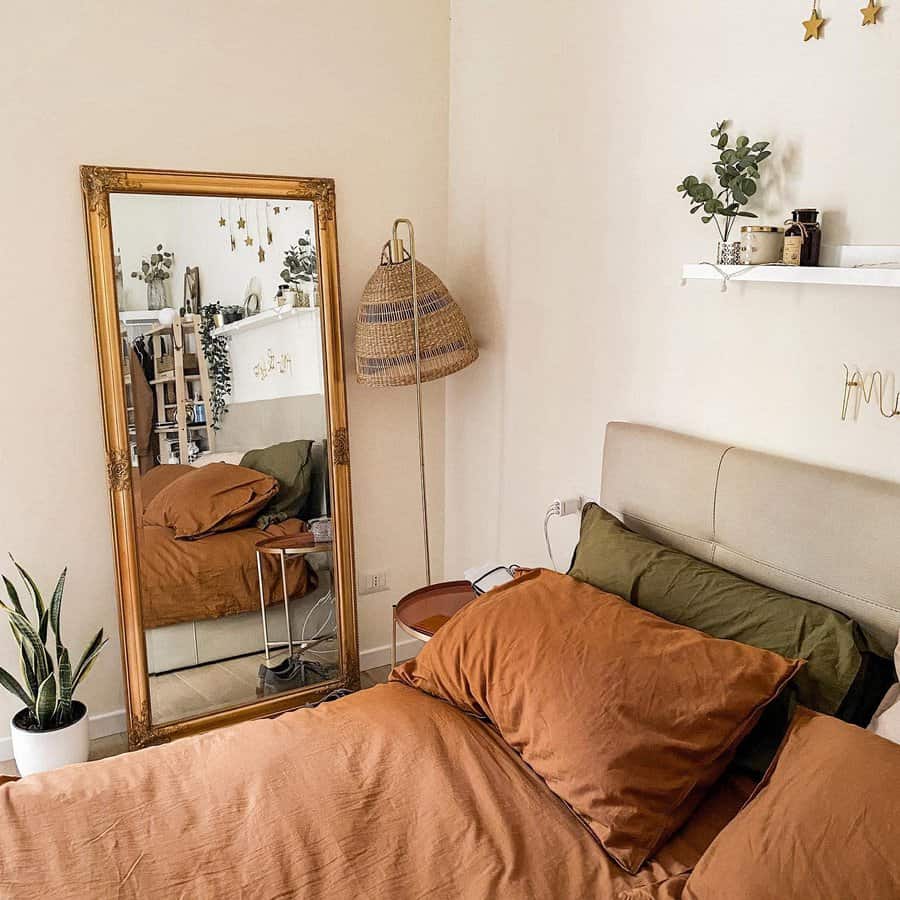 Aesthetic Bedroom FAQs
Can you use aesthetic decor in any room?
Yes. Because these trends are so popular with teens and young adults (including college students), most examples you see online are limited to stylish bedrooms and cute dorm rooms. But you can use these trends throughout your entire home if you like.
Many popular aesthetics would work great in a small living room or home office, especially if you want your home to feel cozier. You can also mix and match various aesthetics throughout your house or apartment.
Does aesthetic room decor go out of style quickly?
One downside of popular aesthetics is that some decorative accents will look dated in as little as a year. You can age-proof your bedroom idea by selecting classic pieces over trendy ones.
Large items like furniture should be as timeless as possible. Meanwhile, trendier items like wall vine LED lights or a washi tape collage are relatively cheap and easy to replace as desired.