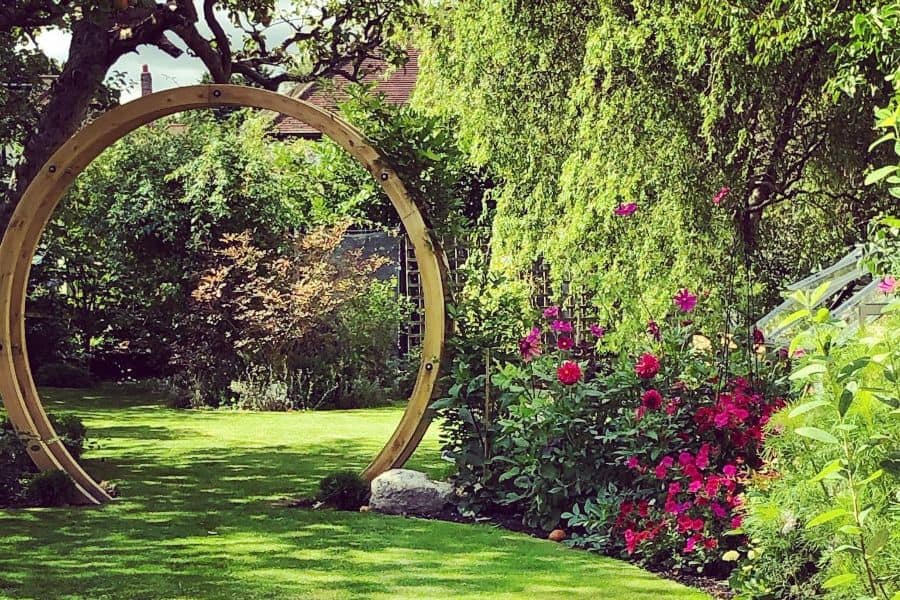 The Top 67 Backyard Arbor Ideas
by — Kendrick Hulse

Published on July 23, 2021

Updated on October 24, 2023
Garden design can be as much a part of curating a beautiful home as any of your interior living spaces. And if you're planning to put your home on the market anytime soon, you can never have too much curb appeal.
While plant life is practically a must, there are countless structural elements that can be used to bring dimension, style, and functionality to your backyard. Arbors are one — tragically underutilized — example.
Whether you're starting from scratch or reimagining an existing outdoor space, keep reading for the best garden arbor ideas of the moment!
1. Enhancing Your Veggie Garden with an Arbor
Incorporate an arbor into your vegetable garden to transform it into a captivating focal point, inviting visitors to explore the vibrant space. Utilize vertical space by choosing climbing vegetables like beans, cucumbers, and tomatoes, ensuring productivity meets aesthetic appeal. This vertical structure not only supports your plants but also provides much-needed shade, making your garden a comfortable retreat during the warmer months. To fully realize this design, pair your arbor with complementary garden furniture or accessories, creating a harmonious and functional outdoor space.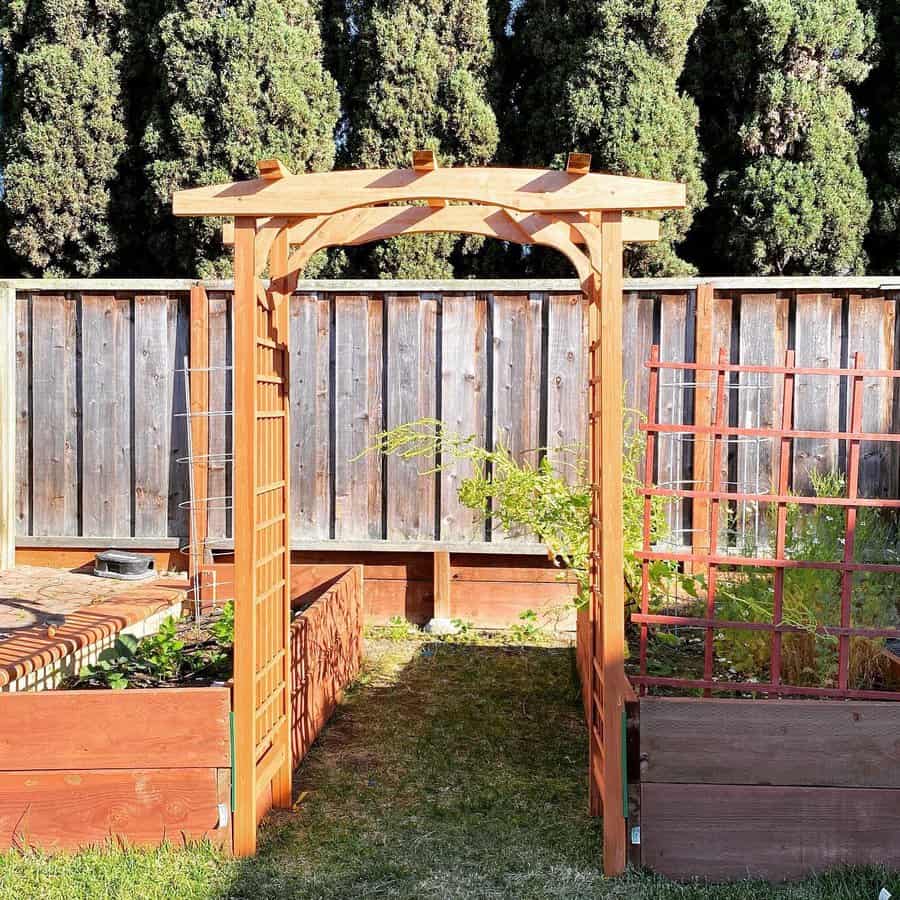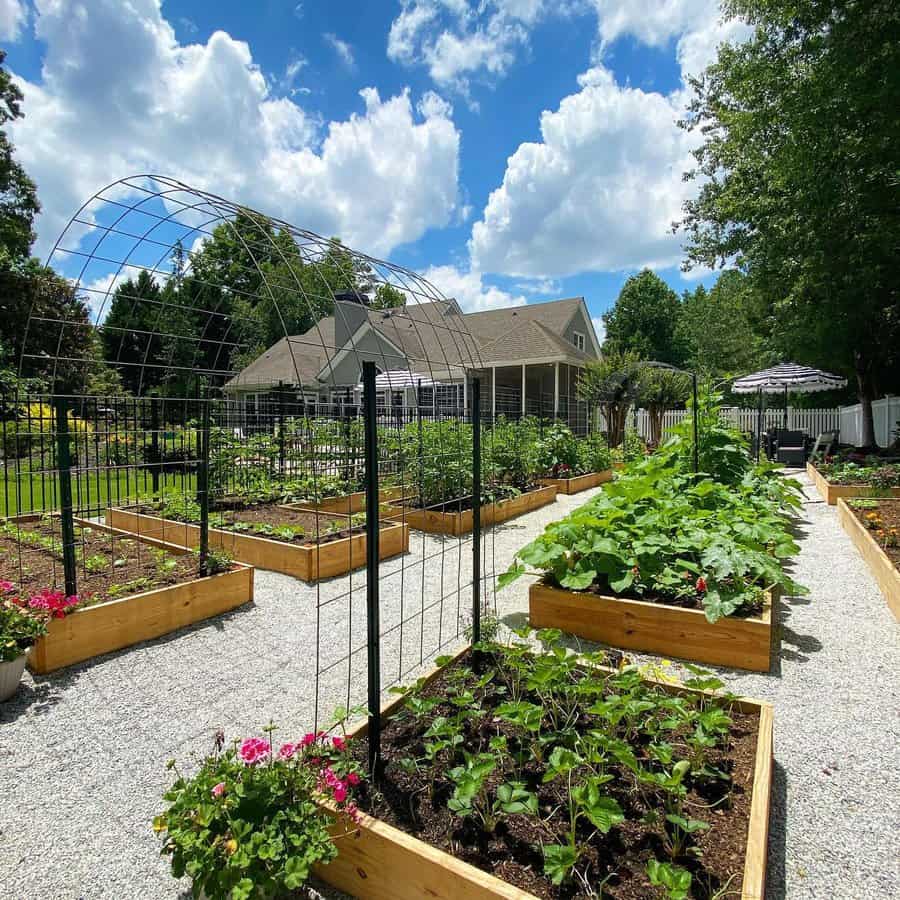 2. Relax Under an Arbor with Seating
Transform your backyard into a serene oasis with an arbor that features built-in seating. Complement the cozy bench with classic Adirondack chairs to accommodate more guests. Such a design not only offers a tranquil spot for personal relaxation but also a charming gathering space for intimate chats. To elevate the design, consider adding soft cushions, climbing plants, or ambient lighting, making the arbor a captivating centerpiece in your outdoor area.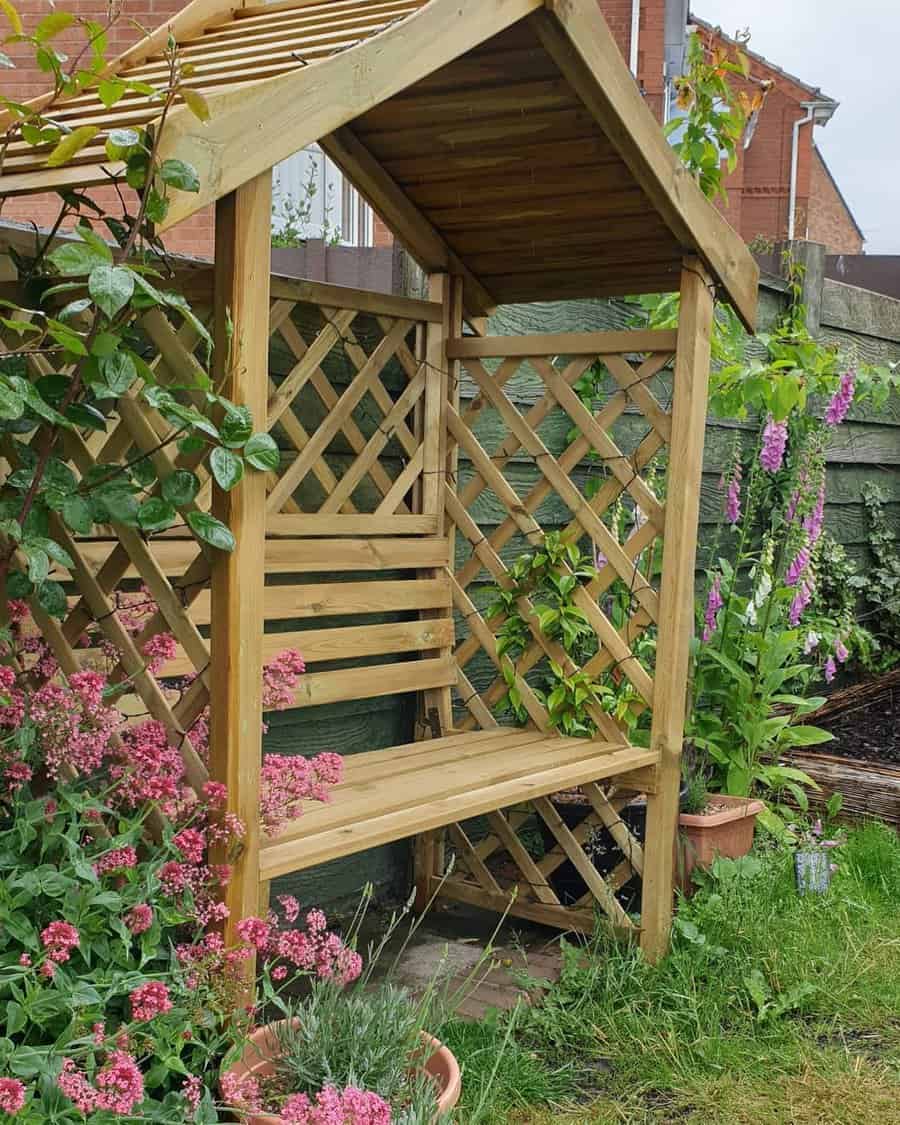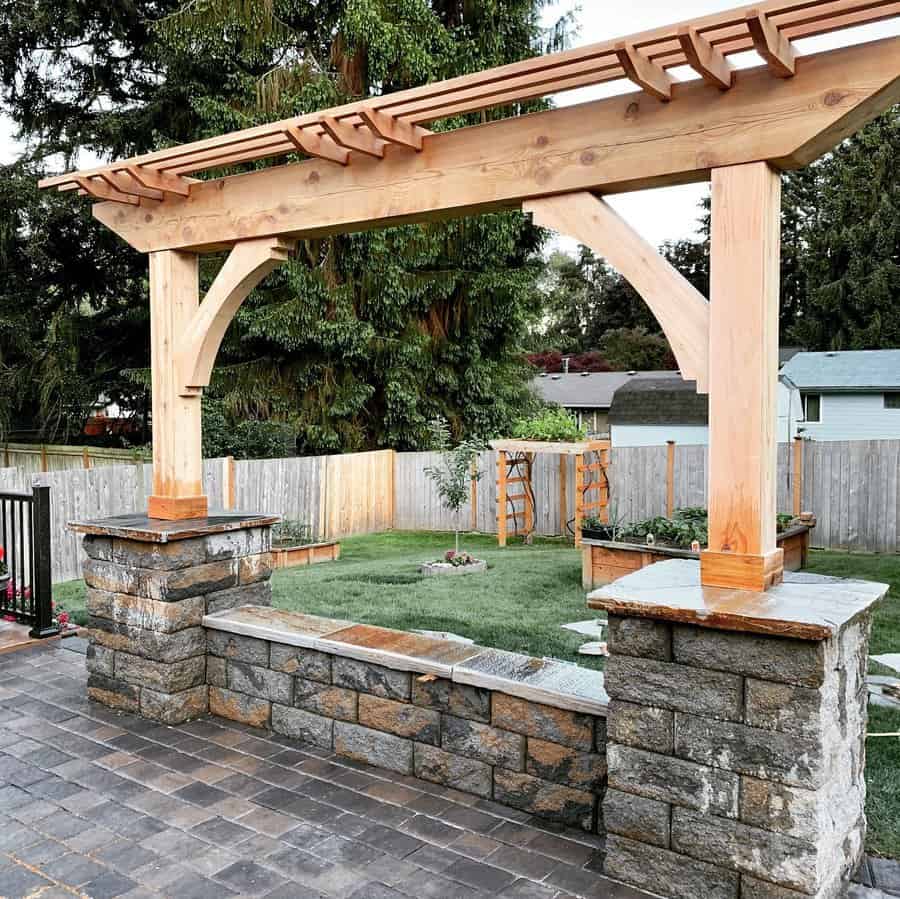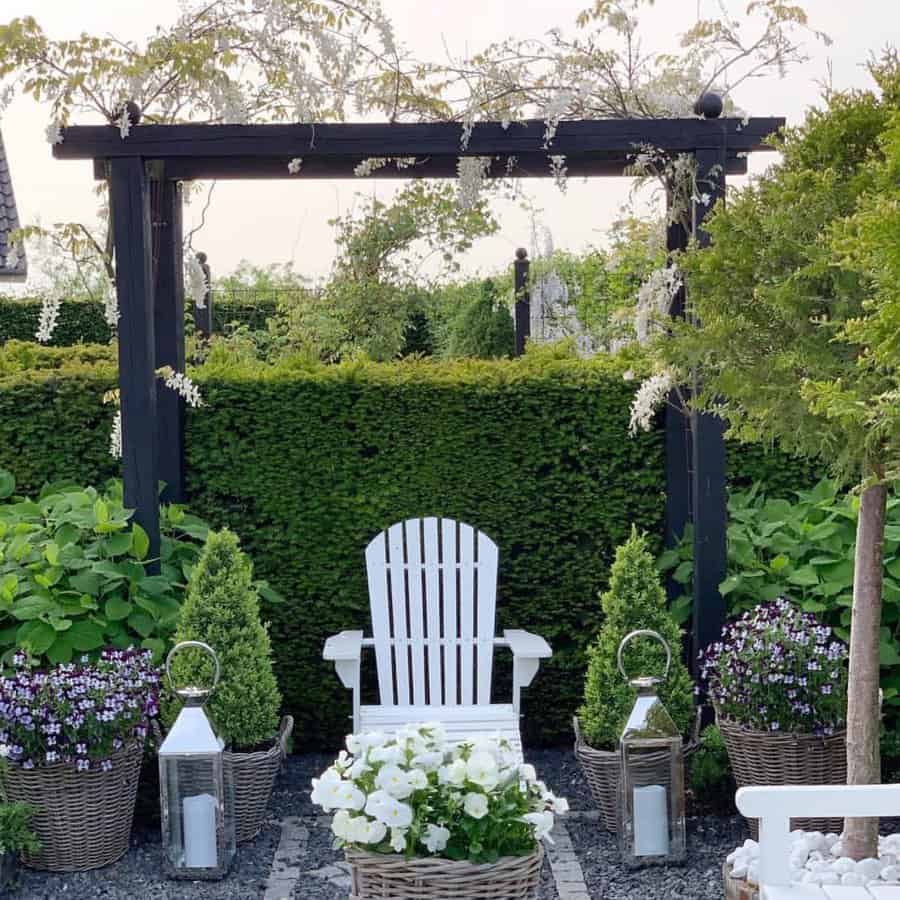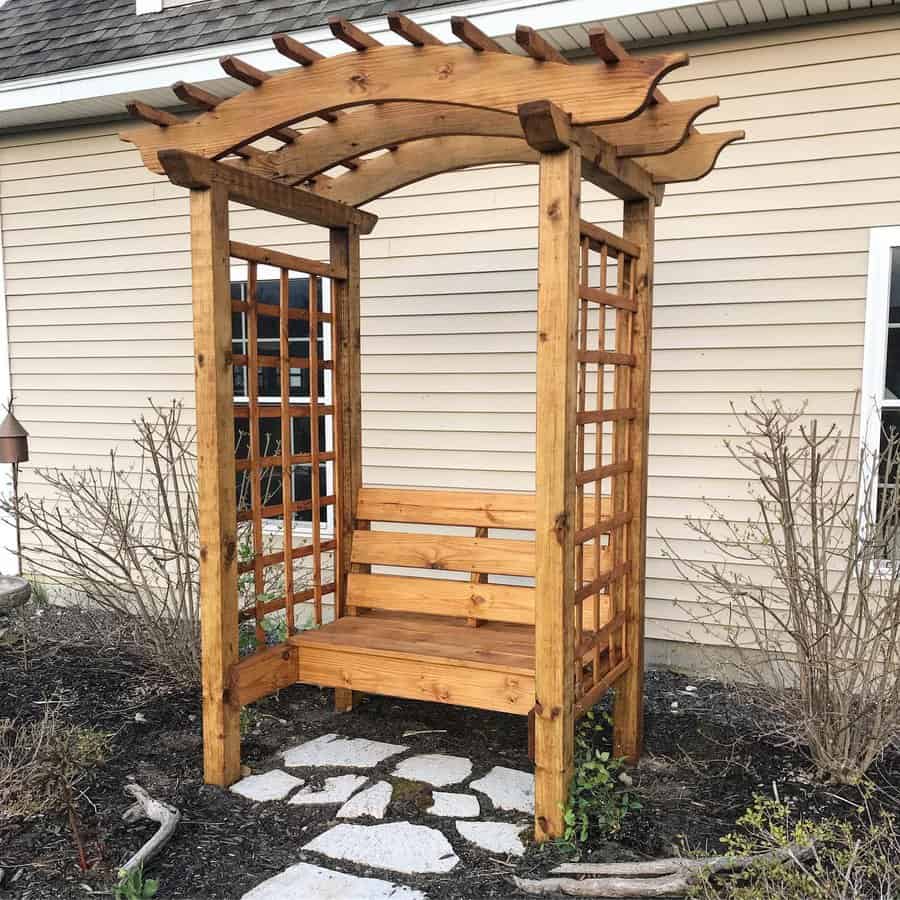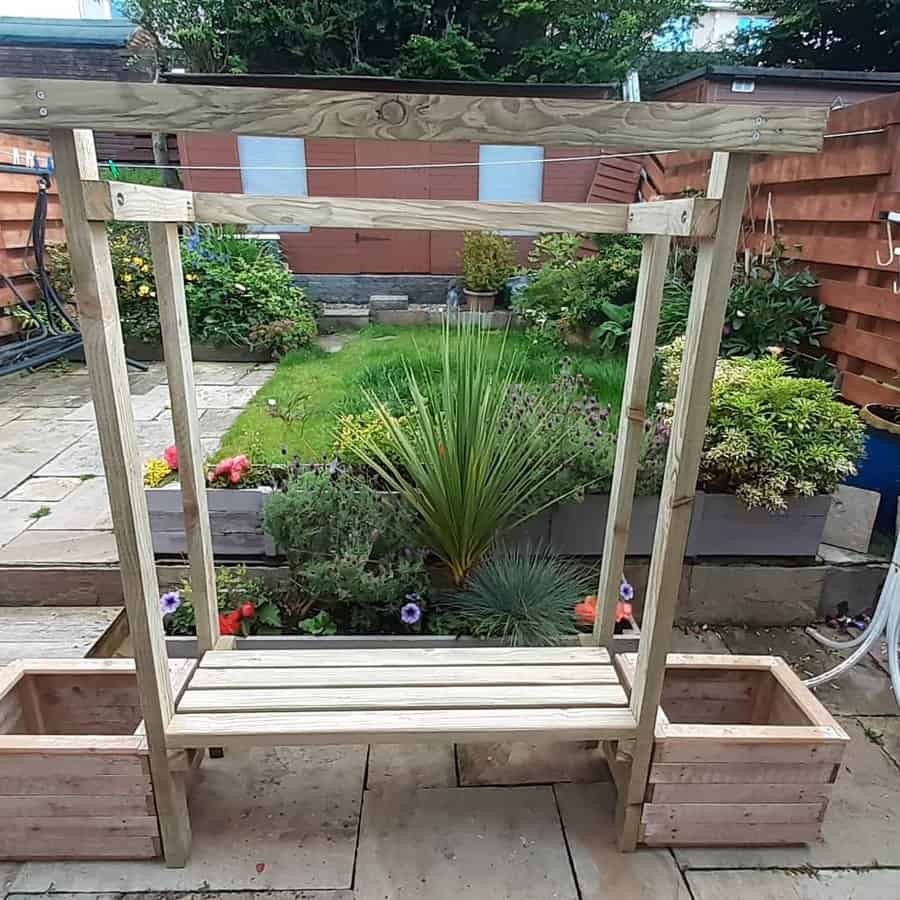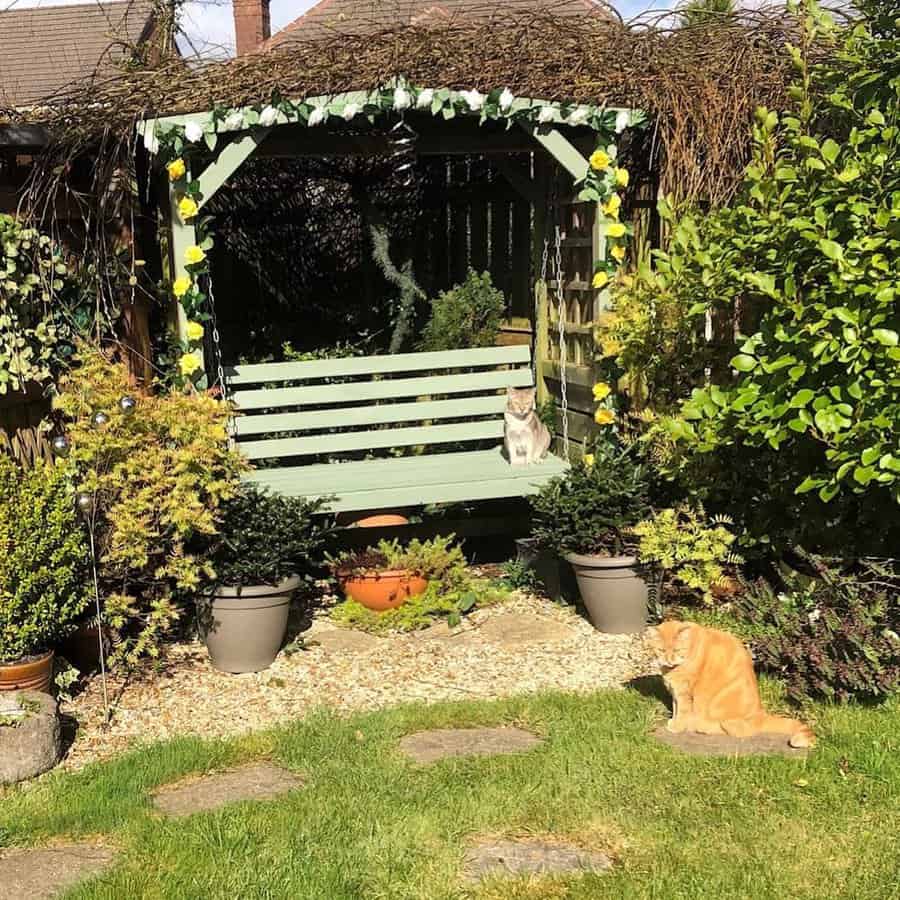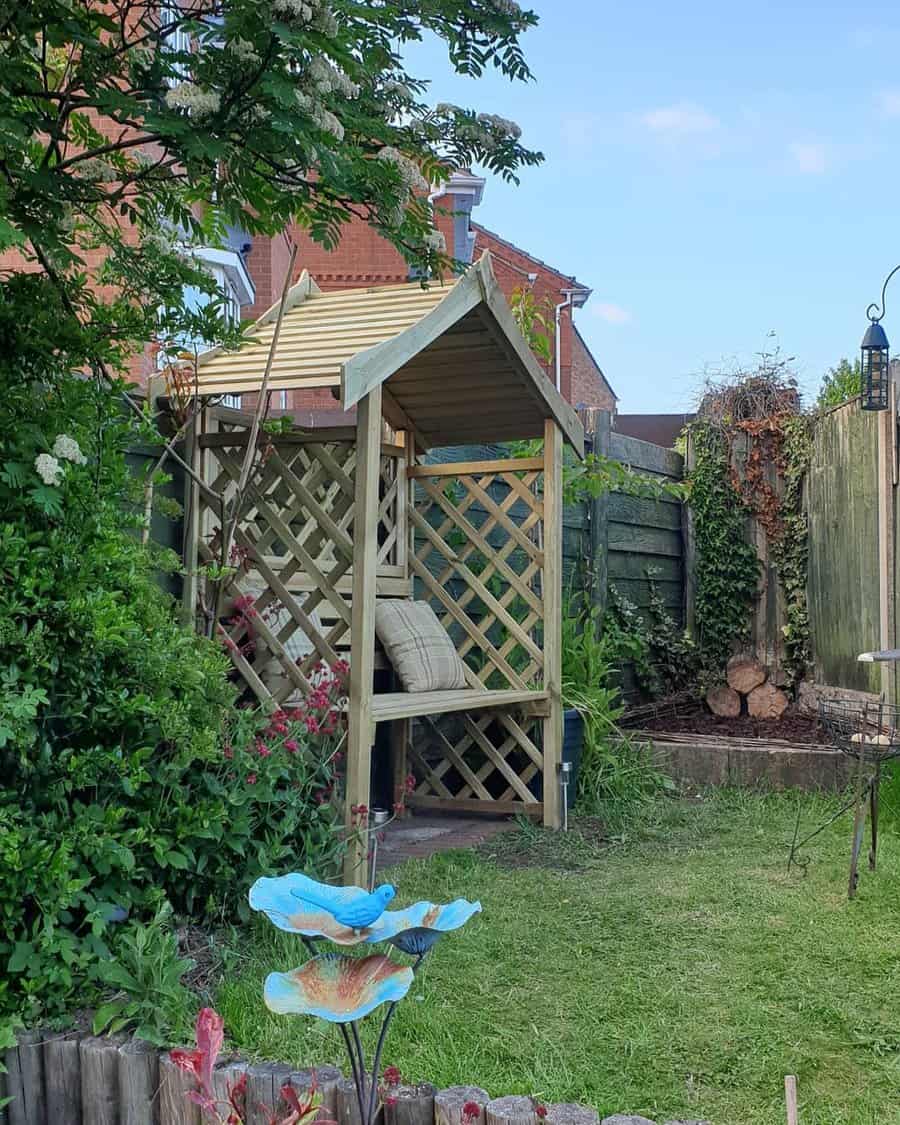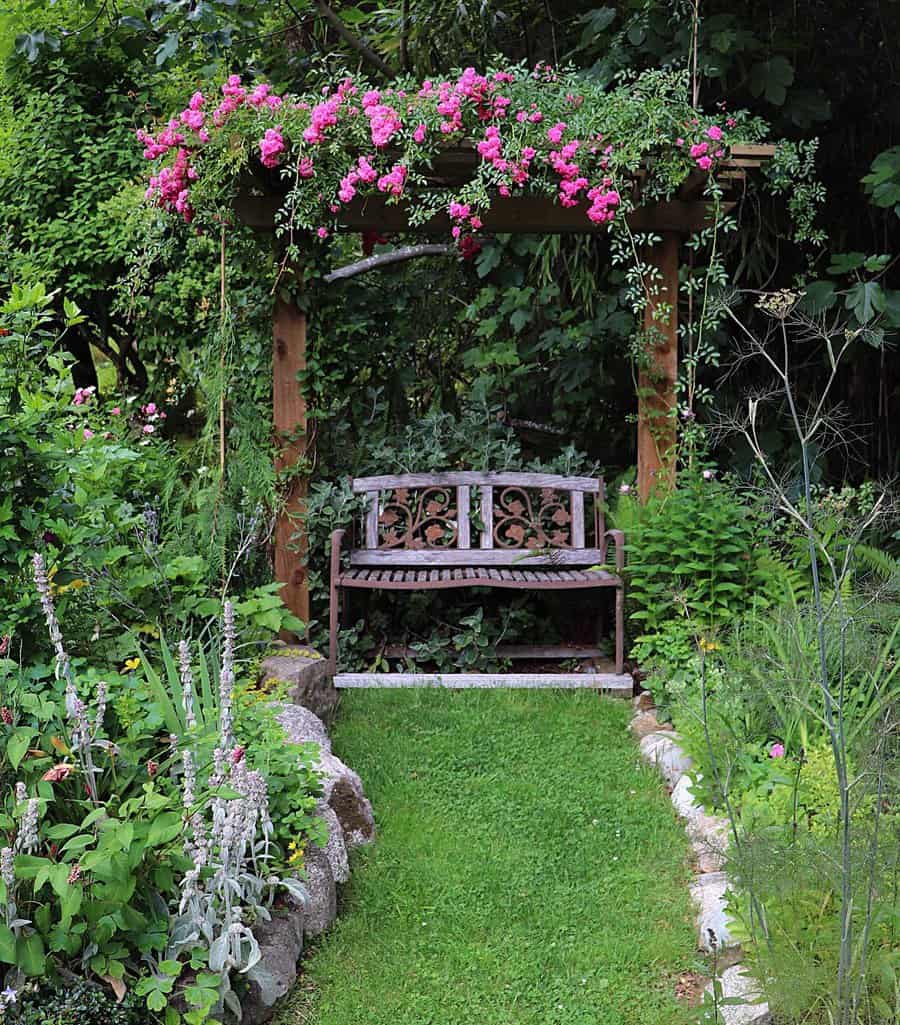 3. Elegant Entrance: Arbor with a Gate
Enhance your backyard's charm and create a welcoming entry with an arbor that features an integrated gate. Select a design that resonates with your aesthetic preferences, be it rustic, contemporary, or classic. Adorn the arbor with climbing plants like vines or flowering creepers to establish a captivating, lush canopy. This combination not only ensures privacy but also transforms your backyard into an exclusive retreat. By implementing this design, the arbor with a gate becomes a cherished element of your outdoor space, versatile enough to serve as a grand entrance, a transition to different garden sections, or a picturesque setting for social gatherings.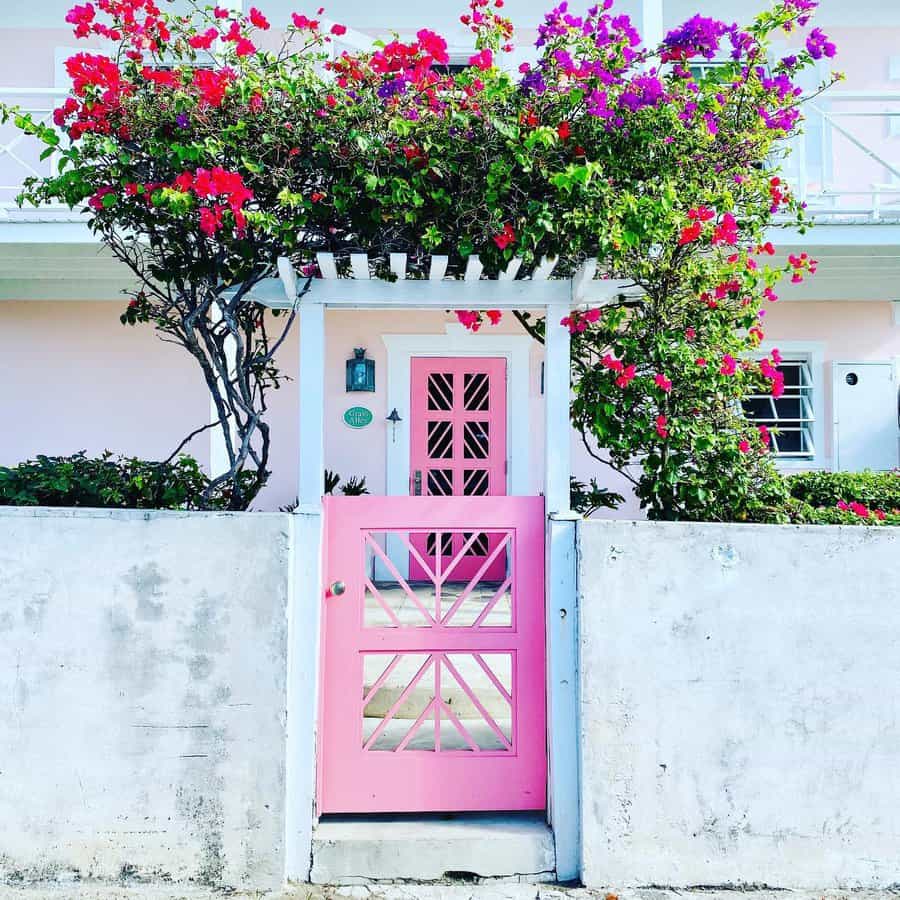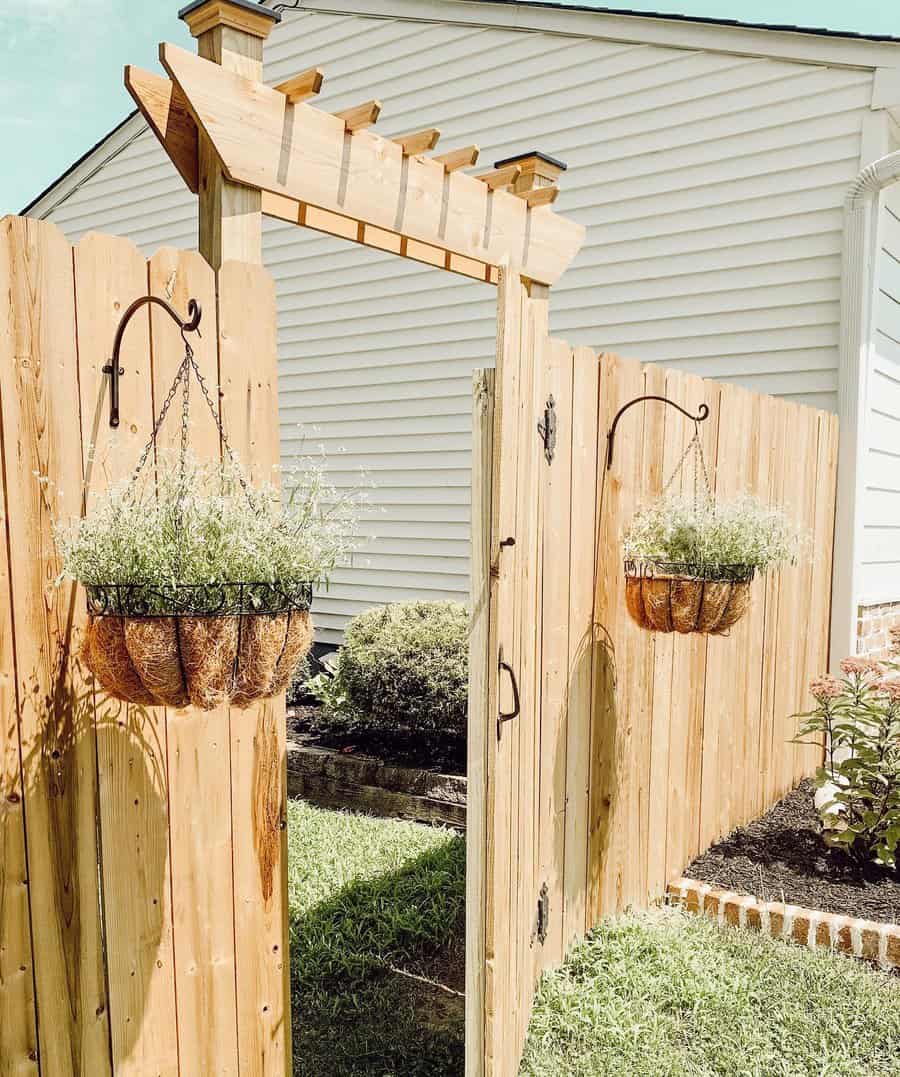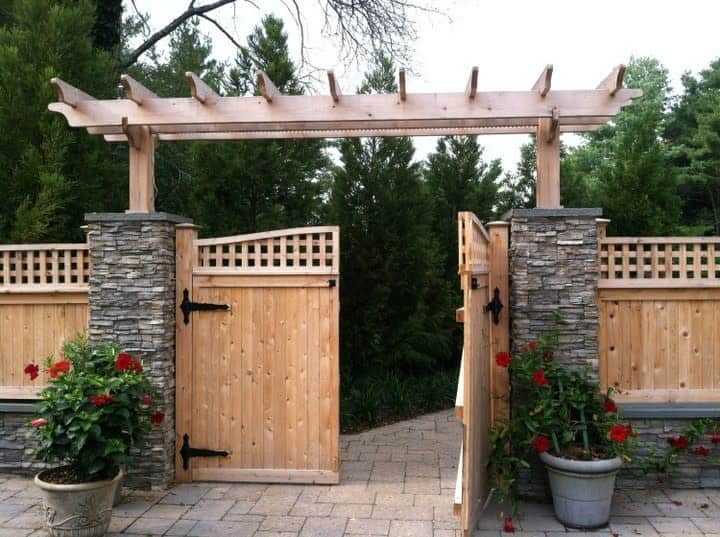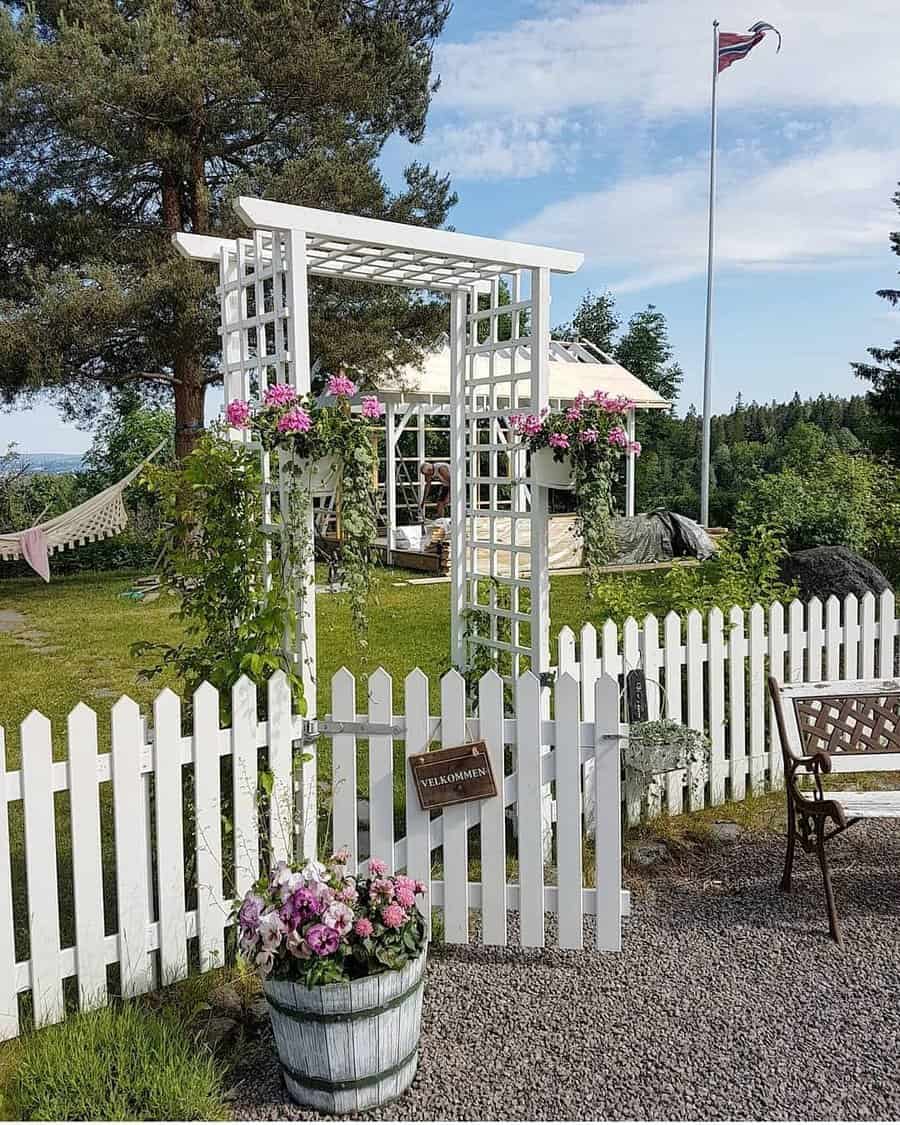 4. Circular Charm: Choosing a Round Arbor
Introduce a unique, tranquil element to your garden with a round arbor, crafting a space perfect for quiet contemplation. The circular design promotes balance and harmony, enhancing your backyard's flow and atmosphere. Ideal for fostering a Zen-like retreat, this arbor invites connection with nature and personal serenity. Adorn it with climbing plants like jasmine or ivy to create a lush, private canopy, transforming the space into an intimate, enclosed sanctuary. This design not only provides shade but also adds a captivating aesthetic feature to your outdoor area.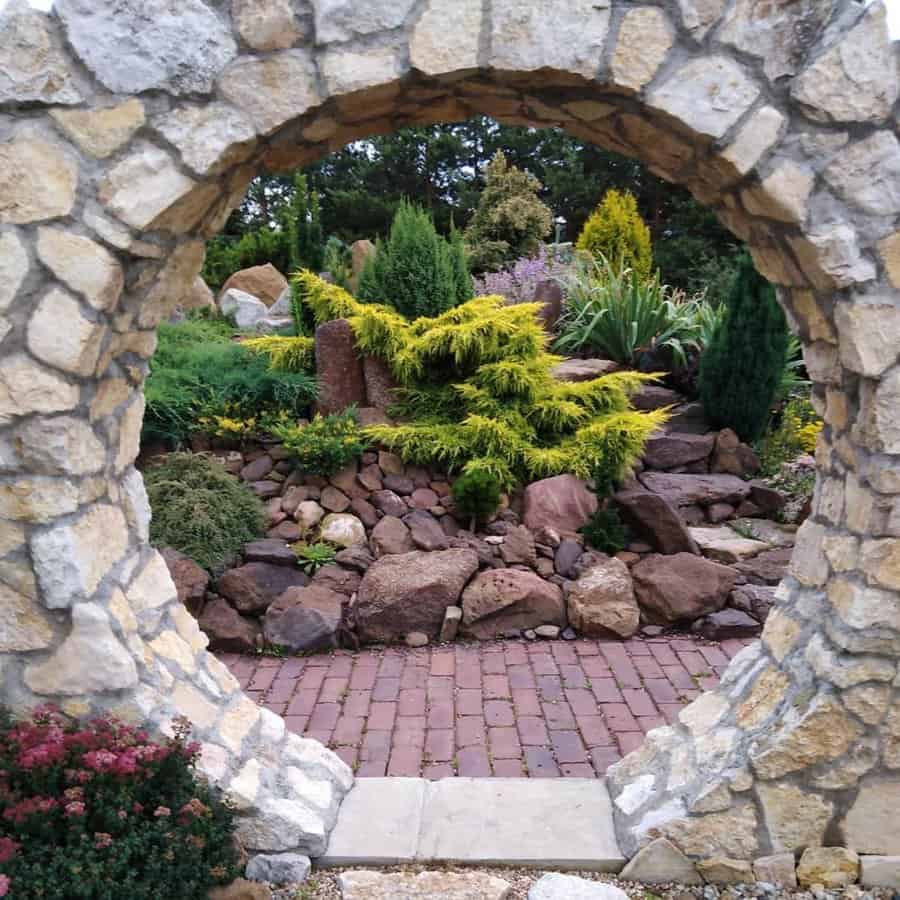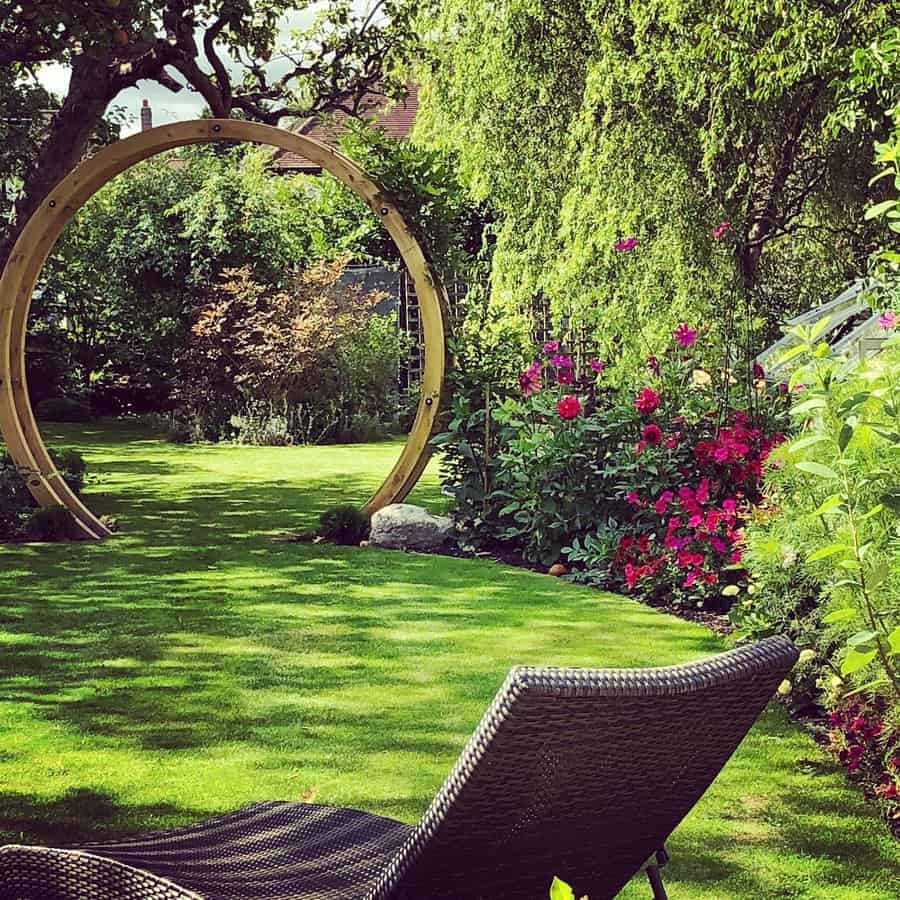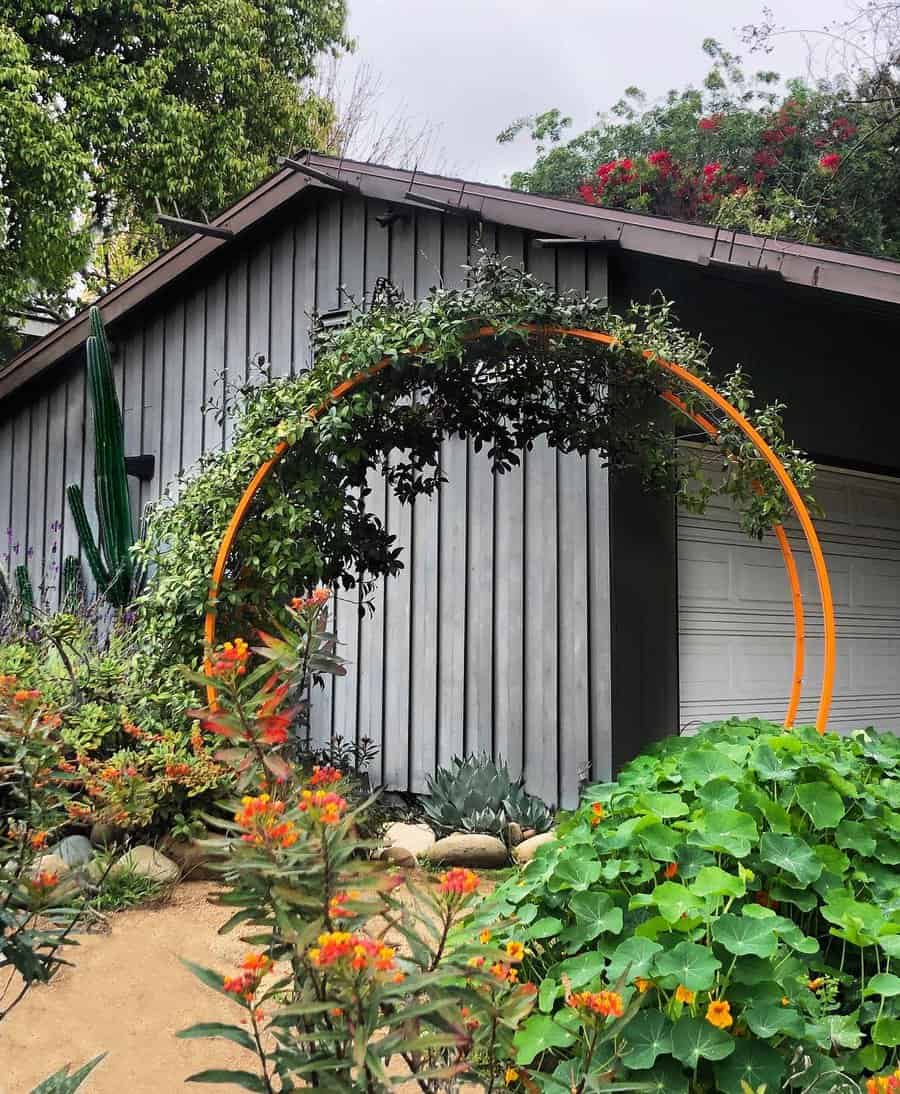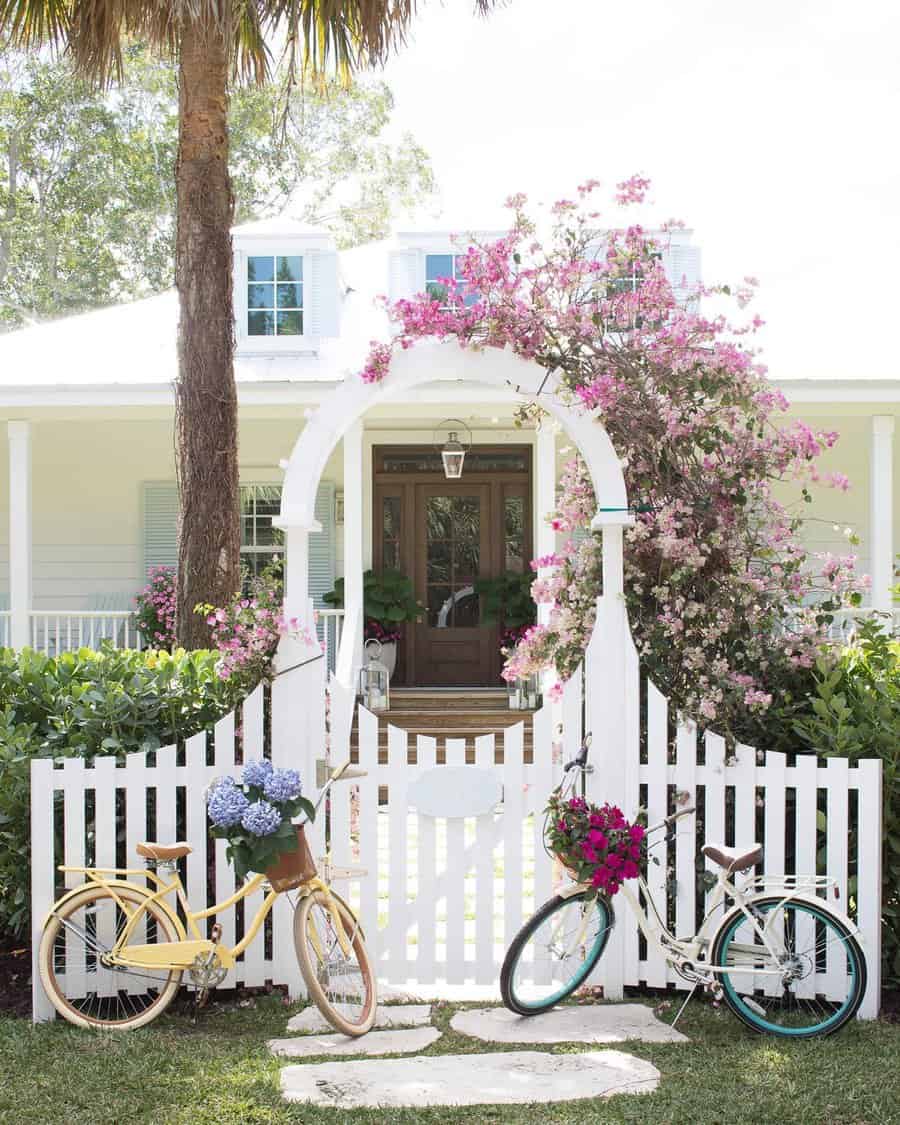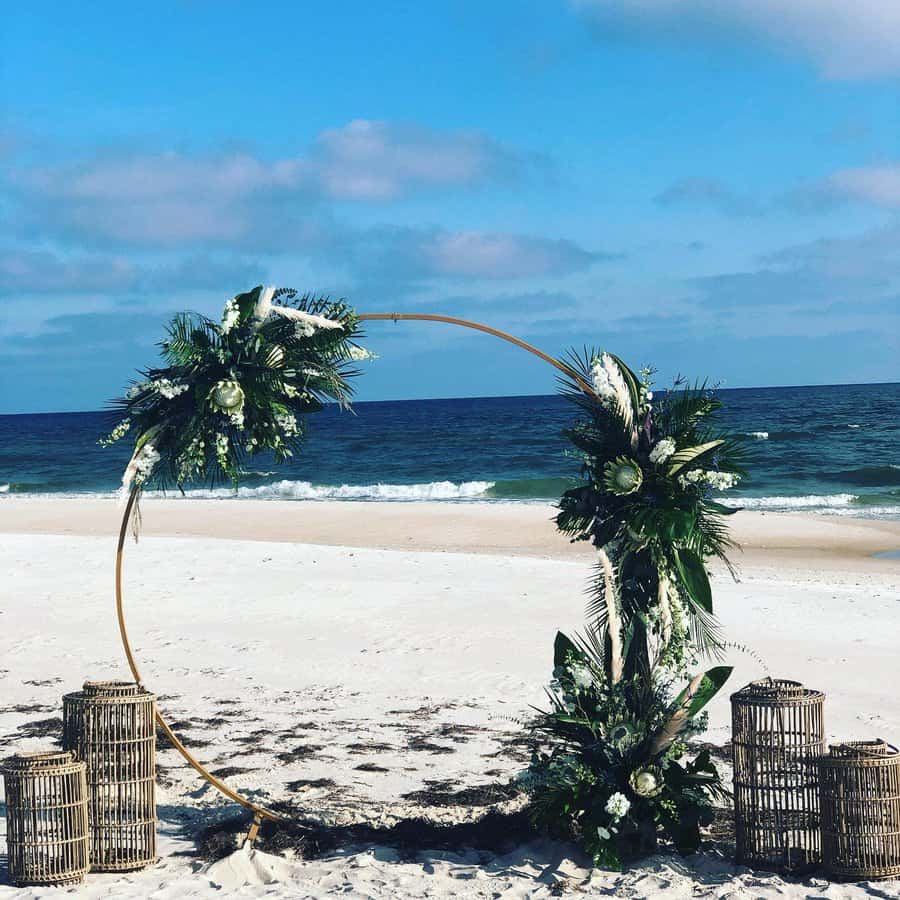 5. Walkway Wonders: Arbors That Captivate
Arbors positioned along walkways effortlessly elevate garden aesthetics, providing intriguing focal points and shaded respites. The play of light and shadow they introduce contributes depth and visual interest to your outdoor setting. For those wishing to enhance their garden's pathway or create a serene nook, integrating an arbor is an elegant solution. To complement this structure, consider adding climbing plants or ambient lighting, further enriching the ambiance and allure of your walkway.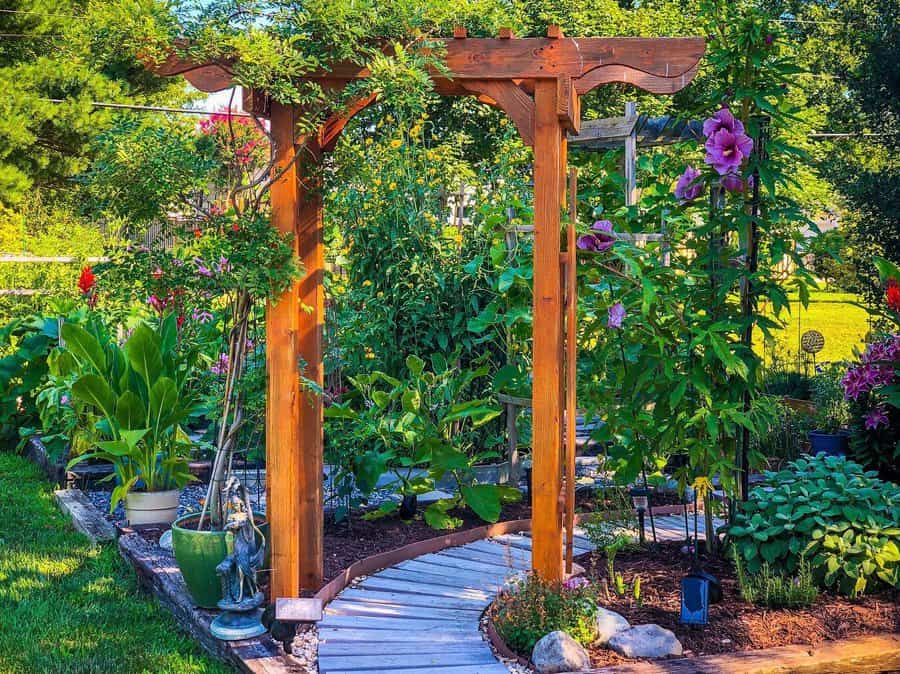 6. Define Your Space with an Arbor and Fencing
Marrying an arbor with fencing effectively delineates your outdoor space while infusing it with timeless elegance. A picket fence integration not only amplifies its classic charm but also boosts privacy and security. Beyond its decorative appeal, this union offers a versatile canvas for adornments like hanging plants or ambient string lights. By introducing an arbor with fencing, you pave the way for a myriad of design possibilities, crafting a welcoming entrance that encapsulates both functionality and enchanting aesthetics.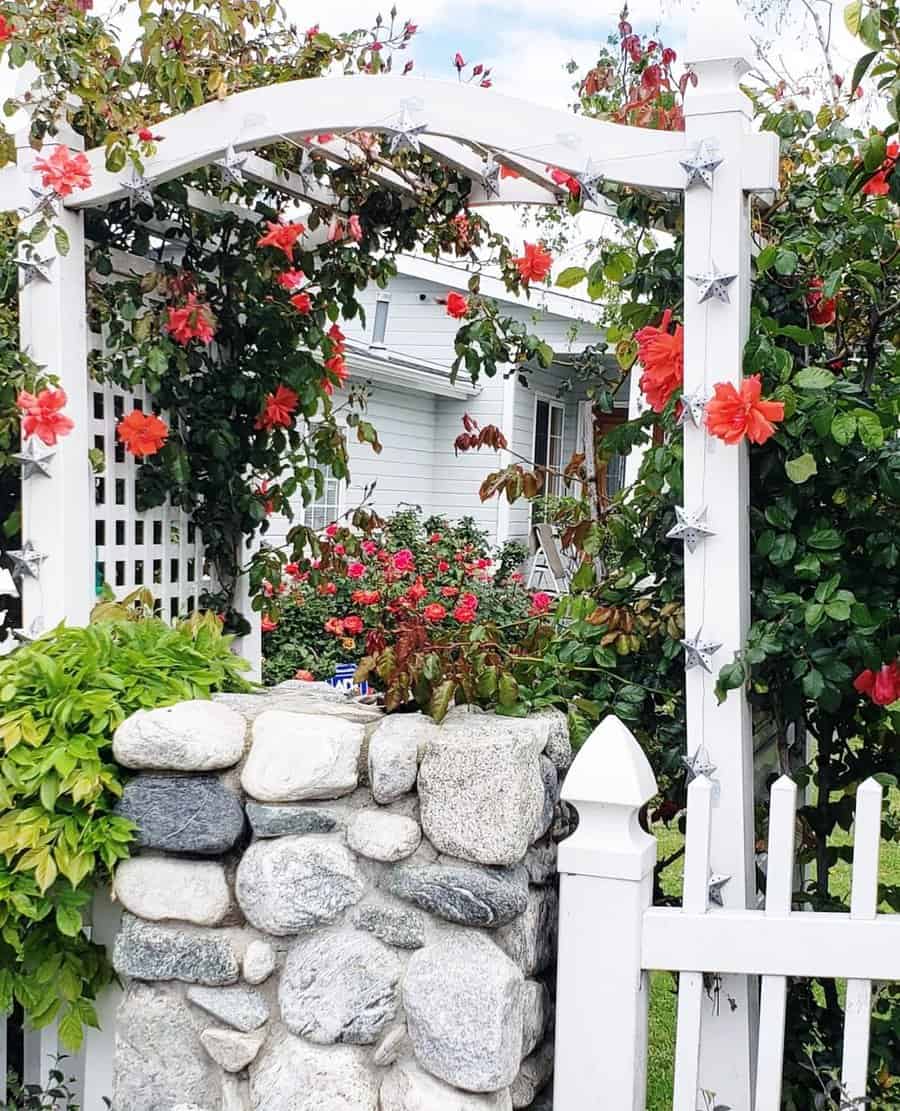 7. Natural Beauty: Crafting a Twig Arbor
Infuse your garden with enchantment by integrating a twig arbor, meticulously crafted from slender branches. Its organic form, whether round or arched, harmonizes seamlessly with your garden's natural flow. Beyond its decorative allure, this arbor provides tangible benefits such as support for climbing plants and a source of dappled shade. Envision the charm of vibrant vines or the fragrance of jasmine enhancing this rustic retreat. Incorporating a twig arbor transforms your garden into a whimsical sanctuary, a space where tranquility reigns and connection with nature is effortlessly fostered.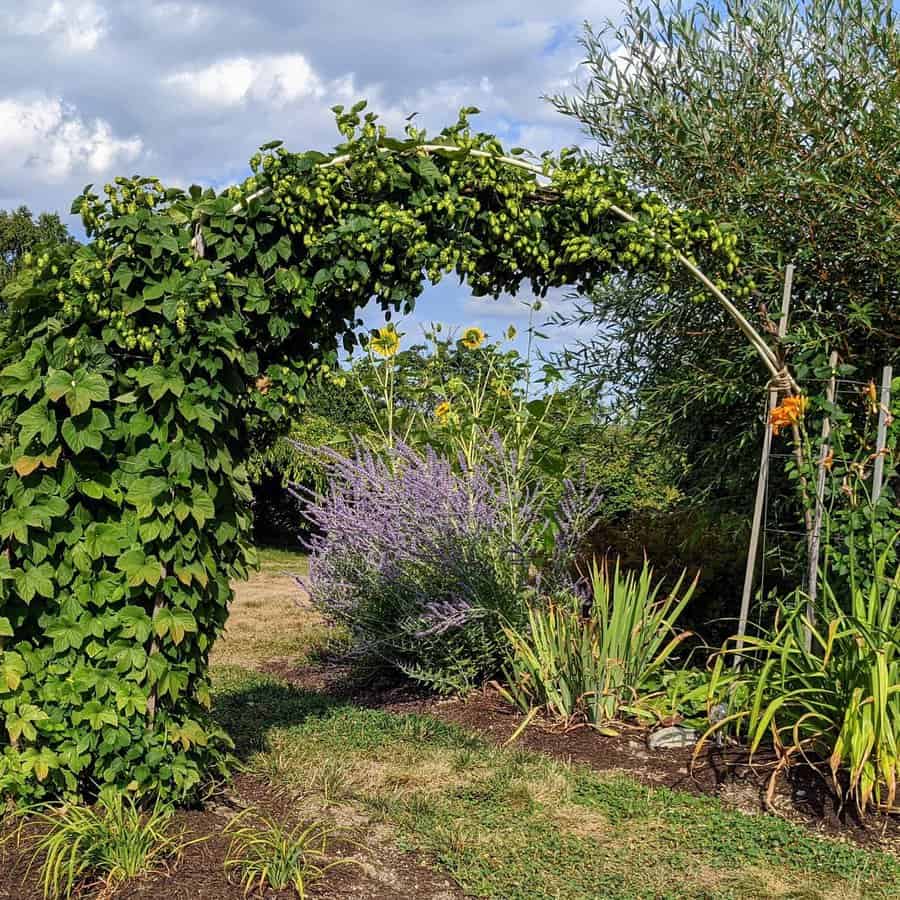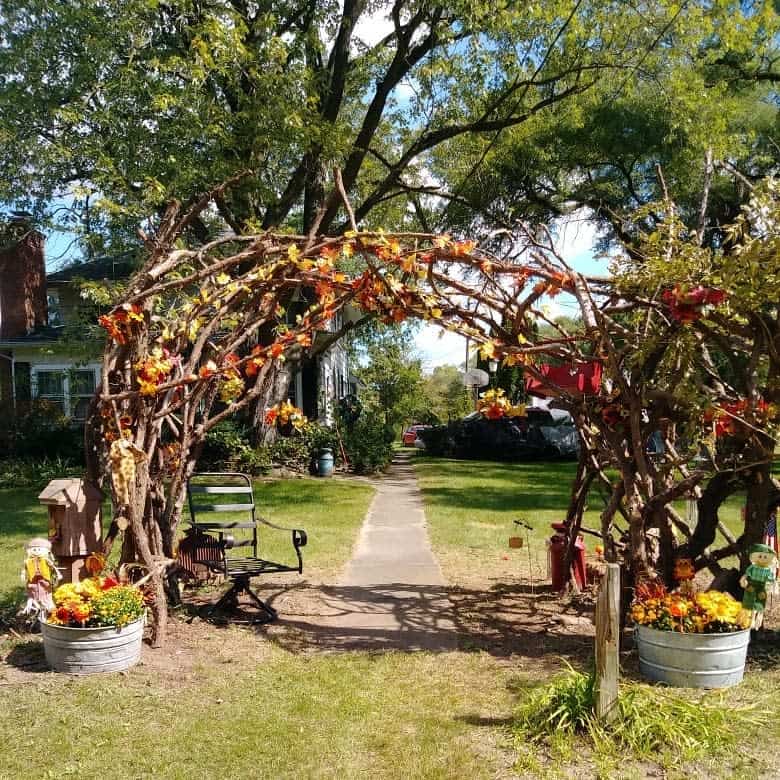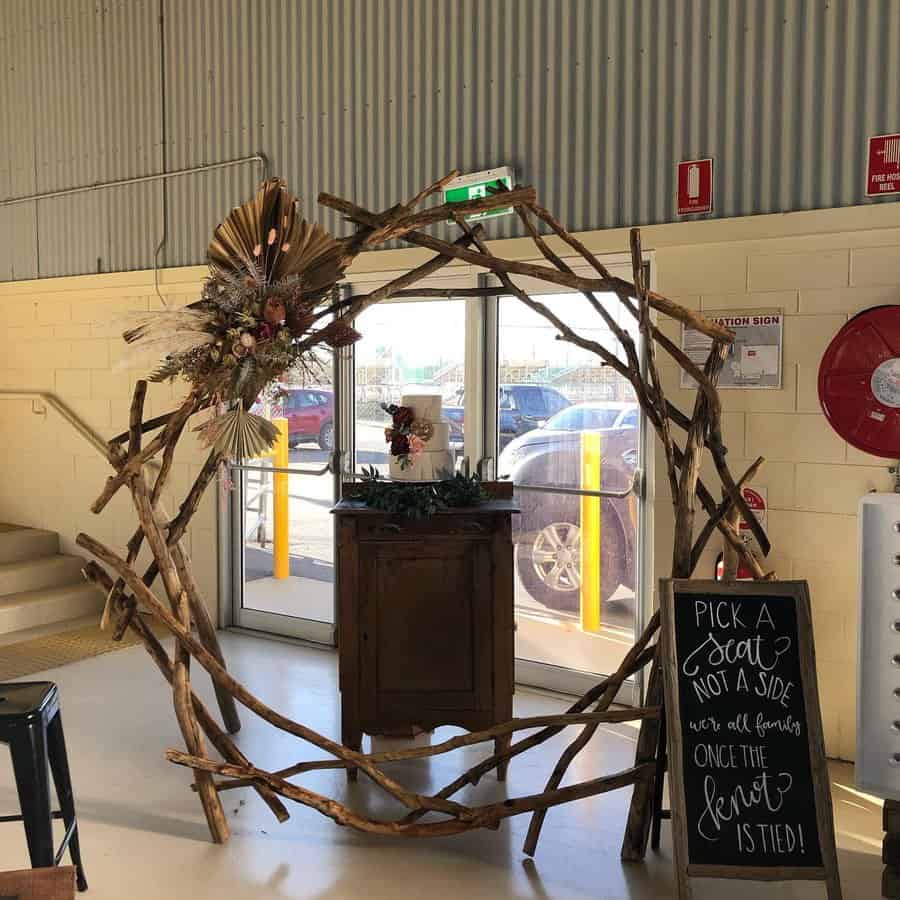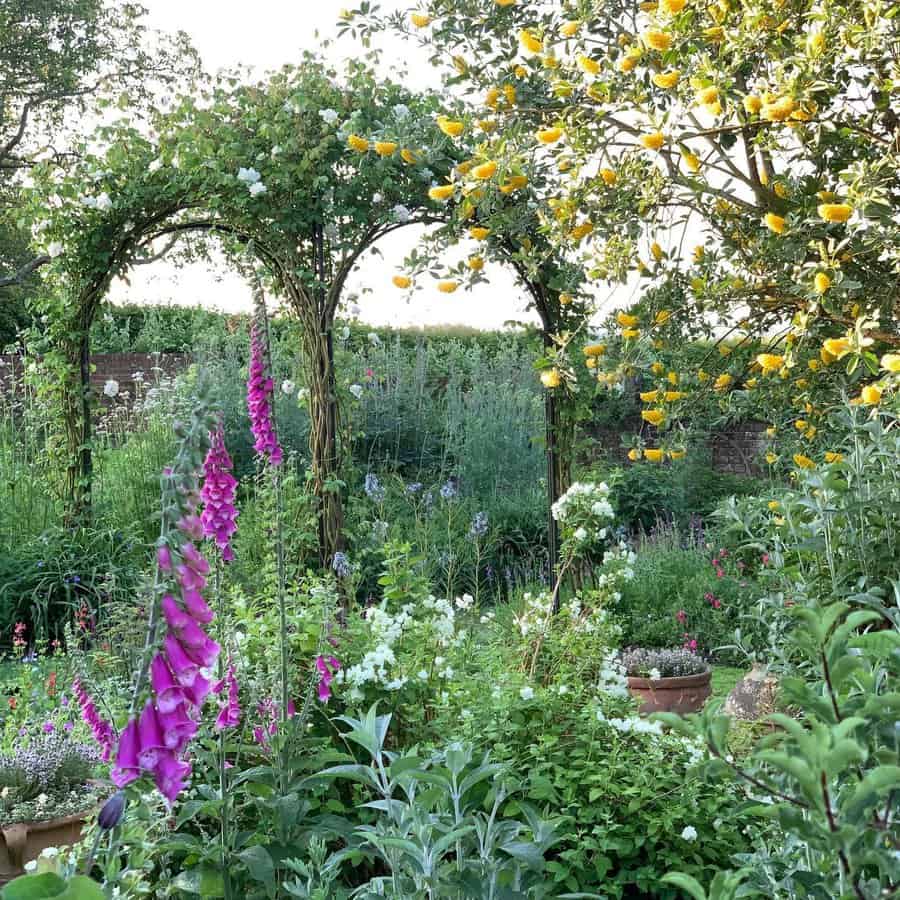 8. Create a Grand Entrance with a Garden Arbor
A garden arbor effortlessly introduces elegance and architectural interest to your outdoor space, serving as an inviting focal point. Adorn its structure with vibrant roses or other climbing plants for a stunning display of color and fragrance. This creates a picturesque portal to a hidden paradise within your garden, guiding visitors through a lush, sensory experience. Beyond its beauty, the arbor adds verticality and serves as a striking transition between different garden zones, providing endless opportunities for creating captivating garden vistas.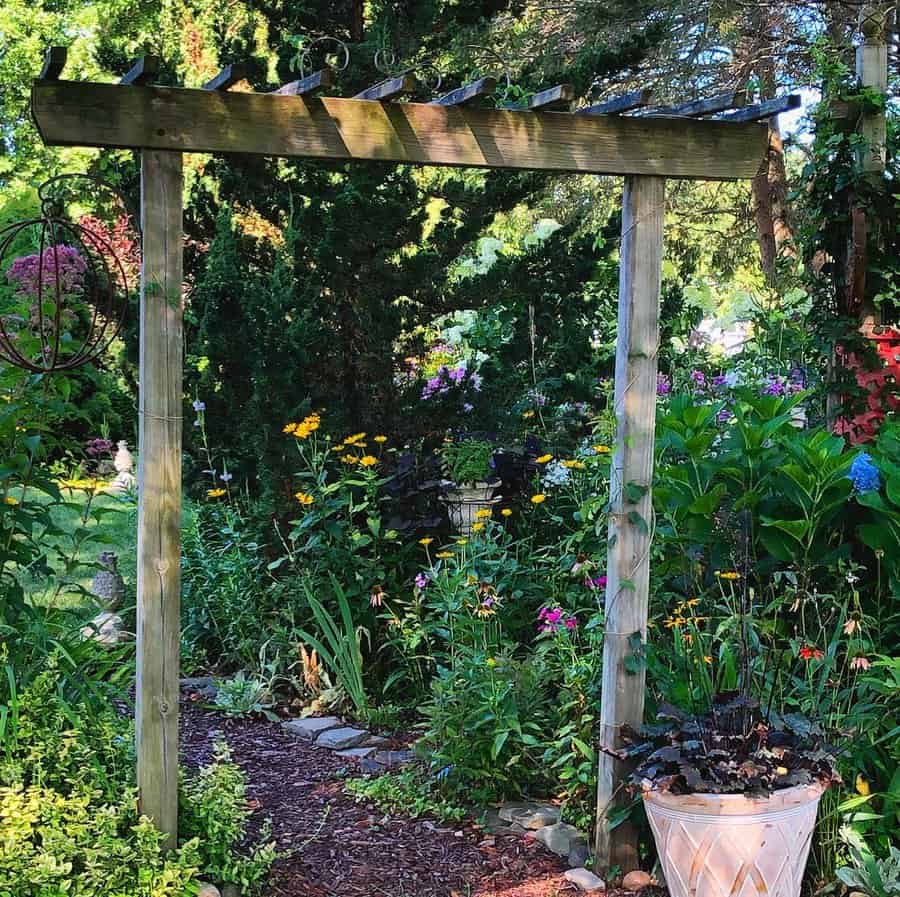 9. Rustic Elegance: Metal Arbor Designs
Introduce timeless beauty and durability to your backyard with a rustic metal arbor. Its weathered appearance adds character, while the metal's strength ensures longevity through various weather conditions. The intricate design enhances your garden's aesthetic, effortlessly marrying with the surrounding foliage. Encourage climbing plants to weave through the framework, creating a living artwork that exemplifies the seamless blend of nature and craftsmanship. A metal arbor not only stands as a visual delight but also offers versatility, serving beautifully as a quaint seating area, an alluring entryway, or a romantic backdrop for gatherings.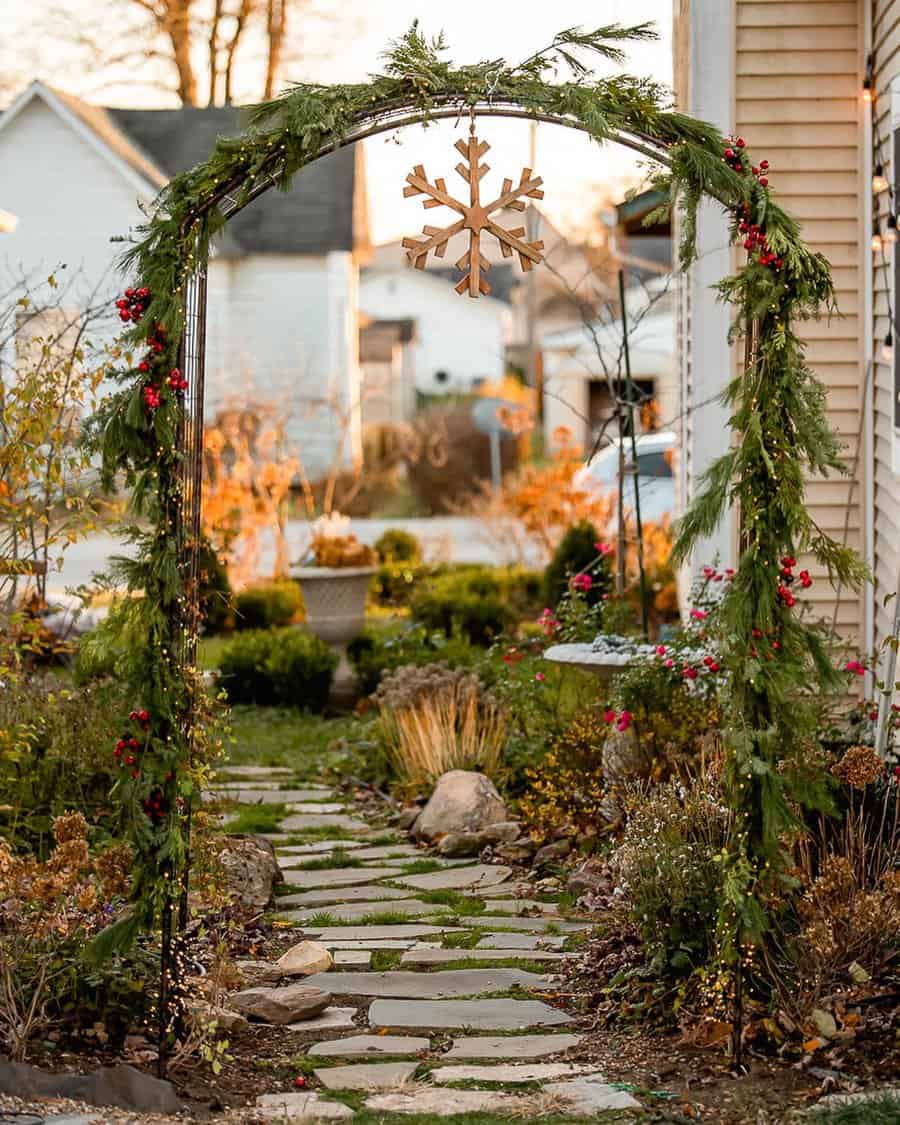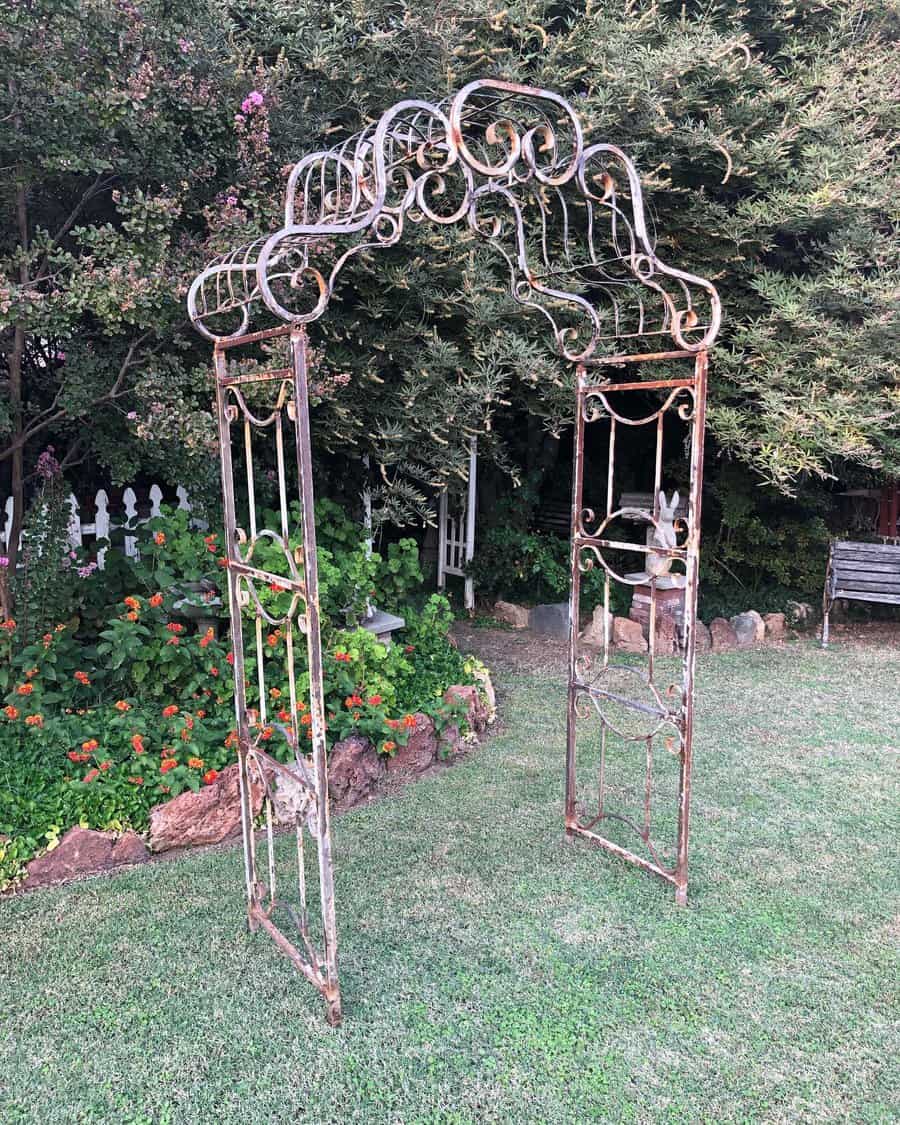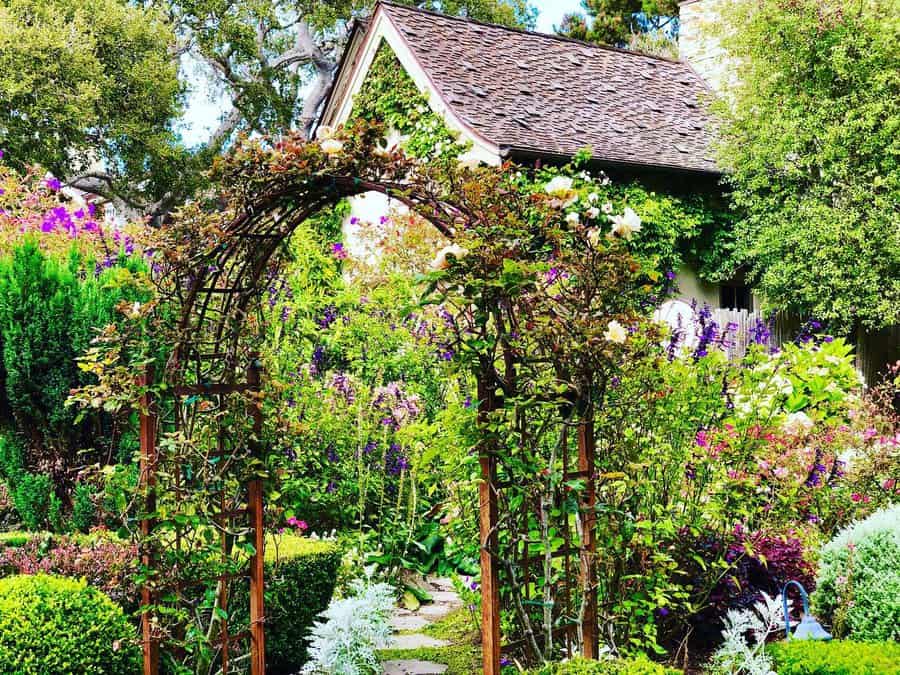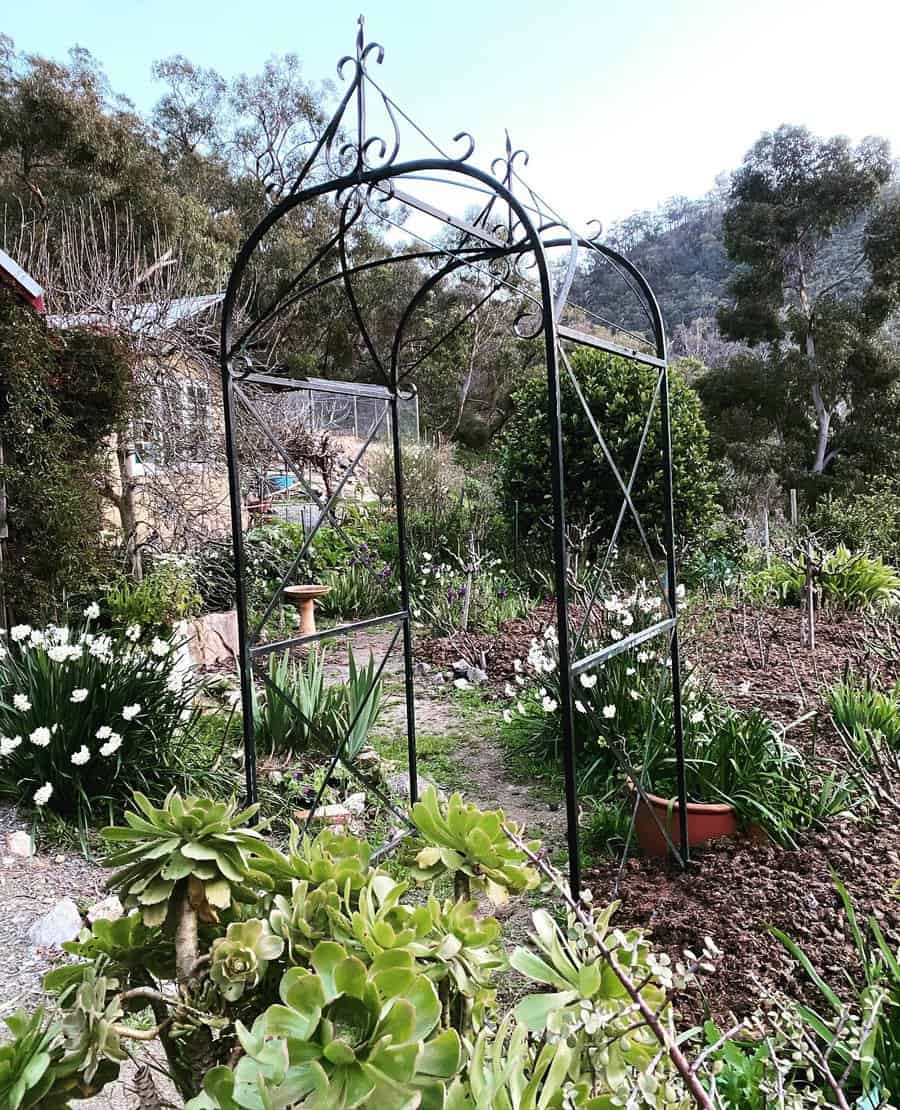 10. Arbor Meets Trellis: A Perfect Pairing
Unite architectural charm and functionality in your garden with an arbor complemented by a trellis. This design provides an optimal backdrop for climbing flora, letting them gracefully ascend the lattice, adding depth and greenery. The trellis pattern not only presents a visually engaging design but also promotes shade and privacy. Envision moments beneath this structure, with nature's tapestry overhead and the gentle play of sunlight filtering through, making your outdoor space a serene and intimate retreat.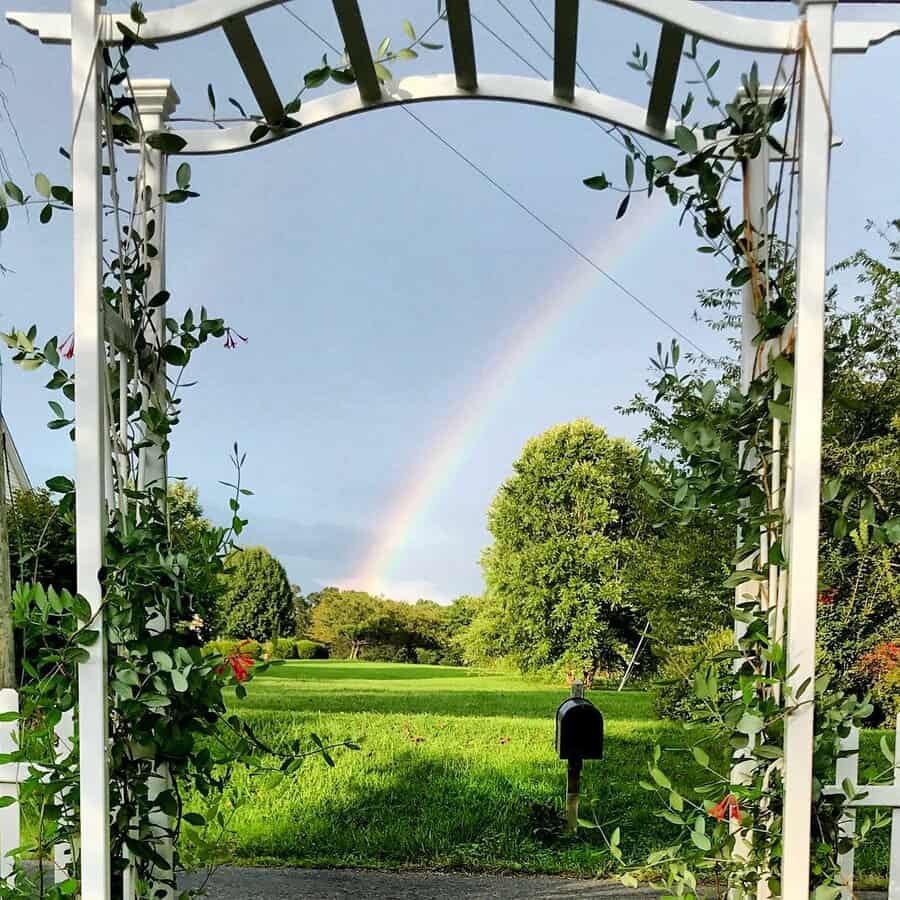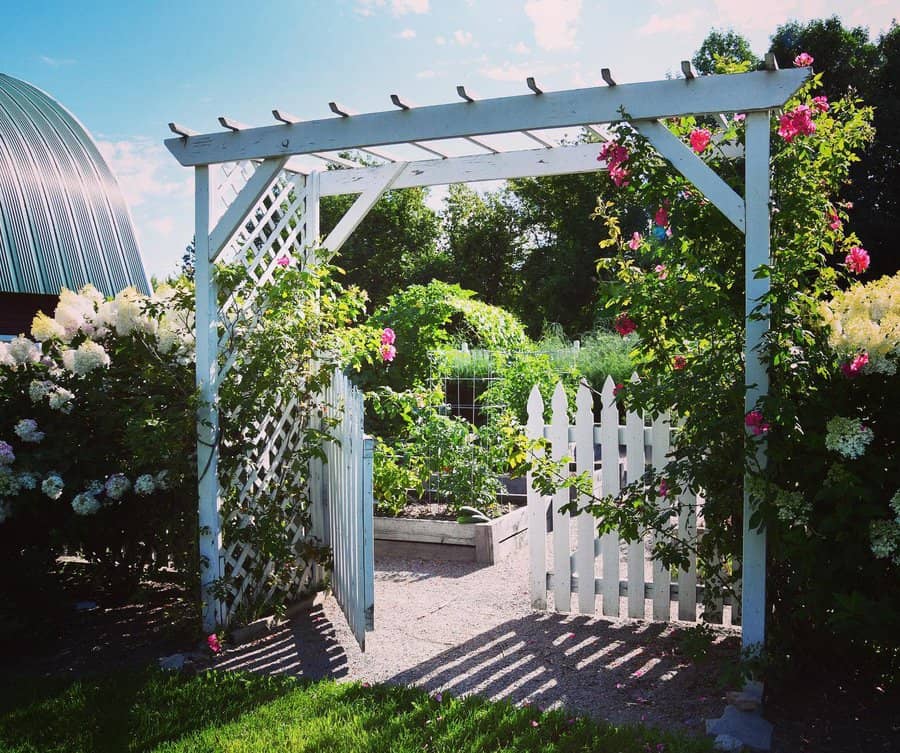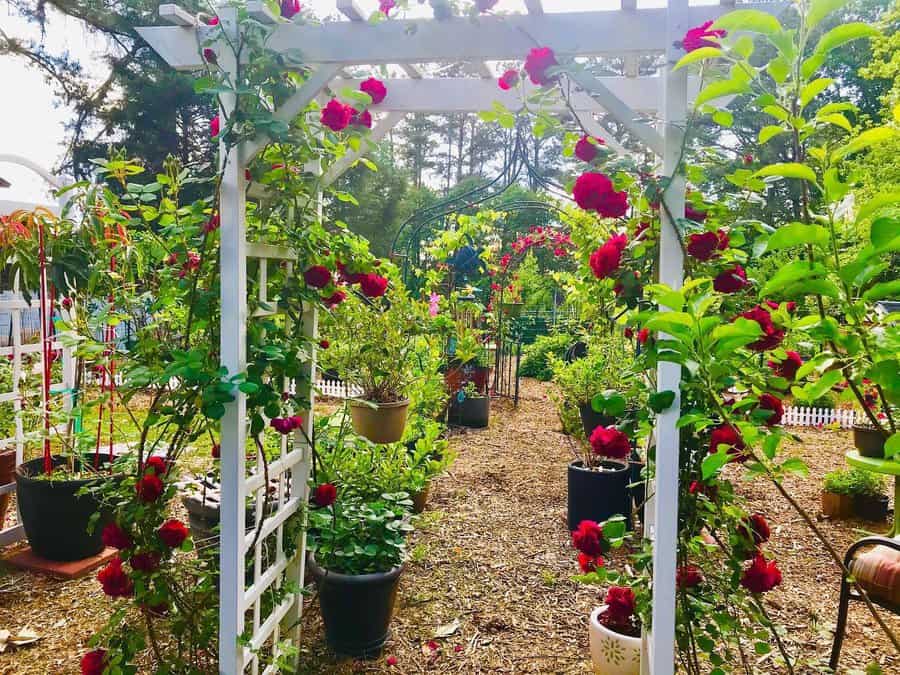 11. Guide Your Climbers: Pole Arbor Ideas
A climbing pole arbor delivers both beauty and practicality, introducing a unique focal point to gardens. Distinct from traditional arbors, its tall, slender design elegantly supports climbing plants, allowing them to showcase their vibrant hues and textures. This vertical growth approach efficiently utilizes space, making it perfect for compact yards. To maximize the visual appeal and benefit of your pole arbor, consider pairing complementary climbers, such as roses with ivy, to create an enthralling display. Embrace this structure to seamlessly blend nature and design, crafting an enchanting backyard oasis.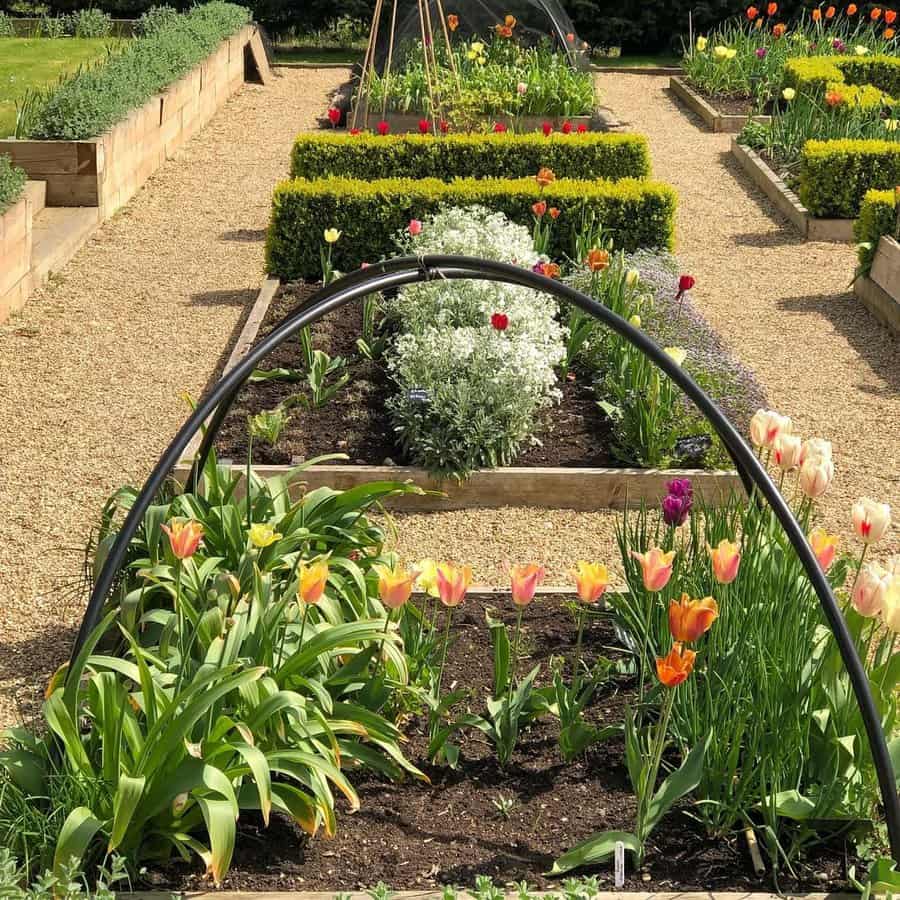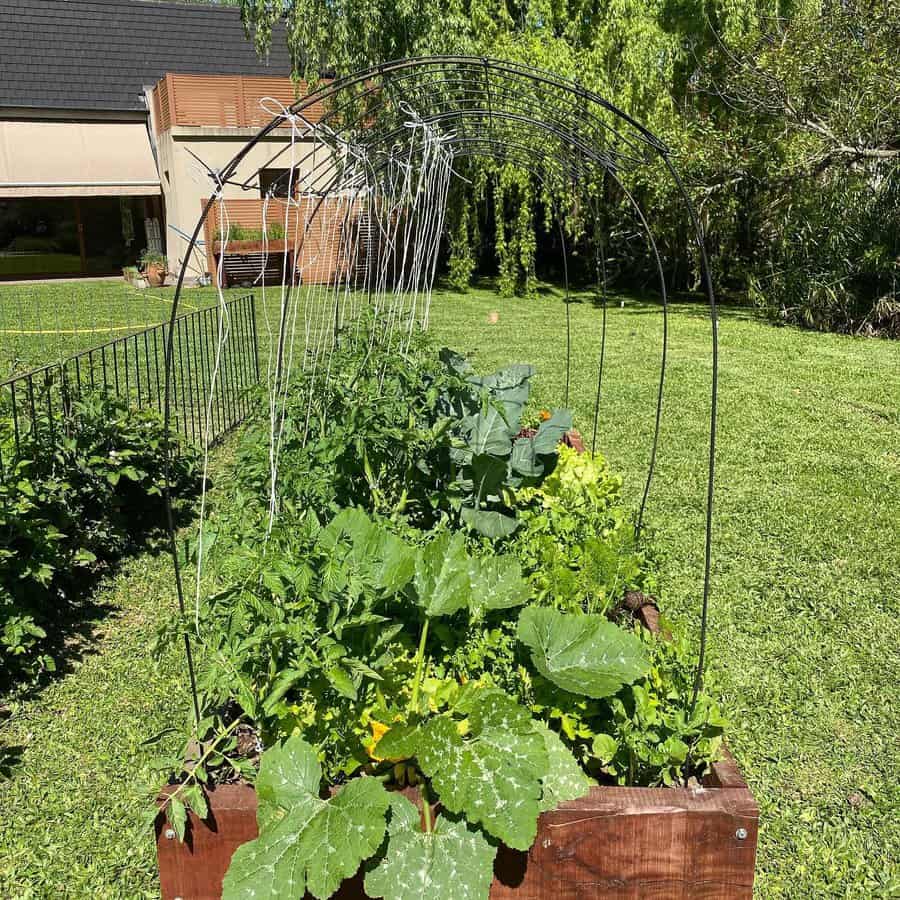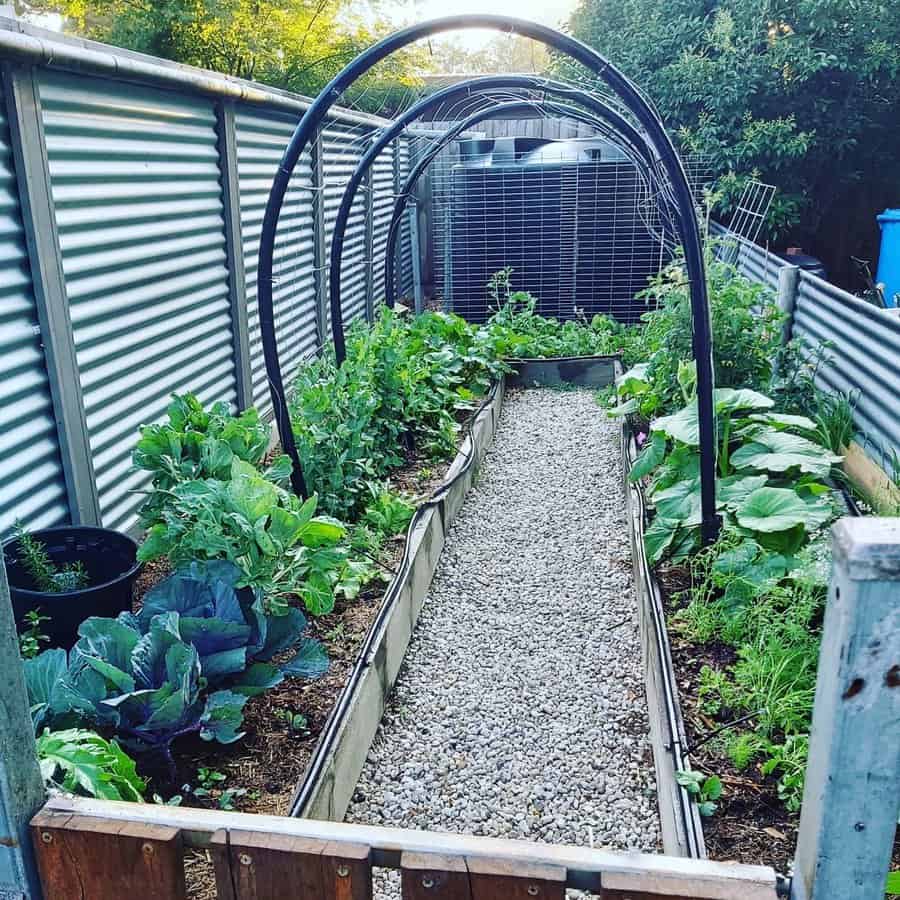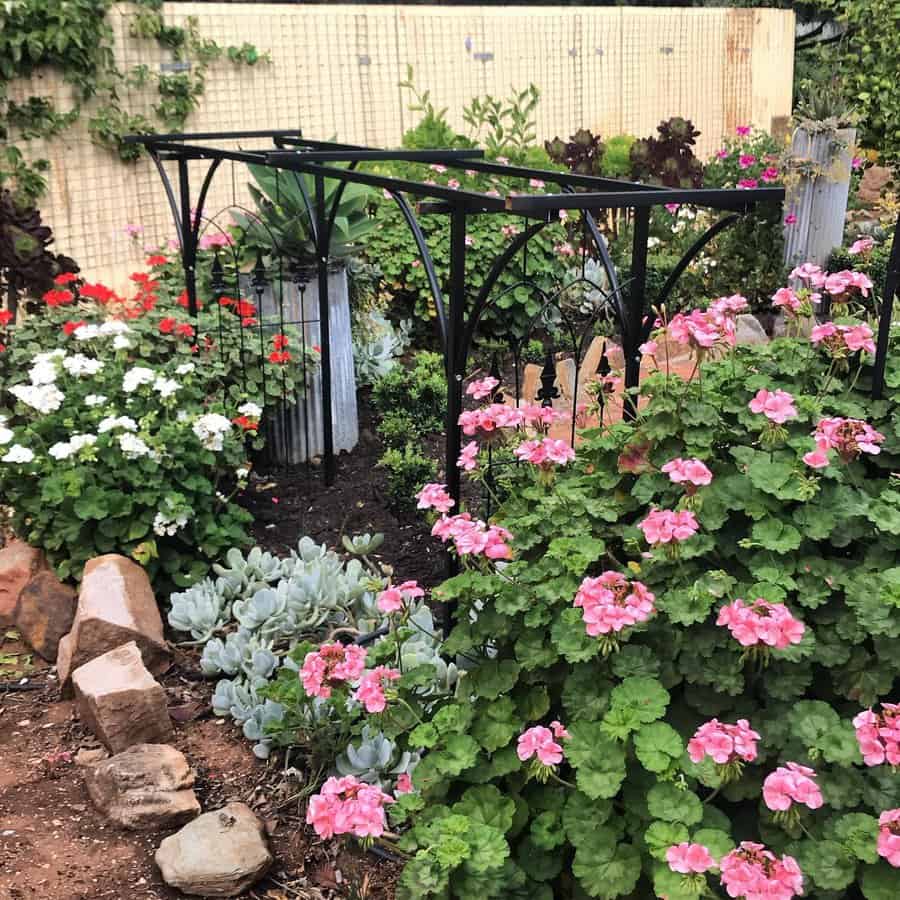 12. Doorway to Nature: Backyard Door Arbor
A backyard door arbor seamlessly blends architectural grace with functionality, serving as both a protective canopy and an inviting entrance to your outdoor space. Beyond offering shade and shelter, it forms a captivating transition between your home's interiors and the natural wonders of your garden or patio. Imagine walking beneath its elegant arches into an oasis of calm, be it a lush garden or an intimate seating enclave. By integrating this arbor, your backyard evolves from mere space to a sophisticated, serene retreat, enhancing moments of relaxation and gatherings alike.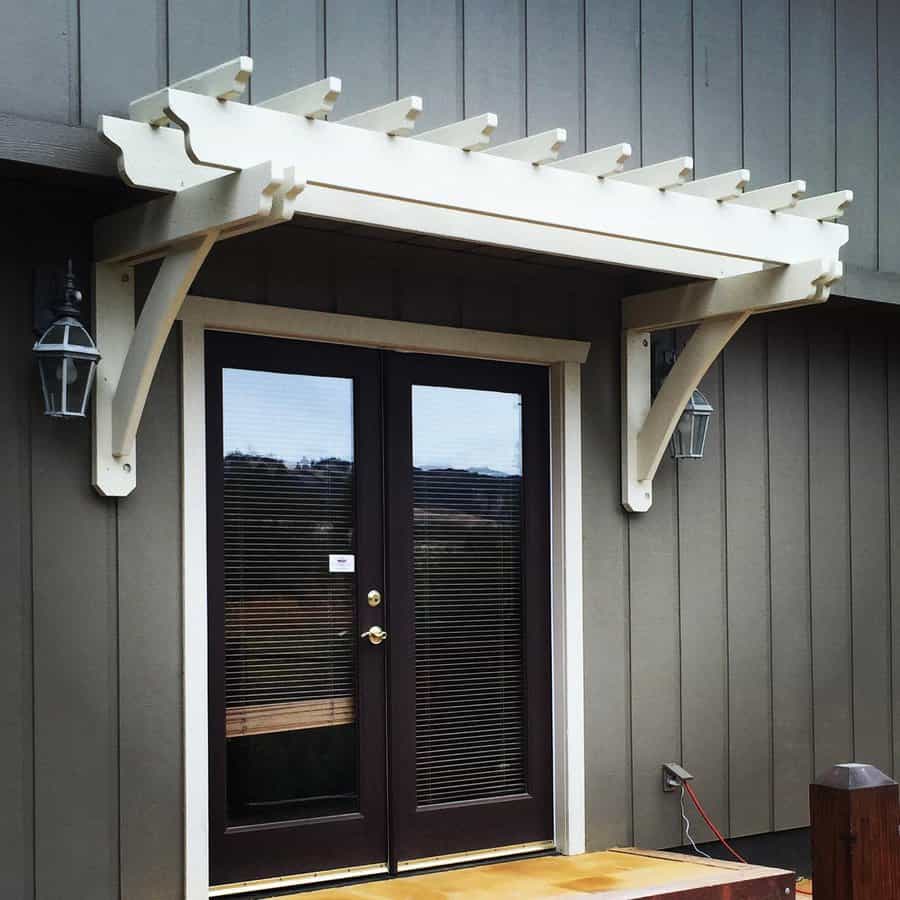 13. Elevate Your Patio with a Backyard Arbor
A patio arbor is more than just an architectural accessory—it's a transformative element that fuses structure with nature. This captivating feature delineates your outdoor space, beckoning guests into a tranquil sanctuary. While it provides a hint of privacy, the design retains an open ambiance, perfect for relaxation or entertainment. Intertwining fragrant climbers or vibrant blooms with the arbor's structure can further accentuate its beauty, turning your patio into a picturesque haven that combines the best of man-made design and nature's splendor.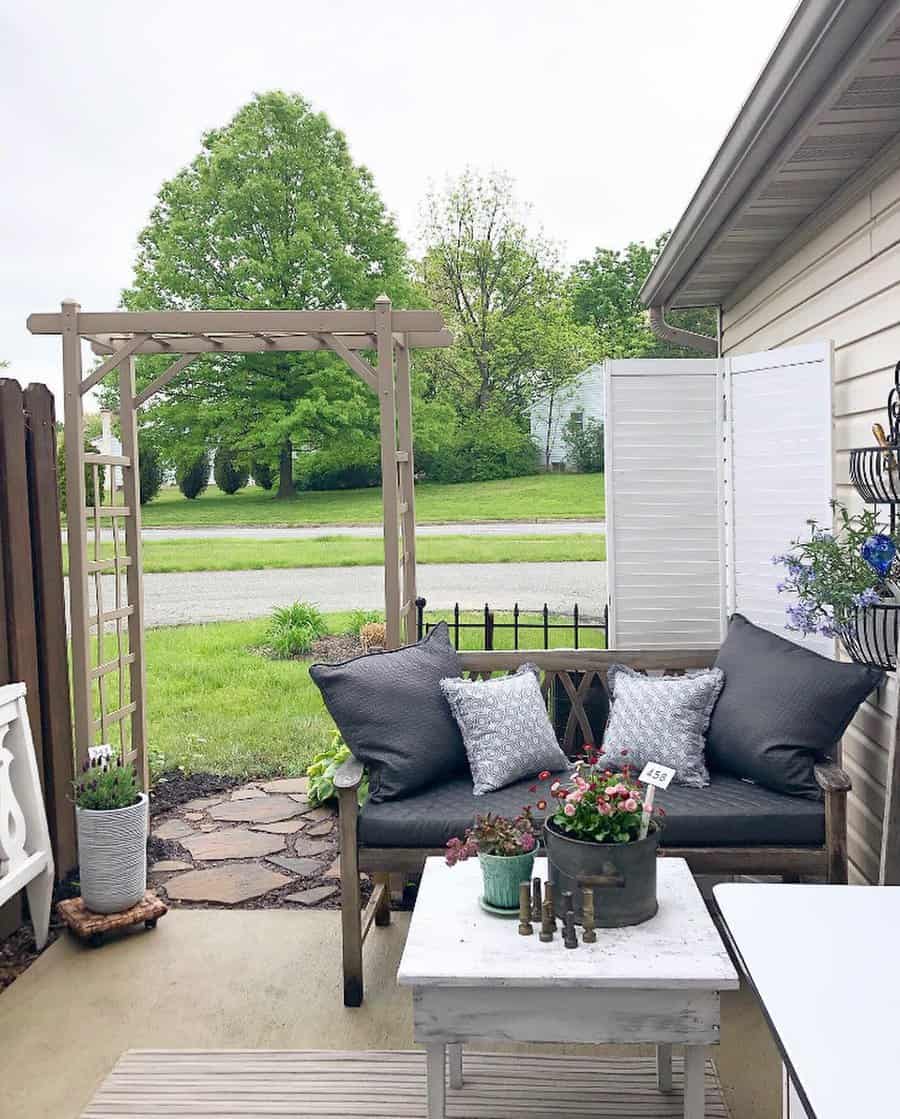 14. Pergola Perfection for Your Backyard
A backyard pergola is a blend of style and function, creating a centerpiece for outdoor relaxation and festivities. Under its shade, moments of leisure transform into memories, be it sipping drinks or sharing meals. By incorporating a trellis, you provide a canvas for climbing flora, adding natural beauty and a gentle canopy. Whether you desire a tranquil corner for reading or a lively hub for gatherings, the pergola anchors your space, making every outdoor occasion a picturesque affair.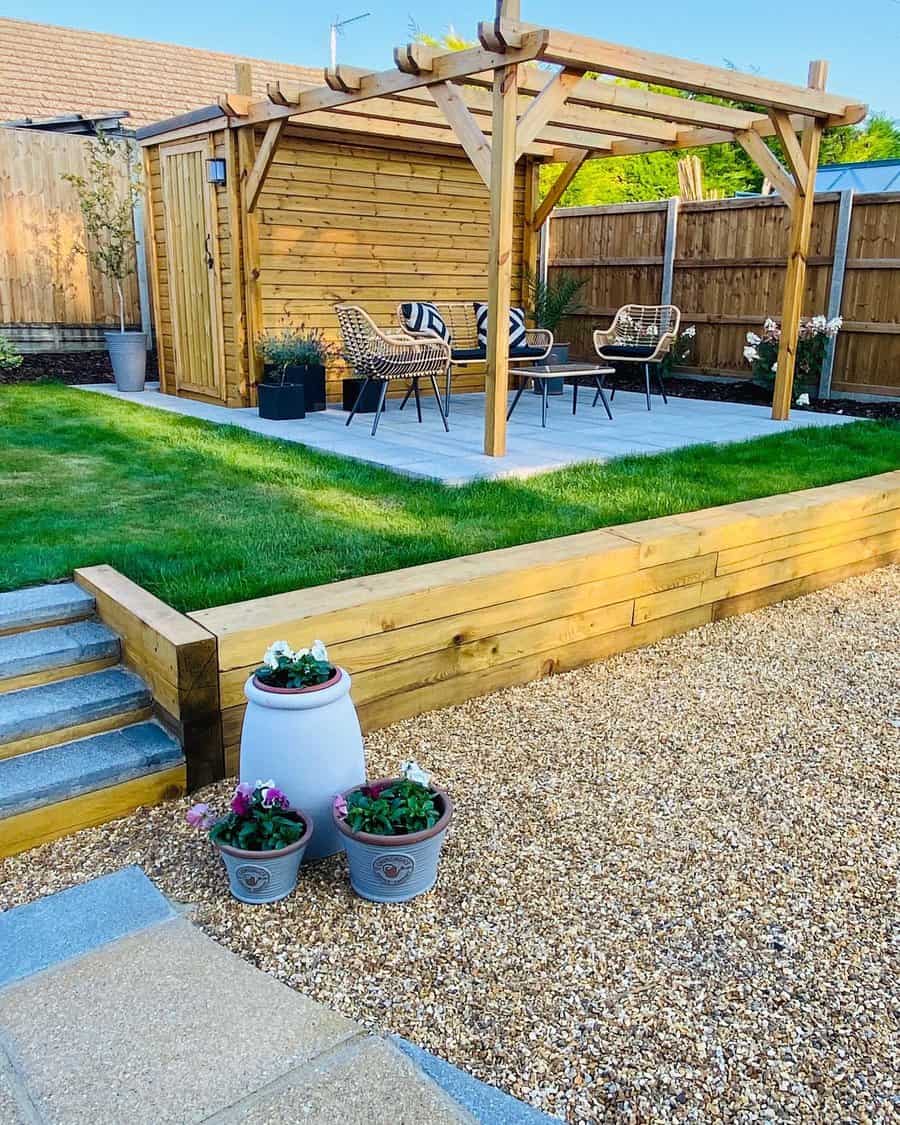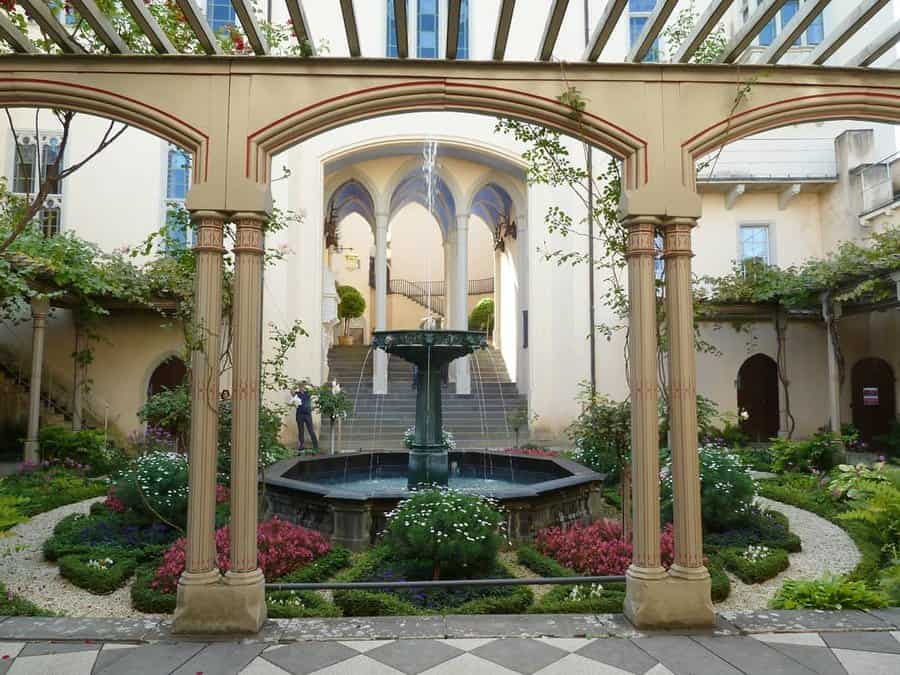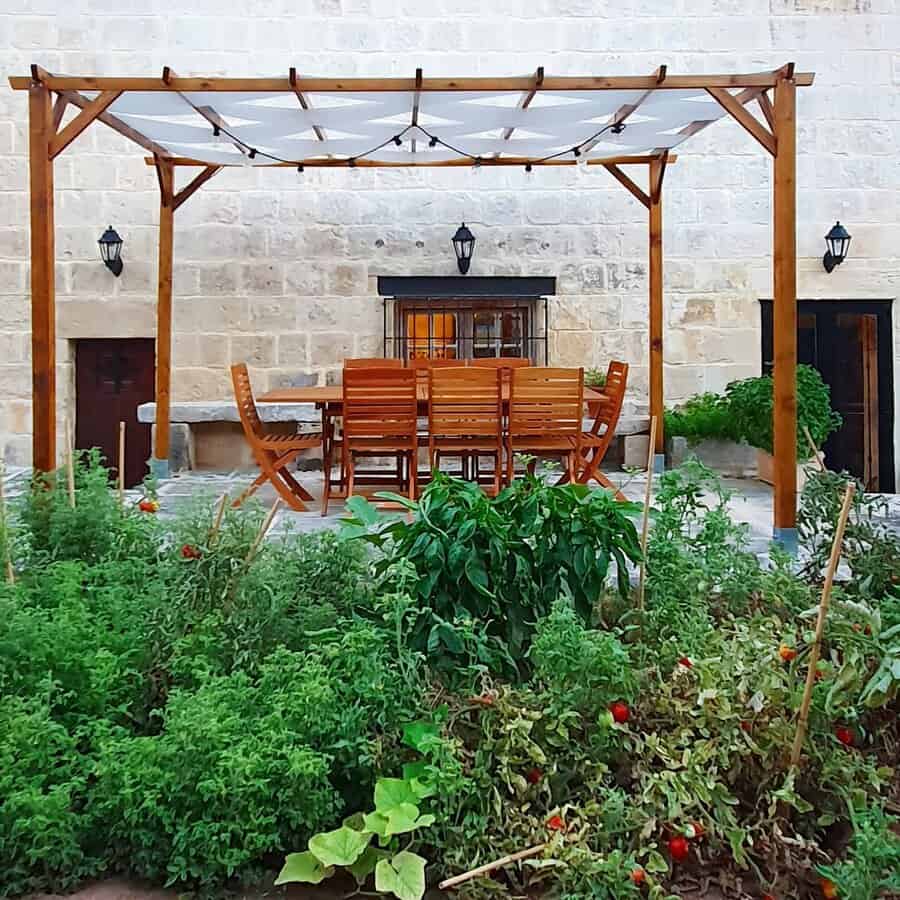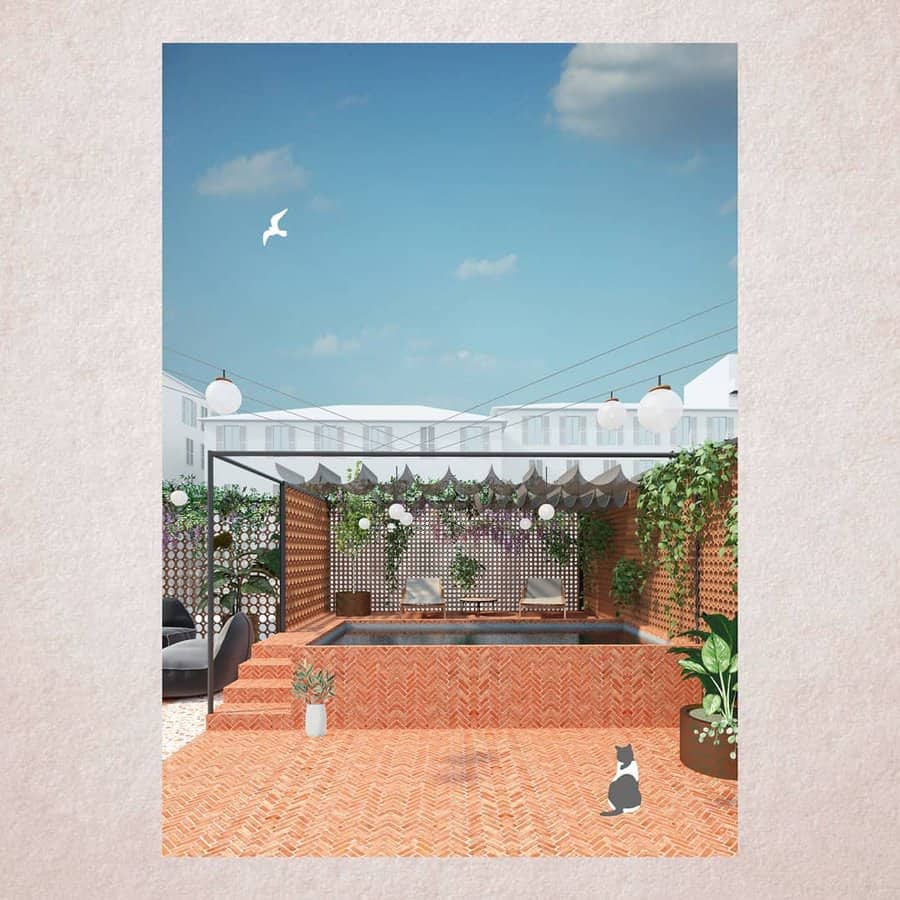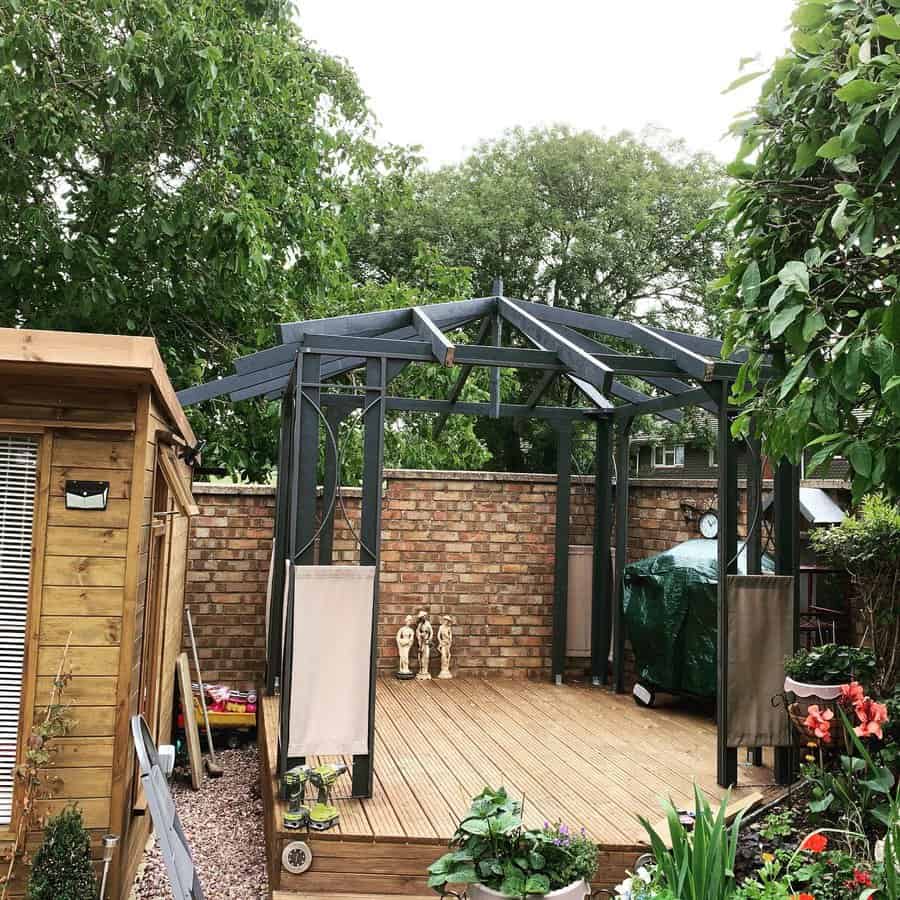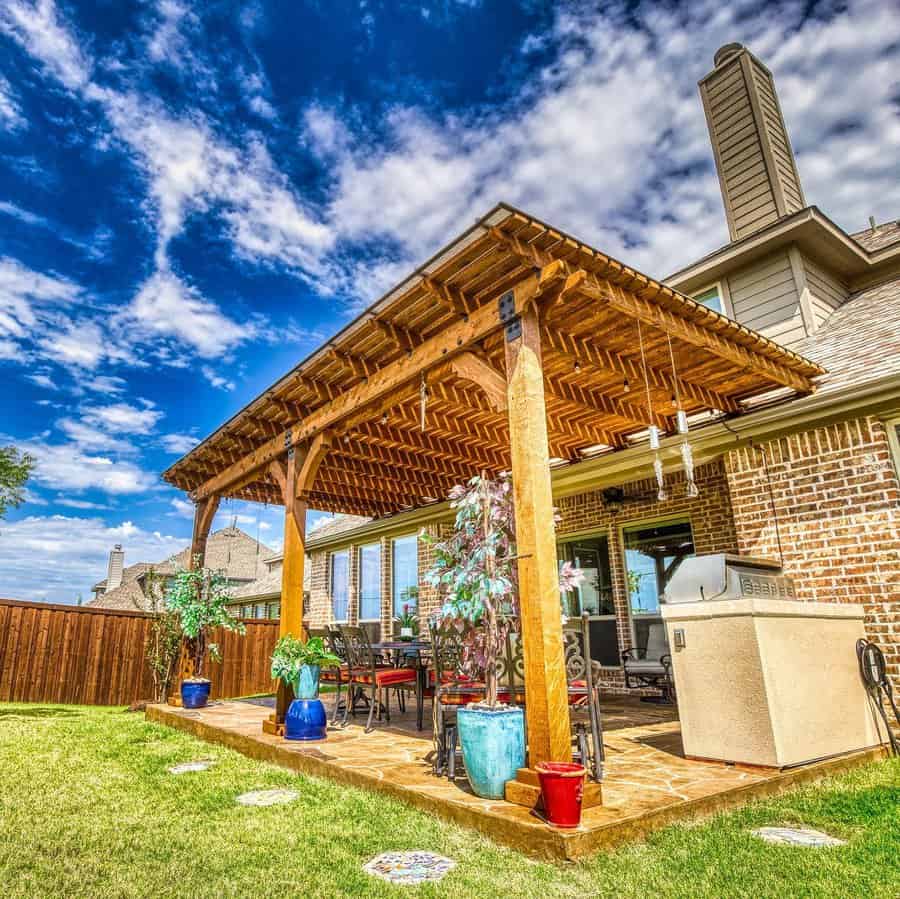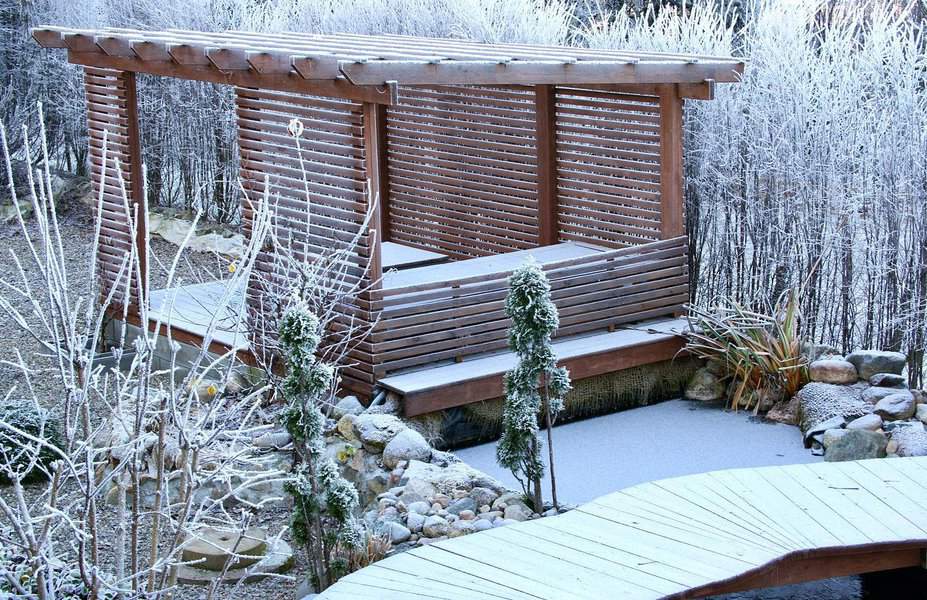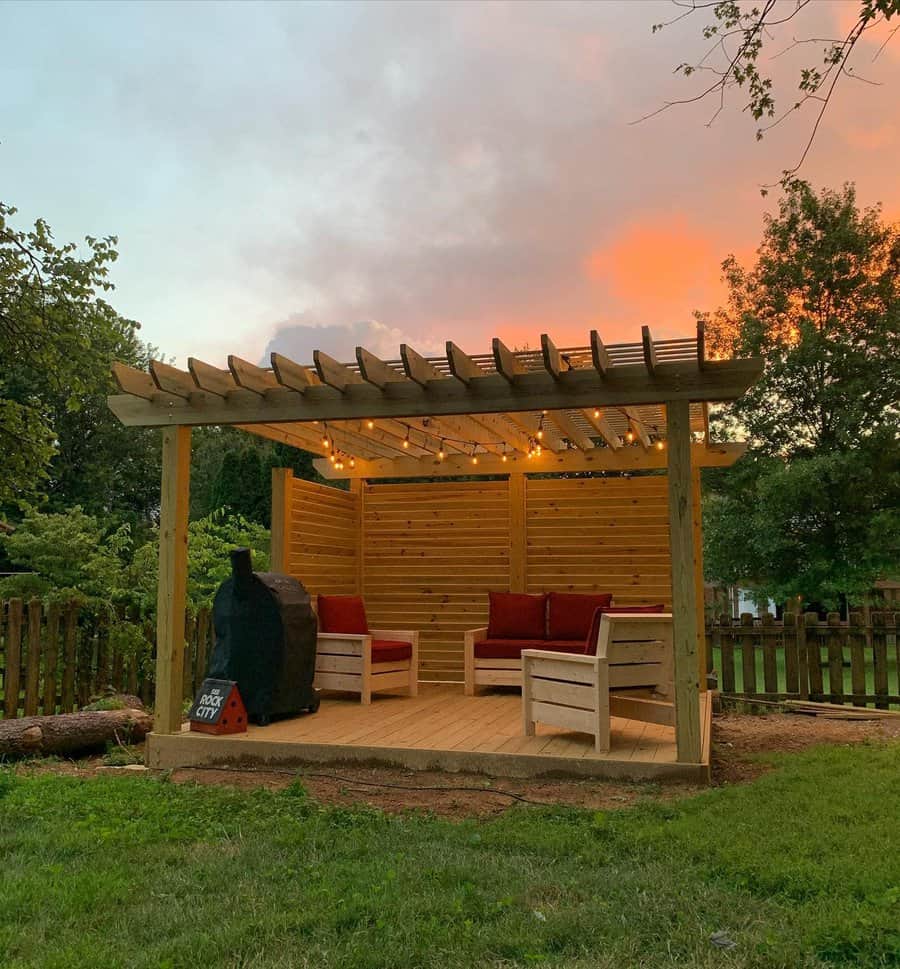 15. Arched Arbors: A Timeless Entrance
Step through an arched arbor and into a realm of elegance and serenity, with its classic design acting as a grand introduction to your garden. The right material, be it rustic wood or sleek metal, ensures harmony with your landscape's aesthetic. Invite climbing plants to adorn its structure, creating a living tapestry of greenery and blooms. For a finishing touch, introduce seating beneath, alongside lanterns or string lights, crafting a tranquil nook bathed in a warm, enchanting glow.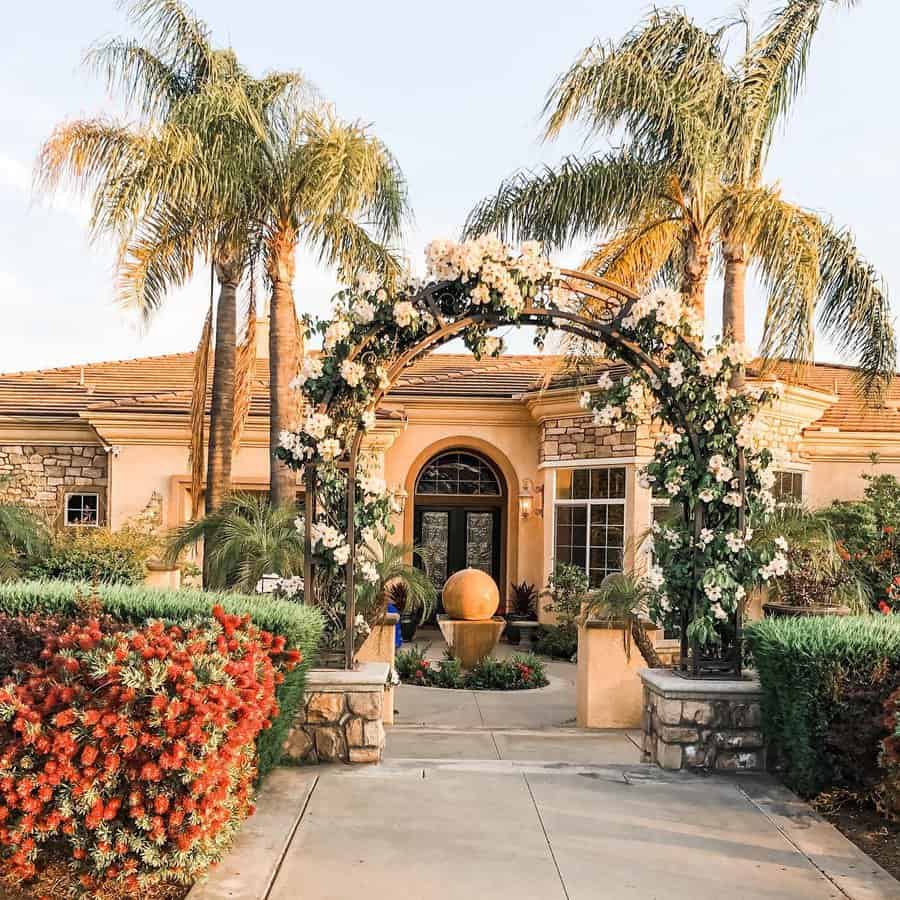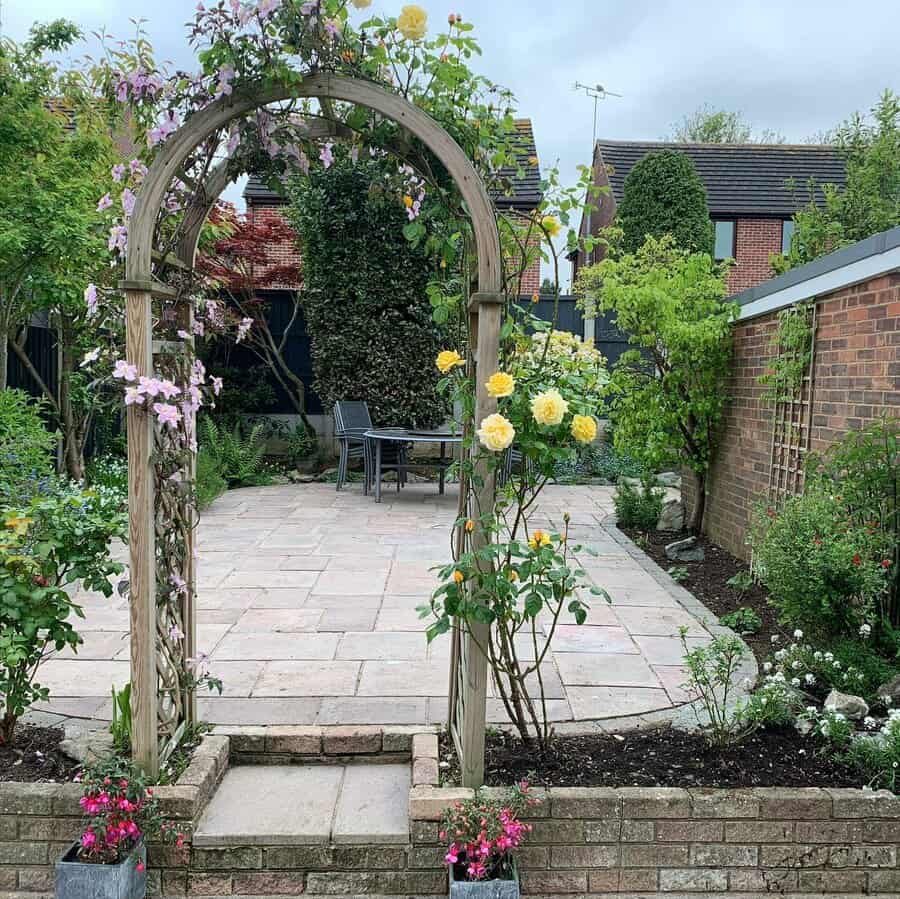 16. Rustic Retreat: Wood Arbor Inspiration
Elevate your garden's allure with a weathered wood arbor, boasting rustic charm and unique character. Let climbing plants infuse color and fragrance, while the arbor offers shaded serenity for relaxation and gatherings.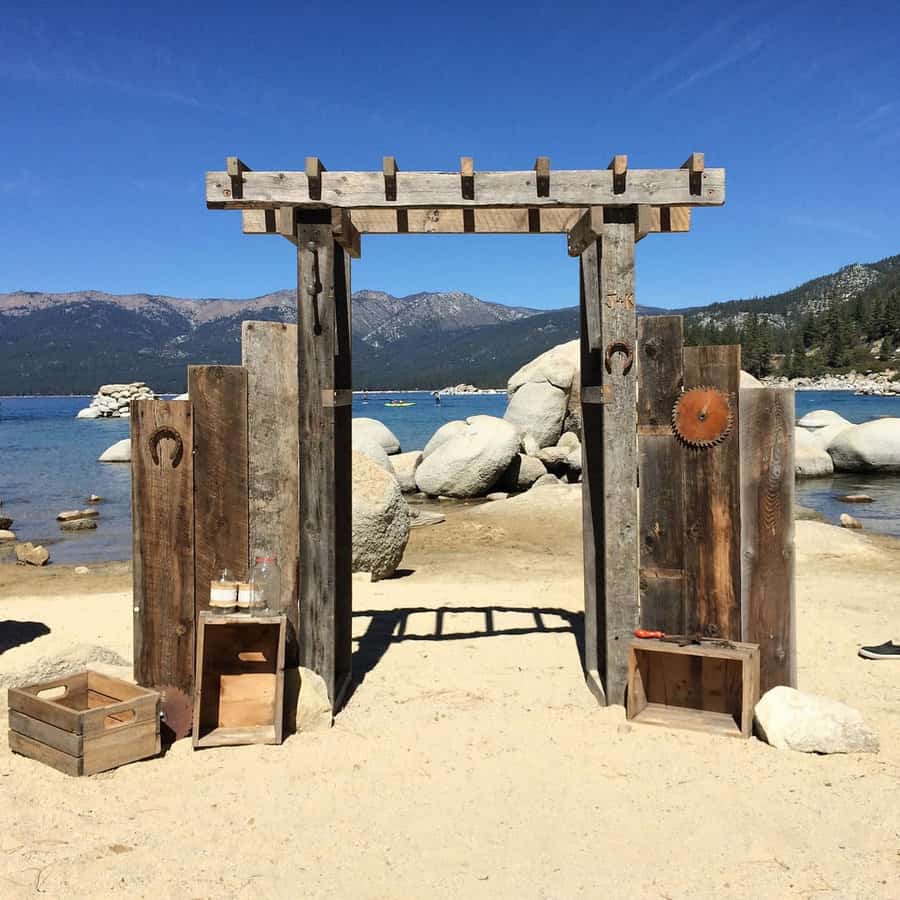 17. Log Wood Arbor: A Natural Choice
Experience the rustic charm of a log wood arbor, a unique and organic addition to your outdoor space. Its sturdy logs and branches seamlessly integrate with nature, creating a captivating focal point. As climbing plants intertwine with the wooden frame, it transforms into a living masterpiece, celebrating the beauty of the outdoors. Whether it's a cozy seating area or an enchanting backdrop for gatherings, this rustic gem promises to craft enduring memories in your backyard sanctuary. Embrace the allure of a log wood arbor and invite nature's tranquility into your space.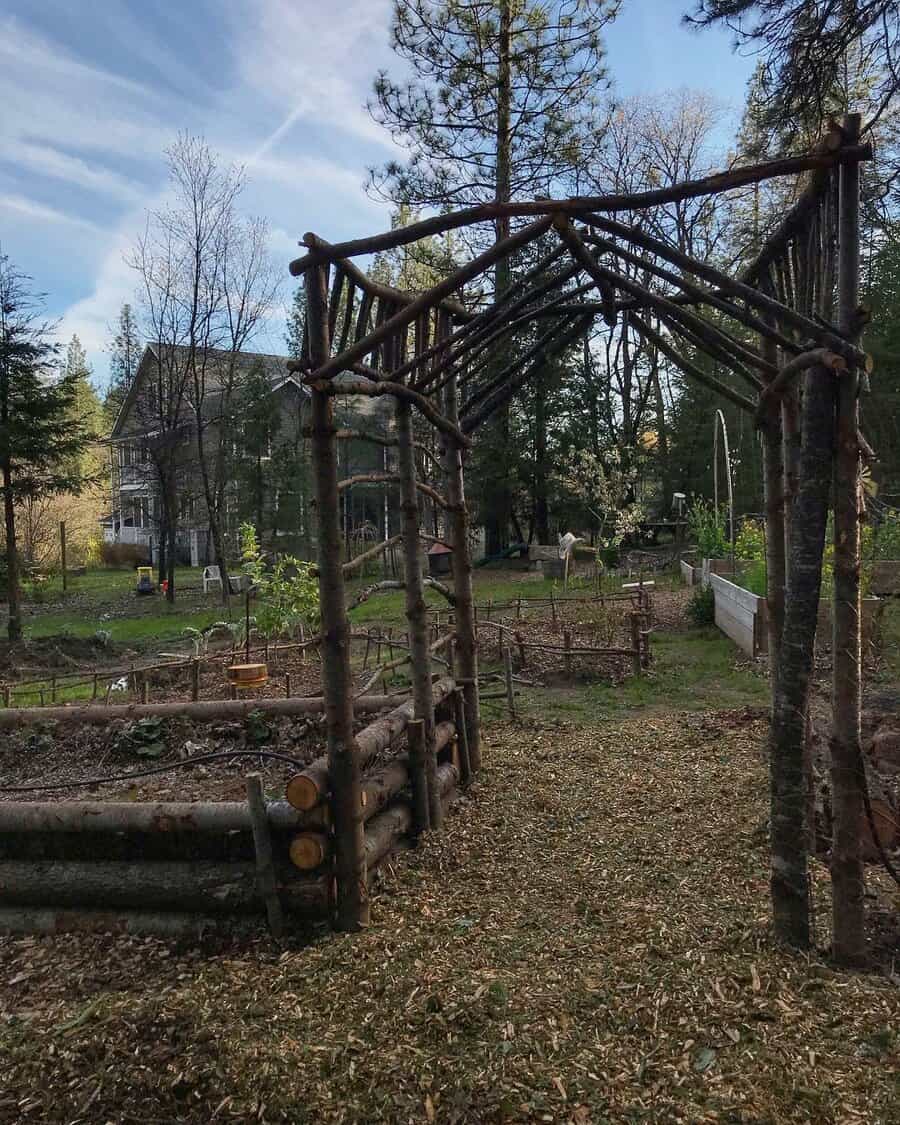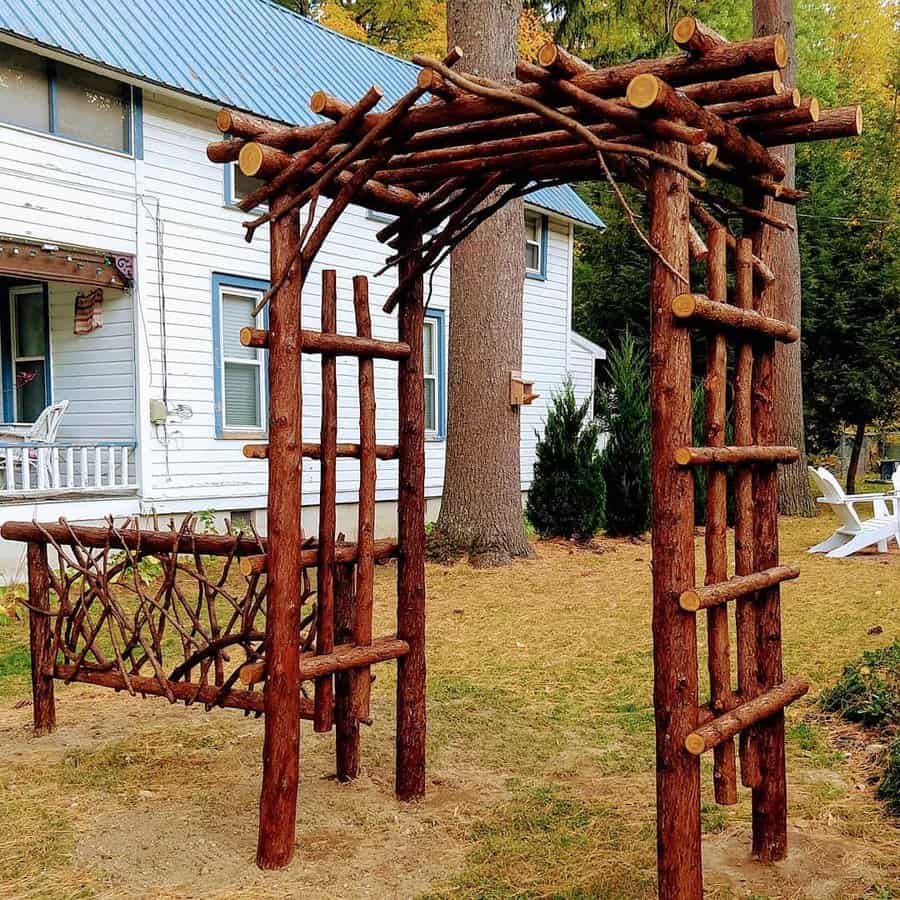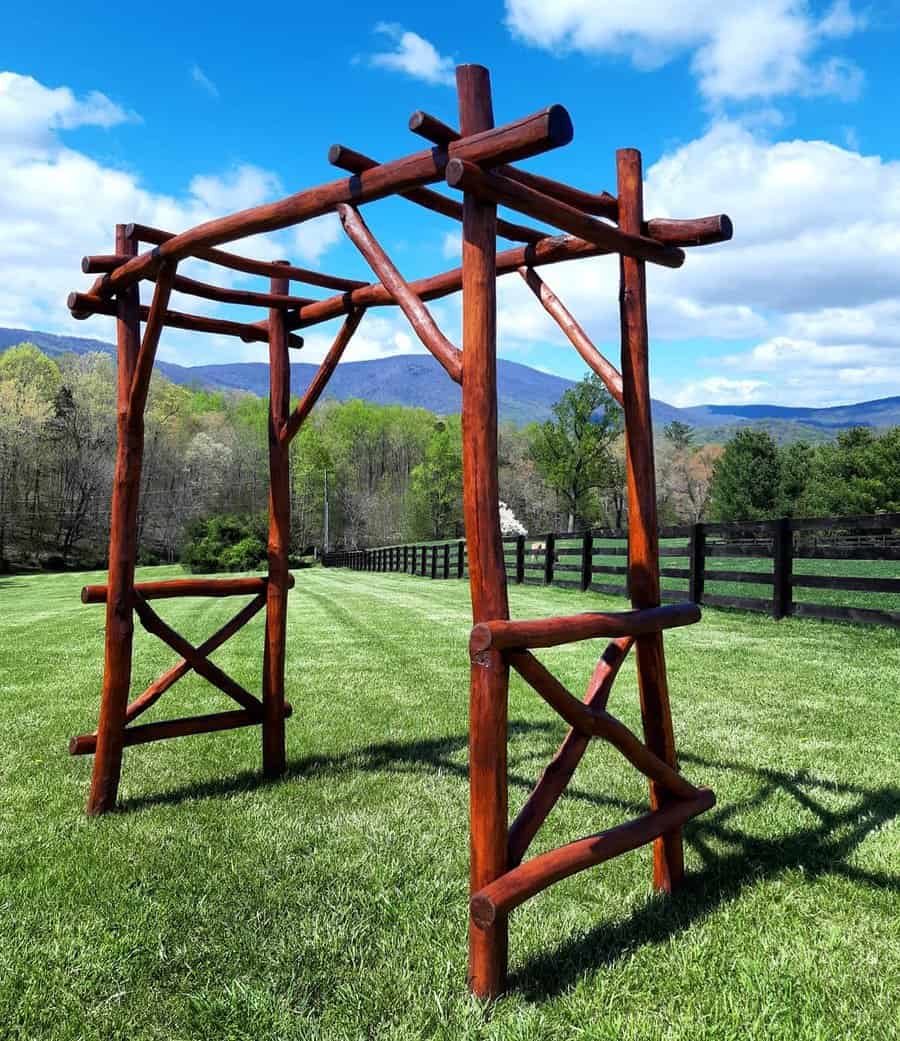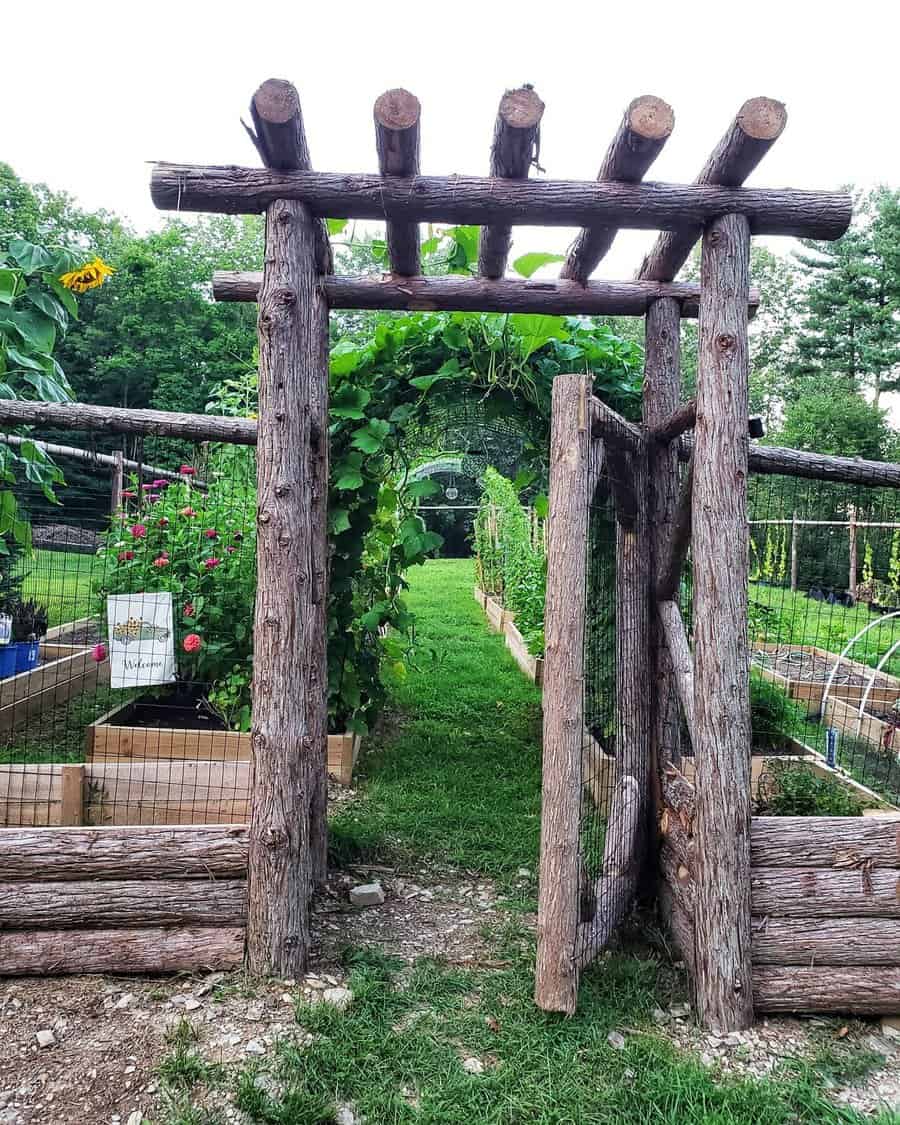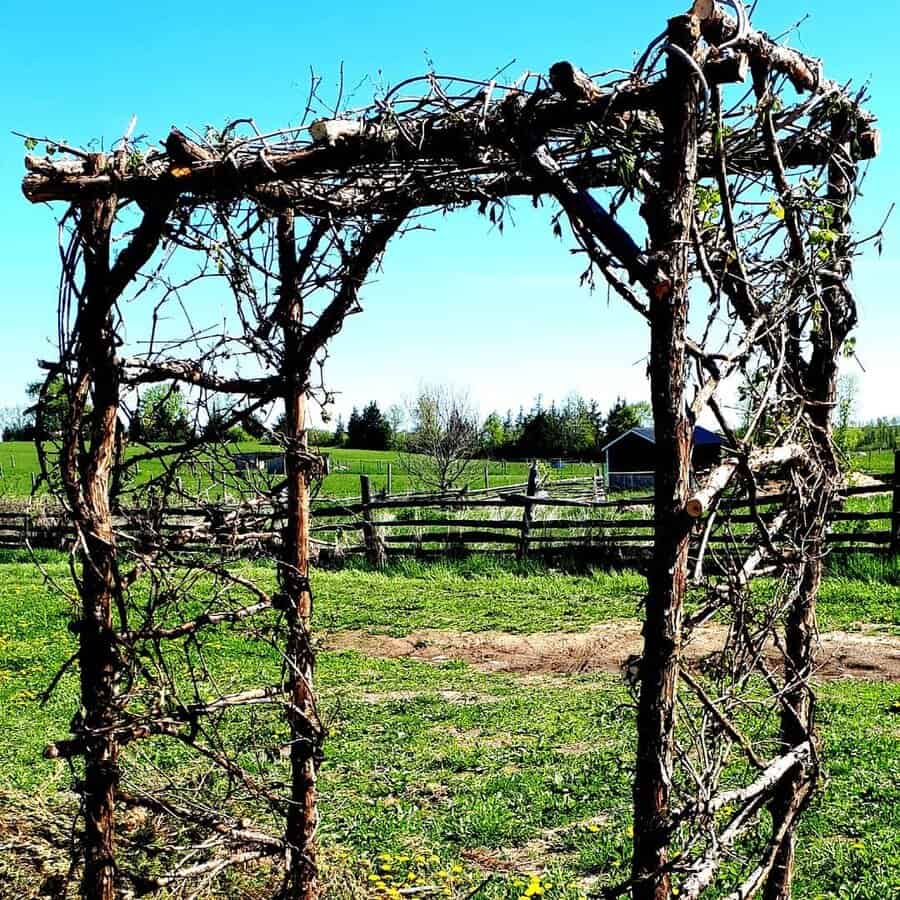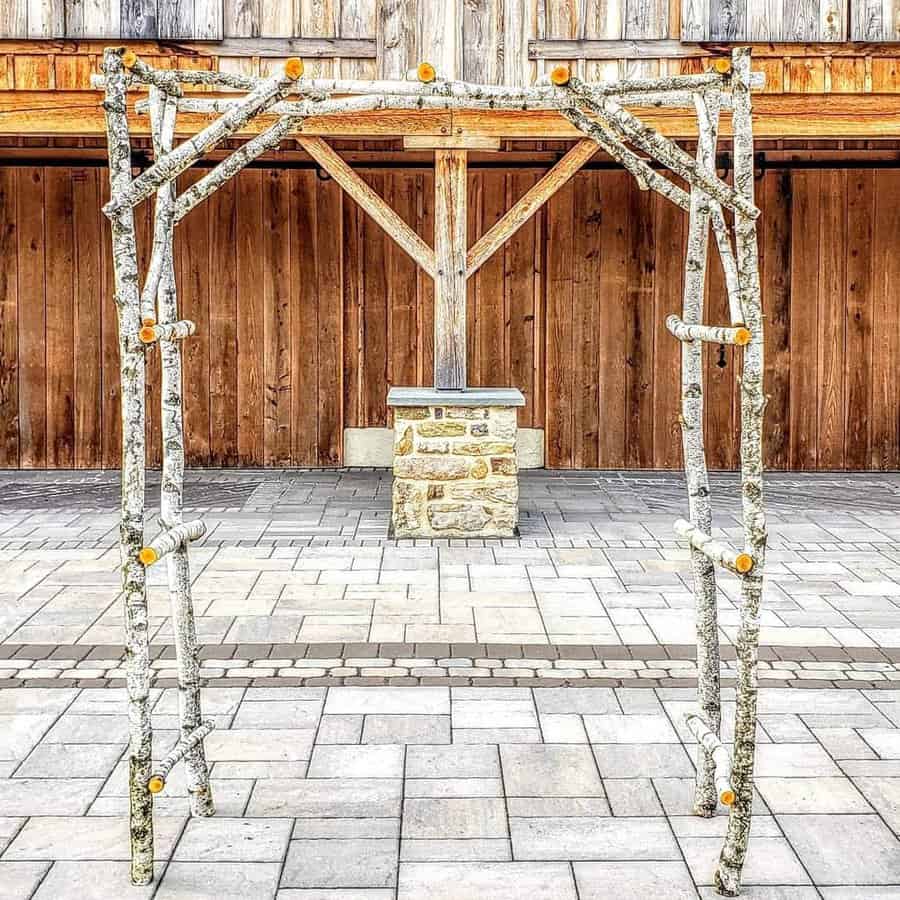 18. Celebrate in Style with an Event Arbor
Transform your backyard into an enchanting oasis with an event arbor, an elegant and romantic addition that elevates special occasions. Draped in delicate flowers and flowing curtains, it sets the stage for weddings, birthdays, and more, leaving a lasting impression. Picture exchanging vows beneath a canopy of blossoms, immersed in your garden's natural beauty. This captivating structure seamlessly merges with the green surroundings, infusing magic into your outdoor space, and ensuring unforgettable moments whether you're celebrating love or milestones.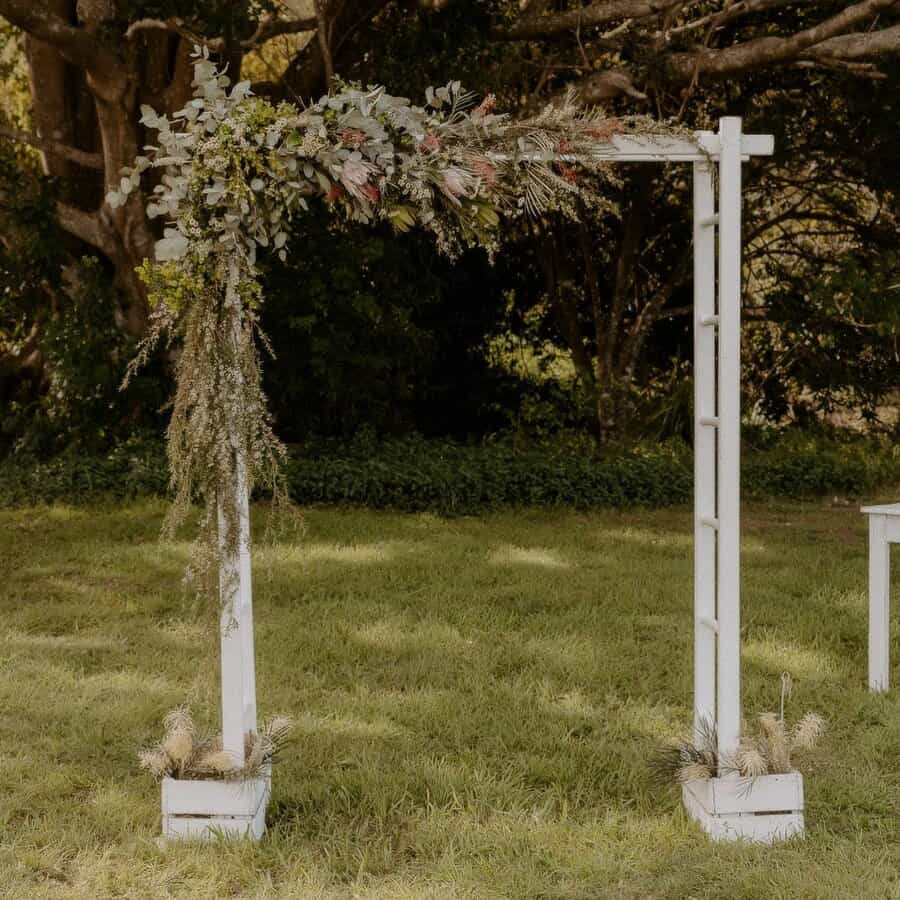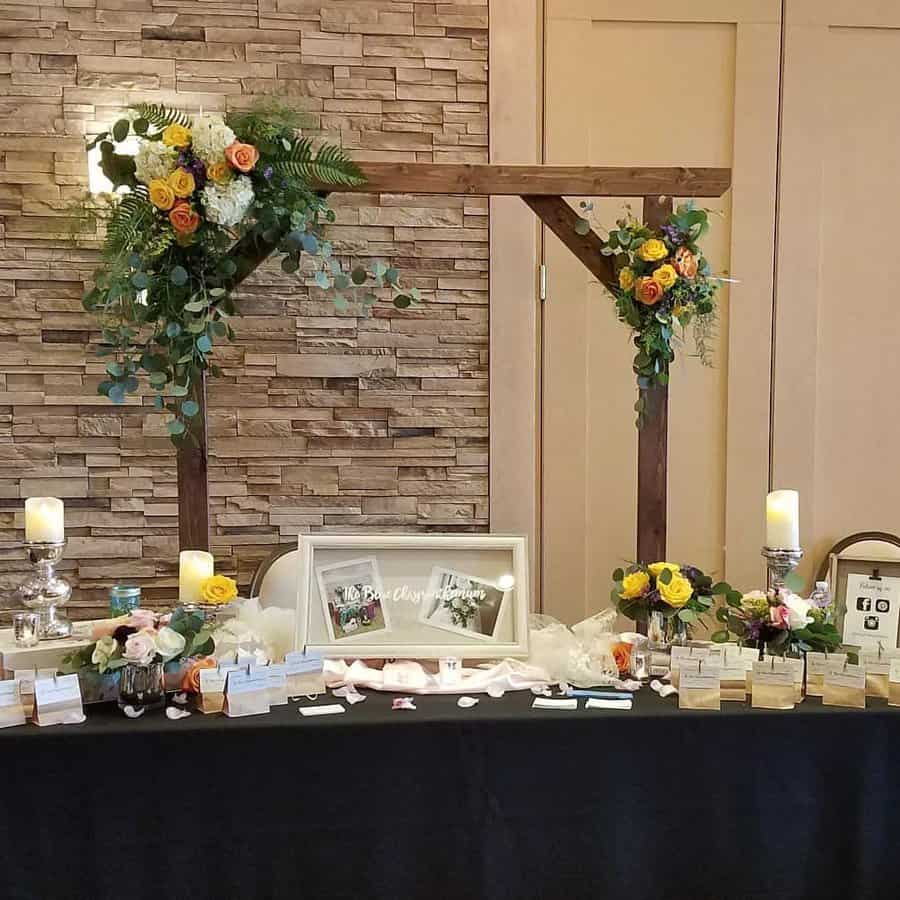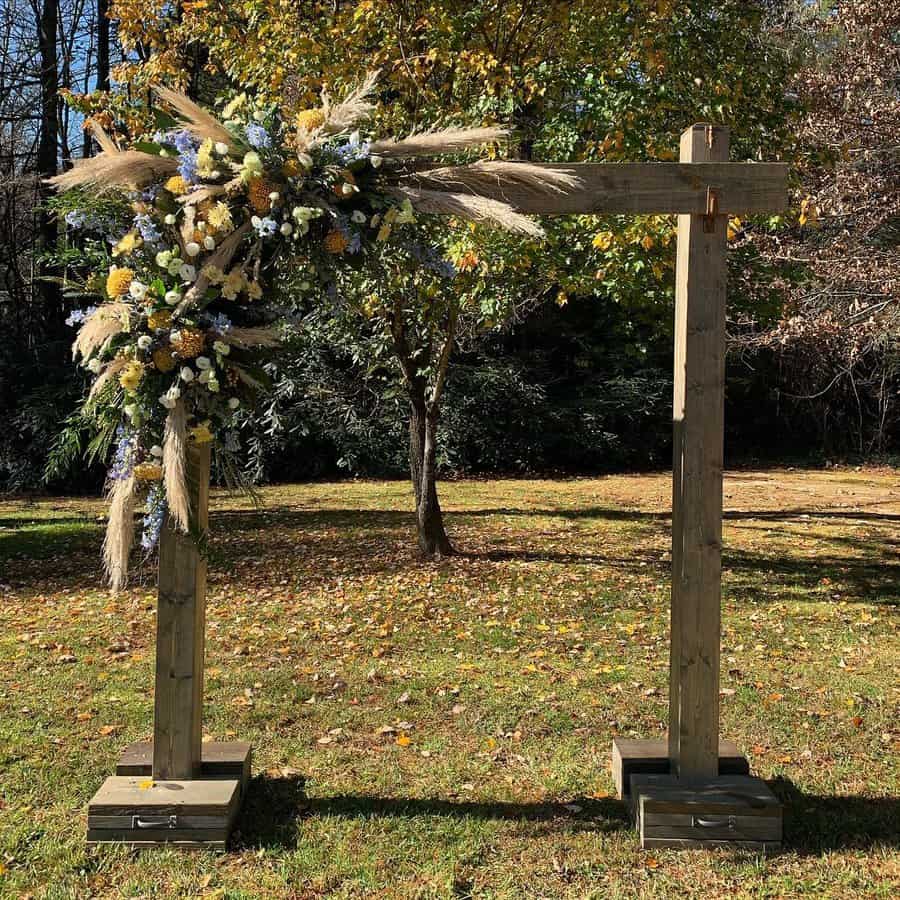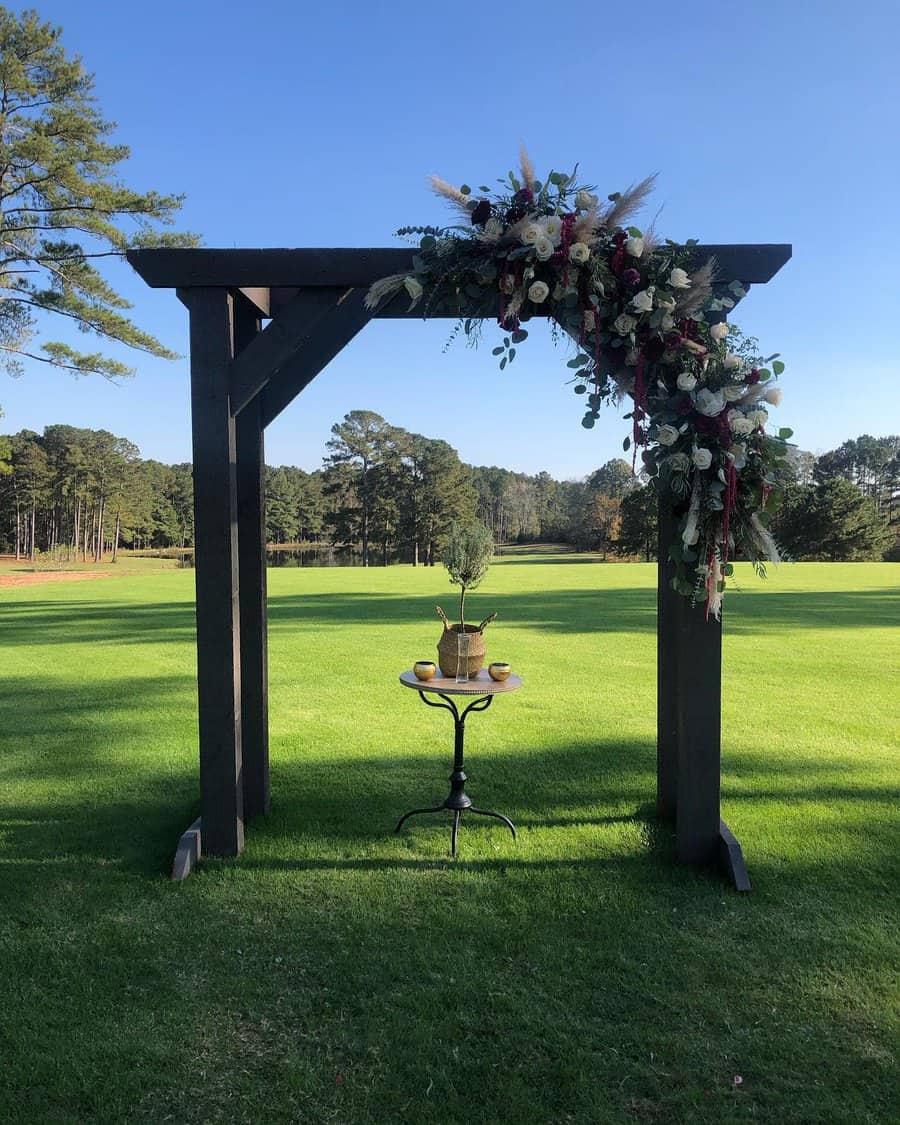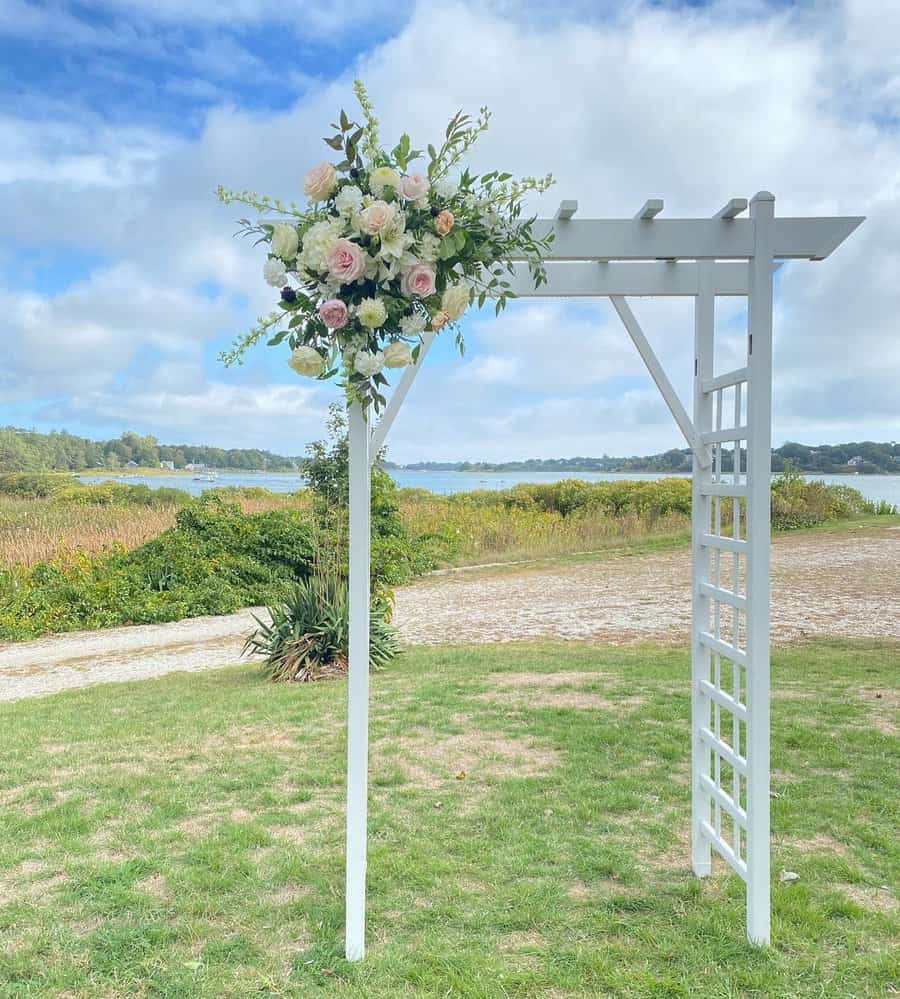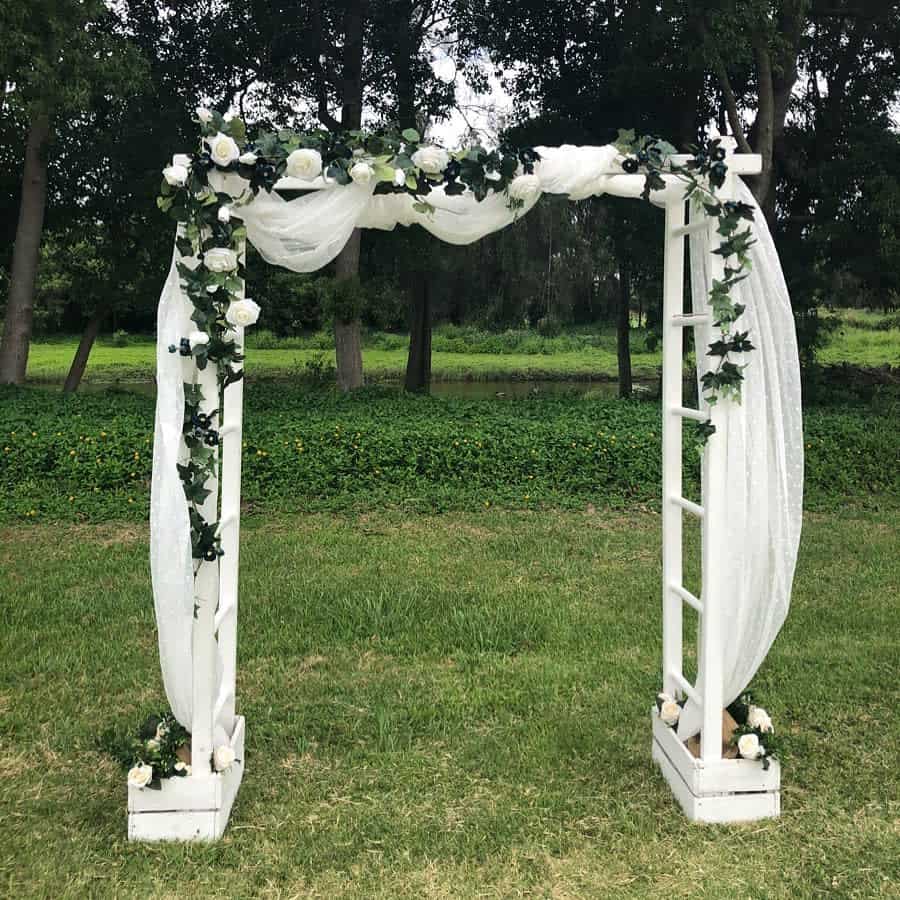 19. Sheltered Elegance: Arbors for Covered Walkways
Elevate your backyard with an arbor-covered walkway, infusing enchantment into your outdoor space. Construct a robust arbor structure to serve as a canvas for climbing plants, creating a natural canopy that beckons exploration. Opt for vibrant climbers like roses, jasmine, or clematis to adorn the arbor, adding colors and fragrances to your path.
To complete the look, consider adding complementary design elements such as path lighting, comfortable seating, or decorative features along the walkway. This magical arbor-covered path not only enhances aesthetics but also provides a secluded setting for peaceful moments and meaningful conversations.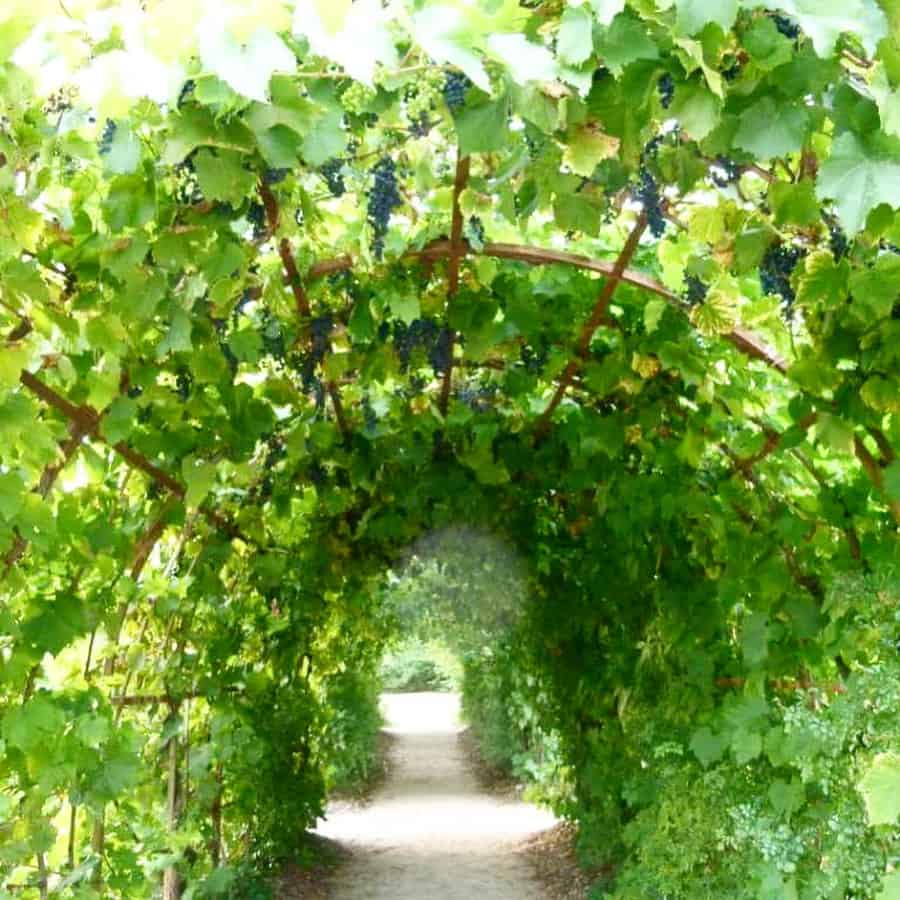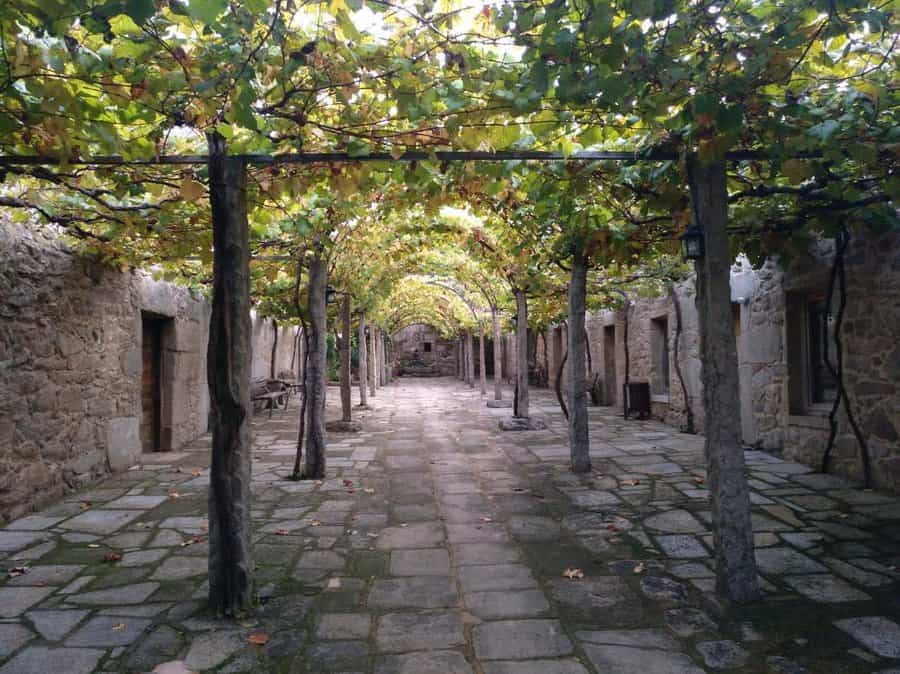 20. Thinking Outside the Box: Hexagon Arbor Designs
Distinguish your outdoor area with the captivating allure of a hexagon arbor, blending charm and modern elegance. Adorn this unique structure with climbing vines and colorful blooms for a refreshing natural canopy that offers shade and vibrant hues. The hexagon arbor serves as an enchanting backdrop for events and a serene relaxation spot. Embrace its playful design, adding a distinctive touch to your backyard that sparks conversations and showcases your individual style. To complete the look, consider incorporating complementary elements like outdoor seating or lighting to maximize its impact.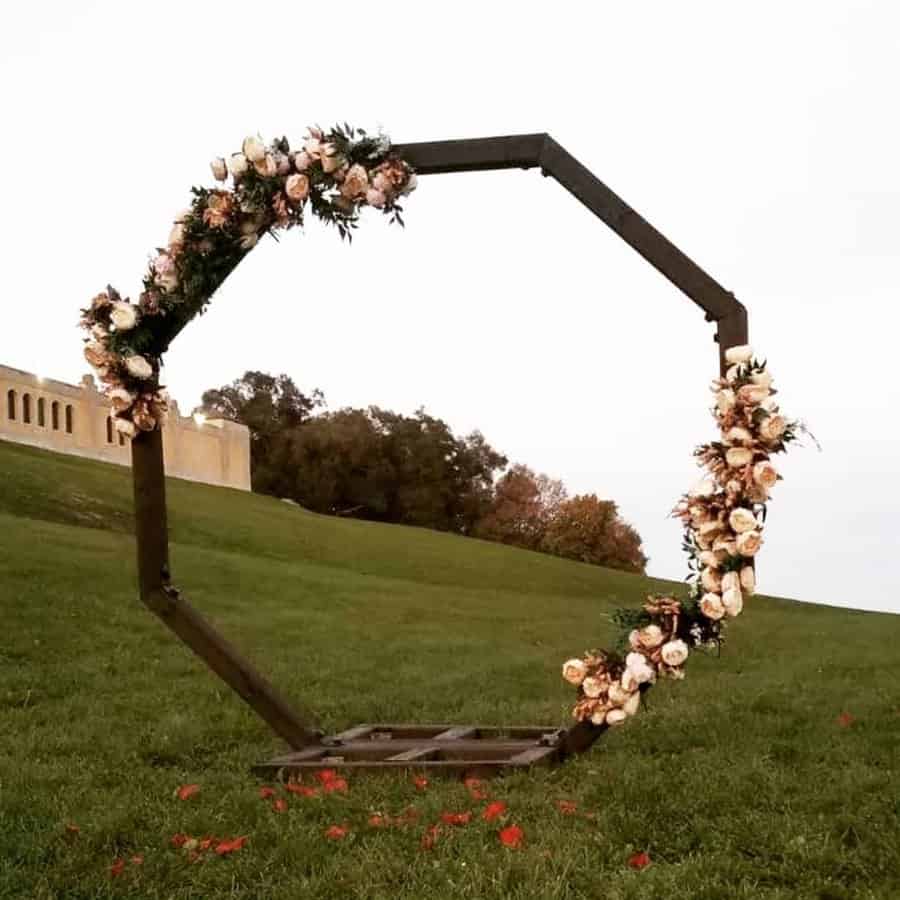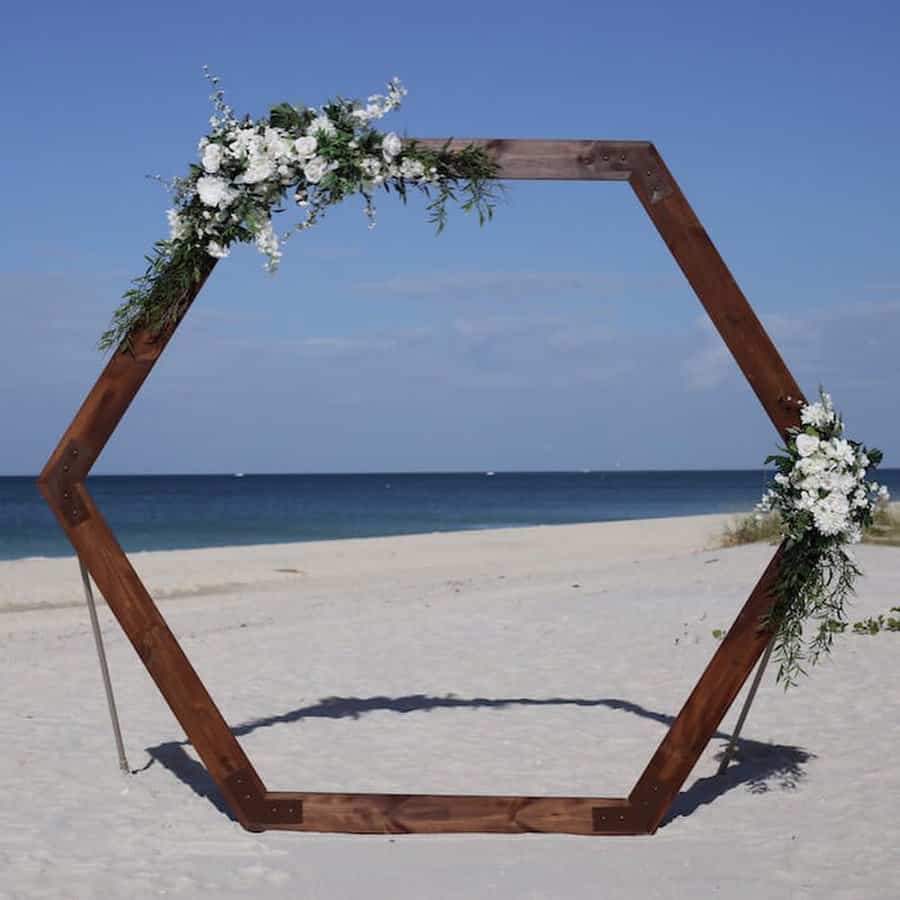 Arbor FAQs
What is the difference between an arbor and a pergola?
Arbors are often smaller than pergolas, standing on two or four posts depending on size.
Arbors often feature a trellis that can be left bare or covered with a climbing plant. The roof of an arbor may be flat, angled, or arched.
Pergolas stand on four support posts and almost always have flat roofs. While lattices can be mounted to the side of a pergola, they are typically left completely open.
Do arbors need to be secured to the ground?
With the exception of decorative arbors being used for an outdoor wedding or another event, it's always best to secure your garden arbor to the ground.
Most arbors can be secured to the ground using fence post concrete. You can also weigh down your arbor with heavy planters mounted to each side or a built-in bench.
If you're not sure how to secure your arbor, research the best techniques for mounting fence posts to the surface in question.