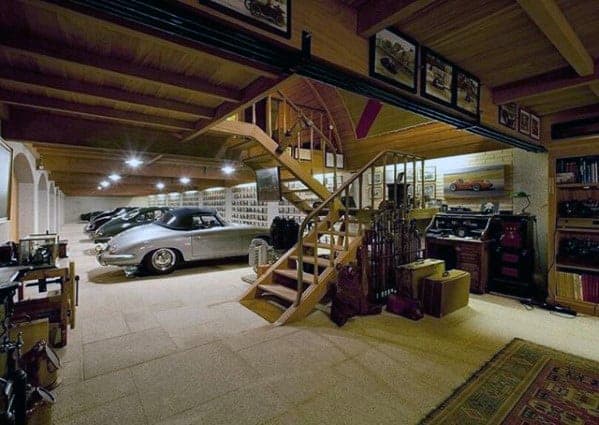 50 Ultimate Bachelor Pad Design Ideas
For some bachelors, the sky is the limit when it comes to a pad — and some of the best are not necessarily the ones that cost the most but simply look like it.
The key is to mix expensive pieces that you are investing in with less expensive, yet still handsome looking pieces.
The combination gives you a rich, luxurious, comfortable feel that will make you feel right at home. Here are a few ideas to get started:
Invest in soft, high-quality linens for your bedroom. This is the place where you'll be spending a good amount of time sleeping and entertaining, and you want to be comfortable. Go cheap on the rugs in your kitchen. You want something that is durable and handsome but that doesn't cost a fortune.
Investing in striking lighting fixtures that really set the tone of the room. Go cheap on the paint. You can update a bachelor pad and give it that moody, distinguished, modern look with just a few coats of paint. Don't spend your extra money buying the expensive stuff.
Invest in a great TV if entertainment is key to your well-being and fun in your bachelor pad. Go cheap on your entryway. You want a spot as soon as you enter that you can remove your coat and hat and take off your shoes. So consider a handsome yet inexpensive hallway bench, mirror and perhaps a coat rack to set the modern yet inviting feel of your space.
At the end of the day, I'm sure you'll find plenty of inspiration from these ultimate bachelor pad design ideas below. Sure, most cost and arm and a leg however, you'll should still be able to take away what a solid interior space looks like. Even if you're not ready for the ultimate in luxury, these spaces might help you grow your goals.
1. Garage Bachelor Pad
When it comes to transforming a garage into a stylish sanctuary, the possibilities are endless. Imagine vibrant graffiti murals adorning the walls, injecting an urban edge into the space. Industrial-inspired shelving units line the perimeter, showcasing an impressive collection of vintage car parts, tools, and memorabilia.
LED strip lights cast a mesmerizing glow, highlighting the eclectic mix of custom furniture and repurposed automotive elements. A sleek entertainment center takes center stage, featuring a large flat-screen TV and a state-of-the-art sound system, perfect for hosting movie nights or gaming marathons.
From a well-equipped bar area to a comfortable lounge space, this garage bachelor pad effortlessly merges the realms of automotive passion and contemporary living. Get ready to rev up your imagination and create a unique haven that celebrates your individuality.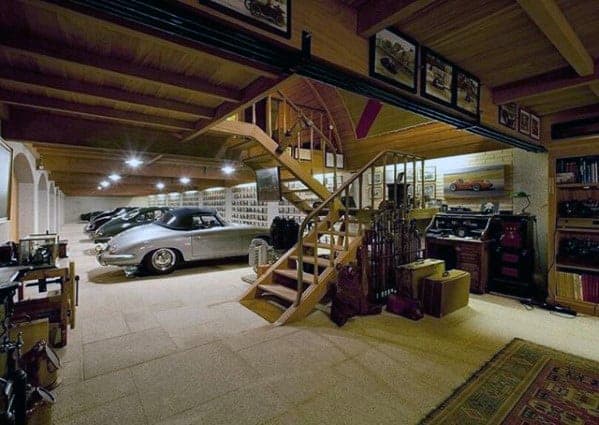 2. Industrial Bachelor Pad
Welcome to the extraordinary world of the industrial bachelor's pad, where raw aesthetics meet refined masculinity. Dominating the scene is the captivating presence of an exposed brick wall, lending an edgy and urban charm to the space.
Above, sturdy ceiling beams stretch across the room, adding a sense of rugged elegance. This fusion of rugged and polished elements creates a striking ambiance, perfect for the modern man seeking a balance between rawness and sophistication.
The industrial bachelor's pad invites you to revel in its distinctive character, offering a haven where style and authenticity coexist harmoniously.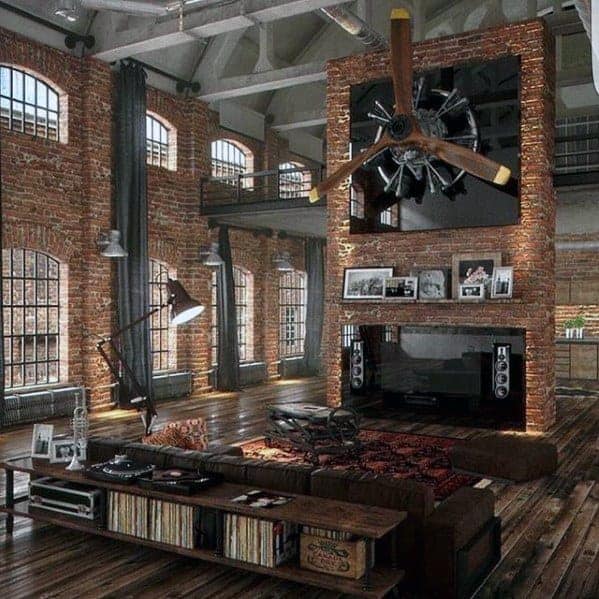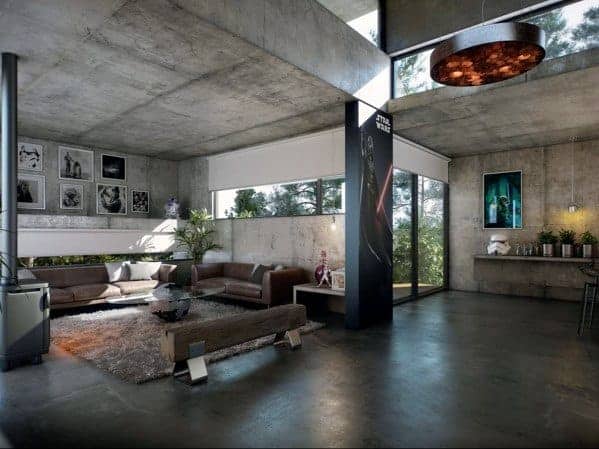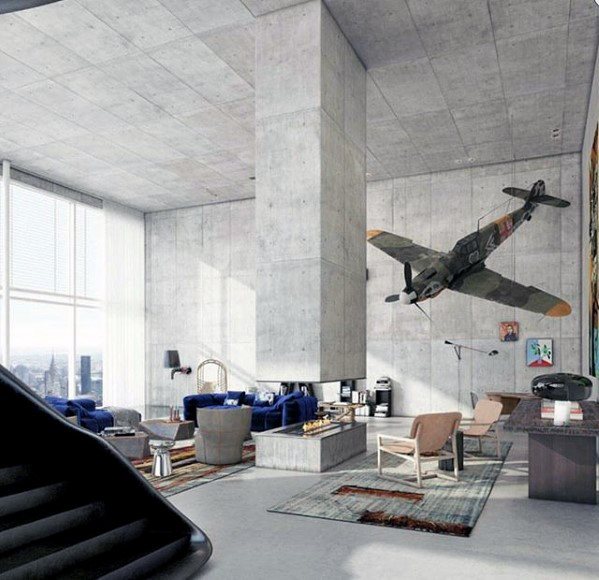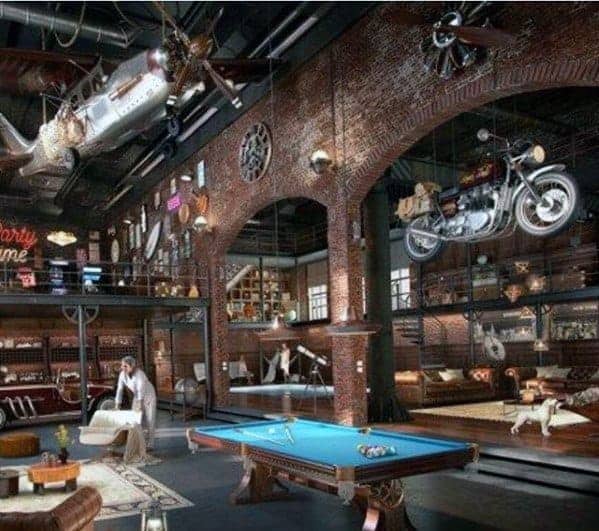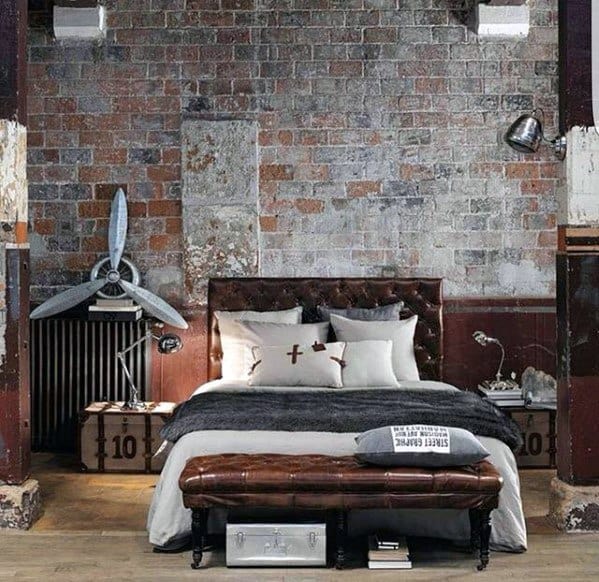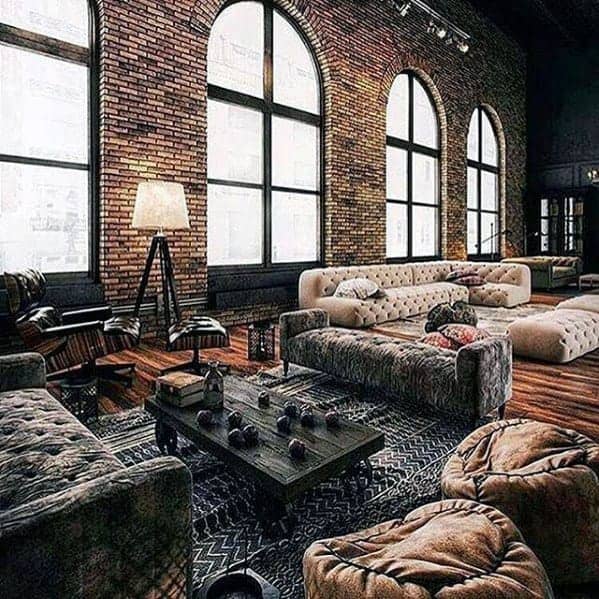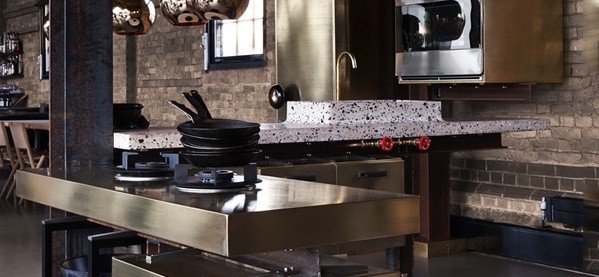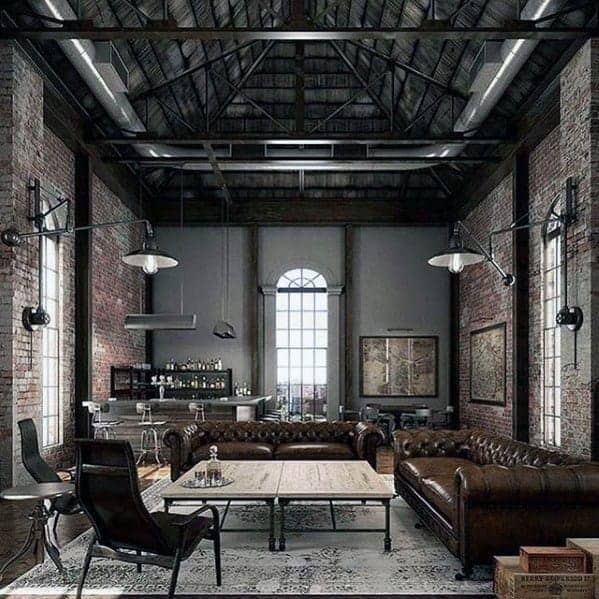 3. Bachelor Loft
Nestled within the confines of a stunning bachelor loft, this sanctuary offers the perfect blend of style and relaxation. The lounge area beckons with its plush seating and contemporary design, creating an inviting space for entertaining friends or unwinding after a long day.
The centerpiece of this abode is the sleek and luxurious bed, adorned with premium linens and accentuated by modern accents. With its minimalist charm and carefully curated decor, this bachelor loft becomes a haven of serenity and self-expression.
The urban backdrop adds an element of vibrancy and energy, while expansive windows flood the space with natural light. Whether it's hosting social gatherings or seeking solace in solitude, this bachelor's pad sets the stage for a life of effortless sophistication and refined living.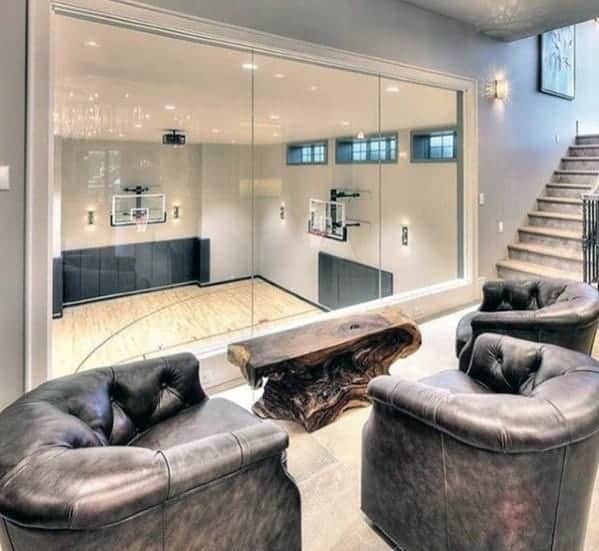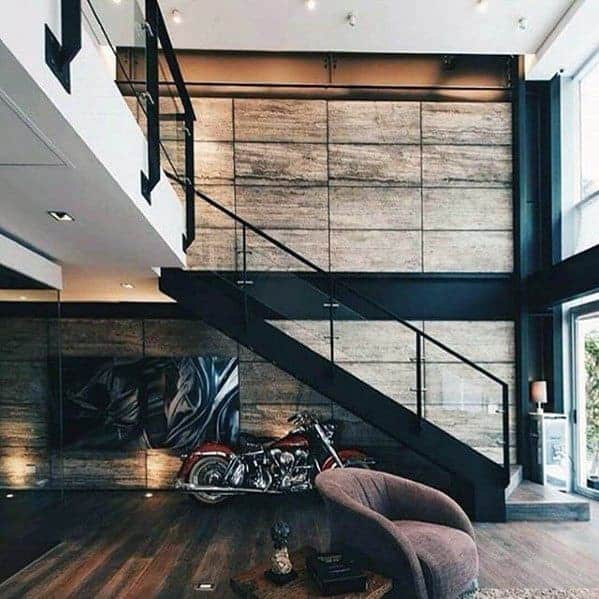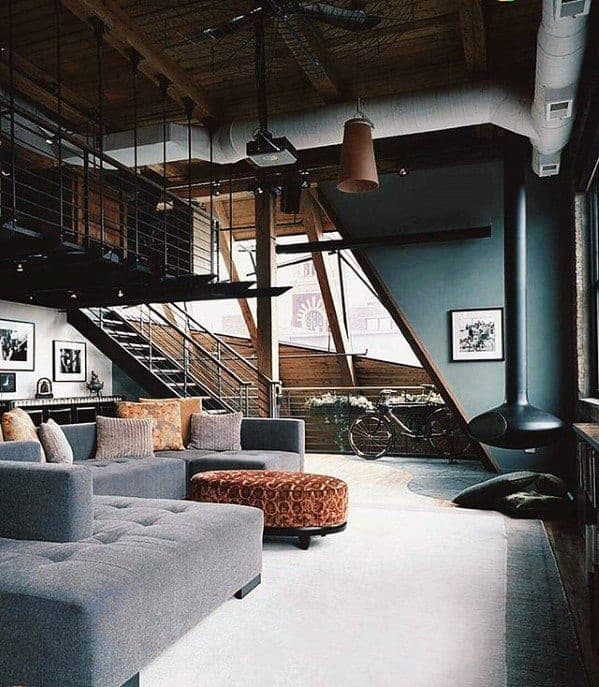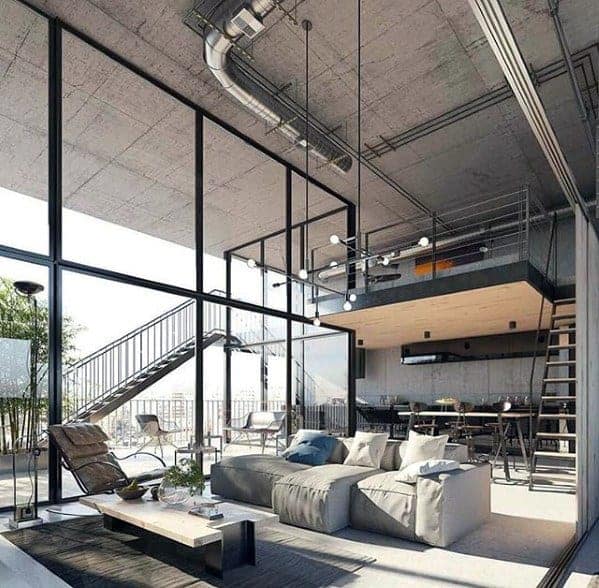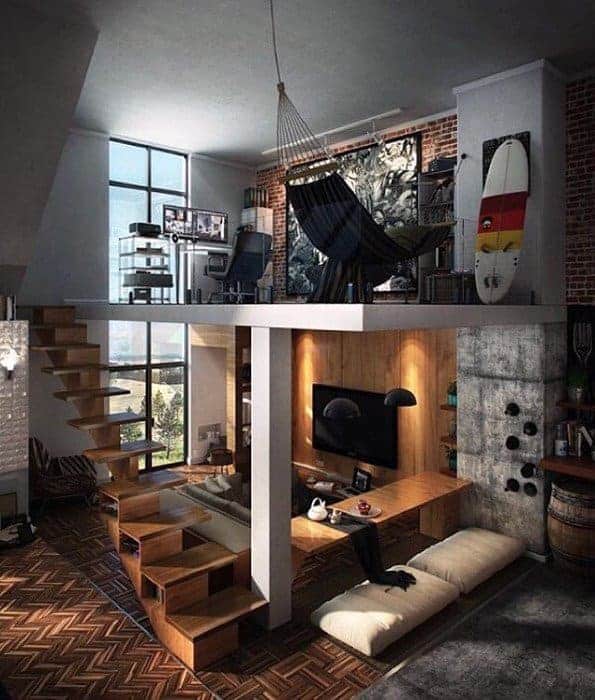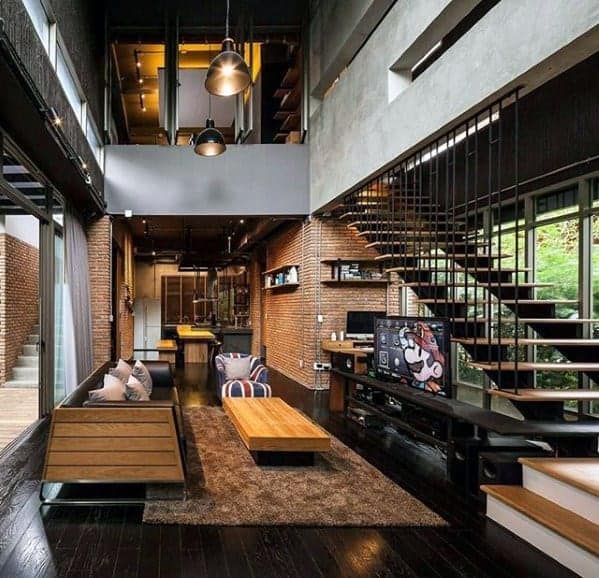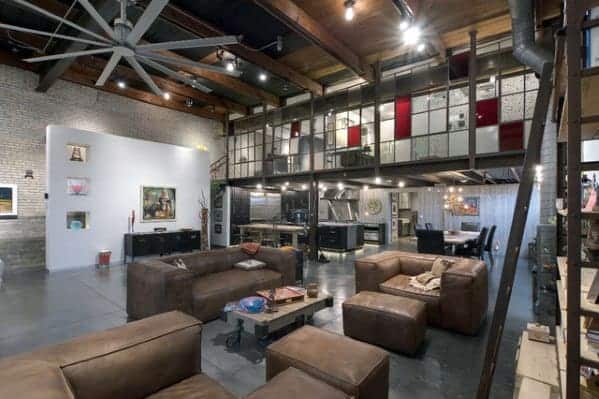 4. Add Dramatic Drop Lights
Illuminating this captivating realm are dramatic drop lights that hang from above, casting a mesmerizing glow throughout the space. Enchanting LED lights create a captivating ambiance, their sleek and contemporary design adding a touch of elegance to the surroundings.
With their cascading brilliance and artistic flair, the drop lights become the focal point of the bachelor's pad, creating an atmosphere that is both inviting and alluring. As they illuminate the room with their soft glow, they create a captivating interplay of light and shadow, enhancing the overall aesthetic.
Whether it's hosting sophisticated gatherings or simply enjoying quiet moments of solitude, the bachelor's pad comes alive under the spell of these dramatic drop lights, turning every experience into a truly enchanting affair.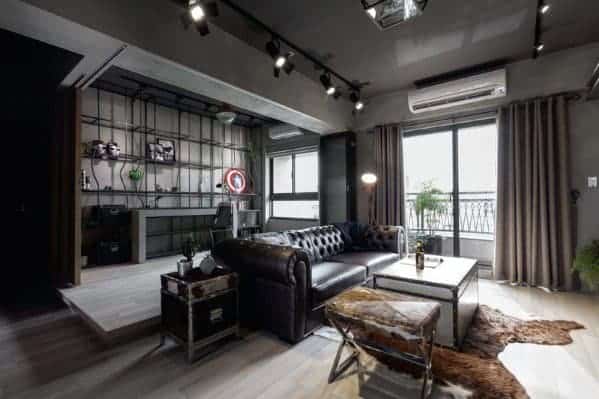 5. Black & Wood Interior
The interior of this sanctuary is a mesmerizing fusion of black and wood, creating an atmosphere that exudes both strength and warmth. Dark, sleek surfaces coexist harmoniously with the richness of natural wood, showcasing a captivating interplay of textures.
The walls are adorned with bold artwork, reflecting the bold personality of its inhabitant. This space effortlessly combines the rugged charm of urban living with a touch of sophistication. A curated collection of vintage and modern furniture invites relaxation, while industrial elements add a rugged edge.
The black and wood interior amplifies the space's aura, enveloping you in a sense of urban adventure and refined masculinity. It is a sanctuary that celebrates individuality, where one can unwind, entertain, and embrace the essence of bachelorhood in style.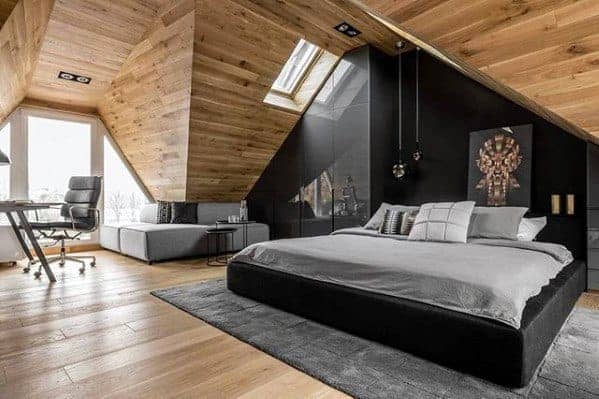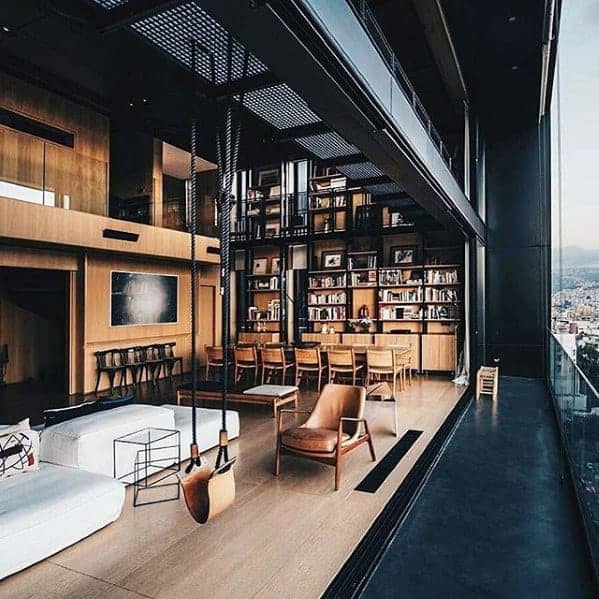 6. Cabin-Style Bachelor Pad
Step into the captivating world of the bachelor's pad, where rustic charm and modern elegance intertwine in a breathtaking display of cabin-style interior design. The focal point of this enchanting space is the exposed ceiling beams, proudly showcasing their rugged beauty and lending an air of authenticity to the ambiance.
Every corner of the room exudes the warmth of weathered wood, creating a cozy and inviting atmosphere that instantly puts the mind at ease. The furniture, carefully selected to complement the cabin aesthetic, boasts a perfect blend of comfort and style, with plush leather seating and sturdy wooden tables. The interplay of earthy tones and natural textures sets the stage for relaxation and contemplation, while strategic lighting casts soft glows, adding a touch of romance to the setting.
This bachelor's pad offers a sanctuary from the hustle and bustle of the outside world, a retreat where one can reconnect with nature's beauty and find solace in the simplicity of rustic elegance.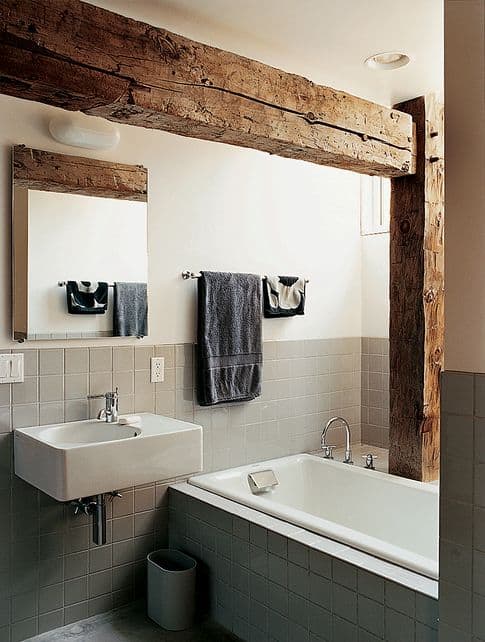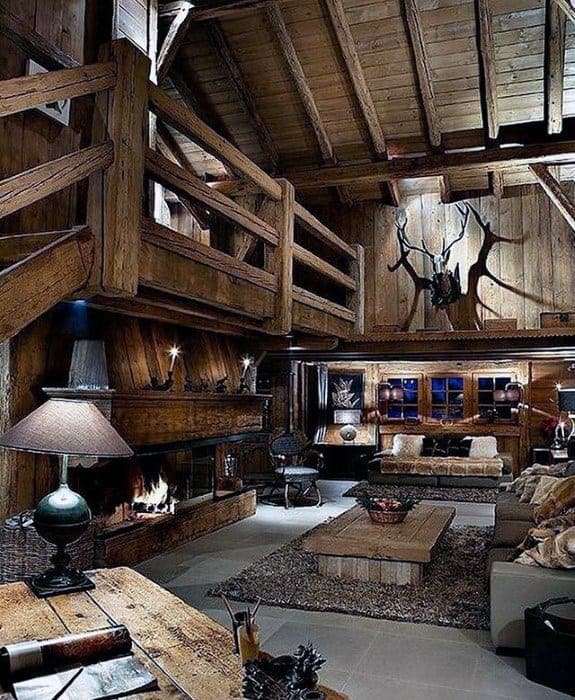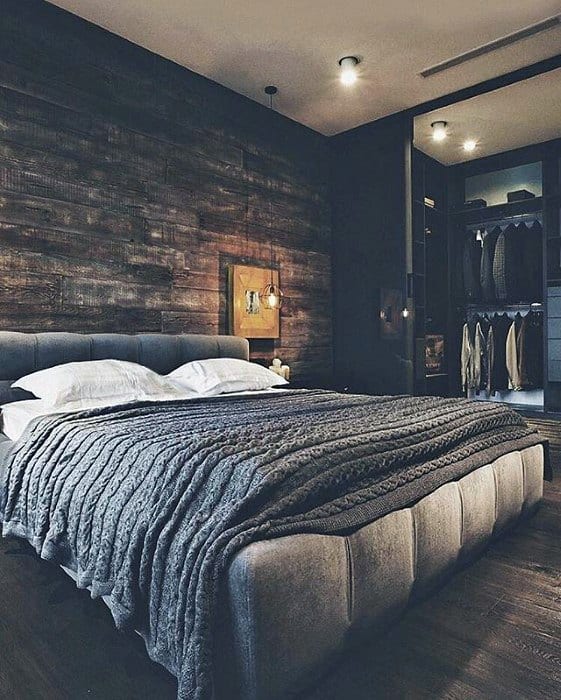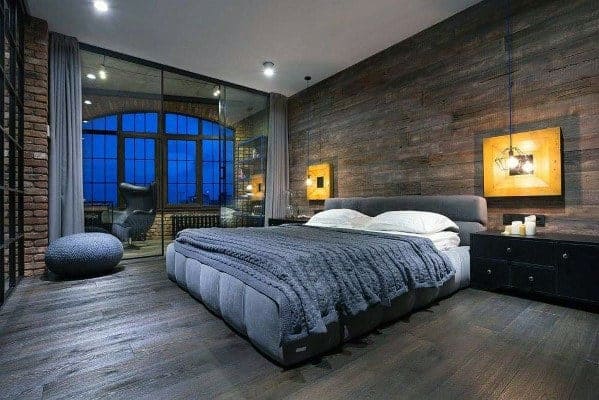 7. Monochromatic Bachelor Pad
The versatile nature of this design choice allows for seamless integration of various shades and textures, creating a visually captivating space that is simultaneously masculine and inviting. From sleek charcoal grays to bold ebony accents, the monochromatic palette sets the stage for a modern and edgy ambiance.
Thoughtfully curated furniture pieces, such as a plush leather sofa and a minimalist coffee table, perfectly complement the monochromatic theme, while adding comfort and functionality to the space. Striking art pieces adorn the walls, showcasing the owner's individuality and adding a touch of personality.
As natural light filters through floor-to-ceiling windows, it illuminates the monochromatic interior, revealing its true allure. Whether entertaining friends or seeking solace after a long day, the bachelor's pad with its monochromatic interior invites one to embrace the elegance of simplicity and revel in the beauty of understated luxury.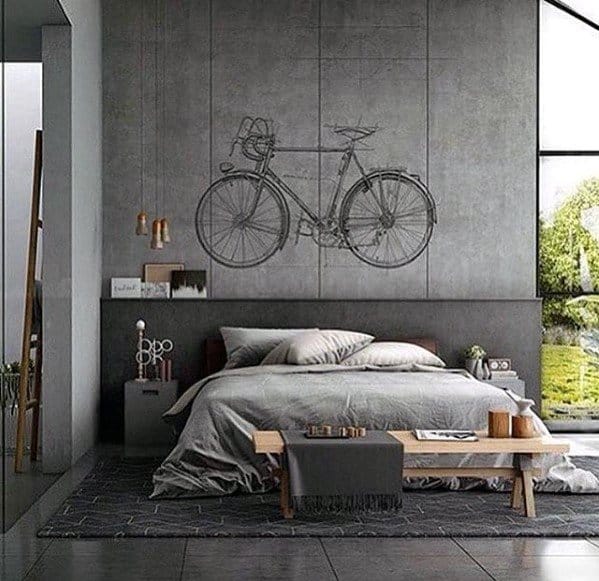 8. Art Deco Bachelor Pad
This captivating space exudes an air of elegance and sophistication, combining bold geometric patterns, luxurious materials, and ornate detailing. Every corner is a work of art, with statement pieces and iconic furniture that pay homage to the glamorous era of the 1920s and 1930s.
The walls are adorned with striking art deco-inspired paintings and mirrors, reflecting light and creating an illusion of grandeur. Plush velvet sofas and sleek chrome accents invite relaxation and conversation, while sleek lines and polished surfaces evoke a sense of sleek refinement.
The ambiance is further enhanced by soft, ambient lighting that casts a warm glow, creating a captivating atmosphere of opulence and nostalgia. A bachelor's pad with an art deco interior is a haven for the creative soul, where timeless beauty and modern sensibilities converge to create a truly extraordinary living space.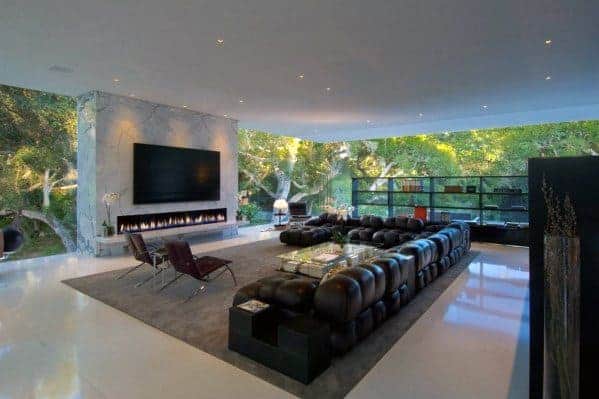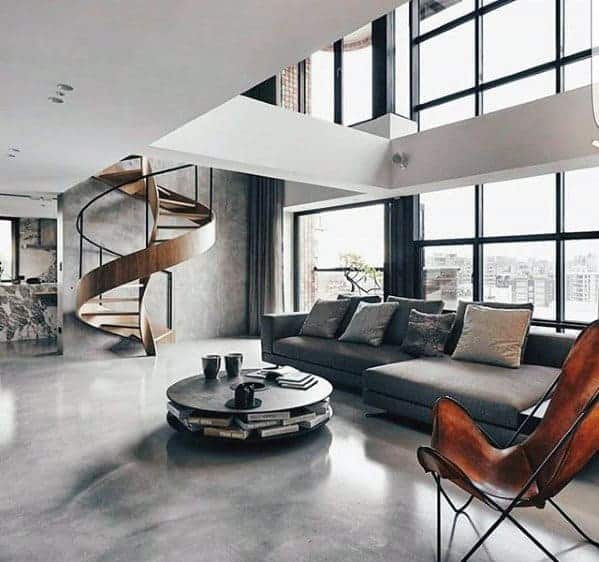 9. Bachelor's Walk-In Closet
This meticulously designed space is a reflection of refined taste and attention to detail. Custom organizational systems harmoniously coexist with sleek shelves, providing a sanctuary for tailored suits, designer sneakers, and a collection of impeccable accessories.
The walk-in closet becomes a personal boutique, where every item has its place, ready to be effortlessly selected for any occasion. As the bachelor peruses the racks, a sense of confidence and sophistication permeates the air, enhancing the anticipation of each venture into the world.
This walk-in closet, adorned with stylish lighting fixtures and thoughtfully curated decor, becomes a sanctuary of style, elevating the bachelor's pad to new heights of elegance and individuality.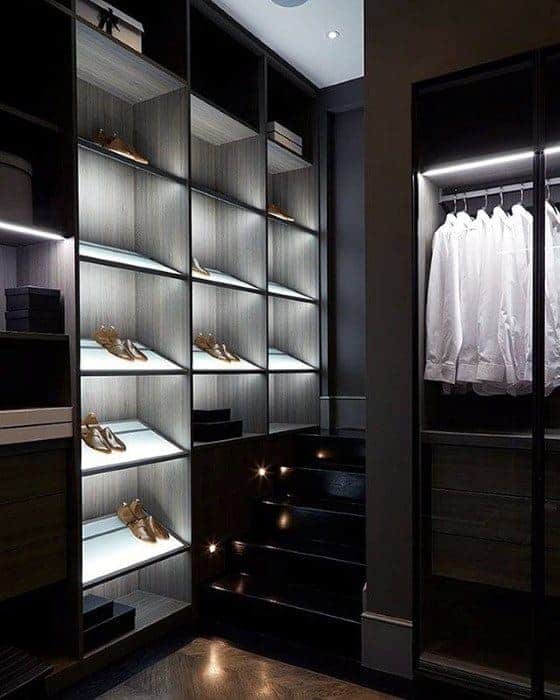 10. Play With Textures
Playing with textures is a great way to Plush sofas and armchairs invite you to sink in, enveloped in comfort and luxury. Playful throw pillows with intricate patterns and varying textures add a touch of whimsy and personality to the space.
But it doesn't stop there—the walls themselves become a canvas for textured wonders, with a mesmerizing display of embossed wallpapers or a captivating brick or stone accent wall. The adventurous bachelor fearlessly embraces the concept of "print on print," mixing and matching patterns and textures in a harmonious dance of visual delight.
From velvet to leather, silk to fur, every surface becomes an opportunity to elevate the tactile experience. In this bachelor's pad, textures are not merely felt but celebrated, creating an ambiance that is both inviting and visually stimulating. Prepare to indulge your senses and embark on a journey where style and comfort intertwine in a tapestry of textures.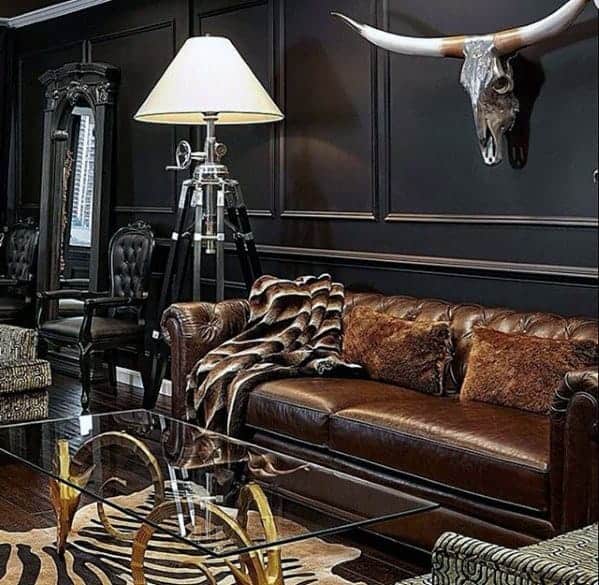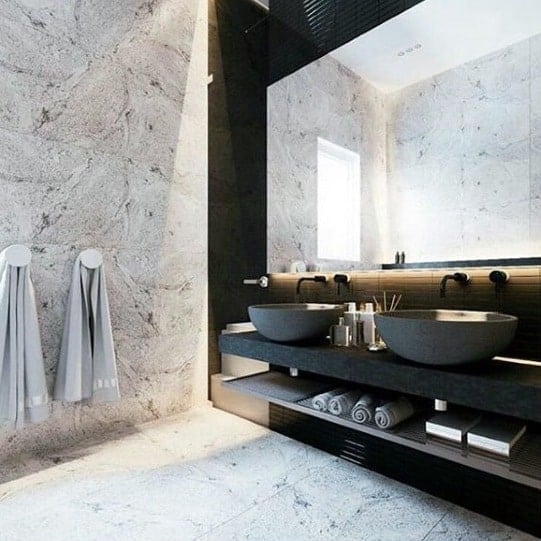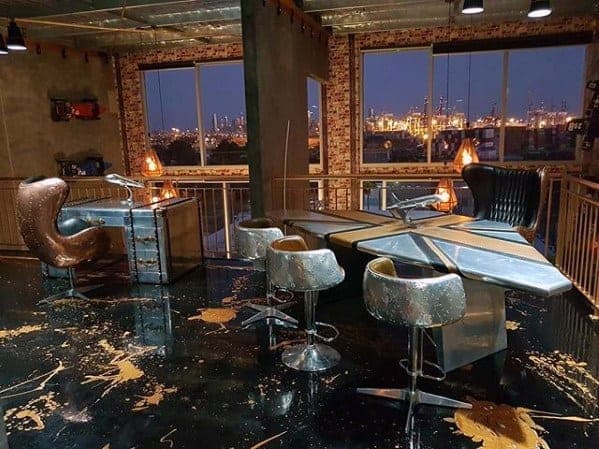 11. Showcase Your Hobbies
This exceptional space celebrates the love for motors and automobiles, creating a haven for enthusiasts. Adorning the walls are captivating memorabilia, showcasing vintage car parts, iconic racing photographs, and autographed collectibles.
Every corner exudes the spirit of speed and adventure, with sleek motor-themed decor elements adding a touch of sophistication. From statement pieces like car hood coffee tables to custom-built shelving displaying scale models, this bachelor's pad is an automotive oasis.
The ambiance is electrified by the subtle hum of engines, with carefully selected lighting casting dramatic shadows on classic car posters and artwork.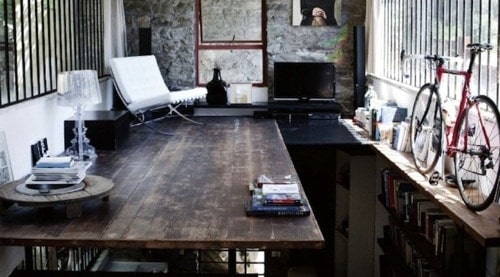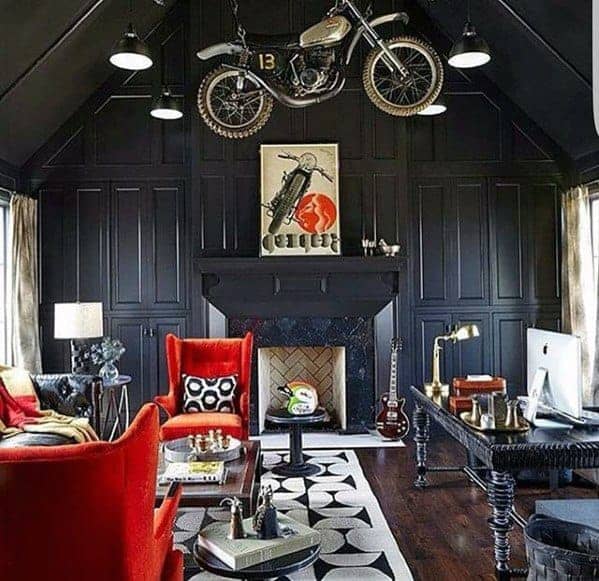 12. Set Up A Wet Bar
At the heart of this sleek sanctuary stands a captivating wet bar, a symbol of entertainment and refinement. The wet bar becomes the epicenter of social gatherings, where conversations flow and drinks are crafted with flair.
The bar's sleek design, adorned with gleaming countertops and dazzling glassware, exudes an air of modern elegance. Shelves lined with top-shelf spirits and mixology tools showcase the bachelor's discerning taste and passion for the art of cocktail making. The soft glow of strategically placed accent lighting adds a touch of allure to the space, creating an ambiance that is both inviting and chic.
Whether it's a casual evening with friends or an intimate celebration, the wet bar in this bachelor's pad sets the stage for unforgettable moments, creating an atmosphere that effortlessly merges sophistication and camaraderie.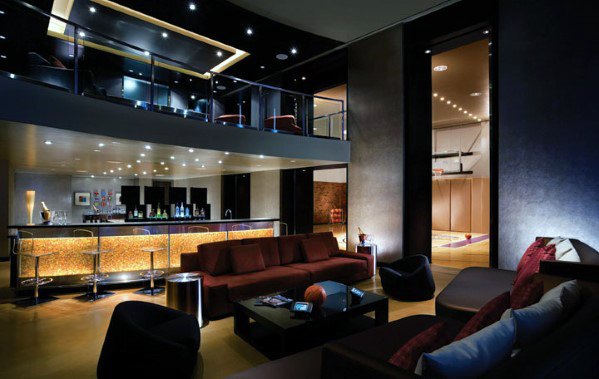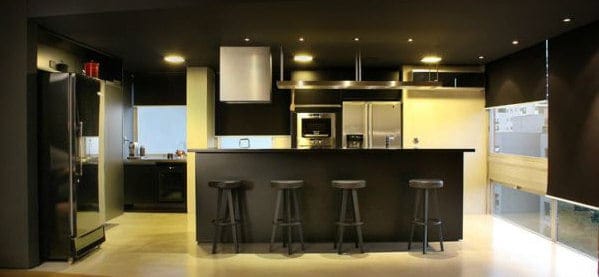 13. Pool Table
Step into the realm of the bachelor's pad, where sophistication meets recreation. Nestled in the heart of this captivating space is a pool table, an iconic centerpiece that exudes an air of competitive spirit and leisurely charm.
The smooth green felt beckons players to engage in thrilling matches, where skill and strategy intertwine. As the cue ball glides effortlessly across the surface, laughter fills the air, accompanied by the clacking of balls and the occasional triumphant cheer. The pool table becomes a hub of entertainment and camaraderie, where friends gather, bonding over friendly rivalries and shared moments.
With its sleek design and impeccable craftsmanship, the pool table adds a touch of elegance to the surroundings, transforming the bachelor's pad into an inviting haven where unforgettable memories are made and a true sense of belonging is forged.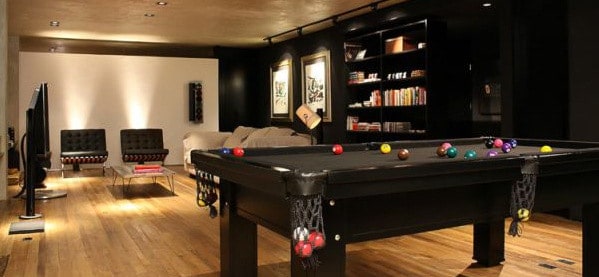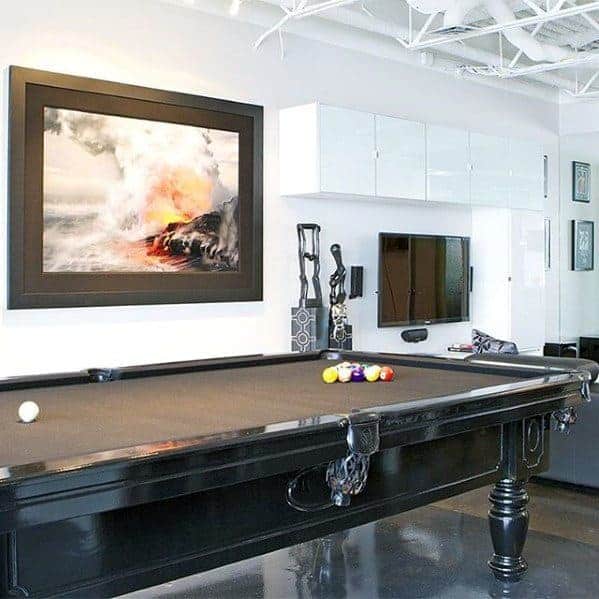 14. Library Pad
This unique sanctuary is a haven for the modern gentleman, a place where he can retreat from the chaos of the world and delve into the depths of knowledge. The library pad boasts a creative ambiance, with plush seating arrangements, warm lighting, and a touch of vintage charm.
Here, time stands still as the bachelor immerses himself in the stories of countless authors, finding solace and inspiration within the pages. The air is filled with the scent of aged books, and the shelves beckon him to explore new worlds and ideas.
This bachelor's pad is a testament to the power of knowledge and serves as a reflection of his refined taste and intellectual pursuits. It is a sanctuary where he can unwind, expand his mind, and find a sense of serenity in the captivating embrace of literature.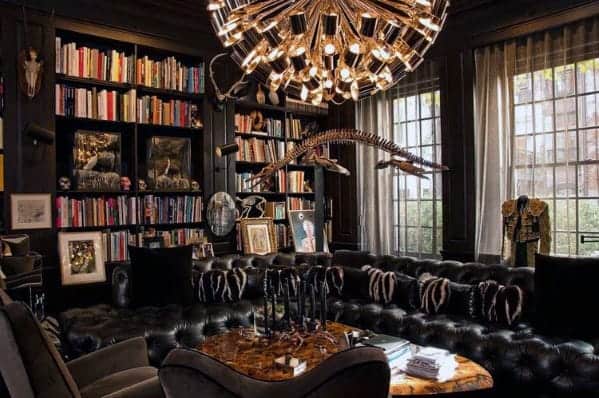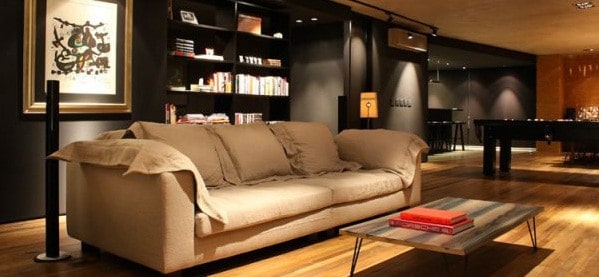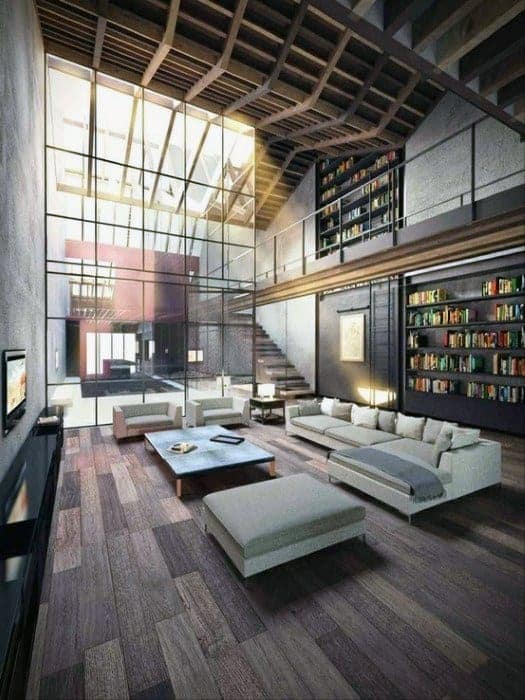 15. Open Plan Structure
At the heart of this extraordinary space lies an open-plan structure, boasting high ceilings that soar toward the heavens. The expansive floor space stretches wide, inviting a sense of limitless possibilities and boundless creativity.
The open-plan layout seamlessly connects different living areas, allowing for fluid movement and effortless socializing. The grandeur of the high ceilings adds an air of grandiosity and freedom, while the wide flooring provides a canvas for sleek and modern design elements. This bachelor's pad becomes a haven of self-expression, where a carefully curated mix of furniture and decor accentuates the spaciousness and accentuates the bachelor's unique personality.
Whether it's entertaining friends, unwinding in solitude, or embracing the freedom of a single life, this open-plan bachelor's pad stands as a testament to the limitless possibilities of design and the journey of self-discovery.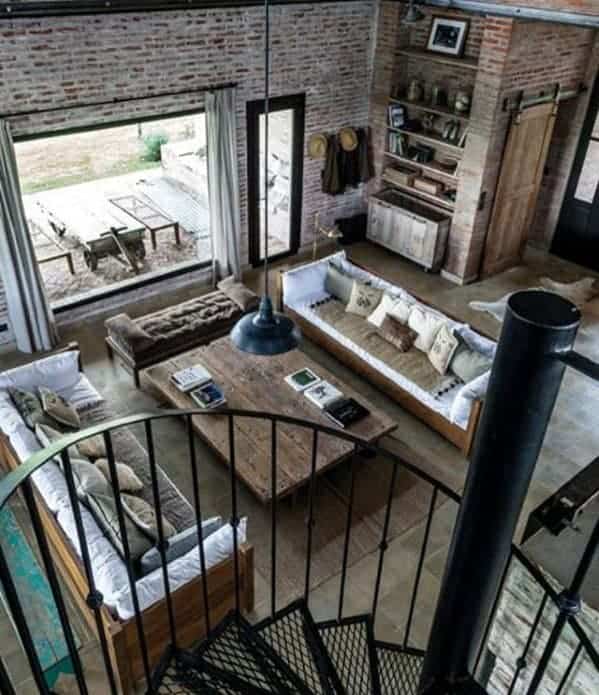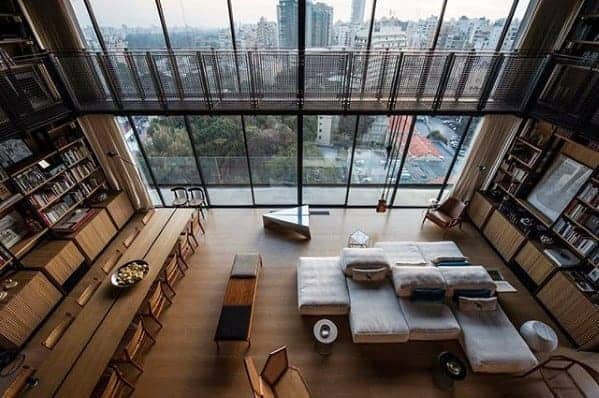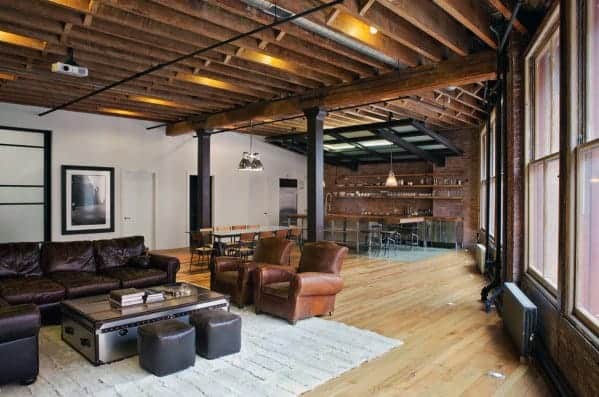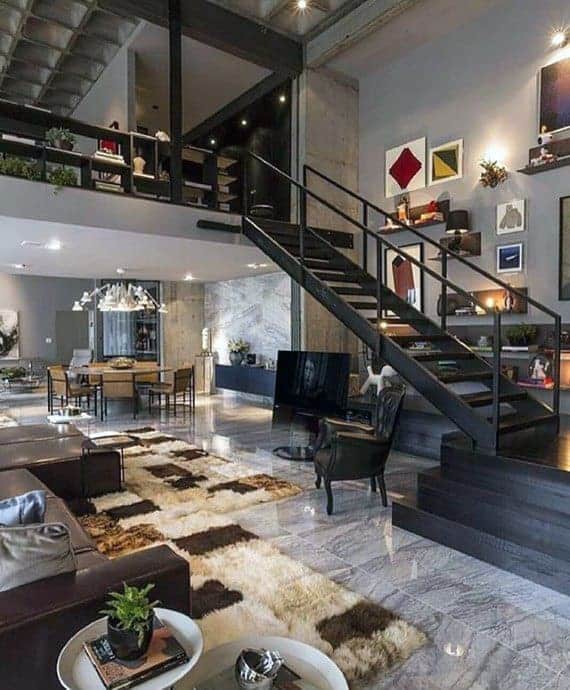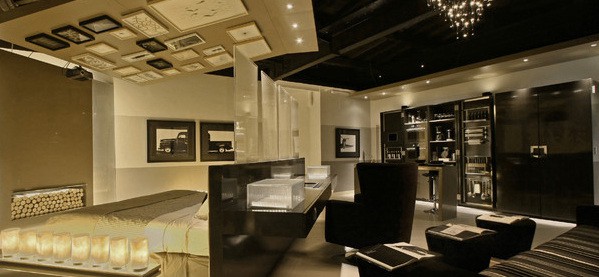 16. Keep It Dark
This sanctuary embraces the allure of a dark interior, casting a spellbinding atmosphere that exudes mystery and sophistication. The play of shadows and light creates a dramatic backdrop, intensified by strategically placed accent lighting that bathes the space in a seductive glow.
Every corner tells a story, with sleek furniture and avant-garde decor adding an air of contemporary charm. The bachelor's pad becomes an enchanting haven, where conversations flow, passions ignite, and creativity thrives.
It's a realm where secrets are whispered, dreams take shape, and memories are etched into the deep recesses of the mind. Step into the realm of the dark interior and let its bewitching allure envelop your senses in a world of endless possibilities.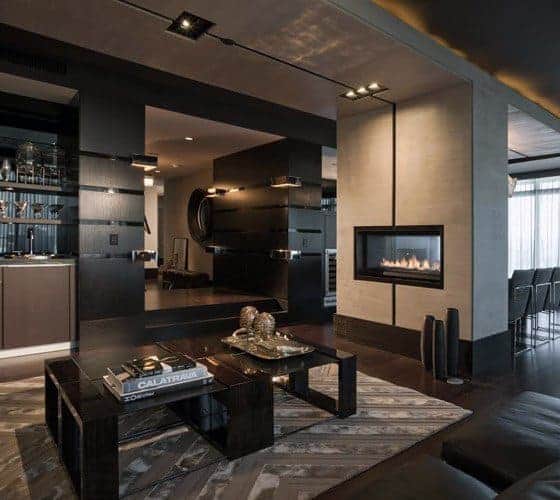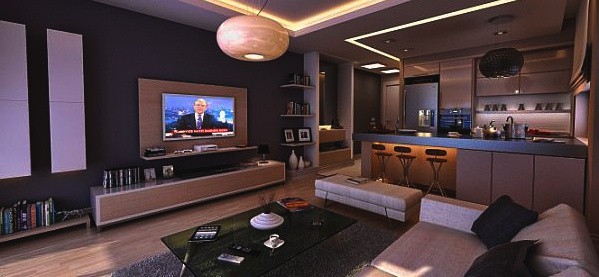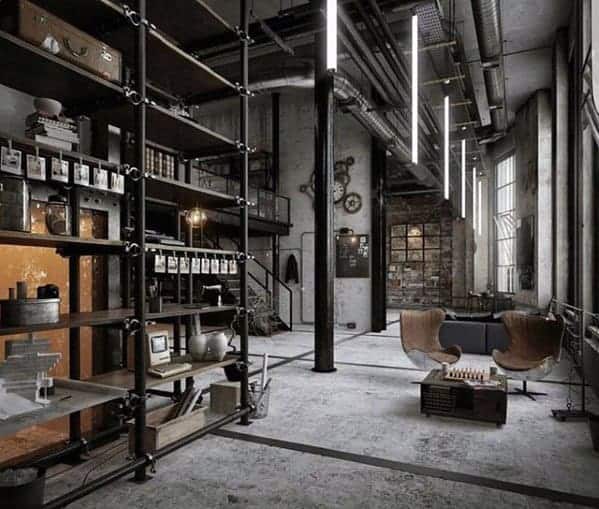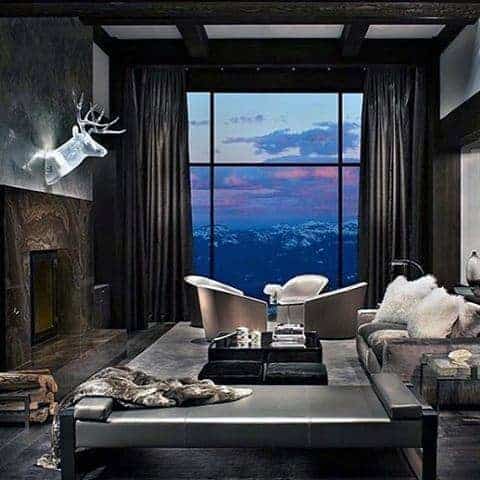 17. Sunroom Area
Nestled within this sanctuary of sophistication lies a sunroom area that exudes an aura of tranquility and warmth. Its full-length windows bathe the space in a soft, ethereal glow, inviting the golden rays of the sun to dance upon the polished floors.
Here, amidst lush indoor greenery, one can bask in the embrace of nature while relishing moments of solitude or vibrant gatherings with friends. The sunroom becomes a haven of rejuvenation, a sanctuary where one can unwind, read a book, or simply immerse themselves in the symphony of the outdoors.
With its seamless integration of contemporary design and the natural world, this sunroom area is a testament to the bachelor's pad's commitment to creating a space that radiates both style and serenity.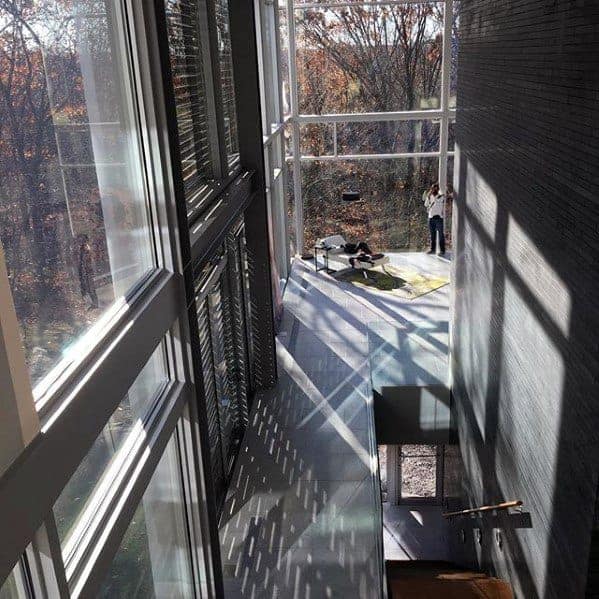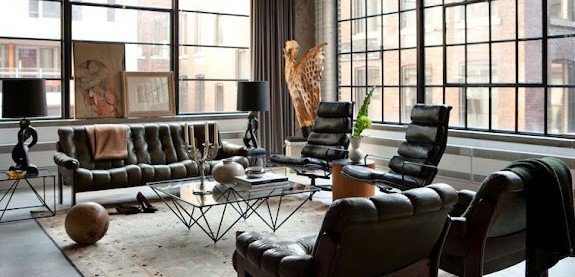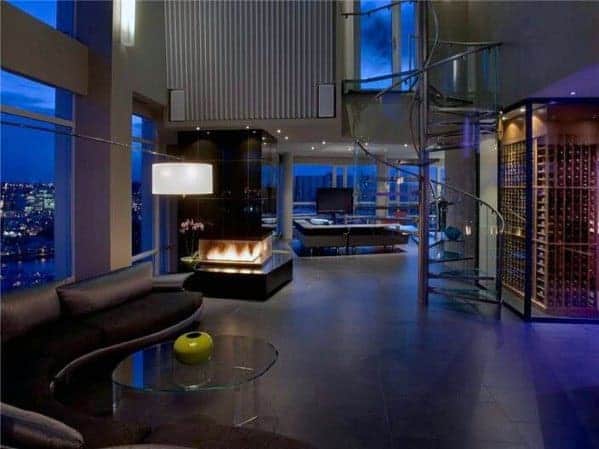 18. Place An Area Rug
Step into the captivating world of a bachelor's pad, where style and sophistication intertwine to create a haven of refined masculinity. Anchoring the space is a meticulously chosen area rug, which instantly adds visual interest and elevates the ambiance to new heights. A plush rug, perhaps inspired by the timeless allure of a Persian masterpiece, graces the floor with its intricate patterns and sumptuous texture.
This centerpiece not only offers a soft and inviting surface to walk upon but also serves as a captivating work of art in its own right. It's rich colors and detailed motifs reflect the bachelor's discerning taste and appreciation for the finer things in life. As one's gaze is drawn to the exquisite rug, the entire space transforms, exuding a sense of warmth, luxury, and character.
Whether it's hosting gatherings or indulging in quiet solitude, the bachelor's pad is complete with this striking area rug, lending an air of sophistication and comfort that truly sets it apart.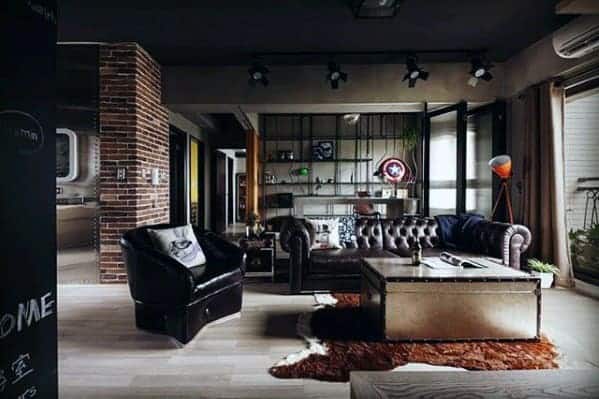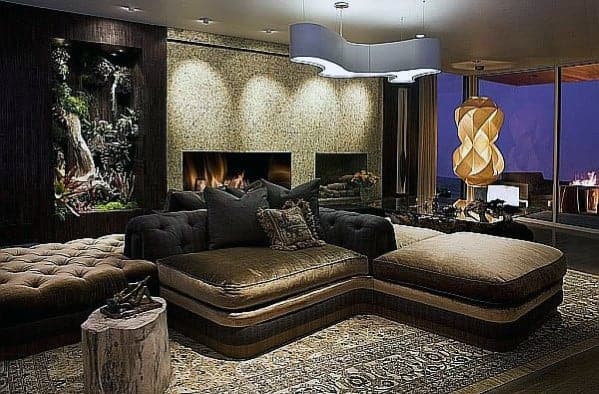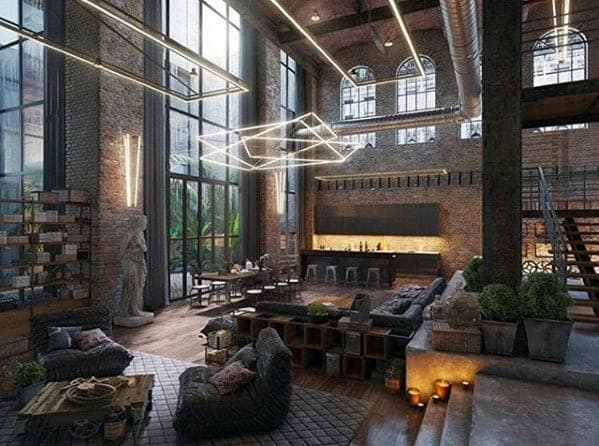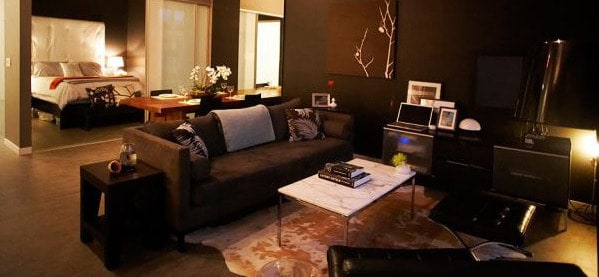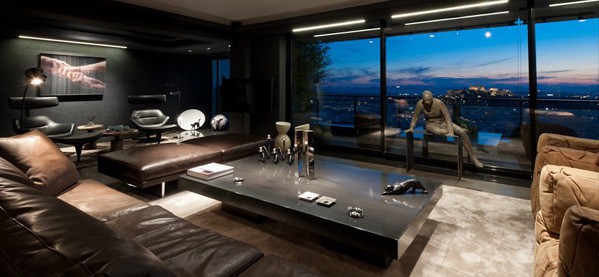 19. Japanese-Scandinavian Bachelor's Pad
Step into the enchanting realm of a bachelor's pad that harmoniously fuses Japanese and Scandinavian interior influences, creating a haven of serenity and style. The space embraces the elegance of simplicity, with futons adorned in soft, neutral-toned linens resting upon light wood flooring.
The fusion of these two design aesthetics manifests in clean lines, uncluttered spaces, and a seamless blend of natural materials. Japanese-inspired sliding doors offer a sense of privacy while maintaining an open and airy atmosphere.
The minimalistic approach is enhanced by the carefully curated decor, such as bonsai trees and delicate paper lanterns that cast a gentle glow. The Japanese-Scandinavian interior aesthetic creates a sanctuary that is both peaceful and inviting, providing the perfect backdrop for contemplation, relaxation, and the pursuit of personal growth.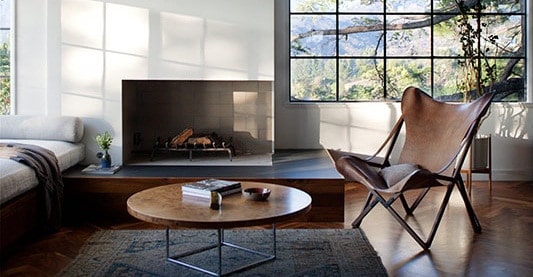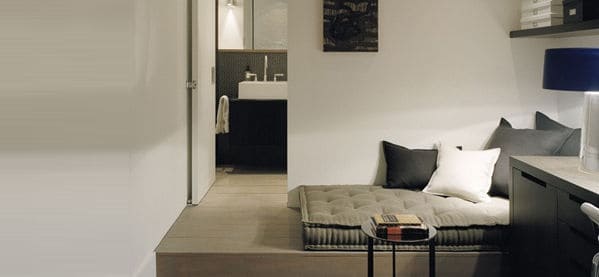 20. Hang Wall Art
Masculine art with strong lines and vibrant colors exudes an aura of strength and confidence, making a powerful statement in this bachelor's domain. Each piece tells a story, igniting the imagination and inviting contemplation.
The gallery wall becomes a focal point, a conversation starter, and a source of inspiration. Whether it's a striking canvas painting, a thought-provoking sculpture, or a mesmerizing mixed media artwork, the wall art in this bachelor's pad elevates the ambiance, adding depth and character to the space.
As the light dances upon the textured surfaces and the shadows play with the abstract forms, a unique atmosphere is created, reflecting the essence of the bachelor who calls this place home.