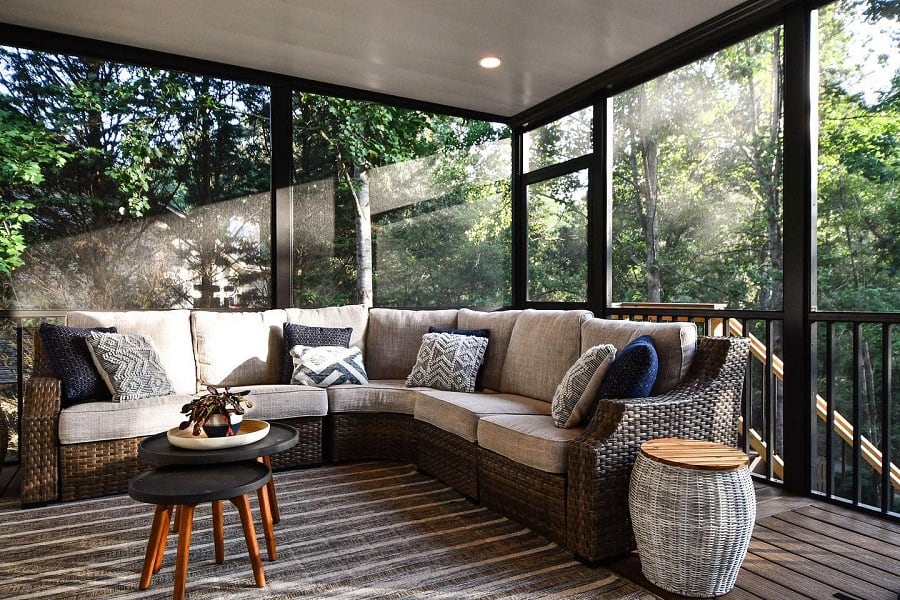 The Top 72 Back Porch Ideas
"I'm an old-fashioned guy… I want to be an old man with a beer belly sitting on a porch, looking at a lake or something." – Johnny Depp
Having a back porch on your property can give you an outdoor space to enjoy. Done well, and it can add value to your home.
Your back porch doesn't need to be large, but it should be big enough to hold a decent amount of furniture. Then you need to think about the rest of the features, like lighting, shade from the sun, privacy, and air circulation.
These back porch ideas will help you create the perfect back porch for your home and lifestyle.
1. Awning
You can still enjoy shade on your porch without having to have an enclosed porch. Add an awning to your porch design. This covering isn't a roof, but a retractable cover that's made from fabric. It can roll or fold out to cover a little or a lot of your porch.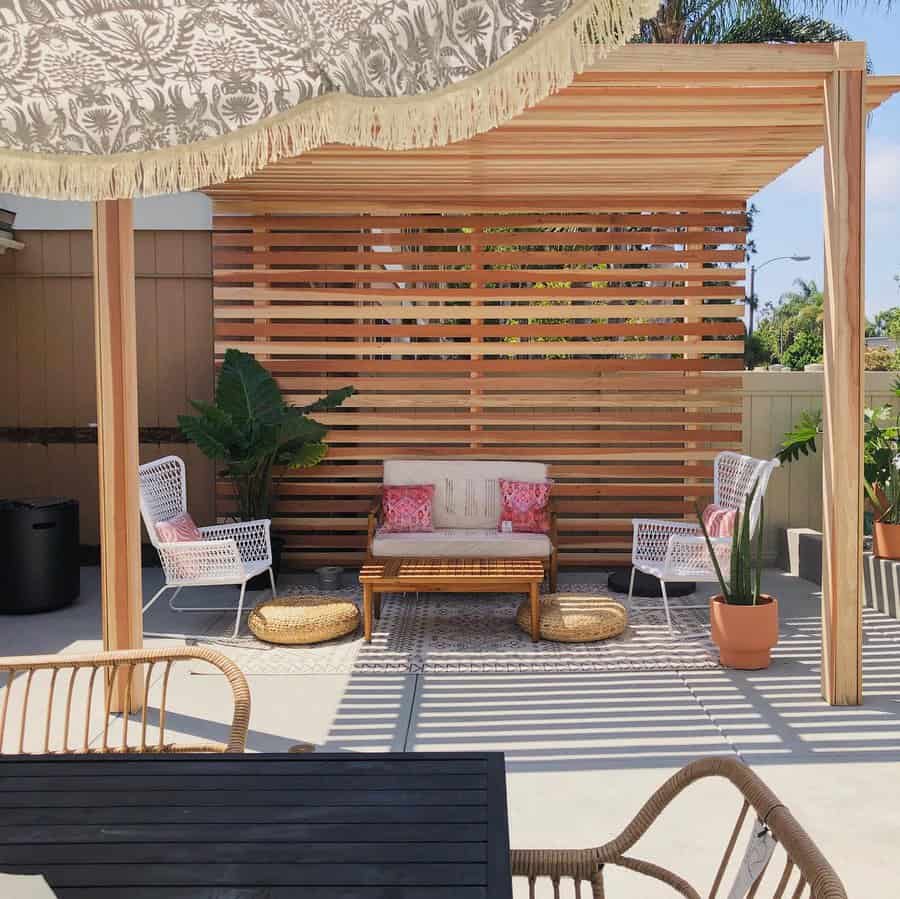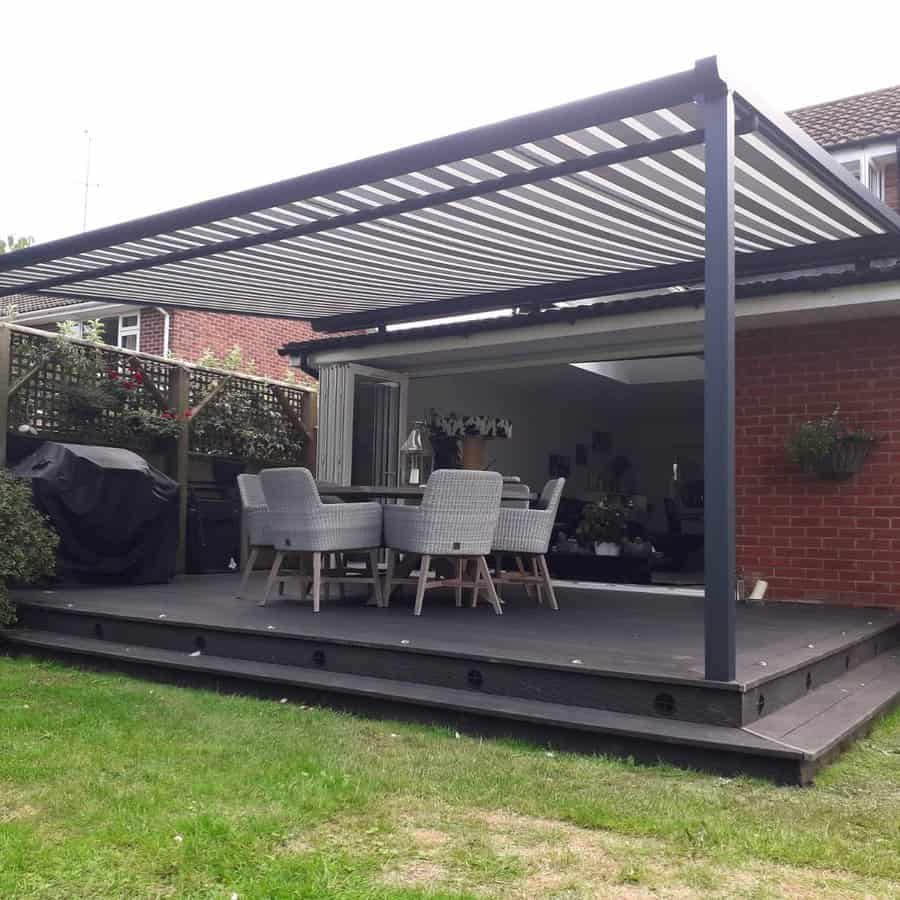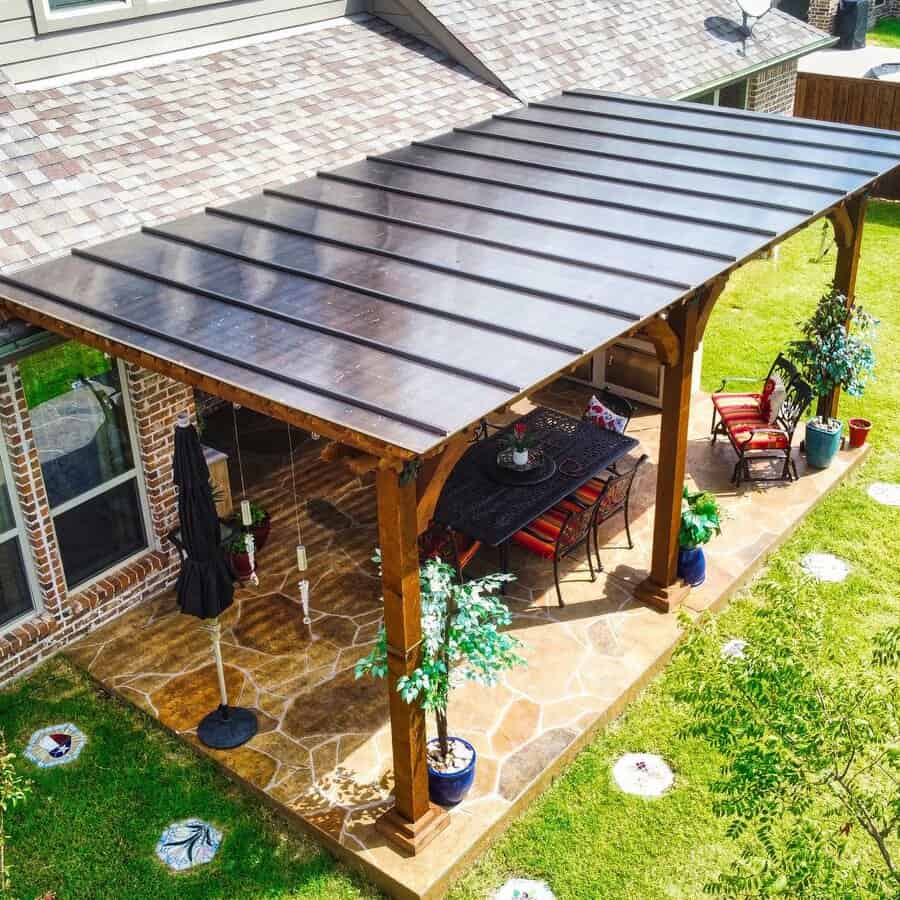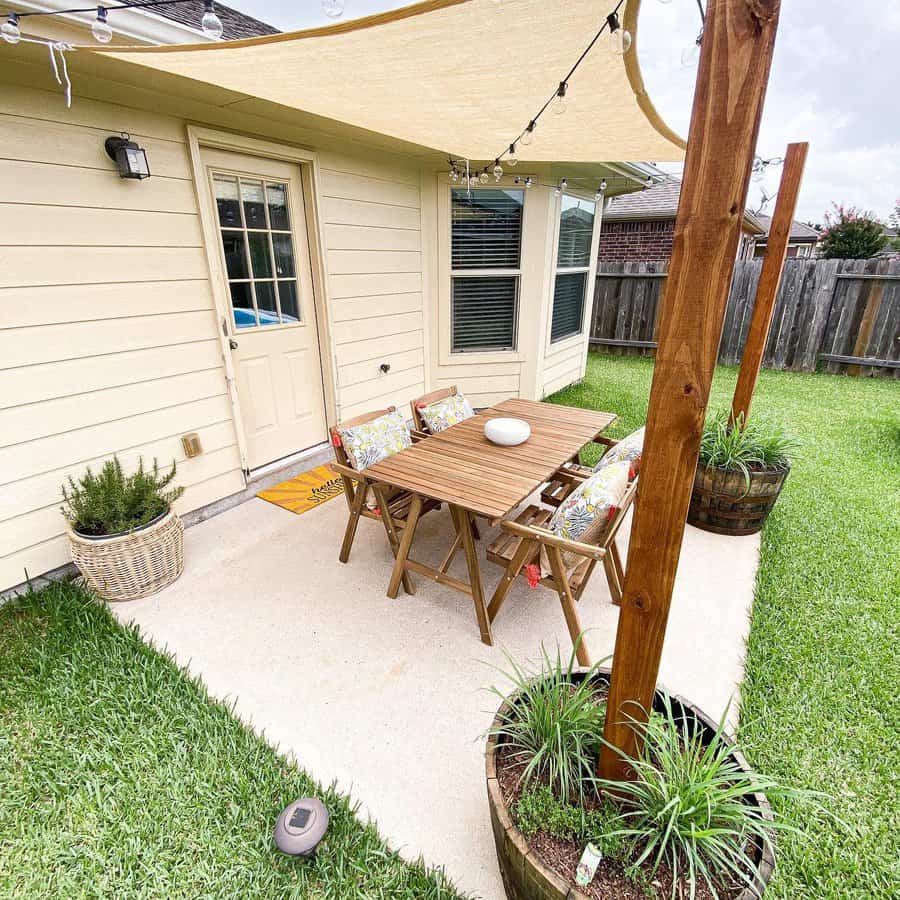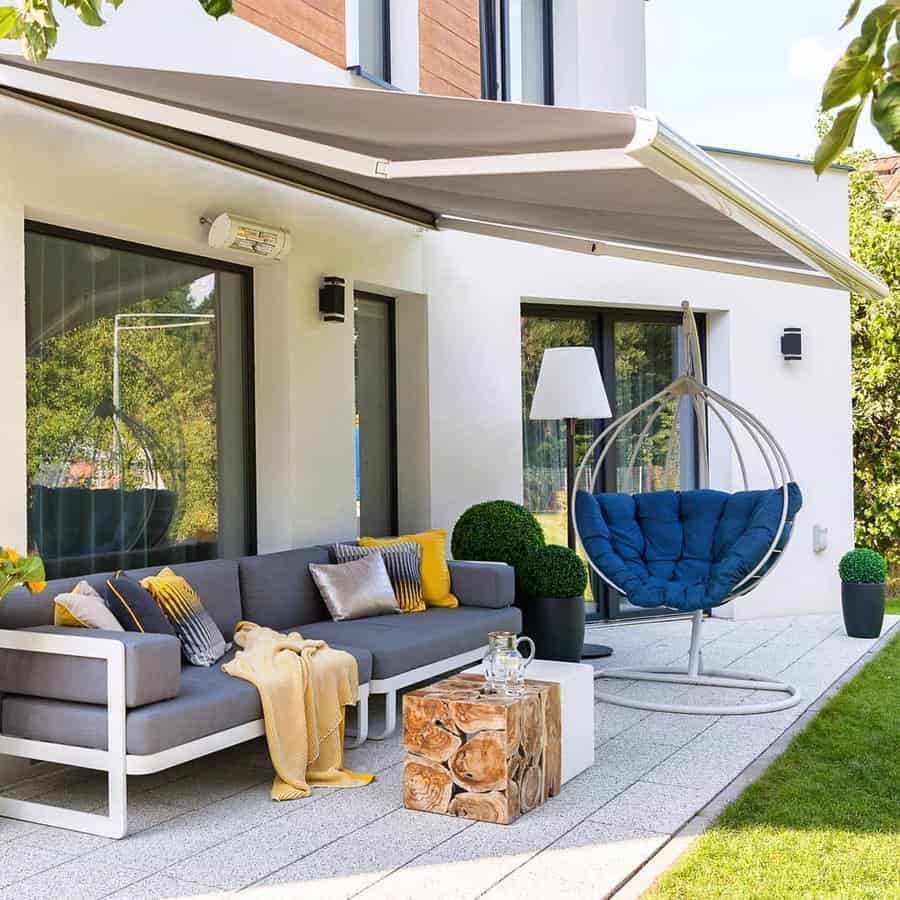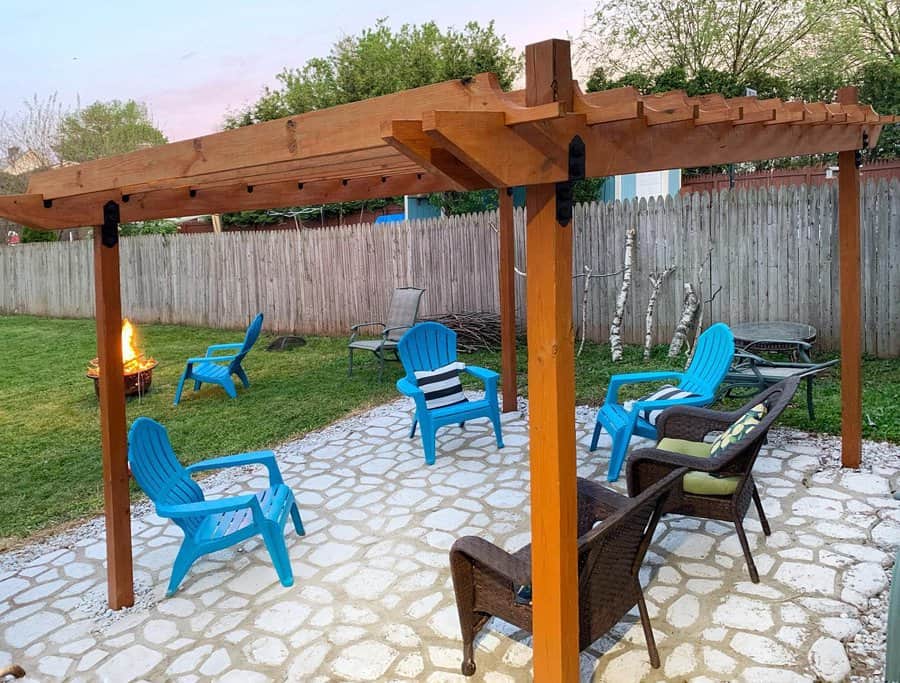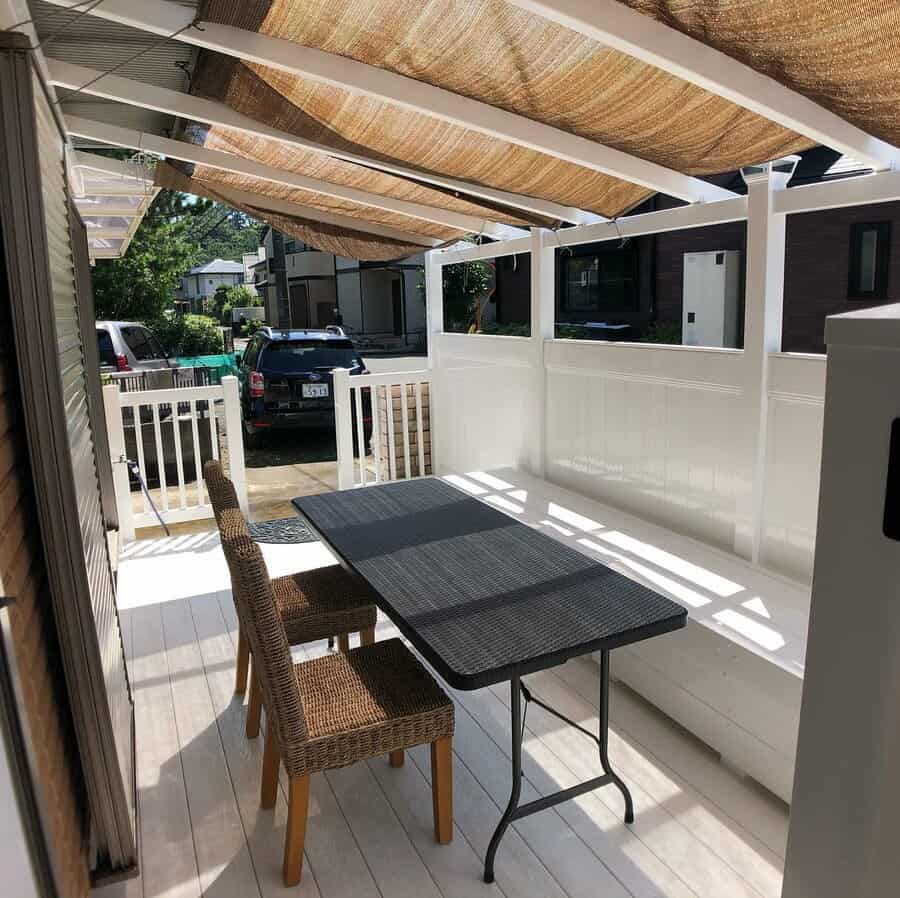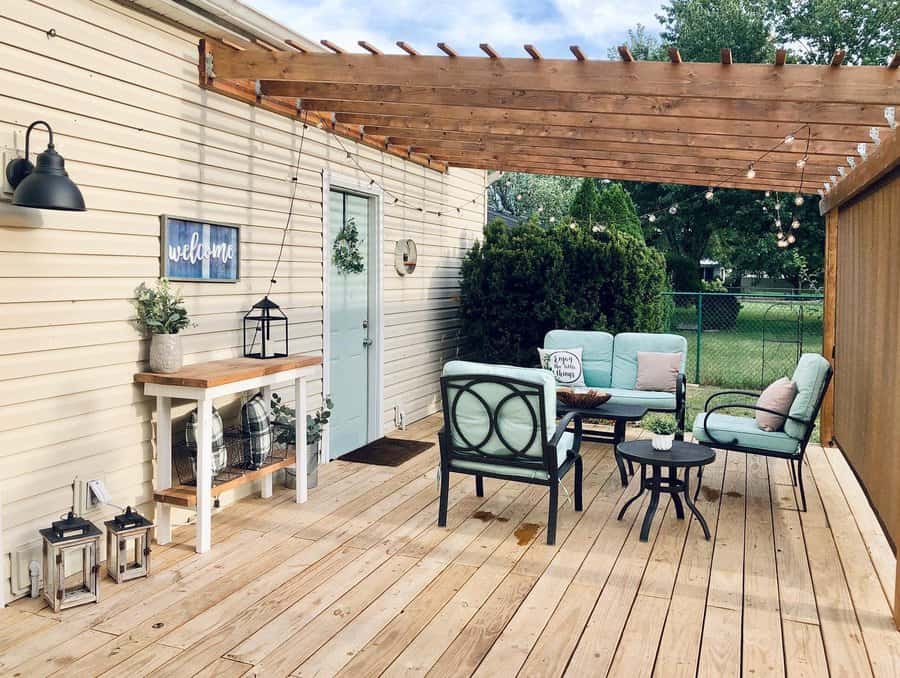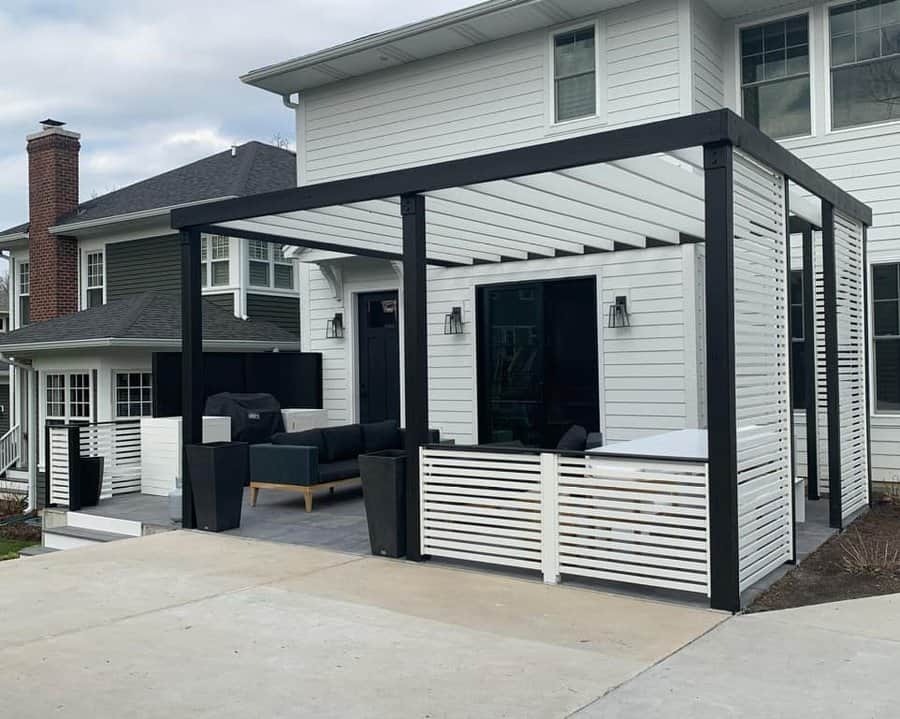 Look for one that's durable with a UV treatment and is impervious to water. These awnings can be manual or motorized. If you have a tighter budget, the manual option is better. An awning works best on a small porch or a long and narrow one.
2. Fireplace
Adding a fireplace to your sitting area creates an intimate space with a focal point. Give it an outdoor living room feel with an outdoor rug, coffee table, and sofa.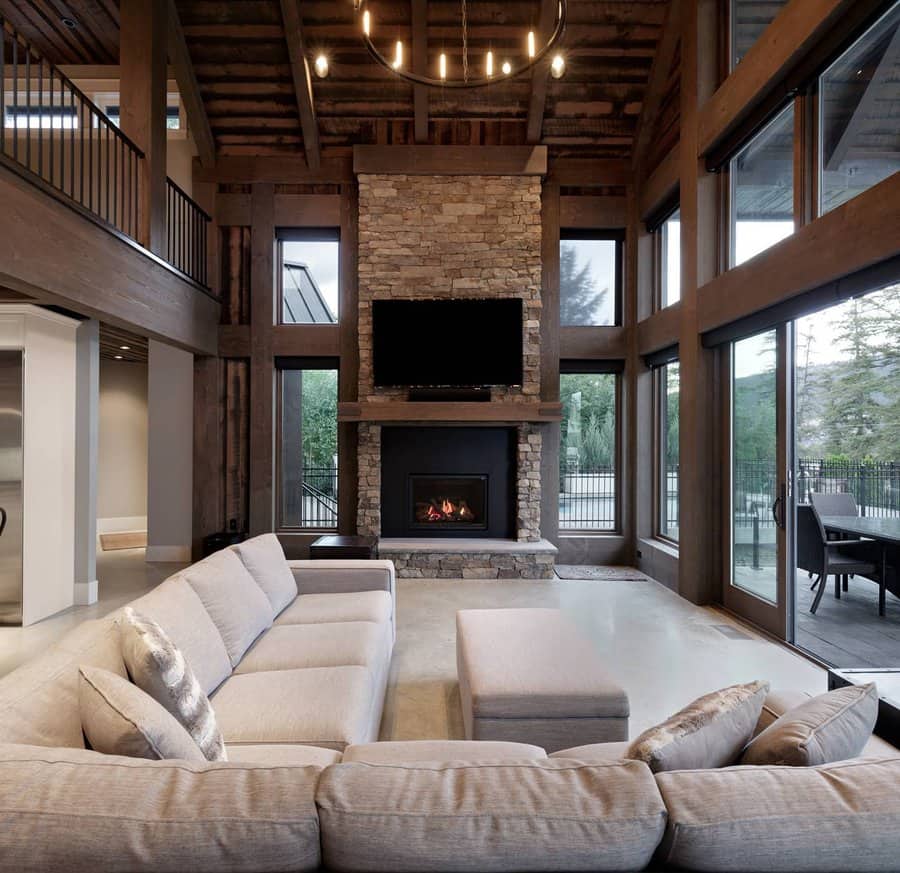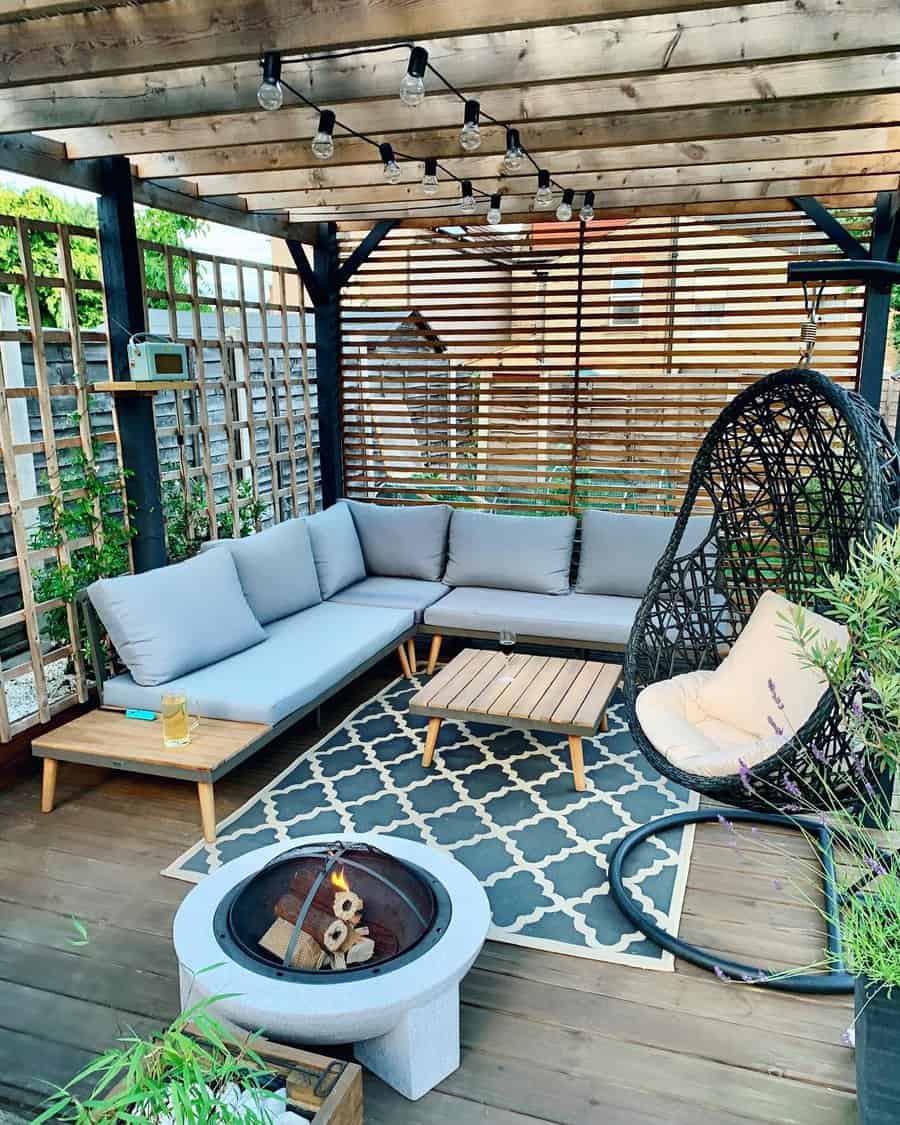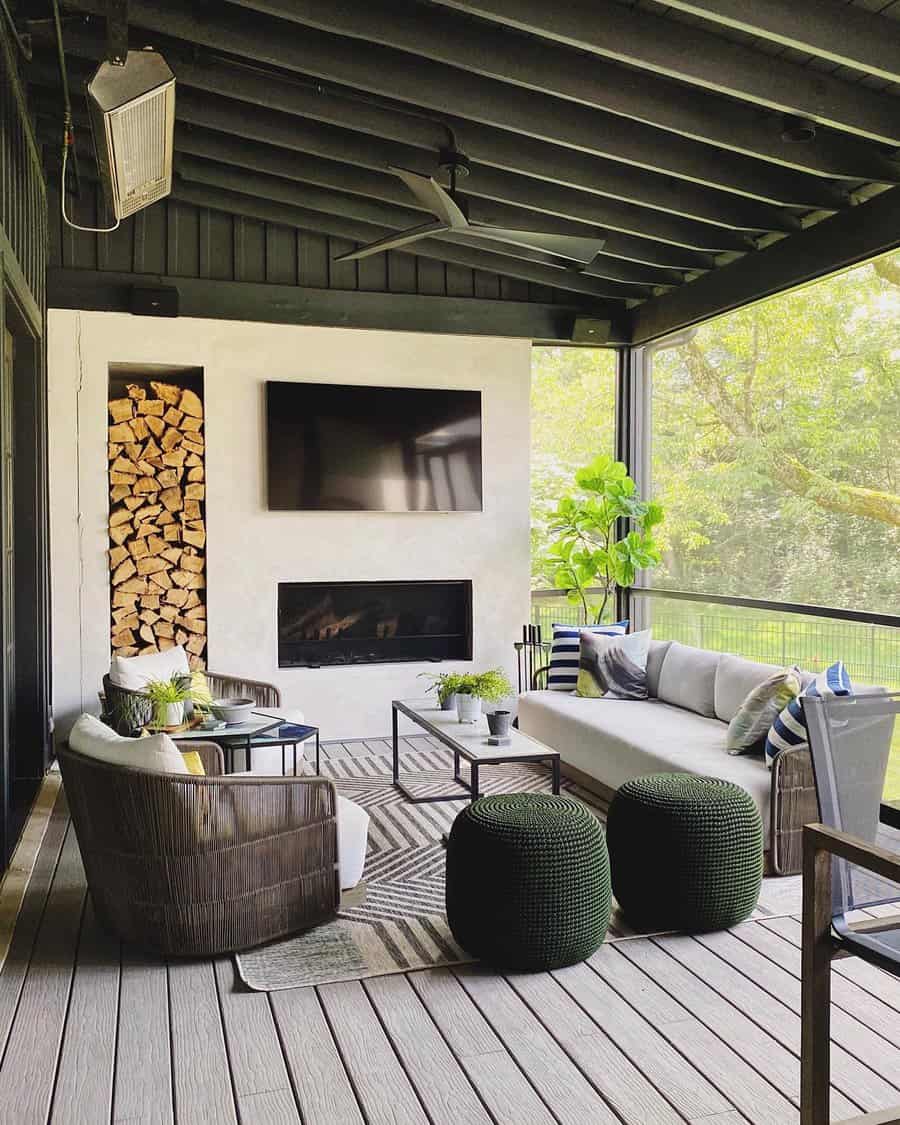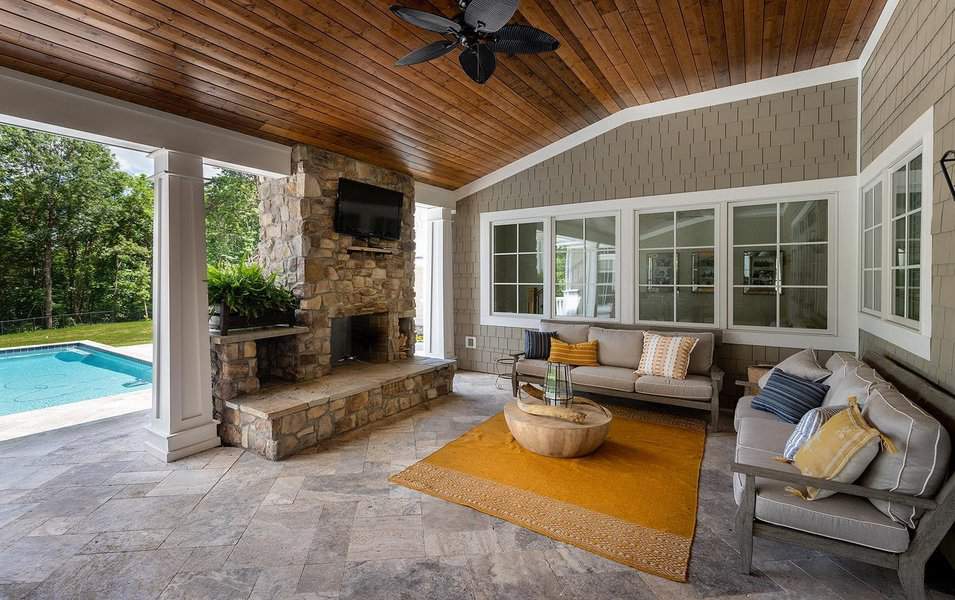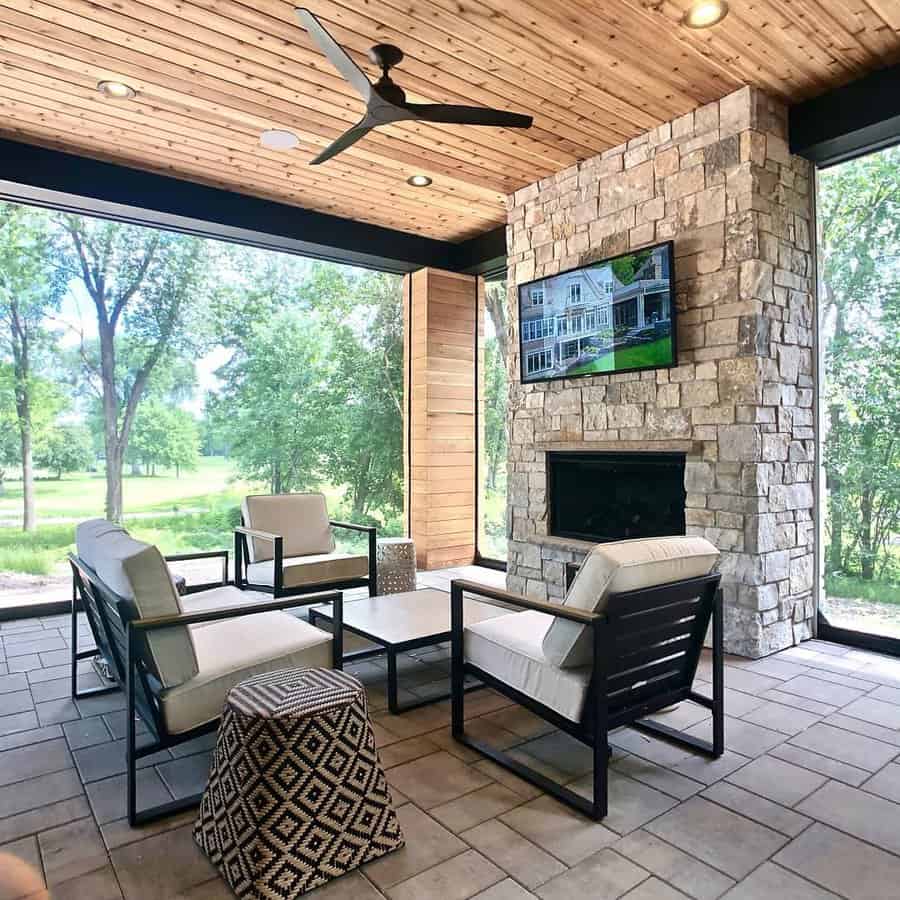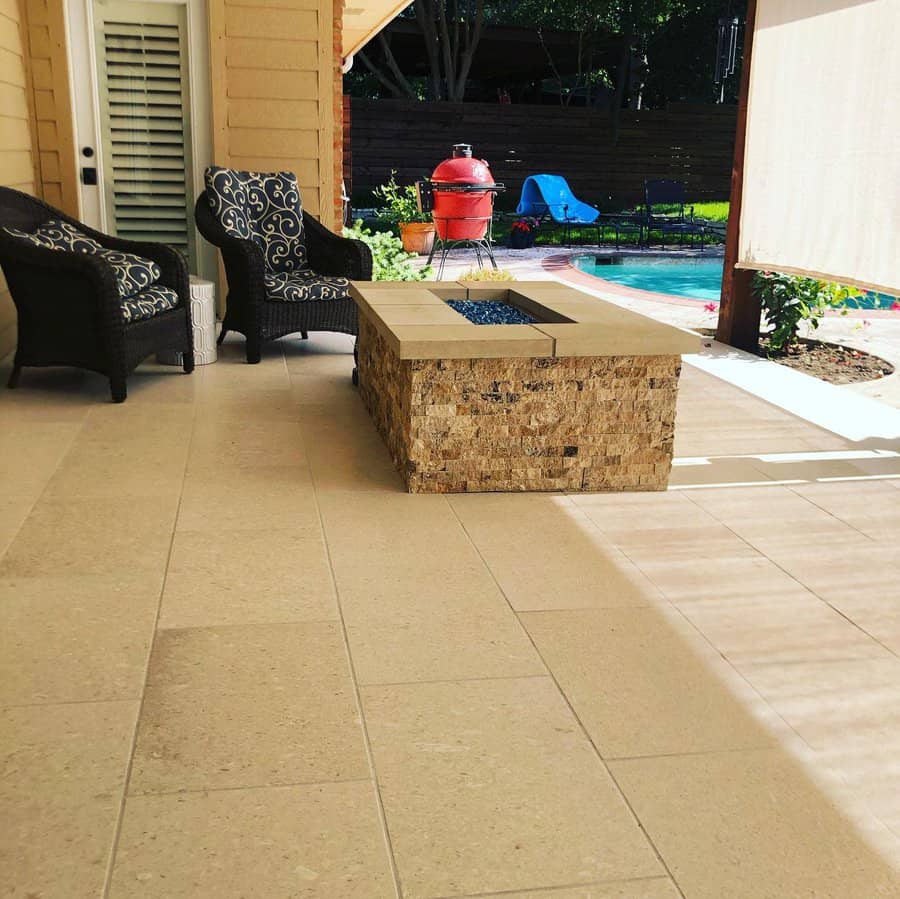 If you aren't ready to build a full fireplace, you can compromise with a fire pit. There are affordable options that you can pick up and move to where you want it. Once you decide you enjoy using your fire pit, you can build a permanent one out of pavers or stones.
Uniform pavers will give your fire pit or fireplace a contemporary look. Natural stones will create a more rustic feel.
3. Lighting
If you want to use your porch at night, then you need to add lighting. Otherwise, you'll sit in the dark, which is no fun. String lights are popular and give your porch plenty of light across the entire porch. String them up high enough to be over everyone's head.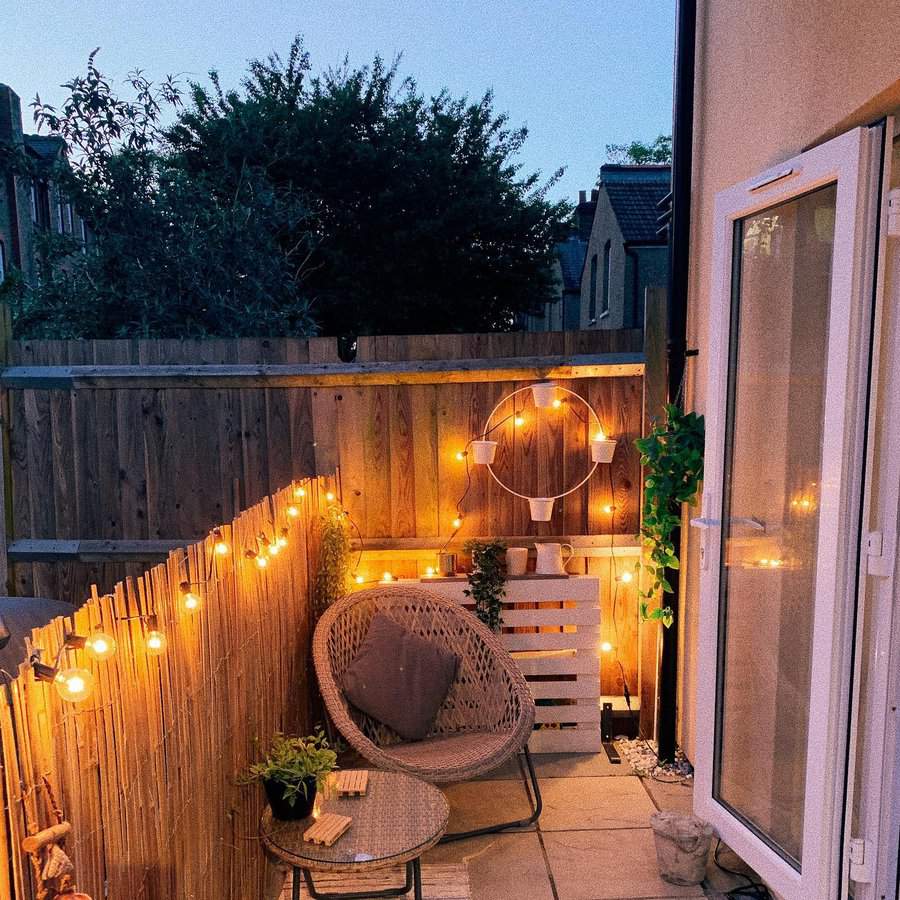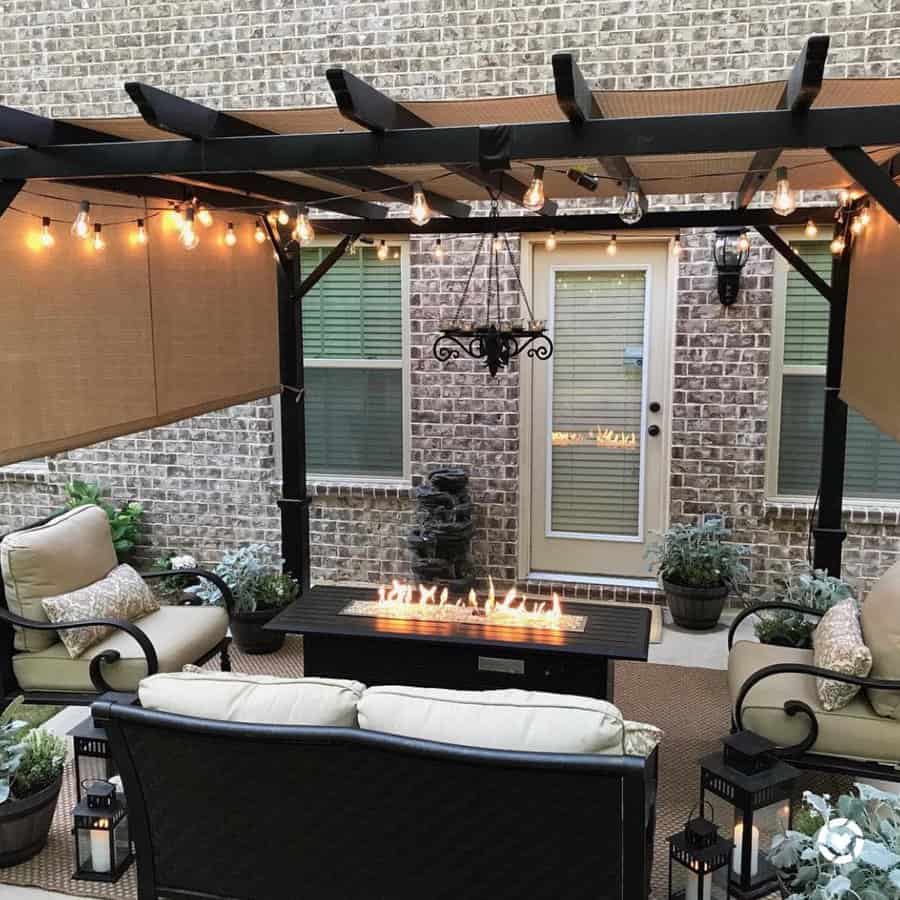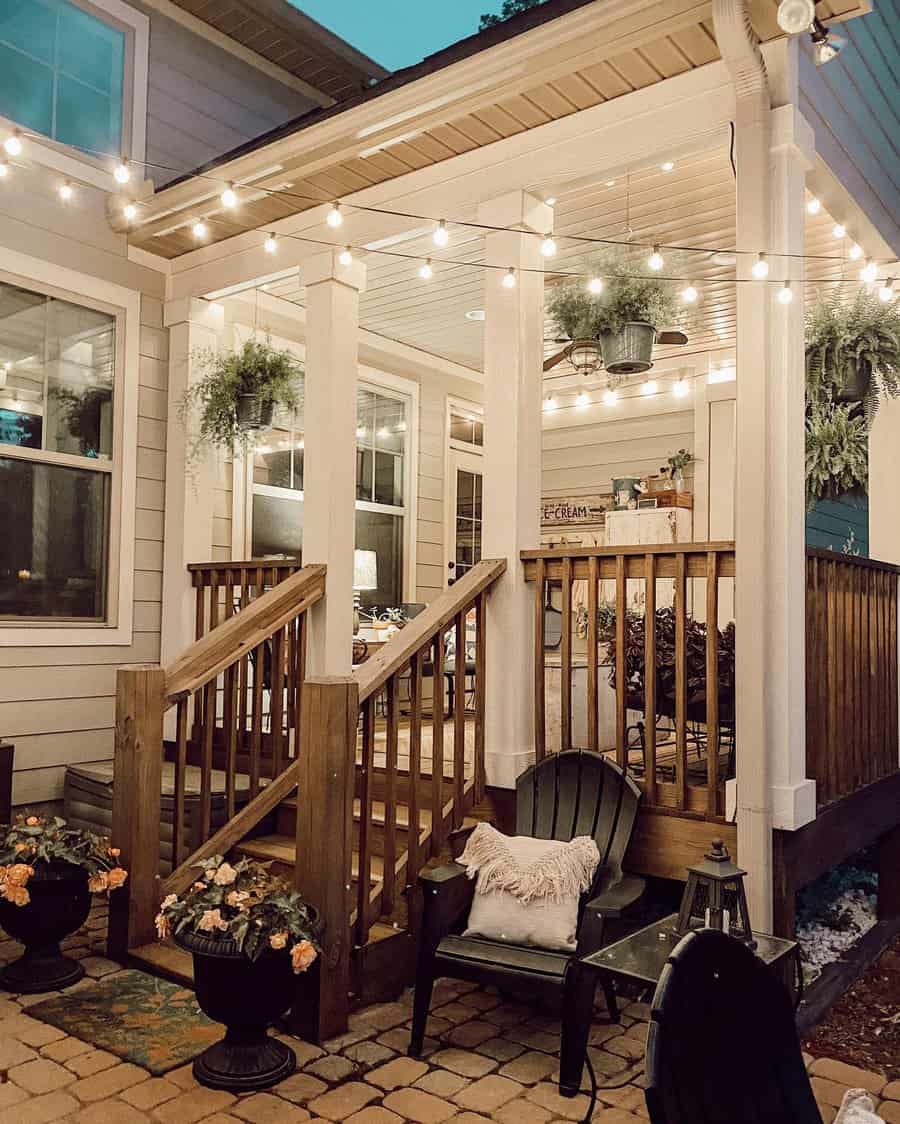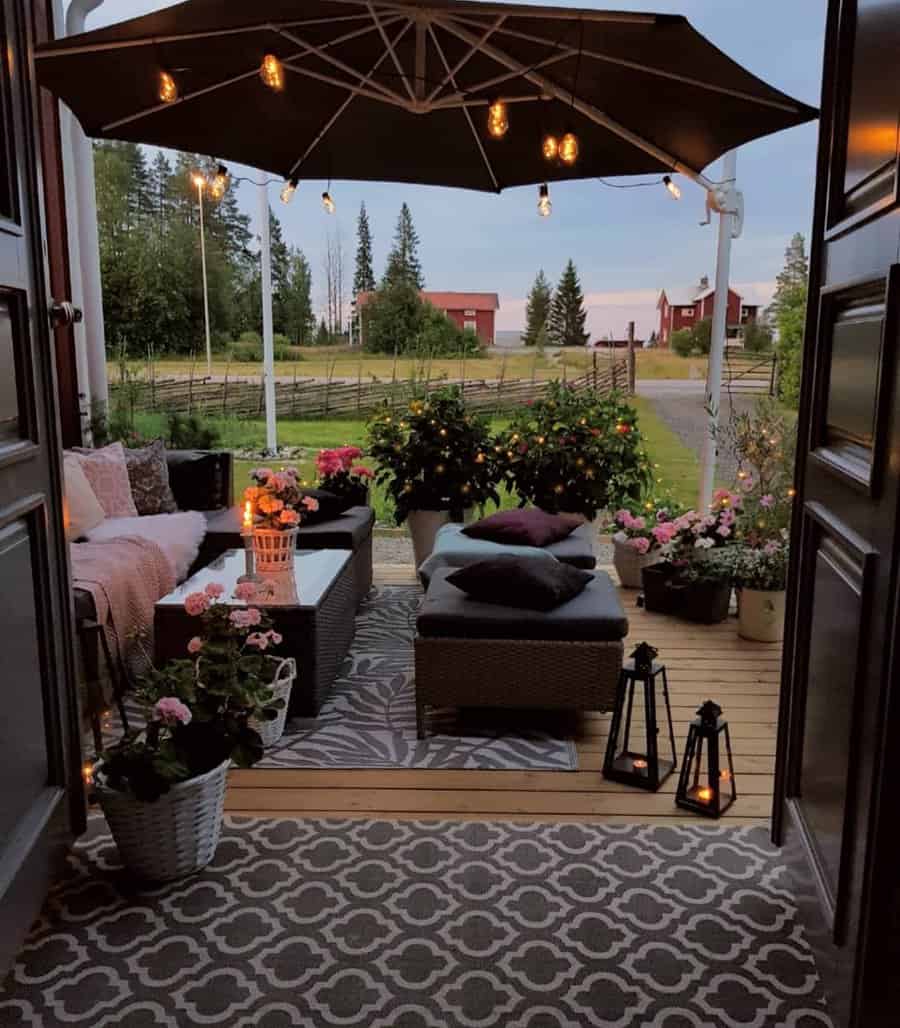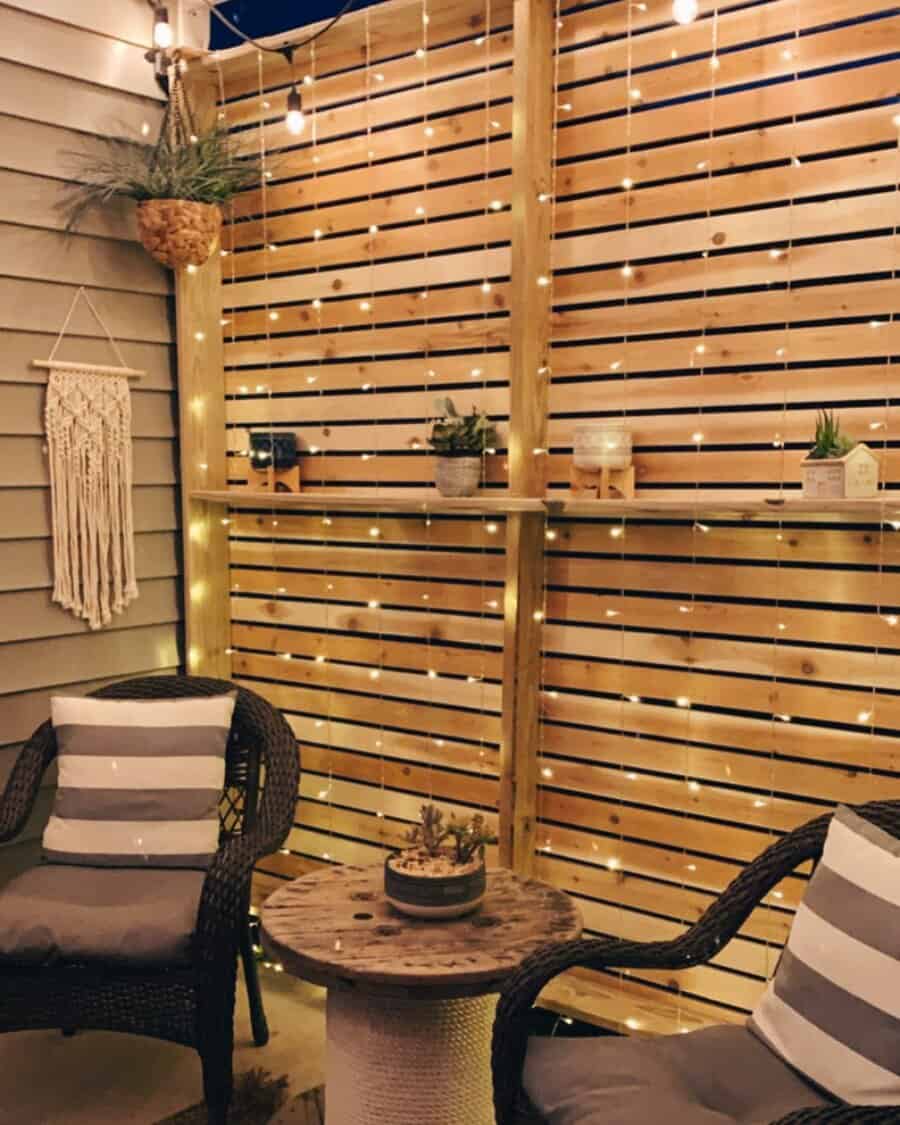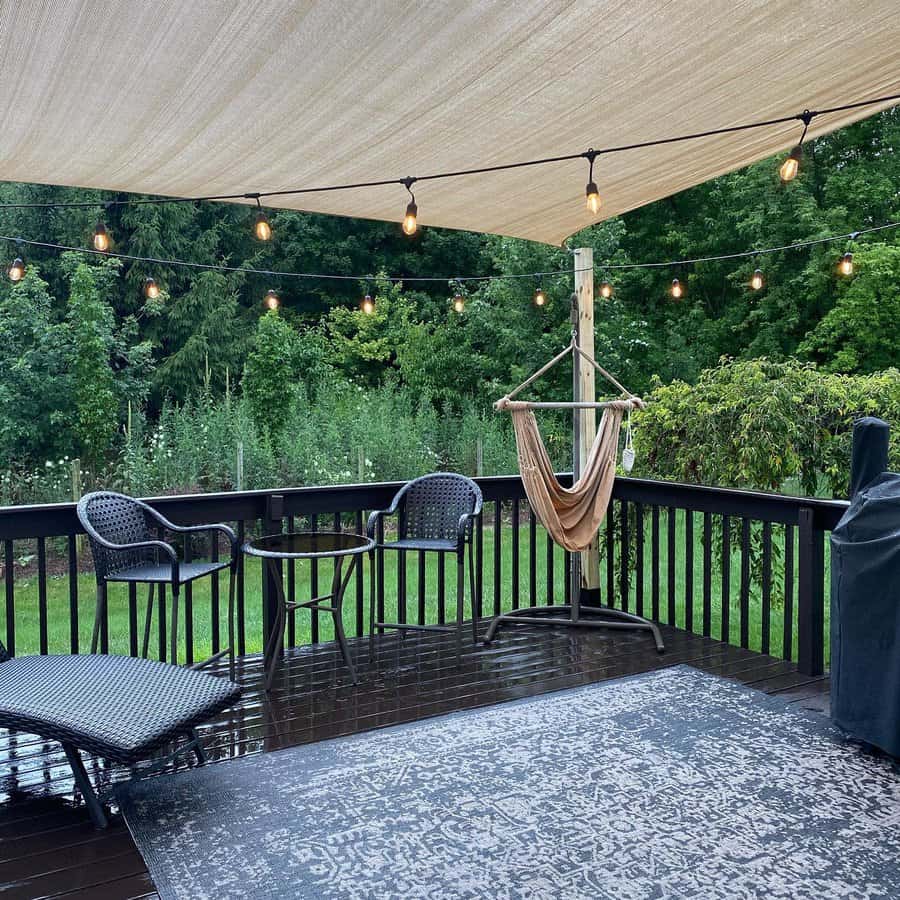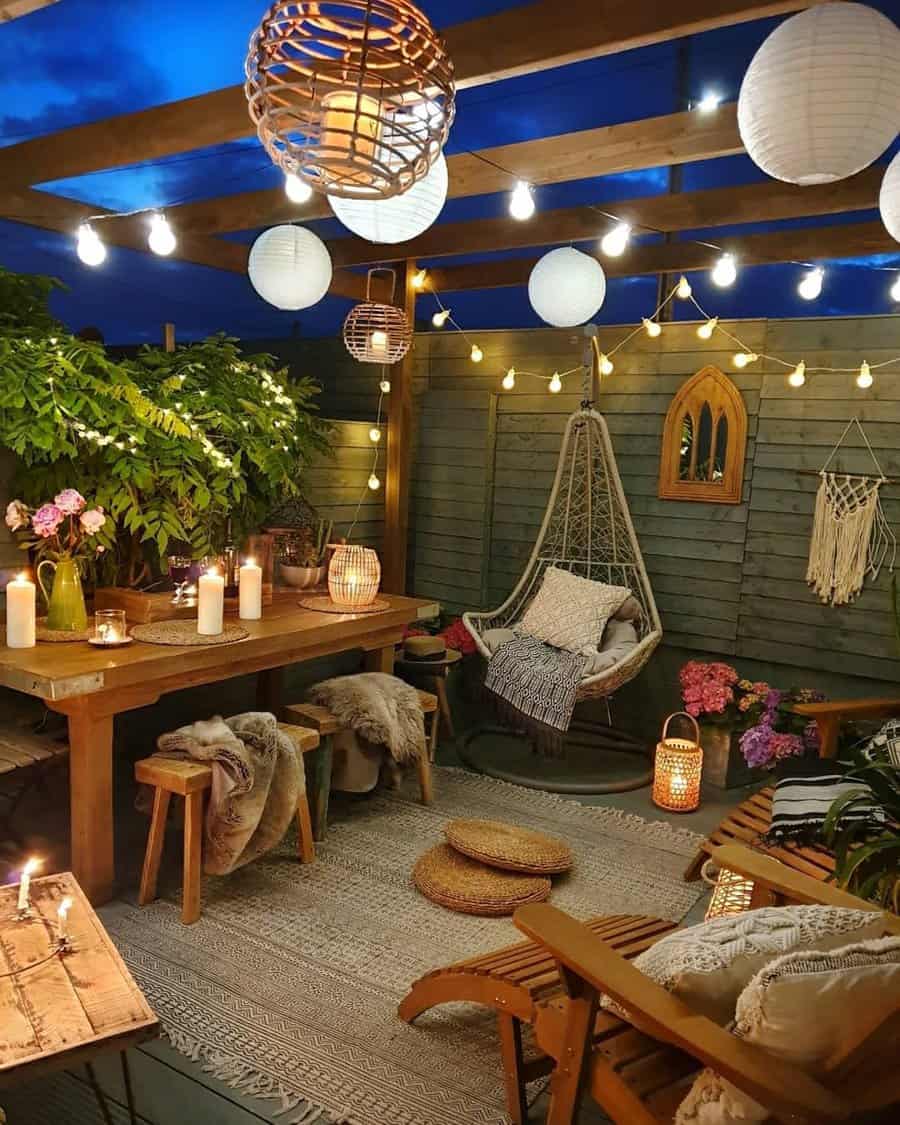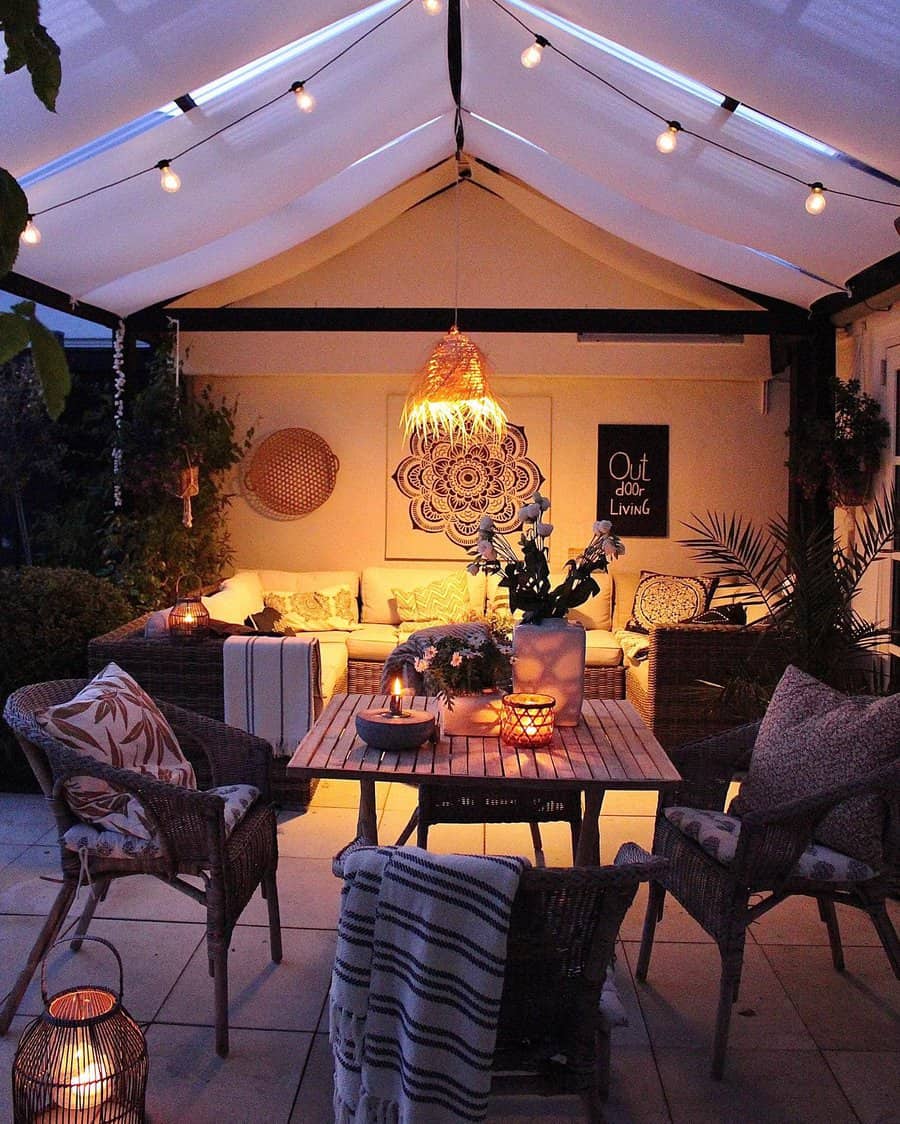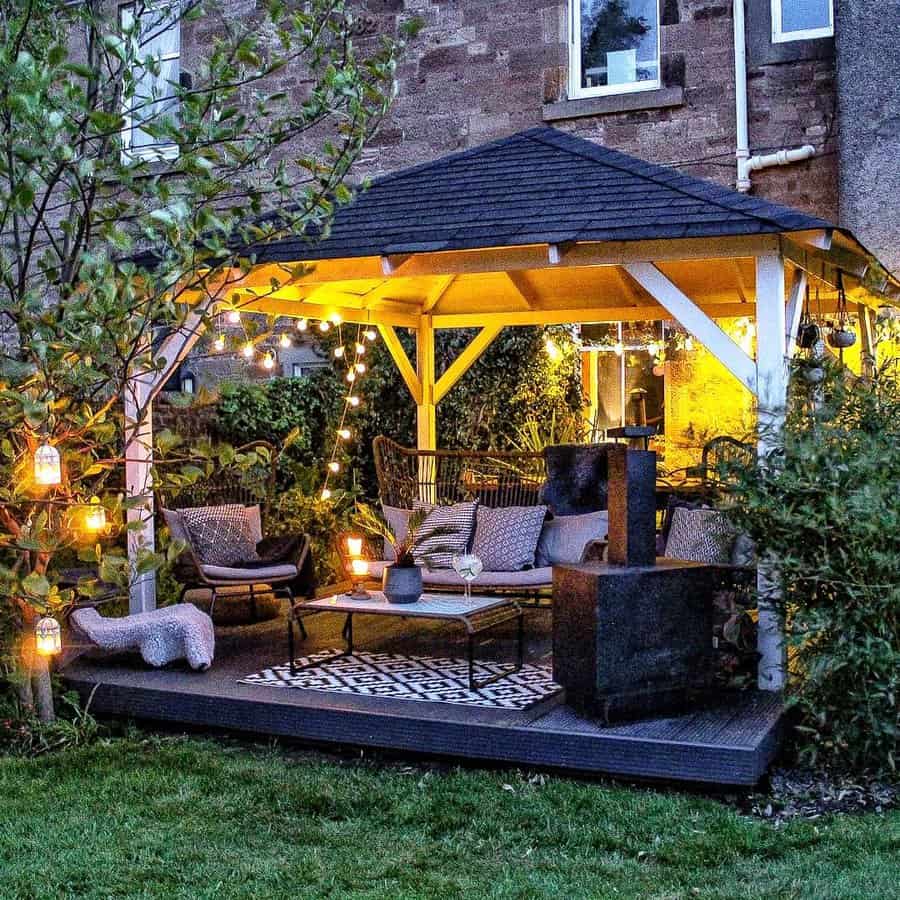 Choose commercial grade lights to ensure they are safe for outdoor use and are durable enough to last. Another option is to use large lanterns with candles.
Real candles can be a fire risk, but you can place faux candles instead. For a funky vibe, consider using a neon light. You can customize the sign to say anything you want, choose the font, and pick your color.
4. Modern
A builder-grade porch made of concrete isn't the most attractive-looking. While concrete is a modern building material, you still need to make it appealing. You could apply a concrete stain or paint. This maintains the look of the concrete but elevates it.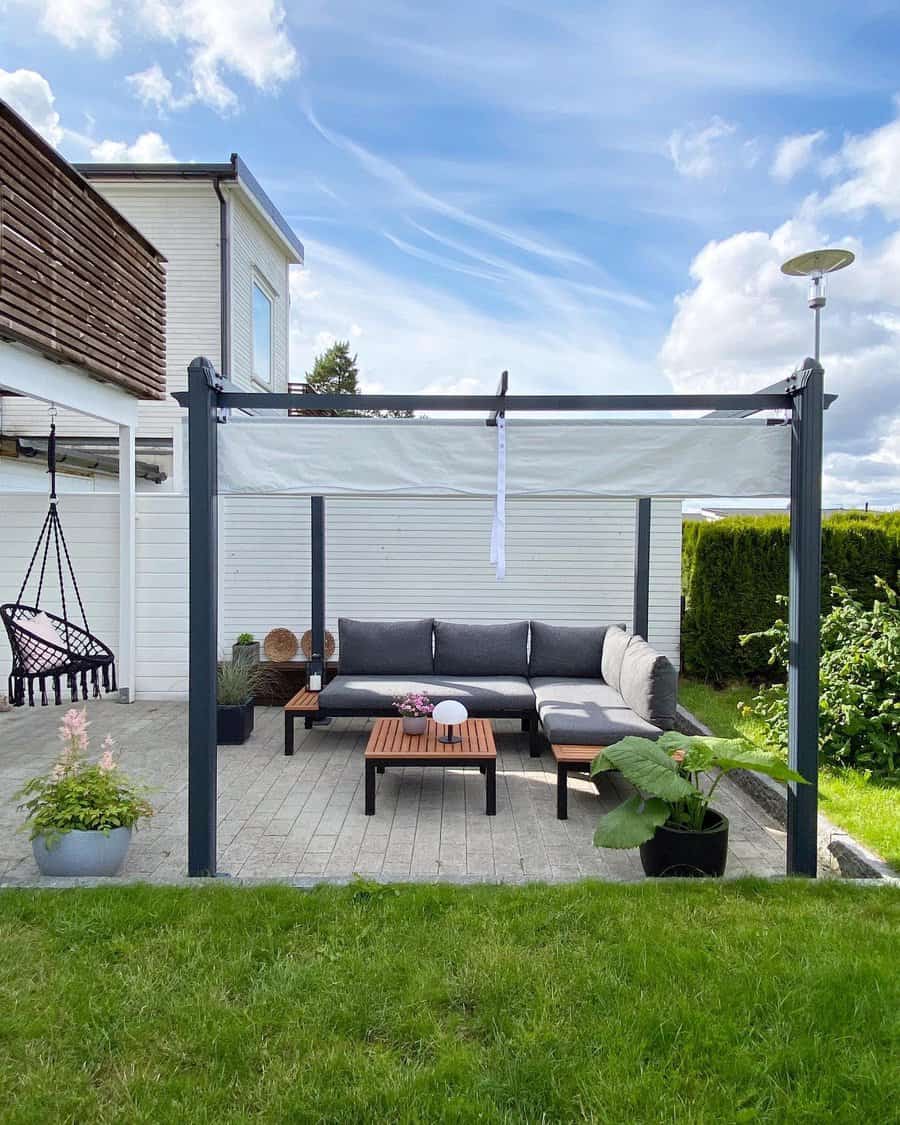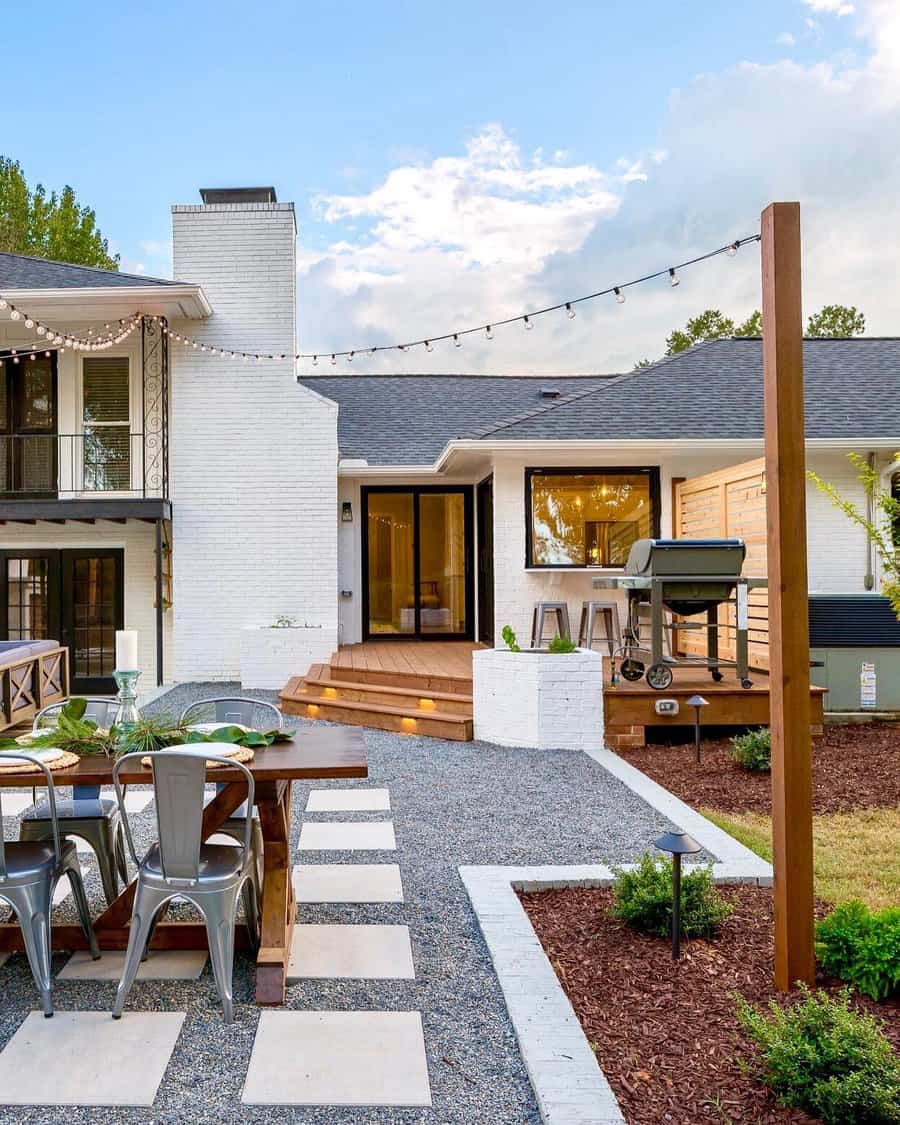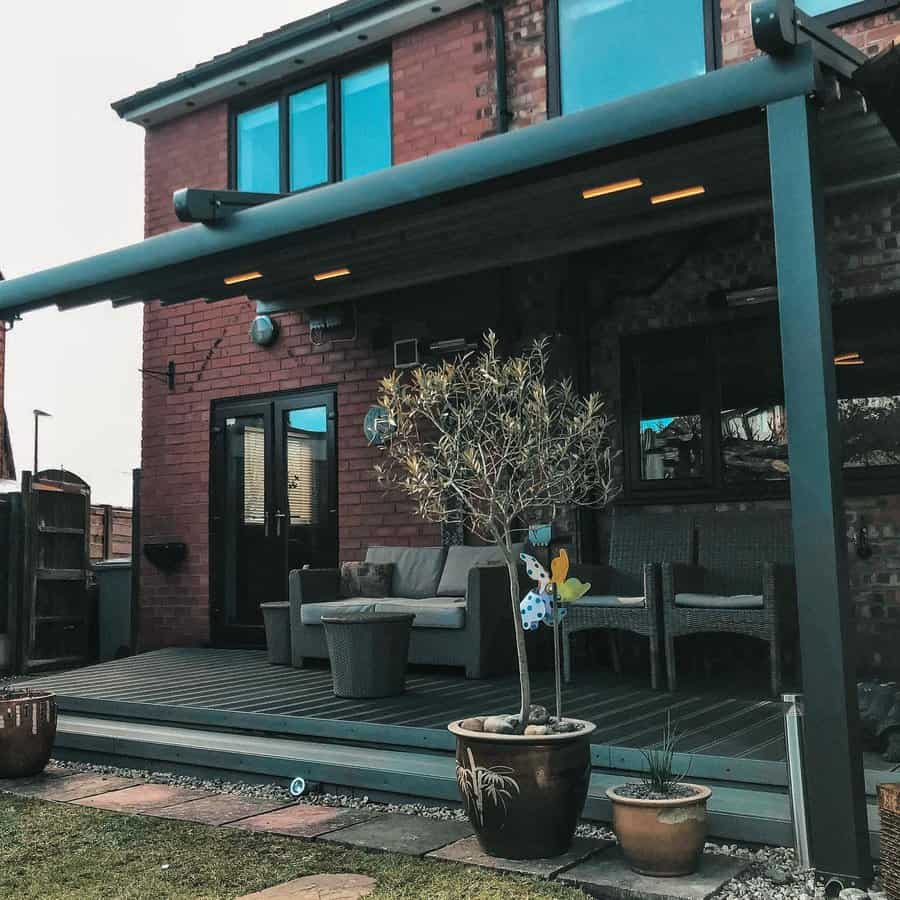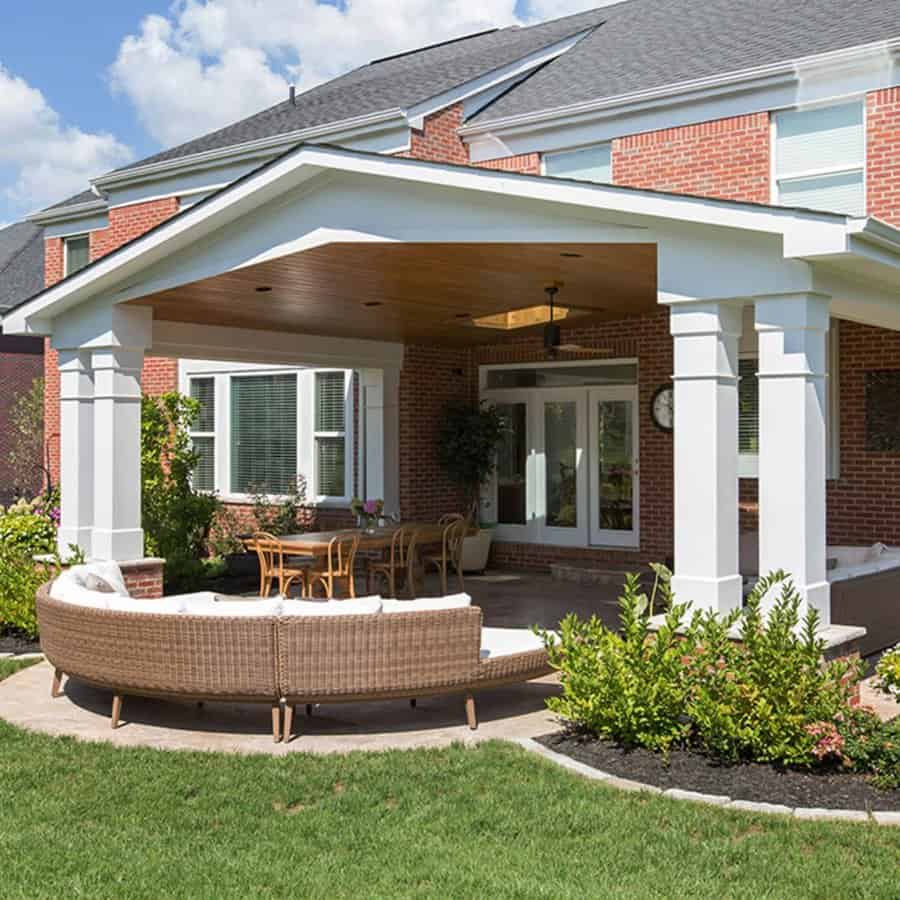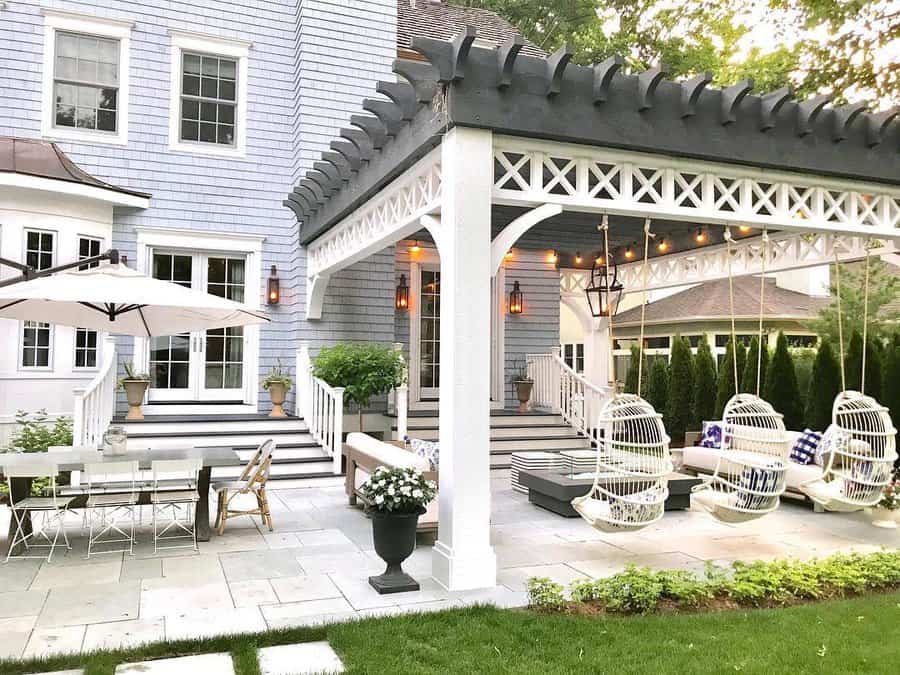 Consider covering your porch with composite decking if you want a modern look but don't want the concrete. This durable and beautiful material transforms the look of your porch.
It could mimic the look of real wood or choose a bold color. The composite material is low maintenance, making it a better choice than real wood. Complete your modern porch look with sleek furniture with crisp square cushions and simple frames.
5. Open
An open porch on the front of your home can increase your house's curb appeal. Add some wicker chairs and consider decorating ideas that will add a touch of decor. This is the perfect balance of design and comfort for an outdoor oasis.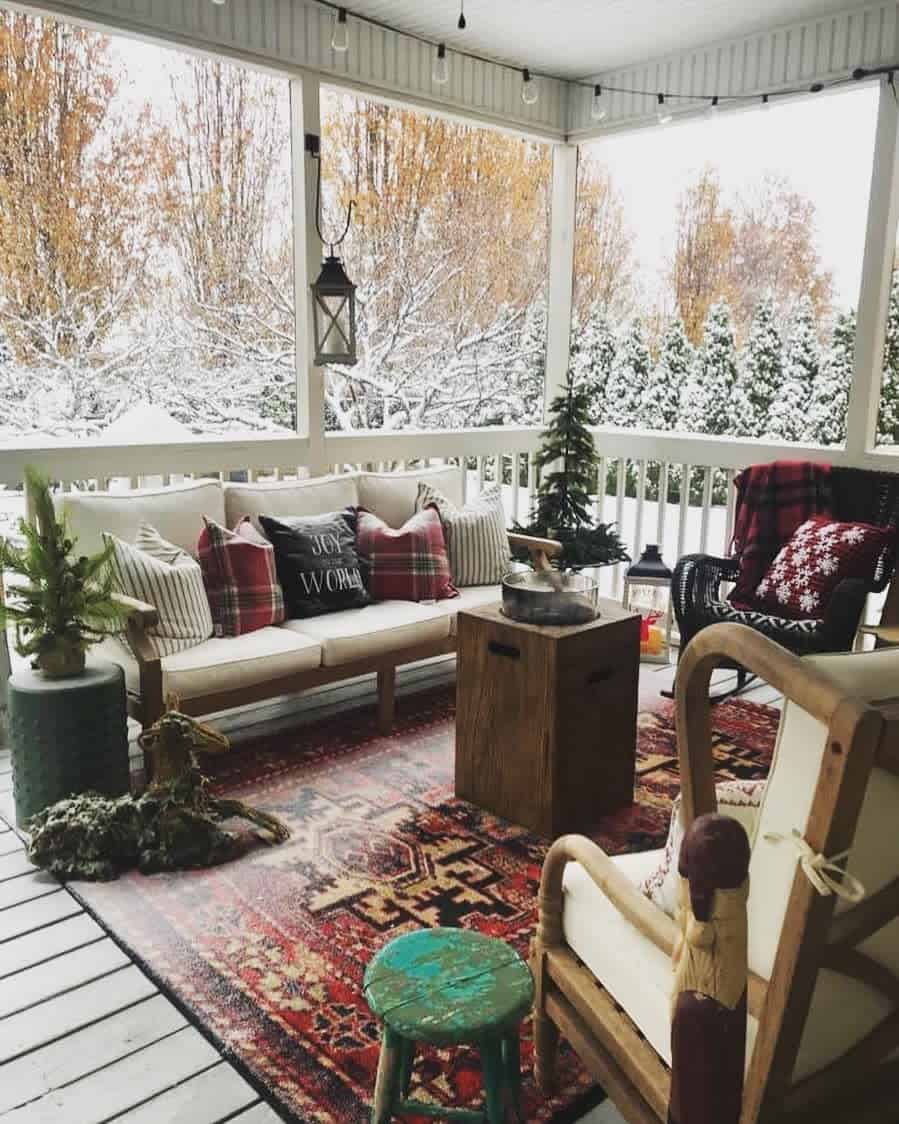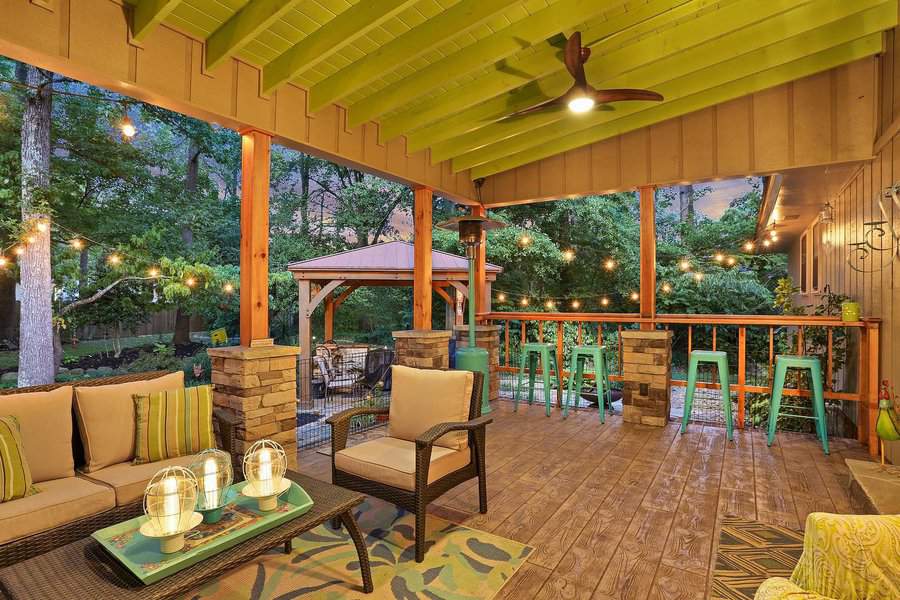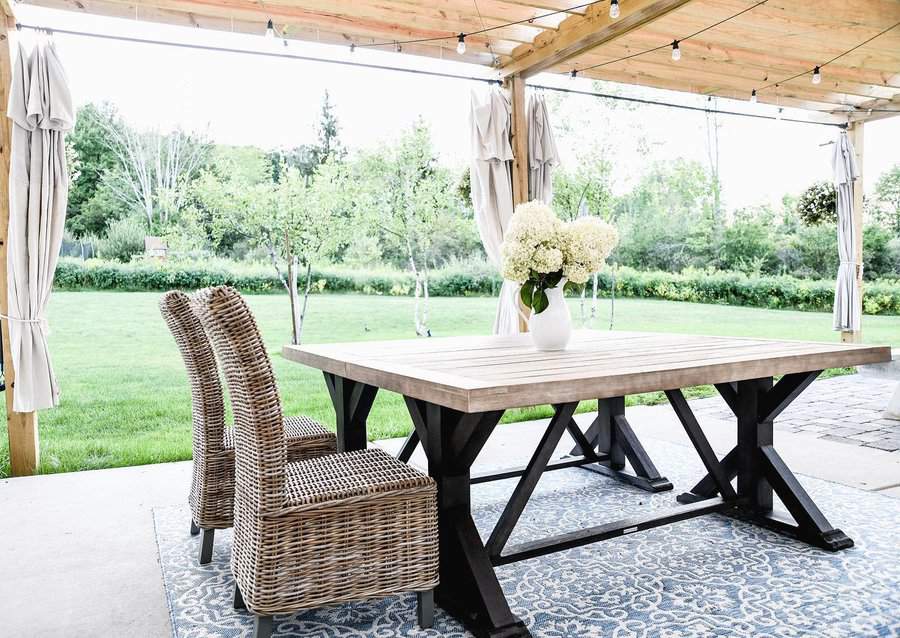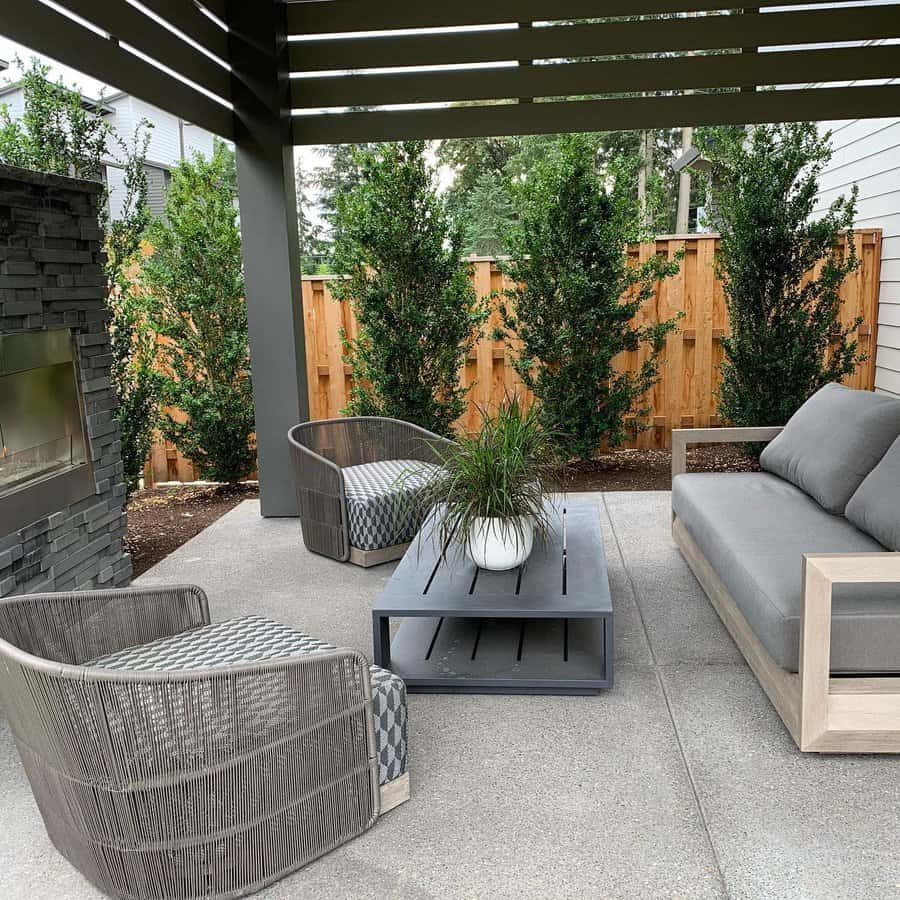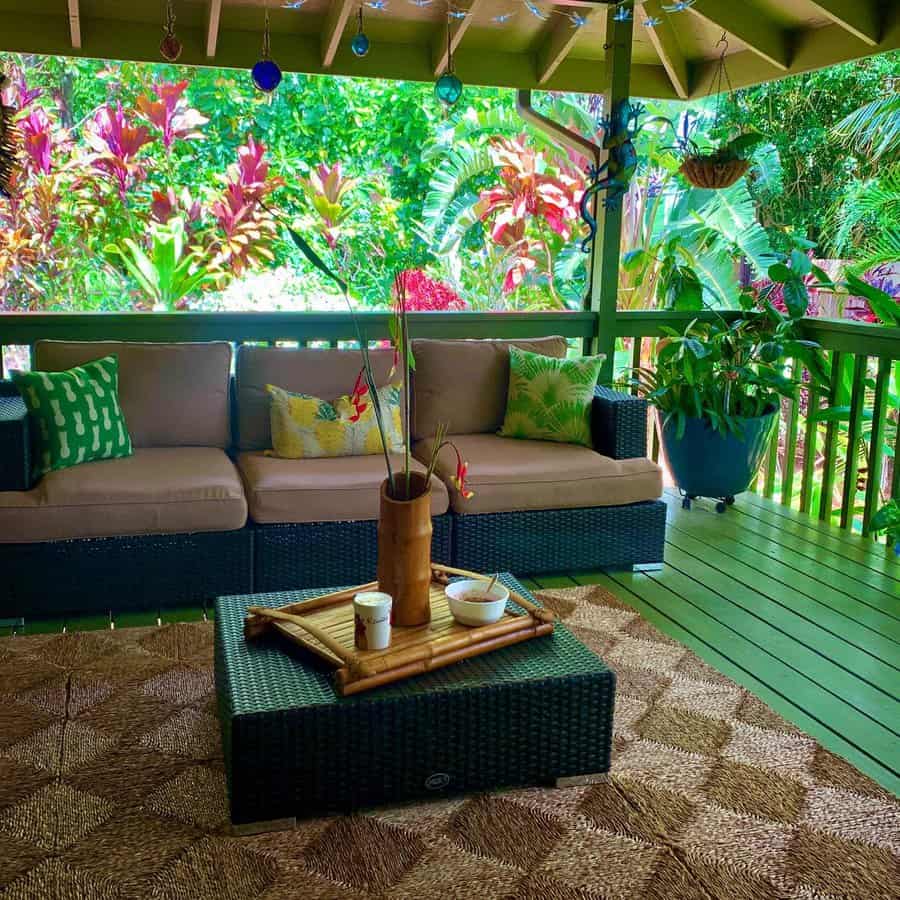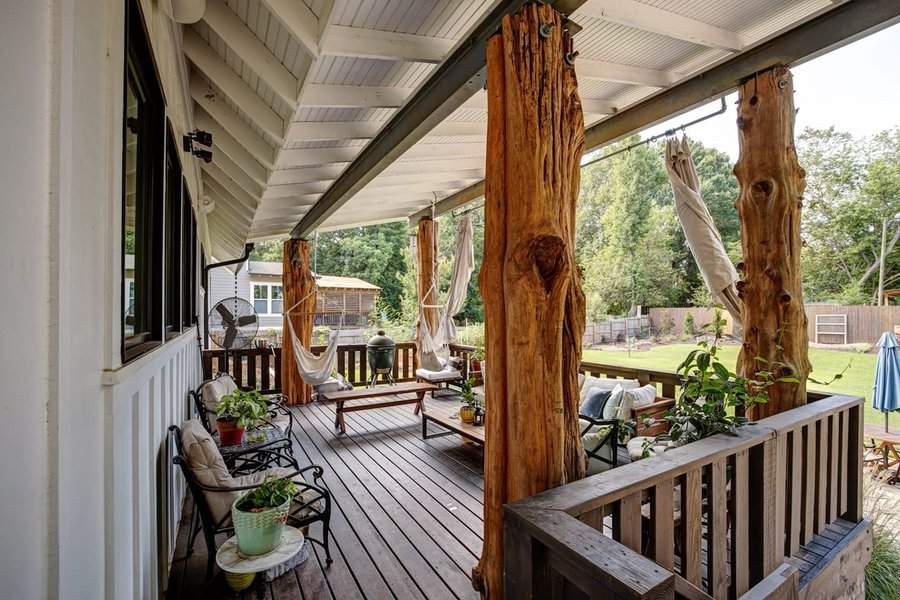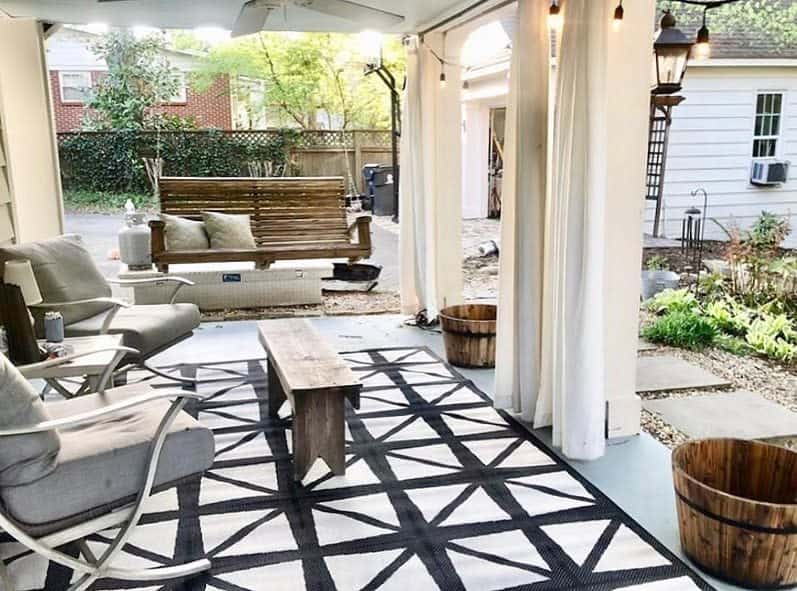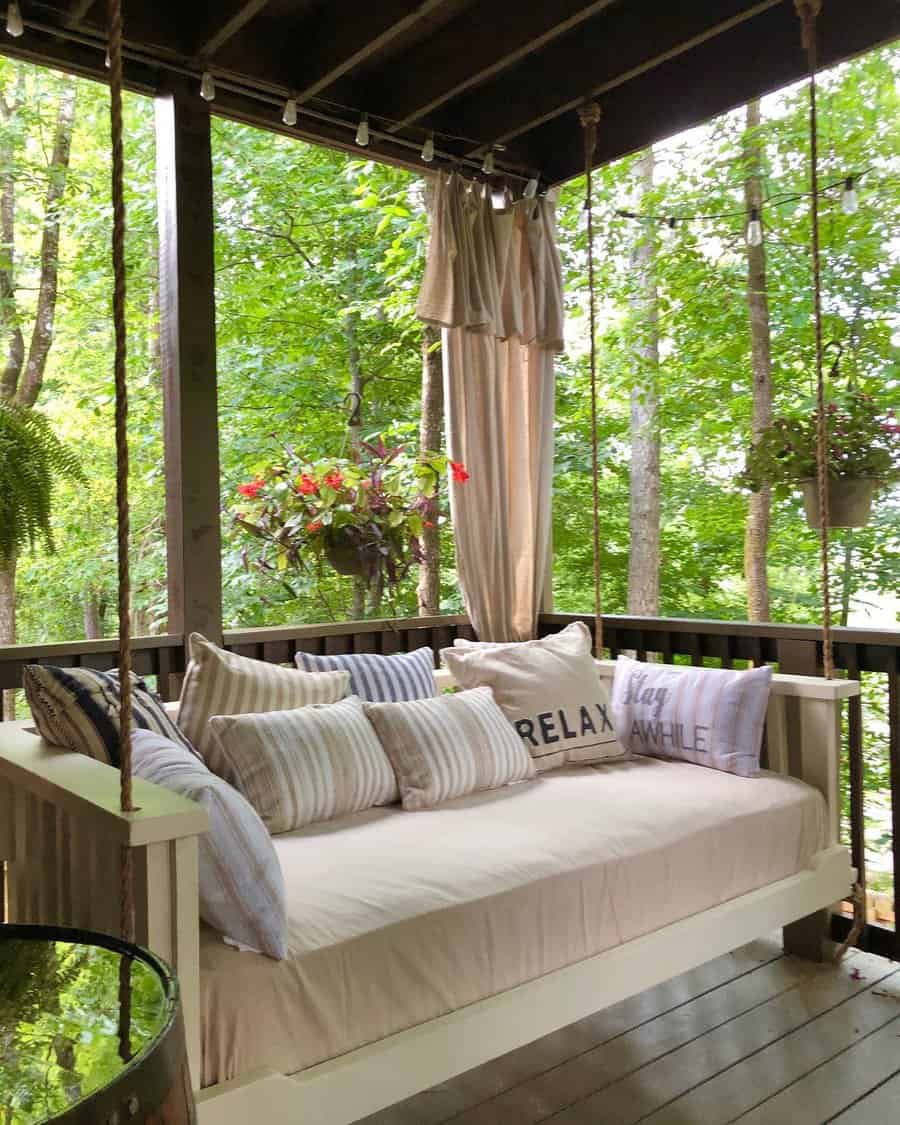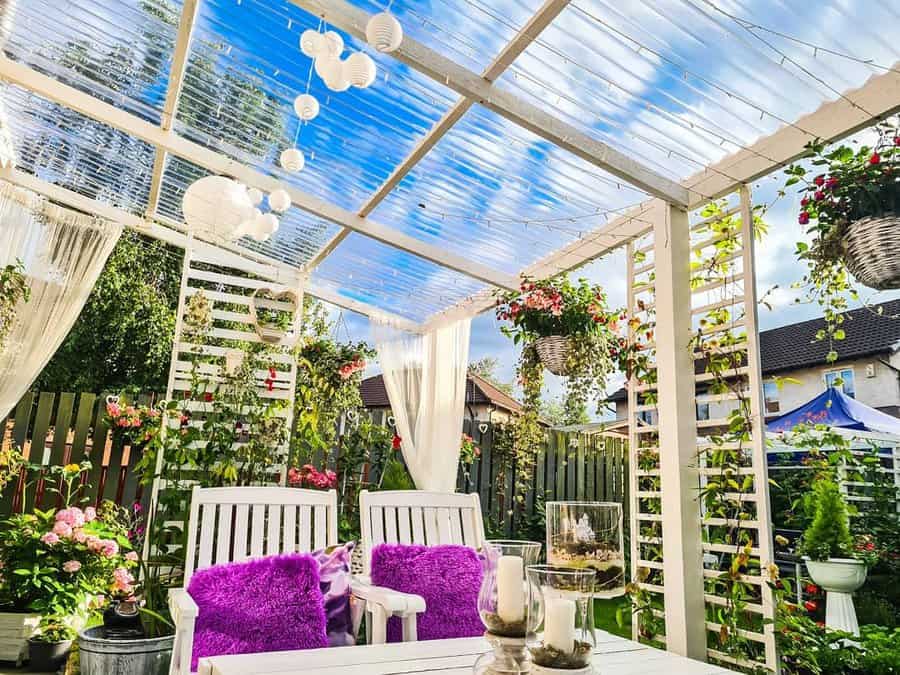 Keeping the porch open allows for plenty of airflow, which helps to keep the porch cool. Adding a fan is also smart because it encourages the air to move around. Keep the railing open with minimal supports to have a low-profile effect.
6. Patio
Treat decorating our patio like you would any room in your home. This is how you turn your porch into an outdoor living space. Add patio furniture that has a metal or wood frame and is upholstered with outdoor fabric.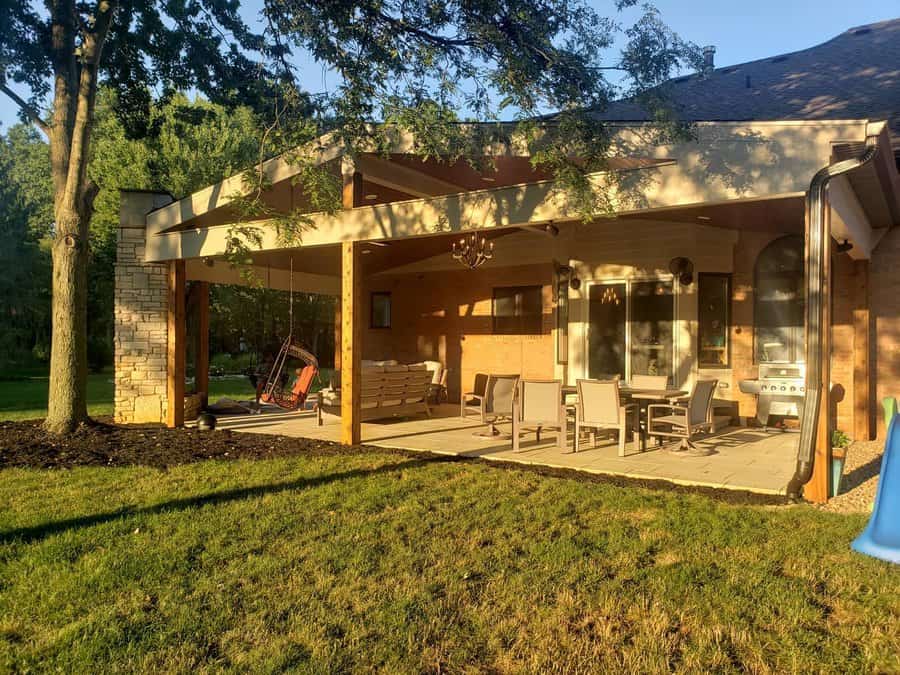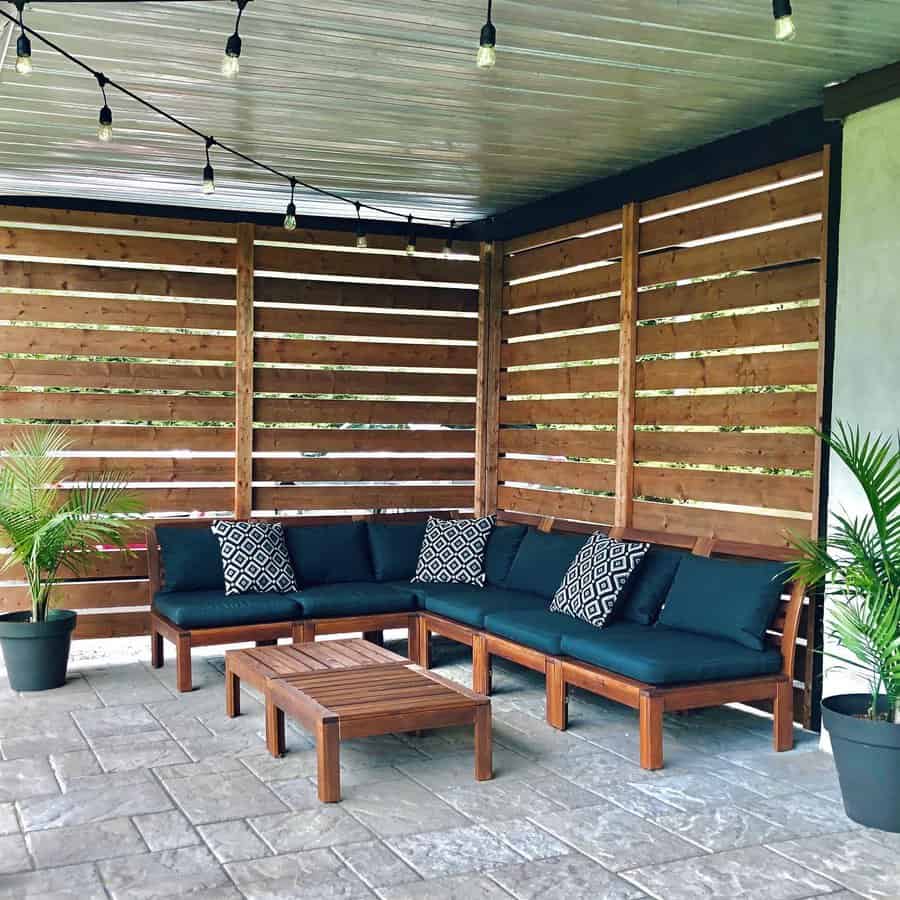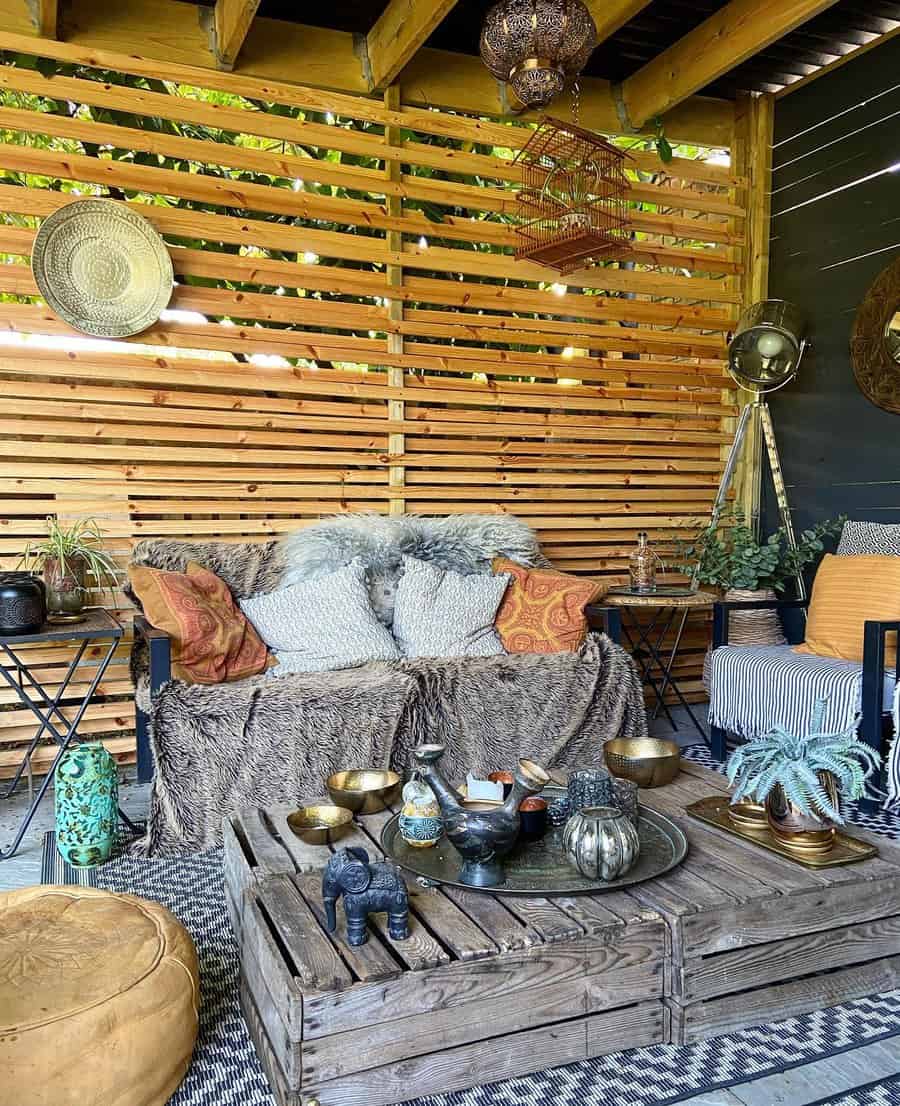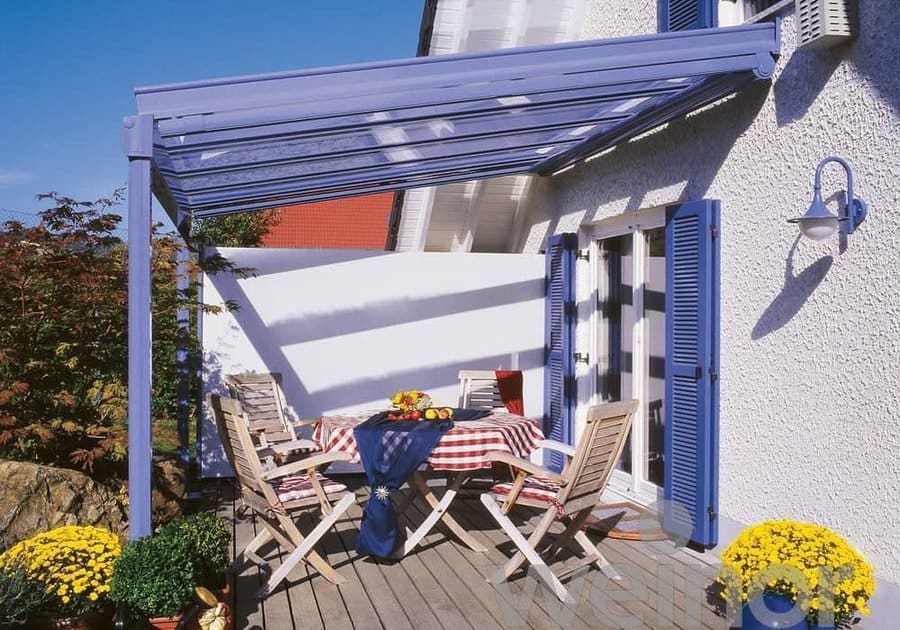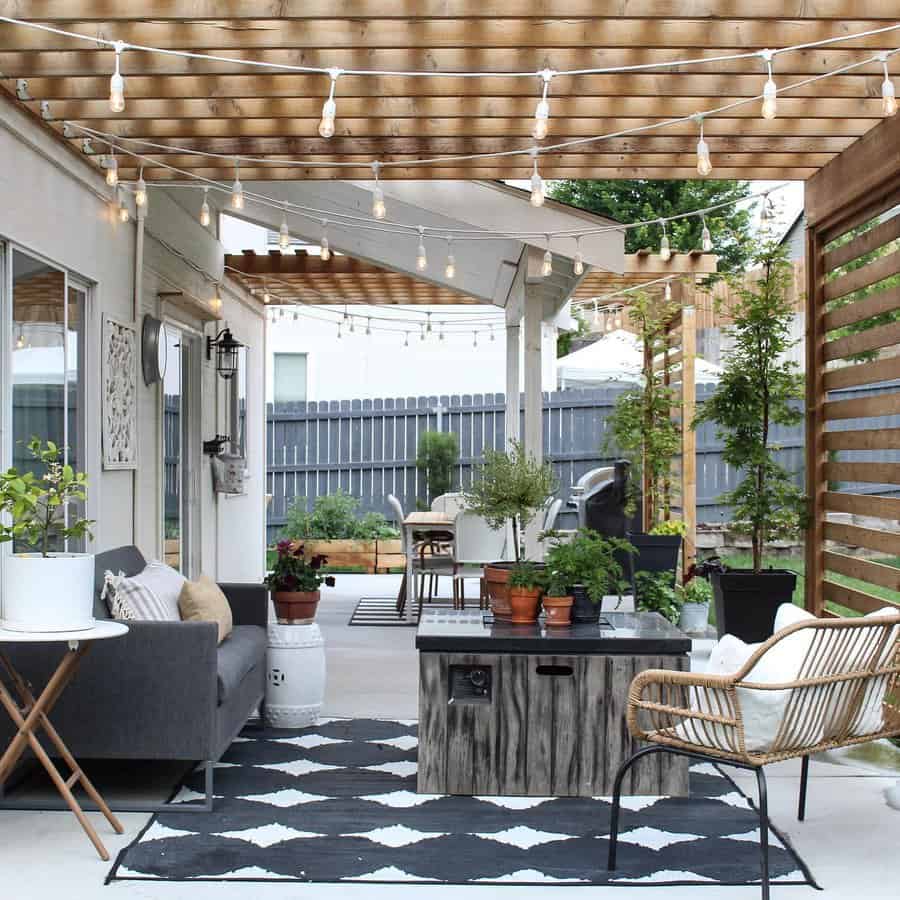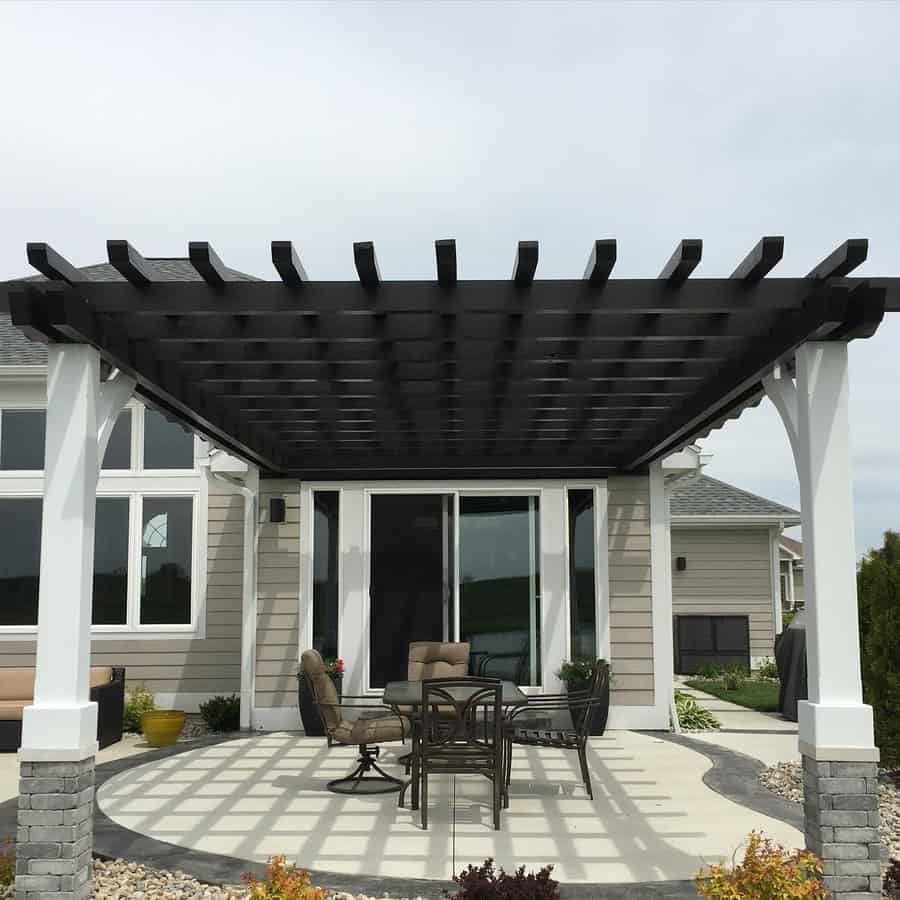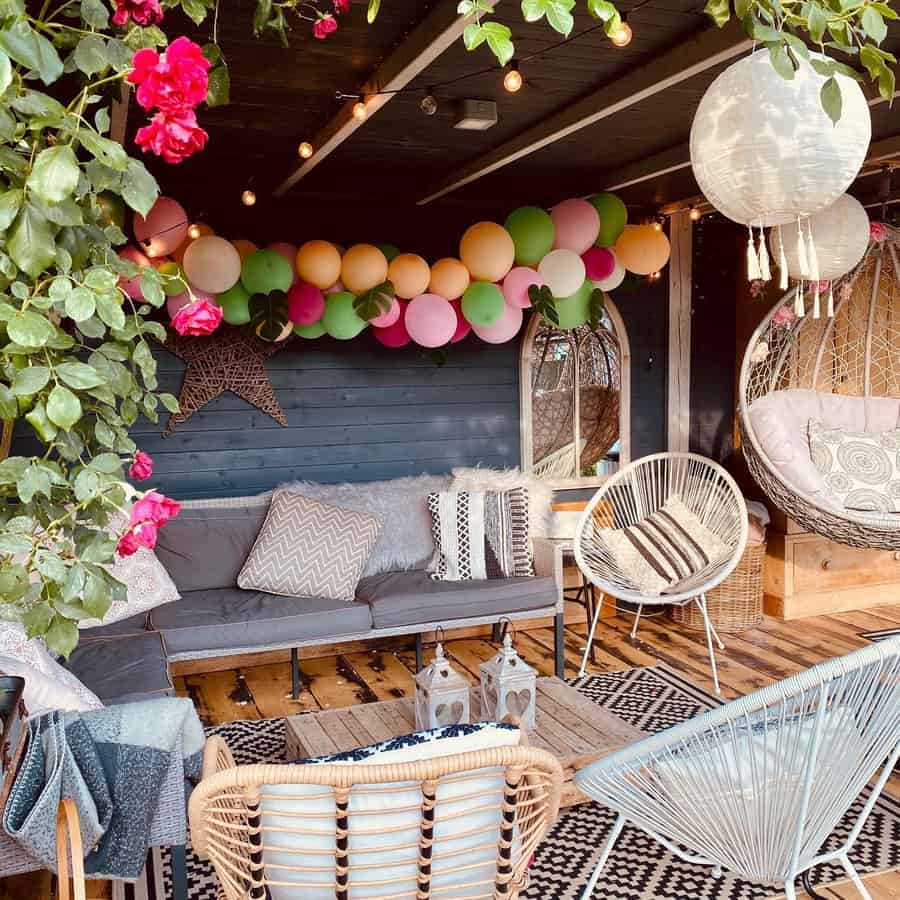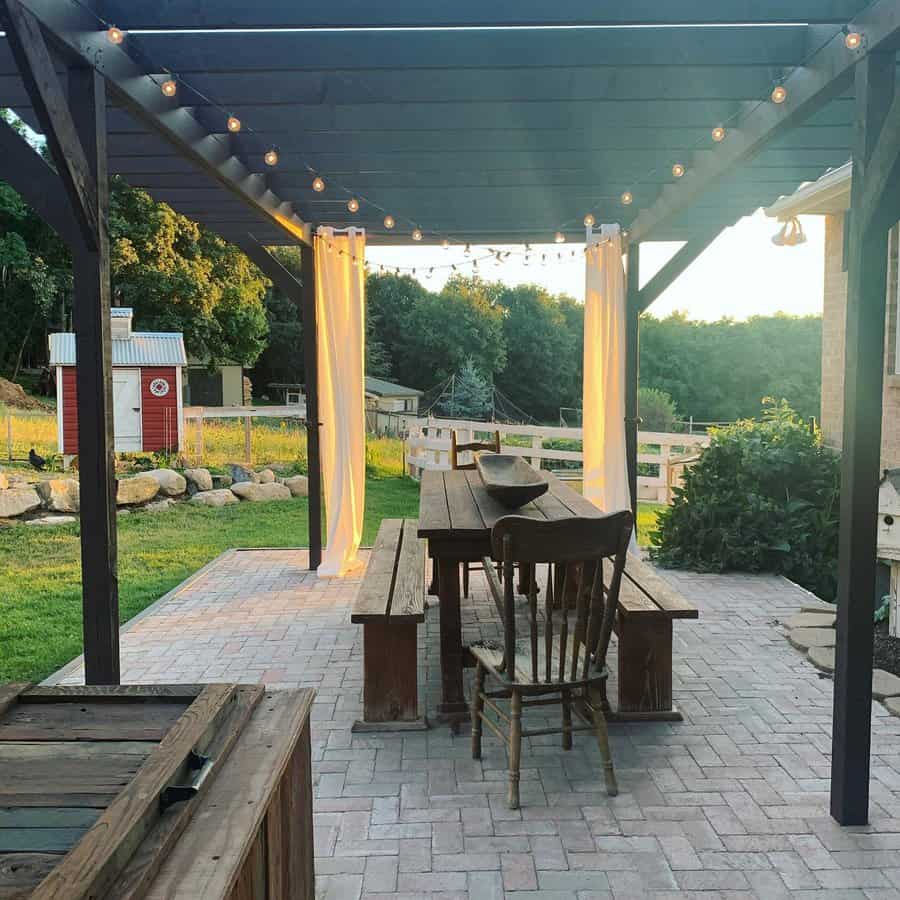 Arrange planters with leafy green plants or ones that are full of blooms. This adds natural color to your porch. An outdoor rug grounds the space and ties all of the furniture together.
Side tables or coffee tables give you somewhere to place your plate or glass. Add speakers around the porch for surround sound music to create a party atmosphere.
7. Raised
Raised backyard porches require you to build a porch railing around the perimeter. You could also build a pergola to create overhead protection. This encloses the space to feel more intimate but doesn't completely enclose the space so that you are still outside.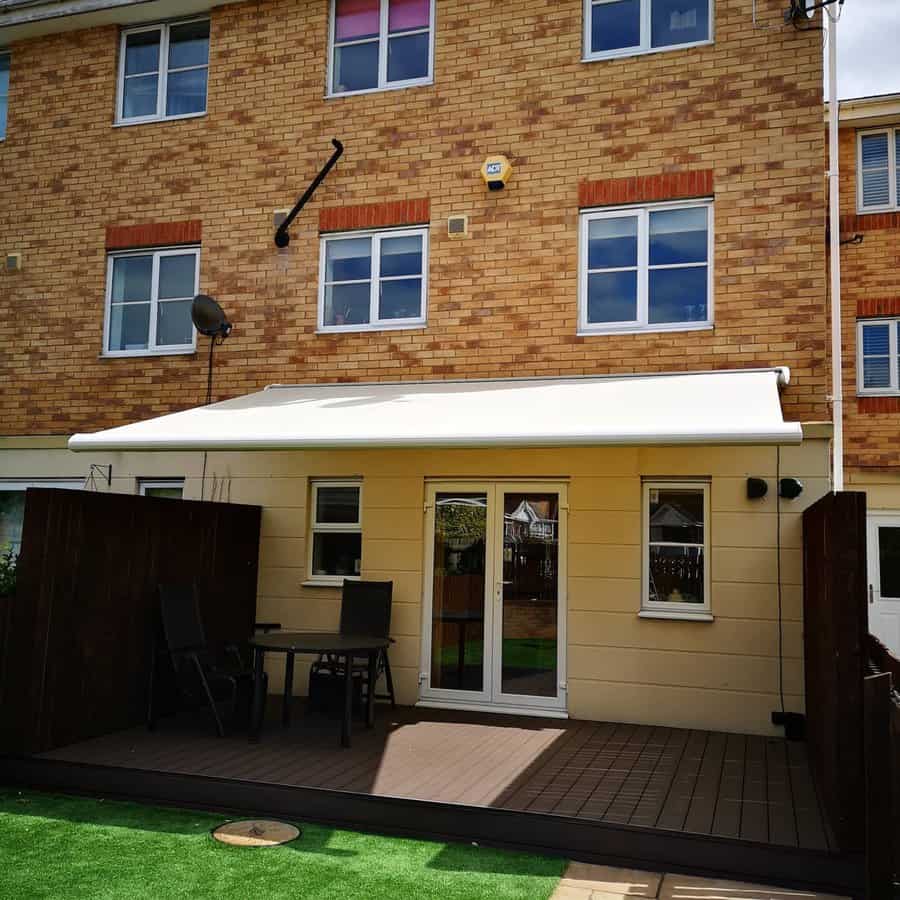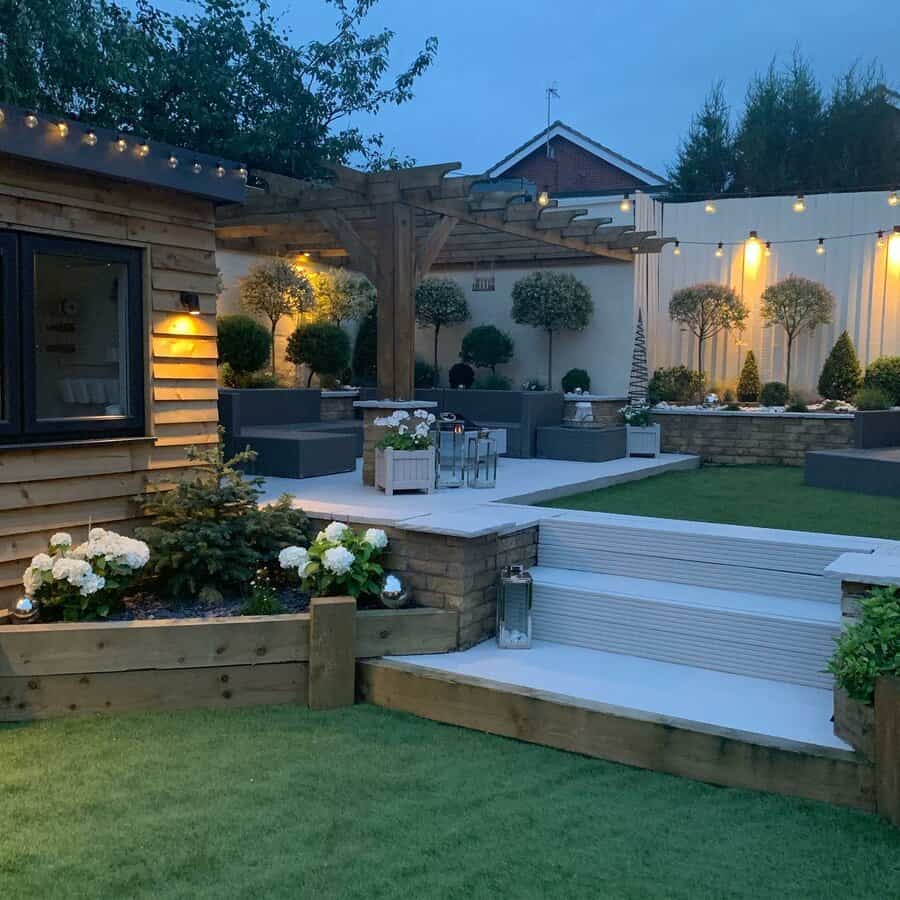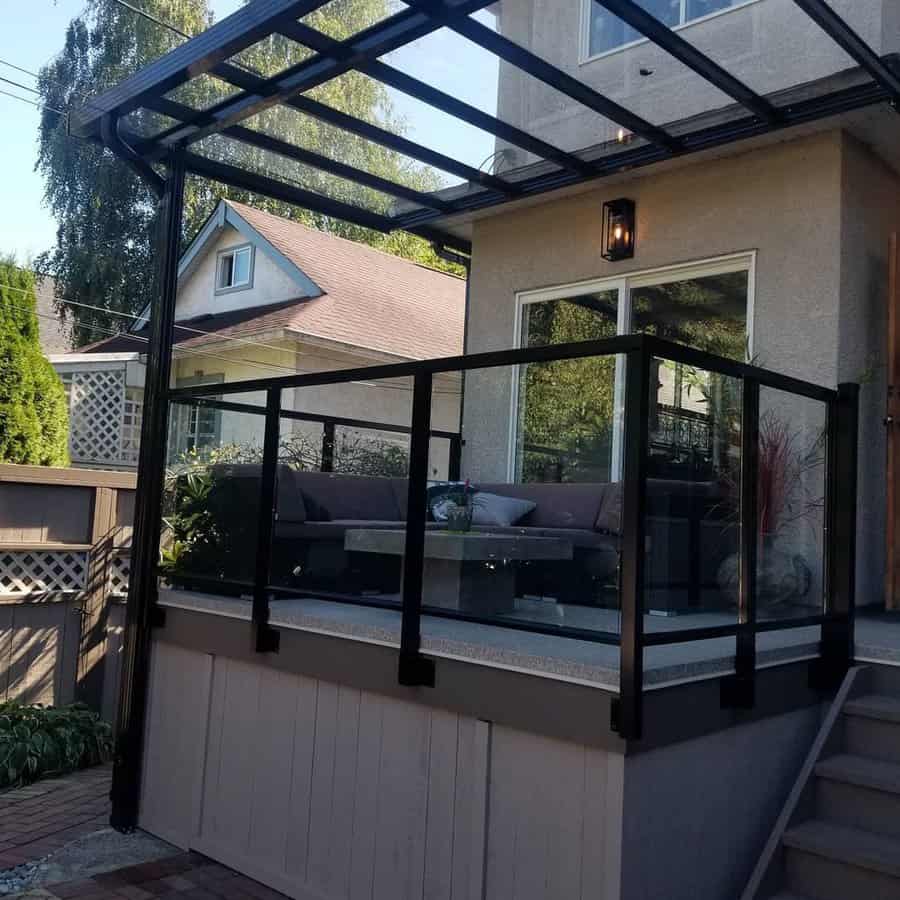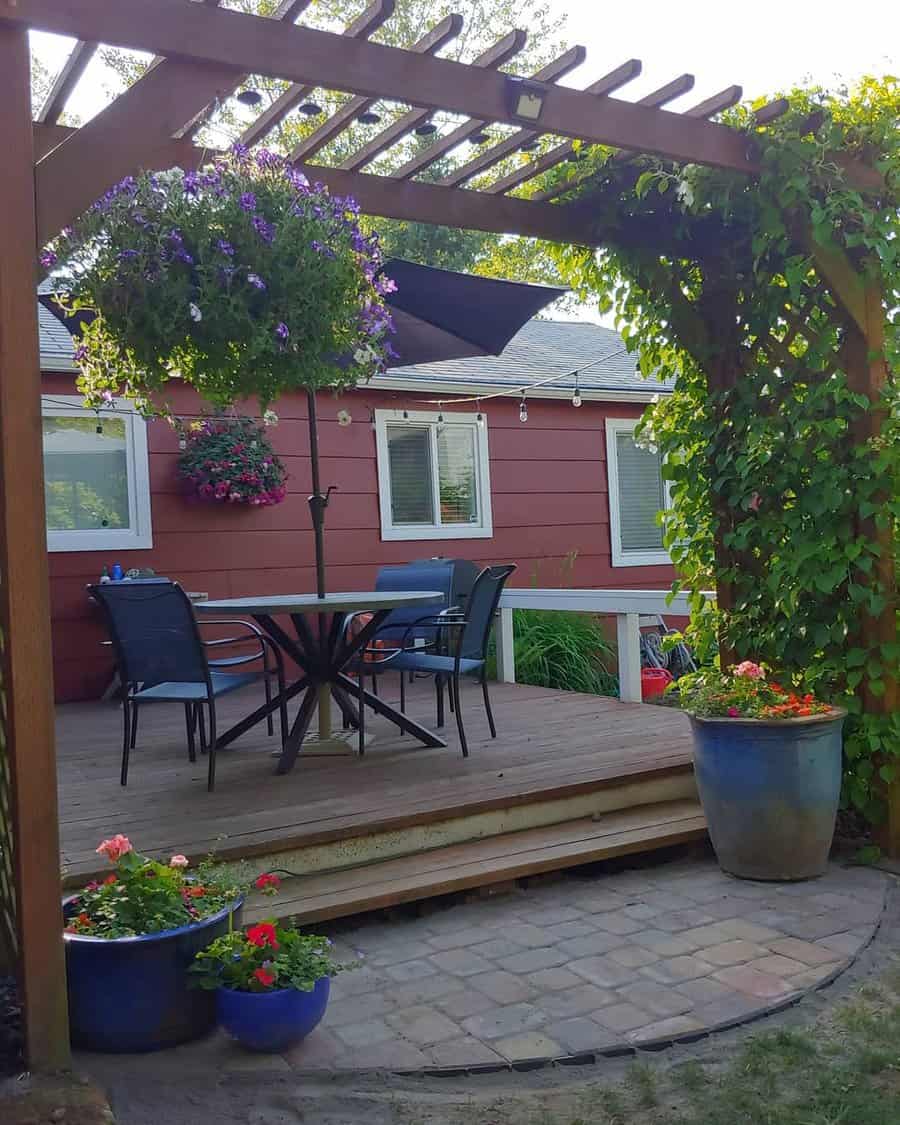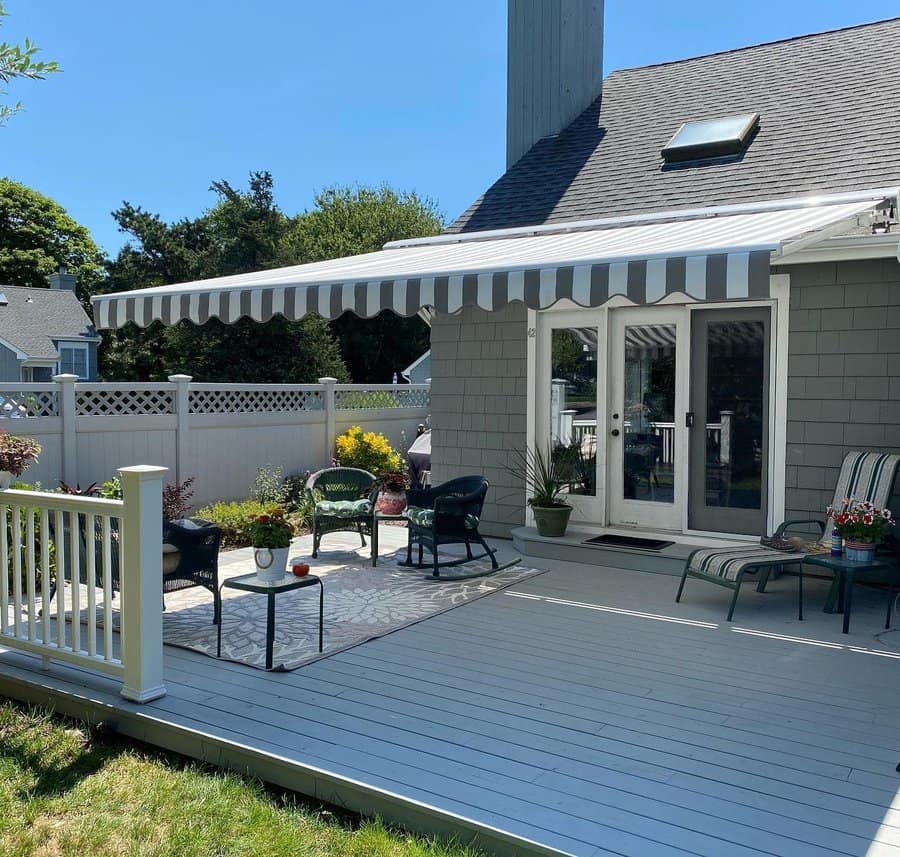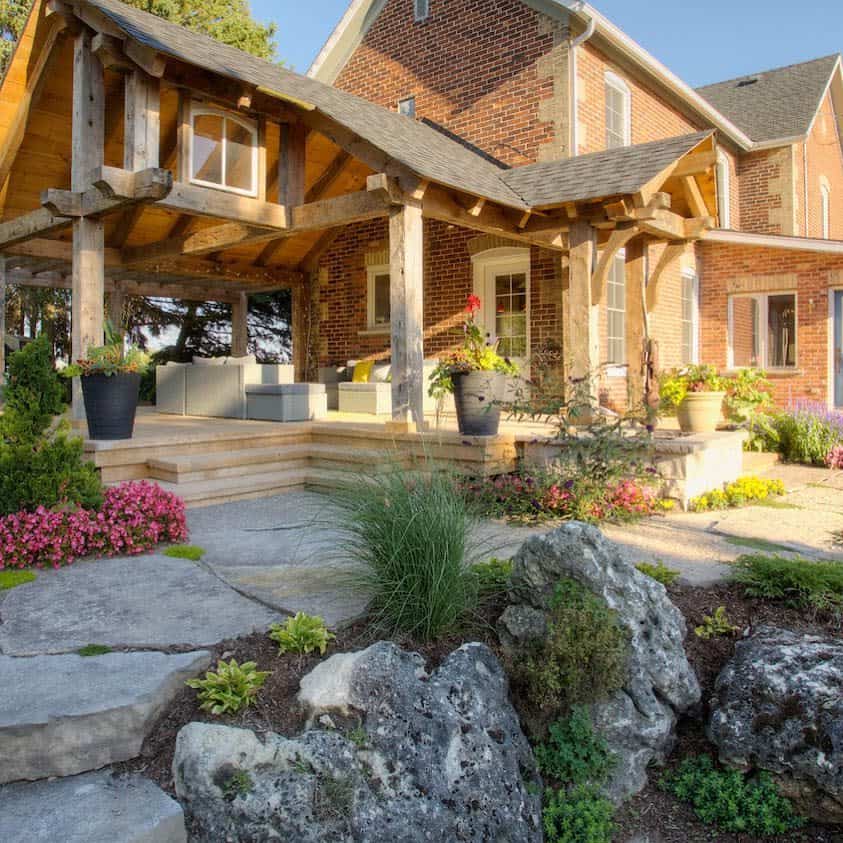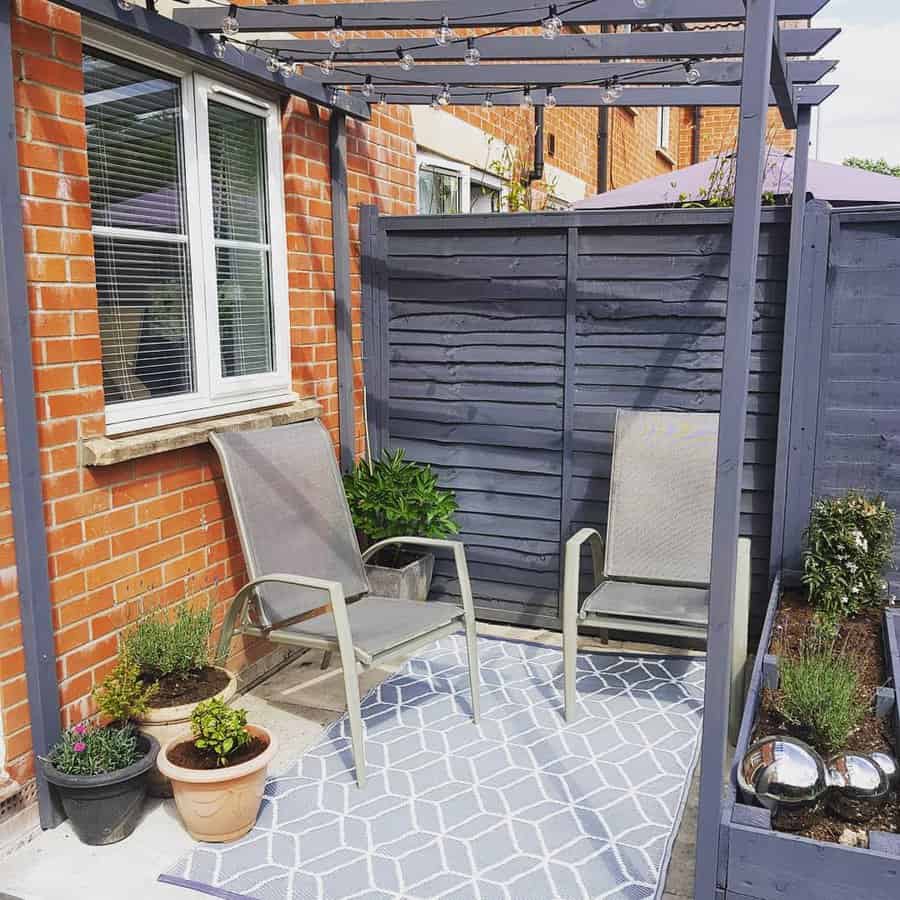 Add outdoor furniture that faces each other with a coffee table in the middle. This creates an intimate space that's perfect for entertaining. If you want to create more privacy, skip the railing and grow plants. They could be tall hedges or a lattice wall on which you grow vine plants.
8. Rustic
Give your porch rustic charm with a farmhouse style. Add a porch swing to lounge on while you enjoy a cool drink. Use fabrics that are farmhouse-inspired like gingham, florals, or stripes. Add lanterns to bring more light to the space. Add fairy lights or candles to create a soft glow. Add handmade rocking chairs that have an imperfect appeal to them.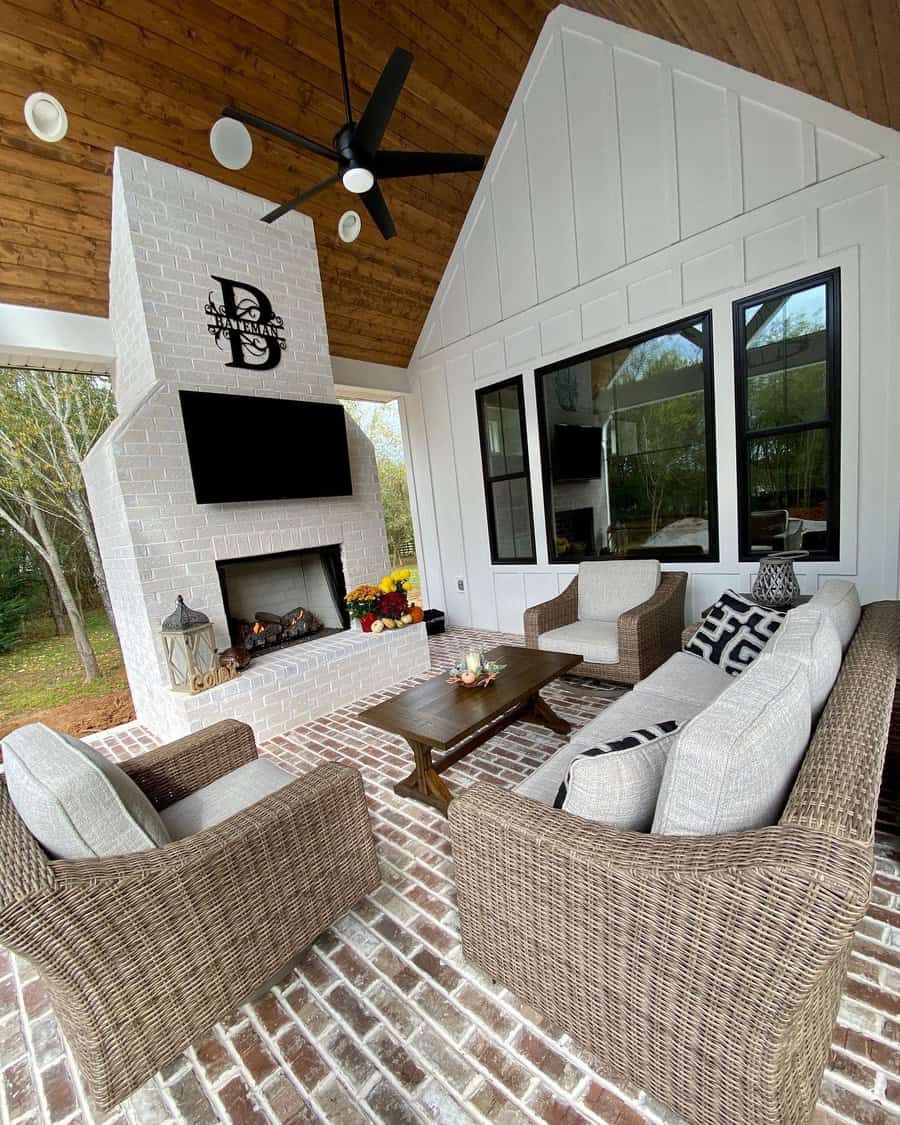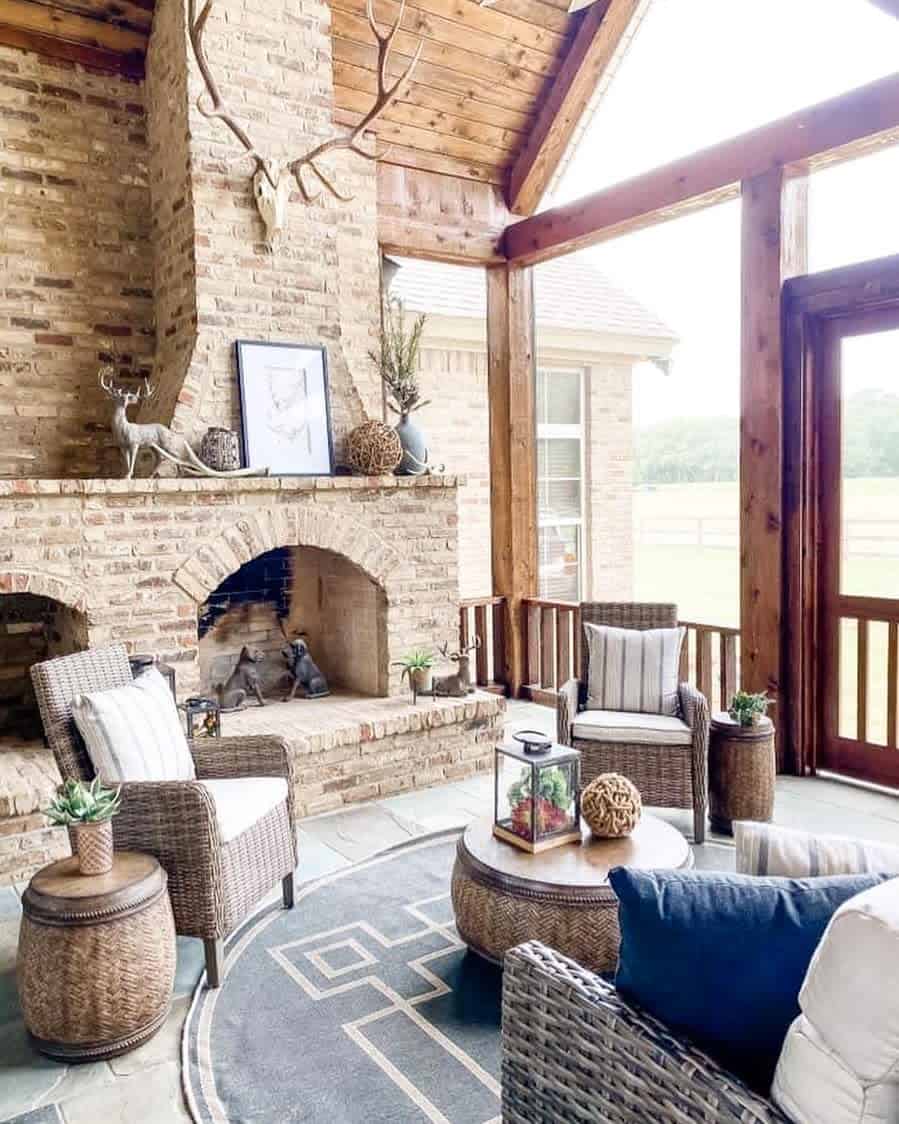 Finish your rustic porch with potted plants. Choose local plants that are low maintenance and will thrive in the local climate. This reduces the need to bring the plants indoors during winter.
9. Screened
A screened-in porch is a must if you want to create an outdoor living room in an area where bugs, insects, or mosquitoes are common. A screened porch is an affordable upgrade, making it possible to do on a small or large porch.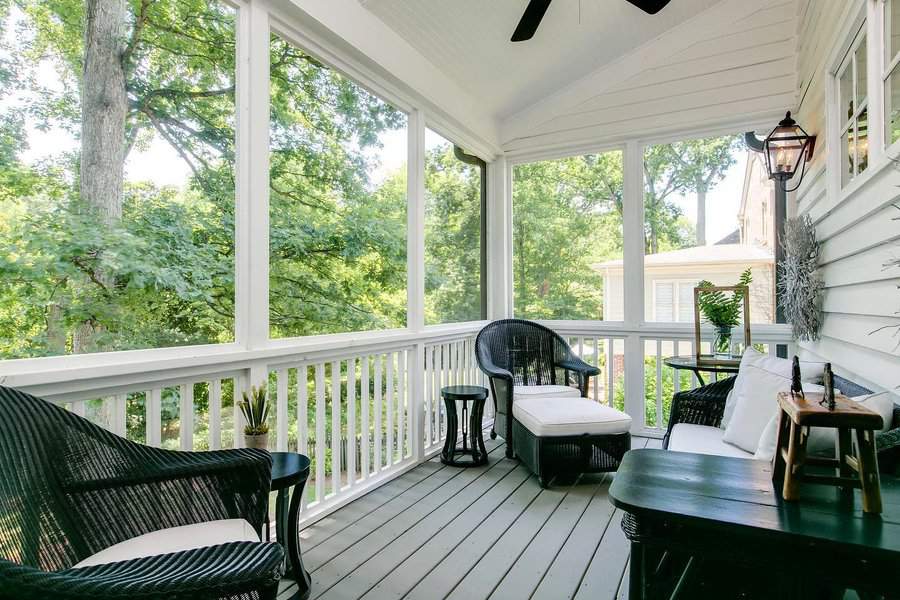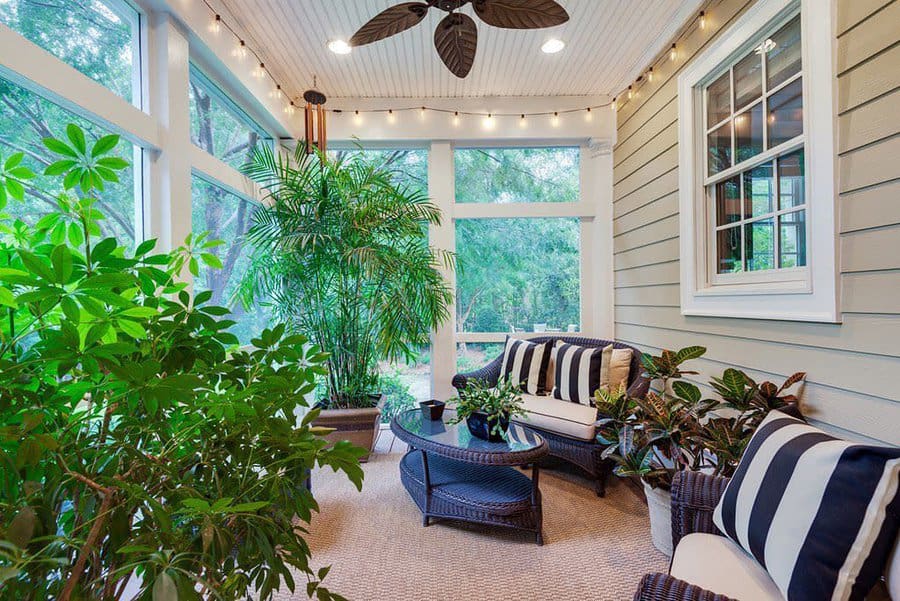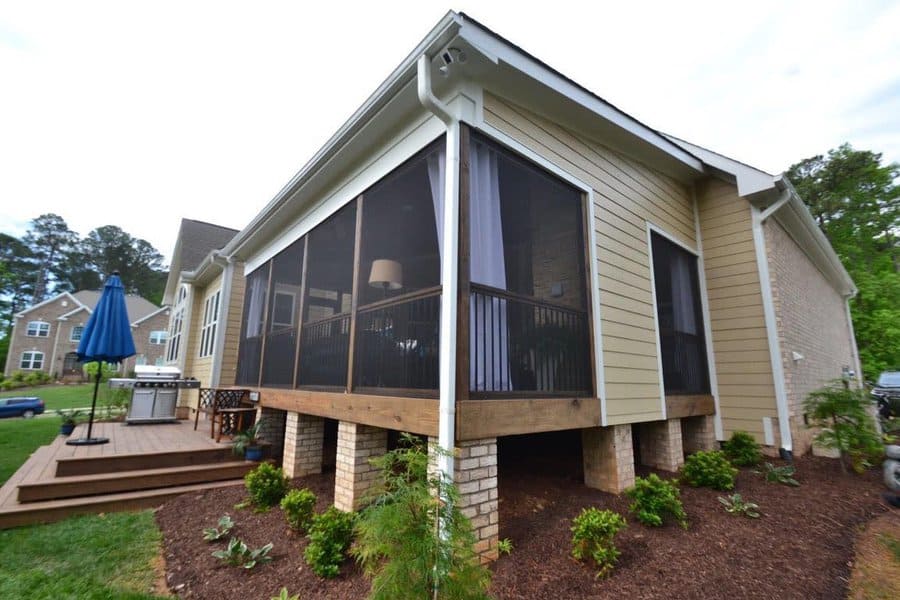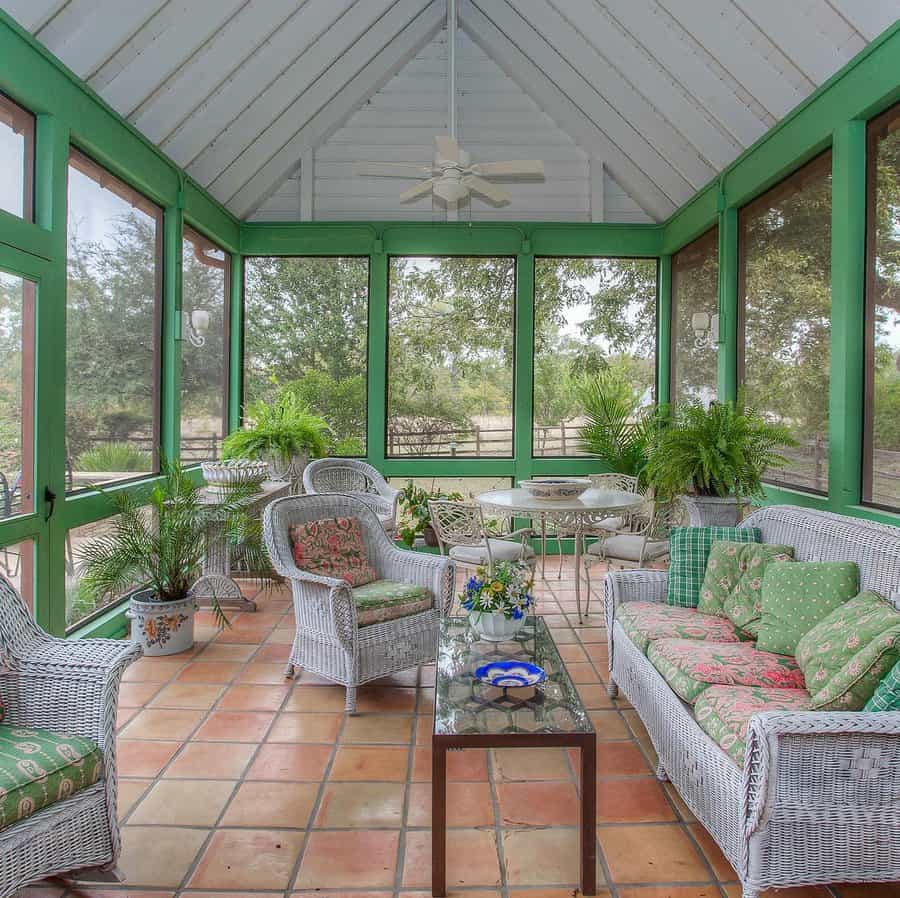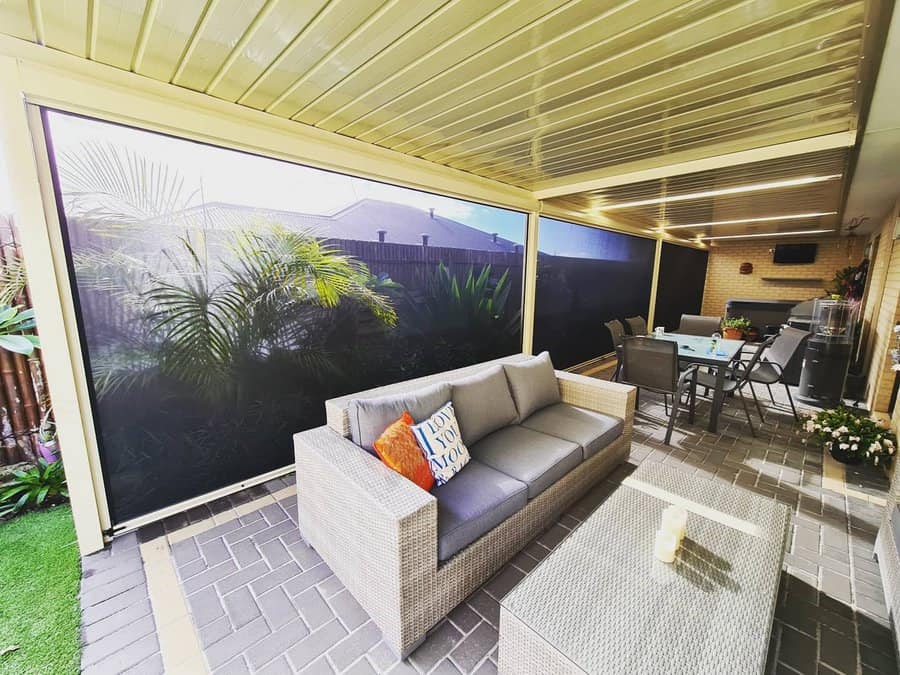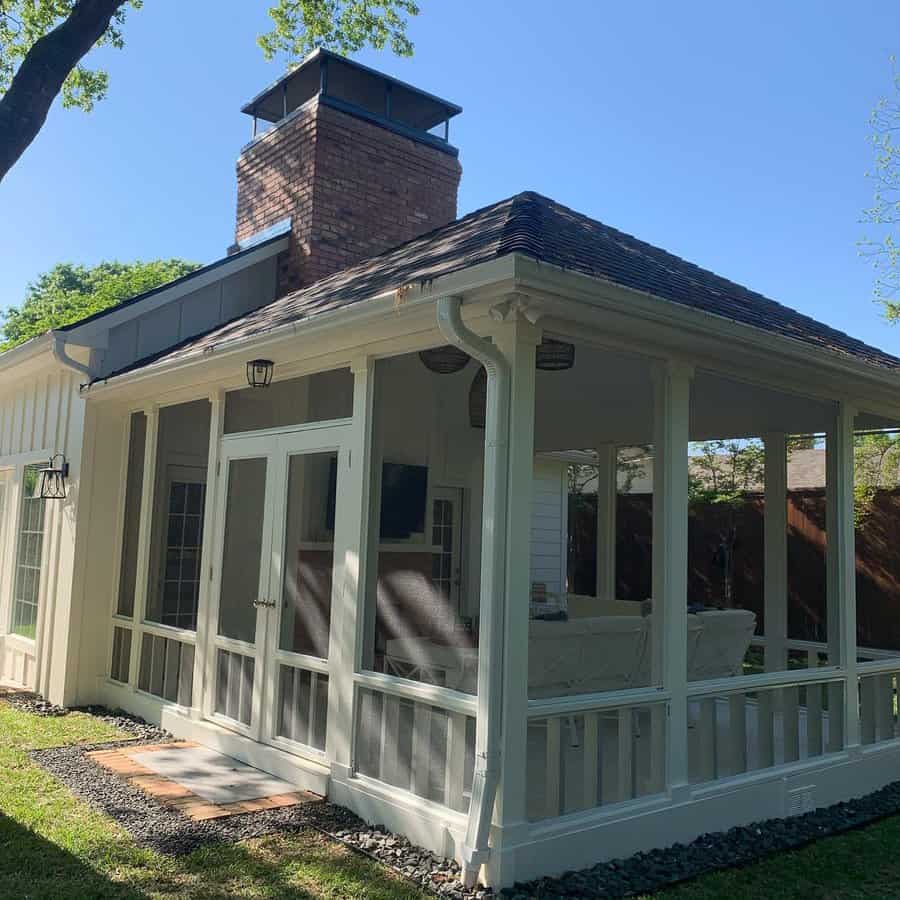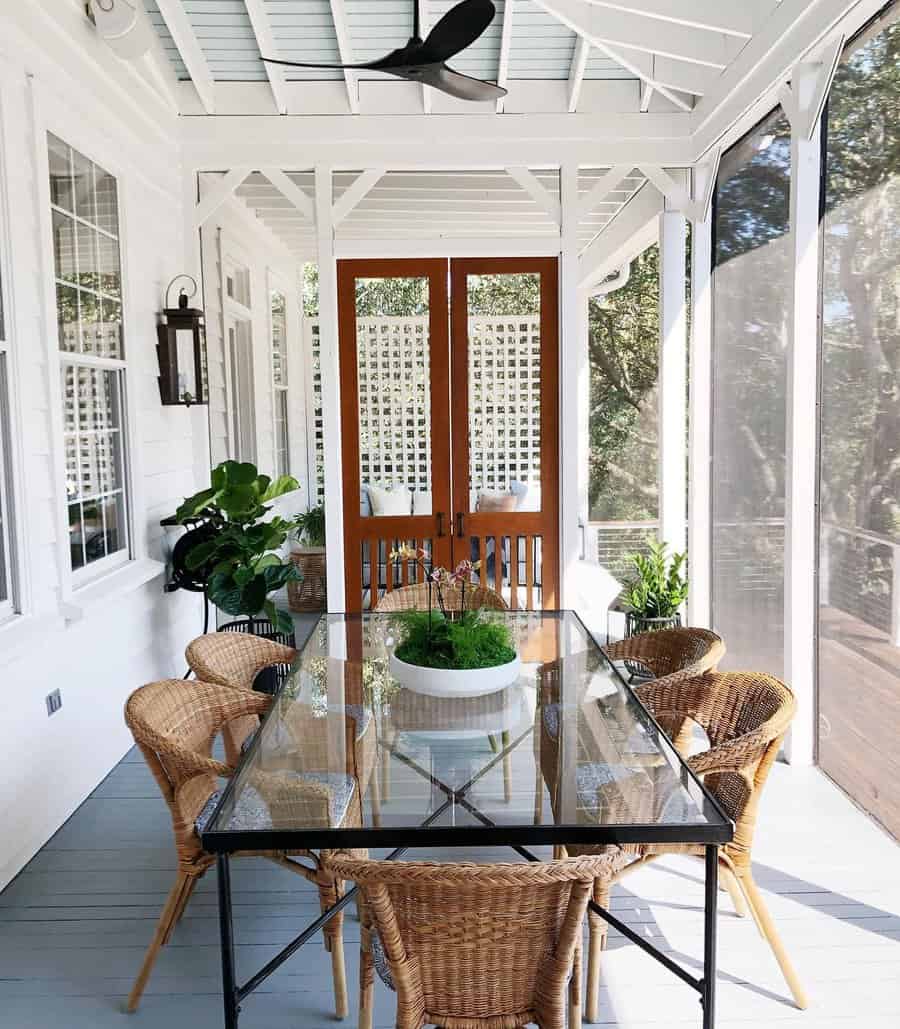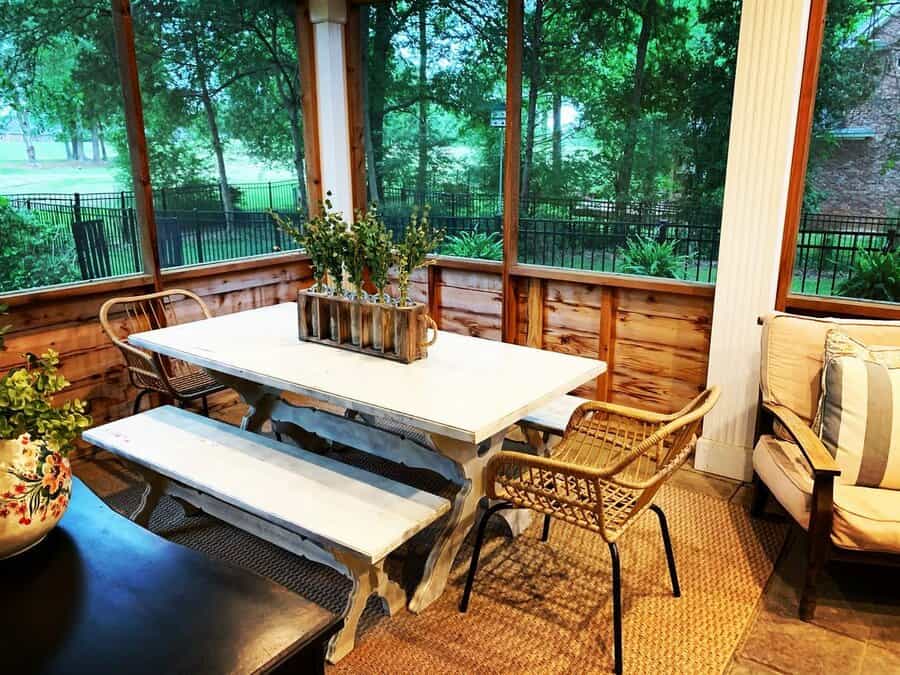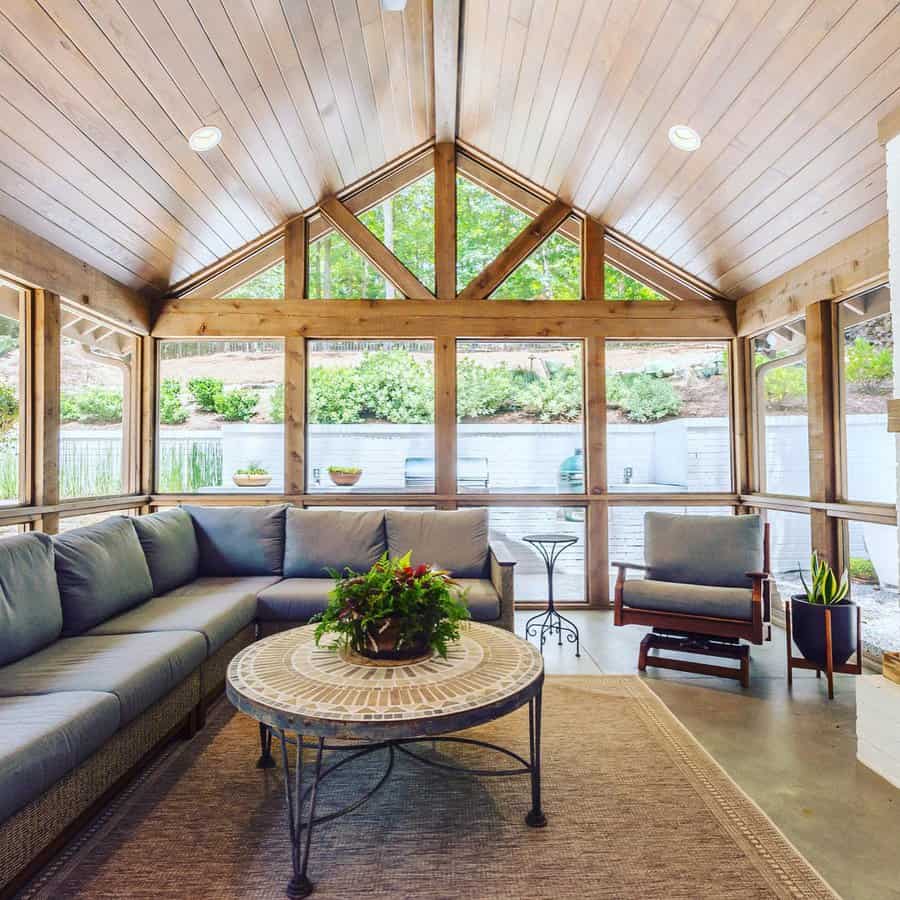 Once you have your screen porch, you need to maintain it. Clean off any leaves or debris that fall on the overhead screen. Typically screening comes in black, but there are other options, such as white, brown, or copper.
It's also important to consider the density of the weave. A tighter weave will provide more UV and bug protection. However, it will also obscure the view more.
10. Small
Even a small space can feel like a welcoming porch when you decorate it correctly. Start by turning it into a covered porch so that you can enjoy it year-round. Then choose a design theme for your outdoor space.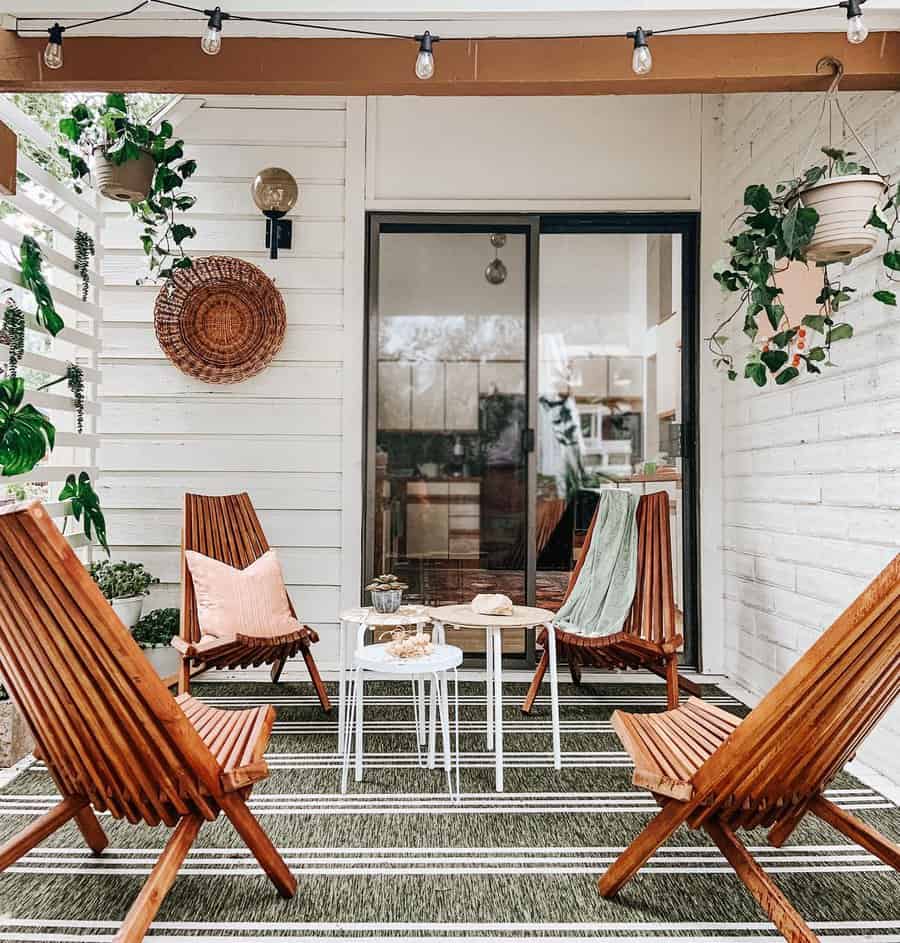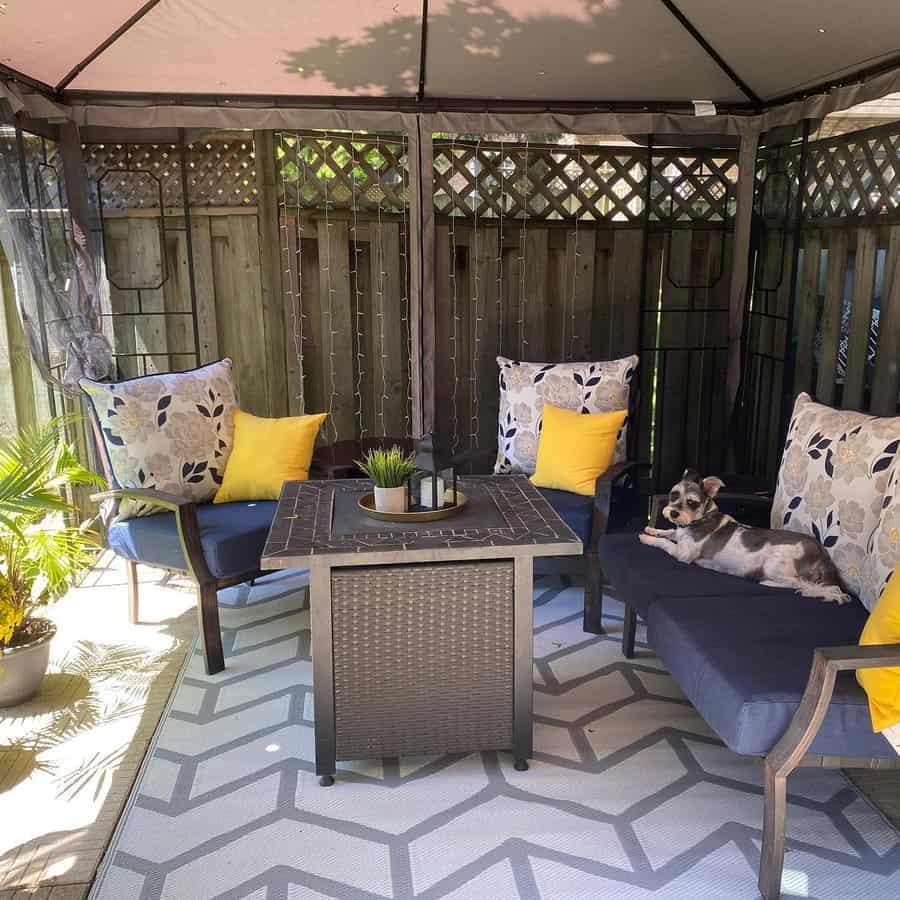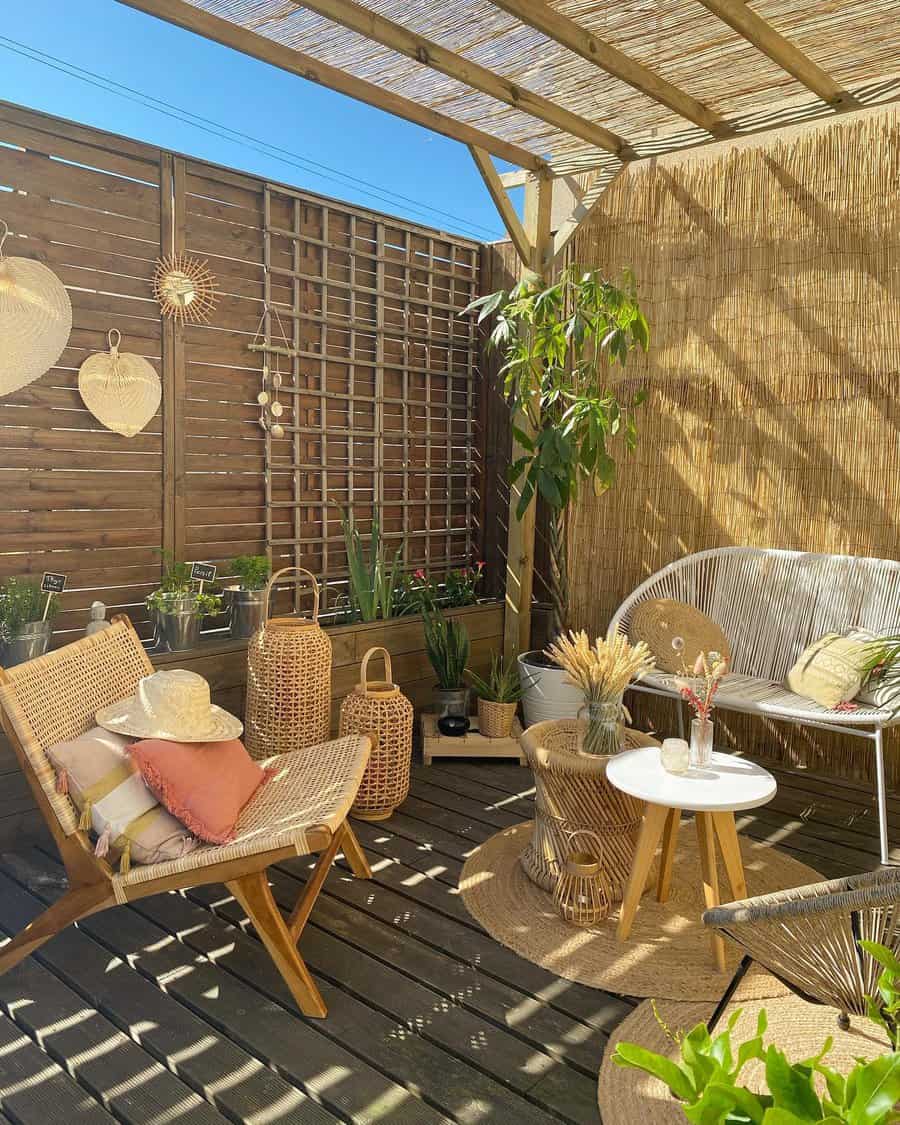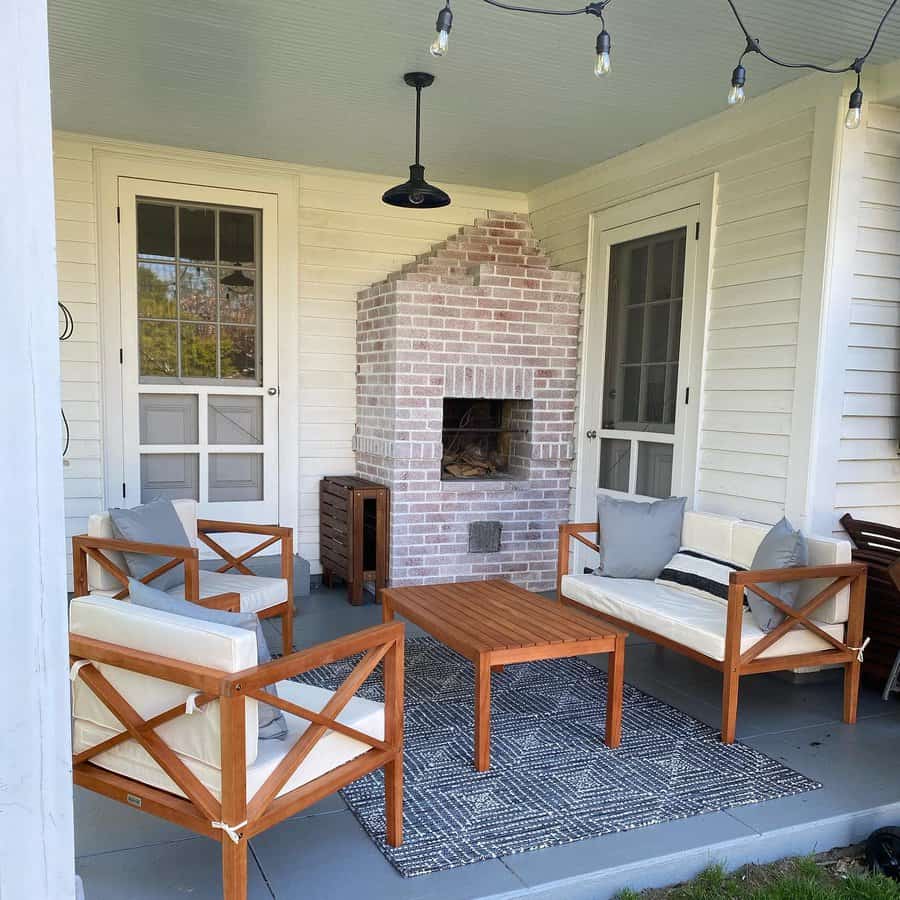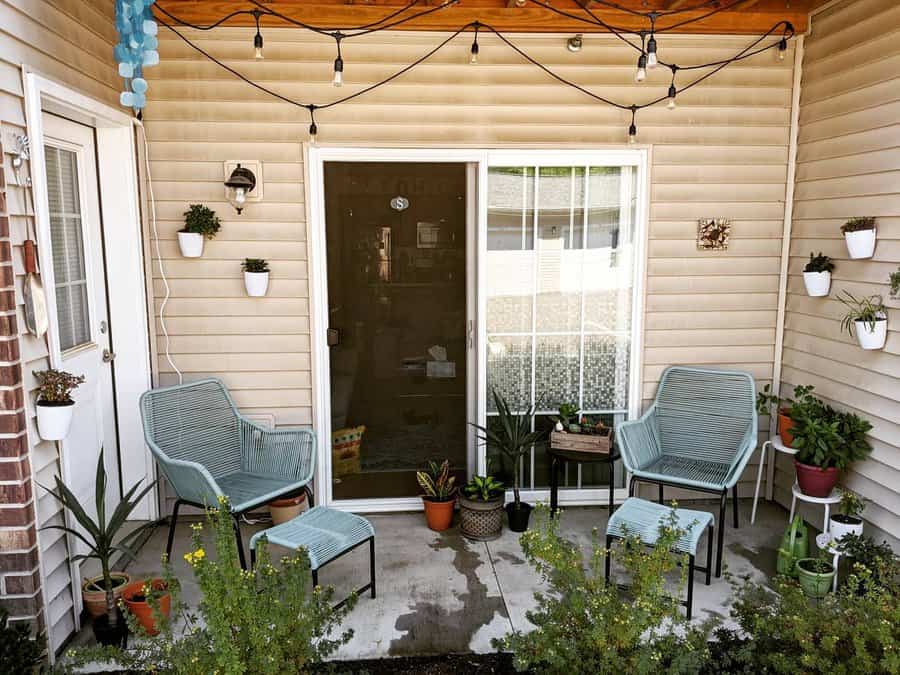 You could mimic the wraparound porch of southern homes by creating a farmhouse porch theme. Use rustic wood furniture with farm-style lanterns, a ceiling fan, and vintage or antique porch decor.
Keep the space feeling open by choosing furniture that's scaled to fit your space. You could even skip the sofa and build a bench into the side of the porch. Line the bench with plush pillows to create plenty of support for your back.
11. Sunroom
If you want to enjoy your porch throughout the year, then turn it into a sunroom. This means enclosing the porch with windows. This gives you the feeling of being outside, but you are protected and indoors.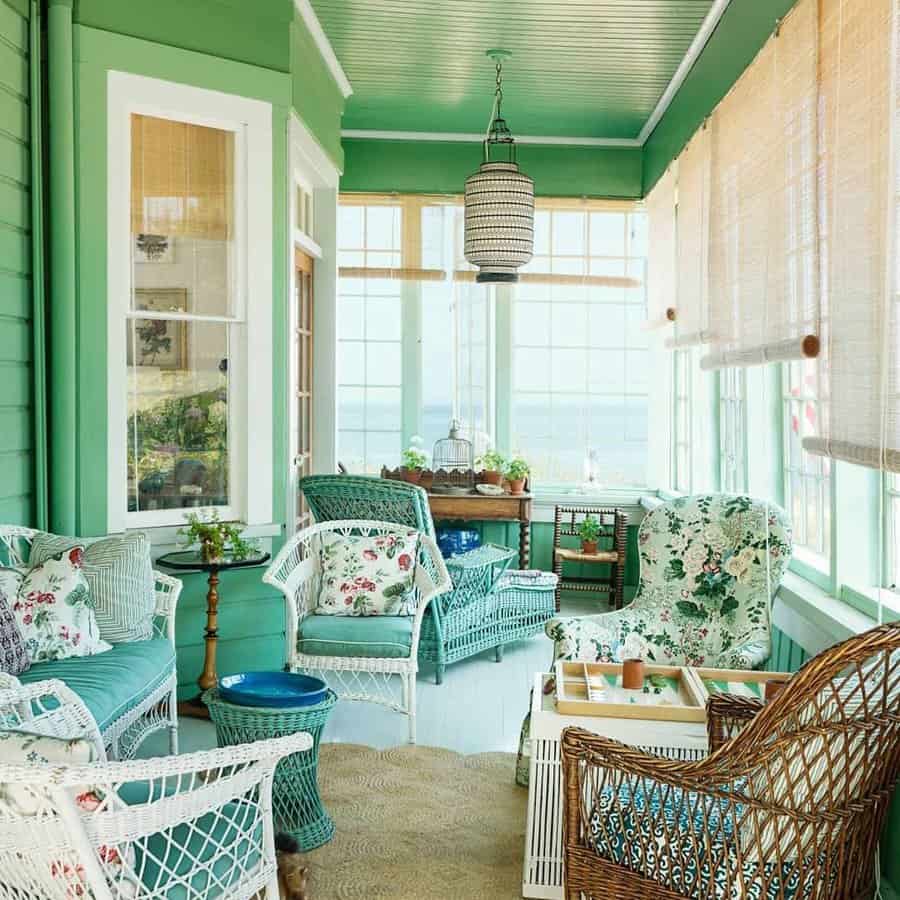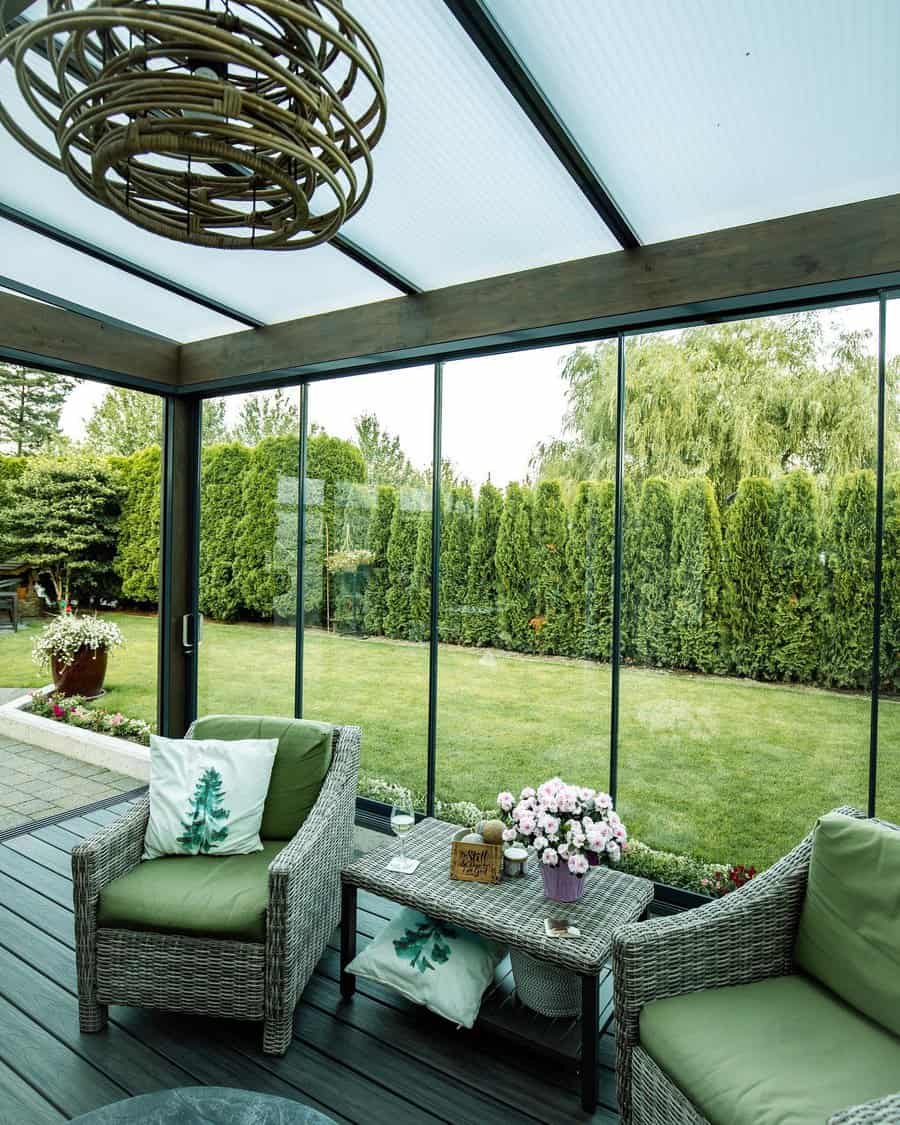 Wicker furniture is perfect for a room like this because it gives your sunroom an outdoor feel while also bringing the outdoors inside.
Arrange a variety of seating options, such as a plush sofa and a rocking chair This room often gets referred to as a sleeping porch. You could use yours as a southern-style sleeping porch by adding a murphy bed or fold-out couch.
Back Porch FAQs
How can I make my back porch look good?
Start by cleaning up the area to get rid of dirt, leaves, debris, and anything else that makes the space look gross. Add comfortable furniture that is inviting for people to sit down. Then add touches of color to add design.
What is a porch in house design?
A porch is a covered or semi-covered space attached to the house. Typically, a porch is located on the front side of the house. However, you may also find that there are porches on the backside of the house. They can vary in size from just large enough for a cafe table and chairs to being a large expanse that can support a full dining table.
How much do porches cost?
The cost of adding a porch to your house will vary in cost depending on how you go about installing it. A medium-sized prefabricated porch can be in the $10,000 to $20,000 range. If you prefer to have a custom solution, then a medium porch constructed by a contractor will cost $15,000 to $30,000.