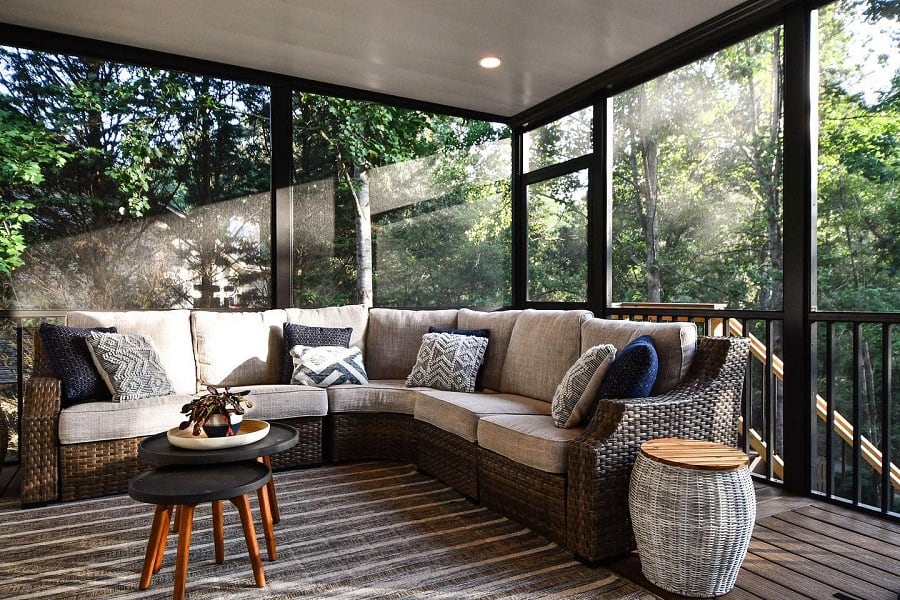 The Top 72 Back Porch Ideas
by — Andra DelMonico

Published on January 25, 2022

Updated on October 25, 2023
"I'm an old-fashioned guy… I want to be an old man with a beer belly sitting on a porch, looking at a lake or something." – Johnny Depp
Having a back porch on your property can give you an outdoor space to enjoy. Done well, and it can add value to your home.
Your back porch doesn't need to be large, but it should be big enough to hold a decent amount of furniture. Then you need to think about the rest of the features, like lighting, shade from the sun, privacy, and air circulation.
These back porch ideas will help you create the perfect back porch for your home and lifestyle.
1. Pergola-Adorned Charming Back Porch
Transform your back porch into a sophisticated retreat with a stylish pergola. Its decorative beams and open lattice roof not only enhance the aesthetic appeal but also provide a well-shaded area for relaxation and entertainment. Enhance this charming space by draping climbing plants or hanging flower baskets, introducing a burst of nature and a subtle fragrance. This setting creates the perfect nook for unwinding with a good book or enjoying a refreshing drink, surrounded by the soothing play of light and shadows.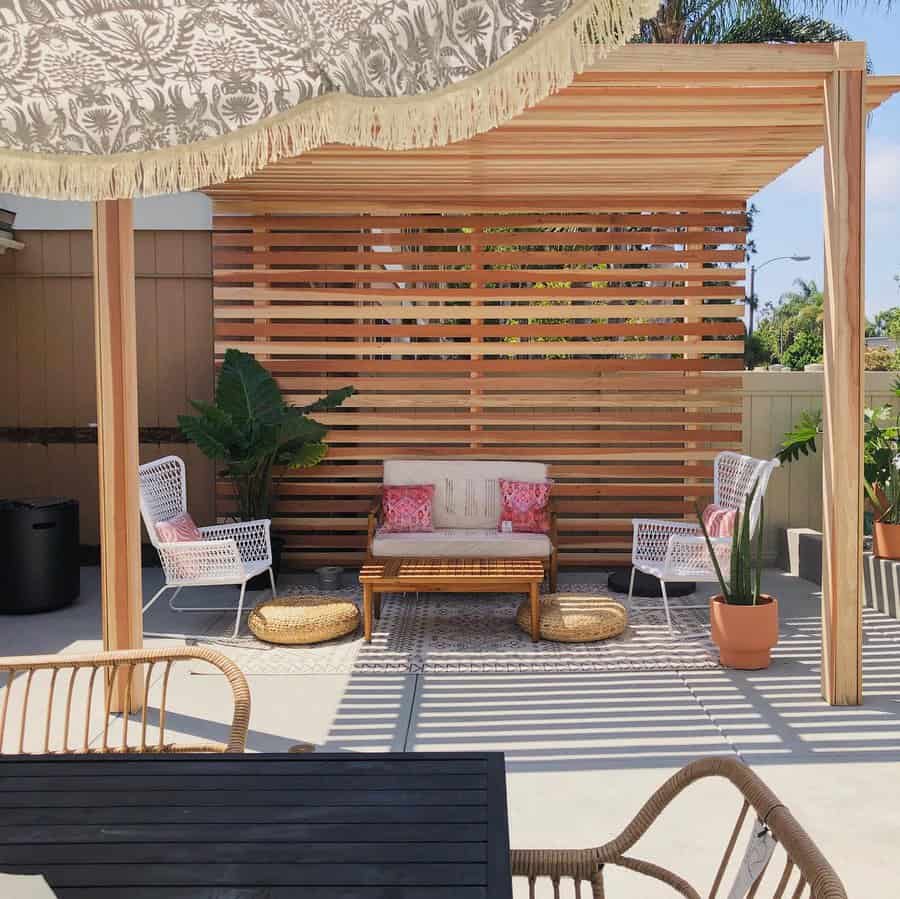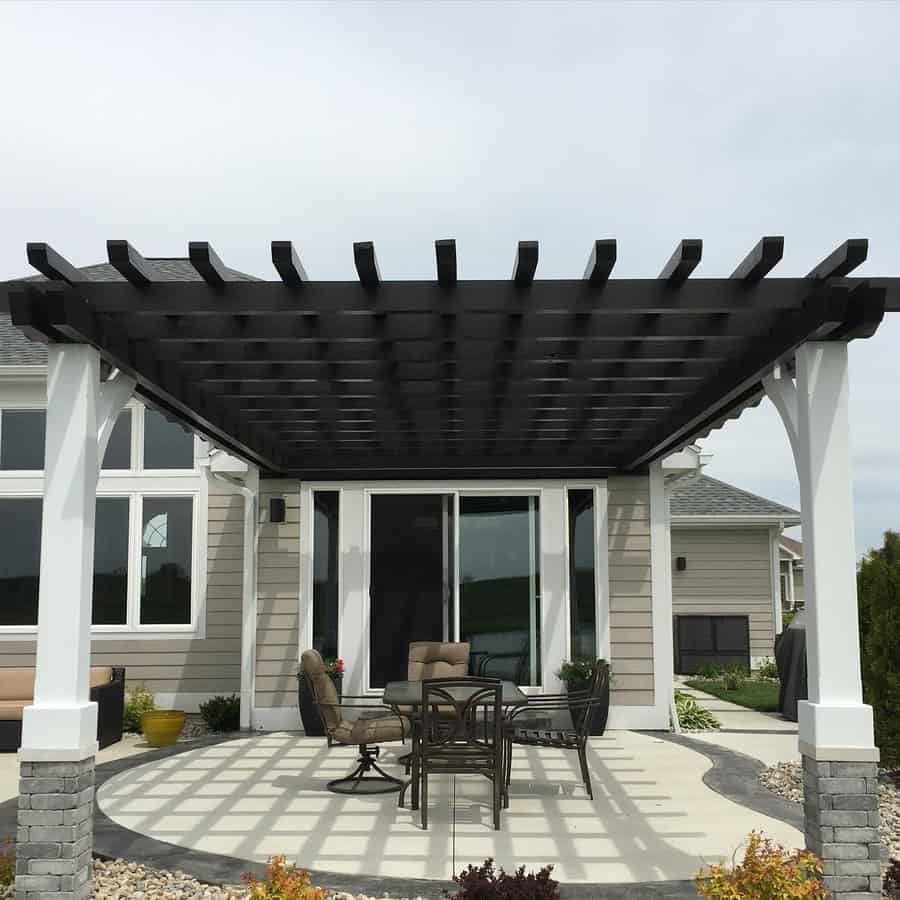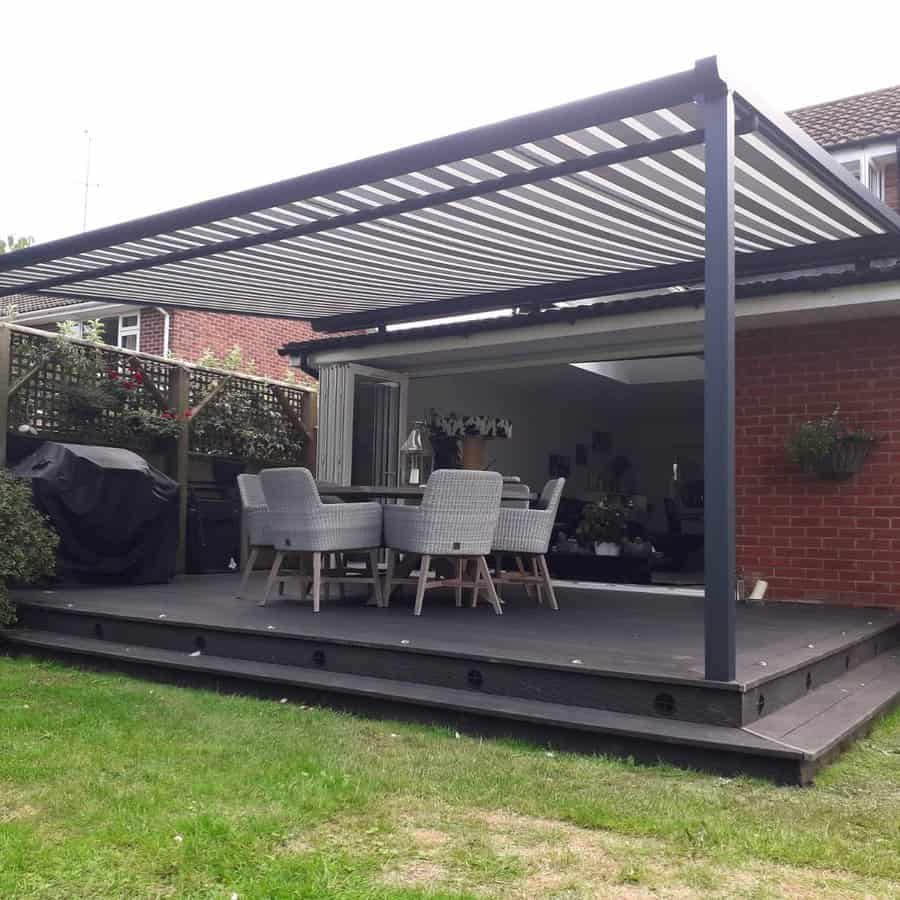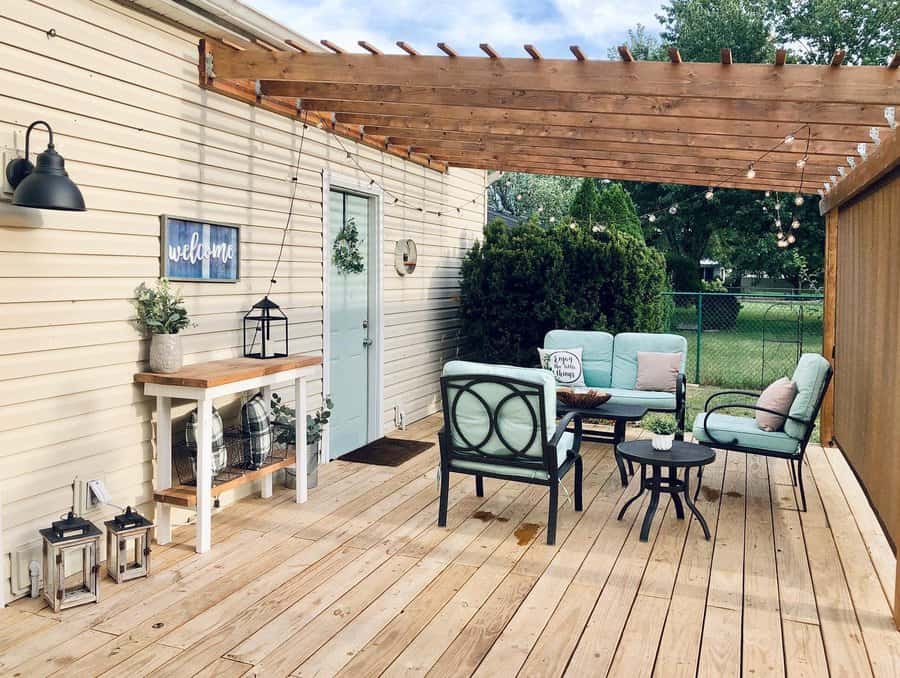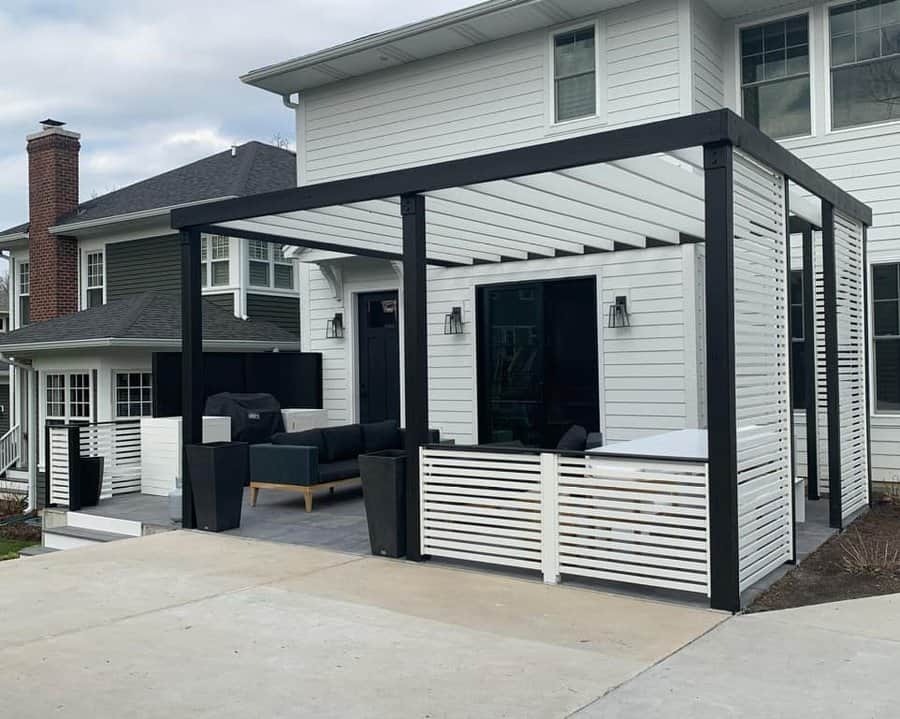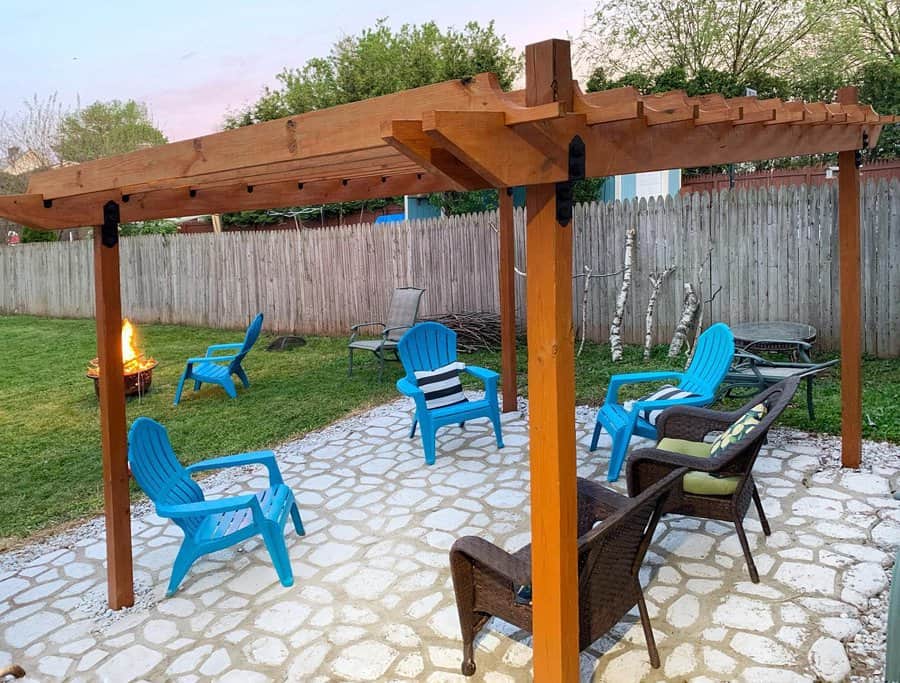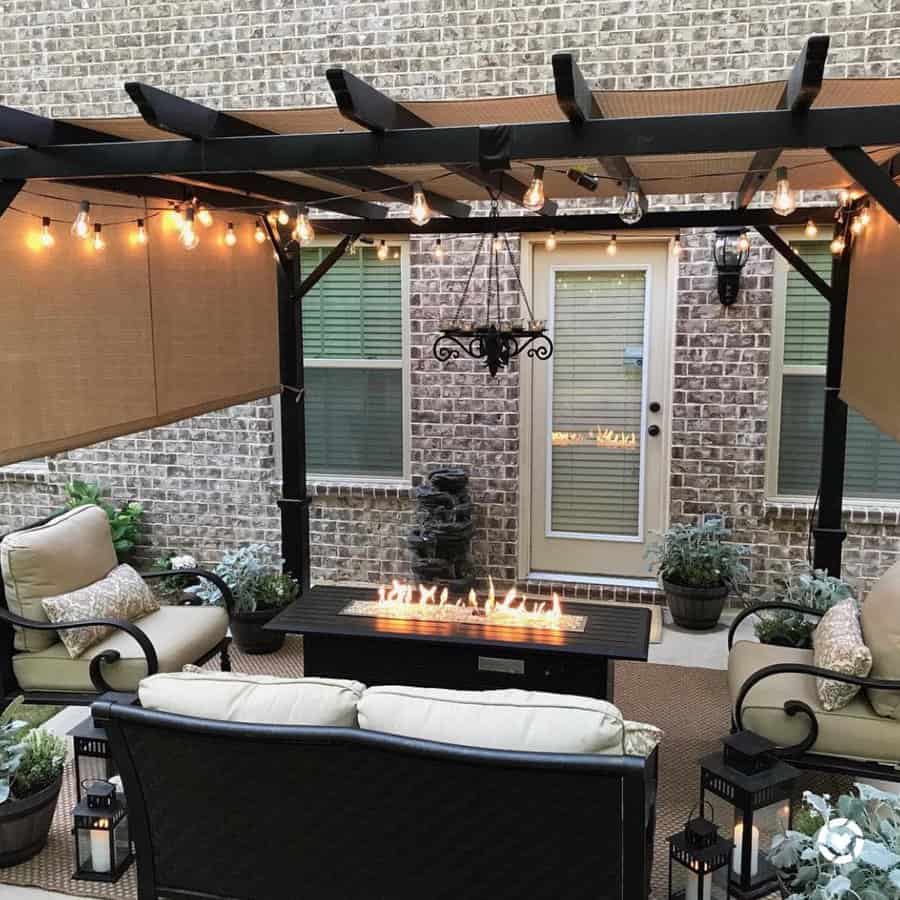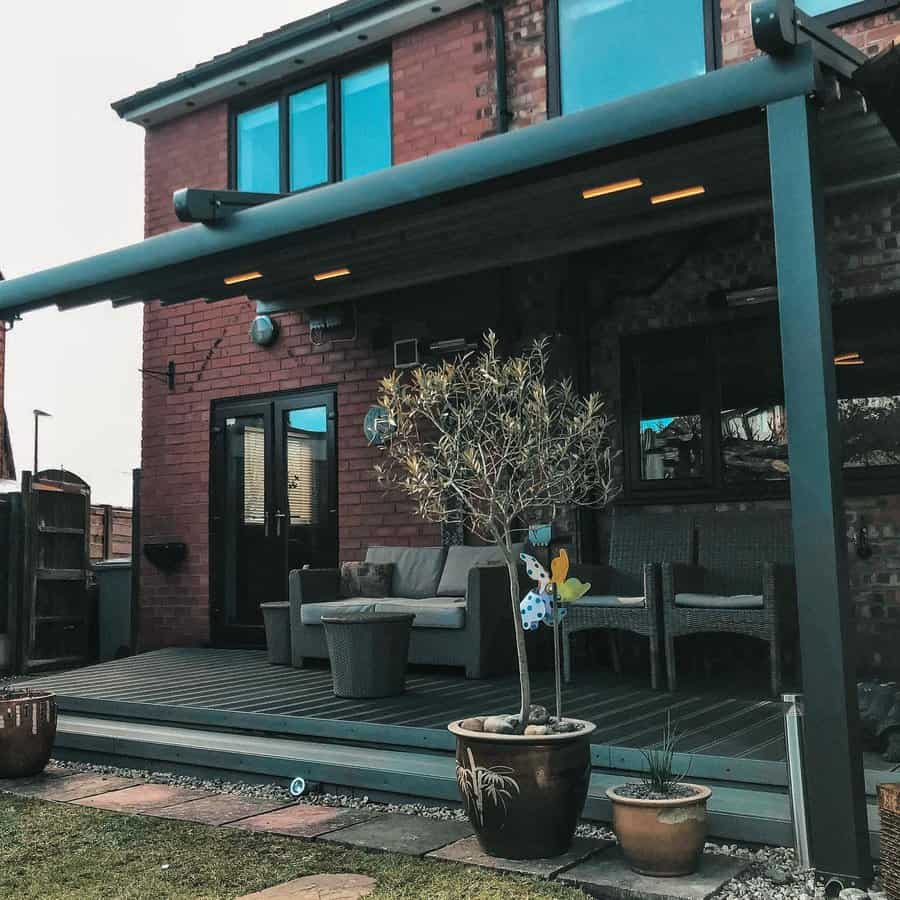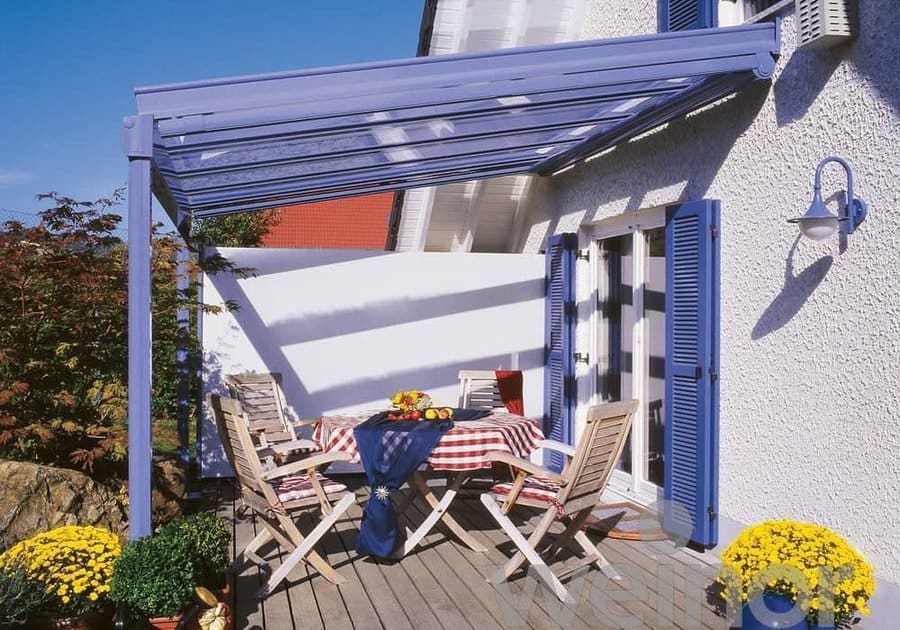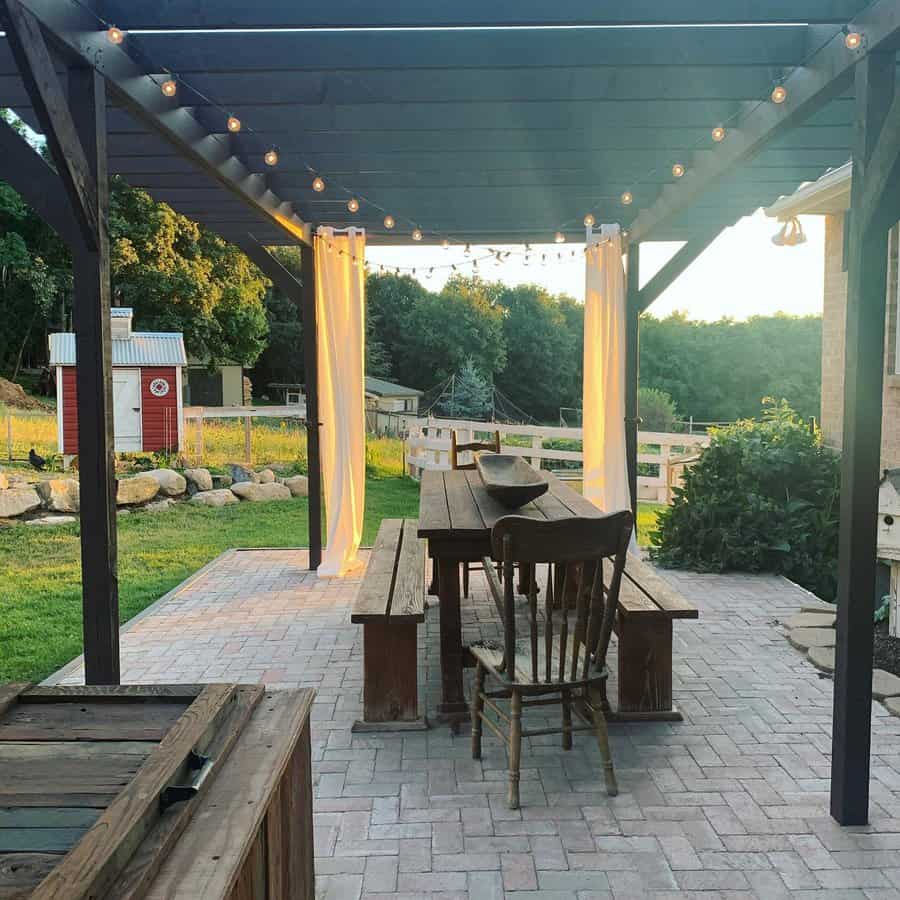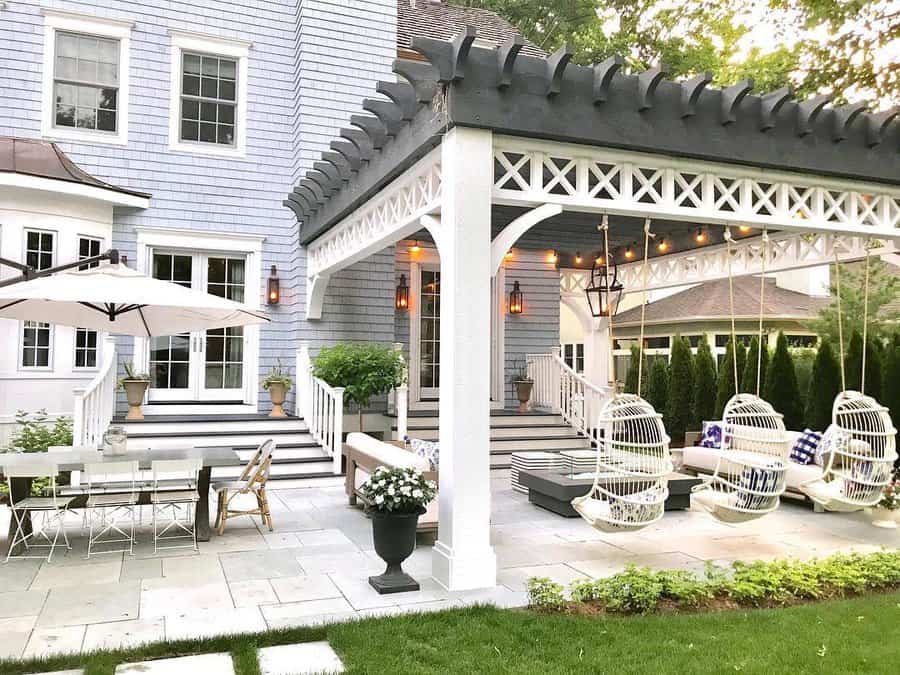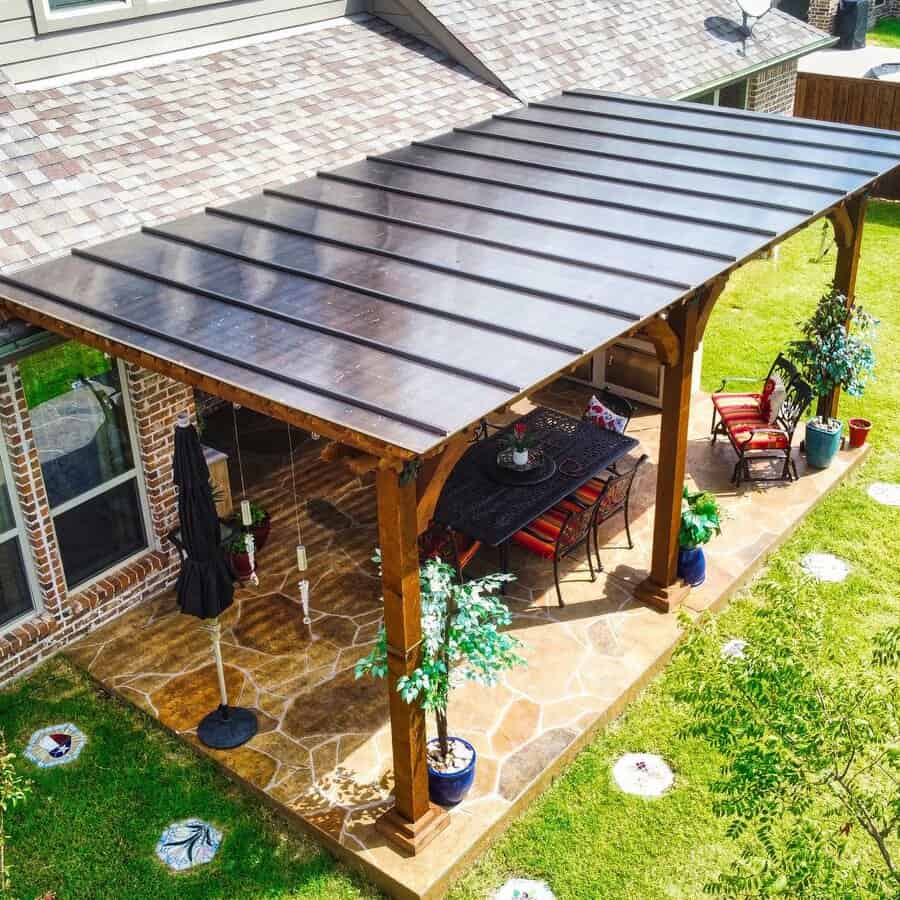 2. Sail Canopy for Shaded Relaxation
Enhance your back porch with a sail canopy, merging modern elegance with practical functionality. The durable, weather-resistant fabric provides ample shade and protection, adapting seamlessly to various weather conditions. For an integrated look, choose a canopy color that complements your outdoor furniture, creating a cohesive and stylish ambiance. This setup ensures a comfortable space for morning solitude with a coffee or lively family gatherings, offering versatility in use and aesthetic appeal.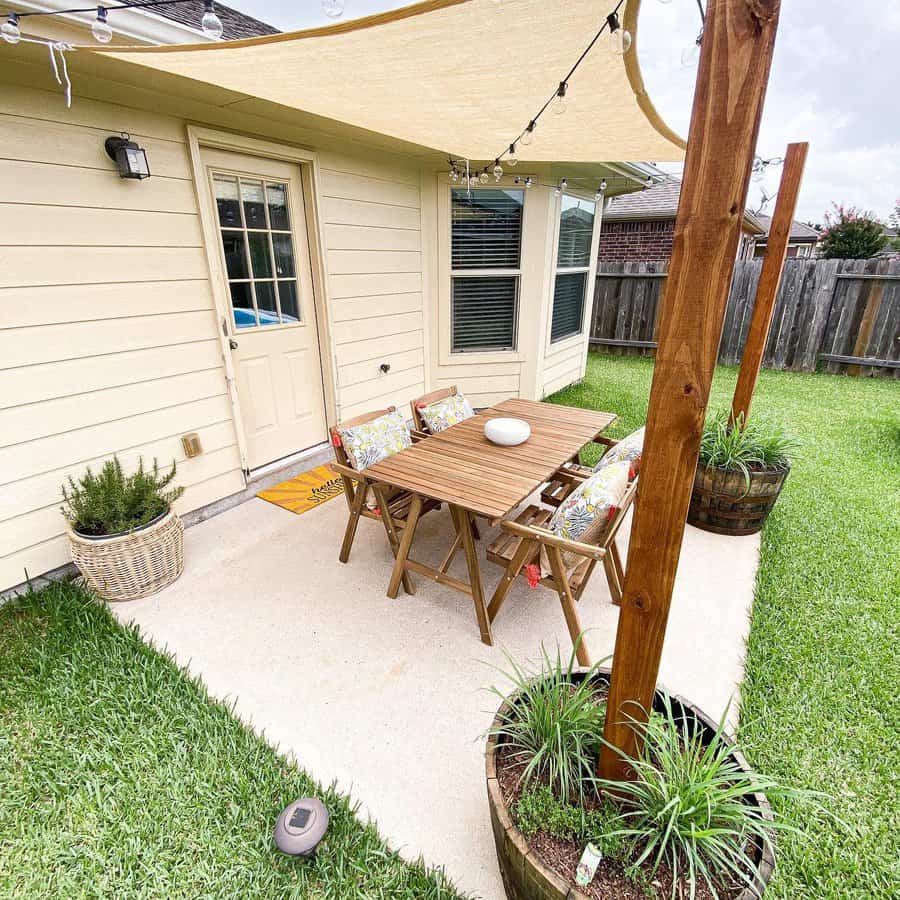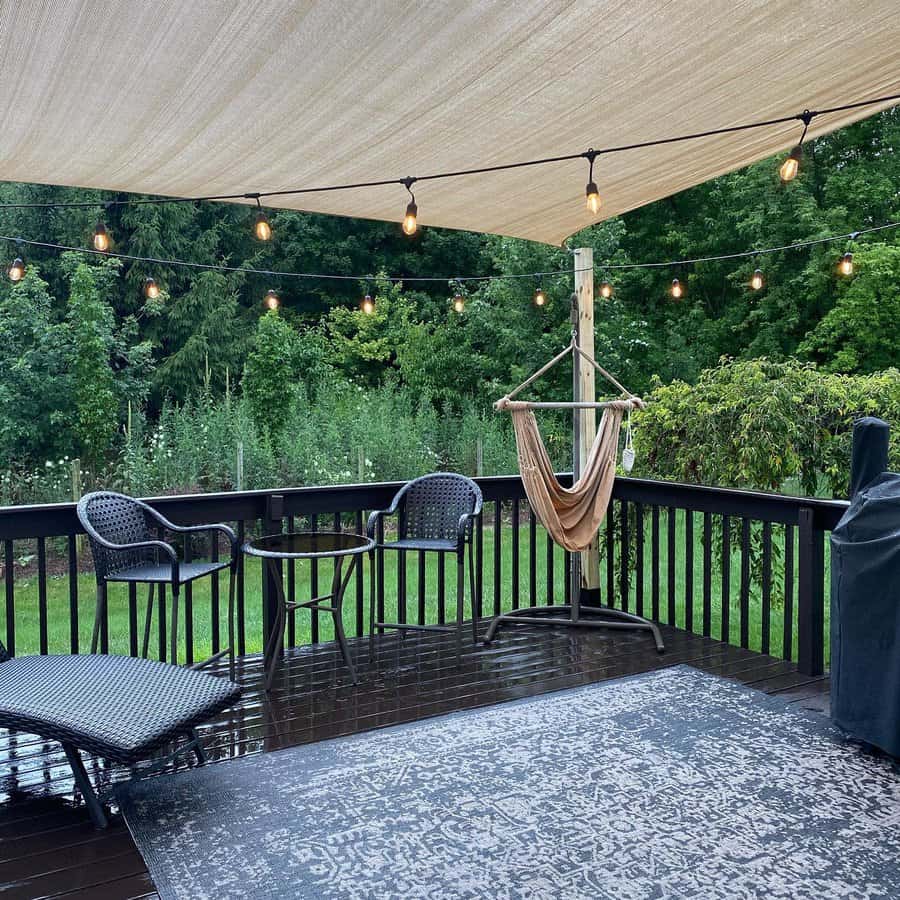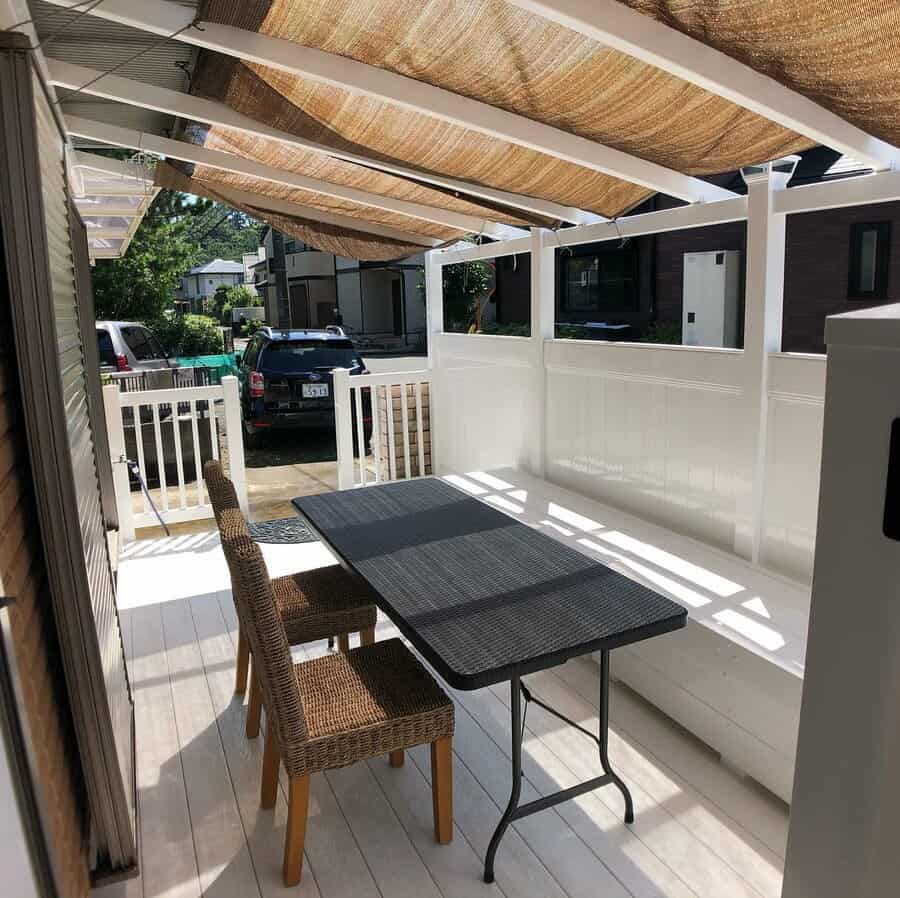 3. Versatile Retractable Canopy Space
Equip your back porch with a retractable canopy for adaptable outdoor living. Its easy-to-use mechanism provides an instant transition between sun-soaked leisure and shaded relaxation. When choosing a canopy, opt for a design that harmonizes with your porch's overall theme. This feature ensures an inviting space for year-round enjoyment, allowing you to seamlessly merge open-air vibrancy with cozy protection, catering to every mood and occasion.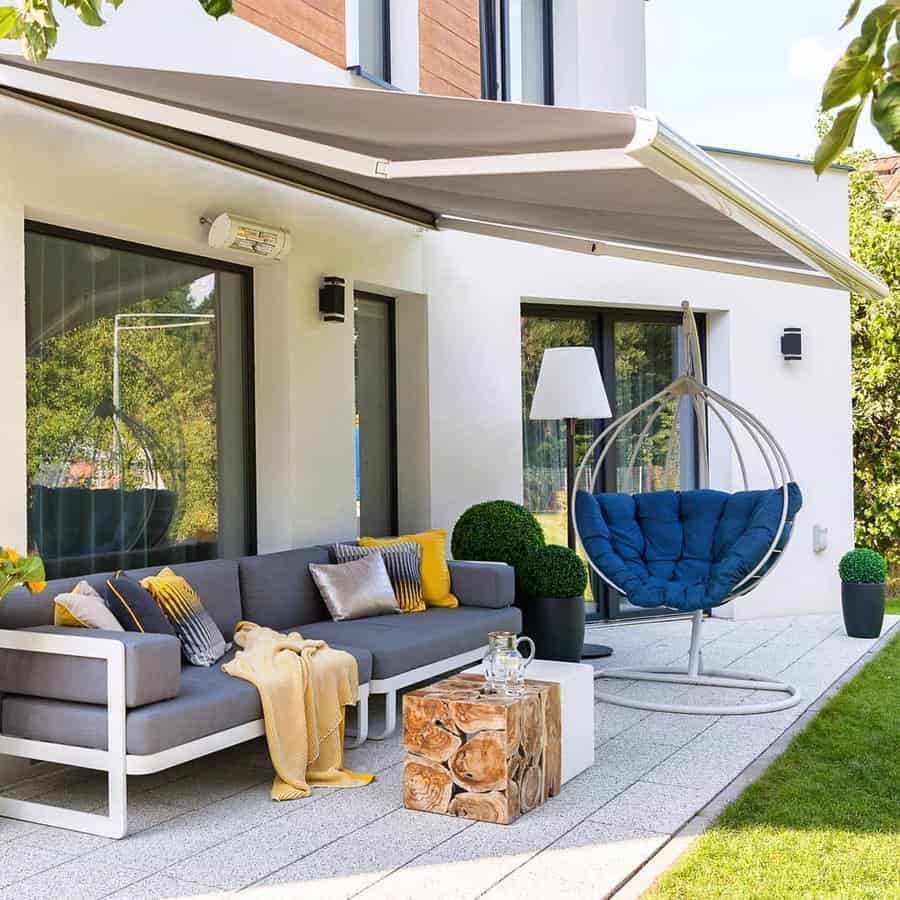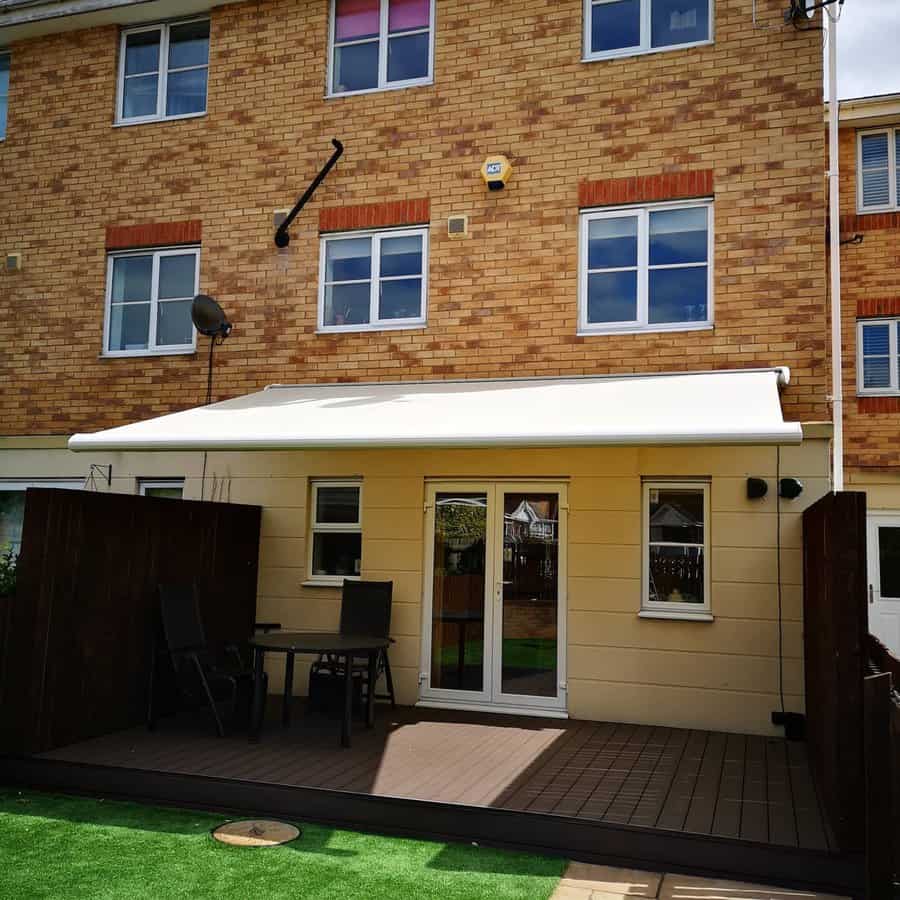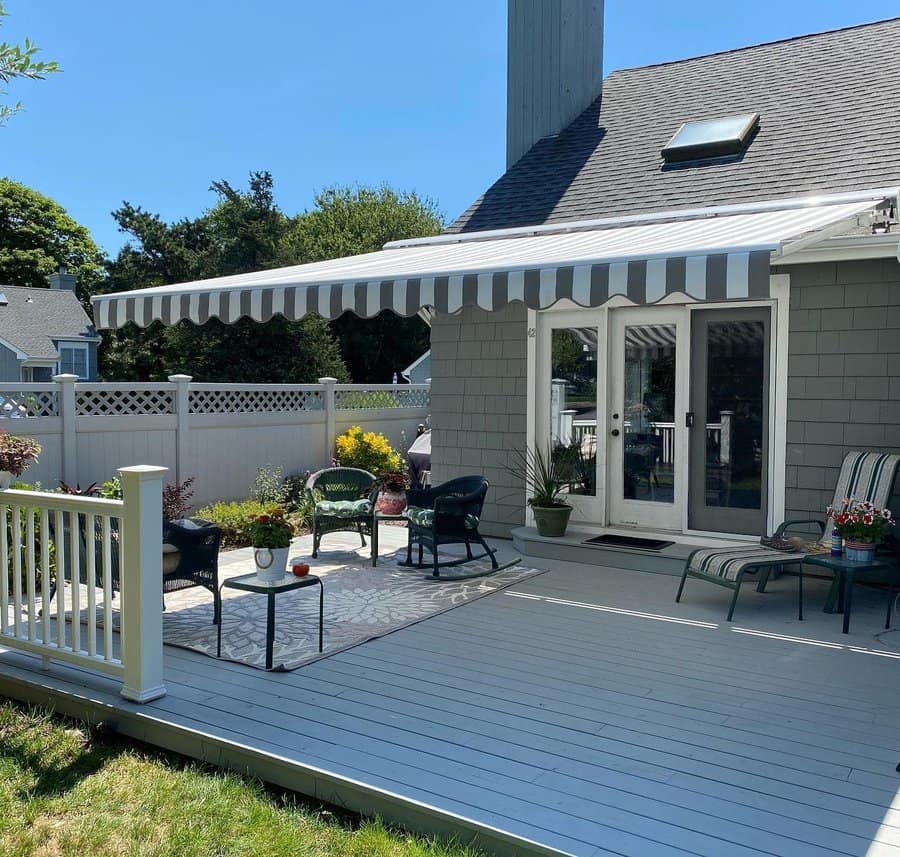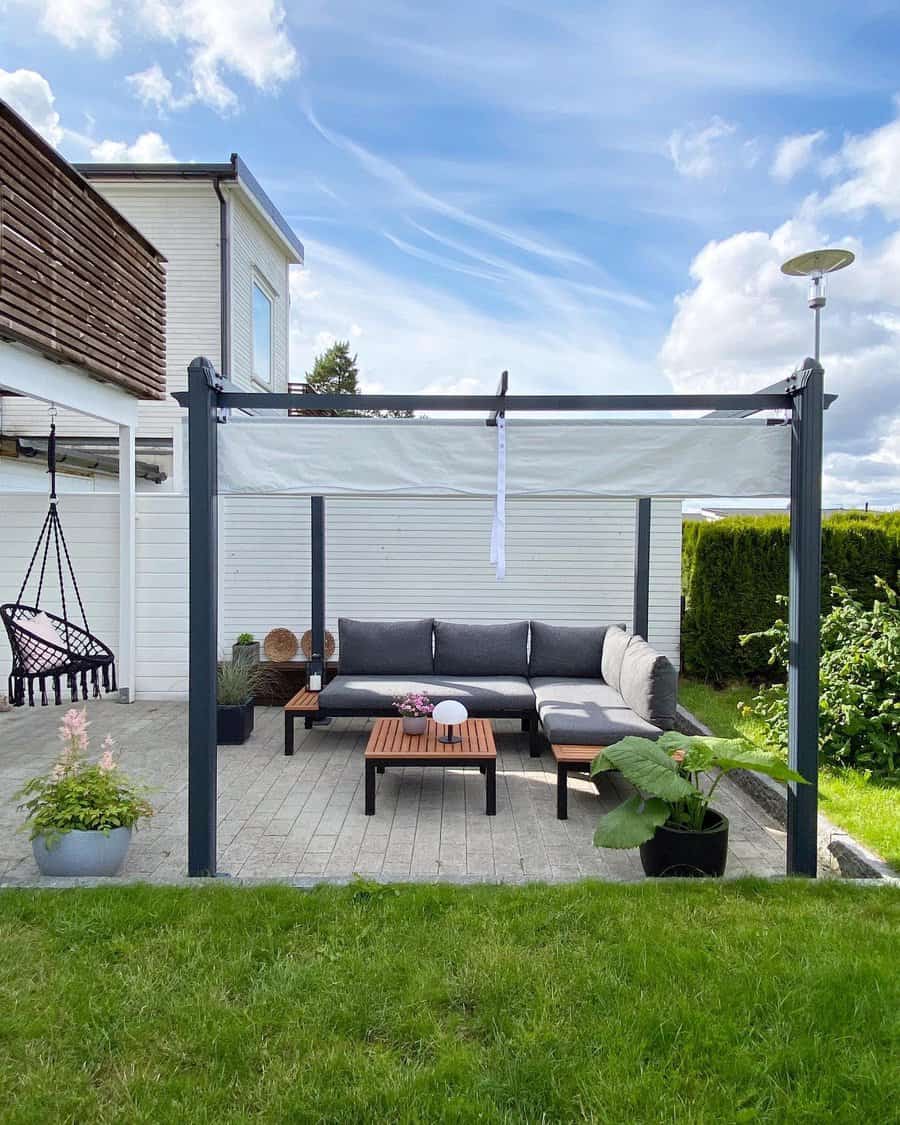 4. Cozy Screened-In Porch Oasis
Upgrade your outdoor living with a screened-in porch, where comfort meets the beauty of nature. Ensure ample natural light and picturesque views with large, well-placed windows while enjoying a bug-free zone. Enhance the area with plush seating options, transforming it into a haven for relaxation and quality moments with loved ones. This screened sanctuary is perfect for sipping morning coffee or gathering for a family barbecue, offering a peaceful, protected slice of the outdoors.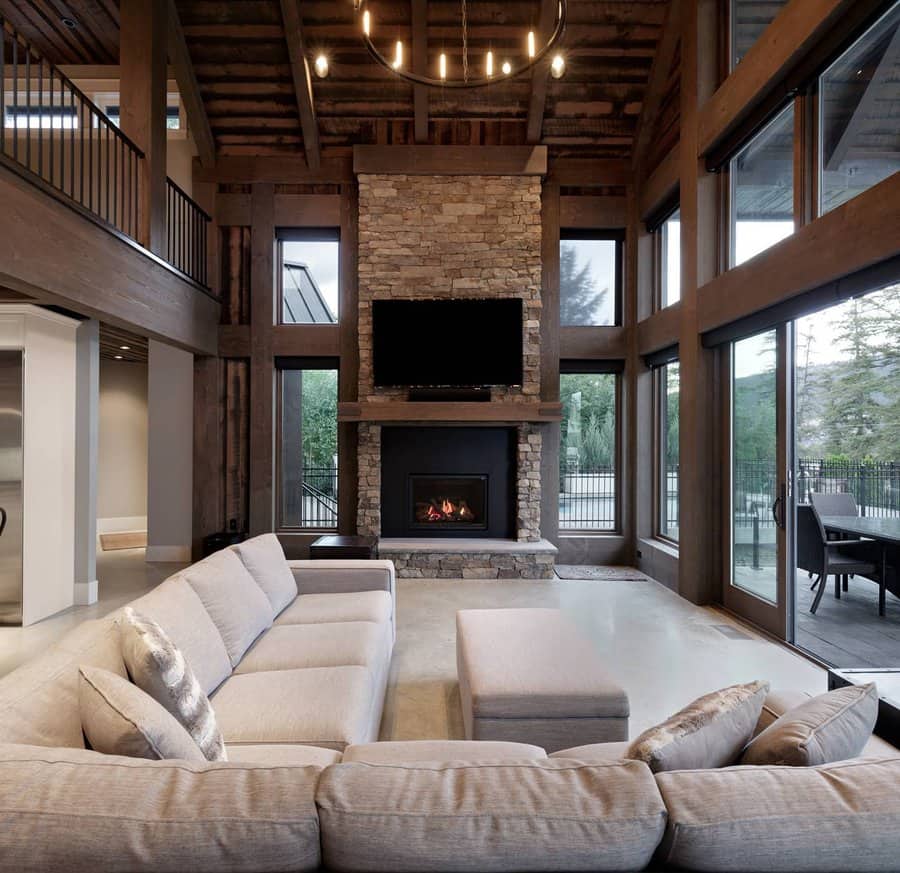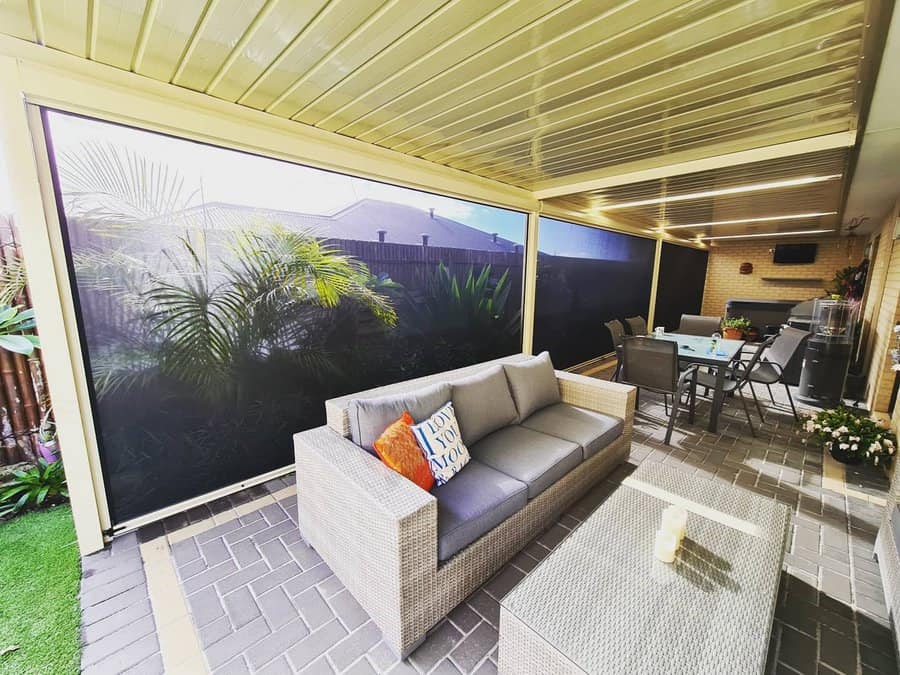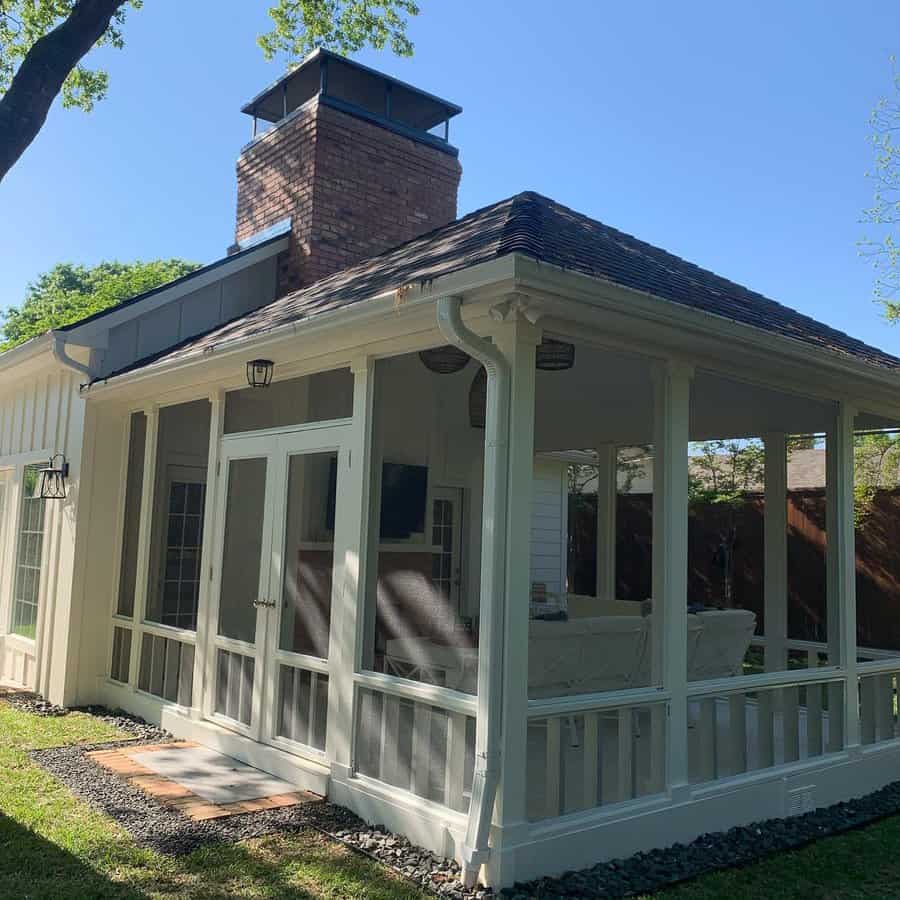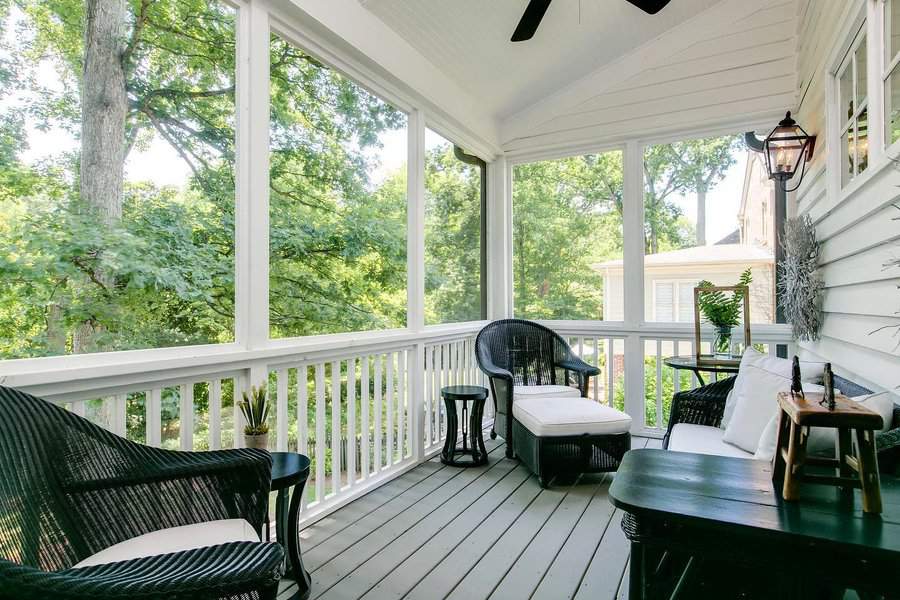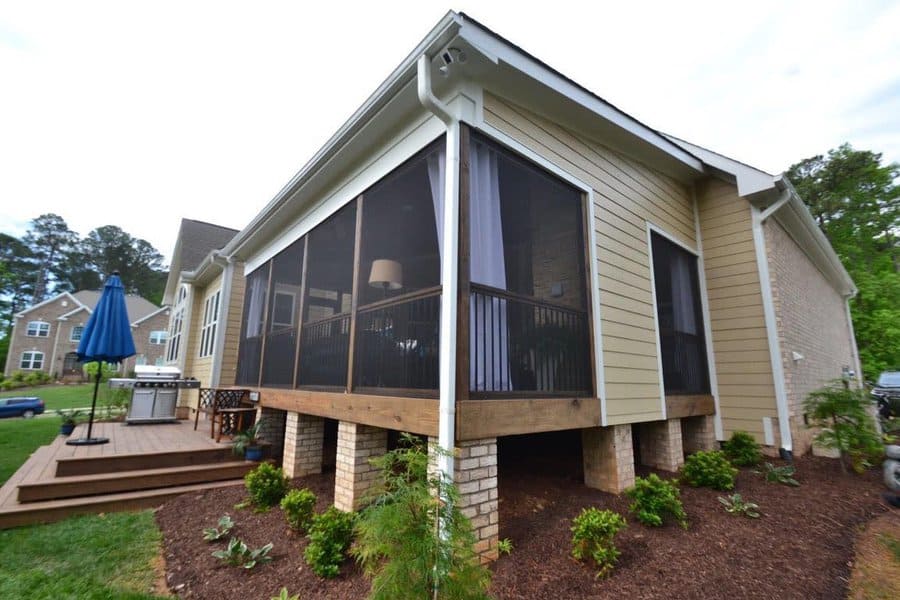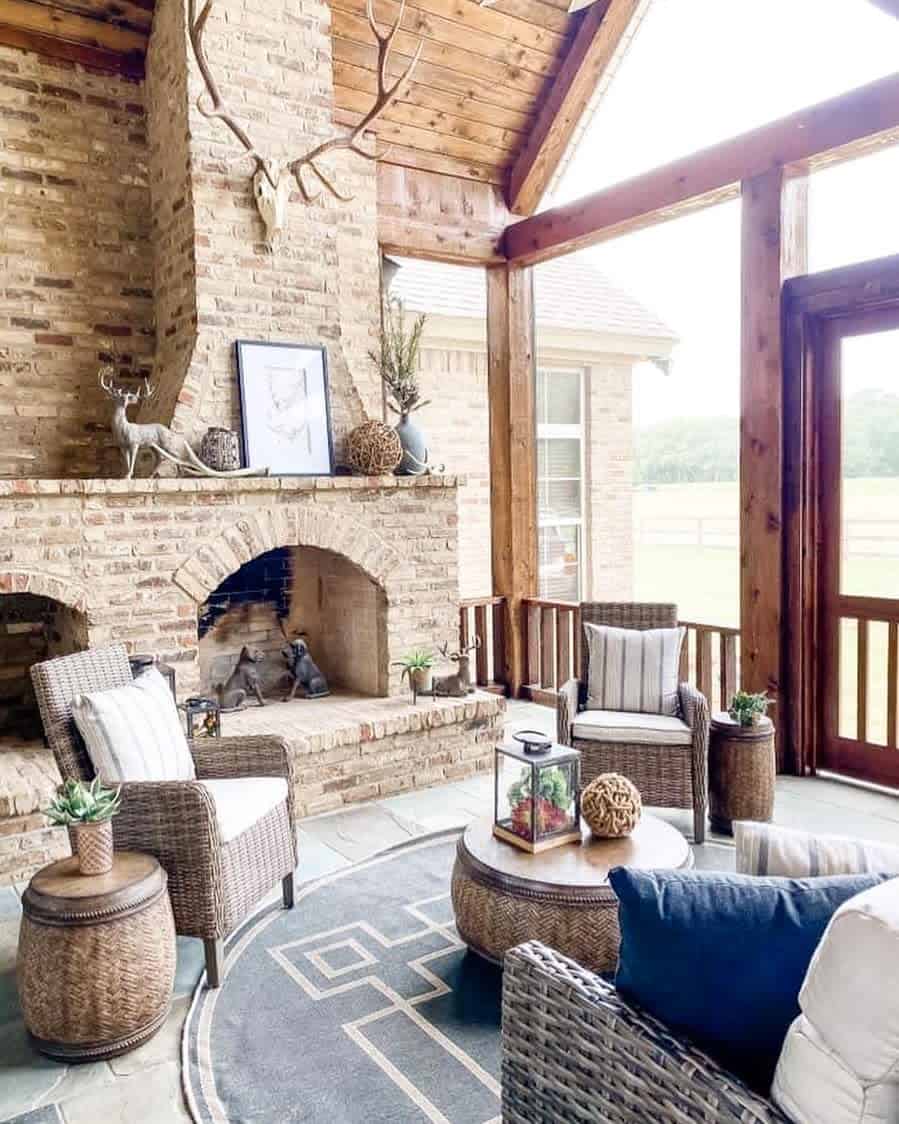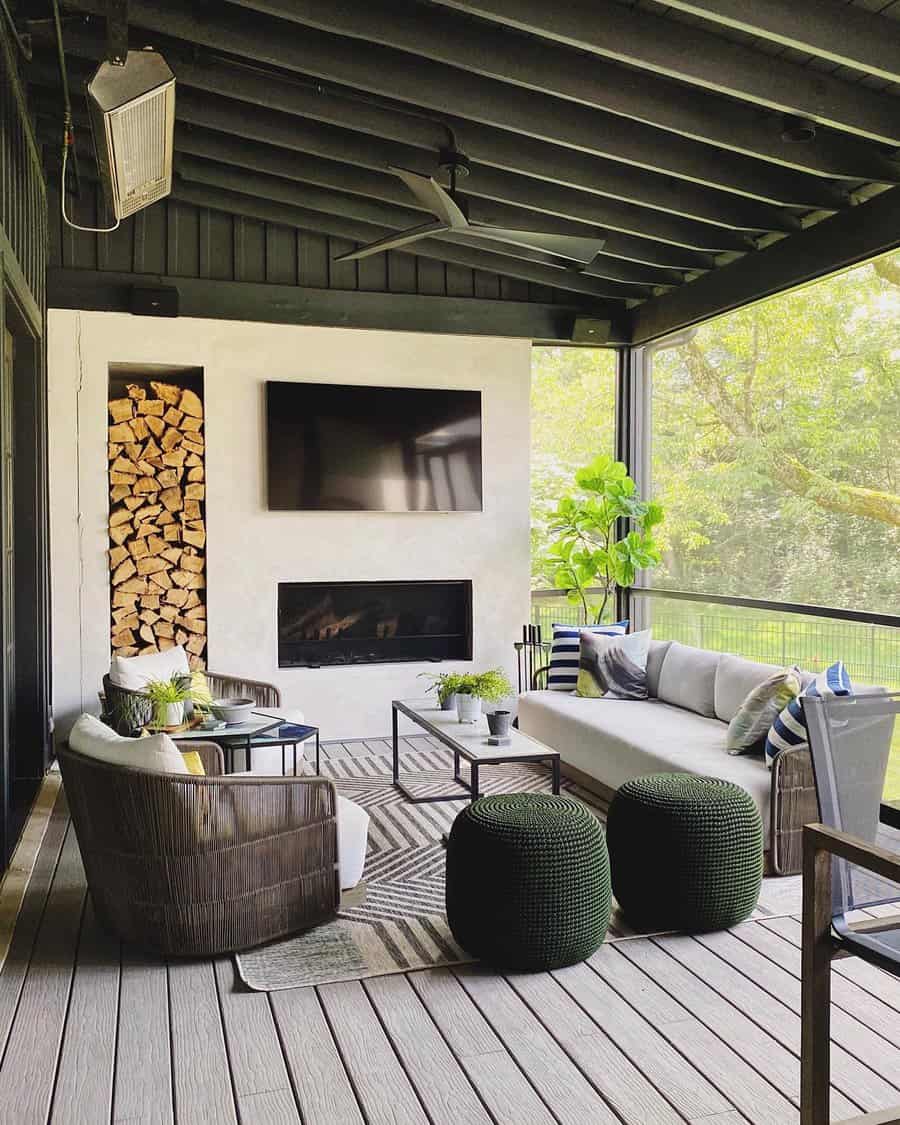 5. Private Escape with Fence
Introduce a sense of seclusion to your back porch with a privacy screen crafted from wood pallets or bamboo reed. Besides enhancing privacy, these natural materials add rustic charm or an exotic touch, elevating the ambiance. Such screens not only shield you from unwanted views but also permit gentle breezes. To enrich the secluded vibe, add soft lighting or potted plants. This setup creates a tranquil haven, ideal for unwinding or intimate family gatherings.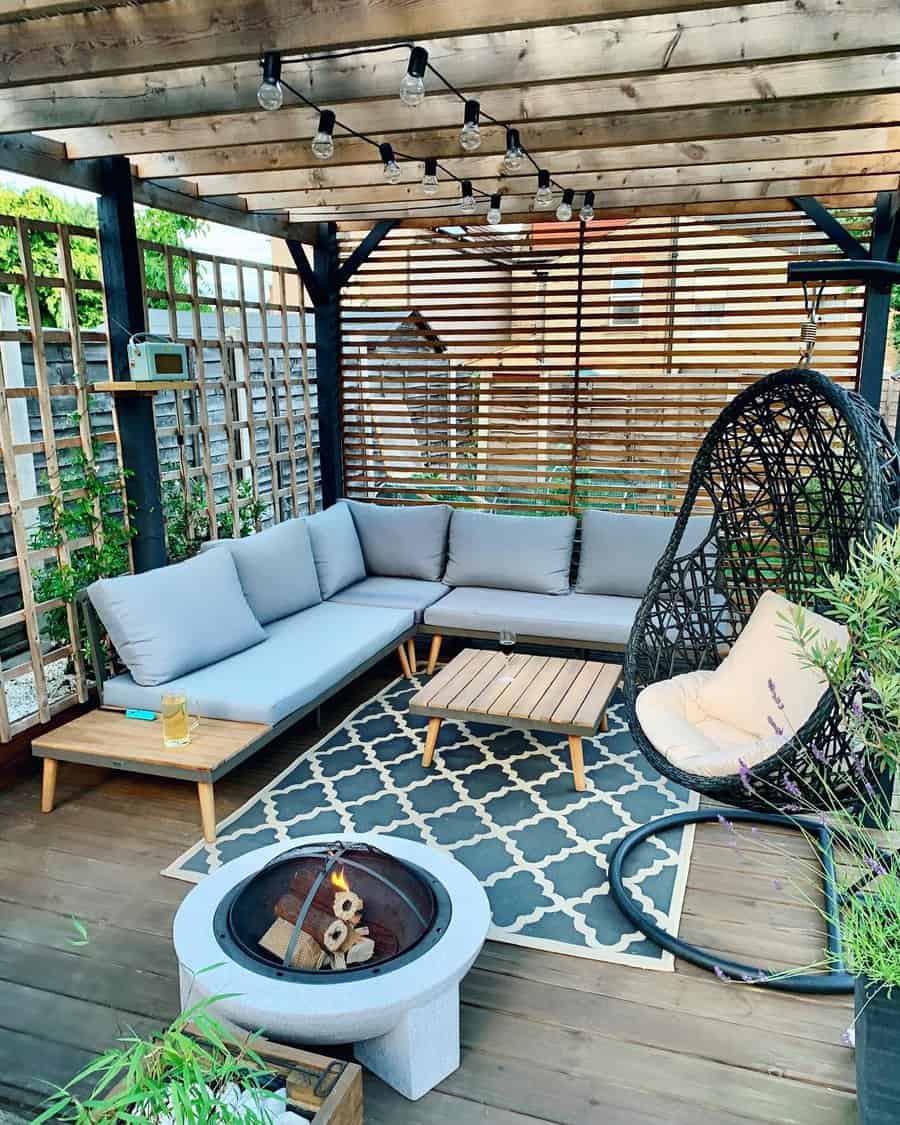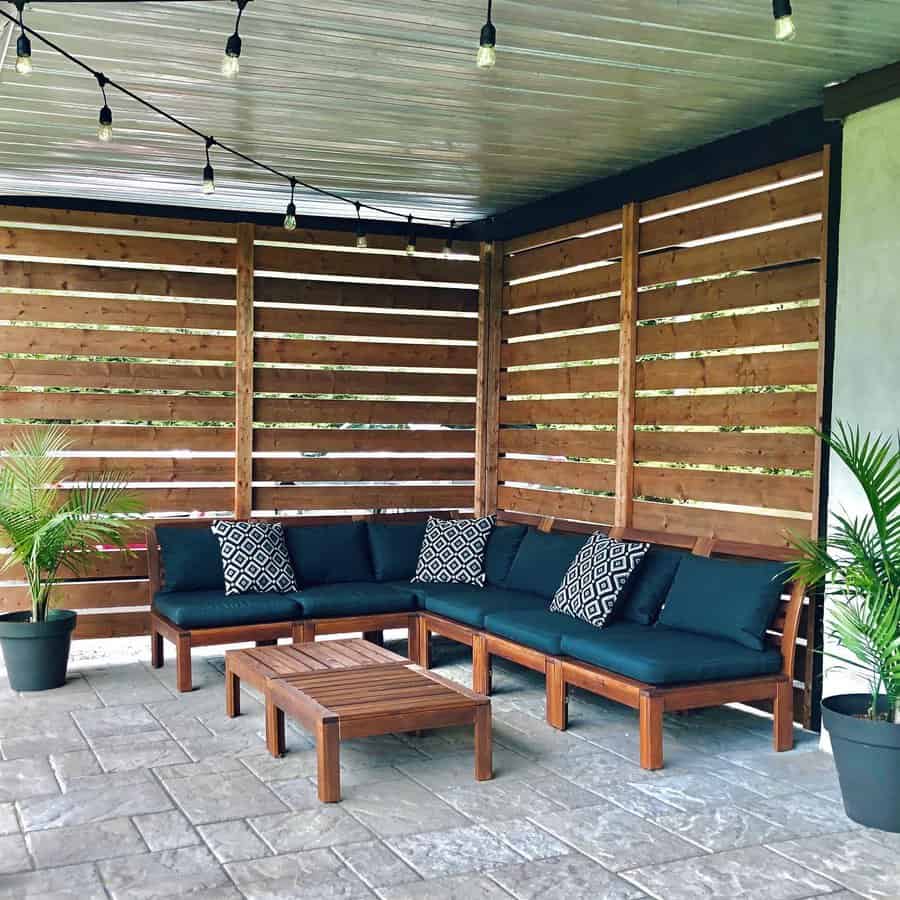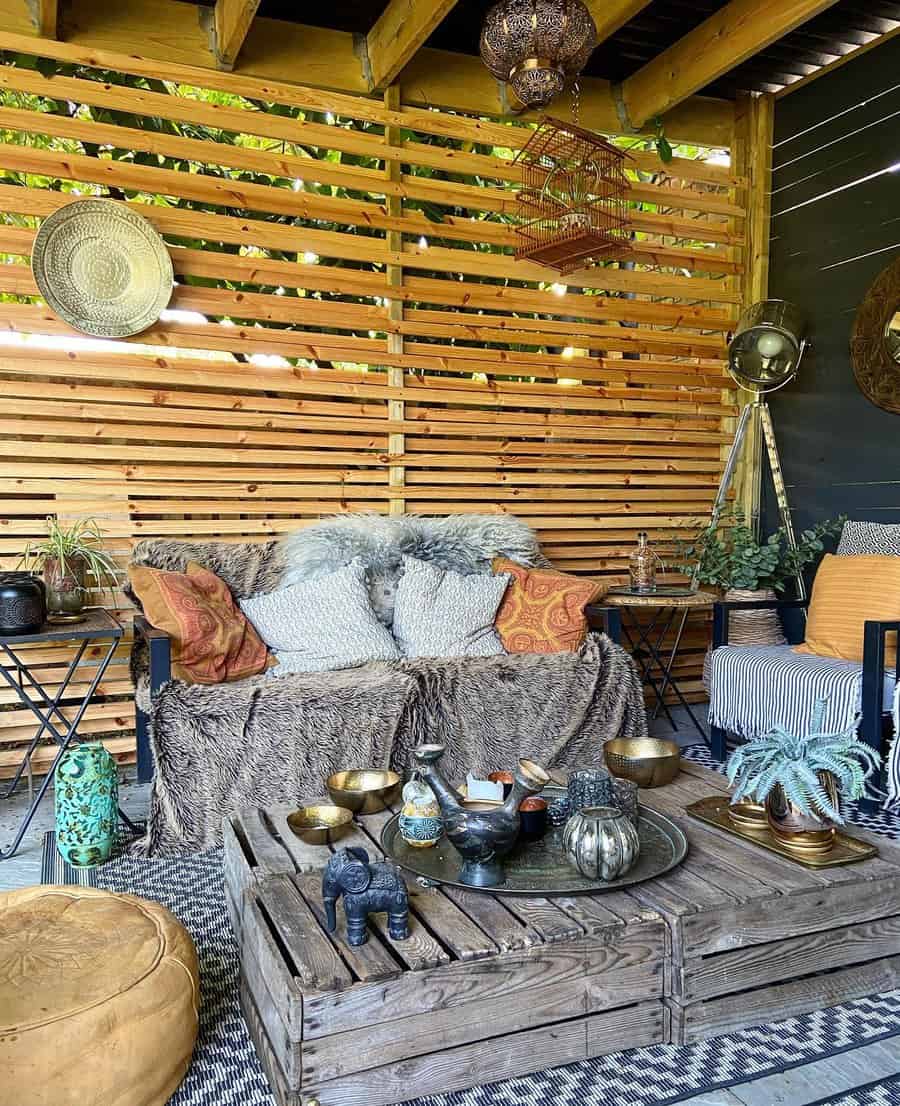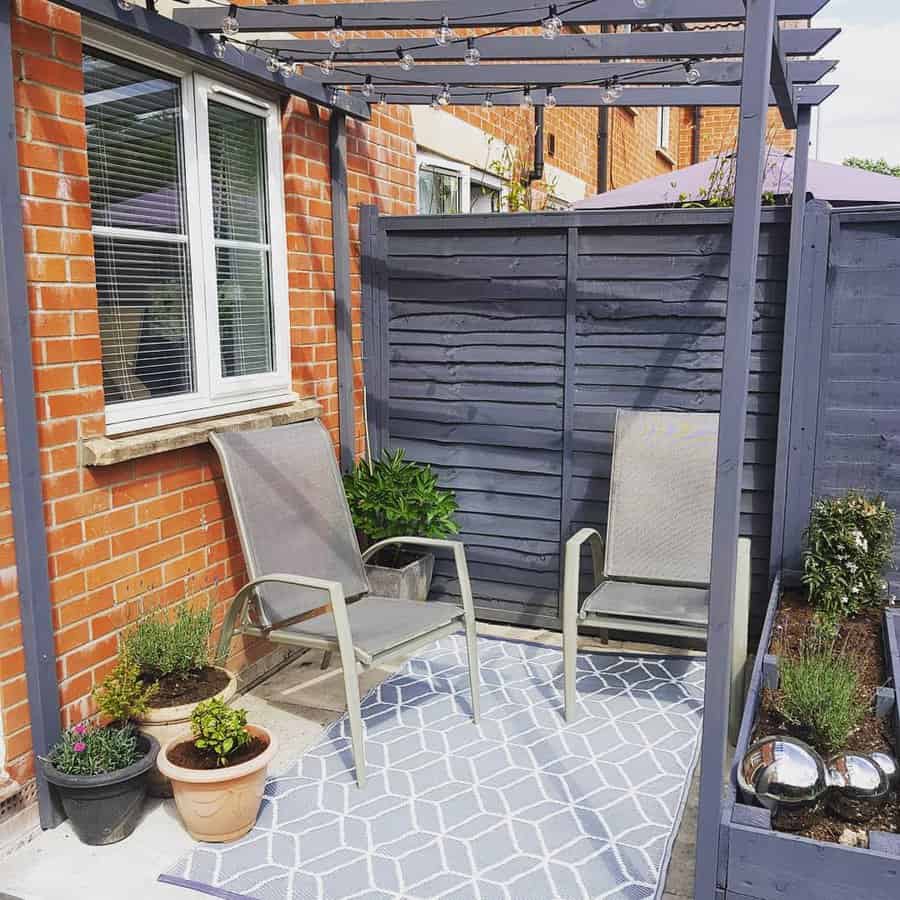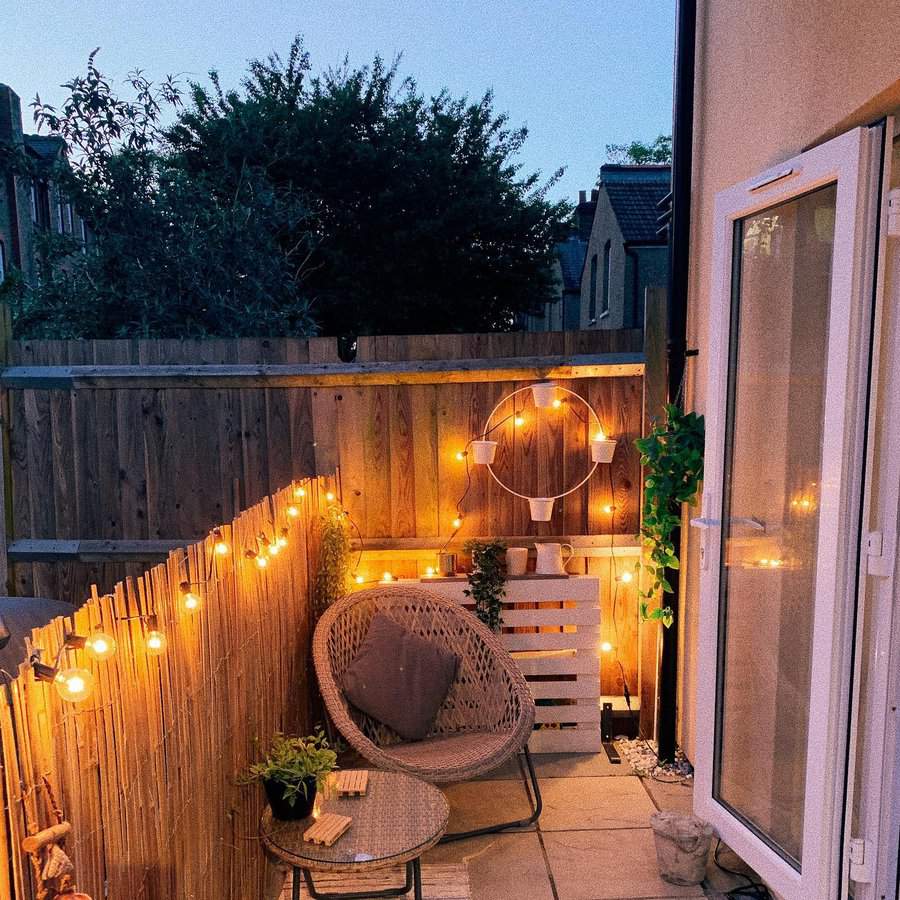 6. Expansive Wrap-Around Porch Bliss
Embrace the allure of a wrap-around porch that graces your home's exterior, offering multifunctional spaces filled with warmth. Strategically place seating areas for solo relaxation or group gatherings, enhancing the setting with soft lighting and potted plants. Personalize the space with decorative accents that mirror your tastes. Beyond aesthetics, this expansive porch design fosters connectivity with nature and forms a cherished space for making memories, acting as a beautiful frame for your home's exterior.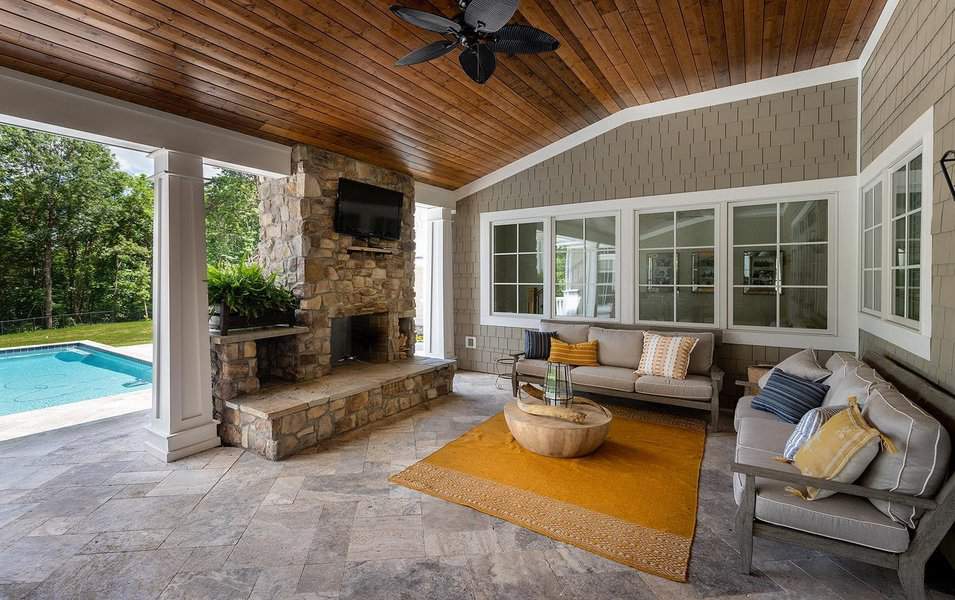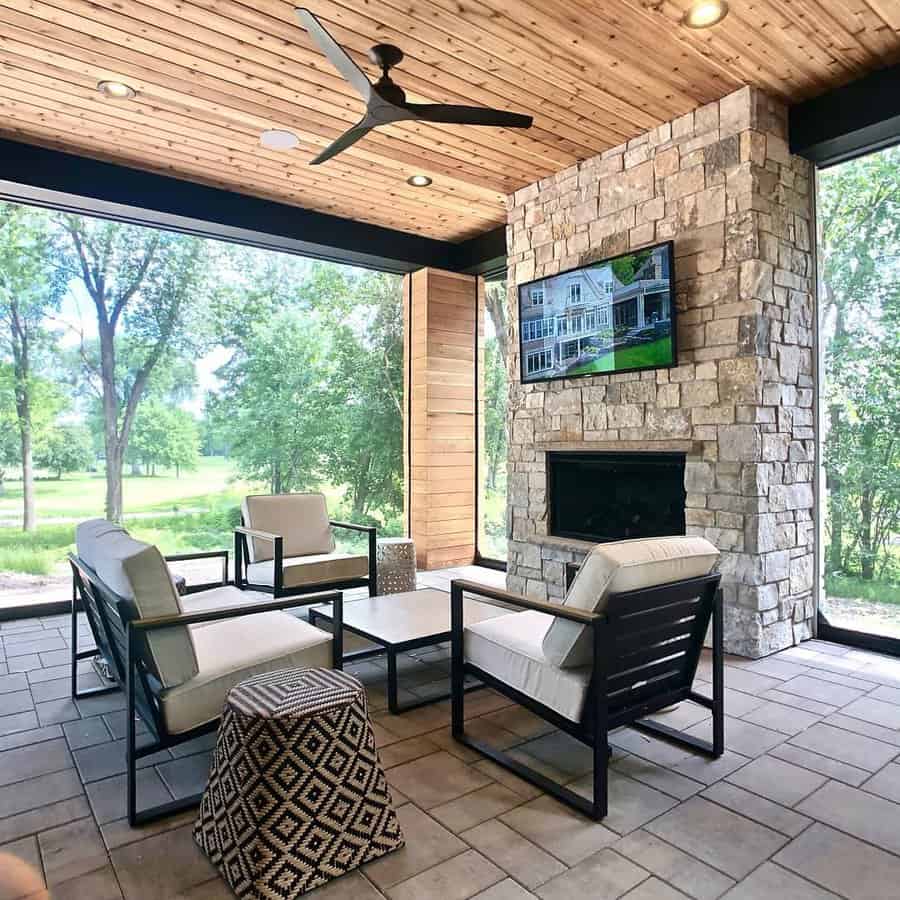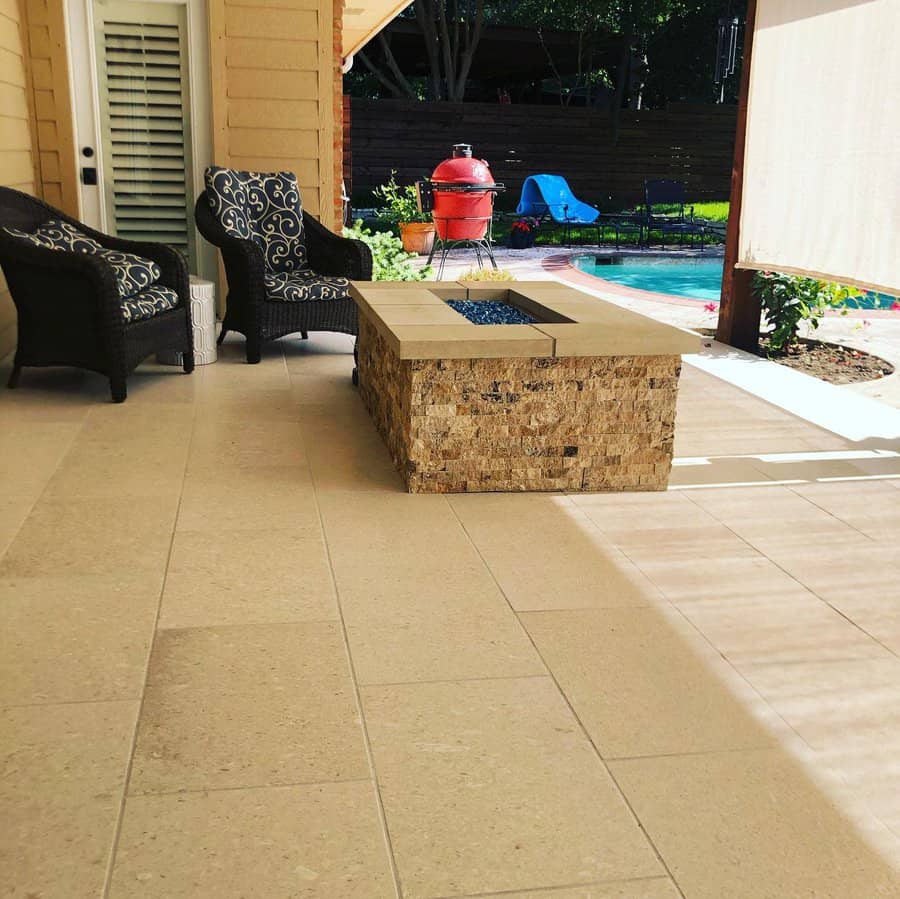 7. Twinkling String Lights Ambiance
Elevate your back porch's ambiance with the enchanting glow of string lights, creating a space that's both charming and welcoming. Drape these versatile lights across your porch, be it a petite balcony or a grand patio, introducing a magical touch at an affordable cost. Utilize various hanging styles—around the eaves, along the railing, or overhead—to craft the perfect cozy atmosphere for relaxed evenings or social gatherings. The warm illumination not only enhances visual appeal but also allows you to enjoy your outdoor space well into the night.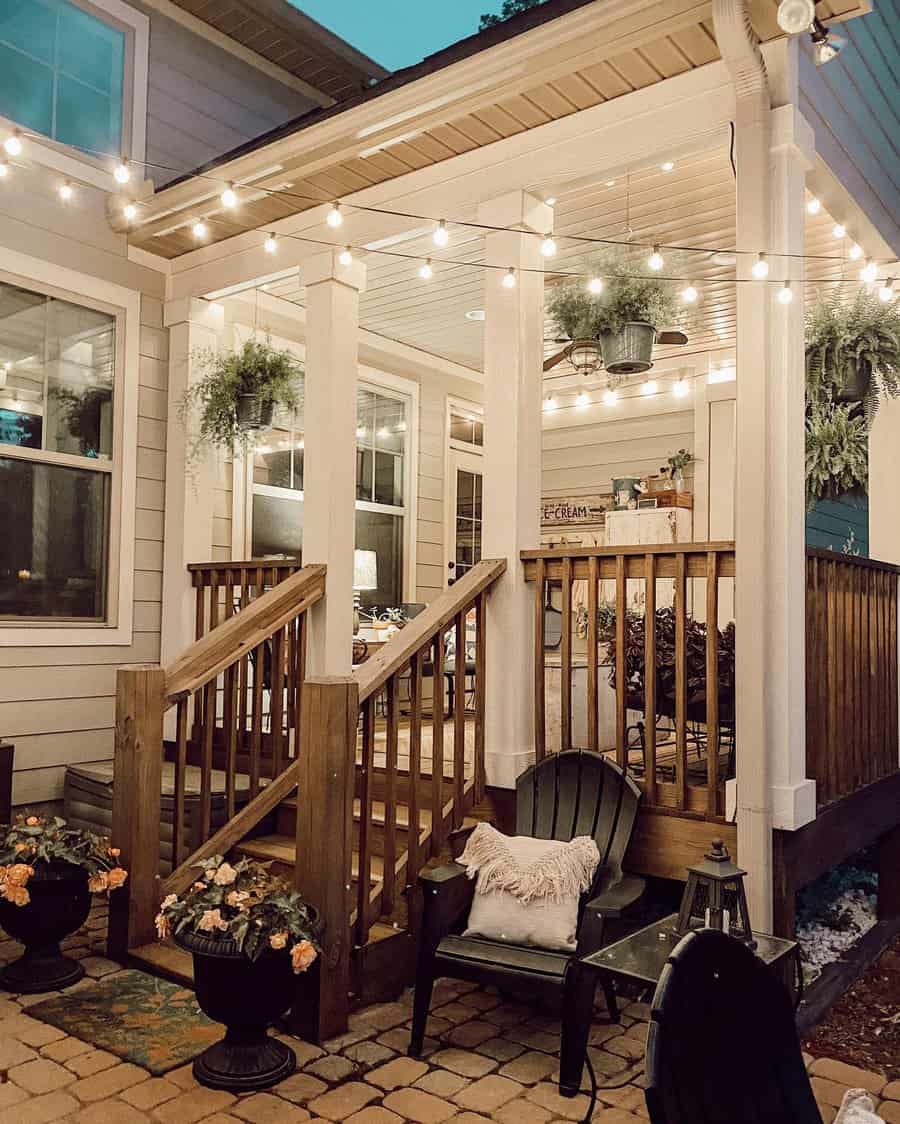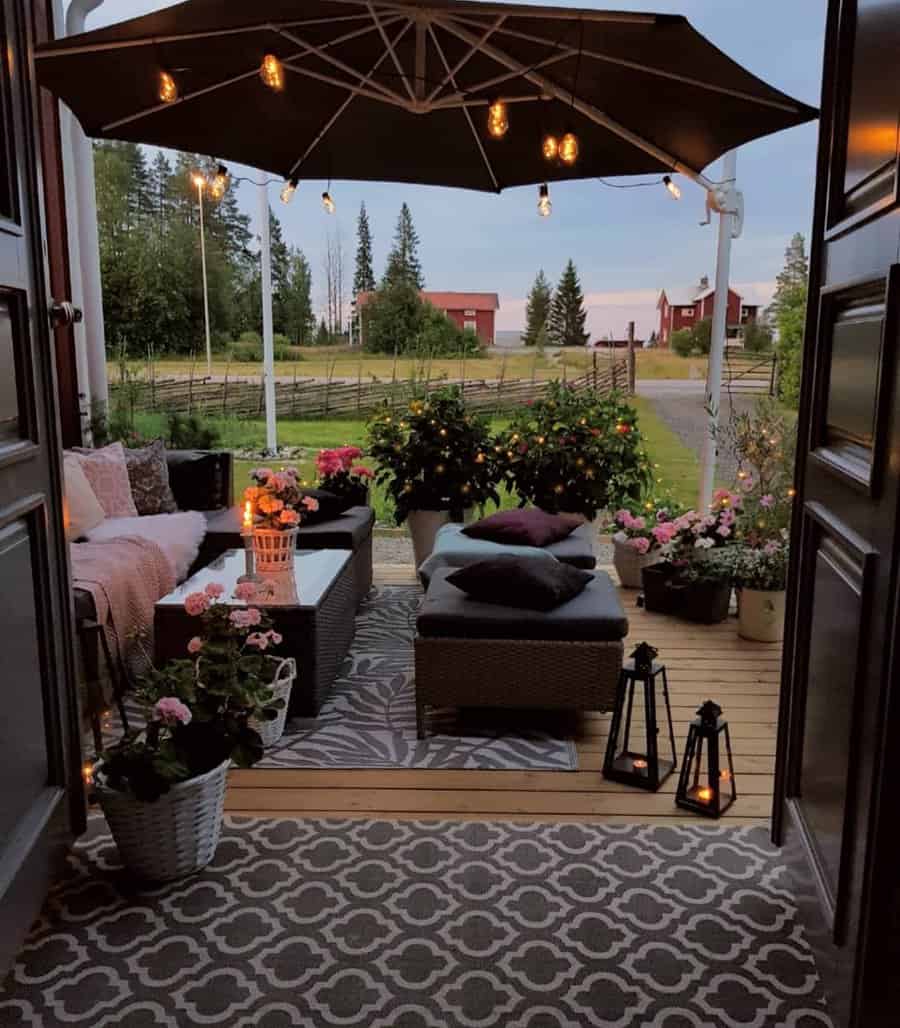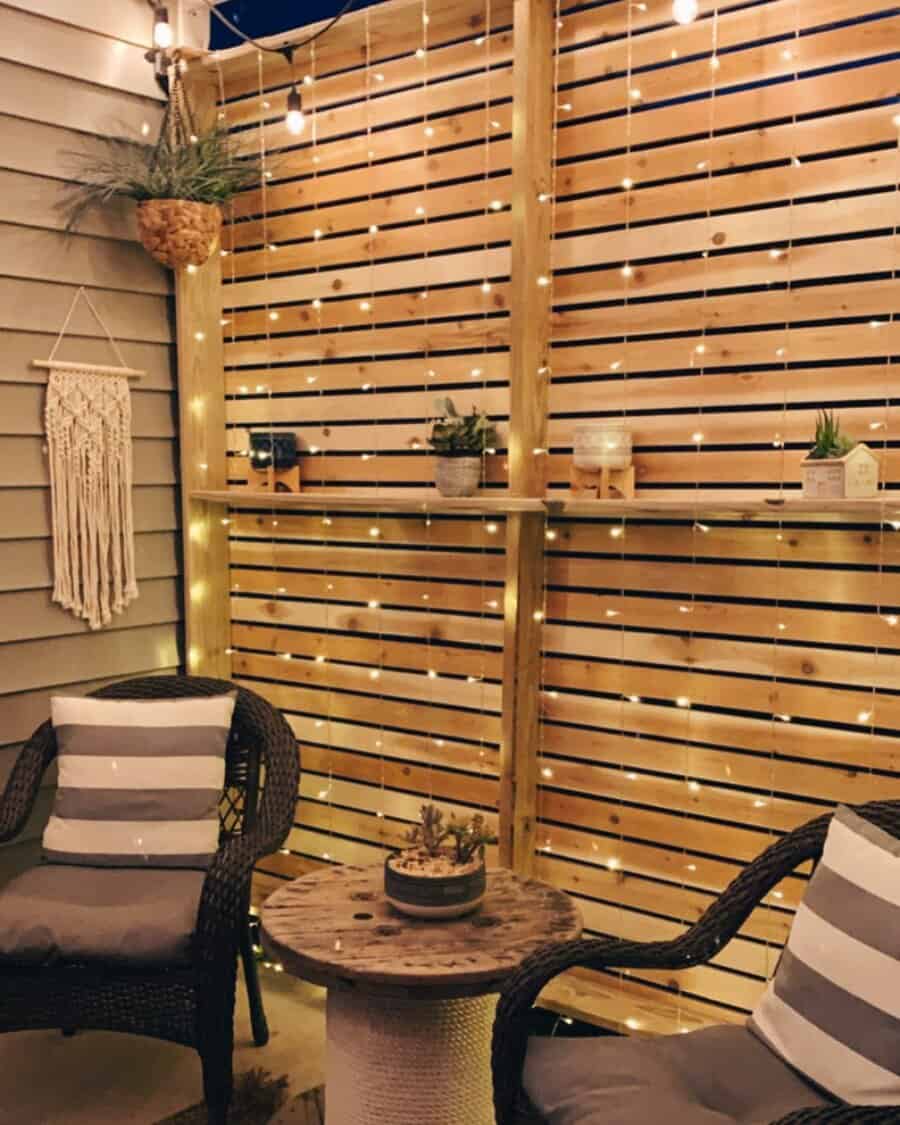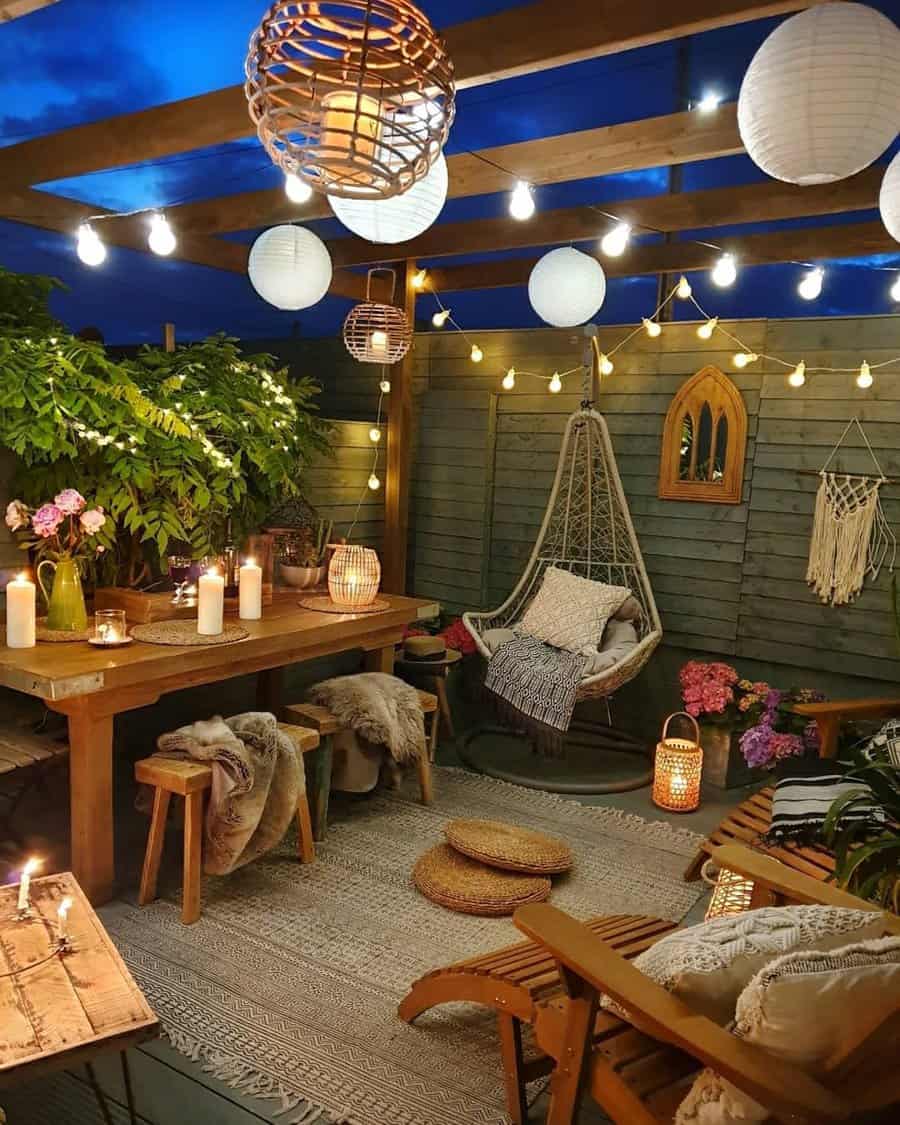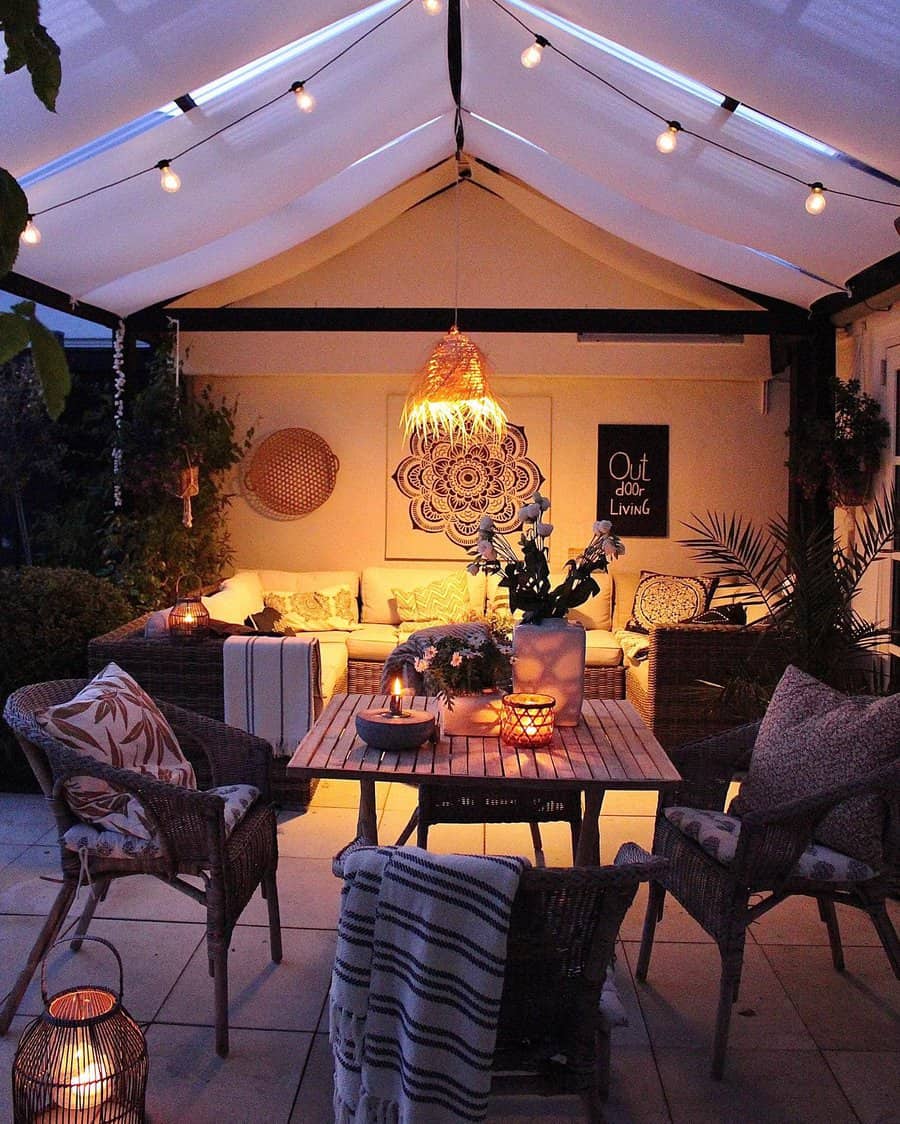 8. Unique Standalone Porch Design
Opt for a standalone back porch to craft a distinct outdoor haven. This design presents both style and practicality, serving as a sanctuary for relaxation or a lively space for entertaining. Enhance its utility by adding a gazebo, ensuring protection from unpredictable weather without compromising the outdoor feel. Complement this sheltered area with plush seating and vibrant cushions, making it both inviting and comfortably stylish.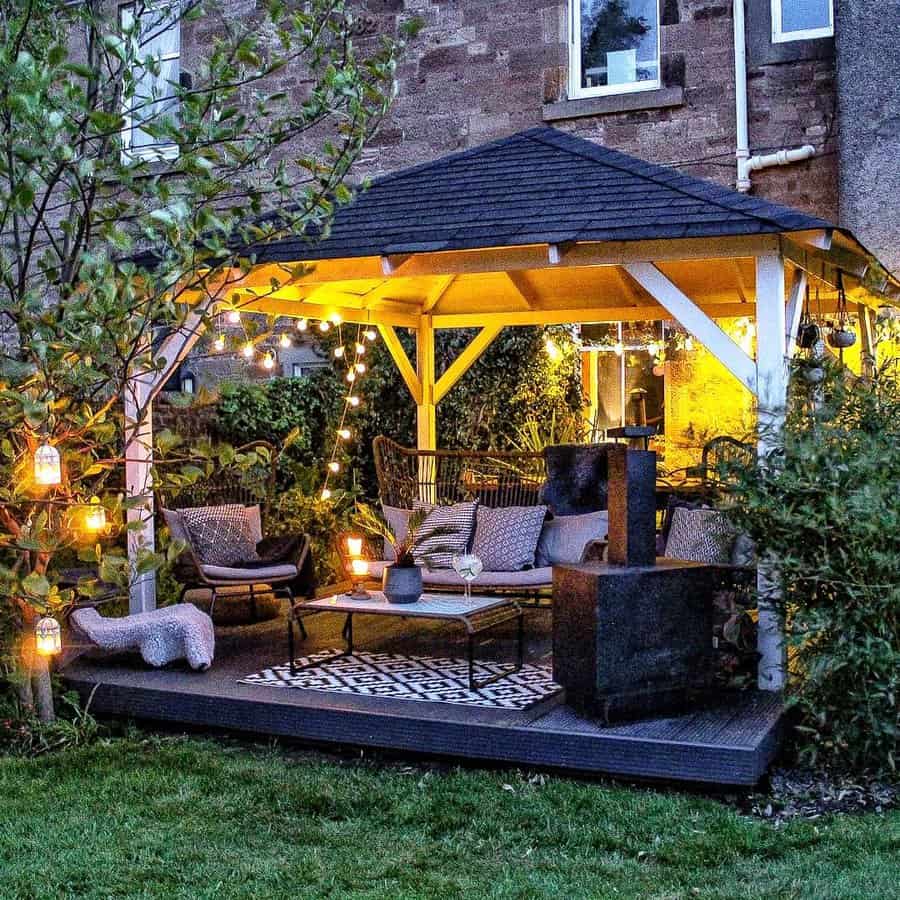 9. Natural Vibes with Pebbled Deck
A pebbled back porch effortlessly infuses nature's charm and tactile pleasure into your outdoor setting. Beyond its visual allure, the pebble flooring offers a therapeutic underfoot sensation. For those seeking both aesthetic appeal and practicality, this design is a win-win: the durable, weather-resistant pebbles demand little maintenance, ensuring lasting beauty with minimal effort.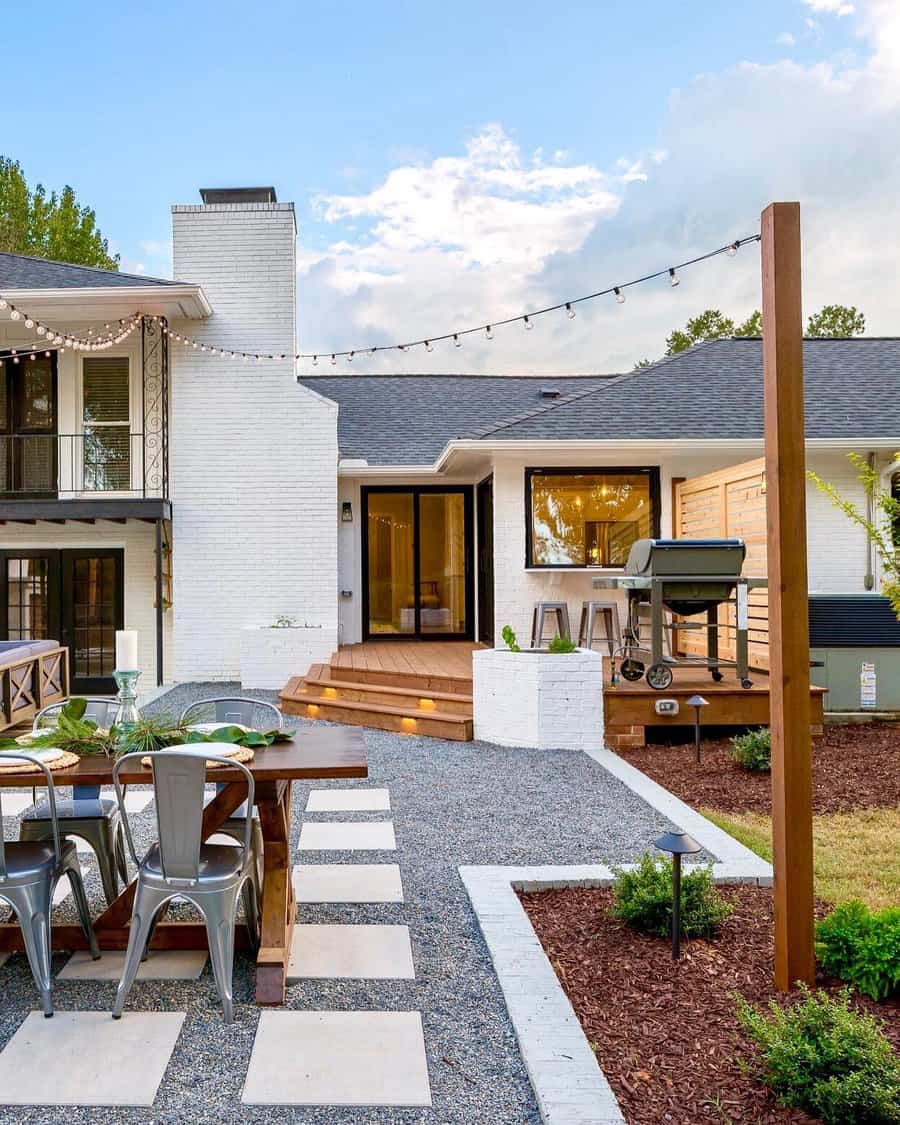 10. Bungalow Style Porch Elegance
Indulge in the timeless charm of a bungalow-style back porch, creating a quaint oasis for relaxation and gatherings. This design brings traditional elegance to your abode, ensuring a tranquil space shielded from the elements. To maximize comfort and aesthetic appeal, install architectural details like columns, and select outdoor furniture that complements the classic vibe, such as wicker chairs or a wooden bench. Illuminate your evenings with soft lighting, transforming your porch into a cozy, welcoming retreat for all seasons.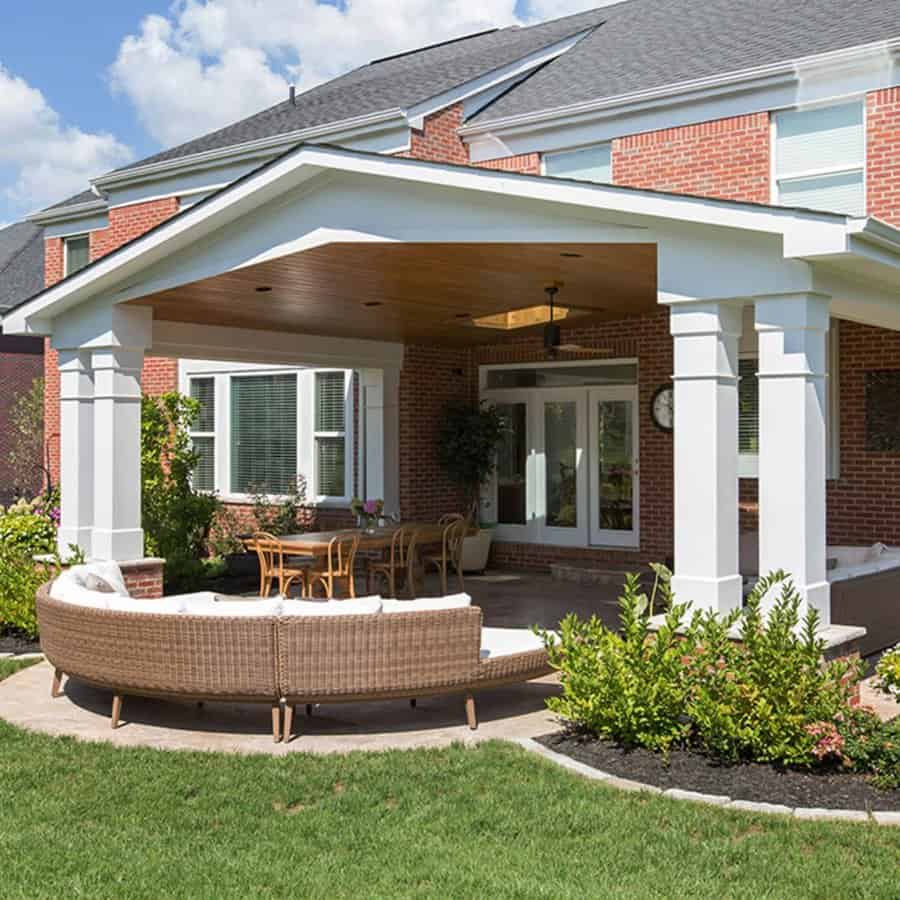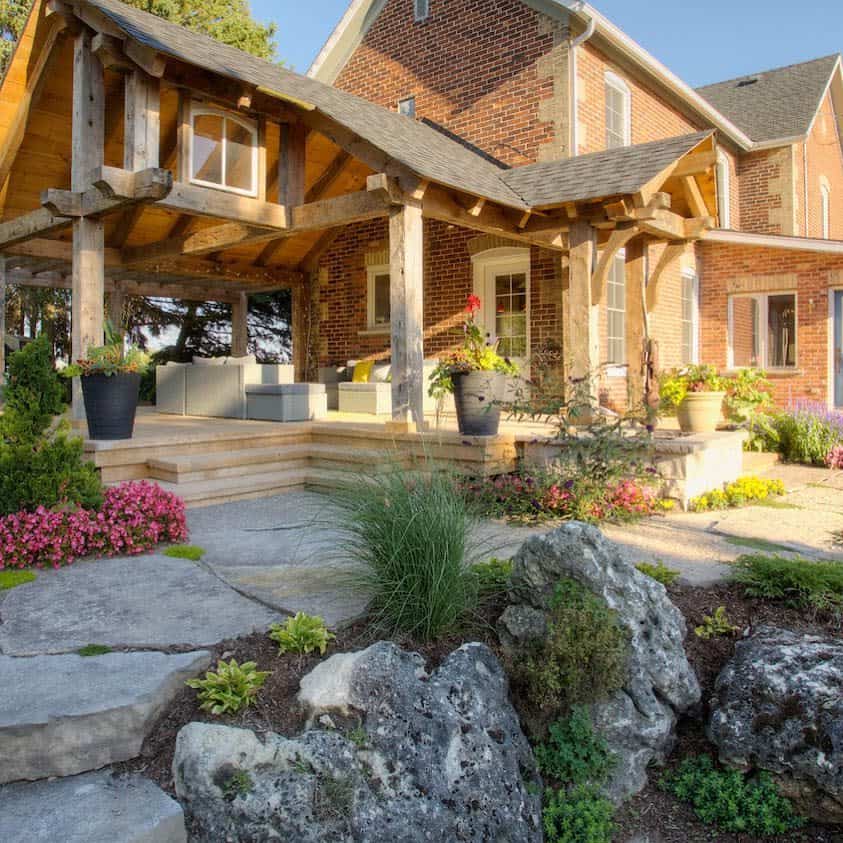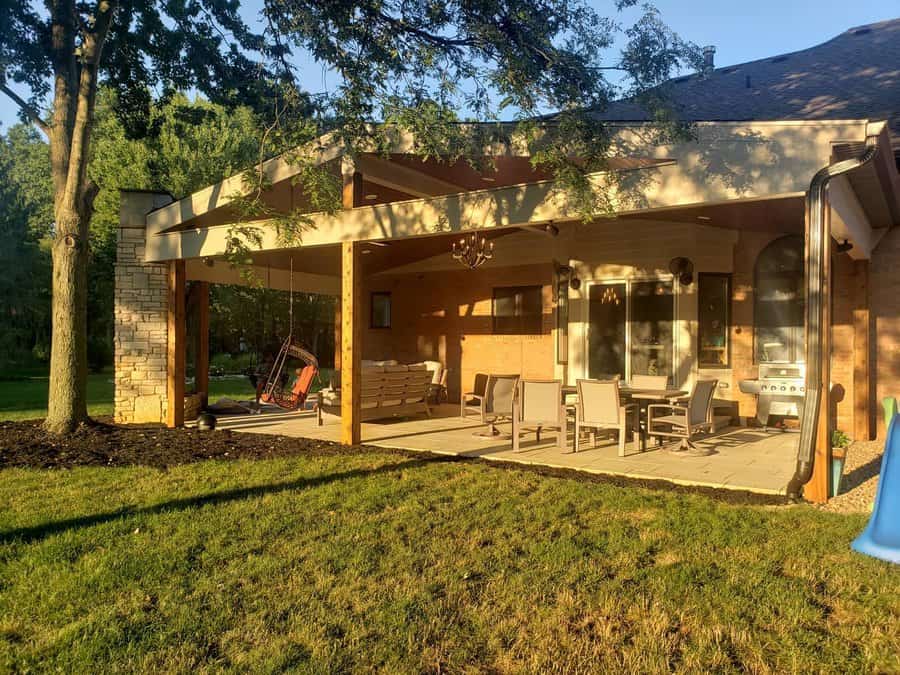 11. Warmth and Style: Area Rug
Revitalize your back porch with the addition of a tasteful area rug, infusing warmth and a sense of style into your outdoor retreat. The right rug can make a striking difference, serving as a visual focal point while enhancing overall comfort. Select a design that aligns with your décor preferences and complements the existing outdoor elements. The area rug delineates a cozy seating arrangement, unifying various components for a harmonious and welcoming setting. With this grounding element, you can effortlessly arrange furniture and accessories, crafting an elegant and functional outdoor living space.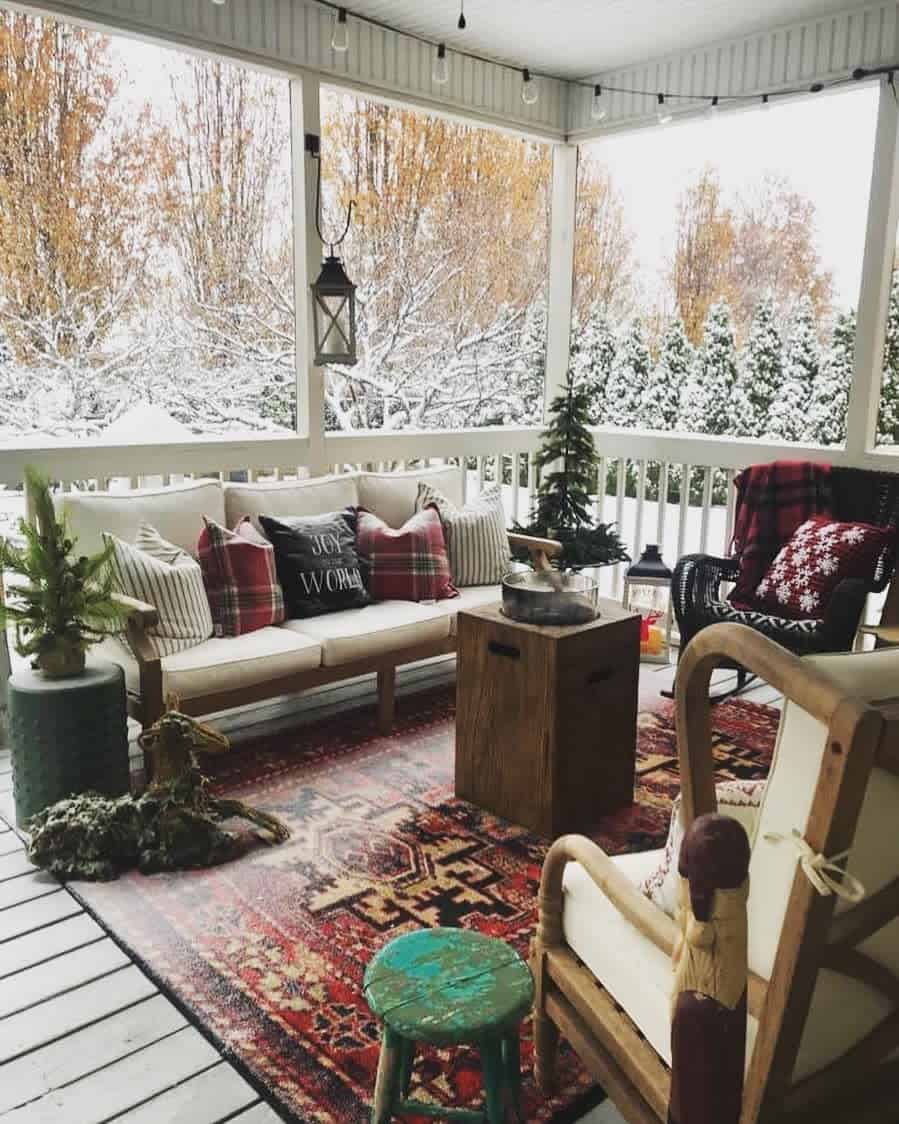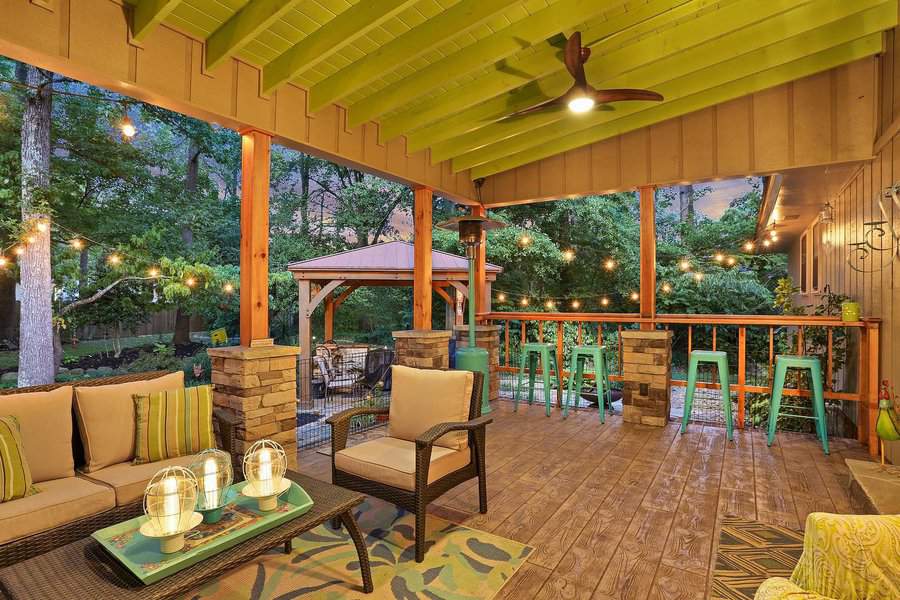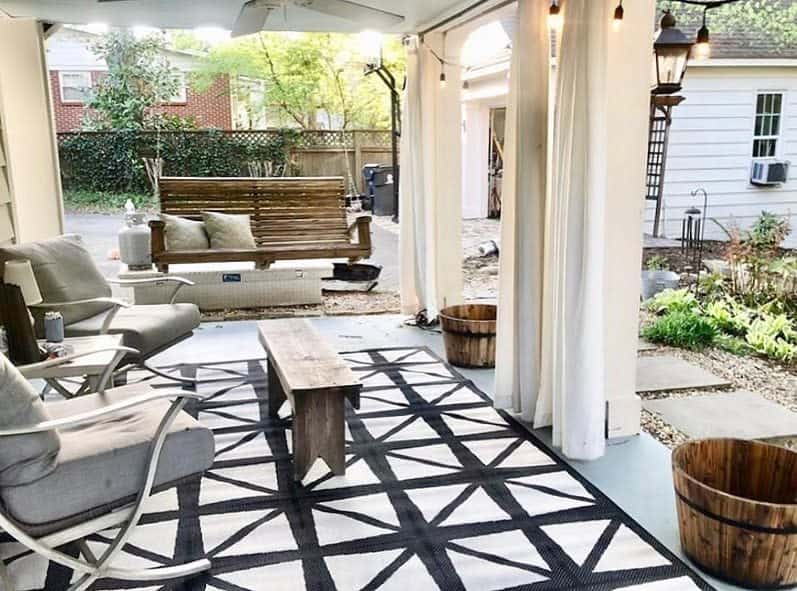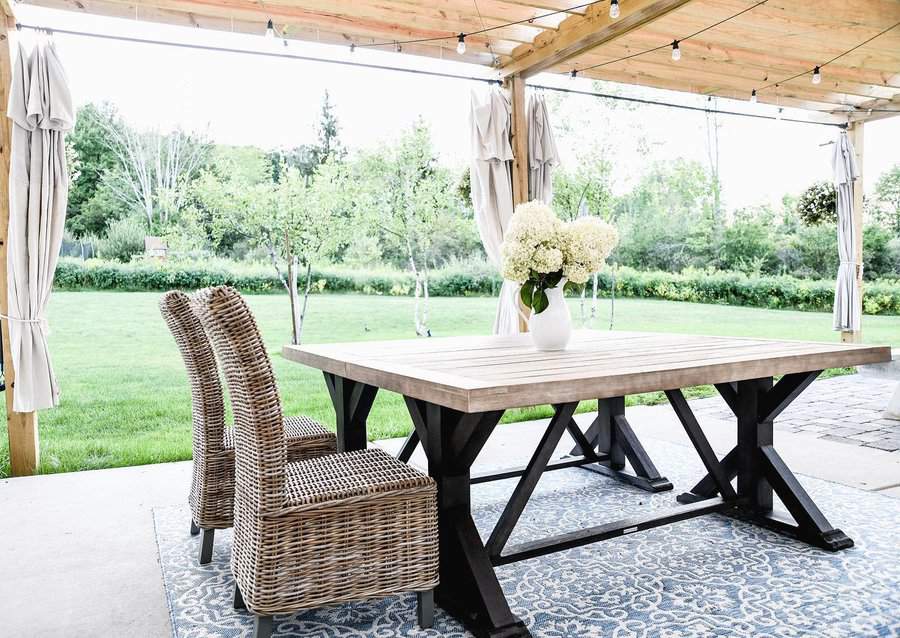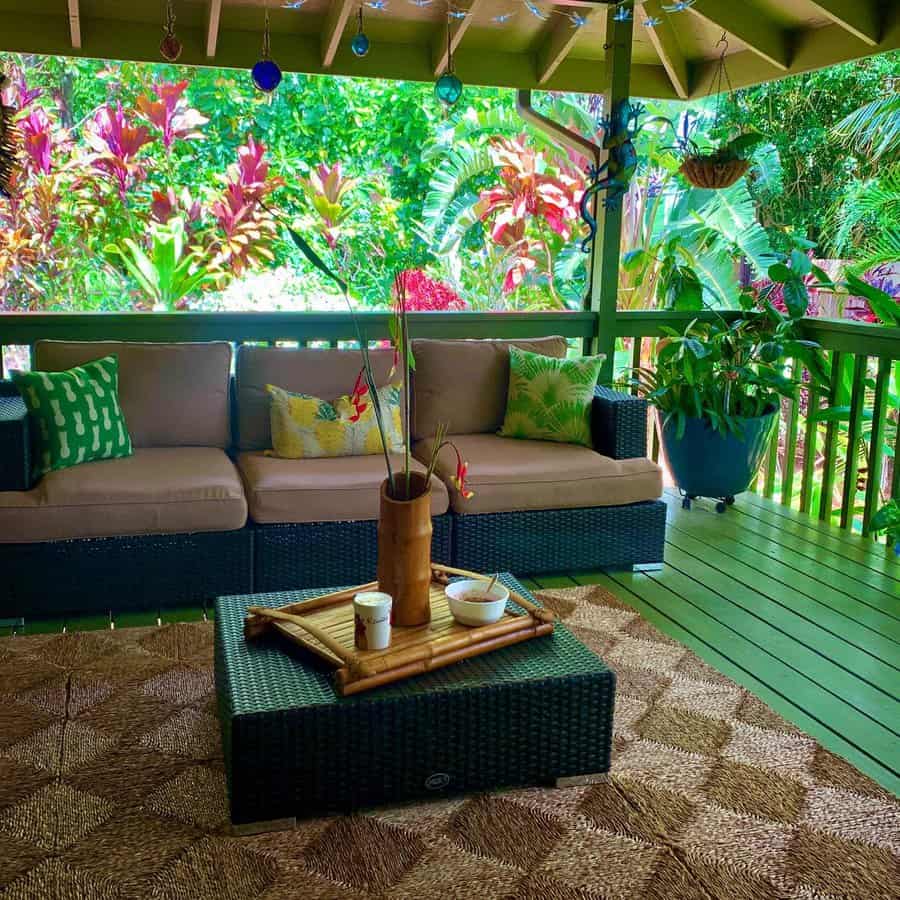 12. Durable Concrete Paver Porch Flooring
Opt for concrete pavers to achieve a sturdy, weather-resistant foundation for your back porch, marrying functionality with modern elegance. These pavers guarantee stability for various outdoor activities, ensuring your space stands up to different weather conditions while maintaining its stylish appeal. Easily set up a child-friendly play area, an intimate outdoor dining spot, or arrange comfortable furniture to create a welcoming retreat. By adding lively cushions, and unique décor, your back porch transforms into a personalized haven for relaxation and family gatherings, all grounded on dependable concrete paver flooring.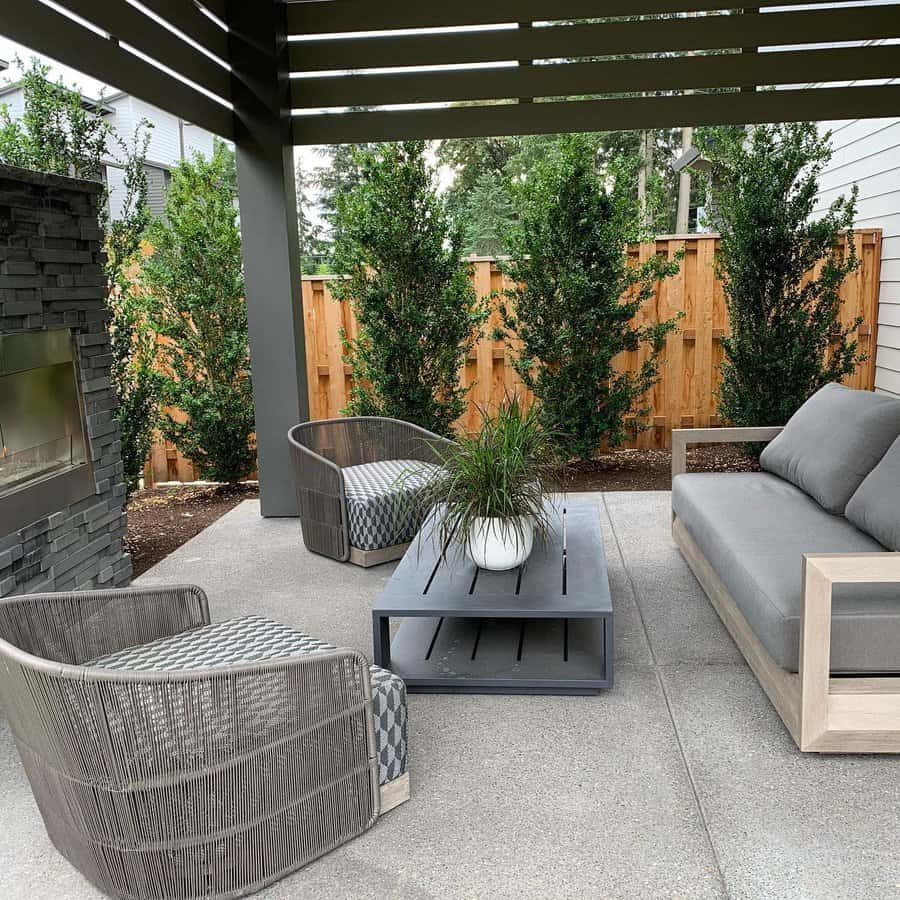 13. Rustic Charm with Trunk Posts
Embrace nature's authenticity by using tree trunk posts for your back porch. This innovative design introduces rustic allure and celebrates the organic beauty of the outdoors. Beyond their robust structural role, these trunks serve as enchanting design elements, grounding your porch with the essence of nature. Their distinct texture and character turn your porch into a harmonious extension of the environment, offering an earthy and welcoming space for relaxation.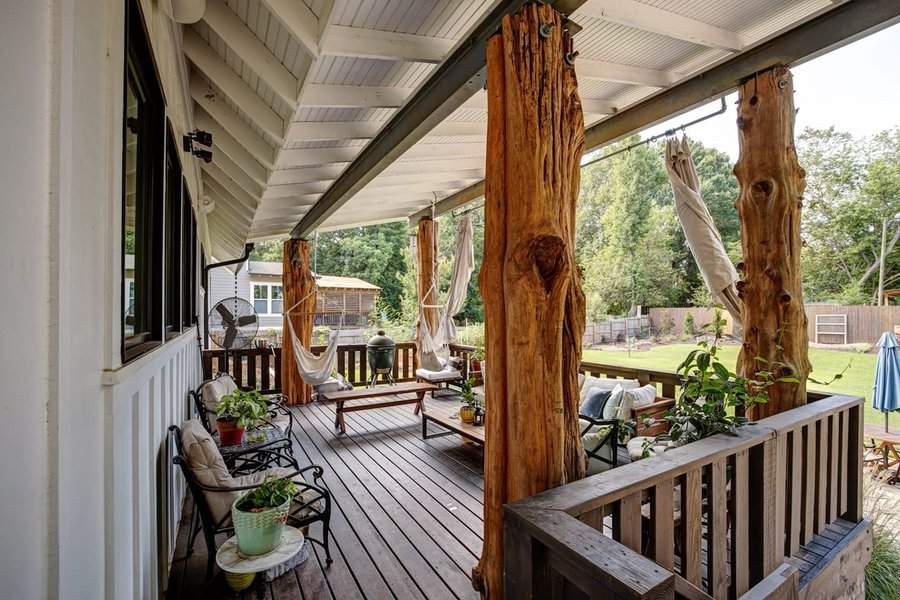 14. Swing into Relaxation Porch Style
Envision the tranquil sway of a porch swing, transforming your outdoor area into a nostalgic and serene retreat. Opt for a unique twist with a stylish hanging couch, gracefully suspended, offering an inviting space for leisure and socializing. This distinctive seating option, adorned with plush cushions and lively pillows, creates a cozy nook, encouraging relaxation and outdoor enjoyment. The hanging couch, with its playful charm and whimsy, becomes an enticing focal point, setting the tone for a welcoming and comfortable back porch atmosphere.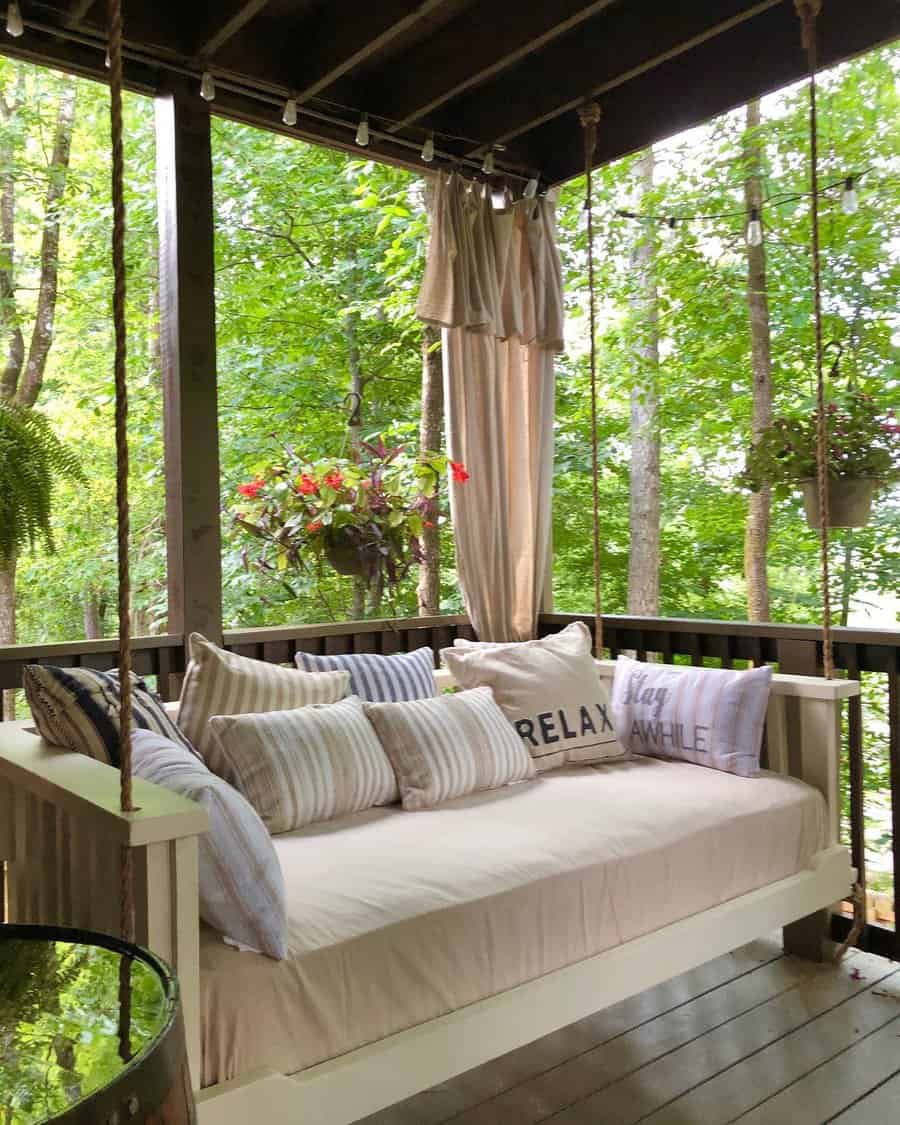 15. Blooming Beauty with Porch Trellis
Introduce a trellis to your back porch to foster a thriving display of climbing plants, transforming your space into a verdant haven. This structural element not only supports the lush growth of fragrant flowers and vines but also enhances privacy and adds an artistic touch to your outdoor retreat. Envision tranquil moments, surrounded by blooms and the gentle whispers of nature, as you unwind or share quality time with loved ones. The trellis, serving both aesthetic and functional purposes, contributes to a layered, textured backdrop that brings life and beauty to your porch, creating a picturesque setting for relaxation and enjoyment.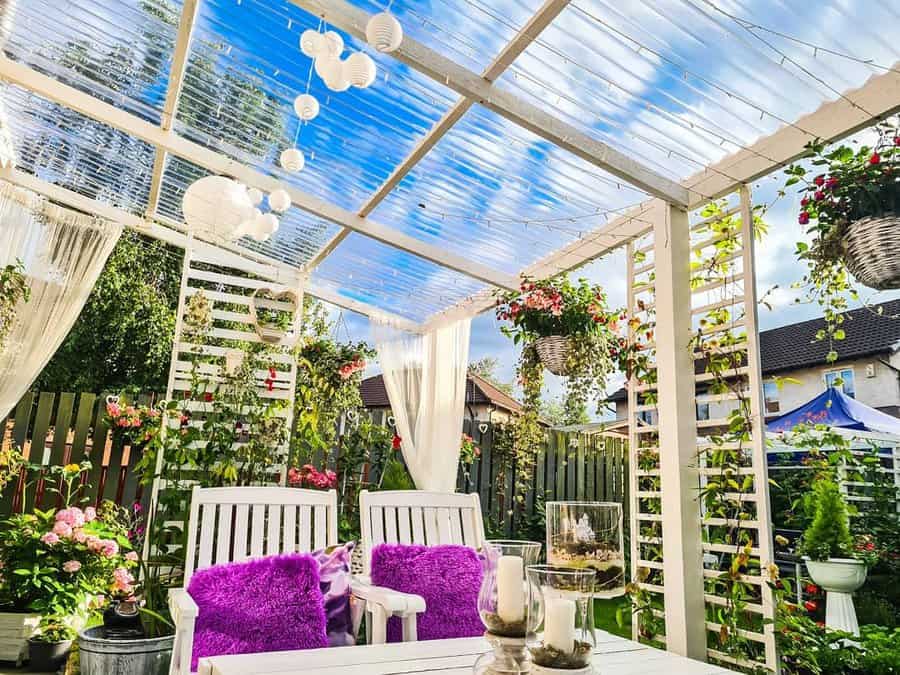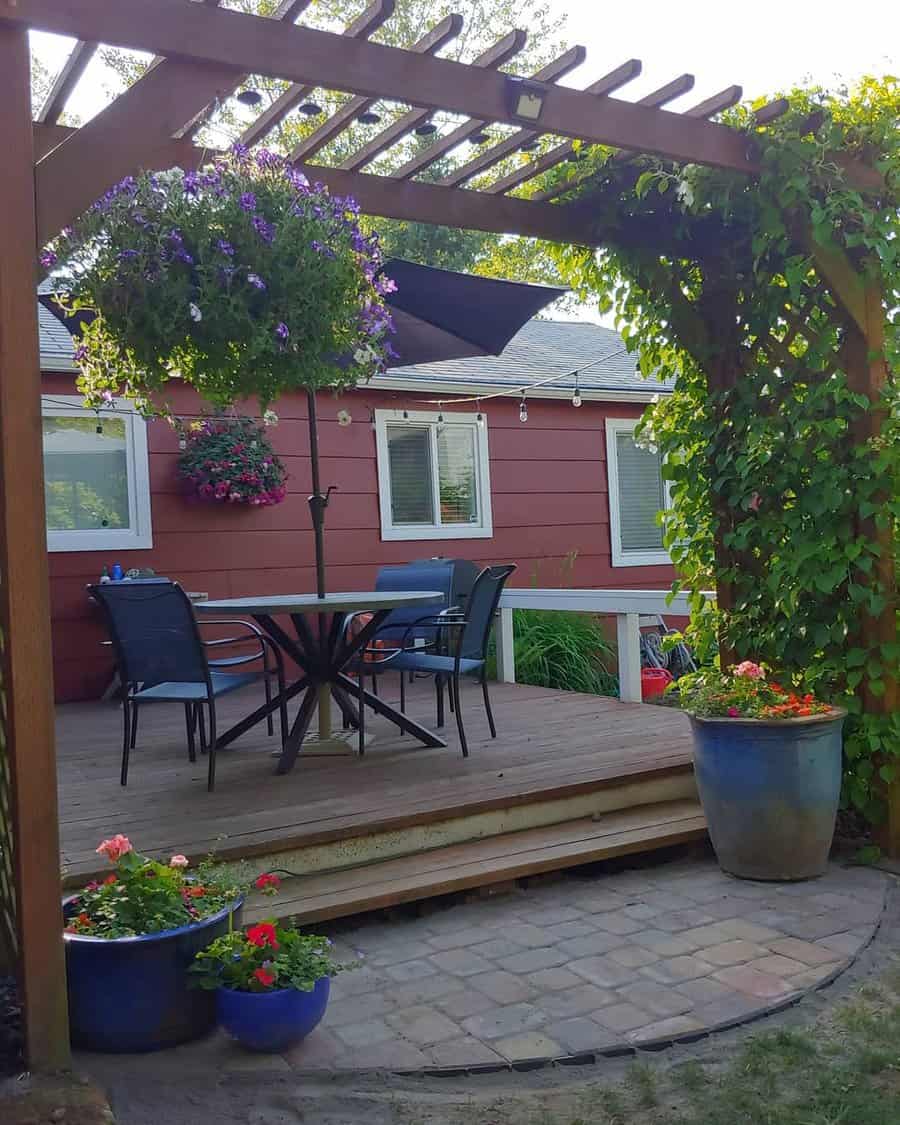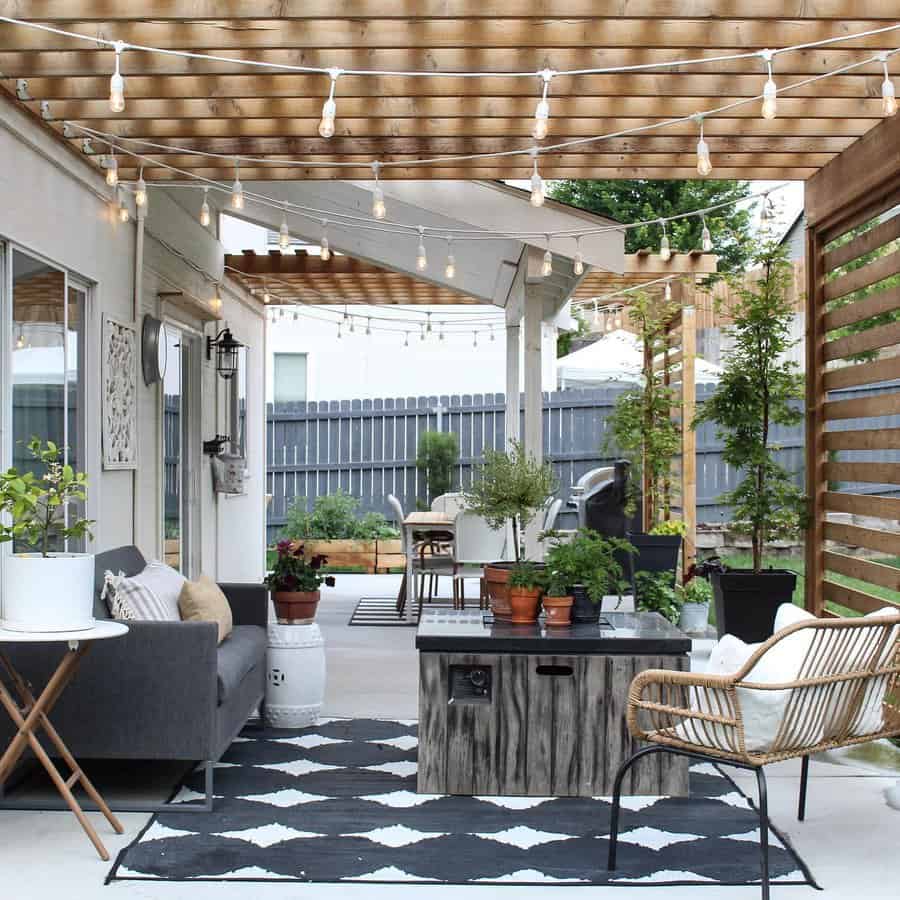 16. Ultimate Outdoor Lounge Experience
Transform your back porch into the ultimate outdoor lounge with plush, durable seating and thoughtful accessories. Opt for a sectional sofa that provides versatile arrangement options or mix and match chairs and loveseats to cater to various preferences. Ensure all cushions and fabrics are weather-resistant, guaranteeing comfort that stands the test of time. Elevate the space with vibrant throw pillows and cozy blankets, adding layers of warmth and style. Introduce a coffee table or side tables for practicality, creating a space to rest drinks or display decorative items. Enhance the setting with lush potted plants, ambient outdoor lighting, and perhaps a ceiling fan to maintain a cool breeze on warm days, crafting a luxurious porch space perfect for relaxation and social gatherings.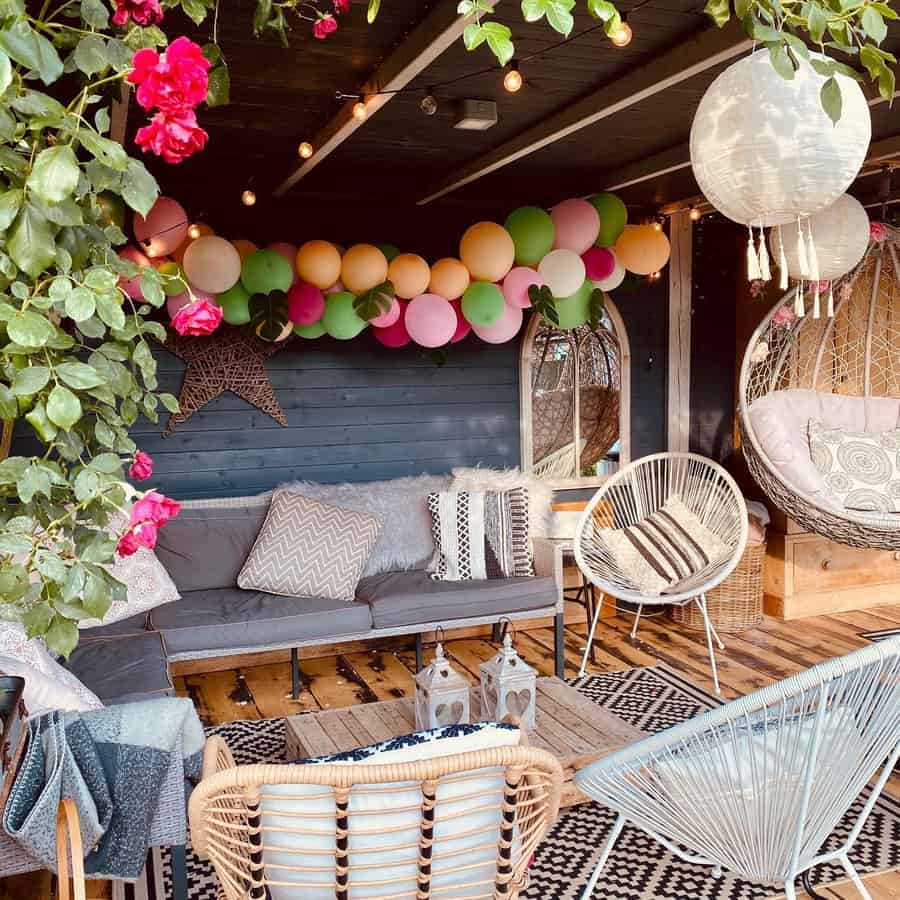 17. Fresh Green Artificial Grass Touch
Elevate your back porch with the vibrant and low-maintenance allure of artificial grass. This soft underfoot offers a consistently lush look year-round, eliminating the need for regular upkeep. Ideal for those seeking a green ambiance without the chores, it seamlessly complements outdoor furniture, adding depth to the setting. Pair it with cozy seating, vivid cushions, and decorative plants to create an inviting oasis. The artificial grass not only ensures cleanliness but also imparts a modern, polished vibe to your outdoor retreat.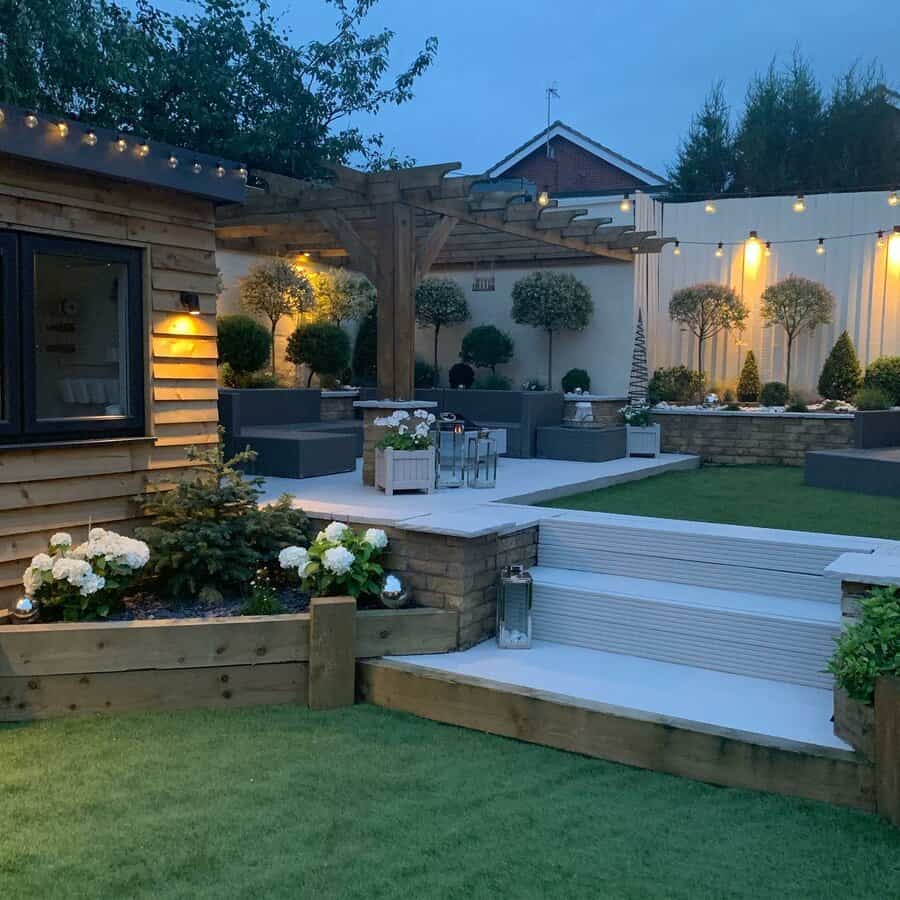 18. Modern Transparency with Glass Railing
Introduce a modern edge to your back porch with a sleek glass railing, ensuring safety without sacrificing the view. This design choice ensures a full panoramic experience of your surroundings, immersing you in nature's beauty while enjoying the comforts of your home. The transparency of the glass enhances the flow between indoor and outdoor spaces, adding a touch of elegance and openness to your porch. Illuminate the area with natural light, creating a bright and inviting space for relaxation or gatherings. Enhance the contemporary vibe with stylish seating, lush plants, and personalized accents, making your back porch a visually stunning retreat.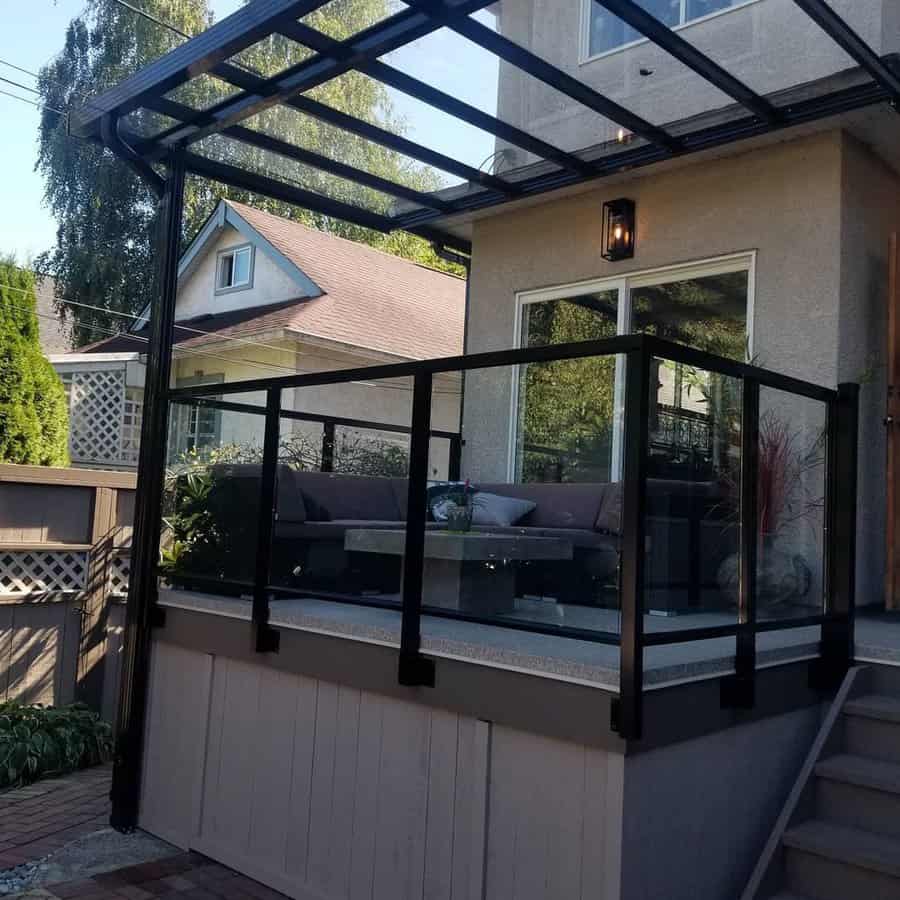 19. Spacious High-Ceiling Porch Luxury
Elevate your back porch experience with a luxurious high-ceiling design, offering an airy retreat perfect for unwinding or entertaining. Enhance the ambiance and airflow with a stylish ceiling fan, selecting a model that complements your home's aesthetic while providing a refreshing breeze. This functional accessory becomes a focal point, contributing to the porch's overall appeal. Enjoy the serenity and spaciousness, as the soothing hum of the fan blades creates a tranquil backdrop for quality moments with family or peaceful solo relaxation. Your high-ceiling back porch becomes a sanctuary of comfort and style, providing a cool escape on warm days.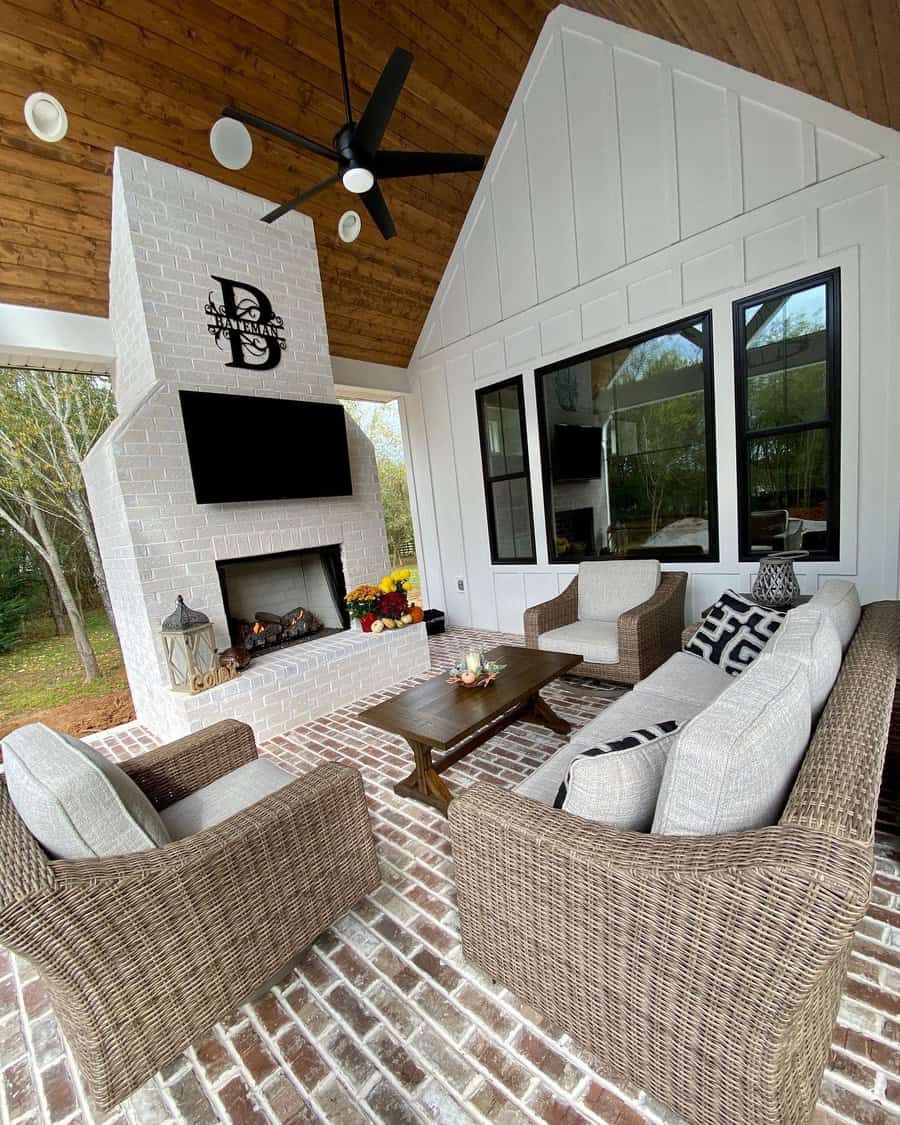 20. Lush Greenery and Plant Haven
Transform your back porch into a verdant retreat by thoughtfully integrating a variety of plants suited to the space's specific light conditions. For north-facing porches with more shade, opt for lush ferns or vibrant impatiens. On south-facing porches, bask in the sunlight with colorful geraniums or hardy succulents. East-facing spaces thrive with partial shade plants like elegant hydrangeas, while west-facing areas can highlight the beauty of heat-tolerant lavender or salvia. Complement these plants with coordinating outdoor decor to enhance the overall aesthetic and create a cohesive, nature-inspired space.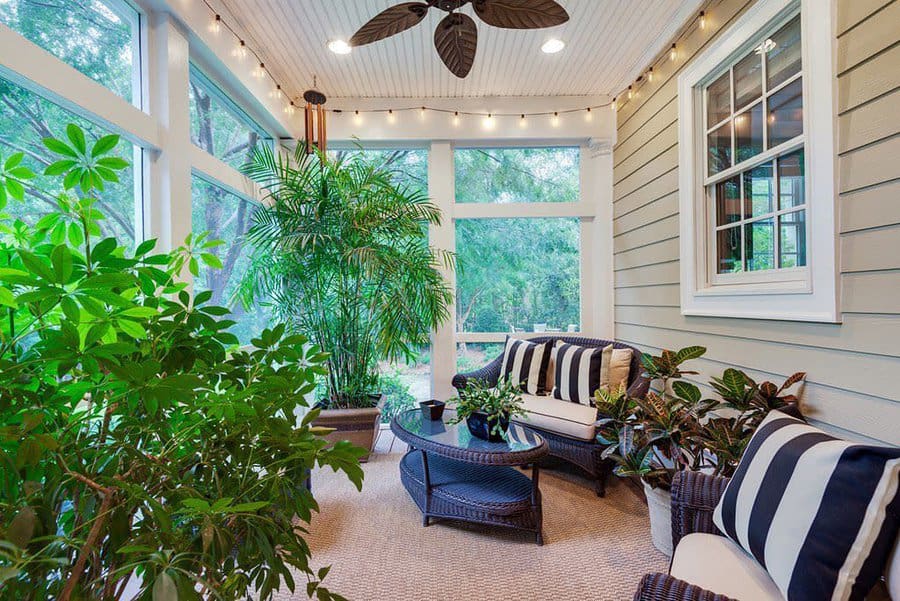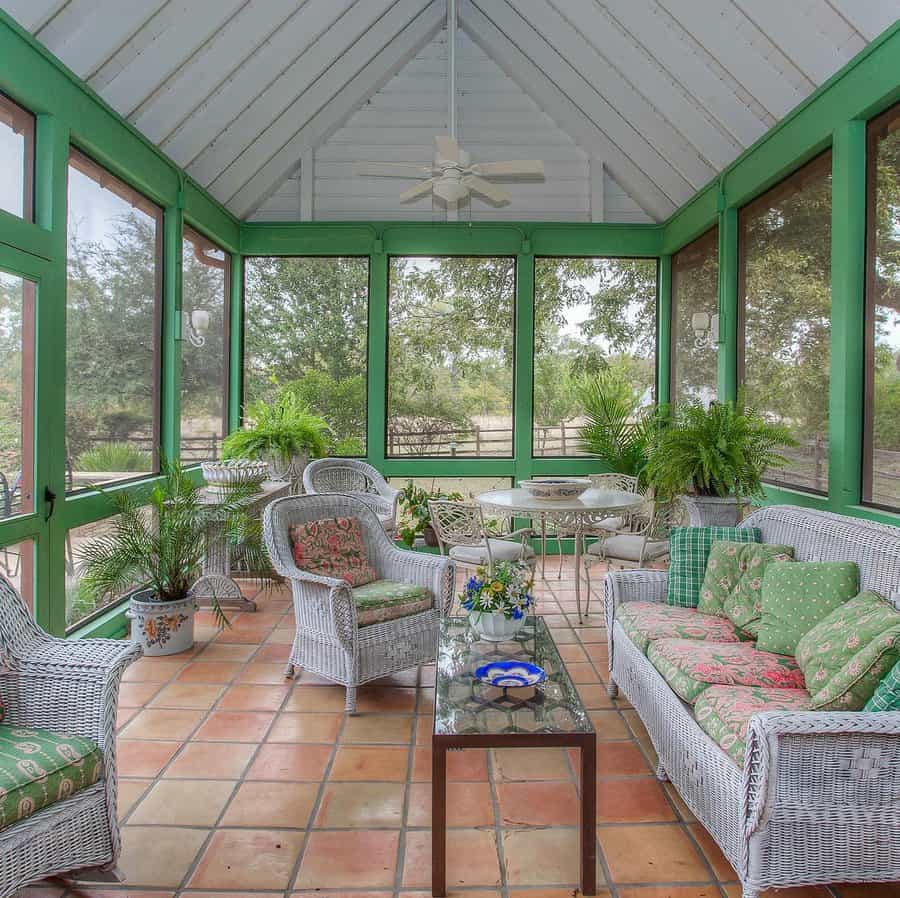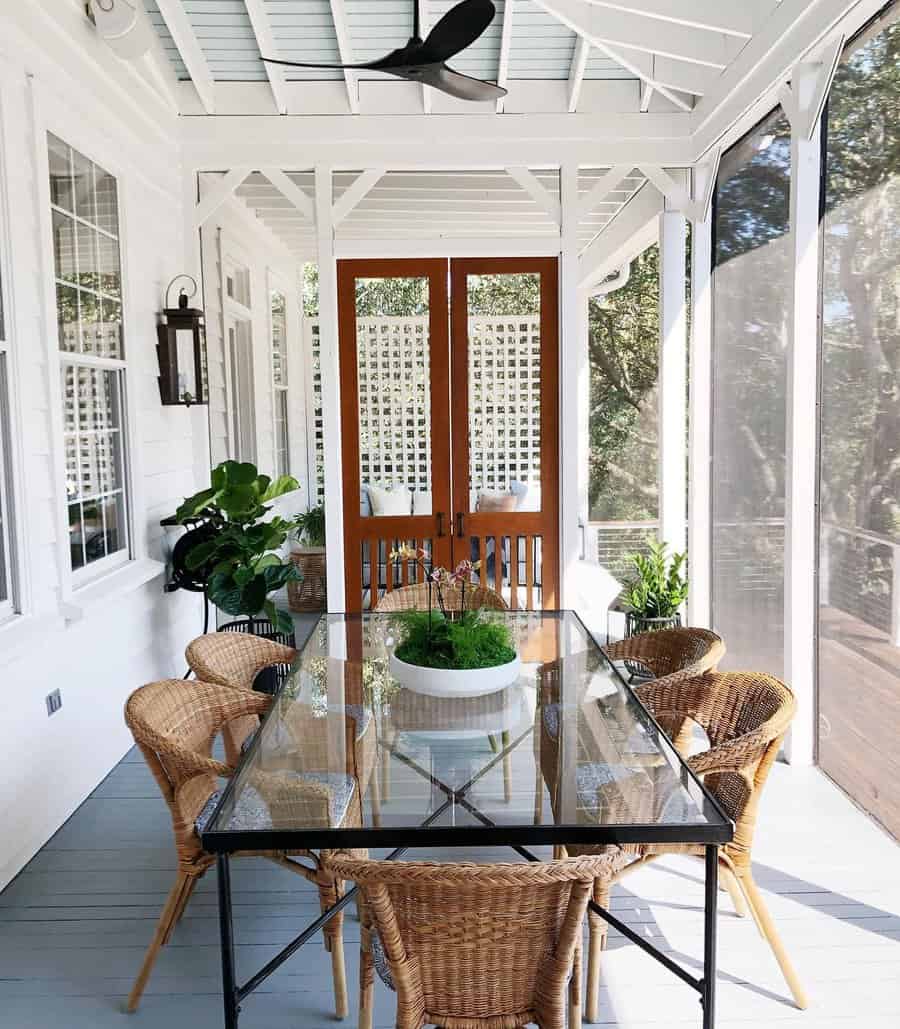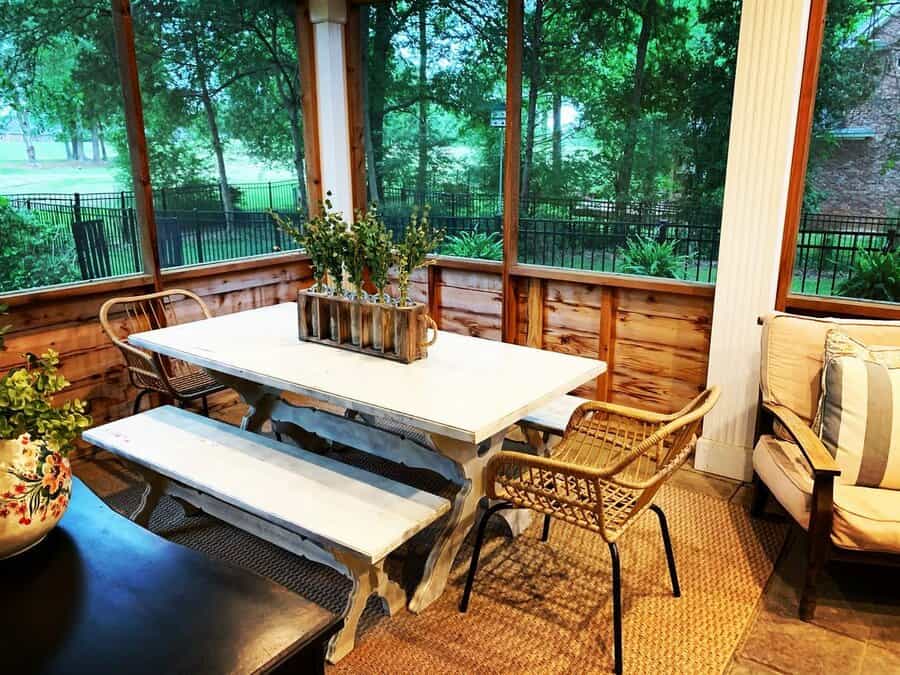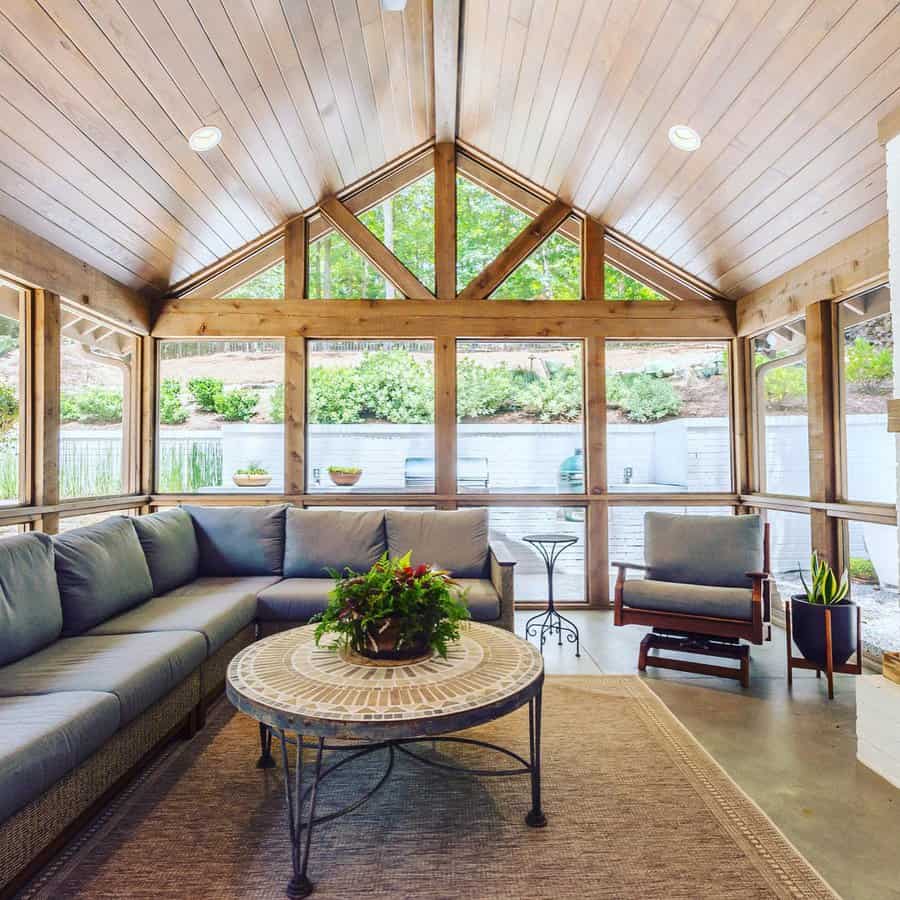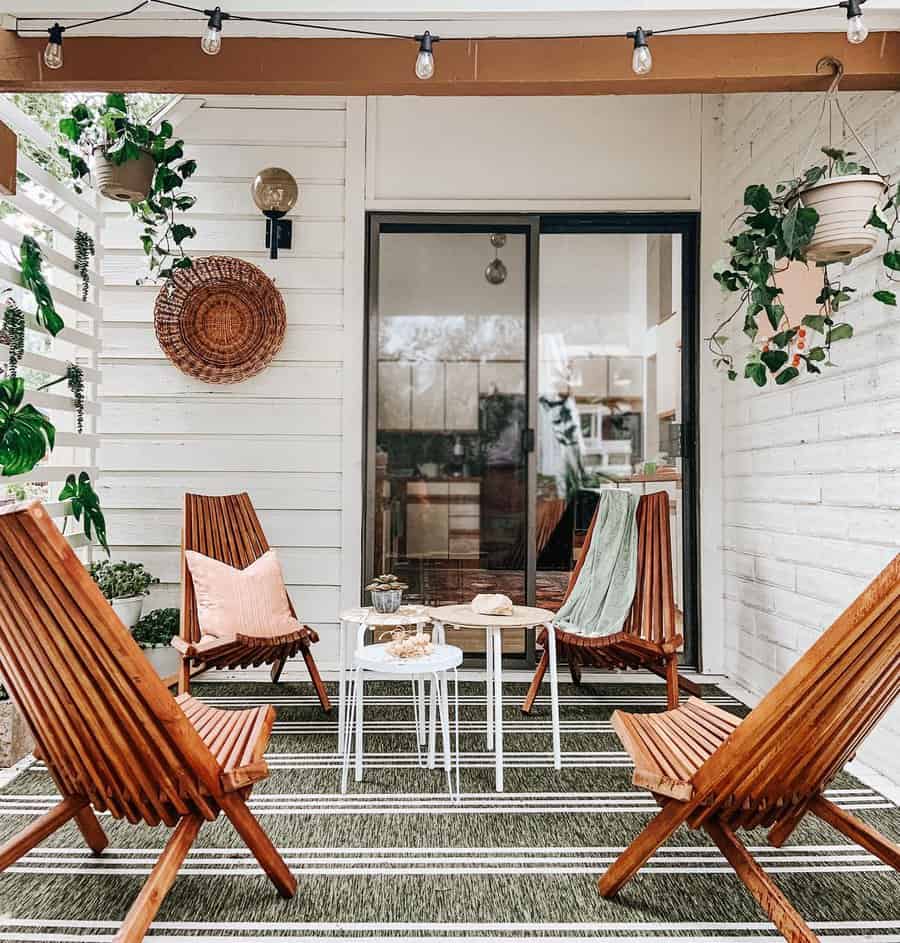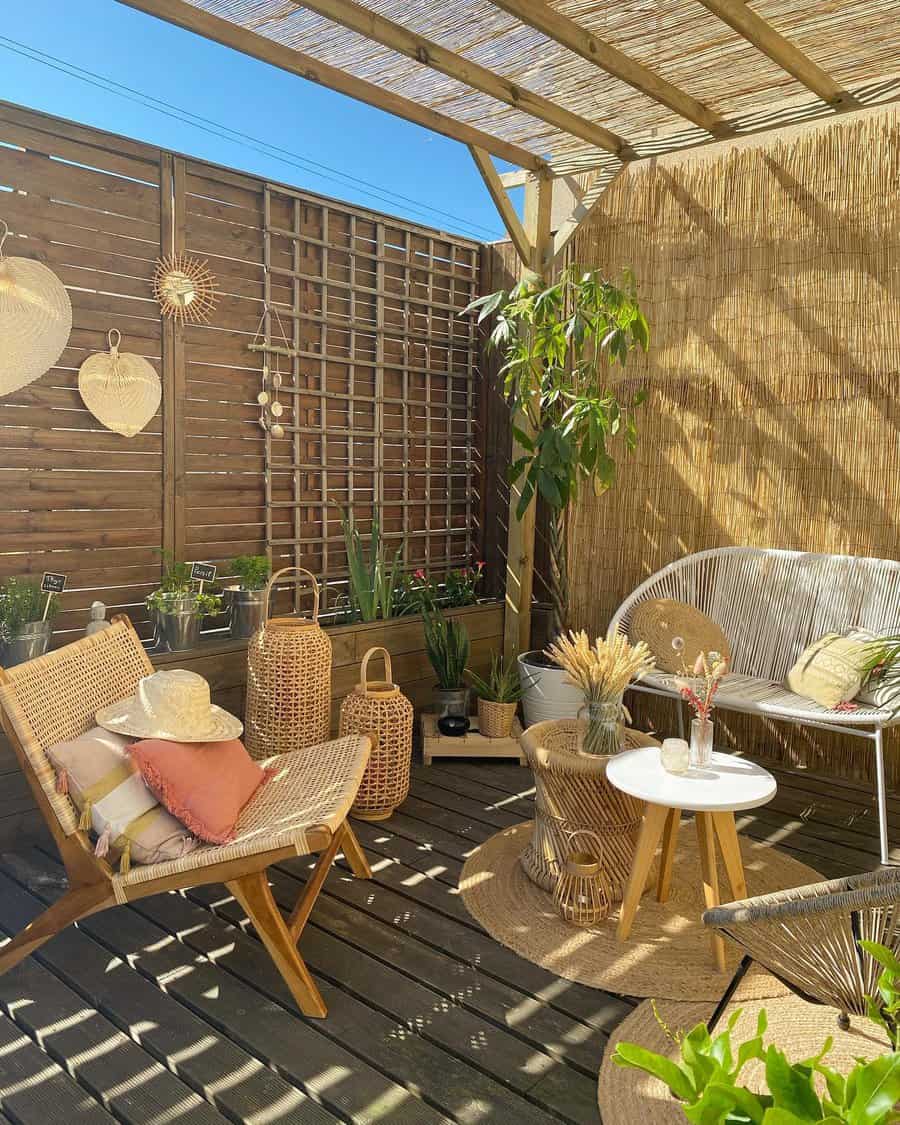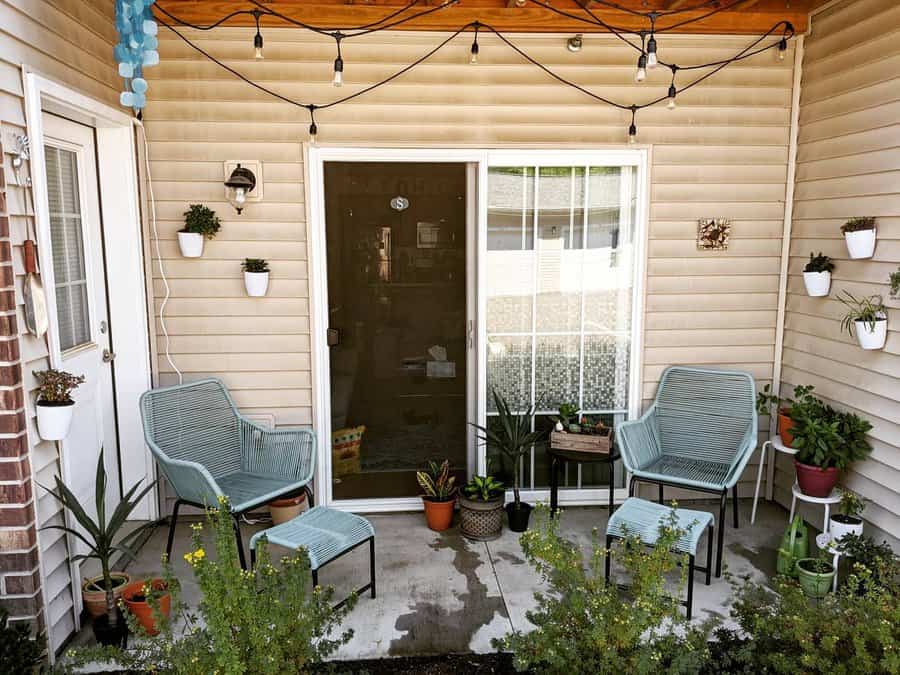 21. Flexible Shade: Pop-Up Gazebo
Enhance your back porch's versatility and comfort with a pop-up gazebo, offering a perfect balance of convenience and style. Easy to assemble when needed, it provides instant shelter for gatherings or solitary retreats. Strategically position it to suit the occasion, whether it's near the house for accessibility or in a prime spot to capture stunning views. To maximize its utility, complement the gazebo with portable and comfortable seating options, ensuring a welcoming and adaptable outdoor space. A pop-up gazebo not only elevates the aesthetic appeal of your back porch but also effortlessly meets your changing outdoor living needs.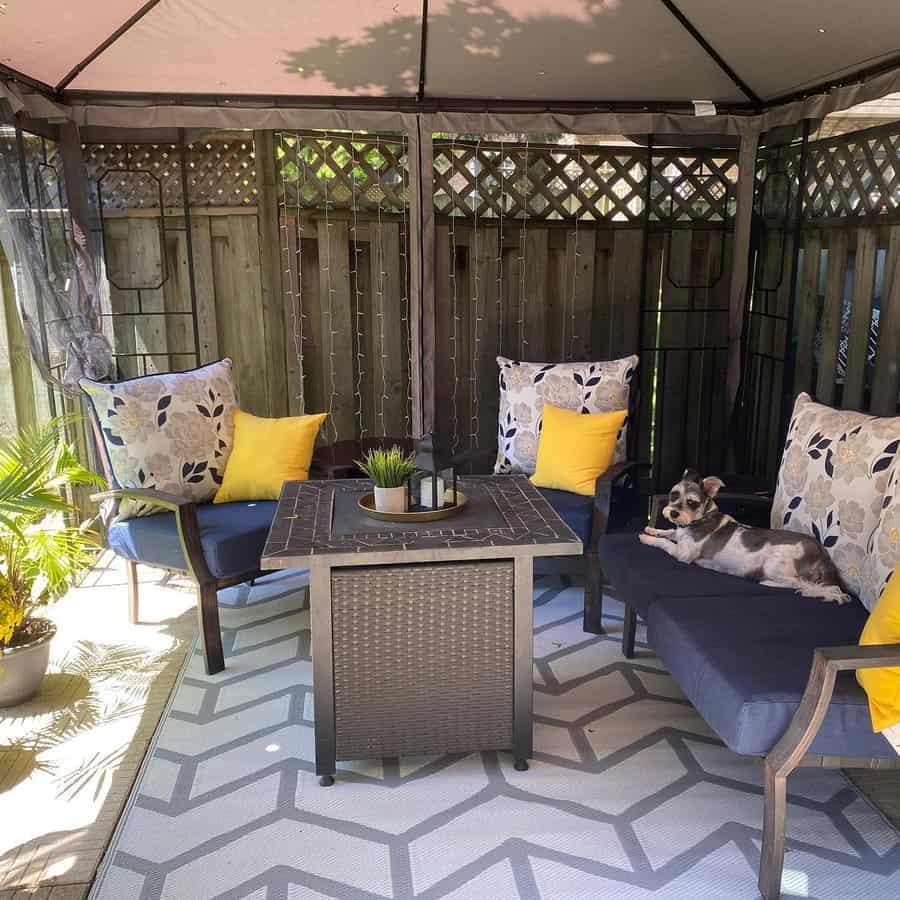 22. Culinary Delight with Brick Oven
Elevate your back porch into a culinary haven by incorporating a charming brick oven. This addition not only adds rustic charm but also opens up a world of outdoor cooking possibilities. Gather loved ones for a delightful experience of crafting homemade pizzas with fresh, flavorful toppings. The wood-fired oven's aroma and crackling fire create an inviting ambiance for casual family dinners or gatherings with friends. Make the outdoor pizza oven the centerpiece of your porch, fostering shared moments and creating lasting memories while exploring diverse culinary adventures.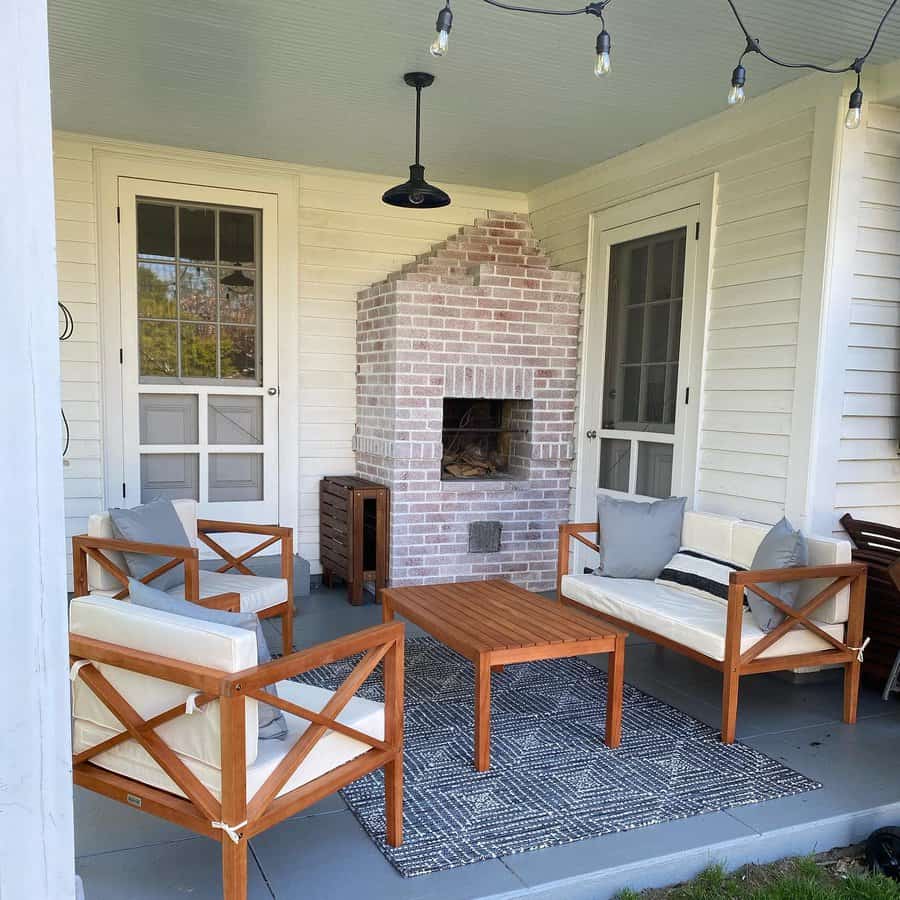 23. Sunroom Integration for Year-Round Enjoyment
Expand your back porch's functionality and comfort with a seamlessly integrated sunroom. Bathed in natural light, this airy space offers panoramic backyard views, making your porch feel more spacious and inviting. Enjoy every season's beauty while staying sheltered from the elements, whether it's a serene morning coffee or a cozy evening with loved ones. Elevate the sunroom's ambiance with comfortable seating, lush plants, and stylish furnishings, transforming it into a personalized oasis that mirrors your family's unique style and taste. This sunroom integration ensures year-round enjoyment and creates a versatile retreat for relaxation and connection.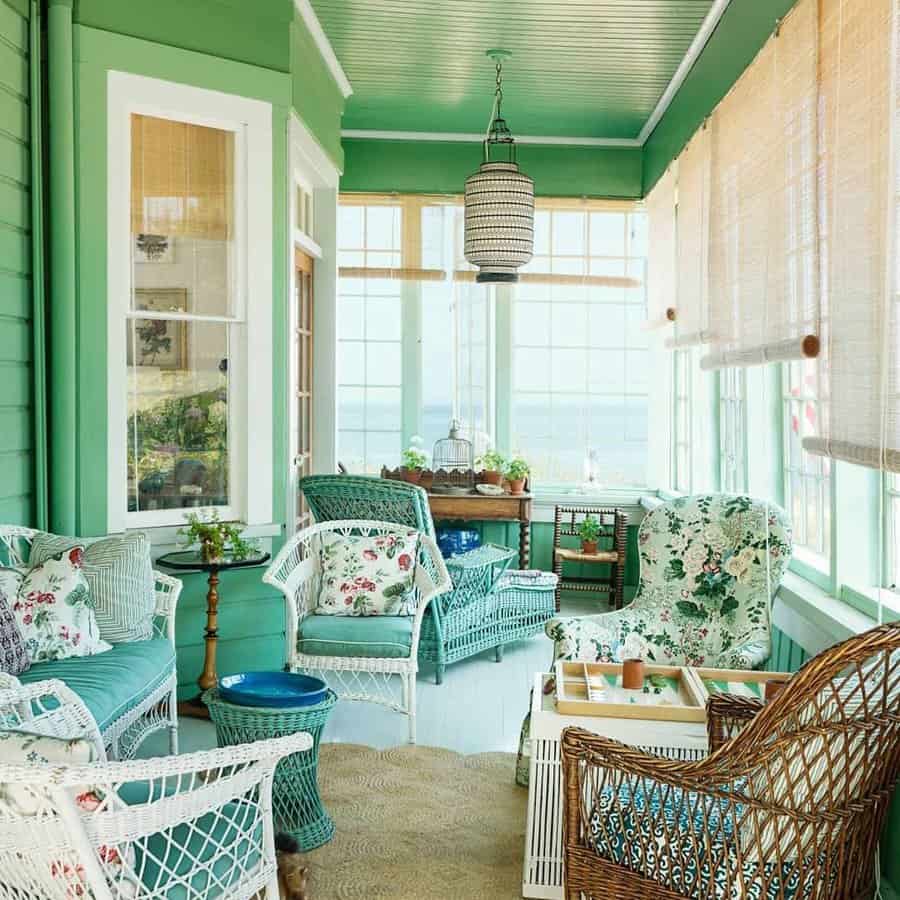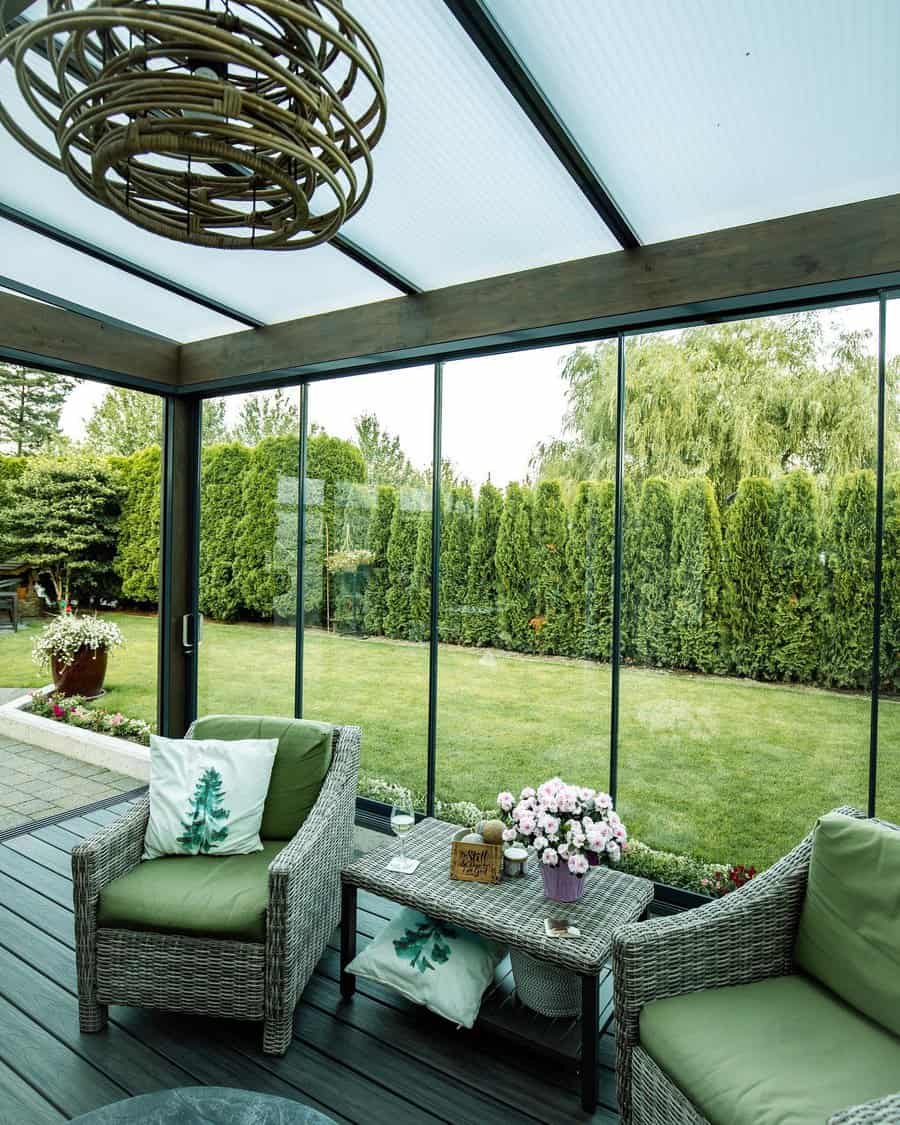 Back Porch FAQs
How can I make my back porch look good?
Start by cleaning up the area to get rid of dirt, leaves, debris, and anything else that makes the space look gross. Add comfortable furniture that is inviting for people to sit down. Then add touches of color to add design.
What is a porch in house design?
A porch is a covered or semi-covered space attached to the house. Typically, a porch is located on the front side of the house. However, you may also find that there are porches on the backside of the house. They can vary in size from just large enough for a cafe table and chairs to being a large expanse that can support a full dining table.
How much do porches cost?
The cost of adding a porch to your house will vary in cost depending on how you go about installing it. A medium-sized prefabricated porch can be in the $10,000 to $20,000 range. If you prefer to have a custom solution, then a medium porch constructed by a contractor will cost $15,000 to $30,000.