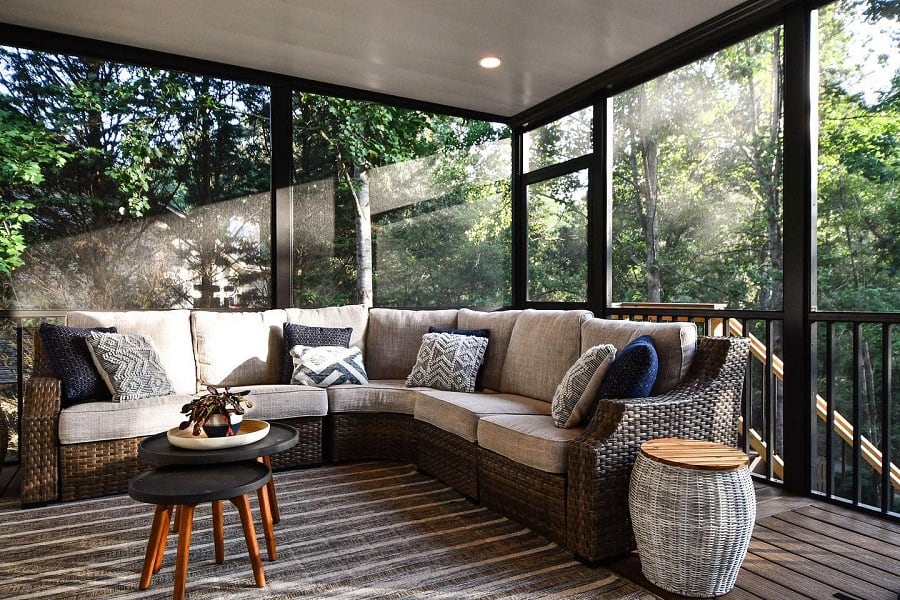 The Top 72 Back Porch Ideas
"I'm an old-fashioned guy… I want to be an old man with a beer belly sitting on a porch, looking at a lake or something." – Johnny Depp
Having a back porch on your property can give you an outdoor space to enjoy. Done well, and it can add value to your home.
Your back porch doesn't need to be large, but it should be big enough to hold a decent amount of furniture. Then you need to think about the rest of the features, like lighting, shade from the sun, privacy, and air circulation.
These back porch ideas will help you create the perfect back porch for your home and lifestyle.
1. Back Porch With Pergola
A back porch pergola not only adds a touch of elegance and sophistication to your outdoor space but also provides shade and shelter for you and your family to enjoy. With its open lattice roof and decorative beams, a pergola creates a cozy and inviting ambiance, perfect for relaxing or entertaining.
You can customize your back porch pergola by incorporating climbing plants or hanging baskets, adding a touch of natural beauty and fragrance to the area. Imagine sitting under the pergola, sipping your favorite beverage, and basking in the dappled sunlight that filters through the lattice.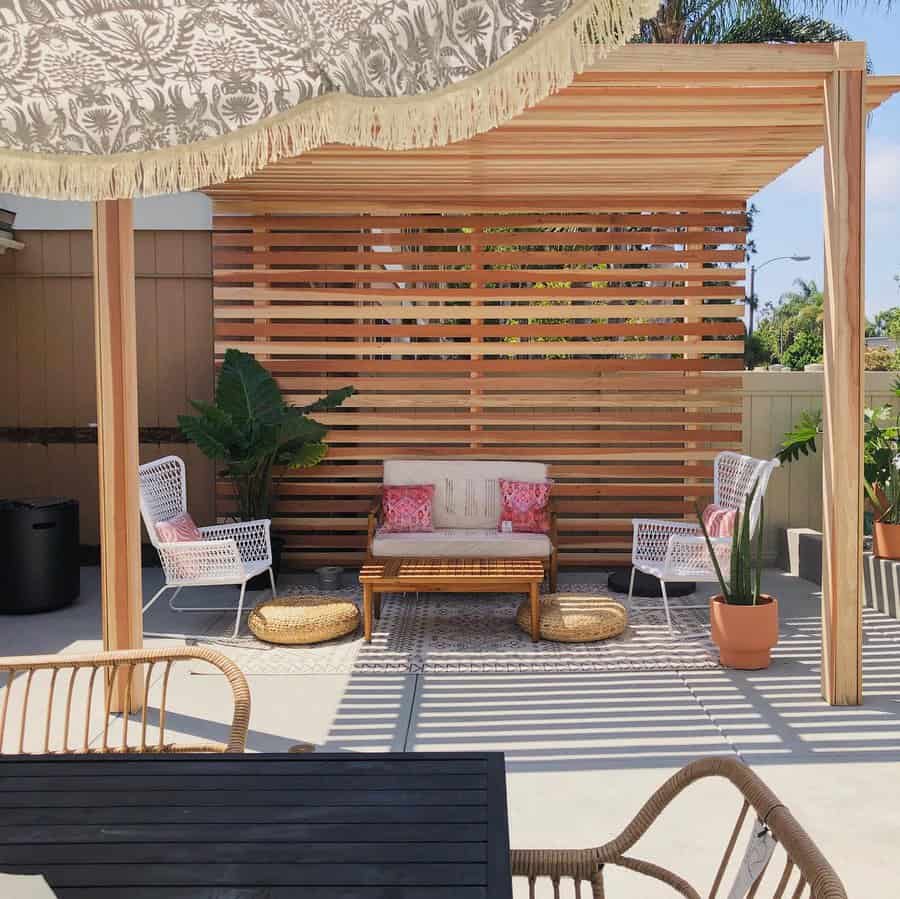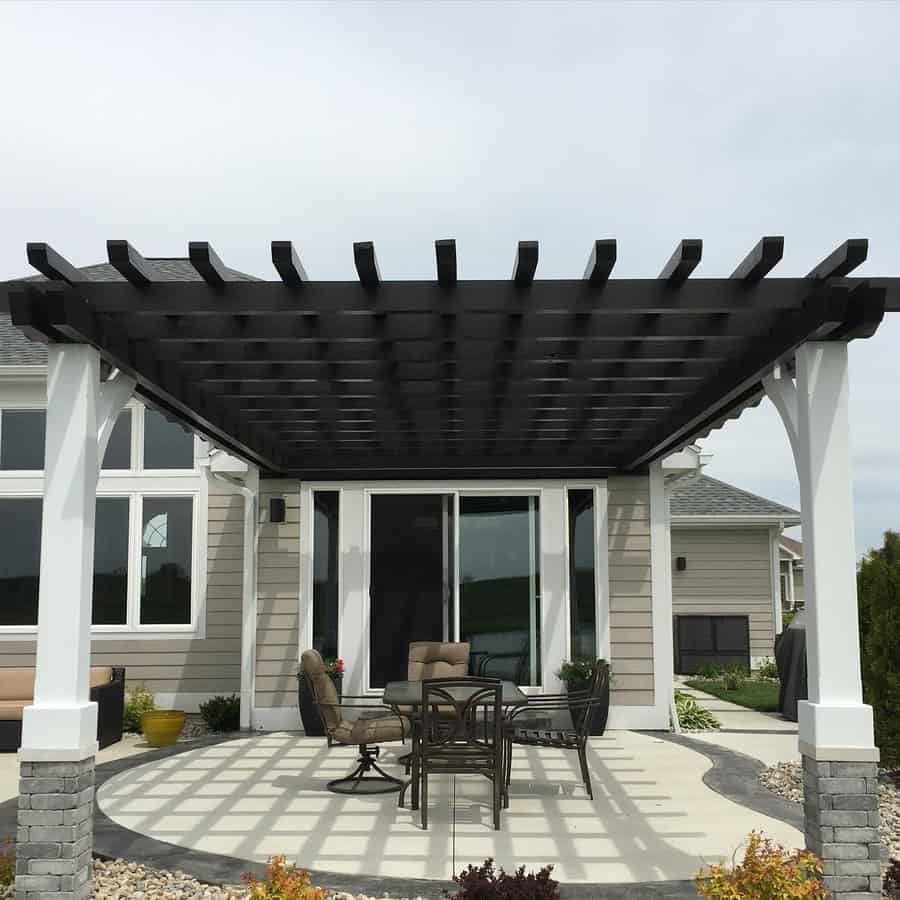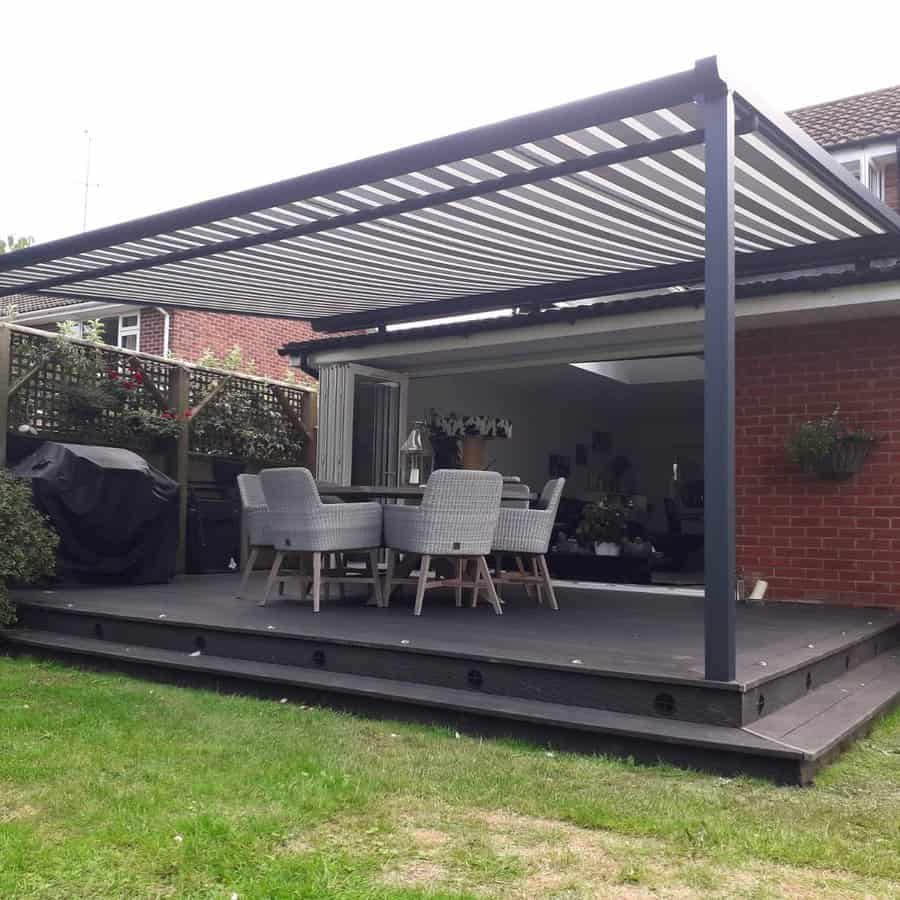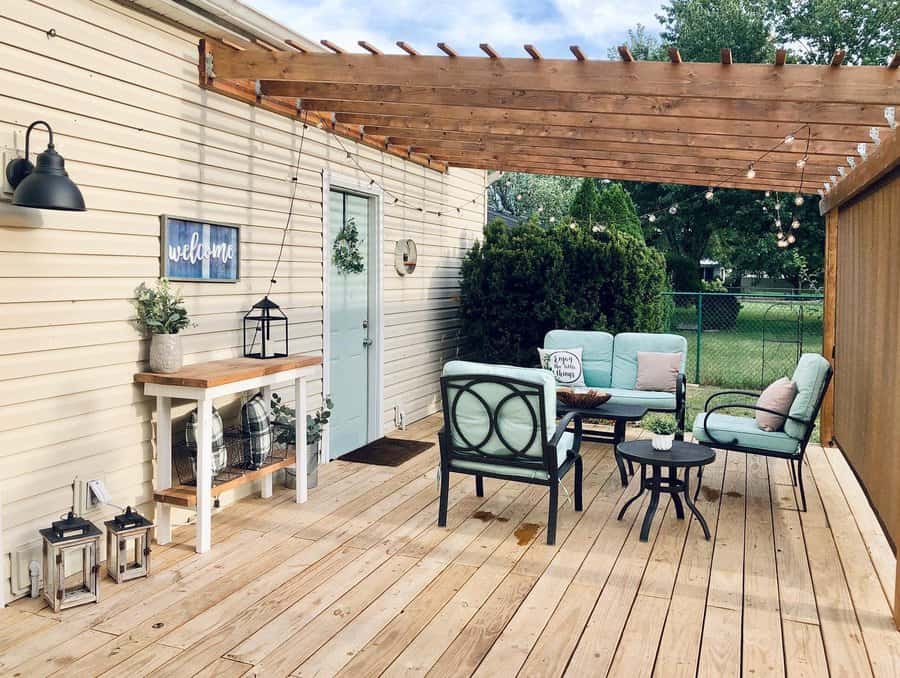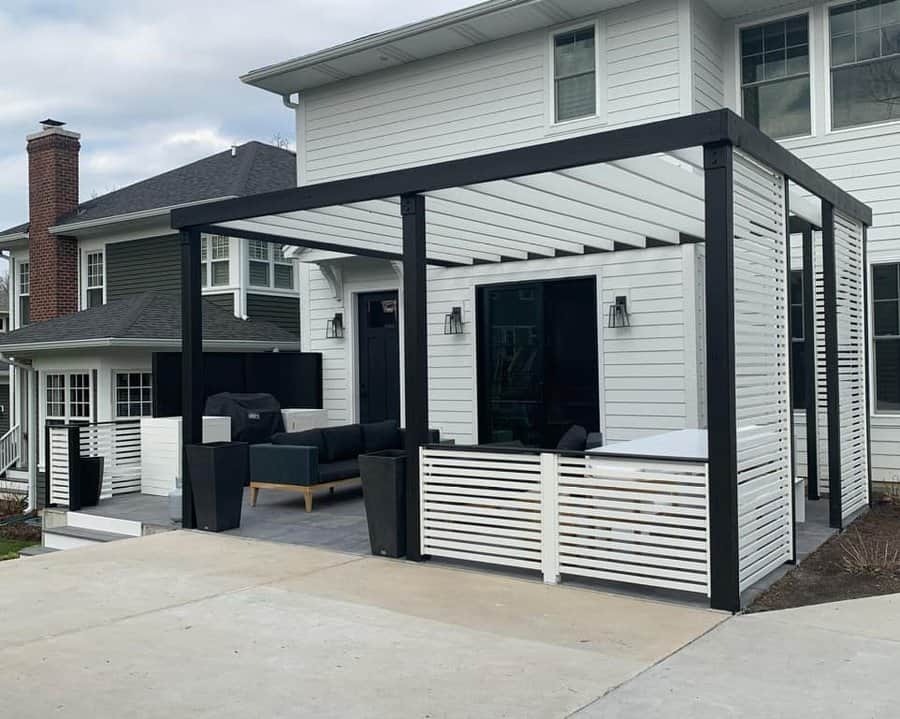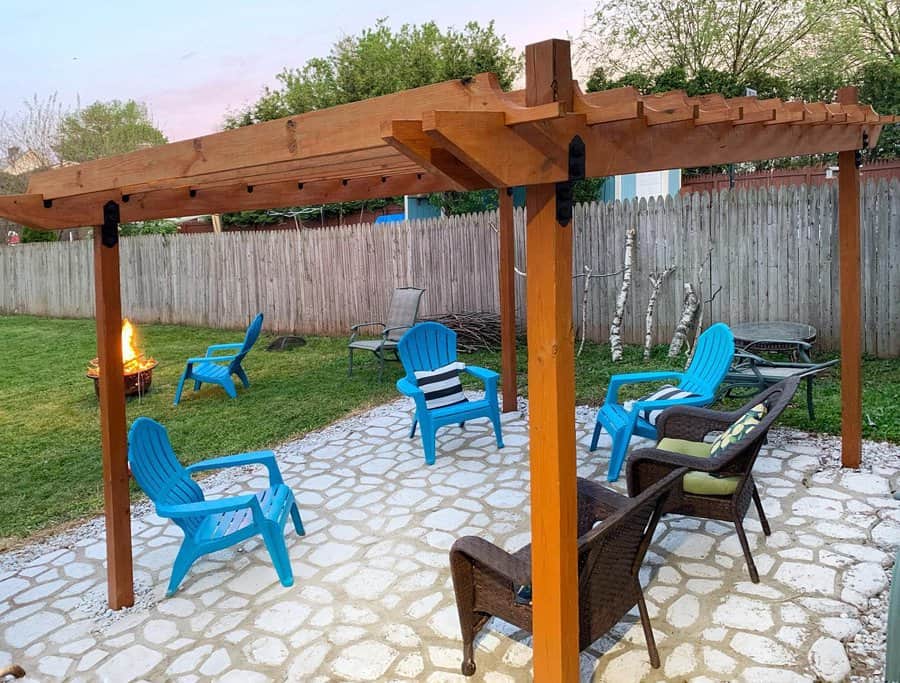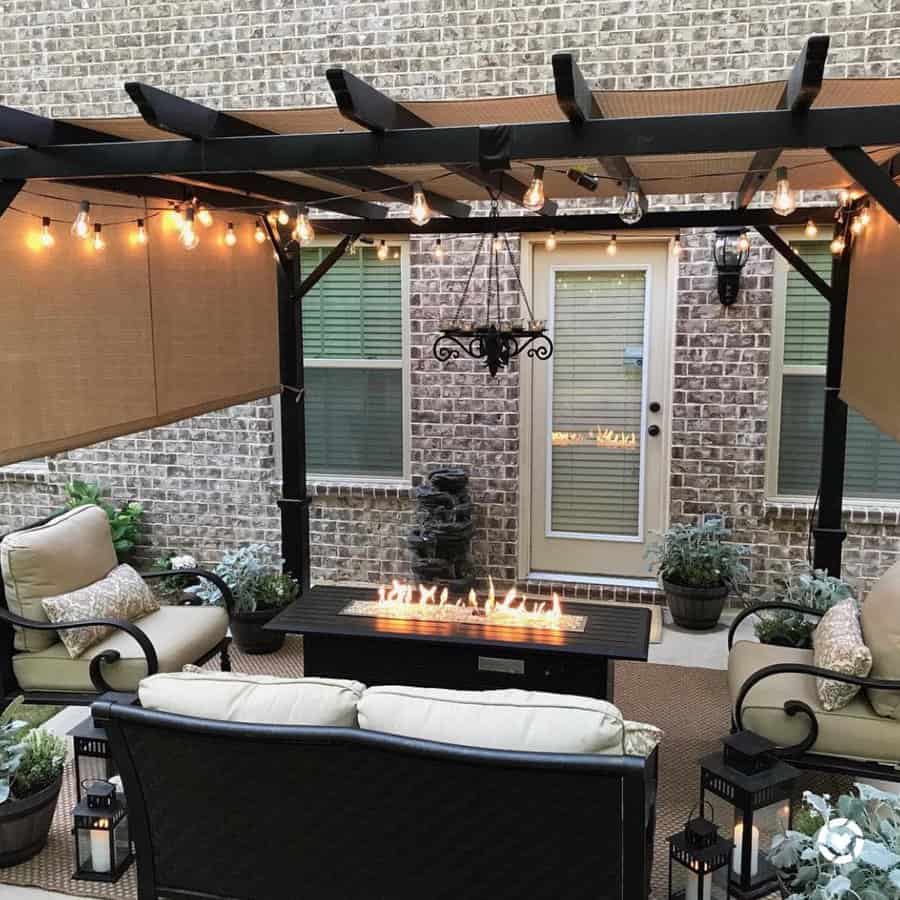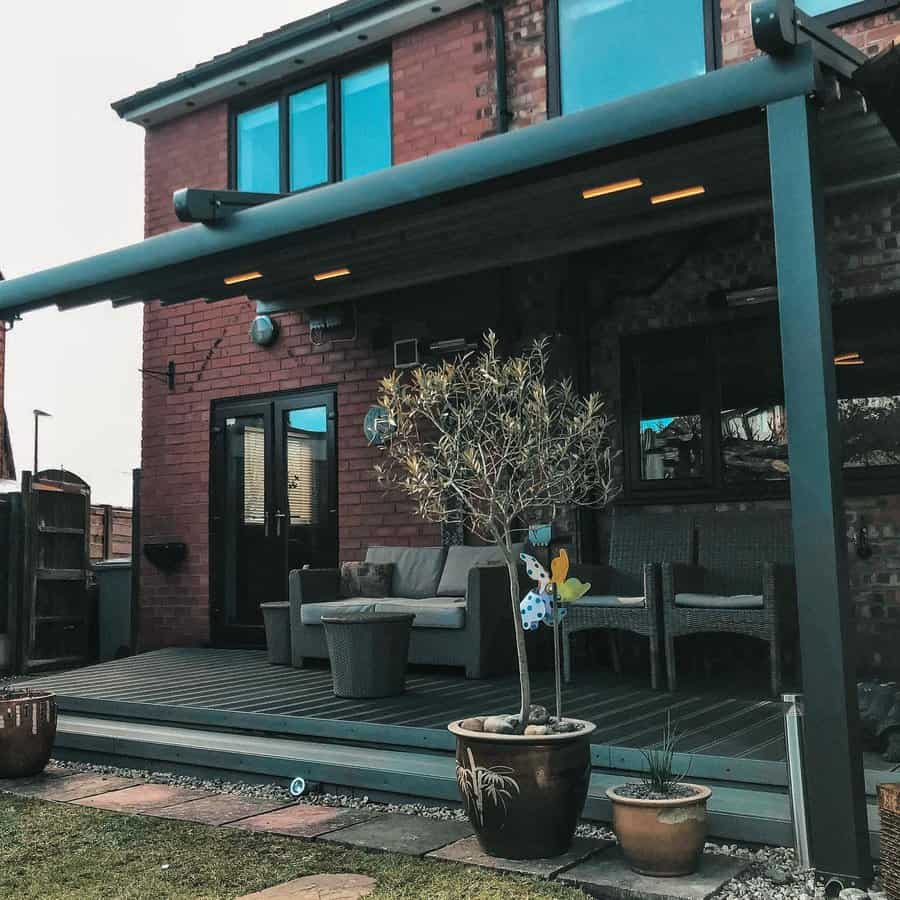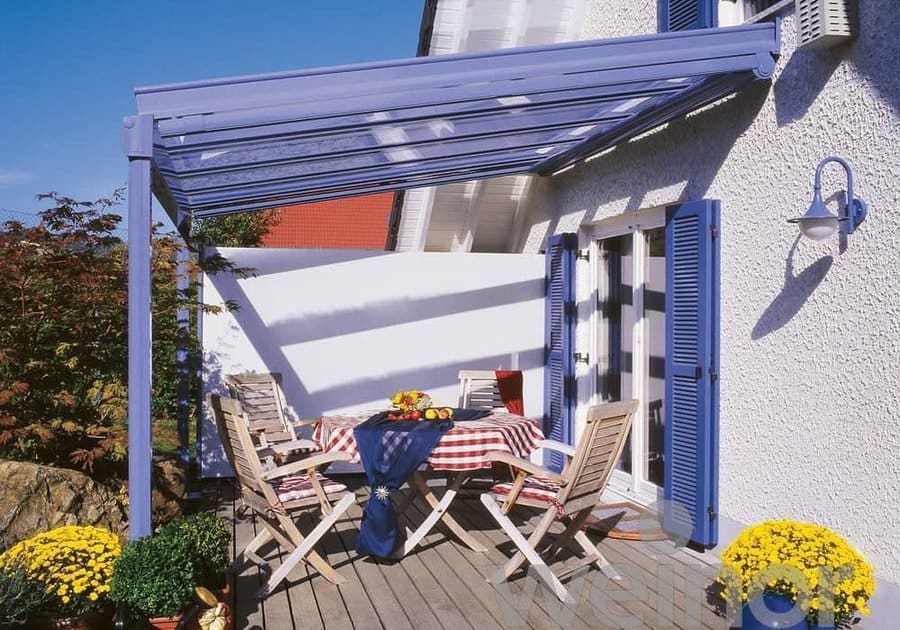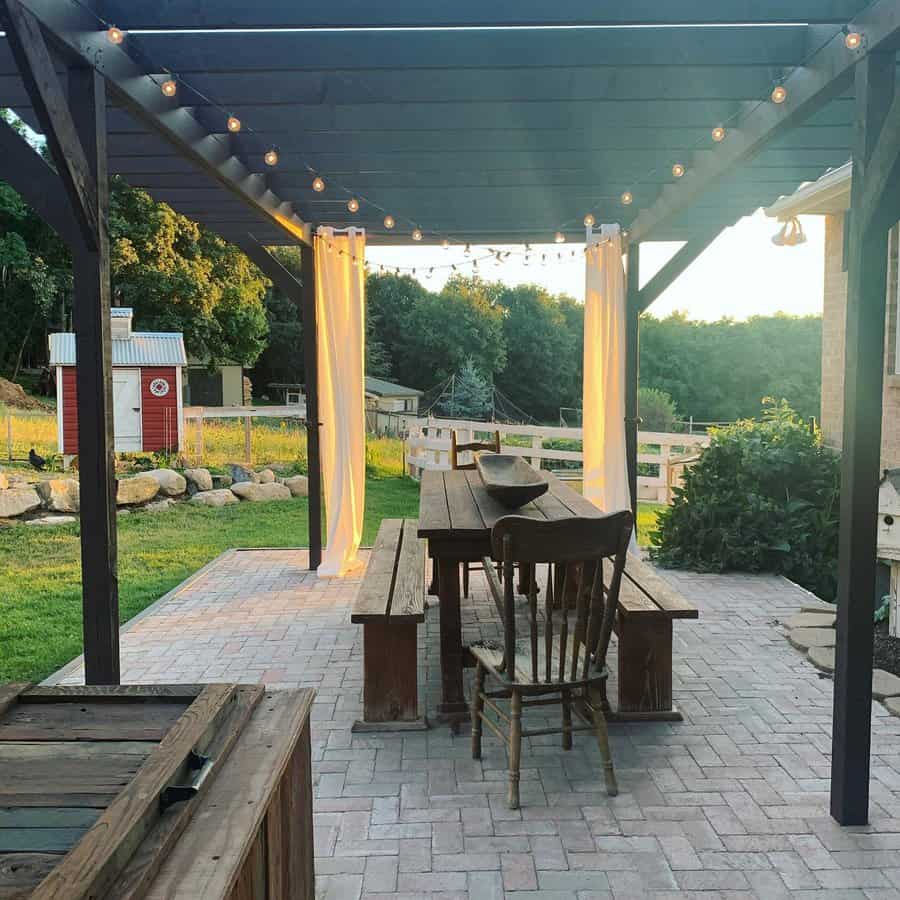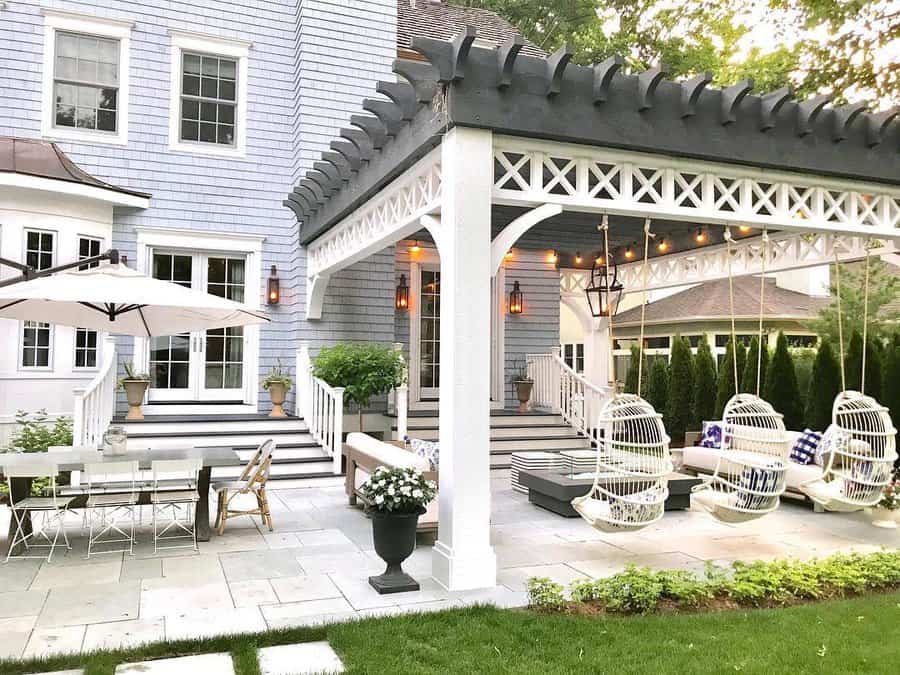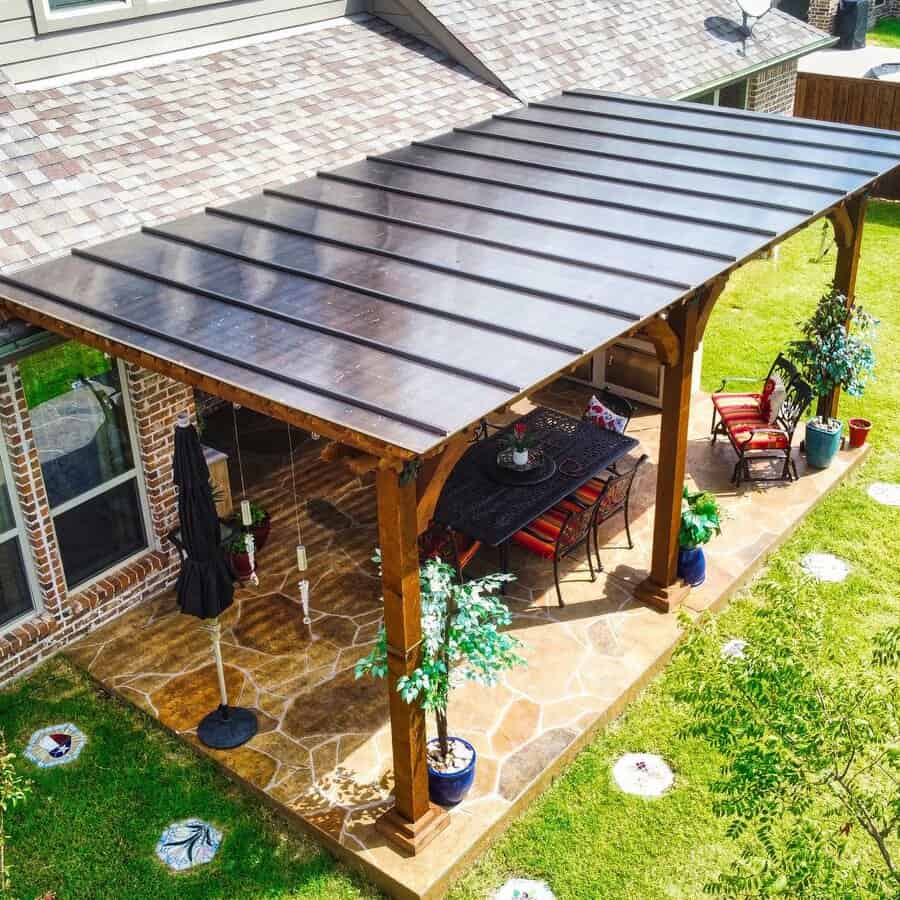 2. Back Porch With Sail Canopy
This innovative idea not only provides shade and protection from the elements but also adds a touch of elegance and modernity to your outdoor space. The sail canopy roof consists of durable and weather-resistant fabric that can be easily attached and removed, allowing you to adjust the coverage based on your needs and the weather conditions.
Its sleek and minimalist design creates a visually appealing focal point while maintaining an open and airy atmosphere. Whether you're enjoying a morning coffee or hosting a family gathering, the sail canopy roof offers a comfortable and versatile space for relaxation and entertainment.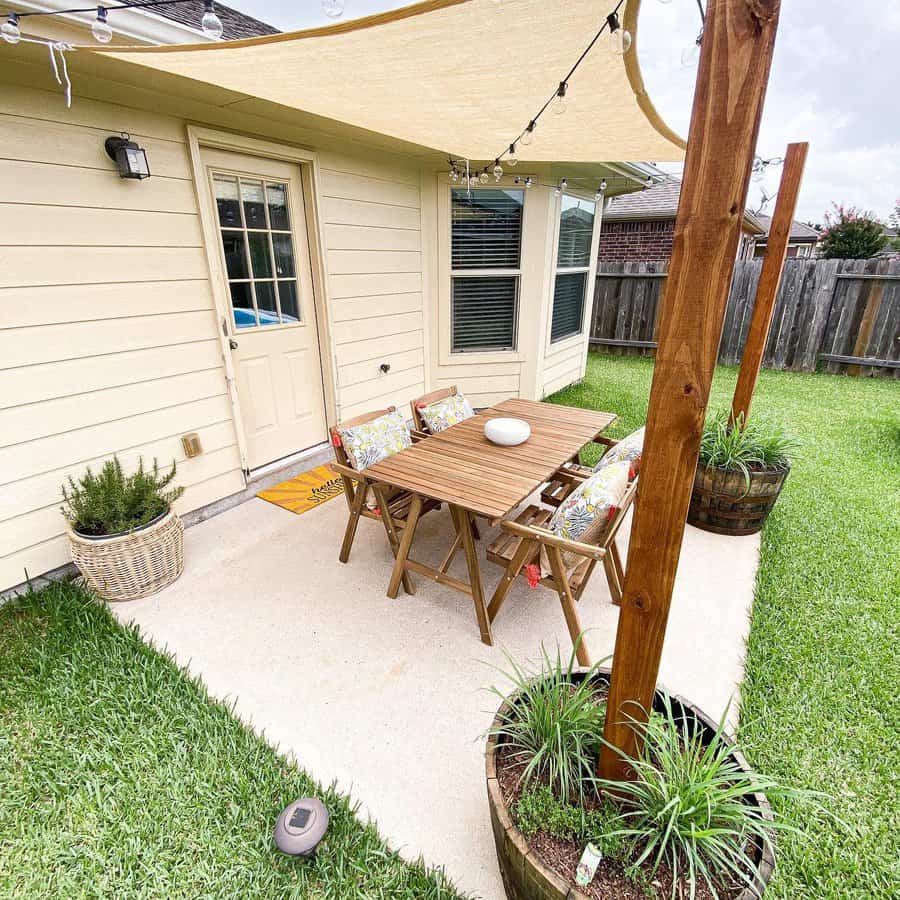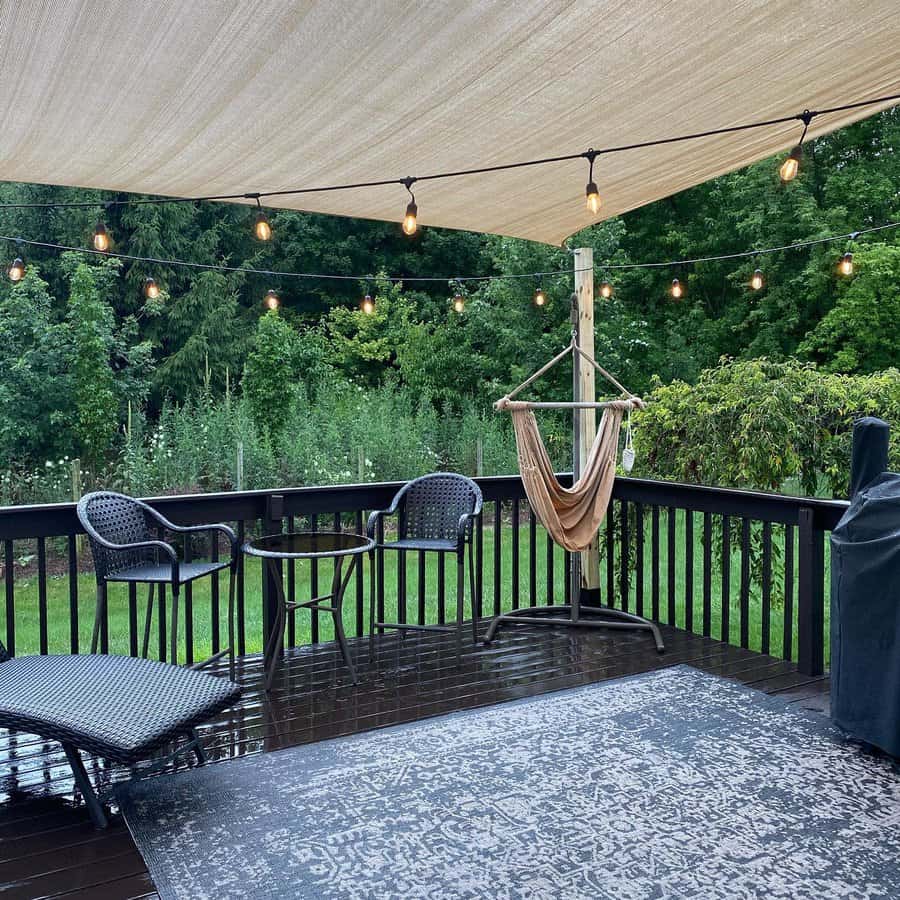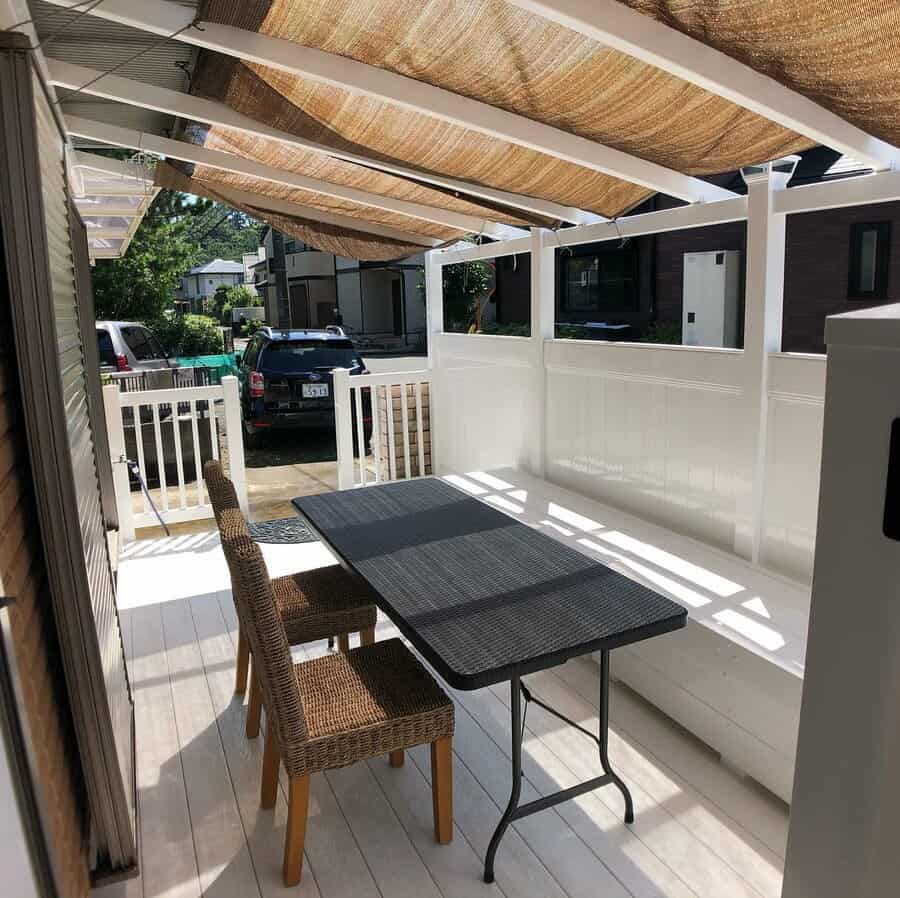 3. Back Porch With Retractable Canopy
A retractable roof allows you to enjoy the open sky and warm sunshine when desired, while also providing protection and shade when the weather calls for it. With a simple push of a button, you can effortlessly extend or retract the canopy, giving you control over your outdoor environment.
Whether you're hosting a lively family gathering or seeking a peaceful retreat, the retractable roof offers the ideal balance between open-air freedom and sheltered comfort. Enjoy the beauty of the outdoors while staying shielded from the elements, ensuring your back porch is a space that can be enjoyed throughout the year.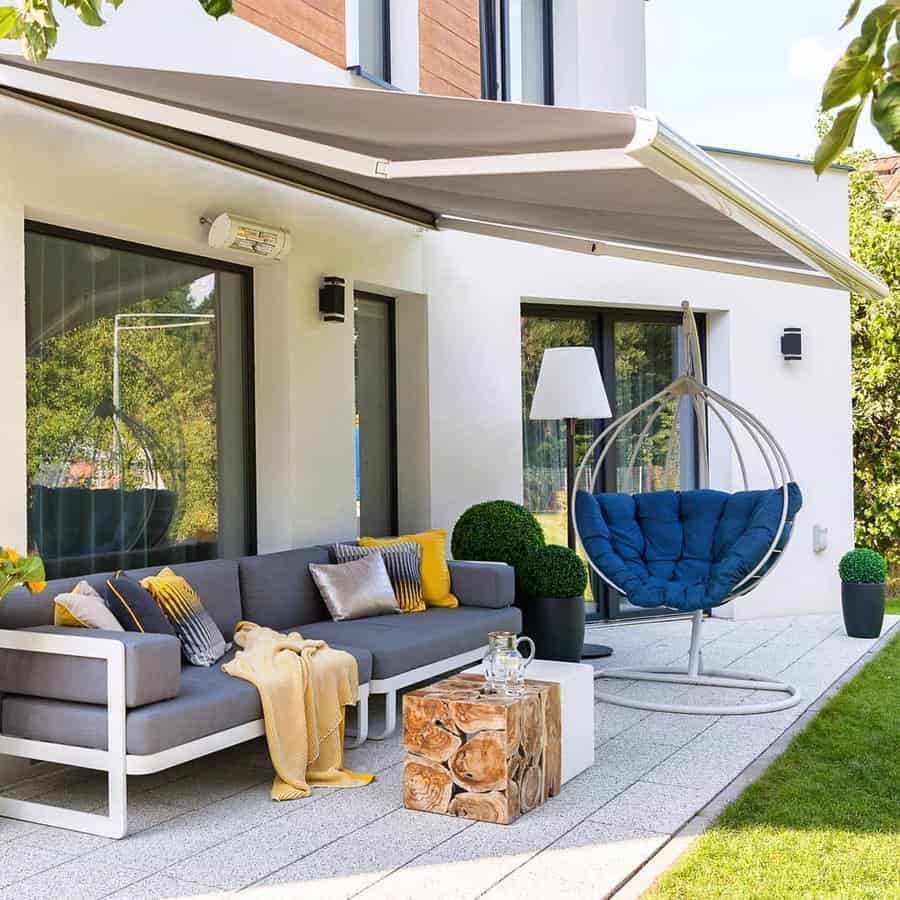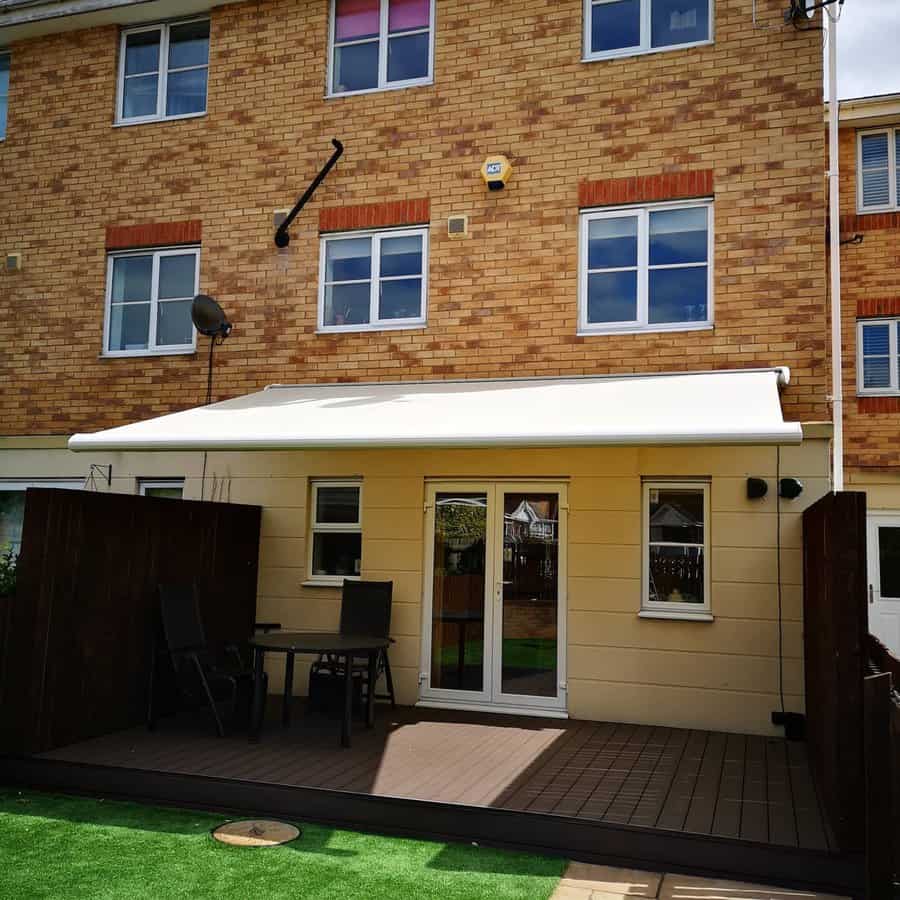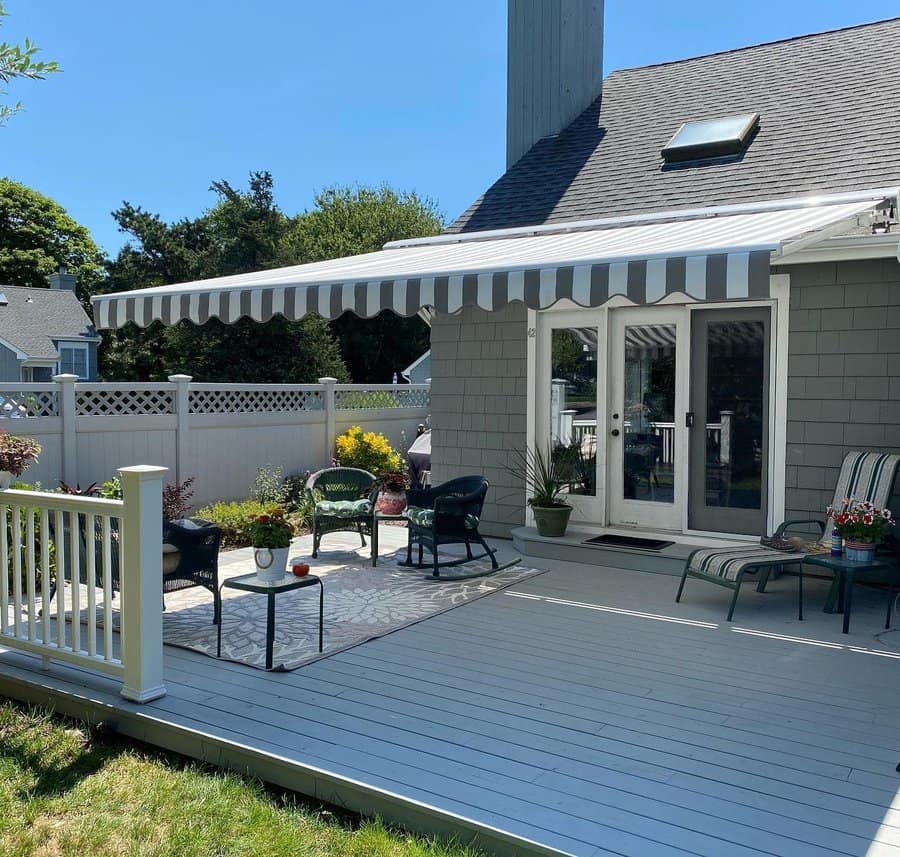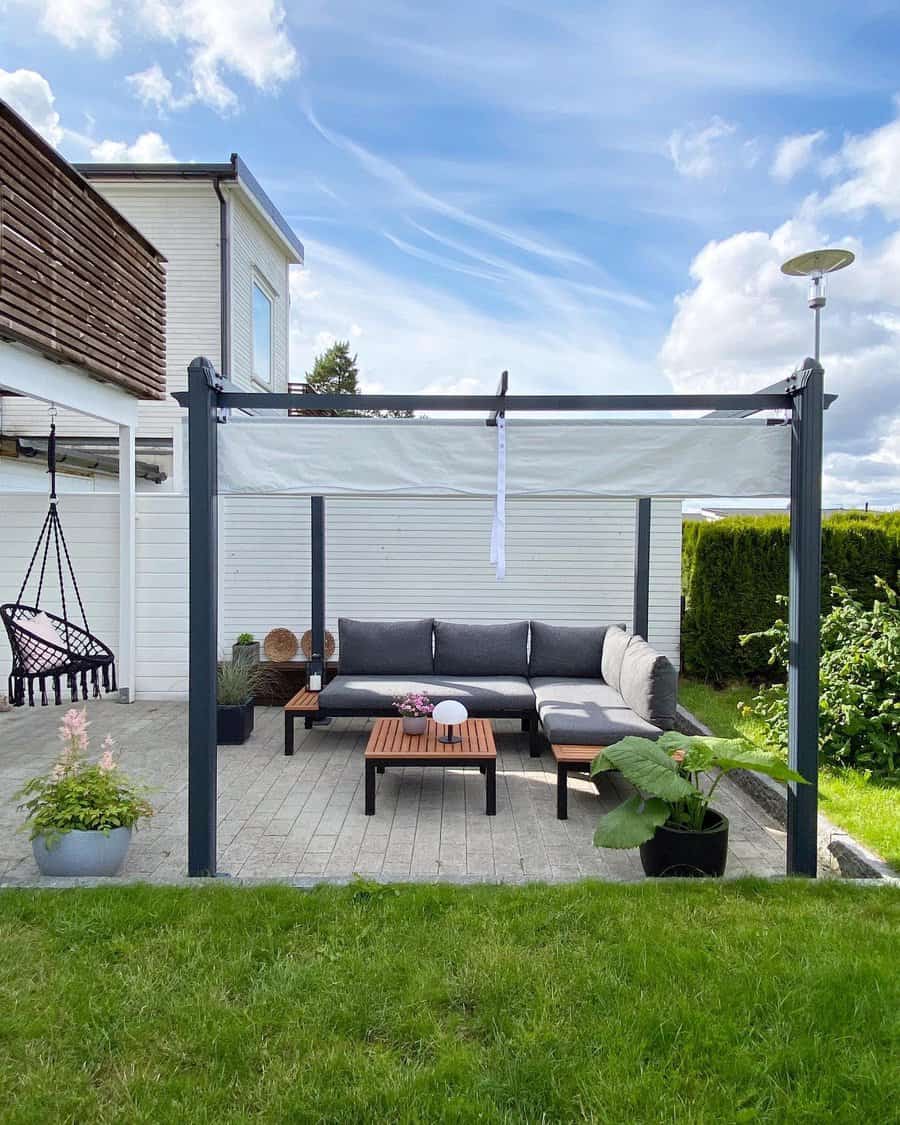 4. Screened-In Back Porch
Consider the idea of a screened-in porch, a versatile and inviting space that seamlessly connects the indoors with the outdoors. Install large windows that let in an abundance of natural light, allowing you to enjoy the surrounding views while maintaining a comfortable and protected environment.
Furnish the porch with cozy and stylish seating options, such as cushioned chairs or a comfortable outdoor sofa, providing a place for relaxation and quality time with your loved ones. The screened-in feature not only keeps pesky insects at bay but also adds a touch of charm and coziness to your outdoor space.
Whether you're enjoying a cup of coffee in the morning or hosting a family barbecue, a screened-in porch provides a serene and sheltered setting where you can enjoy the fresh air and the beauty of nature.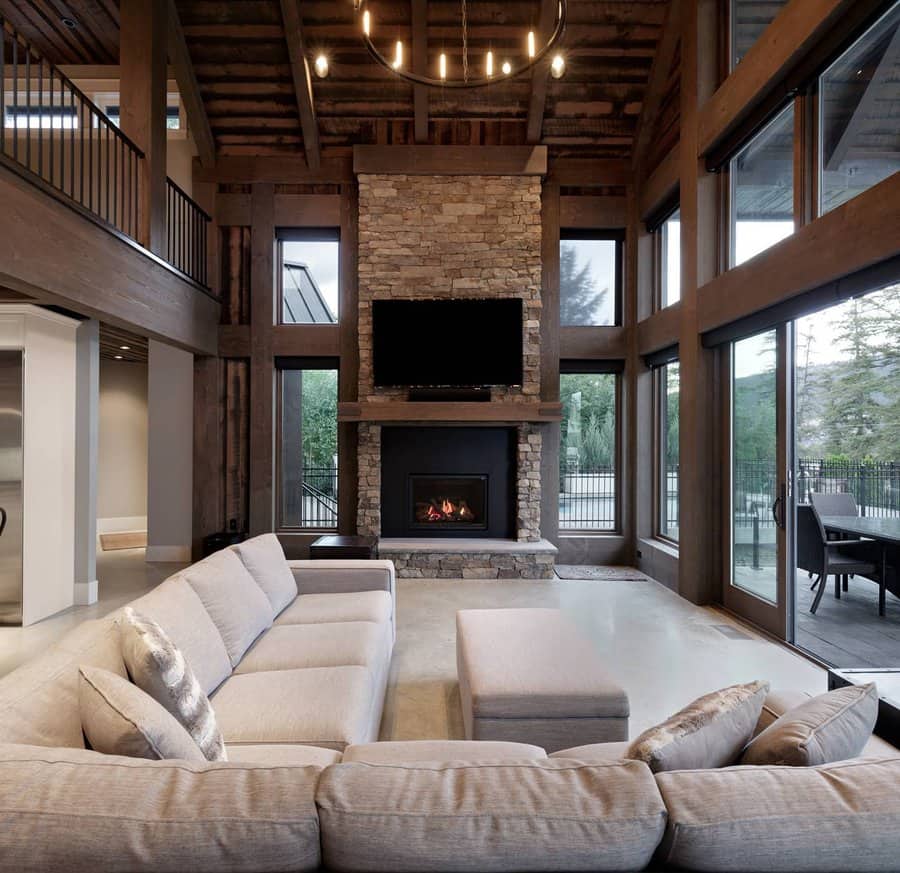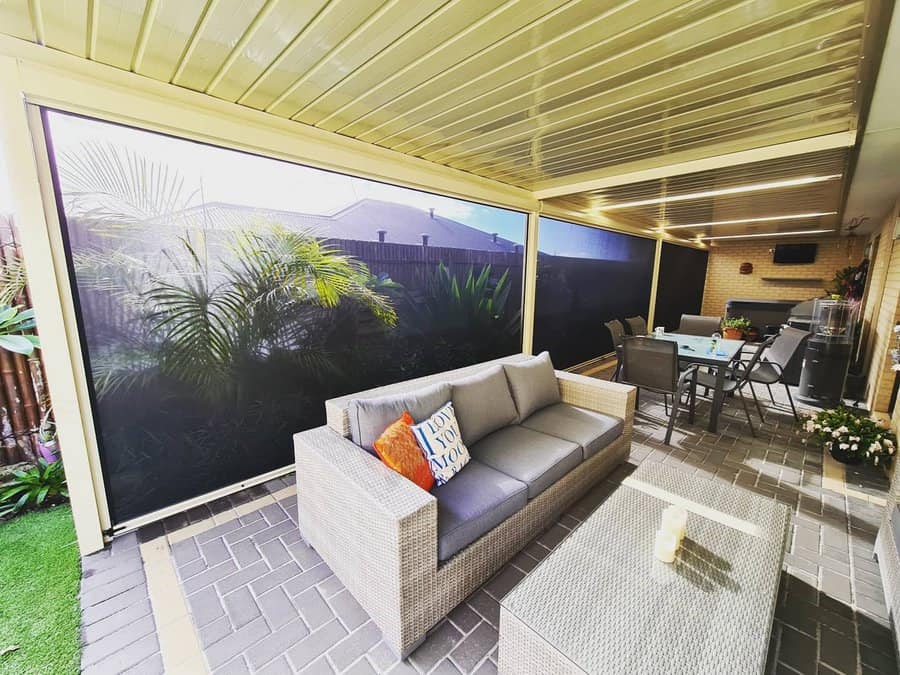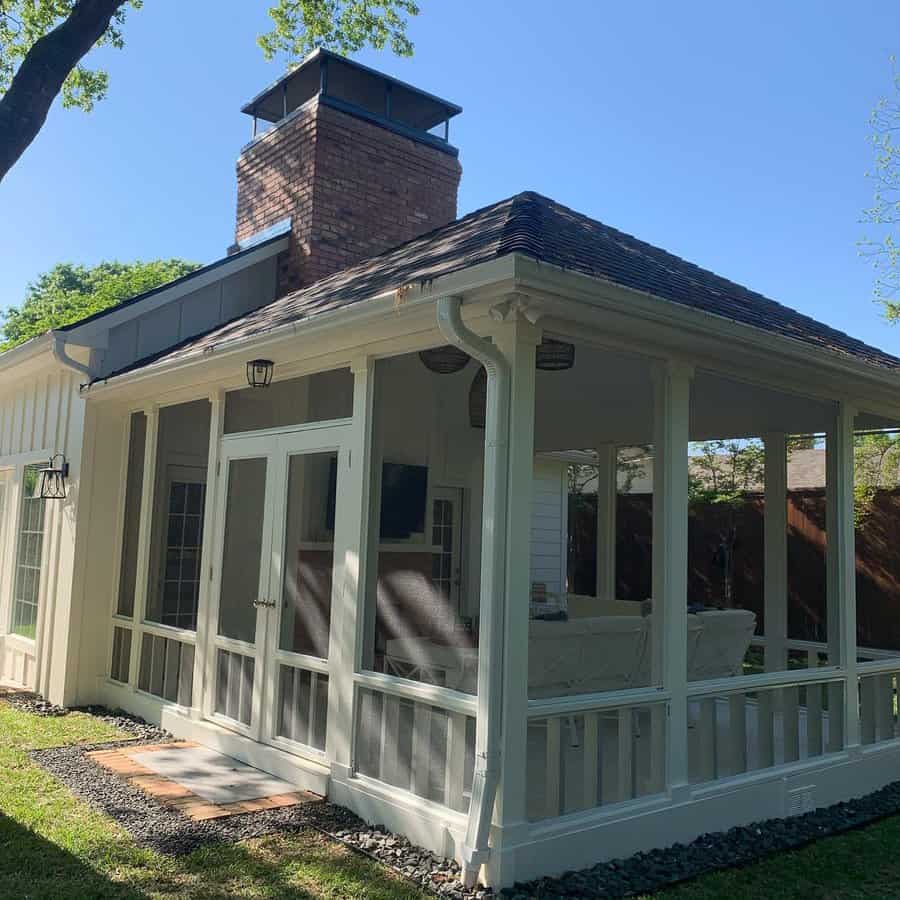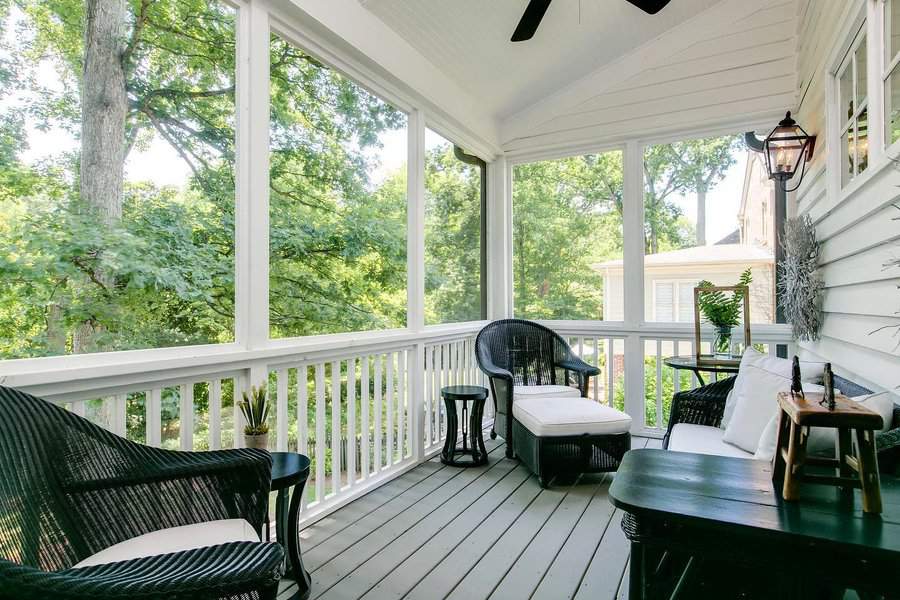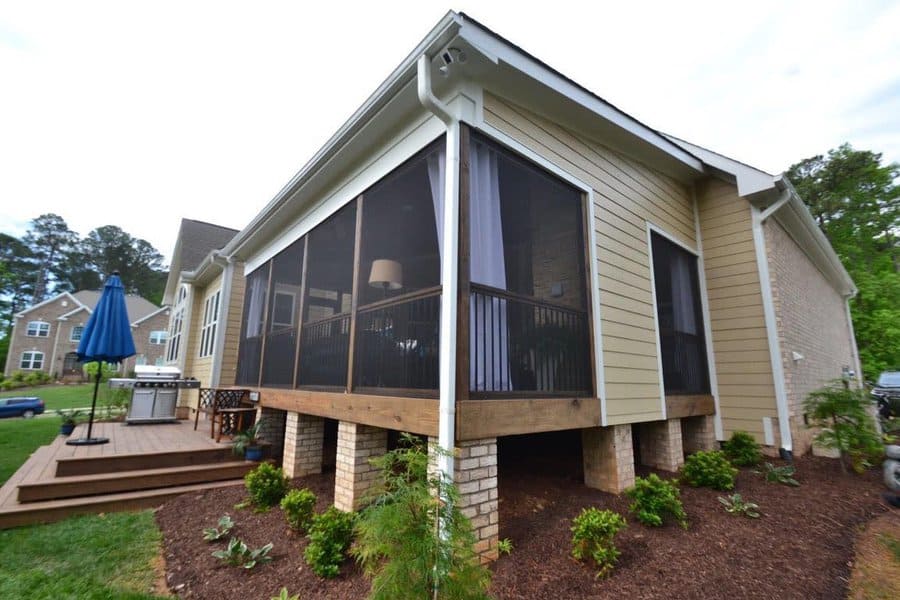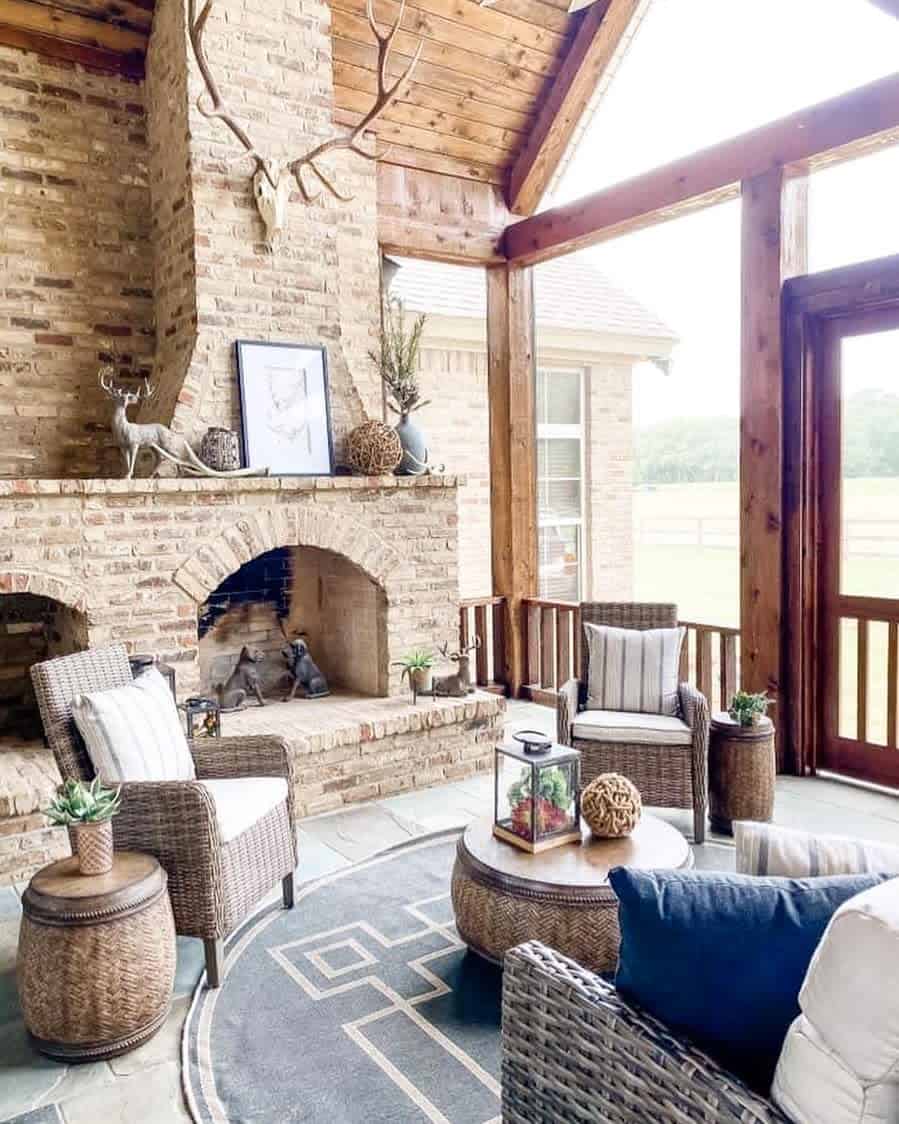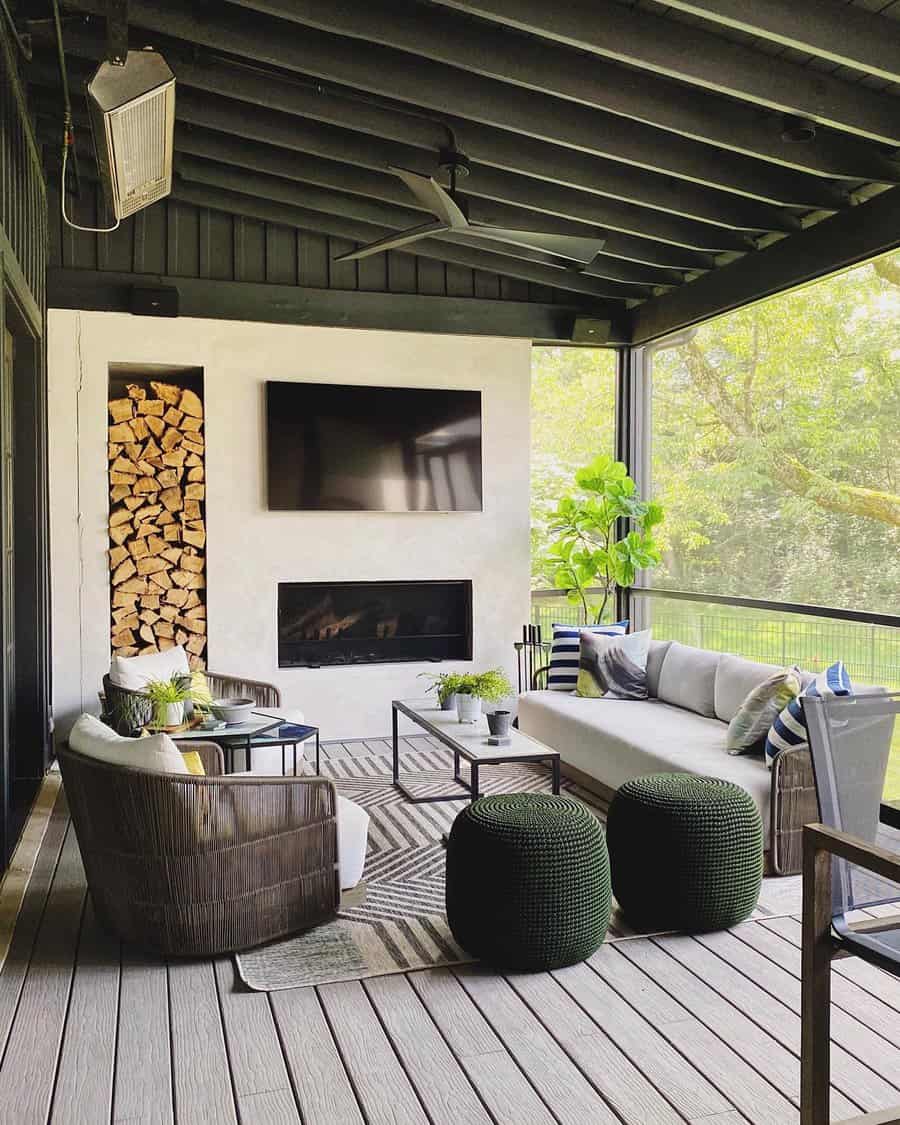 5. Back Porch With Privacy Fence
One creative idea is to incorporate a privacy screen made from wood pallets or bamboo reed. This not only adds a touch of natural beauty but also ensures that your outdoor space remains hidden from prying eyes. The rustic charm of wood pallets or the exotic allure of bamboo reed instantly transforms your back porch into a cozy and inviting oasis.
The privacy screen acts as a stylish barrier, shielding you and your family from unwanted attention while still allowing the gentle breeze to flow through. It creates a sense of intimacy and seclusion, making your back porch the perfect spot for relaxation and quality family time.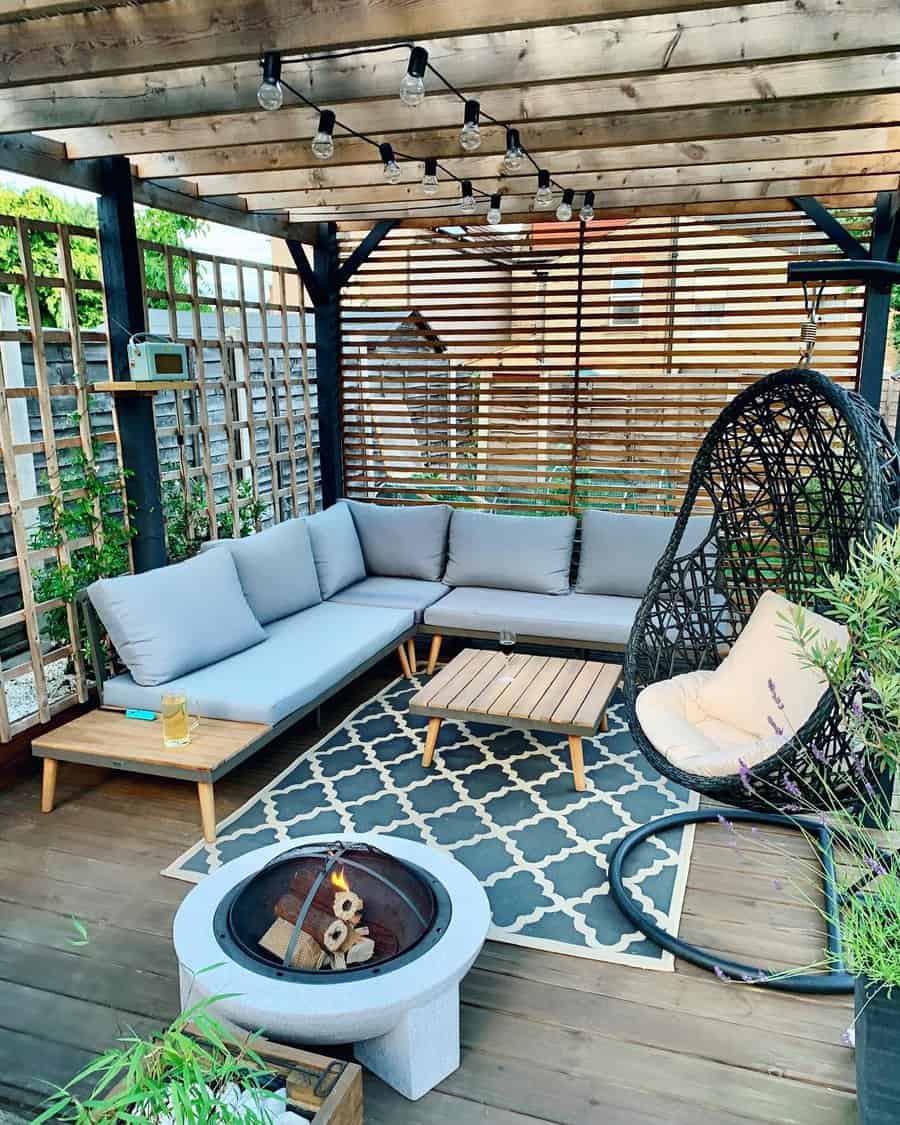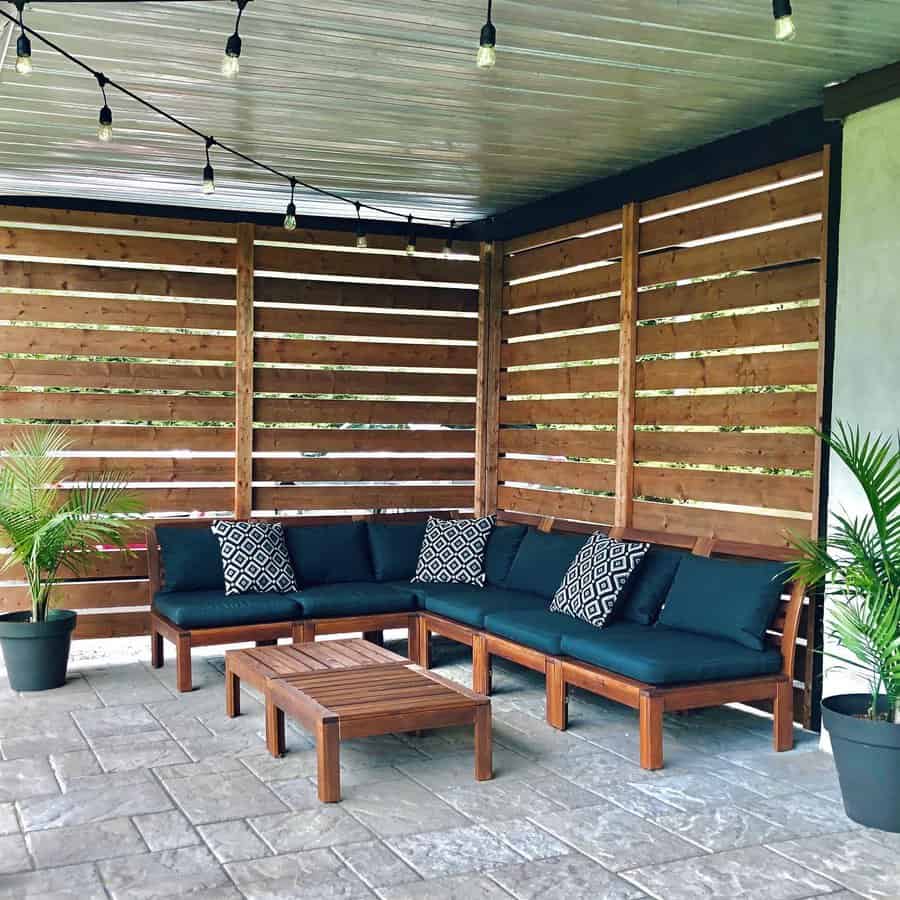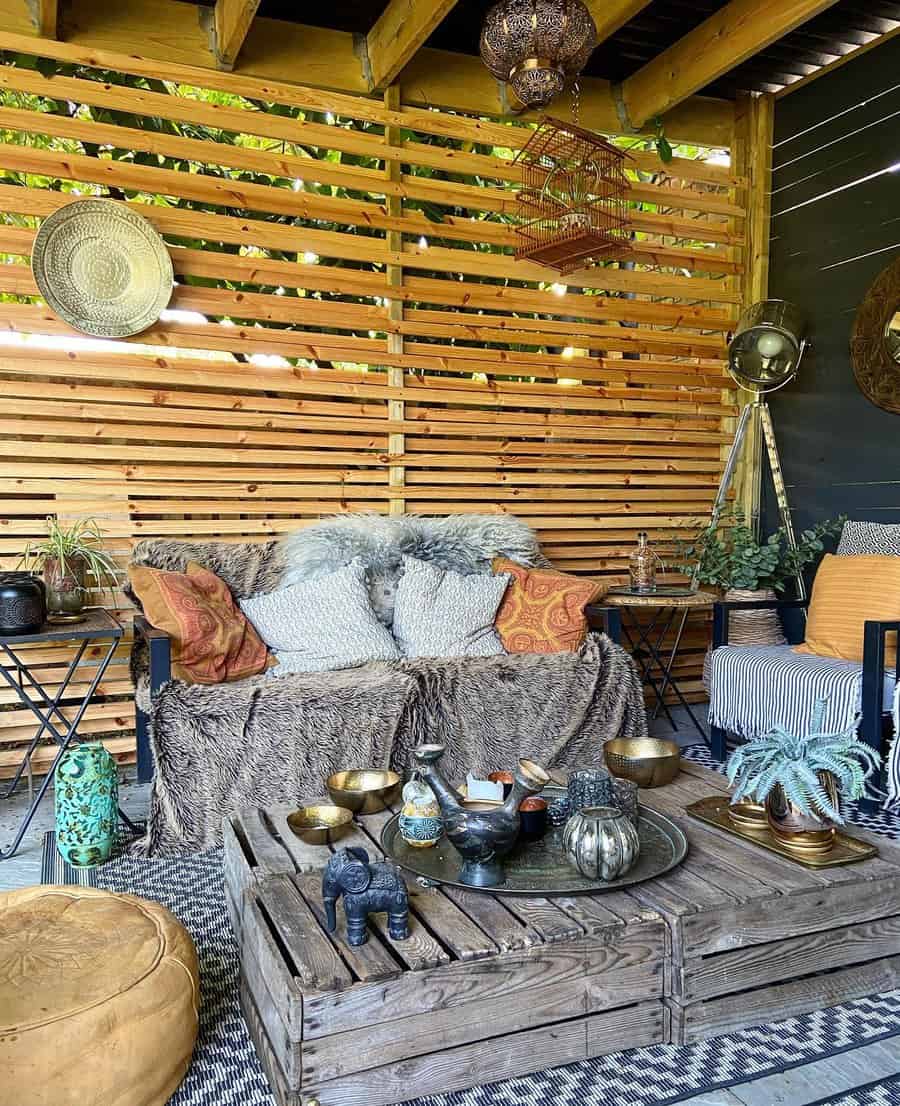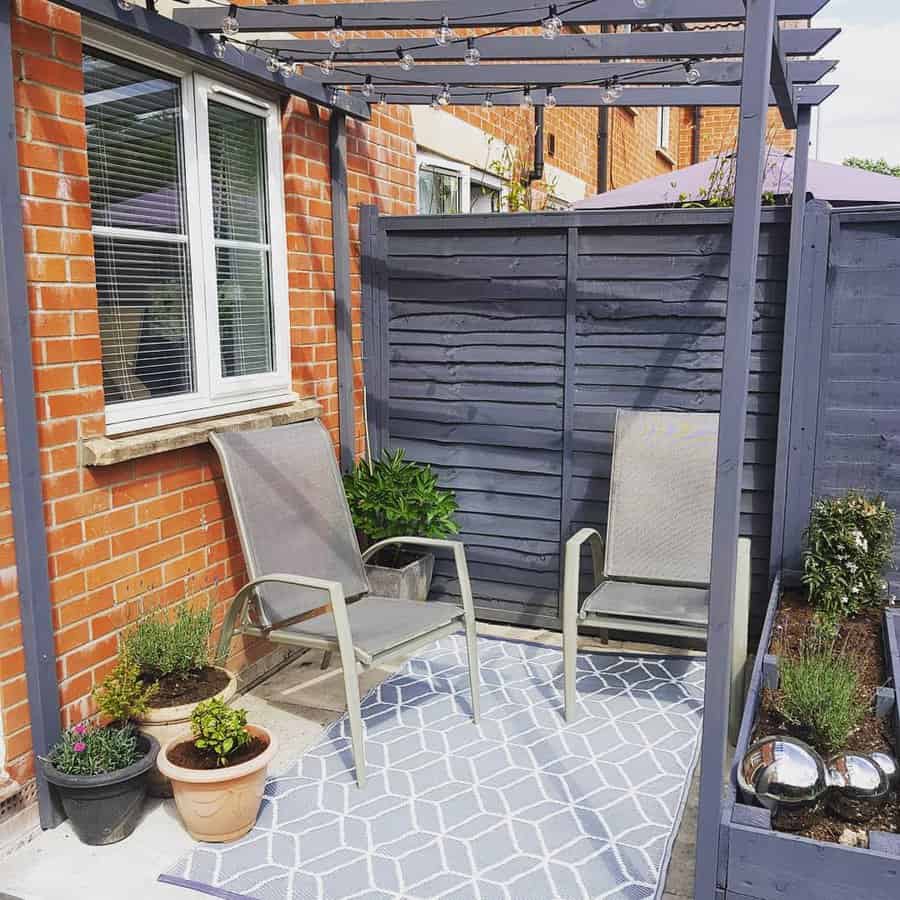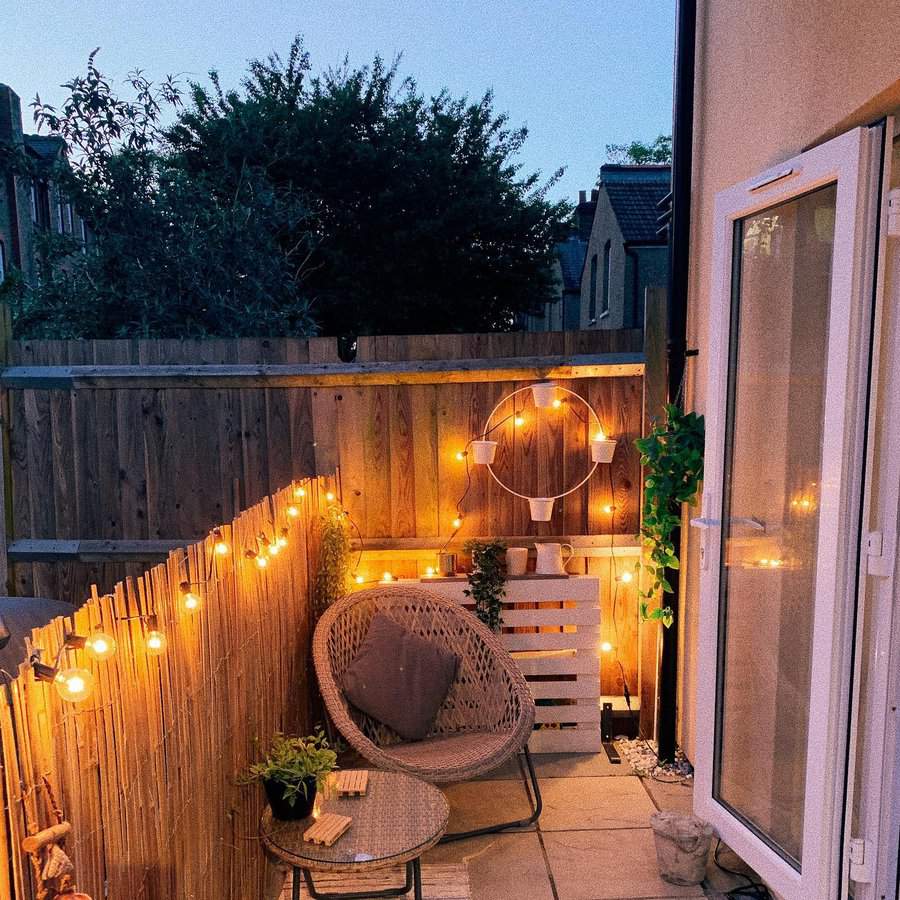 6. Wrap-Around Back Porch
Picture a spacious porch that hugs the exterior of your home, encircling it with warmth and inviting ambiance. Imagine comfortable seating arrangements, where you can unwind with a good book or sip your morning coffee while enjoying the gentle breeze. The wrap-around design offers ample space for various activities, from outdoor dining to hosting gatherings with friends and family.
Enhance the cozy atmosphere with soft lighting, potted plants, and decorative accents that reflect your personal style. Let the soothing sounds of nature envelop you as you create cherished memories in this versatile outdoor oasis. A wrap-around porch is a great edging idea for the exterior of your home.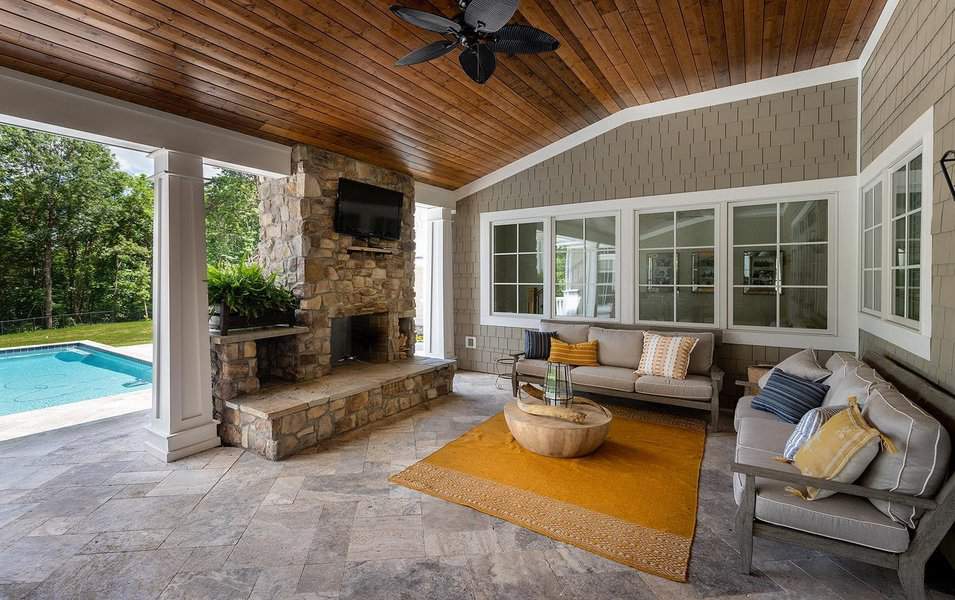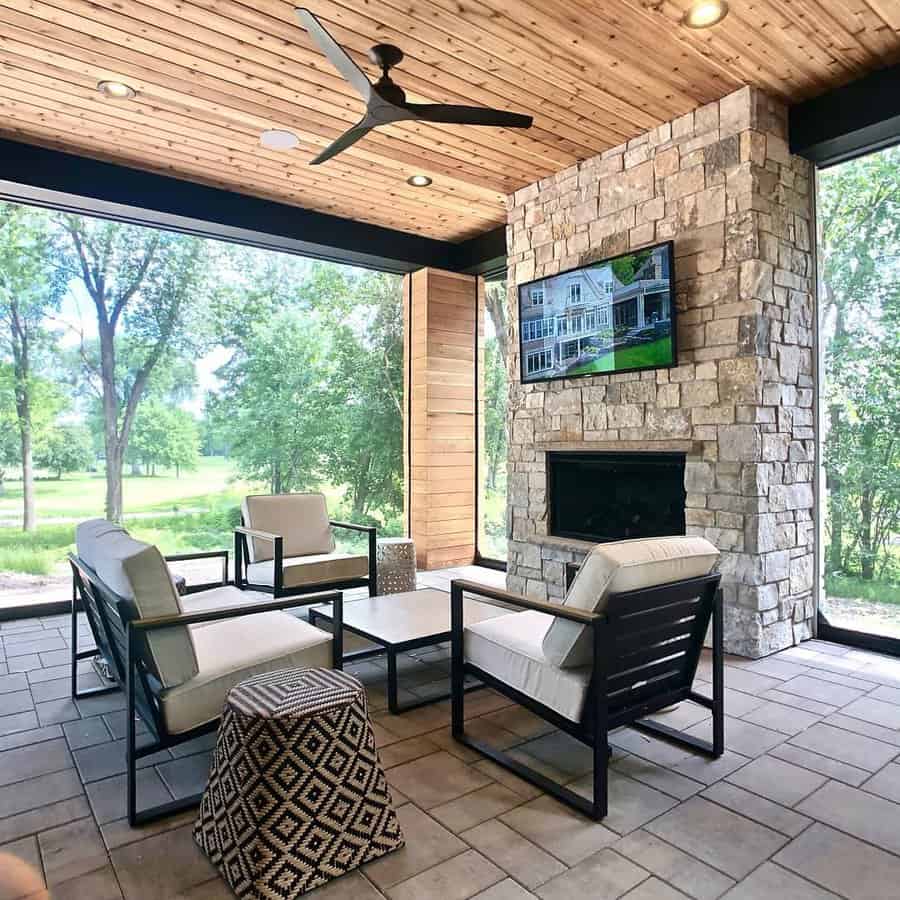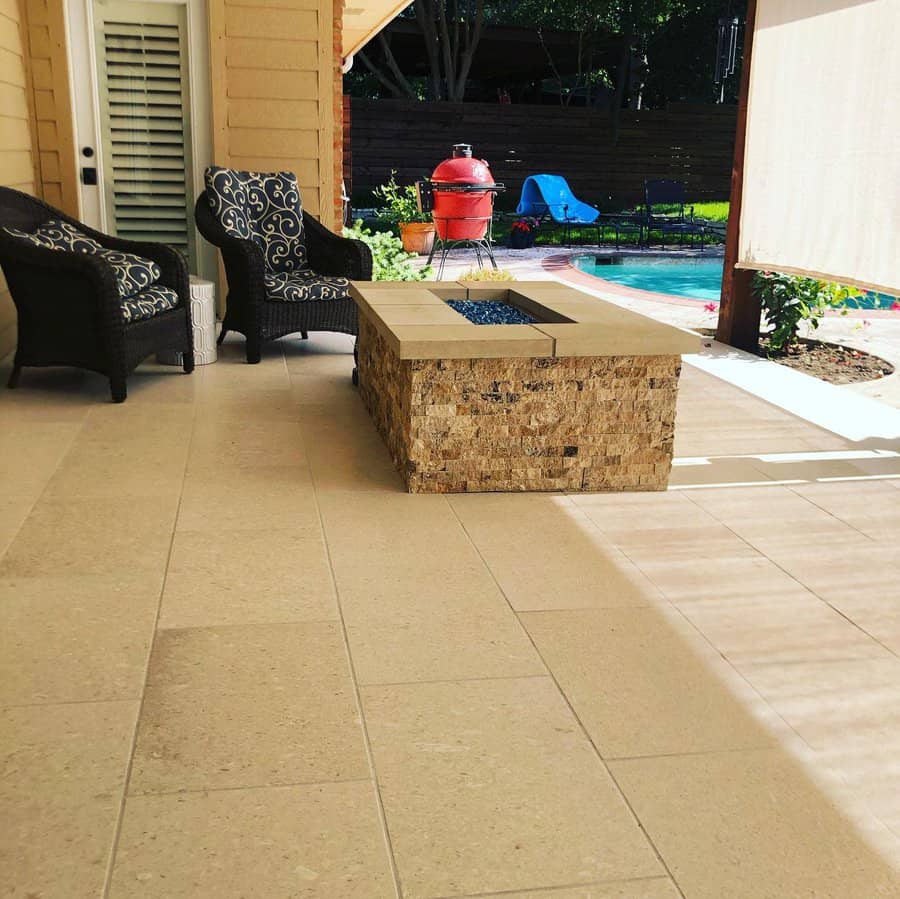 7. Back Porch With String Lights
Transform your back porch into a charming and inviting outdoor retreat with the addition of string lights. Imagine the warm glow and magical ambiance that can be created with these twinkling lights draped across your porch. Whether you have a small balcony or a spacious patio, string lights are a versatile and affordable way to add a touch of enchantment to your outdoor space.
Hang them along the eaves of your porch, wrap them around the railing, or create a canopy effect overhead. The soft glow of the lights creates a cozy atmosphere, perfect for relaxing evenings or entertaining guests.
Not only do string lights provide a delightful visual element, but they also extend the usability of your back porch into the evening hours.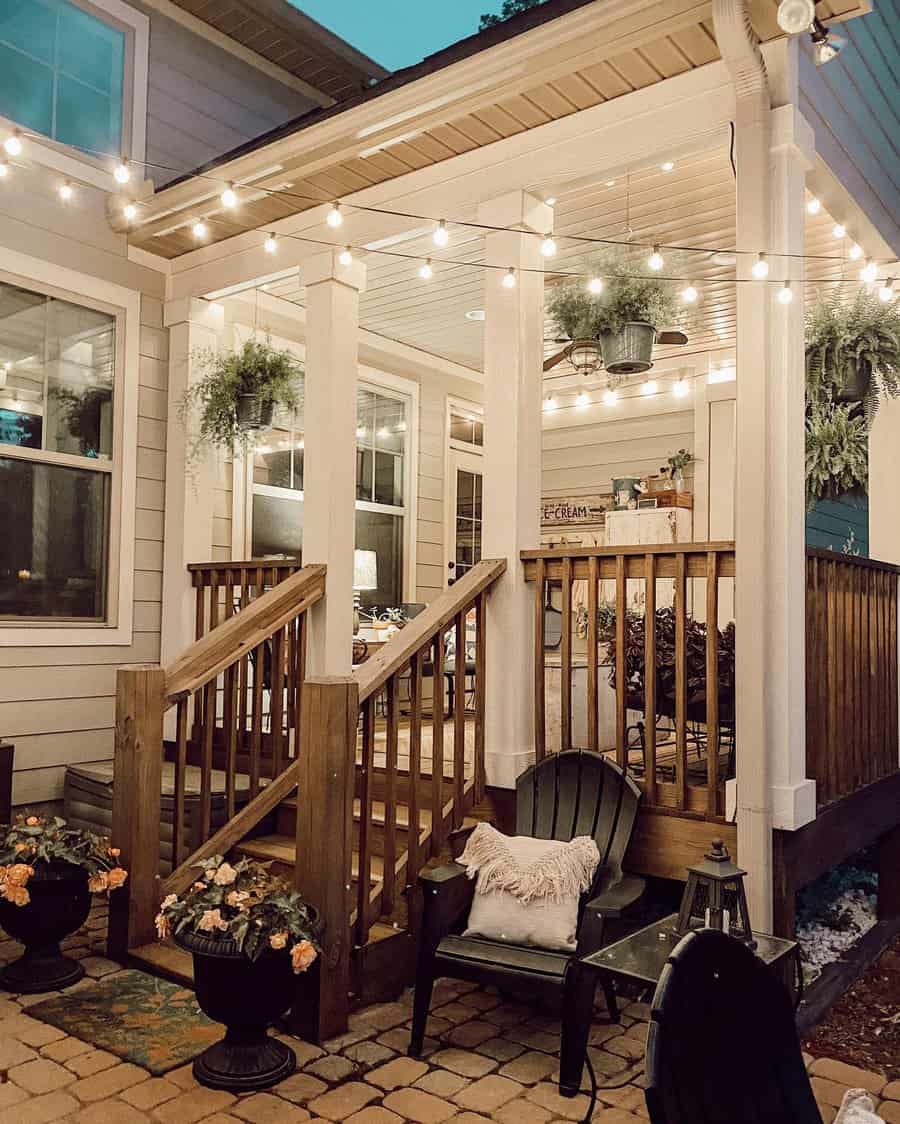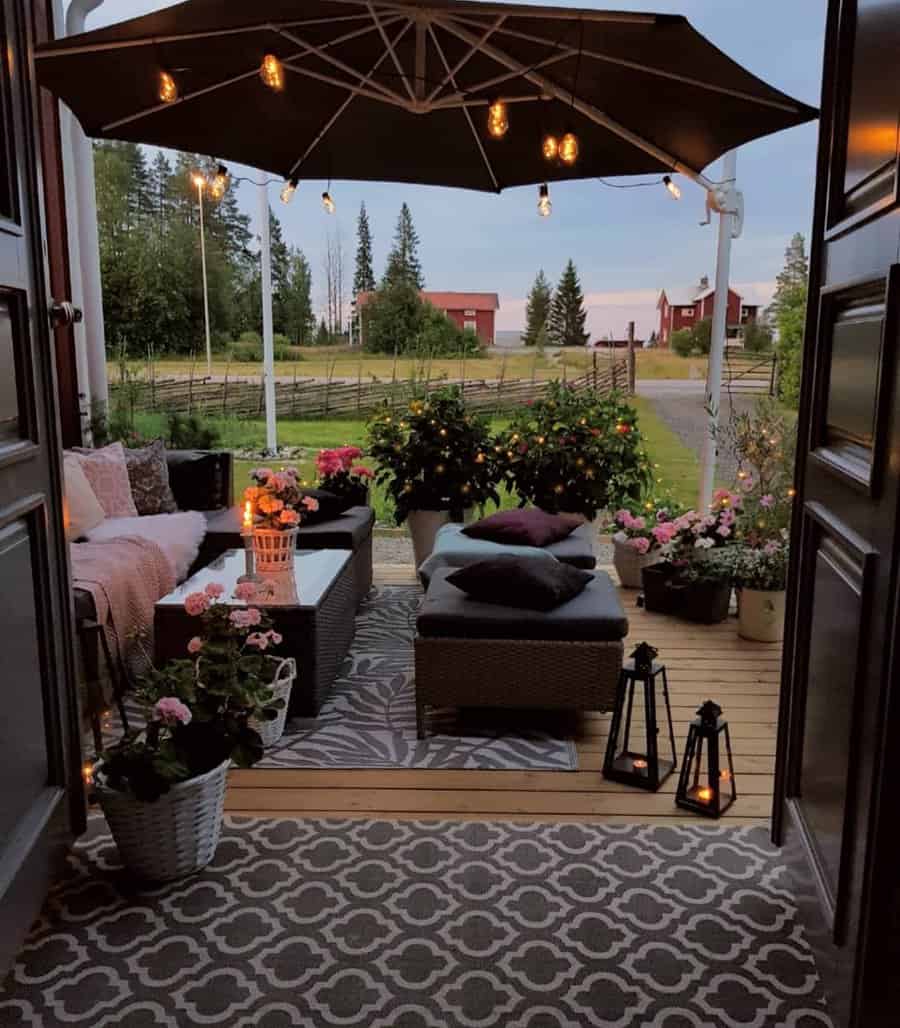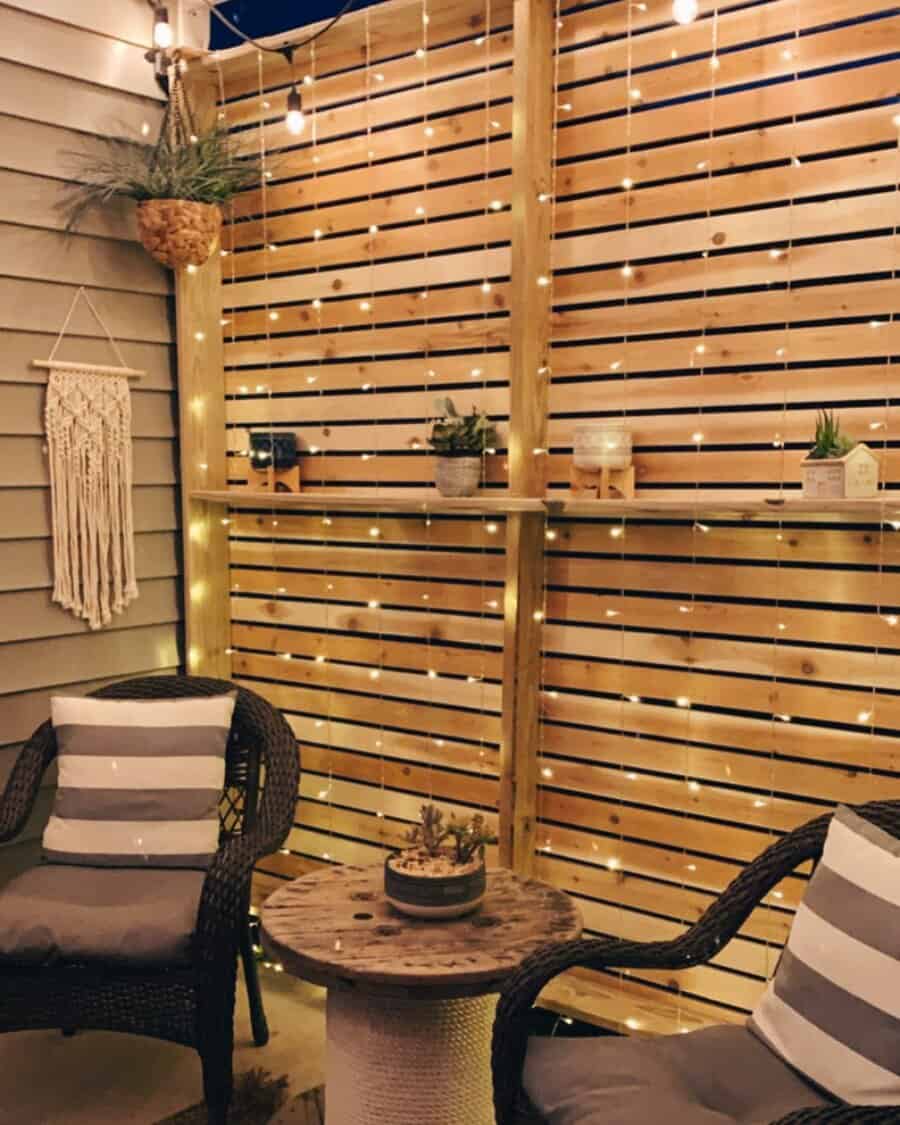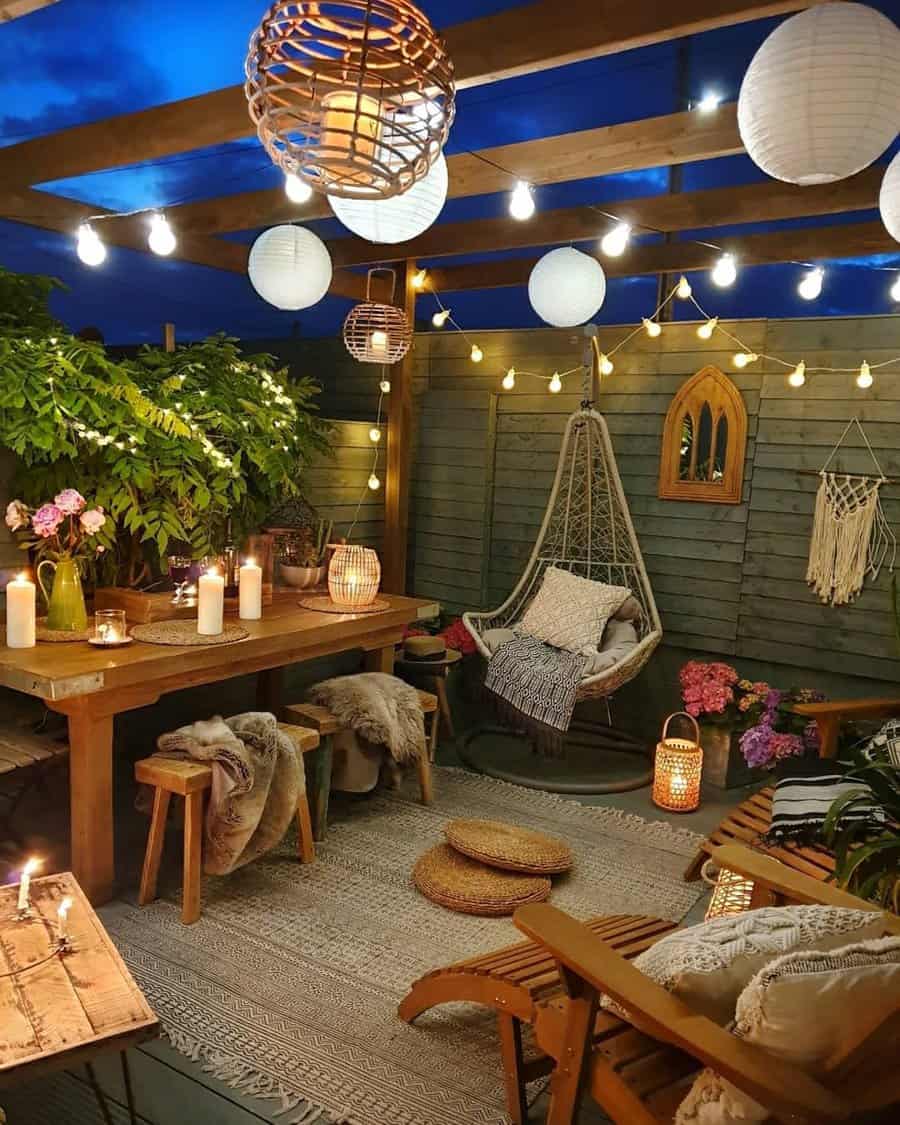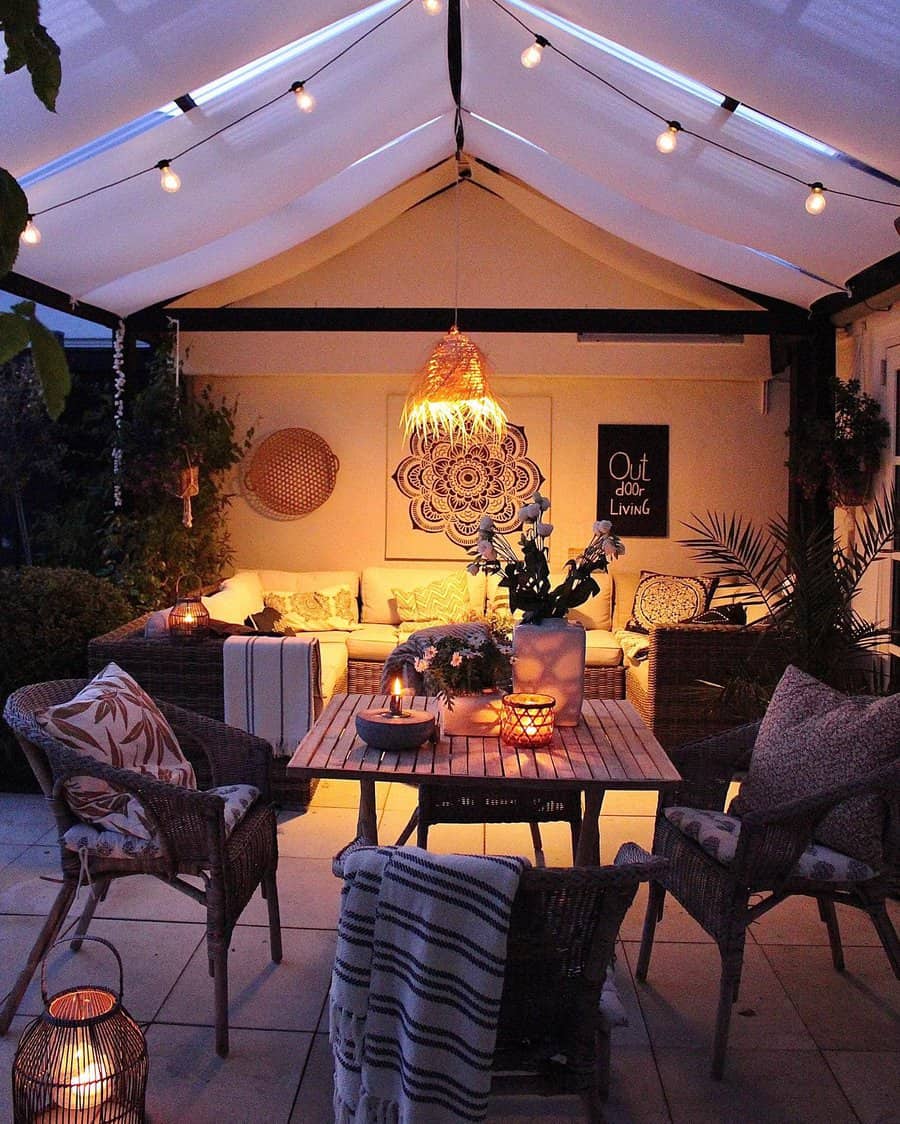 8. Standalone Back Porch
Create a charming and inviting retreat right at your doorstep with a standalone back porch. Whether you're looking for a cozy spot to unwind or a versatile space for entertaining, a standalone back porch offers the perfect blend of functionality and style.
Consider incorporating a covered gazebo into your design, providing shelter from the elements while allowing you to enjoy the beauty of the outdoors. This covered area can be adorned with comfortable seating, plush cushions, and vibrant throw pillows to create a cozy atmosphere.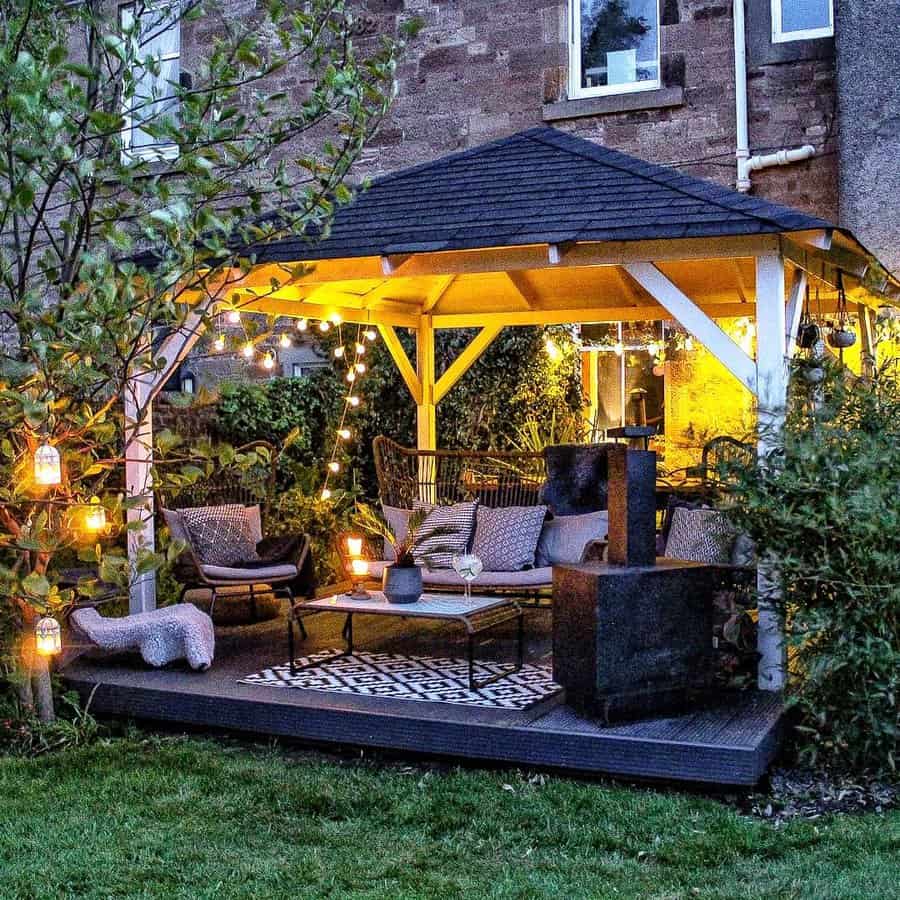 9. Pebbled Deck
Consider the idea of a pebbled back porch, which adds a touch of natural beauty and texture to your outdoor space. The pebbles create a unique and visually appealing flooring option that sets the stage for relaxation and outdoor enjoyment.
With their smooth and rounded surfaces, the pebbles provide a soothing sensation underfoot as you step onto your porch. This design also offers a low-maintenance solution, as the pebbles require minimal upkeep and can withstand various weather conditions.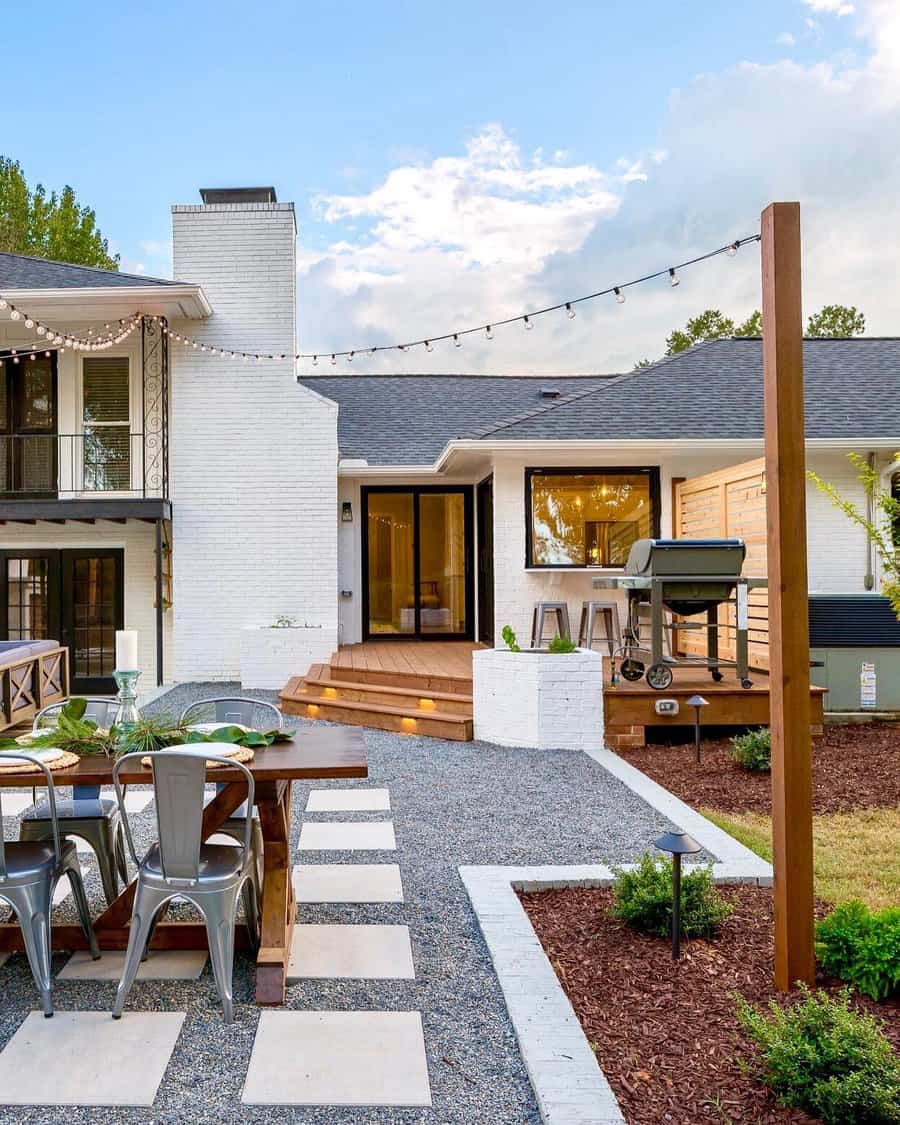 10. Bungalow Back Porch
Create a charming and inviting retreat right in your backyard with a bungalow-style back porch. This classic design brings a touch of traditional elegance to your family home, offering a cozy and relaxing space for outdoor gatherings and leisurely moments. Incorporate elements like a covered roof and wide eaves to provide shade and protection from the elements, allowing you to enjoy your porch all year round.
Enhance the traditional look with architectural details such as columns or pillars, adding depth and character to the space. Choose comfortable and stylish outdoor furniture, such as wicker chairs or a wooden bench, to create a cozy seating area where you can unwind and connect with loved ones. Complete the ambiance with soft lightings, such as string lights or lanterns, to create a warm and welcoming atmosphere during evenings and nights.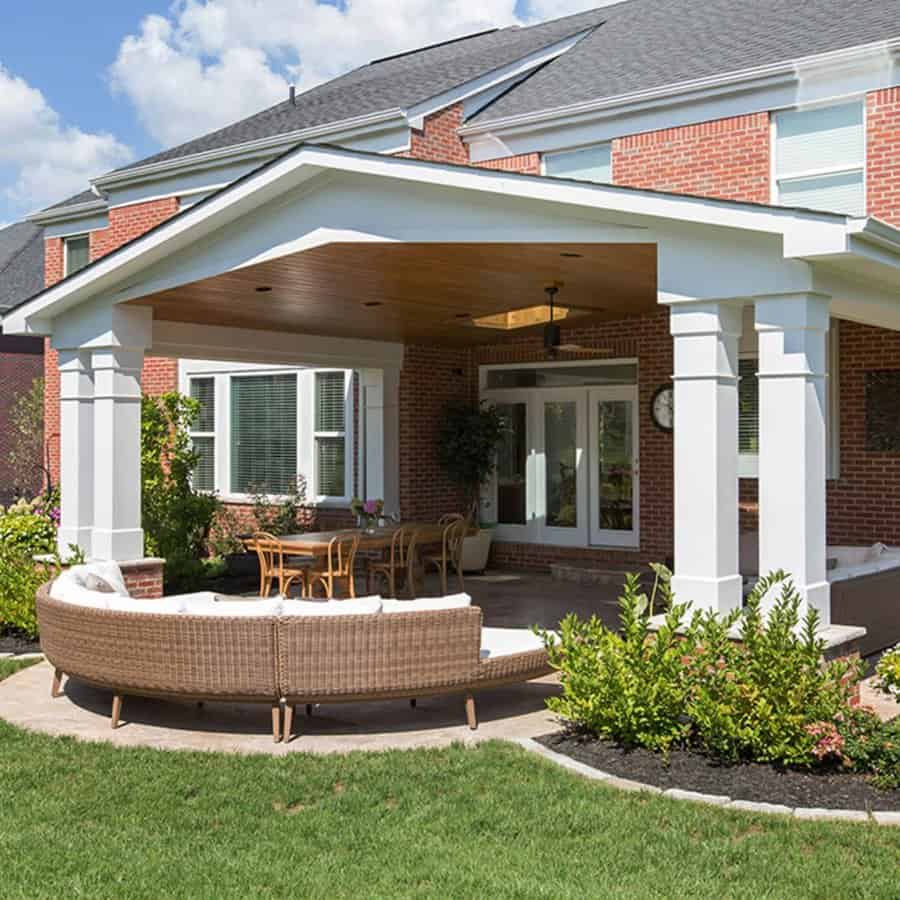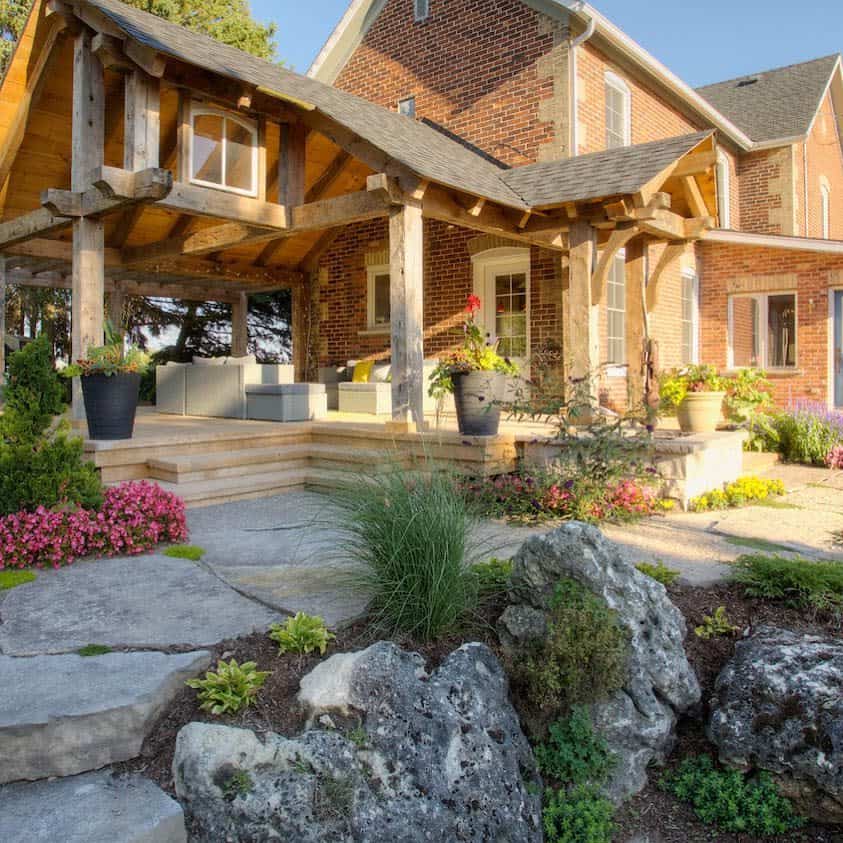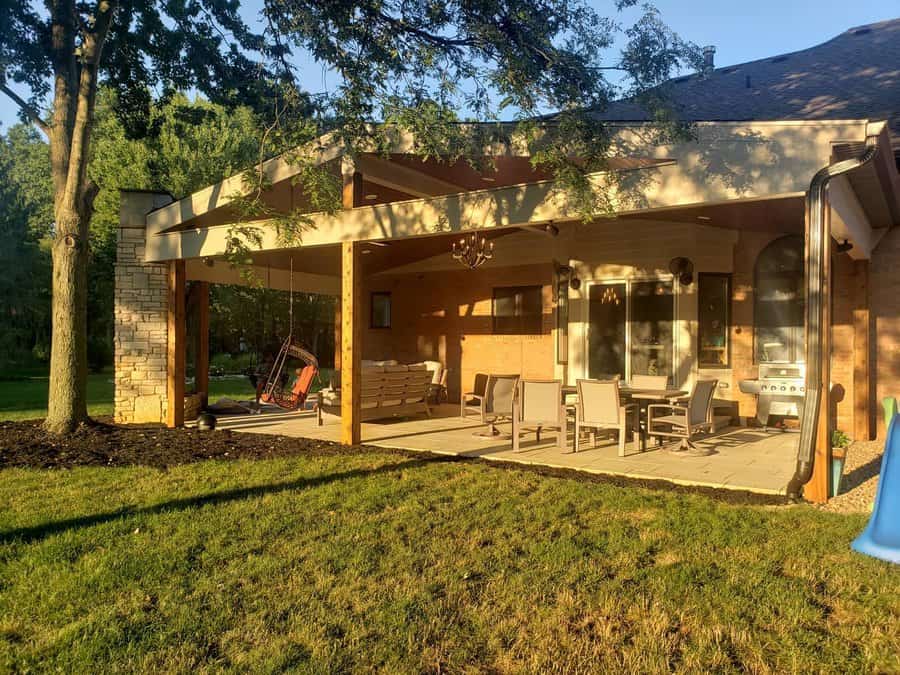 11. Back Porch With Area Rug
Transform your back porch into a cozy and inviting retreat with the simple addition of an area rug. This small detail can make a big impact, instantly adding warmth and style to your outdoor space. Choose a rug that complements your existing decor and reflects your personal taste, whether it's a vibrant pattern or a subtle neutral tone.
A plush area rug not only enhances the visual appeal of your back porch but also creates a comfortable and defined seating area. It anchors the furniture and brings together the different elements, creating a cohesive and inviting atmosphere. With the rug in place, you can easily arrange seating and accessories to create a functional and stylish outdoor living area.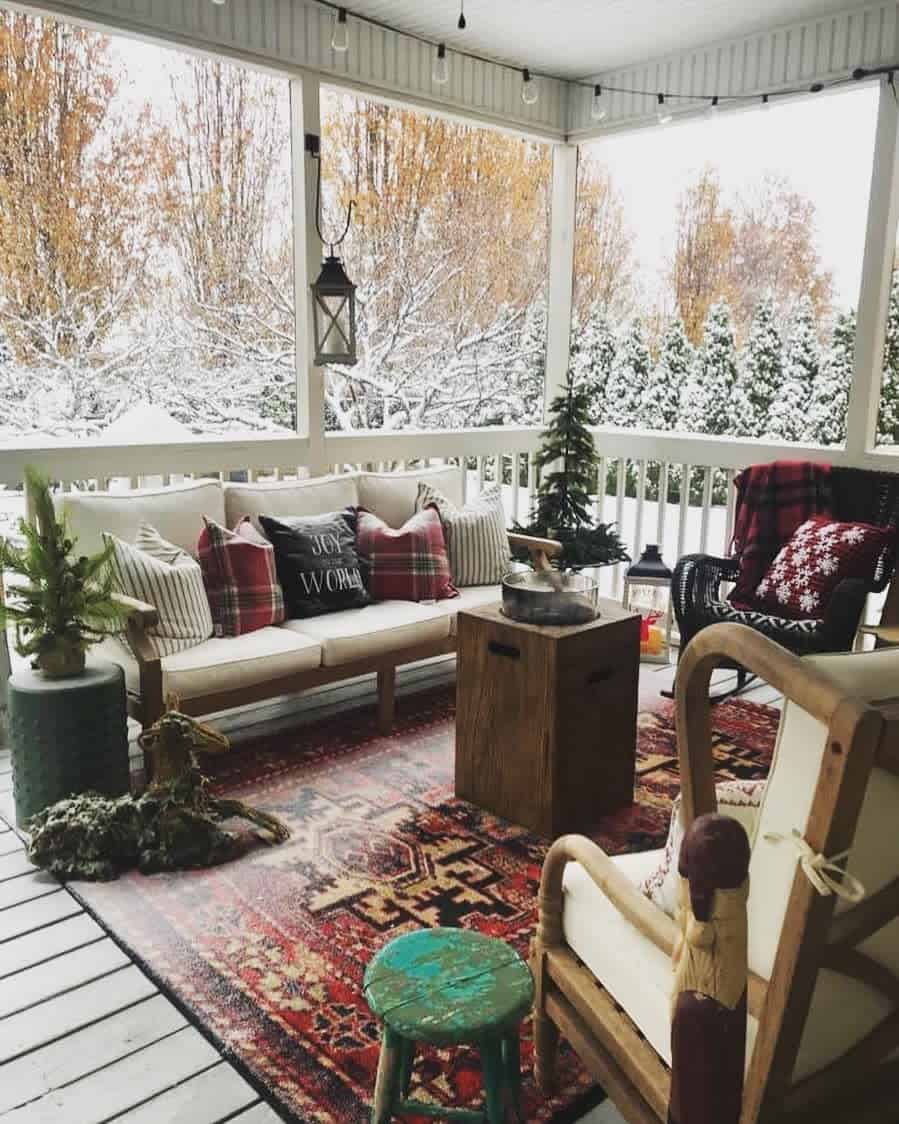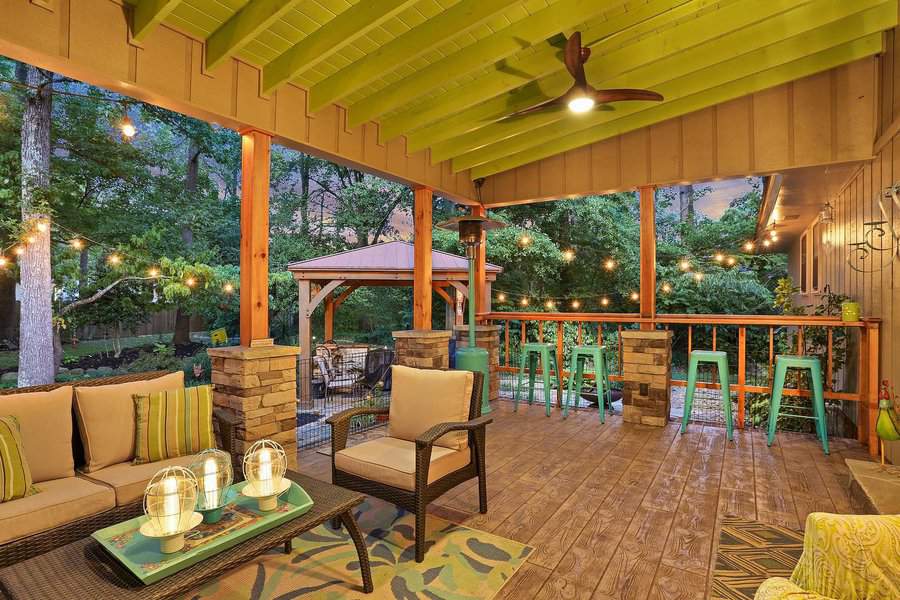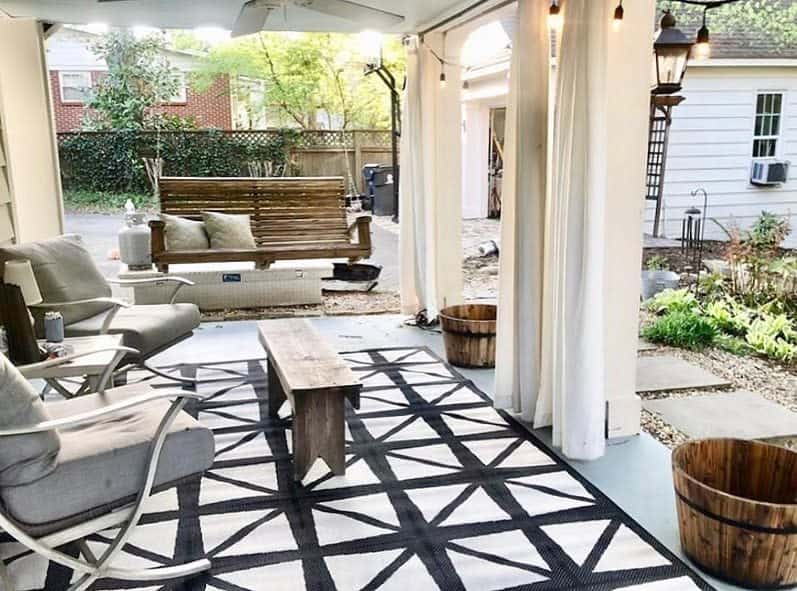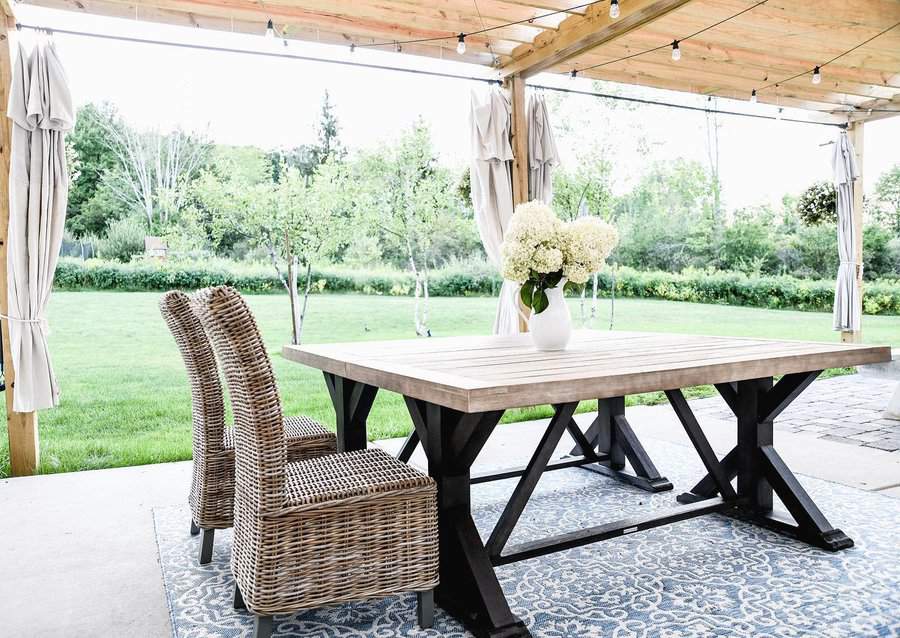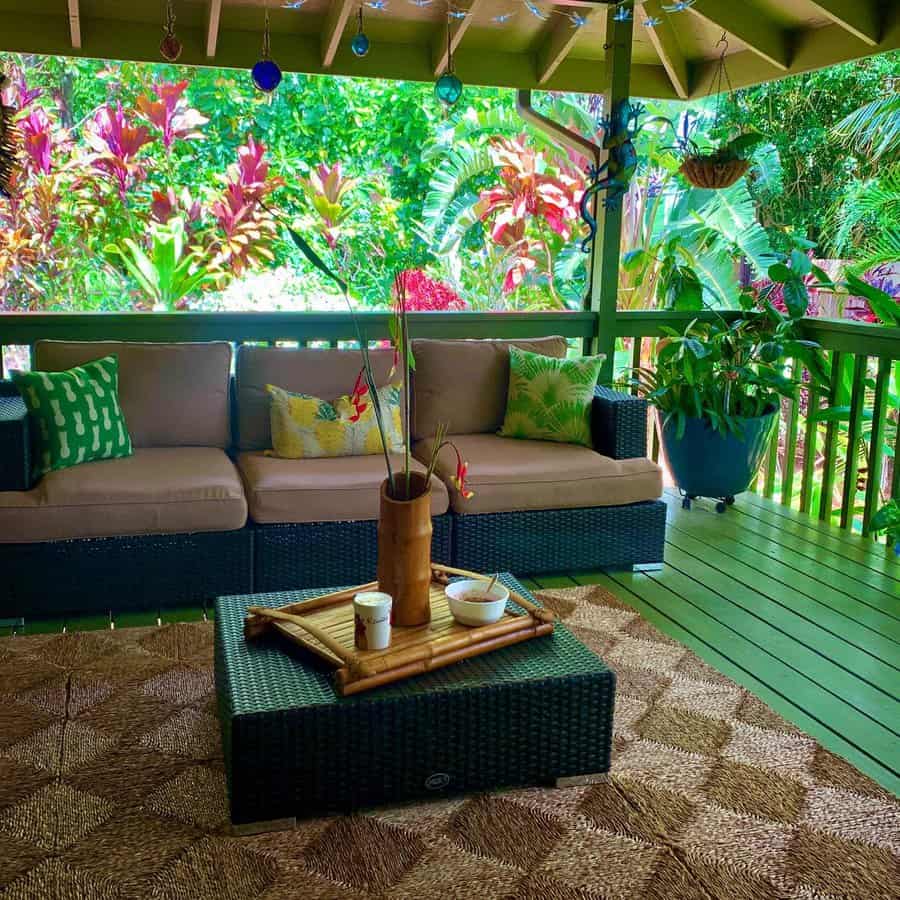 12. Back Porch With Concrete Paver Flooring
Concrete pavers not only provide a solid and stable surface for your outdoor activities but also lend a sleek and modern aesthetic to your space. Their weather-resistant properties make them ideal for outdoor use, ensuring that your back porch can withstand various weather conditions without compromising its functionality or style.
With concrete paver flooring, you can confidently arrange outdoor furniture, set up a play area for the kids, or create a cozy outdoor dining space. Add some comfy seating, vibrant pillows, and decorative accents to infuse your back porch with a touch of personality and style.
Whether you're hosting a family barbecue or simply enjoying a quiet moment in the fresh air, weather-resistant concrete paver flooring will provide the foundation for a beautiful and functional back porch that your family will love to spend time in.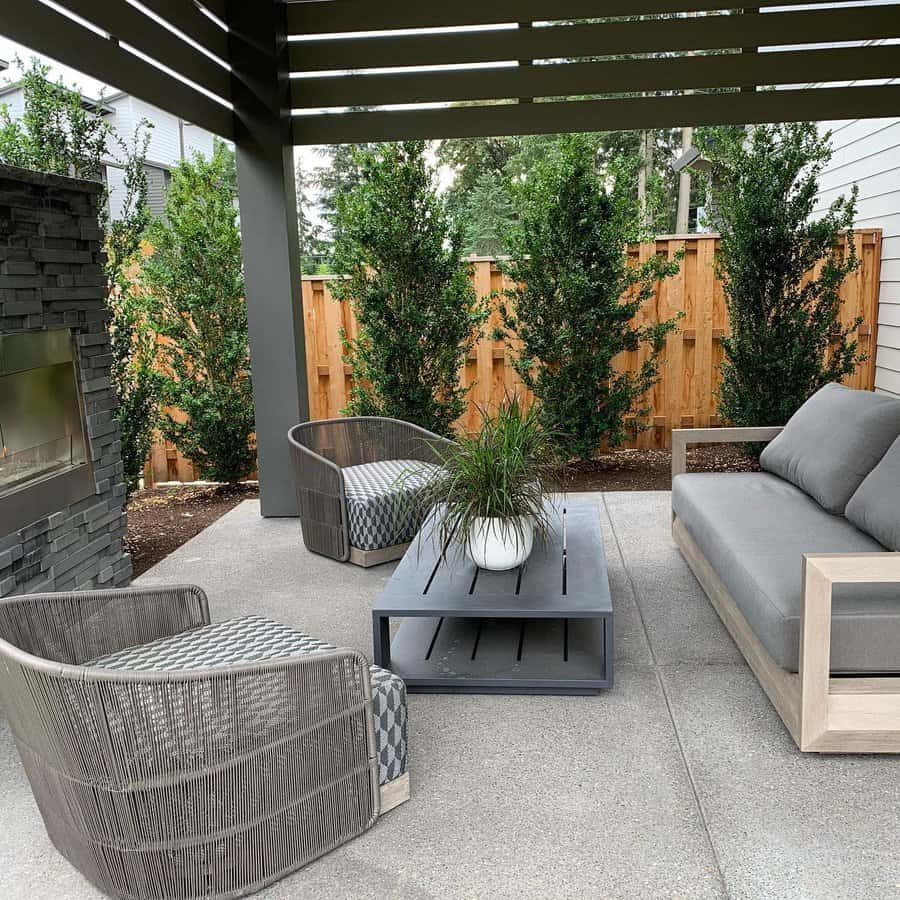 13. Back Porch With Trunk Posts
One creative concept to consider is a back porch with trunk posts. Incorporating tree trunks as support columns adds a touch of natural beauty and rustic charm to your porch.
These sturdy and weathered trunks not only provide structural integrity but also become a captivating design element that connects your outdoor space with the surrounding nature.
The texture and character of the tree trunks bring an organic and earthy vibe to your porch, making it feel like an extension of the natural environment.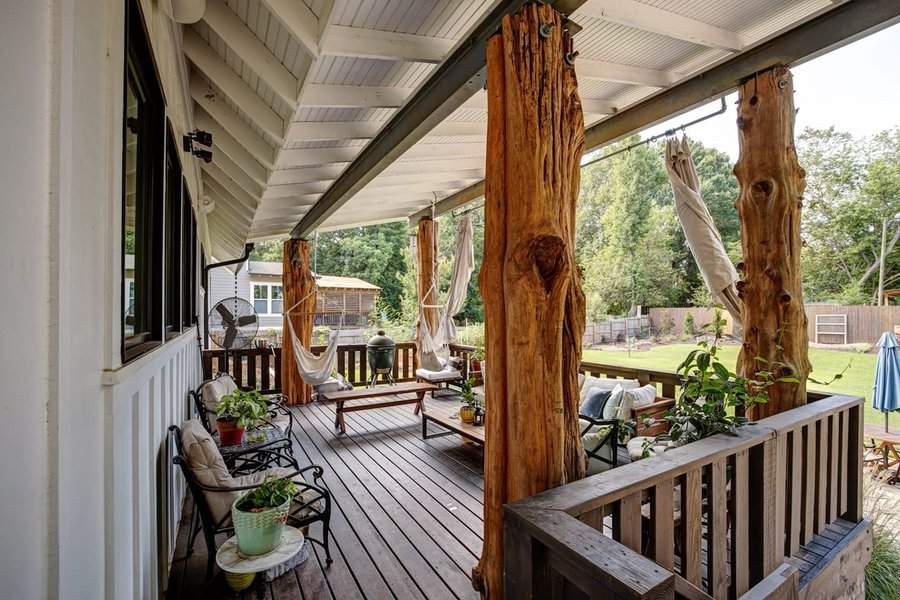 14. Back Porch With Swing
Imagine a back porch swing, a delightful and inviting addition that brings a sense of nostalgia and relaxation to your outdoor space. Instead of a traditional swing, consider a hanging couch suspended by ropes, providing a unique and stylish seating option for your family and guests. This unconventional twist on a classic allows for ample space to snuggle up with a good book or simply enjoy the gentle sway while soaking in the fresh air.
The hanging couch becomes a focal point, adding a touch of whimsy and playfulness to your back porch. With cushions and pillows in vibrant colors and cozy fabrics, you can create a cozy and inviting atmosphere that encourages everyone to unwind and enjoy the outdoors.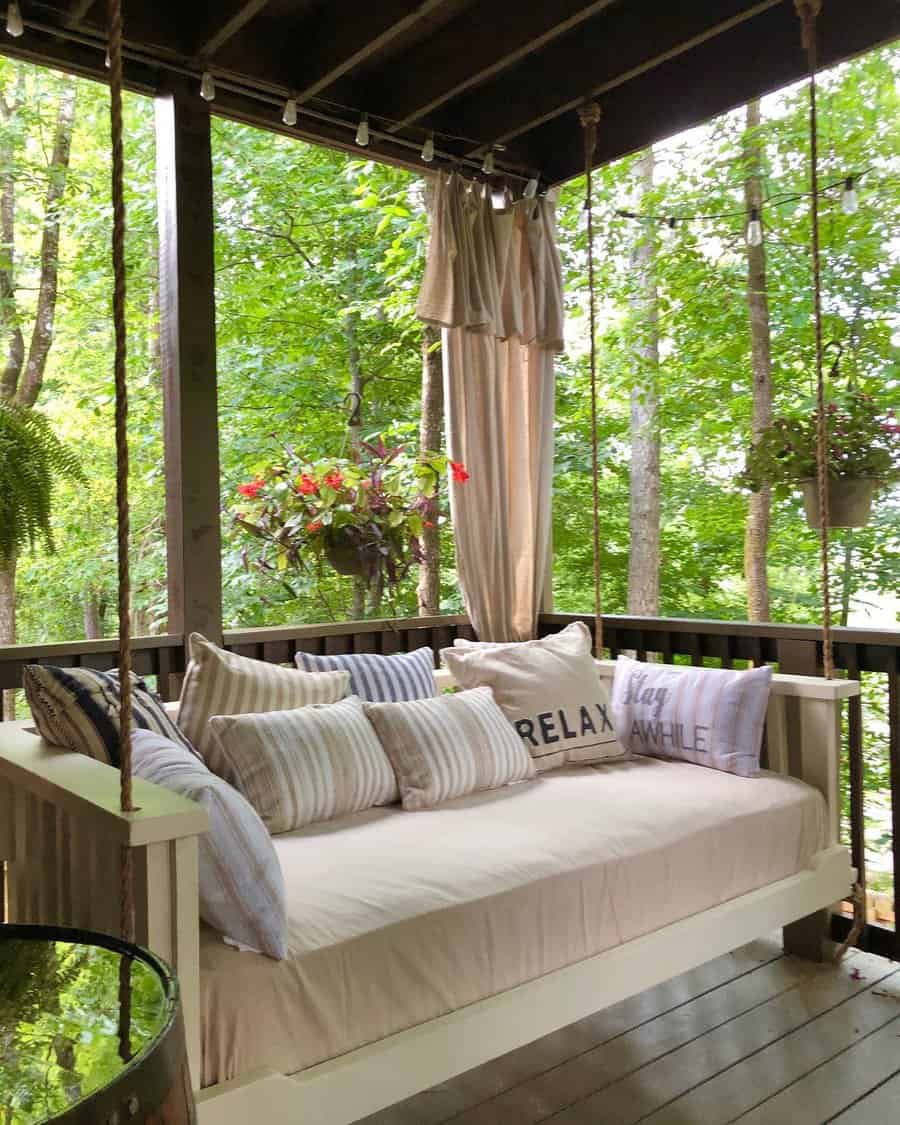 15. Back Porch With Trellis
By incorporating a trellis, you have the opportunity to introduce climbing plants that will gracefully weave their way through the structure, adding a touch of natural beauty and lush greenery to your outdoor oasis. Imagine enjoying a cup of coffee in the morning or a relaxing evening with your family, surrounded by fragrant flowers and the soothing sound of nature.
The trellis acts as a privacy fence, shielding you from the outside world while still allowing glimpses of sunlight and a gentle breeze to filter through. Whether you opt for vibrant blossoms or fragrant vines, the climbing plants will create a picturesque backdrop for your back porch, adding depth and texture to the overall design.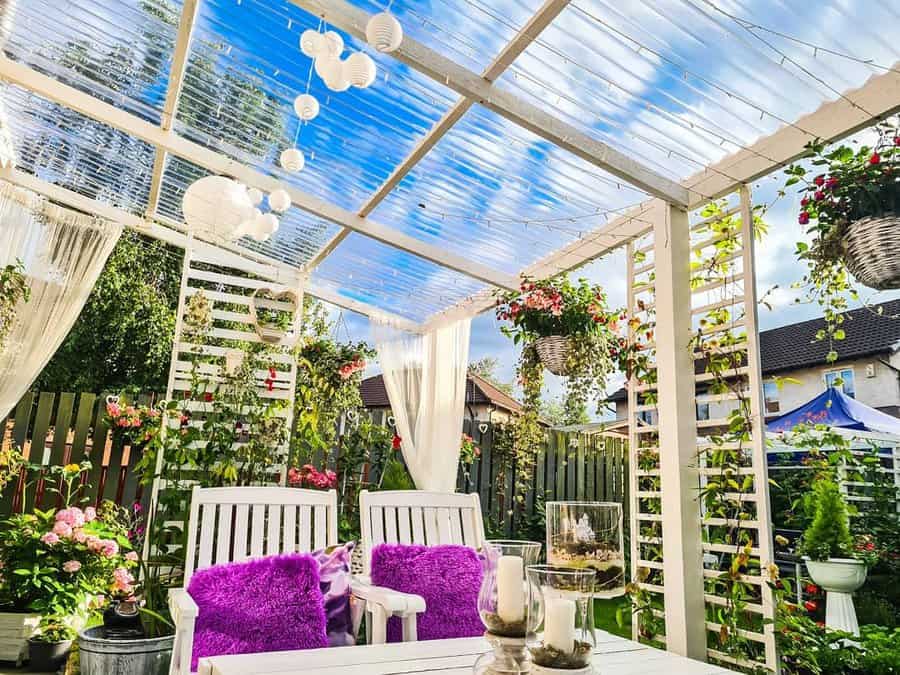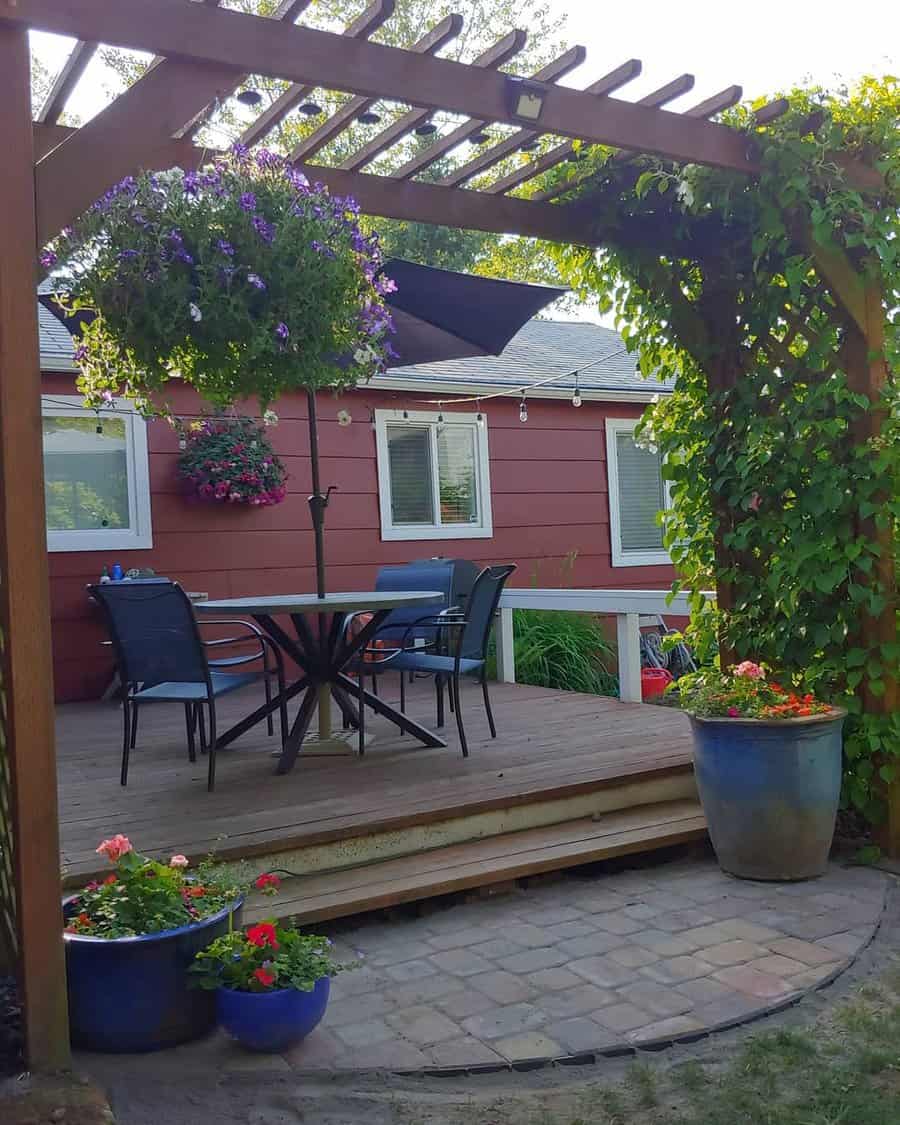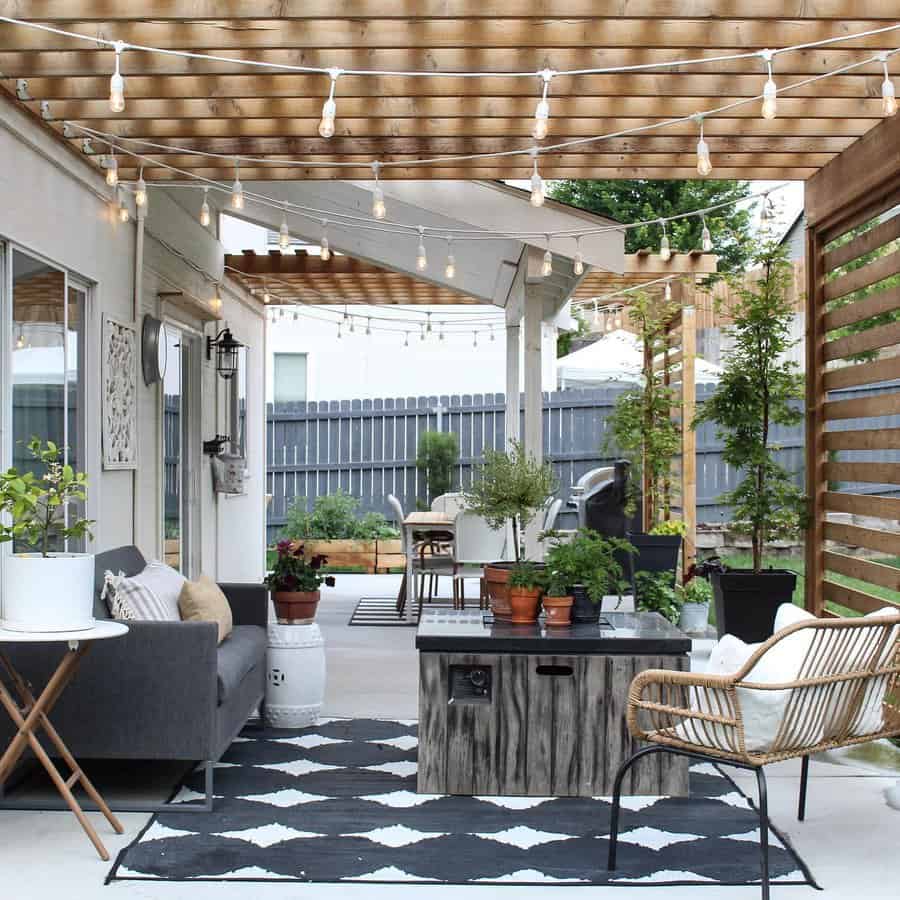 16. Back Porch with Outdoor Lounge Area
Incorporate comfortable and durable couch seating to create a cozy atmosphere where everyone can unwind and connect. Choose weather-resistant cushions and fabrics that can withstand the elements while providing the utmost comfort. You can opt for a modular sectional sofa that allows for versatile seating arrangements or a combination of chairs and a loveseat to accommodate different seating preferences.
Add some colorful throw pillows and soft blankets for a touch of style and warmth. Consider incorporating a coffee table or side tables to provide a convenient surface for placing drinks, snacks, or decorative items. To complete the ambiance, add some potted plants, outdoor lighting, and maybe even a ceiling fan to keep the area cool during hot summer days.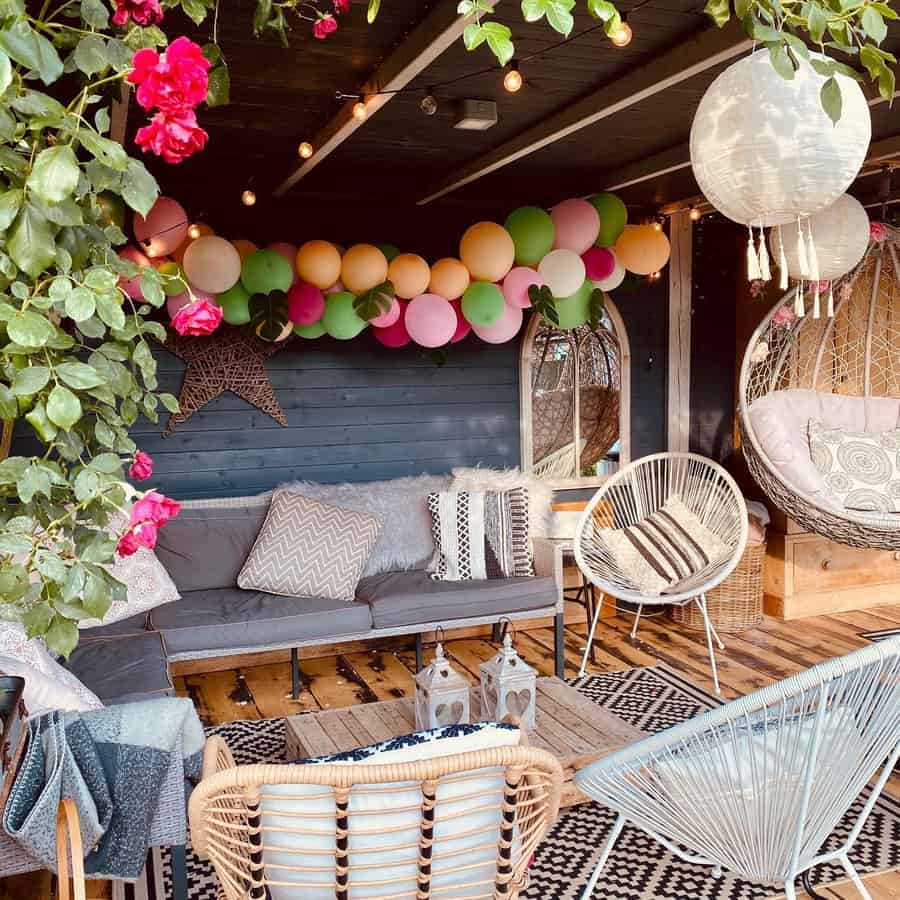 17. Back Porch With Artificial Grass
Imagine stepping onto your back porch and feeling the soft, lush greenery beneath your feet, creating a cozy and comfortable space for relaxation and entertainment. The artificial grass provides a vibrant and fresh look all year round, with no mowing, watering, or trimming required.
It's a perfect solution for families who want to enjoy the beauty of a green landscape without the time-consuming maintenance. With the addition of some comfortable outdoor furniture, colorful throw pillows, and potted plants, your back porch can become a charming oasis for family gatherings, BBQs, or simply enjoying a cup of coffee in the morning sun.
The artificial grass creates a clean and neat aesthetic, giving your outdoor space a polished and modern appeal.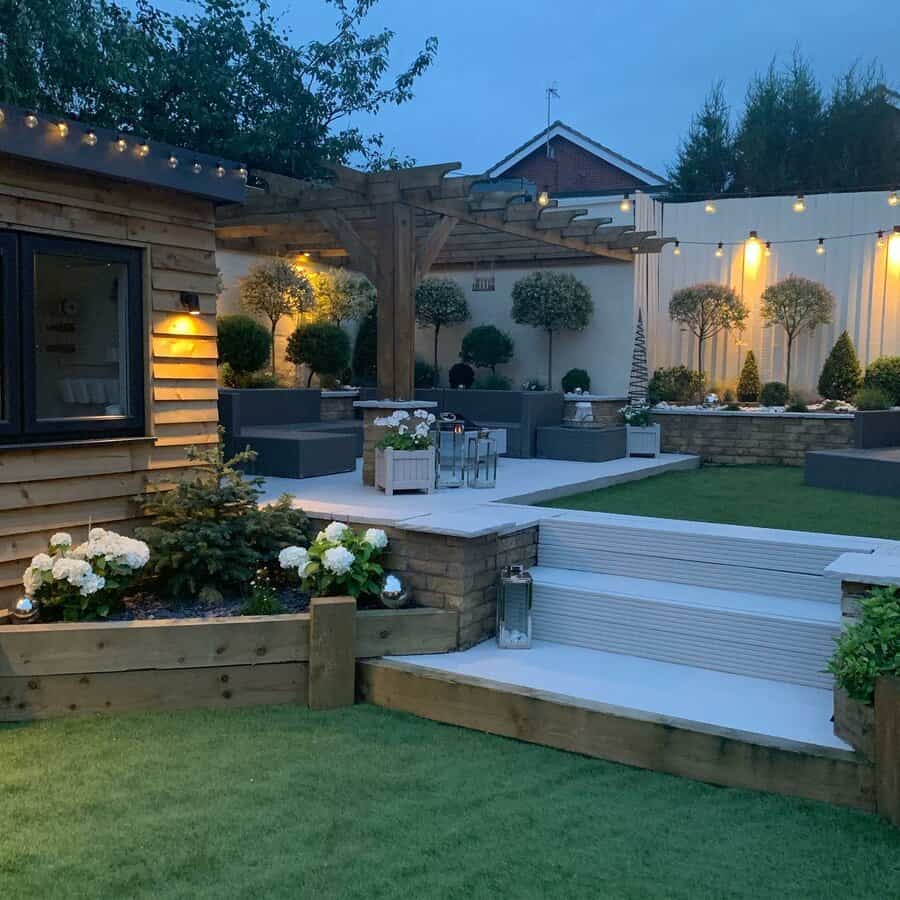 18. Back Porch With Glass Railing
A back porch with a glass railing not only provides safety but also offers unobstructed views of your surroundings, allowing you to fully immerse yourself in the beauty of nature. The transparency of the glass railing adds a modern touch and creates a seamless connection between your indoor and outdoor living areas.
Whether you're enjoying a morning cup of coffee or hosting a family gathering, the glass railing adds an element of elegance and sophistication to your back porch. It allows natural light to flood in, creating a bright and airy atmosphere, while still providing a sense of privacy.
With the glass railing as a sleek backdrop, you have the freedom to decorate and personalize your back porch with comfortable seating, vibrant plants, and cozy accents.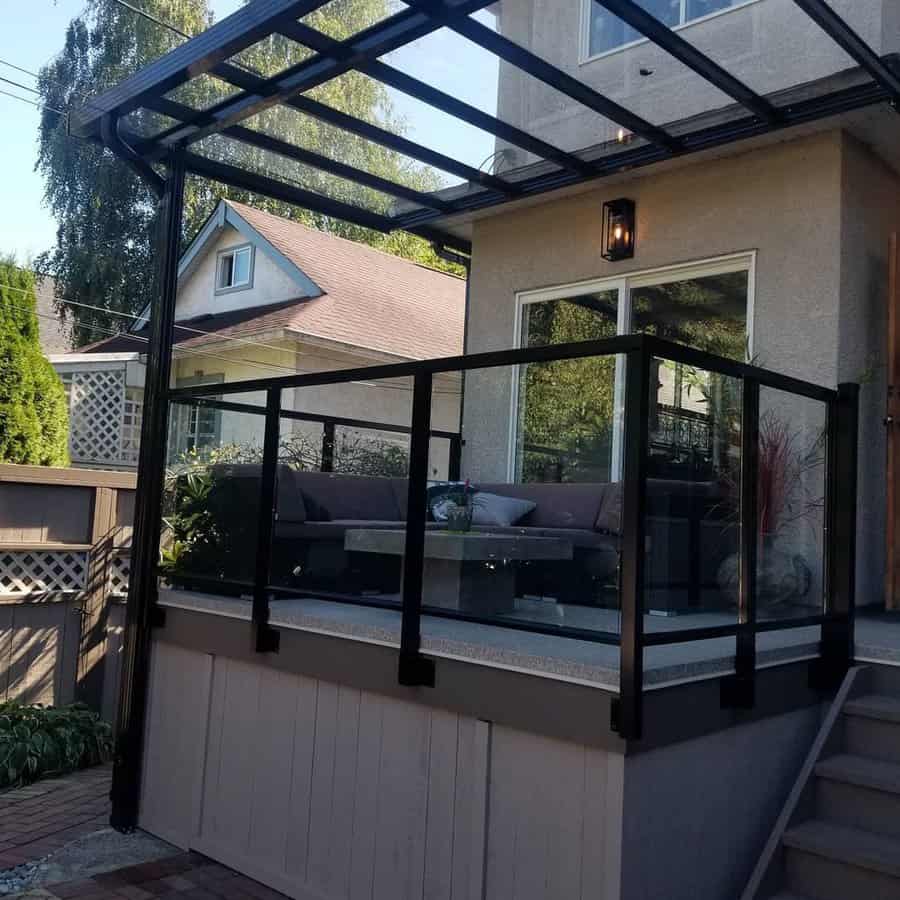 19. High-Ceiling Back Porch
Imagine a high-ceiling back porch that creates a sense of spaciousness and allows for better air circulation on those warm summer days. To enhance the comfort and functionality of the space, consider incorporating a ceiling fan. Not only does a ceiling fan provide a refreshing breeze, but it also adds a decorative element to the porch. Opt for a fan with a stylish design that complements the overall aesthetic of your home.
The gentle whir of the fan blades creates a soothing ambiance, making your back porch an inviting retreat for relaxation and quality time with your loved ones. Whether you're enjoying a lazy afternoon with a good book or hosting a family gathering, the high-ceiling back porch with a ceiling fan will keep everyone cool and comfortable.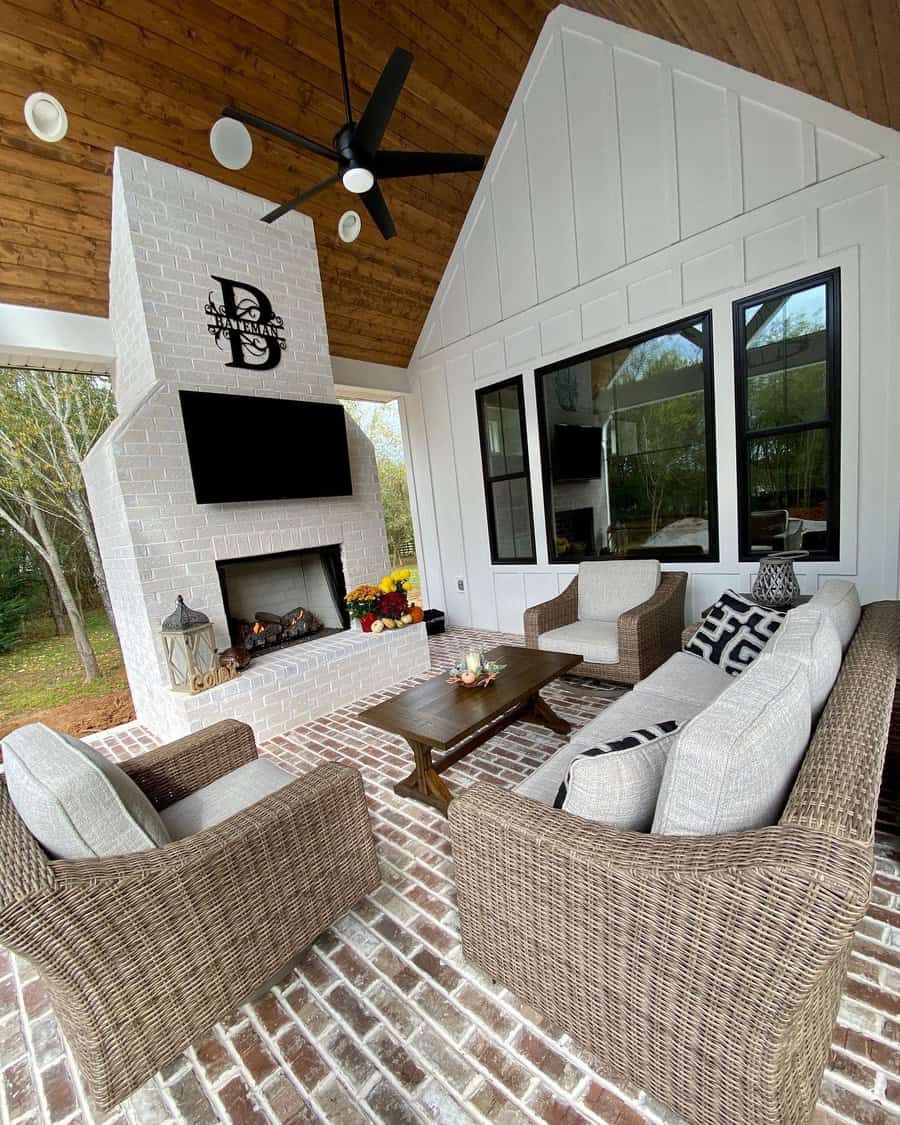 20. Back Porch With Plants
Incorporating plants into your back porch design adds a touch of freshness and vitality to the space. Consider the direction your porch faces to select the perfect plants that thrive in each direction. For a north-facing porch, opt for shade-loving plants such as ferns, hostas, or impatiens. These plants will flourish in cooler and shadier conditions.
If your porch faces south, embrace the sunlight with vibrant and sun-loving plants like geraniums, petunias, or succulents. These plants will bask in the warmth and brighten up your space with their colorful blooms. East-facing porches receive gentle morning sunlight, making them an ideal spot for plants that prefer partial shade, such as begonias, hydrangeas, or fuchsias.
Lastly, for west-facing porches that receive afternoon sun, choose heat-tolerant plants like lavender, salvia, or daylilies. These plants will withstand the heat and create a welcoming ambiance.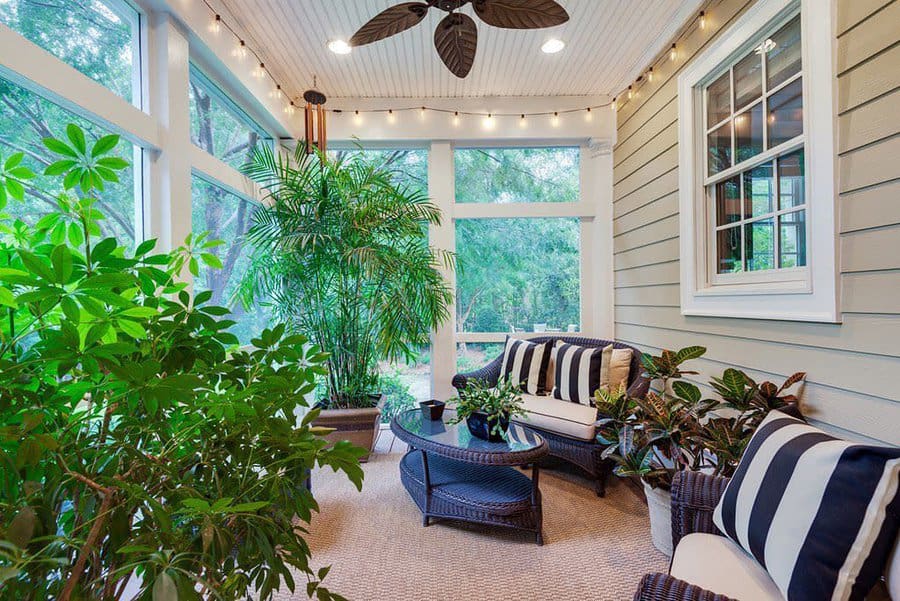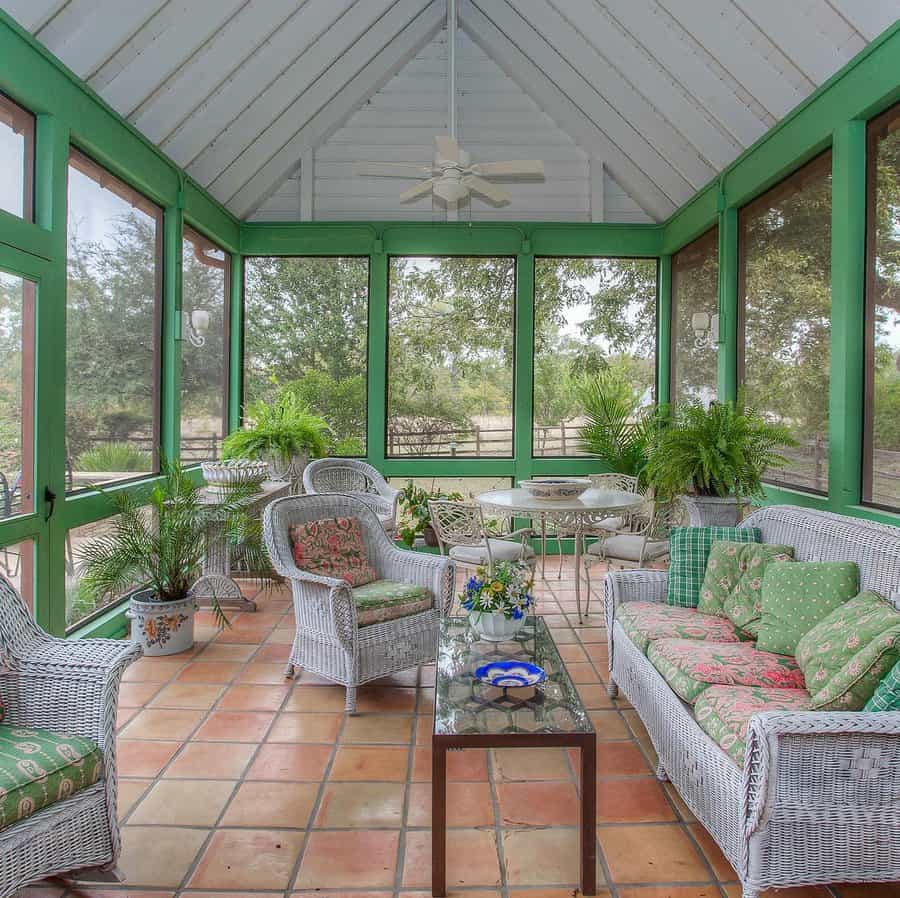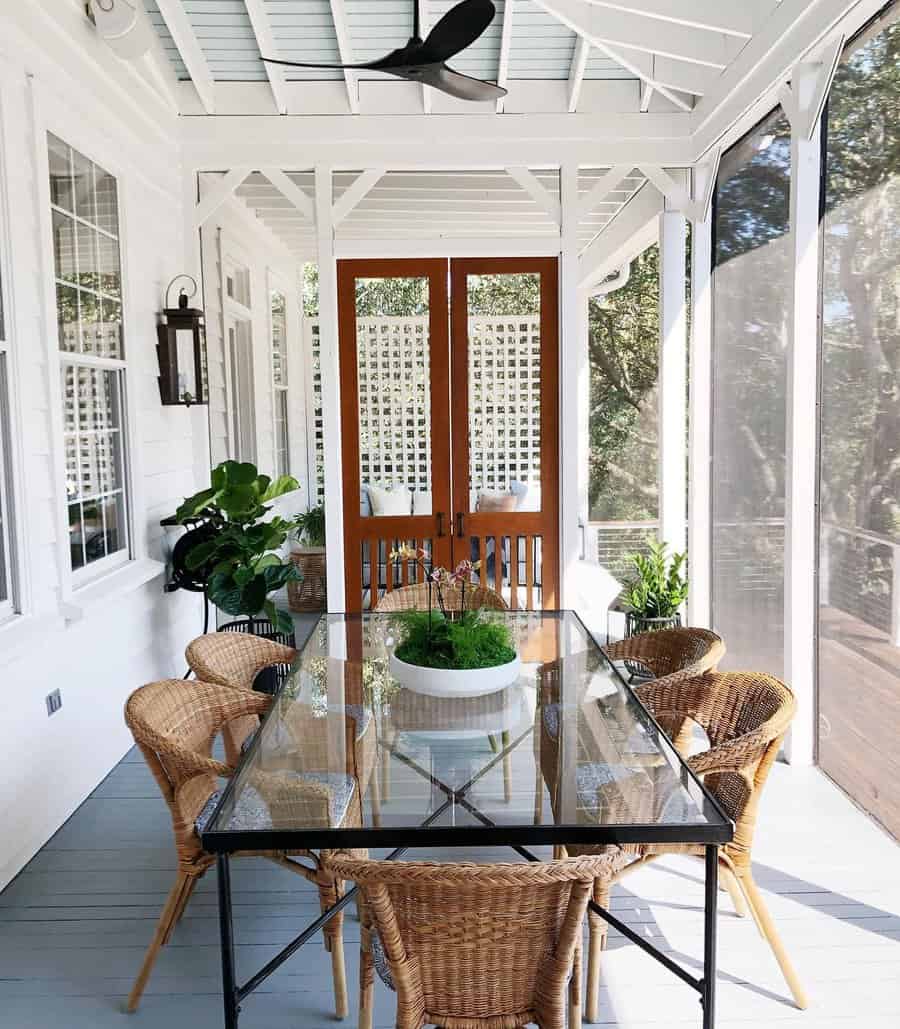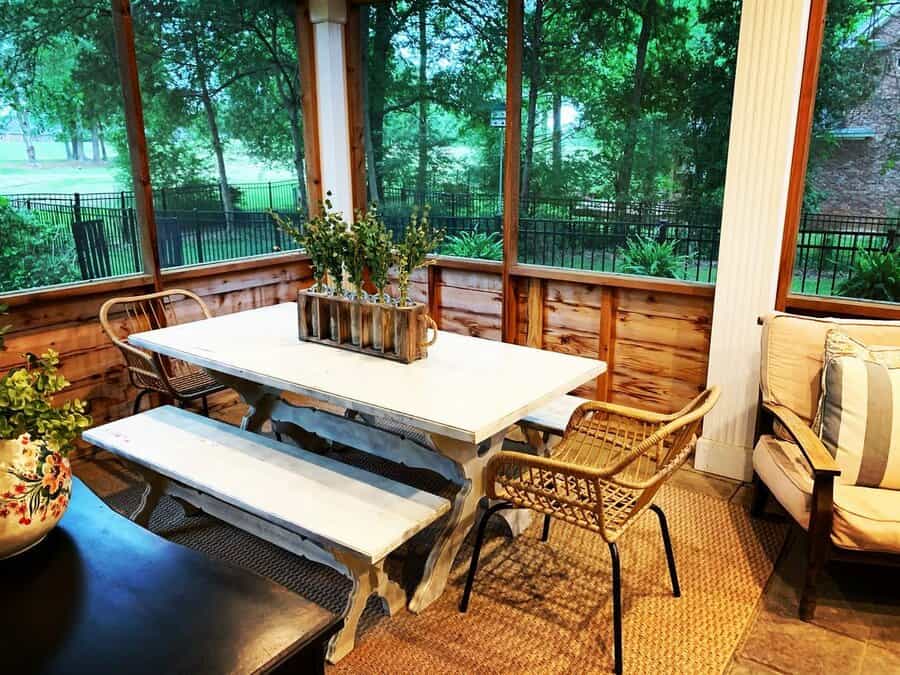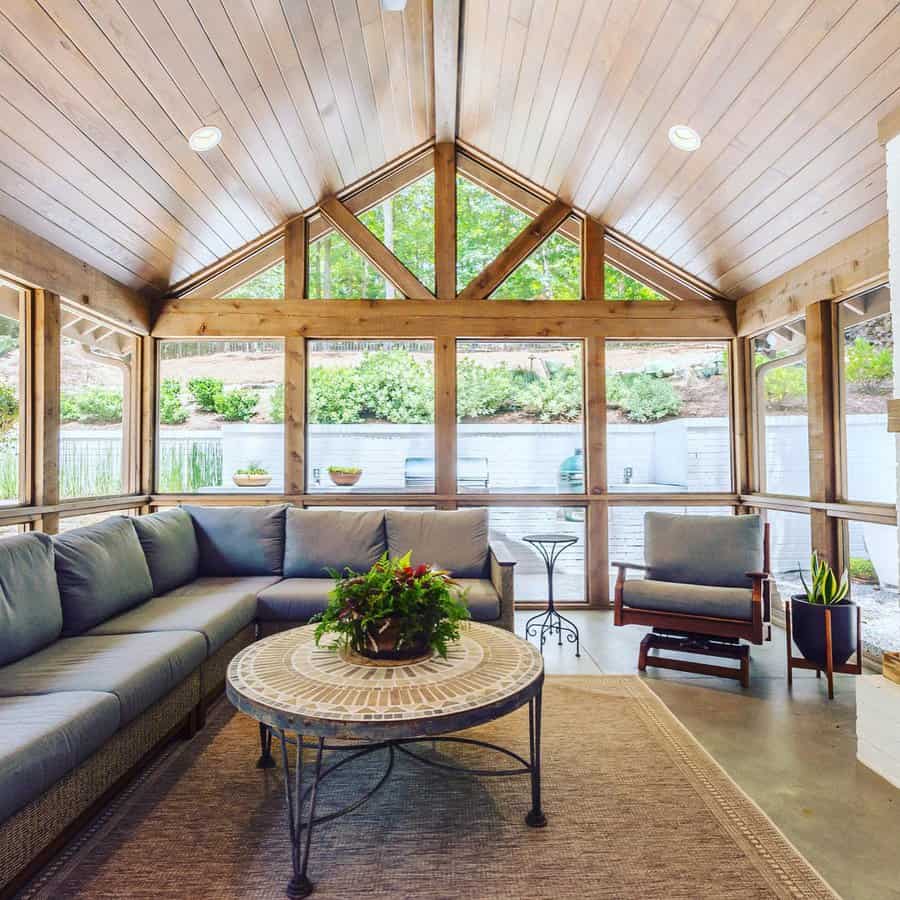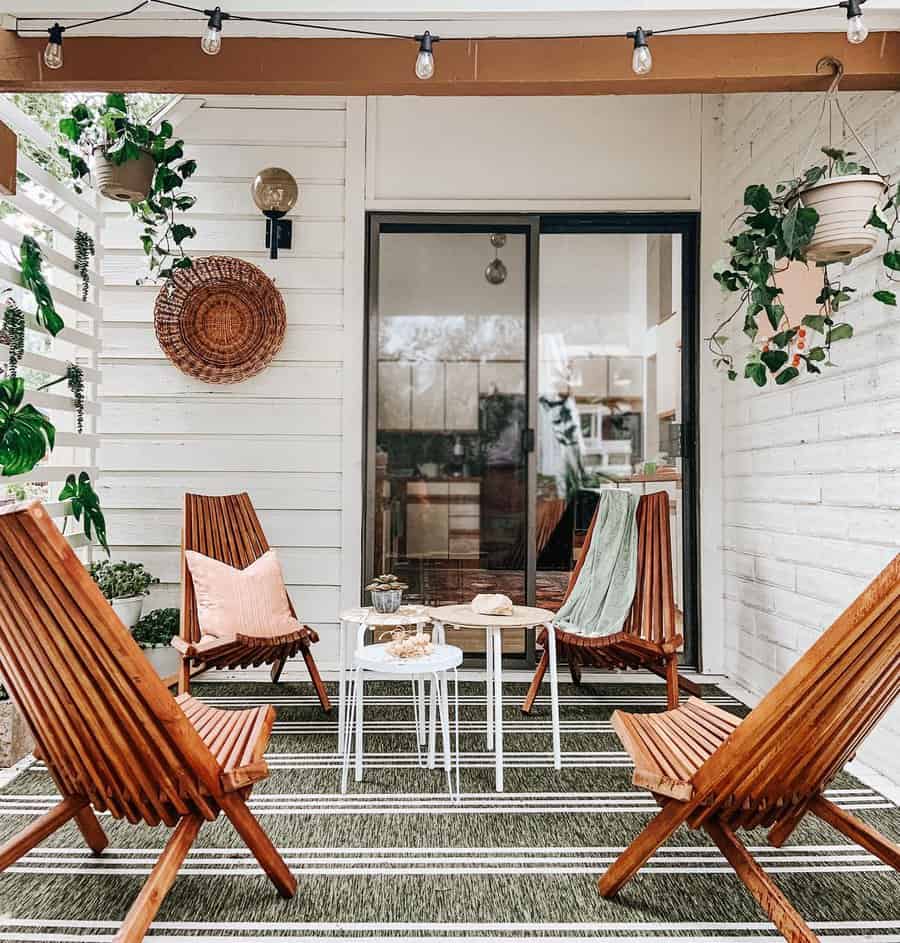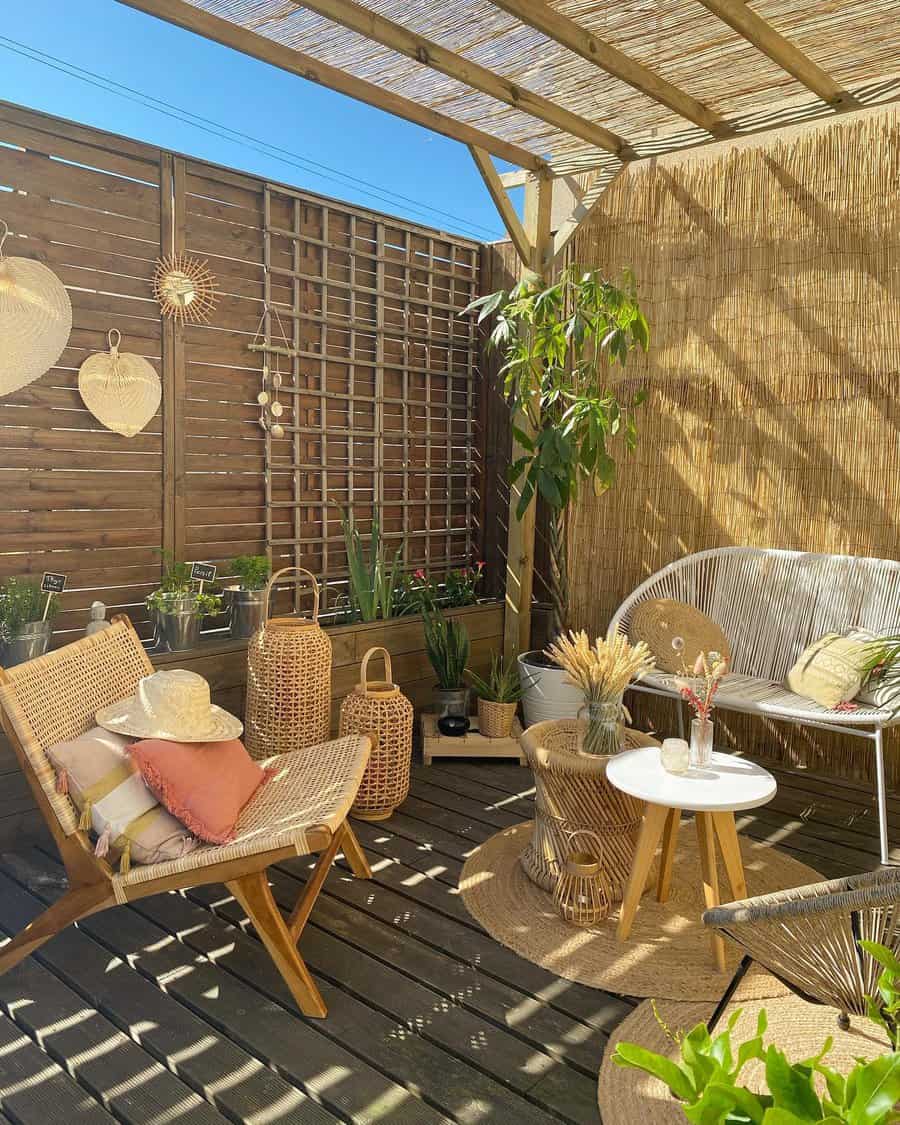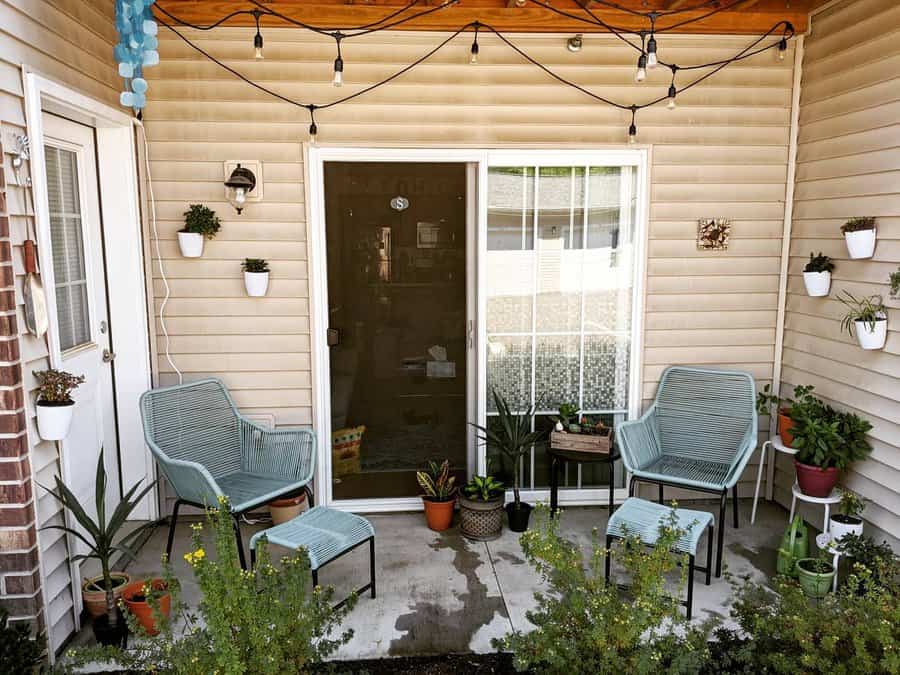 21. Back Porch With Pop-Up Gazebo
The beauty of a pop-up gazebo lies in its convenience—it's easy to assemble and disassemble, allowing you to adapt your outdoor area according to your needs. Whether you're hosting a lively family gathering or simply enjoying a quiet afternoon, the pop-up gazebo provides shelter from the elements and creates a cozy atmosphere.
With its moveable nature, you have the freedom to position the gazebo wherever you desire, be it closer to the house for easy access or farther away to take advantage of a picturesque view. Imagine relaxing under the shade of the gazebo, sipping your favorite beverage, and immersing yourself in the natural beauty surrounding your home.
A pop-up gazebo not only adds a touch of elegance to your back porch but also provides a versatile and functional space that adapts to your ever-changing needs.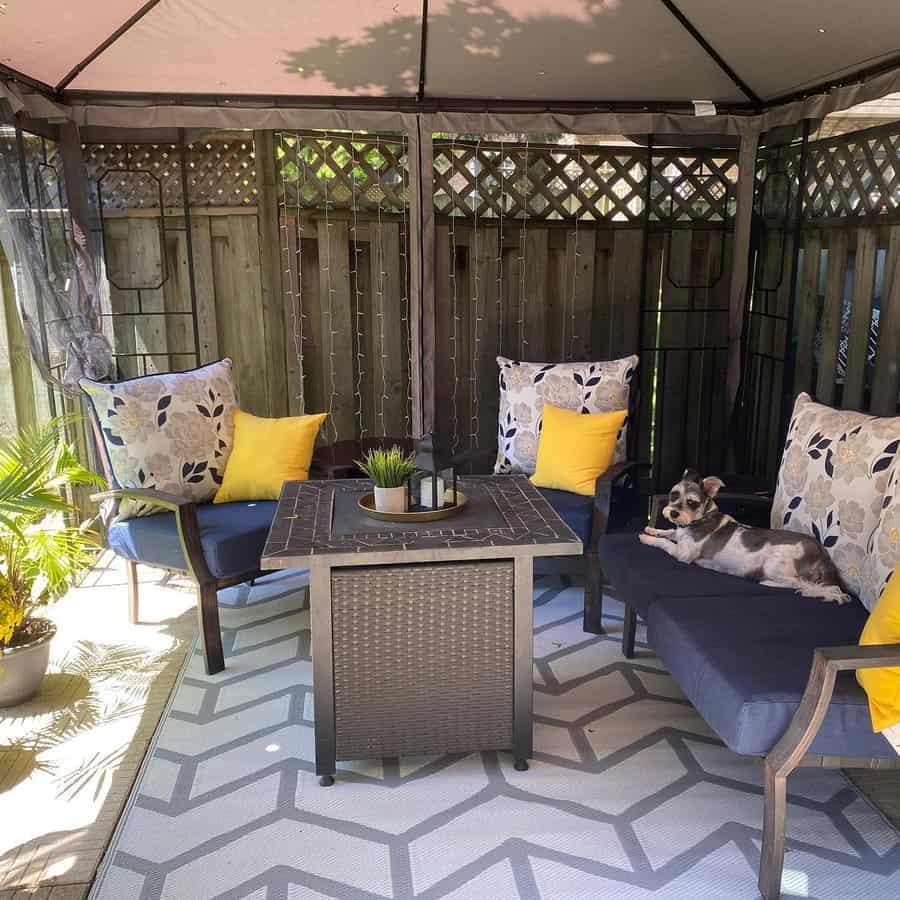 22. Back Porch With Brick Oven
Create the perfect outdoor retreat for your family with a back porch that combines relaxation and culinary delights. Imagine a charming back porch with a brick oven, where you can indulge in the joy of outdoor cooking and baking. This addition brings a rustic and inviting touch to your space and opens up a world of culinary possibilities.
Gather your loved ones and savor the experience of creating delicious homemade pizzas with fresh, flavorful toppings. The aroma of the wood-fired oven and the crackling sound of the fire creates an ambiance that is both cozy and enticing.
Whether it's a casual family dinner or a gathering with friends, the outdoor pizza oven becomes the centerpiece of your back porch, fostering shared moments and creating lasting memories.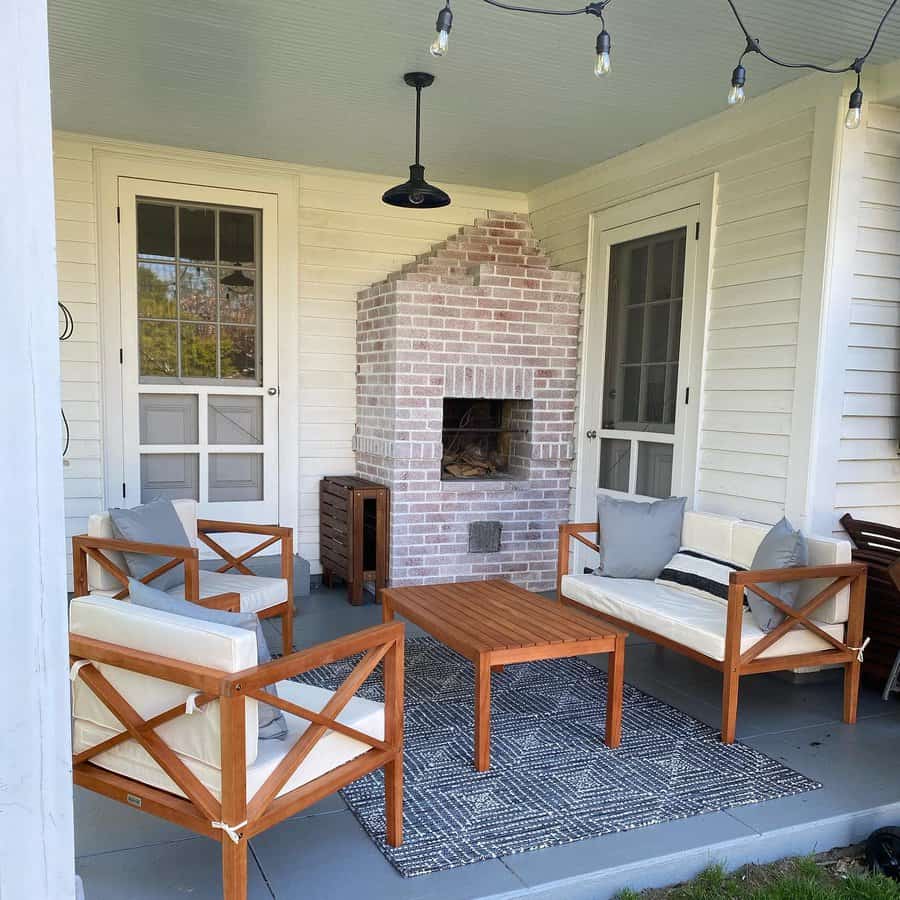 23. Back Porch Sunroom
Imagine basking in the warm sunlight while enjoying panoramic views of your backyard. The abundance of natural light not only creates an inviting and airy atmosphere but also makes your space feel larger and more expansive. With a back porch sunroom, you can enjoy the beauty of every season while being sheltered from the elements.
Whether it's a peaceful morning coffee or a cozy evening gathering with family and friends, this versatile space offers the perfect setting for relaxation and connection. You can decorate the sunroom with comfortable seating, vibrant plants, and stylish furnishings to create a tranquil oasis that reflects your family's unique style and taste.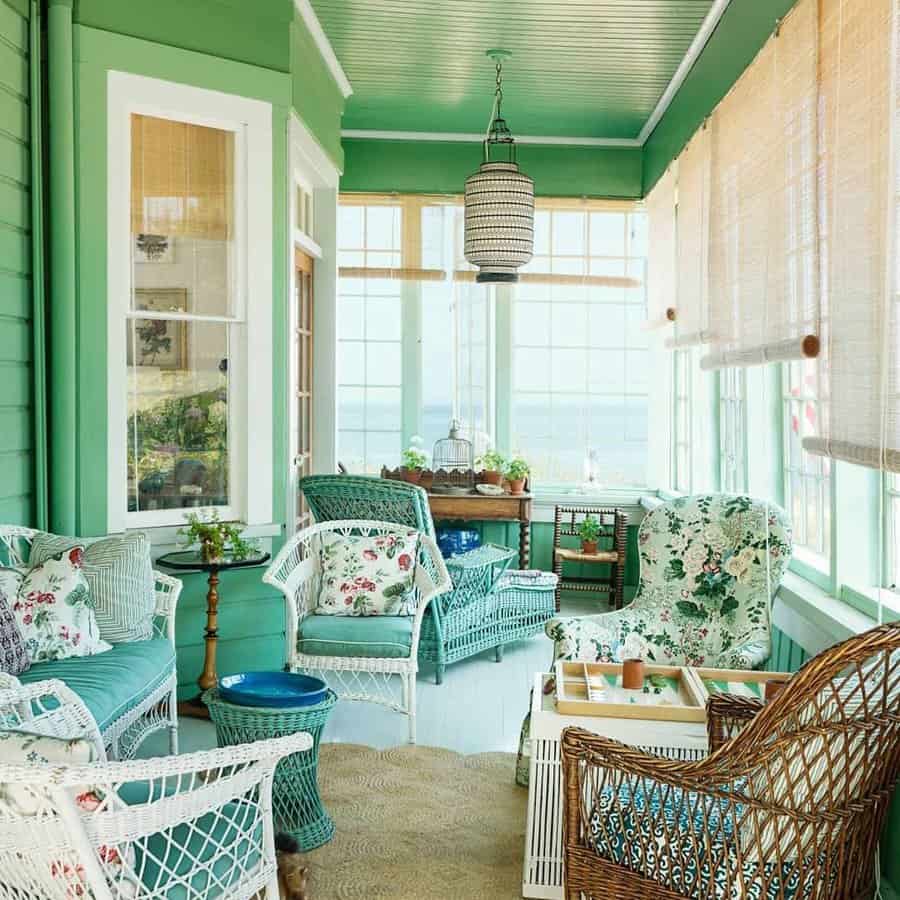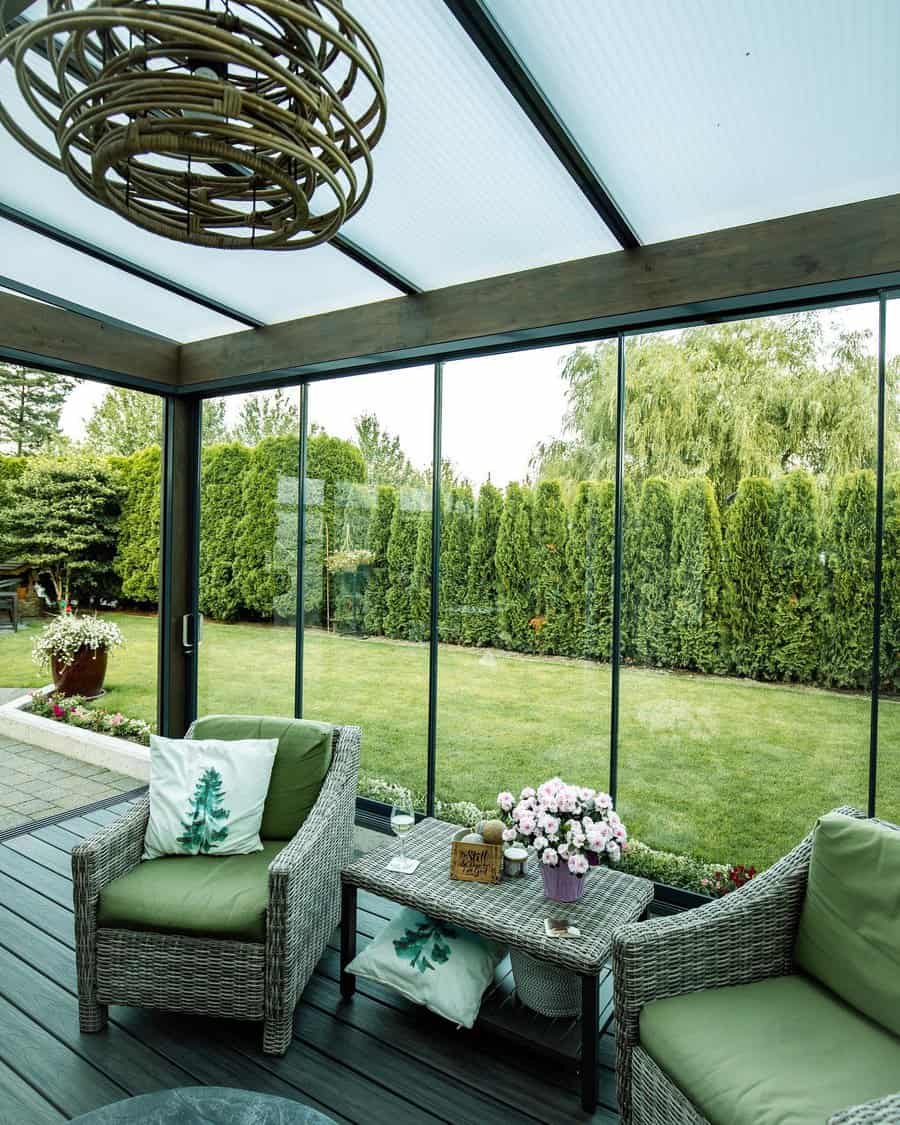 Back Porch FAQs
How can I make my back porch look good?
Start by cleaning up the area to get rid of dirt, leaves, debris, and anything else that makes the space look gross. Add comfortable furniture that is inviting for people to sit down. Then add touches of color to add design.
What is a porch in house design?
A porch is a covered or semi-covered space attached to the house. Typically, a porch is located on the front side of the house. However, you may also find that there are porches on the backside of the house. They can vary in size from just large enough for a cafe table and chairs to being a large expanse that can support a full dining table.
How much do porches cost?
The cost of adding a porch to your house will vary in cost depending on how you go about installing it. A medium-sized prefabricated porch can be in the $10,000 to $20,000 range. If you prefer to have a custom solution, then a medium porch constructed by a contractor will cost $15,000 to $30,000.