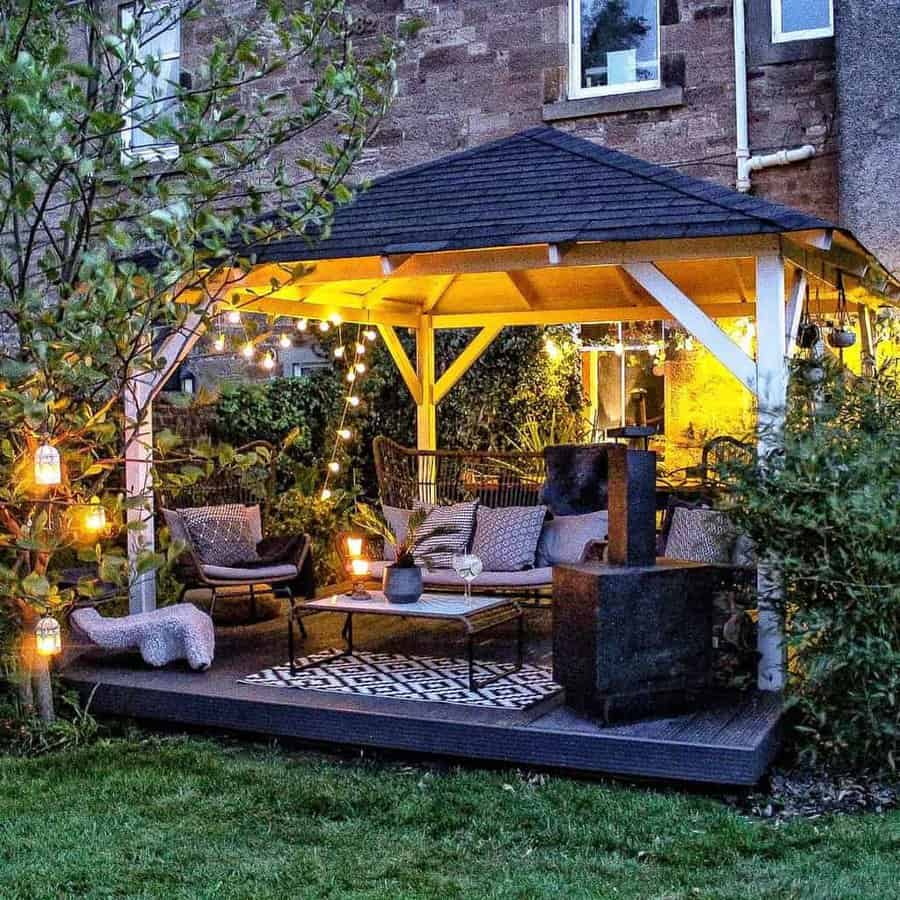 53 Stylish Backyard Deck Designs and Ideas
Create a captivating outdoor oasis with our inspiring backyard deck ideas. Whether you seek a peaceful retreat or a space for entertaining, we have the perfect designs to elevate your backyard and make the most of your outdoor living. Get ready to transform your deck into a stylish and functional extension of your home.
1. Vinyl Backyard Deck
If you're seeking a creative and hassle-free solution for your backyard deck, consider a vinyl backyard deck. Vinyl decks are not only visually appealing but also remarkably easy to install, making them an excellent choice for those who value convenience.
With a wide array of colors and textures to choose from, you can let your creative spirit soar and design a deck that perfectly complements your outdoor space. Whether you envision a sleek and modern look or a warm and rustic ambiance, vinyl decking provides the flexibility to bring your imaginative ideas to life.
Additionally, the straightforward installation process means you can enjoy your new deck in no time, without the need for extensive construction. So, indulge your creative side and transform your backyard into a captivating oasis with a stunning vinyl deck that is both visually striking and easy to install.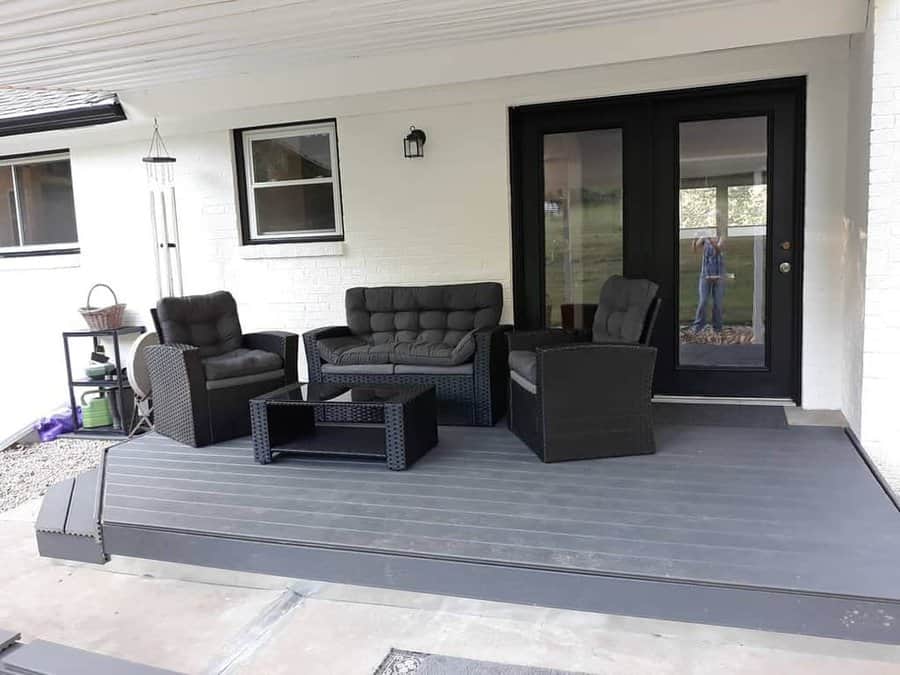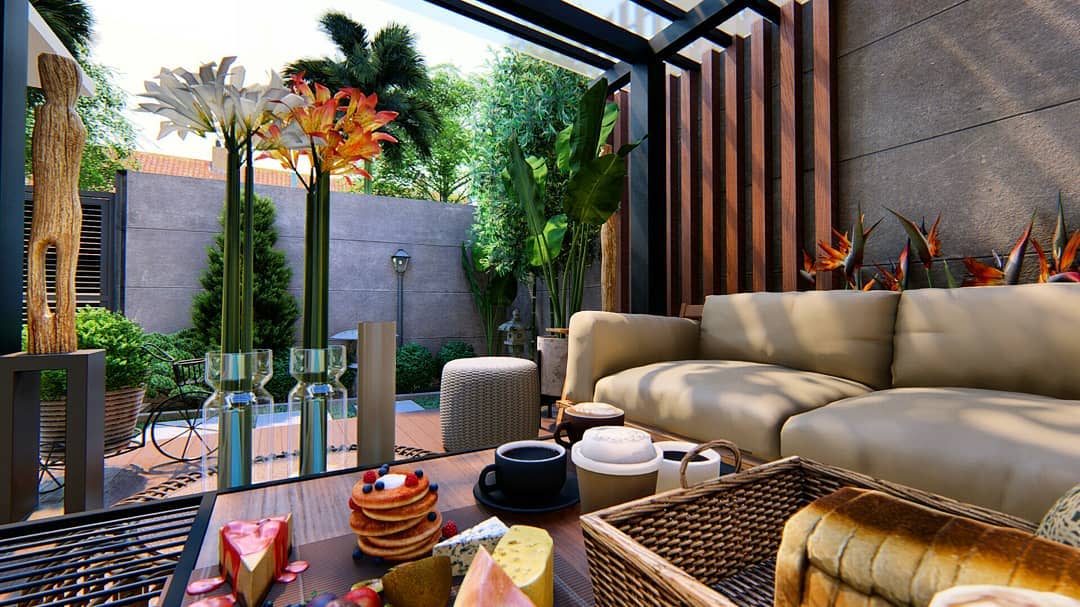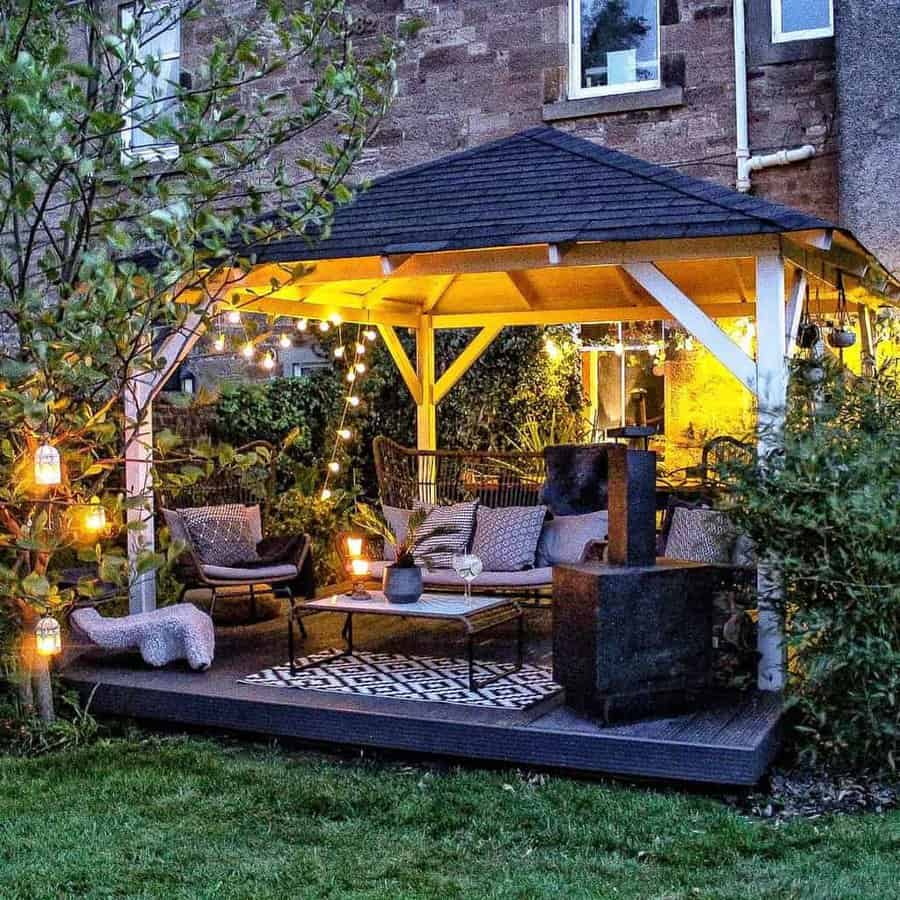 2. Backyard Deck With Railings
Transform your backyard into a captivating oasis with a stunning deck design. One idea that brings both safety and style to your outdoor space is a backyard deck with railings. By incorporating creative railings into your deck, you can elevate its aesthetic appeal while ensuring a secure environment for all.
From sleek glass railings that offer unobstructed views of your surroundings to ornate wrought iron railings that infuse a touch of elegance, the options are limitless. Imagine relaxing on your deck, basking in the sun's warm rays, all while being embraced by the artistic allure of beautifully crafted railings.
Let your imagination run wild as you explore the endless possibilities for a backyard deck that marries functionality and creativity through captivating railings.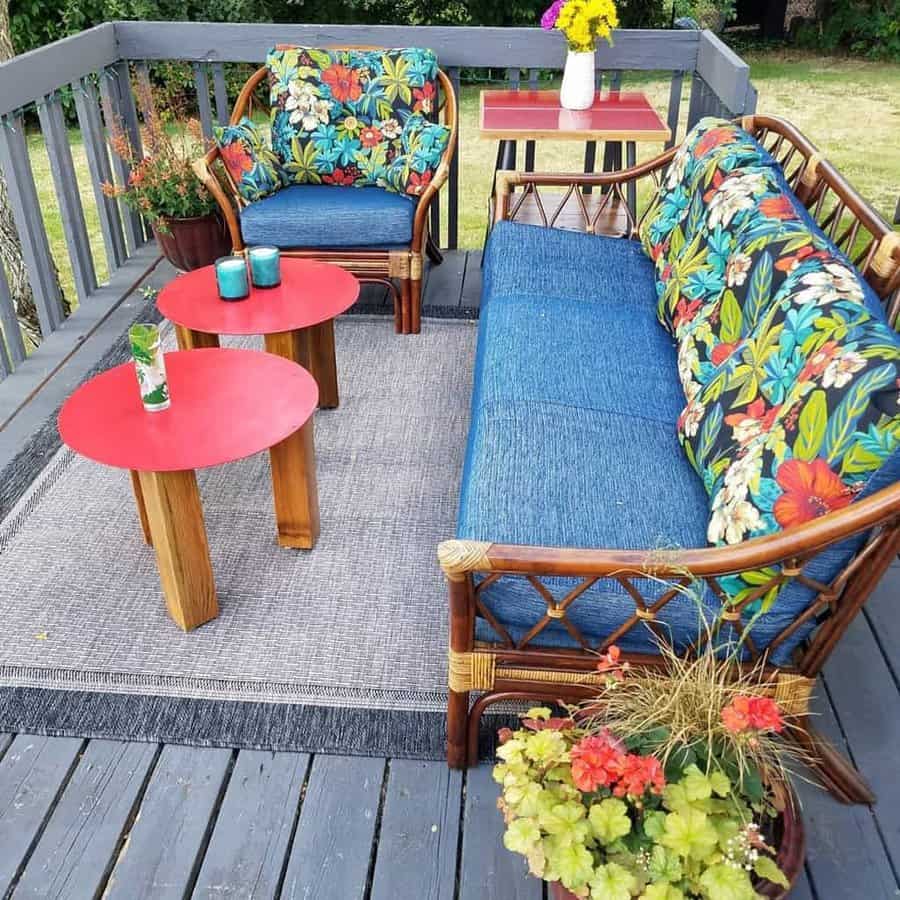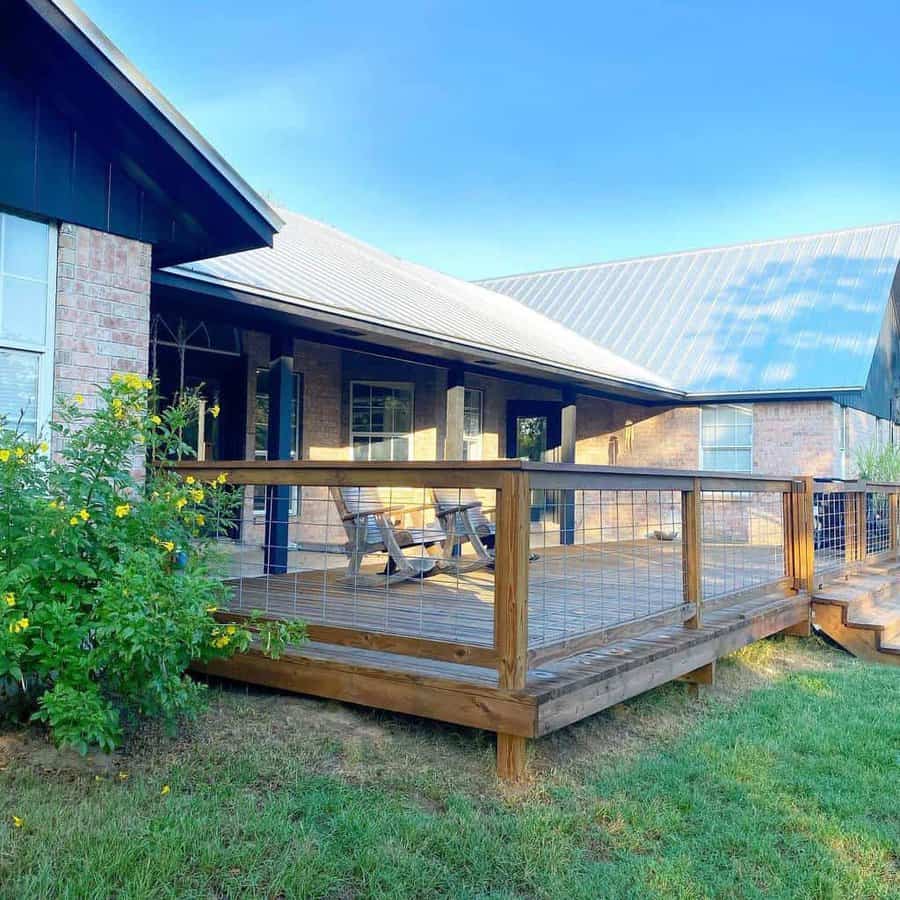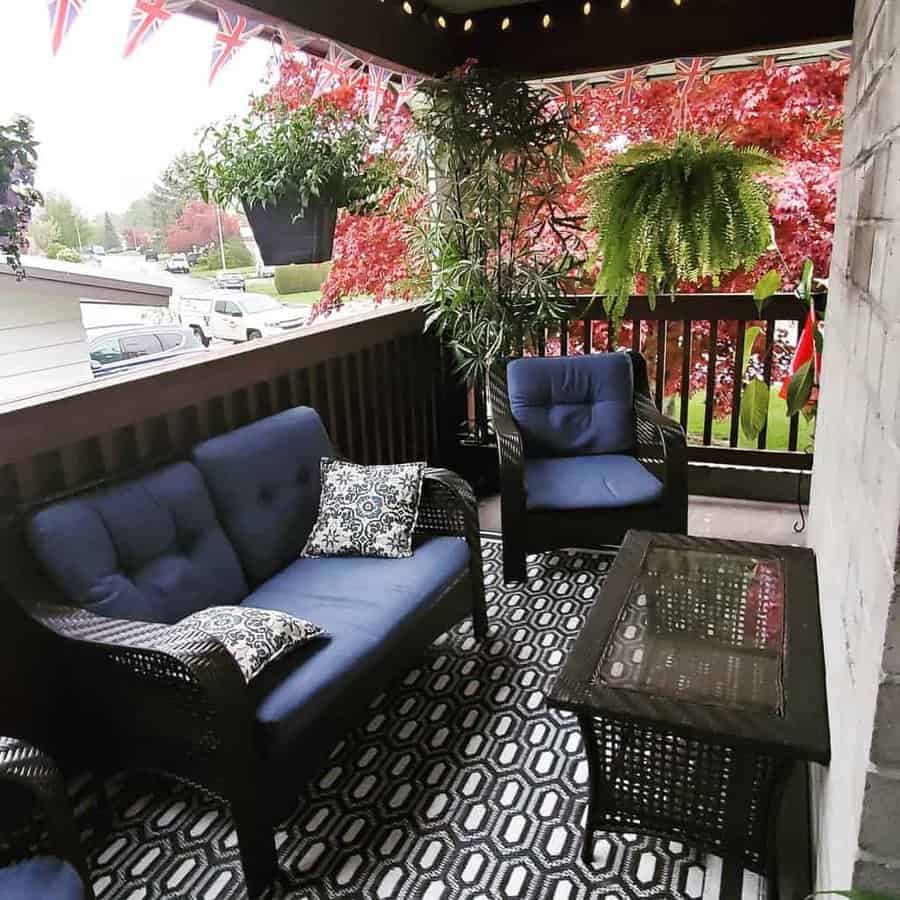 3. Backyard Deck With Pergola
Create a captivating backyard deck with a pergola that not only adds visual interest but also ensures good airflow. This creative design concept combines the charm of a pergola with the functionality of a deck, resulting in a stunning outdoor space.
The pergola's open structure allows sunlight to filter through, casting mesmerizing patterns on the deck's surface and creating a delightful ambiance. With strategically placed plants and climbing vines, the pergola becomes a living canopy, providing shade and privacy.
This innovative approach to a backyard deck with a pergola fosters a harmonious connection between nature and architecture, offering an enchanting retreat where you can relax, entertain, and bask in the beauty of your surroundings.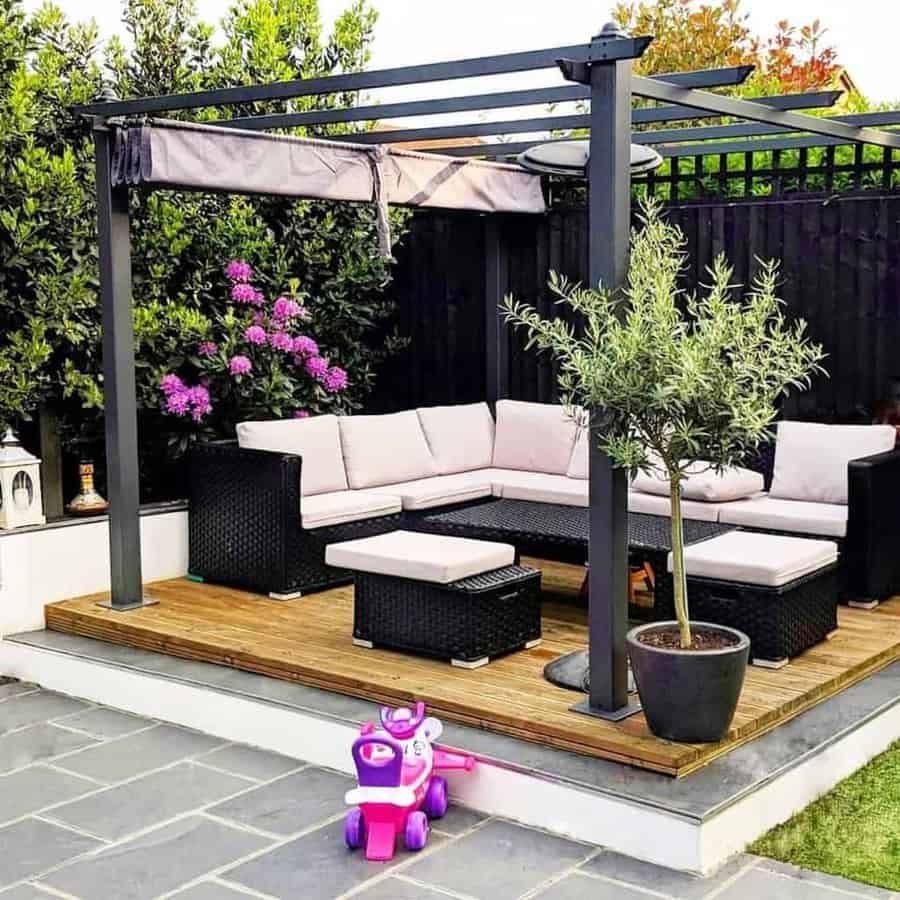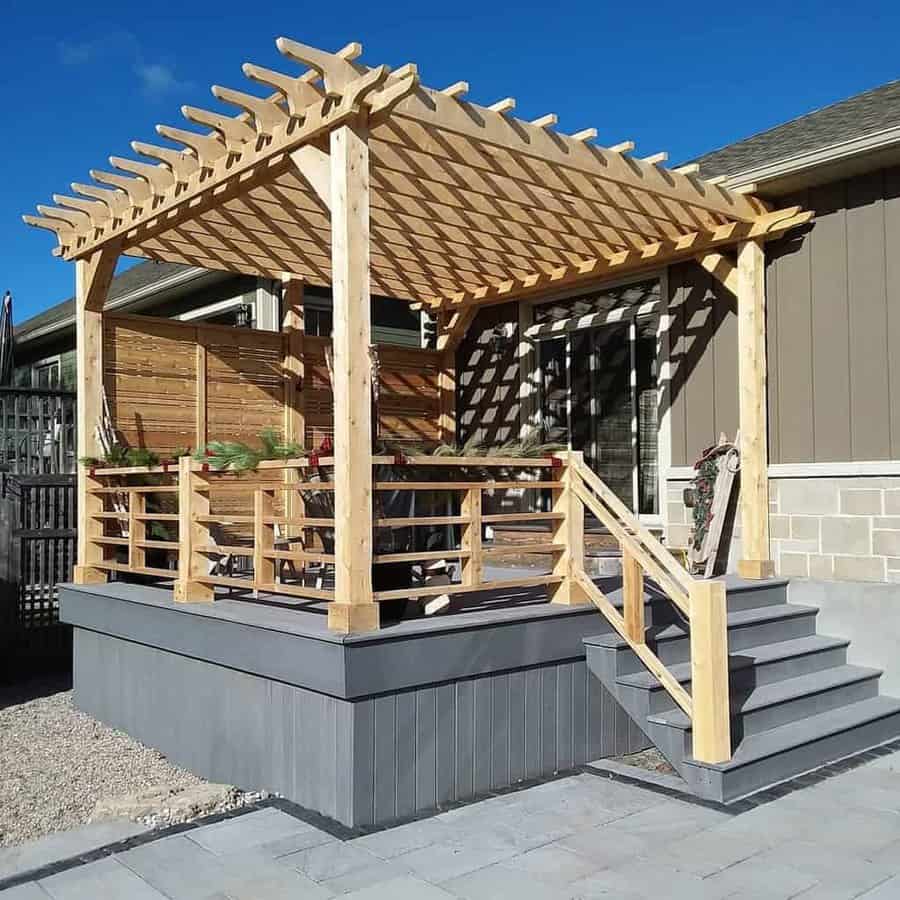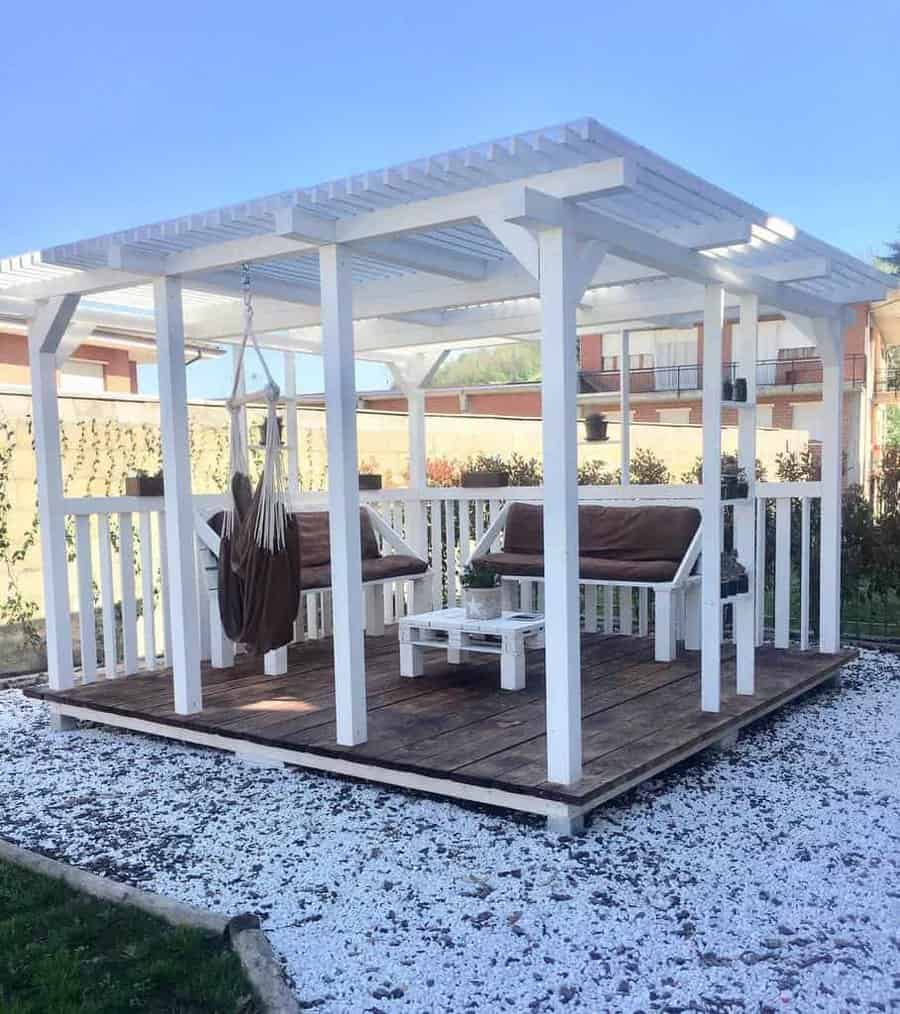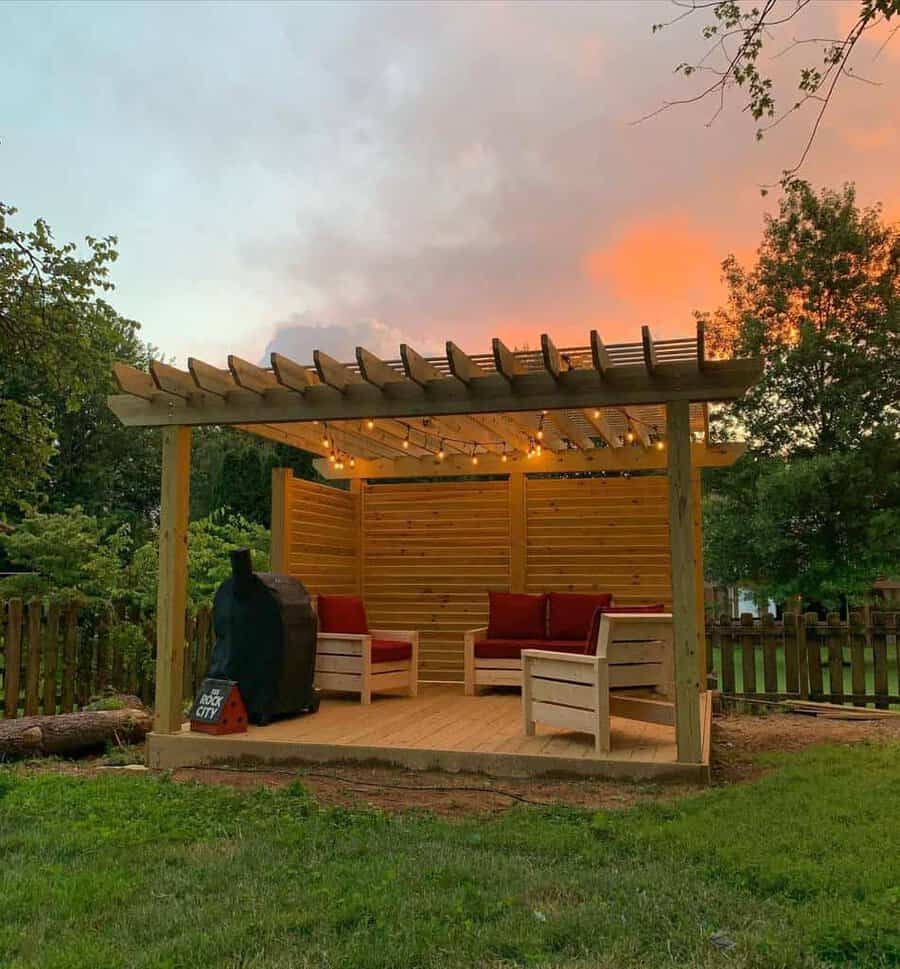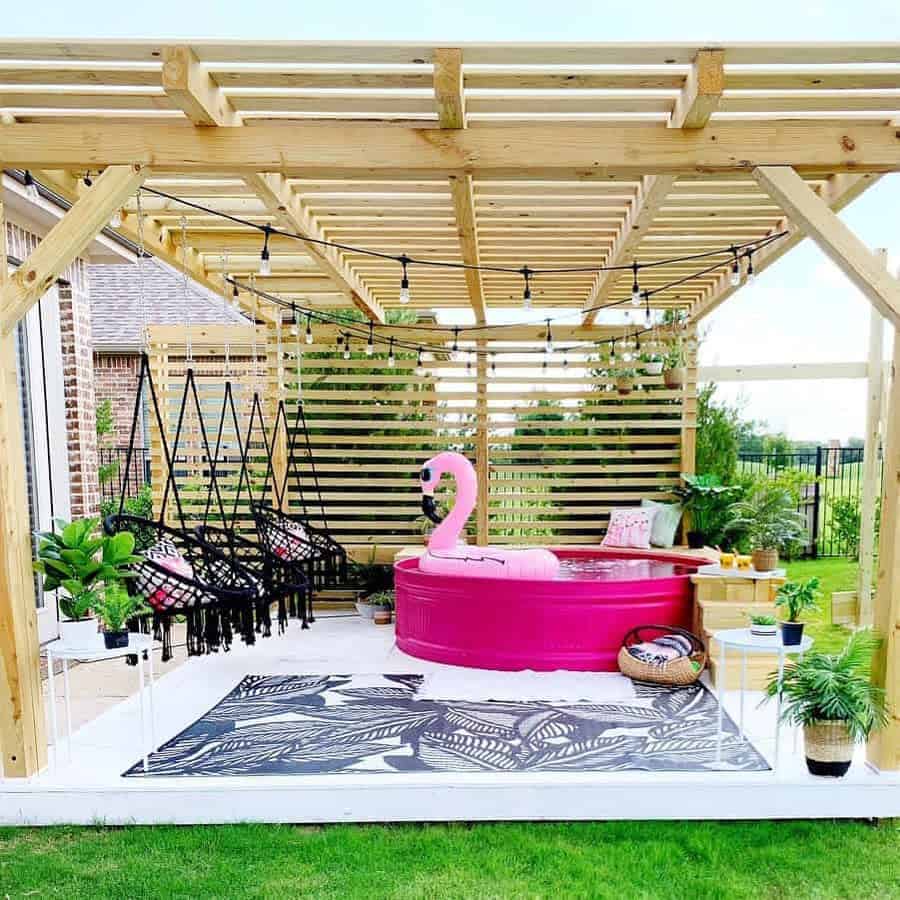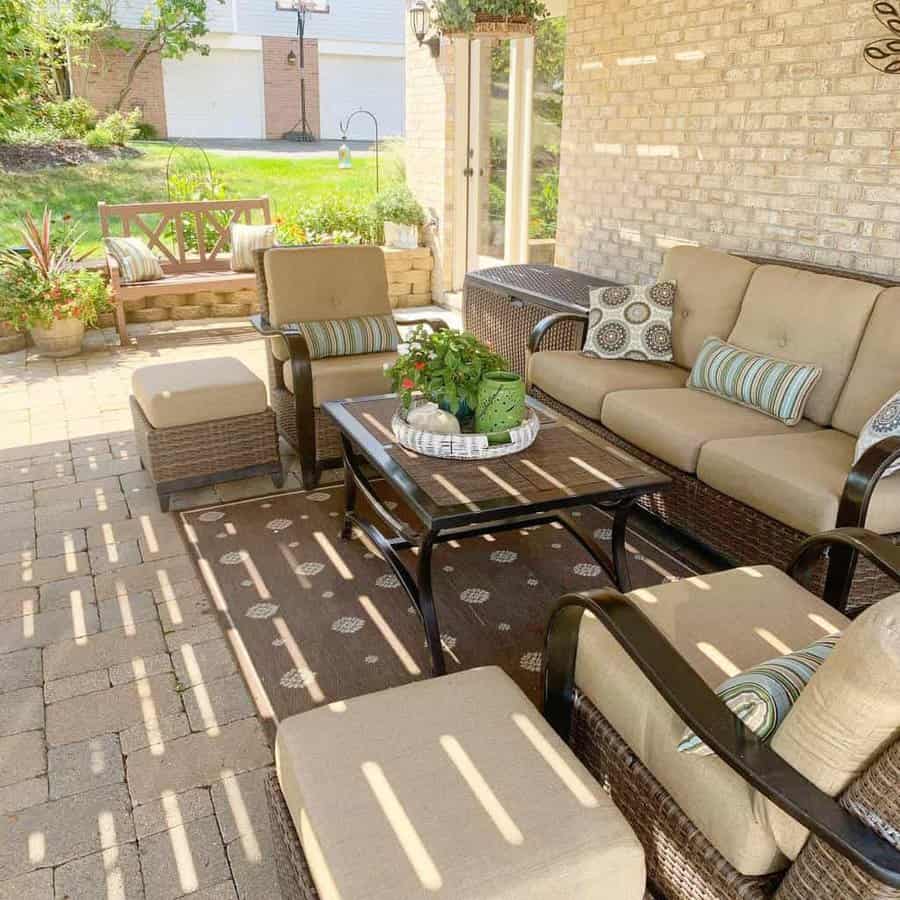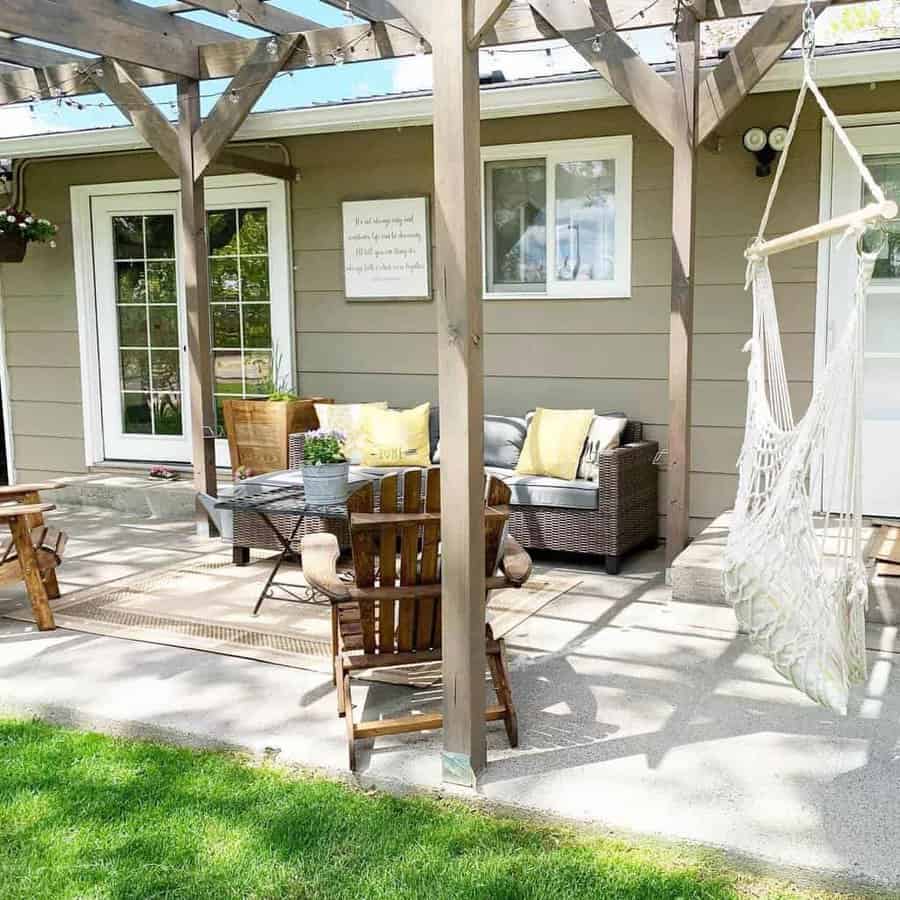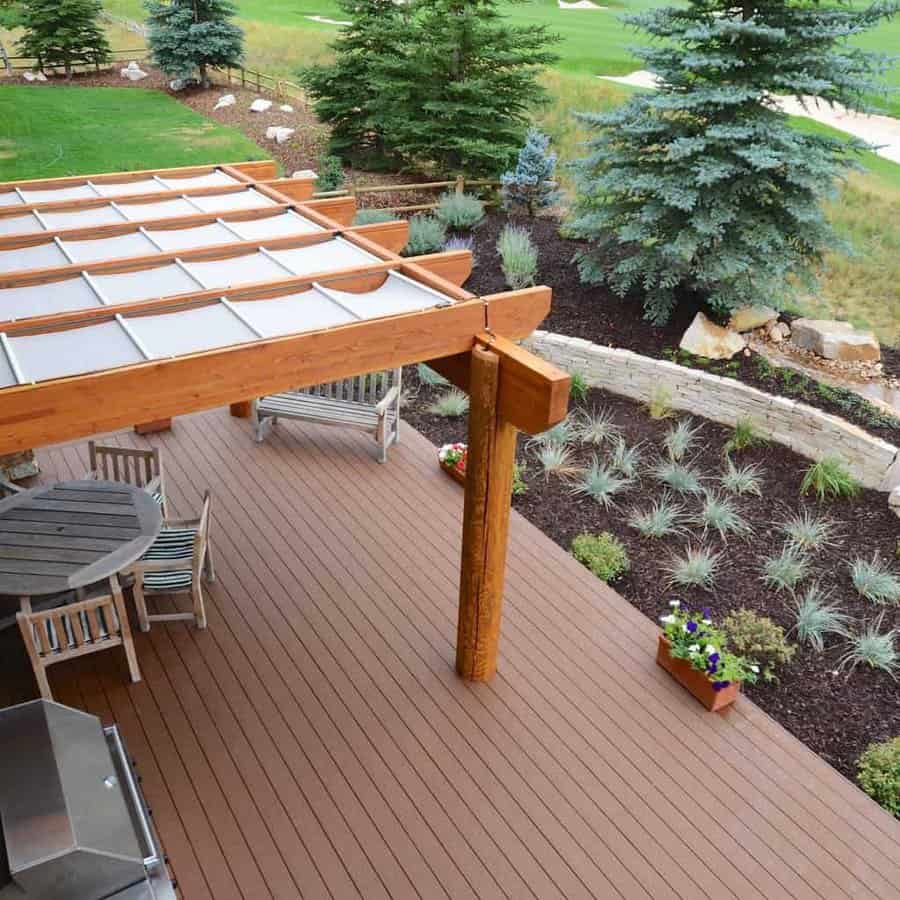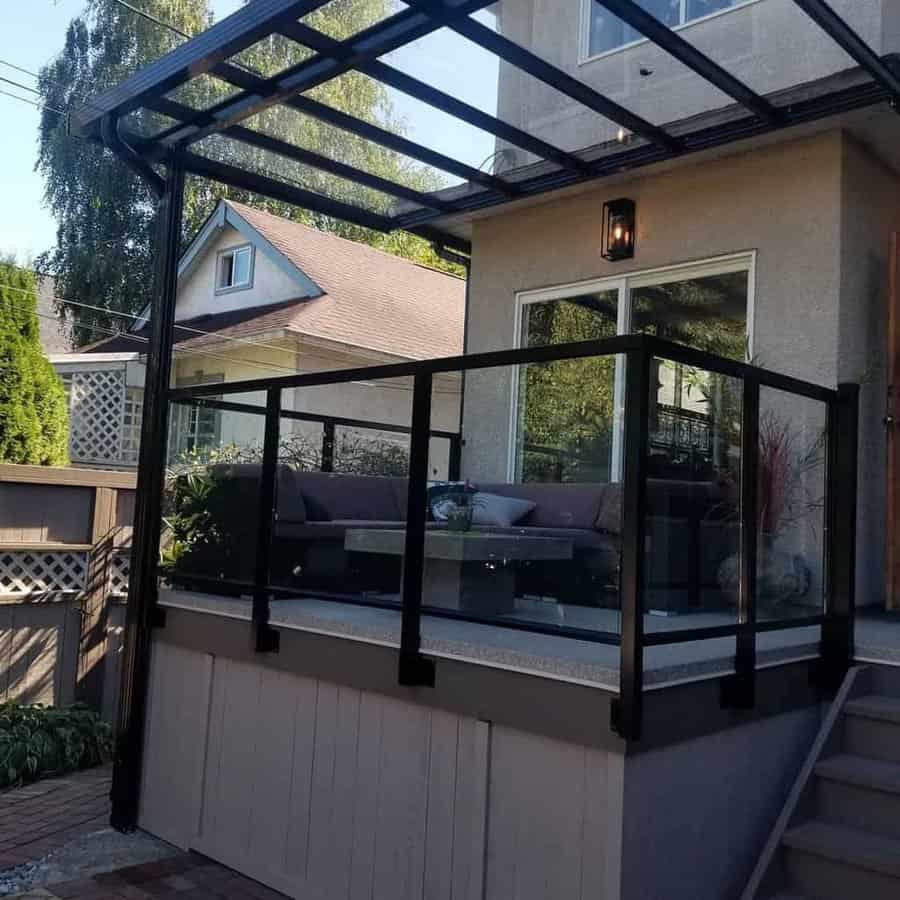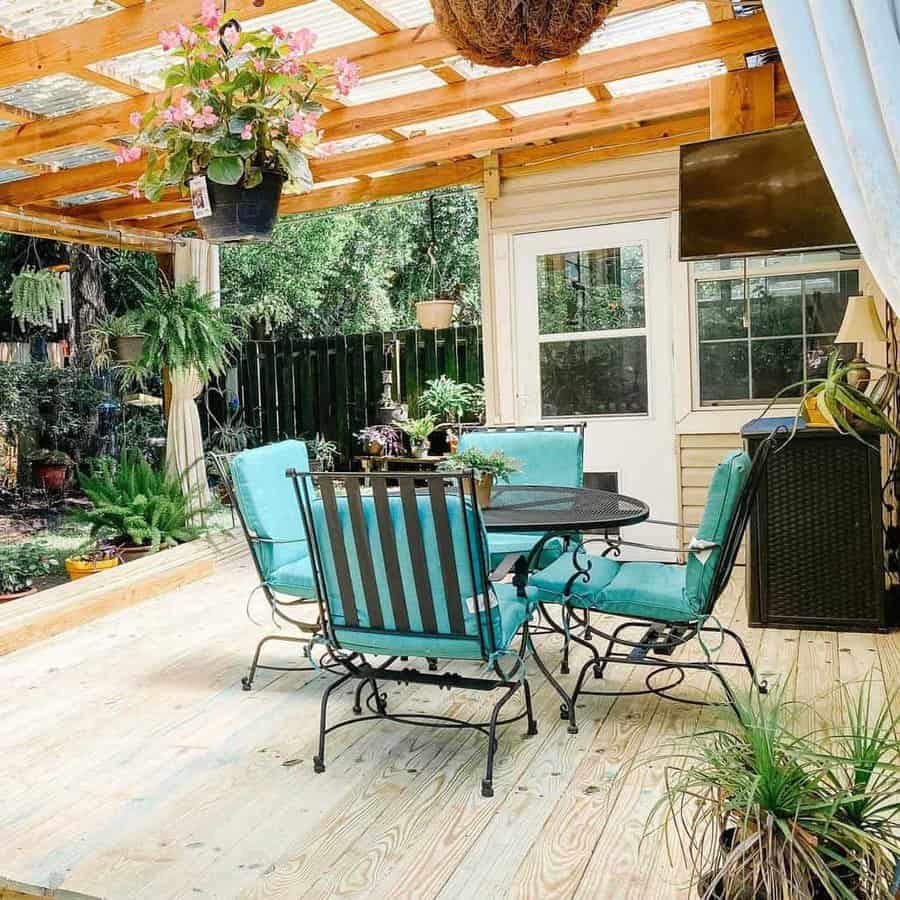 4. Wooden Backyard Deck
If you're looking to infuse a touch of creativity into your backyard, a wooden deck is the perfect focal point. A do-it-yourself approach can enhance the sense of accomplishment and personalization as you embark on the journey of designing and building your own wooden deck.
The natural warmth and charm of wood lend themselves well to various imaginative ideas. Consider incorporating unique patterns, such as herringbone or chevron, to add an artistic flair. Integrate built-in planters and trellises, allowing greenery to intertwine with the wooden elements, creating a harmonious blend of nature and craftsmanship.
Incorporate playful touches like a hidden storage bench or a whimsical staircase design. With a wooden deck as your canvas, let your imagination run wild and transform your backyard into an enchanting space that reflects your creative spirit and DIY prowess.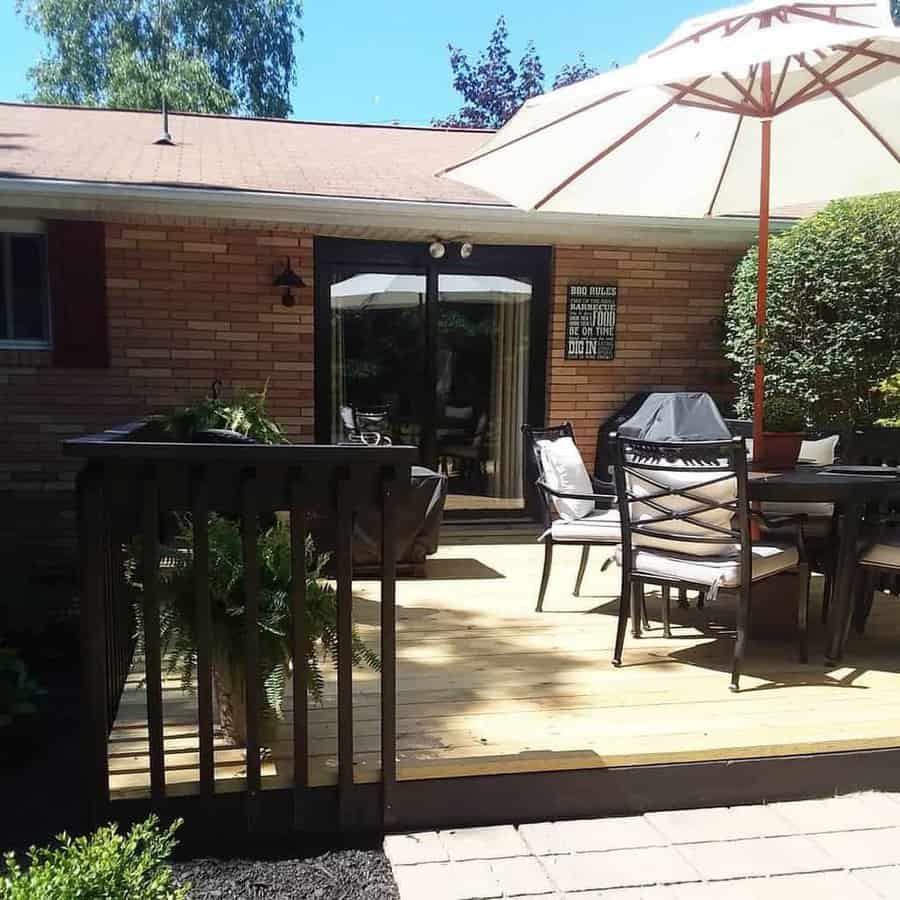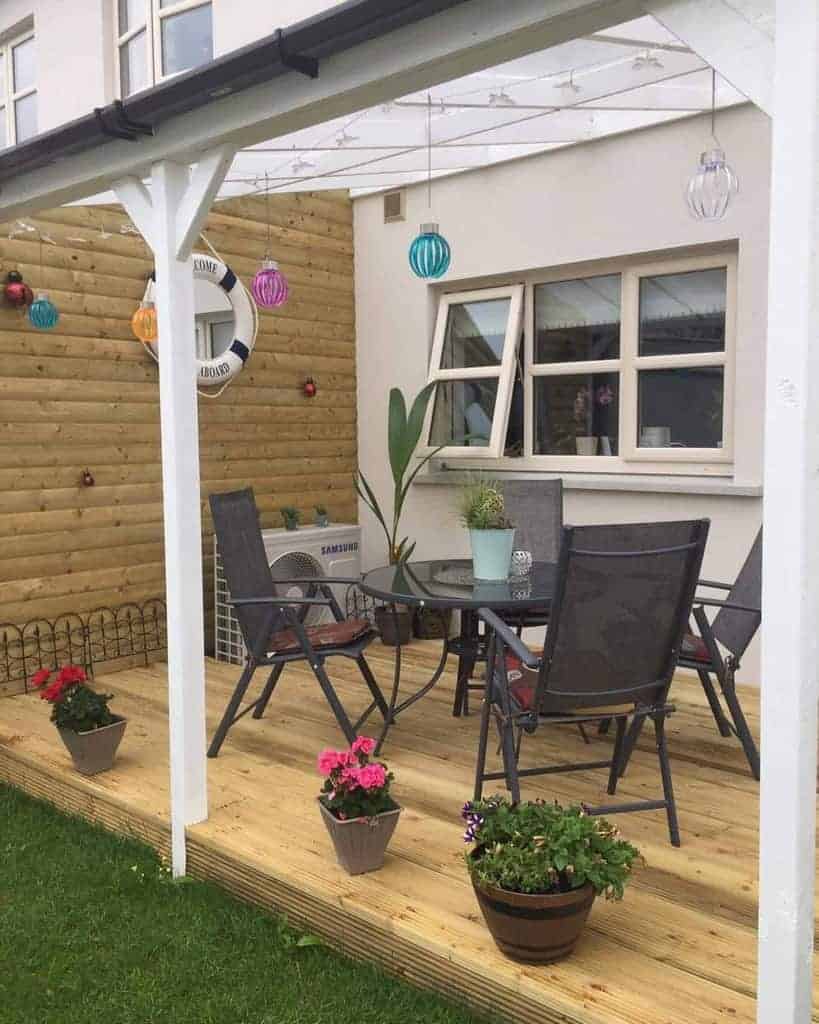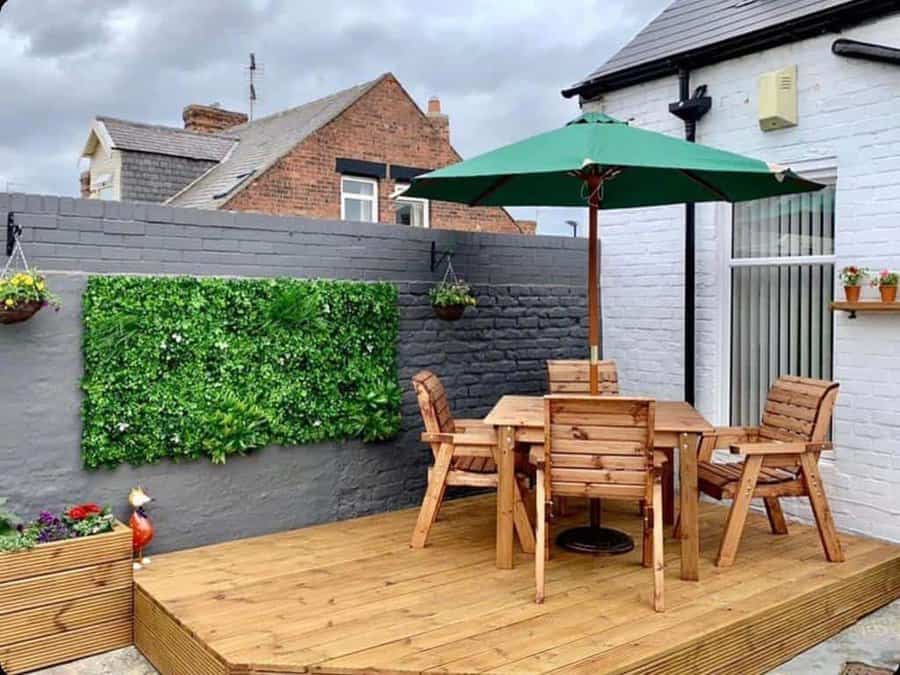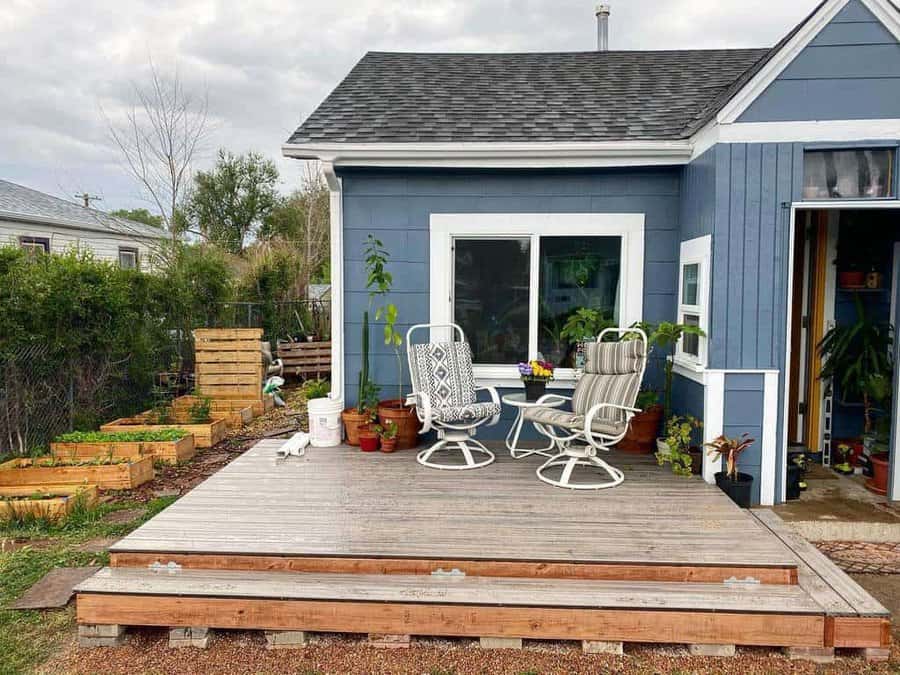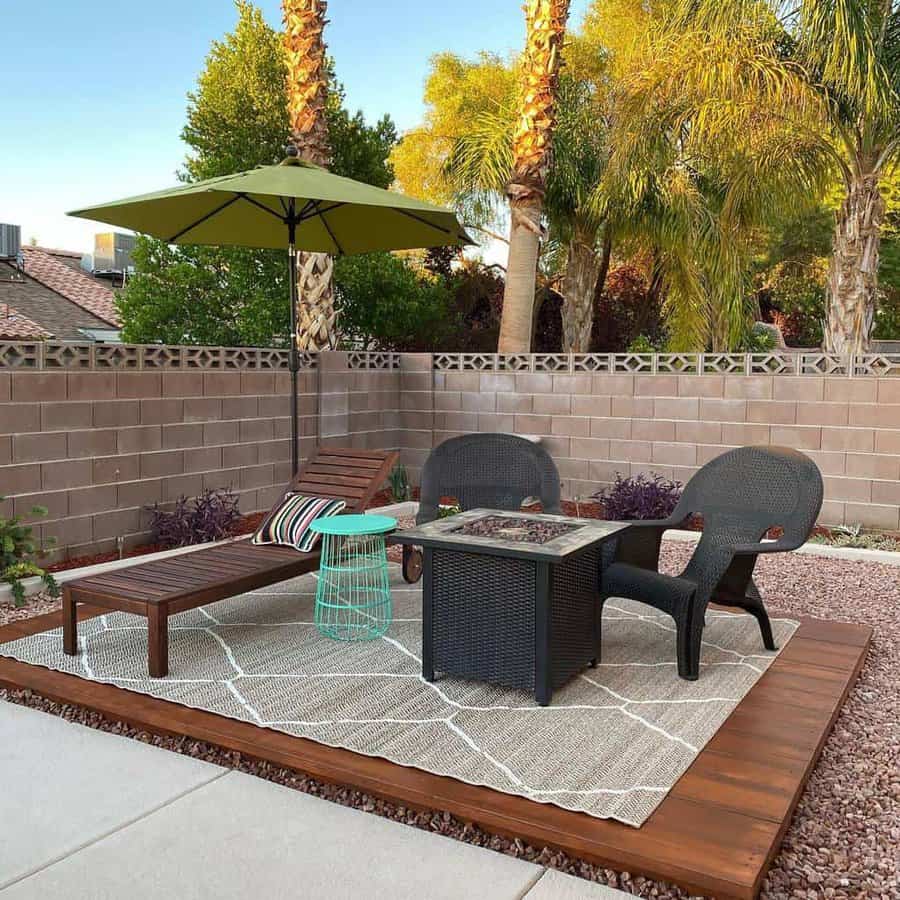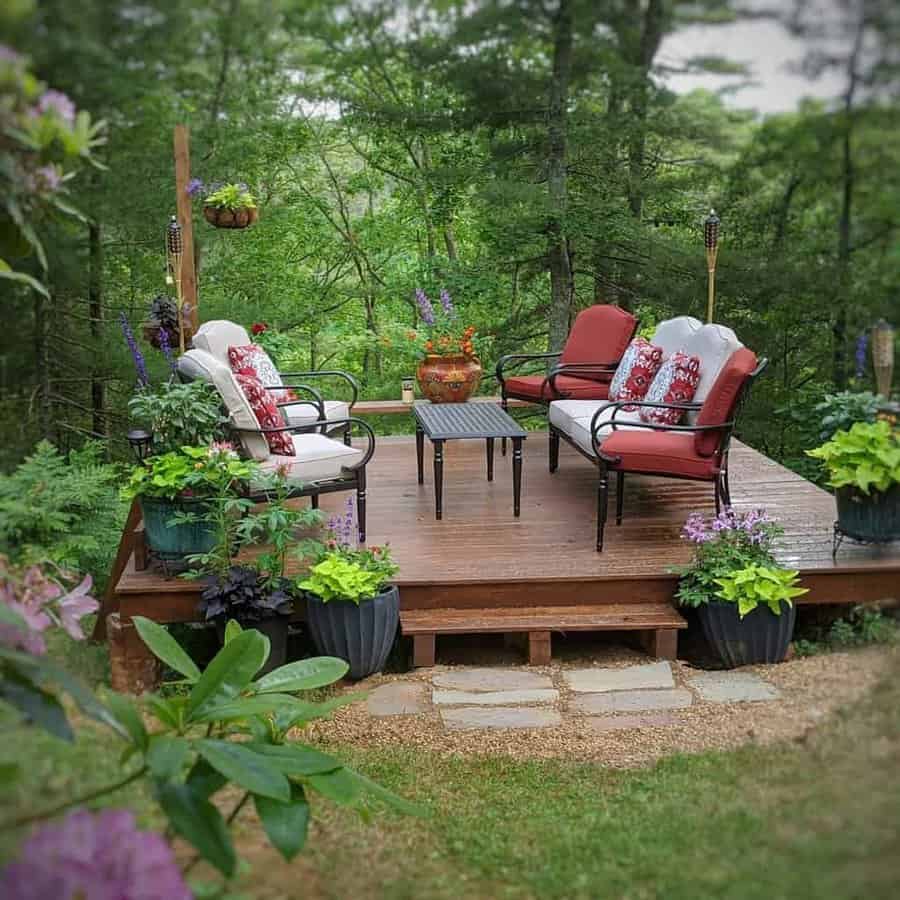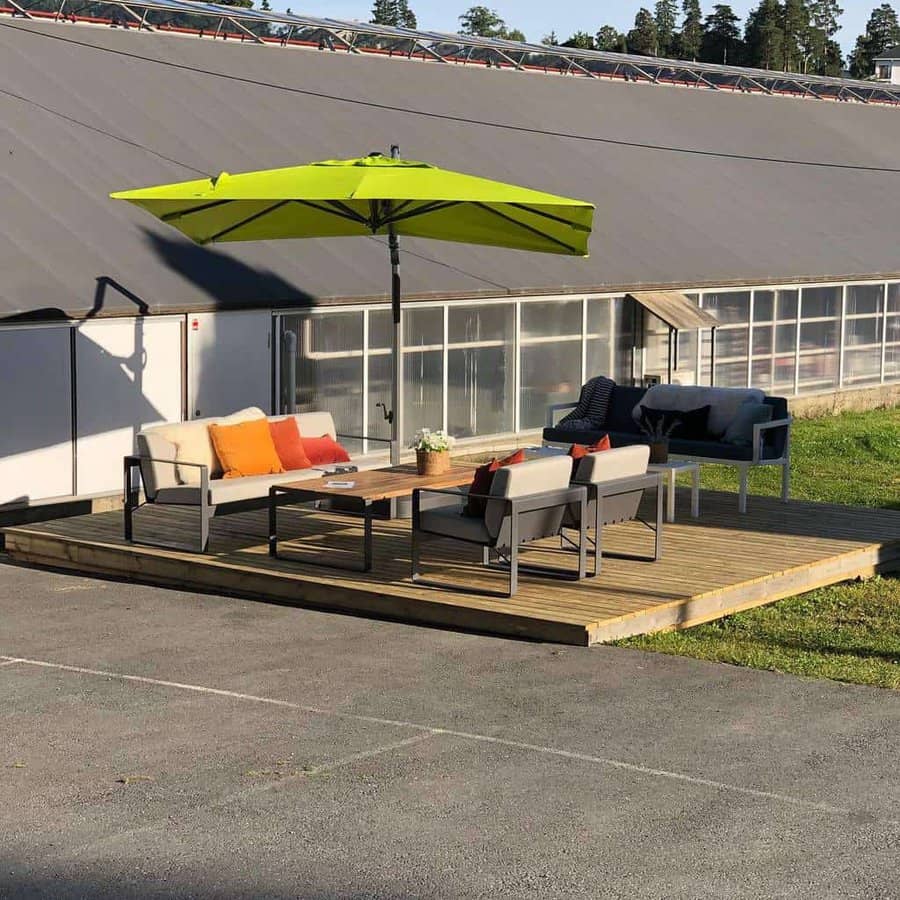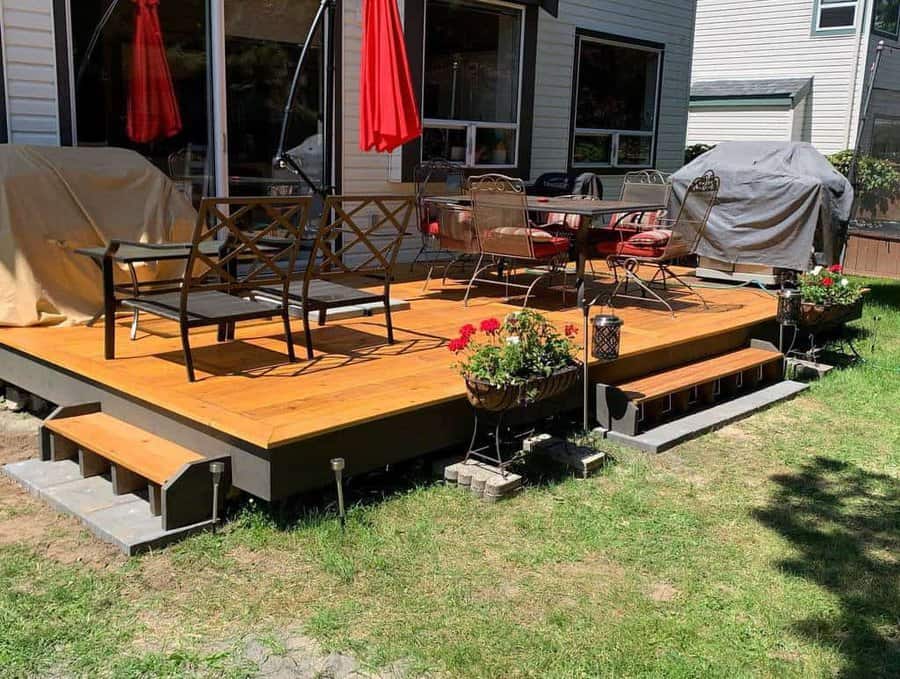 5. Backyard Deck With Privacy Fence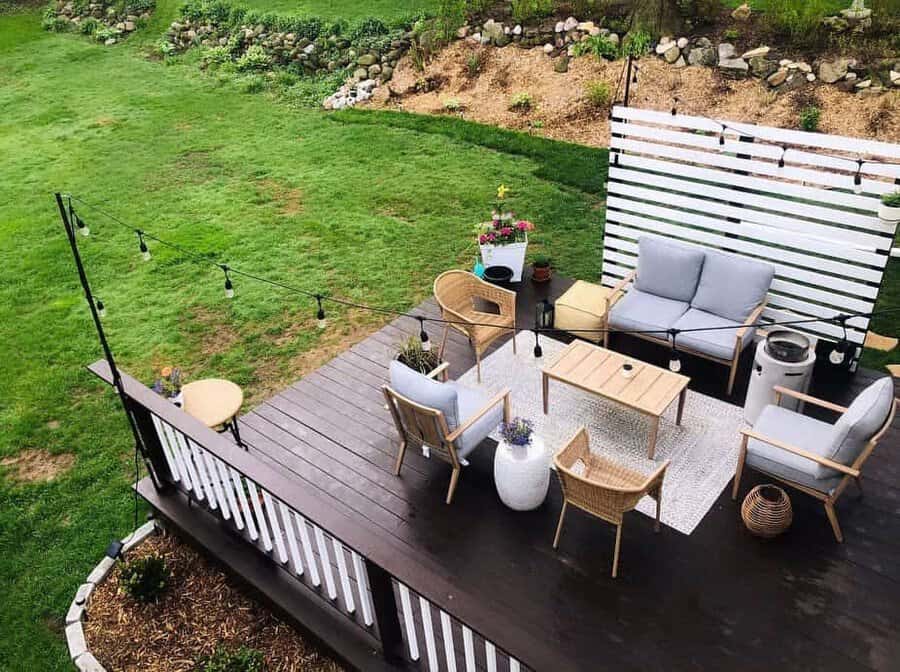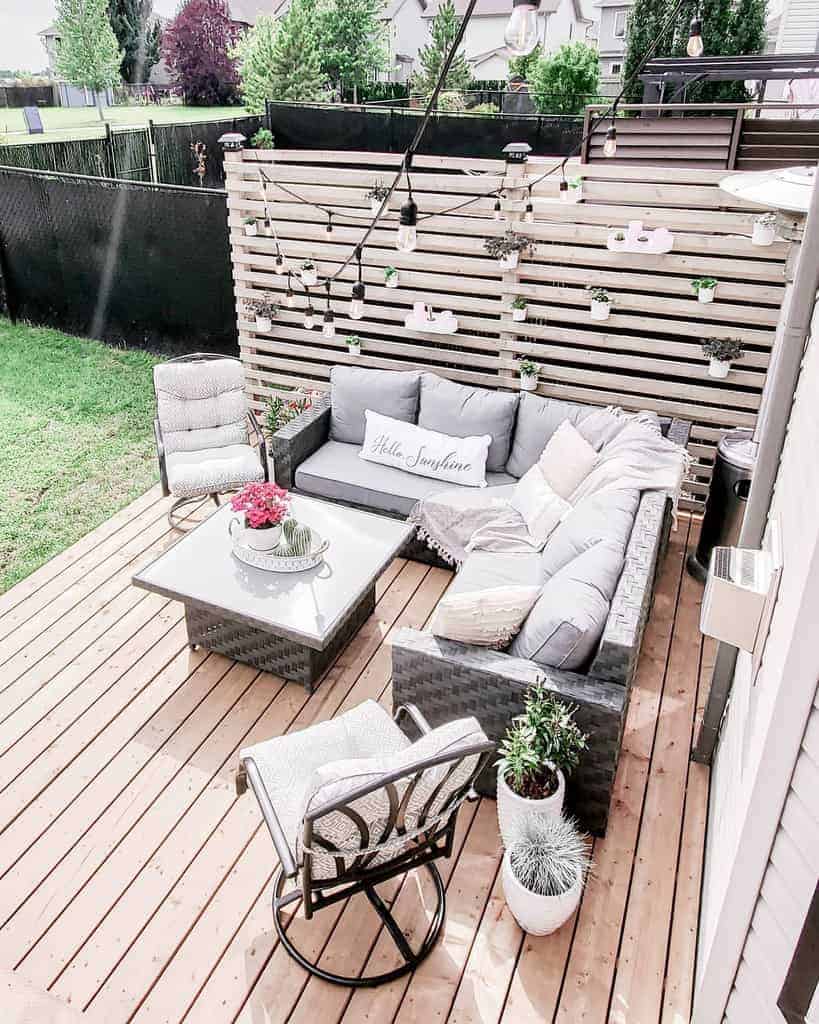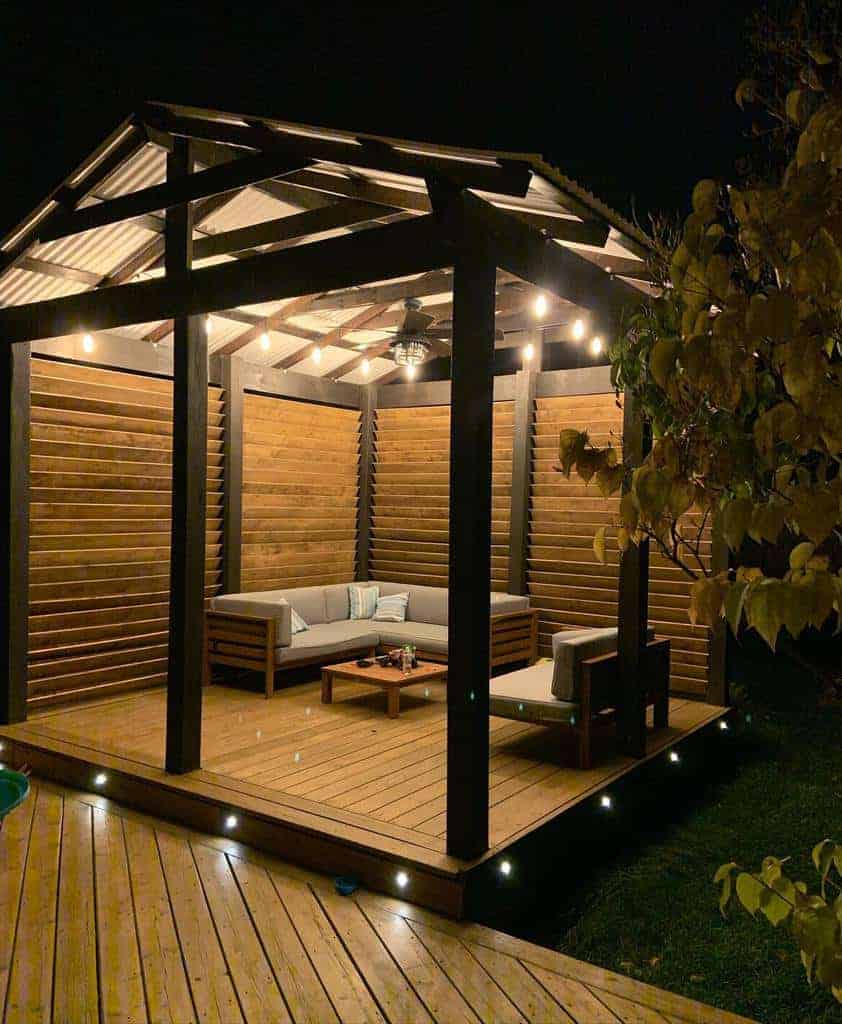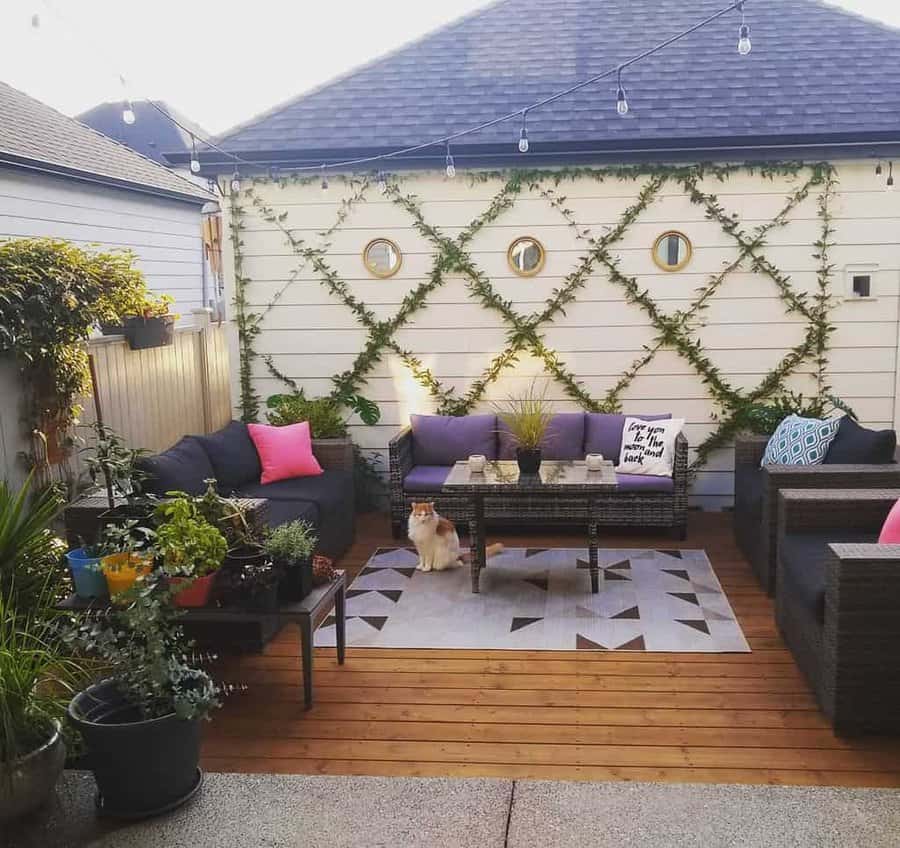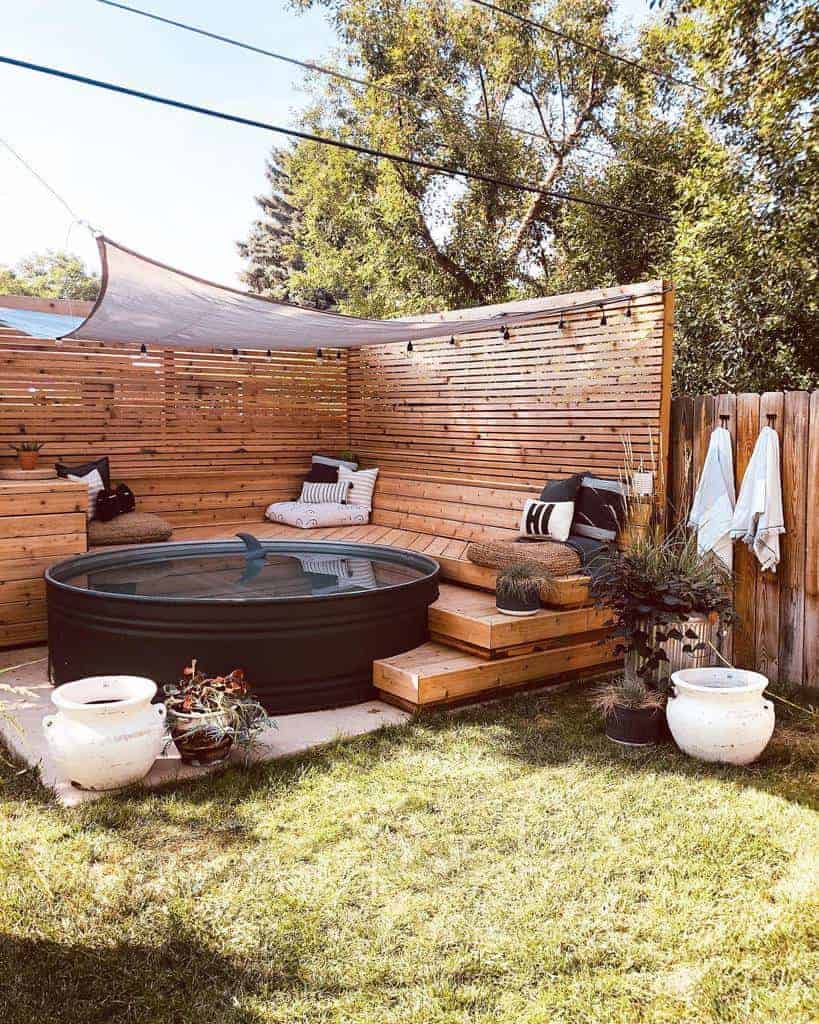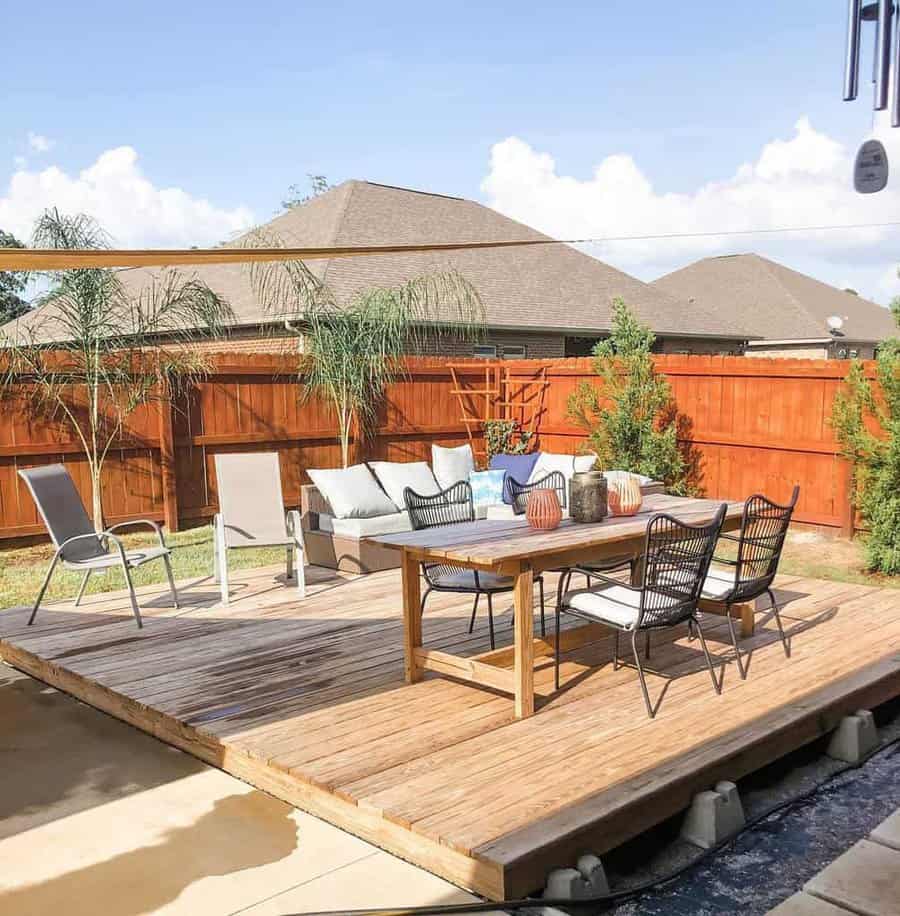 6. Gazebo Deck
This versatile space provides the ideal setting for intimate gatherings, cozy conversations, or simply indulging in quiet contemplation. With twinkling fairy lights delicately adorning the gazebo's framework, your deck transforms into a magical sanctuary, where dreams come alive under the starry night sky.
Whether you envision it as an oasis for relaxation, a romantic escape, or a creative haven, a gazebo deck adds an enchanting touch to your backyard, elevating it to a realm of endless inspiration and tranquility. Let your imagination soar as you embark on this captivating journey, and let your gazebo deck become a masterpiece that reflects your unique style and creative spirit.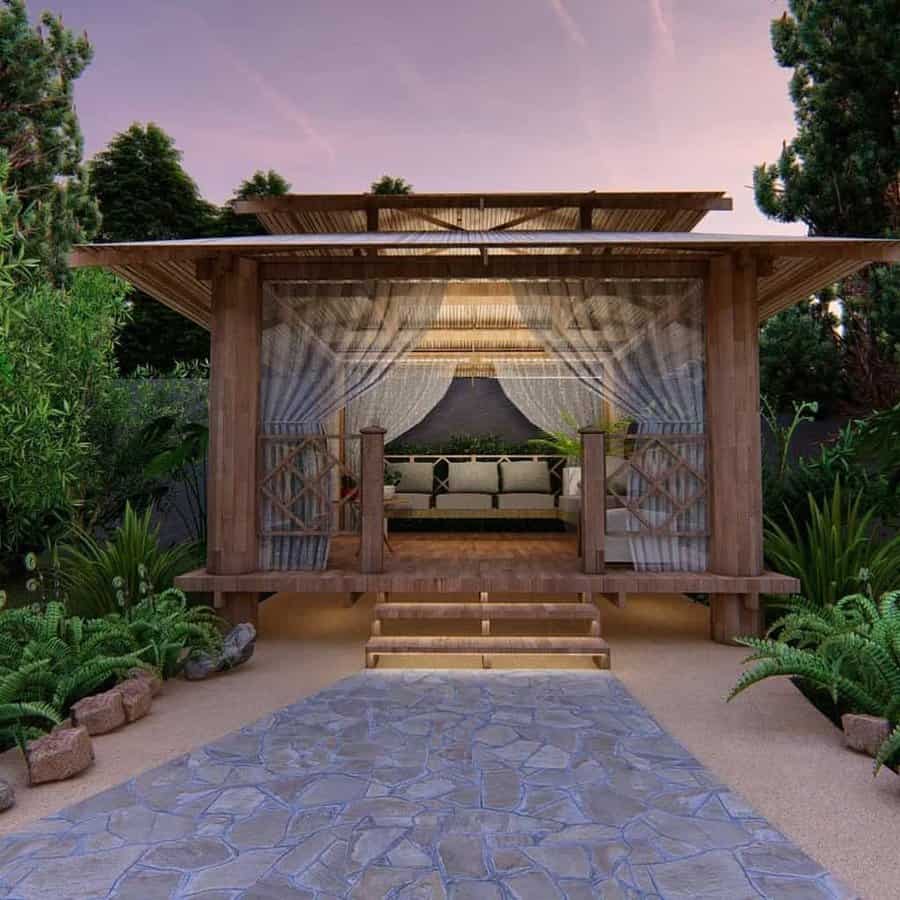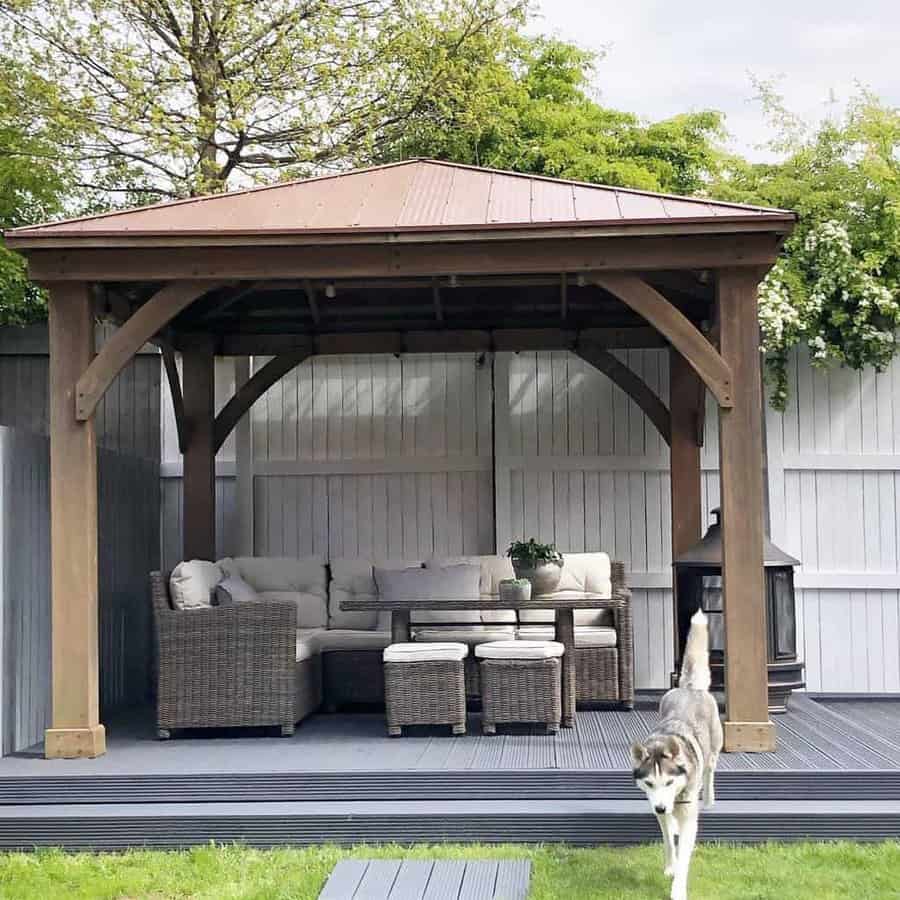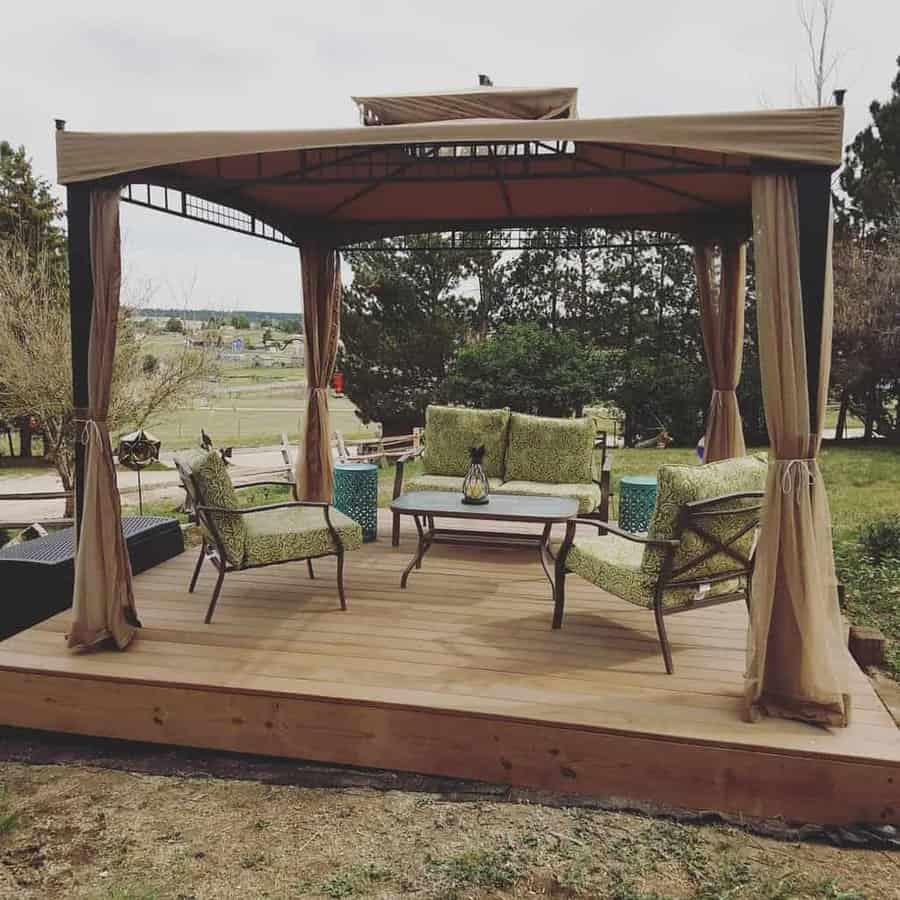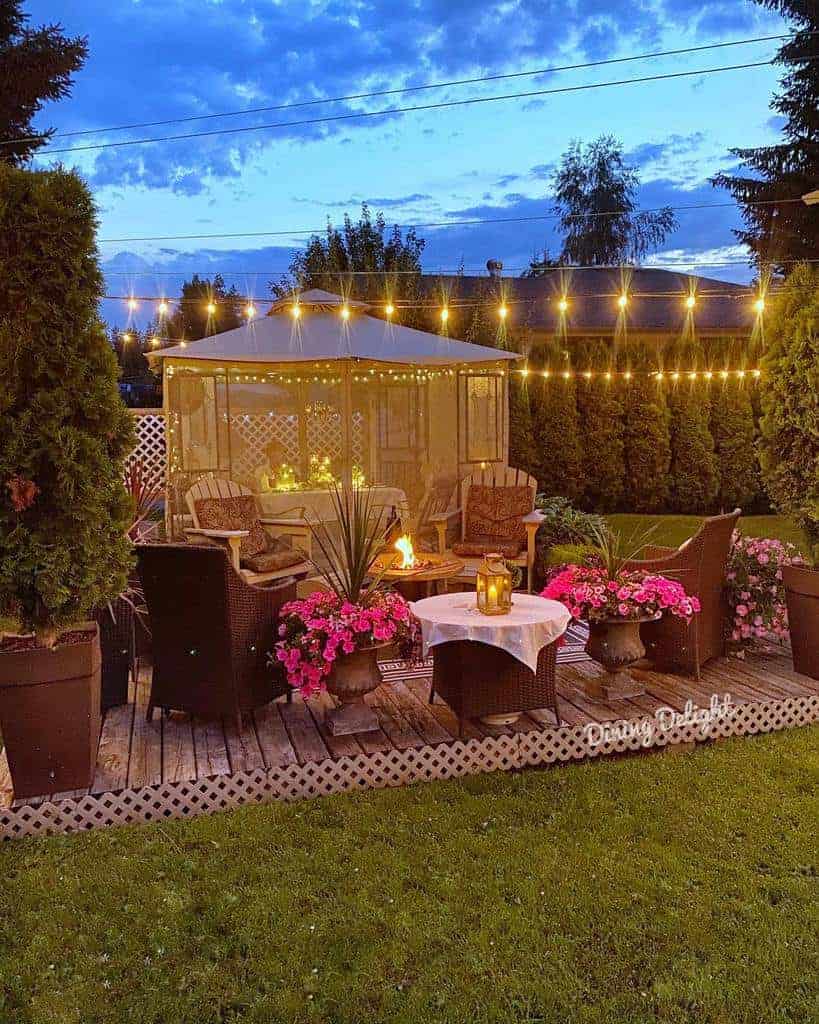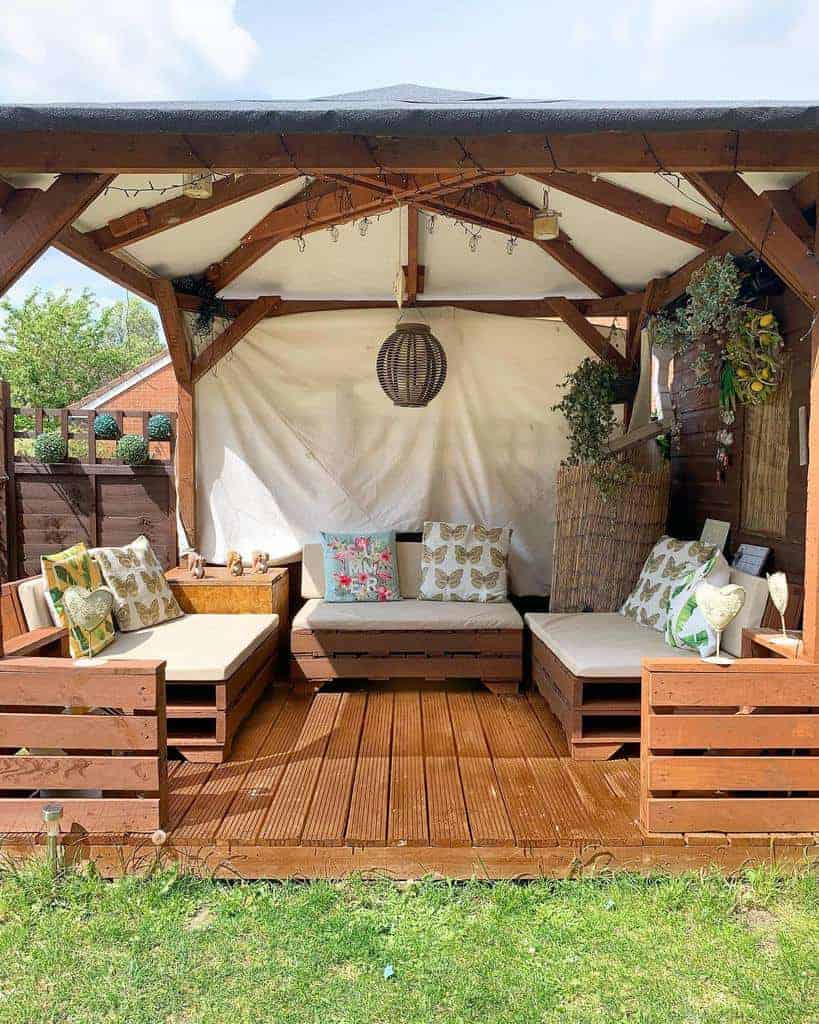 7. Backyard Deck With Curtains
Create a captivating outdoor oasis with a backyard deck adorned with elegant curtains. Transform your deck into a magical retreat where you can unwind and entertain in style. Picture billowing curtains gently swaying in the breeze, adding a touch of whimsy and sophistication to your outdoor space.
These ethereal drapes can provide privacy, block out harsh sunlight, and create a cozy ambiance. Whether you opt for sheer, flowing fabrics or vibrant patterns that make a bold statement, the addition of curtains to your backyard deck will elevate its charm and allure.
Soak up the enchantment as you relax on comfortable seating, surrounded by the soft embrace of these beautiful curtains, and let your imagination wander to faraway places. Let your backyard deck become a sanctuary where you can escape the ordinary and indulge in moments of pure delight.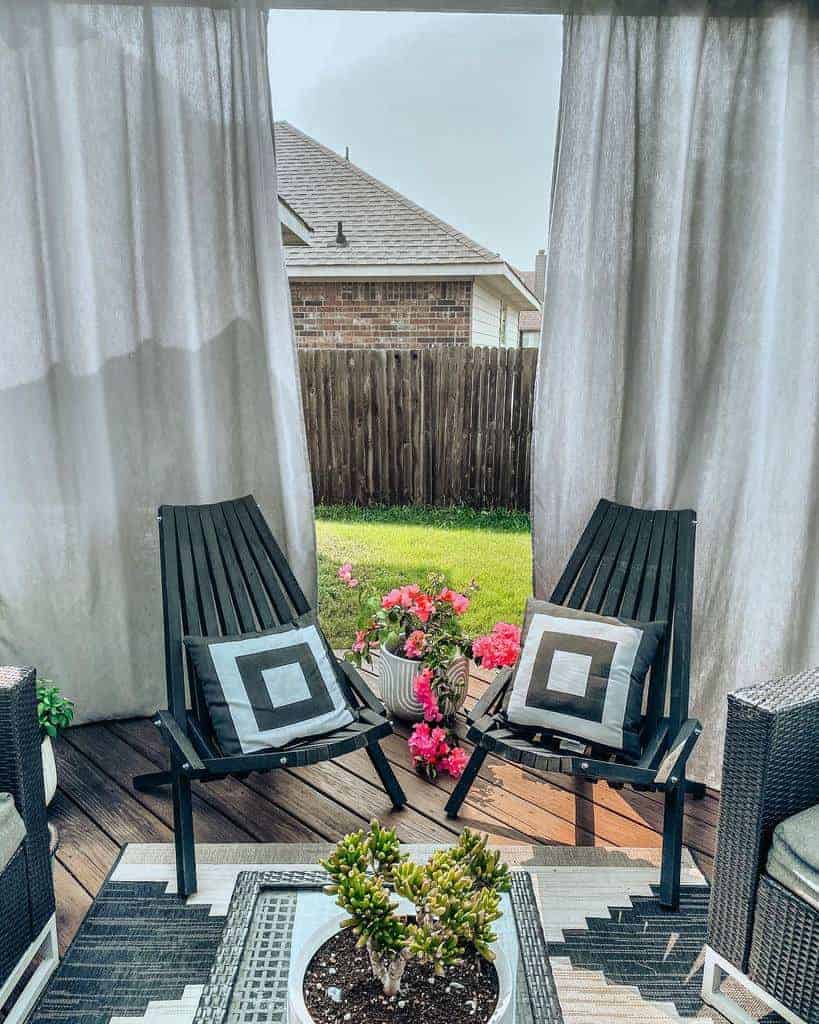 8. Deck Pavilion
Unleash your creativity and transform your backyard into a captivating oasis with deck pavilion ideas. Imagine a luxurious space adorned with a stunning chandelier, casting a warm glow over your enchanting outdoor retreat. A deck pavilion offers the perfect blend of elegance and functionality, providing shelter and style.
With ample seating options, you can create an inviting atmosphere for gatherings and relaxation. Whether you opt for a contemporary design or embrace a rustic charm, a deck pavilion with a chandelier and comfortable seating promises to elevate your outdoor experience to new heights of creativity and sophistication.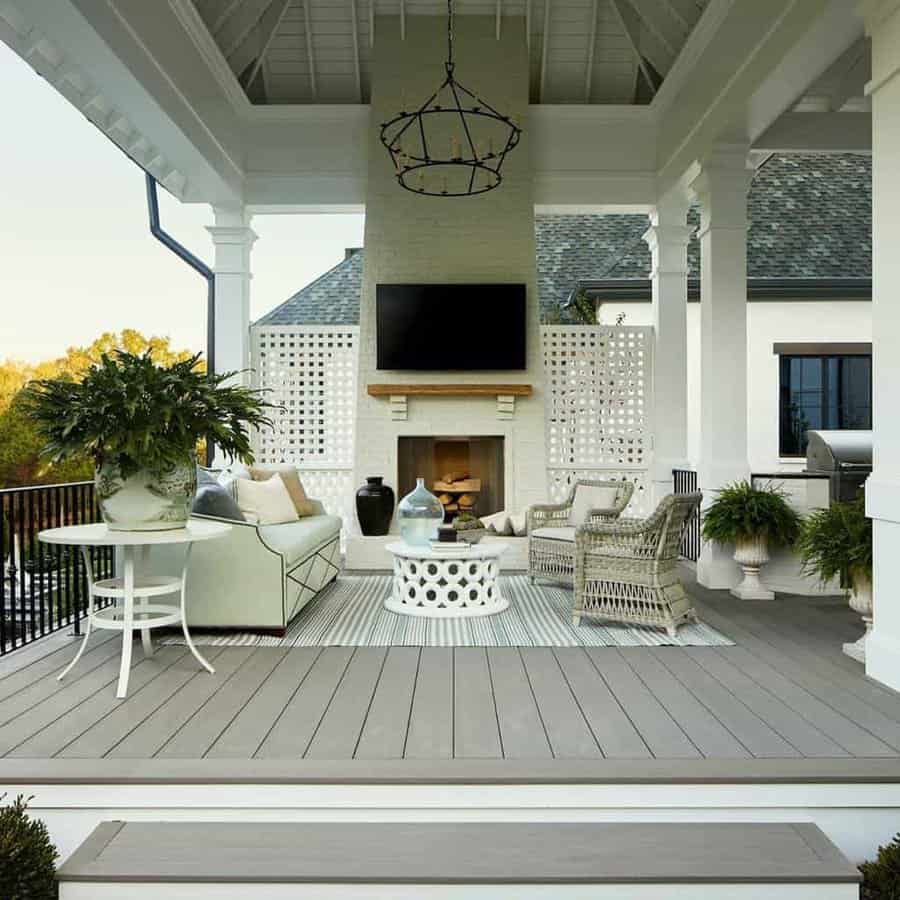 9. Under-Balcony Deck
If you're looking for a creative and unique backyard deck idea, consider an under-balcony deck. This innovative concept allows you to maximize your outdoor space by utilizing the area beneath an existing balcony or roof.
Instead of leaving it unused or simply relying on the limited overhead coverage, transform it into a cozy and inviting retreat. An under-balcony deck provides an alternative solution that combines the beauty of an outdoor setting with the shelter and charm of a covered area. Imagine lounging on comfortable seating, surrounded by lush plants and soft lighting, as you enjoy the gentle pitter-patter of raindrops on the roof above.
It's a space that invites relaxation, creativity, and a seamless connection between the indoors and outdoors. Embrace the possibilities of an under-balcony deck and discover a whole new level of outdoor enjoyment.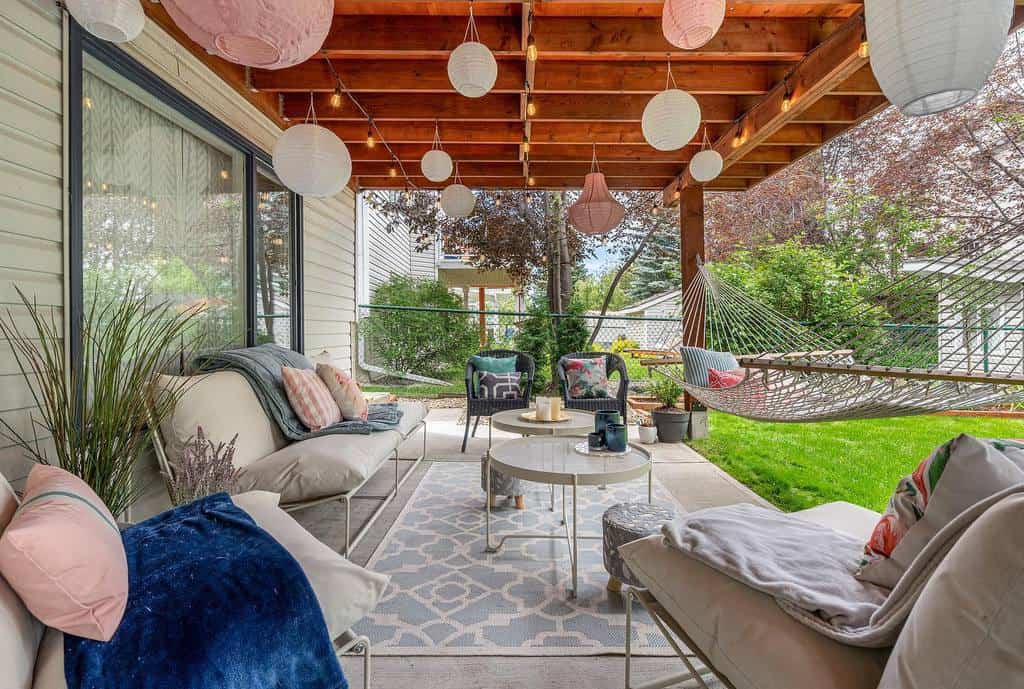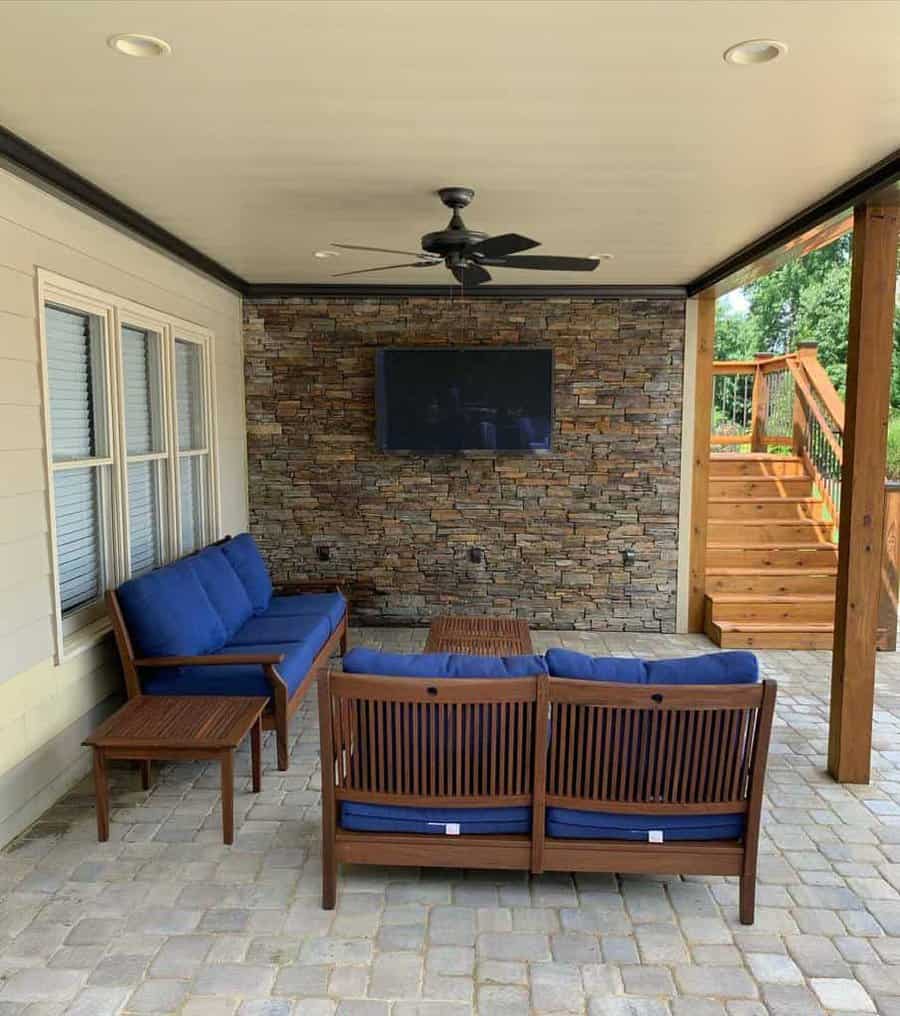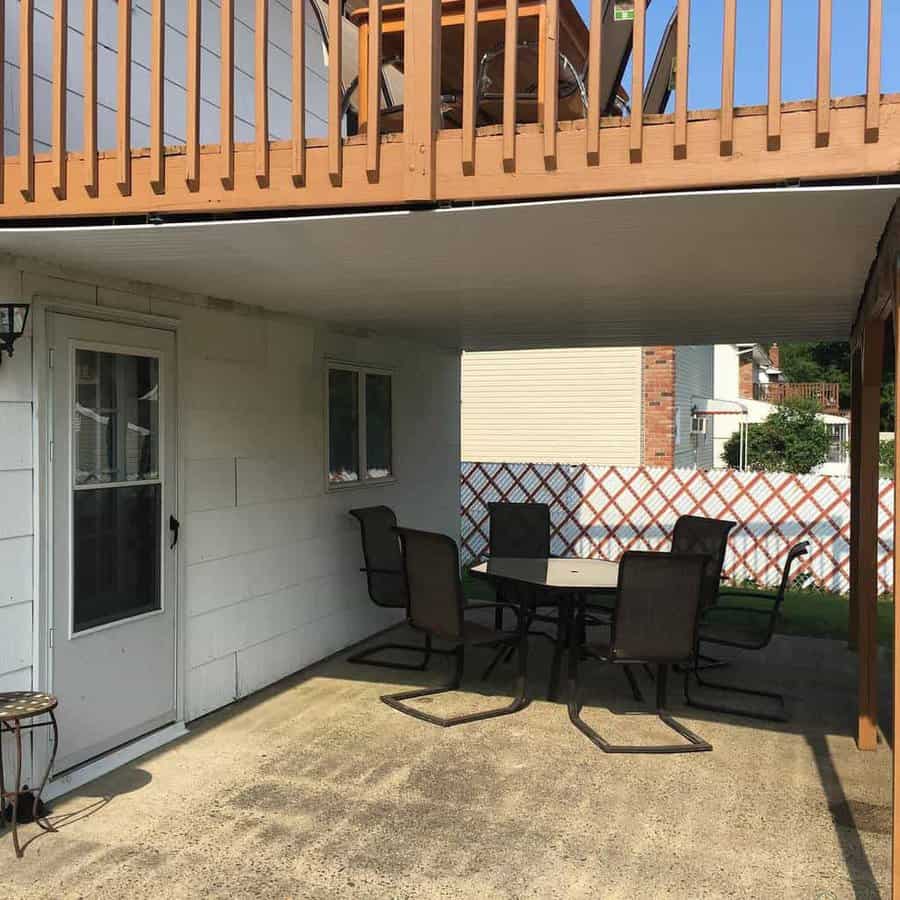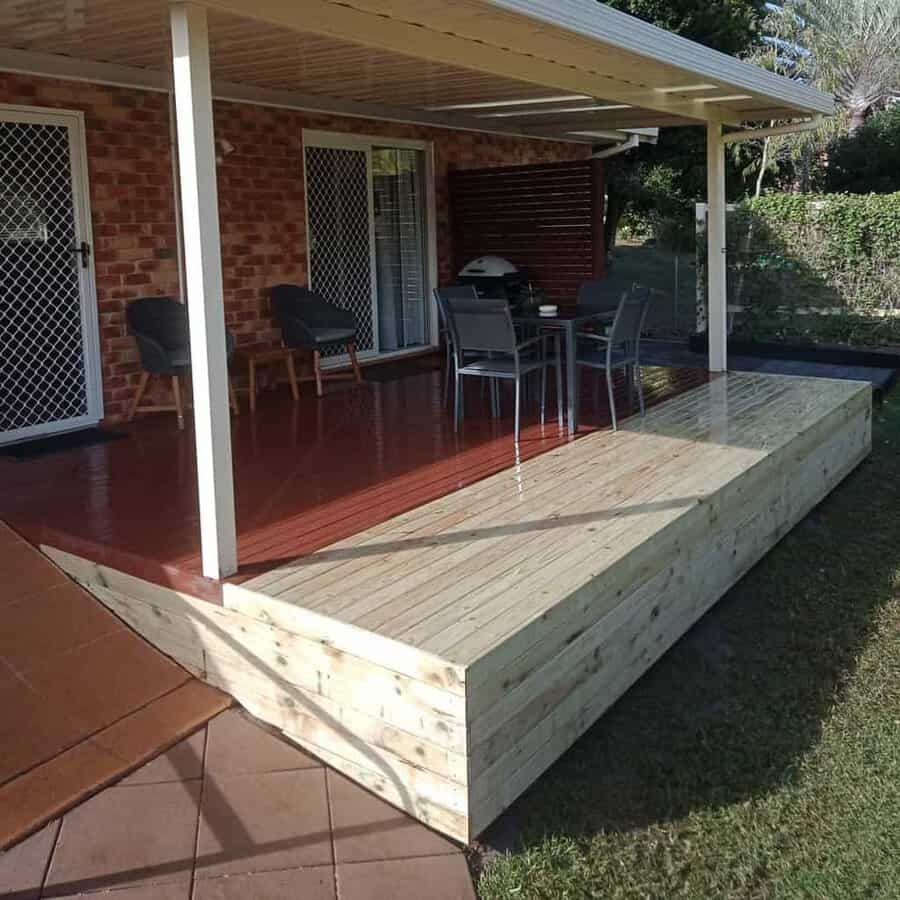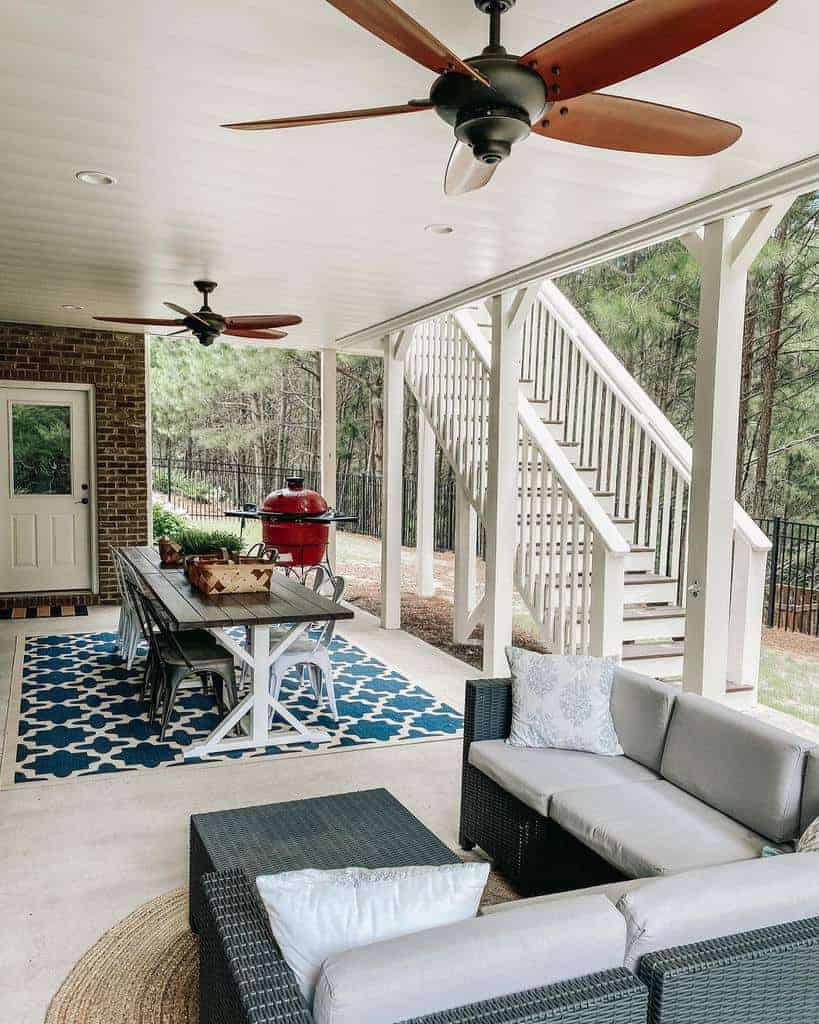 10. Deck With Lattice Fence
Transform your backyard into an enchanting oasis with the captivating allure of a backyard deck with a lattice fence. Imagine a harmonious blend of nature and design, where vibrant green walls entwine with the lattice, creating a natural privacy screen that embraces your outdoor haven.
This creative concept not only adds a touch of whimsy to your deck but also provides a sanctuary where you can unwind and escape the outside world. The lattice fence acts as a canvas for your imagination, allowing you to adorn it with climbing plants and trailing vines, further enhancing the beauty of your private retreat.
With this backyard deck idea, you can indulge in the tranquility of your own green sanctuary while enjoying the seclusion and serenity that the lattice fence brings.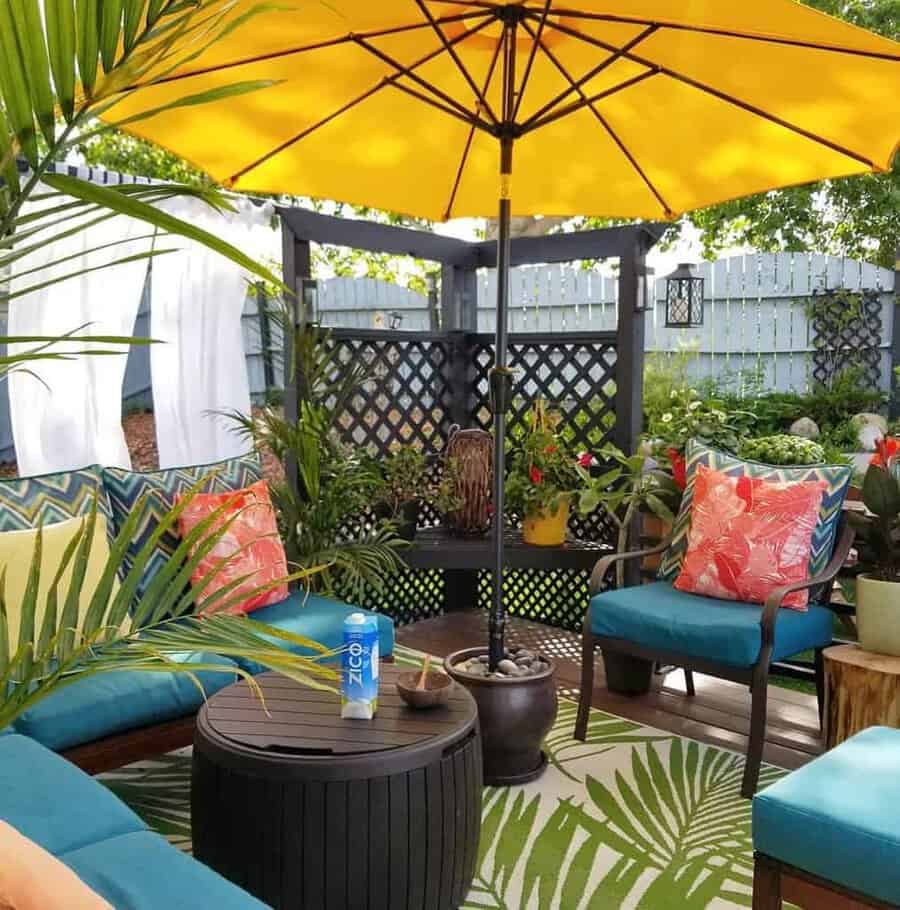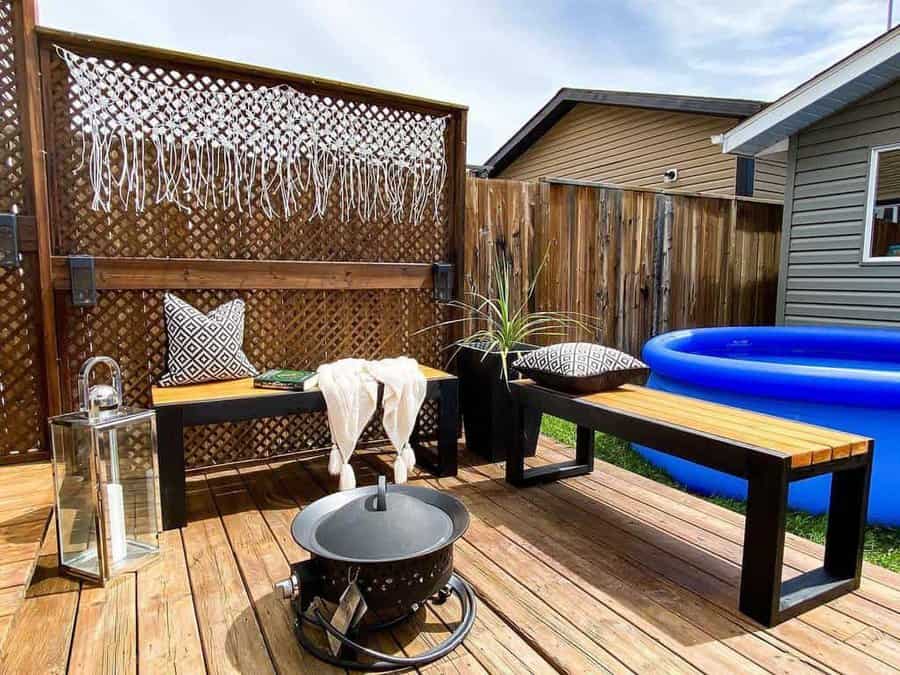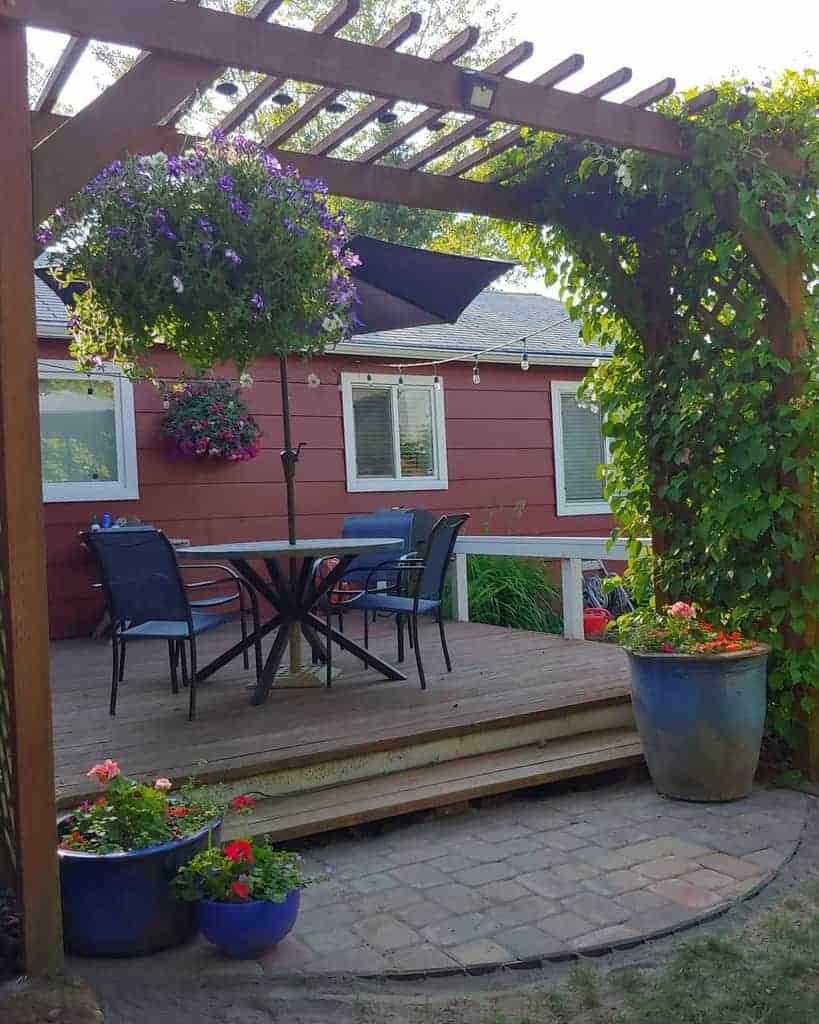 11. Corner Backyard Deck
If you have a corner in your backyard that's begging to be transformed, consider the creative potential of a corner backyard deck. This unique design approach allows you to utilize the often-overlooked space and turn it into a captivating outdoor retreat.
With a corner backyard deck, you can maximize the functionality of your yard while adding a touch of innovation to your overall landscape. Embrace the charm of this tucked-away oasis by incorporating cozy seating arrangements, vibrant planters, and artistic lighting fixtures. Whether you envision a cozy reading nook, a peaceful meditation spot, or a charming gathering area for friends and family, a corner backyard deck provides endless opportunities to create a beautiful and inviting space.
Let your imagination run wild and watch as your corner transforms into a captivating destination that will leave everyone in awe.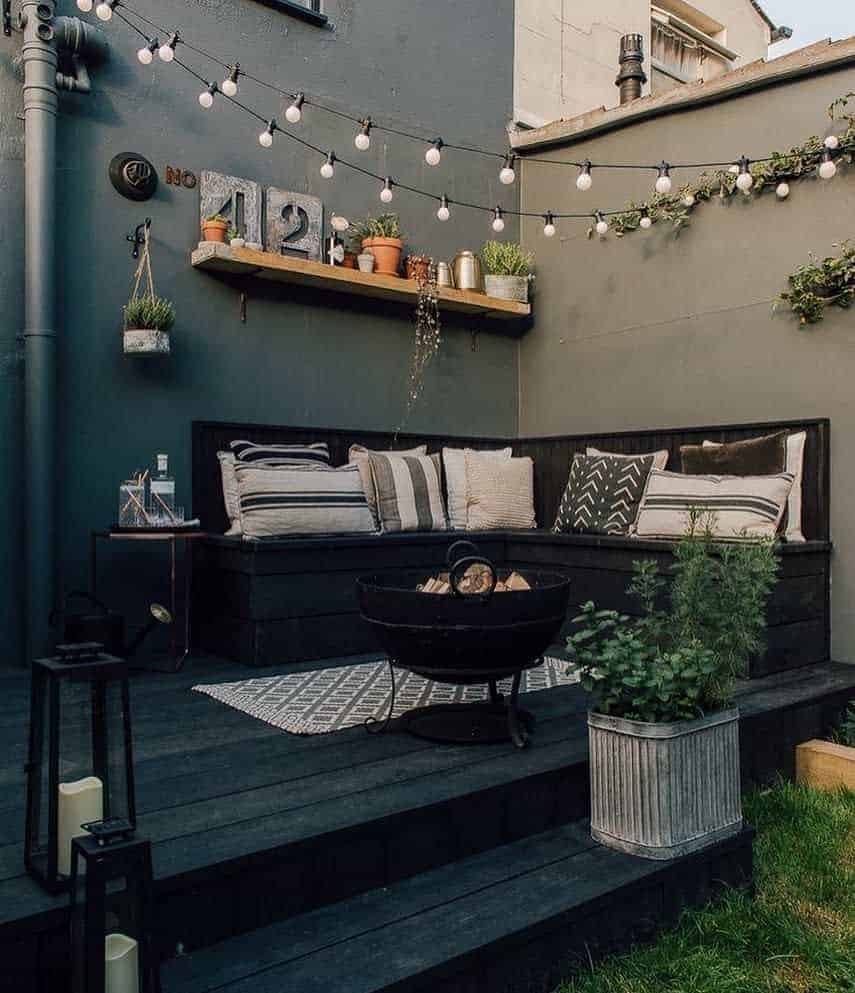 12. Backyard Deck With String Lights
Create a captivating ambiance in your backyard with a deck adorned by mesmerizing string lights. Picture a dreamy escape, where your deck becomes a magical haven after dusk. Enhance the enchantment by attaching the delicate string lights to the posts and fence surrounding your deck, transforming the space into a whimsical wonderland.
As the sun sets, the soft glow emitted by the lights casts a warm and inviting glow, creating an intimate atmosphere for gatherings, celebrations, or quiet evenings under the stars. Let your imagination soar as you bask in the creativity that a backyard deck with string lights can bring, infusing your outdoor oasis with a touch of ethereal beauty.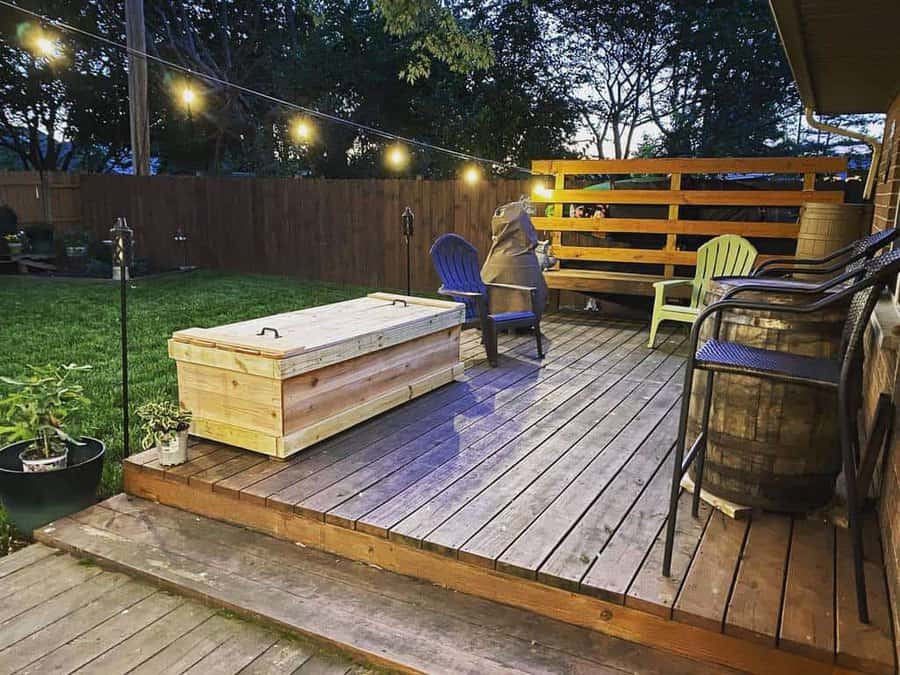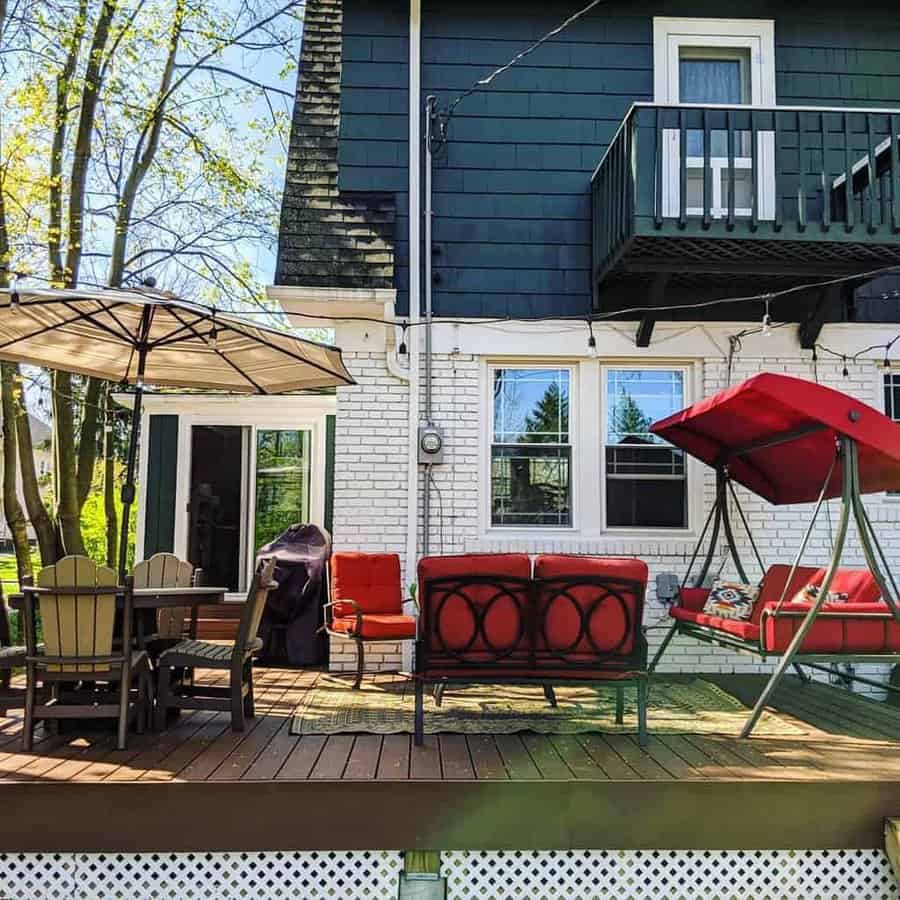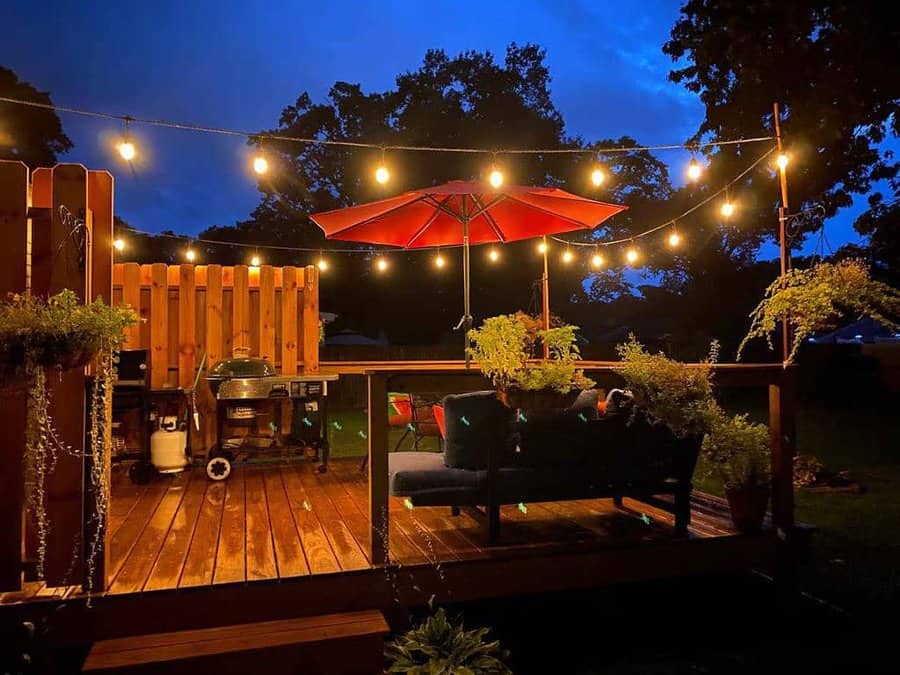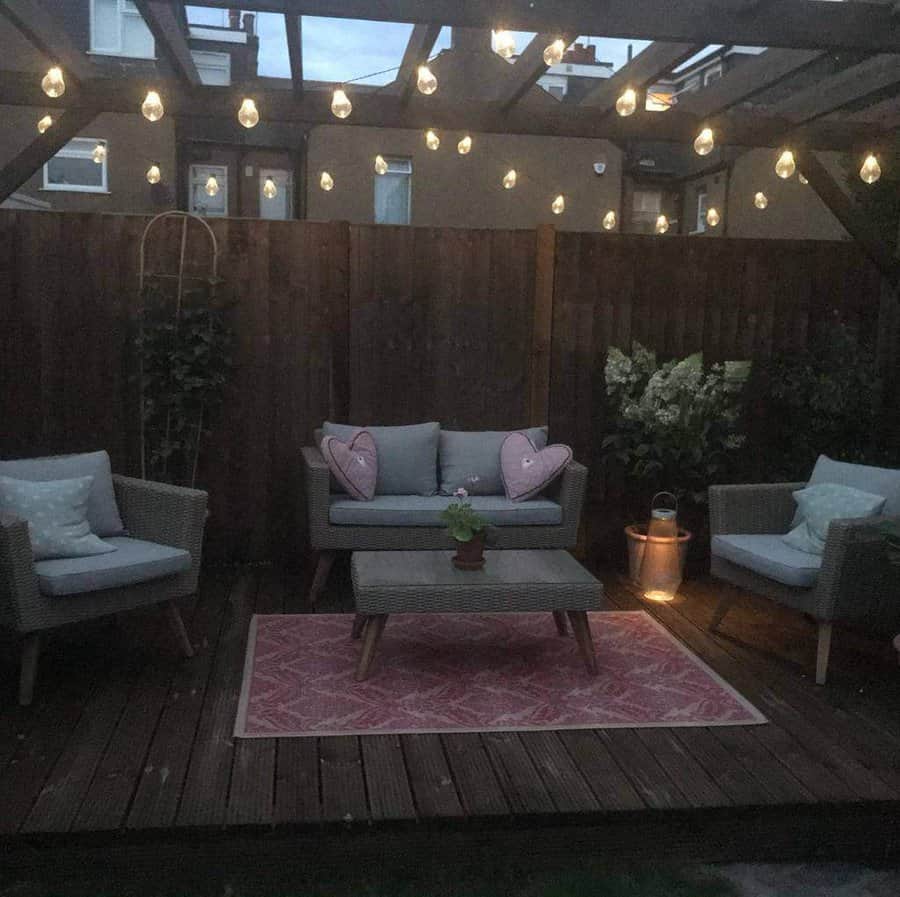 Patio Deck FAQs
Can you build a deck on a patio?
Yes, you can build a deck on top of your concrete patio. This is a great way to cover up a patio that's in terrible condition. You'll want to build your new deck to be flush with the thresholds to prevent a safety hazard. This may require you to build the deck on spacers.
What is the best material for an outdoor deck?
The best material will depend on what you're using to determine the best. PVC and composite are virtually maintenance-free, easy to keep clean, and won't ever splinter or warp. However, it can get hot, which can make it less desirable than natural wood.
What is the coolest decking material?
The coolest decking material is natural wood. Of the different wood varieties, Ipe is the coolest, with cedar coming in a close second. Redwood ranks third. Don't get hung up on the rankings; the temperature difference between the three is only a few degrees.