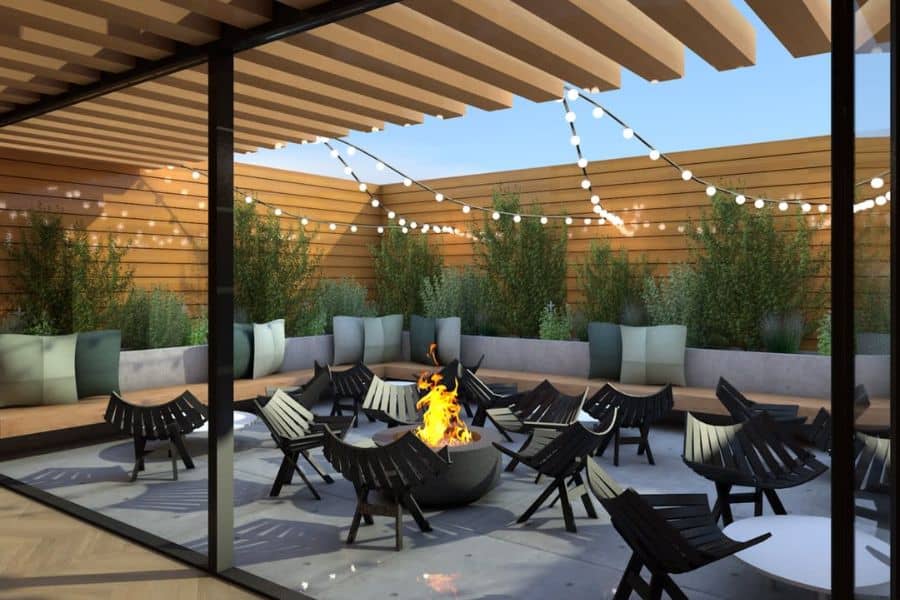 The Top 49 Backyard Privacy Ideas
by — Andra DelMonico

Published on October 5, 2021

Updated on October 13, 2023
"Privacy is paradise." – Holly Hunter
You have a spacious backyard with a large patio or deck that would be perfect for entertaining or just hanging out. The only problem is that it lacks privacy by blocking their view. You aren't looking to be the neighborhood entertainment. The only solution is to create some privacy. There are various ways you can go about creating a private space in your backyard, from the natural look with plants to something modern using mixed materials.
These backyard privacy ideas will help you create the perfect escape where you can relax outside and not have to worry about others watching.
1. Rustic Charm: Wood Pallet Fence
When it comes to enhancing your backyard's privacy while adding rustic charm, consider a wood pallet fence. These cost-effective fences provide a distinctive aesthetic that elevates your outdoor space. You can easily obtain wood pallets from local stores and transform them into an eco-friendly, customizable fence. Whether you opt for a natural finish or paint it to complement your home's exterior, this DIY project offers a personalized touch to your backyard haven. To complete the look, consider adding cozy outdoor seating and potted plants for a welcoming atmosphere.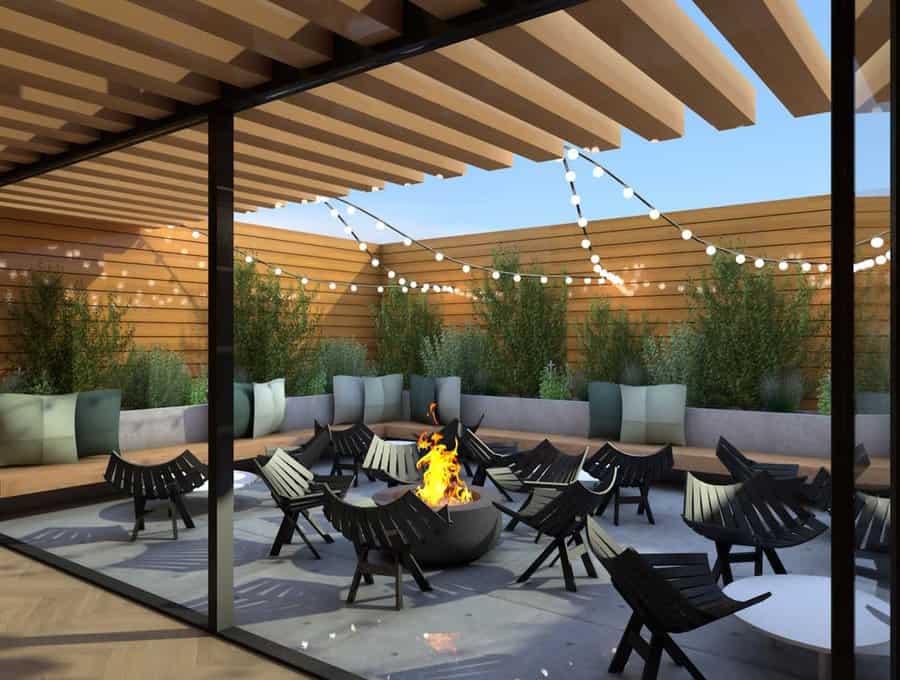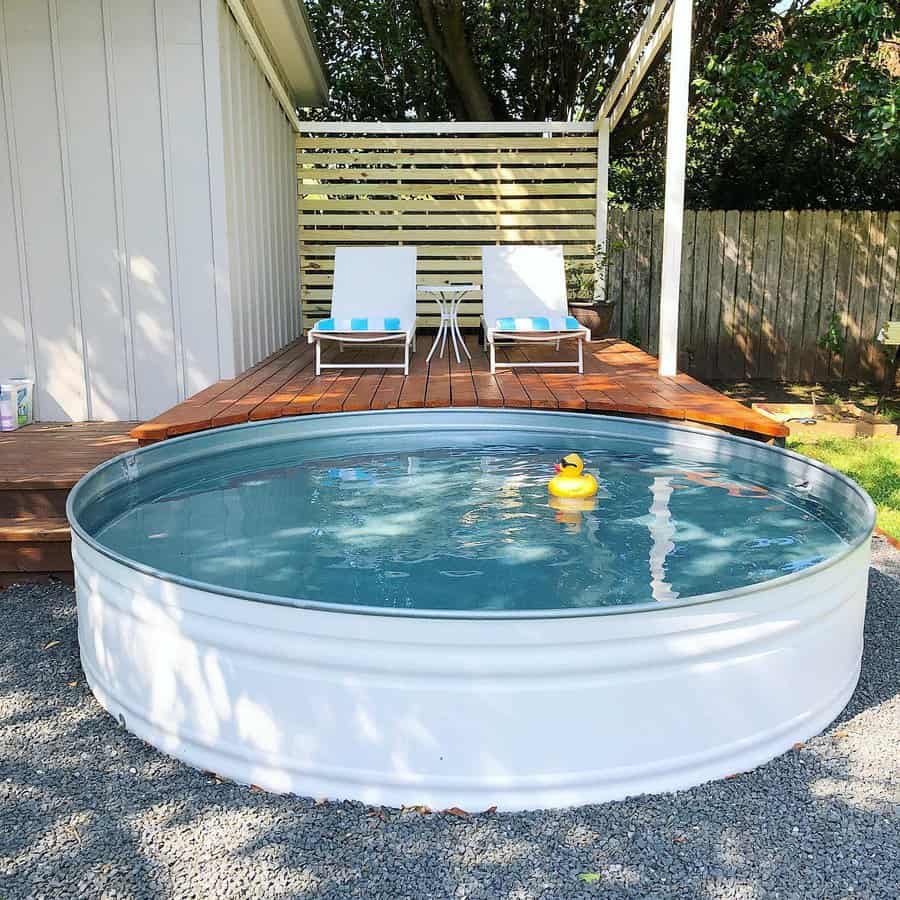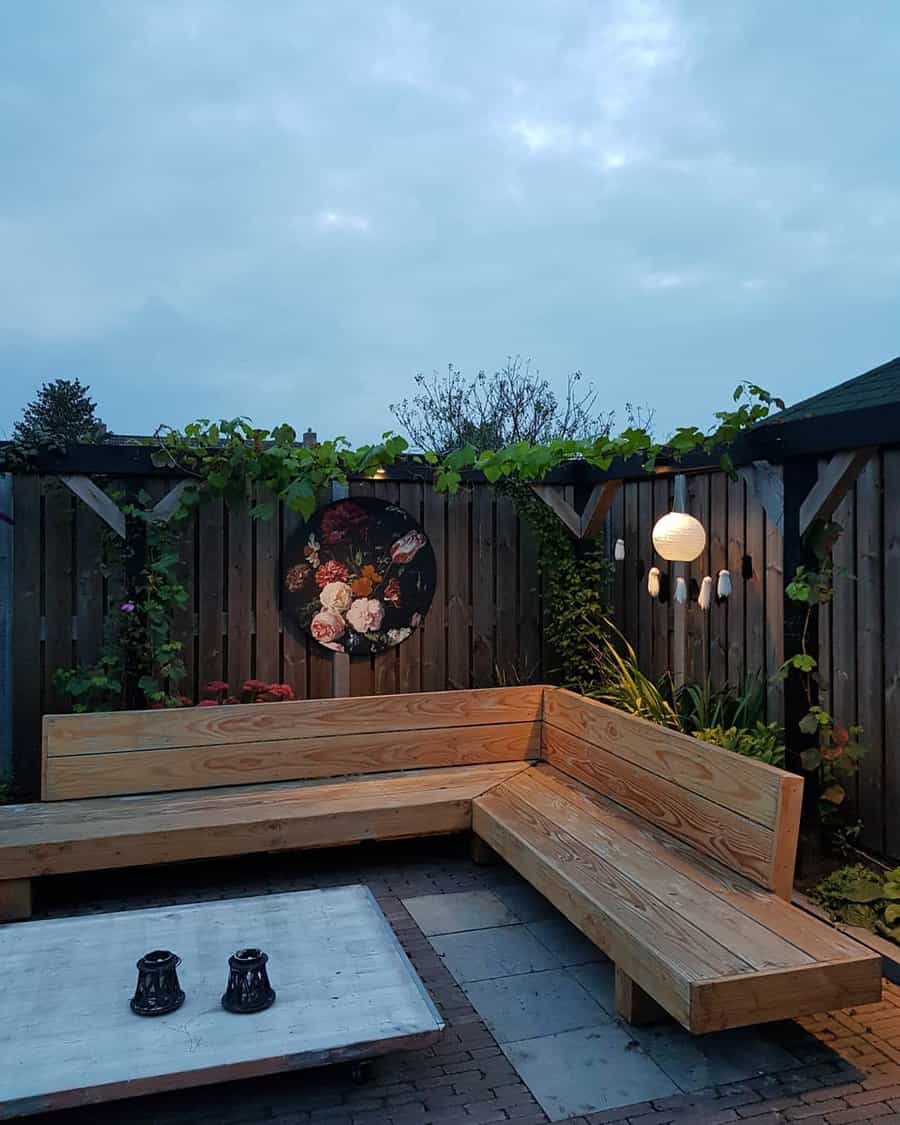 2. Artistic Flair: Metal Cutout Privacy Fence
Elevate your backyard's aesthetic with a decorative metal cutout privacy fence that doubles as a stunning piece of art. These fences offer a wide range of design options, allowing you to select one that harmonizes with your home's style. Not only do metal cutout fences provide privacy, but they also cast captivating shadows and patterns when sunlight filters through, adding an artistic touch to your outdoor space.
For a cohesive look, coordinate the fence design with other elements in your backyard, such as outdoor furniture and landscaping. Opt for rust-resistant materials to ensure longevity, and consider incorporating outdoor lighting to highlight the fence's artistic features during the evening hours.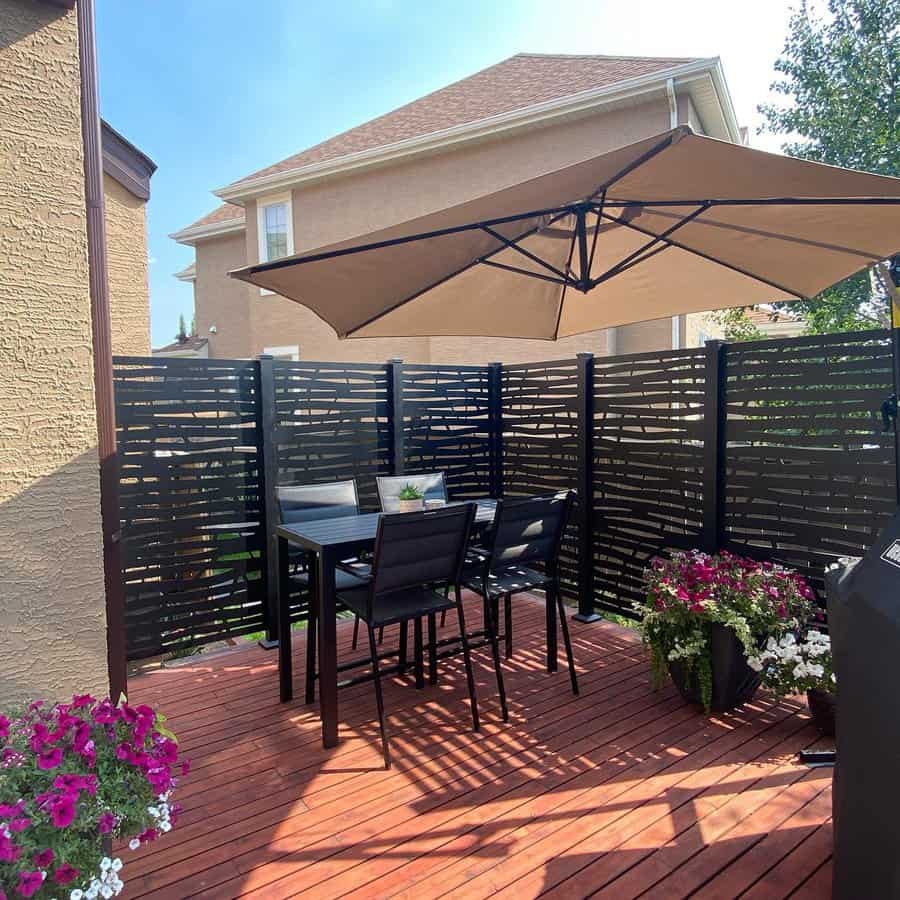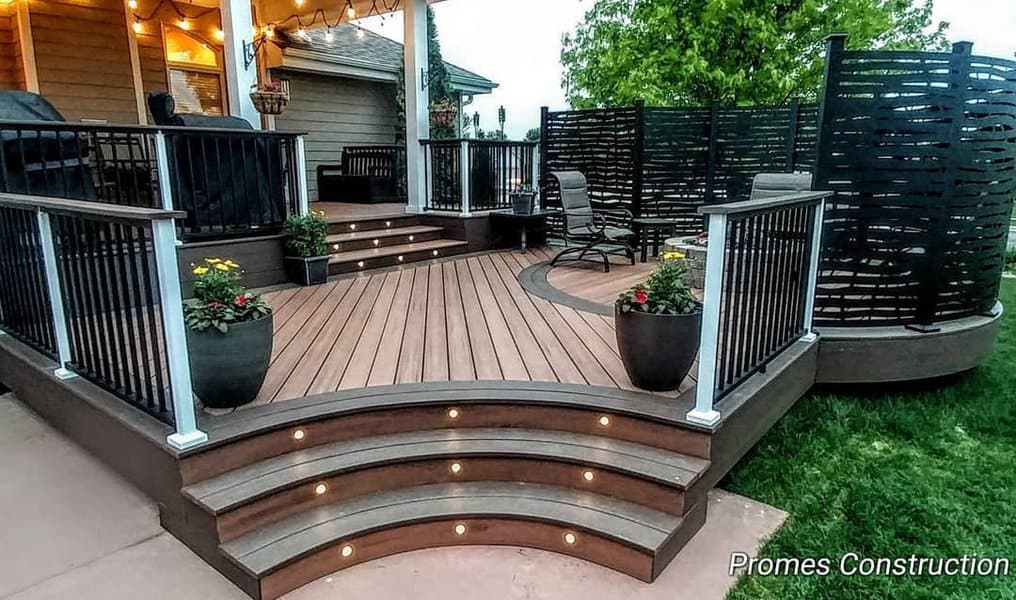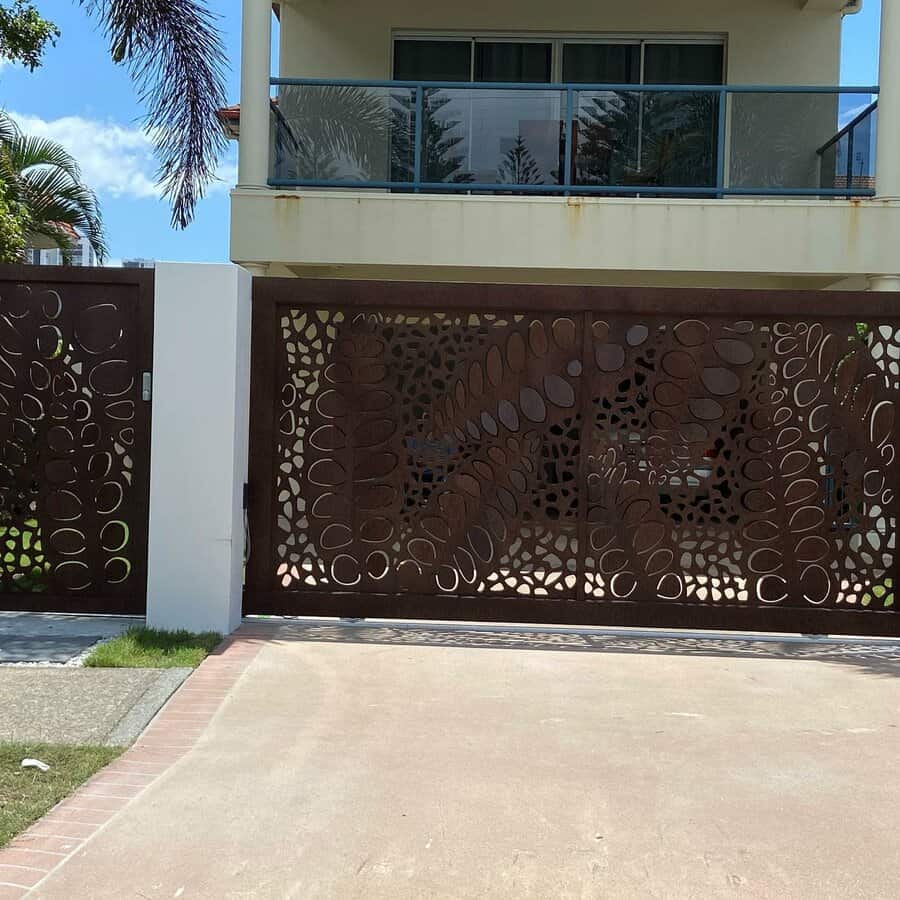 3. Classic Elegance: Brick Wall Fence
For timeless backyard privacy paired with classic elegance, consider a brick wall fence. This option not only delivers durability but also imparts sophistication to your outdoor haven. Crafted in various heights and styles, you can tailor it to your specific requirements.
To make the most of this design, ensure it complements your home's architecture and overall aesthetic. You can opt for a lower wall to maintain a partial view or a taller one for increased seclusion. Personalize the finish, whether by painting to match your home or embracing its natural, rustic charm. Enhance the ambiance with outdoor lighting and well-chosen landscaping to create a harmonious outdoor retreat.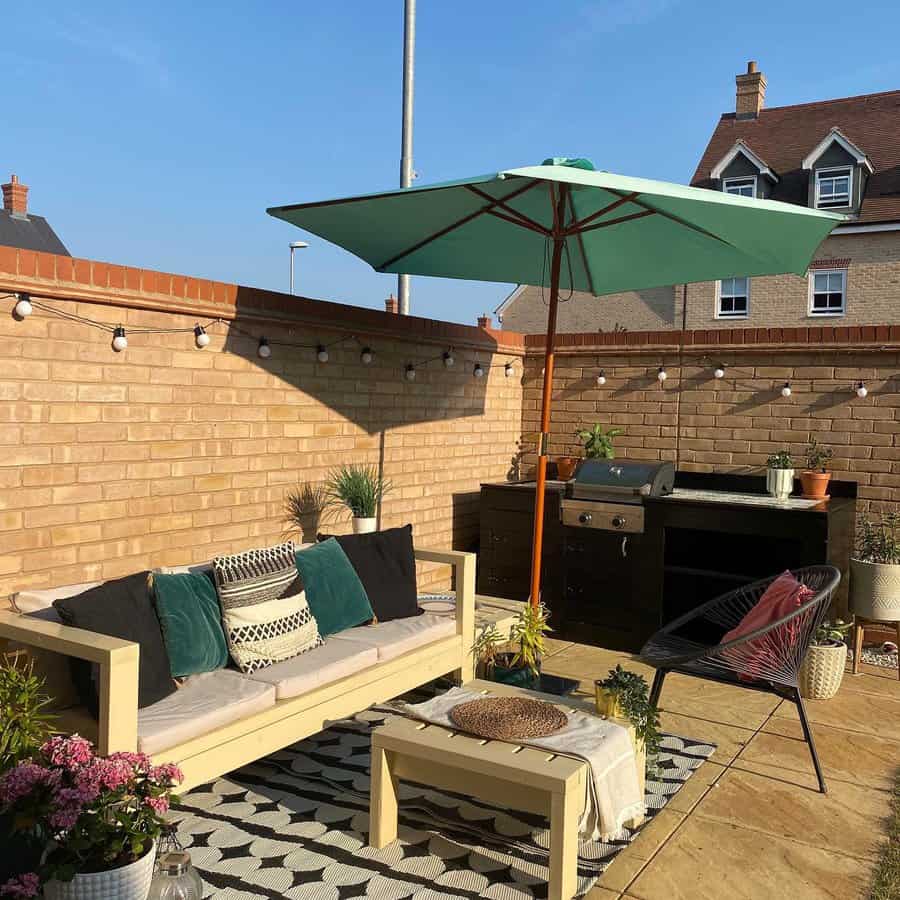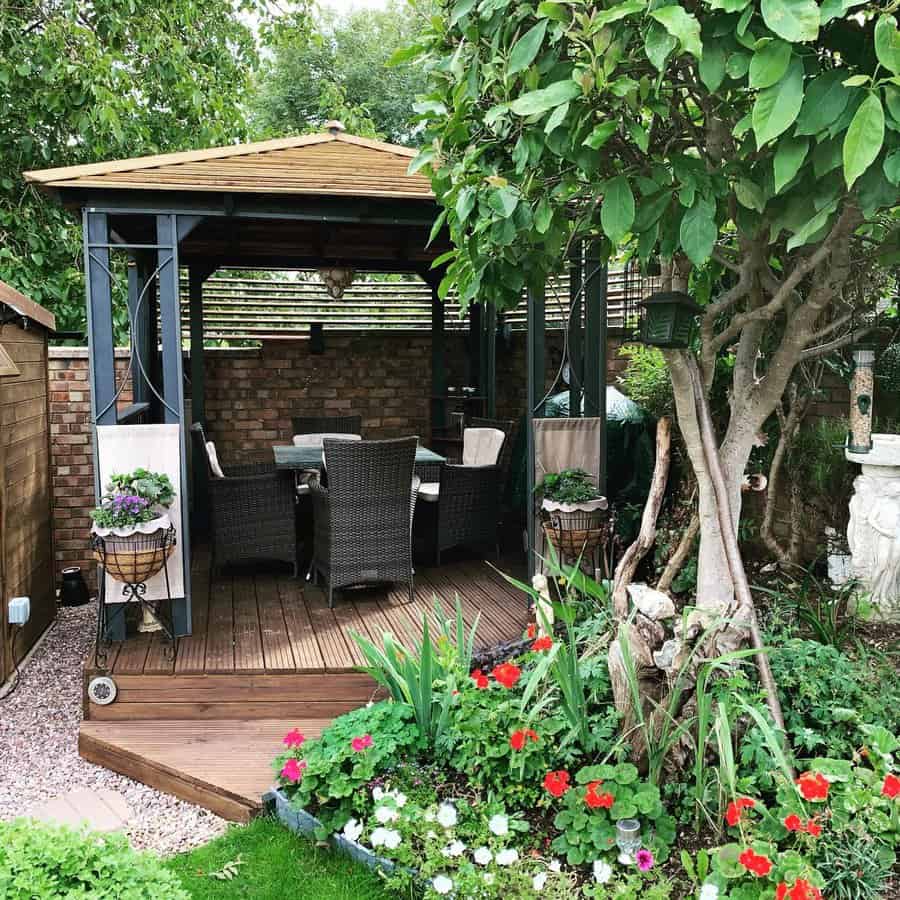 4. Space-Saving Solution: Narrow Timber
For an effective and space-saving backyard privacy solution, consider a narrow timber privacy wall. These walls, constructed from closely spaced vertical wood planks, create a robust barrier that shields your space from prying eyes while introducing a touch of natural beauty.
Choose from wood options like cedar, redwood, or treated pine to match your budget and desired aesthetic. These walls can be tailored to fit any outdoor area, from spacious backyards to cozy patios, and their installation is relatively straightforward. To enhance the visual appeal, explore staining or painting the wood to harmonize with your home's exterior color scheme. Accessorize the area with outdoor furniture and greenery for a welcoming atmosphere.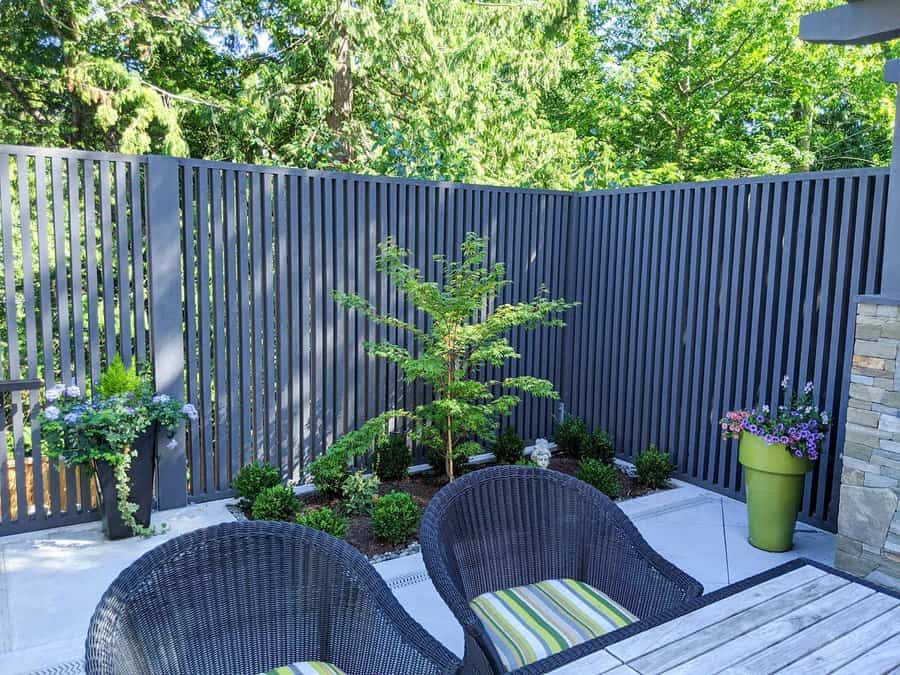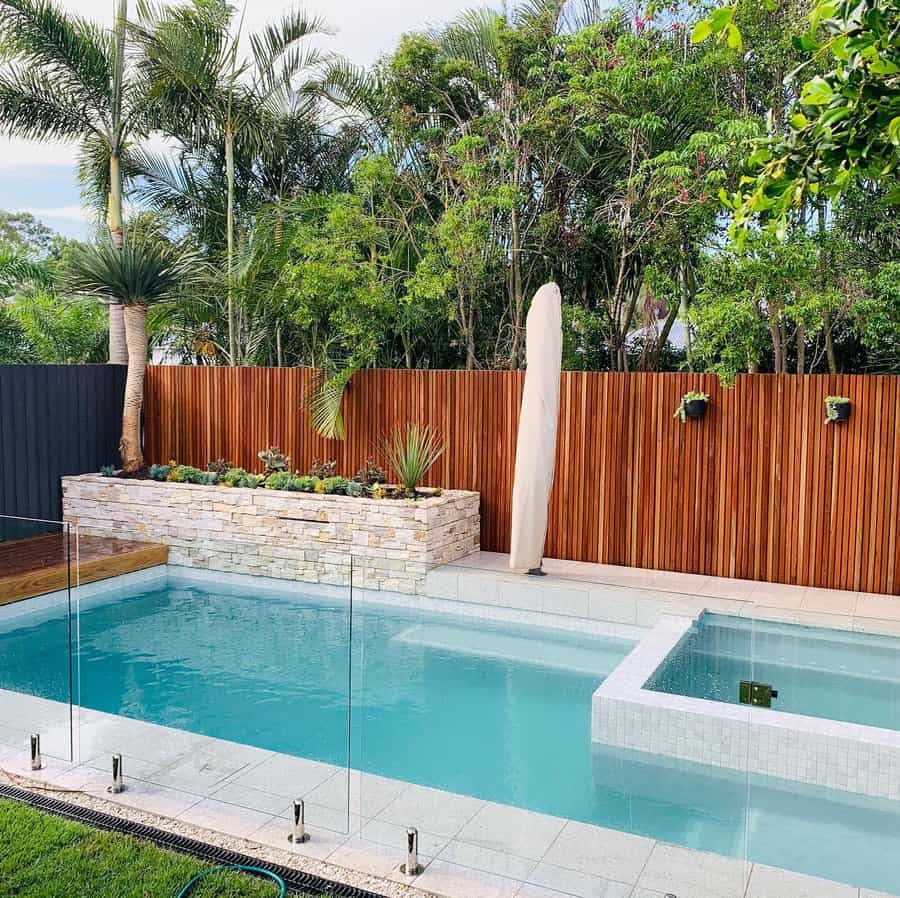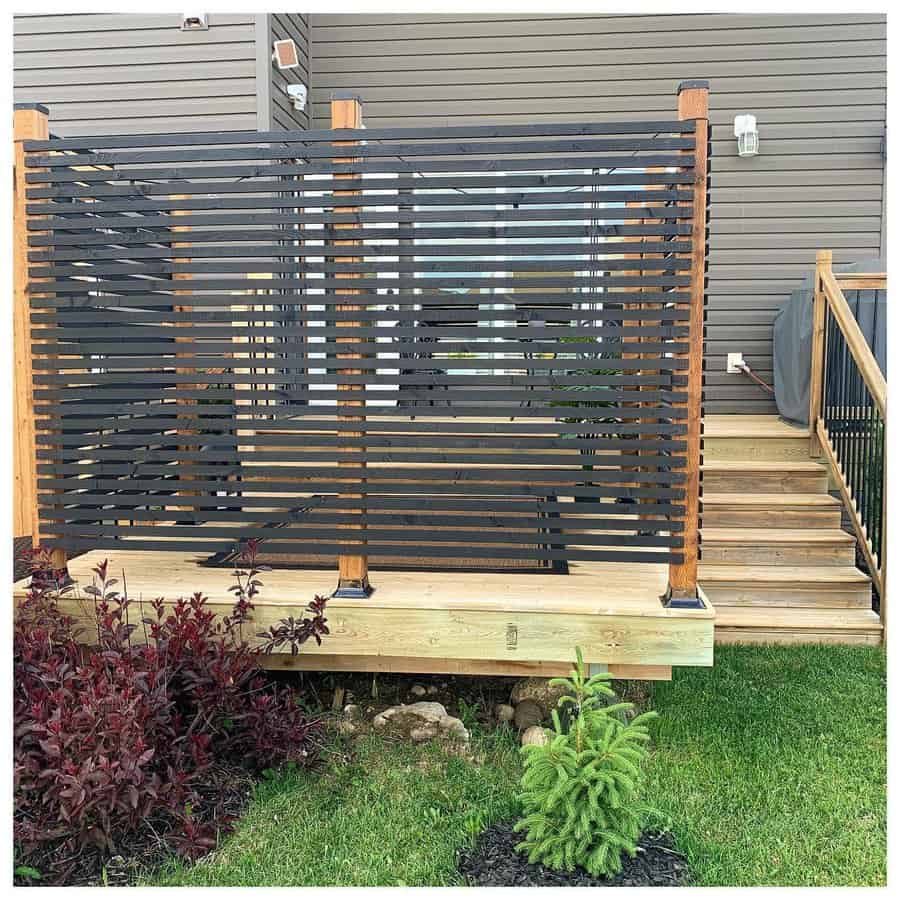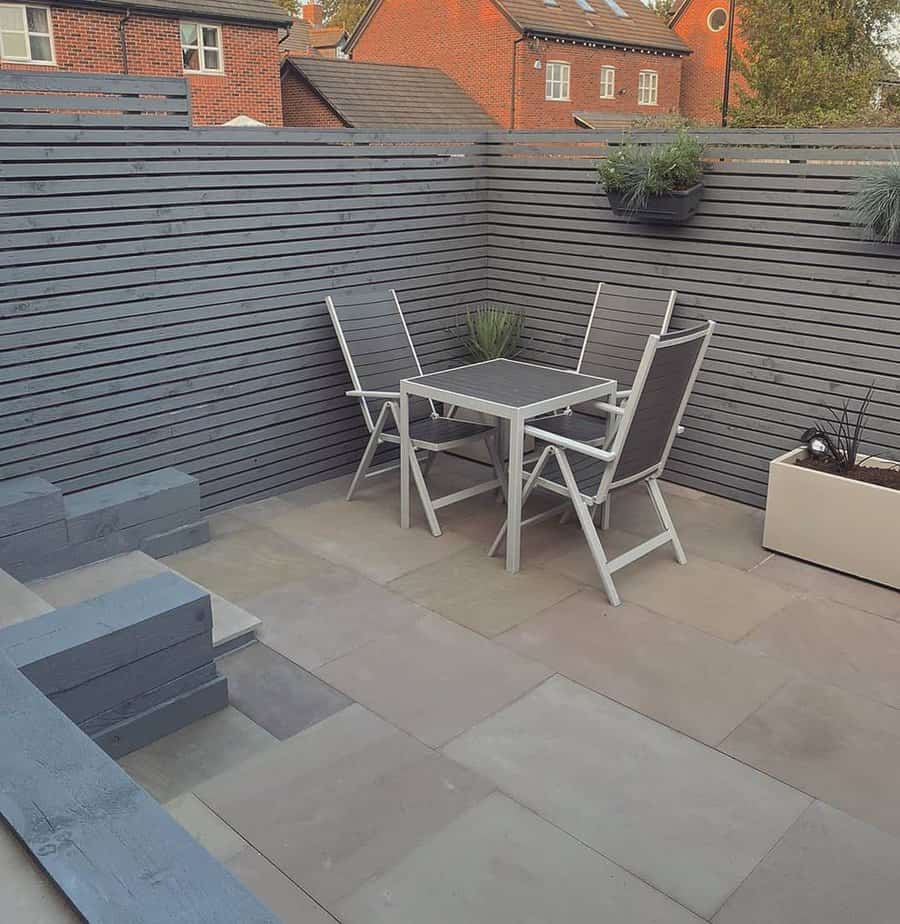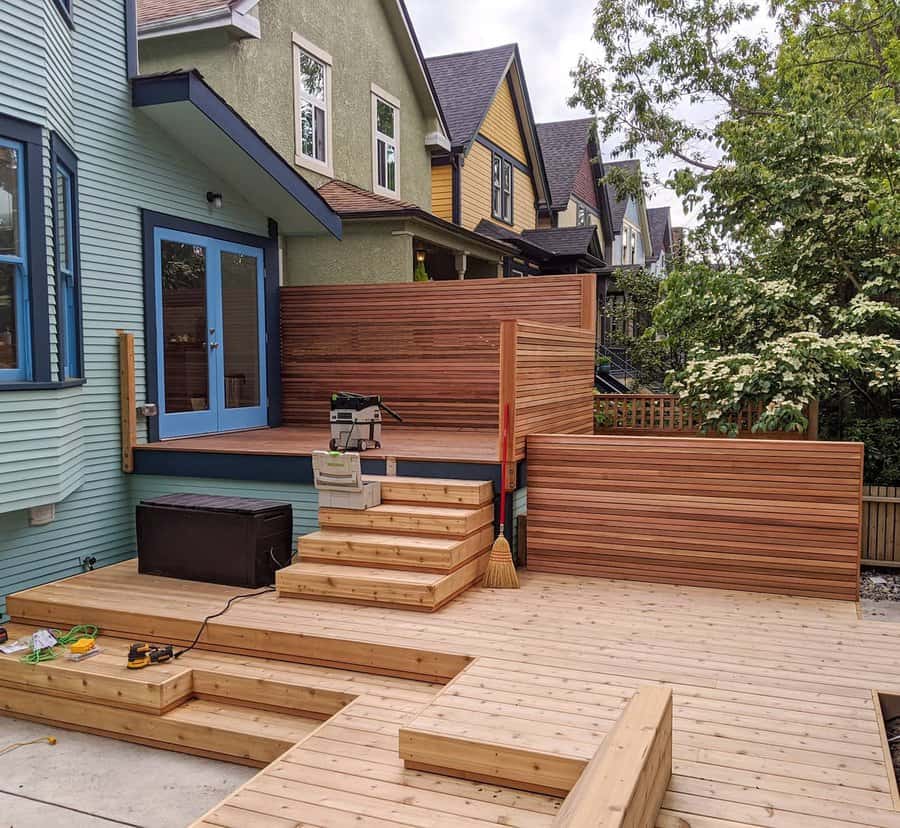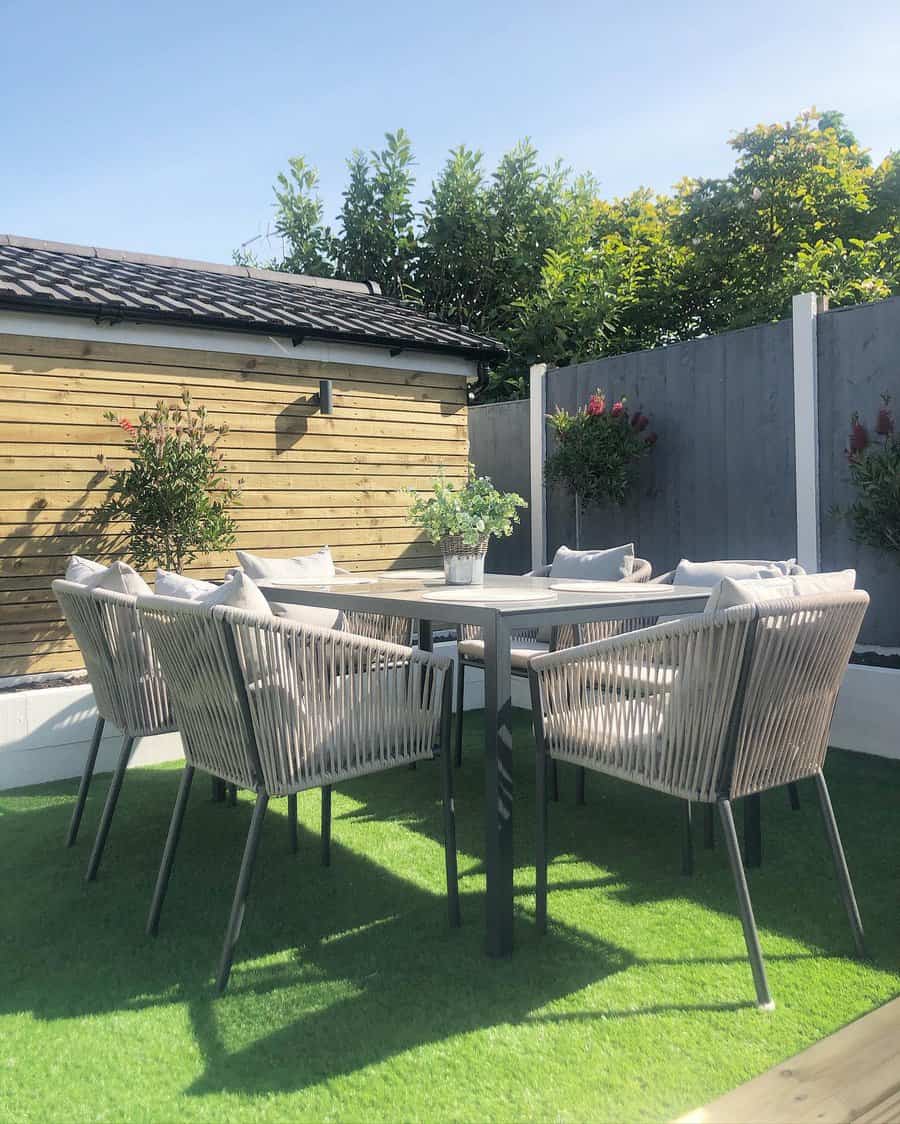 5. Green Oasis: Plant Wall Fence
Transform your backyard into a lush oasis with a plant wall fence that combines both beauty and functionality. This innovative approach to privacy utilizes various plant options, including shrubs, trees, or climbing vines, to establish a seamless connection with nature while ensuring your privacy.
To expedite the growth of your green wall, opt for fast-growing evergreens or vigorous climbing vines that will swiftly cover the space. It's crucial to select plants suited to your specific climate and soil conditions, so thorough research is key. Complement this green escape with comfortable outdoor seating, and consider installing an irrigation system to maintain the vibrancy of your living privacy fence year-round.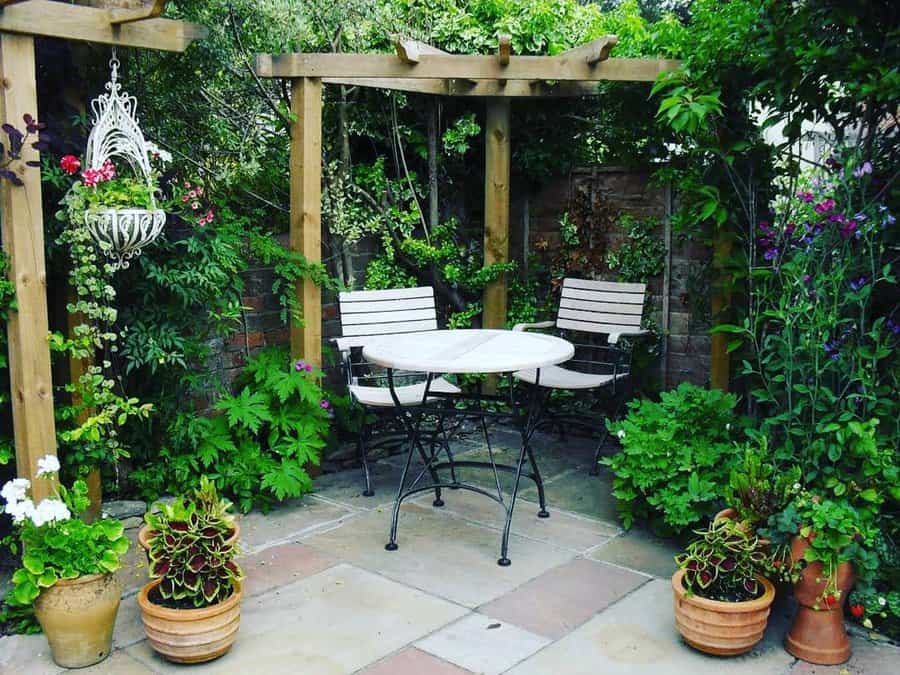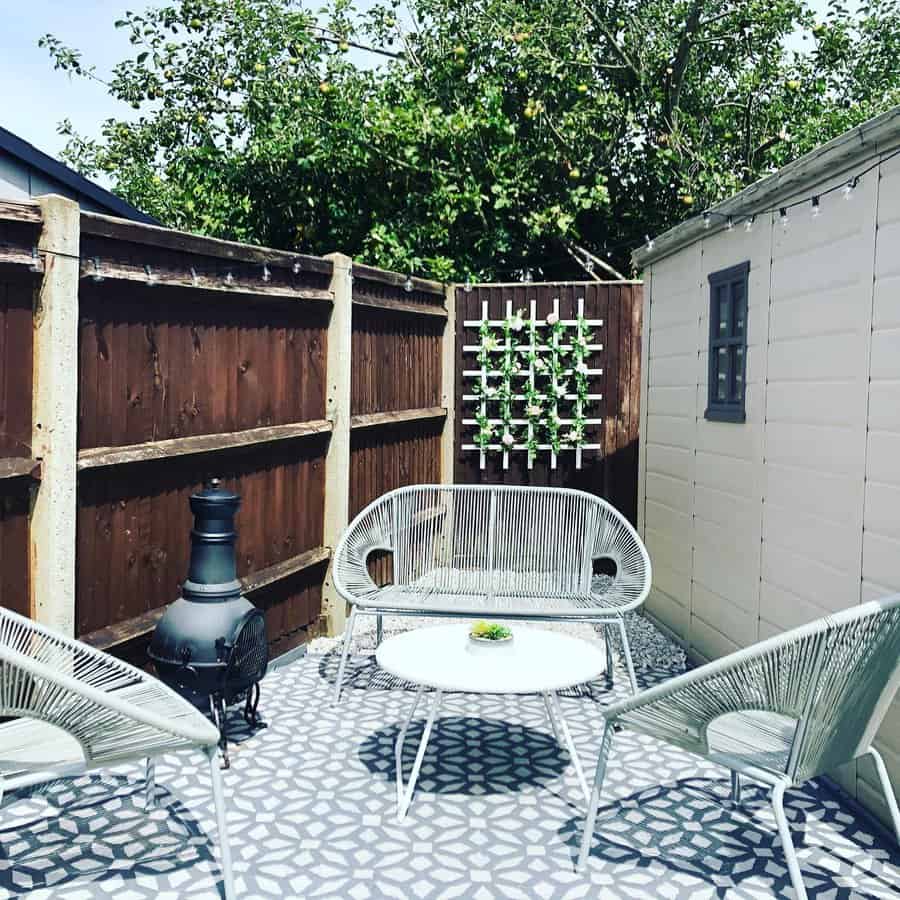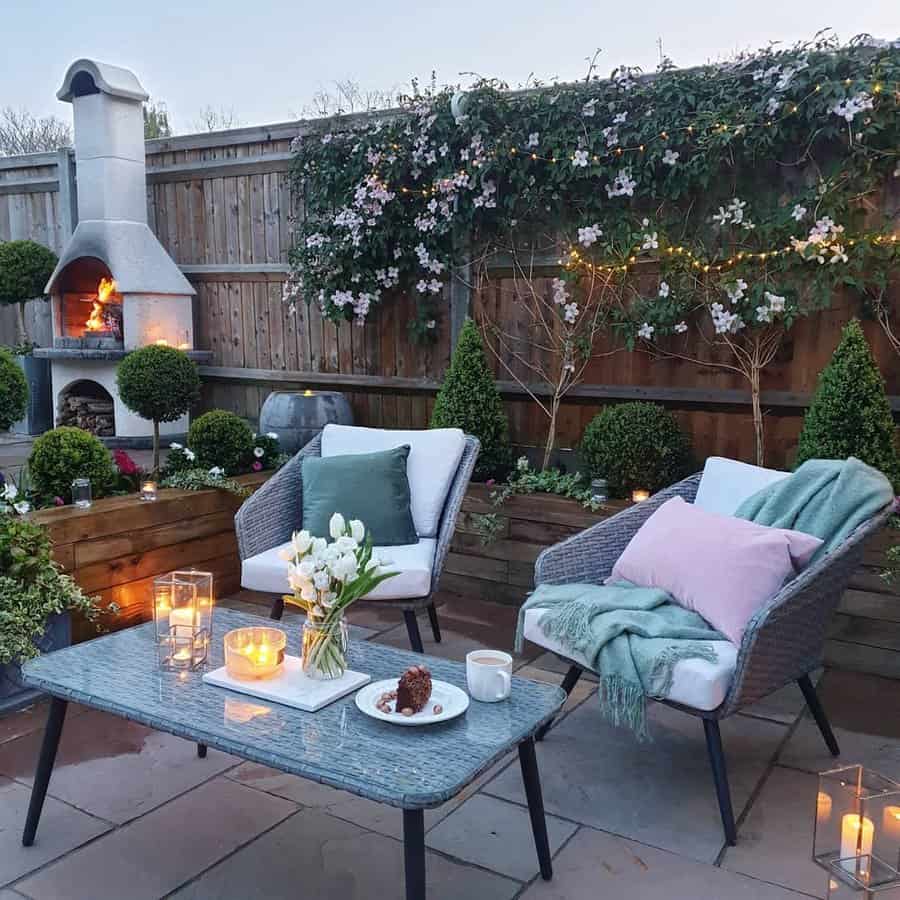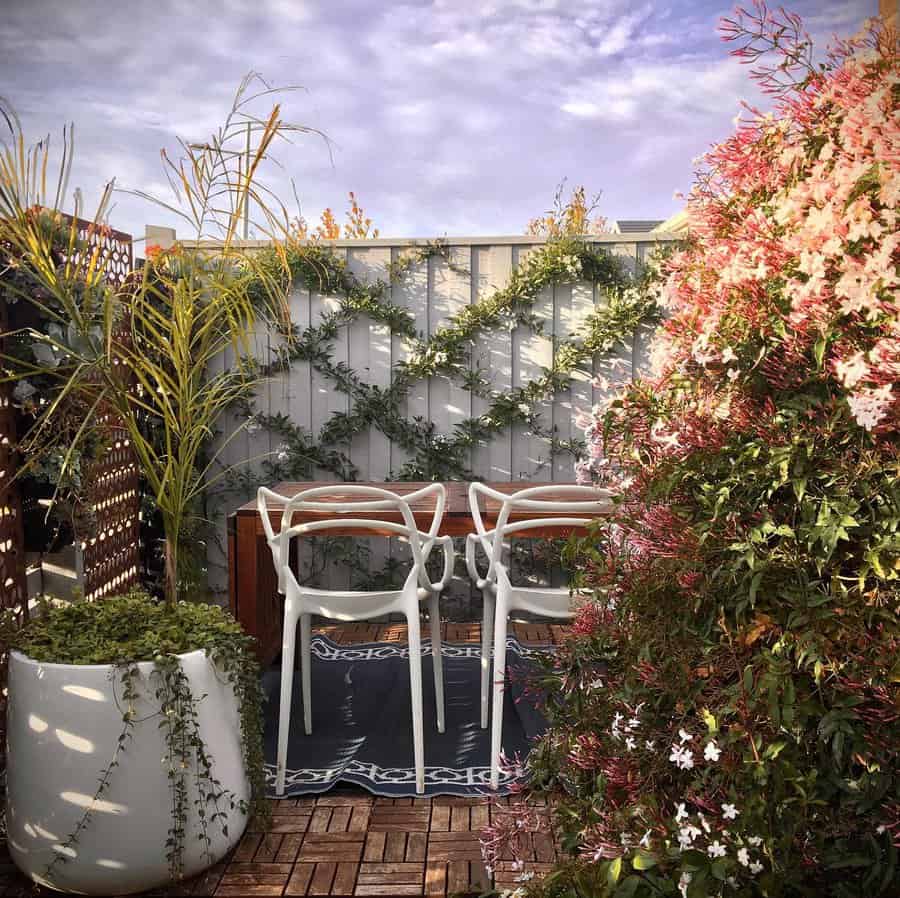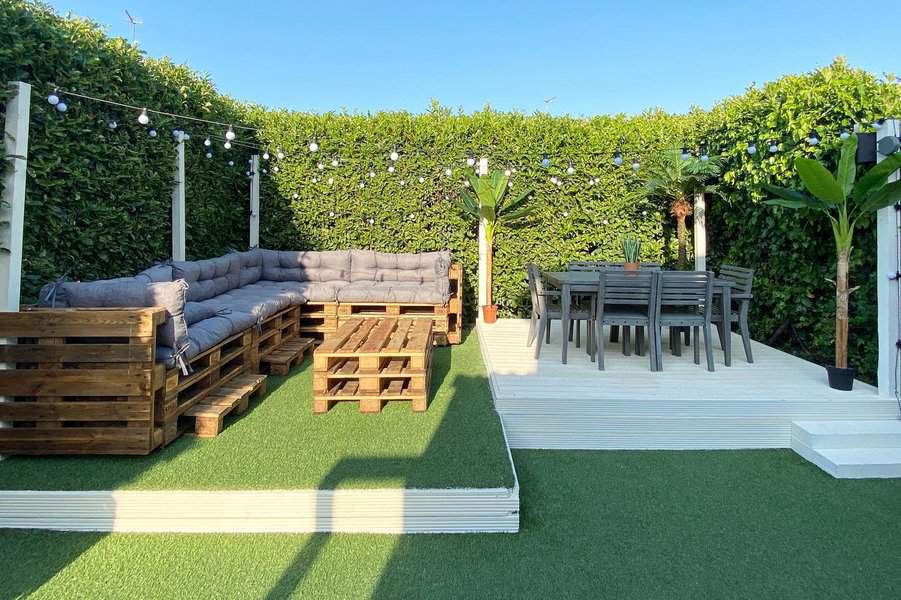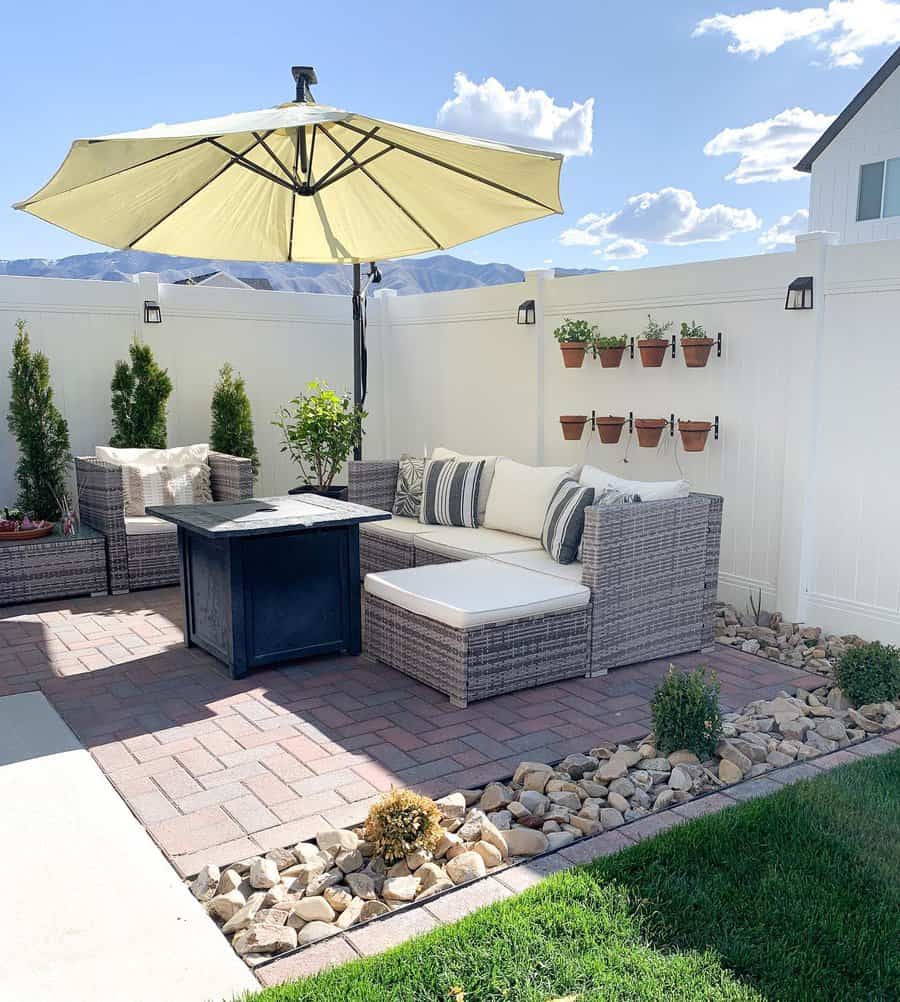 6. Fusion Style: Wood & Metal Fence
Embrace a harmonious fusion of aesthetics by opting for a wood and metal privacy wall in your backyard. This innovative blend marries the warmth and natural charm of wood with the durability and contemporary feel of metal. Wooden railings introduce a rustic touch, while metal posts contribute a sleek industrial vibe.
Personalize your design by selecting from various wood and metal finishes that harmonize with your home's architecture and landscaping. Beyond privacy, this dual-material wall can serve as a captivating backdrop for outdoor gatherings, offering a cozy and secluded atmosphere for family and friends. Enhance the space further with comfortable seating, outdoor lighting, and decorative elements that align with your chosen style.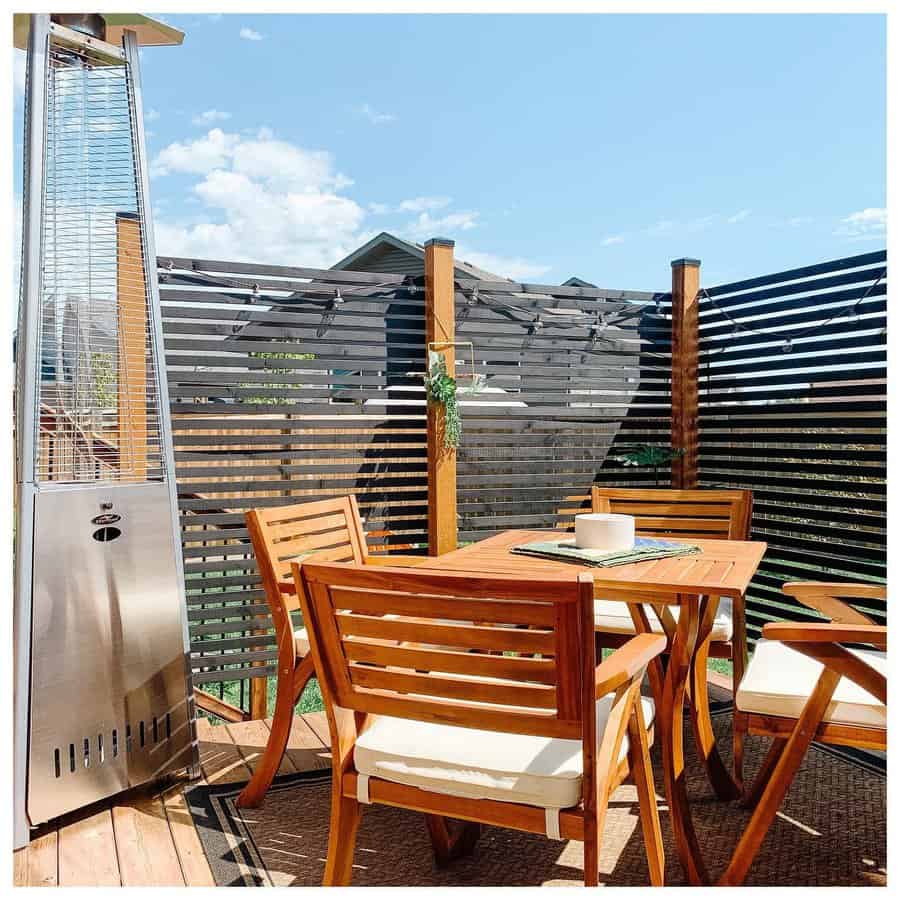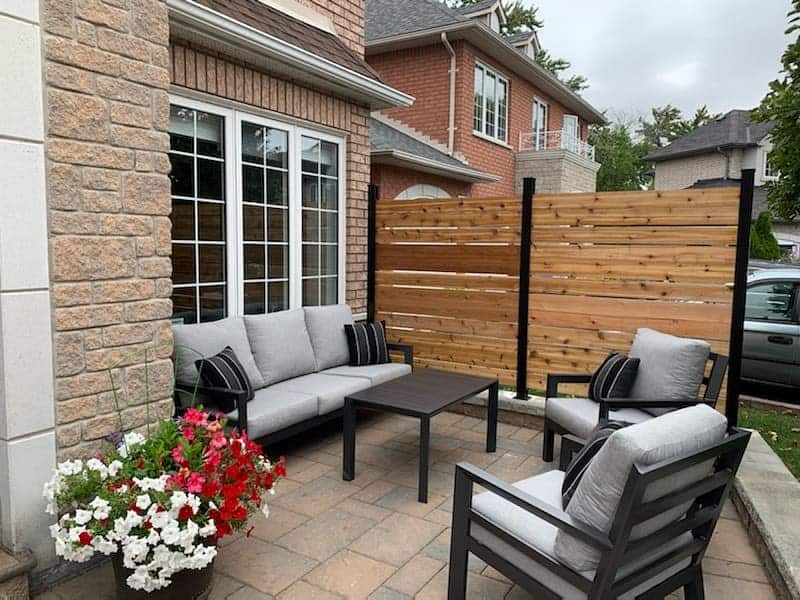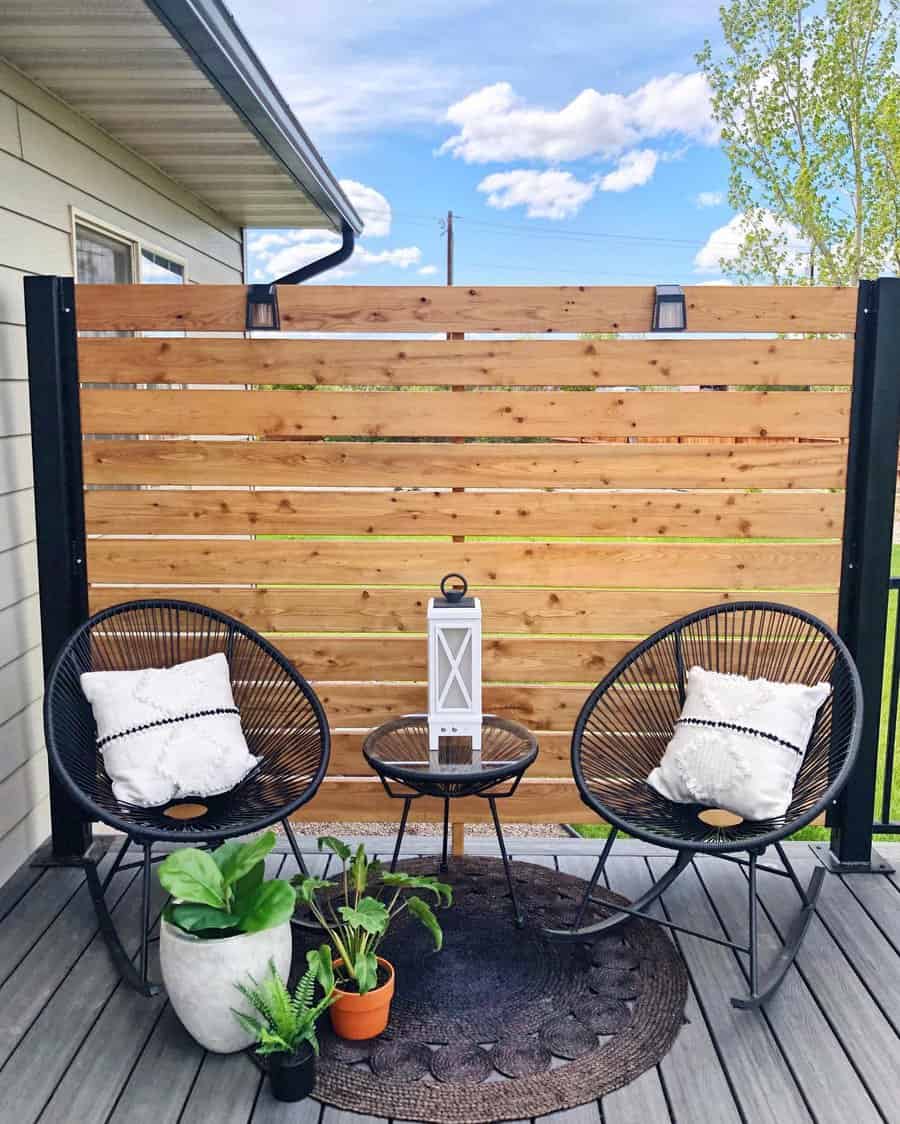 7. Enchanting Ambiance: String Lights Wall
After installing your privacy wall, elevate the atmosphere by adorning it with enchanting string lights. Opt for energy-efficient LED string lights, available in various colors and styles to match your preferences.
Hang them creatively by weaving them through the wall slats, draping them over the top, or even fashioning a canopy effect between trees or posts. This combination of a privacy wall with string lights not only cultivates a sense of seclusion and intimacy in your outdoor sanctuary but also adds a touch of whimsical beauty to your backyard decor. Complement the ambiance with cozy outdoor seating and soft furnishings to create an inviting outdoor retreat for relaxation and entertainment.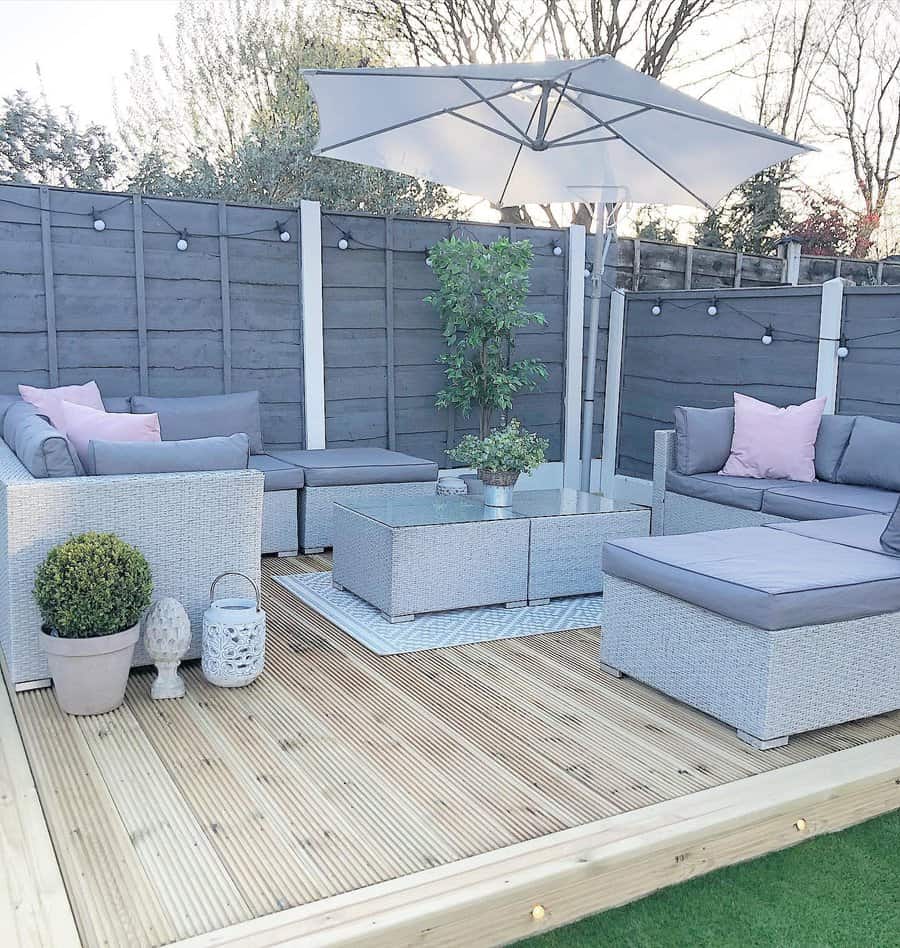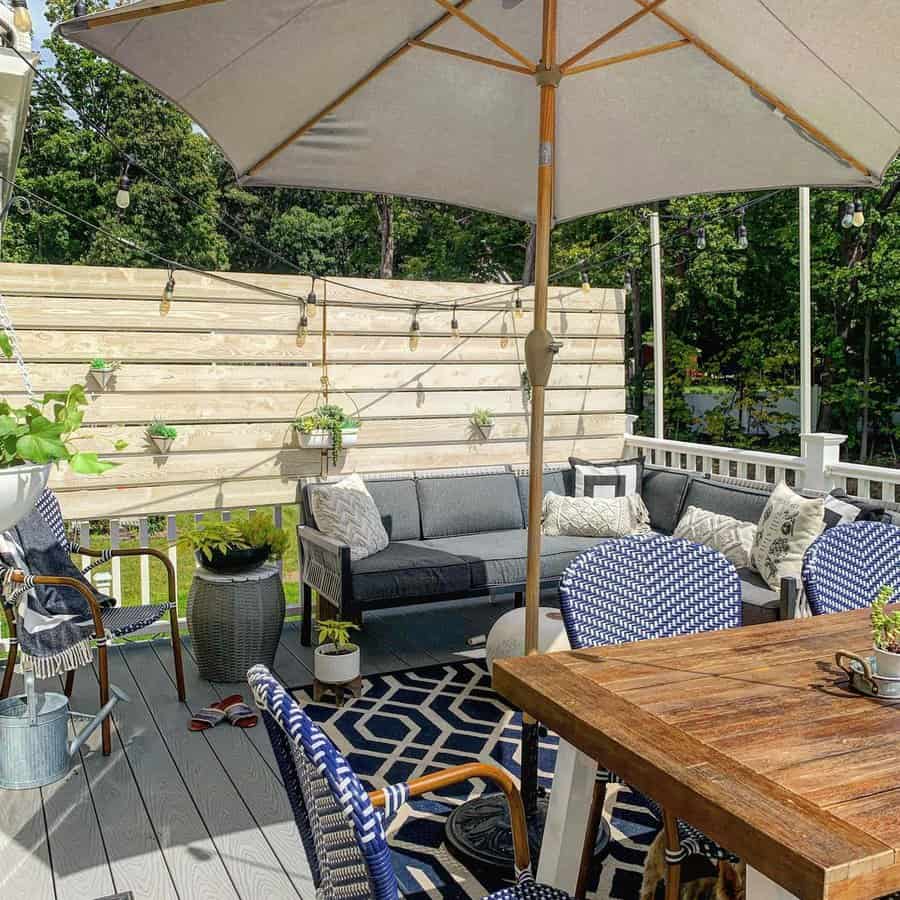 8. Tranquil Retreat: Fence With Pergola
Elevate your backyard into a serene retreat with a privacy fence paired with a pergola. This combination not only enhances privacy but also introduces style and sophistication to your outdoor space.
The fence functions as a solid barrier, shielding your haven from prying eyes and fostering a sense of security. Meanwhile, the pergola offers an elegant touch, providing shaded seating or dining areas that can be adorned with lush vines or climbing plants for added beauty. This versatile setup can also carve out distinct zones within your backyard, such as a tranquil reading nook or a play area for children. Explore a wealth of material and design options, from timeless wood to sleek vinyl and metal, to suit your preferences and complement your overall outdoor design.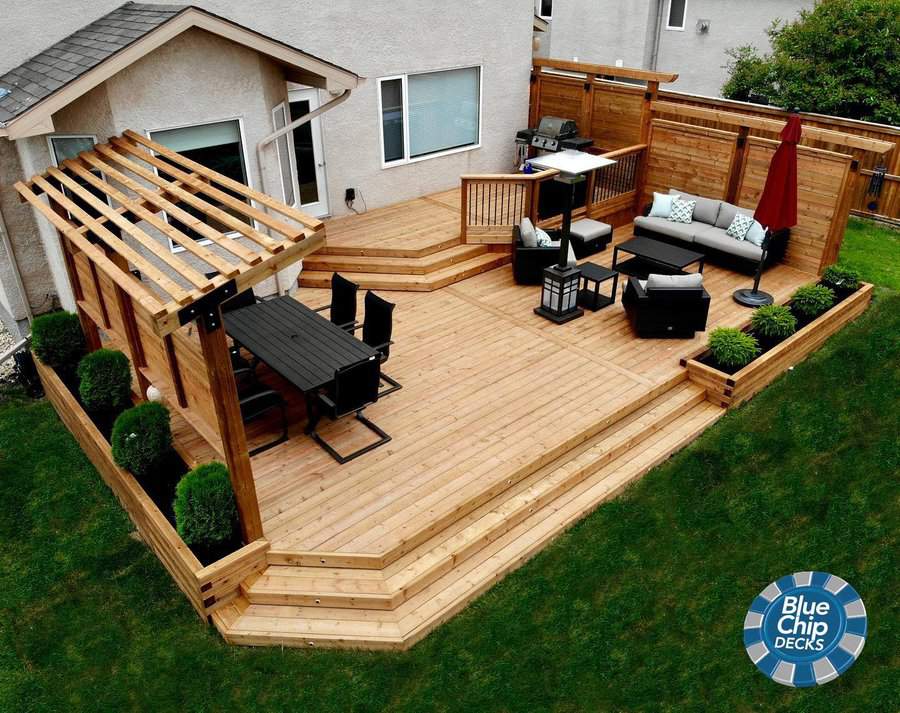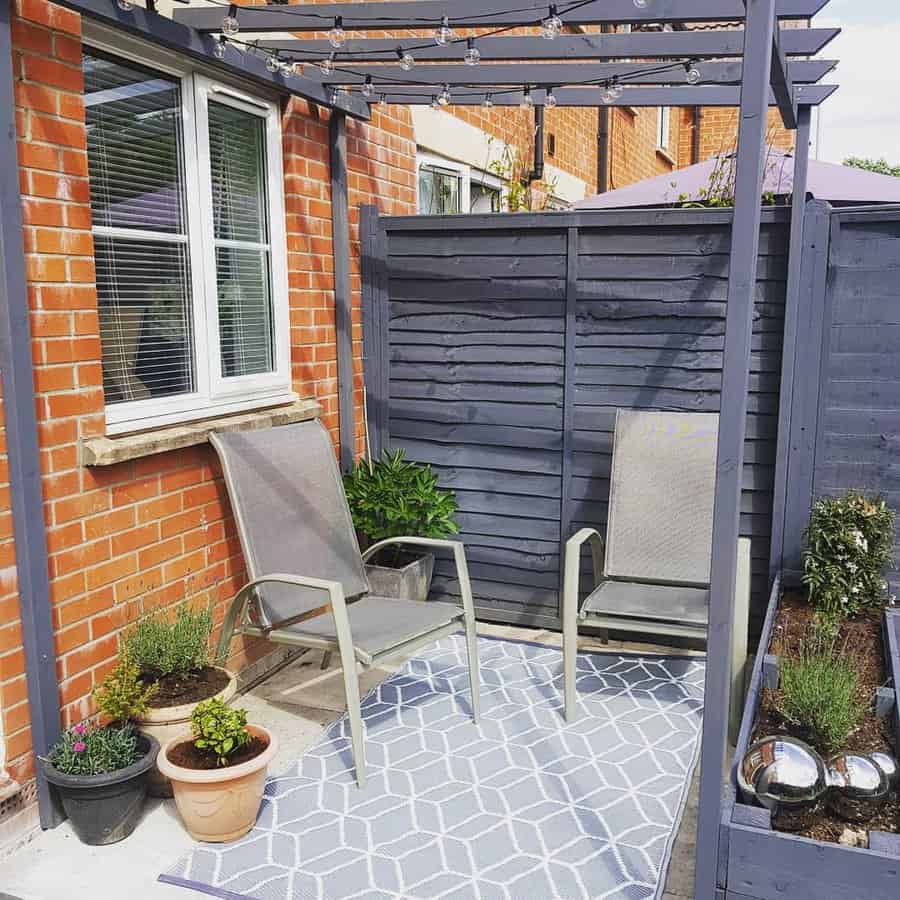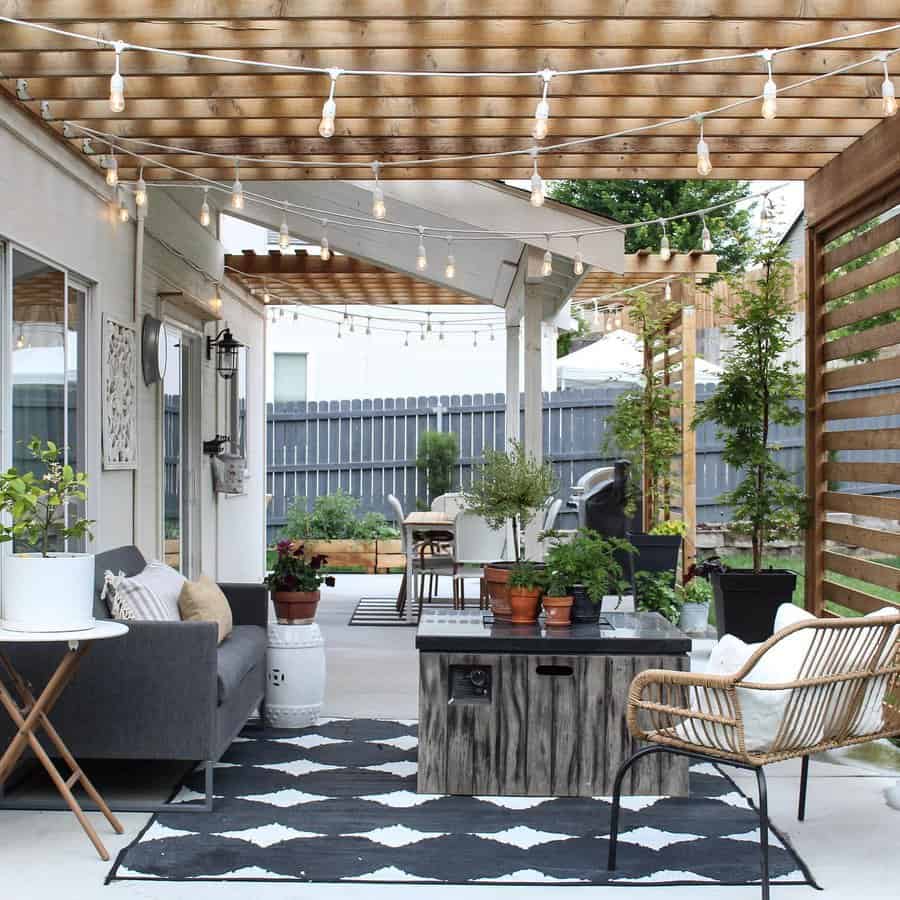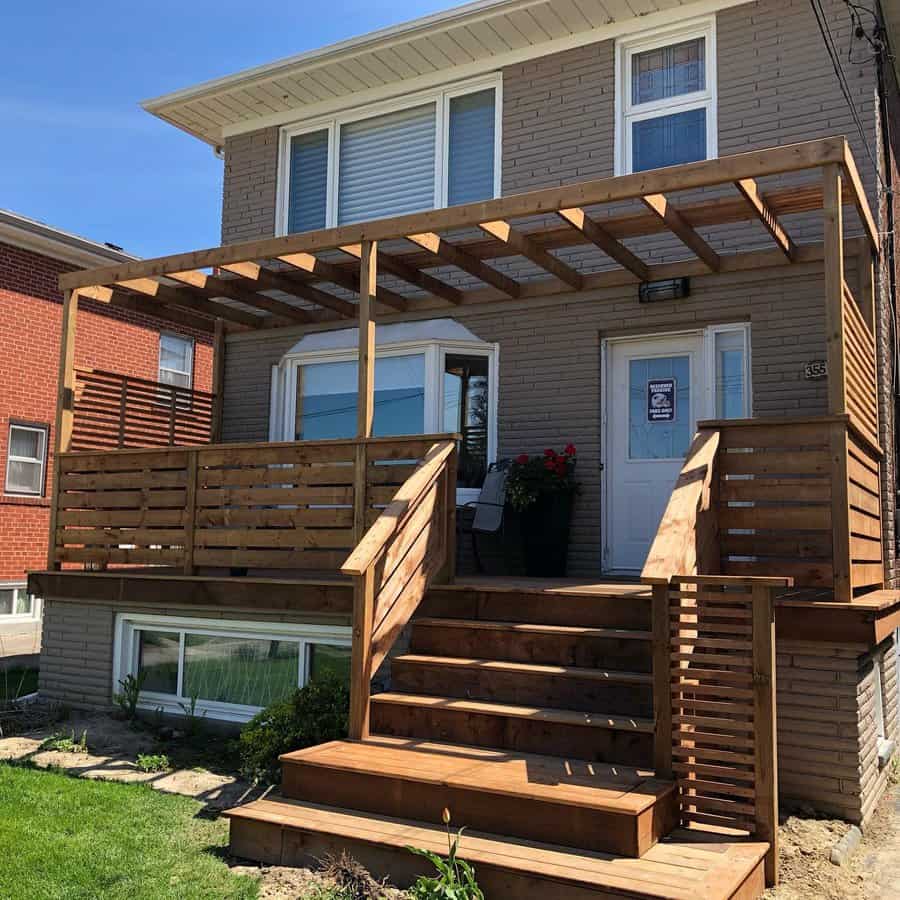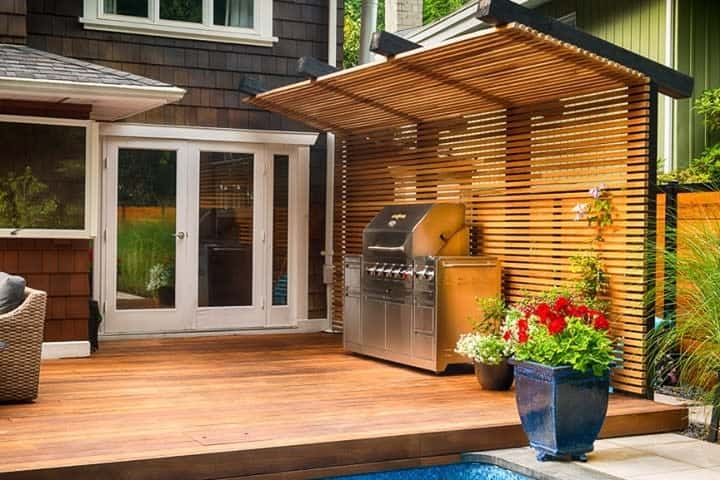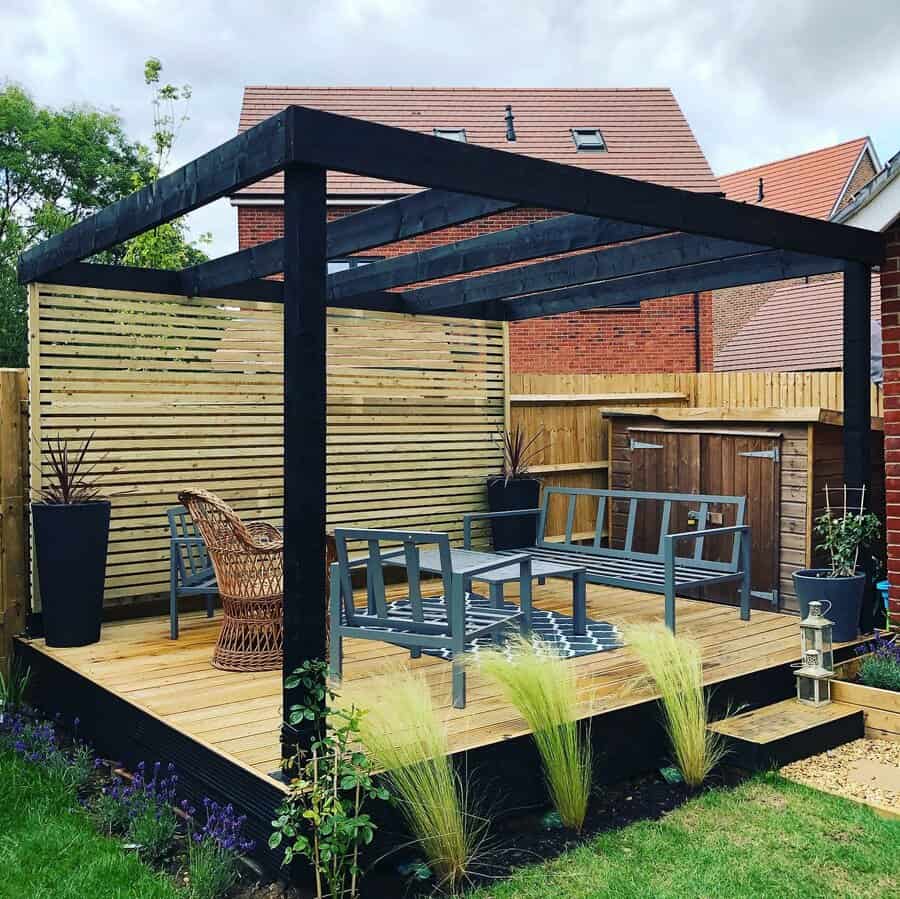 9. Delicate Design: Lattice Privacy Fence
Enhance your backyard with a lattice privacy fence, offering a delicate and charming design element. Lattice panels create a trellis effect, serving as a support for climbing plants that form a natural, beautiful barrier between your space and your neighbors'.
This fence type allows gentle sunlight to filter through, creating a bright and airy ambiance while preserving your privacy. Choose from various lattice patterns and materials, such as wood, vinyl, or metal, to craft a tailored look that harmonizes with your home's aesthetic. Lattice privacy fences are also budget-friendly and relatively easy to install, making them an attractive option for transforming your outdoor area into a private retreat filled with natural beauty. Consider adding outdoor seating, potted plants, and cozy furnishings to complete the inviting atmosphere.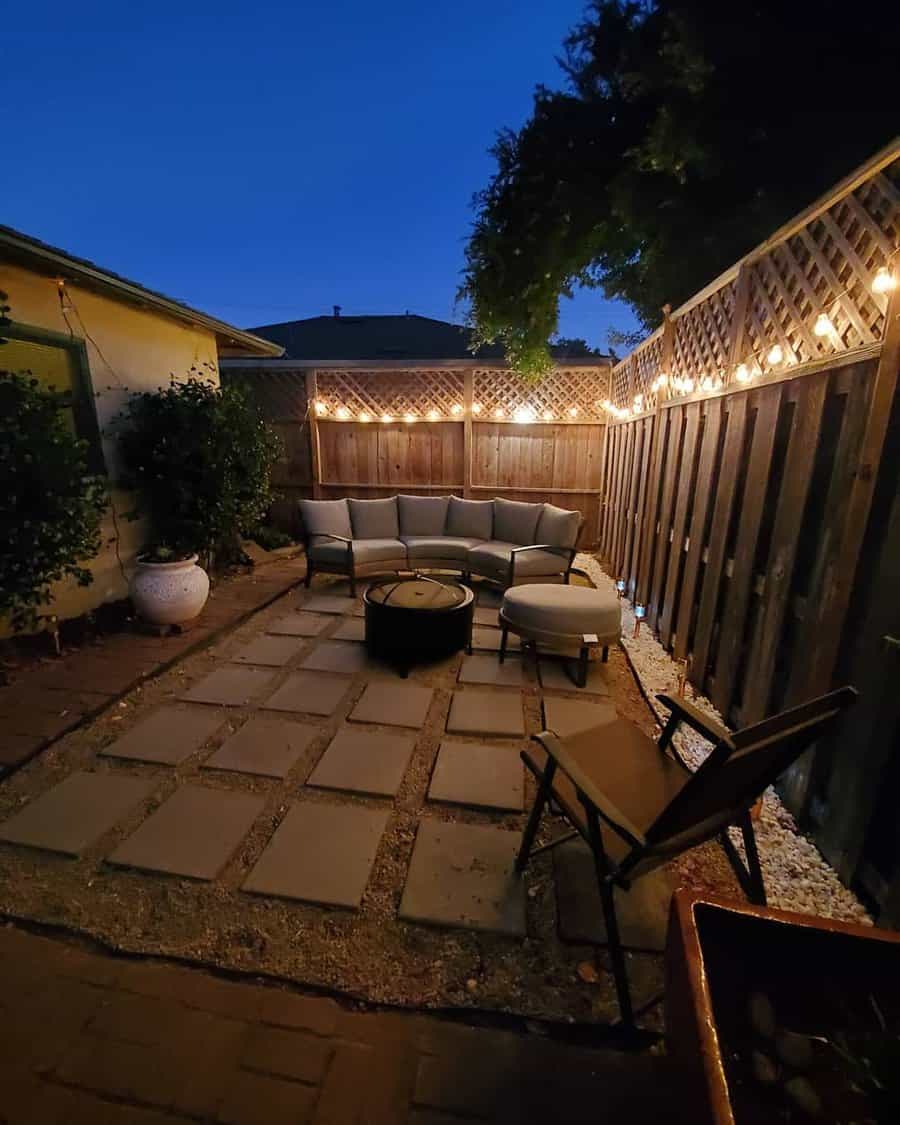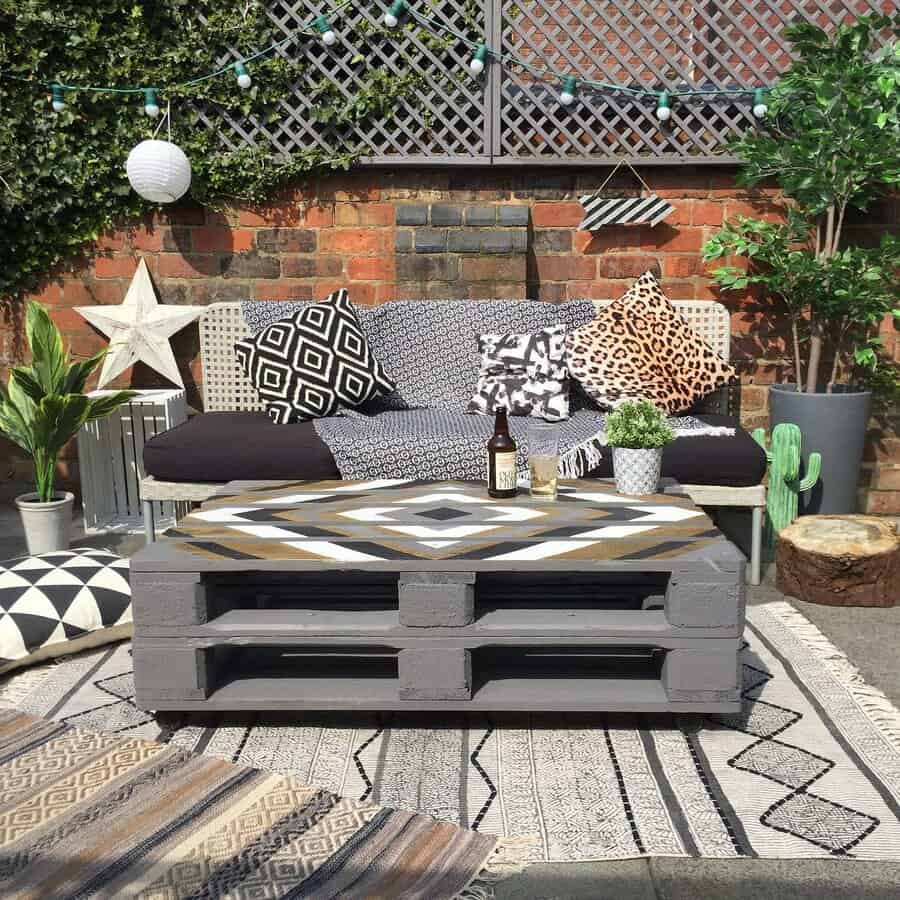 10. Timeless Appeal: Picket Fence
For enduring charm, a picket fence offers a range of styles, from classic white to contemporary designs with distinctive patterns. Tailor the height and spacing of the pickets to balance privacy with an abundance of natural light and airflow.
To infuse personality into your picket fence, consider painting it with a vibrant color or adorning it with hanging potted plants or climbing vines. With thoughtful design and choice of materials, a picket fence becomes both a striking and practical component of your backyard's privacy strategy. For a cohesive look, pair it with outdoor furnishings and landscaping that complements your chosen style.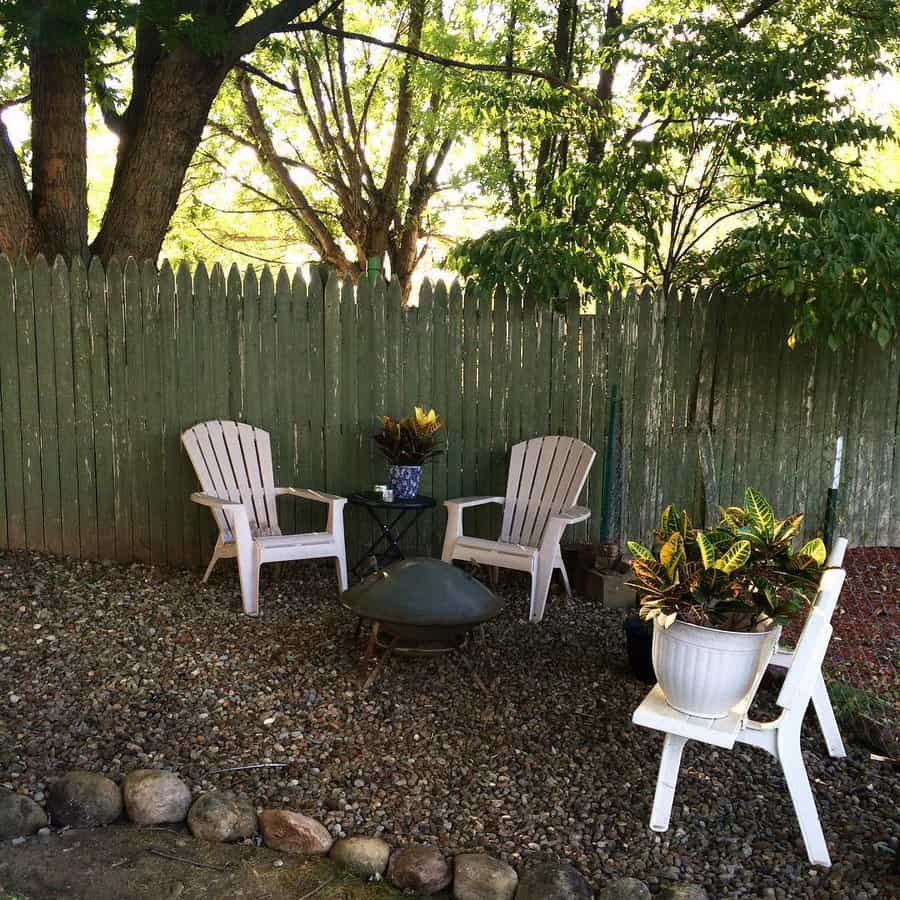 11. Graceful Drapes: Outdoor Curtain Backdrop
Create an elegant private haven in your backyard with the addition of outdoor curtains. This simple yet stylish solution offers protection from prying eyes, ensuring your peace and solitude. Outdoor curtains are available in a range of materials, including sheer fabrics for a light and breezy atmosphere, durable canvas for sturdiness, and weather-resistant vinyl for longevity.
You can effortlessly hang them from a pergola, trellis, or a basic curtain rod, allowing you to open or close them as needed for privacy. Beyond their functional aspect, outdoor curtains also introduce a burst of color and texture to your backyard decor. Whether you prefer vibrant patterns or neutral tones that blend seamlessly with your surroundings, you'll find an outdoor curtain backdrop to elevate your backyard aesthetics. Pair them with comfortable outdoor seating and cozy accessories for the perfect outdoor retreat.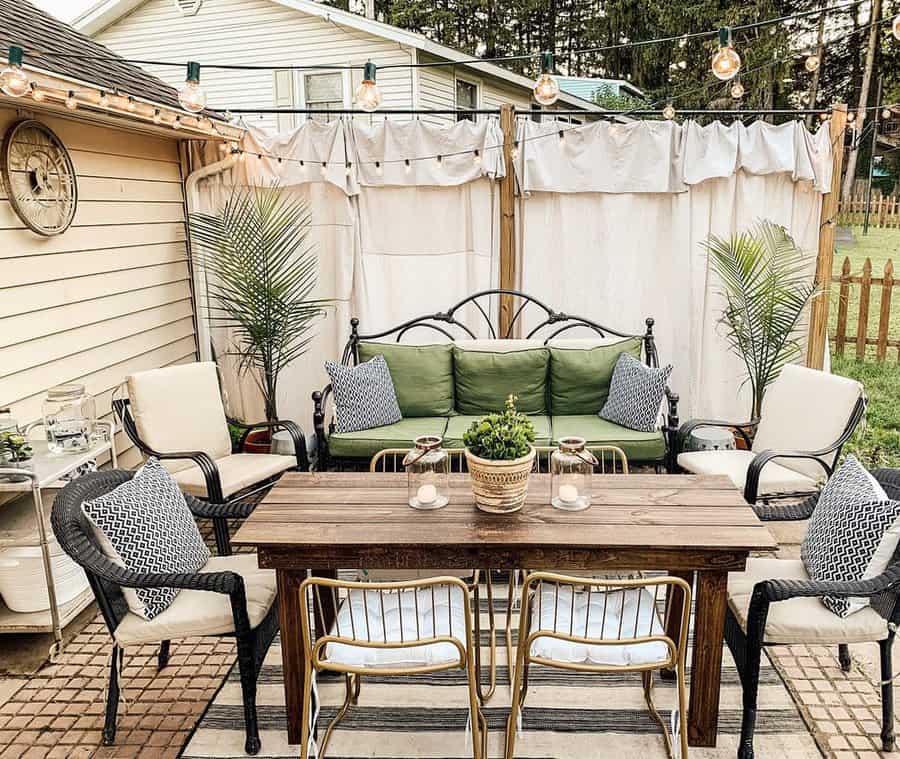 12. Natural Screen: Lush Hedges
For a natural and green backyard screen, lush hedges offer a versatile choice. Evergreen varieties maintain their green foliage year-round, while deciduous hedges shed leaves in winter. Common options like boxwood, arborvitae, and yew provide diverse choices.
When selecting your hedge, consider factors such as desired height and width, as well as the sunlight and moisture levels in your backyard. Although planting hedges may require effort, the outcome is a flourishing and secluded outdoor haven. Hedges not only ensure privacy but also infuse your backyard with verdant beauty, creating a serene and inviting retreat. To complete the ambiance, incorporate outdoor furnishings and accents that harmonize with the natural surroundings, enhancing the overall appeal of your outdoor sanctuary.
13. Exotic Vibes: Bamboo Fence
Infuse your backyard with an exotic ambiance using bamboo, a sustainable and eco-friendly material that offers versatility in design. Bamboo fences can take on various styles, from the traditional vertical arrangement to intricate woven patterns, resulting in a distinctive and unique appearance.
The natural texture and warm hues of bamboo create a serene and inviting atmosphere, ideal for relaxation or hosting lively gatherings. Whether you choose a full-height fence or a shorter screen, bamboo effortlessly delivers both privacy and tropical flair to your backyard. To complete the exotic vibe, consider adding outdoor furnishings and decor elements that complement the bamboo's natural aesthetics, ensuring a tranquil and stylish outdoor retreat.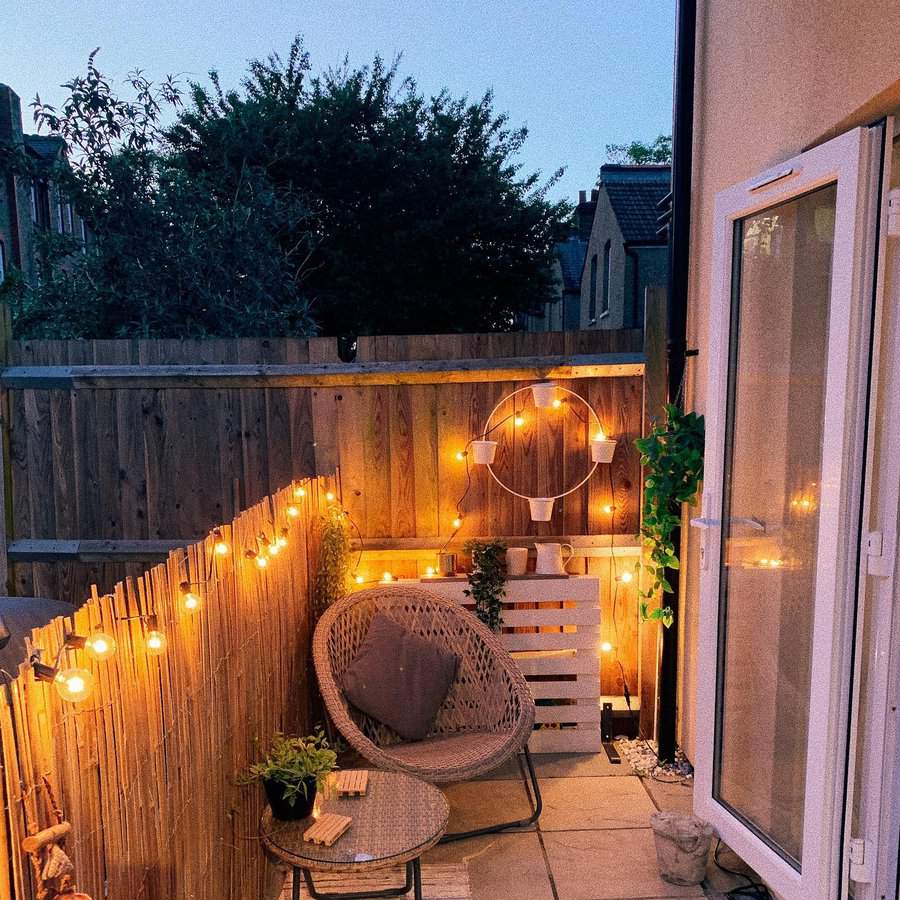 14. Ethereal Beauty: Sheer Curtain Wall
For a backyard privacy idea that seamlessly blends style and function, consider a privacy wall adorned with sheer curtains. This unique combination harmonizes the natural allure of wood with the soft elegance of sheer fabric, creating a rustic and bohemian atmosphere perfect for outdoor spaces.
The sturdy wood privacy wall serves as a reliable backdrop for the sheer curtains, which can be effortlessly opened or closed as needed. These sheer fabrics allow the gentle passage of light and air while still providing a degree of privacy, making them ideal for compact yards or shared areas. To craft your privacy wall with sheer curtains, begin by constructing a robust frame using reclaimed wood or new lumber. Afterward, attach the sheer fabric using hooks or clips. For added charm, consider incorporating string lights or potted plants to transform your outdoor sanctuary into an ethereal and inviting retreat.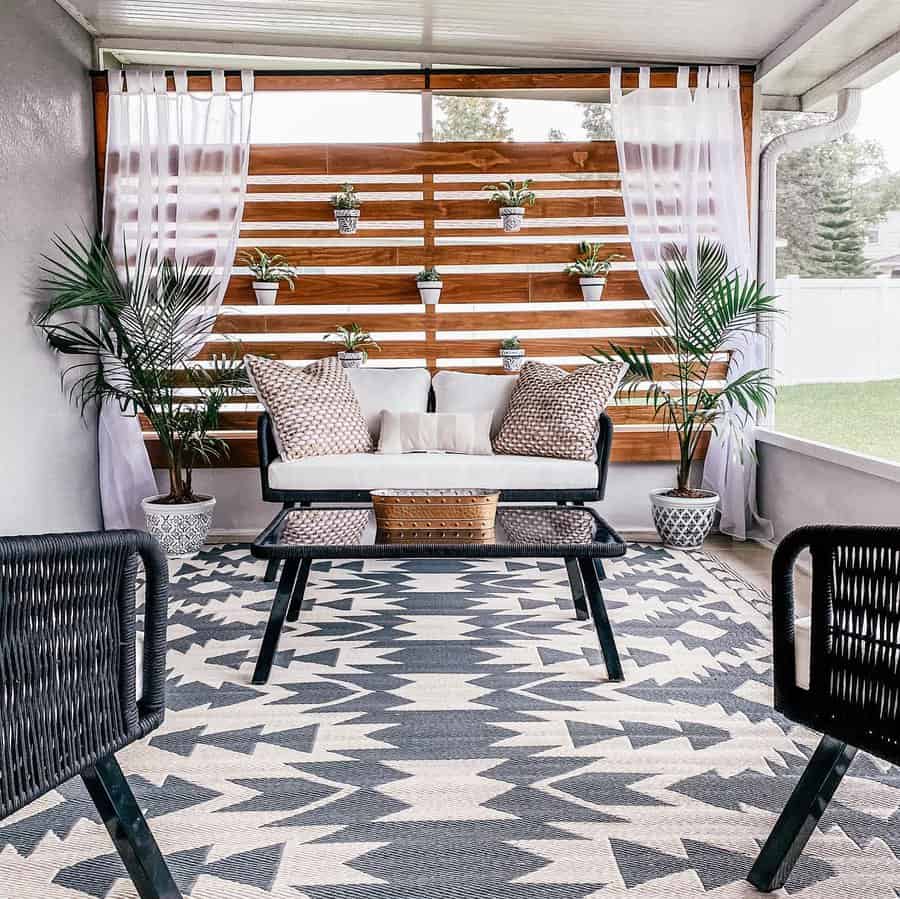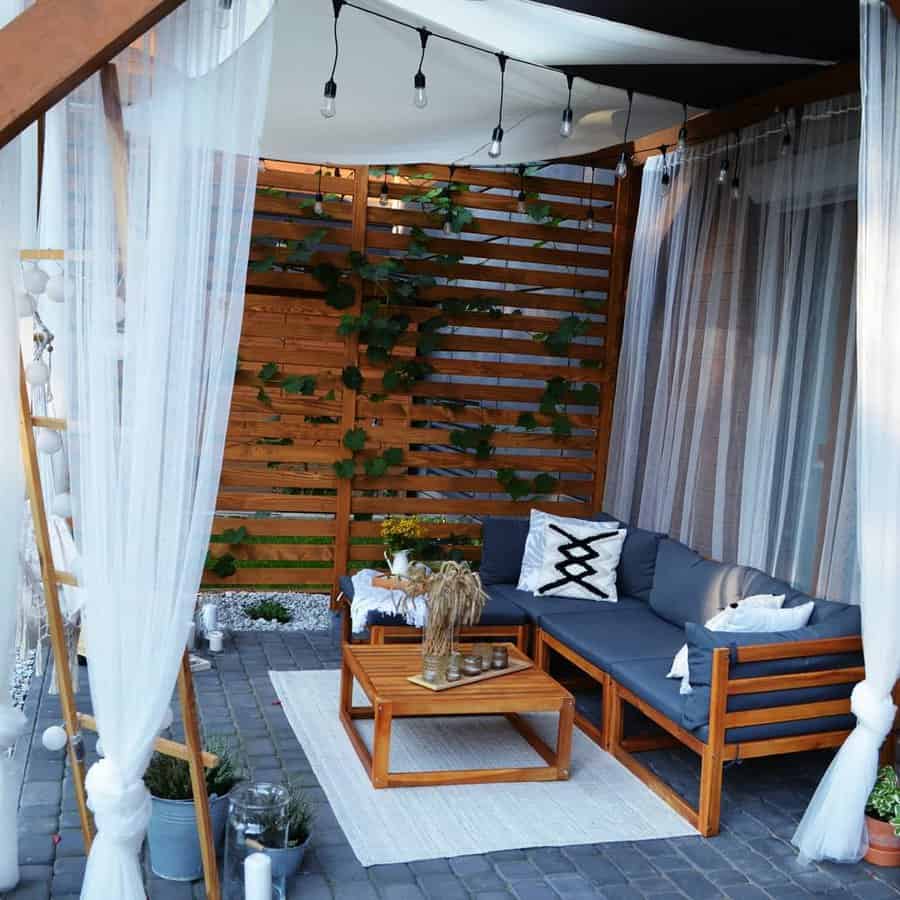 15. Modern Shield: Metal Privacy Fence
When it comes to backyard privacy, numerous options abound, and a metal privacy fence stands out as a contemporary and fashionable choice that simultaneously ensures your seclusion. Metal fences offer versatility in style, ranging from streamlined minimalism to ornate designs with intricate patterns or cut-outs.
Many metal fences are engineered for minimal maintenance, demanding only occasional cleaning to maintain their appeal. Furthermore, metal fences can be tailored to your unique requirements, whether you seek noise reduction, enhanced security for your home, or a stylish addition to your outdoor space. To complete the modern aesthetic, coordinate your metal privacy fence with complementary outdoor furnishings and landscaping for a sleek and cohesive look.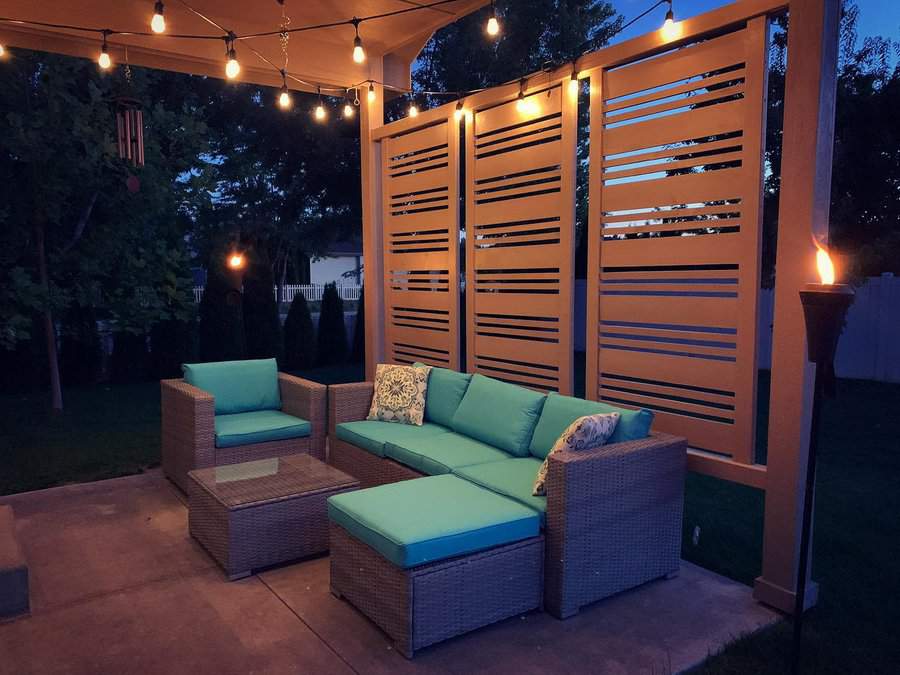 16. Eco-Friendly Choice: Reclaimed Wood Fence
Opting for a reclaimed wood fence, constructed from materials like pallets or aged barn wood, not only champions eco-friendliness but also infuses your outdoor space with character and warmth. This sustainable choice allows for customization to align with your preferred style, whether it leans toward rustic, distressed aesthetics or sleek modern design.
Additionally, reclaimed wood offers cost-effective advantages when compared to traditional fencing materials like vinyl or wrought iron. To further boost privacy, consider incorporating climbing vines or tall shrubs along the fence line. These green additions not only enhance seclusion but also introduce natural beauty and texture to your backyard, creating an inviting and environmentally-conscious outdoor retreat.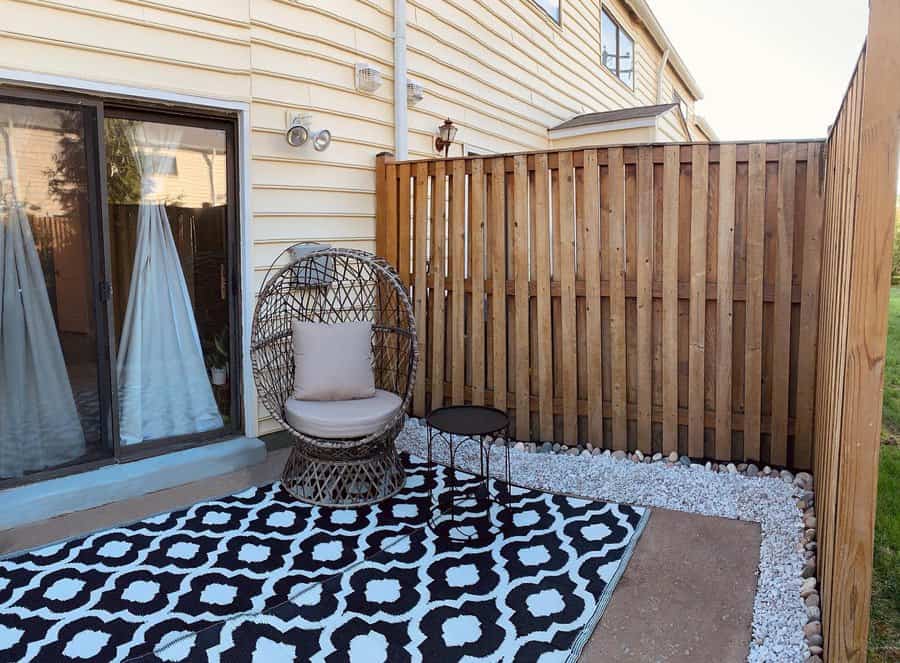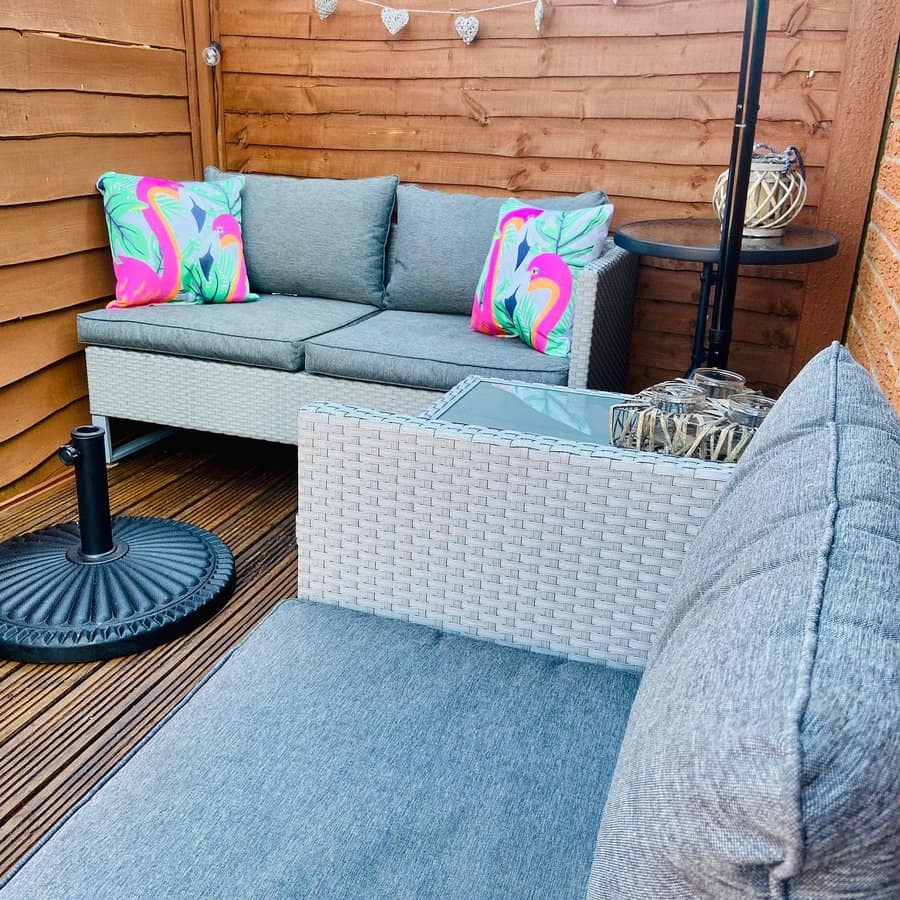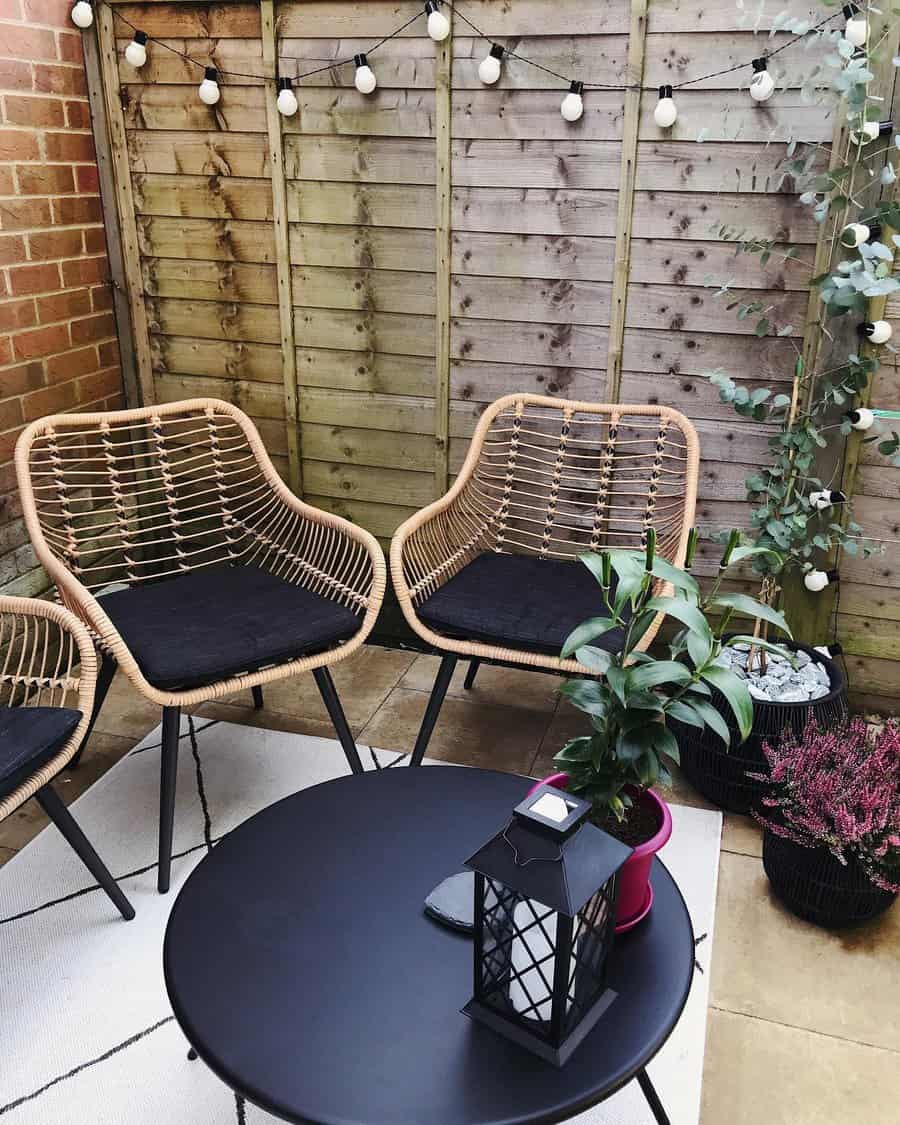 17. Artful Accents: Privacy Fence Decor
A privacy wall's material can vary, from wood to stone or living plants. After establishing the foundation, you have the opportunity to infuse your outdoor space with artful accents that enhance visual appeal and create a welcoming ambiance. Consider adding hanging planters, outdoor artwork, or even a decorative mirror to elevate the atmosphere.
Moreover, the privacy wall itself can serve as a canvas for outdoor murals or as a display area for cherished items like vintage signs or antique tools. When planning your privacy wall, take into account your backyard's overall aesthetic and choose materials and decor that harmonize with your existing design elements. By doing so, you can create a cohesive and inviting outdoor sanctuary.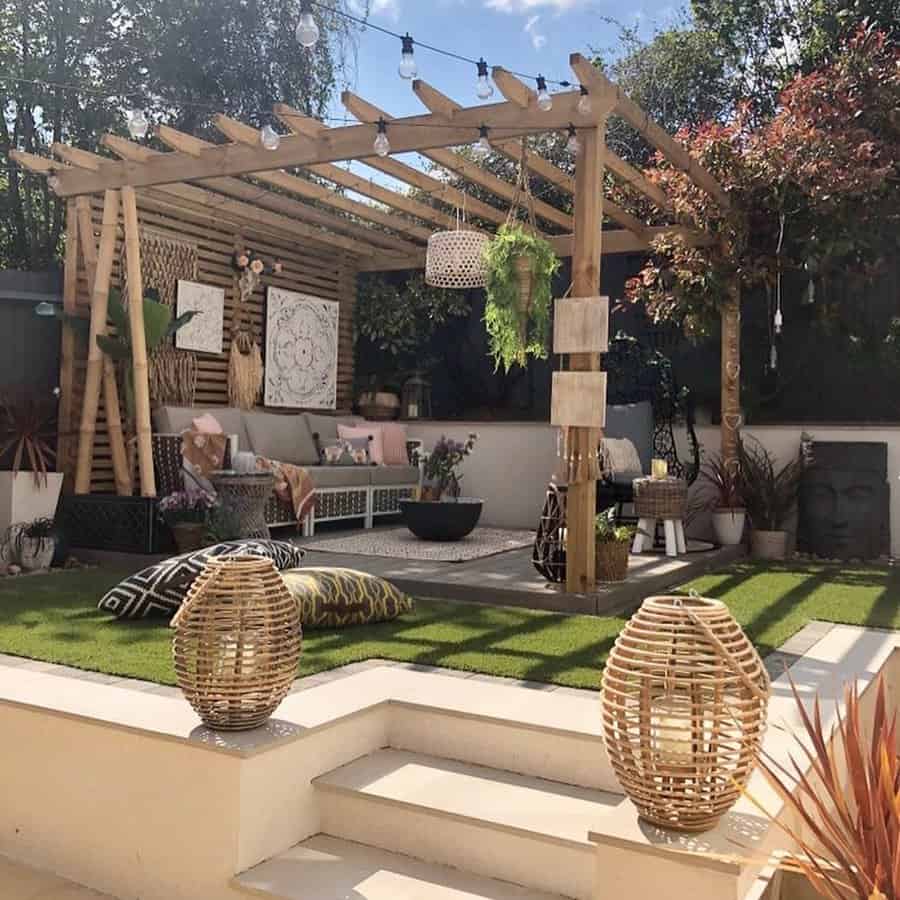 18. Adjustable Shade: Retractable Patio Blinds
When it comes to enhancing backyard privacy, consider the versatility of retractable patio blinds. These adaptable shades can be effortlessly installed on your patio, deck, or pergola, offering the flexibility to create a secluded outdoor haven.
Not only do they safeguard your privacy, but they also provide protection from the sun's harmful UV rays, enhancing the comfort of your outdoor space. With options available in various materials, including fabric, vinyl, and bamboo, you can select a style that harmonizes with your home's exterior. Further customization is possible with a range of colors and patterns, allowing you to craft a personalized look that complements your outdoor ambiance. To complete the setting, integrate outdoor furnishings and decor elements that align with your chosen style for an inviting and sheltered outdoor retreat.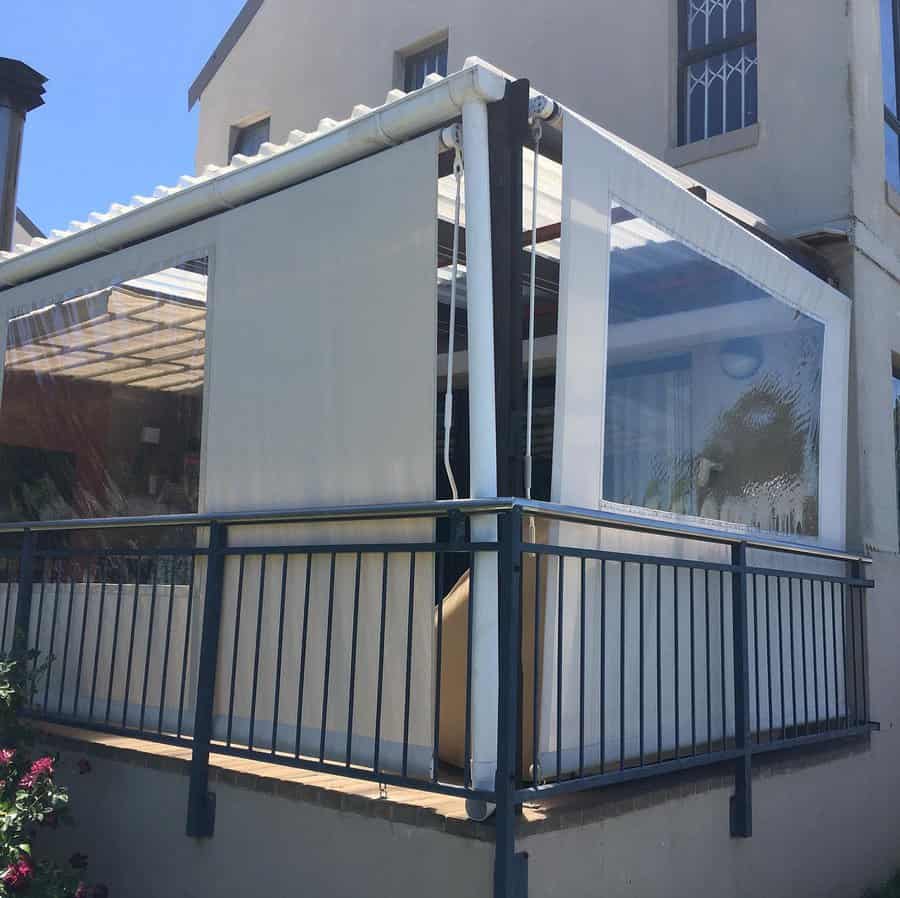 Backyard Privacy FAQs
How do I block my neighbors' view of my yard?
Block the view of your yard by adding a physical barrier that people cannot see through. You can do this with a fence, large screen, plants, curtains, or trellis. The barrier you use doesn't have to be solid. It just needs to have holes small enough that it makes it difficult to see through.
How do I block out my neighbors' noise?
The best way to block sounds is by adding objects that absorb sound waves. The more mass it has, the better. Plants are a good option because the leaves absorb and redirect the sound waves. This dampens the sound. They also rustle, creating their own sound that drowns out the sound of music or voices. Avoid hard and flat surfaces. These reflect the sound waves, which cause them to bounce around and possibly amplify.
How do I get privacy from my neighbors?
Before you start building a wall or creating a barrier, you need to determine where or whom you want privacy from. If your neighbor has a two-story house, then a fence around your yard does nothing. They can still easily see into your yard from the second story of their home. This same thing happens if one yard is at a higher elevation than the other. In these situations, you need to get more creative with how you create your privacy.