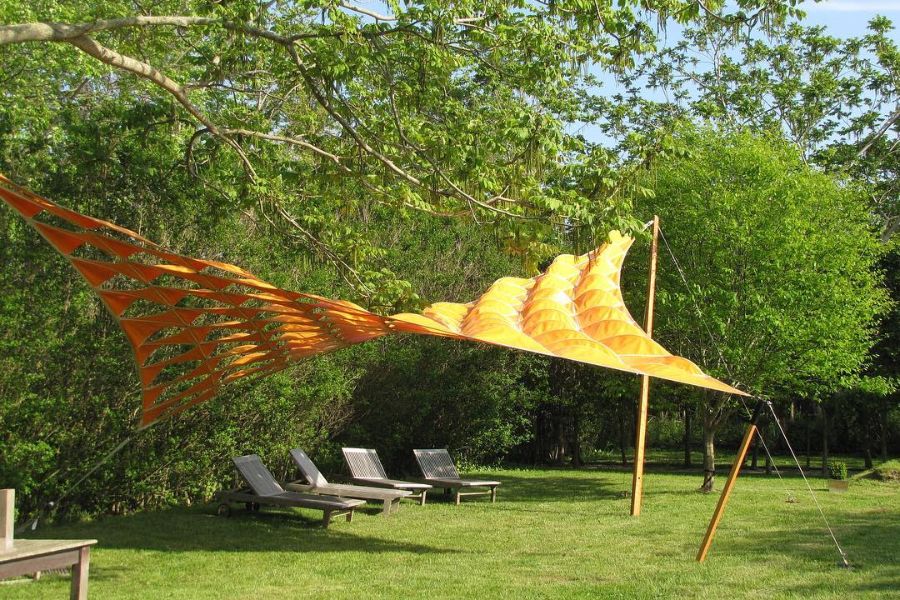 The Top 33 Backyard Shade Ideas
Your friends, family, and neighbors are all enjoying the outdoor living lifestyle. From patio cocktail hours to full al fresco dinner parties, it seems like everyone around you has discovered the potential of their backyards. It would be nice if you could too, but yours is hot and suffers from the full strength of the sun.
What you need is some patio shade. A little relief from the sun would cool off your backyard and make it a more pleasant place to be. Then you could spend more time outside enjoying your property. These backyard shade ideas will help you make your outdoor living dream a reality.
1. Awnings
If you have a small patio or deck attached to your home, then an awning will give you the perfect amount of shade. This shade structure attaches to the side of your home and extends outward.
What's nice is that it doesn't require additional support, so there are no legs to contend with on the side furthest away from your home.
Install a retractable awning that you can move and adjust. These are typically made from shade fabric and roll up into a compact unit against the side of your home. This preserves the awning when it's not in use. You can also adjust it up and down to the perfect angle.
2. Canopy
If you aren't excited about the idea of attaching an awning to your home, then consider a canopy instead. You can build a freestanding fabric canopy that is a permanent pergola or gazebo style.
Some are even motorized or manual for a retractable canopy setup. This lets you adjust the covering for the perfect shade placement.
Shade canopies are good for creating a large outdoor living space. You can find them in a wide range of sizes, so you can create a customized setup in your backyard.
If you live in a climate that experiences snow, then choose a portable canopy. Then you can take it down for the winter and help give it a longer useful life.
3. Modern
People typically think of shade sails when they want a modern outdoor shade solution. However, there are many other shade ideas that you should consider.
You could build a patio cover that has a solid metal or wood frame. Then use fabric to cover the overhead. You can spread the material out for maximum coverage or pull it back to open the roof.
Modern shade solutions are about creating a simple and clean design that mixes building materials. It could use a combination of metal, fabric, concrete, and wood.
The frame should feature long straight lines, minimal ornamentation, and not be clunky. The idea is to have a design that provides you with shade while not detracting from the view.
4. Patio Shade
When considering patio shade ideas, look for a shade solution that makes sense for your home. Shade sails look cool but may not look right when installed on a home with traditional architecture.
A covered patio with a metal roof could look right at home on one type of home or an awkward cheap addition on another. Your backyard shade solution needs to make sense and add to the overall aesthetic of your home.
Additionally, consider your budget, the size of the area you want to shade, and how permanent you want the solution to be. This will help you narrow down your options to the shade solution that best fits your needs.
5. Pavilion
This type of shade structure is typically best suitable for large backyards with plenty of space. Think of it as an outdoor room with no walls. It's much larger than a gazebo, with plenty of space under the covering for several people.
You will probably need professional help with this shade solution. Typically, concrete or pavers are used for the ground. Then large columns are built to support a permanent roof.
You can then host large parties or events in this covered outdoor space. If you want to add a bit more privacy, you could hang outdoor curtains around the perimeter. Then you can open and close them as needed for privacy or air circulation.
6. Pergola
Give your backyard a traditional look by building a pergola shade covering. It could be small with just enough space for a couple of chairs or large enough to cover an entire outdoor living room area.
For a classic look, stick with a wooden pergola. A wood pergola made out of hardwood will be durable enough to last for decades.
For the most amount of shade, you'll need to do more than just build the pergola. By itself, there are simply wood beams across the overhead.
Motorized versions move the beams so you can open and close them. You could also allow a vine plant to grow over your pergola. Lemons, grapevines, honeysuckle, jasmine, roses, and bougainvillea are all good options.
7. Shade Sail
If you're looking for a modern shade solution, then consider adding one or more sail shades to your backyard. These are large pieces of fabric that are specifically designed for mounting over outdoor seating areas.
They are typically a triangle shape and attached to a permanent structure at each of the three corners. This prevents it from flapping or moving in even the strongest of wind.
When installing your patio shade sail, consider the placement of your outdoor furniture and the areas where your backyard patio experiences the most sun. You may need multiple shade cloths that are arranged over different areas and heights to get the right amount of shade.
8. Tent
If you don't use your outdoor space often, then you may not need a permanent shade solution for your outdoor area. In this situation, you need a temporary outdoor structure that can be an effective shade option while also being easy to put up and take down. A large tent will work perfectly.
You can set up a temporary tent that's large enough for several adults to sit or stand in. Some options have full-sized doors that connect to additional tent rooms.
There are also more solid structures that are meant for use during events. These work best if you plan to have a large group of people in your backyard.
9. Umbrella
A temporary shade solution or one that can give you a bit of extra shade is a patio umbrella. The easiest way to set one up is by mounting one in the center of your dining table. Open the umbrella on a sunny day while preparing a meal. Then, close it down when not needed or not in use.
Consider the size of your umbrella when choosing where and how to set it up. There are small options that are just big enough for your table. Then there are oversized options that are freestanding. These super-sized umbrellas could provide shade for an entire lounge or sitting area.
10. Unique
Sometimes the traditional backyard shade structures simply won't work. Perhaps you have a uniquely shaped backyard, or the architecture of your home is incompatible. You still have options.
Add a freestanding cabana to your backyard, and you can have resort-style shade anywhere on your property. Install outdoor curtains on it, and you can control the amount of shade you have.
Micro patios and balconies don't need overhead shade. The sun typically is most annoying when it's coming from a particular direction. An outdoor curtain works well to block this temporary annoyance. Pull the curtain when the sun is at its worst, then open the curtain and enjoy the view when the sun has moved.
Backyard Shade FAQs
How do I add shade to my backyard?
You can create shade in your backyard by planting trees, building a structure, opening an umbrella, or installing a shade sail. The method you choose will depend on your budget and the amount of shade you want to create.
Do shade sails keep the rain out?
High-quality shade sails are designed to withstand a variety of weather conditions. This means they should be impervious to rain. However, keep in mind that shade sails aren't meant for providing shelter during storms.
What color shade cloth is best?
Stick with a lighter shade of fabric for your sail shade. The lighter color will decrease the amount of light coming through without decreasing the quality of the light. This helps your outdoor seating area be cooler and protected from the sun without getting too dark.