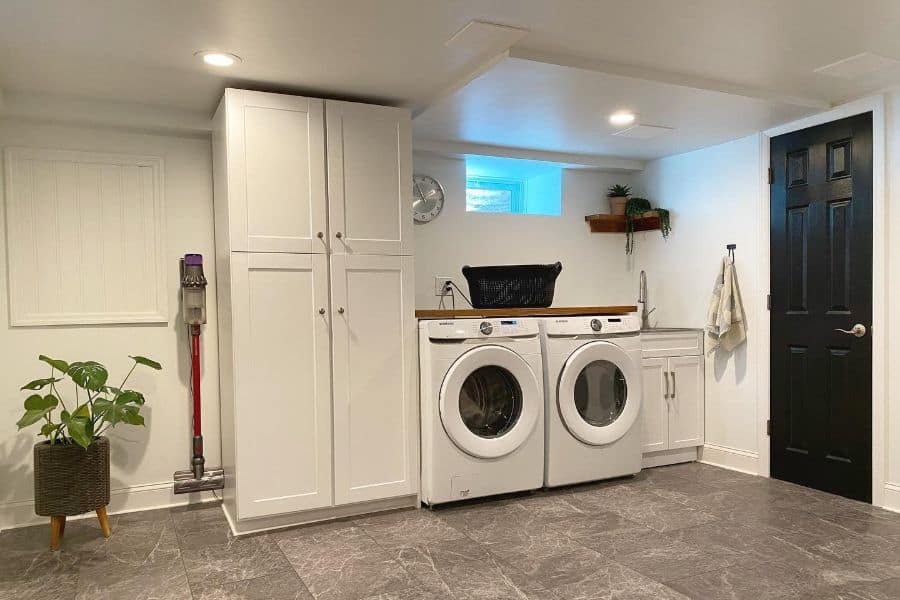 The Top 63 Basement Laundry Room Ideas
"Marriage is about the most expensive way for the average man to get laundry done." – Burt Reynolds
Where is the laundry room located in your home? If it's in the basement, then you have a prime opportunity. Say goodbye to that dark and damp basement and turn it into the laundry space of your dreams.
This means finally finishing your basement and turning your laundry room into a pleasant place to be. Add flooring, improve the lighting, finish the walls, increase the storage, and even decorate with some decor.
These basement laundry room ideas will help you get started with your basement makeover.
1. Concrete
The main floor of your basement is probably concrete. This would be an issue if it were your family room, but this type of flooring is workable in the basement.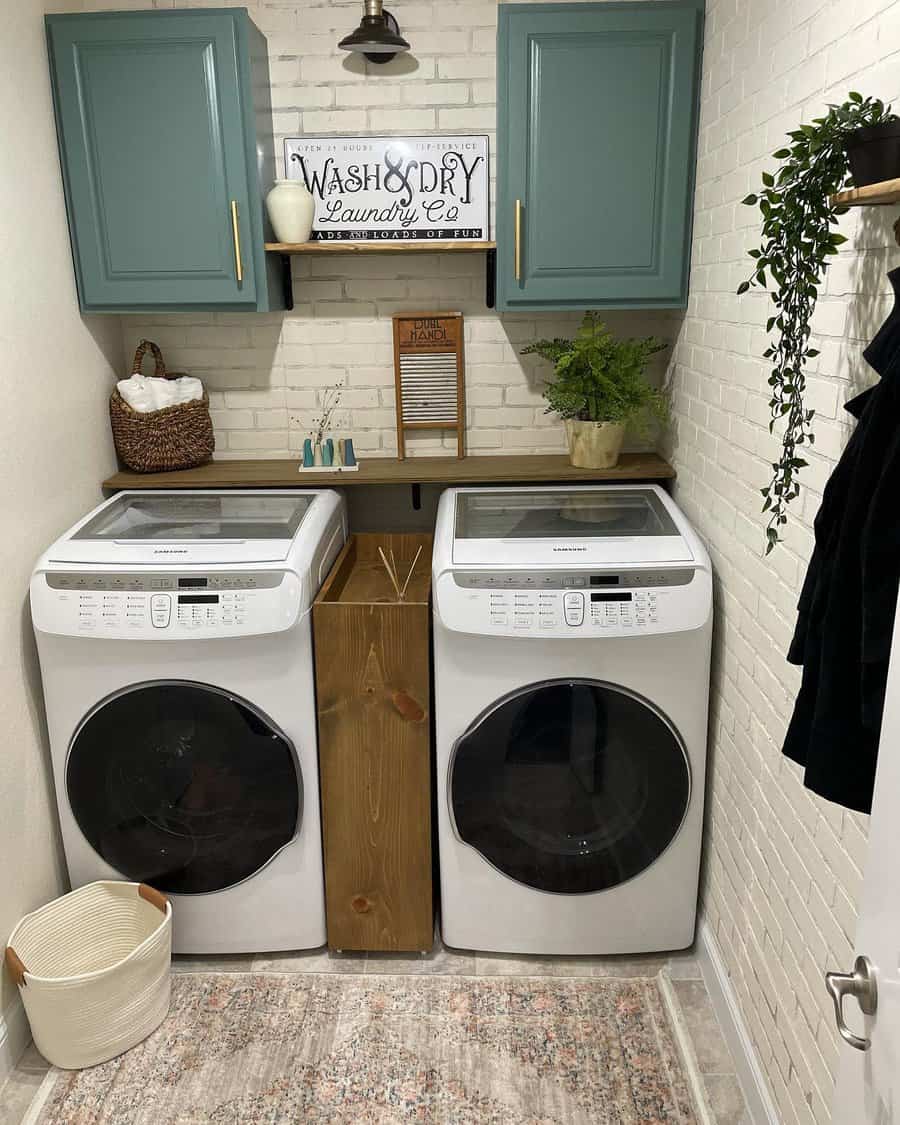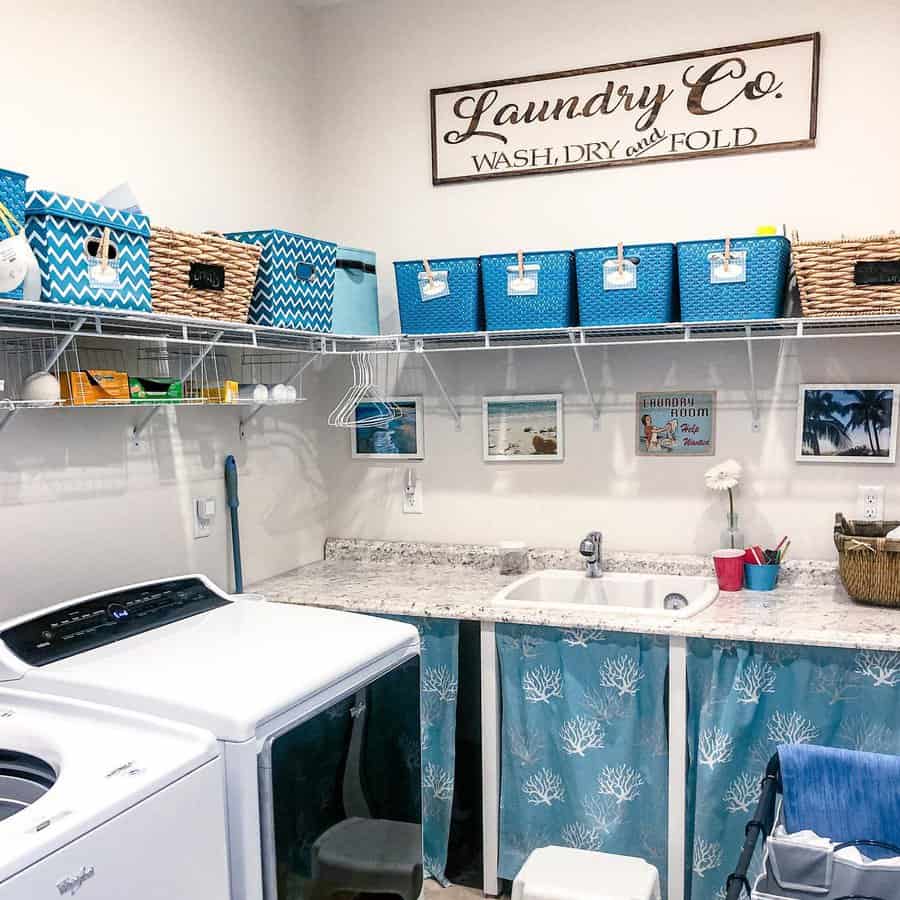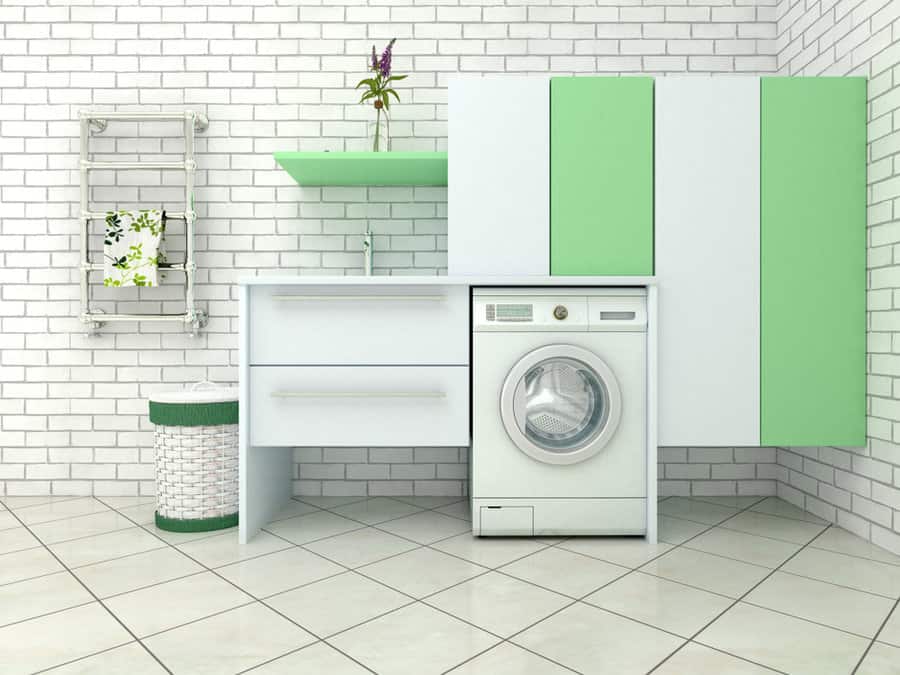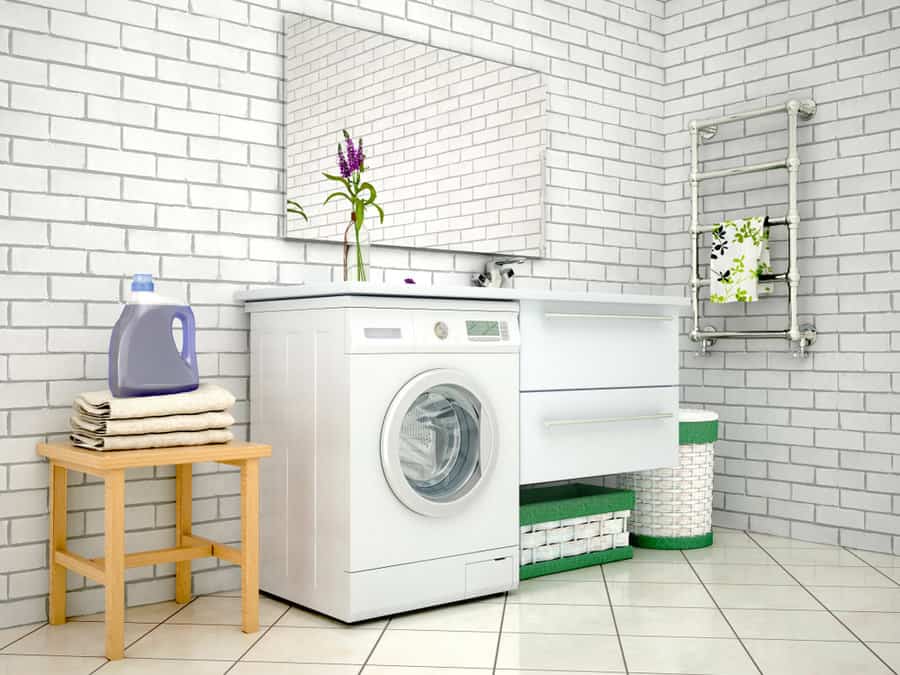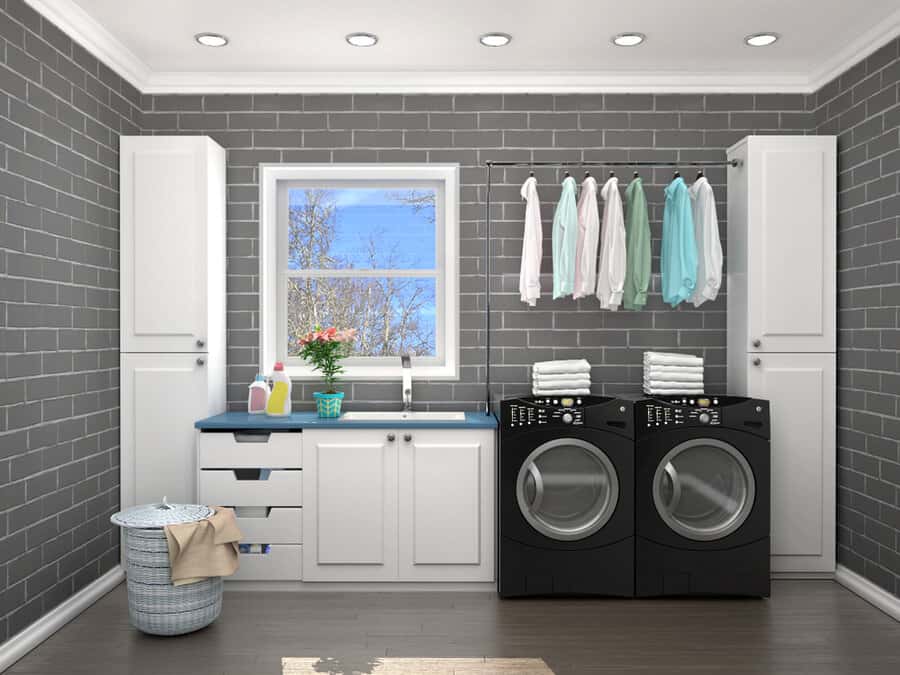 It's actually favorable in your basement laundry room. If you had an upstairs laundry room, you would have to be concerned about damaging the floor if your washer ever breaks and leaks on the floor.
However, you may want to seal your concrete. Moisture can seep up through the floor and make your basement laundry room feel damp.
Concrete can look a bit industrial and bland, though. Use concrete stain to transform your concrete into something elegant that looks like natural stone.
2. Contemporary
If your basement is unfinished, then it's time to do a basement laundry room makeover. Start with the floor and lay down either ceramic tile or laminate wood flooring. Then build-out plenty of counter space and cabinets.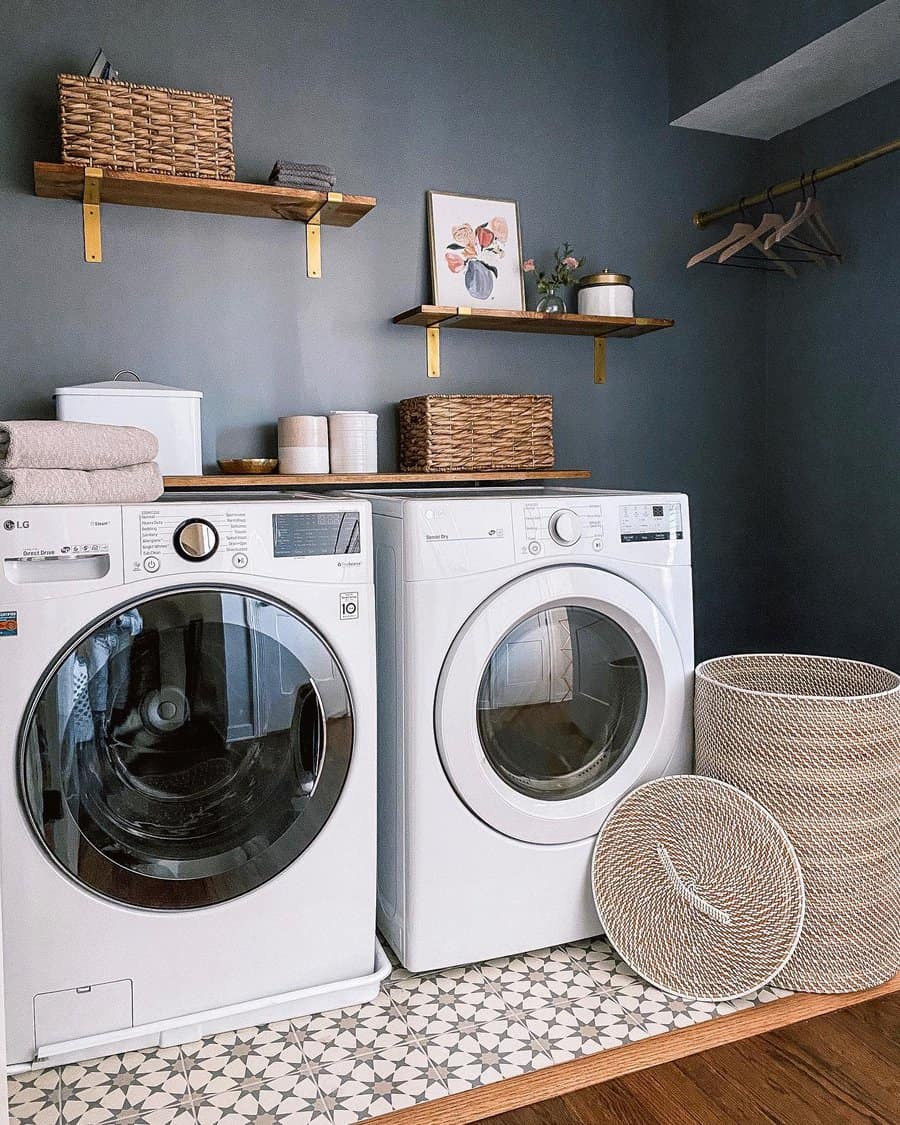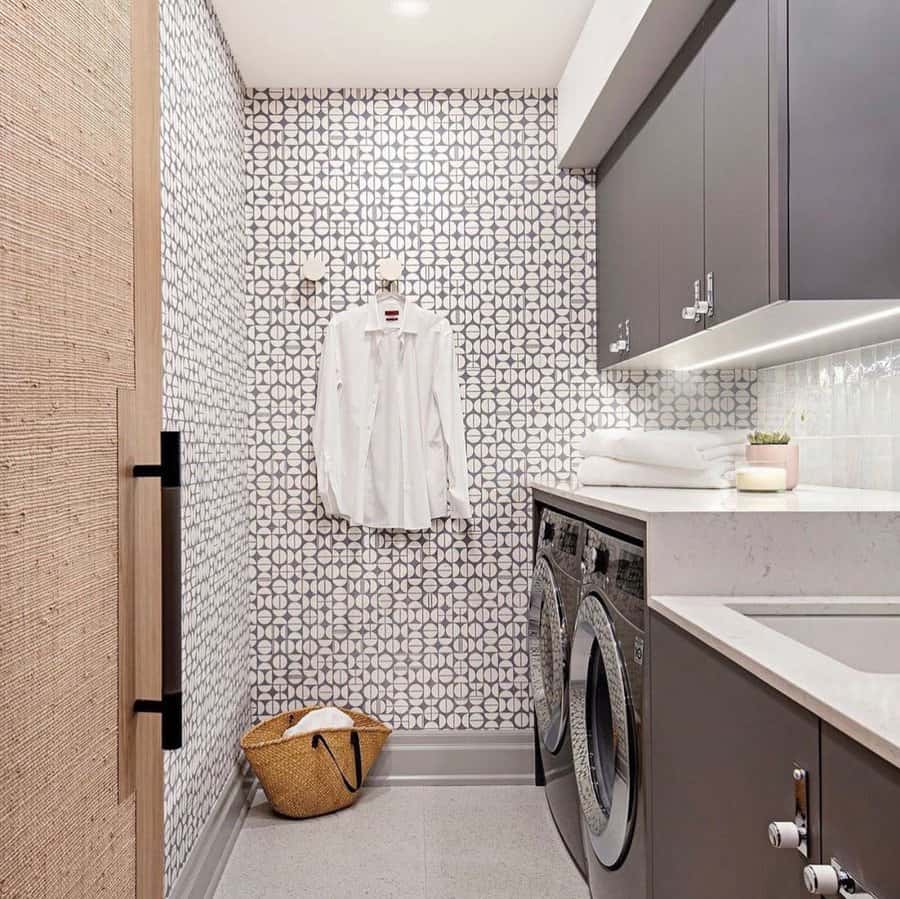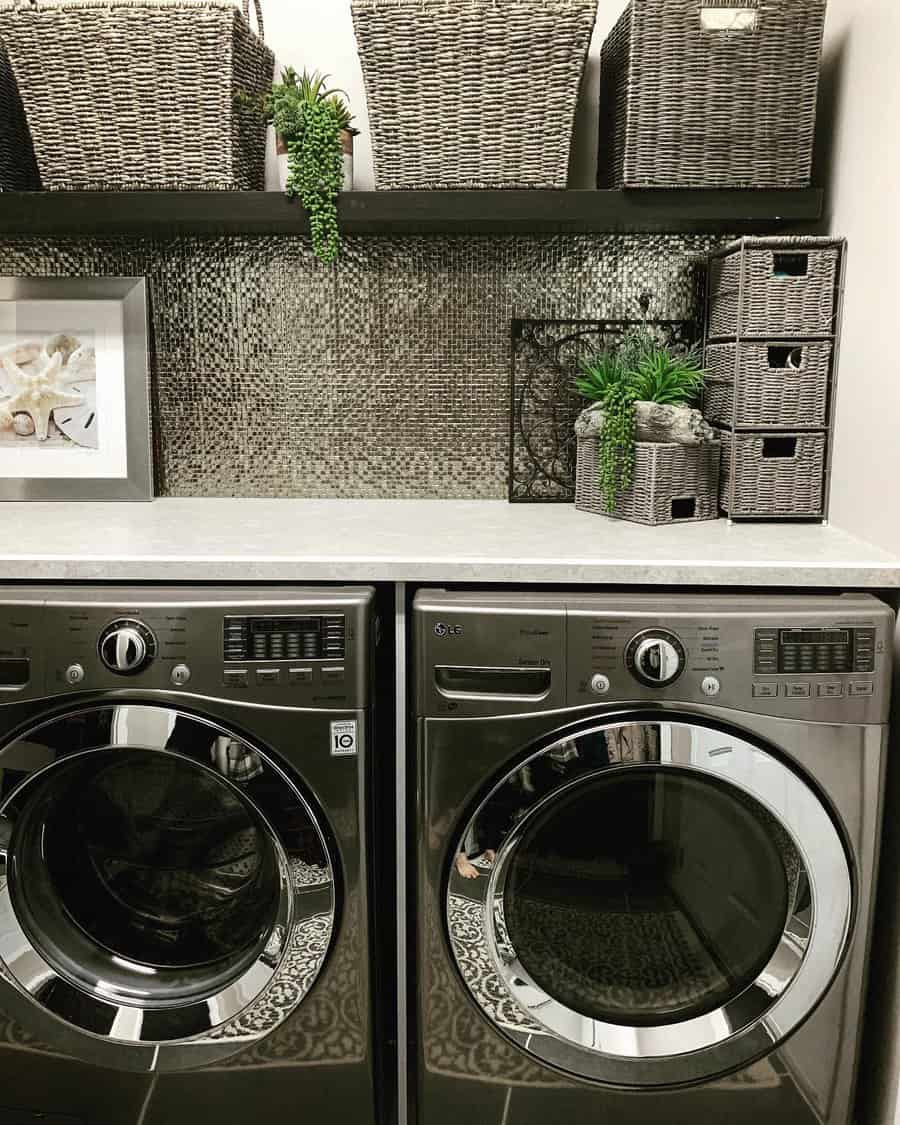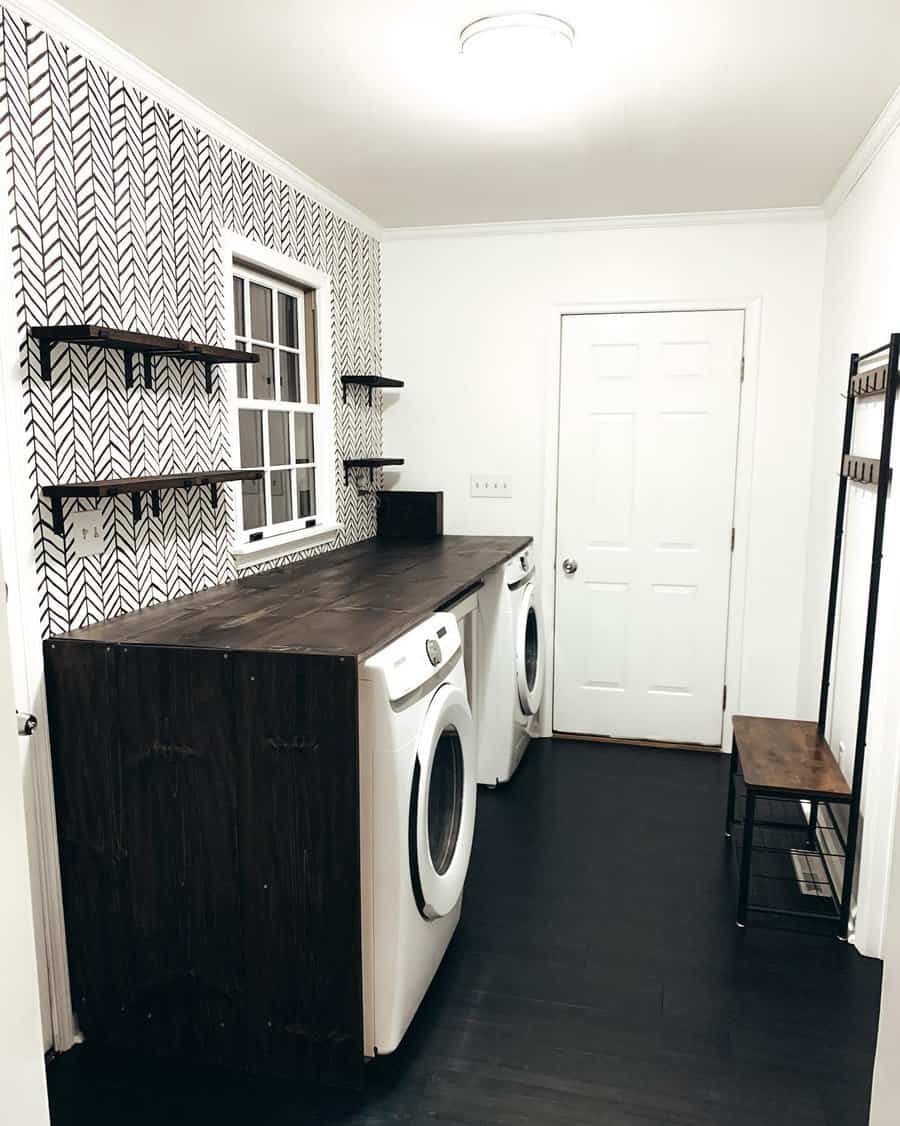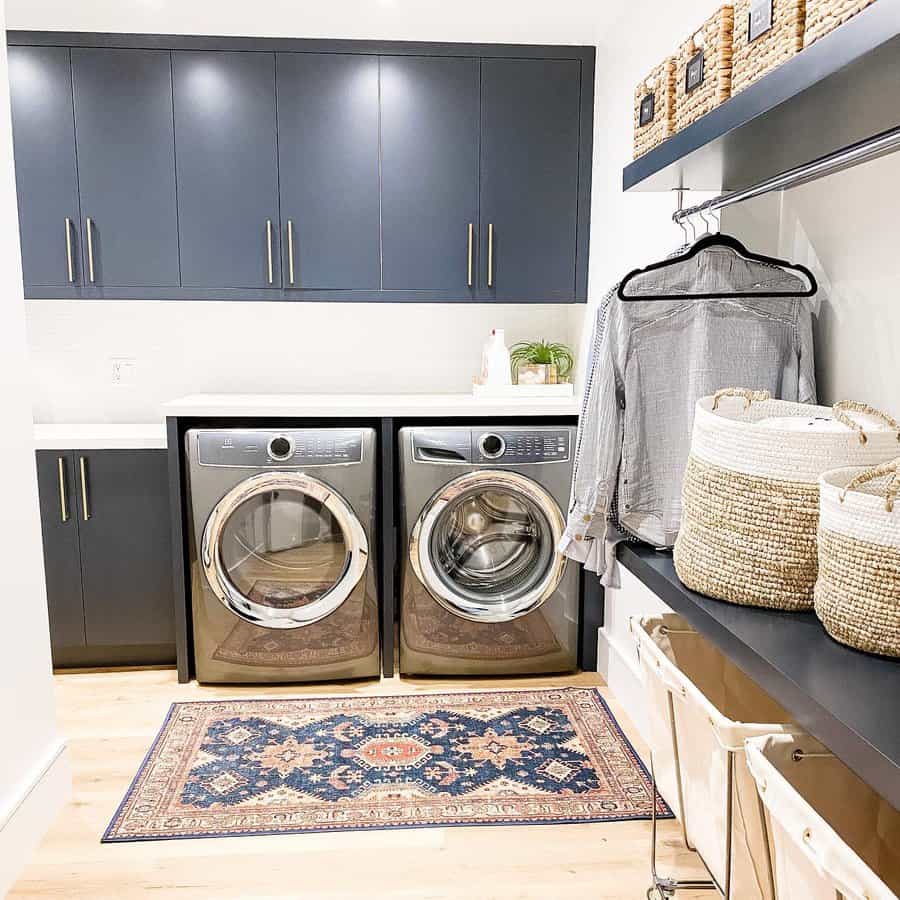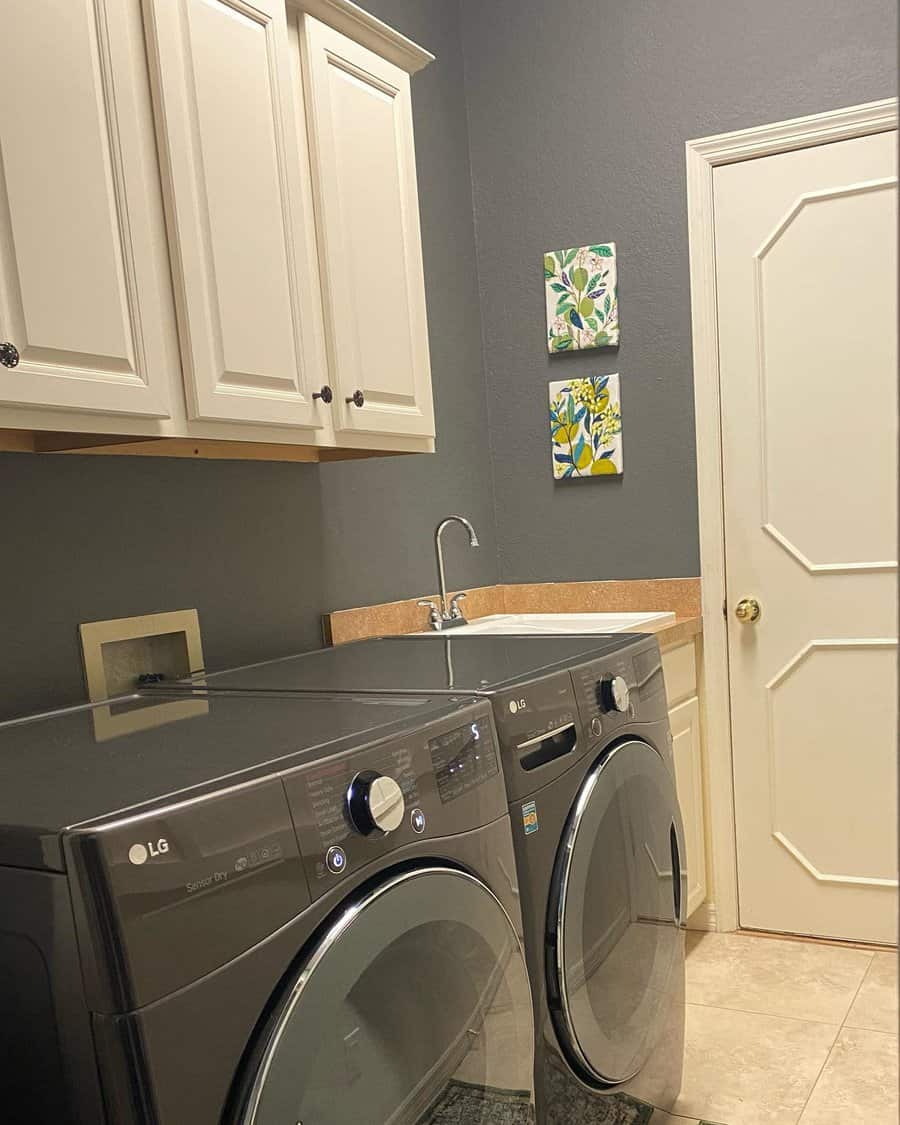 Create a laundry closet with pull-out drying rack drawers. It could also have a fold-out ironing board. Place your washer and dryer in the space and finish with some decor. Keep the color light, bright, and in a neutral color palette.
If you want to take your design up a notch, decant your laundering supplies and put them in your own containers. You could have glass jars for your laundry pods or packs. Pour your detergent and fabric softener into large jug liquid dispensers.
3. Decor
Make your laundry room a pleasant place to be in by adding decor. Just because it's a private place in your home where you do work doesn't mean it can't be beautiful.
Hang beautiful or inspirational art on the walls. Lay a woven rug on the floor. Replace the industrial lighting with an elegant light fixture that you would see in the kitchen or living room.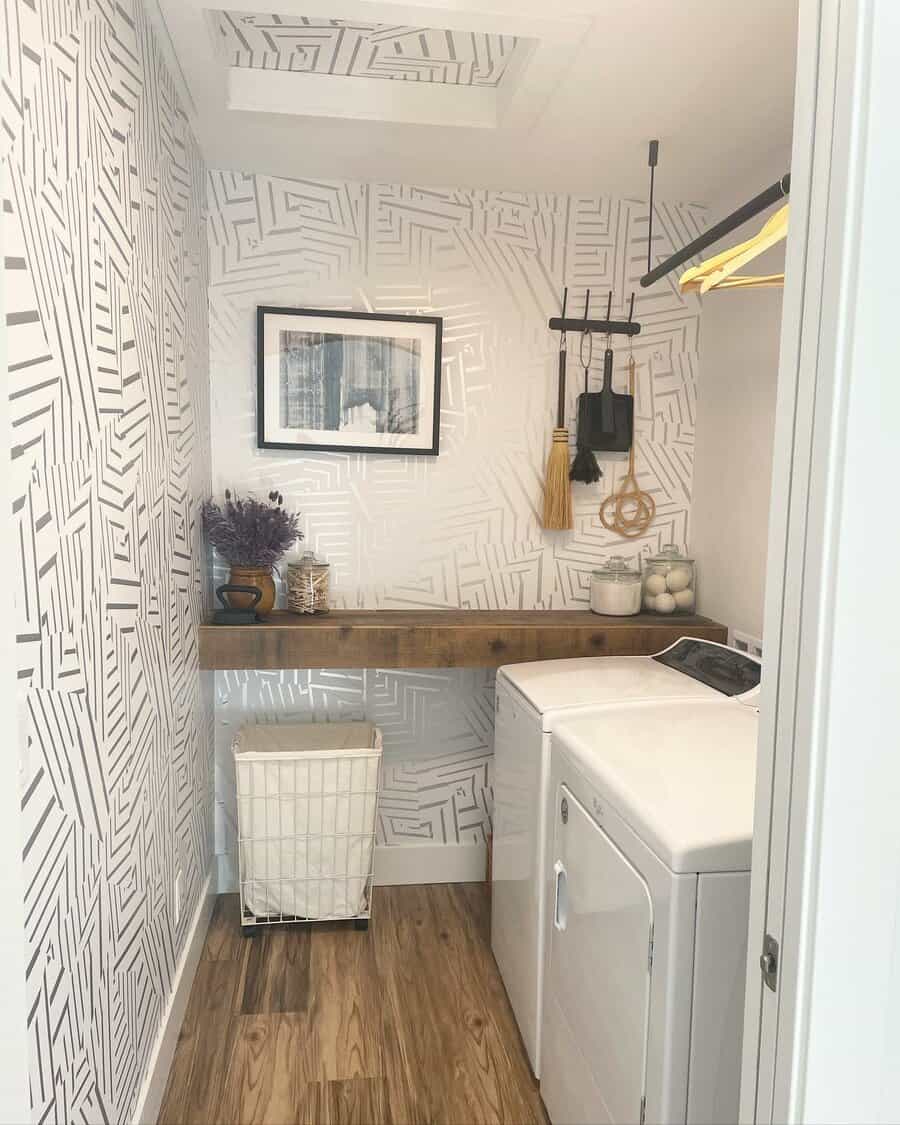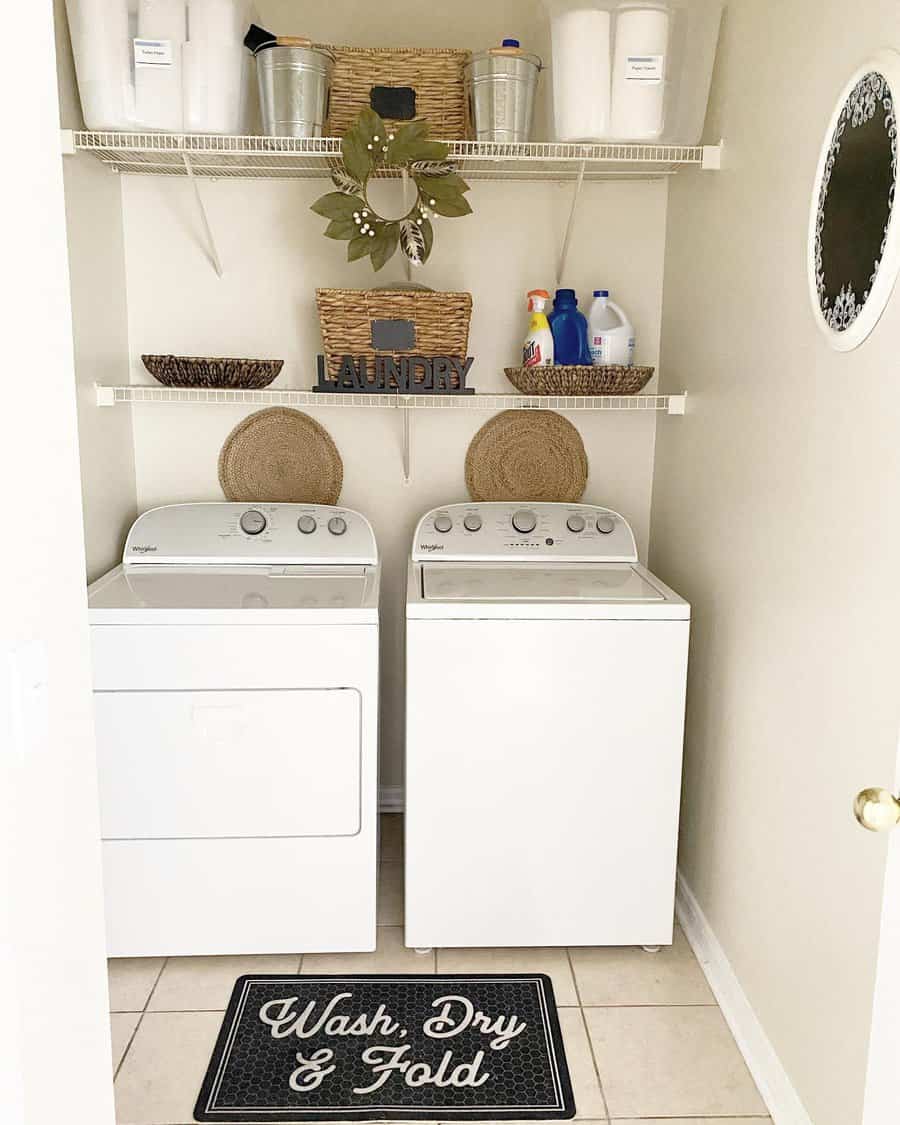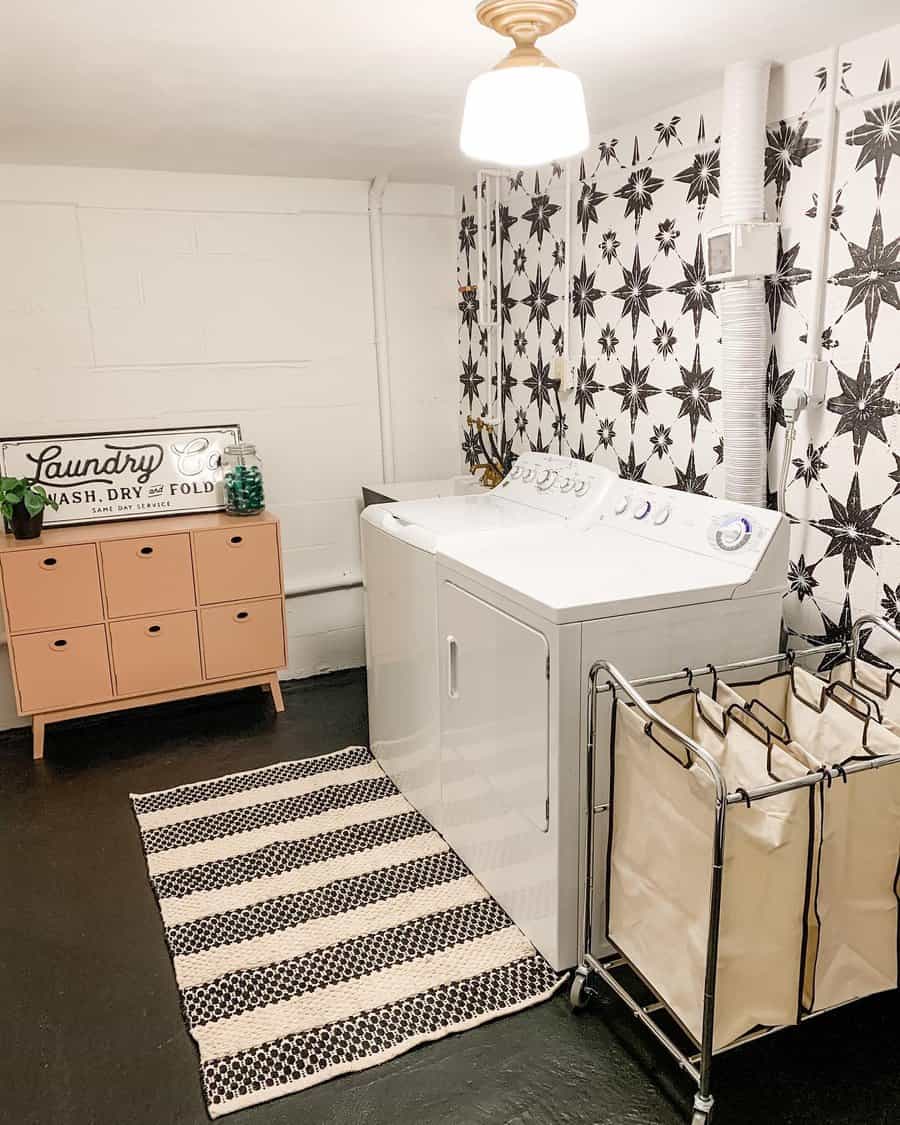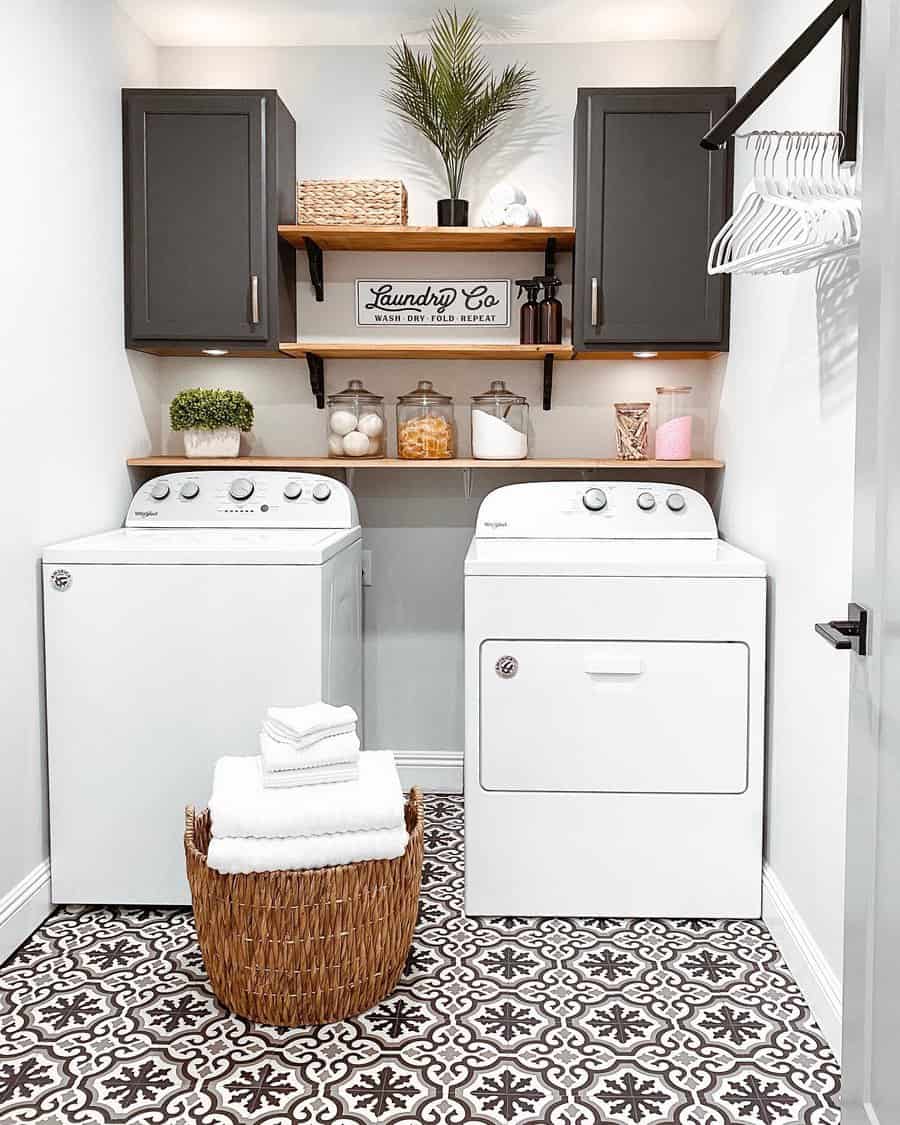 If you have shelving, place a picture of those you love the most. It could be a digital picture frame that you can display thousands of pictures on.
4. Hidden
If your basement is large, then you'll want to use it for more than just laundry. You'll want to have a laundry room that you can hide in this situation.
Add drying cabinets with hidden pull-out drying racks. They are open and made from mesh for laying clothes on to dry. You can have another cabinet with a laundry basket.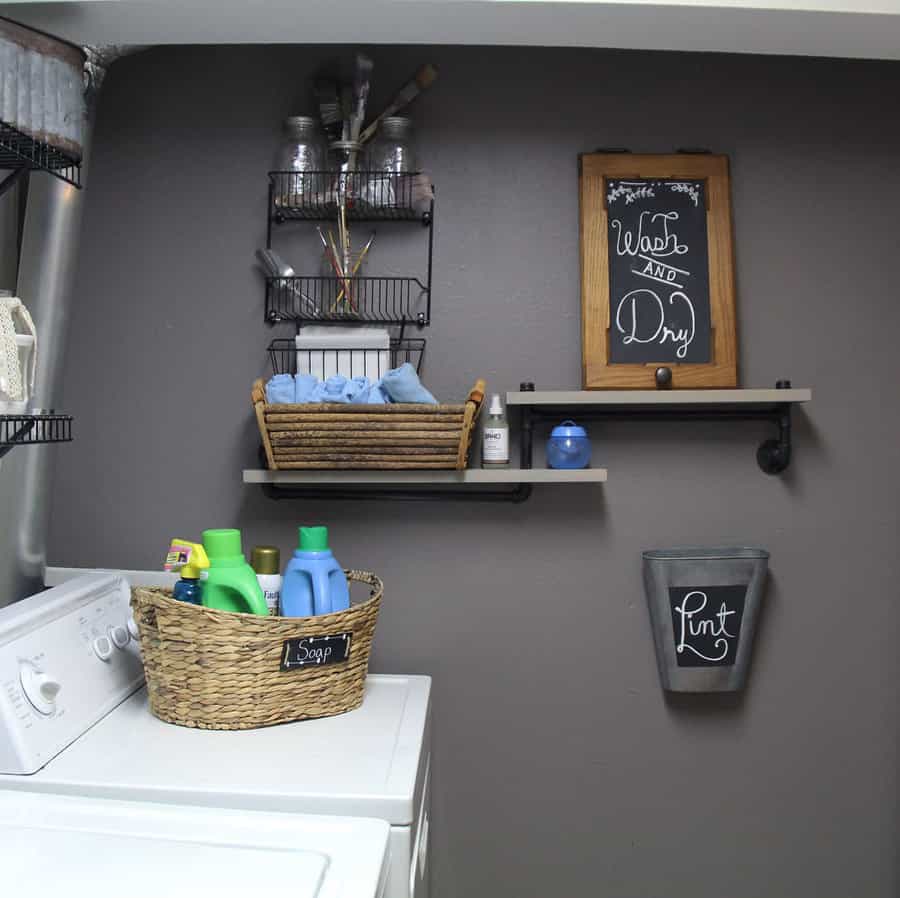 You can do the same thing with your ironing board. If you have front-loading laundry machines, you can build cabinets around them too.
While your design may be several laundry room cabinets, they will look uniform and blend into the rest of your basement. When hanging out in the basement, no one would be wise to the fact that hidden behind the cabinets is your laundry room.
5. Paint
While most people choose to paint their laundry room white, you don't have to. You can paint this room any color you want. Use your laundry room makeover as an opportunity to express your personal sense of style and taste.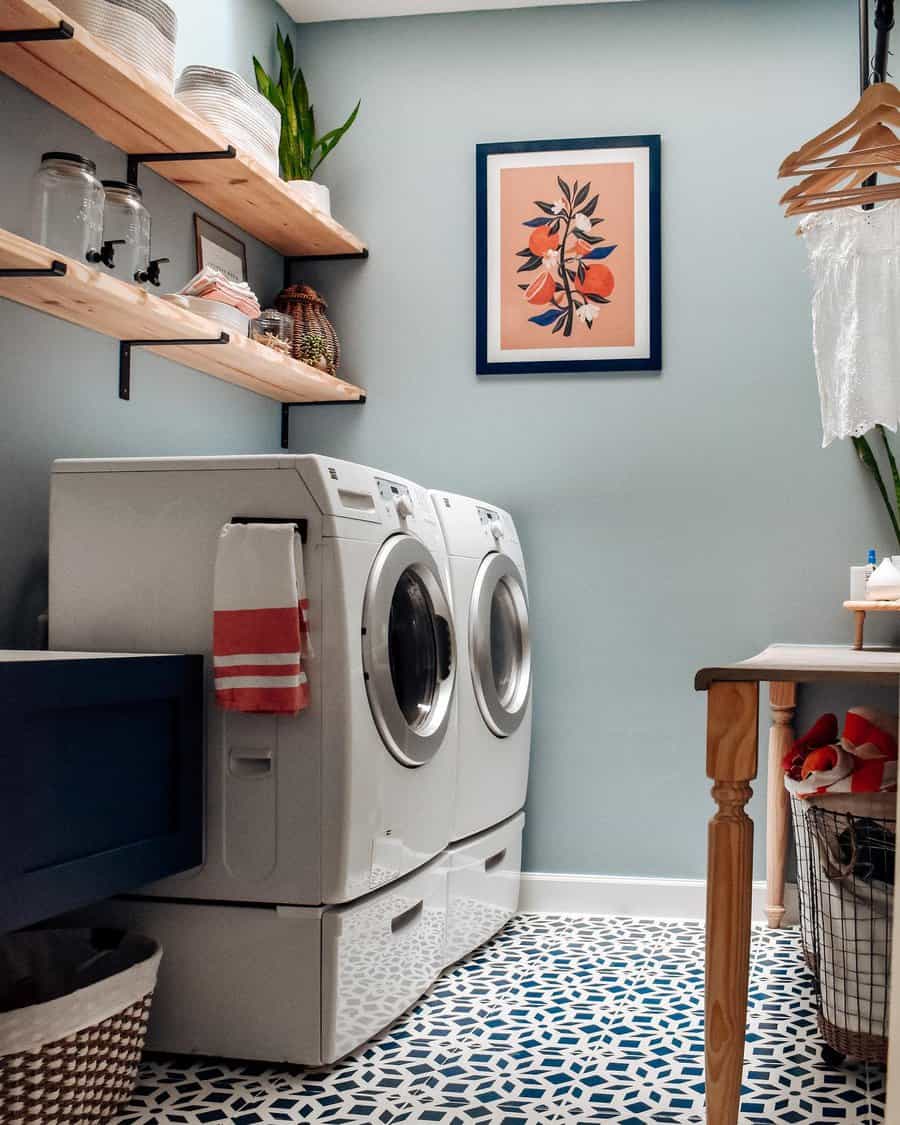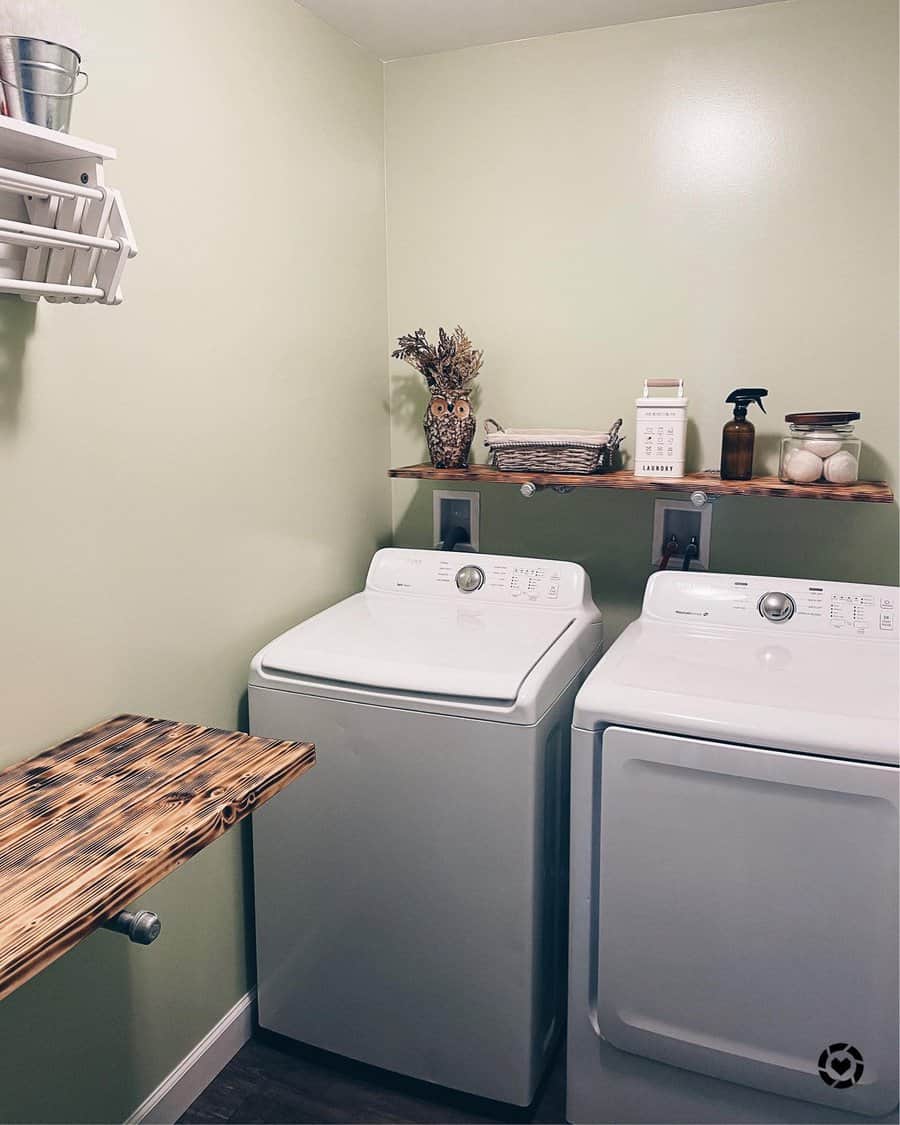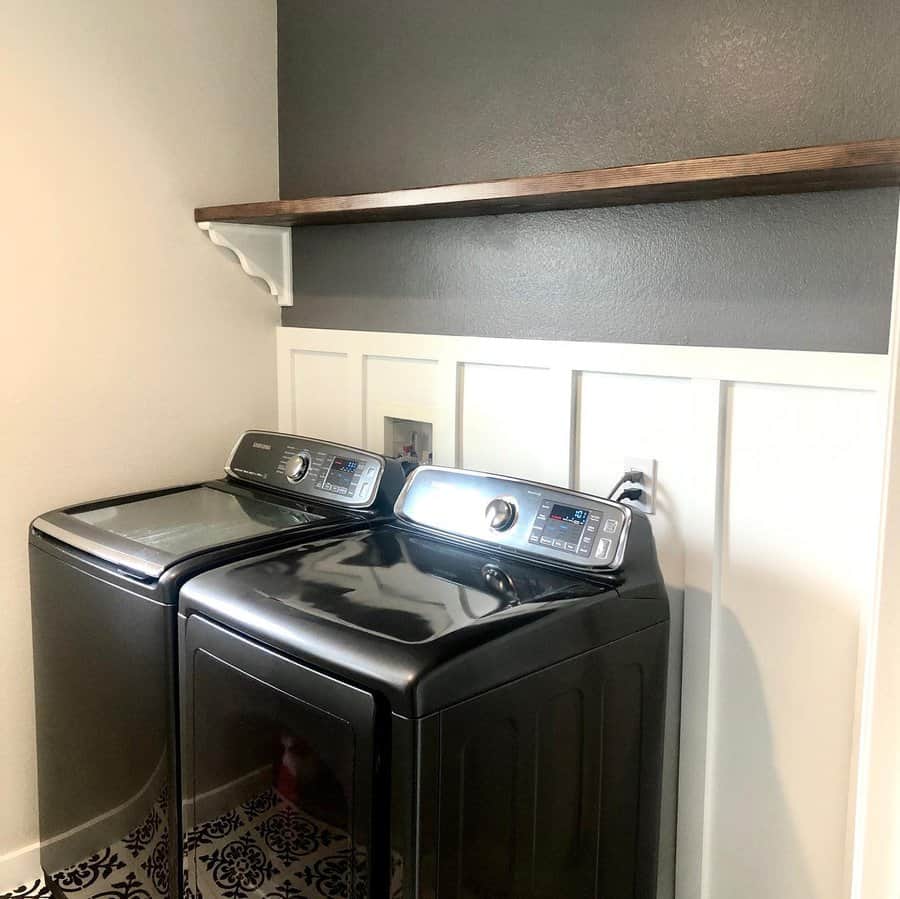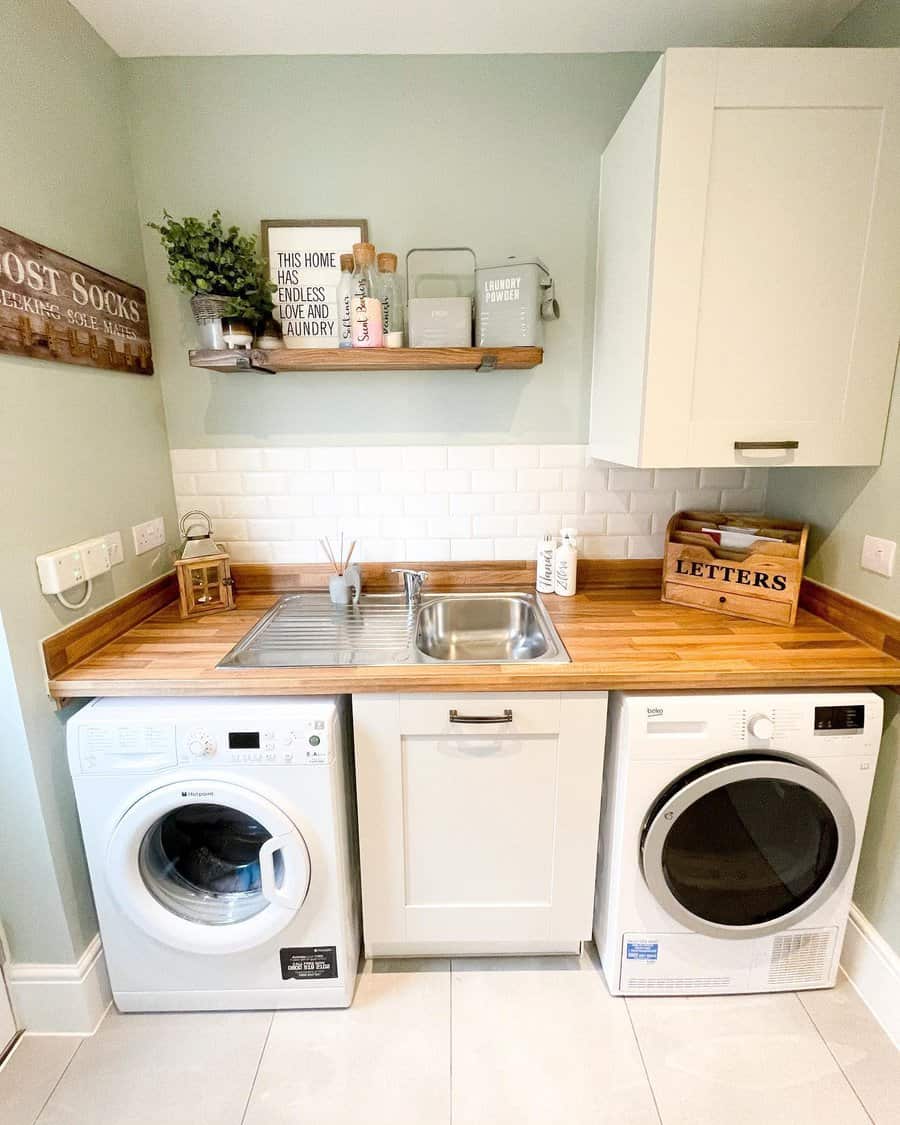 White is popular because it evokes feelings of cleanliness. However, a soft sage green can create an earthy and comfortable space. A shade of blue can create a calming experience. Gray is the modern neutral and can make your laundry room softer to be in than harsh white.
6. Rustic
If you love the rustic aesthetic, you can continue this design theme into your utility room, mudroom, and laundry room. Instead of installing sleek modern shelves, use reclaimed or salvaged wood instead.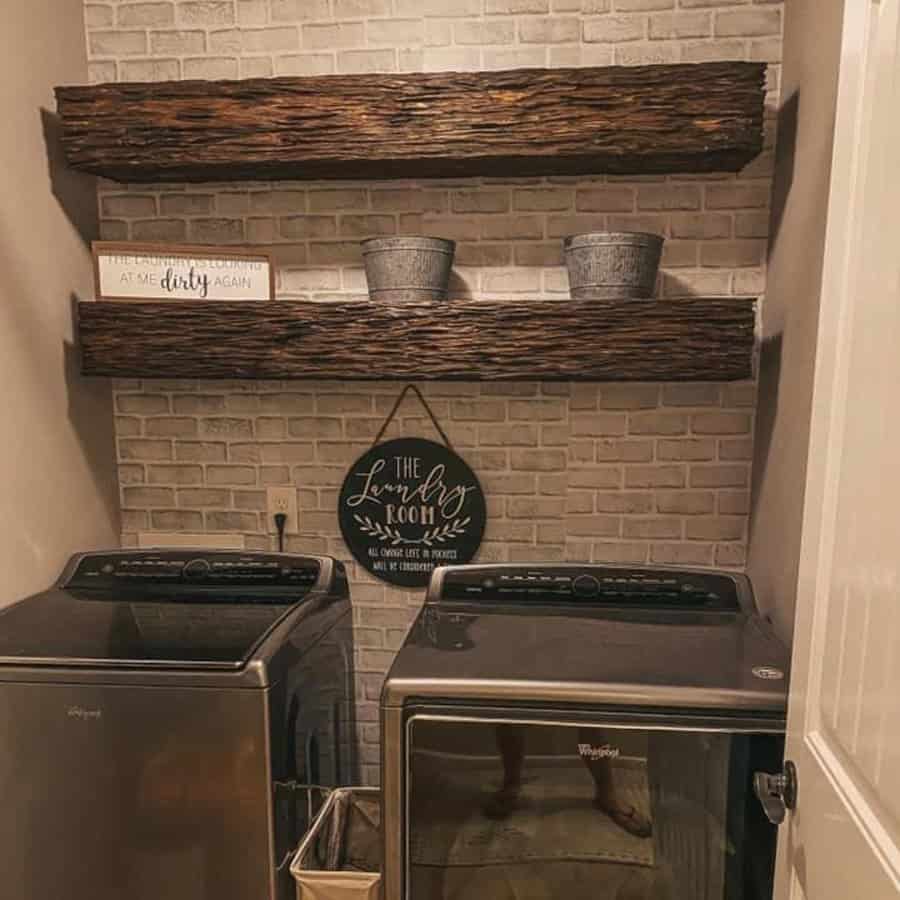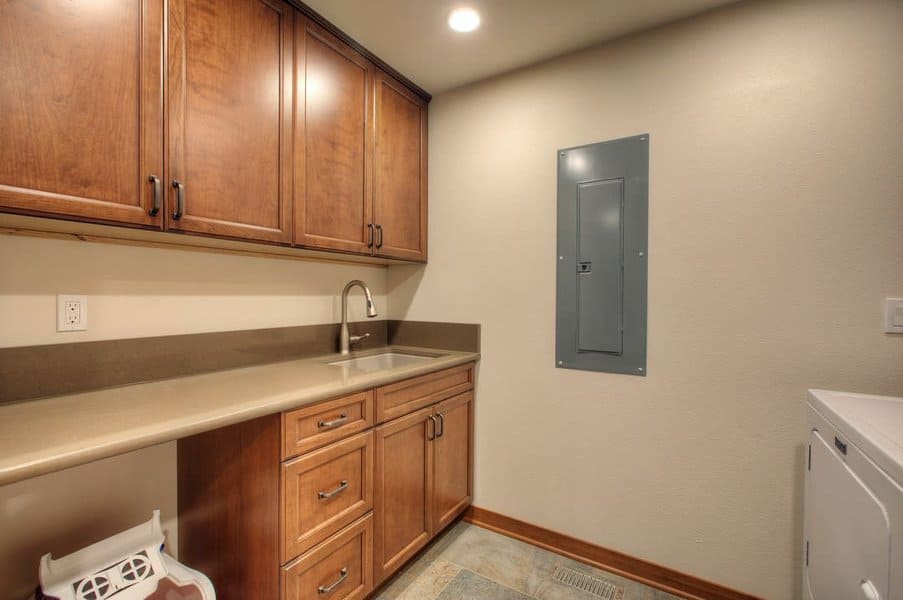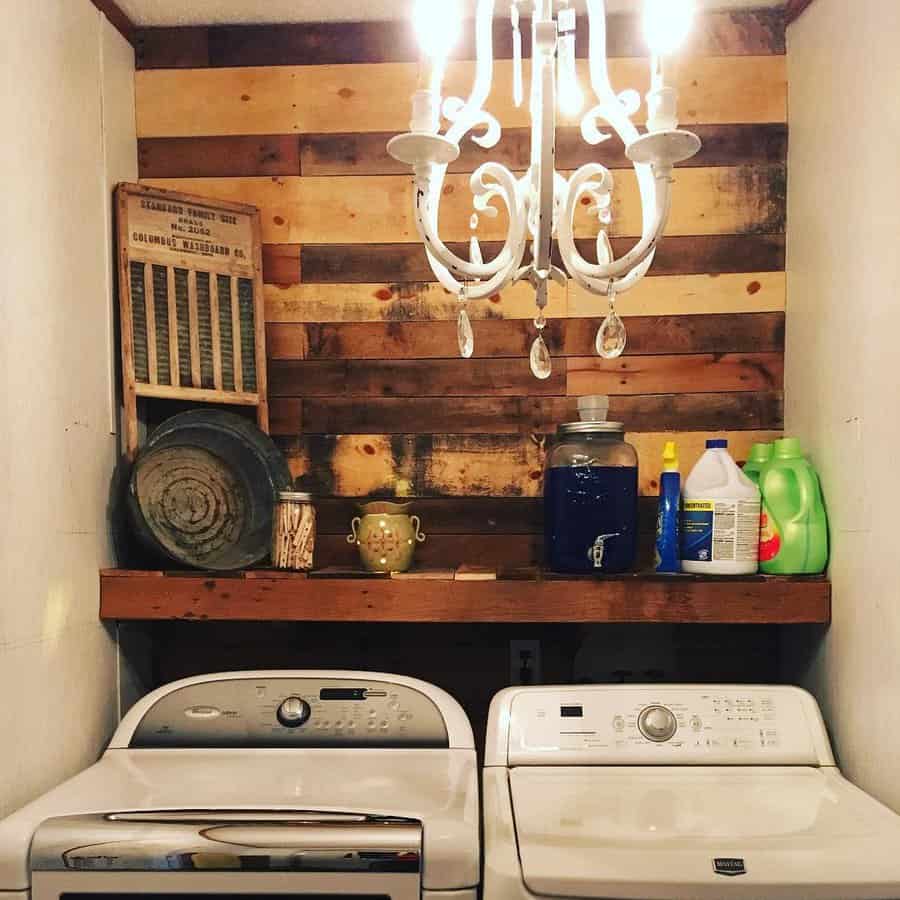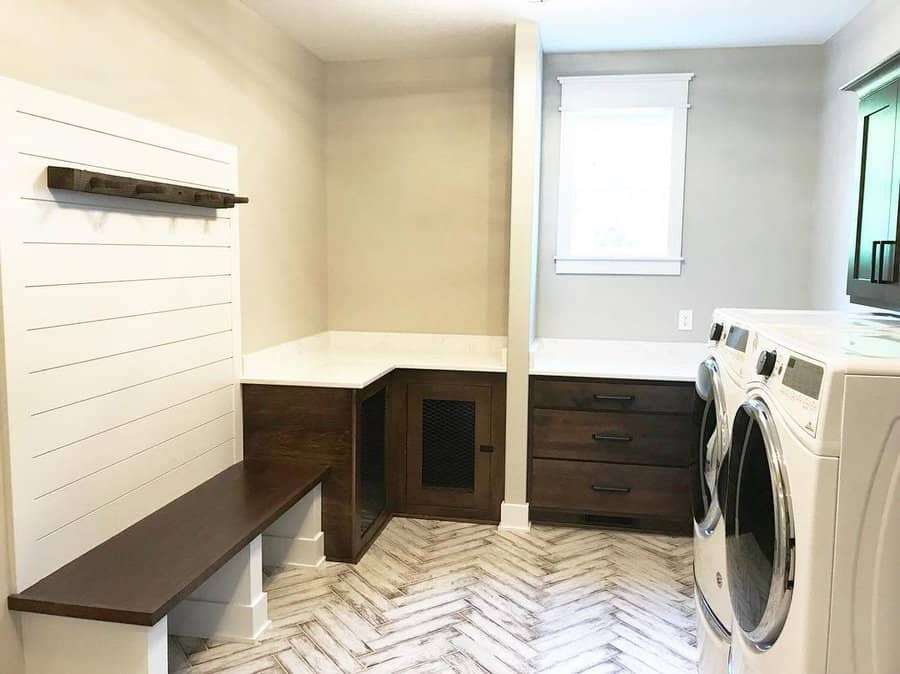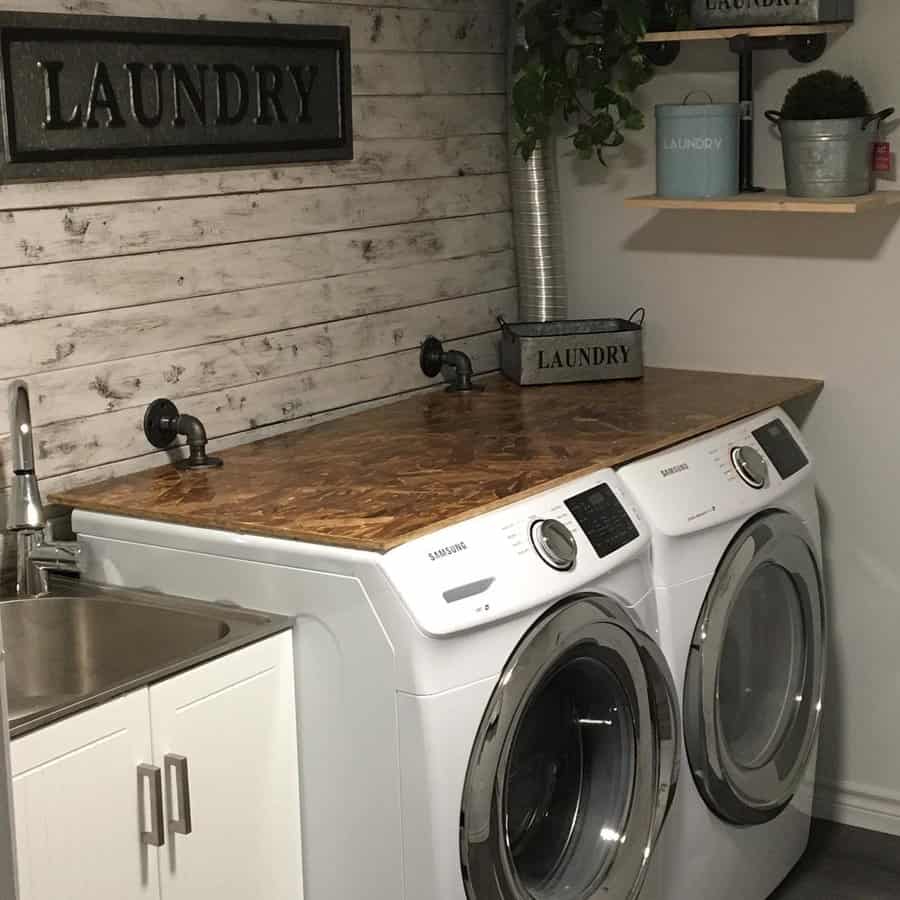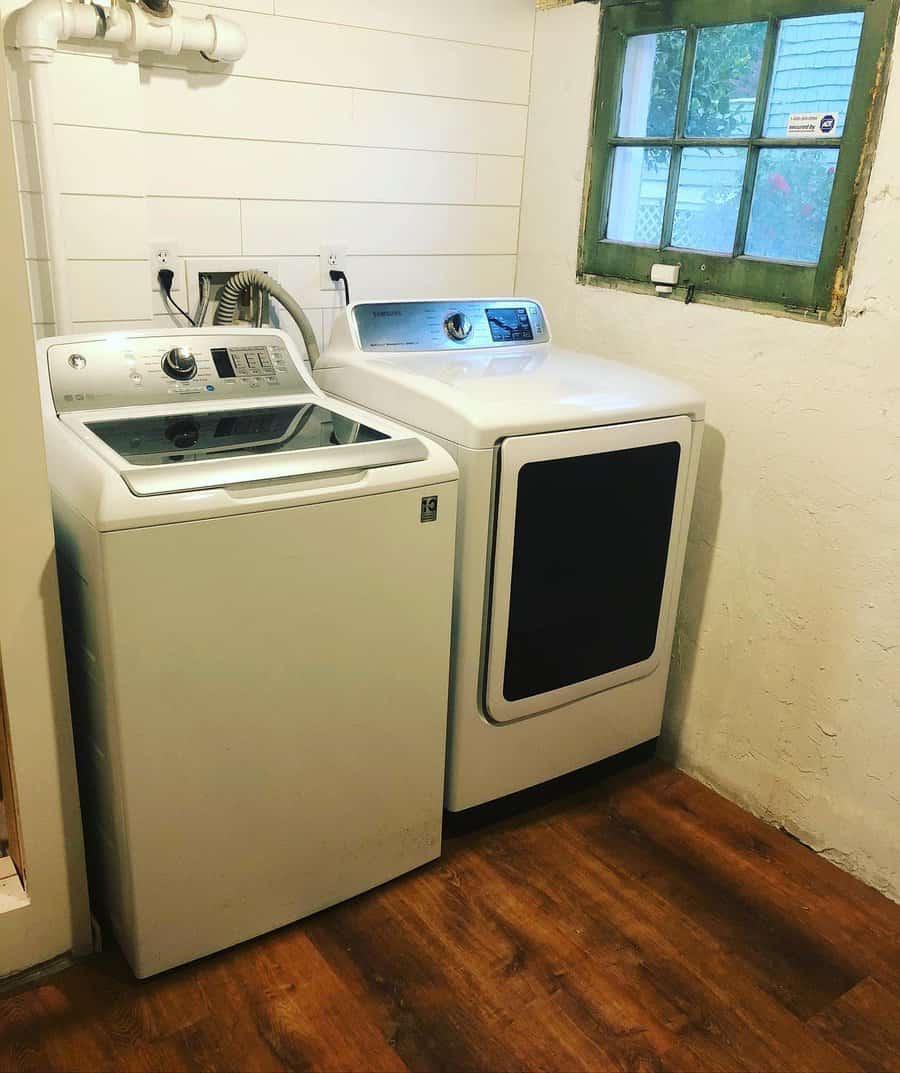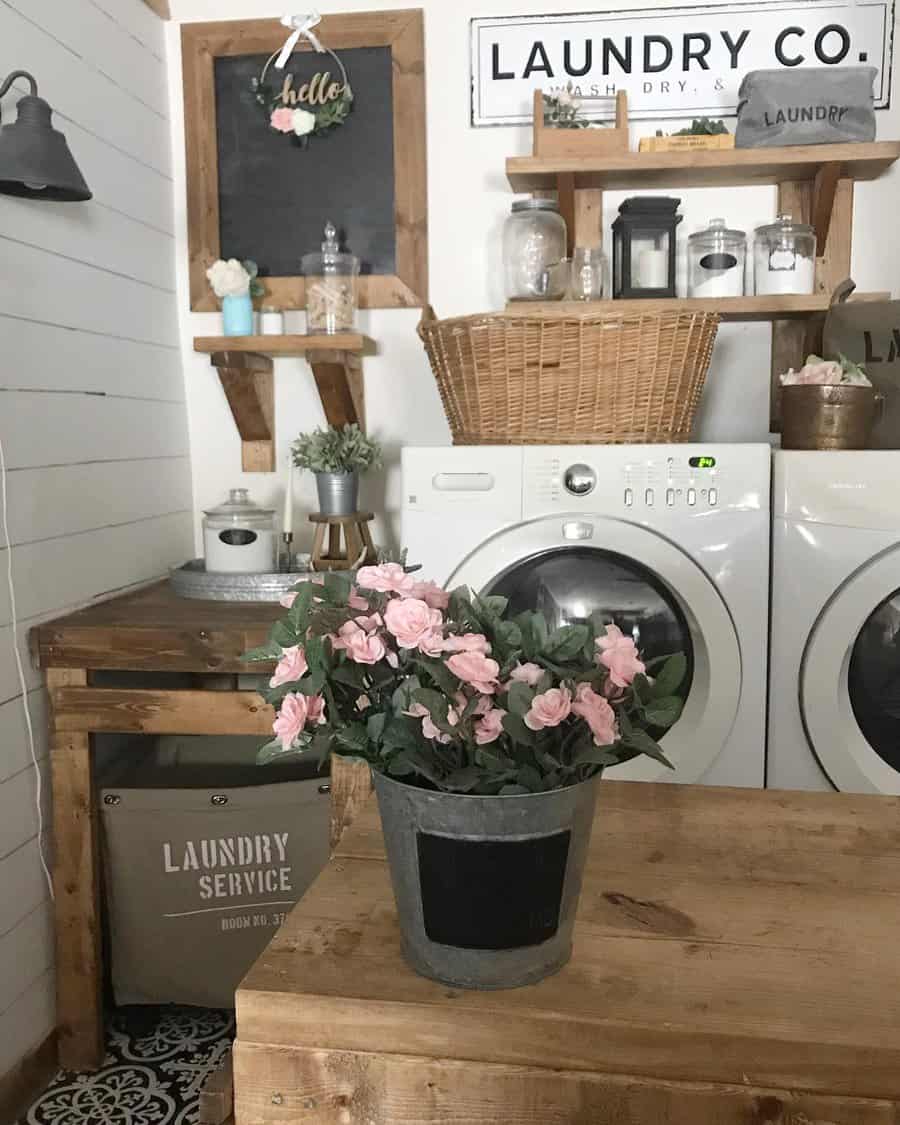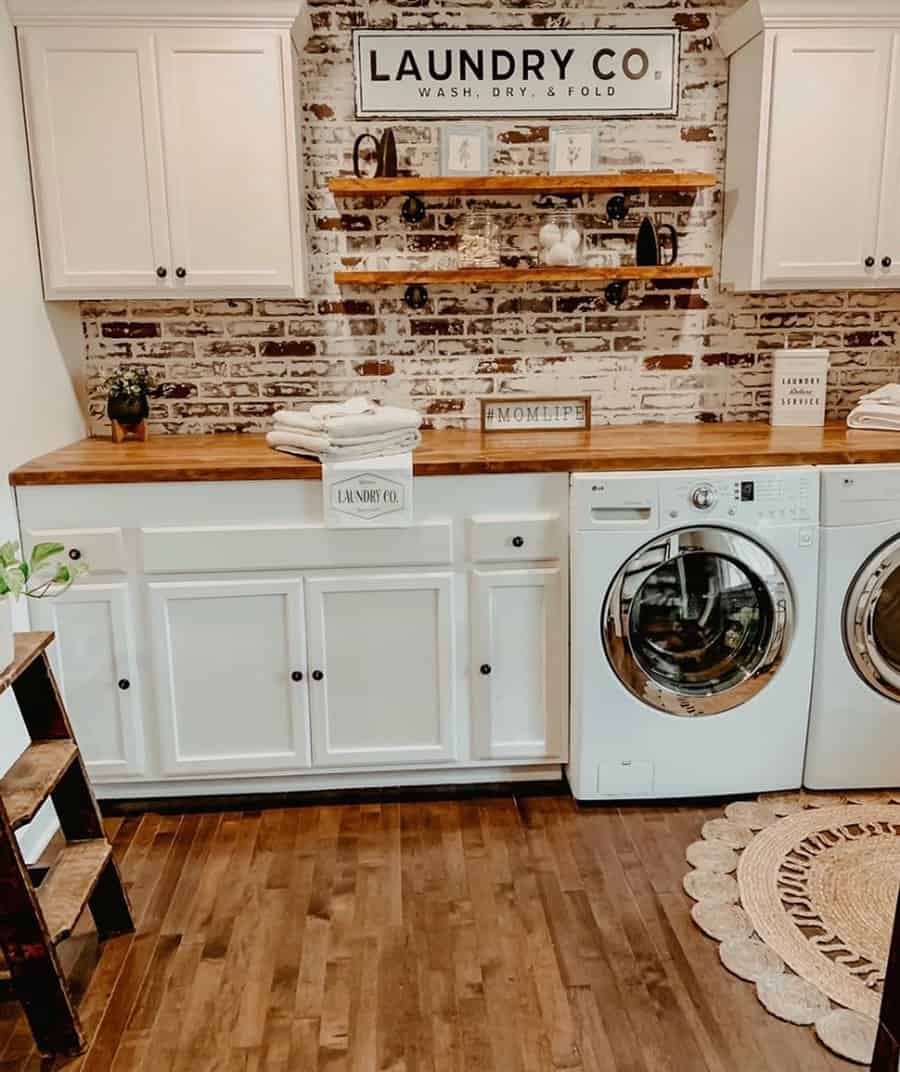 Skip the fancy area rug and use a vintage one instead. Use an antique table as your ironing board and folding station. Just don't try to go rustic or vintage with your laundry machines.
Older machines aren't as effective or efficient at cleaning. It's smarter to hide the modern technology under a rustic countertop.
7. Shelves
Adding shelves to your laundry room can give you the extra space that you need. If you already have cabinets, shelves are an easy addition that you can do yourself. Pair them with your laundry cabinets by adding the shelves to an empty wall. You could have one long shelf that runs the entire length of the laundry room.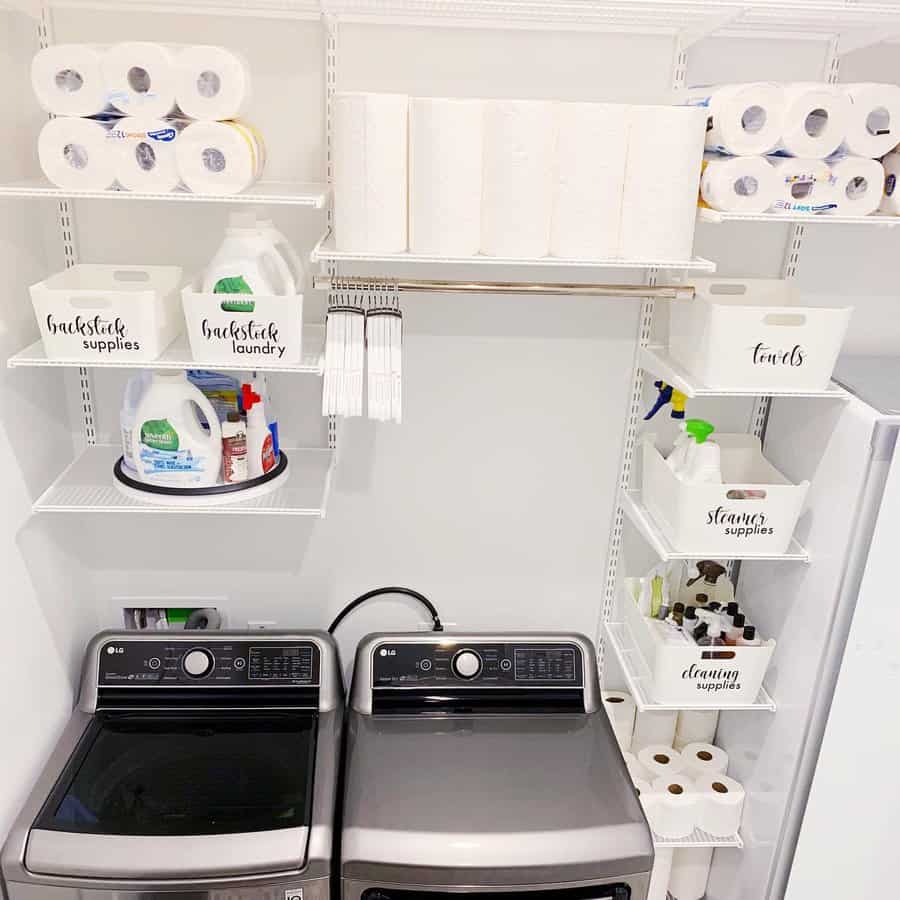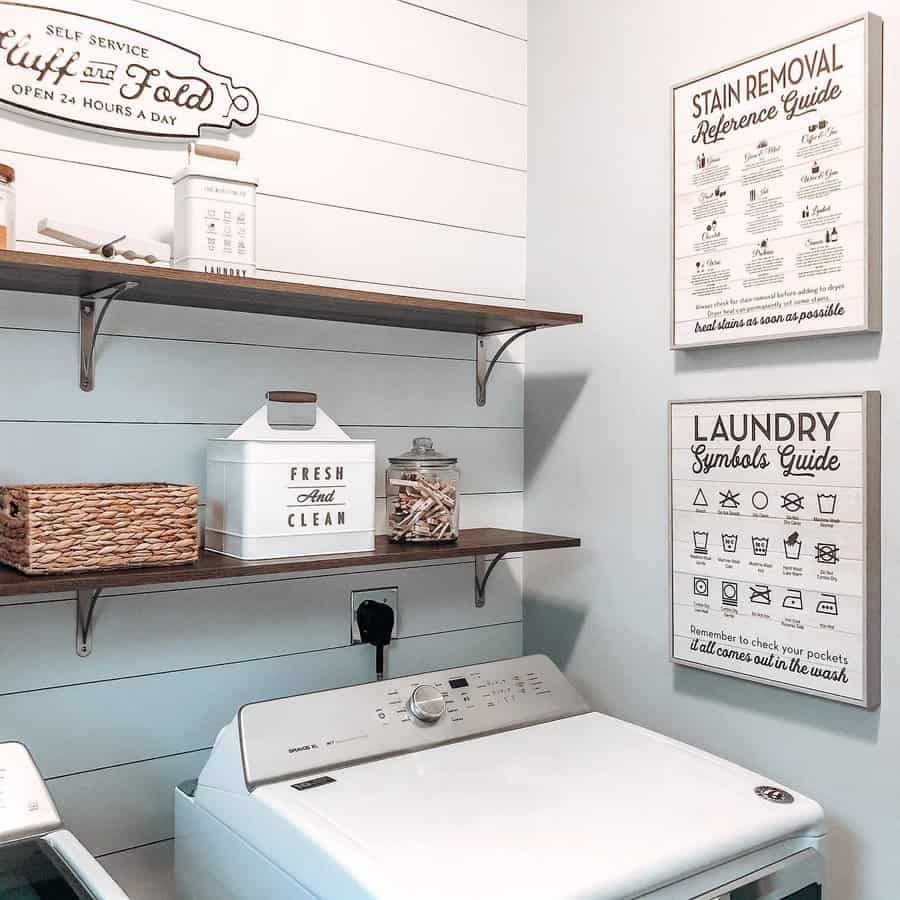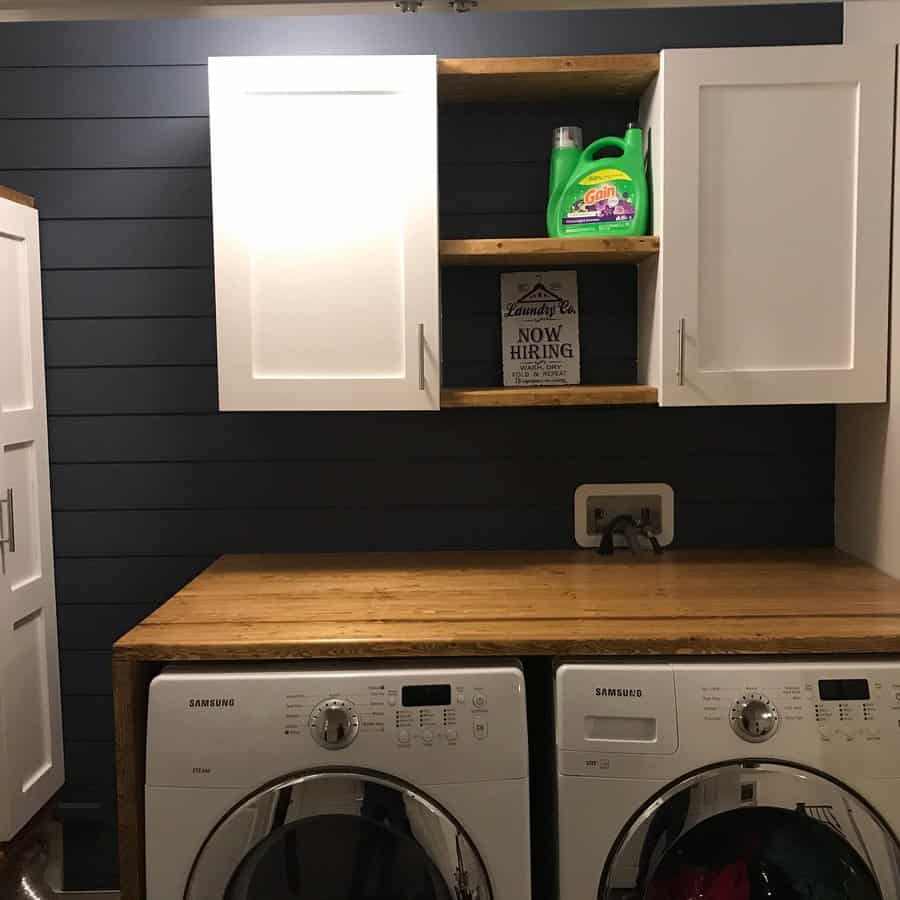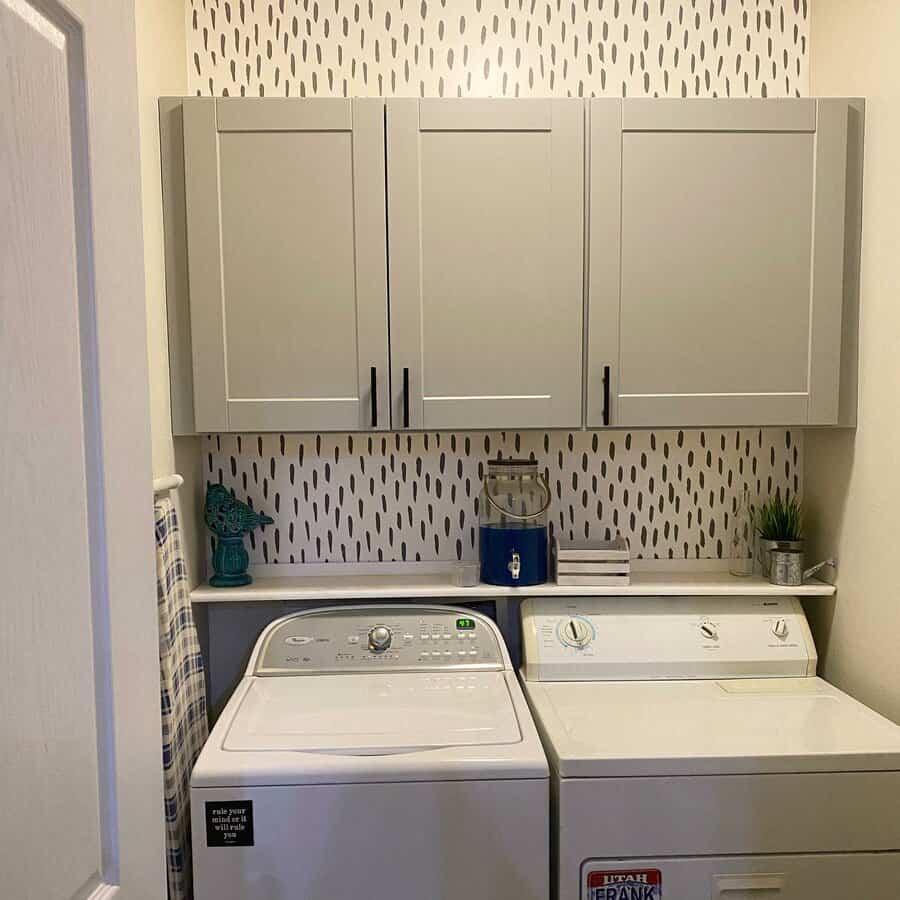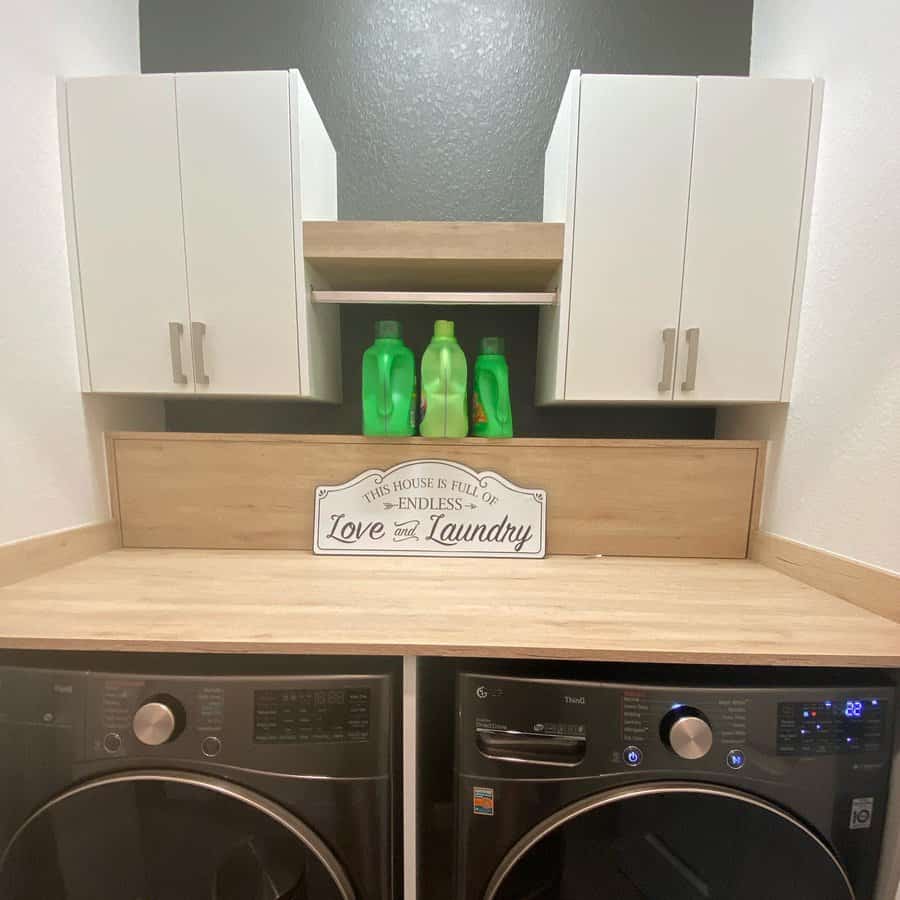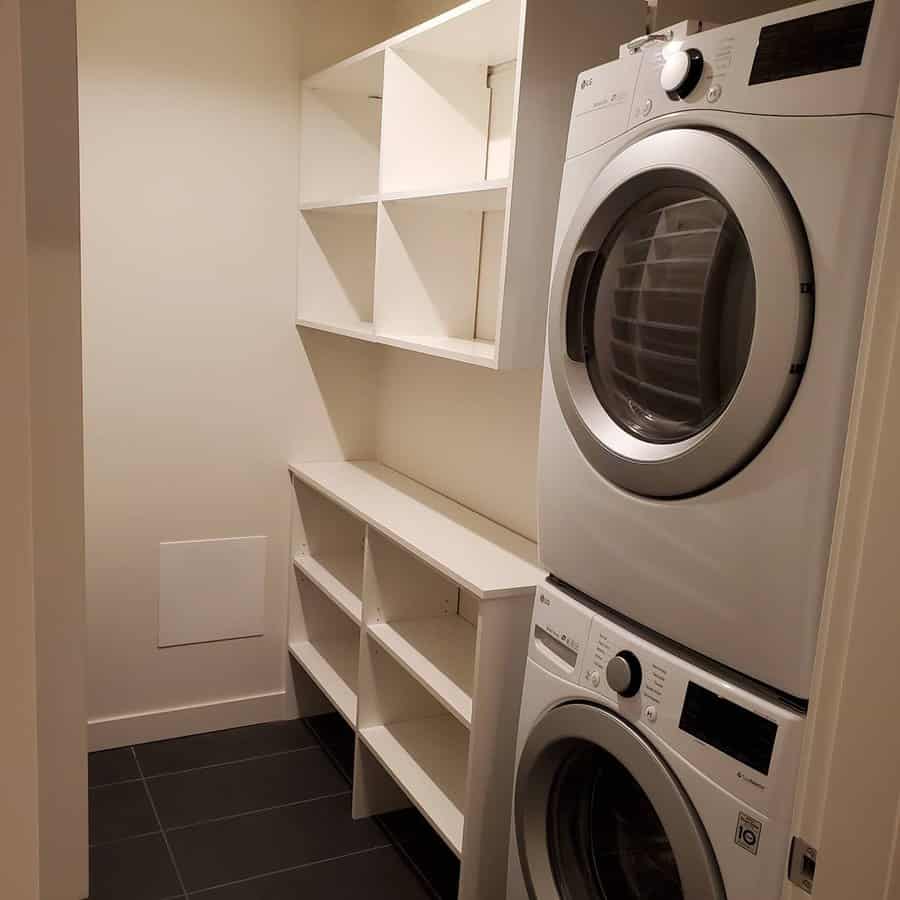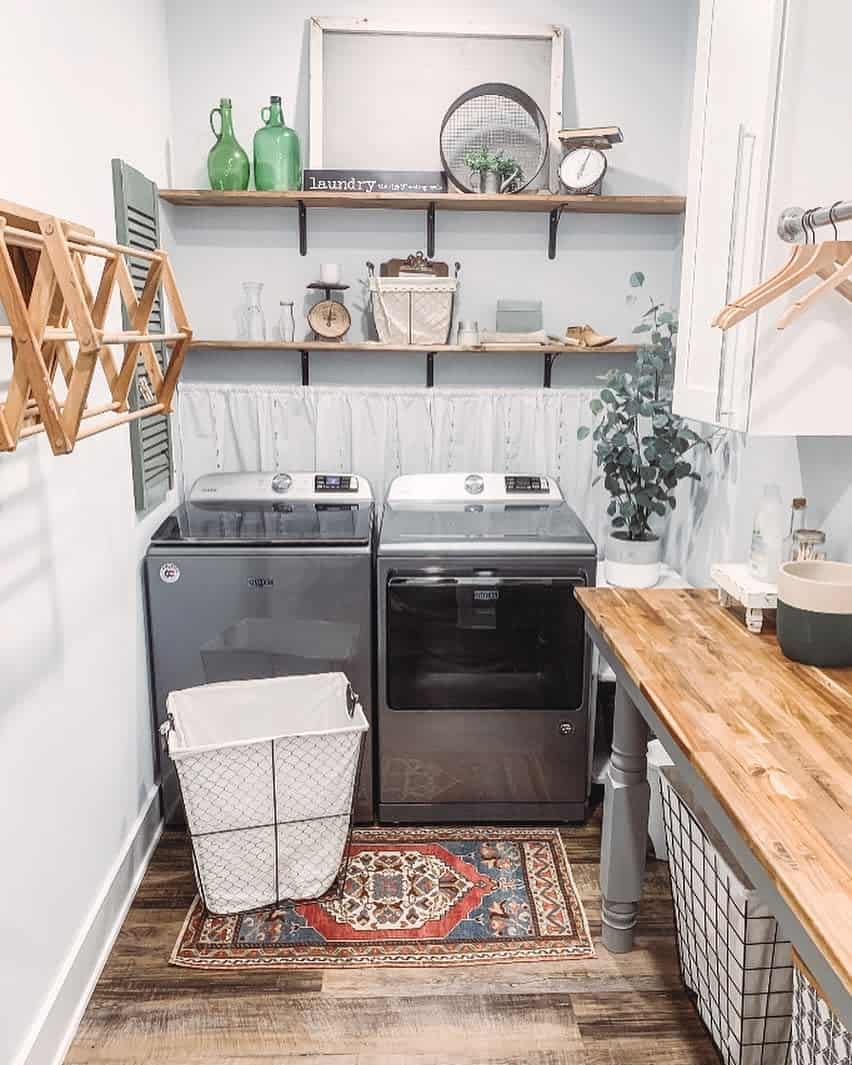 Another option is to mount multiple short shelves above one another. When installing your shelves, think about what you plan to place on them. Your shelves need to be strong enough to support the amount of weight you plan to put on them.
8. Small
When you have a limited amount of space, you need to get creative with how you set up your small basement laundry room. Start by downsizing your washer and dryer to fit the space. You could consider a stackable washer and dryer to maximize the vertical space.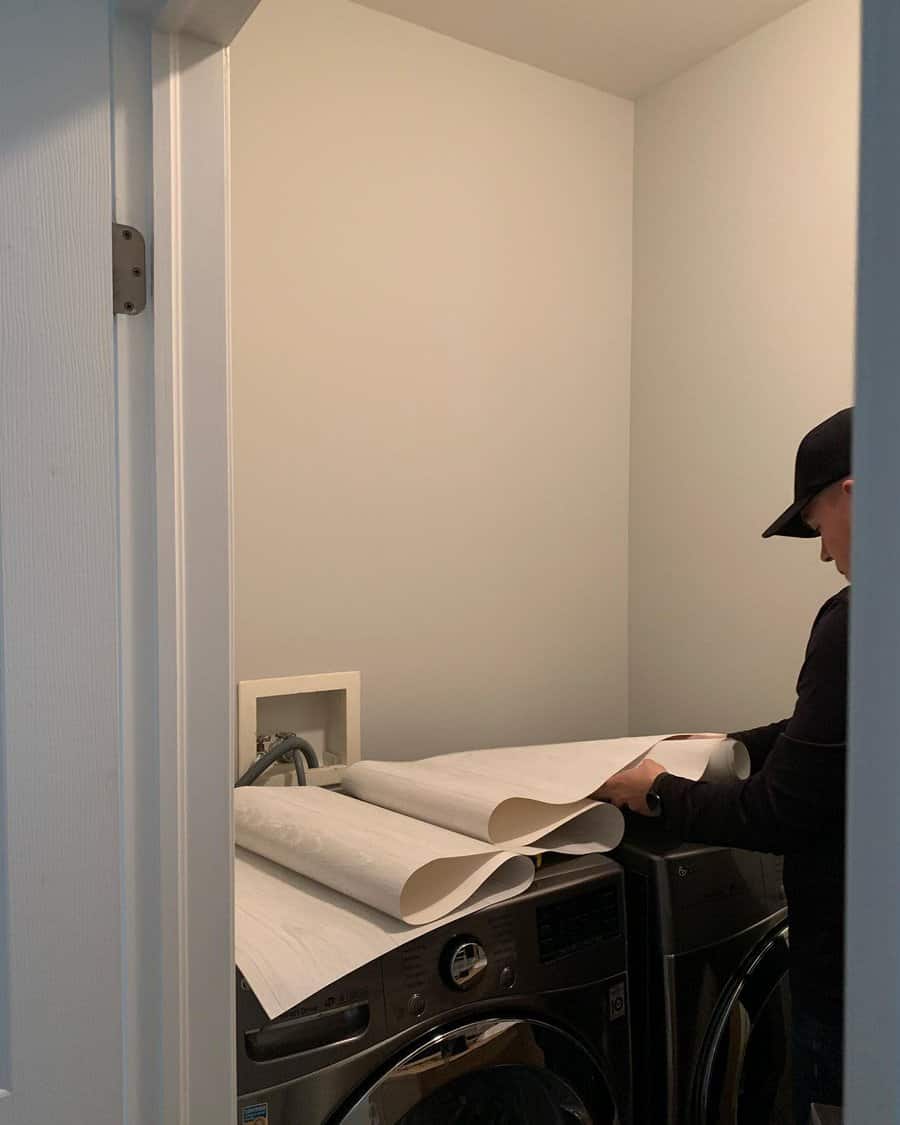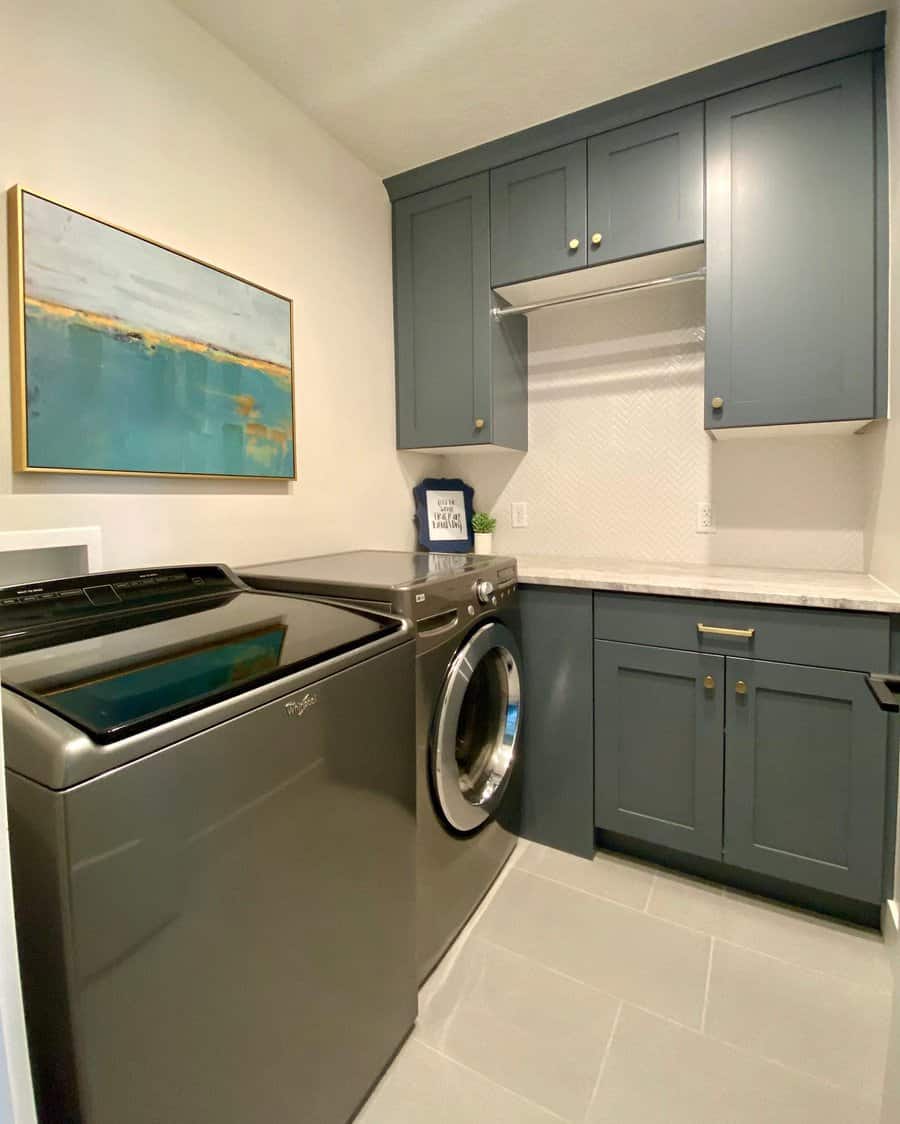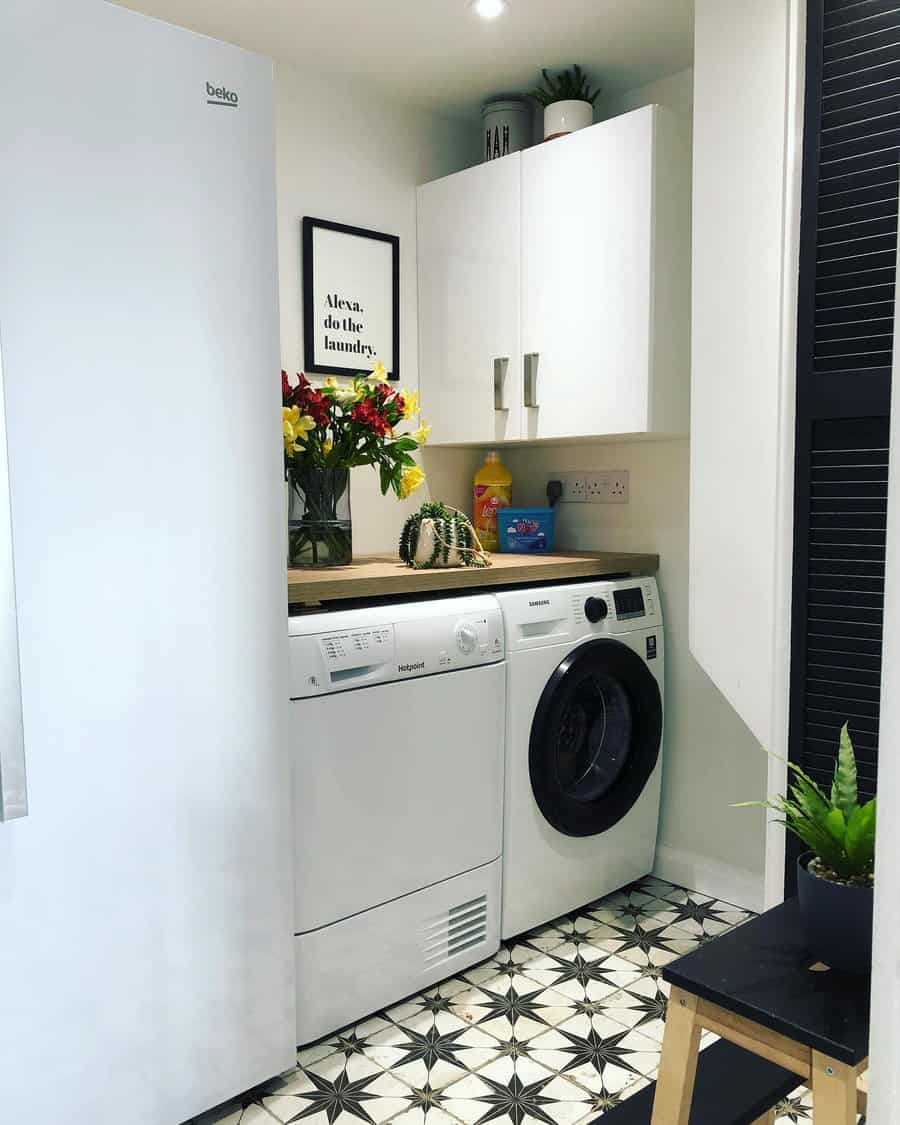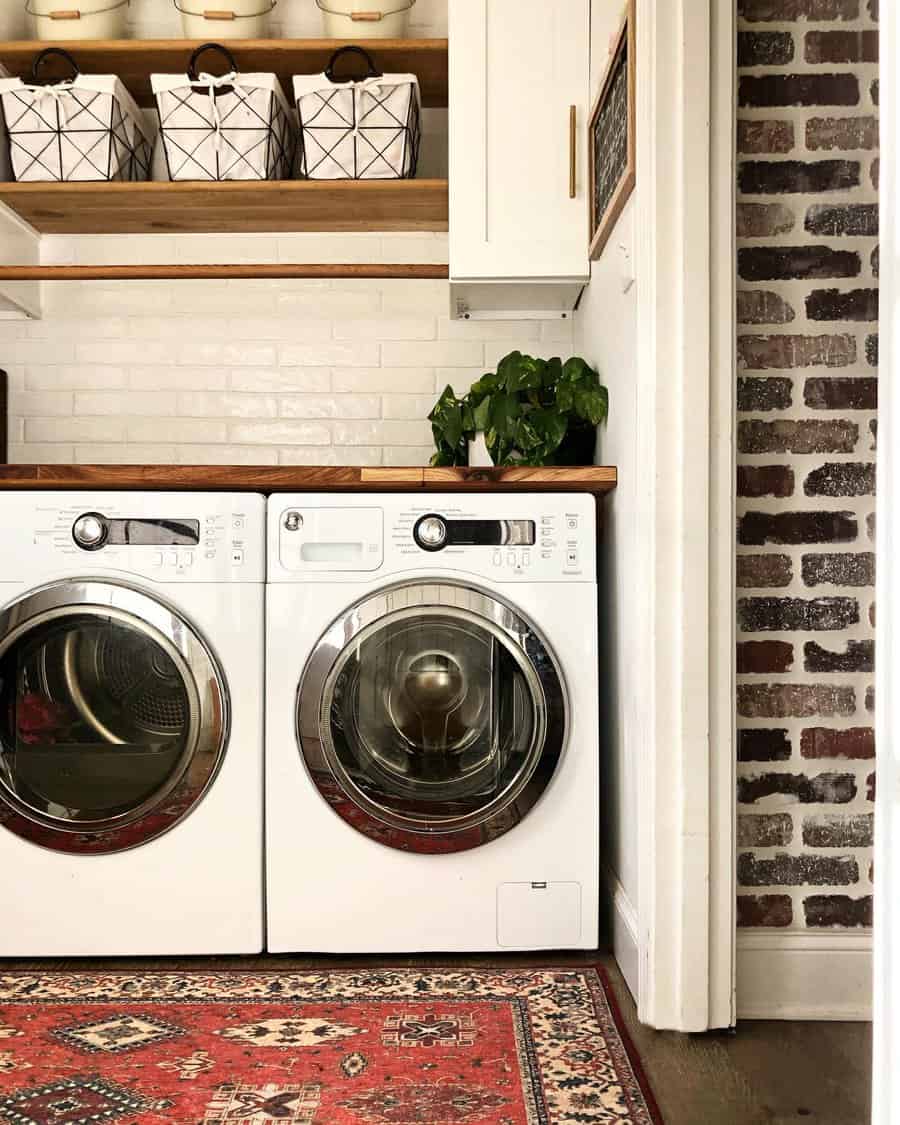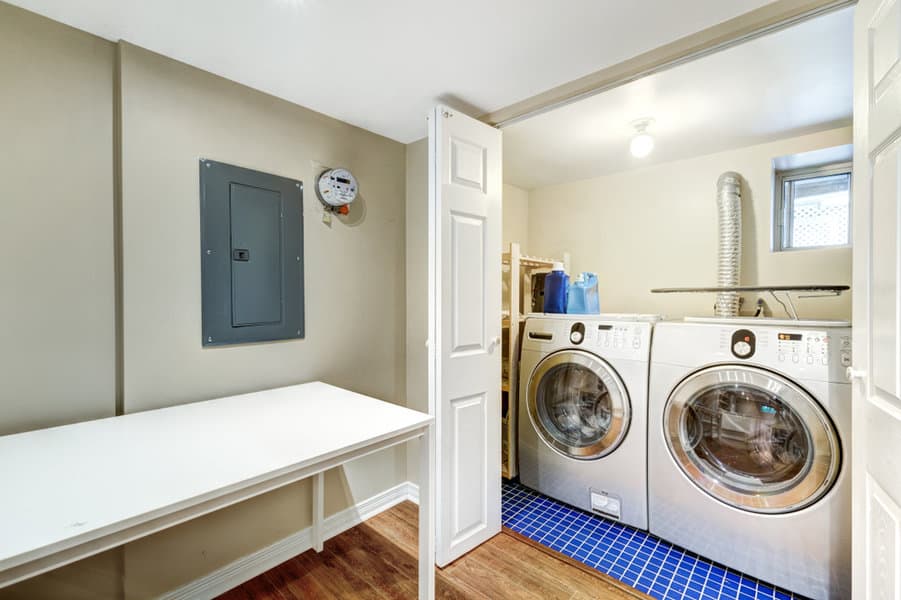 Other small laundry room ideas include using fold-out racks and ironing boards. That way, they can tuck away flat and fold out when needed. Try to add more light to your small laundry room and keep the color palette light. This will help the small space to feel larger.
9. Storage
Unlike having a laundry room upstairs, you can have plenty of storage space in your basement laundry station. Add more cabinets or shelving. Using a combination of both is good because you can use the shelves for regularly used items and decor and the cabinets for less often used items.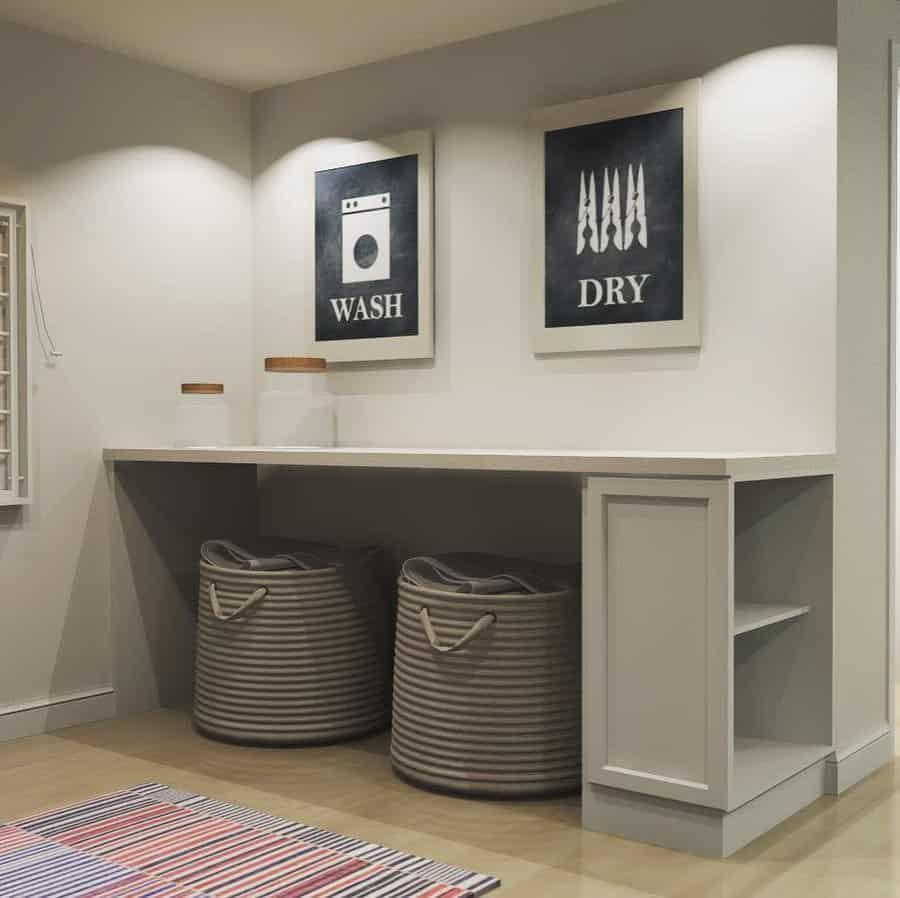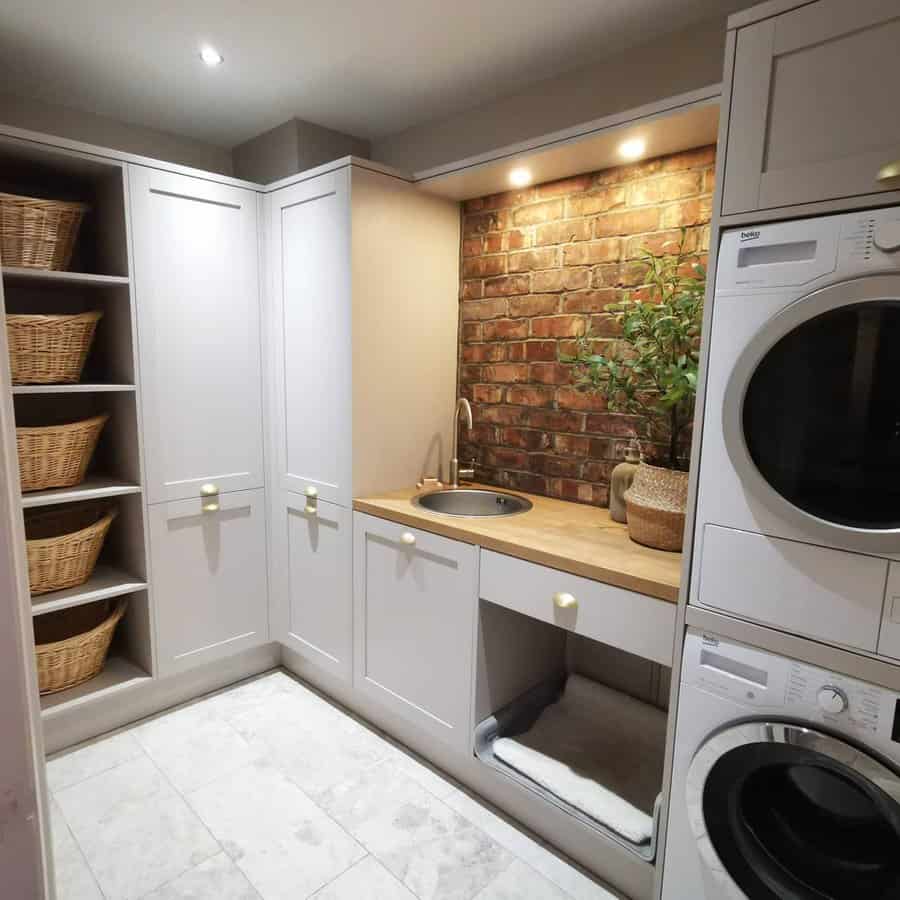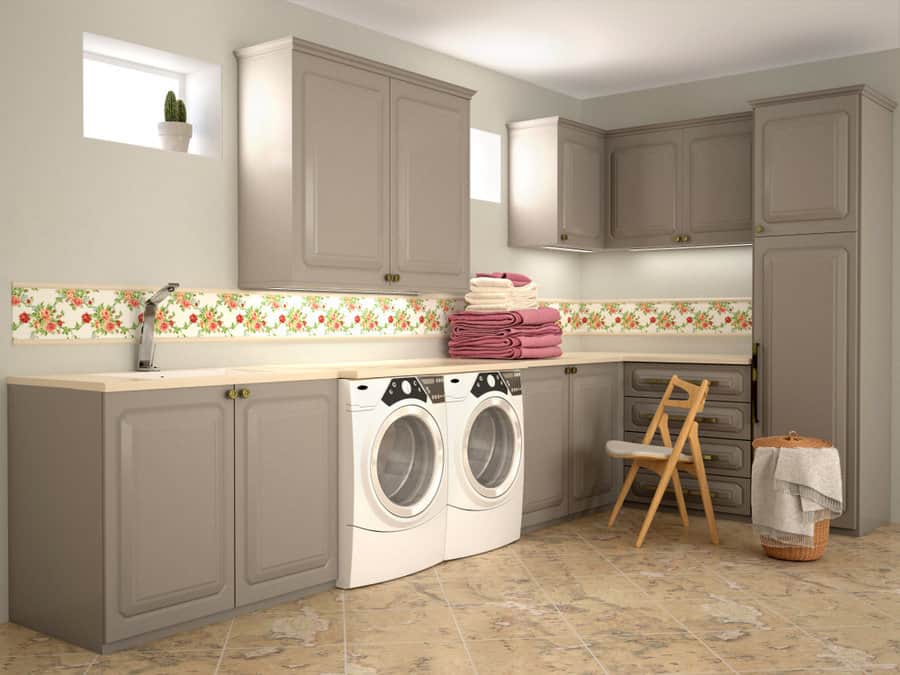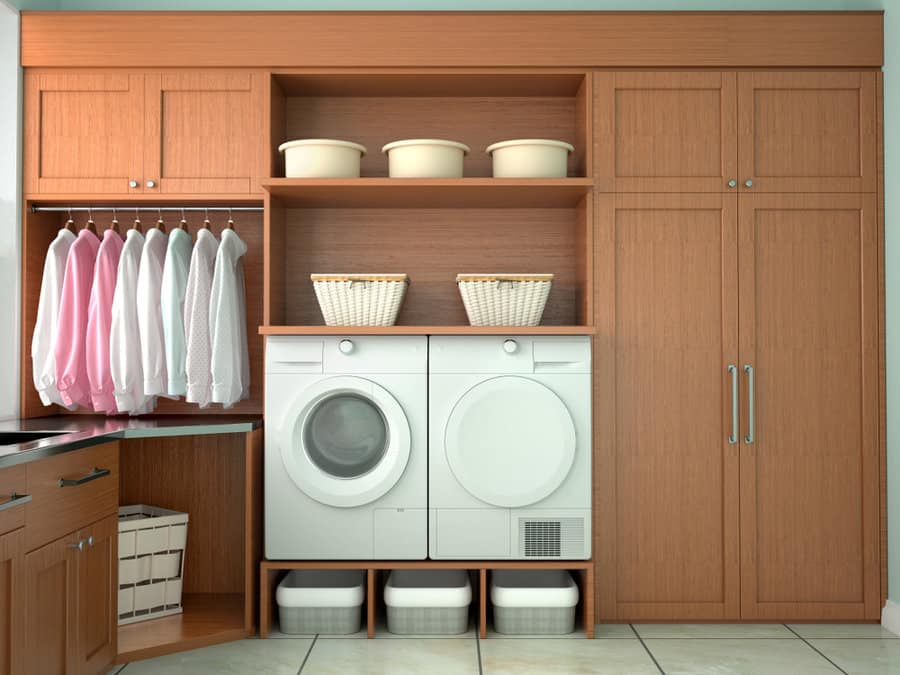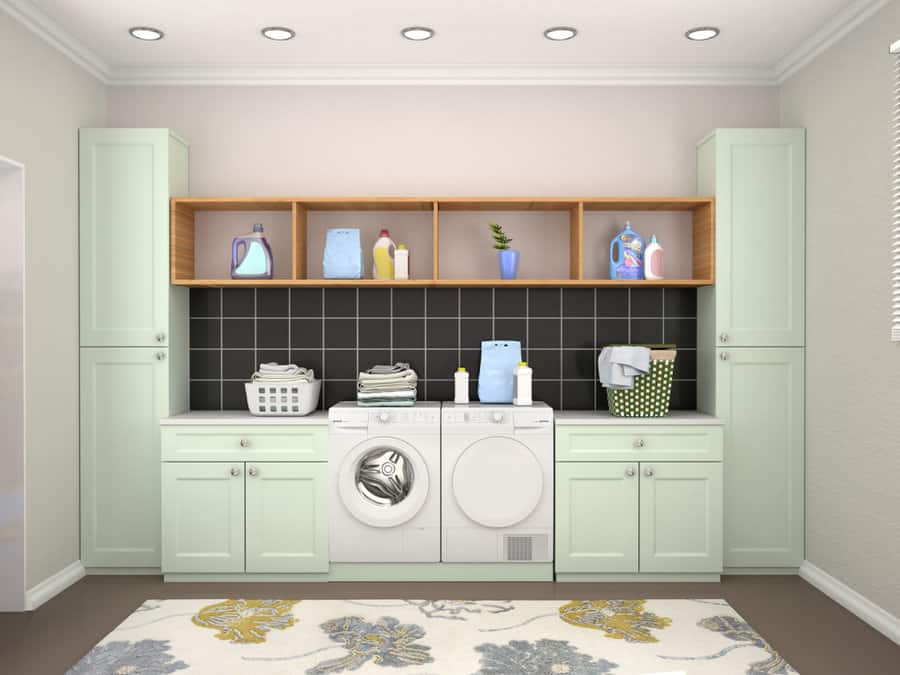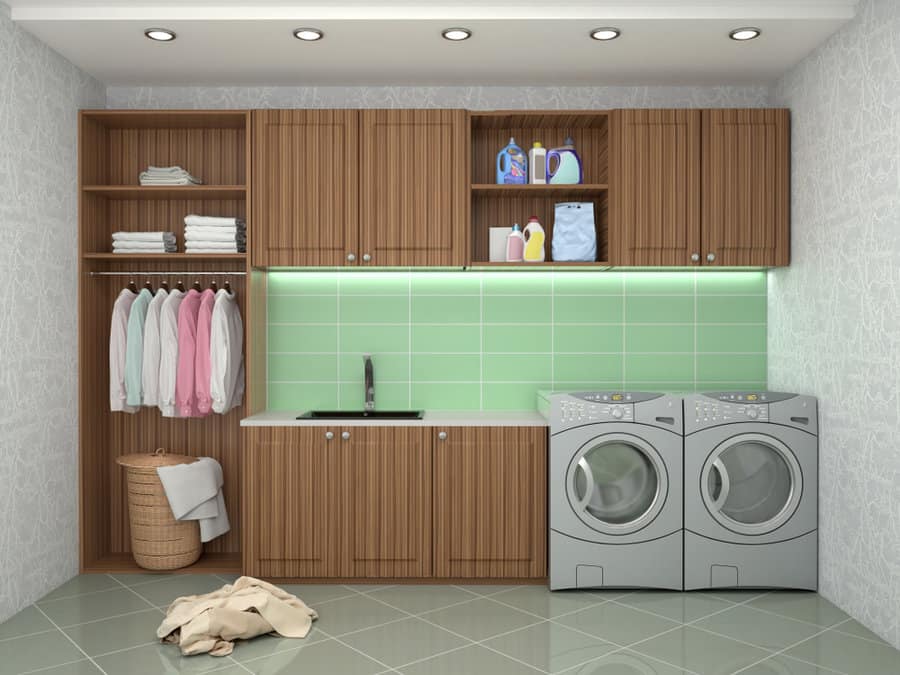 Organize your storage by using bins or baskets with labels. This gives your storage some uniformity to help it look more organized. Drawers are also good because they make getting to your cabinets' back easier. Install drawers of varying depths behind the cabinet doors.
Consider taking an idea from your kitchen with a tall, narrow and deep shelving unit. In the kitchen, it holds spices, bottles, and small containers. In your laundry room, it can hold laundry supplies, cleaning bottles, and anything else you might need to keep your home clean and tidy.
10. Unfinished
If you have a tight budget, you may only be able to set up an unfinished basement laundry room. There's nothing wrong with this if your laundry spot is functional. This works if you mainly use this lower space as a basement utility room and not as an additional living space in your home.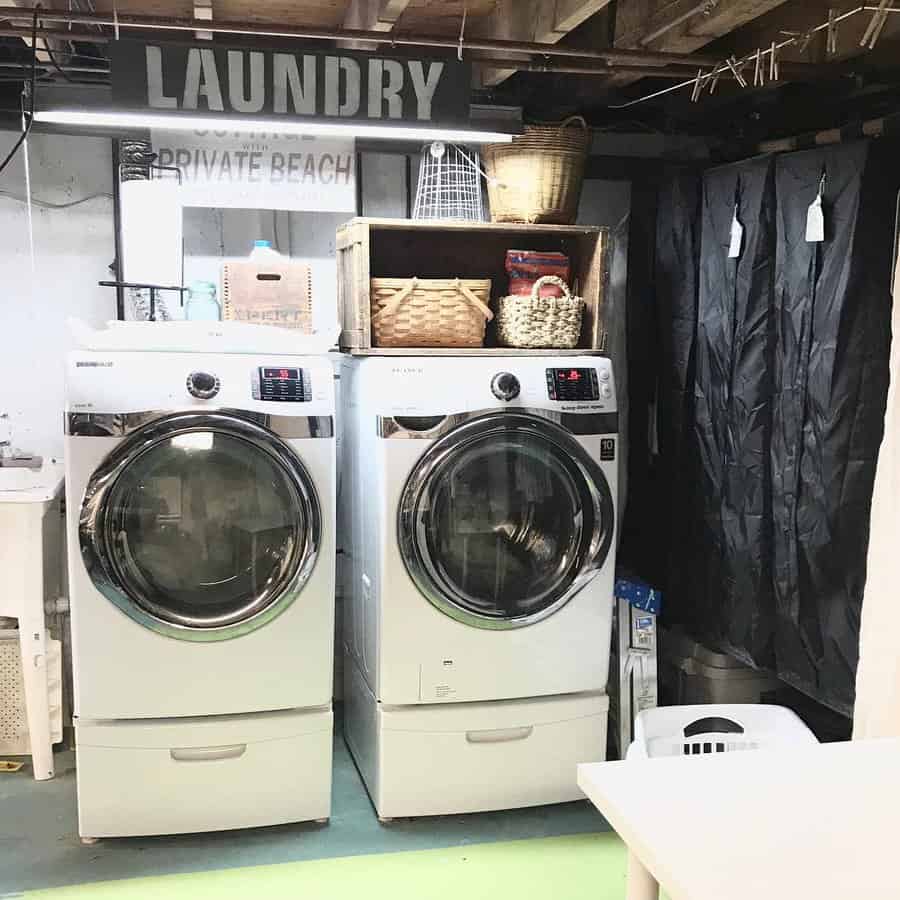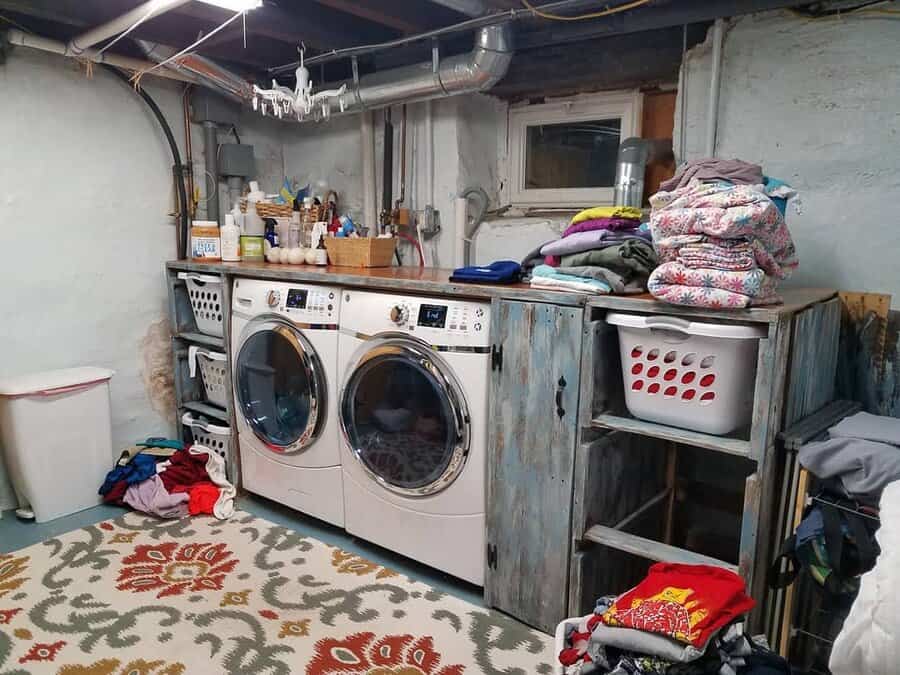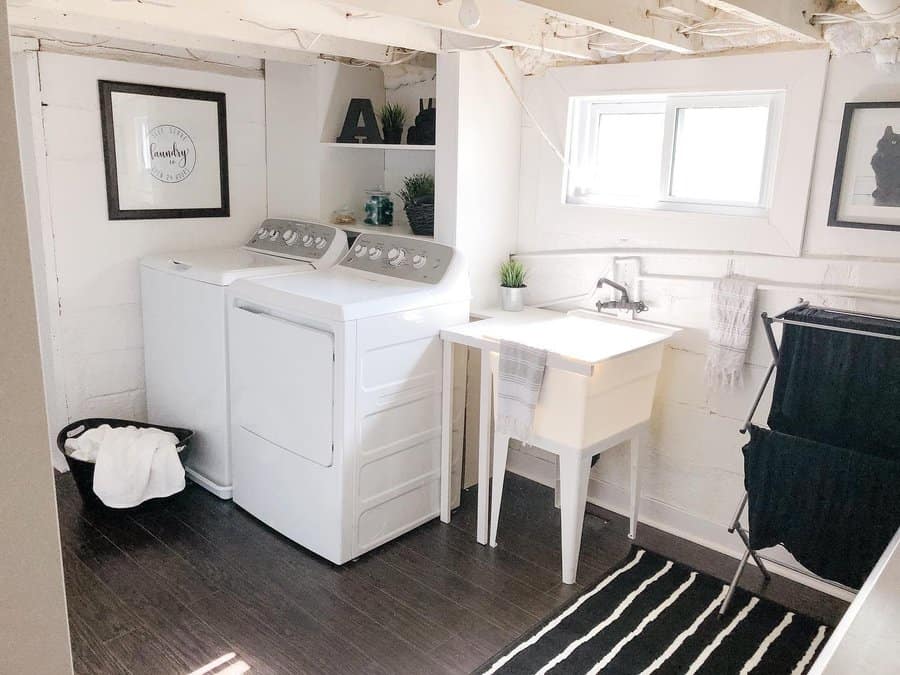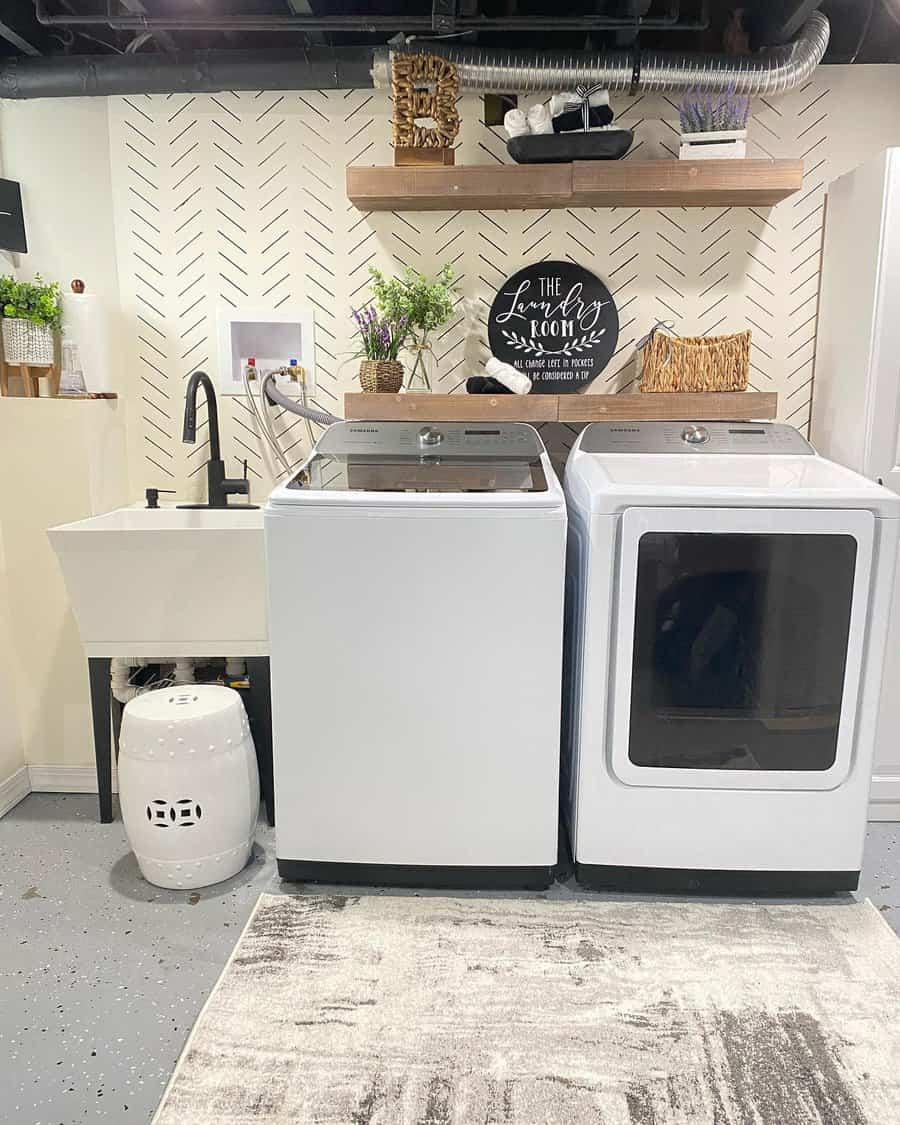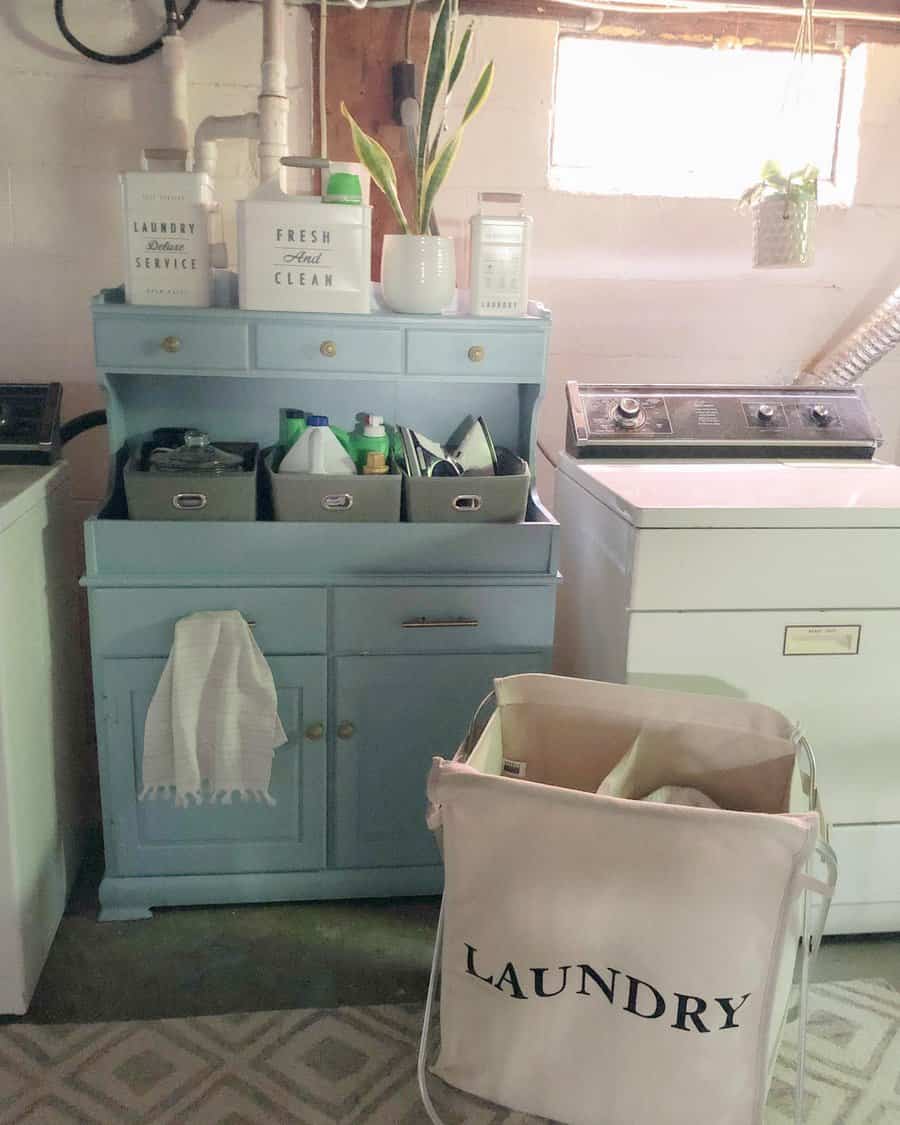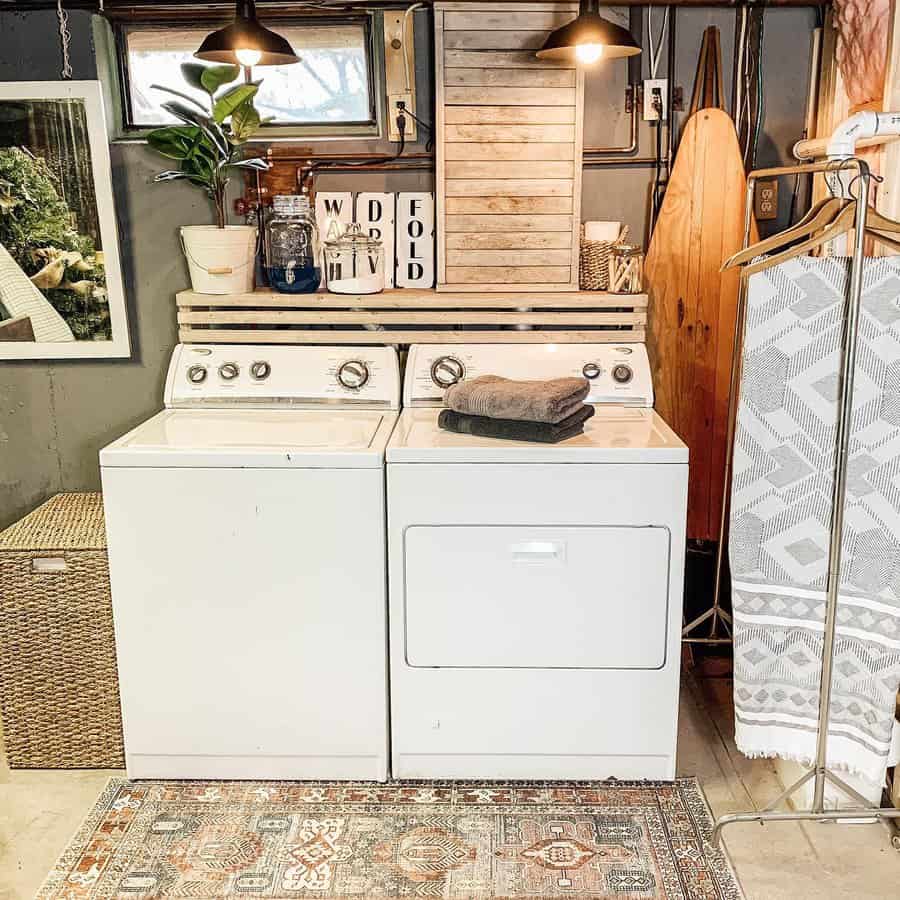 Install an open shelf over your washer and dryer for holding your laundry supplies. Add an exposed bulb light fixture for better light while doing your laundry activity.
11. Utility Sink
A utility sink is a must in your basement. Place it near your laundry area to turn it into the laundry sink. It should be large and deep, making it perfect for washing delicates or anything else that can't go in the washing machine.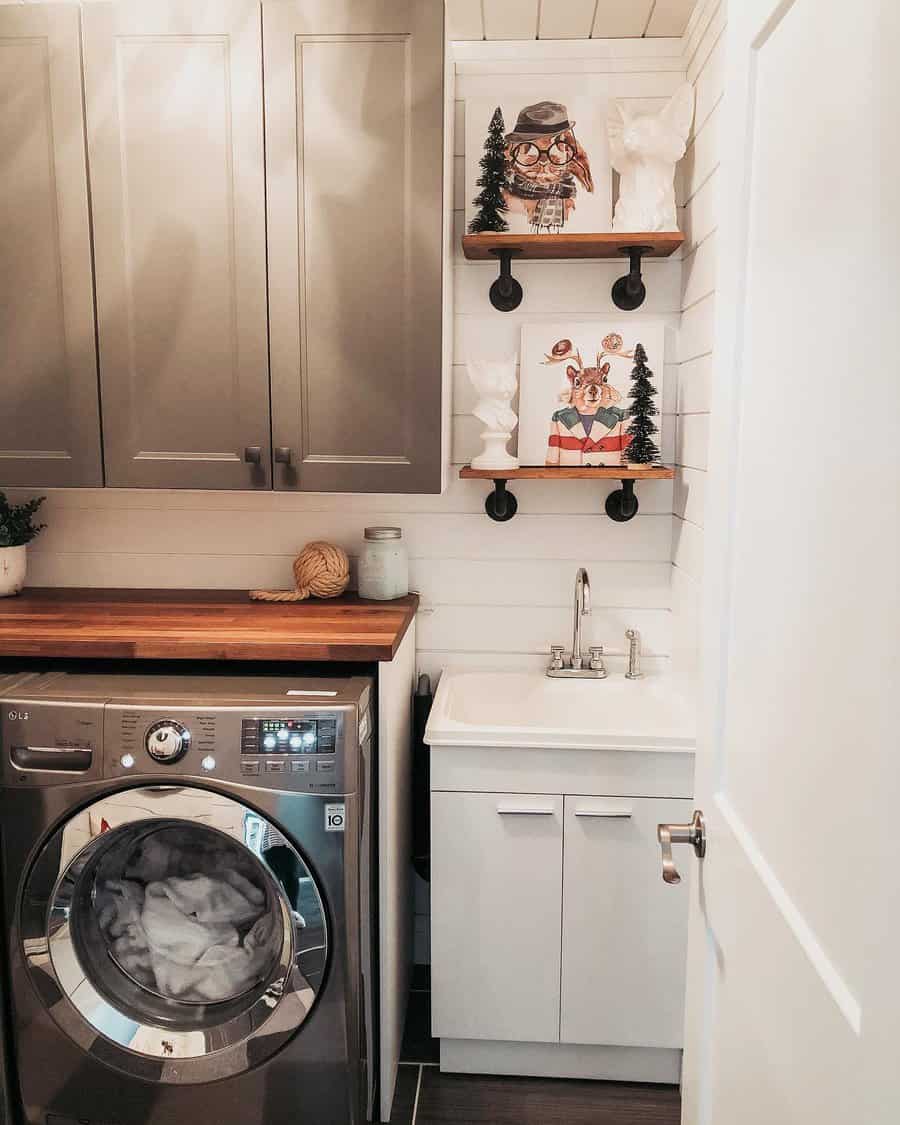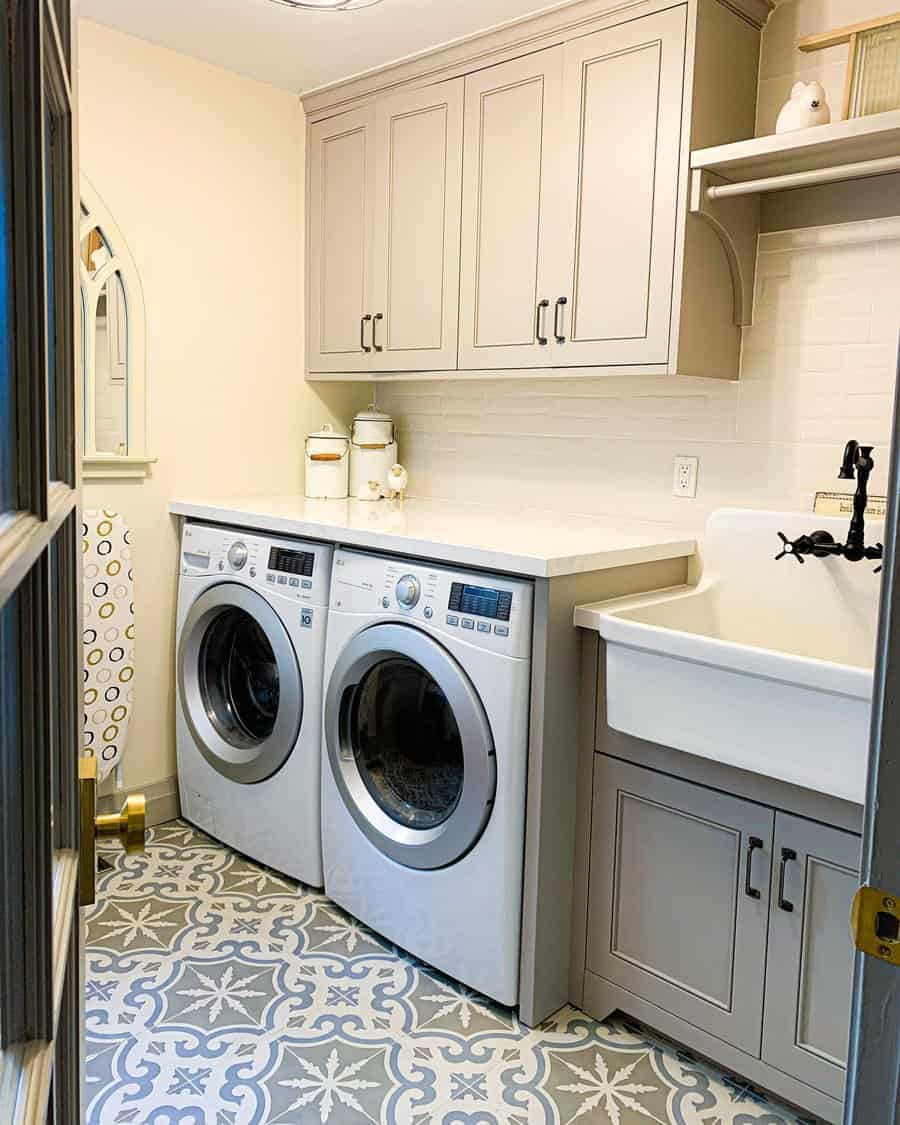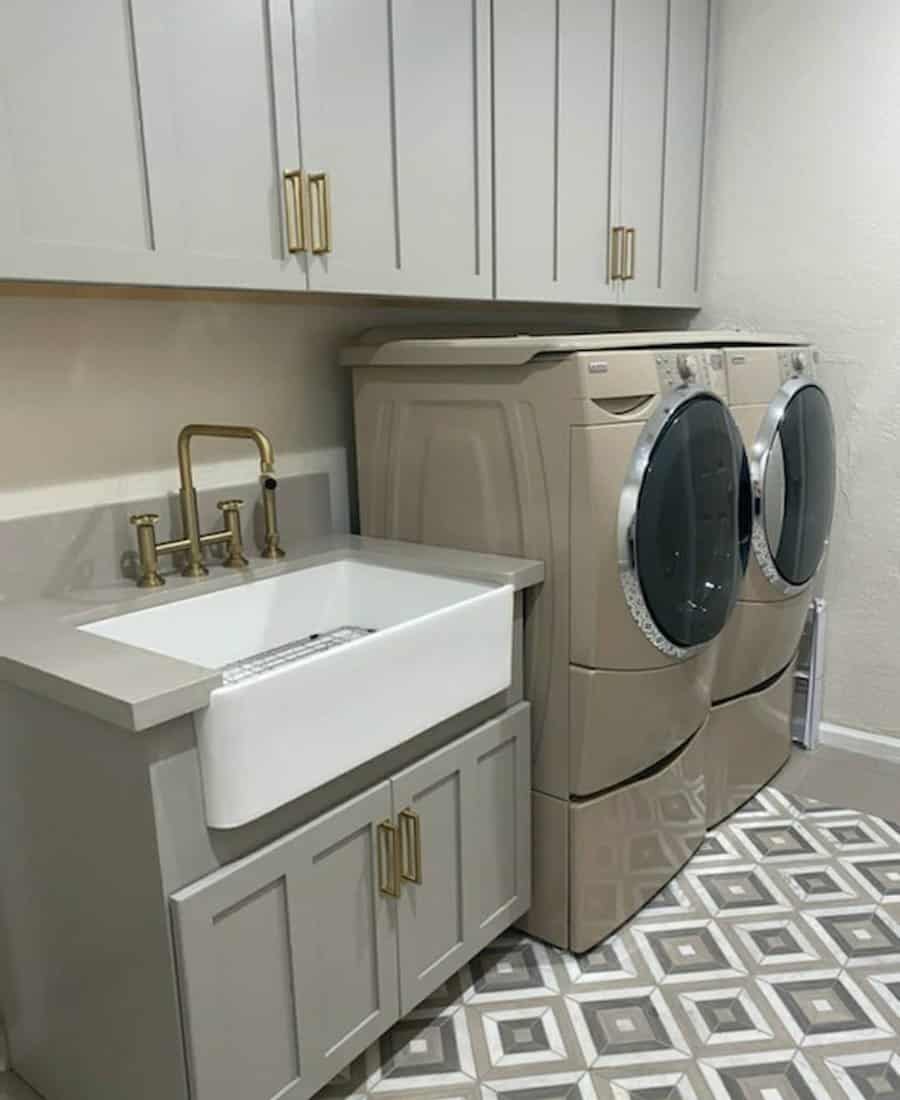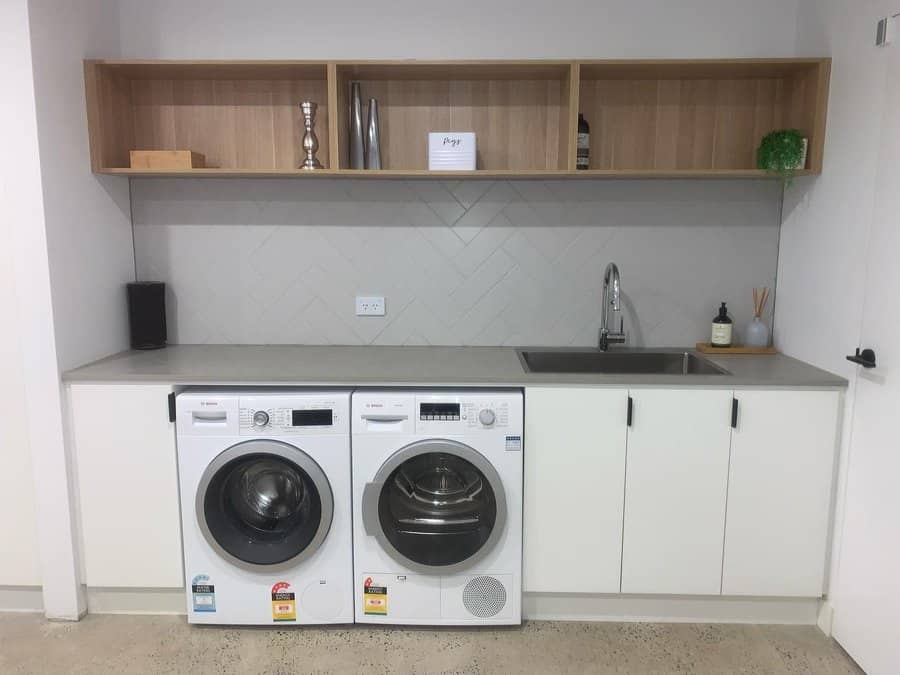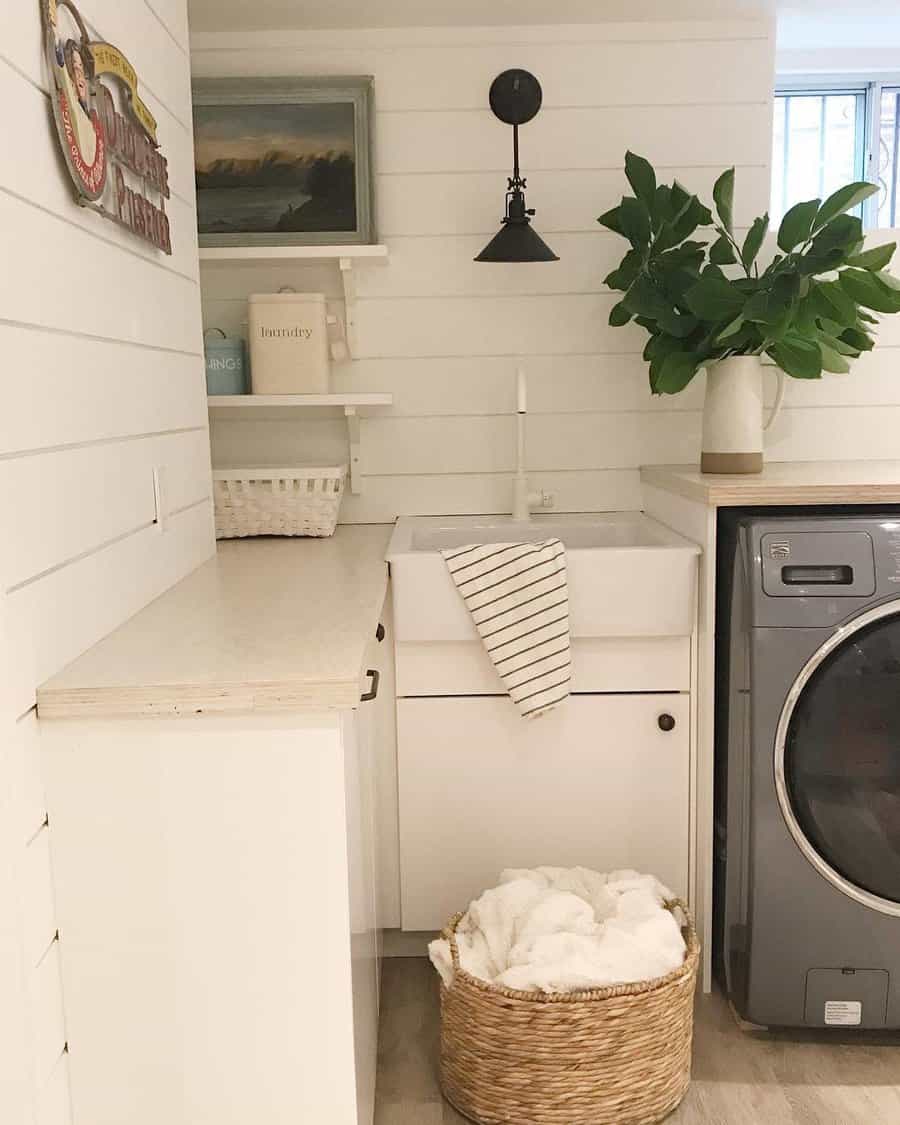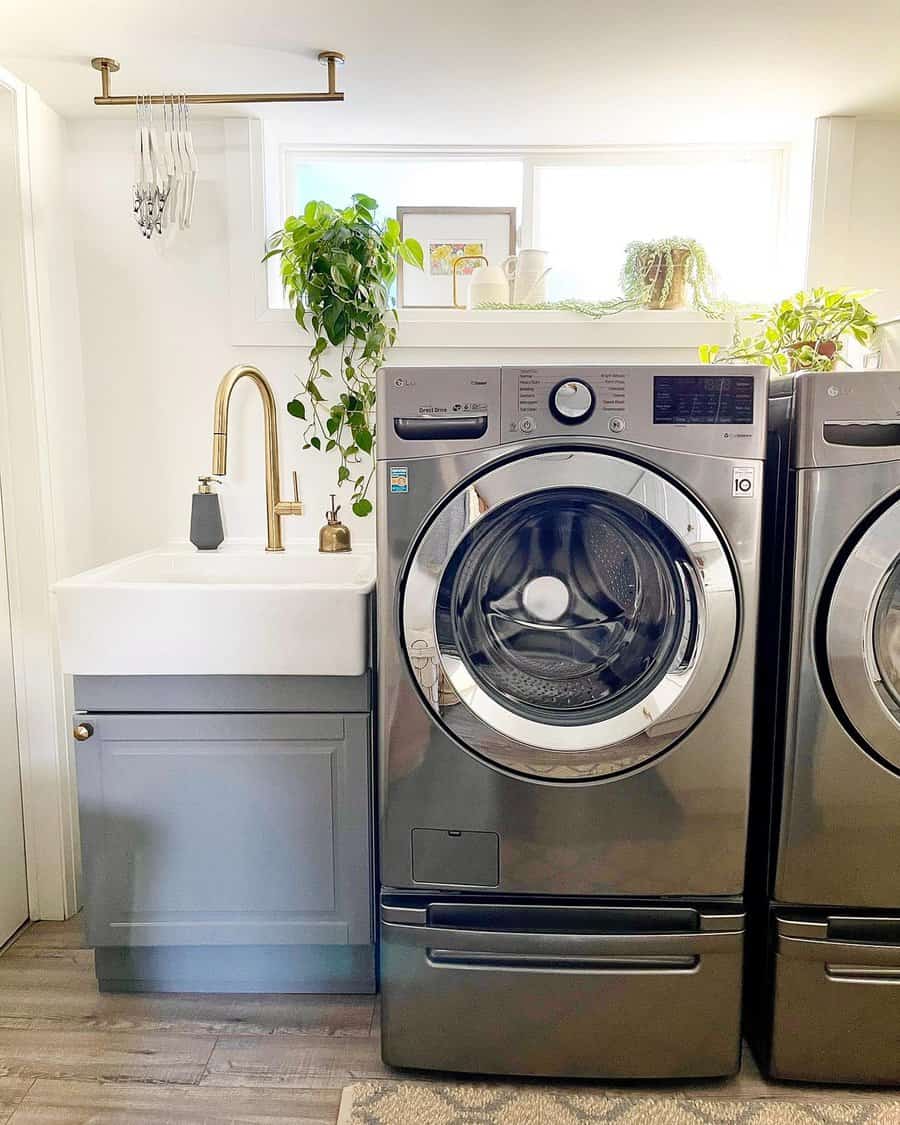 A farmhouse sink is a common choice between it has these qualities and looks lovely with the apron front.
The porcelain material also makes the sink durable against the abuse of cleaning. Another great option is to choose a stainless steel sink. The metal is durable but does look a bit more industrial.
12. White
Choosing an all-white aesthetic for your laundry room design is a good decision because it keeps your finished basement feeling light and bright. This makes your laundry space feel more welcoming.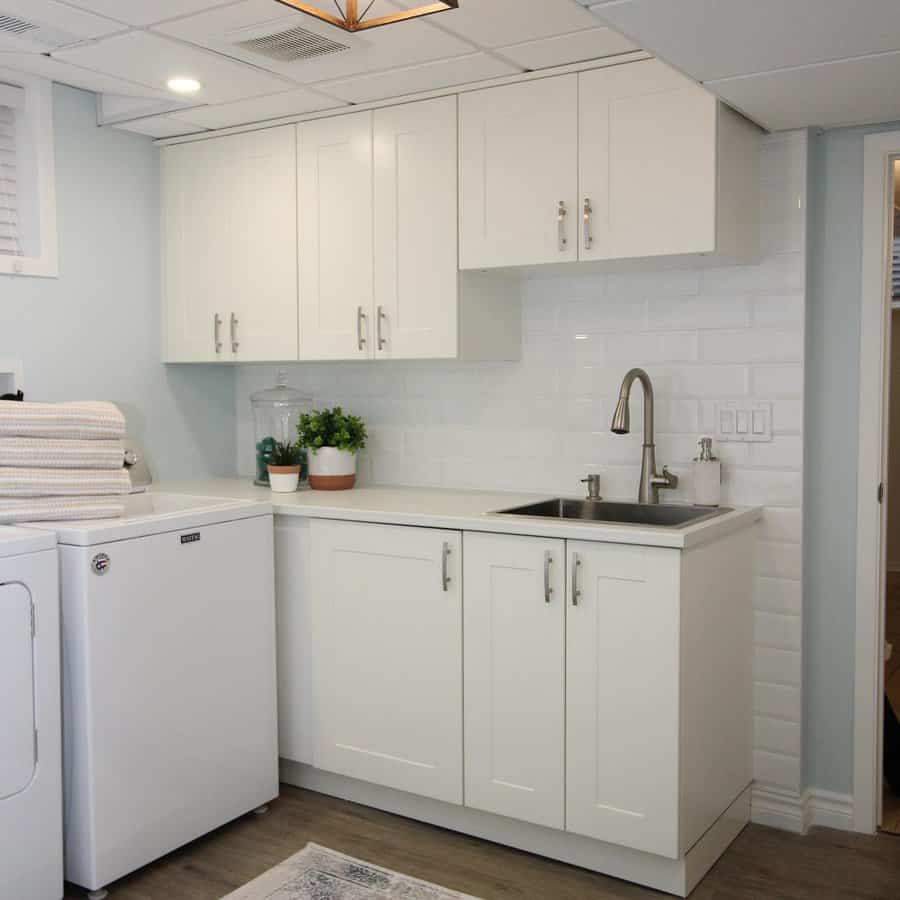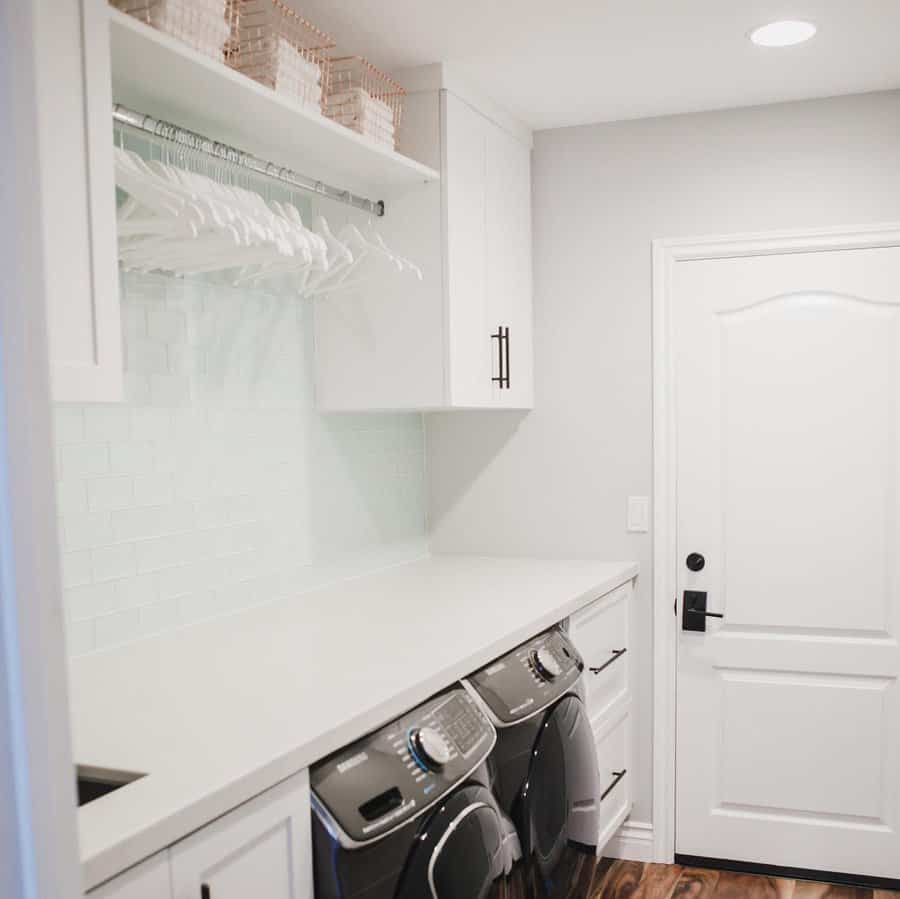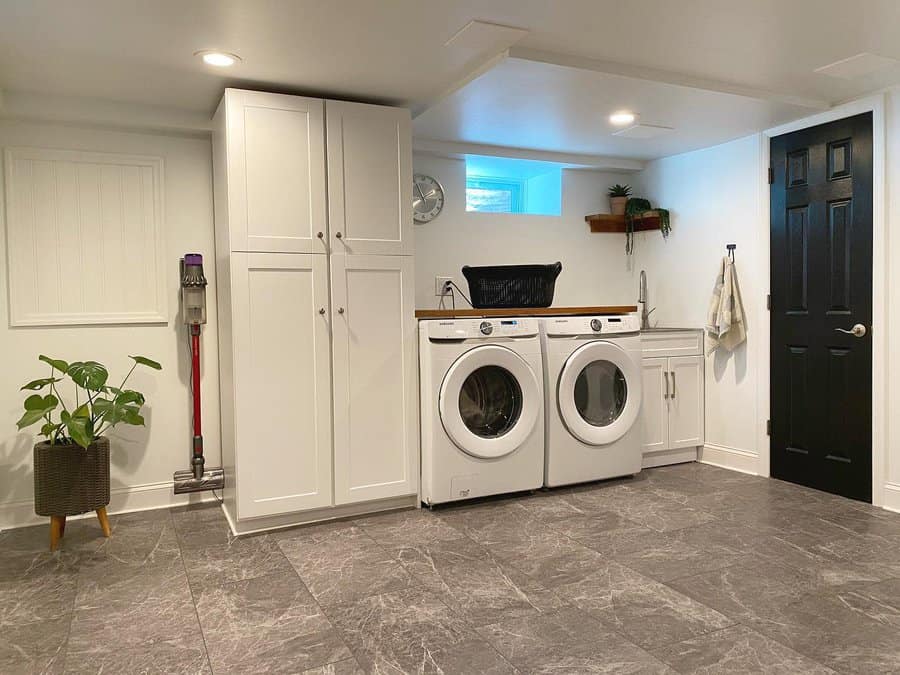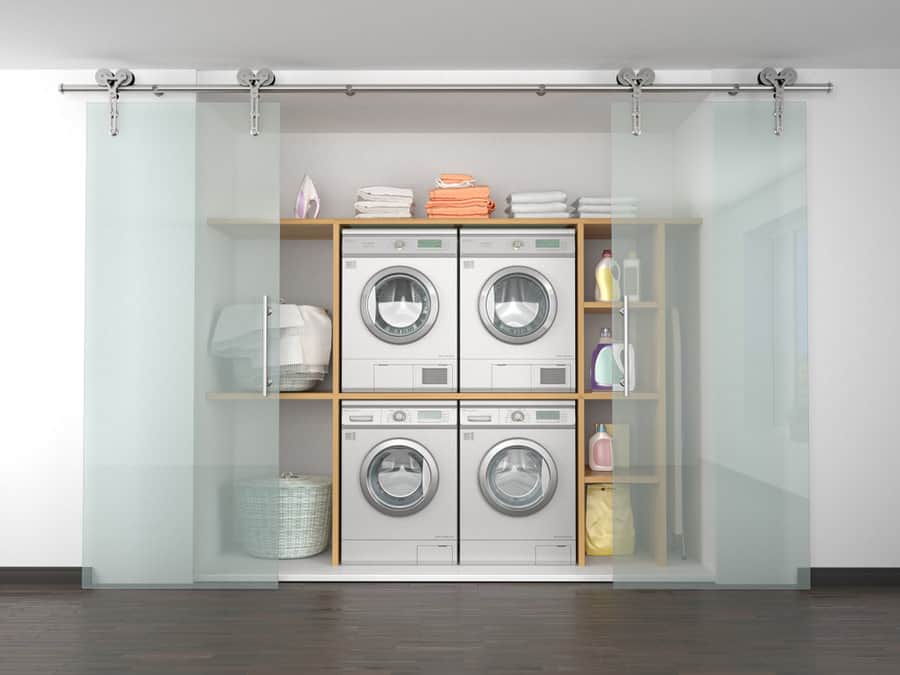 Accent the white color palette with natural materials. You can do this with wood flooring, wood countertops, exposed wood beams in the ceiling, or exposed brick or stone walls. Then add accents of metal.
Black hardware is a common choice because it grounds the white and helps to define the space. It's also a natural choice for the laundry area because it is a utility space, and durable black hardware.
Basement Laundry Room FAQs
How do I organize my basement laundry area?
Use an accordion drying rack that you can pull out when in use and tuck away when not needed. Add shelving for supplies will give you space for organizing everything. Hide hampers behind cabinet doors so that the mess is contained.
Can you put a washer and dryer in the basement?
Yes, you can! You just need to add the necessary electrical and plumbing lines. Make sure you follow any building codes that could apply to your basement or laundry room appliances. This could mean placing them a certain distance from other home features.
Is stacking the washer and dryer a good idea?
Whether or not stacking your washer and dryer is a good idea will depend on the size and shape of your laundry room. It also depends on your laundry needs and lifestyle. Vertical compact units are good if you typically have small loads and live in a small place. Side-by-side units are better when you have high laundry demands and enough space in your laundry room for larger units.