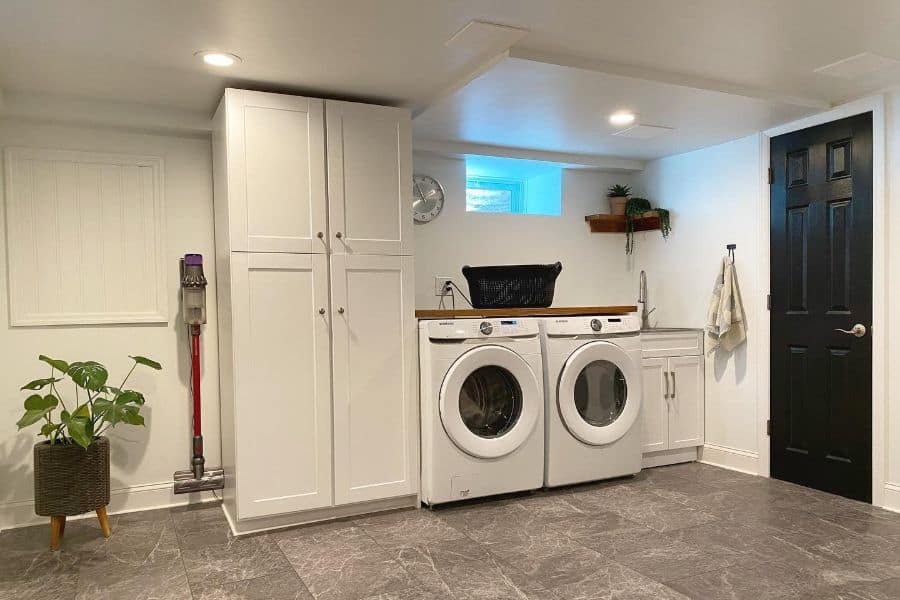 The Top 63 Basement Laundry Room Ideas
by — Andra DelMonico

Published on September 10, 2021

Updated on October 20, 2023
"Marriage is about the most expensive way for the average man to get laundry done." – Burt Reynolds
Where is the laundry room located in your home? If it's in the basement, then you have a prime opportunity. Say goodbye to that dark and damp basement and turn it into the laundry space of your dreams.
This means finally finishing your basement and turning your laundry room into a pleasant place to be. Add flooring, improve the lighting, finish the walls, increase the storage, and even decorate with some decor.
These basement laundry room ideas will help you get started with your basement makeover.
1. Streamlined Storage: Wall-mounted Shelving Units
Consider adding wall-mounted shelves to your basement laundry room for a sleek and efficient storage solution. These shelves not only optimize vertical space but also lend a modern aesthetic to your laundry area. Install them above your washer and dryer to keep laundry essentials like detergent, fabric softener, and stain removers within easy reach.
Furthermore, use these shelves as an opportunity to showcase decorative elements like greenery, woven baskets, or stylish storage containers, infusing personality into the room. By keeping your laundry supplies organized and accessible on these shelves, you'll streamline your laundry routine, making it both efficient and visually appealing. To achieve this look, choose shelves that complement your overall design theme and paint them in a color that harmonizes with the room's palette.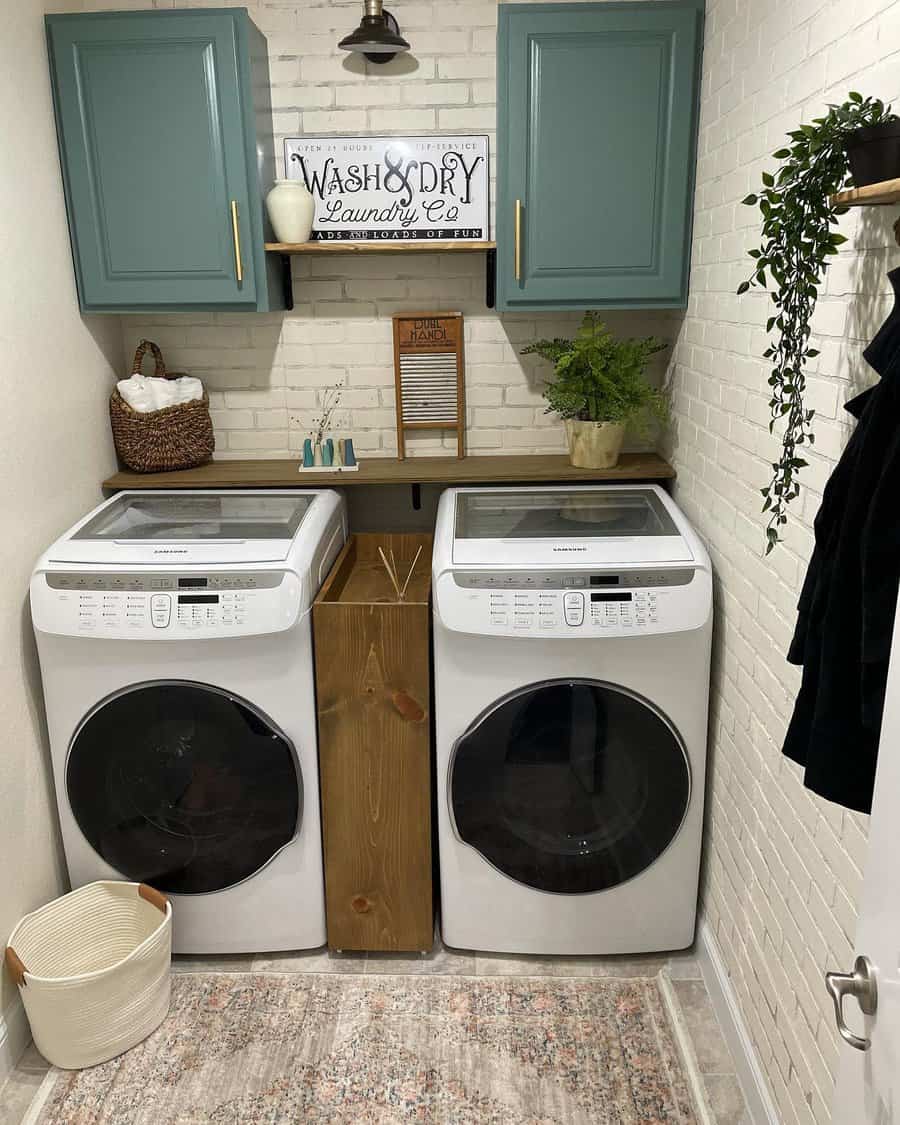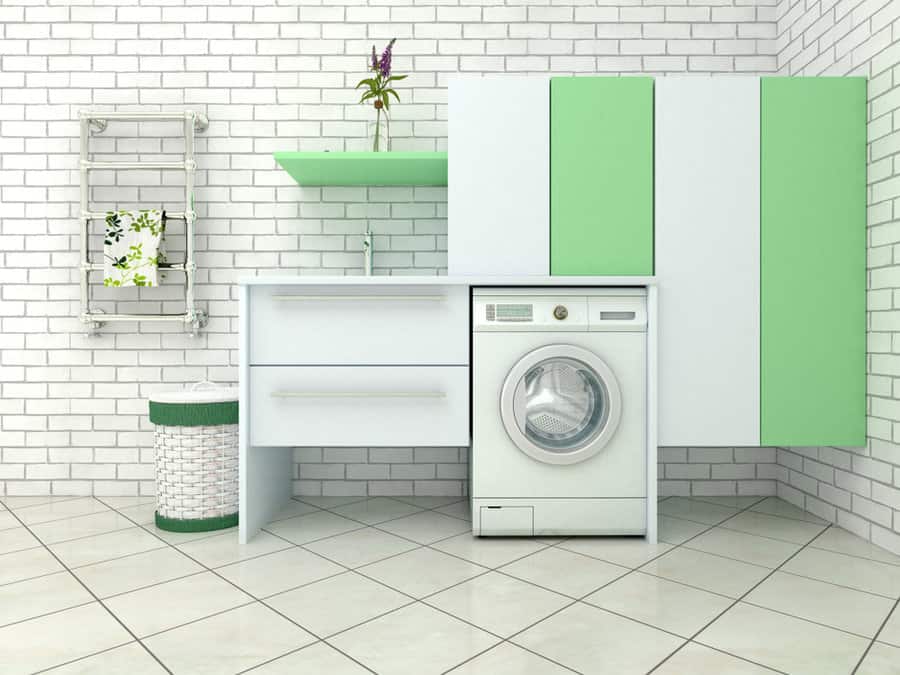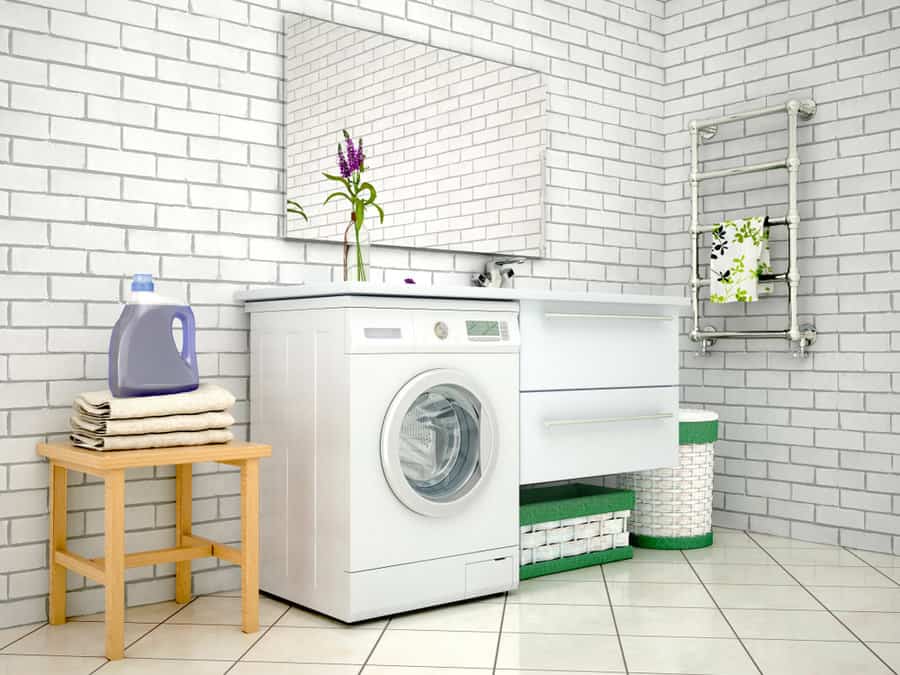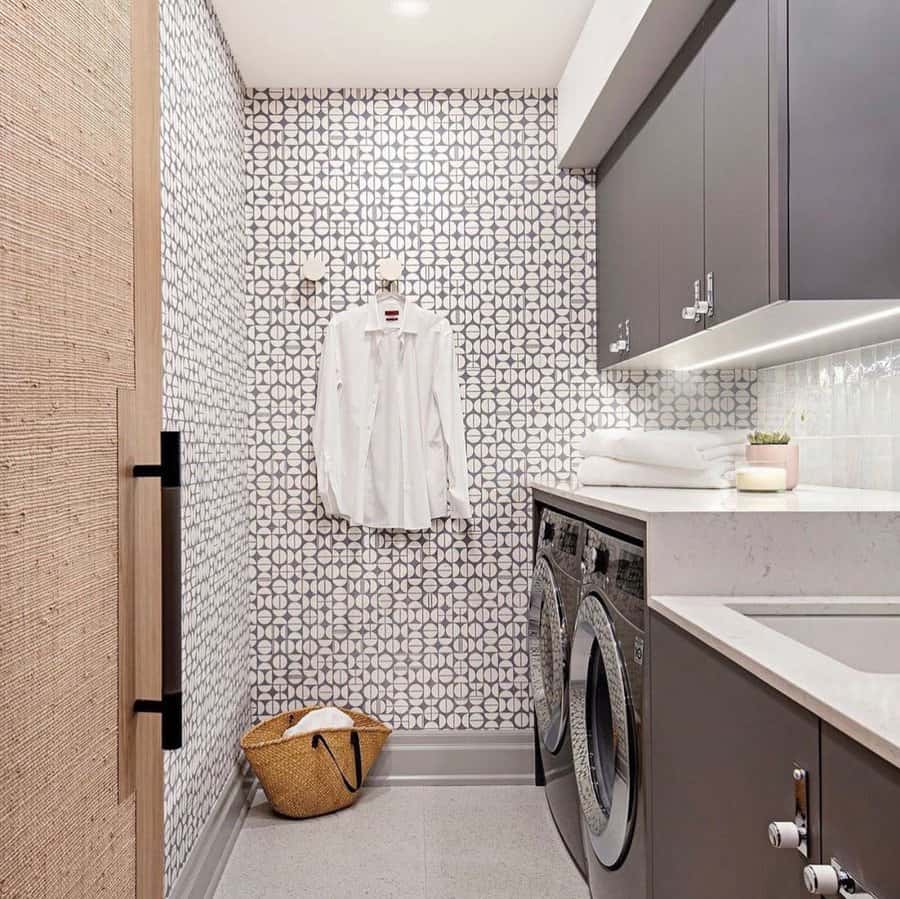 2. Functional Addition: Utility Sink
Introducing a utility sink into your basement laundry room is a must for both practicality and style. Picture the convenience of having a dedicated sink for tasks like pre-soaking clothes, handwashing delicate items, or cleaning muddy shoes right where you need it.
To enhance your laundry room's overall aesthetic, choose a sink that fits your design theme. Opt for a sleek and modern design to complement contemporary decor, or select a farmhouse-style sink for a touch of rustic charm. Pair it with a stylish faucet in a coordinating finish to complete the look. By adding a utility sink, you not only simplify your laundry routine but also elevate the room's sophistication and functionality. To achieve this, ensure proper plumbing and installation, and consider storage options like cabinets or shelves to keep laundry supplies organized nearby.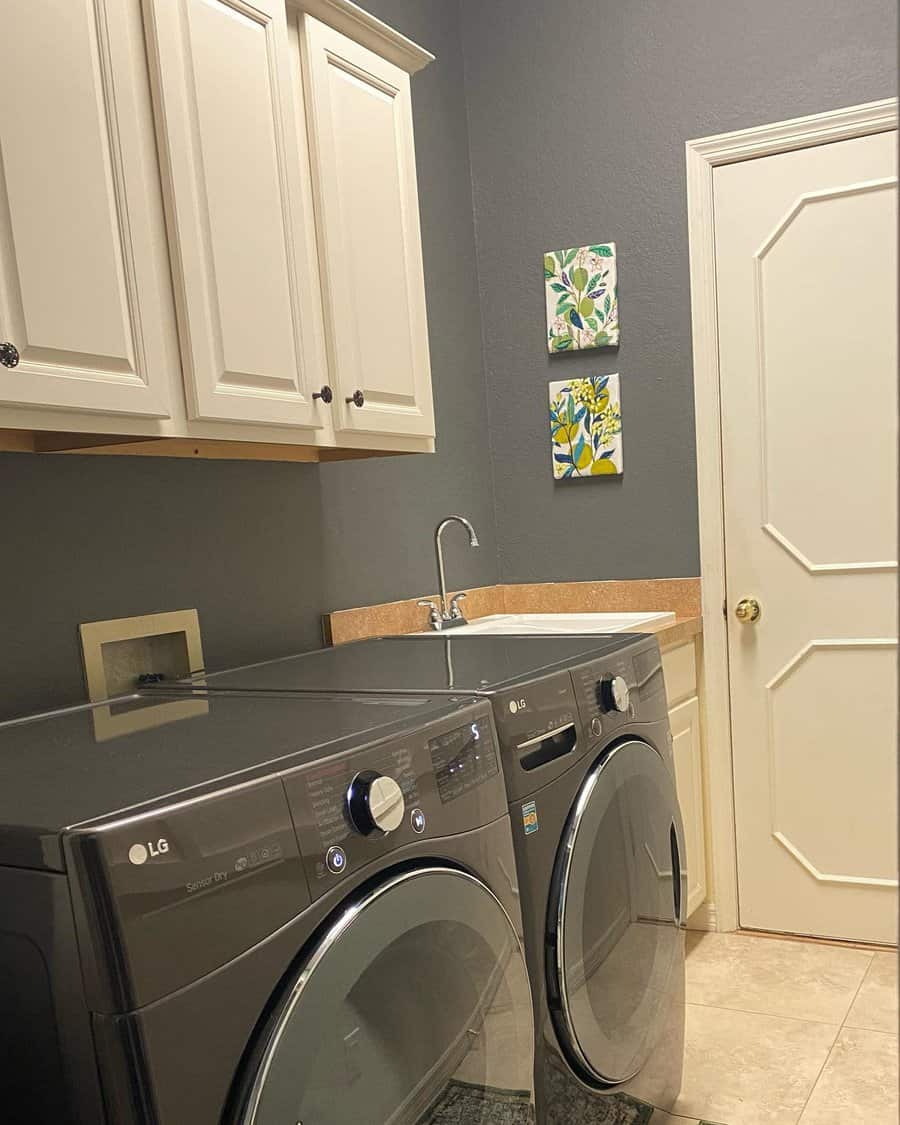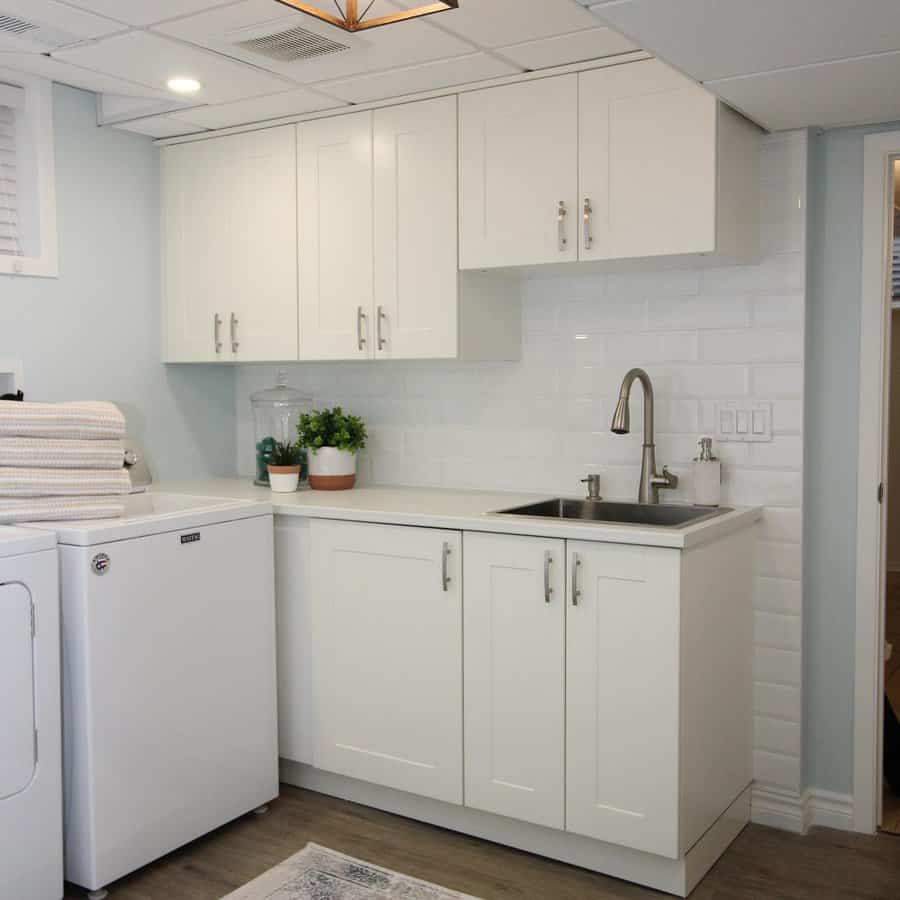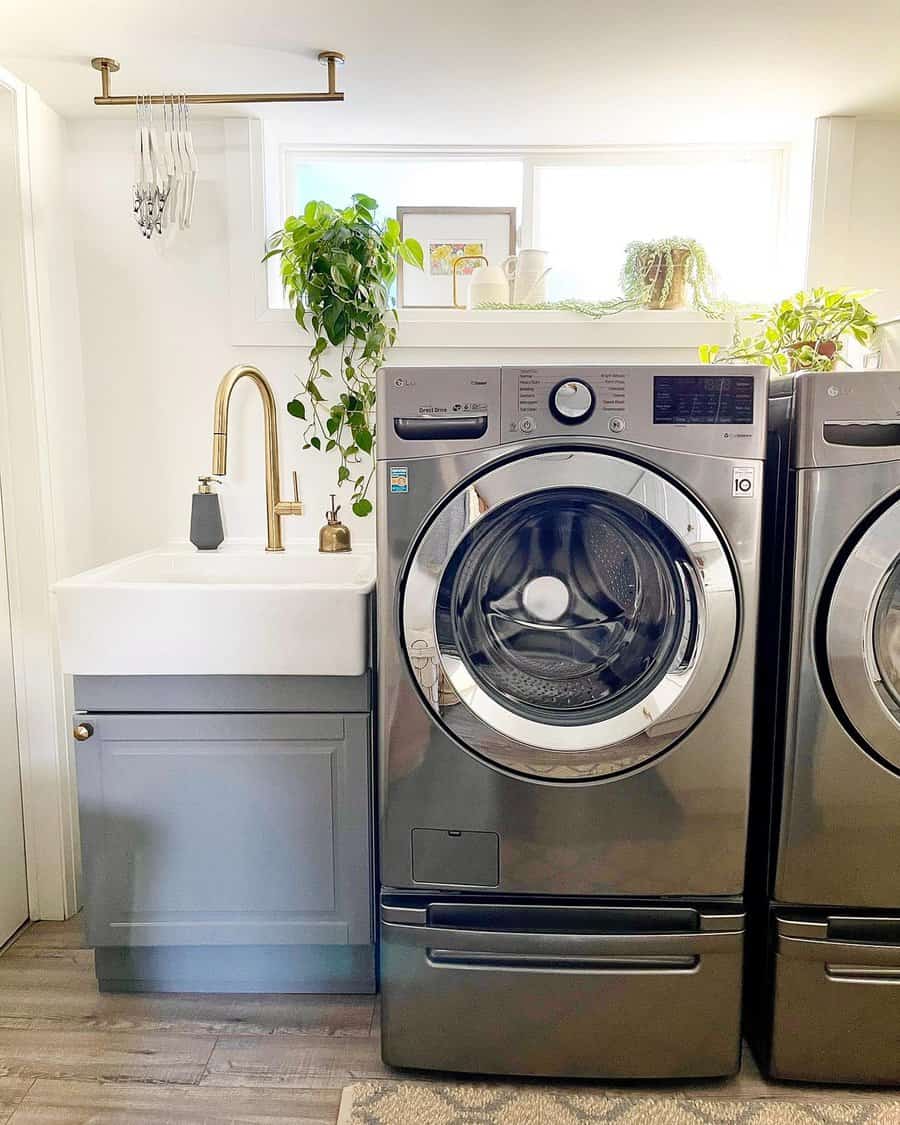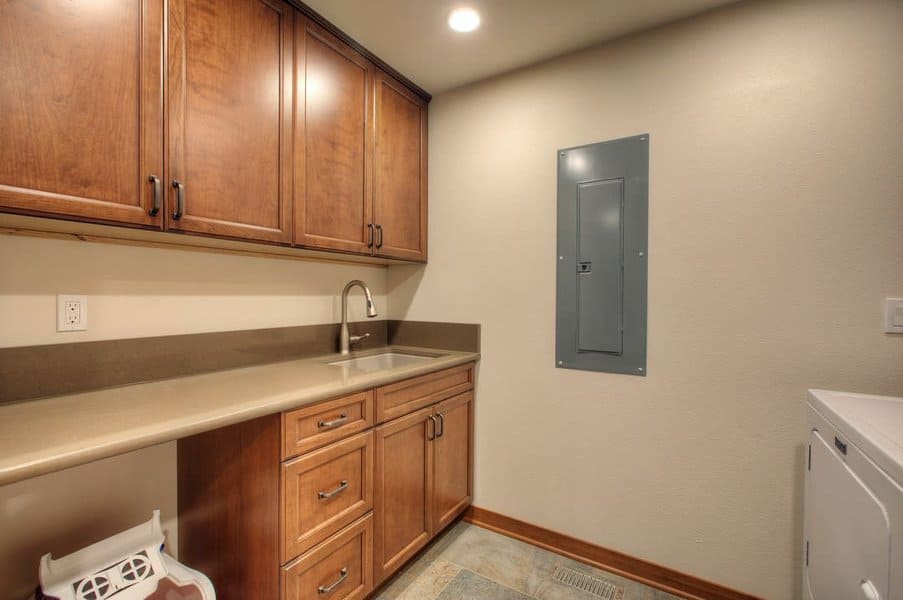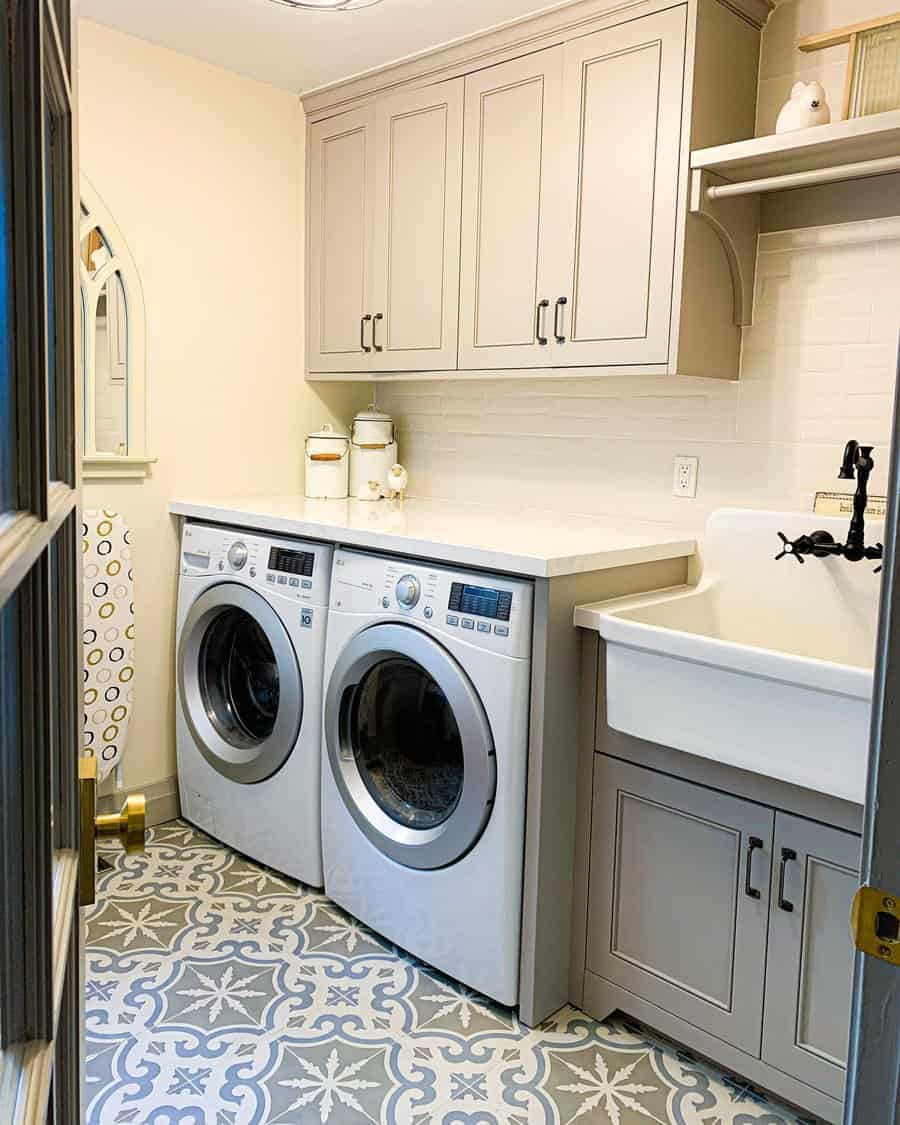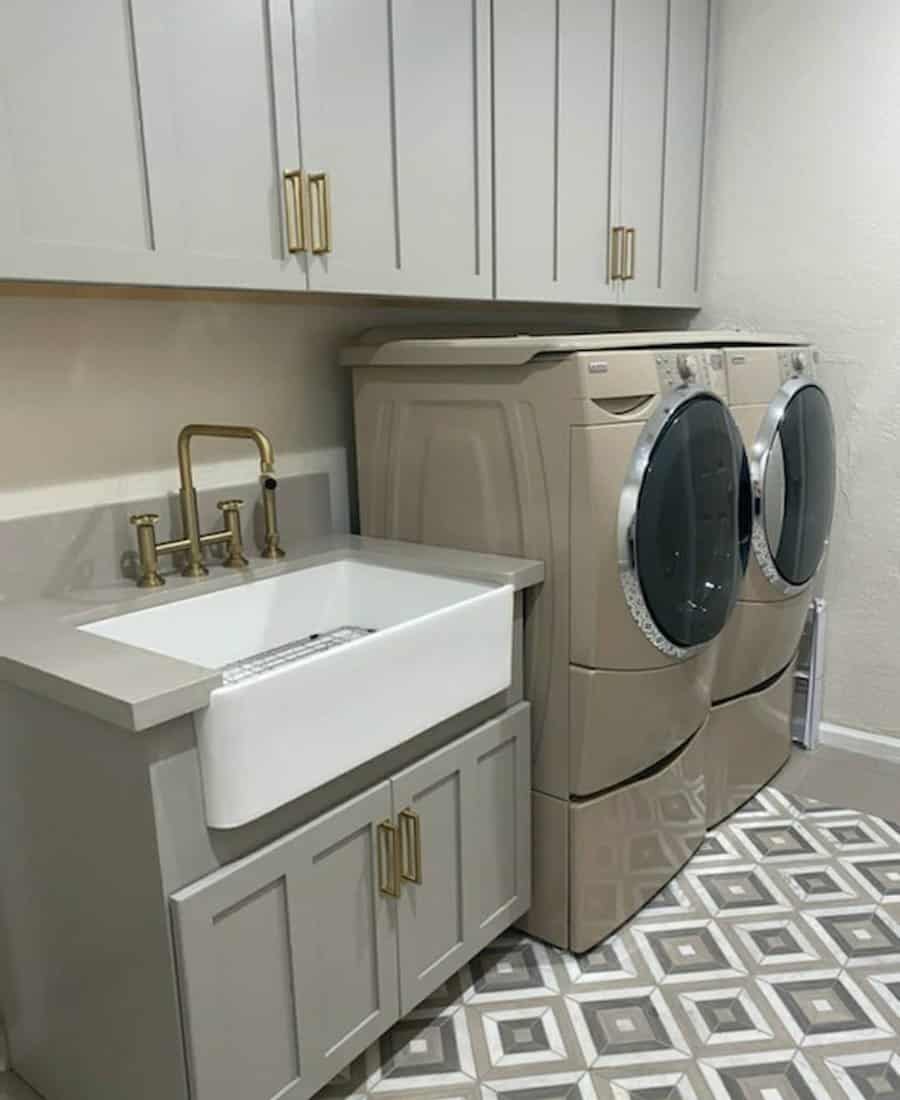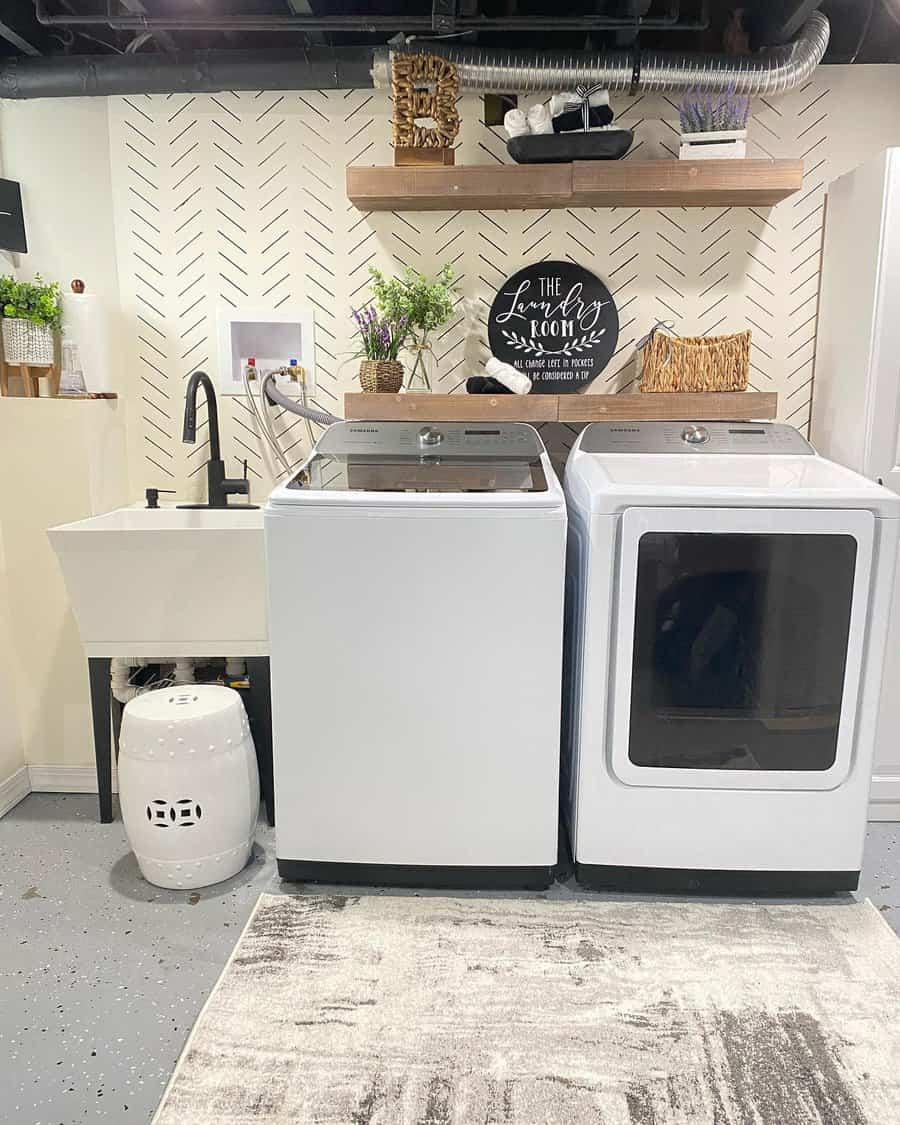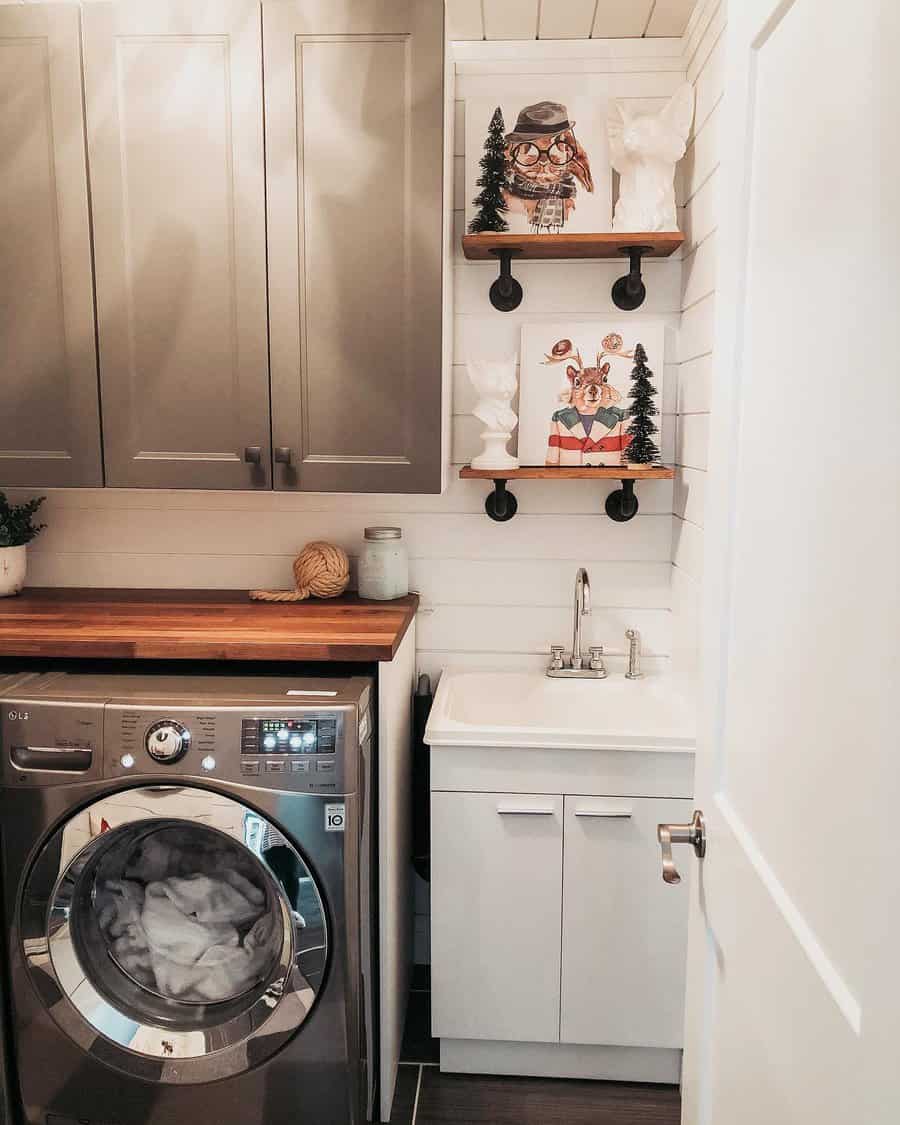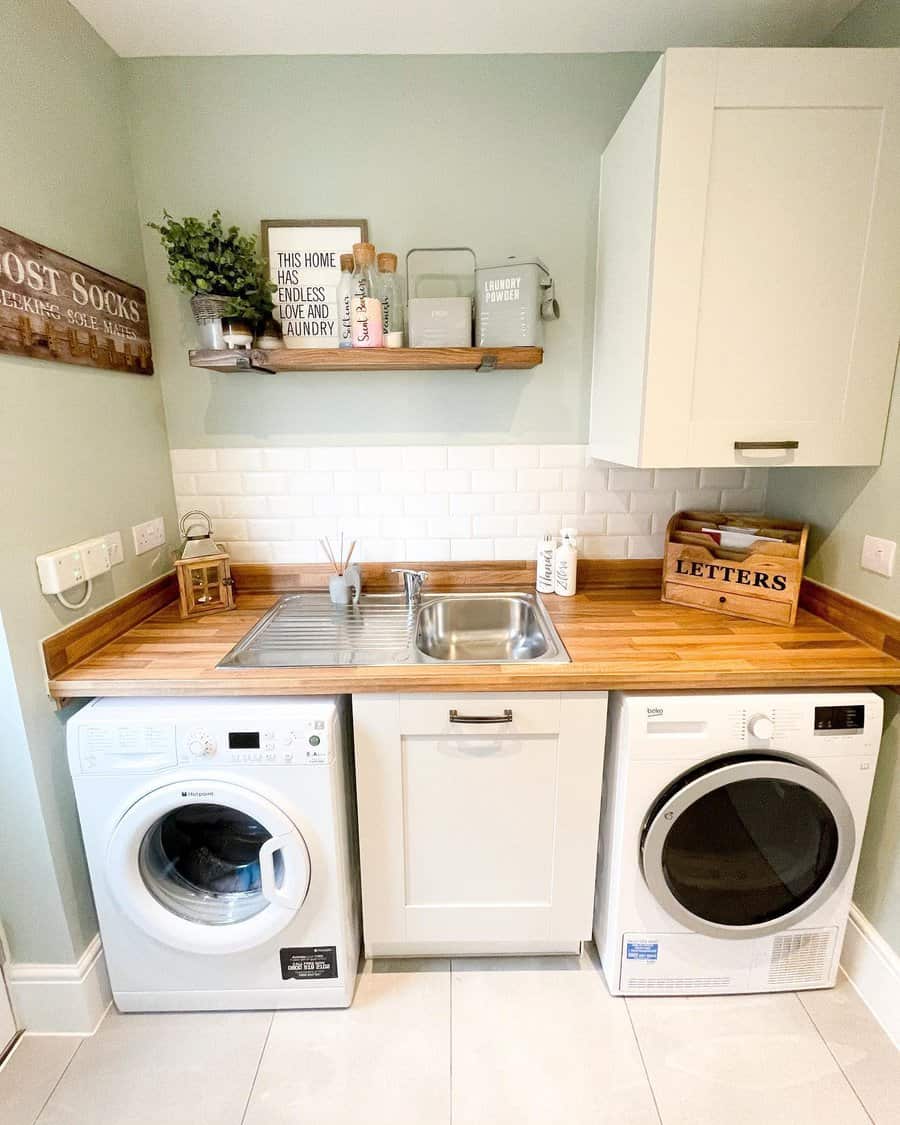 3. Space-Saving Solution: Hanging Rods
Optimize your basement laundry room's space with the addition of hanging rods. Install sturdy tension rods on the walls to create ample space for hanging clothes, keeping them wrinkle-free and well-organized. This clever use of vertical space allows you to maximize the room's functionality.
Enhance the utility of hanging rods by adding hooks or hangers for additional storage solutions. Vary the heights of the rods to accommodate different garment lengths, from shirts and dresses to pants and skirts. With this thoughtful setup, you'll have a dedicated space for air-drying delicate items or displaying freshly ironed clothes.
Not only does this arrangement maintain a tidy laundry room, but it also elevates its functionality and convenience, making your daily laundry routine smoother. To achieve this look, ensure secure installation of the rods and consider complementary storage options, such as shelves or cabinets, to keep laundry essentials close at hand.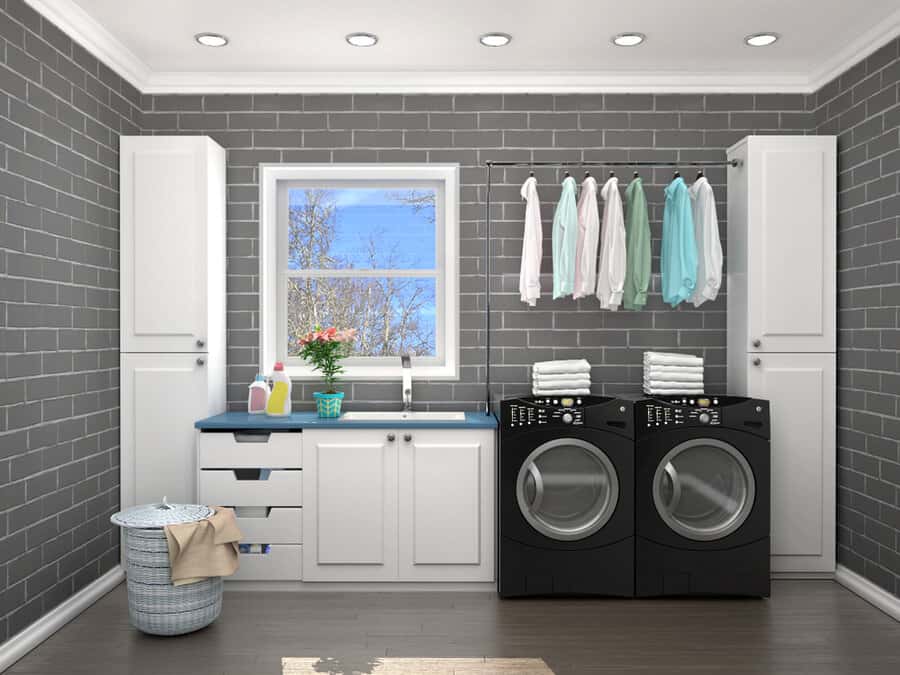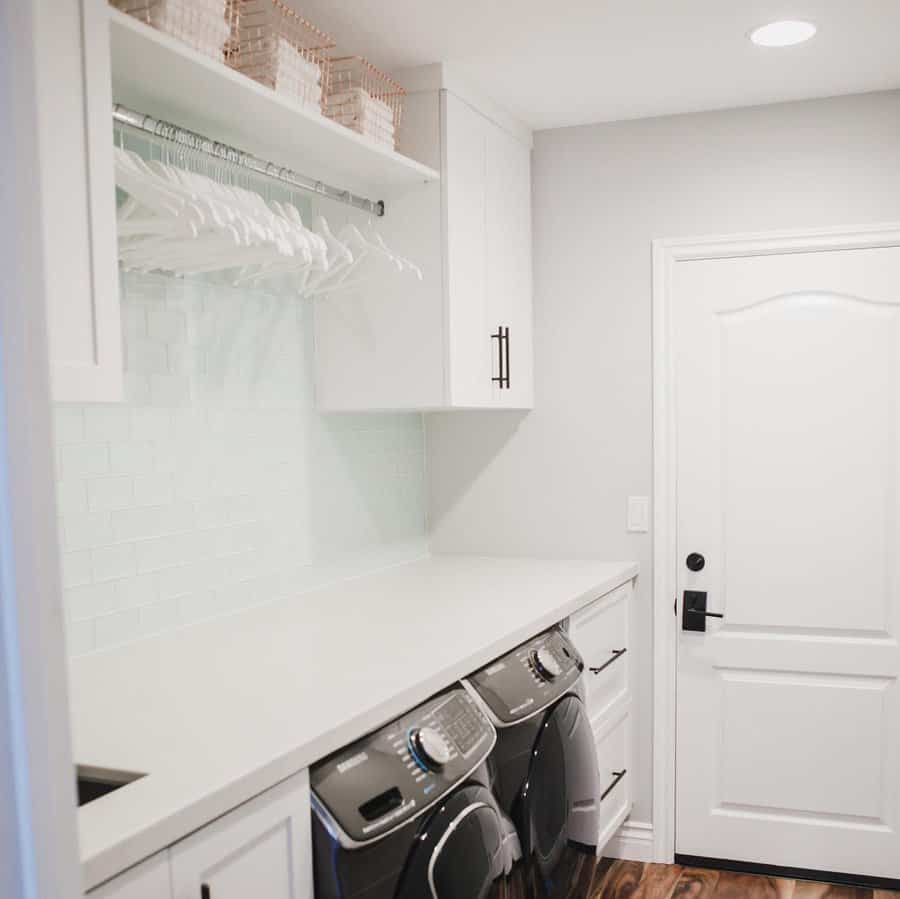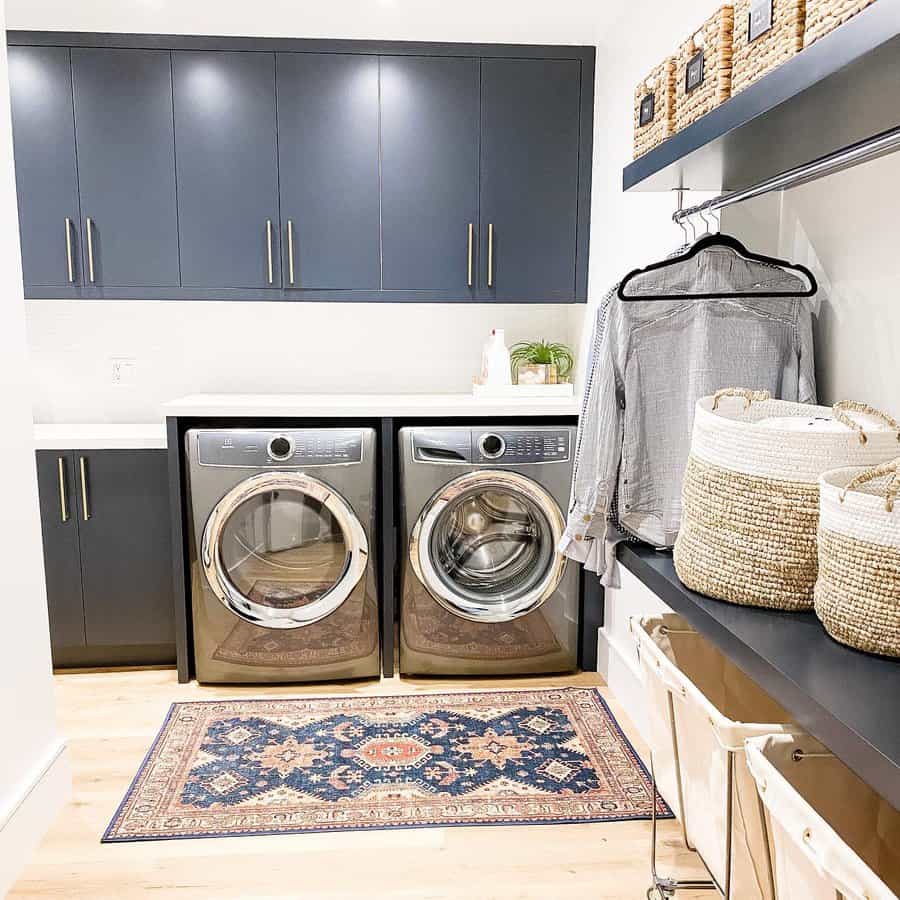 4. Tidy Laundry Bins: Basket Organizers
Elevate the organization of your basement laundry room with woven baskets of various sizes and textures, adding a natural and inviting touch to the space. These baskets not only maintain order but also enhance the overall aesthetic.
Display them on open shelves or hang them on wall-mounted hooks for easy access and visual appeal. For efficient sorting, consider labeling each basket, giving your laundry area a charming farmhouse vibe.
To complete the cozy atmosphere, incorporate other rustic elements such as wooden countertops and vintage-inspired signage. Refresh the room with a soft, neutral paint color for a calming backdrop, and strategically place lighting fixtures to brighten up your laundry routine. With a well-organized and visually pleasing basement laundry room, even the most mundane tasks can be a delight. To achieve this look, select baskets that complement your decor style and make sure they are easily accessible, either on shelves or hooks. Additionally, consider using baskets with lids to keep odors contained and maintain a neat appearance.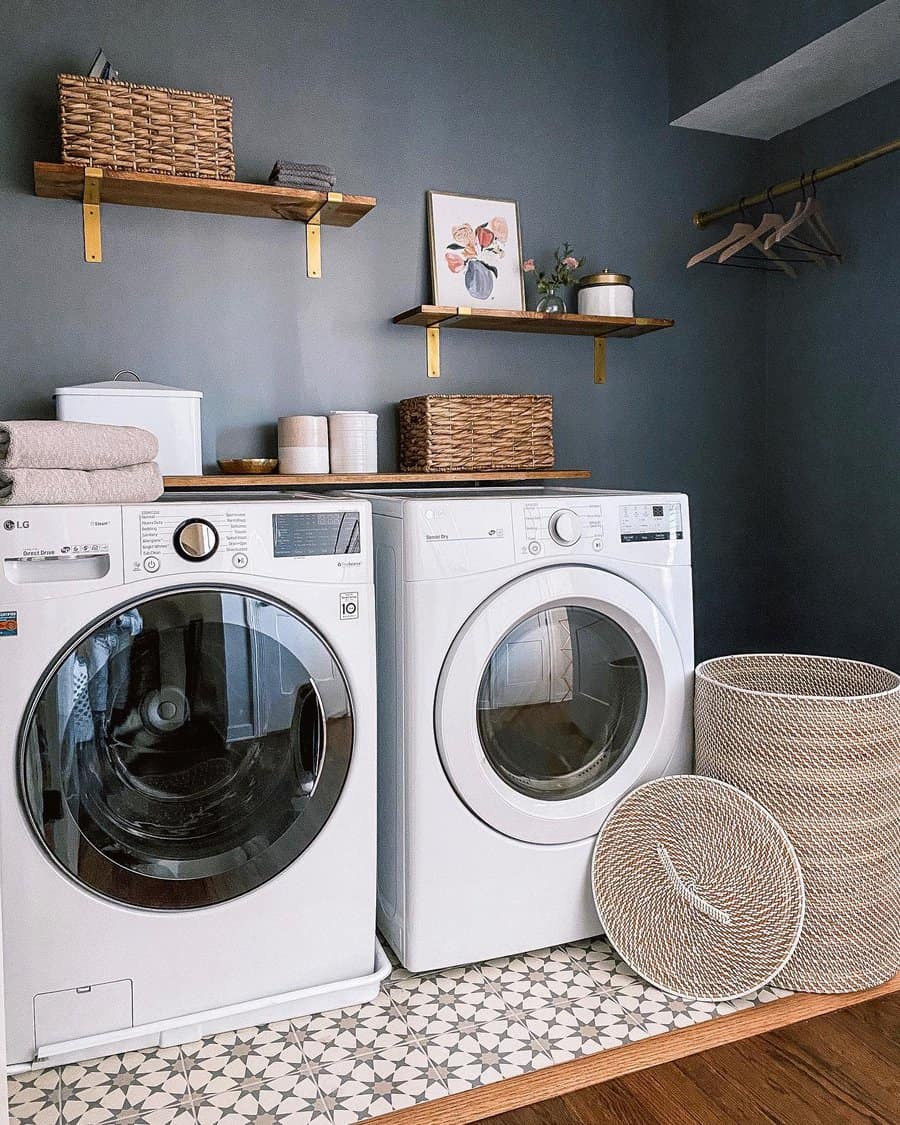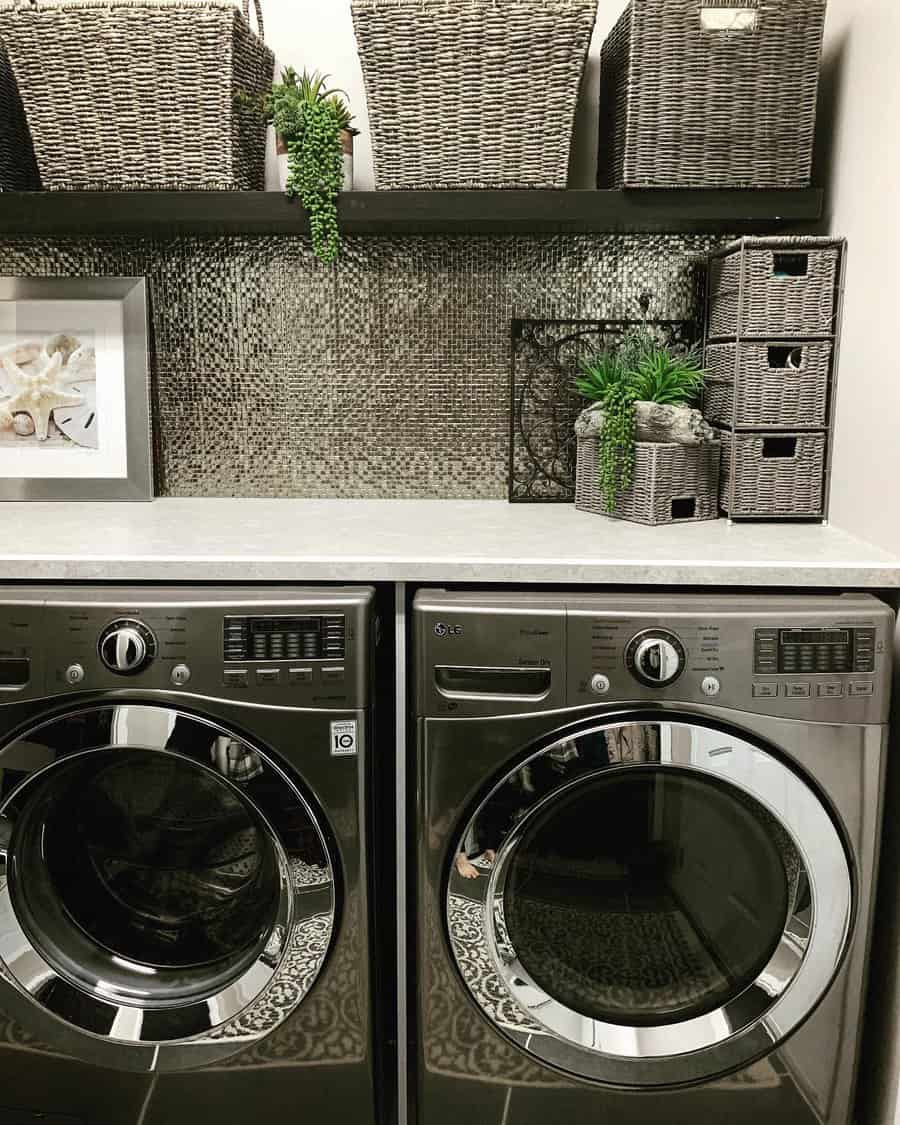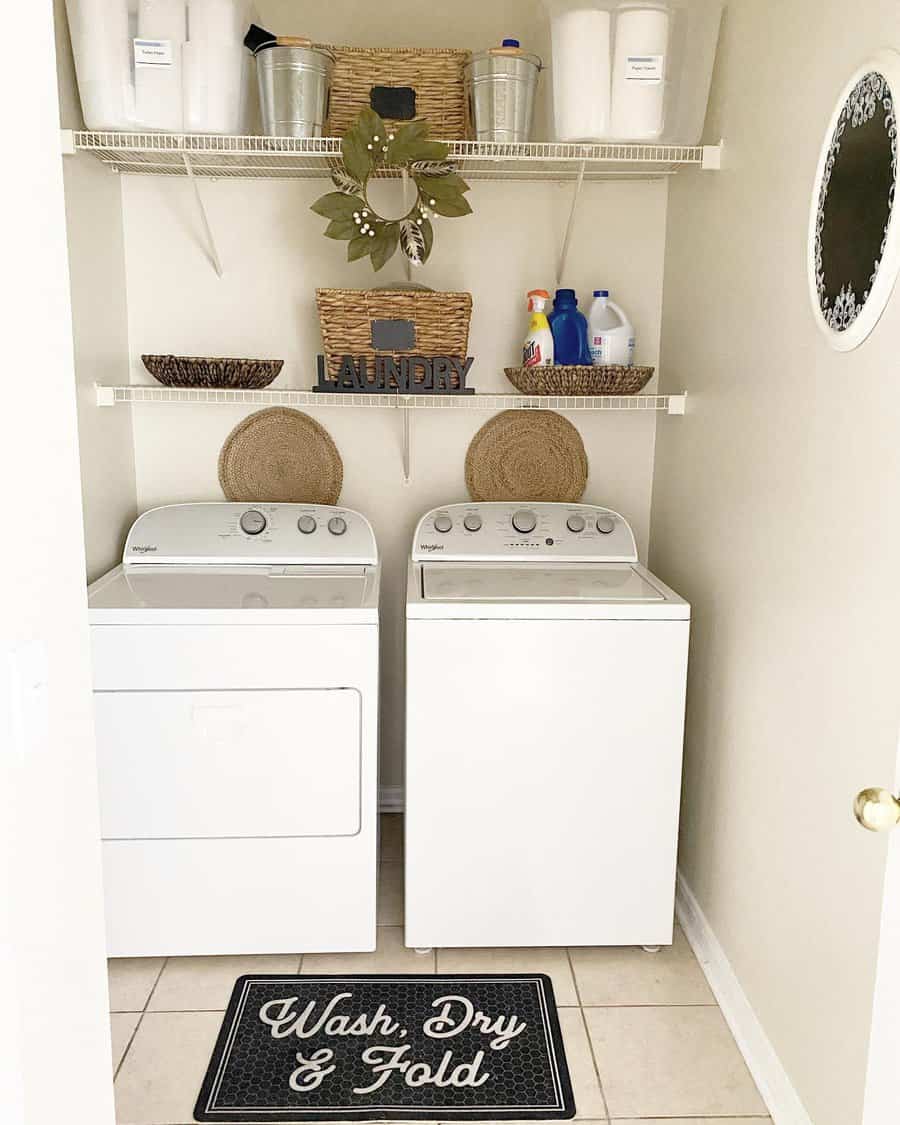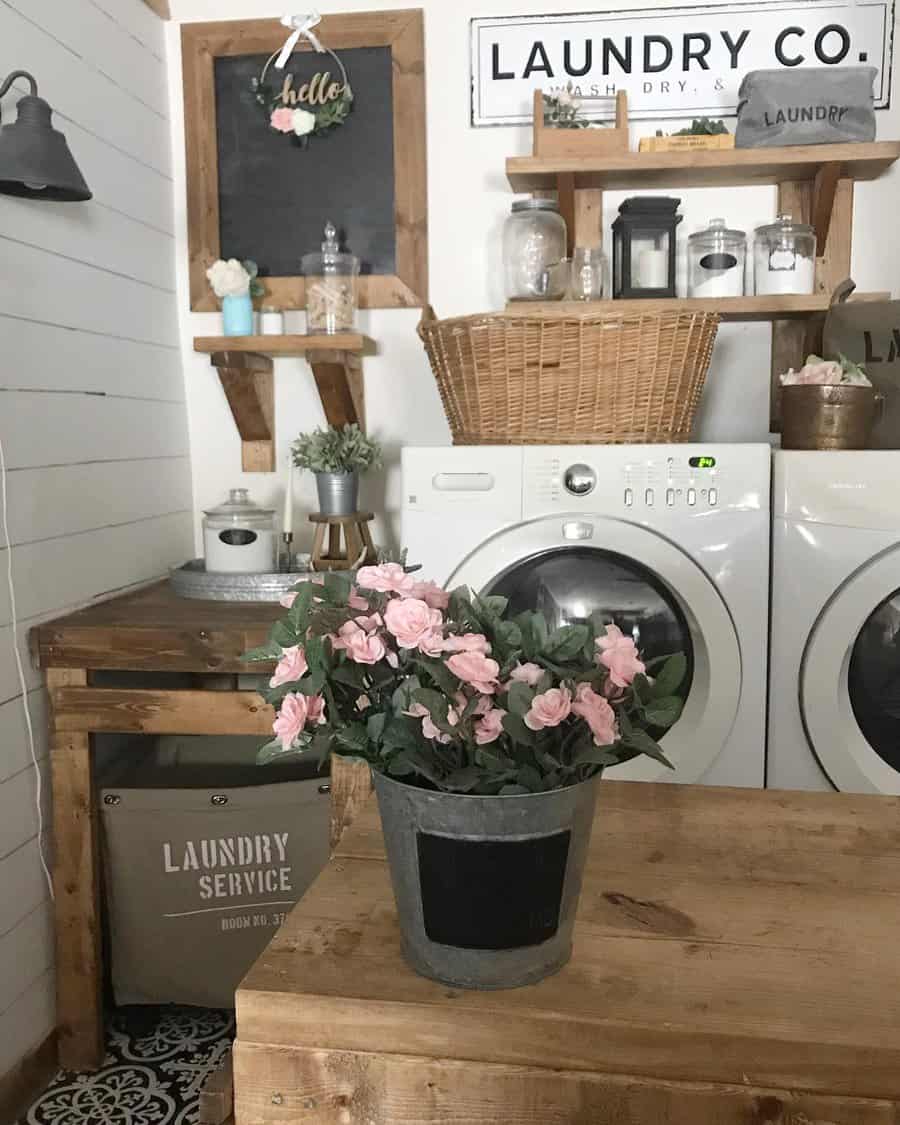 5. Stylish Accents: Wallpaper or Accent Wall
Transform your basement laundry room from a mundane space into an inspiring one by adding a touch of style with wallpaper or an accent wall. Choose a wallpaper design that aligns with your personal preferences and complements your home's overall decor. Whether you prefer a charming floral pattern, a bold geometric motif, or a serene nature-inspired theme, the right wallpaper can infuse character and charm into the room.
Opt for washable and durable wallpaper materials that can withstand occasional splashes or stains, ensuring longevity and easy maintenance. Let the wallpaper take center stage, becoming a focal point that adds sophistication and visual interest to your laundry room's walls. To complete the look, incorporate sleek and functional storage solutions, such as open shelving or cabinets, to keep your laundry essentials organized and easily accessible. When selecting wallpaper, consider the room's lighting to ensure that the design shines and complements the space effectively.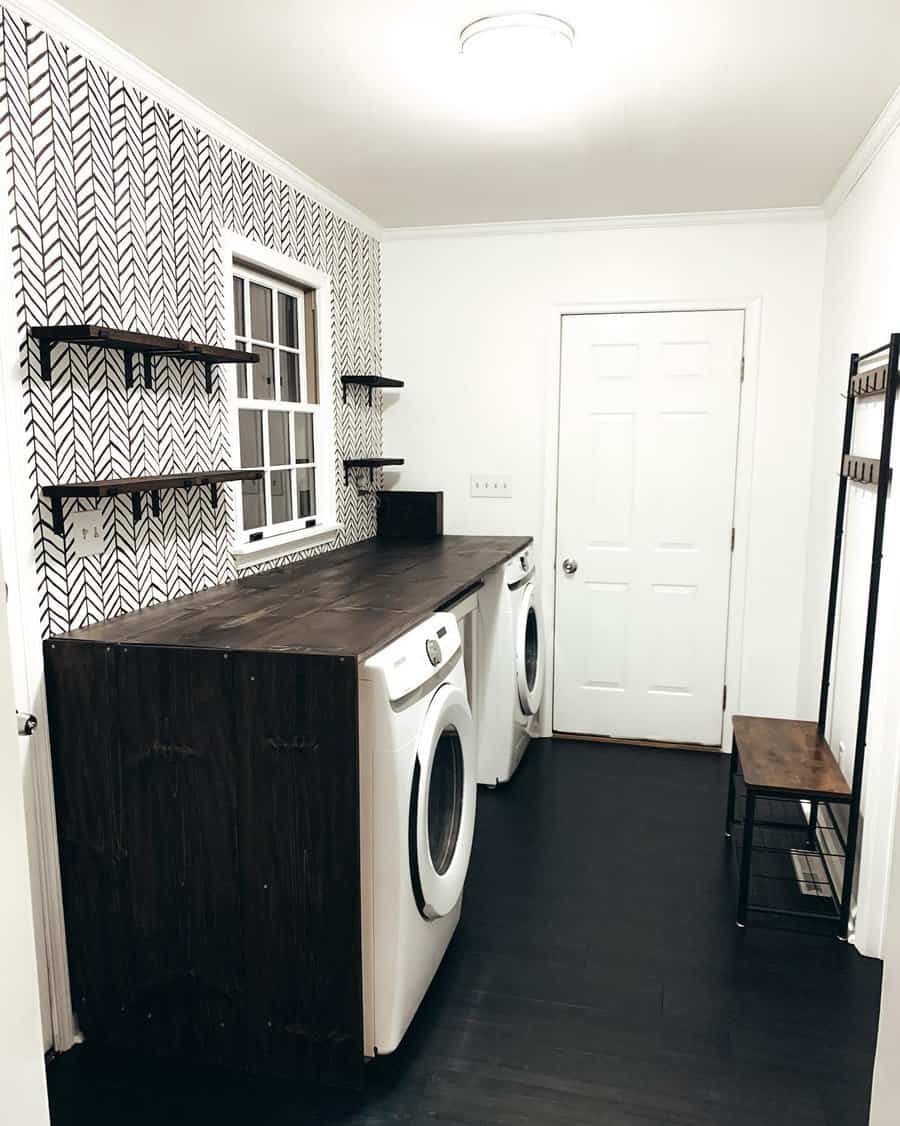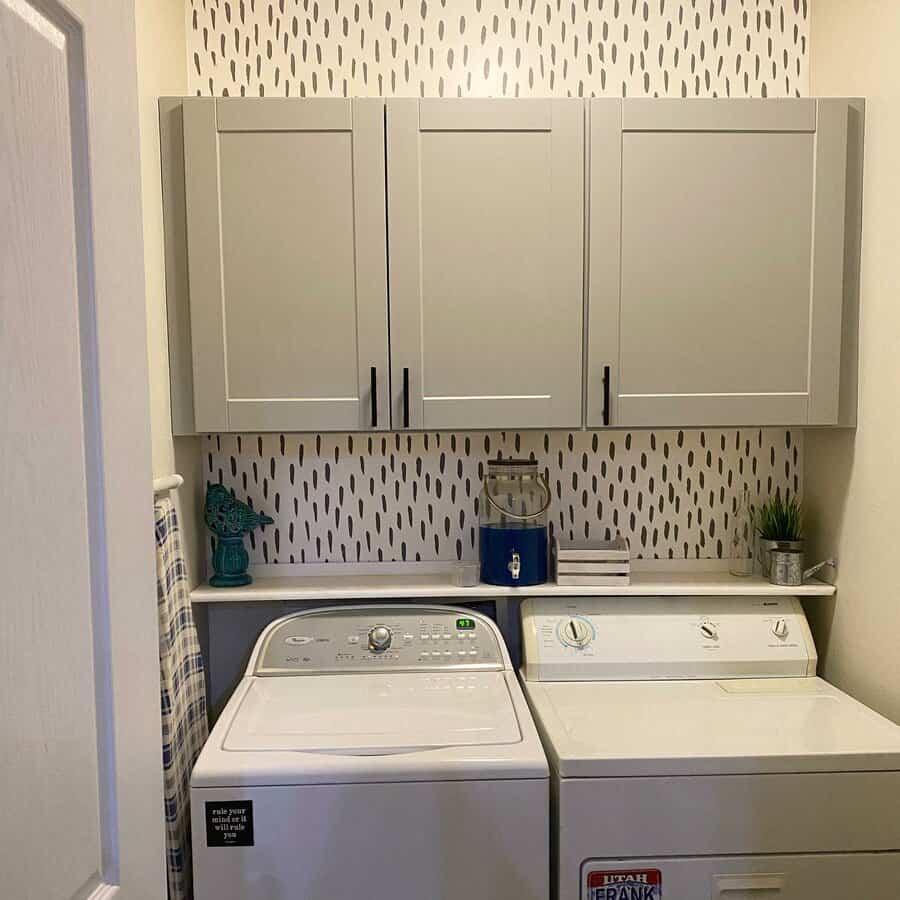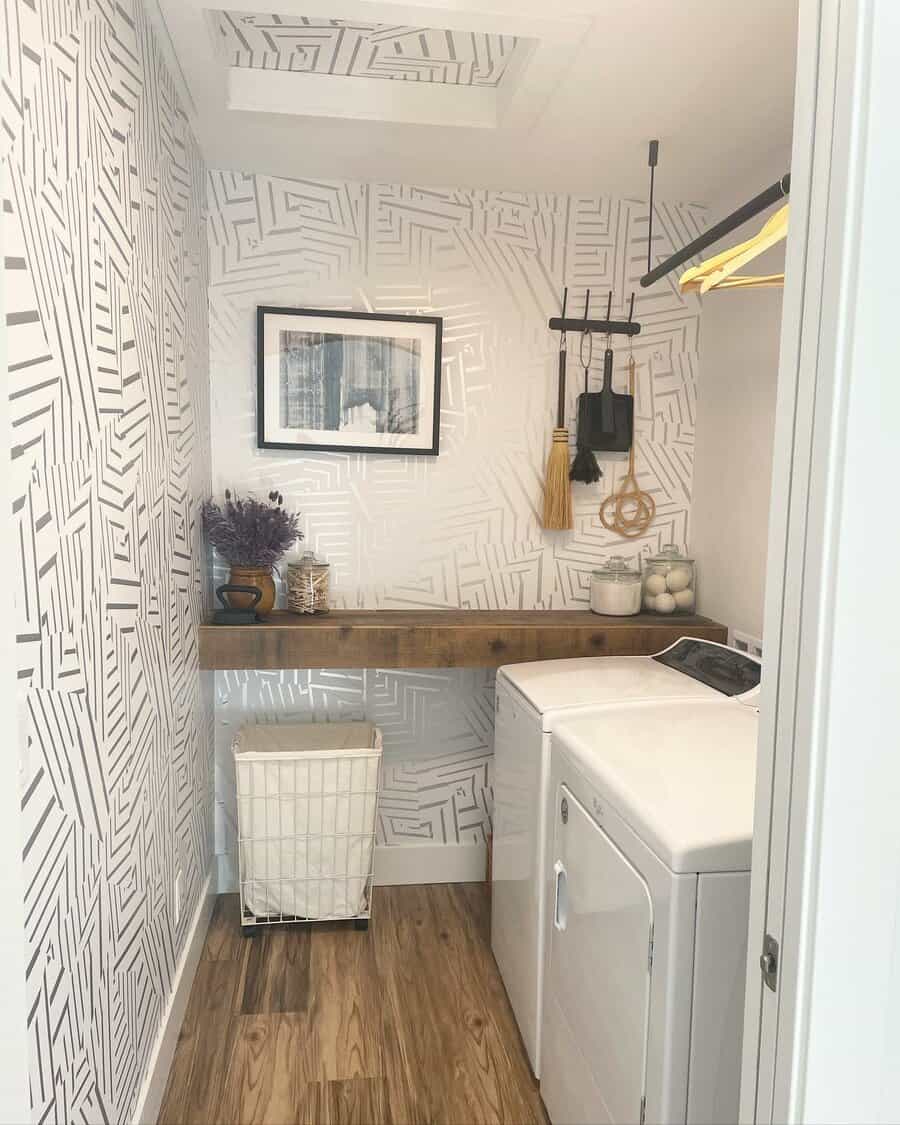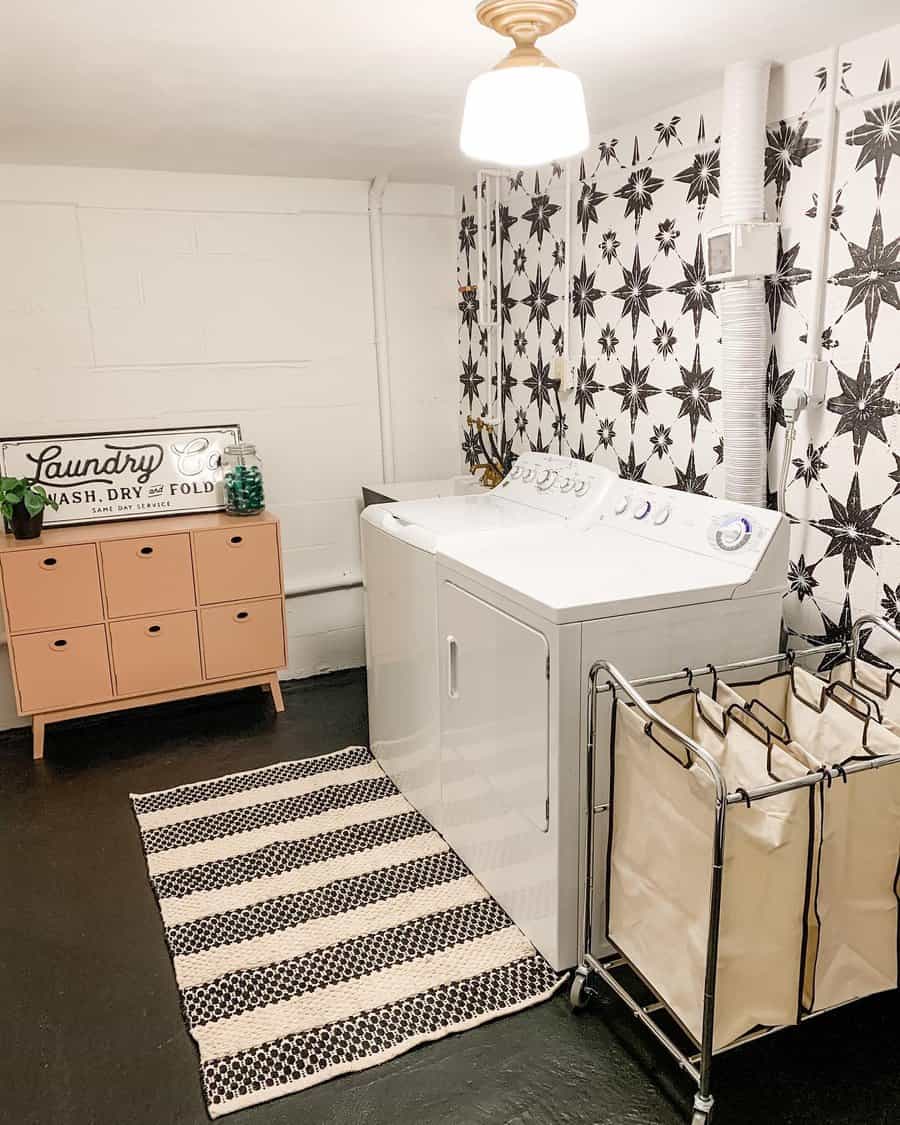 6. Organized Display: Open Shelving Units
Revamp your basement laundry room into a functional and stylish haven by incorporating open shelving units. Bid farewell to clutter and welcome the convenience and visual appeal of open storage. Install sleek and sturdy shelving units on the walls, offering ample space for storing laundry essentials, cleaning supplies, and even decorative accents.
Enhance the room's aesthetics by organizing detergents and fabric softeners in attractive containers, adding a touch of elegance. Employ baskets or bins to keep smaller items neatly categorized. Open shelving not only provides easy access to your laundry supplies but also offers a platform to showcase decorative elements like plants, art prints, or stylish storage boxes.
By seamlessly blending practicality with aesthetics, your basement laundry room will evolve into a chic and organized space, where you can tackle laundry tasks with both ease and style. When selecting shelving units, ensure they are both sturdy and easy to install, and consider the room's layout to maximize their effectiveness. Additionally, choose containers and decorative items that complement the room's color scheme and design theme for a cohesive look.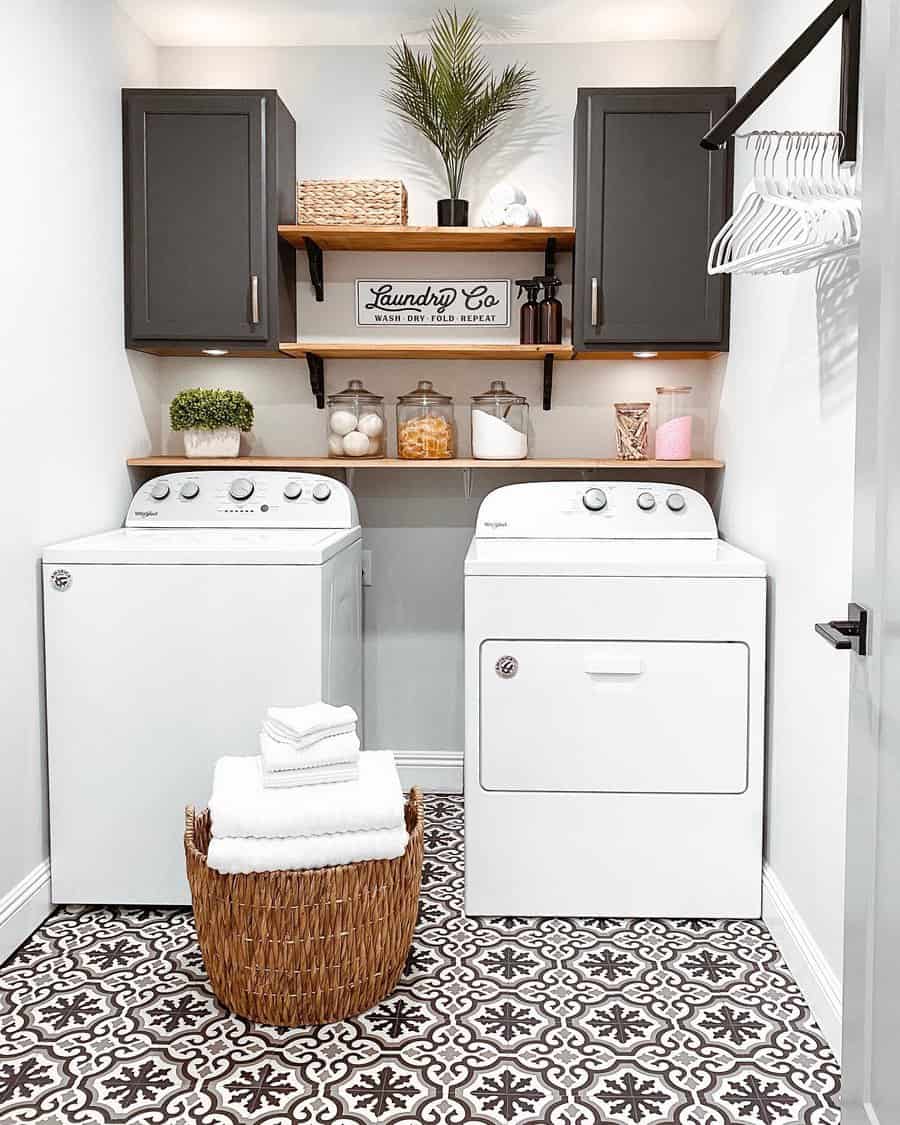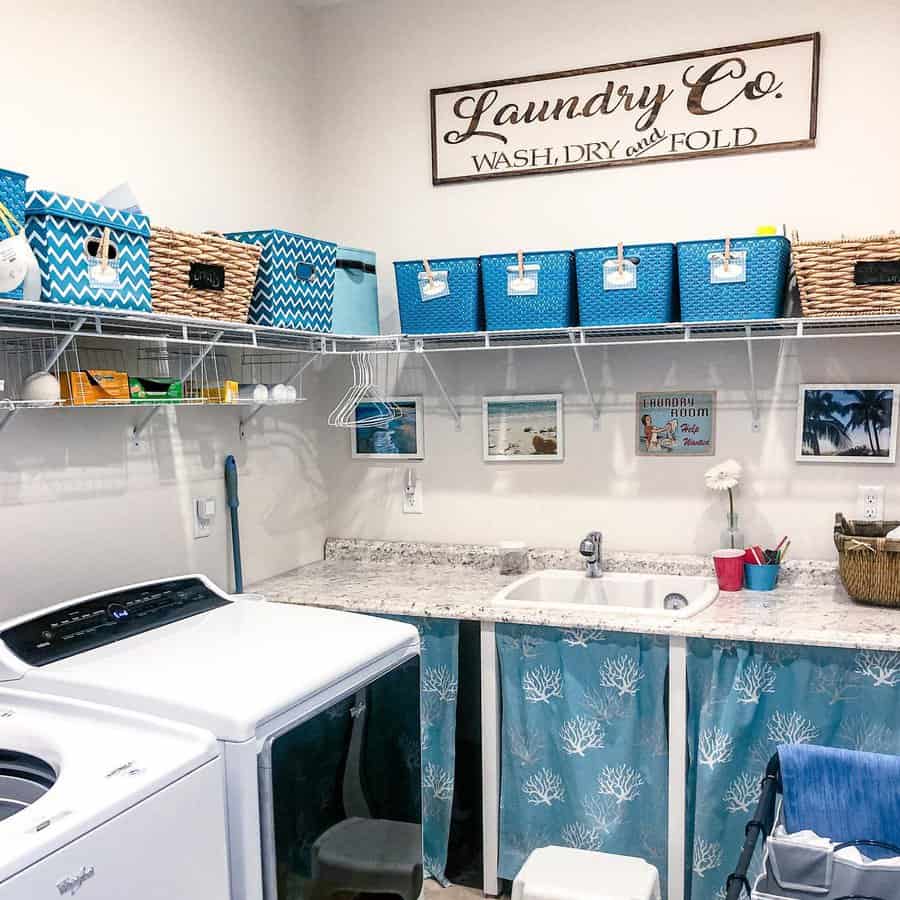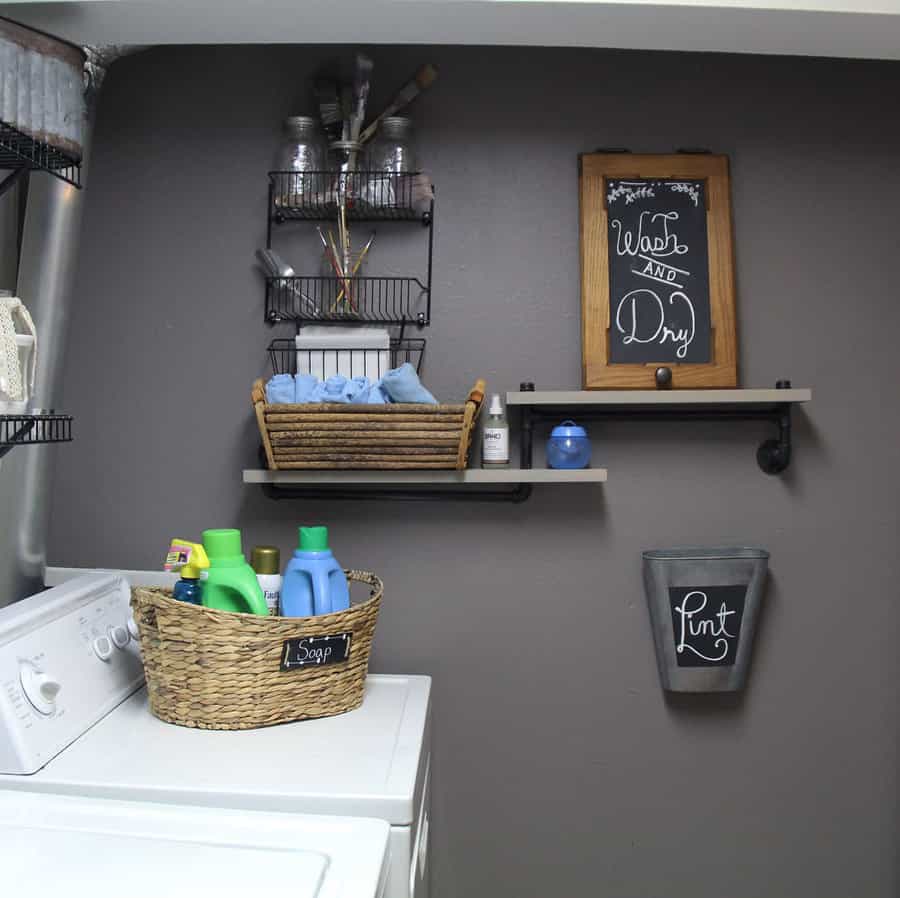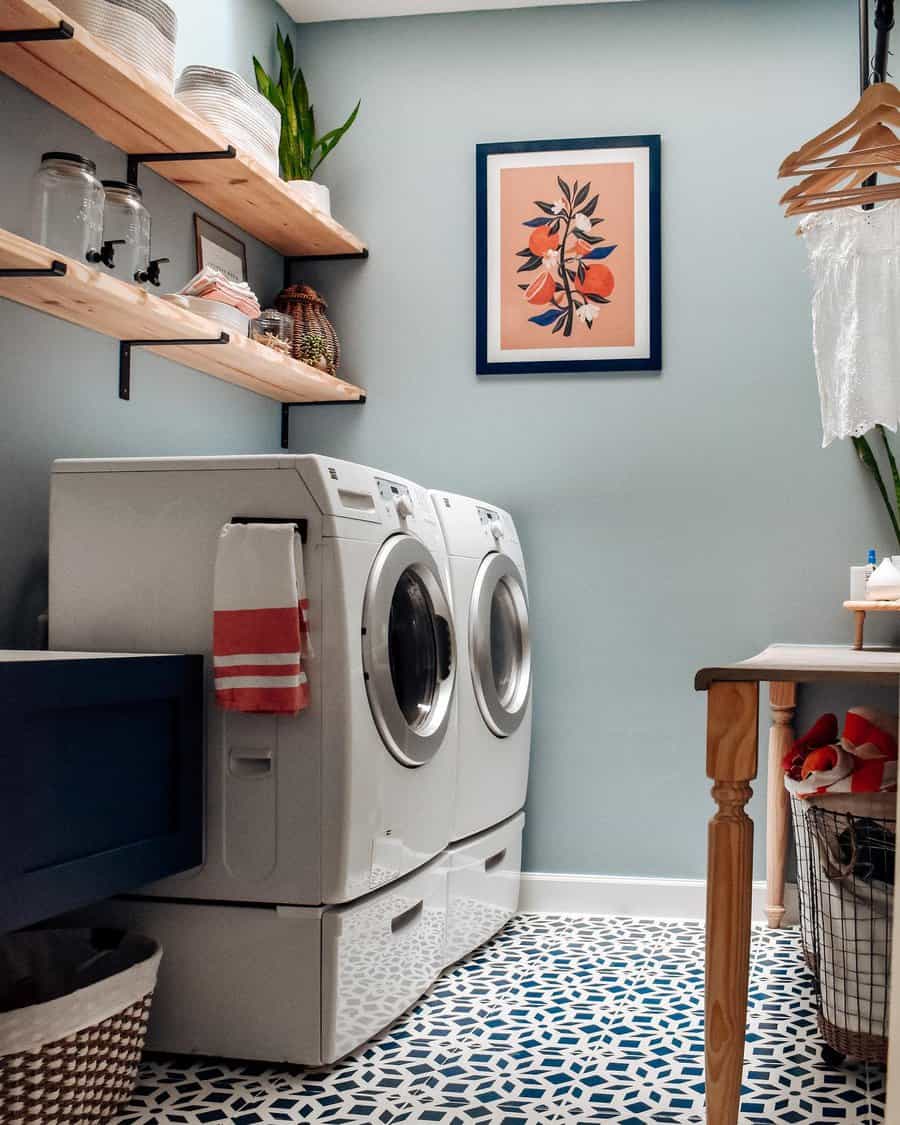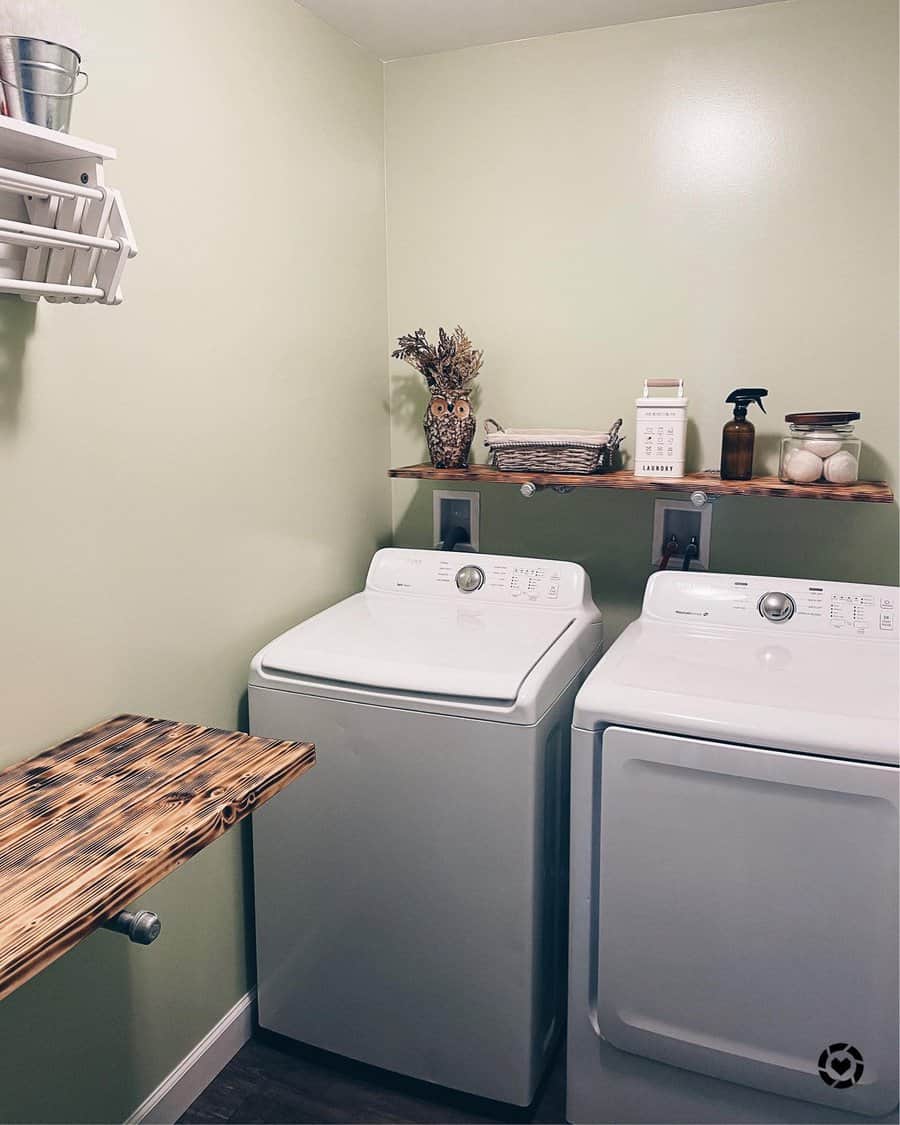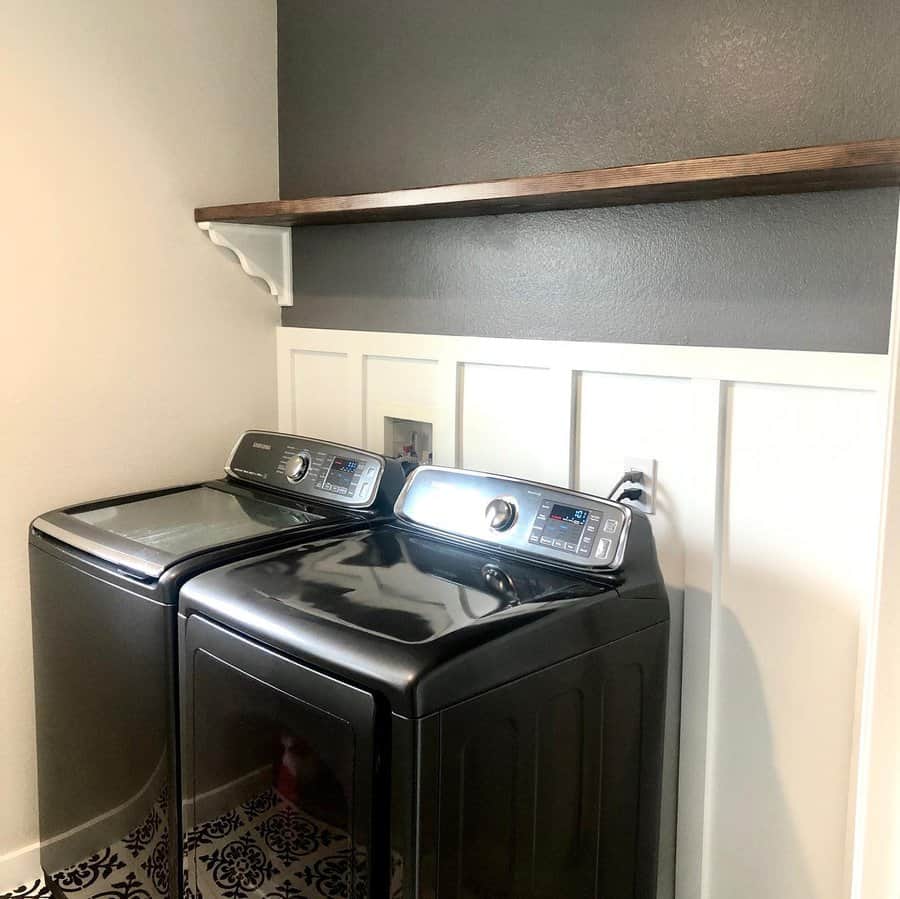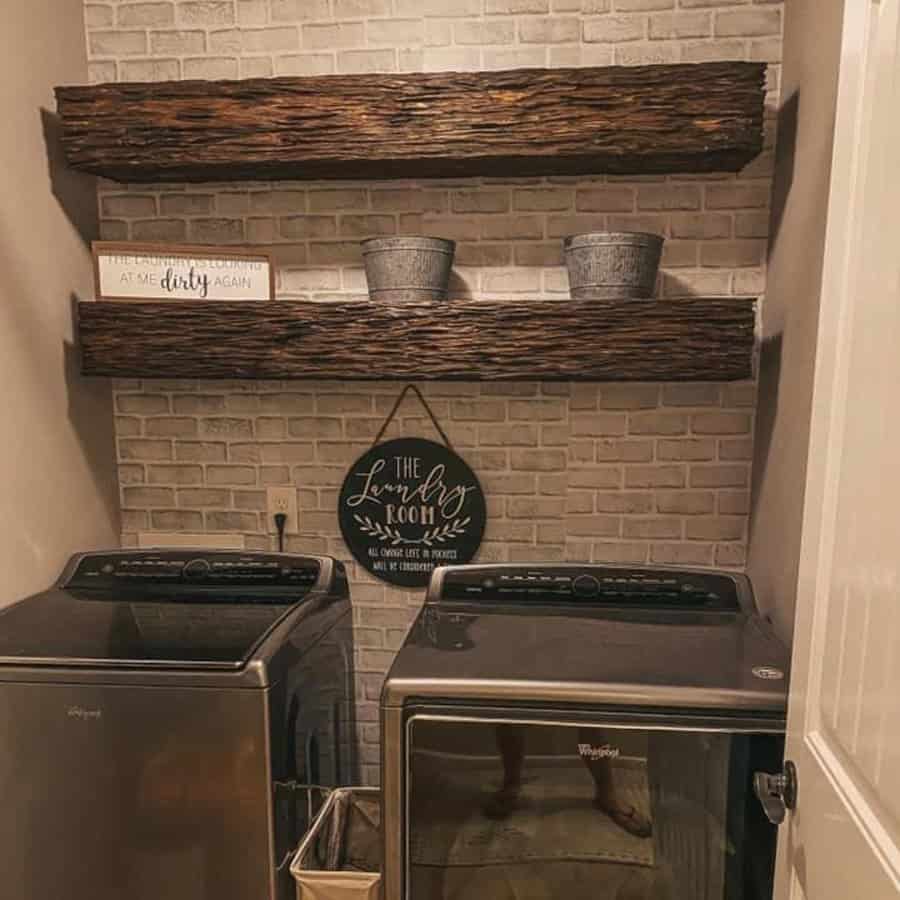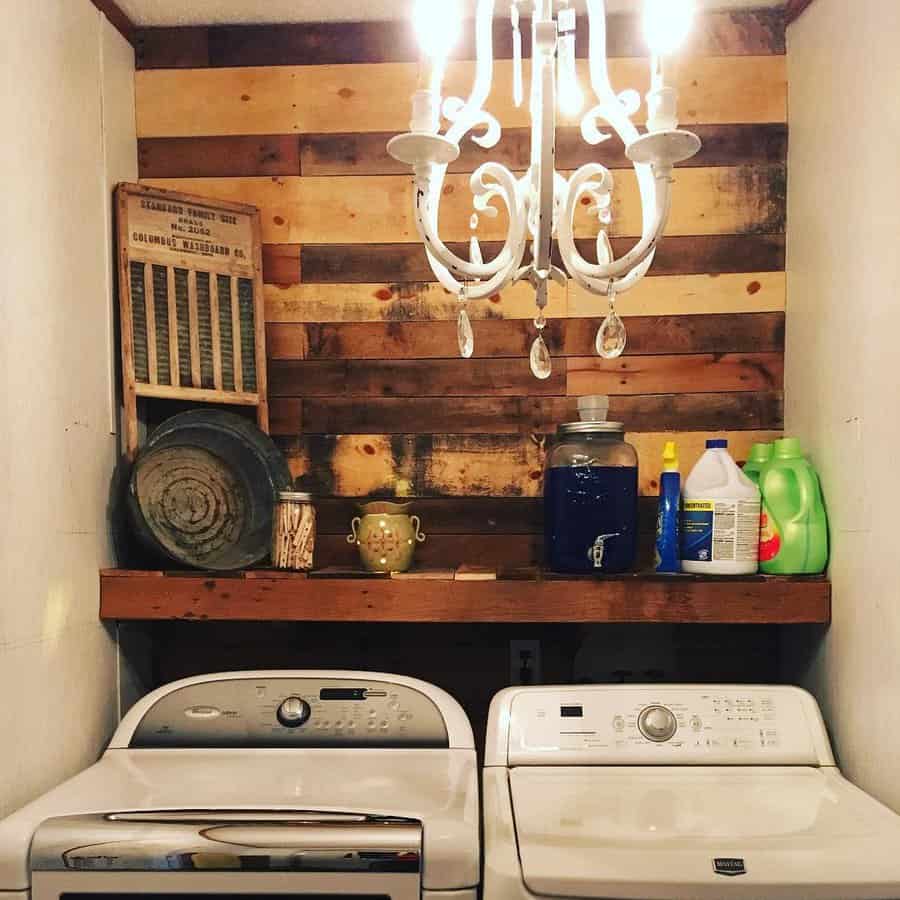 7. Functional Surface: Laundry Room Countertop
Elevate your basement laundry room's functionality with a dedicated laundry room countertop. This simple yet invaluable feature serves as a space for folding clothes, organizing supplies, and even functioning as a workspace.
Choose a countertop material that's durable and easy to maintain, such as quartz or laminate, to provide a smooth surface while enhancing the room's sophistication. To maximize storage space, consider installing upper cabinets or open shelving above the countertop for items like detergent, fabric softener, and other essentials.
Inject a personal touch by incorporating decorative elements like potted plants, woven baskets, or stylish storage containers. Boost the countertop's utility by installing built-in drying racks or hanging rods for air-drying clothes. Ensure proper installation and sizing of the countertop to fit your laundry room's layout, and choose a material that complements the room's overall design theme.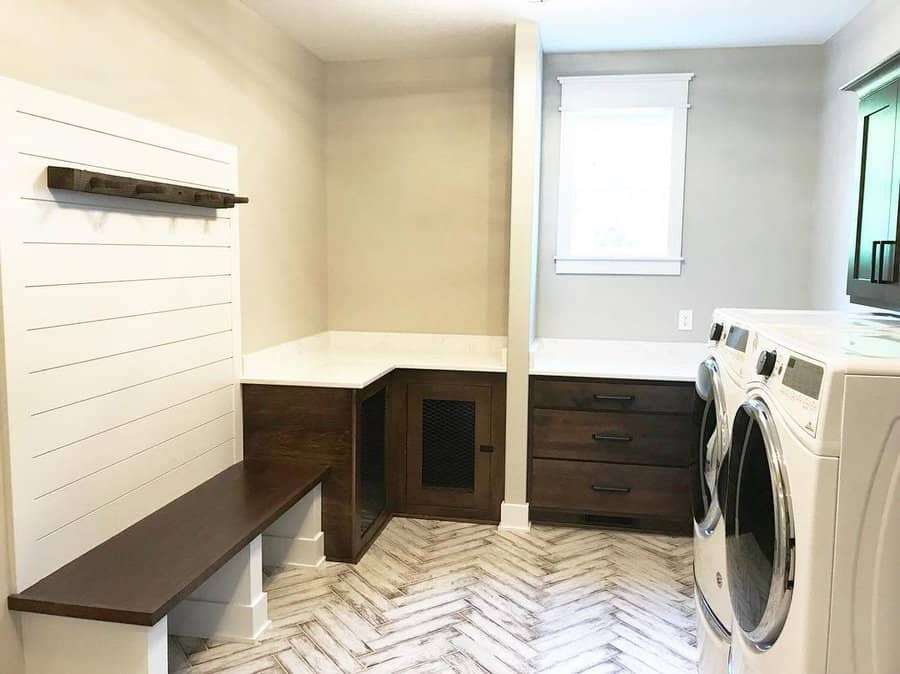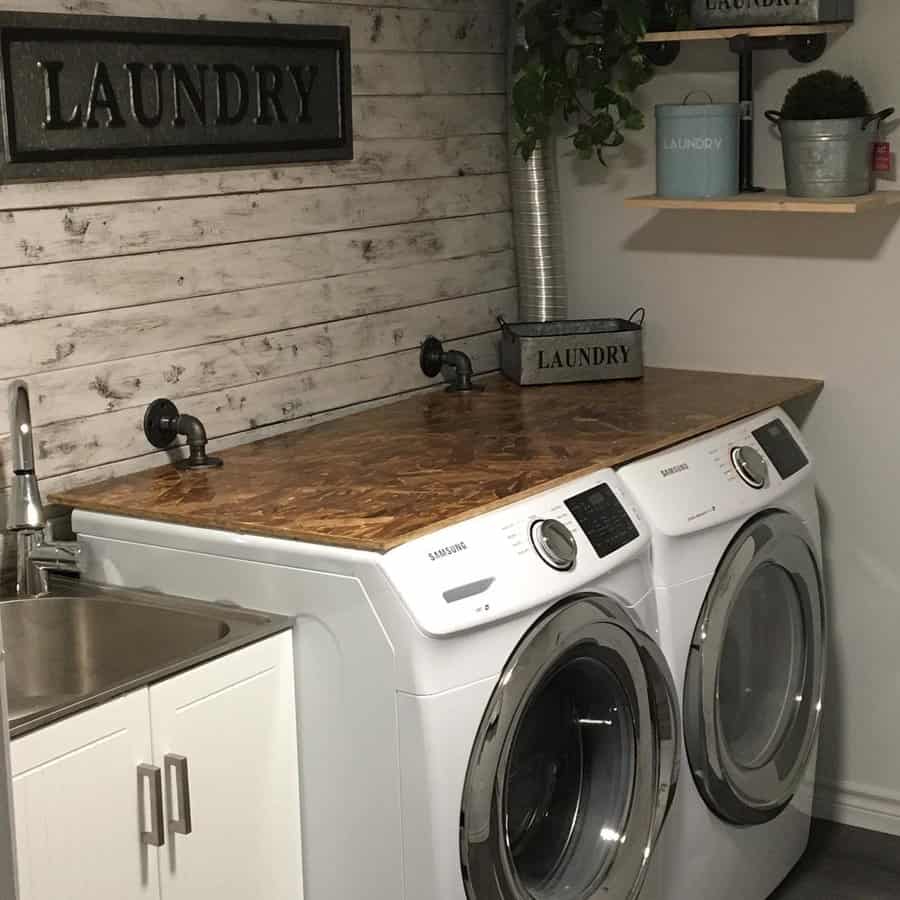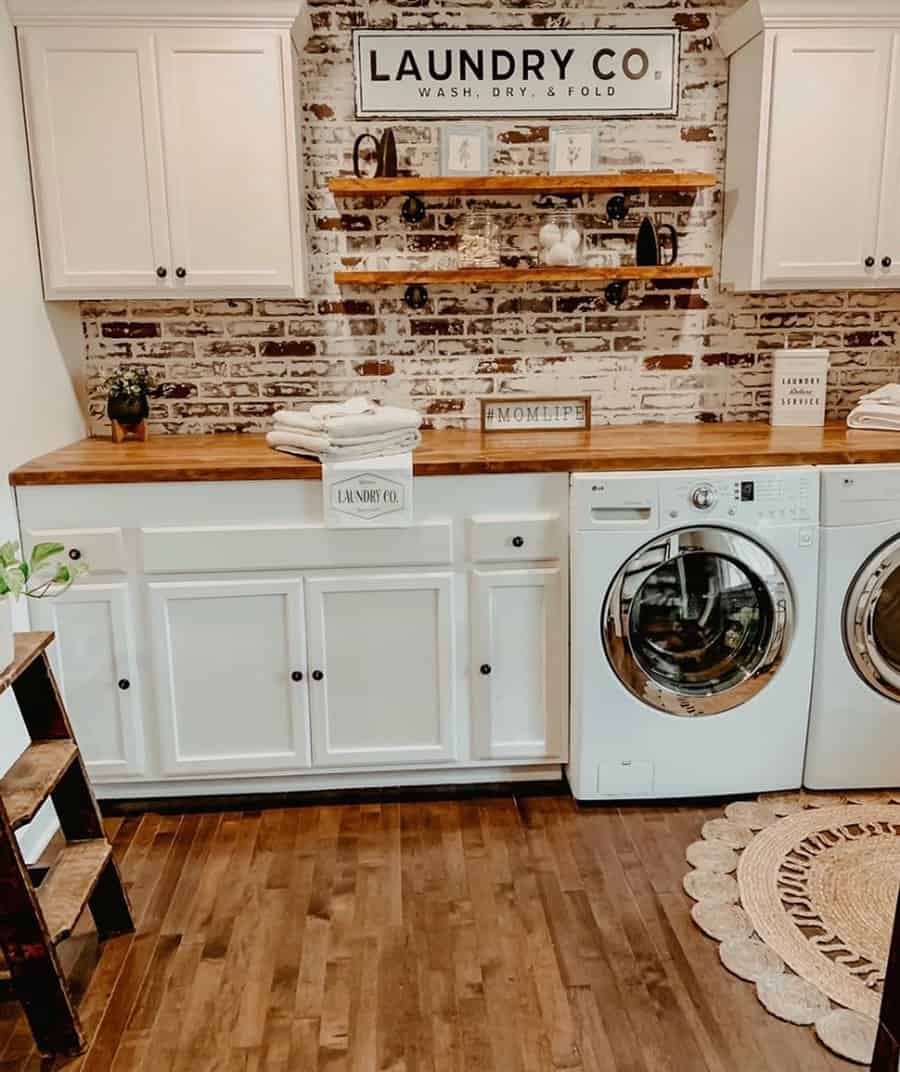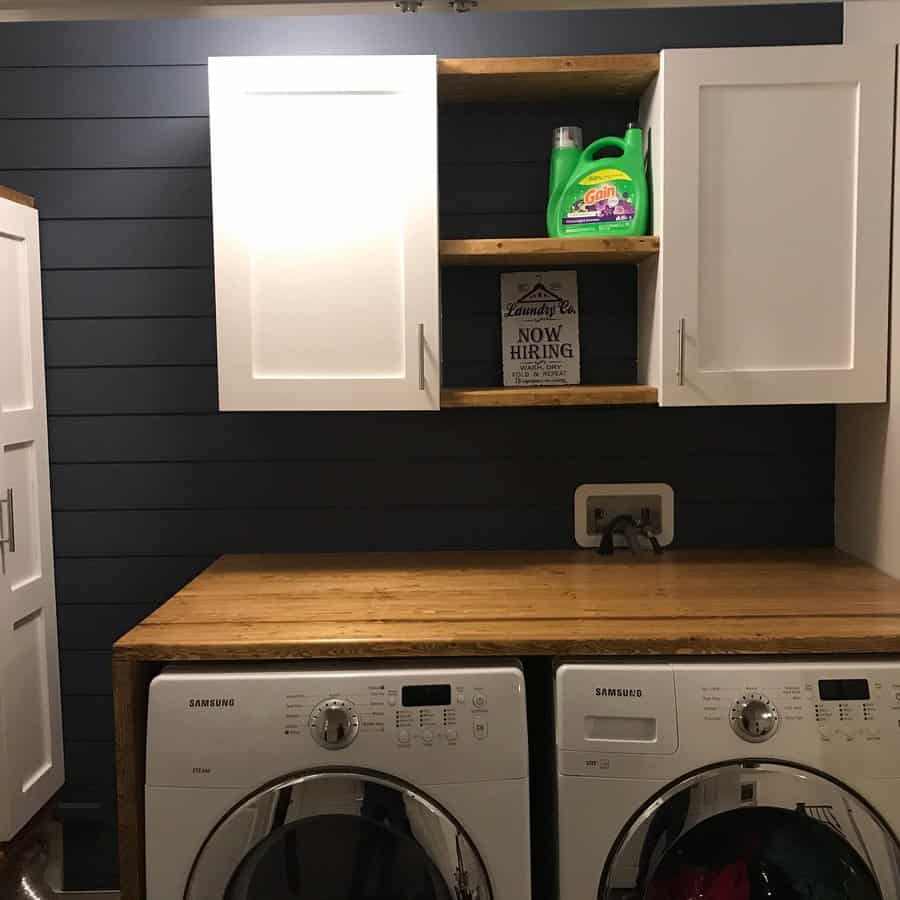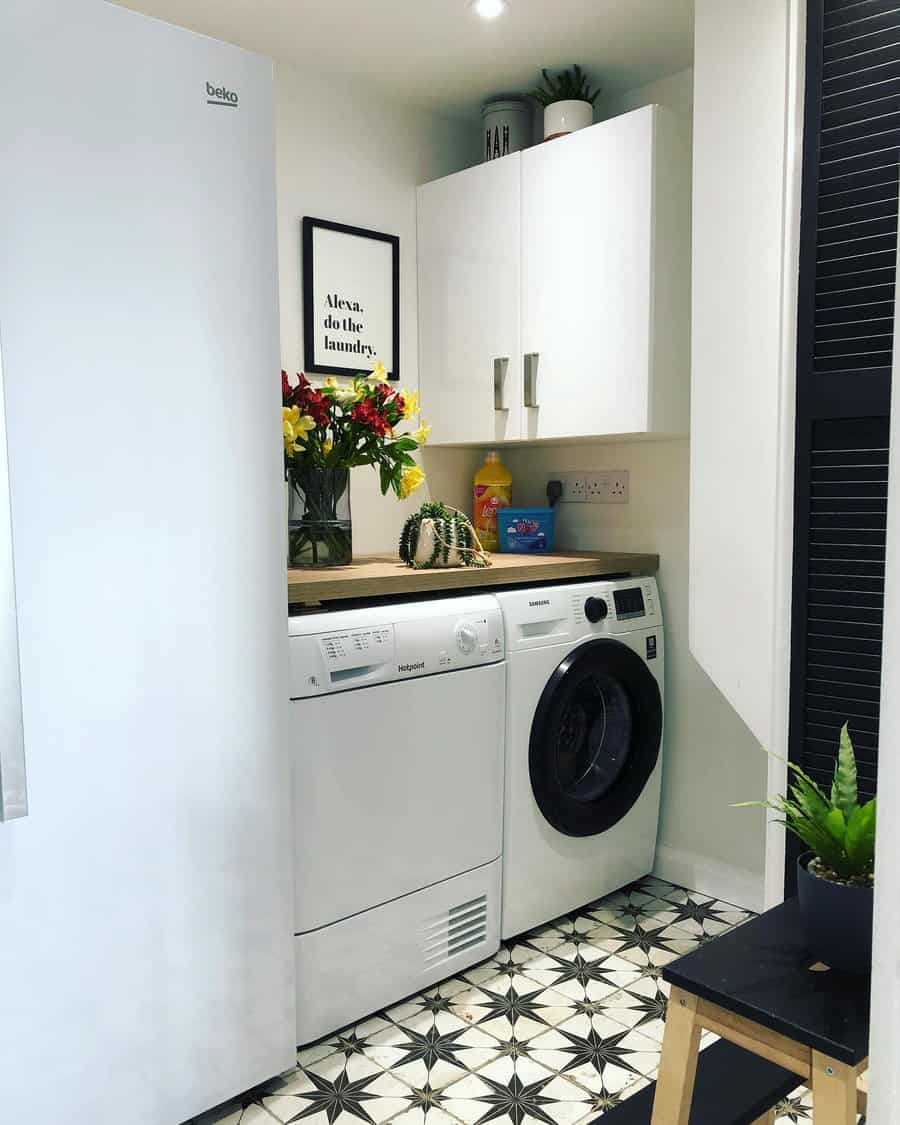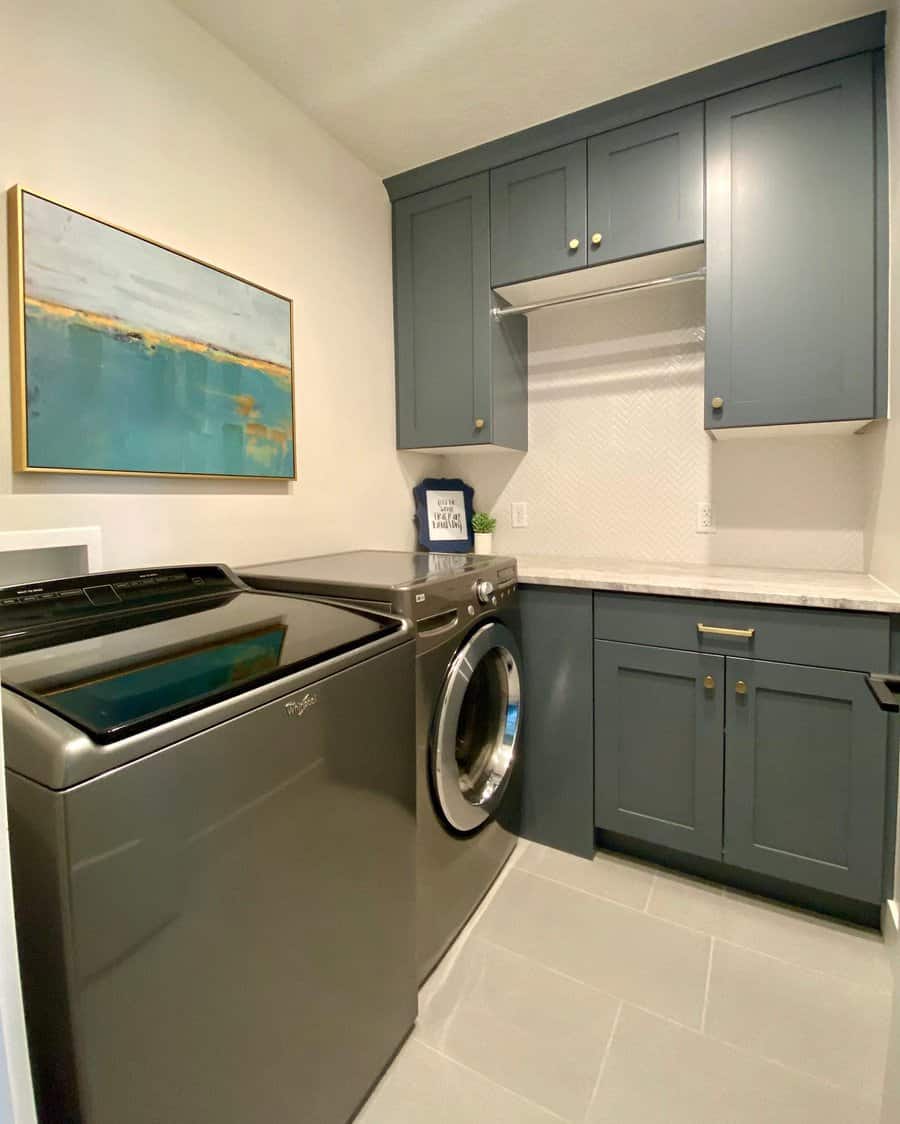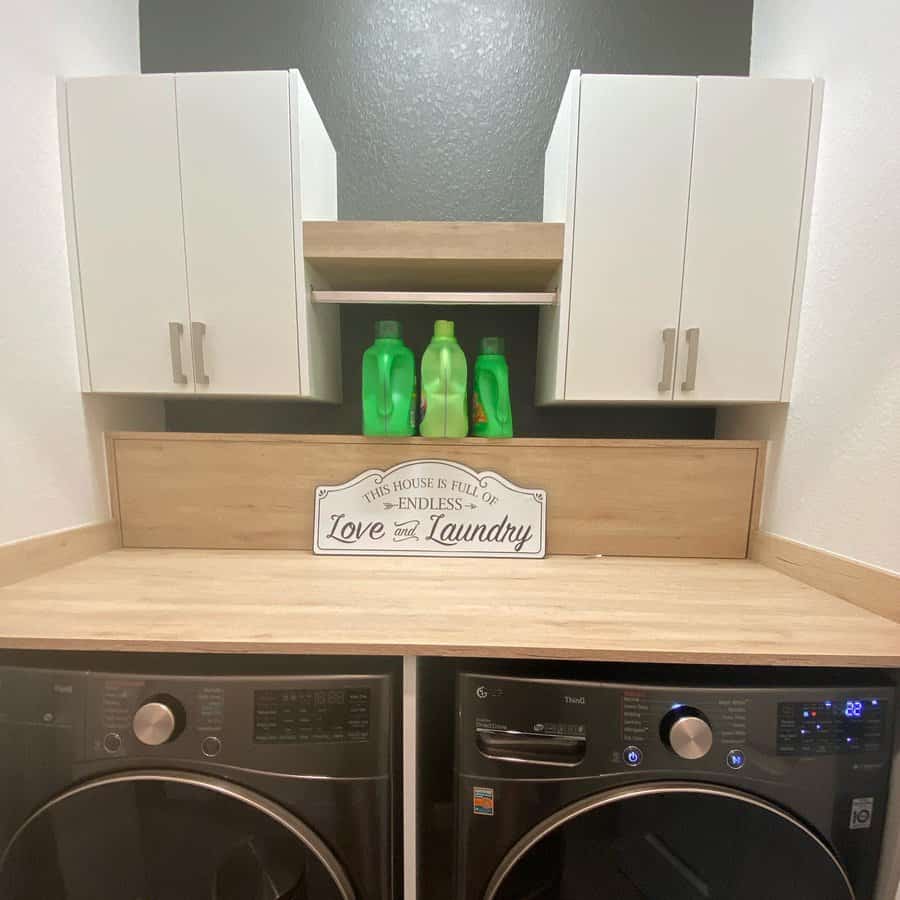 8. Hidden Storage: Recessed Area Storage
Unlock the potential of your basement by fashioning a functional and stylish laundry room within a recessed area. Utilizing the often-overlooked corners of your home, you can convert them into a practical and efficient laundry haven.
Consider recessing the laundry area, establishing a dedicated nook where your machines seamlessly blend with the room's design. This space-saving approach not only optimizes square footage but also delivers a sleek and streamlined appearance. Install custom cabinetry and shelving above and around the machines to maximize storage for laundry essentials, cleaning supplies, and even folding stations.
When choosing materials and finishes, let your personal style shine through, whether you prefer a rustic farmhouse aesthetic or a contemporary vibe. Ensure that the cabinetry and shelving are tailored to your laundry room's dimensions, making the most of the available space for both function and aesthetics.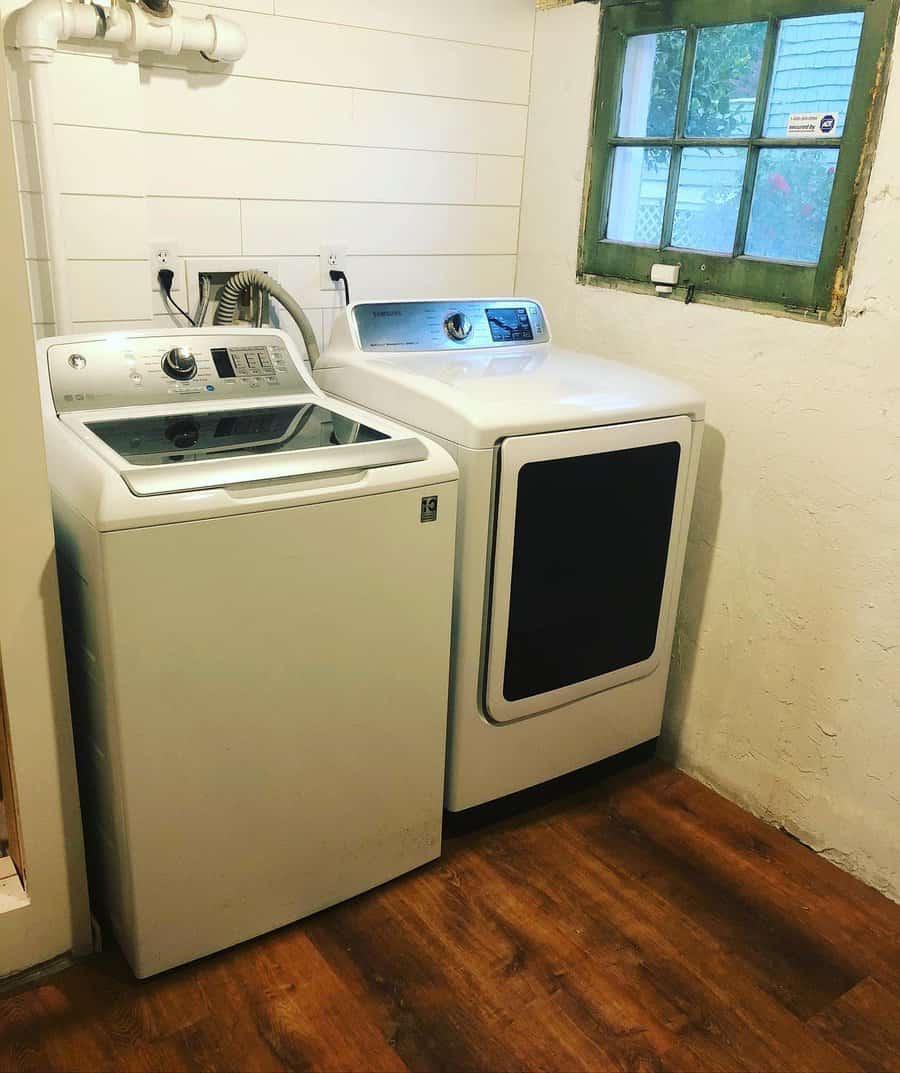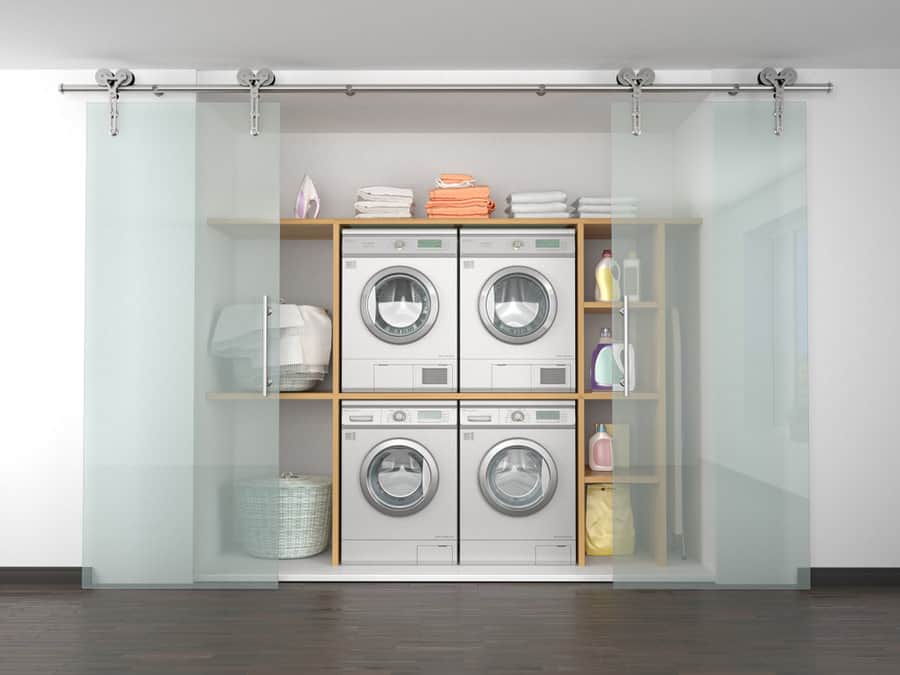 9. Customizable Arrangement: Modular Shelves
Enhance the efficiency of your basement laundry room with the addition of modular shelves. These versatile shelves offer customizable storage solutions tailored to your specific needs. Arrange them to create designated areas for laundry essentials, including detergent, fabric softener, and cleaning supplies. Integrate organizers such as baskets or bins to keep smaller items orderly and within easy reach.
Modular shelves not only maximize storage but also introduce a contemporary aesthetic to the room. Consider adding labels or chalkboard signs for a charming and organized touch. By embracing modular shelves, you can transform your basement laundry room into a well-organized and visually appealing space, making laundry tasks feel more manageable. When installing modular shelves, ensure they are securely anchored to the wall, and take advantage of their adjustable features to accommodate changing storage needs.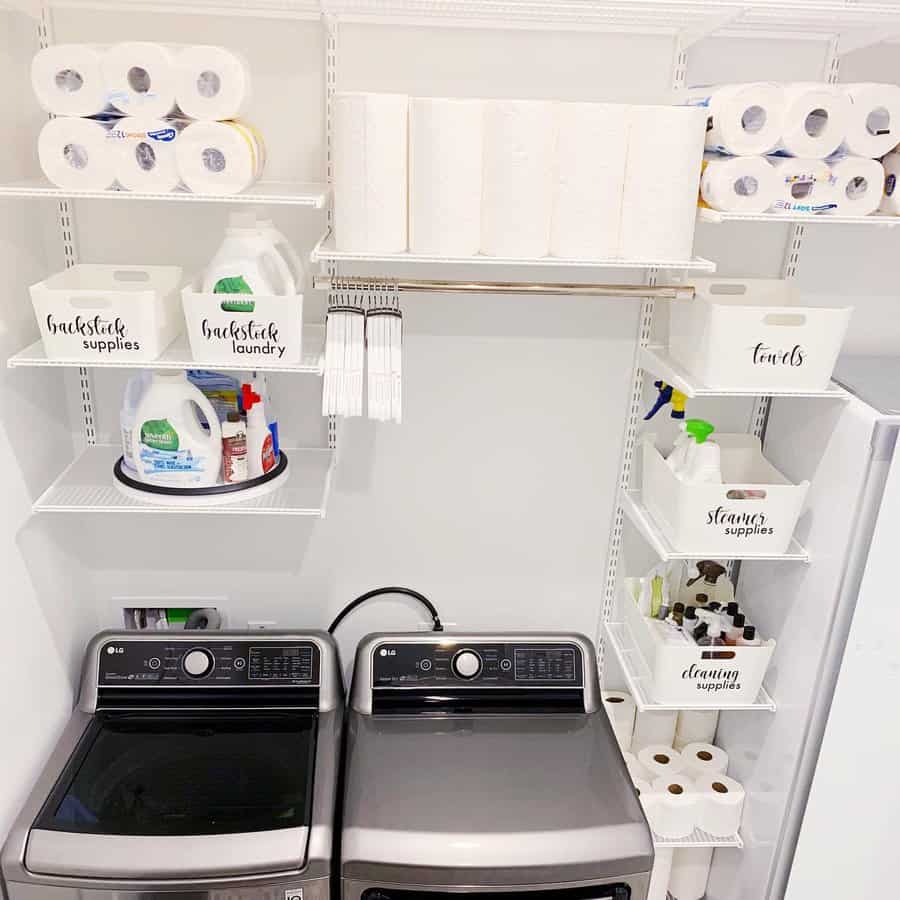 10. Informative Decor: Framed Laundry Guides
Enhance the functionality and aesthetics of your basement laundry room with custom-made framed laundry guides. Craft signs or posters that convey useful laundry tips, from sorting colors to washing temperatures and stain removal techniques. Employ engaging typography and playful graphics to ensure they are both informative and visually appealing.
Strategically hang these framed guidelines near the washing machine and dryer for quick reference during laundry tasks. Enhance the functionality further by adding decorative hooks or clips for laundry essentials like lint rollers and clothespins, creating an organized setup that's as practical as it is stylish.
To complete the theme, consider incorporating additional wall art that complements the laundry room, such as vintage laundry-themed prints or inspirational quotes related to cleanliness and organization. These artistic touches will elevate the overall aesthetic of your basement laundry room and turn the chore of doing laundry into a more enjoyable experience. When designing your framed laundry guides, choose fonts and colors that align with your room's decor, and make sure they are easily readable from a distance.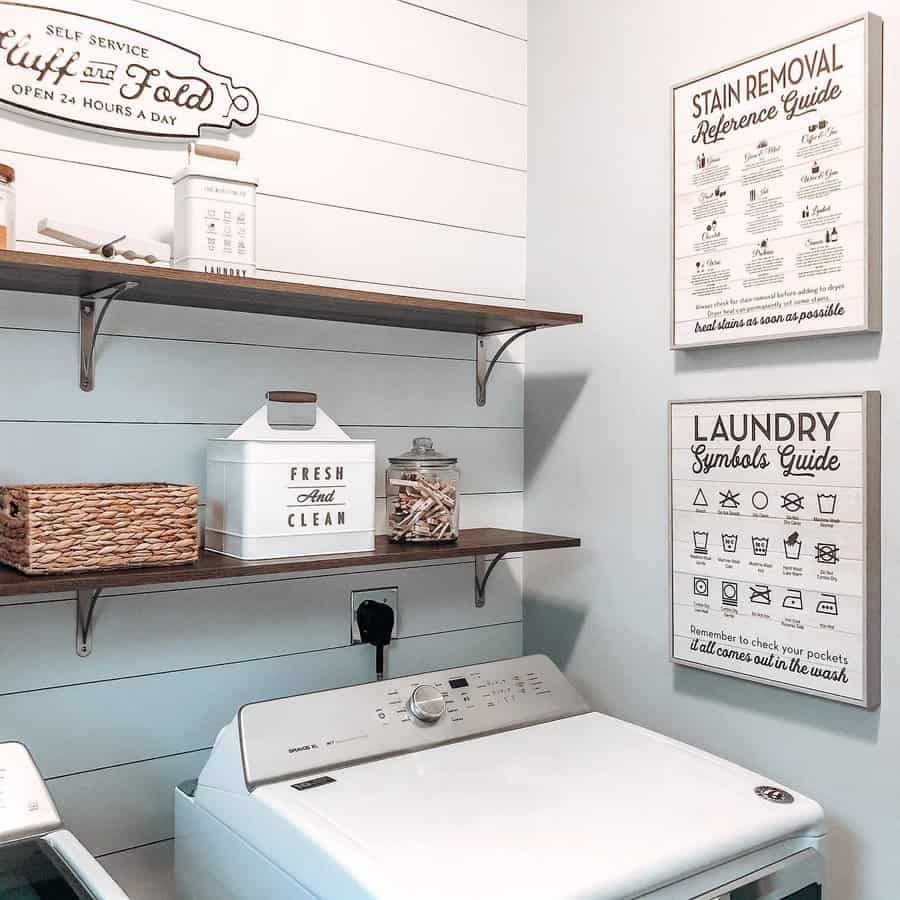 11. Efficient Setup: Stacked Washer & Dryer
Maximize your basement space by opting for a stacked washer and dryer setup, freeing valuable floor space for other uses. Utilize vertical storage solutions to keep laundry essentials easily accessible and well-organized. Install shelves or cabinets that extend to the ceiling, offering ample storage for detergent, fabric softener, and supplies.
Consider integrating pull-out hampers or baskets for convenient sorting and storage of dirty laundry. The advantages of stacked appliances extend beyond practicality; they also create a streamlined and uncluttered appearance.
With this intelligent layout and efficient vertical storage, your basement laundry room becomes a well-organized and functional space, simplifying laundry day and opening up more room for other activities in your basement. When configuring your stacked washer and dryer, ensure proper ventilation and access for maintenance, and consider the room's lighting to maintain a bright and functional space.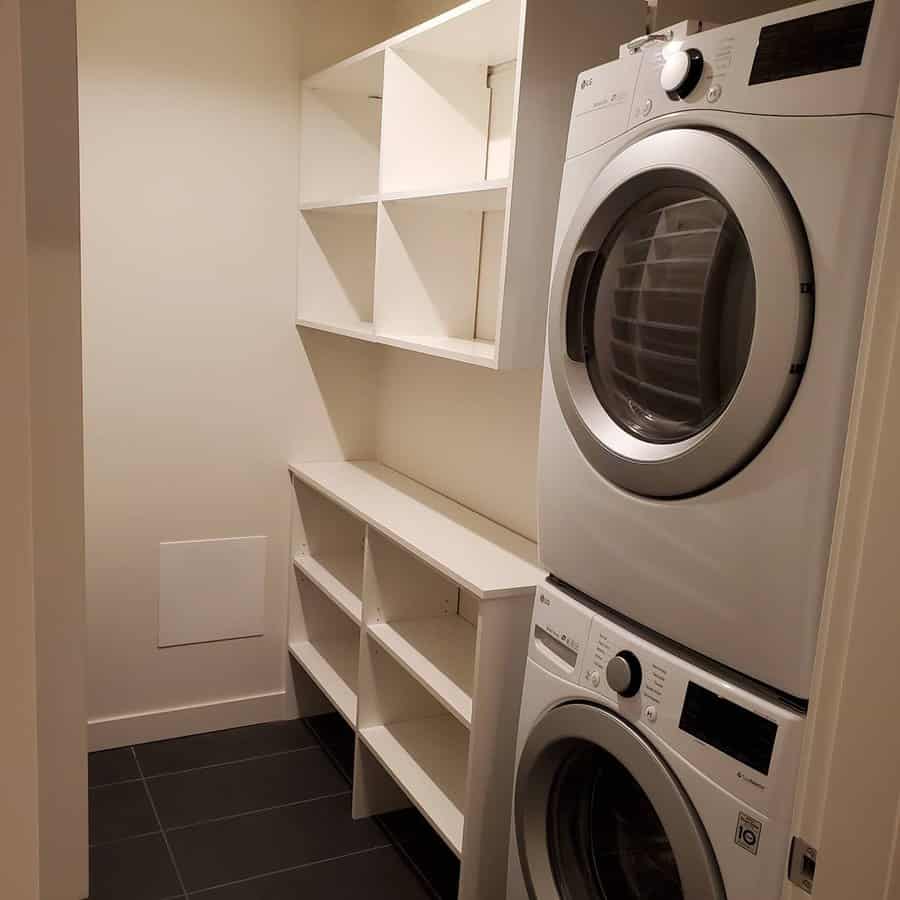 12. Space-Saving Line Drying: Retractable Clothesline
Transform your basement laundry room with the practicality and charm of a retractable clothesline. This ingenious solution not only maximizes drying space but also conserves energy and prolongs the life of your clothes.
For optimal results, position the clothesline near a window or along a wall to take advantage of natural light and airflow. Choose from a range of options, including wall-mounted retractable clotheslines or ceiling-mounted pulley systems, based on your laundry room's layout and design.
Whether you prefer a sleek and modern design that seamlessly integrates into the space or a rustic, vintage-inspired aesthetic with natural materials and finishes, there's a retractable clothesline to suit your style. Beyond its functionality, a retractable clothesline brings a sense of simplicity and sustainability to your laundry room, evoking nostalgia for a bygone era.
Embrace the convenience and elegance of a retractable clothesline in your basement laundry room, elevating your laundry experience to new heights of efficiency and style. Ensure proper installation to support the weight of wet laundry, and consider using eco-friendly laundry detergents to complement your sustainable laundry setup.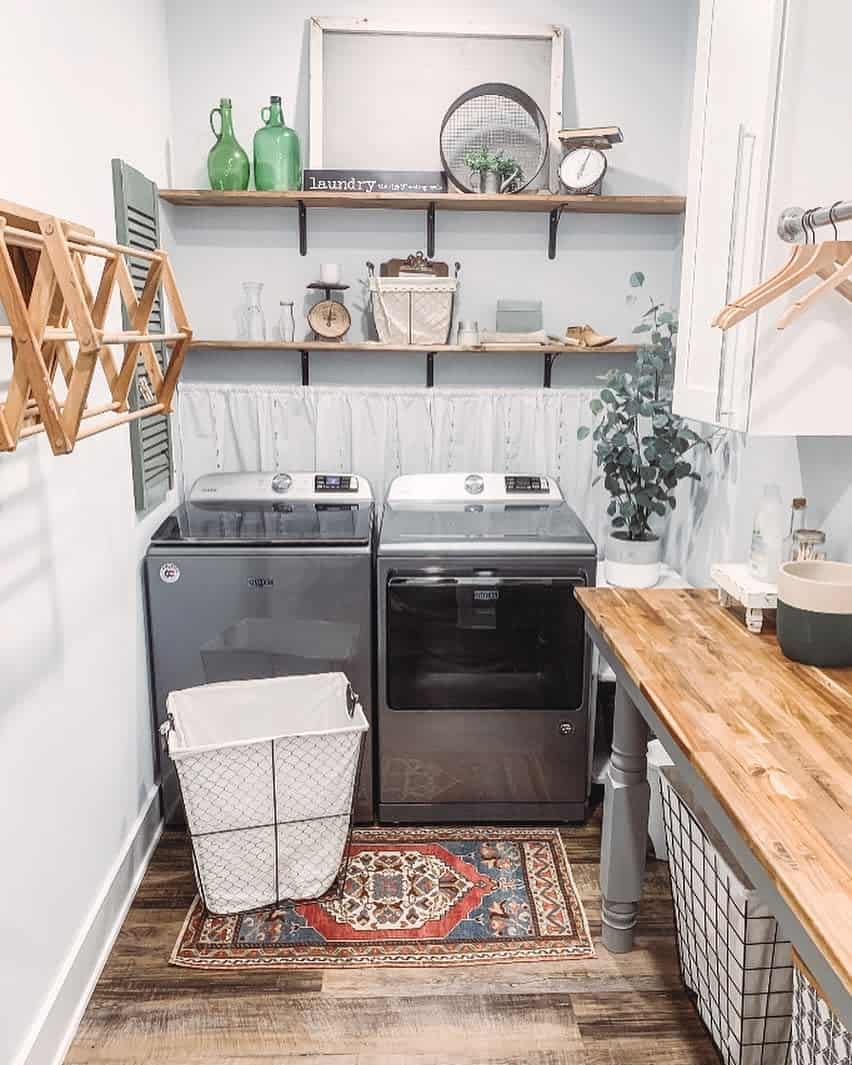 13. Compact Convenience: Closet-Style Laundry
Transform your basement laundry area into a closet-style setup for compact convenience. Enclose the space with a door to provide privacy and conceal the laundry room when not in use.
Maximize the limited space by integrating smart storage solutions like built-in shelves, cabinets, and hanging rods. Utilize stackable washer and dryer units to open up valuable floor space, allowing for additional storage or a folding station.
Optimize every nook and cranny with hooks, baskets, and organizers to keep laundry essentials neatly arranged and readily accessible. Select a color scheme that harmonizes with your basement's overall aesthetic, ensuring a cohesive and visually appealing environment.
Don't overlook the importance of proper lighting, both functional and decorative, to illuminate the space and make laundry tasks more enjoyable, even in a small area. Consider energy-efficient lighting options to enhance both functionality and sustainability in your closet-style laundry setup.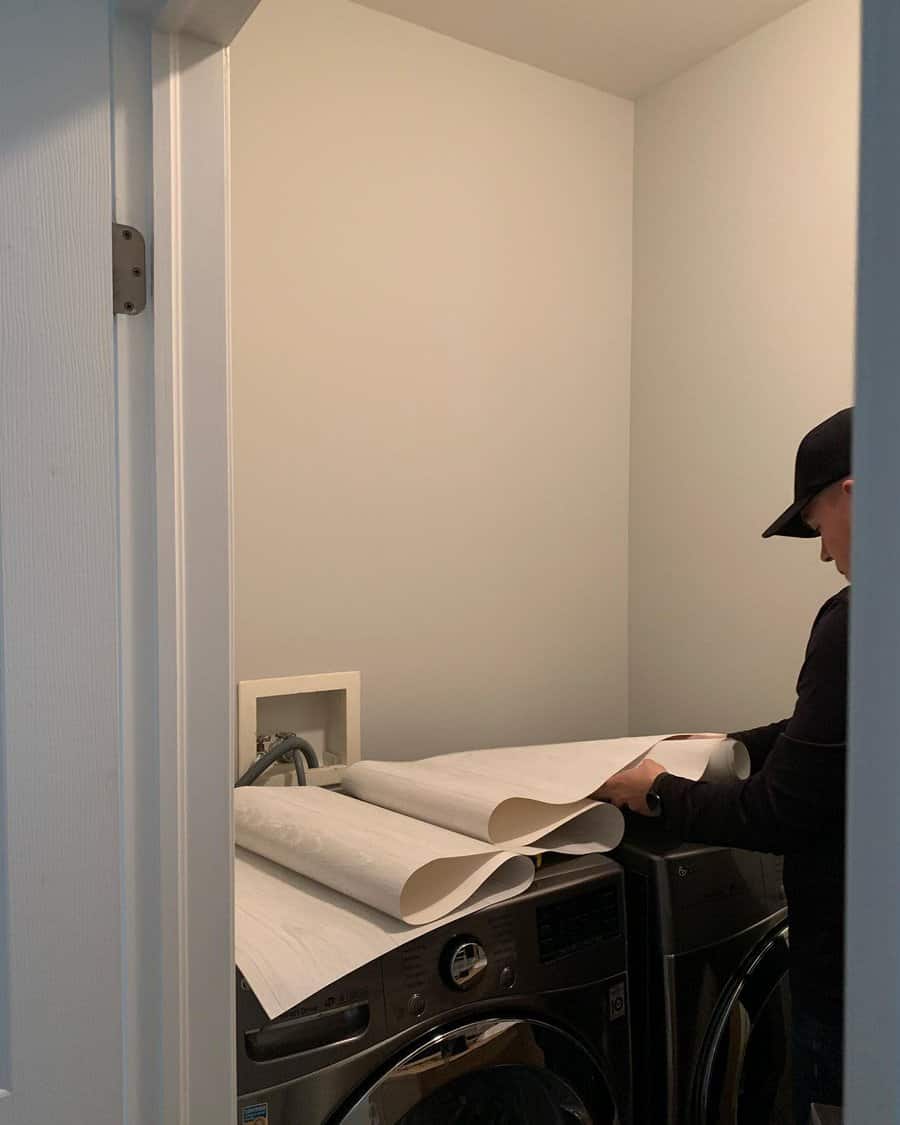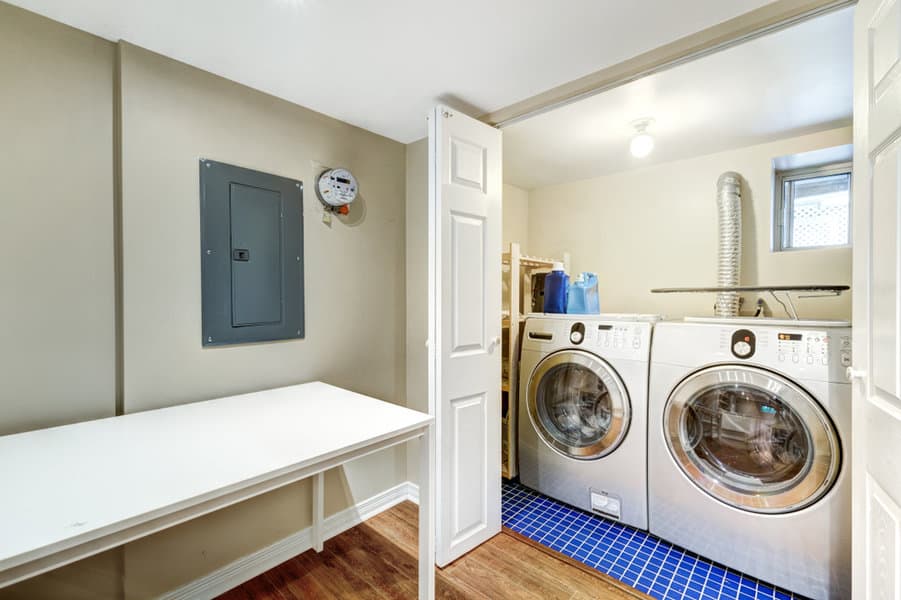 14. Splash of Style: Laundry Room Backsplash
Elevate your basement laundry room with a stylish and impactful laundry room backsplash. This small detail can infuse personality and visual interest into the space.
Consider using tiles to create a captivating backdrop for your laundry area. Beveled tiles, with their angled edges, bring depth and dimension while imparting a touch of sophistication. Alternatively, opt for brick tiles to introduce an industrial vibe that adds character to the room.
Select tiles in colors and patterns that harmonize with your overall design scheme, whether it leans toward sleek and modern or rustic and cozy. The laundry room backsplash not only acts as a protective barrier against splashes and stains but also becomes an eye-catching accent, transforming your basement laundry room into a stylish and inviting space. When choosing tiles, ensure they are easy to clean and maintain, especially in a laundry room where spills and splatters are common. Consider using grout in a contrasting color to make the tile design pop, and explore different layout patterns, such as herringbone or subway, to add a unique touch to your backsplash.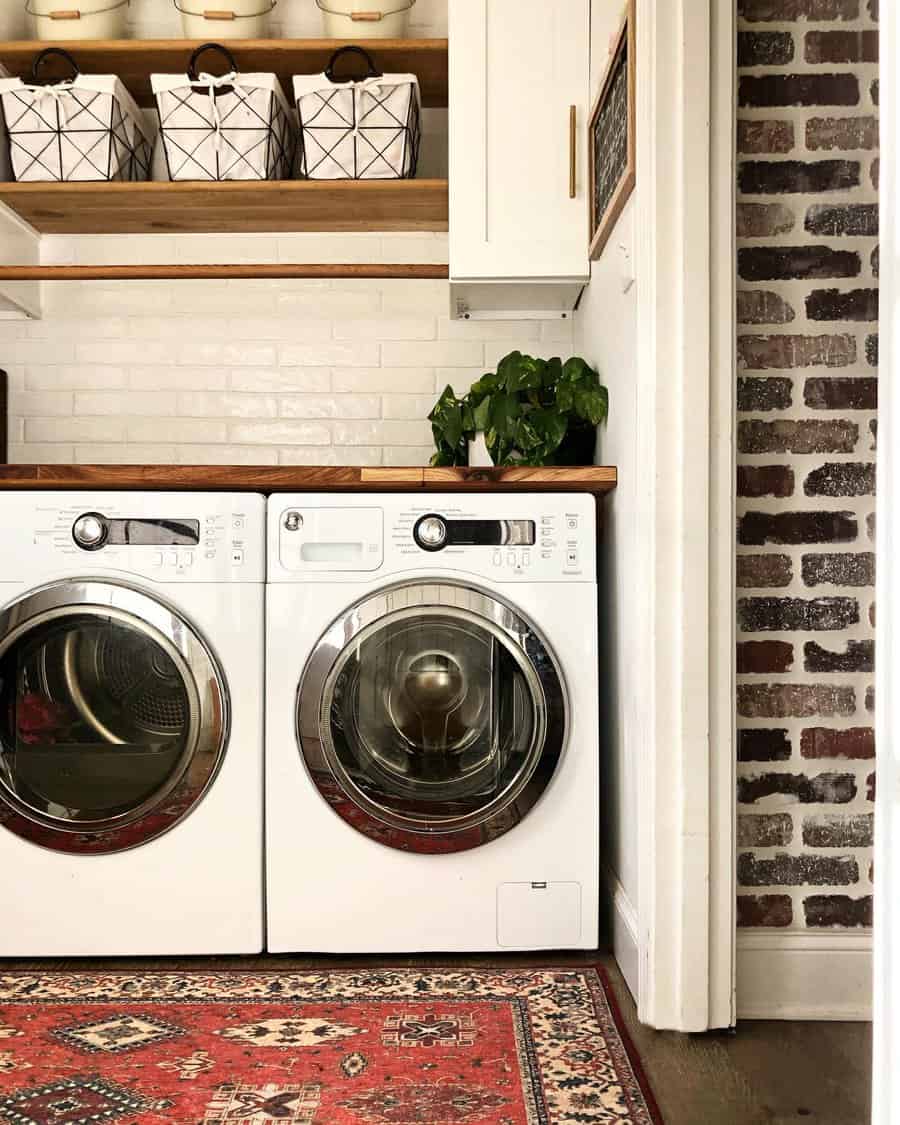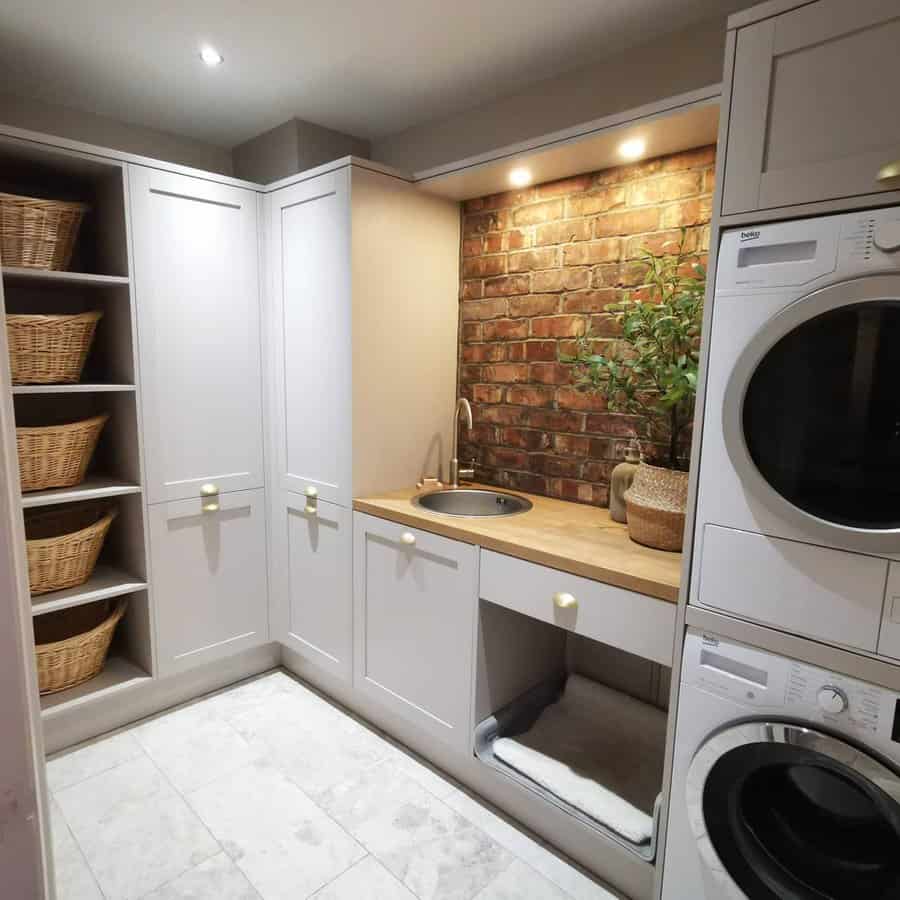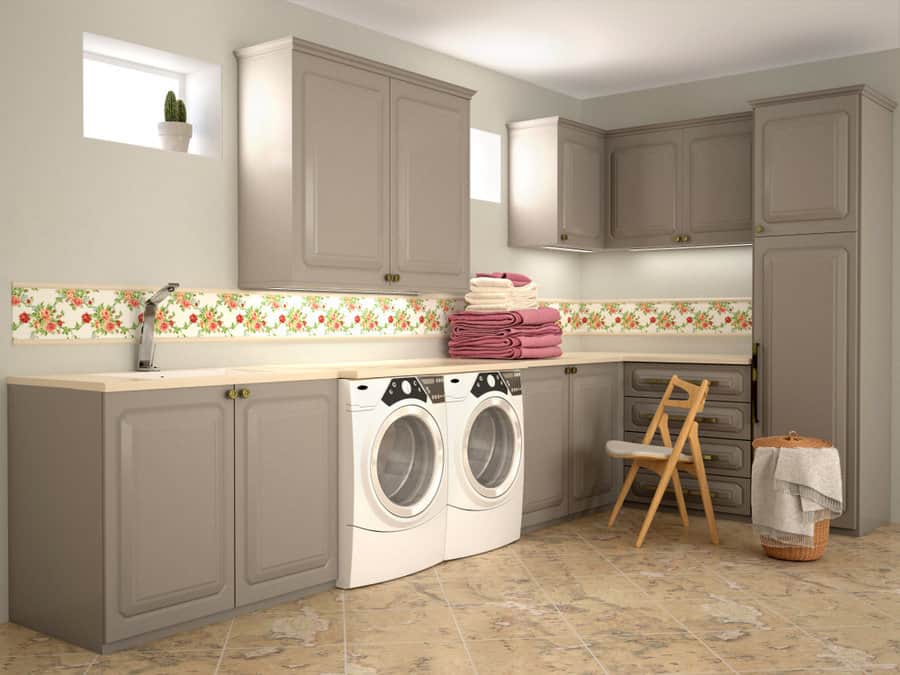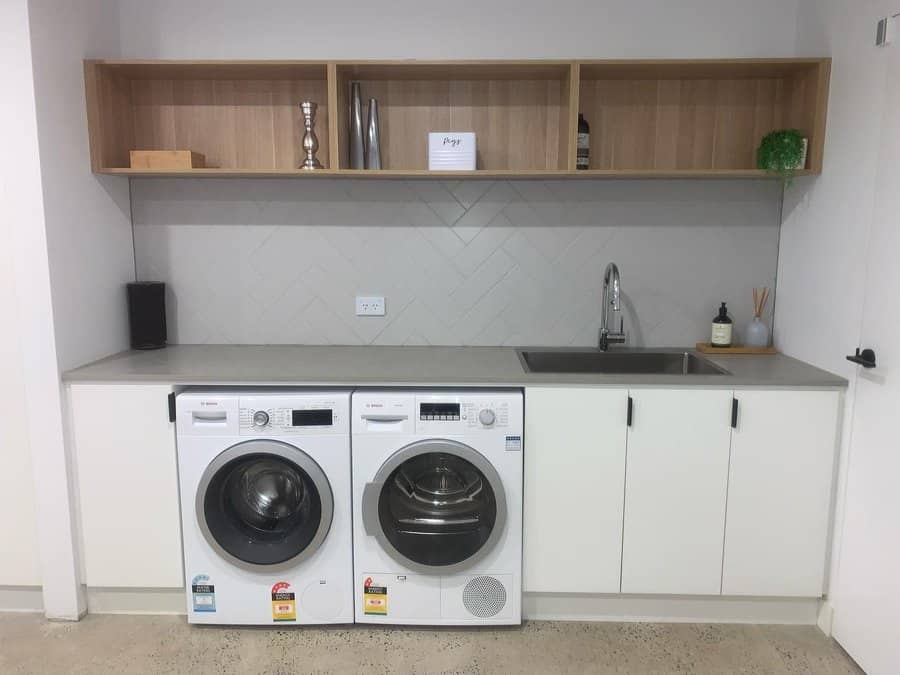 15. Artistic Touch: Laundry Wall Art
Transform your basement laundry room into a stylish and functional space that elevates the laundry experience. Enhance the ambiance with wooden wall art that brings warmth and character to the room.
Explore pieces that are visually appealing and laundry-themed, such as vintage laundry signs, quirky quotes, or playful illustrations. These decorative accents inject personality into the space, making laundry chores a touch more enjoyable. Strategically hang them on the walls to create a gallery-like effect, or use them as focal points to draw attention to specific areas of the room.
Whether it's a motivational quote extolling the virtues of clean laundry or a charming illustration capturing the essence of domestic bliss, wall art adds charm and style to your basement laundry room. To complete the look, choose art pieces that resonate with your design theme and color palette, ensuring they contribute to the room's overall aesthetic.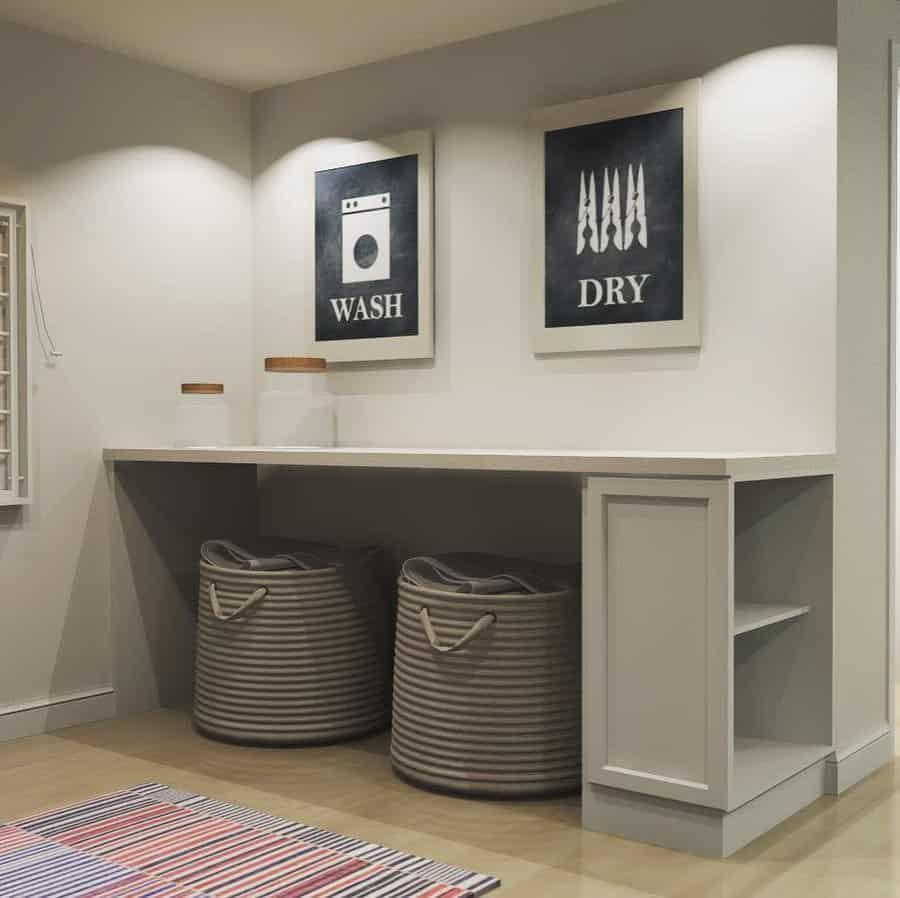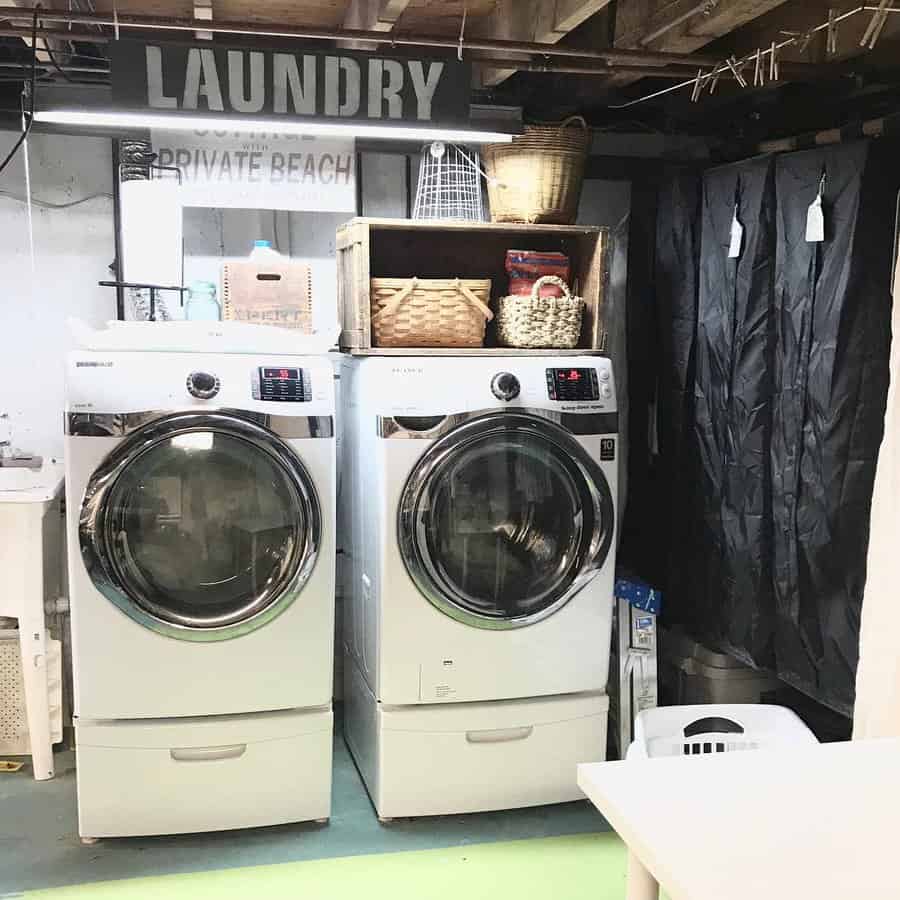 16. Seamless Organization: Wall-To-Wall Storage
Efficiently utilize your basement laundry room by maximizing vertical space, creating a seamless and organized workflow. Install floor-to-ceiling cabinets or shelves along the walls to provide ample storage for detergents, cleaning supplies, and linens.
Opt for sleek and modern storage solutions that not only keep everything organized but also elevate the room's aesthetic. To infuse charm, incorporate open shelving units to display decorative storage baskets or jars filled with laundry essentials. Enhance functionality by including hanging rods for drying clothes or easily storable ironing boards.
With wall-to-wall laundry storage, your basement will undergo a chic transformation into an organized space that simplifies laundry day and leaves you with a well-arranged and visually appealing environment. Ensure that the cabinets and shelves are securely anchored to the walls, and select storage solutions that fit your laundry room's dimensions and design theme seamlessly.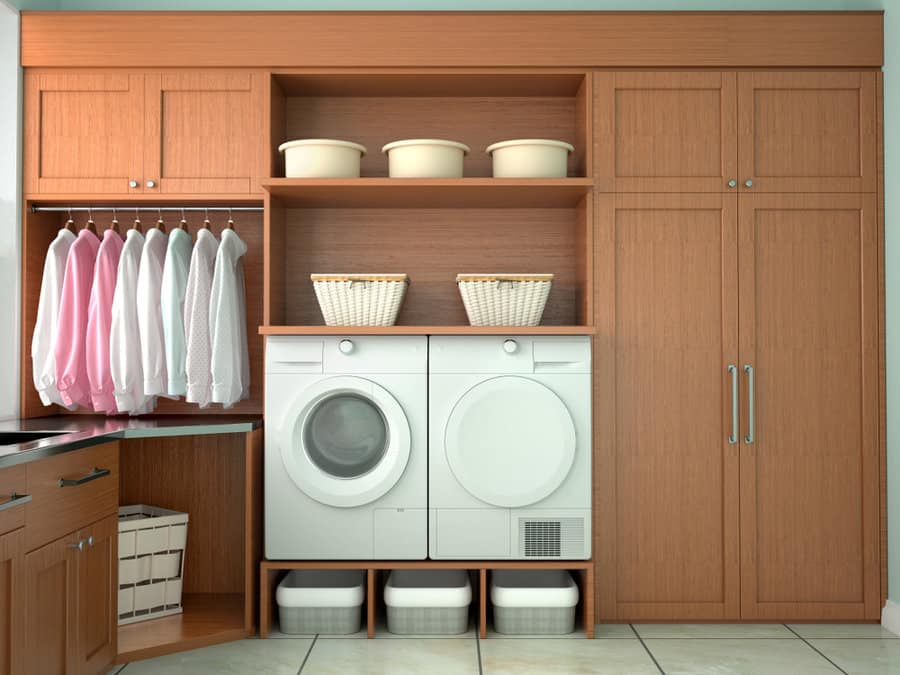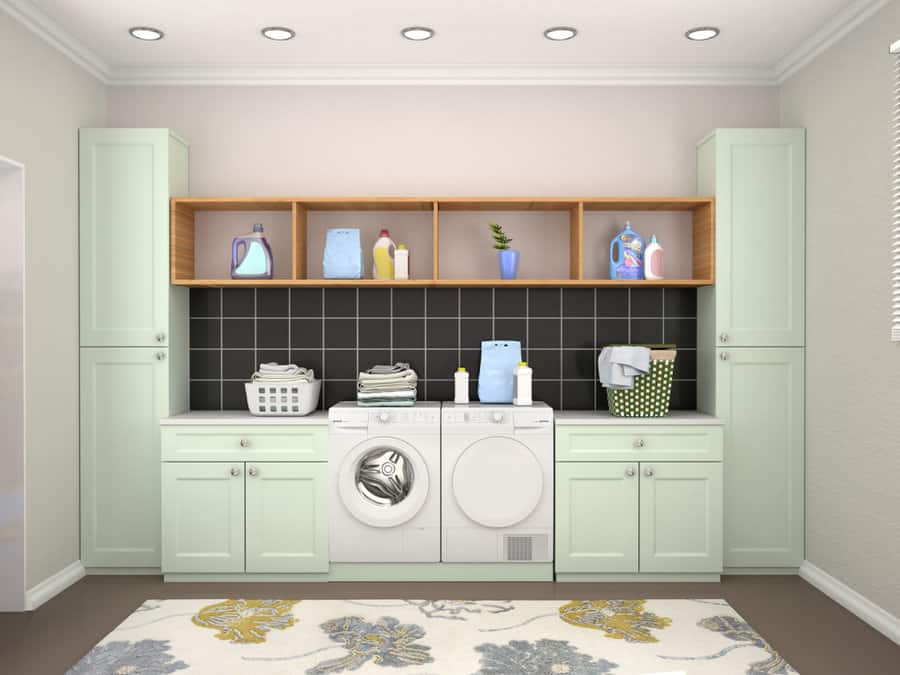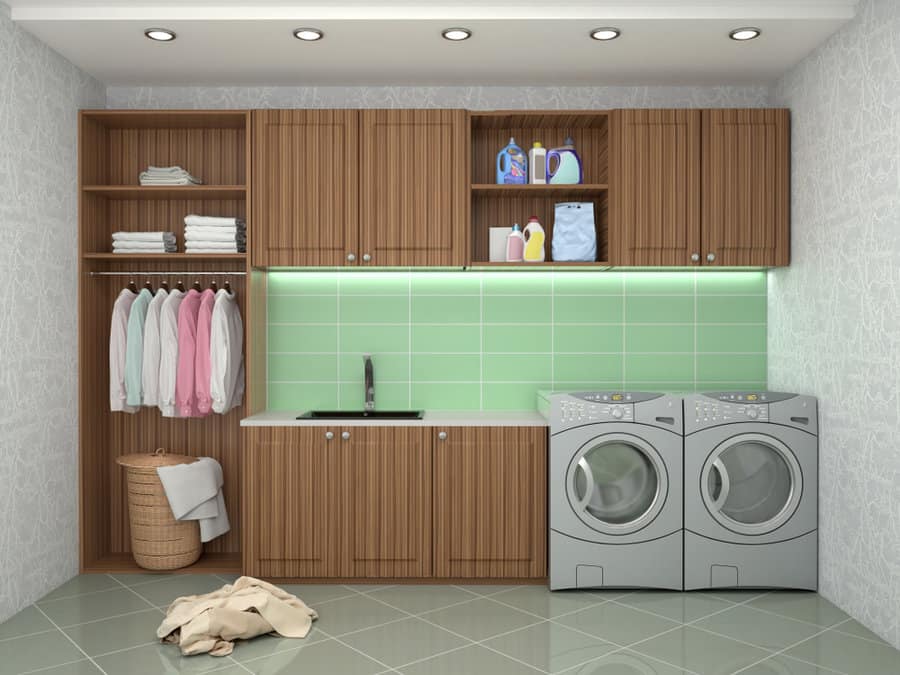 17. Charming Rustic Vibe: Rustic Storage
Give your basement laundry room a stylish and inviting makeover with rustic charm. Begin by creating a cozy atmosphere with white-washed walls, infusing the space with a fresh and airy feel.
To amplify the rustic aesthetic, introduce distressed laundry cabinets and shelves. Opt for weathered wood finishes and vintage-inspired hardware to infuse character and texture into the storage units. These cabinets and shelves not only offer ample storage for your laundry essentials but also serve as decorative elements that radiate a warm and inviting ambiance.
Enhance organization by incorporating woven baskets or galvanized metal bins to store laundry supplies, ensuring everything is neatly arranged and easily accessible. Further enhance the rustic vibe by using natural materials like wicker or rattan for laundry hampers or sorting baskets.
Install overhead lighting fixtures that emit a soft and warm glow to complete the welcoming atmosphere. When selecting rustic storage pieces, ensure they align with your overall design theme and harmonize with the room's color palette, creating a cohesive and visually pleasing space.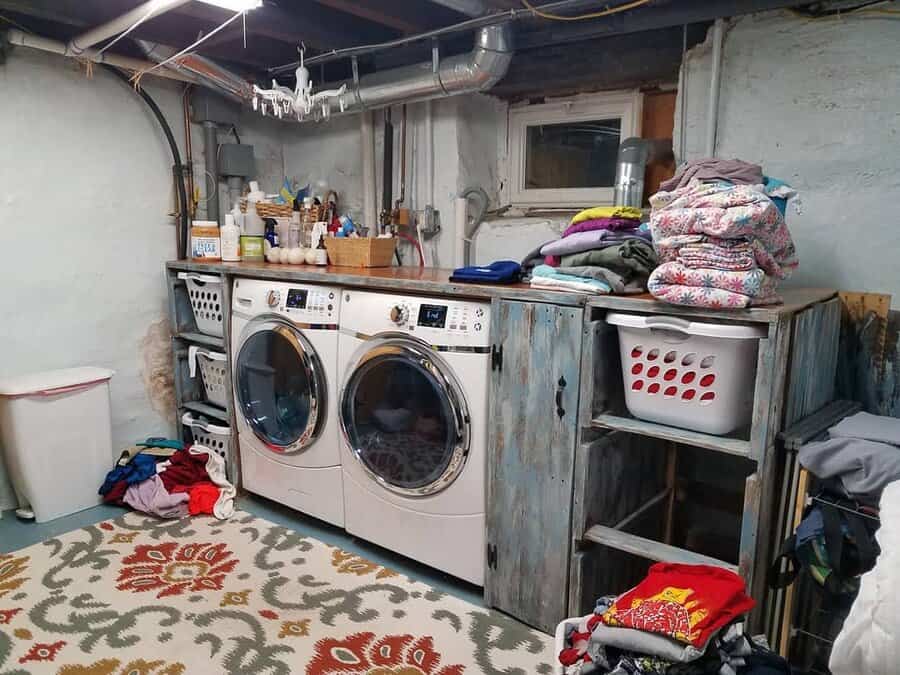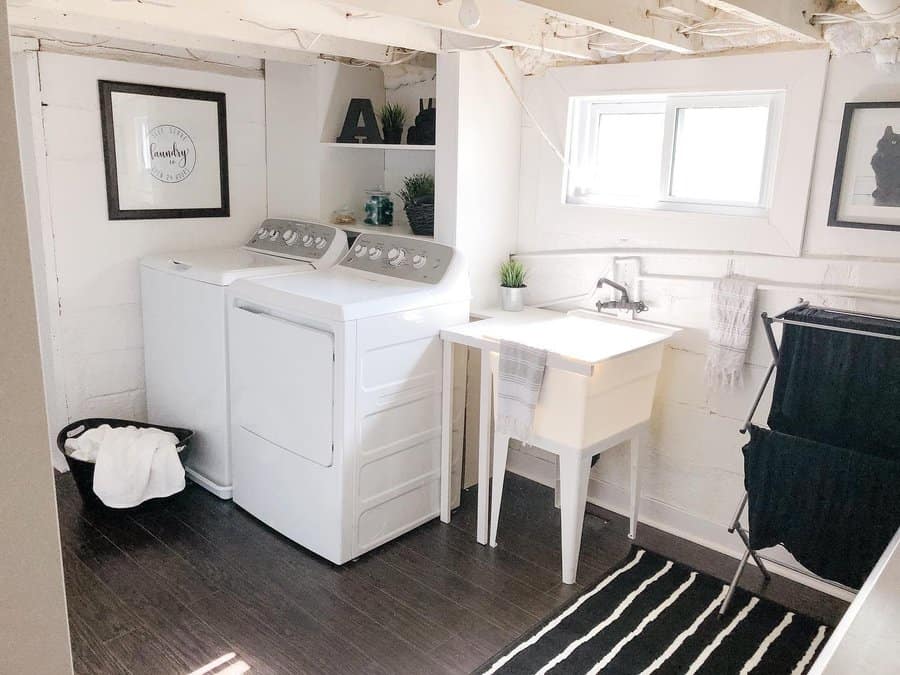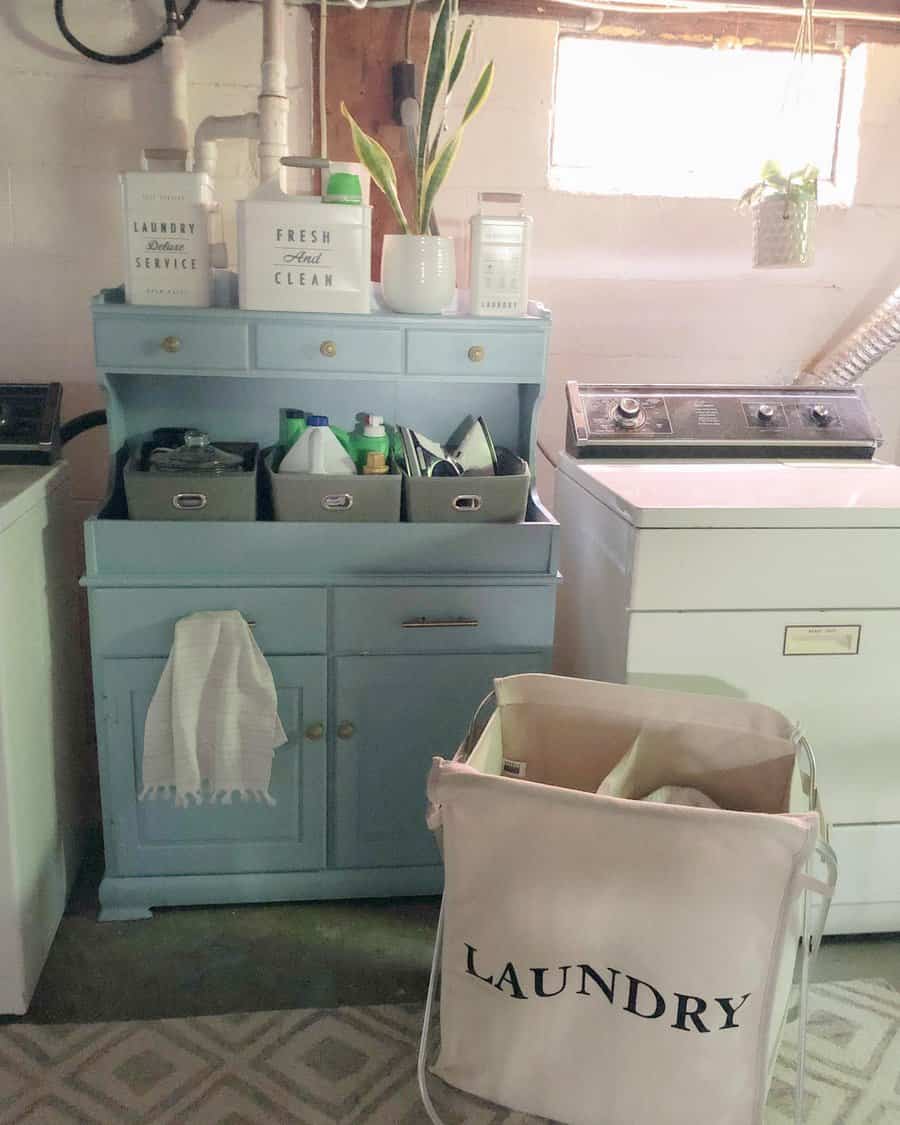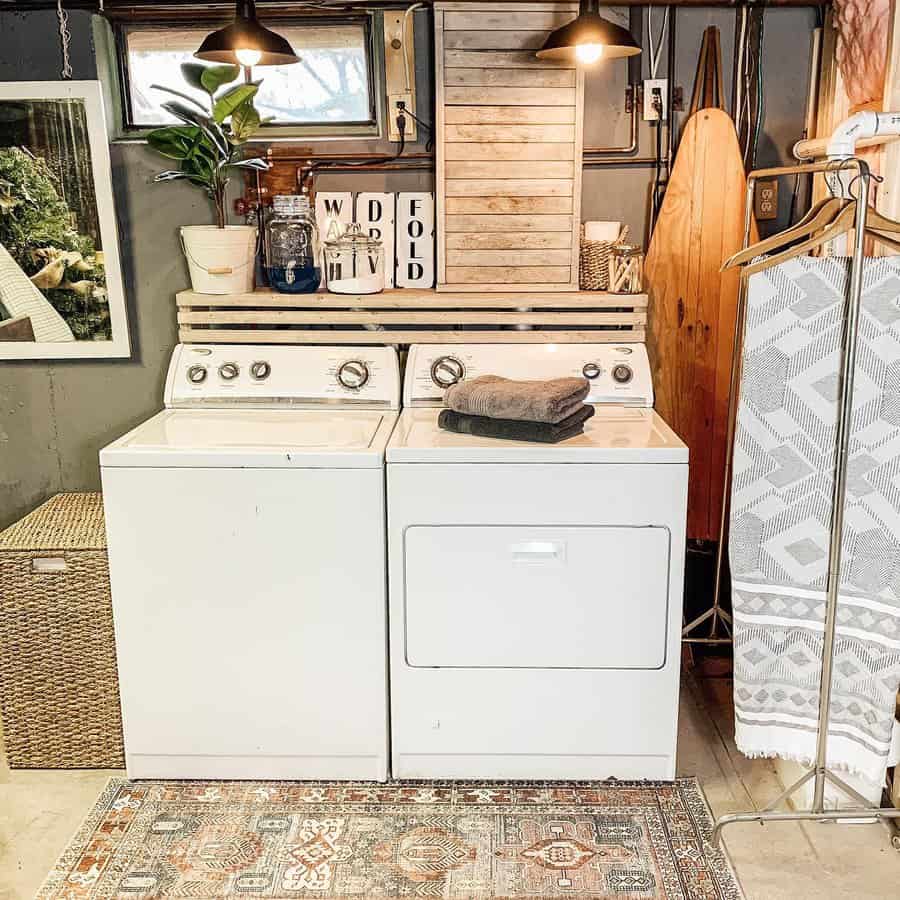 18. Greenery & Décor: Laundry Room Plants
Turn your basement laundry room into a captivating oasis by introducing the beauty of plants. Even in low-light conditions, you can create a lush haven that breathes life and freshness into your laundry routine. Opt for low-light plants that thrive in dimmer environments, such as snake plants, pothos, or ZZ plants.
These verdant companions not only infuse natural beauty but also enhance air quality, contributing to a healthier and more inviting atmosphere. Position them on countertops, shelves, or hang them from the ceiling to maximize available space. To further elevate the ambiance, incorporate decorative elements like wall art or stylish storage solutions to keep laundry essentials organized and within easy reach.
With the soothing presence of plants, laundry time in your basement becomes a rejuvenating experience, connecting you with the calming influence of nature and converting a often-neglected space into a captivating sanctuary. When caring for your laundry room plants, be sure to provide them with the appropriate amount of water and light, and choose planters and pots that complement your room's design theme for a harmonious and aesthetically pleasing look.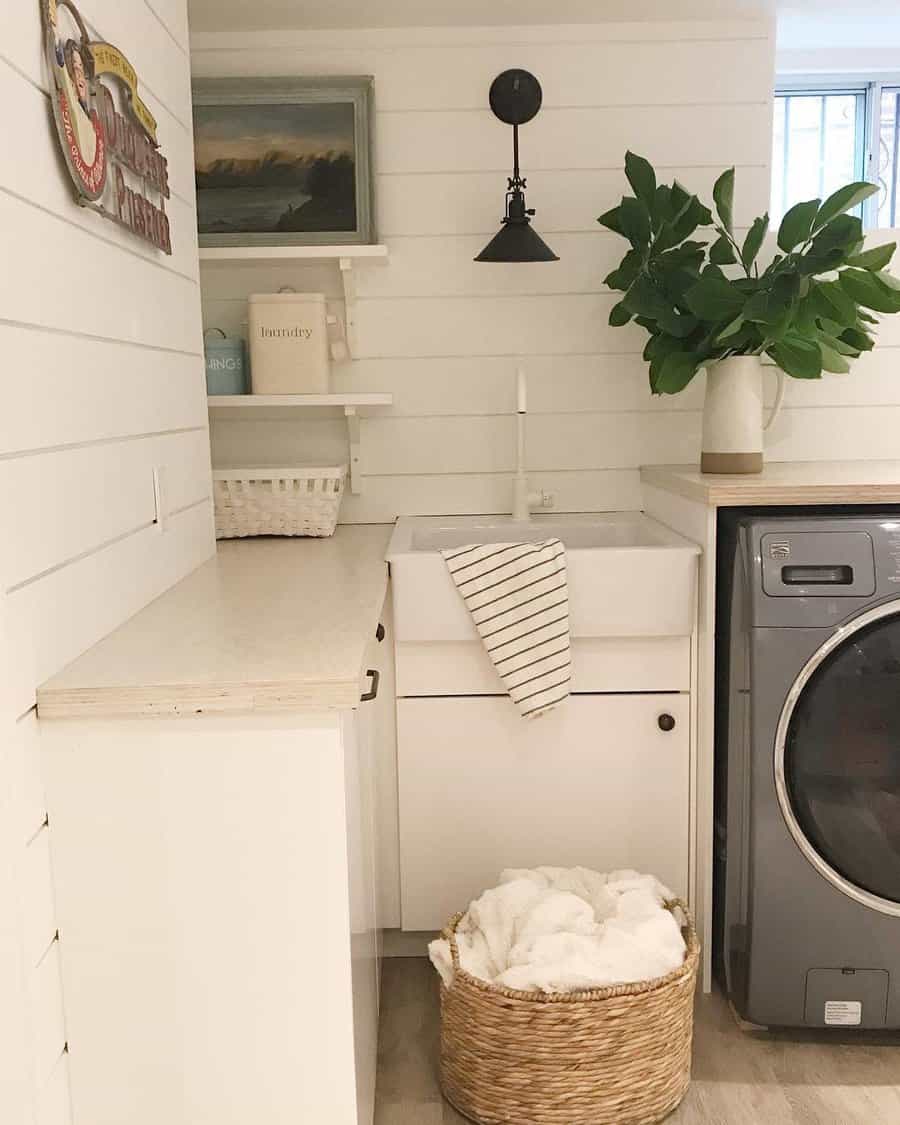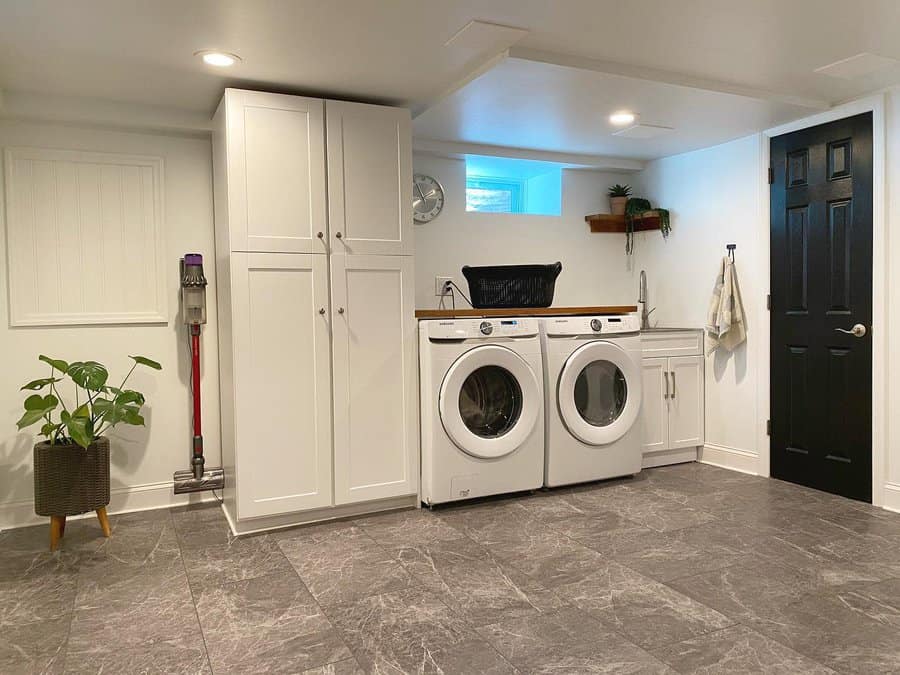 Basement Laundry Room FAQs
How do I organize my basement laundry area?
Use an accordion drying rack that you can pull out when in use and tuck away when not needed. Add shelving for supplies will give you space for organizing everything. Hide hampers behind cabinet doors so that the mess is contained.
Can you put a washer and dryer in the basement?
Yes, you can! You just need to add the necessary electrical and plumbing lines. Make sure you follow any building codes that could apply to your basement or laundry room appliances. This could mean placing them a certain distance from other home features.
Is stacking the washer and dryer a good idea?
Whether or not stacking your washer and dryer is a good idea will depend on the size and shape of your laundry room. It also depends on your laundry needs and lifestyle. Vertical compact units are good if you typically have small loads and live in a small place. Side-by-side units are better when you have high laundry demands and enough space in your laundry room for larger units.