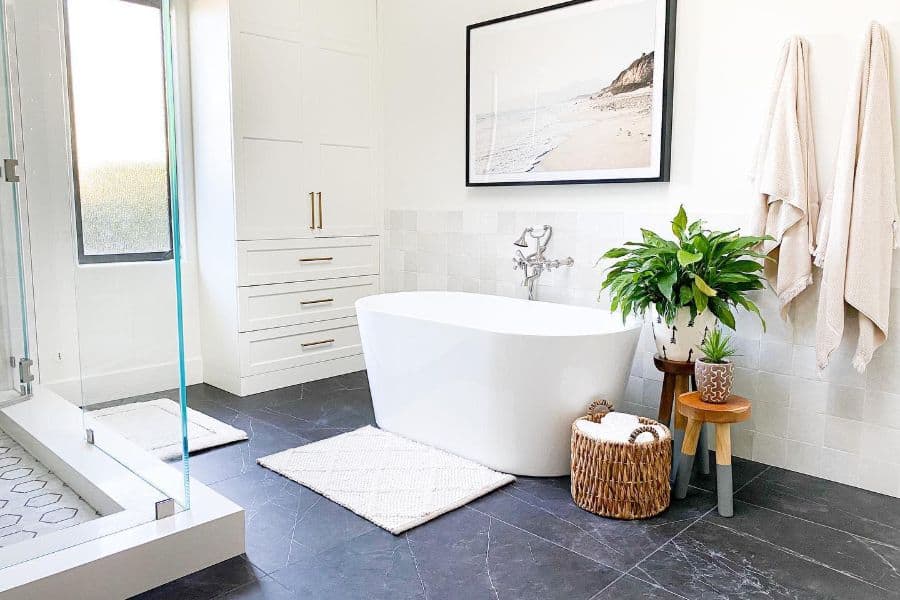 When it comes to arranging art throughout the home, most people opt to place their most cherished pieces where they will get the largest audience. But that can mean neglecting the living spaces like the bathroom.
A well-designed bathroom is more than just a shower stall, sink, and toilet. Wall decor can take your average bathroom from dull and boring to bright and inviting. And these characteristics are desirable whether you're decorating a master bath or a spare powder room!
Check out the bathroom art ideas below to learn the most effective ways to include prints, paintings, and more in your own interior design.
1. Black and White
If you're afraid that hanging artwork in your master bathroom will make the space feel immature or childish, you're just not using the right decor. Black and white art is an excellent way to give your bathroom a mature, stylish atmosphere.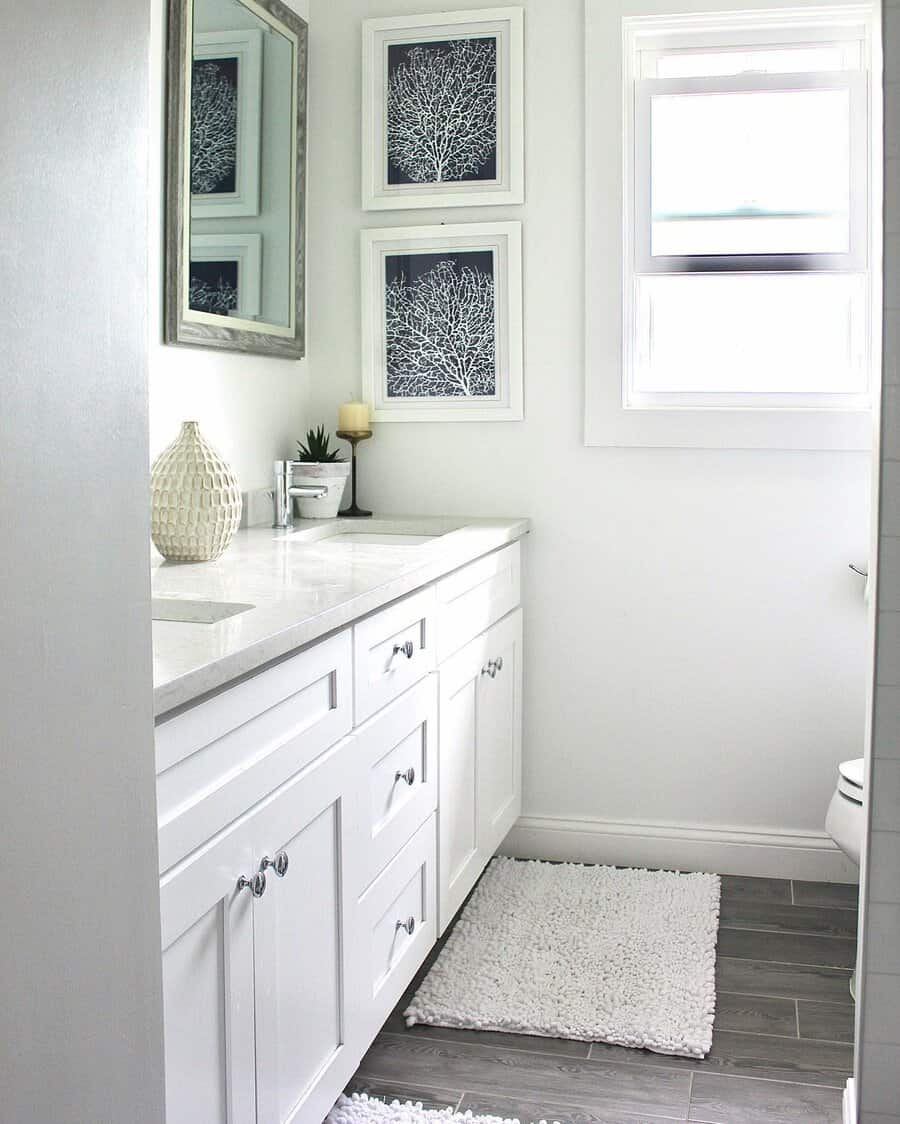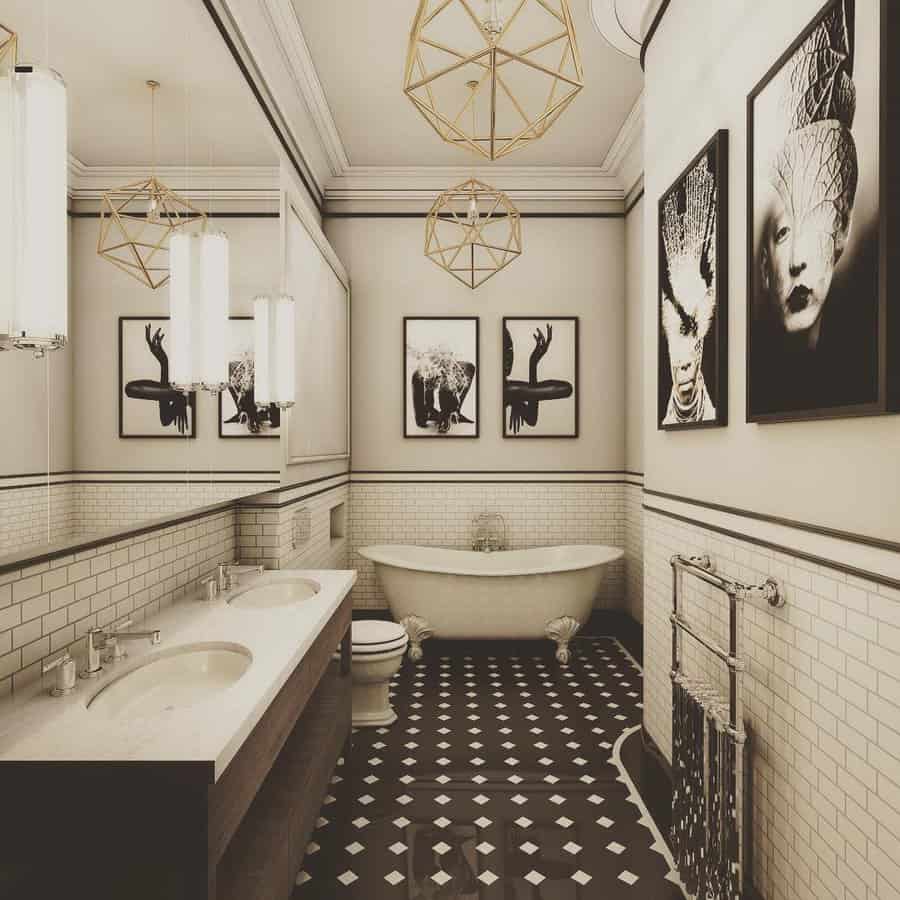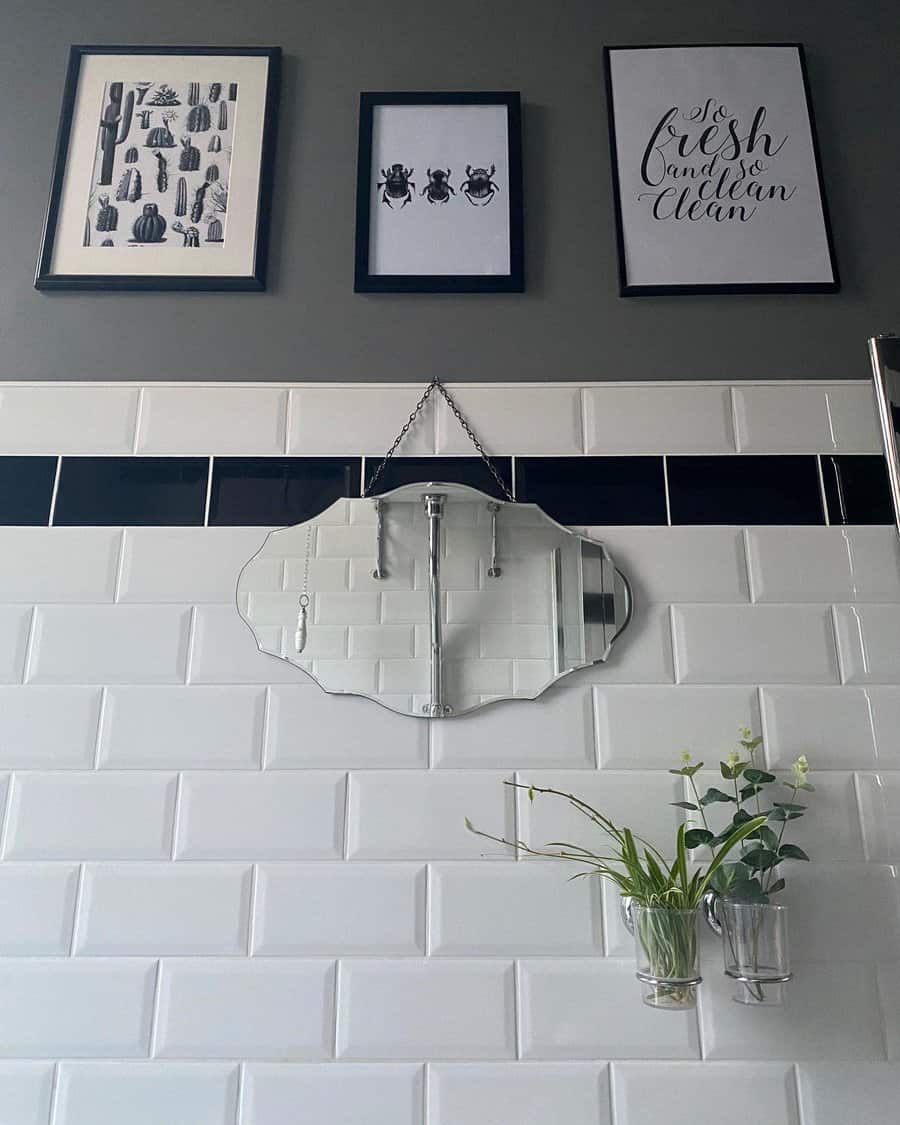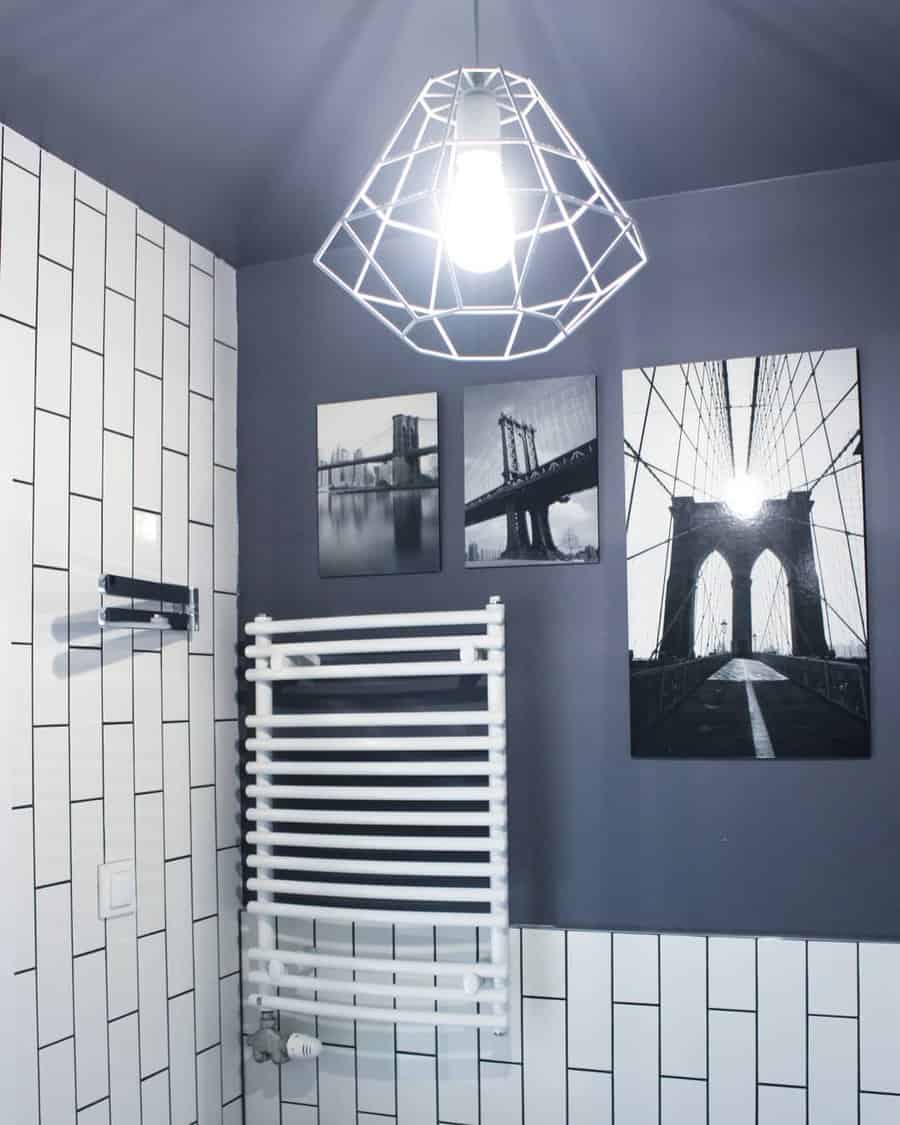 Black and white artwork relies heavily on contrast to make an impact. Adapt this same principle when designing your bathroom walls as a whole. Mounting a white-framed print or photo over a dark wall can be incredibly effective.
Exclusively black and white bathroom decor can make a space feel dull and lifeless. Incorporate details like metallic lighting fixtures or potted plants to breathe some energy back into your bathroom.
2. Coastal or Nautical
No matter the current interior design trends, one thing is true: There's something about the bathroom that makes many of us reach for nautical or coastal decor!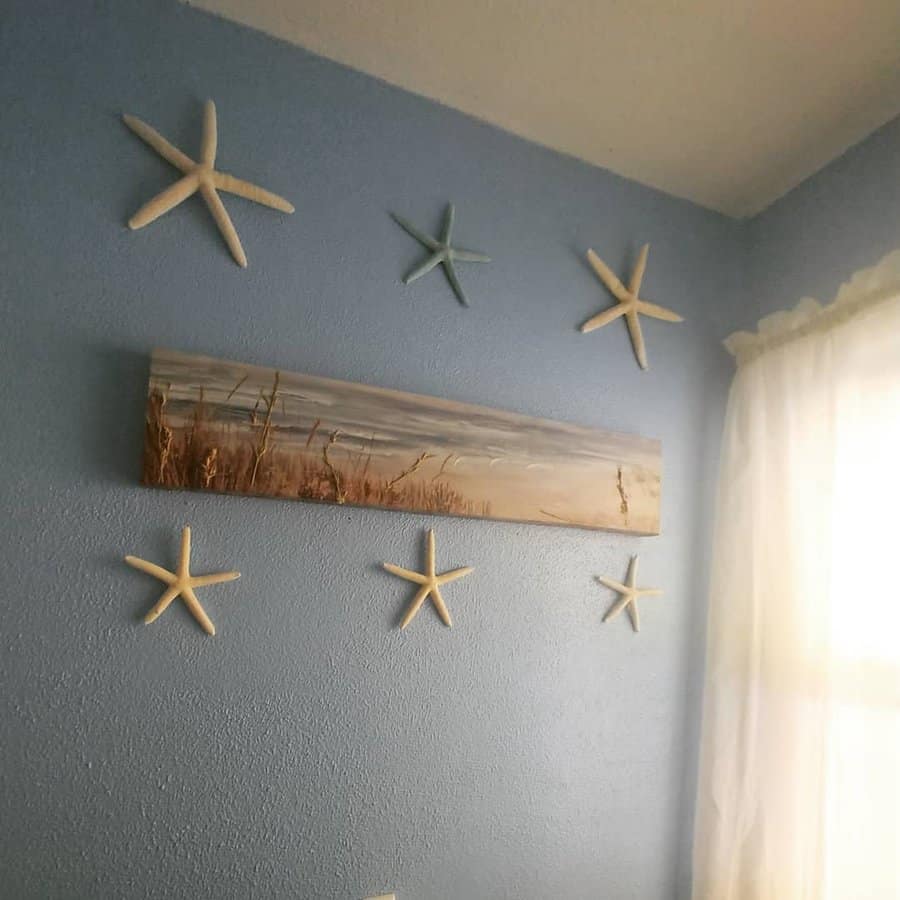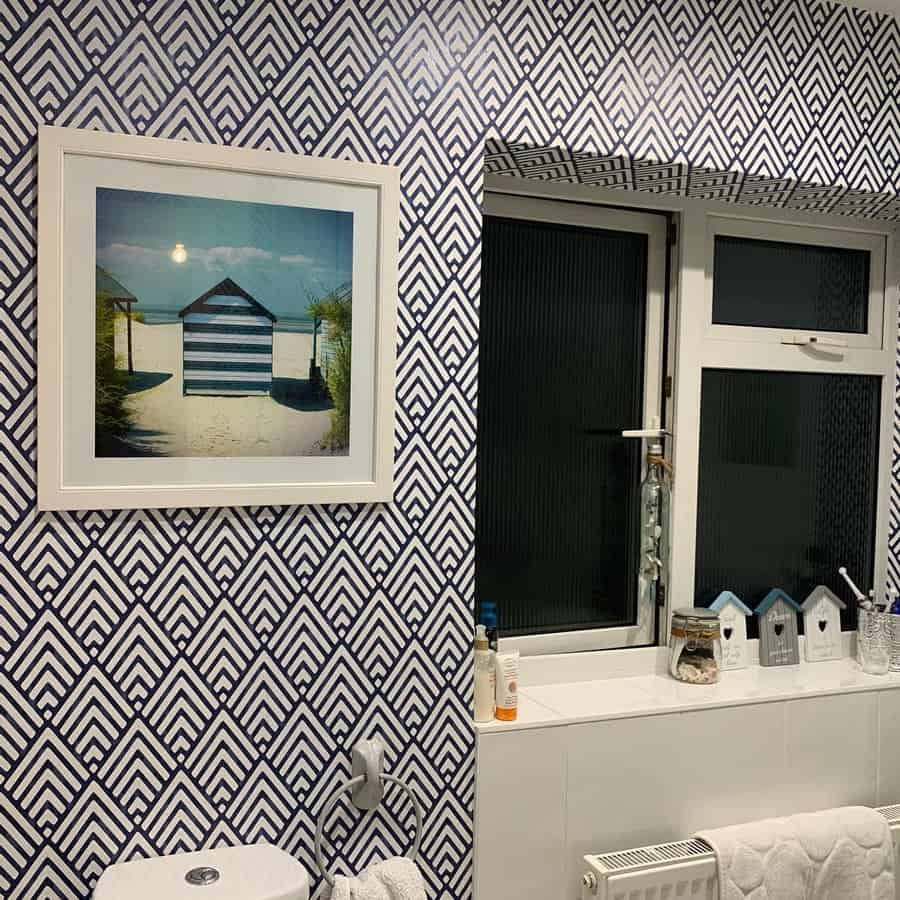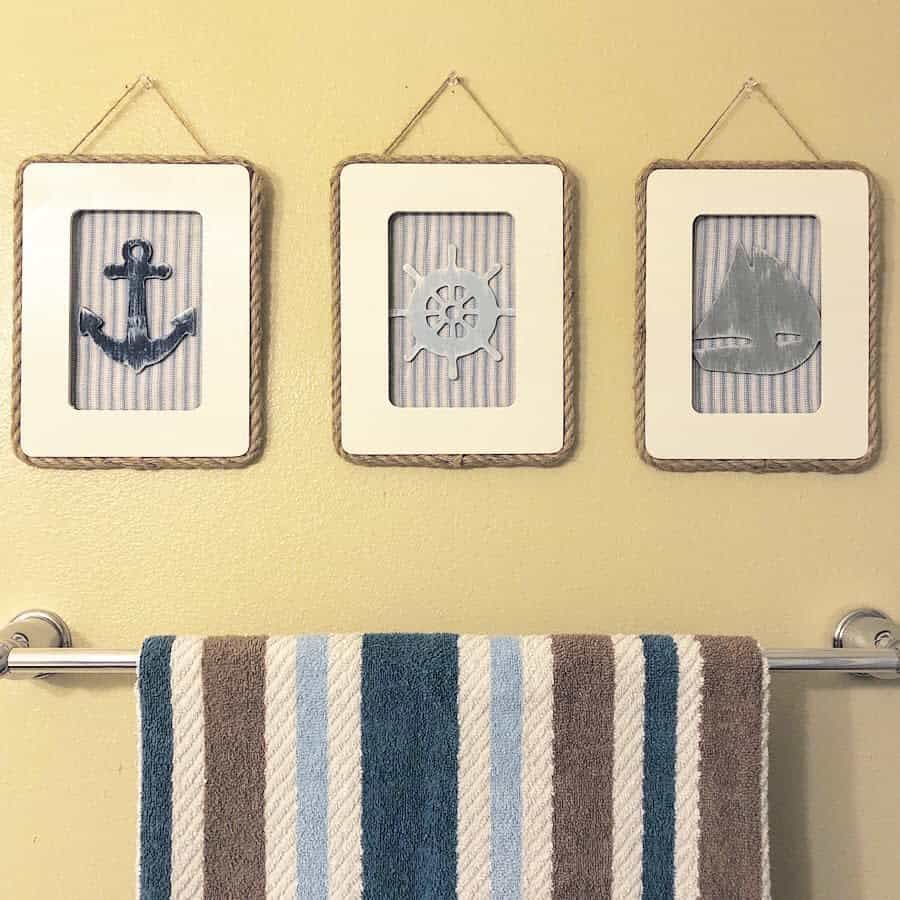 Whether you're decorating a children's bathroom or guest powder room, ocean-inspired motifs look great in any bathroom. There are equal opportunities to include nautical artwork in your bathroom design regardless of the overall aesthetic.
Remember that adopting a theme for your bathroom does not also mean using literal imagery. Minute details like color palette or material can make even the most abstract artwork look and feel like a coastal masterpiece.
3. Contemporary
Since contemporary decor is all about the latest trends, there's no shortage of new and exciting ideas to choose from. And if you can't find a style that fits your bathroom at the moment, there's sure to be something on the horizon that suits your fancy!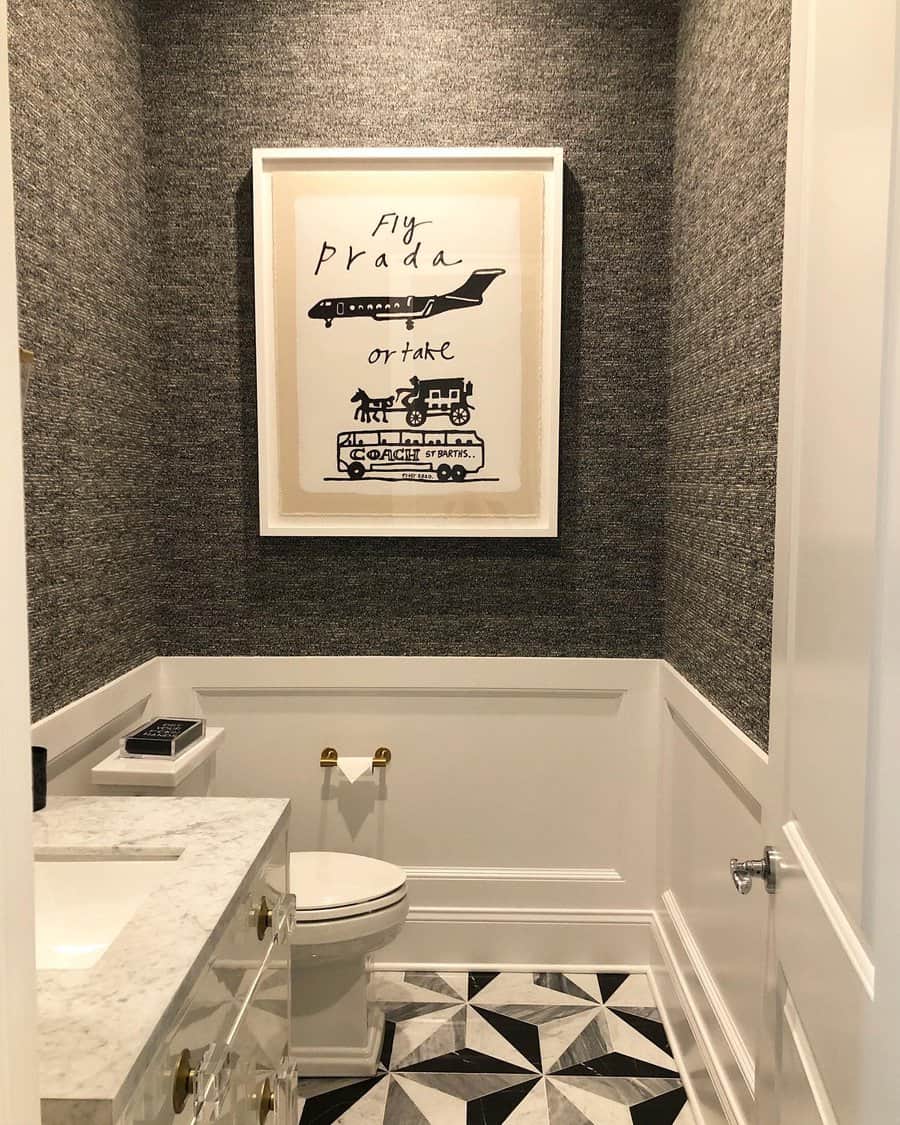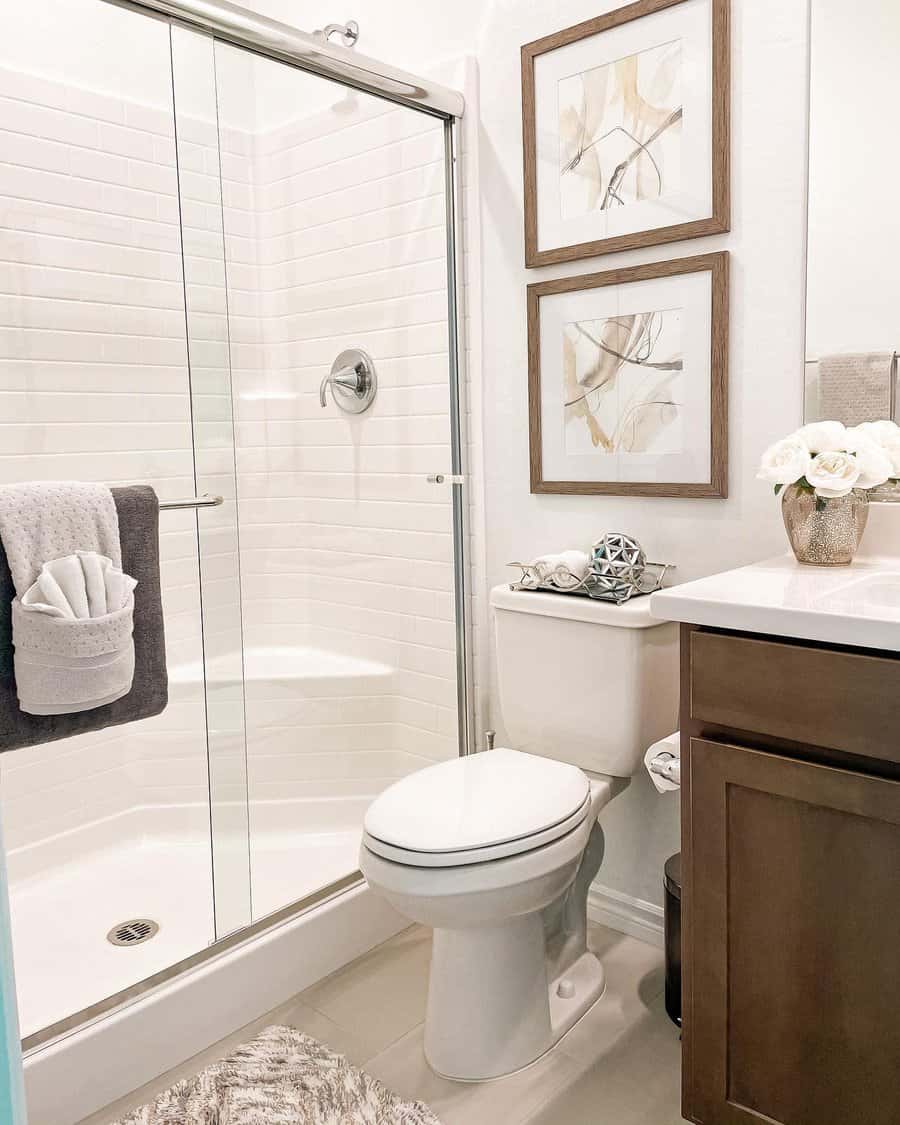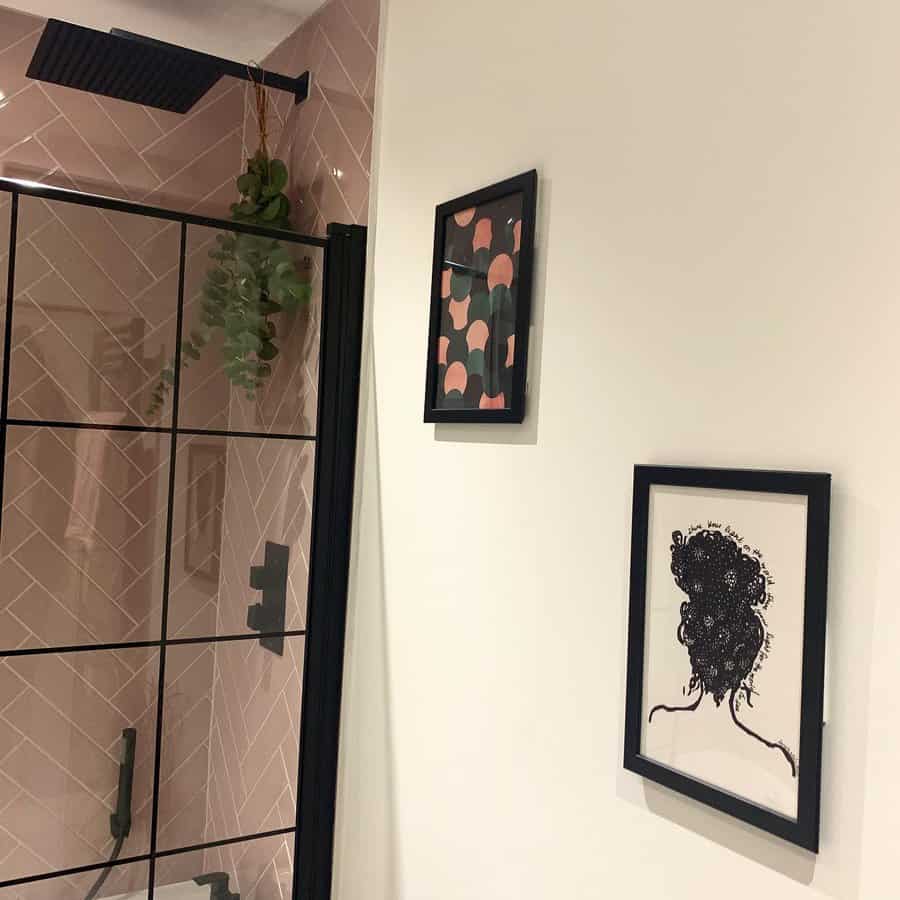 Right now, contemporary wall art is largely made up of illustrative and abstract elements. You'll also notice that the vast majority of contemporary bathrooms lean heavily on natural images like plants and animals.
Hand-drawn artwork is perfect for a contemporary bathroom. Where else in the home will you — and, of course, your guests — have a moment to stop and enjoy such intimate pieces of art?
4. Funny
Speaking of intimacy, the bathroom is the ideal place to hang your cheekiest artwork (no pun intended!). The more private the space, the more adventurous you can get with your sense of humor.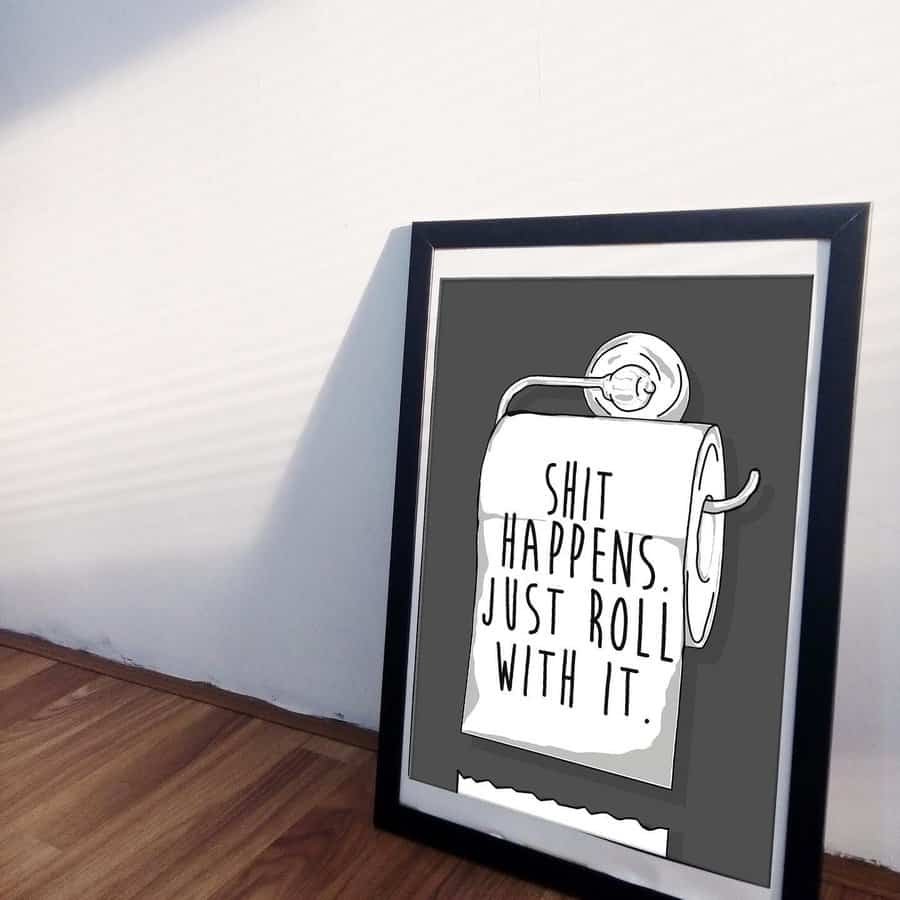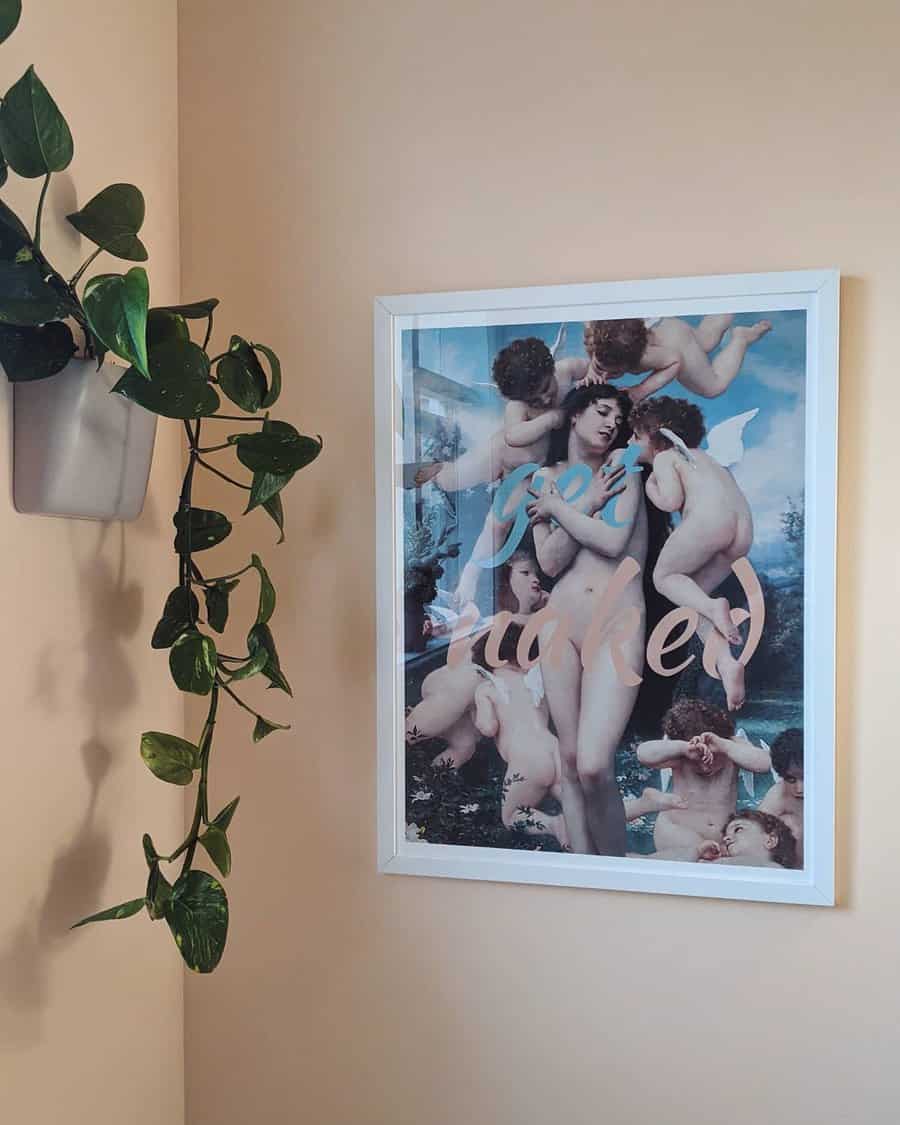 While there's nothing wrong with keeping your funniest wall art to yourself, these pieces work especially well in a guest bathroom. No one likes using another person's bathroom, and the right piece of art can help lighten the mood.
If you think funny wall decor is automatically tacky, think again. There are plenty of examples of artwork that combines classic aesthetics with tongue-in-cheek humor. You just need to know who your target audience is!
5. Gallery Wall
Gallery walls are often reserved for large rooms with an abundance of bare space. But there's nothing stopping you from adopting this ultra-trendy decor idea for your bathroom.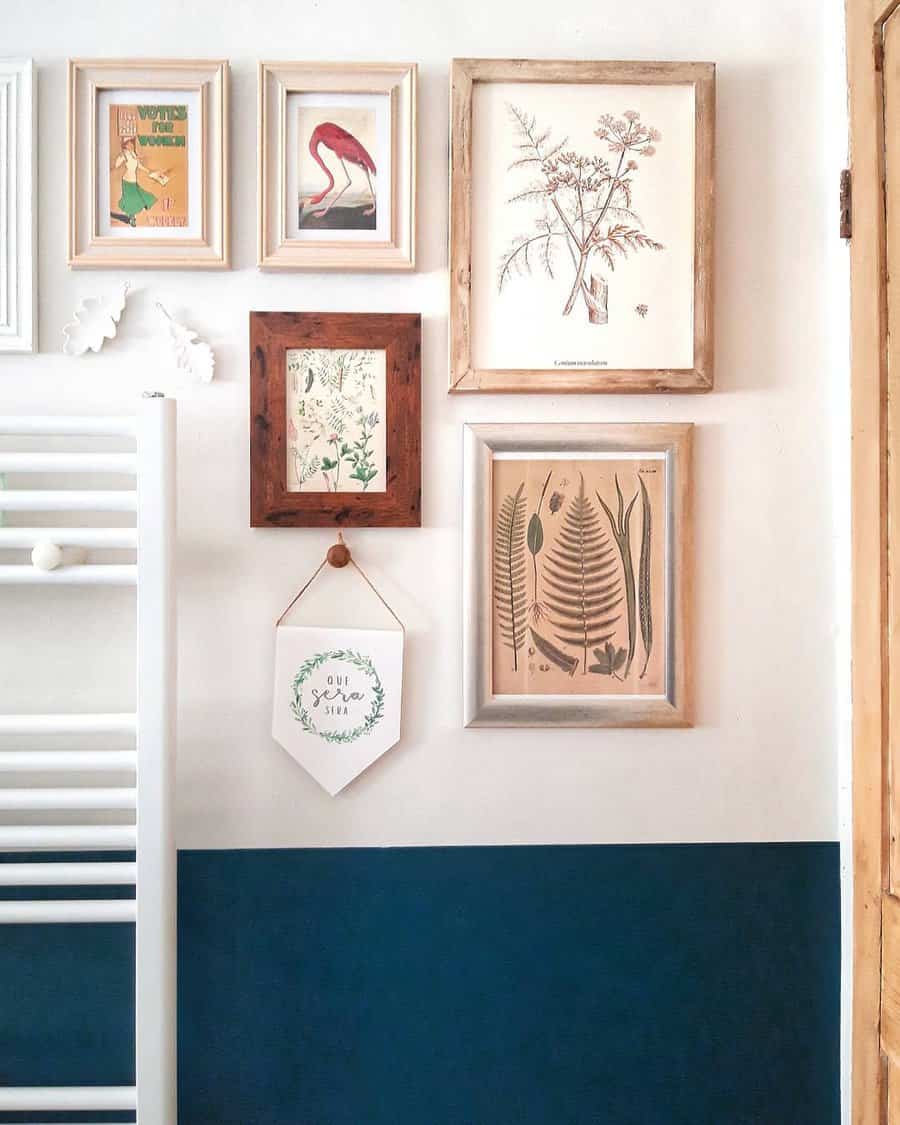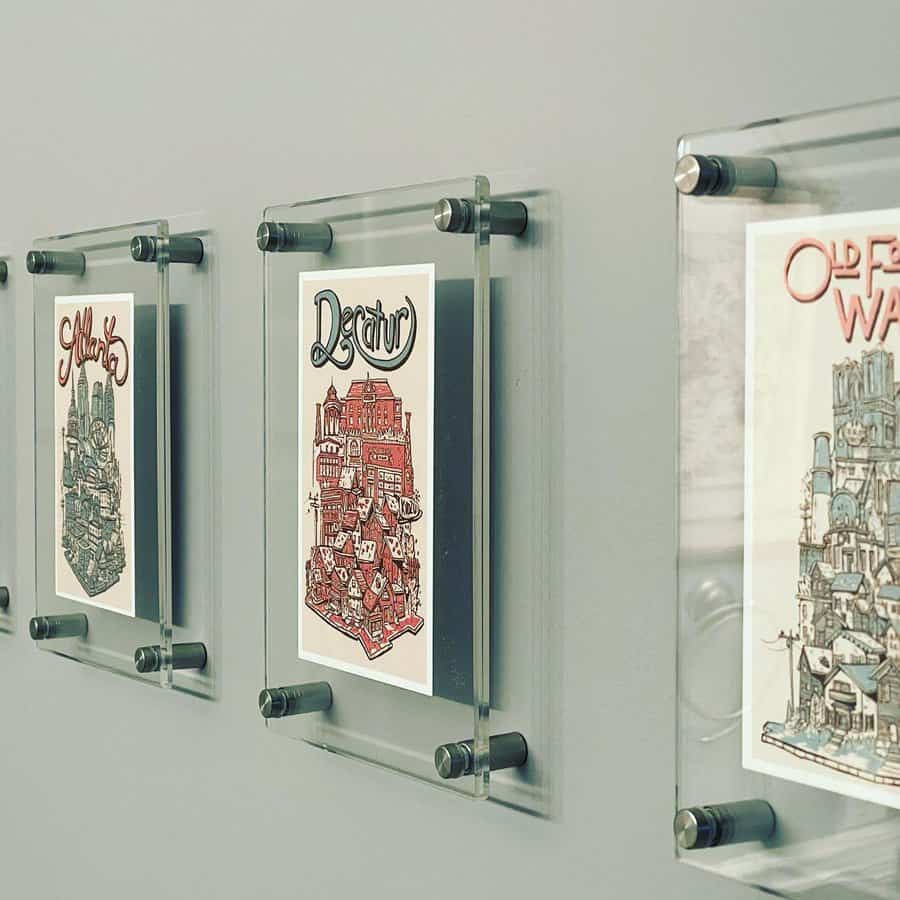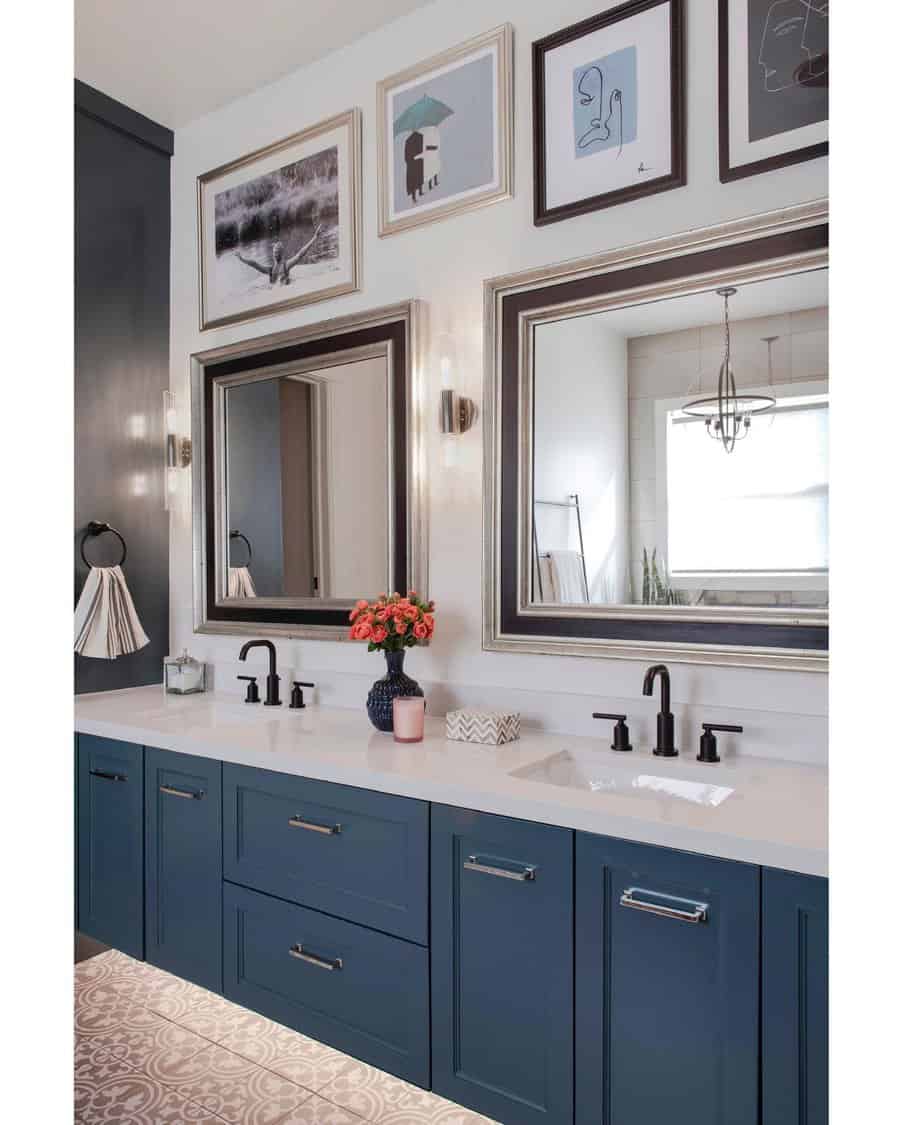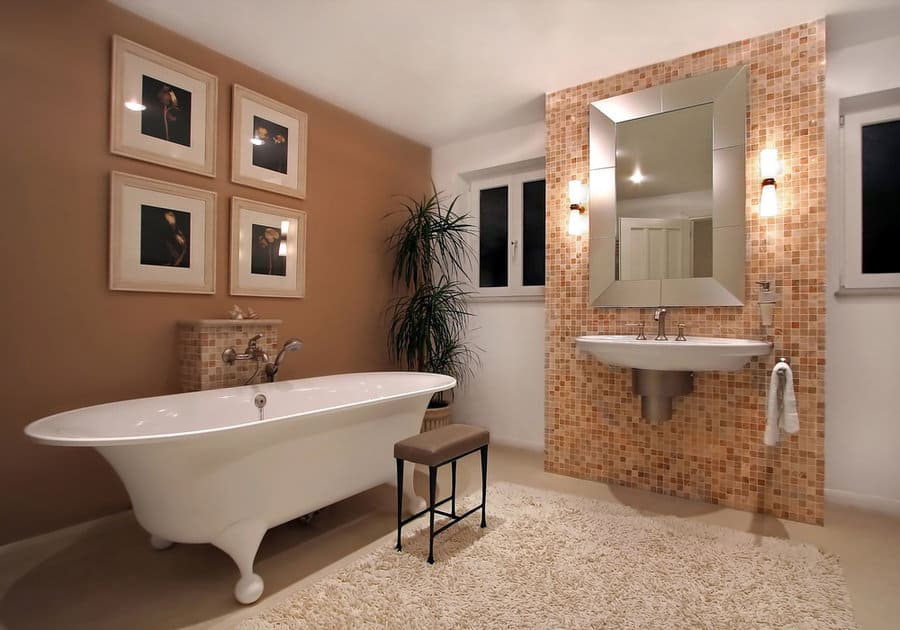 With a gallery-style layout, you can easily arrange artwork around obstacles like your bathroom vanity, toilet, or storage shelves. Opt for several small pieces of art over one or two large pieces.
Going in with a cohesive theme is particularly important when designing a compact gallery wall. Whether that means sticking to a single accent color, frame style, or medium, be sure your bathroom gallery wall is clearly defined.
6. Kids
Many kids dream of having a bathroom to call their own (even if it means sharing the space with siblings). Artwork can make your kids' bathroom feel like a welcoming, private place that they can truly feel comfortable in.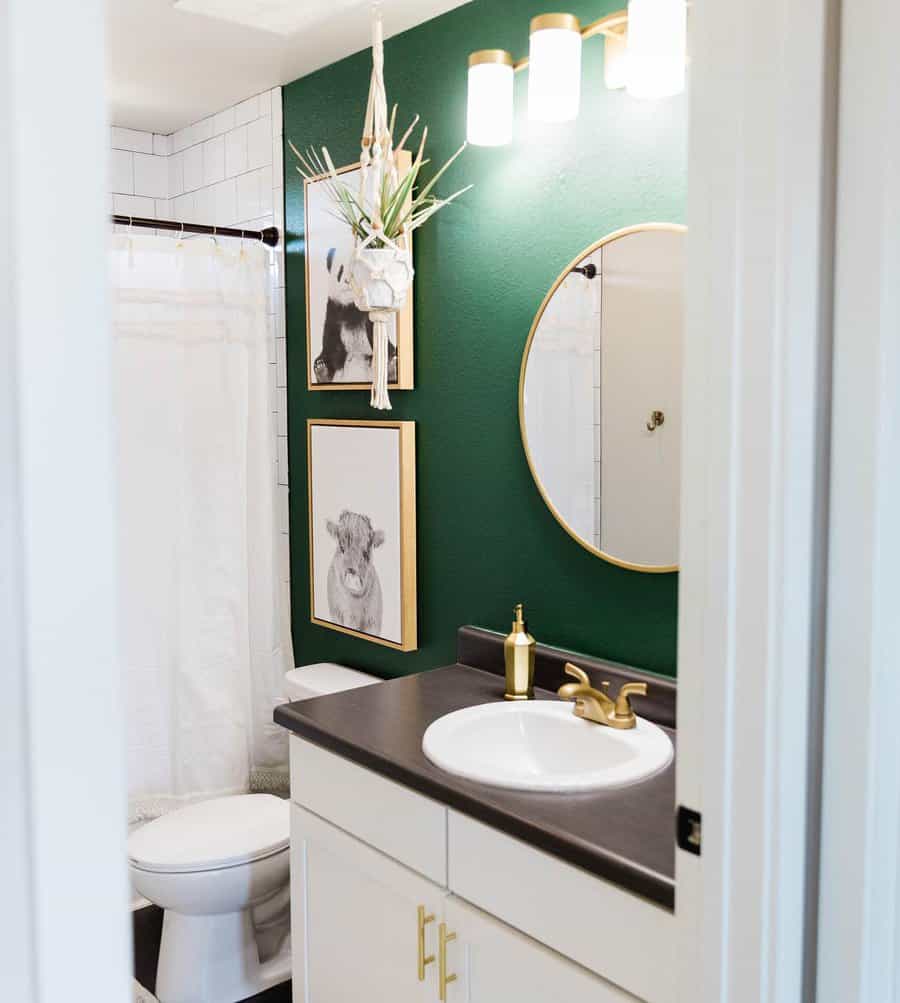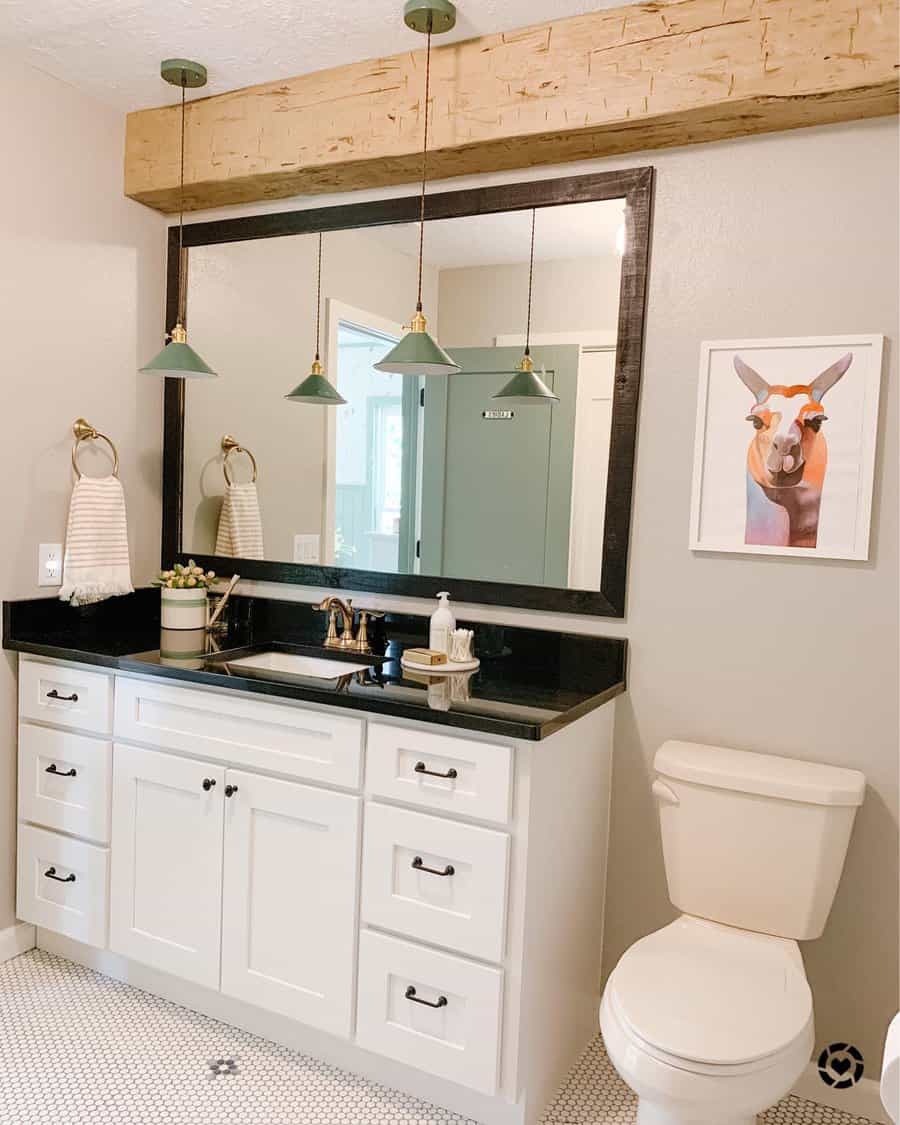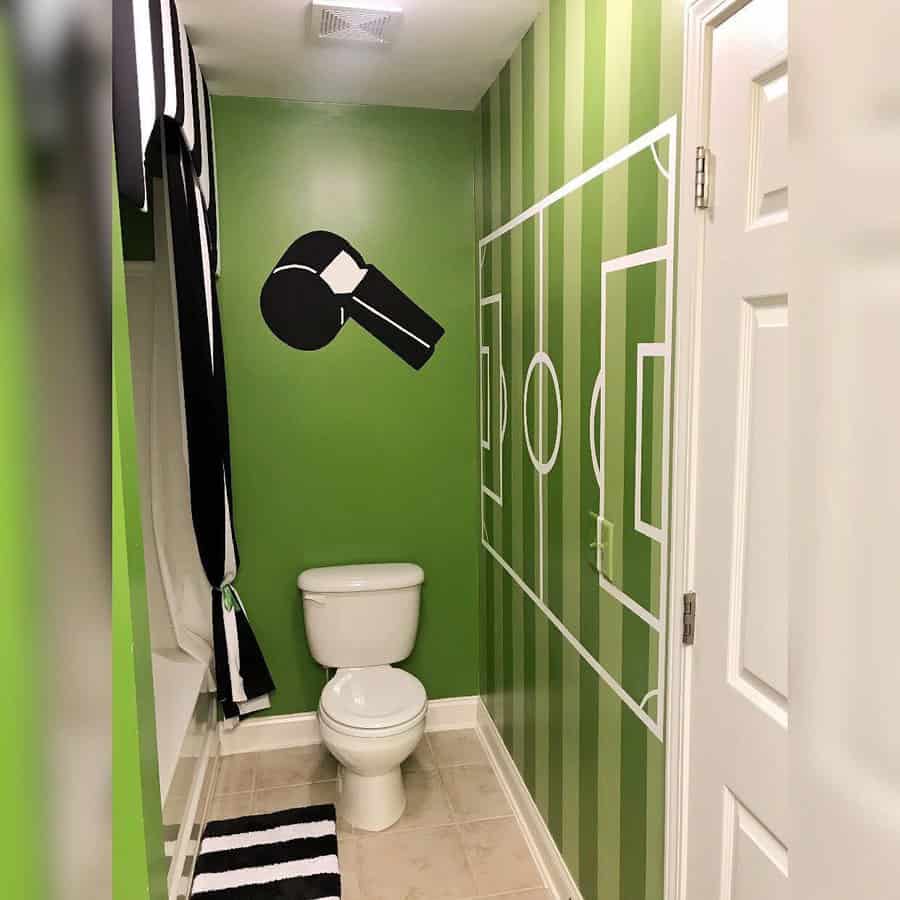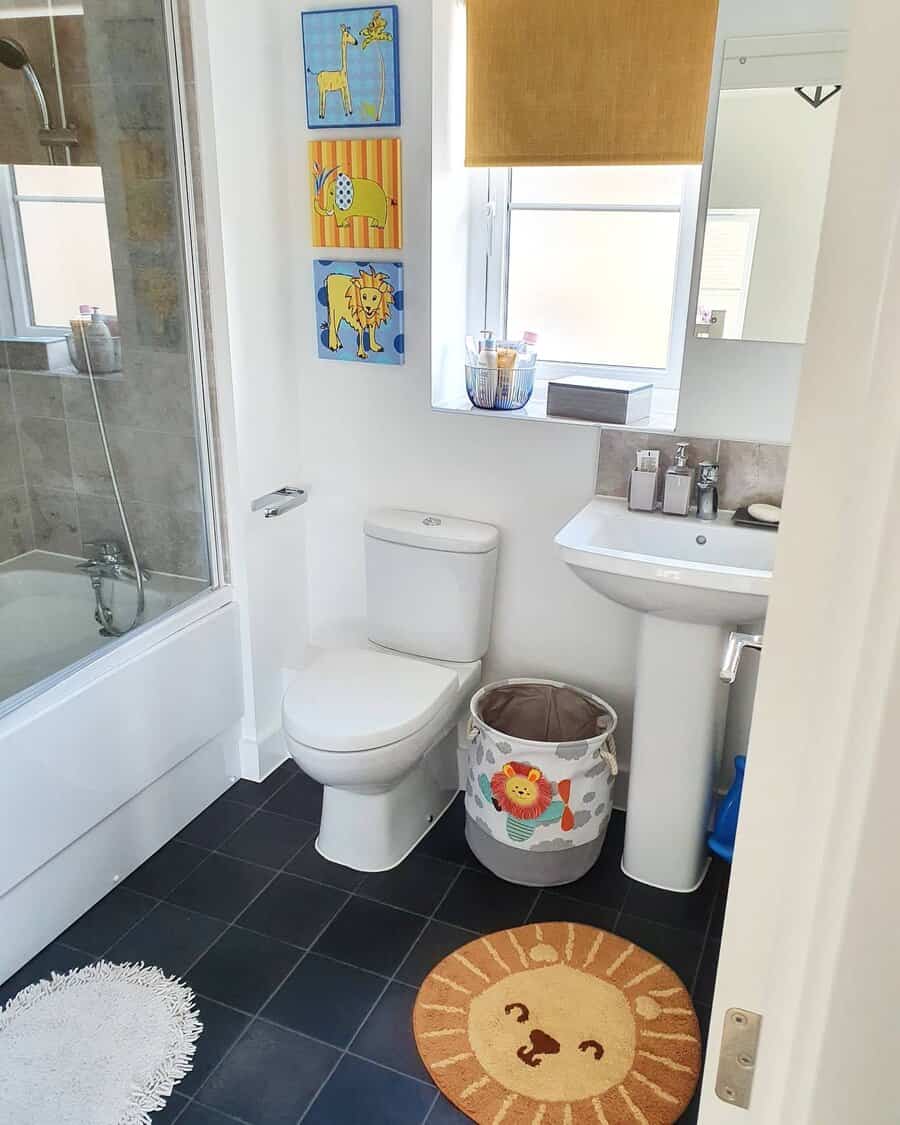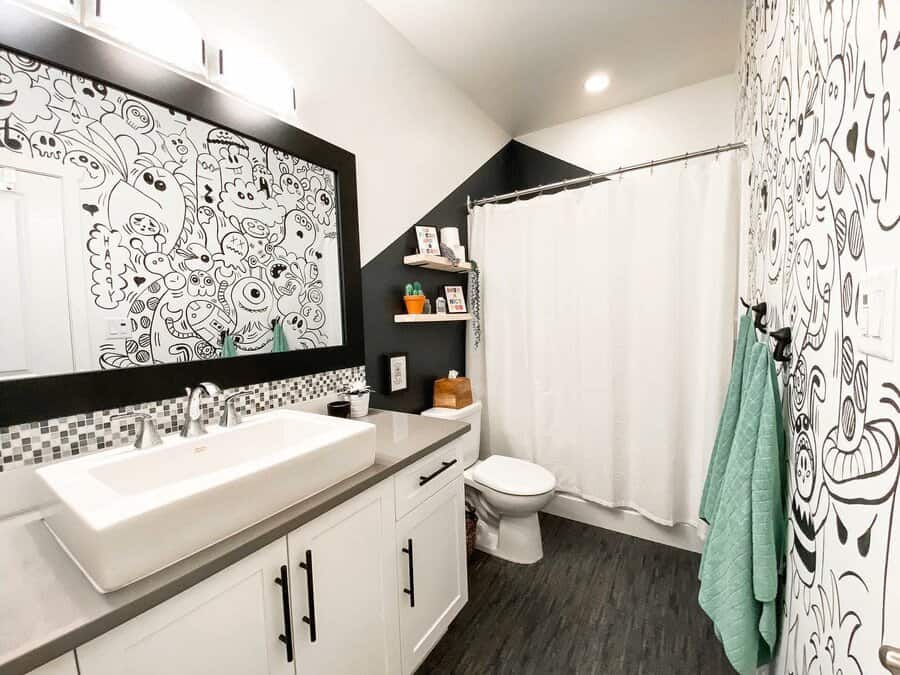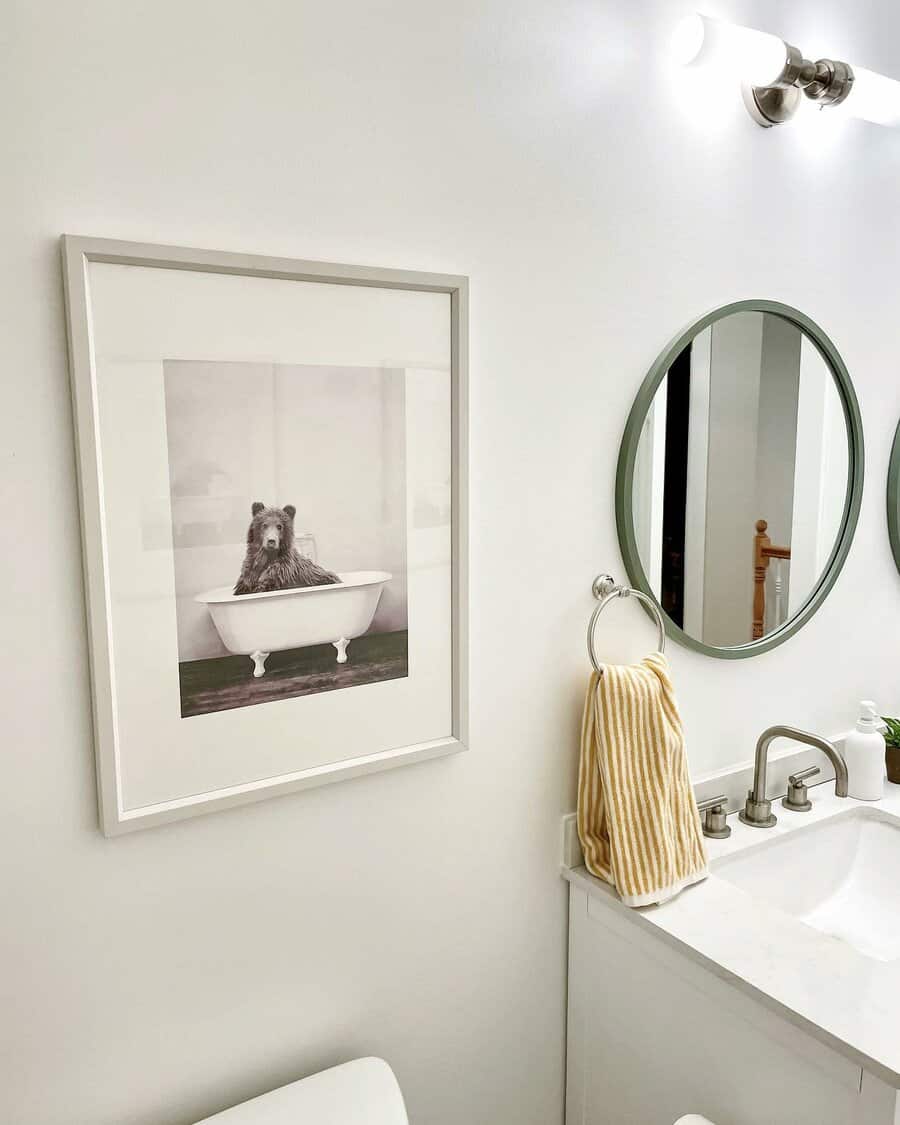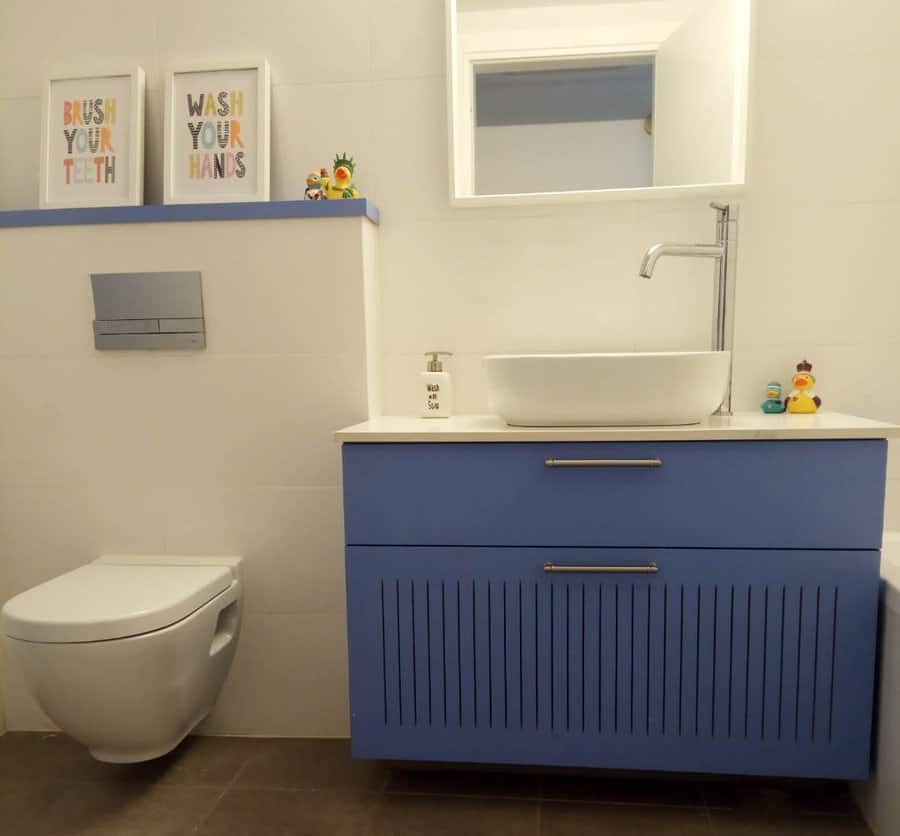 There are plenty of wonderful wall decor styles that are both kid-friendly and stylish. Utilize bright colors and cartoonish illustrations throughout the space. Animals are always a great choice!
Hanging art is not the only way to add personality to your kids' bathroom. Look into moisture-resistant wall decals or wallpaper to give the room a head-to-toe makeover.
7. Large
When it comes to decorating a small space, our first instinct is often to reach for artwork that is small itself. But a large piece of decor could be exactly what your small bathroom needs.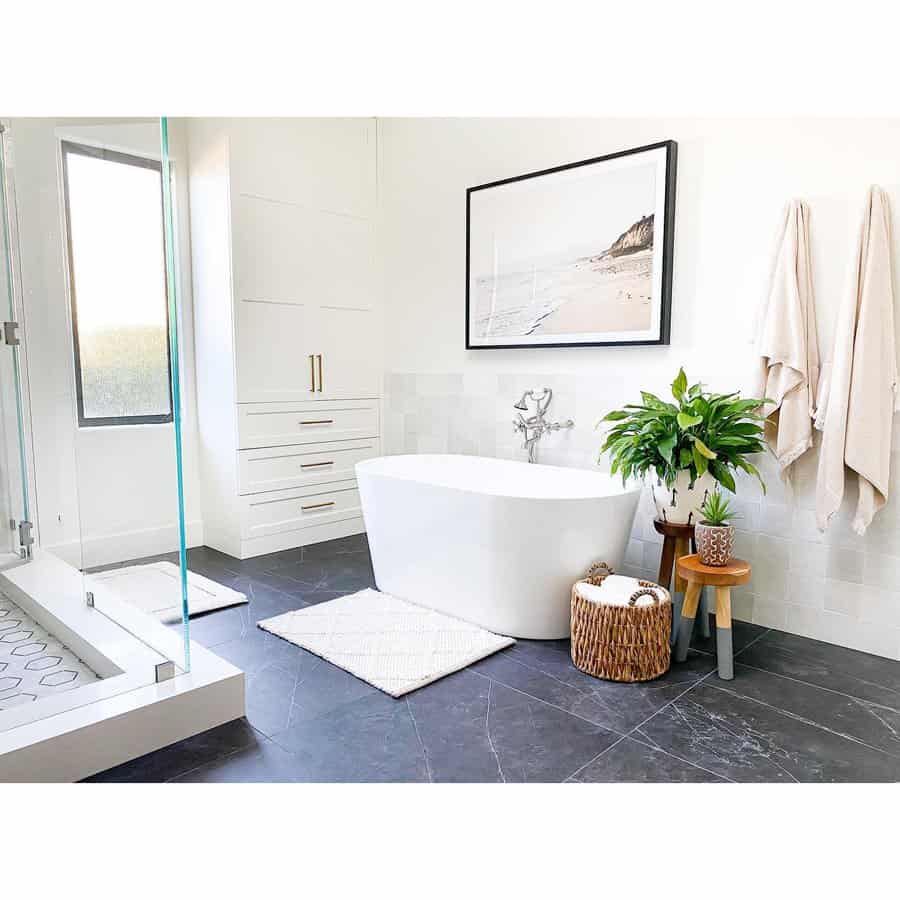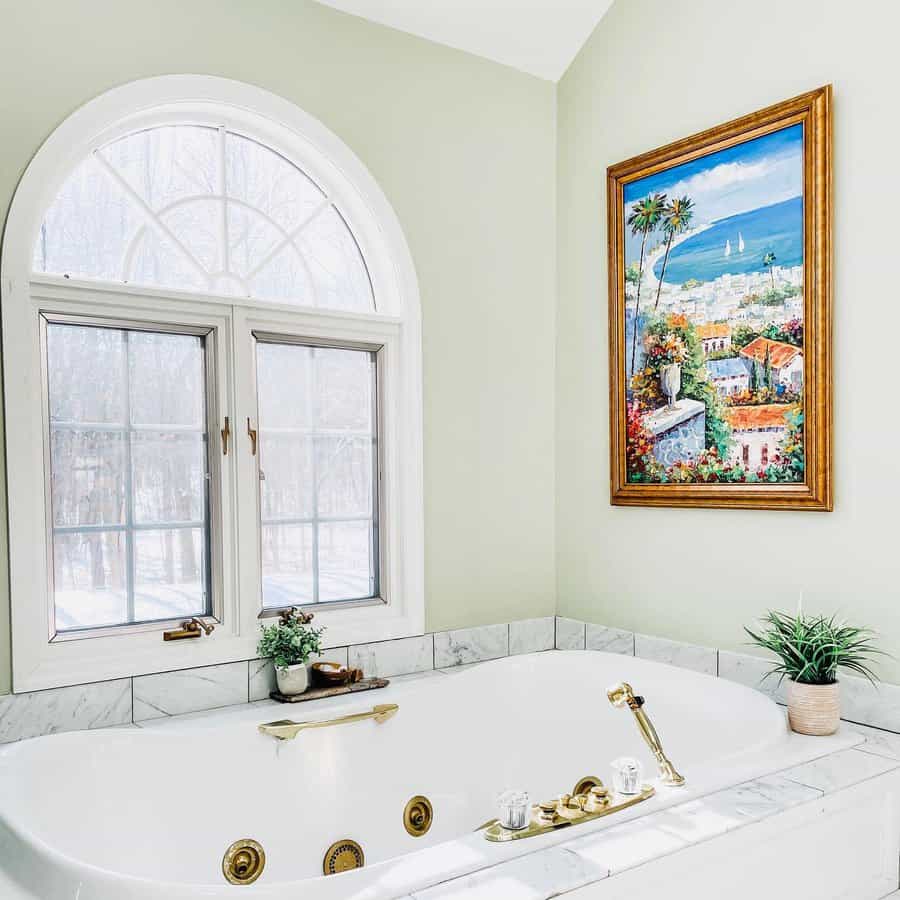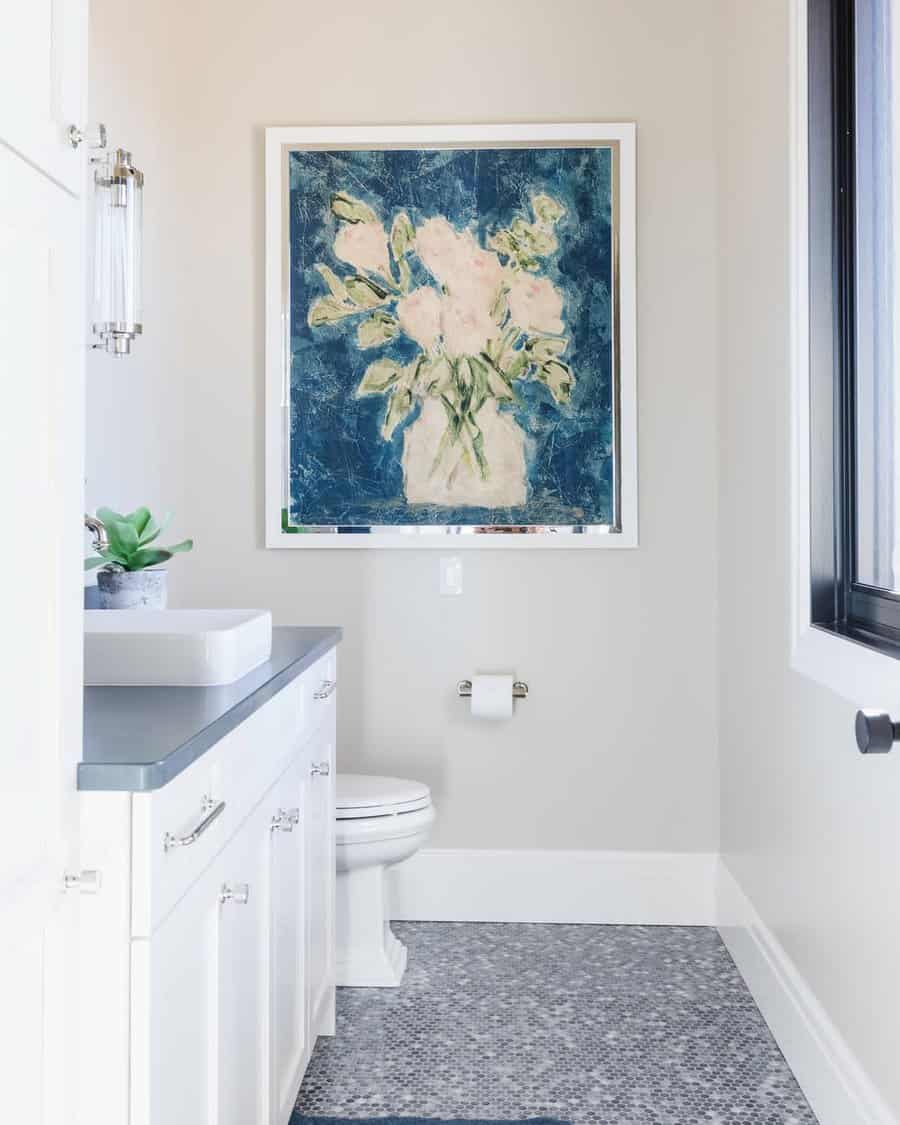 It's a good idea to err on the side of simplicity when opting for a large piece of wall art. Stick to simplified colors, shapes, or themes when selecting new bathroom artwork. A basic frame is also a good idea.
While big is good, you don't want to go too big! Be sure that your hung canvas or framed artwork fits the chosen space both physically and visually. If it throws off the scale of your bathroom, it's time to return to the metaphorical drawing board.
8. Minimalist Art
Beauty is in the eye of the beholder, right? While many designers scoff at the concept of minimalist artwork, there's certainly a time and place where the pieces can make a big impact.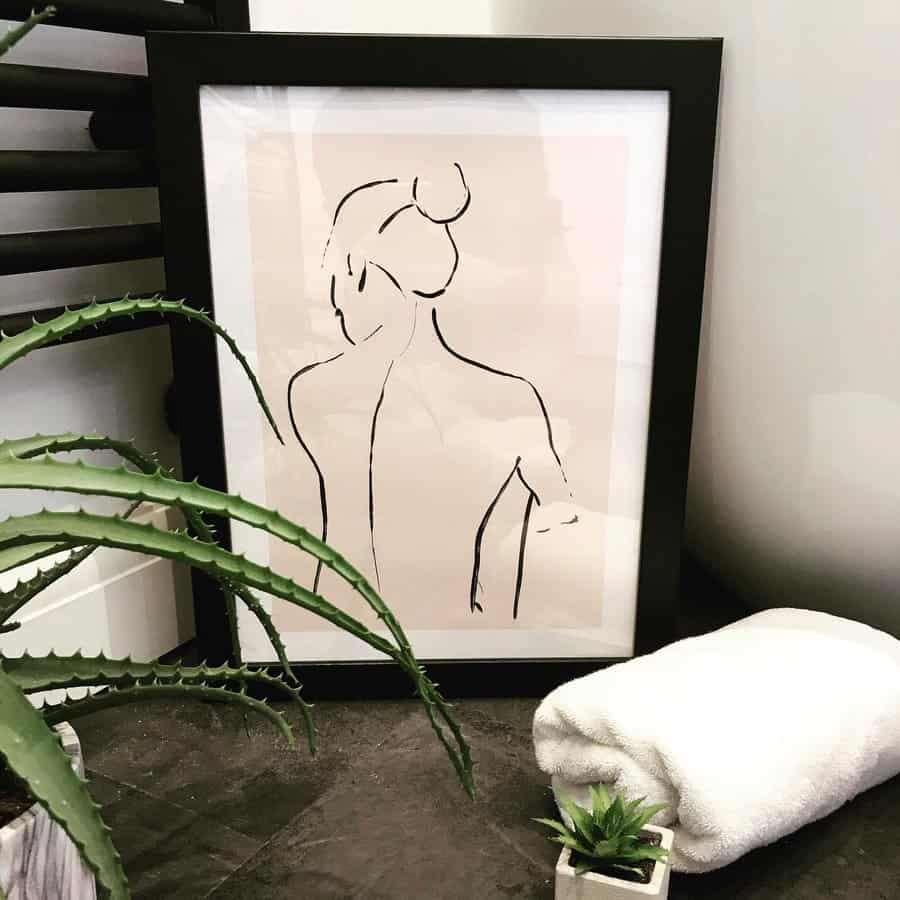 Minimalist art is not always abstract in nature. Some of the most intriguing pieces feature lineart or typography (or a combination of the two).
A simple frame is the most obvious choice for a minimalist piece of artwork. After all, you don't want to overwhelm the piece itself. With that said, minimalist art offers the opportunity to play around with large, dramatic frames that would otherwise make the space feel cluttered.
9. Mural or Stencil
What if your entire bathroom wall could be a work of art? Well, with a can of paint and a steady hand, it can be!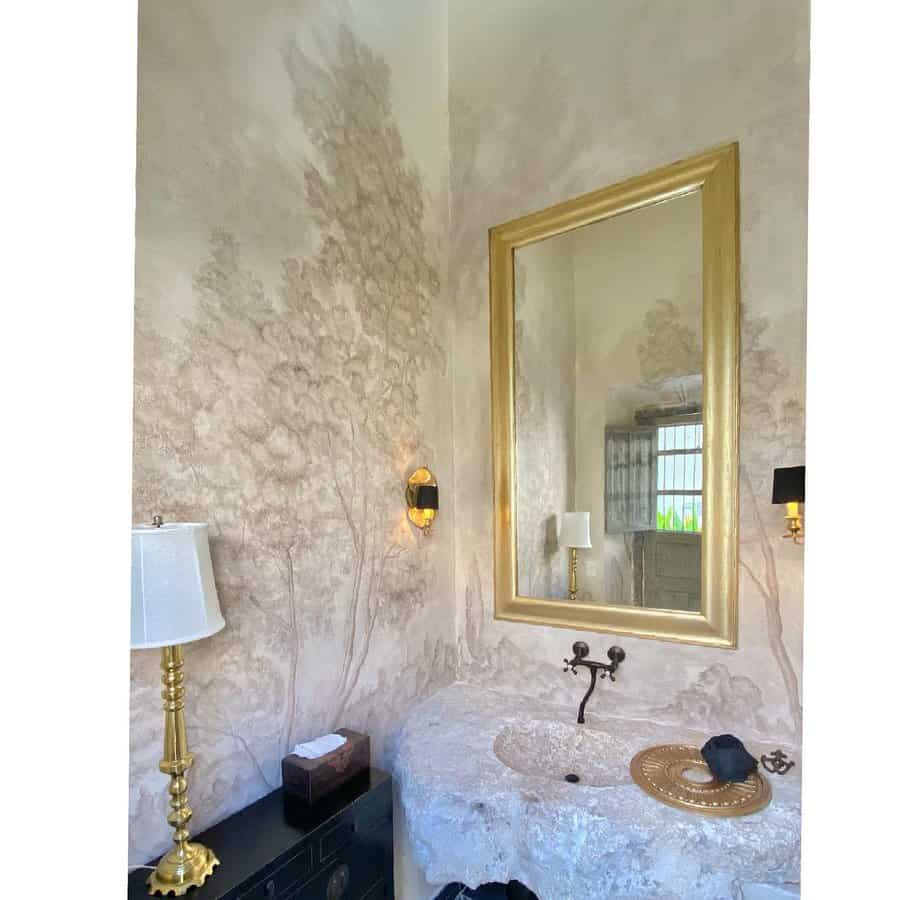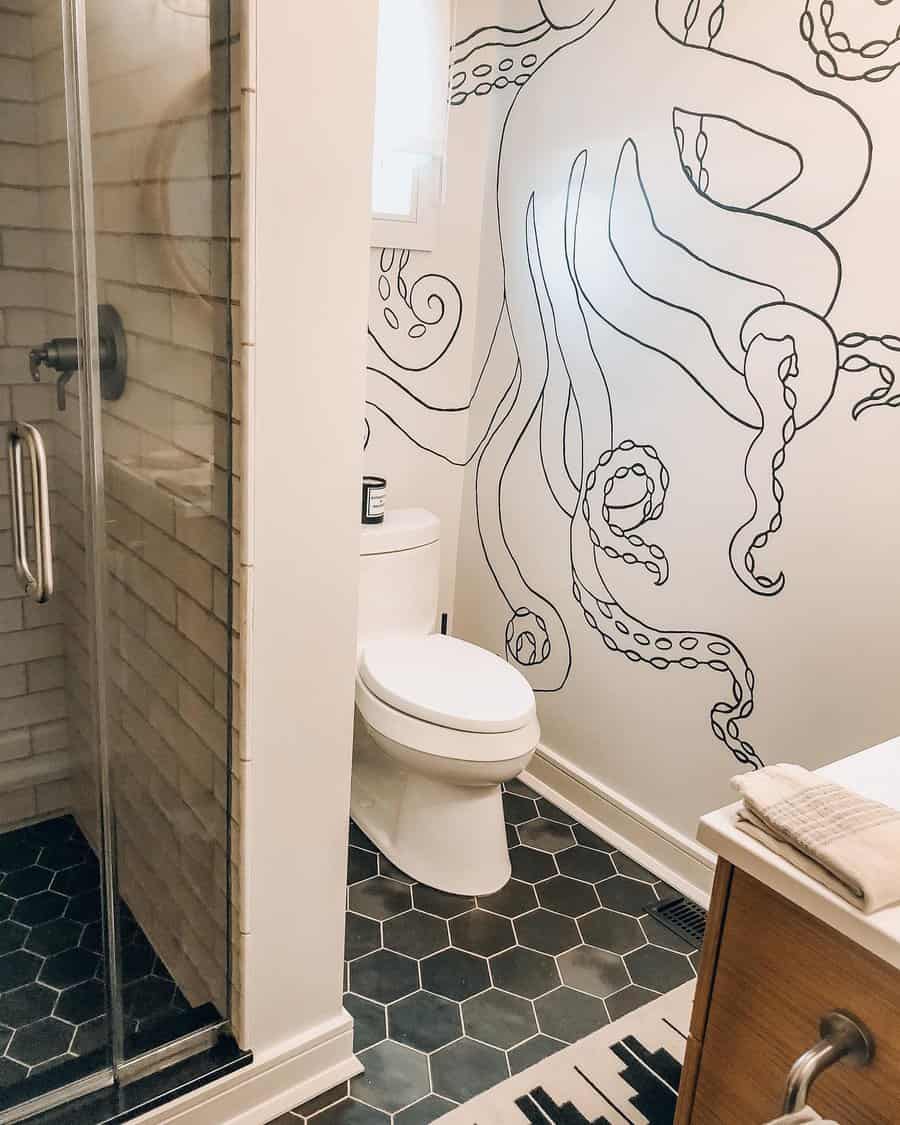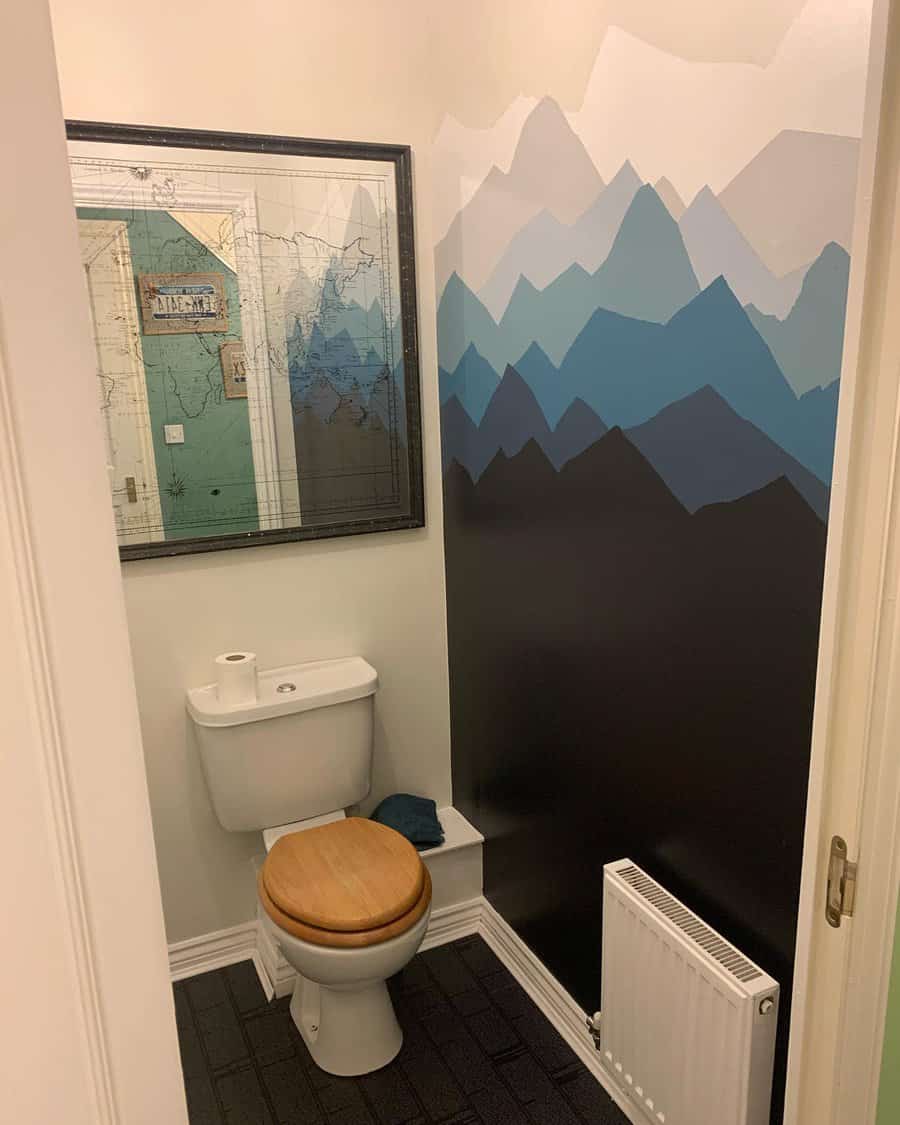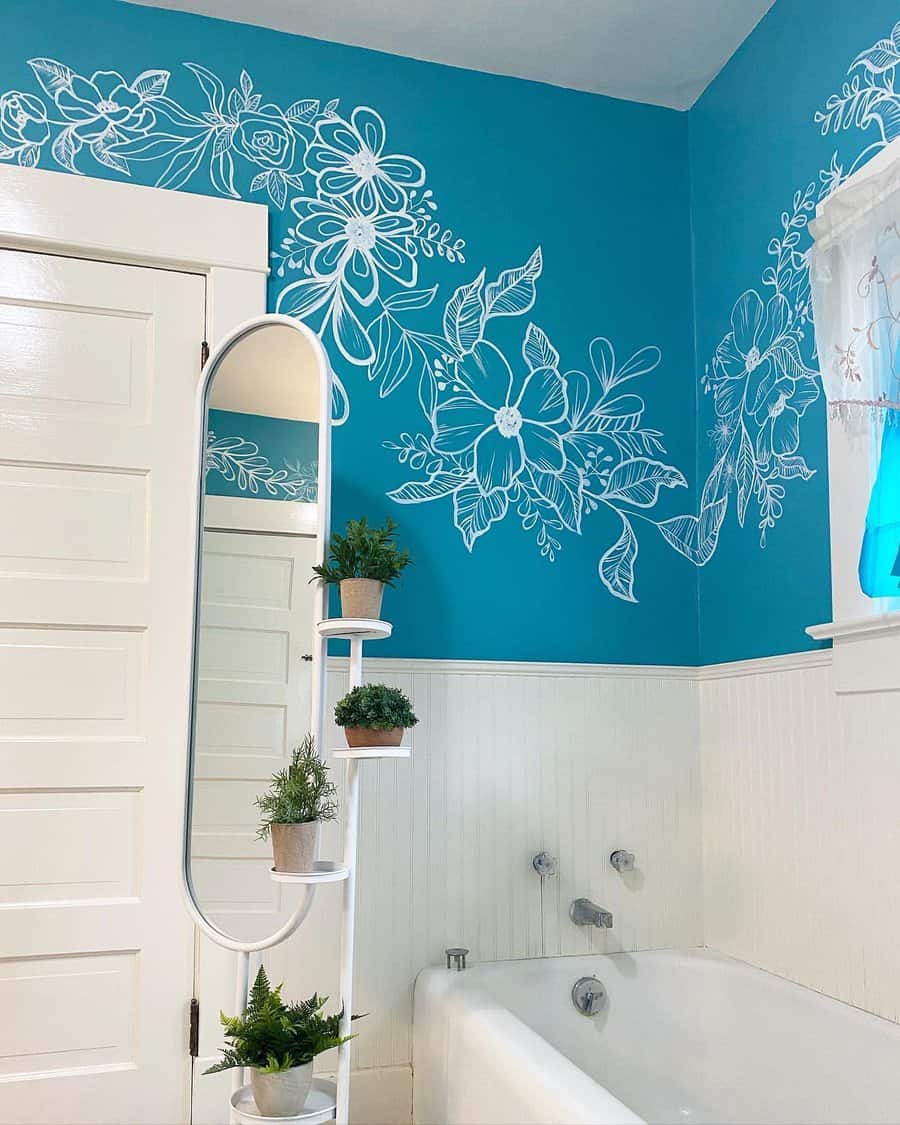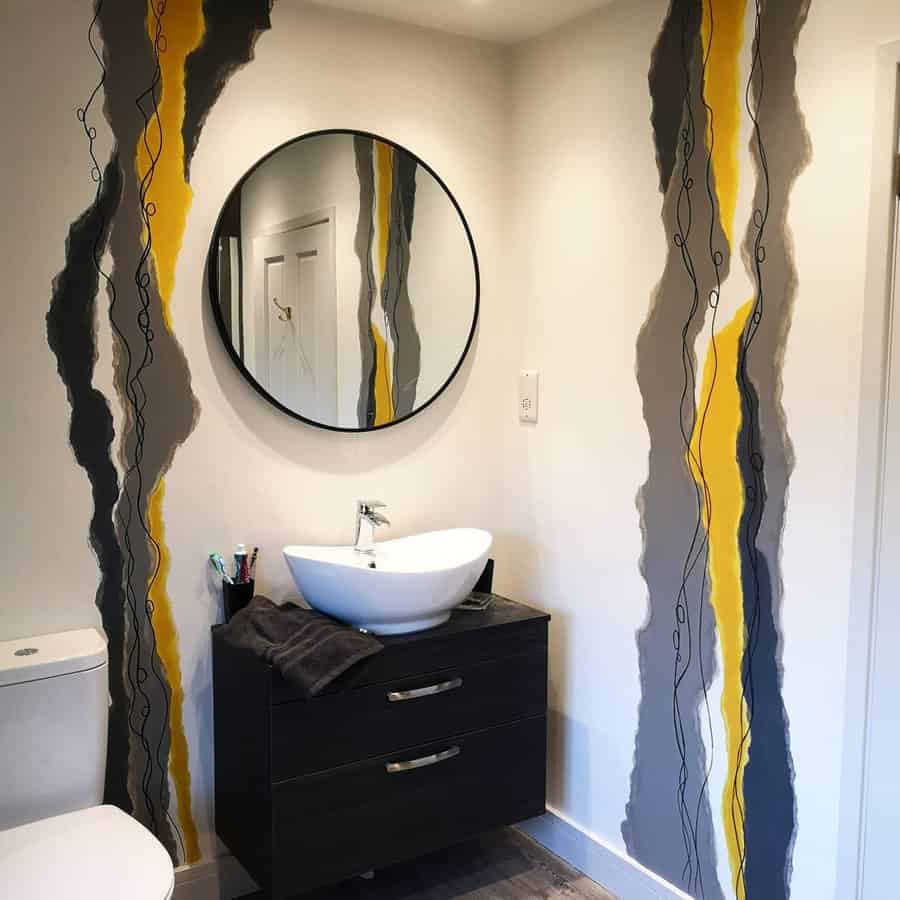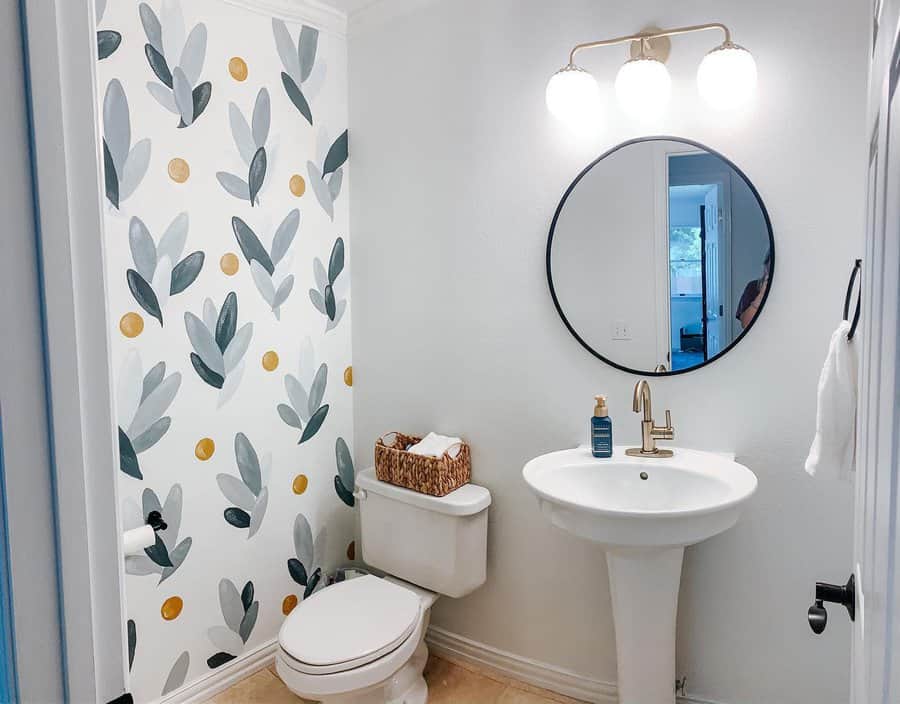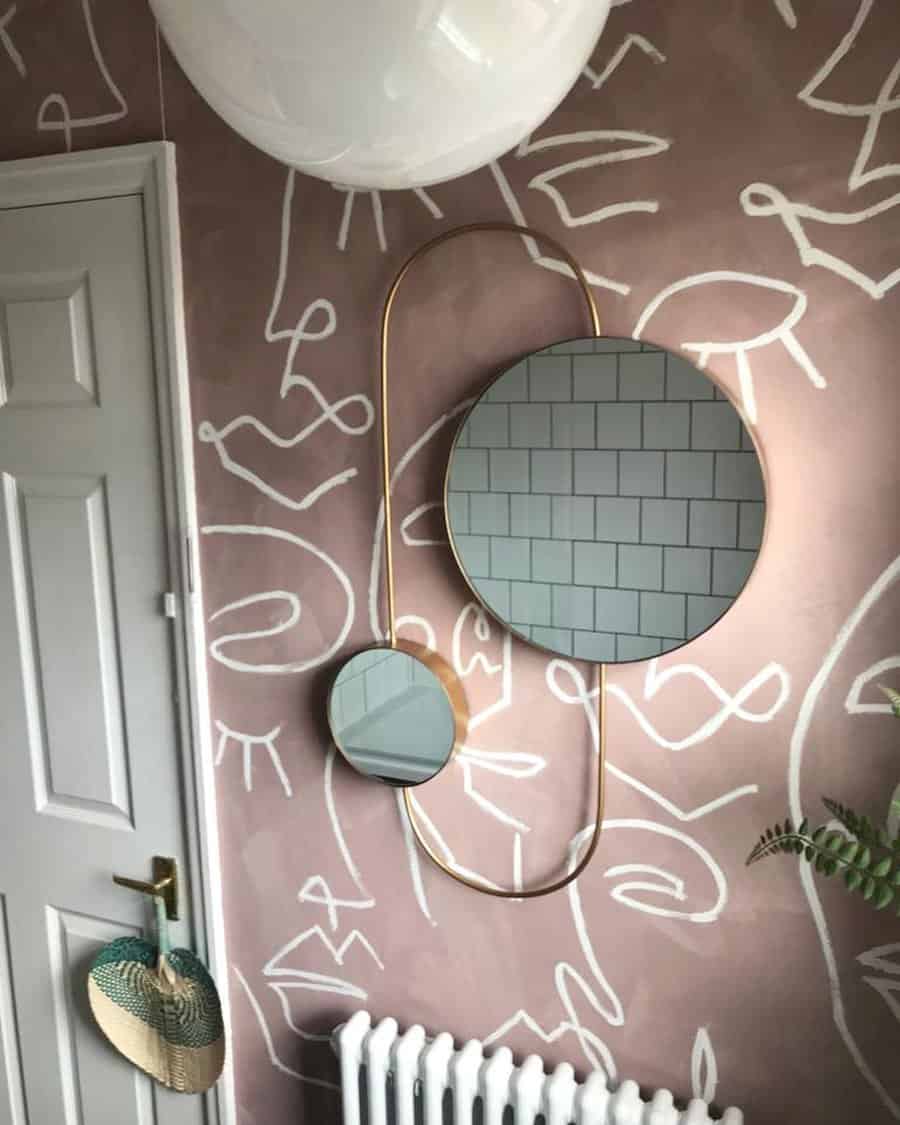 If creativity is not your forte, don't worry. Peel-and-stick murals can make quick work of transforming your bathroom walls into a stunning living space. Stencils can also be utilized to close the gaps between your vision and your actual skill set.
Whether paint or wallpaper, your bathroom mural can cover every wall in the room or just a single surface. You can make a dramatic motif feel less overpowering by covering the lower half of the wall with wood or tile wainscoting.
10. Powder Room
On the one hand, powder rooms often feature more vibrant decor than their master bath counterparts. On the other, decorating a powder room means setting aside your own personal preferences for the benefit of your home's guests.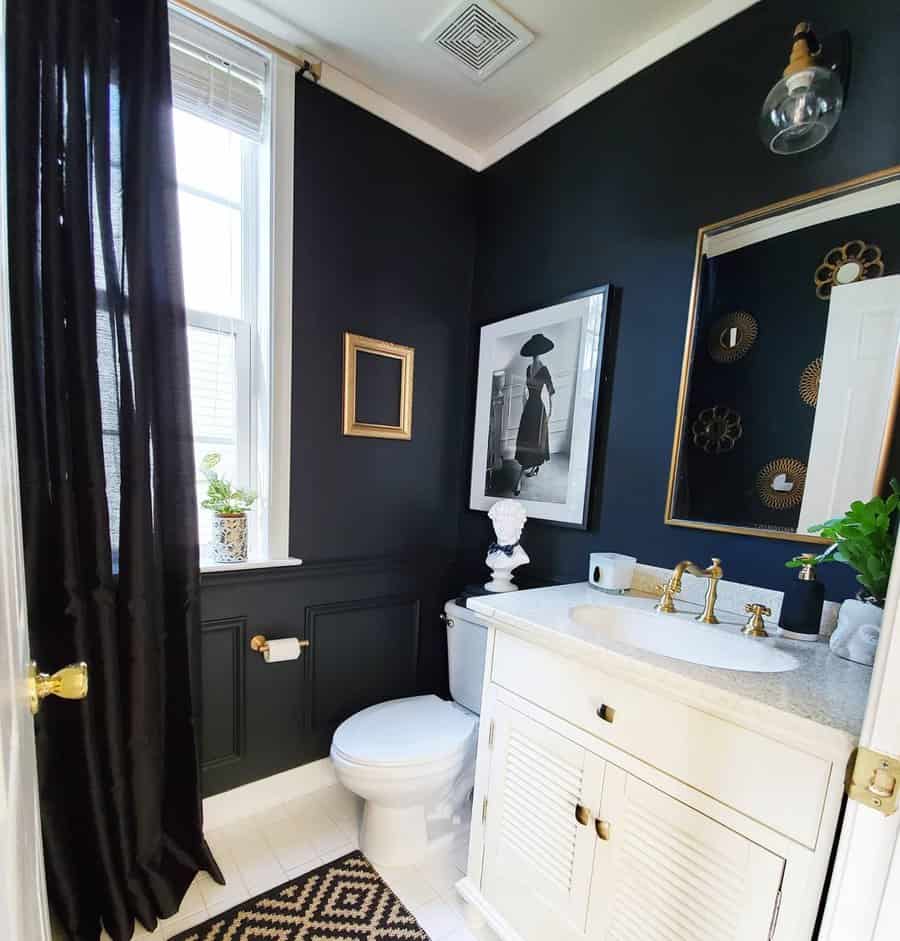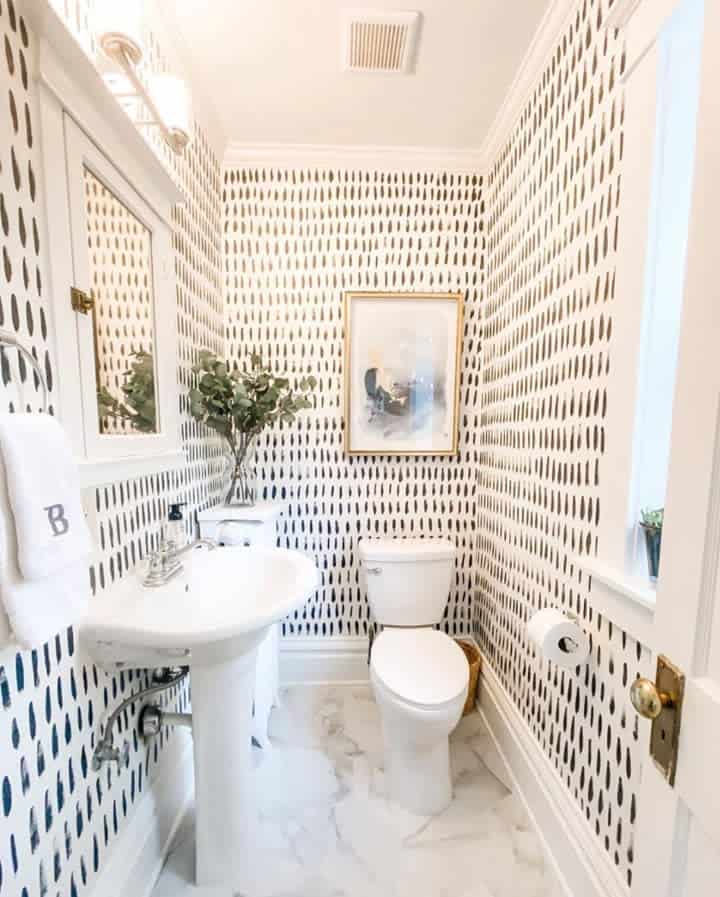 While you can still include a dose of personality in your powder room wall decor, you should try to select items that appeal to a wide audience.
It can be hard to give up an entire room of your house to generic decor. Look for ways to incorporate personal elements that don't look it — e.g., a photo of your hometown cityscape, a framed map of your favorite vacation spot, or an illustrated rendition of the family pet.
11. Rustic
Rustic artwork can include a whole range of subjects. What's more important is the overall look and feel of the canvas itself. Look for images painted on metal or wood panels instead of paper.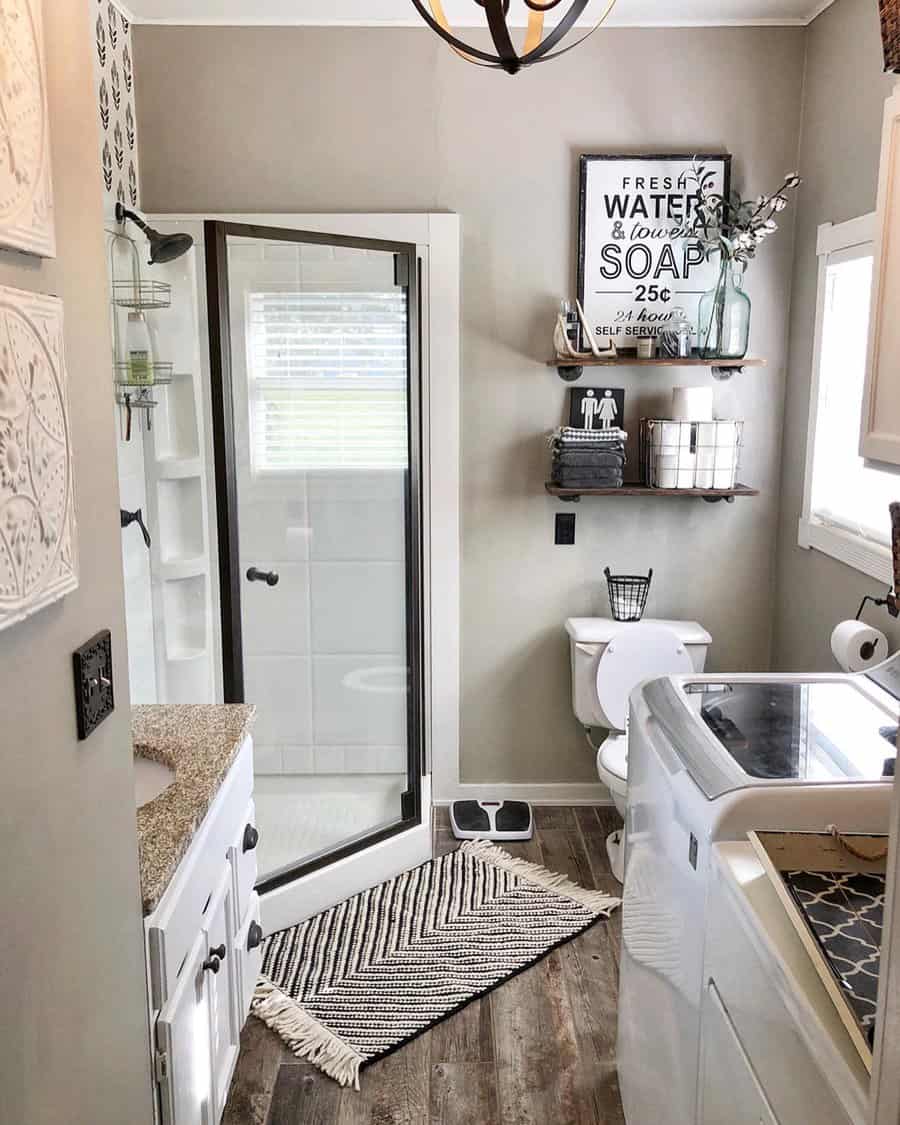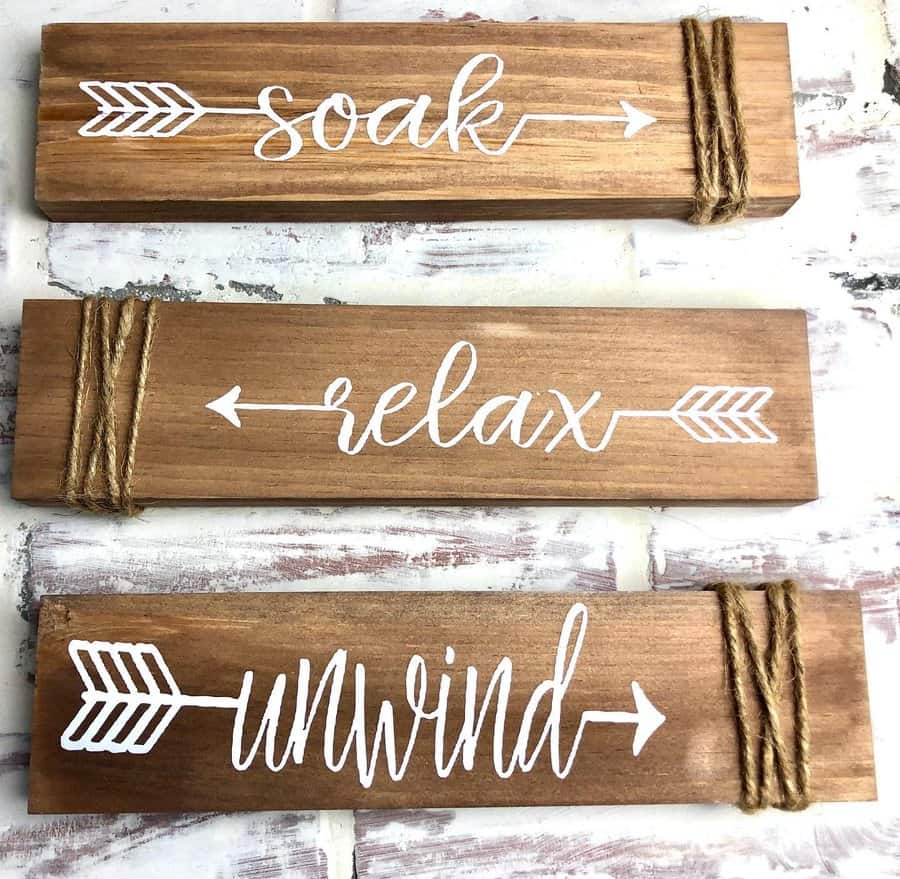 Another excellent finish to include in your bathroom wall art is chalkboard paint. Pair your hanging artwork with rustic decor like mason jar storage, wreaths, and other vintage-inspired items.
If you do include framed artwork in your rustic bathroom, be sure to get your hands on some simple wooden frames. You can even DIY your own frames using reclaimed wood and a can of sealant!
See more rustic bathroom ideas here.
12. Small
It can be hard to find the right space to display small pieces of art and hanging decor. If you have a collection of small prints or paintings in need of a home, your bathroom walls could be the perfect place.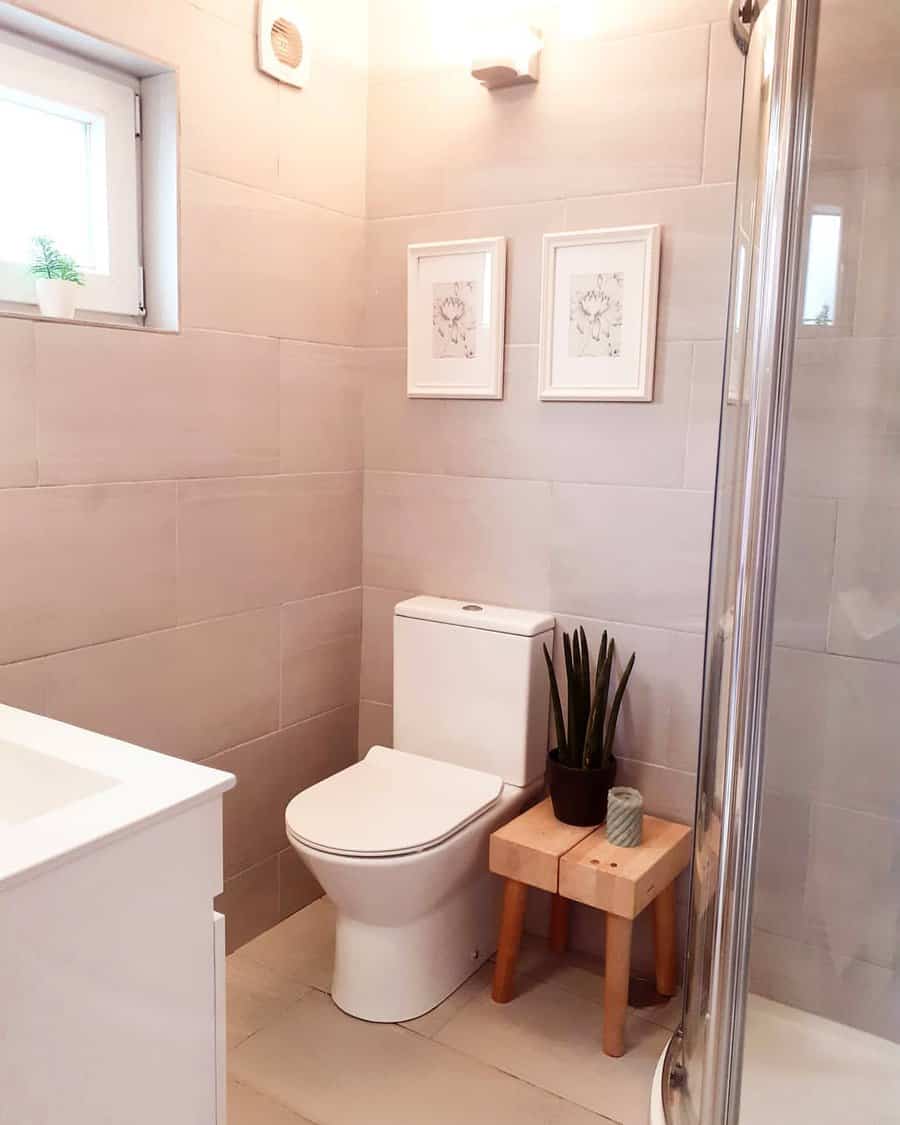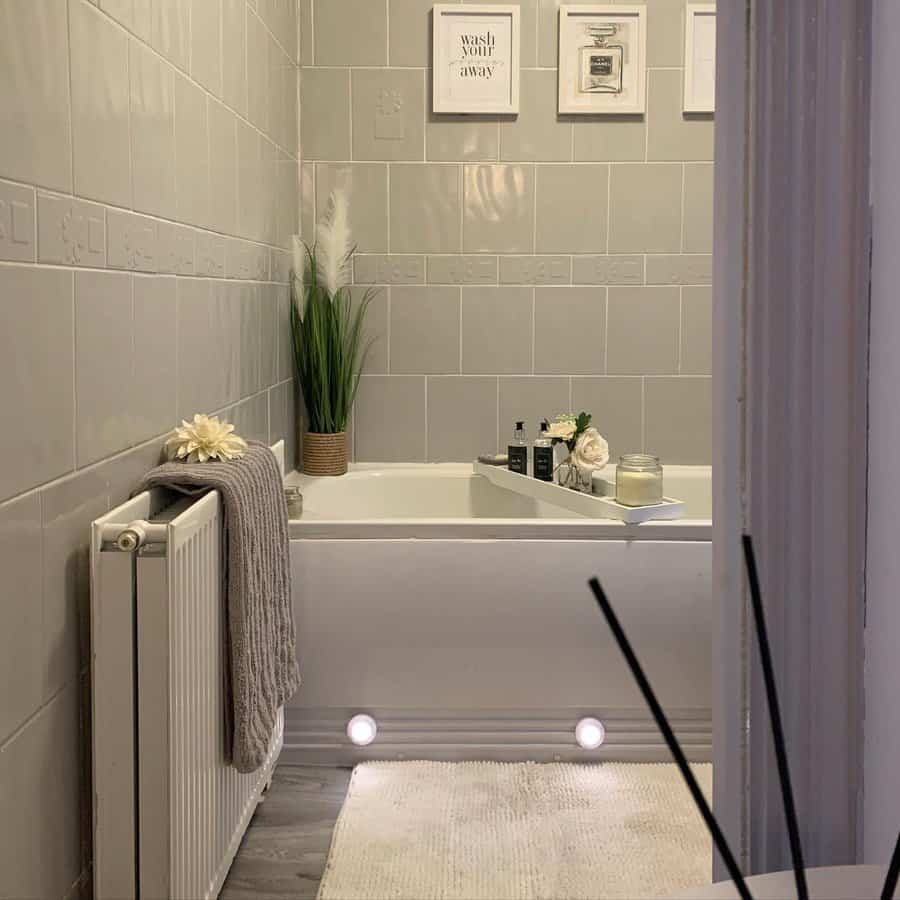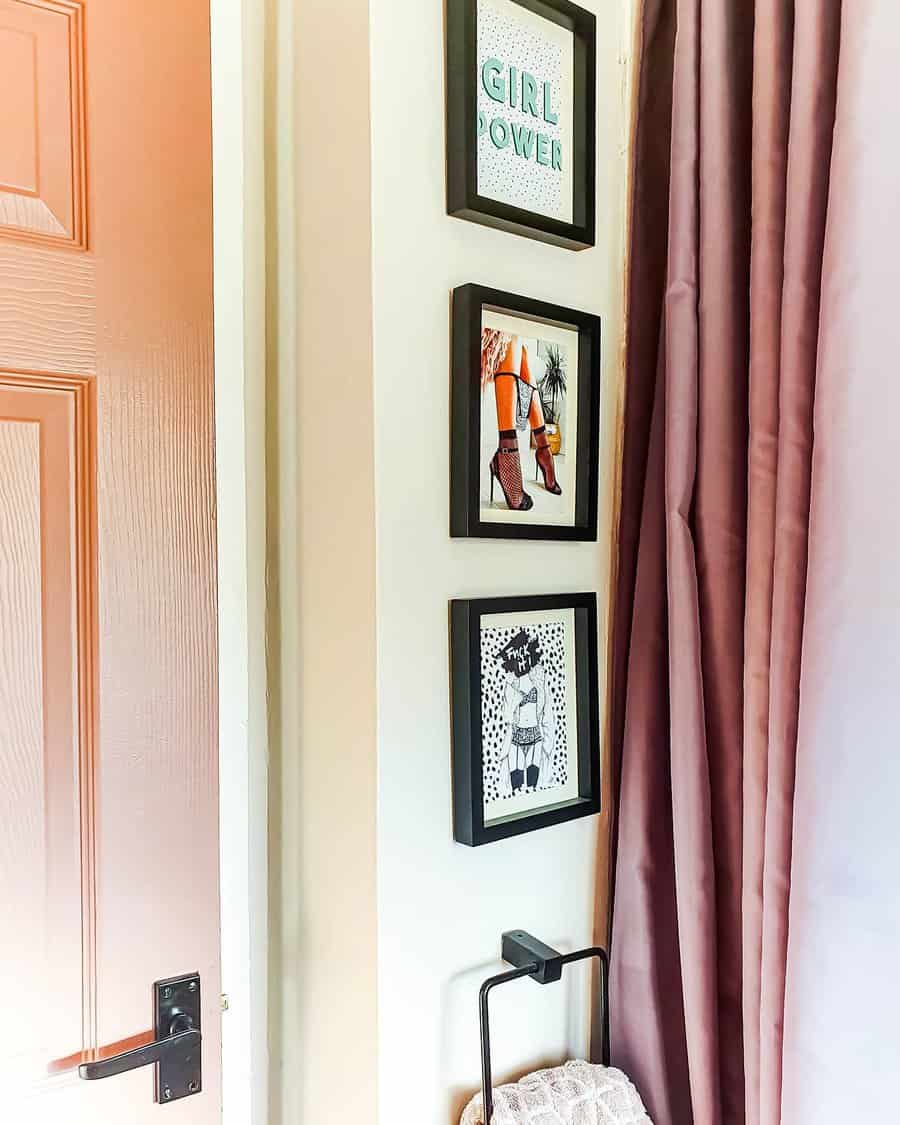 Small bathroom wall decor is easy to arrange around the awkward nooks and crannies found in many spaces. There's no need to worry about your favorite image not fitting next to your shower or above the toilet!
Small-scale artwork is often overlooked in the grand scheme of a living room or hallway. But in the bathroom, the viewer can get up close and really appreciate the art for all of its personality and detail!
See more small bathroom ideas here.
13. Tropical
It's easy to see the connection between coastal and tropical bathroom decor. But the type of artwork you should include in a tropical bathroom design is quite different from nautical-inspired motifs.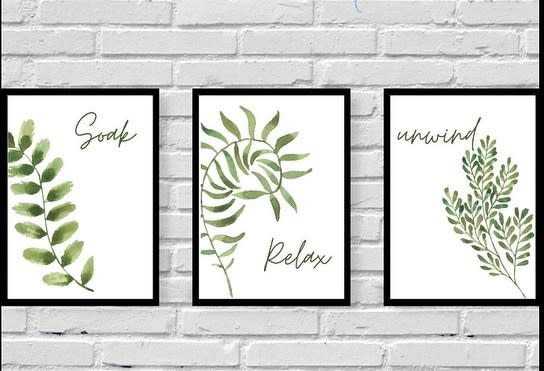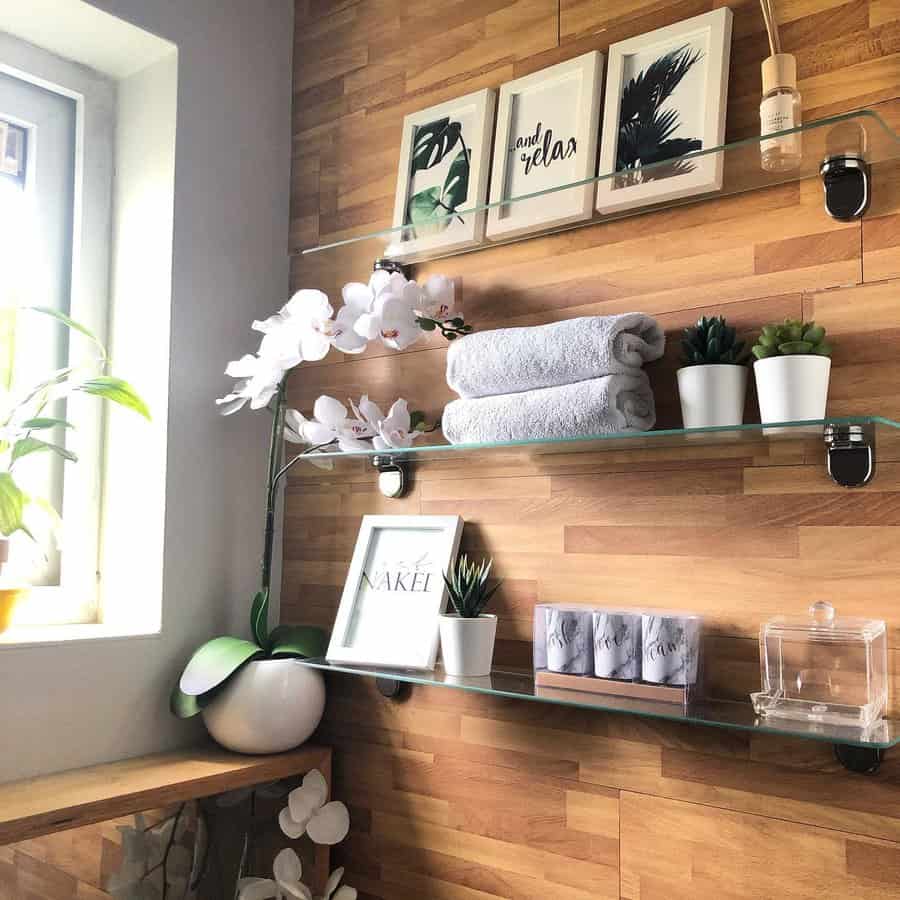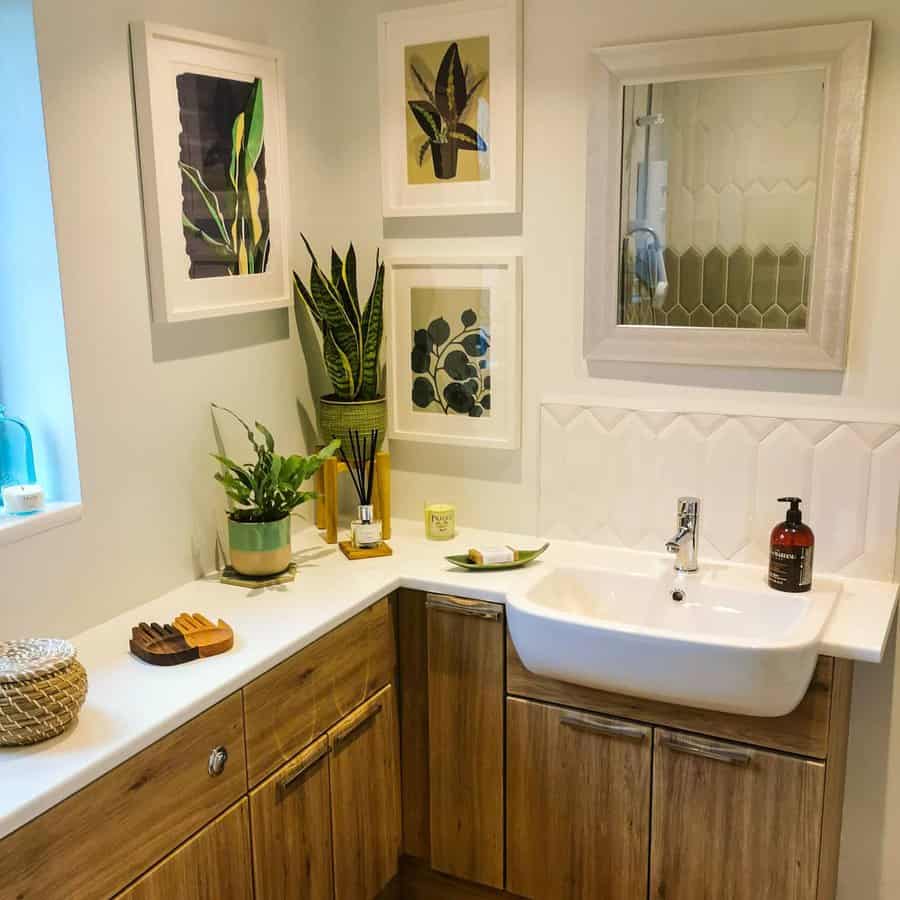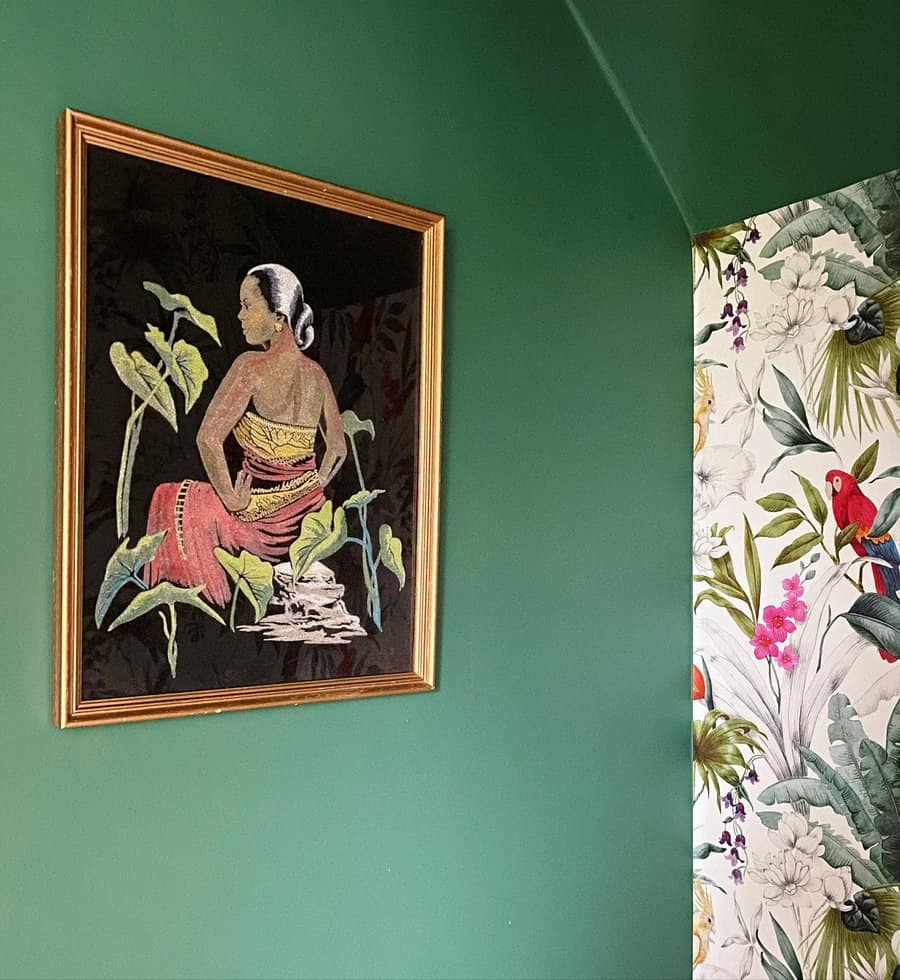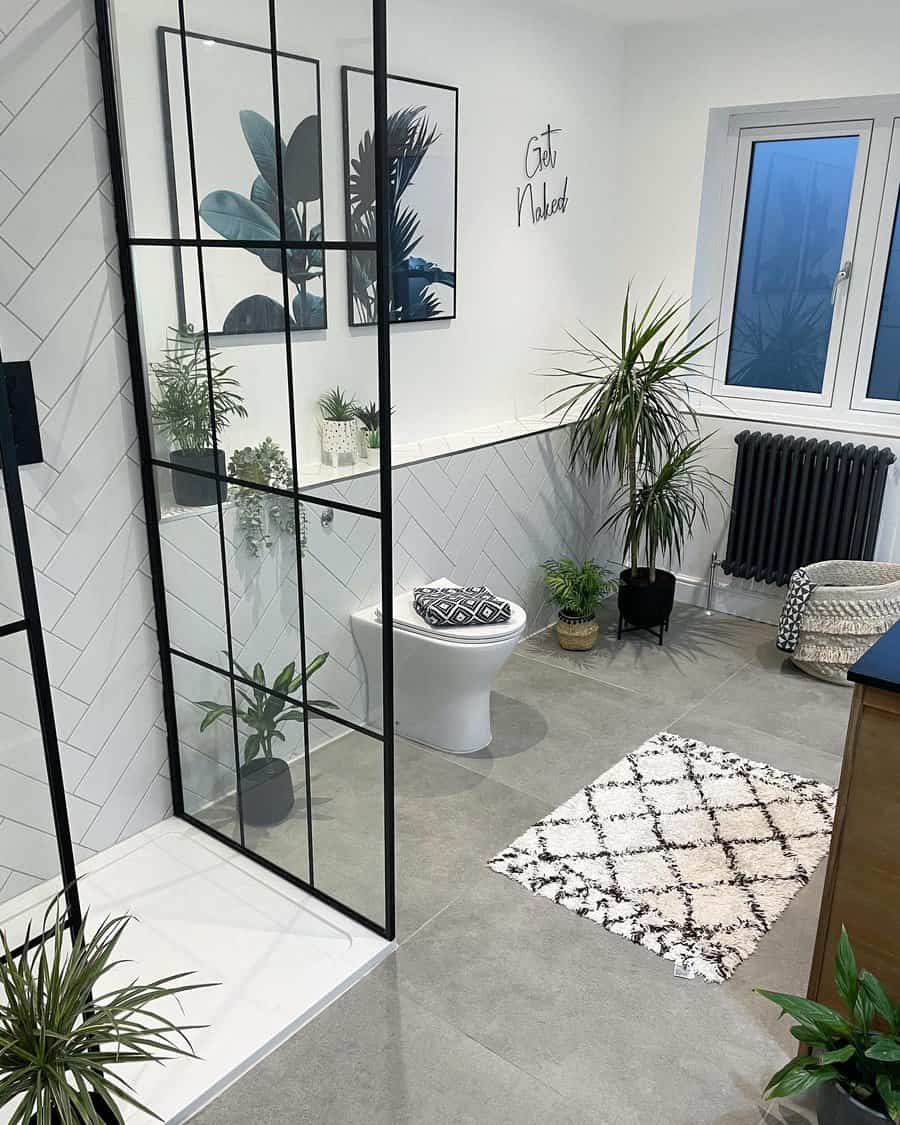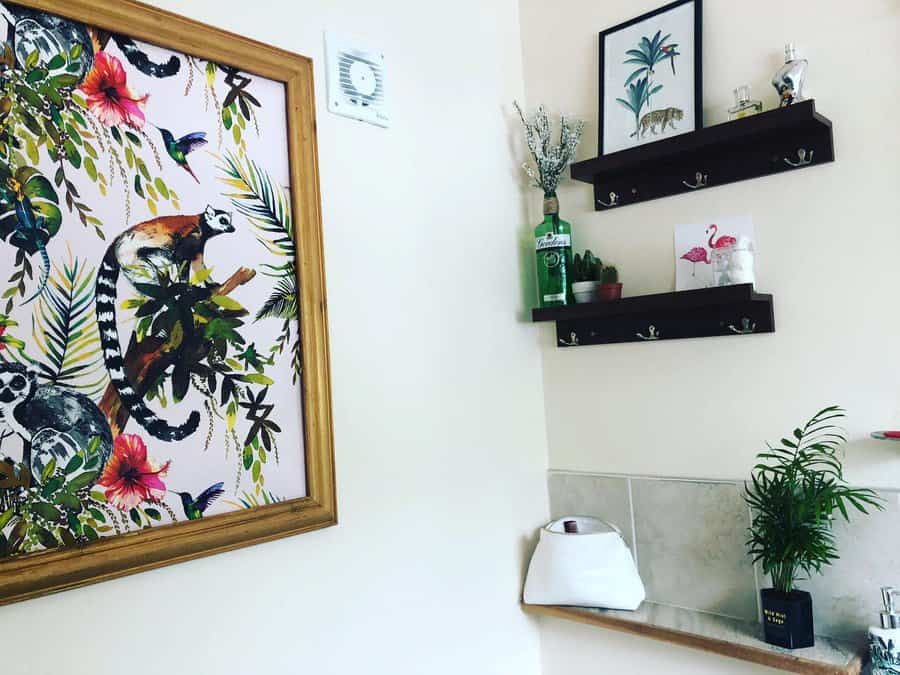 Of course, artwork depicting foliage and various plant life is an obvious choice. These images can vary drastically, from ultra-minimalist to extremely detailed. Be sure to frame your artwork accordingly — the simpler the image, the more dramatic the frame.
The perfect companion to botanical artwork is living greenery. Arrange small potted plants on your bathroom shelf or hang a planter from the shower curtain rod. If your bathroom lacks natural light, silk plants will work in a pinch!
14. Typography
Typography can be humorous, practical, or inspirational. No matter the subject matter, it can also be incredibly gorgeous when used in the right room design.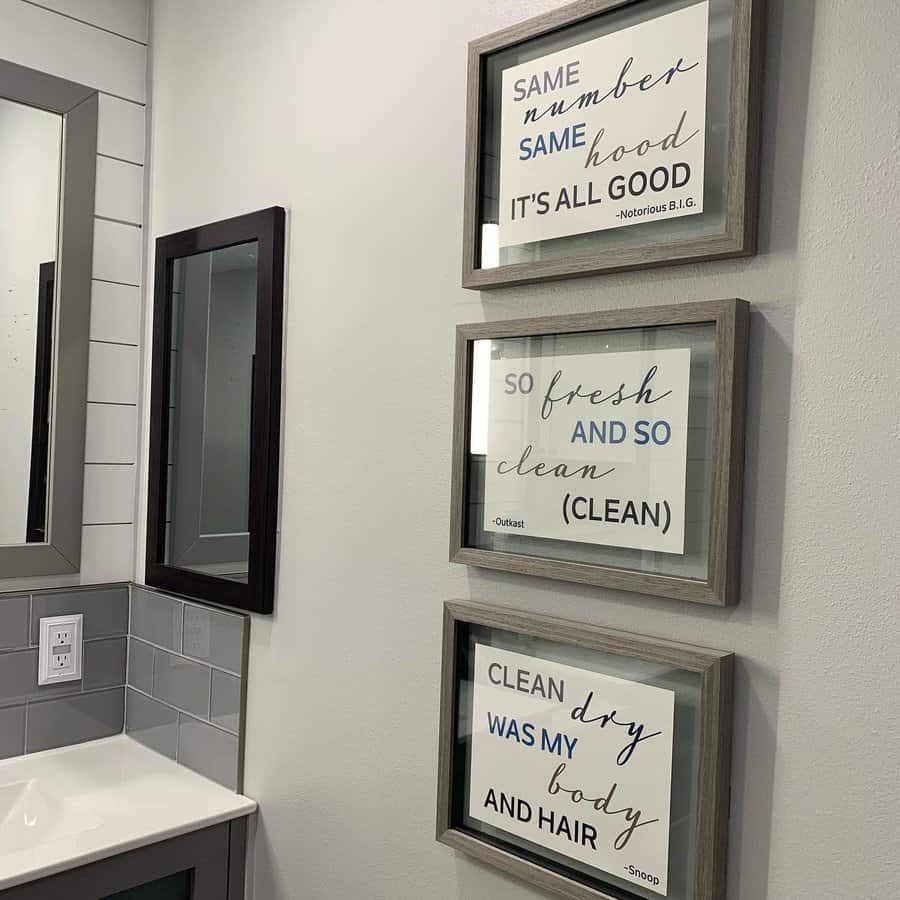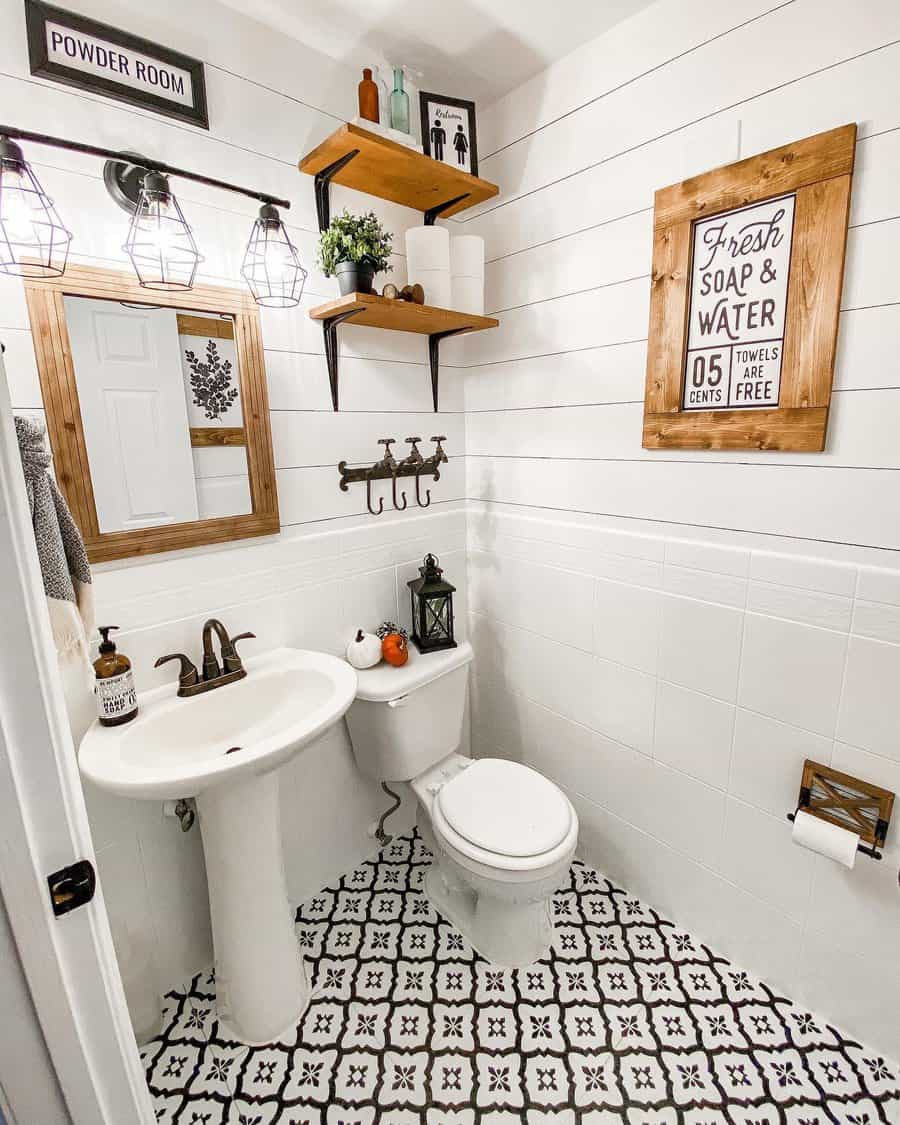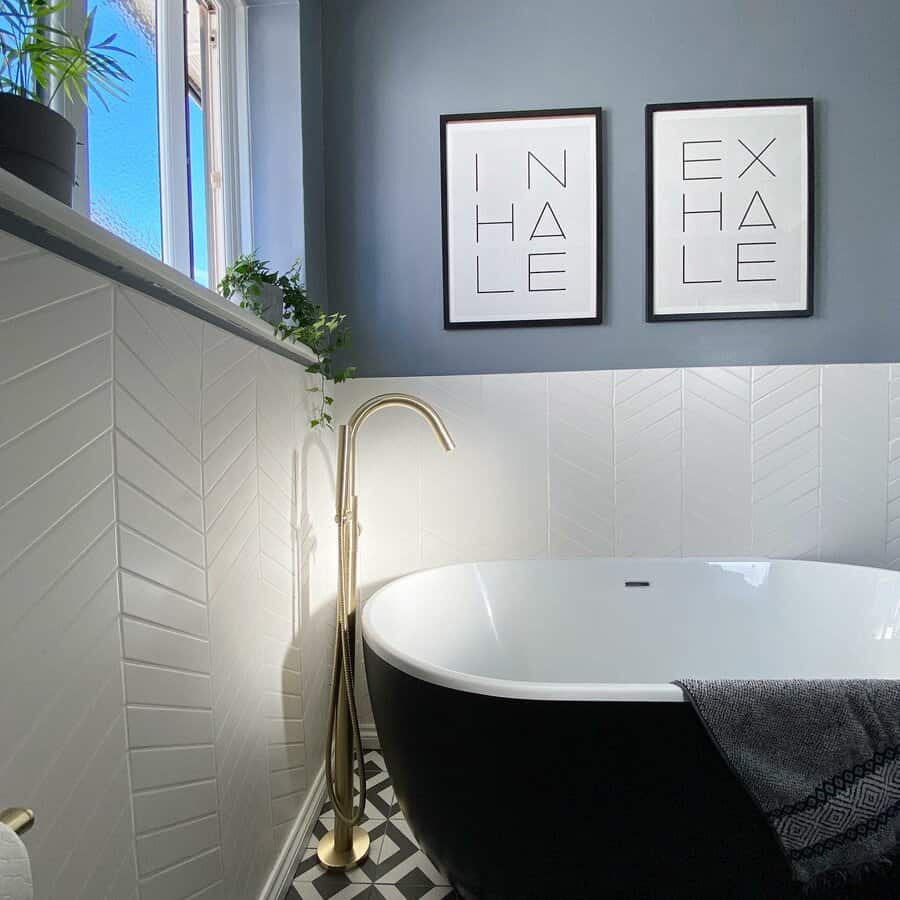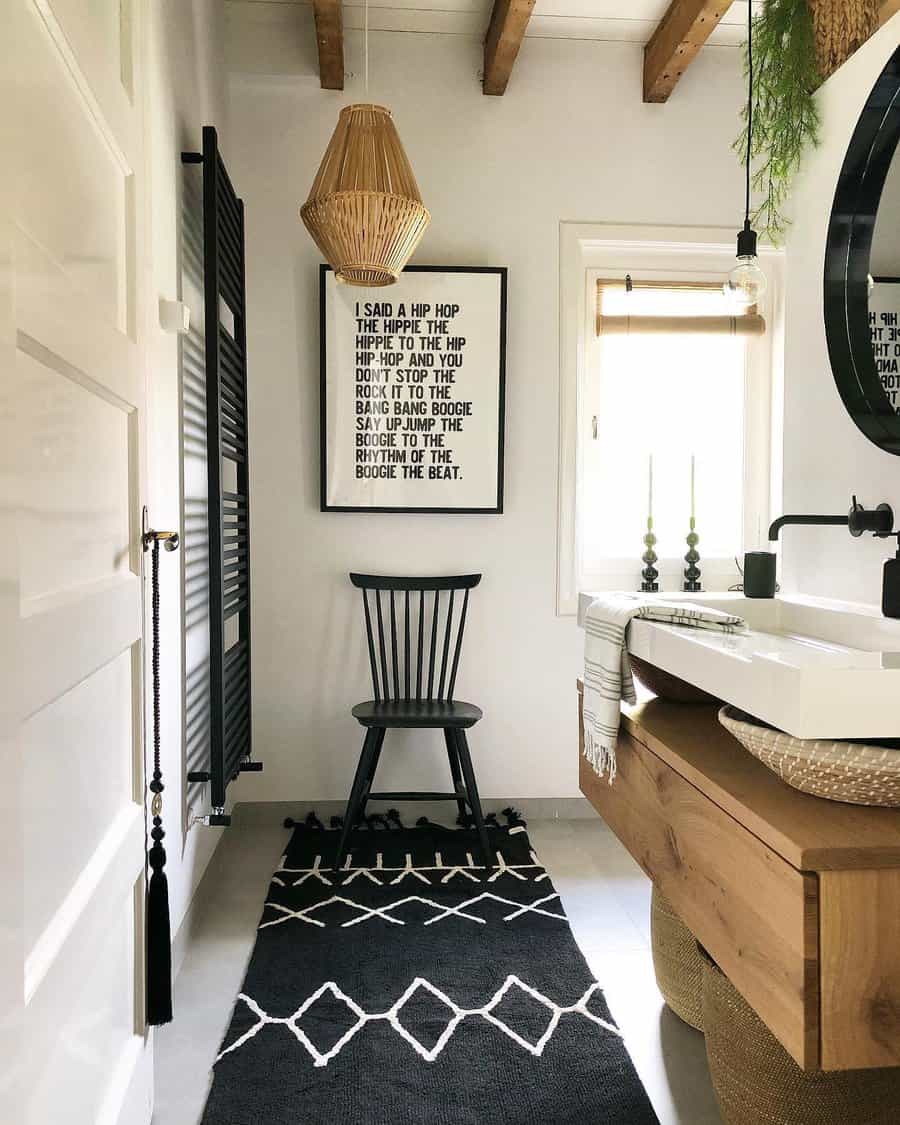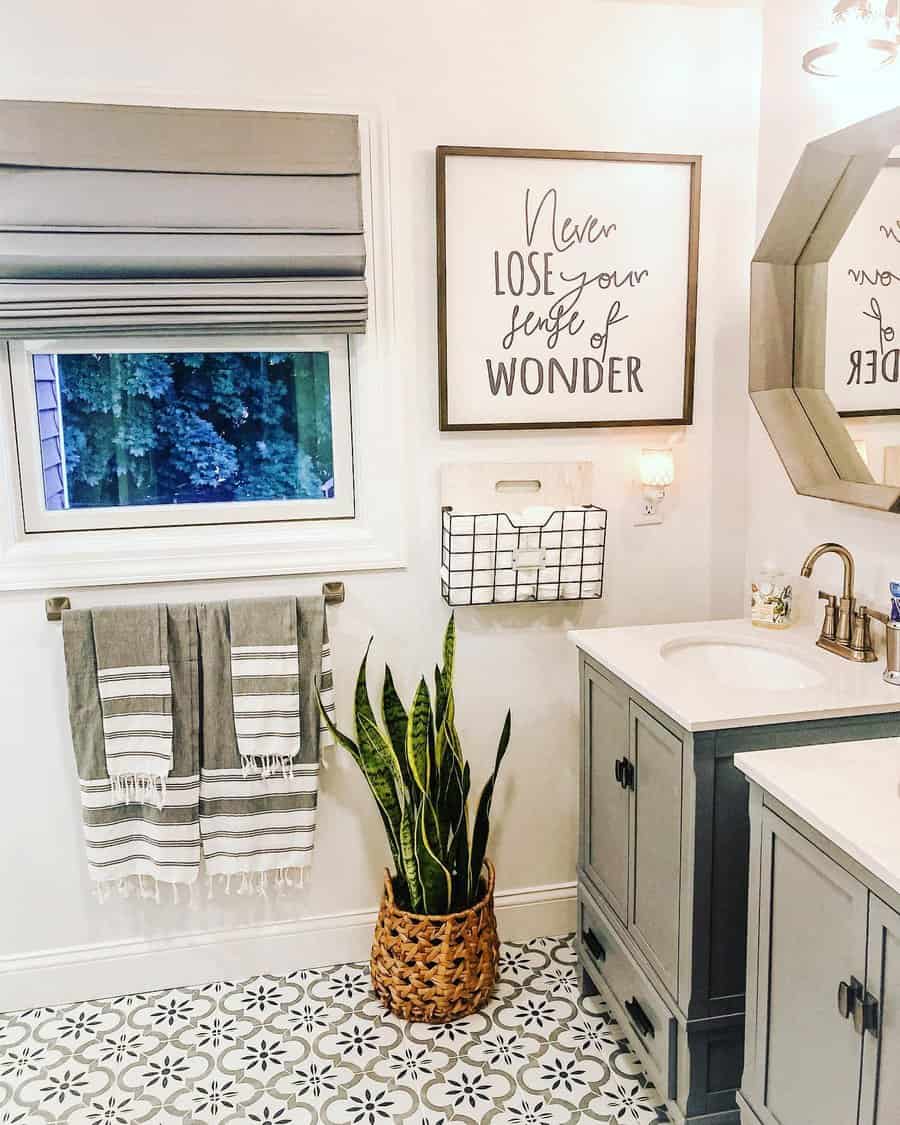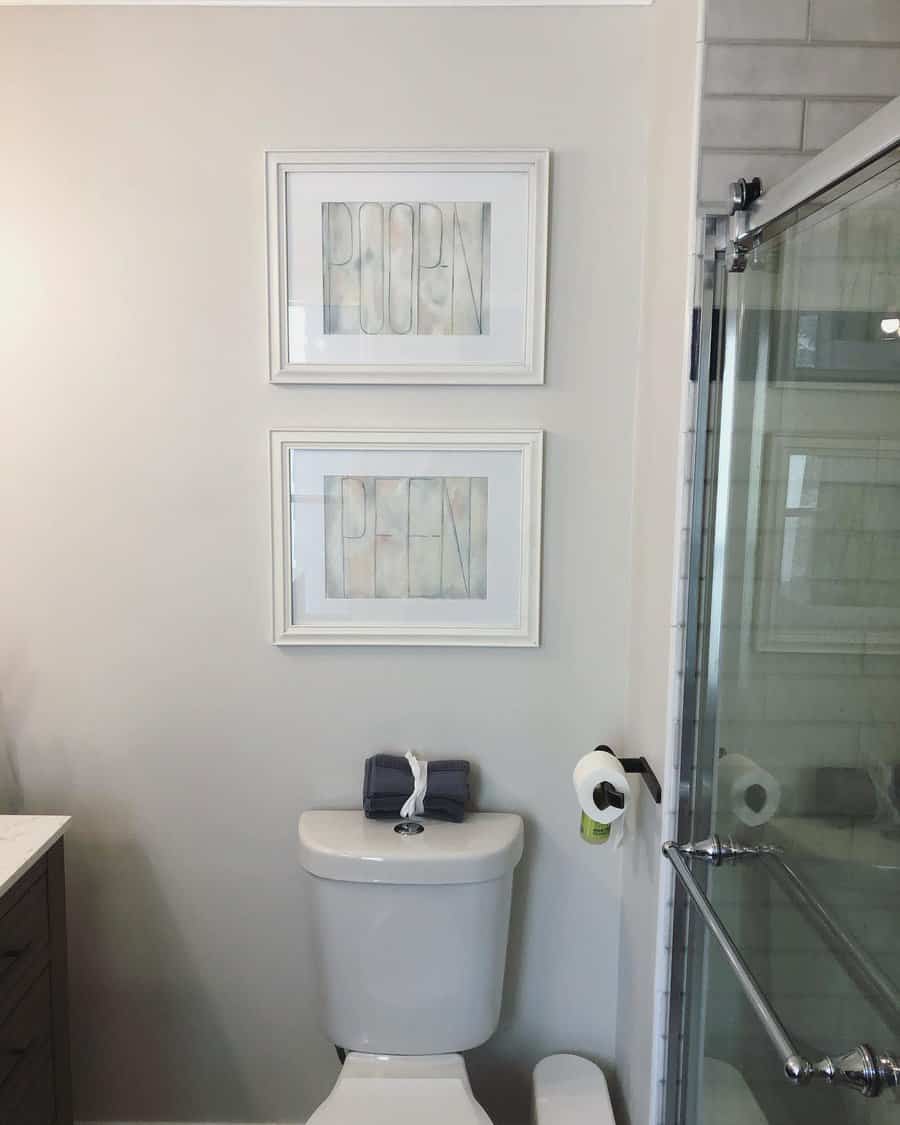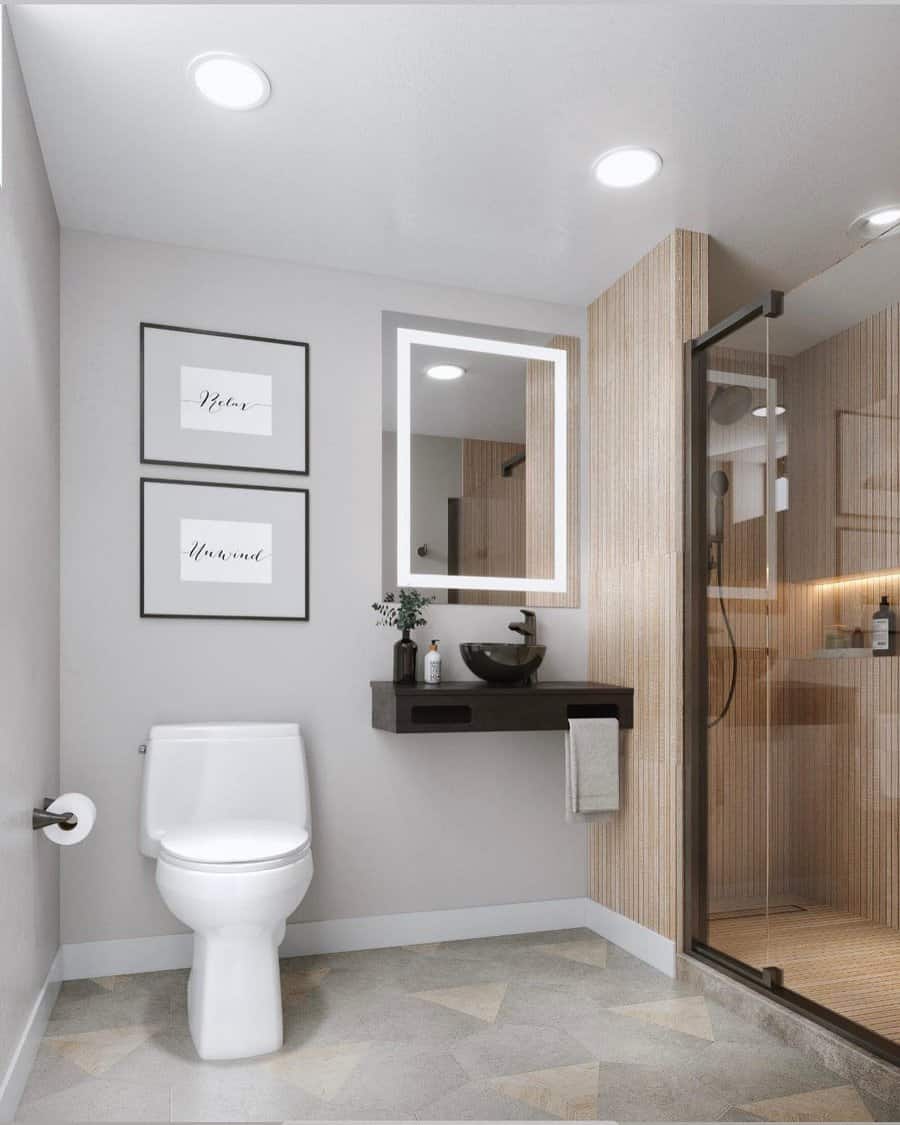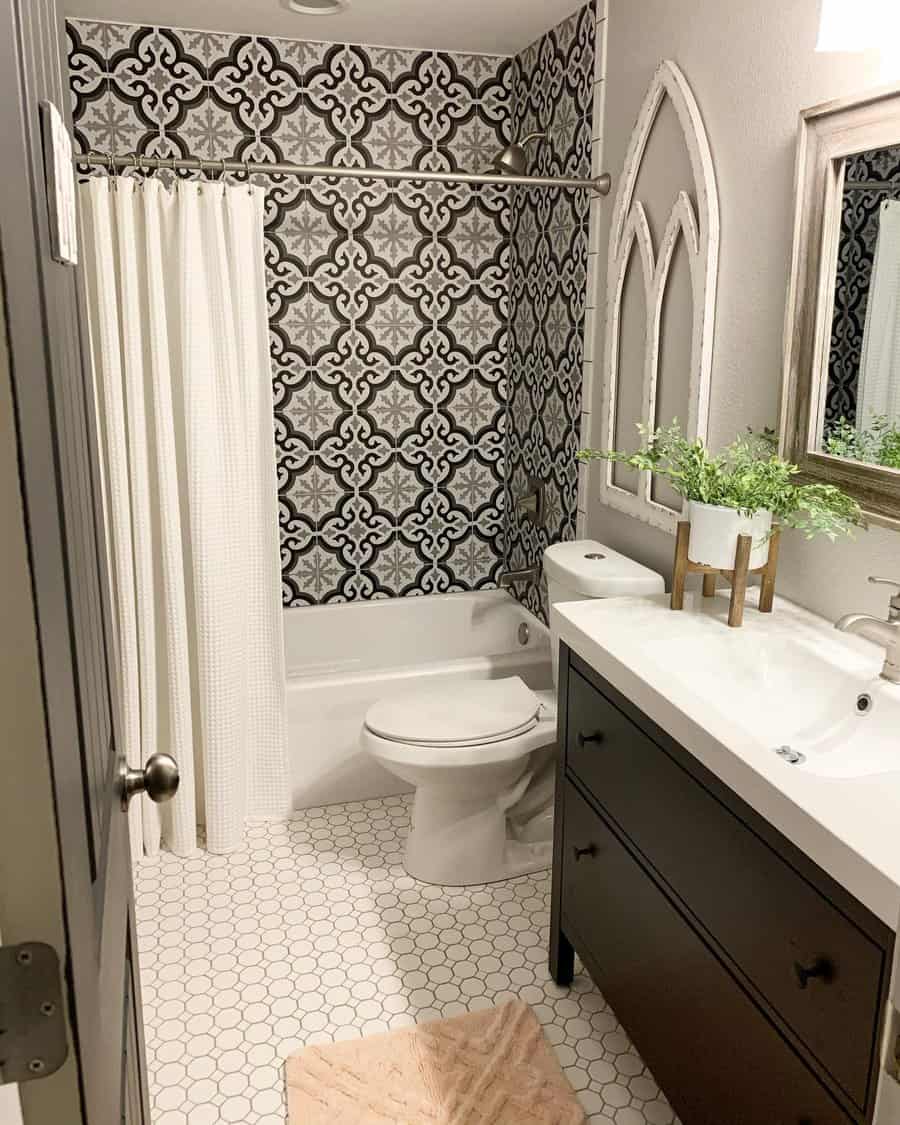 While typography is art in and of itself, don't hesitate to include other forms of artwork throughout your bathroom space. A mix of imagery and typography can add variety to your bathroom walls without competing for attention.
If you're looking for quick and budget-friendly bathroom decor, all you need is your favorite saying and a frame. Creative marketplaces like Etsy feature tons of fun, printable typography designs that you can turn into hanging decor from the comfort of your home.
15. Unique Art
Personally, there's nothing I like better than entering a friend's bathroom and finding a piece of artwork worthy of the main living space. Not only is it a fun surprise but it also shows that the homeowner cares for every inch of their abode.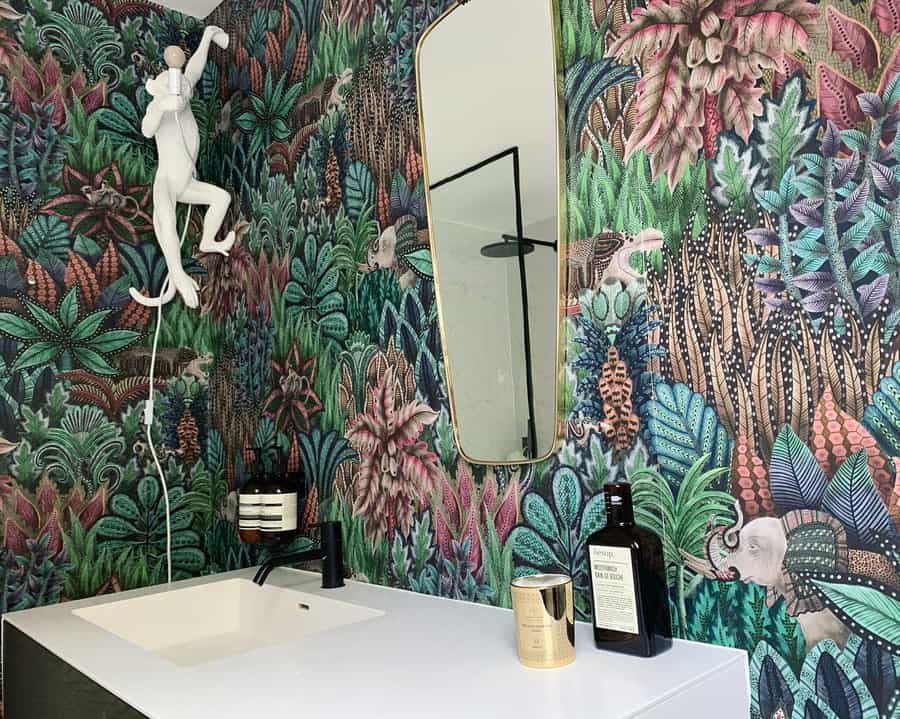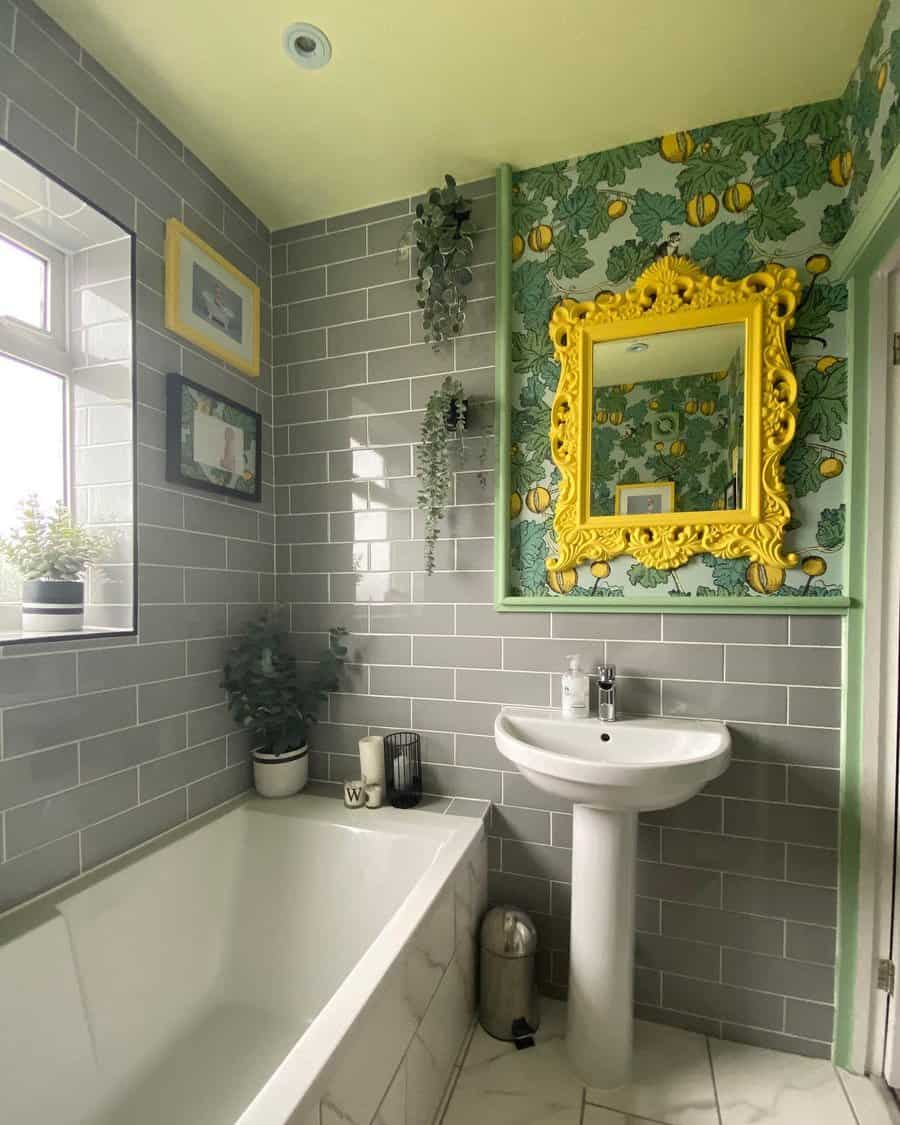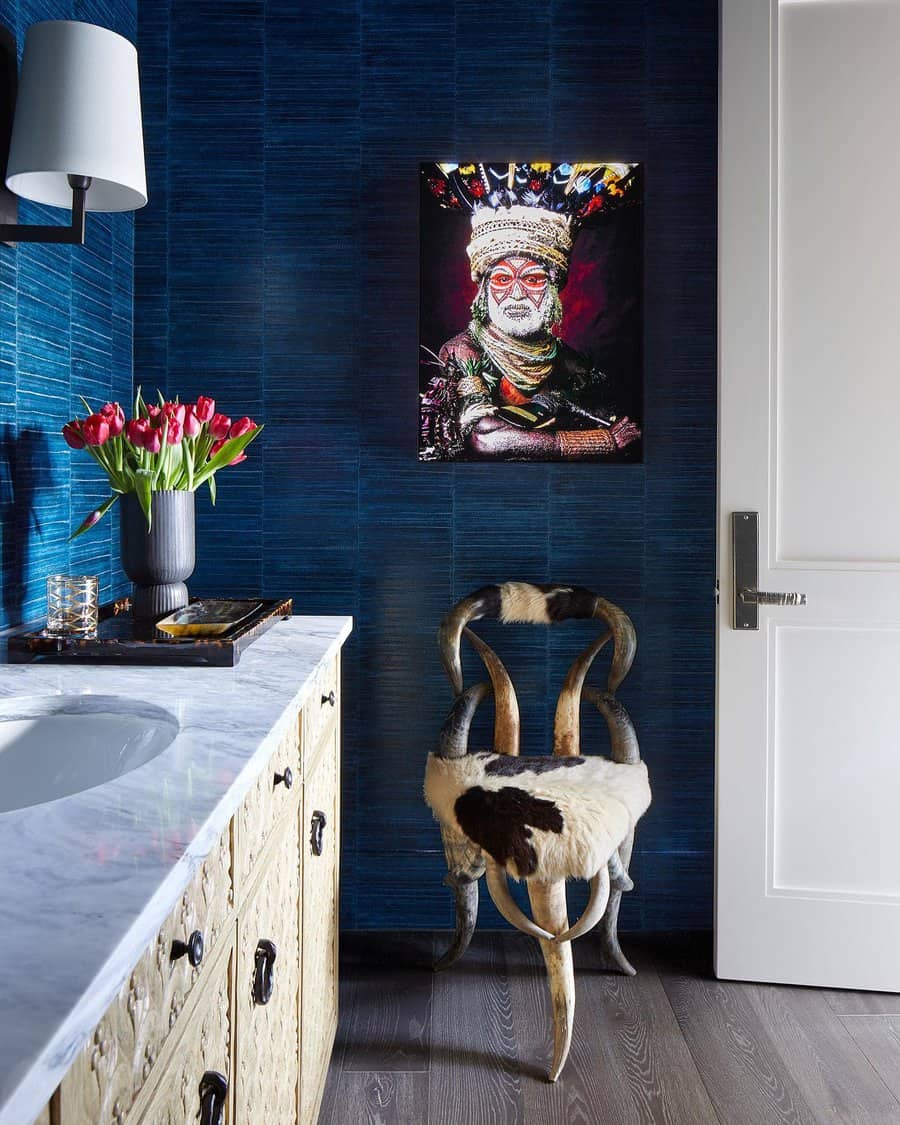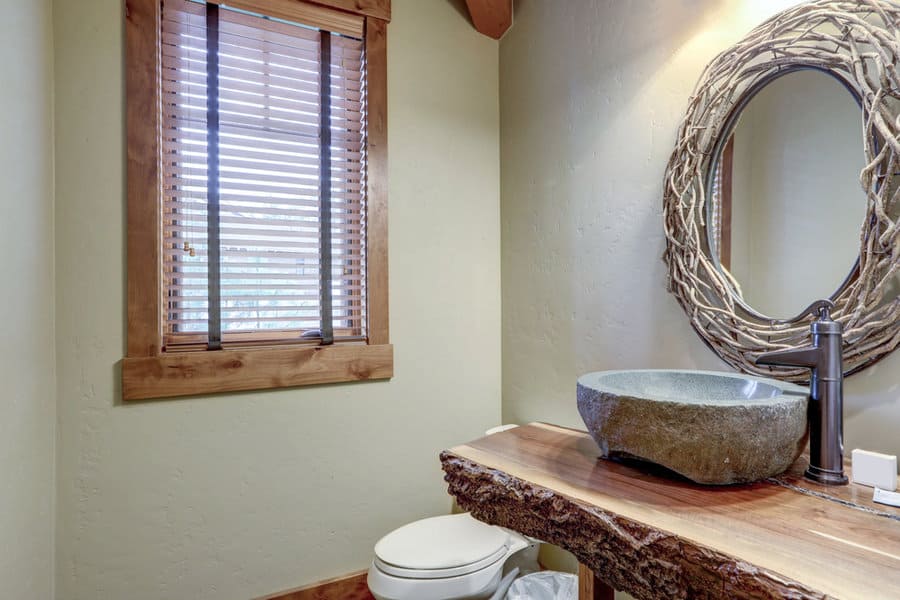 One thing to keep in mind when selecting unique artwork for a bathroom is how the rest of the space fits together. For the biggest impact, opt for simple finishes like white tiles and a plain shower curtain.
If you're decorating a small bathroom or powder room, invest in artwork that is also functional. A quirky toilet paper holder or one-a-kind mirror will give the space a unique atmosphere without taking up any extra space.
16. Vintage
Vintage artwork is a great way to give your bathroom a hint of elegance. It pairs equally well with traditional and contemporary interior decor styles.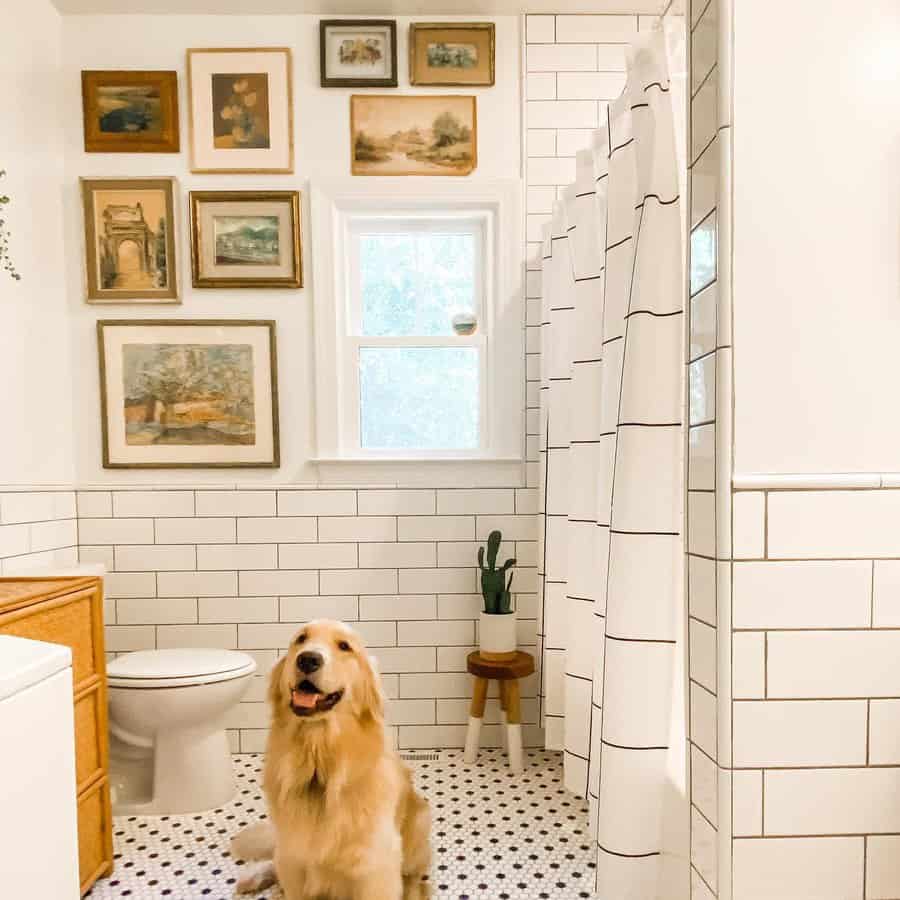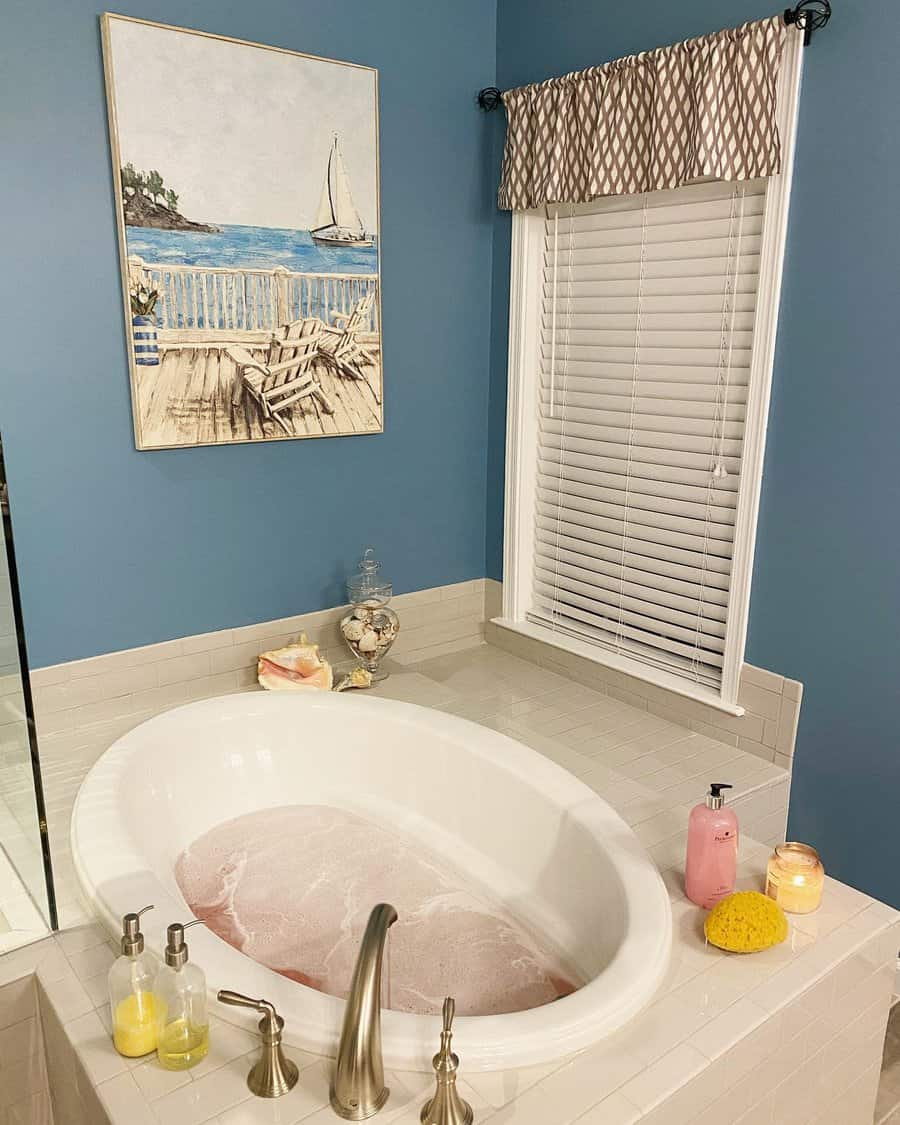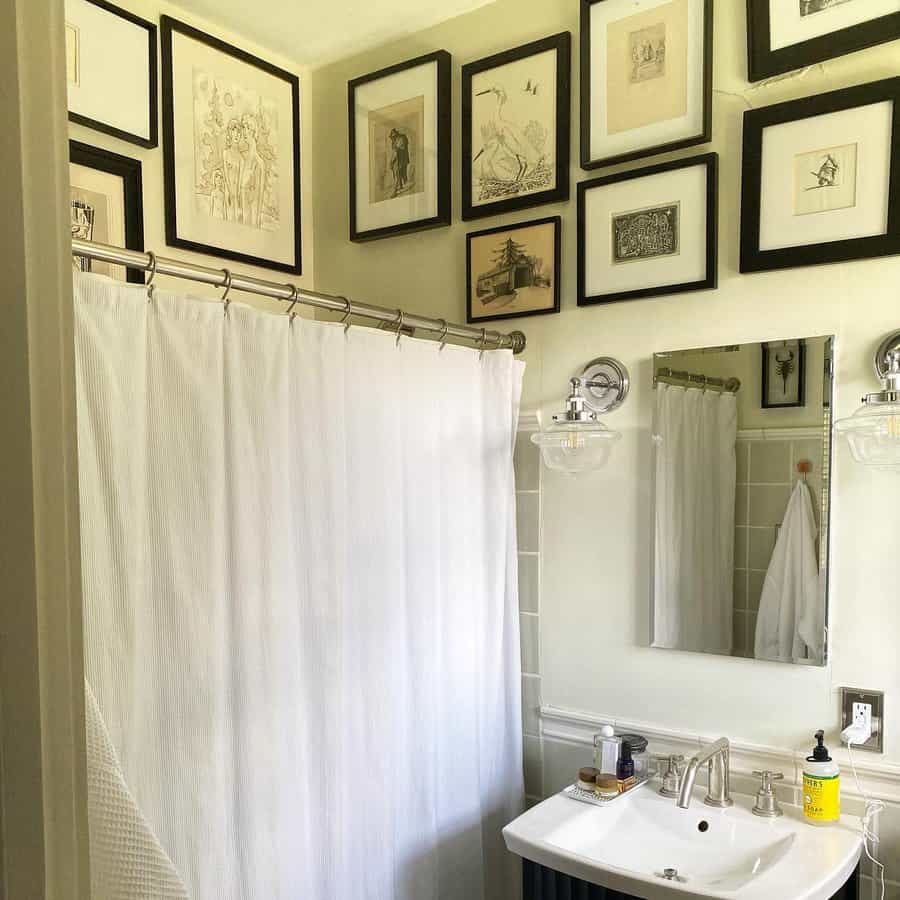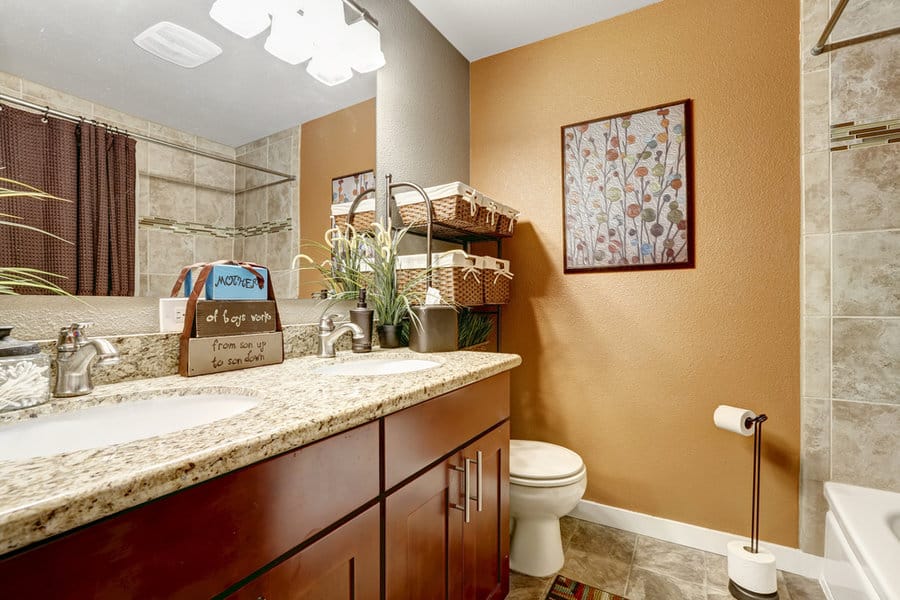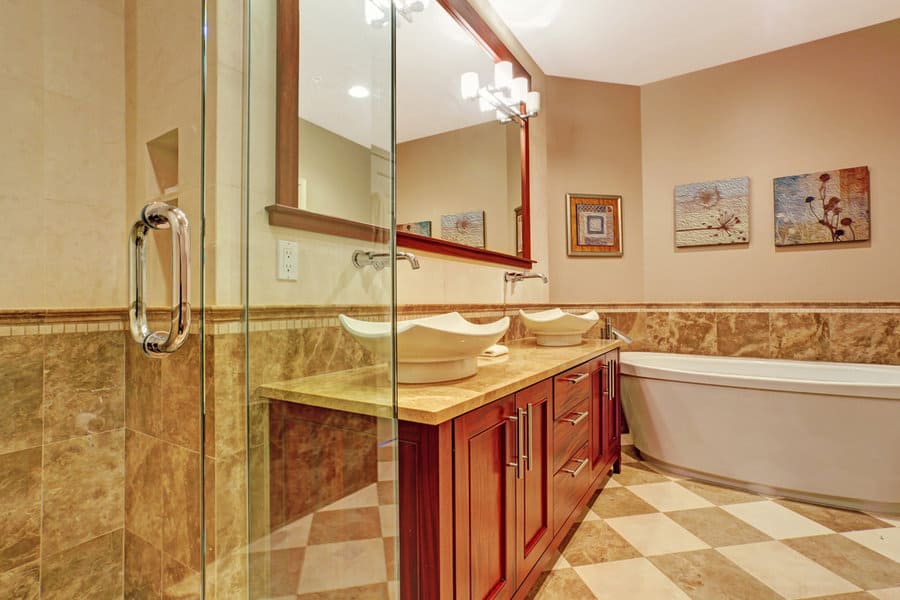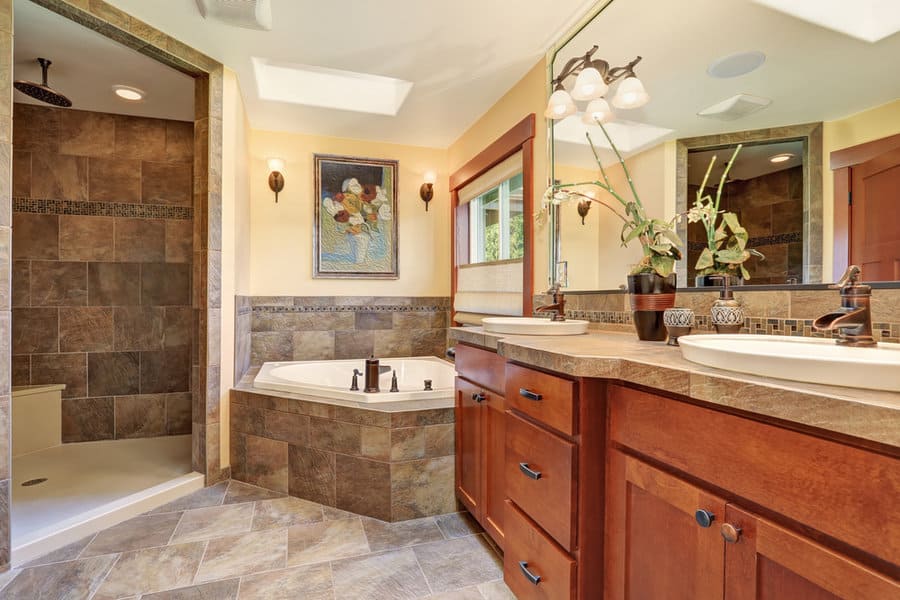 Decorating your home with vintage art is as much about the delivery as it is about the artwork itself. Ornate frames will give almost any image a vintage touch. You can even install battery-operated lights over each frame for a museum-inspired aesthetic.
Before hanging authentic vintage art in your bathroom, consider how the room's environment might affect the piece's integrity. This is especially true if the artwork is housed in the original frame!
Bathroom Art FAQs
Is it safe to hang canvas in a bathroom?
Many homeowners and apartment dwellers neglect their bathroom decor for fear that the heat and humidity will damage their beloved artwork. While this is a real concern, it's no reason to leave your bathroom walls completely bare!
Canvas prints are one of the best options for decorating a bathroom. Painted canvas is another option (but tends to be a little less resilient to moisture). A water-resistant varnish will add an extra layer of protection to your canvas artwork.
Of course, it's ideal to keep one-of-a-kind or sentimental artwork in a room that doesn't go through the same environmental changes as the average bathroom. Even with the best protection, there's still a chance that particularly delicate materials could be damaged.
Can wallpaper be used in the bathroom?
Yes. But you need to be careful about the type of wallpaper and adhesive used. The wrong products will lose integrity when exposed to the moisture and heat of a typical bathroom.
If you're unsure about applying wallpaper directly to your bathroom walls, consider framing a section and hanging it instead!