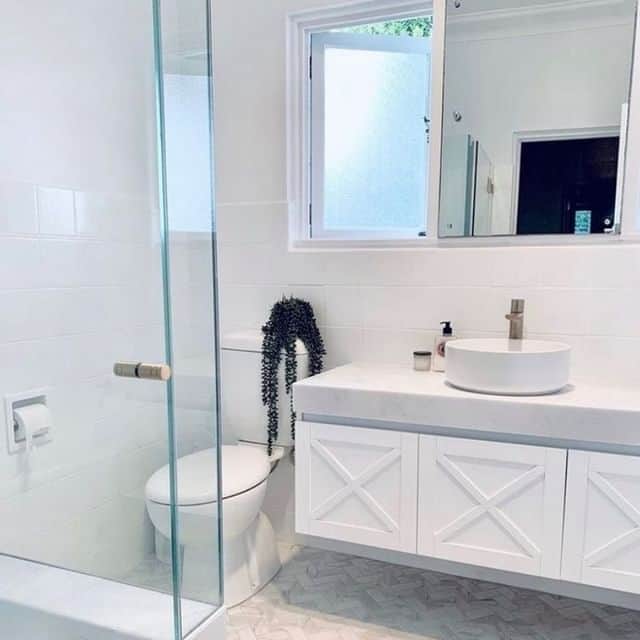 40 Bathroom Cabinet Ideas for Any Style
Storage is never enough. Even though we have to optimize our storage space to the maximum, we can never neglect aesthetics and beauty.
Bathroom cabinetry is not only useful but aesthetically necessary, to hide the siphon and plumbing pipes. If you live in a rental, there is a variety of rolling cabinets that fit pedestal sinks and are the best solution to hide siphons. They do not need to be fixed to the wall, as vanities do.
We have selected some cool bathroom cabinet ideas for you, that are beautiful and extremely functional.
1. Black
Black and white are the perfect colors for those who want a modern and sophisticated bathroom. Golden fixtures bring light to the room, and so do marble countertops.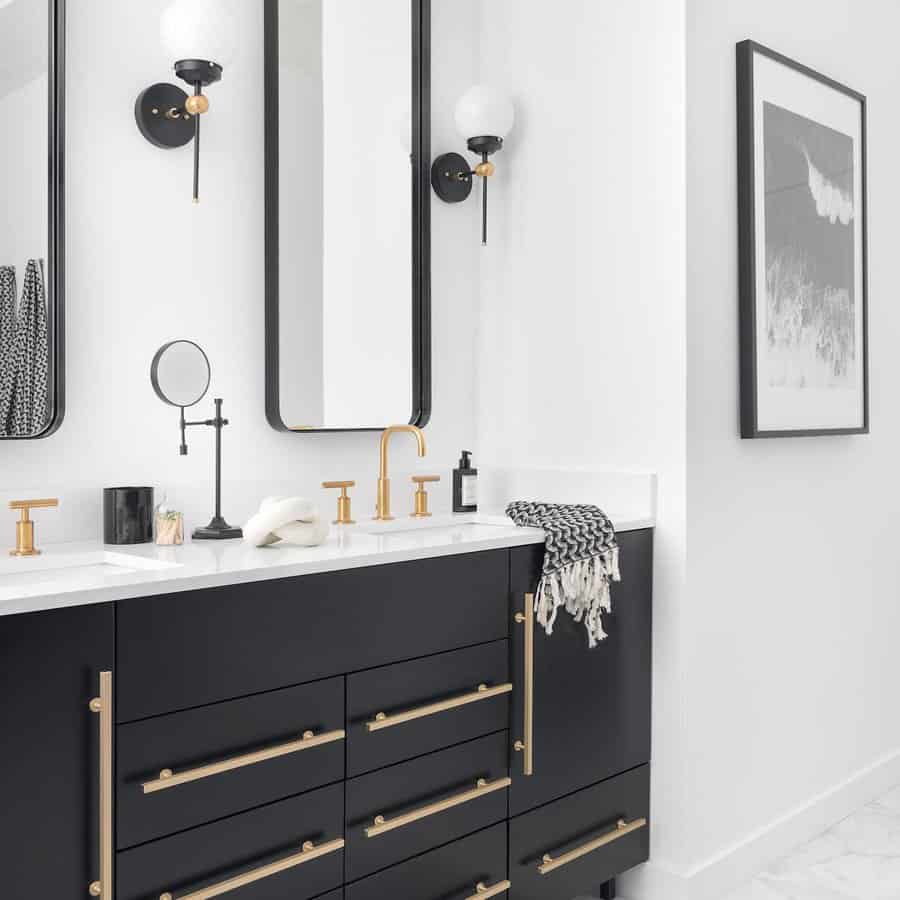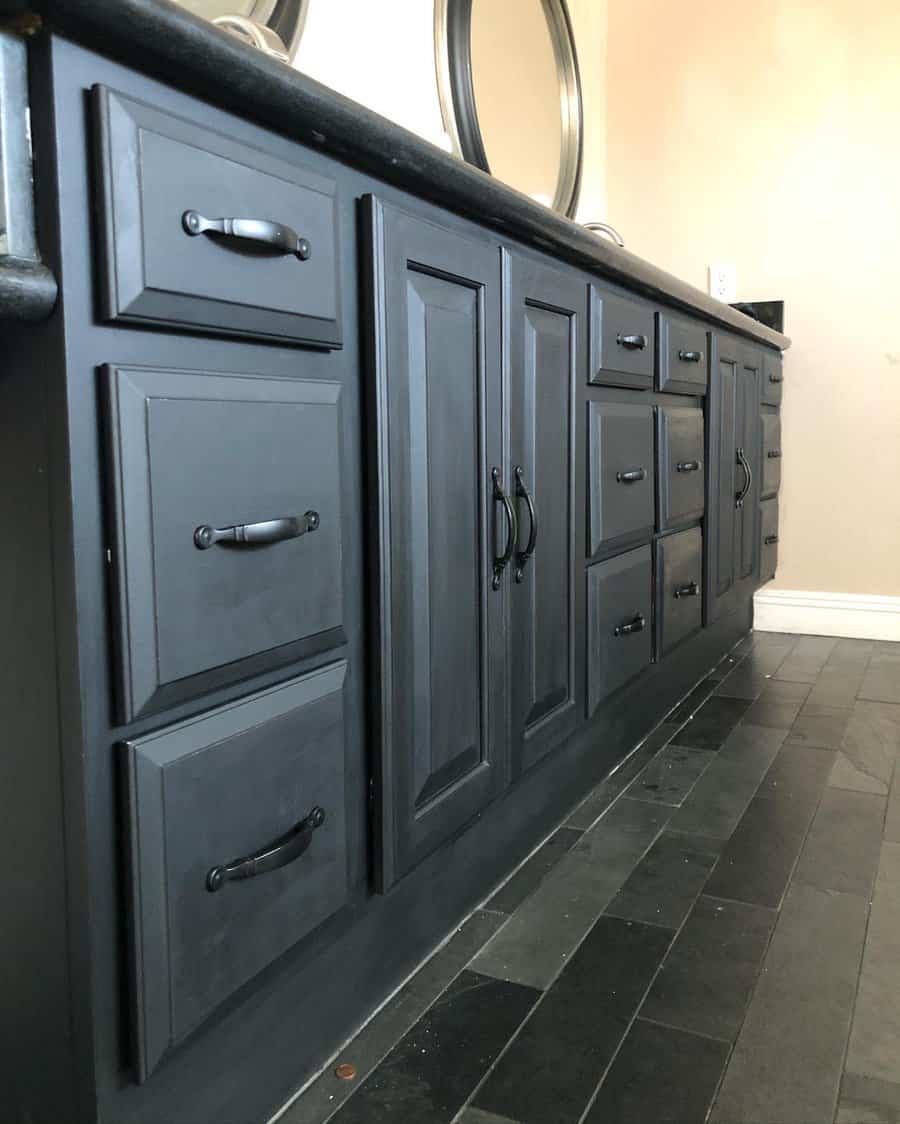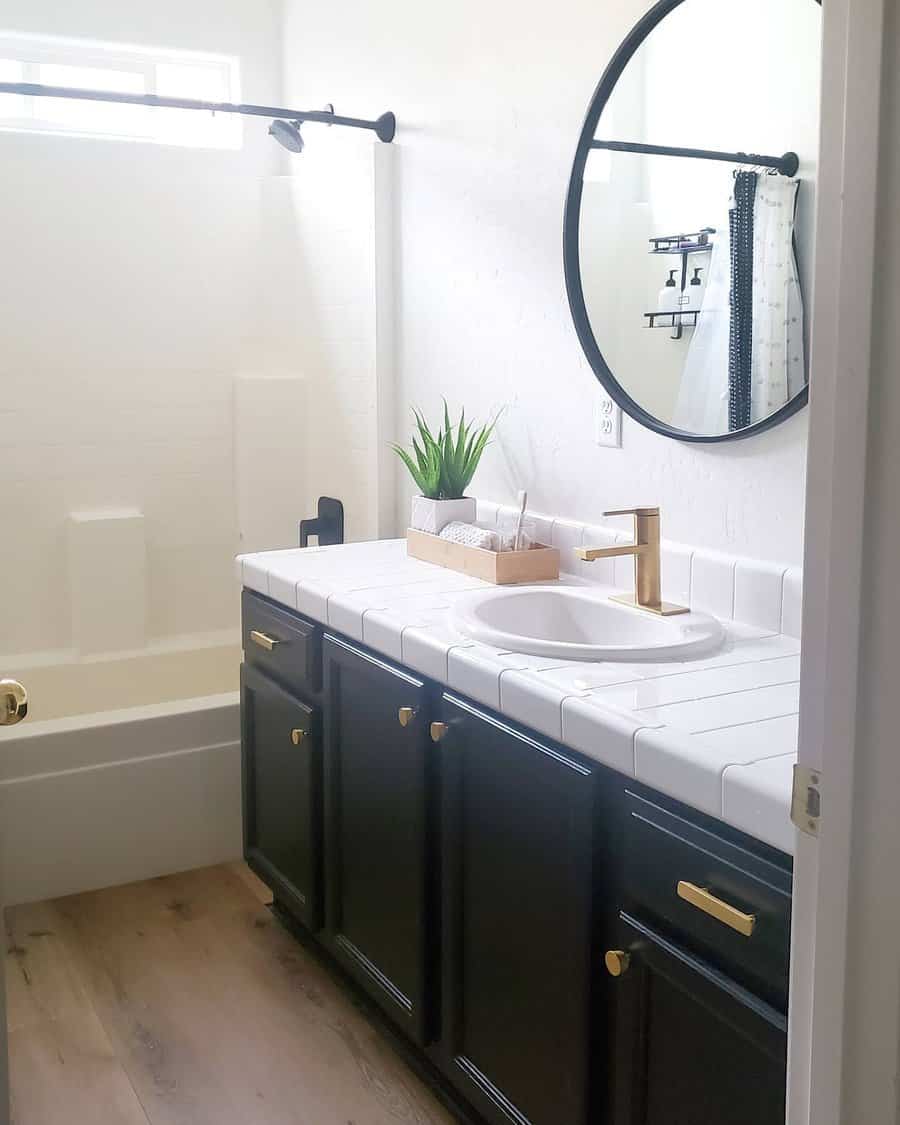 Black cabinets go perfect against white walls and counters, and the same applies to bathroom fixtures; against white walls, black fixtures are neither heavy nor gloomy.
2. Drawer
You will need extra storage if you have a pedestal sink. One bathroom storage idea is to add a narrow chest of drawers that fits under the sink.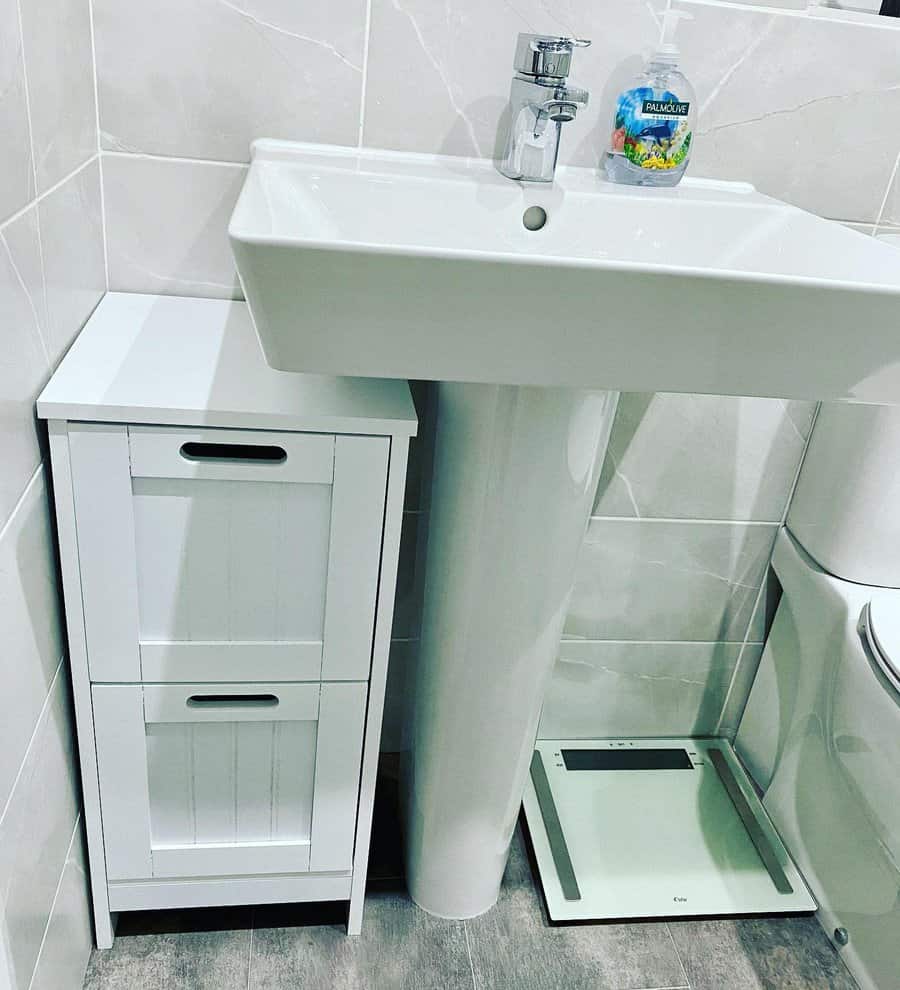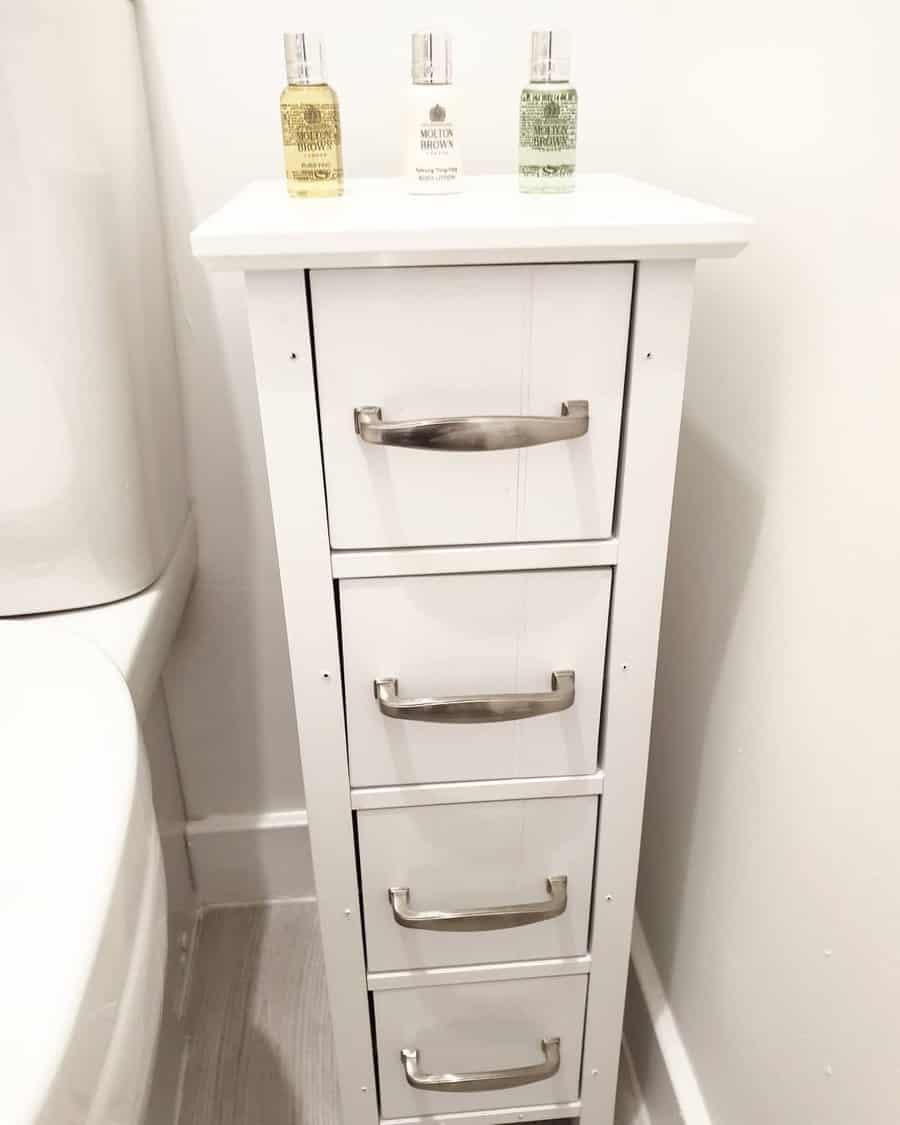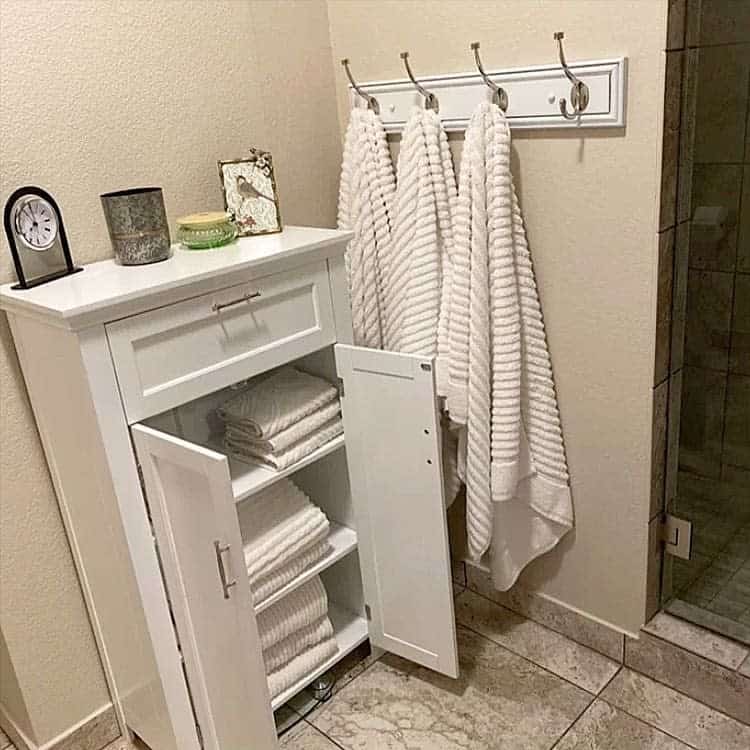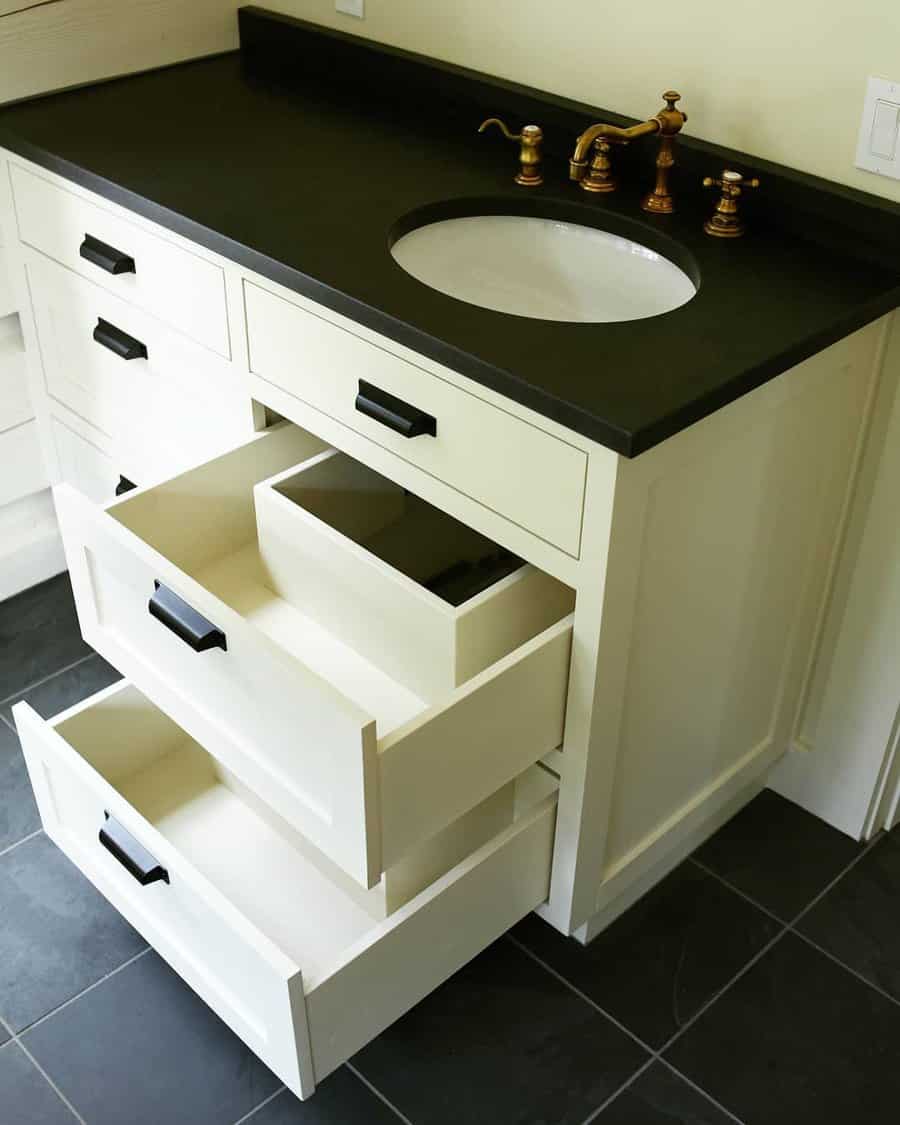 If you lack storage space, use the super practical storage drawer carts, they are simply organization on wheels. They come in many sizes and materials, so it won't be difficult to find the perfect fit for your bathroom style.
3. Green
When it comes to bathroom furniture, why not try something out of the ordinary?  Most bathrooms are grey, white and black.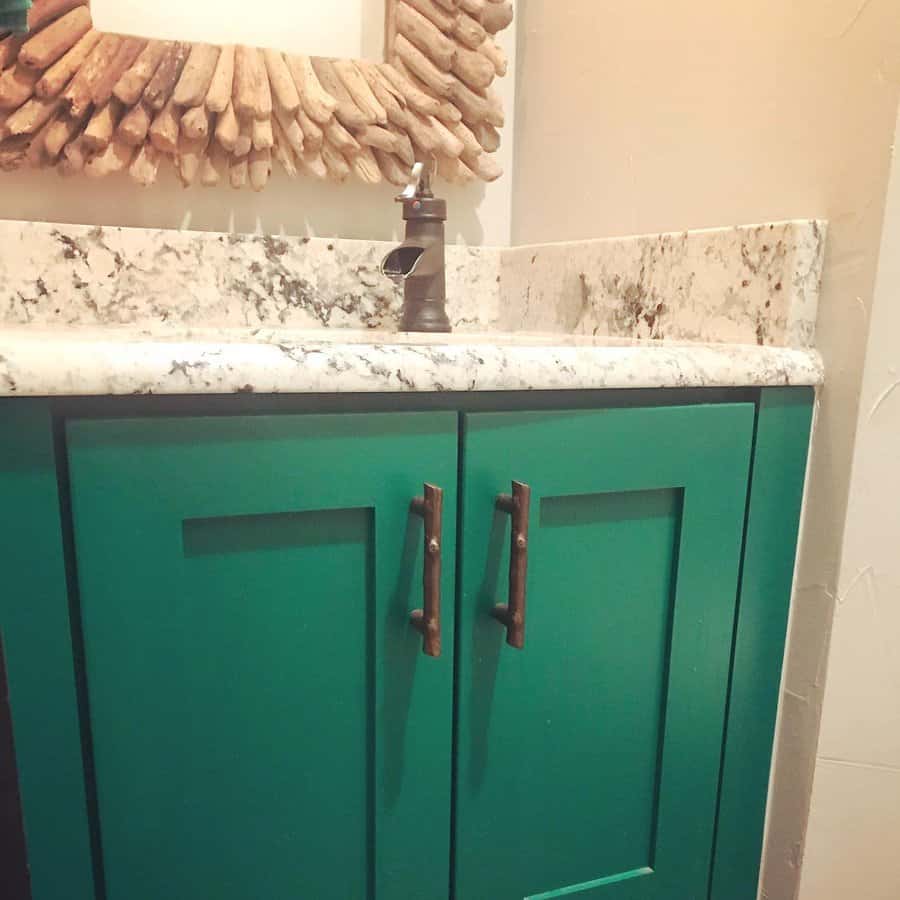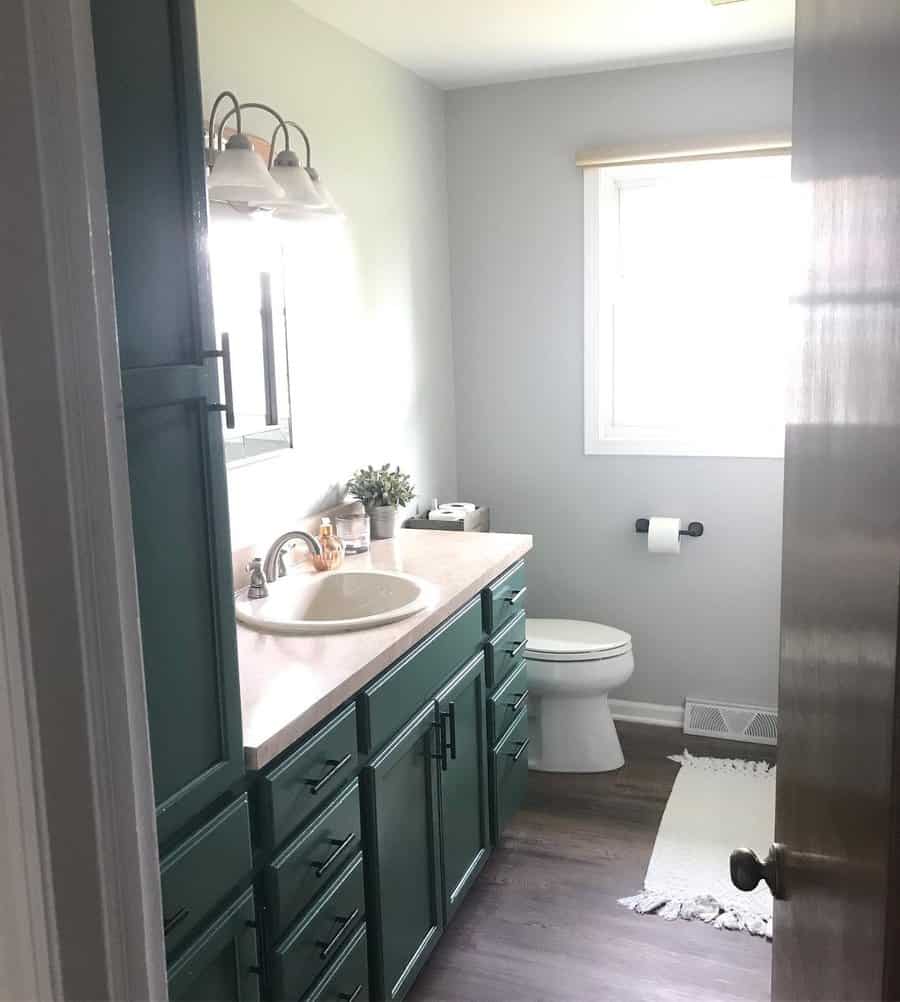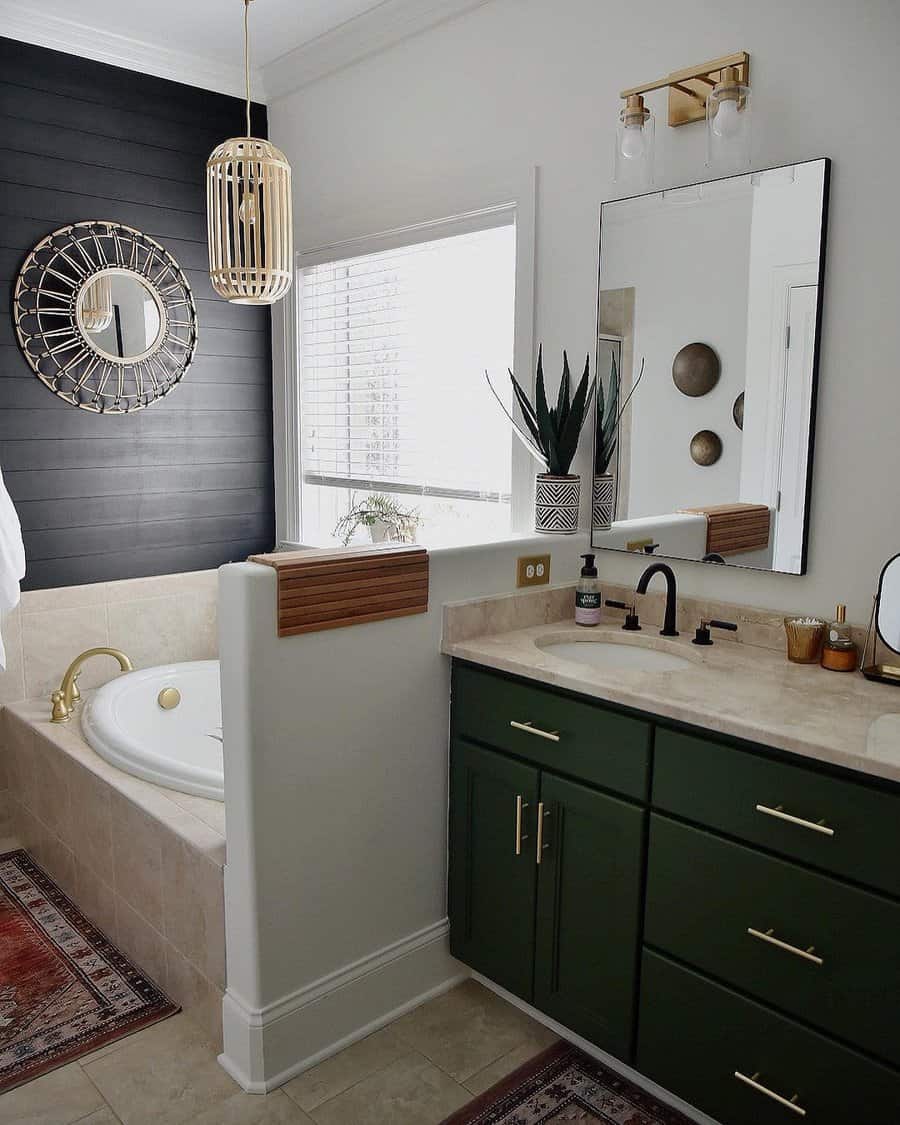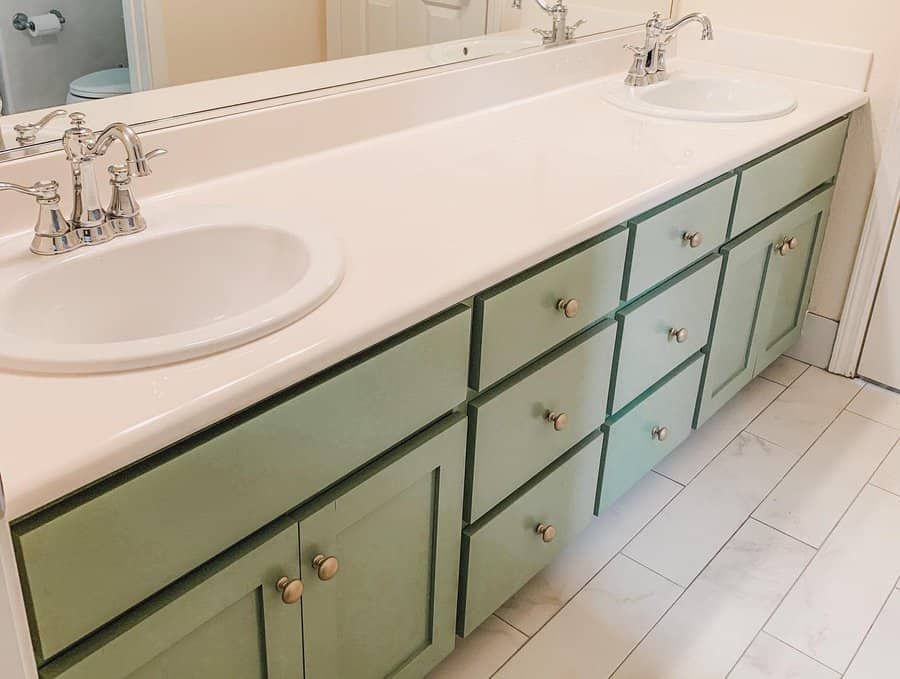 Green is not very common in bathroom vanities, but it's such a cheerful color! It goes very well with wood and lighter or darker shades of marble, and you'll find plenty of floor tile options to match your green vanity cabinet.
4. Mettalic
A metallic structure is a good ally if you want your bathroom to look more contemporary. The golden tone is related to joy, wealth, power, and prosperity, and the brightness of golden bathroom fixtures and accessories can be amplified by contrasting them with earthy tones, black and white.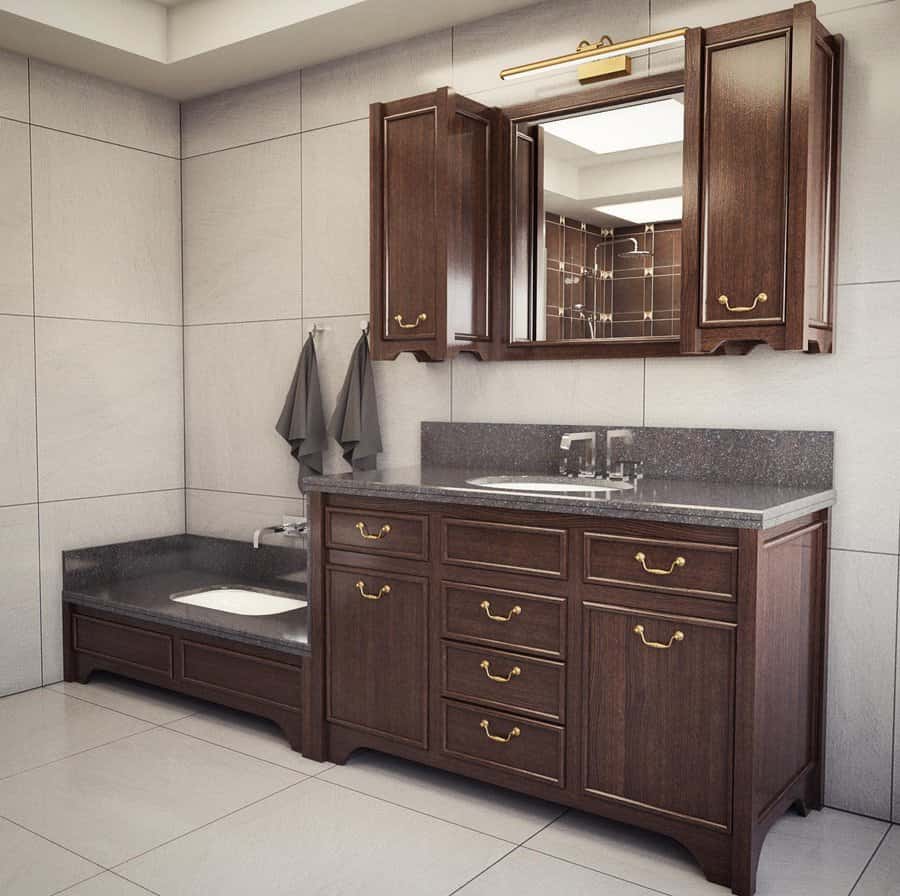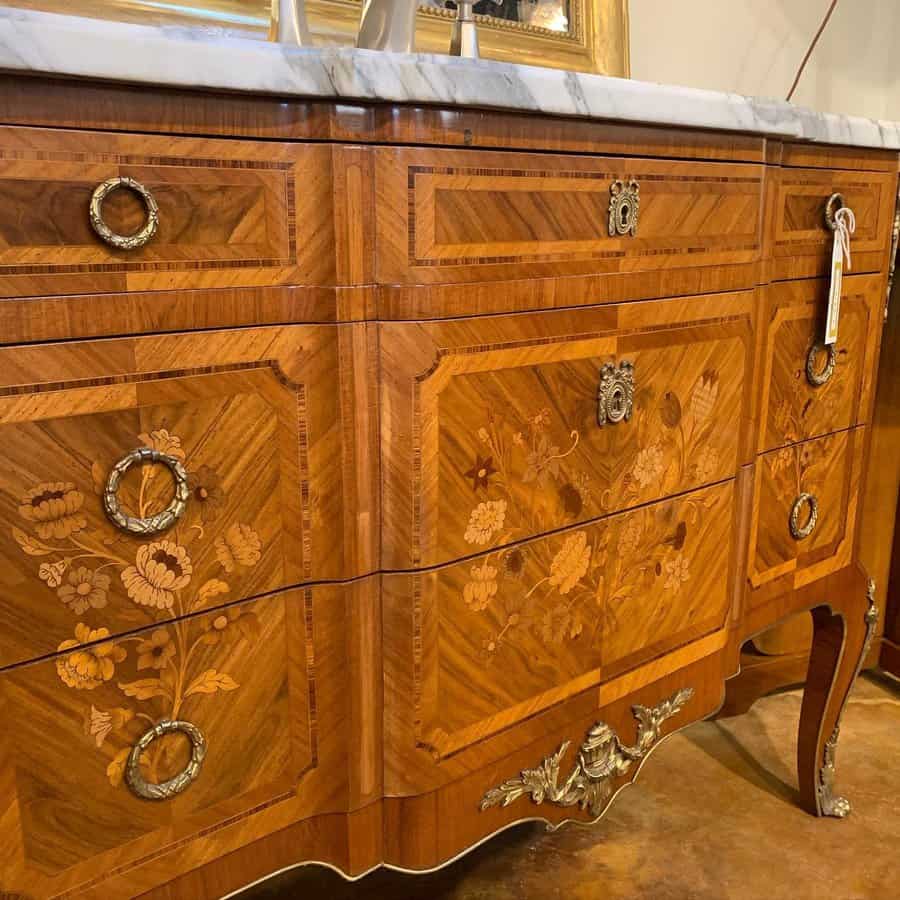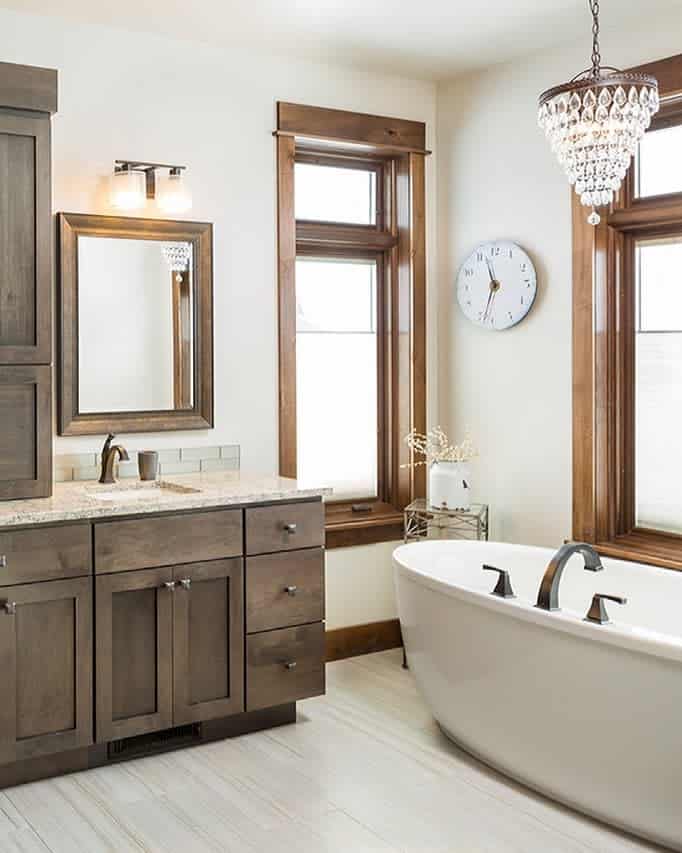 Metallic elements have been increasingly used in decoration, not just as finishes and accessories, but we see them in copper soaking tubs, as well.
5. Minimalist
Certain types of décor can bring a visual overload, and make the spaces look smaller. Minimalist décor values ​​functionality and clean lines, and as a result, the spaces are lighter, with a sense of amplitude.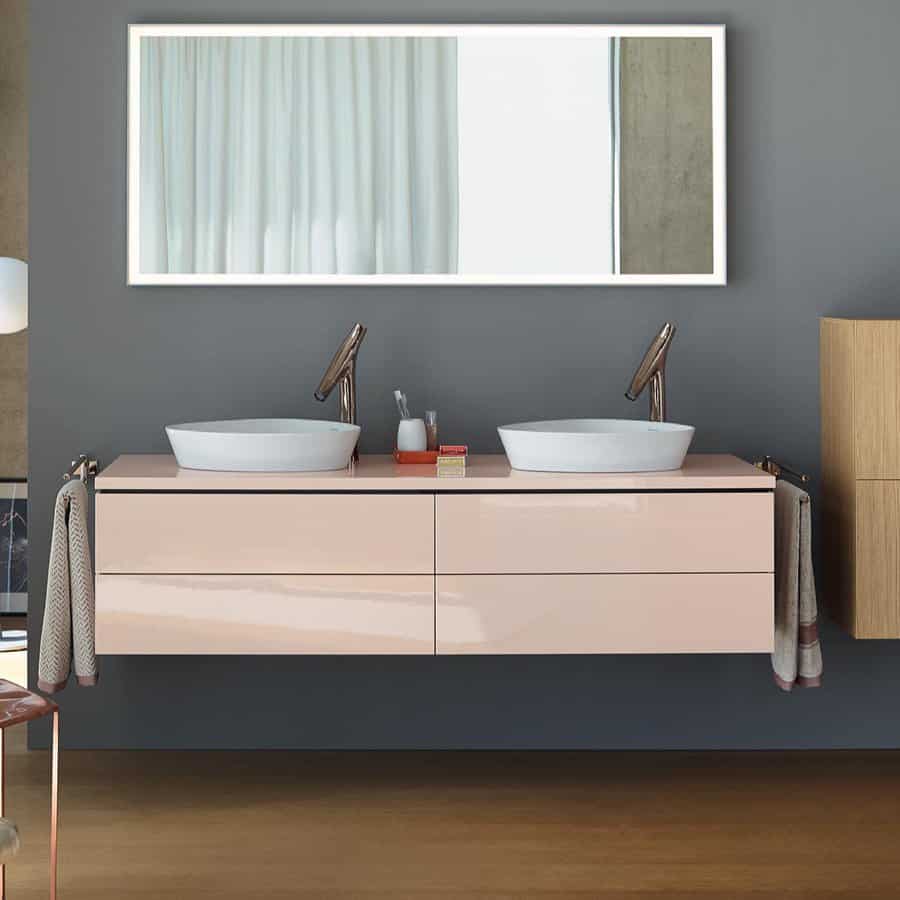 Hidden storage and floating vanities that amplify floor space are some elements you will find in minimalist décor. Ideal for small bathrooms, this style is perfect for any home décor. Minimalism has been dominating in interior design, bringing beauty and style to the spaces, valuing simplicity, as the premise of minimalist decoration is "less is more".
6. Modern
Very similar to the minimalistic style, a modern bathroom décor values straight, clean lines and, above all, uncluttered counter spaces.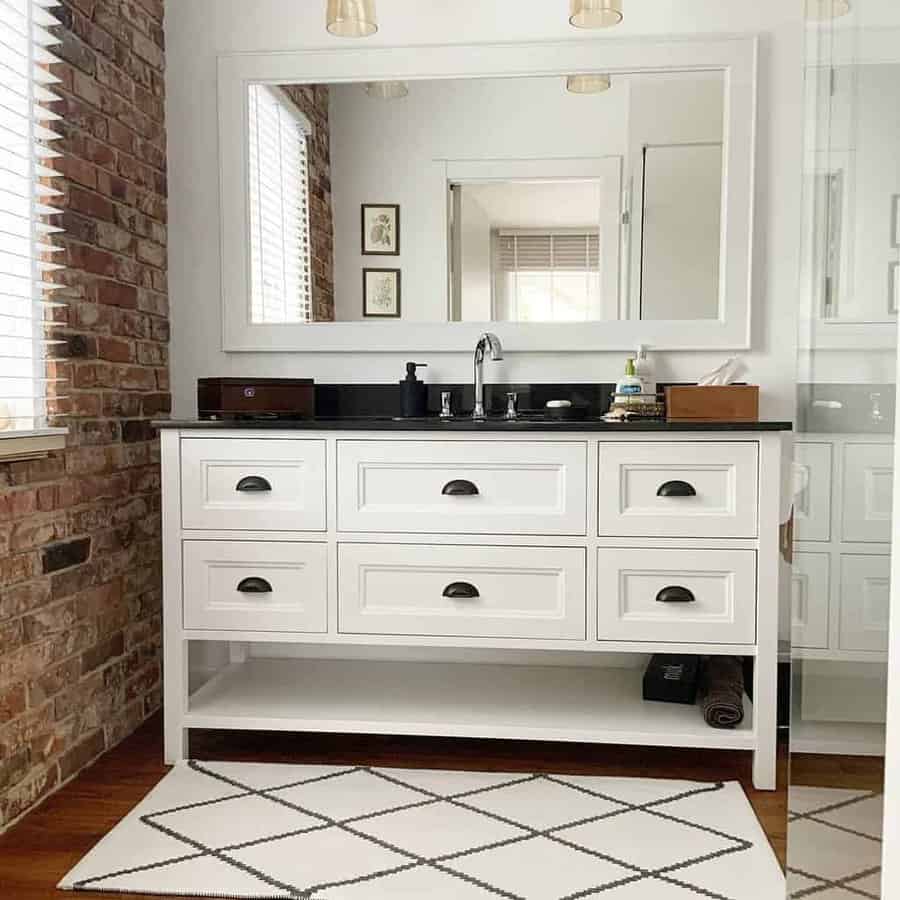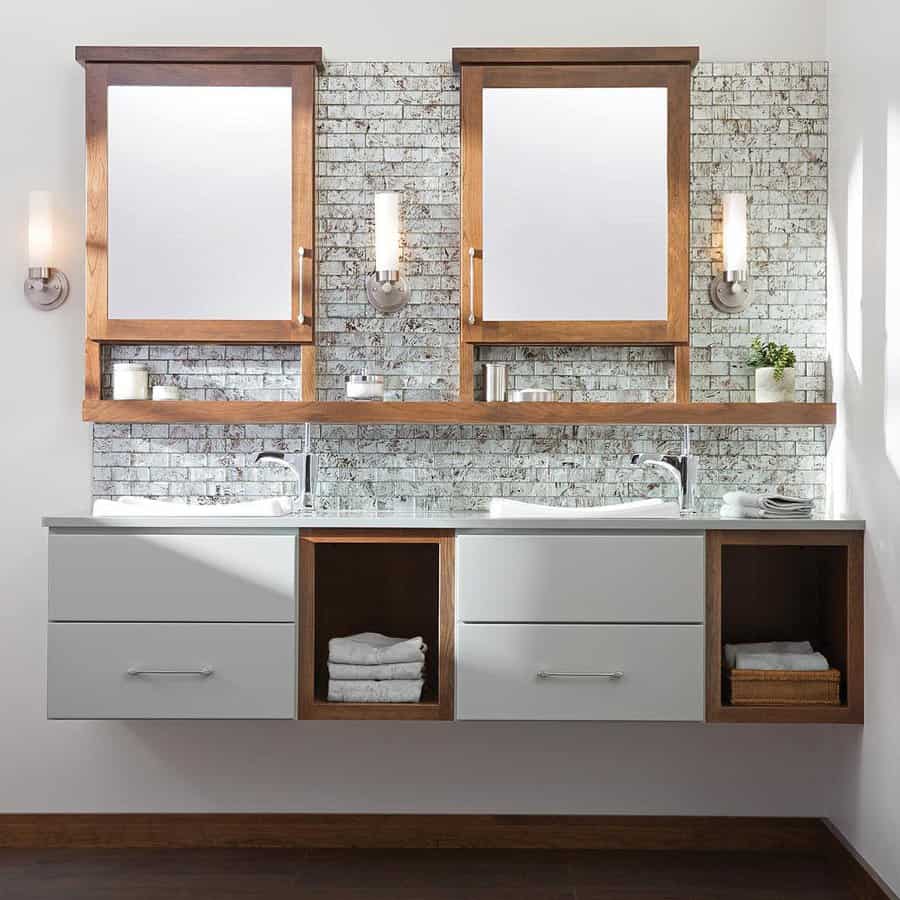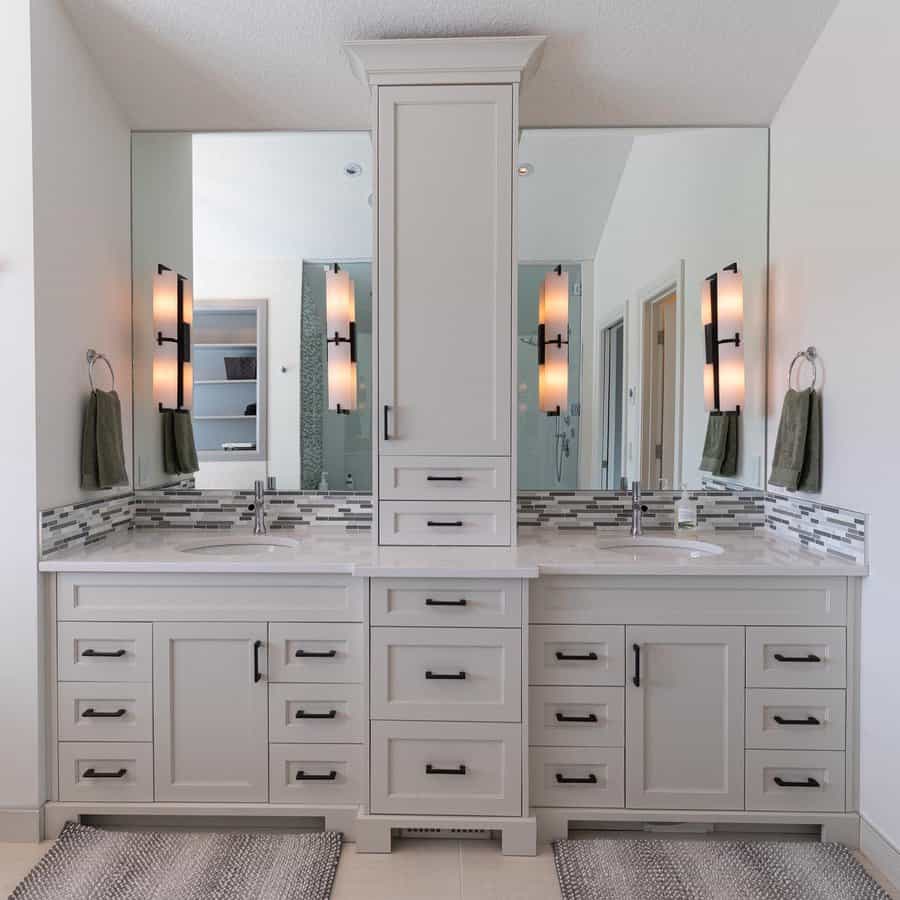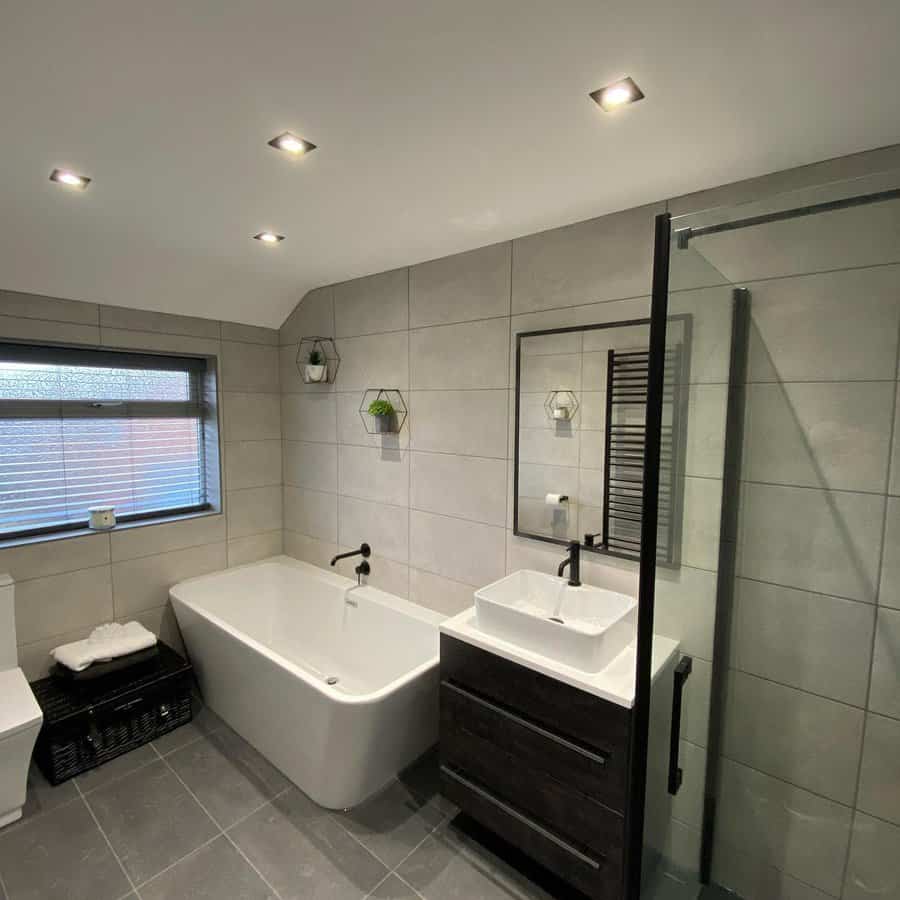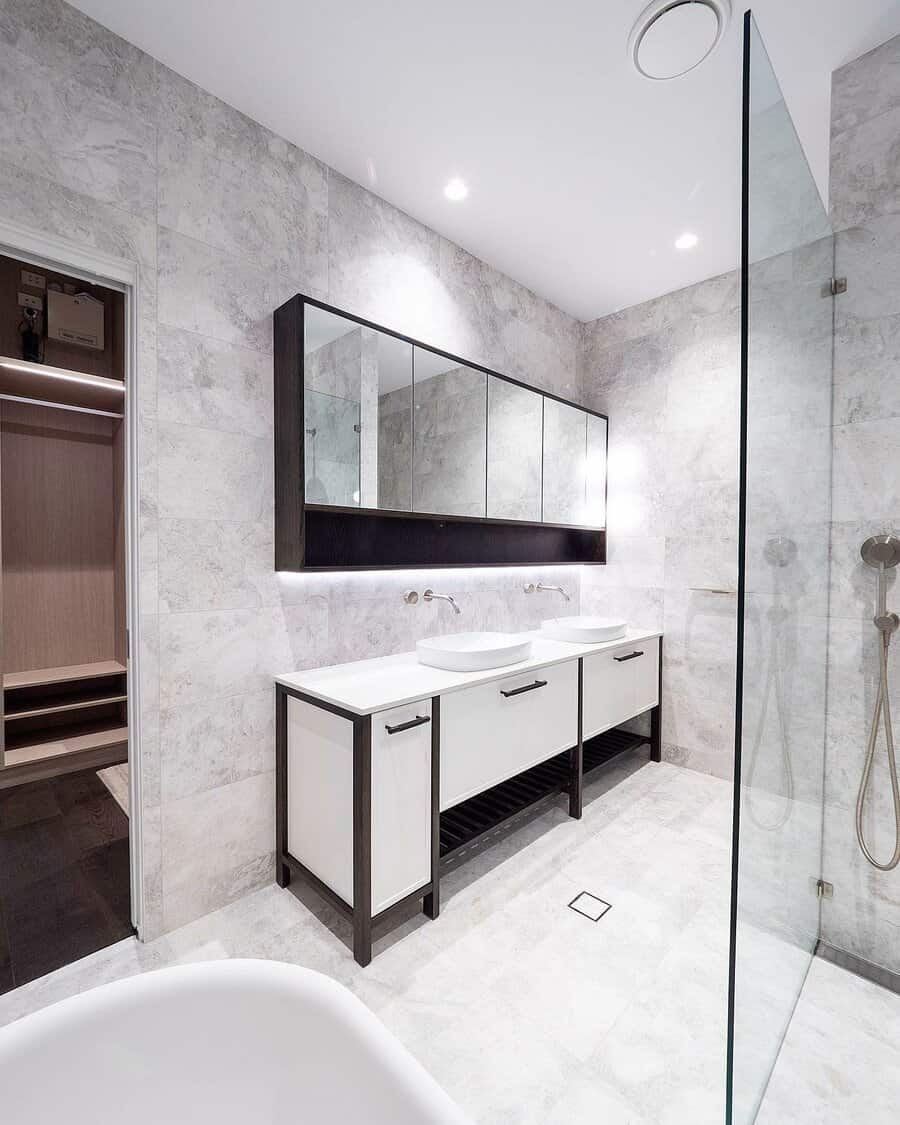 A modern bathroom explores concrete and wood mixed with organic elements, and the lighting plays an important role in the décor. But, most of all, the modern style values uncluttered spaces, with functional bathroom organization solutions.
7. Organizer
Bathroom drawers quickly turn into junk drawers if not properly organized. Like it or not, things end up getting lost in the clutter. In the rush of everyday life, we inevitably end up throwing any bathroom-related item in the cabinet drawers, and never finding them again…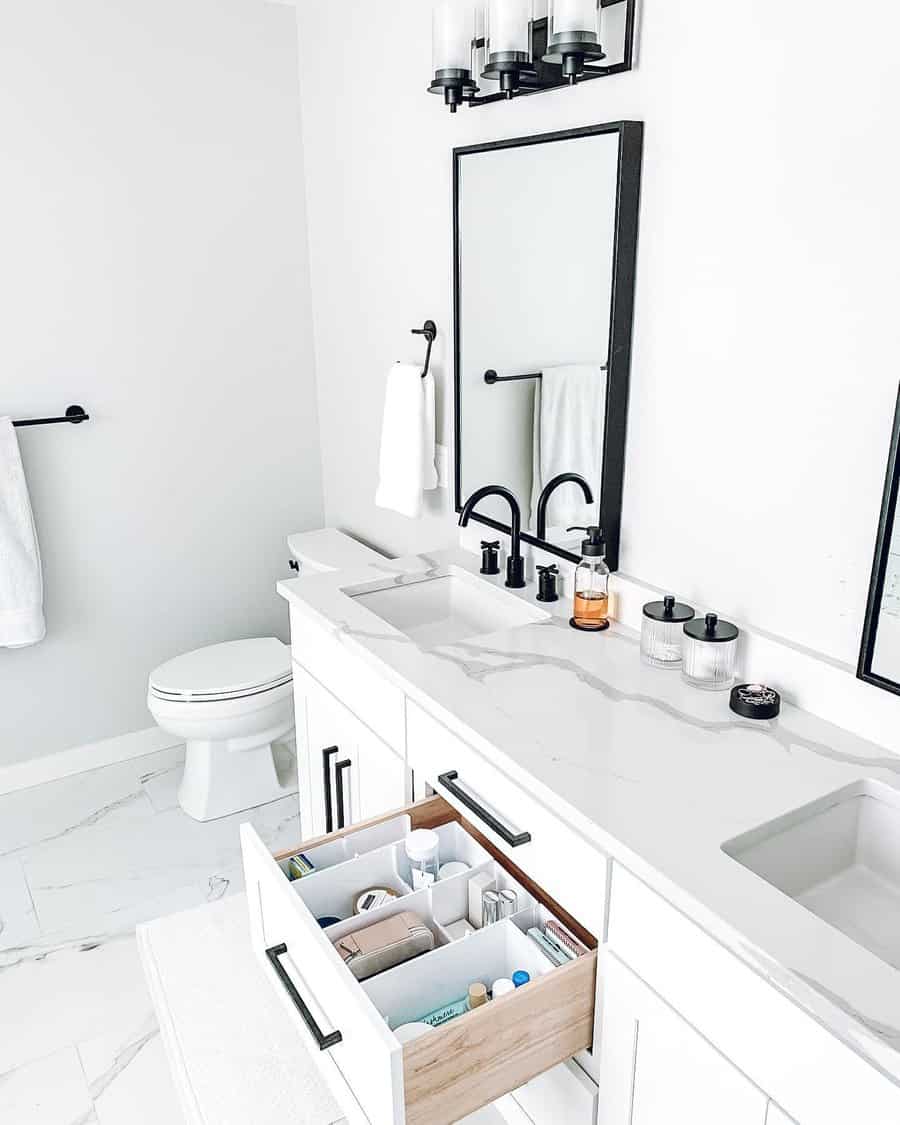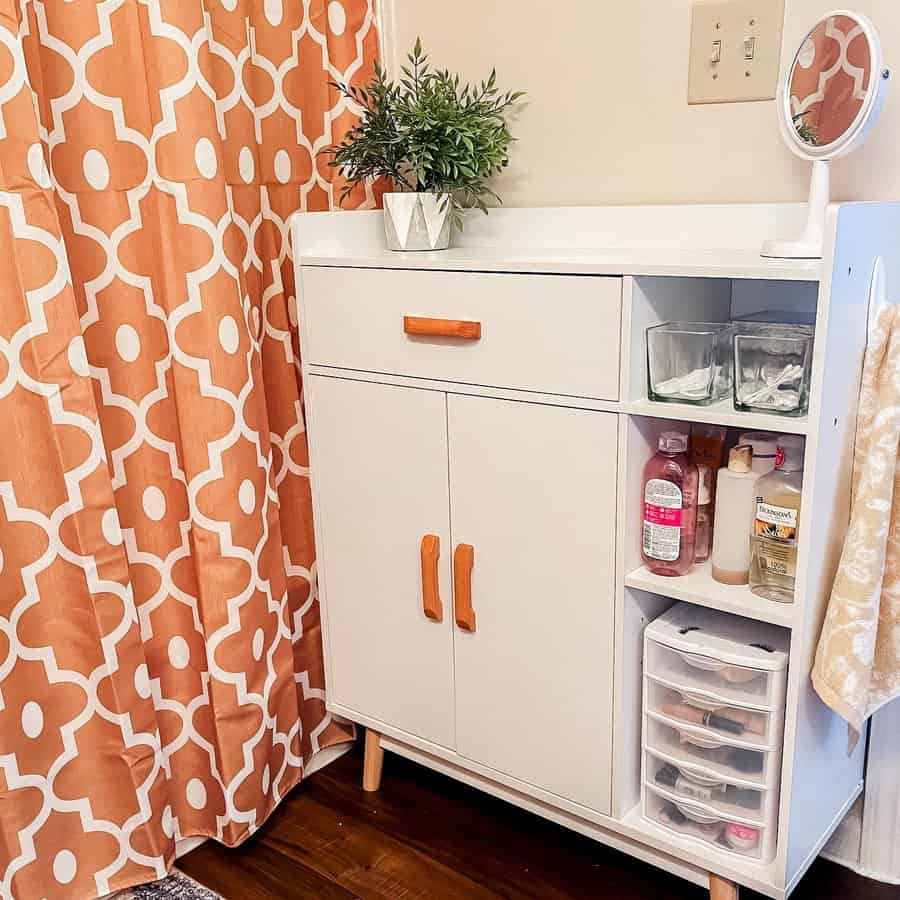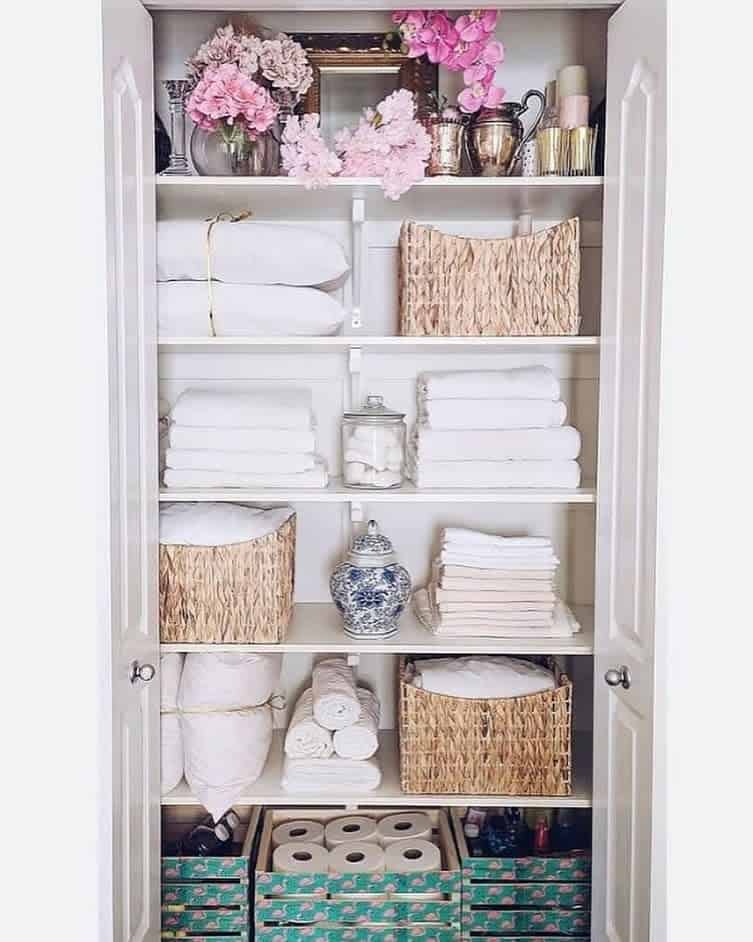 In order to optimize the space in the drawers and keep everything in perfect order, there's nothing better than organizers. Measure the size and depth of your drawers so the organizers fit perfectly, leaving no gaps. It's like a puzzle, but with a little planning, you will be able to store all your toiletries in an organized manner and have everything on hand when you need it.
8. Under Sink
Do not leave wasted space under the sink. If you don't have bathroom cabinetry, repurpose an old piece of furniture as a vanity. Place a vessel sink over an antique table or dresser, with a beautiful vintage mirror on the wall, and you'll have a unique piece with a lot of character and style.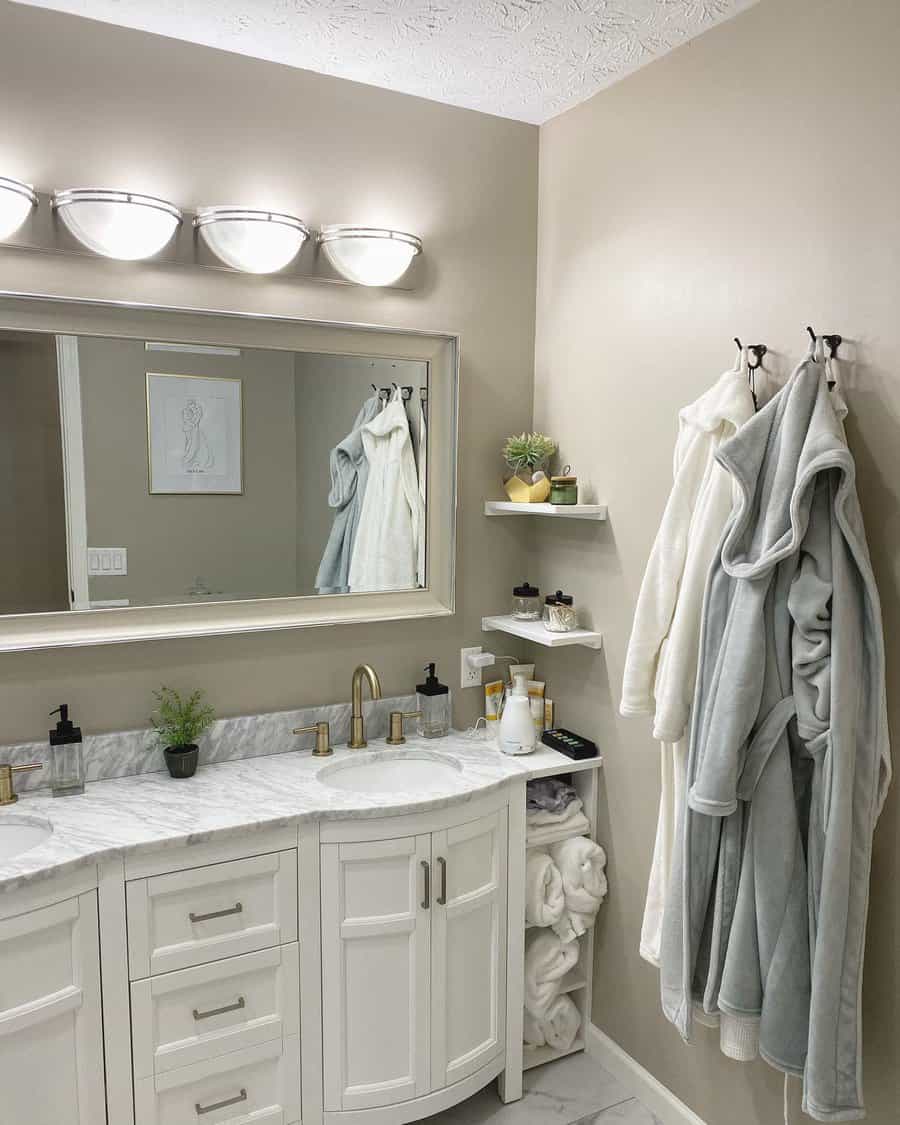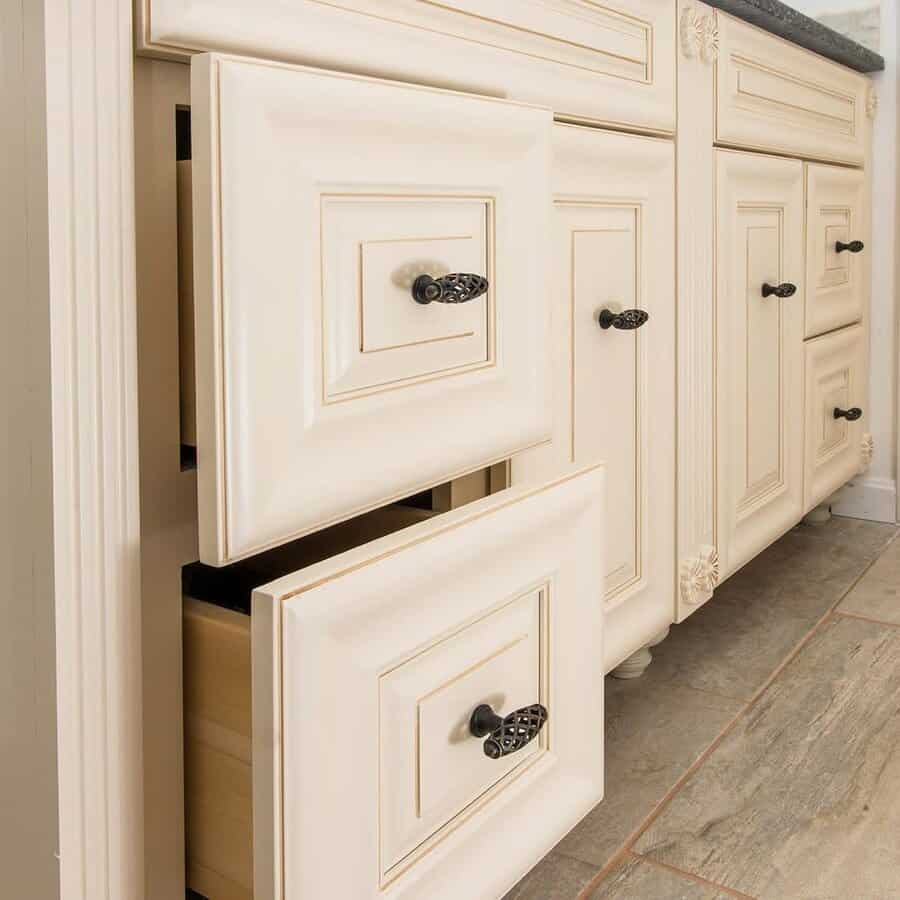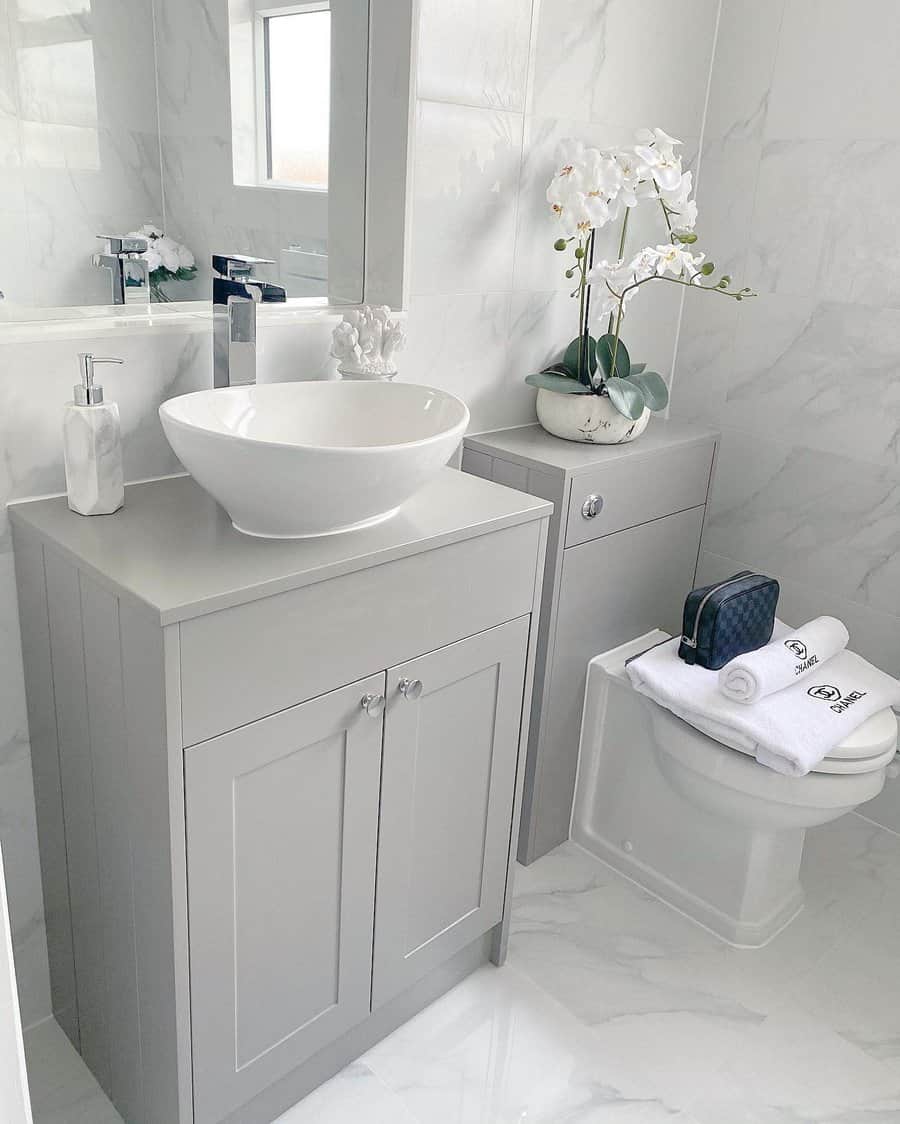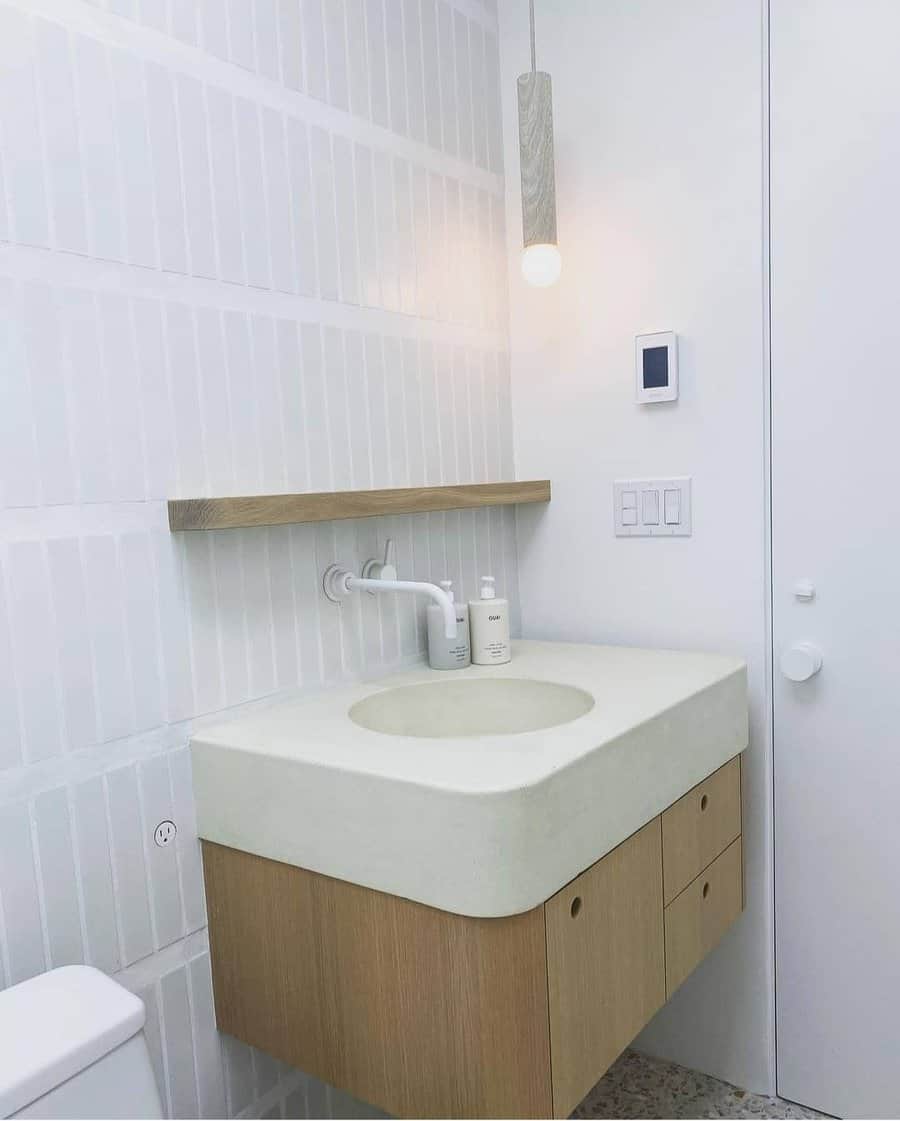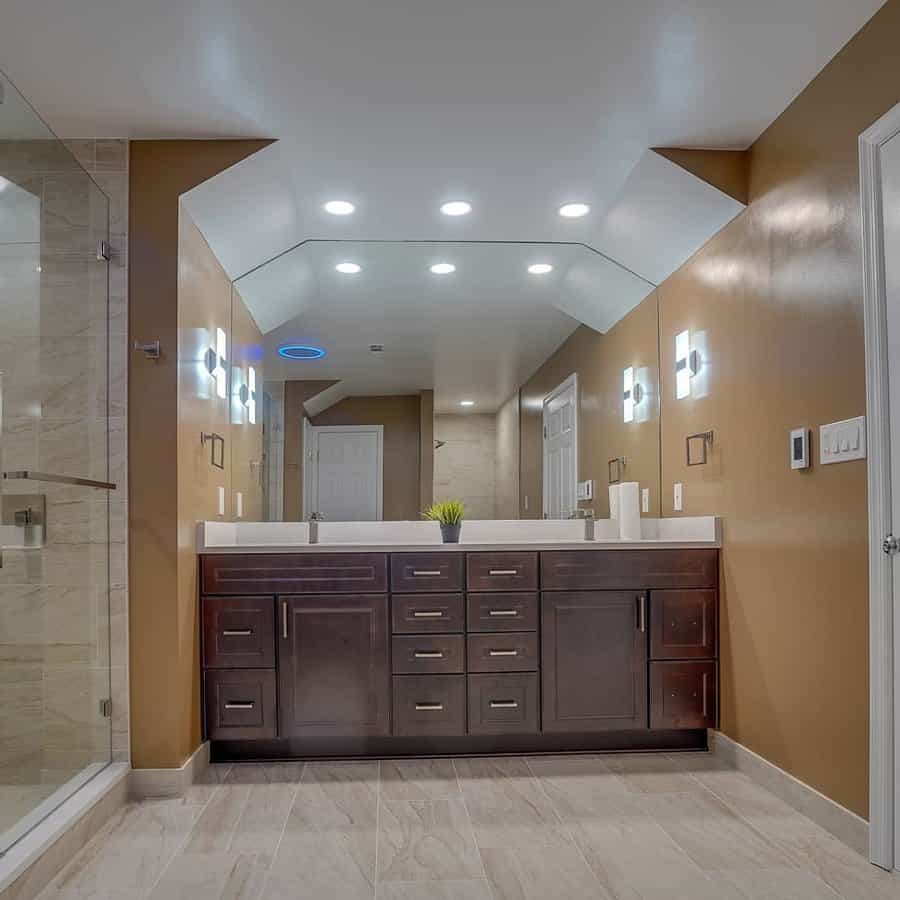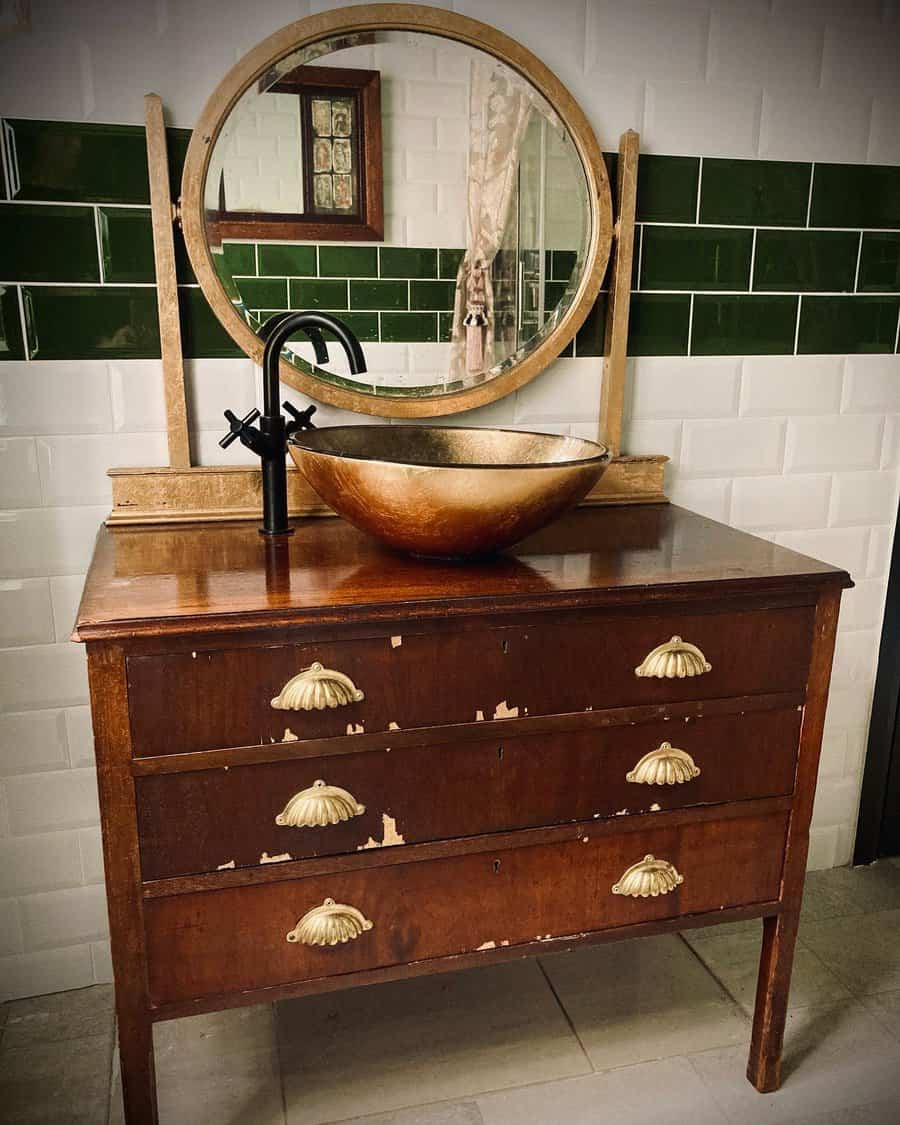 There are under-sink organizers that are cheap and very practical. Another great idea is to use skinny rolling carts, should you have a small space.
Easy to pull in and out, they fit almost anywhere, especially in those tricky little spots between the sink and the shower, or the toilet. They are perfect to store toilet paper, towels, and other toiletry items.
9. Vanity
A bathroom vanity is one of those items you might not consider essential… until you have one! Then, you won't live without it!
What about a DIY bathroom vanity, for a change? You can customize your own vanity with a cool flea market finding you can refinish and style up.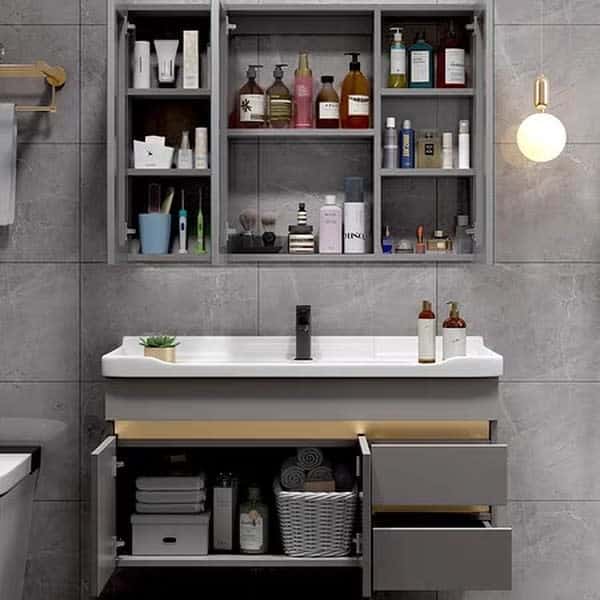 Or you can upgrade an old dresser or stock cabinet, to create a stylish bathroom vanity. A simple but awesome DIY bathroom vanity is to repurpose a vintage table. Vessel sinks and bridge faucets complete this unique piece you'll love.
See more bathroom vanity ideas here.
10. Wall
Vertical storage is functional and practical. A few shelves may be enough for you to organize toilet paper, towels, and bathroom essentials. Hang baskets and rails on the wall, and consider the space over the toilet for open shelving, as well.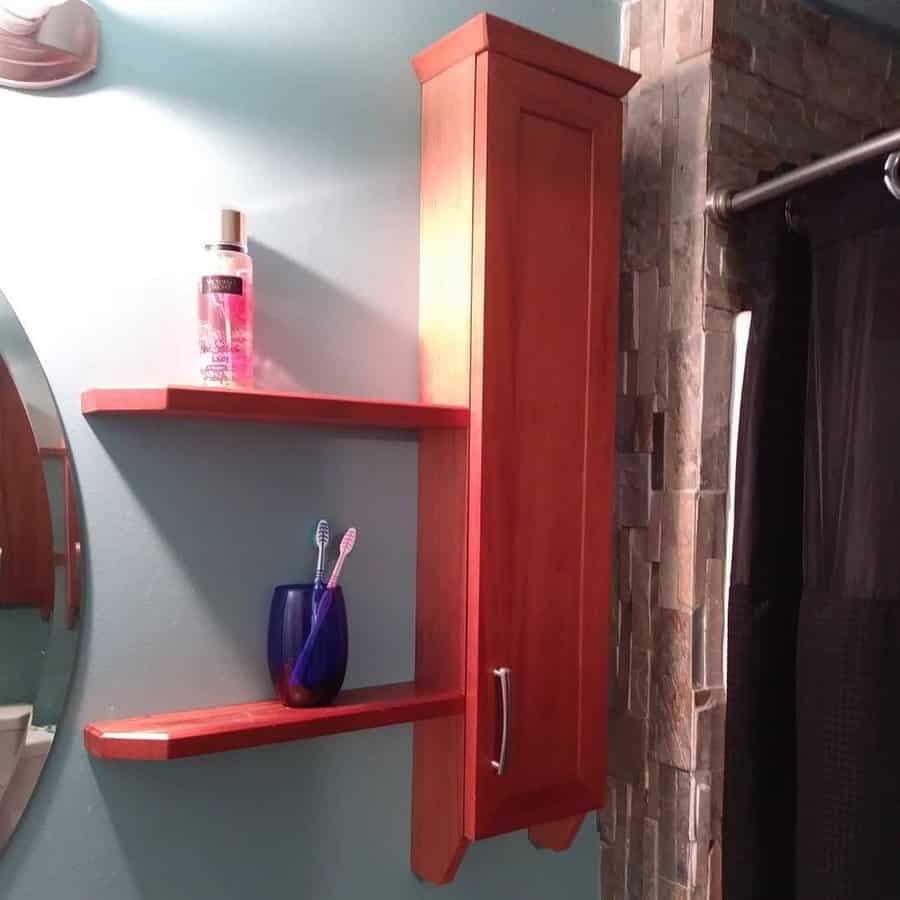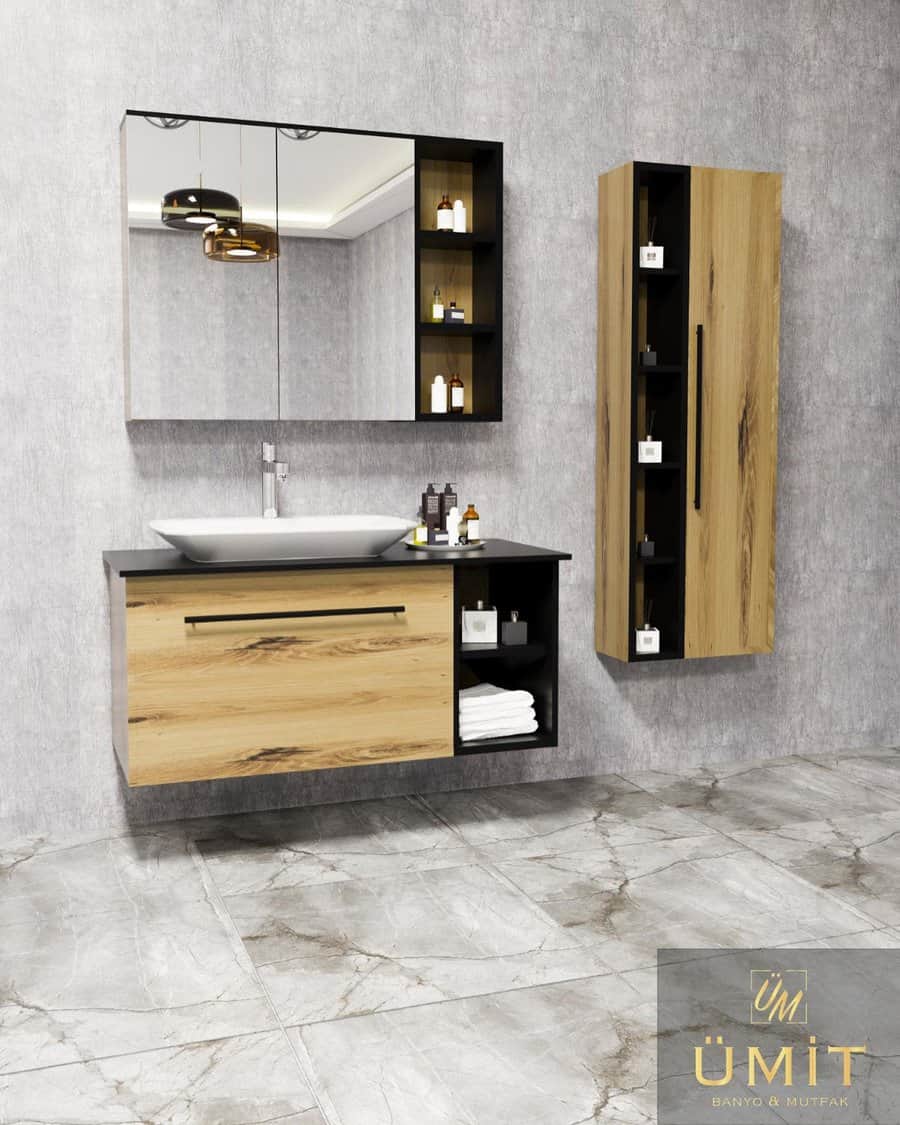 Off-the-counter adhesive wall organizers need no drilling and can be placed near the sink, for you to store small stuff. Recessed wall shelving is another way to keep clutter off the counters. And to make the most of wall storage space, install tall vertical cabinets next to a wall mirror with shelf.
11. White
Style your white bathroom and make it cozy and interesting.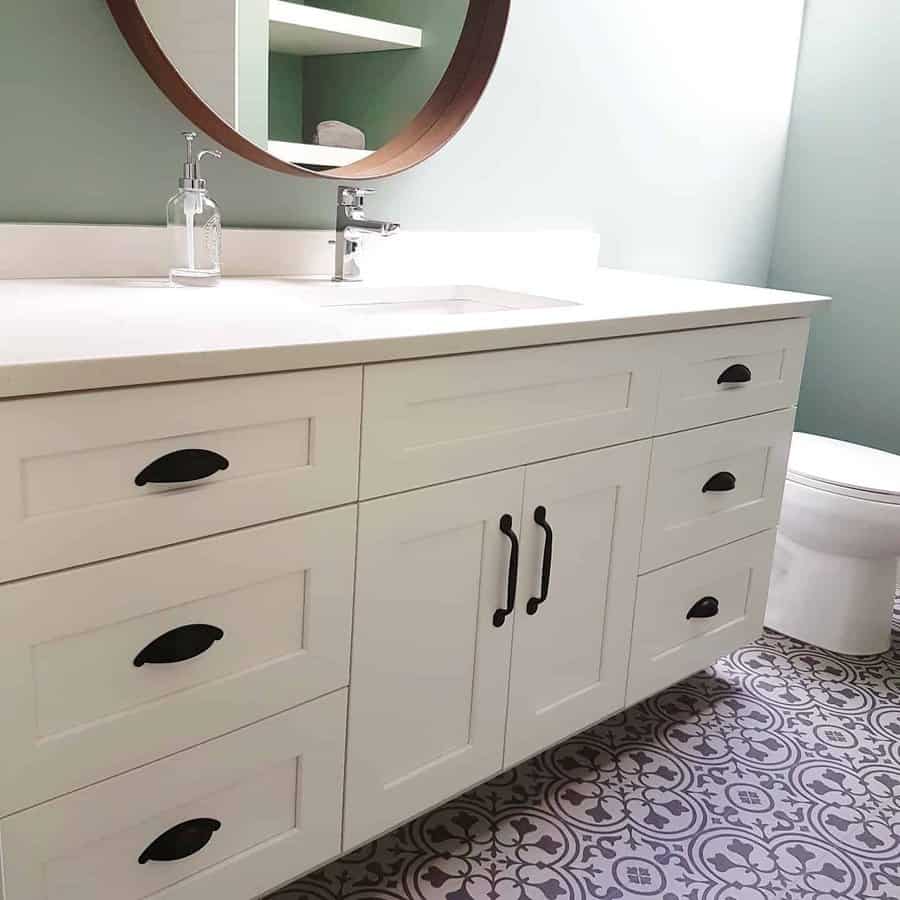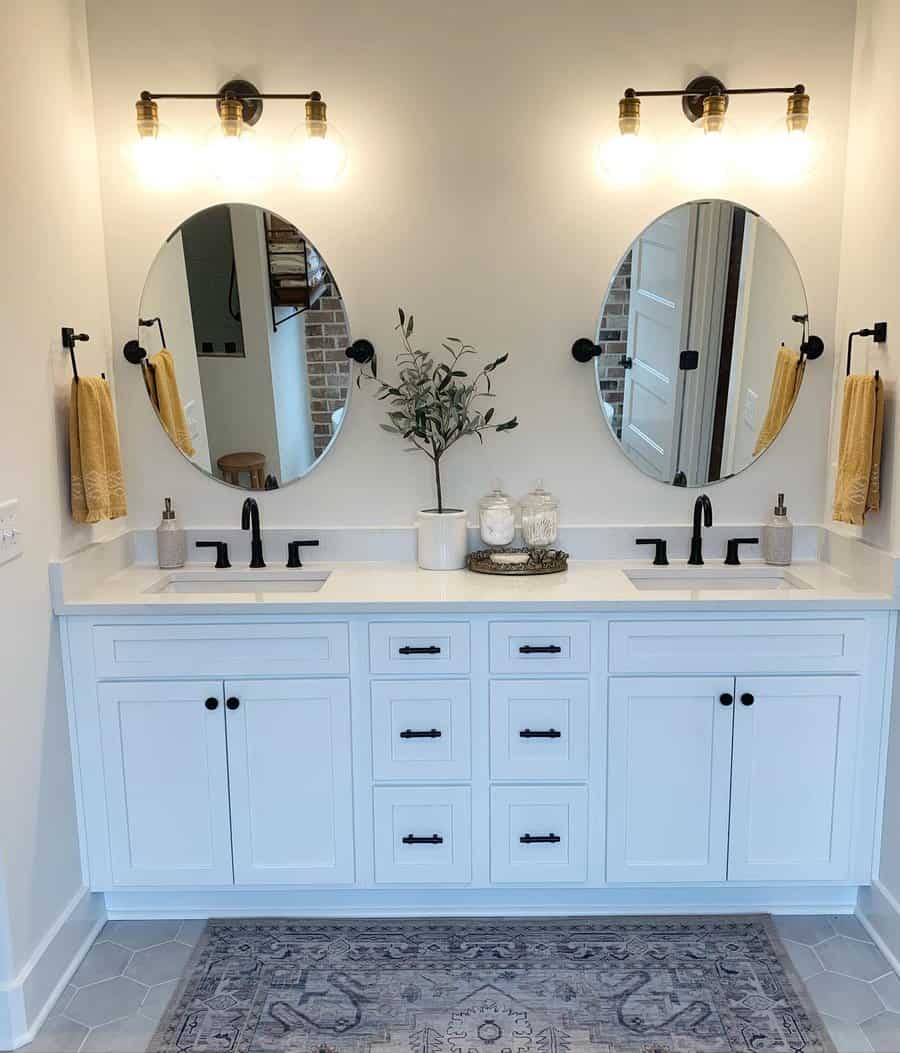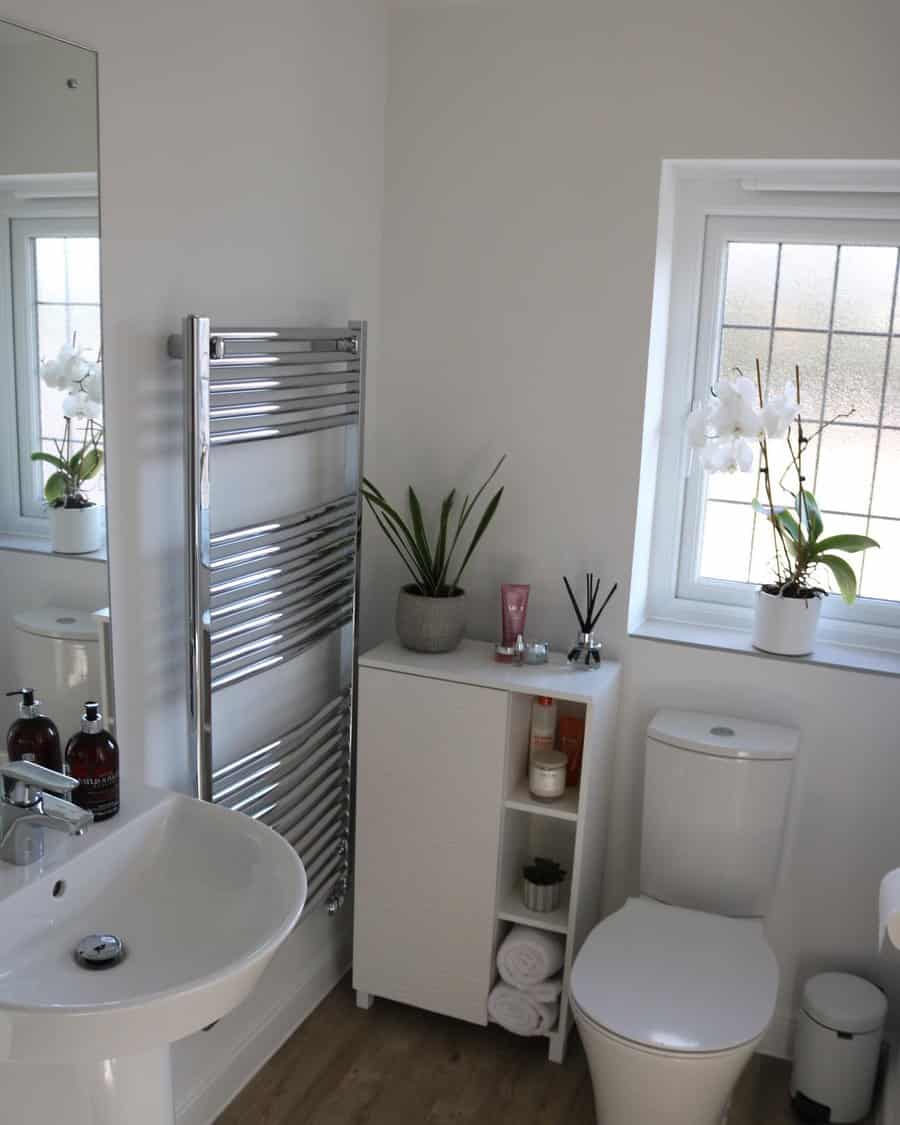 No matter whether you have an all-white space, with white paint, tile, countertop, and vanities, you can still give it a facelift with wallpaper on a feature wall, or with window treatments and some décor pieces and artwork.
12. Wood
Whether in furniture, floors, doors, or art objects, wood brings a cozy and warm feel to any space and is a great choice for almost every design style.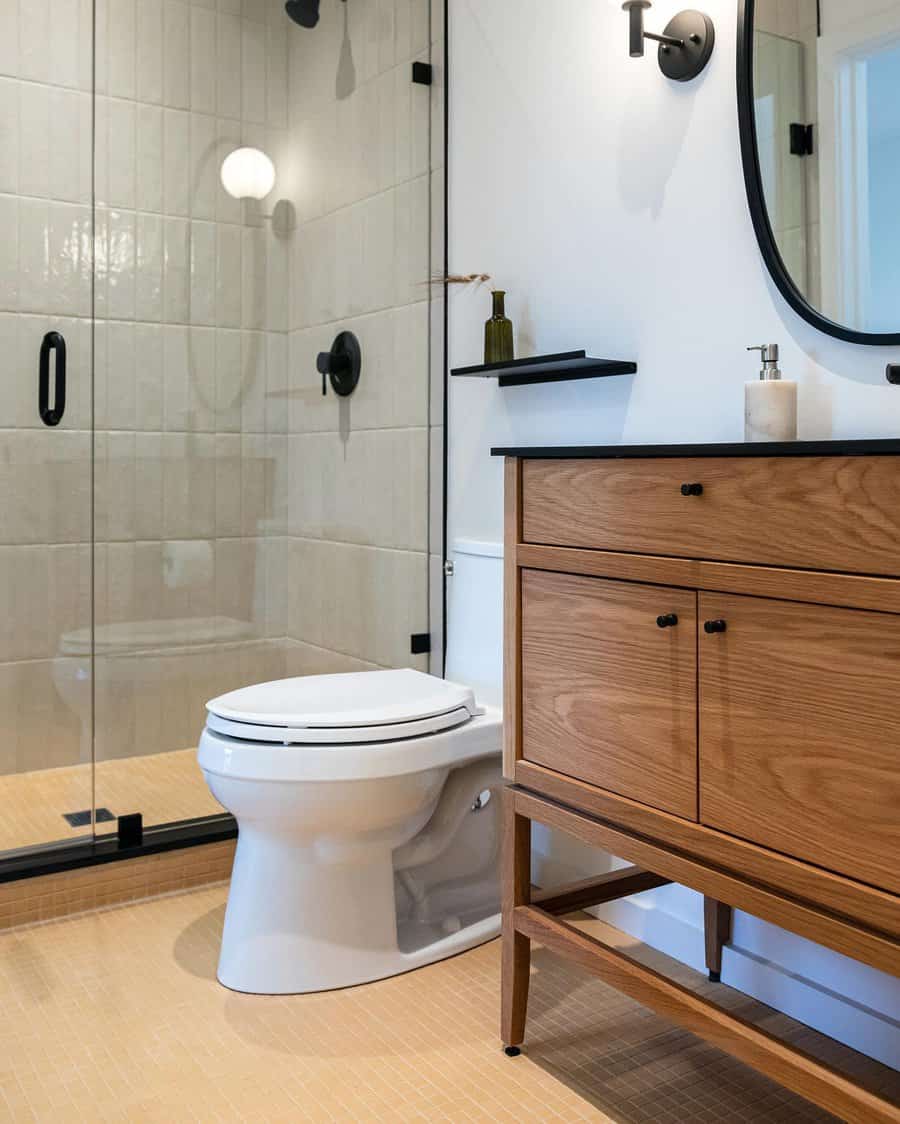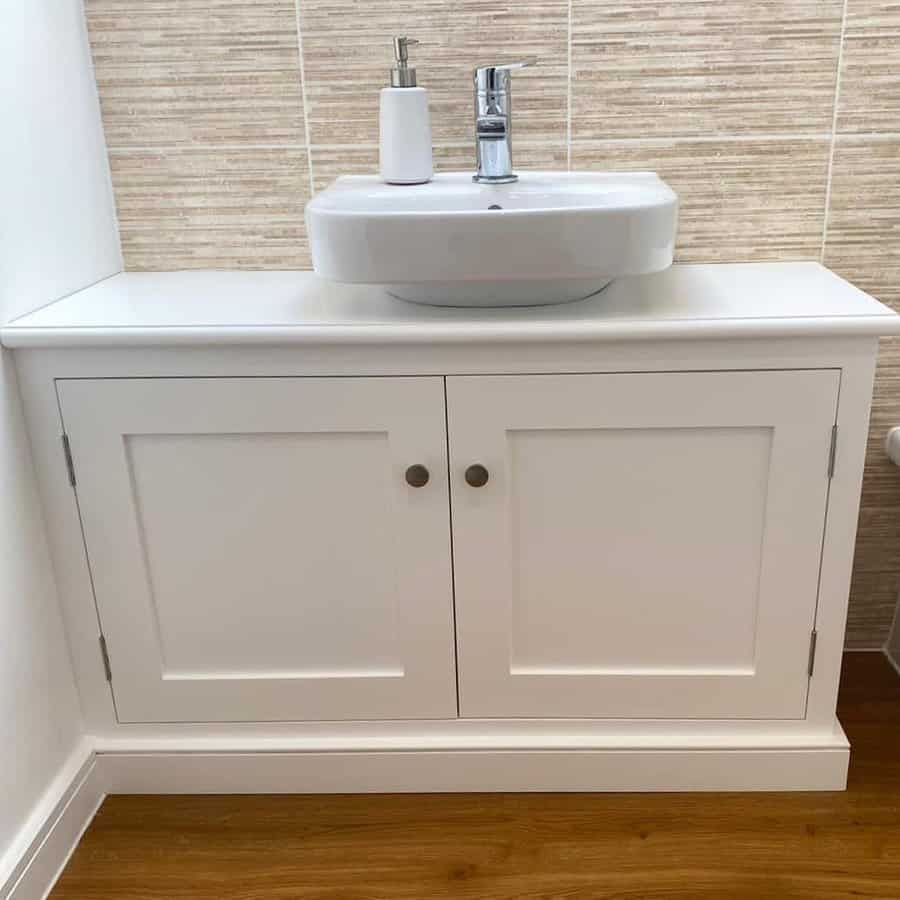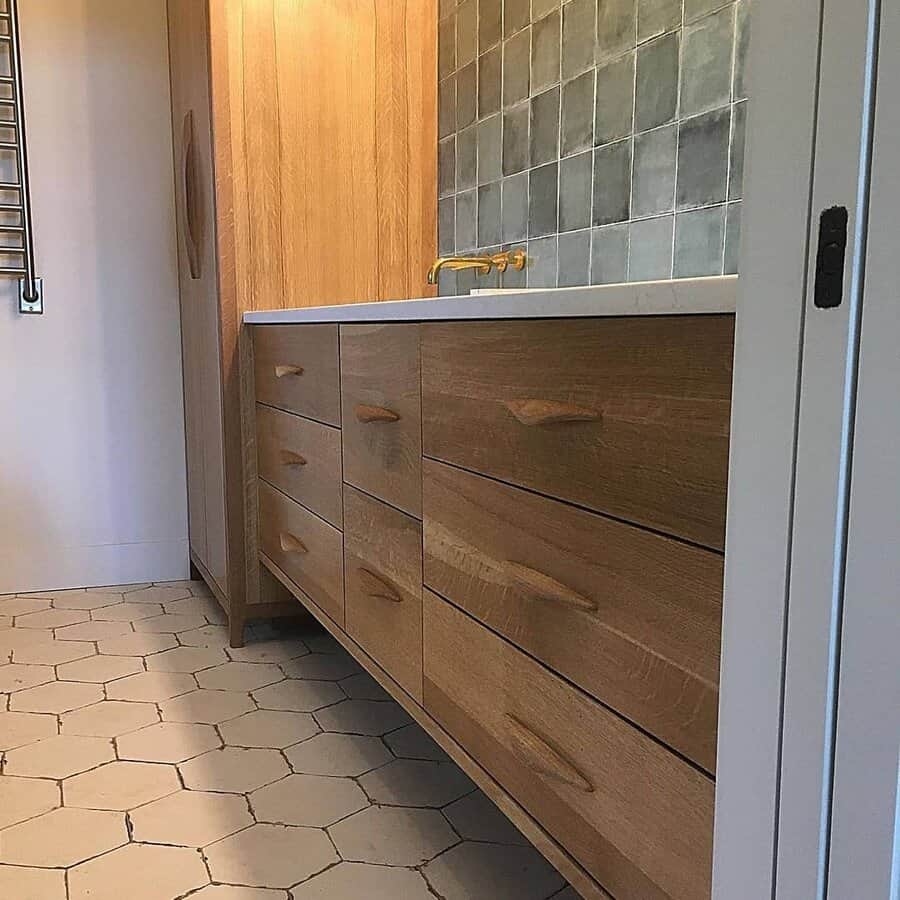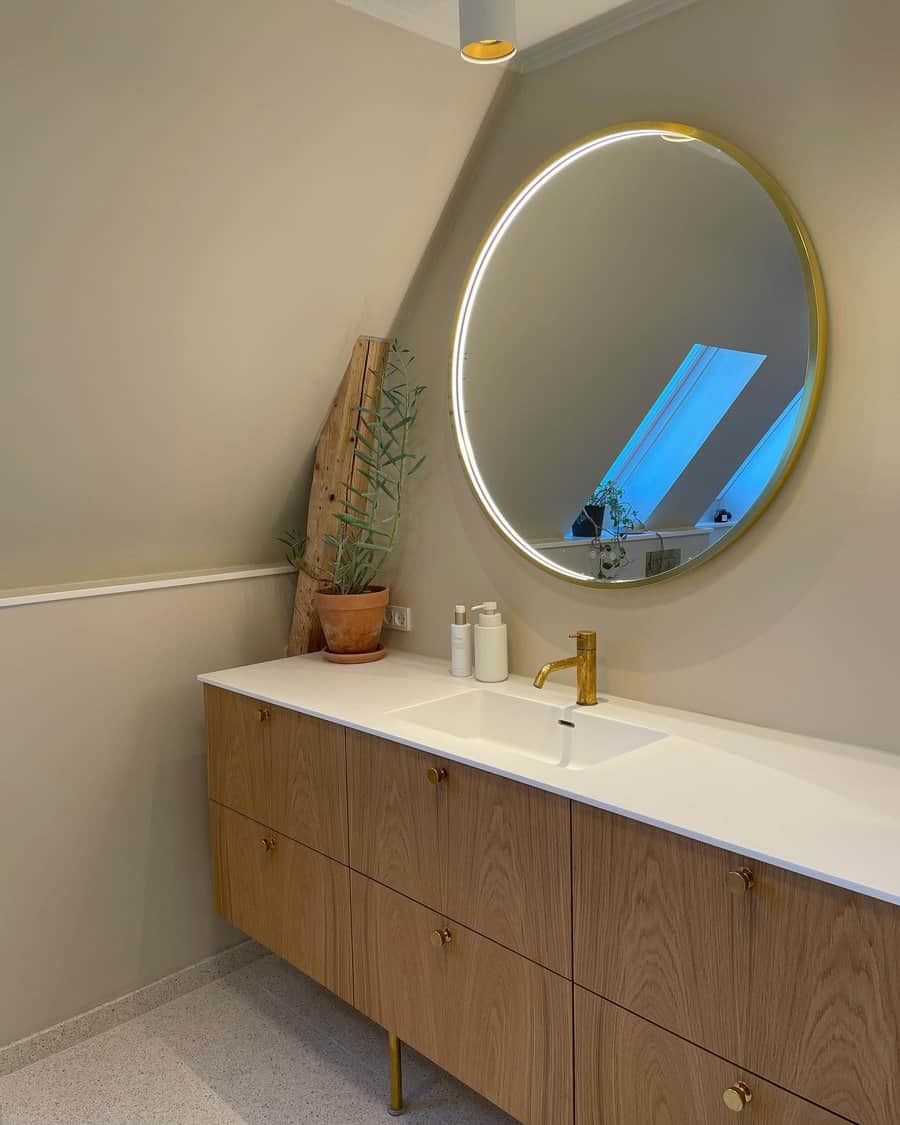 Wooden décor brings character and authenticity to bathrooms and is an increasingly strong trend in interior design and contemporary architecture.
FREQUENTLY ASKED QUESTIONS
What can I do to prevent discoloration on my wooden bathroom vanity?
Water can cause wood to swell and crack, and lead to mold and mildew, so it is necessary to take some precautions to make your wooden vanity last longer, without having to worry about discoloration, swelling or warping. 
You should seal the wood with coating and apply a water-resistant paint or clear coating, which provides a natural-looking finish. Other waterproof sealants are toners, which maintain or restore the natural beauty of the wood.
Why choose a minimalist style in a bathroom?
One of the main reasons many people invest in minimalist bathroom décor is the sense of amplitude. The furnishings are restricted to the essentials, which makes the spaces more dynamic.
The other highlight is the fact that minimalist décor values functionality, that is, you will have a practical space to move around without anything getting in your way. Minimalist-style bathrooms are usually comfortable, clutter-free spaces. Finally, the minimalist design adopts light colors, which makes the space look brighter and more pleasant.