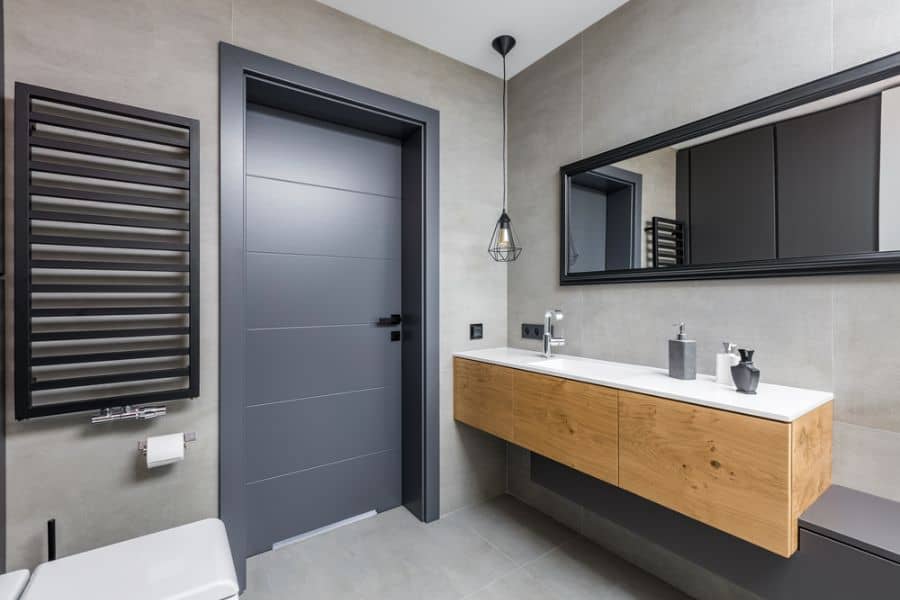 The Top 72 Bathroom Door Ideas
by — Kendrick Hulse

Published on January 24, 2022

Updated on October 25, 2023
When was the last time you thought about the doors inside your home? While it's not uncommon to invest in stylish upgrades for the bedroom or formal dining room, spaces like the bathroom tend to go overlooked.
Selecting the perfect bathroom door isn't just about color or hardware style, either.
Keep reading for our favorite bathroom door ideas that will ensure you can shower in peace.
1. Sliding Barn Door for Rustic Charm
Embrace rustic elegance in your bathroom with a farmhouse-style sliding door, boasting a timeless wooden design and characteristic X-shaped details or barn door inspiration. This space-efficient option glides smoothly along its track, ensuring effortless operation even in compact areas. To enhance the warm, welcoming ambiance it brings to your bathroom, consider complementing it with vintage accessories or neutral color palettes.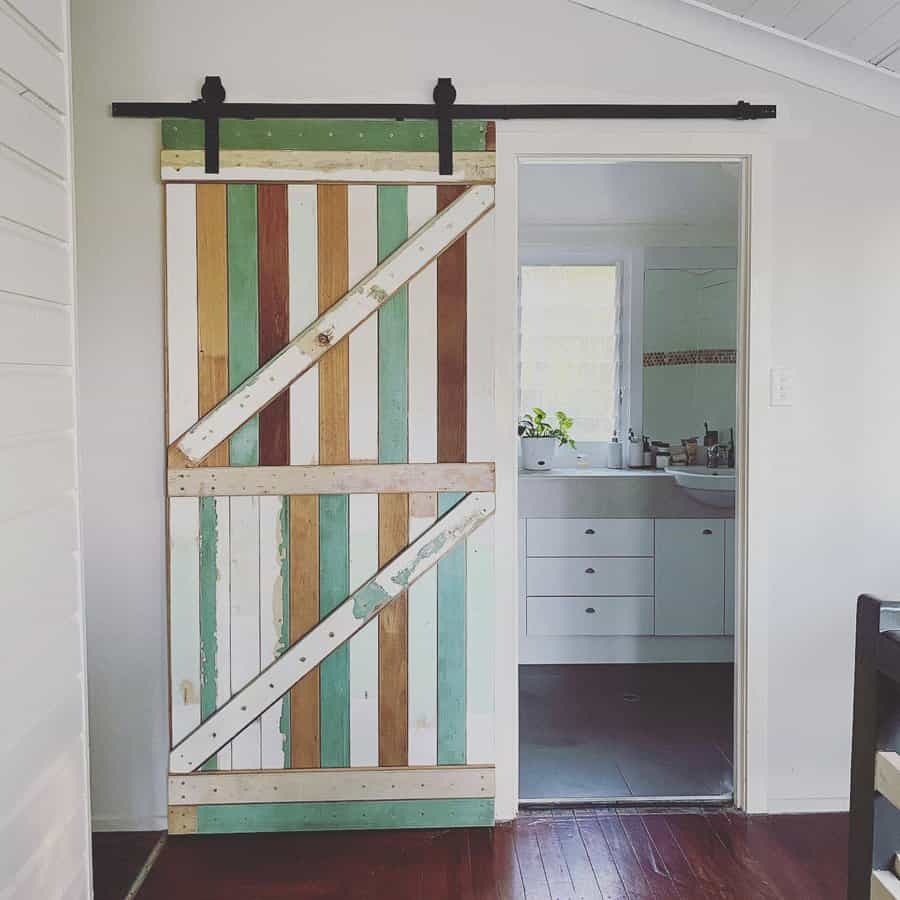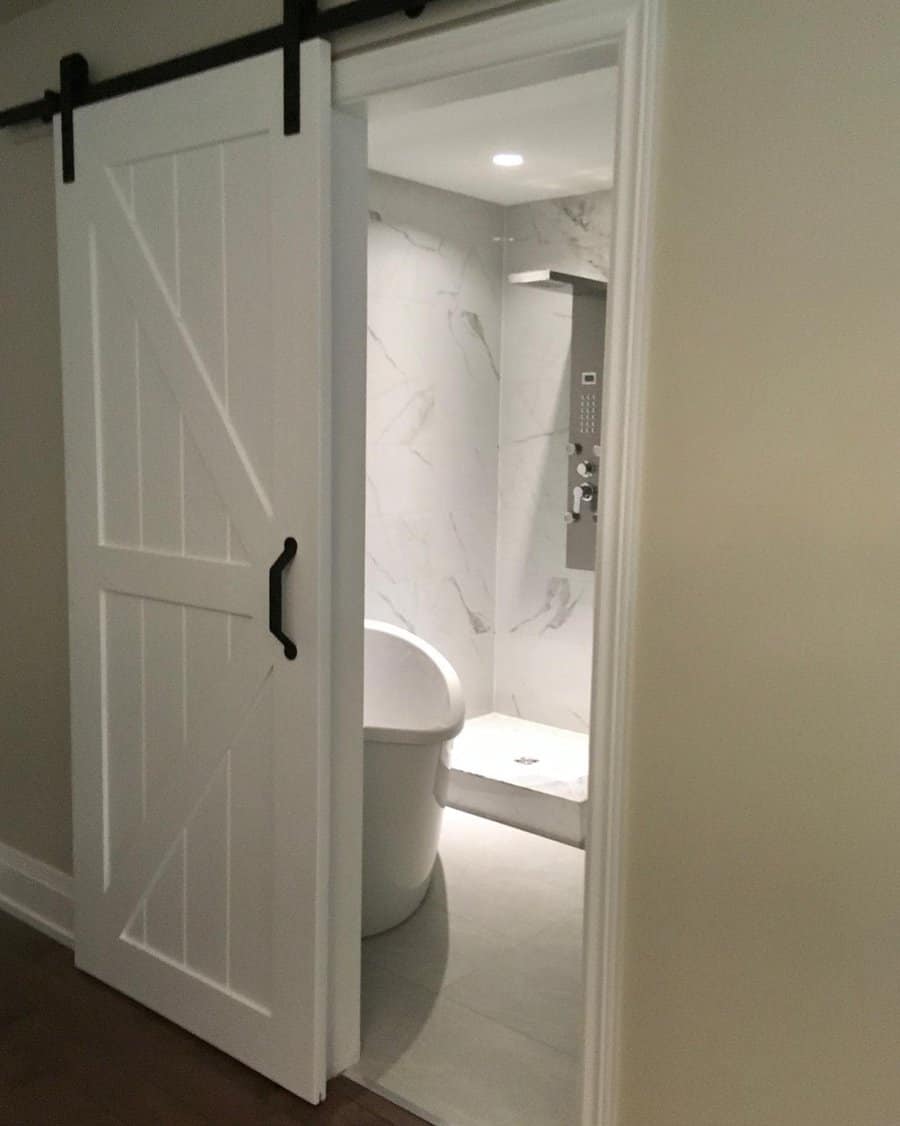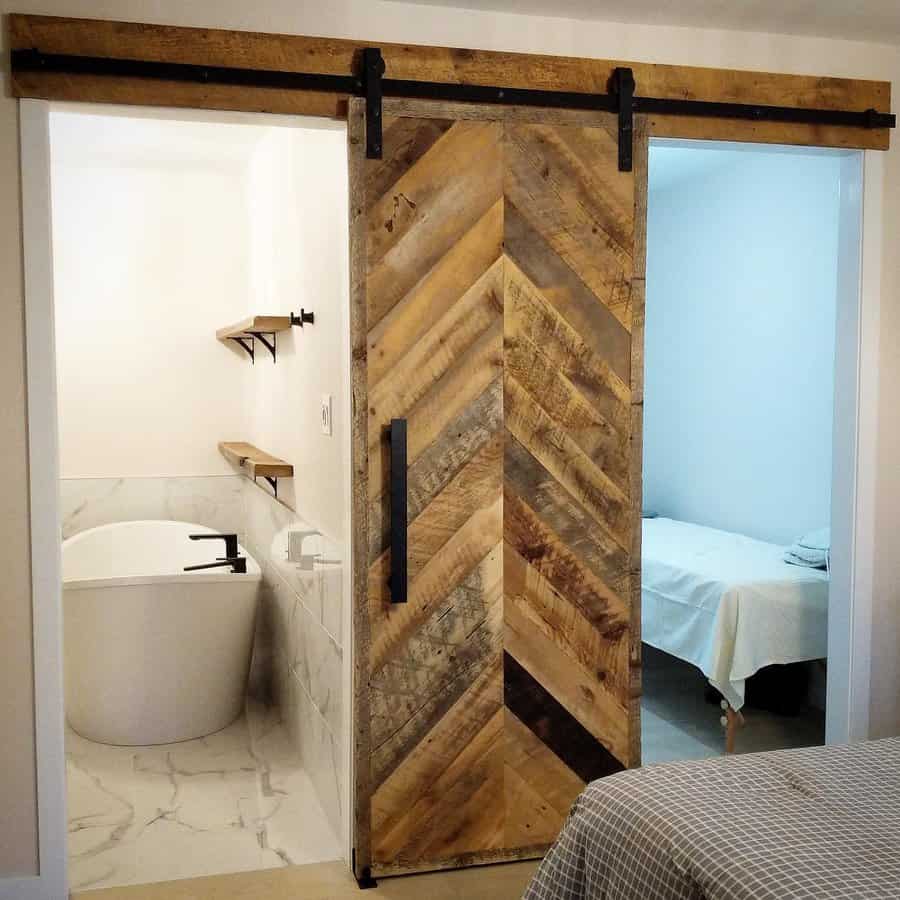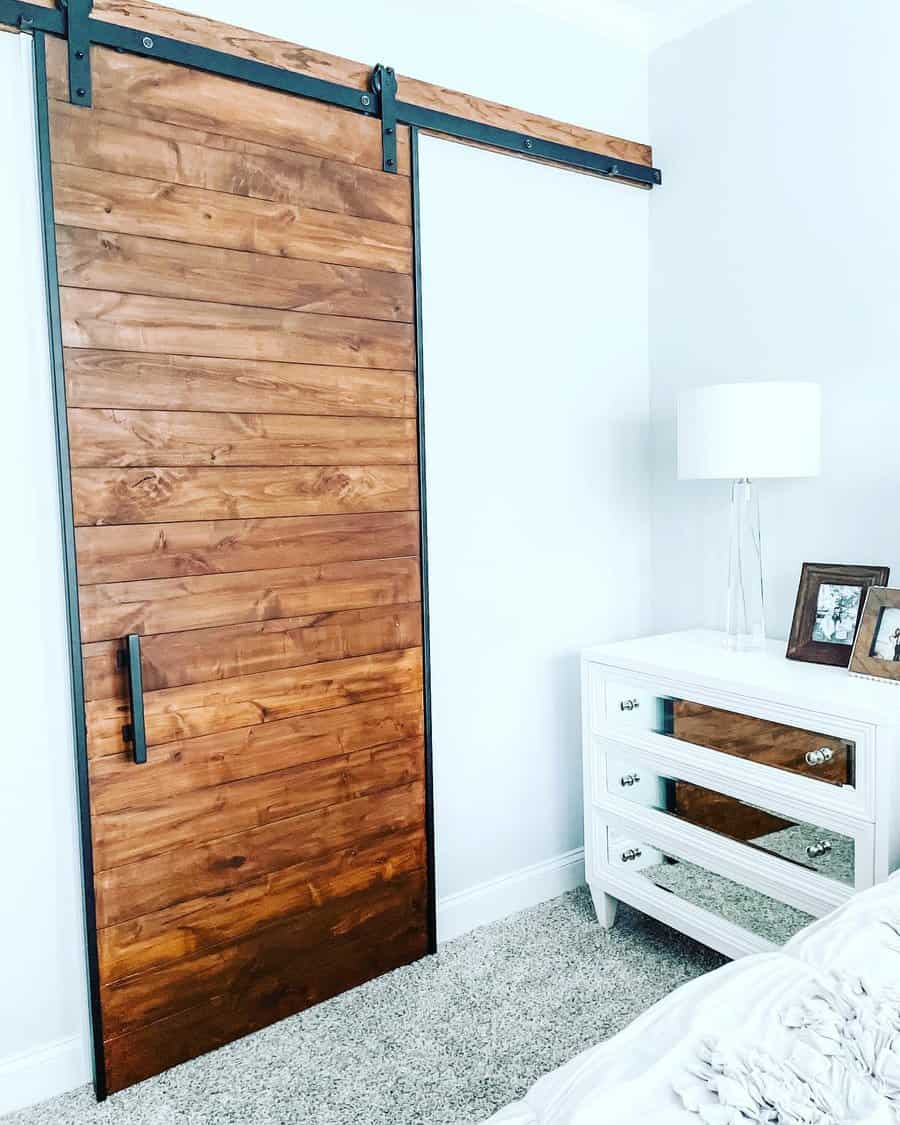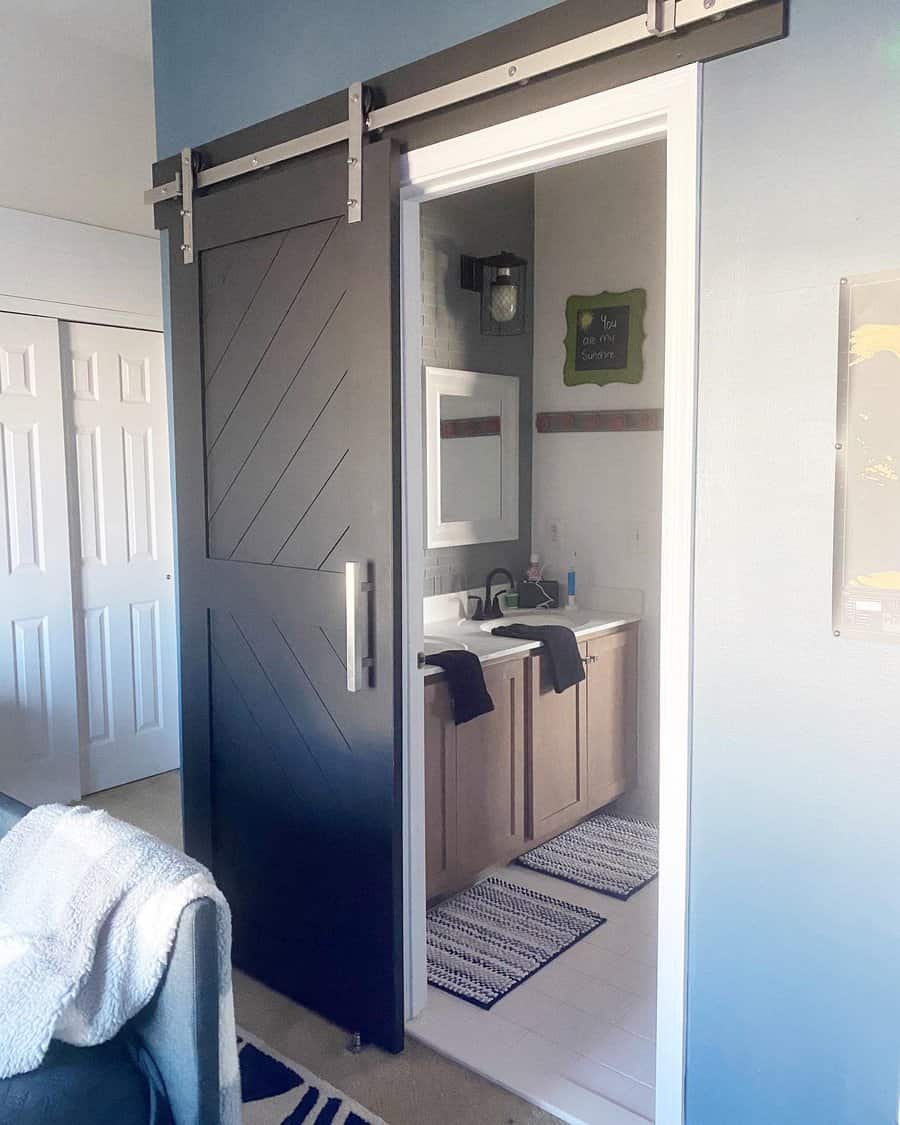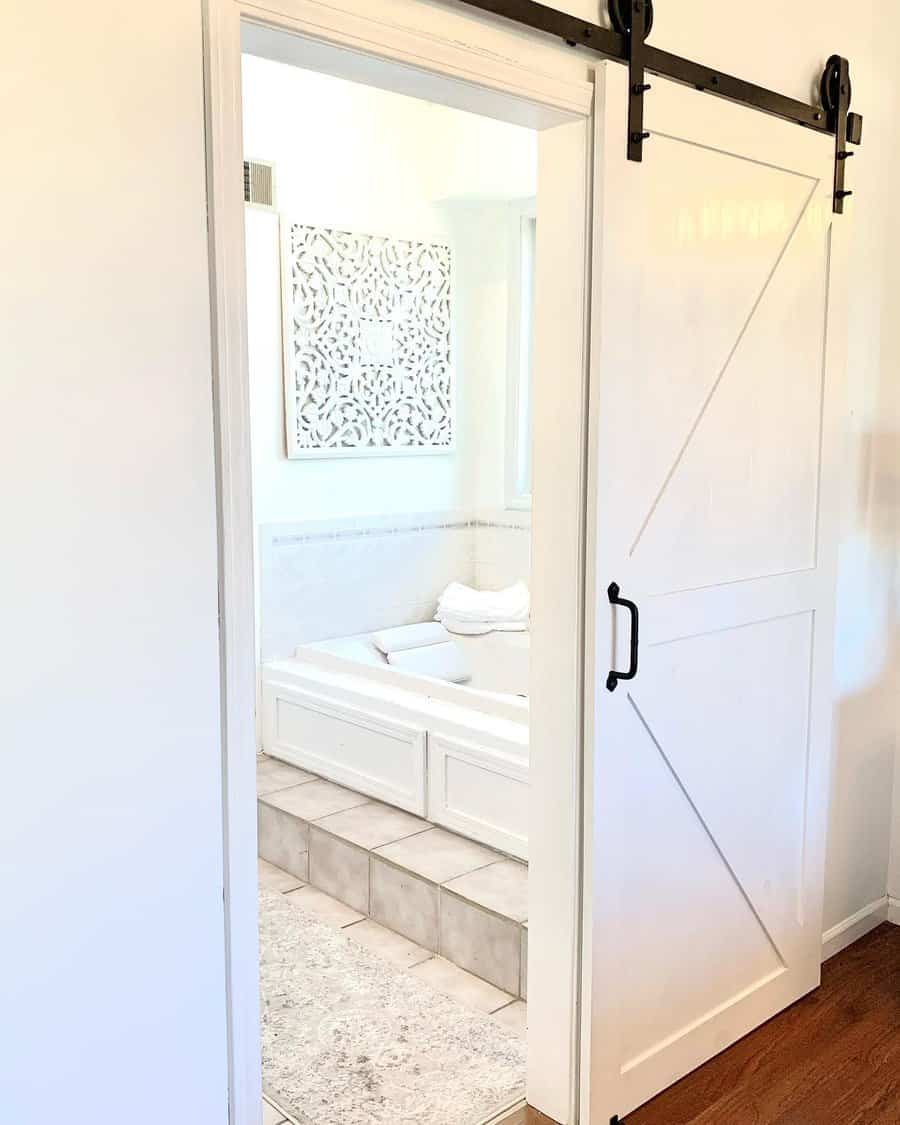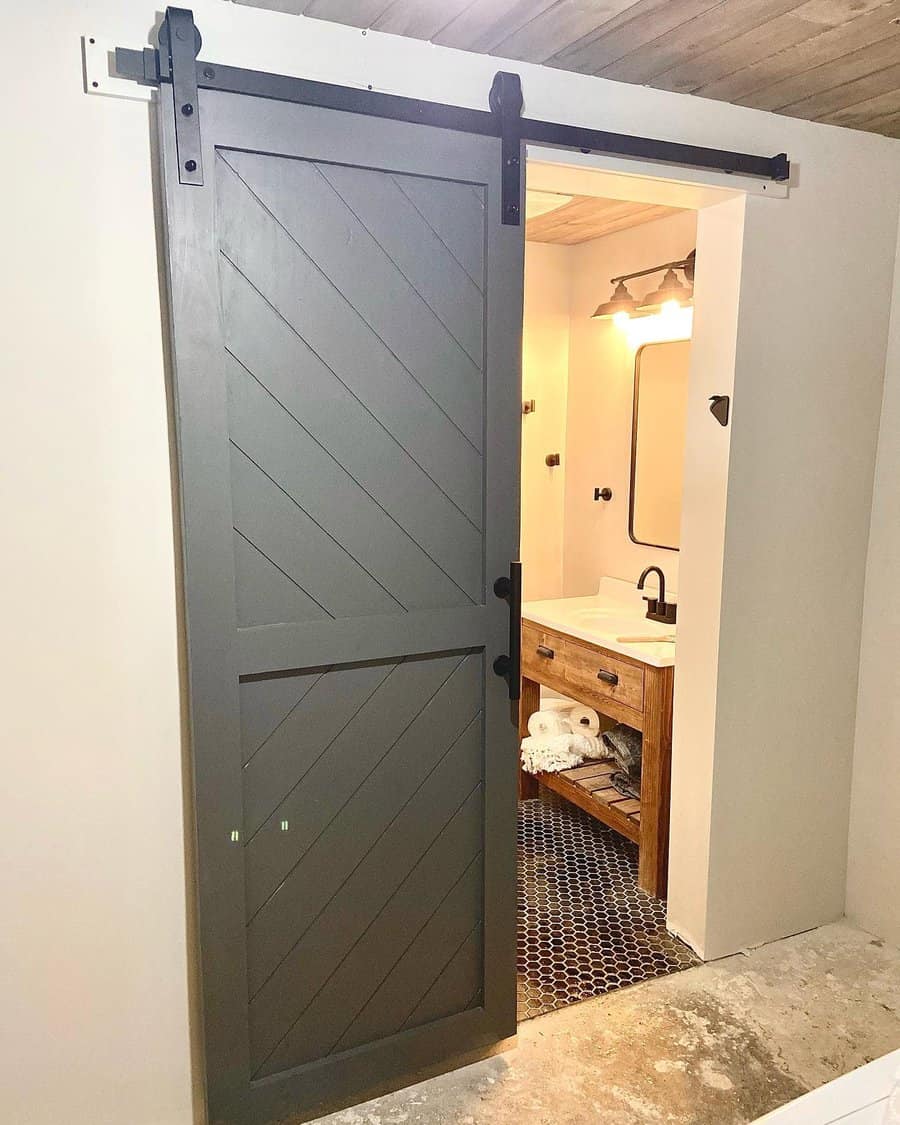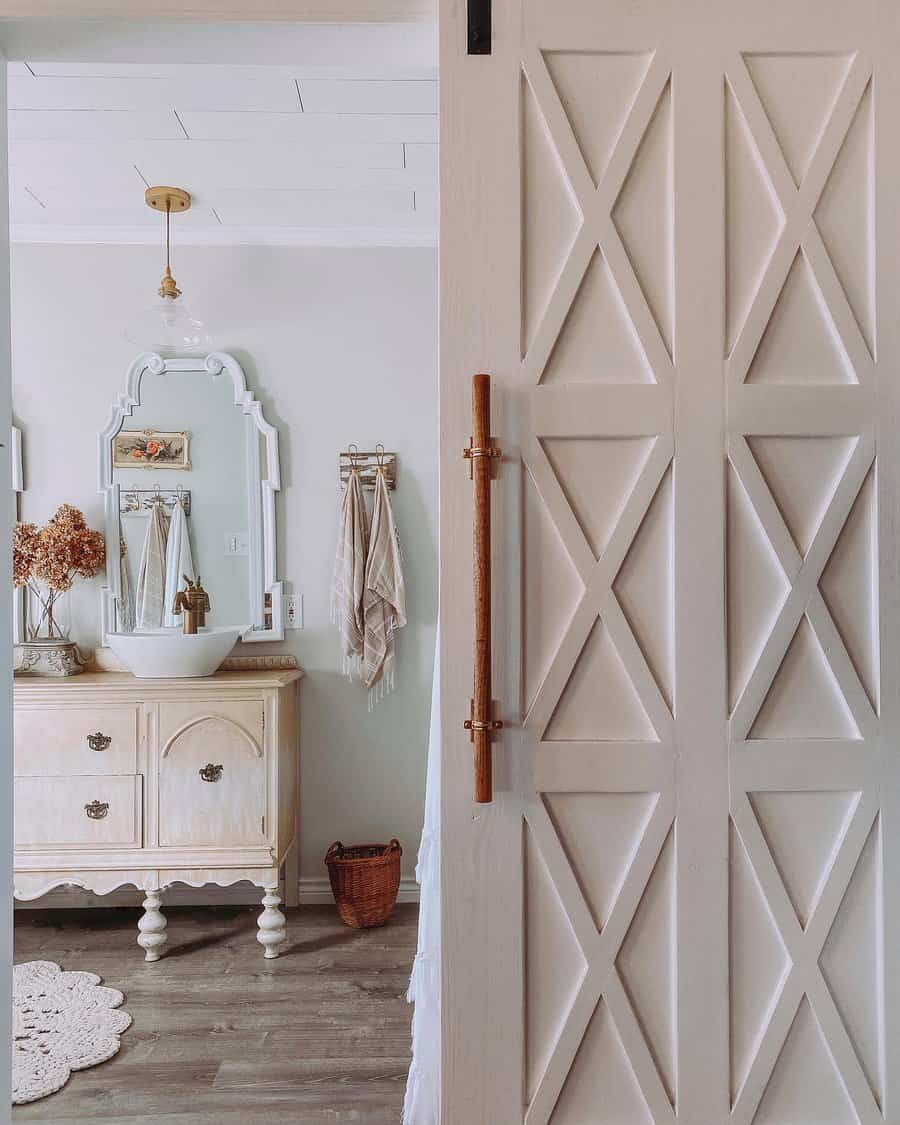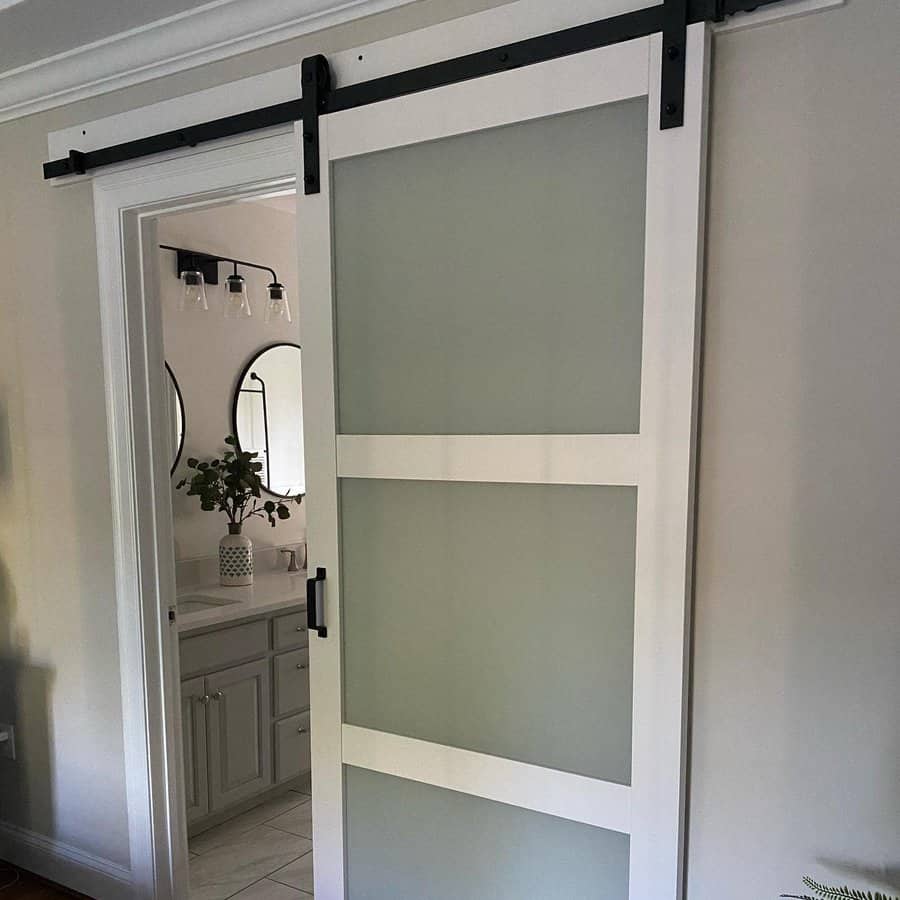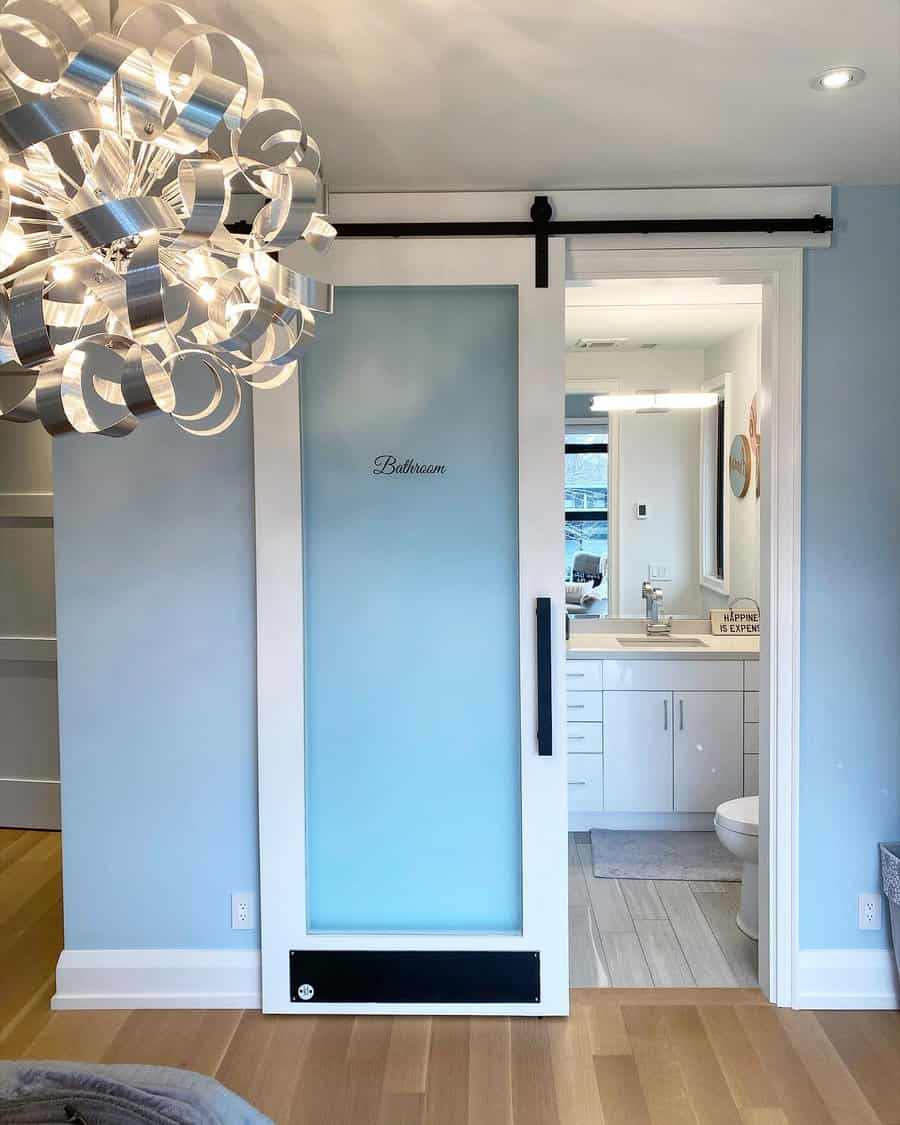 2. Sleek Wenge Door for Modern Bathrooms
Transform your bathroom into a contemporary sanctuary with a sleek wenge door, characterized by its understated design, clean lines, and minimalist trimming. This door style complements a range of aesthetics from minimalist to eclectic, making a bold statement without overwhelming the space. Consider pairing it with neutral tones and modern fixtures to enhance its visual appeal and create a cohesive look. The wenge door is not just a functional element but a stylish addition that elevates the overall design of your bathroom.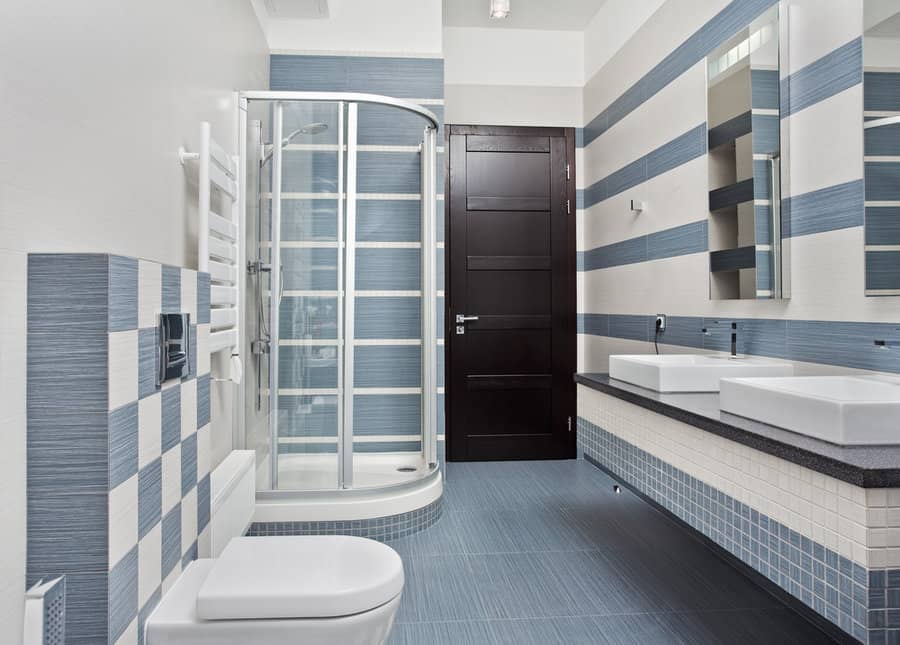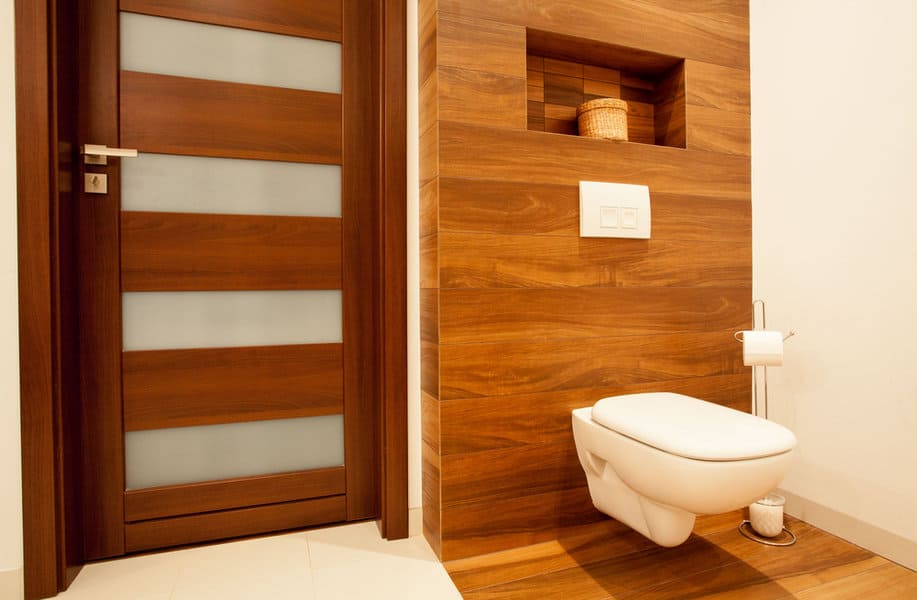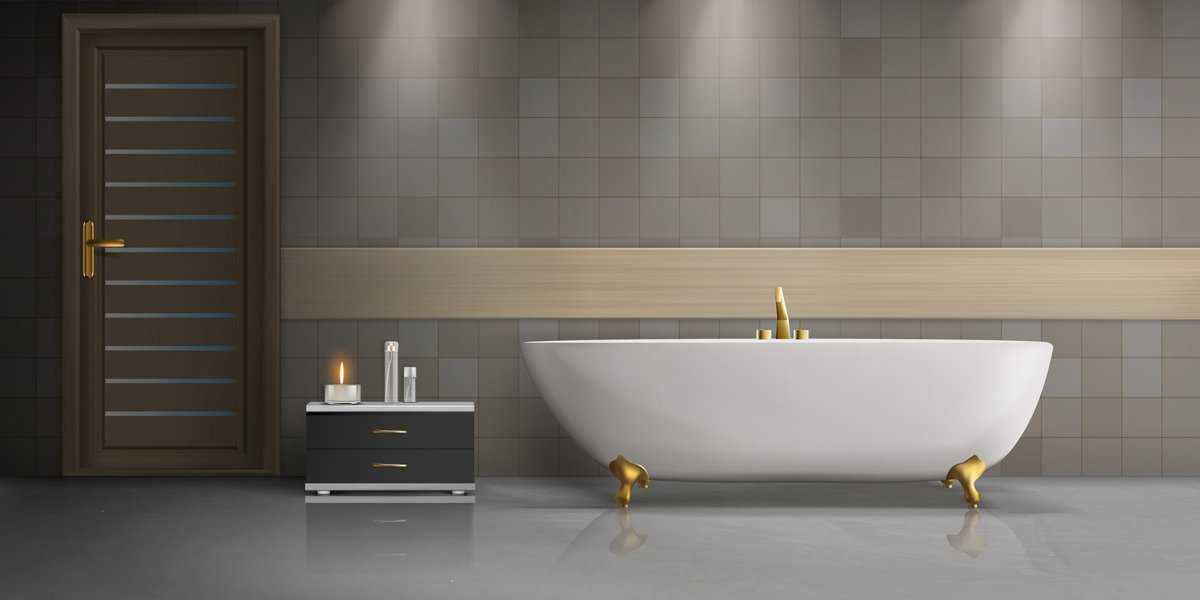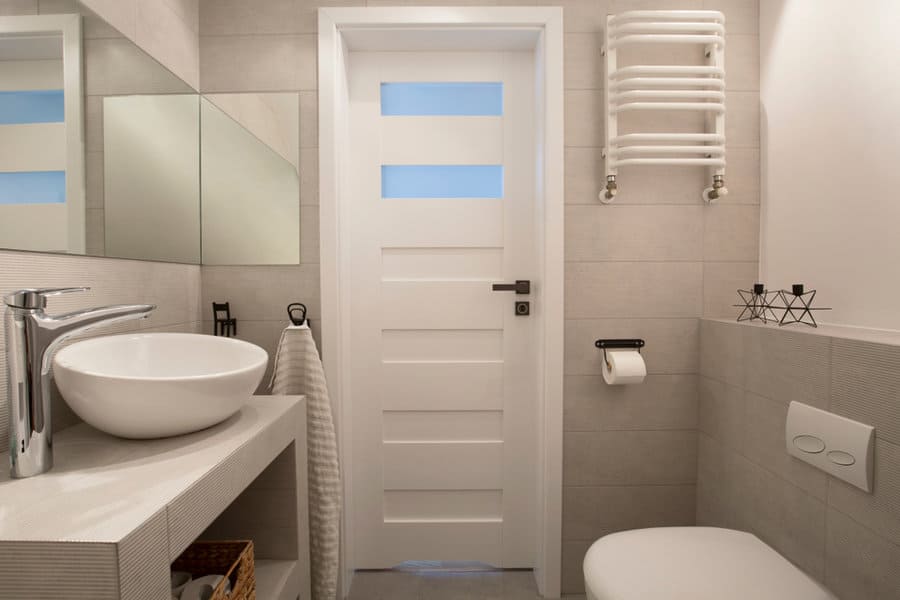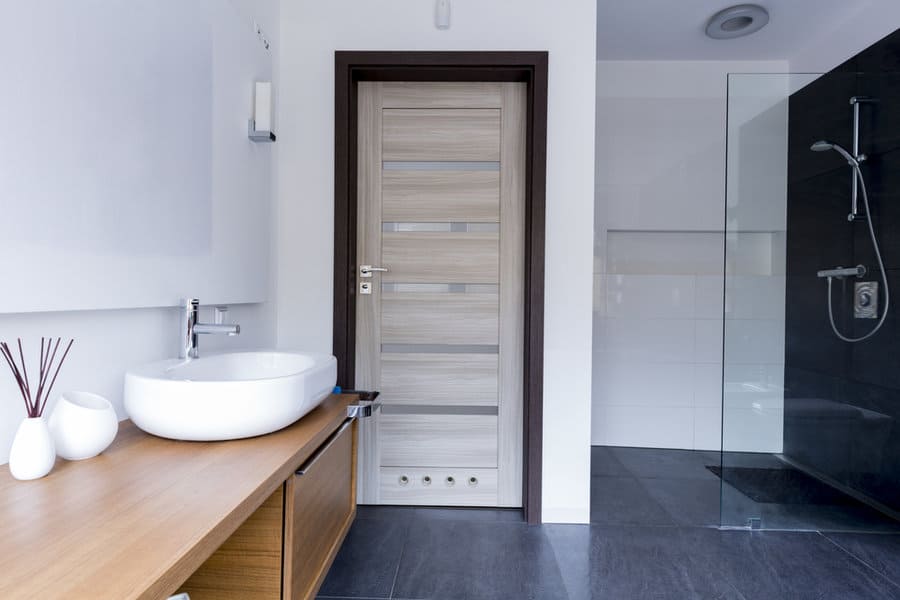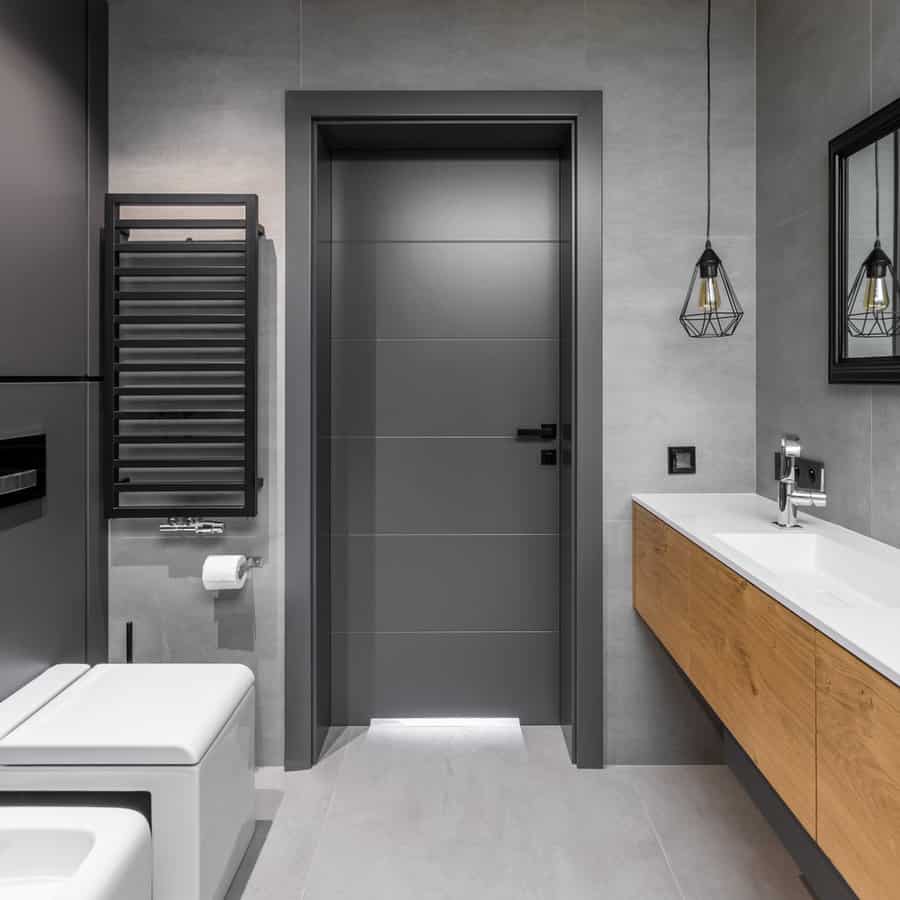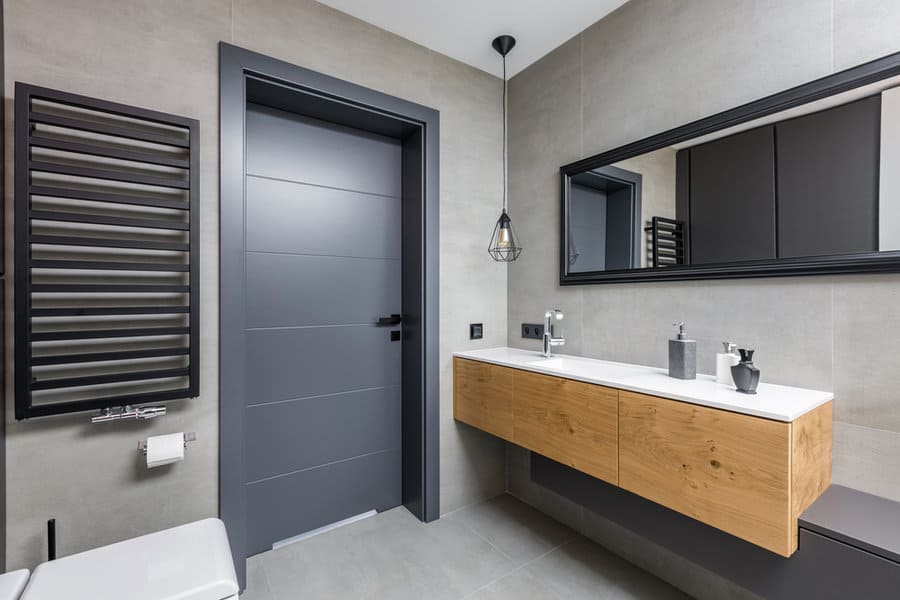 3. Durable Wood Laminate for Bathroom Privacy
A wood laminated bathroom door not only serves as a functional entryway but also becomes a statement piece that enhances the overall aesthetic. The rich texture and grain of the wood create a sense of warmth and sophistication, bringing a natural element into the bathroom.
The wide options of wood laminated doors allow you to choose from different finishes and tones that complement your existing bathroom decor without the large cost of luxury wood. Whether you prefer a rustic and cozy atmosphere or a modern and sleek look, a wood laminated door can be tailored to suit your style.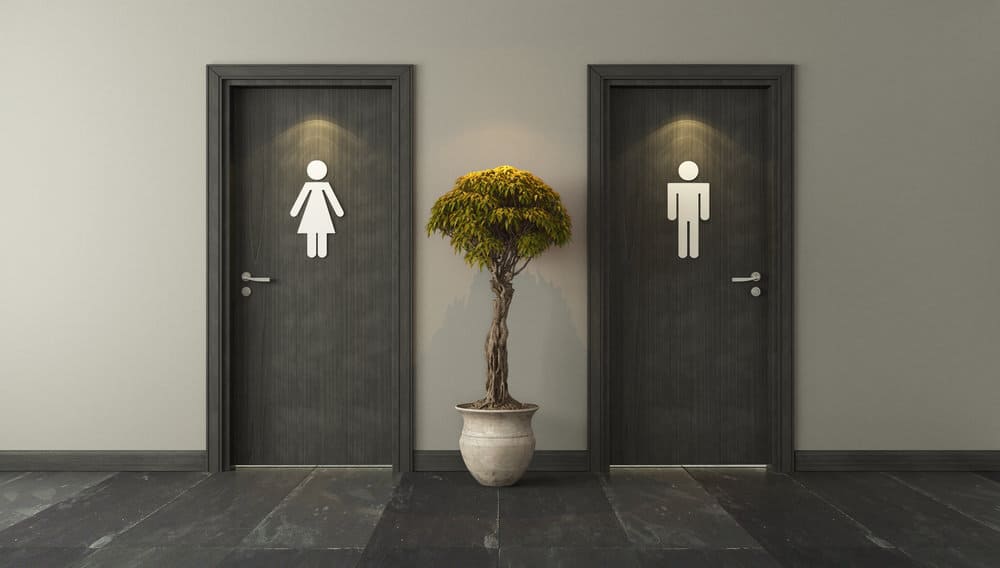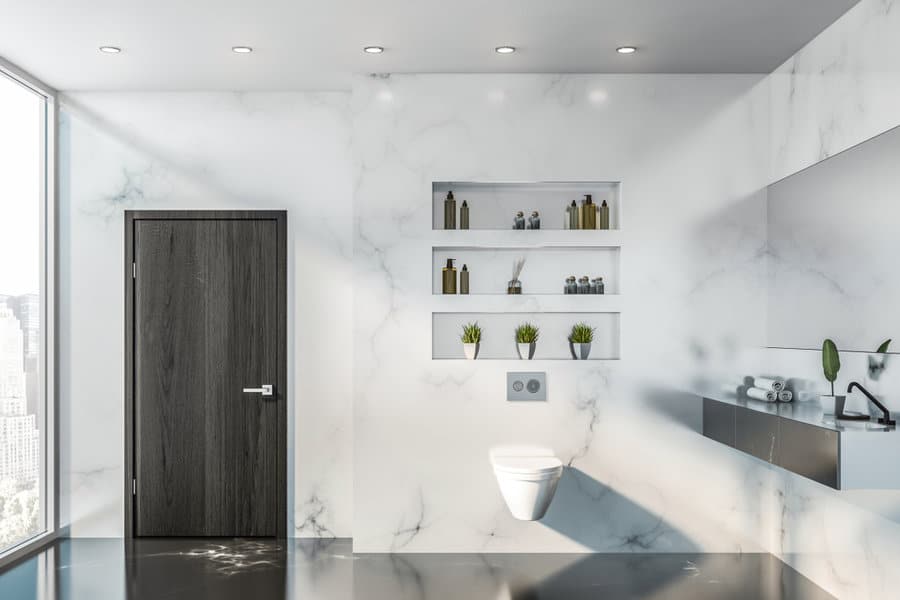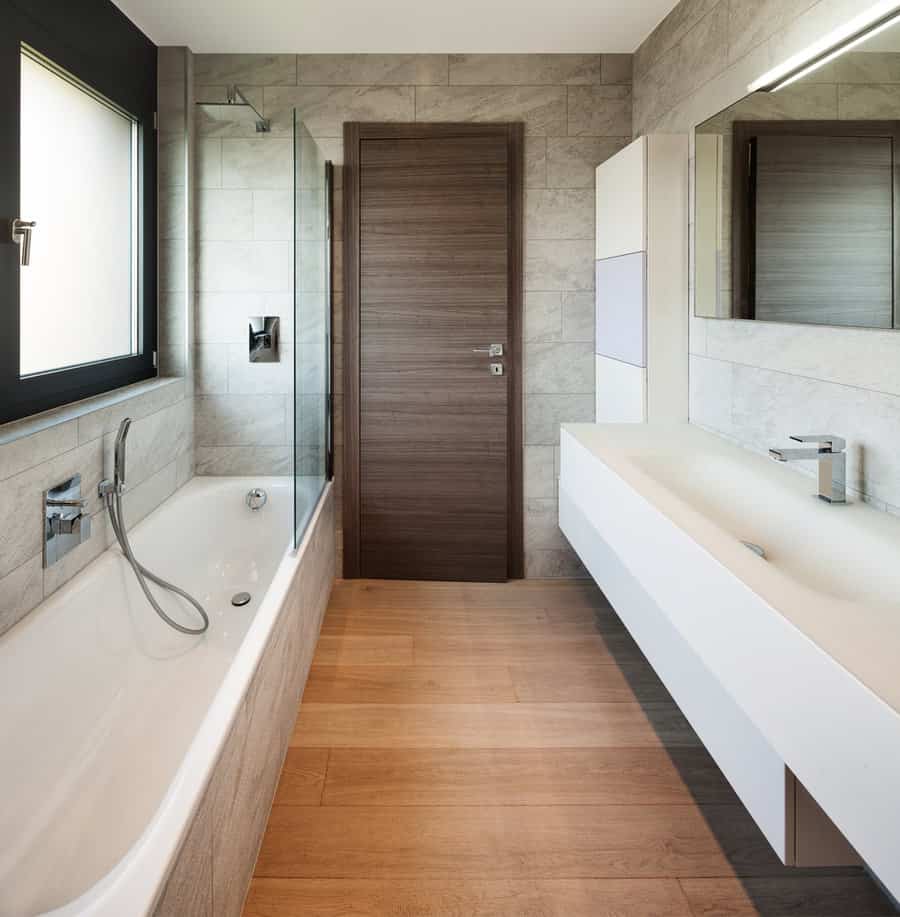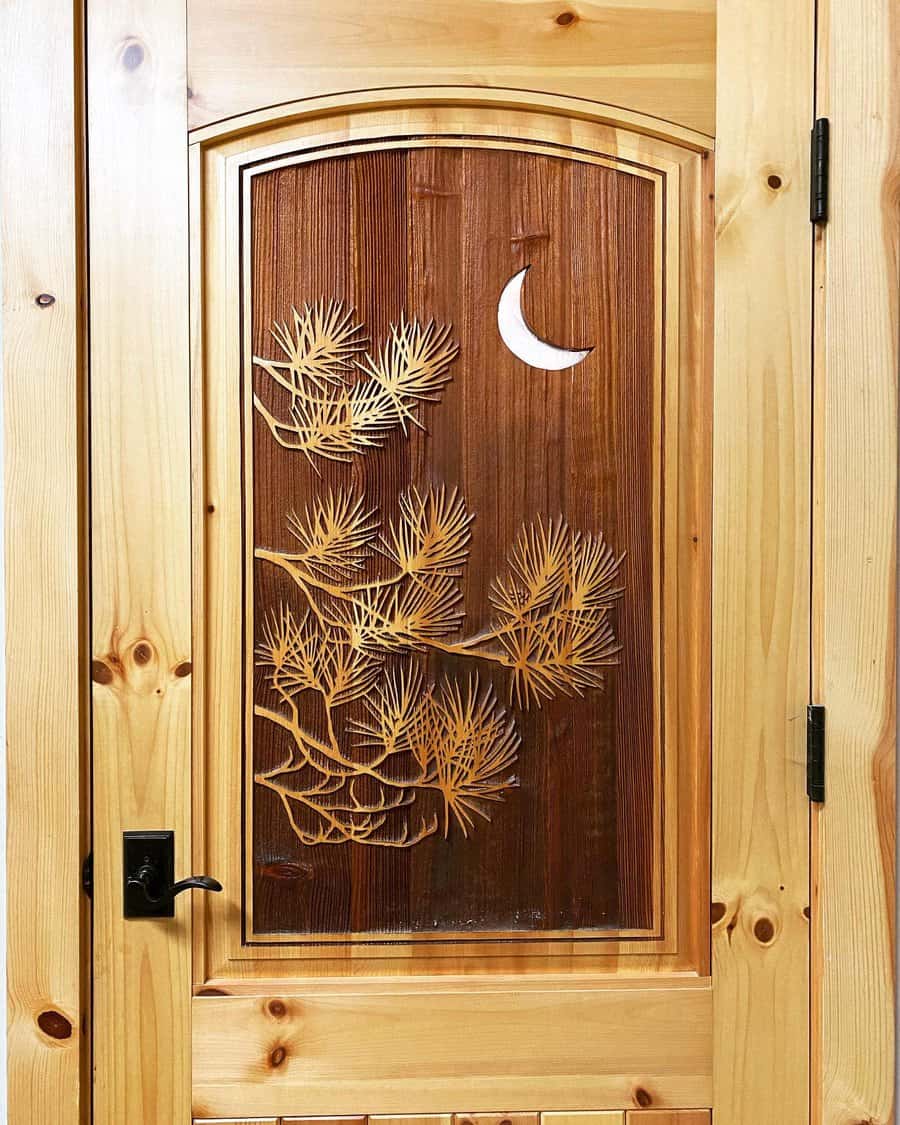 4. Elegant Frosted Glass Bathroom Entry
Opt for a frosted glass bathroom door to achieve a balance of style and privacy in your space. The translucent material ensures seclusion while still allowing a gentle diffusion of light, contributing to a luminous and expansive atmosphere. Frosted glass doors lend a modern, sophisticated touch to any bathroom setting, standing out as a decorative element. To tailor it to your bathroom's design, explore the variety of available patterns and designs, ensuring a seamless integration with both contemporary and traditional styles. This choice not only enhances privacy but also transforms the door into a focal point of elegance.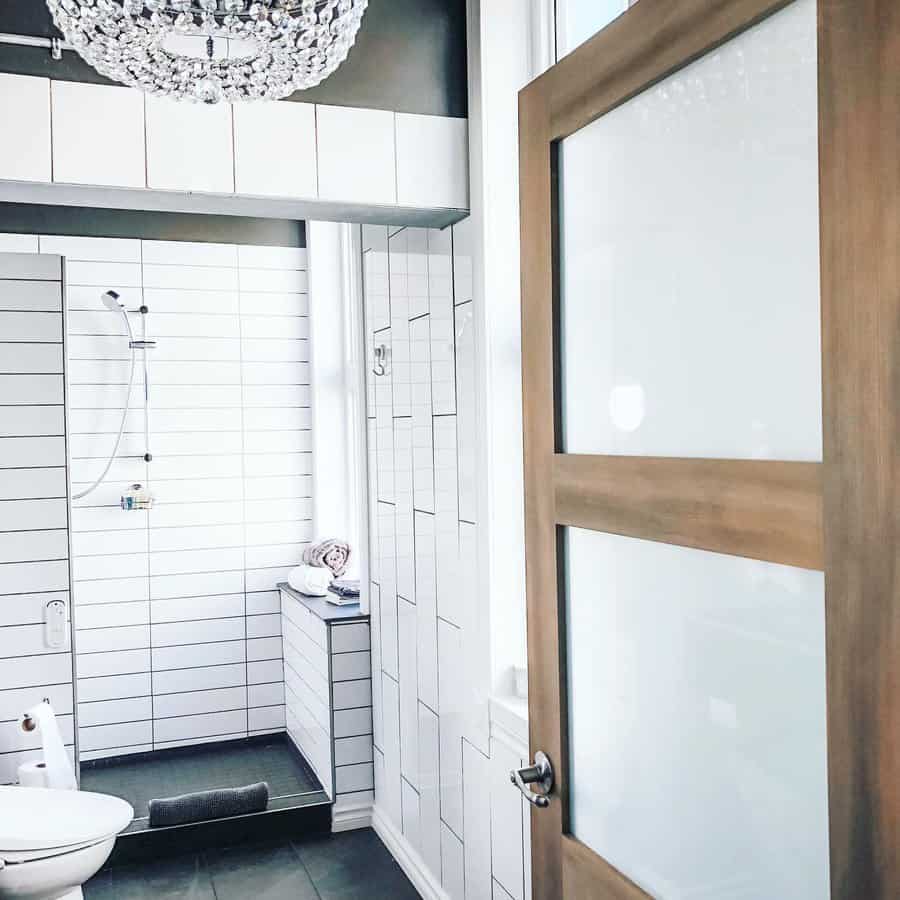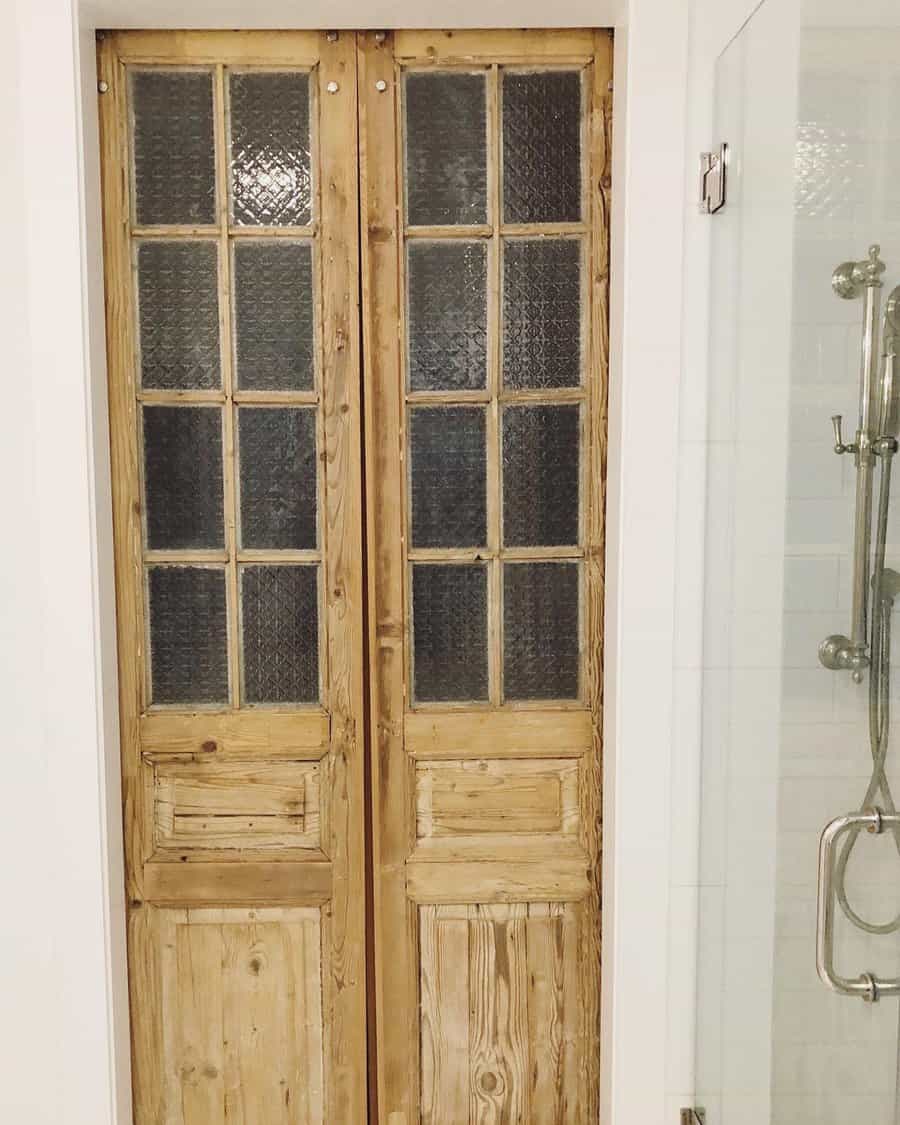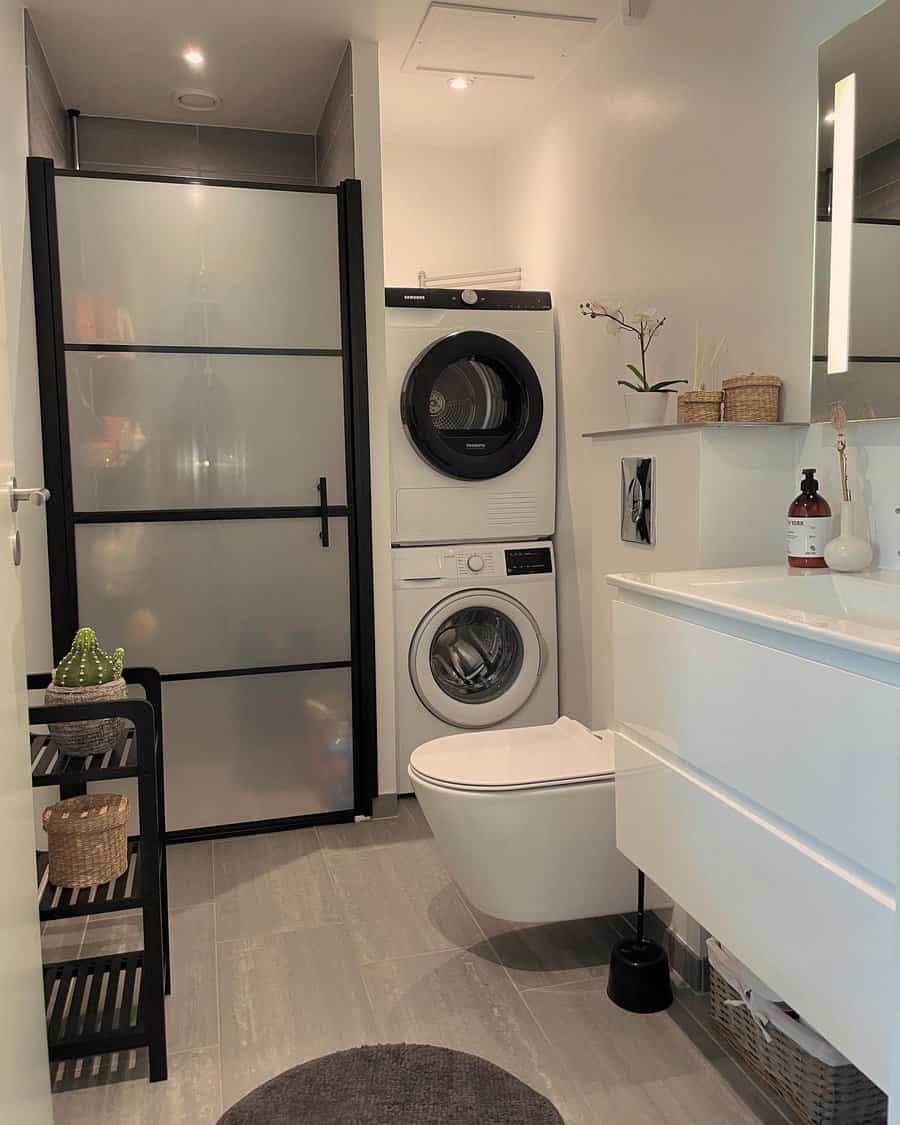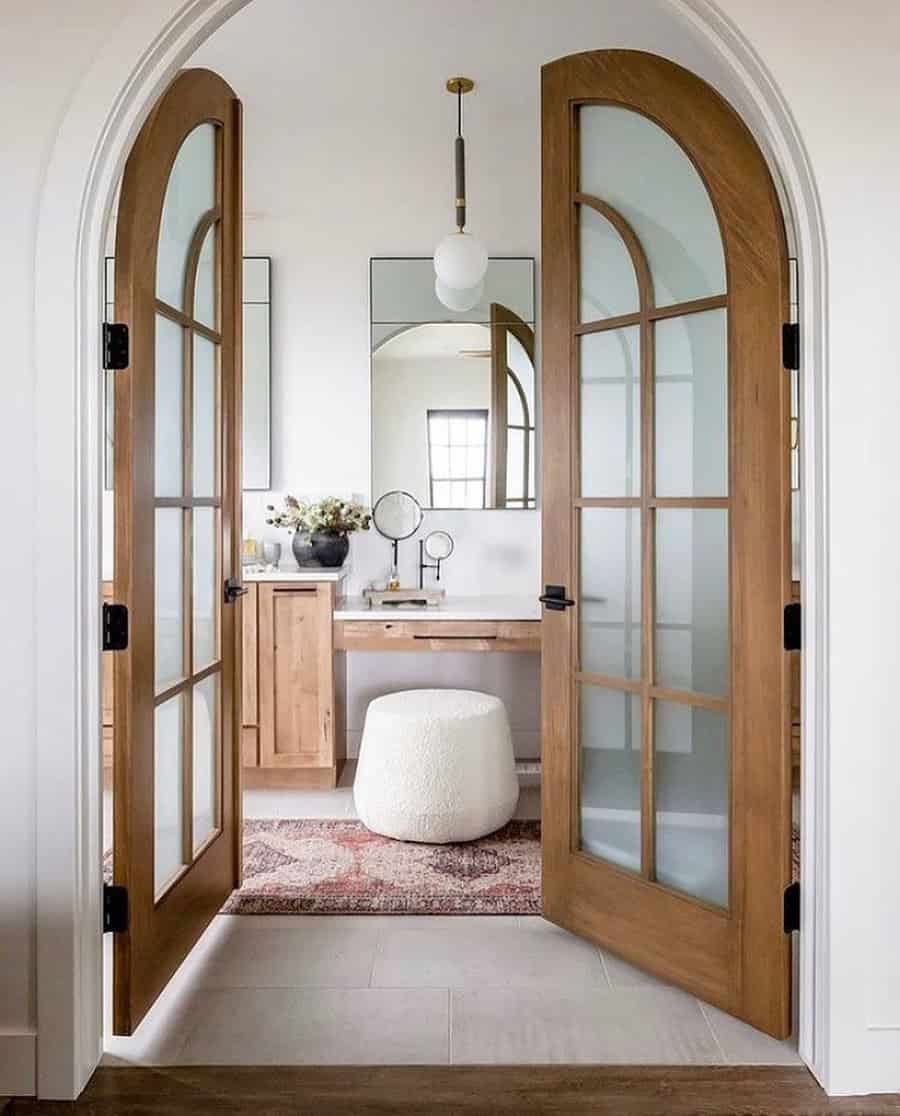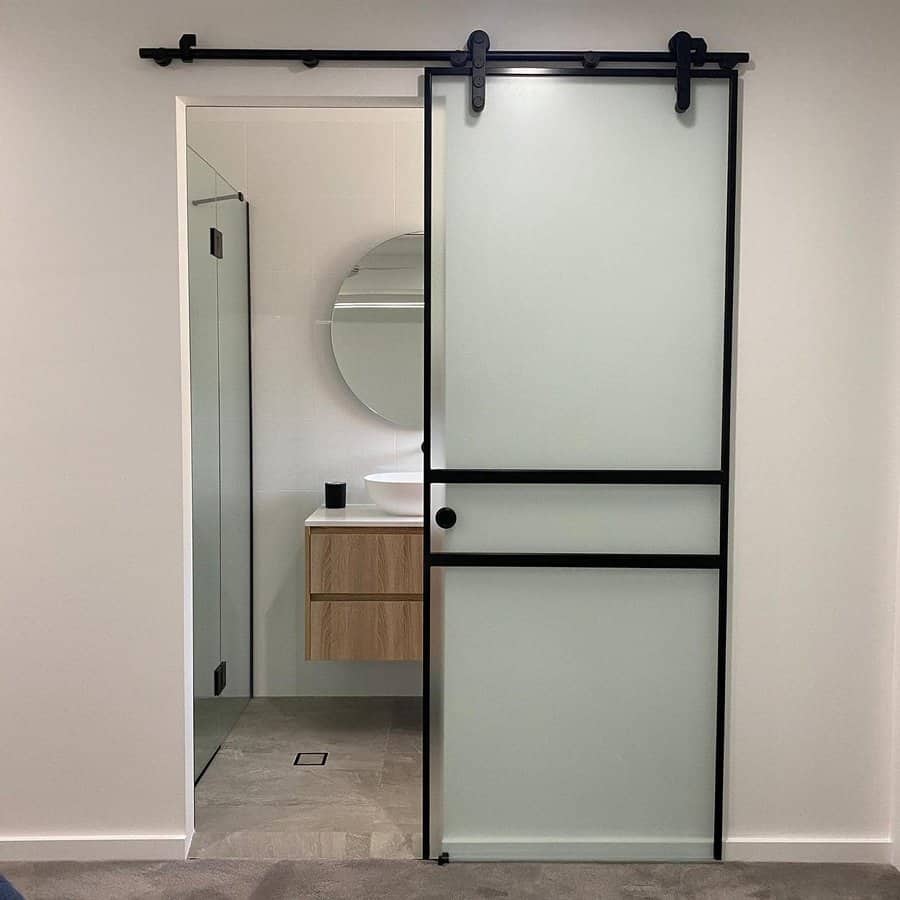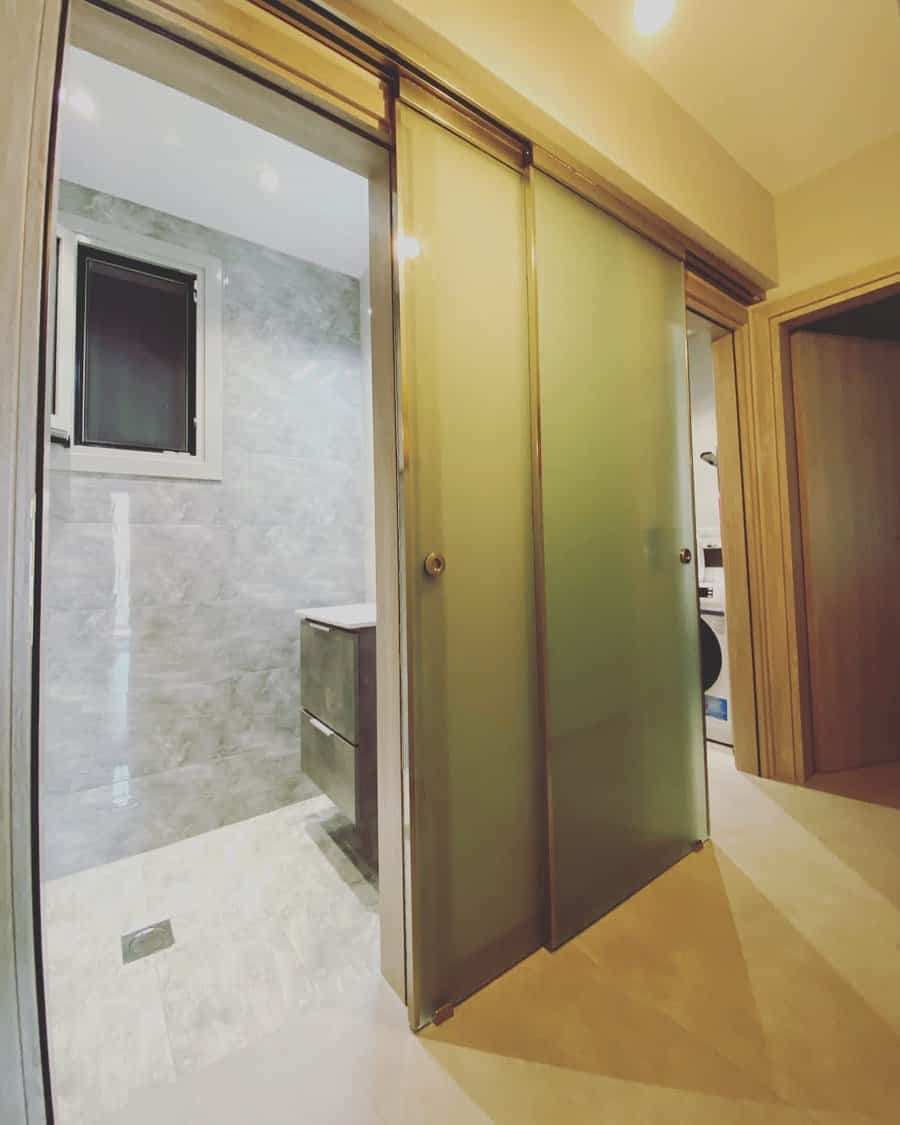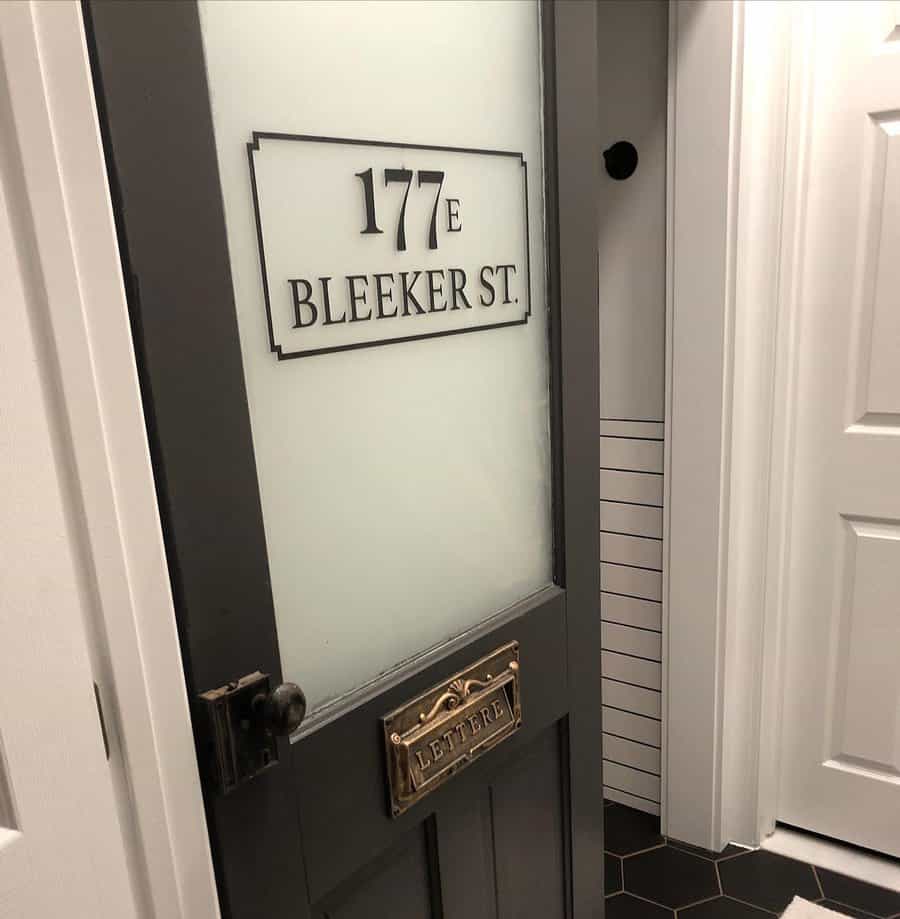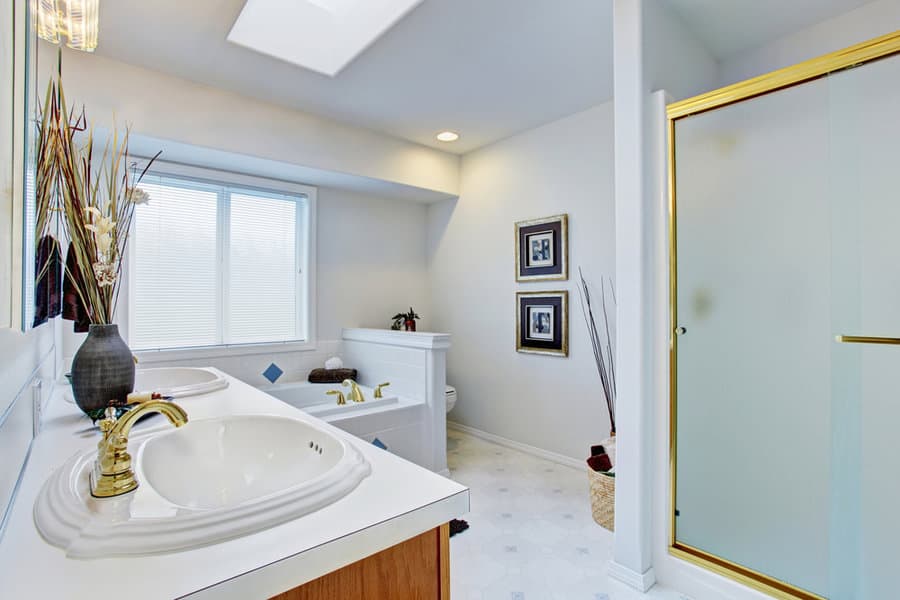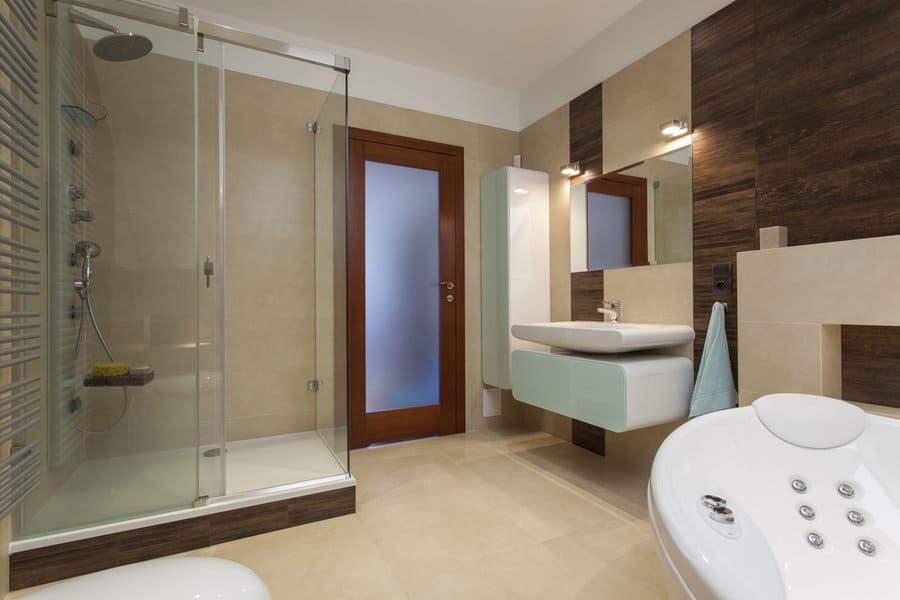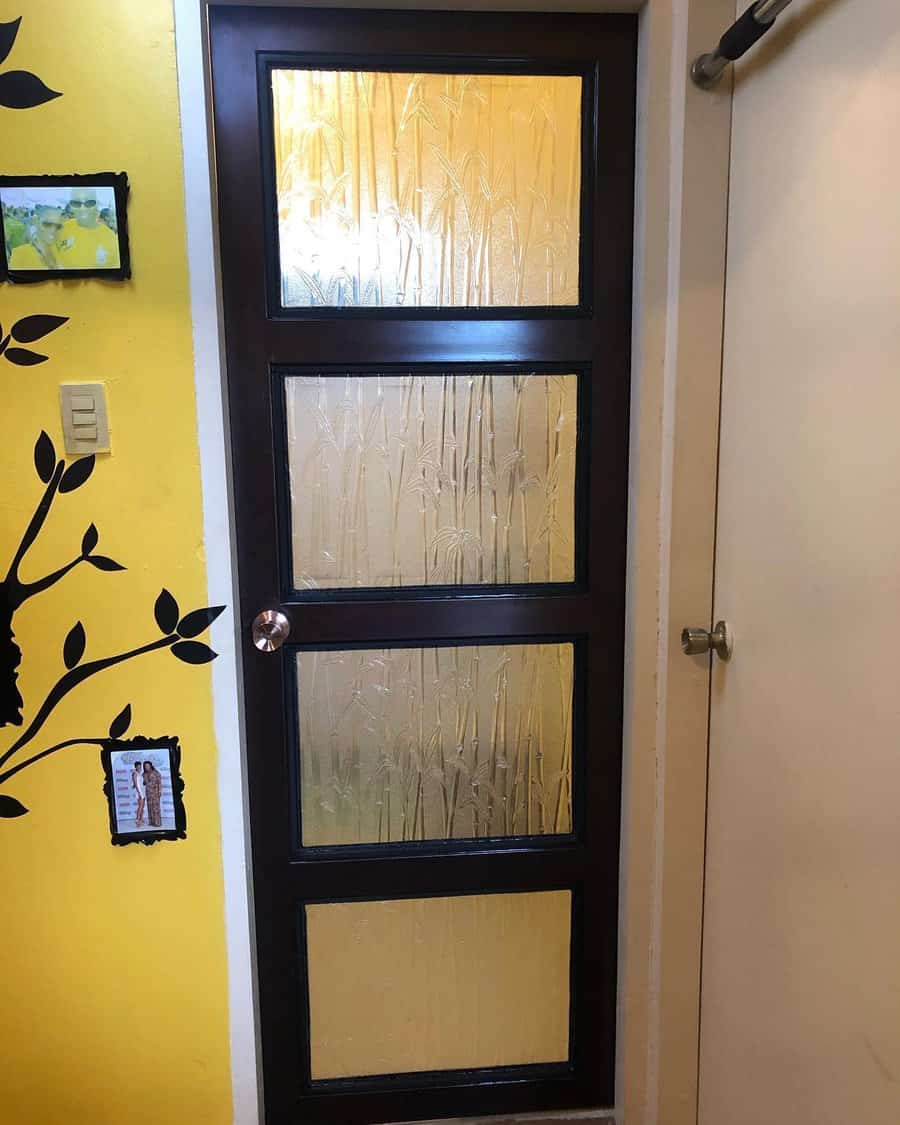 5. Bold Black Frame Bathroom Door Style
Infuse your bathroom with a dose of contemporary flair with a bold black framed door, instantly drawing the eye and setting a luxurious tone. This design choice establishes a captivating contrast, especially when juxtaposed with lighter walls or tiles, enriching the space's visual appeal. Versatile across various decor styles, from industrial chic to classic elegance, a black framed door adds depth and interest to your bathroom. Beyond its aesthetic appeal, it introduces clean, architectural lines, contributing to a structured and polished look. Embrace a black framed bathroom door to make a timeless, bold statement in your space.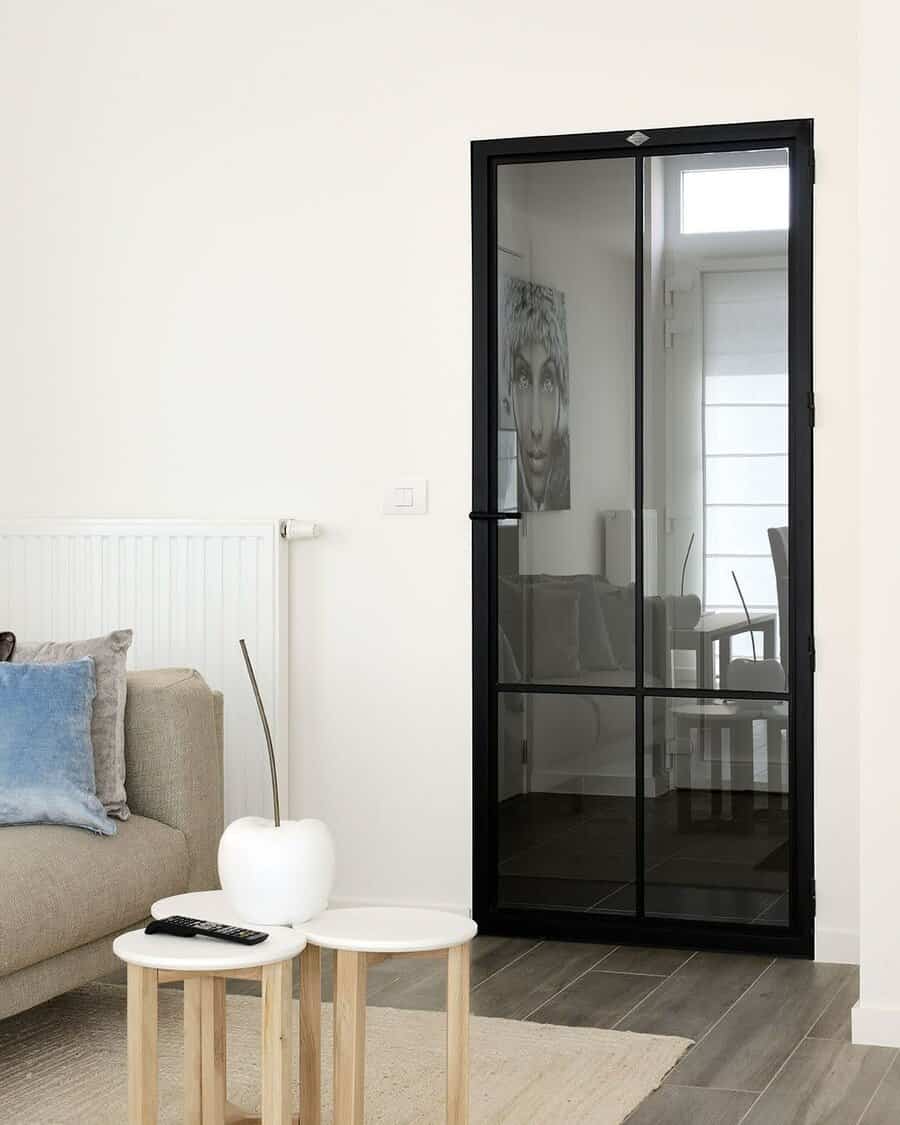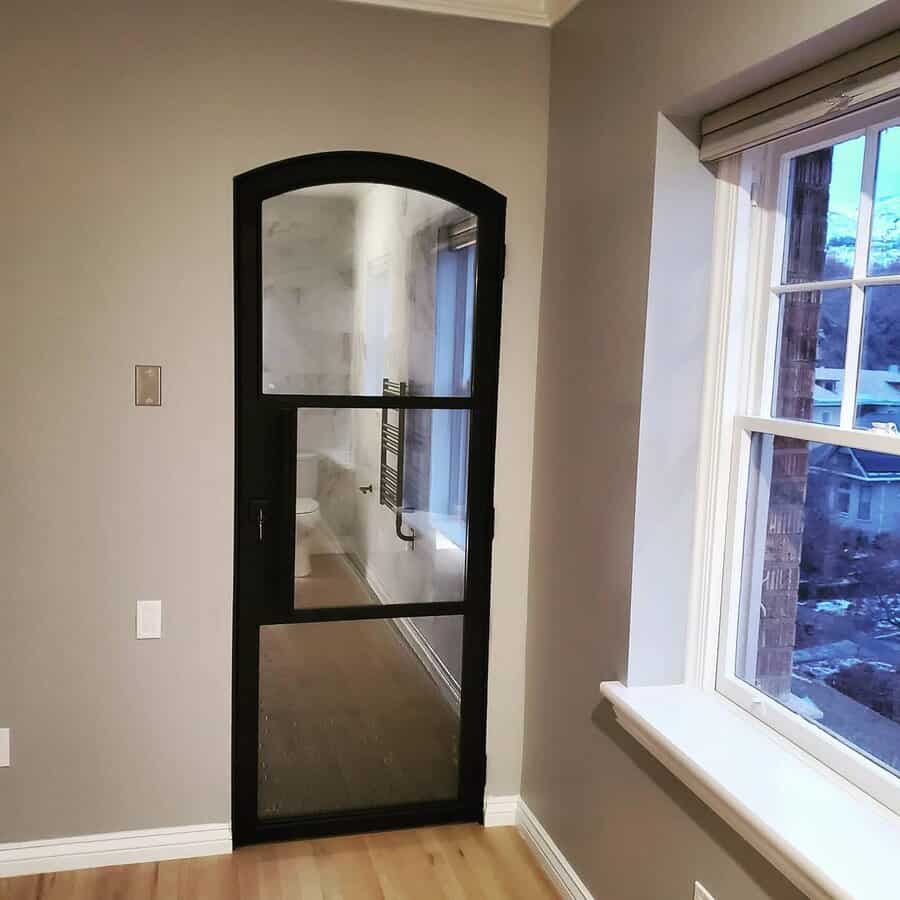 6. Chic Glass Doors for Showers
Choose glass shower doors to infuse your bathroom with a sense of openness and light, visually enlarging the space and enhancing its modern elegance. These doors create a smooth transition between the shower area and the rest of the bathroom, contributing to a cohesive aesthetic. Beyond their visual appeal, glass shower doors are user-friendly, boasting easy cleaning and maintenance. Their sleek and minimalist design fits seamlessly into various bathroom styles, ensuring versatility and timeless elegance. To optimize this chic choice, pair it with complementary fixtures and subtle accents to create a harmonious bathroom sanctuary.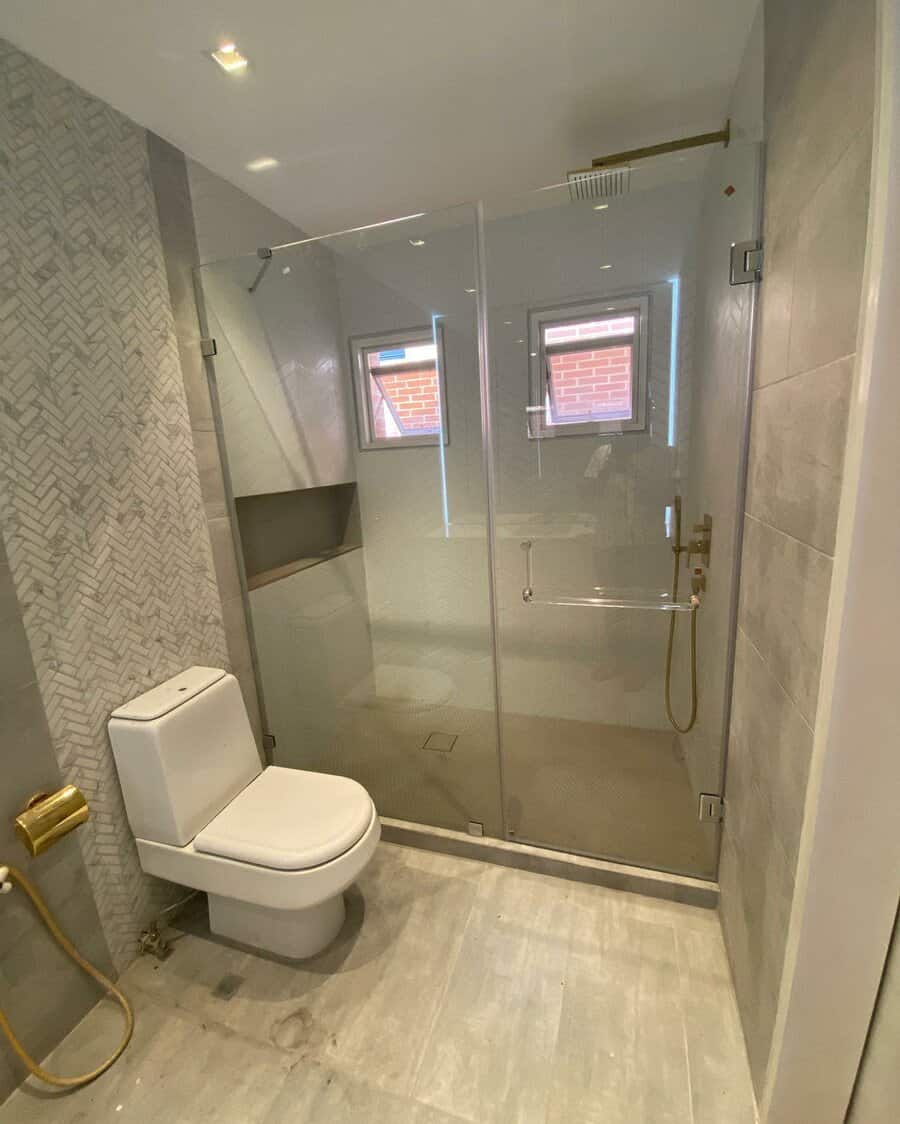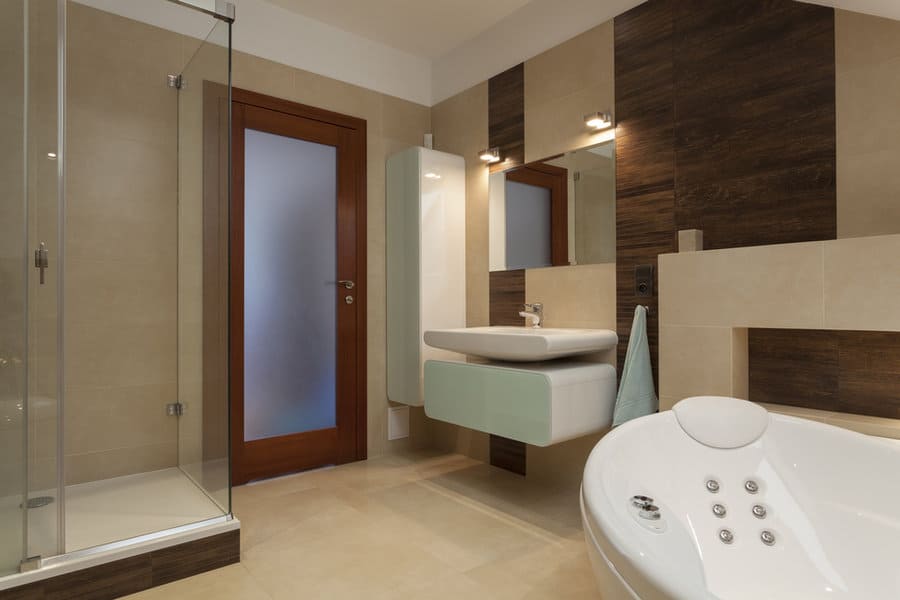 7. Spacious Double Doors for Bathrooms
Enhance your bathroom's accessibility and aesthetic with sophisticated French-style double doors. These doors not only bring a grand sense of openness but also serve as a functional and elegant entry to your personal oasis. The integration of glass panels allows for an abundance of natural light, casting a bright and welcoming glow throughout the space. To maximize the luxurious feel, complement these doors with plush towels and opulent accessories, ensuring a seamless blend of elegance and comfort in your bathroom retreat.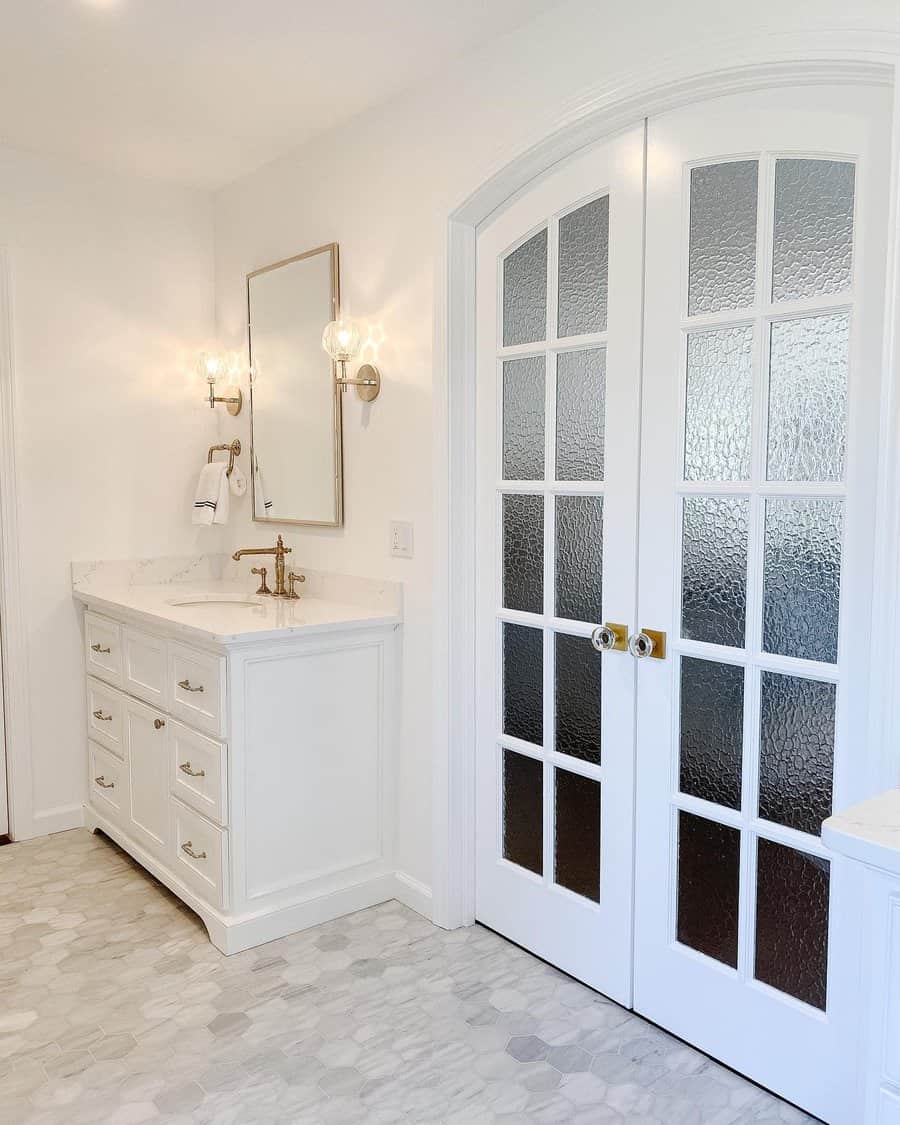 8. Minimalist Frameless Glass Door Elegance
Indulge in the sleek sophistication of a minimalist frameless glass bathroom door, which promises to infuse your space with a seamless and airy ambiance. The unrestricted flow of natural light contributes to a bright and expansive feel, enhancing the room's overall spaciousness. This door style embodies contemporary luxury, free from the visual clutter of bulky frames, and adapts effortlessly to any bathroom decor, be it modern sleekness or timeless classic. The added openness and visual fluidity create an inviting atmosphere, making your bathroom appear more generous in size and more luxurious in feel.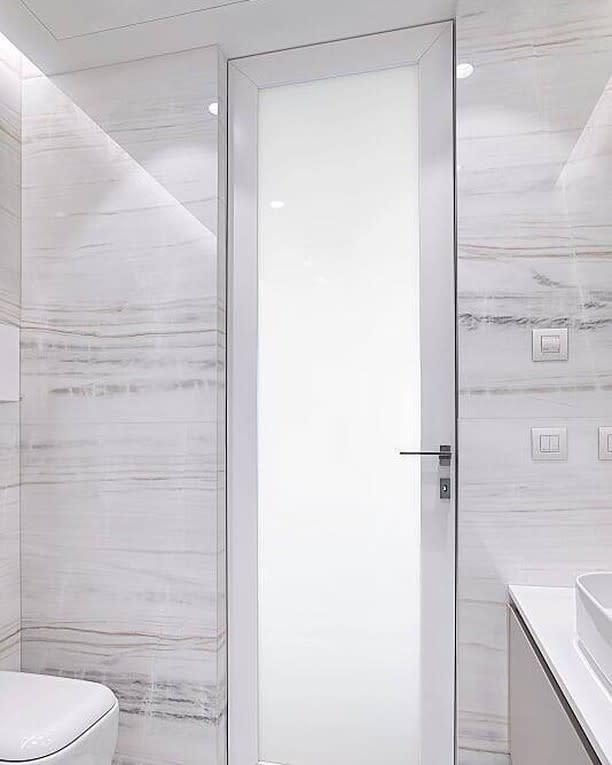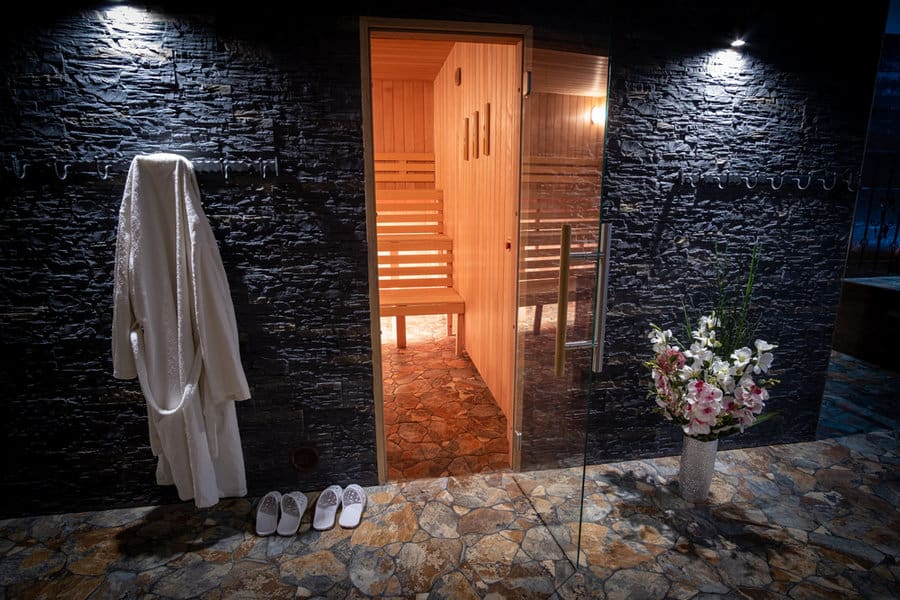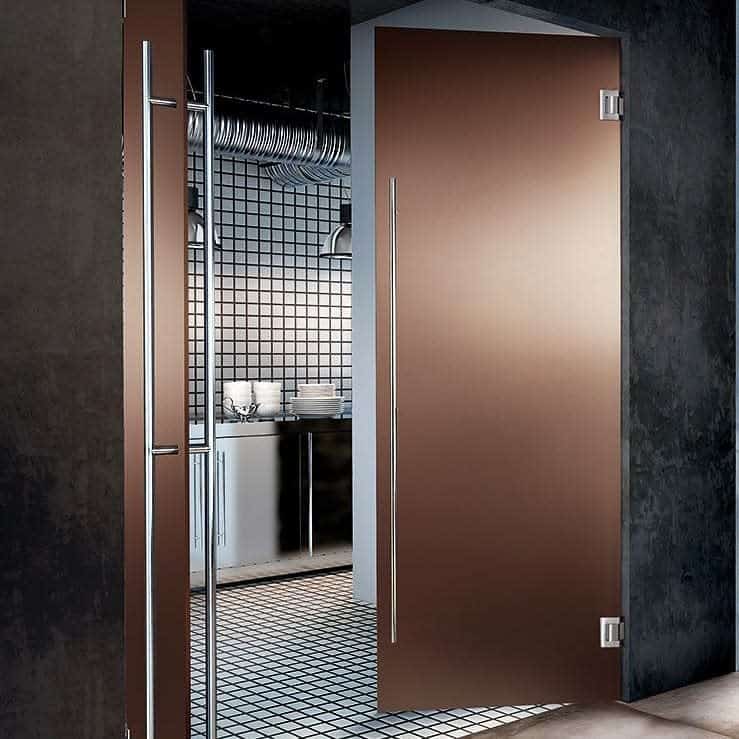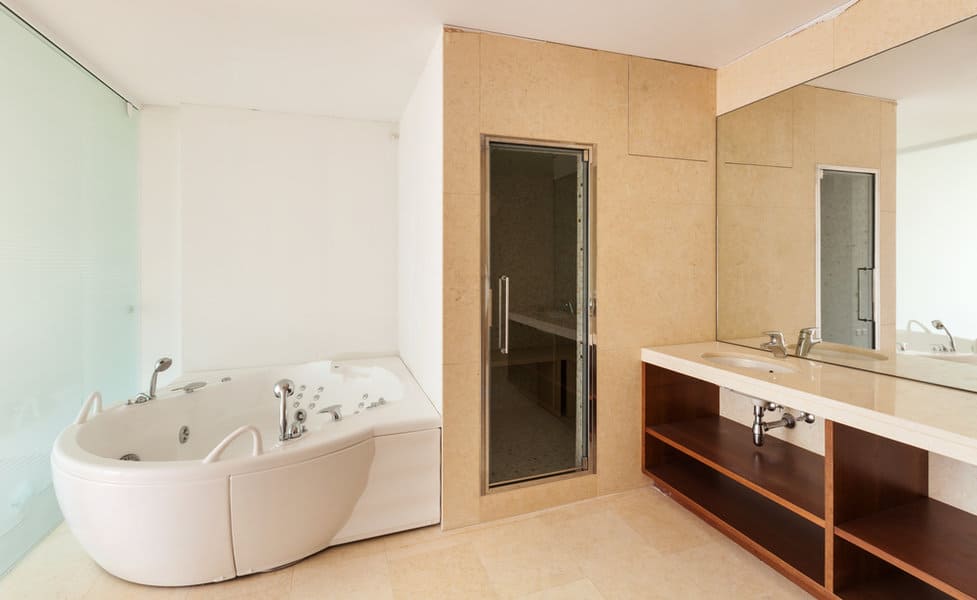 9. Seamless Look with Frameless Bathroom Entry
Embrace the elegance of simplicity with a frameless bathroom door, a design choice that brings openness and a sense of space to your bathroom. The absence of frames and bulky hardware results in a sleek, uninterrupted aesthetic that effortlessly suits any decor style. Natural light permeates freely through the clear glass, brightening the space and amplifying a feeling of airiness. Opting for a frameless door also means your intricate bathroom tiles or standout fixtures can shine, contributing significantly to the overall visual appeal of the space. Achieve a pristine, modern look and elevate your bathroom experience with this luxurious addition.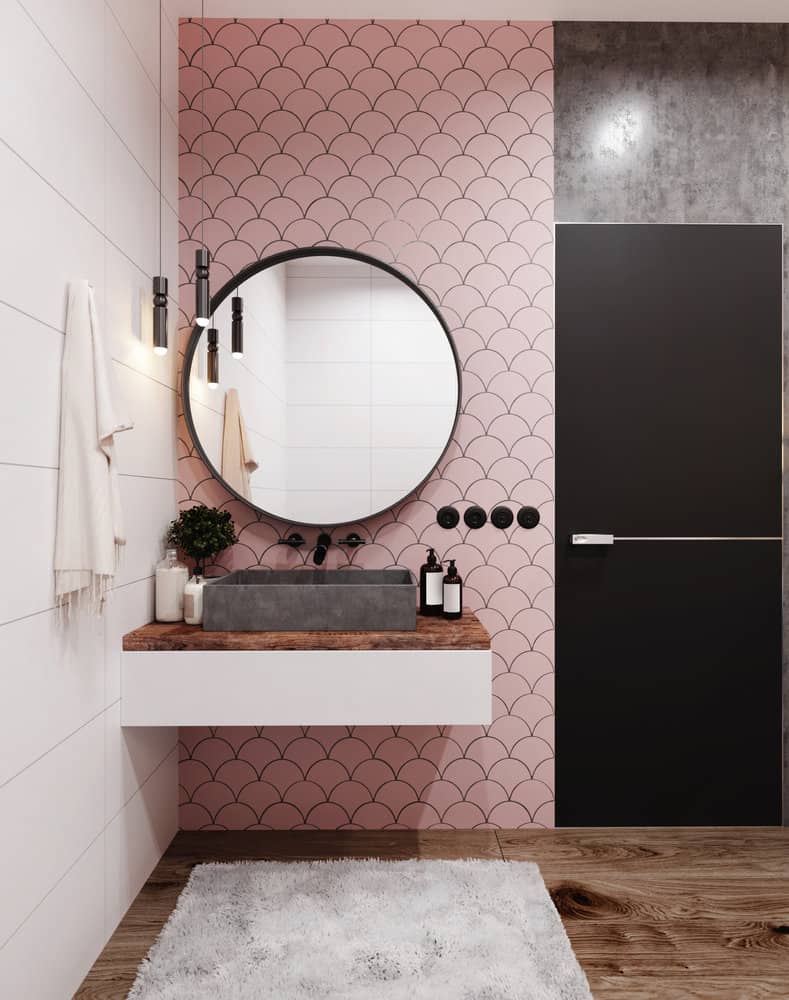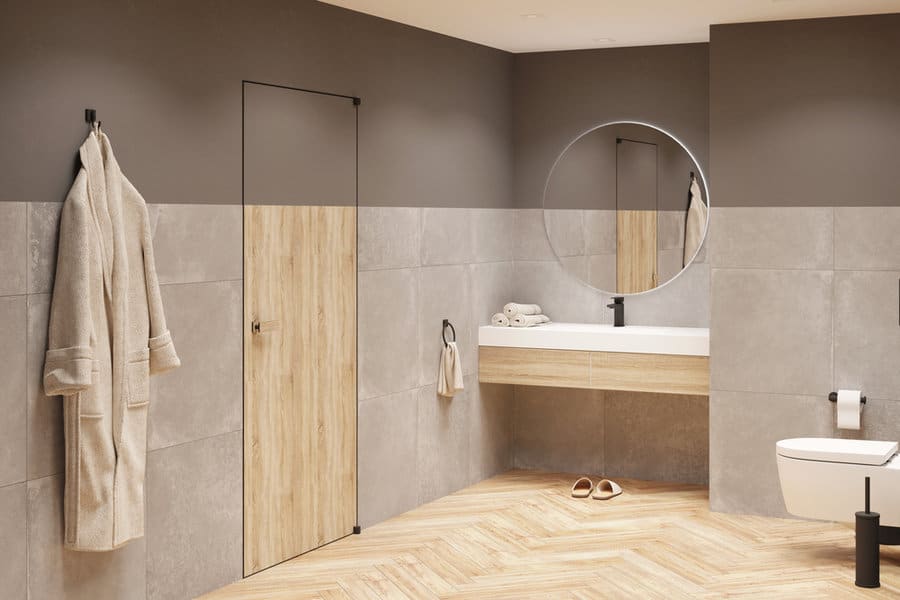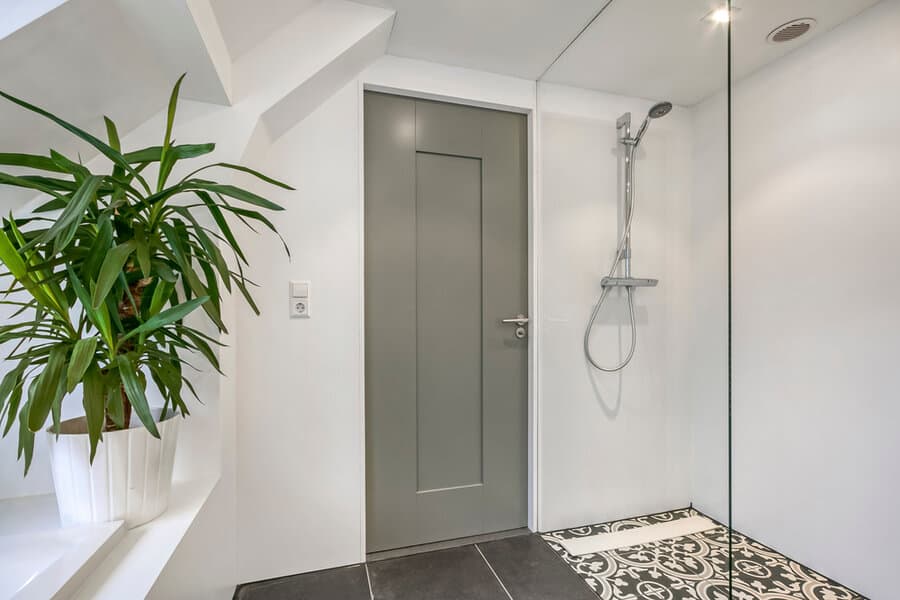 10. Contemporary All-Black Bathroom Door Design
Step into a world of sophistication with a contemporary all-black bathroom door, an elegant design choice that radiates modernity and strength. The stark contrast it provides against lighter walls or tiles ensures it stands out, captivating attention and asserting itself as a central feature of the room. Its deep, rich hue adds drama and depth, imbuing the space with a luxurious feel. A black door makes a bold statement in any bathroom, regardless of size, transforming a simple entryway into an artistic expression. For a cohesive look, pair it with metallic hardware like brushed nickel or matte black handles, accentuating its contemporary charm.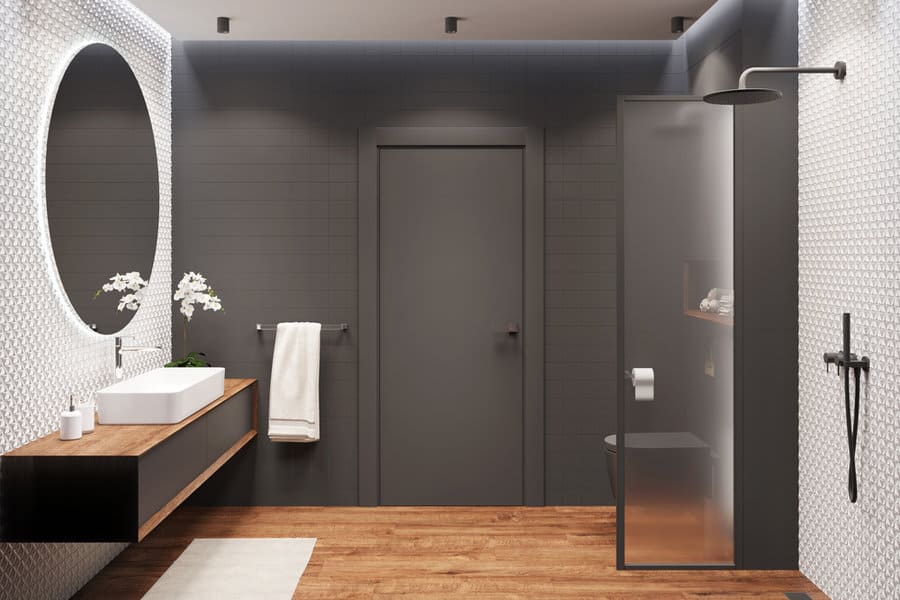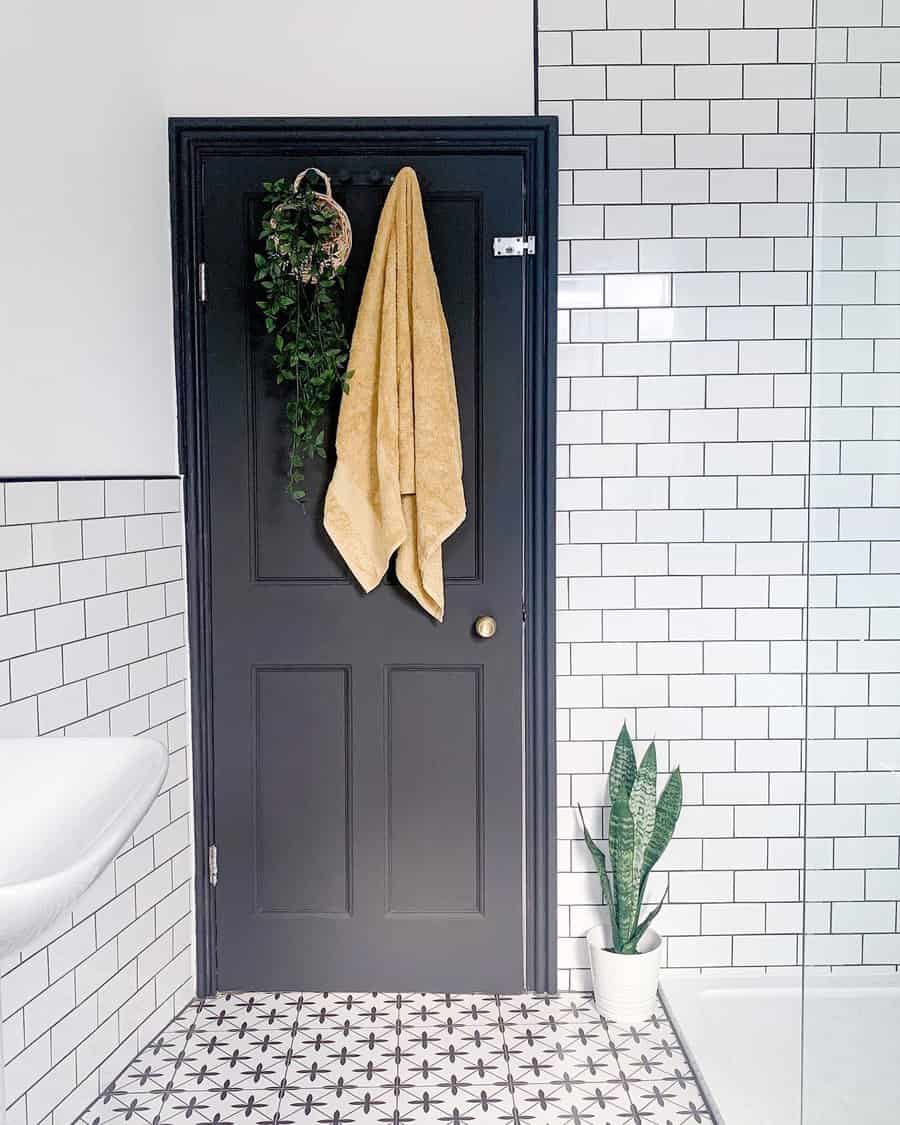 11. Classic White Door for Any Bathroom
Choose a white bathroom door for its timeless elegance and versatility, ensuring it seamlessly complements both modern and traditional settings. The neutral shade harmonizes with diverse color palettes, offering you the freedom to play with various design accents and accessories. A white door acts as a versatile backdrop, adaptable to minimalist, coastal, or vintage themes, allowing your unique style to shine through. It instills a light, airy ambiance, enhancing the sense of space and warmth in your bathroom. To elevate the look, brighten the space further with the door's light-reflecting quality and pair it with either sleek modern or ornately decorative hardware, depending on your preferred aesthetic.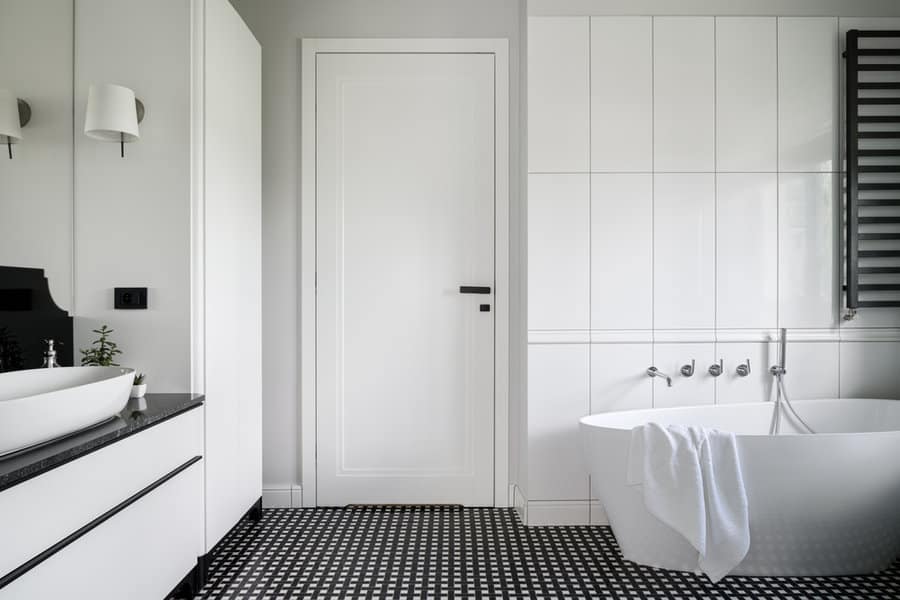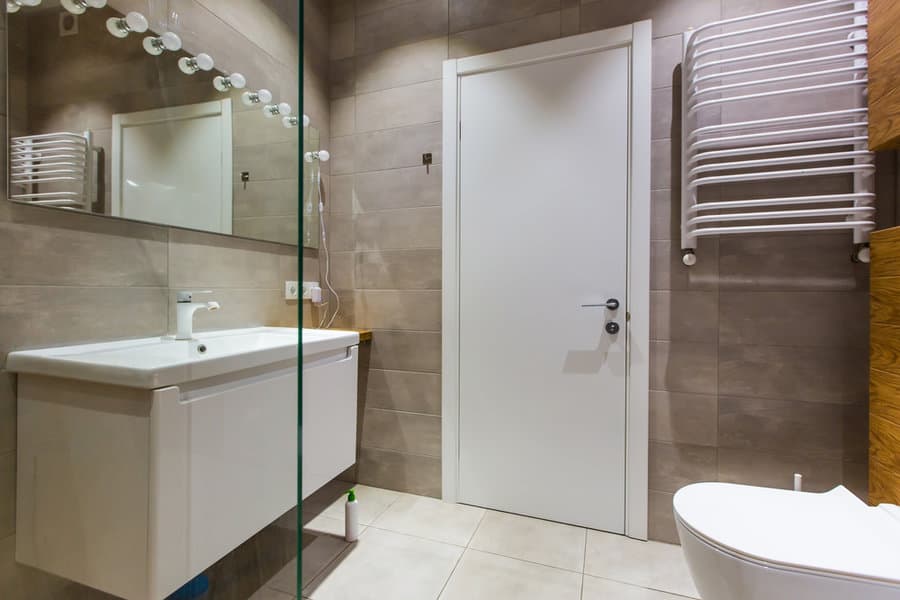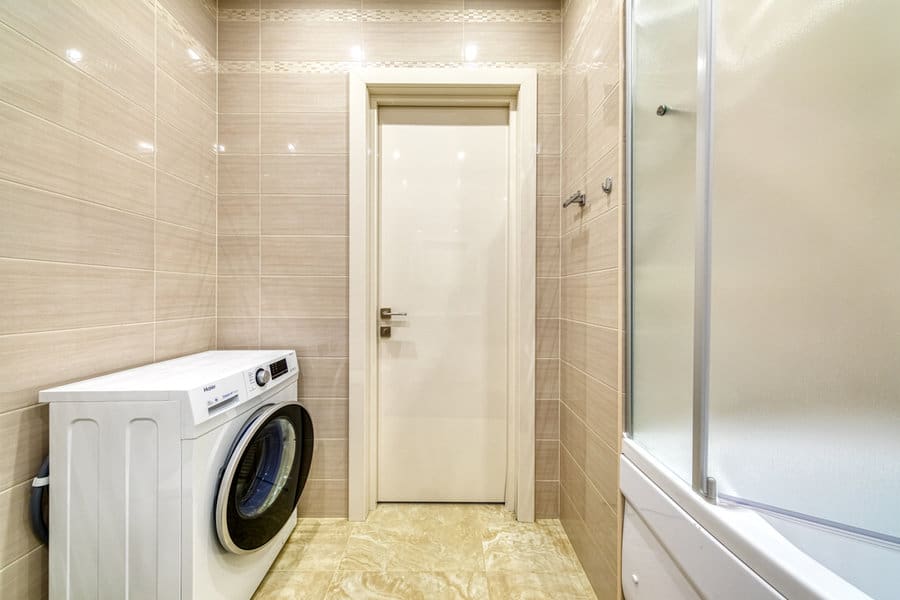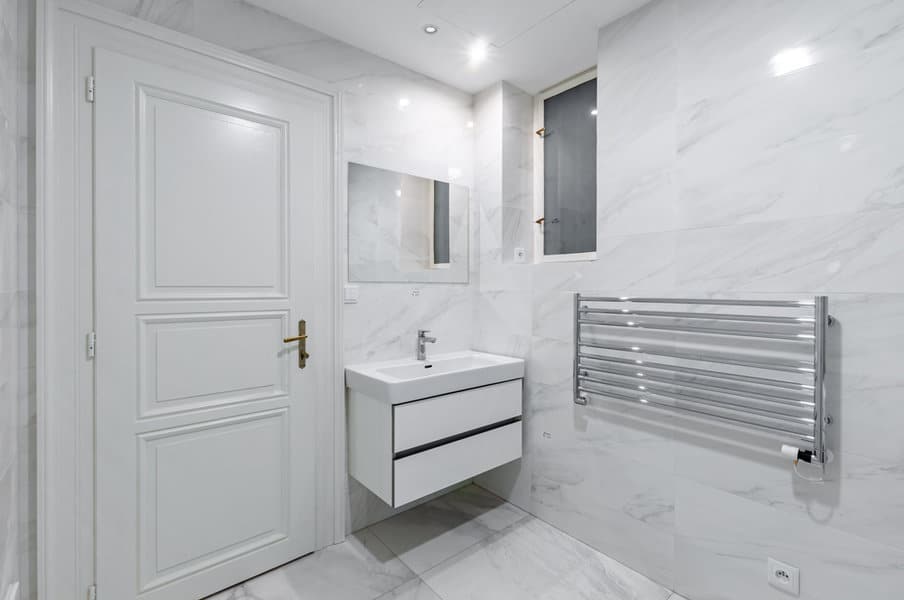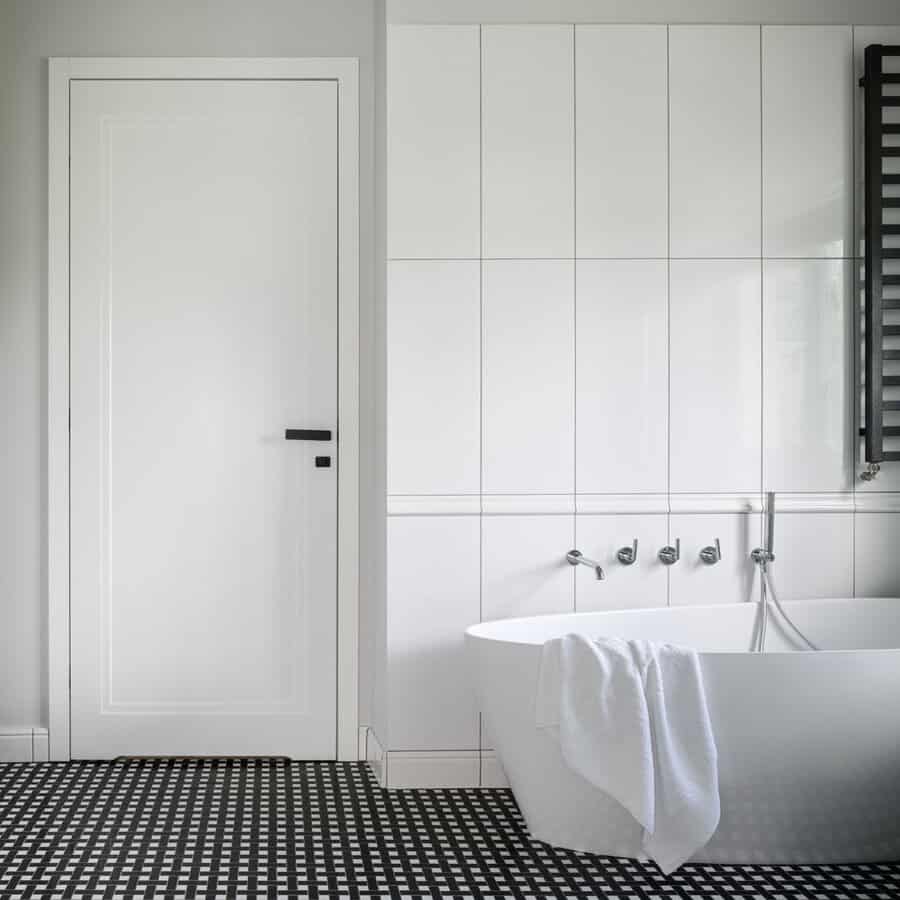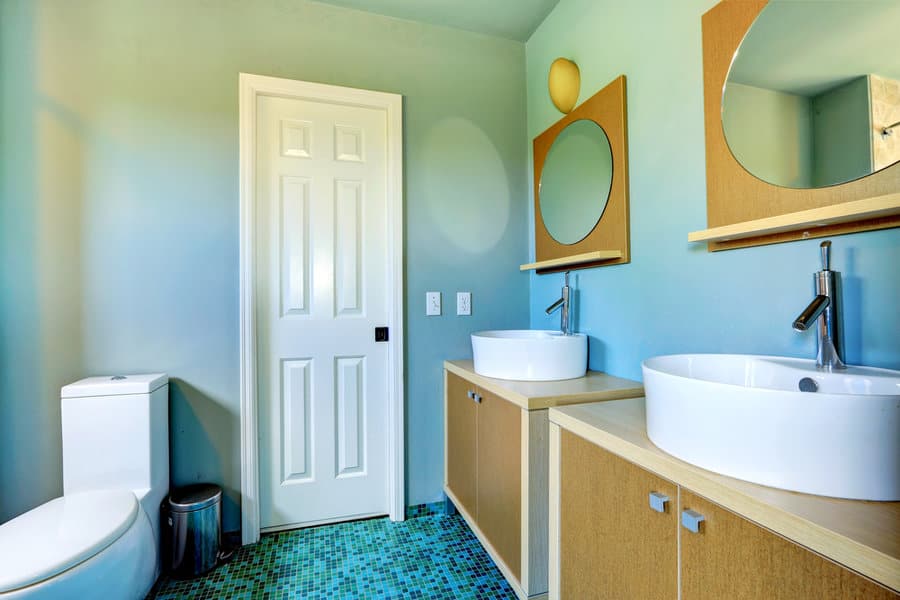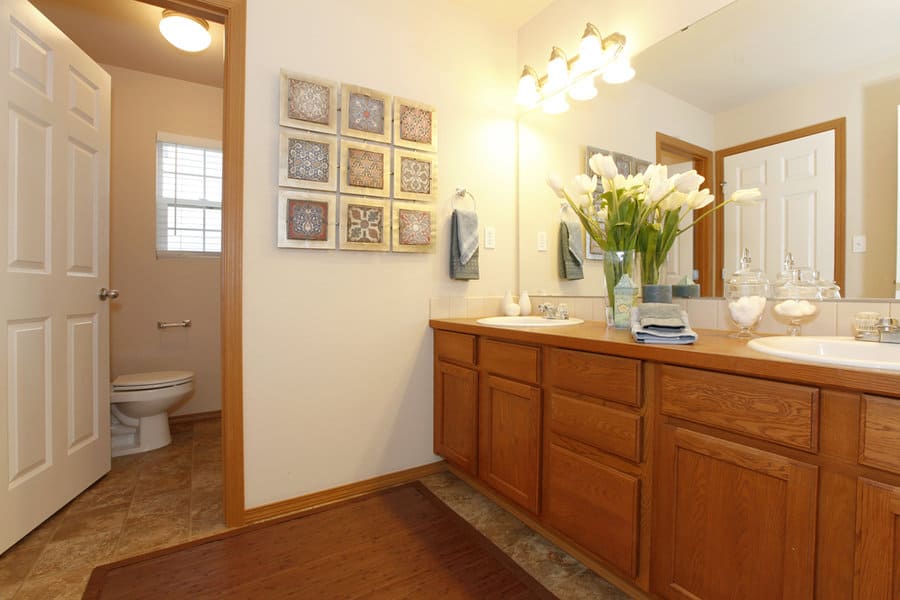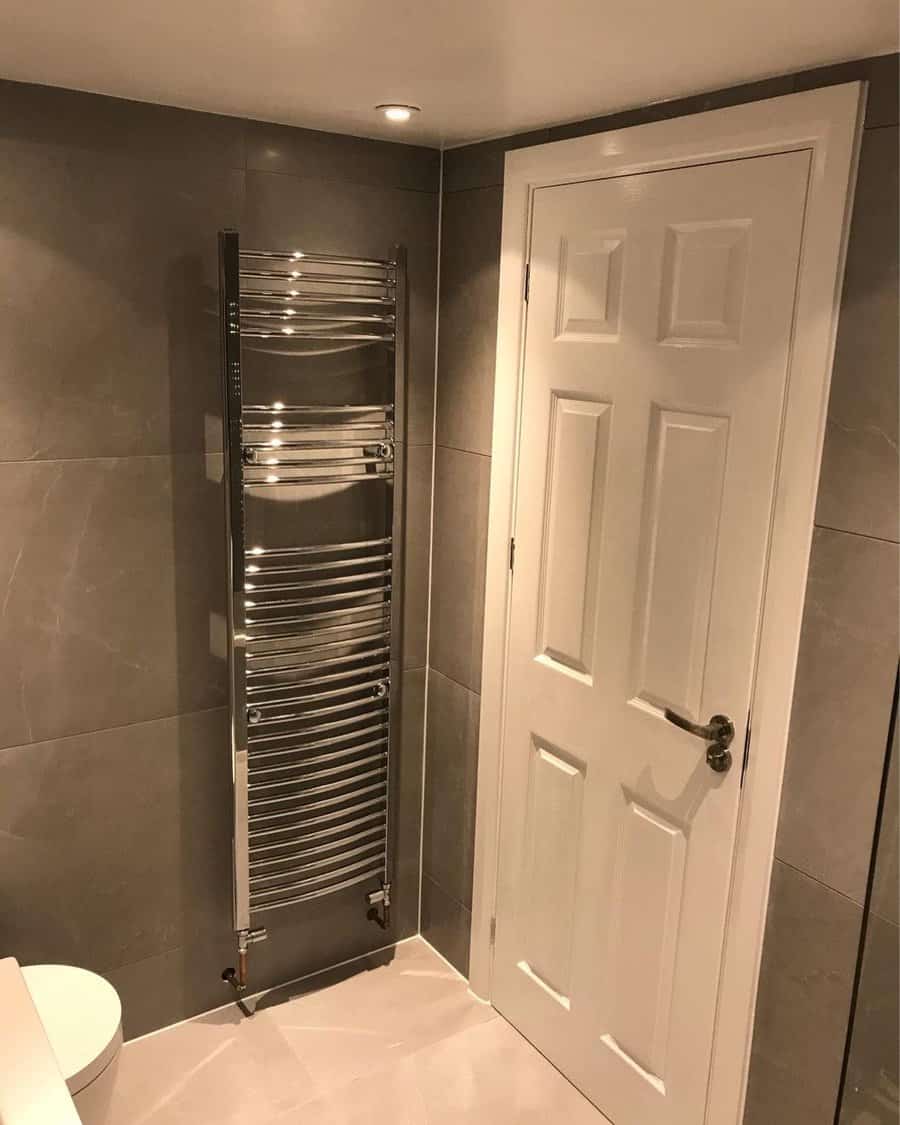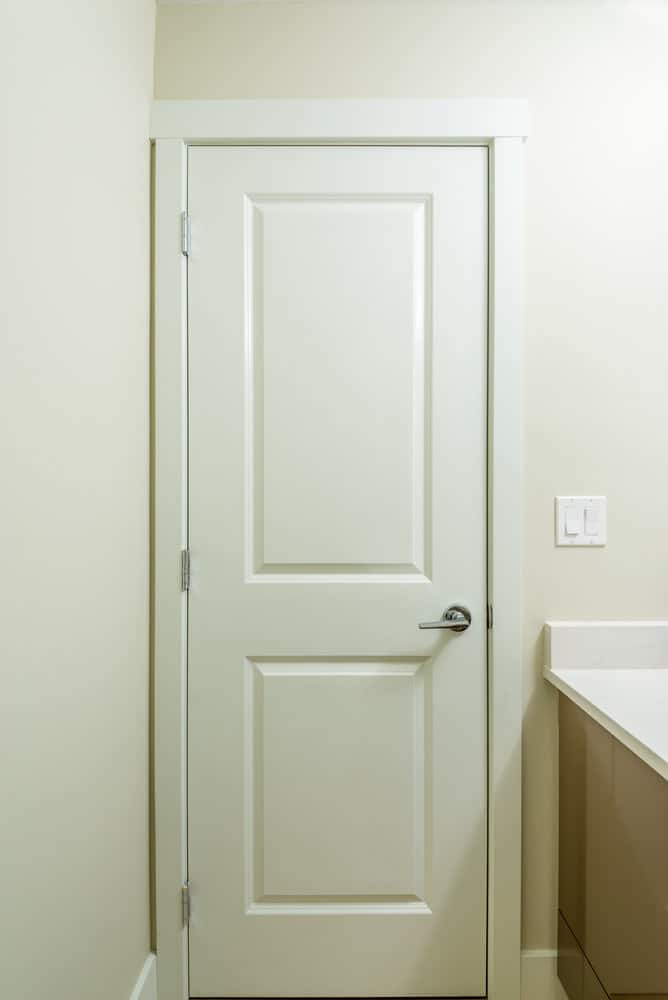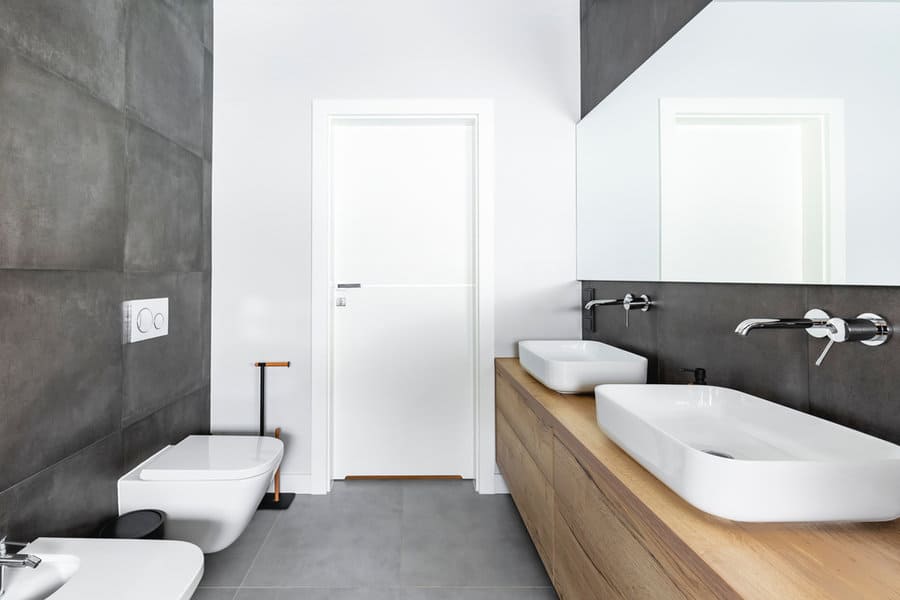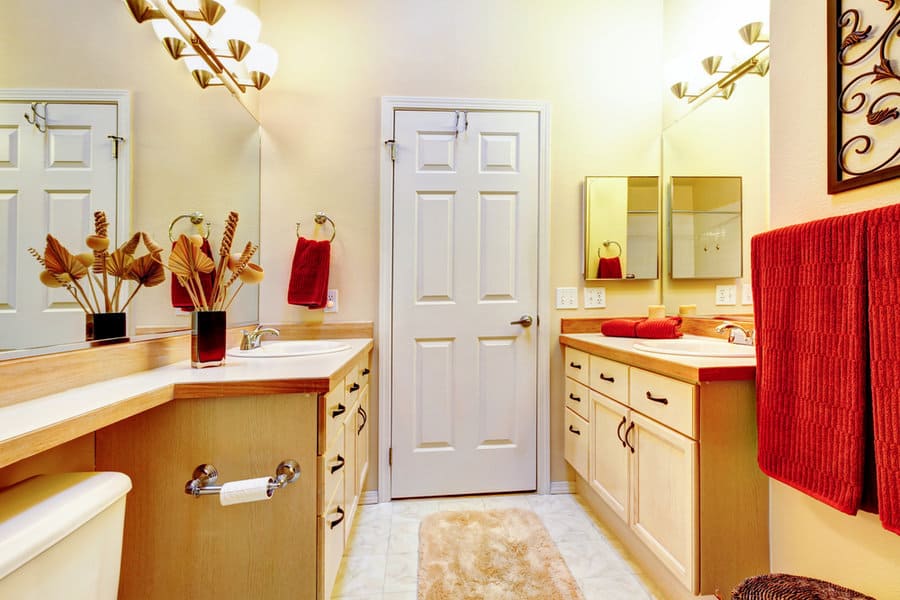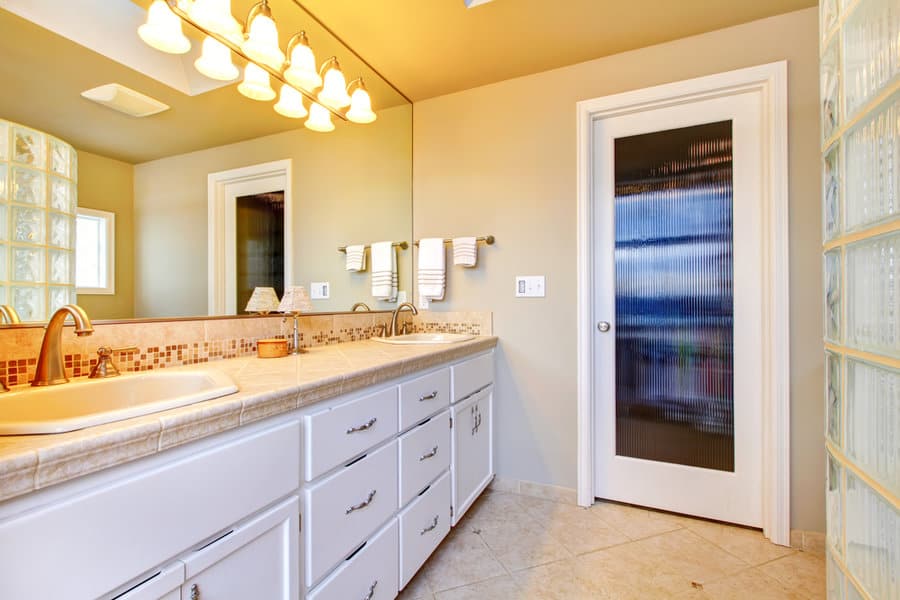 12. Timeless Wooden Bathroom Door Choice
Enhance your bathroom with the enduring charm of a wooden door, infusing your space with warmth and a welcoming ambience. Choose from a robust solid wood option or a design with elegant panels to showcase the wood's natural grain and texture. This versatile door choice beautifully adapts to a range of interior styles, adding an organic touch of elegance whether your space leans more rustic or modern. Beyond its visual appeal, a wooden bathroom door offers sturdy construction, ensuring privacy, durability, and sound insulation for a truly functional yet stylish addition to your home.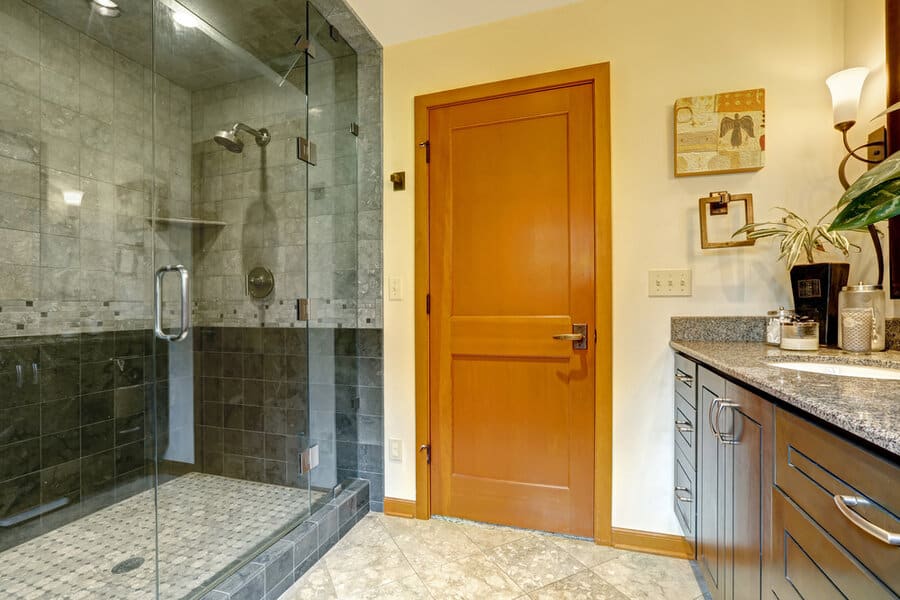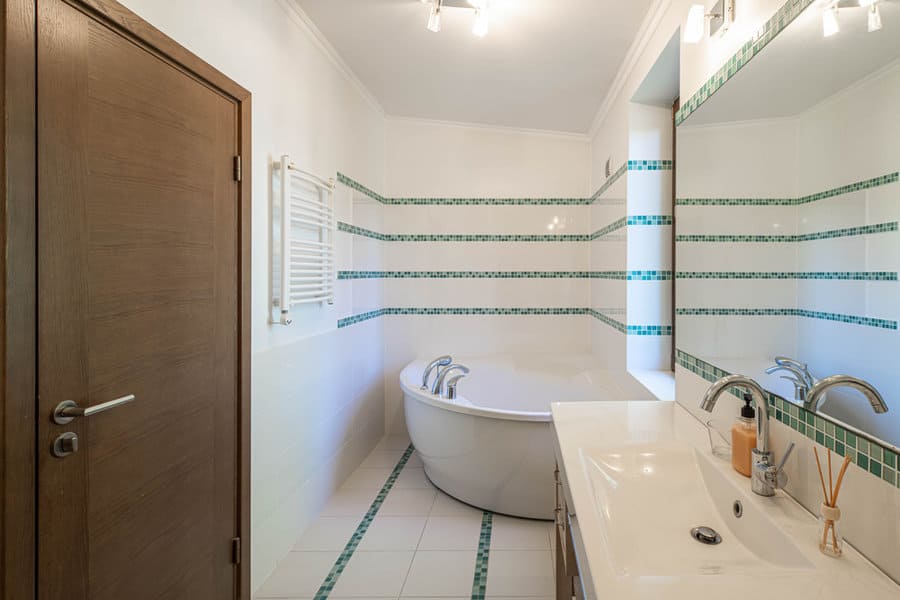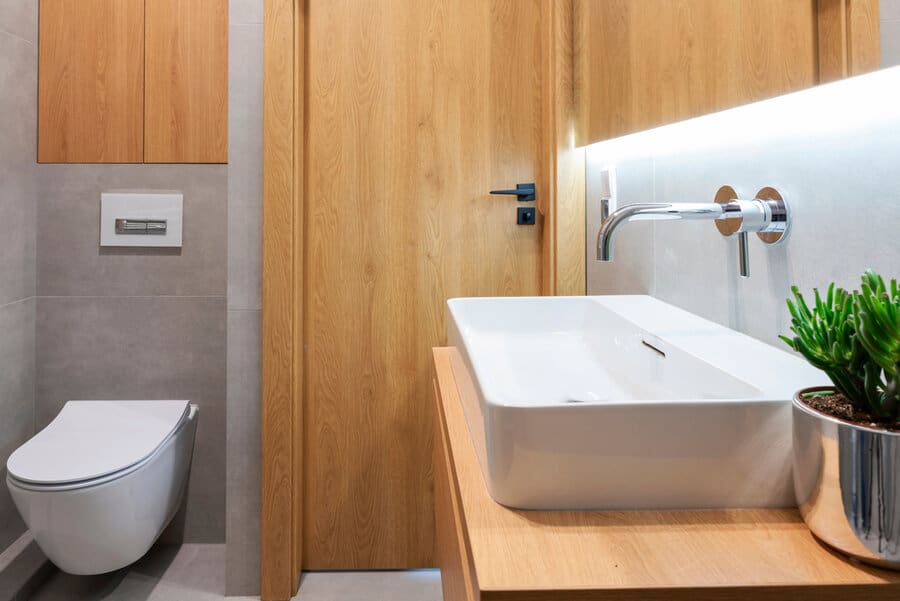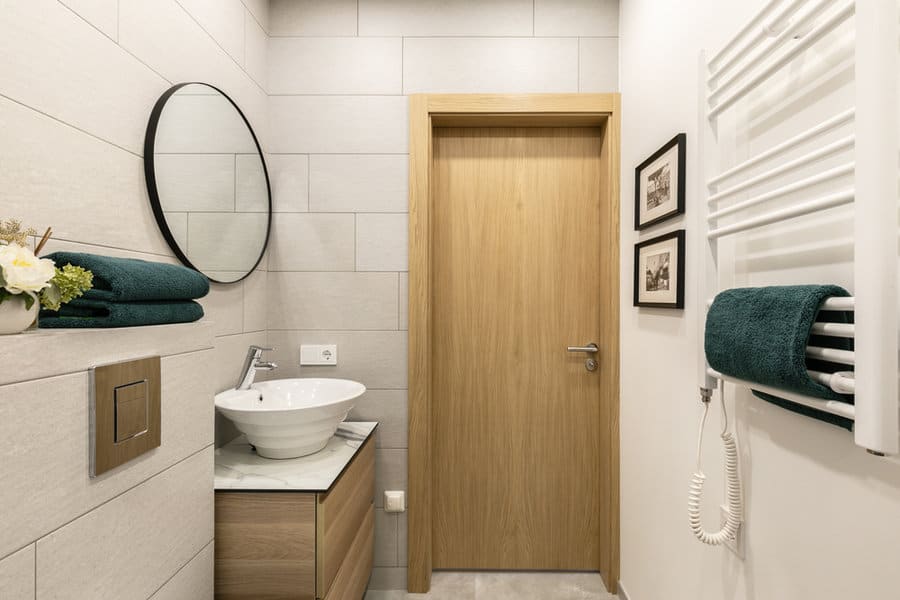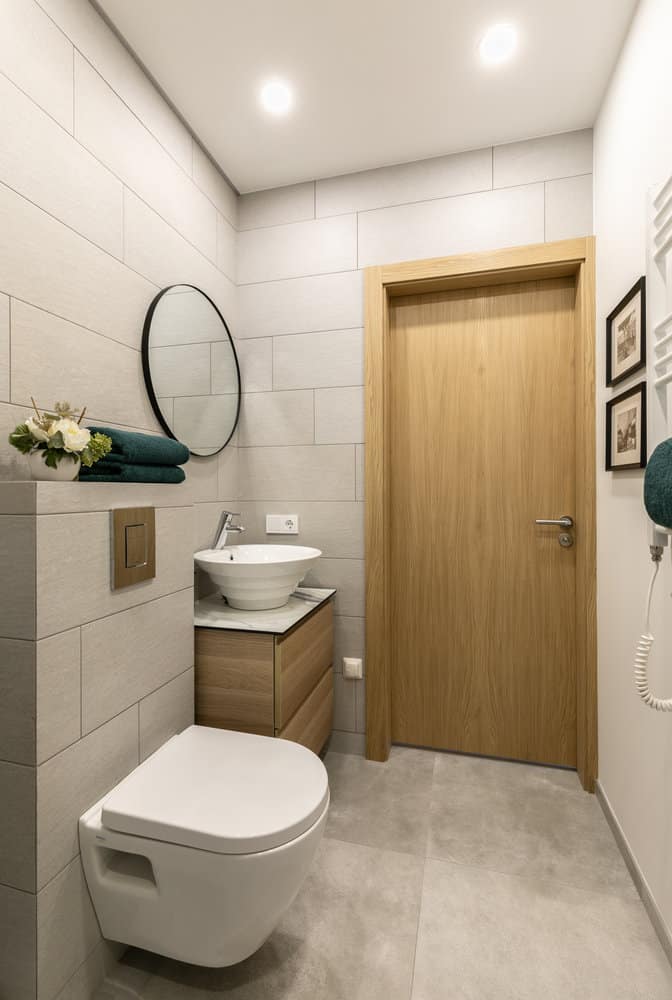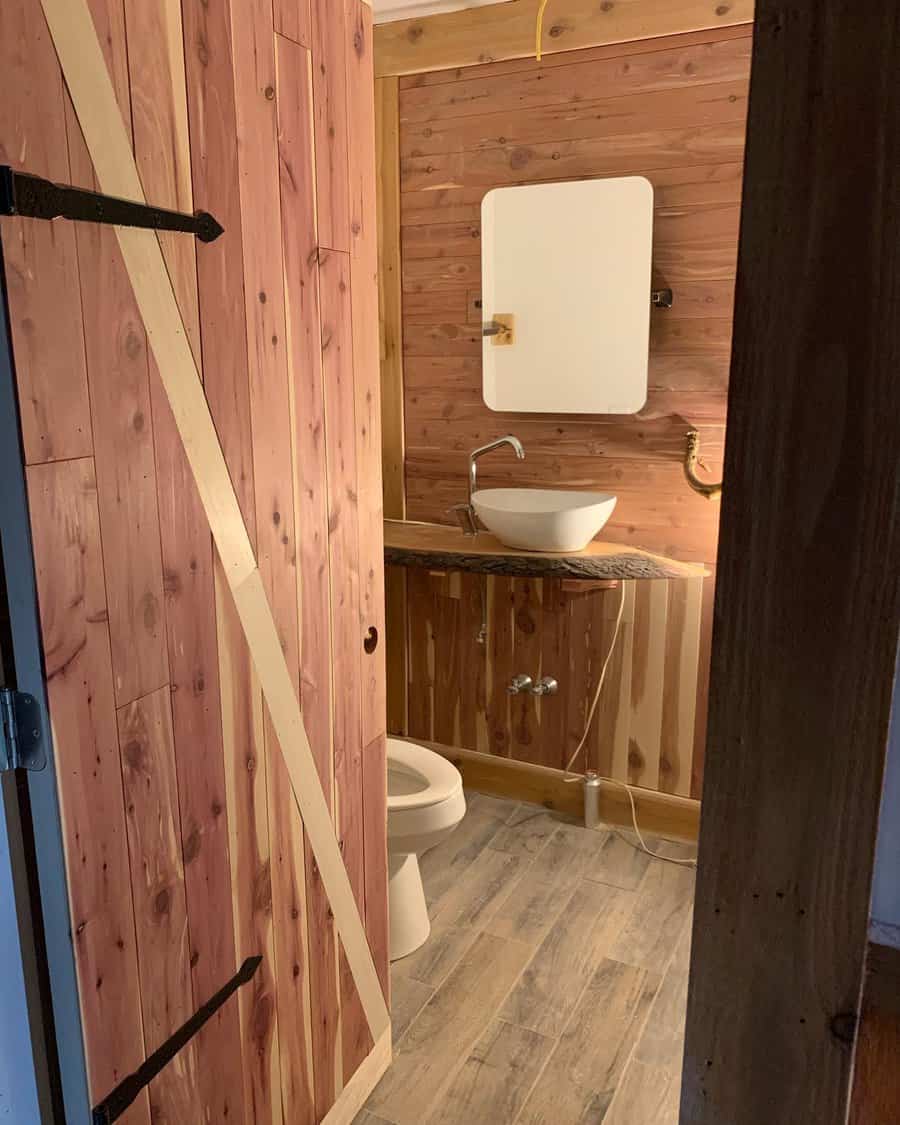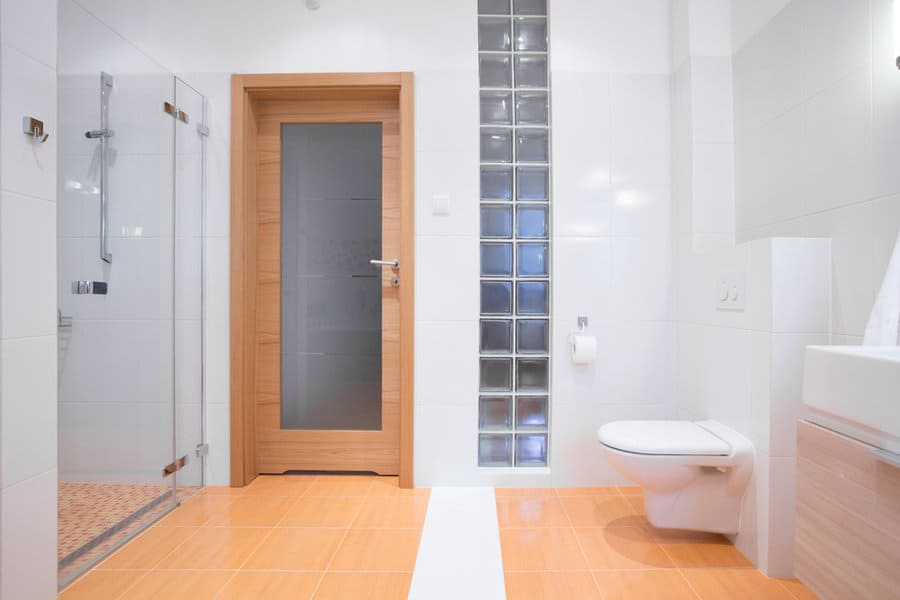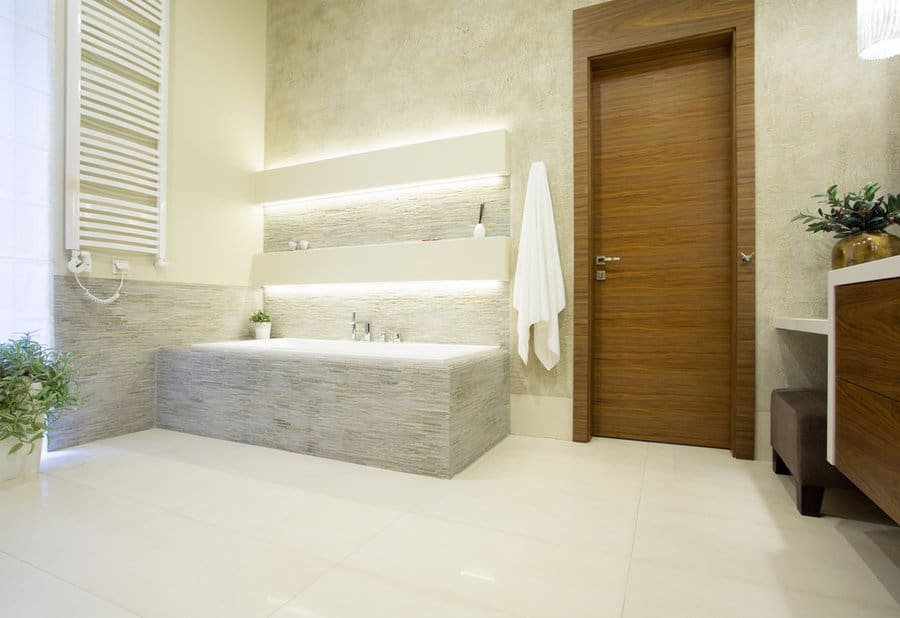 13. Add Color with a Bathroom Door
Transform your bathroom into a vibrant, personality-filled space with a dash of color on the door, making a striking statement and drawing attention. Opt for a rich, deep hue or a lively, bright shade to turn the door into an artistic focal point of your space. This choice adds a layer of visual interest, creating a lively contrast with the room's neutral tones and fixtures. A colored bathroom door not only enhances the room's aesthetic appeal but also ties together the overall theme or decor style, establishing a harmonious and stylish atmosphere.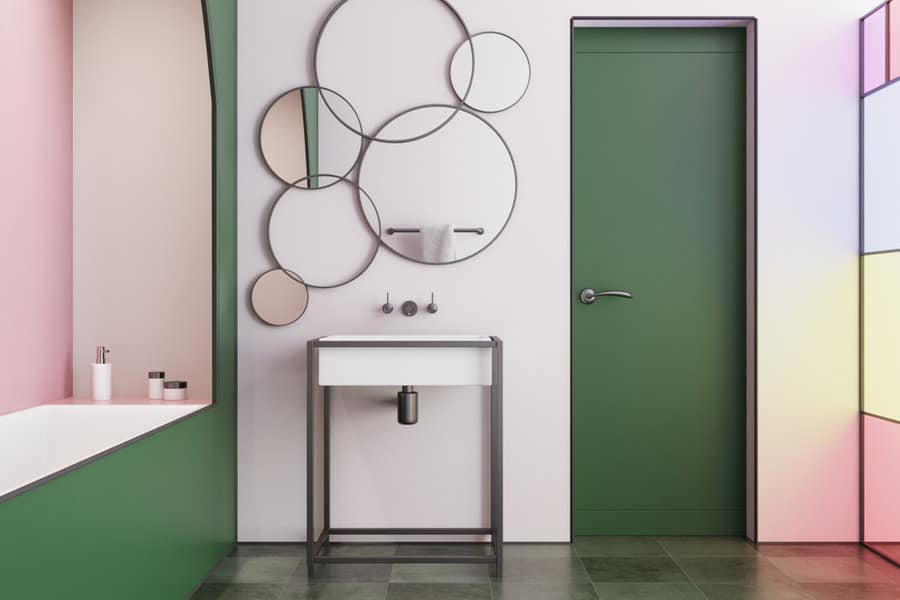 14. Artistic Flair with Stained Glass Door
Introduce an element of artistic grandeur to your bathroom with a stained glass door inspired by mid-century modern aesthetics. This door immediately captures attention, contributing character and a visual feast to your space. The vibrant colors and intricate patterns of the stained glass cast enchanting patterns of light and shadow, enveloping your bathroom in an ambiance of sophistication. Choose from a variety of designs, ranging from geometric precision, abstract creativity, to nature-inspired tranquility, ensuring a perfect fit for your personal style. Besides its visual prowess, a stained glass door maintains privacy while gently diffusing natural light into the space, creating a tranquil and mesmerizing environment.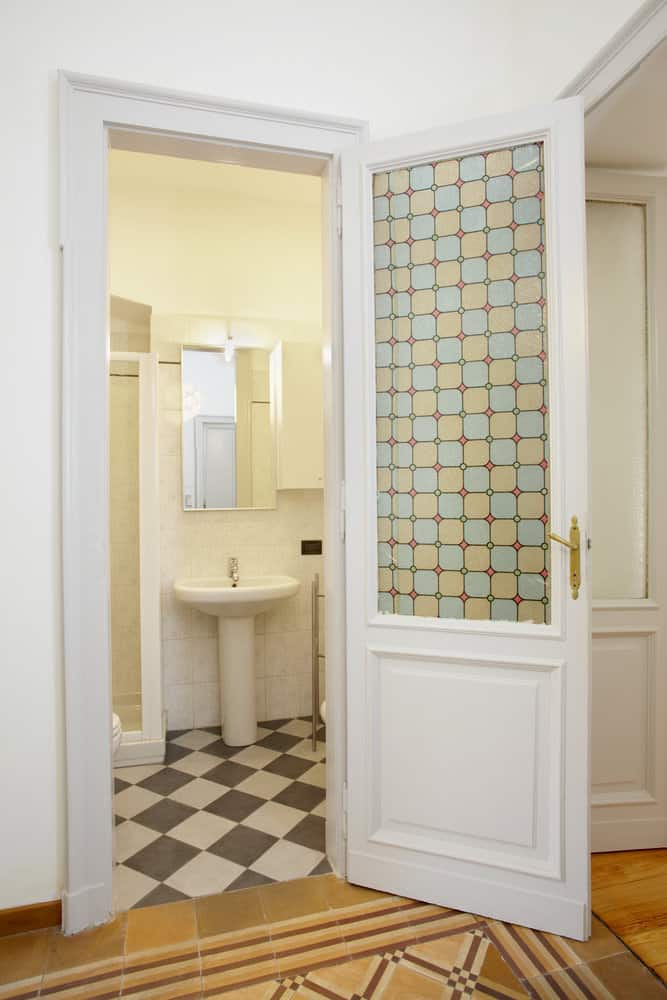 15. Convenient Double Sliding Bathroom Access
Optimize your bathroom's space and style with a double sliding bathroom door, merging functionality with contemporary aesthetics. This door style enhances your space with its sleek design and smooth gliding motion, contributing a modern vibe to the bathroom's overall look. Its space-saving sliding mechanism is a boon for smaller bathrooms or for those who prefer a minimalist appearance, as it eliminates the need for floor space-hogging swinging doors. The double sliding feature also ensures convenient and easy access from both sides, adding a layer of practicality for all household members.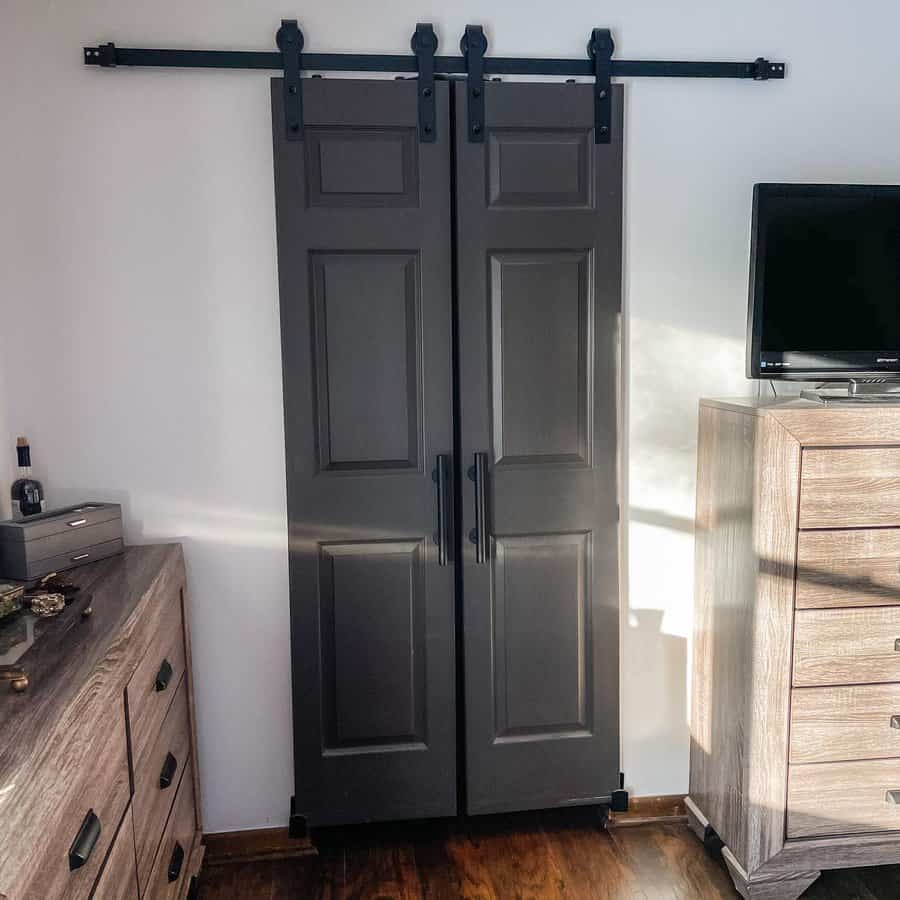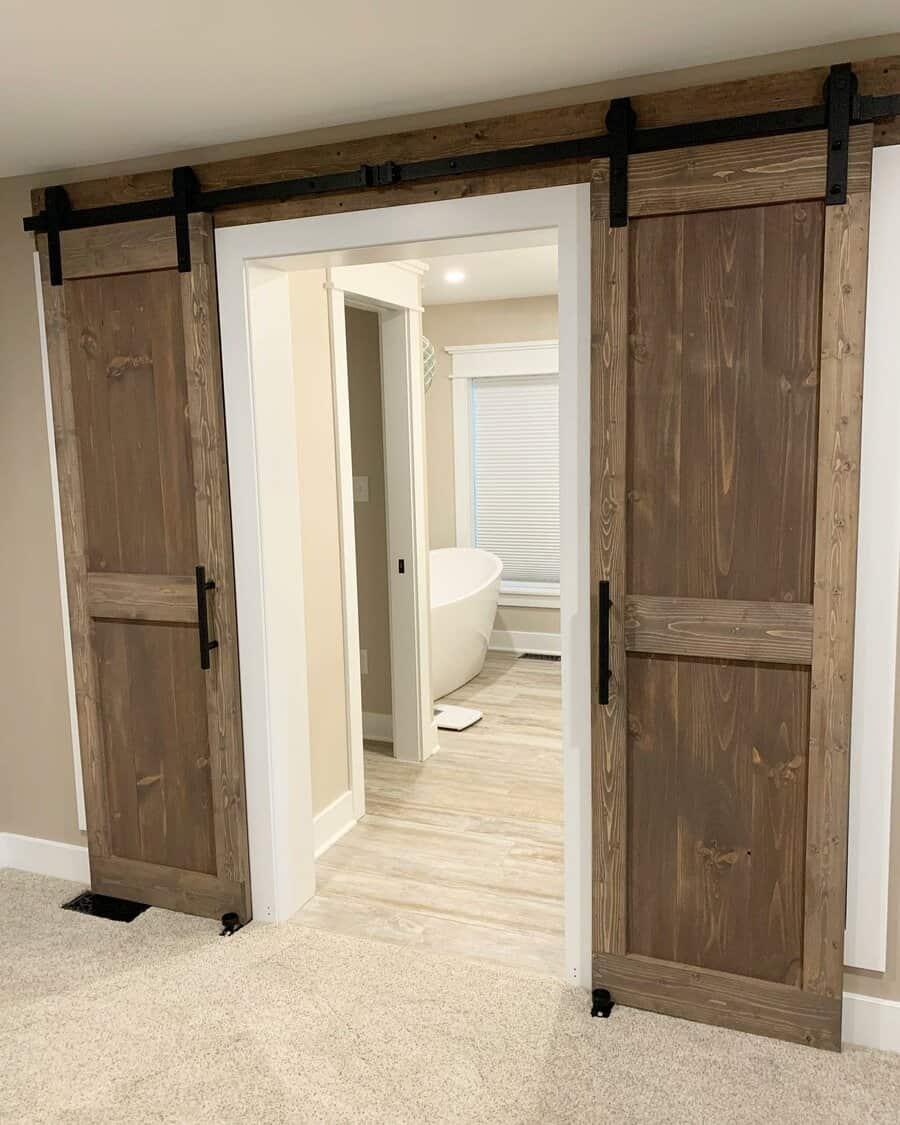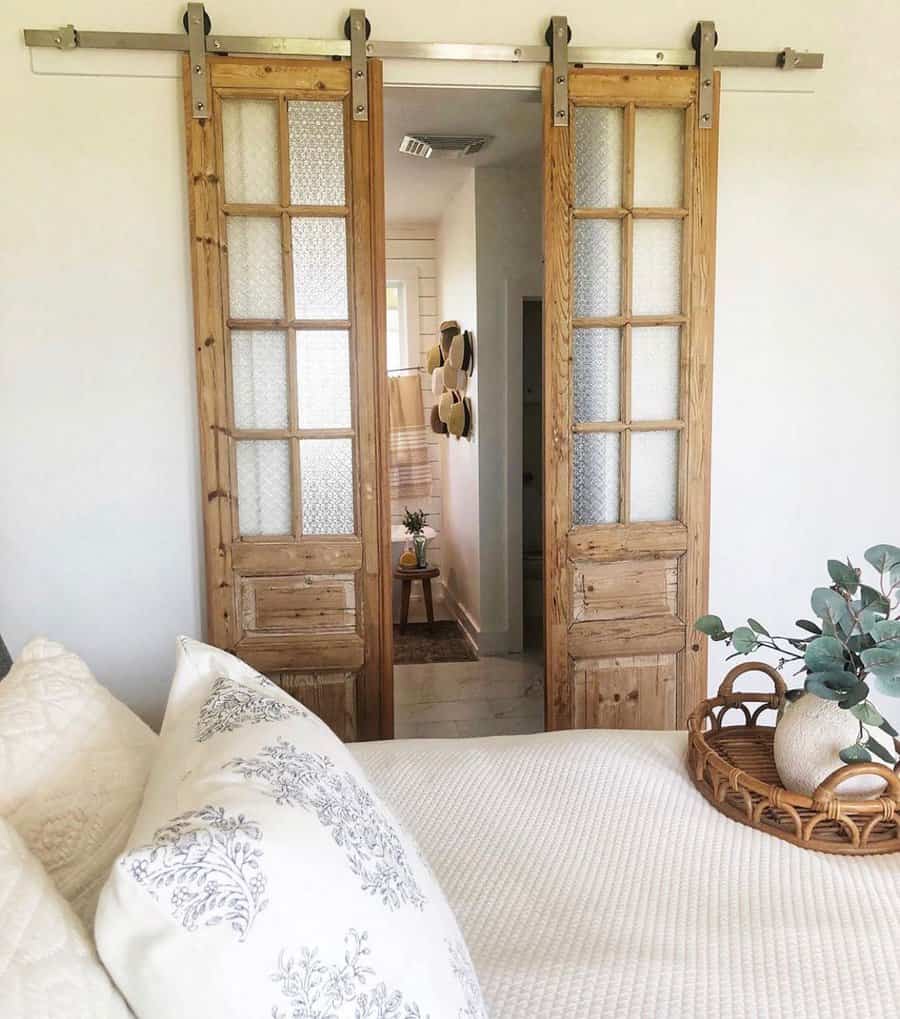 Bathroom Door FAQs
What is the best material for a bathroom door?
Nearly any interior door can be used for the bathroom. Just be wary of materials that can warp or degrade with too much moisture exposure.
Many interior designers and contractors recommend PVC doors over all others for the bathroom. This is because PVC is waterproof and will hold up extremely well to anything your bathroom throws at it!
Should a bathroom door swing out or in?
The direction a bathroom door is mounted is largely up to the home's layout! Limitations aside, there is no rule about which way a bathroom door should swing (though there are benefits and drawbacks to each direction).
A bathroom door that swings inward can be a headache if the room itself is quite small. We've all seen photos of ill-planned bathroom doors that won't open without hitting the toilet bowl.
Meanwhile, a bathroom door that opens outward can be an obstacle for anyone walking past. This is especially a problem for bathrooms that connect directly to narrow hallways.
Of course, you can forego this debate altogether by opting for a sliding door!