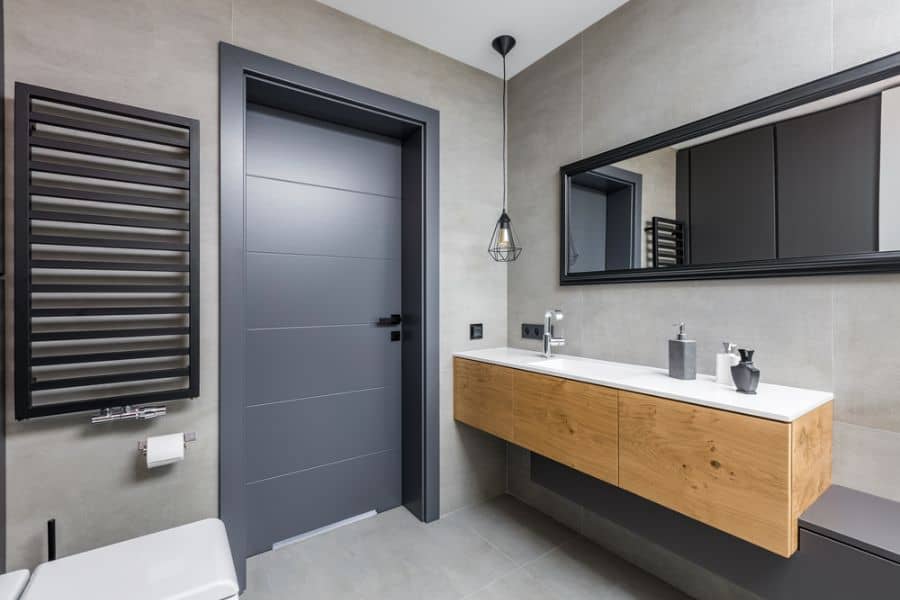 The Top 72 Bathroom Door Ideas
When was the last time you thought about the doors inside your home? While it's not uncommon to invest in stylish upgrades for the bedroom or formal dining room, spaces like the bathroom tend to go overlooked.
Selecting the perfect bathroom door isn't just about color or hardware style, either.
Keep reading for our favorite bathroom door ideas that will ensure you can shower in peace.
1. Contemporary
The current trend in door design is sleek and modern. A contemporary bathroom door will give your home a fresh, fashion-forward appearance with minimal effort.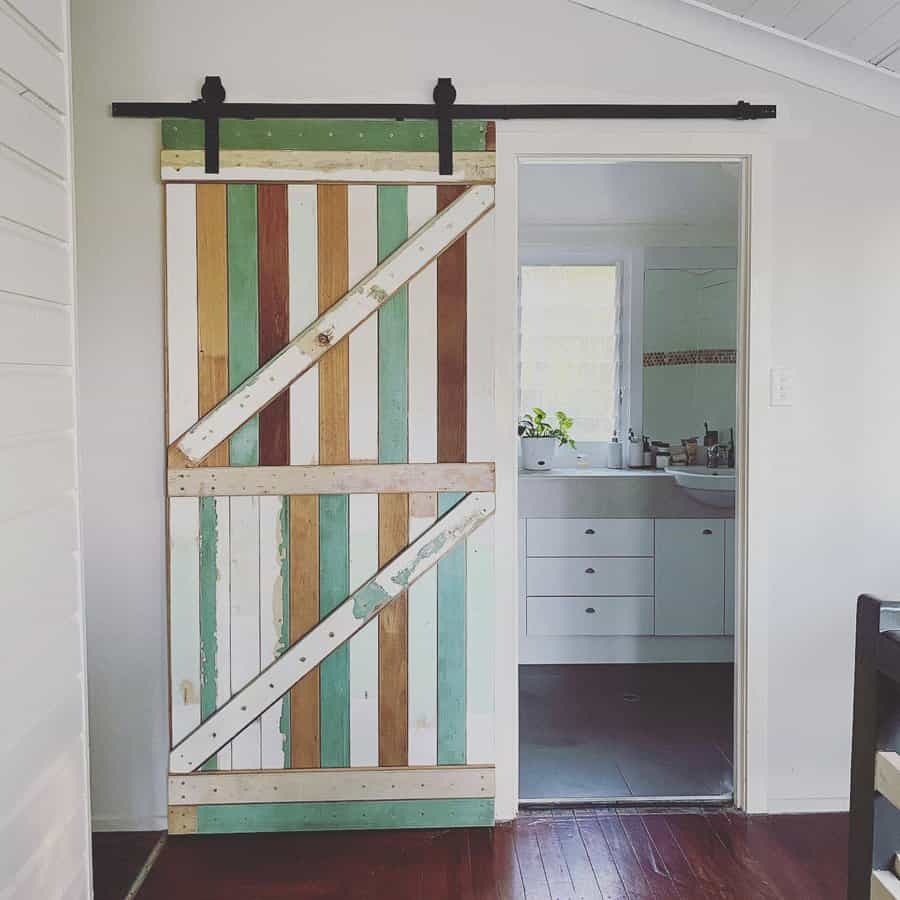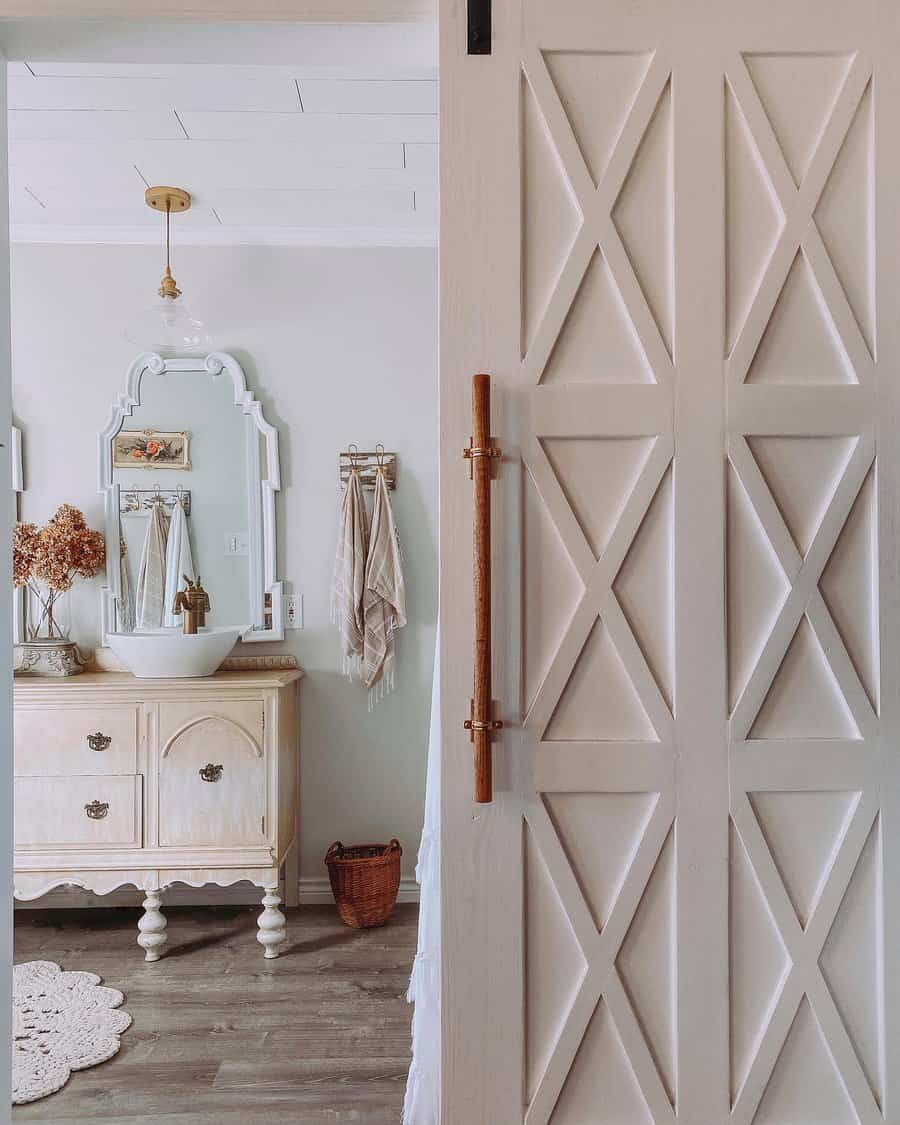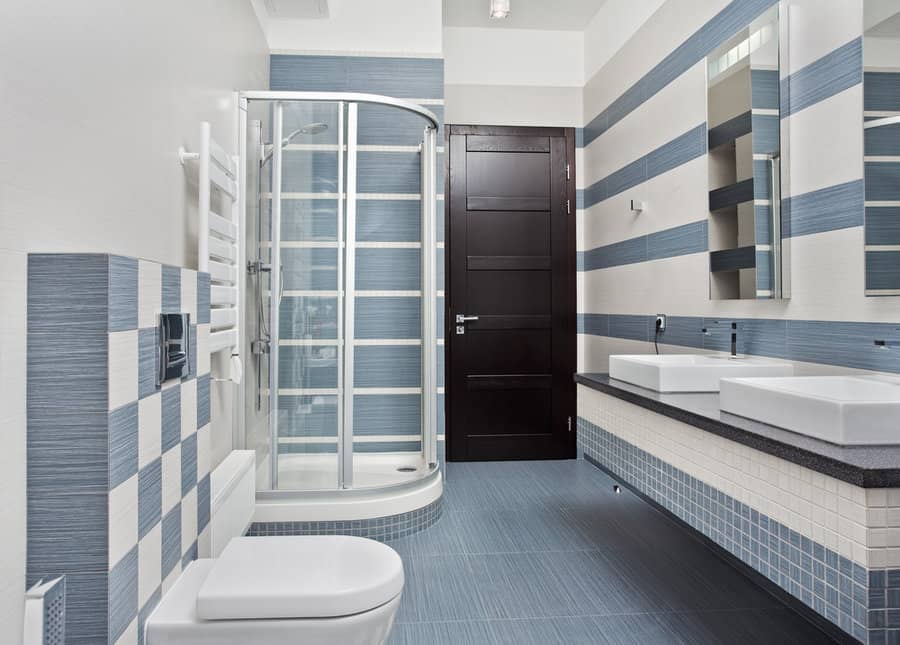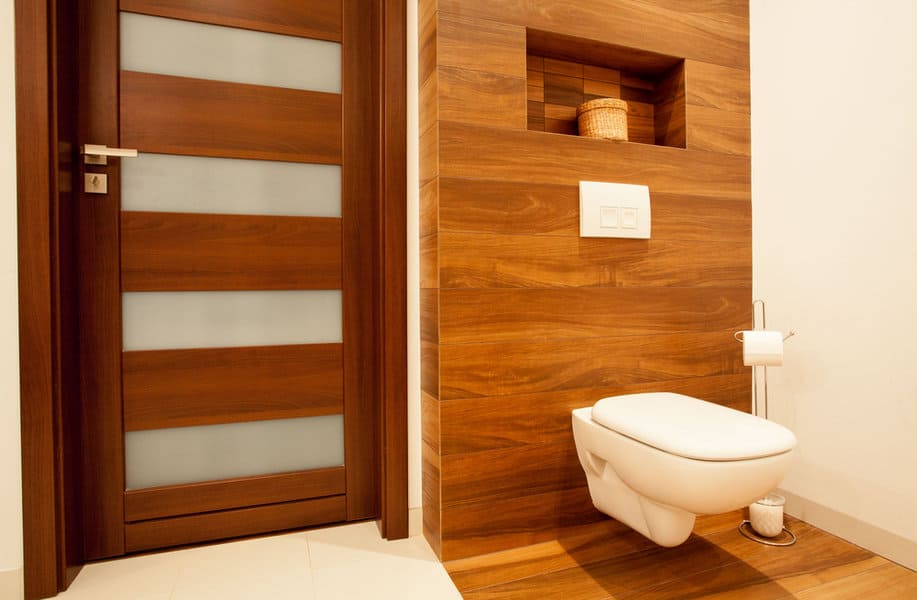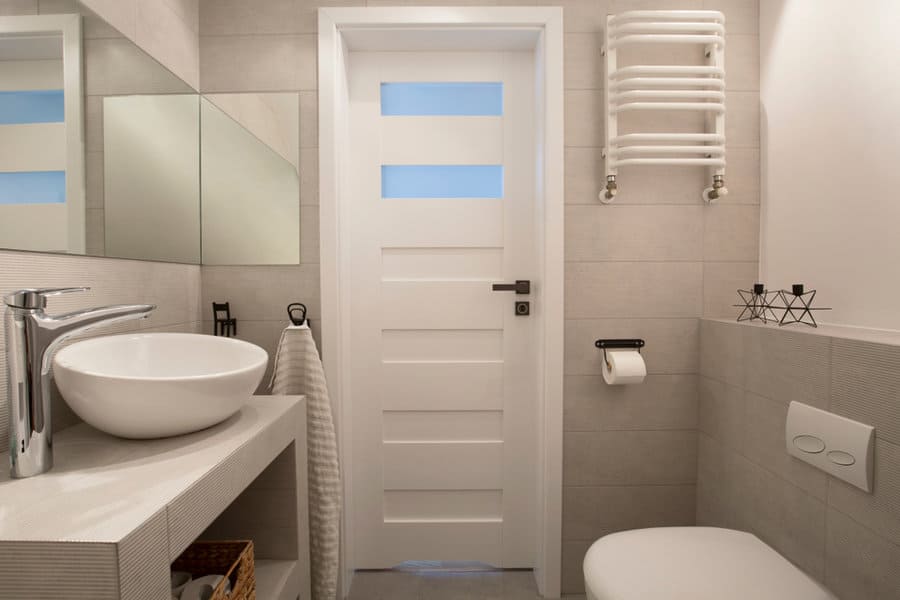 One of the best things about contemporary design elements is that they are fairly universal. Just be wary of investing in a passing trend that will fall out of favor soon!
For maximum longevity, opt for the simplest door possible and add personality via hardware or mounted decor. These details can be swapped out at any point in the future for a brand new aesthetic.
2. Dark Color
The use of dark colors in a space as small as the average bathroom is often seen as a design no-no. But you shouldn't let that stop you.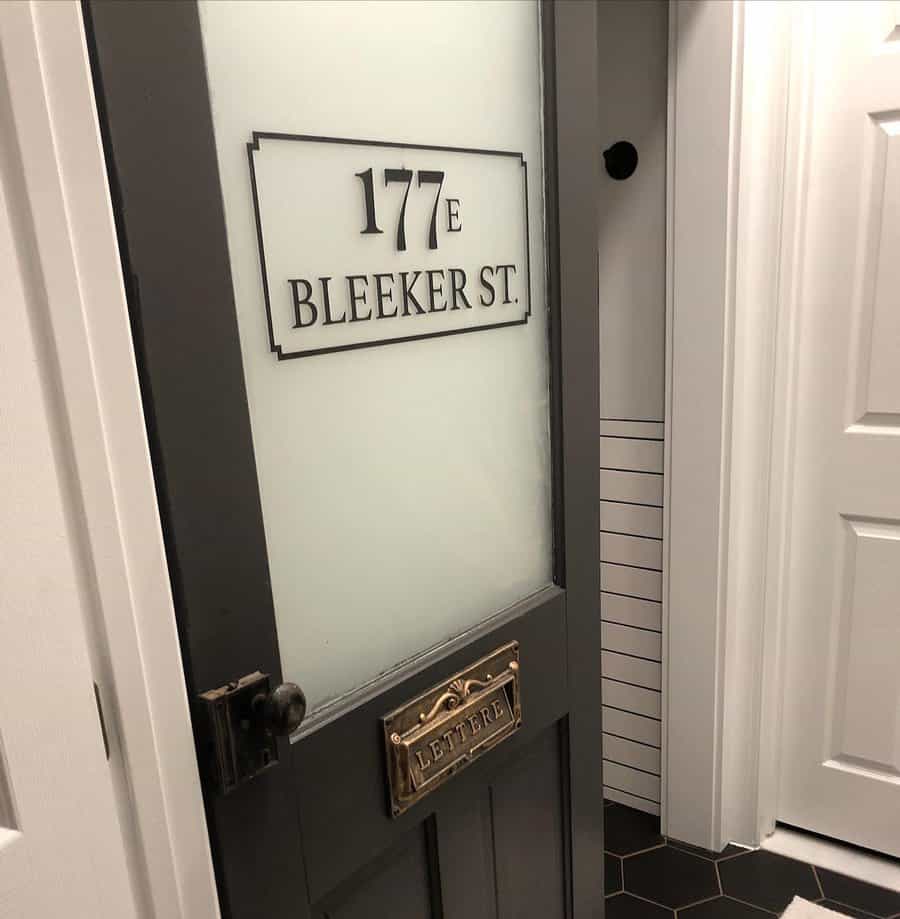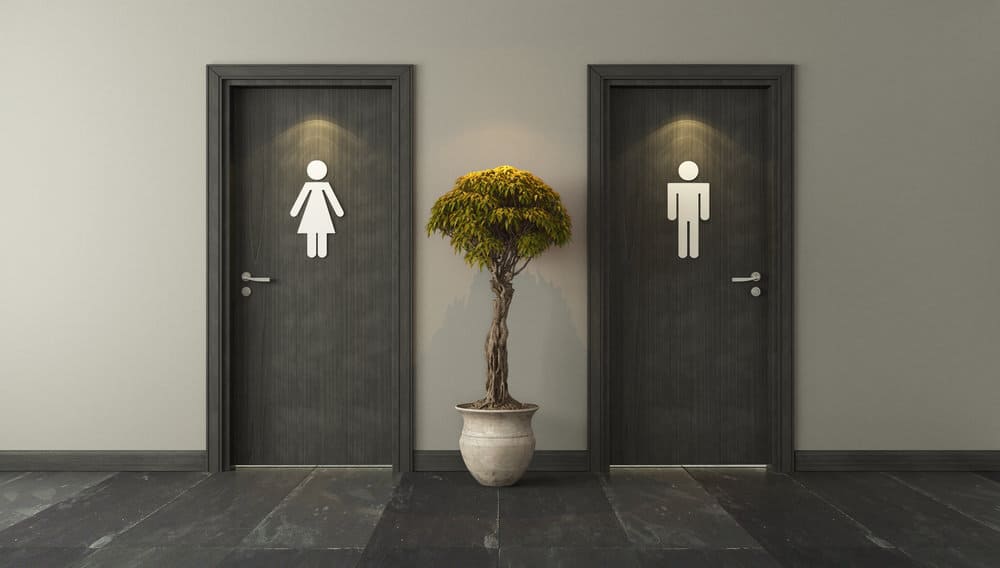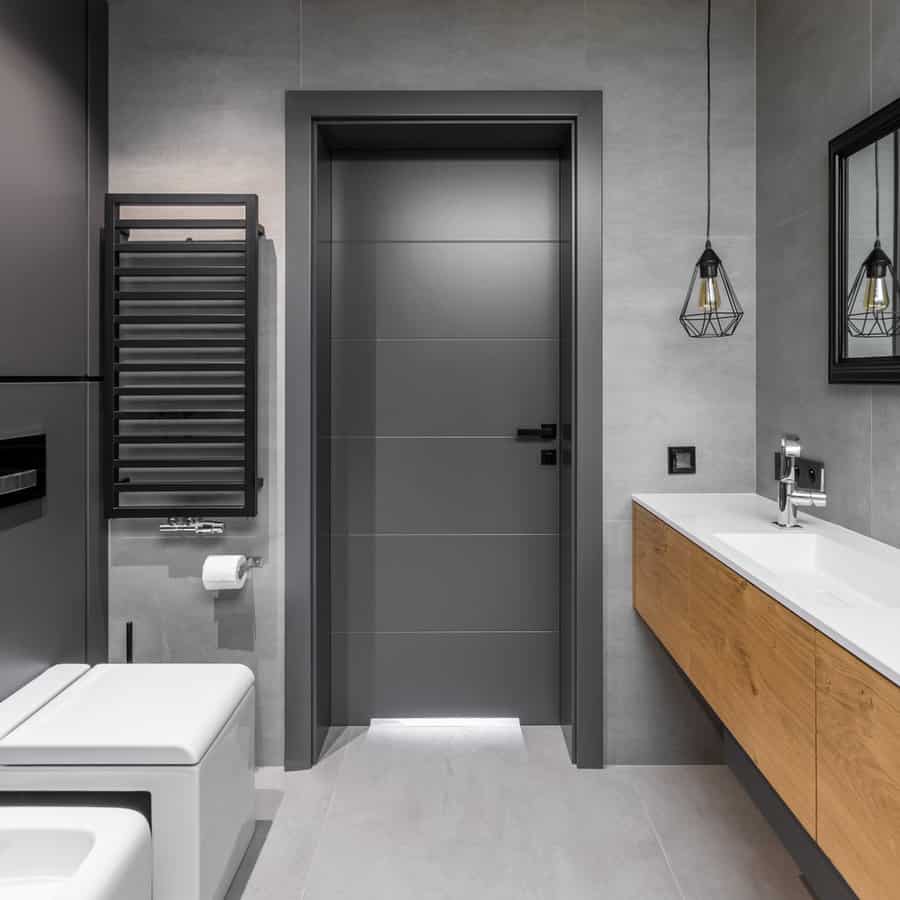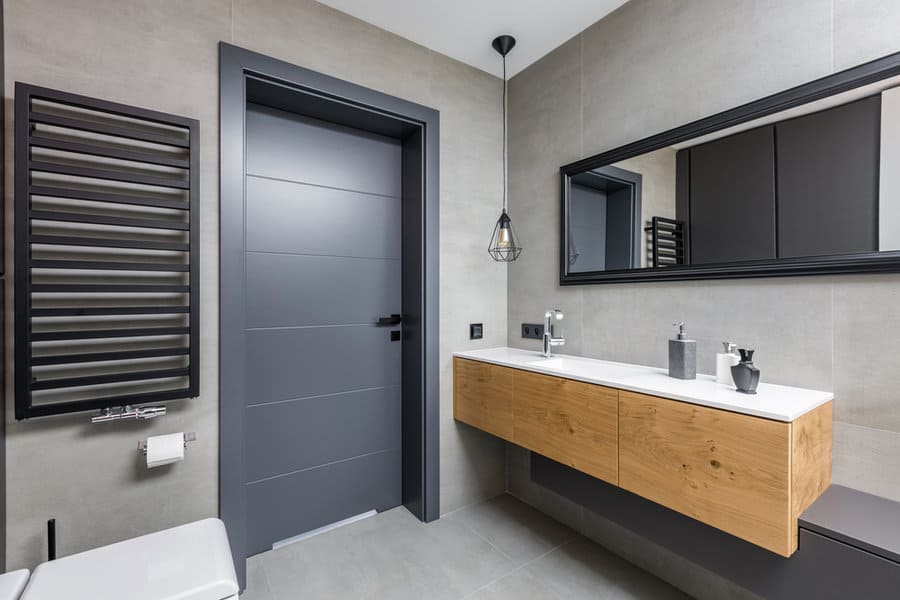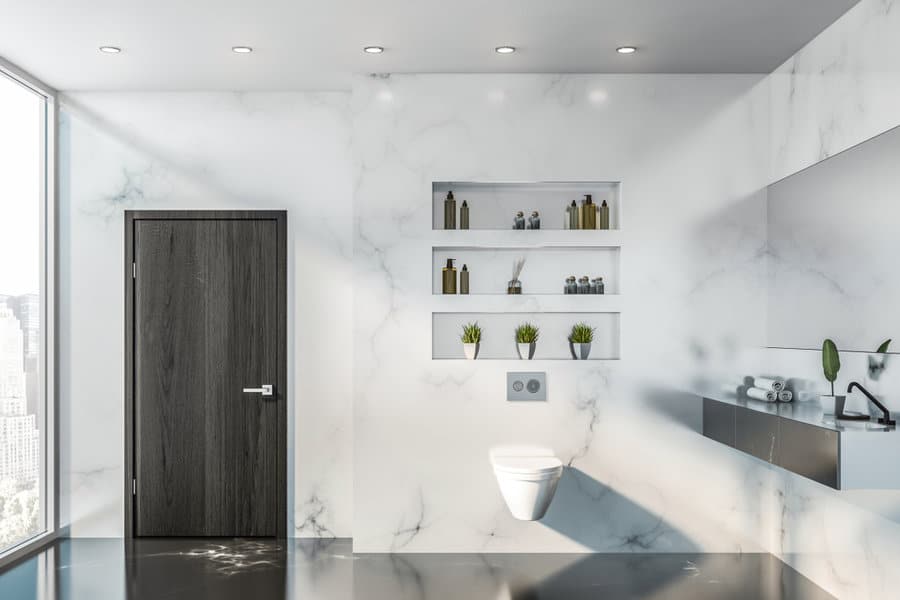 In reality, dark colors are totally okay to use in any size room. It's all about how you use them. A dark door is the perfect way to explore this concept without overpowering your bathroom.
While a dark door is likely to contrast against the rest of the space, it should still complement the room as a whole. Opt for a dark wood grain or glass-paned door for a bit more softness.
3. Decorative
It's easy to overlook interior doors as potential canvases within your home's design. And few rooms are better for this unexpected bit of decor than the bathroom.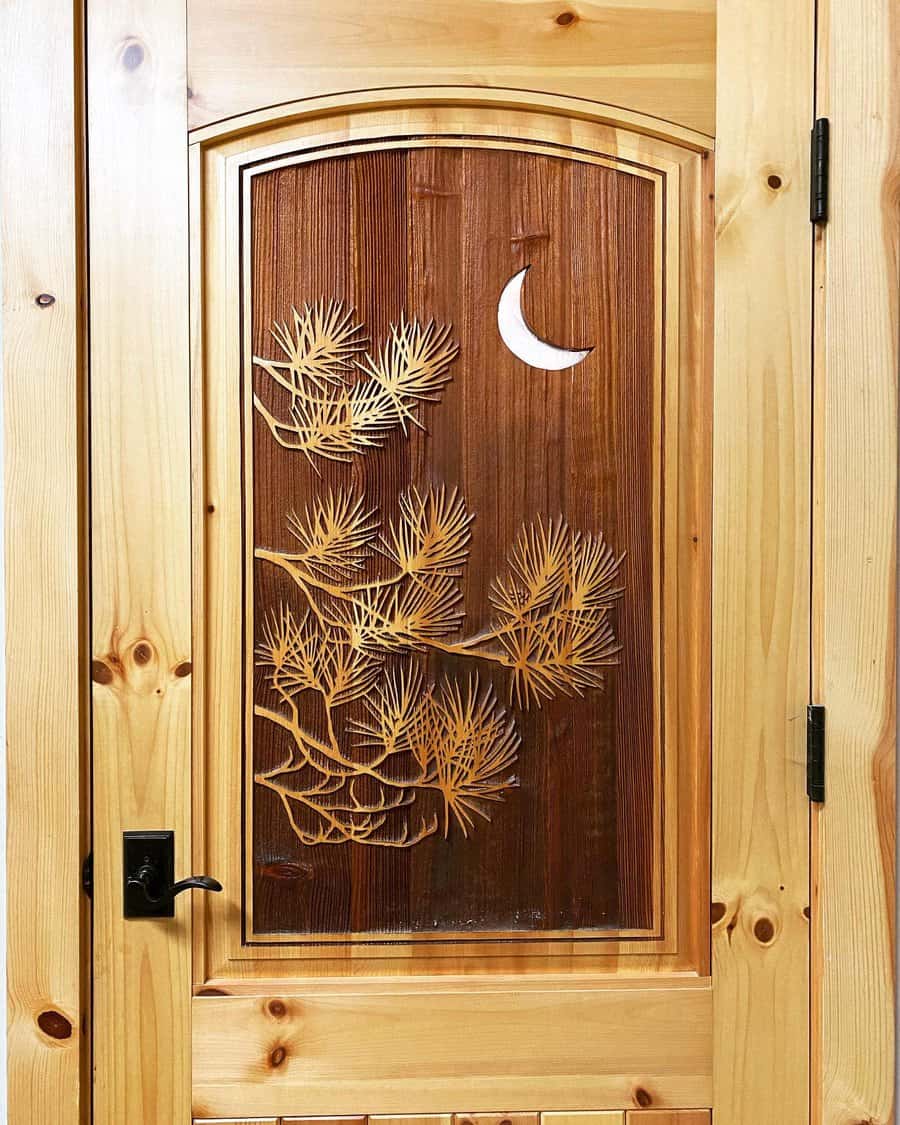 A mural is a surprisingly simple way to freshen up an outdated or damaged bathroom door finish. If you're not artistically inclined, consider using stencils or peel-and-stick wallpaper to bring your ideas to life.
Patterned overlays can be applied to wood, glass, and other common door materials to create a unique design. Pair the finished look with contrasting door hardware for an extra pop.
4. Frosted Glass
Glass doors are gorgeous but not always practical for a space like the bathroom. That's where frosted glass steals the spotlight.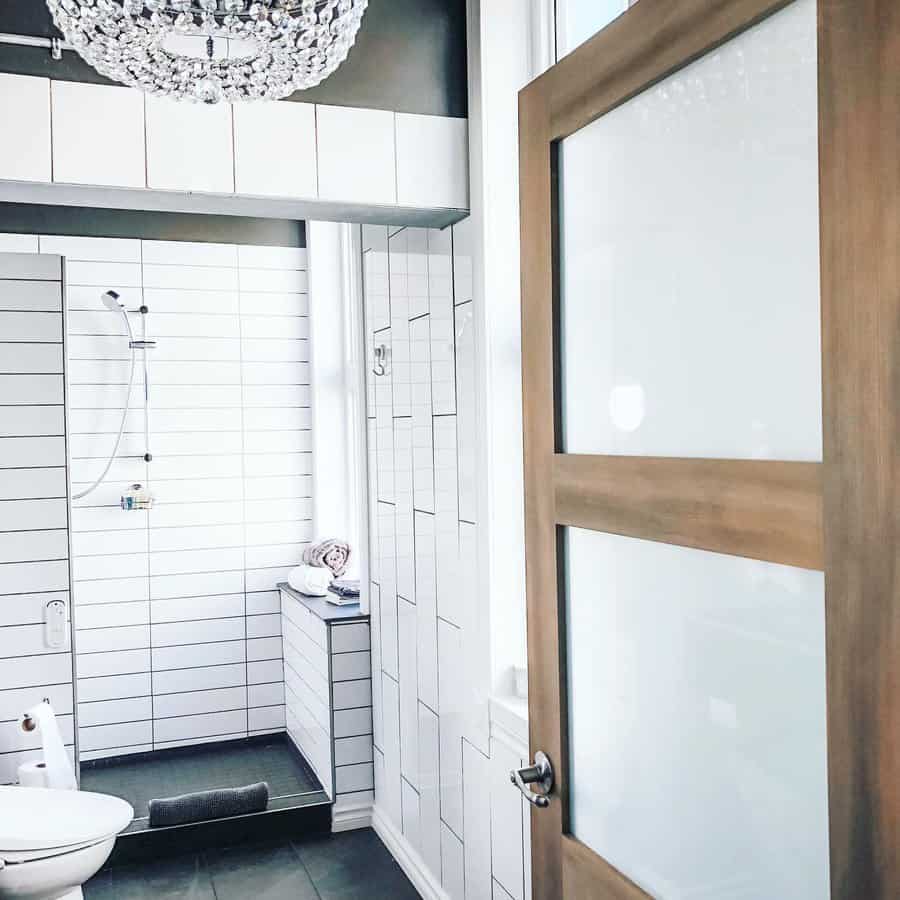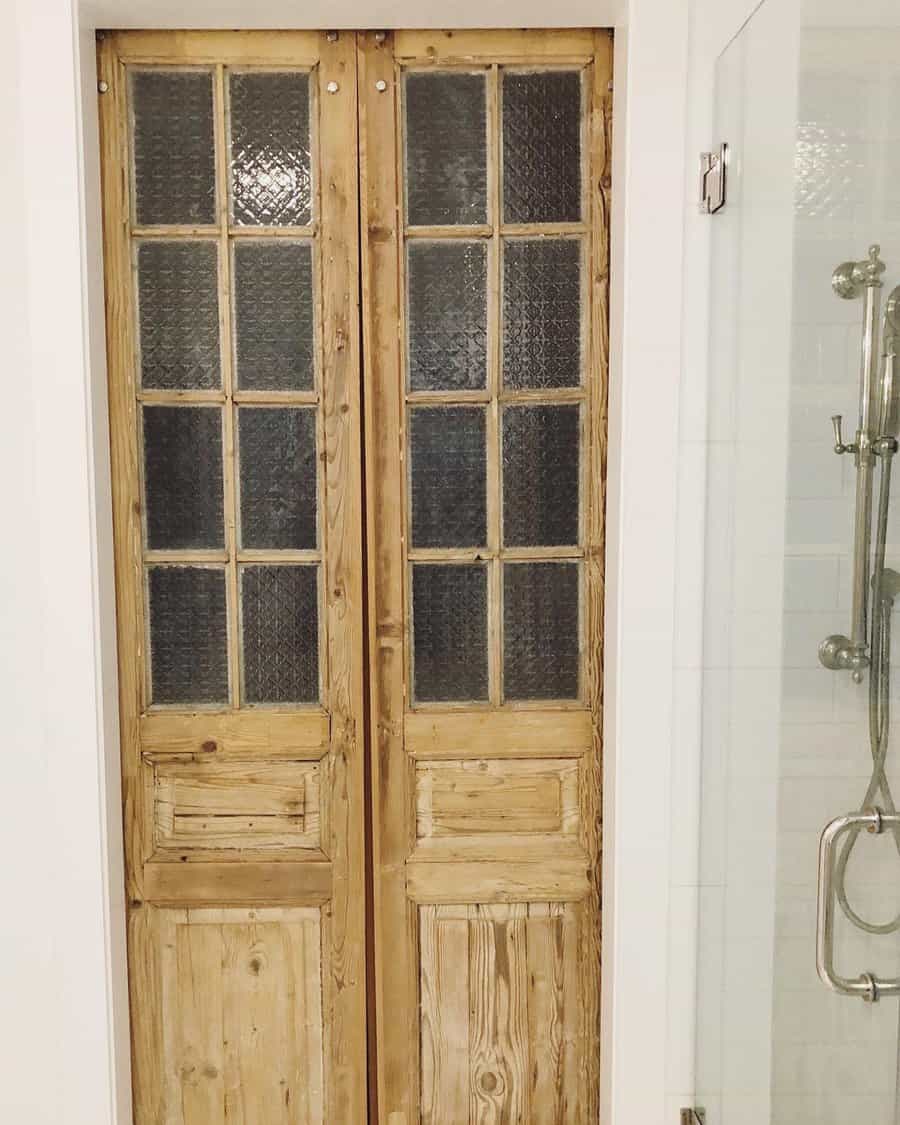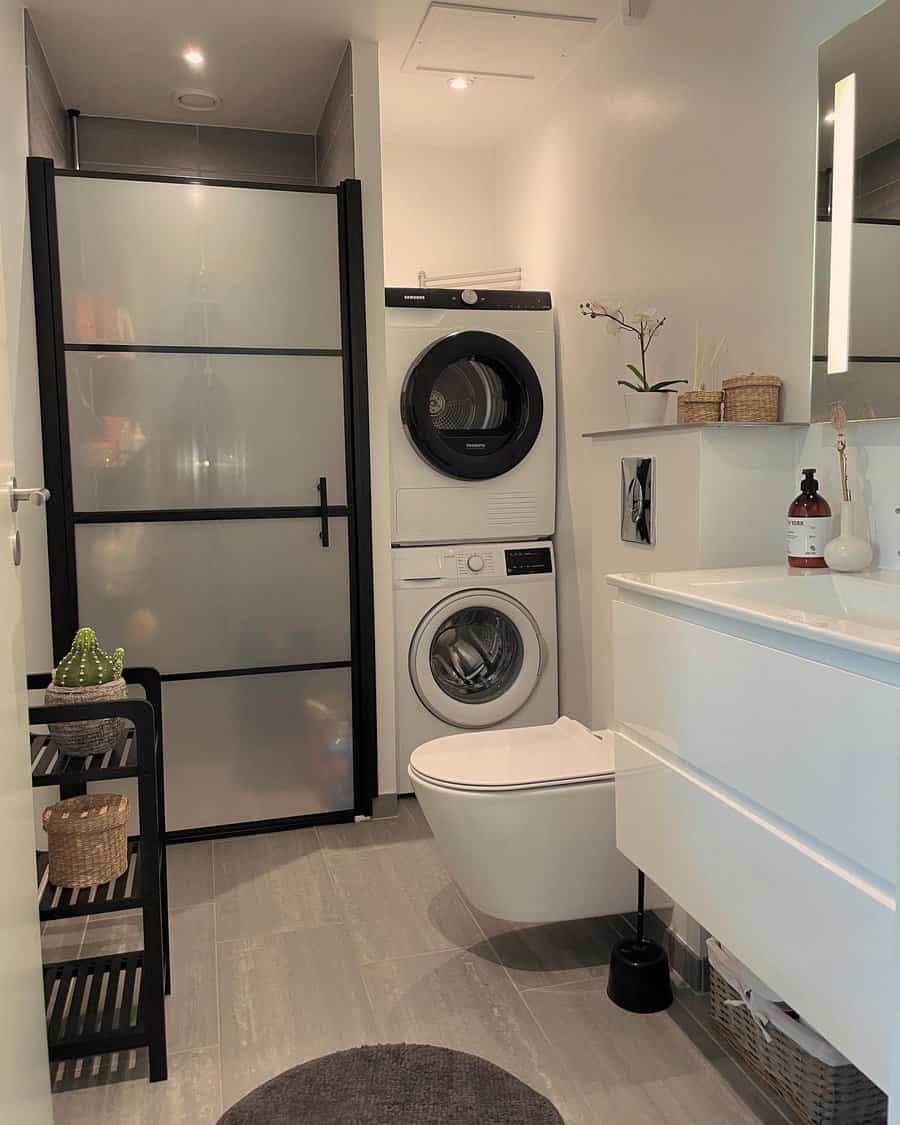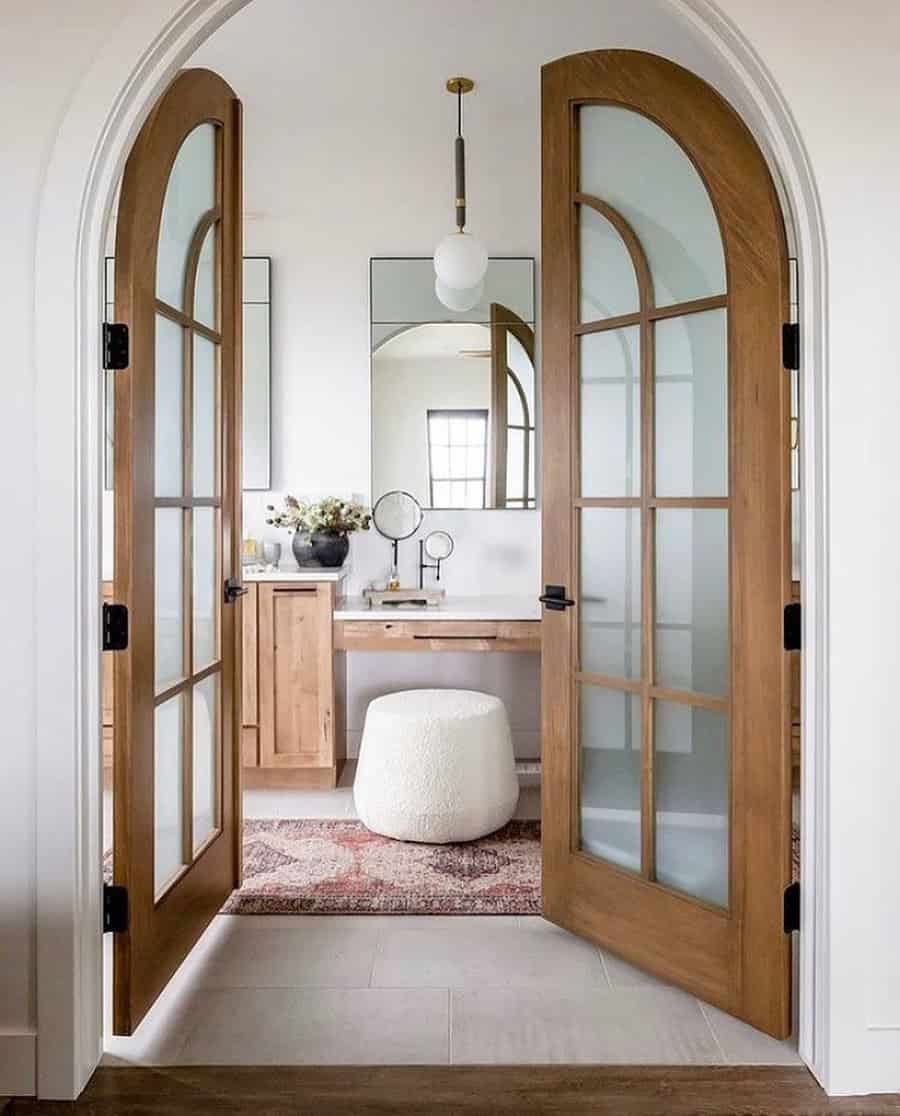 There are plenty of reasons to opt for a glass door. Frosted glass offers all of the same benefits without sacrificing much-needed privacy.
You can use frosted glass doors throughout your bathroom design. While we love the idea of mounting a frosted French door at your bathroom entrance, this material also works great as a shower partition.
5. Glass
You don't need to forego clear glass entirely when selecting a bathroom door. But you may need to expand your creativity.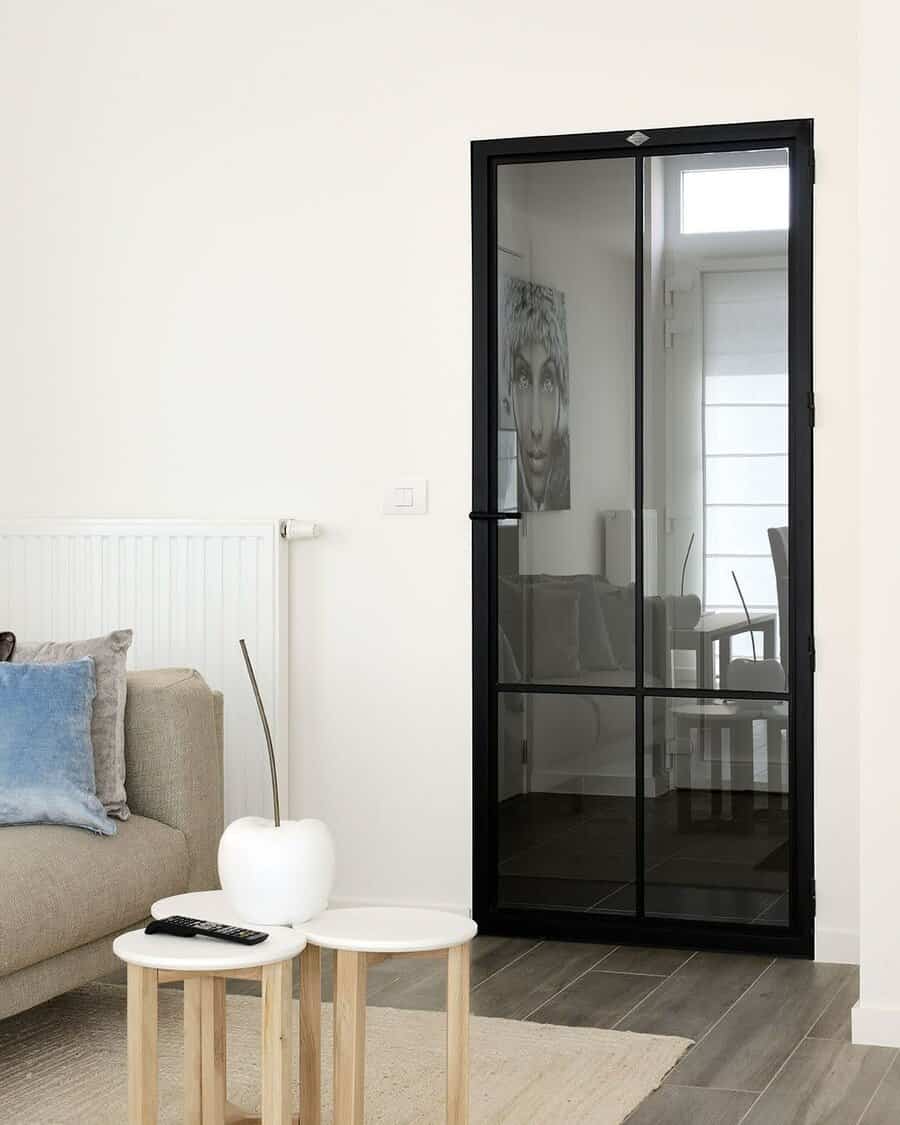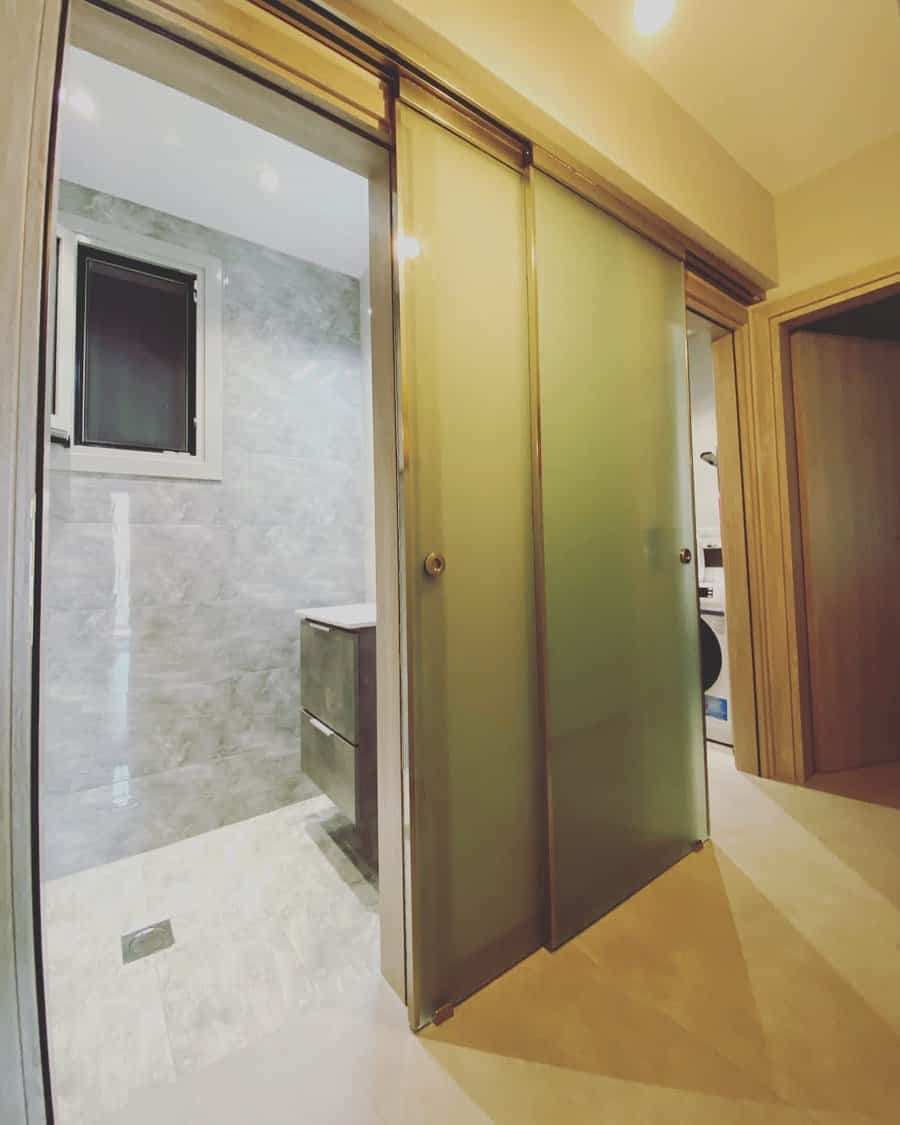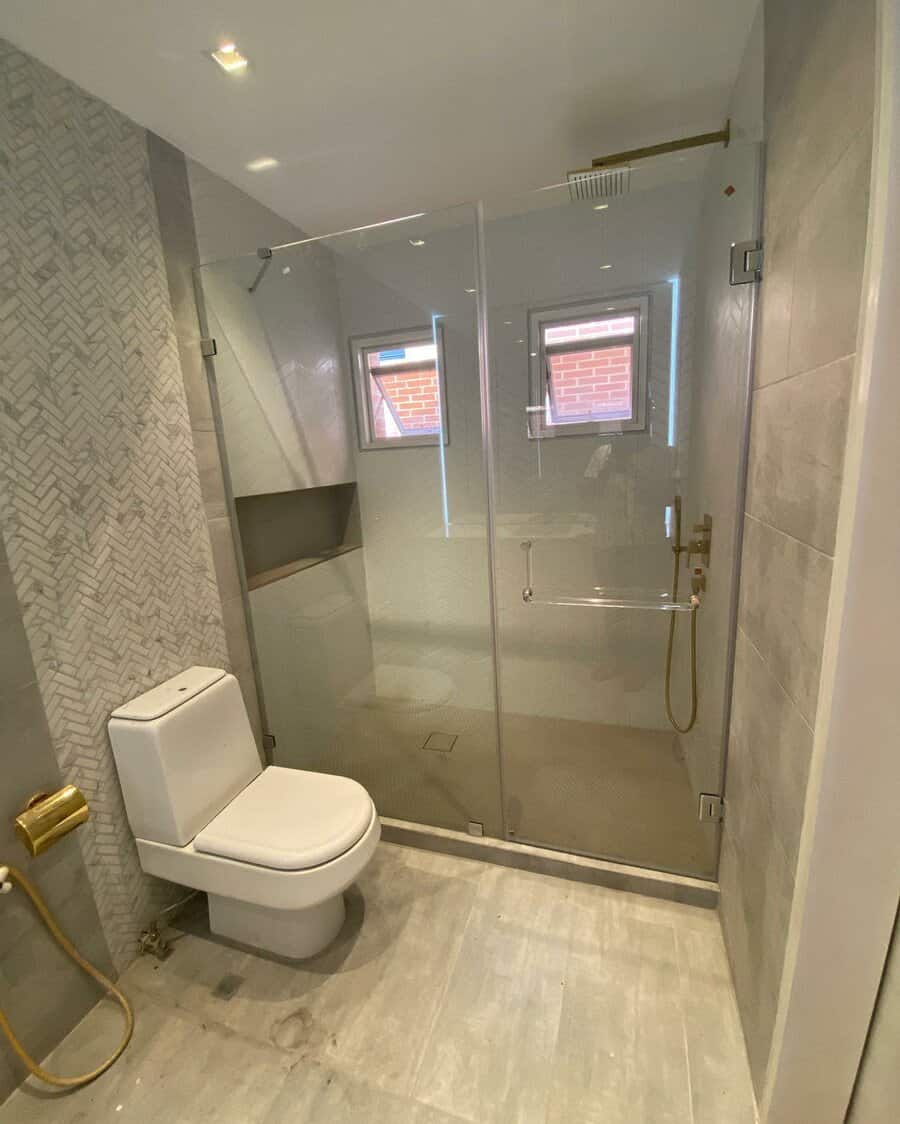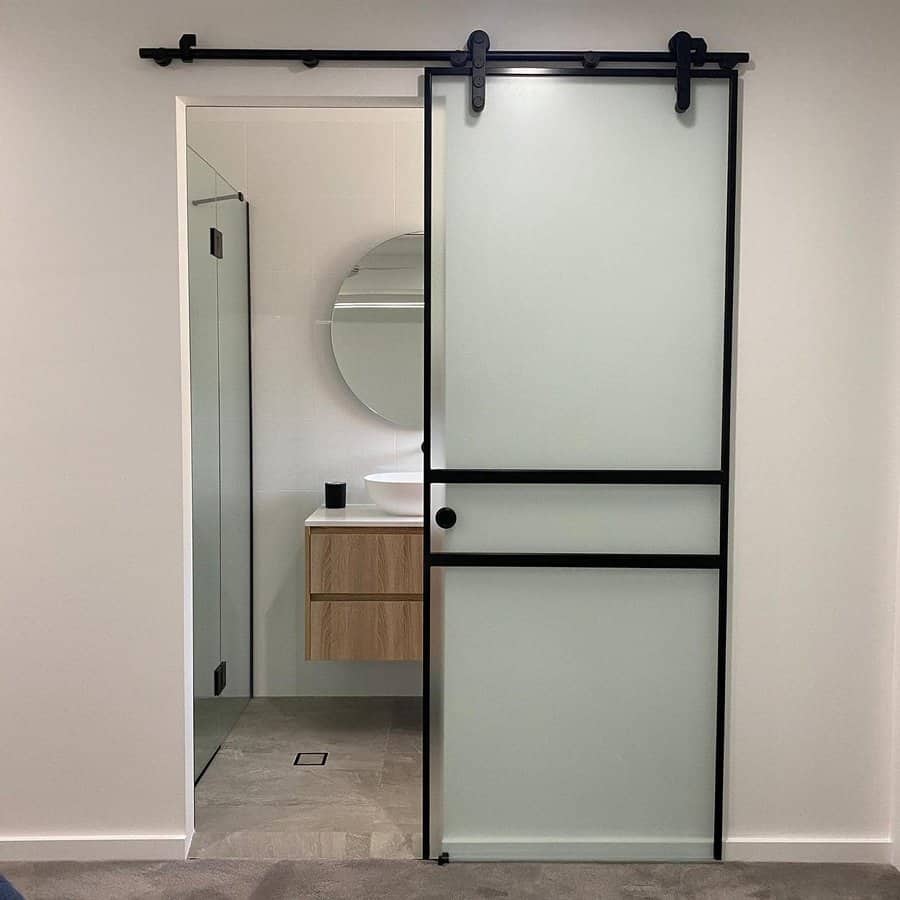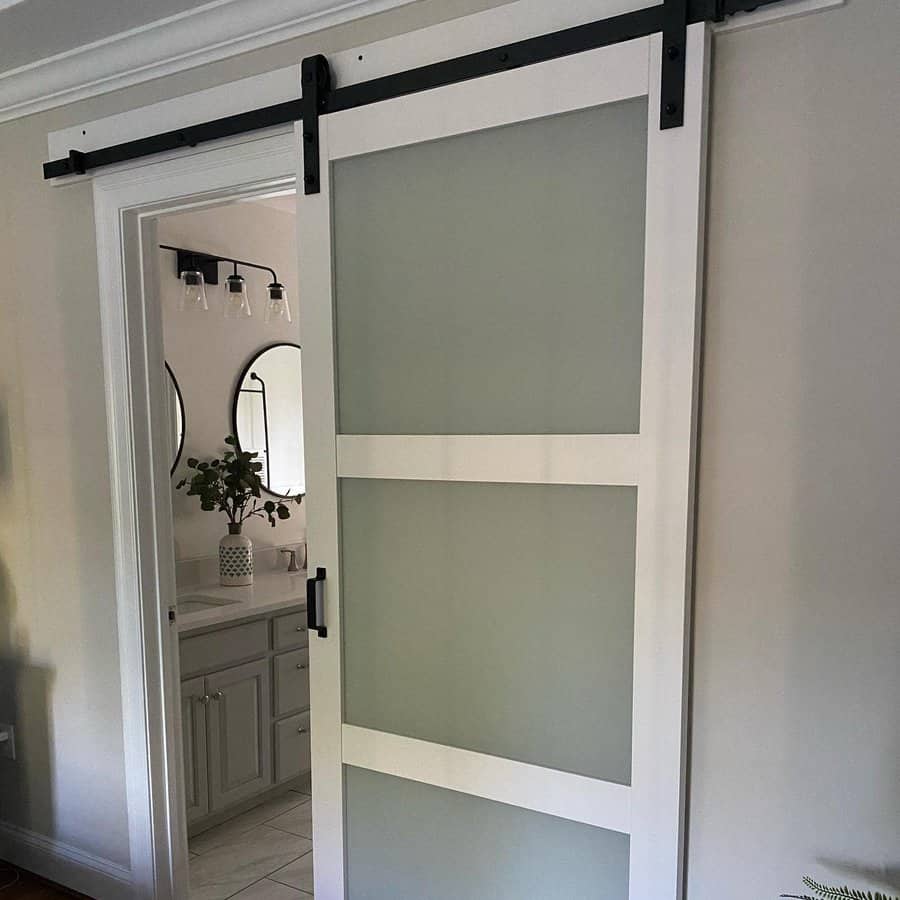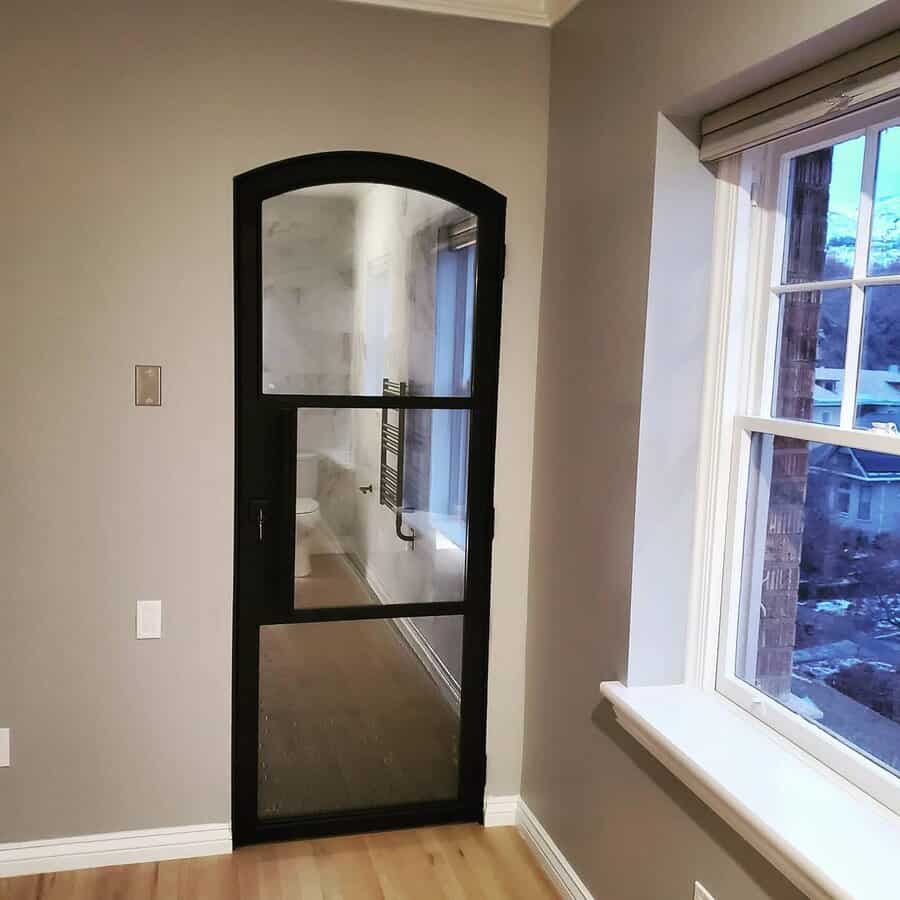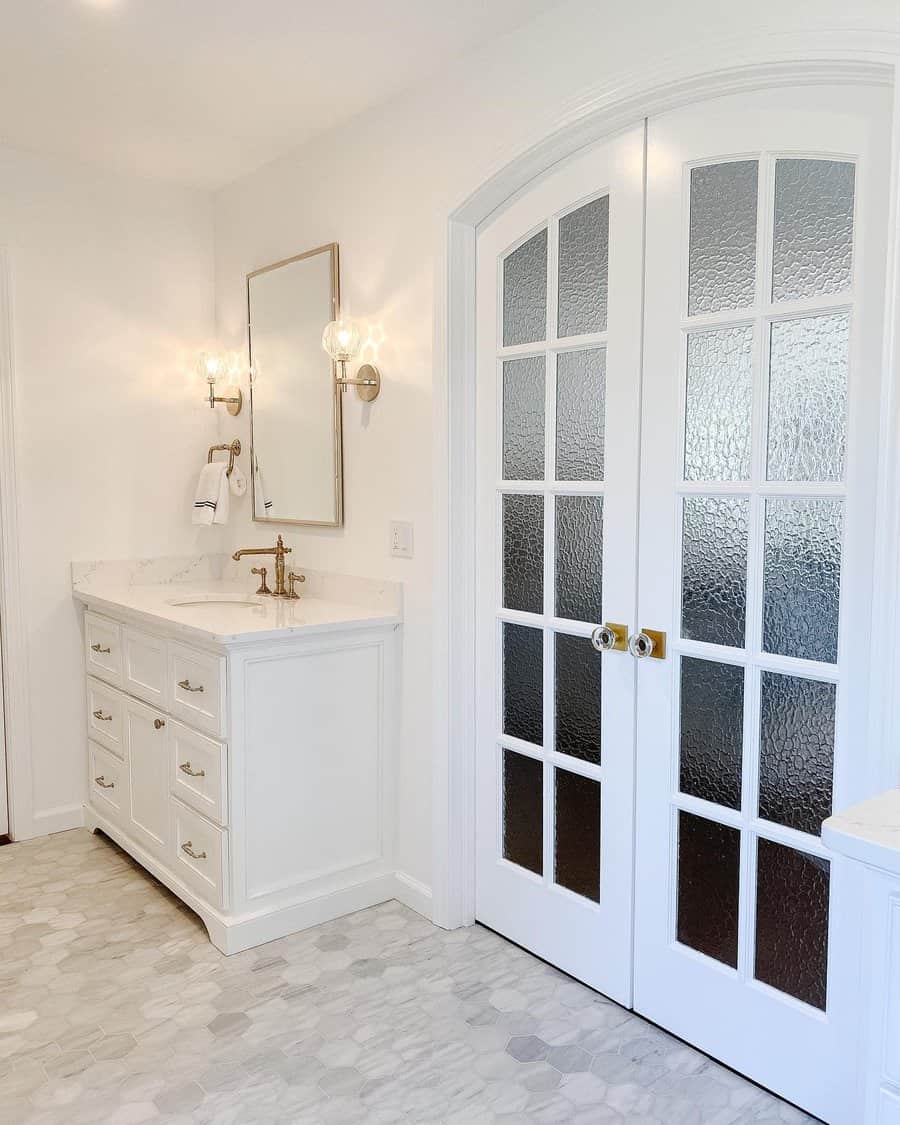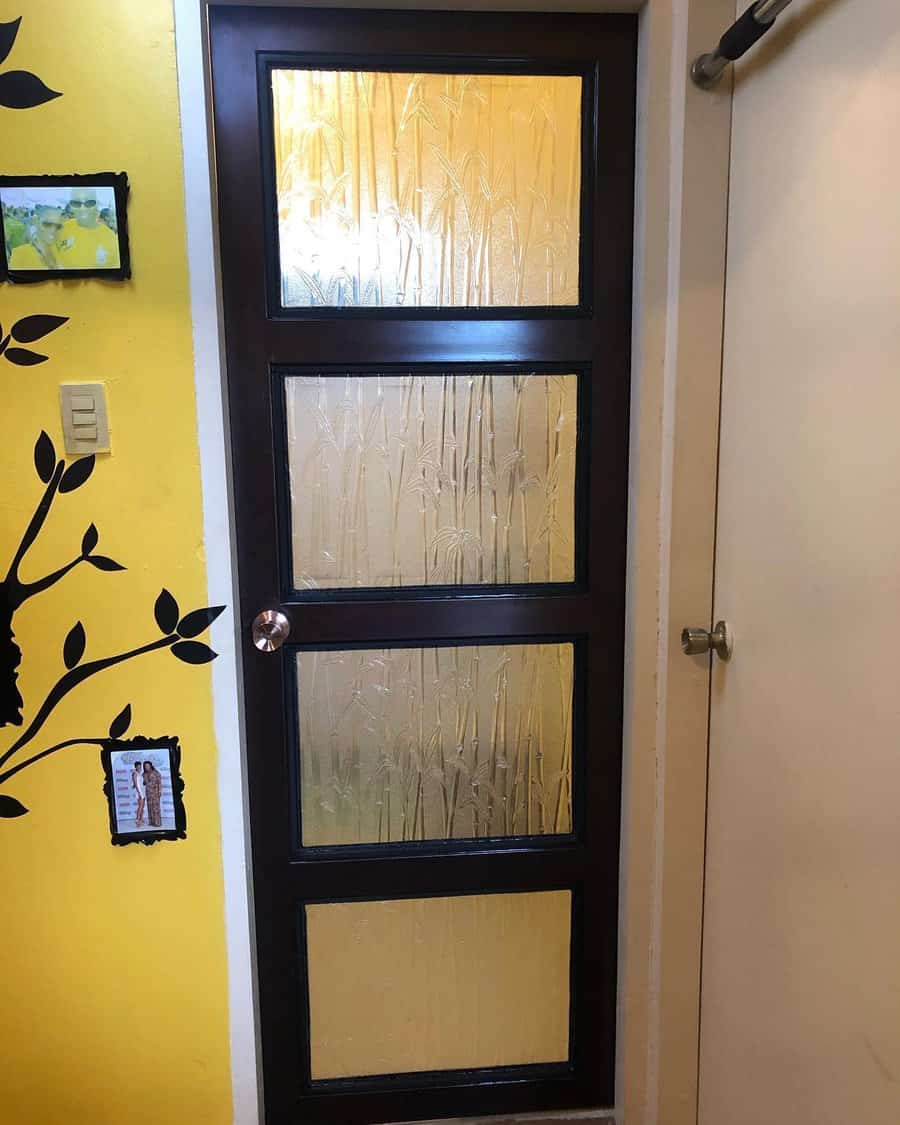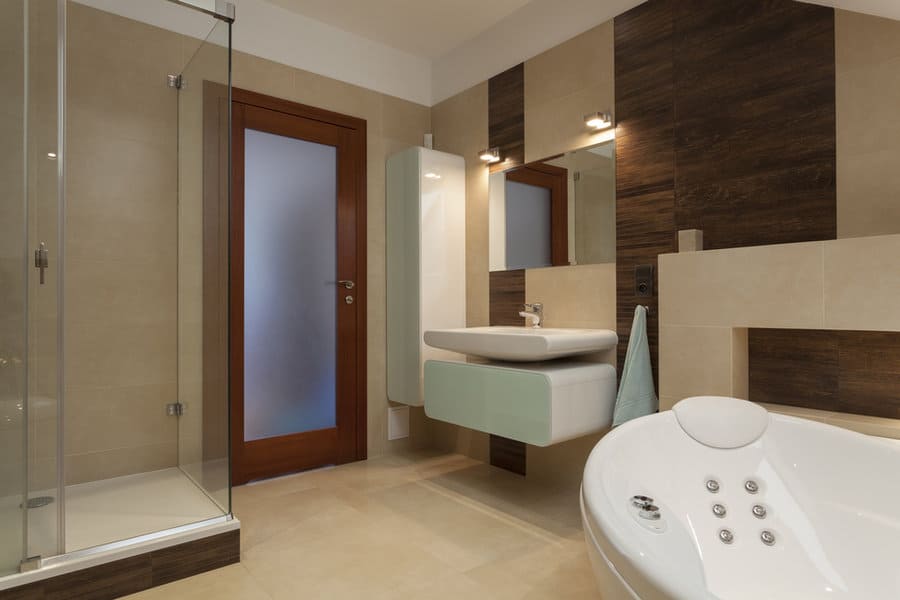 Textured glass can be used to strategically obscure areas like a wet room or shower stall. There are even high-tech glass panes that frost up on demand.
Of course, privacy isn't a concern in all homes. If you're outfitting a private master suite or live alone, the benefits of a glass bathroom door may far outweigh the potential drawbacks!
6. Interior
While we encourage you to explore any and all bathroom door ideas when designing your own home, don't lose sight of the big picture. Once installed, your bathroom door will be one small part of a big picture.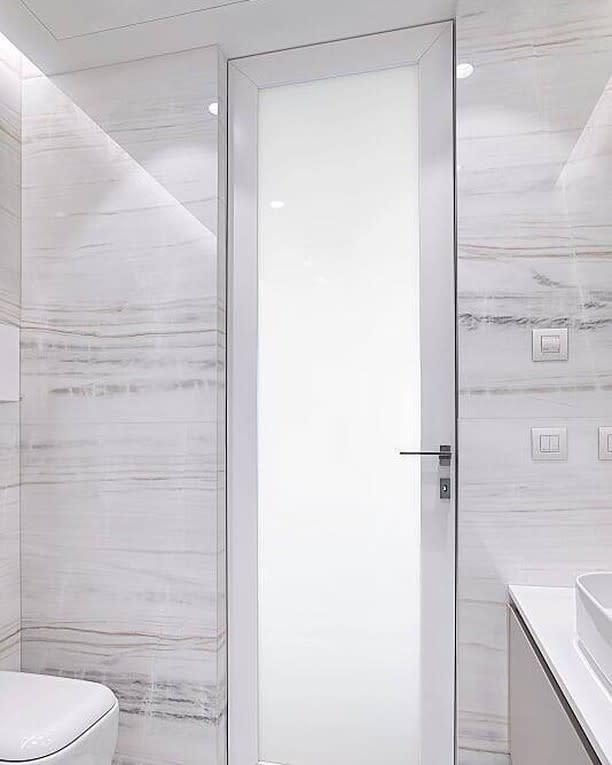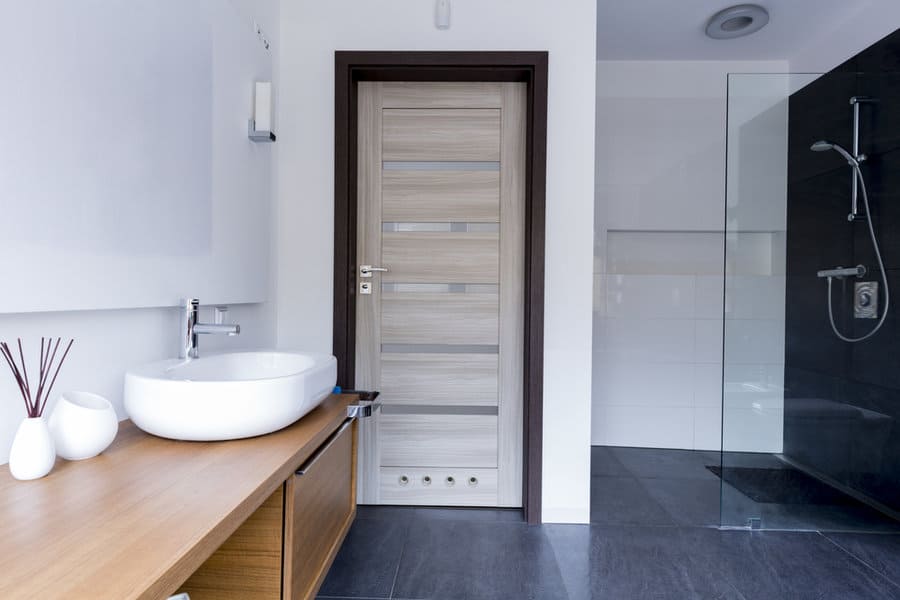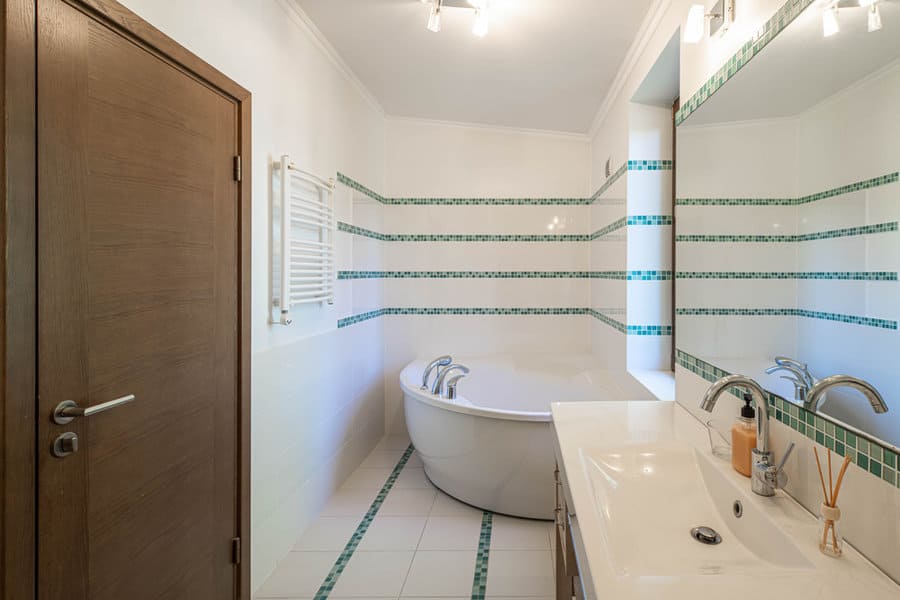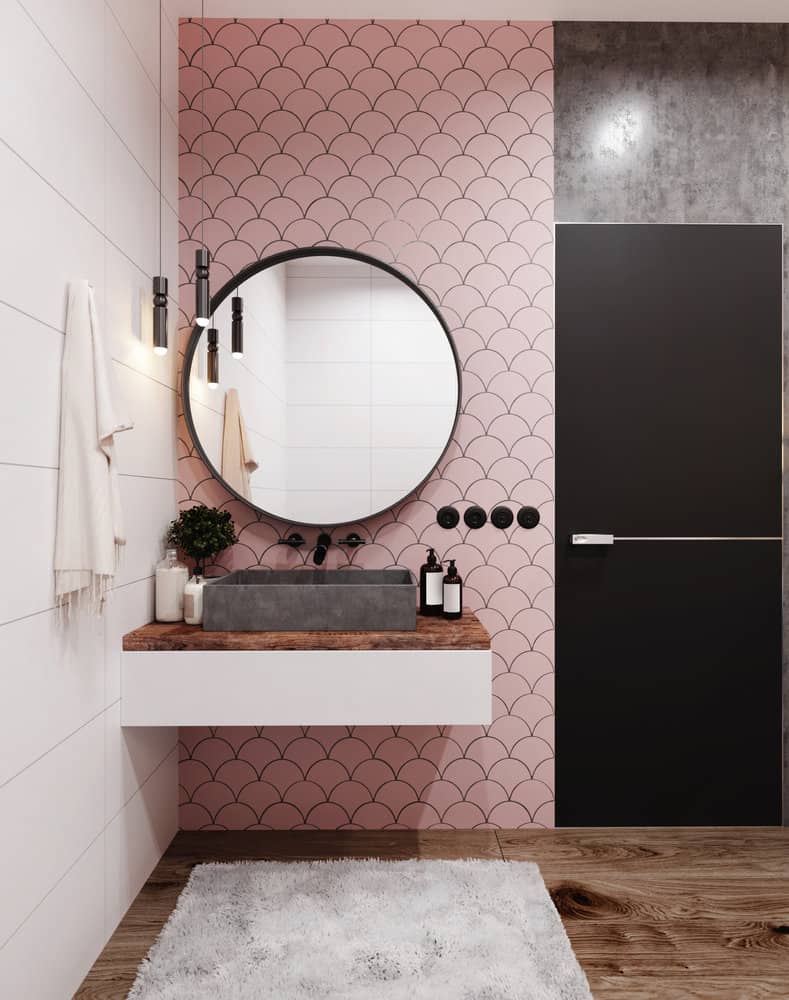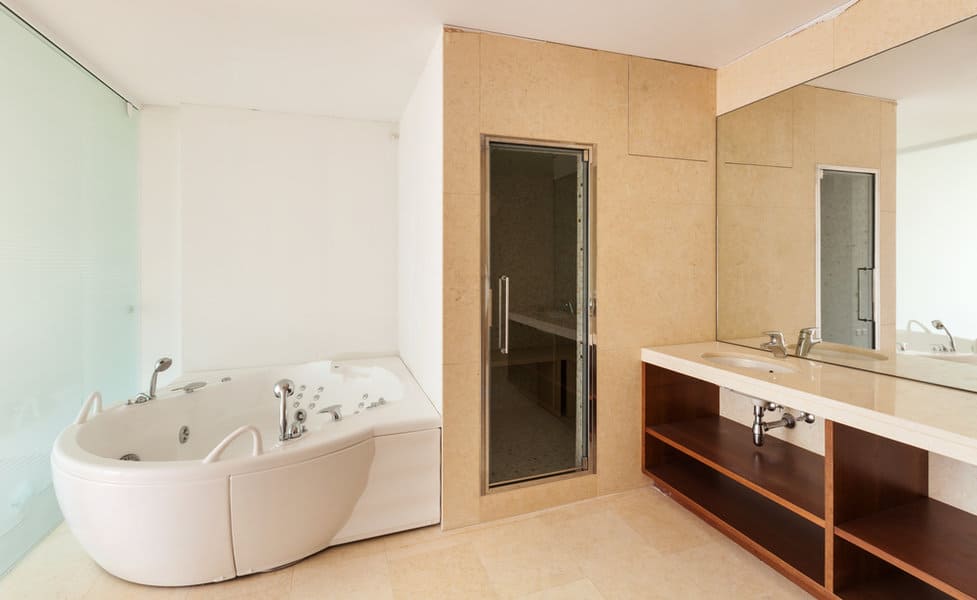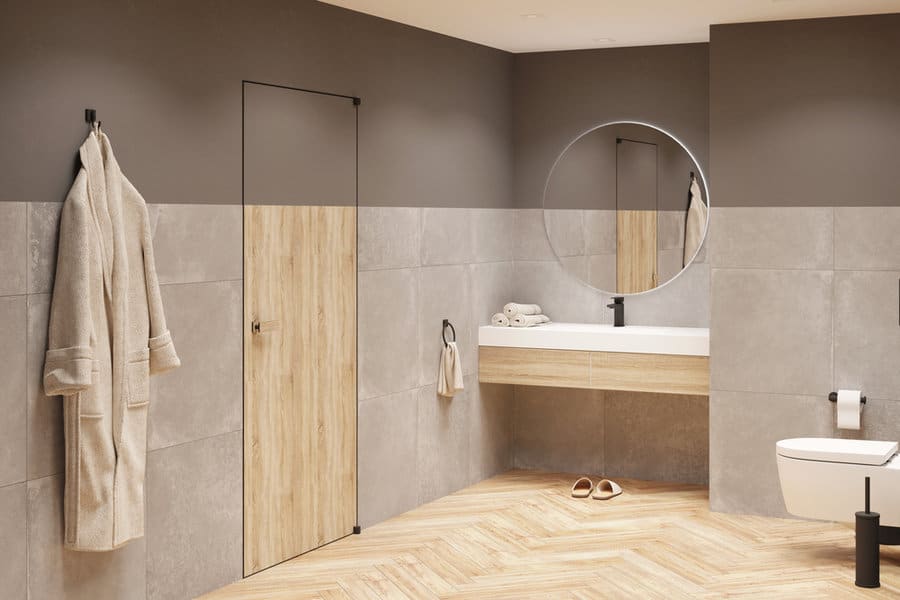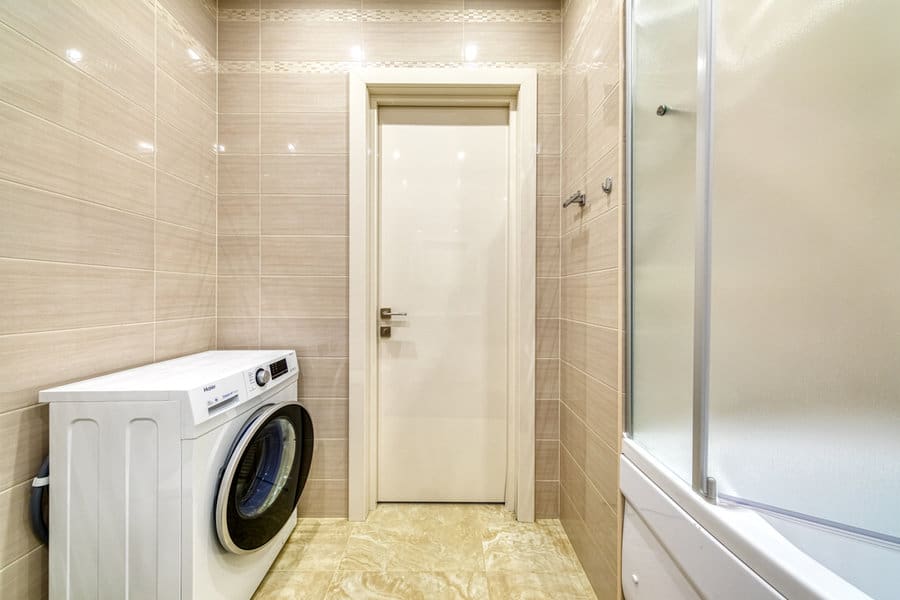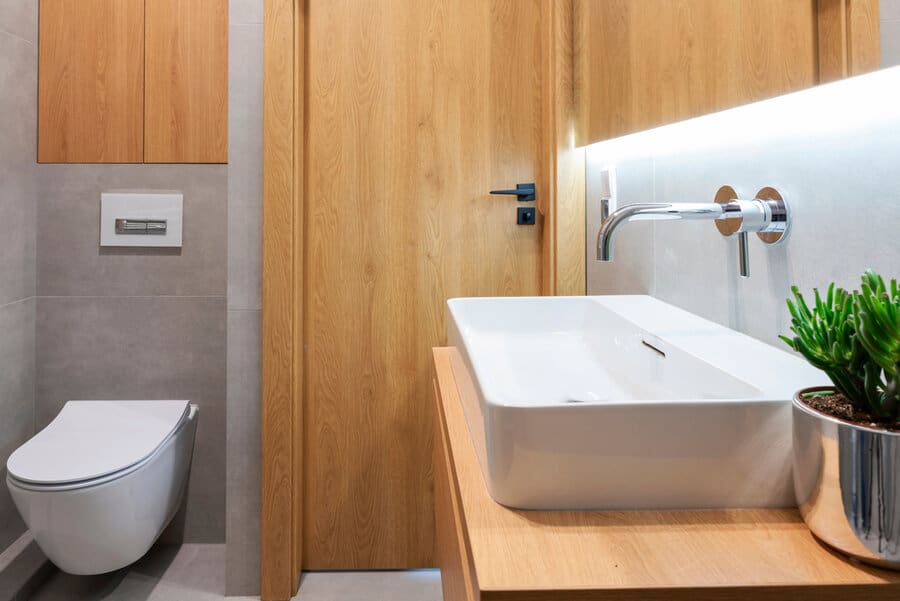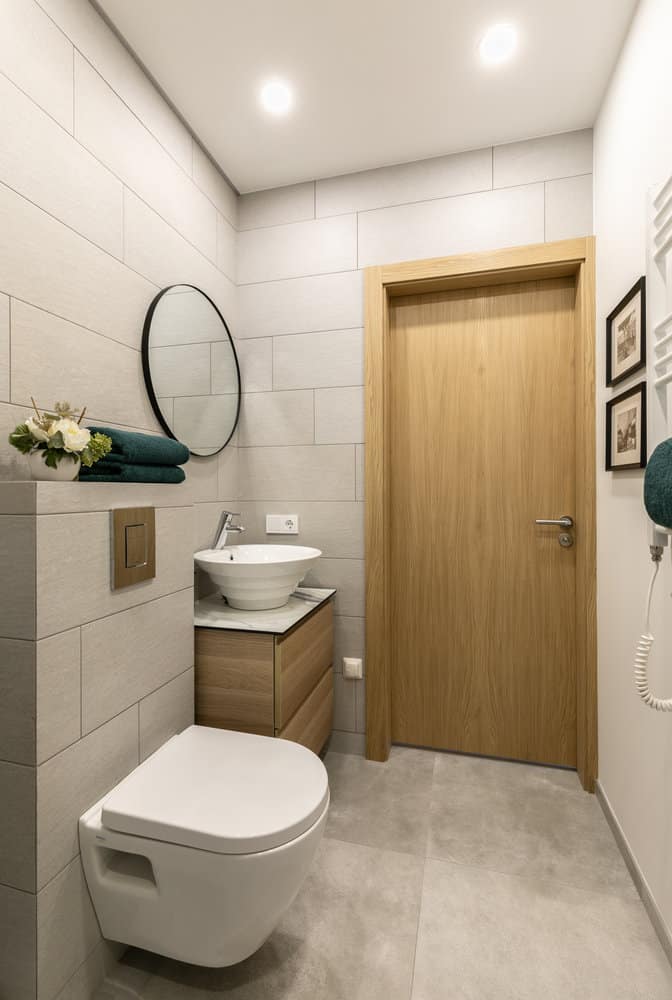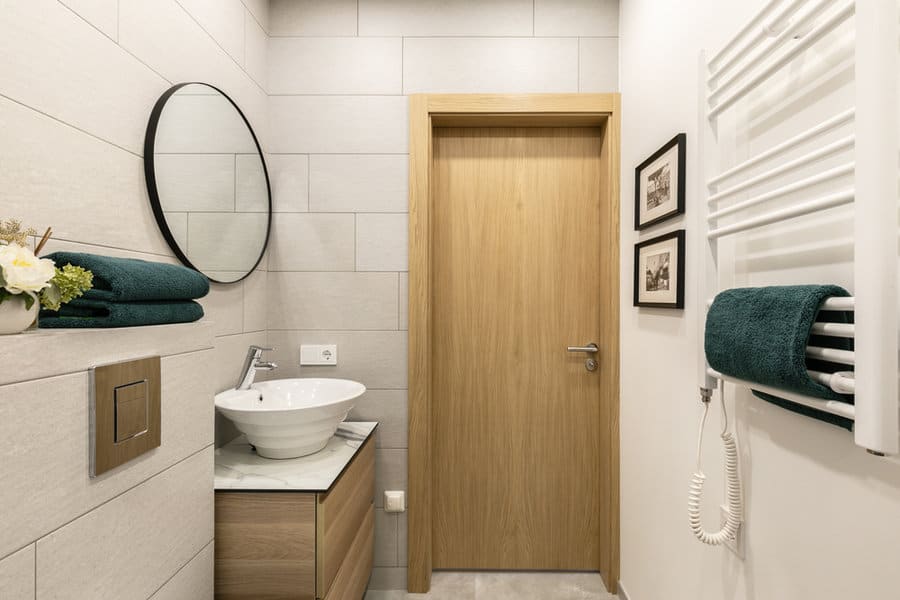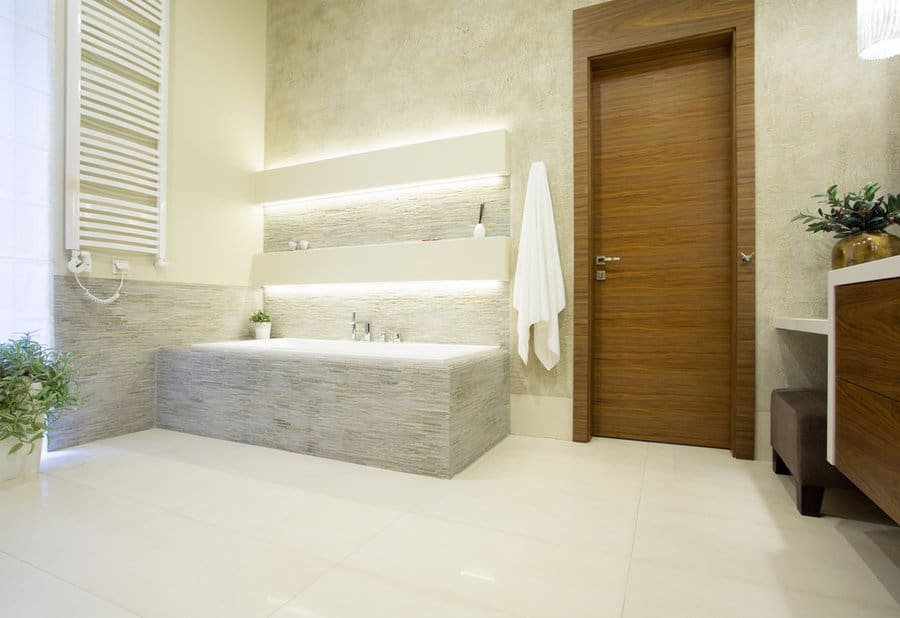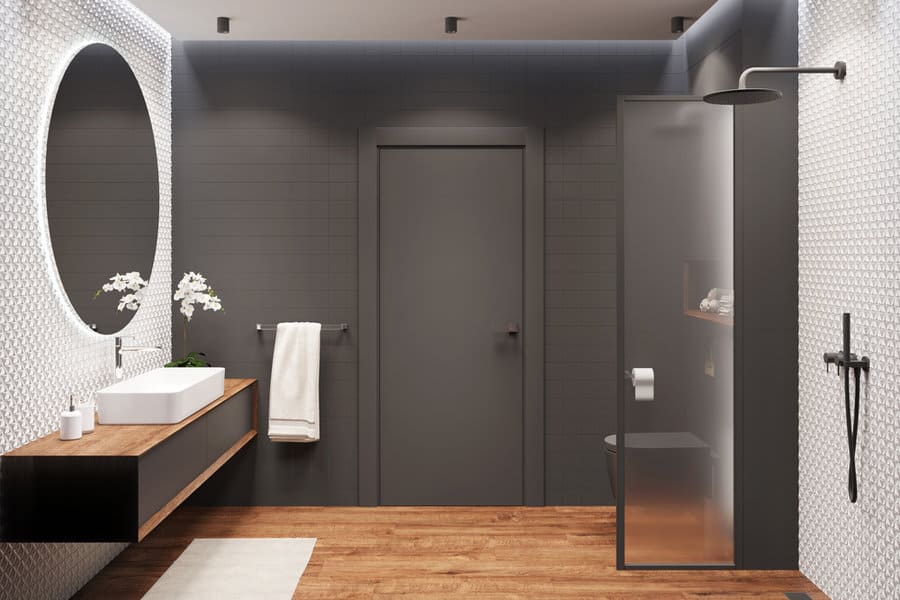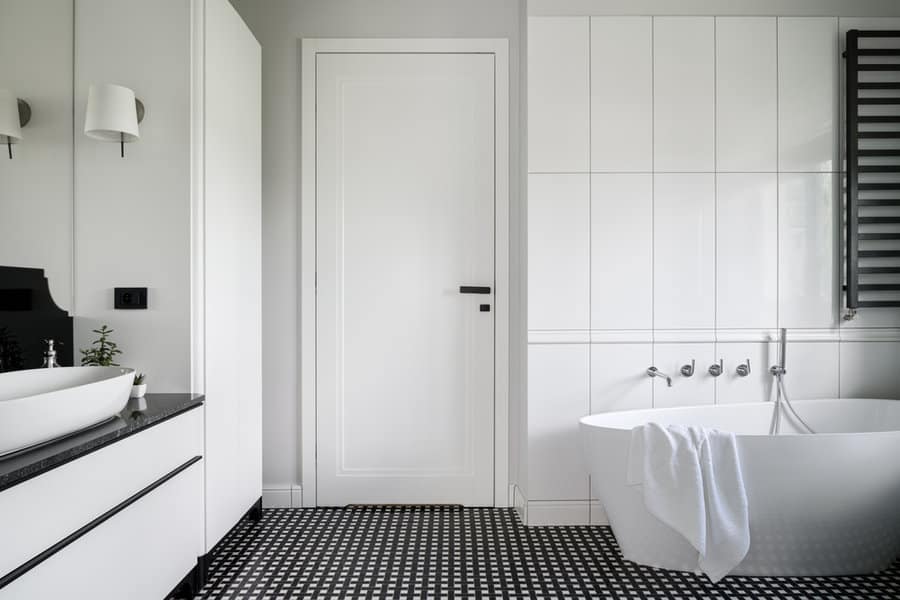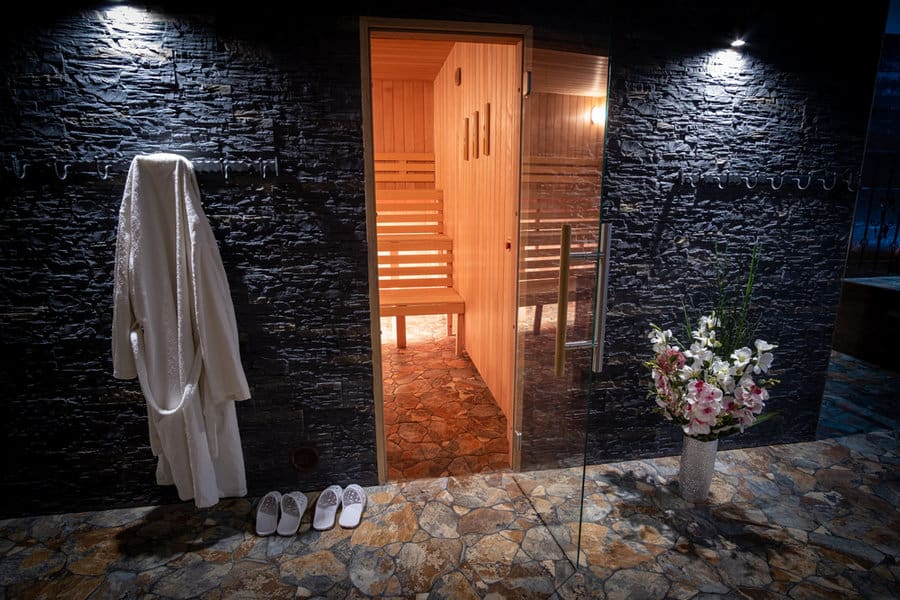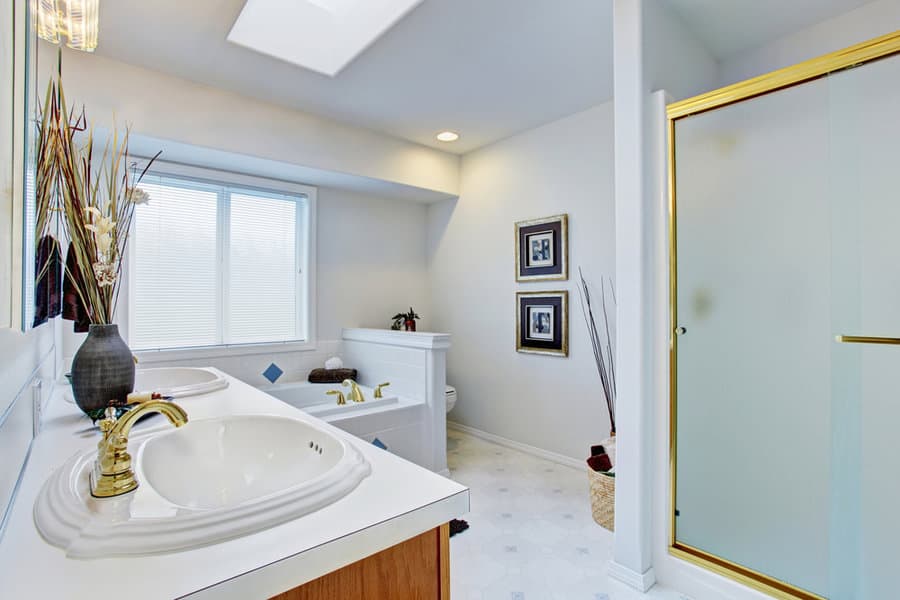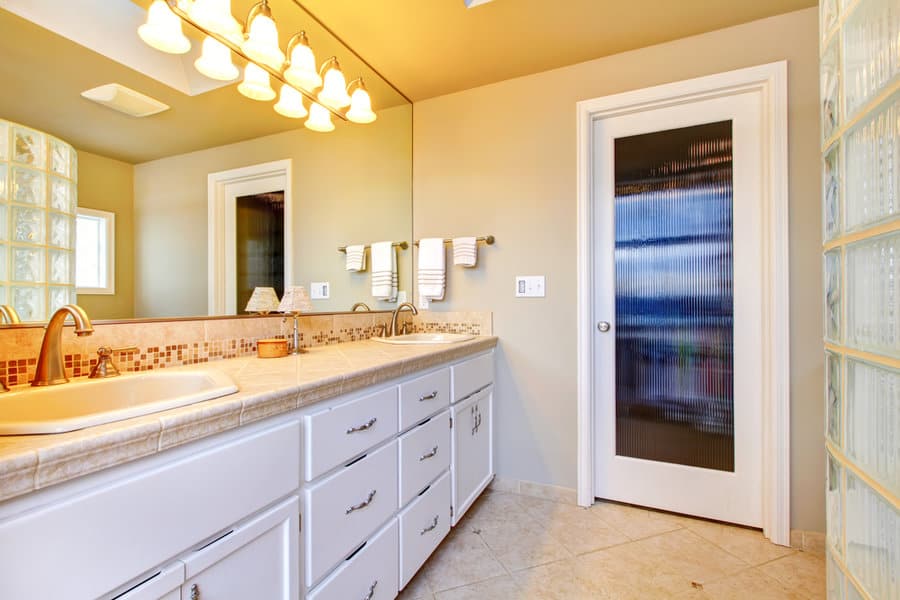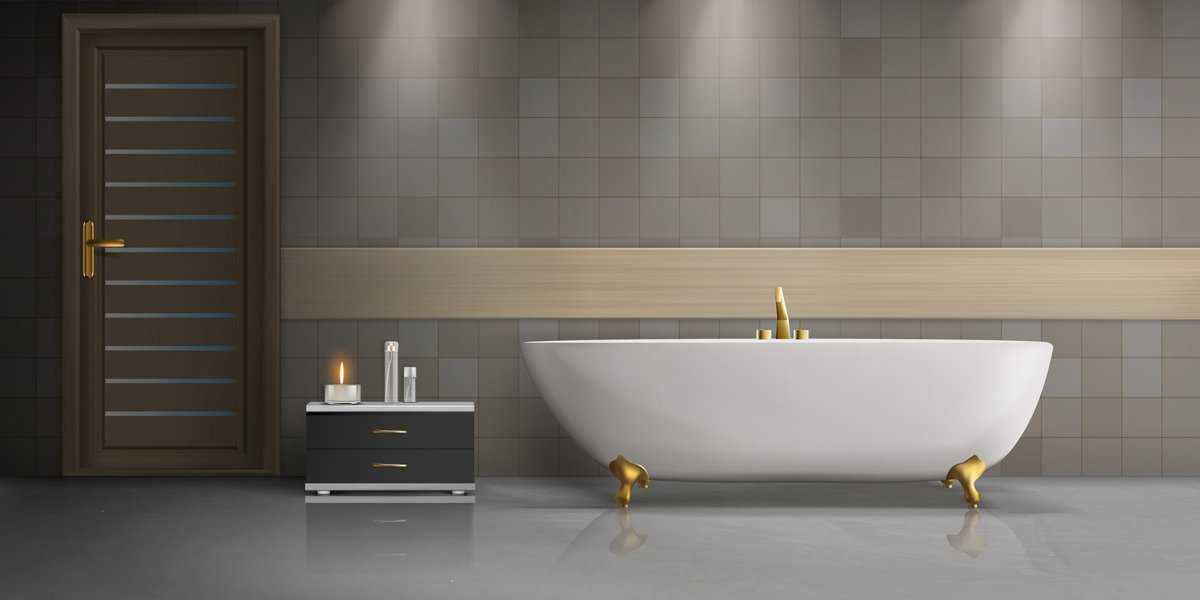 Think about how prospective doors will mesh (or clash) with the rest of your bathroom interior. Pay close attention to things like wood and metal finishes for a seamless appearance.
It's possible that your bathroom boasts a different aesthetic than the adjoining living areas. You have full permission to utilize a different paint color or design on each side of your bathroom door if the space calls for it!
7. Minimalist
If curating the perfect bathroom door for your home sounds like just another thing to add to your to-do list, no worries! Minimalism is always a great solution.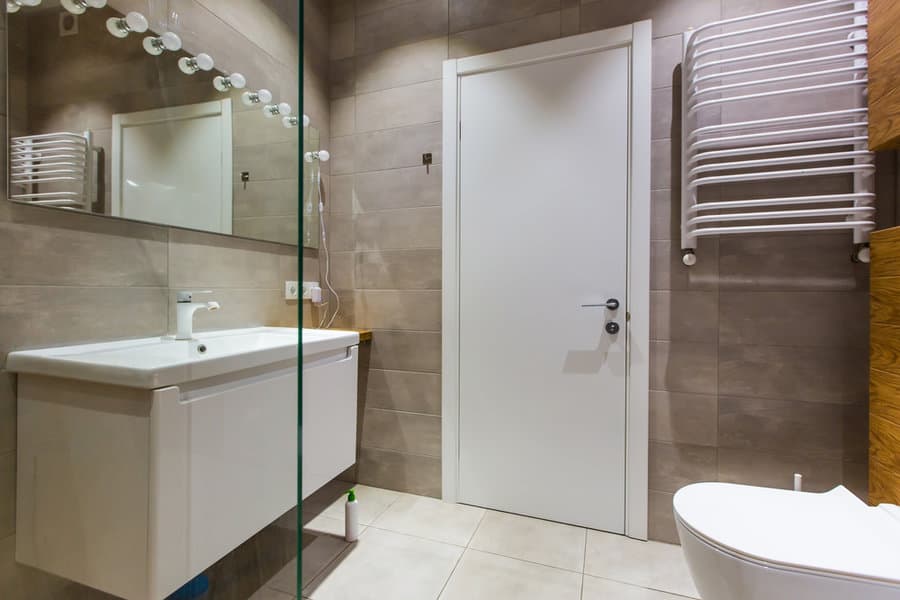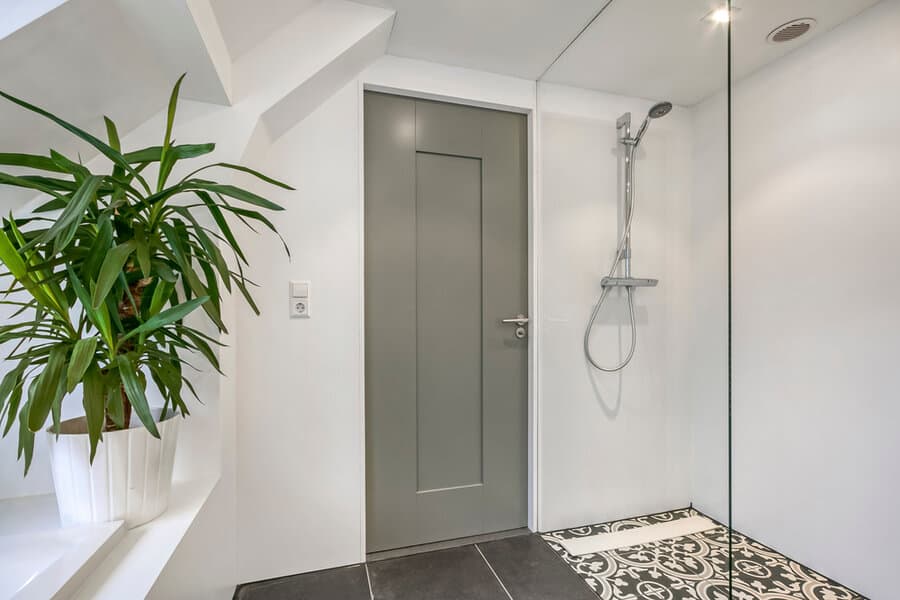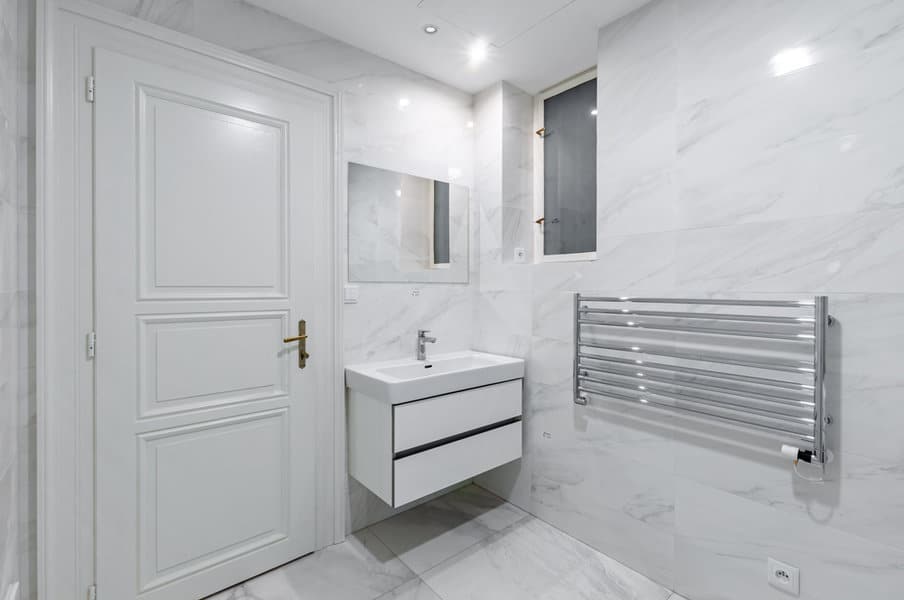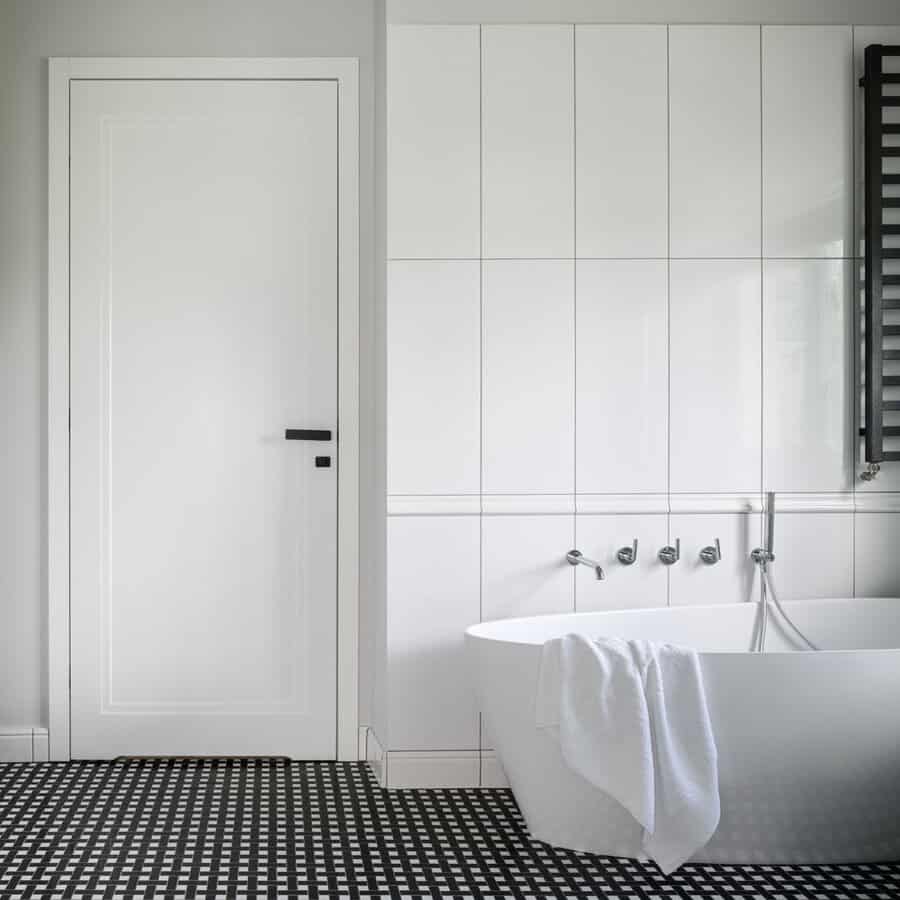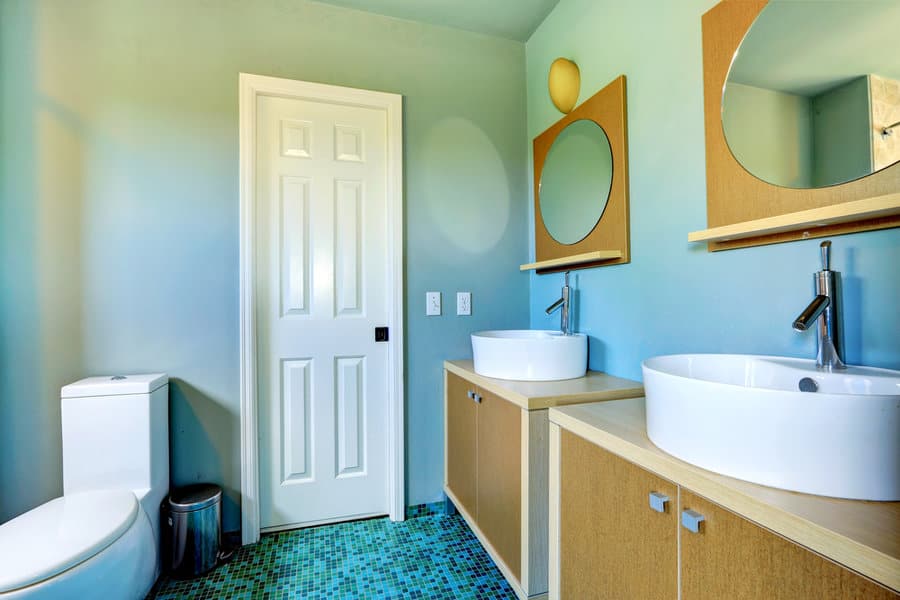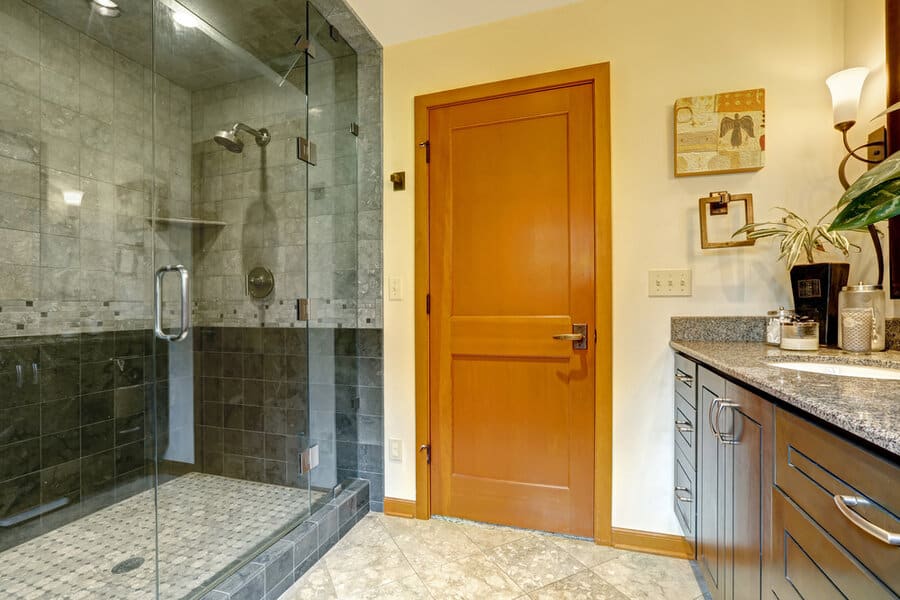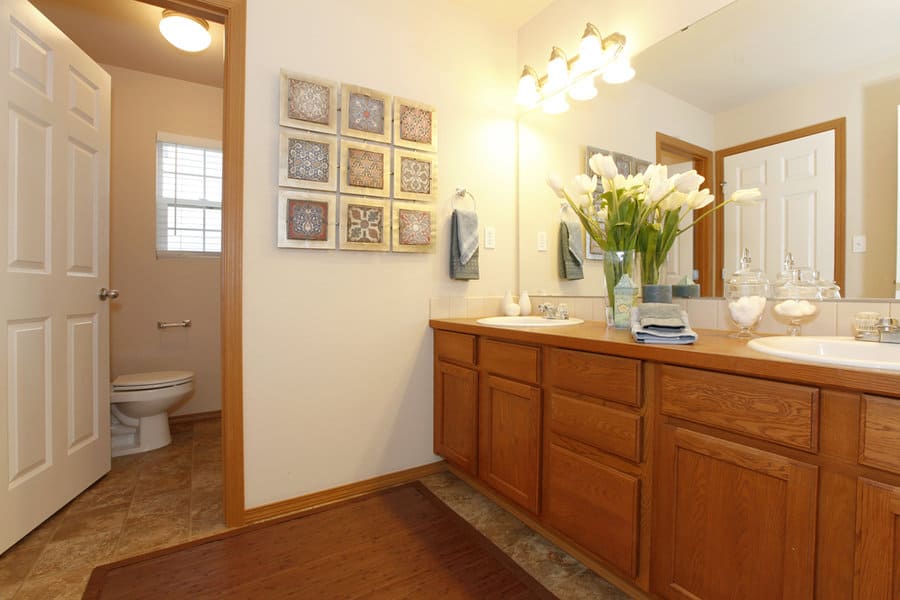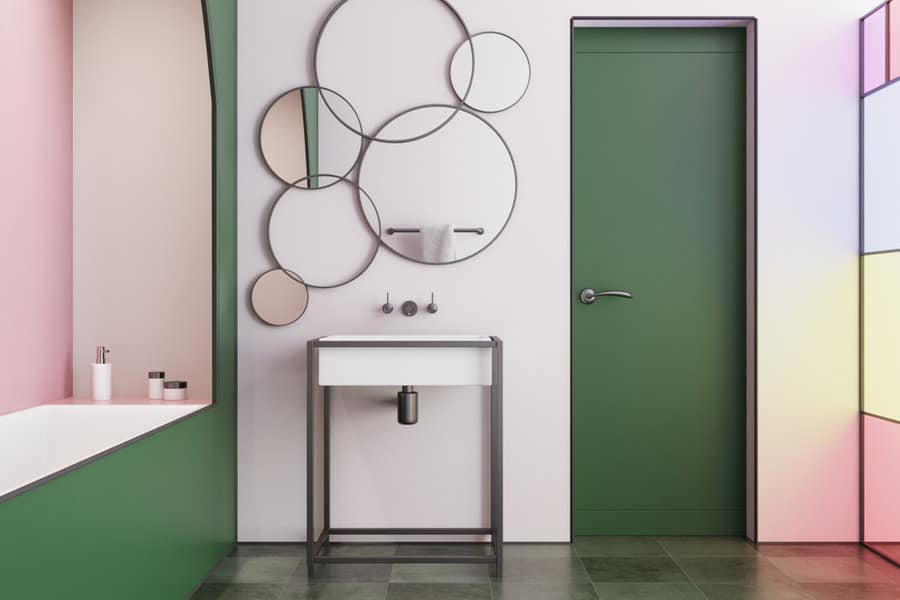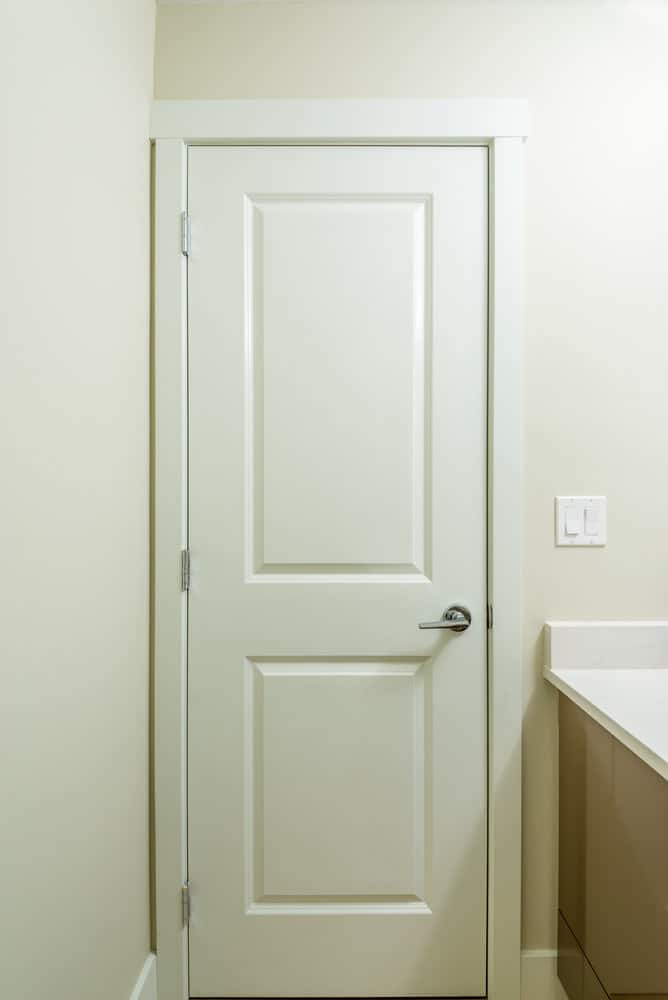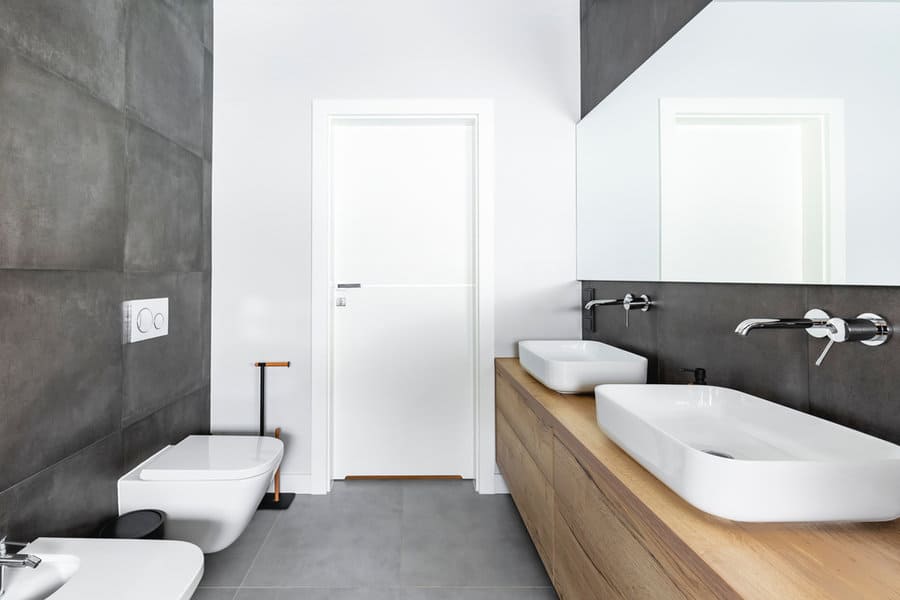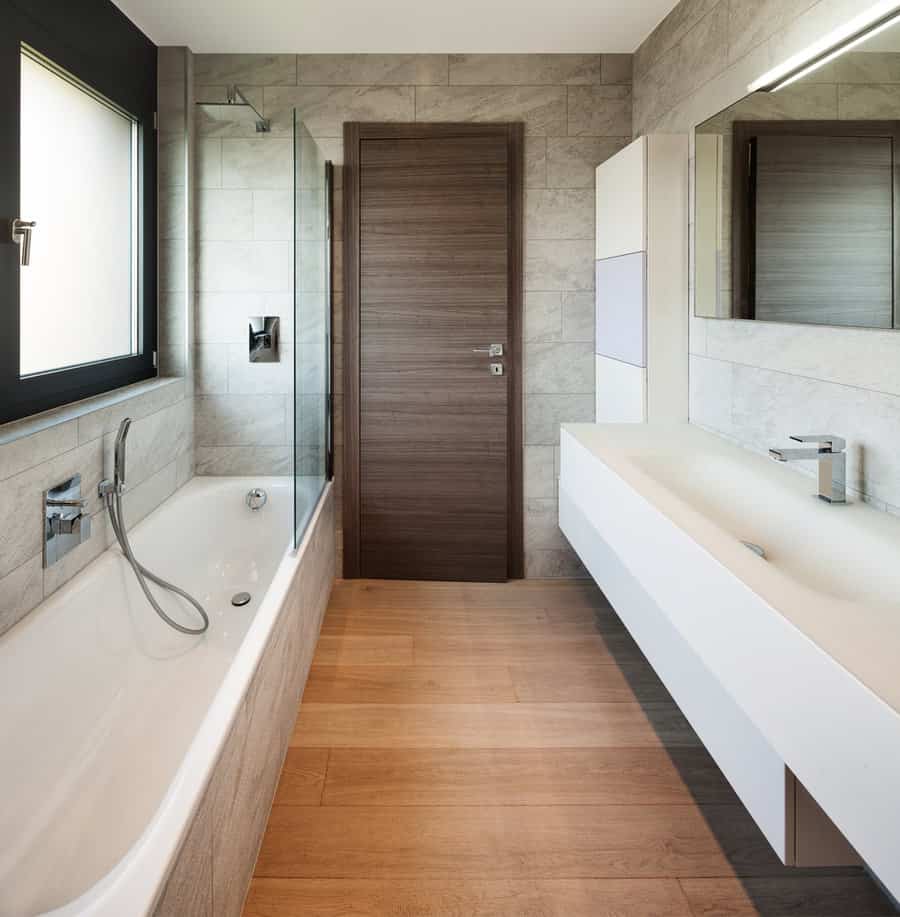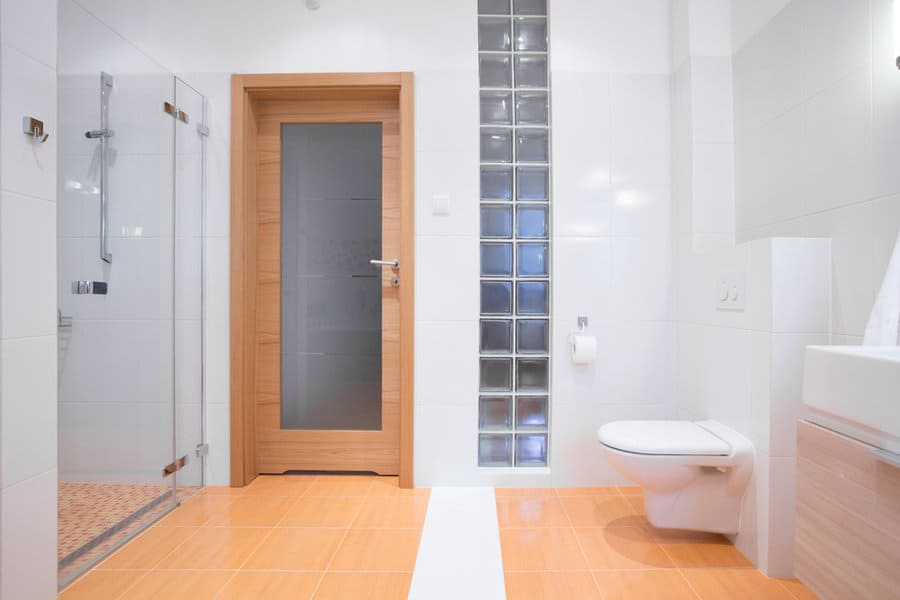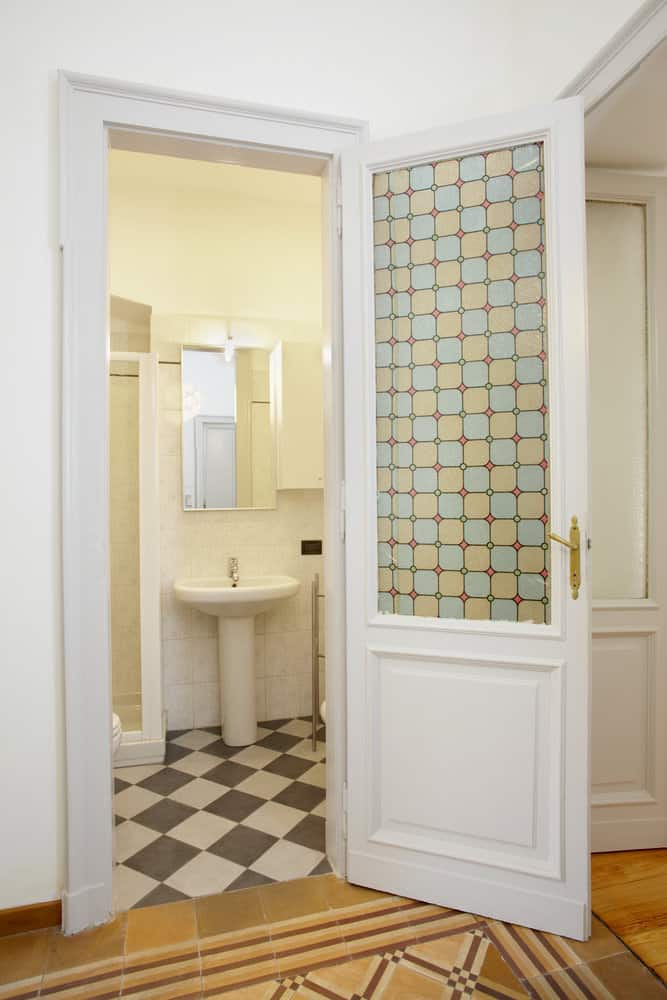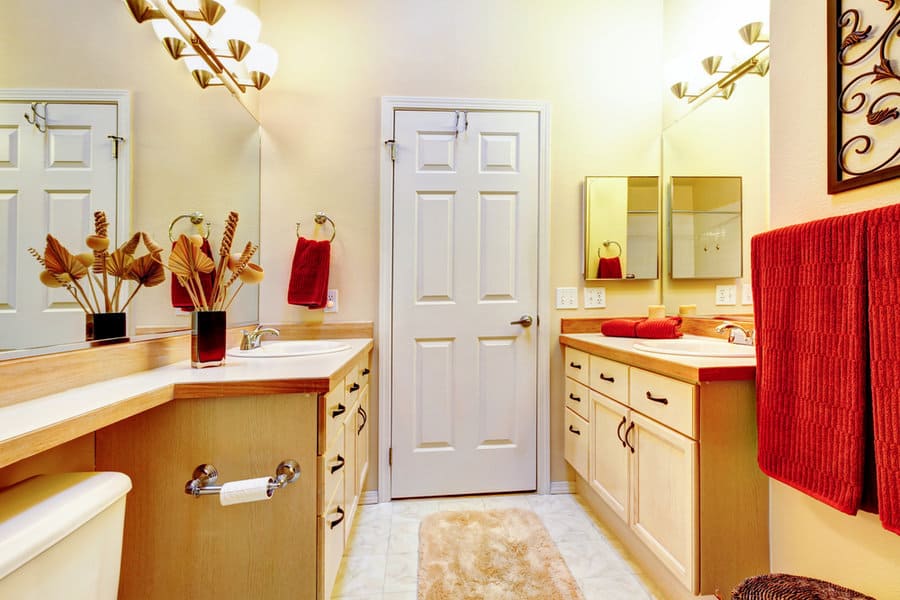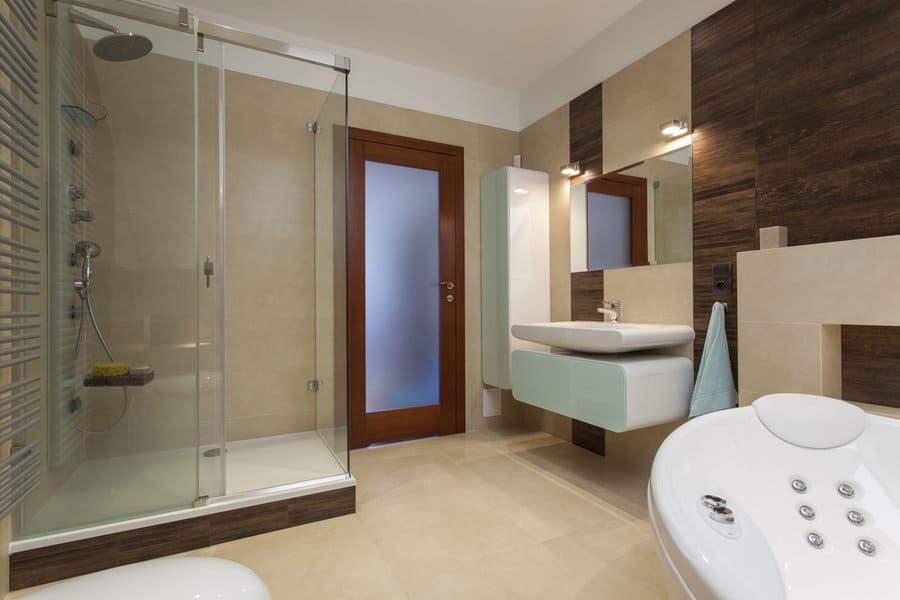 Despite all of the great bathroom door ideas here and elsewhere, it's totally fine if the door is the most boring thing about your bathroom.
Of course, minimalism does not automatically mean boring. Opting for a simple design overall leaves plenty of room to get creative with hardware or other bathroom decor choices.
8. Modern
If you haven't noticed, modern decor is all of the rage right now. And one of our personal favorite things about the modern bathroom trend is that it is incredibly versatile.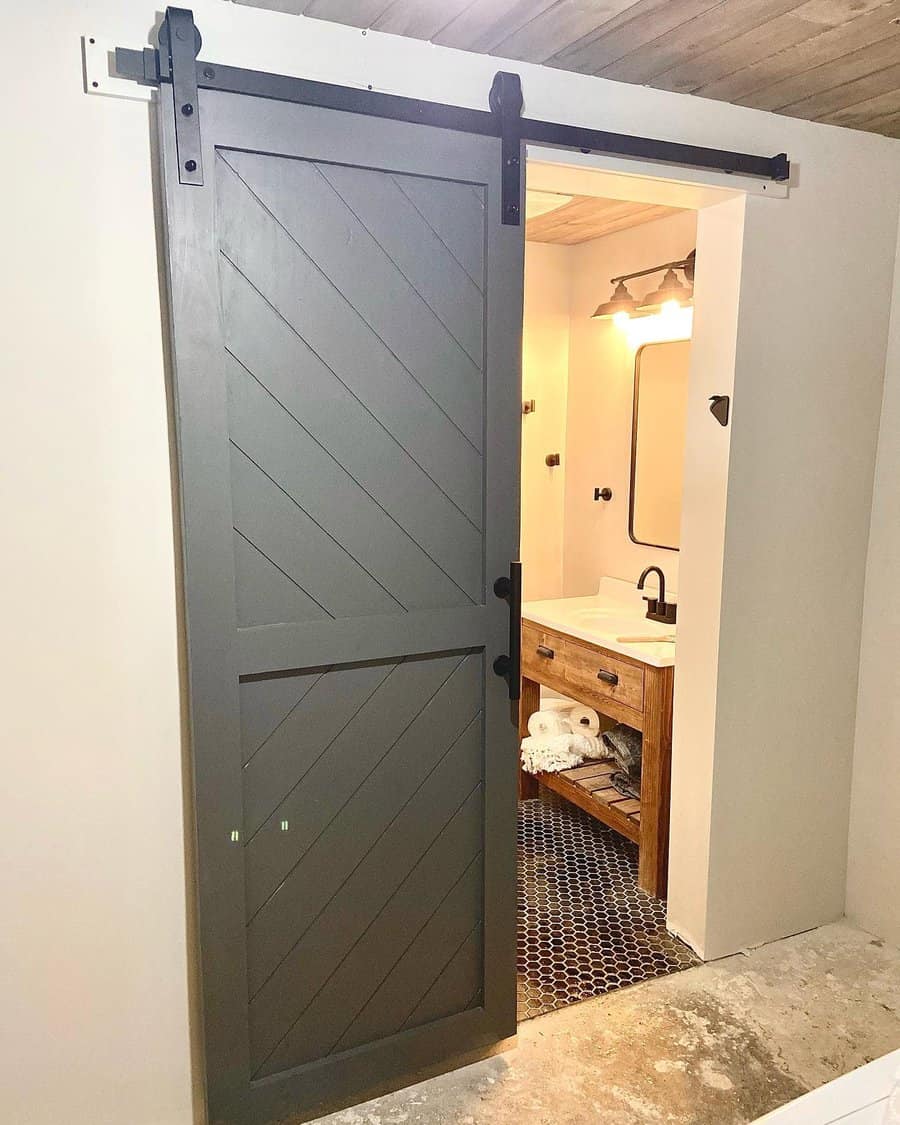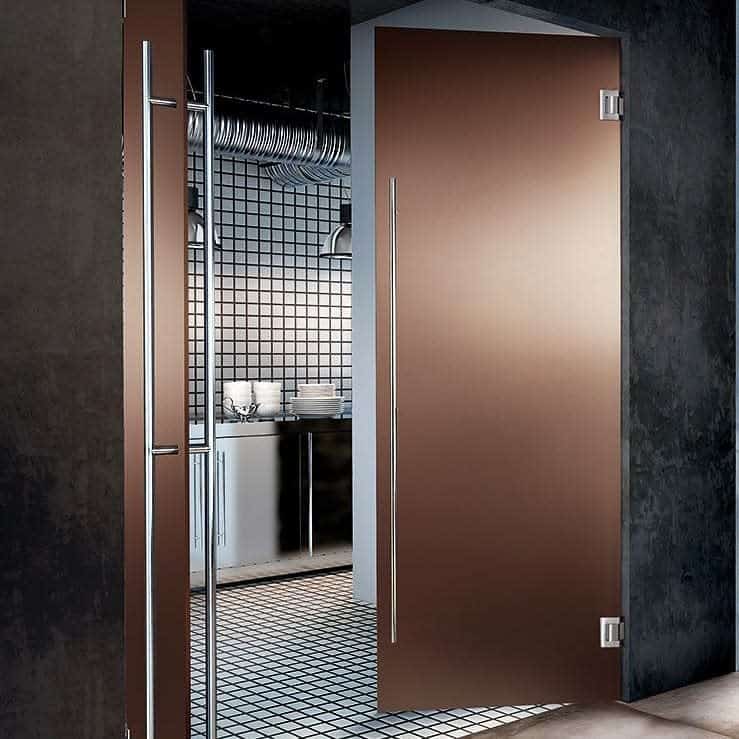 Because modern bathroom design is so broad, it's easy to mix up one decor style with another. So be sure to define your goal aesthetic (e.g., Art Deco, modern farmhouse, mid-century modern, etc.) before investing in a new door.
Keeping up with the trends doesn't need to cost a fortune. A coat of paint can go a long way in creating the modern bathroom door of your dreams.
9. Sliding
For a clever way to maximize a small bathroom space, look no further than installing a sliding door!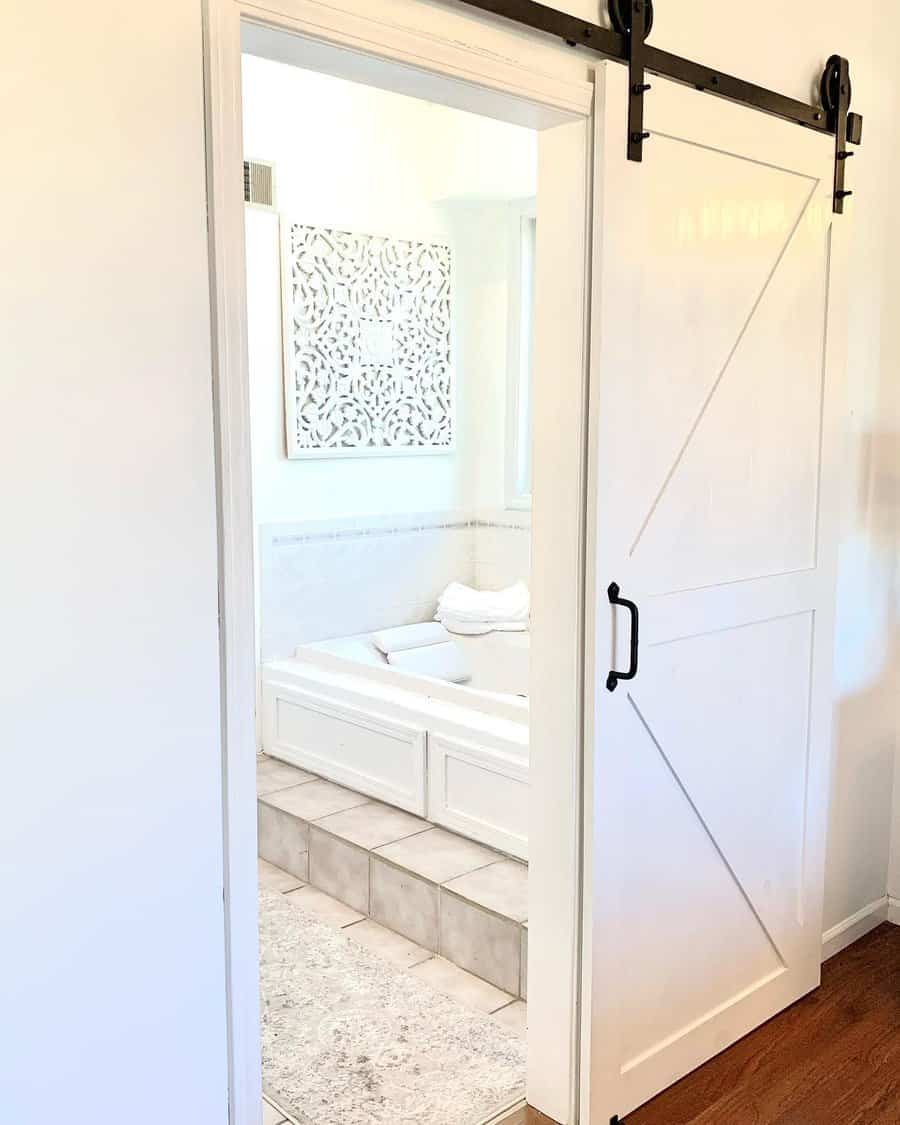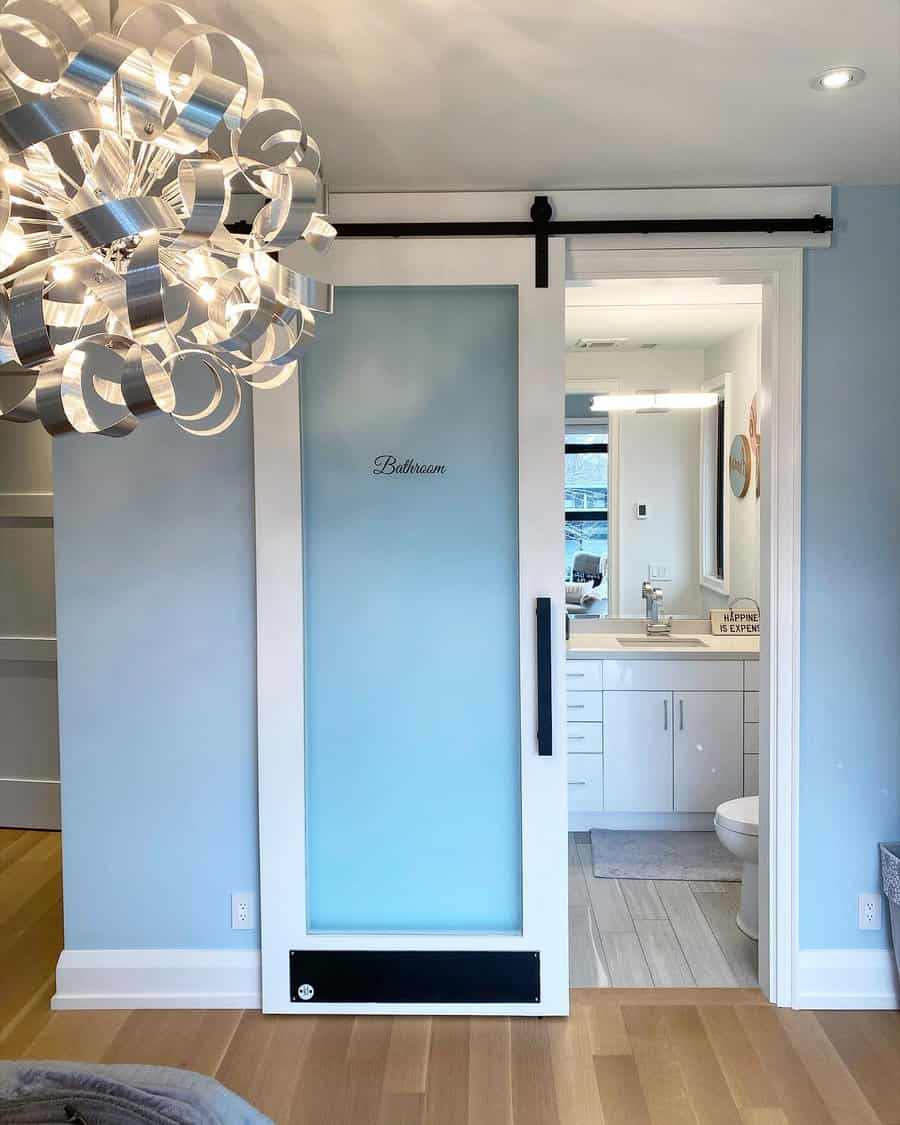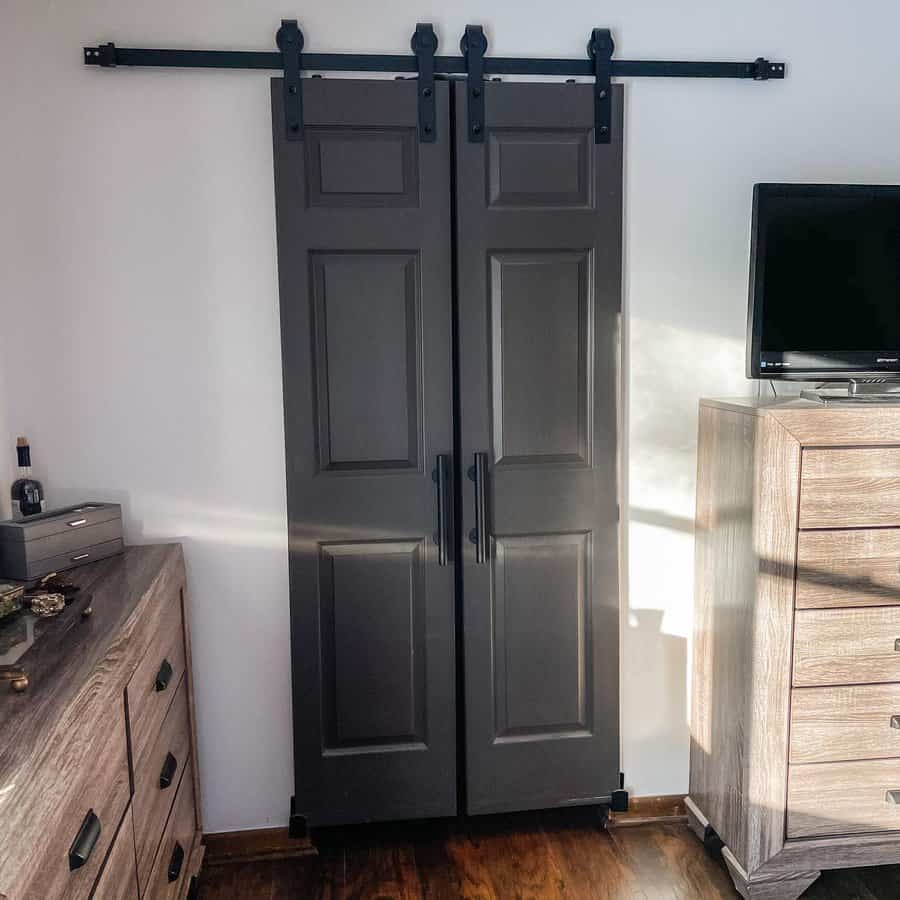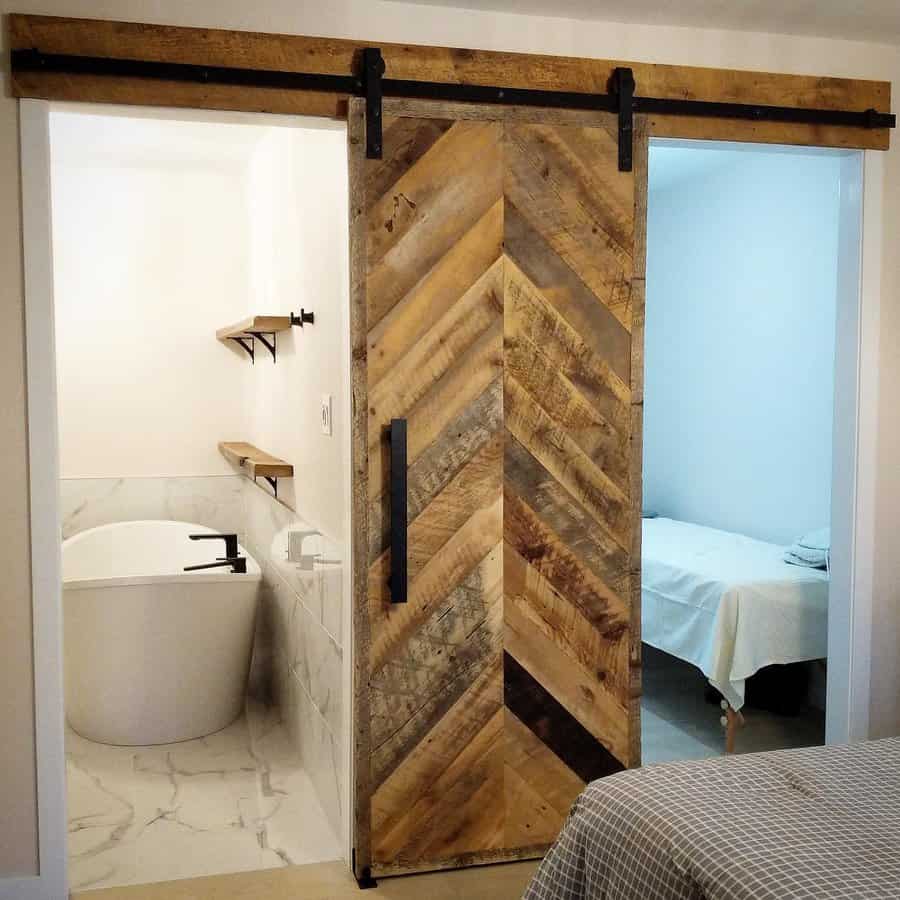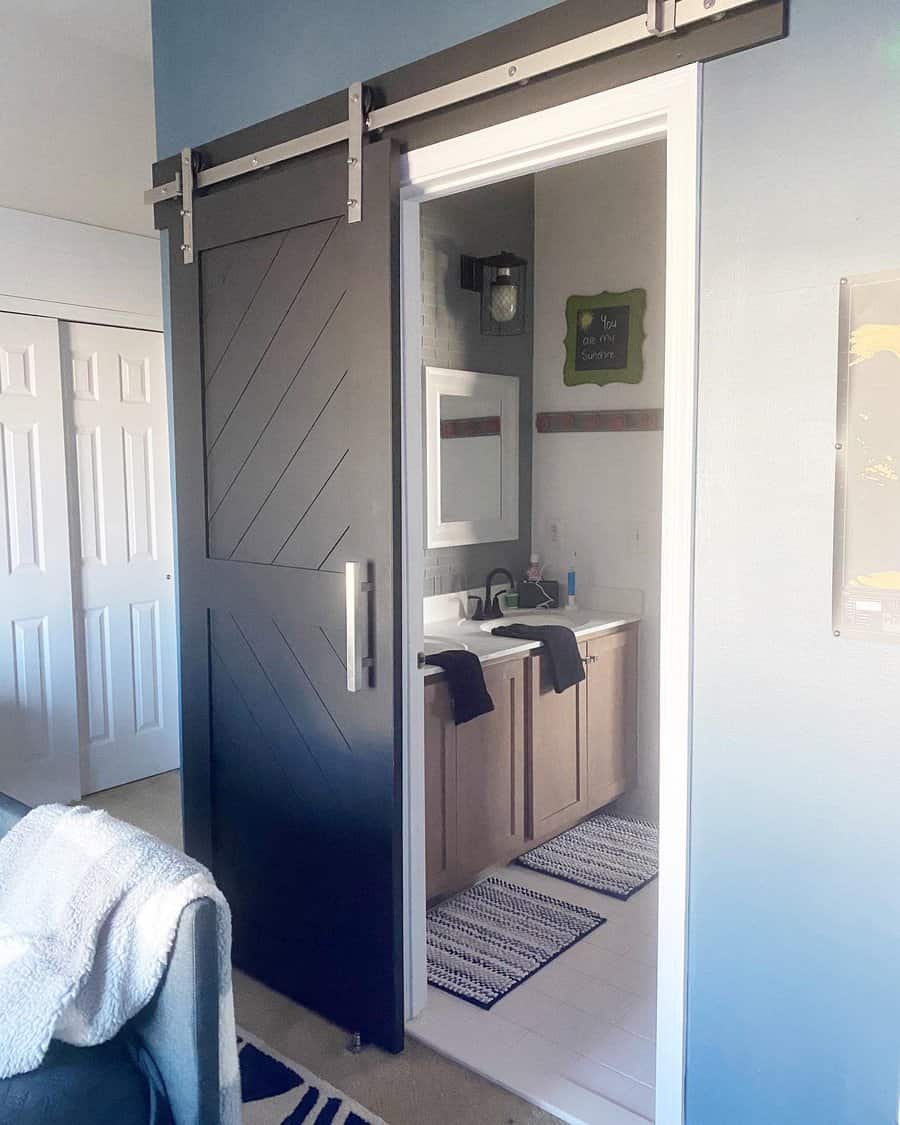 Most people are familiar with the sliding barn door trend. But there are countless styles of sliding doors that will work great for a bathroom.
Many homeowners dream of finding a pocket door hidden behind a bathroom wall. If installing a pocket door from scratch isn't an option right now, consider a set of sleek sliding doors instead.
10. White
Many homeowners rely on an all-white color palette to make their small bathroom feel more bright and airy. Others just prefer the clean look of white walls, tile, and fixtures.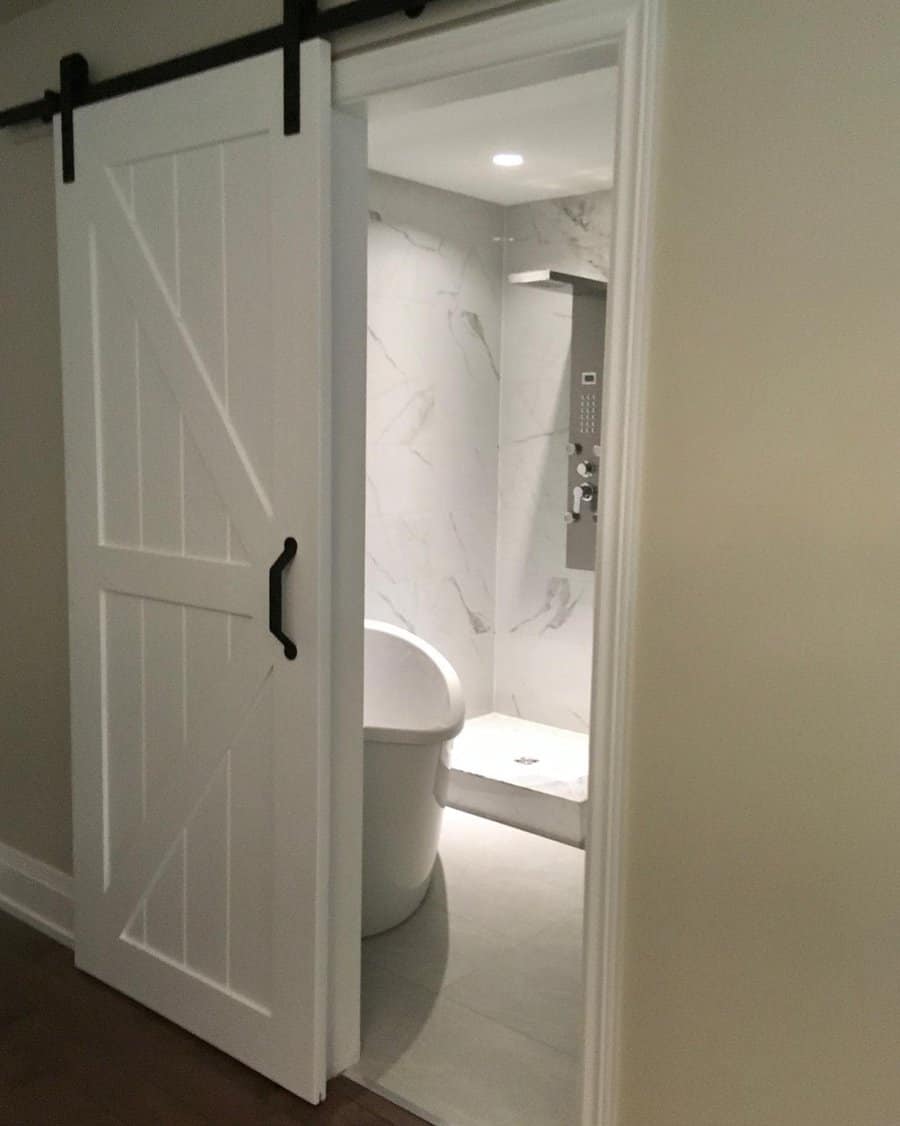 With a white door, your bathroom hardware really has a chance to shine. Metallic finishes are always a favorite. But matte black door hardware is surprisingly striking!
Believe it or not, not all whites are the same. Painting your bathroom door a slightly darker shade than the surrounding wall (or vice-versa) can add dimension and a touch of luxury to the final look.
11. Wood
Natural wood doors may no longer be the go-to for many home interiors. But they will never, ever go out of style.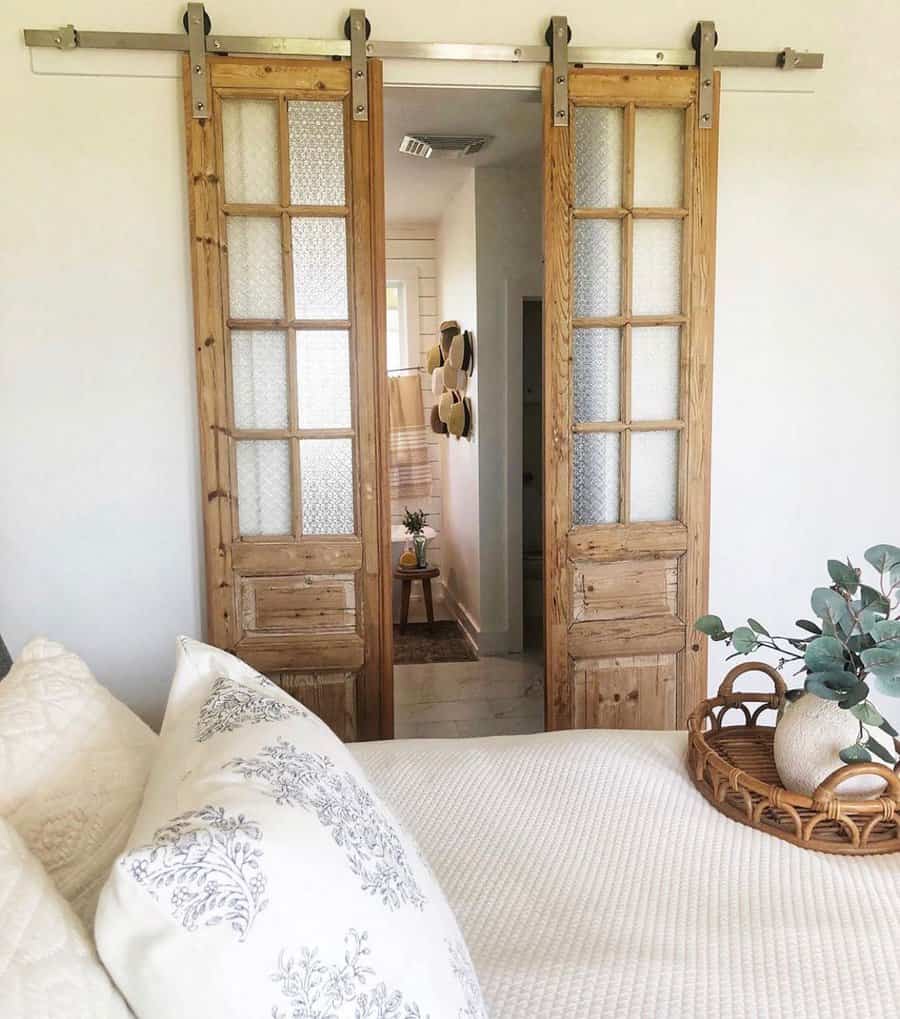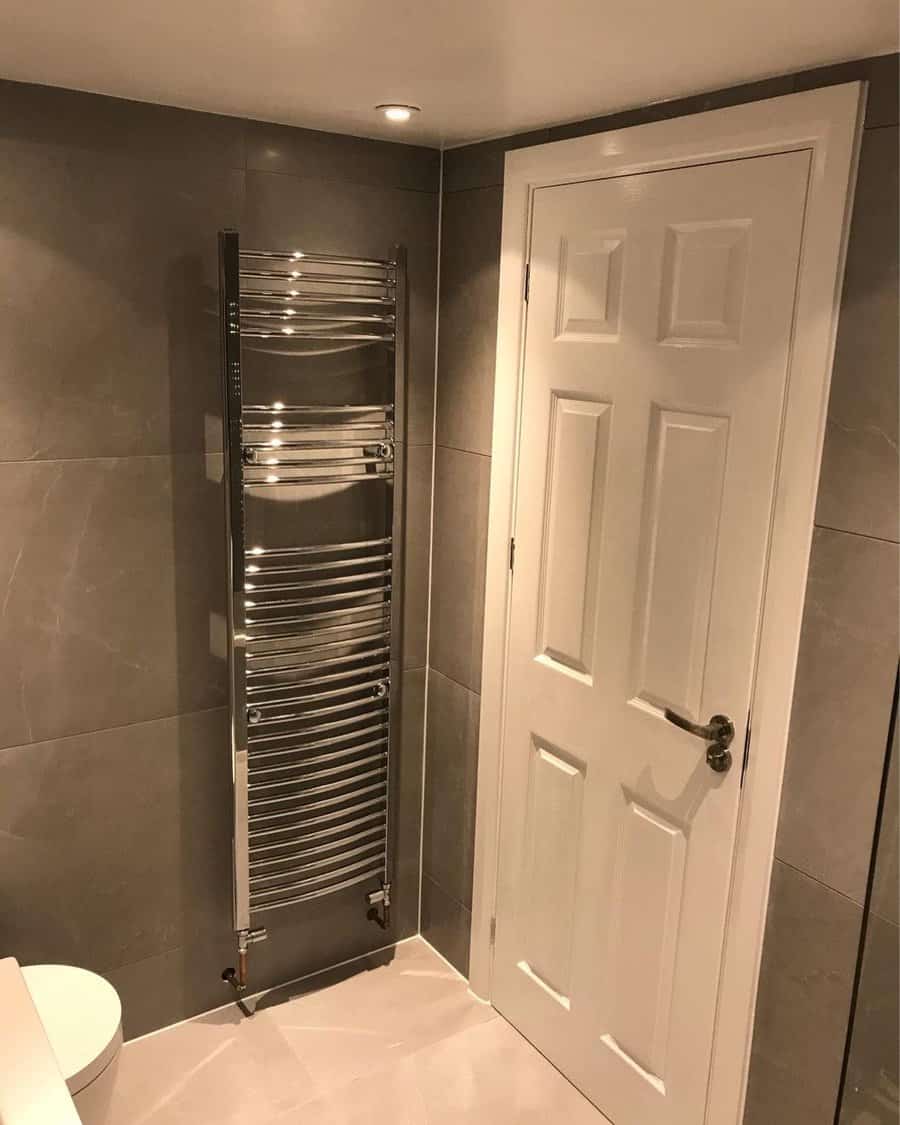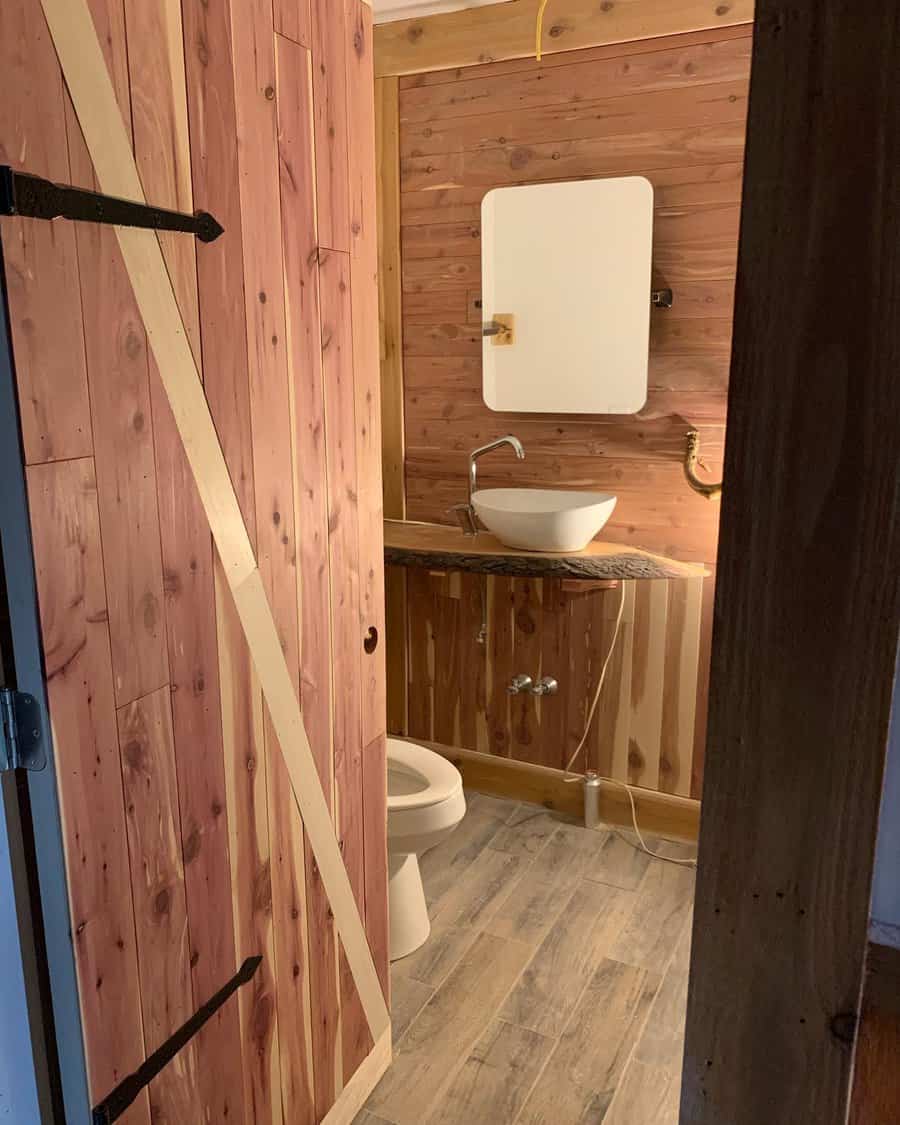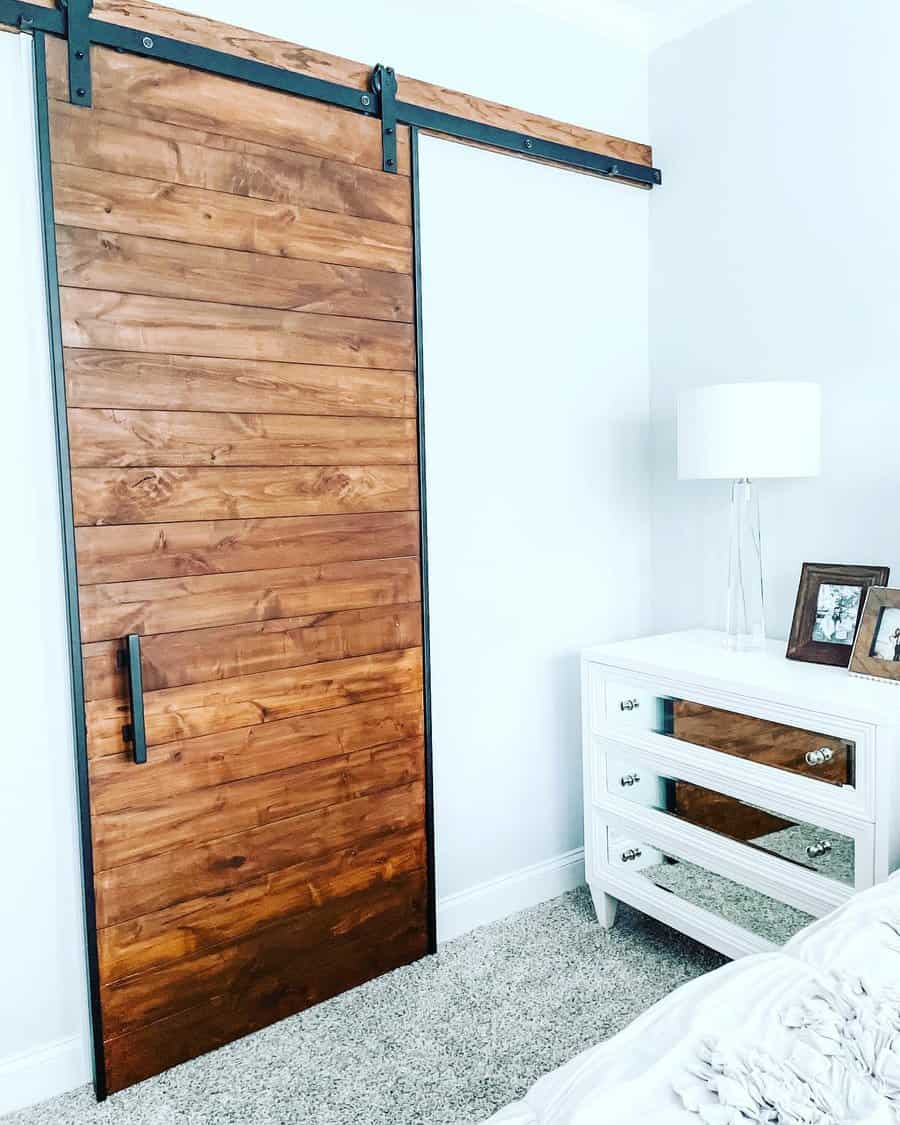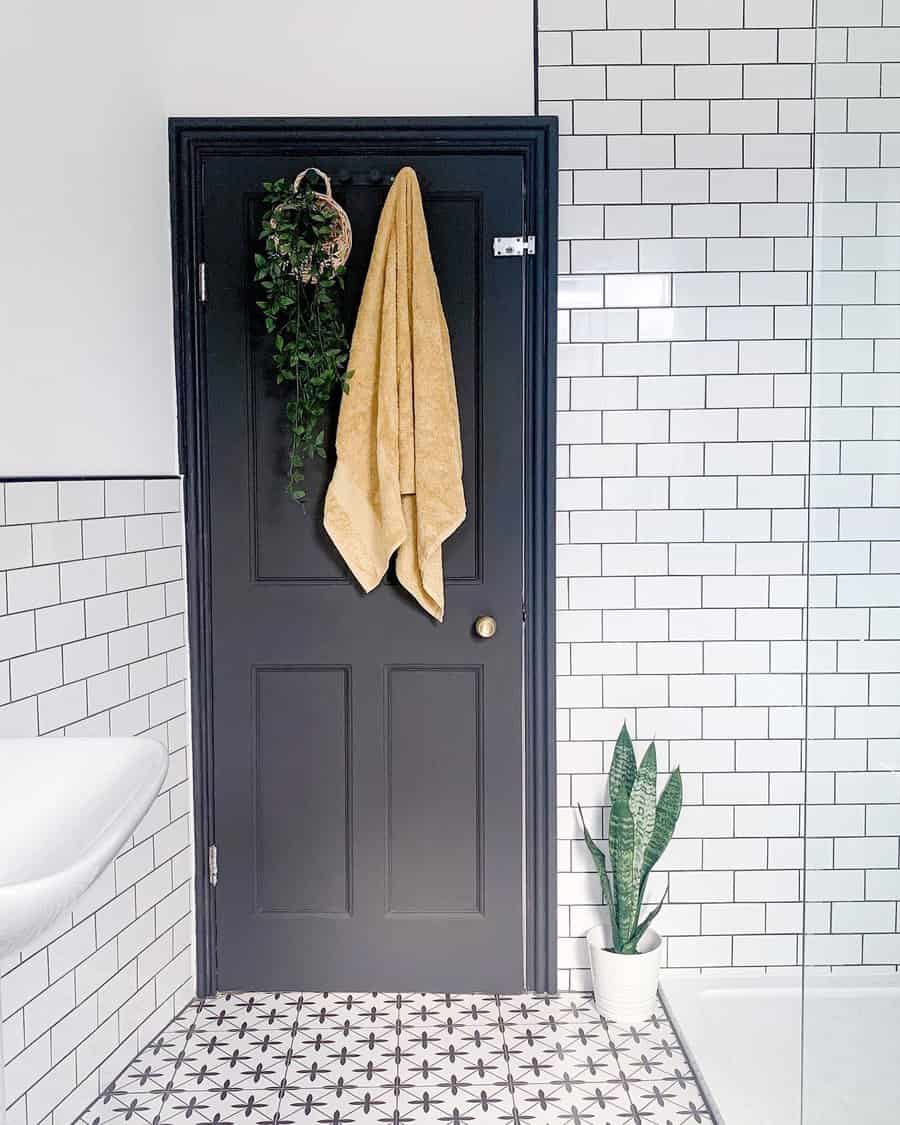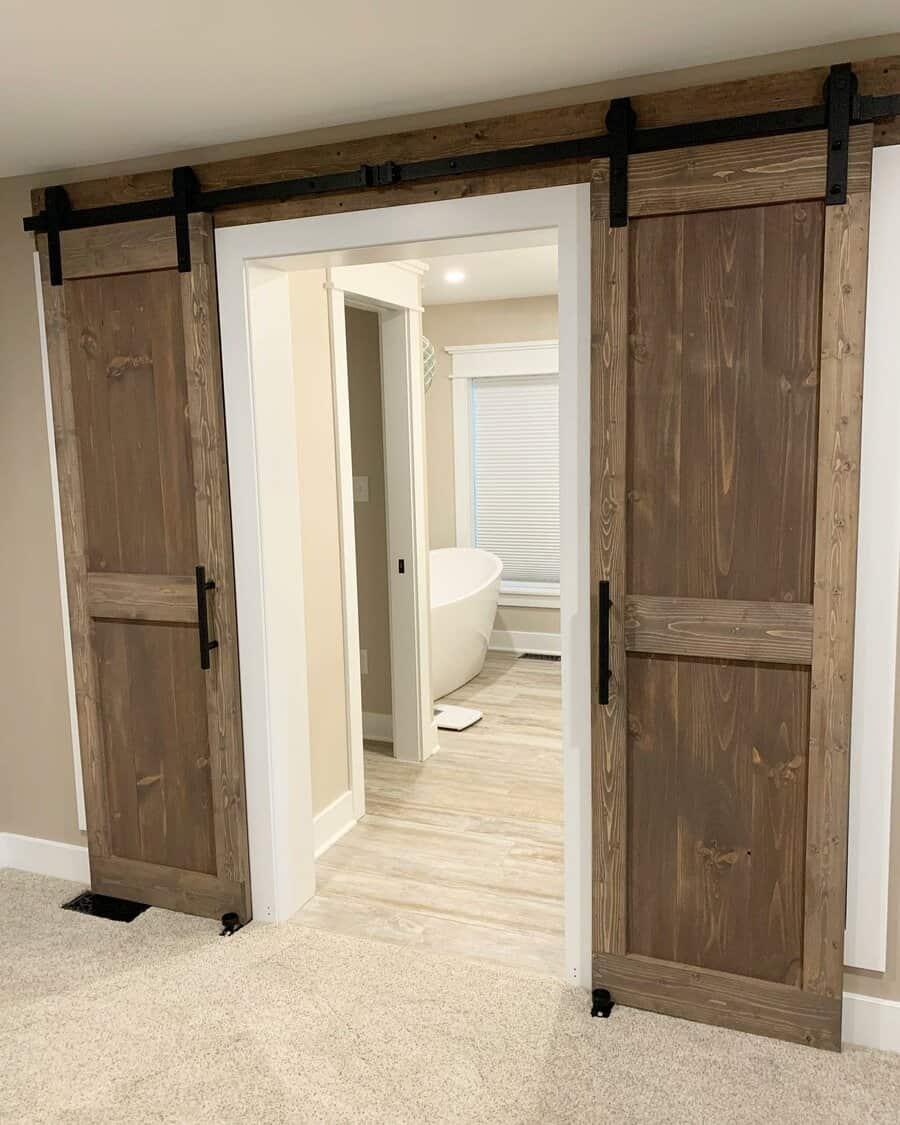 Wooden doors literally go with everything. It's all about selecting the right finish for the space in question. If your bathroom already features wood grain, be sure to coordinate the different surfaces.
Another awesome fact about wooden doors is how easy they are to refinish or paint. Within a few hours, your existing bathroom door could have a whole new look!
Bathroom Door FAQs
What is the best material for a bathroom door?
Nearly any interior door can be used for the bathroom. Just be wary of materials that can warp or degrade with too much moisture exposure.
Many interior designers and contractors recommend PVC doors over all others for the bathroom. This is because PVC is waterproof and will hold up extremely well to anything your bathroom throws at it!
Should a bathroom door swing out or in?
The direction a bathroom door is mounted is largely up to the home's layout! Limitations aside, there is no rule about which way a bathroom door should swing (though there are benefits and drawbacks to each direction).
A bathroom door that swings inward can be a headache if the room itself is quite small. We've all seen photos of ill-planned bathroom doors that won't open without hitting the toilet bowl.
Meanwhile, a bathroom door that opens outward can be an obstacle for anyone walking past. This is especially a problem for bathrooms that connect directly to narrow hallways.
Of course, you can forego this debate altogether by opting for a sliding door!