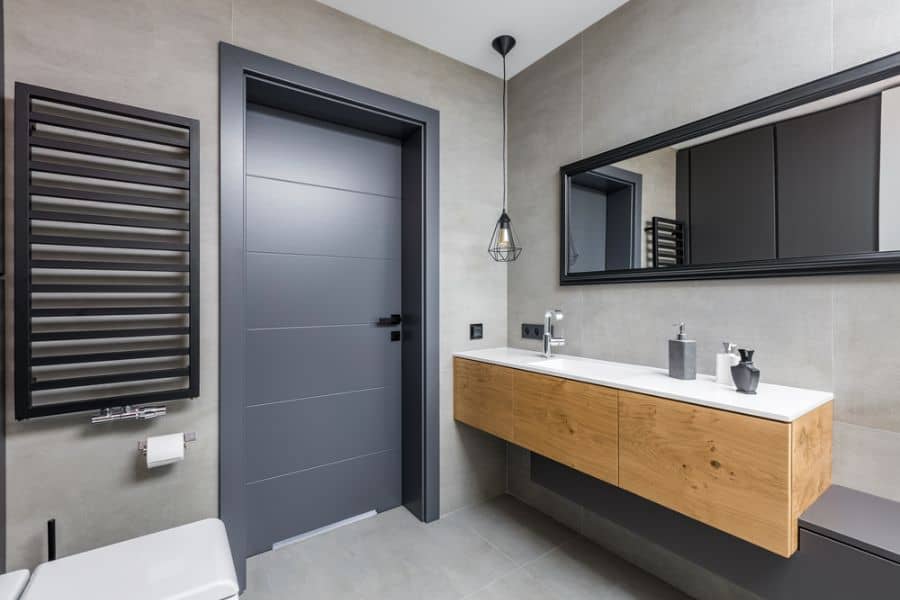 The Top 72 Bathroom Door Ideas
When was the last time you thought about the doors inside your home? While it's not uncommon to invest in stylish upgrades for the bedroom or formal dining room, spaces like the bathroom tend to go overlooked.
Selecting the perfect bathroom door isn't just about color or hardware style, either.
Keep reading for our favorite bathroom door ideas that will ensure you can shower in peace.
1. Farmhouse-style Sliding Bathroom Door
A farmhouse-style sliding door features a classic wooden design with X-shaped details or a barn door-inspired look. It effortlessly slides along a track, offering smooth and easy operation. With its unique blend of vintage charm and modern convenience, a farmhouse-style sliding door adds character and warmth to any bathroom.
It's a perfect choice for those seeking a stylish and space-saving solution. Whether your bathroom is small or spacious, this door design brings a touch of countryside allure, creating a cozy and inviting atmosphere.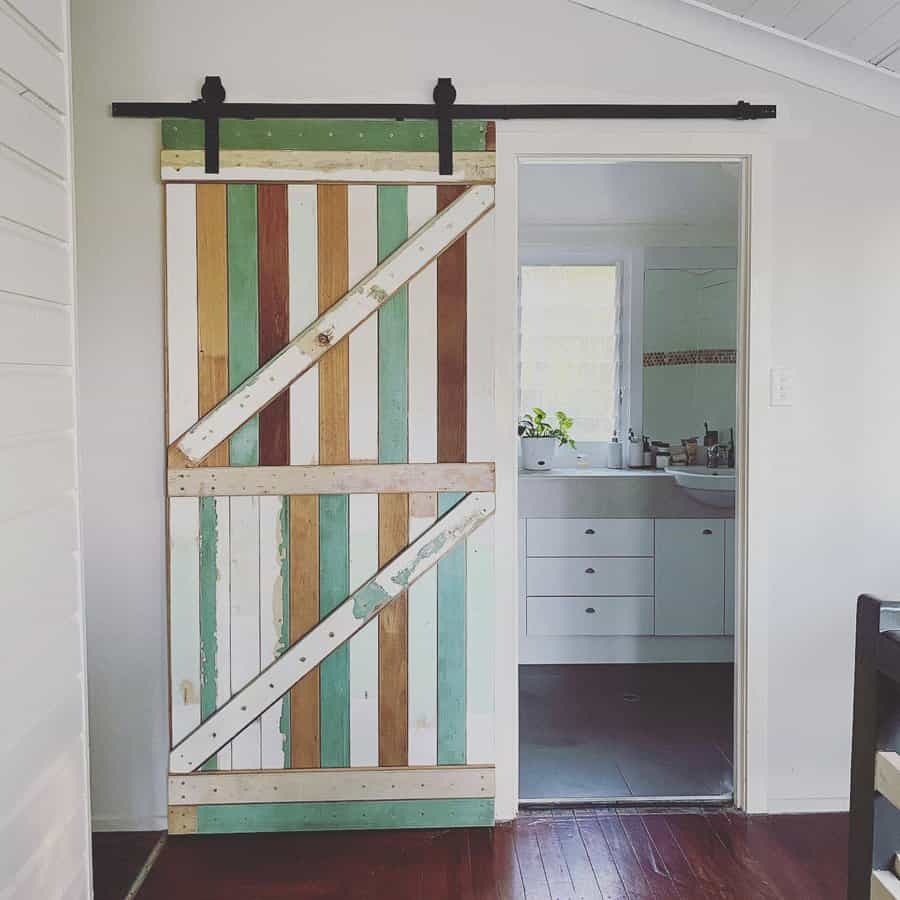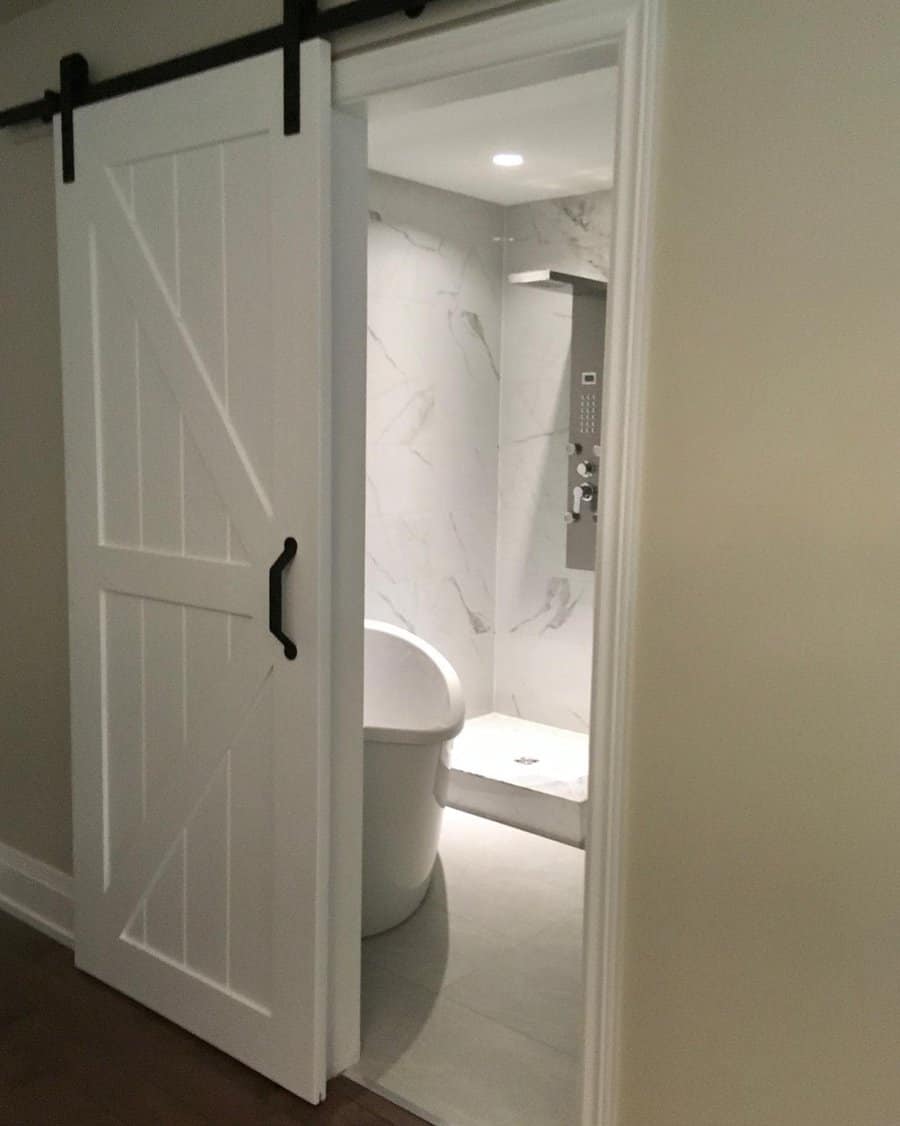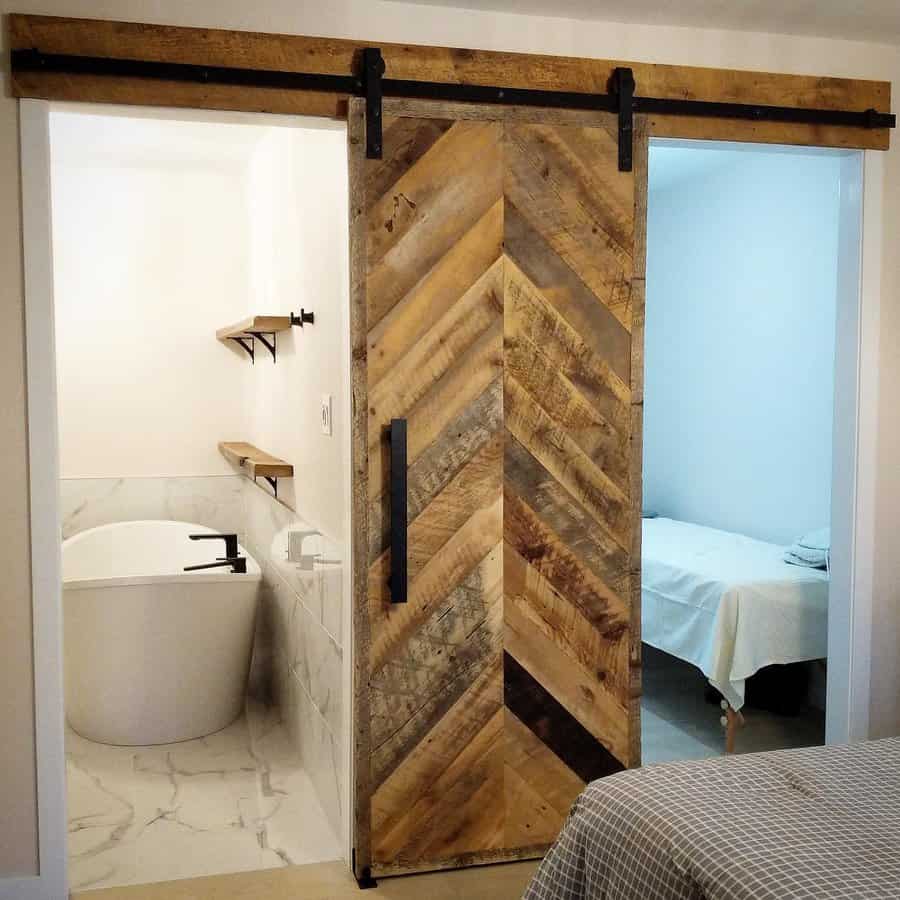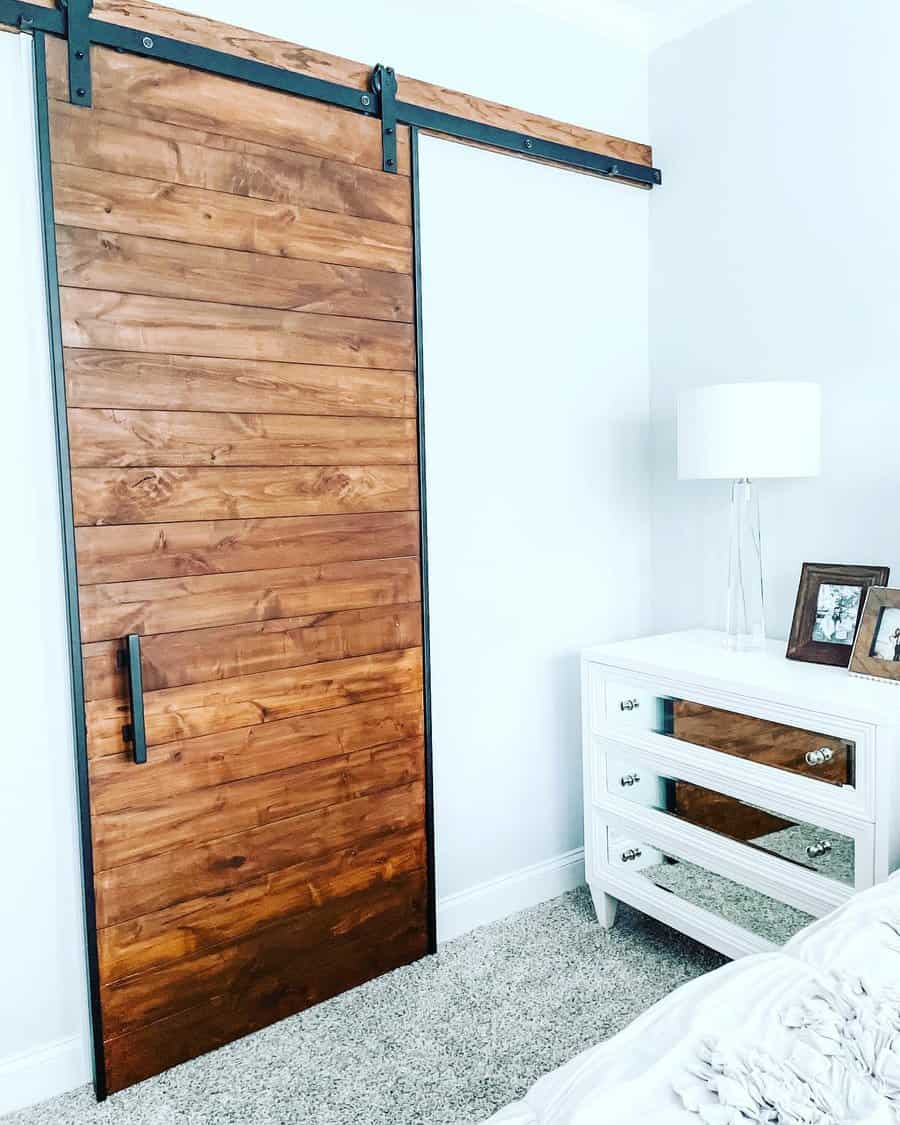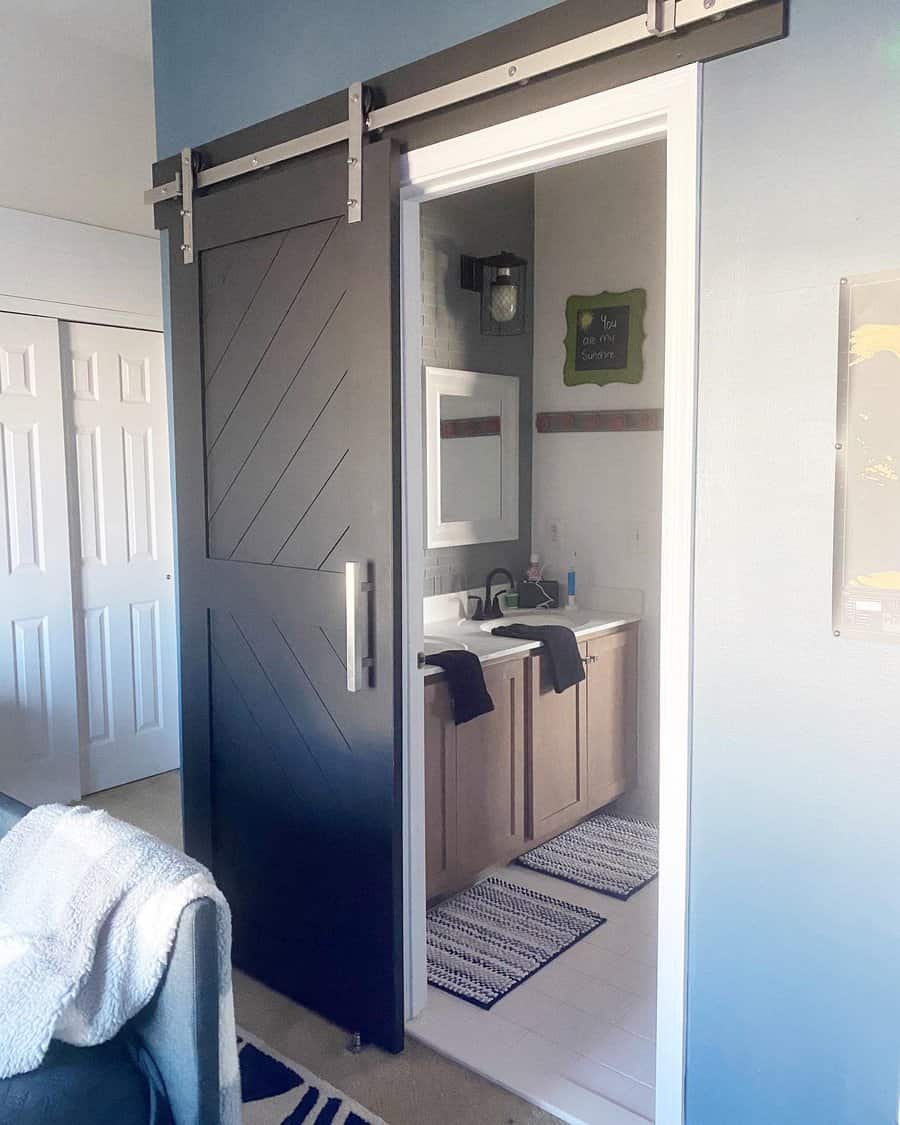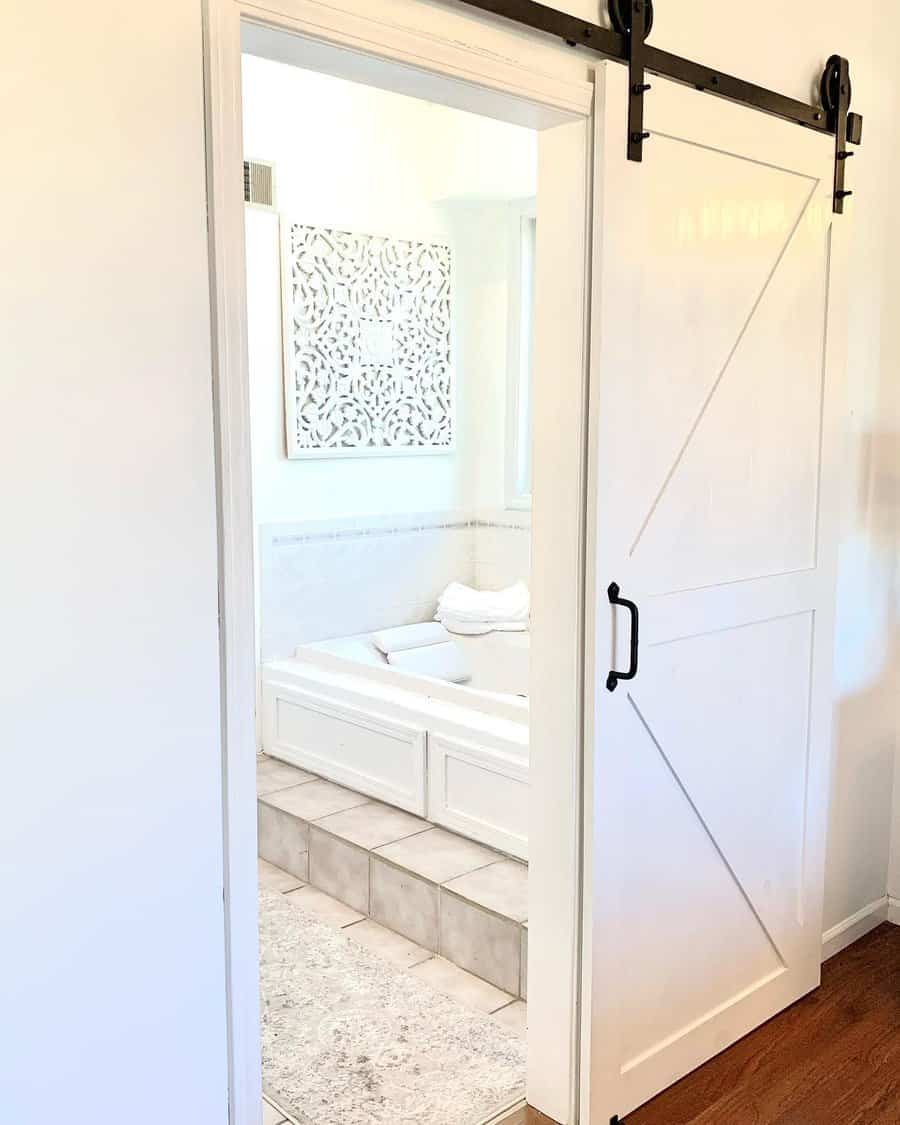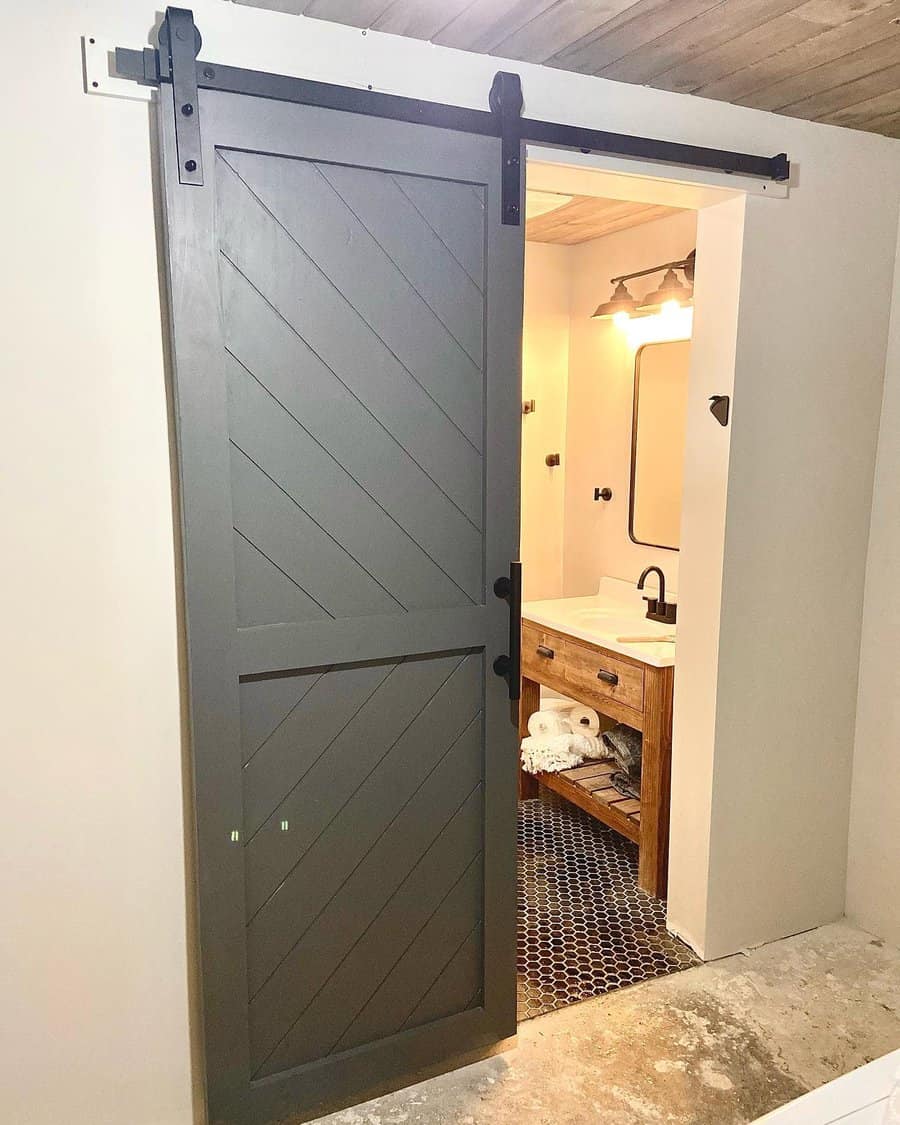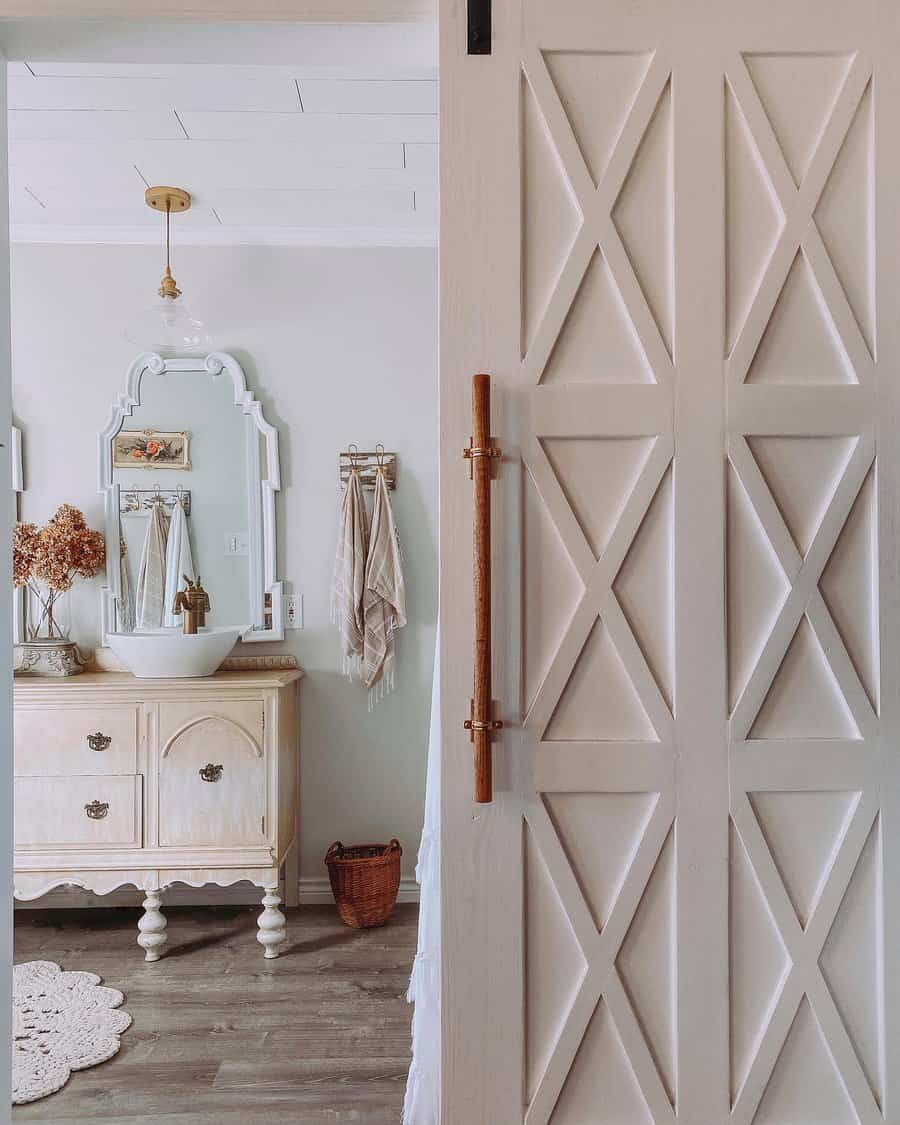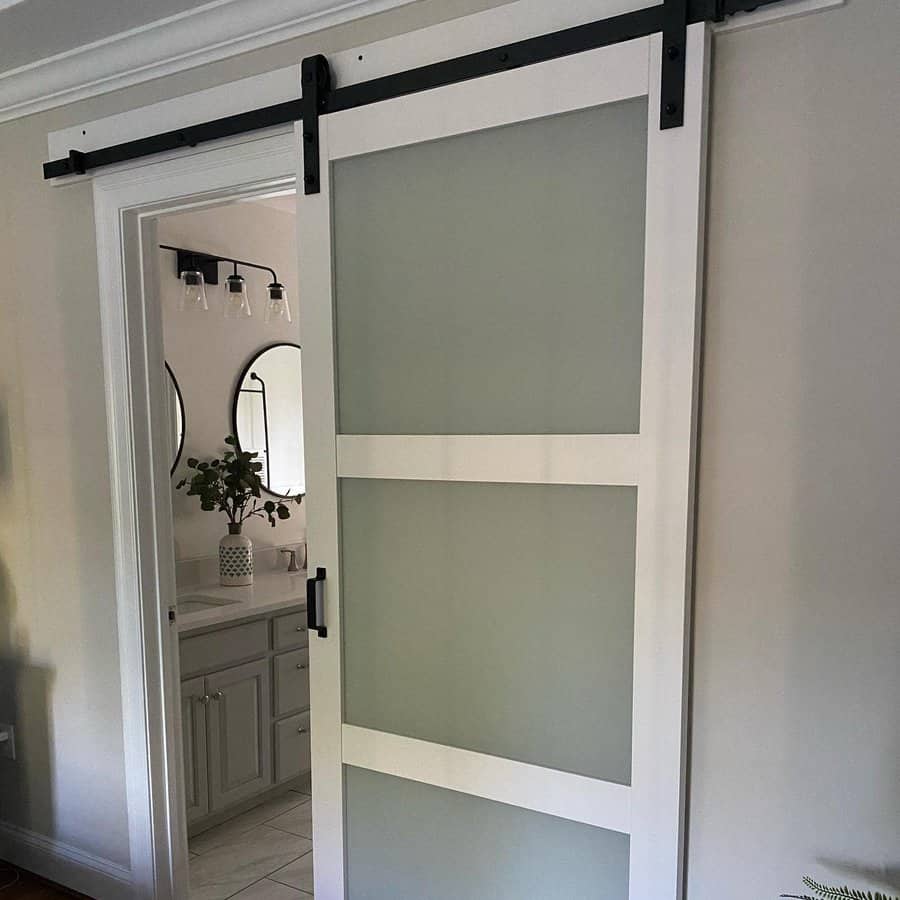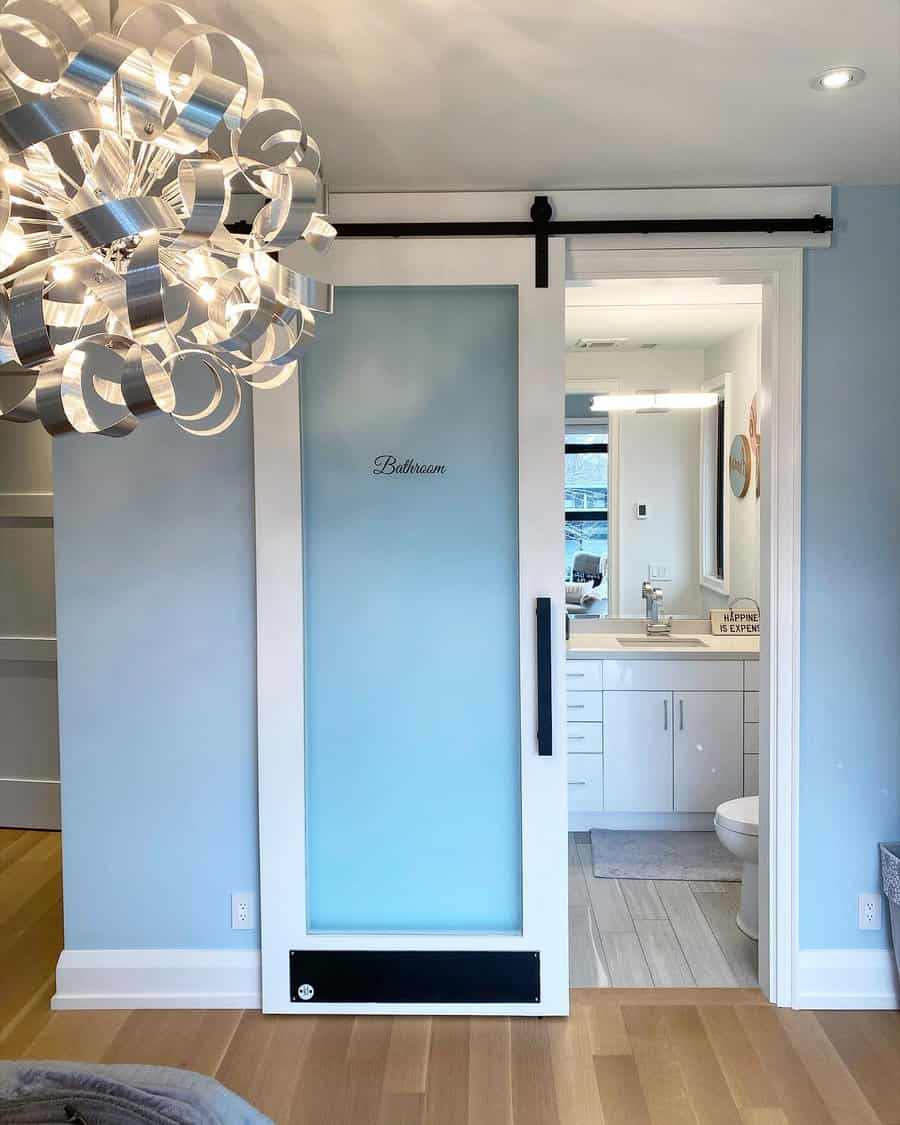 2. Wenge Modern Bathroom Door
The simplicity of the door's design, combined with its clean lines and minimalistic trimming, adds a sense of modernity and understated beauty. Whether your bathroom boasts a minimalist aesthetic or a more eclectic vibe, the wenge door effortlessly blends in while making a statement of its own.
Step into your bathroom oasis with confidence as you open this exquisite door, embracing the seamless fusion of functionality and style. Let the wenge modern bathroom door be the perfect finishing touch to your well-designed bathroom, creating a space that is both inviting and visually stunning.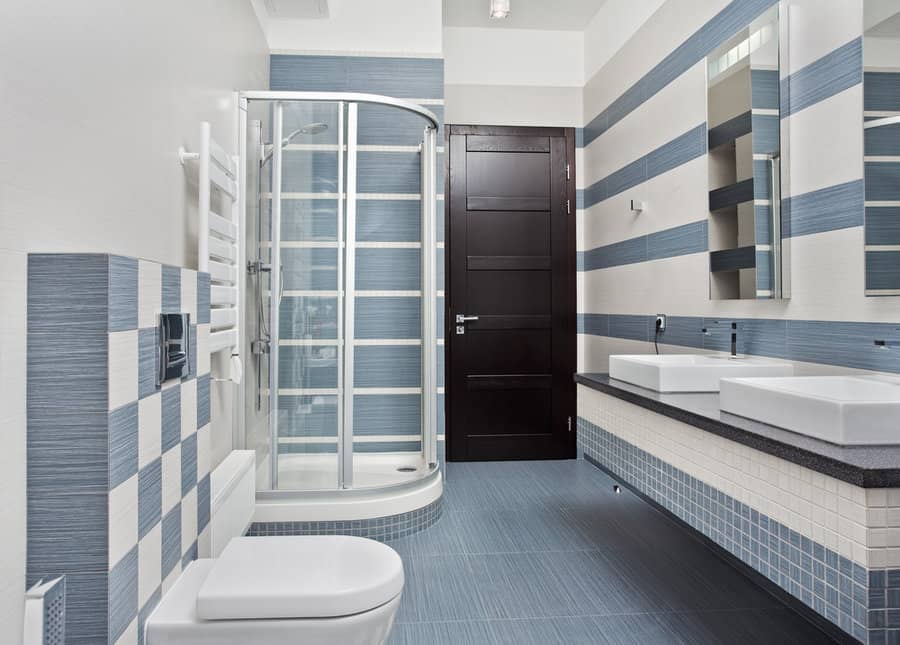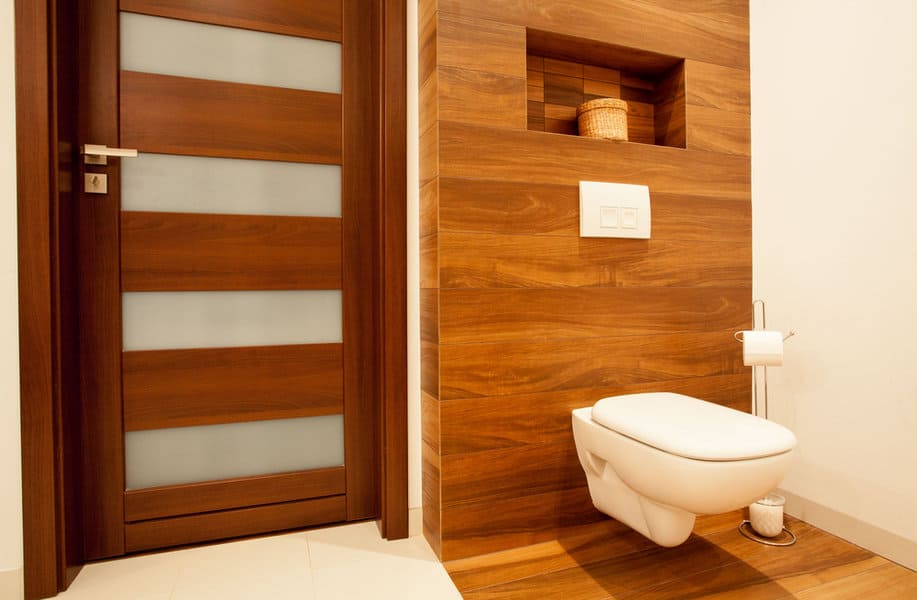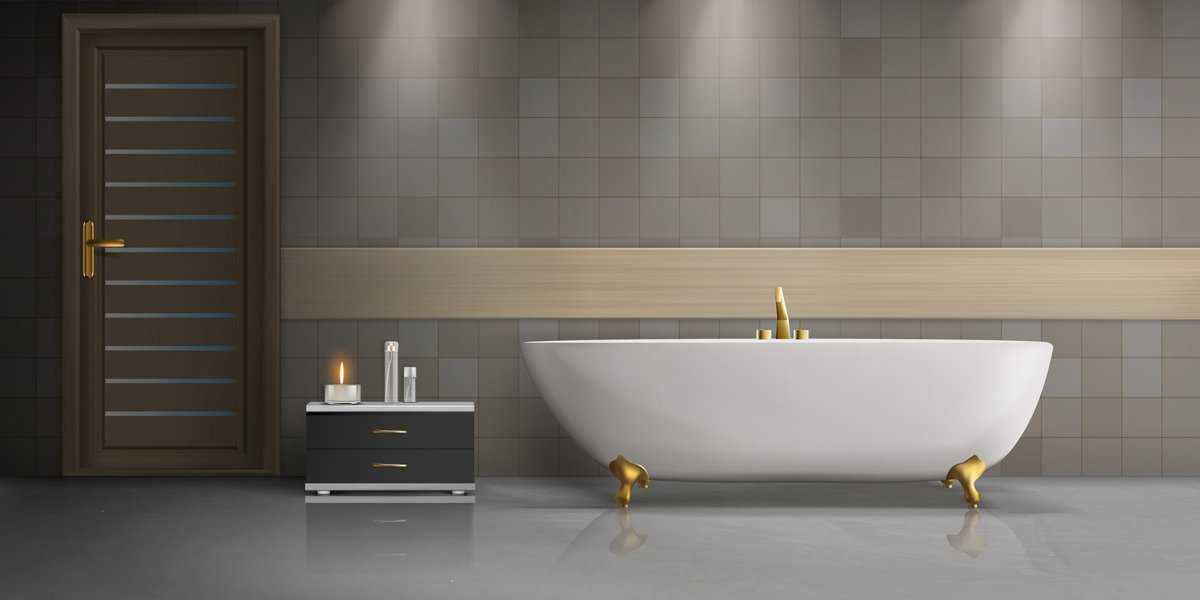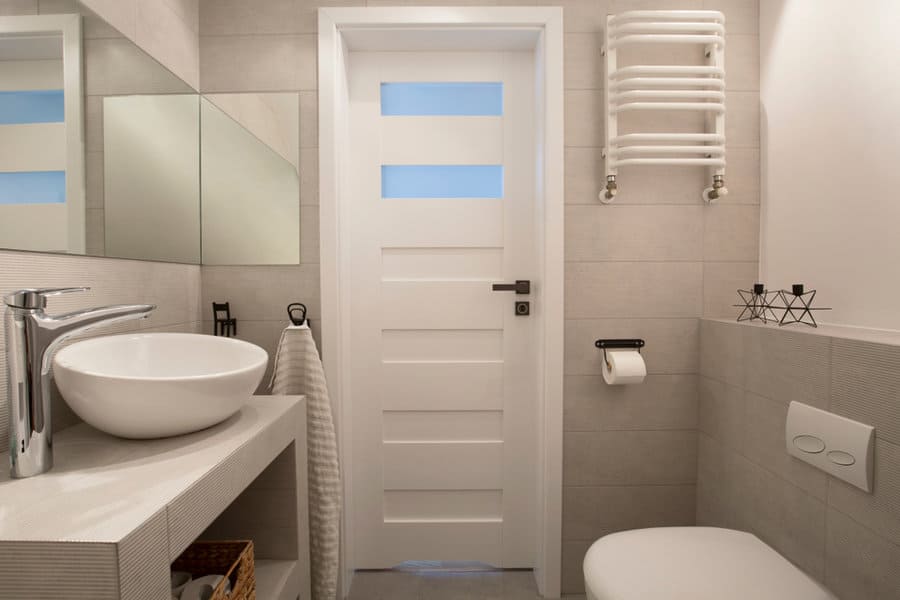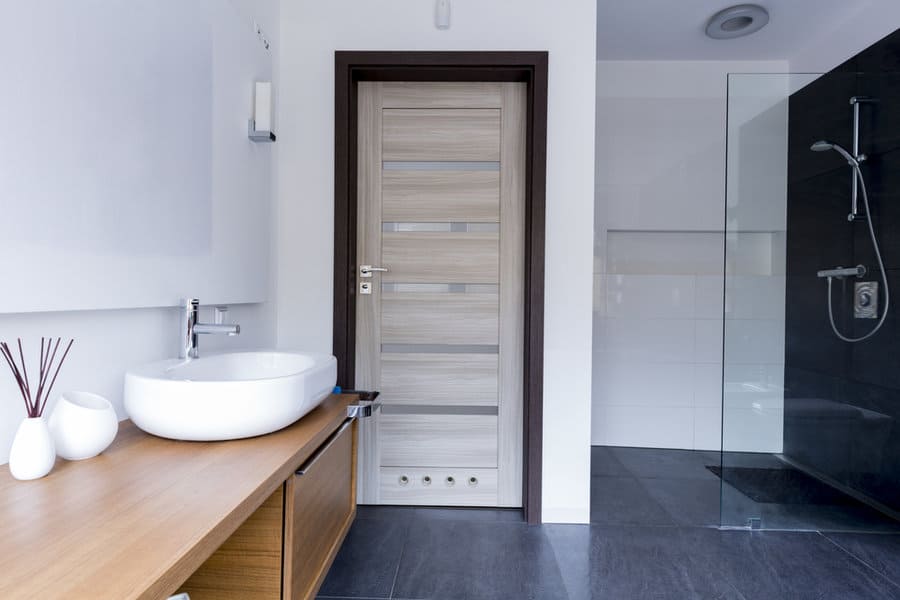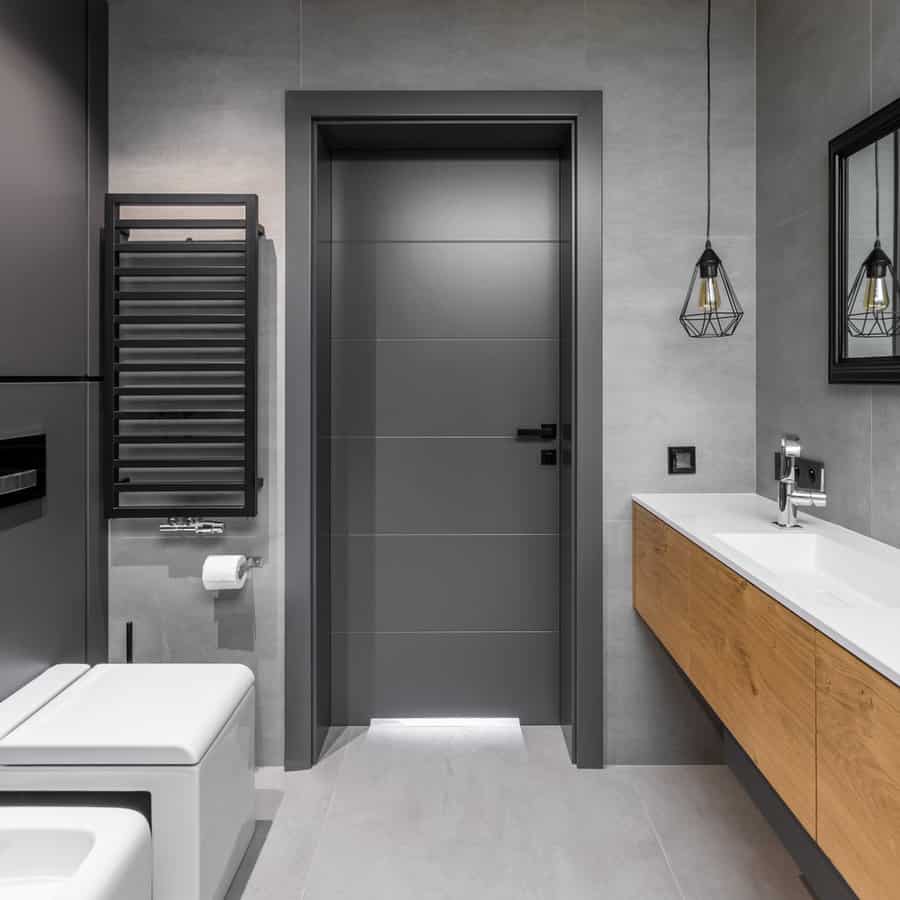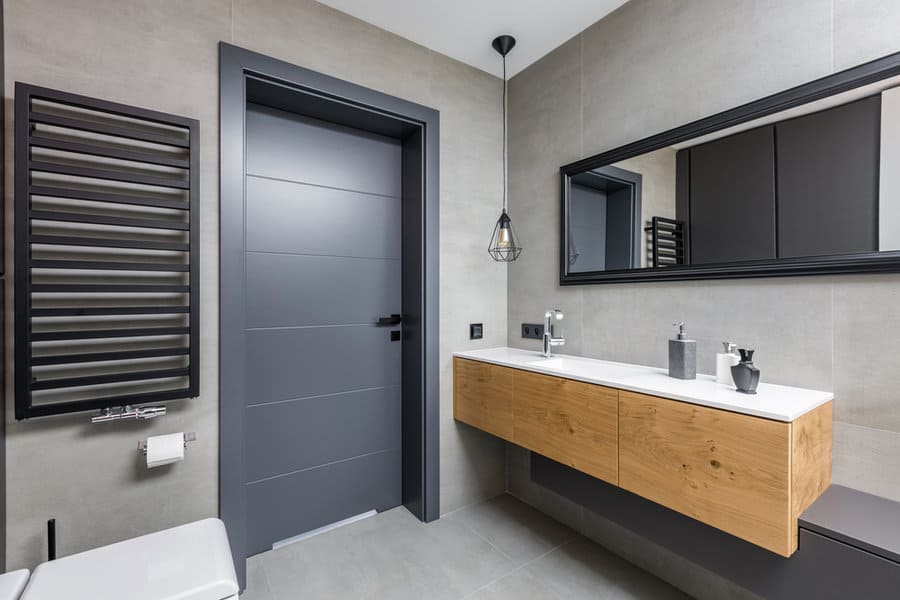 3. Wood Laminated Bathroom Door
A wood laminated bathroom door not only serves as a functional entryway but also becomes a statement piece that enhances the overall aesthetic. The rich texture and grain of the wood create a sense of warmth and sophistication, bringing a natural element into the bathroom.
The wide options of wood laminated doors allow you to choose from different finishes and tones that complement your existing bathroom decor without the large cost of luxury wood. Whether you prefer a rustic and cozy atmosphere or a modern and sleek look, a wood laminated door can be tailored to suit your style.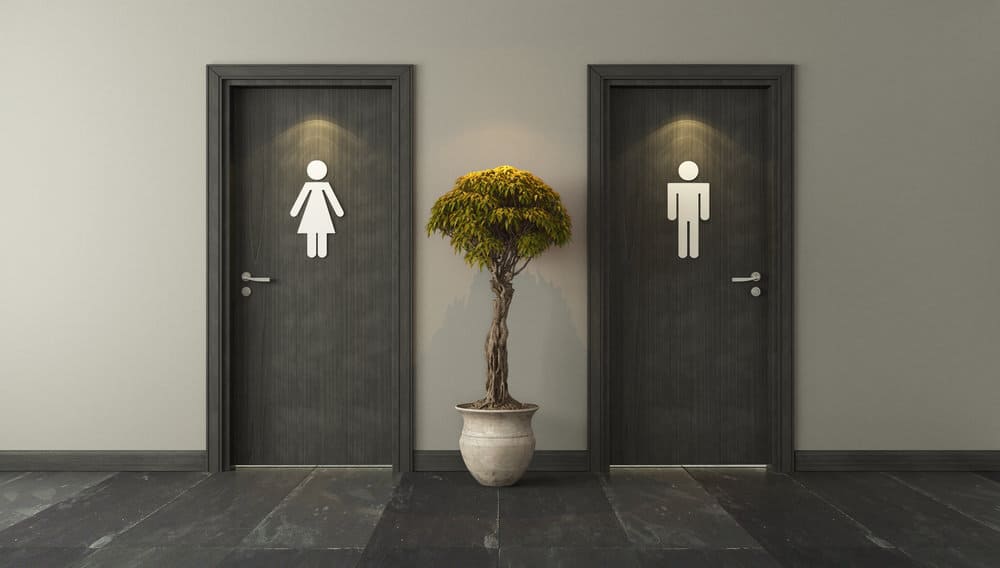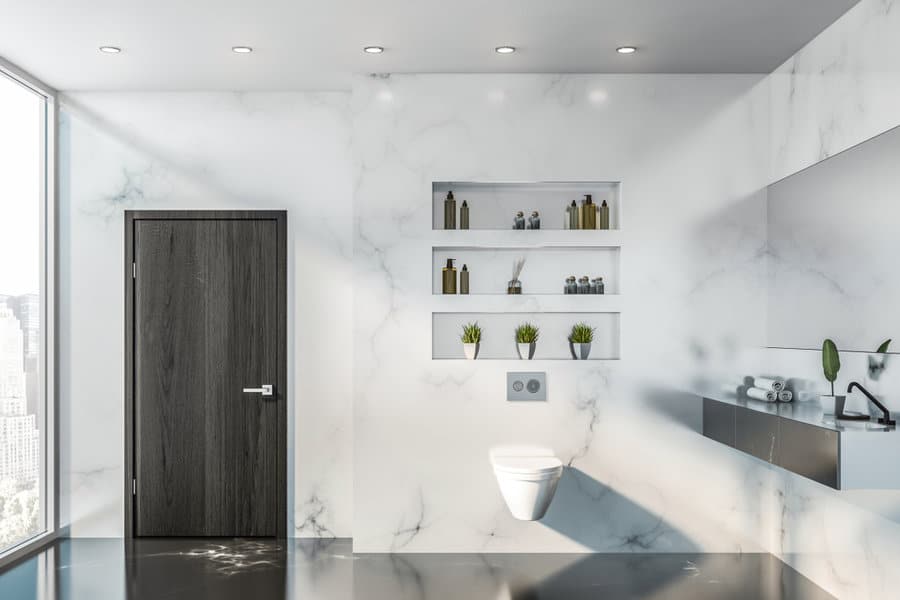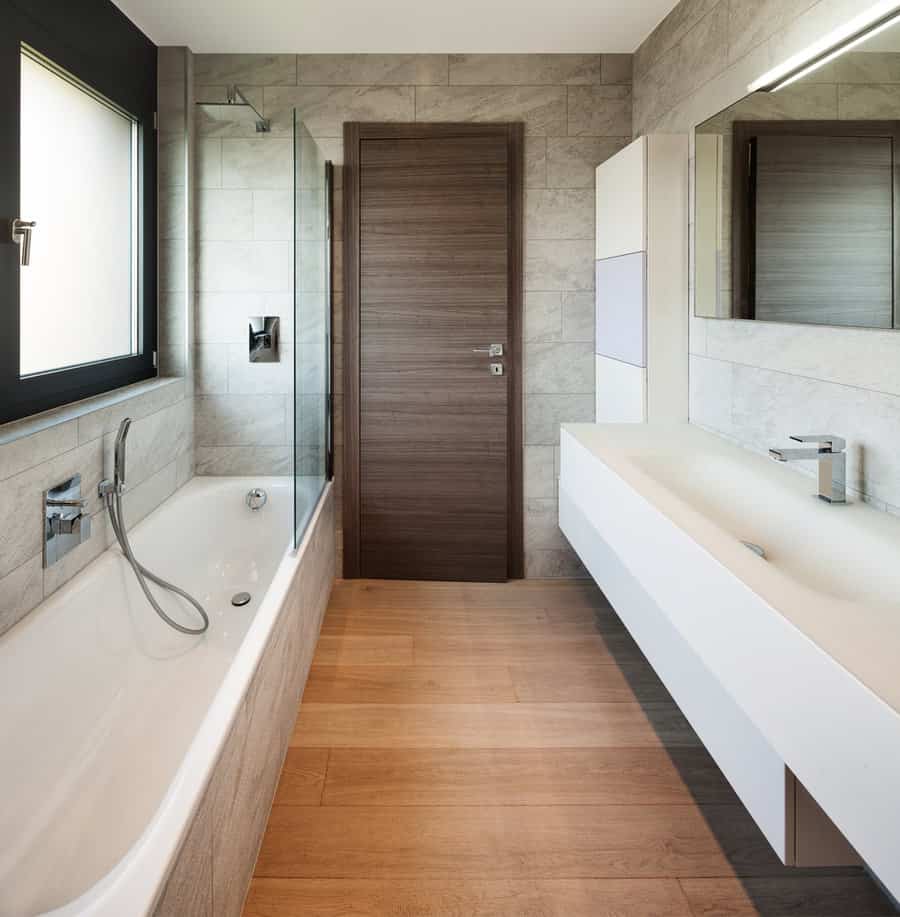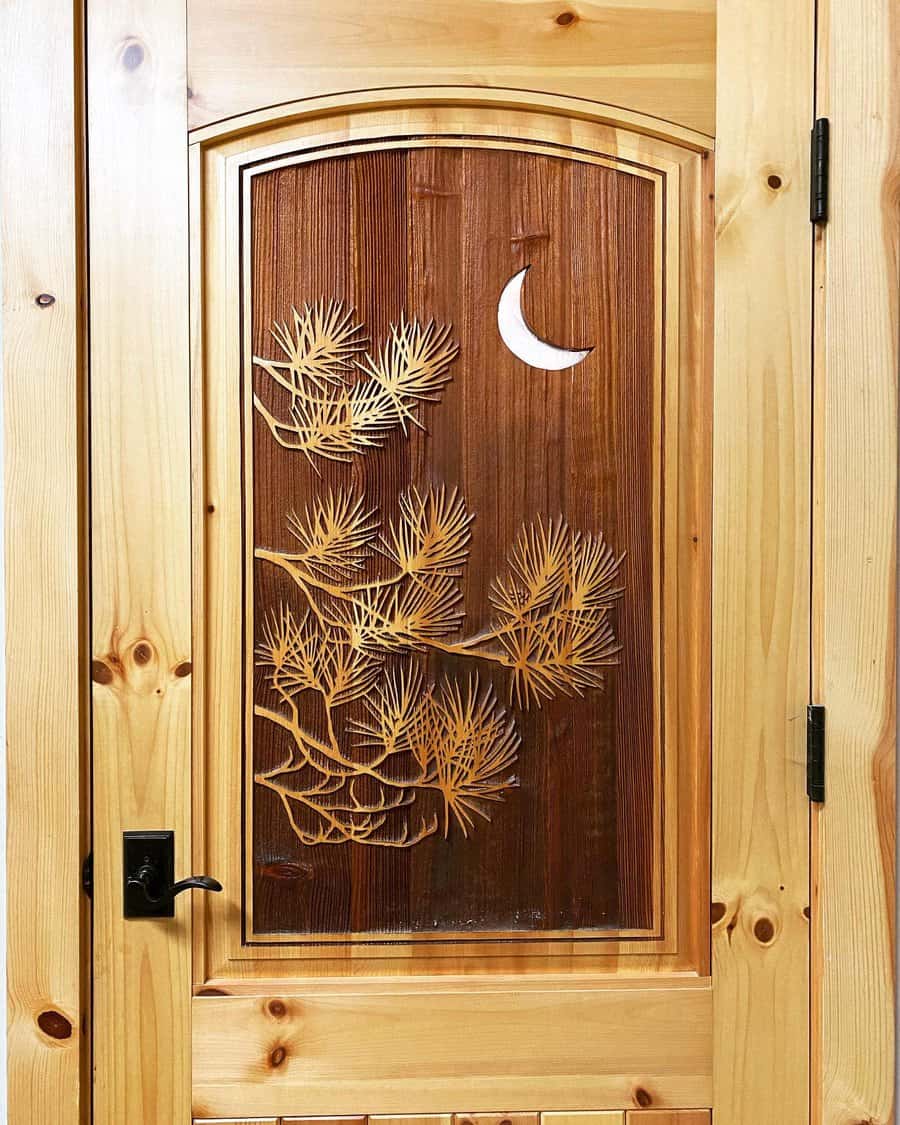 4. Bathroom Door With Frosted Glass
A bathroom door with frosted glass is a brilliant choice that combines aesthetics with practicality. The frosted glass provides a level of privacy while allowing natural light to filter through, creating a bright and airy atmosphere. It adds a touch of elegance and modernity to any bathroom, making it a standout feature in your home.
With various frosted glass designs and patterns available, you can choose one that complements your overall bathroom aesthetic, whether it's sleek and contemporary or classic and timeless. The frosted glass also adds a sense of openness, making the bathroom feel more spacious and inviting.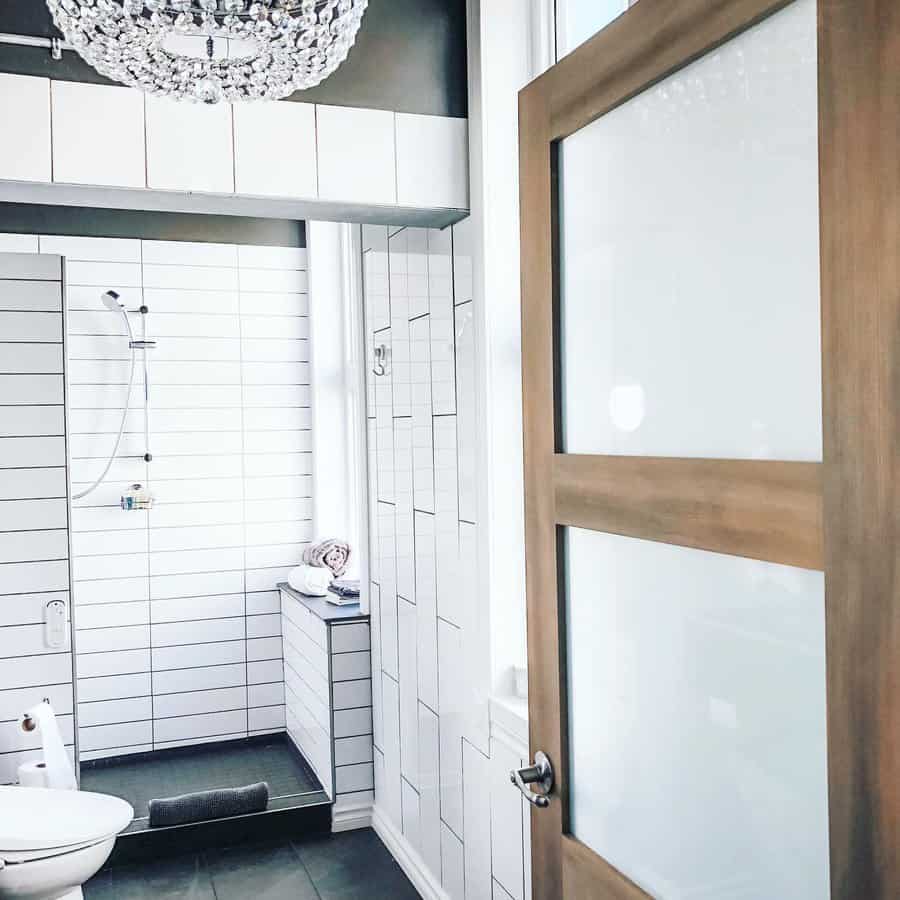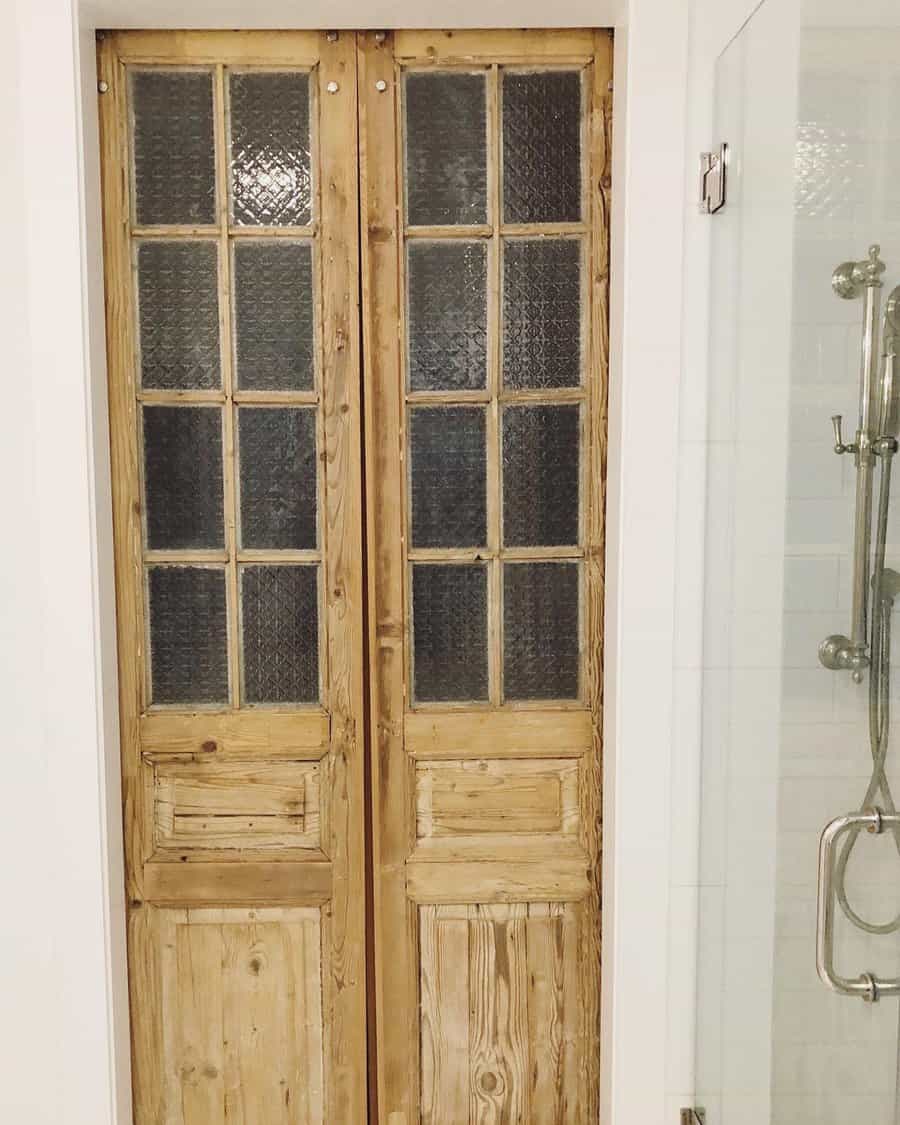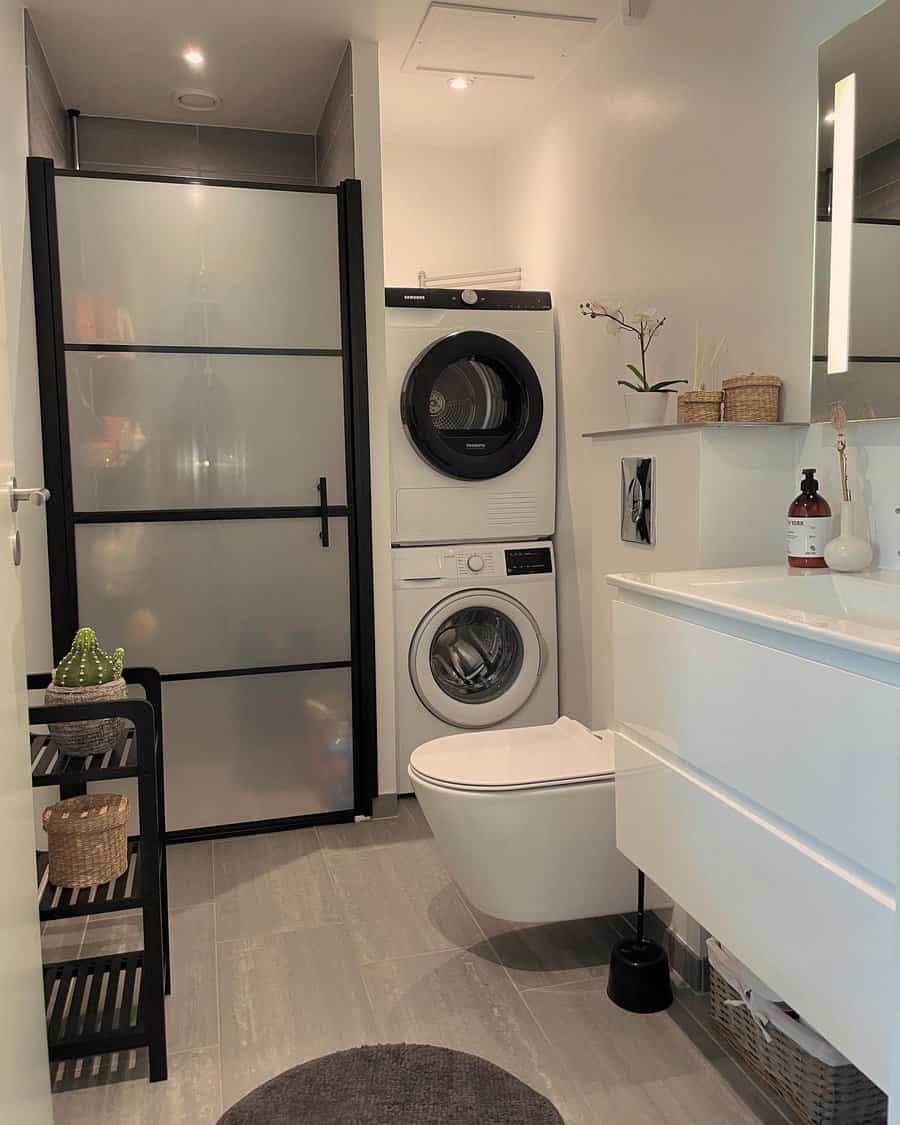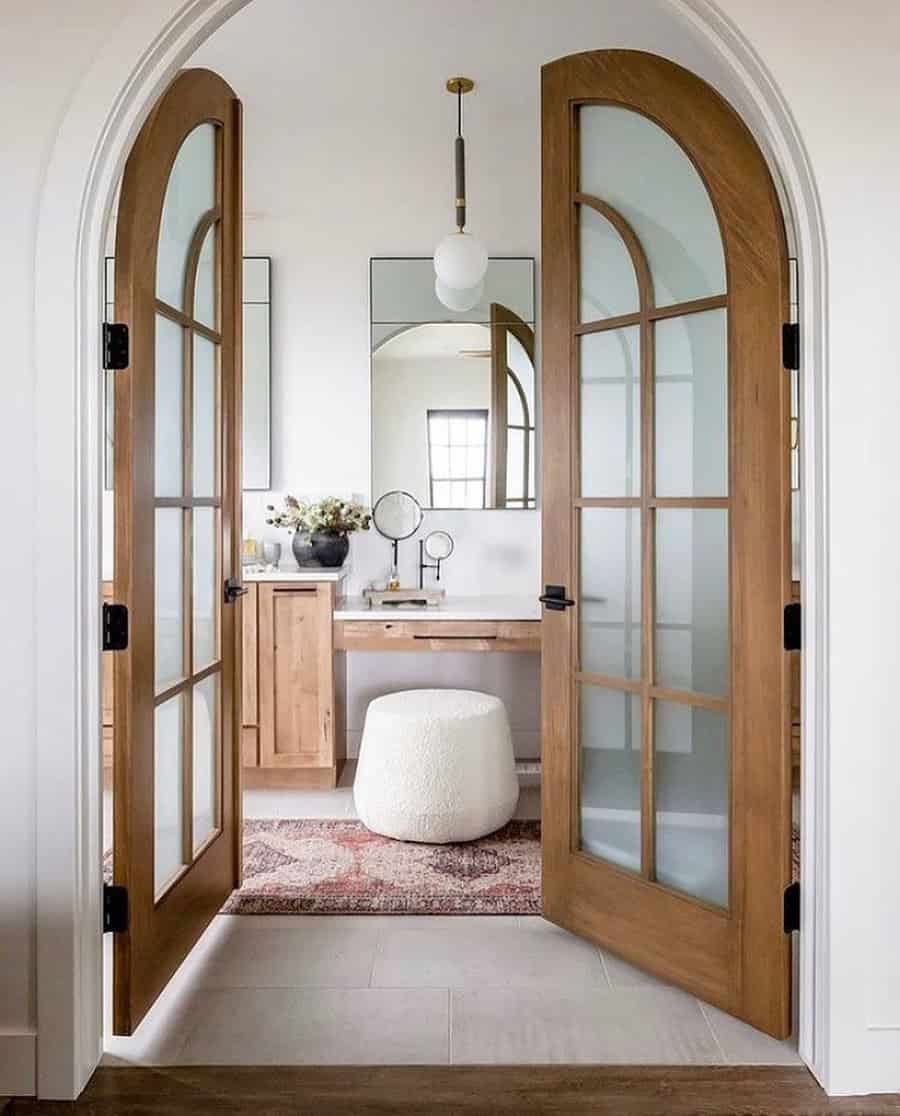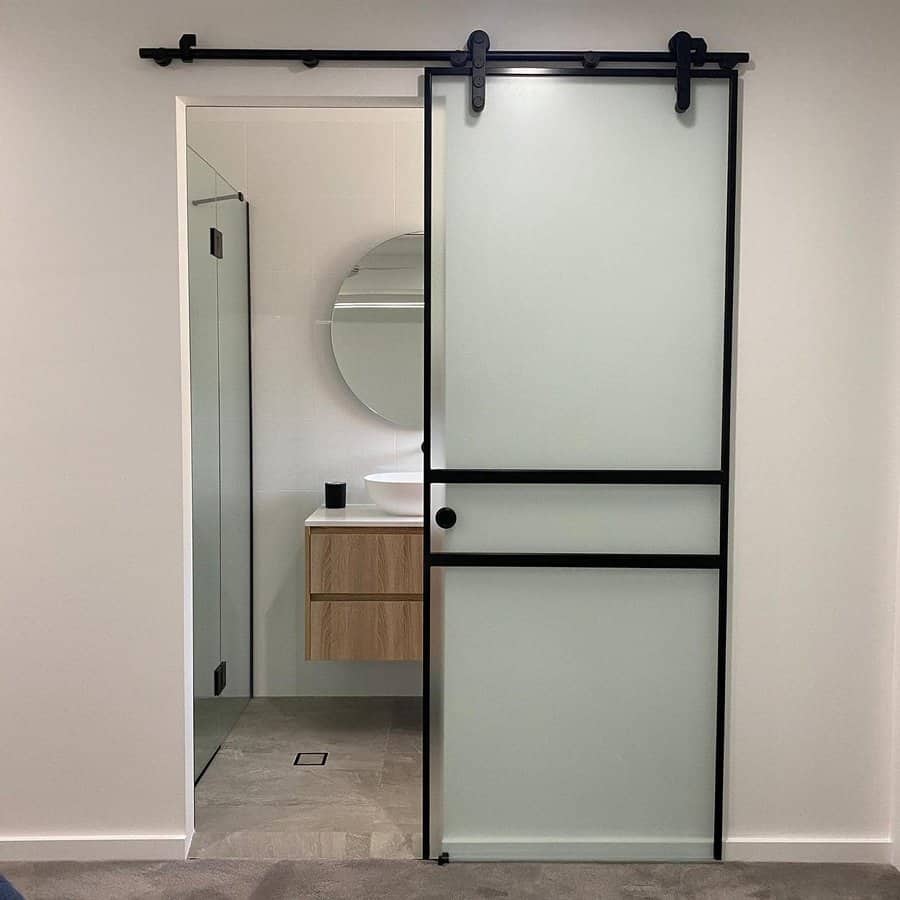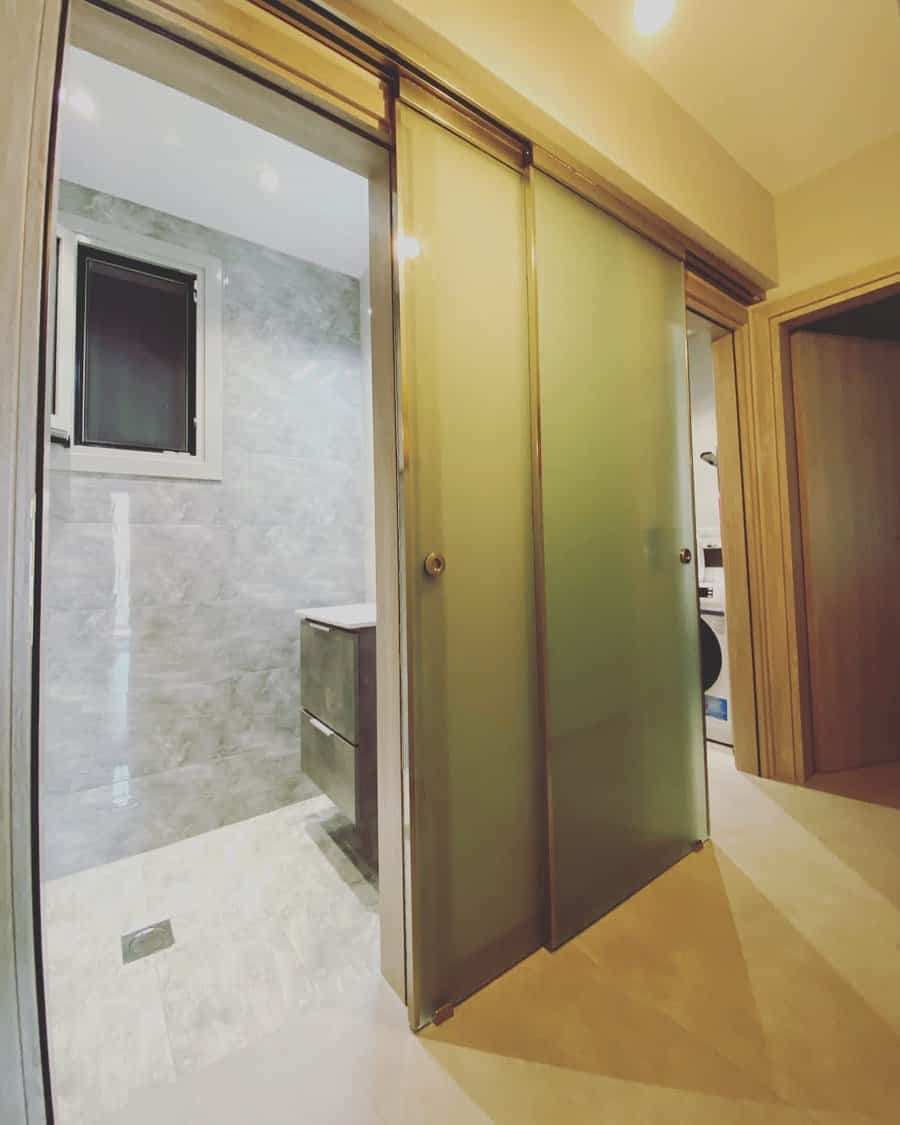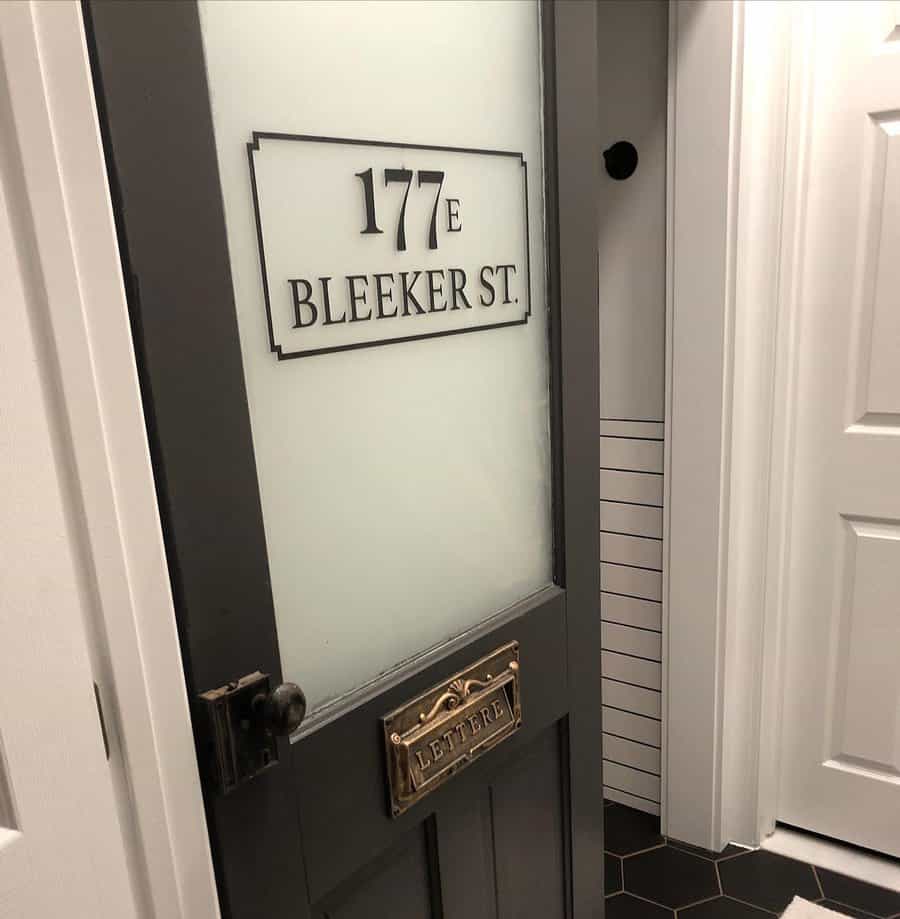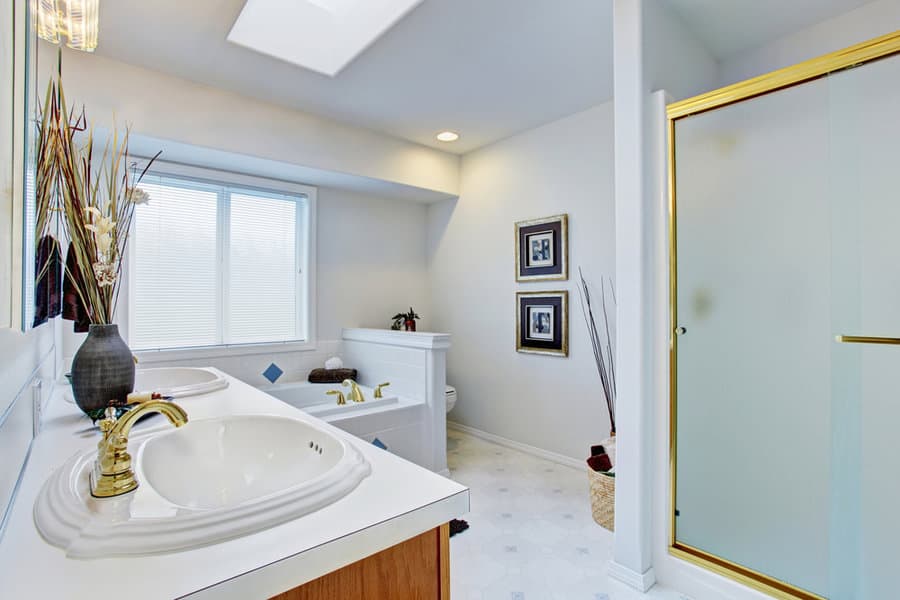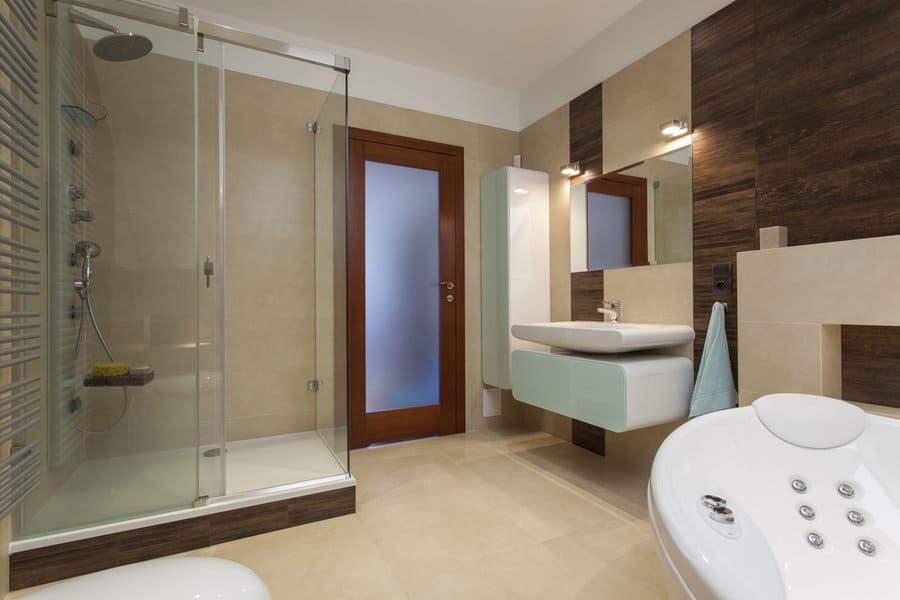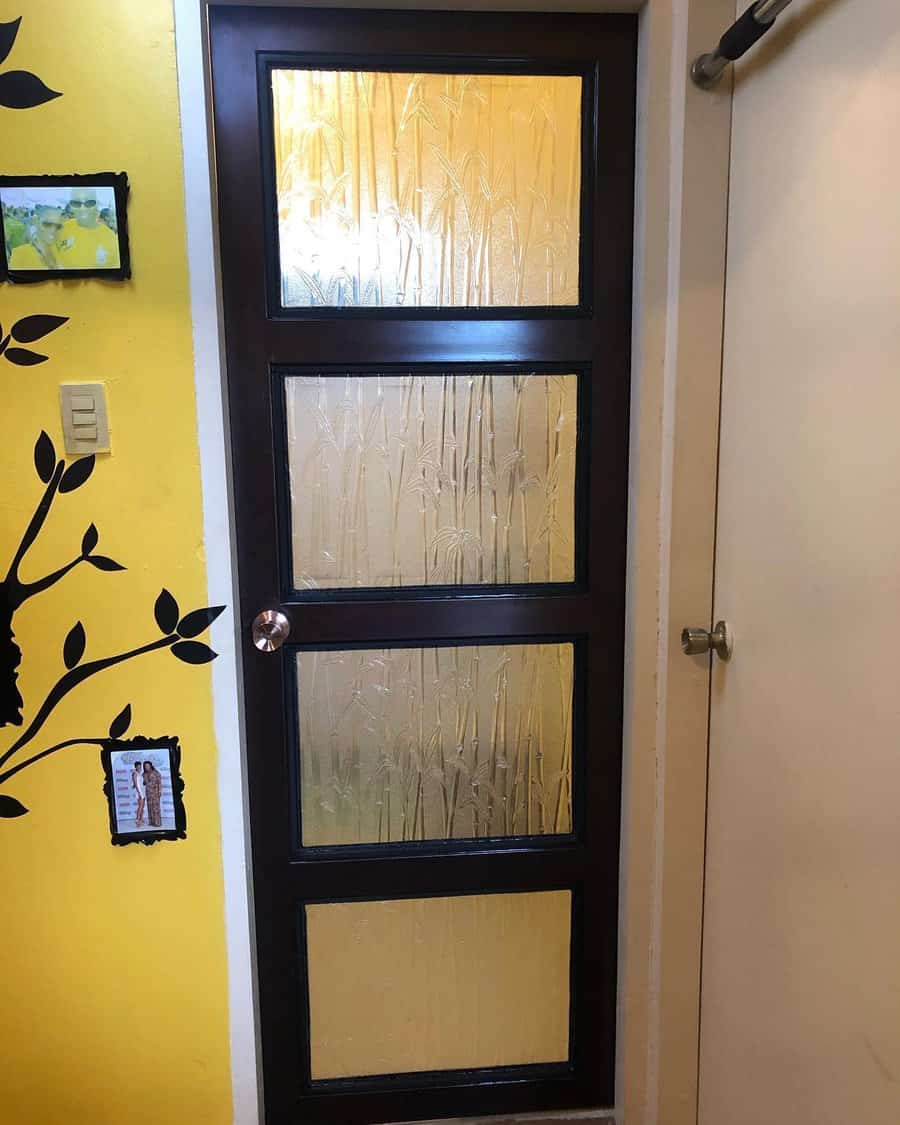 5. Black-Framed Bathroom Door
A black framed bathroom door adds a touch of modern elegance and creates a striking focal point in your space. The bold contrast between the black frame and the surrounding walls or tiles instantly grabs attention and exudes a sense of luxury.
Whether your bathroom is contemporary, industrial, or even traditional, a black framed door seamlessly complements various design styles. It brings a sense of depth and visual interest, making your bathroom feel more dynamic and visually appealing.
The black frame also adds a touch of architectural interest, creating clean lines and a sense of structure. With its versatile and timeless appeal, a black framed bathroom door is a statement piece that effortlessly enhances the overall aesthetic of your bathroom.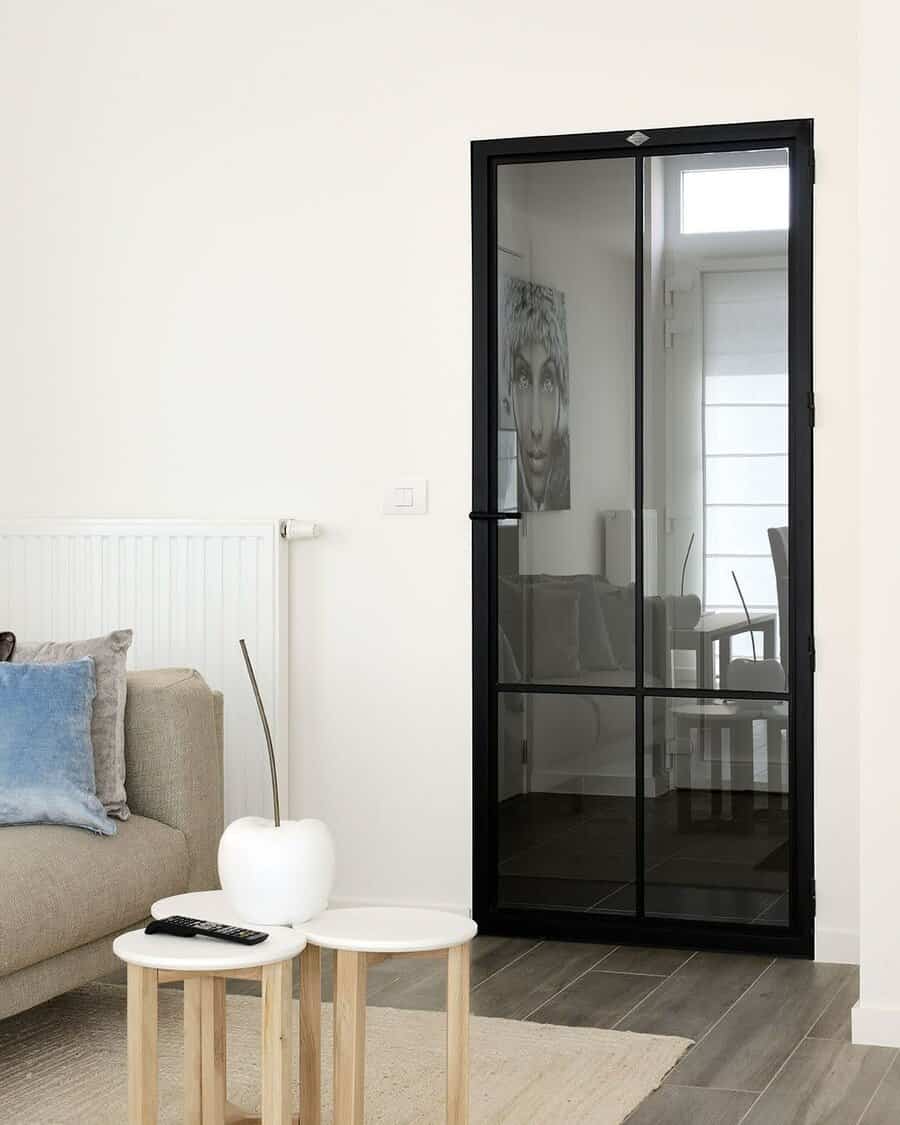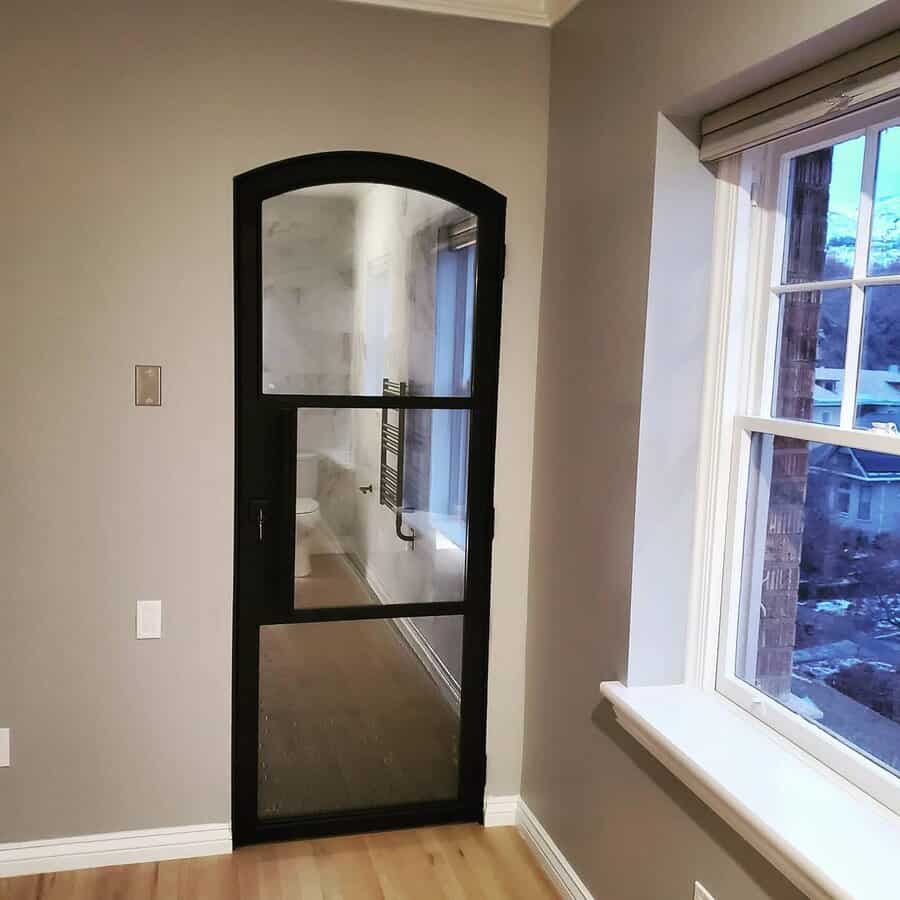 6. Glass Shower Doors
By opting for glass shower doors, you can create a sense of spaciousness and openness in your bathroom, allowing natural light to flow through and visually expand the space. The transparency of the glass adds a touch of modern elegance and creates a seamless transition between the shower and the rest of the bathroom.
Not only do glass shower doors enhance the overall aesthetic appeal of your bathroom, but they also offer practical benefits. They are easy to clean and maintain, making your daily routine a breeze. The sleek and minimalist design of glass shower doors complements a wide range of bathroom styles, from classic to contemporary.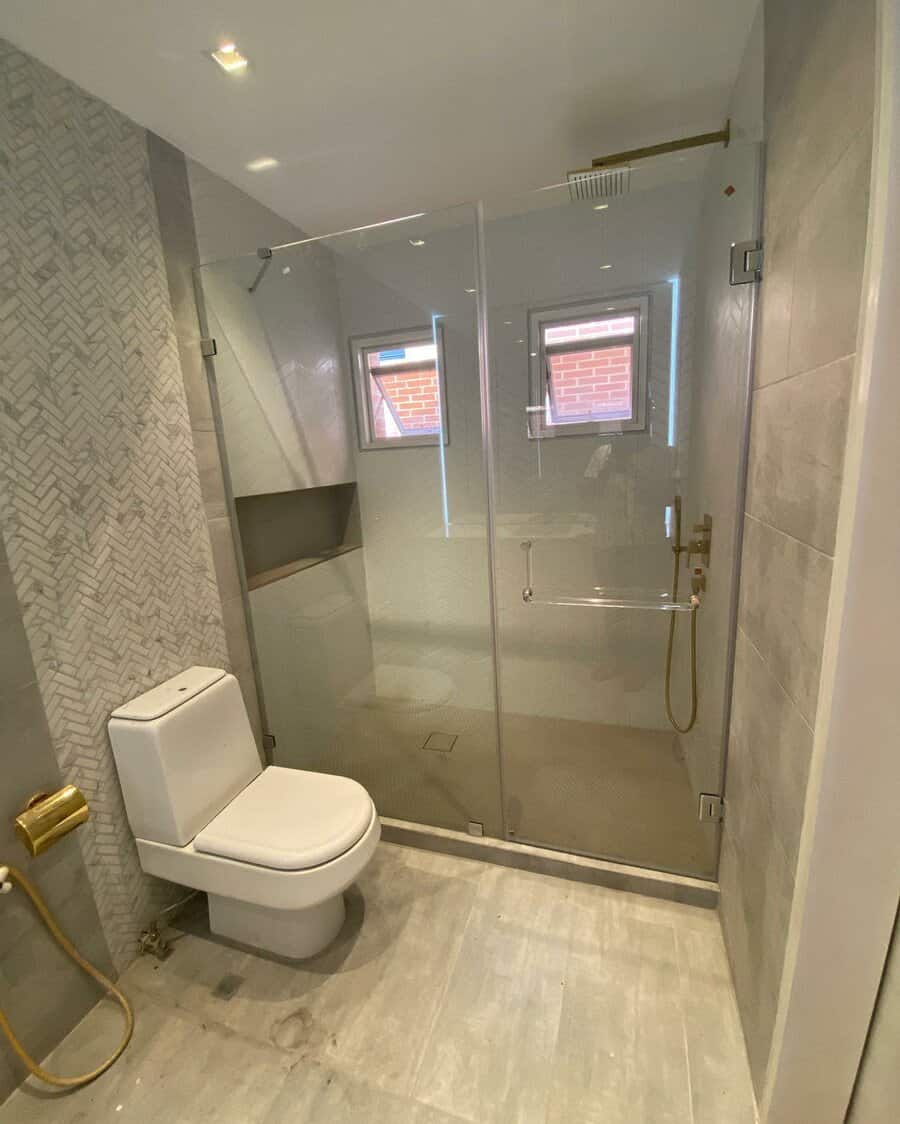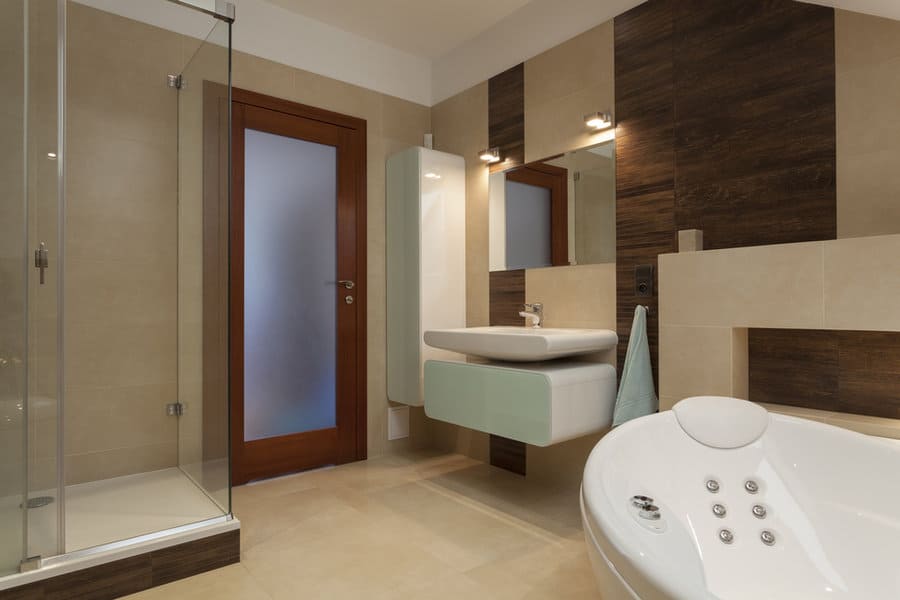 7. Double Bathroom Doors
Elevate the style and elegance of your bathroom with the timeless beauty of French-style double doors. Incorporating double doors in your bathroom design not only adds a touch of sophistication but also enhances the functionality of the space. Imagine opening these elegant doors to reveal a luxurious oasis where you can unwind and rejuvenate.
These French-style double doors bring a sense of openness and grandeur to the bathroom, creating an inviting and luxurious atmosphere. The glass panels on the doors allow natural light to filter through, creating a bright and airy ambiance.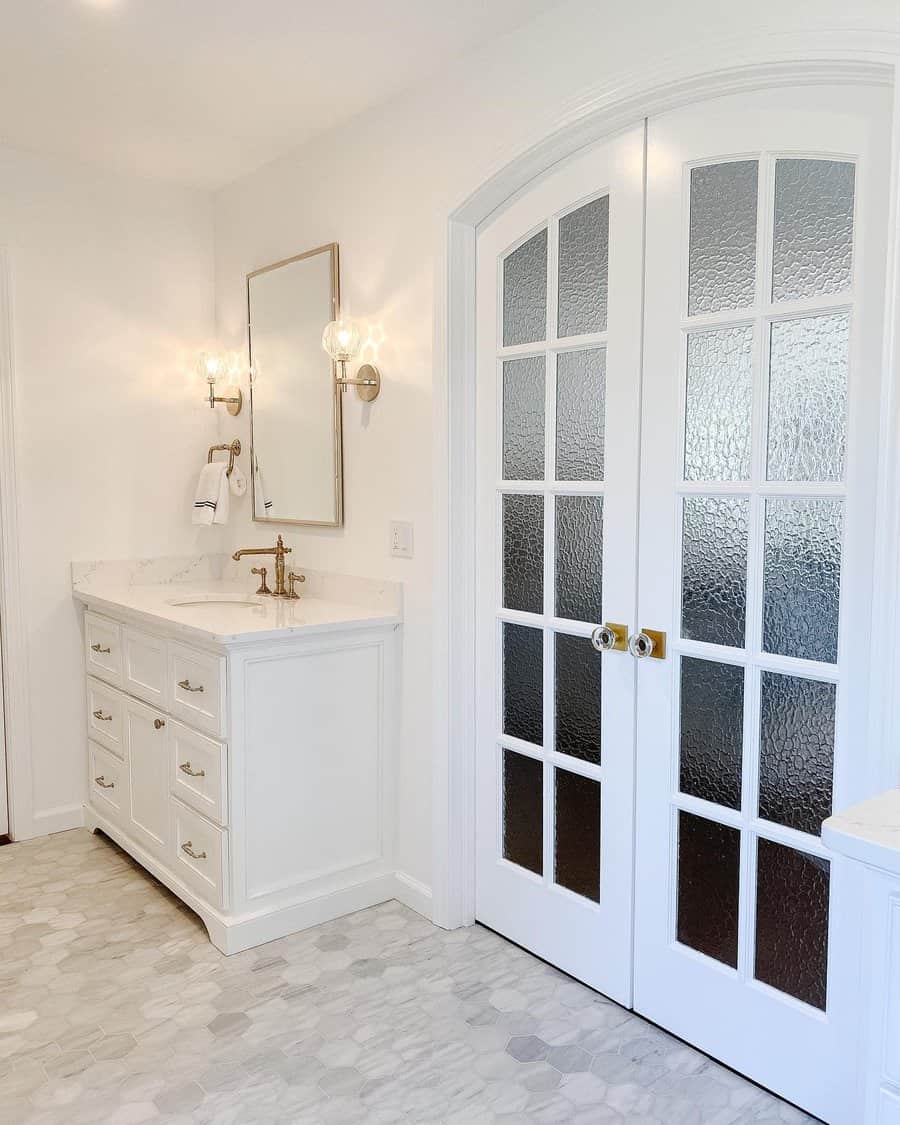 8. Frameless Glass Bathroom Door
A frameless glass bathroom door not only creates a seamless and streamlined look but also allows natural light to flow freely, making your bathroom feel bright and spacious. The absence of bulky frames lends an air of elegance and sophistication, giving your bathroom a touch of contemporary luxury.
With its clean lines and minimalist design, a frameless glass door effortlessly blends into any bathroom aesthetic, whether it's sleek and modern or classic and timeless. It adds a touch of openness and visual fluidity, making your bathroom appear larger and more inviting.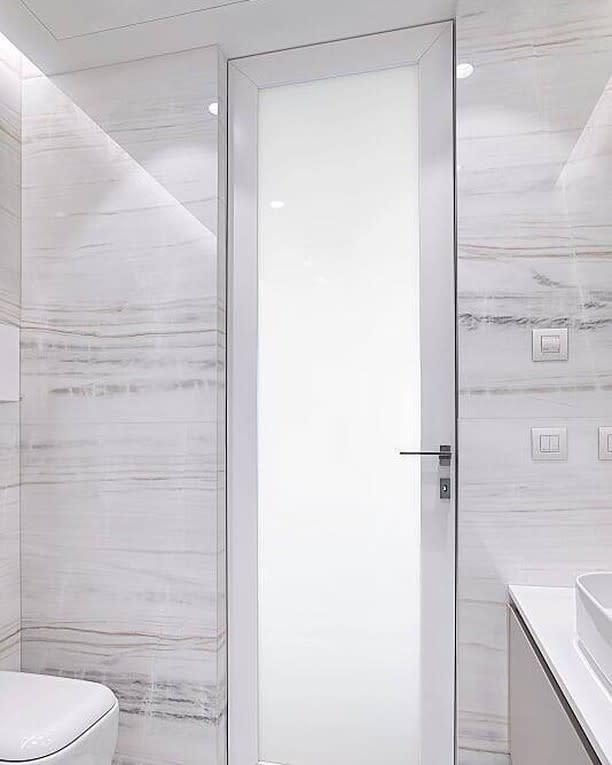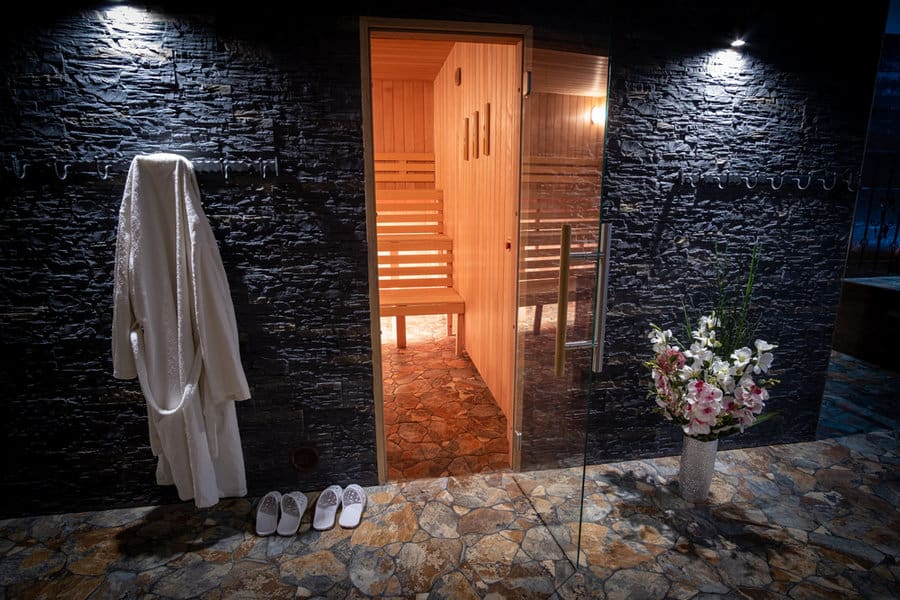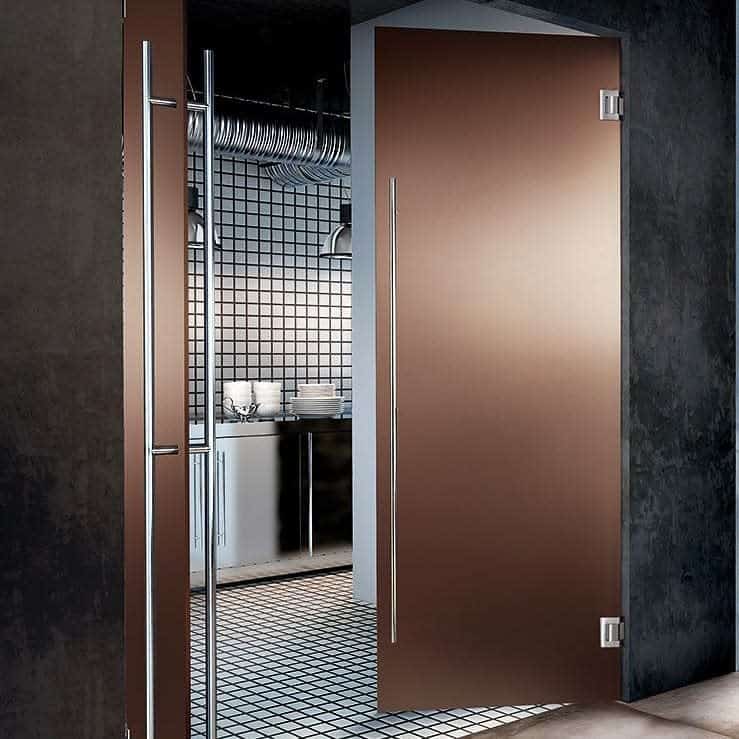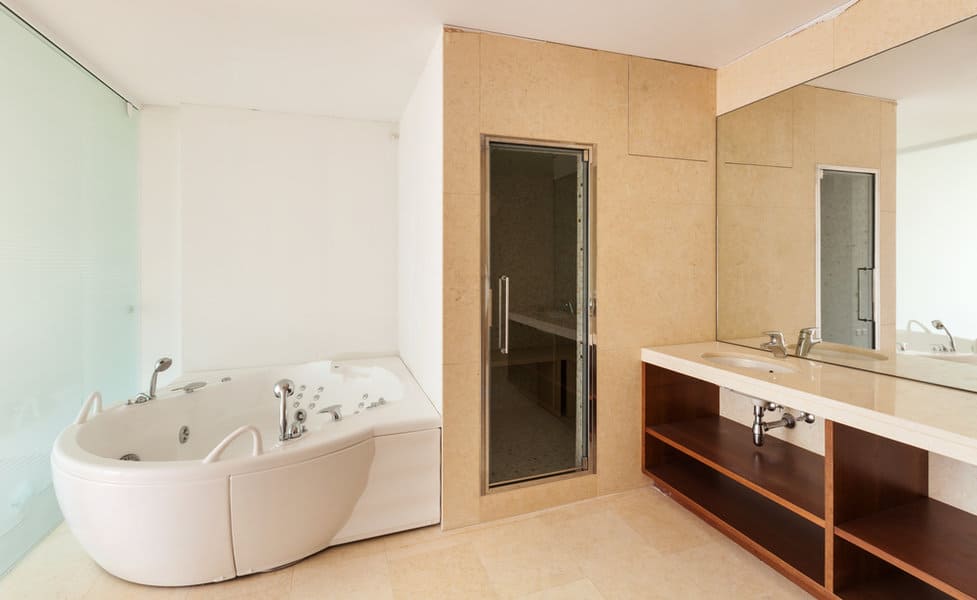 9. Frameless Bathroom Door
A frameless bathroom door offers a sleek and minimalist look, allowing your bathroom to appear more spacious and open. The absence of visible frames and bulky hardware creates a seamless and sophisticated aesthetic that complements any interior design scheme. The clear glass panels of a frameless door allow natural light to flow freely, brightening up the space and creating a sense of airiness.
This design choice also allows your beautiful bathroom tiles or statement fixtures to take center stage, enhancing their visual impact. With a frameless bathroom door, you can effortlessly achieve a clean and modern look that adds a touch of luxury to your everyday routine.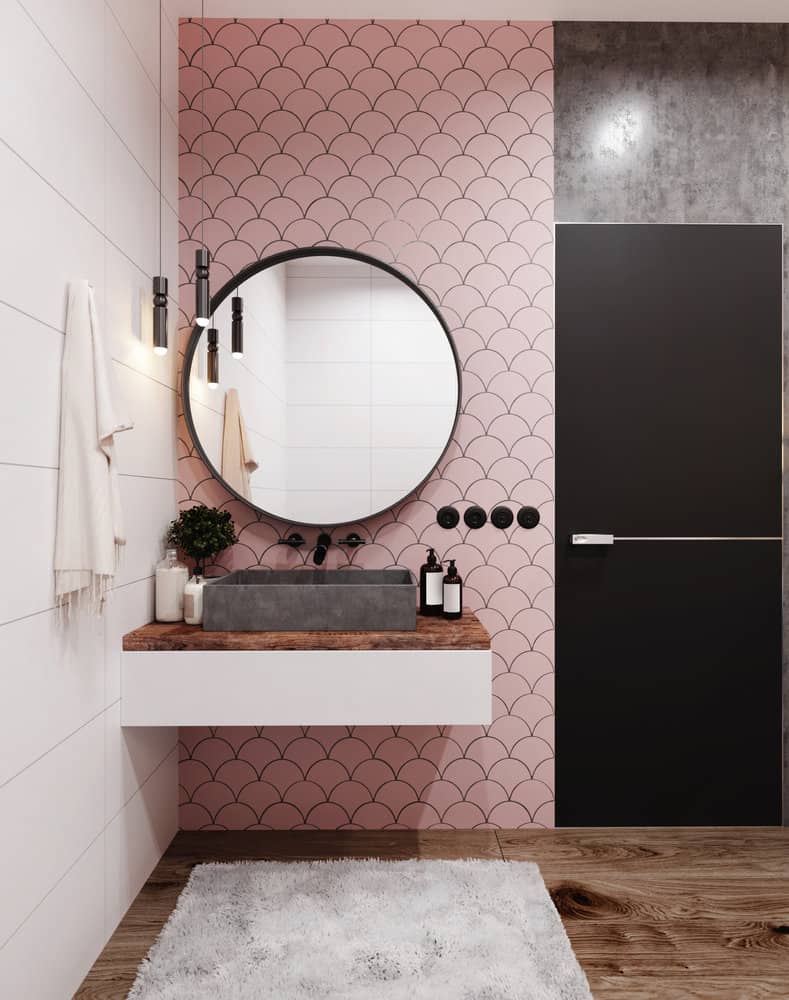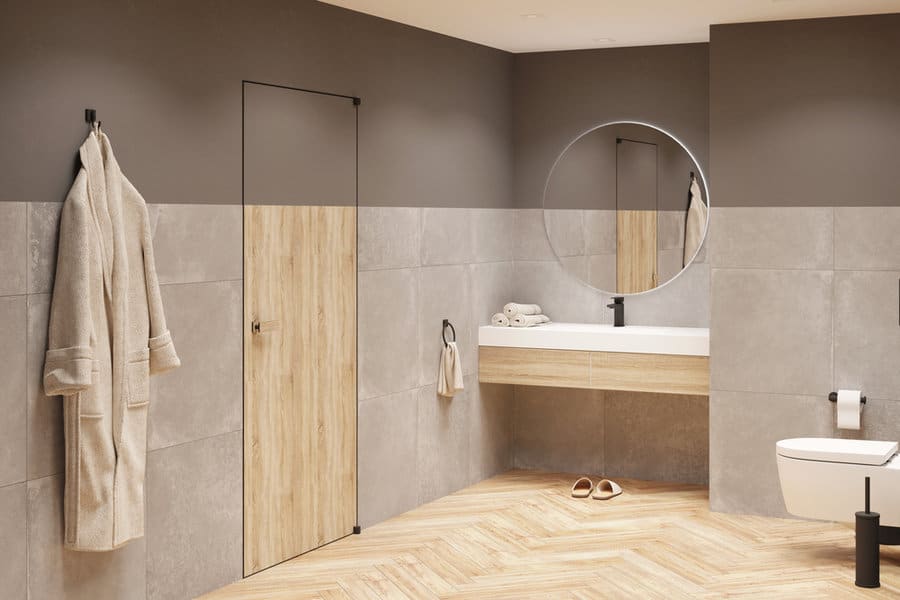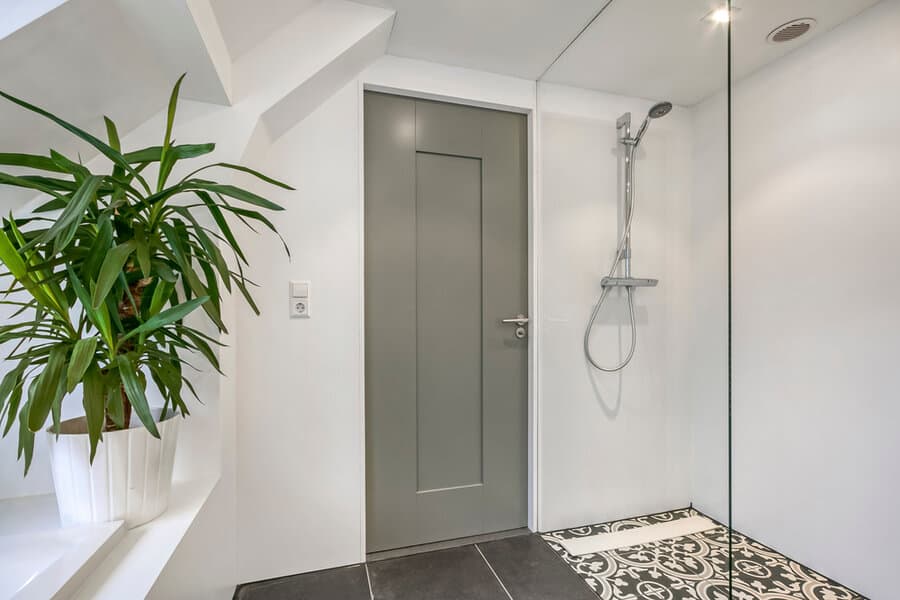 10. All-Black Bathroom Door
A black bathroom door exudes a sense of masculinity and sophistication, adding a touch of modernity to your space. It creates a striking contrast against lighter wall colors or tiles, instantly drawing attention and becoming a focal point of the room.
The rich, deep black hue brings a sense of drama and depth to the overall design. Whether your bathroom is small or spacious, a black door can make a significant impact, transforming an ordinary entryway into a stylish gateway. Pair it with metallic hardware, such as brushed nickel or matte black handles, to enhance the contemporary aesthetic.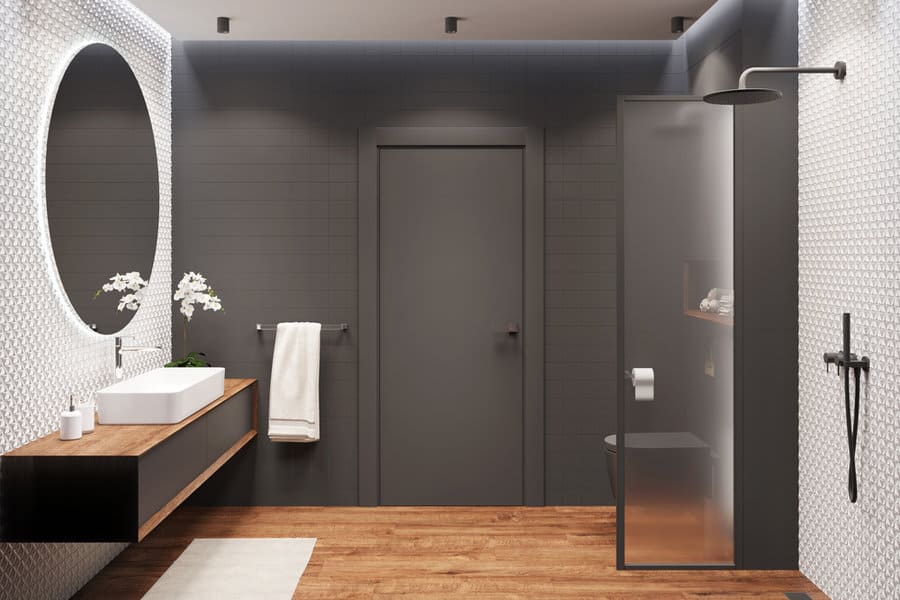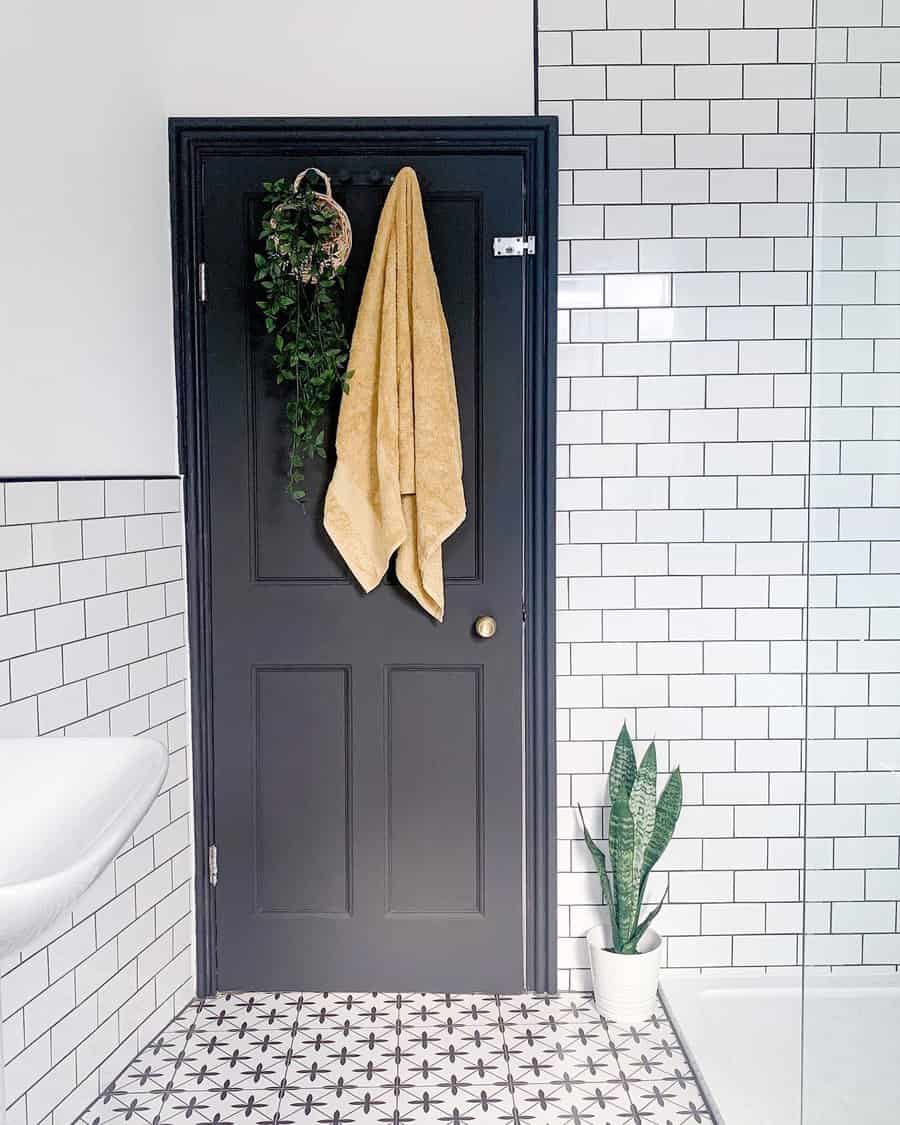 11. White Bathroom Door
A white bathroom door exudes a clean and timeless appeal, making it a perfect choice for both contemporary and traditional spaces. Its neutral hue effortlessly blends with various color schemes, allowing you to experiment with different design elements and accessories.
Whether your bathroom boasts a minimalist, coastal, or vintage-inspired theme, a white door serves as a blank canvas, enabling you to showcase your personal style. It creates a fresh and airy atmosphere, making your bathroom feel more spacious and inviting.
Additionally, a white door reflects light, brightening up the room and creating a sense of openness. Pair it with sleek, modern hardware for a minimalist look, or opt for decorative knobs and handles to add a touch of elegance.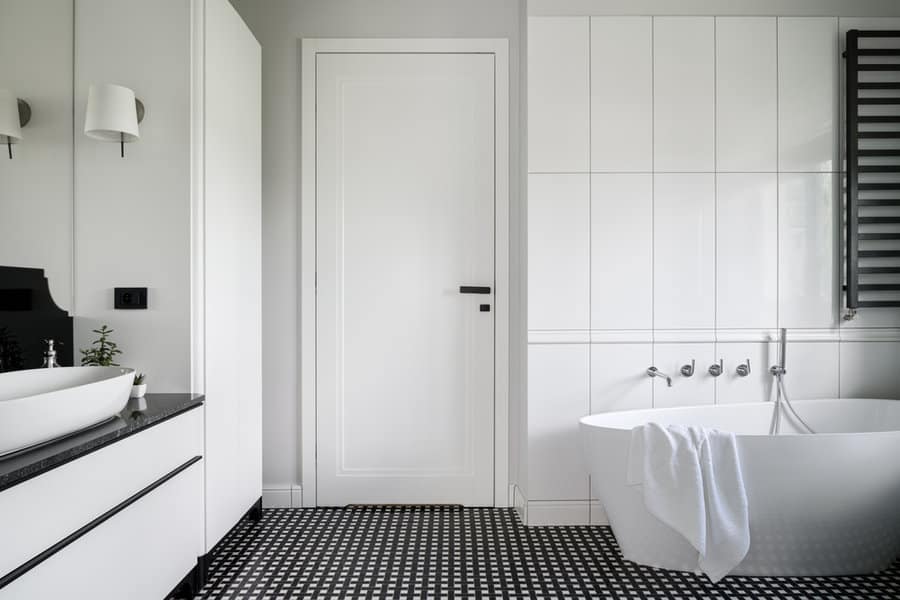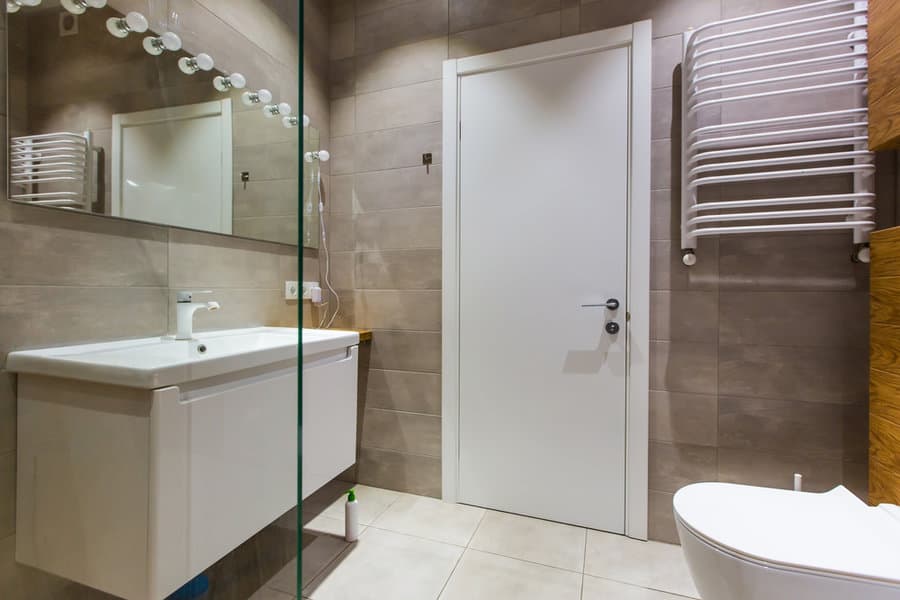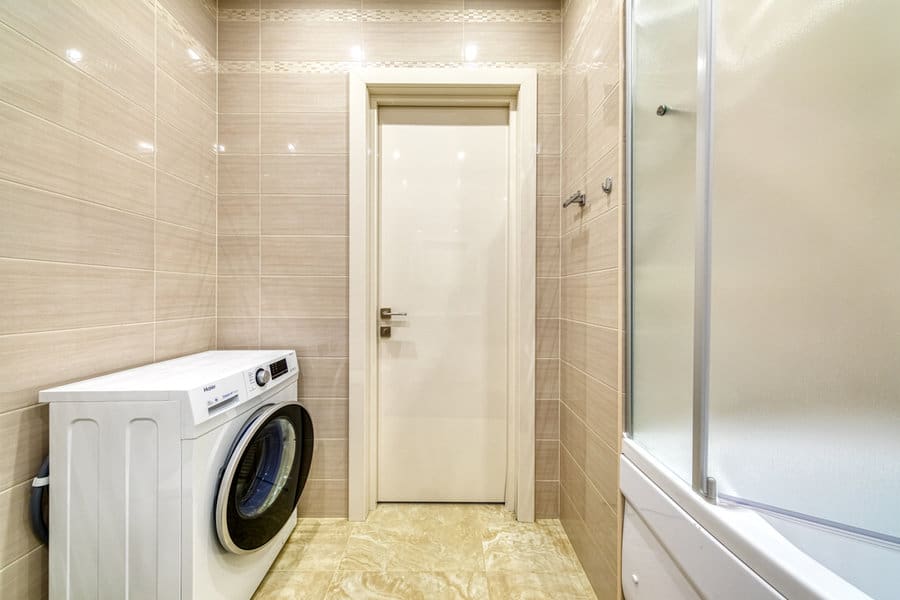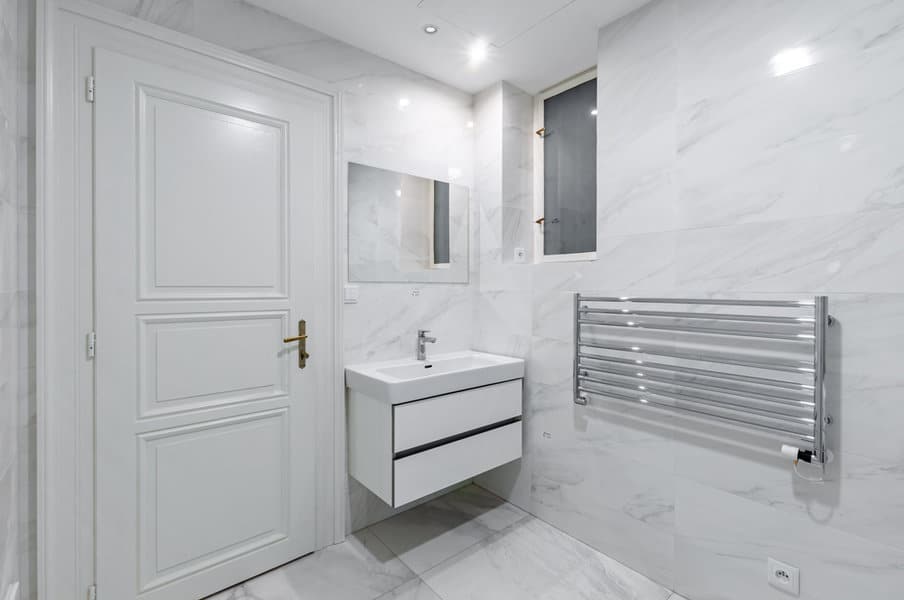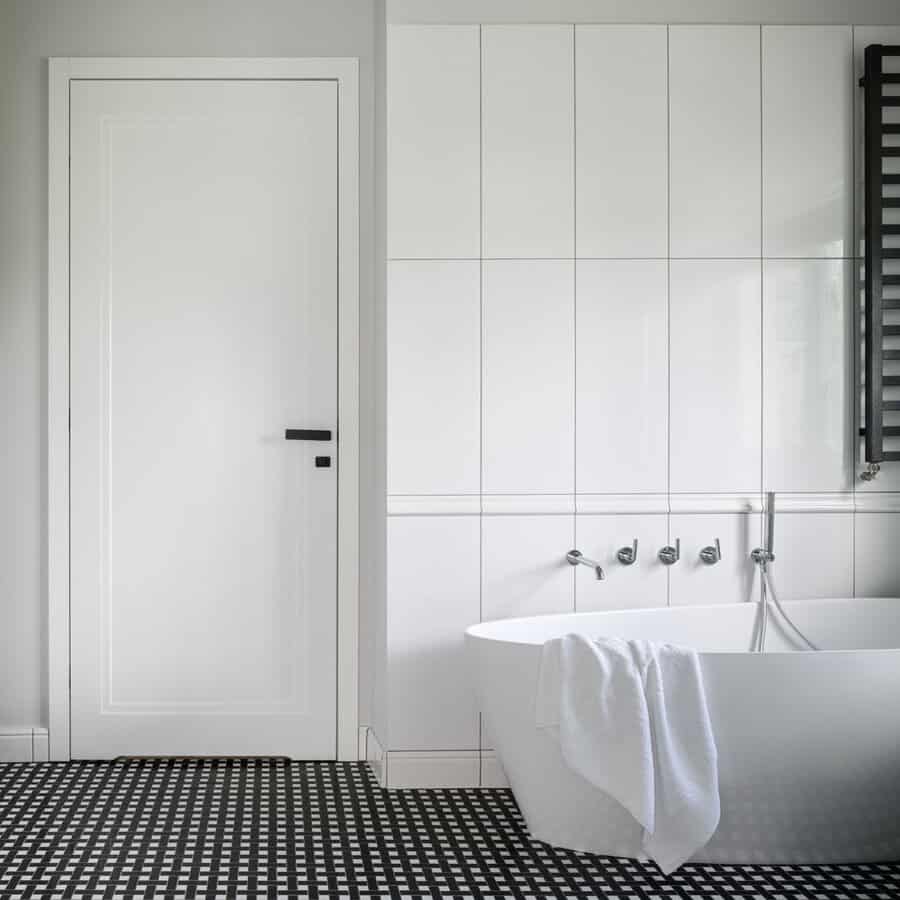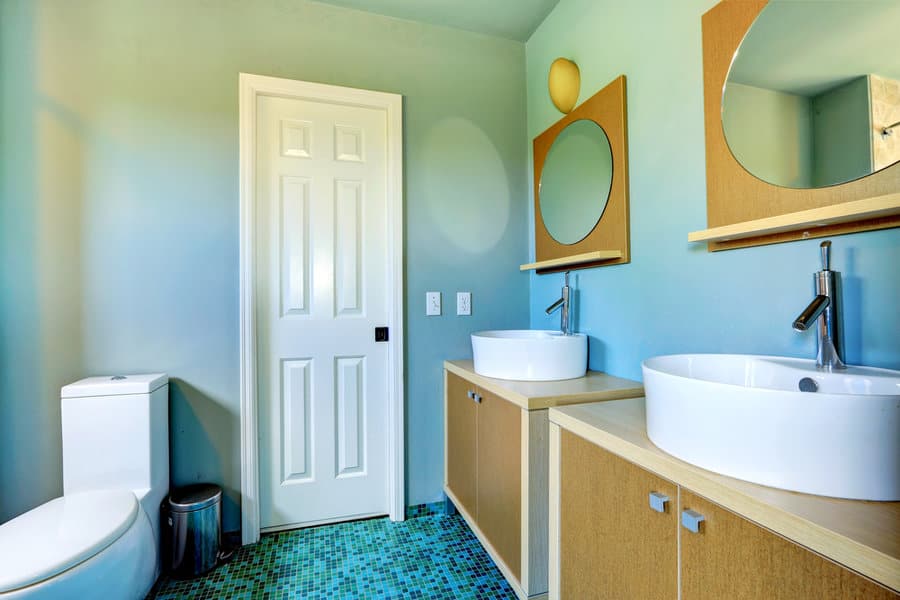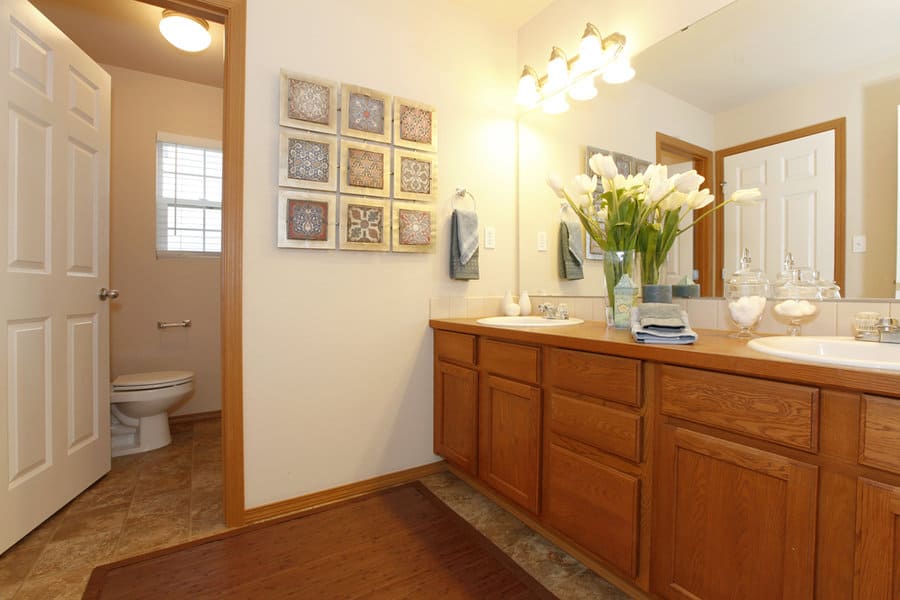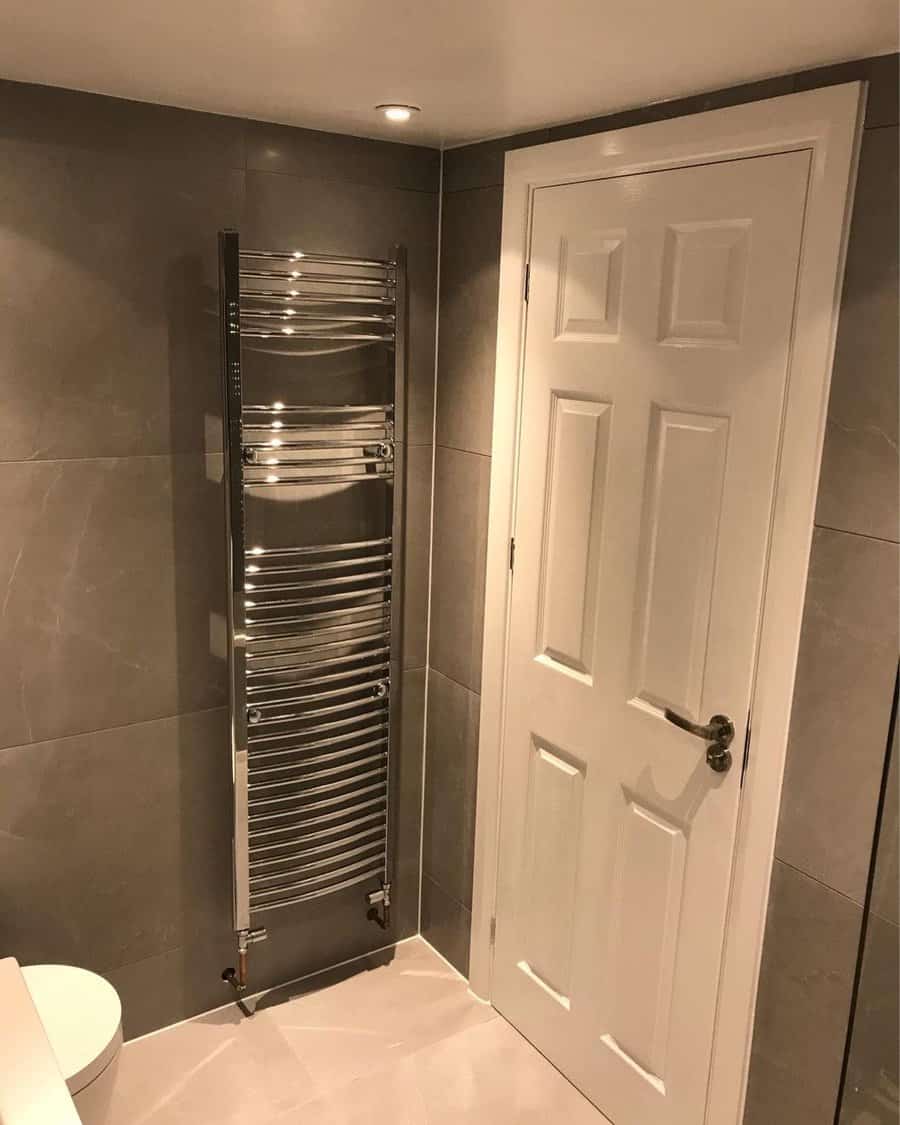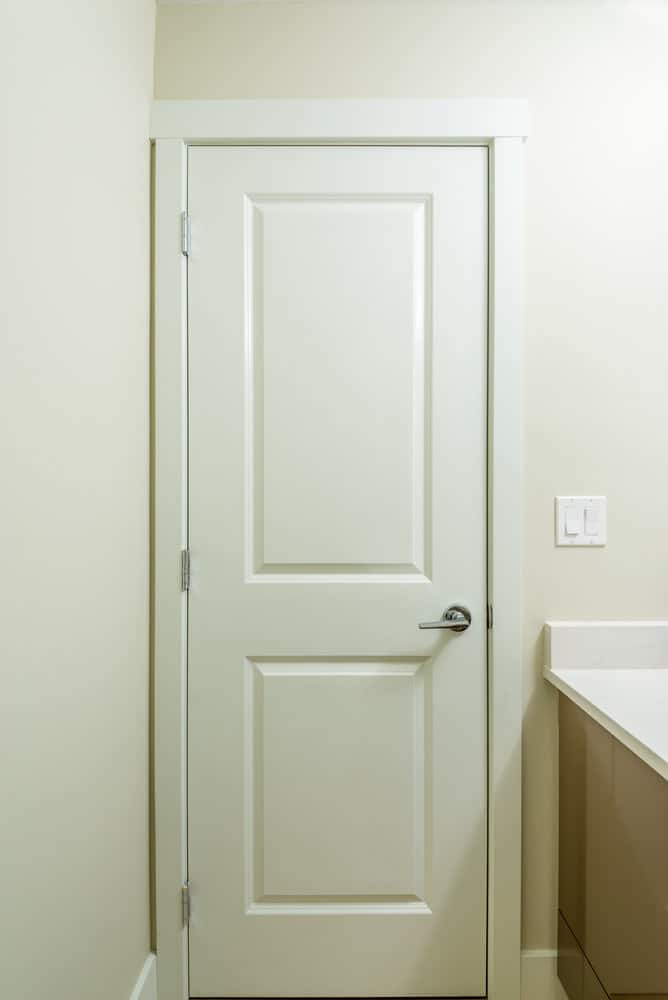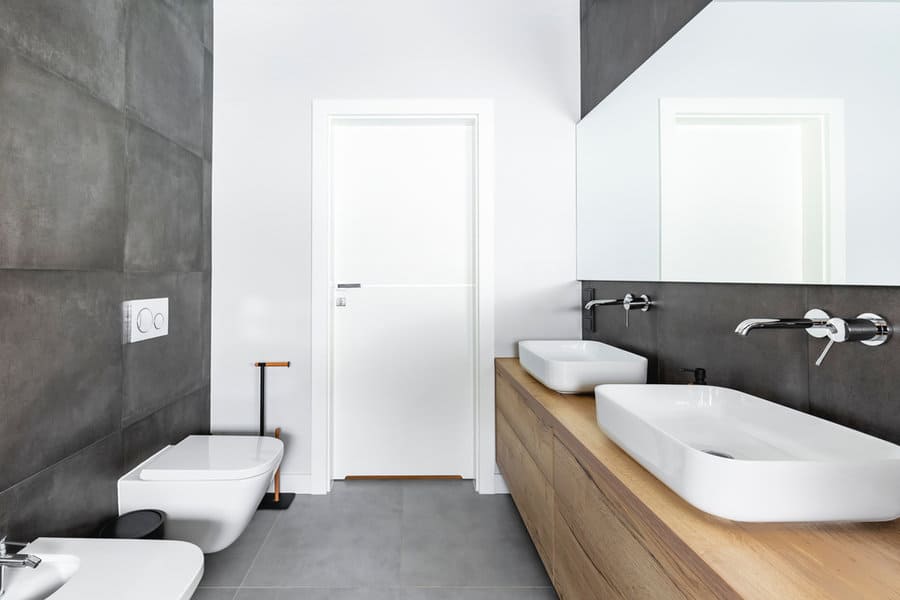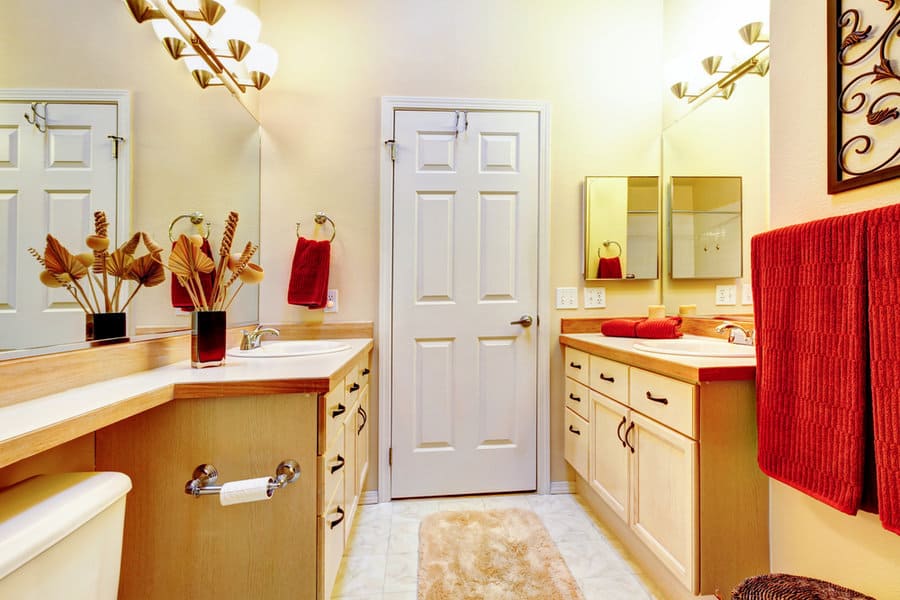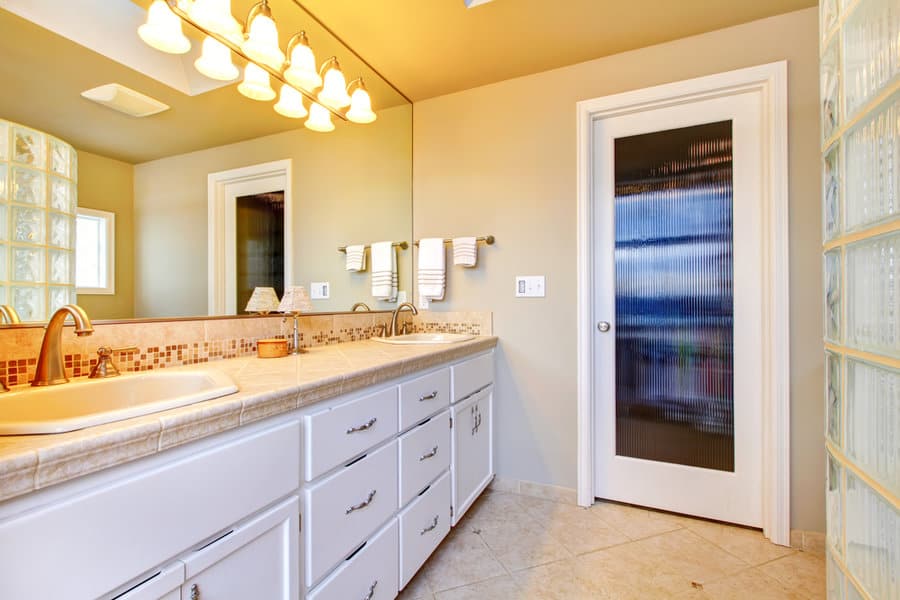 14. Wooden Bathroom Door
A wooden bathroom door is a timeless choice that brings a sense of warmth and coziness to your space. Whether you opt for a solid wood door or one with decorative panels, the natural grain and texture of the wood create a welcoming and inviting atmosphere.
The richness of the wood complements a variety of interior styles, from rustic to modern, and adds a touch of organic elegance. With its sturdy and durable construction, a wooden bathroom door not only enhances the aesthetic appeal but also provides privacy and sound insulation.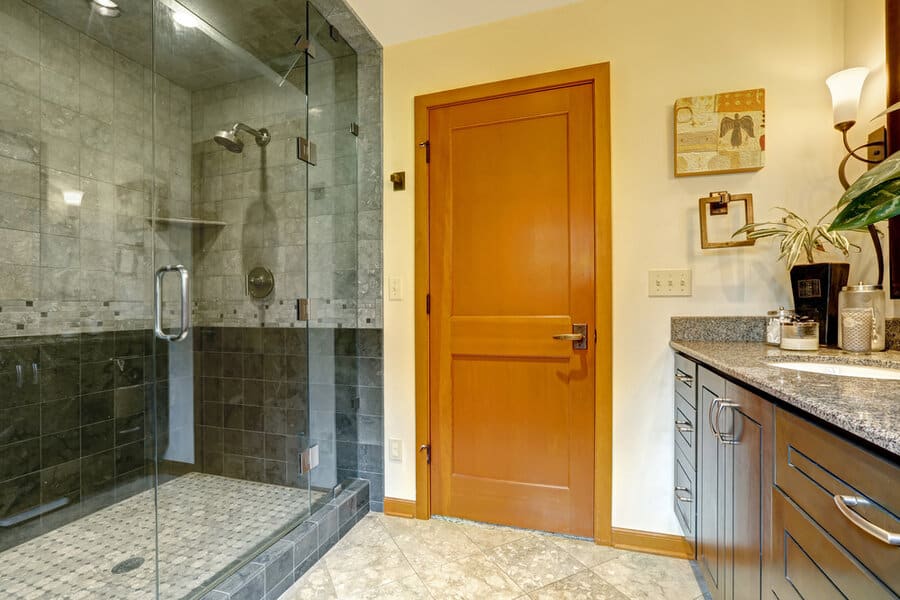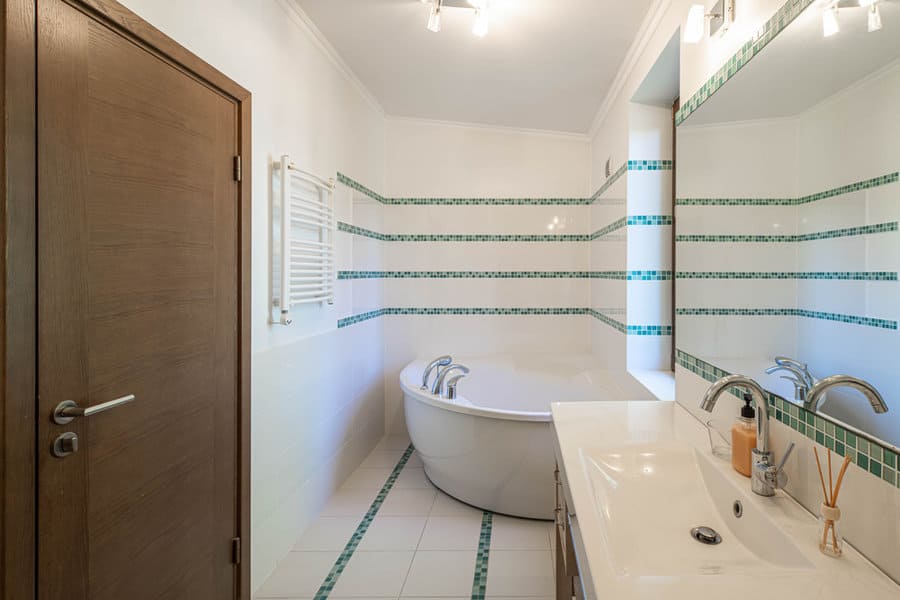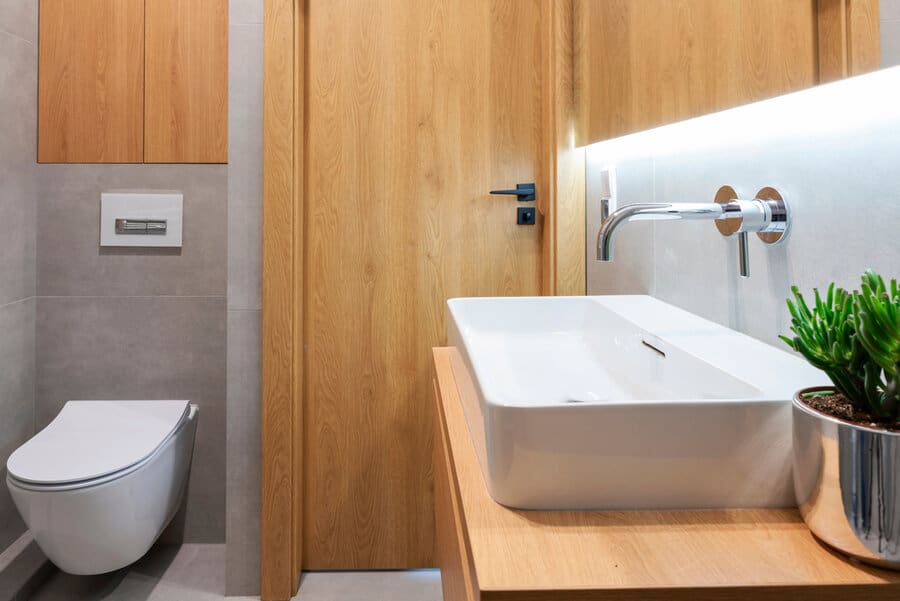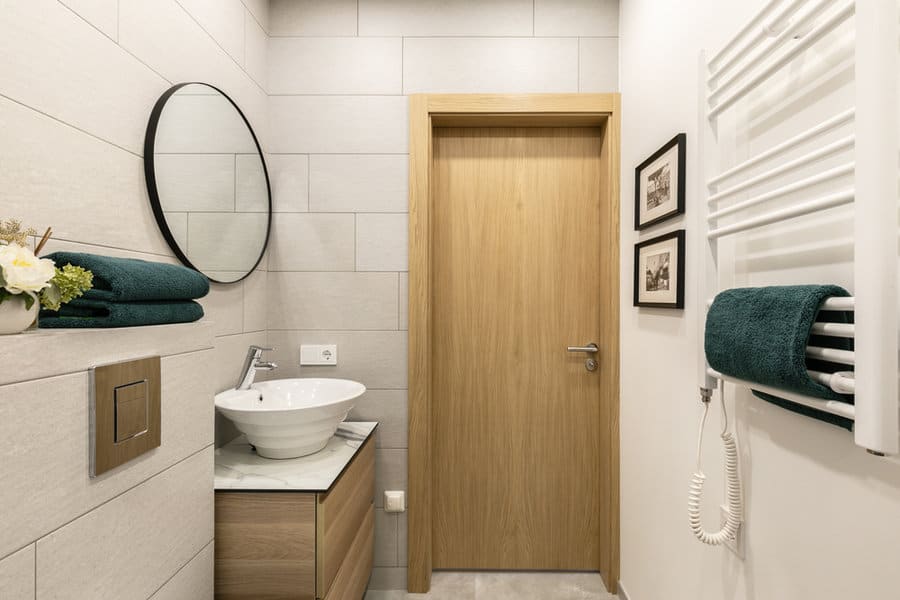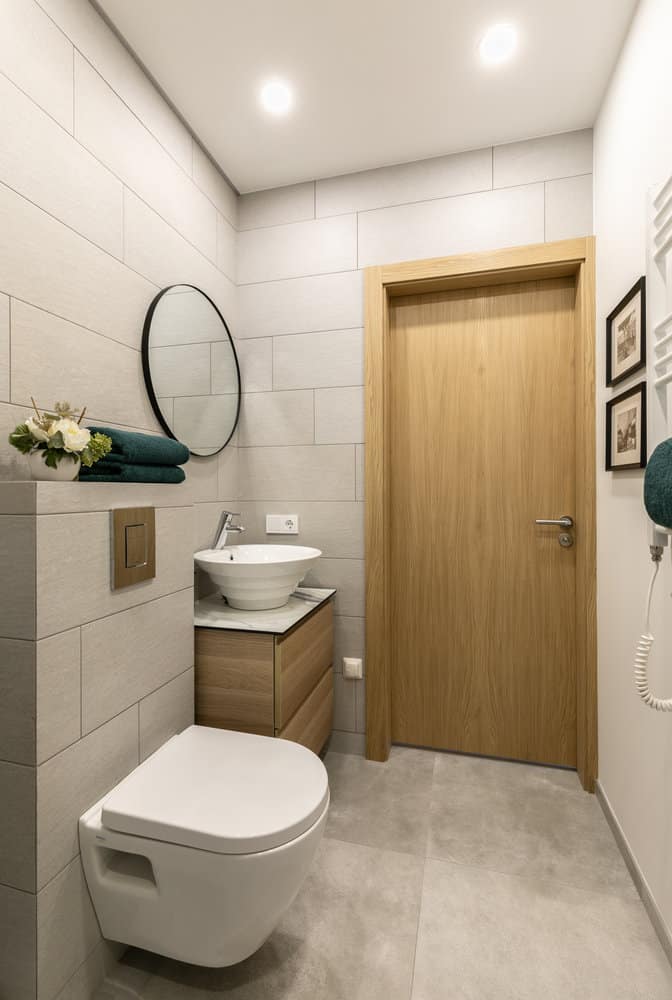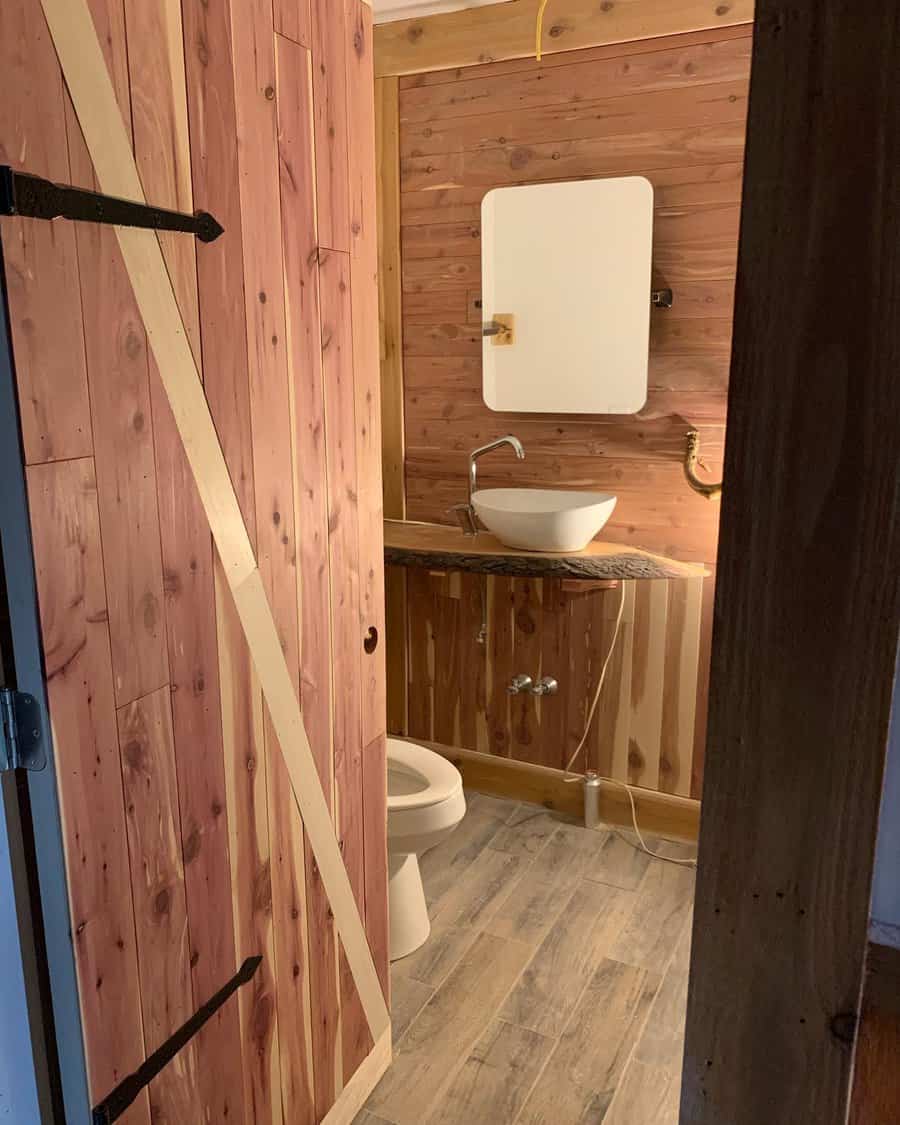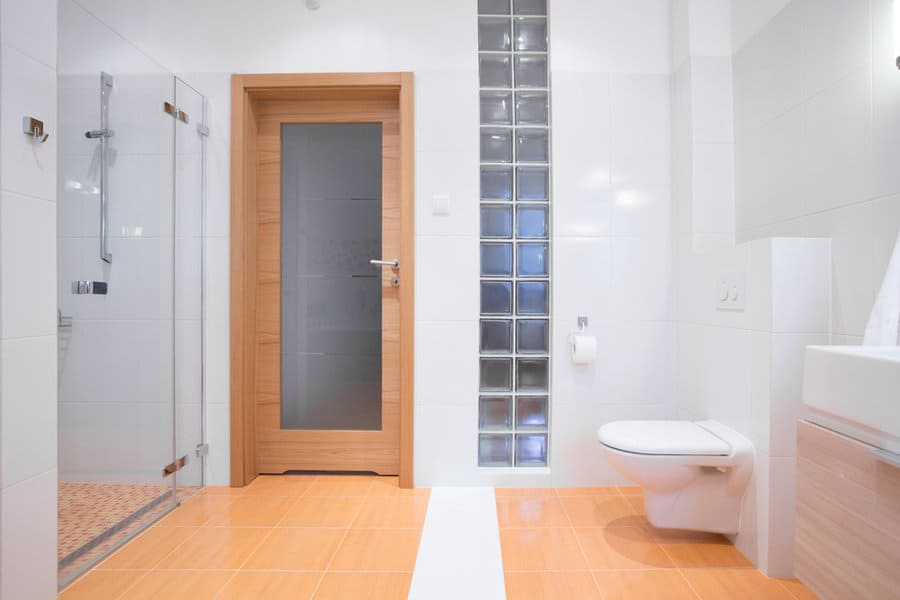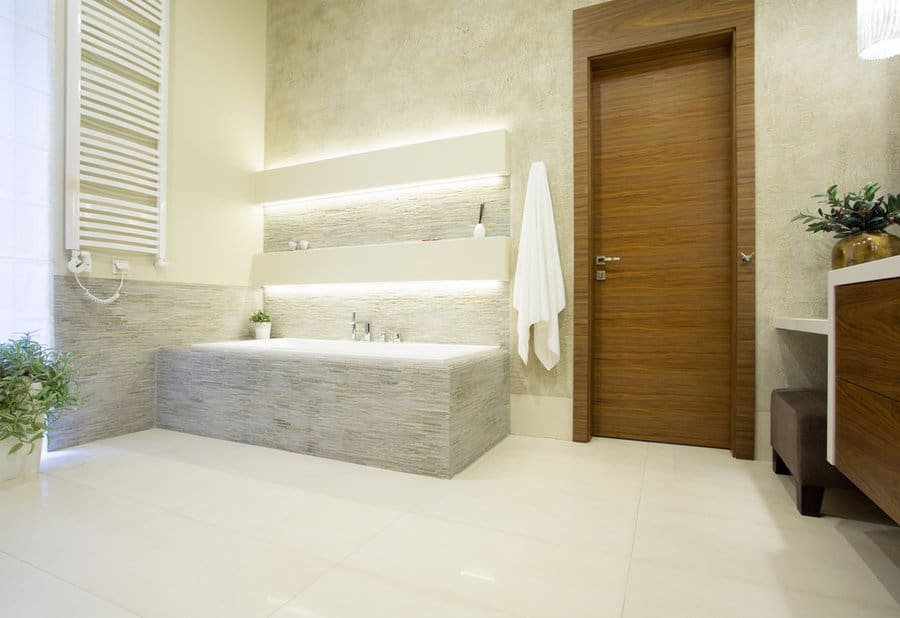 15. Colored Bathroom Door
A colored bathroom door adds a sense of playfulness and personality to your bathroom design, making it stand out from the rest. Whether you choose a deep and rich hue or a bright and energetic shade, the colored door becomes a statement piece that commands attention. It creates a focal point and draws the eye, becoming a visual highlight in the room.
The contrasting color against the neutral tones of the walls and fixtures creates a dynamic and visually appealing composition. Additionally, a colored bathroom door can complement the overall theme or decor style of your bathroom, adding a cohesive and cohesive element to the space.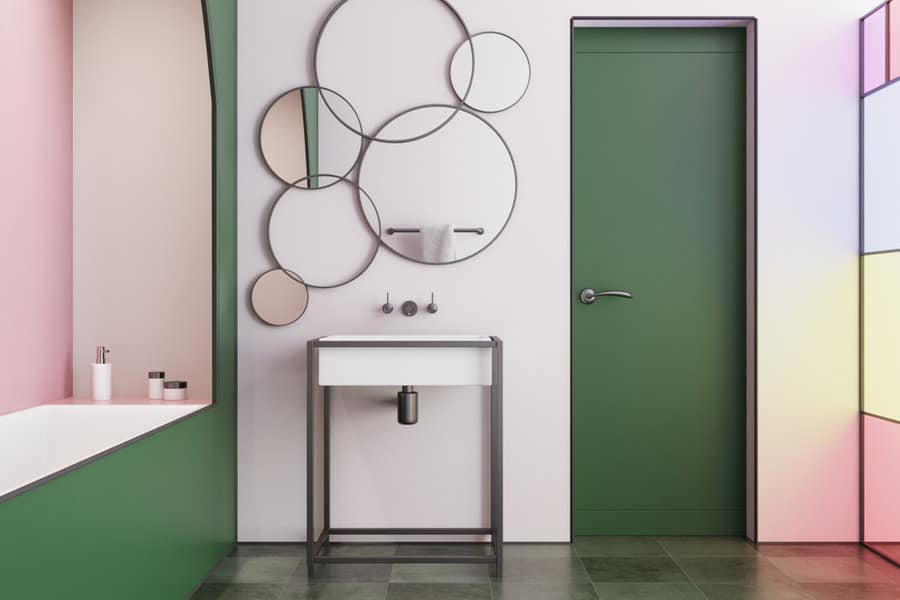 16. Bathroom Door With Stained Glass
A midcentury modern-inspired bathroom door with stained glass instantly becomes a statement piece that adds character and visual interest to the space. The exquisite patterns and vibrant colors of the stained glass create a mesmerizing play of light and shadow, transforming your bathroom into a haven of elegance and sophistication.
Whether you choose a geometric design, abstract shapes, or nature-inspired motifs, the stained glass adds a touch of artistic flair that sets your bathroom apart. The beauty of a stained glass bathroom door lies not only in its aesthetic appeal but also in its ability to provide privacy while allowing natural light to filter through. Imagine the soft, colorful glow that dances on the bathroom walls, creating a serene and enchanting atmosphere.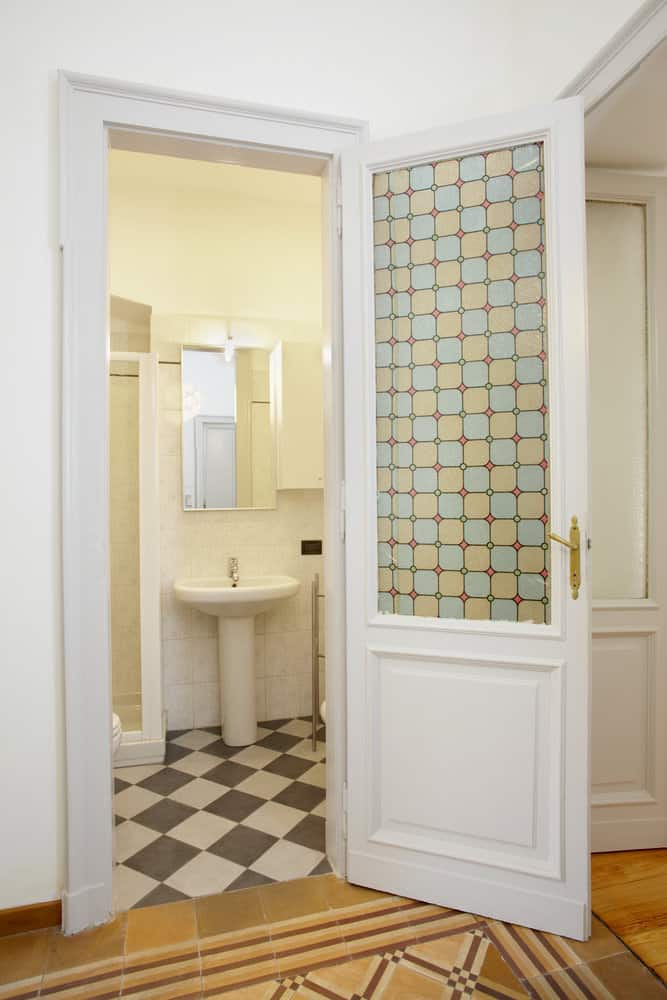 17. Double Sliding Bathroom Door
A double sliding bathroom door offers a unique and space-saving solution, allowing you to maximize the use of your bathroom without compromising on aesthetics. With its sleek design and smooth operation, this door option adds a modern and contemporary vibe to your space.
The sliding mechanism eliminates the need for swinging doors that can take up valuable floor space, making it an ideal choice for smaller bathrooms or those seeking a minimalist look. Additionally, the double sliding feature provides easy access from both sides, ensuring convenience for everyone in the household.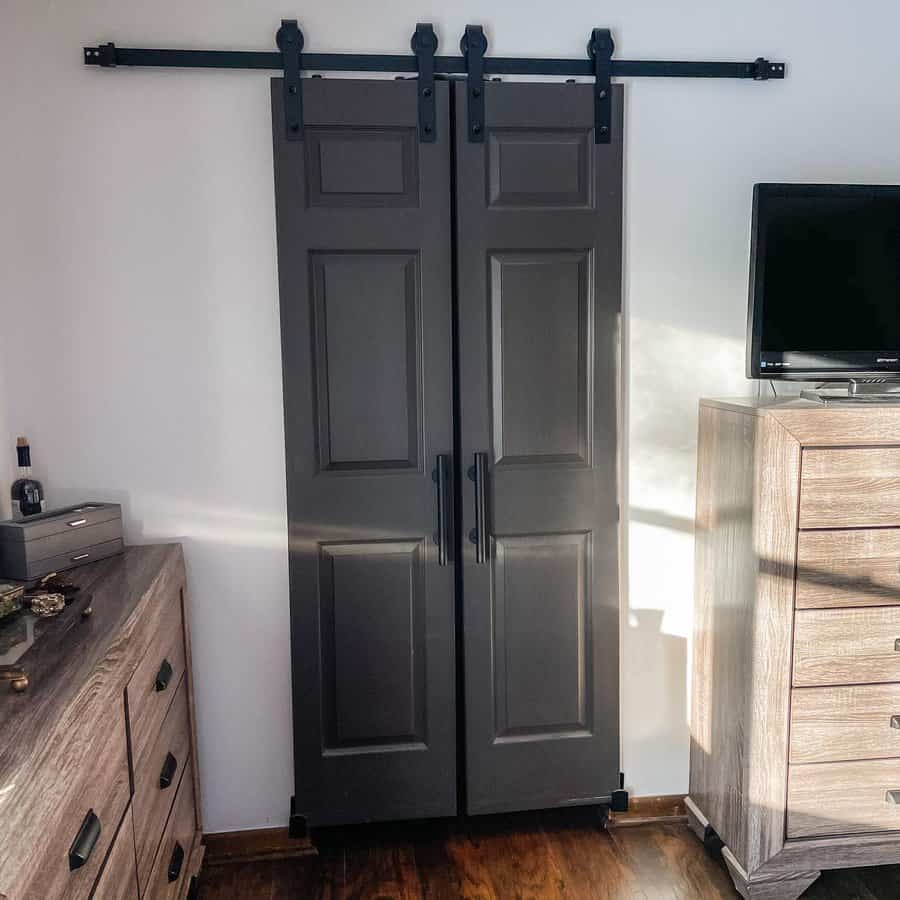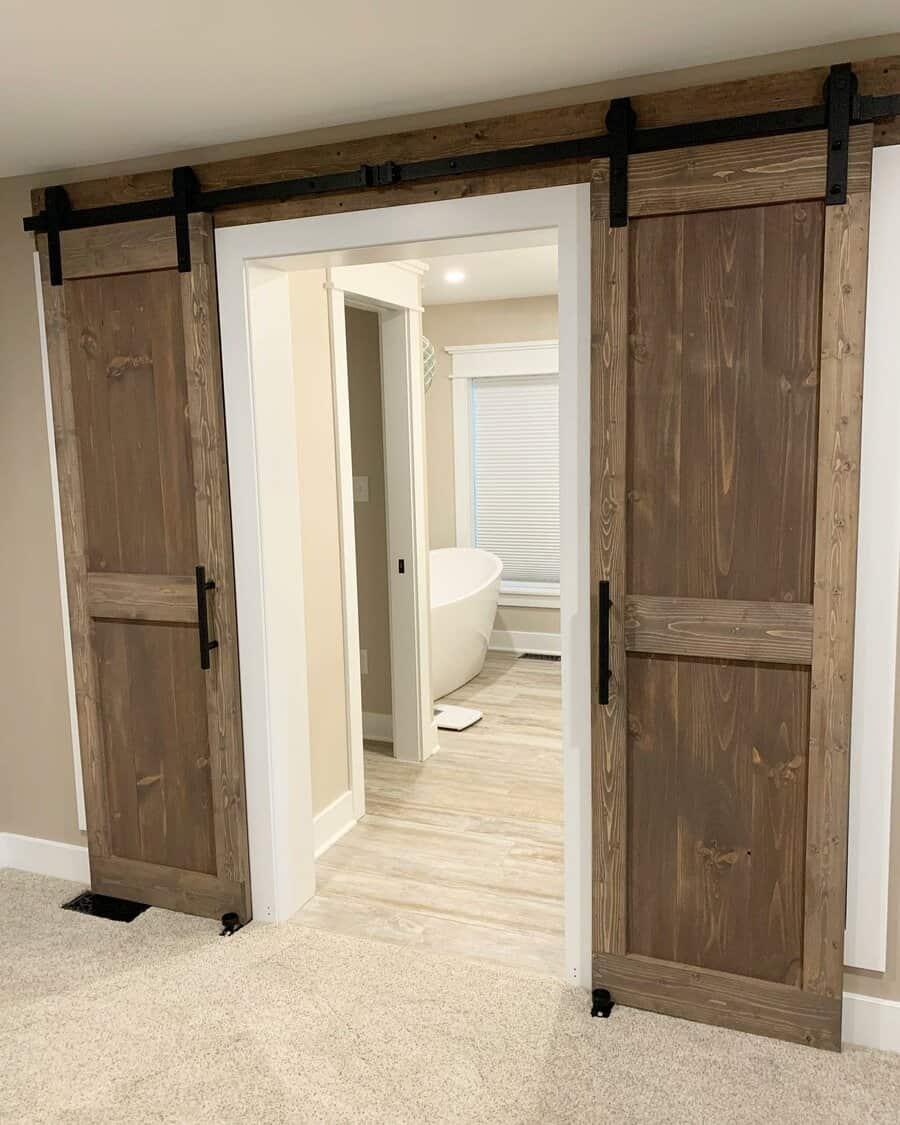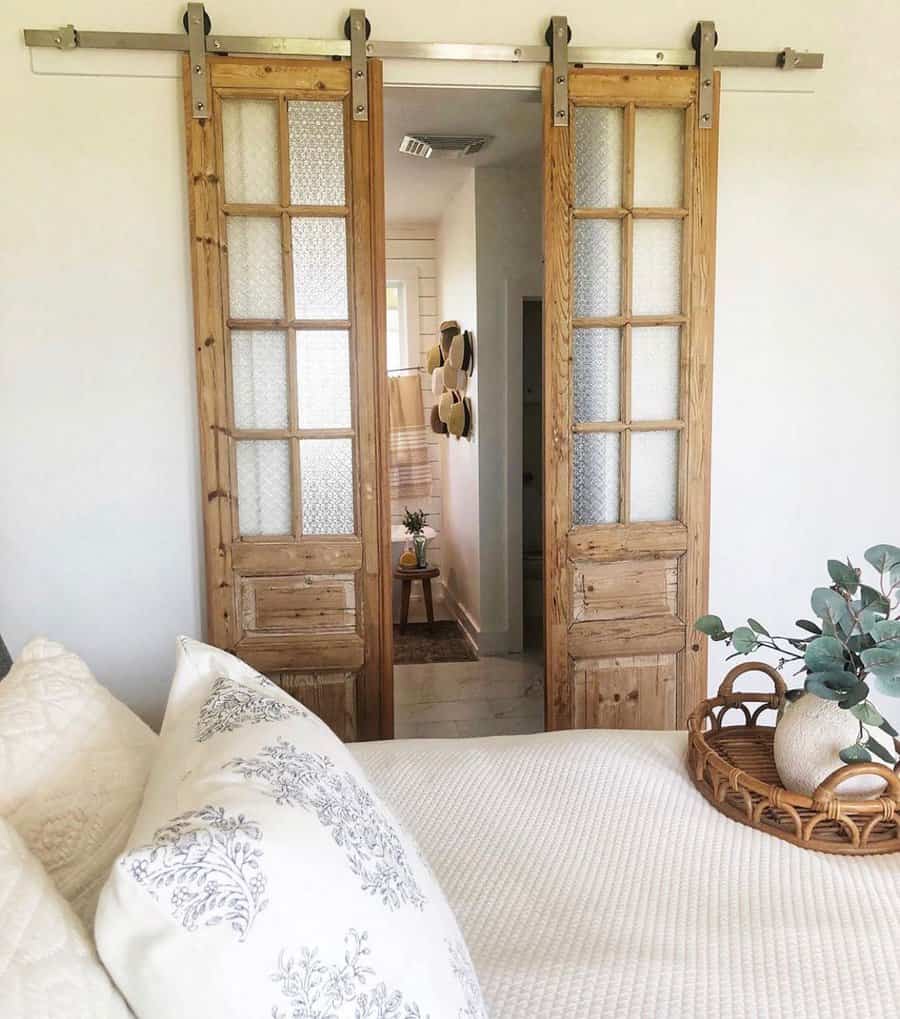 Bathroom Door FAQs
What is the best material for a bathroom door?
Nearly any interior door can be used for the bathroom. Just be wary of materials that can warp or degrade with too much moisture exposure.
Many interior designers and contractors recommend PVC doors over all others for the bathroom. This is because PVC is waterproof and will hold up extremely well to anything your bathroom throws at it!
Should a bathroom door swing out or in?
The direction a bathroom door is mounted is largely up to the home's layout! Limitations aside, there is no rule about which way a bathroom door should swing (though there are benefits and drawbacks to each direction).
A bathroom door that swings inward can be a headache if the room itself is quite small. We've all seen photos of ill-planned bathroom doors that won't open without hitting the toilet bowl.
Meanwhile, a bathroom door that opens outward can be an obstacle for anyone walking past. This is especially a problem for bathrooms that connect directly to narrow hallways.
Of course, you can forego this debate altogether by opting for a sliding door!