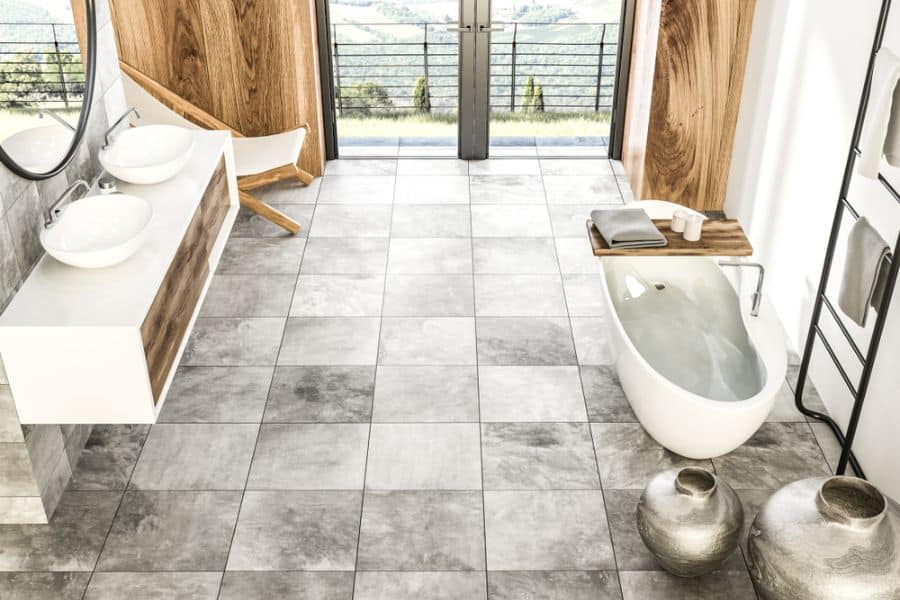 The Top 53 Best Bathroom Flooring Ideas
"If no one ever took risks, Michaelangelo would have painted the Sistine floor." – Neil Simon
What does your bathroom floor look like? If it's a plain neutral colored tile, then you are missing out on a prime opportunity for a custom flooring design. Bathroom tile is more than just a floor covering in your bathroom. It is a design element that can transform the look of your bathroom.
These bathroom flooring ideas will help you get inspired for your bathroom remodel. Start from the ground up with your bathroom makeover.
1. Black and White
The classic flooring design for bathrooms is a black and white pattern. It's one of the most popular bathroom tile ideas. You can use either ceramic tile or porcelain tile in a square shape to create a checkerboard pattern.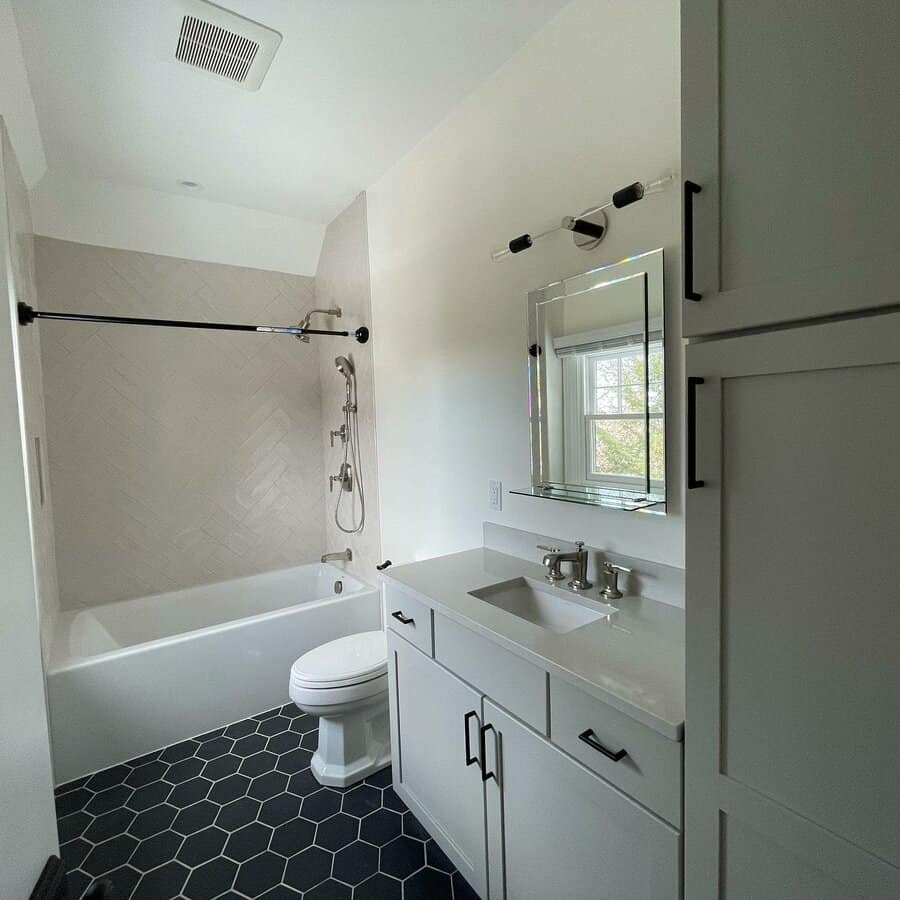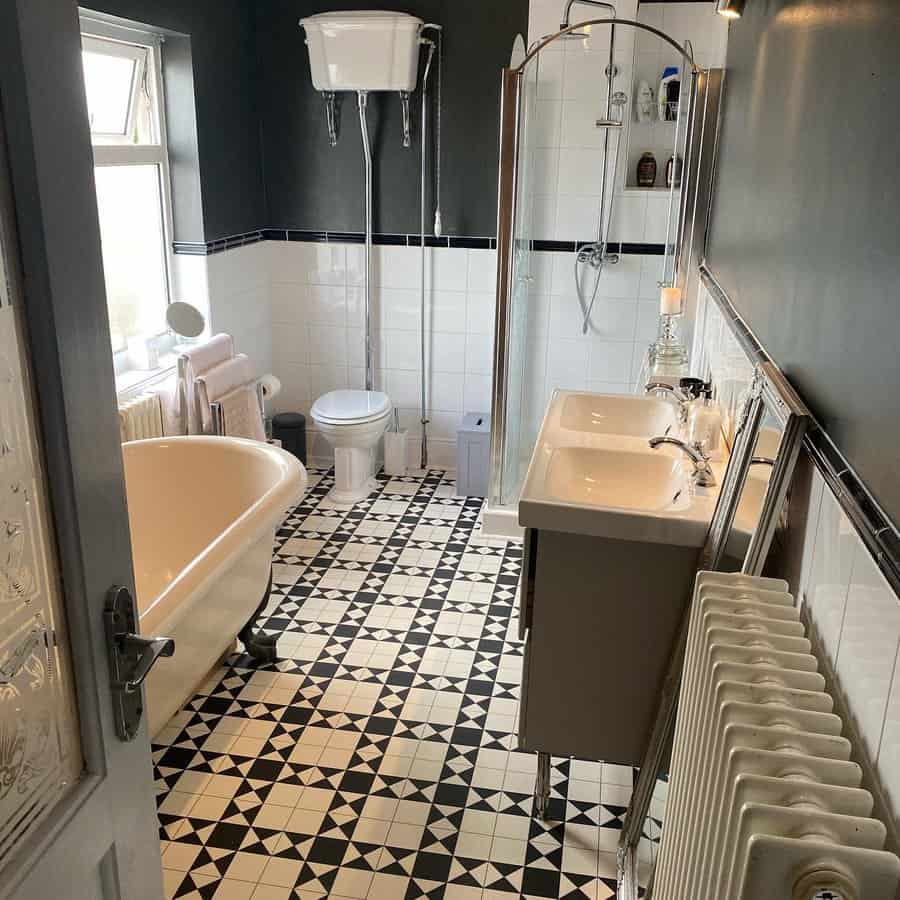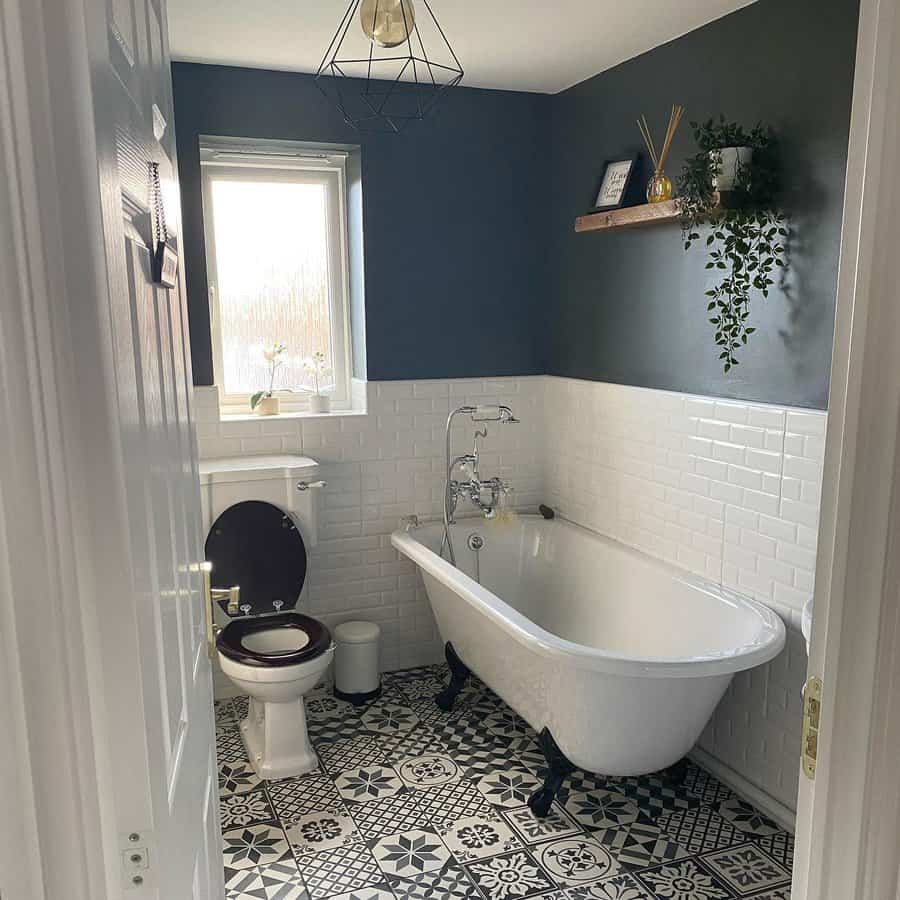 This funky tile flooring pattern is best for a guest bathroom. It tends to look too distracting in the master bath, where you have more visible floor space. Choose a larger-sized tile to create a checkerboard pattern. Tiles that are too small will look overwhelming.
2. Color
If you love color, then your bathroom floor is the perfect opportunity to go bold and choose a colorful flooring option. Bathrooms give you a unique opportunity to try out more creative interior design ideas. So rip out that tired and old sheet vinyl and give your bathroom a colorful upgrade.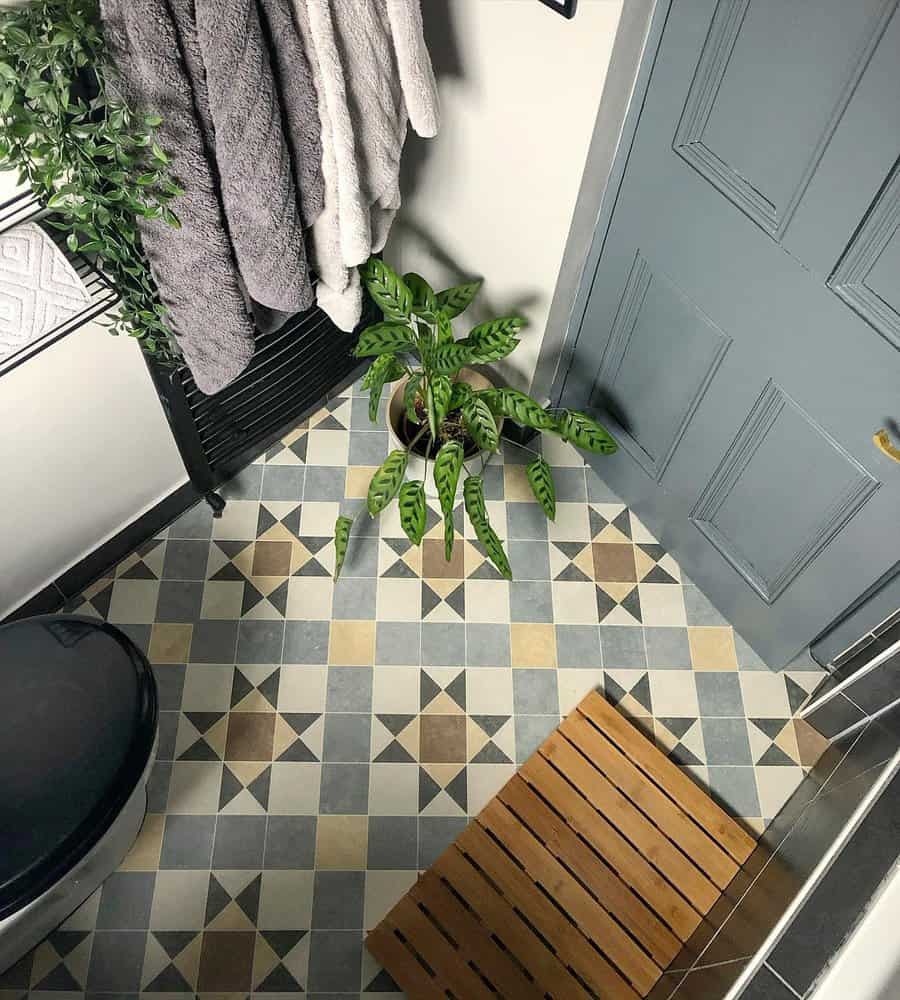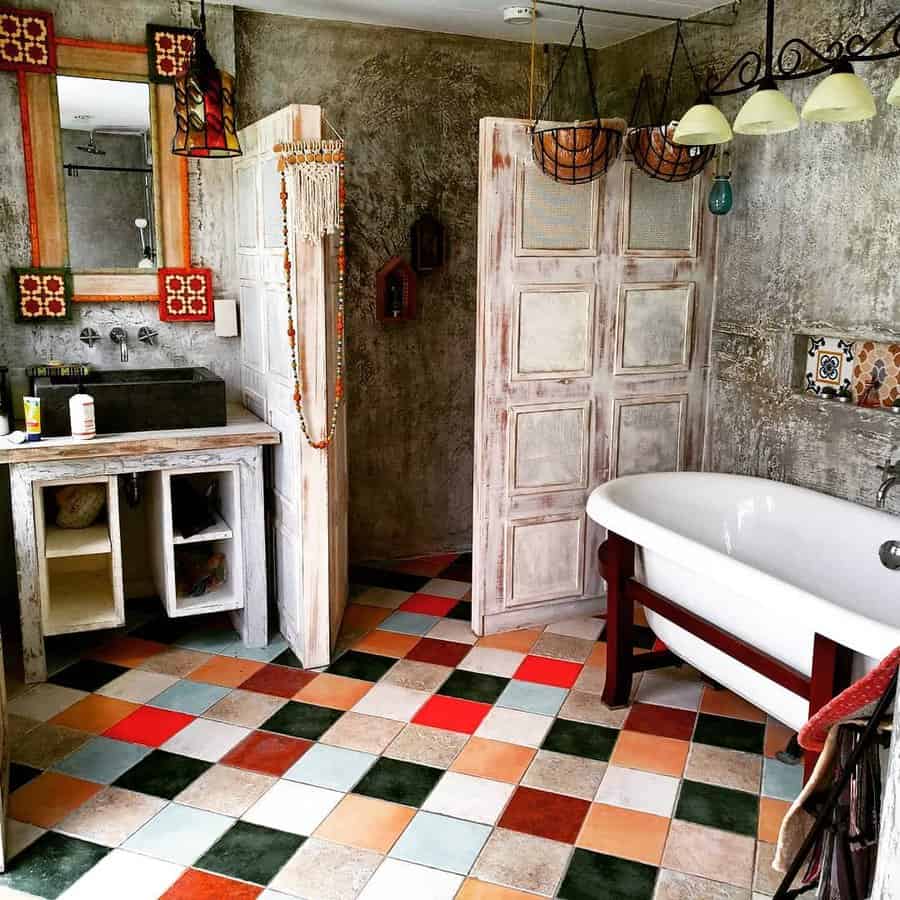 Try replacing your old floor with luxury vinyl tile. These tiles are more affordable than ceramic or porcelain tile and come in just as many colors and patterns. If you're planning on replacing your bathroom floor yourself, these are more user-friendly for a DIY option.
3. Dark
People tend to avoid dark colors when choosing a color scheme for their bathrooms. There's a fear that the dark color will hide the dirt, grime, mold, or mildew.
However, if you regularly clean your bathroom, this should not be an issue. Consider a dark color for your tile flooring and bring the weight of the room down, making the rest of the space feel bigger and brighter.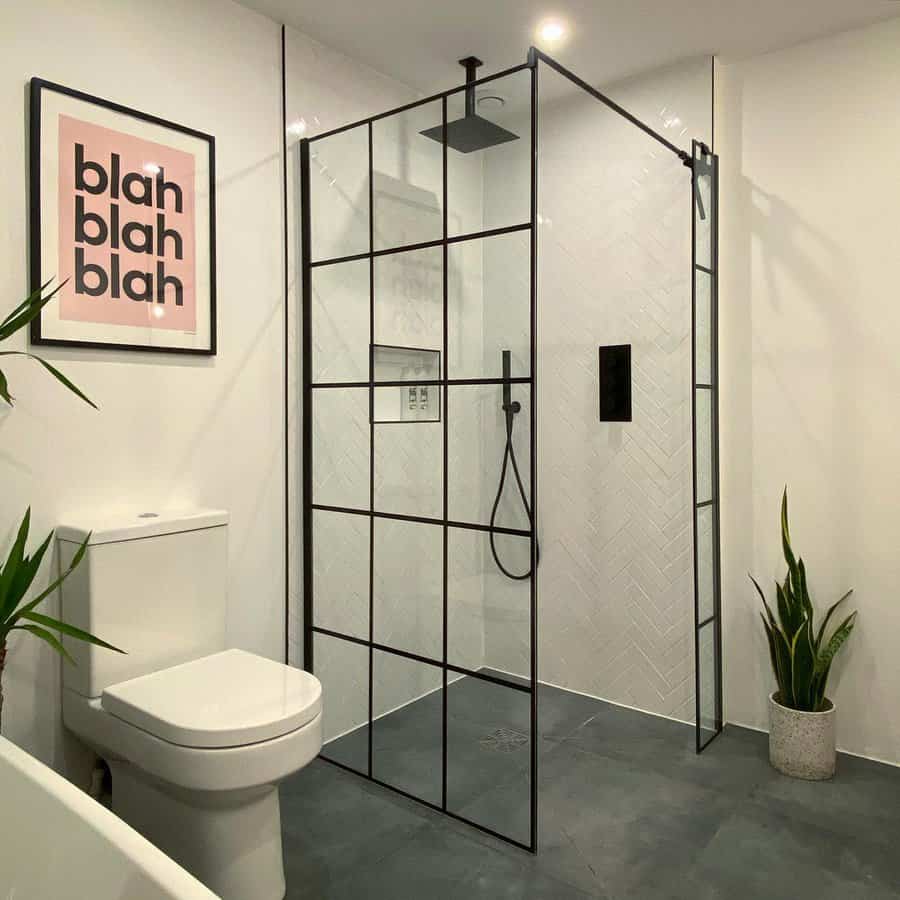 You can go bold with your dark color choice by choosing a charcoal grey or even black for your laminate flooring. However, if this is too harsh for your tastes, consider a dark wood vinyl plank. This gives you the effect of a dark color but in a softer, more natural hue.
4. Marble
Elevate the look of your bathroom with marble tile bathroom flooring material. For a luxurious feel, opt for large tiles. The bigger the piece of marble is, the harder it is to work with. This makes it more expensive.
If you want the look of marble but have a tighter budget, opt for a smaller tile. Marble subway tile looks intentionally smaller and creates a beautiful contrast between the visual texture of the marble design and the physical texture of the grout.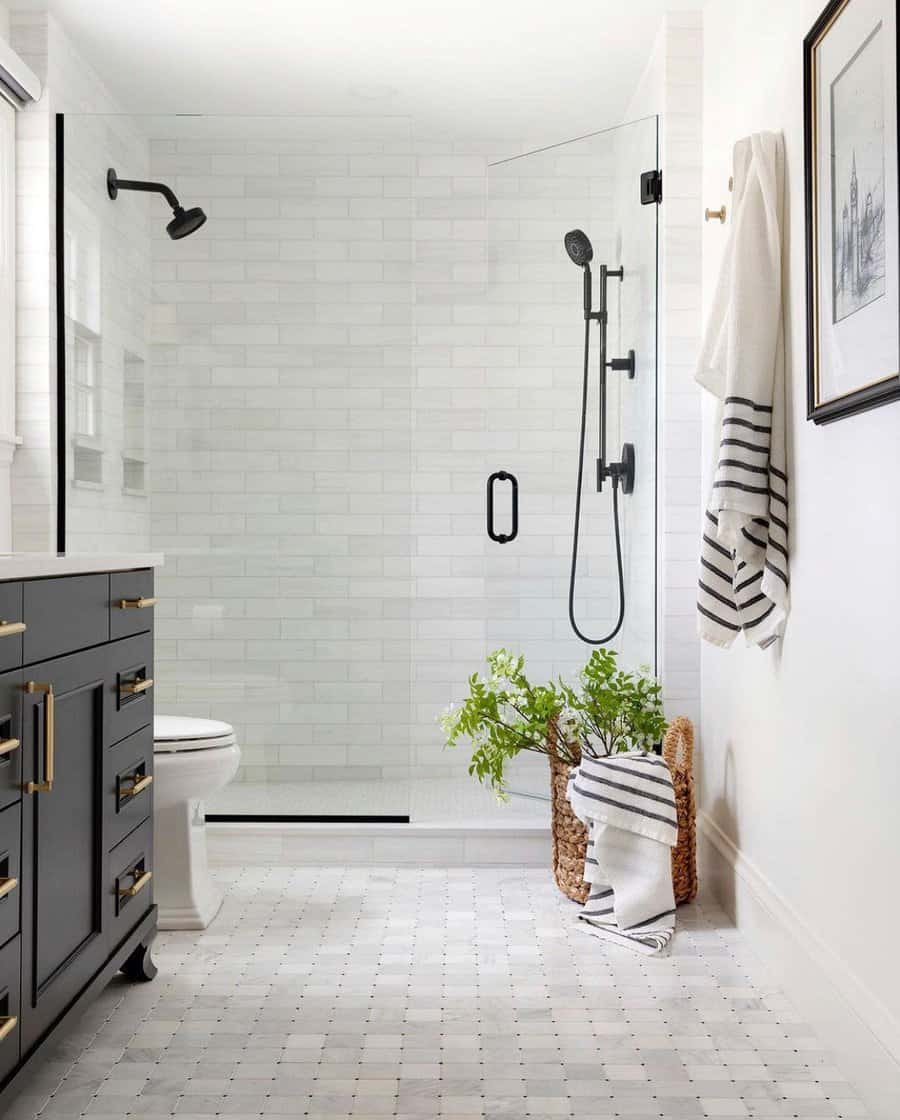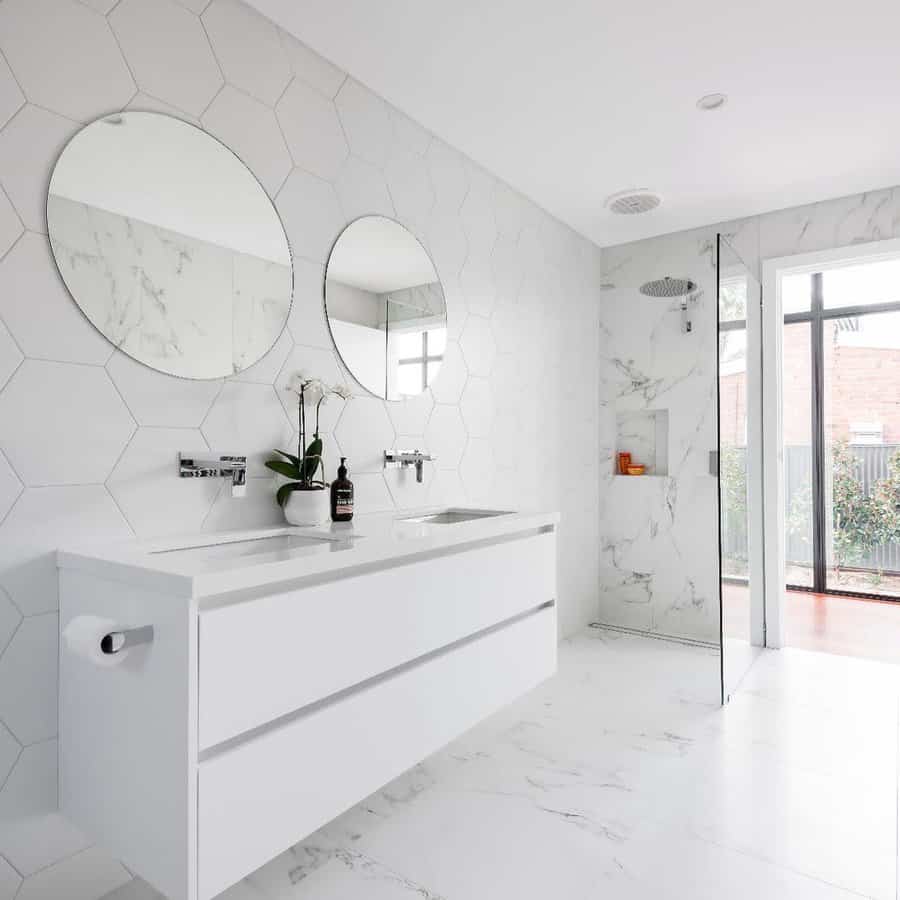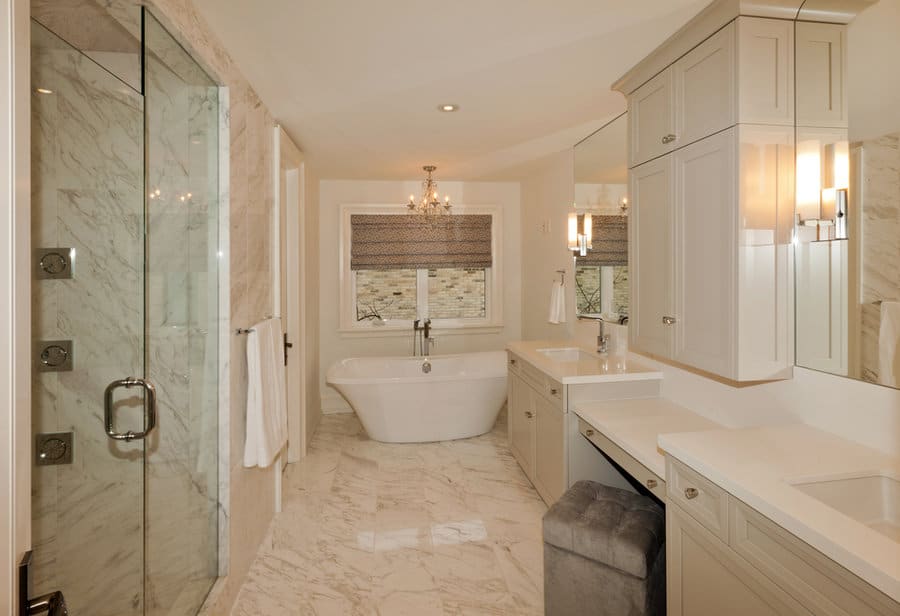 If your budget can't sustain real marble, you aren't out of luck. There are modern luxury vinyl options that mimic the look of marble for a fraction of the cost.
5. Modern
Give your bathroom an update by replacing your bathroom floor with a modern flooring option. There are plenty of modern bathroom floor ideas that you're sure to find one that works well in your bathroom.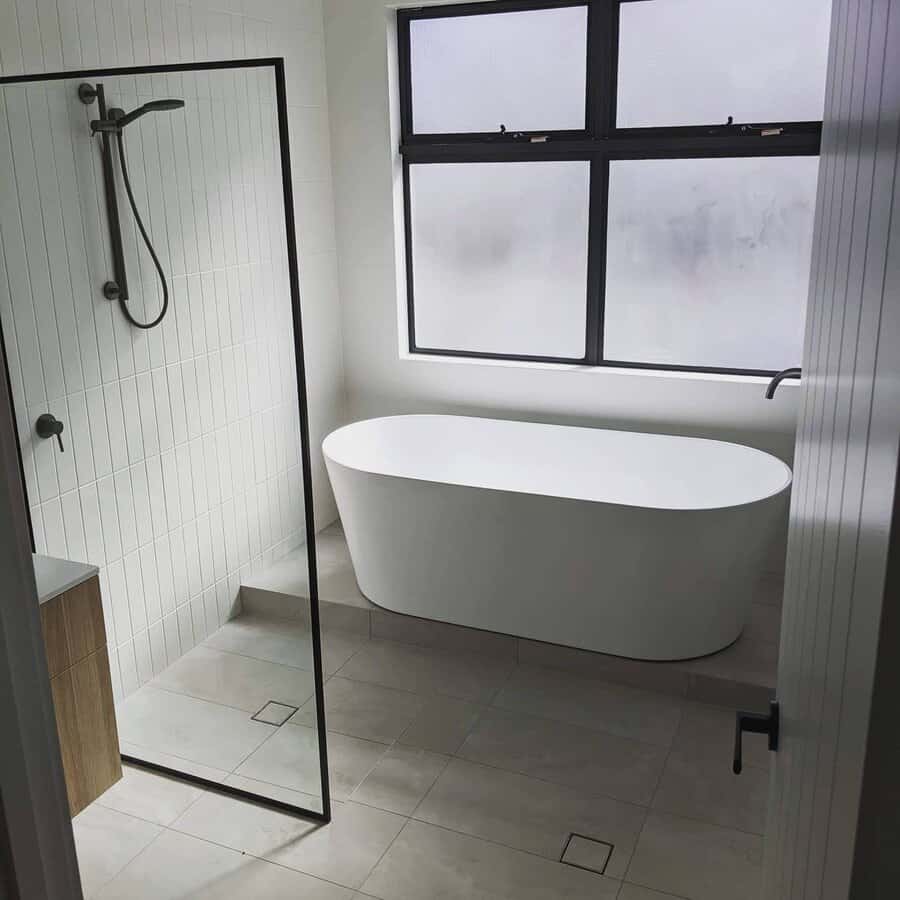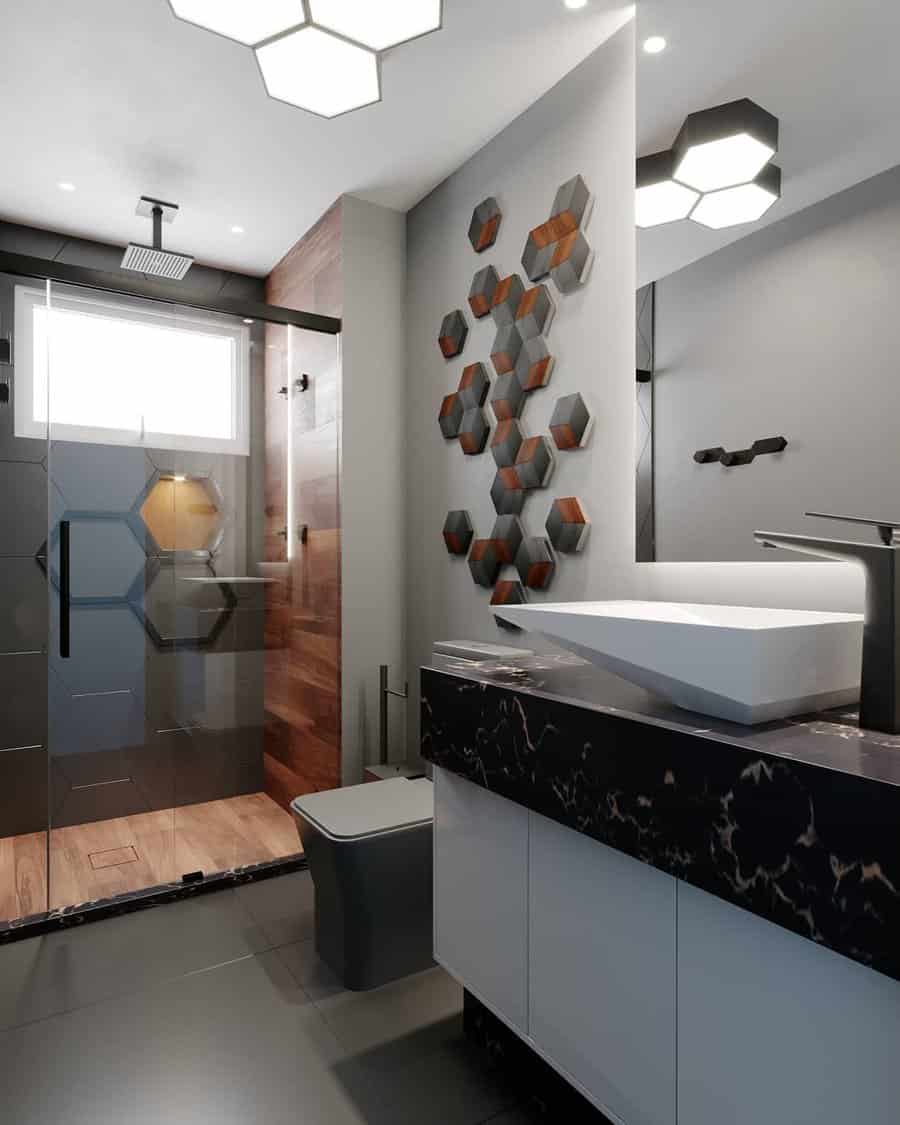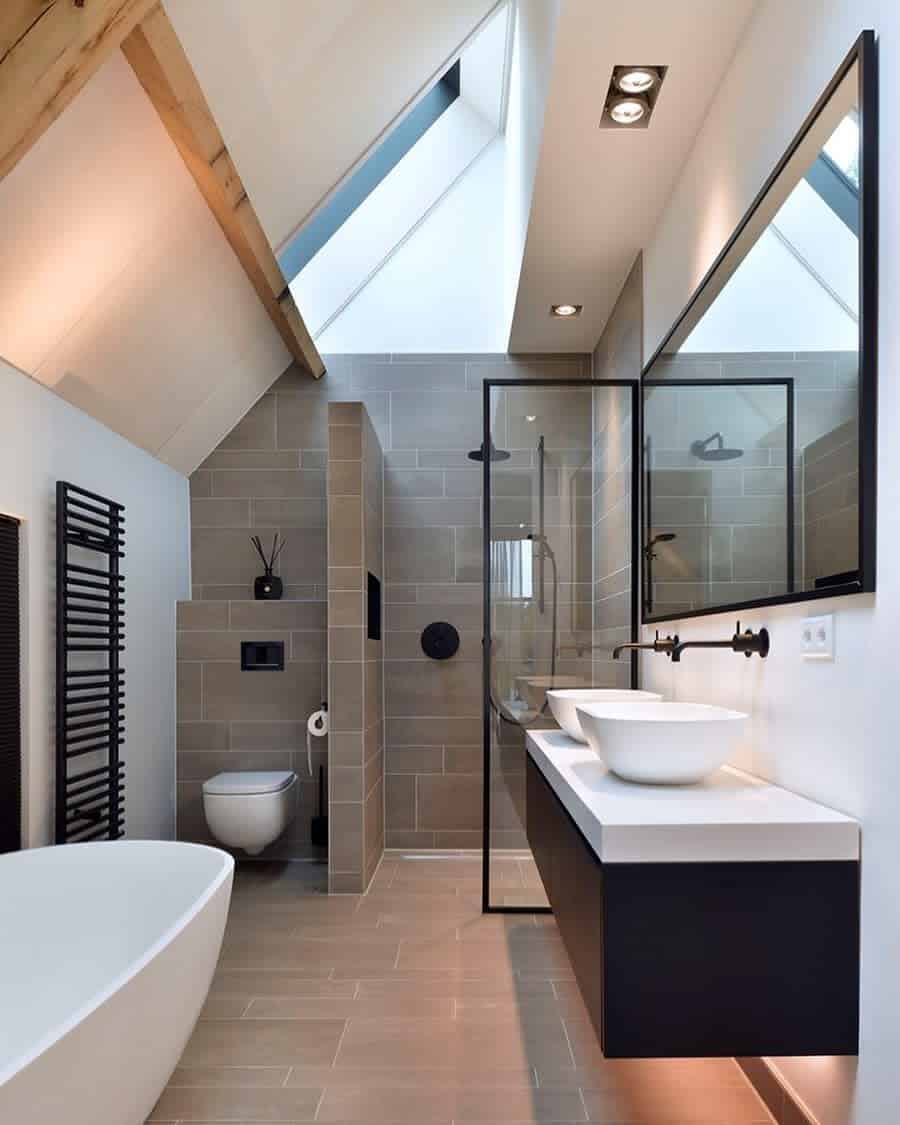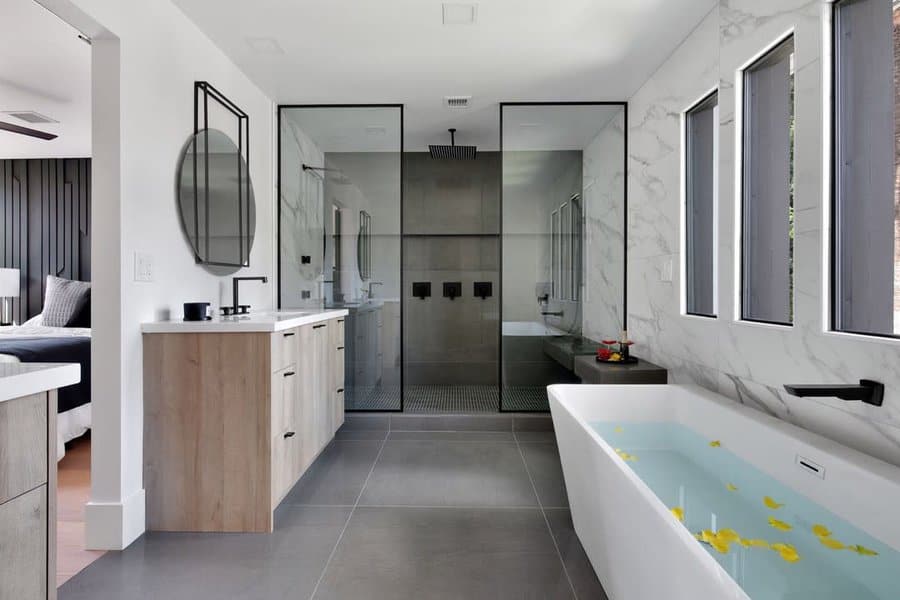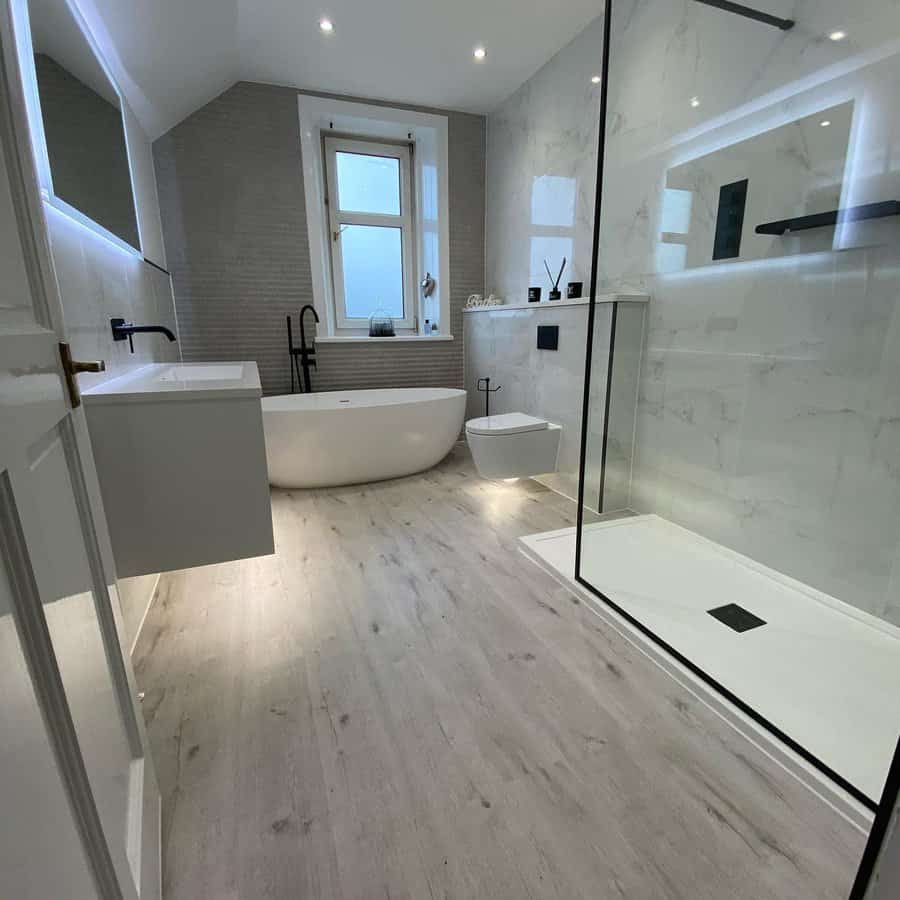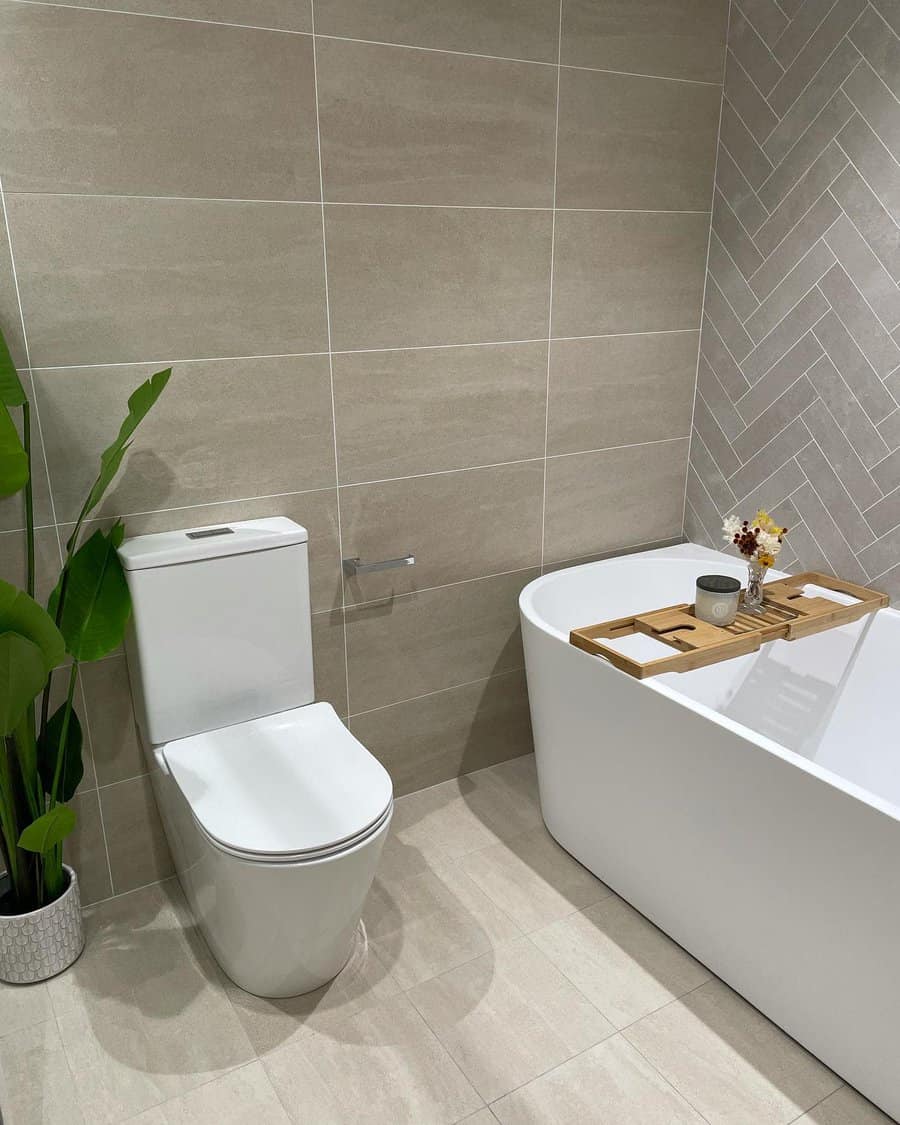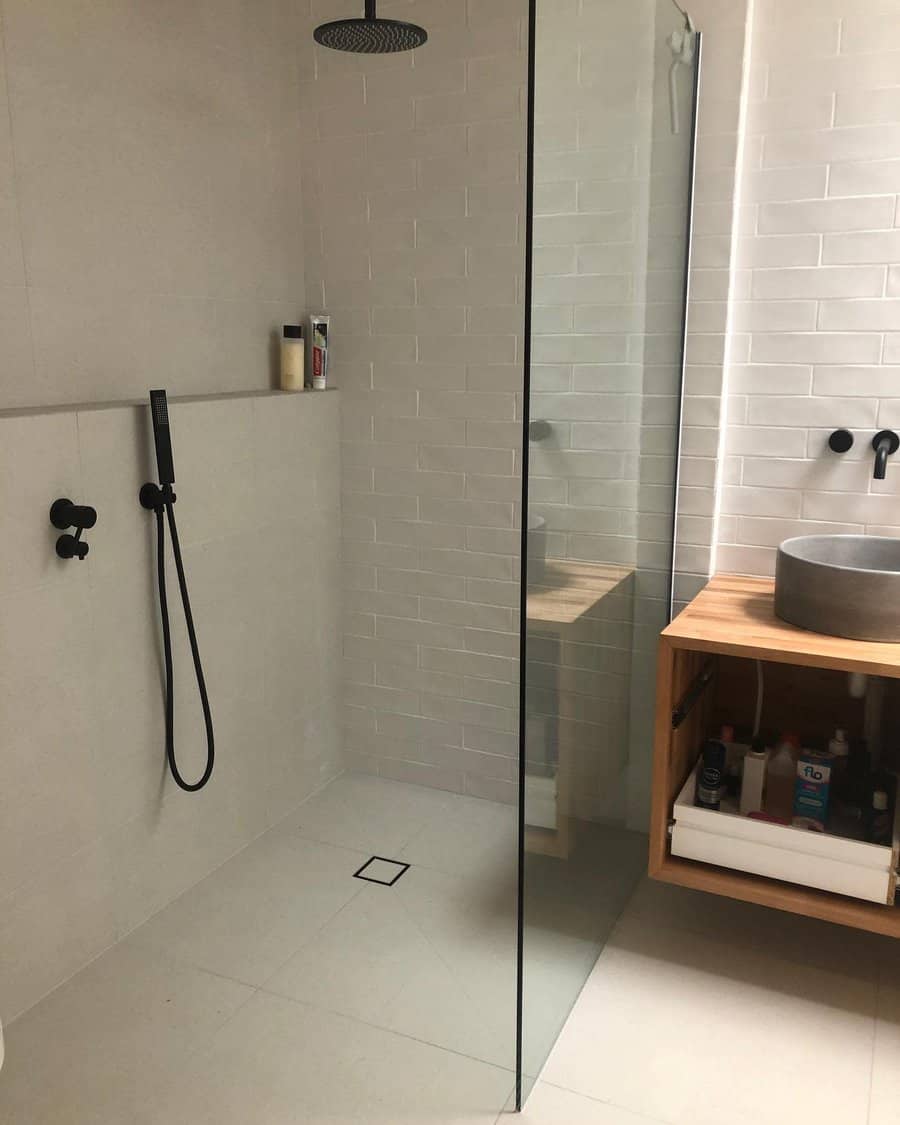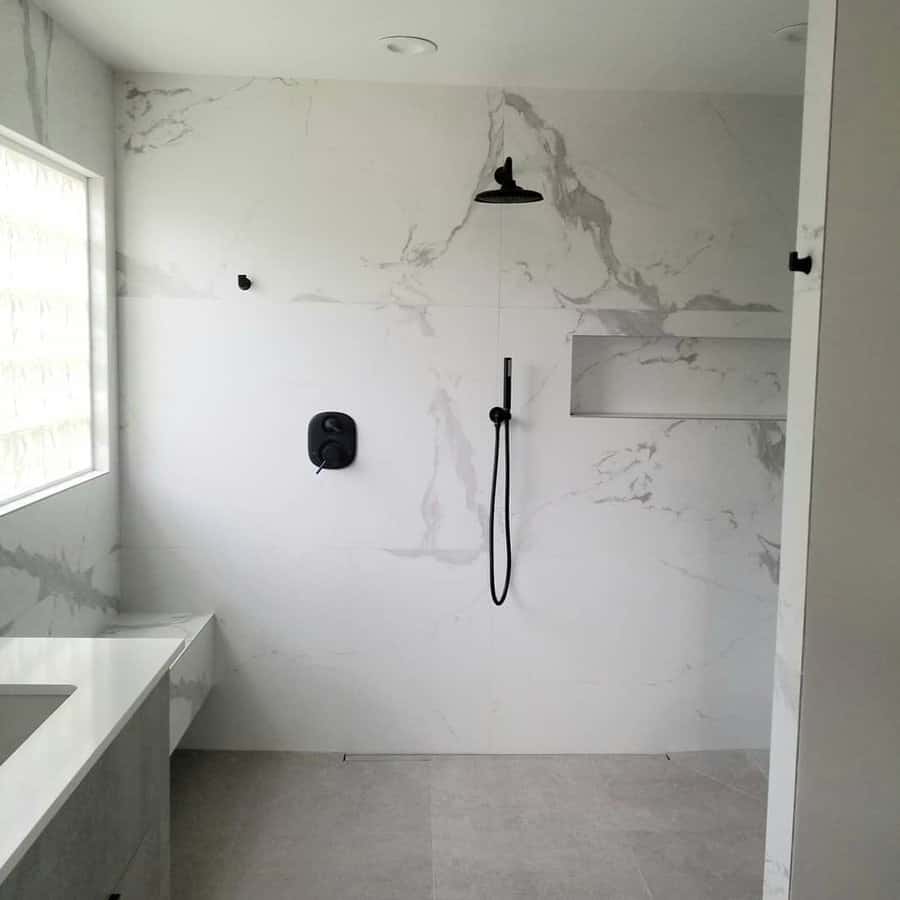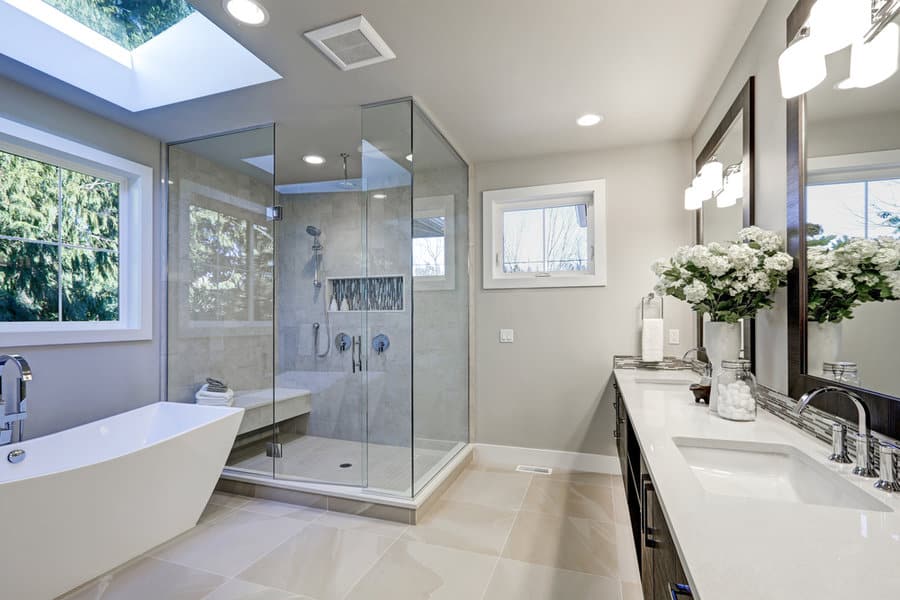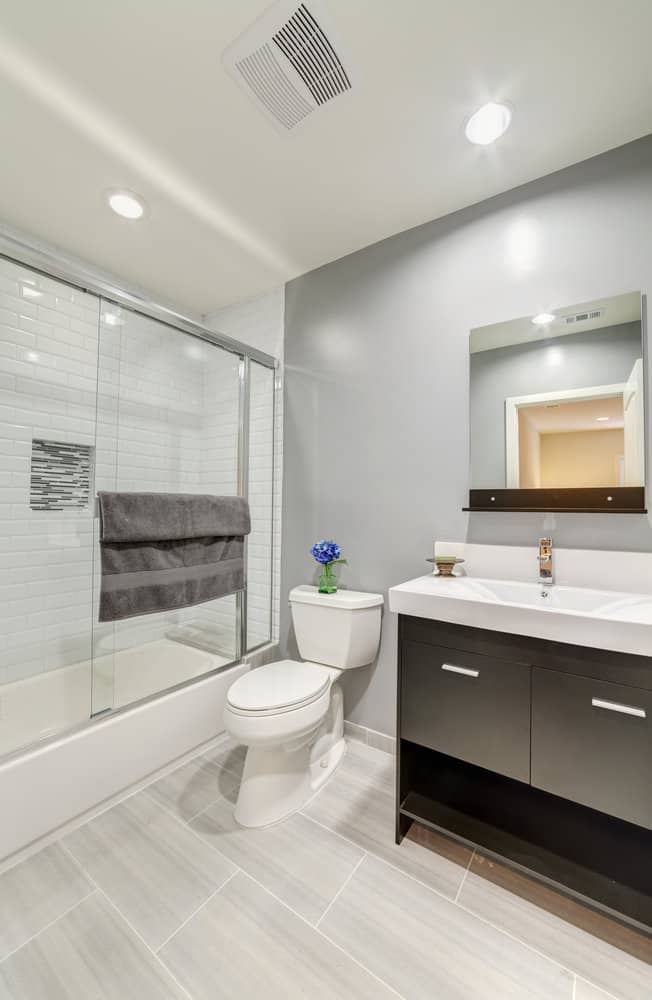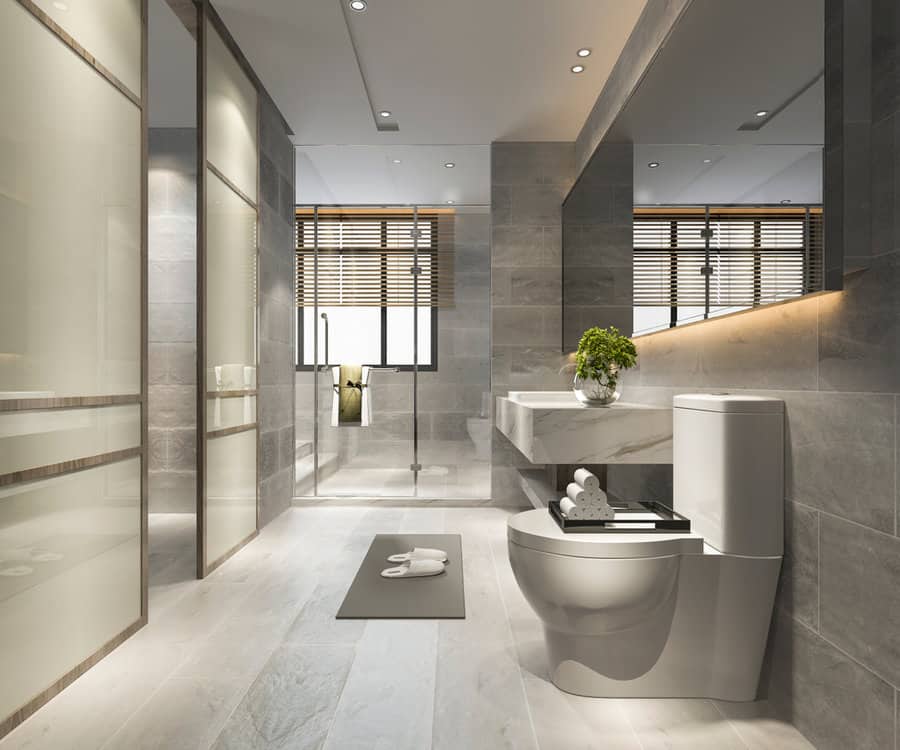 Be careful about choosing a trendy floor tile. These look cool on social media and in magazines but will quickly look dated in your home. Trends come and go, so choose a floor that is modern yet timeless.
Unless you really love that hexagon tile and are ok with it going out of trend. Avoid ideas that look cool yet are impractical, like glass tile.
6. Mosaic
Mosaic tile is a small tile that creates a pattern across the floor. It could be very small, called penny tiles, or slightly larger. You find them in all shapes, from square to round and any number of sides in between.
This type of tile is one of the more popular small bathroom flooring ideas. The small scale of the tile makes sense in the smaller bathroom.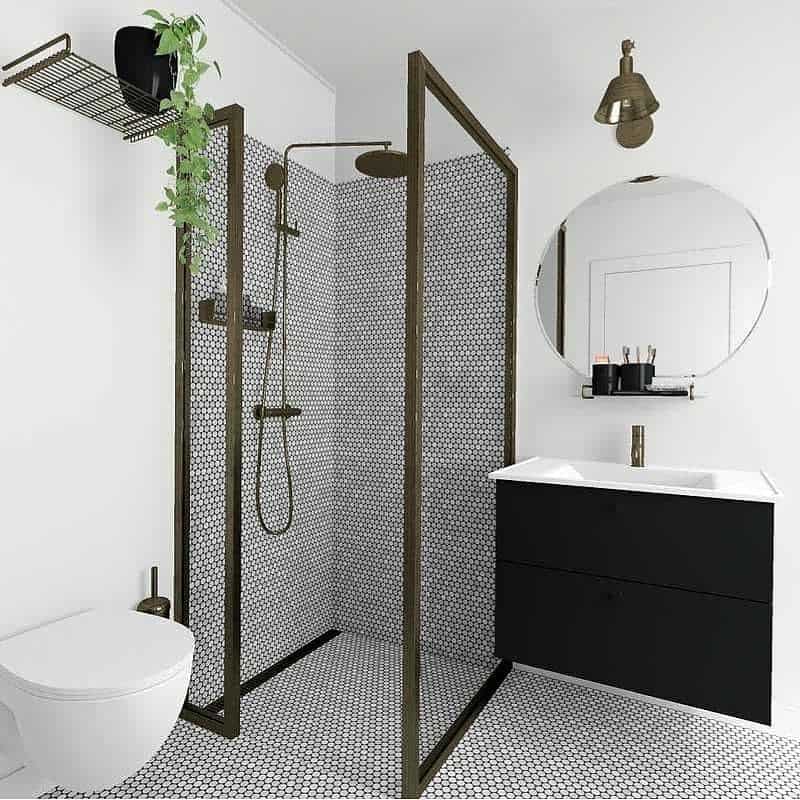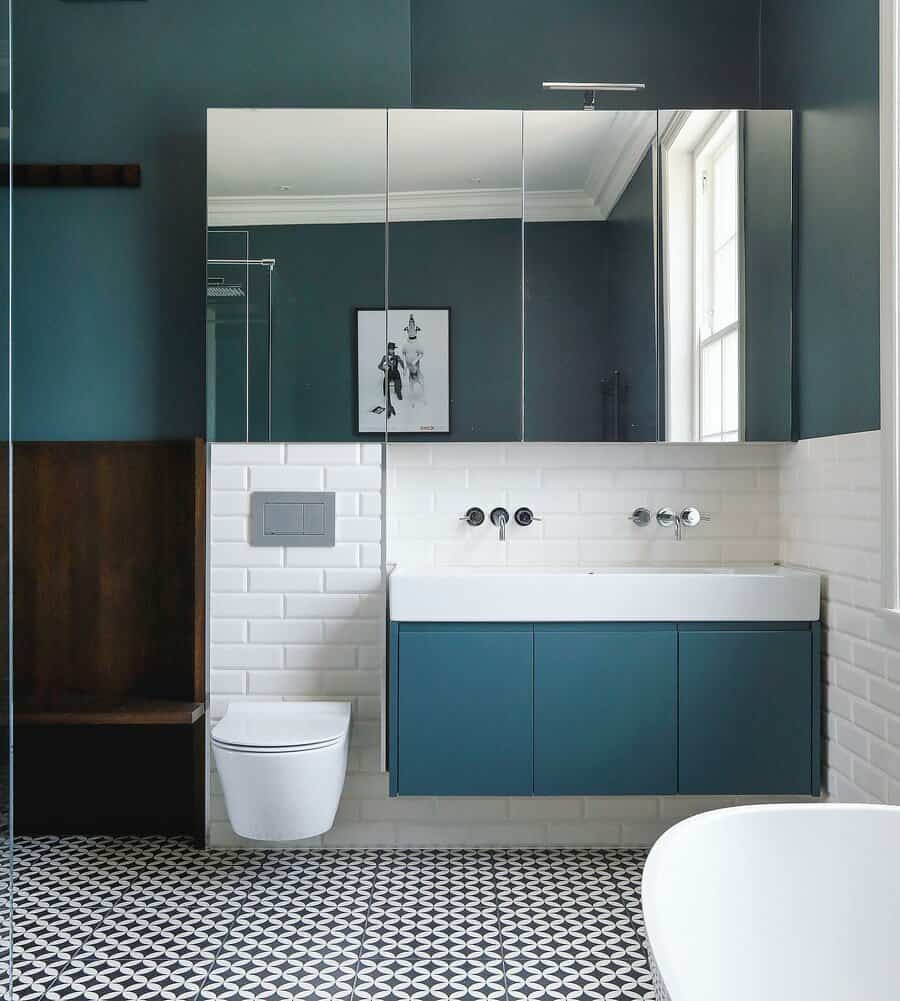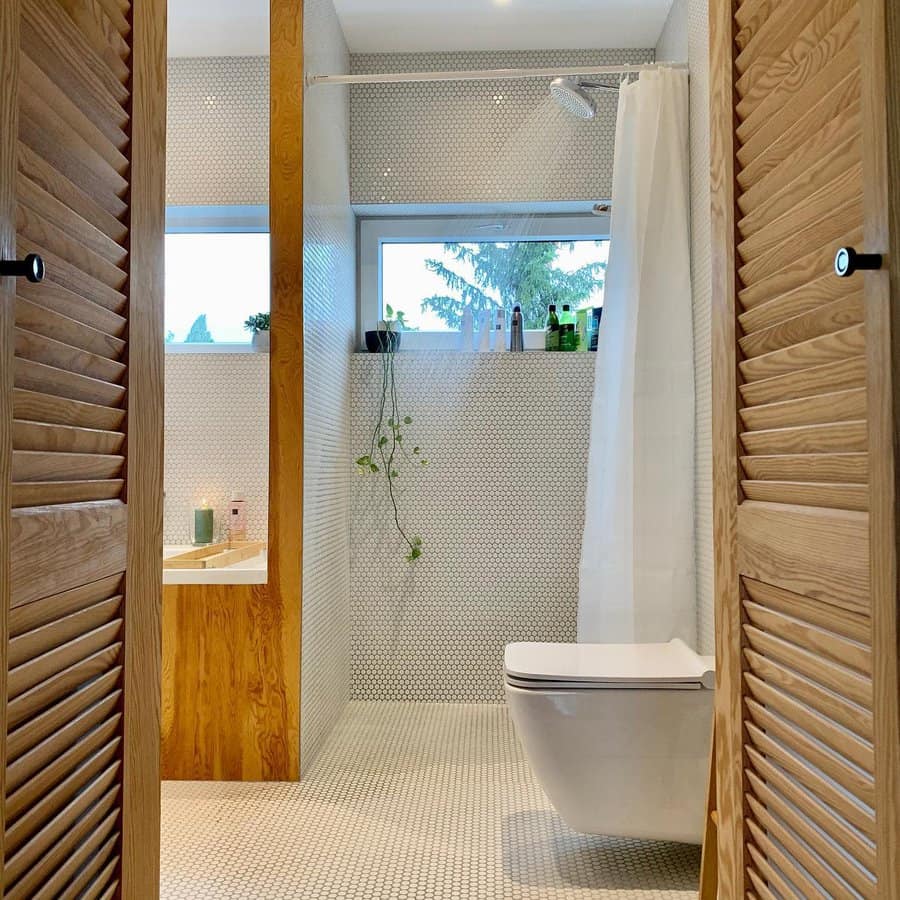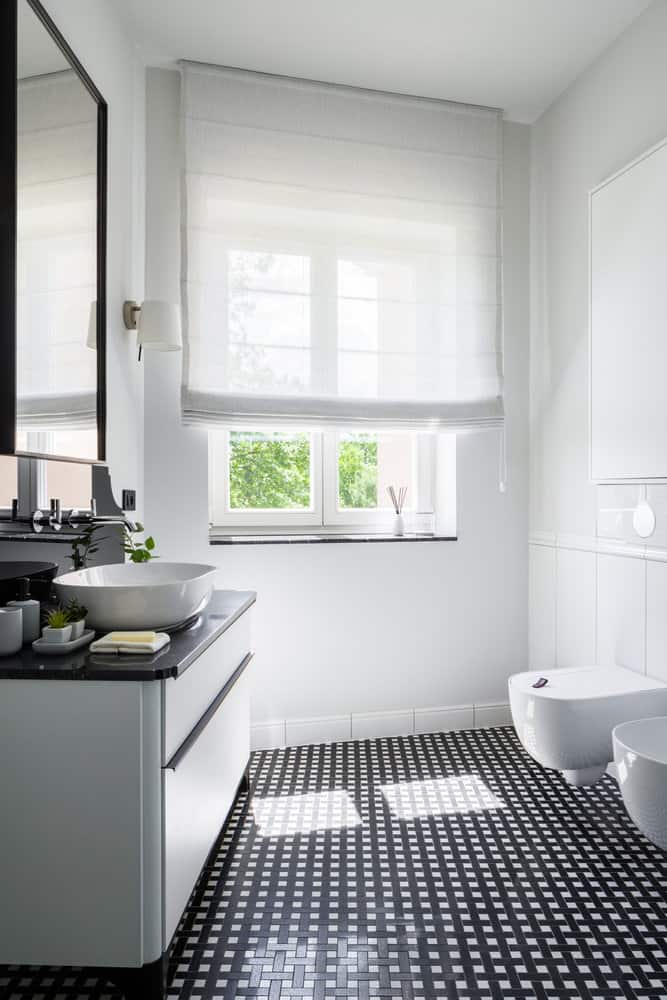 If you don't want to use small tiles across your entire bathroom, that's ok. This type of tile creates a lot of grout that needs cleaning. Try creating an accent design of mosaic tile that's framed by other tiles.
7. Pattern
Patterned tiles are a tricky thing to add to the floor. Choose a pattern that's too small, and it will look busy and visually overwhelming in the bathroom.
Choose a tile that's too large, and it won't repeat enough to look like a pattern. It will look unbalanced and unfinished. Compare the size of the bathroom with the size of the pattern. Scale the pattern up or down to suit the space available.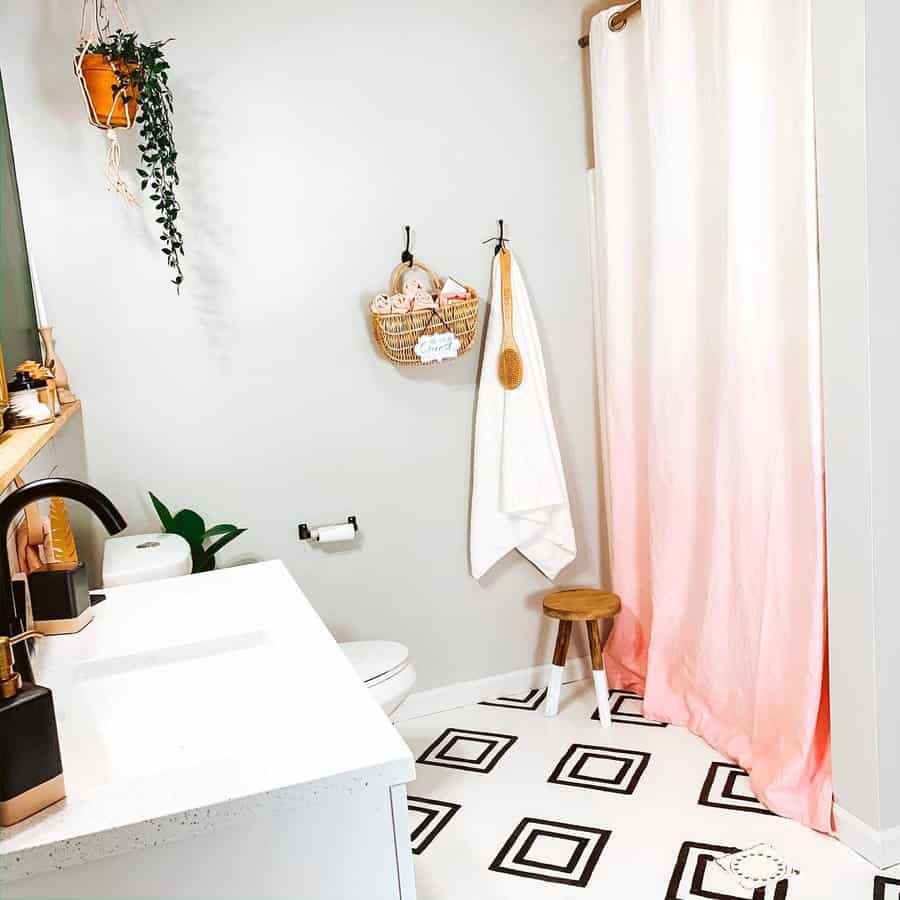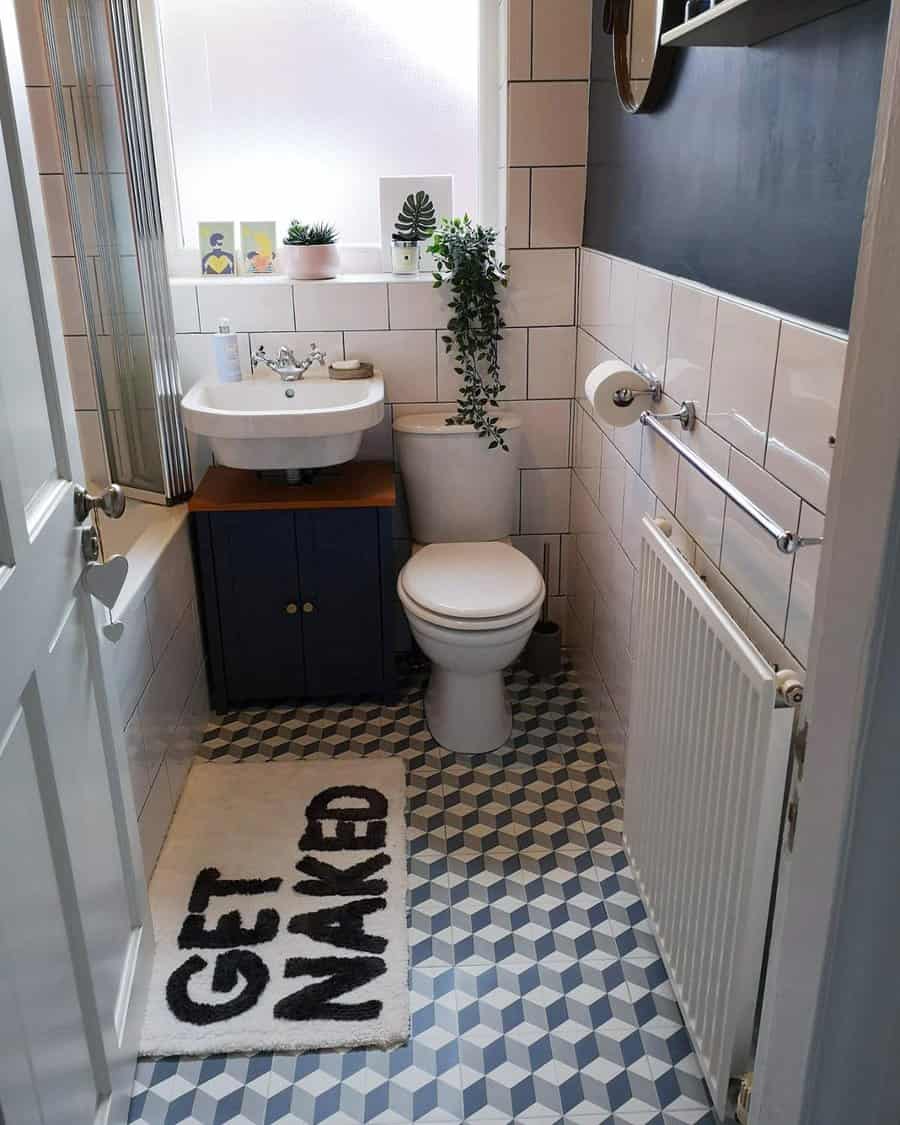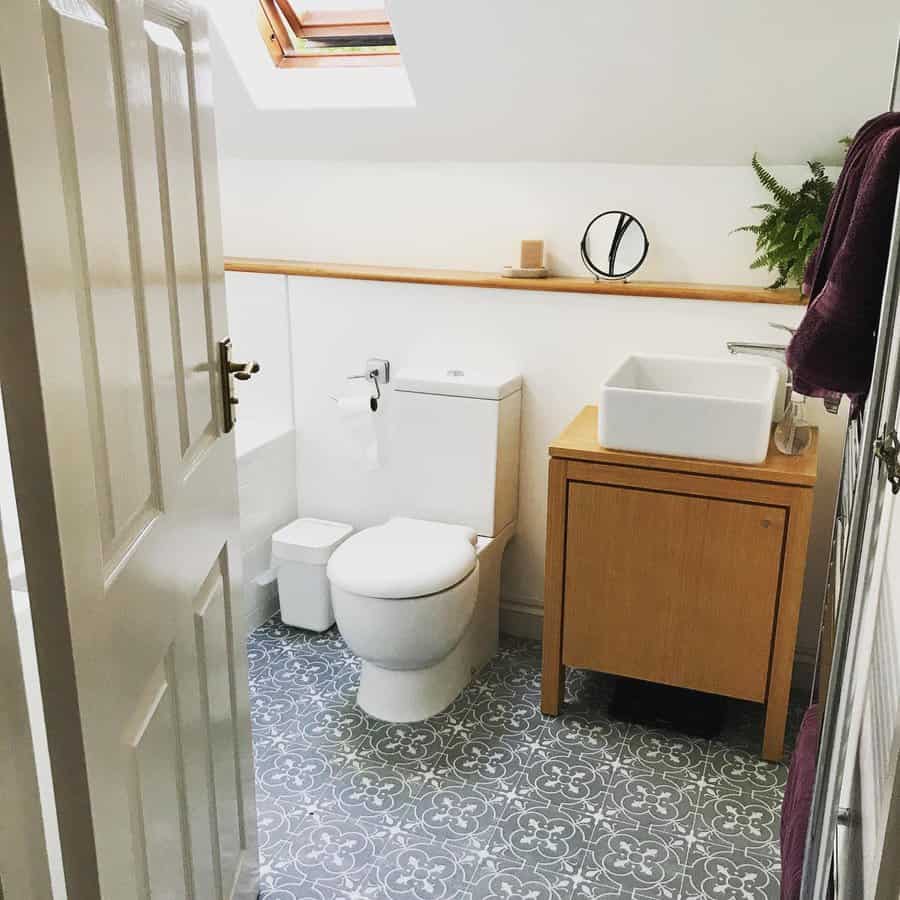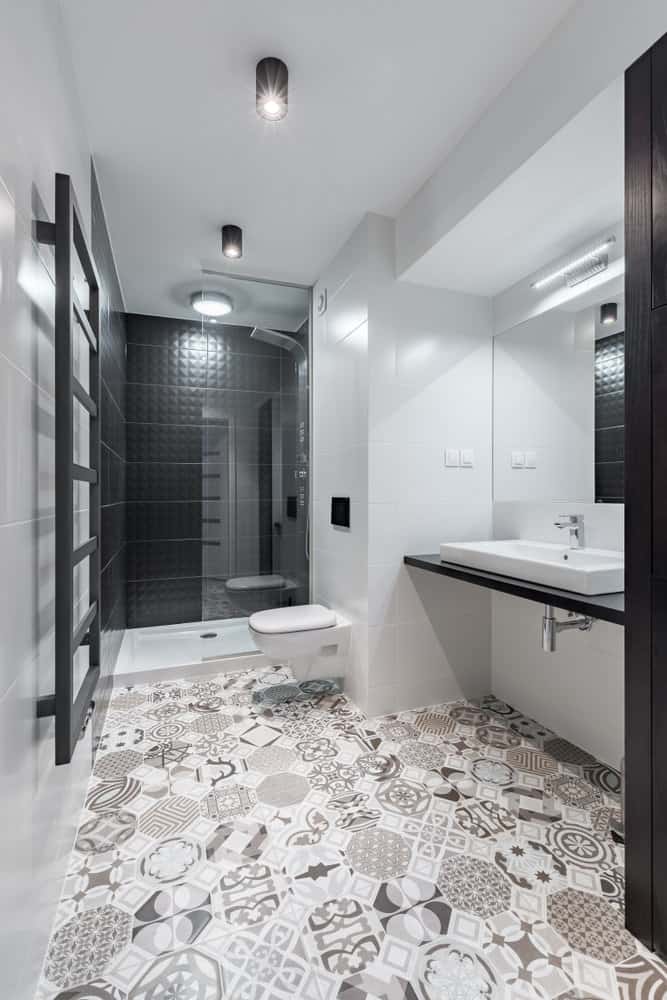 You can create patterns with tile in two ways. The first is by buying tile that has a pattern on the individual tiles. Sometimes each tile is an individual design, and others have a portion of the pattern that, when laid together, creates a larger design. The second option is to buy plain tile in different colors. Then create your own pattern with how you arrange them.
8. Shower
When choosing your bathroom floor tile, think about the tile if you have a shower in your bathroom. You could have the same tile throughout your entire bathroom. Or you could choose a coordinating tile.
That way, the tile in the two bathroom areas is unique, helping to define the different areas. They also complement each other, helping the bathroom to look coordinated.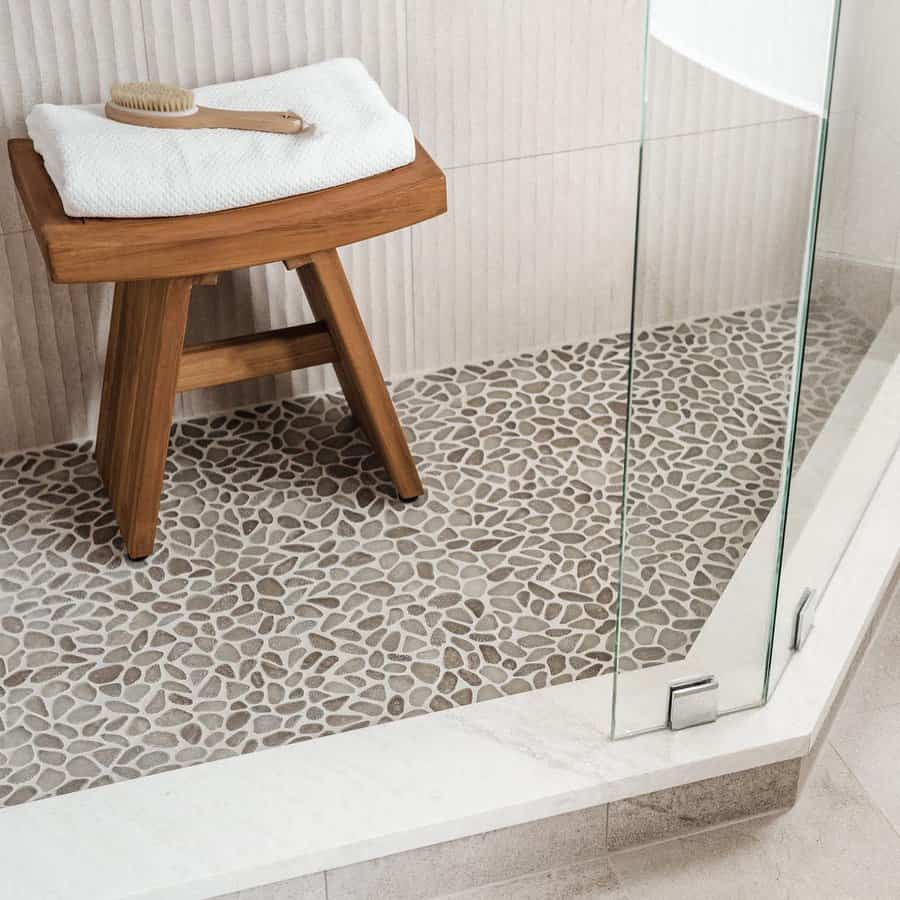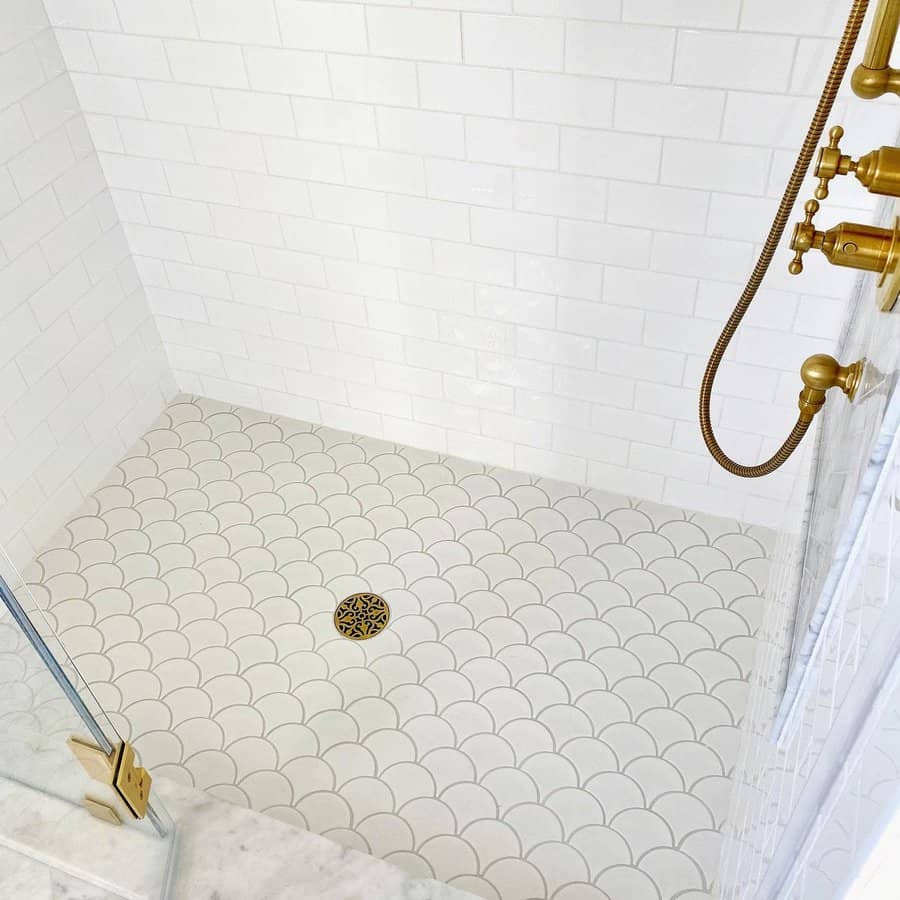 Keeping the tile the same is a smart idea if you have an open shower with a walk-in design. The same tile flowing throughout creates the illusion of a bigger bathroom. If an architectural element separates your shower, then you have a natural divider that makes it easier to use two different types of tile.
9. Stone
Using a natural stone tile can add a spa-like feel to your bathroom. The natural colors and textures create a feeling of serenity. When used on the floor, it's also safer than many tile options. The natural texture of the tile helps you to maintain traction when it's wet.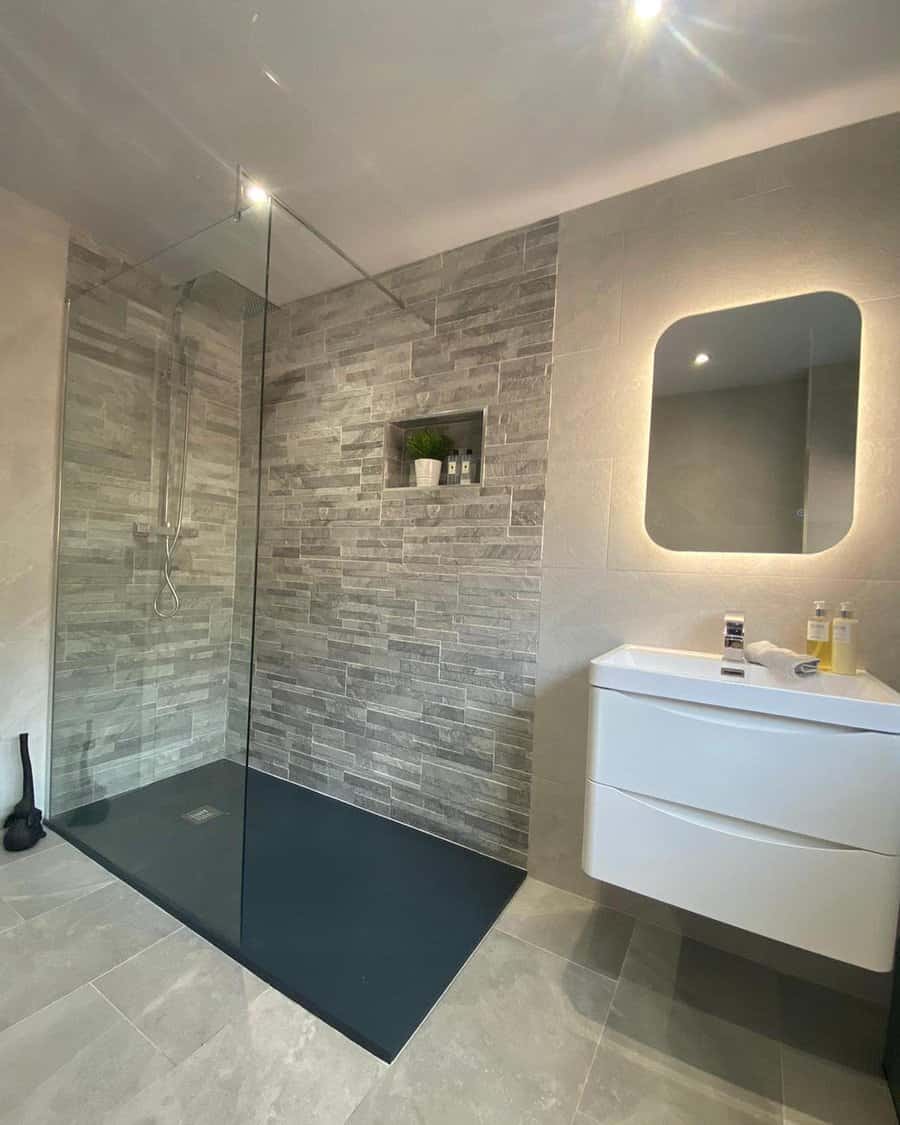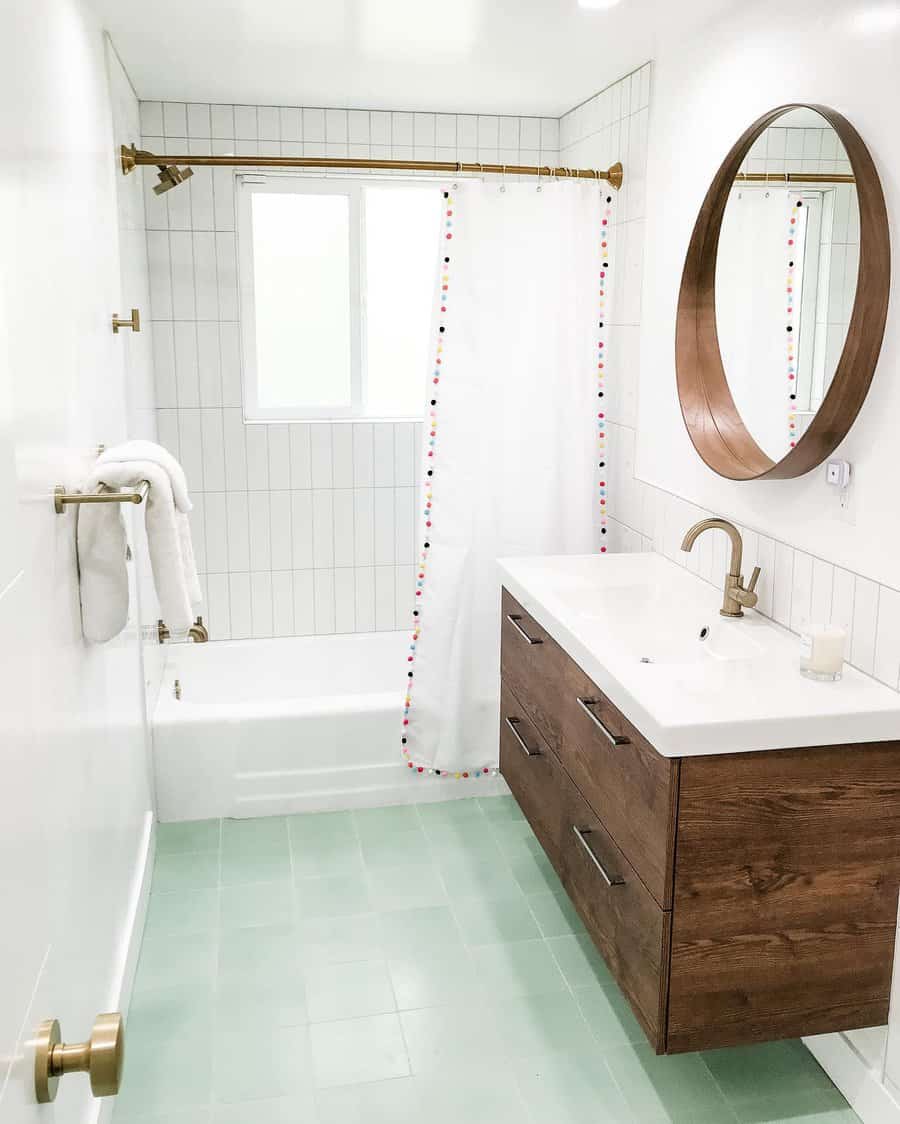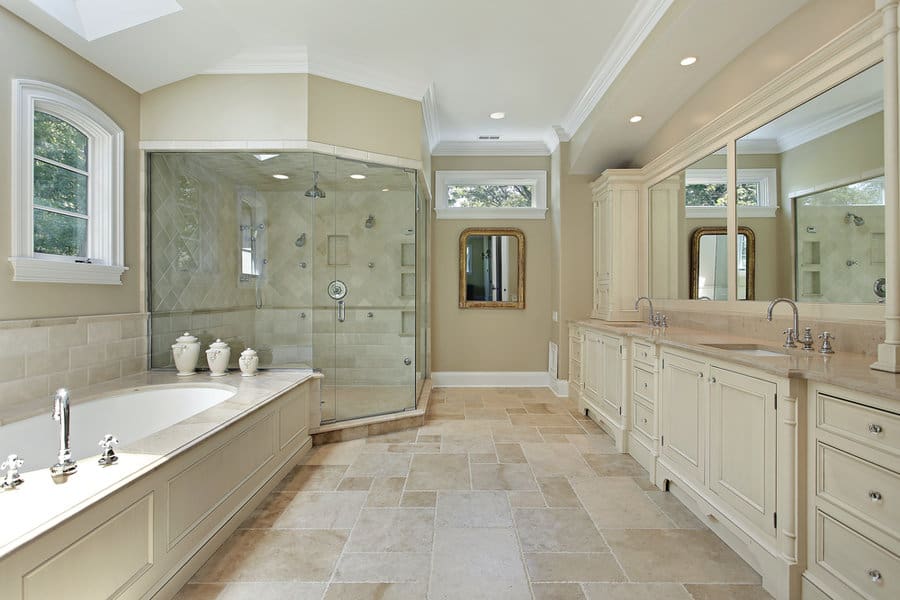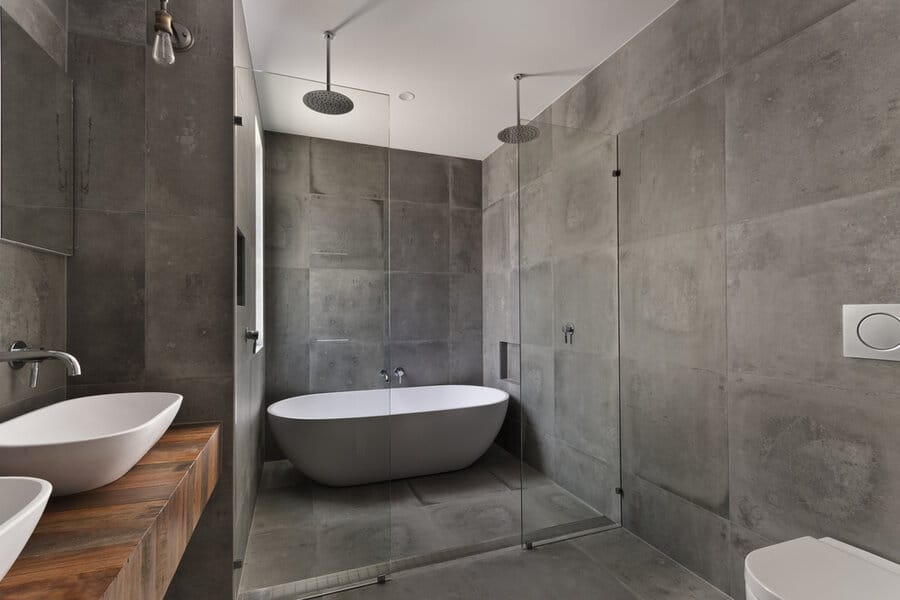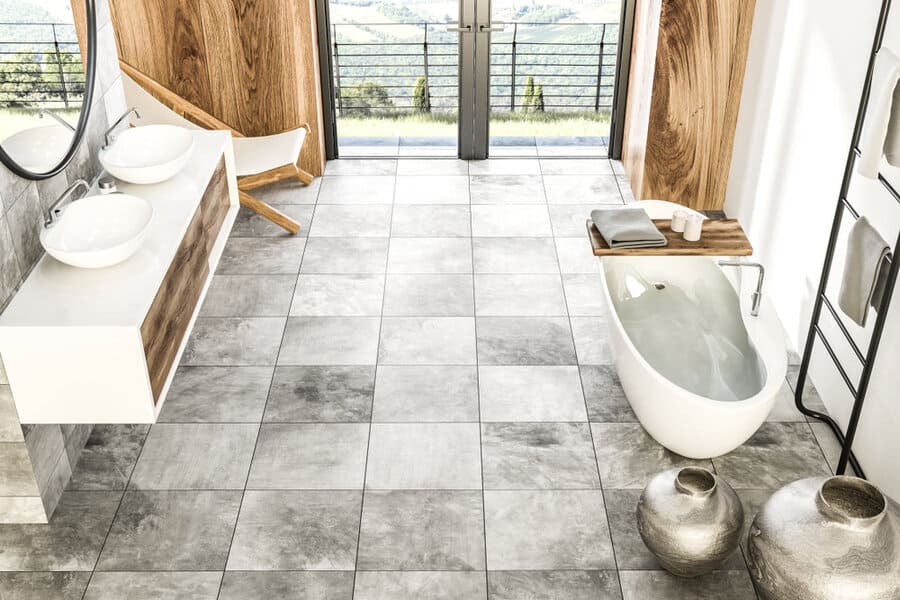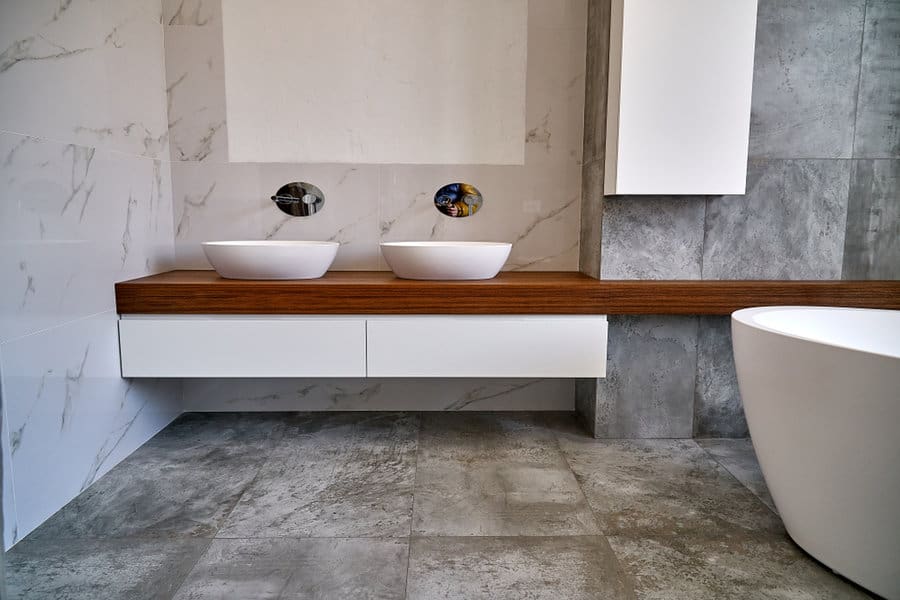 Some stone flooring is cut to look like smooth stone flooring. You can lay this stone like you would ceramic or porcelain tile.
Another option is to use pebble tile. These are small rocks and stones that get laid on the floor with grout. When you walk on it, the stones gently massage your feet. It will feel uneven and bumpy, and that's the beauty of this organic and natural style flooring.
10. White
White is the classic bathroom tile color. Its simple design creates a neutral background, giving you the creative freedom to decorate the bathroom any way you want. The bright white tile and grout also look bright and clean, which are two things people tend to want in their bathroom.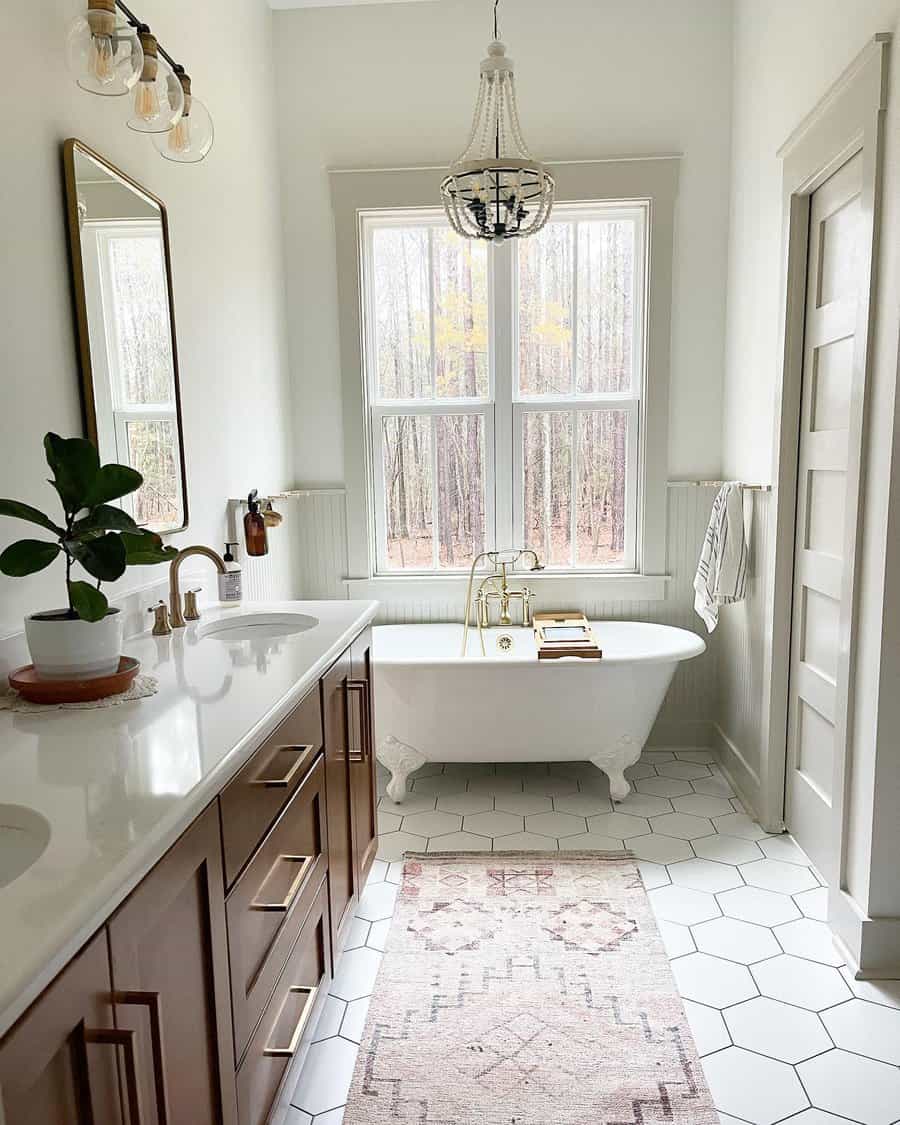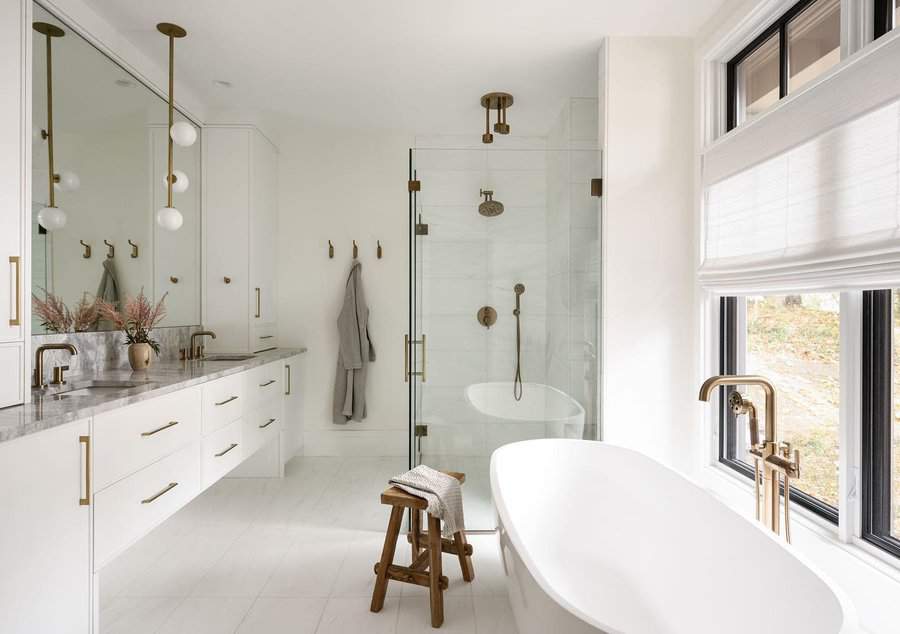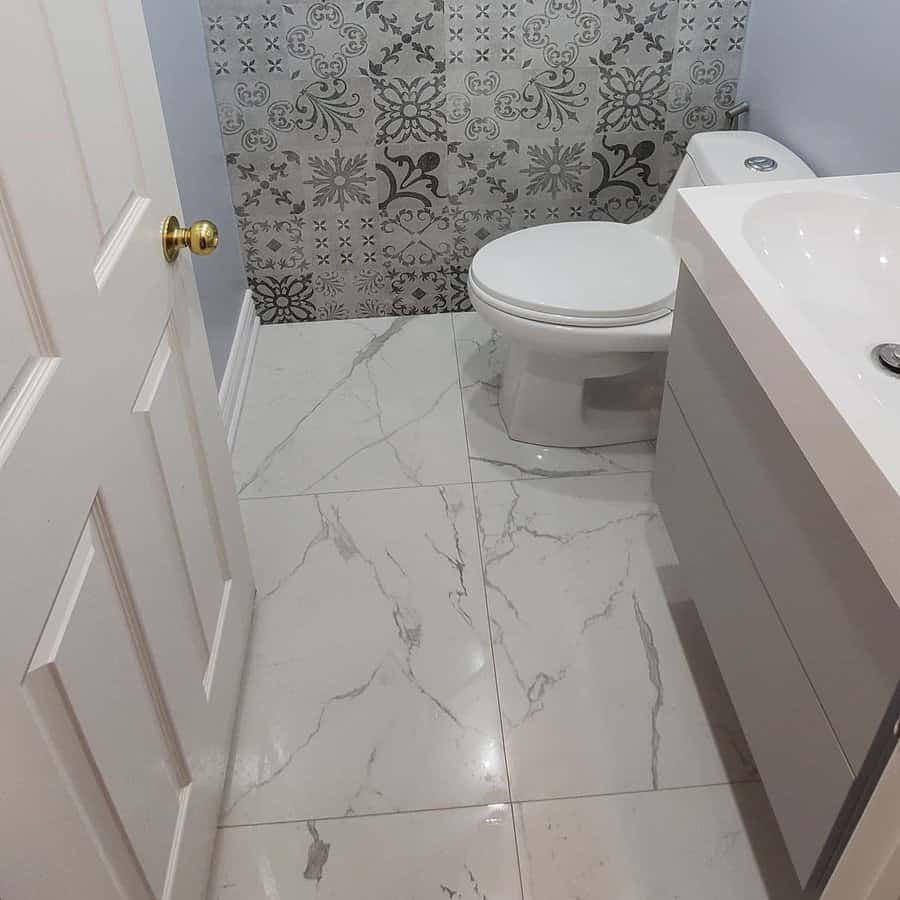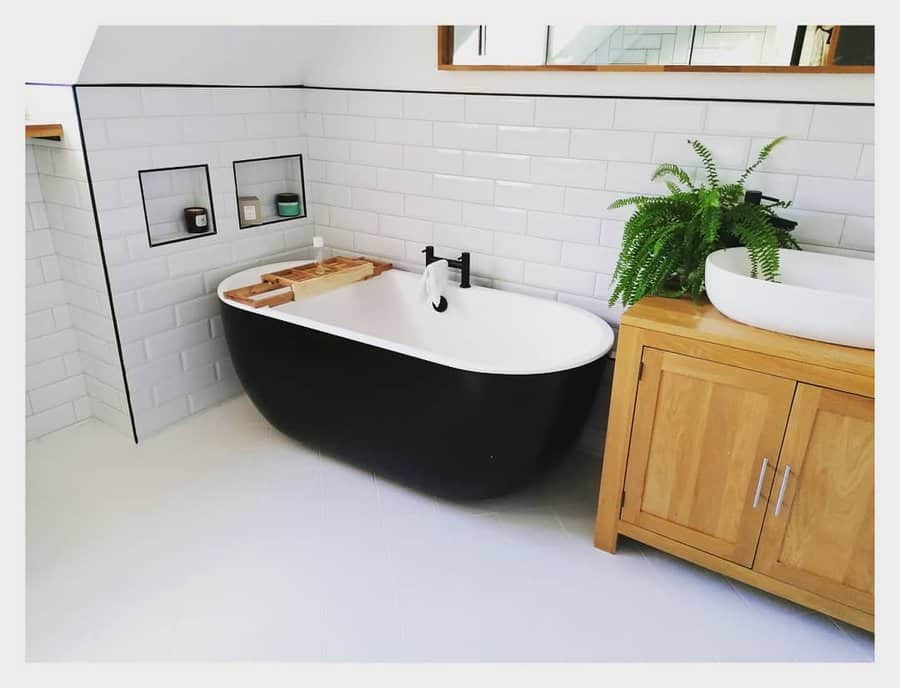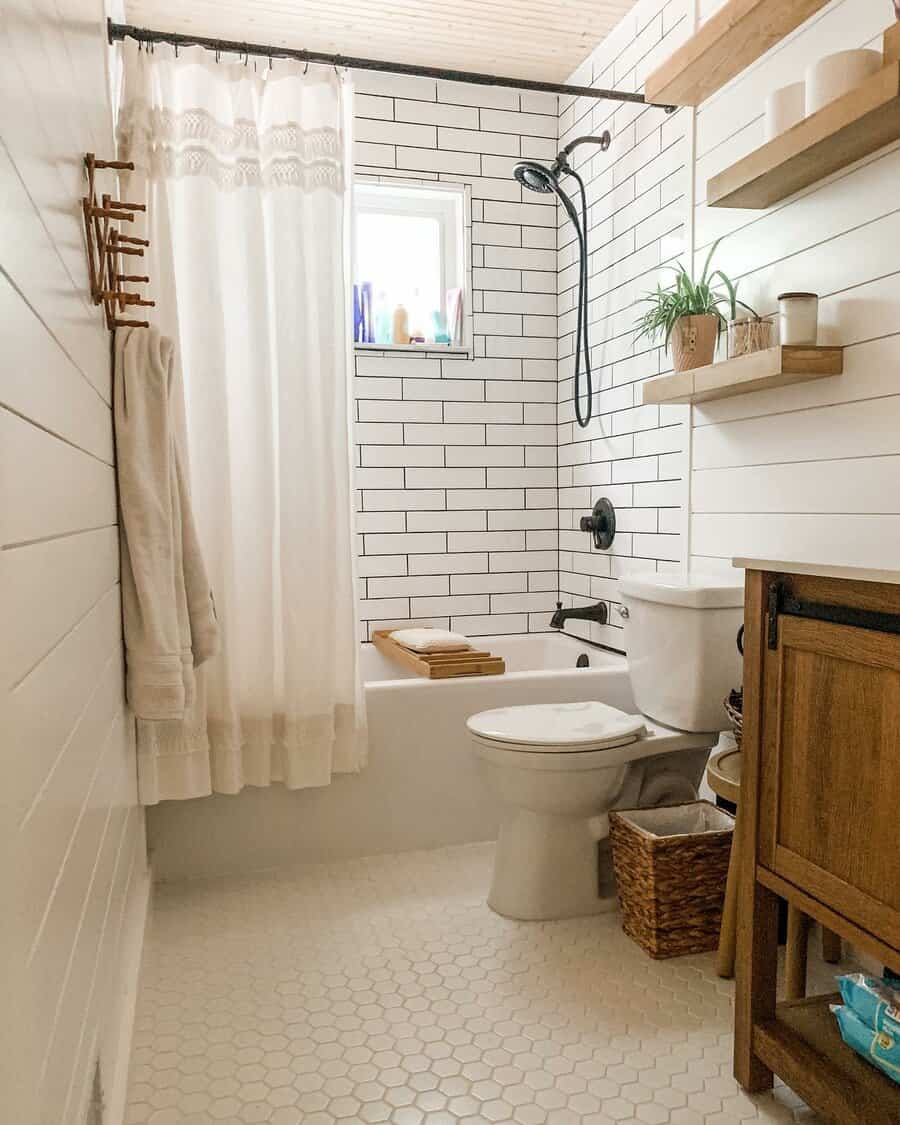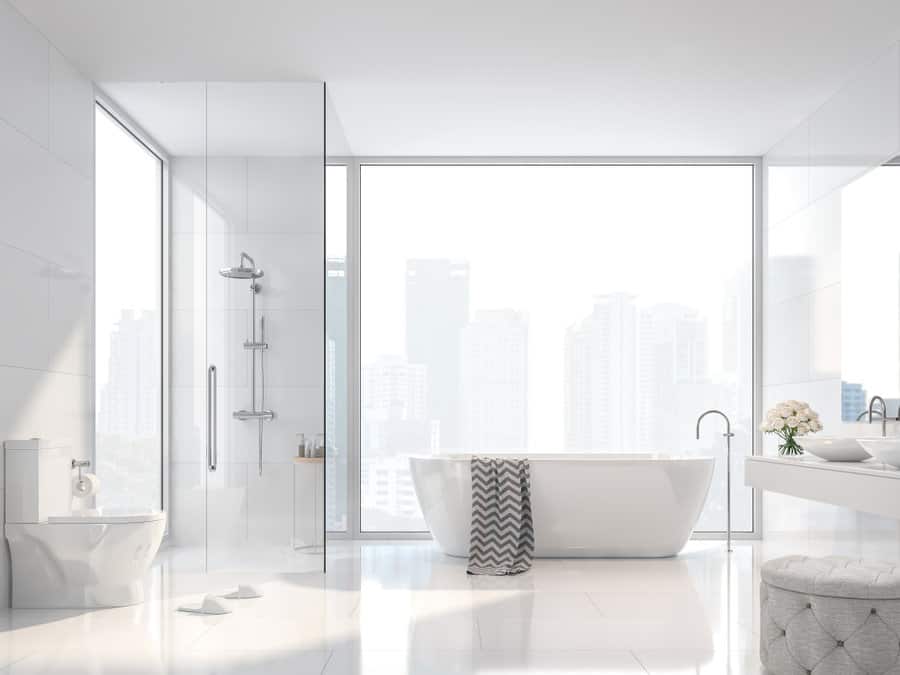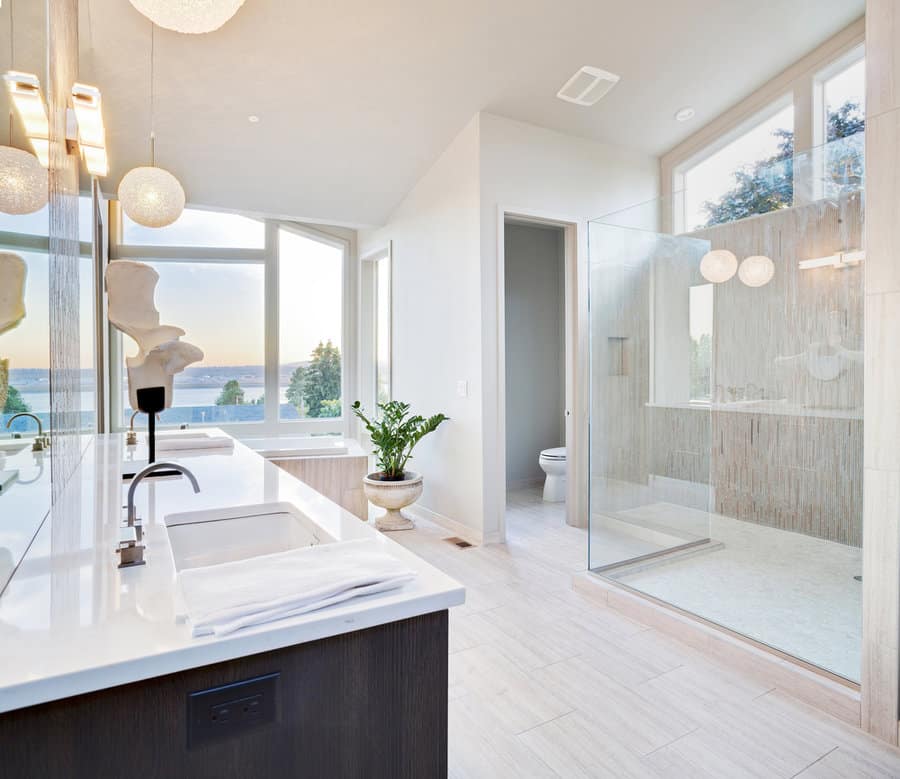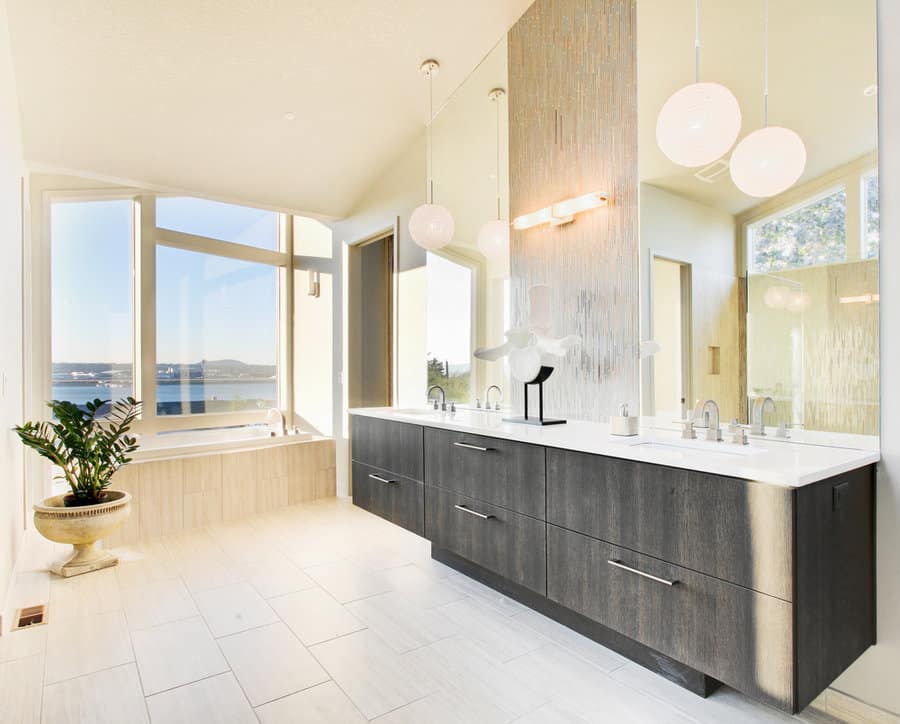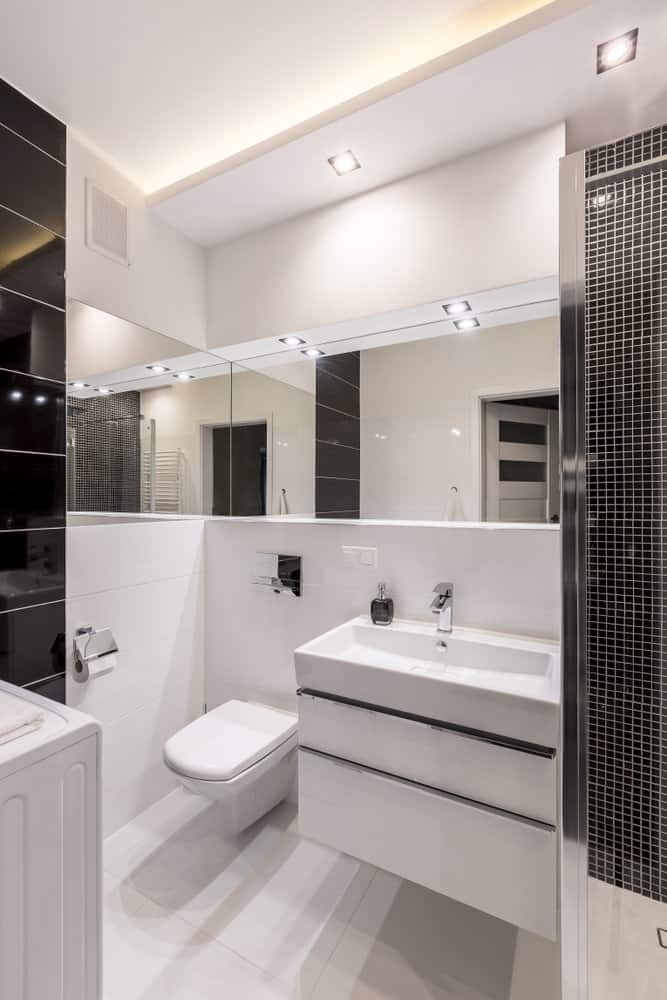 Subway tile is a classic wall tile that you could also use on your floor. This would create a vintage-inspired bathroom design.
Be careful with white tile; it can quickly look sterile and cold. You can combat this by accenting your white tile with a colored or patterned tile. You can also choose a predominately white tile, such as a white granite or marble. The natural variation in color softens the white without taking away from the overall look.
11. Wood
Wood and water don't typically mix well, but thanks to modern innovations, this is changing. Engineered hardwood gives you a flooring option that looks like real wood flooring but is actually not. Modern vinyl flooring options come in a wide variety of colors and designs. This lets you choose the perfect hardwood floor design for your bathroom.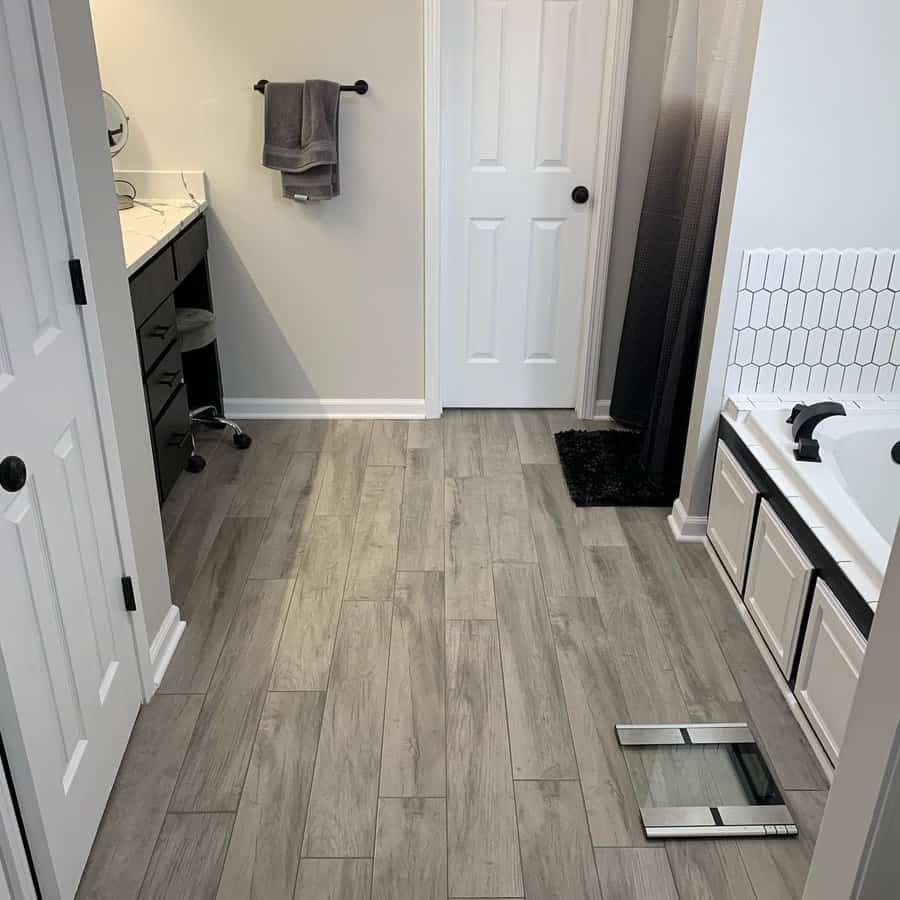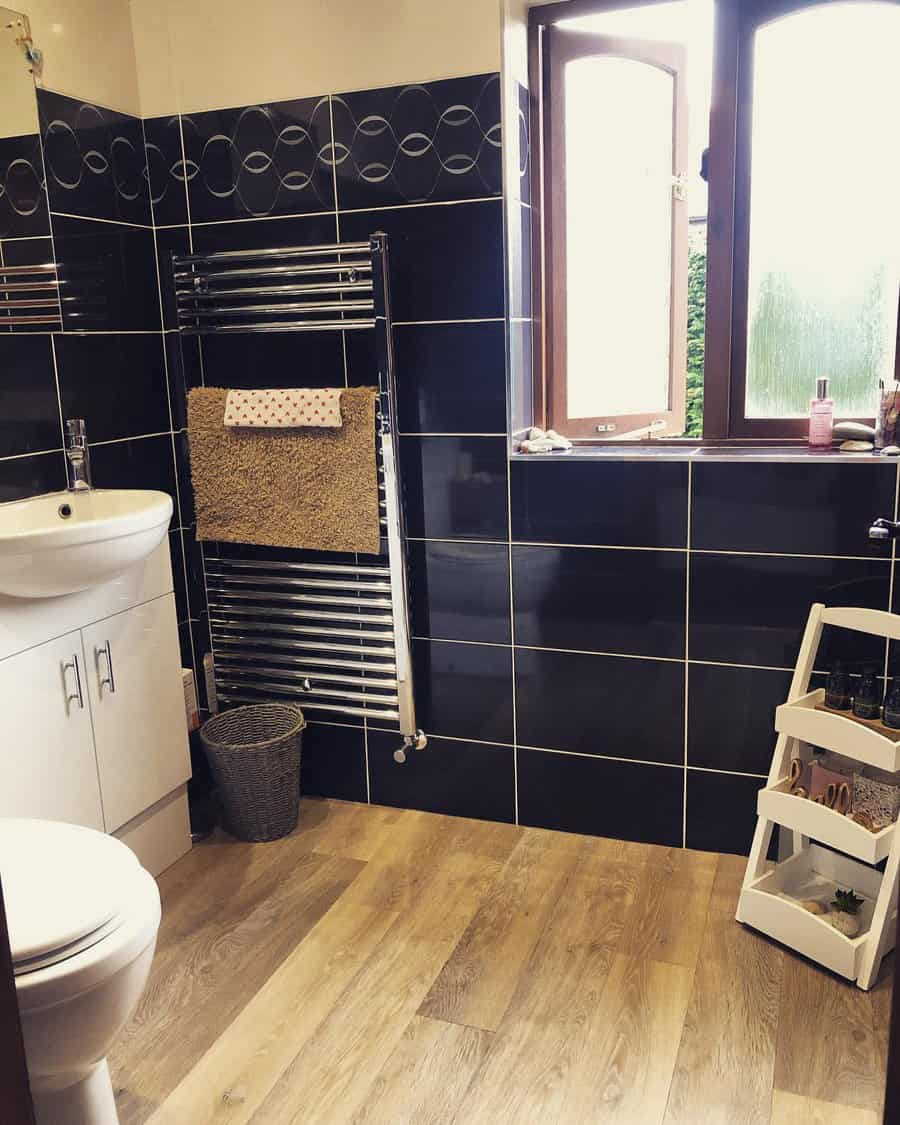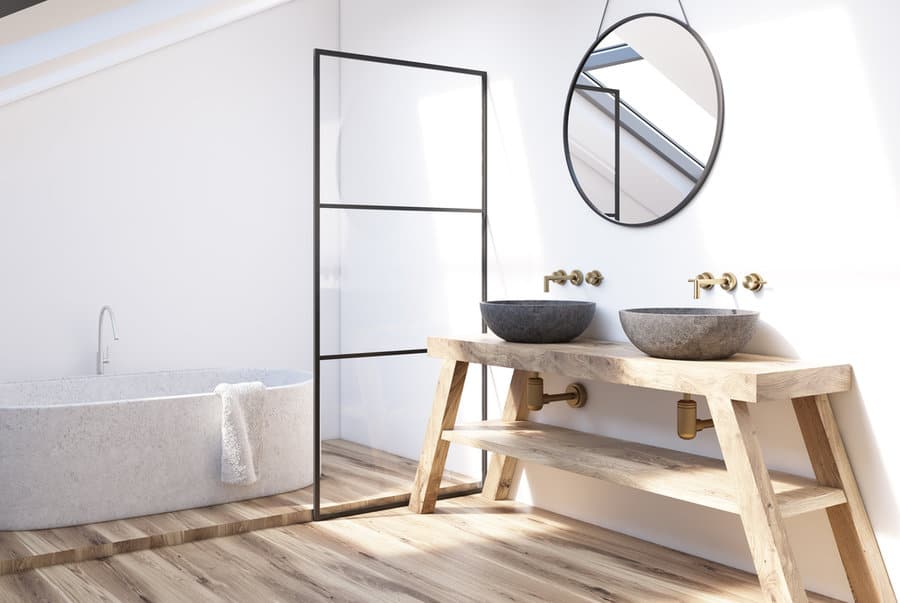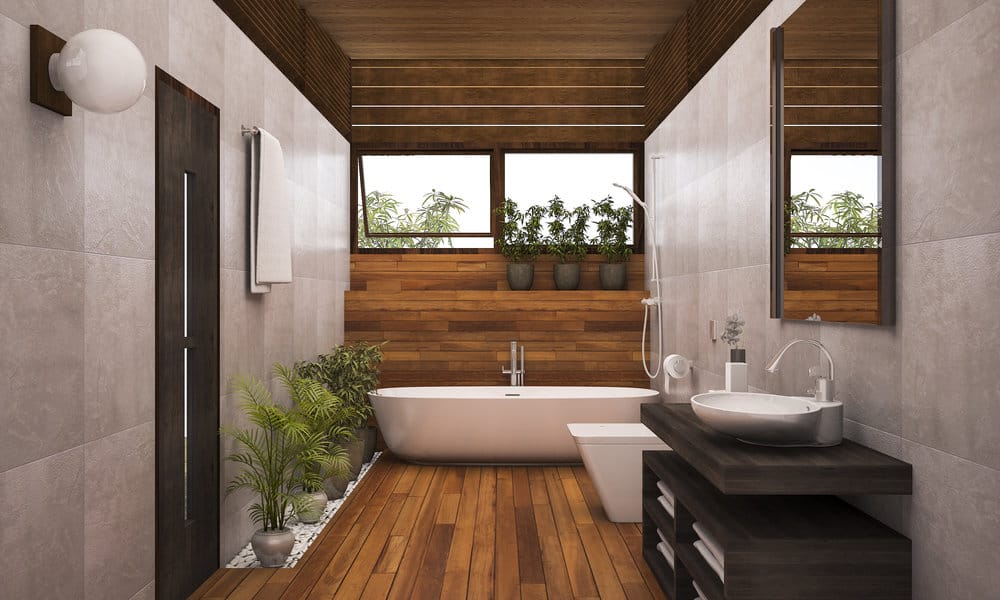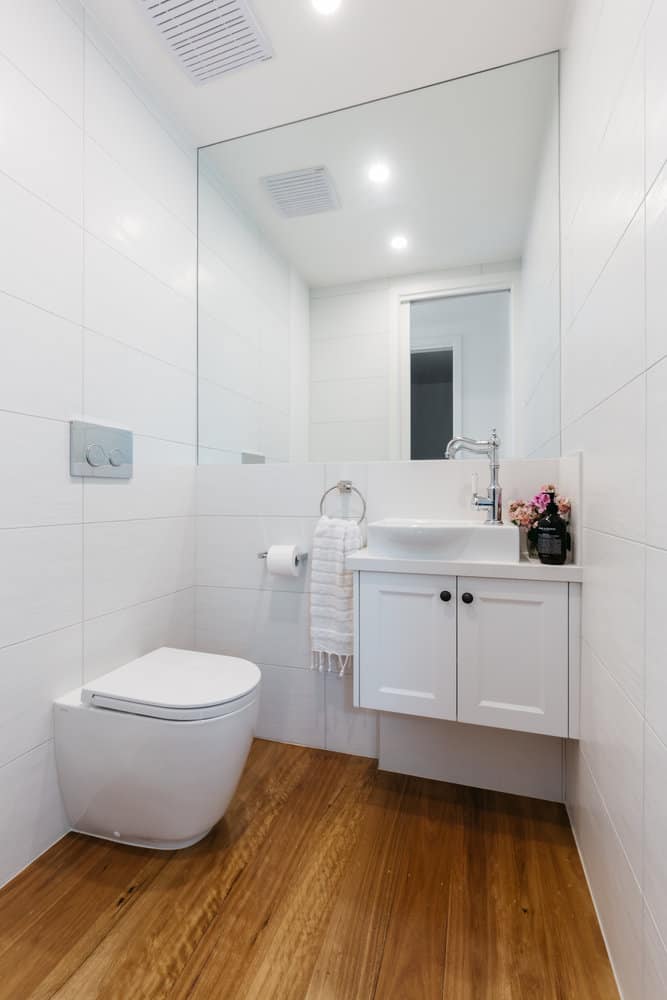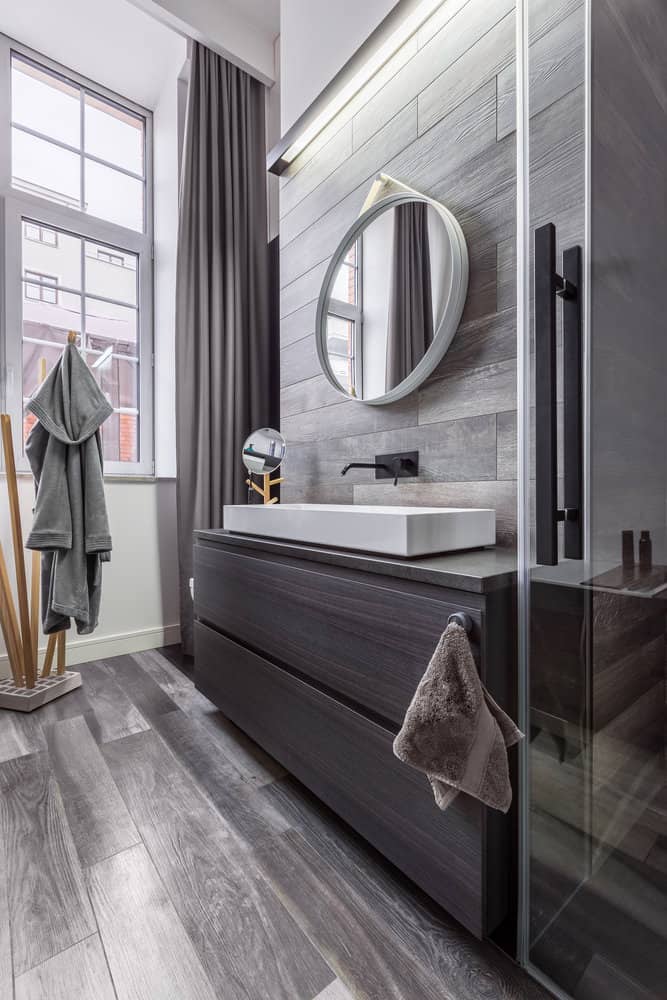 Hardwood flooring looks beautiful in almost all interior design themes. Darker wood shades look beautiful in everything from rustic to luxury bathrooms. Lighter wood options work well in farmhouse and Scandinavian bathrooms.
Bathroom Flooring FAQs
What is the best type of flooring for a bathroom?
The most popular flooring option for bathrooms is tile. Porcelain and ceramic tiles are sturdy, durable, and waterproof. You can find tile in any color, shape, size, and pattern. When installed correctly and given proper care, tile floors can last many decades.
What is the easiest flooring to install in a bathroom?
The easiest flooring to install is vinyl sheeting. However, it tends to look a bit cheap. The next easiest is vinyl plank flooring. It's nicer because it has a more upscale look and can last for longer.
Is it OK to put laminate flooring in a bathroom?
As long as you aren't letting water pool, you should be fine to use laminate flooring in the bathroom. It's durable enough to withstand dripping while you towel off after a shower. It's also strong enough to withstand heavy traffic, dropped hot tools, and personal care products. It also resists staining. However, some laminate floor manufacturers do not recommend use of their products in the bathroom for fear of water damage.