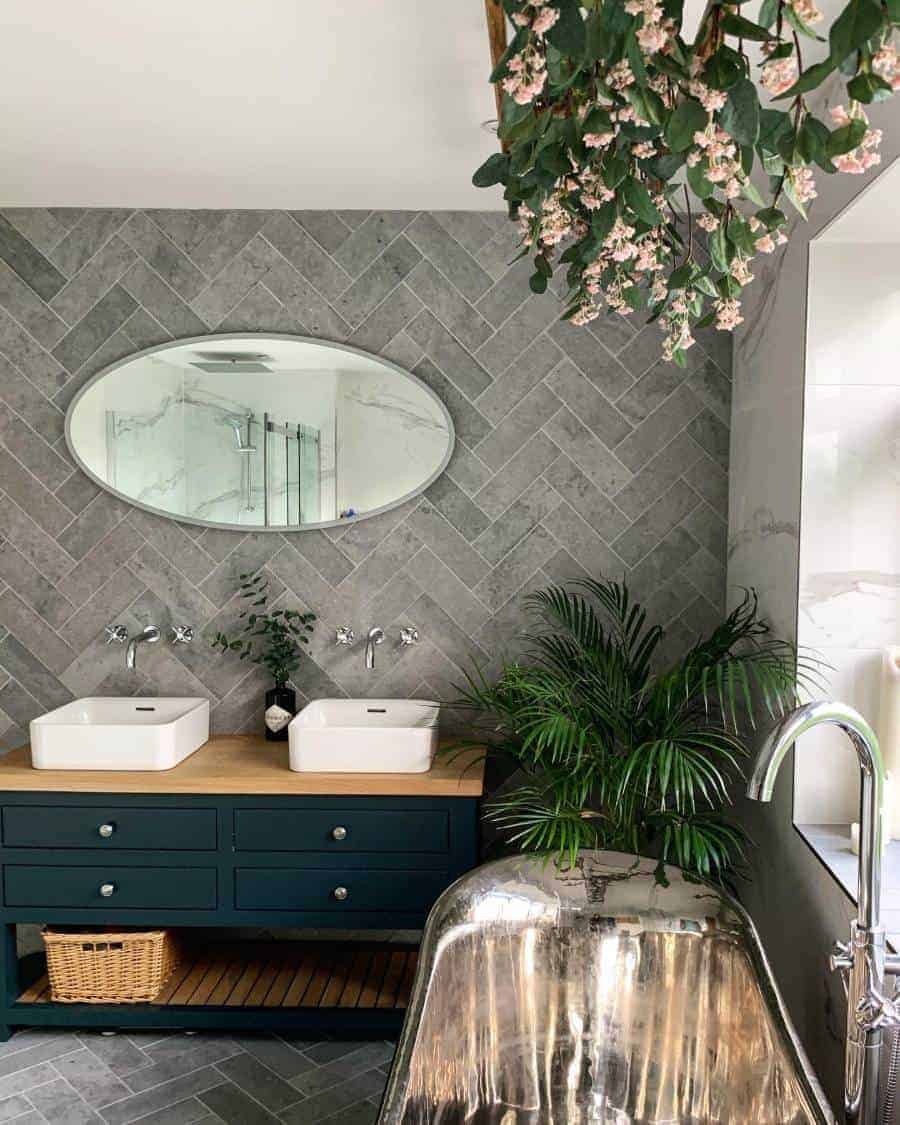 101 Bathroom Wall Tile Ideas
by — Kendrick Hulse

Published on June 19, 2023

Updated on June 19, 2023
Discover the amazing ways that you can use bathroom wall tiles to create the luxury feel for your bathroom.
Whether you have a large or small bathroom, one of the most important choices you have to make during your bathroom design is the tile. You need to think about color, size, texture, and material. Get one of these elements wrong, and your bathroom tile could be a nightmare to live with.
These bathroom wall tile ideas will help you choose the perfect tile for not only your bathroom wall tile, but the tile you could use on the bathroom floor, shower enclosure, accent wall, and backsplash.
1. Accent Wall
An accent wall is an easy way to add color, texture, and design to your bathroom. While you could paint a wall, the bathroom is a natural place to create an accent wall out of tile. It will also give you a chance to use that statement tile you fell in love with but haven't found a use for yet. Pick a wall that makes sense to use as an accent wall. This could be the wall behind the vanity or some other wall with two inside corners framing it.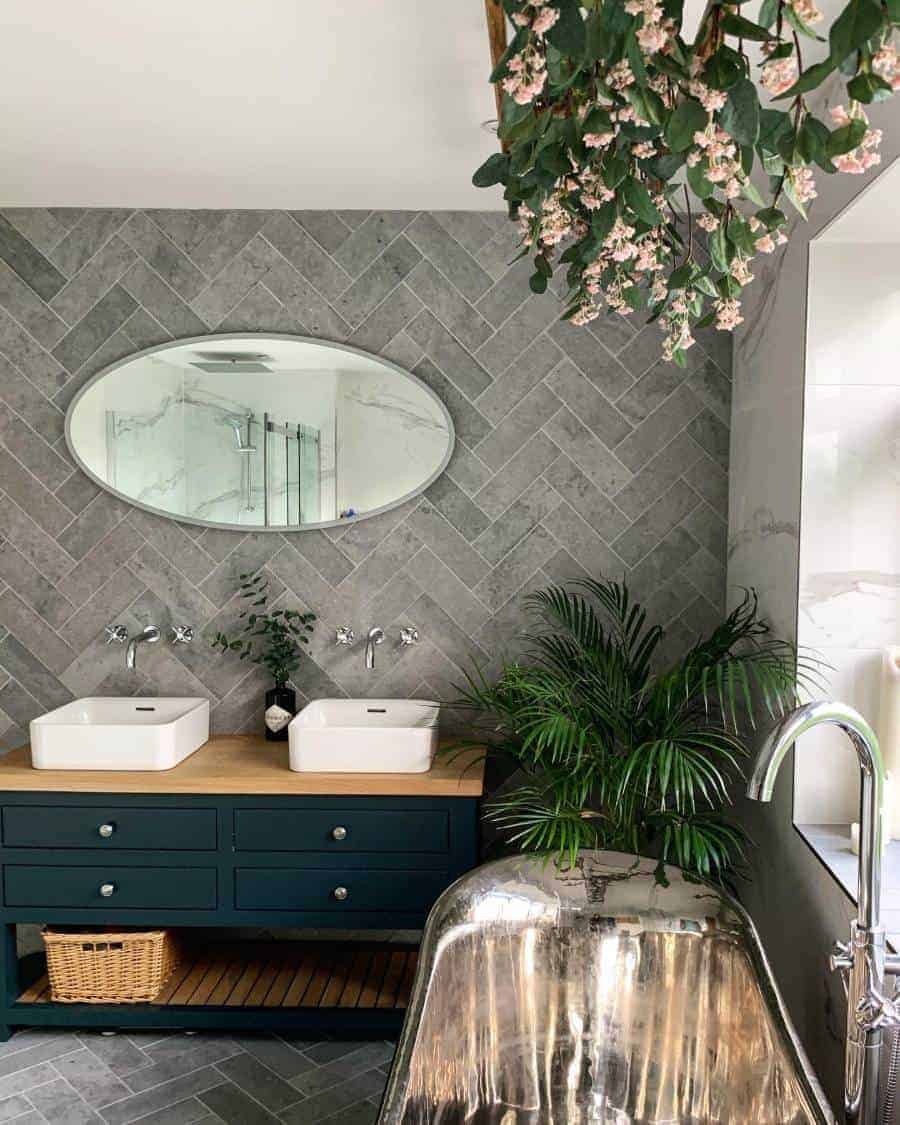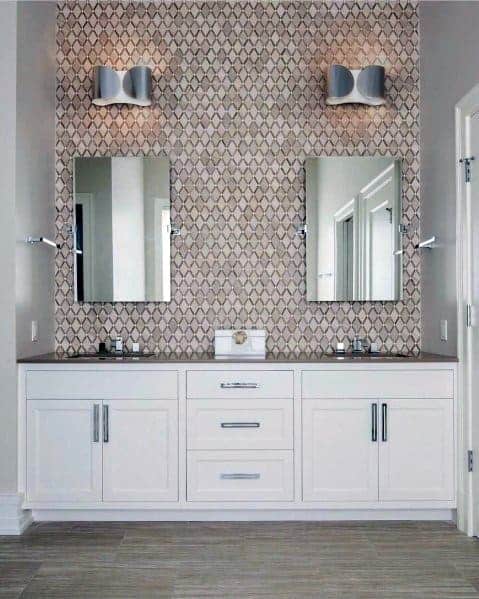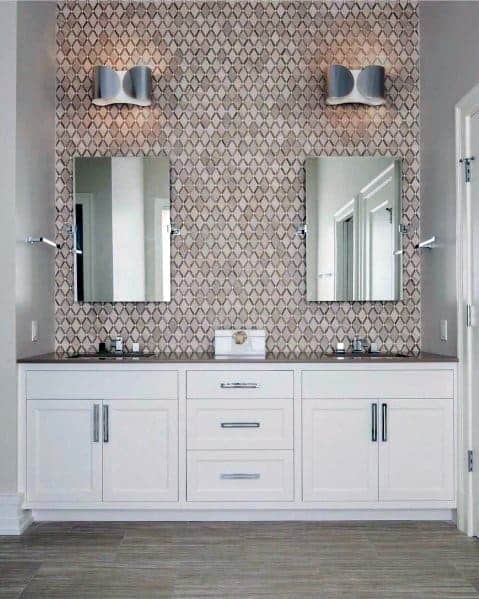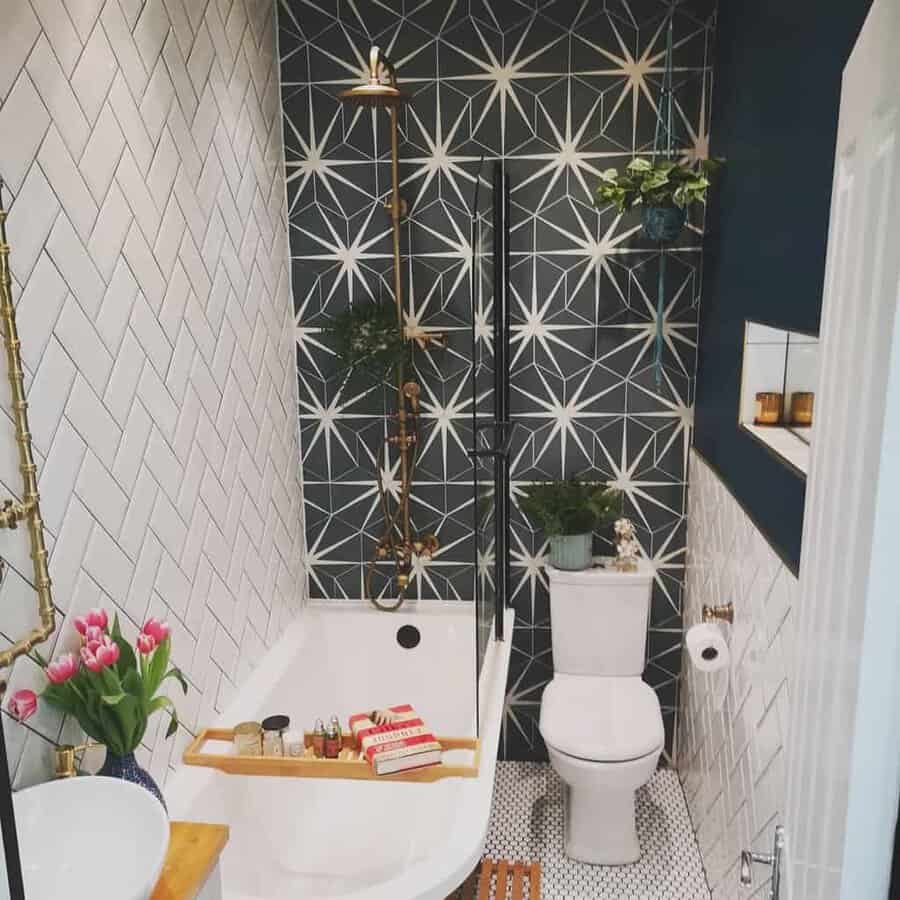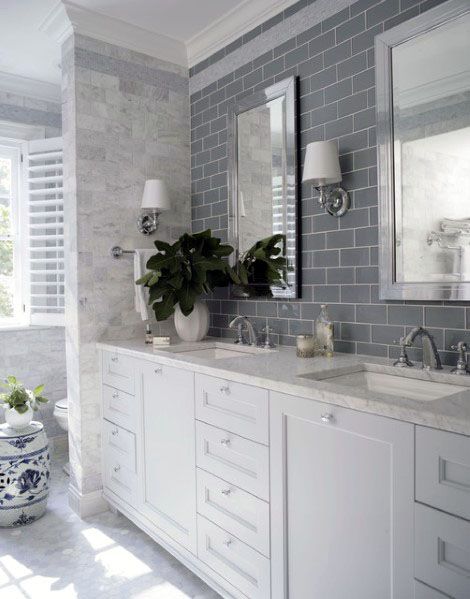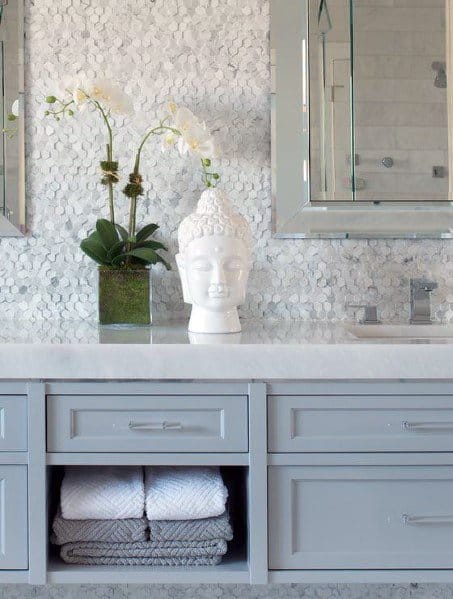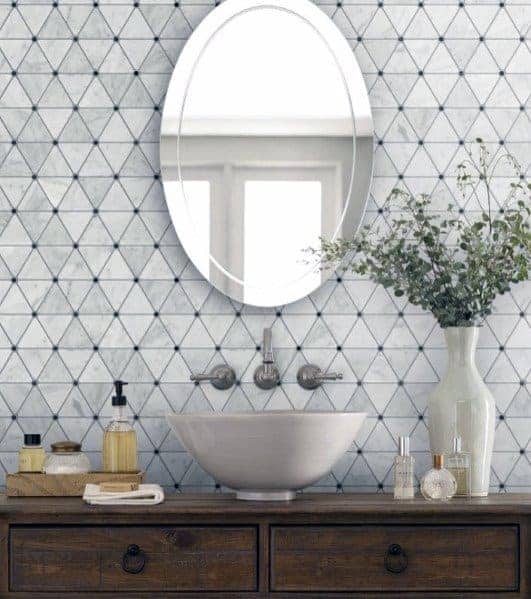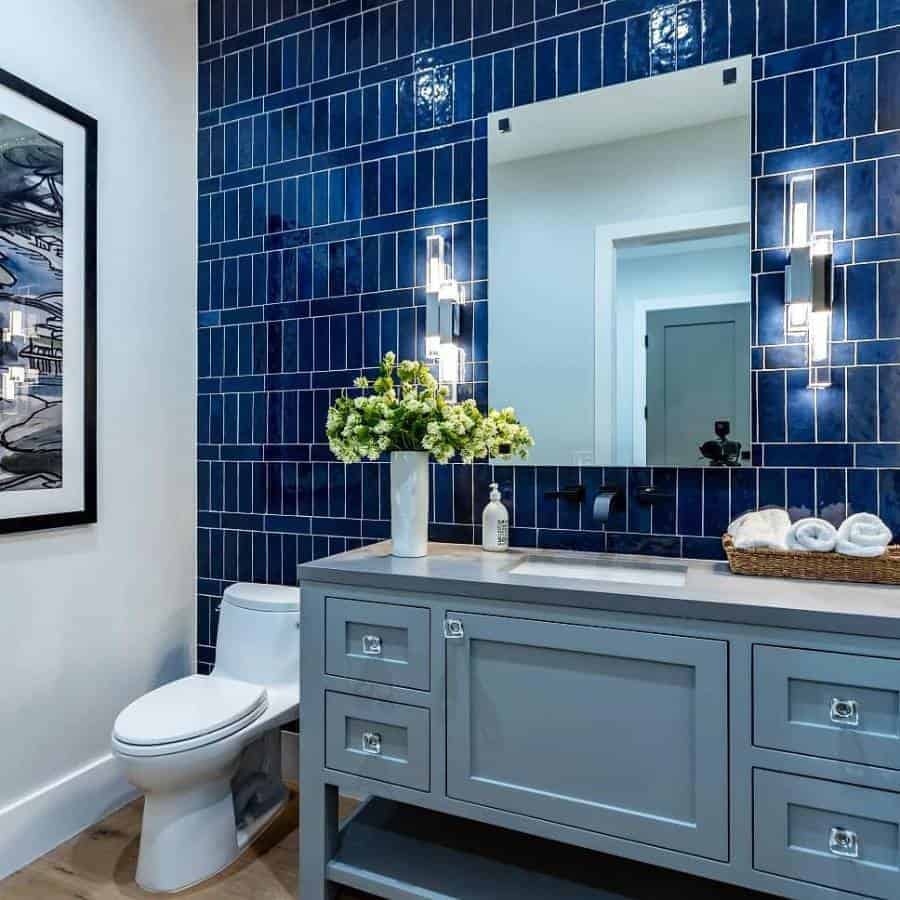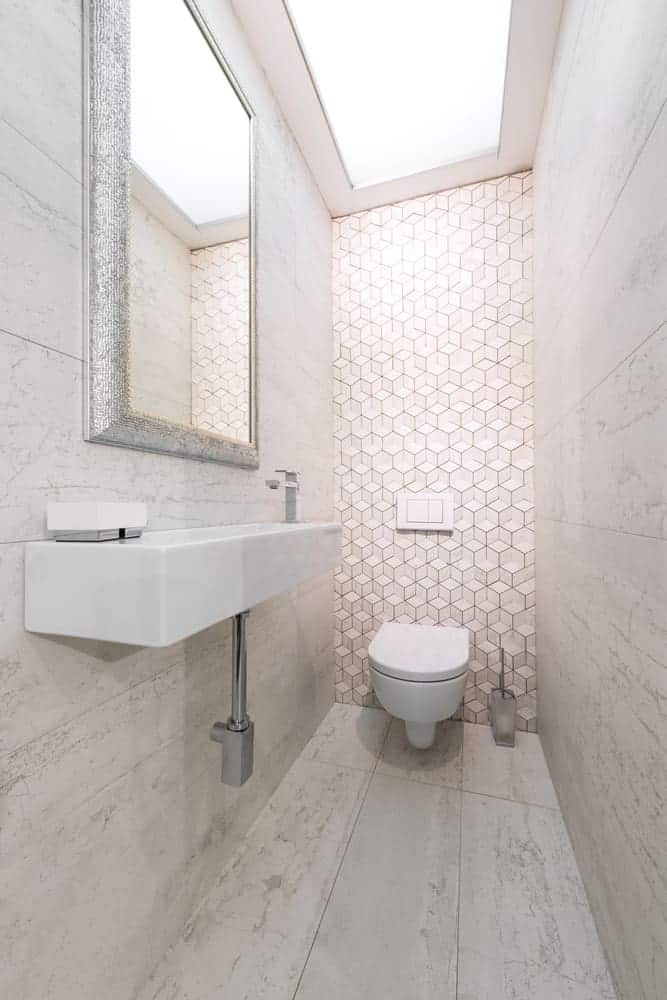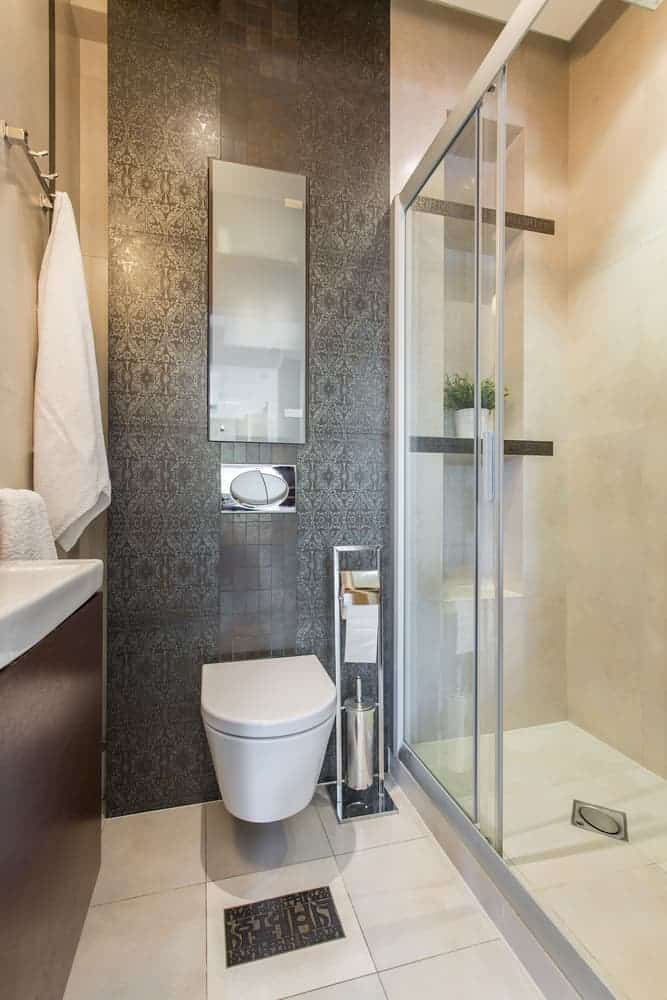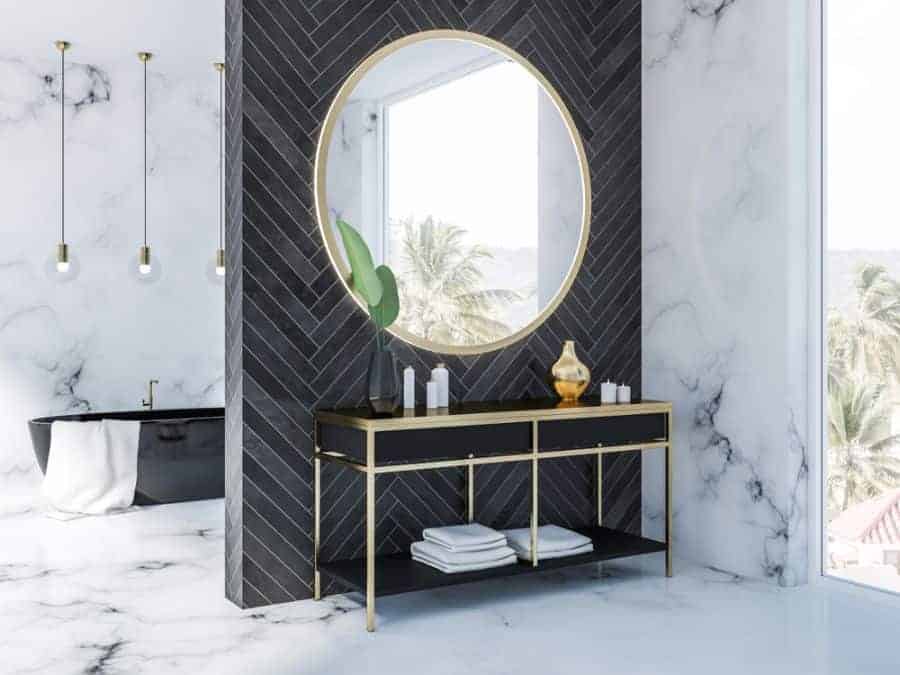 When choosing your accent tile, you have two options. You could pick a more subtle design that's a neutral color or made of a natural material. This will add elegance and give your bathroom a modern feel. Your other option is to pick a colorful and bold tile. Maybe it's handmade zellige tiles, scalloped, or hexagon shaped tile.
Scale won't limit your design when it comes to accent walls, and that's one of their greatest advantages. You can use a very small or large tile that's completely out of scale with the rest of the bathroom, and it can look stunning.
2. Backsplash Wall
Using tile for your backsplash protects your bathroom wall while also giving you a chance to create a stunning visual effect. This is why it's one of the more popular accent wall choices. If you don't plan to tile the entire wall, you can opt for a more decorative tile. Plan to have your tile come up the wall at least a foot from the countertop. This will give you plenty of splash protection and look visually balanced.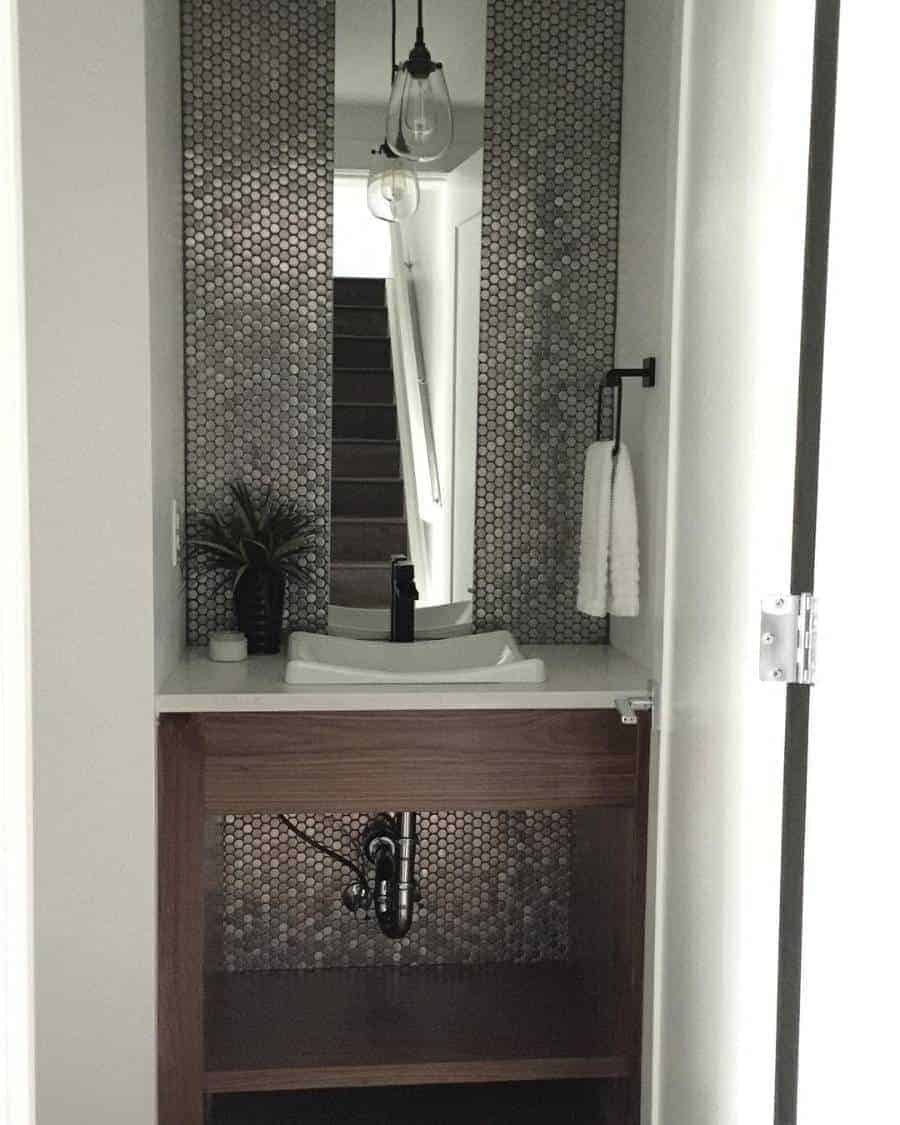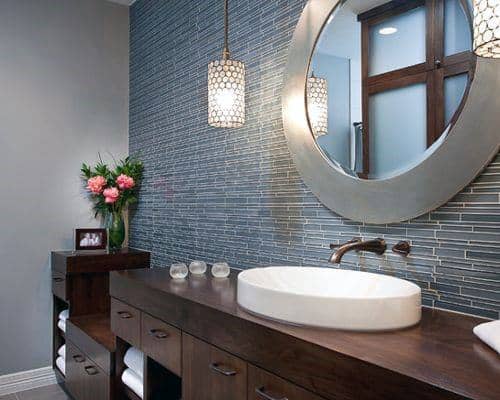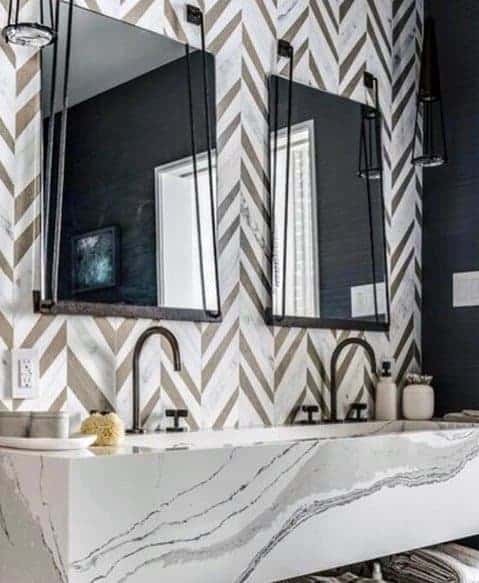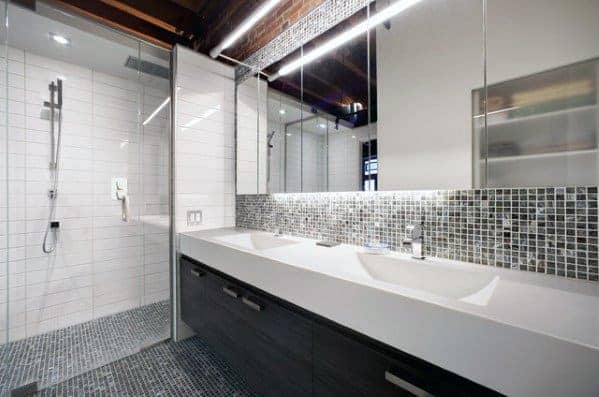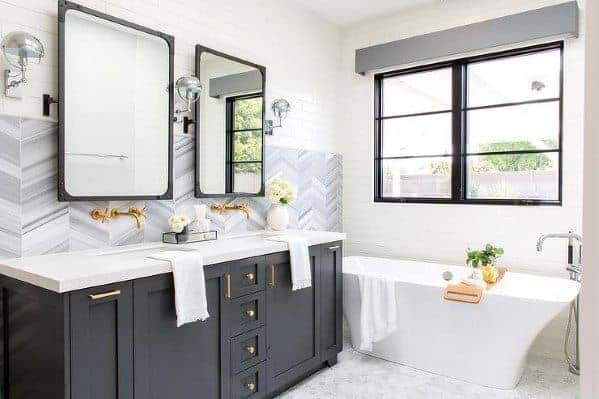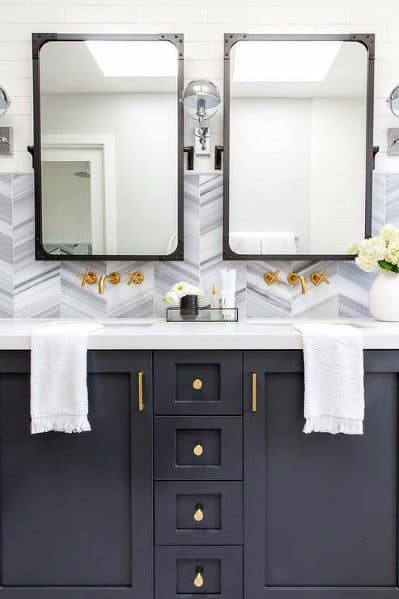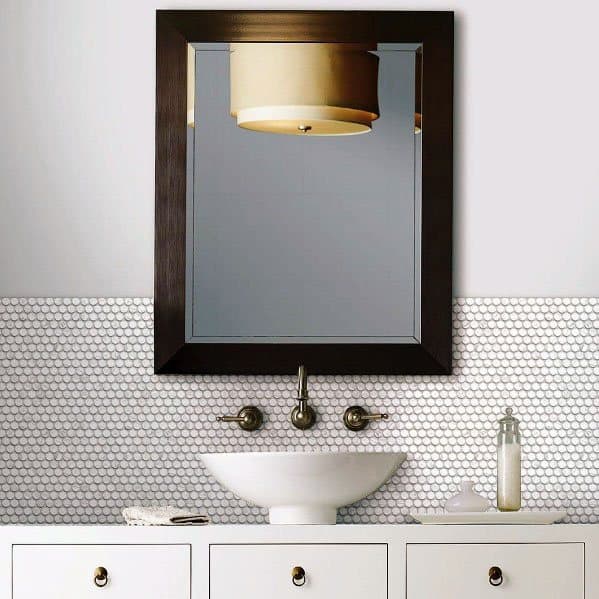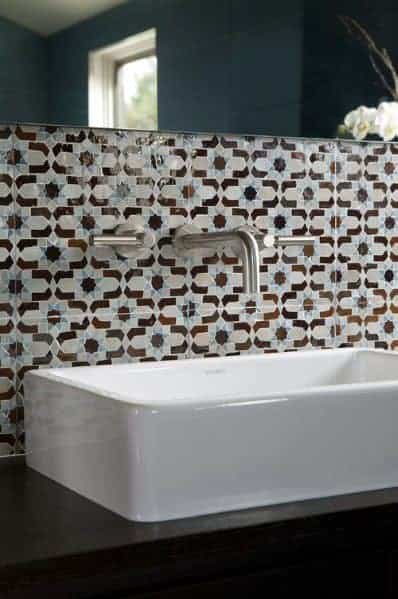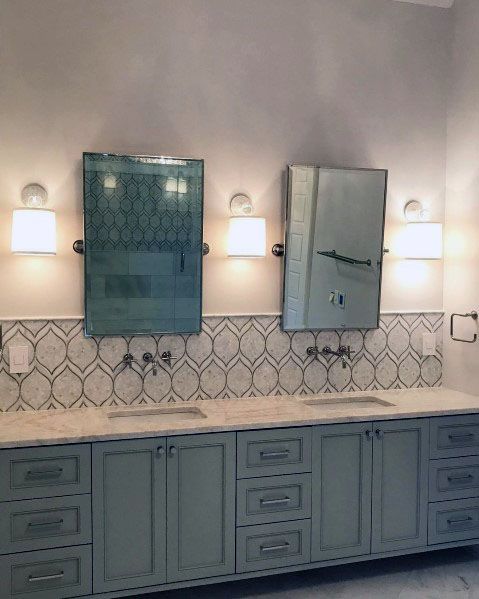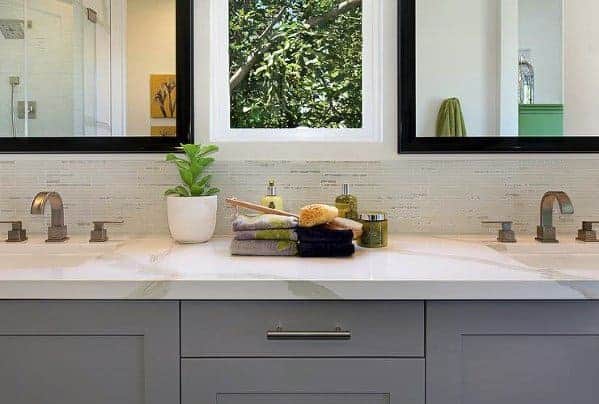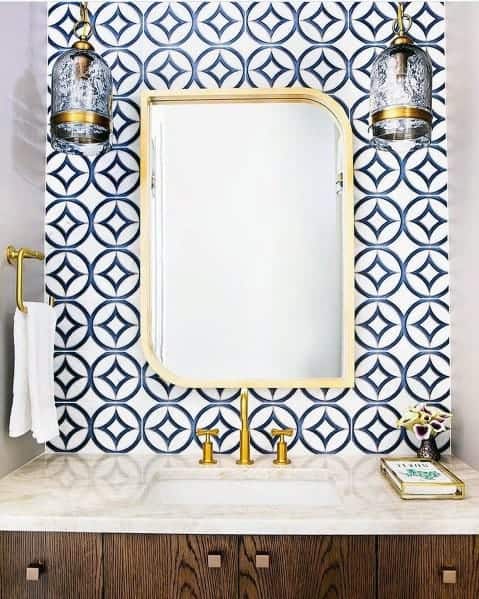 This is your chance to use a patterned tile, penny, mosaic, or natural stone. The tile design is crucial because people will focus on it the entire time they're washing their hands. So whatever you choose needs to hold up to scrutiny from close up.
When planning your backsplash tile, be sure to think about how you're going to design the rest of the wall. The tile needs to complement and not compete with the vanity mirror and lights you plan to use. This could mean the tile only comes up to the bottom of your vanity mirror, or perhaps it extends up halfway behind it. If you plan to do the entire wall, remember that you'll need to drill through the tile to mount anything on it.
3. Contemporary Bathroom Ideas
There was a time when contemporary tile meant glass tile. Those days have passed and now contemporary means using oversized tile in neutral or natural tones. If you have your heart set on glass tile, limit your use to the accent wall or border. When choosing your tile, focus on large rectangle or square options. Then the grout lines between the tiles should be minimal.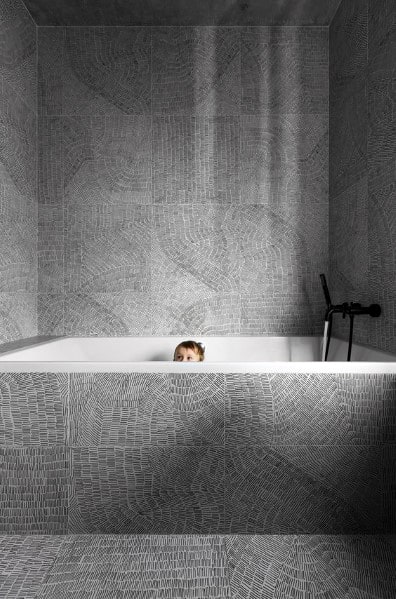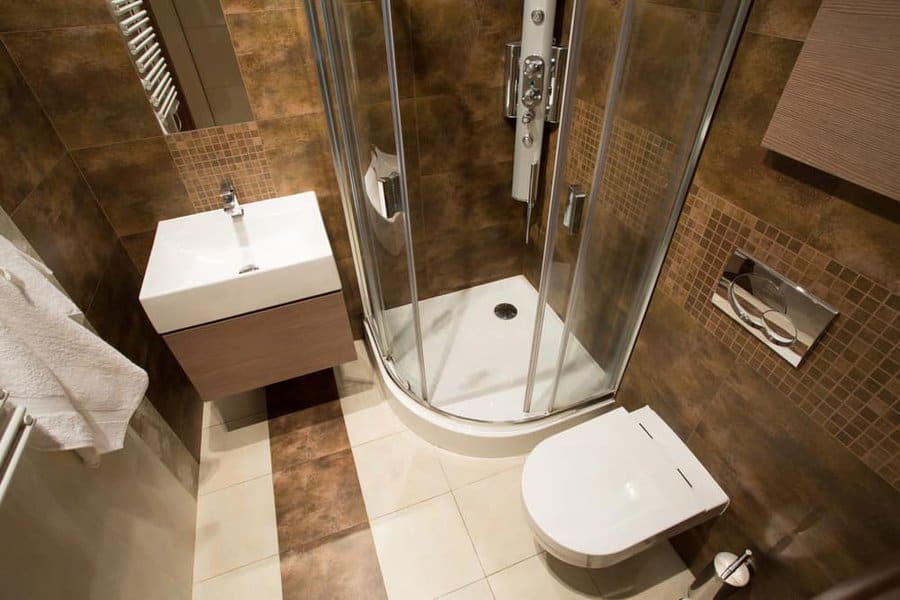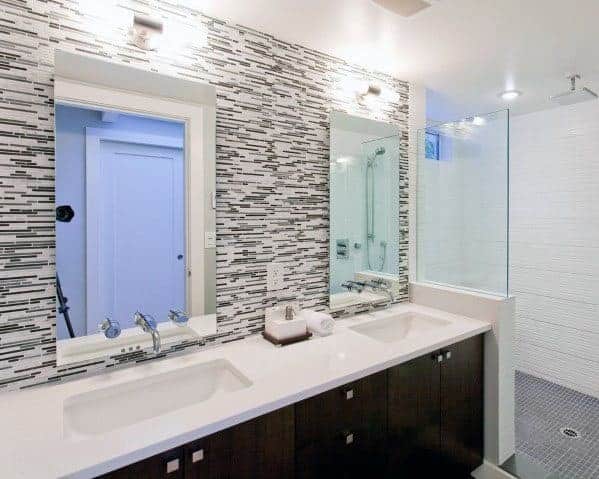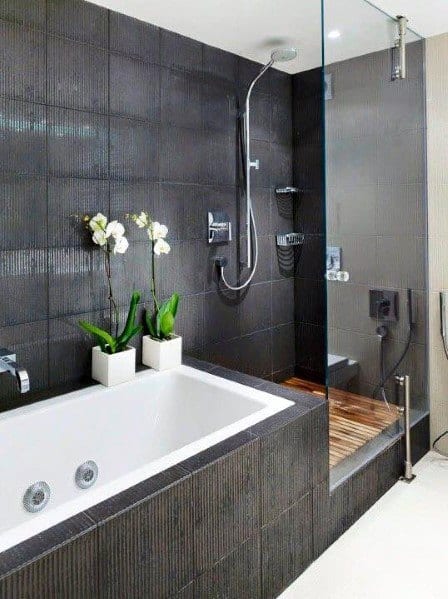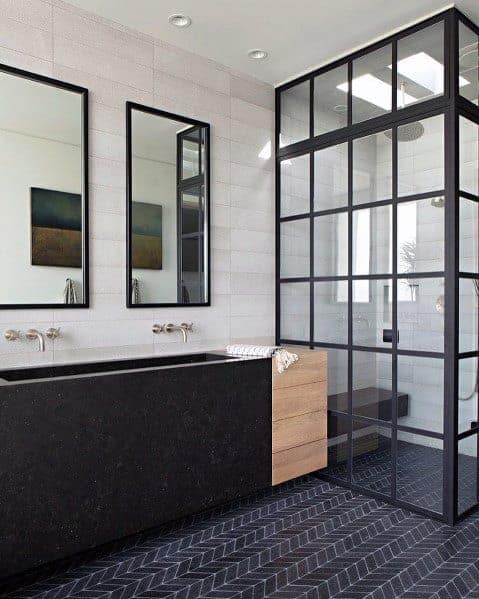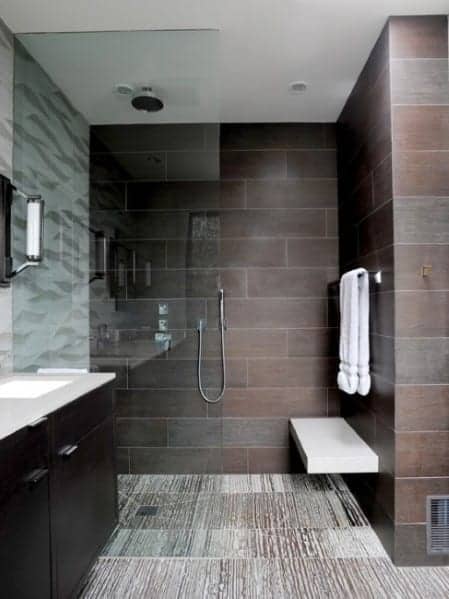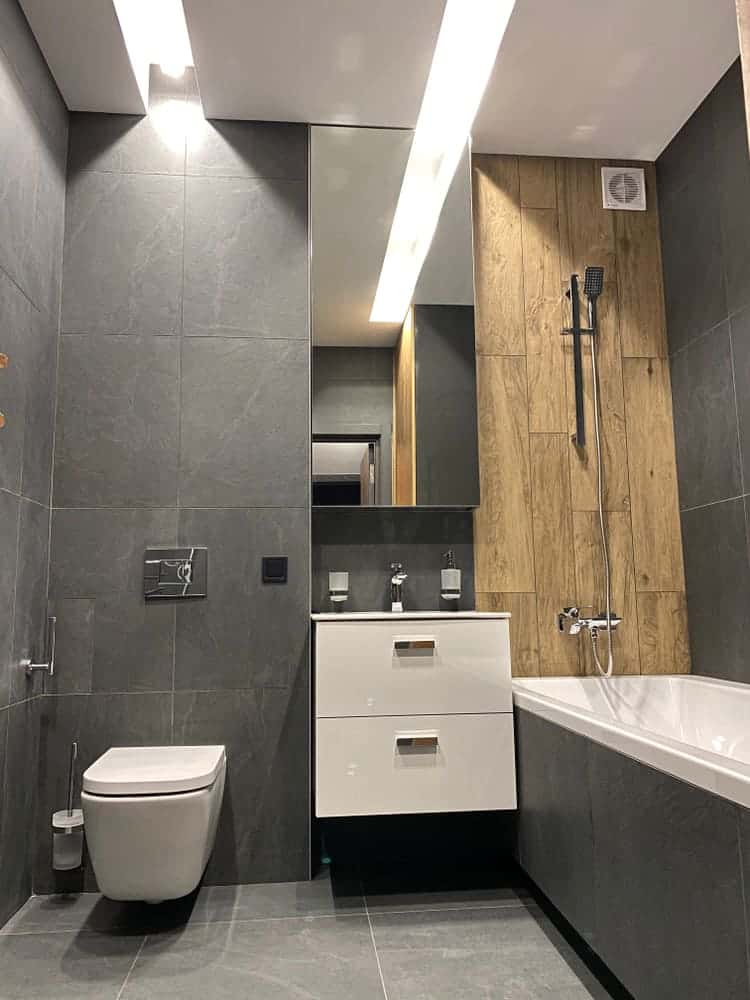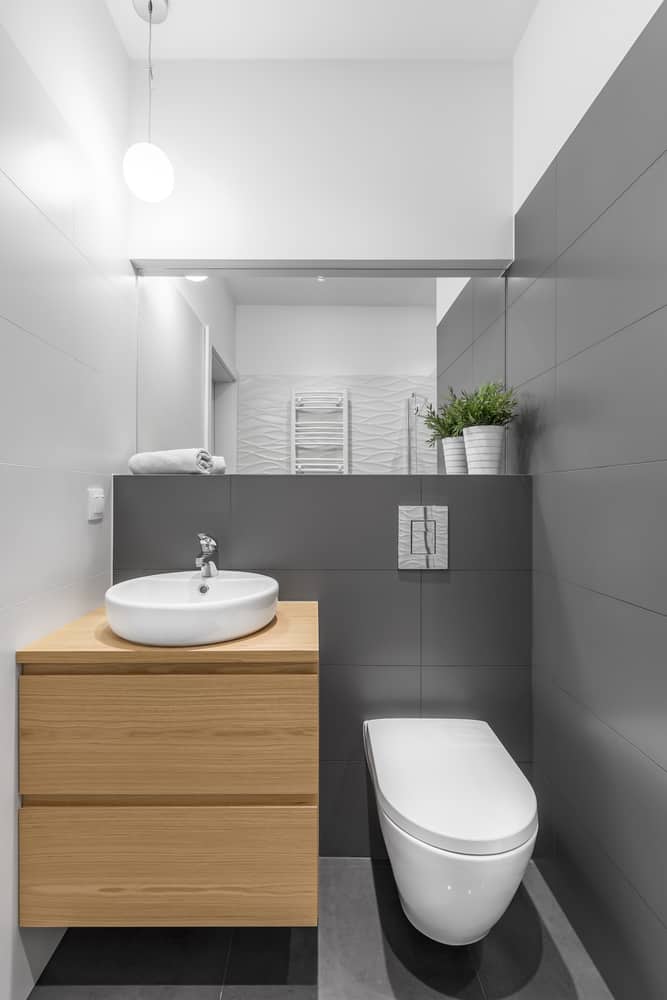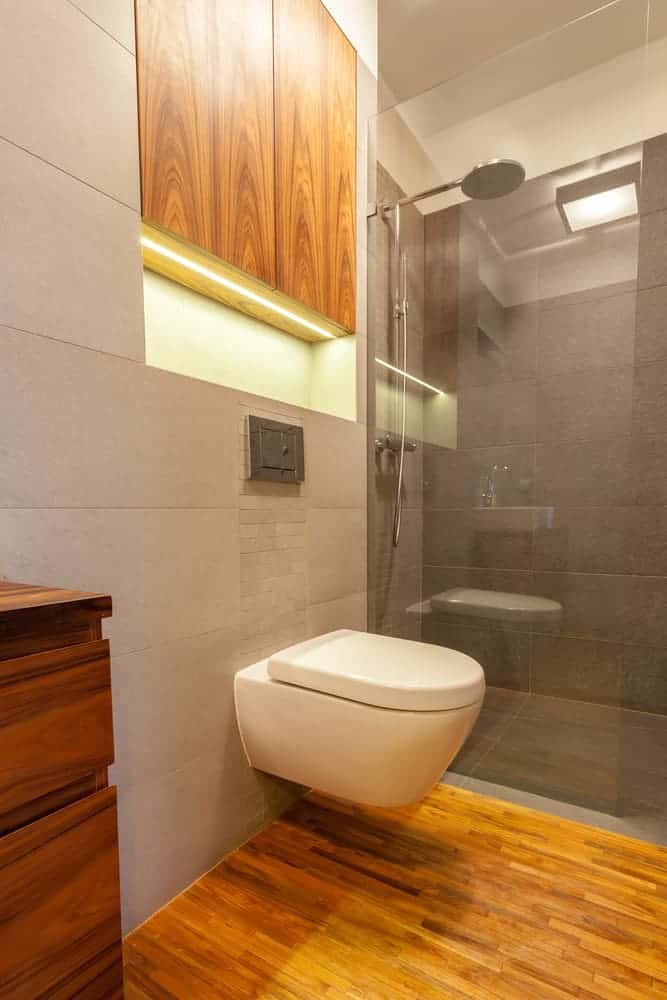 Most modern wall tile design consists of ceramic tile. It's durable and has a waterproof coating. However, if you prefer porcelain tile, you'll still be able to find several options.
Plan to use your contemporary tile from floor to ceiling in your bathroom tile design. Modern bathrooms will use the same tile throughout the entire bathroom, starting on the wall and continuing throughout the shower area. This is especially important in a small bathroom when breaking up the space can make it feel smaller. However, if you have a large master bathroom with a walk-in shower, you can use your contemporary tile to define the shower stall space from the rest of the room.
4. Grey Bathroom Tiles
Give grey tile a chance. Don't discard it as "depressing" or "dull" before considering it for your bathroom renovation. Grey is a modern and beautiful neutral alternative to tans and browns. It's also softer than using black or white. There are a ton of shades that vary from a near-black charcoal color to a super light and almost white color. Finally, you can pair grey with any metal and accent it with any color shade in the rainbow. This gives you complete freedom in how you decorate your finished bathroom.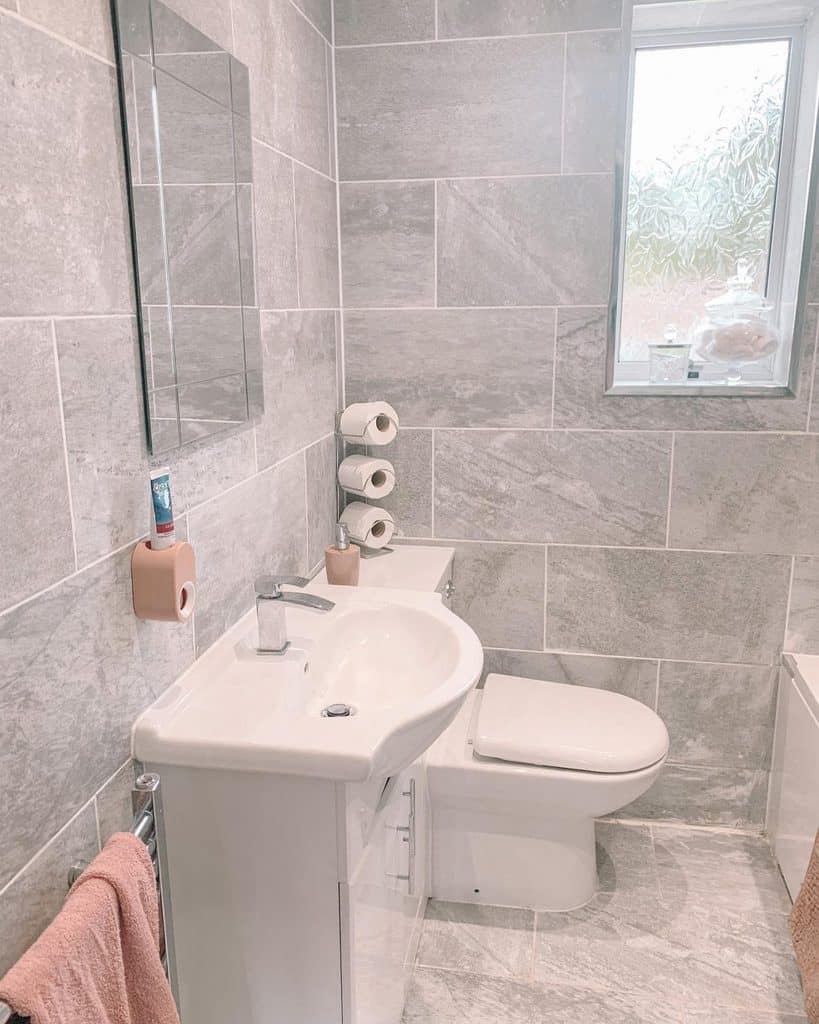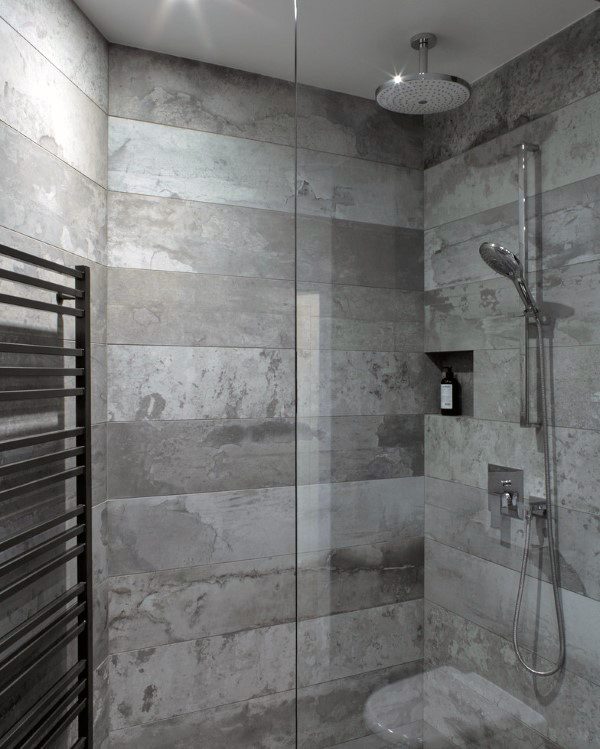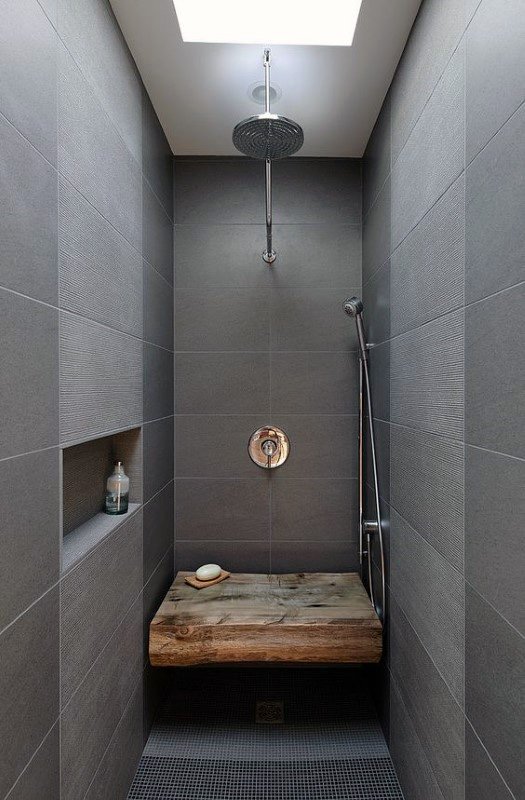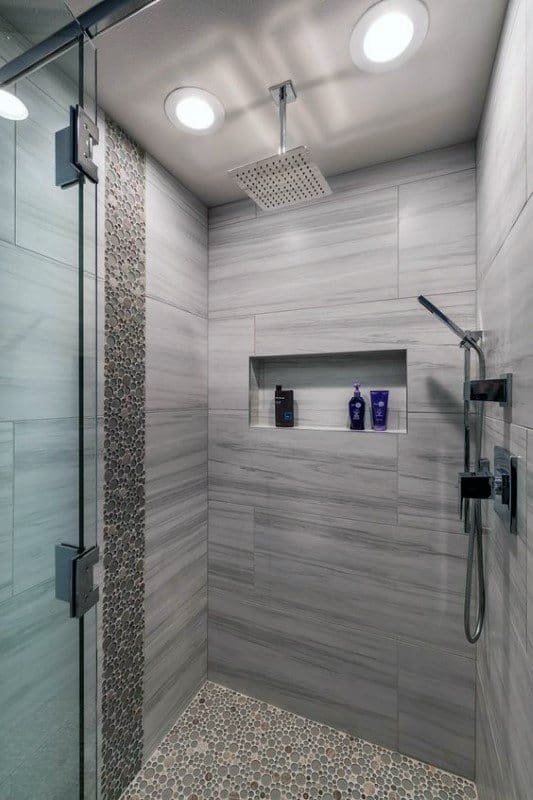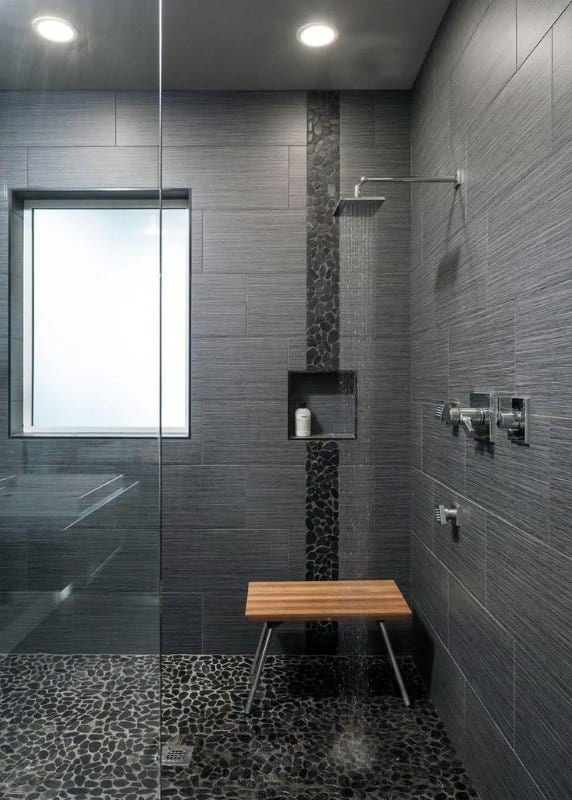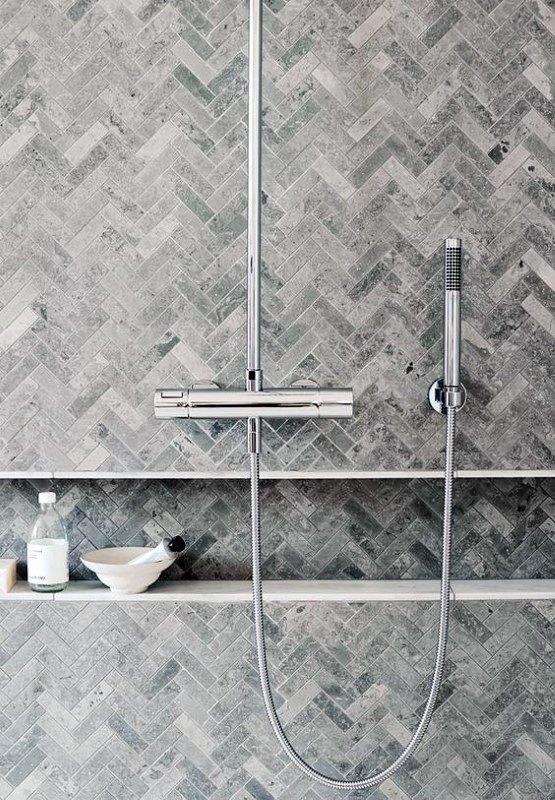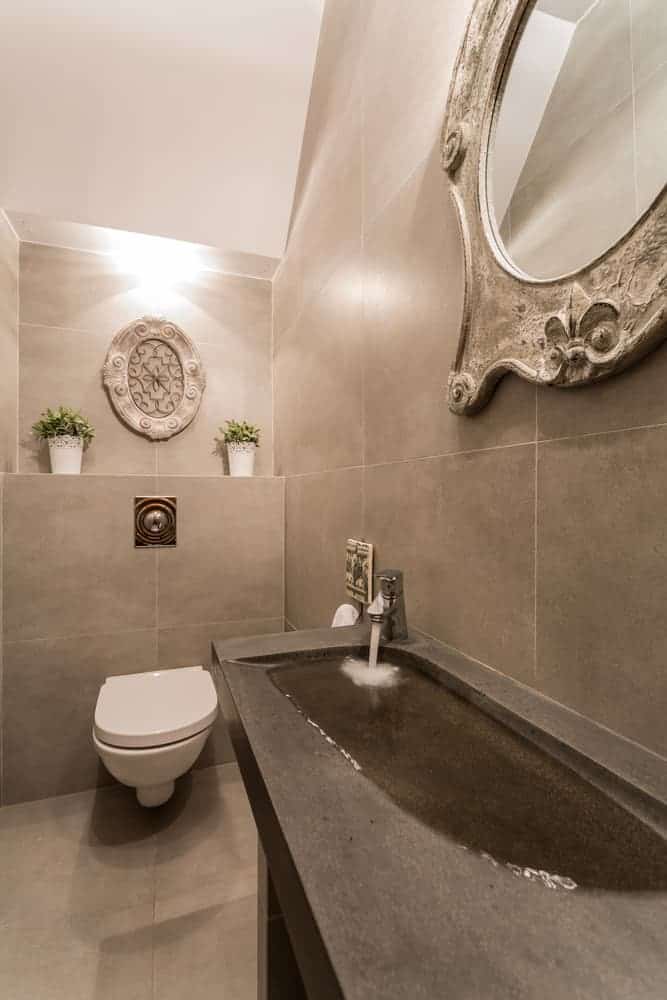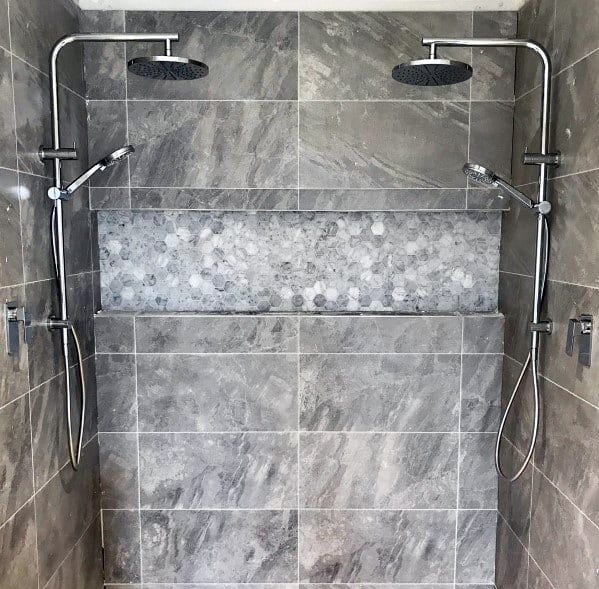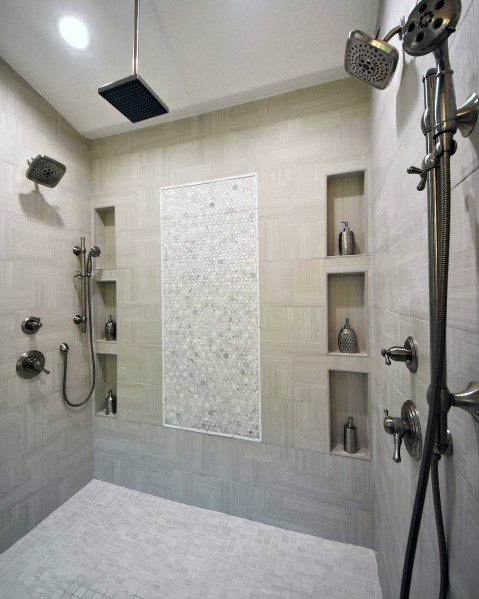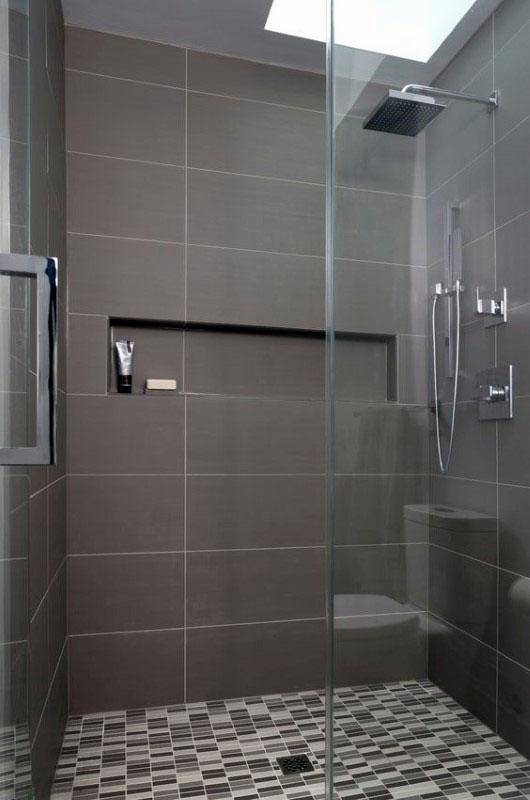 The first step is to choose whether you want a light or dark grey. Dark is going to look more masculine and sleeker. Lighter is going to keep your bathroom feeling bright and fresh.
The next step is to choose the pattern. Natural stone or wood grain are popular because they add life and color variance to the tile.
5. Marble Tiles
Marble tile is elegant and will immediately add a feeling of luxury to your bathroom. The tiles are typically larger, which means you'll have fewer grout lines. It's an ideal choice if you want a black, grey, or neutral-colored bathroom. The natural veining of the marble tile can maintain your chosen color scheme while also breaking up the color to keep it from becoming monochromatic.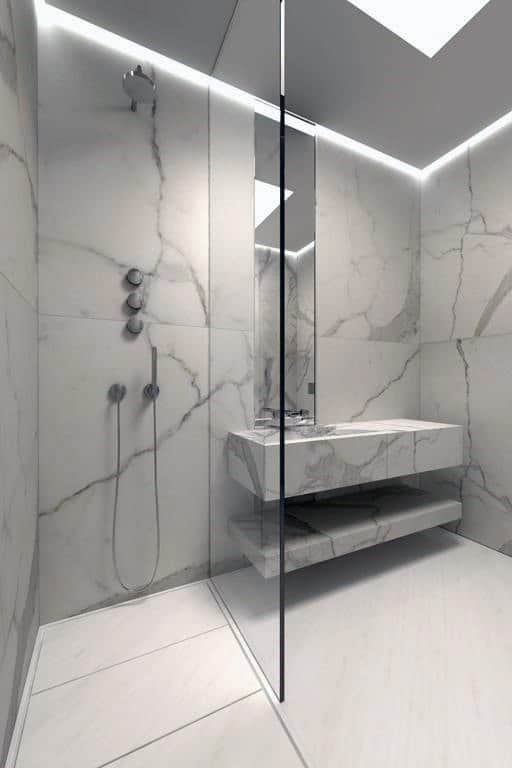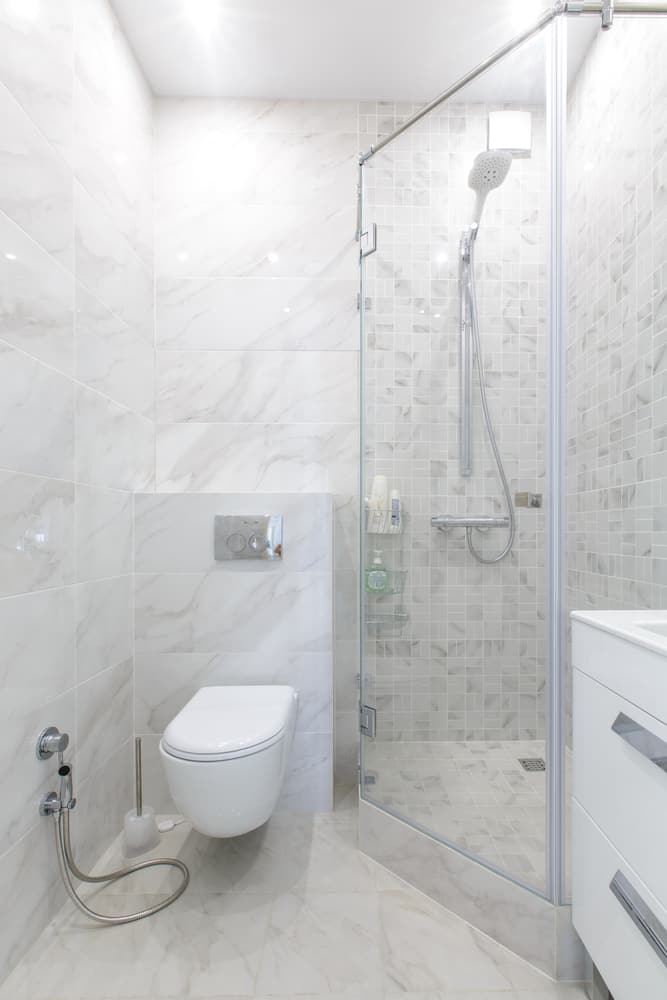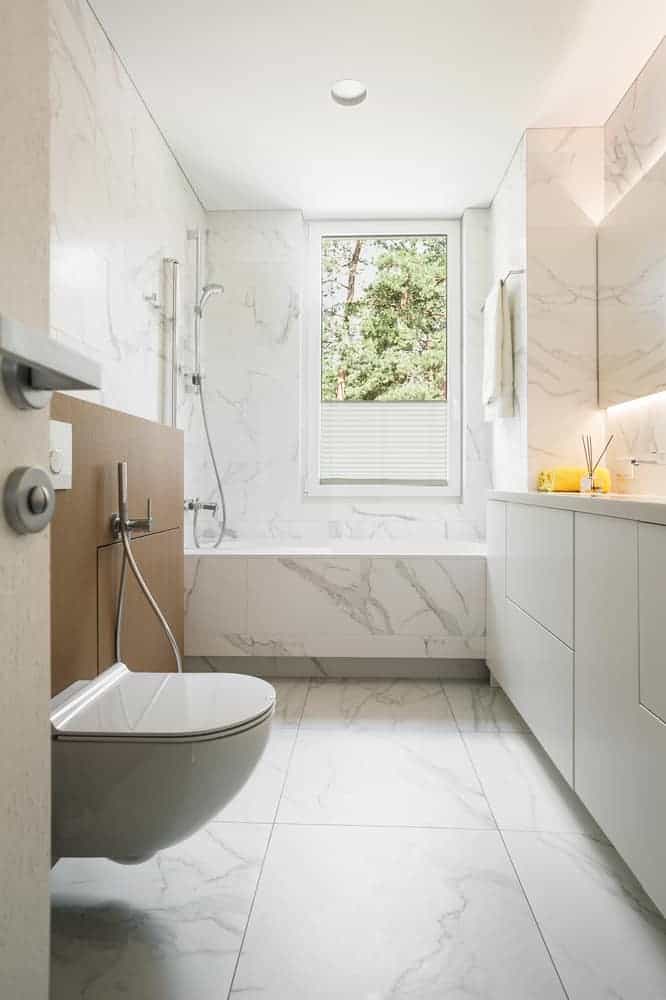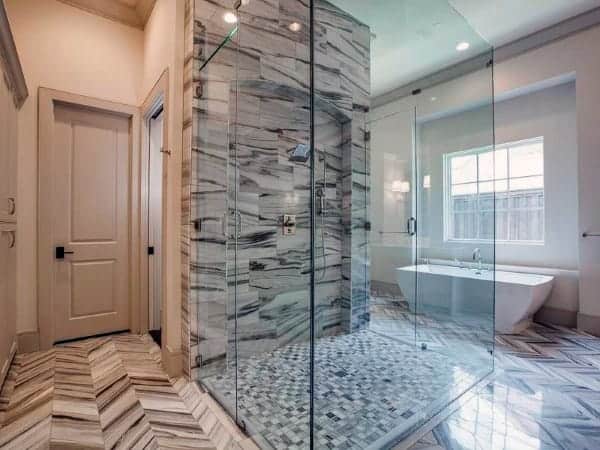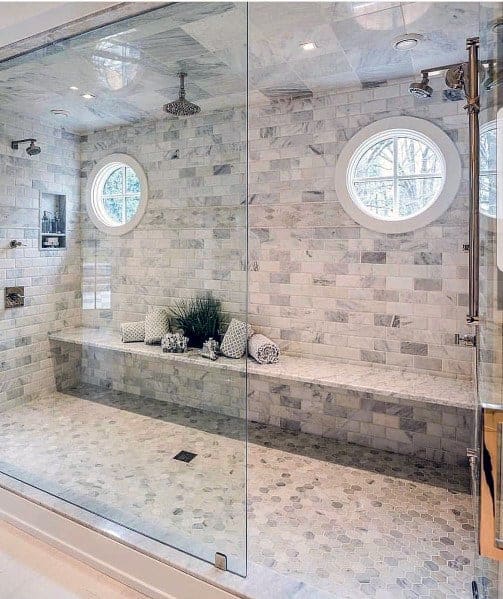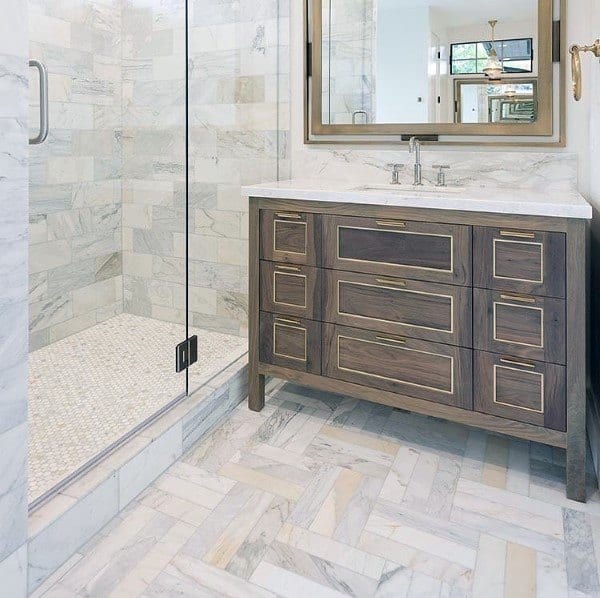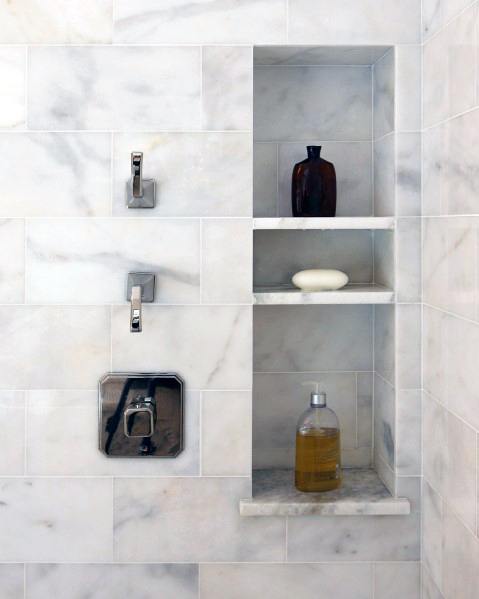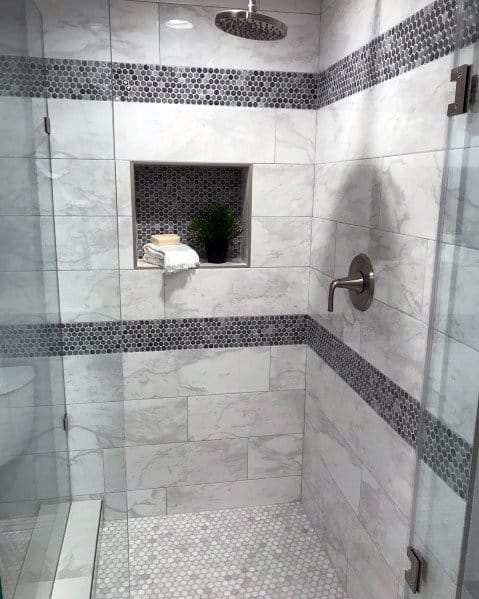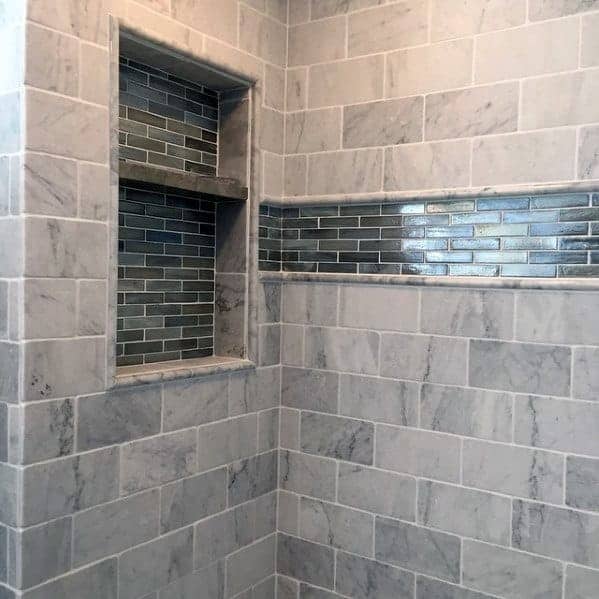 When choosing your marble tile, consider using more than one shade and size. For your main wall tile, you could have a lighter color marble with subtle veining in a large size. Then choose a smaller tile that's a darker color or one with more aggressive veining as the accent tile. Since they are both marble tiles, they'll complement each other, but the different colors and sizes will add contrast. Just be sure to place the tiles next to each other when picking them out. The natural stone will bring out detail and color in each other.
6. Mosaic Tiles
Be careful when opting for this bathroom tile idea. Small tiles can look overwhelming when you use too many of them. The smaller the bathroom, the faster this happens.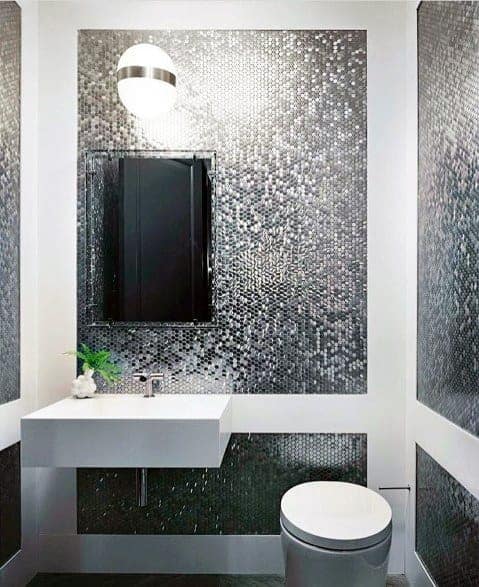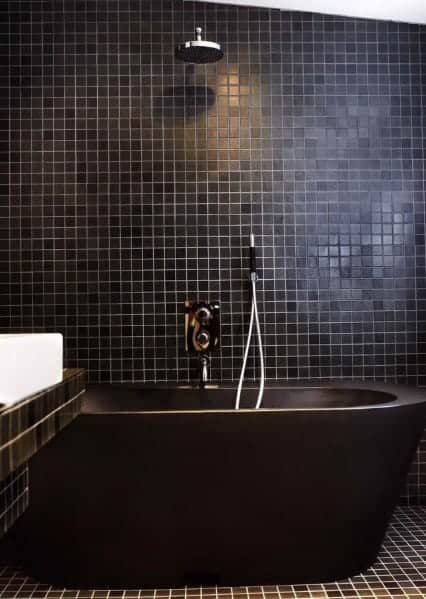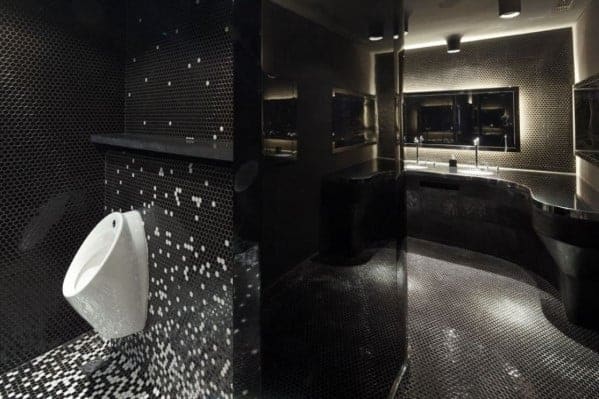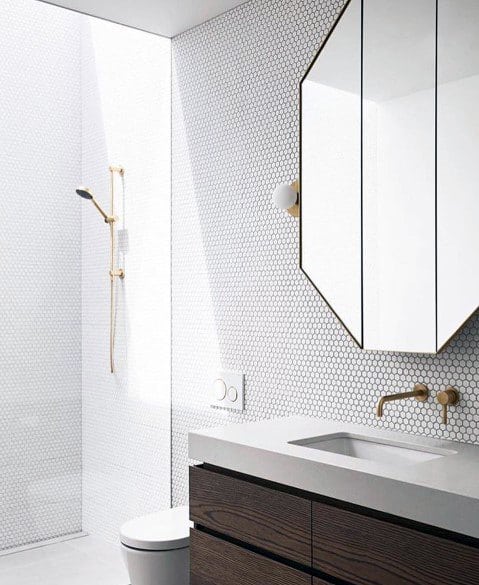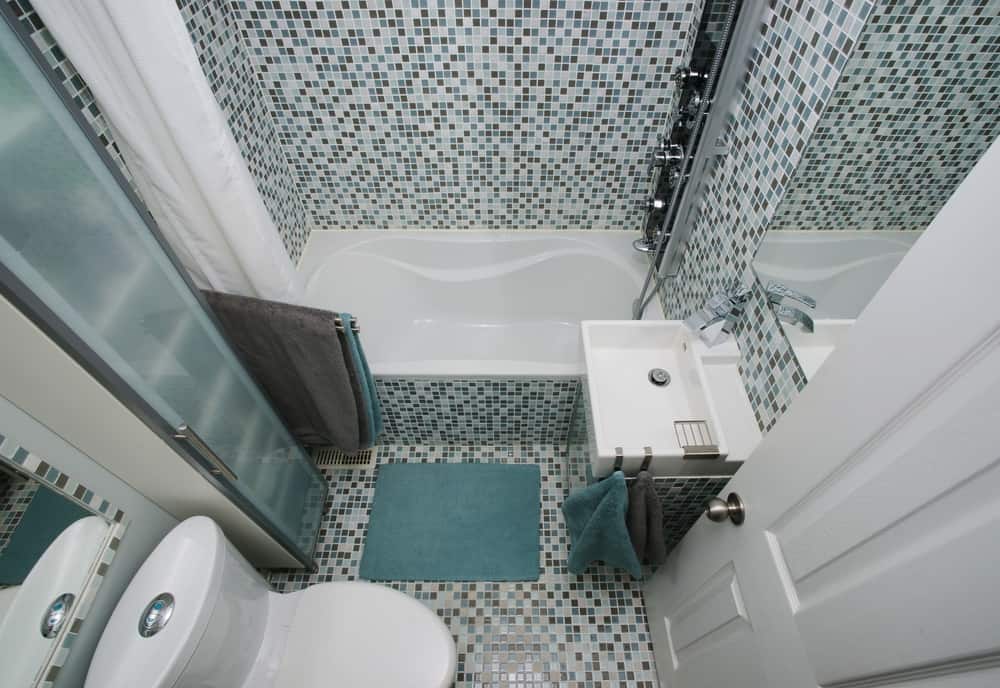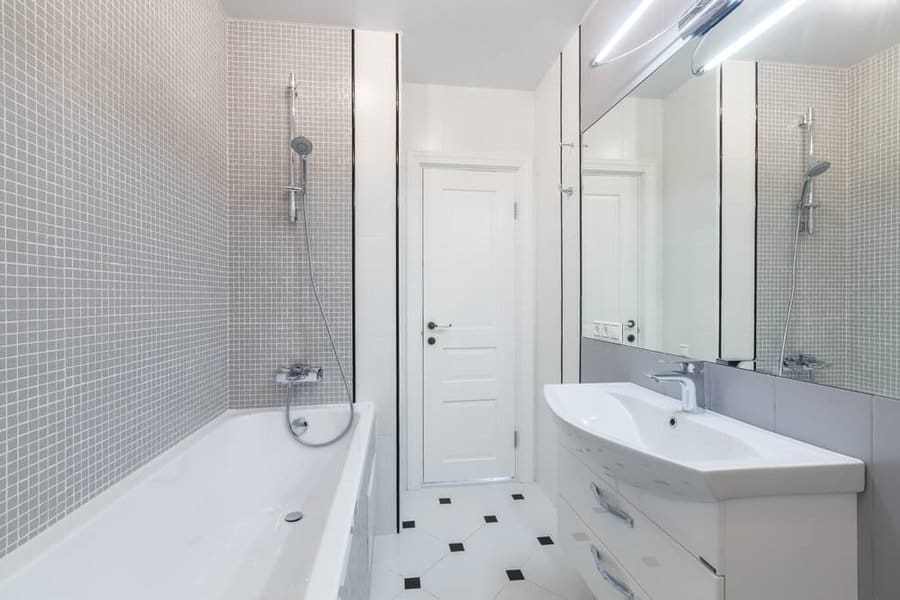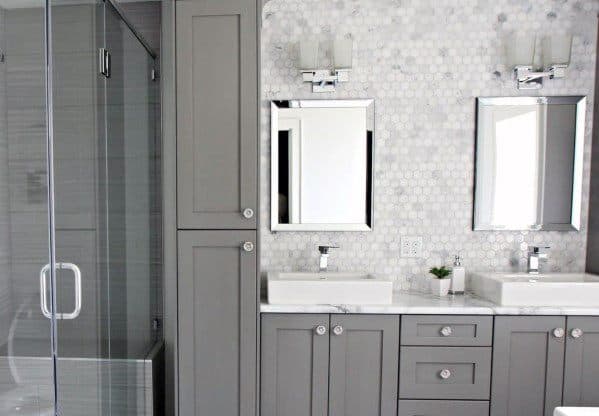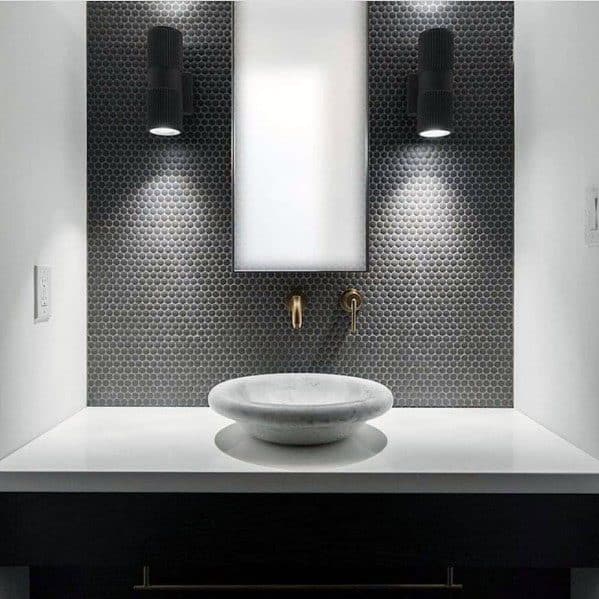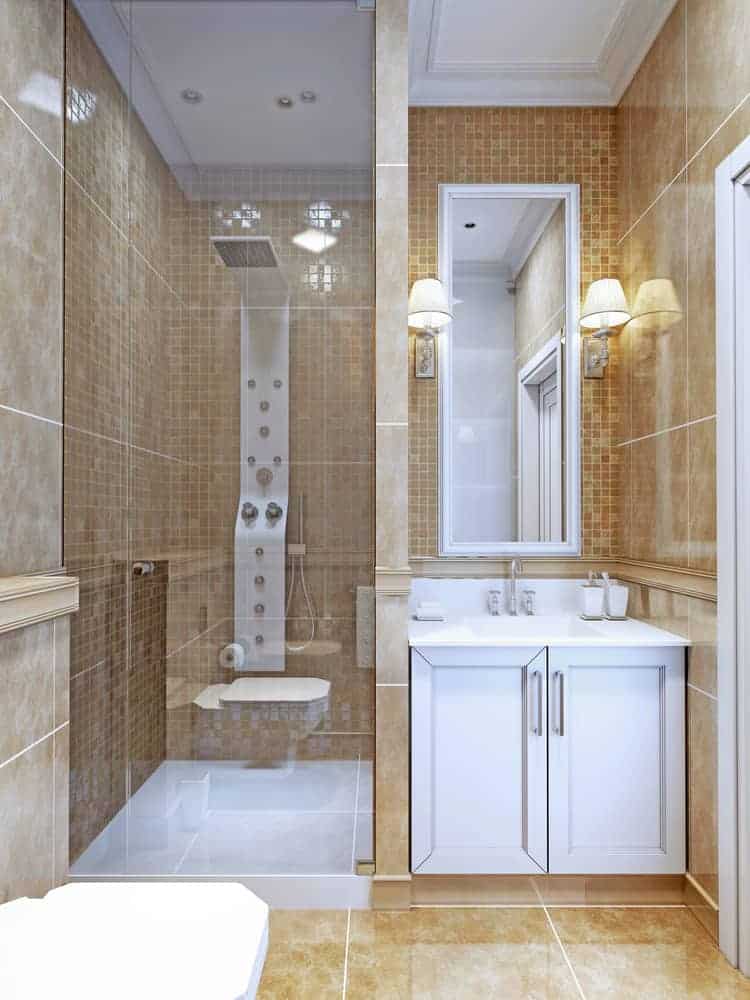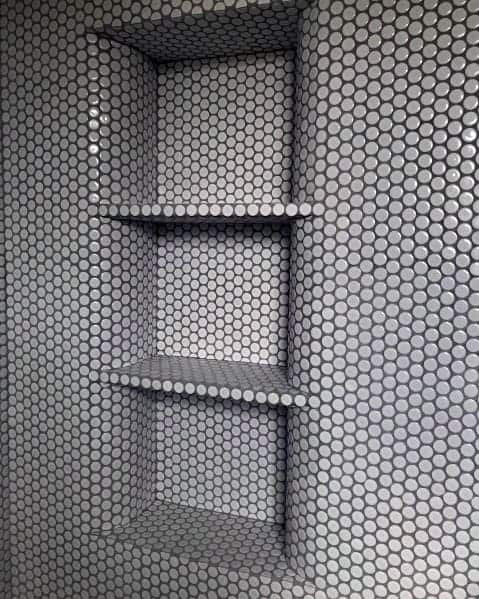 One way to keep your penny tile from becoming overwhelming is to use it as an accent and nothing else. It could be your accent wall, backsplash, or one shower stall wall. This limits the space it takes up in an already small room.
Another way to keep it from becoming too much is to use one color only. This allows the individual tiles to blend together and become a uniform pattern. If you want to use more than one color, try creating a design where you gradually transition from one color to another.
7. Natural Stone Tiles
Bring the outdoors inside with natural stone. The beauty of natural stone tile is that you can go as rustic or polished as you want. A farmhouse or country-inspired home could look lovely with rough-cut natural stones stacked to create a wall. An upscale luxury home will look beautiful with perfectly placed stones, aligned to create a solid wall. One thing all homes should skip is using pebble tile on the walls. These little stones are perfect as floor shower tile, and they should stay there.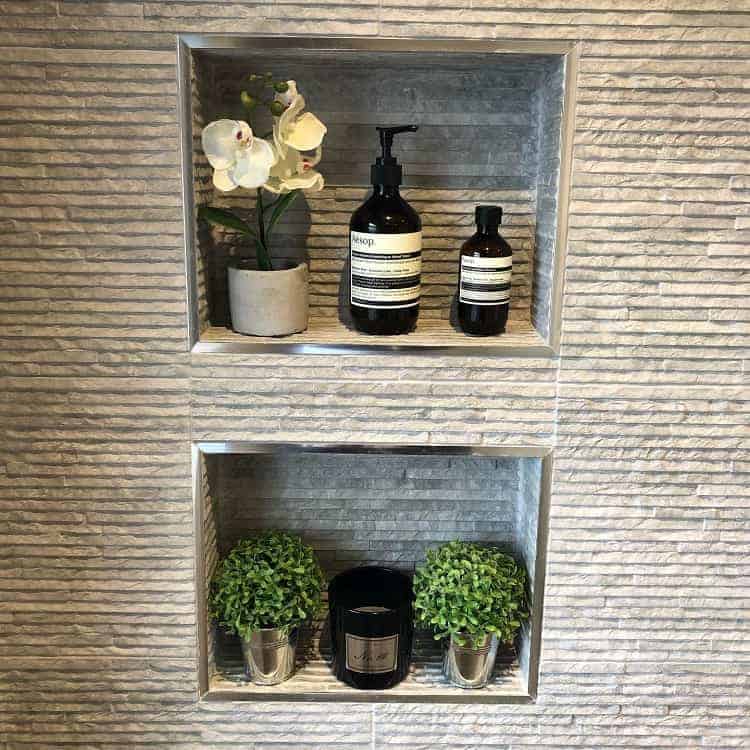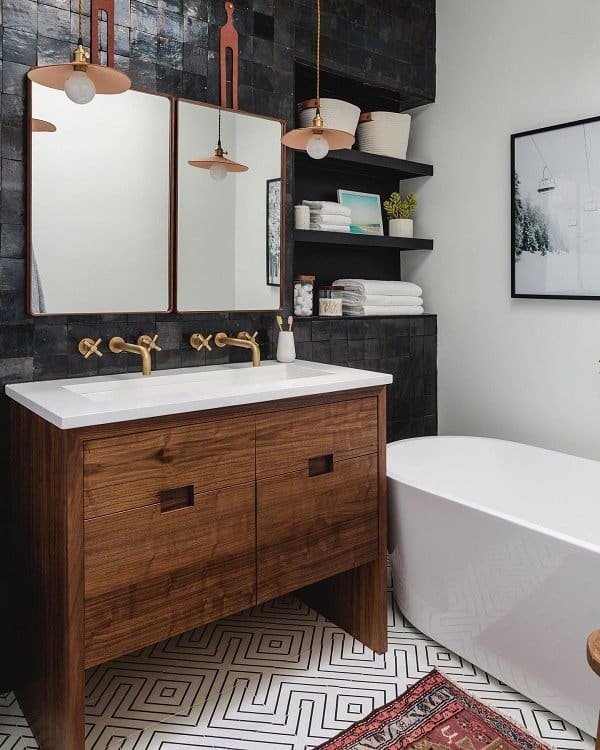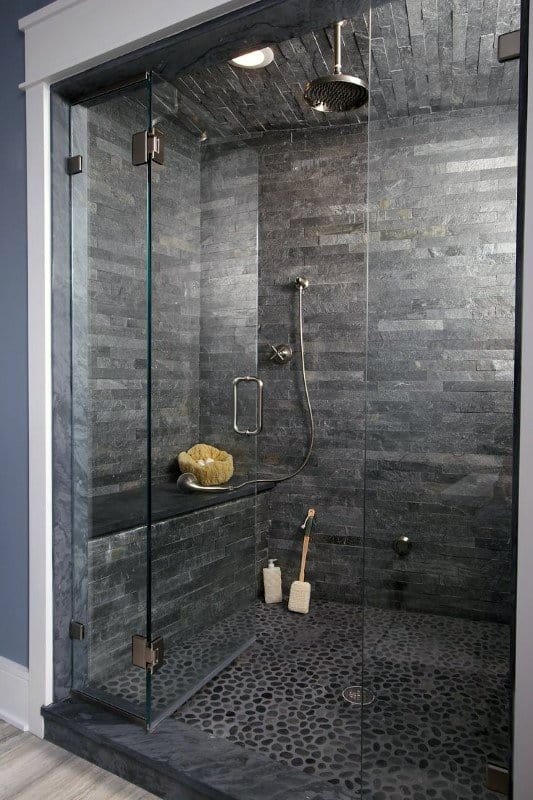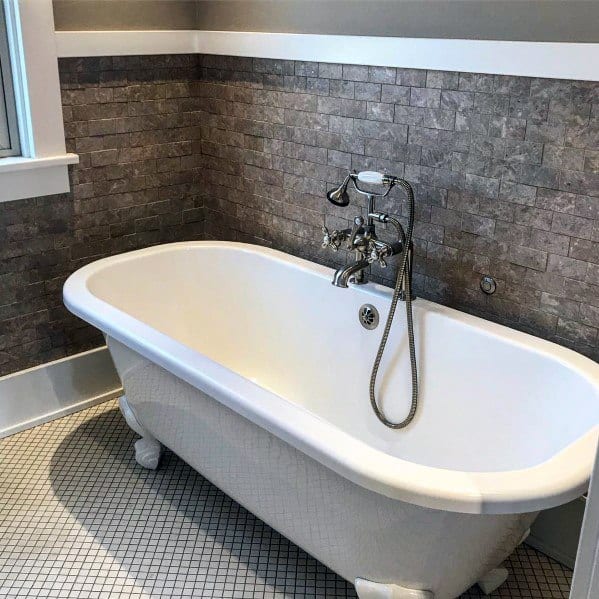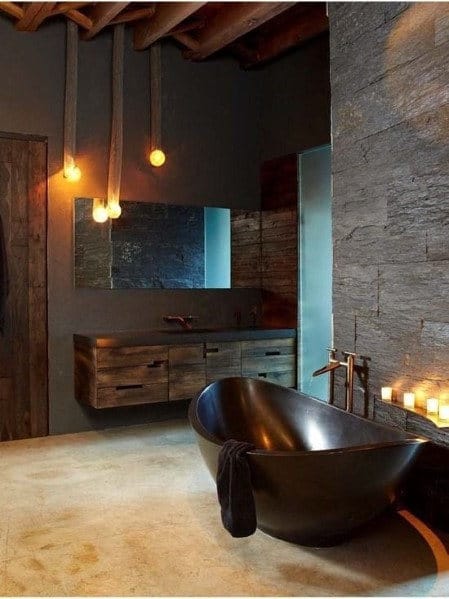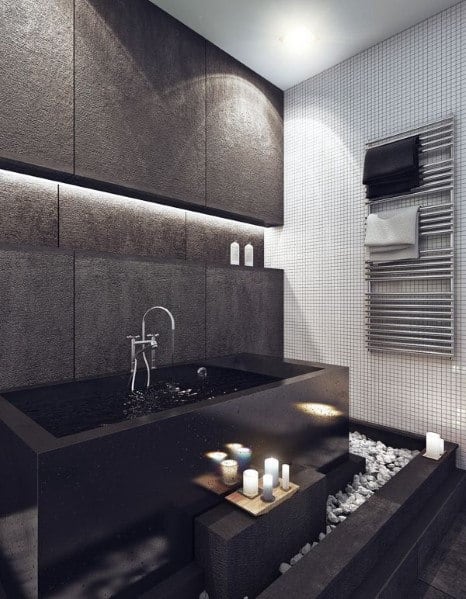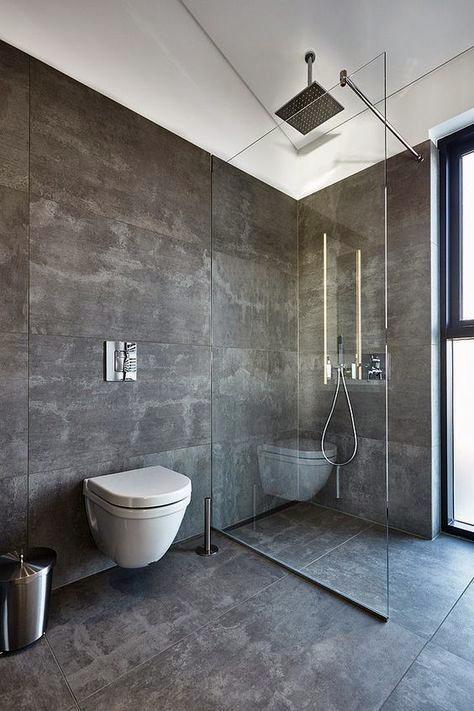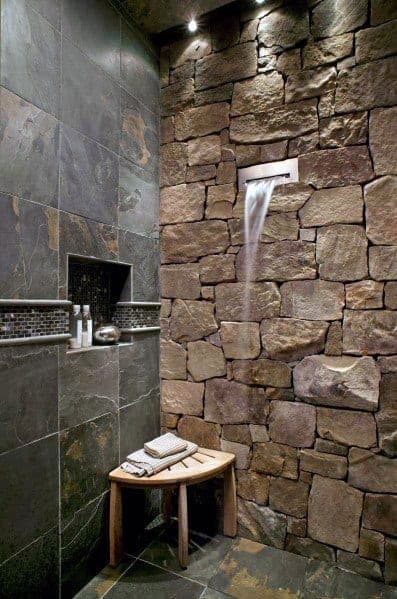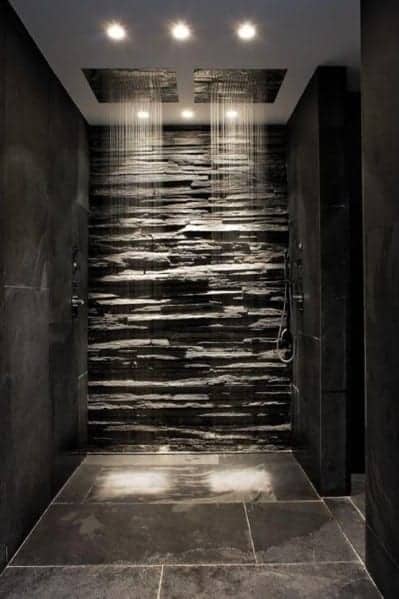 Embrace the lack of uniformity with natural tile. Some will stick out further than others. This variety will give your bathroom walls a natural texture and pattern. There will also be some color variety to the tile. Work with a tile contractor who's willing to take the time to pay attention to these details. That way, they can arrange the tile to be visually balanced on the wall.
8. Different Bathroom Tile Patterns
Plan for your patterned tile to be the focal point of the bathroom. This tile idea doesn't work in all bathrooms, and you'll need to be careful with the pattern that you choose. Get this type of tile wrong, and you'll have an eyesore on your hands.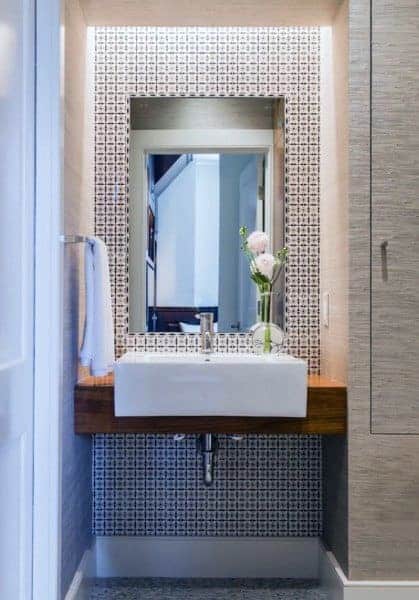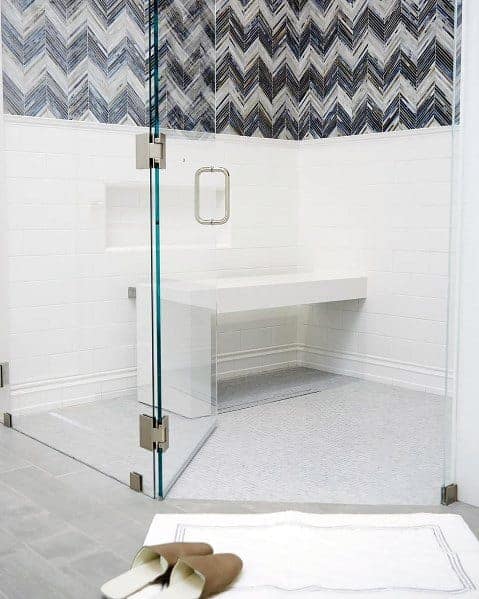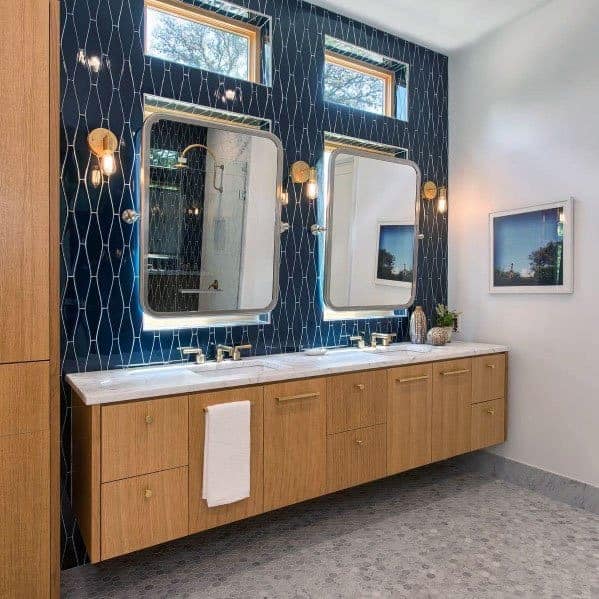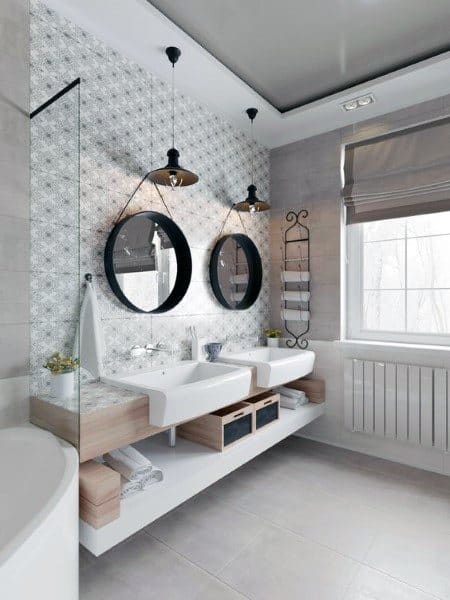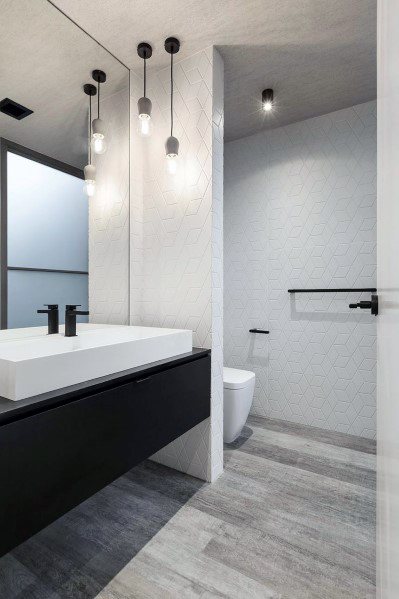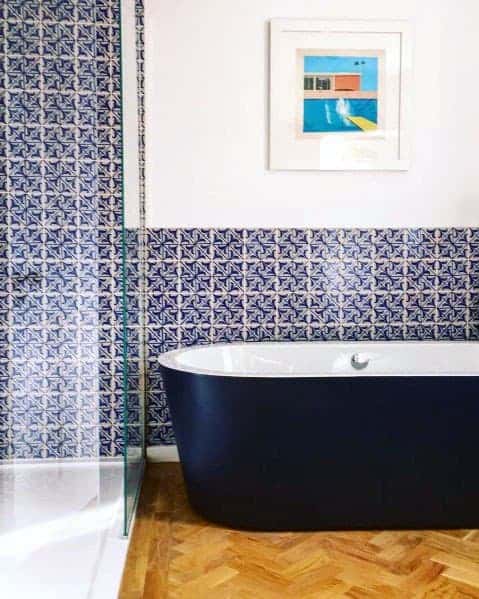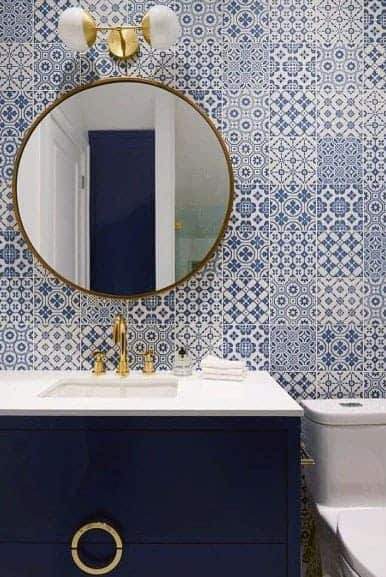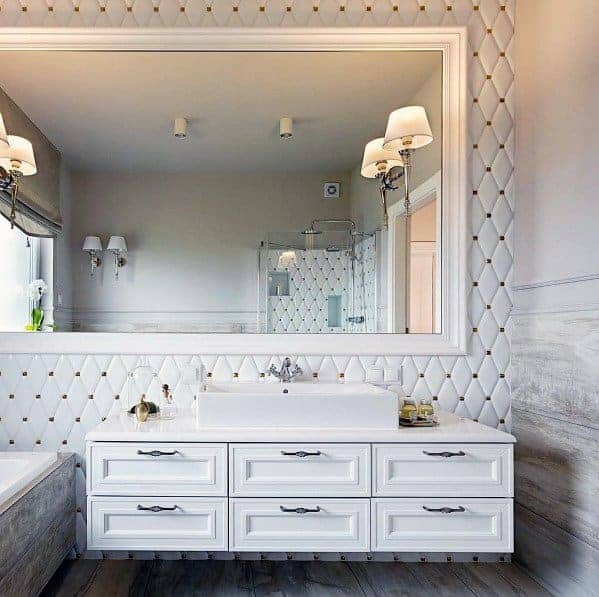 The first and most obvious option is to choose a tile with a pattern on it. These typically come in a set and will sometimes have a single pattern or a variety. If you choose one with a variety, make sure to mix them up for a balanced look.
Your other option is the make a pattern out of plainly colored tile. You could alternate black and white square tiles. Or you could create your own pattern out of a uniquely shaped tile.
9. Subway Tiles
Fashion and interior design trends are cyclical, and subway tile is a perfect example of this. Back in the 1920s and 30s, subway tile was the "it" choice in tile trends. It was everywhere, from subways to home kitchens and hospitals. While it never went away completely, this clean and simple tile design faded from the forefront for decades. Now, a century later, subway tile is at another peak in home design popularity.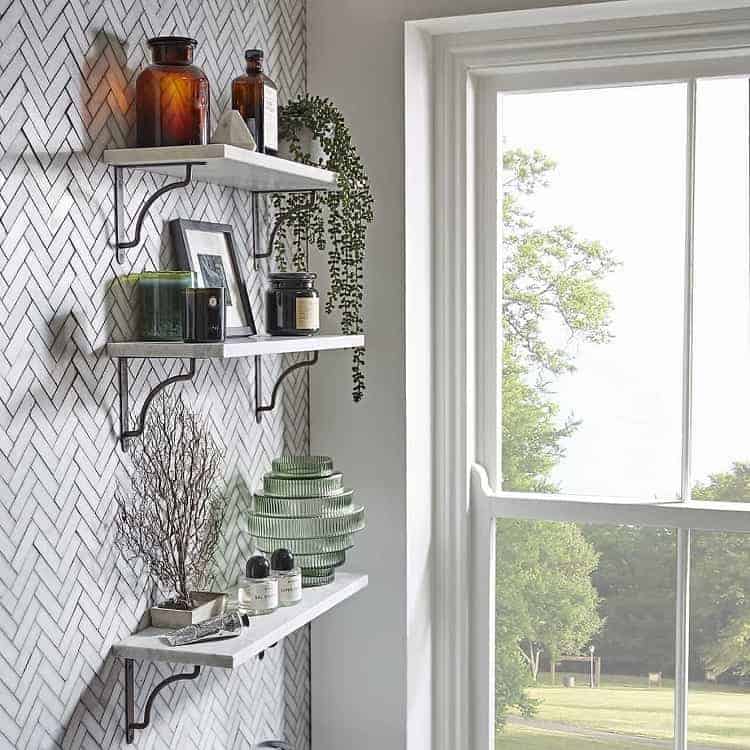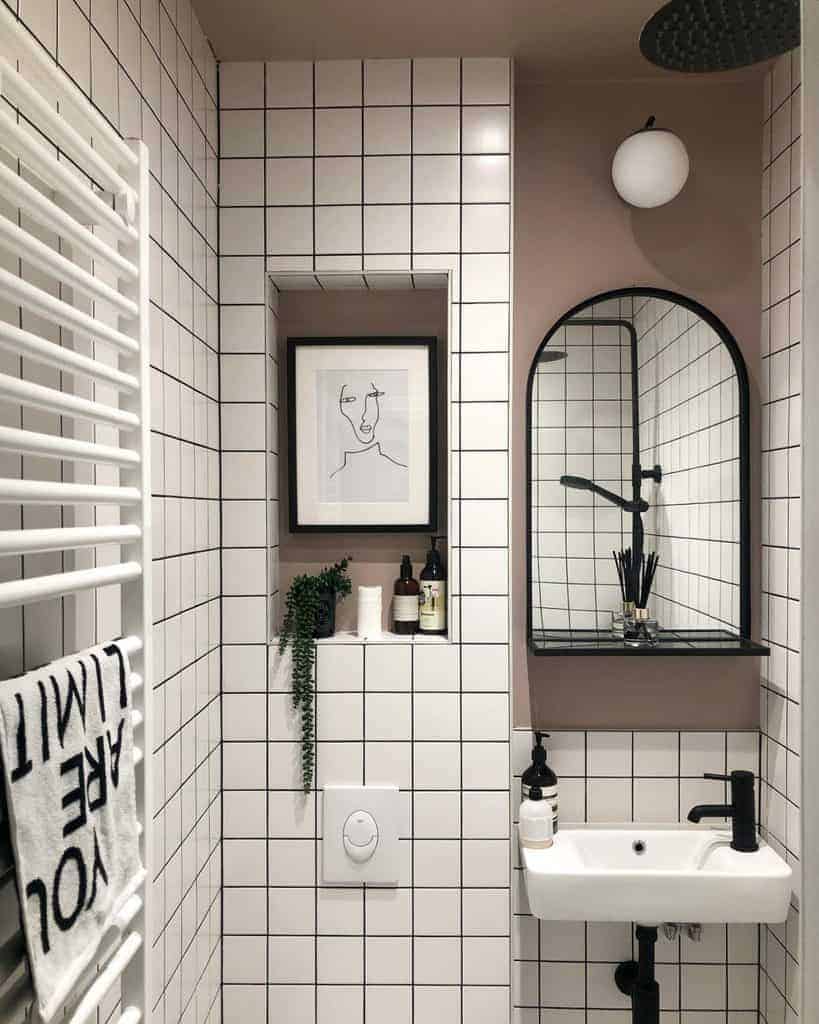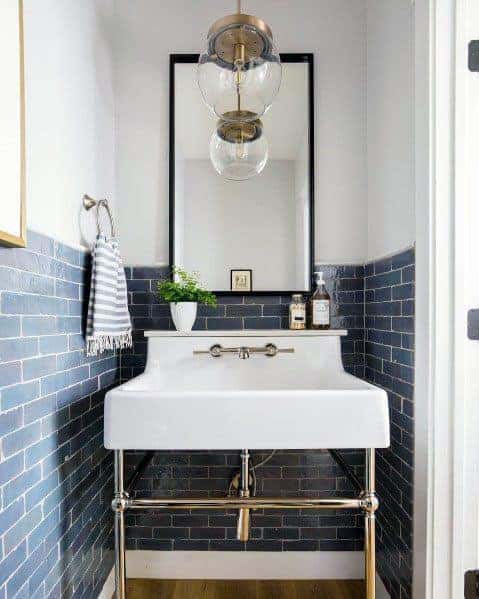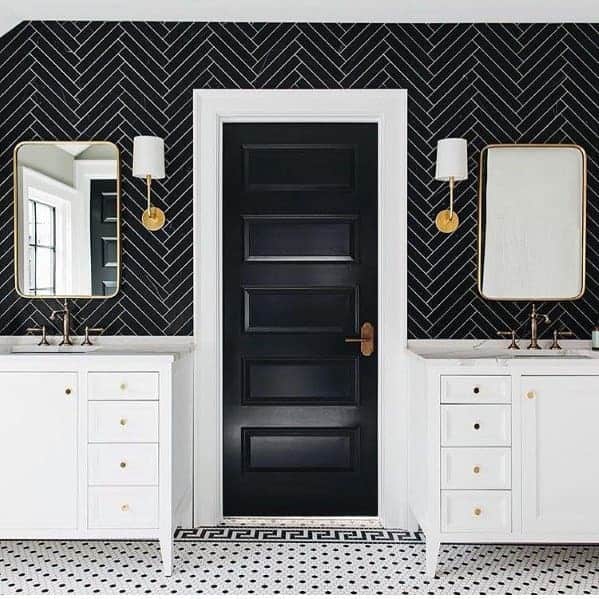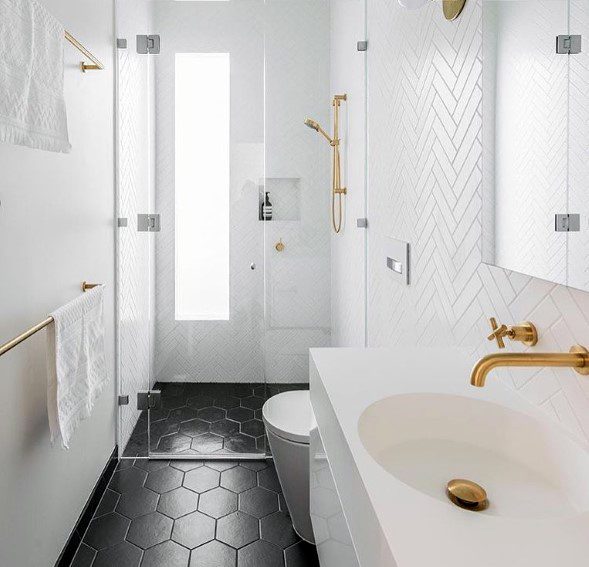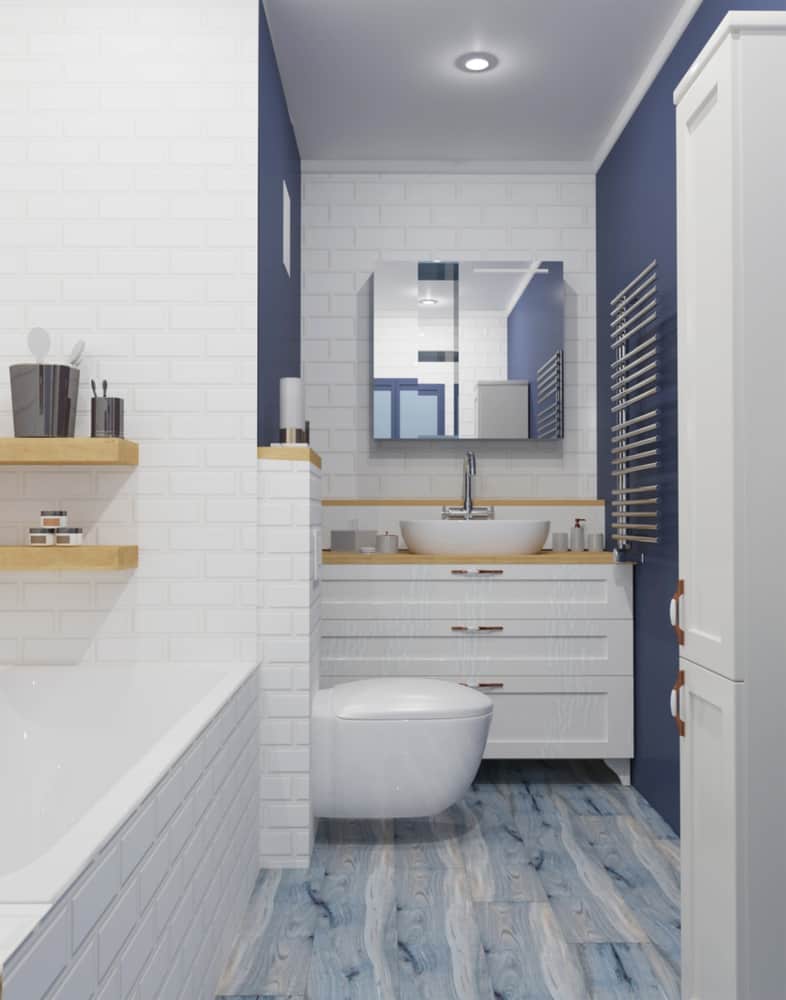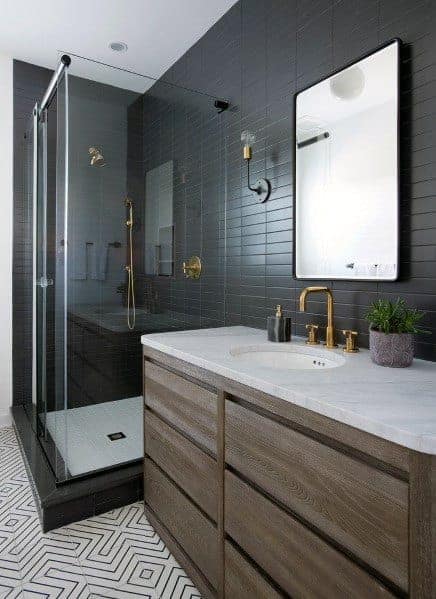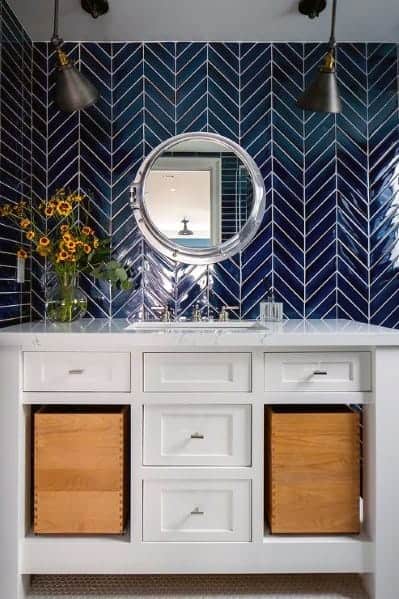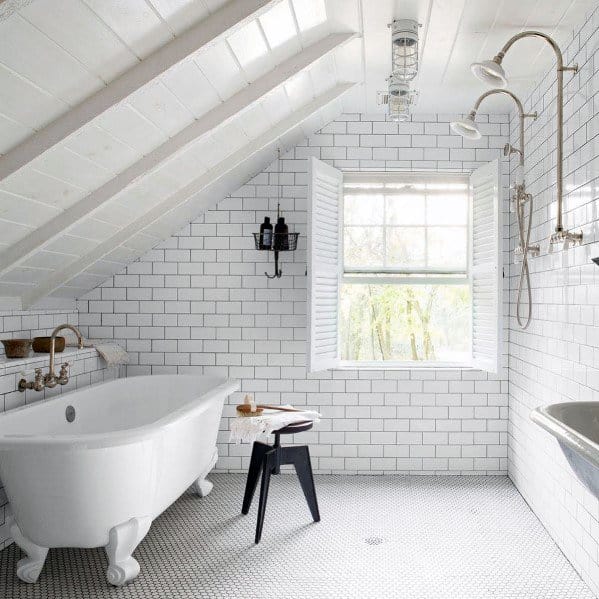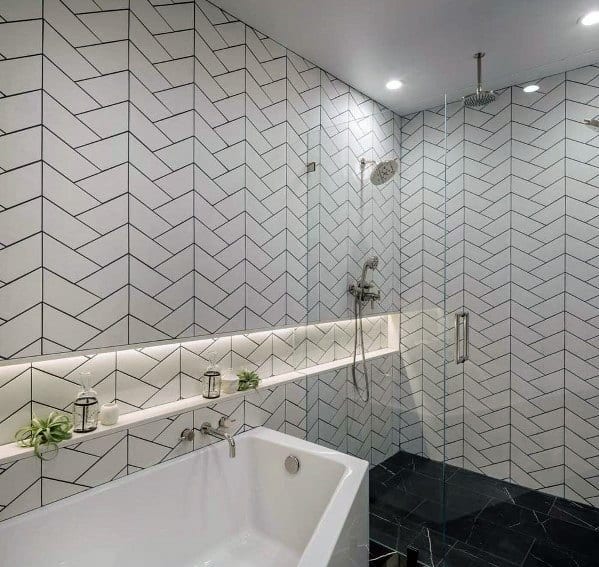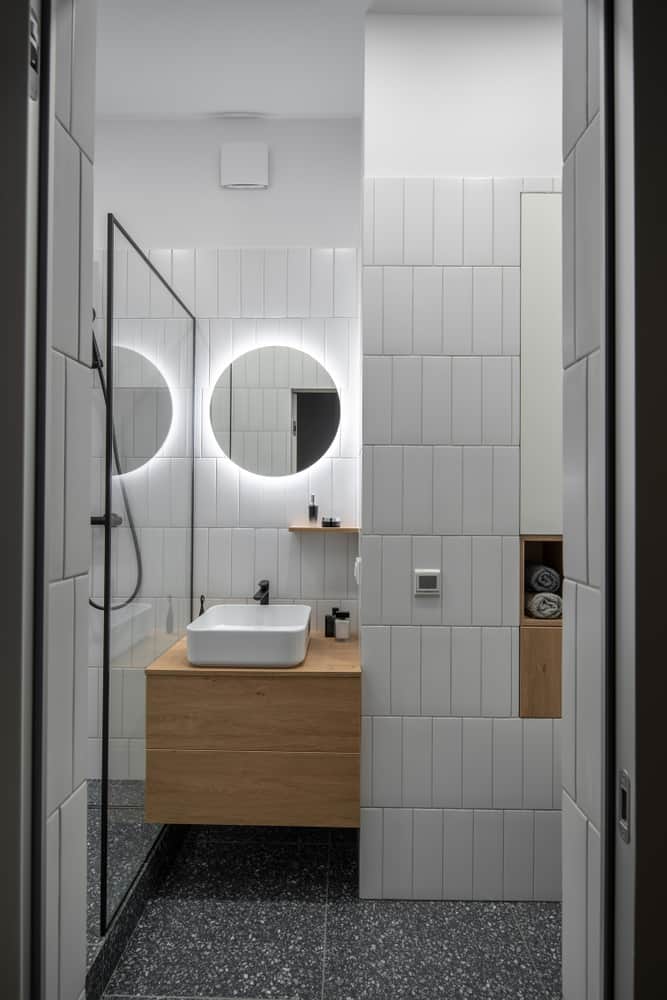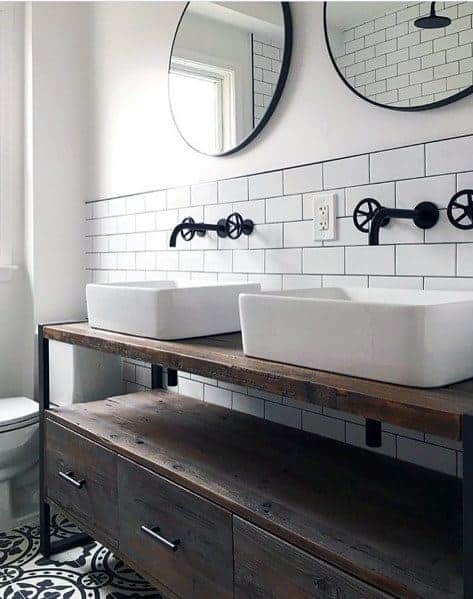 This white tile is a smart choice for your bathroom. It's easy to care for, looks bright, and can blend into a wide variety of interior design approaches.
To keep it from looking too trendy or dating your bathroom, try using subway tile in an unexpected way. Try placing the tile in a herringbone pattern or turning it to run vertically instead of horizontally. Another popular trend is to find and use a subway tile that comes in a color other than white.
10. Textured Tiles
Most people think that textured tile is a new and innovative thing. The truth is that textured tile has been a staple in building for centuries. Take a look at zellige tiles for a traditional and naturally textured tile that would look beautiful in your bathroom.
Choose a handmade tile or one made from stone for a bohemian or earthy feel. These tiles have a random texture that will bring a one of a kind look to your bathroom.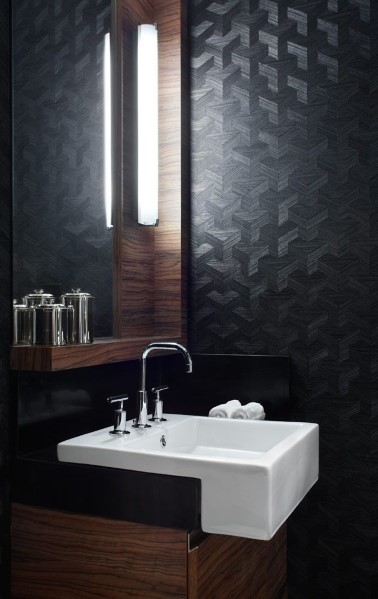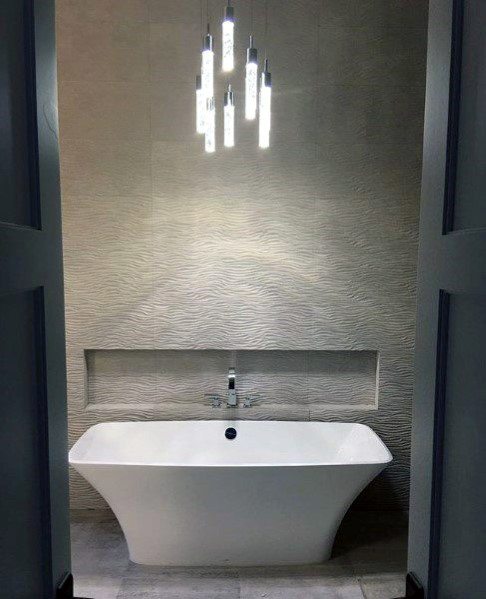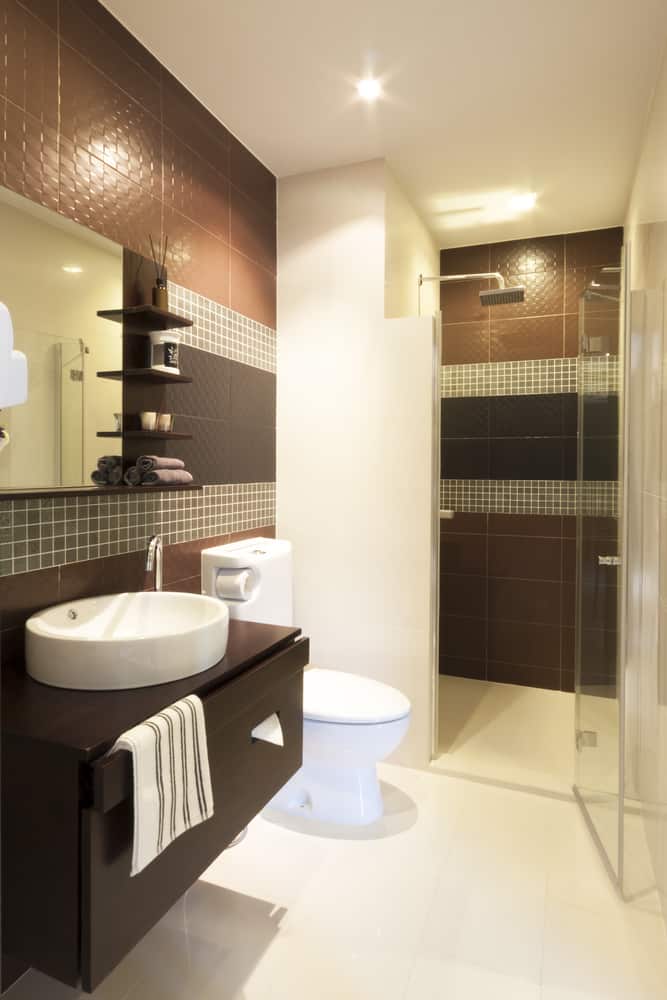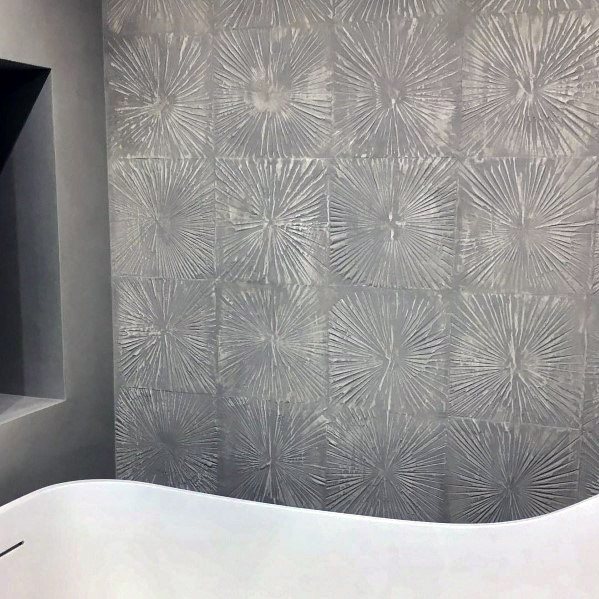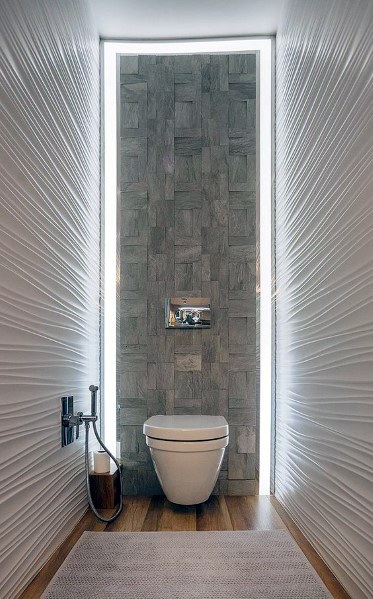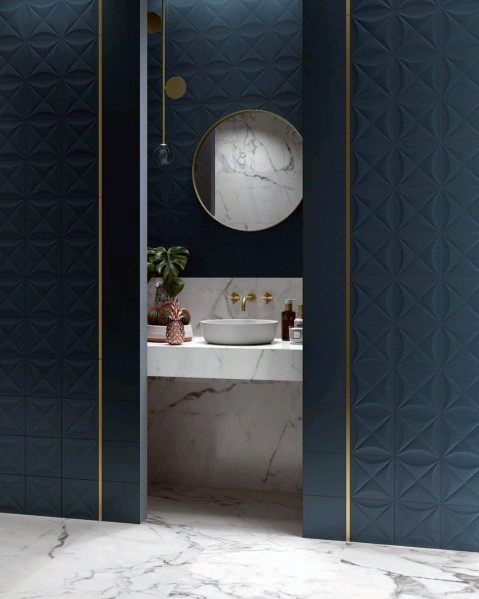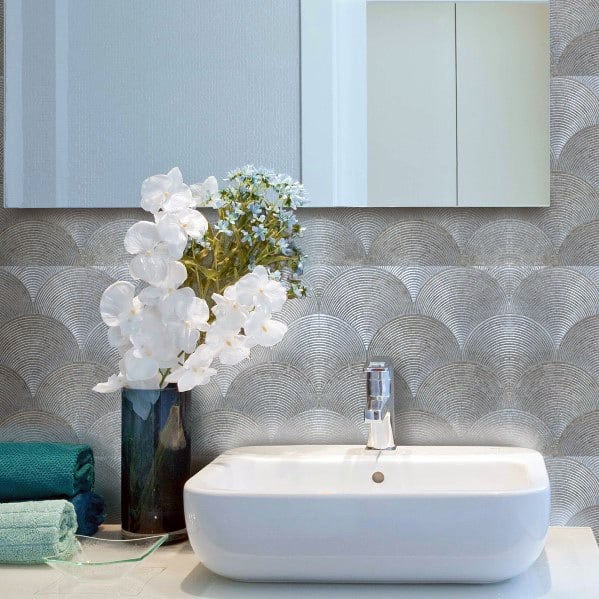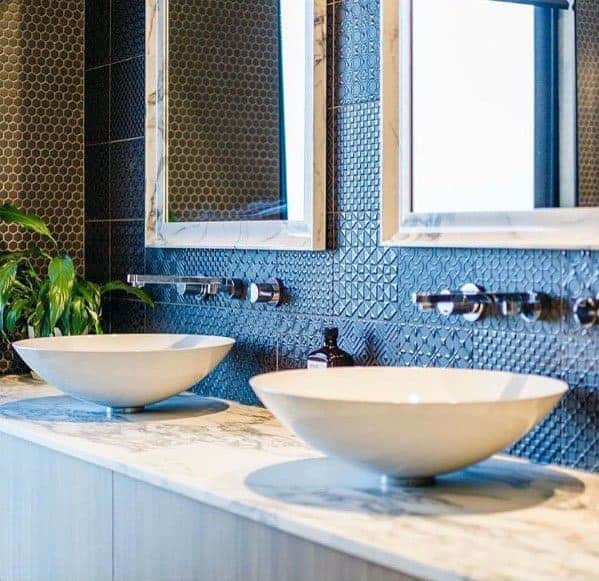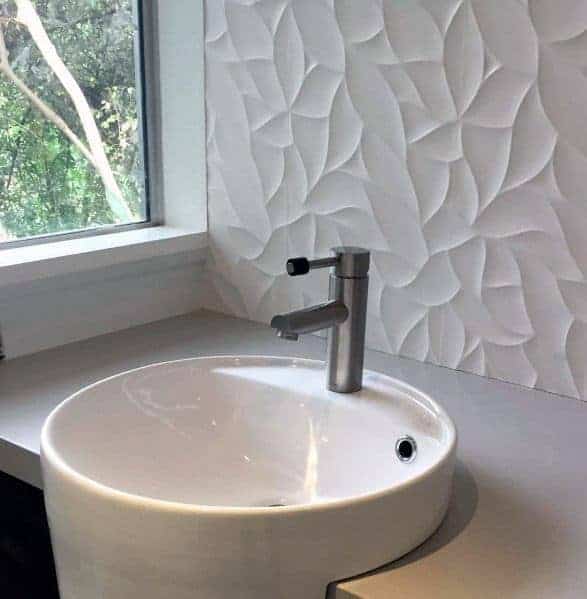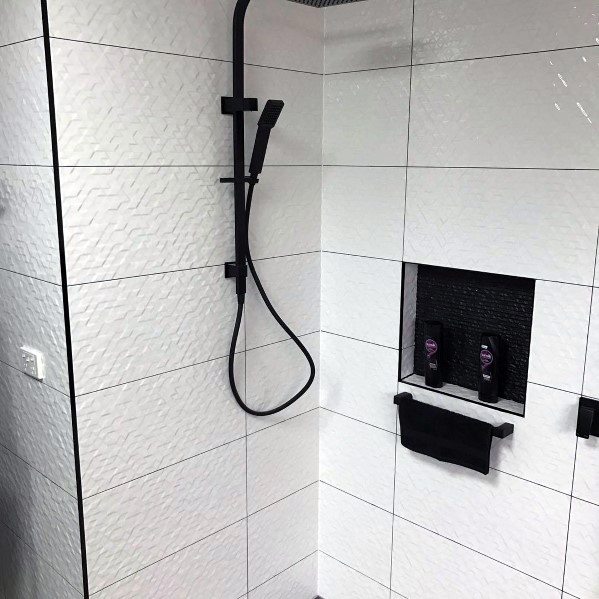 For a modern approach to texture, look for a tile with a uniform pattern. A safe choice is tile that looks and feels like wood. At first glance, it will look like you've mounted wood planks to the wall, similar to how wood flooring looks. However, upon closer inspection, you'll realize the "wood" is actually tile. This is perfect for achieving a wood look in a high moisture environment.
Bolder shower tile ideas feature tile with a geometric or scalloped pattern. These are on-trend right now and the modern approach to texture. The tile is actually three dimensional at times, which can add a unique perspective to your bathroom walls. Be careful with this tile; use it on all of the walls, and your bathroom might develop some odd optical illusions.
Bathroom Wall Tile FAQs
Do I have to use tile in my bathroom?
There are other alternatives, but they may not look as nice or be as affordable. Tile gives you an endless number of options when it comes to material, color, size, texture, and placement. But if you hate tile, you could consider using acrylic or PVC panels, stainless steel, stone resin, or wood. You'll need to be careful; not all stainless steel or wood is appropriate for use in a bathroom.
Can I DIY my bathroom tile?
You can, but it'll take a lot of time, and there's a high risk of error. There's a lot of skill that goes into getting the tile mounted and positioned just right on the wall. If you don't have the experience, it's best to leave this project to the professionals.
How do I choose the right size tile for my bathroom?
Typically, shower floors have smaller tiles to give you more grout lines and grip. Stick with a four-inch square or small tile. Shower wall tiles can range from four-inch square up to 30 inches. Larger tiles have less grout, are easier to keep clean, and look modern. Tile that's too small can make your bathroom look smaller, but go too large and the tile looks too big for the space. Keep in mind the tile you're buying; natural stone looks better when it's bigger because you can showcase the natural veins.