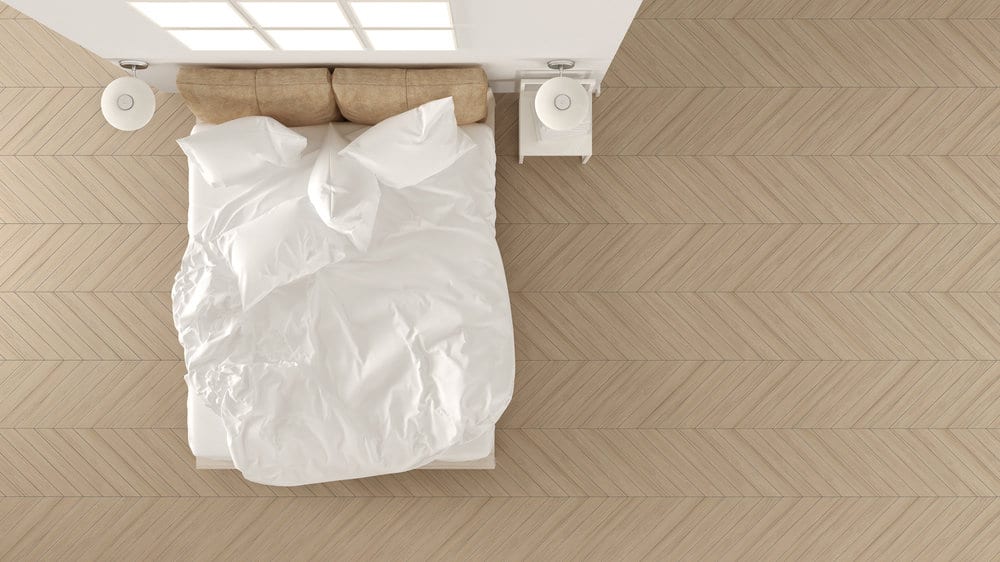 63 Bedroom Flooring Ideas for a Stylish Sanctuary
The bedroom is more than just a space for rest and relaxation; it is a personal sanctuary that reflects your unique style and personality. When it comes to designing or renovating your bedroom, one of the most crucial decisions you'll make is selecting the perfect flooring. The flooring sets the tone for the entire room, enhancing its aesthetics, providing comfort underfoot, and ensuring durability for years to come.
In this article, we delve into a world of inspiring bedroom flooring ideas that will help you create a haven of serenity and style. Whether you're a fan of traditional elegance, contemporary minimalism, or eclectic charm, we've curated a range of options that cater to diverse tastes and preferences. From classic hardwoods to luxurious carpets, innovative vinyls, and eco-friendly alternatives, we explore a variety of materials and designs to suit every lifestyle and budget.
Join us as we embark on a journey through the realm of bedroom flooring, discovering how the right choice can transform your personal retreat into a haven of comfort and beauty. Let's explore the possibilities and find the flooring solution that will turn your bedroom into an inviting oasis that you'll love waking up to each day.
1. Parquet Flooring
With its intricate geometric patterns and timeless elegance, parquet flooring adds a touch of sophistication to any bedroom. Picture walking barefoot on the warm, natural wood that effortlessly enhances the cozy ambiance of your sanctuary. The symmetrical designs of herringbone, chevron, or basket weave patterns create a visual feast for the eyes, adding depth and character to your bedroom floor.
Whether you opt for classic oak, rich walnut, or exotic teak, parquet flooring instantly elevates the style quotient of your space. It seamlessly complements a range of interior design styles, from modern and minimalist to vintage and eclectic. The versatility of parquet flooring allows you to effortlessly express your unique personality and create a bedroom that's as chic as it is inviting.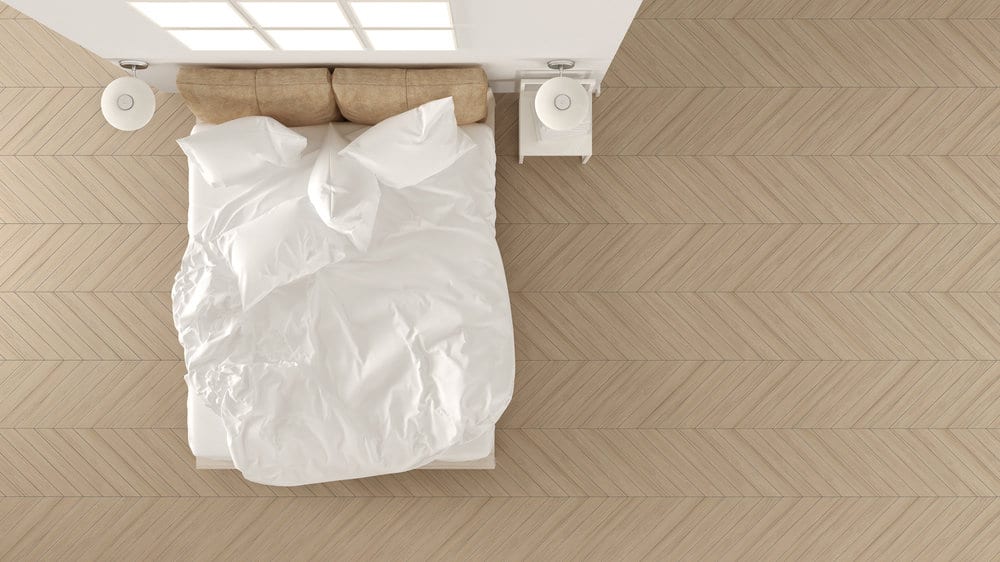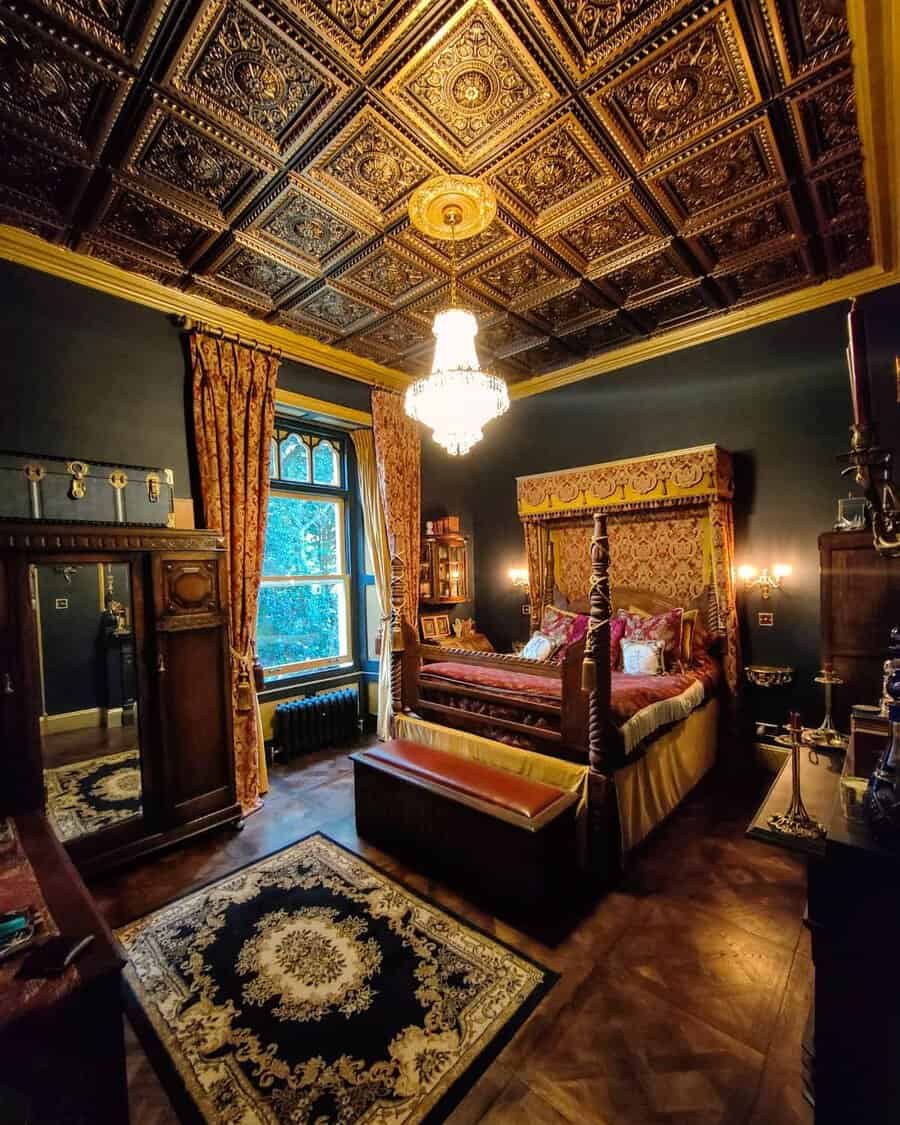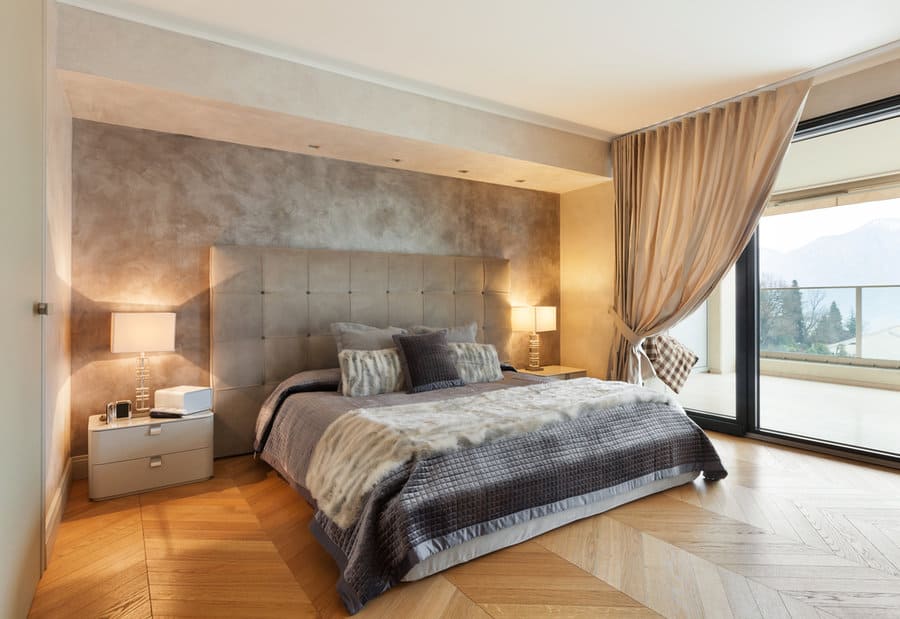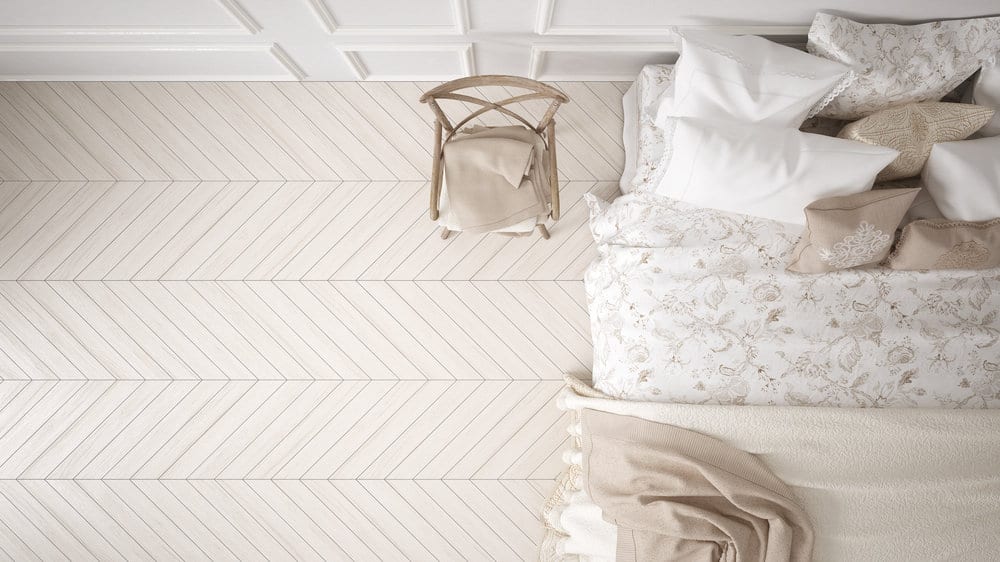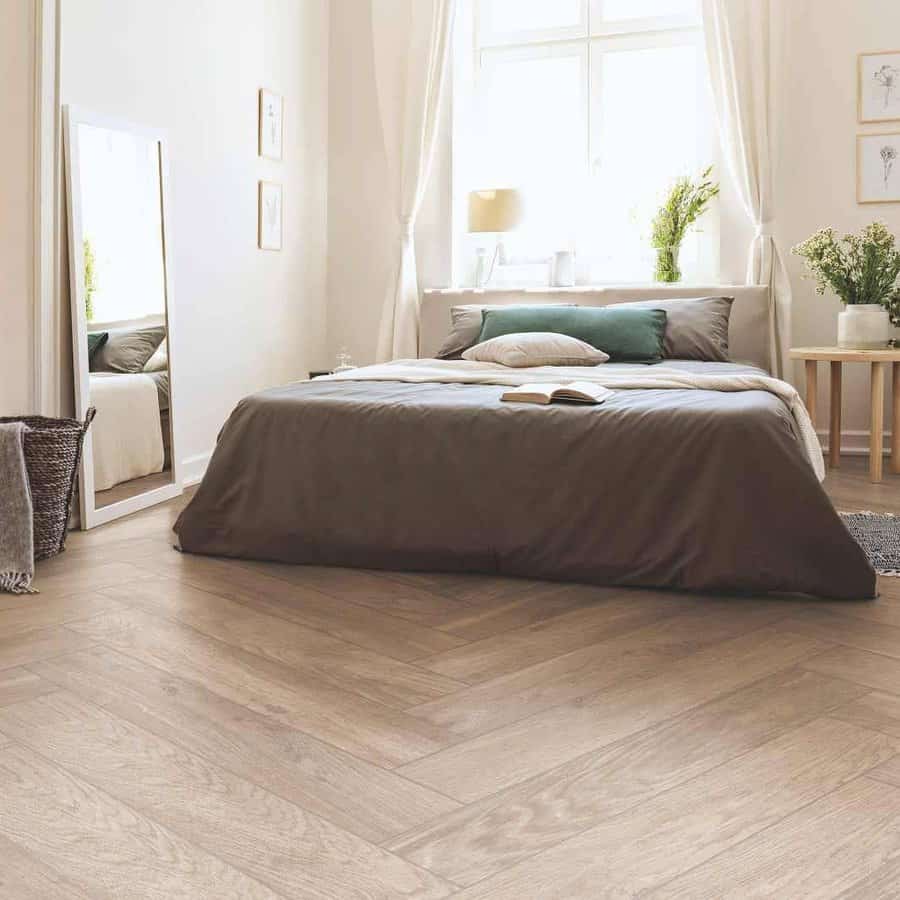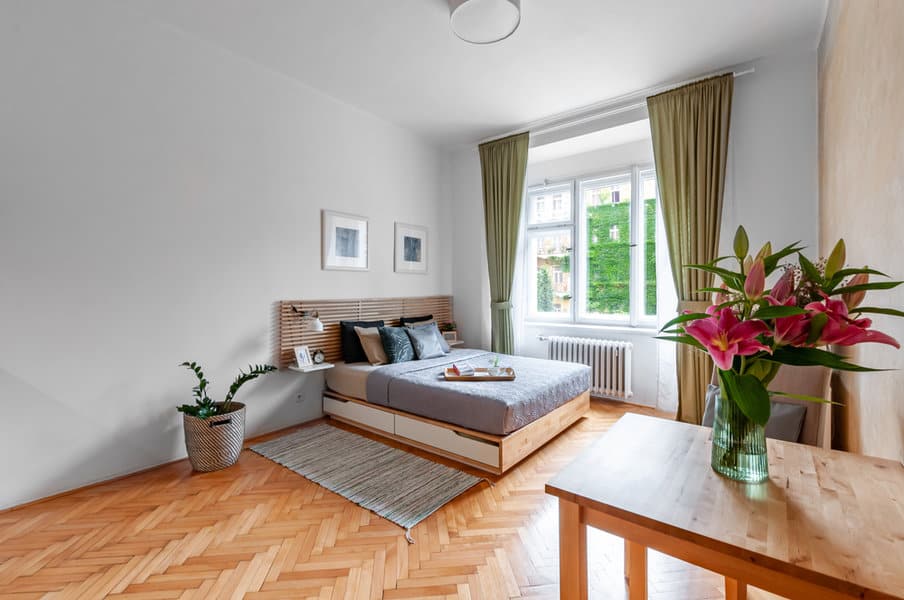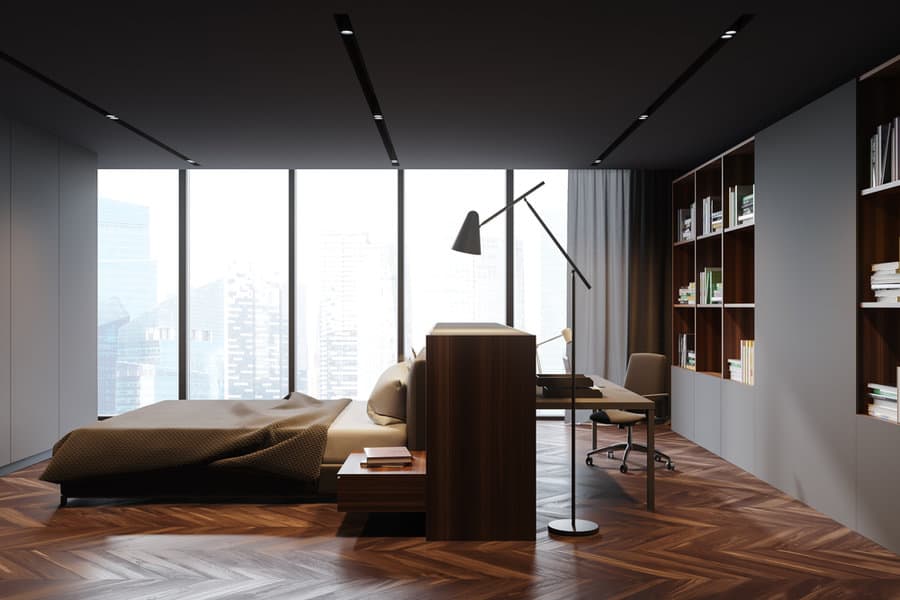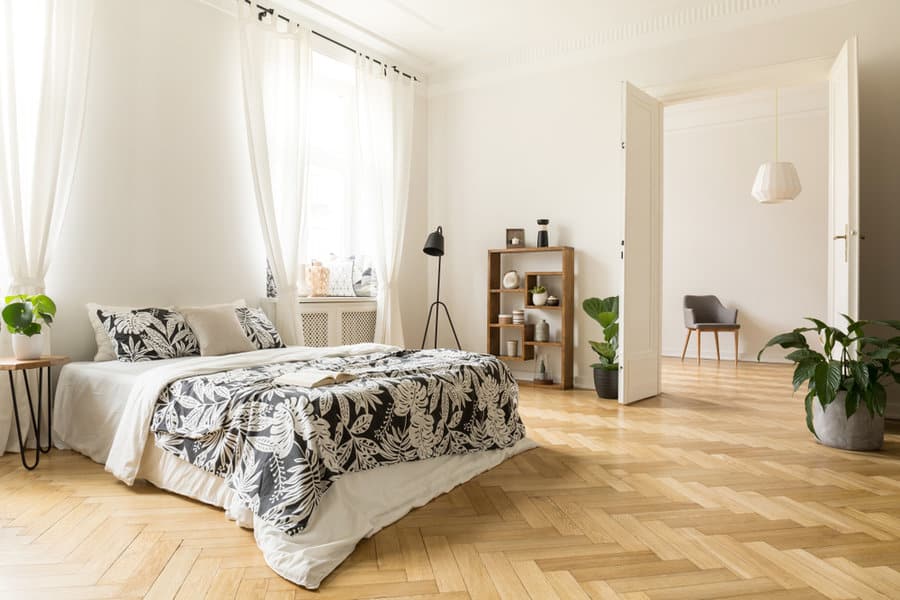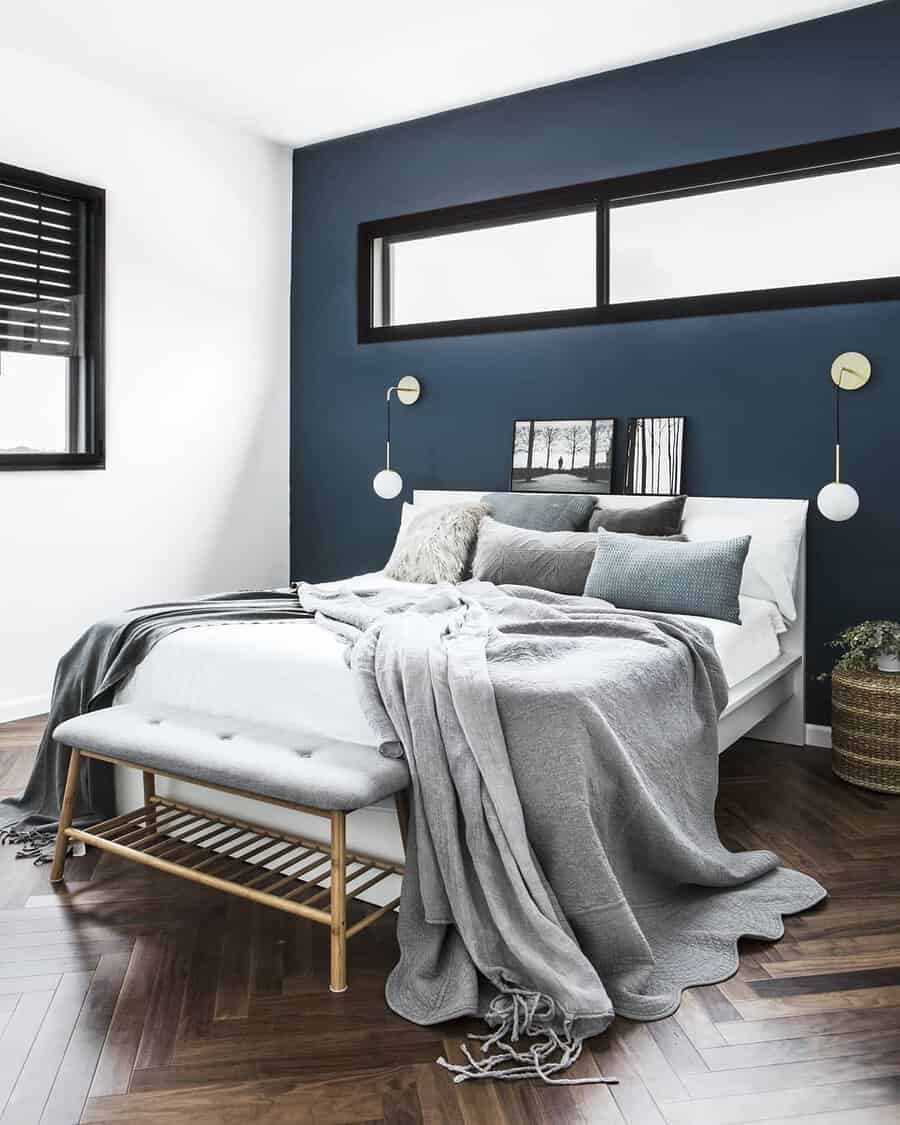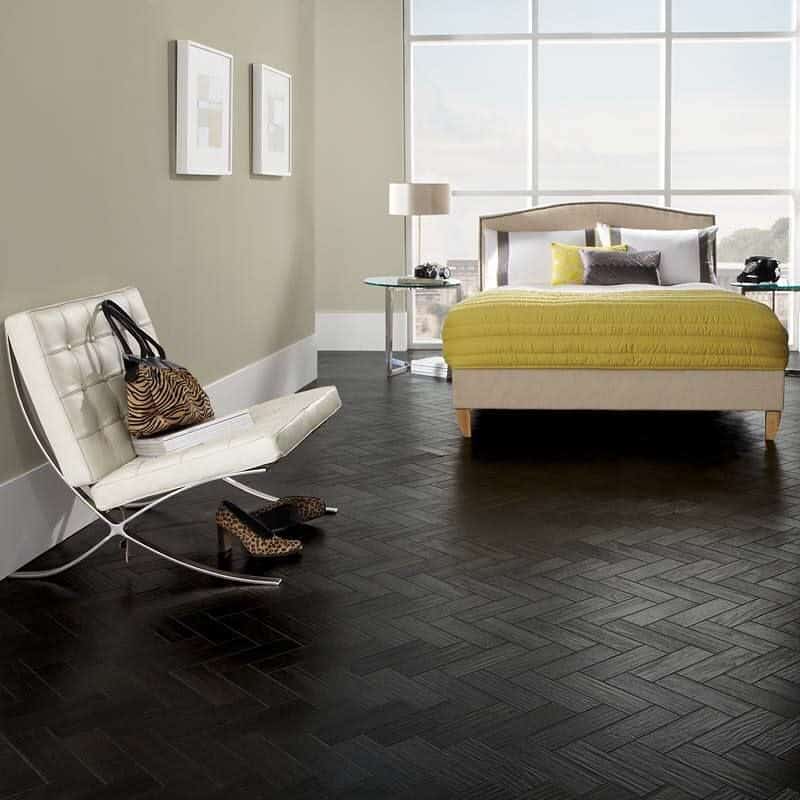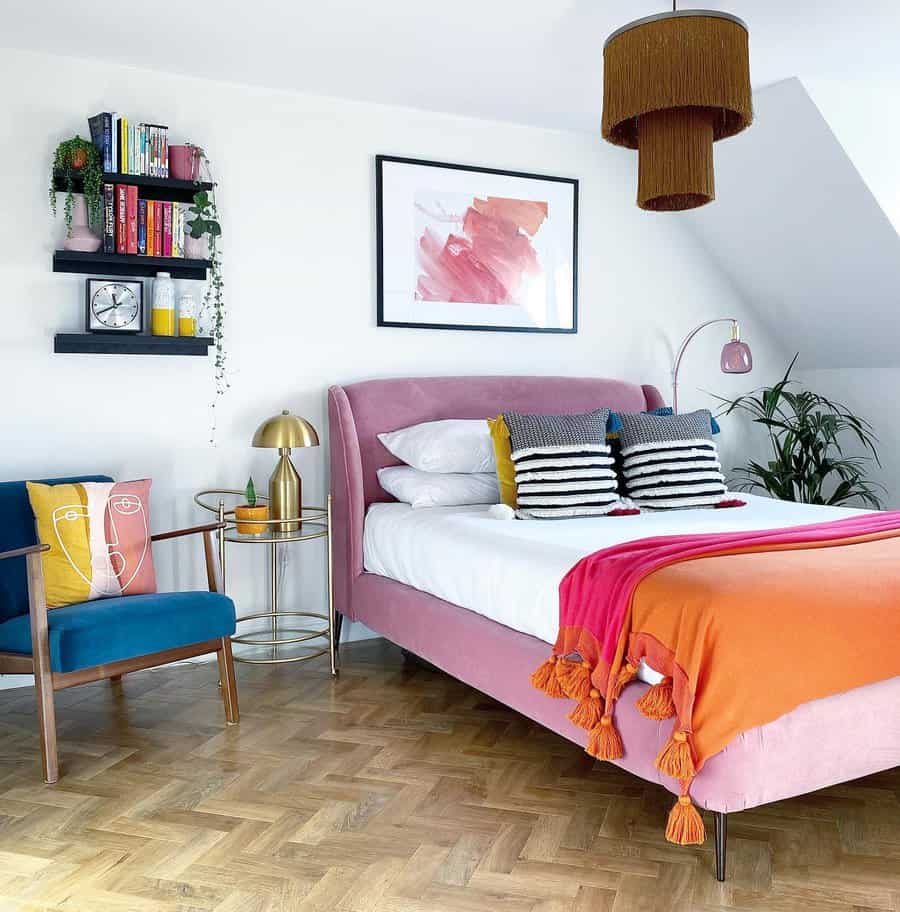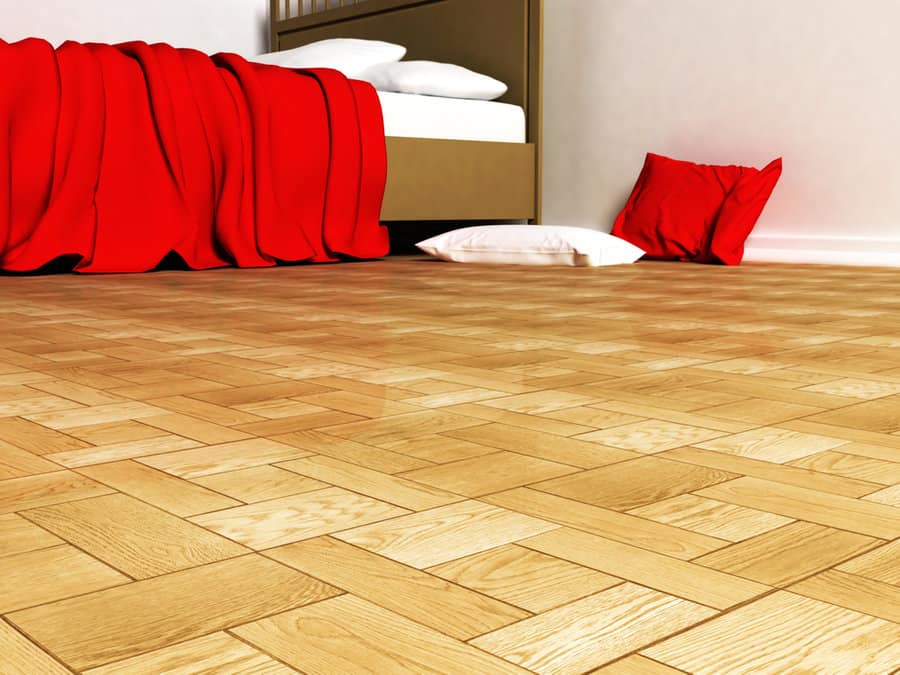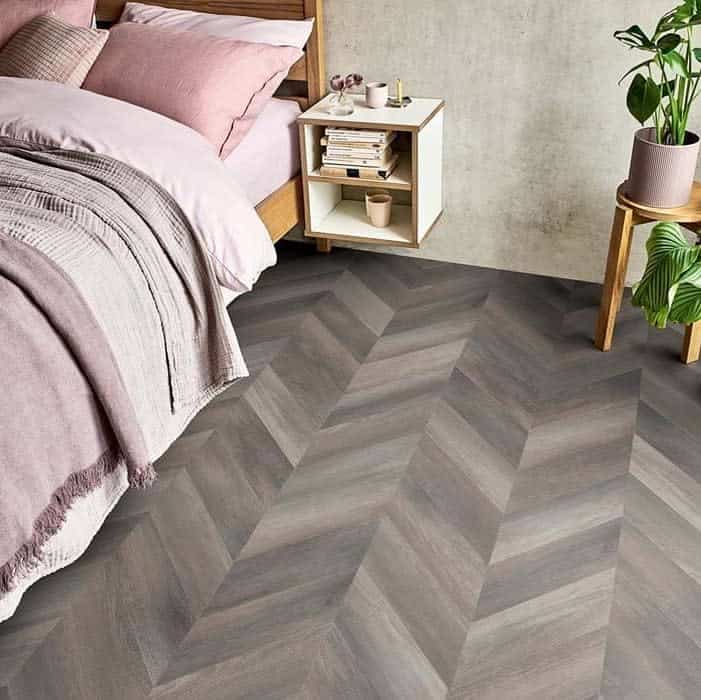 2. Carpet Flooring
With its soft and plush texture, carpet flooring adds a touch of luxury to your space while providing a warm and inviting ambiance. Imagine stepping out of bed onto a cloud-like surface that envelops your feet in pure comfort. Not only does carpet flooring create a cozy and welcoming feel, but it also offers excellent sound insulation, making it ideal for bedrooms where peace and tranquility are paramount.
From neutral tones to bold patterns, there's a wide range of carpet styles and colors to suit every taste and design aesthetic. Whether you prefer a chic and modern look or a more bohemian vibe, carpet flooring can effortlessly enhance the overall design of your bedroom.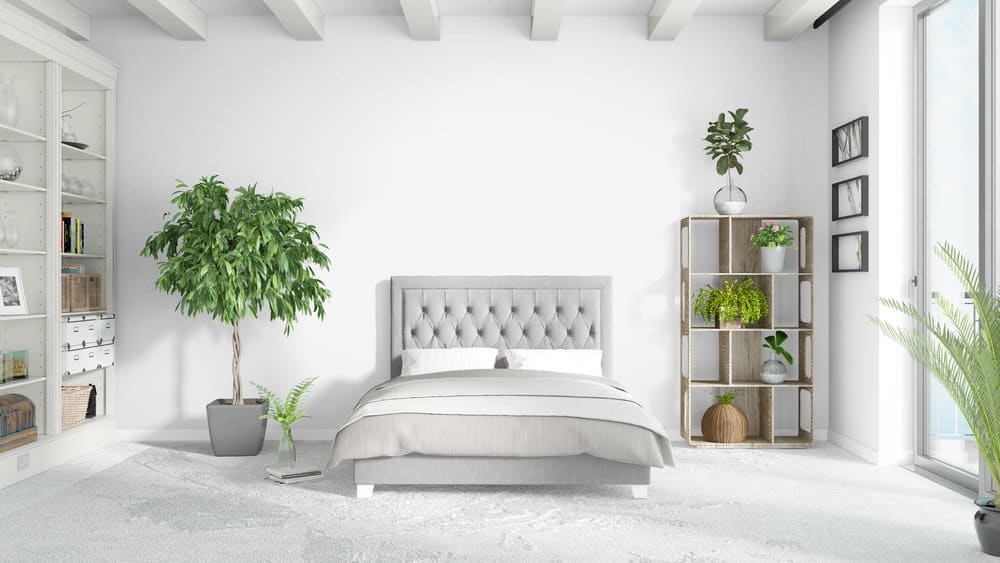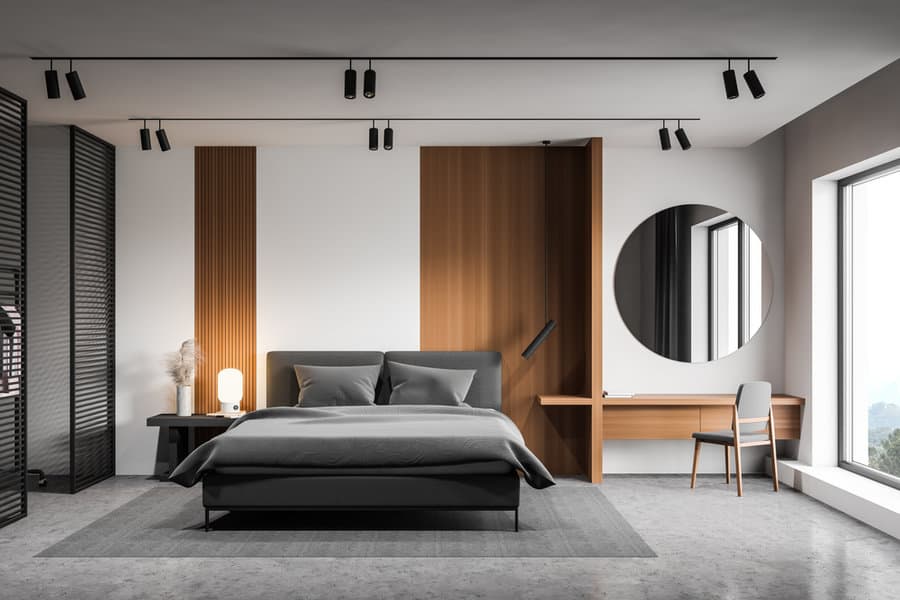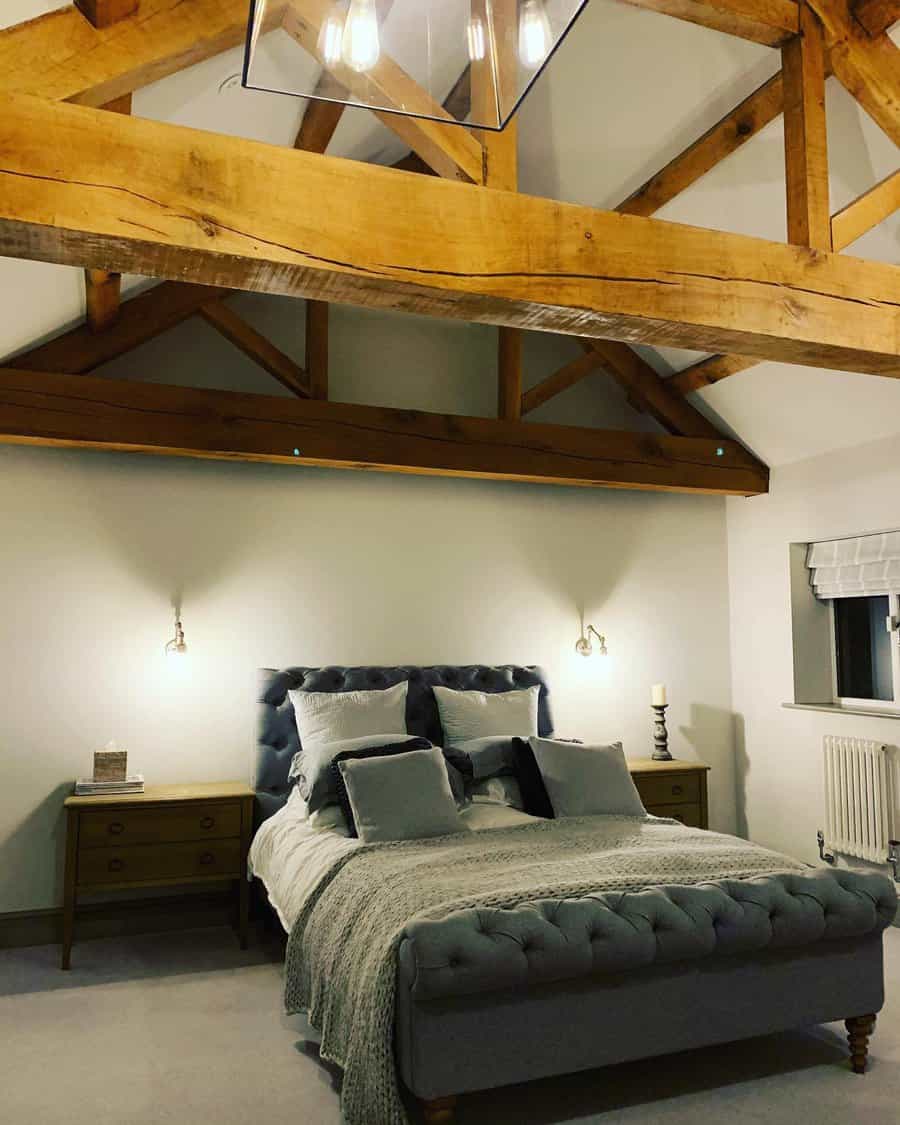 3. Groutless Tiles
When it comes to transforming your personal sanctuary, one flooring option that exudes both elegance and practicality is groutless tiles. These innovative tiles offer a clean and seamless look that can instantly elevate the aesthetics of your bedroom. Say goodbye to traditional tiled floors with visible grout lines and hello to a sleek and uninterrupted surface. Groutless tiles provide a smooth and polished appearance, creating a sense of spaciousness and modernity.
The absence of grout not only enhances the visual appeal but also makes cleaning a breeze, as there are no grout lines to trap dirt and grime. With a wide range of colors, patterns, and textures to choose from, you can find the perfect groutless tiles that match your bedroom's aesthetic, whether it's a minimalist haven or a bohemian retreat. So, say hello to bedroom flooring that combines chic style with practicality and enjoy the luxurious ambiance it brings to your space.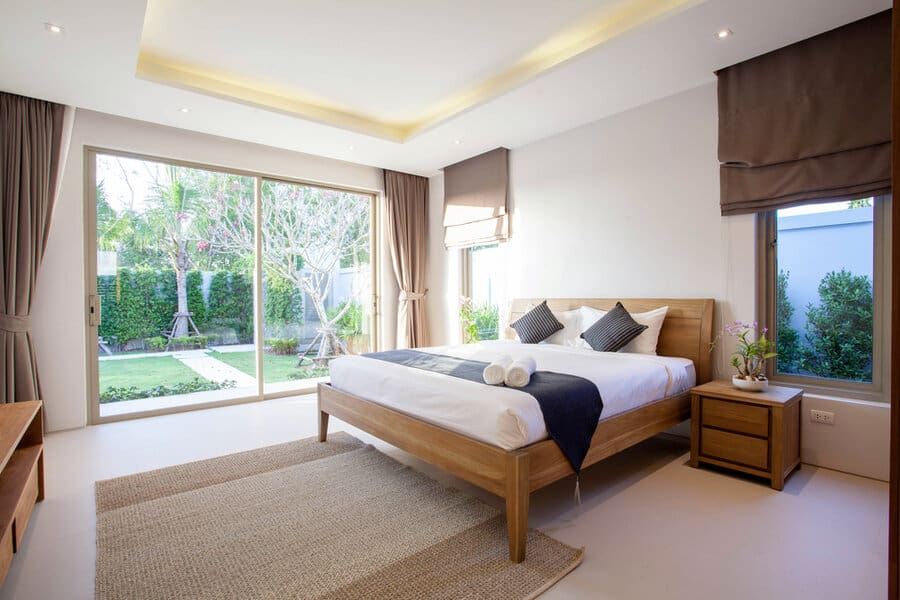 4. Luxury Vinyl Tiles
If you're looking for a flooring option that combines luxury, durability, and versatility, consider the beauty of luxury vinyl tiles. These tiles have come a long way from their humble beginnings and now offer a wide range of stunning designs and patterns to suit any bedroom style. From sleek and modern to rustic and vintage, luxury vinyl tiles can mimic the look of natural materials like hardwood, stone, or ceramic, while offering practical benefits such as easy maintenance and resistance to moisture and wear.
Whether you prefer the timeless elegance of oak or the contemporary appeal of concrete, luxury vinyl tiles can bring your bedroom to life with their realistic textures and rich colors. They provide a comfortable and warm underfoot feel, making them perfect for those chilly mornings. With their seamless installation and ability to withstand everyday wear and tear, luxury vinyl tiles are an excellent choice for any bedroom space.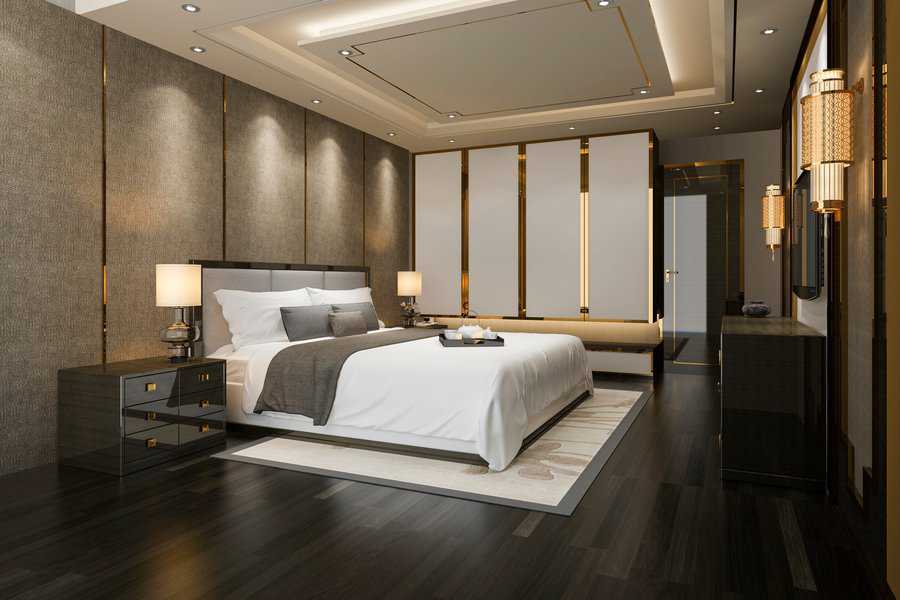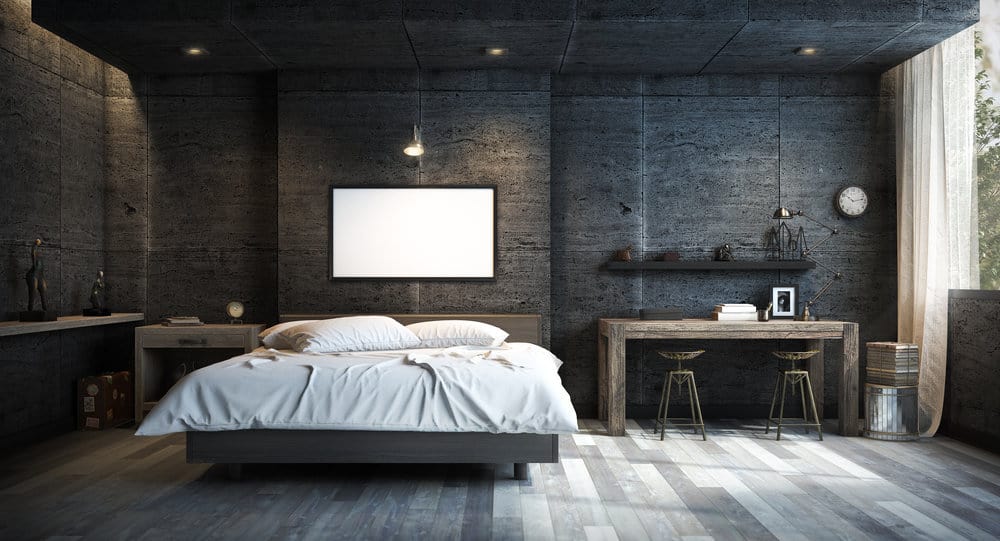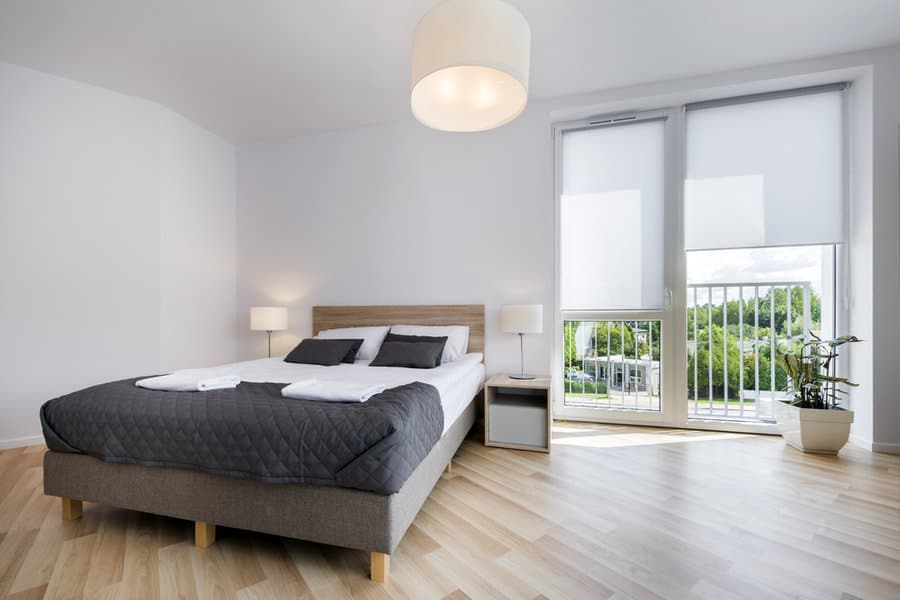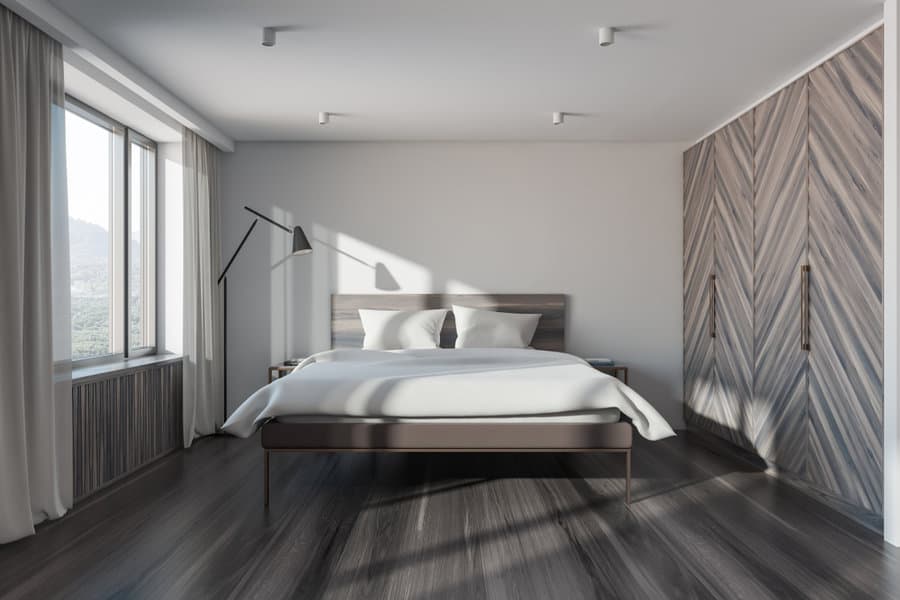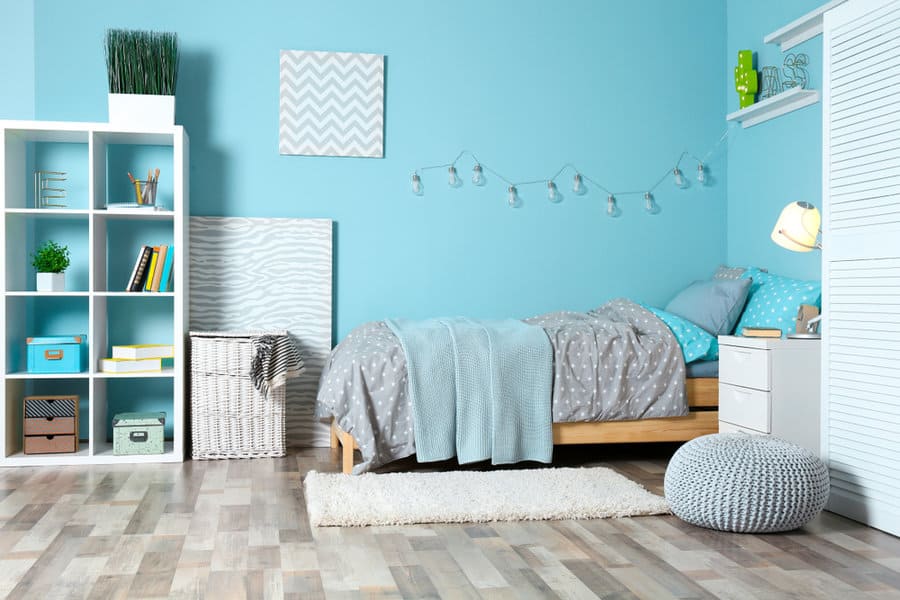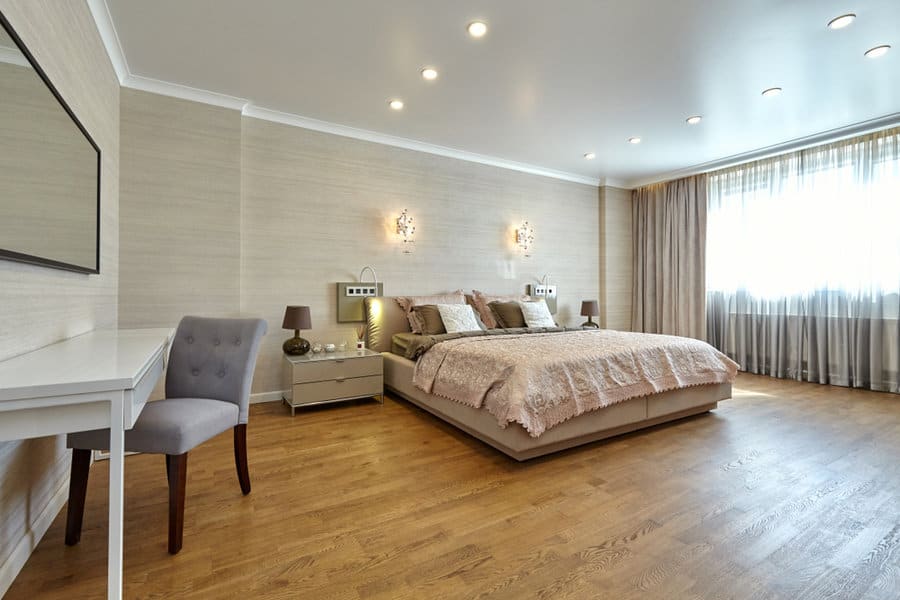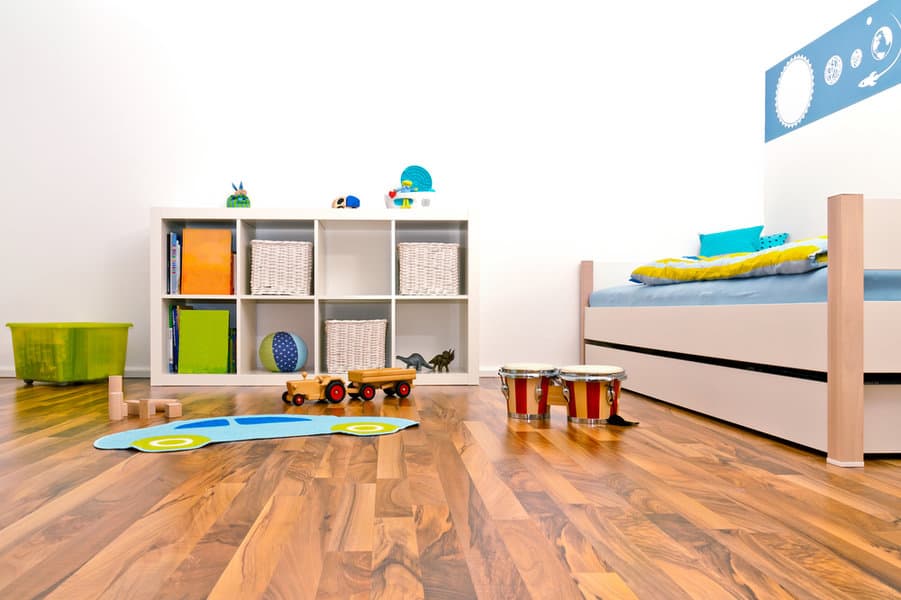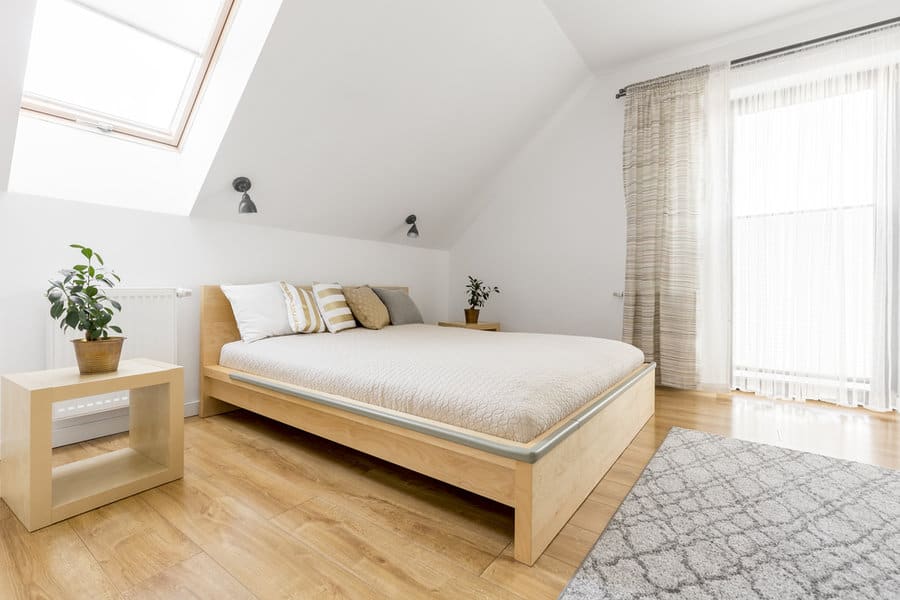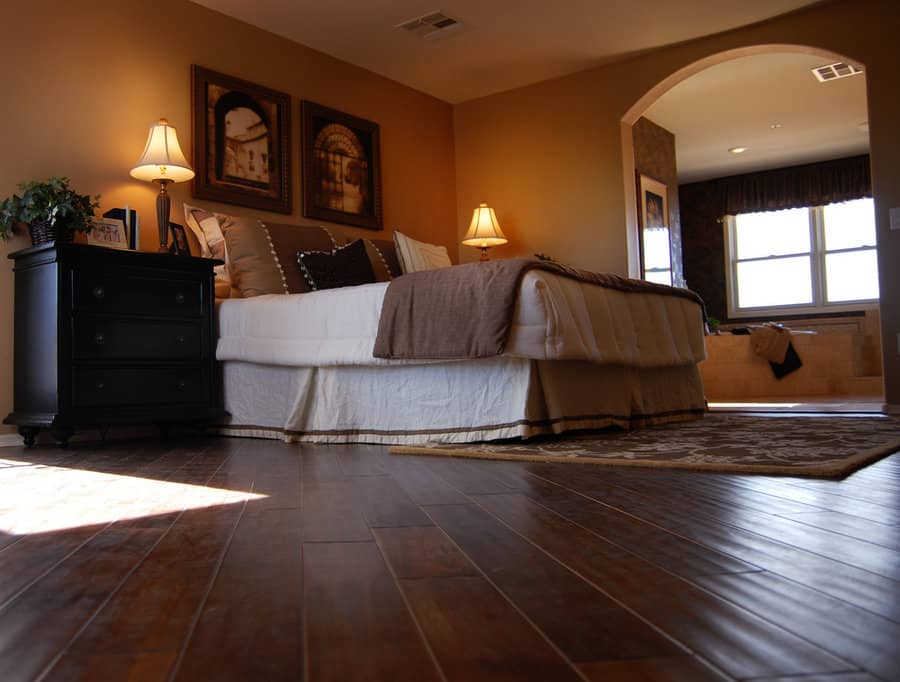 5. White-Washed Wood Flooring
Step into the realm of dreamy bedrooms with the perfect flooring choice that combines chic style and a touch of rustic charm: white-washed wood flooring. This flooring idea effortlessly creates a serene and inviting atmosphere in your bedroom. Imagine waking up to the soft, muted tones of white-washed wood beneath your feet, evoking a sense of tranquility and serenity.
The white-washed finish adds a modern twist to the traditional wood flooring, creating a unique blend of contemporary and rustic aesthetics. The subtle variations in color and texture lend a natural and organic feel to your space, embracing the beauty of imperfections. Whether your bedroom is adorned with bohemian accents or minimalist decor, white-washed wood flooring effortlessly complements any style, enhancing the overall ambiance of the room.
Its light hue brightens up the space, making it feel more spacious and airy. Paired with cozy rugs or layered with faux fur throws, this flooring choice creates a warm and inviting haven that you'll never want to leave.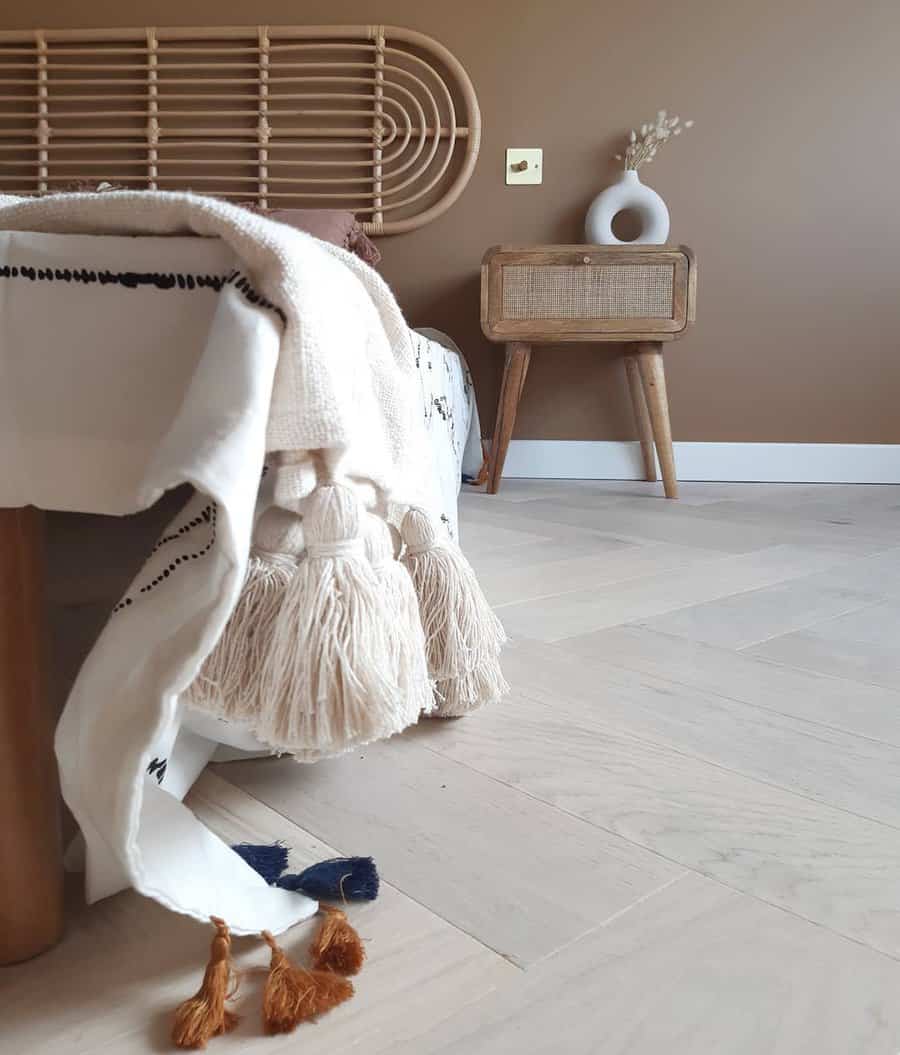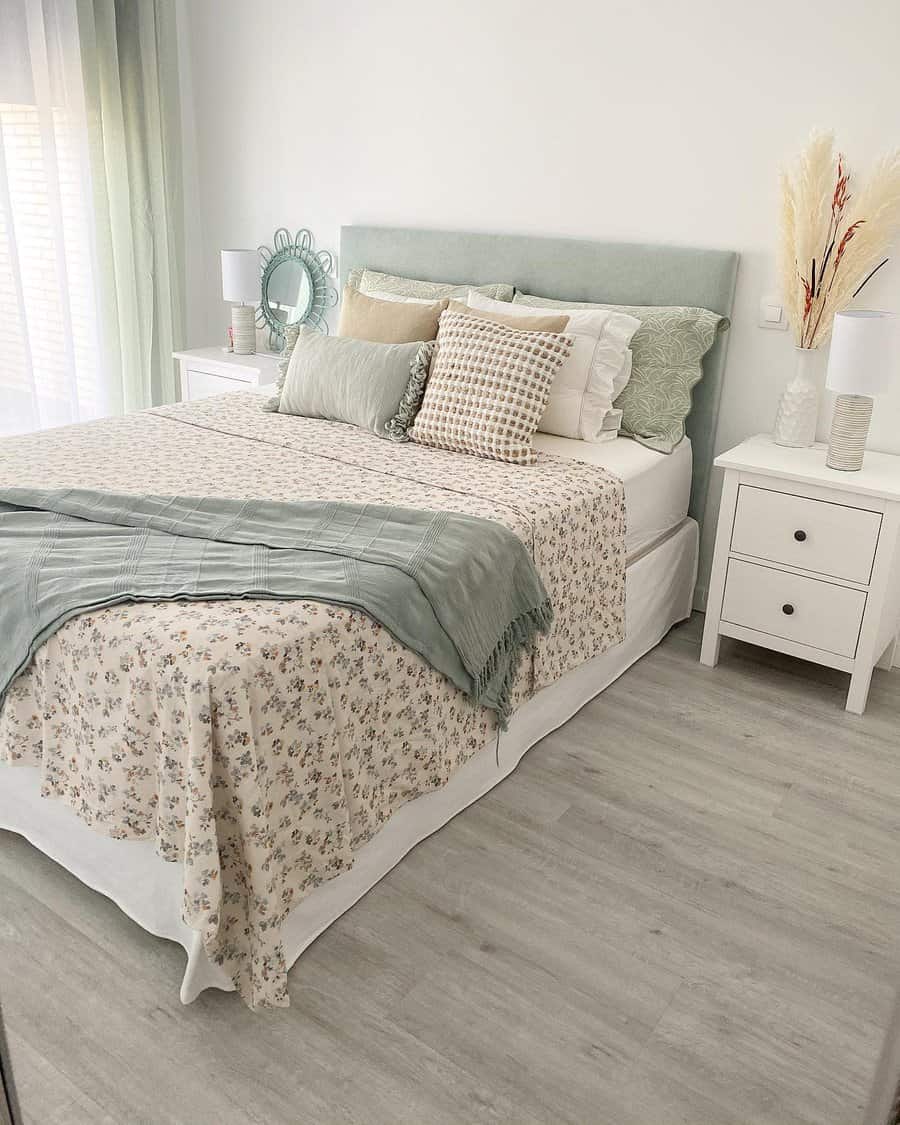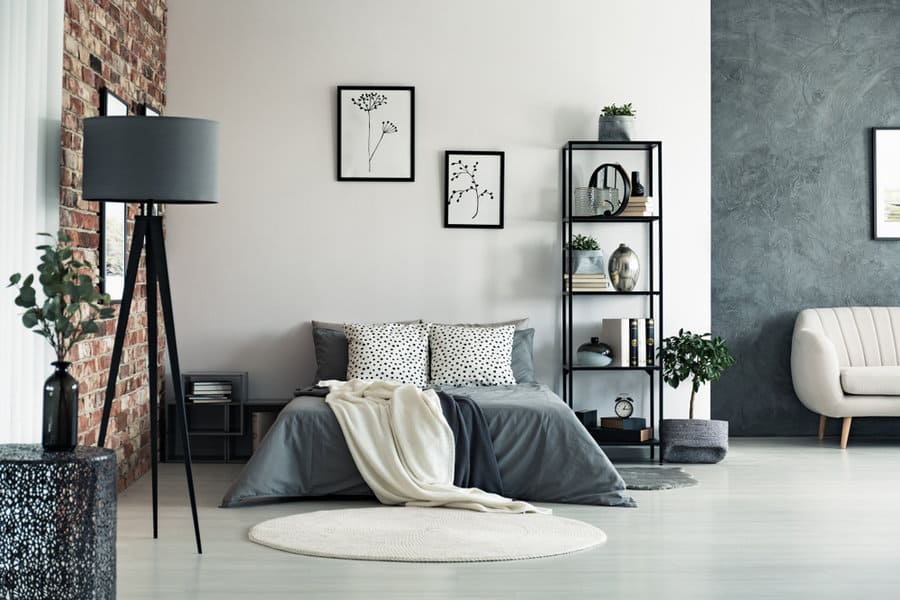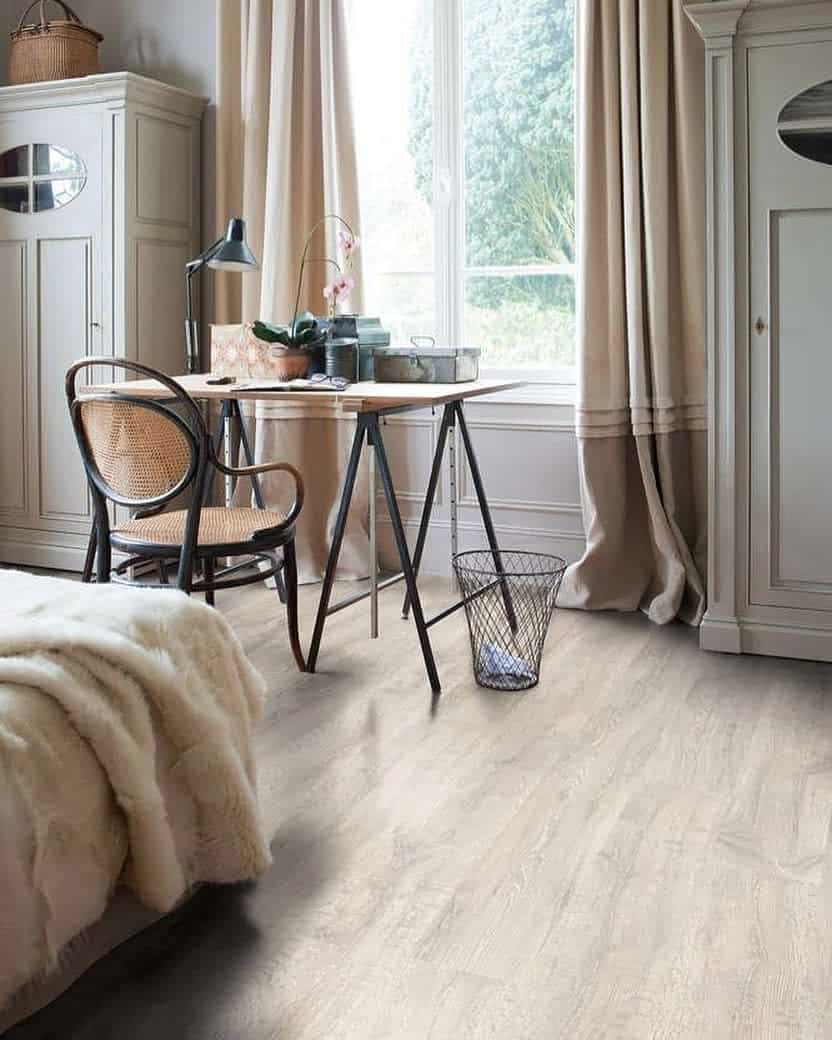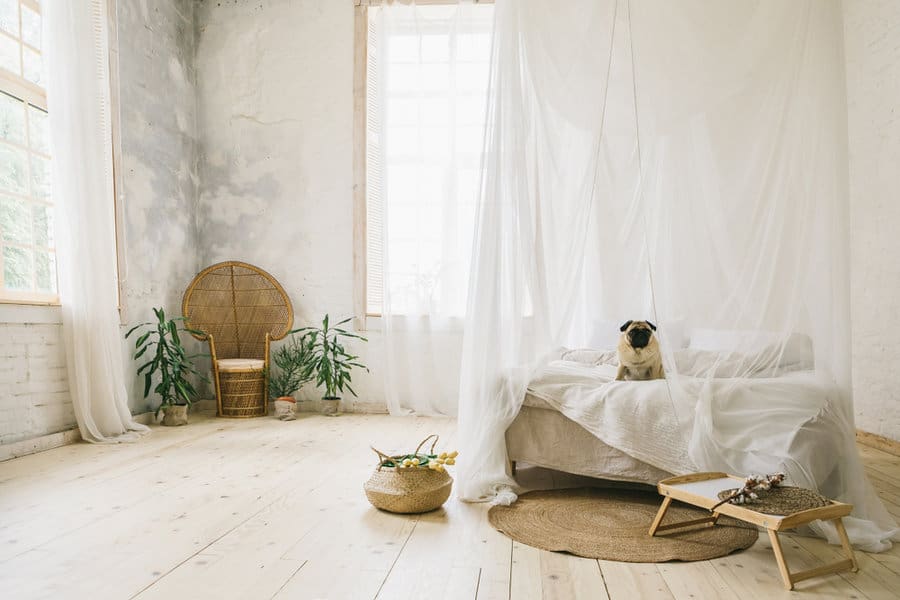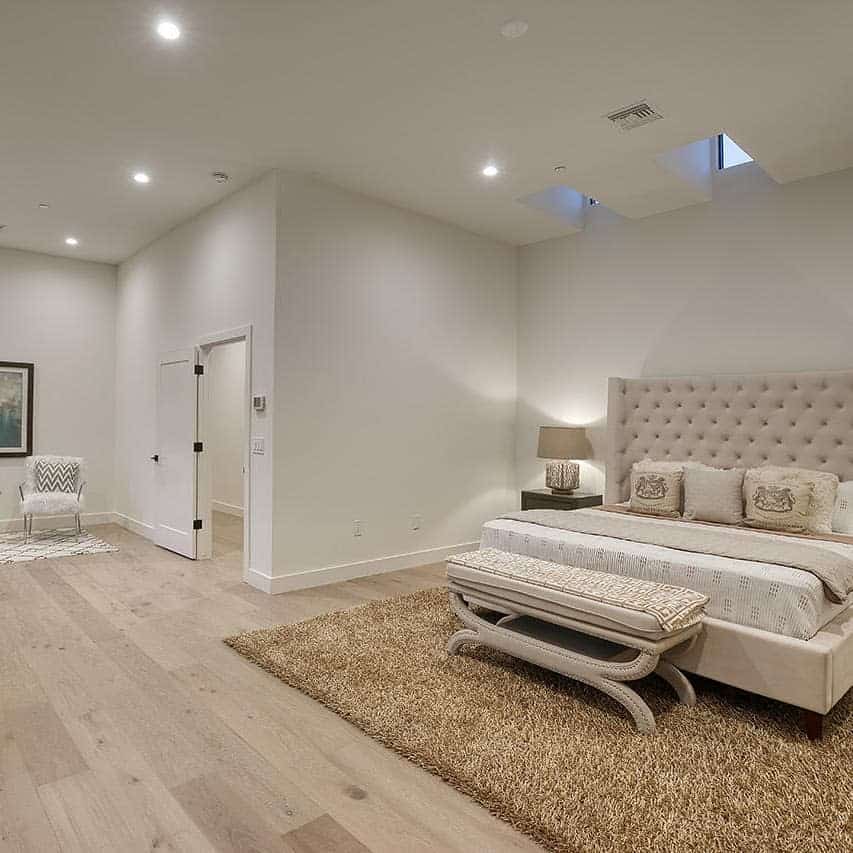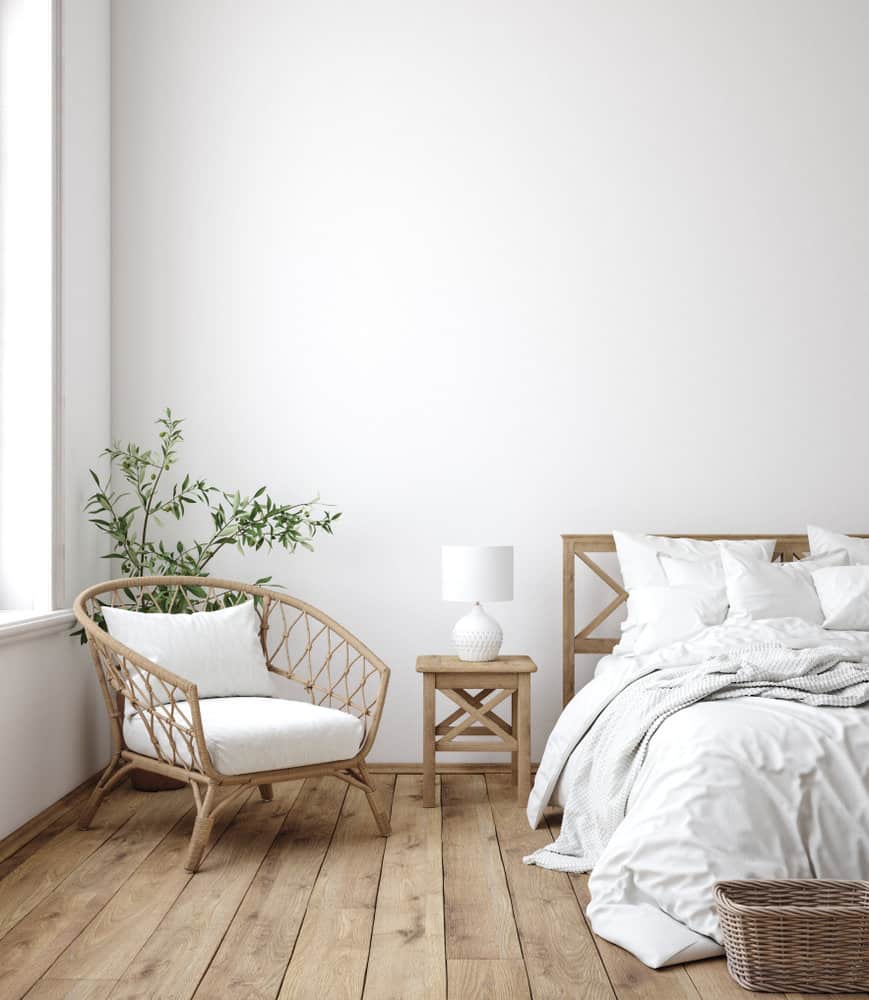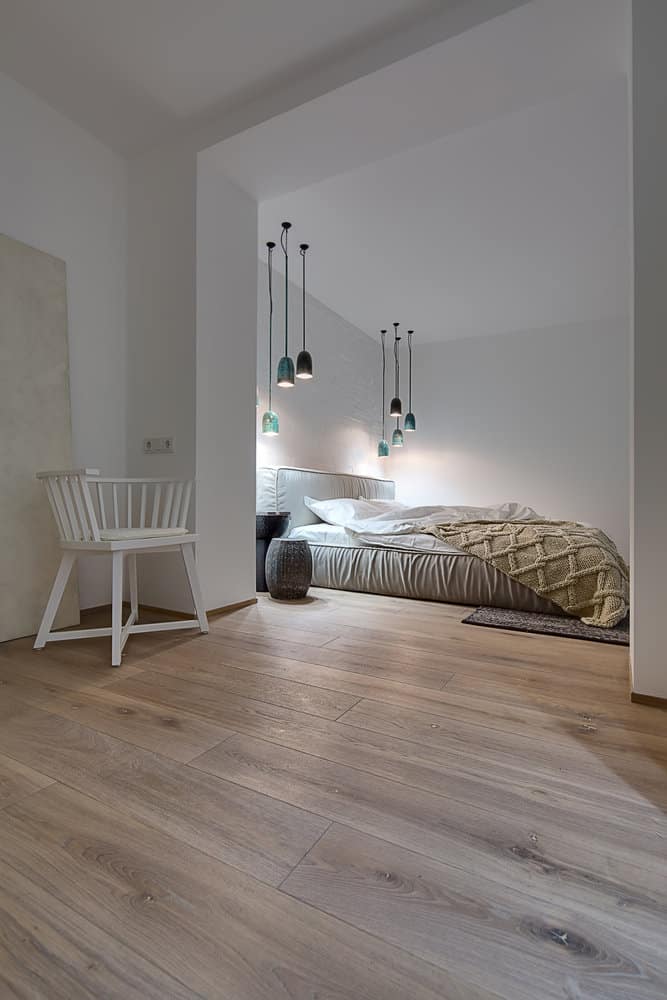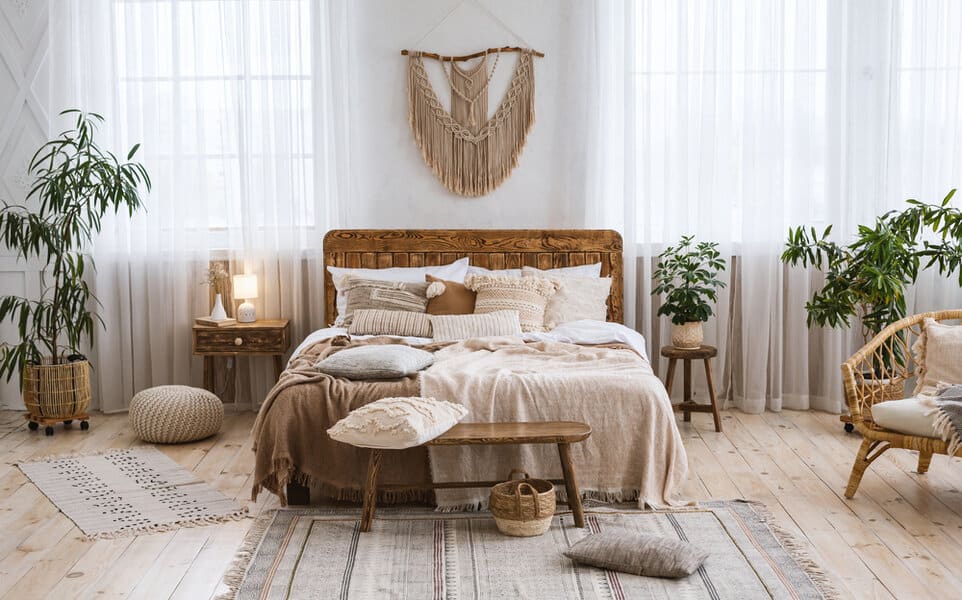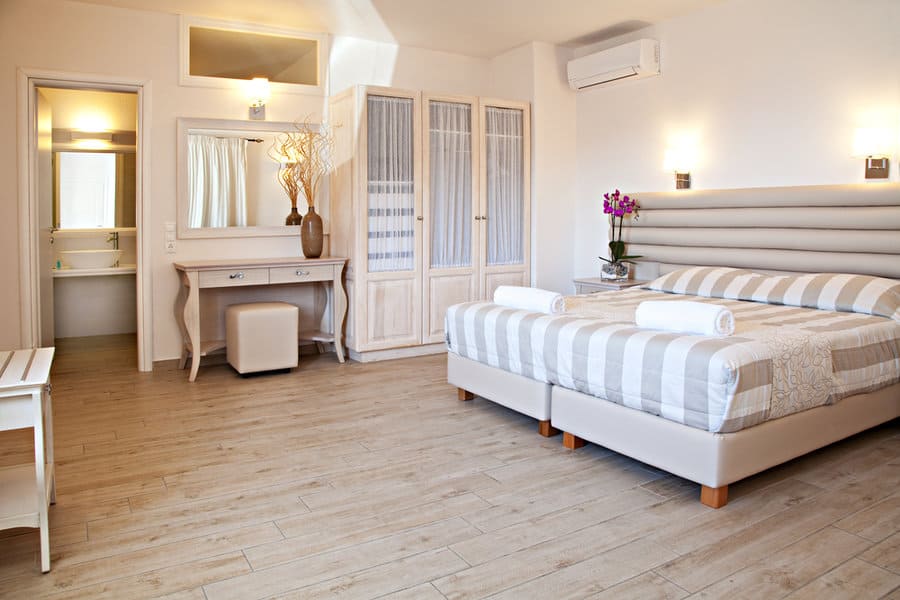 6. Luxury Wood Flooring
When it comes to creating a dreamy sanctuary in your bedroom, the right flooring can make all the difference. One option that exudes elegance and sophistication is luxury wood flooring. With its natural beauty and timeless appeal, luxury wood flooring adds warmth and character to any bedroom. Consider options like pine, oak, or teak, which not only bring a touch of natural beauty but also offer durability and longevity.
The rich tones and unique grain patterns of these wood species create a captivating visual texture that complements a variety of design styles, from modern to rustic. Imagine waking up to the soft, warm touch of wood beneath your feet, adding a sense of luxury and comfort to your morning routine.
Whether you prefer light, airy hues or deep, dark shades, luxury wood flooring provides a versatile canvas for your bedroom decor. Paired with plush area rugs or sleek furniture, it creates a harmonious balance of textures, elevating the overall aesthetic of your space.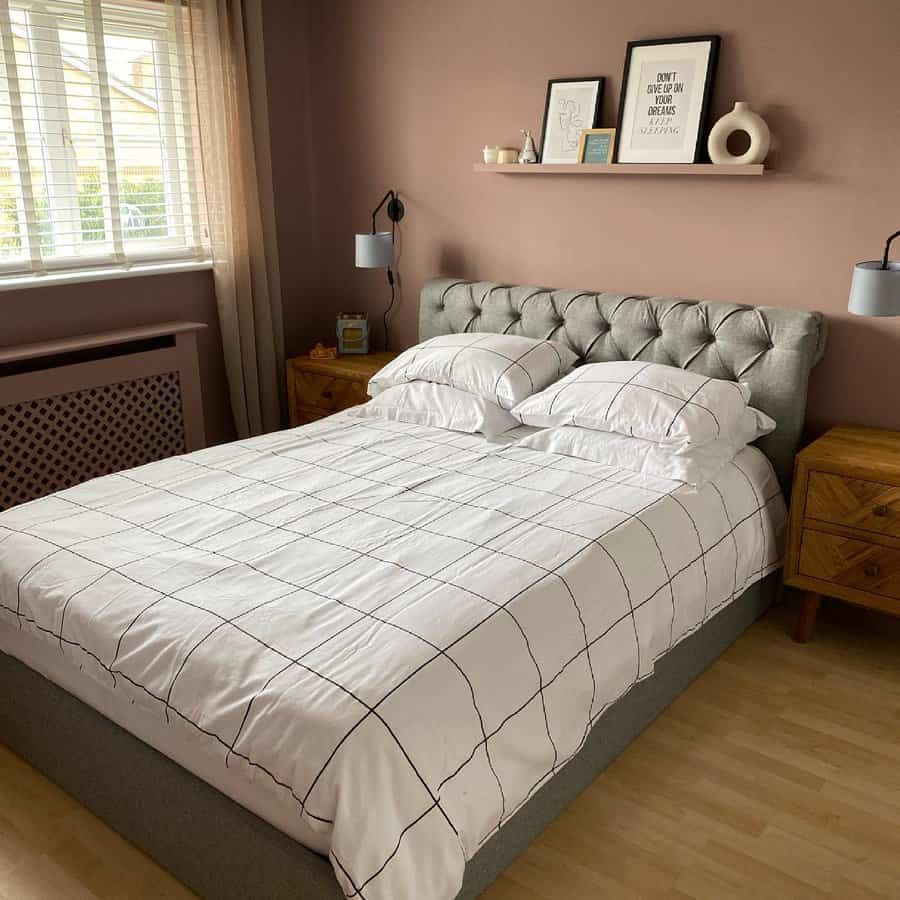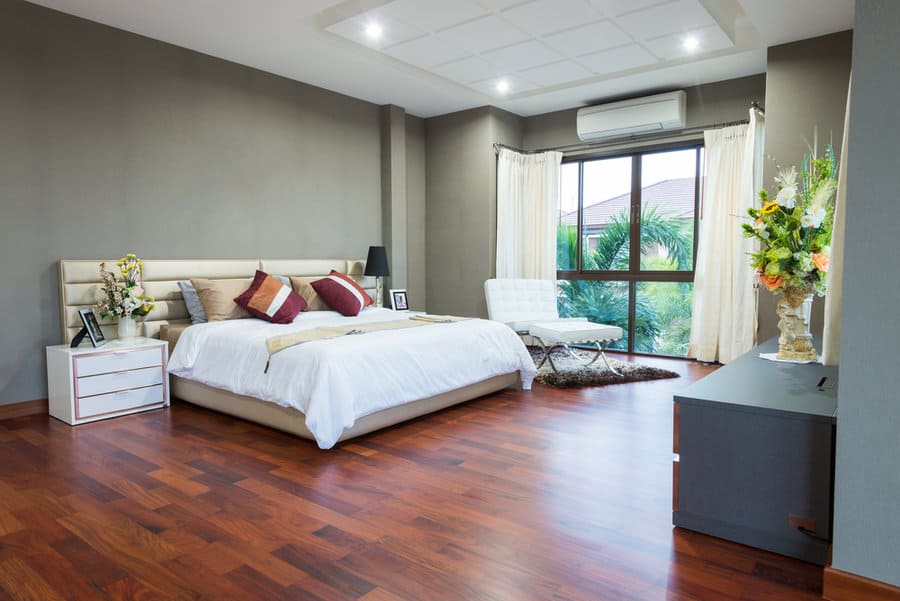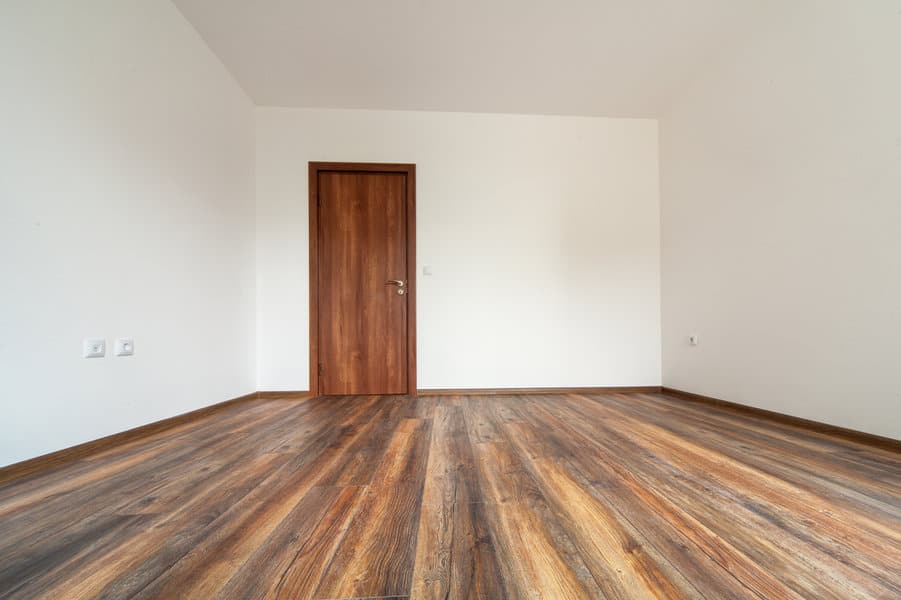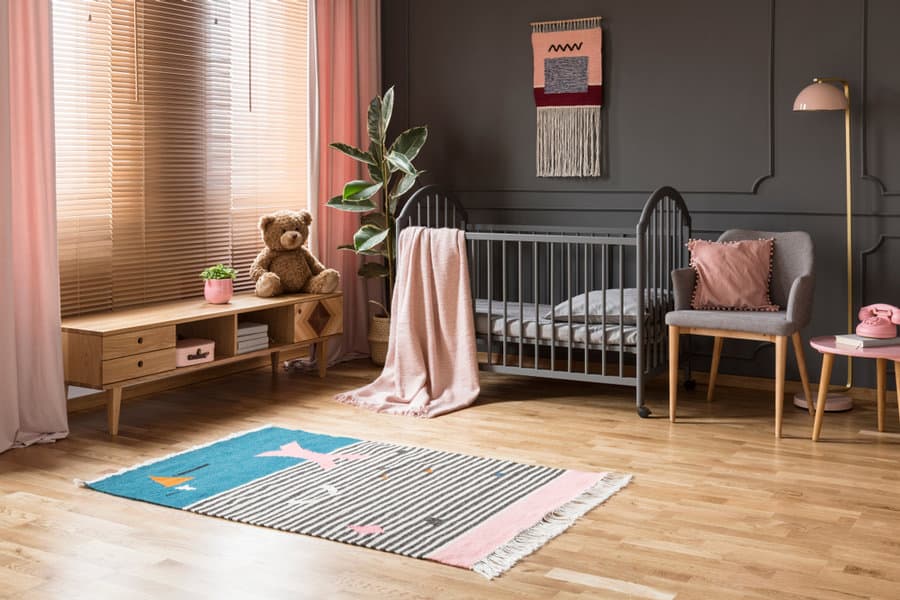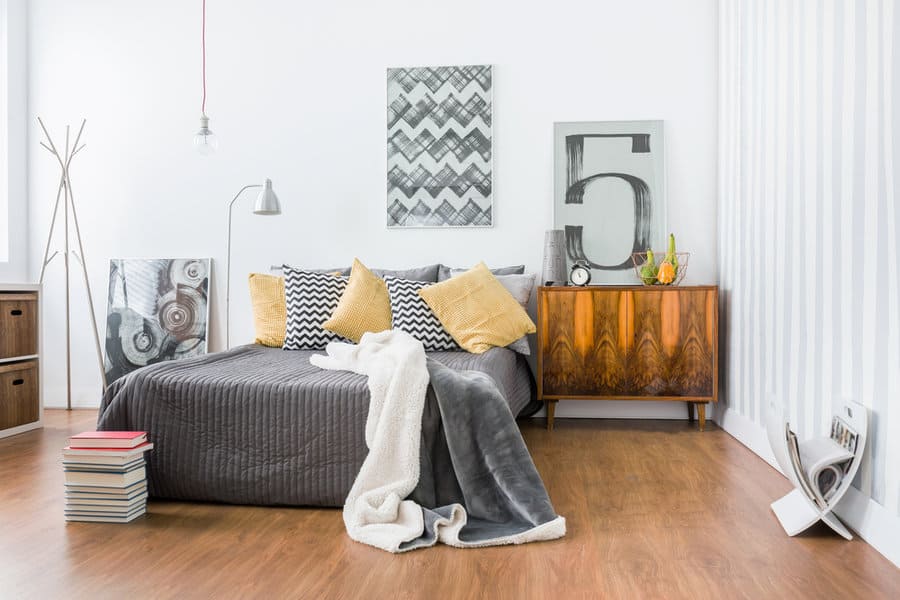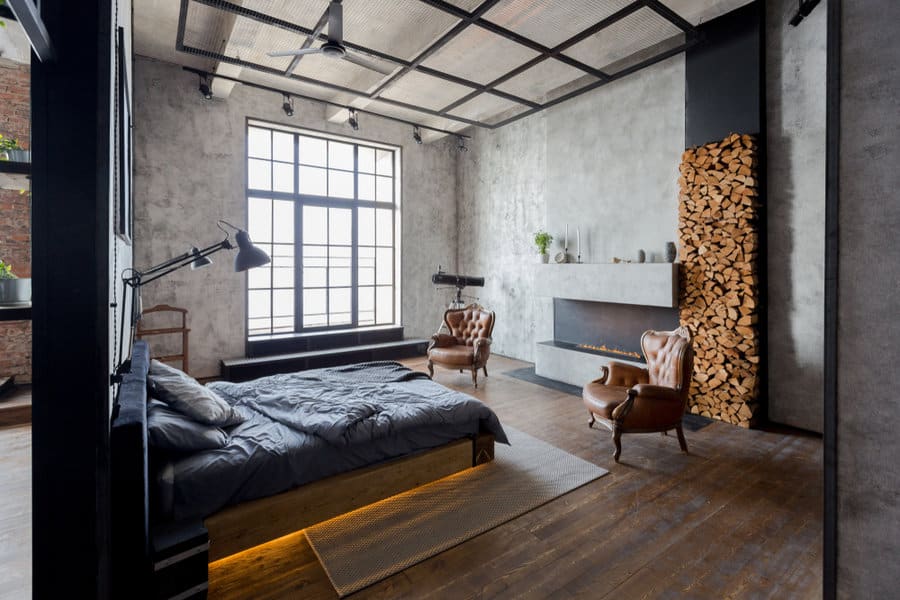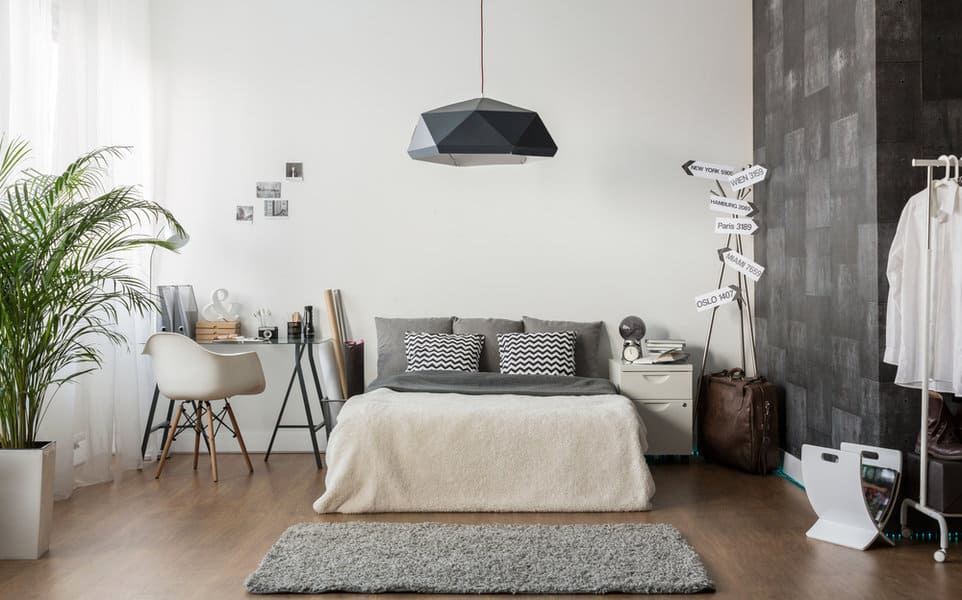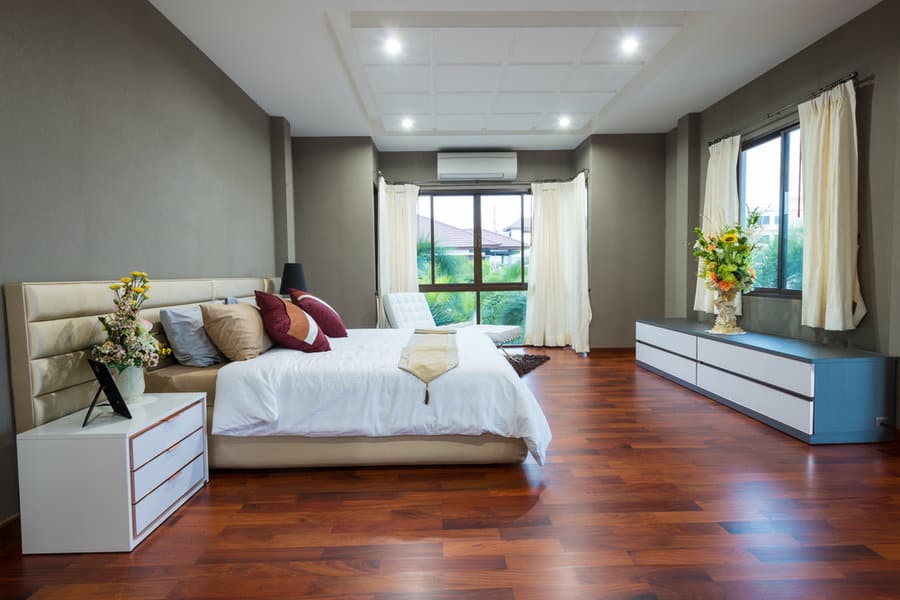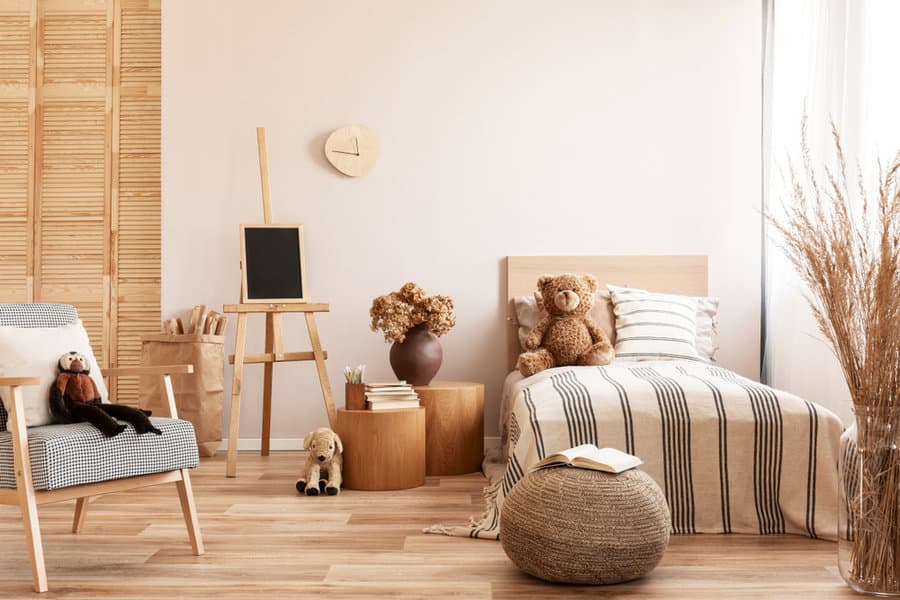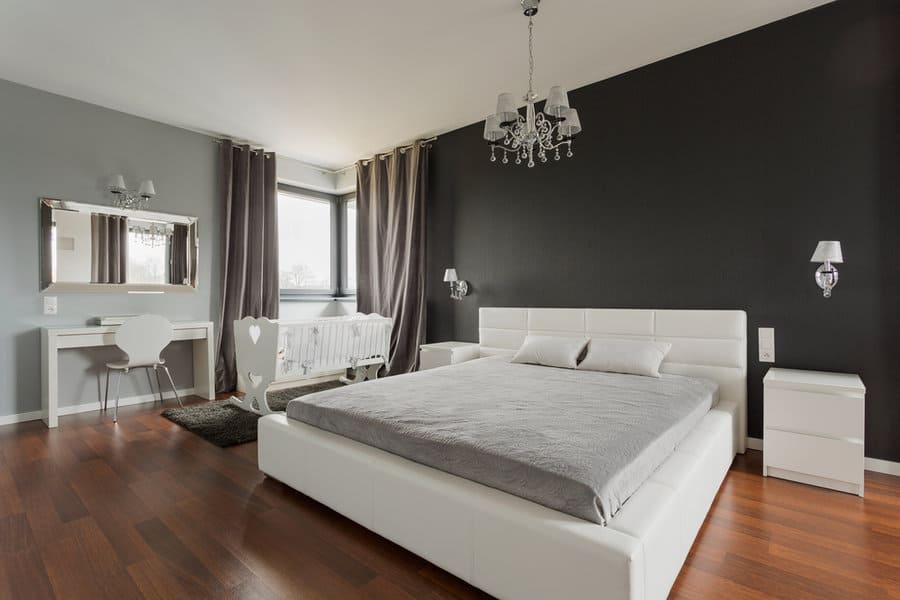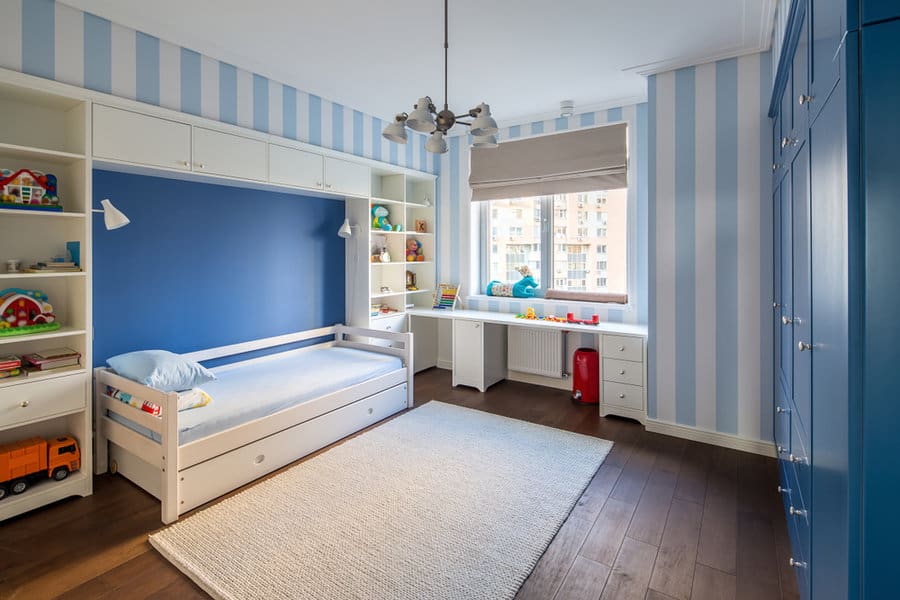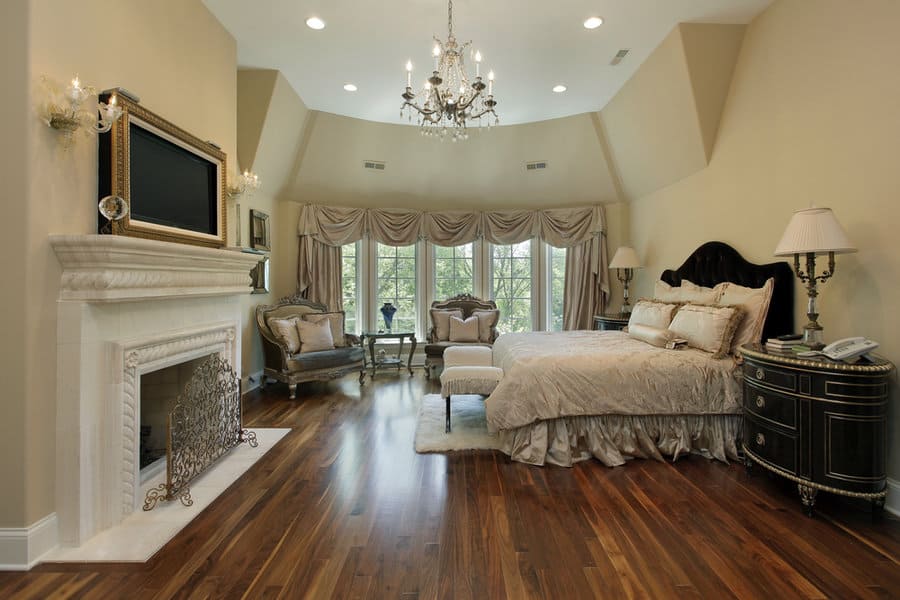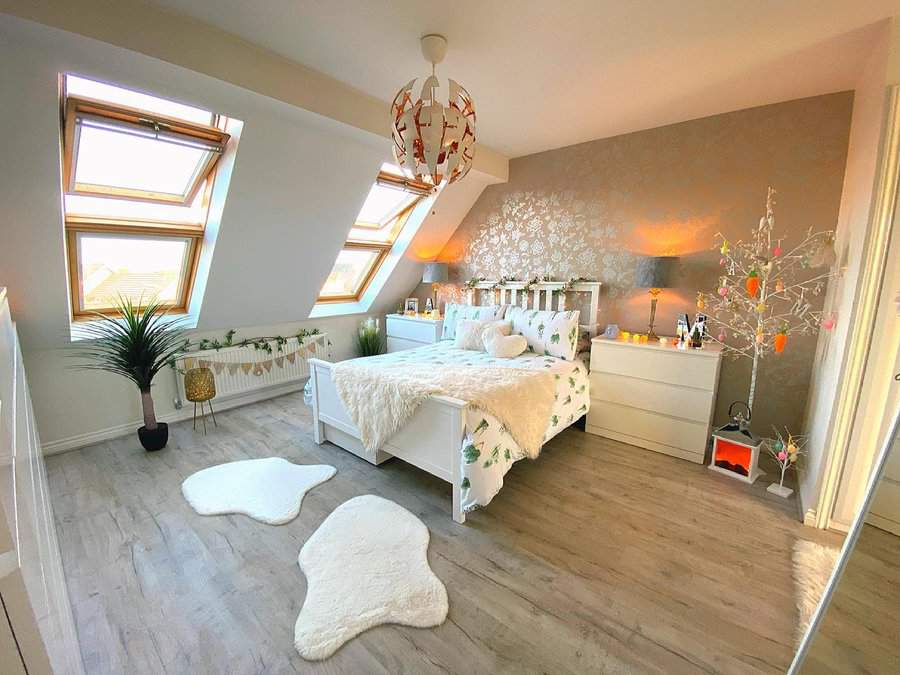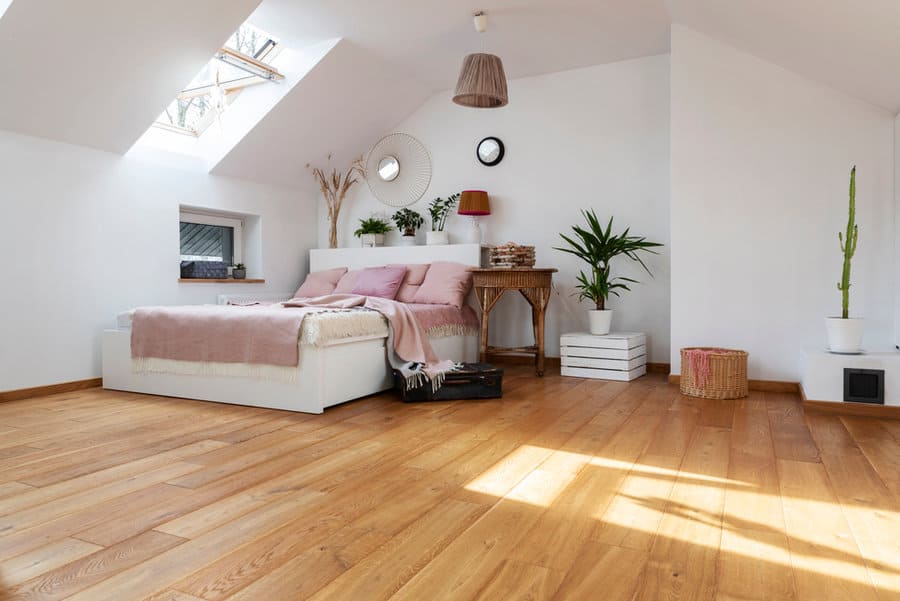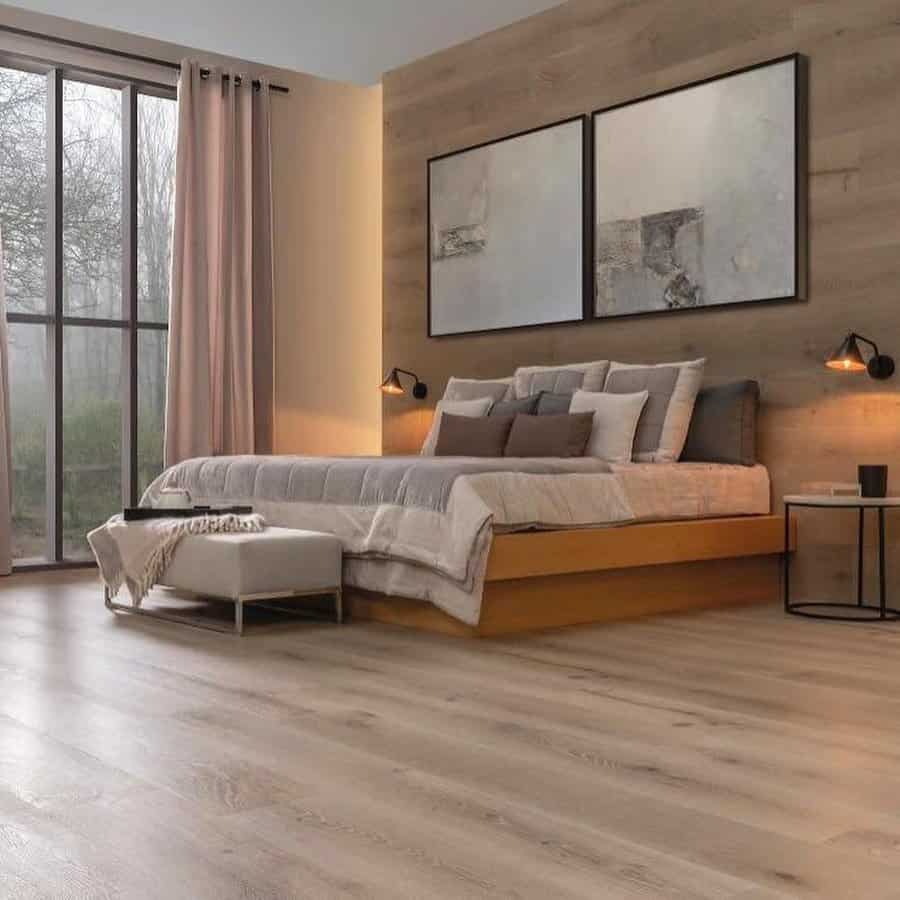 7. Marble Flooring
Marble flooring is the epitome of chic and stylish design, instantly elevating any bedroom into a haven of elegance. Imagine waking up every morning and stepping onto the smooth, cool surface of marble, its veining patterns adding a touch of natural artistry to your space. Not only does marble flooring exude opulence, but it also offers durability and easy maintenance, making it a practical choice for busy individuals who refuse to compromise on style.
The natural variations in color and texture of marble create a unique and personalized atmosphere, allowing you to showcase your individuality and design aesthetic. Whether you opt for classic white marble for a clean and timeless look or embrace the dramatic allure of black marble for a bold statement, this flooring choice will instantly transform your bedroom into a sanctuary of sophistication.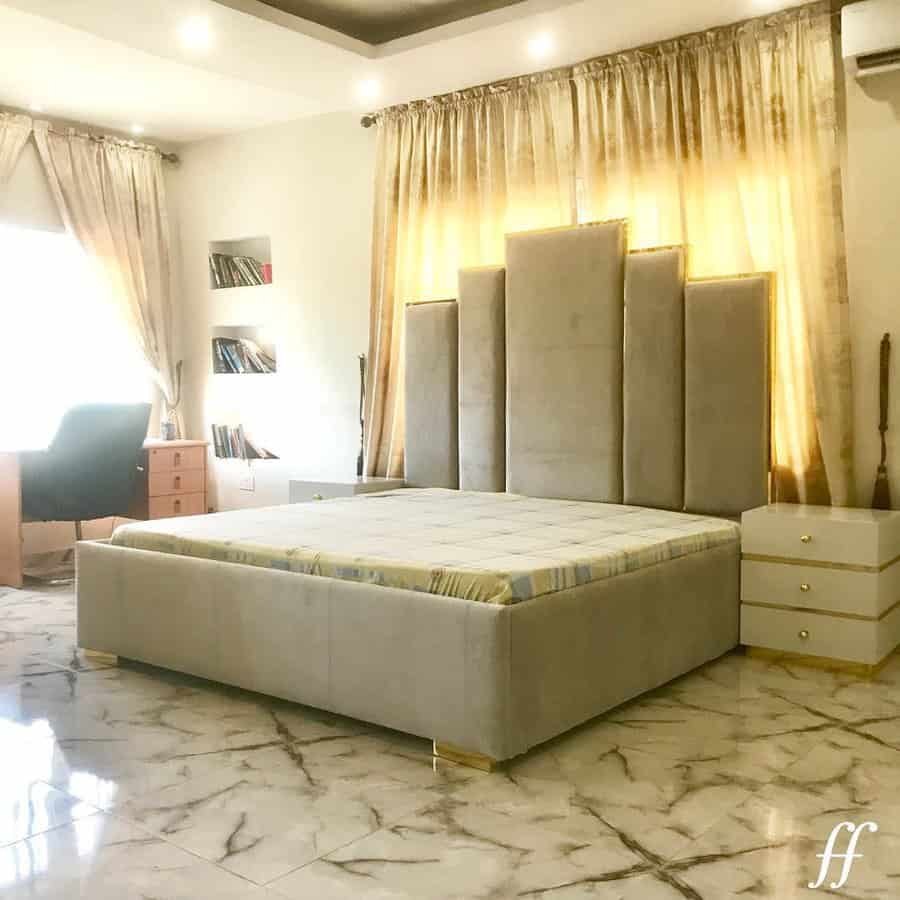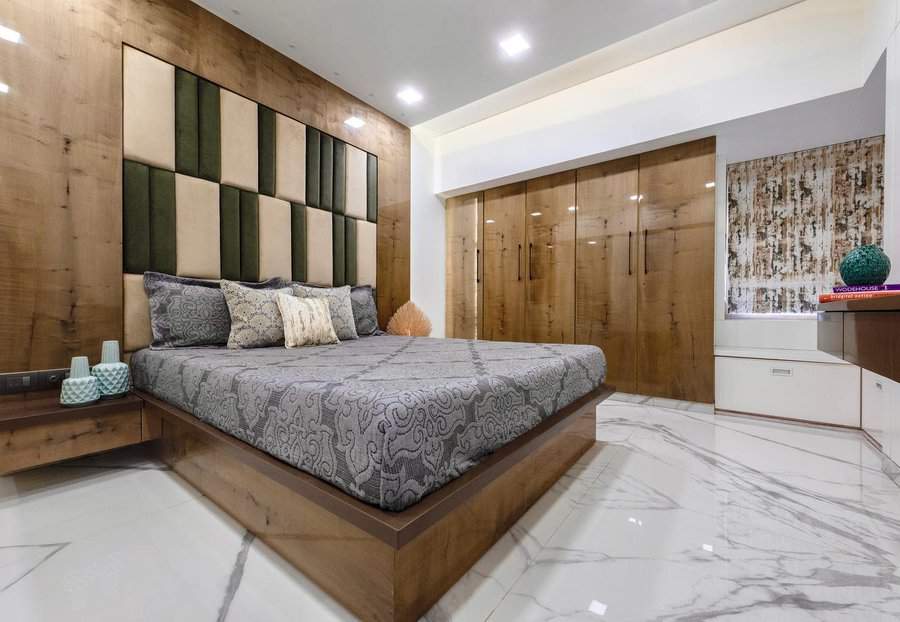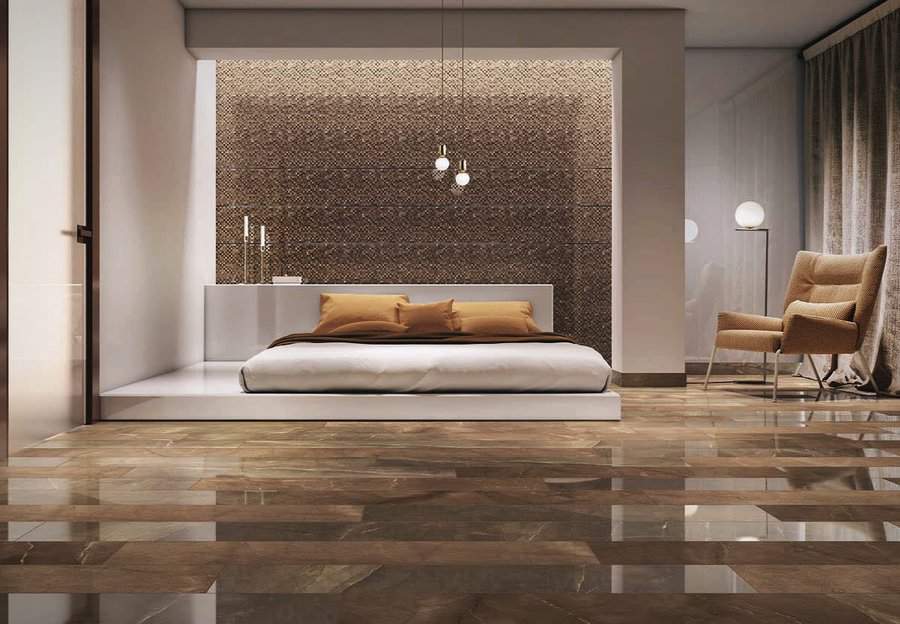 8. Cobblestone Bricks
Cobblestone flooring brings a touch of history and character to your bedroom, creating a space that is truly one-of-a-kind. The irregular shapes and worn textures of the bricks lend an authentic vintage look that instantly adds depth and charm to any room. Whether you choose warm earth tones or cool gray hues, cobblestone flooring creates a cozy and inviting atmosphere that pairs beautifully with both traditional and modern decor.
Not only does it offer visual appeal, but the durability and longevity of cobblestone make it a practical choice for bedroom flooring. So, if you're seeking a flooring option that goes beyond the ordinary and captures the essence of bygone eras, cobblestone bricks are a perfect choice.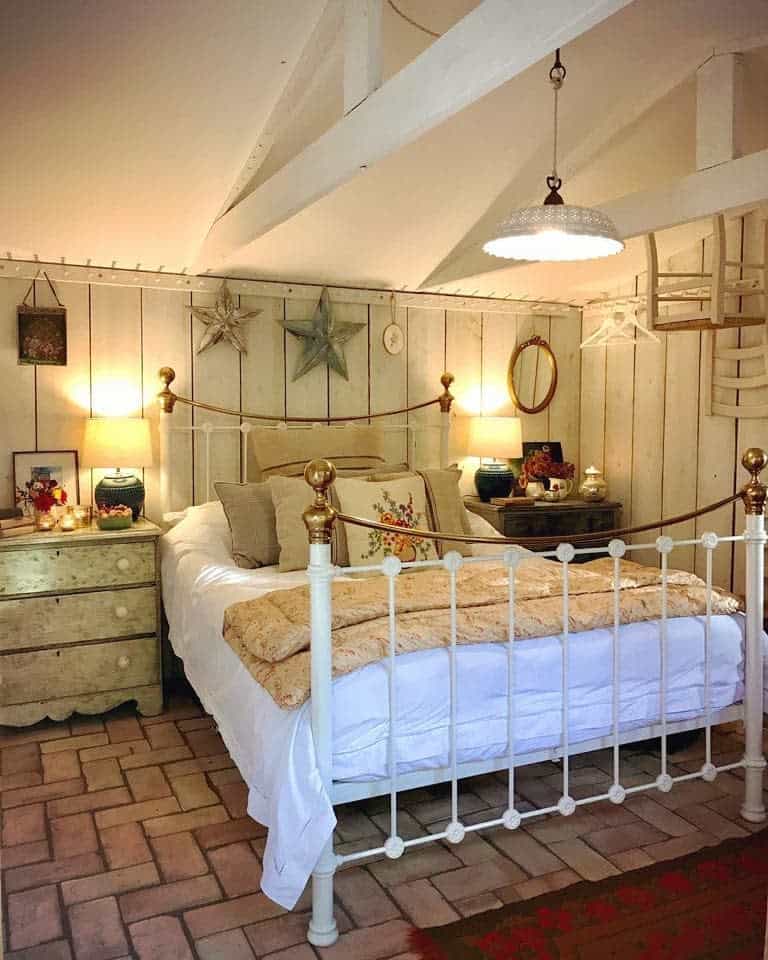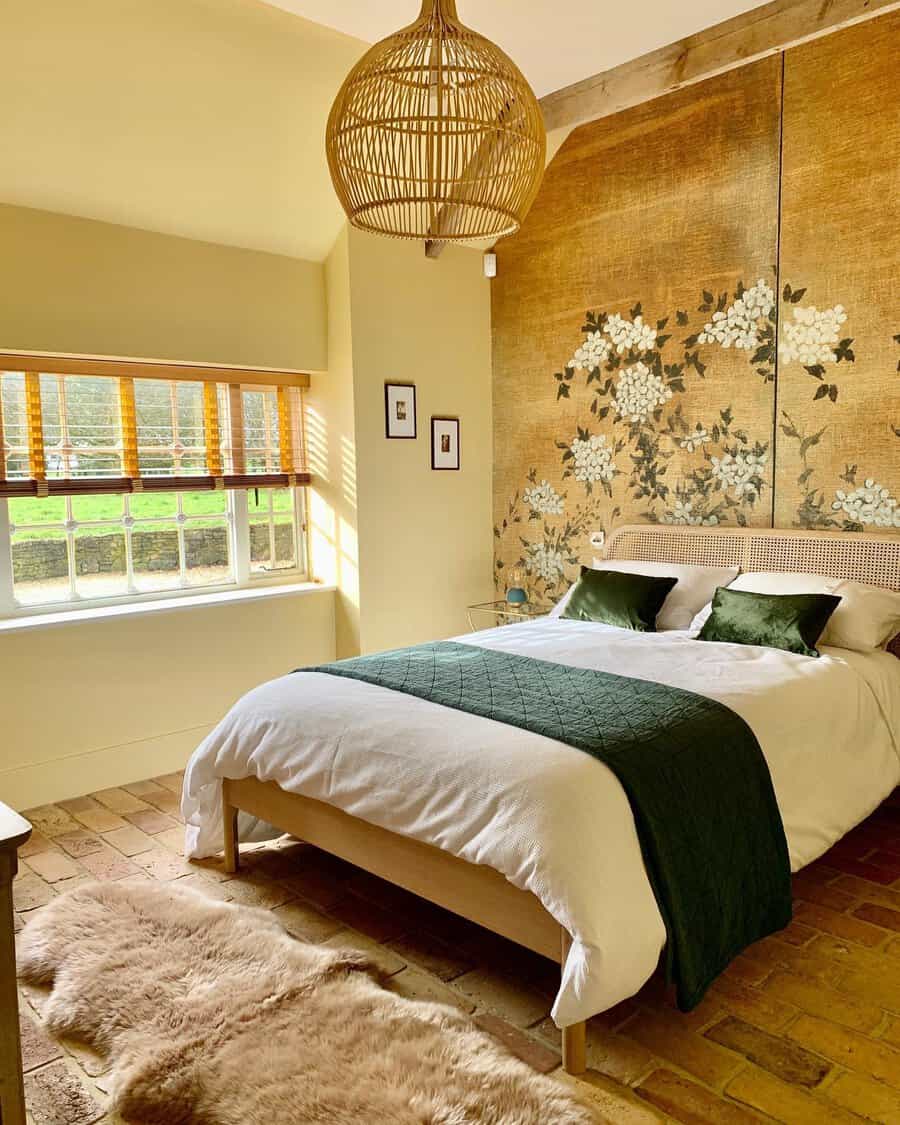 9. Decorative Tiles
When it comes to creating a chic and stylish bedroom, don't overlook the power of decorative flooring. Instead of settling for plain and ordinary options, consider flooring that features captivating patterns. Think beyond traditional hardwood or carpet, and embrace the beauty of intricate designs, geometric shapes, or artistic motifs. Whether you choose mosaic tiles, patterned vinyl, or even hand-painted concrete, decorative flooring adds a unique flair to your bedroom.
It becomes a statement piece that sets the tone for the entire space, showcasing your personality and creativity. With a wide range of patterns available, you can find one that complements your overall bedroom theme and color scheme. From bold and vibrant patterns that create a lively atmosphere to subtle and delicate designs that add a touch of elegance, the possibilities are endless.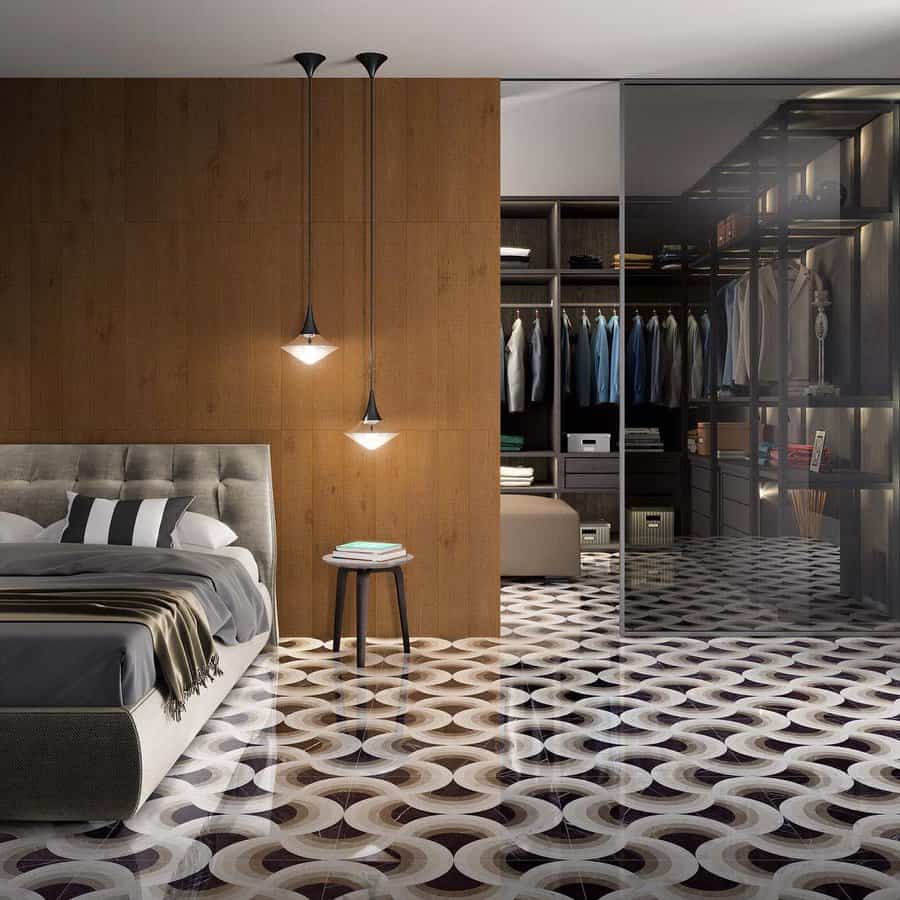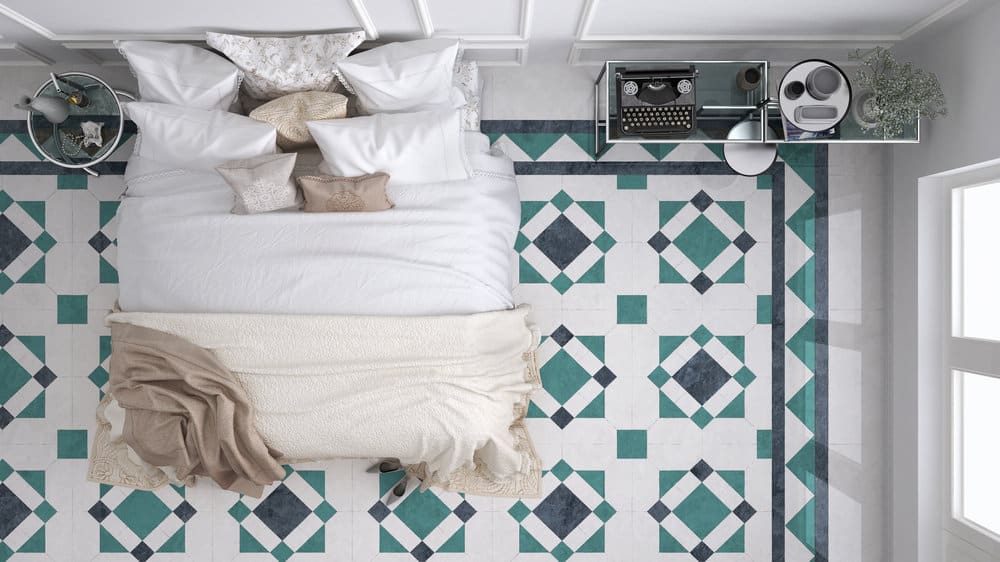 10. Travertine Flooring
With its classic appeal and versatile nature, travertine flooring is the perfect choice to elevate the aesthetic of your bedroom. Imagine waking up and stepping onto the smooth, cool surface of the travertine, creating a luxurious and inviting atmosphere. The natural variations in the color and texture of travertine add depth and character to your space, making each step a visual delight. Whether you opt for a polished or honed finish, travertine brings an element of sophistication to your bedroom.
Its neutral tones blend seamlessly with various decor styles, allowing you to unleash your creativity and personalize your space. From modern and minimalistic to bohemian and eclectic, travertine flooring effortlessly adapts to your unique design vision. Not only does travertine flooring exude elegance, but it also offers durability and longevity, ensuring your bedroom remains a stylish sanctuary for years to come.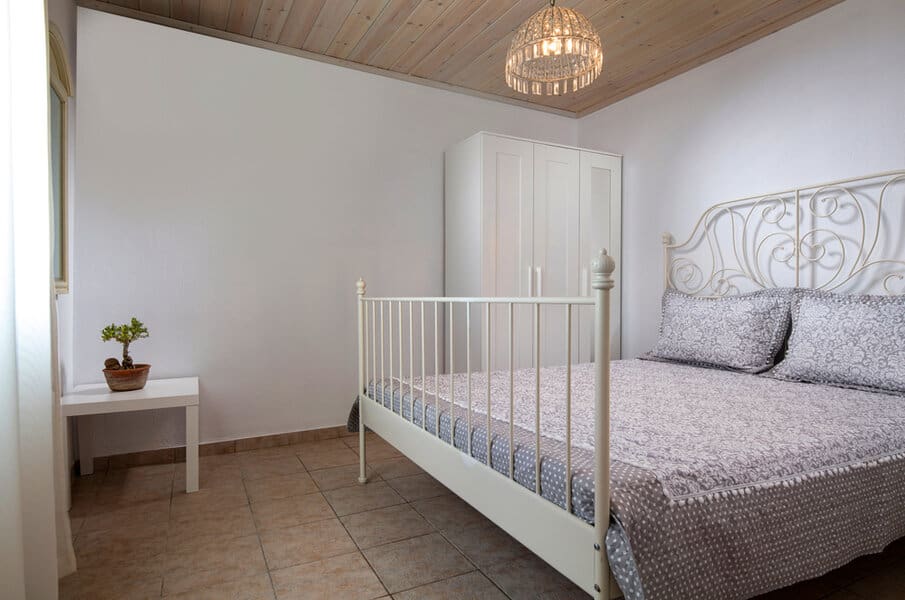 11. White Wood Panel Flooring
If you're yearning for a space that exudes a bright and airy ambiance, consider the allure of white wood panel flooring. This chic and stylish choice instantly elevates your bedroom's aesthetic, creating a serene and calming atmosphere. The solid white flooring brings a sense of purity and freshness, reflecting natural light and enhancing the overall brightness of the room.
The clean lines and smooth surface of the wood panels add a touch of modern elegance, effortlessly blending with various decor styles. Whether your bedroom is adorned with minimalist furniture or filled with bohemian accents, white wood panel flooring serves as a versatile backdrop, allowing your design creativity to flourish. Imagine stepping onto the soft and pristine floor every morning, feeling a sense of tranquility envelop you as you begin your day.