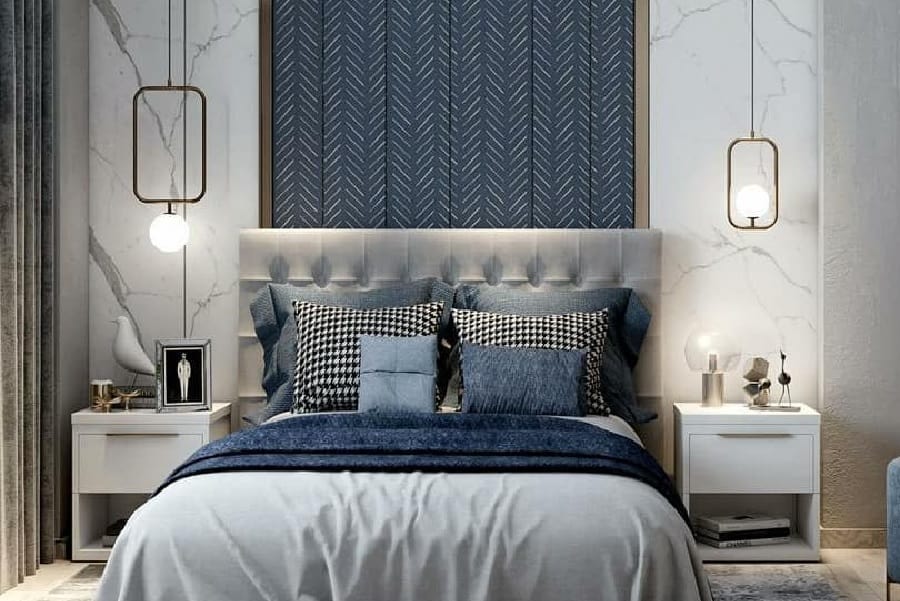 The Top 36 Bedroom Lighting Ideas
If the only light in your bedroom is on the ceiling fan, then you are doing yourself and your bedroom a disservice. This isn't enough light to make your bedroom an enjoyable or functional place to be. What you need are other light sources that make the room brighter.
Task lighting adds focused light that can make it easier to perform activities like reading, putting on makeup, or working at a desk. Accent lighting is perfect for highlighting the unique features of the room.
These bedroom lighting ideas will help you turn a boring and dark bedroom into a well-lit and styled private space.
1. Crystal Chandelier
Transform your bedroom into an elegant oasis of relaxation with carefully chosen lighting. Add an air of sophistication with crystal chandeliers for a glamorous look. Whether you choose modern fixtures with sleek lines and minimalistic design or opt for something a bit more classic and ornate, the right kind of bedroom lighting can set the mood for your perfect evening retreat.
With today's trends focusing on elegant glam, crystal chandeliers are especially popular light fixtures for the bedroom; hung low in a modern setting for plenty of eye-catching sparkles that makes a bold statement.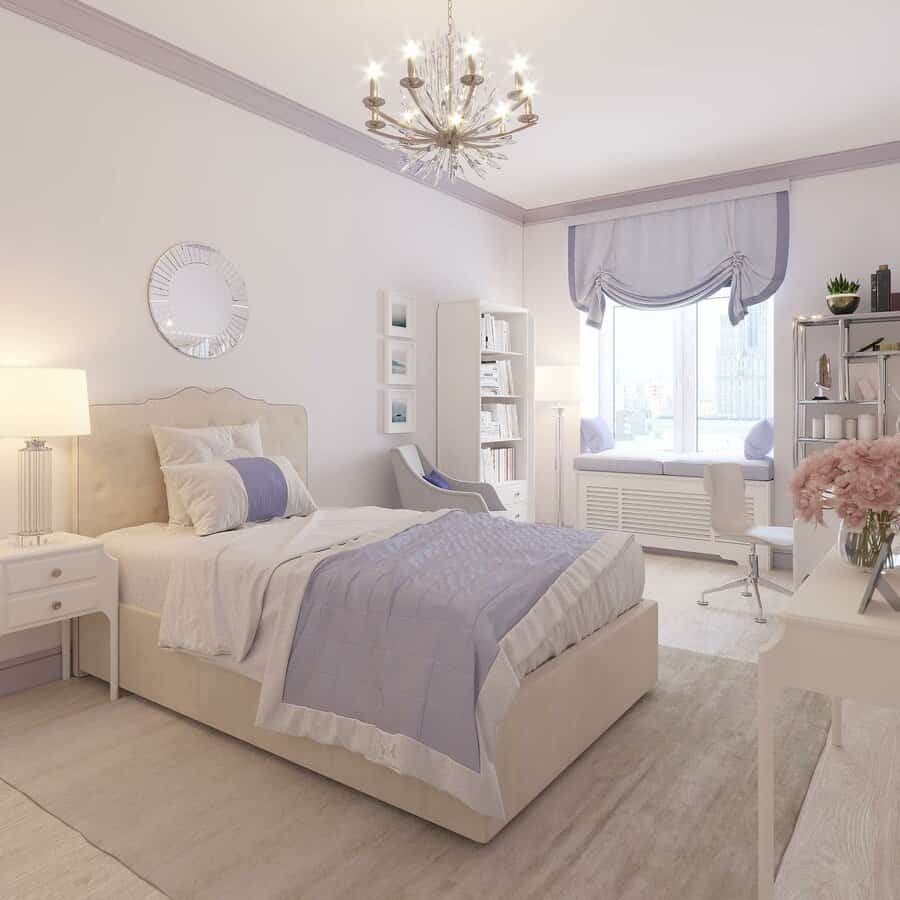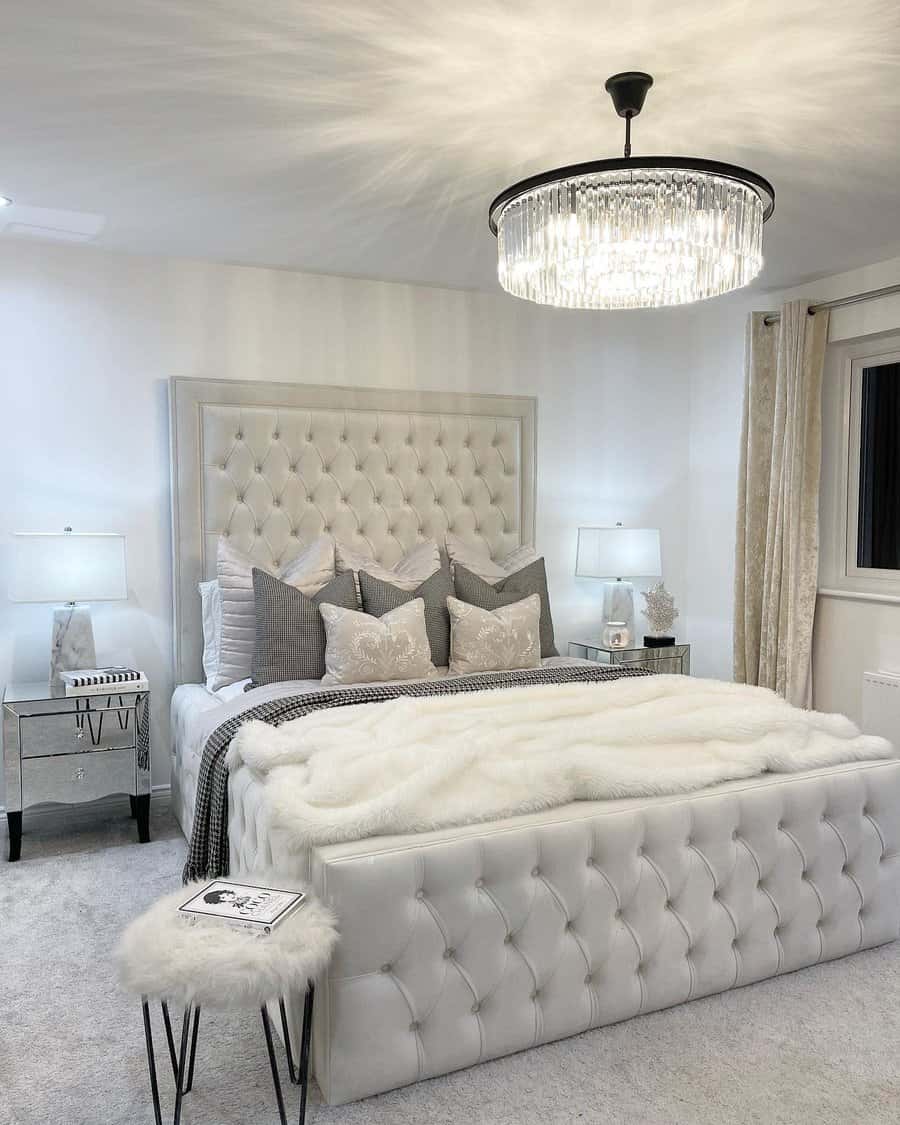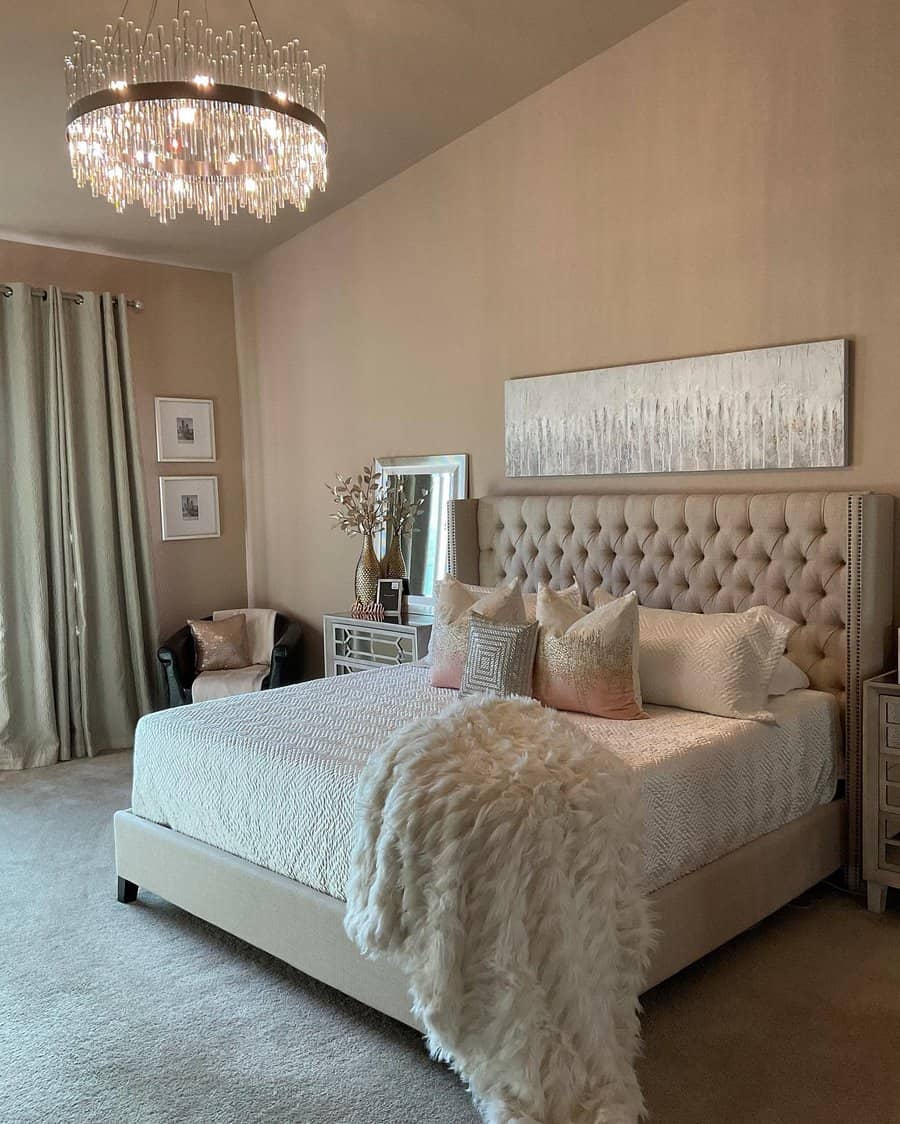 2. Black Minimalist Chandelier
If you're looking for a modern lighting solution for your Scandinavian style bedroom, why not try a black minimalist chandelier? They look beautiful when hung over the bed and really add something special to any room.
Plus, they're so versatile – you can use them to set a romantic mood, or they could easily become part of an eye-catching design wall. They're relatively inexpensive so they won't break the bank either. With this kind of look, your bedroom will be sure to get plenty of compliments.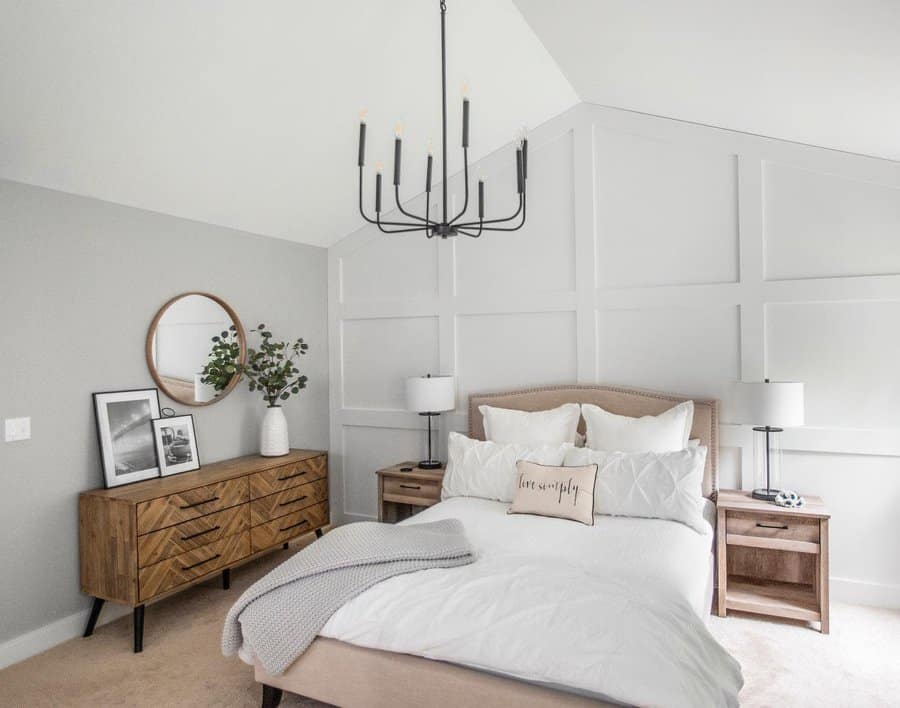 3. Candelabra-Style Chandelier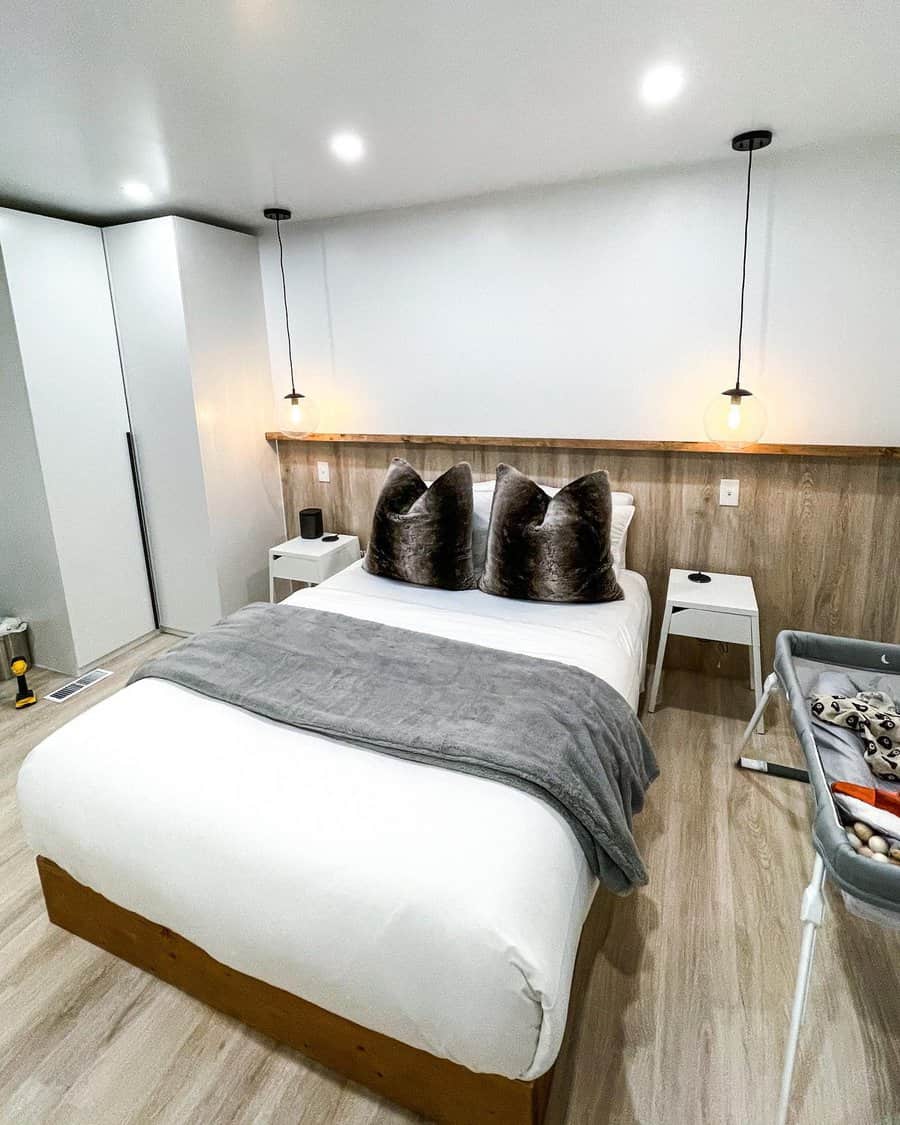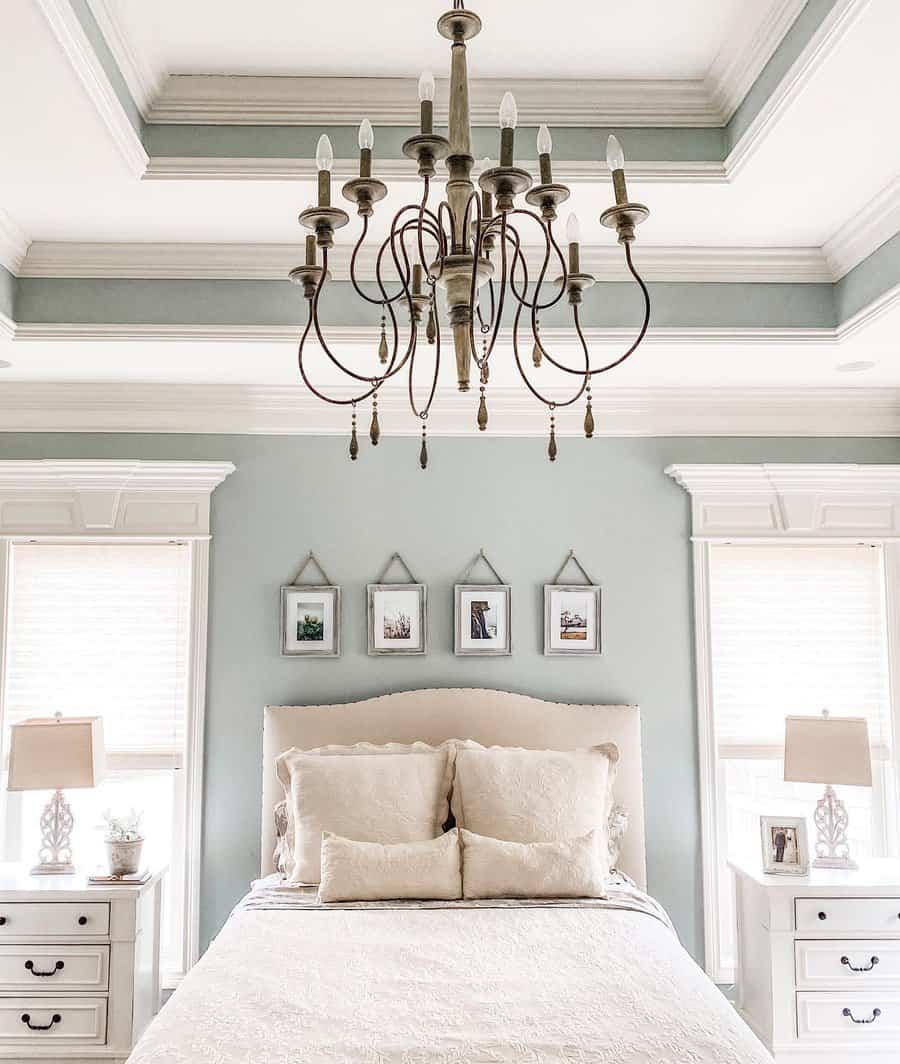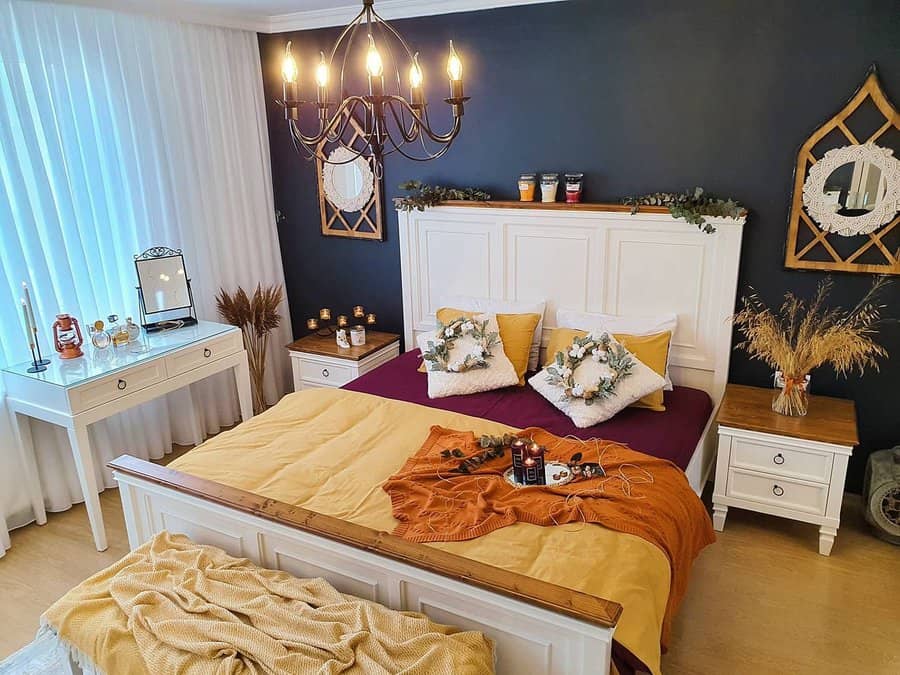 4. Flush Mount
Not sure how to light up your bedroom? Thinking of going with something traditional like a floor lamp or ceiling lights? Consider flush mount lighting for some modern glam!
Not only does this type of lighting come in a variety of shapes and styles, but it also gives off an even amount of illumination and will help you avoid shadows. Plus, flush mount lighting often has decorative touches that can make your bedroom extra chic. So why not give it a try and spruce up your space today?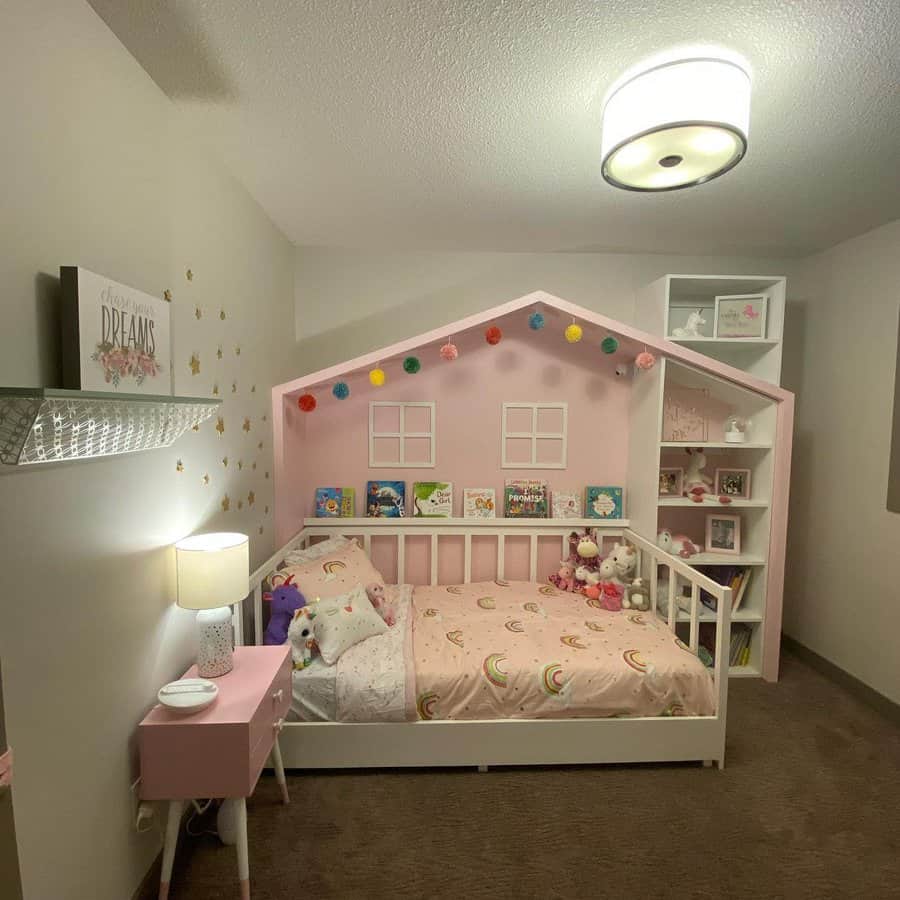 5. Wall Sconces
For those looking for creative ways to light up the bedroom, wall sconces can offer a great solution. Much more than just a single overhead light, this type of lighting allows you to create a tailored and artfully illuminated space that adds atmosphere and character.
Placed beside the bed, wall sconces provide ideal task lighting—not too bright, not too dim—without taking up precious surface area like a table lamp might. And with various sizes and styles available, from traditional to modern and beyond, you can find wall sconce lighting that perfectly complements your bedroom's overall look and feel.
Whether you place one on each side of the bed for uniform bedroom lighting or group a few together at different heights on the same wall for maximum style impact, adding this versatile option will help make your bedroom brighter than ever.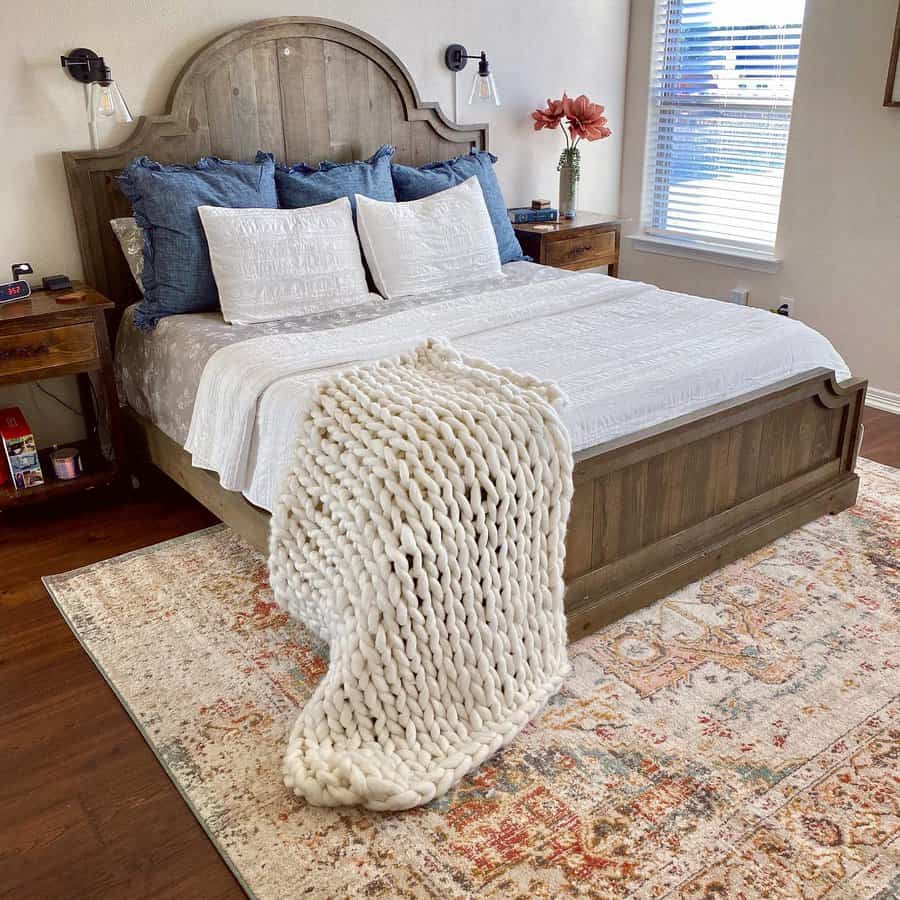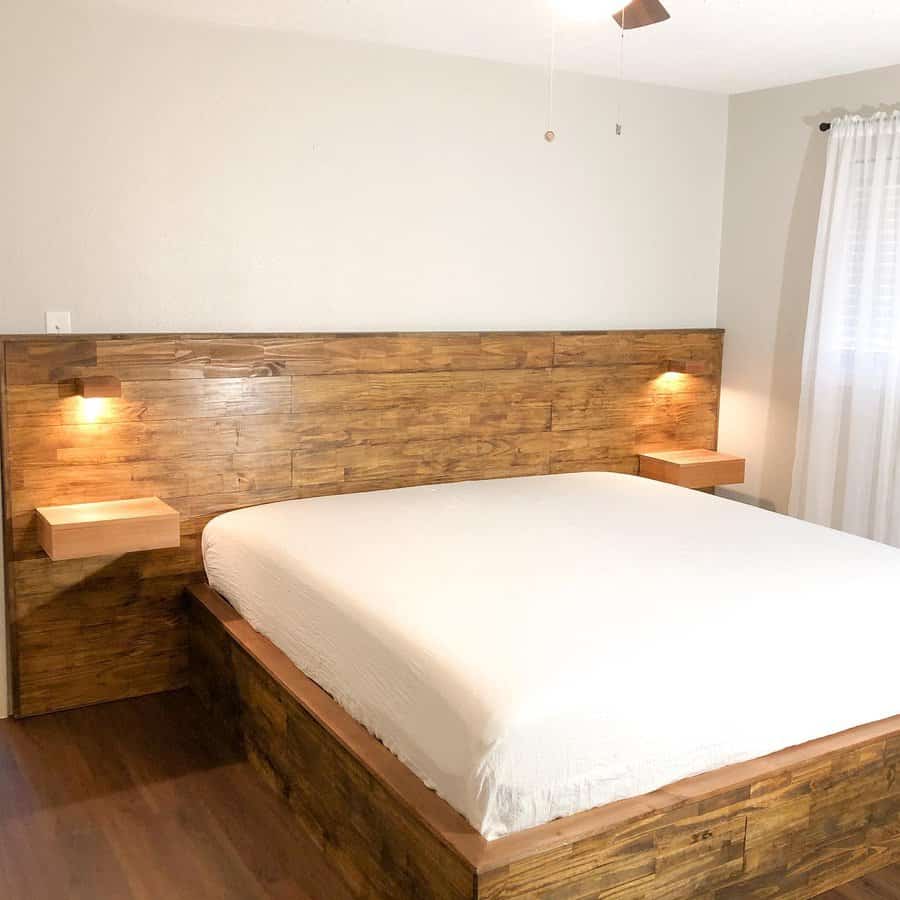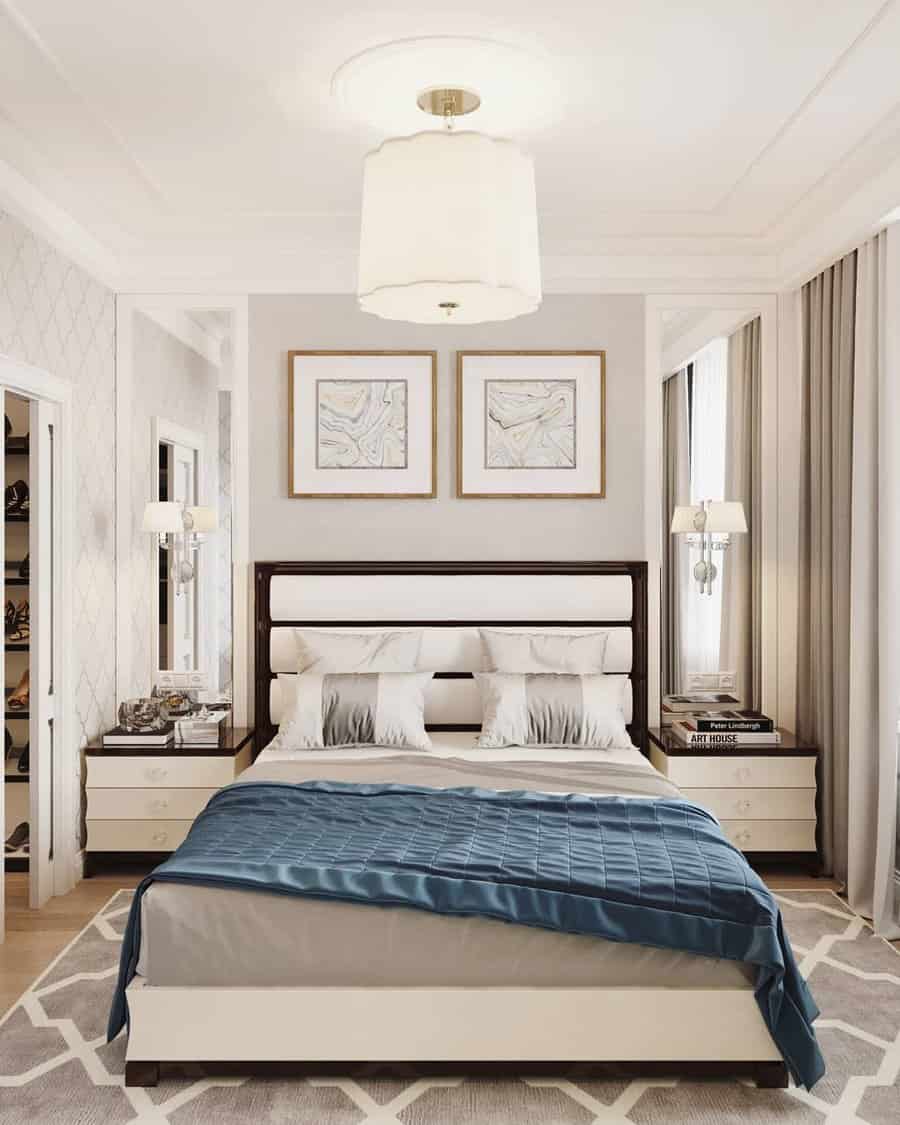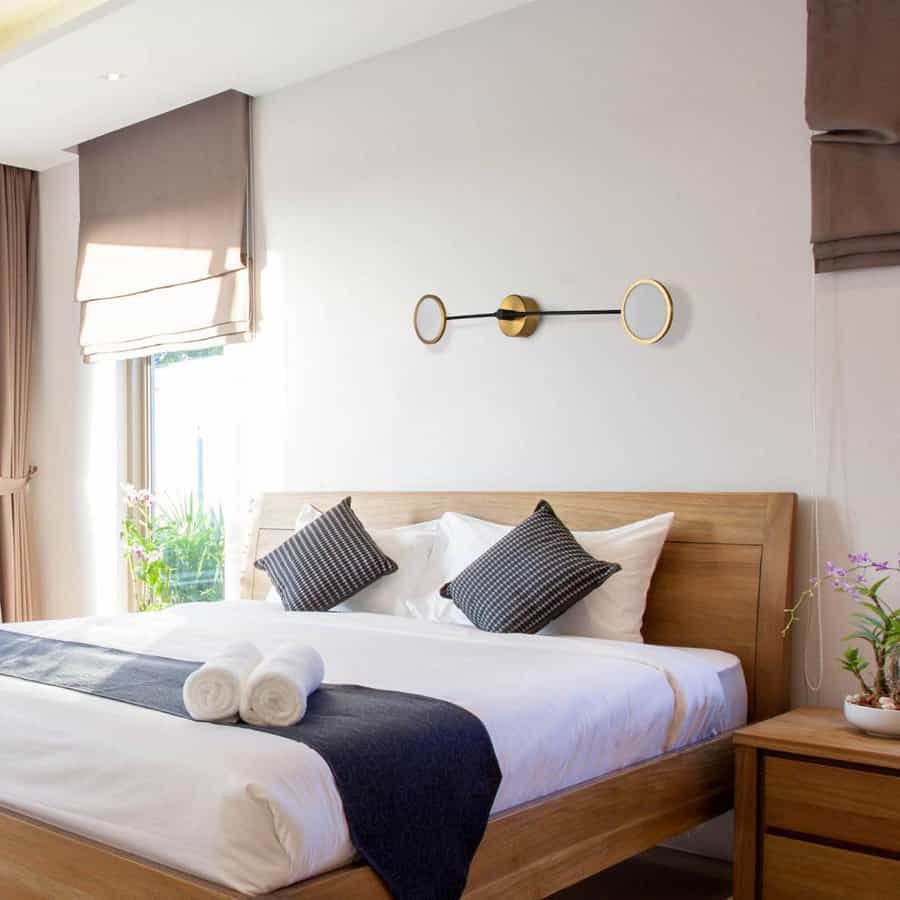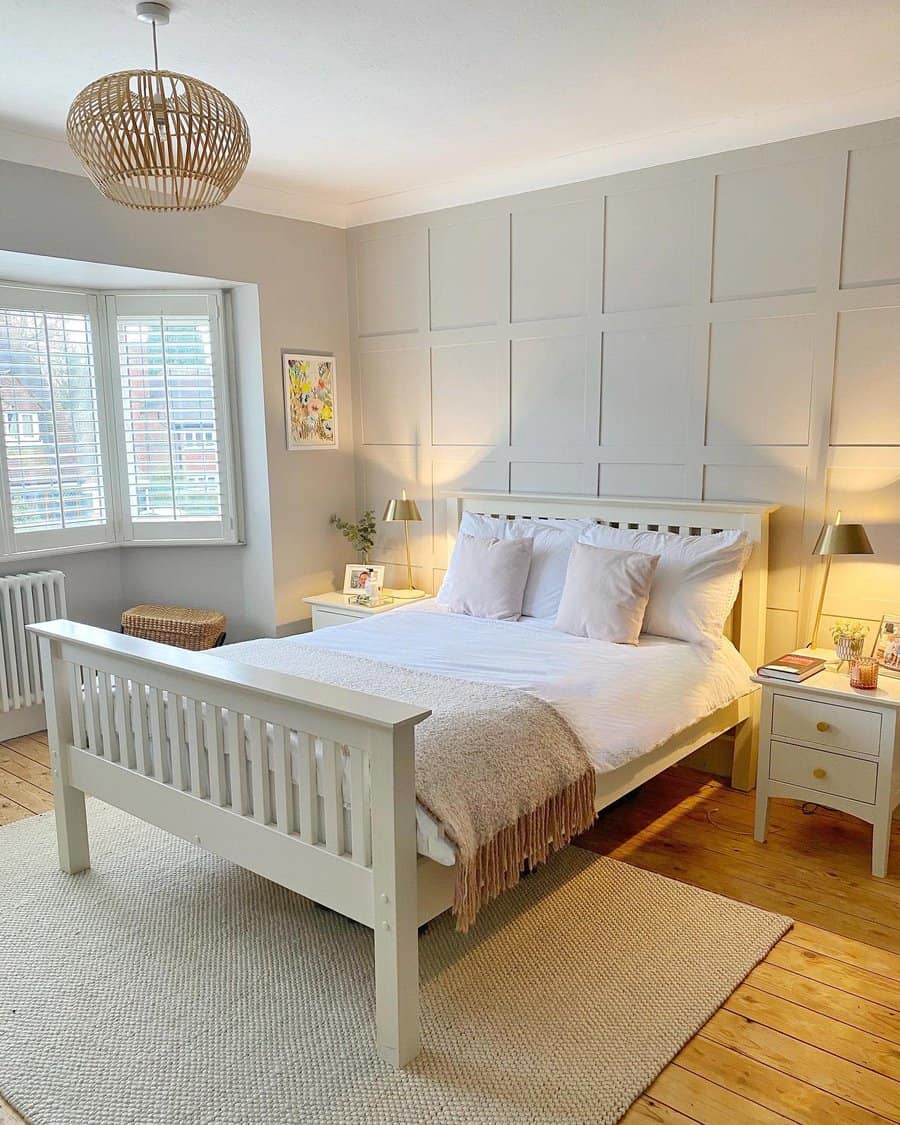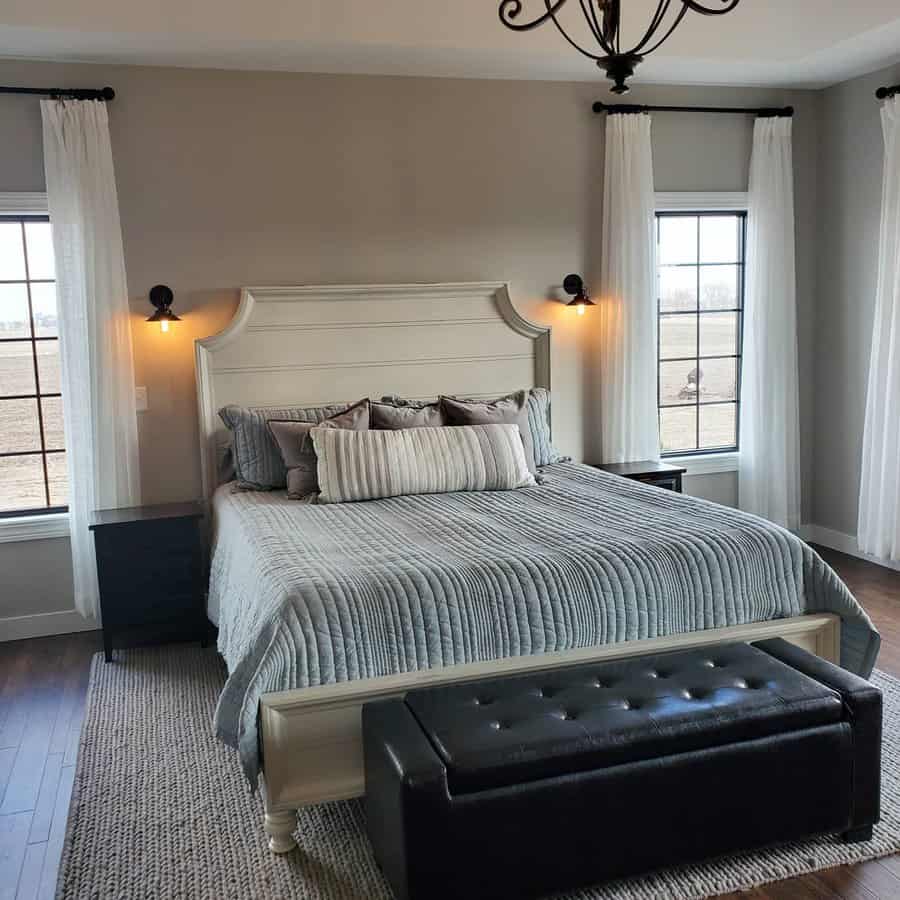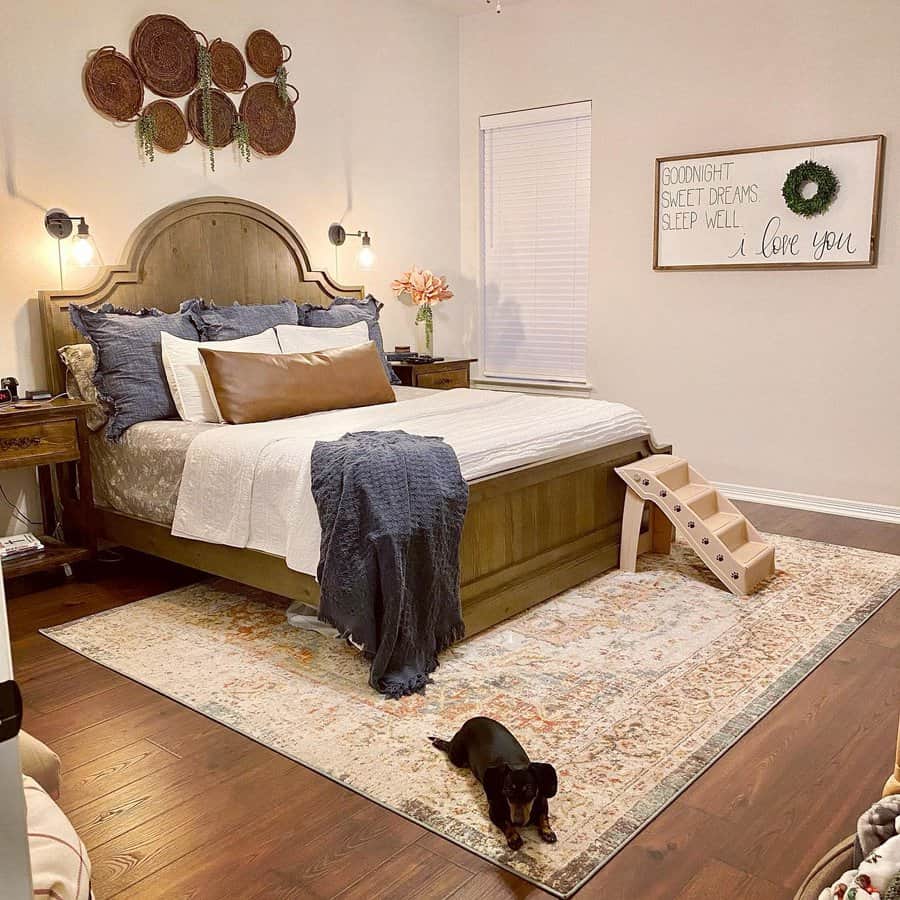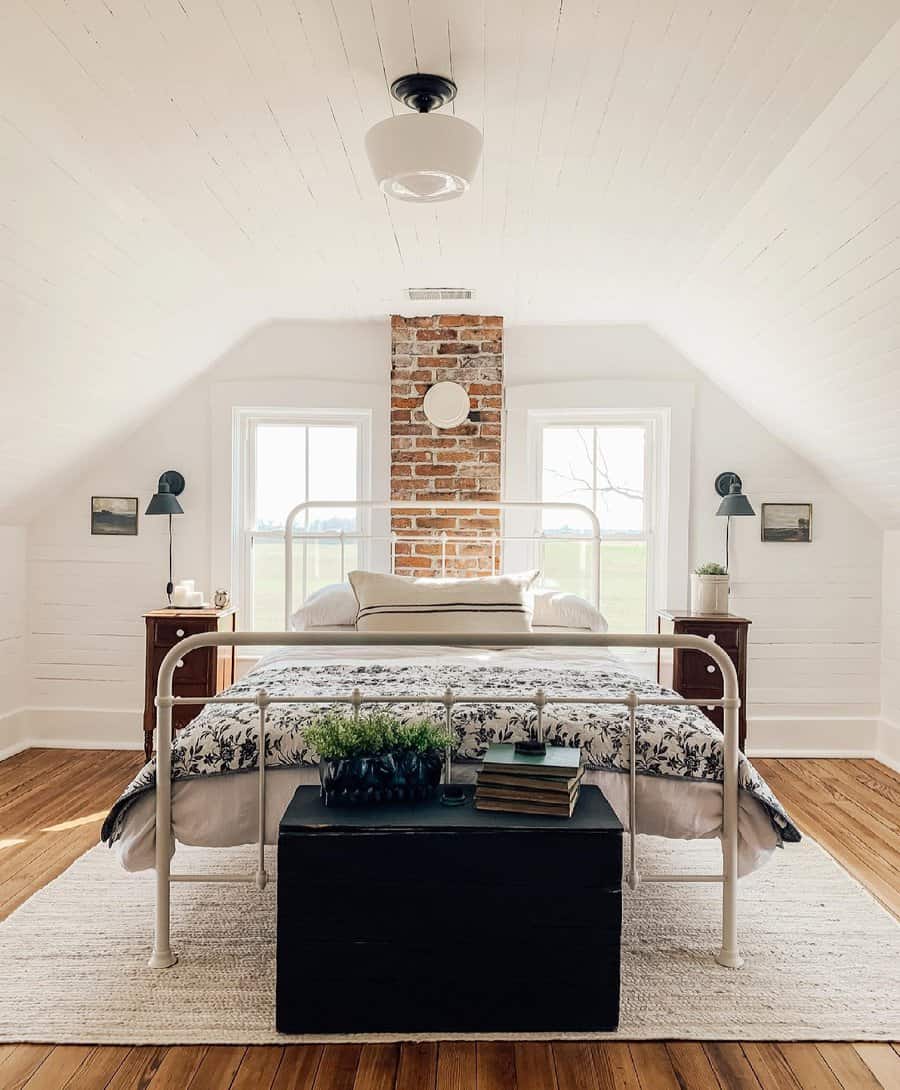 6. Hanging Bedside Lamp
When it comes to bedroom lighting ideas, the possibilities are truly endless! A great option to consider is a hanging bedside lamp. Not only does this provide a soft glow for midnight reading sessions or indulging in relaxation, but it also maximizes vertical space for those with small bedrooms.
To enhance the ambiance further, try adding additional decorative lighting with strings of fairy lights or standing lamps. Ultimately, having the right bedroom lighting can make all the difference!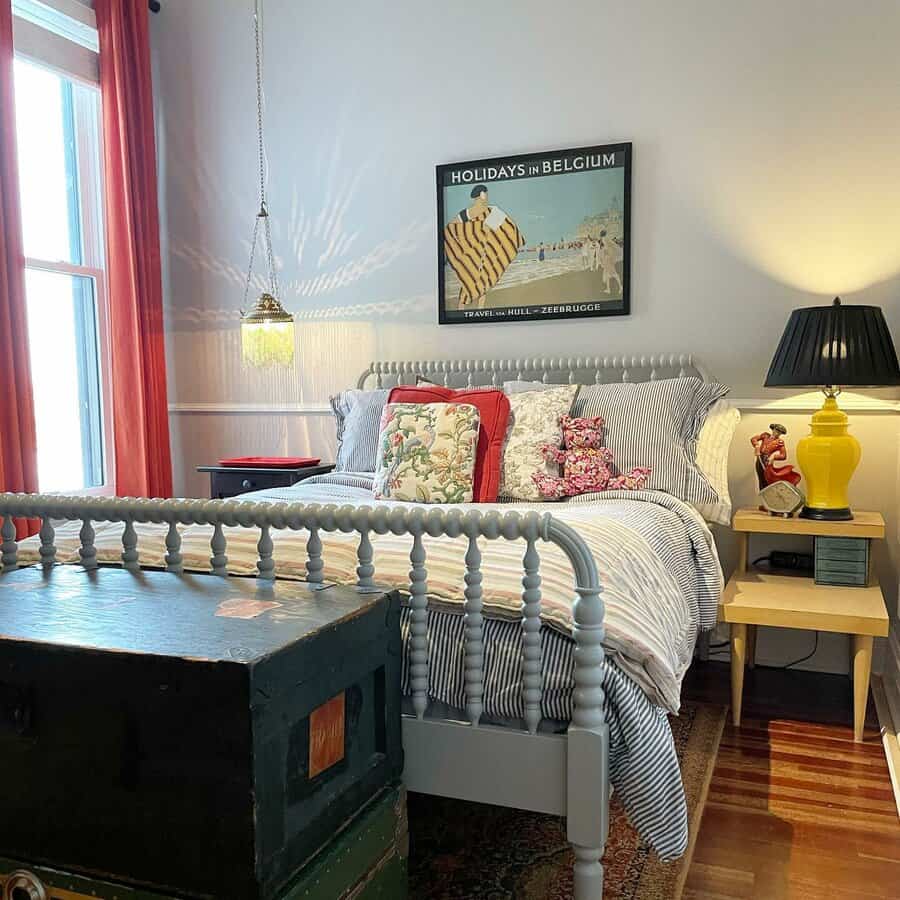 Source: @_anndesigner via Instagram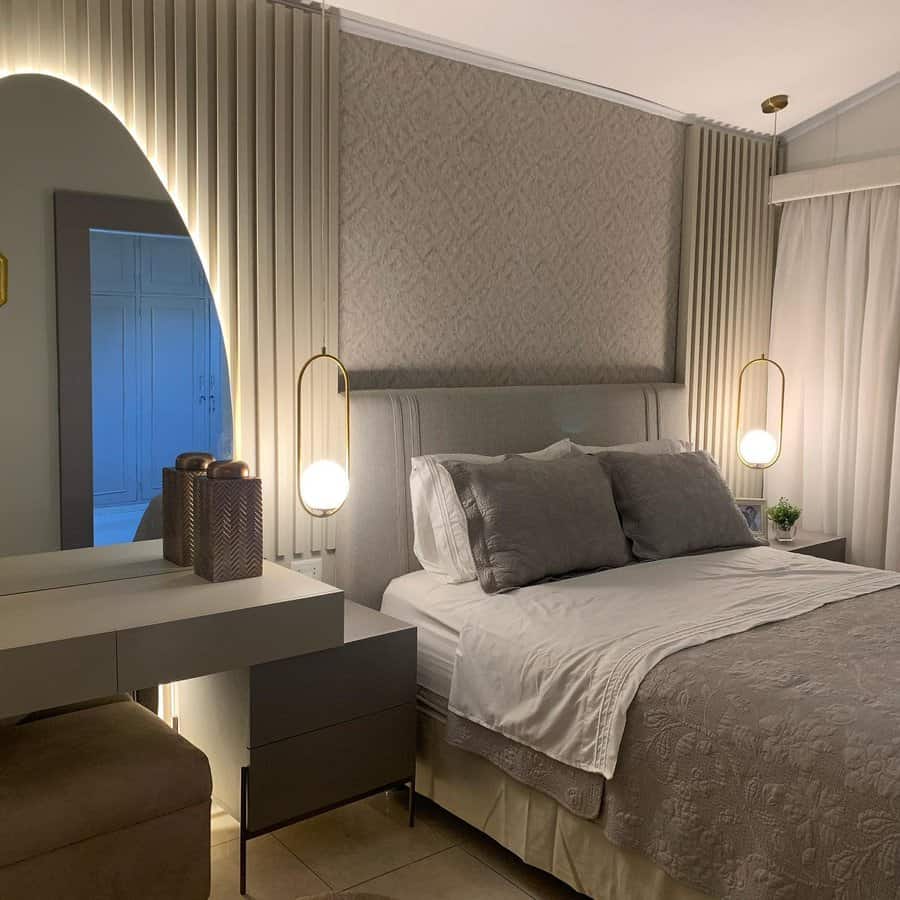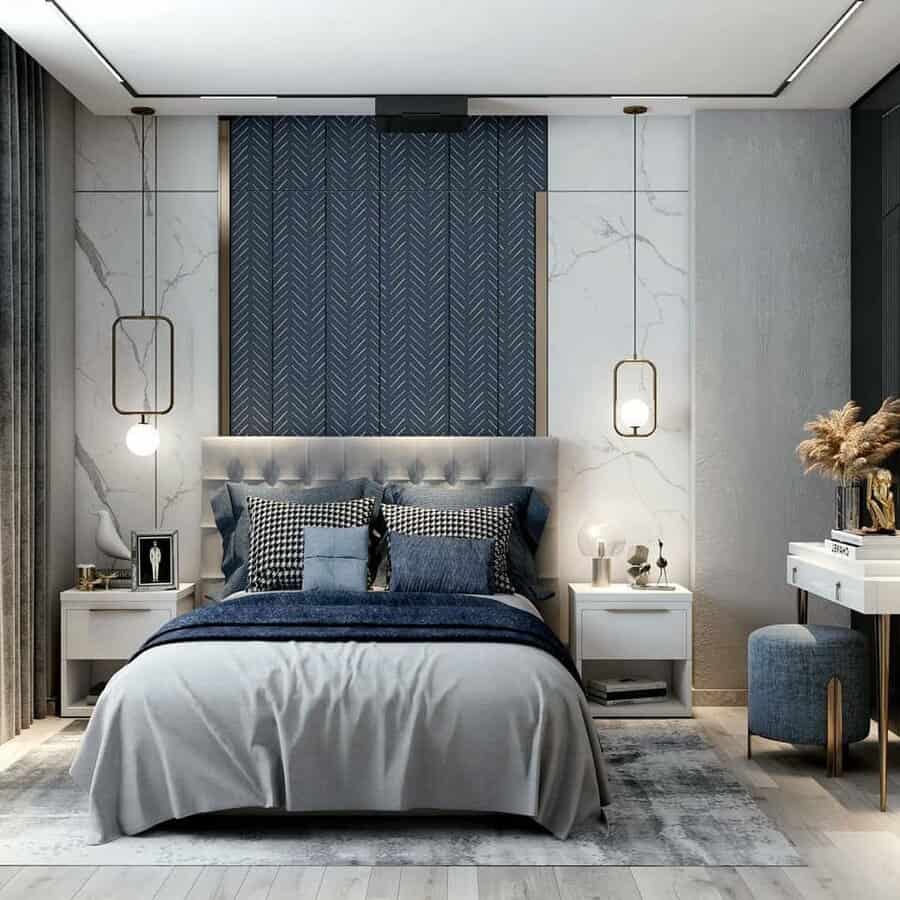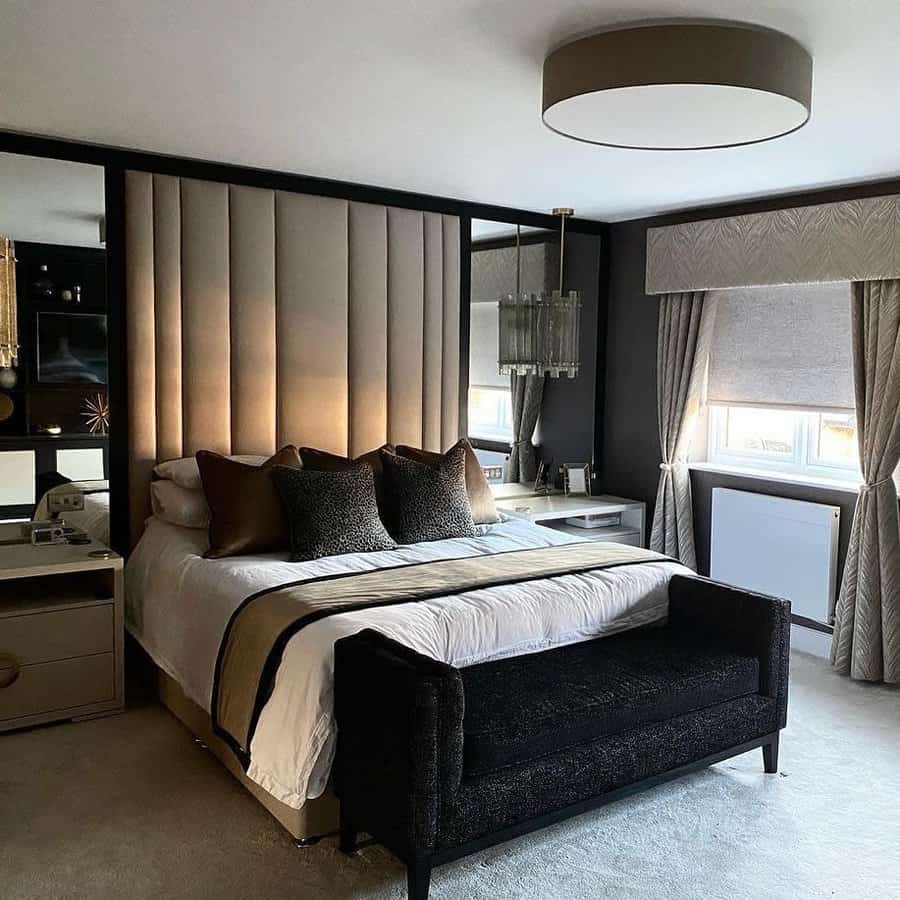 7. Ceiling Fan Lamp
There are plenty of creative bedroom lighting ideas to choose from. One of the best options is to install a ceiling fan lamp that offers the convenience of cool breezes during warmer months and can also be used as a paper lantern once the blades are removed.
This way, you get double purpose out of one fixture and save space instead of having to buy separate cooling and lighting fixtures. Having overhead lighting that is easy to turn on and off with a switch or remote control will also come in handy for when you're trying to relax after reading in bed.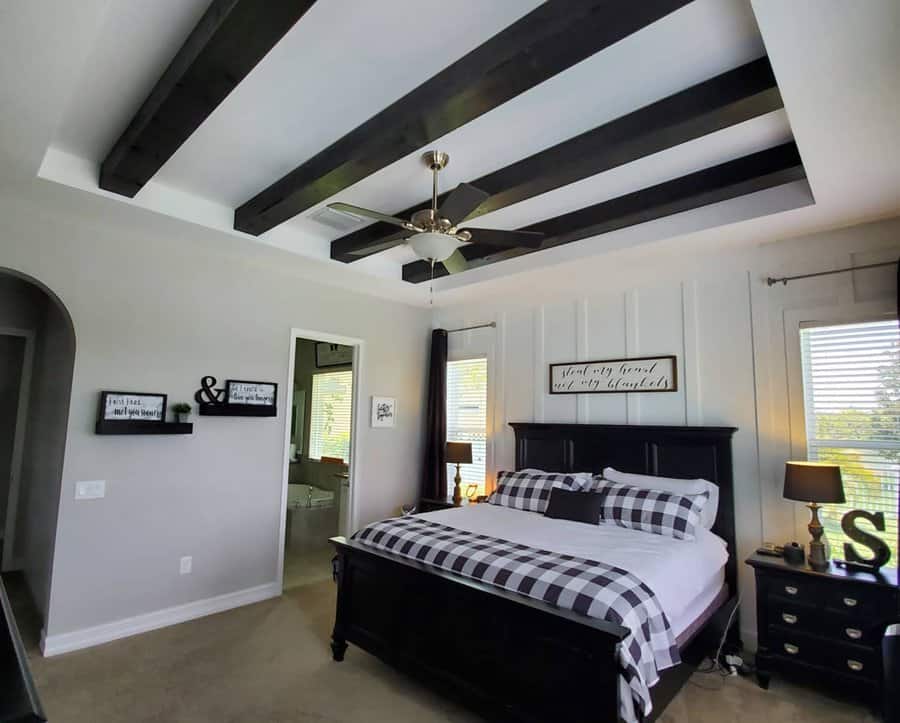 7. Modern Crystal Chandelier
When it comes to bedroom lighting ideas, it's important to find a style that fits the decor and mood of the room. Incorporating modern crystal chandeliers with or without gold fixtures is a beautiful way to add a feeling of opulence to any bedroom.
Another great idea is to use string lights around the edges of a canopy bed to give off a dreamy vibe, while still providing ample lighting for morning and night. If you are looking for something more natural or minimalistic, consider sconce lights or wall-mounted lamps on either side of the bed for a soft, inviting glow. Overall, no matter what type of lighting you choose, make sure it ties together with your personal style and is a reflection of you!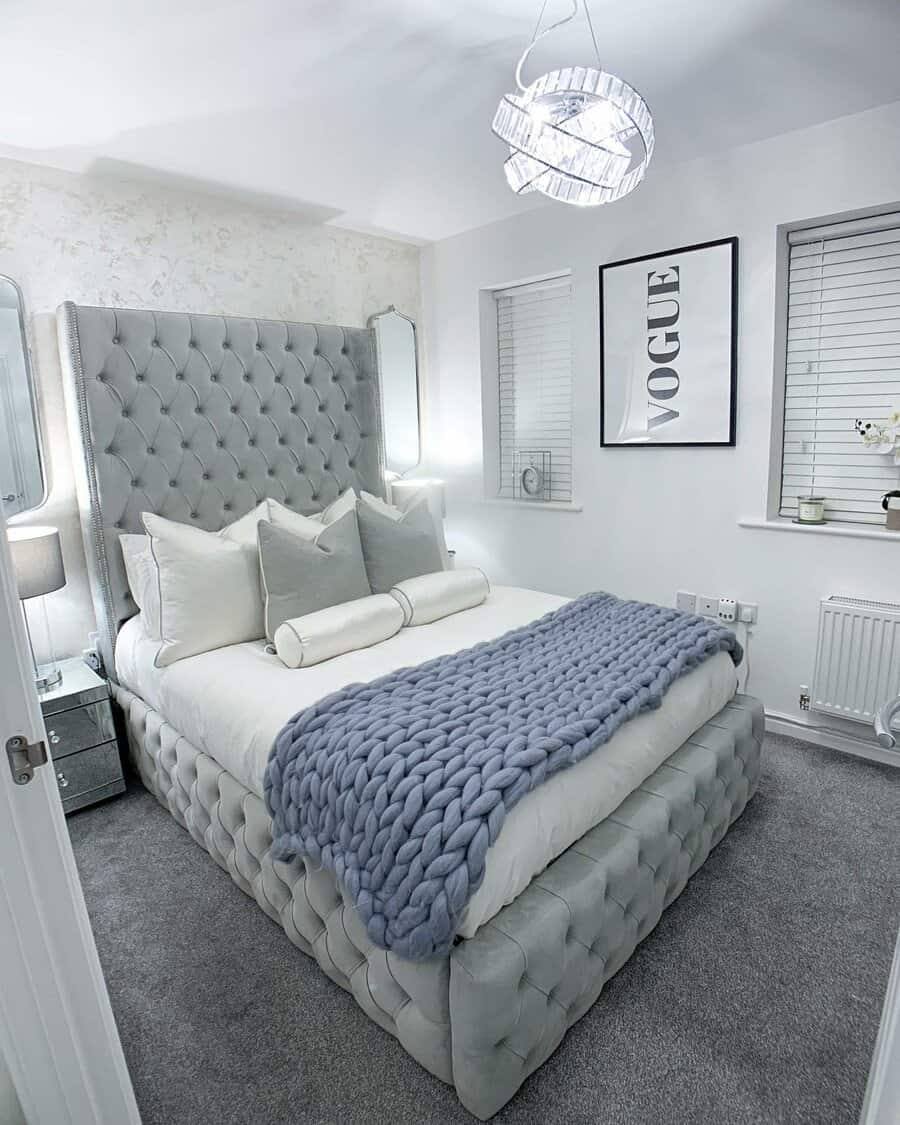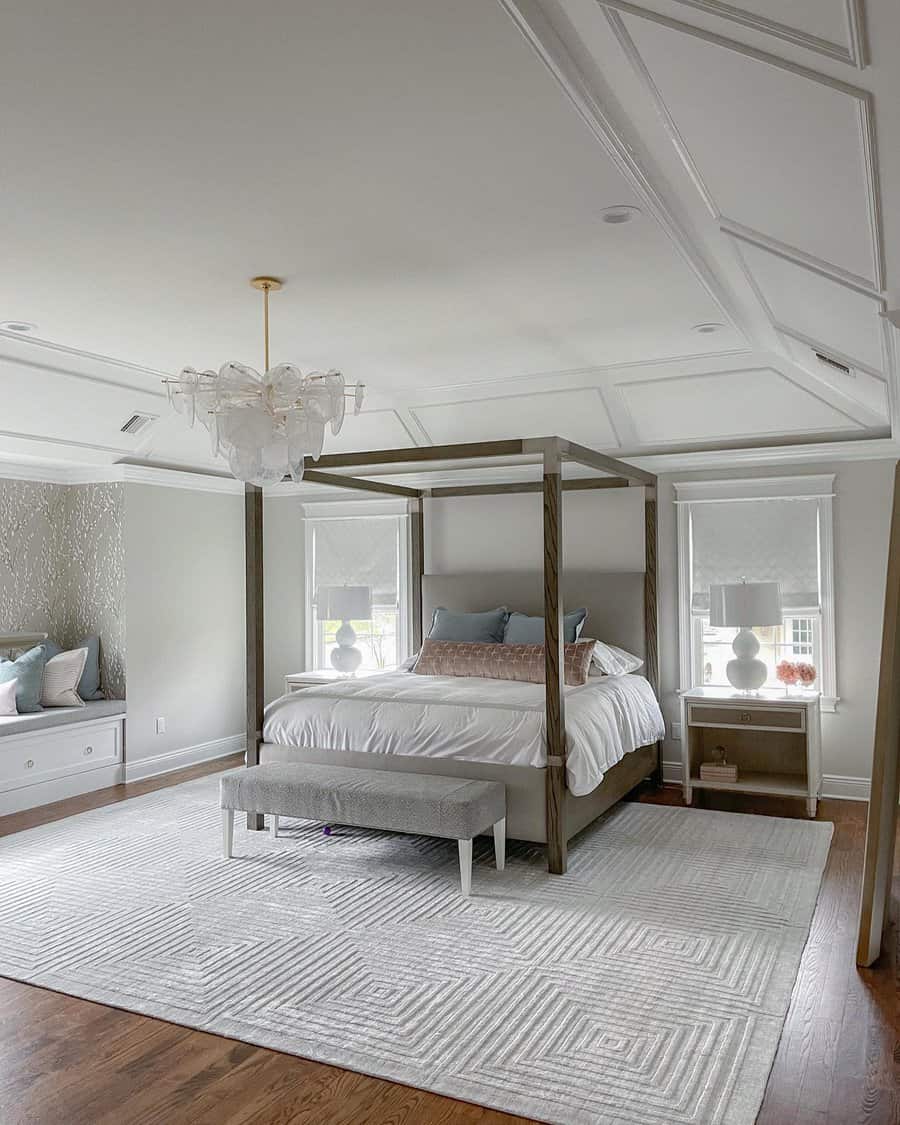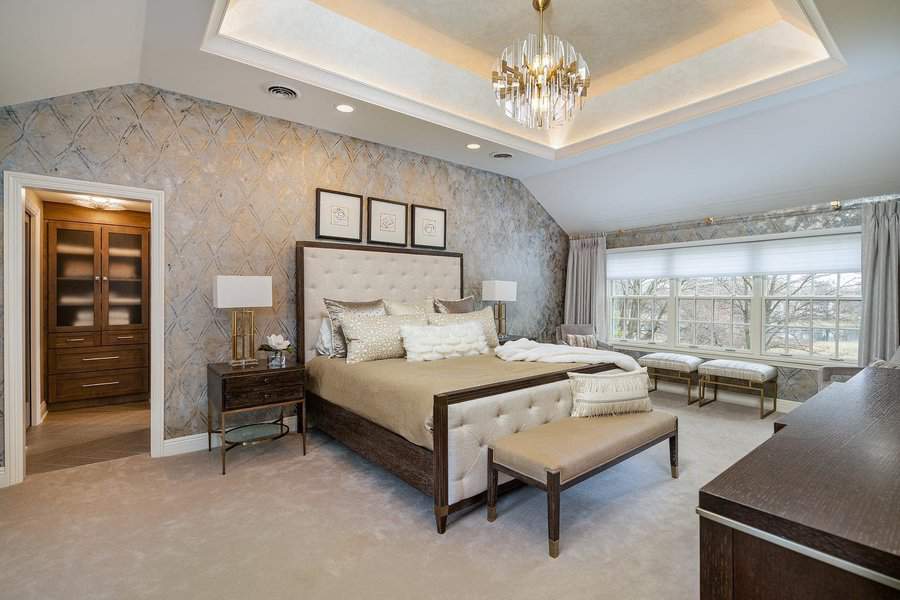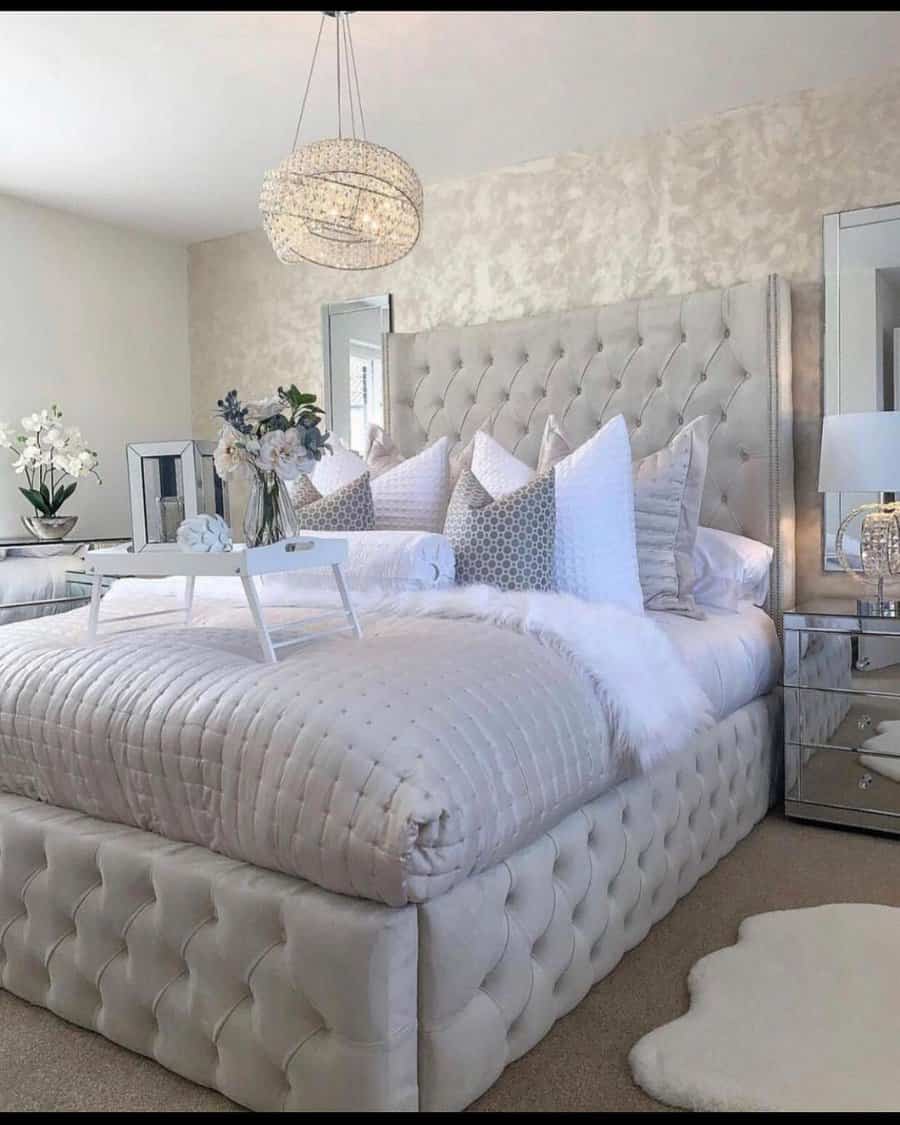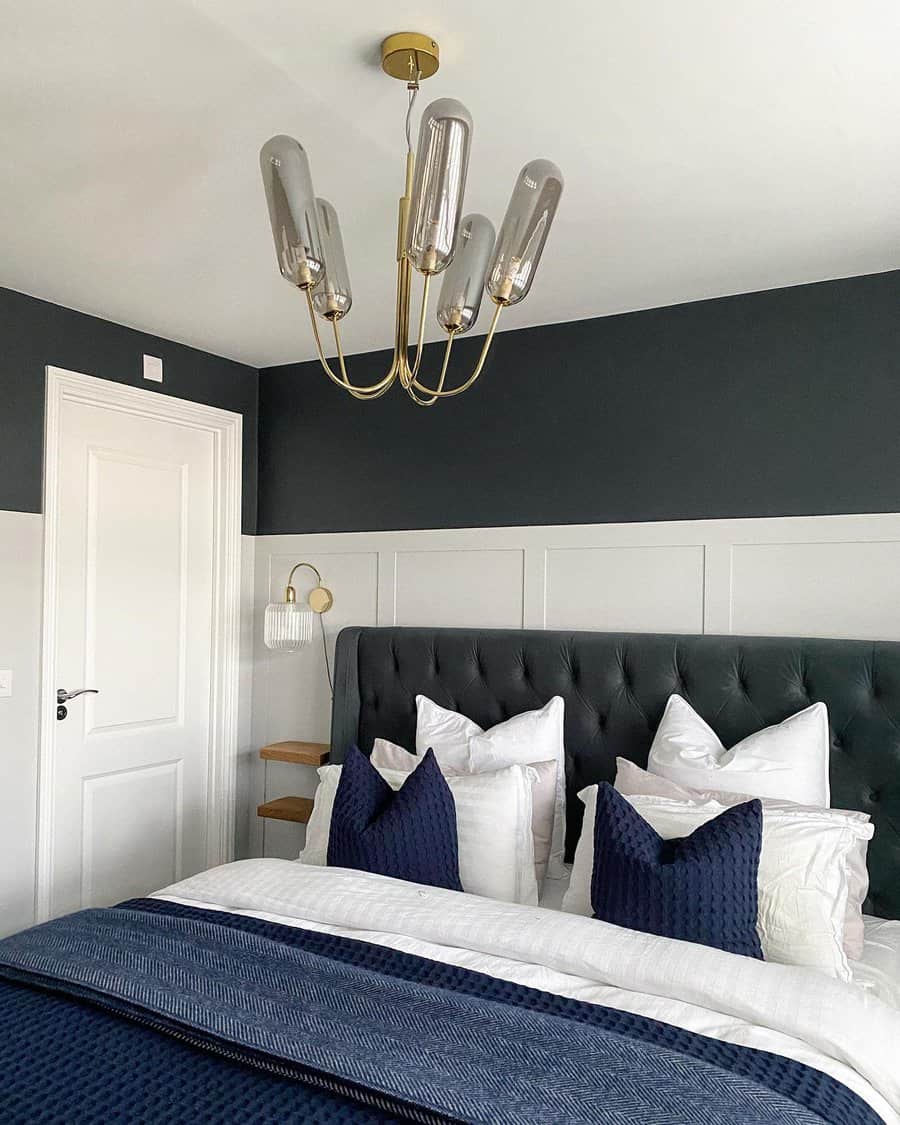 8. Japanese Paper Lampshade
Creating a relaxing, zen-style bedroom doesn't necessarily require major renovations. An easy and creative bedroom lighting idea is to hang a Japanese paper pendant lampshade in the space. These types of lamps bring a unique ambiance with their curved shapes and traditional textures.
Not to mention they can be found in many different colors and sizes – perfect for those looking to customize the look of their bedroom. Plus, you can use either incandescent light bulbs or electric candles to light them up depending on your mood! Everyone deserves to have a peaceful and light-filled room to retreat to at the end of each day.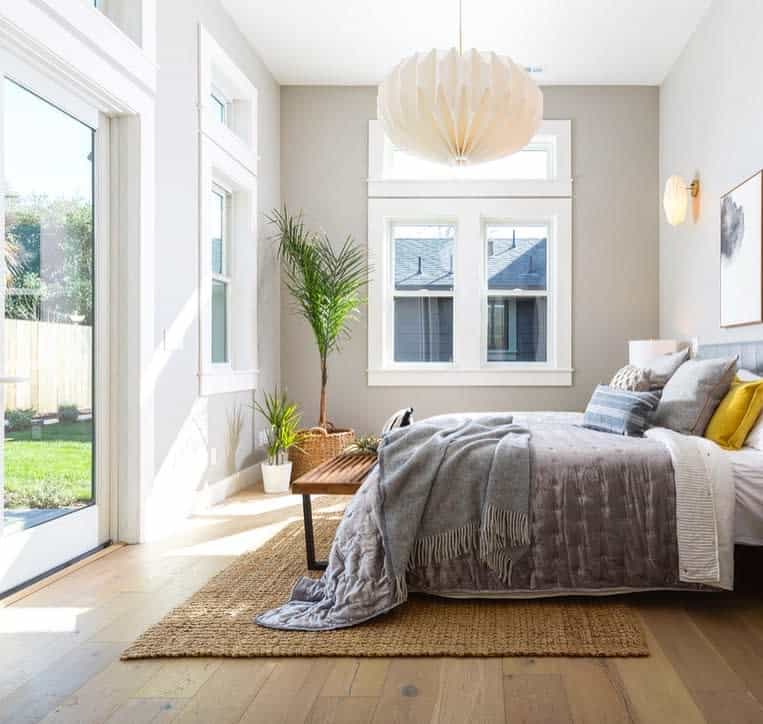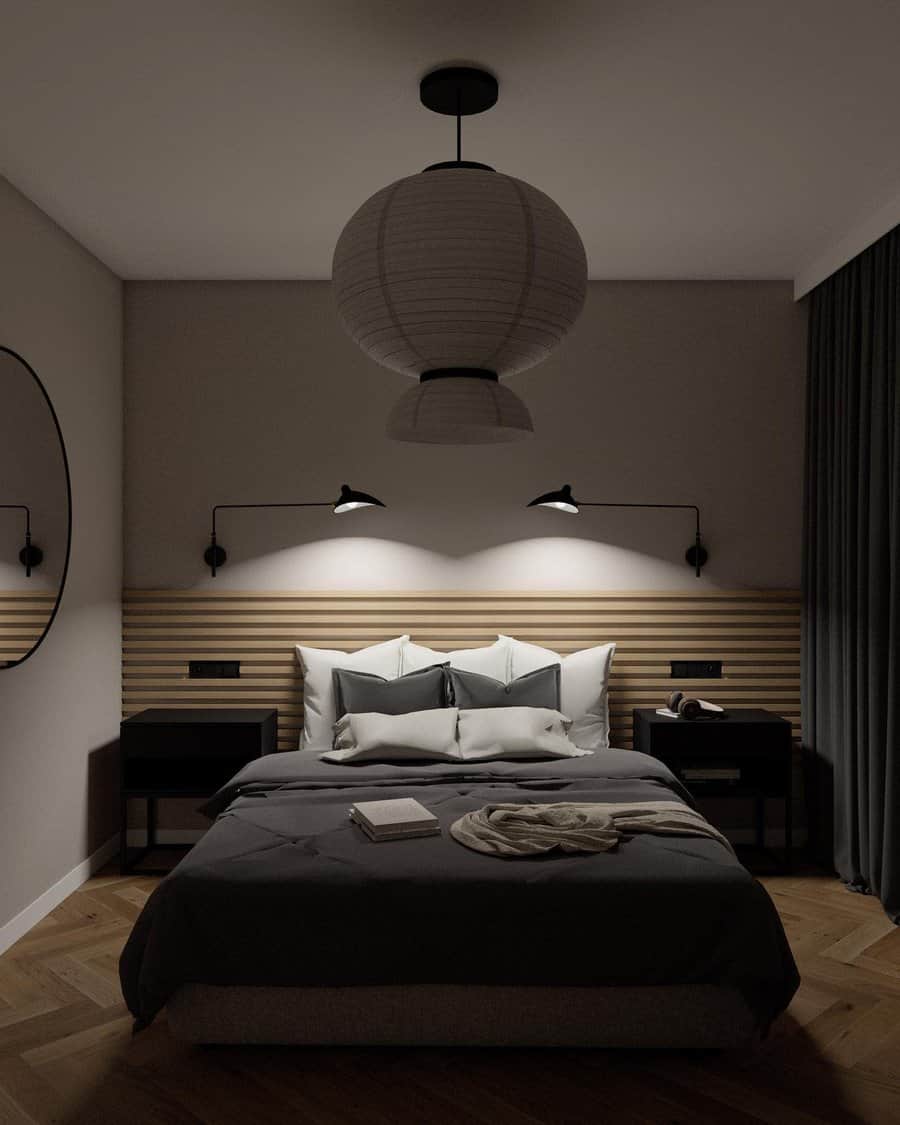 9. Globe Chandelier
Incorporating globe pendant lighting is an ideal bedroom lighting idea. Hang them in rows or clusters to create a unique, twinkling ambiance that will make any bedroom feel more special. Try pairing the pendants with an accent table, artwork, or a reading nook for an inviting atmosphere.
Their versatility means you can easily customize them to your desired decor style, too – from rustic with the addition of exposed filament bulbs to contemporary with bold colors and patterns. Let your imagination be your guide when considering bedroom lighting ideas – and don't forget about globe pendant lighting!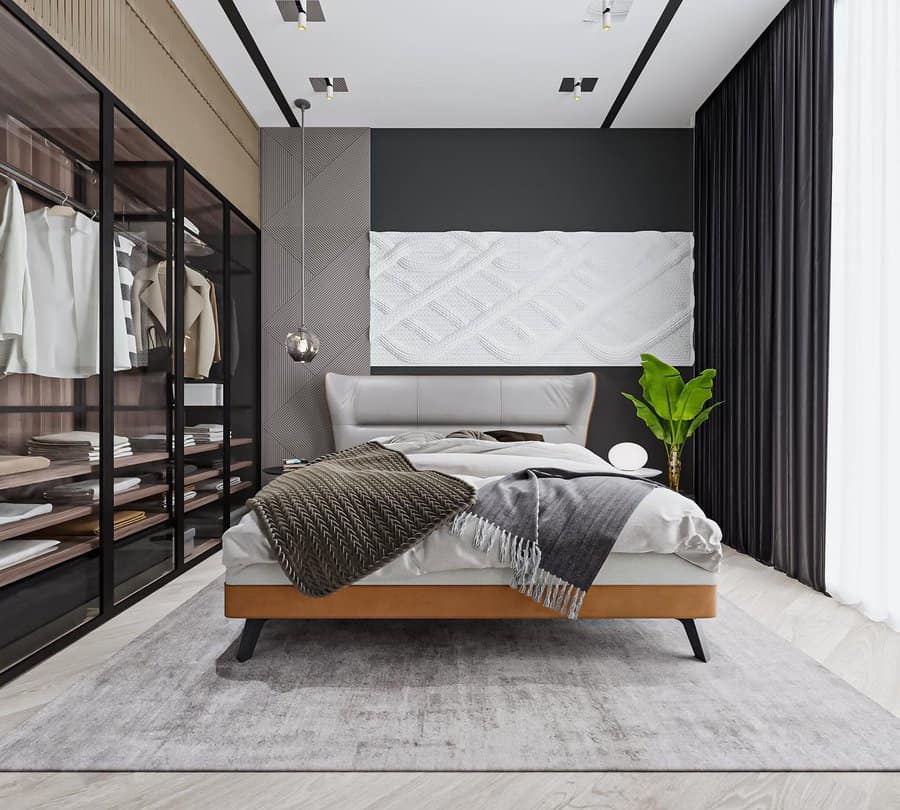 10. Brass Chandelier
Whether you're looking to create a luxurious look or add a touch of sophistication to your bedroom, a brass chandelier could be just what you need. Consider outfitting your space with statement light fixtures such as pendant lighting, wall sconces, and desk lamps. If you're going for the classic feel, find decorative elements such as ornate shades.
When it comes to bedroom lighting ideas, don't be afraid to think outside the box and challenge the boundaries of interior design. Your bedroom is a reflection of who you are and should feature elements that inspire you every time you enter the room.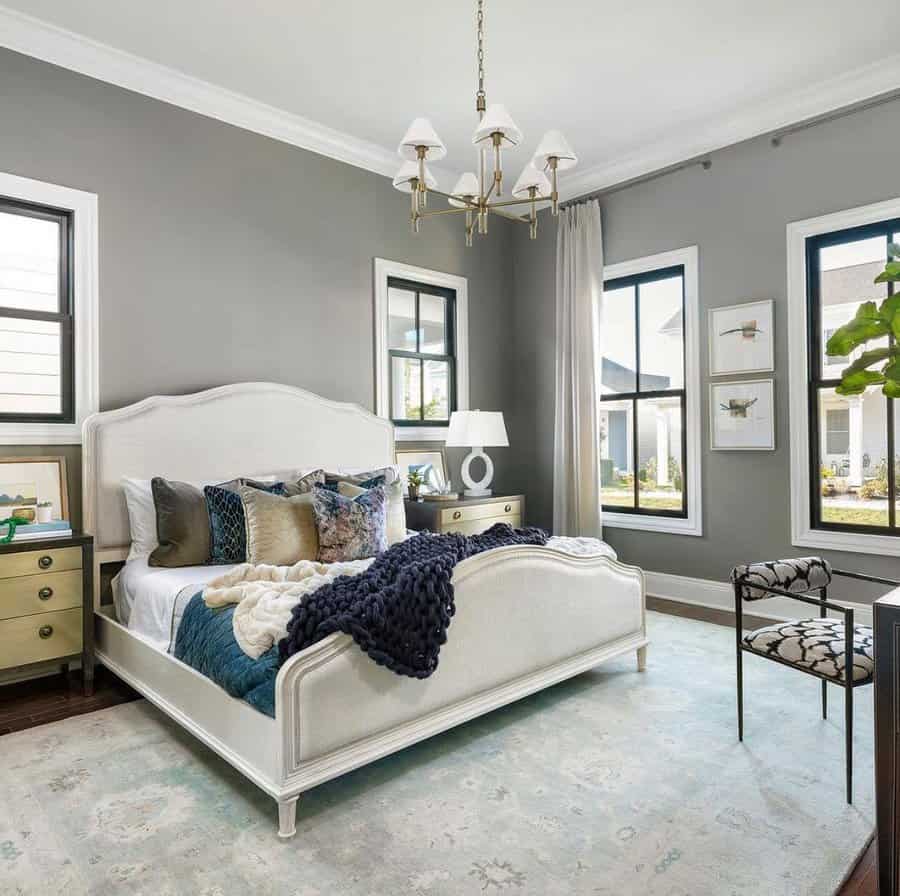 Bedroom Lighting FAQs
What is good lighting for a bedroom?
Your bedroom needs ambient lighting. This is the generalized light that illuminates the entire room. This light makes it easier to get ready in the morning, use your room throughout the day, and get ready for bed at night. You also need task lighting in strategic areas. Lamps next to the bed give you a soft, focused light that is nice to use while in bed. It's also essential for getting in and out of bed when the ambient light is turned off.
Are LED lights good for bedrooms?
Yes! You can use LED lights in your bedroom. They are energy efficient and come in a wide range of colors and temperatures. This makes it easy to find the perfect lighting for the mood you want to set in your bedroom. LED lights also come in a wide range of shapes and sizes, so you can use them for everything, ambient, task, and accent lighting.
Where should lights be placed in a bedroom?
You should have ambient light placed in the center of the room from the ceiling. This is the best position for spreading light throughout the room. It's also good to place an ambient light source in a corner to brighten up a dark spot. Small lights on a vanity, desk, and bedside tables are good for task lights. Accent lighting looks nice when placed under the bed, along the crown molding, or in a built-in shelving unit.