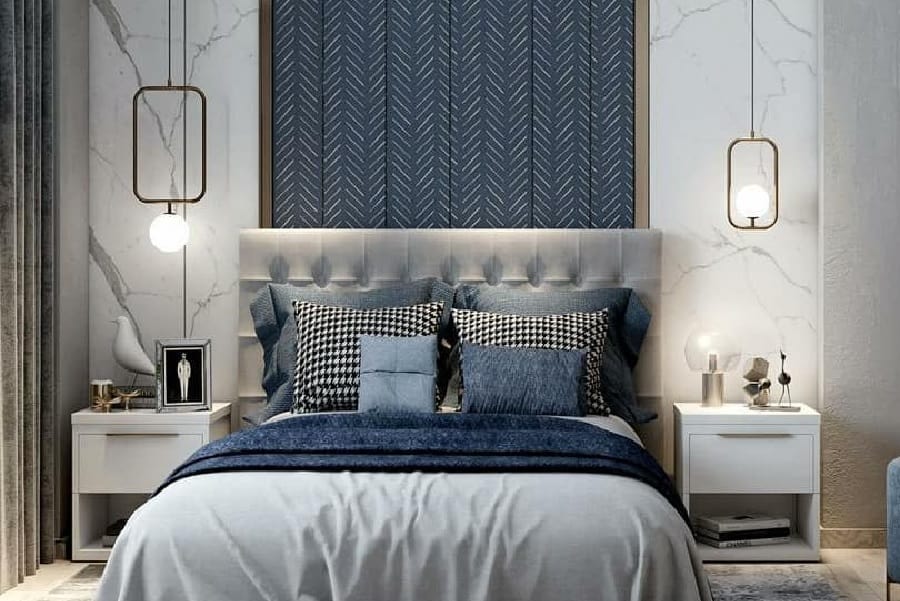 The Top 36 Bedroom Lighting Ideas
by — Andra DelMonico

Published on January 24, 2022

Updated on October 6, 2023
If the only light in your bedroom is on the ceiling fan, then you are doing yourself and your bedroom a disservice. This isn't enough light to make your bedroom an enjoyable or functional place to be. What you need are other light sources that make the room brighter.
Task lighting adds focused light that can make it easier to perform activities like reading, putting on makeup, or working at a desk. Accent lighting is perfect for highlighting the unique features of the room.
These bedroom lighting ideas will help you turn a boring and dark bedroom into a well-lit and styled private space.
1. Elegant Crystal Chandelier Lighting
Elevate your bedroom's ambiance to a luxurious level by incorporating crystal chandelier lighting. To achieve an air of sophistication, select crystal chandeliers that complement your overall decor style. Opt for modern fixtures with sleek lines for a minimalist look, or embrace classic and ornate designs for a timeless appeal. Crystal chandeliers are in vogue, so hang them lower in a modern setting to create a stunning focal point that exudes elegance. Combine these luminous gems with soft, neutral tones and plush bedding to complete your opulent bedroom retreat.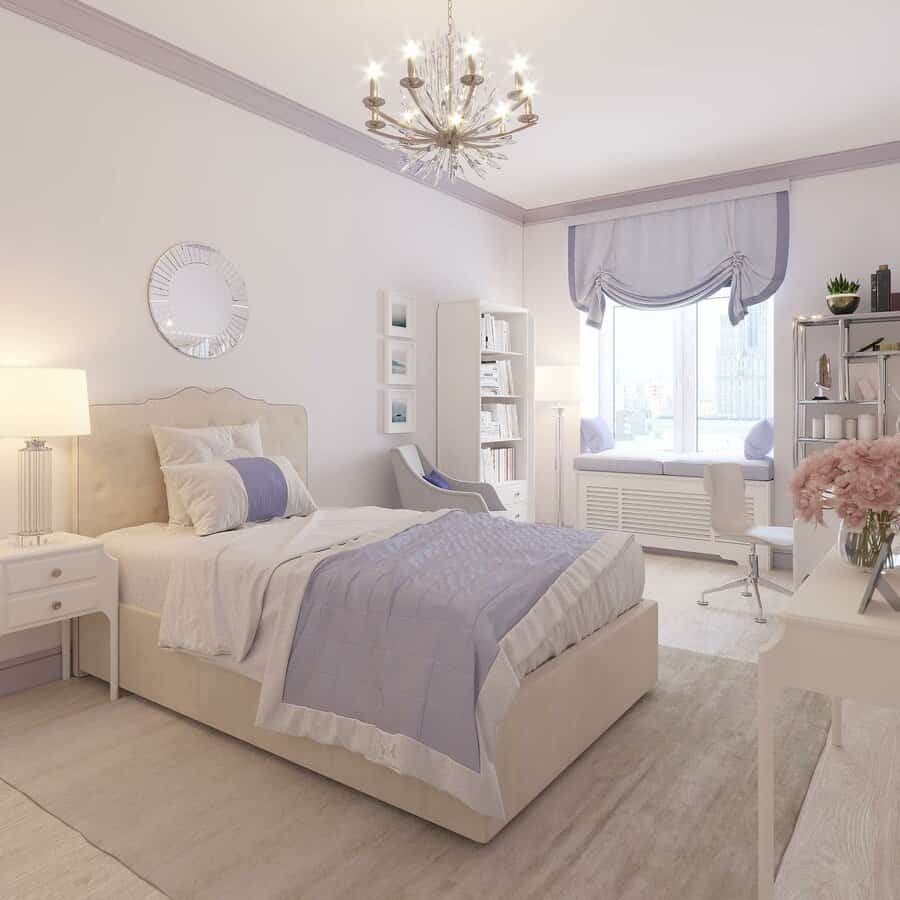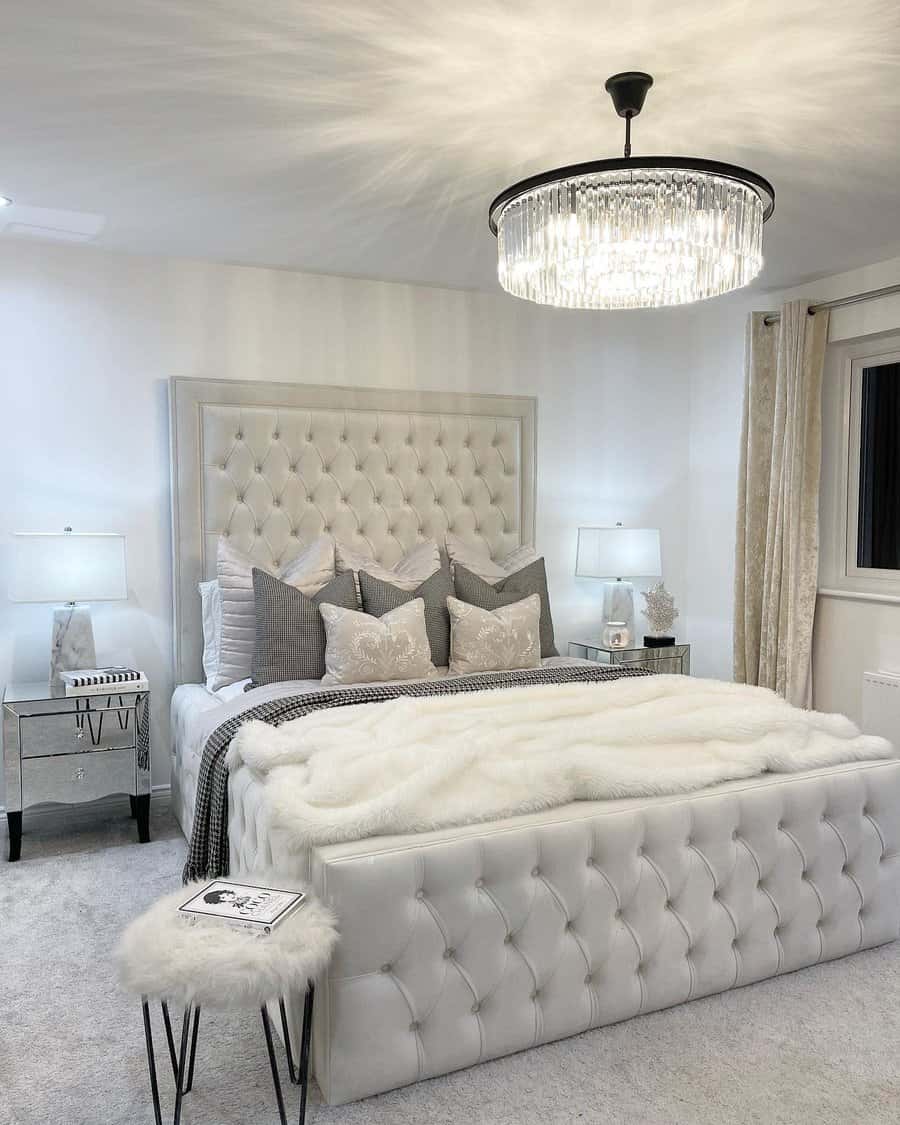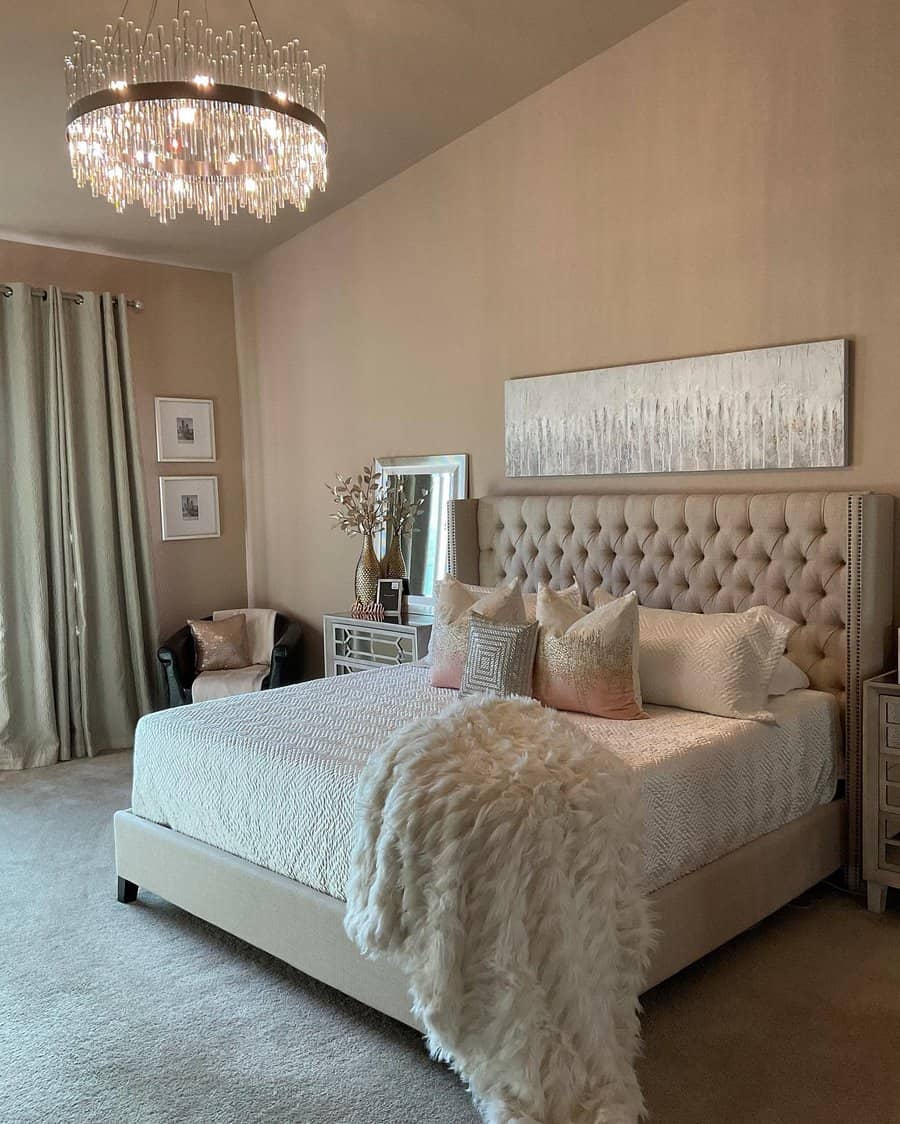 2. Sleek Black Minimalist Chandelier
For a touch of modern elegance in your Scandinavian-inspired bedroom, consider incorporating a sleek black minimalist chandelier. These fixtures can elevate the aesthetic of your room when positioned above the bed, creating a distinctive focal point. To enhance the ambiance, dim the lights to set a romantic mood or combine them with other design elements to create an eye-catching wall display. Fortunately, black minimalist chandeliers are budget-friendly, making them a stylish and affordable choice for your bedroom. Pair them with neutral tones and minimalist furniture for a harmonious Scandinavian look that's sure to garner compliments.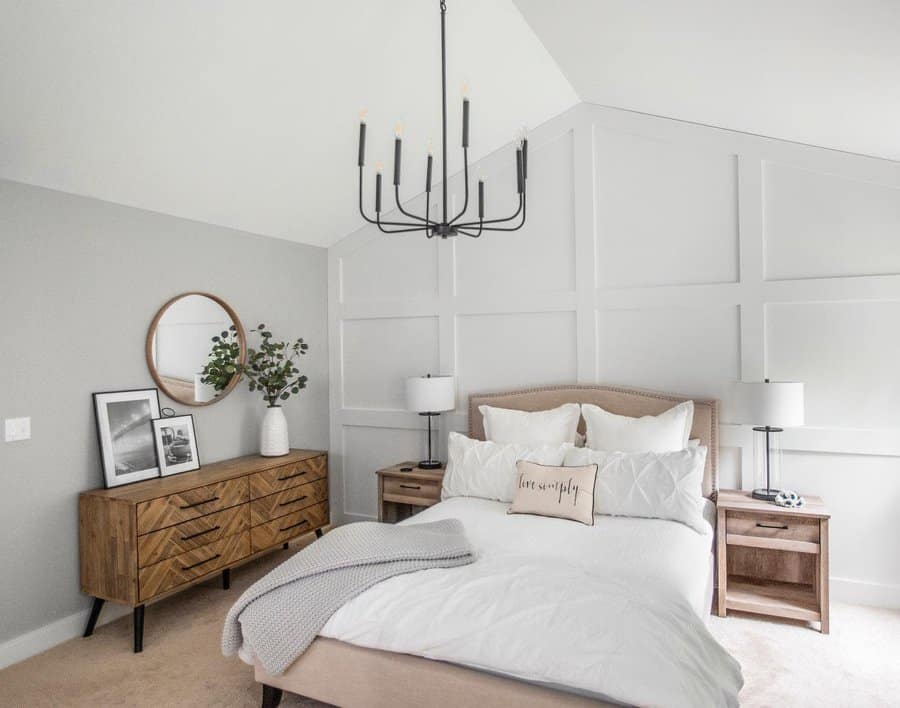 3. Classic Candelabra-Style Chandelier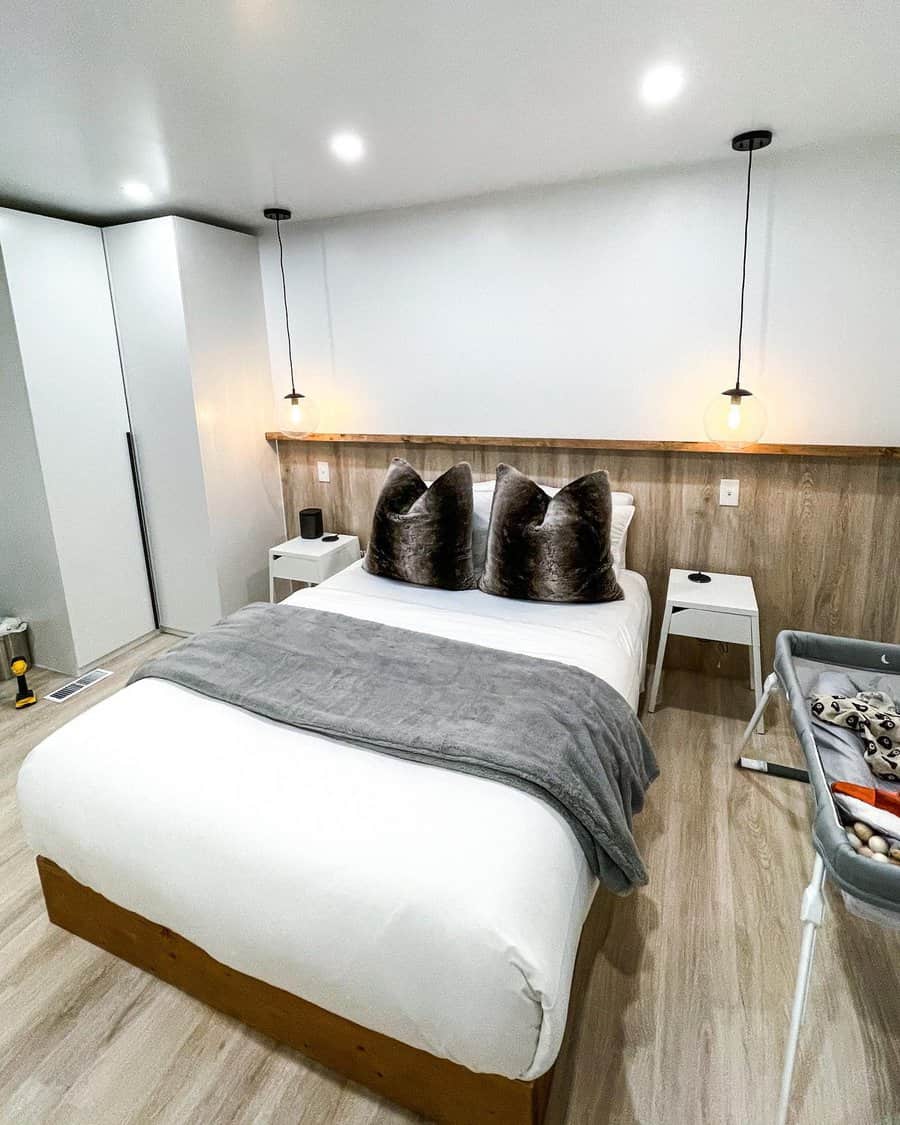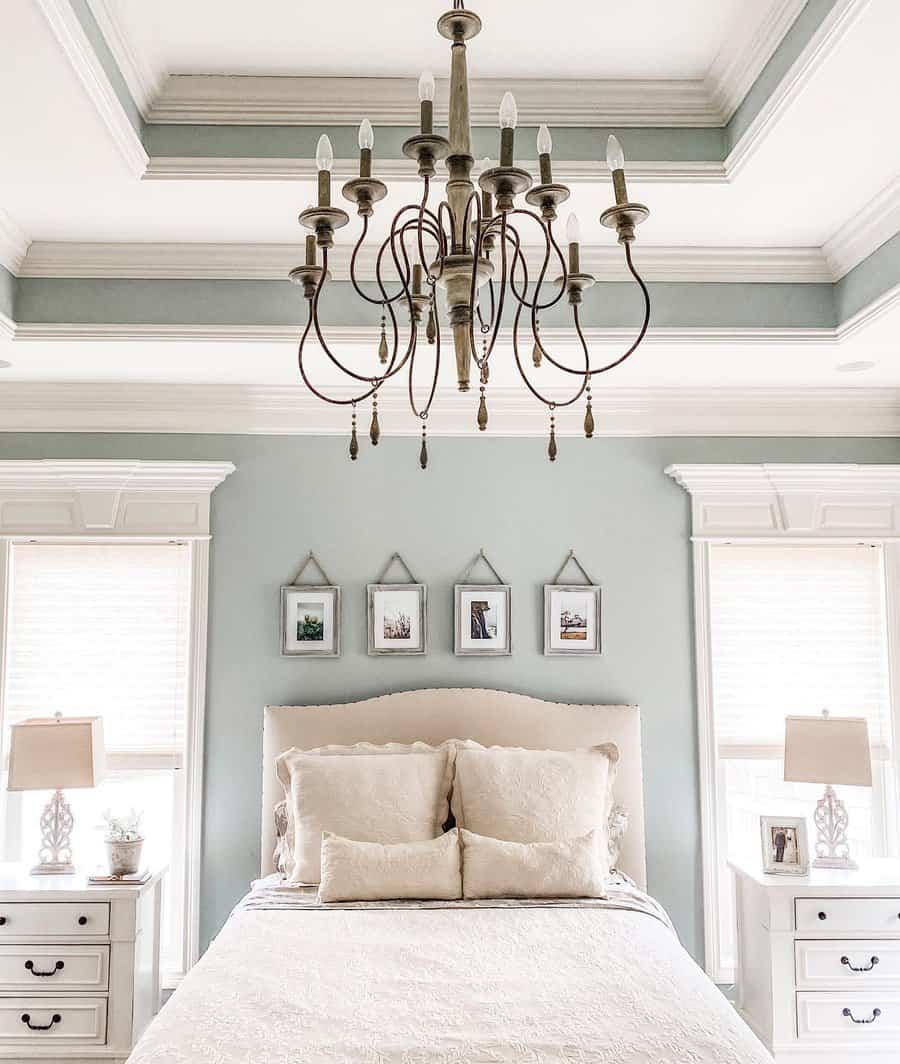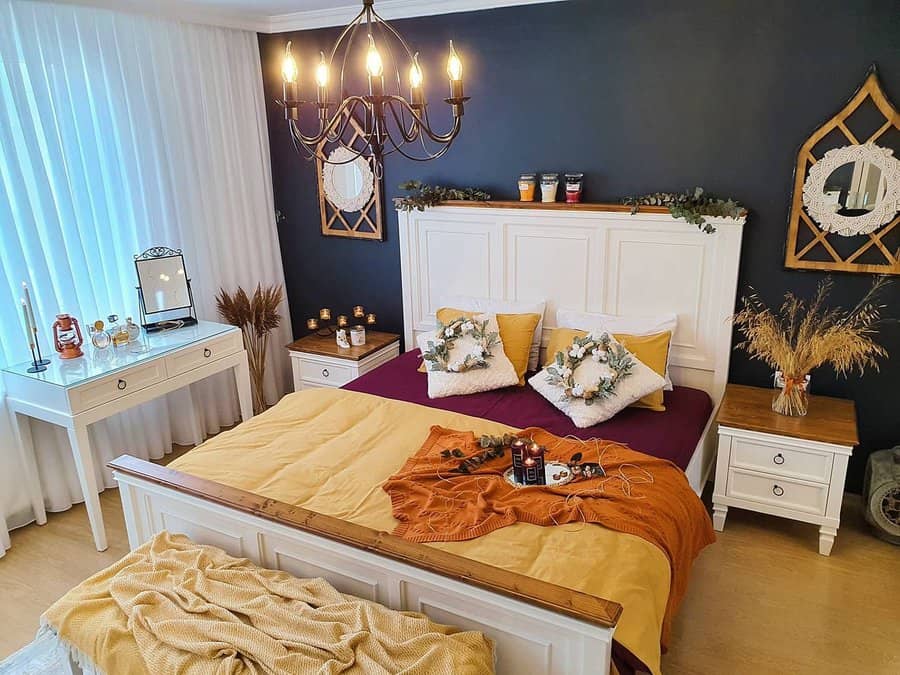 4. Stylish Flush Mount Fixtures
When it comes to bedroom lighting, don't limit yourself to traditional options like floor lamps or ceiling lights. Explore the contemporary elegance of flush mount fixtures for a modern touch of glamour. These fixtures offer versatility with various shapes and styles while ensuring uniform illumination, minimizing shadows in your space. Additionally, many flush mount options feature decorative elements, adding a touch of chic sophistication to your bedroom decor. Give them a try to effortlessly elevate your bedroom's ambiance and create a more stylish and well-lit environment.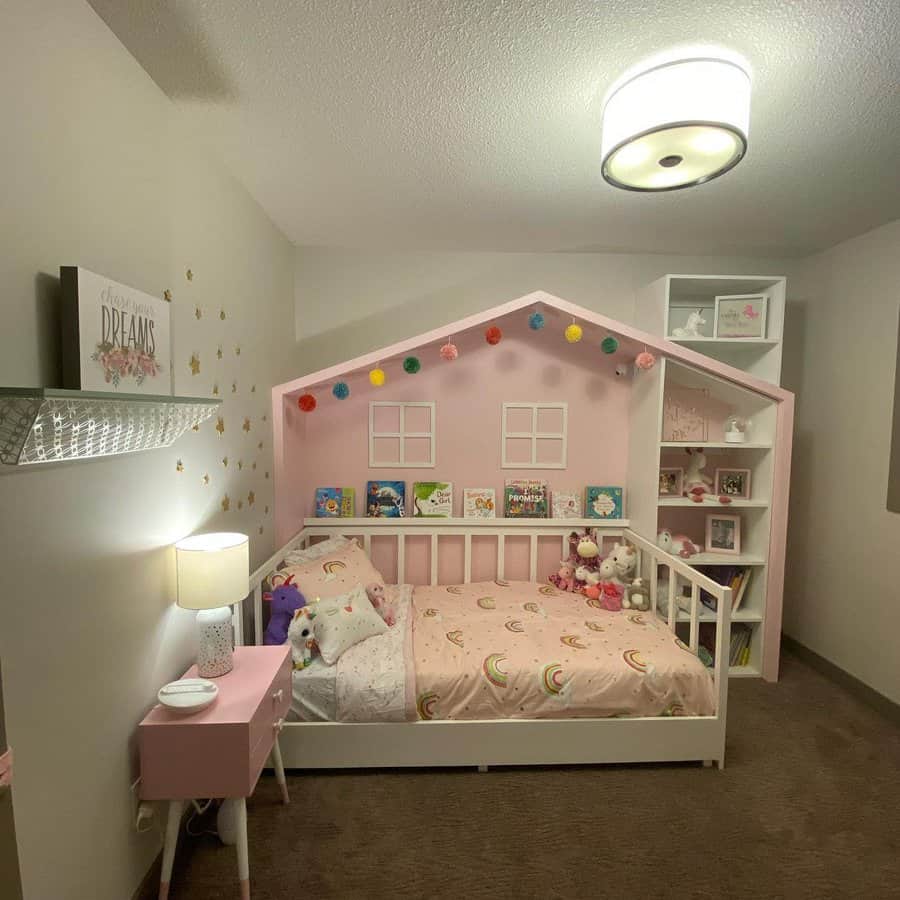 5. Ambient Wall Sconces for Bedrooms
If you're seeking creative ways to illuminate your bedroom, consider the versatility of wall sconces. Beyond a single overhead light, wall sconces allow you to craft a personalized, artistically lit environment that infuses ambiance and character. Positioned beside your bed, they offer optimal task lighting without occupying valuable surface space, as a table lamp would.
With a diverse range of sizes and styles available, from traditional to modern, you can select wall sconce lighting that harmonizes seamlessly with your bedroom's overall aesthetics. Whether you opt for symmetry with one on each side of the bed or create an artful arrangement at various heights on the same wall, incorporating wall sconces will brighten your bedroom while adding a touch of style and individuality to the space.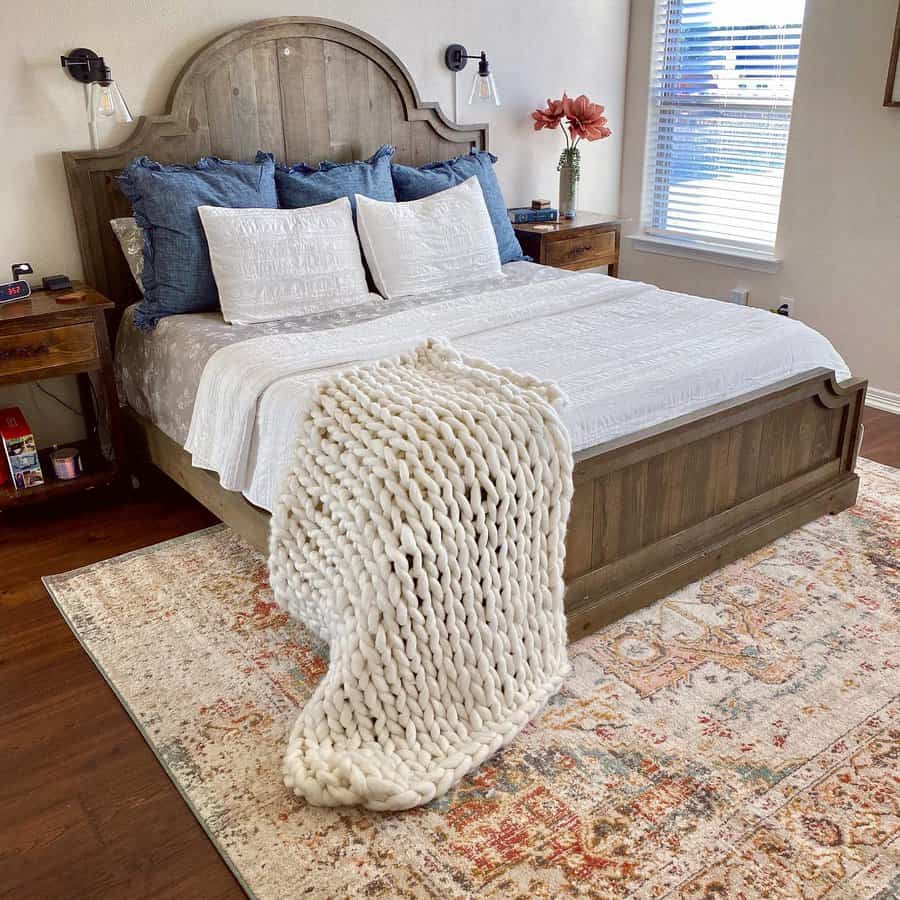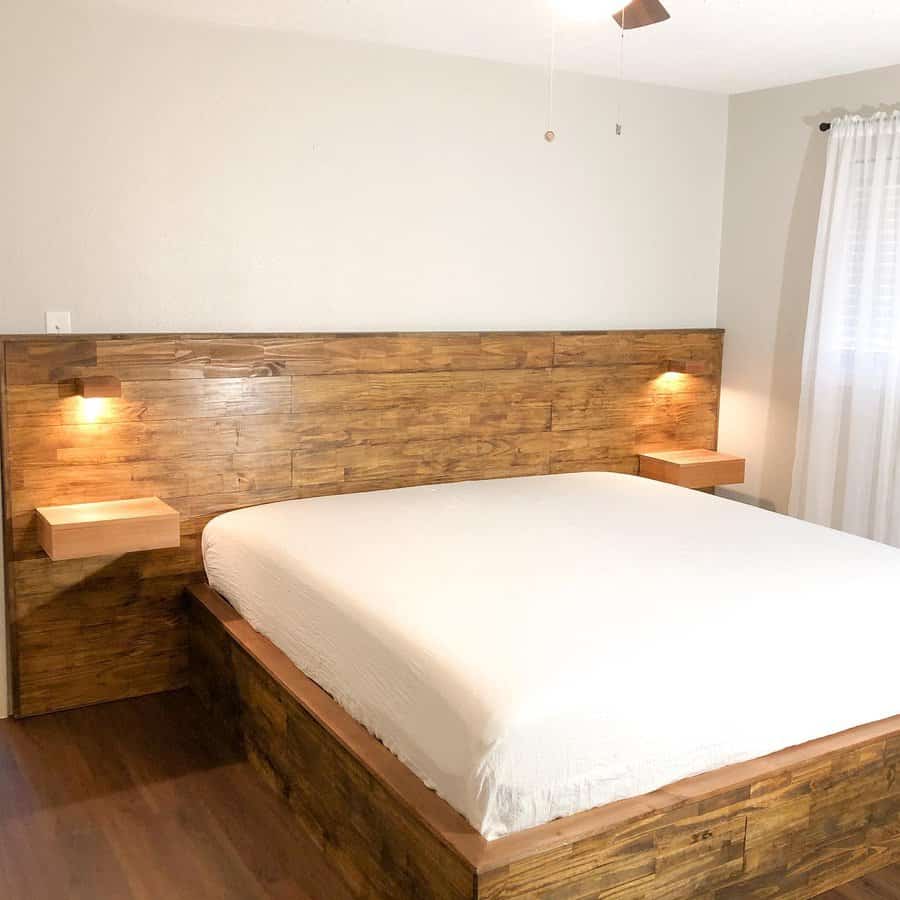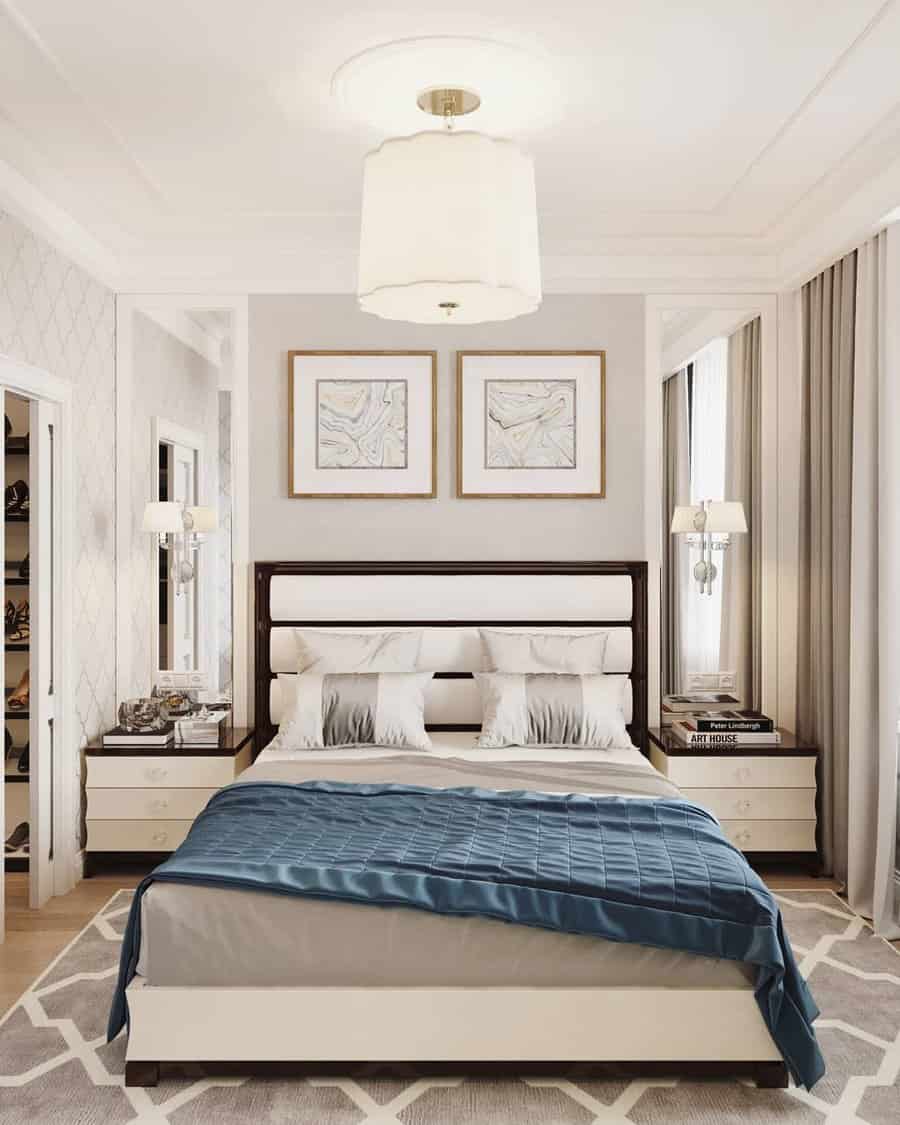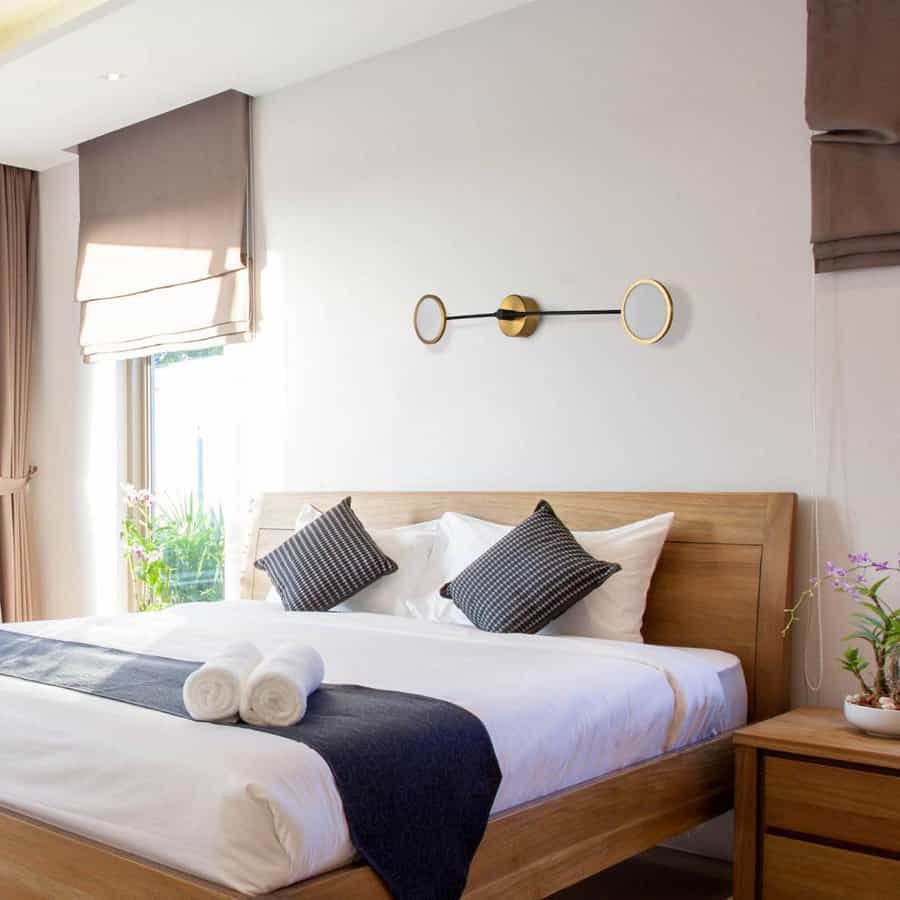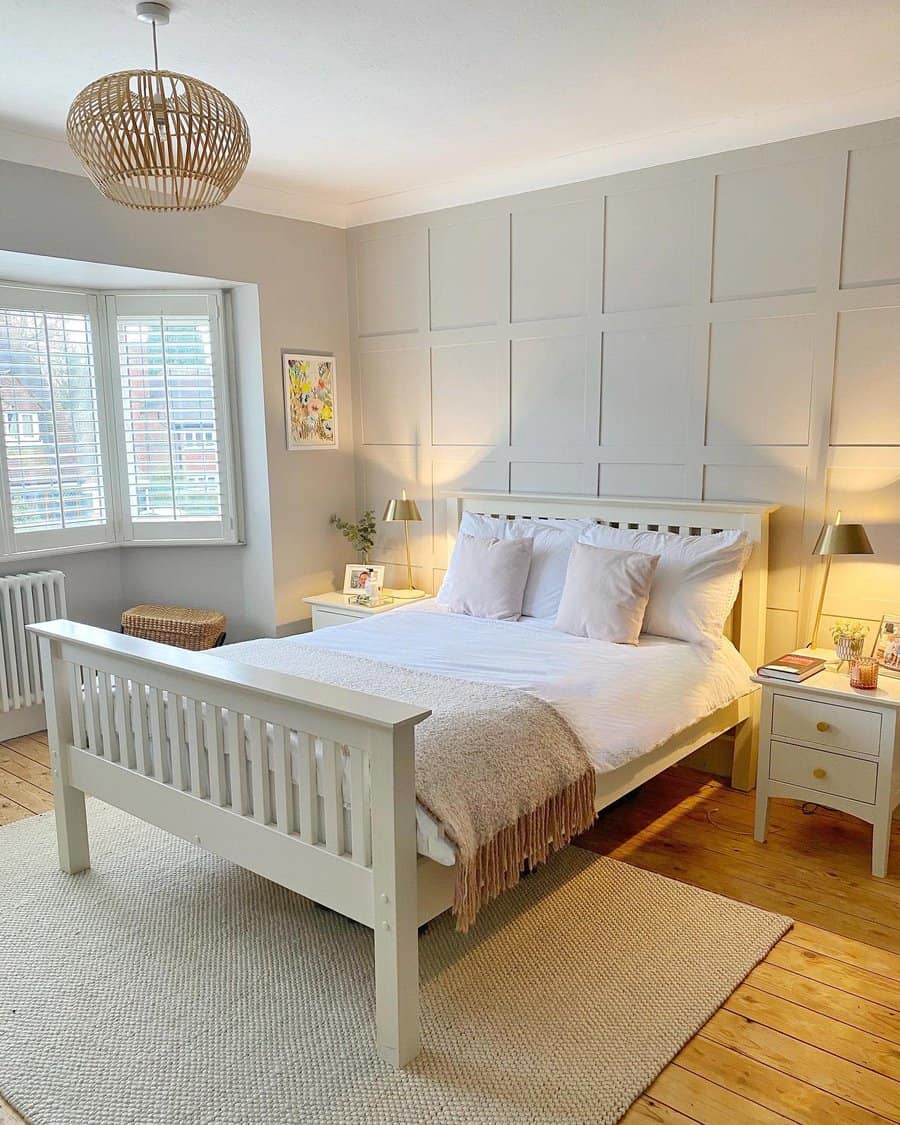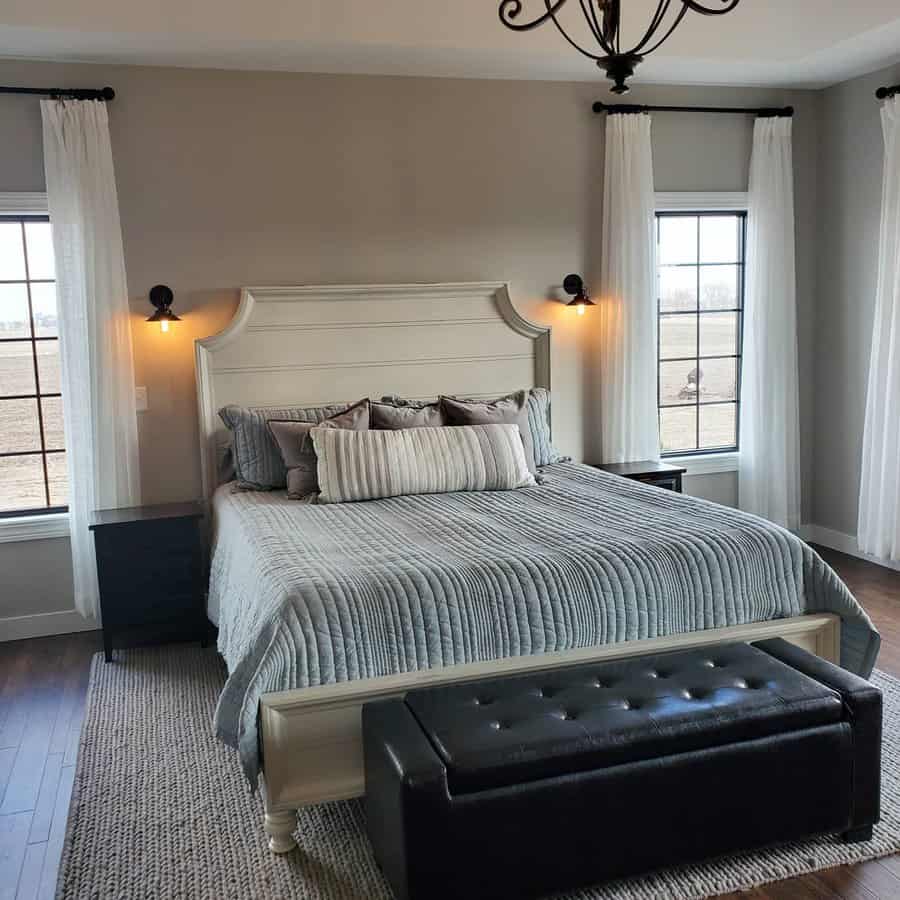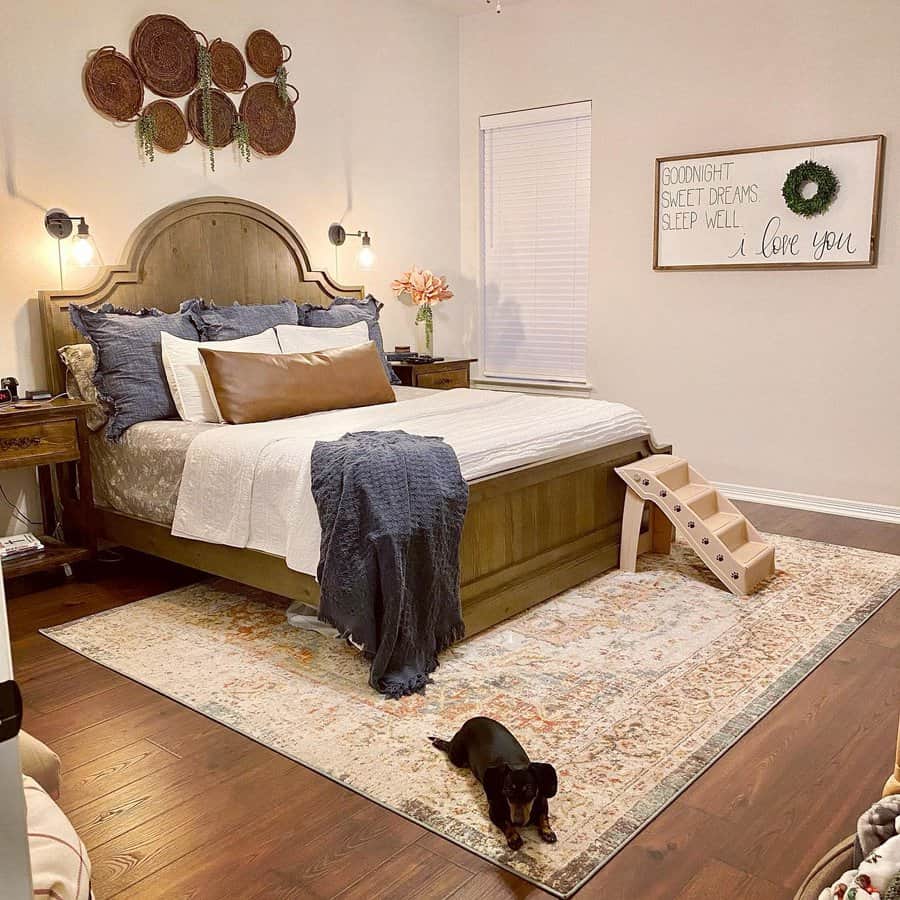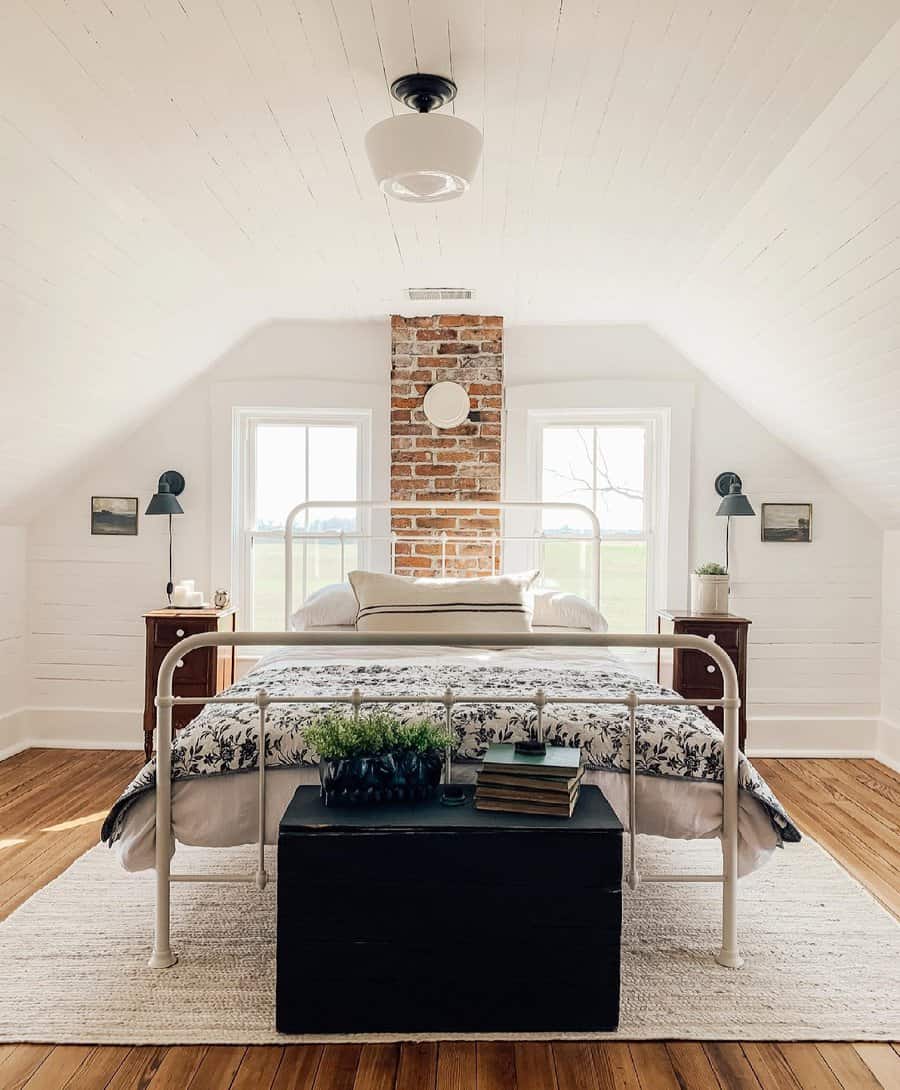 6. Chic Hanging Bedside Lamps
Explore the myriad possibilities of bedroom lighting with hanging bedside lamps. These fixtures offer a gentle illumination perfect for late-night reading or unwinding, while also efficiently utilizing vertical space, making them ideal for smaller bedrooms.
To elevate the ambiance, consider incorporating additional decorative lighting elements such as strings of fairy lights or freestanding lamps. Crafting the perfect bedroom lighting setup can truly transform your space, enhancing both functionality and style.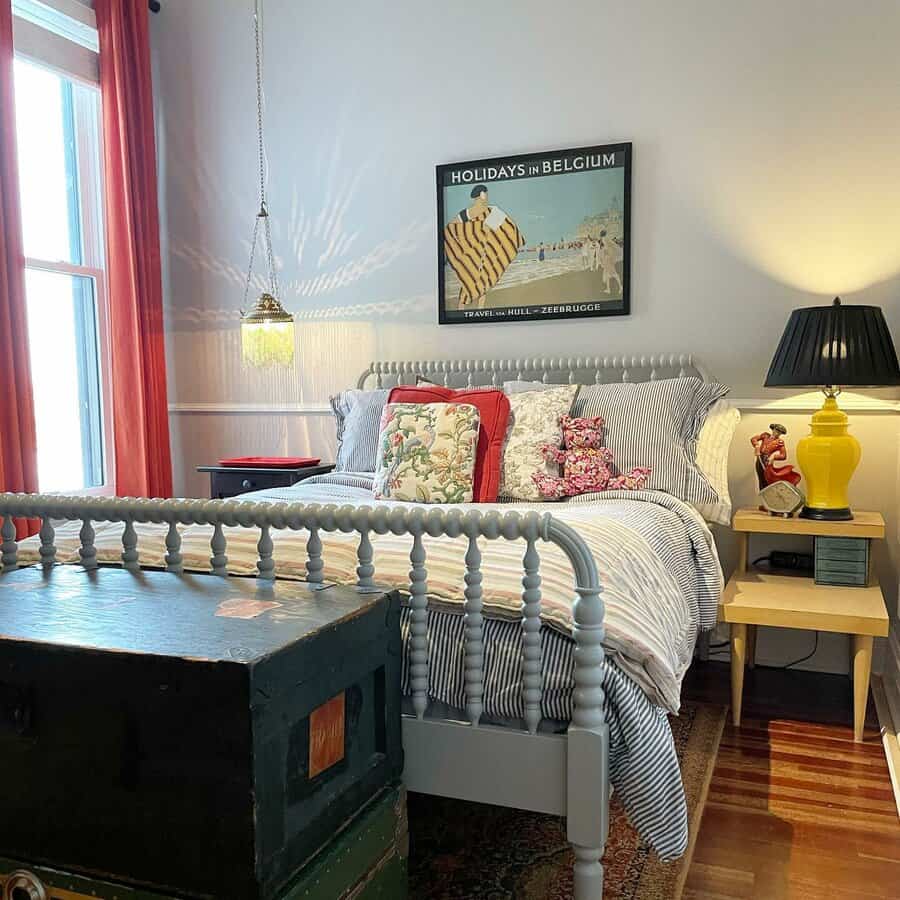 Source: @_anndesigner via Instagram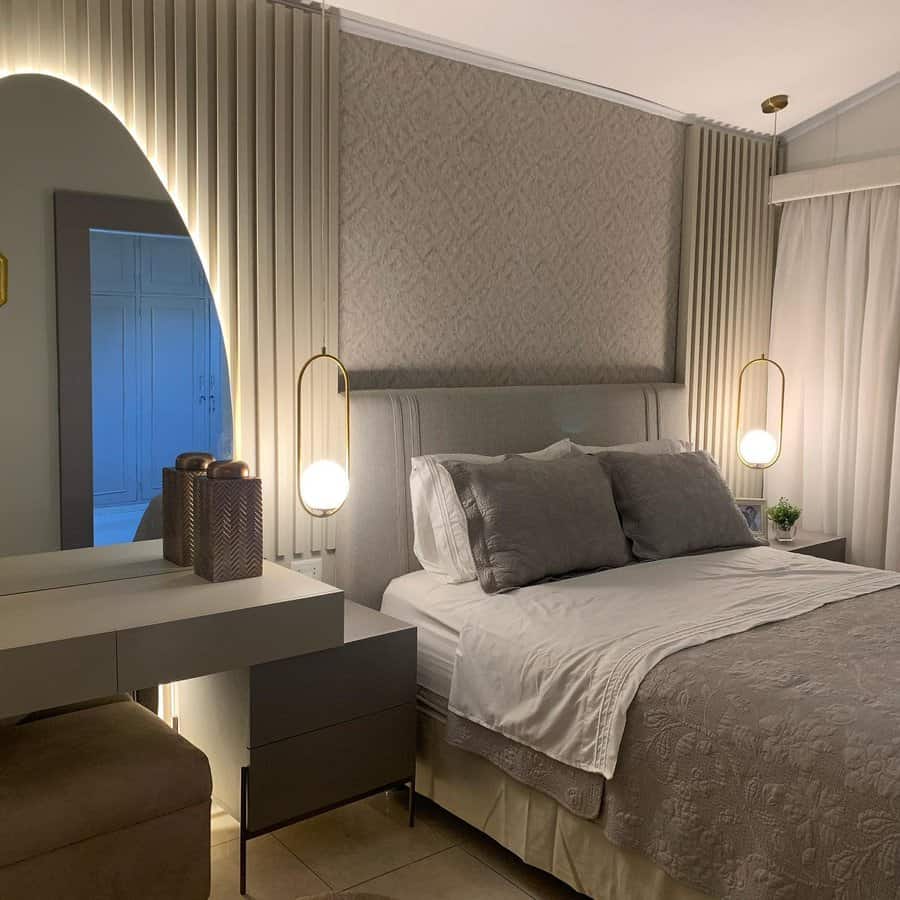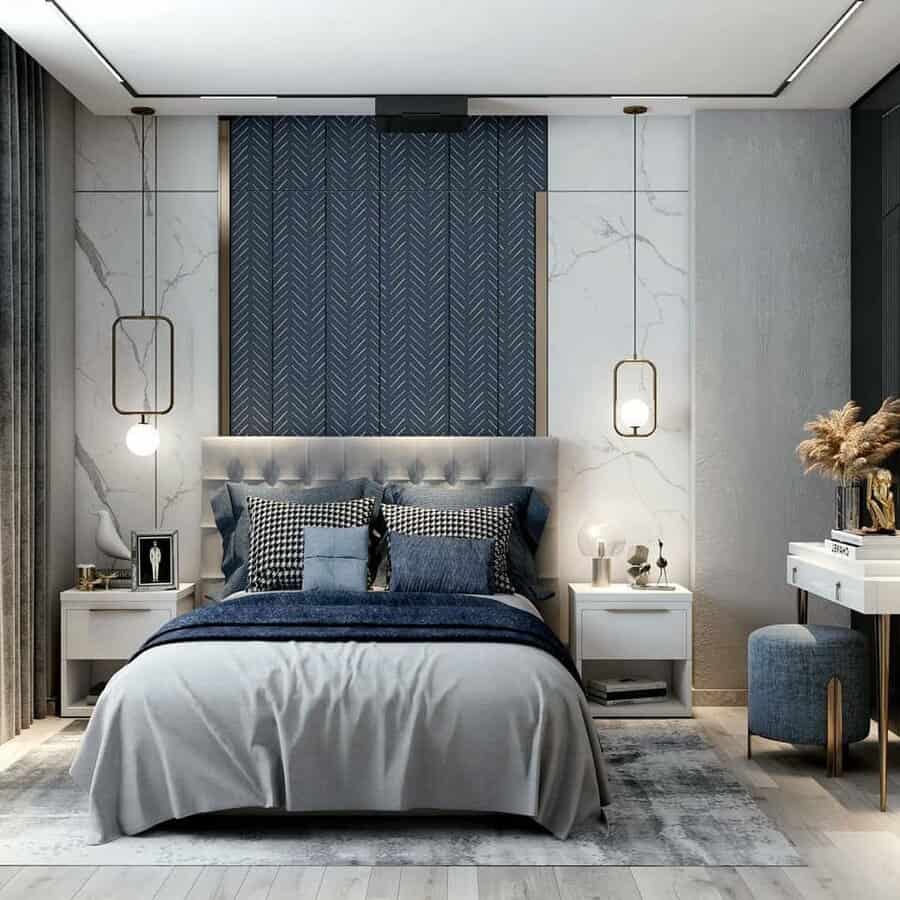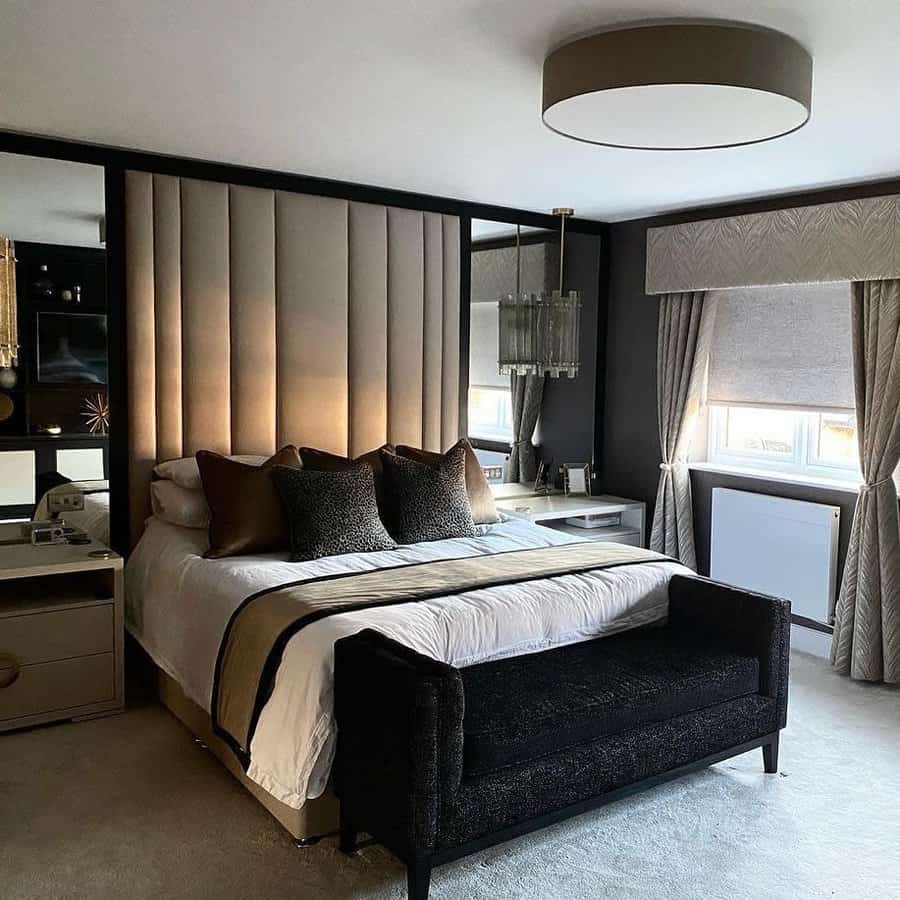 7. Dual-Purpose Ceiling Fan Lamps
Explore creative bedroom lighting solutions, like the versatile dual-purpose ceiling fan lamp. This fixture not only provides cooling comfort during warm seasons but can transform into a stylish paper lantern when you remove the blades.
By opting for this dual-function fixture, you save space and avoid the need for separate cooling and lighting installations. The added convenience of overhead lighting controlled by a switch or remote enhances your relaxation experience after bedtime reading, making it a practical and space-saving choice for your bedroom.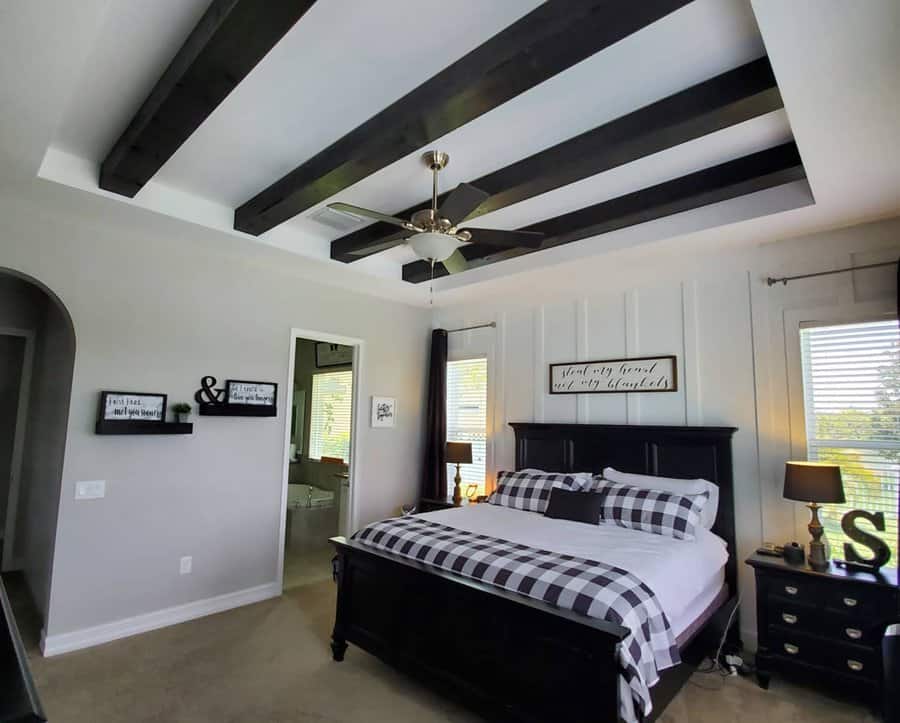 8. Contemporary Modern Crystal Chandeliers
When selecting bedroom lighting, harmonizing with your decor and desired atmosphere is key. Embrace the allure of contemporary modern crystal chandeliers, whether adorned with gold fixtures or not, to infuse opulence into your space.
For a dreamy ambiance, string lights along the edges of a canopy bed provide both romance and functionality. For a more natural or minimalist feel, opt for sconce lights or wall-mounted lamps flanking your bed, casting a soft and welcoming glow.
Ultimately, your choice of lighting should align with your personal style and reflect your unique personality, ensuring a cohesive and personalized bedroom aesthetic that resonates with you.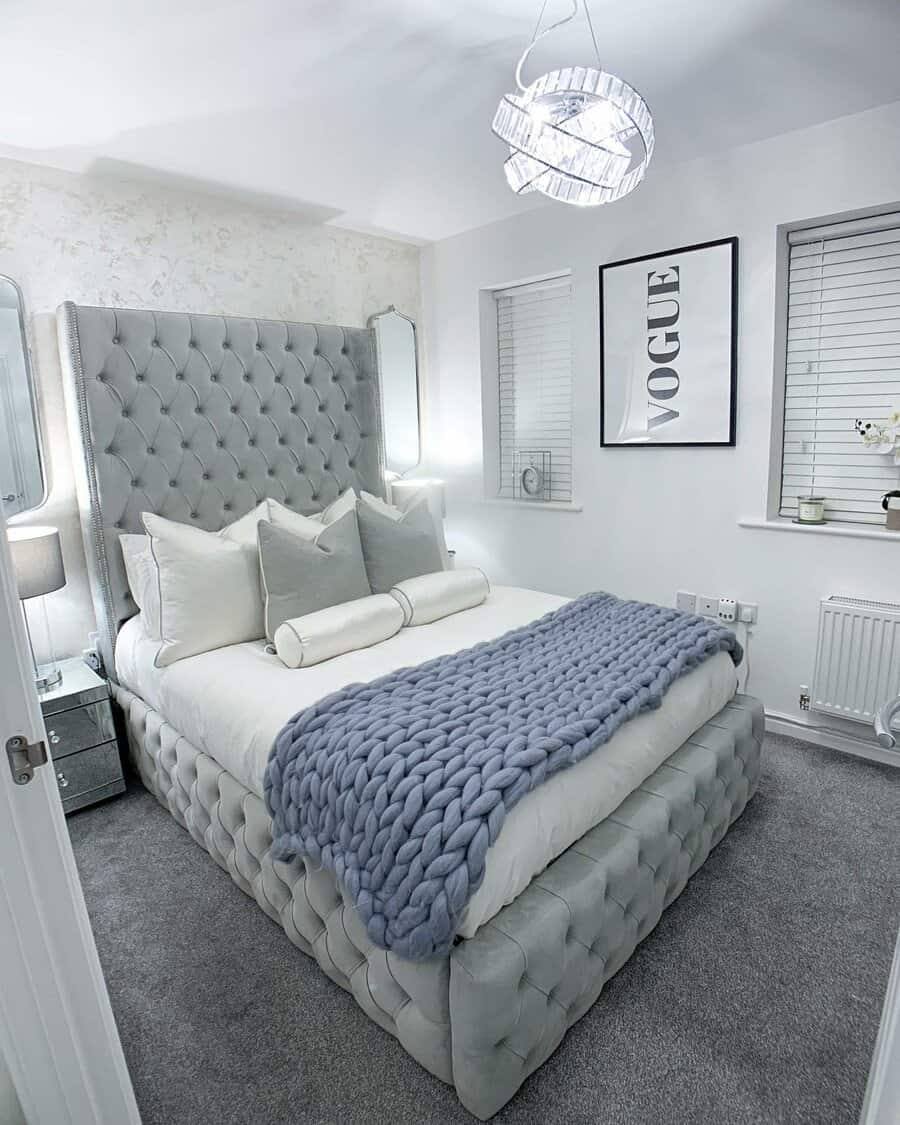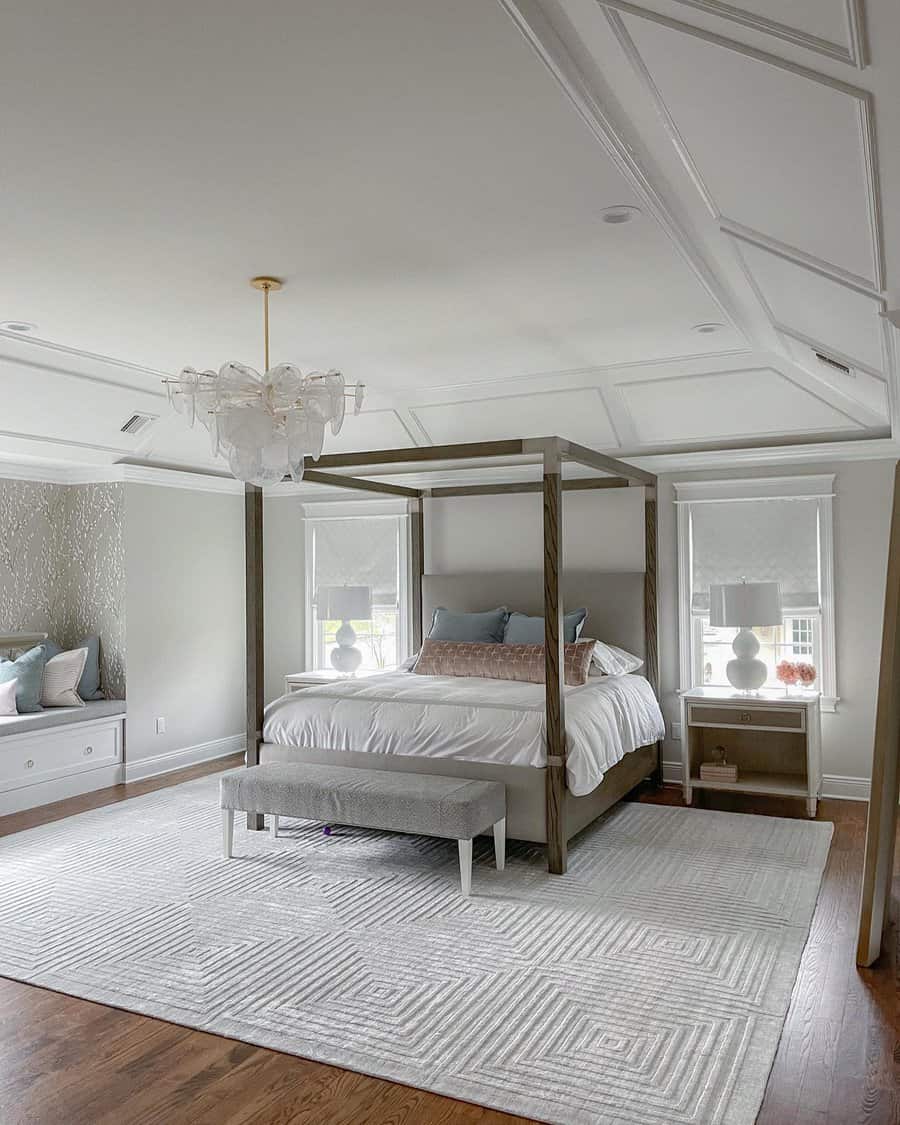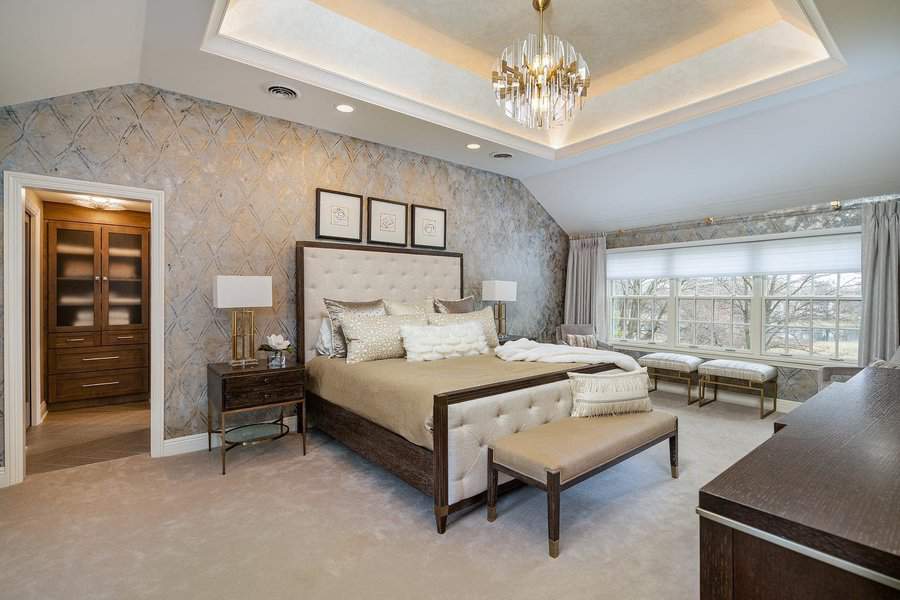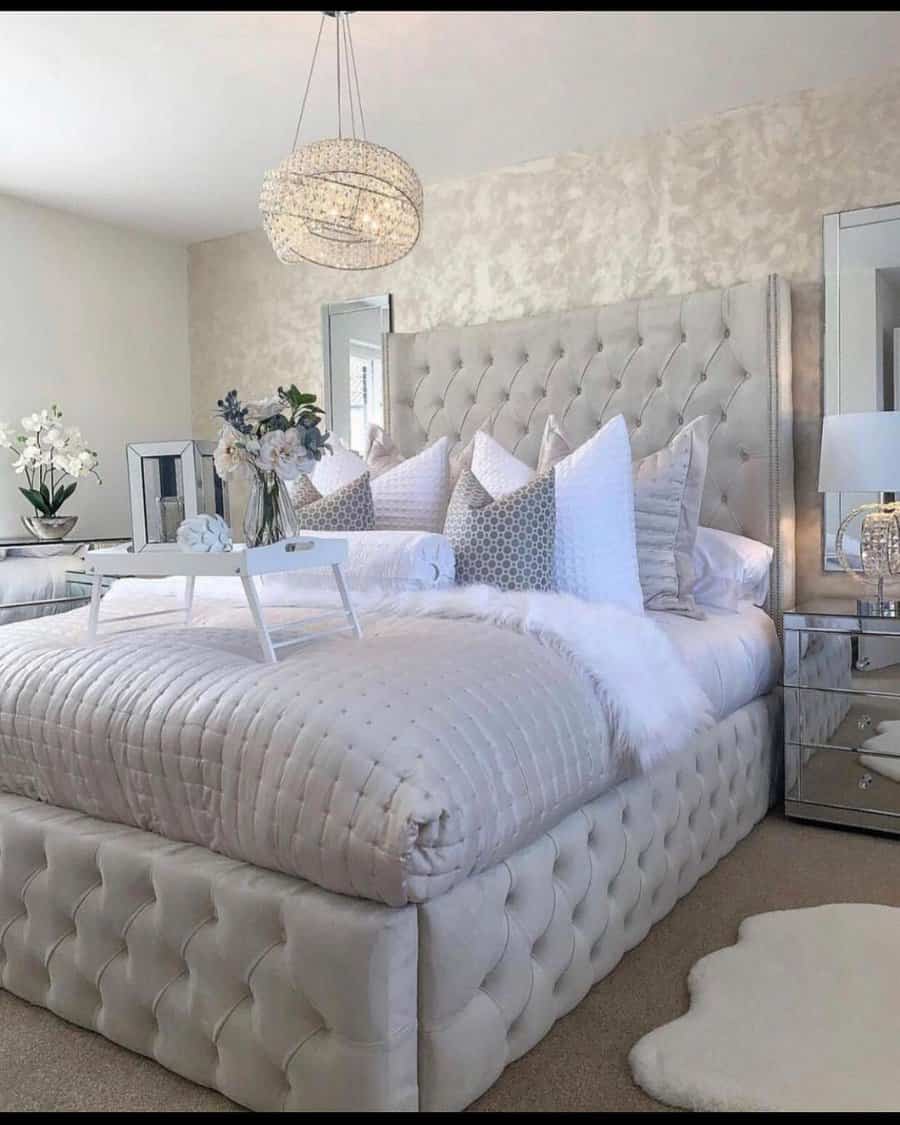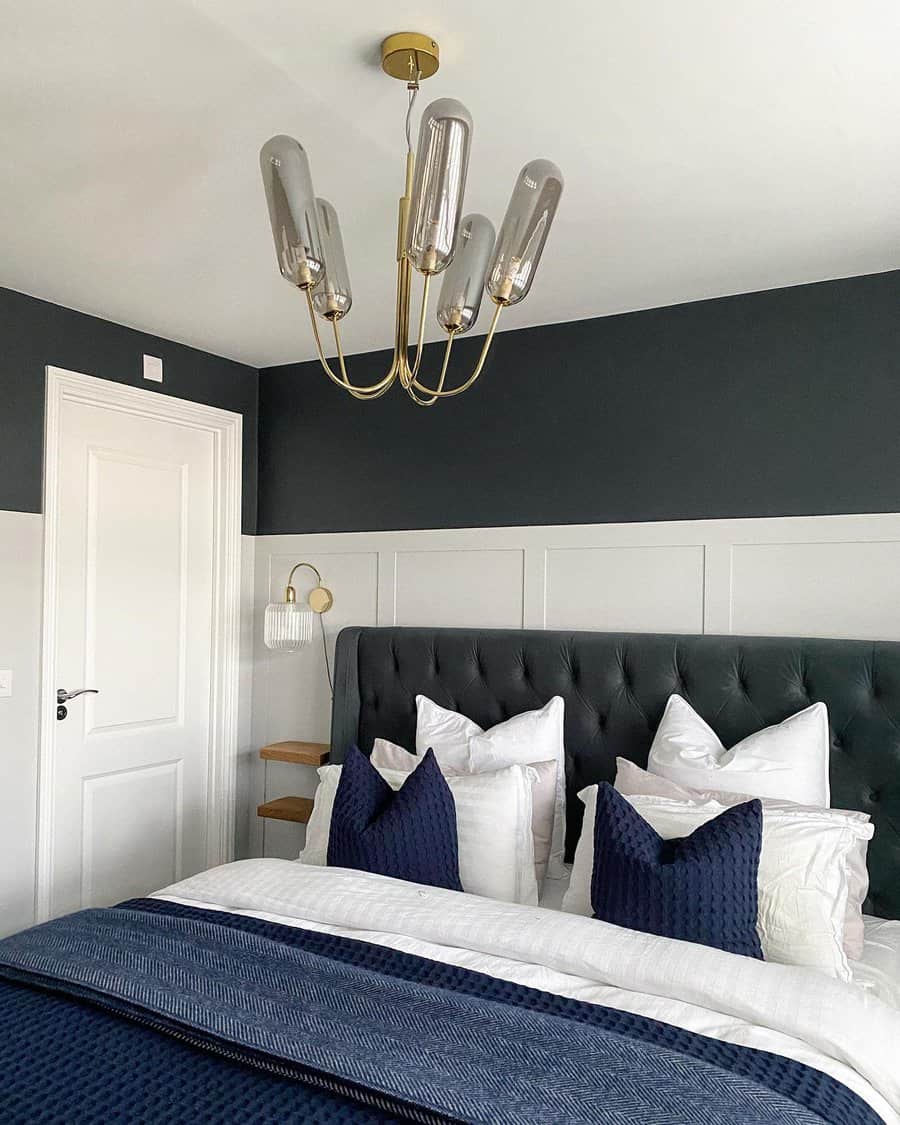 9. Serene Japanese Paper Lampshades
Crafting a tranquil, Zen-inspired bedroom is simpler than you think. Consider an effortless and creative bedroom lighting approach by introducing a Japanese paper pendant lampshade. These fixtures imbue your space with a serene ambiance, thanks to their gracefully curved shapes and traditional textures.
What's more, they offer versatility with various color and size options, allowing you to personalize your bedroom's appearance. You can choose to illuminate them with incandescent light bulbs or electric candles, depending on your desired mood. Ensure that your bedroom becomes a peaceful haven bathed in soothing light, ready to embrace you at the end of each day.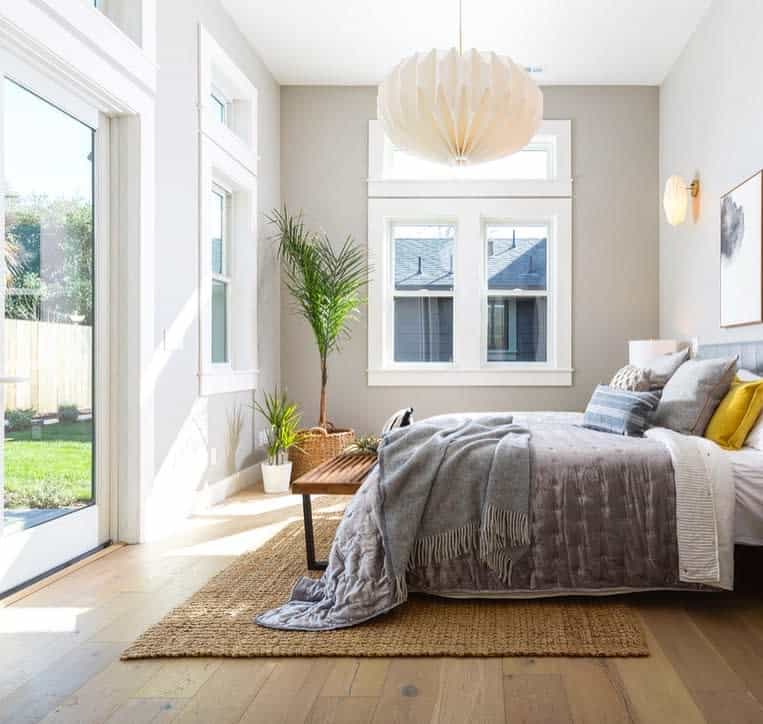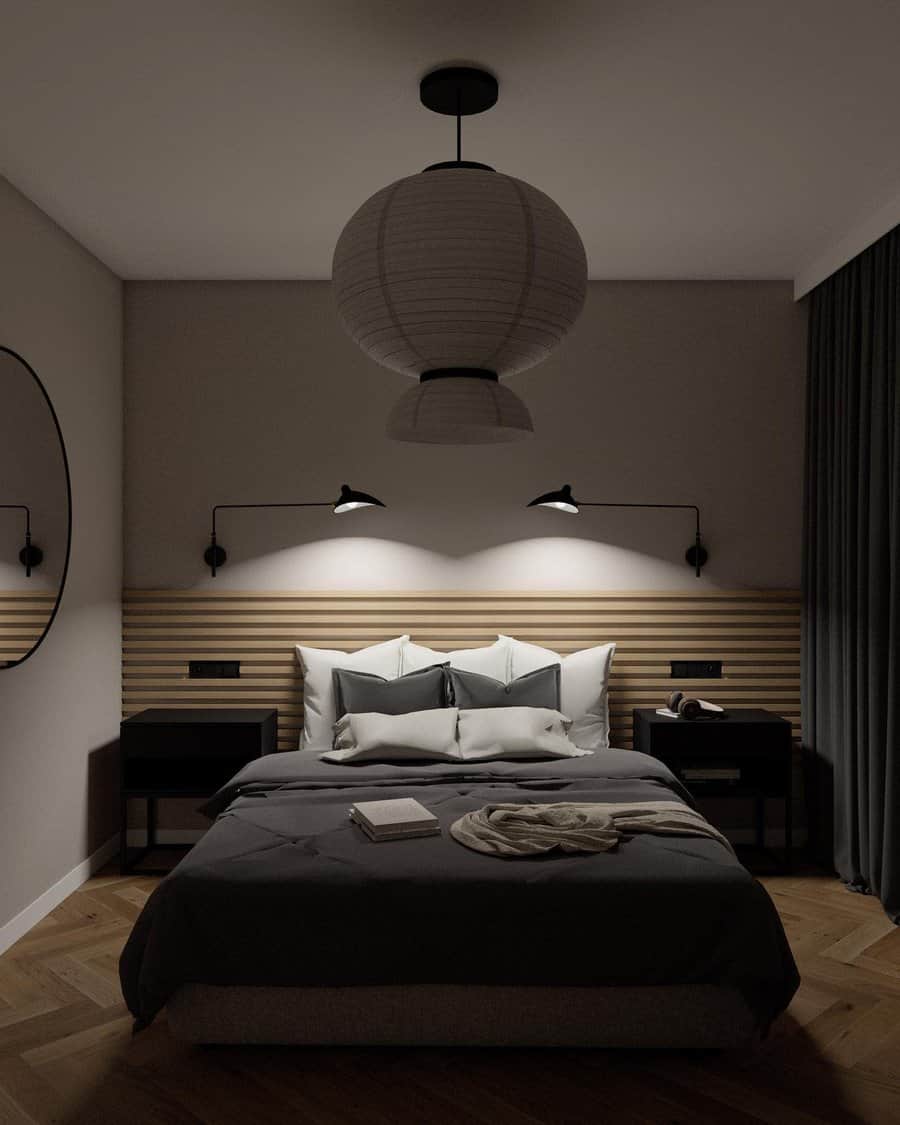 10. Captivating Globe Chandeliers
Introducing globe pendant lighting is a captivating bedroom lighting concept. Arrange them in rows or clusters to craft a distinctive and enchanting atmosphere, elevating the ambiance of any bedroom. For added charm, consider placing these pendants near an accent table, artwork, or a cozy reading nook.
Their versatility allows for seamless customization to match your preferred decor style. You can achieve a rustic look by incorporating exposed filament bulbs or opt for a contemporary feel with bold colors and patterns. When exploring bedroom lighting ideas, let your creativity roam free, and don't overlook the enchanting potential of globe pendant lighting to make your space truly special.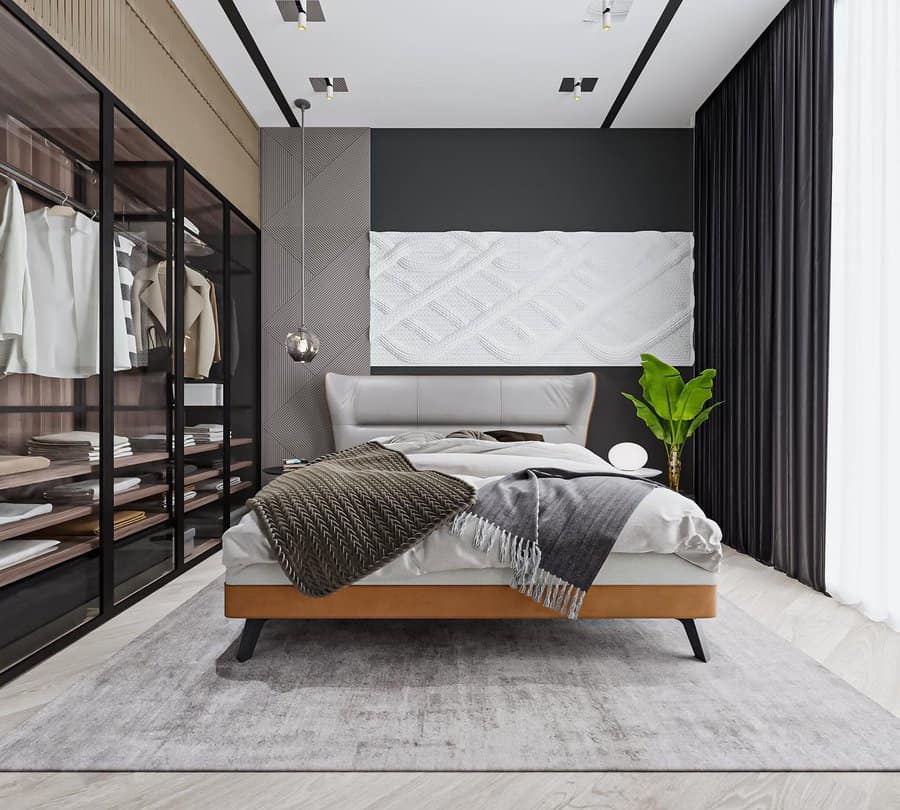 11. Timeless Brass Chandelier Designs
To infuse luxury and sophistication into your bedroom, contemplate the enduring allure of brass chandeliers. Elevate your space with statement lighting, including pendant fixtures, wall sconces, and desk lamps. For a classic touch, seek out decorative elements such as intricate shades.
In the realm of bedroom lighting ideas, embrace creativity and push the boundaries of interior design. Your bedroom serves as a personal reflection, so curate elements that consistently inspire you upon entering the room. Allow your unique style to shine through, creating a space that truly resonates with your essence.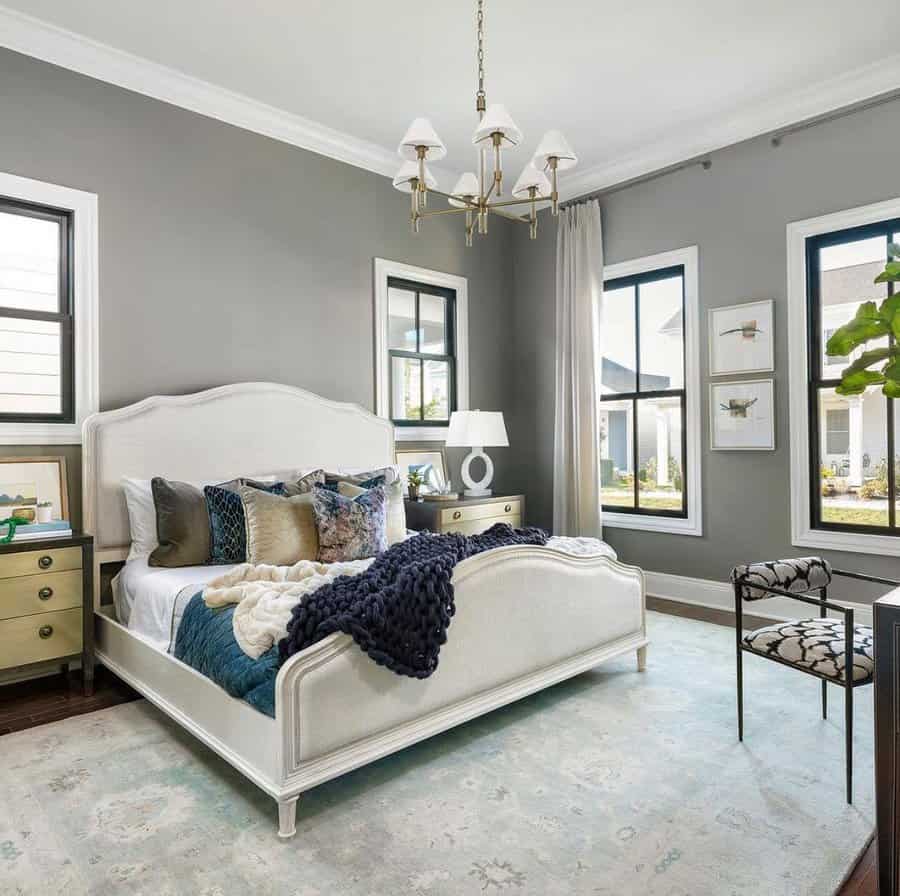 Bedroom Lighting FAQs
What is good lighting for a bedroom?
Your bedroom needs ambient lighting. This is the generalized light that illuminates the entire room. This light makes it easier to get ready in the morning, use your room throughout the day, and get ready for bed at night. You also need task lighting in strategic areas. Lamps next to the bed give you a soft, focused light that is nice to use while in bed. It's also essential for getting in and out of bed when the ambient light is turned off.
Are LED lights good for bedrooms?
Yes! You can use LED lights in your bedroom. They are energy efficient and come in a wide range of colors and temperatures. This makes it easy to find the perfect lighting for the mood you want to set in your bedroom. LED lights also come in a wide range of shapes and sizes, so you can use them for everything, ambient, task, and accent lighting.
Where should lights be placed in a bedroom?
You should have ambient light placed in the center of the room from the ceiling. This is the best position for spreading light throughout the room. It's also good to place an ambient light source in a corner to brighten up a dark spot. Small lights on a vanity, desk, and bedside tables are good for task lights. Accent lighting looks nice when placed under the bed, along the crown molding, or in a built-in shelving unit.