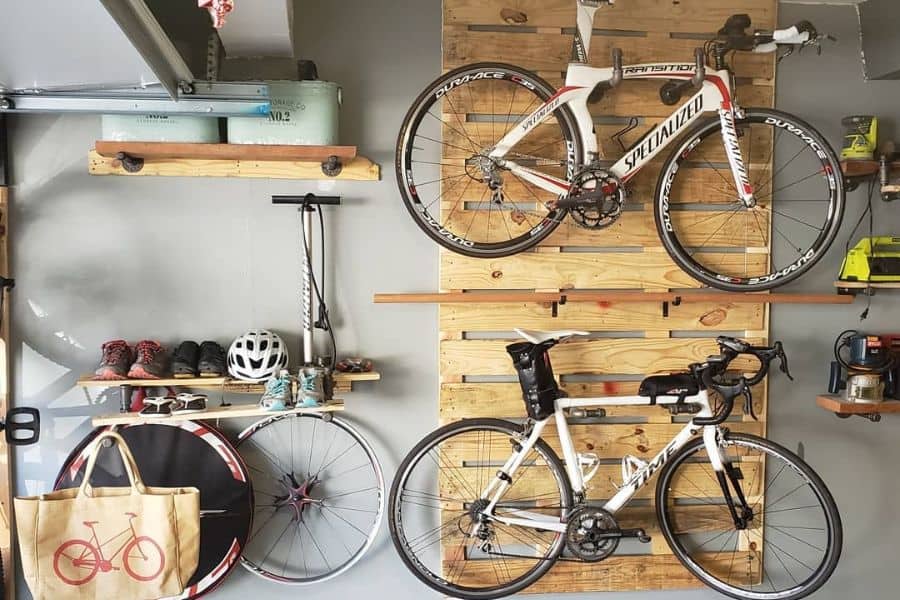 The Top 43 Bike Storage Ideas
Riding a bicycle is not only fun, but it's perfect for short commutes or getting some exercise. The only problem is, they take up a lot of room when they're not in use.
It doesn't matter what type of bike you ride, it could be an electric bike with a heavy battery, a sleek road bike, a hybrid bike that's ready for anything, or a rugged mountain bike, you need a safe place to keep your bike.
If you have multiple bikes, now you need compact storage that won't take up your entire garage or apartment entry.
These bike storage ideas will help you find the right storage solution for your bikes.
1. Ceiling
If you lack floor space, then it's time to look up. Instead of placing a bike rack on the floor, you can have an overhead storage system. A bike hanger mounts to the ceiling and then holds the bikes in place.
You can then take the hanging bikes down when you need them and tuck them up and out of the way when you don't. This may not be a good storage solution for a kid's bike because they won't be able to reach their bike without your help.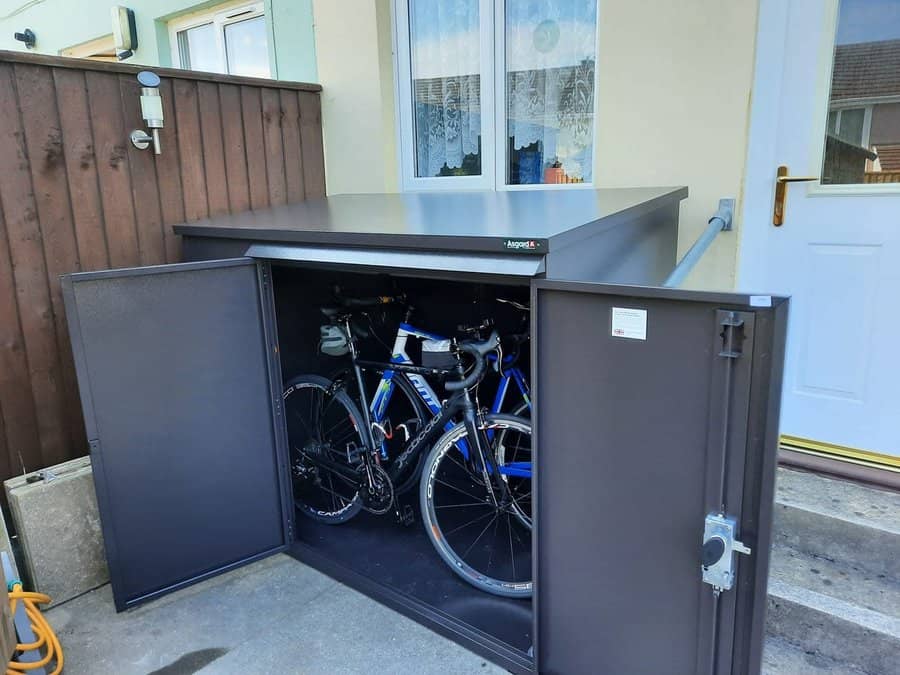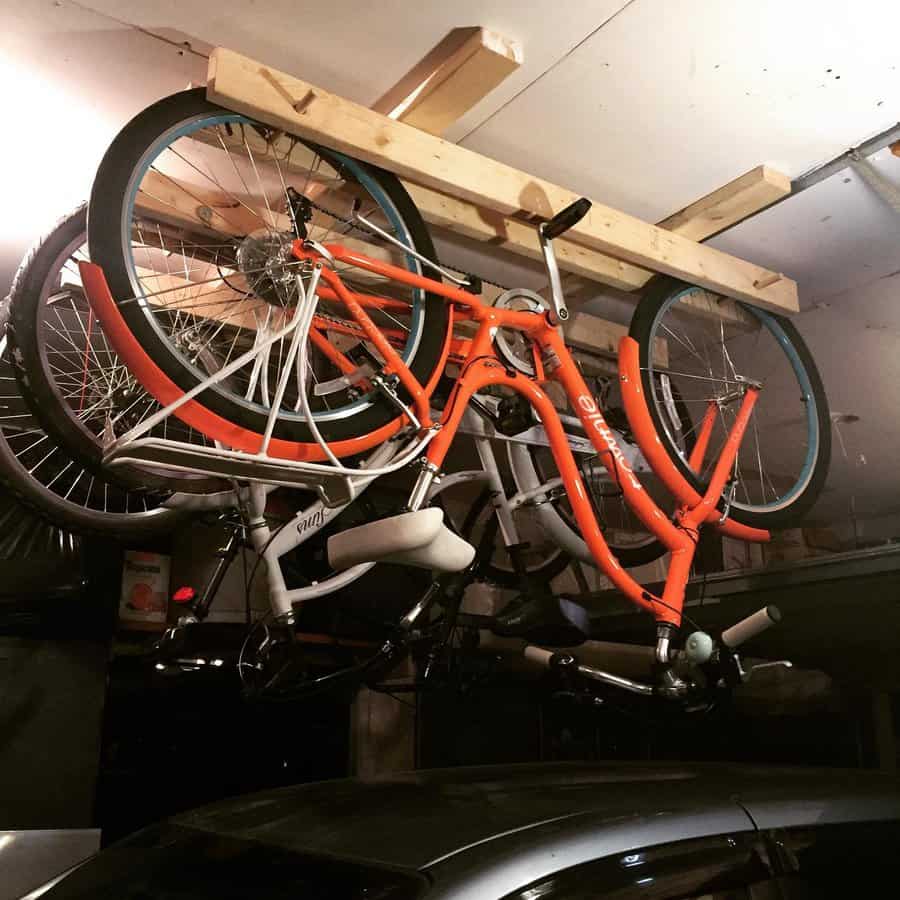 This type of rack is typically used in a garage, but you could install it in your home if that is where you have the space. Be sure to secure it to a beam in the ceiling or it won't have the support necessary.
2. DIY
If you're struggling to find the right storage solution for your home, then check out bicycle storage ideas to get inspired to build your own rack. You can easily build your own out of 2x4s.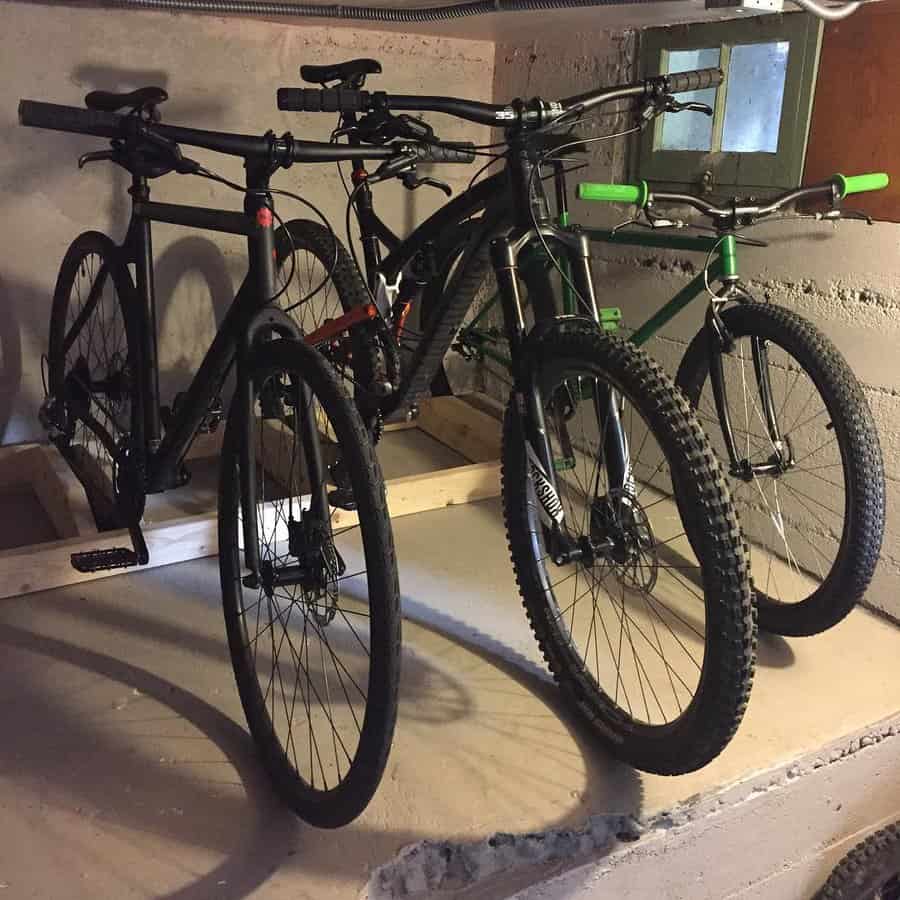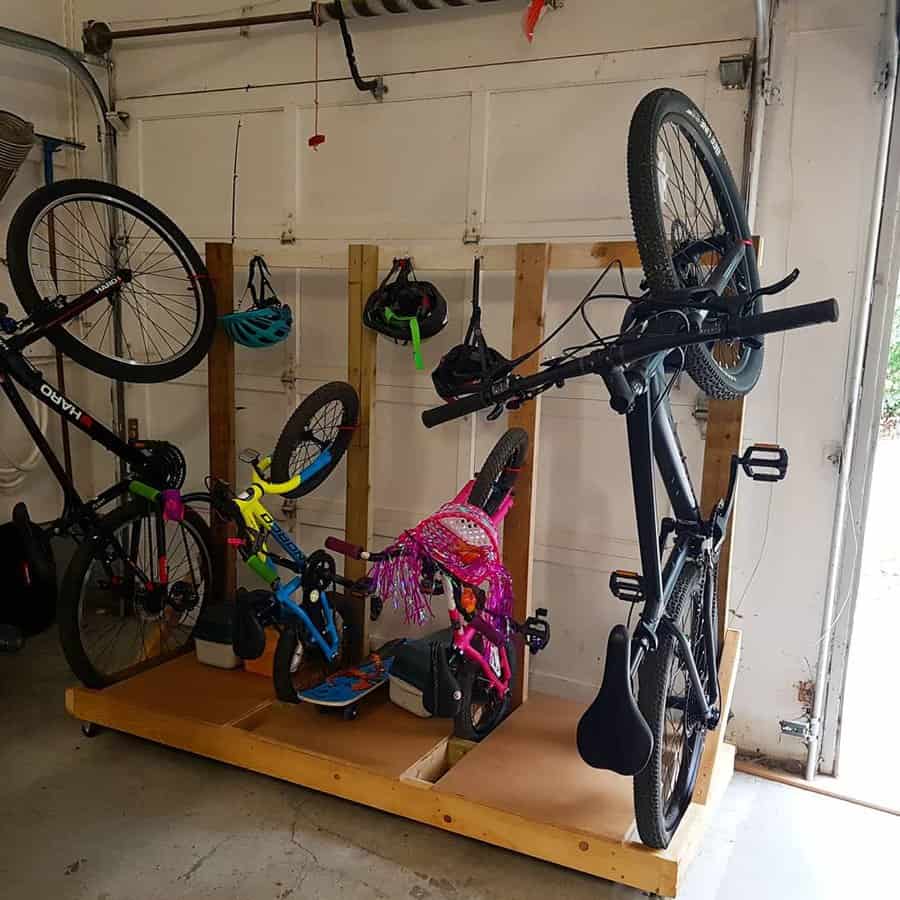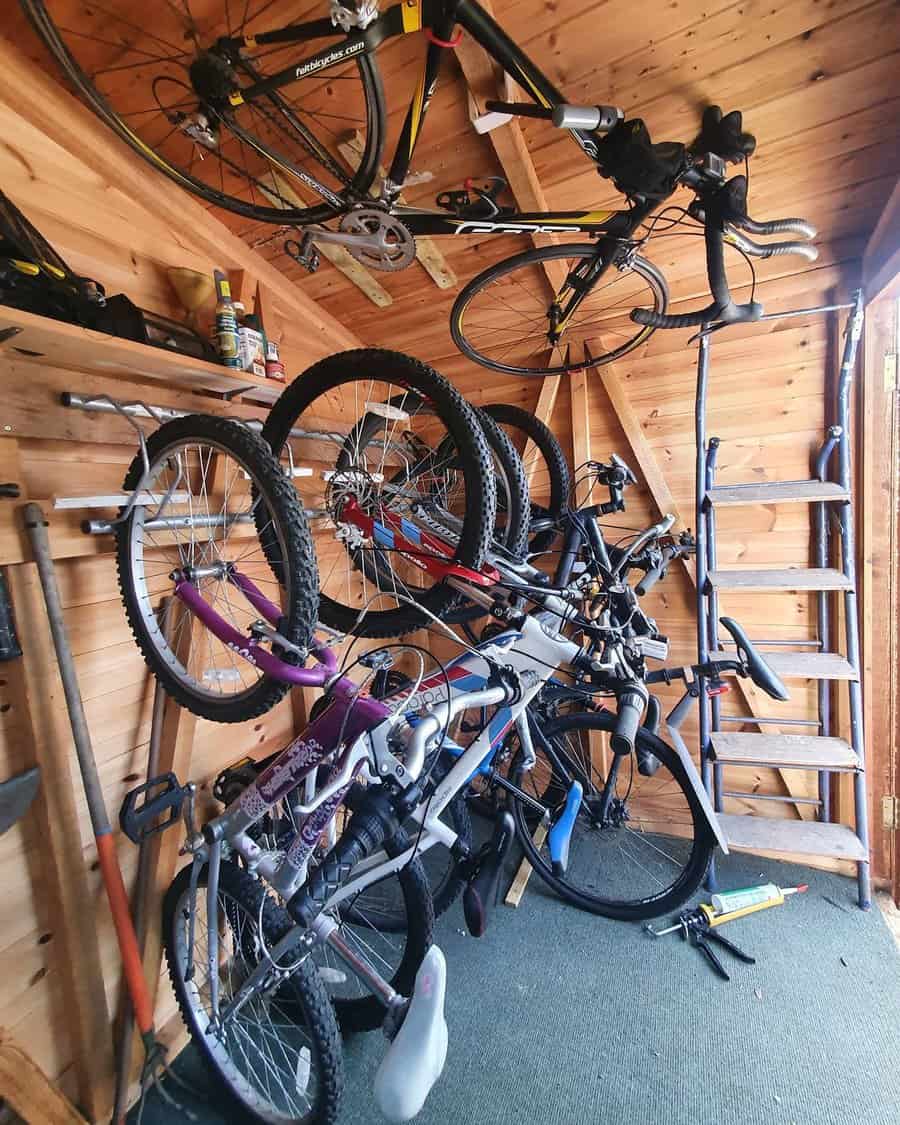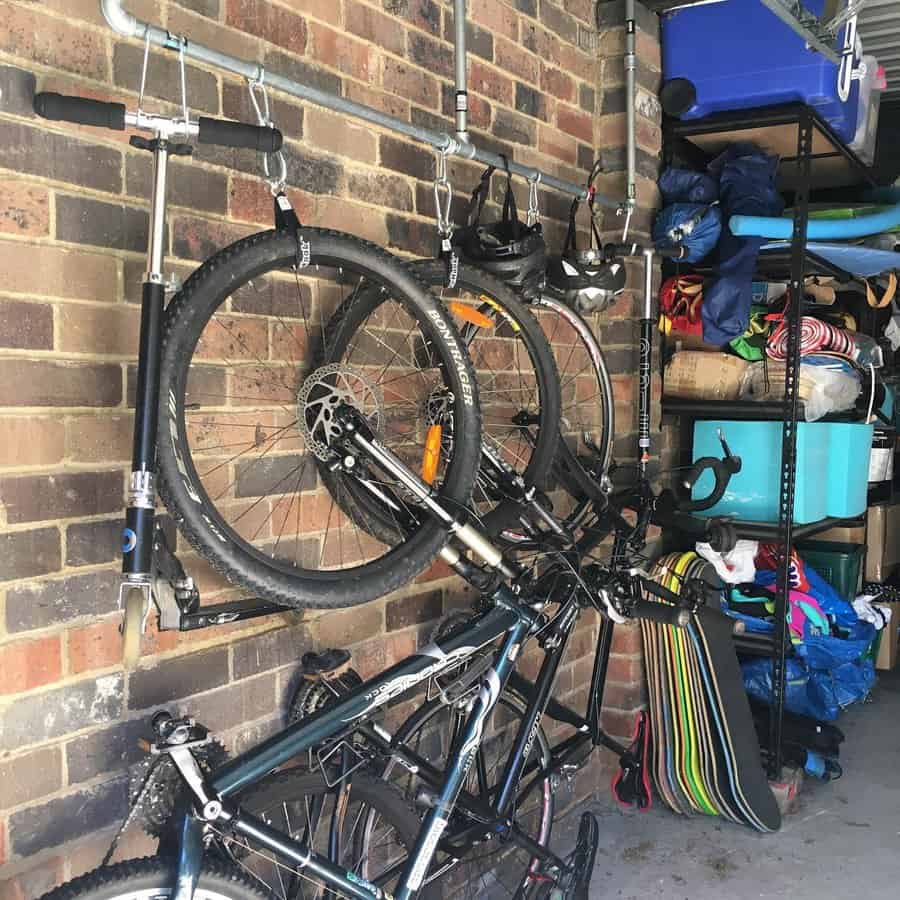 You could simply mount the wood on the wall and add hooks. Then hang the bikes on the wall. Another option is to use the wood to make a free-standing rack.
If you aren't interested in doing too much work, you can build a bike rack out of two shipping pallets. The tires will fit into the voids between the wood pieces to hold the bikes vertically in place.
3. Exterior
Sometimes, you don't have the available space indoors for bike storage. That's when you'll have to accept that your bike will get stored outside. However, you shouldn't just leave your bike outside and be exposed to the elements. This is also a quick way to get your bike stolen.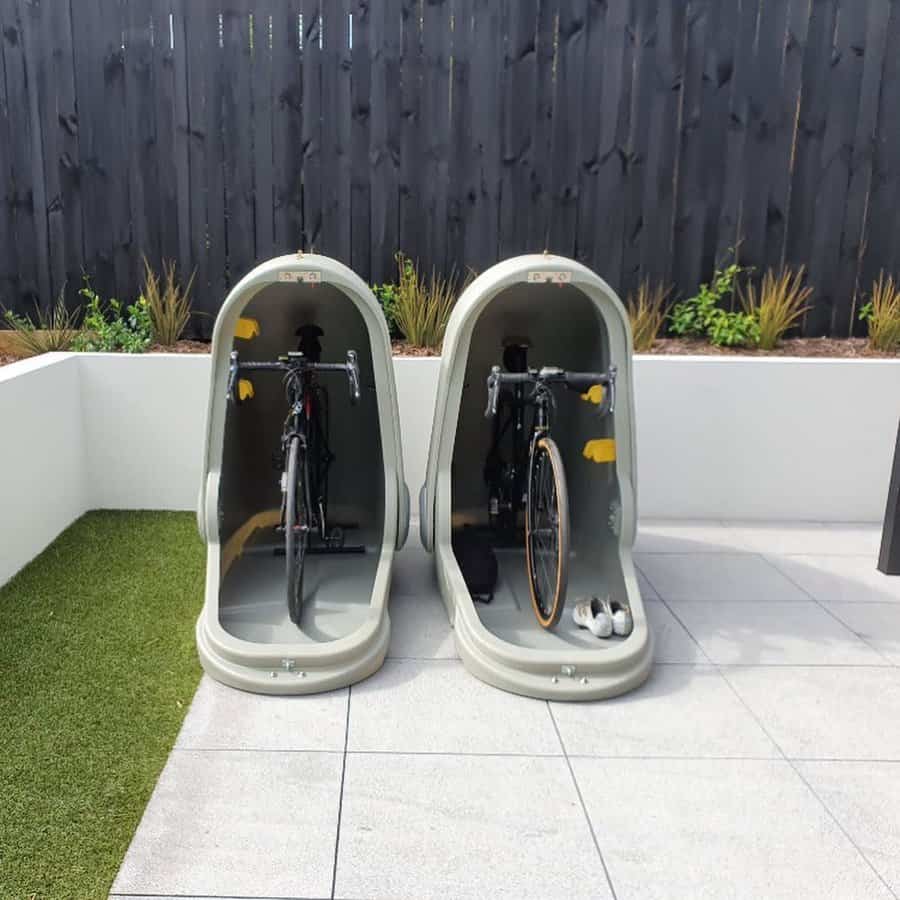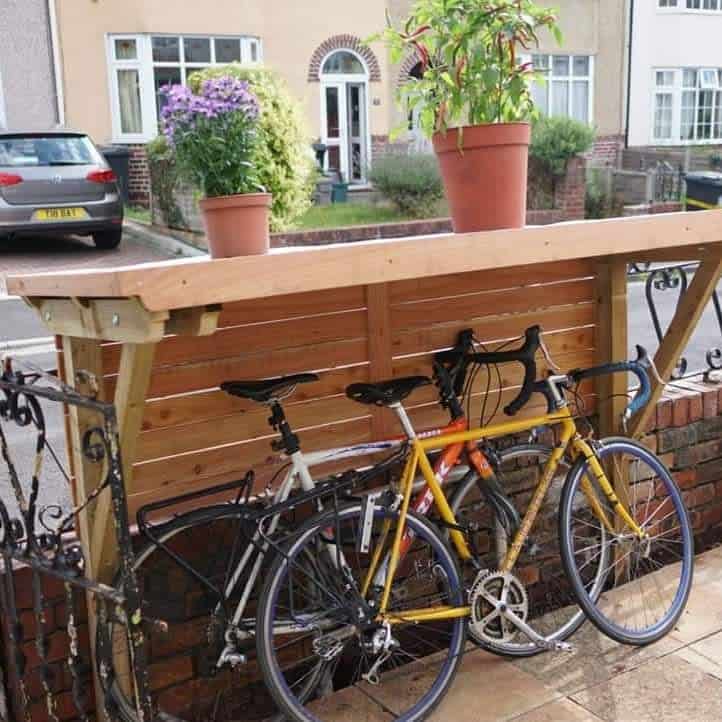 One easy and affordable solution is a bike tent. It's a portable outdoor bike storage solution. If you'd like something a little more permanent, you can build a bike shed. These are small structures that are just big enough to hold a bike and related equipment.
4. Garage
Keeping your bike in the garage is a natural place for it. If you have a garage, it's the perfect place for keeping your bike out of the way and your home neat.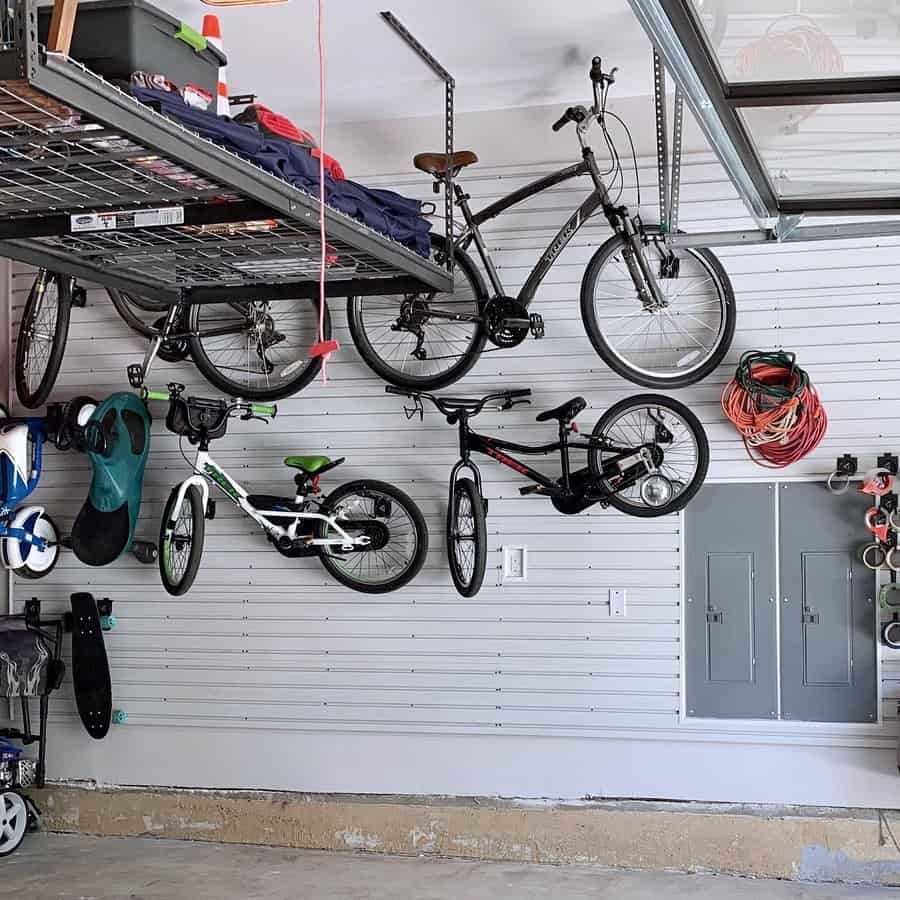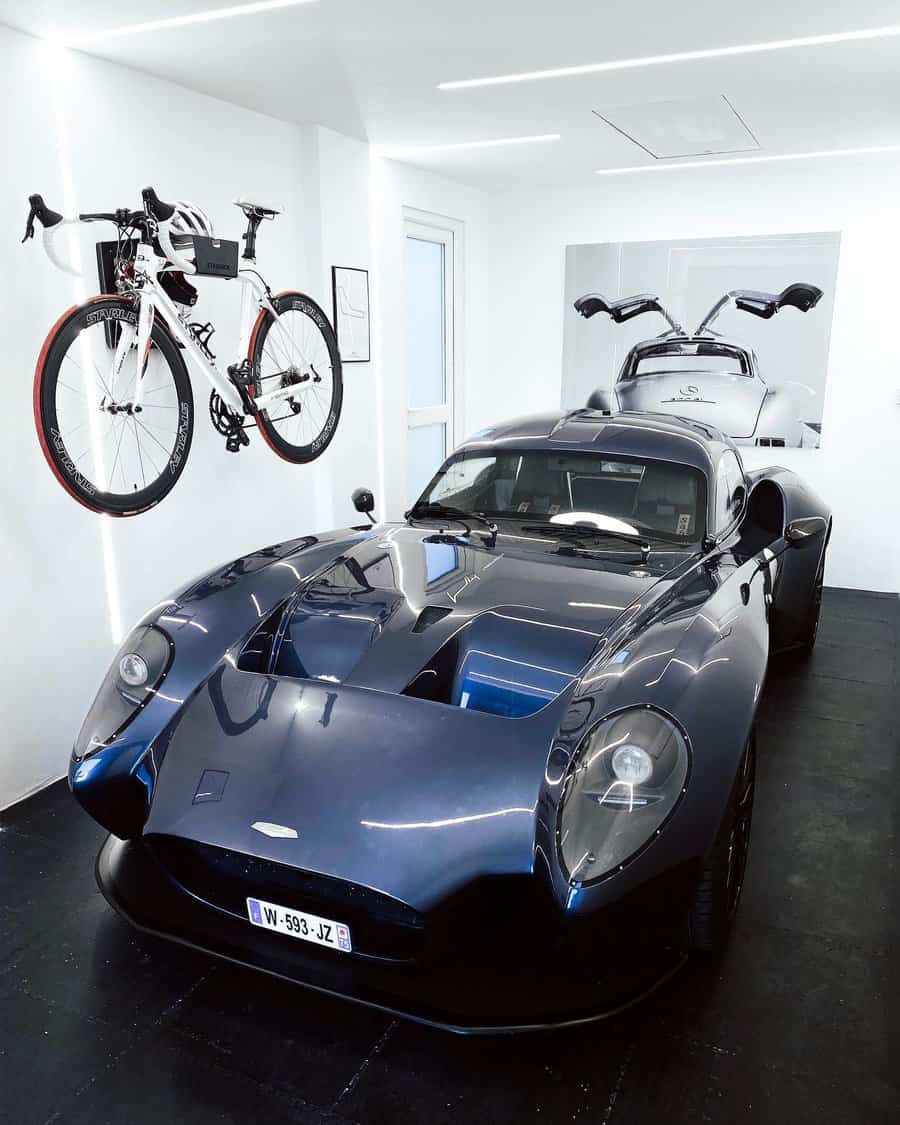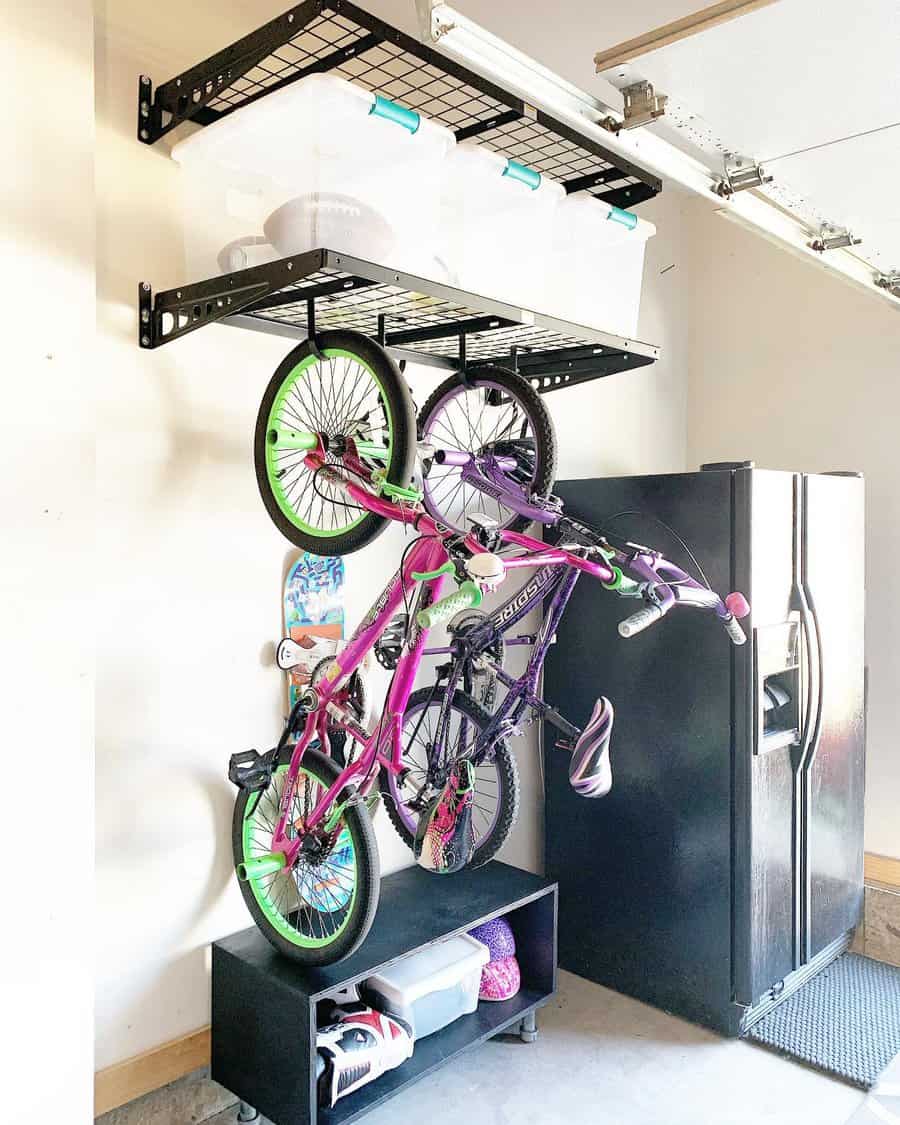 Garage bike storage could be a wall rack, but this can take up valuable space where you could potentially park a car. Instead, you can use the garage space that's naturally empty. This is when a ceiling bike storage option is an ideal solution.
Just be sure that your new rack doesn't interfere with the operation of your garage door opening and closing.
5. Hanging
Hanging your bicycle is a great way to get it off of the floor. This helps to keep it neatly tucked away and reduce the perceived clutter in the room. It also helps your room to feel more open.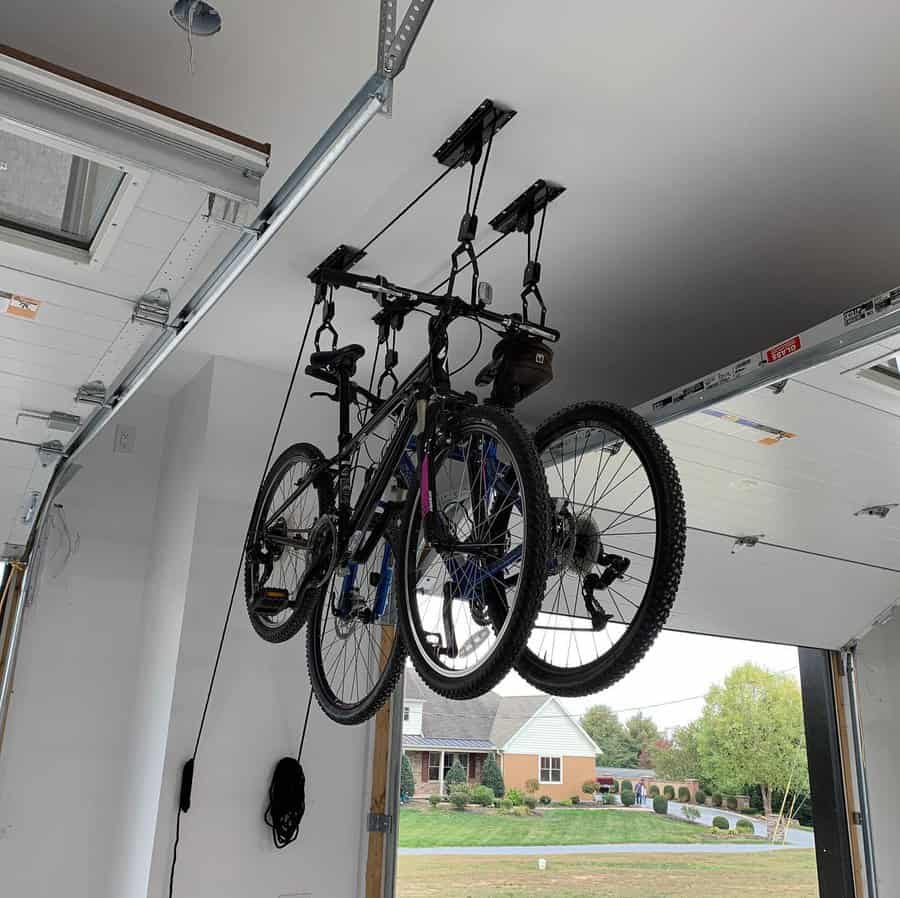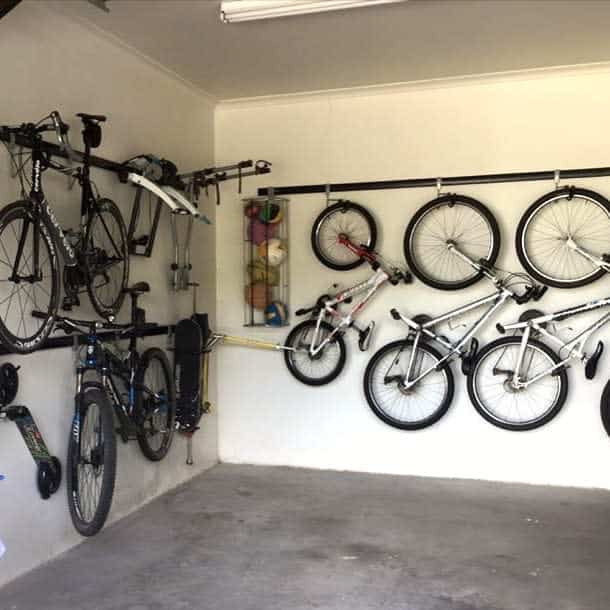 One of the most popular indoor bike storage ideas is to use a vertical bike rack. This takes your bikes and stacks them on top of each other. The bikes are positioned flat against the wall to take up minimal space.
6. Rack
A bicycle rack is an obvious solution for storing your bike. You see them in bike shops all of the time because they are so efficient at holding a large number of bikes. Typically, they are made of metal, but you can also find them made from wood.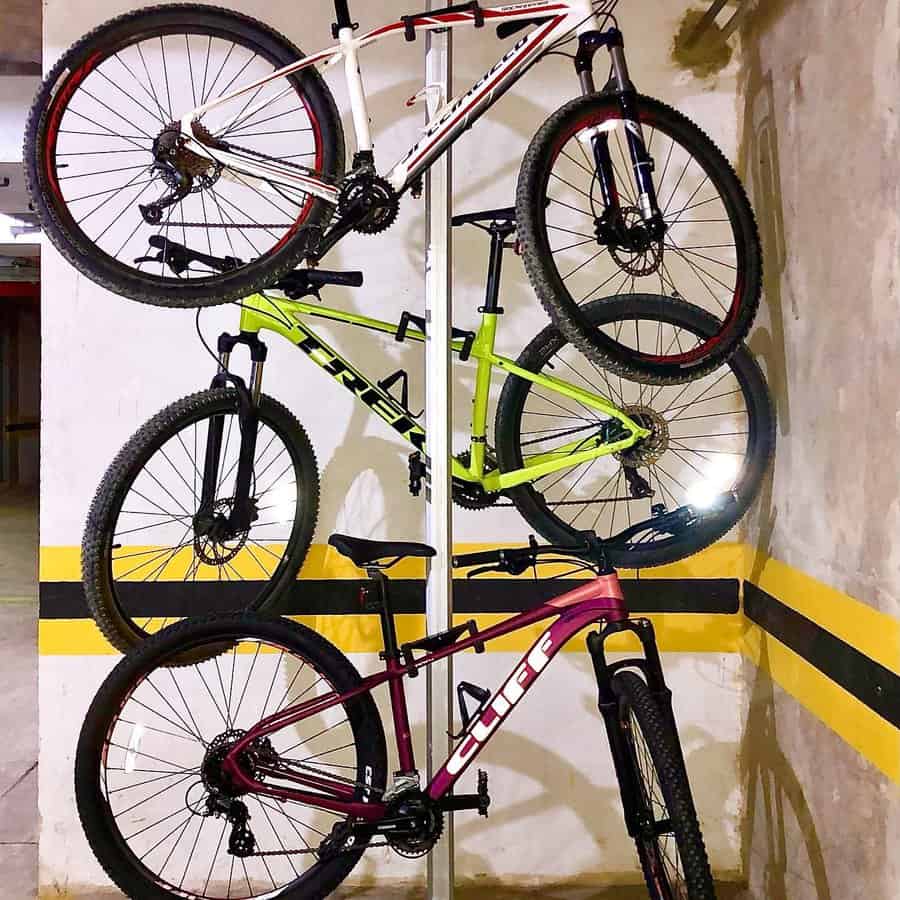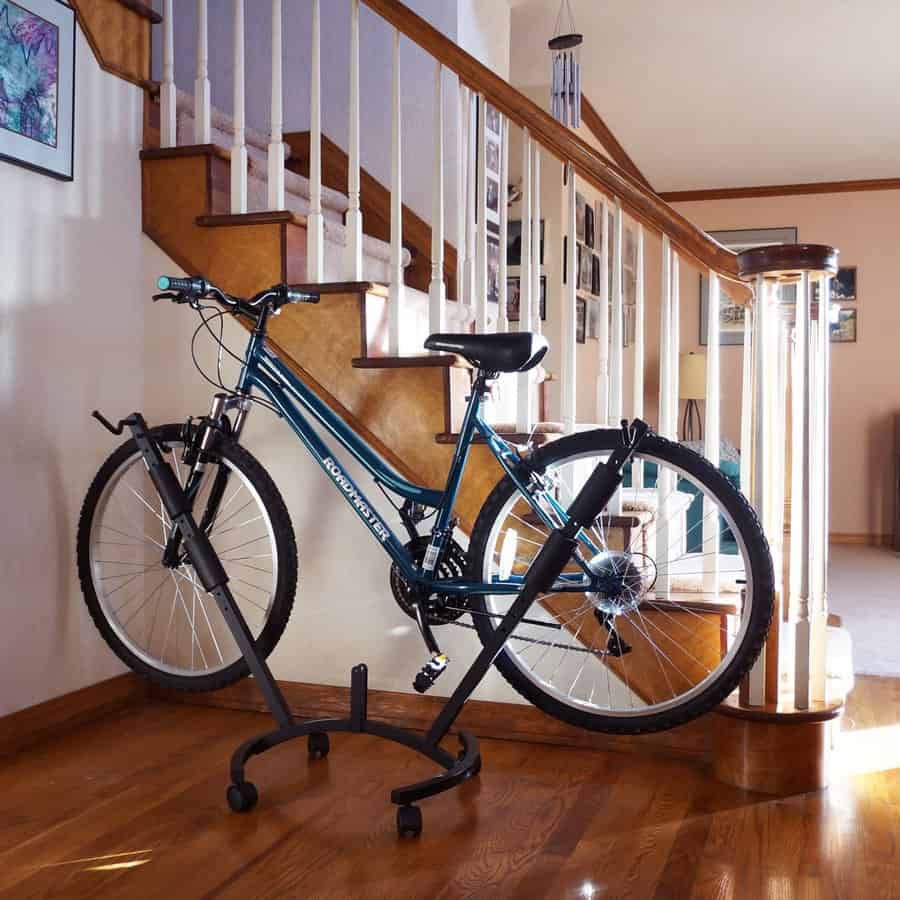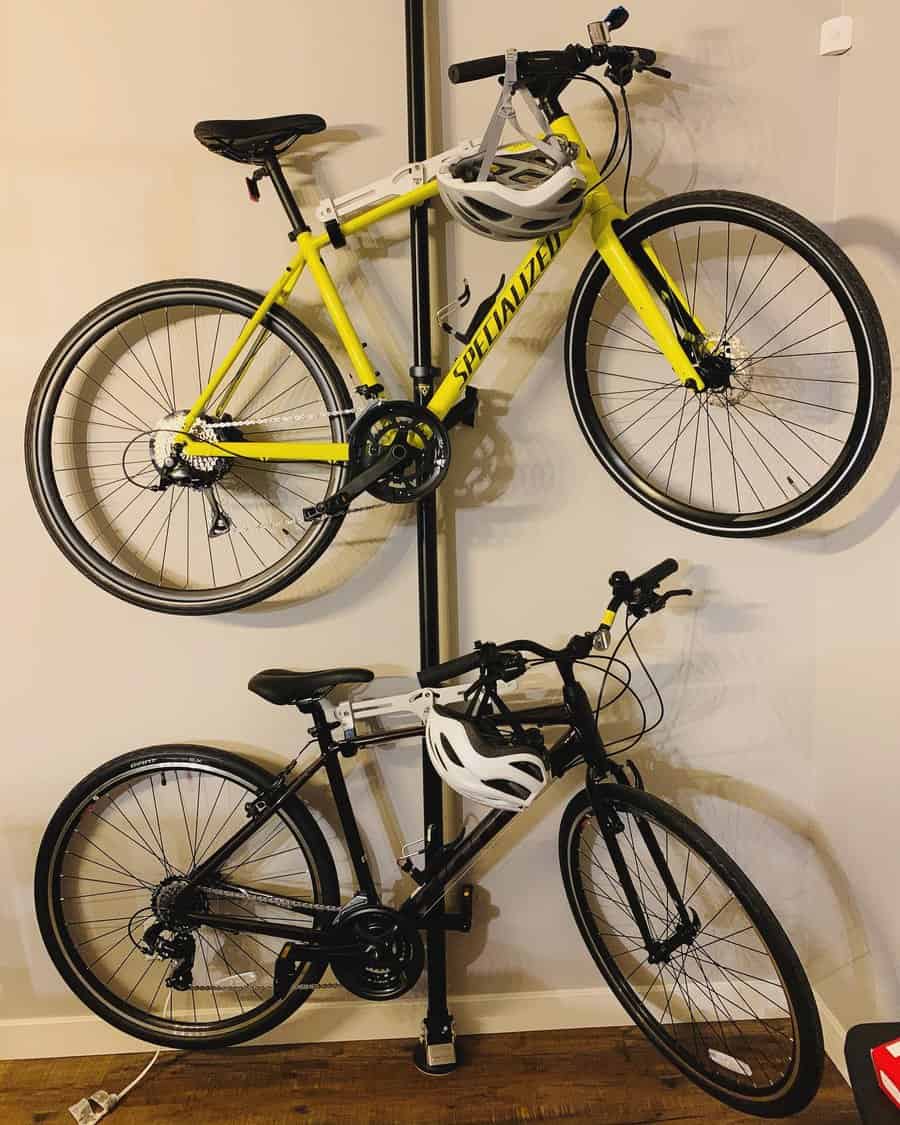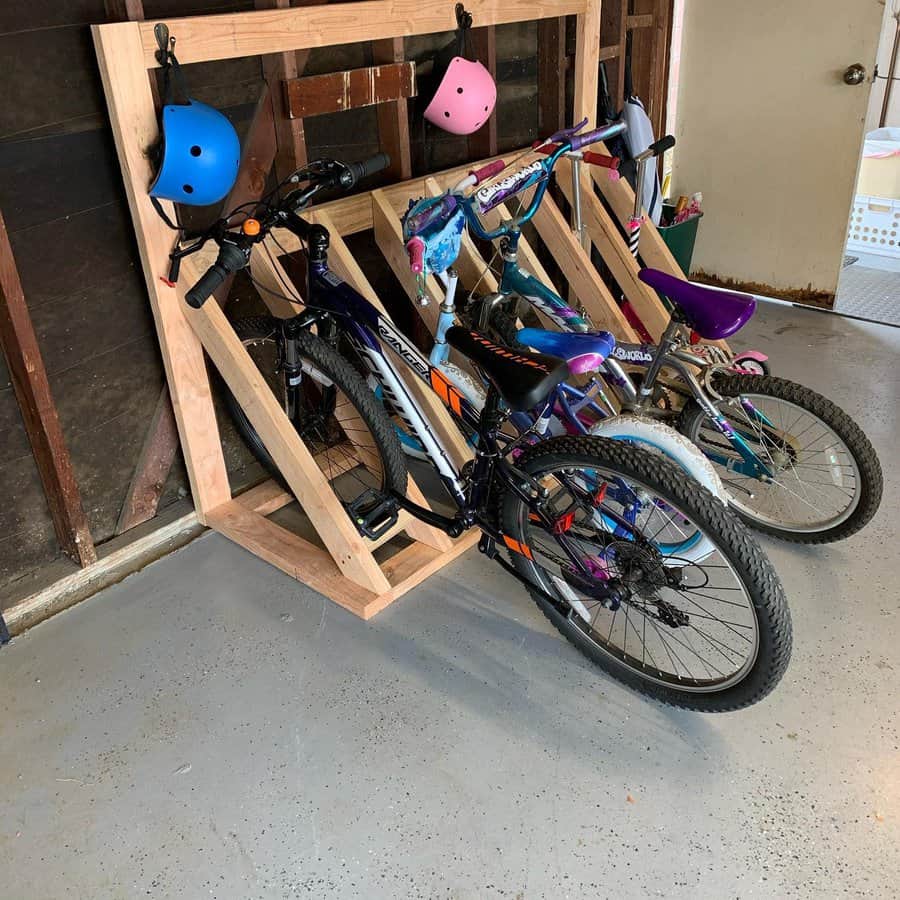 Look for a bike storage rack that is sturdy and stable. You don't want it to easily top over once your bikes are on the rack.
Look at the mechanisms that hold the bike on the rack. They should be secure but also easy to operate. They should also be protected so that they won't scratch or damage your bike in any way.
7. Room
If you have a passion for biking, you probably have more than one bike that you need to store. In this case, you may need more than just a floor rack.
You need a dedicated room or bike nook. This indoor bike storage space gives you plenty of room for the rest of your biking gear and equipment. It also gives you a dedicated place so your biking hobby doesn't spread out and take over your home.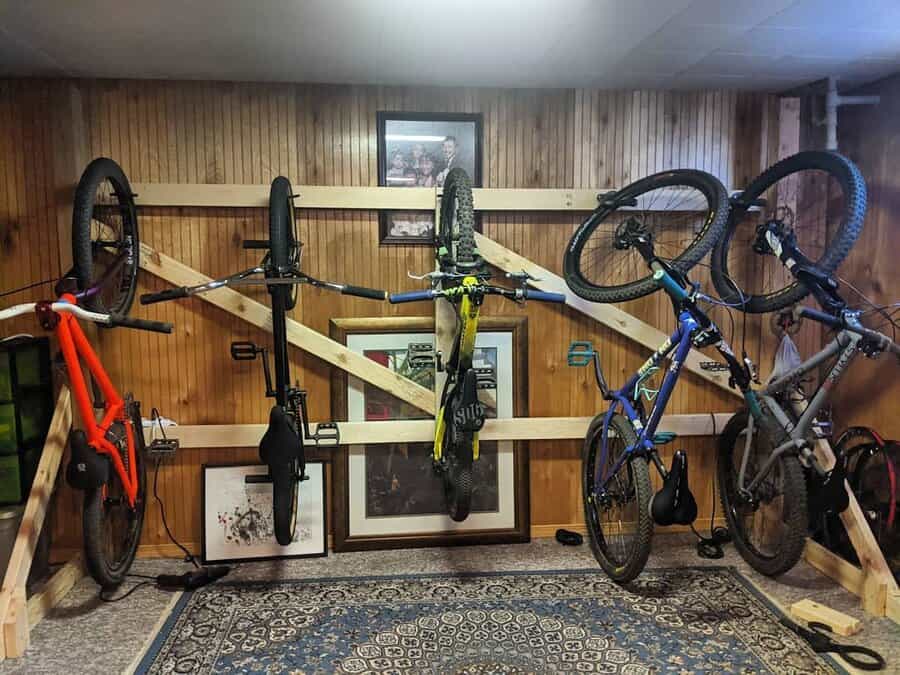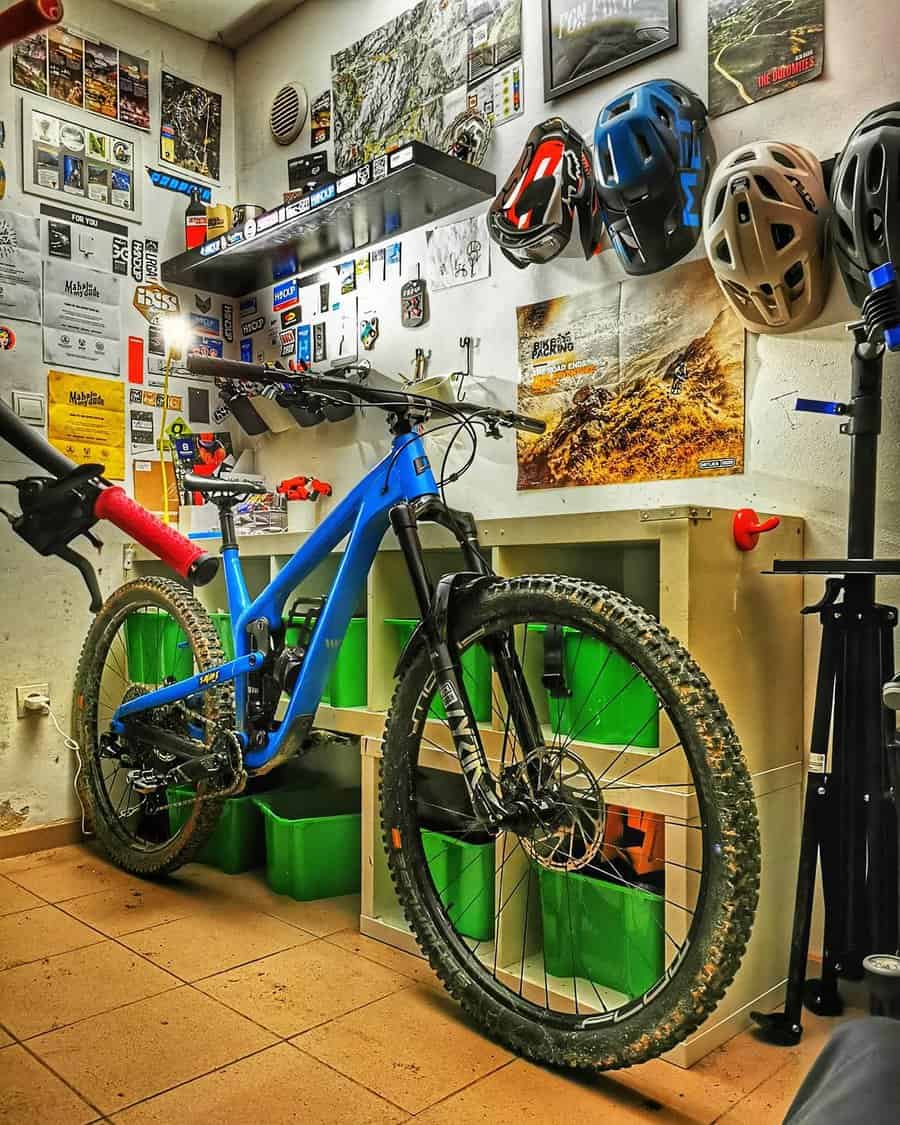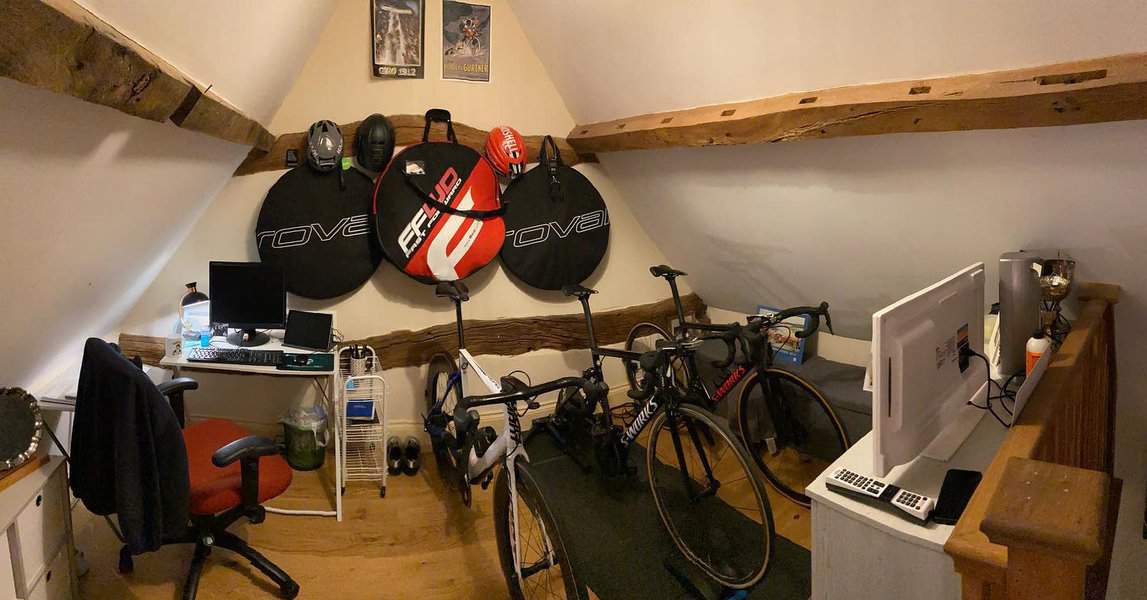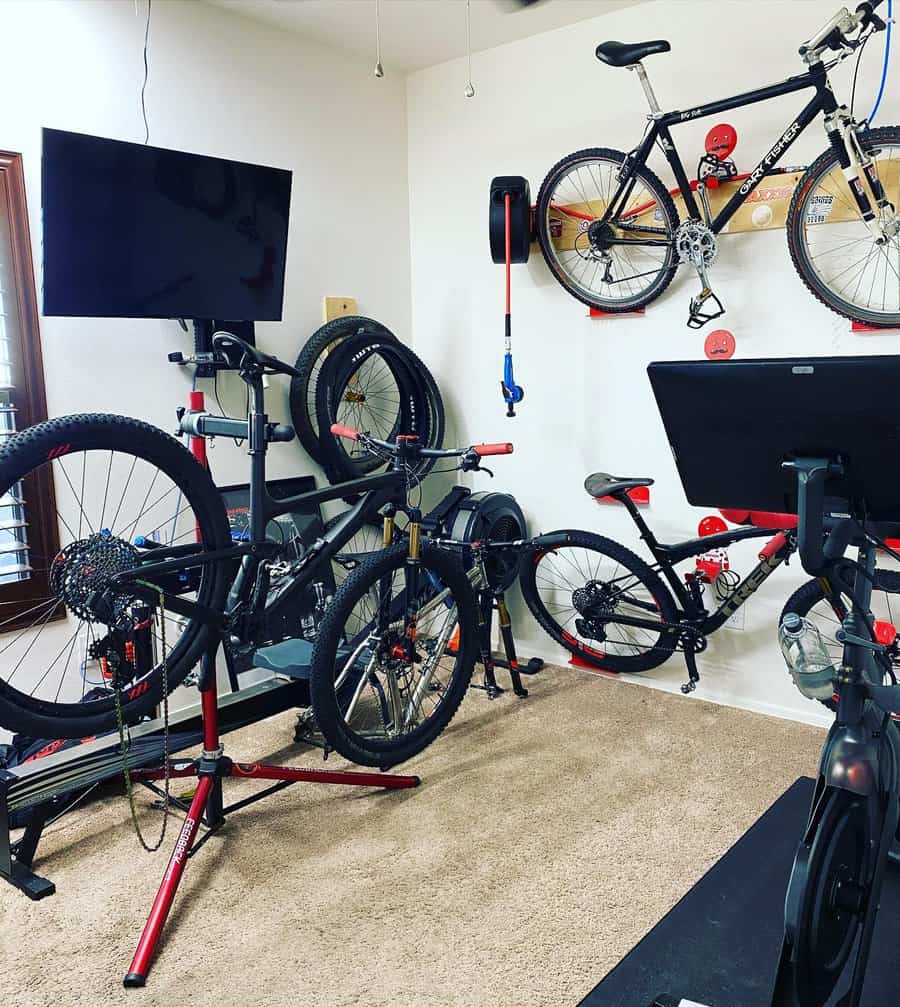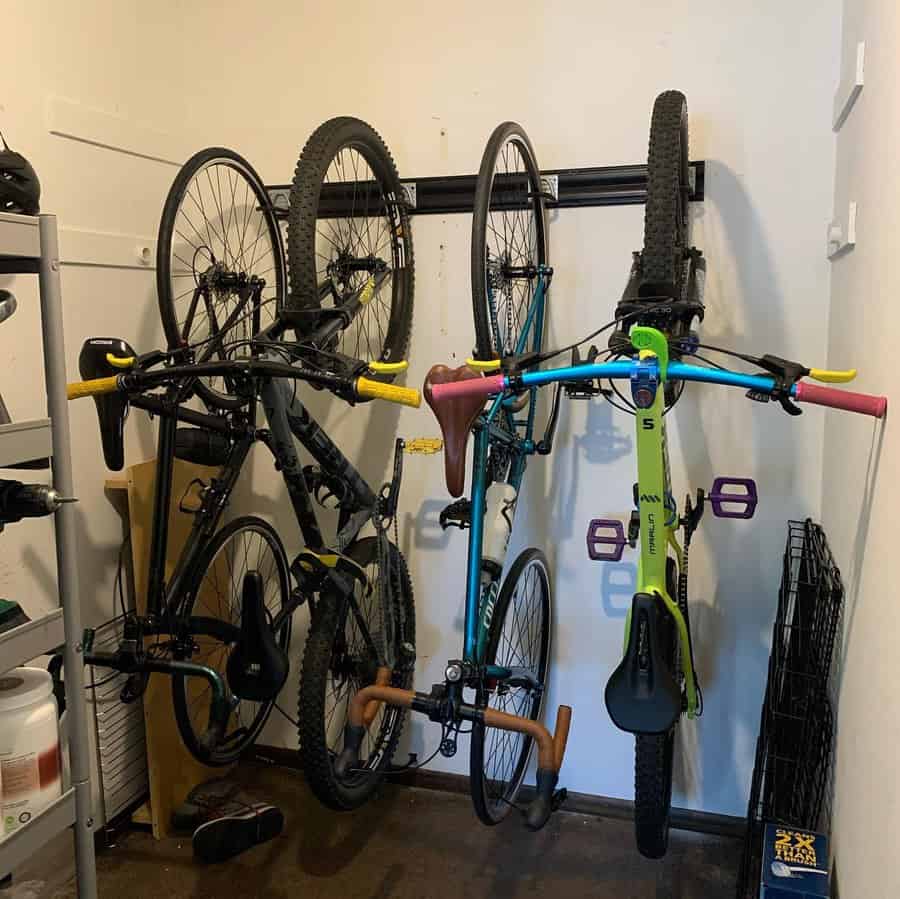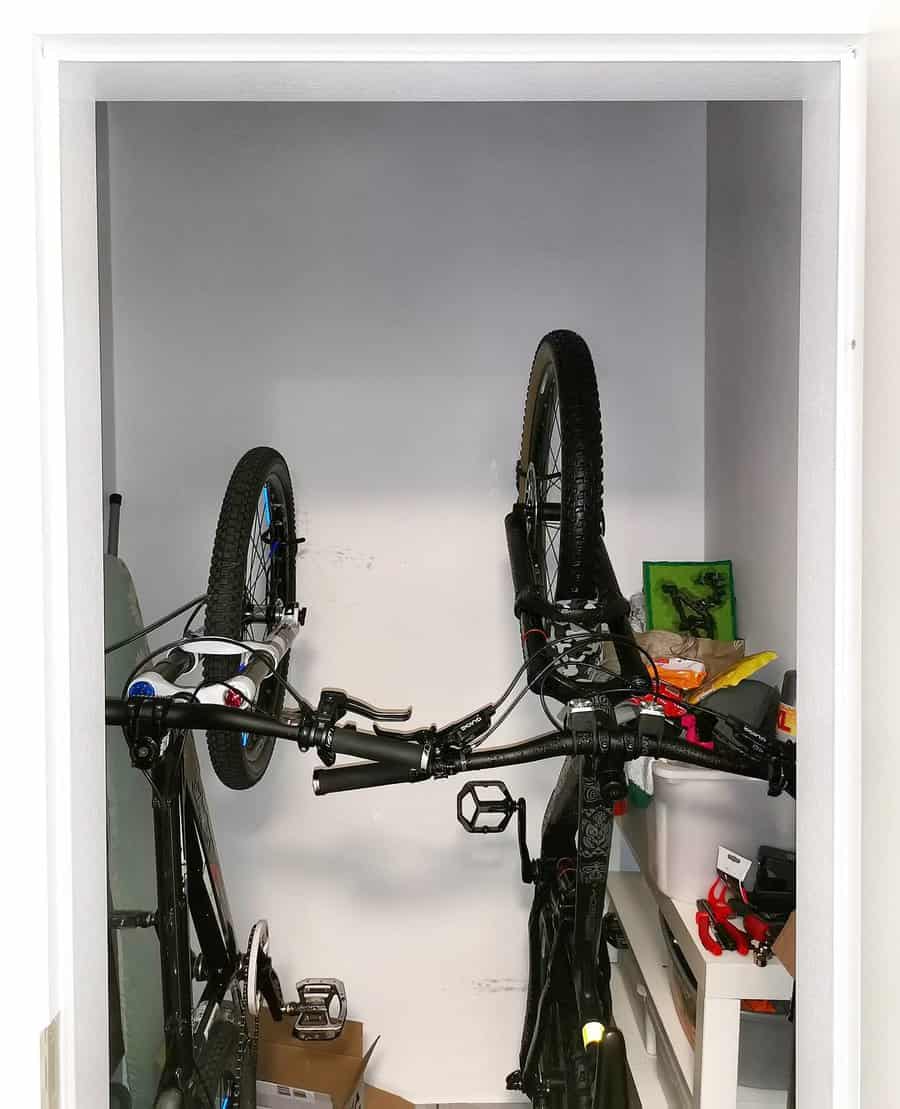 Arrange the room to have your racks on one side. Then on the other side of the room, you could have a workstation with a bike stand, workbench, and supplies chest.
8. Shed
A bike shed looks more like a bike locker. It's a solid structure that sits on your property. The height will be shorter than a typical storage unit. The shape will also be slightly different, less square, and more the dimensions ratio of a bicycle.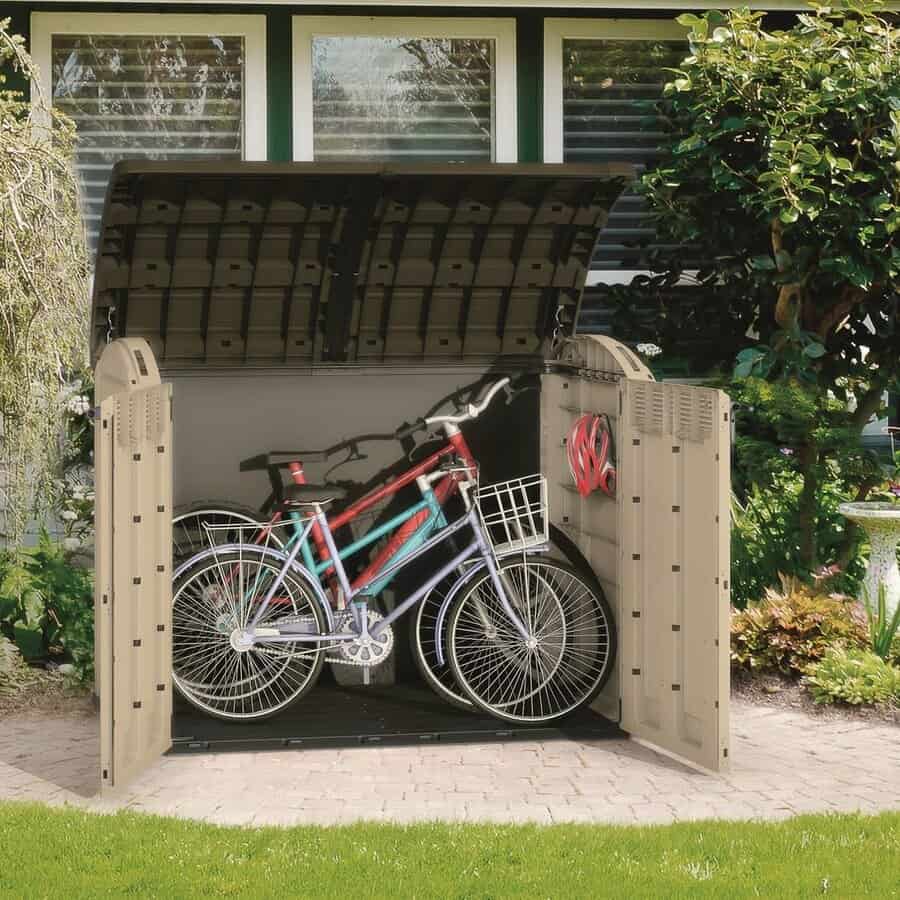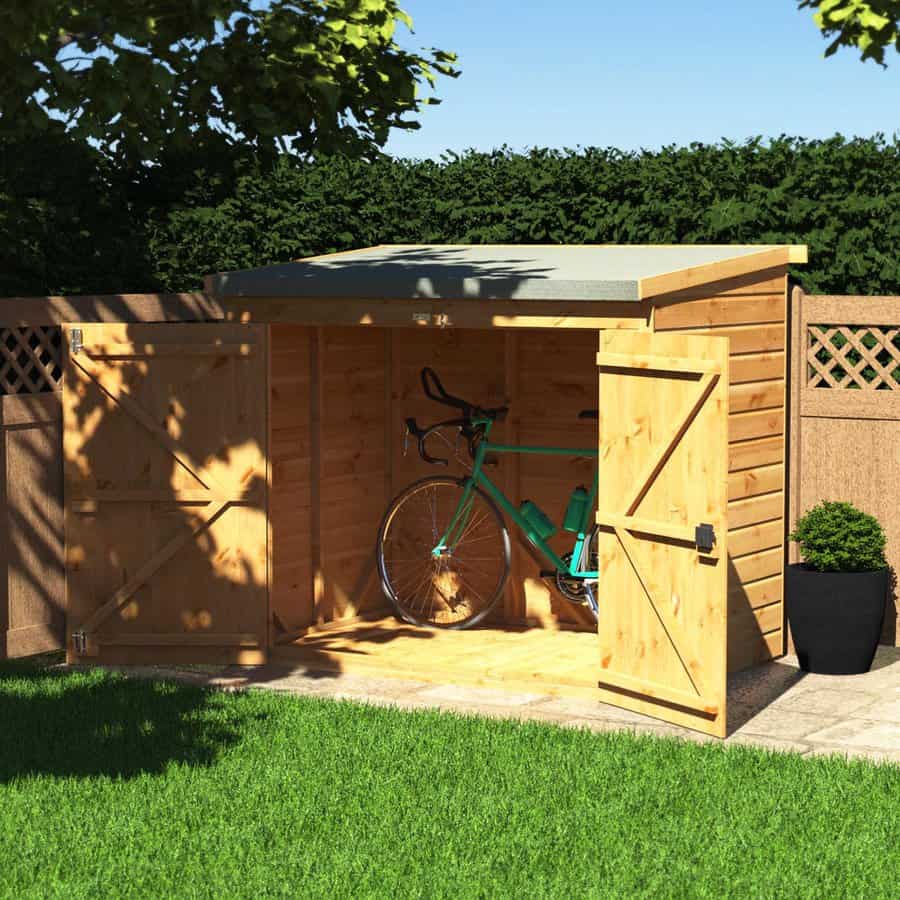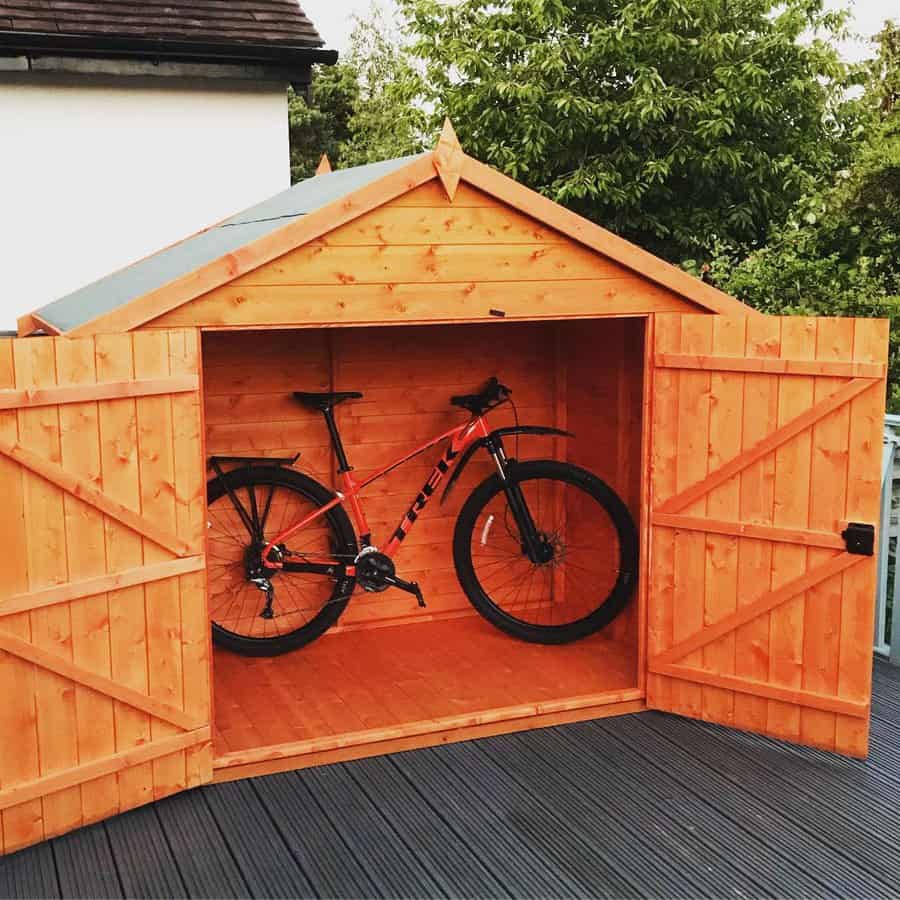 You could place the shed on its own on the property, or you can place it up against the home's exterior wall. You'll want the shed to have some ventilation to prevent moisture buildup inside. However, the shed should also be well secured to protect your bike from the weather elements.
9. Shelf
If you commute to work on your bicycle, having a shelf by the door that holds your bike would be useful. There are floating shelves with bars or an additional notched shelf designed to hold your bike.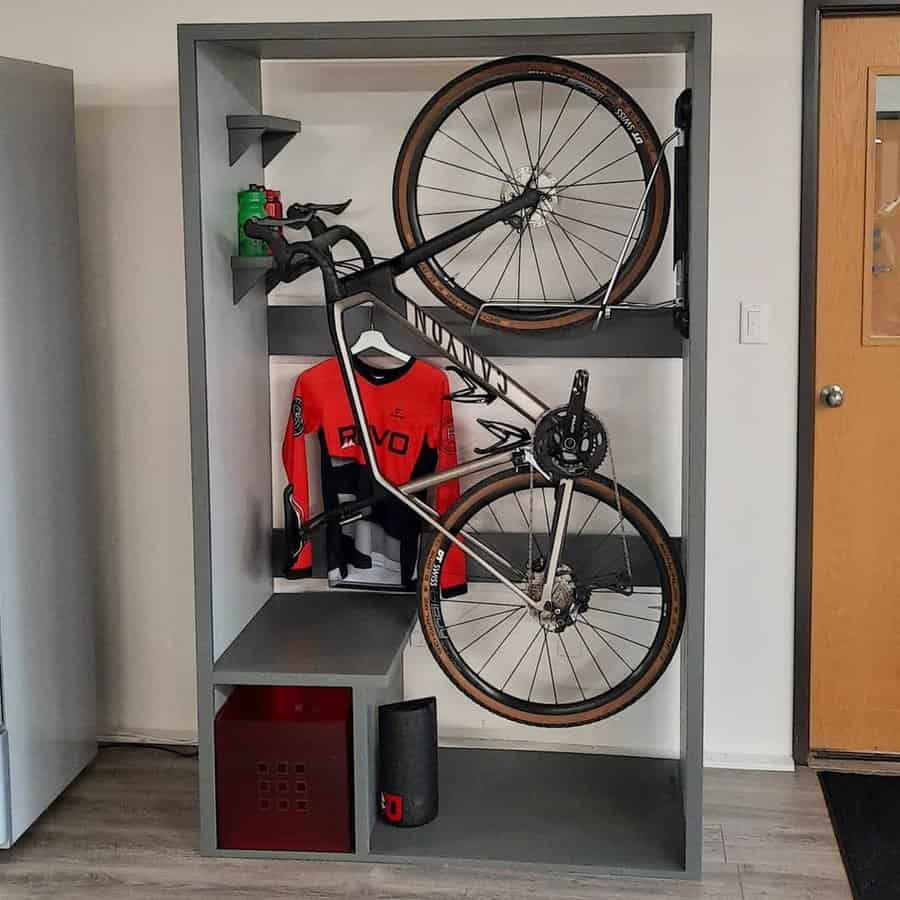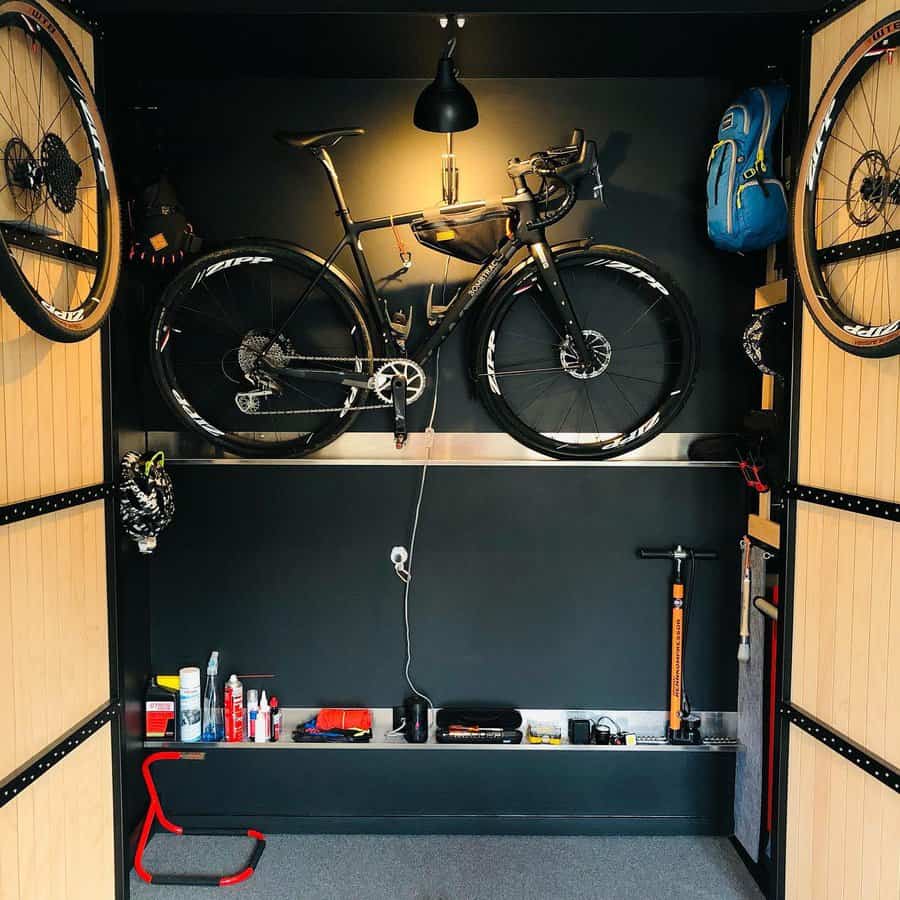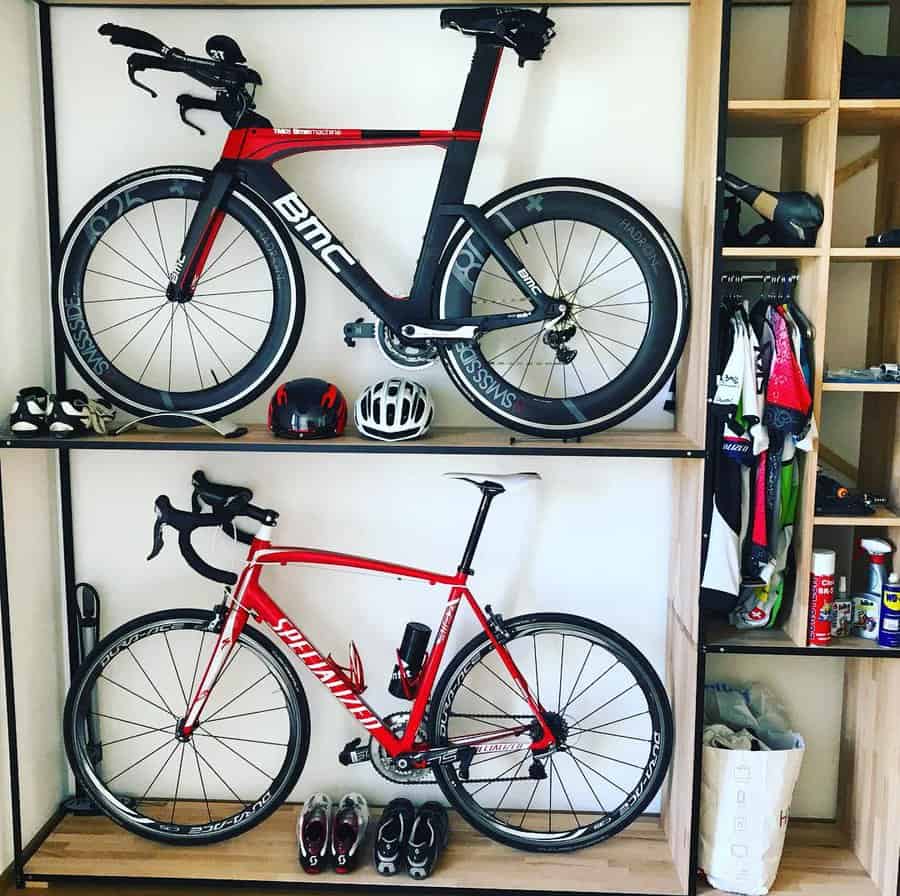 You'll set the bike frame on the bike shelf so that it sits flush against the wall and off of the floor. You can then place your keys, mail, and other small items on the shelf above. This bike storage solution is suitable for someone who wants their bike readily available when heading out the door.
10. Space Saving
Let's face it; bicycles are large and awkward. This makes storing them challenging, especially when you have limited space. A vertical bike storage system will help you reduce the required space for storing your bike.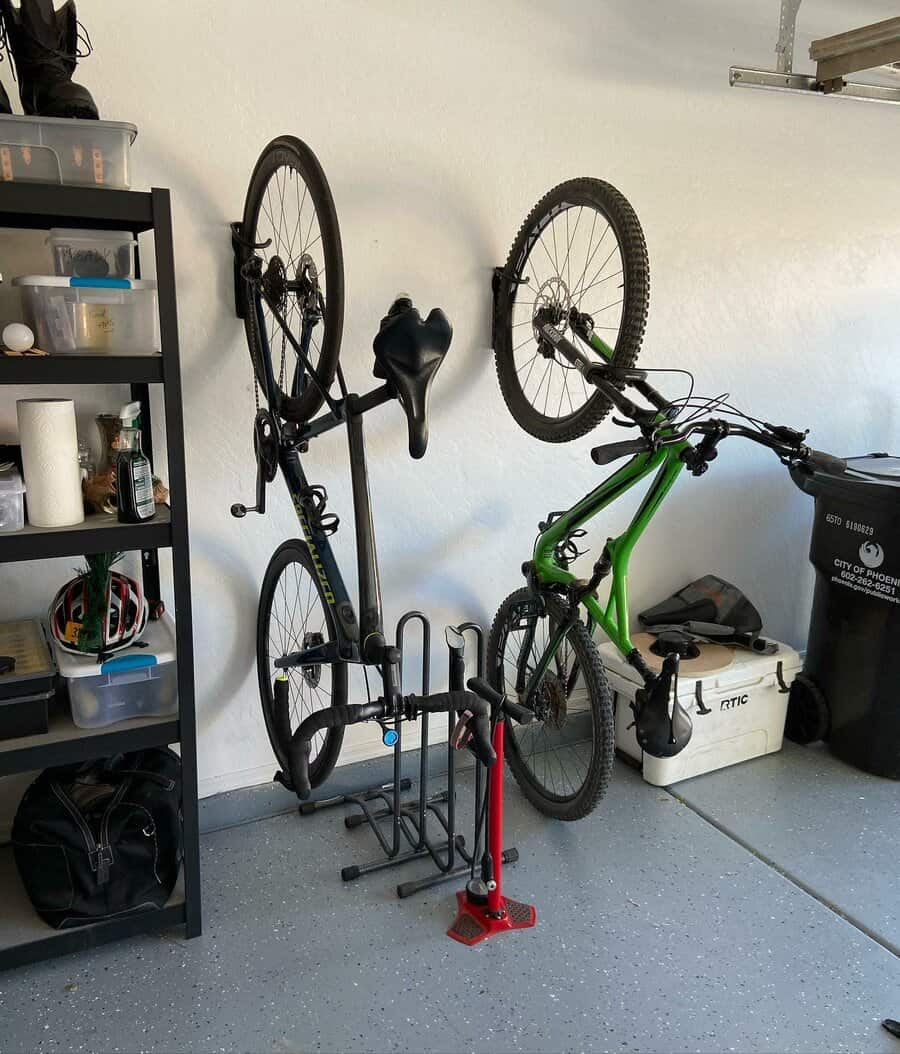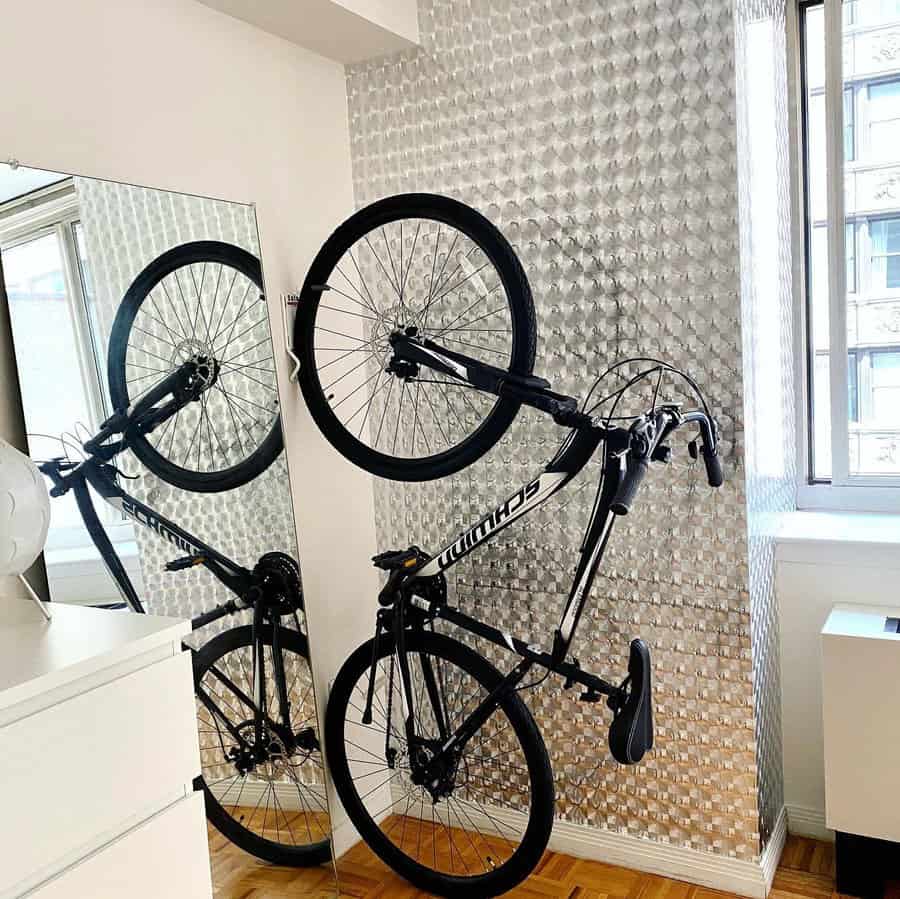 Look for a wall or ceiling-mounted storage system that holds more than just the rear wheel. Racks that hold both the front and rear wheel will save you more space. A rack that folds out of the way can also help you save space. You place the bike on the rack and then lift it to fold it out of the way.
11. Wall Mounted
Take a walk into any bicycle shop, and you will see a wall-mounted bike rack. These wall racks range in size from a single bike hook or Velo ring that holds one bike to an extensive storage option that takes up a significant amount of wall space and is capable of holding several bikes.
Source: @bikstor.on via Instagram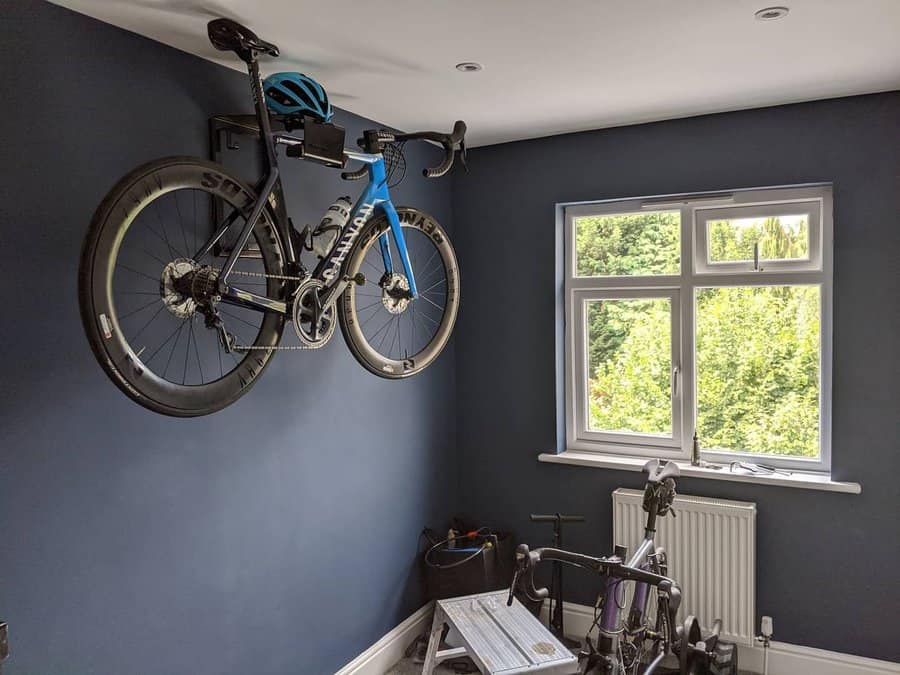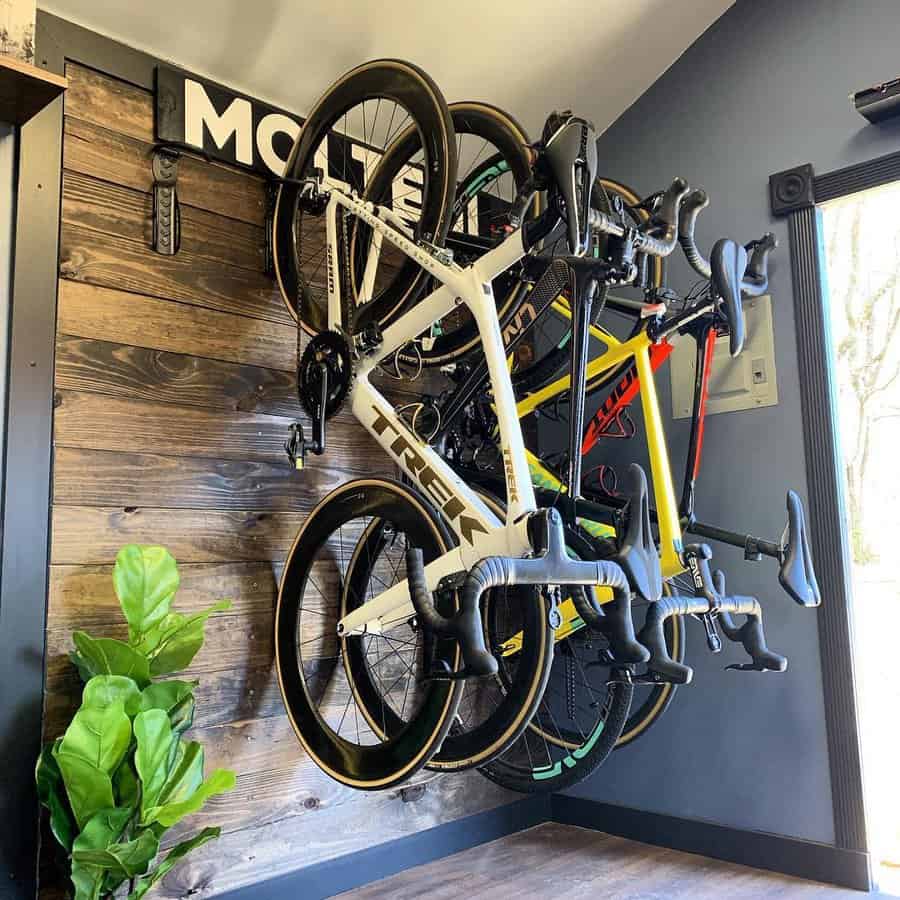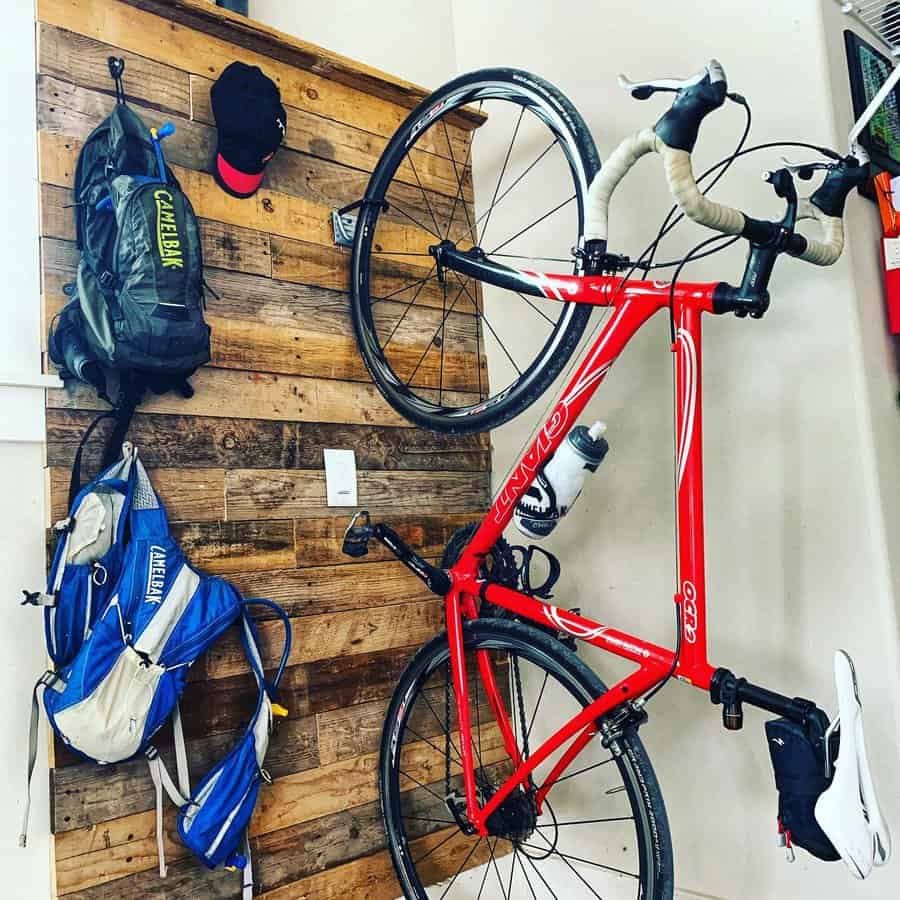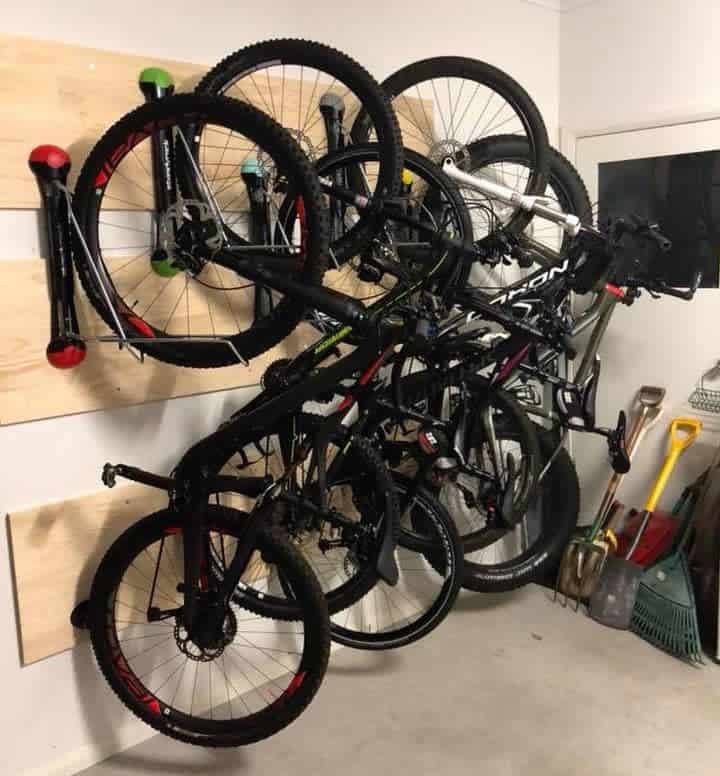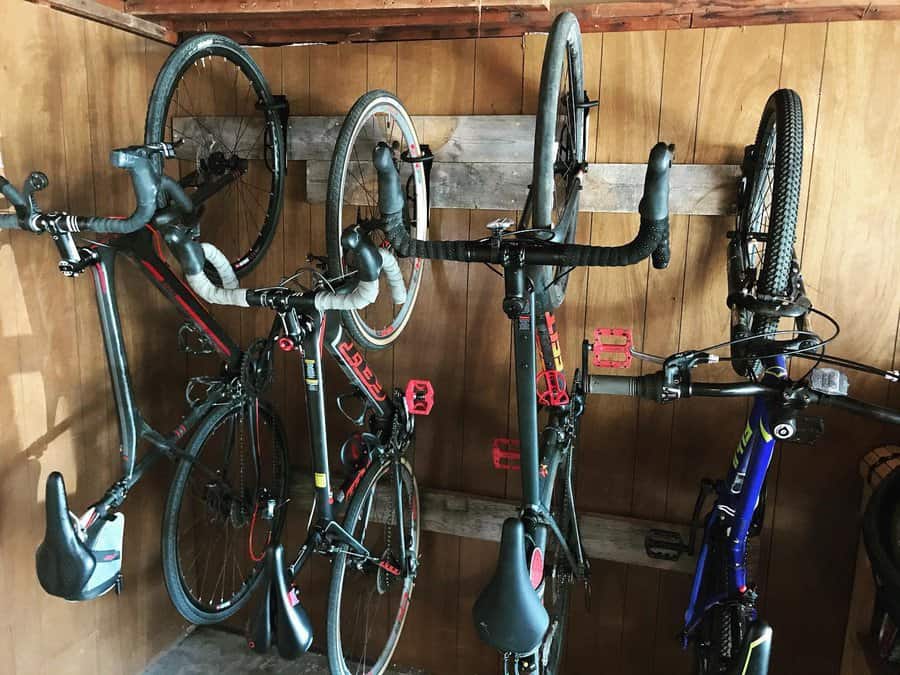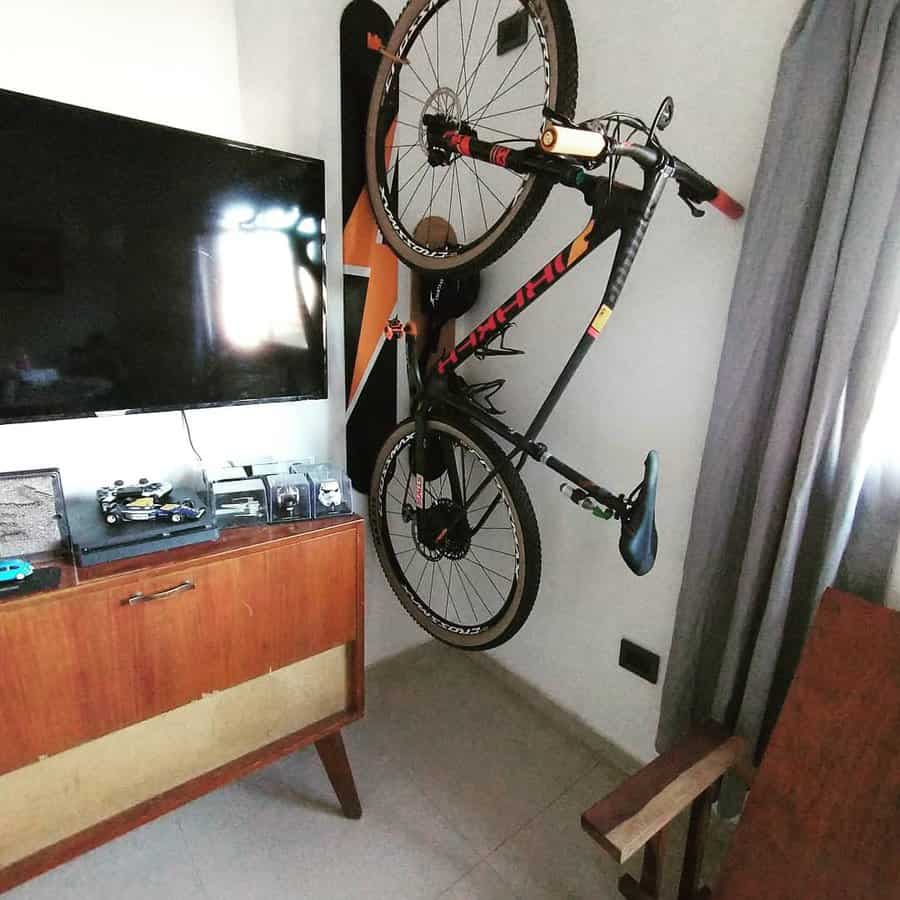 When choosing your wall rack, consider the dimensions of your available space. Some hold the bike by the tires with the seat and handles pointing out at a 90-degree angle. Others hold the bike by the frame, sitting perpendicular to the wall.
12. Wooden
A wooden bike shed is a perfect solution if you plan to store your bike outside. It looks like any other shed in the yard, but it opens up to make taking your bicycle in and out easier. The front doors open wide, and the top lifts.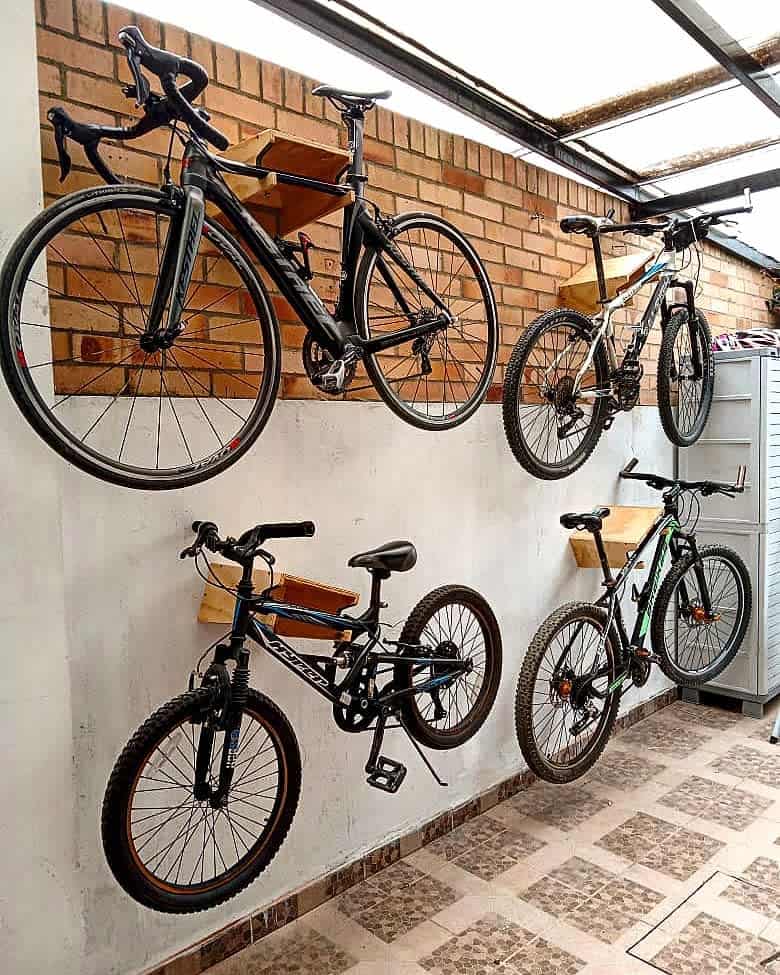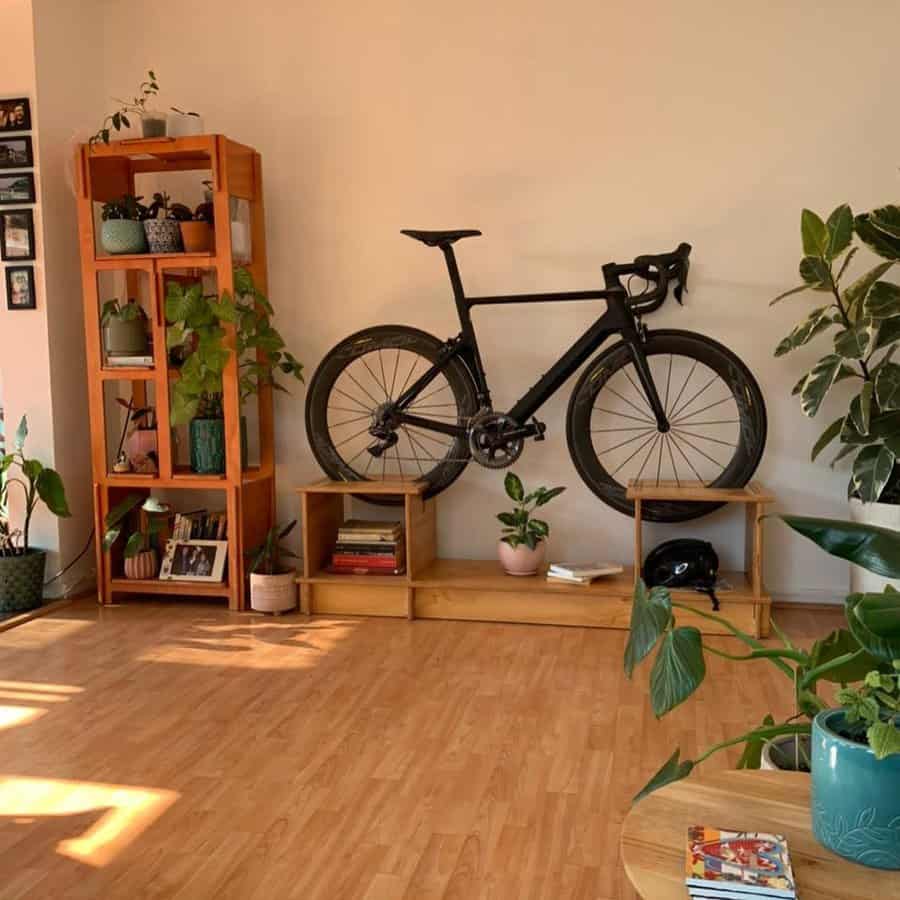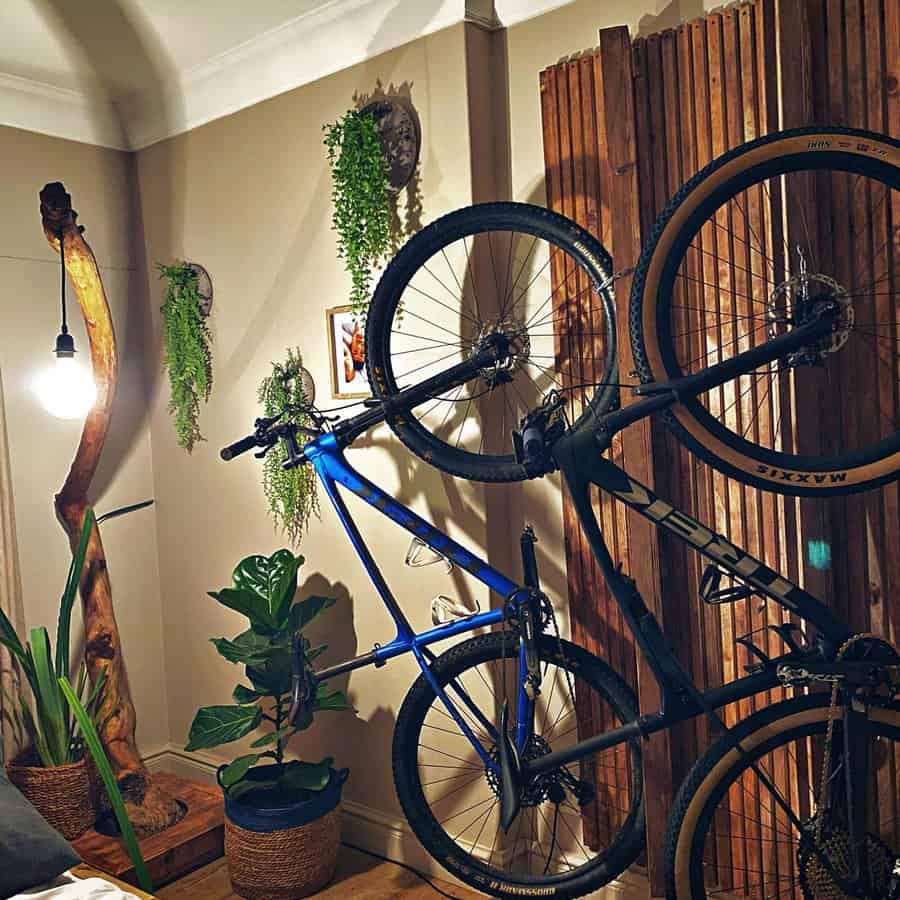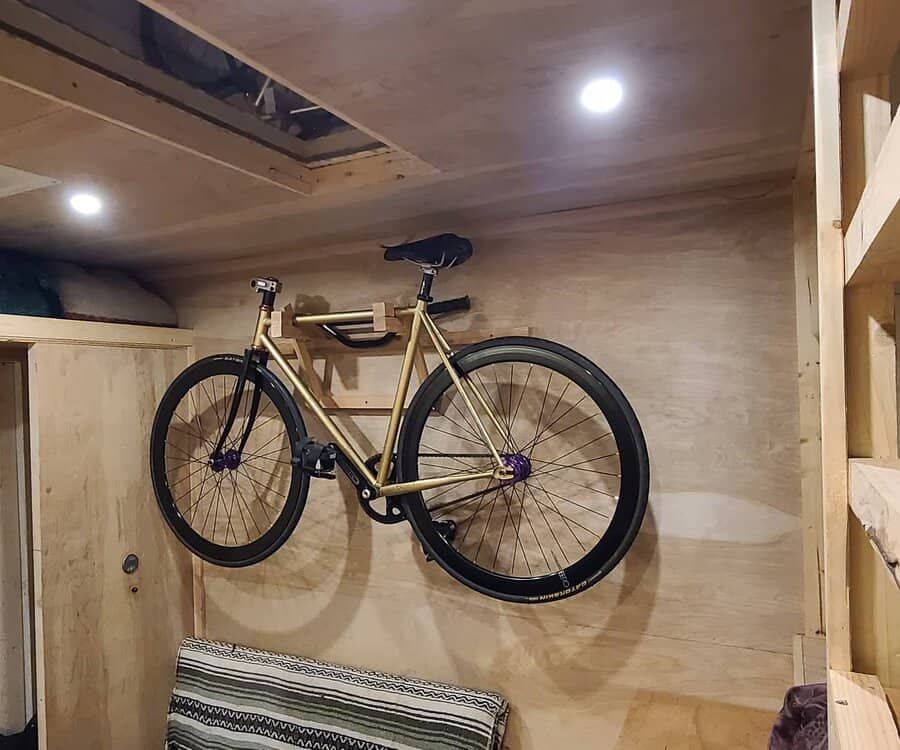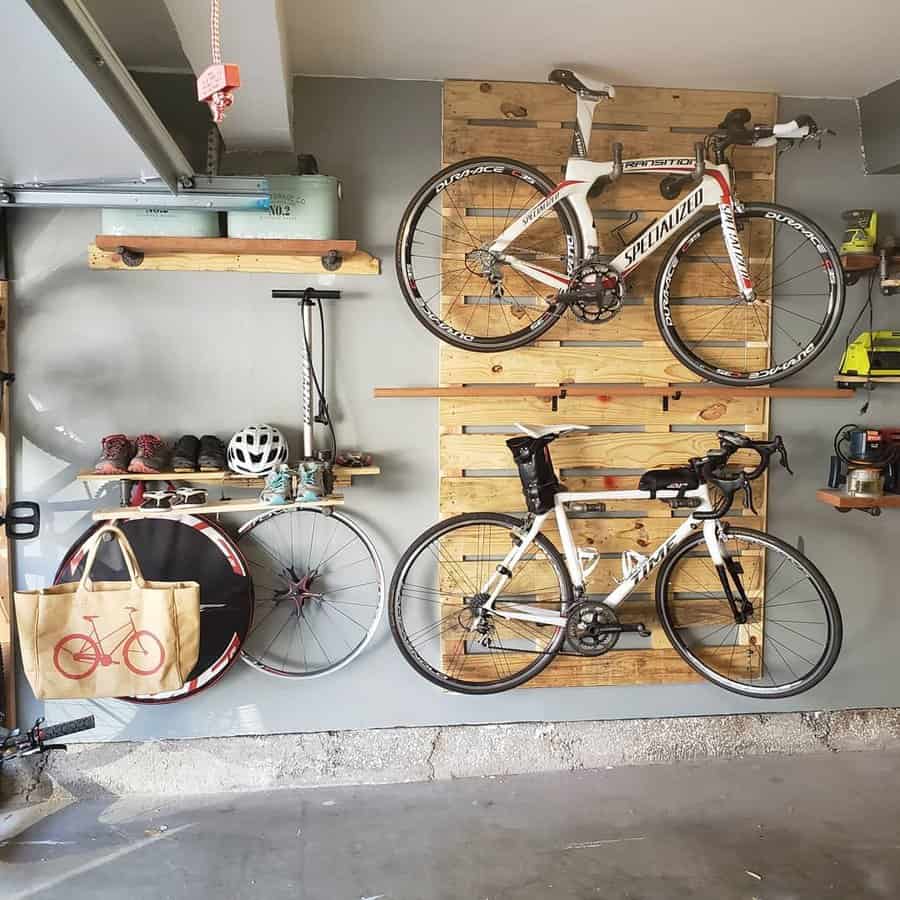 You can lock the doors to keep others out when the doors are closed. There are also wooden bicycle storage options for the indoors. This could be a simple wall-mounted rack with a notch on which the bike's frame rests.
If you have the floor space, you could have a freestanding rack. These are nice because they can hold everything relating to your bike.
Bike Storage FAQs
What is the most space-efficient way to store bikes?
The most space-efficient method for storing your bicycles is a screw-in storage hook mounted on your wall or ceiling. You can hang your bike off the ground, minimizing the floor space your bike takes up. You also only need one hook per bike, minimizing the amount of space you need for the rack.
Is it bad to hang a bike by its wheels?
There's no issue with hanging your bike by the wheels. Bicycles are built to be durable, and the wheel is what supports the entire load of the bike while riding it. So hanging the bike by the wheel is safe for supporting the bike's weight.
How do I store my bike outside?
If you need to store your bike outside, it should be protected from the elements and secured so that no one can take it. A tarp is a simple and affordable cover for protecting your bicycle from the elements. Don't wrap the tarp too tightly, or you'll create a pocket that moisture can build up in. Another great option is a bike tent. It's narrow and just big enough to hold the bike. You can zip open the door and easily take your bike in and out.