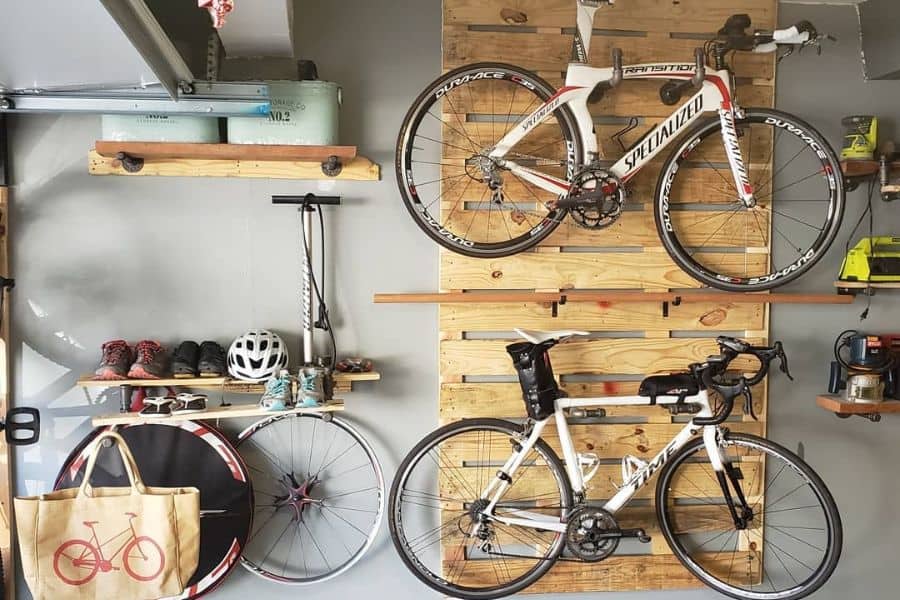 The Top 43 Bike Storage Ideas
Riding a bicycle is not only fun, but it's perfect for short commutes or getting some exercise. The only problem is, they take up a lot of room when they're not in use.
It doesn't matter what type of bike you ride, it could be an electric bike with a heavy battery, a sleek road bike, a hybrid bike that's ready for anything, or a rugged mountain bike, you need a safe place to keep your bike.
If you have multiple bikes, now you need compact storage that won't take up your entire garage or apartment entry.
These bike storage ideas will help you find the right storage solution for your bikes.
1. Bike Locker
As more and more people are choosing to bike to work or for leisure, the need for secure bike storage has become increasingly important.
This is where the convenience of bike lockers comes into play. Bike lockers provide an added layer of security, shielding bicycles from theft, vandalism, and harsh weather conditions.
With bike lockers becoming increasingly more prevalent, bike riders can feel confident that their mode of transportation is kept safe and secure.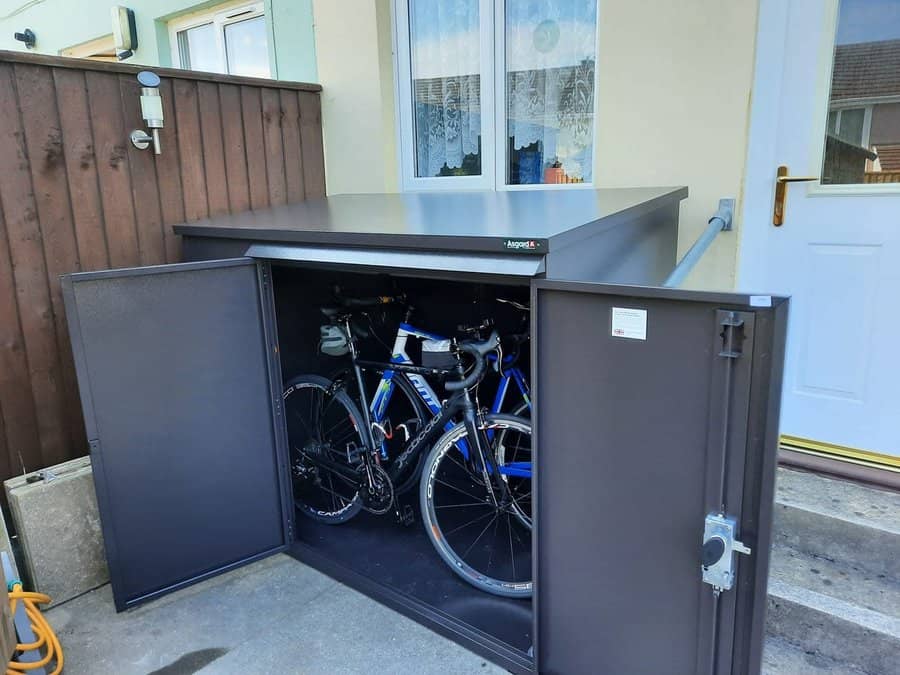 2. Ceiling-Mounted Pulley System
Imagine being able to easily store your bike out of the way and off the ground. With a ceiling-mounted pulley system, you can do just that. This nifty system allows you to hoist your bicycles up and down with ease, leaving plenty of space in your garage or storage area.
Not only does this free up valuable floor space, but it also helps protect your equipment from damage or from curious pets. Plus, the sleek design of the pulley system adds a clean, modern look to your space.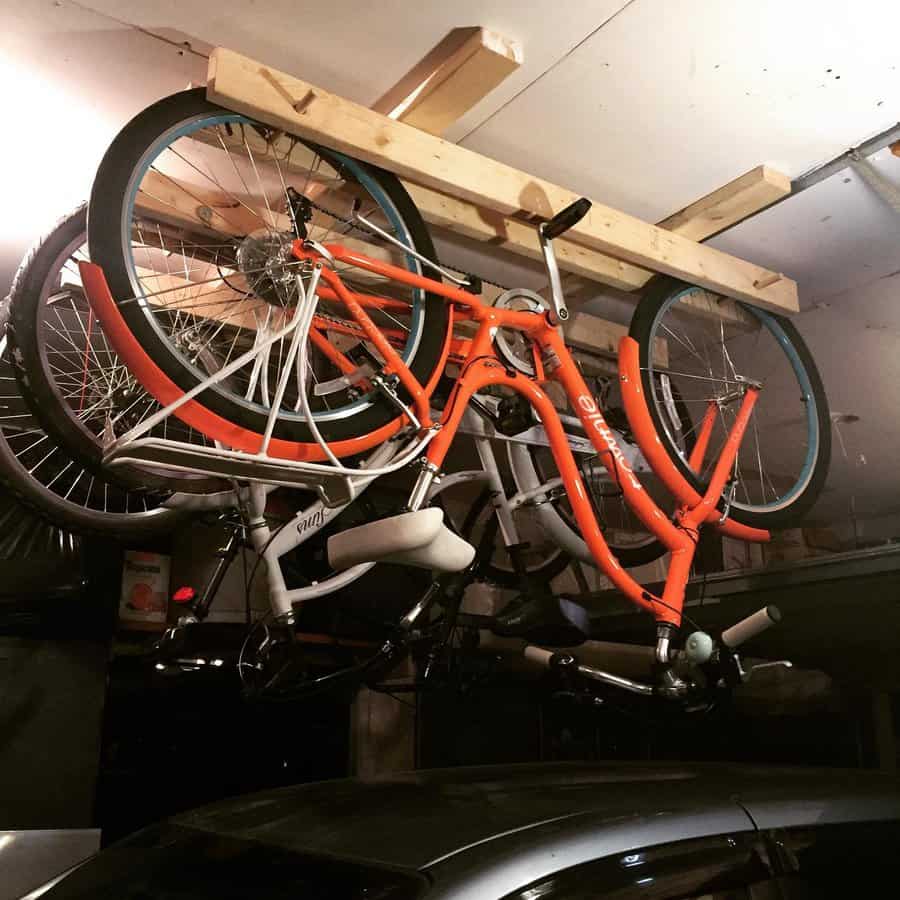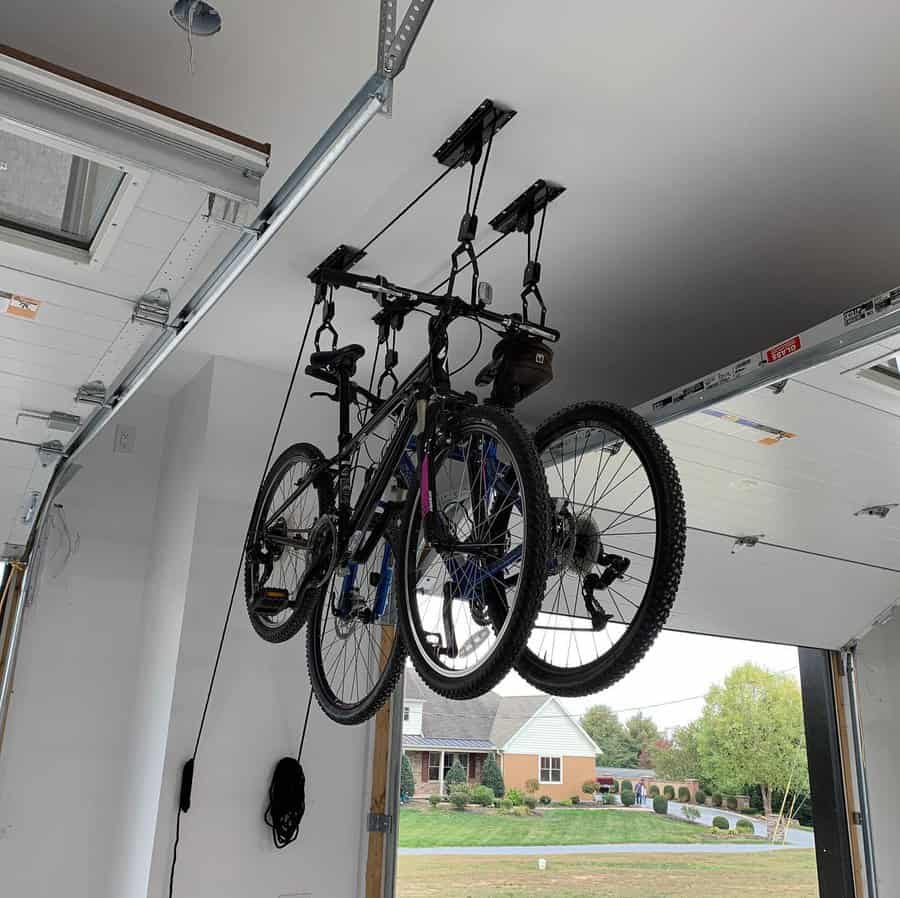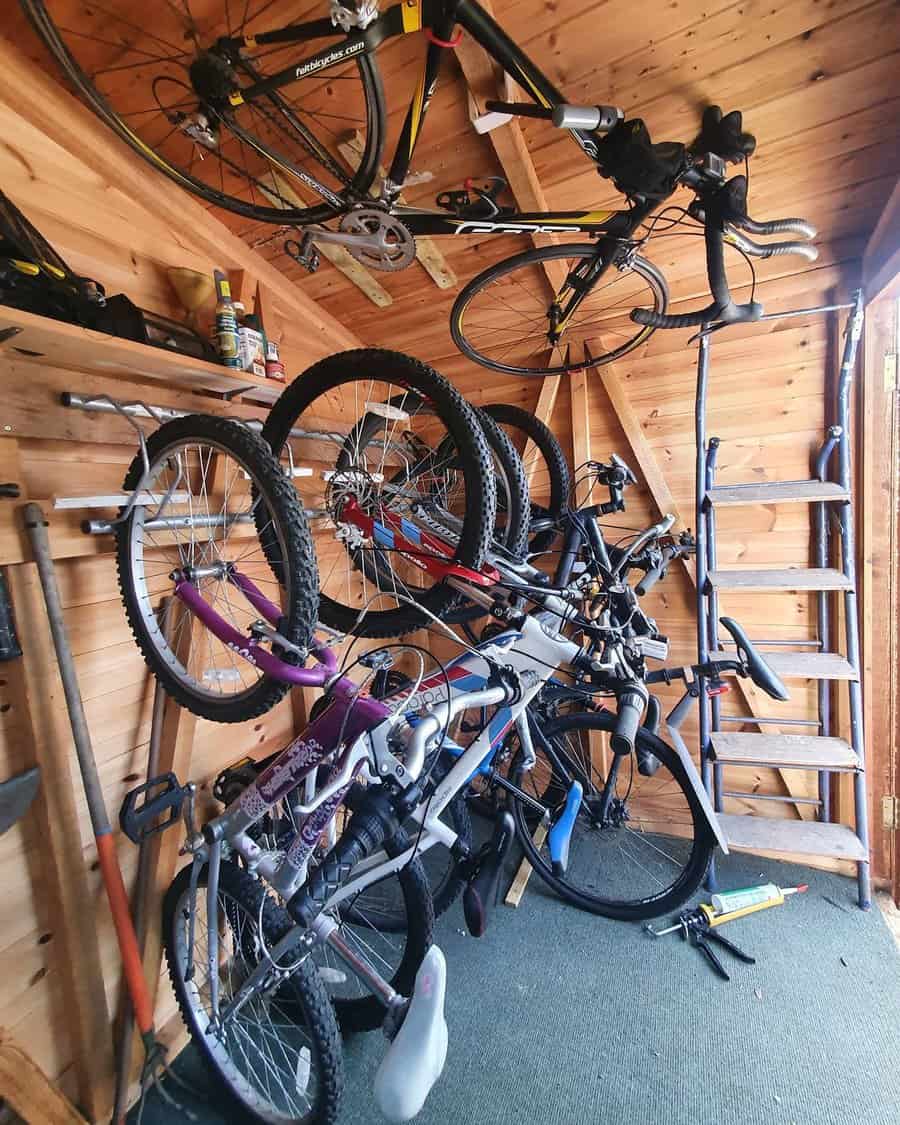 3. Garage Storage
Biking is not only a great form of exercise but also an enjoyable activity for many people. However, when it comes to storing your bike, it can be quite a hassle. This is where having a garage for bikes comes in handy. Not only does it help your home save space, but it also keeps your bike securely stored, making it readily accessible for your next ride.
You can choose from a variety of options, such as wall-mounted bike racks, and ceiling pulley systems, or you can simply park them directly. Having an organized garage also makes it easier to maintain and find your equipment.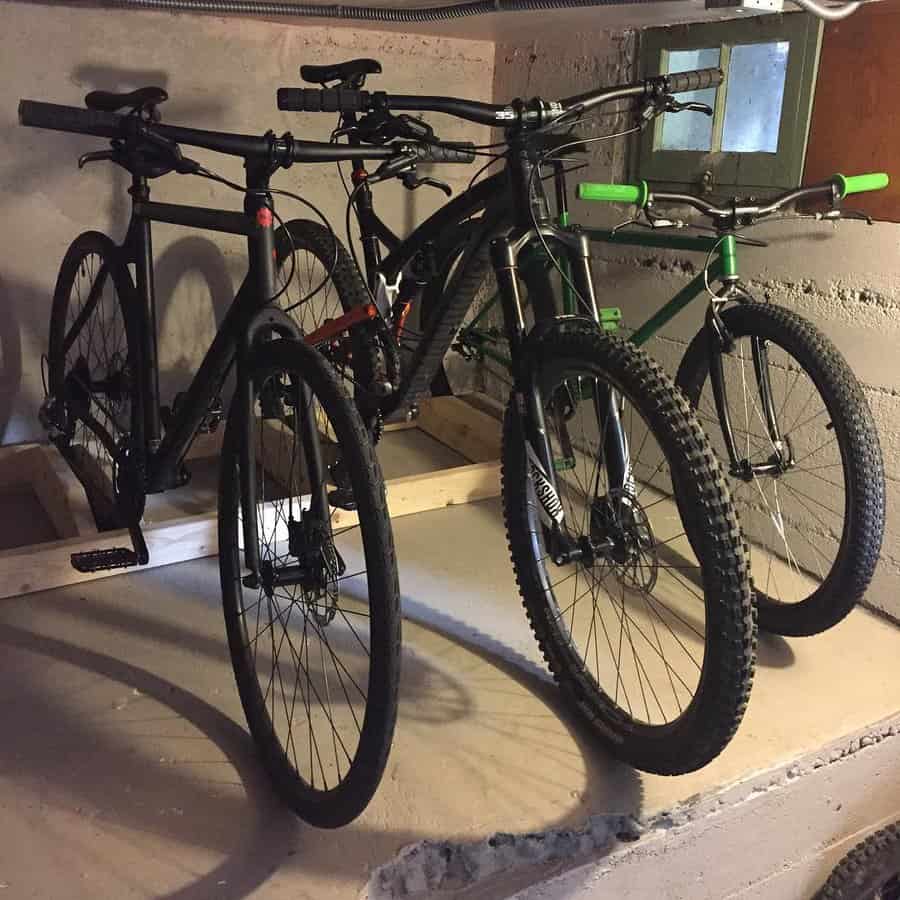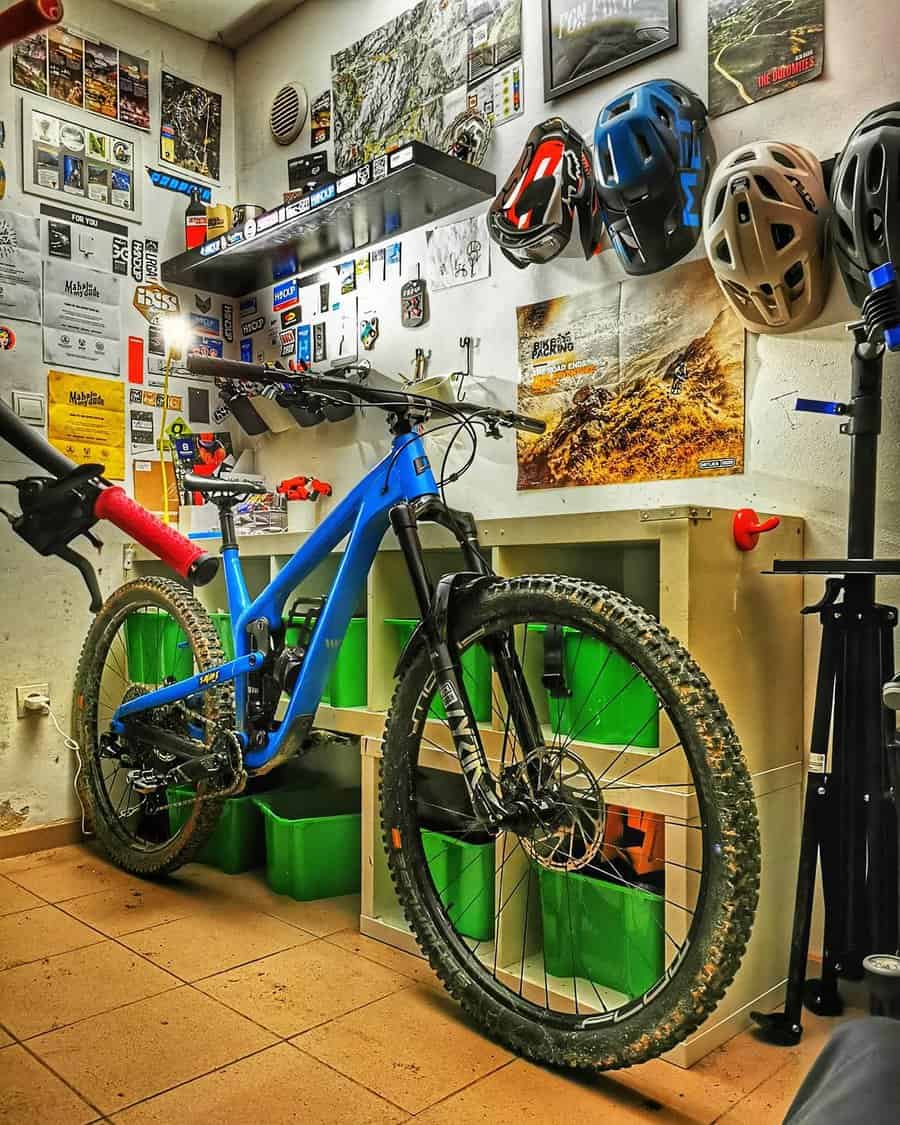 4. Floor Bike Stand
Gone are the days of leaning your bike against a wall or propping it up against a random object. No more worrying about scratches or dents in your trusty steed. The solution? A floor bike stand. Not only is it a space-saving addition to your garage or apartment, but it also keeps your bike upright, making maintenance and repairs a breeze.
The sturdy construction holds even the heaviest of bikes and its sleek design complements any decor. Upgrade your bike storage game with a floor bike stand and ride off into the sunset worry-free.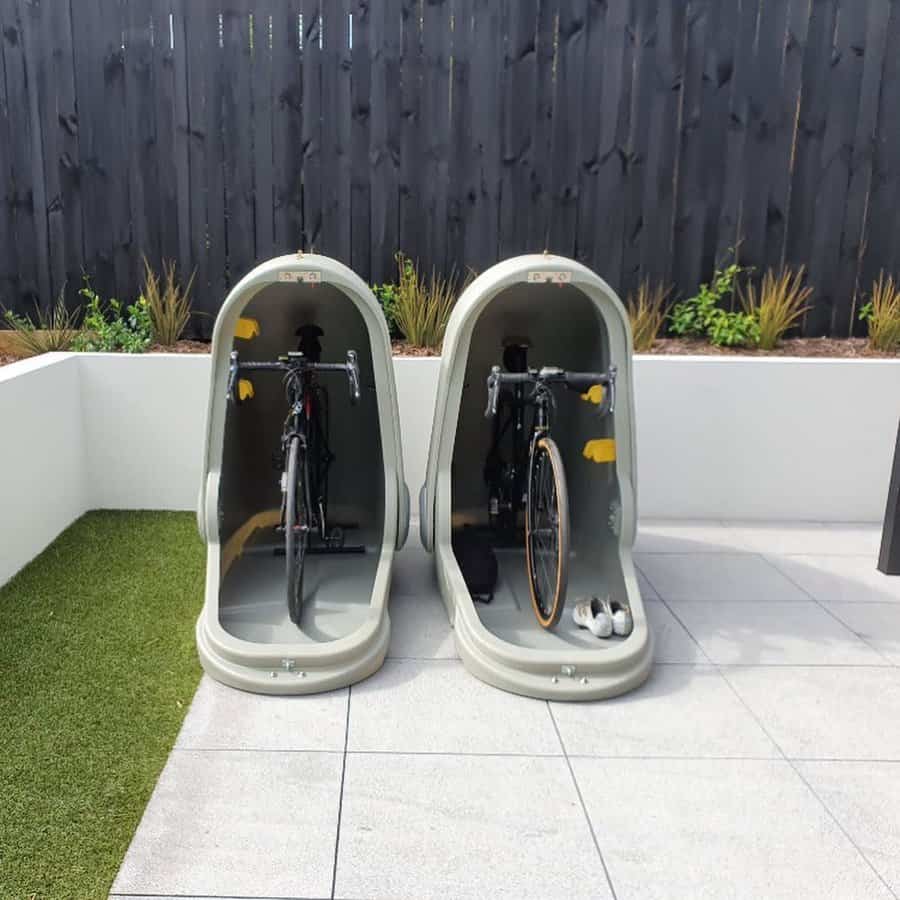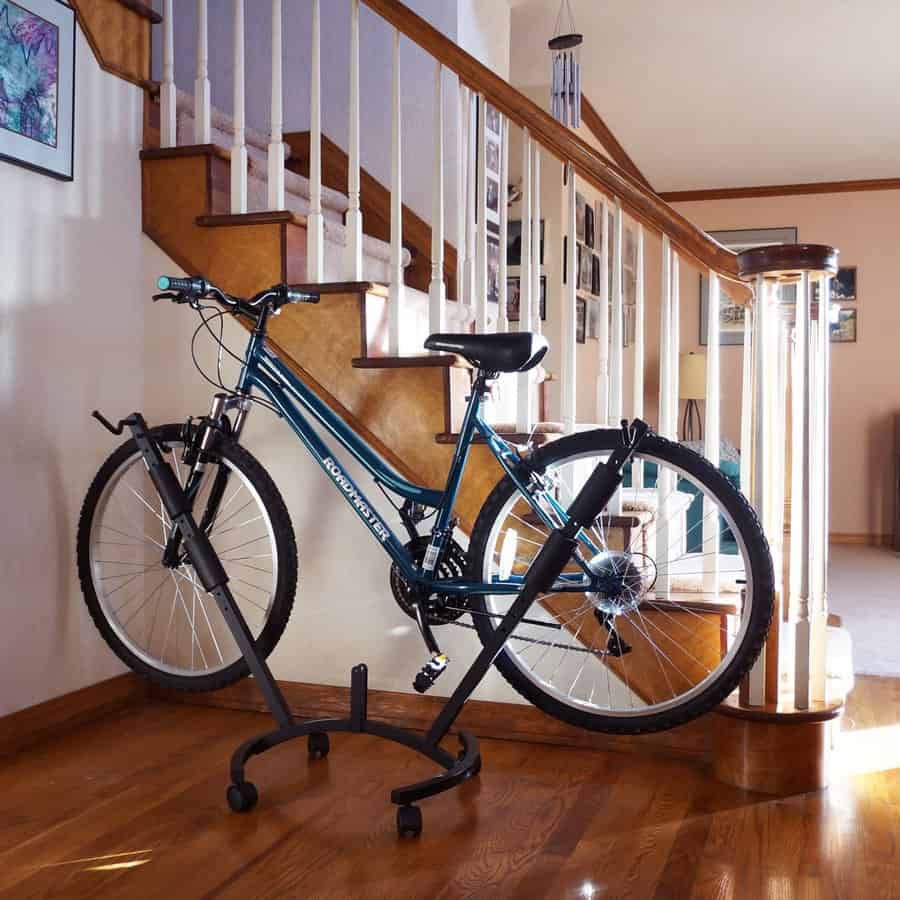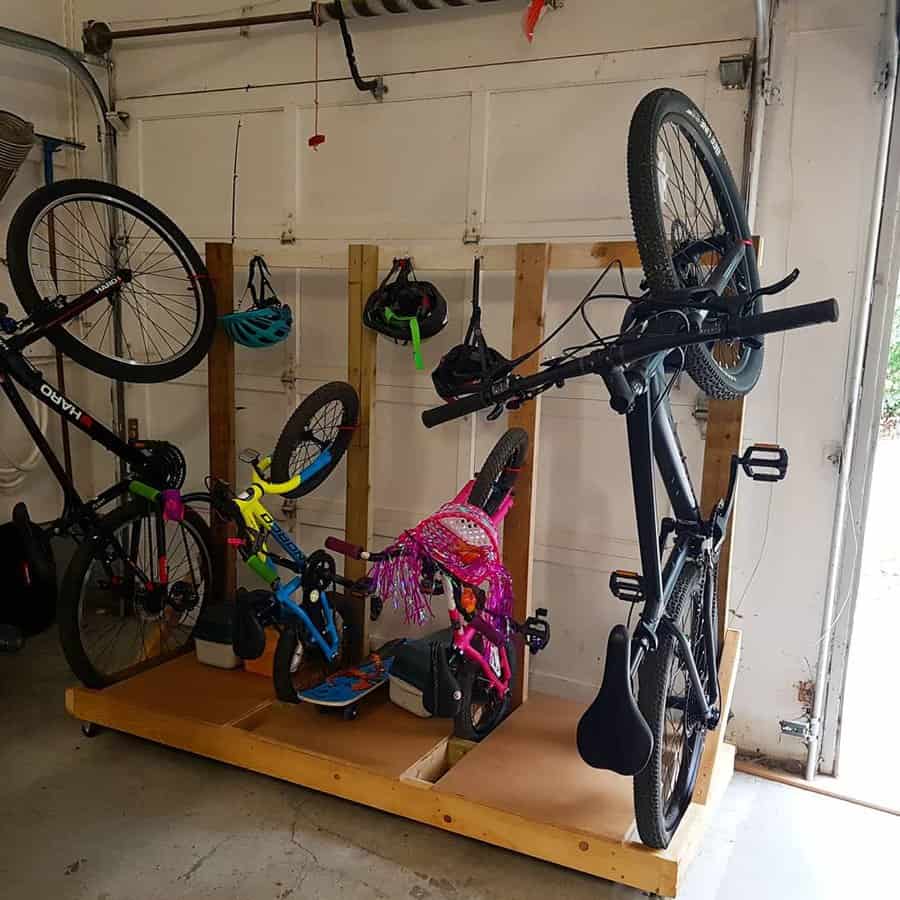 5. Bike Storage Shed
Keeping your bike protected and secure is crucial, especially if you use it frequently or live in an area with harsh weather conditions. A bike storage shed is the perfect solution for safeguarding your two-wheeled companion from damage or theft.
With its compact size and sturdy structure, a bike storage shed can fit neatly in your backyard or garage while providing ample storage for all your cycling gear. It offers peace of mind knowing that your bike is protected from elements like sun, rain, and snow that could cause wear and tear.
Invest in a quality bike storage shed and enjoy the convenience and safety it provides for your valuable cycling equipment.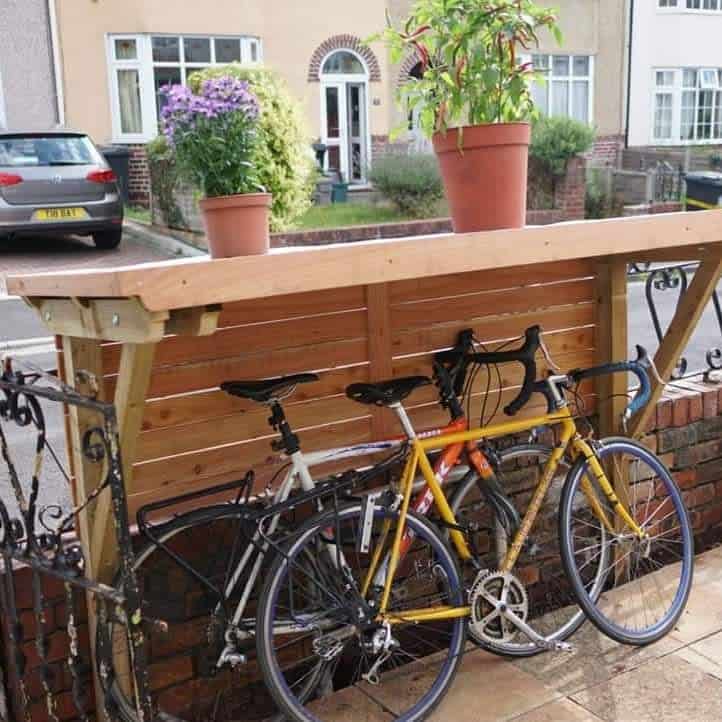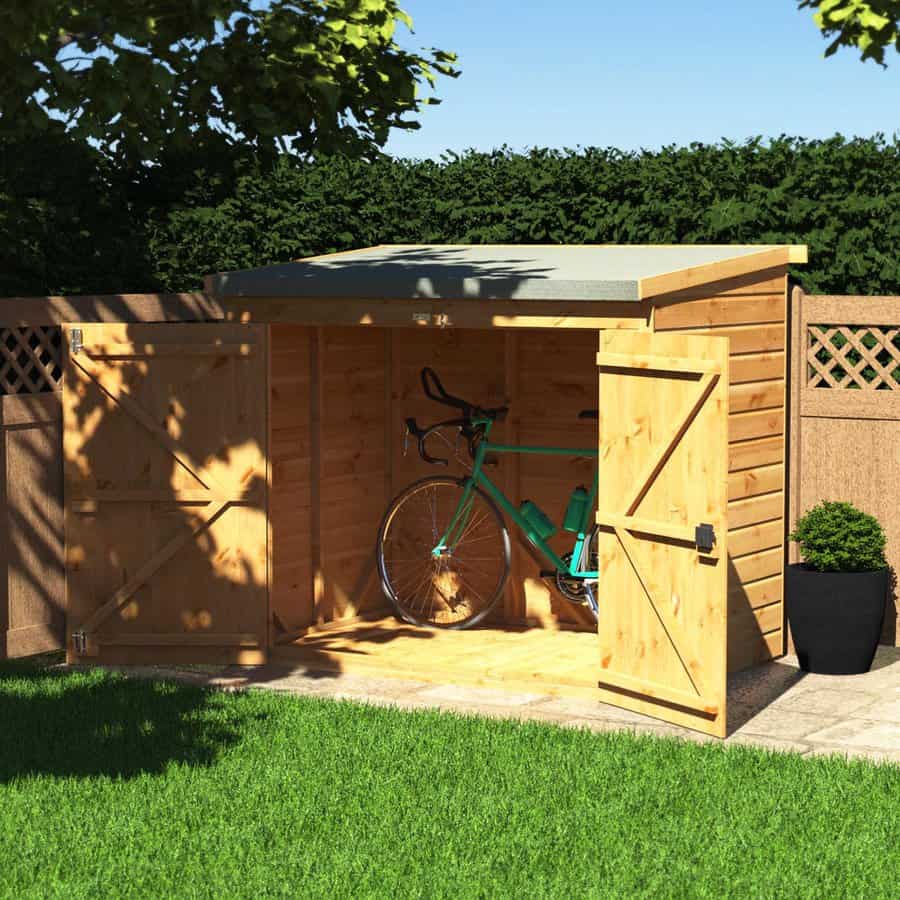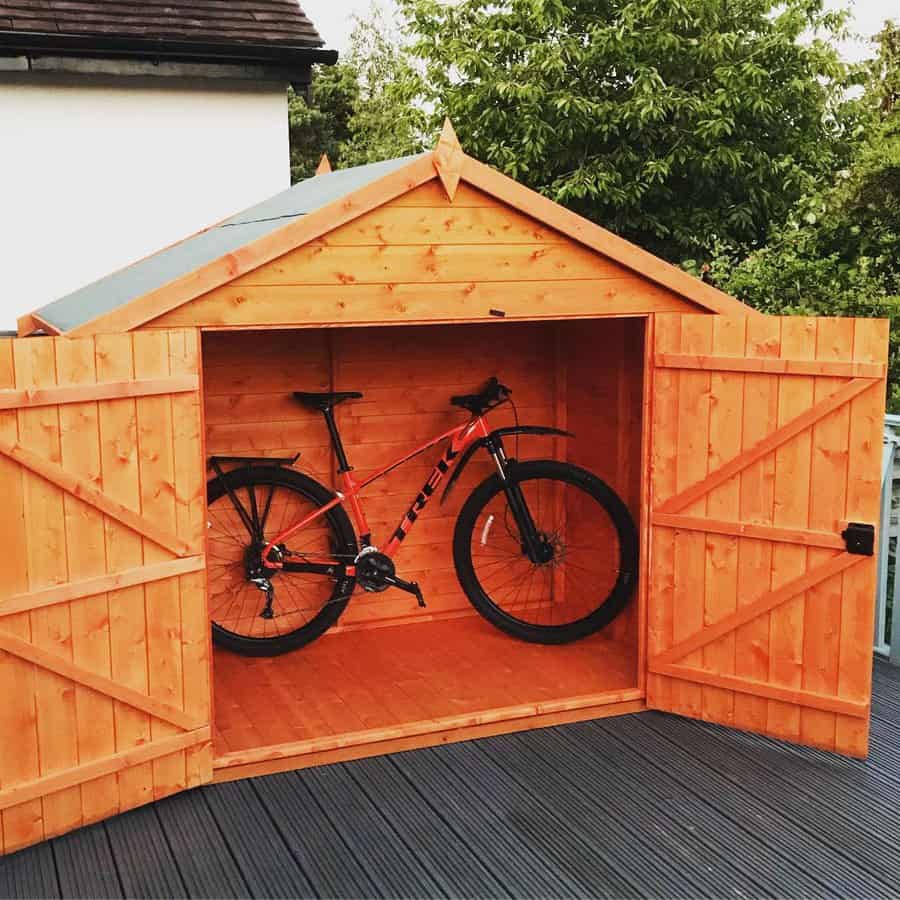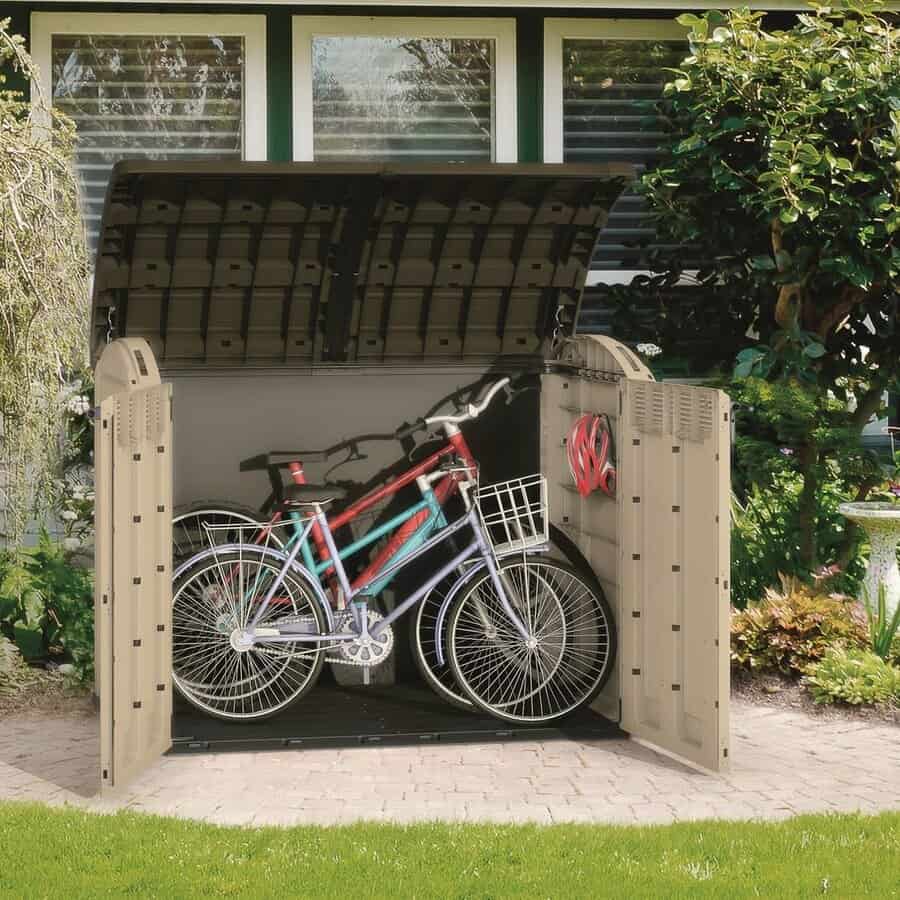 6. Wall-Mounted Metal Bike Rack
Are you tired of tripping over your bike every time you walk into your garage or apartment? A wall-mounted metal bike rack might be just the solution you need to free up some space and give your bike a secure place to rest.
Not only is it a practical storage option, but it can also add a stylish element to your decor. Plus, with the durability of metal, you can trust that your bike will be safely and securely stored until your next ride. Don't let a cluttered space keep you from enjoying your hobbies – invest in a wall-mounted metal bike rack today.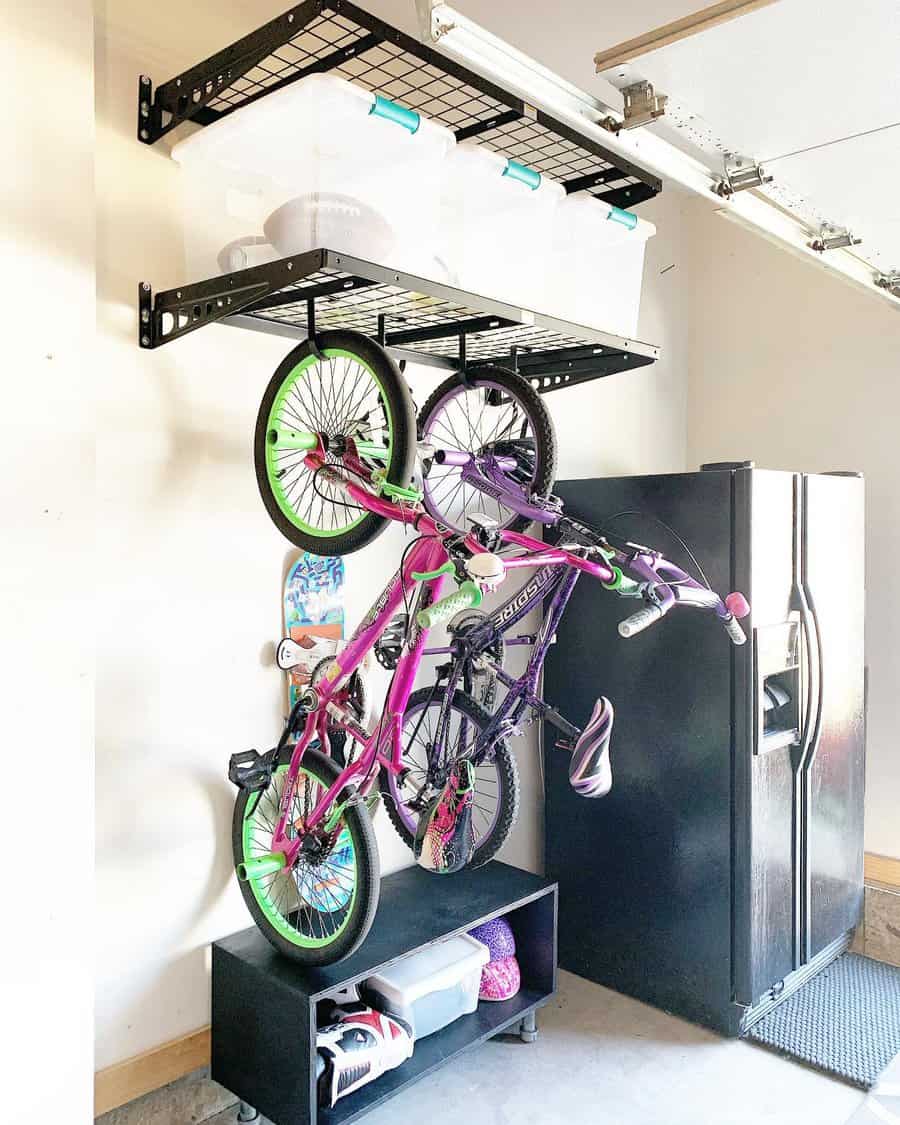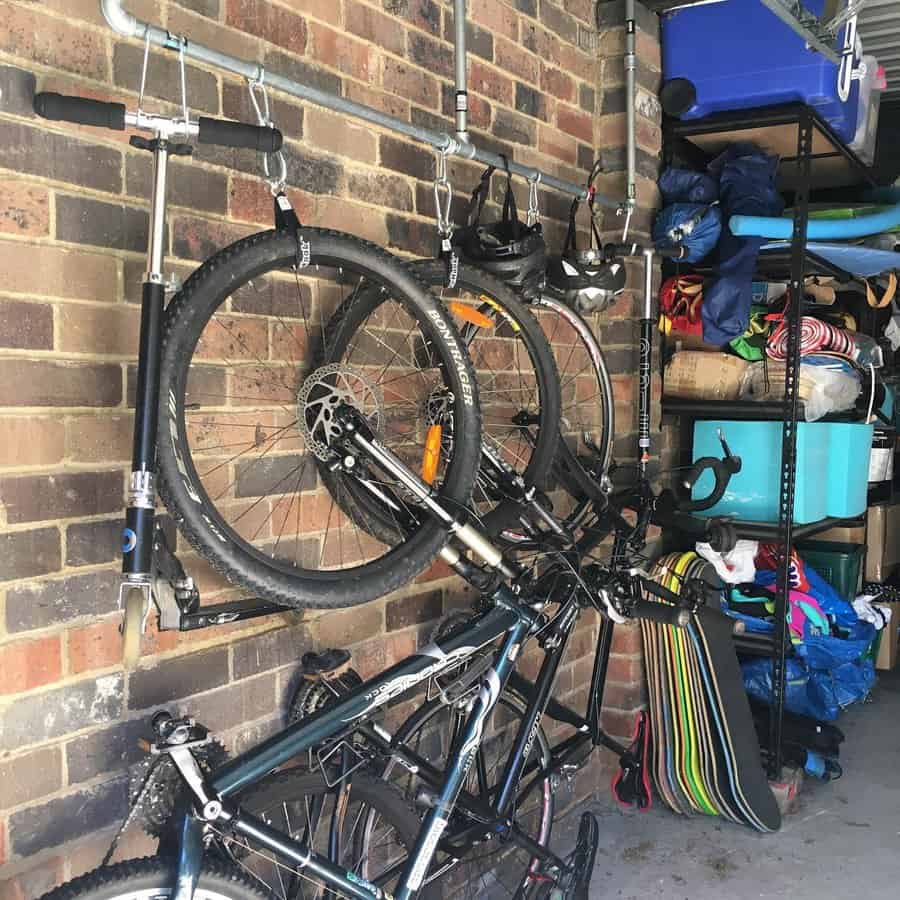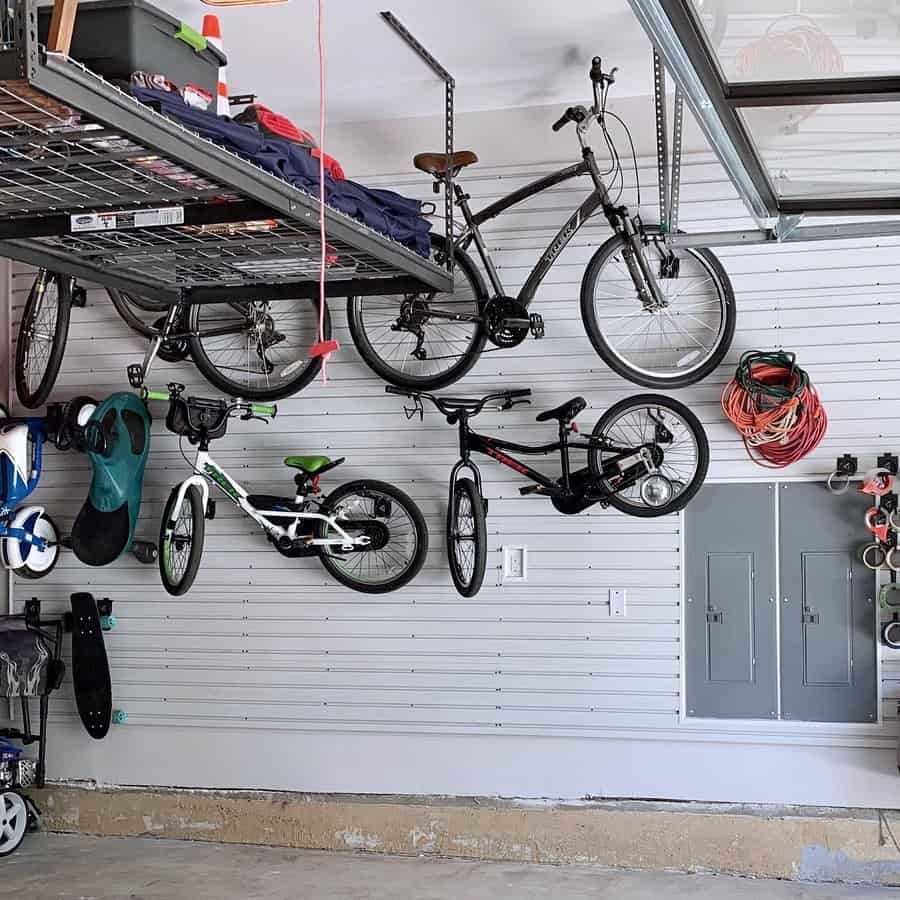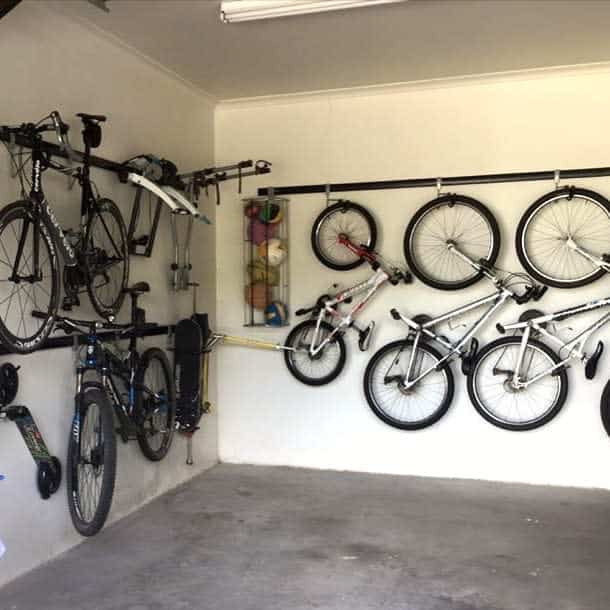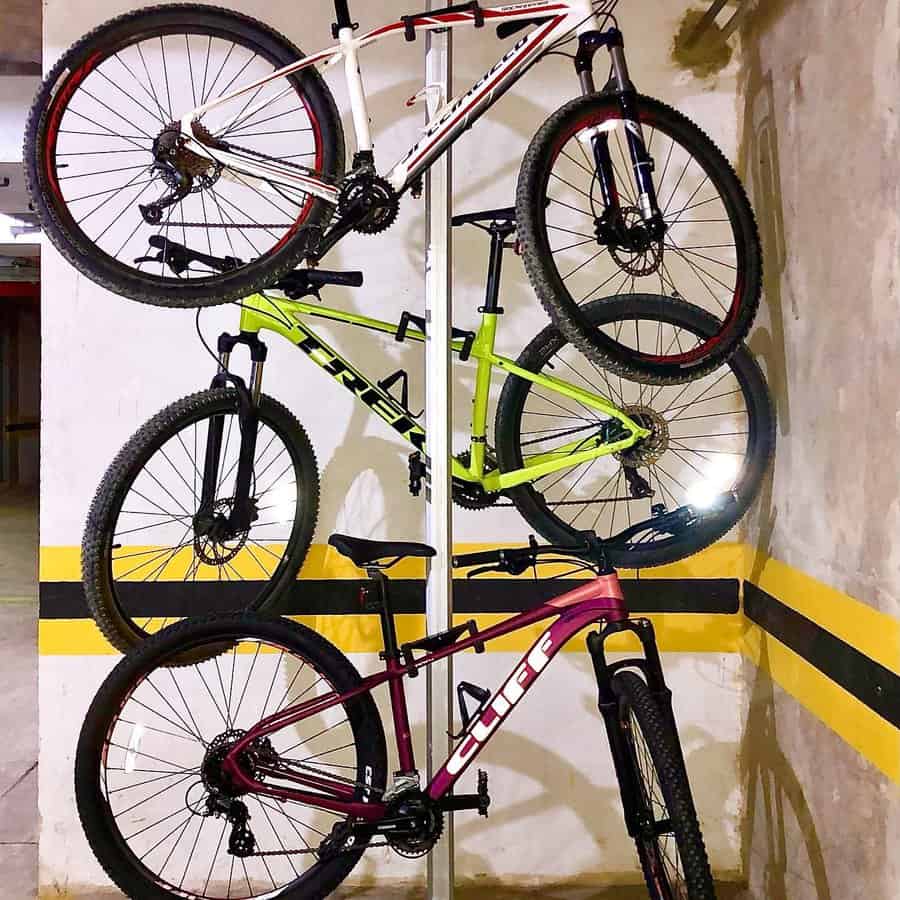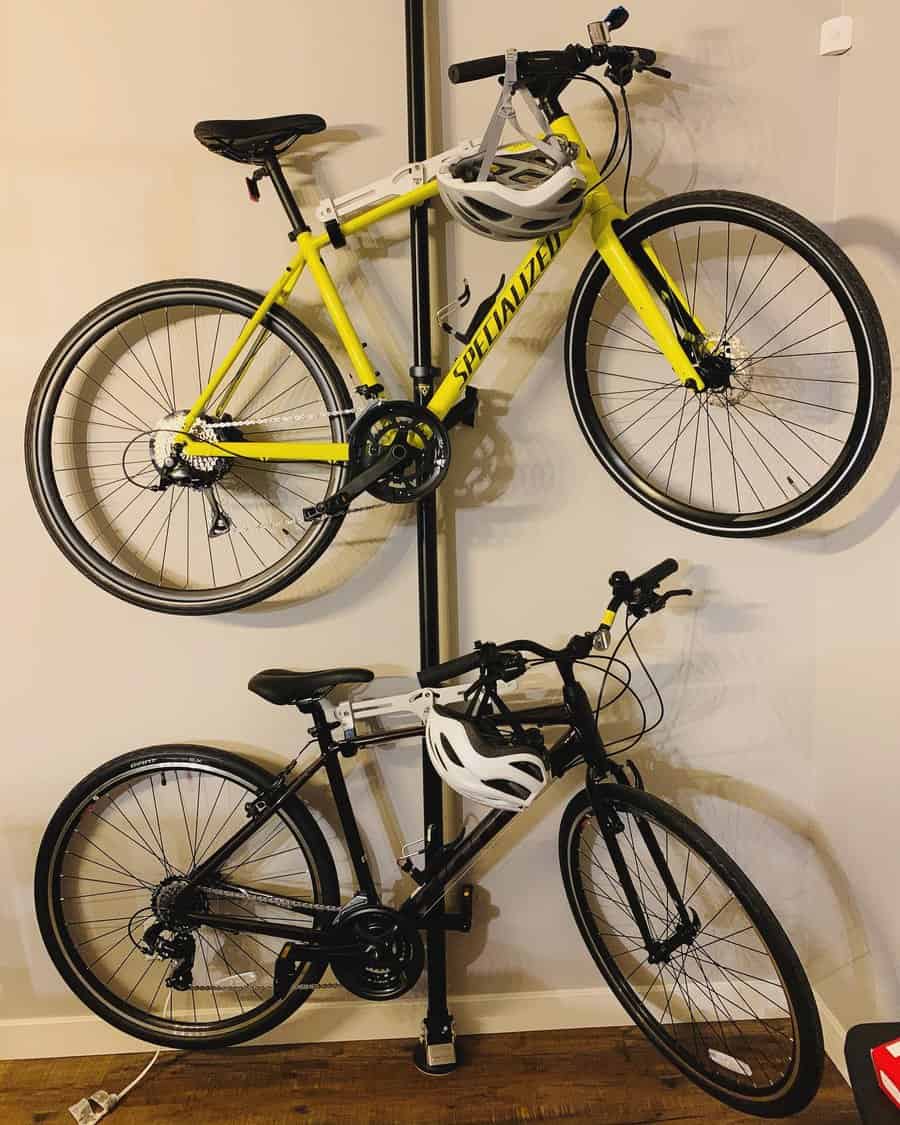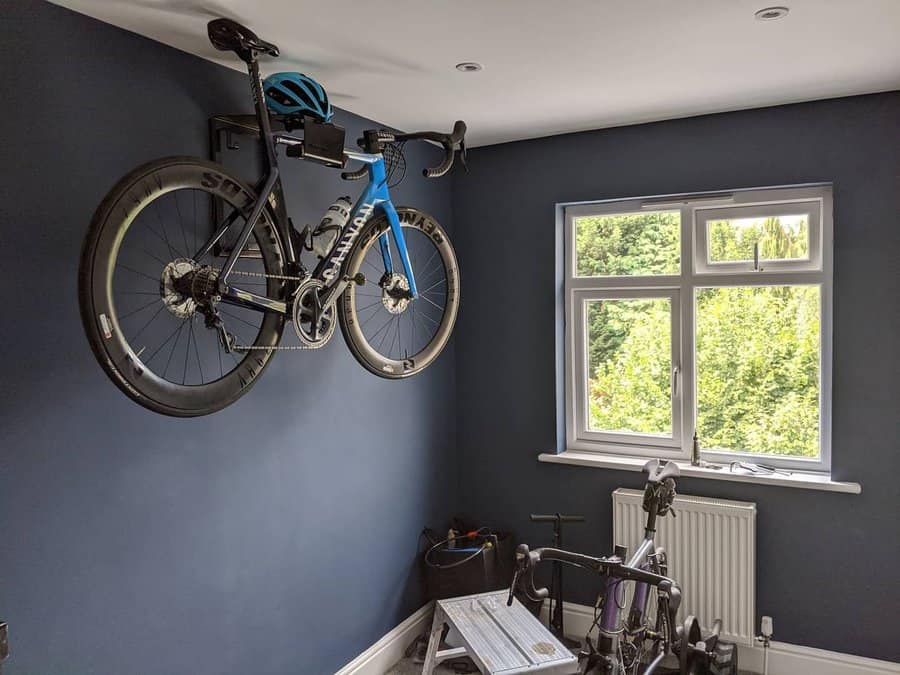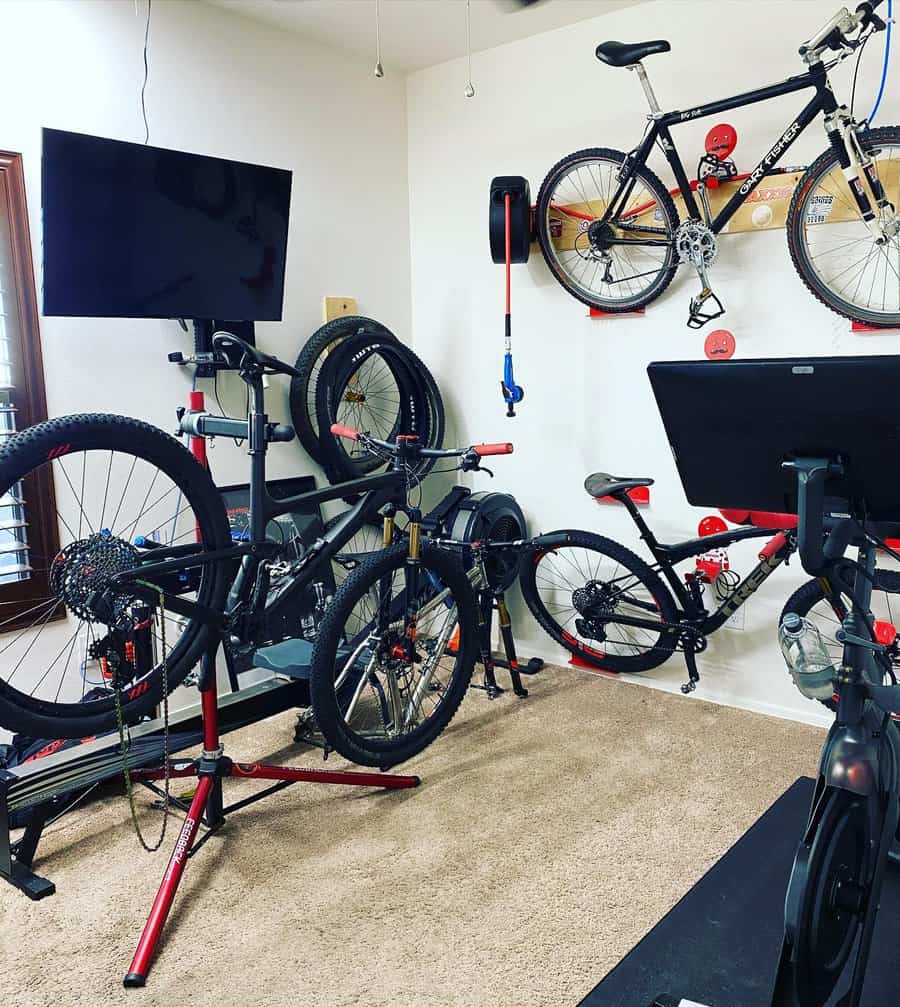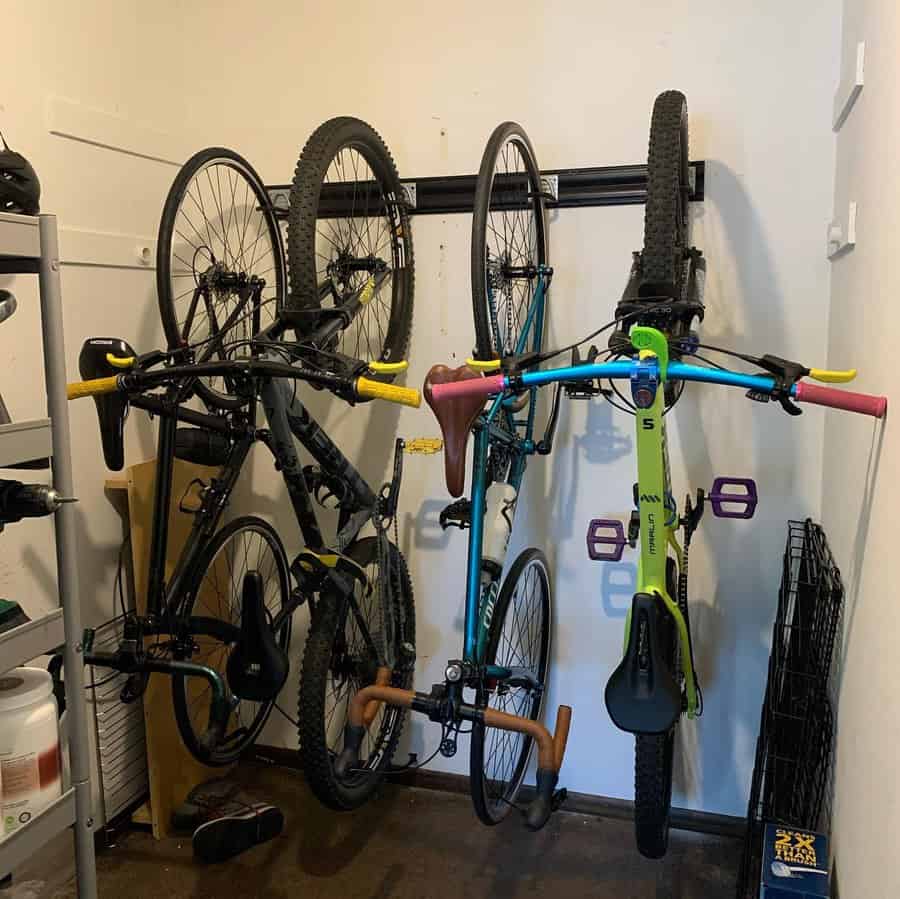 7. Bike Shelf
The bike shelf is a perfect solution for those who have limited space in their homes. It combines functionality with design, providing you with a place to store your bicycle and belongings in style. By installing the bike shelf in your home, you can easily park and access your bike.
Also, the bike shelf keeps your floor space free from clutter, making it a great option for small apartments or tight spaces. The bike shelf's sleek and modern design also means it will seamlessly blend into any room, making it a must-have for any cycling enthusiast.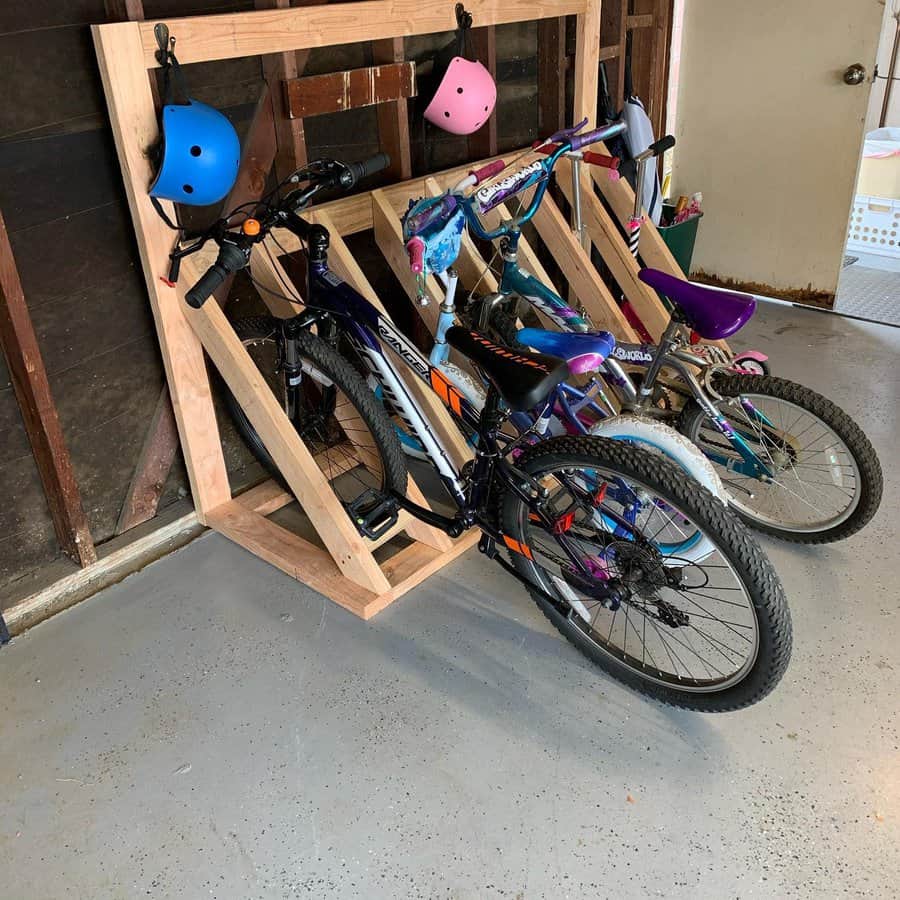 8. Bike Mat
Storing your bike safely and properly is an essential part of keeping it in great condition. But without the right storage, your bike can take up a lot of space and end up getting in the way. That's where a bike mat can come in handy.
A good bike mat is designed to protect your floors from dirt and scratches, while also keeping your bike in place and preventing it from slipping or sliding around. With a bike mat, you can easily store your bike indoors or outdoors, without having to worry about damaging your floors or your bike.
So if you're looking for a simple and effective way to store your bike, a high-quality bike mat could be just what you need.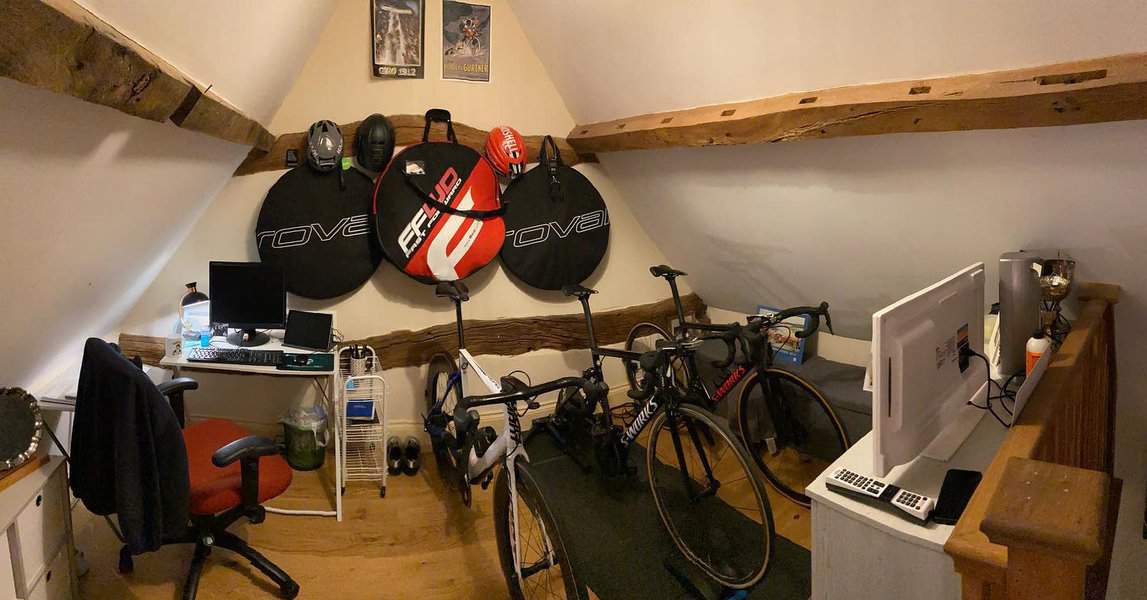 9. Indoor Bike Cabinet
Organizing and maximizing space in your home gym can be a challenge, but with the right storage solutions, it can be done with ease. The indoor bike cabinet is a perfect example of a product that efficiently saves space and has a sleek, modern design.
With its tall, open, and narrow structure, it can fit into indoor areas of your home or living room without taking up too much space. The cabinet's smooth surface and simple hardware create a contemporary look that's perfect for any modern home. It's the ideal way to keep your home or garage clean and organized while still being able to tuck your bike safely.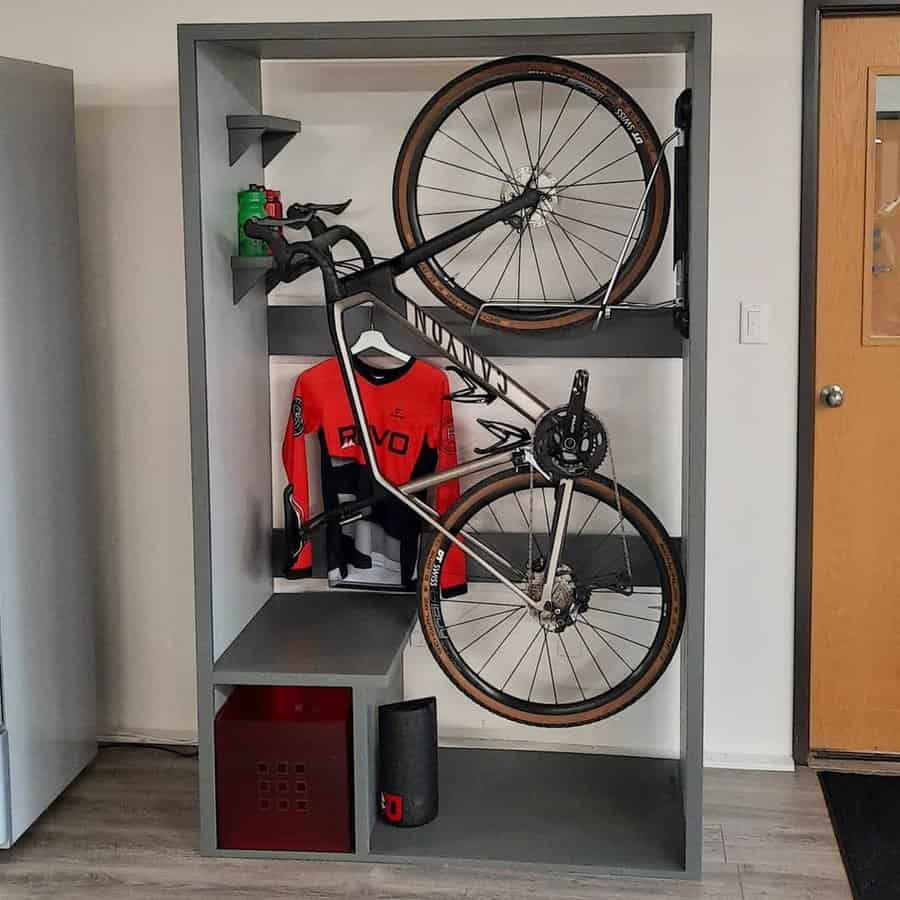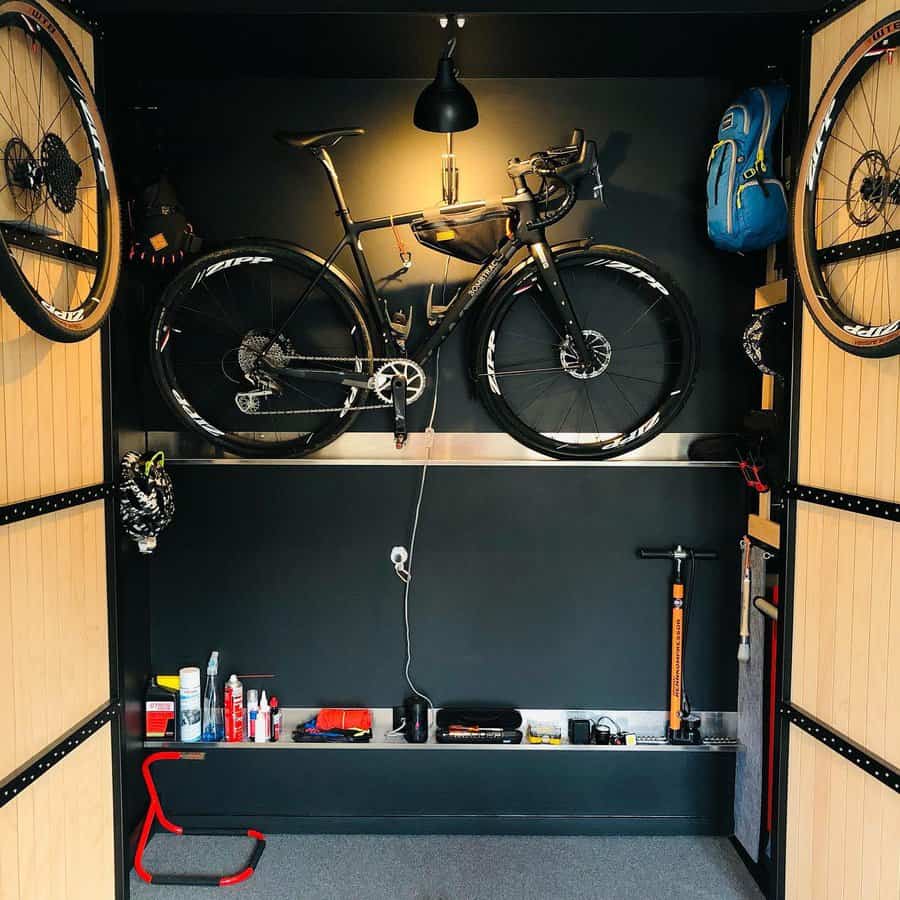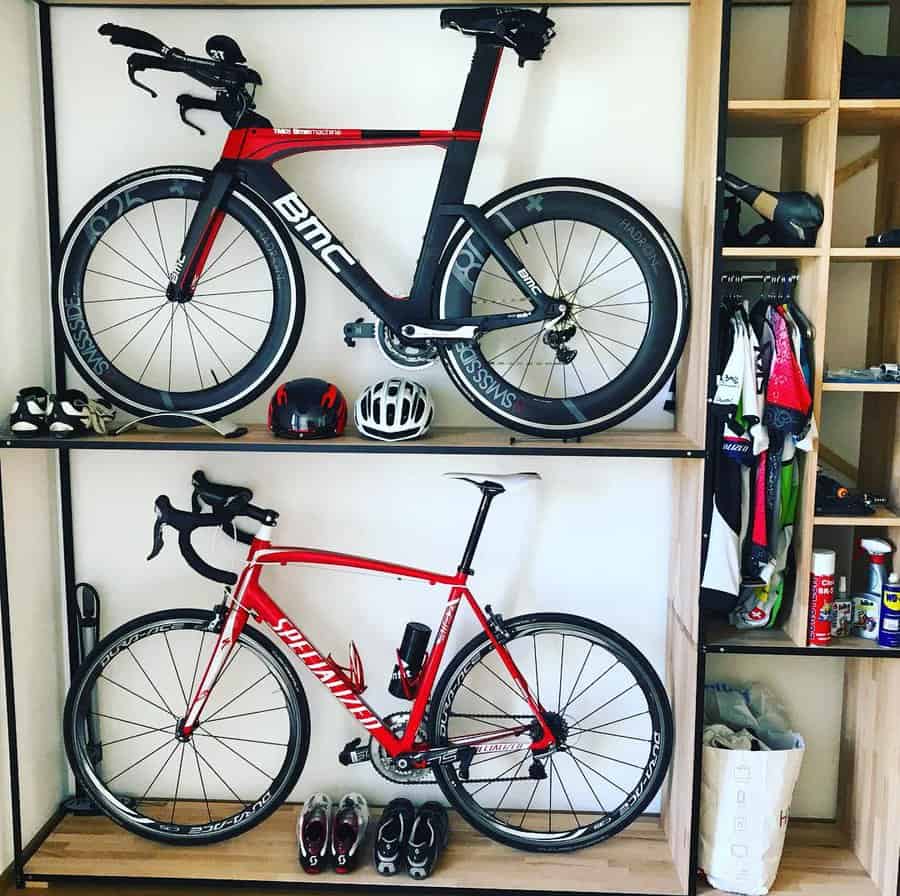 10. Bike Stand
If you're an avid cyclist, you know how important it is to have a reliable bike stand to keep your trusty two-wheeler secure while not in use. A good quality bike stand can help you avoid potentially significant damage to your bicycle, making it an essential investment for anyone who takes cycling seriously.
Not only that, but bike stands are also incredibly useful for performing maintenance or repairs, allowing you to properly adjust your bicycle's gears or brakes without the hassle of having to hold it in place.
So whether you're a seasoned pro or just starting with cycling, a bike stand is an invaluable tool that will make your life a whole lot easier.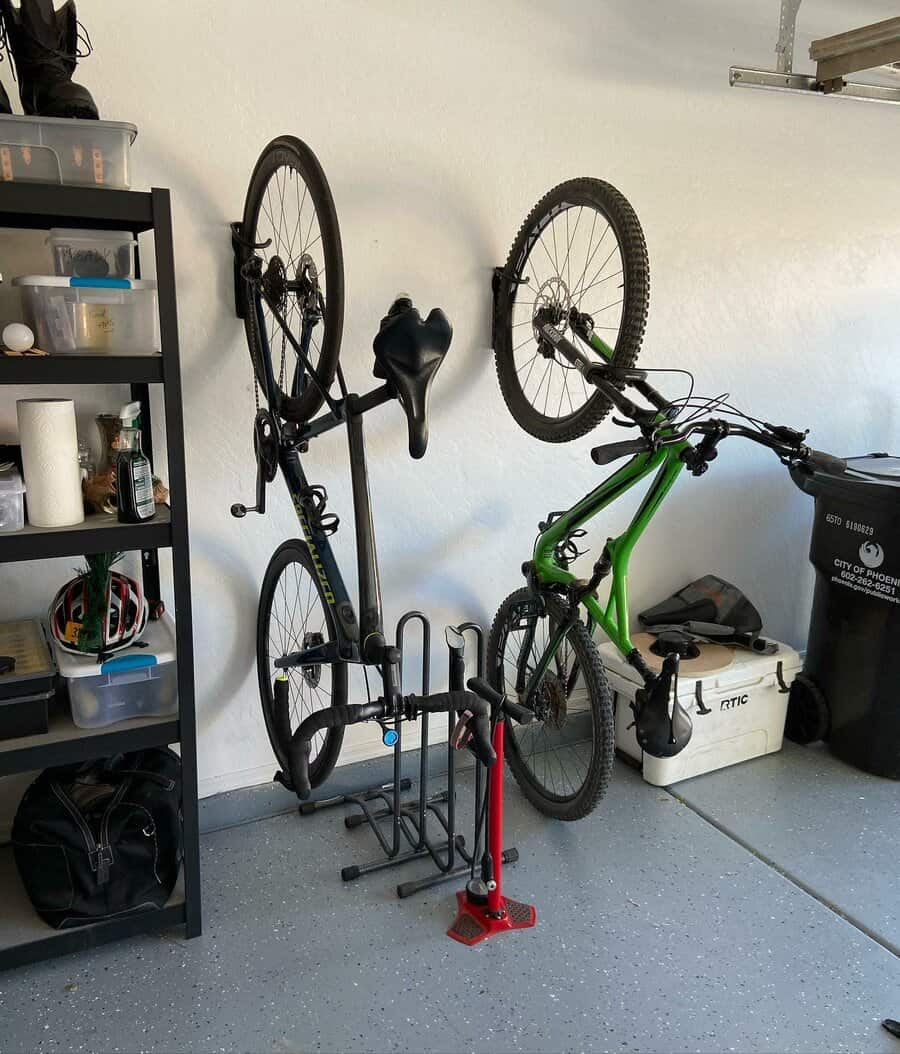 11. Bike Storage Hook
Bike storage hooks can be easily installed in your garage, shed, or any other area where you have extra wall space. With a simple installation process, you'll be able to safely store your bike off the ground, freeing up valuable floor space.
Plus, bike storage hooks come in a variety of sizes and designs, making it easy to find the perfect fit for your bike. Say goodbye to cluttered spaces and hello to a more organized and efficient storage solution with a bike storage hook.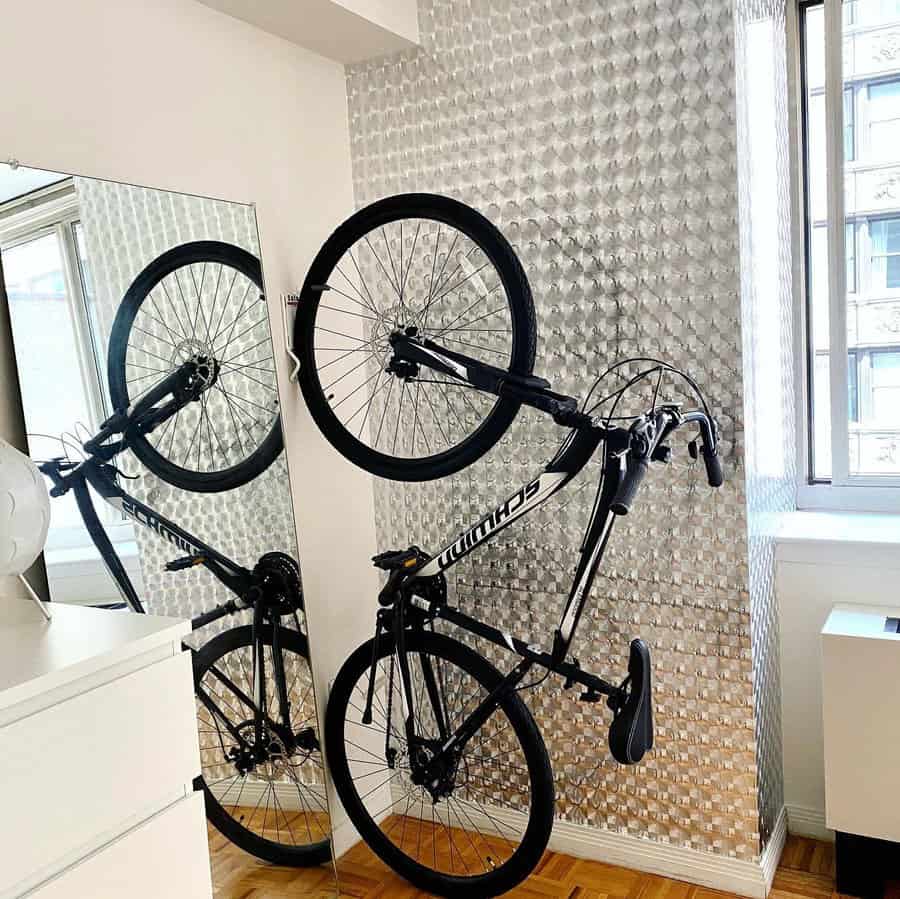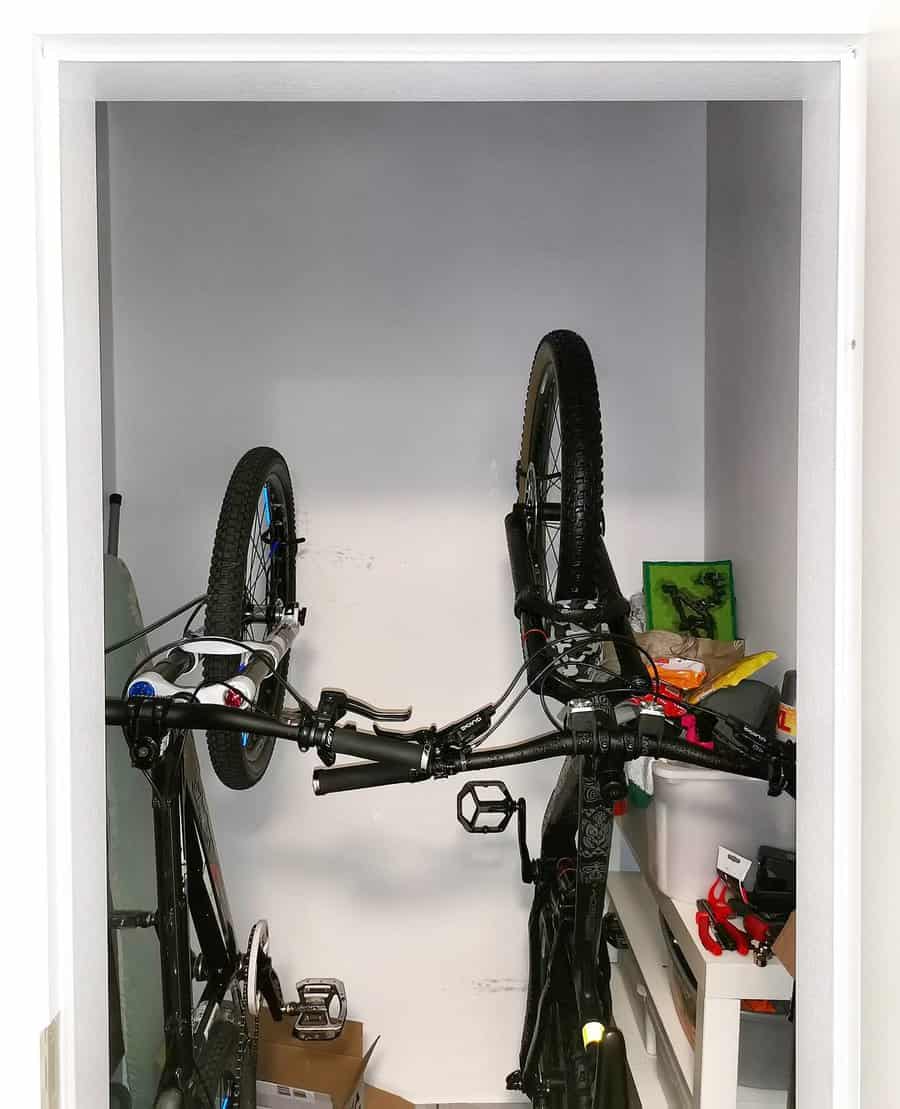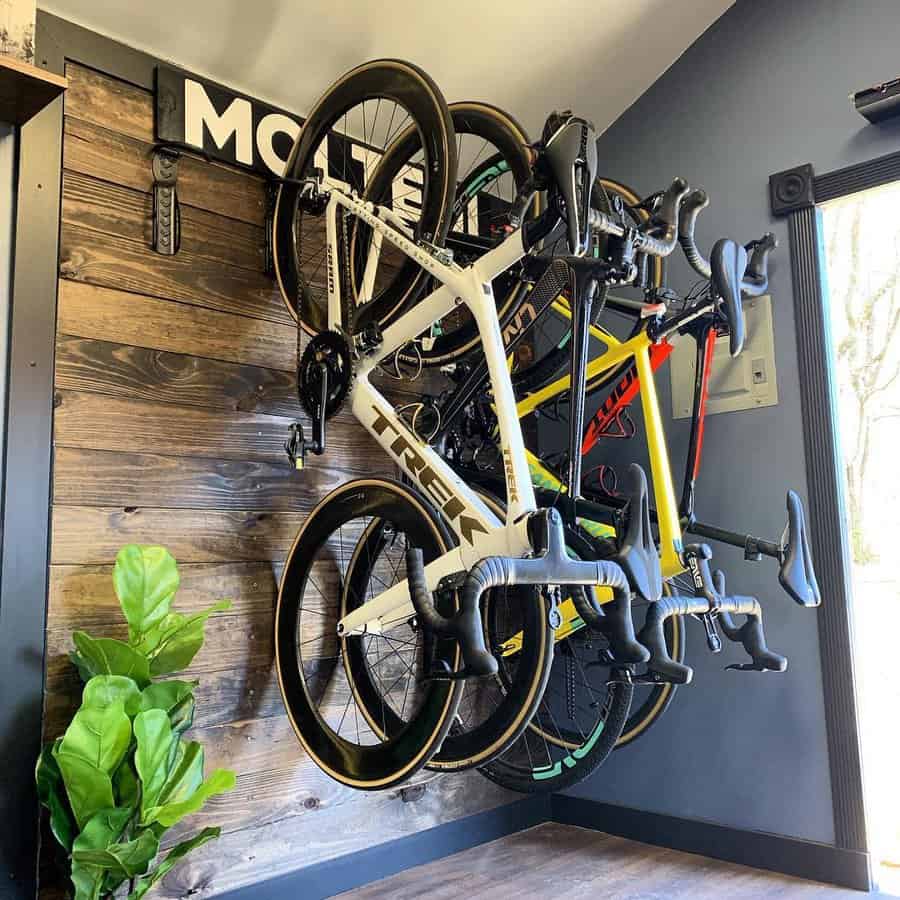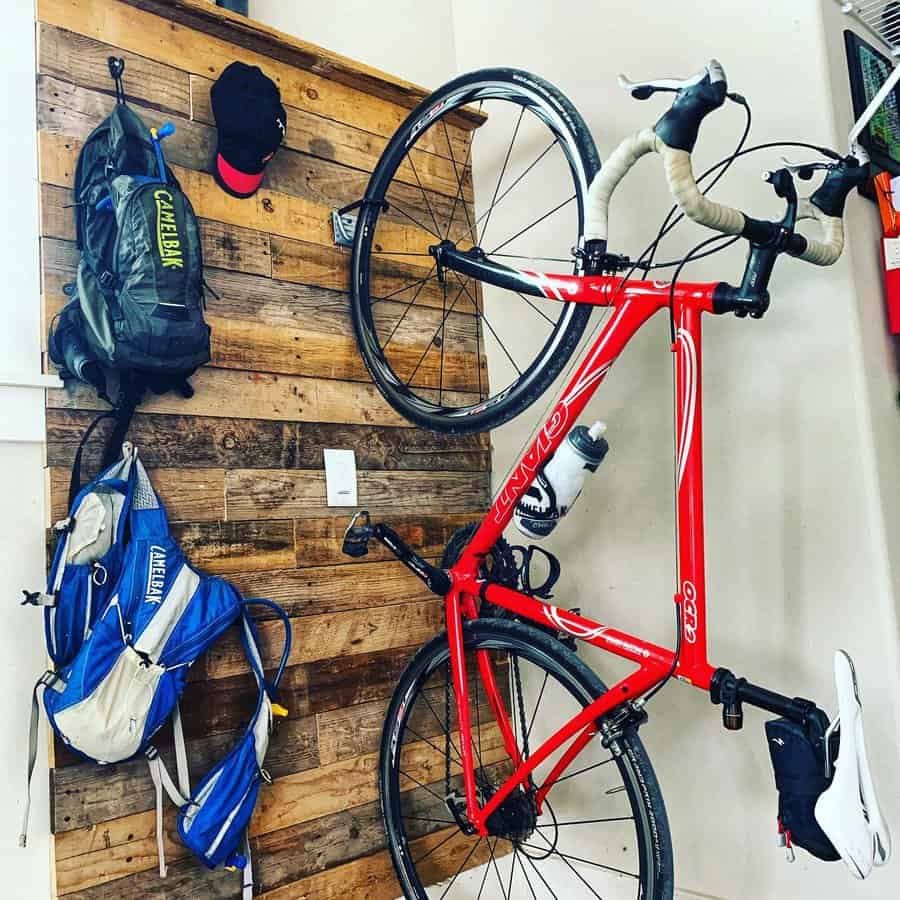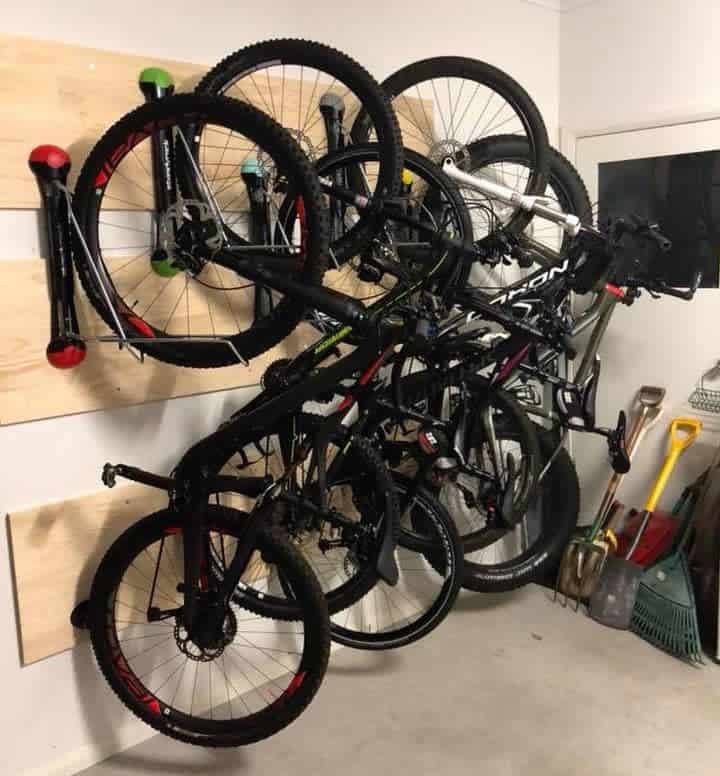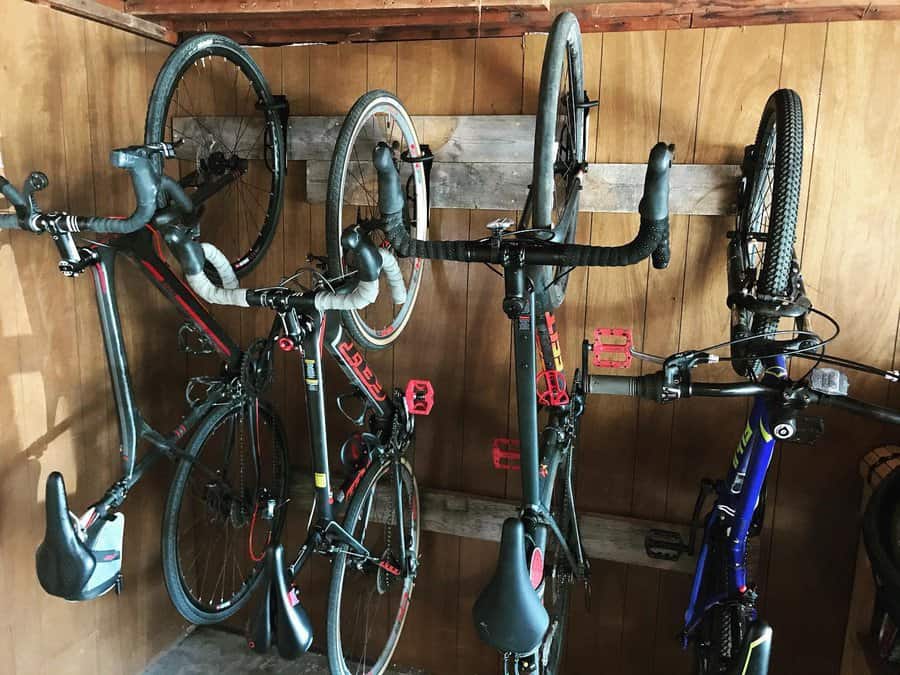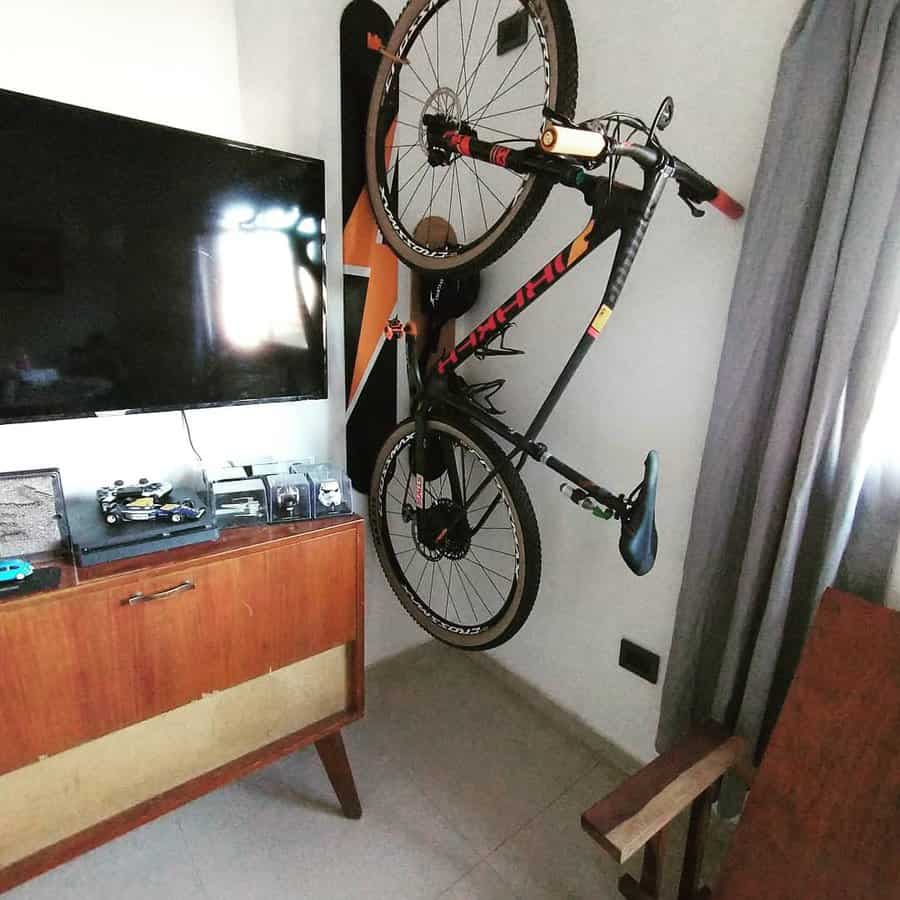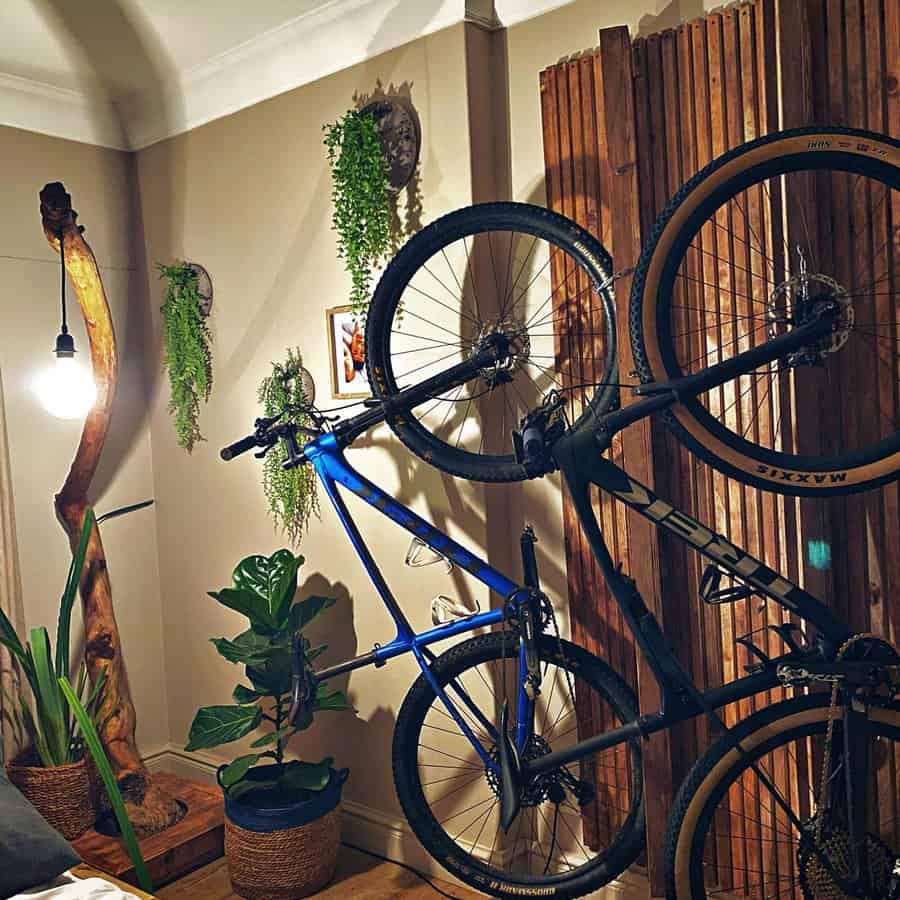 12. Wood Pallet Bike Rack
Are you constantly tripping over your bike or struggling to find a place to store it? Look no further than a wood pallet bike rack! With its rustic and simple design, this bike rack not only provides a functional storage solution but also adds a unique touch to any room or outdoor space.
Easy to assemble and customize, this DIY project can be tweaked to match any decor style. Plus, using a repurposed pallet is not only environmentally friendly but also budget-friendly. Say goodbye to cluttered spaces and hello to a stylish and practical bike storage solution!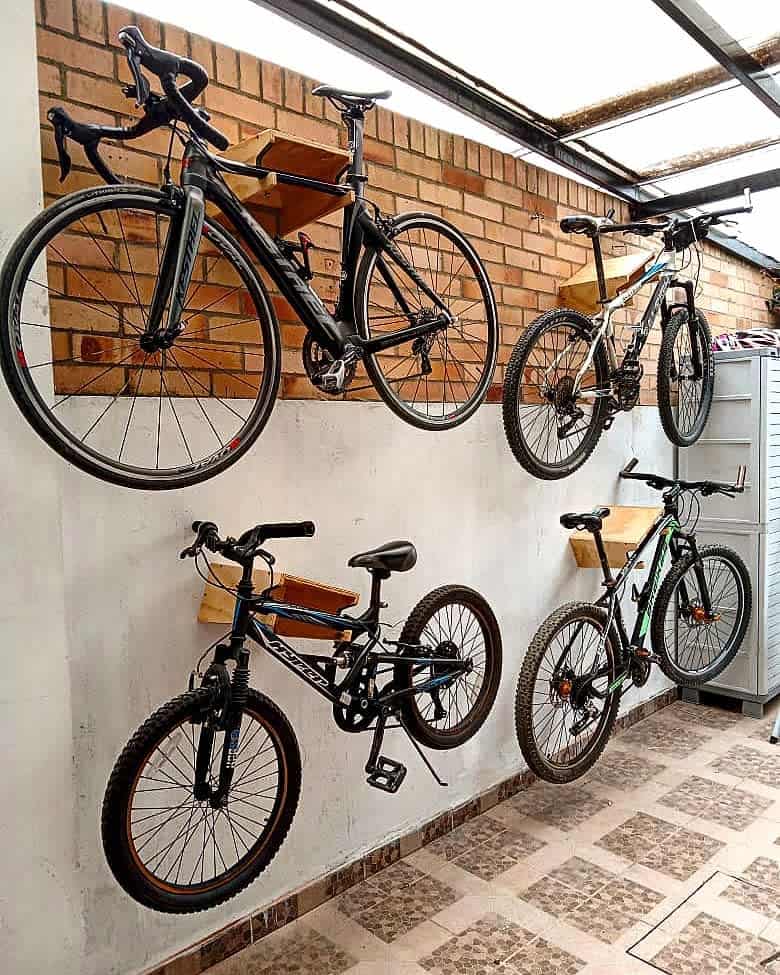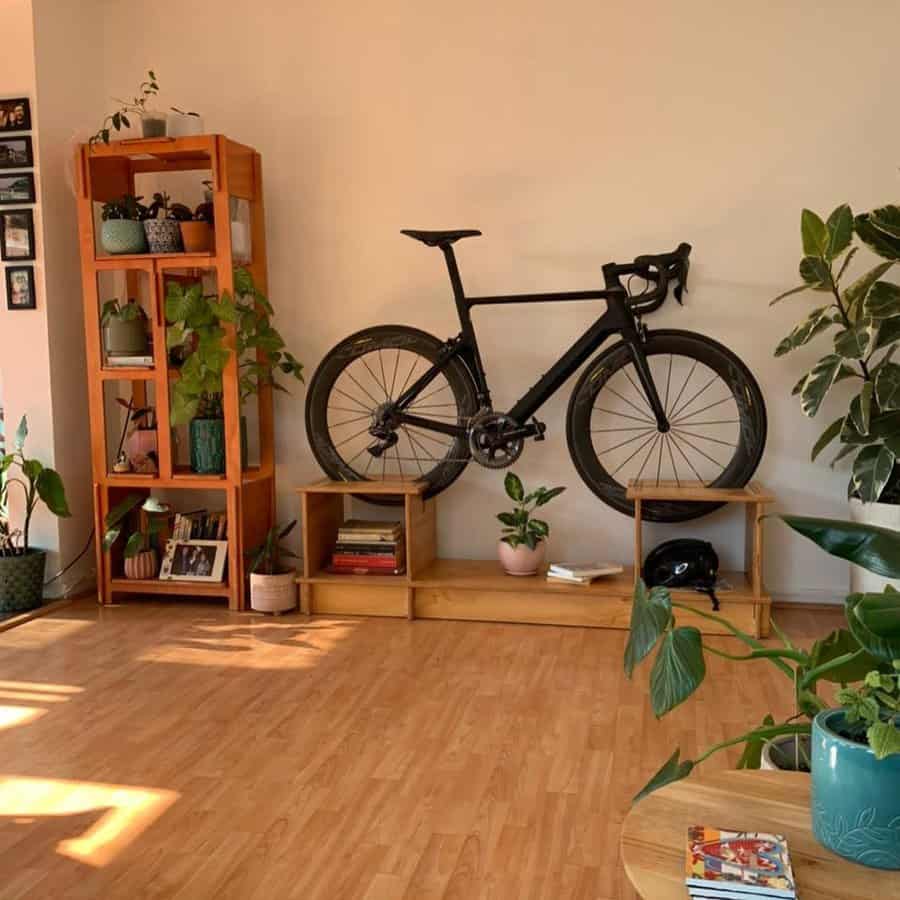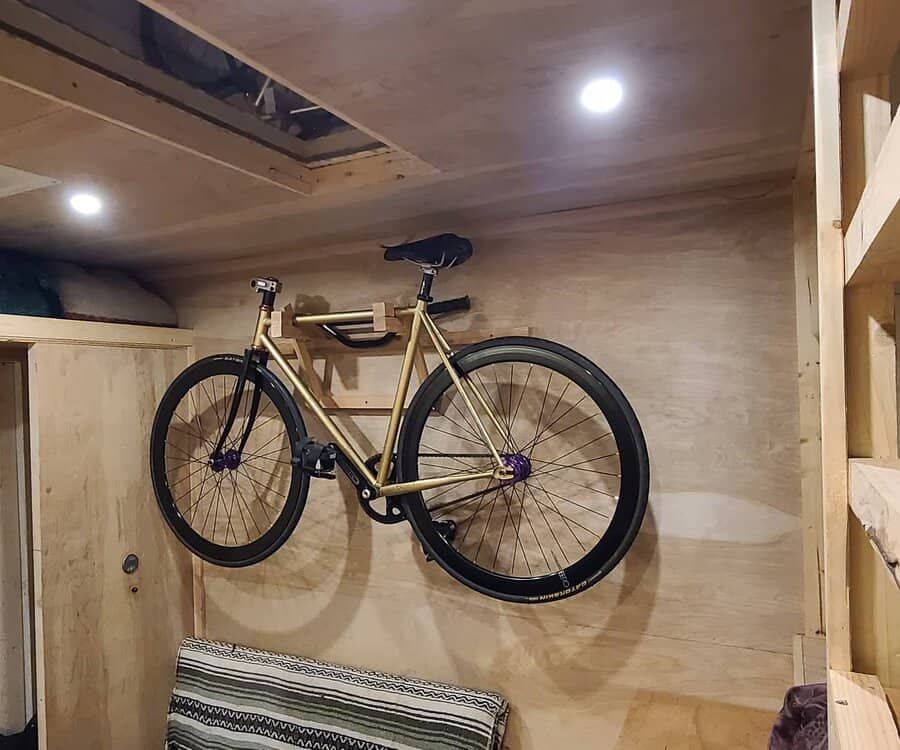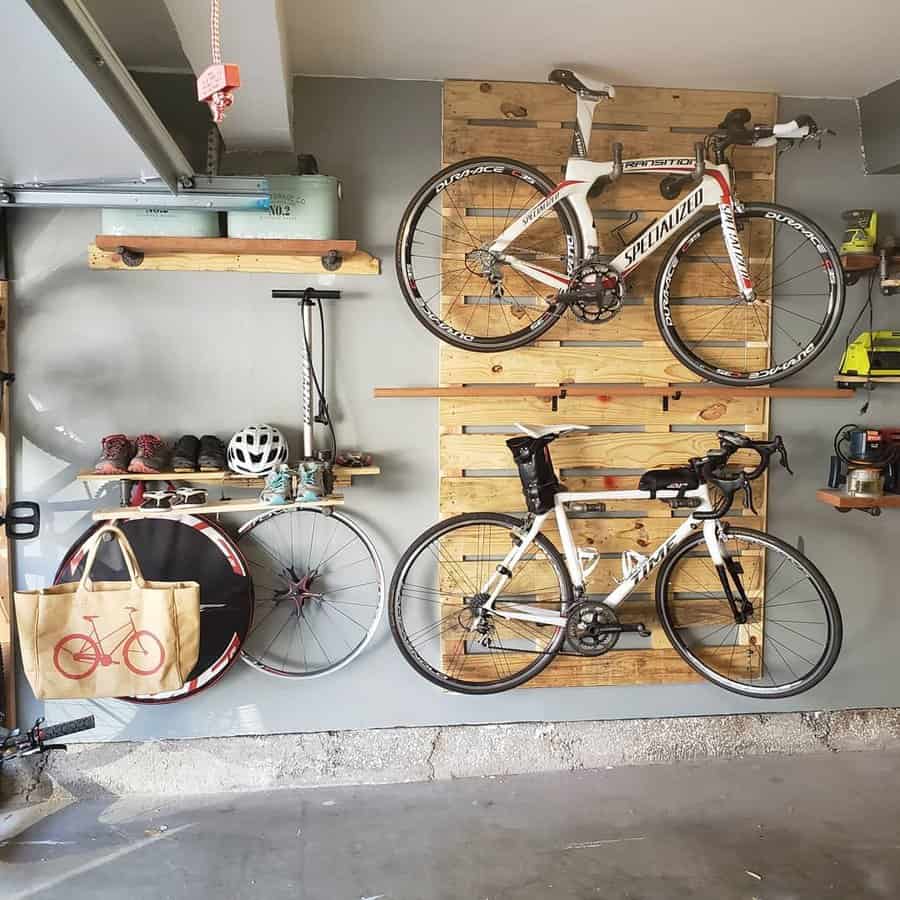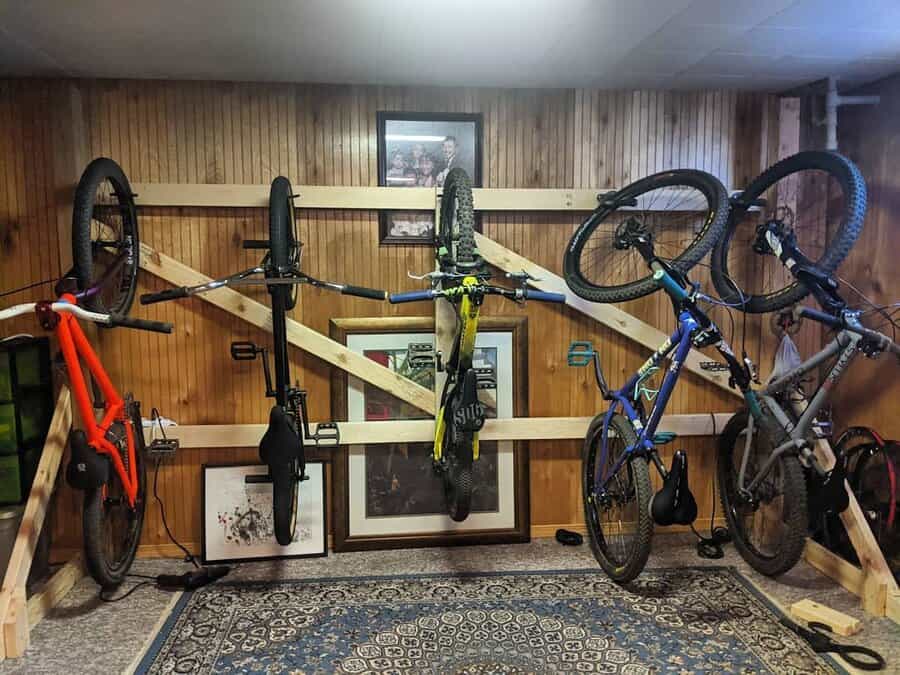 Bike Storage FAQs
What is the most space-efficient way to store bikes?
The most space-efficient method for storing your bicycles is a screw-in storage hook mounted on your wall or ceiling. You can hang your bike off the ground, minimizing the floor space your bike takes up. You also only need one hook per bike, minimizing the amount of space you need for the rack.
Is it bad to hang a bike by its wheels?
There's no issue with hanging your bike by the wheels. Bicycles are built to be durable, and the wheel is what supports the entire load of the bike while riding it. So hanging the bike by the wheel is safe for supporting the bike's weight.
How do I store my bike outside?
If you need to store your bike outside, it should be protected from the elements and secured so that no one can take it. A tarp is a simple and affordable cover for protecting your bicycle from the elements. Don't wrap the tarp too tightly, or you'll create a pocket that moisture can build up in. Another great option is a bike tent. It's narrow and just big enough to hold the bike. You can zip open the door and easily take your bike in and out.