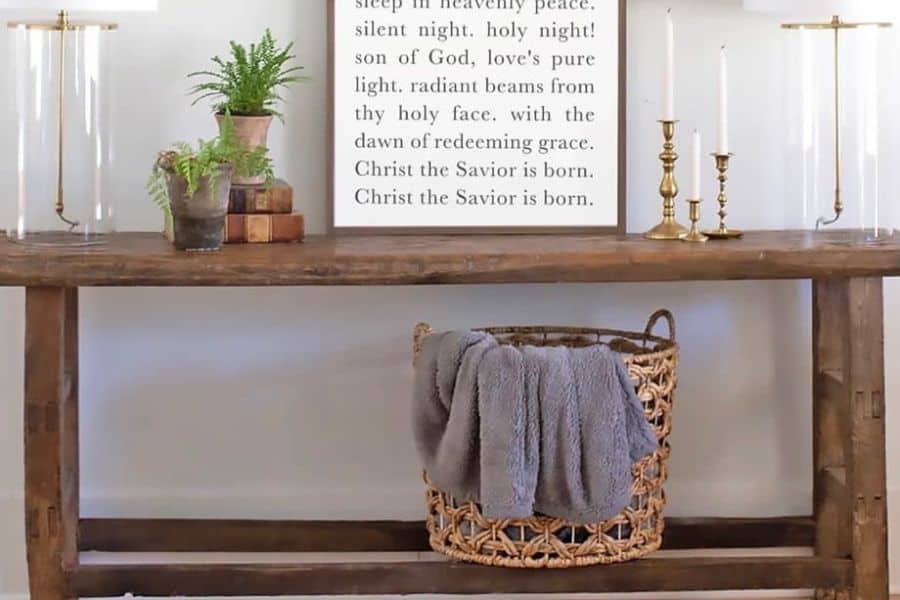 The Top 59 Blanket Storage Ideas
by — Andra DelMonico

Published on January 17, 2022

Updated on October 19, 2023
Browse through a design or home magazine or swipe through social media, and you will see throw blankets everywhere. These convenient pieces of fabric are perfect for accenting decor, making a space feel cozy, or adding a pop of color.
The problem is, what do you do with the blanket when you aren't using it? Or what about when you own multiple blankets? You can't have a ton of blankets all piled up on your sofa.
While you could cram them into your linen closet, this isn't always convenient. You need readily accessible storage spaces in each room for your blankets. These blanket storage ideas will help you find the perfect solution for storing your collection of throw blankets.
1. Store Blankets in Woven Baskets
Woven baskets offer a stylish and practical solution for blanket storage. Choosing a basket with a soft texture and natural hue enhances the room's coziness, seamlessly blending with various decor styles. Strategically position your basket in high-use areas like the living room or bedroom for easy access. Remember to pair with complementary elements like rugs or throw pillows to create a cohesive look.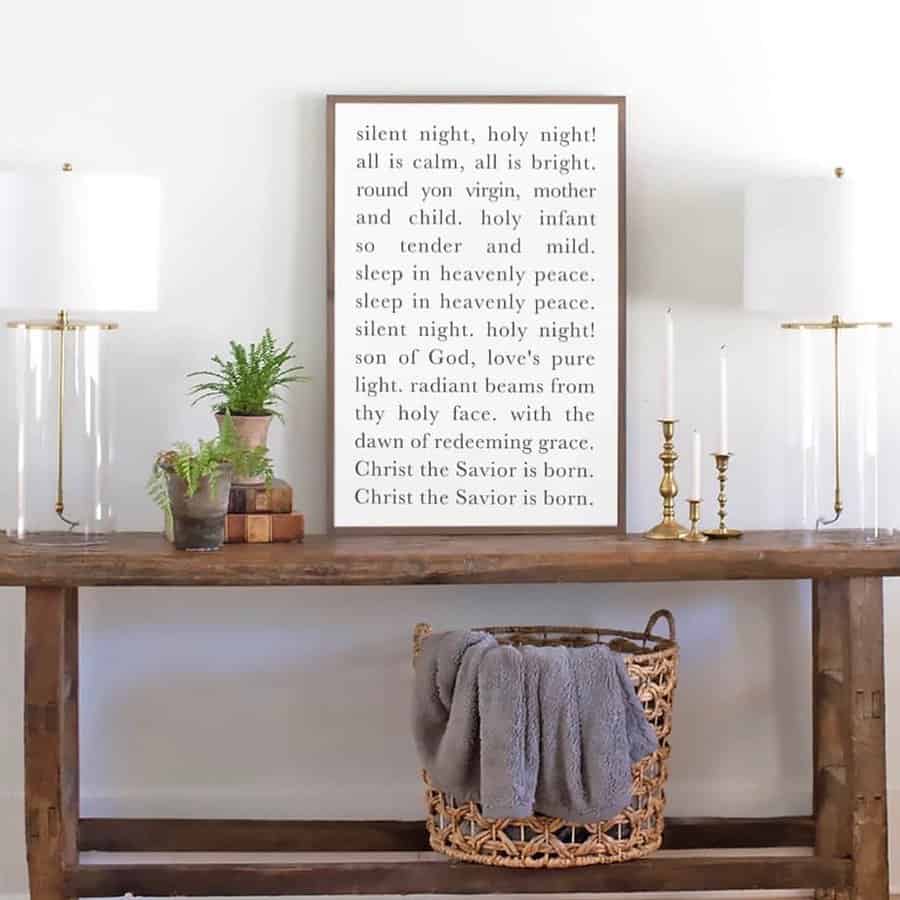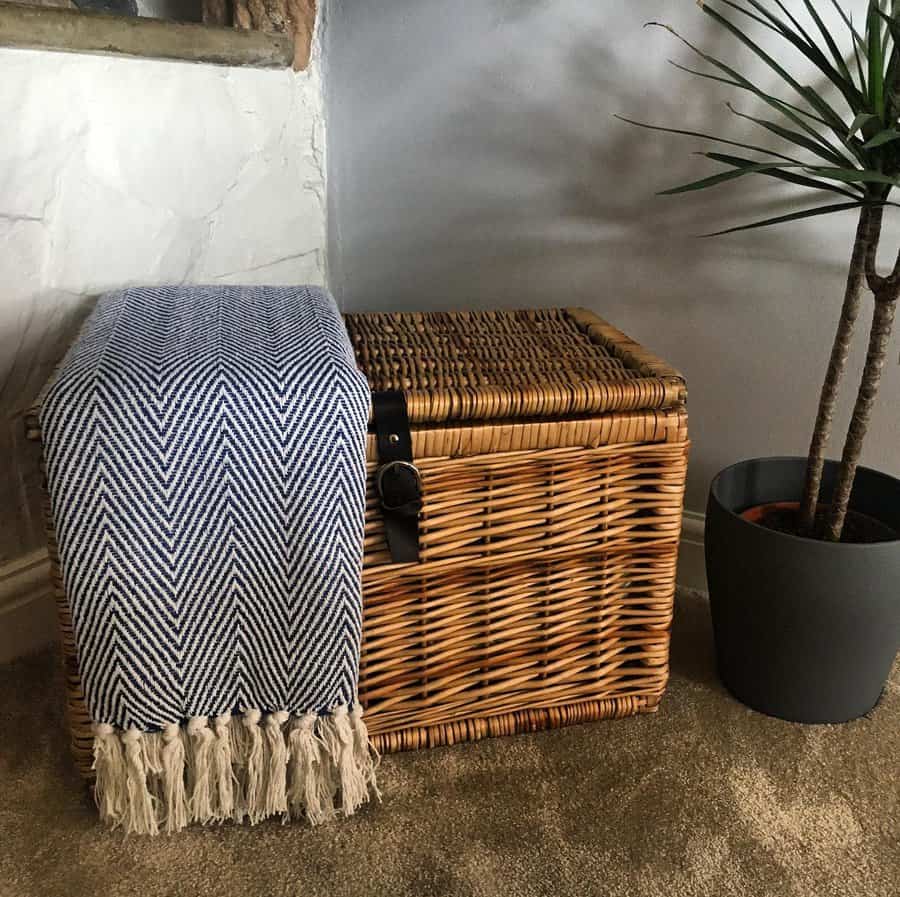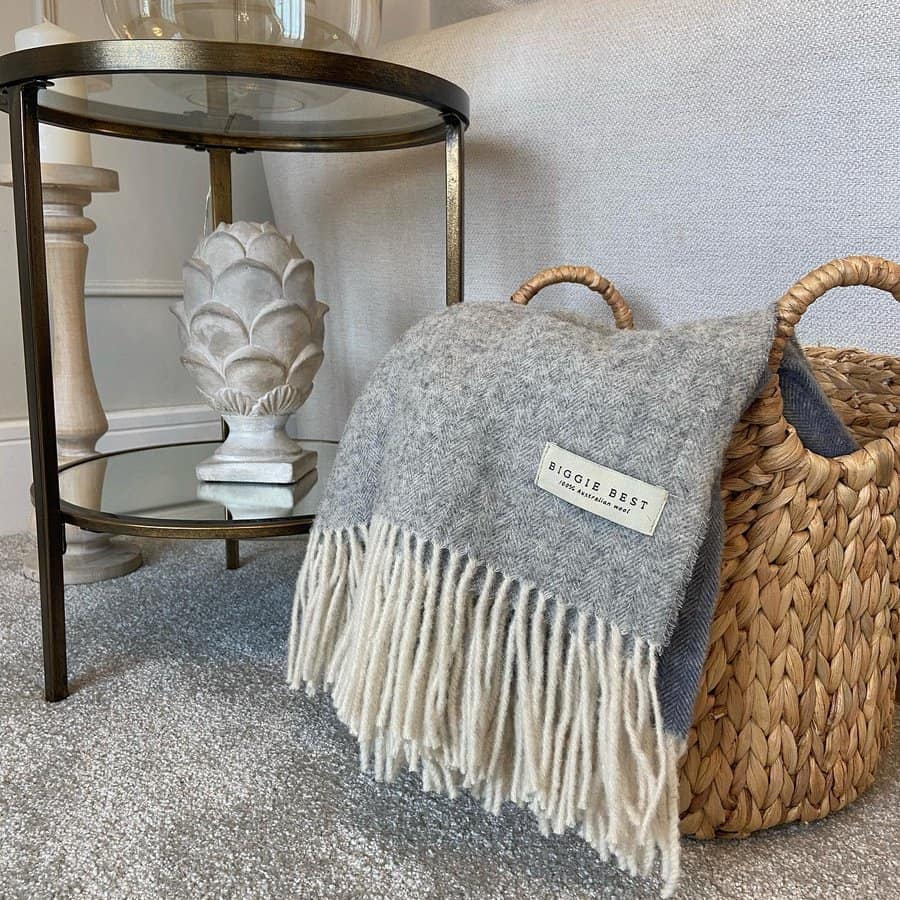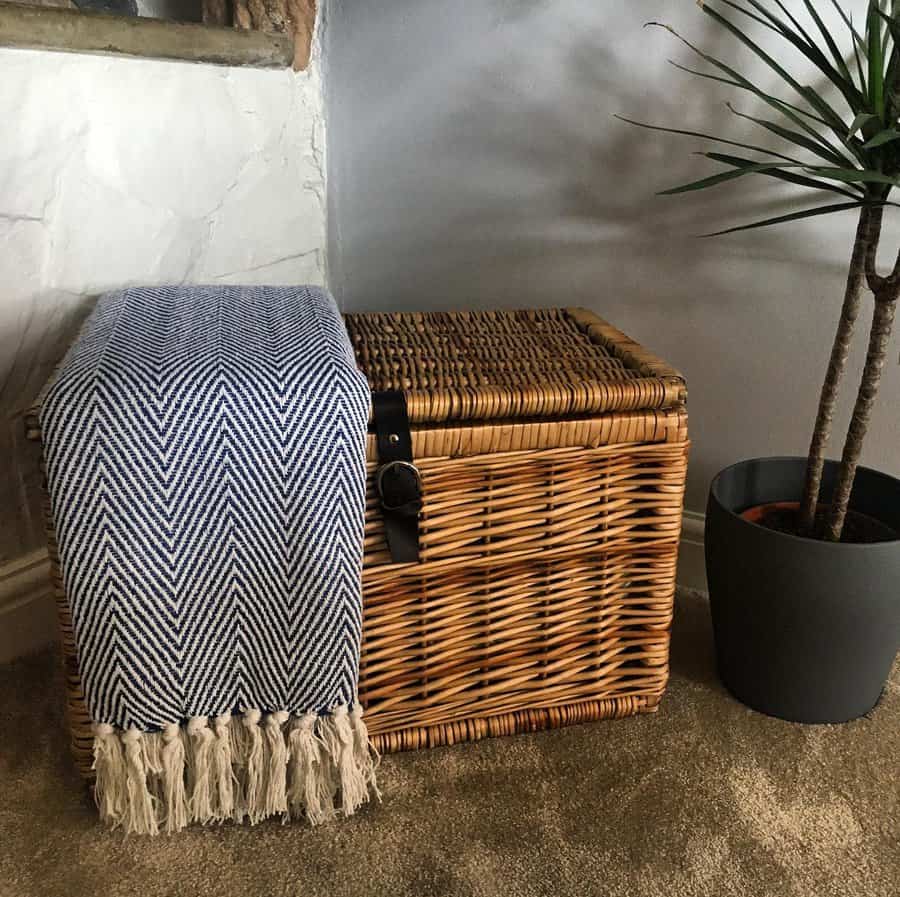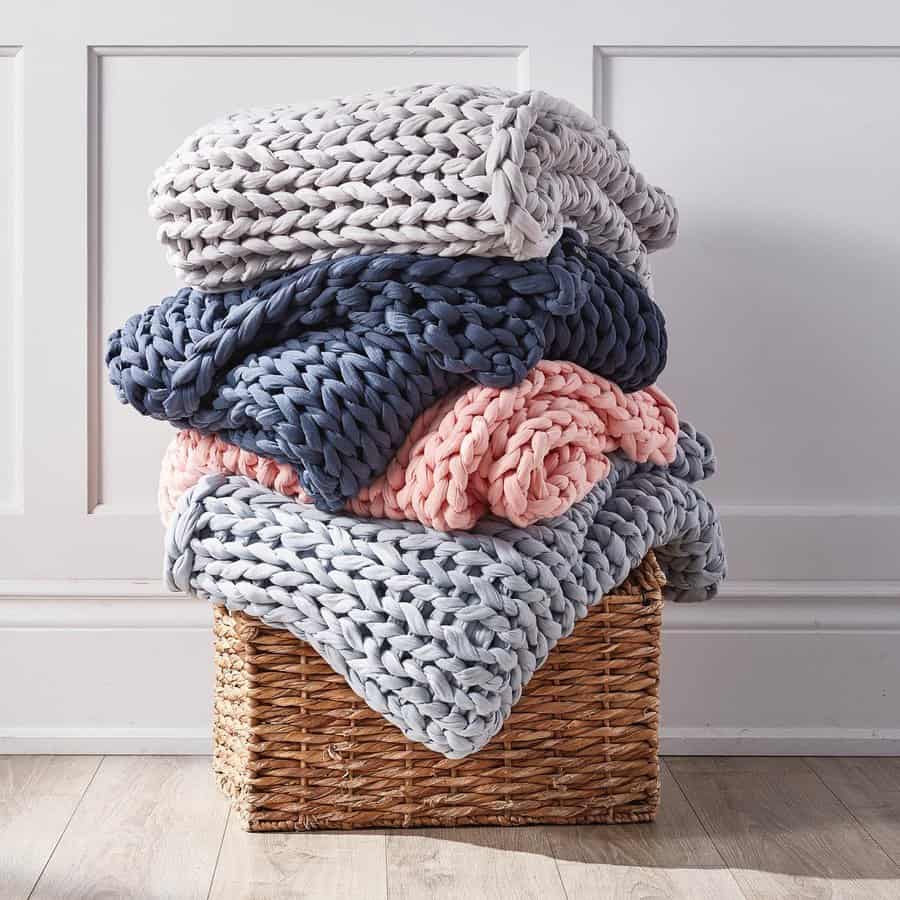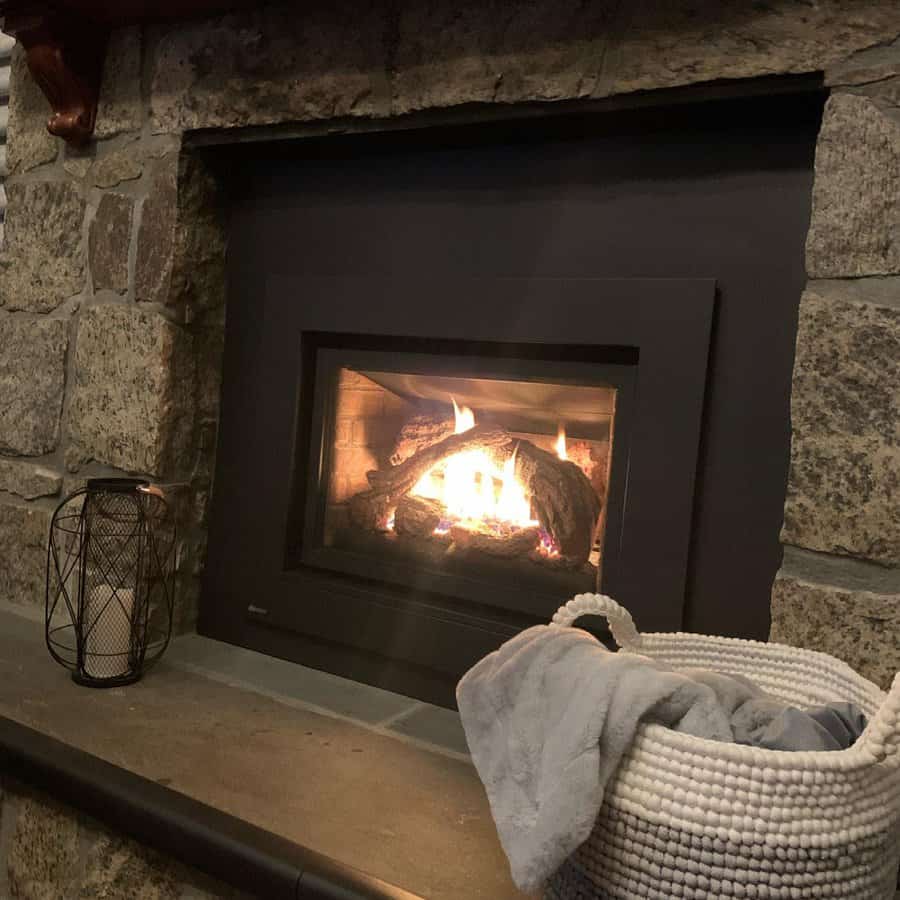 2. Showcase Throws on a Blanket Ladder
Blanket ladders effortlessly marry style with functionality, providing an elegant display solution for throws. Whether you lean towards a rustic wooden design or a boho-chic macrame one, the ladder becomes both a statement piece and storage. Position it near seating areas in your living room or bedroom to keep blankets within arm's reach. To enhance the aesthetic, consider integrating colors or textures from the ladder into other room elements.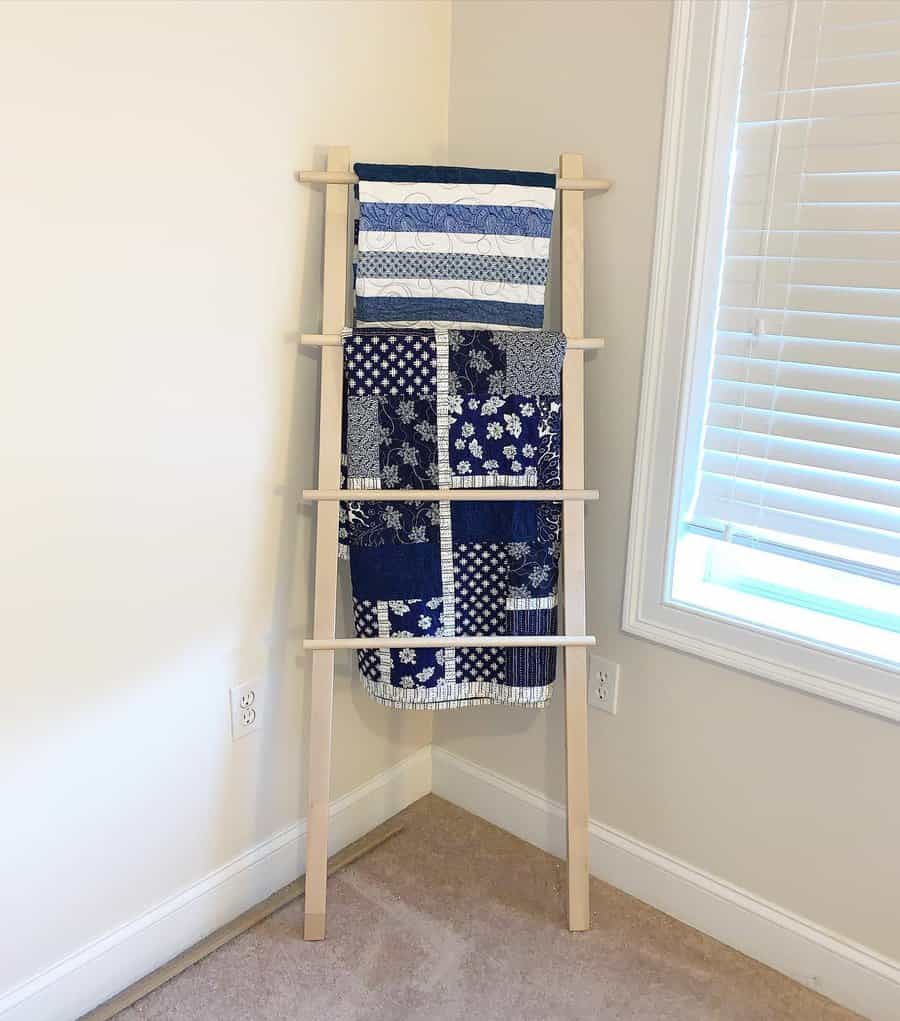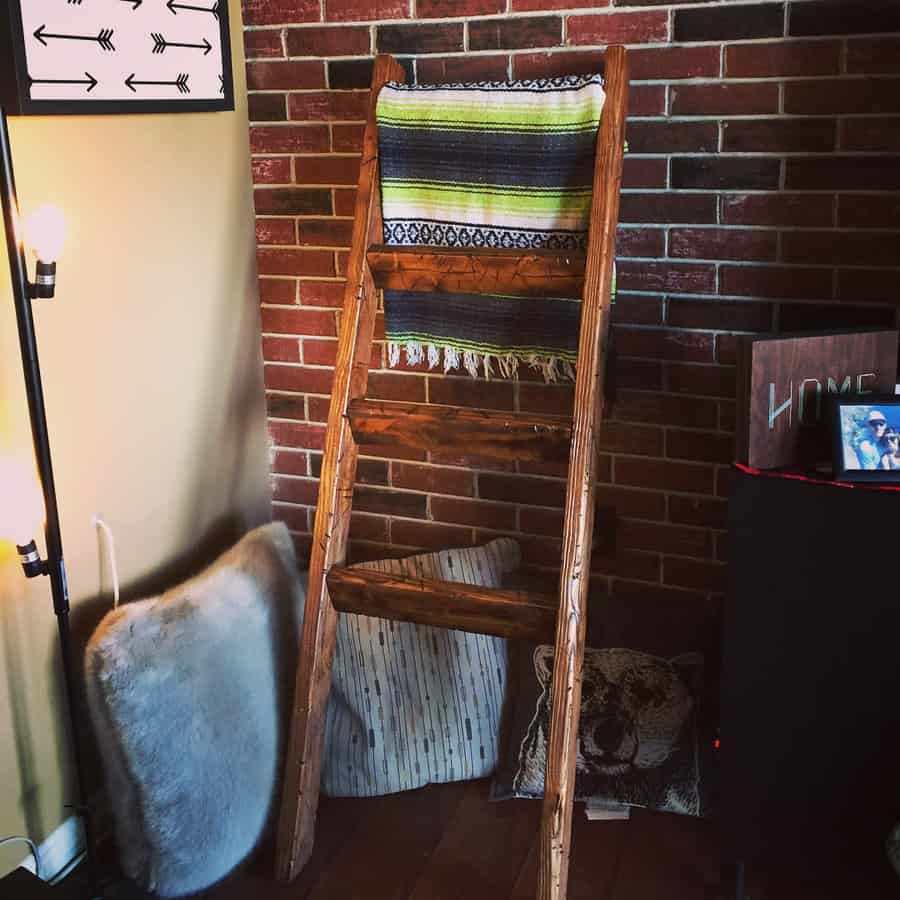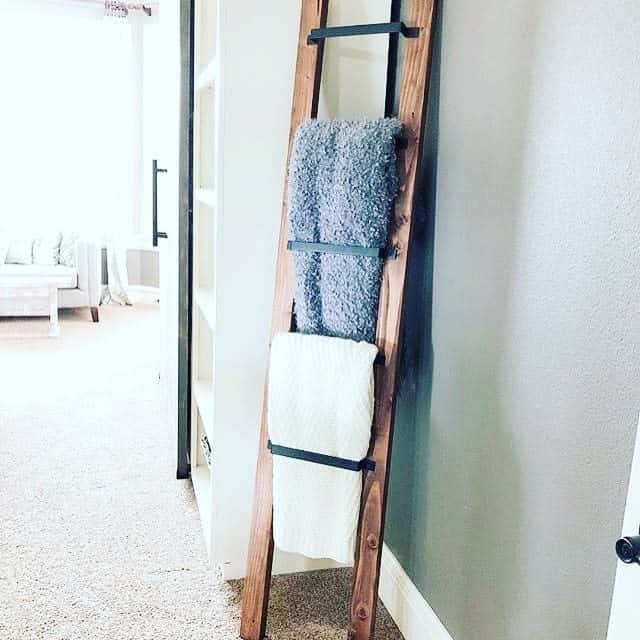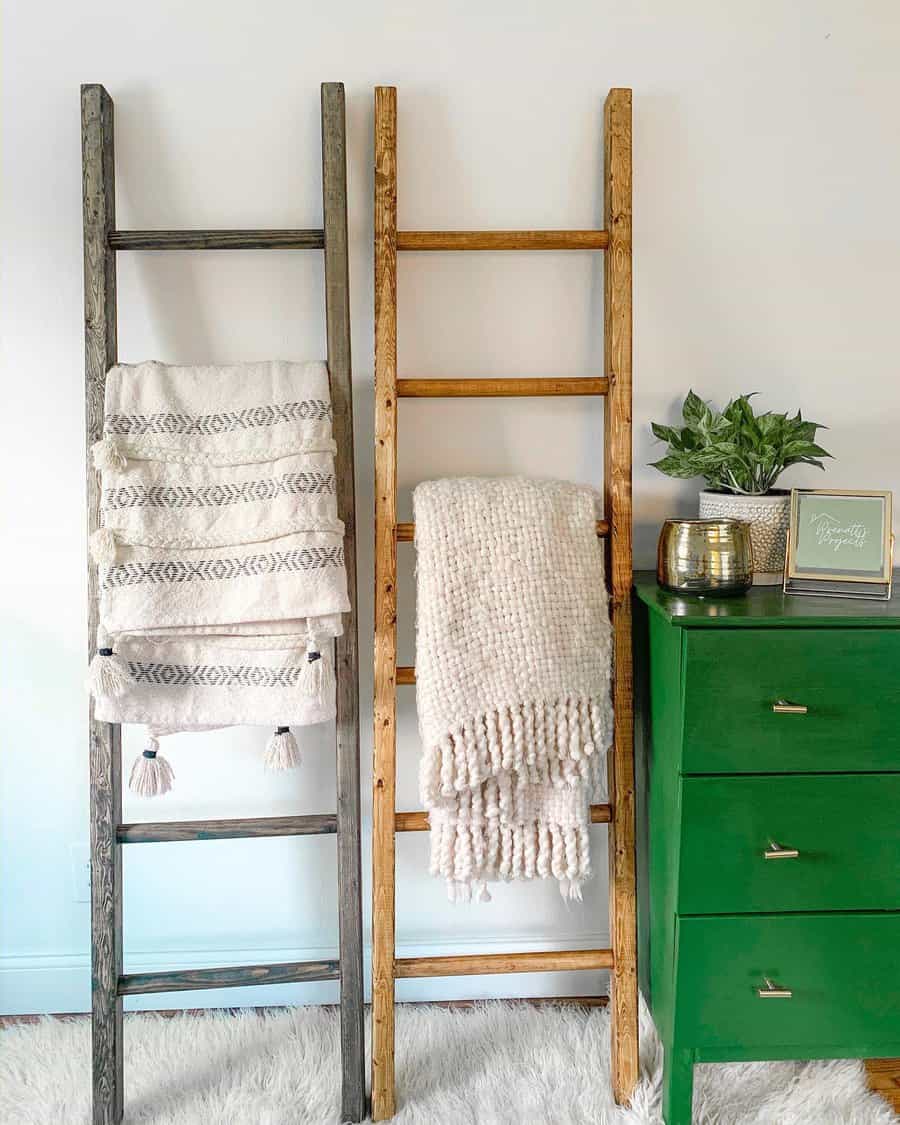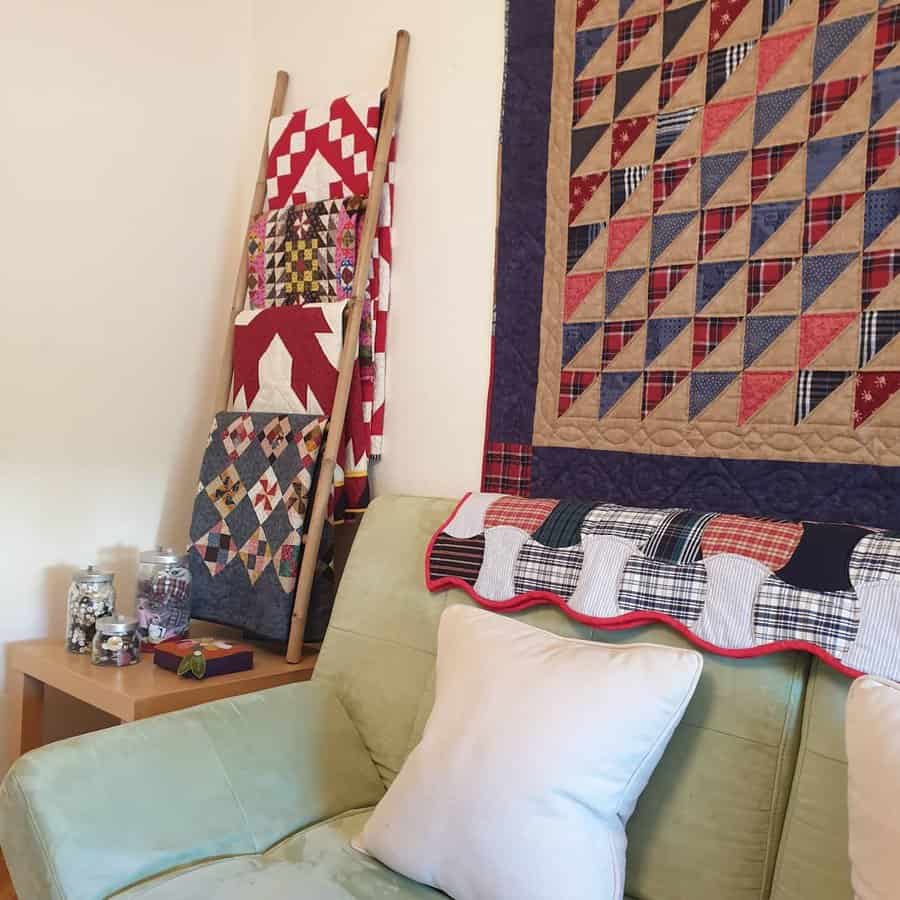 3. Suspend Blankets from Wall Poles
Wall-mounted poles offer an innovative way to display and store blankets. By draping your throws over a sturdy pole, you combine décor with practicality, freeing up other storage areas. This design works well with vibrant quilts or textured knit throws, making them a room's focal point. To enhance the display, match the pole's material or finish with other room accents, ensuring a harmonious design flow.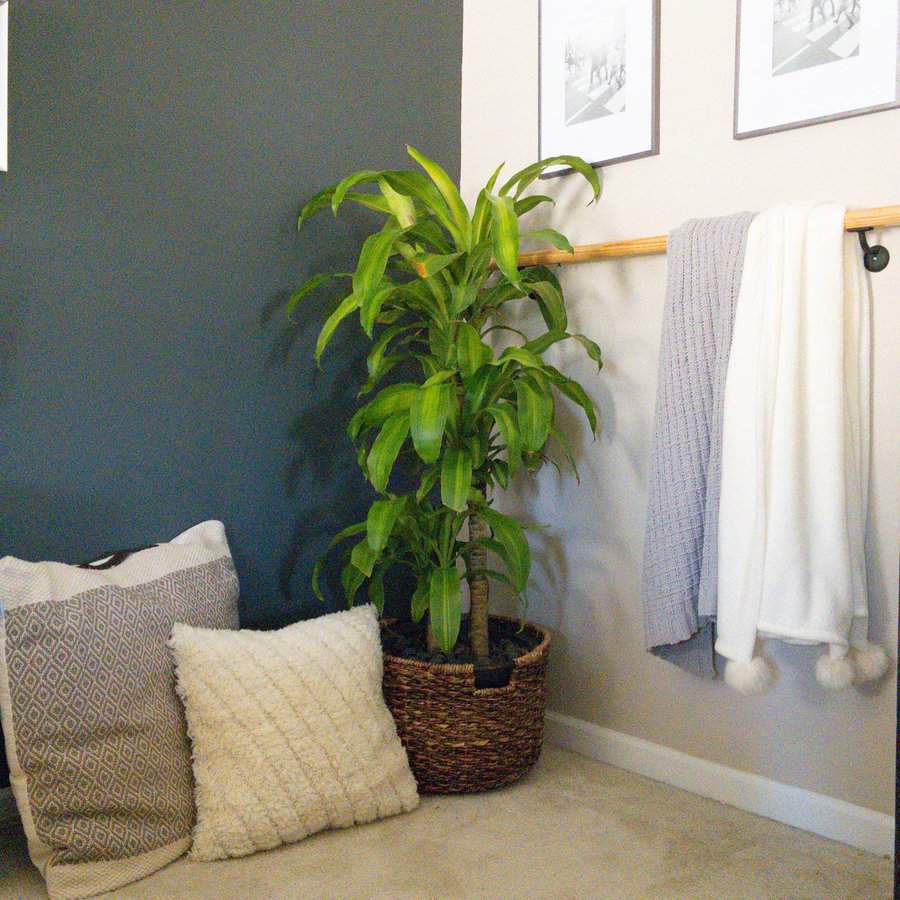 4. Stash Cozies in a Blanket Chest
A blanket chest beautifully marries storage with aesthetic appeal. From rustic wooden trunks to sleek contemporary designs, these chests cater to diverse decor tastes. Besides storing blankets, their spacious interiors can accommodate pillows, bedding, or seasonal items. Position your chest at the foot of a bed or in a living space corner, and match its style with nearby furniture or textiles for a cohesive look.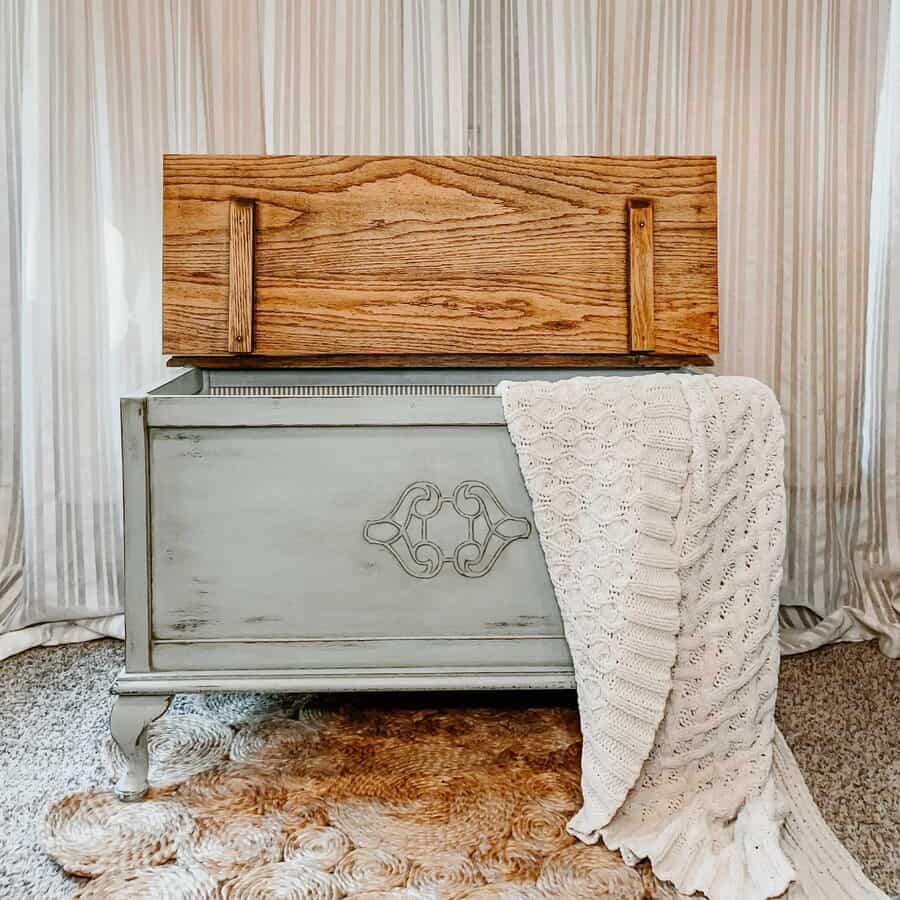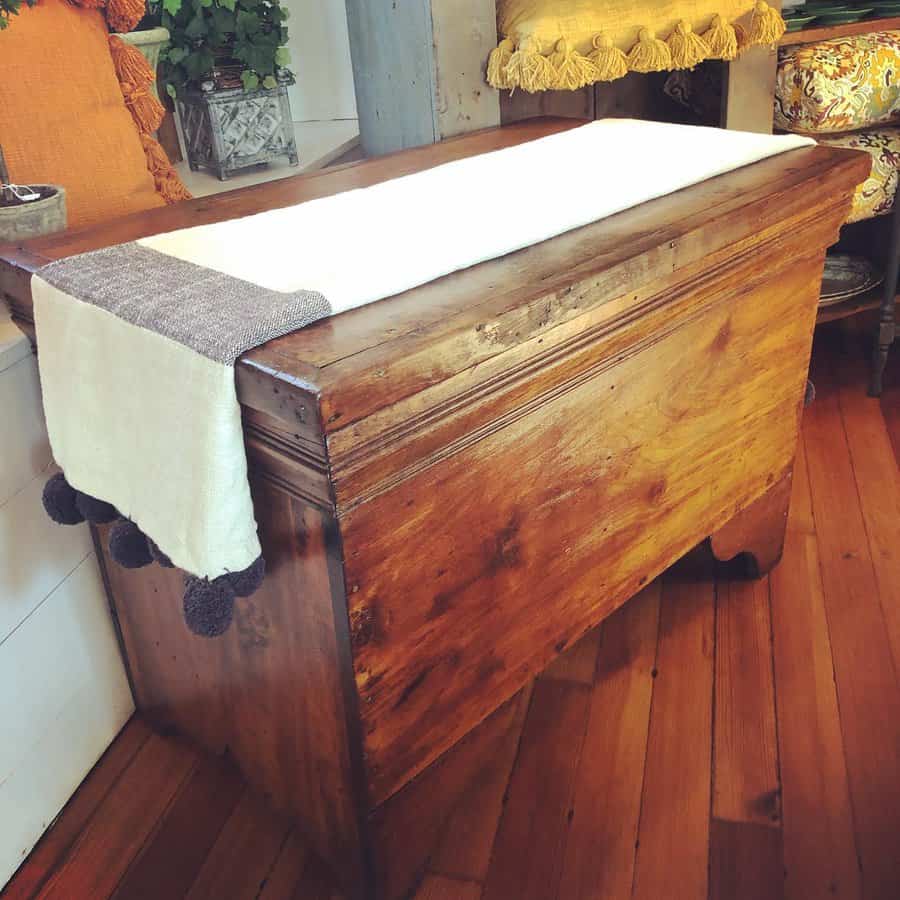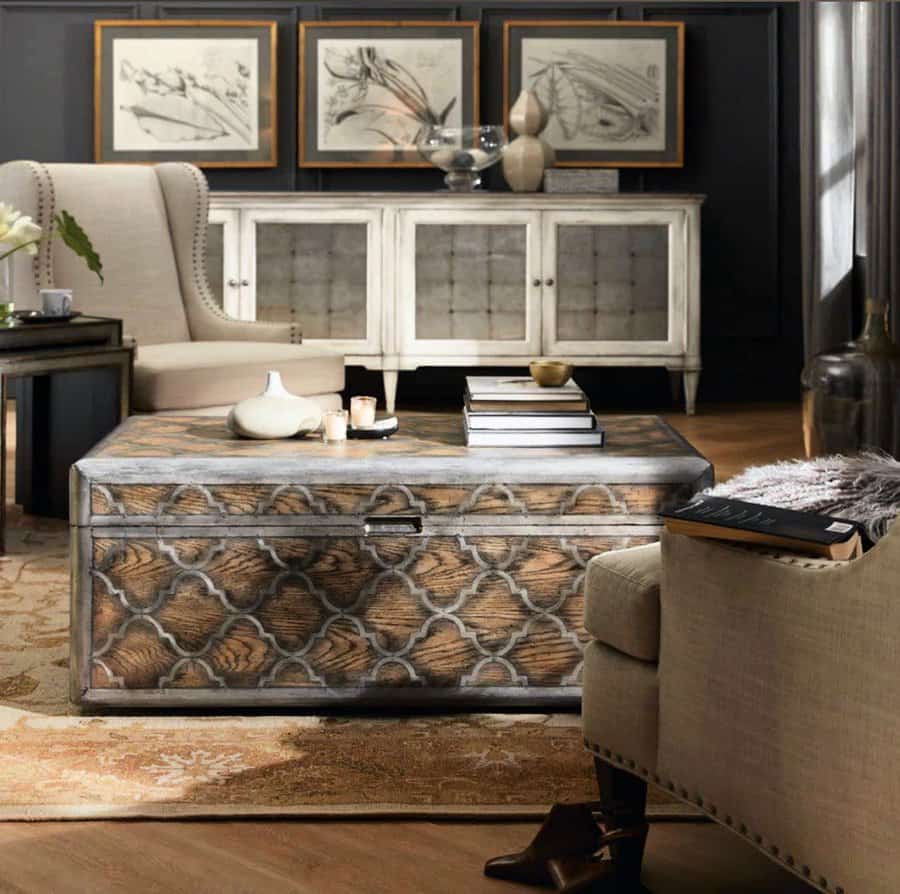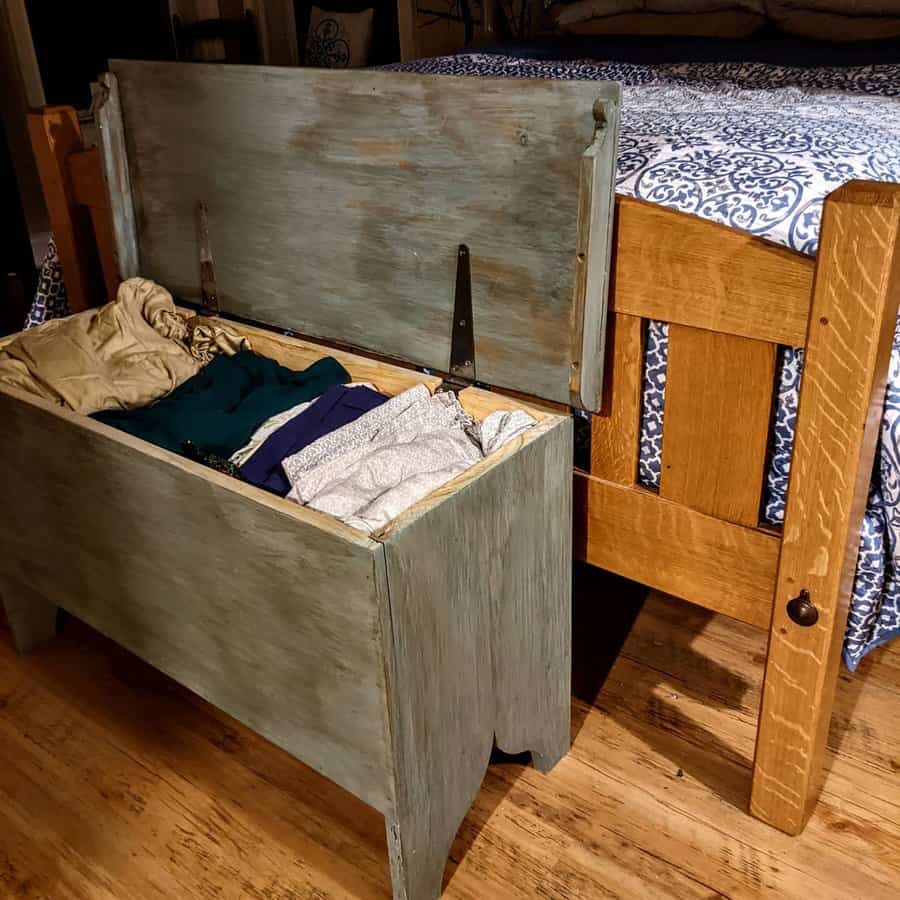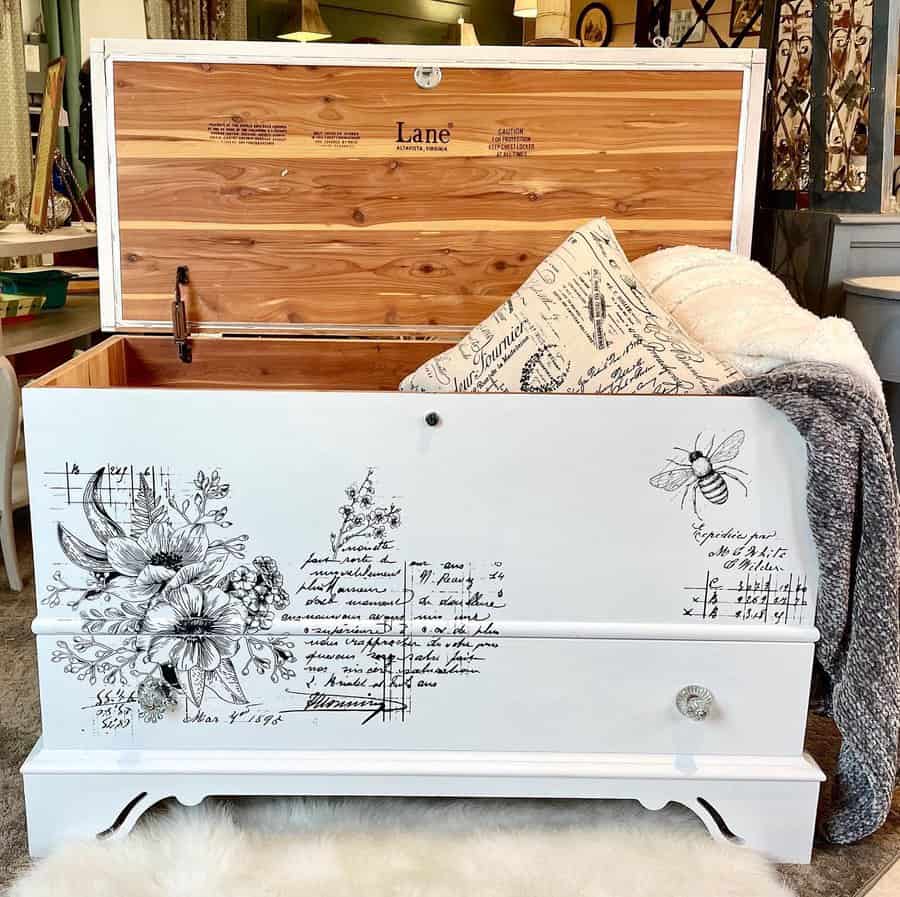 5. Organize with Cabinet Shelving
Cabinet shelving provides versatile storage for blankets, offering both concealed and open-display options. Open shelves present an inviting display, while cabinets with doors maintain a tidy appearance. If repurposing a closet, install vertical shelves to optimize space and maintain organization. To accentuate the space, match the cabinet's material or color with room decor and consider baskets or dividers for added neatness.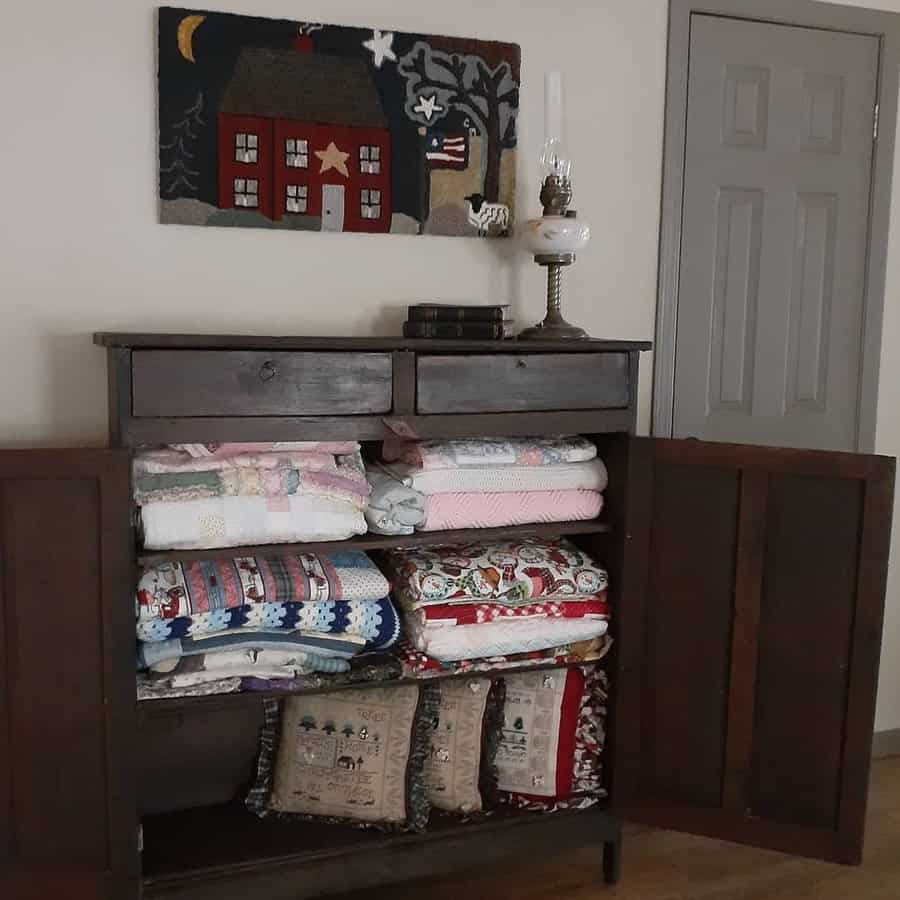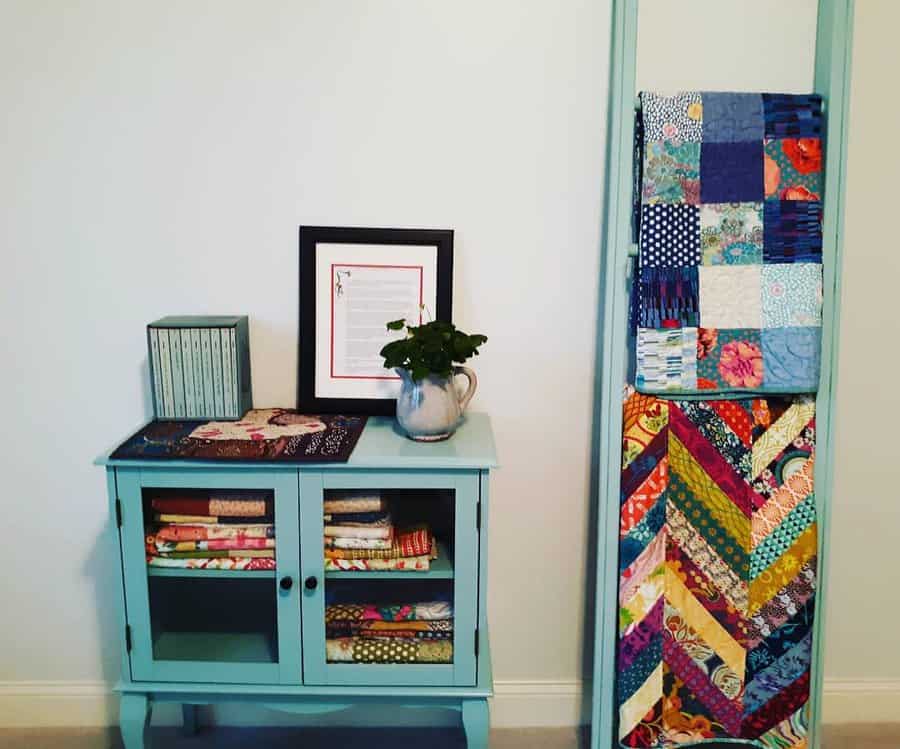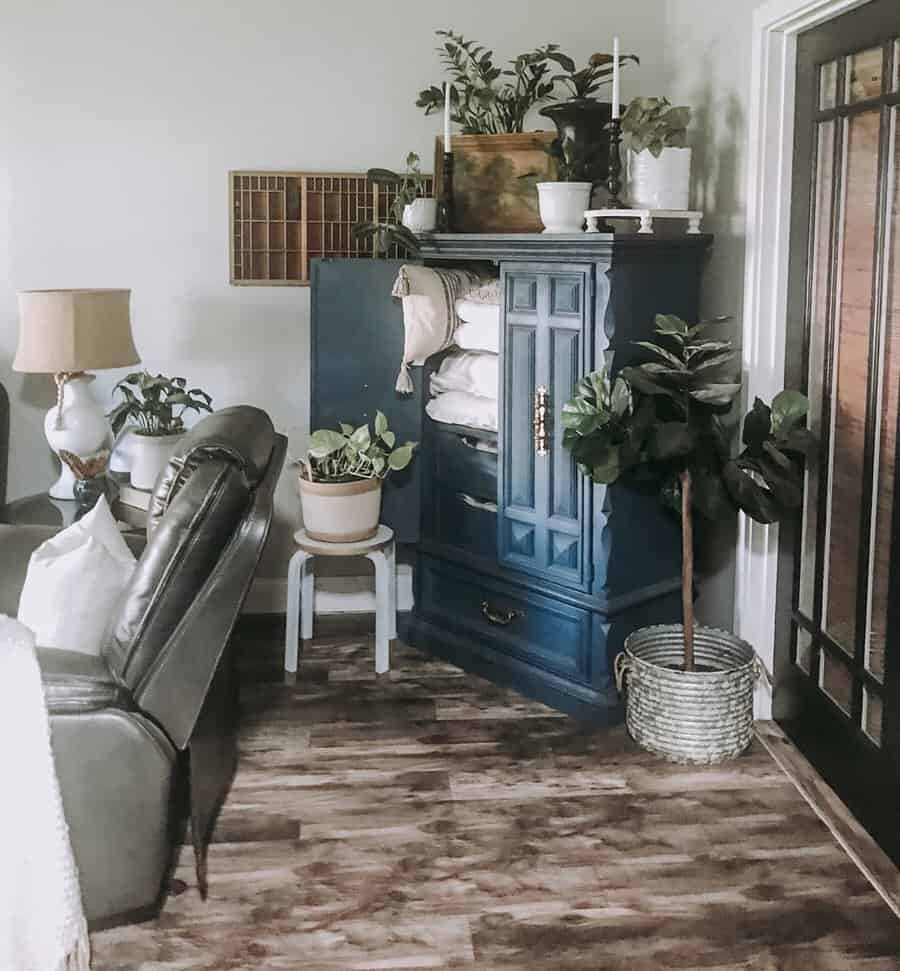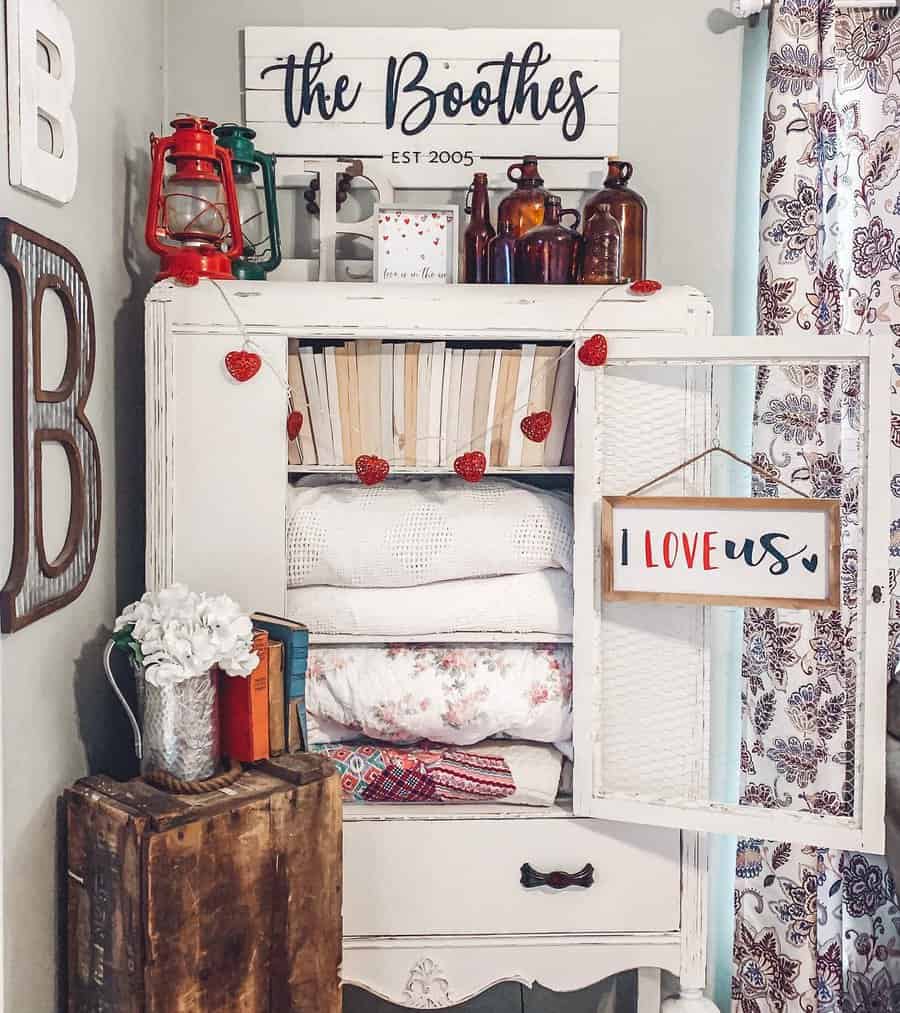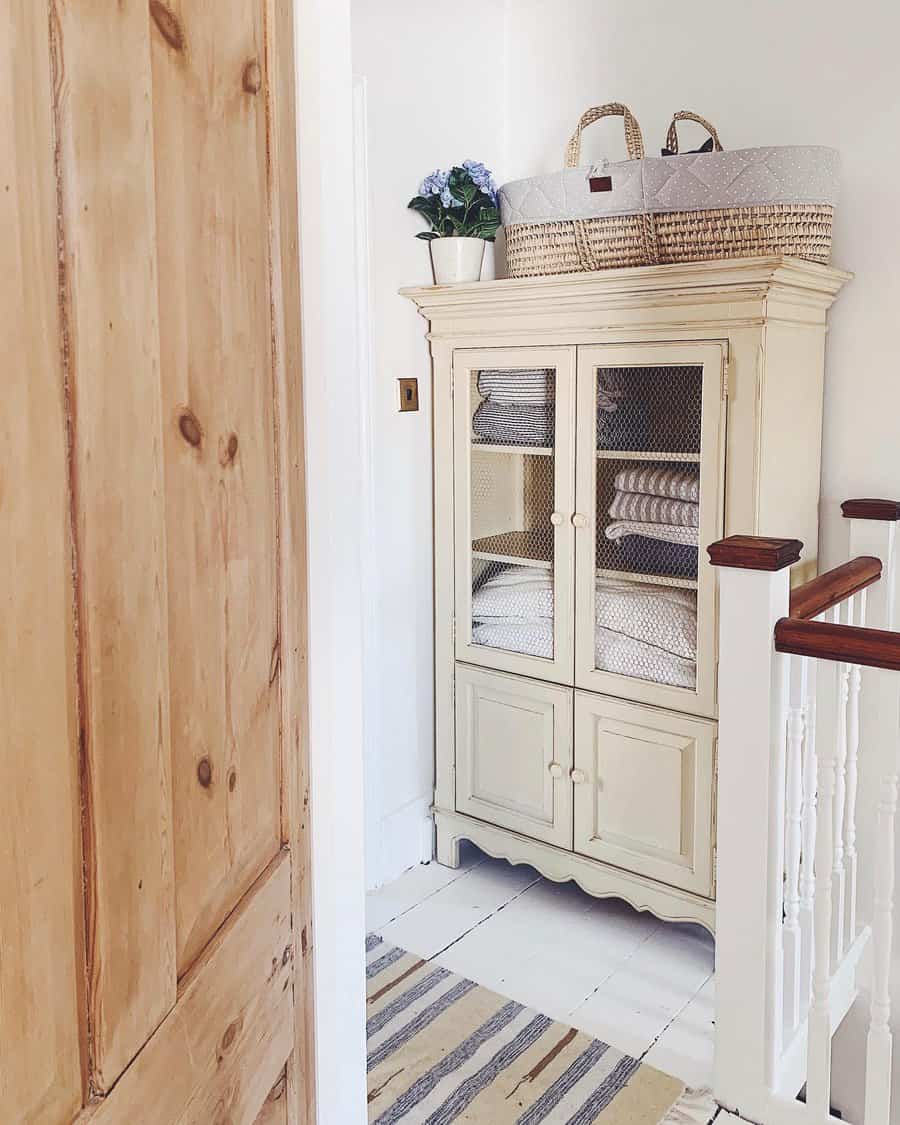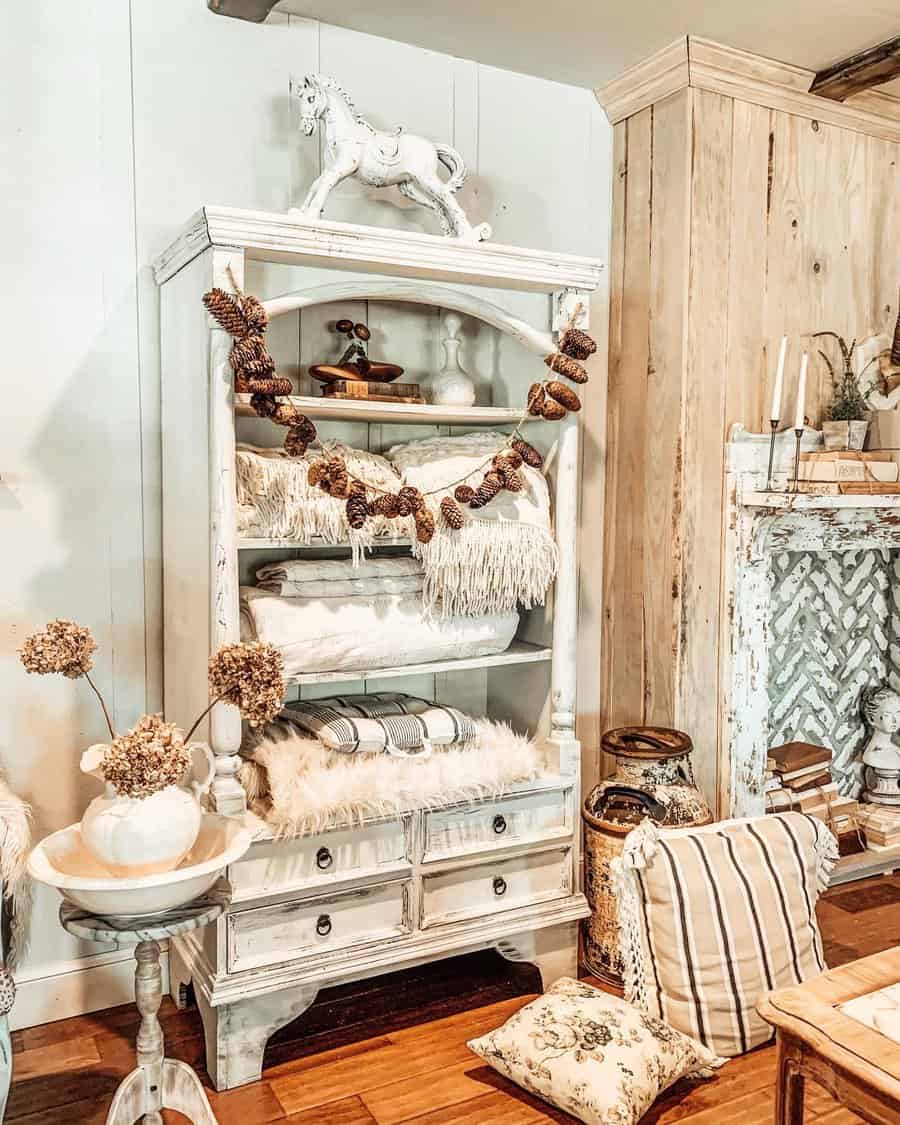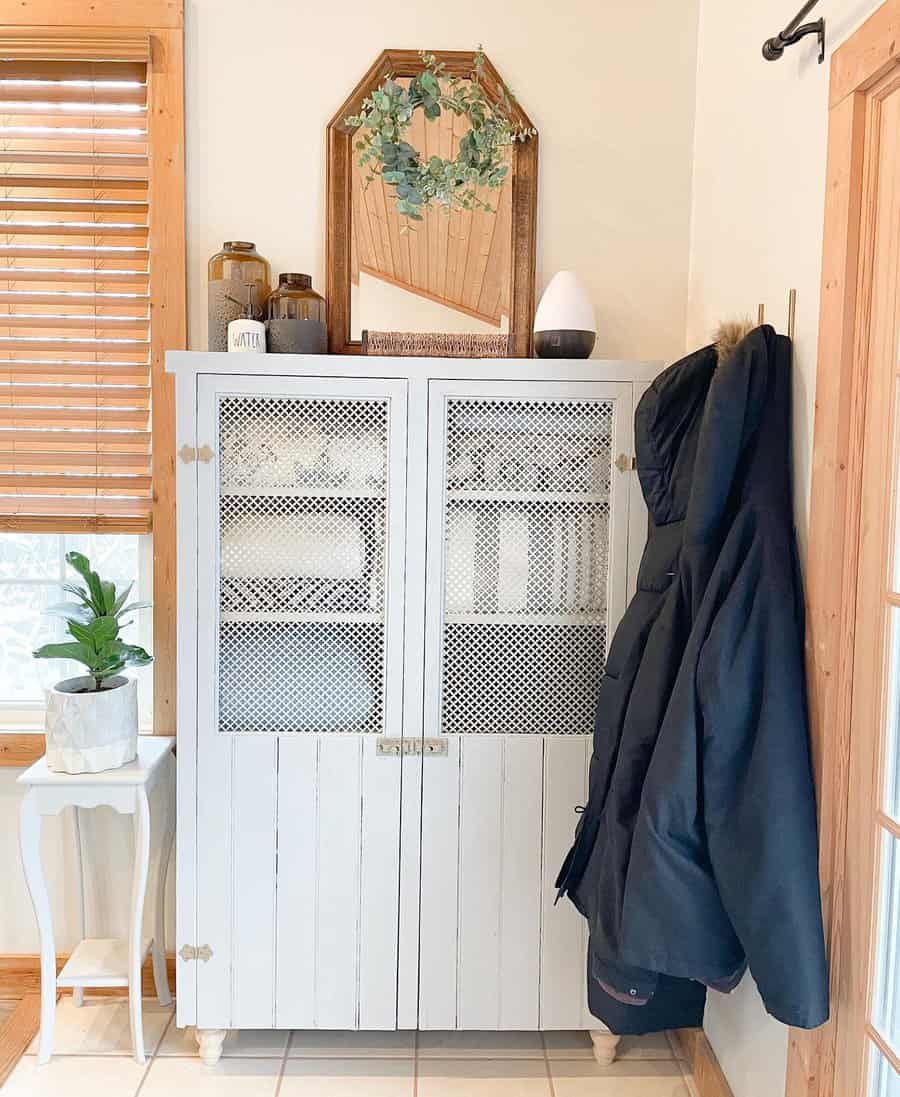 6. Use Industrial Racks for Floating Storage
Industrial floating racks are both stylish and practical, infusing a modern touch to your room. Made from sleek metal, they serve as an appealing wall feature while holding blankets. Such racks not only maximize wall space but also complement contemporary interiors. Pair with chunky or patterned throws to elevate the room's texture and character, ensuring your blankets become an integral part of the decor.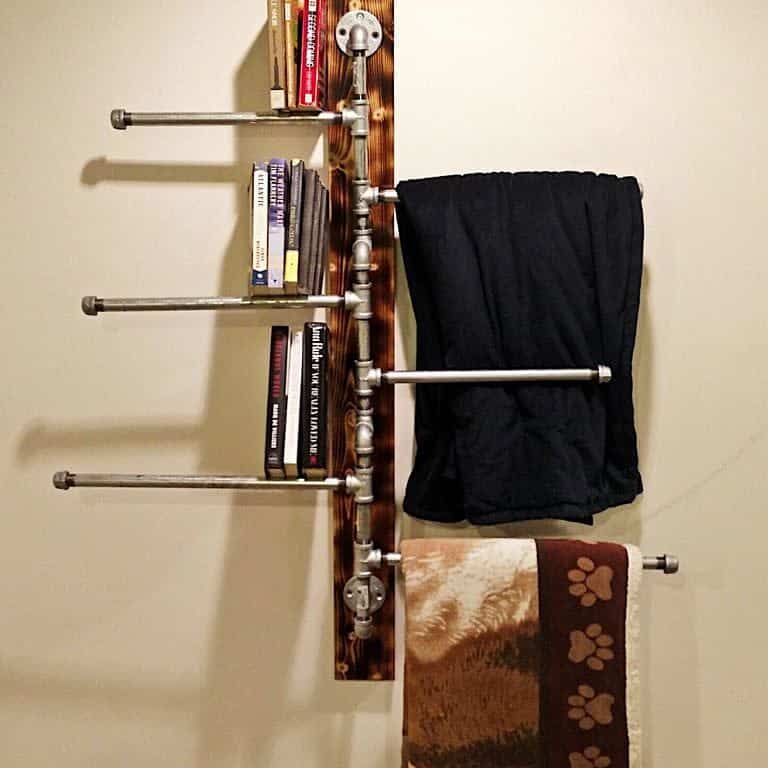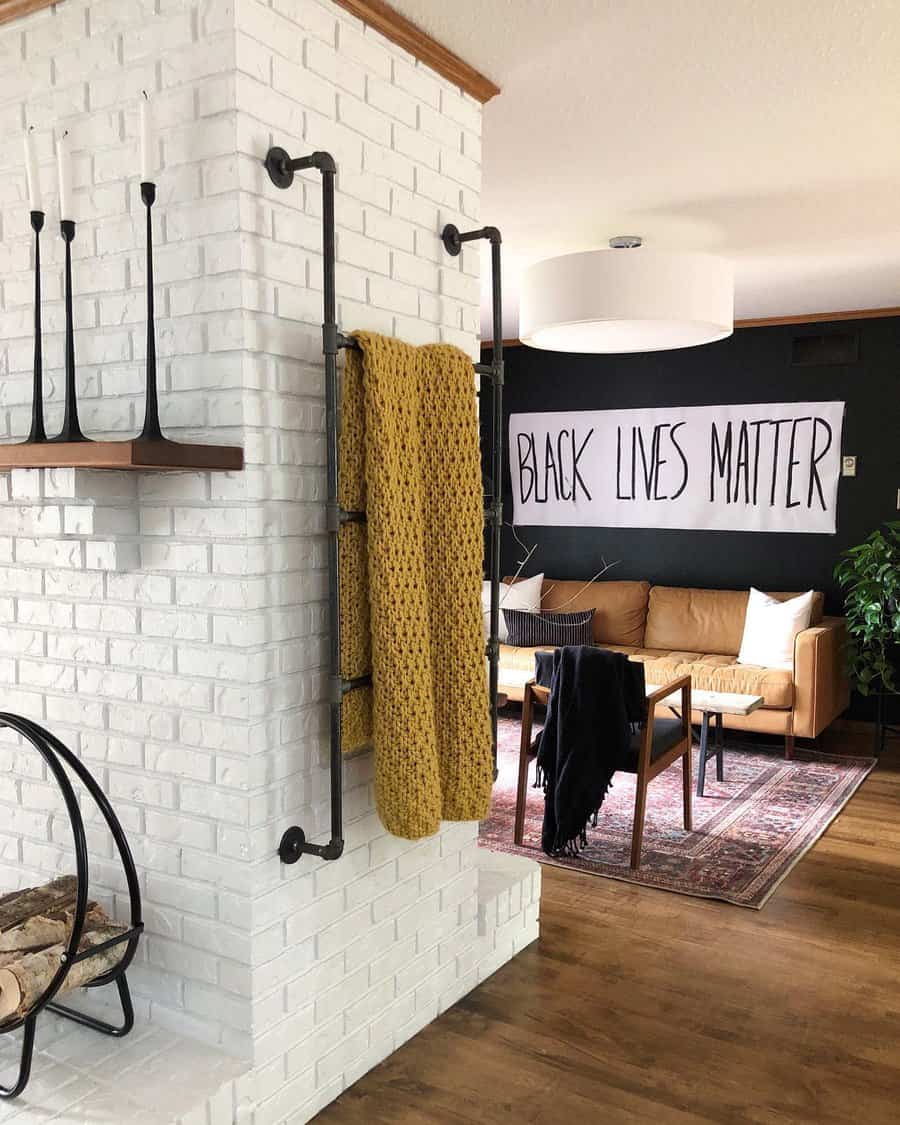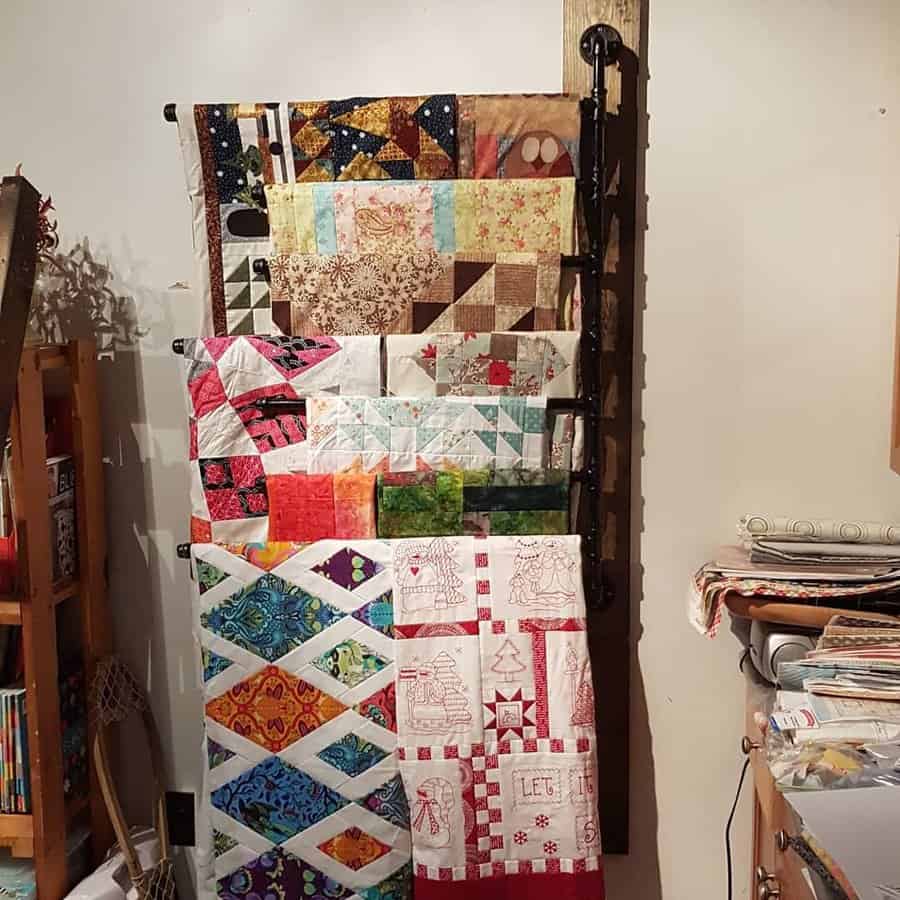 7. Opt for a Standalone Rack Design
Standalone blanket racks, crafted from materials like wood or metal, effortlessly blend organization with decor appeal. Their mobility lets you adapt to changing room layouts, while the open design showcases blanket textures and patterns. Place one in your favorite relaxation spot, be it a living room or reading nook, and let its design harmonize with the room's theme. It's both a functional and chic touch to interiors.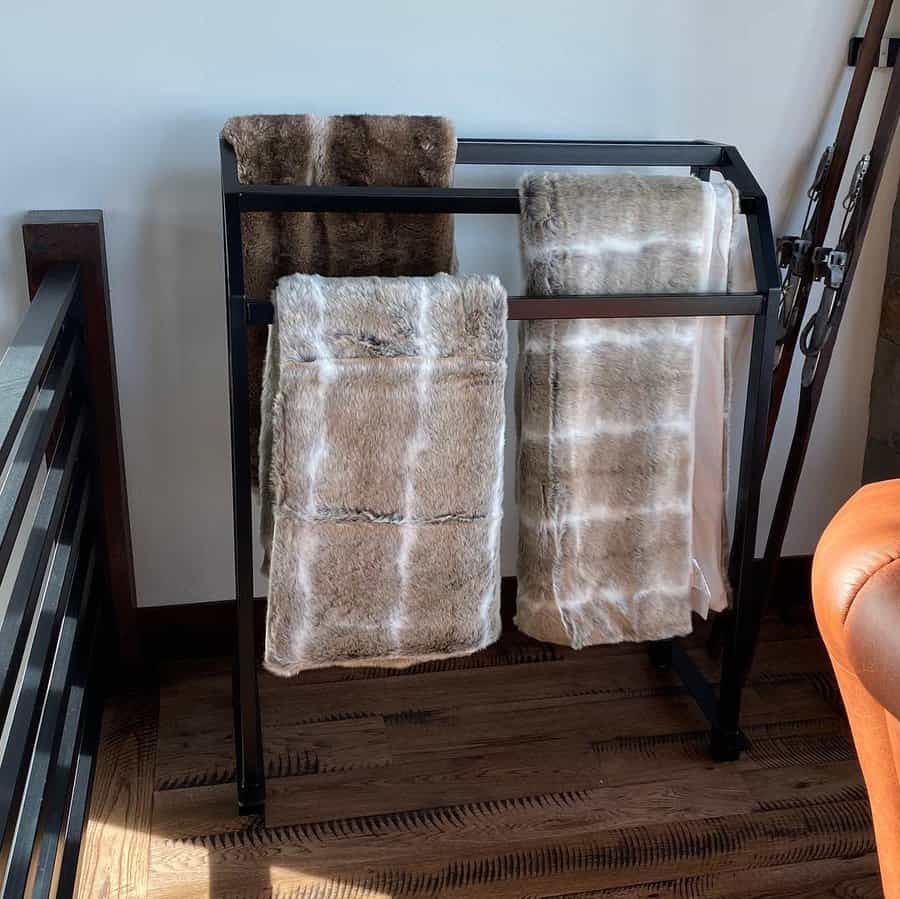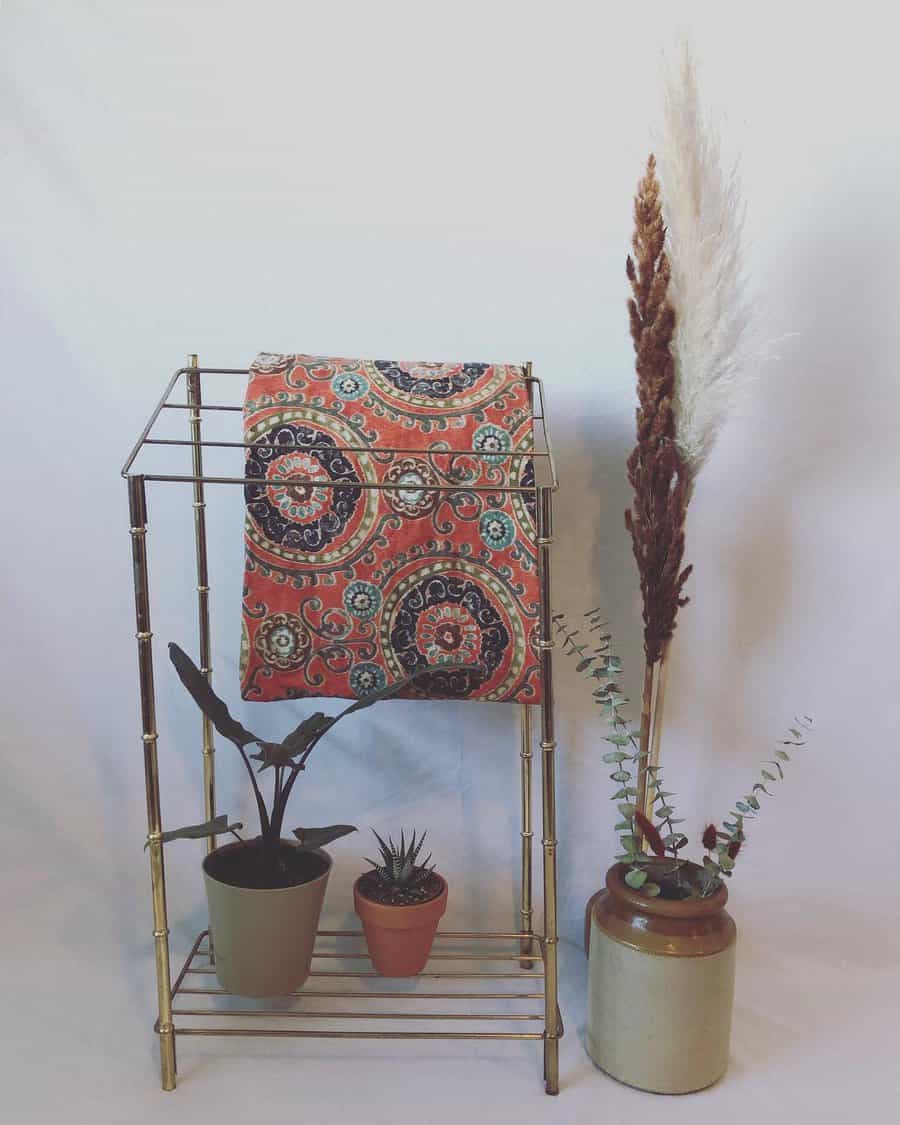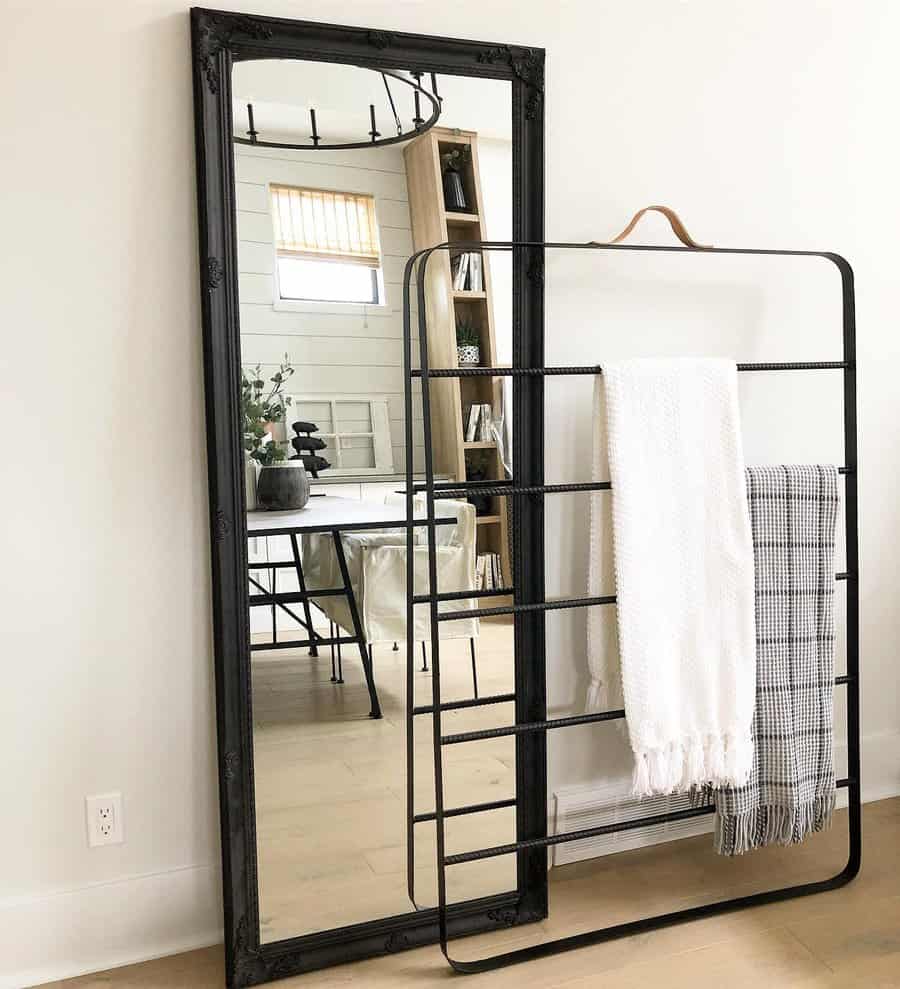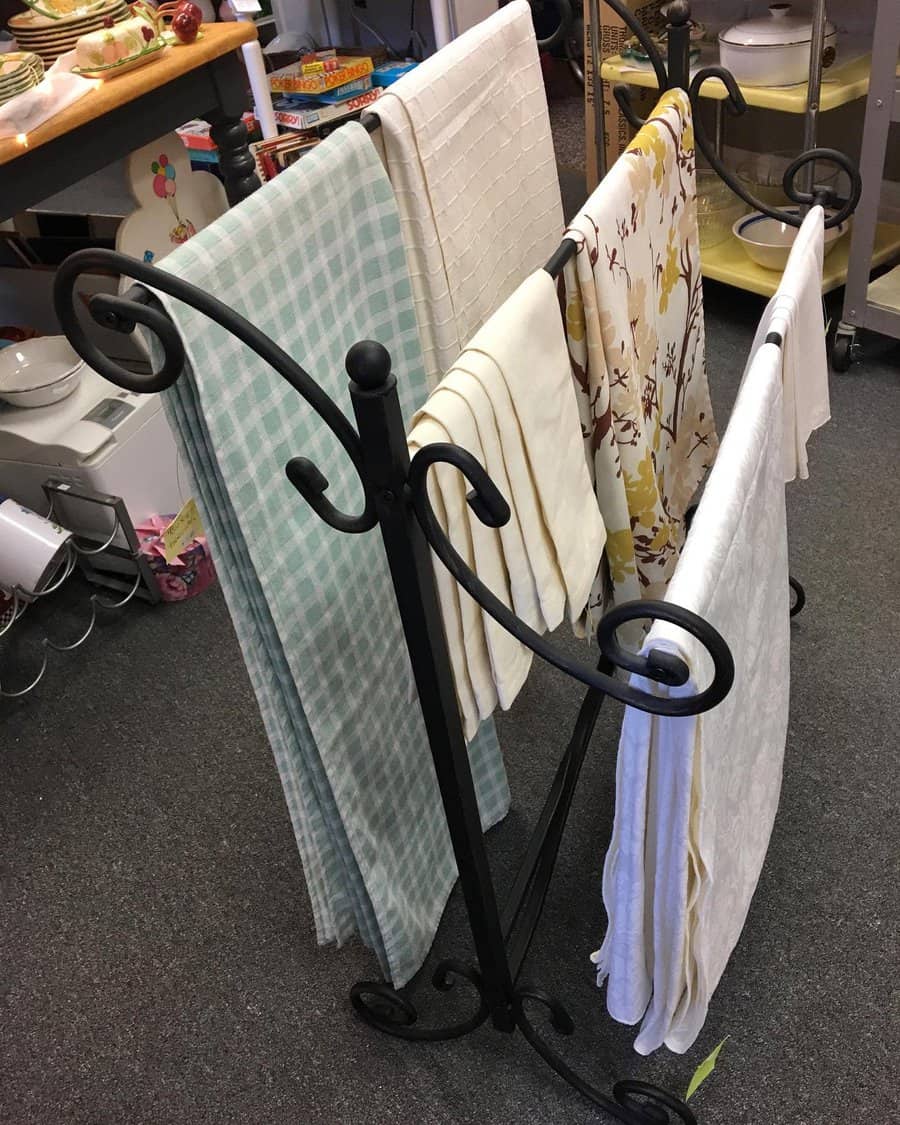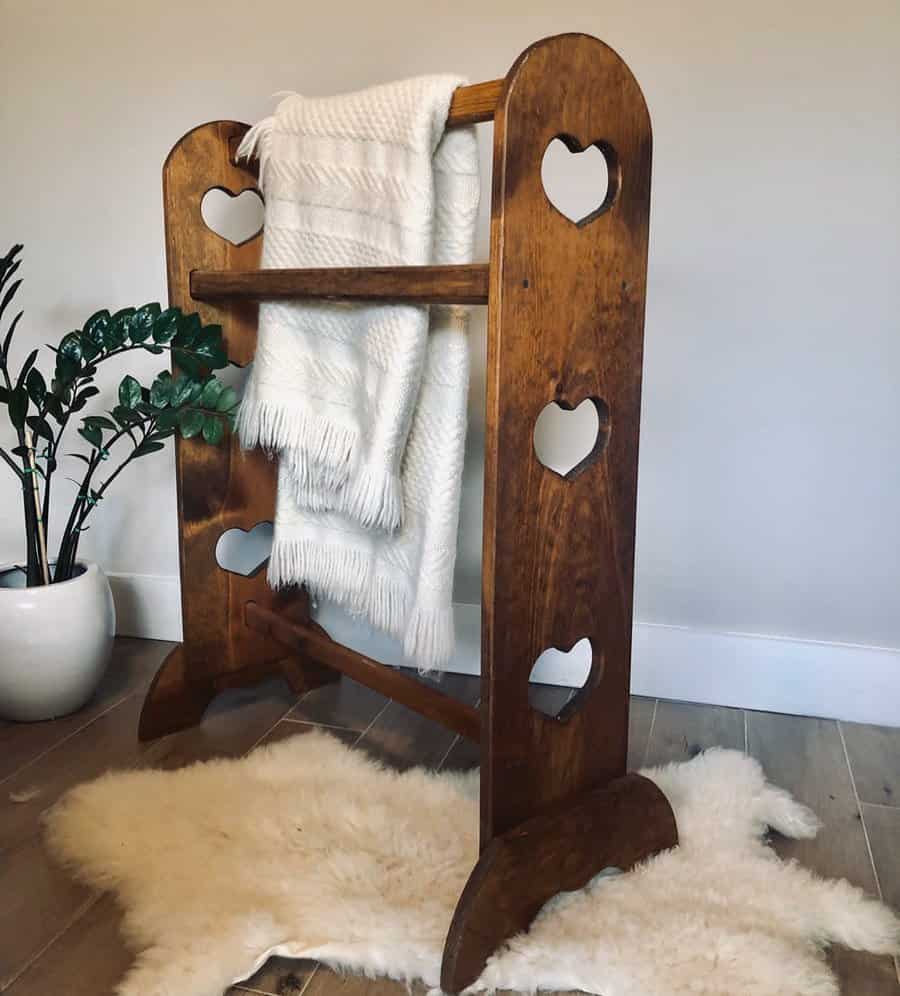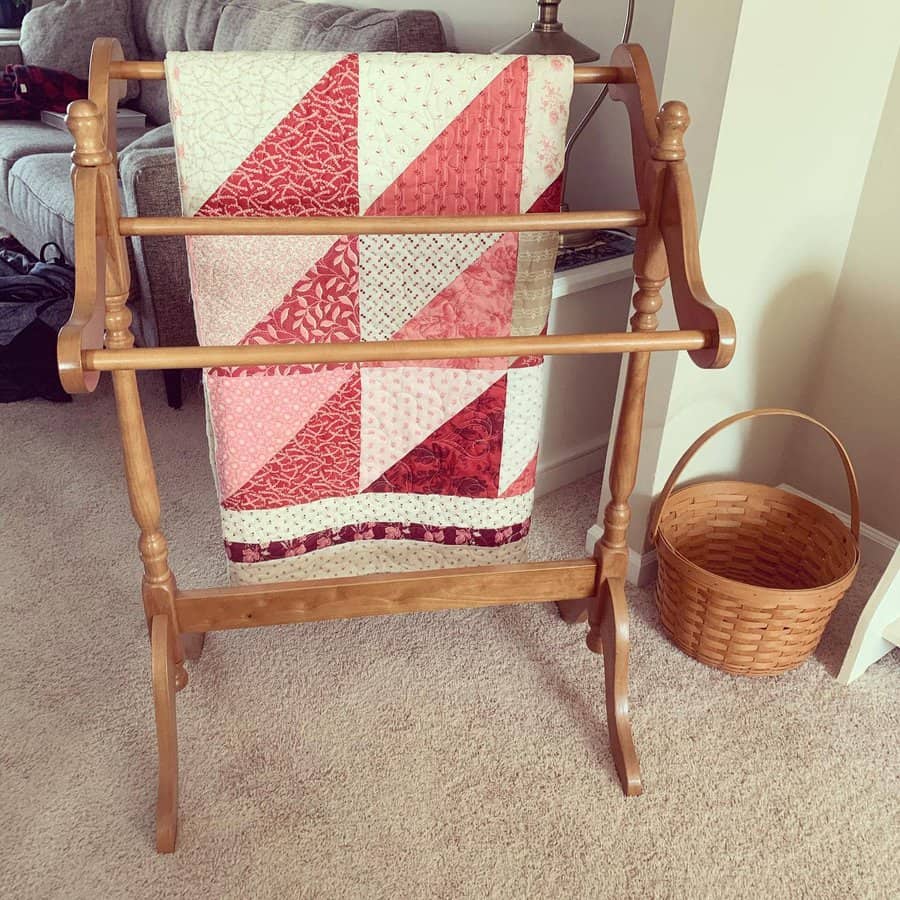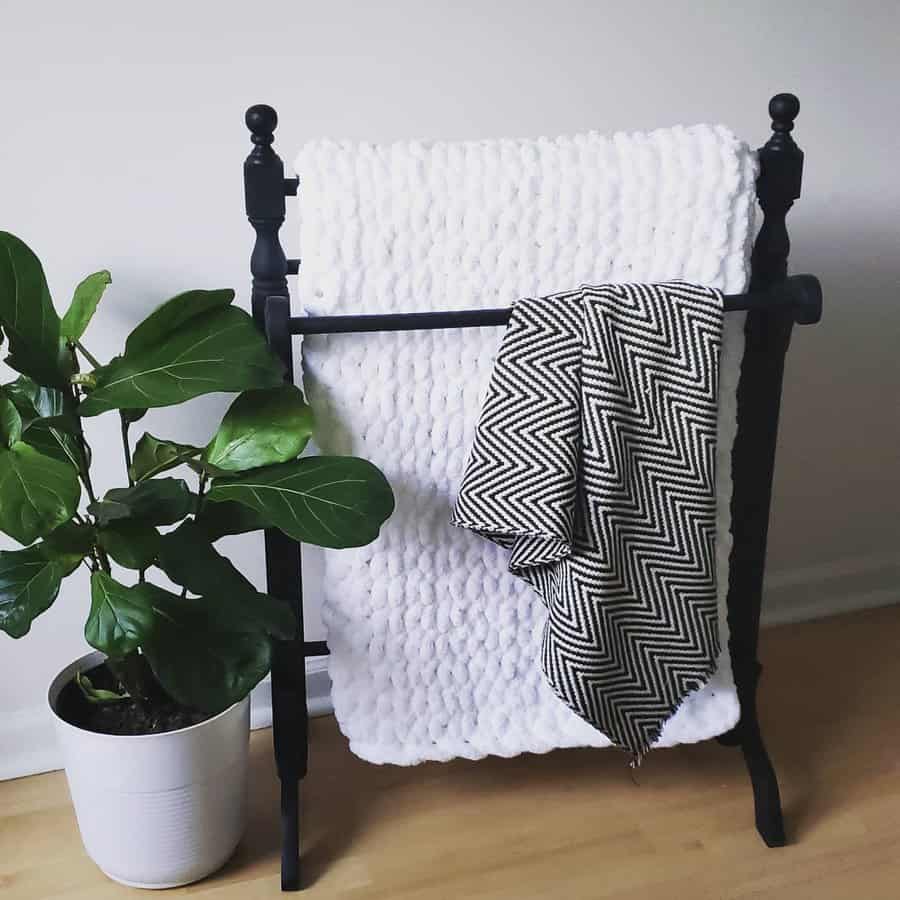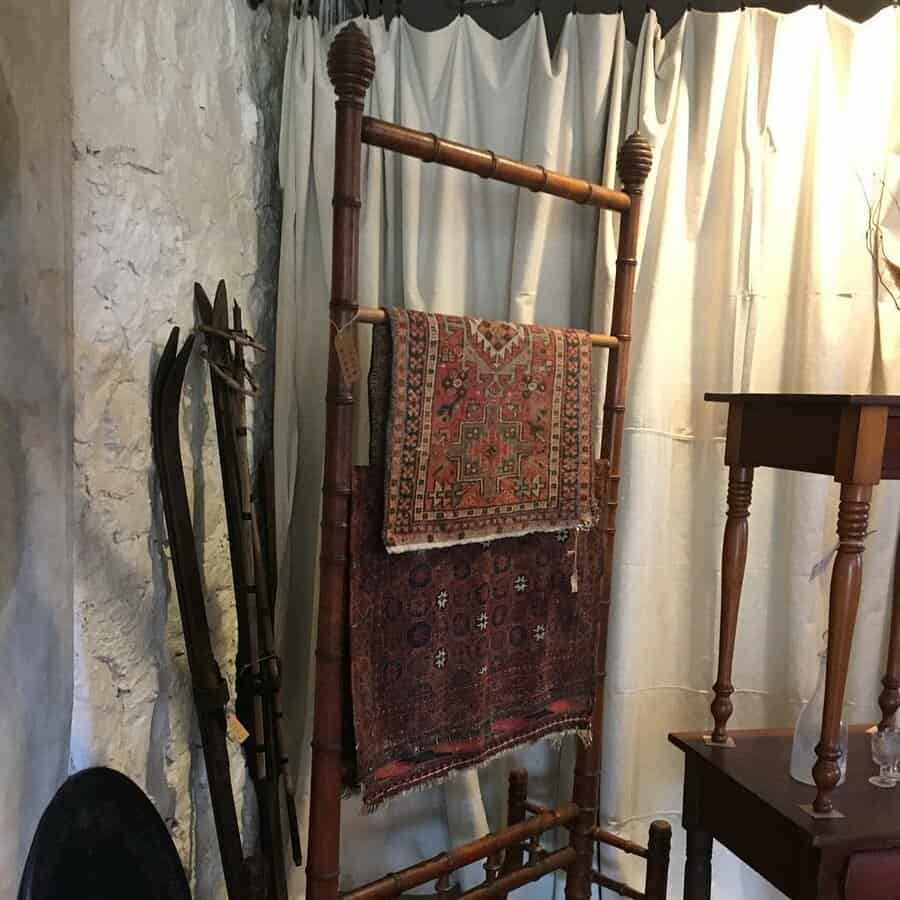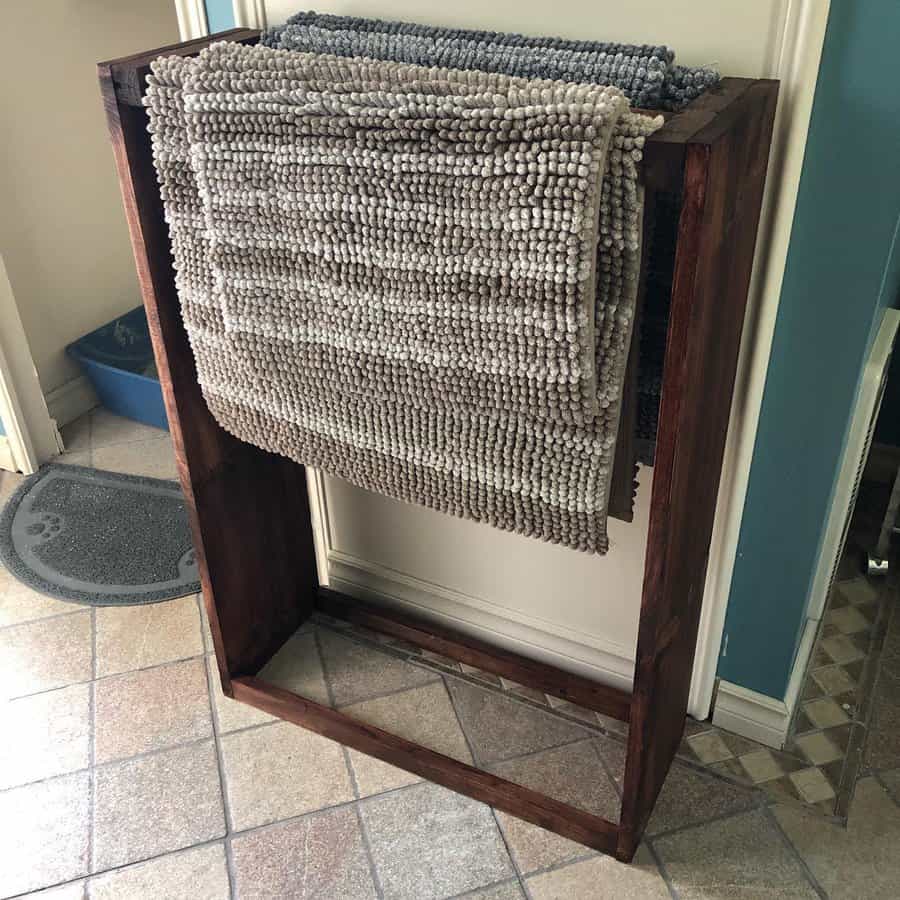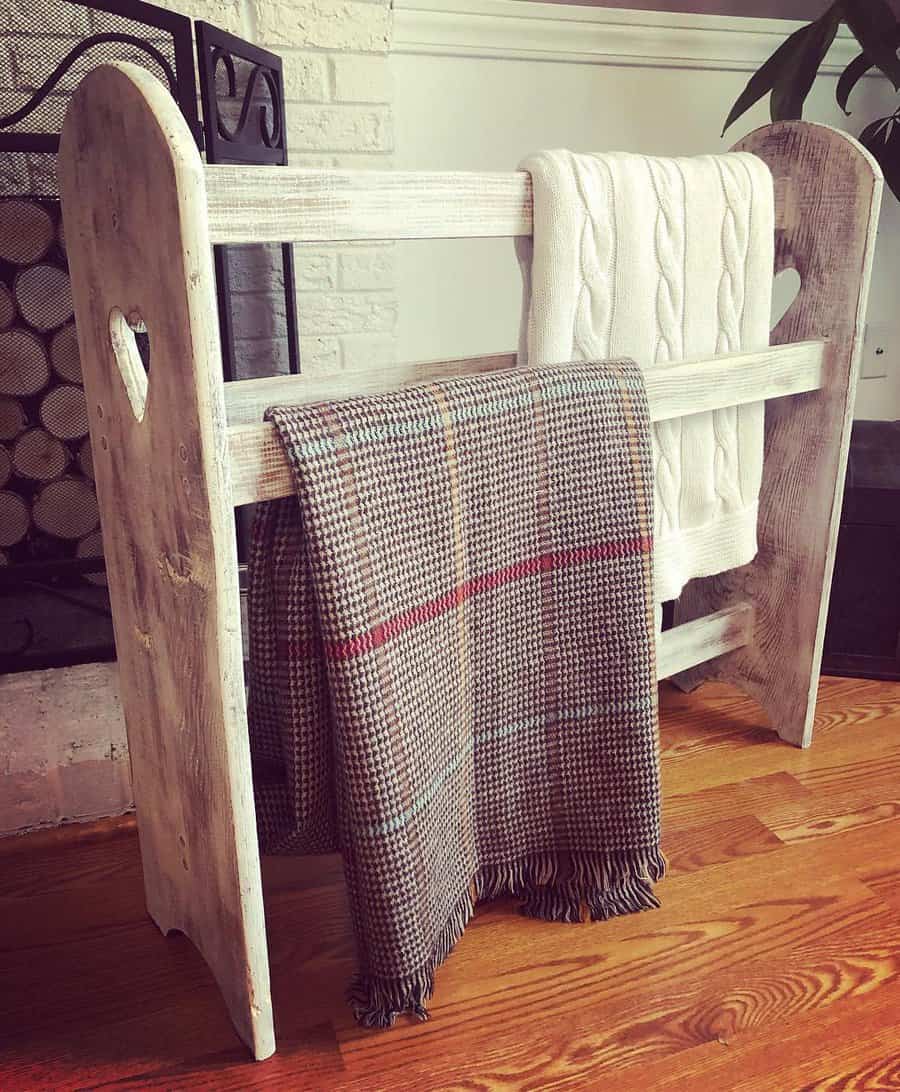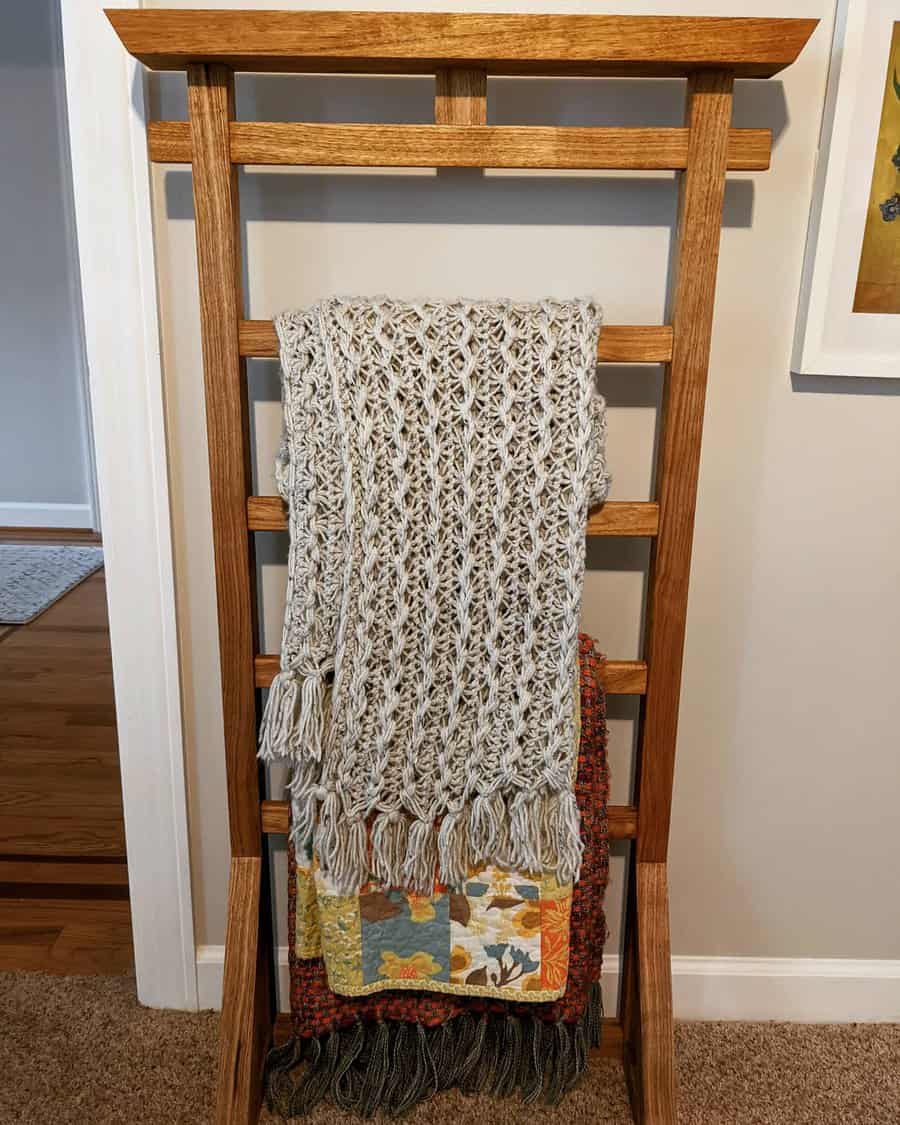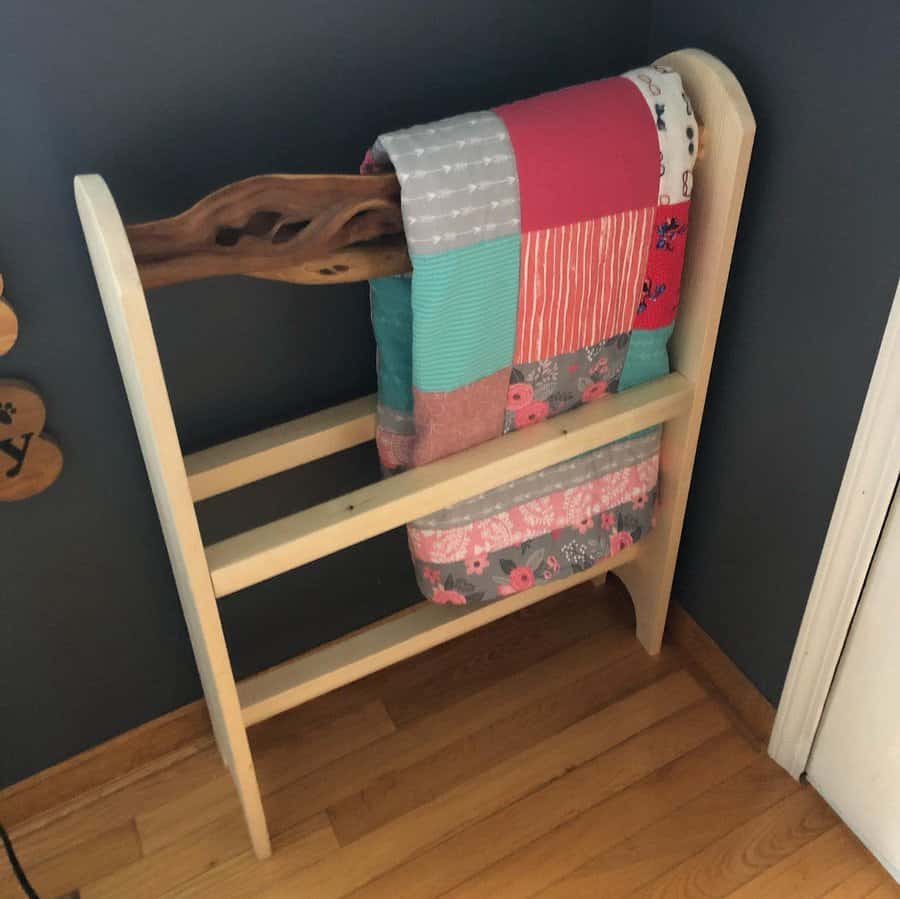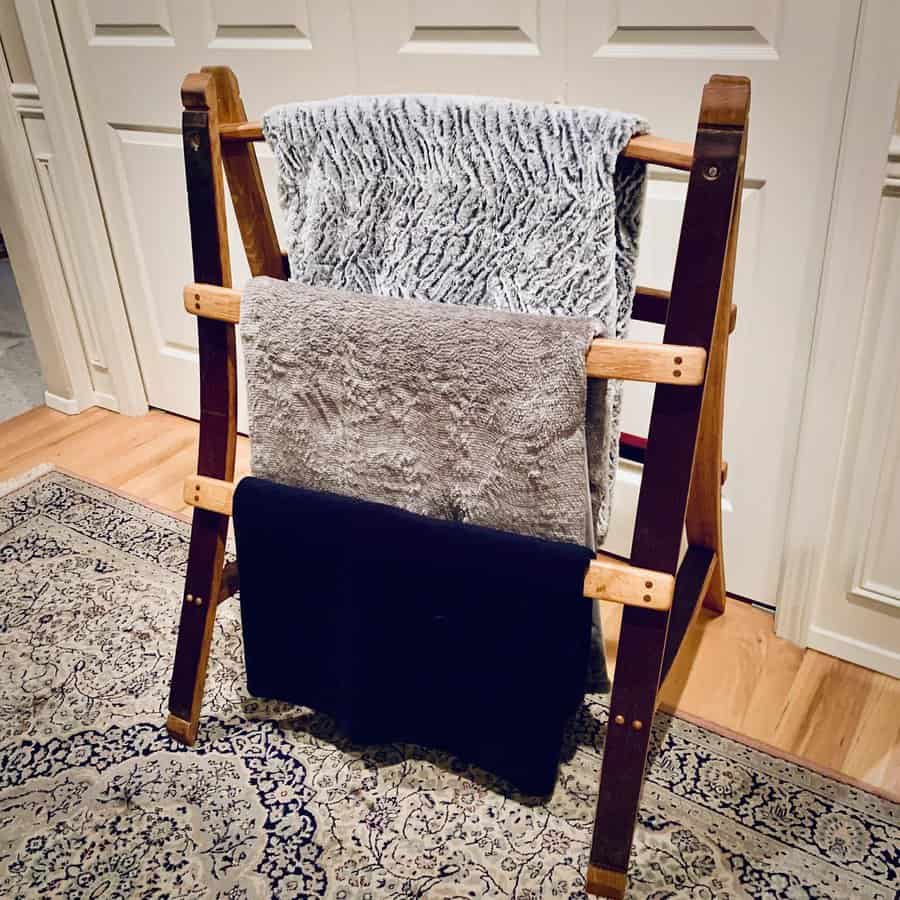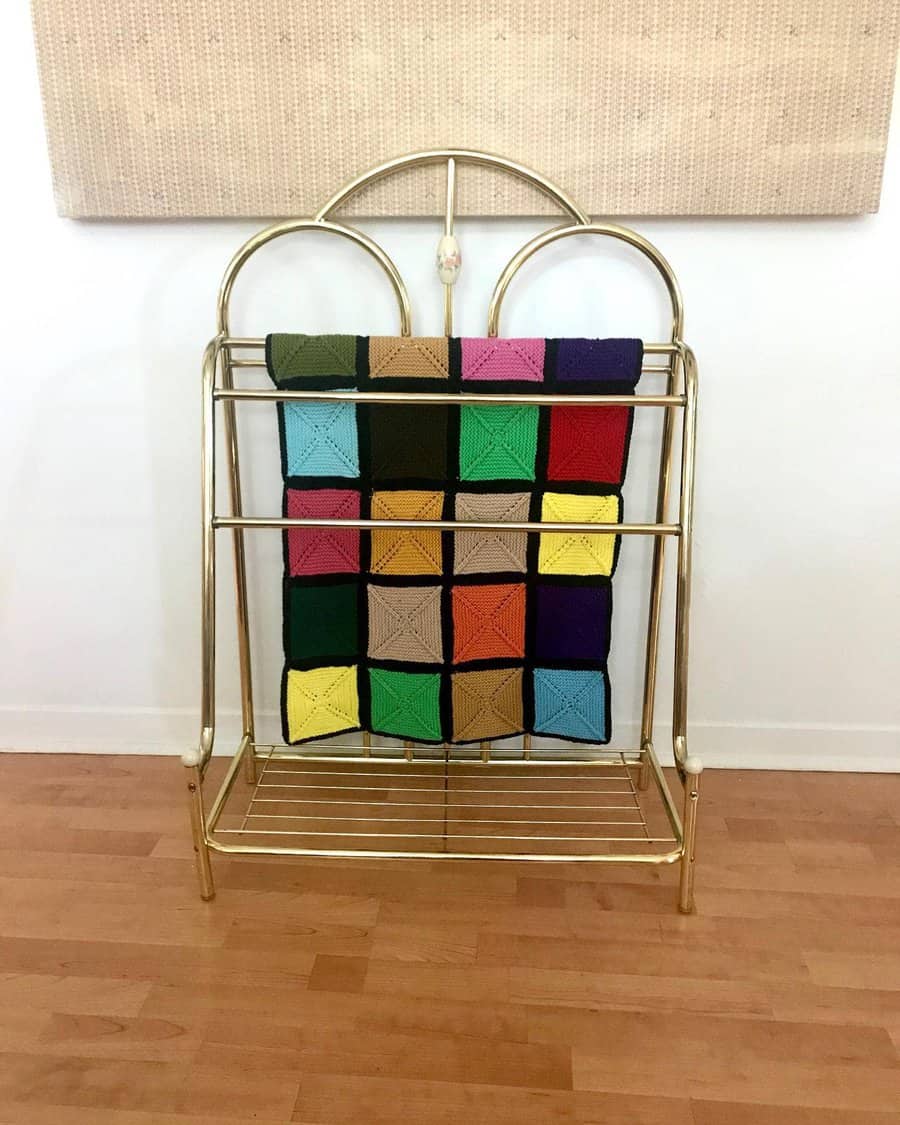 8. Roll Blankets in Convenient Crates
Rolling blanket crates offer both portability and decorative flair. Their mobile nature ensures comfort is always within arm's reach, no matter the room. To seamlessly blend with your decor, pick a crate design — be it rustic, bohemian, or modern. Not only does this functional storage option keep blankets organized, but it also elevates your room's aesthetic.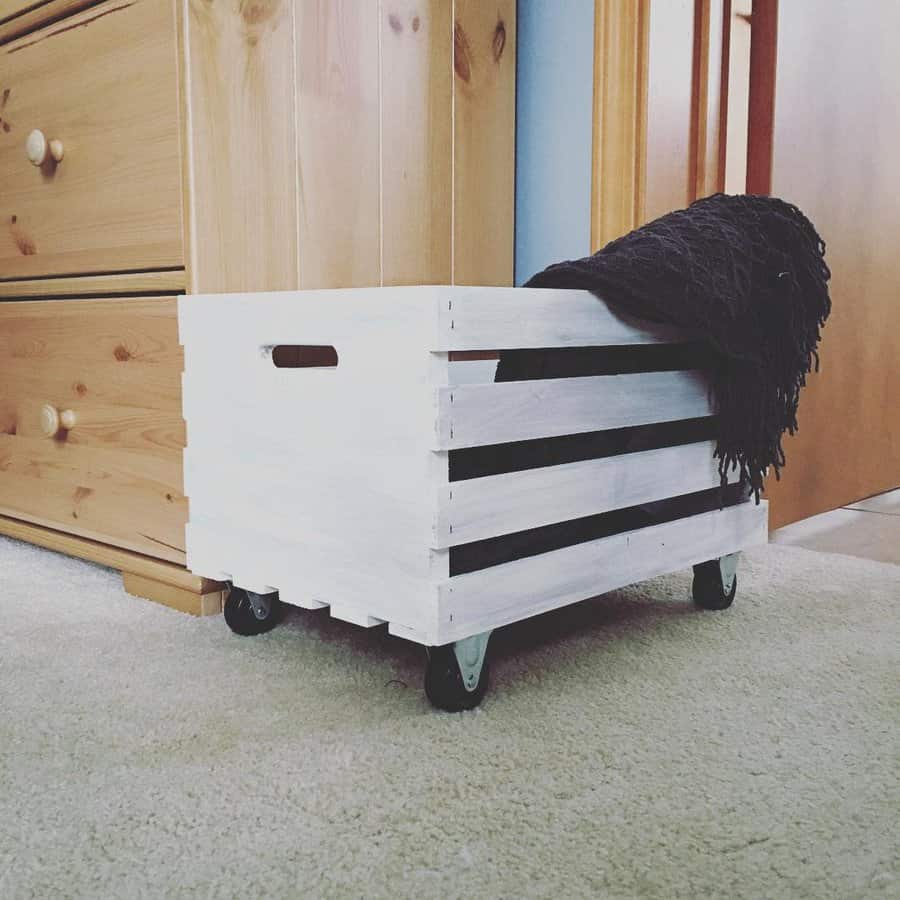 9. Upcycle Wood Pallets for Blanket Storage
Transform reclaimed wood pallets into rustic blanket shelves with a simple DIY approach. After sanding and either painting or staining to fit your decor, lean your creation against a wall. Neatly draped blankets not only stay accessible but also become a visual treat. This upcycled solution not only organizes but infuses a personal, artisanal touch into your space.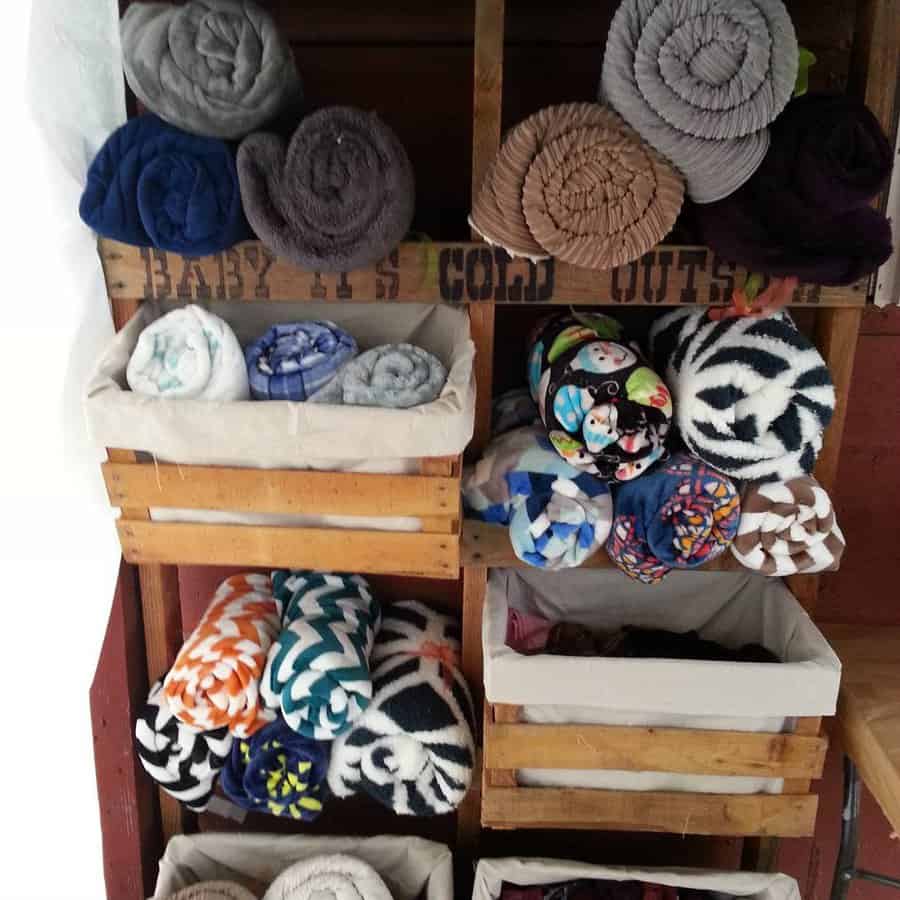 10. Elevate Design with a Metal Rack
A metal blanket rack effortlessly combines storage with style, ideal for blankets and even children's stuffed toys. Its open design ensures easy access, turning functional storage into a design statement. The sleek metal complements various decor themes, from modern to bohemian. Incorporate this versatile piece to declutter and enhance room aesthetics simultaneously.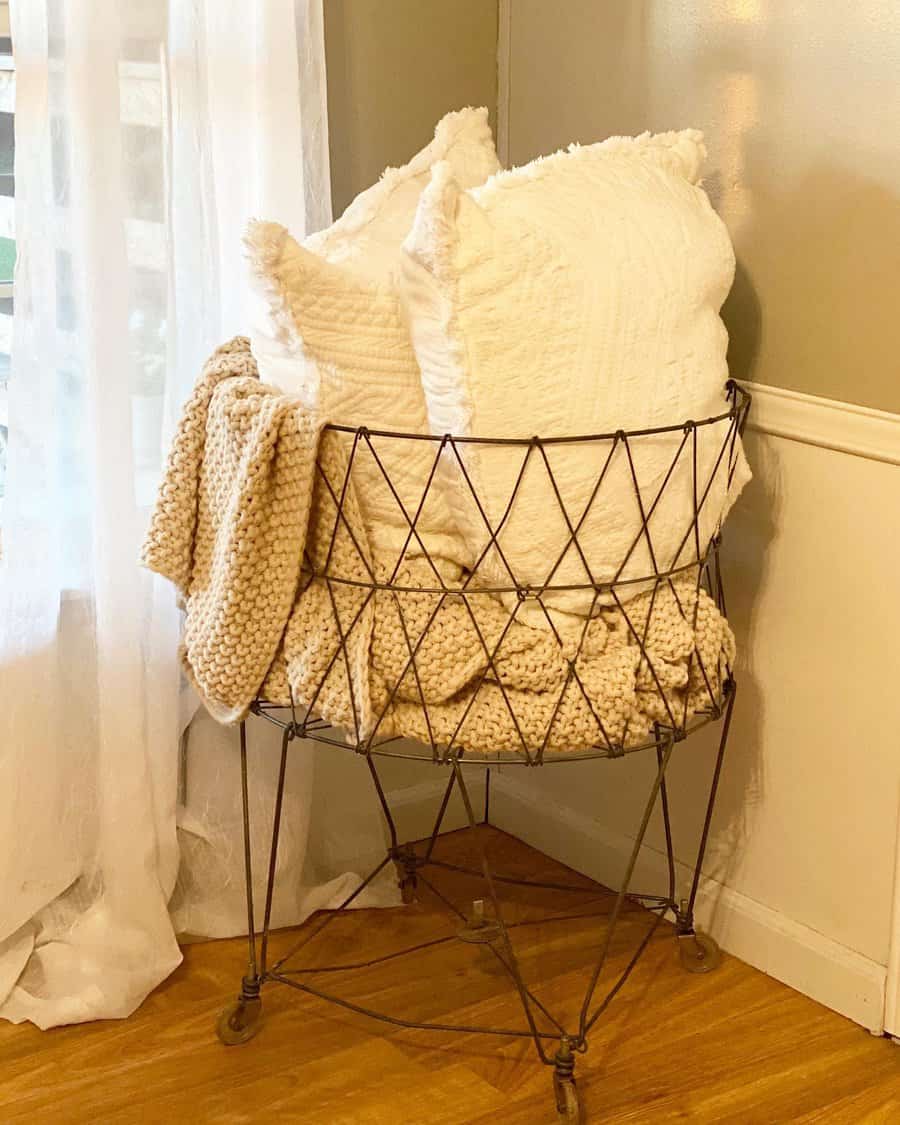 11. Turn Serving Trays into Blanket Storage
Repurposing a vintage serving tray into blanket storage offers a nostalgic touch. Its flat surface is ideal for neatly stacking blankets, and its placement can vary — from side tables to wall hangings. This creative twist not only showcases your throws but also brings a unique decorative flair to your space. When selecting a tray, ensure it complements other room elements for a cohesive look.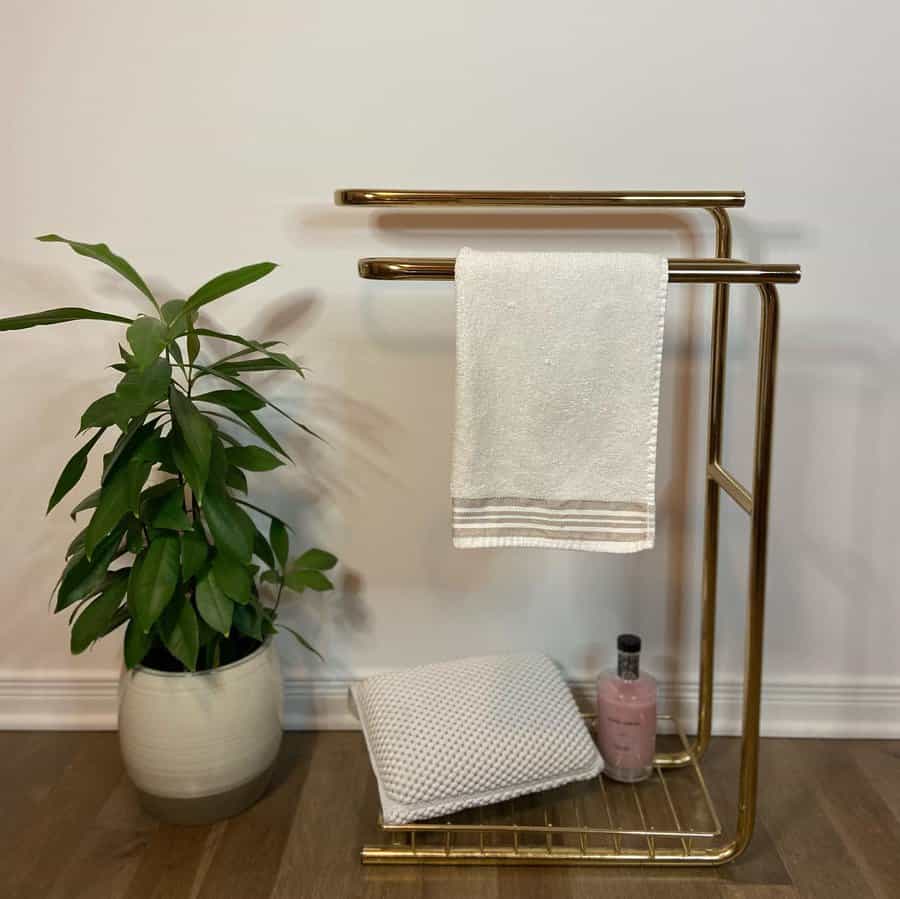 12. Incorporate Blankets into Side Tables
A side table featuring a built-in basket rack is both aesthetic and practical. While the table top holds your essentials, the basket beneath stores blankets, ensuring they're accessible yet tidily away. This dual-purpose design can also serve as a coffee table, enriching the room's functionality. Choose a design that aligns with your decor to effortlessly merge style with utility.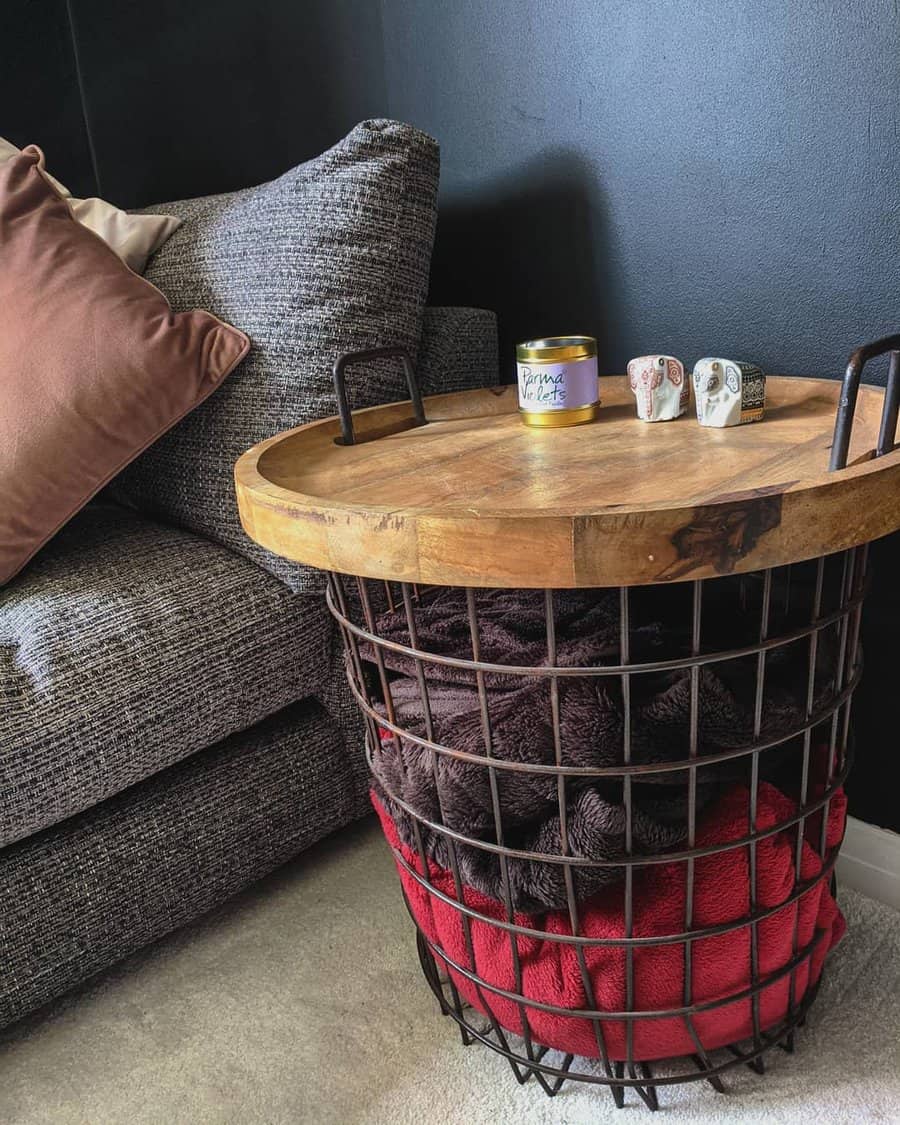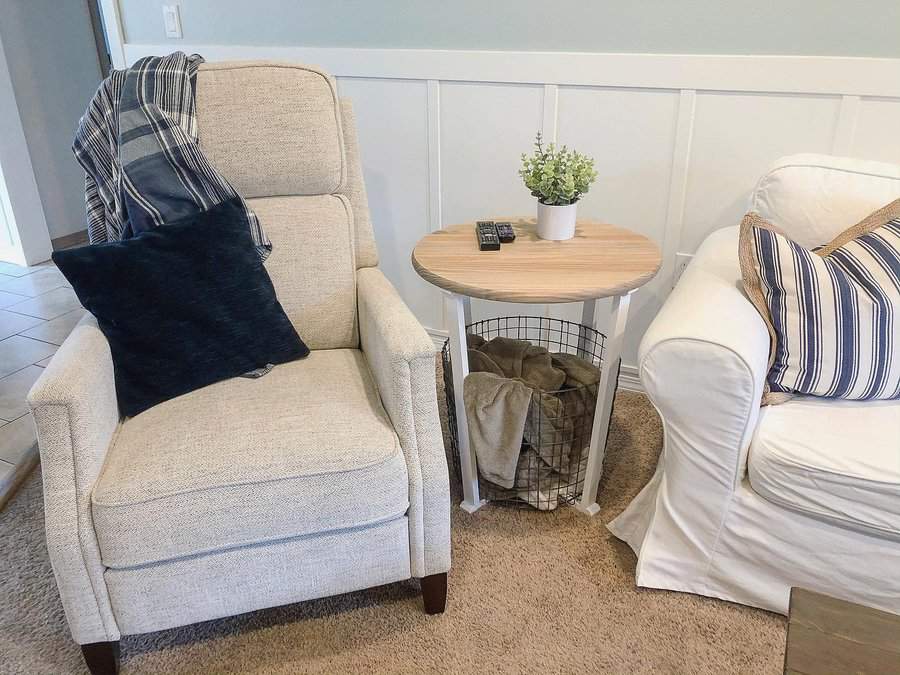 13. Transform Magazine Racks for Throws
Repurposing a magazine rack into blanket storage introduces a creative twist to decor. The rack's open design facilitates easy stacking and retrieval of blankets while serving as a conversation starter. Depending on your decor, opt for a detailed or minimalist rack. Position it near a seating area or in a cozy nook, ensuring blankets are both accessible and displayed with flair.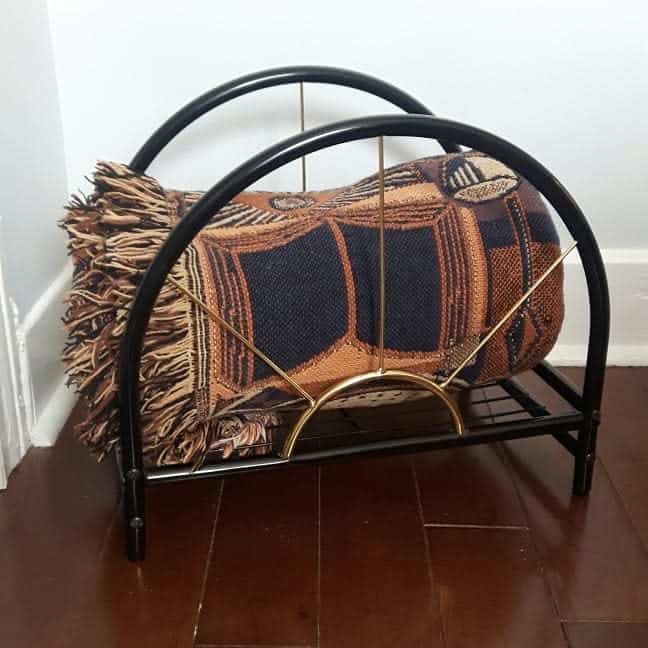 14. Simplify with a Basket Tray
A basket tray offers an elegant solution to blanket organization, infusing warmth and texture into your decor. Ideal on shelves, in room corners, or beside a reading spot, it ensures blankets stay tidy yet accessible. Beyond mere storage, its aesthetic appeal elevates room ambience. With various sizes, shapes, and materials available, you can easily find one that harmonizes with your decor.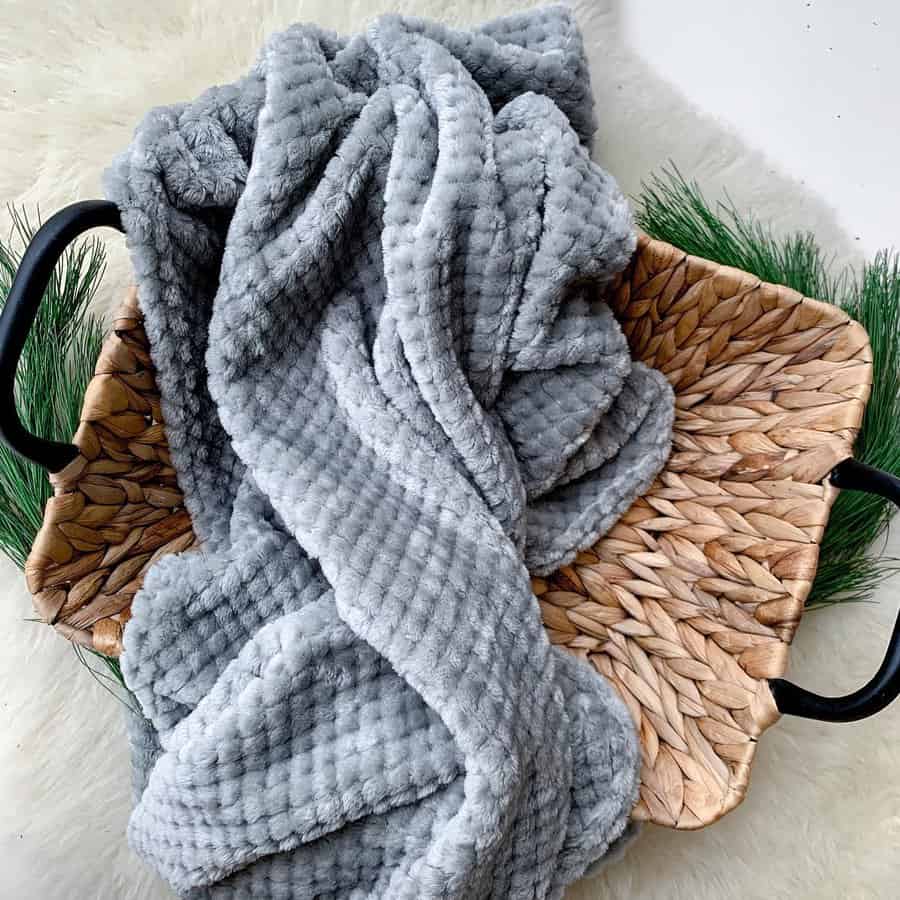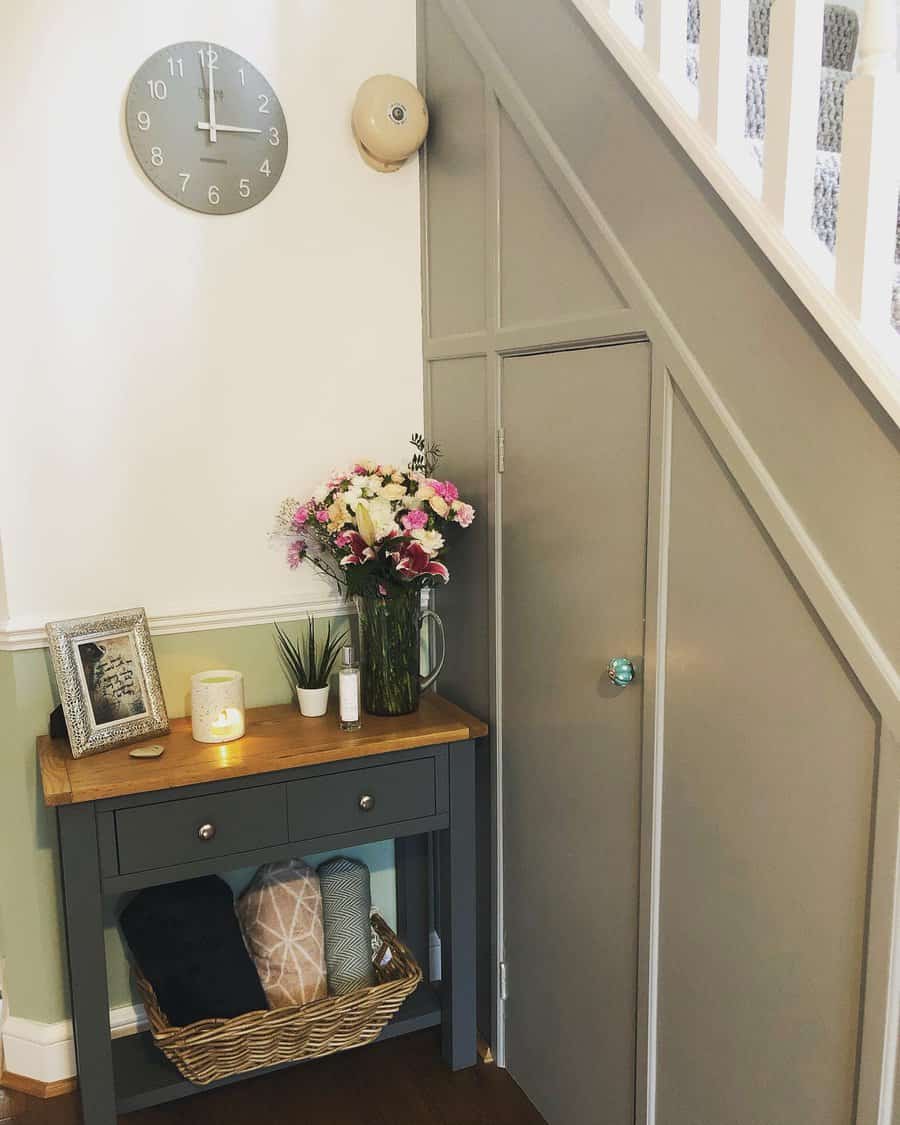 15. Arrange Blankets on Modular Shelves
Modular shelves provide a flexible storage solution tailored to your preferences. Customize configurations to display blankets, ensuring they're both aesthetically showcased and easily accessible. Whether aiming for minimalism or vibrant displays, modular shelves let your personal style shine through while organizing your cozy collection.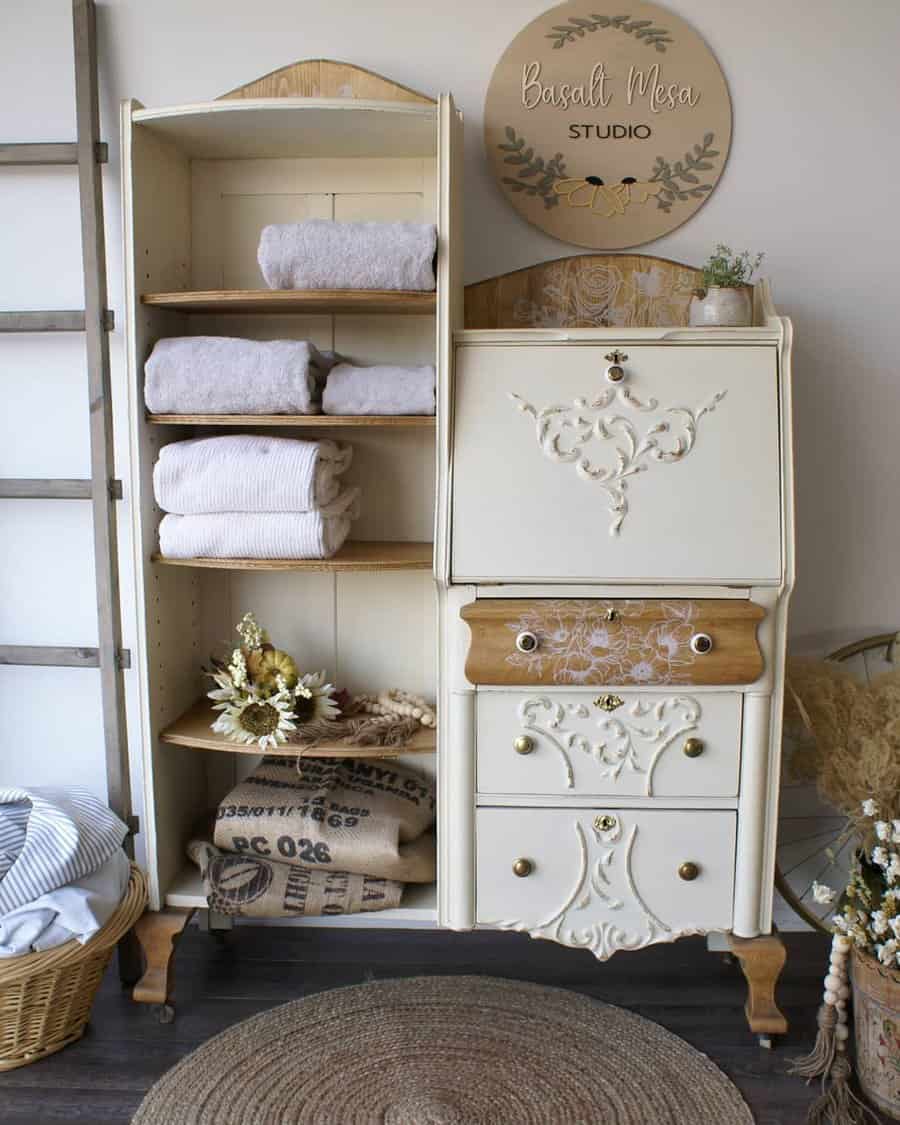 16. Mount Wooden Racks for Display
Wall-mounted wooden racks merge function with flair, offering a sleek way to store and showcase blankets. Their design elevates your space by turning cozy throws into decorative wall art. Opt for a design in harmony with your room's aesthetic. Beyond just storage, these racks utilize vertical space and spotlight your favorite blankets, enriching your room's warmth and appeal.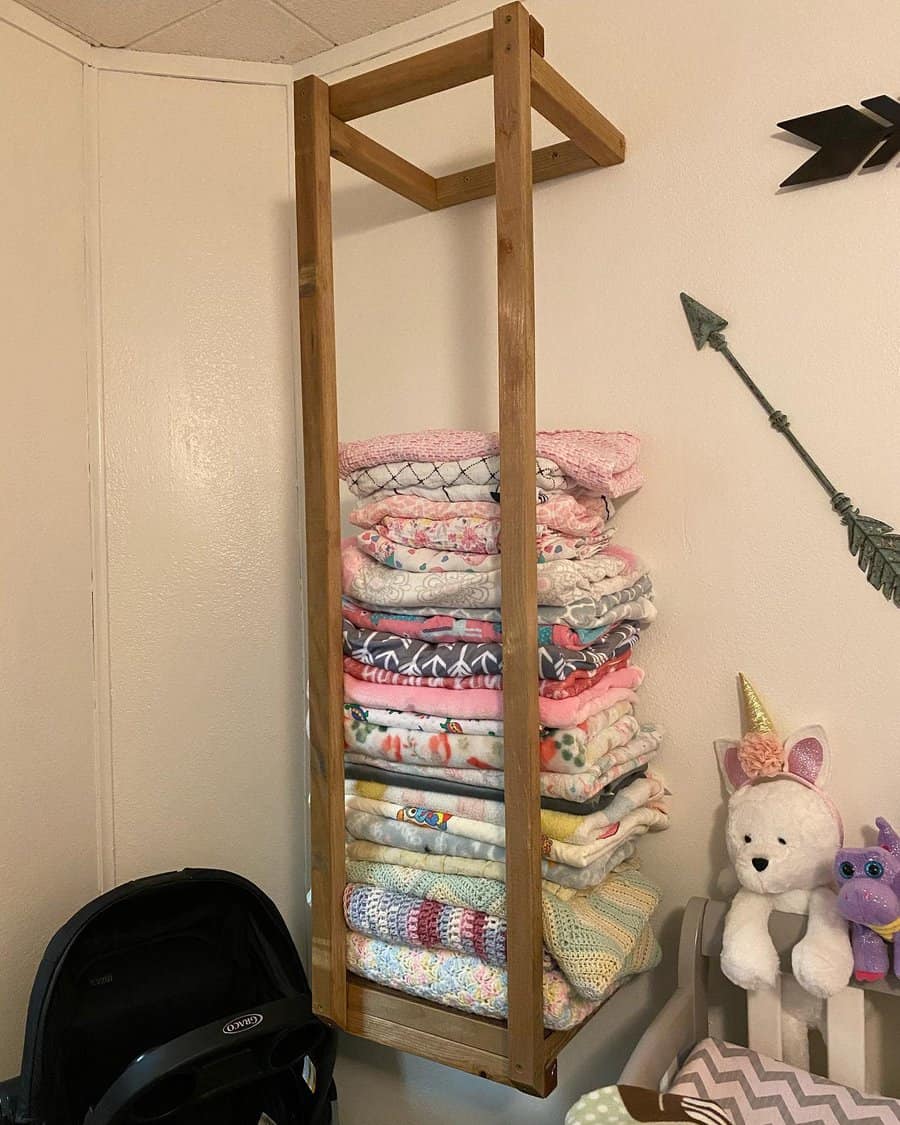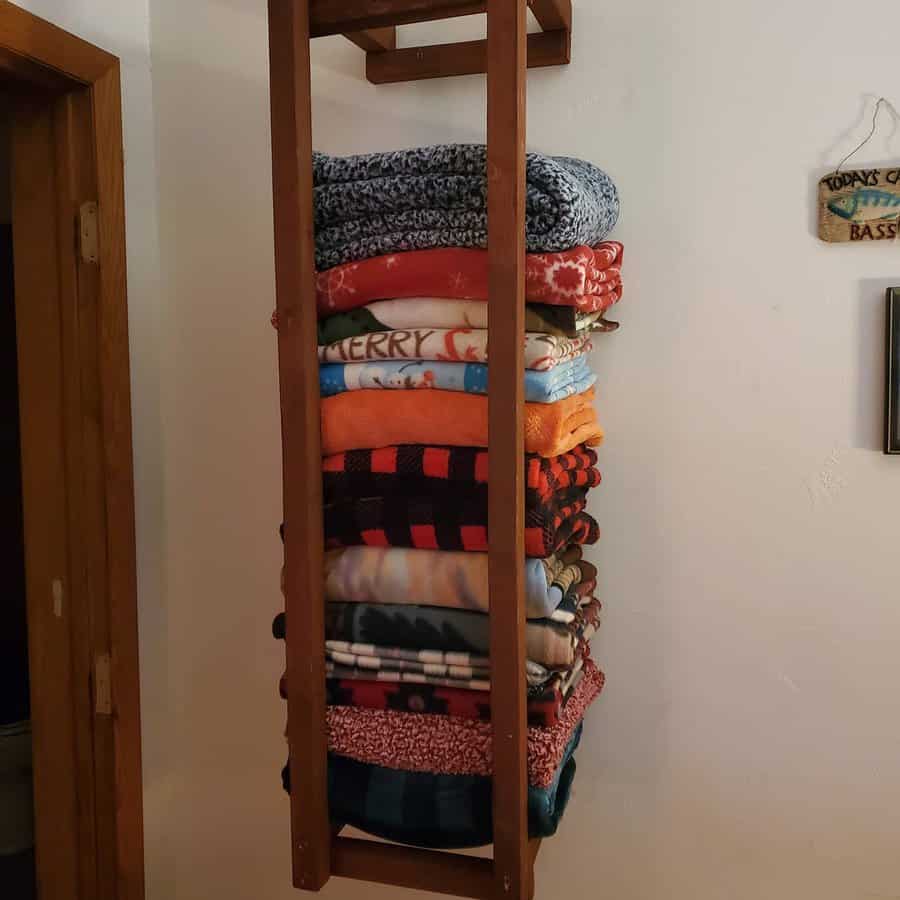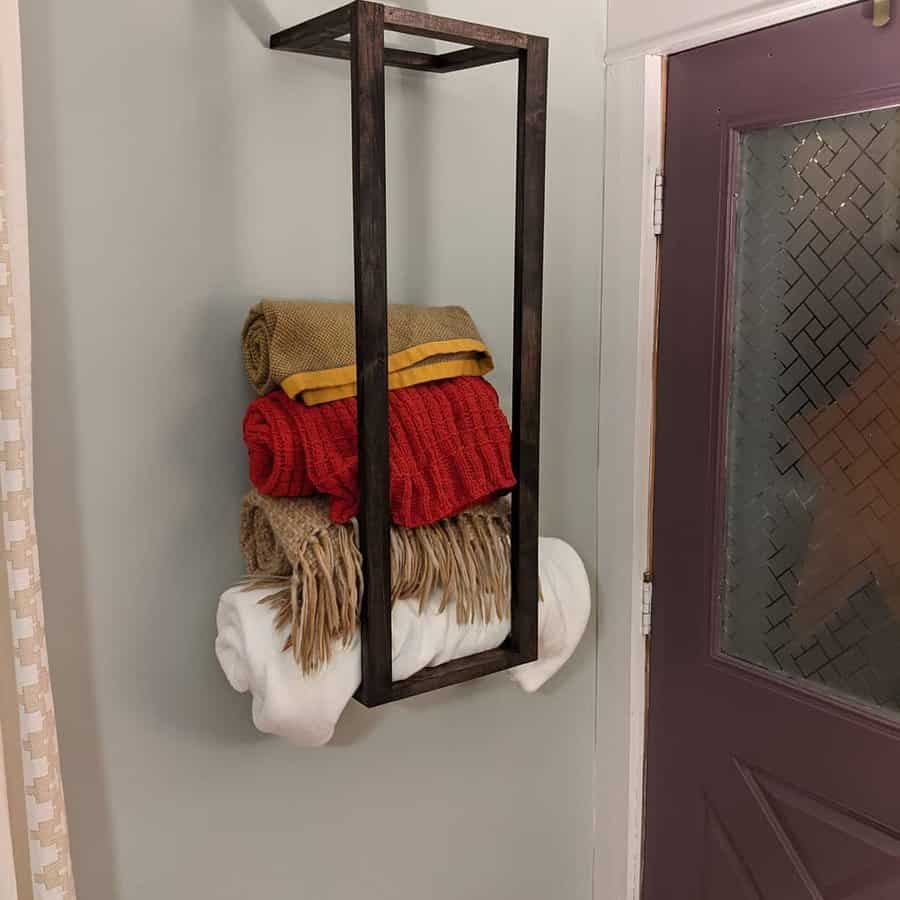 17. Feature Blankets on a Walnut Slab
A walnut slab blanket rack exudes rustic charm while serving as a practical storage solution. The rich hues and distinct grain of walnut imbue warmth and elevate your room's ambiance. Drape blankets over the rack for easy access and a touch of cozy decor. Beyond storage, this piece stands out as a captivating interior focal point, seamlessly blending functionality with natural allure. Transform blanket storage into an artful display with this striking piece.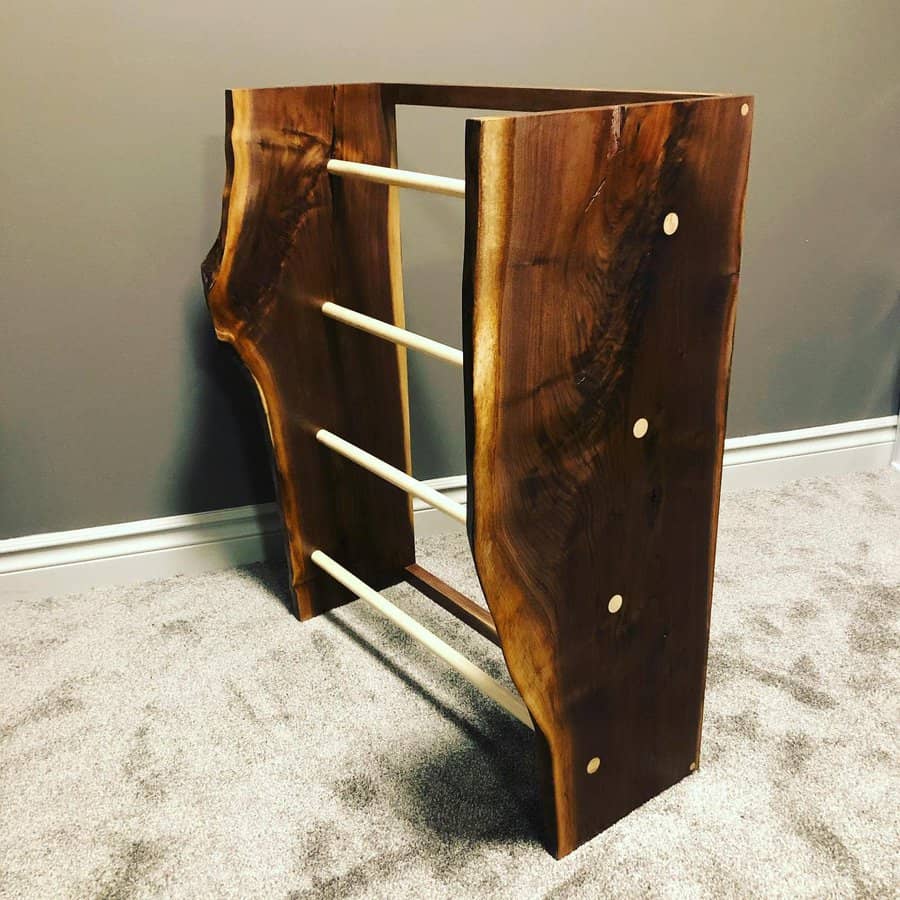 18. Tuck Away in Cube Shelving
Cube shelving offers both organization and visual appeal for your blanket storage needs. Neatly folded blankets in individual compartments keep your space tidy and allow for easy access. Opt for a design that melds with your interior, whether it's modern, rustic, or somewhere in between. Cube shelving not only keeps blankets in check but also enhances your room's decor with a streamlined look.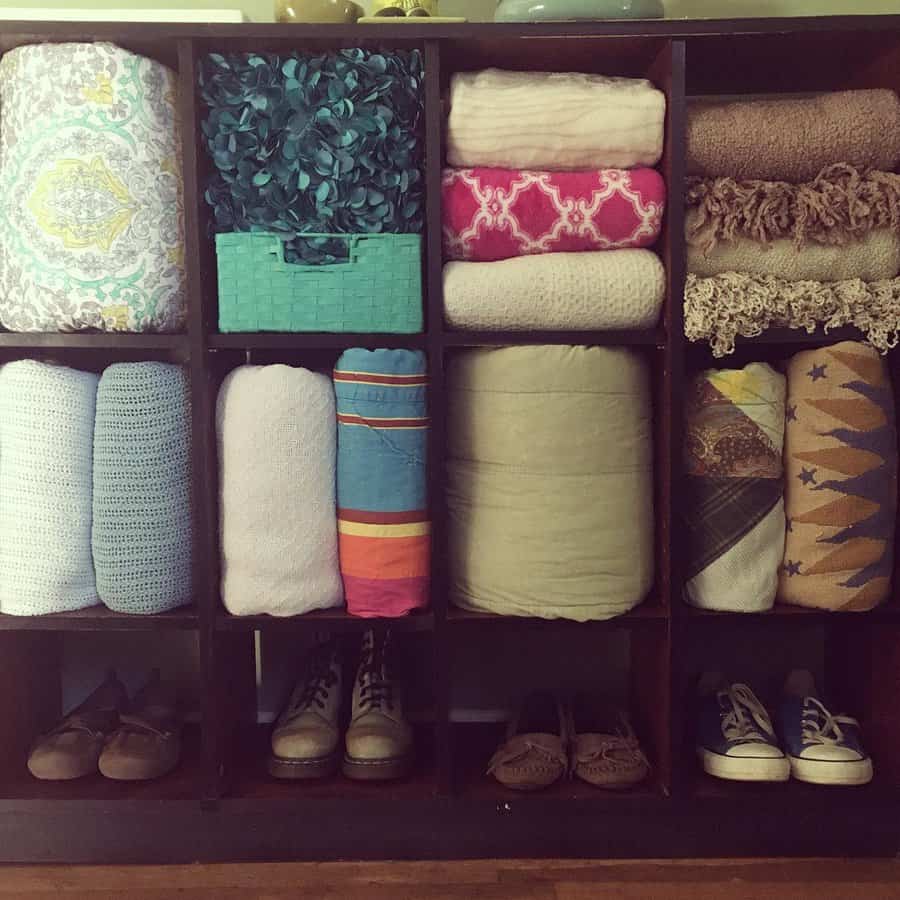 Blanket Storage FAQs
Is it OK to store blankets in plastic bags?
No, it's best to store blankets in a place with plenty of airflow. Avoid putting your blankets in plastic bags because the plastic doesn't allow the air to flow. It can also trap moisture, which encourages mold and mildew growth. After storage in plastic, your bags will need cleaning before you can use them.
How many comforters should you have?
Start by thinking about the number of beds you have in your home. You should plan to have at least one to two blankets or comforters for each bed in your home. This means you can change out your blankets for the warm and cold seasons. It's also helpful to have a blanket or two extra for when you have guests.
How do you keep blankets fresh?
The key to keeping your blankets fresh is to keep them dry. The biggest problem with storing blankets is that they can become musty or moldy. This is a sign that moisture is present. Odors are also a sign that there's moisture buildup. Fully dry your blankets and keep them in a place with ventilation to prevent moisture buildup and keep your blankets feeling and smelling fresh.