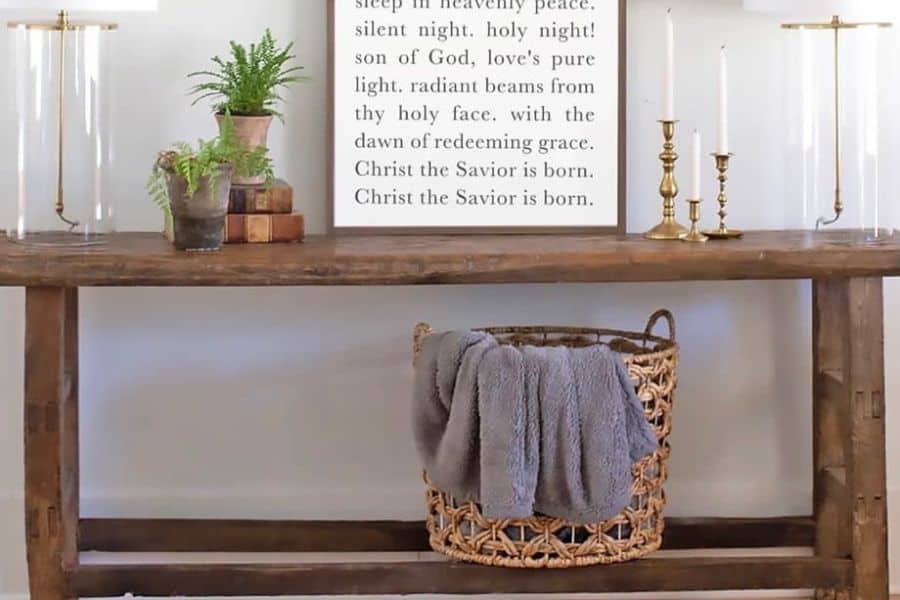 The Top 59 Blanket Storage Ideas
Browse through a design or home magazine or swipe through social media, and you will see throw blankets everywhere. These convenient pieces of fabric are perfect for accenting decor, making a space feel cozy, or adding a pop of color.
The problem is, what do you do with the blanket when you aren't using it? Or what about when you own multiple blankets? You can't have a ton of blankets all piled up on your sofa.
While you could cram them into your linen closet, this isn't always convenient. You need readily accessible storage spaces in each room for your blankets. These blanket storage ideas will help you find the perfect solution for storing your collection of throw blankets.
1. Basket
Baskets are a popular solution for storing blankets. They are perfect because you can easily move them around your room. Place one at the end of your sofa, on your fireplace hearth, next to your bed, or by your back door for taking outside. Wire baskets will give a slightly industrial or farmhouse feel.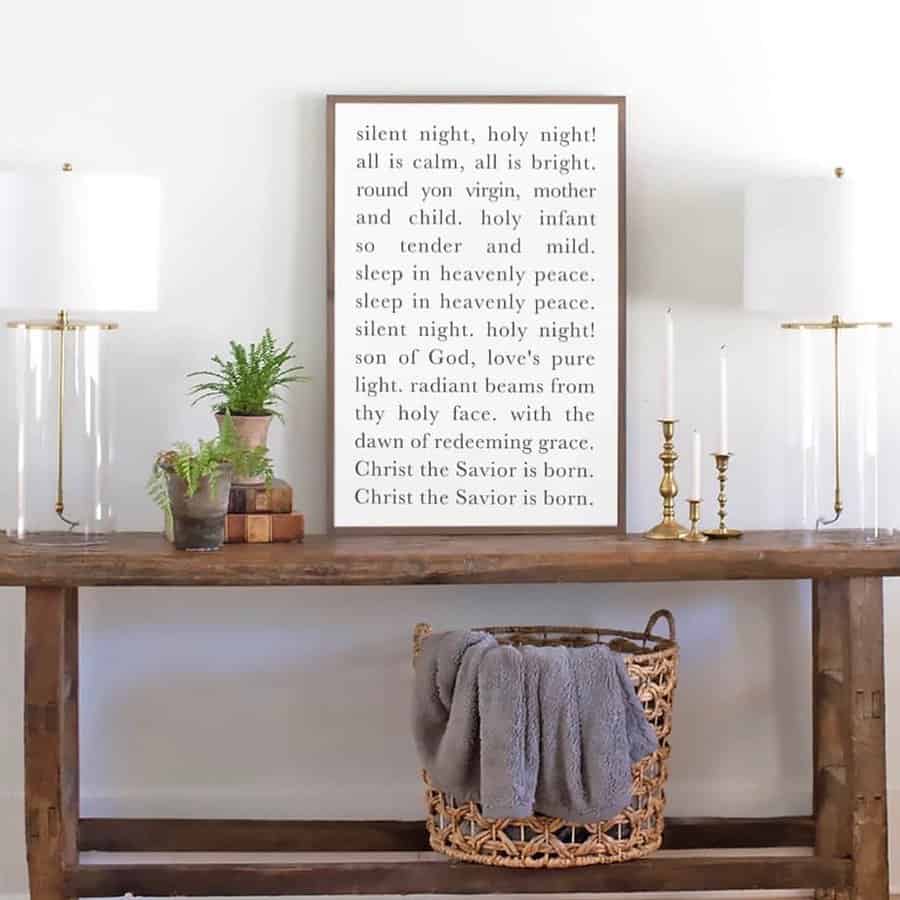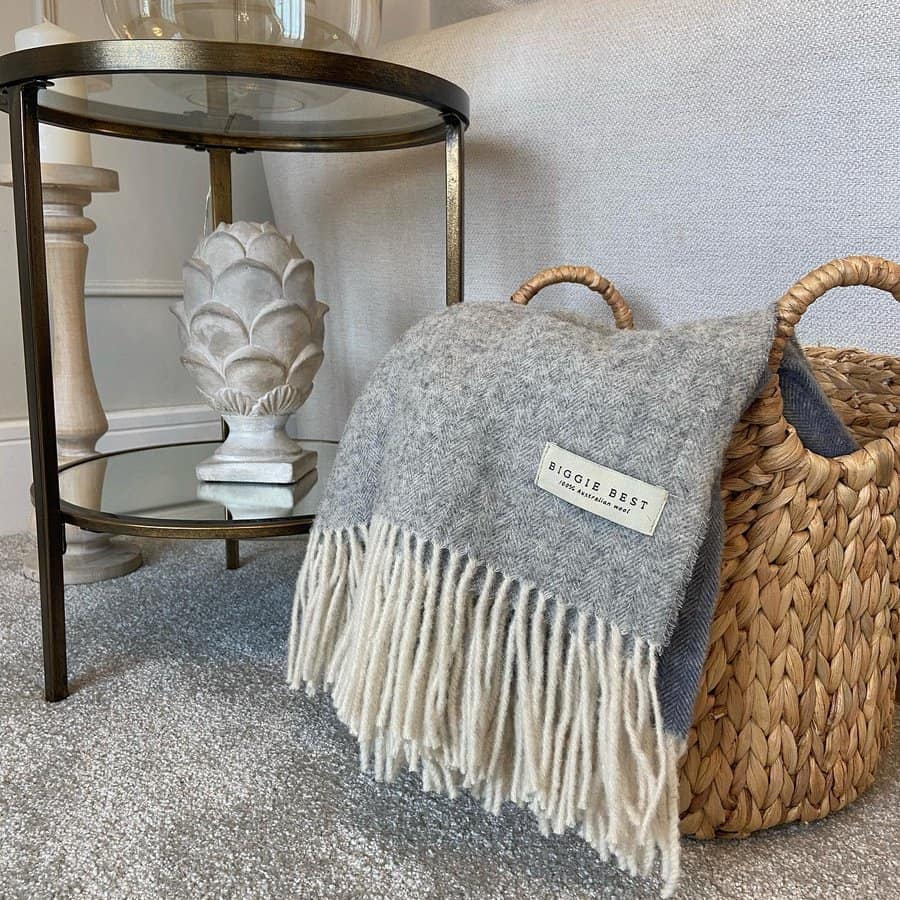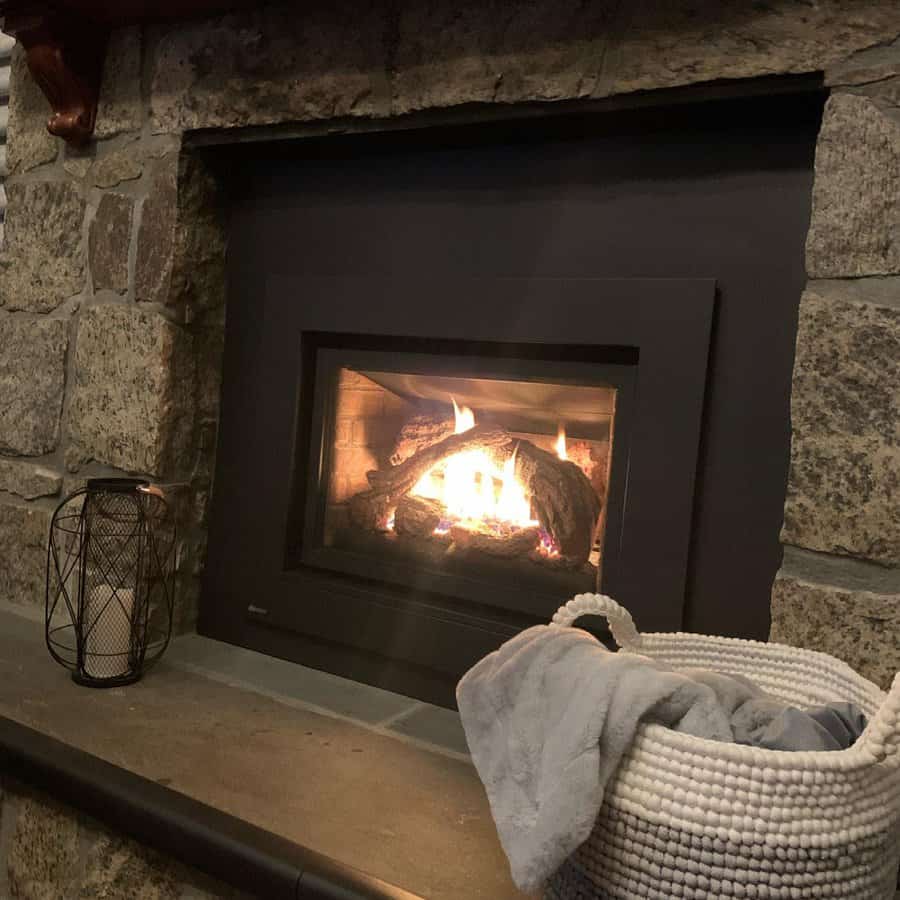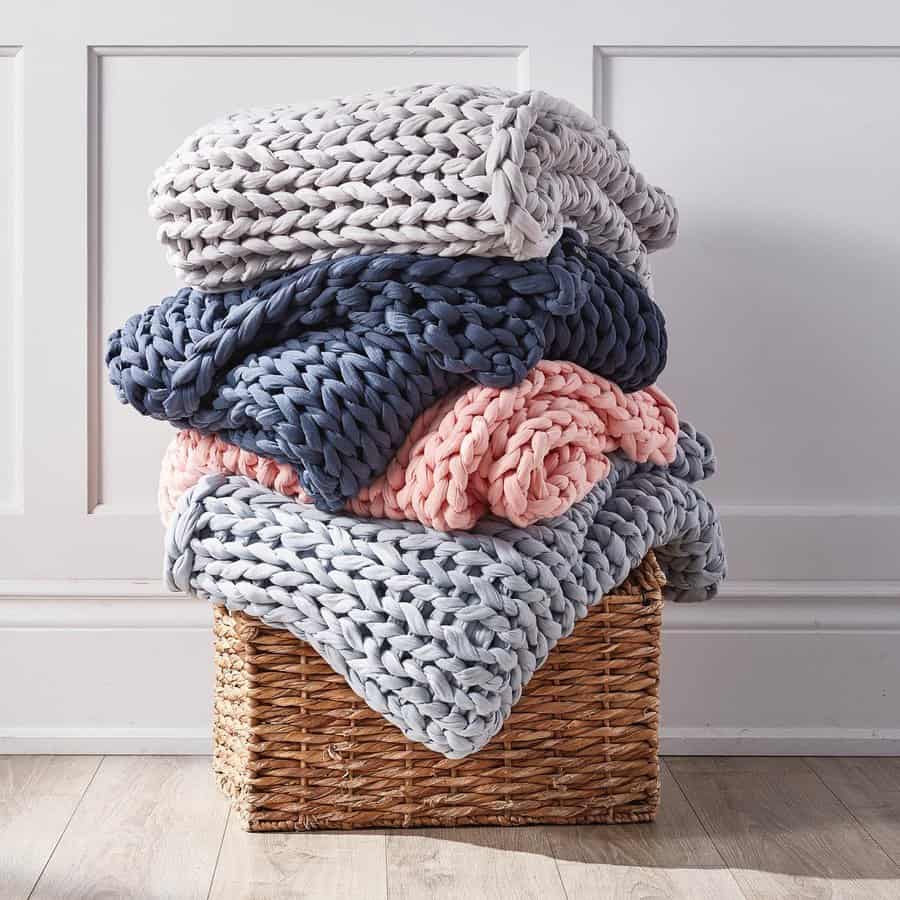 Woven baskets add a touch of nature, making them perfect for interior designs that could use more texture or natural materials.
Choose a storage basket that is the right size for the blankets you need to store and the space you have available. For example, a huge laundry basket can hold a ton but may be too large for holding your blankets. A small basket could be just big enough for holding a single lightweight blanket.
2. Bedroom
A bedroom is a common place for having extra blankets. Elegantly draping one over the end of your bed creates a layering effect that adds texture to your bedroom. However, what happens when you have more than one blanket? One quilt on your bed looks nice and having two could look extra cozy. However, layering several blankets looks cluttered and stifling.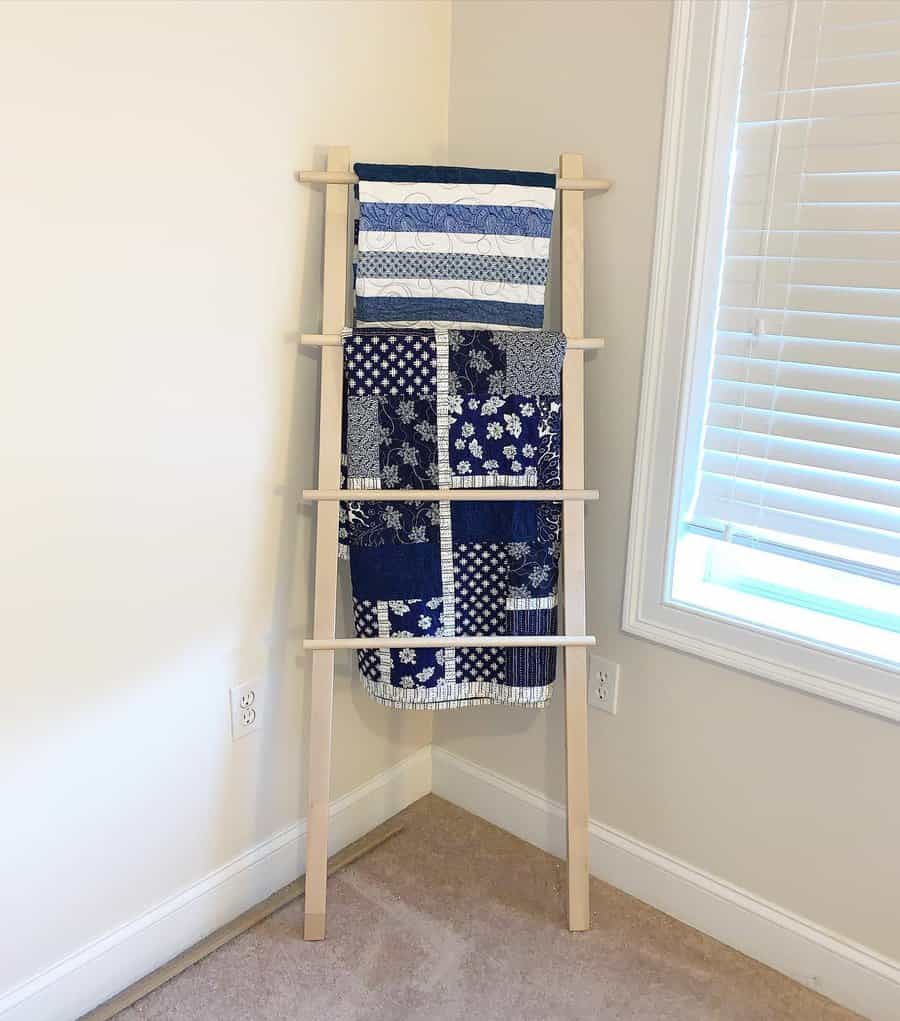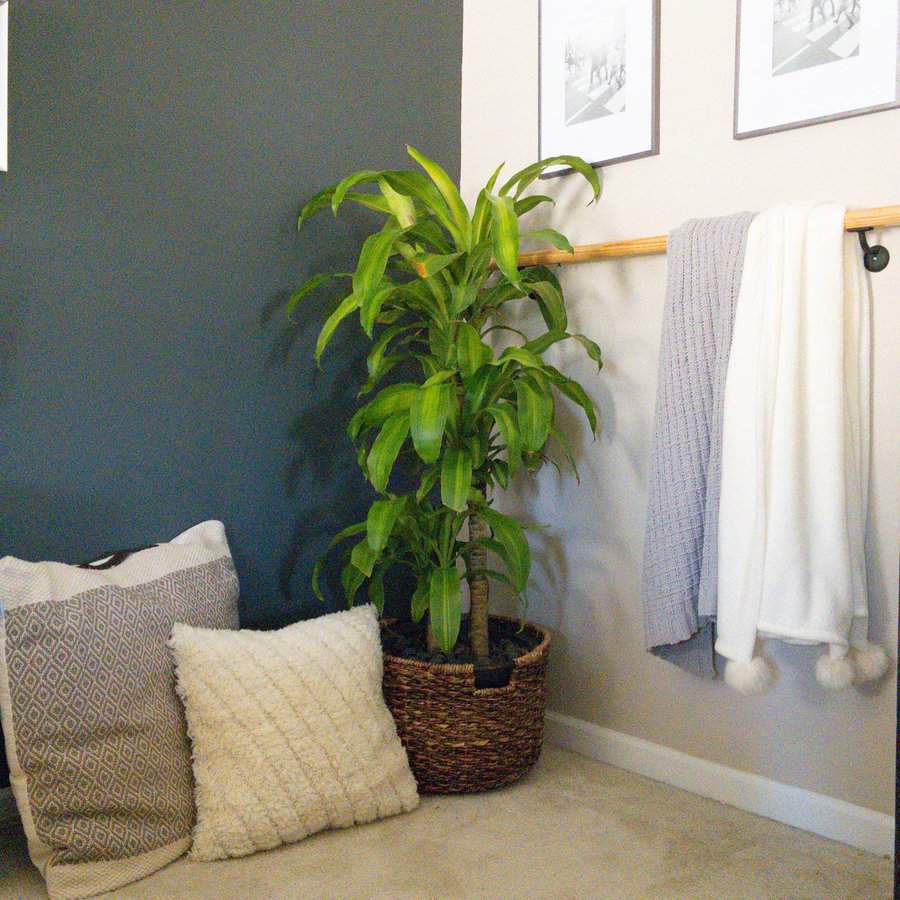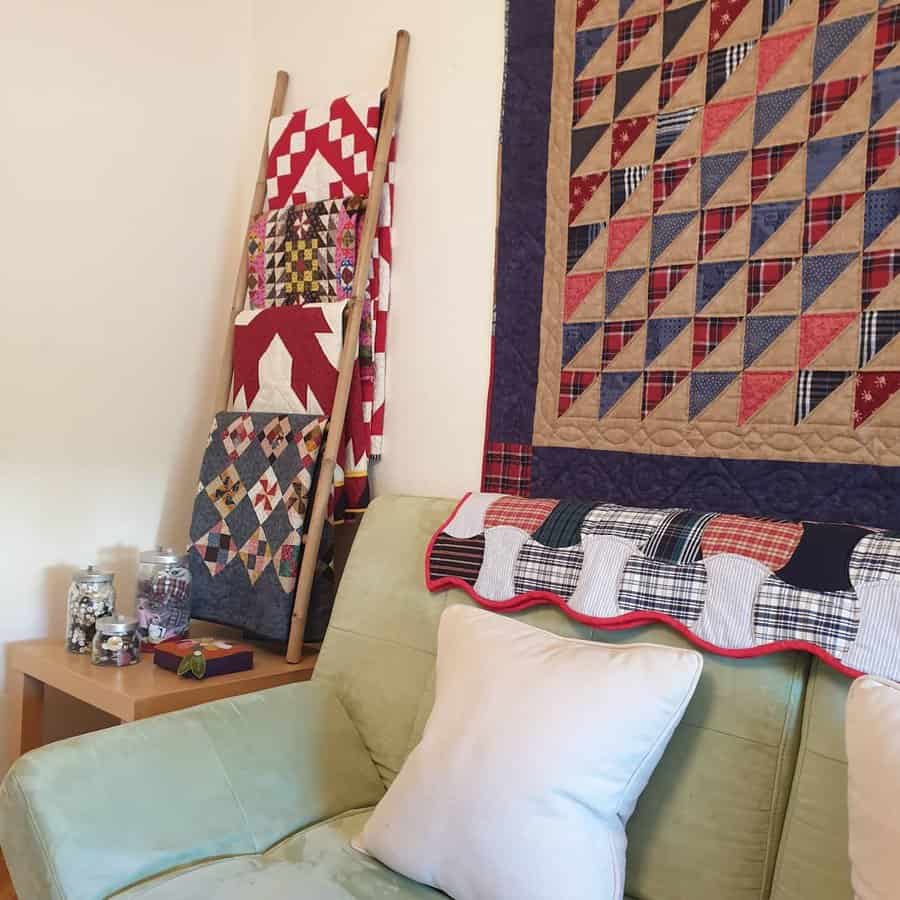 Instead of taking valuable space up in your closet, utilize the space under your bed. Some bed frames come with cabinets or drawers underneath. You can then use this additional space for storing your fitted sheets, beautiful quilts, and any other extra linens you have.
3. Bench
A storage bench works perfectly for blankets and comforters because it provides plenty of space inside. It also functions as a piece of furniture in the room. You could place it anywhere in your home, and no one would be wise about what its true purpose is. Place it in your entryway for convenient seating. At the end of your bed while getting ready. Along a long hallway or in your living room for additional seating.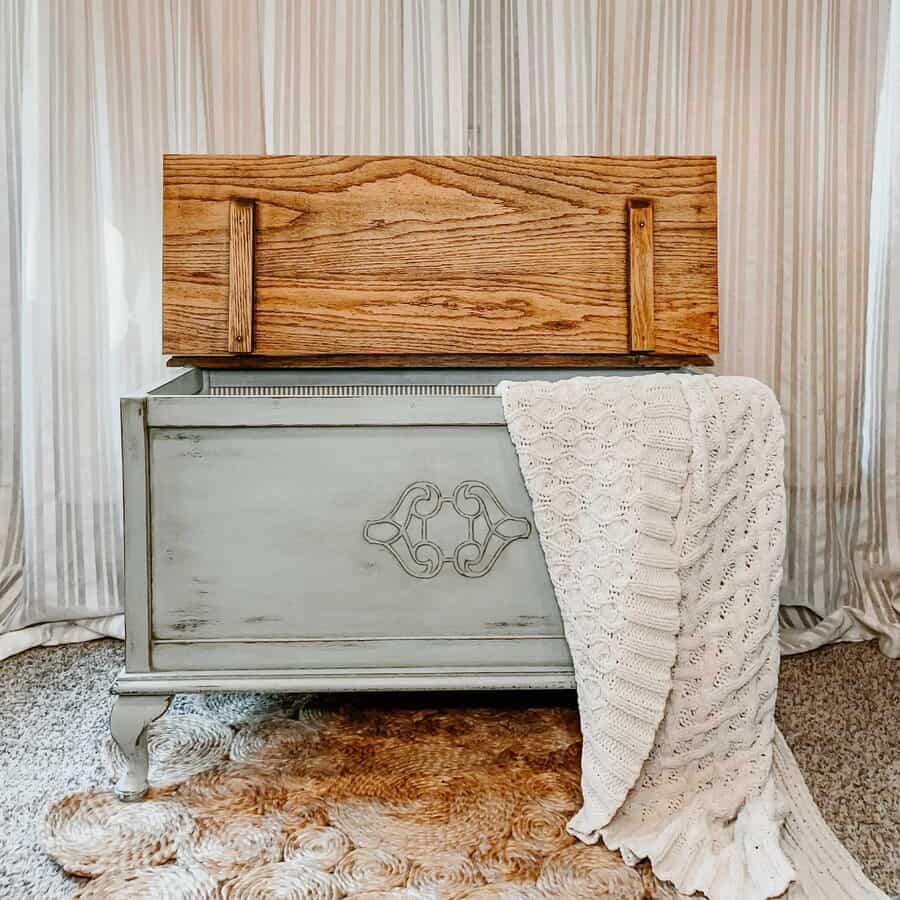 For additional comfort, choose one with cushioning on the top. If you want a rustic or farmhouse feel, look for one made from weathered wood and a handmade feel. For a refined look, choose one with plush upholstery and elegantly carved legs.
4. Cabinet
Your blanket storage solution doesn't have to be overly creative or complicated. If you have the floor space, then a simple cabinet will work. You could place it in your bedroom, bathroom, spare bedroom, or even at the end of your hallway.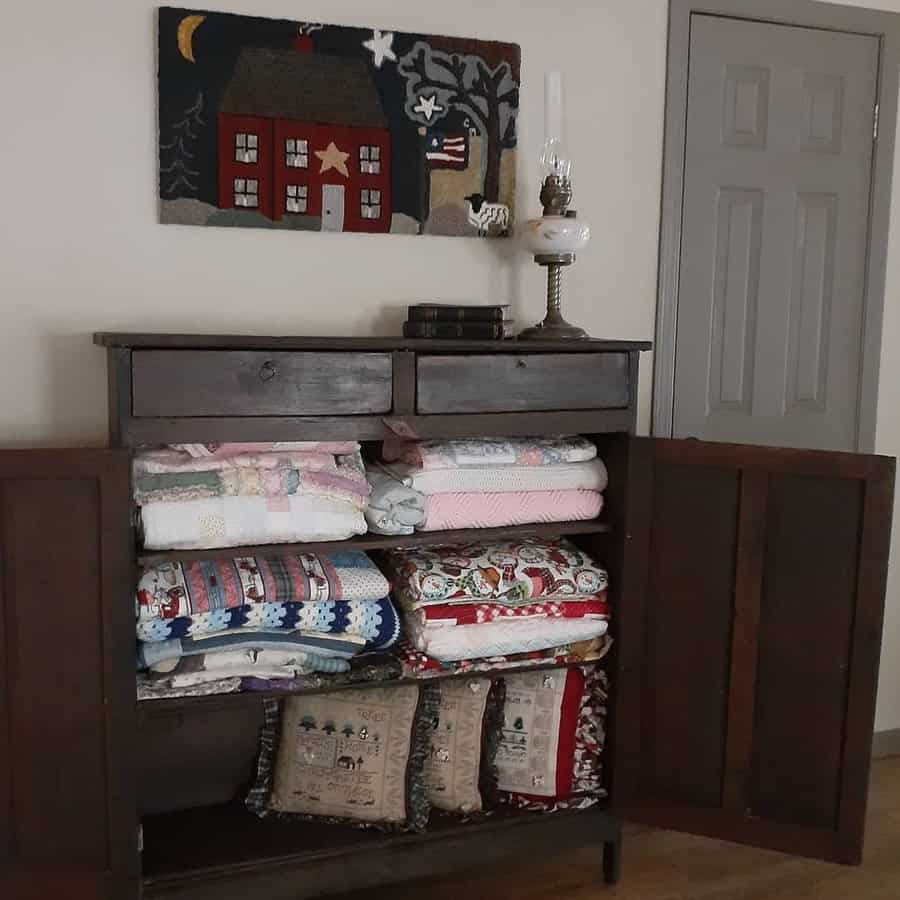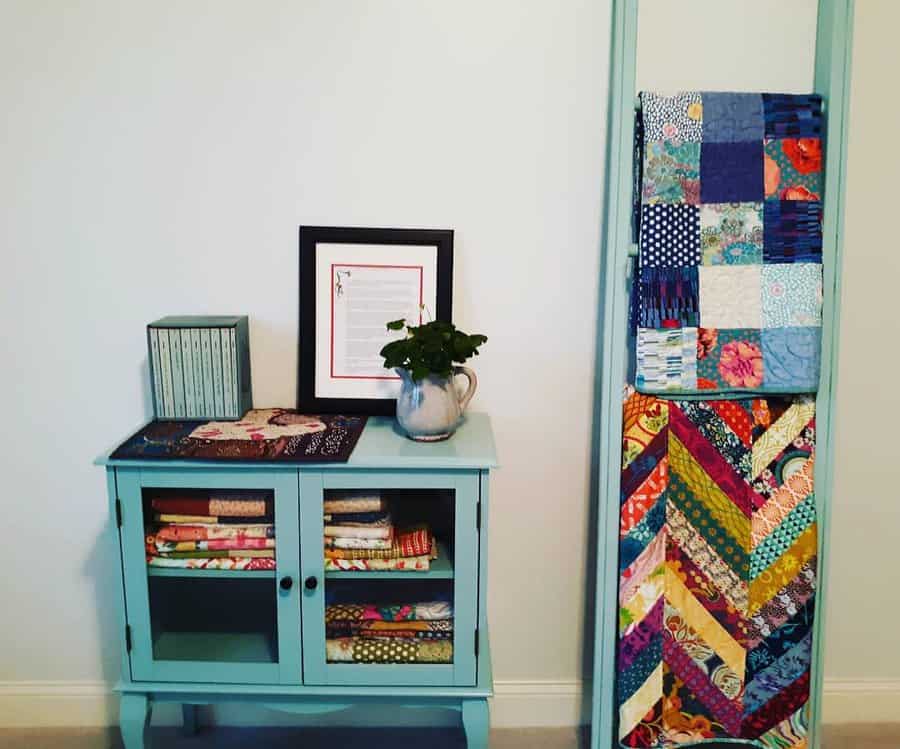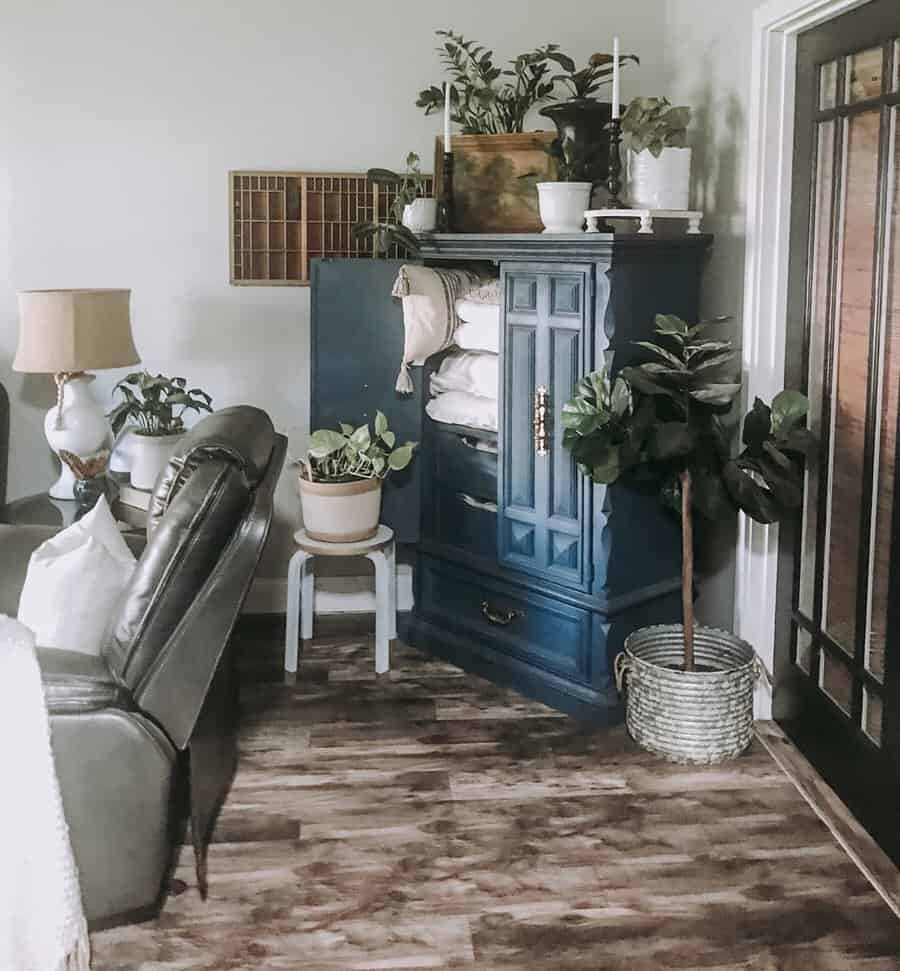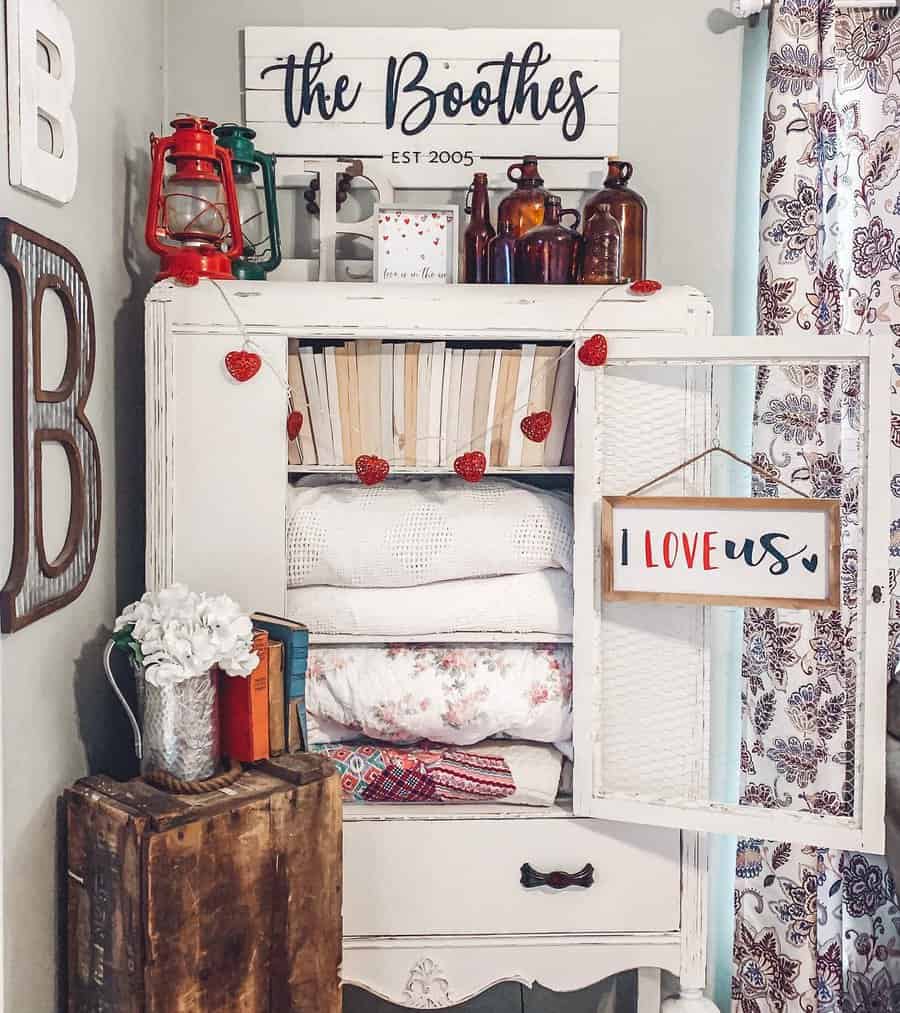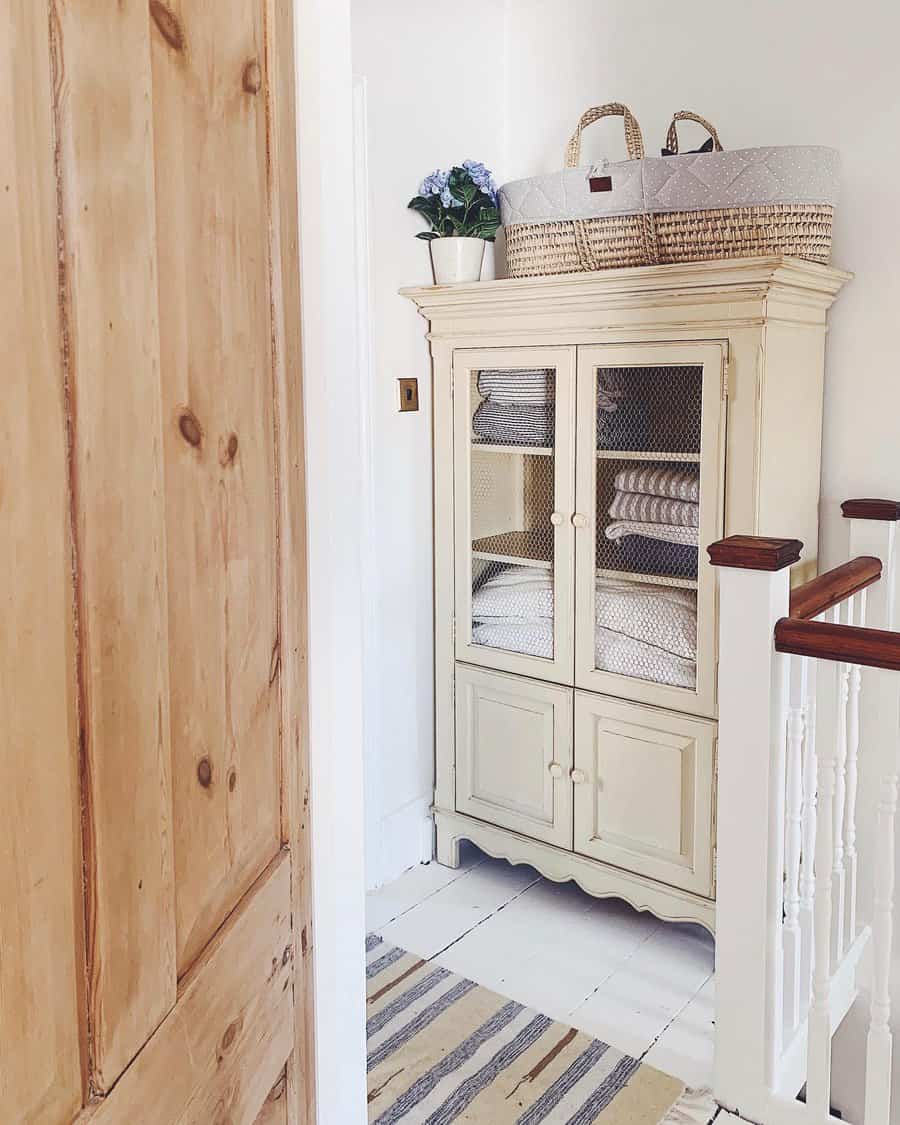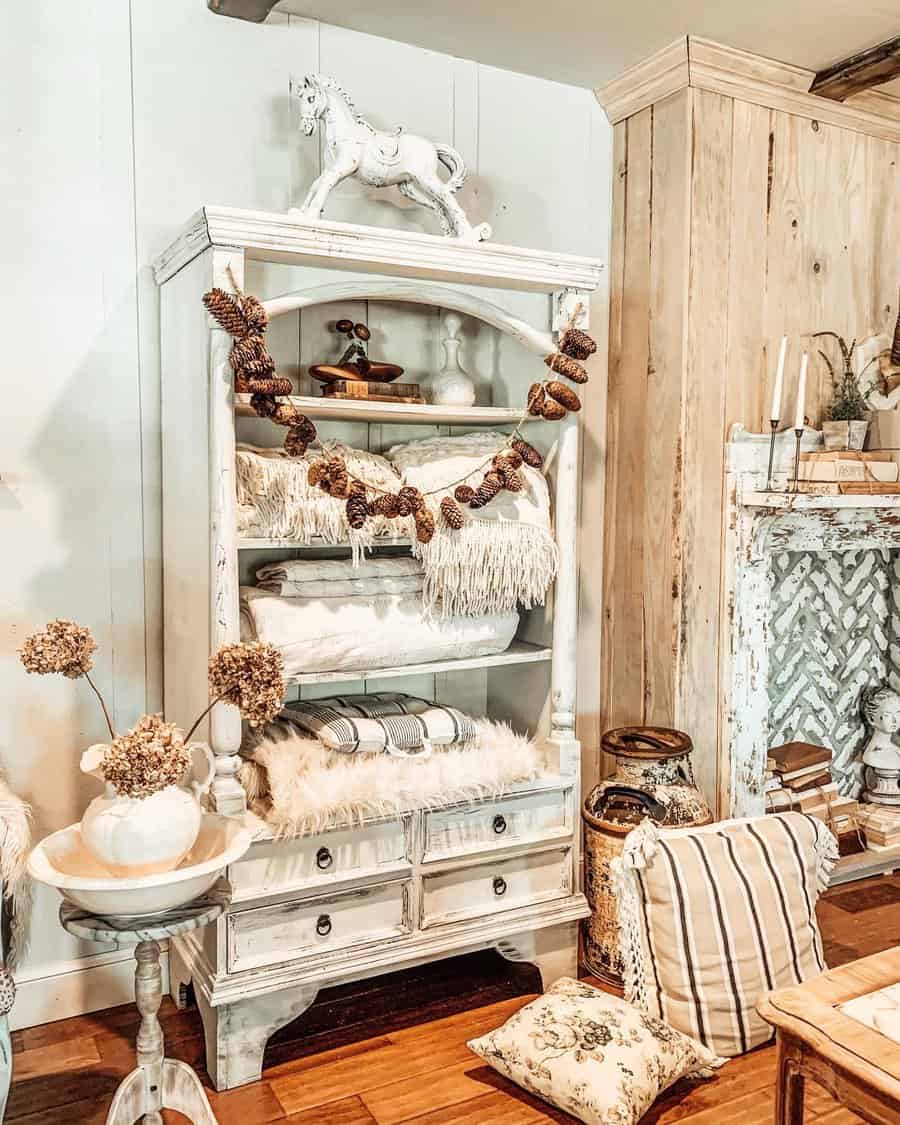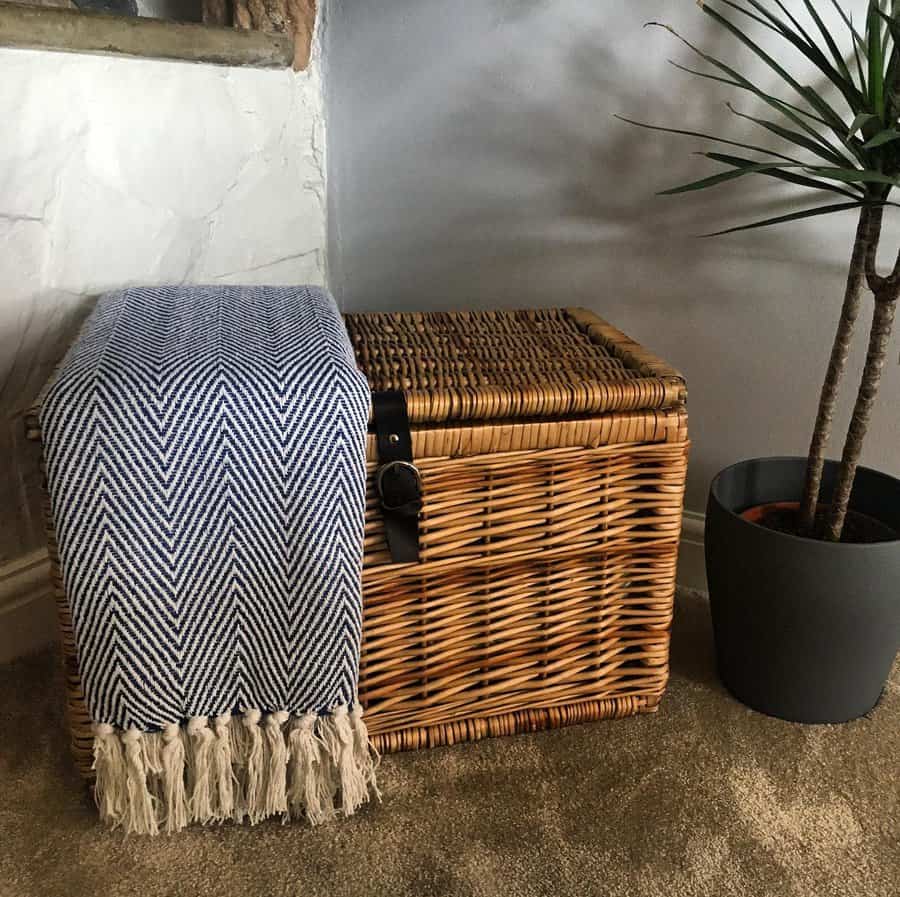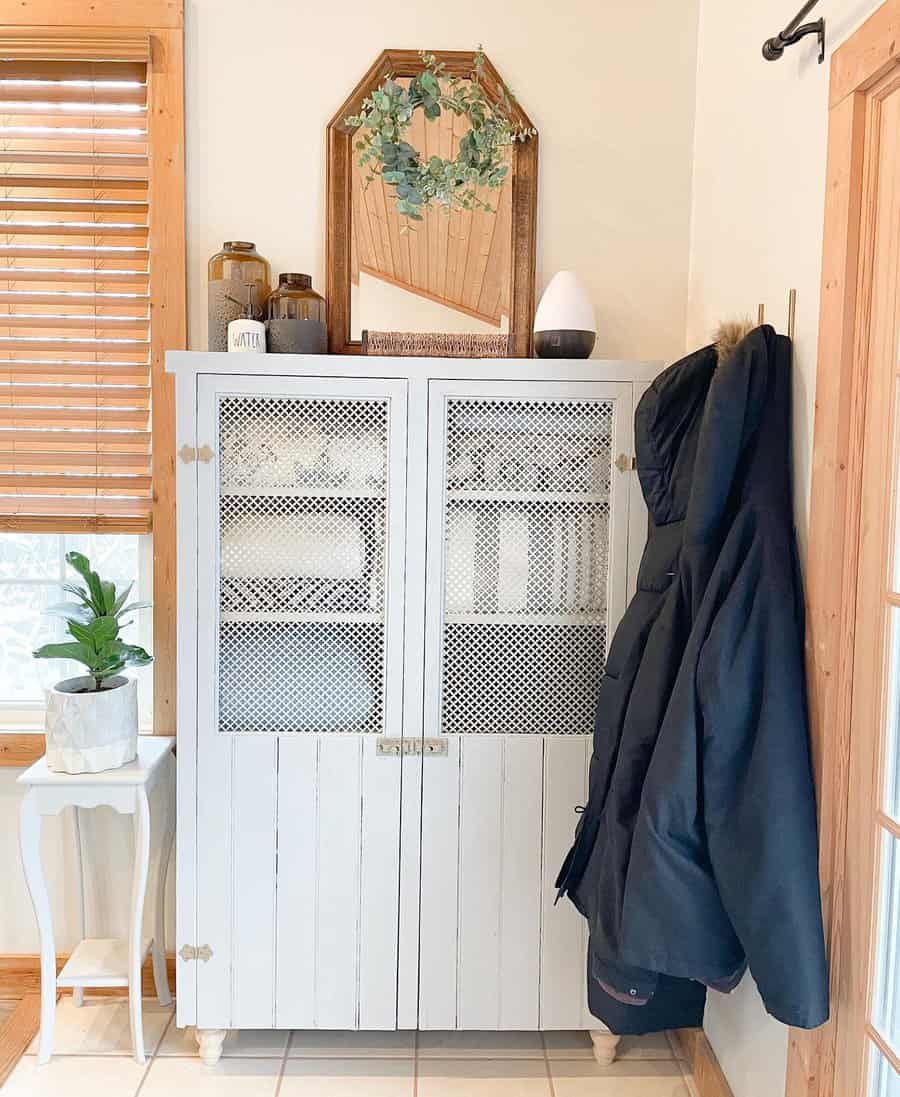 Choose one that's large enough to have plenty of room for all of your linens, pillows, and bedding. If you have little ones, you could place one in their room to hold spare baby blankets. Consider the size of the room you plan to place the cabinet in. A long and low cabinet may work better than a tall chest.
5. Chest
Using a storage box or chest is the traditional solution for keeping your blankets. While it works, it isn't the best option. Storage trunks tend to be deep in both width and depth. This makes them awkward to place in your home and hard to use. Once you stack your blankets in them, you'll have to pull everything back out every time you want a blanket.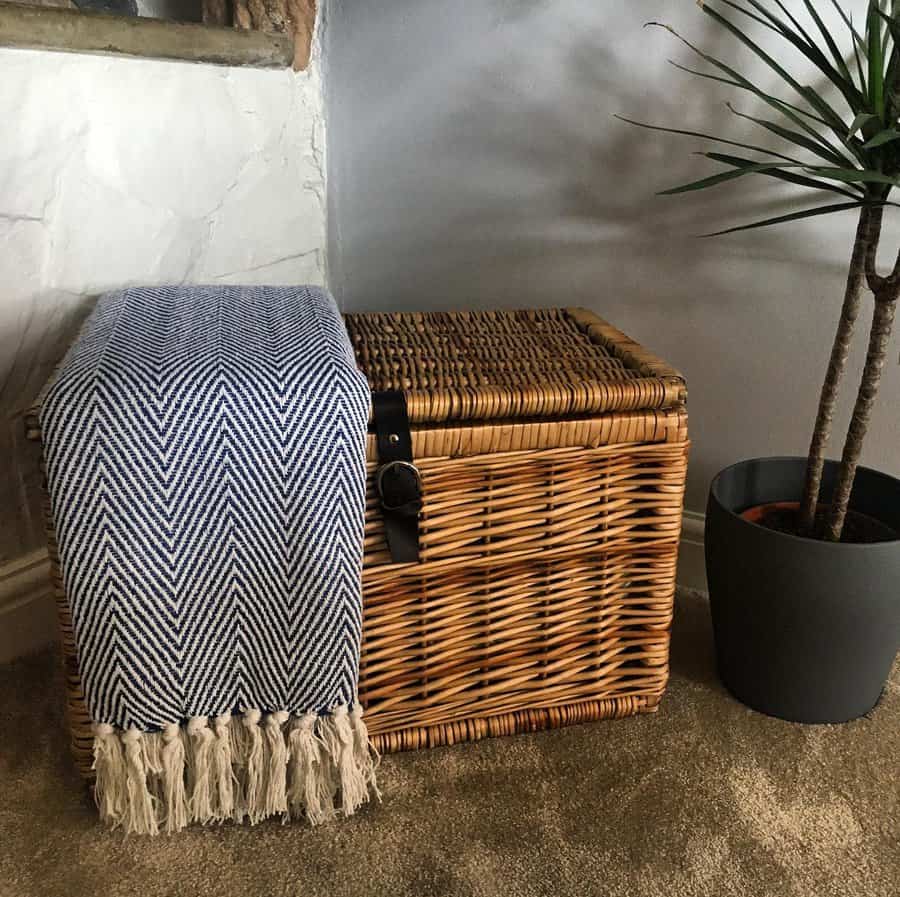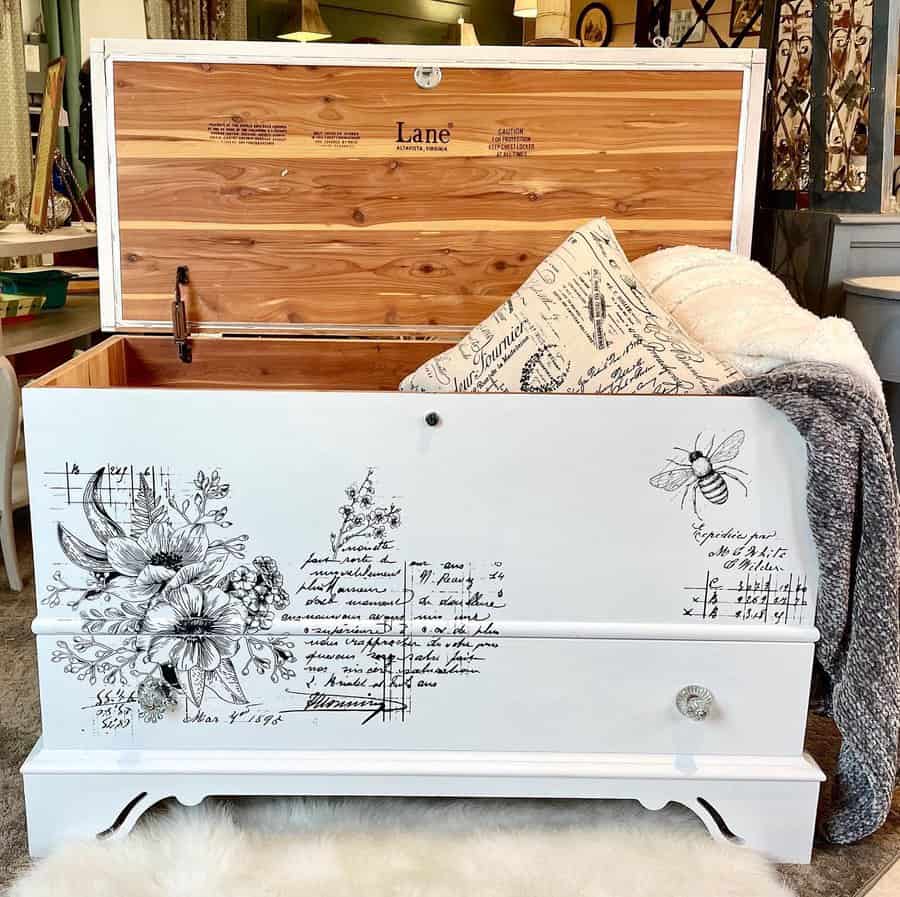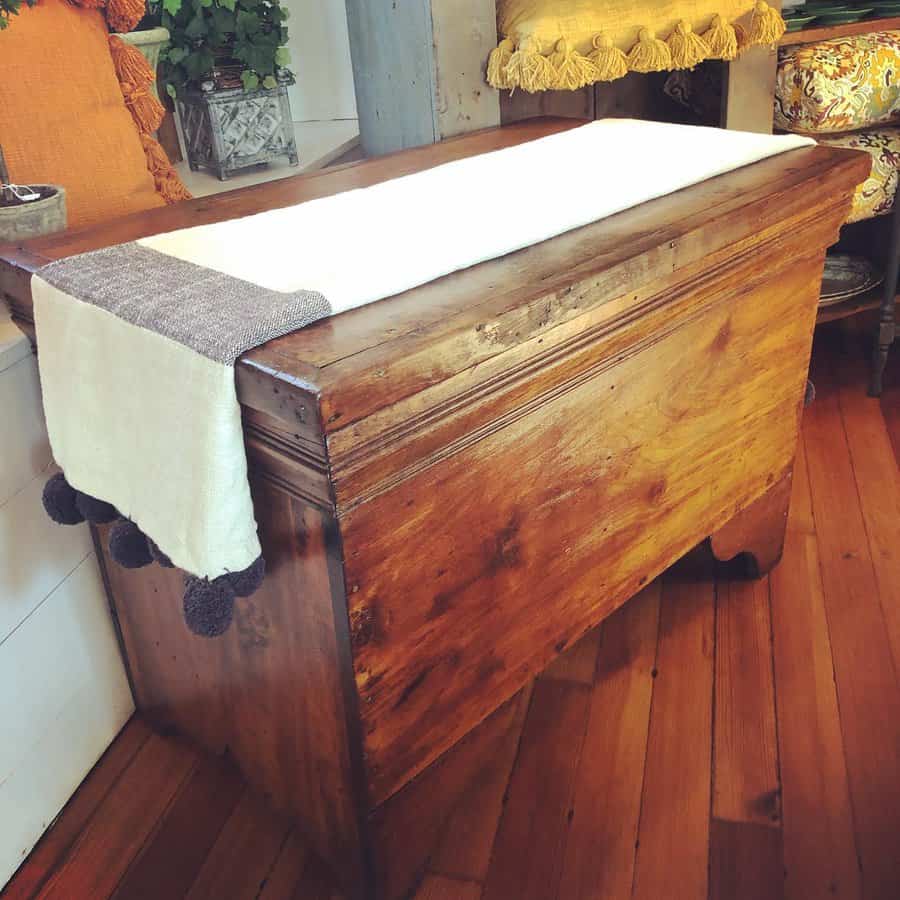 A great alternative is a storage ottoman or coffee table. These furniture pieces serve a dual purpose, so they don't take up too much additional space. They are also shallower, so they are easier to get items in and out of. You could even use them to store throw pillows with your blankets.
6. DIY
You can make your own DIY blanket organizer if you like doing things yourself. This works best if you have a unique space you're dealing with. This helps you make the most of your closet organization.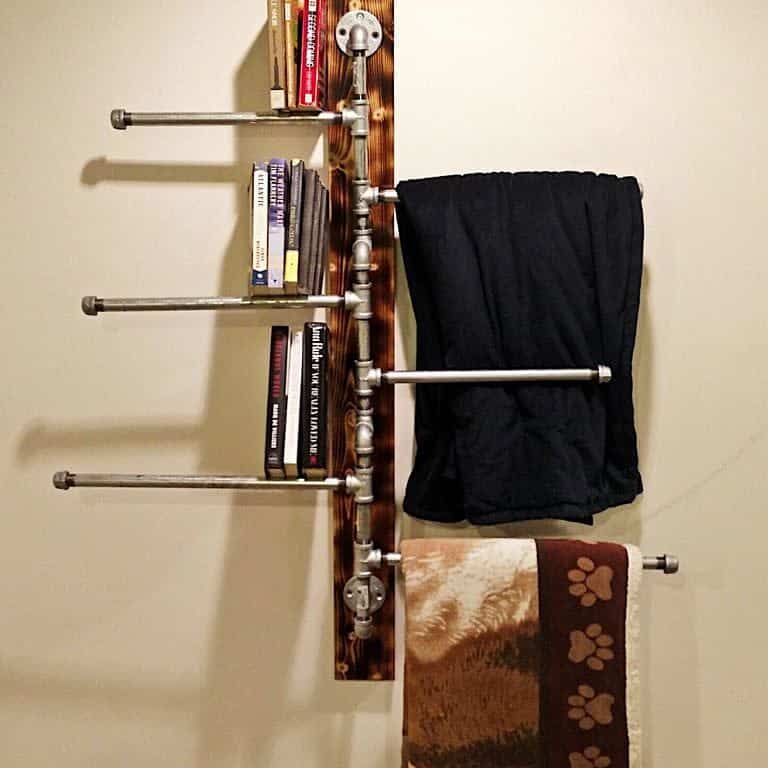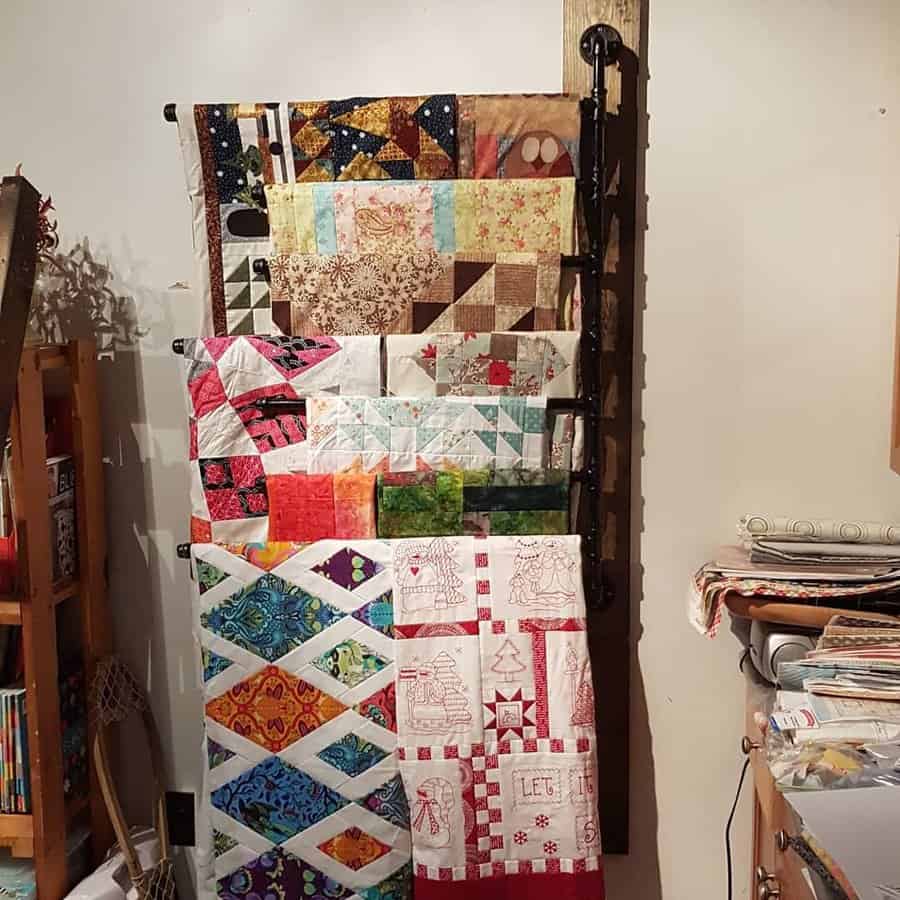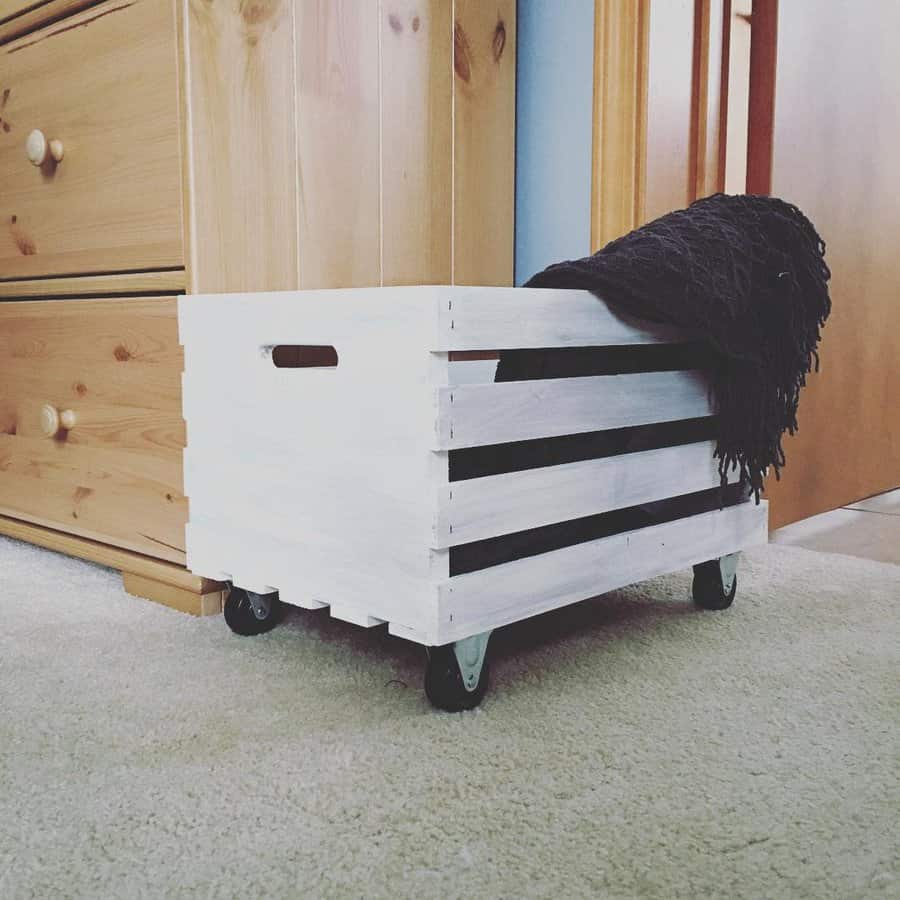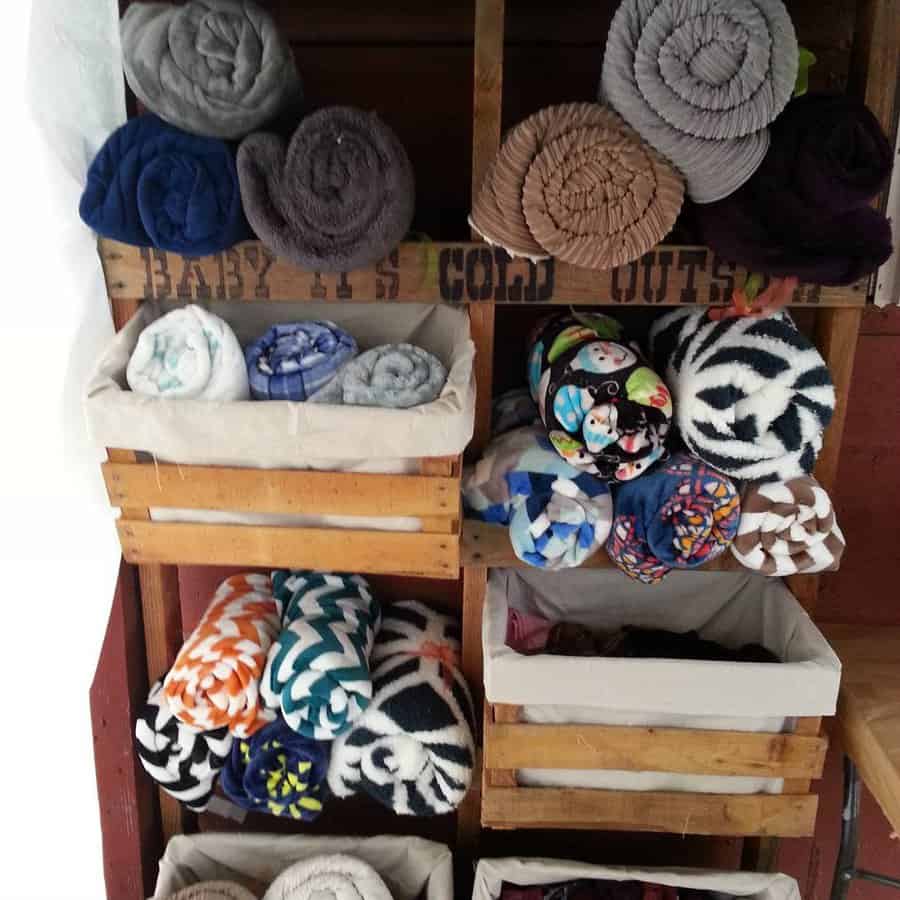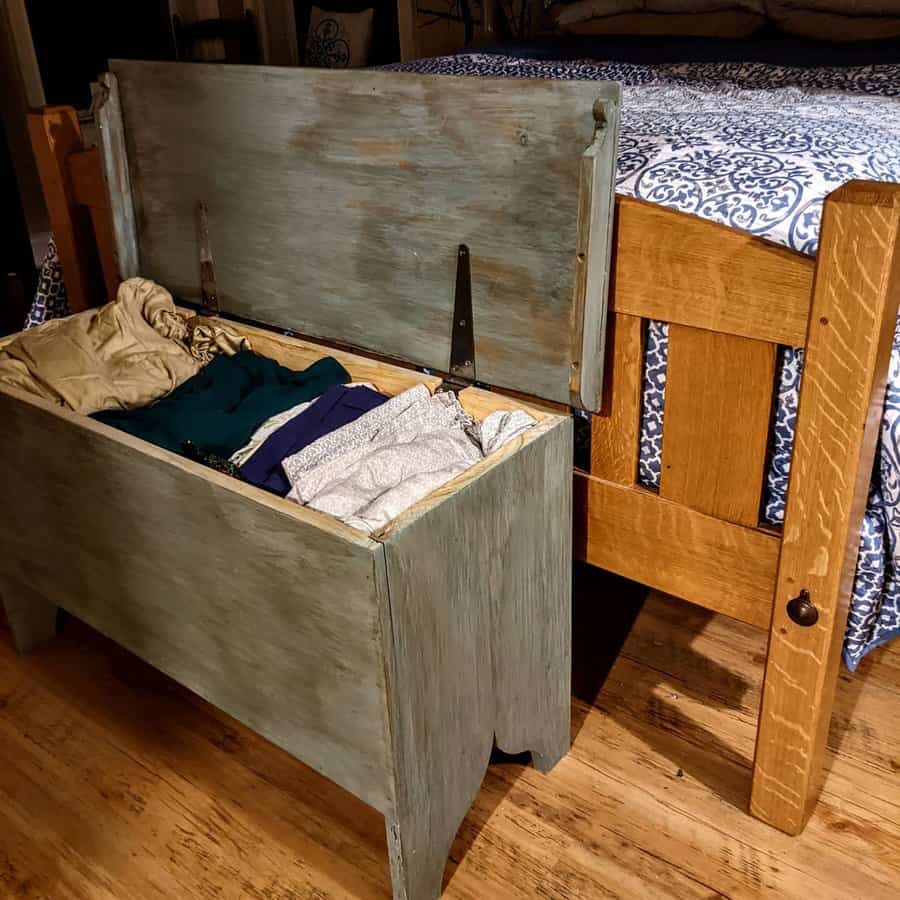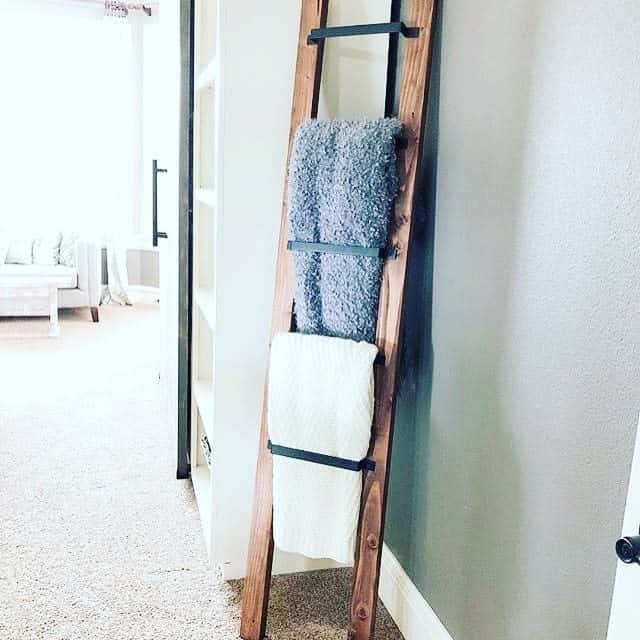 Make your own bins out of spare wood. Weave your own baskets out of raffia, straw, or even yarn. Hang a tree branch on the wall with hooks you've chosen and mounted on it. Sometimes, you don't even have to make anything. Perhaps you have a wire-framed coffee table that you could place the blankets inside. Or you have a side table with an open shelf design.
7. Ladder
A blanket ladder is exactly what it sounds like. It's a decorative ladder that you place on the floor and lean up against a wall. While some can support themselves, the majority are flat ladders that need to lean against something to stay vertical.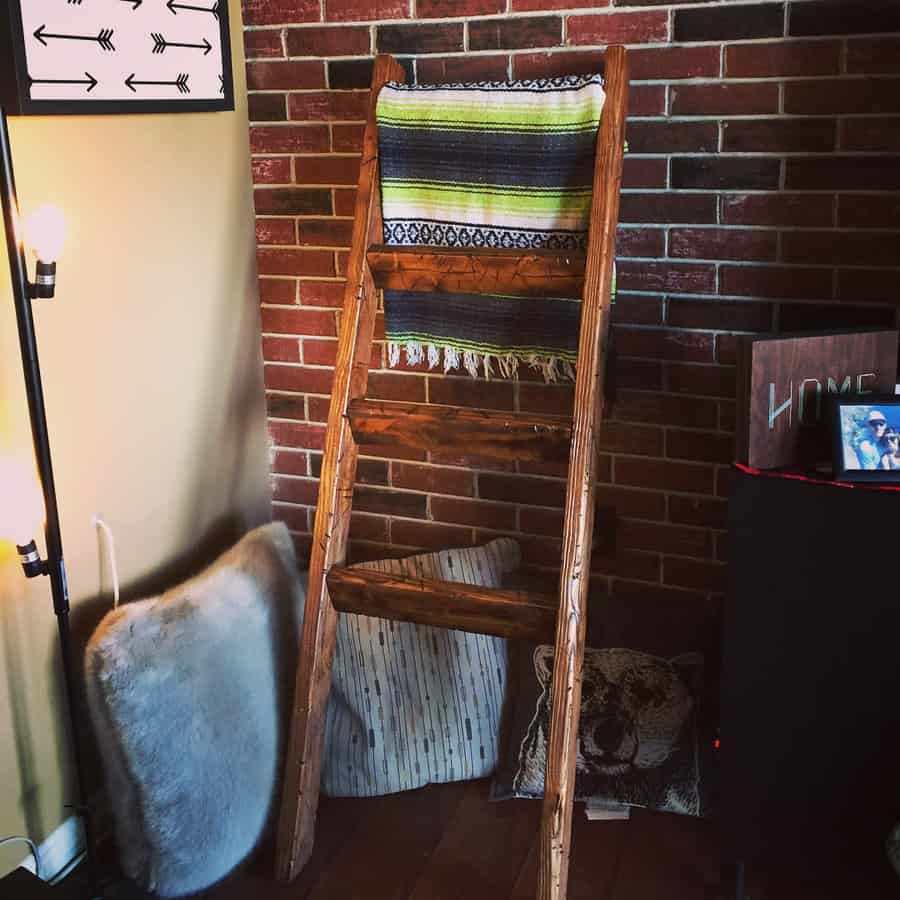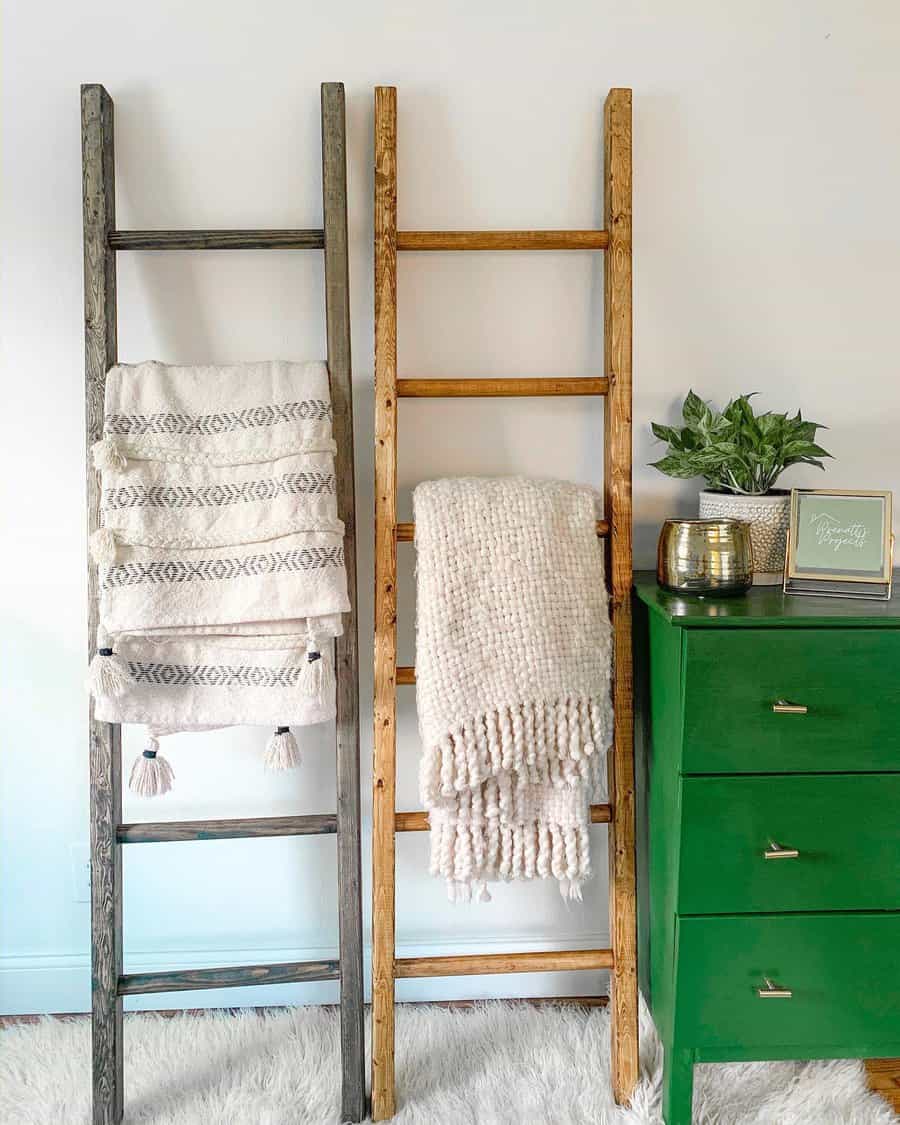 You can use them in your living room as a blanket rack or in your bathroom as a towel rack. This idea works well because it uses your blankets as decor, helping to make your home feel warm and cozy. The different blankets create a layering effect with the multiple textures that creates visual interest.
8. Metal
Metal isn't the best option when choosing a storage container for your blankets. If it is a solid container, there will be no airflow. This will encourage the buildup of moisture inside of the container.
If you really want to use a metal container, look for one that has holes for venting or isn't enclosed on all sides. This will allow air to flow through the blankets and prevent them from getting moldy or musty.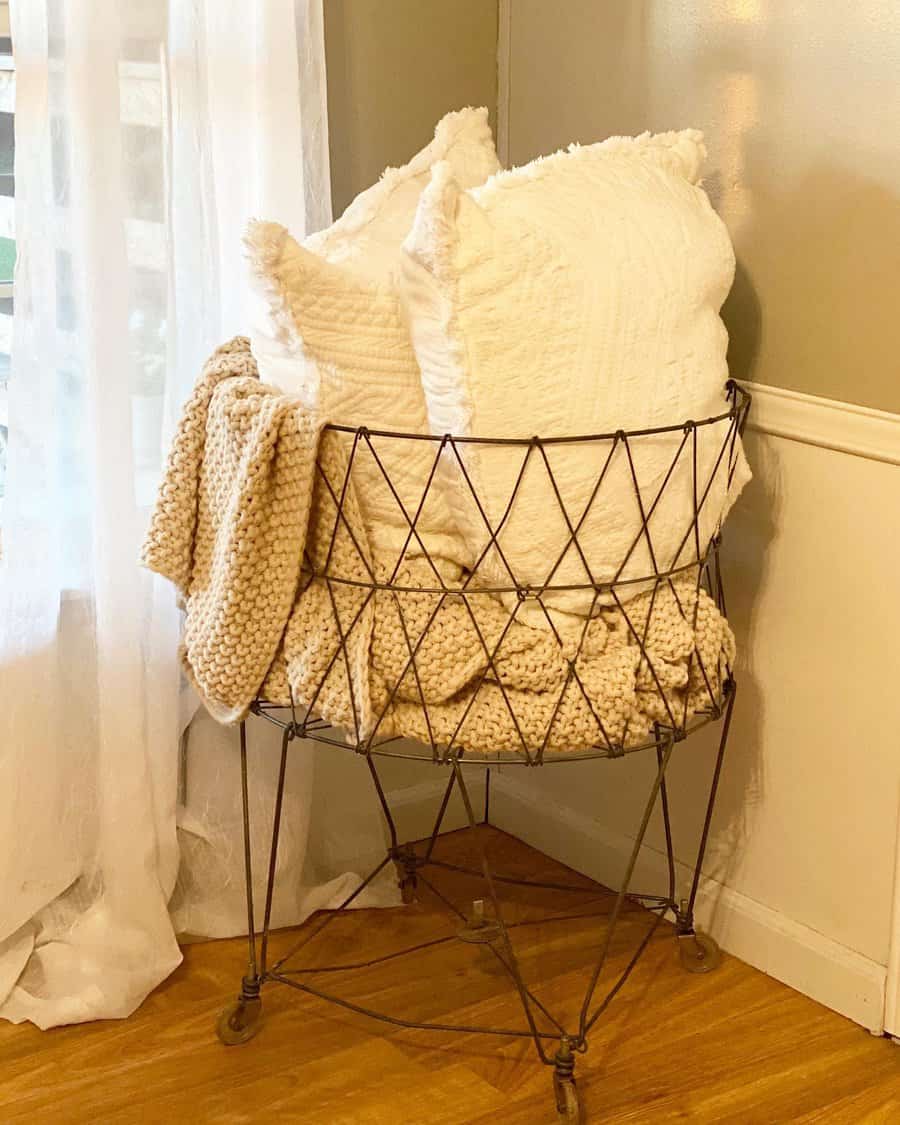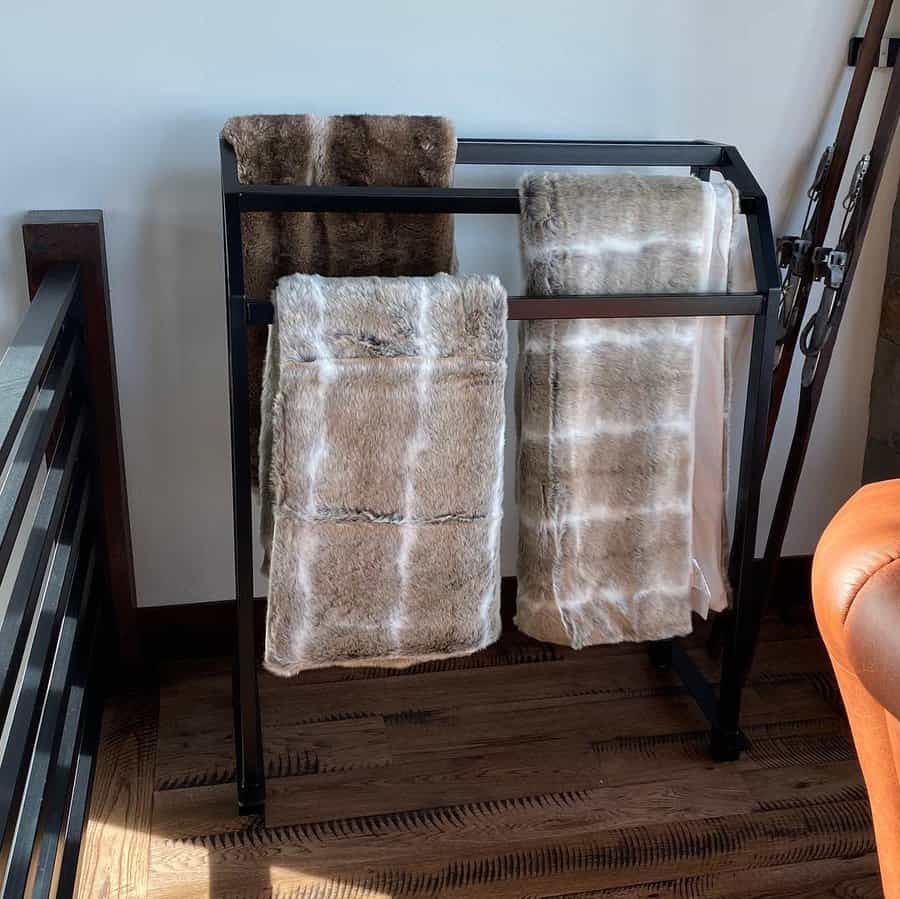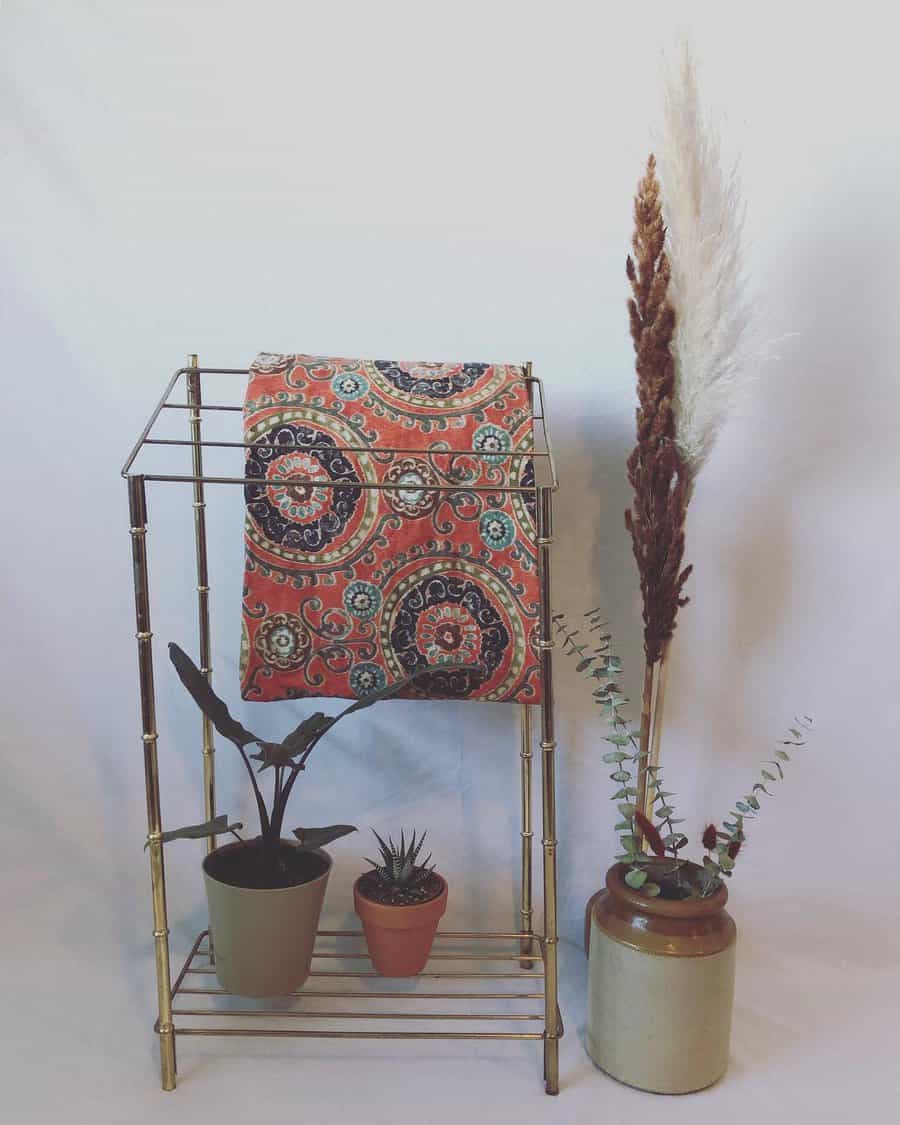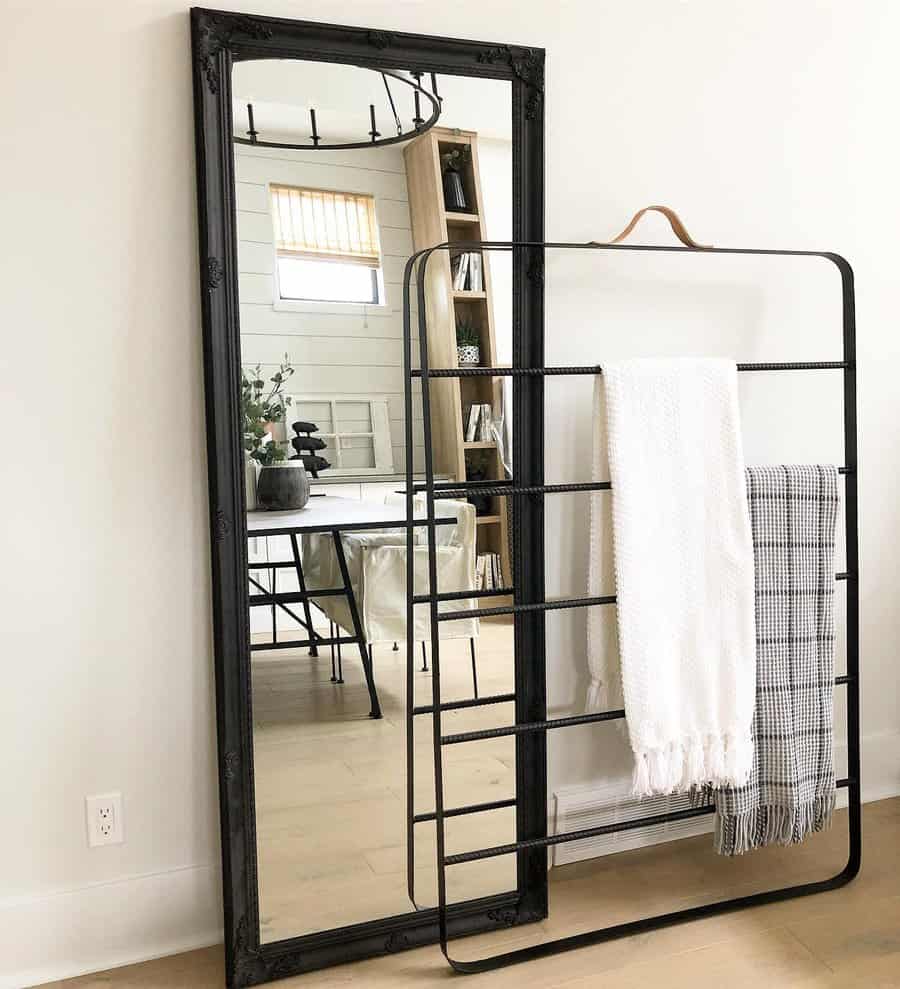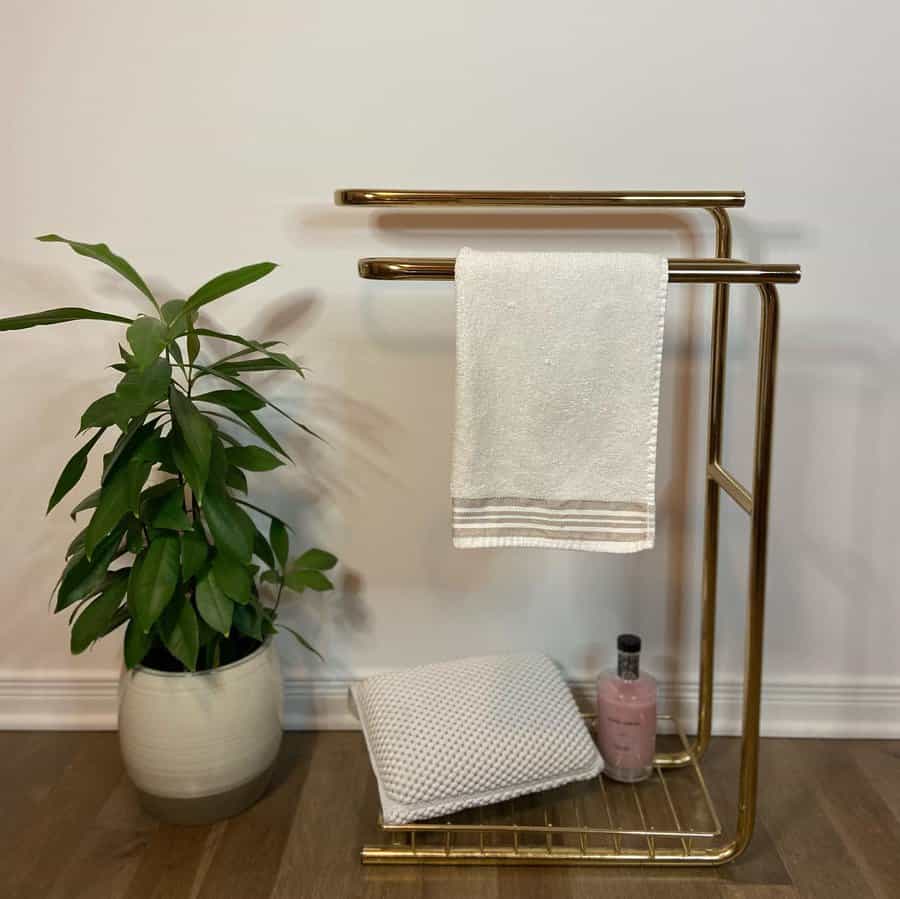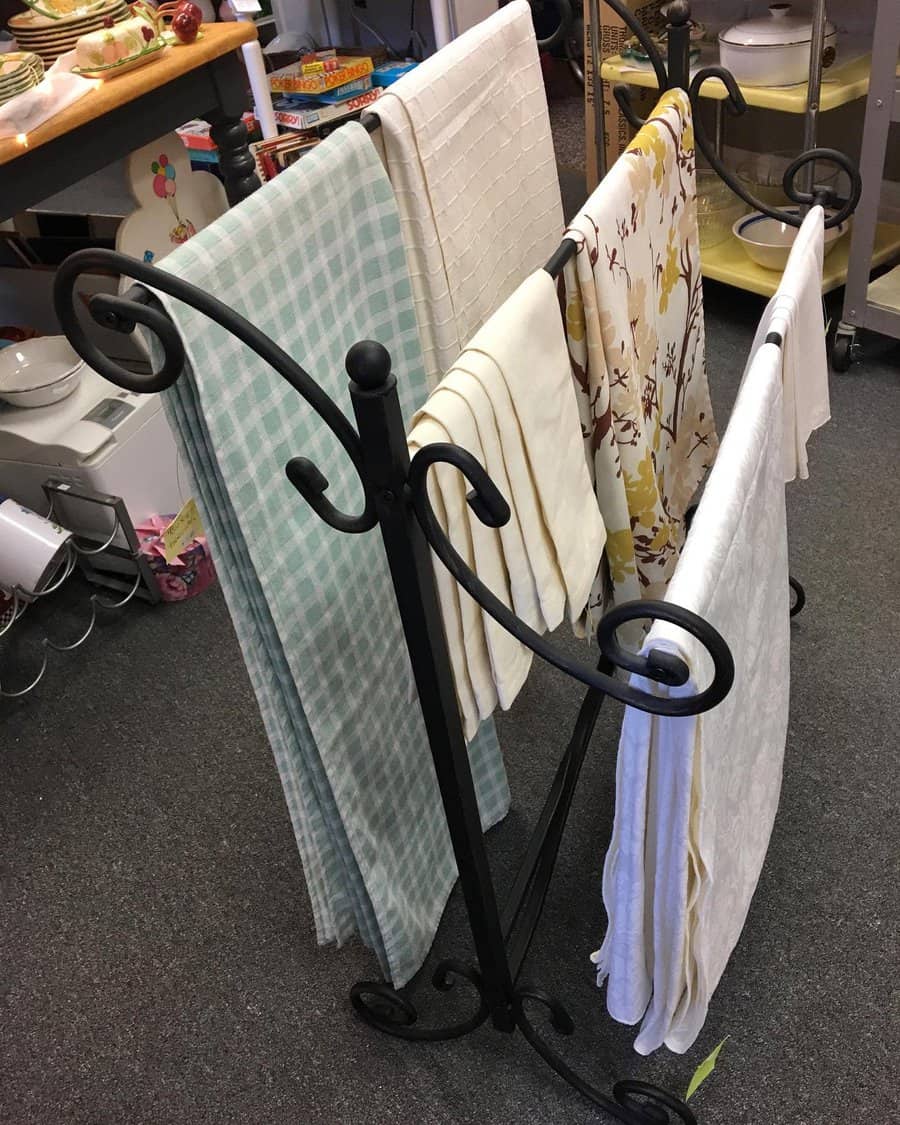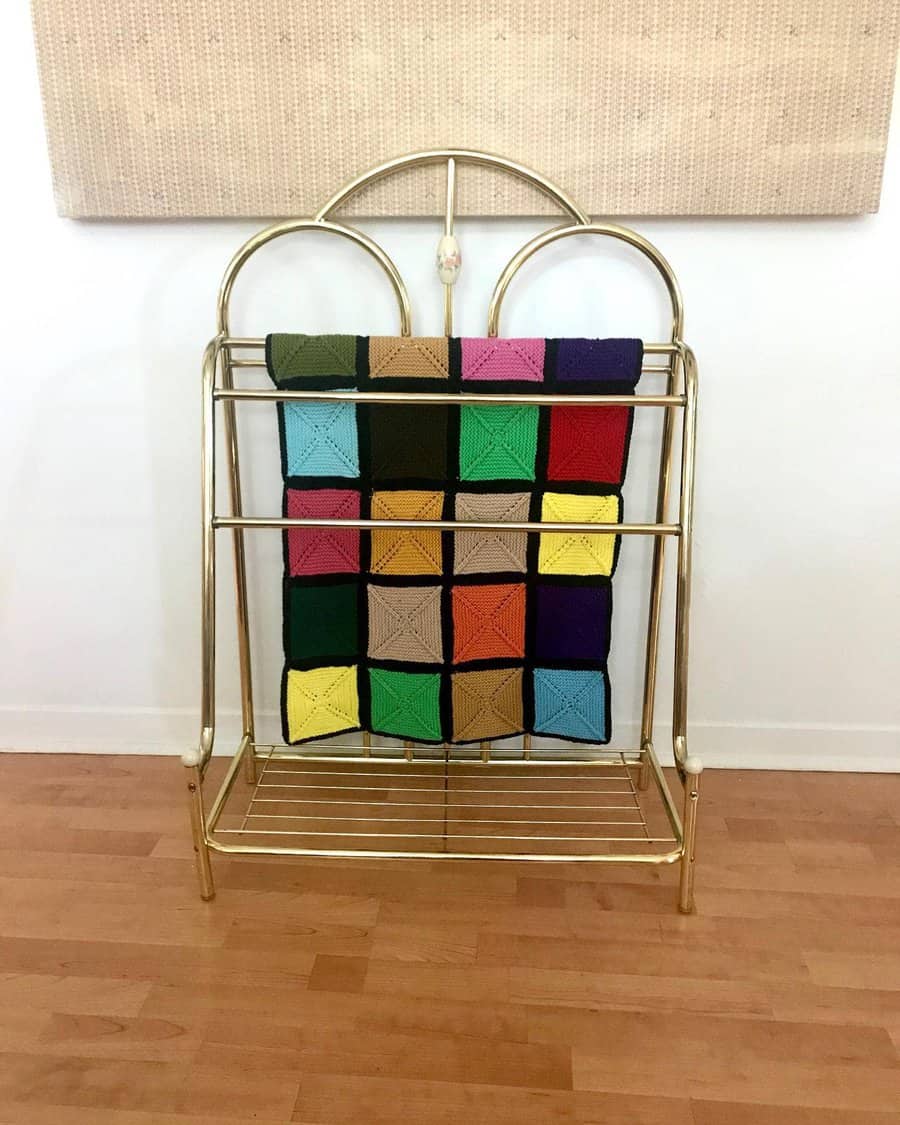 Metal shelving will work and can give your interior design an industrial or sleek modern feel. Another good option for metal is a wire basket. They come in various colors, from bright copper and rose gold to black. A basket with a geometric design can give your interior design a trendy feel or be the ultimate art deco accent piece.
9. Multipurpose
Lightweight baskets are perfect for multipurpose storage. They come in a range of sizes, from mini to jumbo. They could be made of wood, fabric, metal, or natural materials. Good quality baskets have large and sturdy handles that make the baskets easy to carry around.
If you fill your basket with lightweight blankets, then you can bring them with you to where you need them. The thicker sides give the basket stability to prevent them from falling over.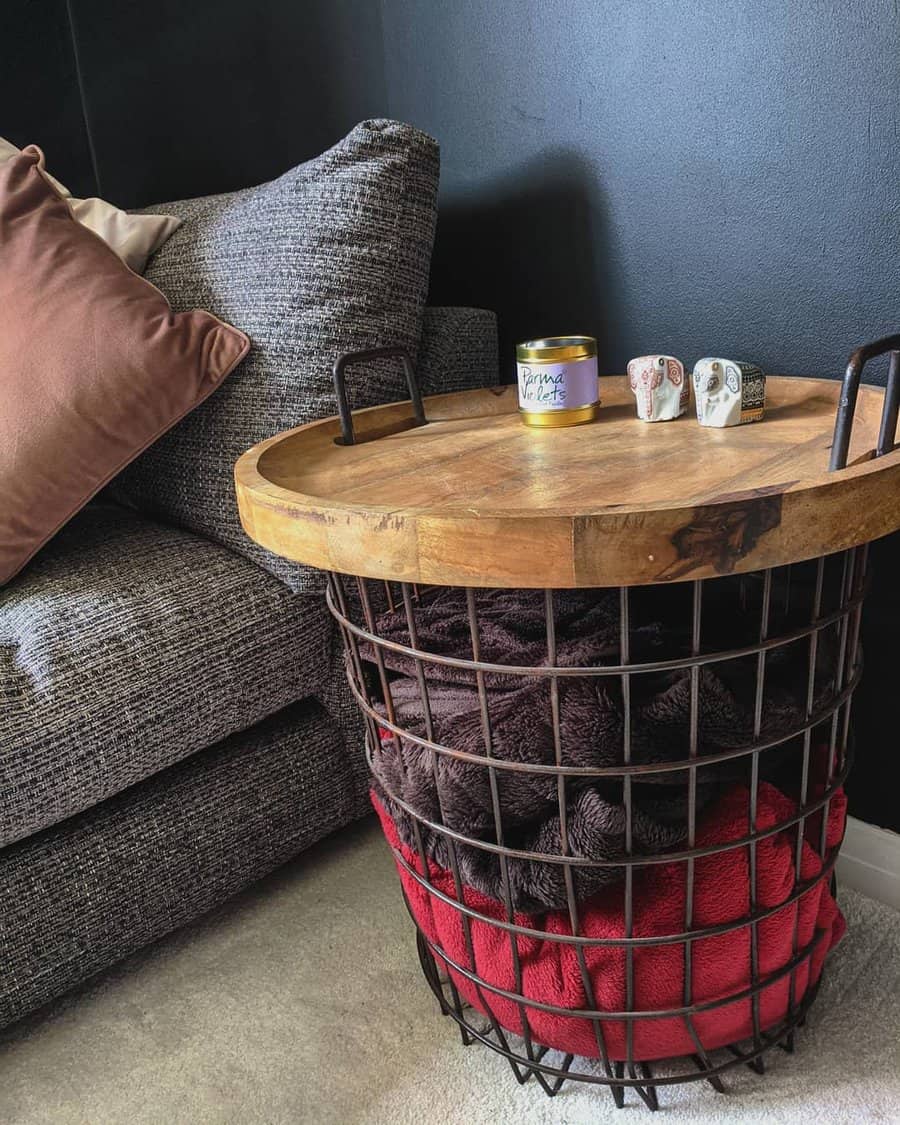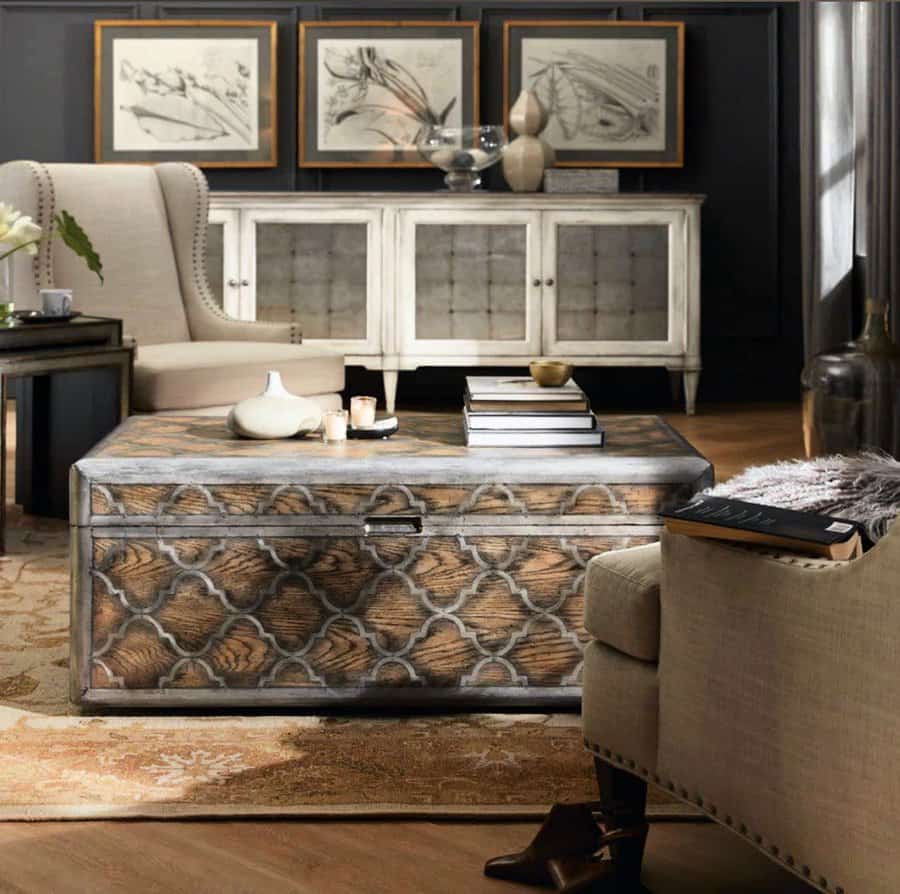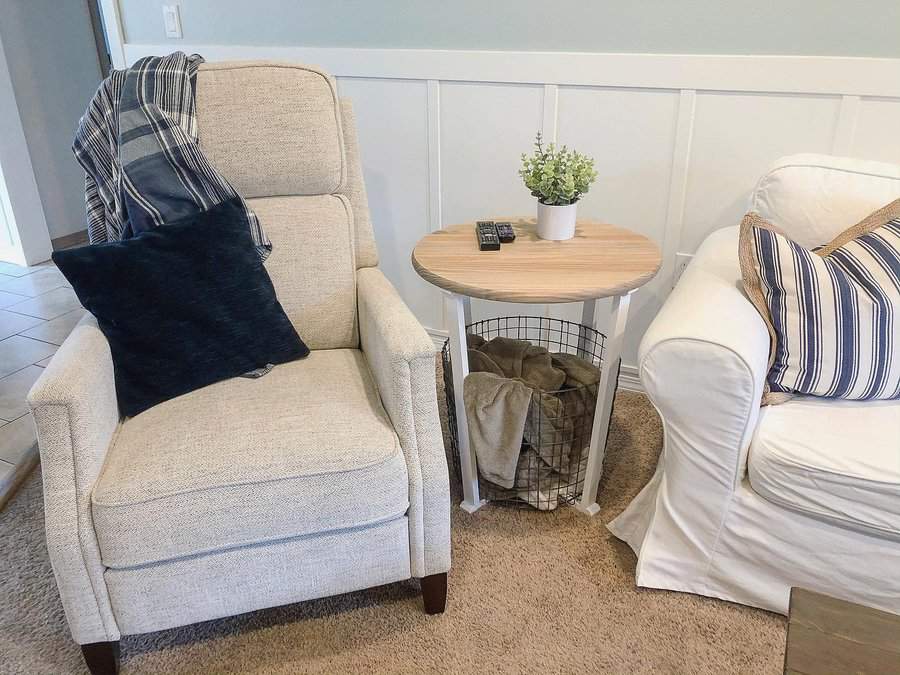 If you decide to change up the look of your room, you could get rid of the blankets and use the basket to store almost anything else. Take it to your bedroom for storage of accessories or shoes. Place a pot in it and dress up a potted plant. Bring it to the kitchen and hold snacks or other packaged food items in it. Place it by the pool for holding towels.
10. Small
If you have a limited amount of space, you need a storage solution that you can easily pack away. A storage bag or blanket bag is perfect because you can easily tuck it away or use it for something else when it's not holding blankets. They can fold down flat and tuck up a minimal amount of room. These are bags that are made from breathable materials or have venting built into them.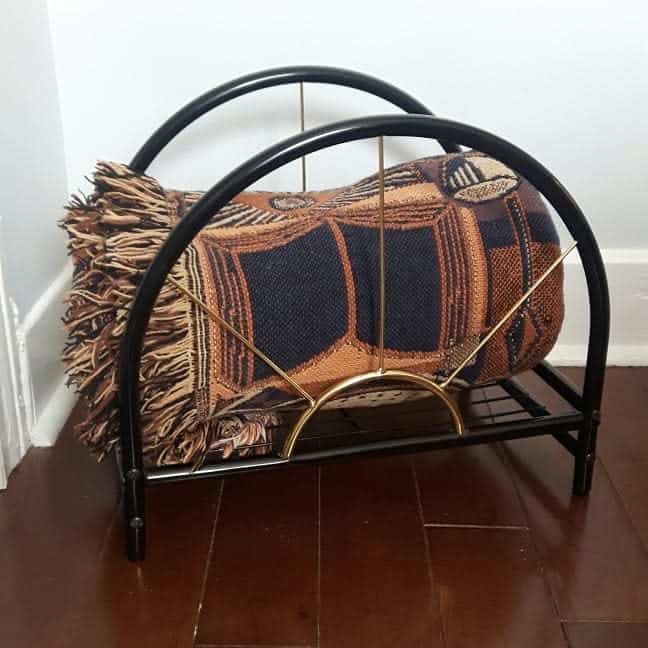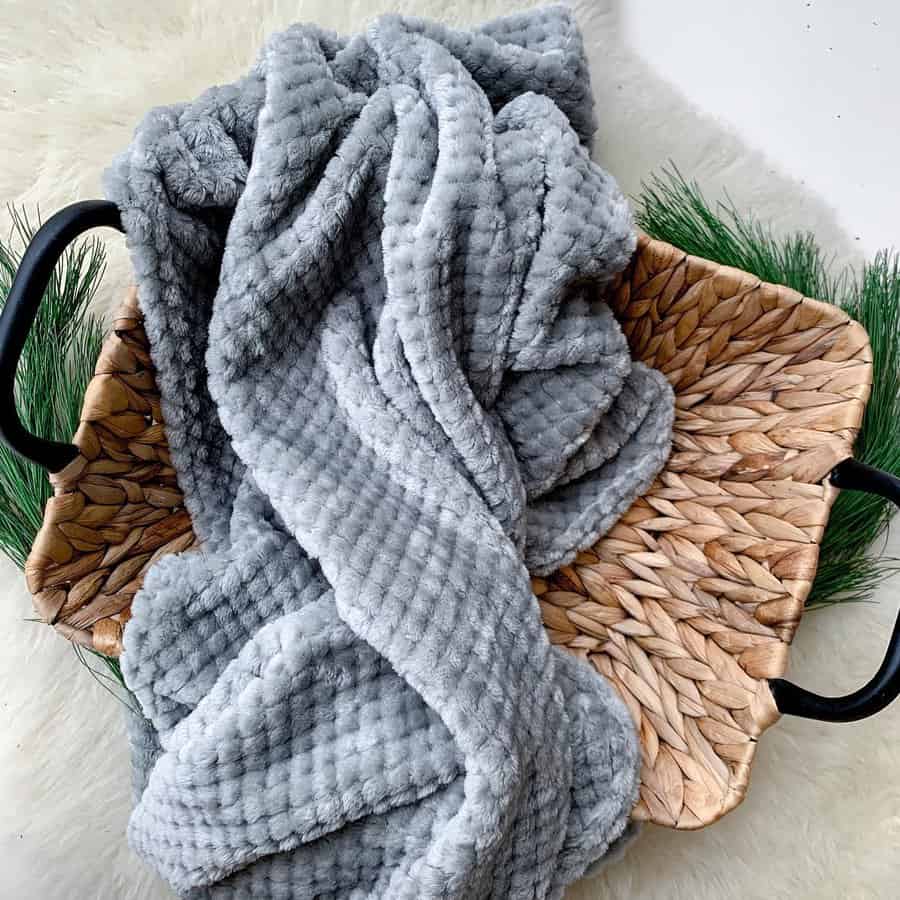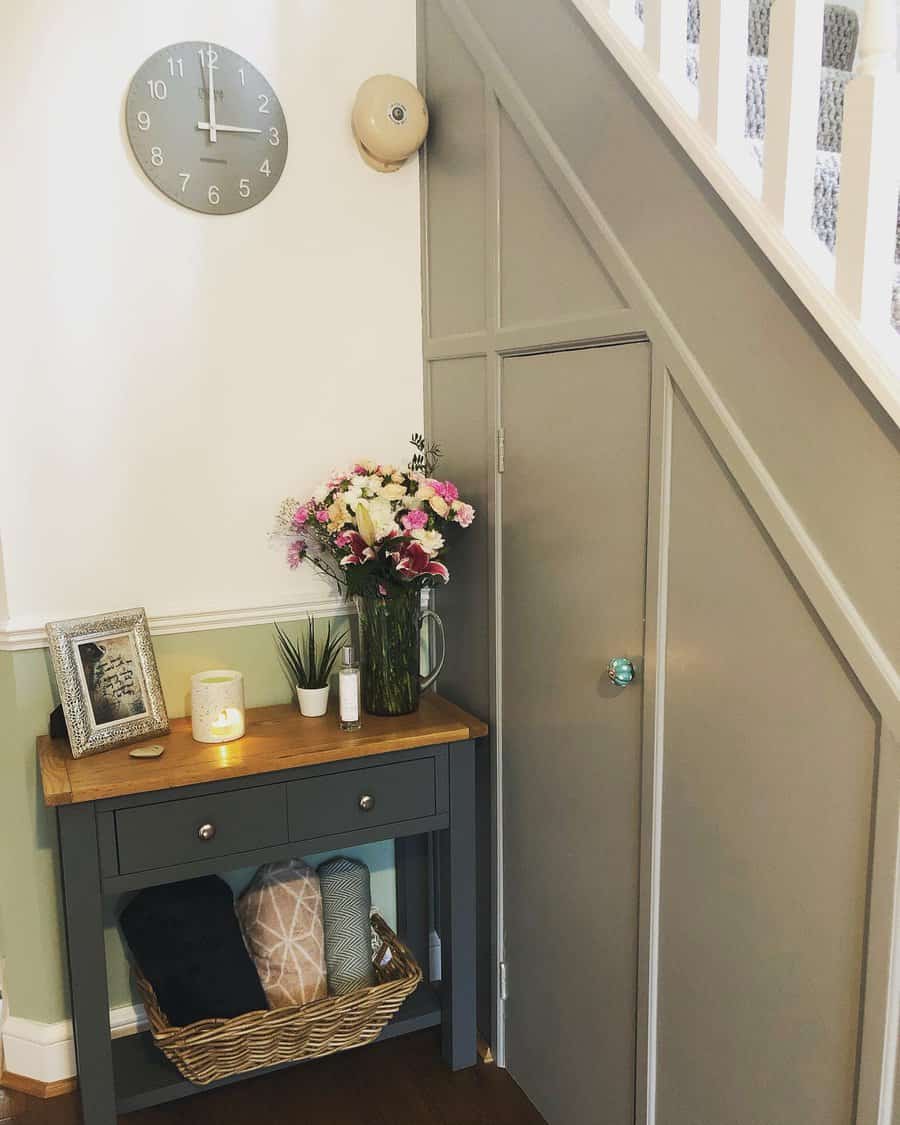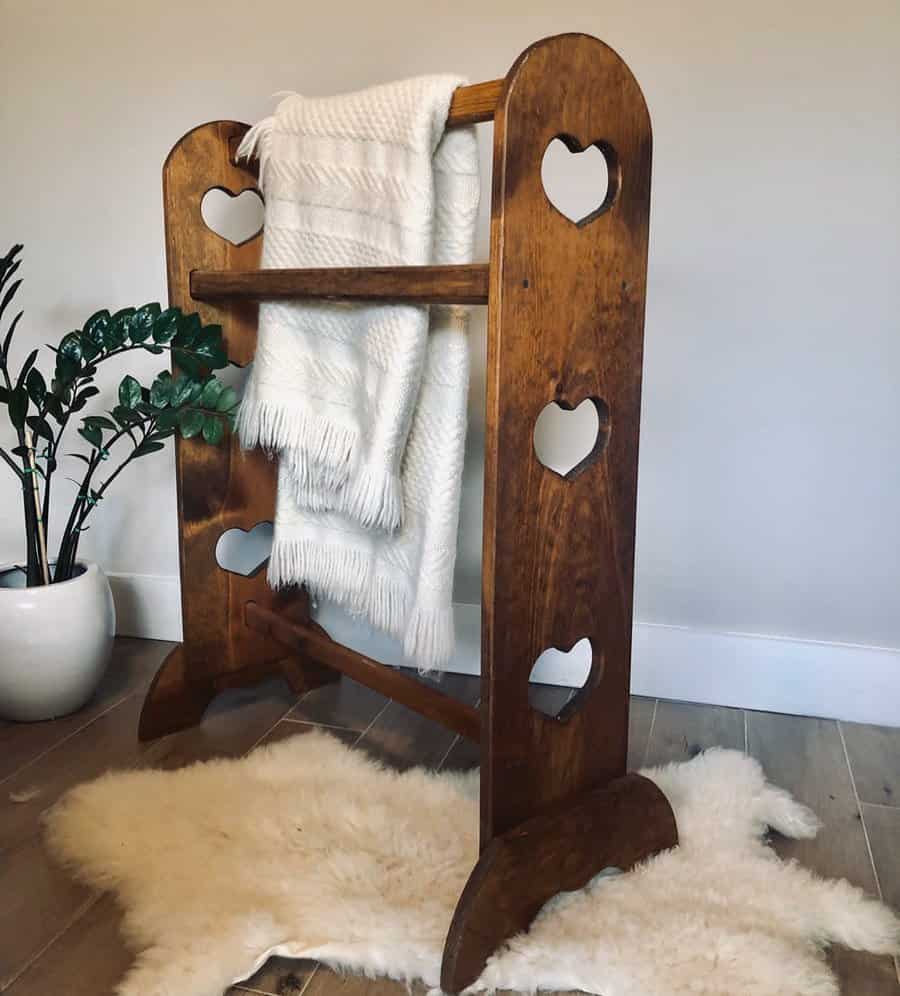 If you want to have an actual piece of furniture for your blanket storage, then look for smaller versions of larger pieces. Instead of an entire coffee table, choose a square ottoman. Instead of a large chest, choose a shallow one that fits slim against the wall.
11. Vintage
Vintage blanket storage means finding a large wooden chest. They are low to the ground and long, making them perfect for placing at the foot of your bed. You could also easily have them in your nursery for plenty of storage for your baby items.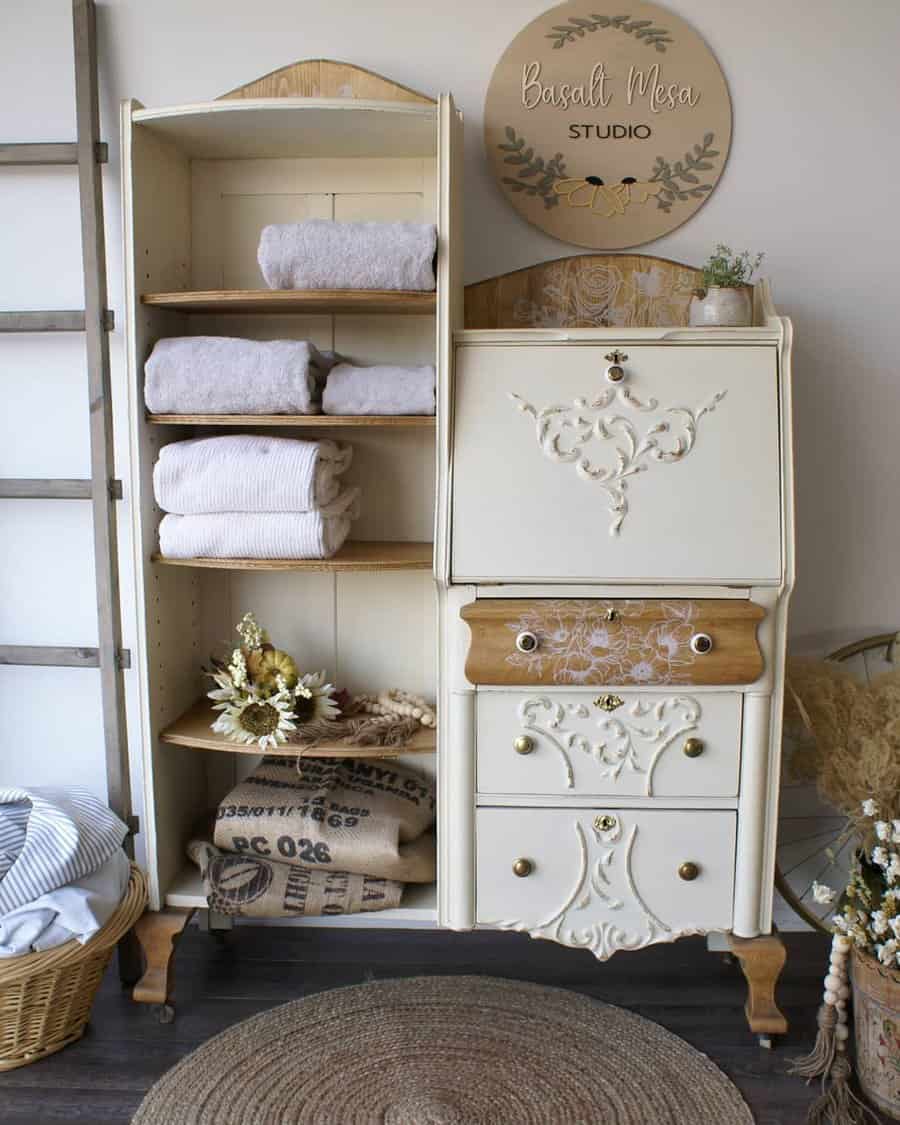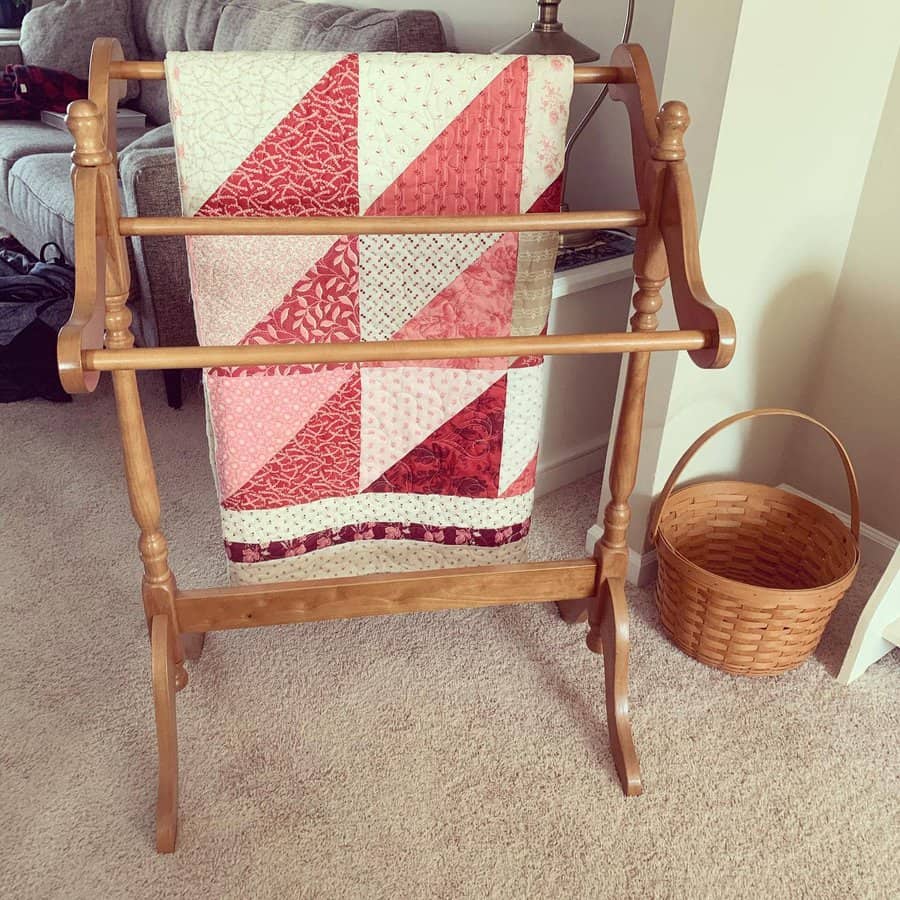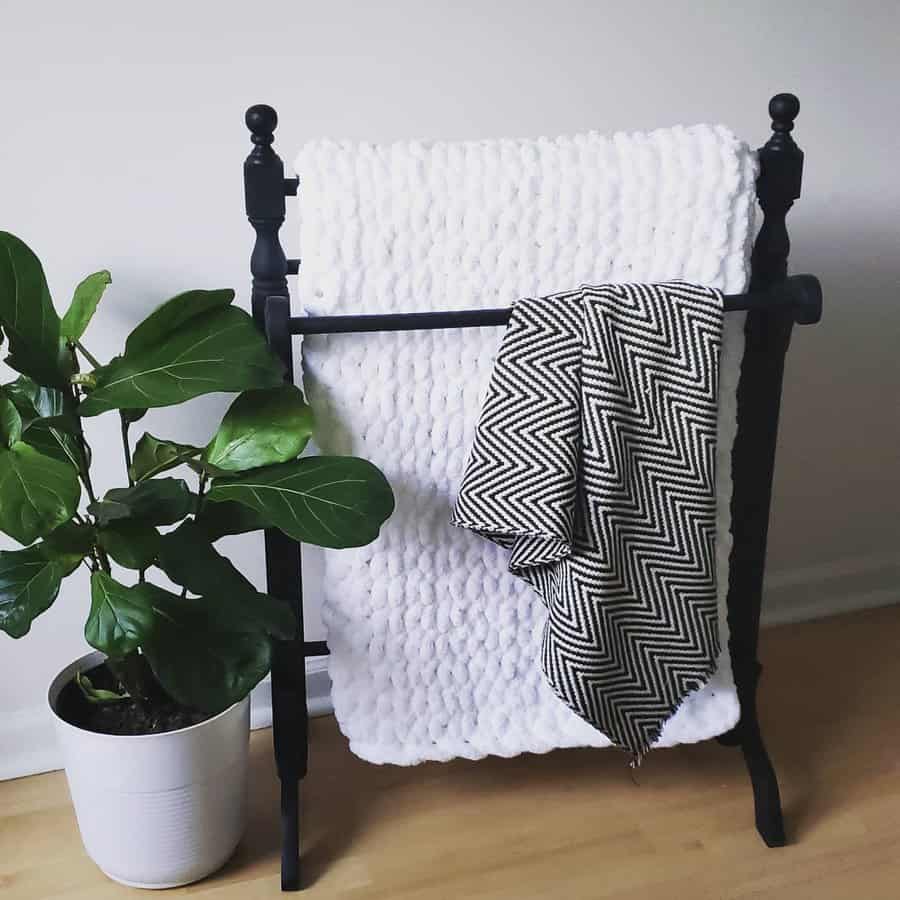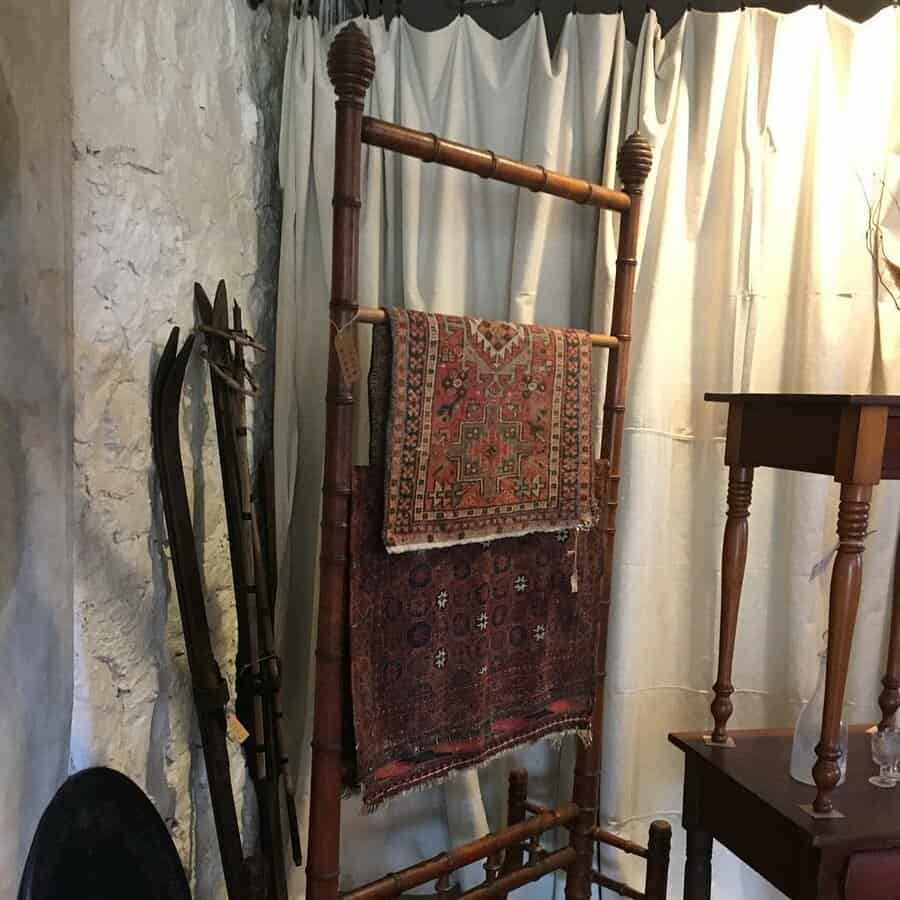 These antique chests are perfect for giving your farmhouse, rustic, or vintage design an authentic feel. The wood will look slightly weathered and worn, with signs of service in someone's home. Some chests have large metal hardware for the hinges and locking mechanism.
12. Wall Hanging
If you lack square footage in a small home or apartment, then the other options on this list won't work for you. They are furniture pieces that take up floor space. Instead, a wall-mounted hanging rack is the best way to go. The rack is completely suspended from the wall with either rails or rungs.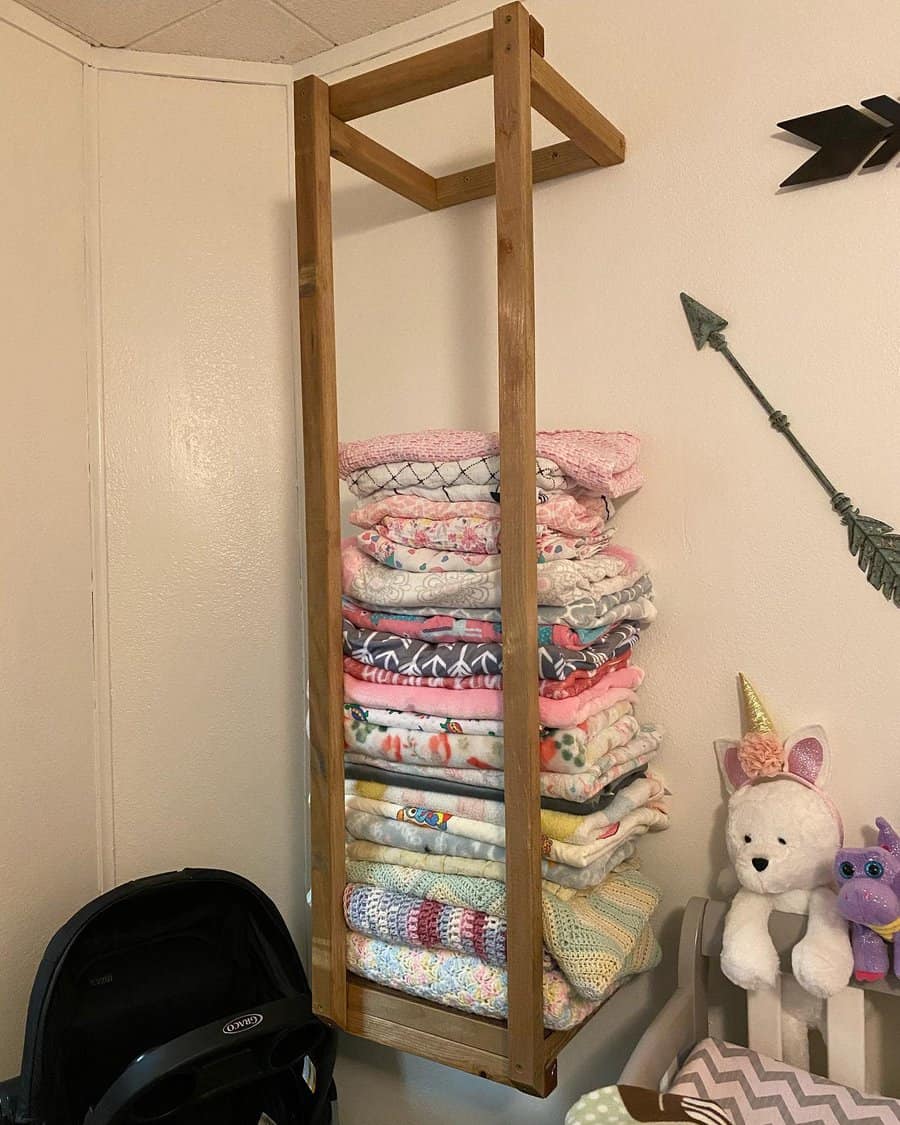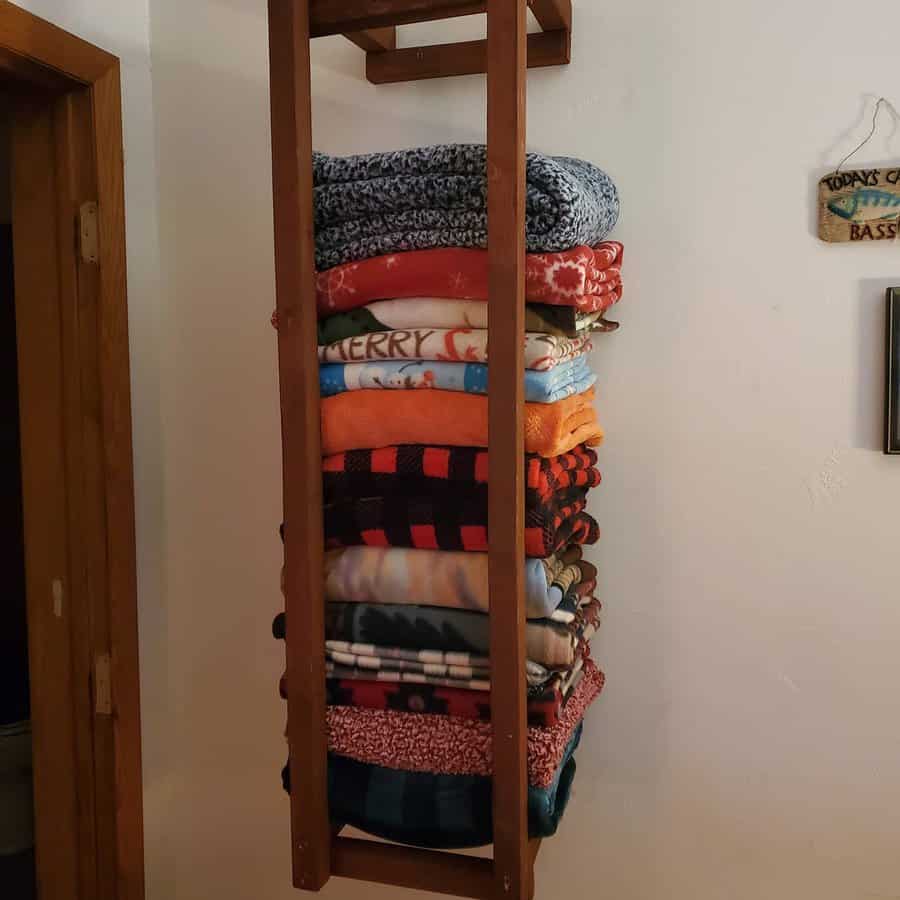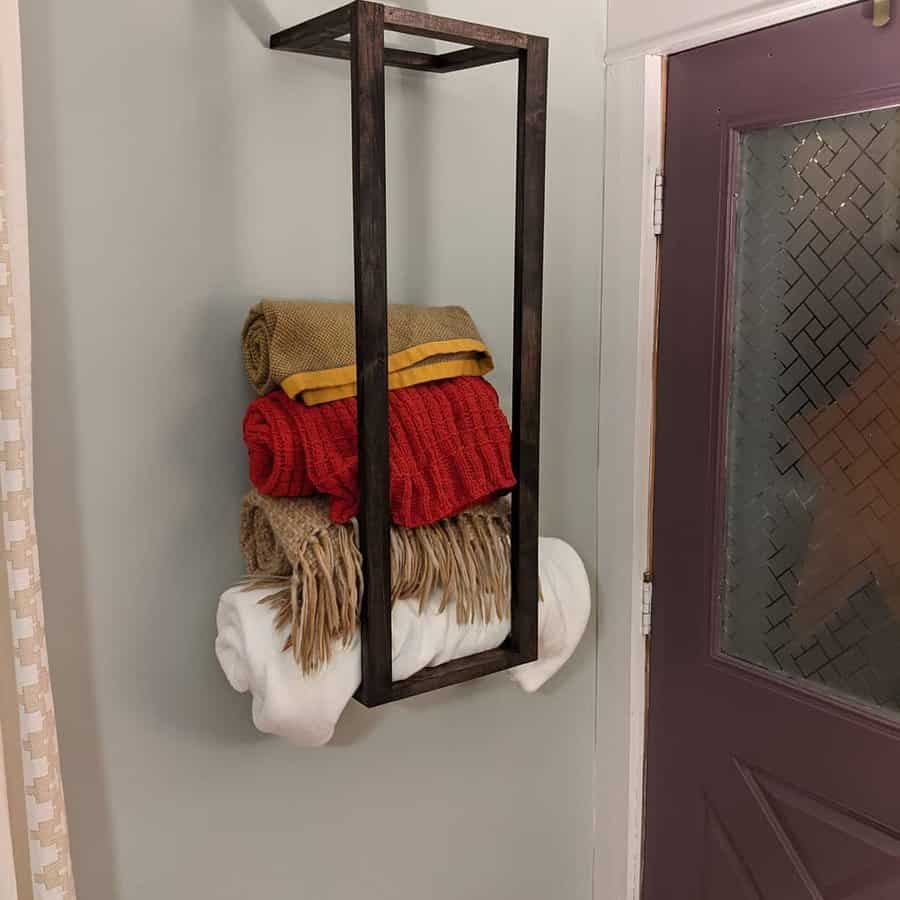 You can then keep your extra blankets on the rack, neatly tucked out of the way. If you don't like the idea of the blankets hanging on the rails, you could treat it like a rack and have folded blankets stacked up between the rack and the wall.
13. Wood
Wood floating shelves are a perfect solution to store blankets because they are readily available and easy to add to your walls. Wood is also a common material for building furniture and easily transforms to suit various interior design styles.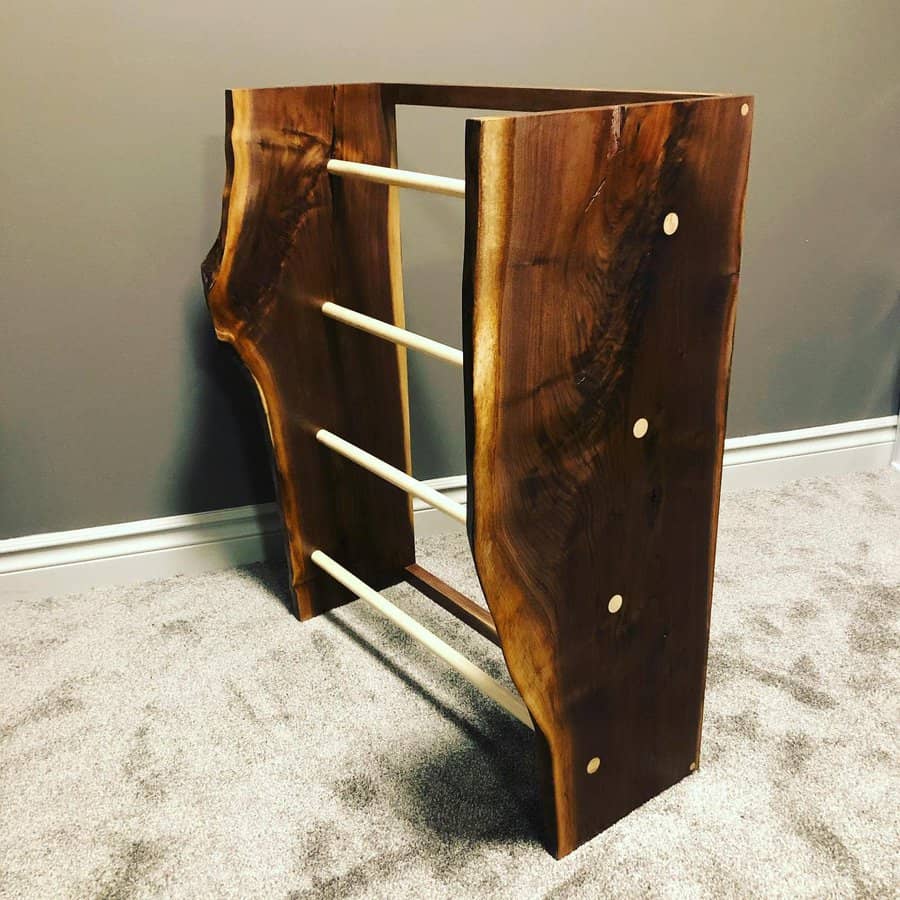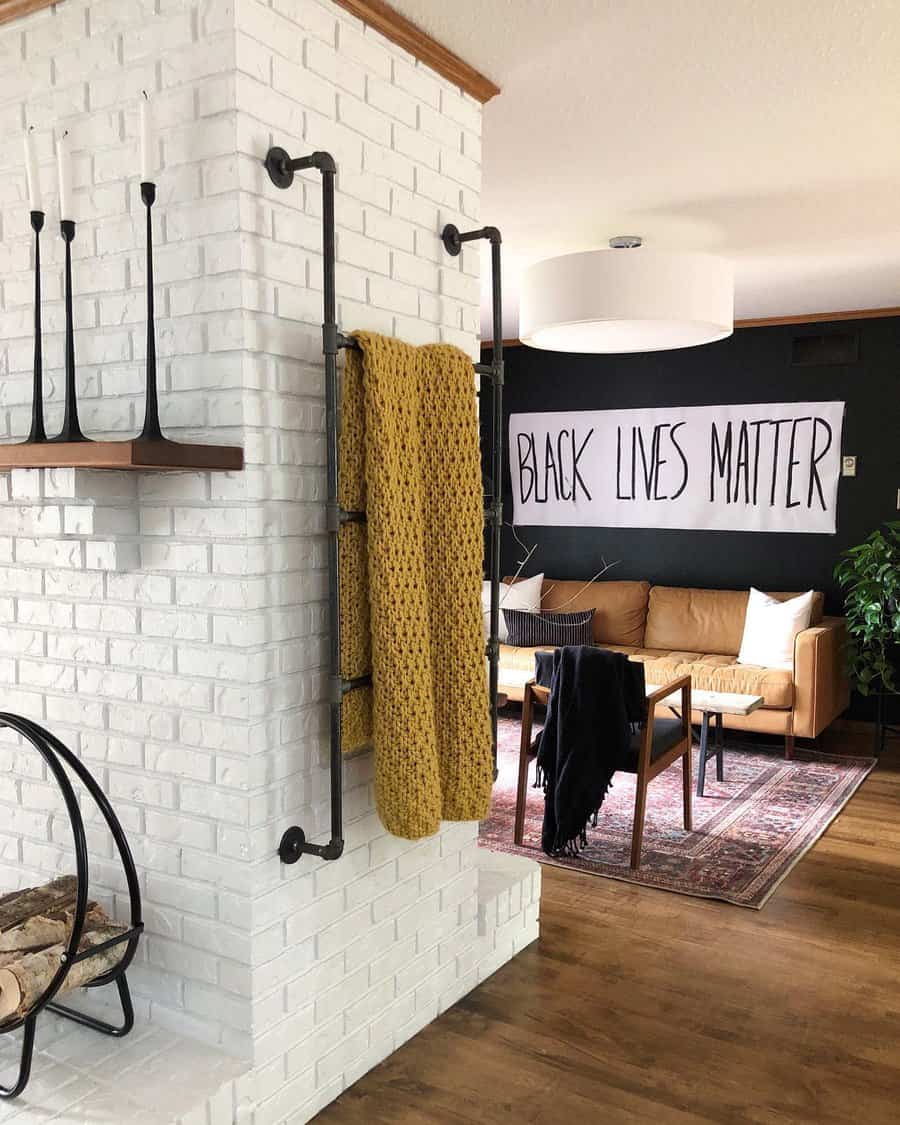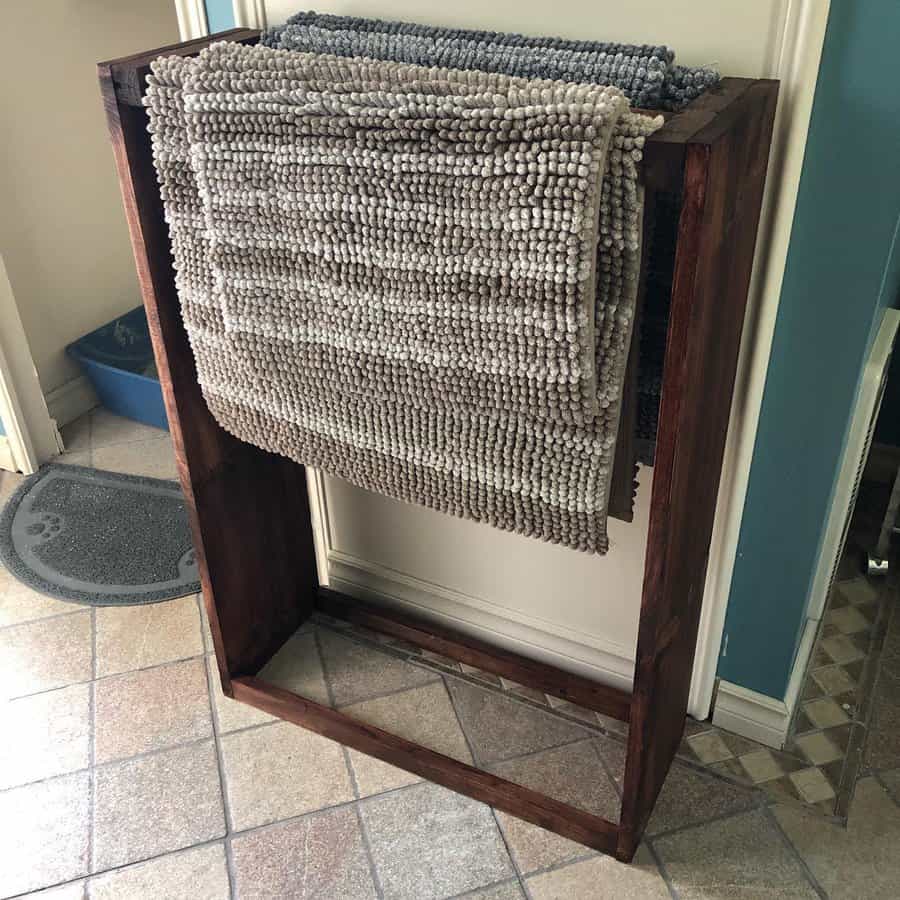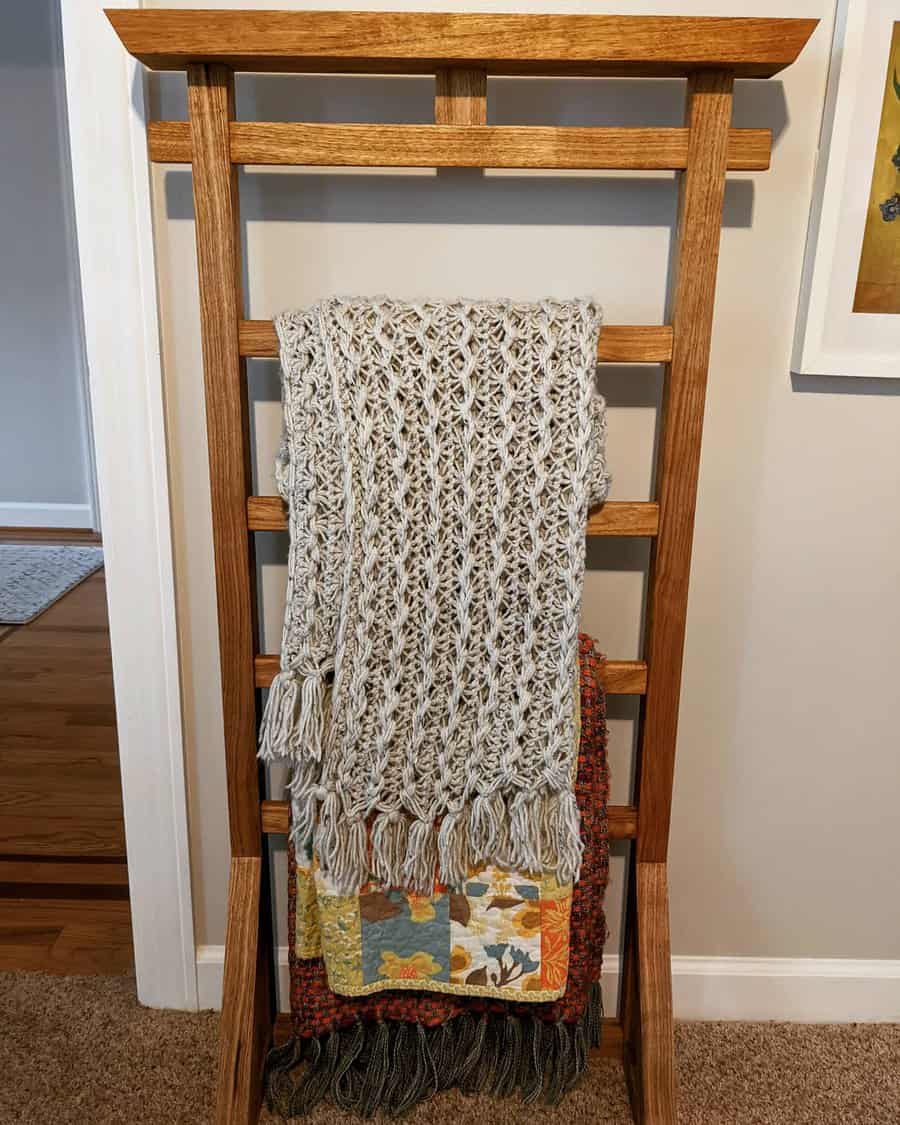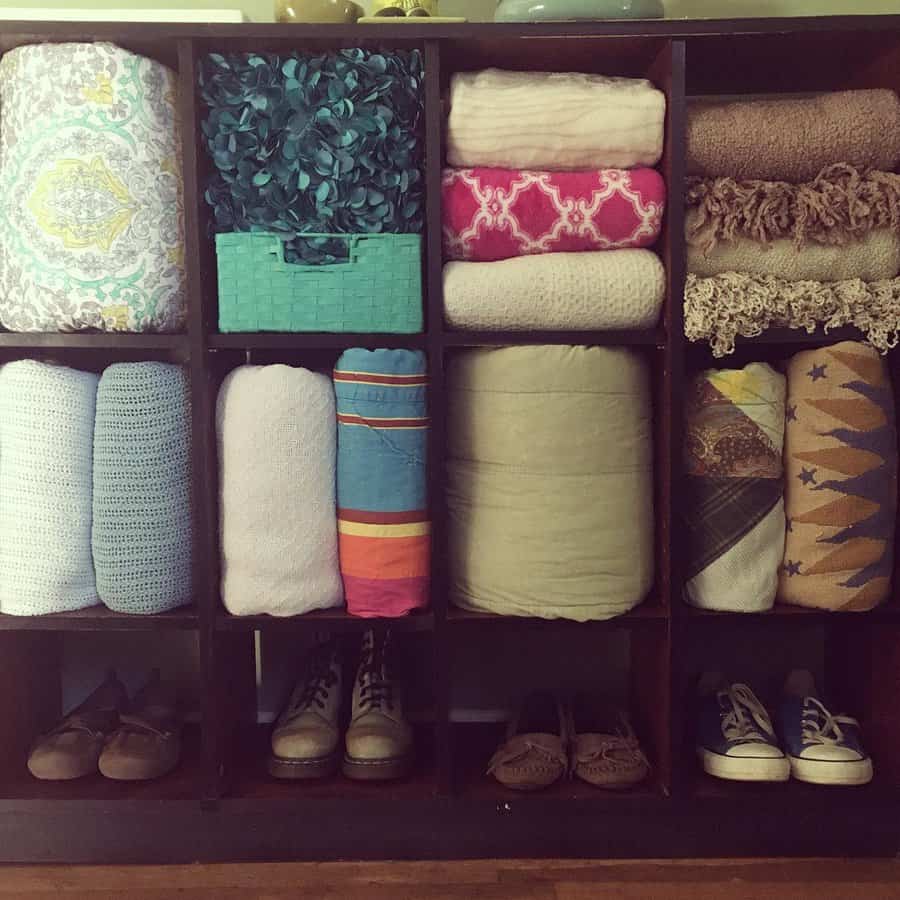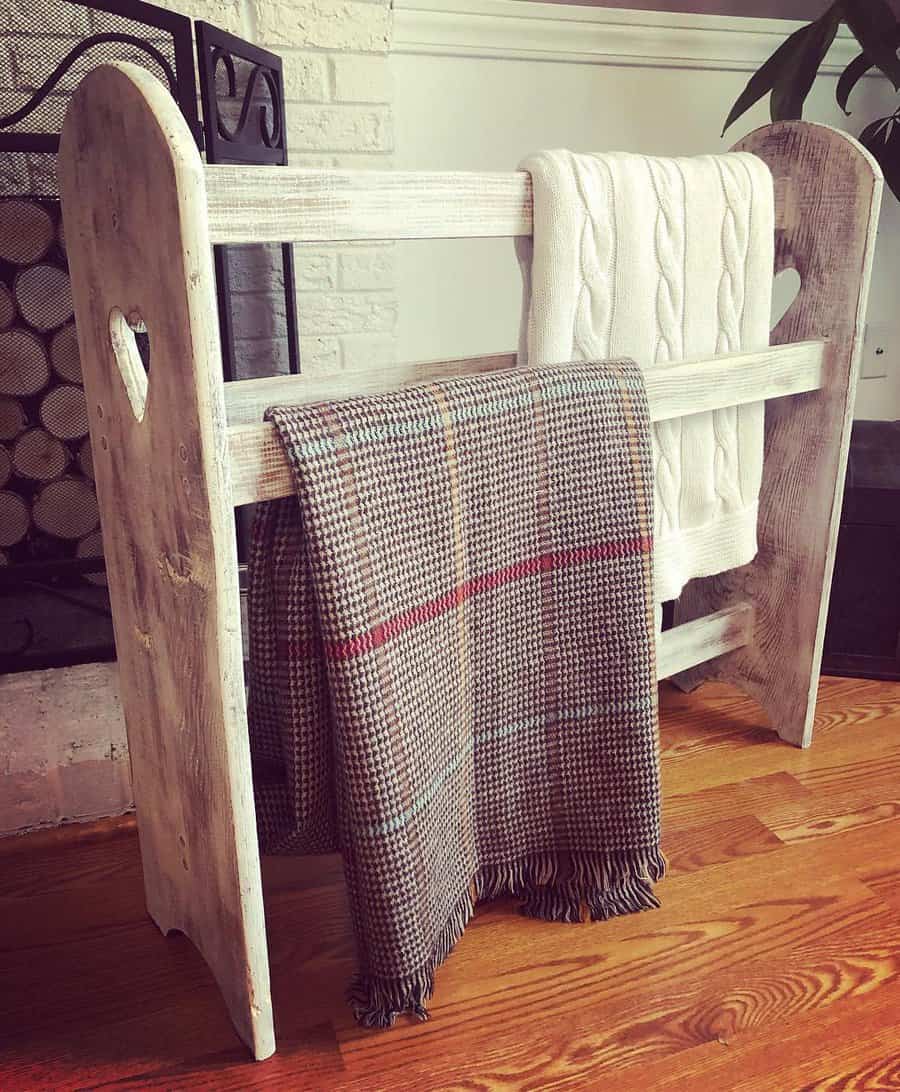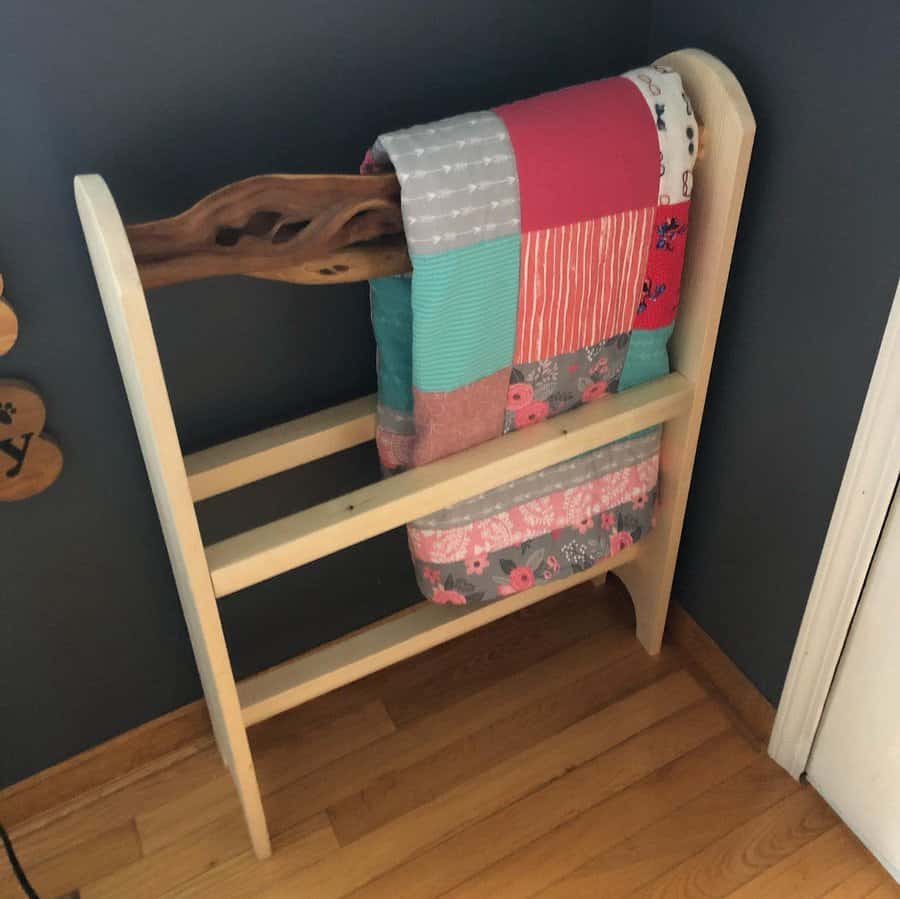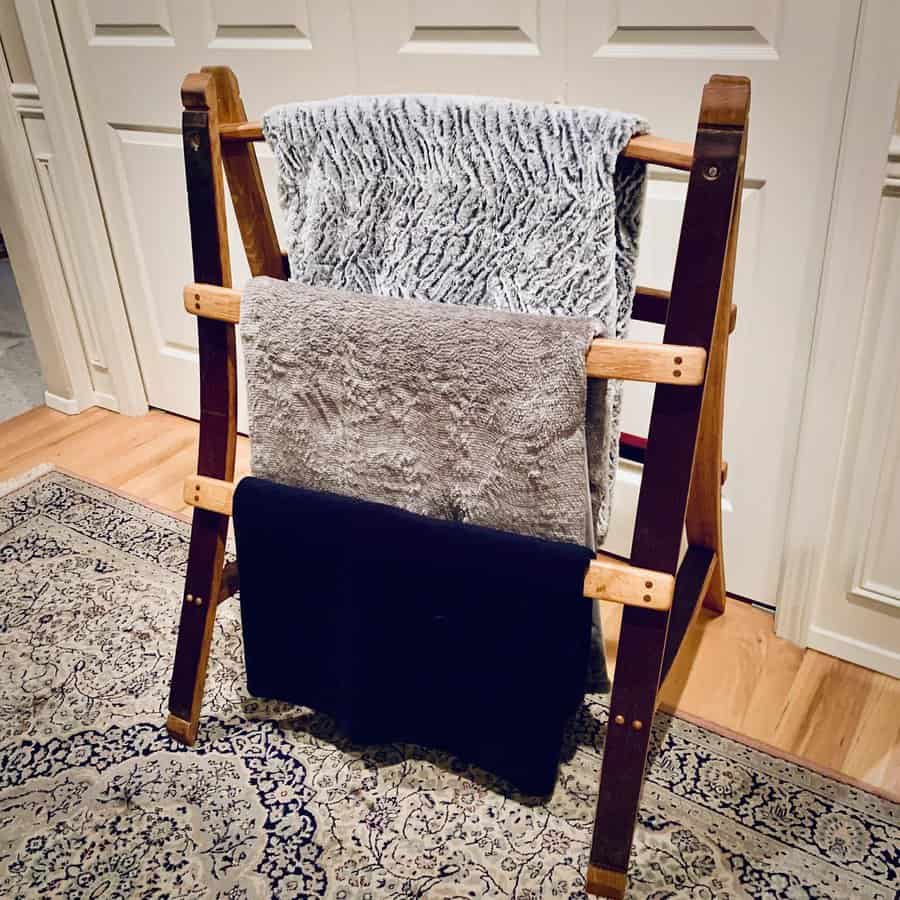 Leaving the wood unfinished and featuring the color and grain of the wood is a beautiful way of bringing nature into your home. You could have wooden bins on the hearth of your living room fireplace. Or a large wood chest or bench in your front entry. A wood ladder or wall rack gives your home a rustic feel.
Blanket Storage FAQs
Is it OK to store blankets in plastic bags?
No, it's best to store blankets in a place with plenty of airflow. Avoid putting your blankets in plastic bags because the plastic doesn't allow the air to flow. It can also trap moisture, which encourages mold and mildew growth. After storage in plastic, your bags will need cleaning before you can use them.
How many comforters should you have?
Start by thinking about the number of beds you have in your home. You should plan to have at least one to two blankets or comforters for each bed in your home. This means you can change out your blankets for the warm and cold seasons. It's also helpful to have a blanket or two extra for when you have guests.
How do you keep blankets fresh?
The key to keeping your blankets fresh is to keep them dry. The biggest problem with storing blankets is that they can become musty or moldy. This is a sign that moisture is present. Odors are also a sign that there's moisture buildup. Fully dry your blankets and keep them in a place with ventilation to prevent moisture buildup and keep your blankets feeling and smelling fresh.