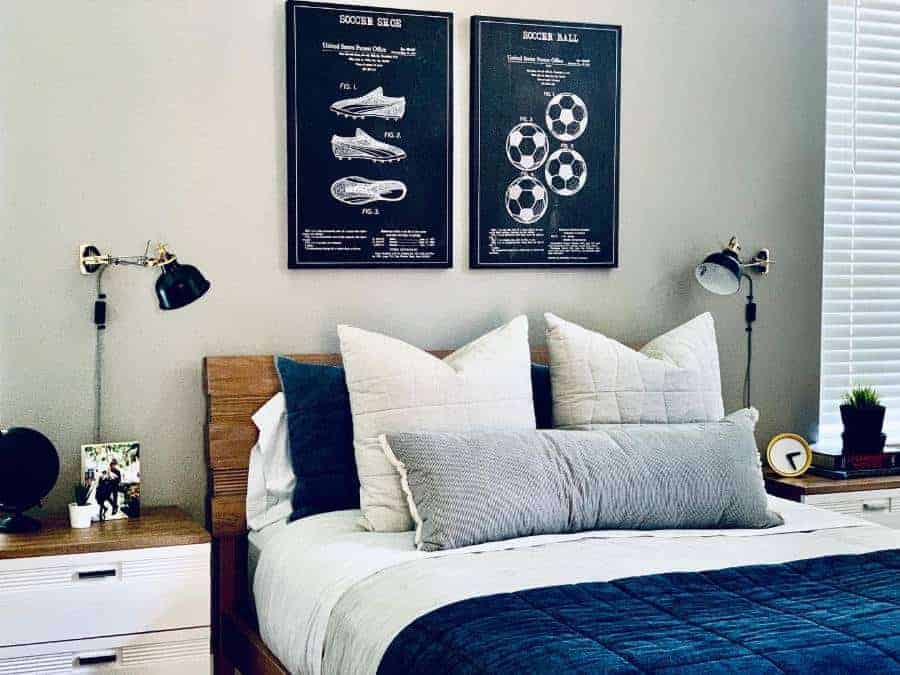 48 Boys Bedroom Decor Ideas
"There comes a time in every rightly-constructed boy's life when he has a raging desire to go somewhere and dig for hidden treasure." — Mark Twain
A boy's sense of adventure is innate and it's often reflected in his environment. Whether your son finds his treasure on the baseball diamond, deep in the forest, or the library, his bedroom should reflect his personality and preferences. Naturally, those will change as he grows. Therefore, it's smart to balance his current favorites with classic furnishings that will last more than a few years.
Whether bold and bright or calmingly neutral, your boy's bedroom should fit into your home's overall decor style. Look through these favorite boys' bedroom ideas with your son to help you decide how to create his perfect personal zone.
1. Coastal Blue Boys' Bedroom
Transform your boys' bedroom into a coastal oasis with a mesmerizing blend of coastal blues and whites. Embrace the serenity of the sea with a blue and white color palette that evokes the essence of calm and tranquility.
Dive into creativity as you bring the coastal decor to life, incorporating elements like nautical stripes, weathered wooden furniture, and seashell accents. Hang a custom-made surfboard as a centerpiece, adding a touch of adventure to the room.
Complete the look with soft, ocean-inspired bedding, breezy curtains, and artwork that captures the magic of the shoreline. With this coastal blue boys' bedroom, every day will feel like a seaside getaway, inviting endless imagination and relaxation.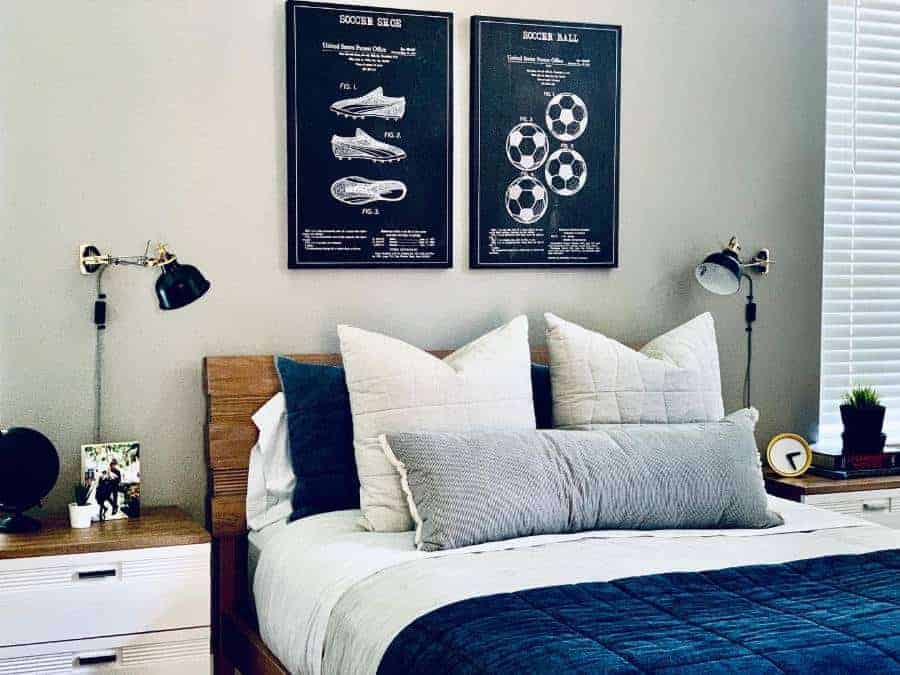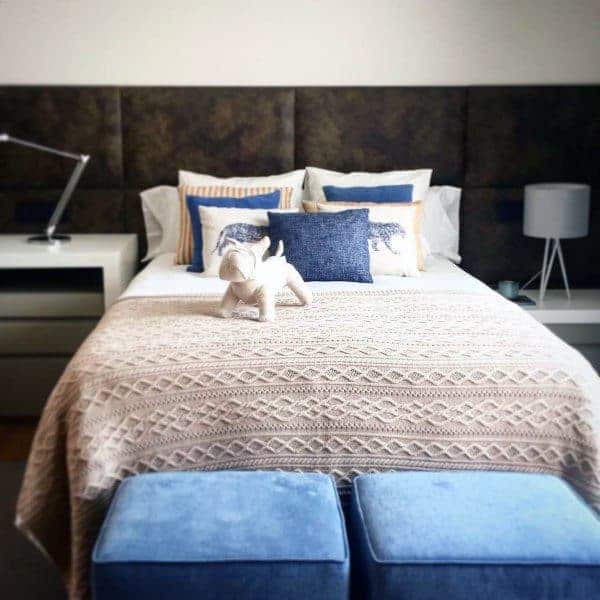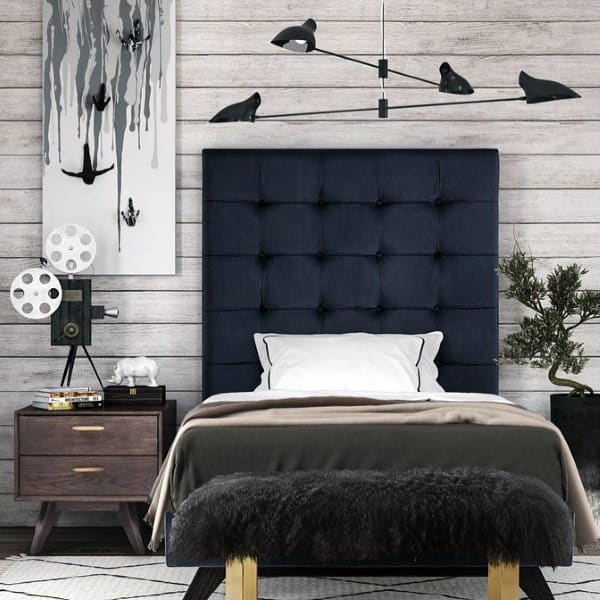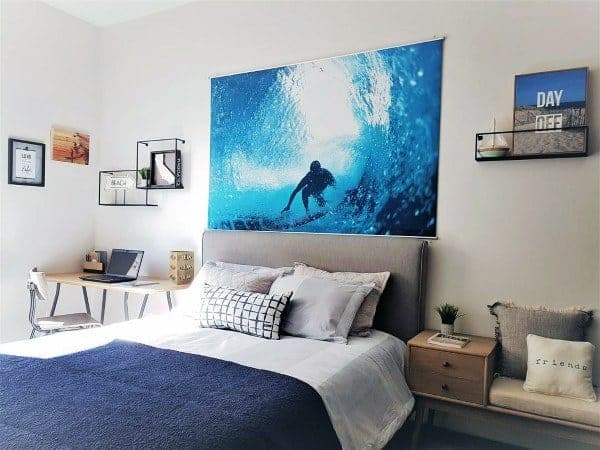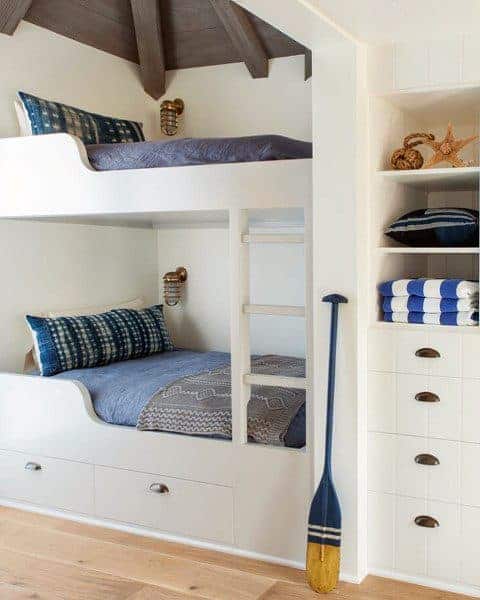 2. Industrial-Themed Boys' Bedroom
Picture a space that seamlessly blends elements of raw materials, rustic finishes, and urban aesthetics to create a truly unique and inspiring atmosphere. Industrial-themed boys' bedrooms exude a sense of adventure and imagination, offering a perfect backdrop for young minds to explore and create.
Imagine exposed brick walls, reclaimed wood furniture, and metal accents, all coming together to form a rugged yet stylish haven. With vintage-inspired lighting fixtures casting a warm glow, and industrial shelving units displaying treasured collections, this bedroom becomes a sanctuary that sparks curiosity and fuels dreams.
Whether it's a loft-style bunk bed or a desk made from repurposed materials, each element in this industrial-themed boys' bedroom tells a story of creativity and resilience.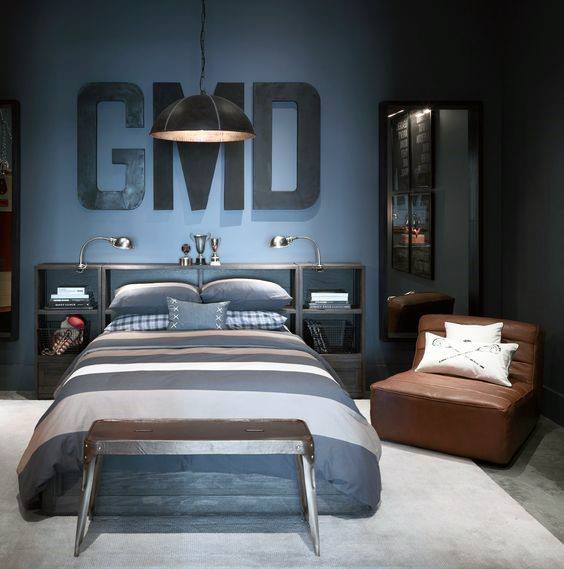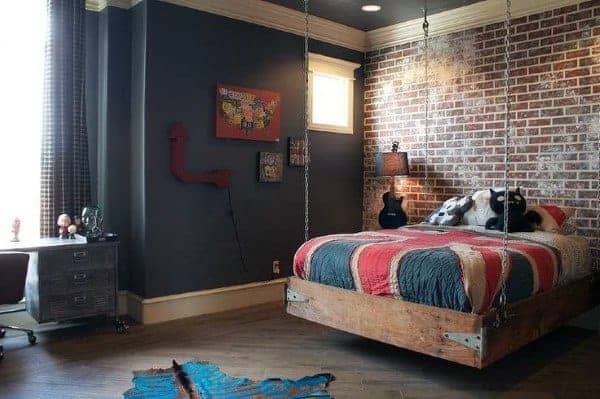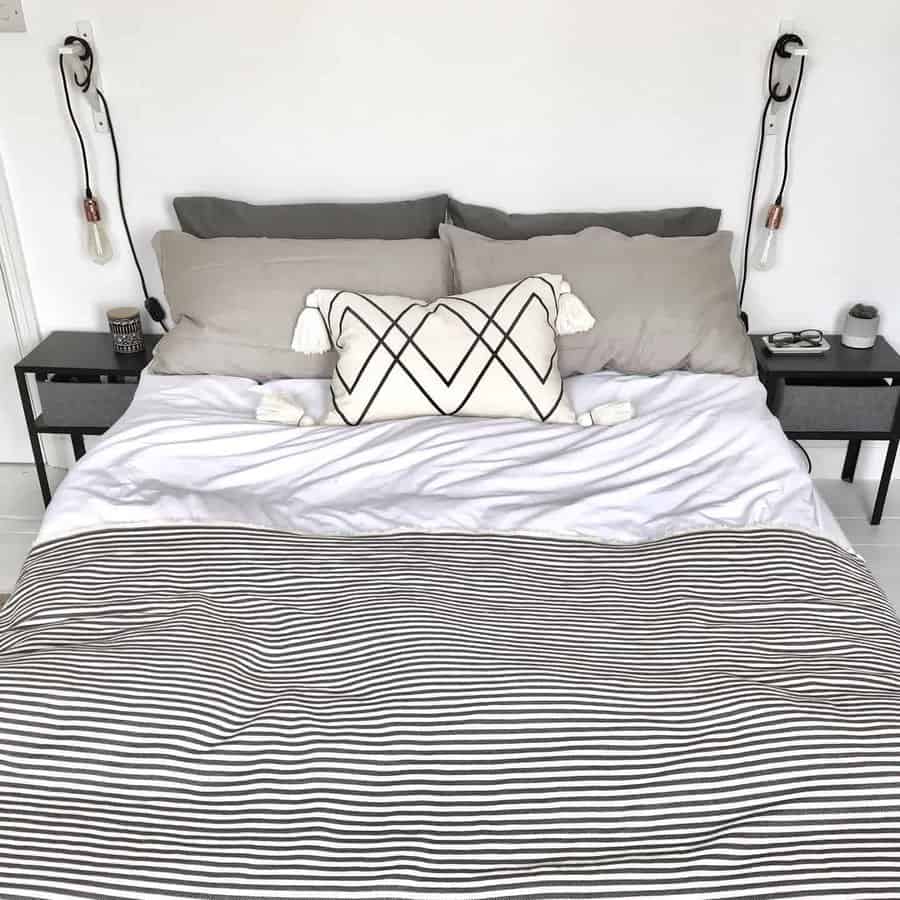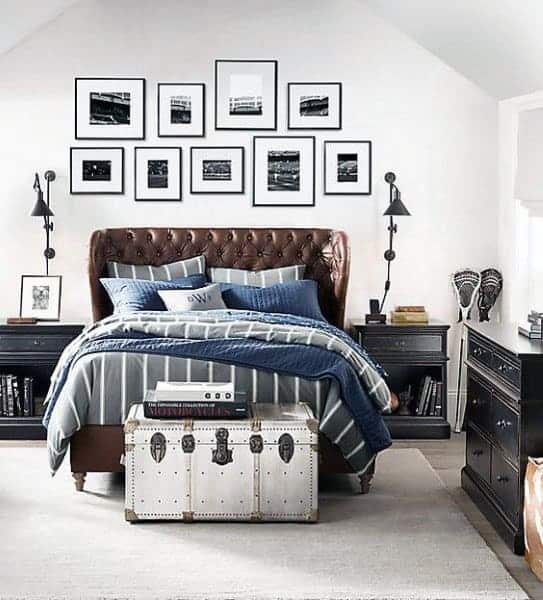 3. Music-Themed Boys' Bedroom
Picture walls adorned with posters of legendary musicians, showcasing their artistic brilliance and serving as a daily inspiration. From guitar-shaped shelves to musical note-patterned bedding, every element of the room sings in unison.
Custom-designed soundwave wall art captures the essence of favorite songs, while a stage-inspired area becomes the perfect spot for impromptu performances. The room comes alive with color and rhythm, as musical instruments adorn the corners, waiting to be played.
With an eclectic mix of musical genres in the air, this music-themed boys' bedroom becomes a symphony of self-expression, encouraging the young soul to find their own unique melody in the world.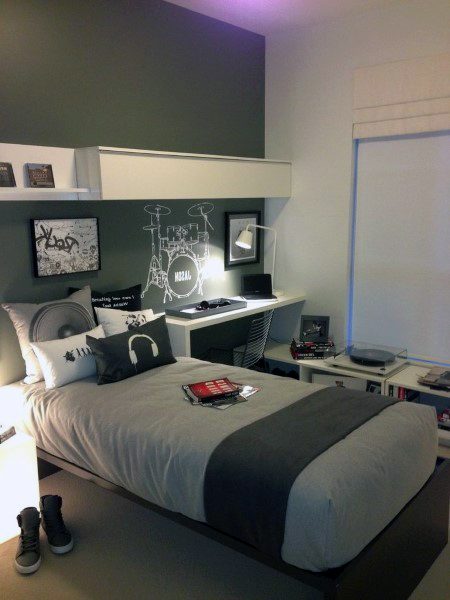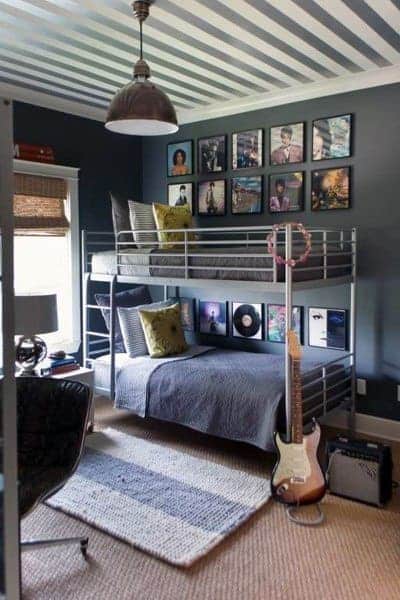 4. Boys' Bedroom Wall Art
Transforming a boys' bedroom into a captivating sanctuary is an art in itself. And what better way to infuse character and charm than with carefully curated wall art? Imagine a boys' bedroom adorned with unique, thrifted pieces that exude a vintage allure.
Each frame tells a story, capturing the imagination and inviting exploration. From bold, abstract paintings to intricately illustrated posters, the walls become a canvas that sparks creativity and fuels dreams. The beauty of thrifted wall art lies in its ability to add a touch of nostalgia and individuality, turning a simple space into a reflection of the young occupant's personality.
Framed with care, each piece becomes a focal point, commanding attention and inspiring young minds to think outside the box. Whether it's a classic comic book cover, a vintage movie poster, or a whimsical illustration, the boys' bedroom becomes a gallery of curated treasures.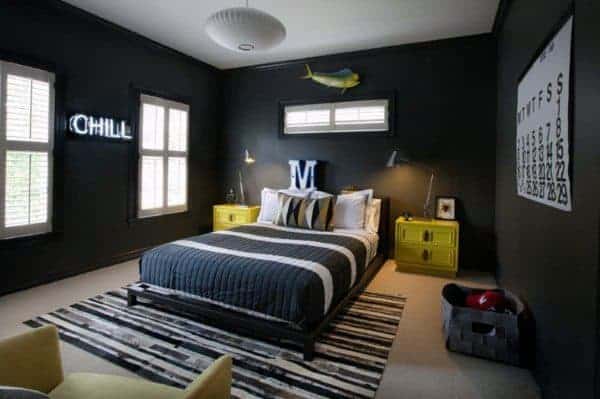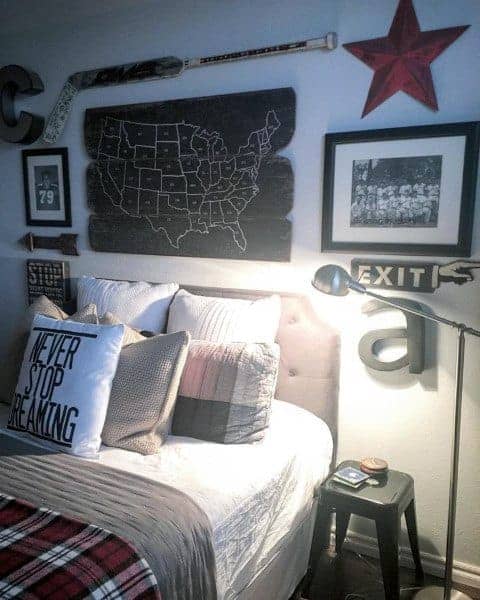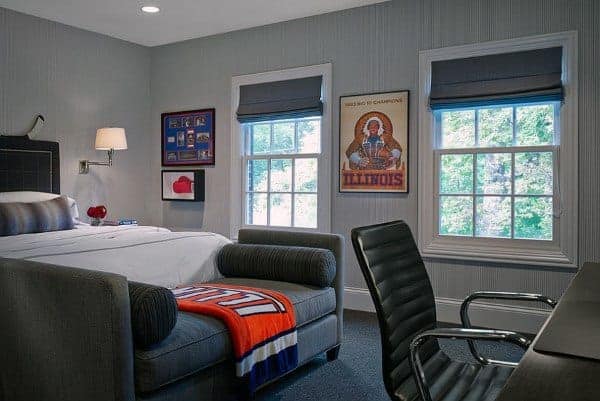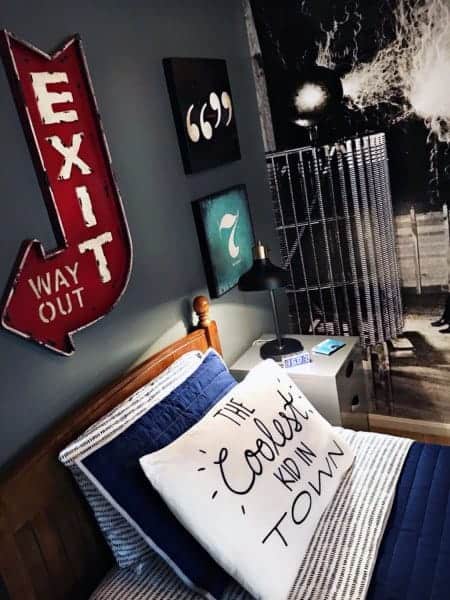 5. Rustic Boys' Bedroom
Step into this creative sanctuary where rustic charm intertwines with the vibrant energy of childhood, and watch as your little one's imagination takes flight. Weathered wood takes center stage, lending a sense of rustic authenticity to every corner of the room.
From a sturdy, wooden bed frame that serves as a cozy retreat to a weathered wood desk that fuels imagination and creativity, every piece of furniture tells a story. The natural textures and earthy tones create a soothing atmosphere, reminiscent of a woodland escape.
Accents like wooden shelves adorned with vintage lanterns and antique maps add a touch of nostalgia and curiosity, inspiring young minds to dream big. Complete the rustic boys' bedroom with soft plaid bedding and cozy blankets, providing comfort in the midst of nature's embrace.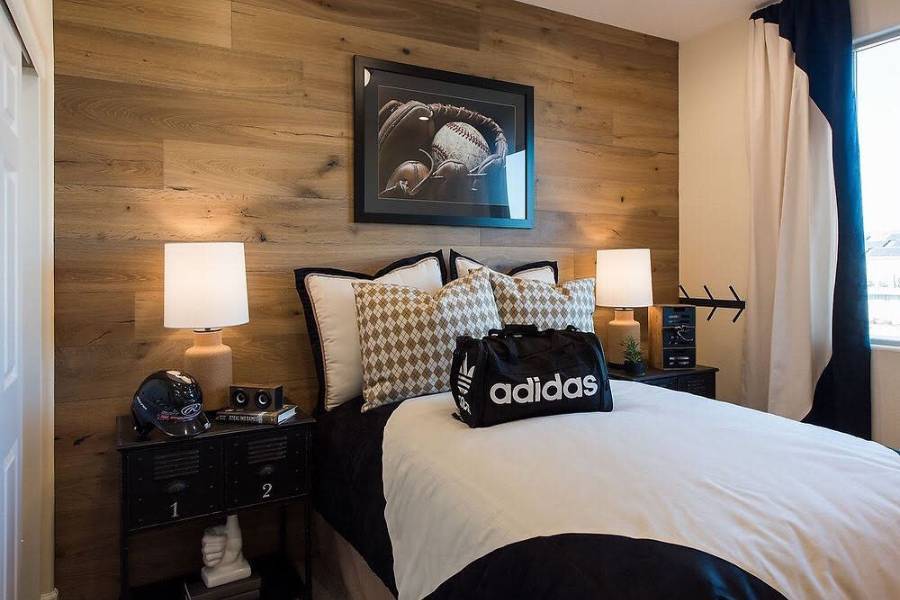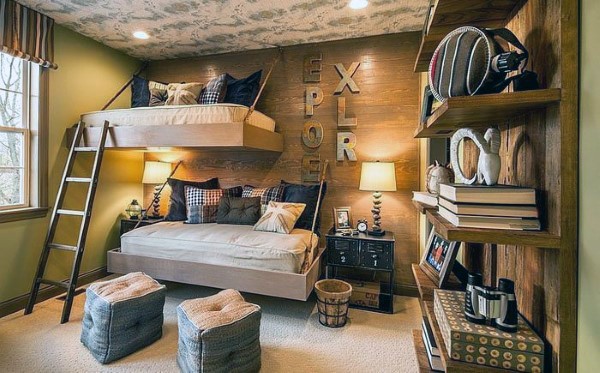 6. Sports-themed Haven
From the moment you step into a sports-themed boys' bedroom, you're transported into a realm of boundless energy and athletic spirit. Every corner of the room exudes the vibrant essence of sports, from the walls adorned with posters of legendary athletes to the ceiling decorated with team banners that inspire dreams of victory.
The bedding, carefully chosen in team colors, invites restful nights filled with dreams of championship games and memorable victories. A custom-built shelving unit proudly displays trophies, jerseys, and sports memorabilia, showcasing the young athlete's achievements and aspirations.
The room is not just a space for sleep but a training ground for dreams to take flight. With clever storage solutions designed to hold sports equipment and a designated study area for honing skills, this sports-themed boys' bedroom becomes a haven where passion meets ambition.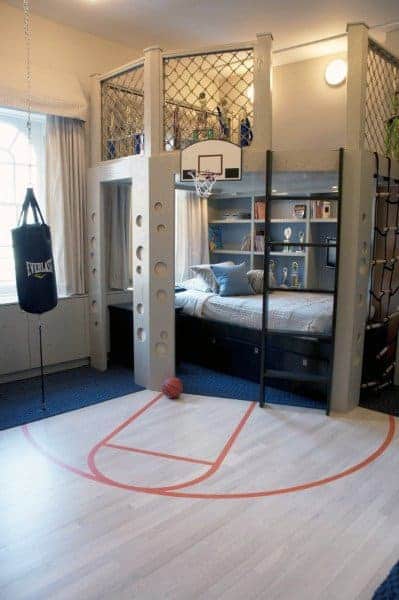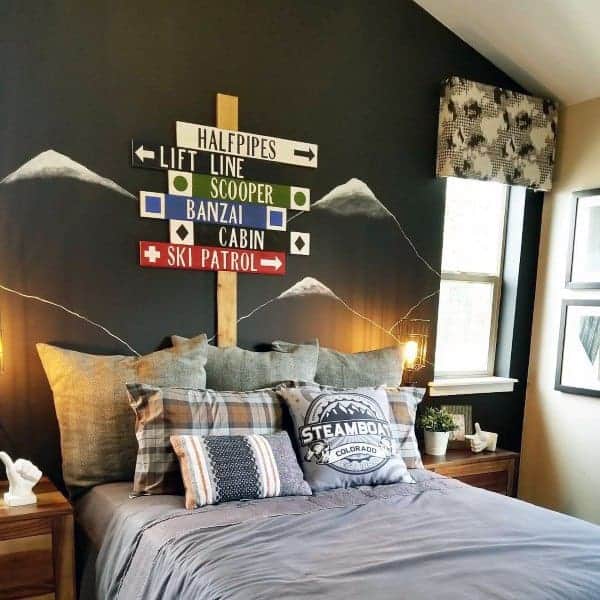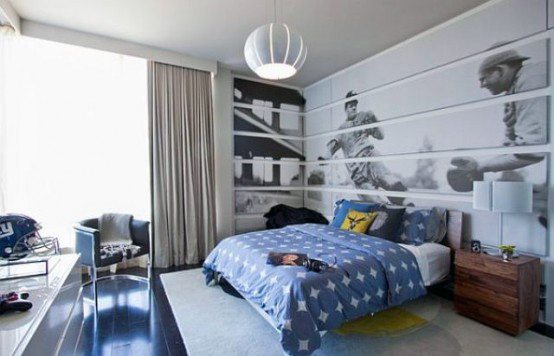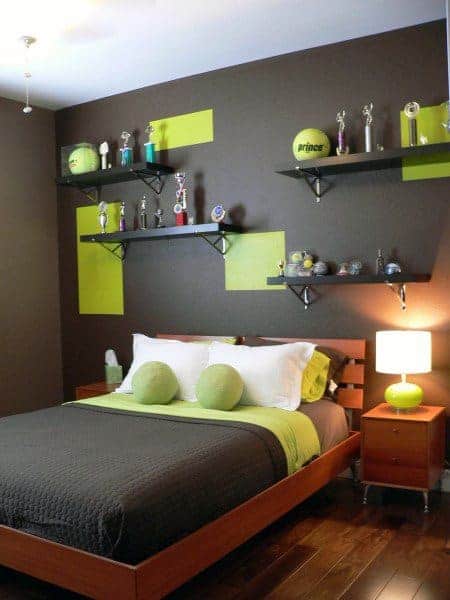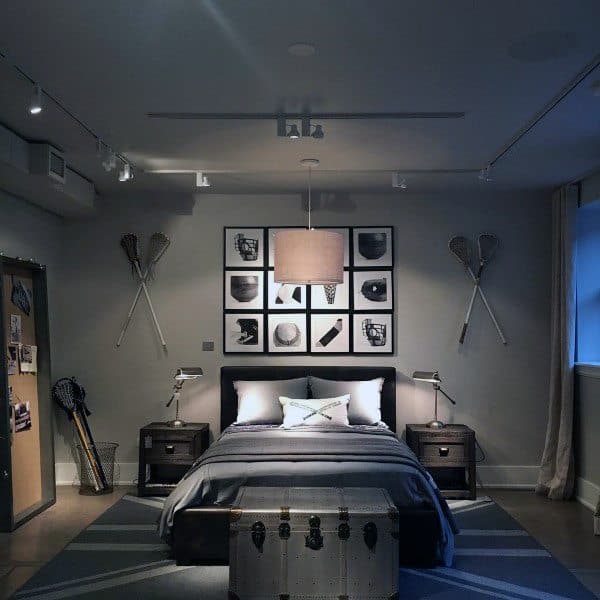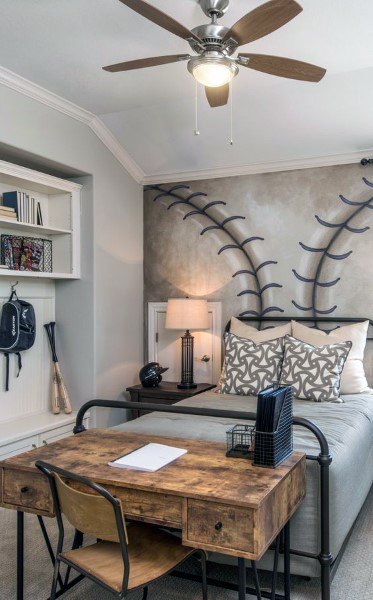 7. Book Lovers' Hideaway
Visualize a room adorned with floating shelves, meticulously arranged to showcase a treasured collection of books. This is a haven designed to ignite a lifelong love for reading. From colorful picture books to thrilling adventures and fantasy novels, the shelves are a gateway to endless journeys.
The decor in this room exudes creativity, with cozy reading nooks featuring plush cushions and bean bags, inviting young minds to dive into the magical realms found within the pages.
Inspirational quotes from beloved authors adorn the walls, reminding young readers to dream big and explore new worlds. This is a space that encourages curiosity, stimulates the imagination, and cultivates a lifelong passion for literature.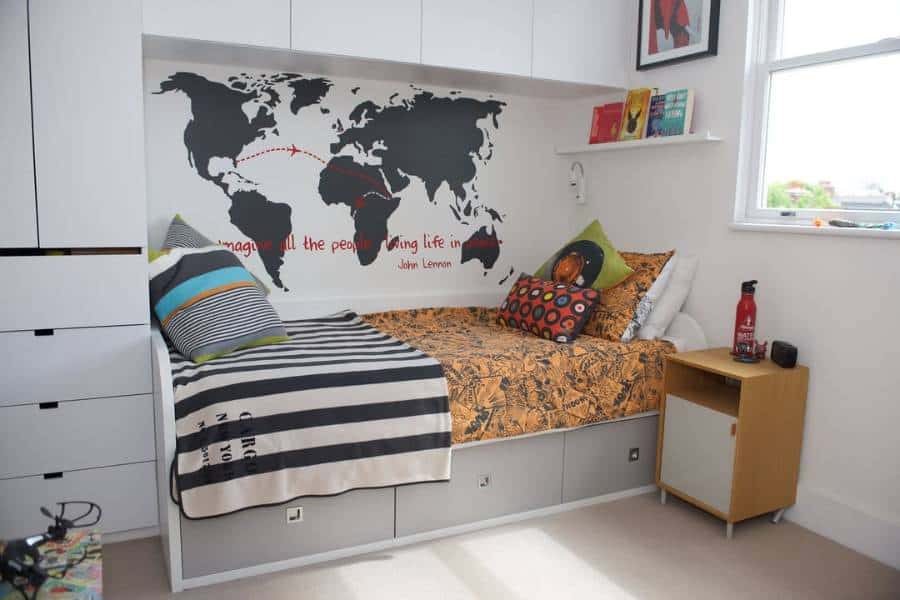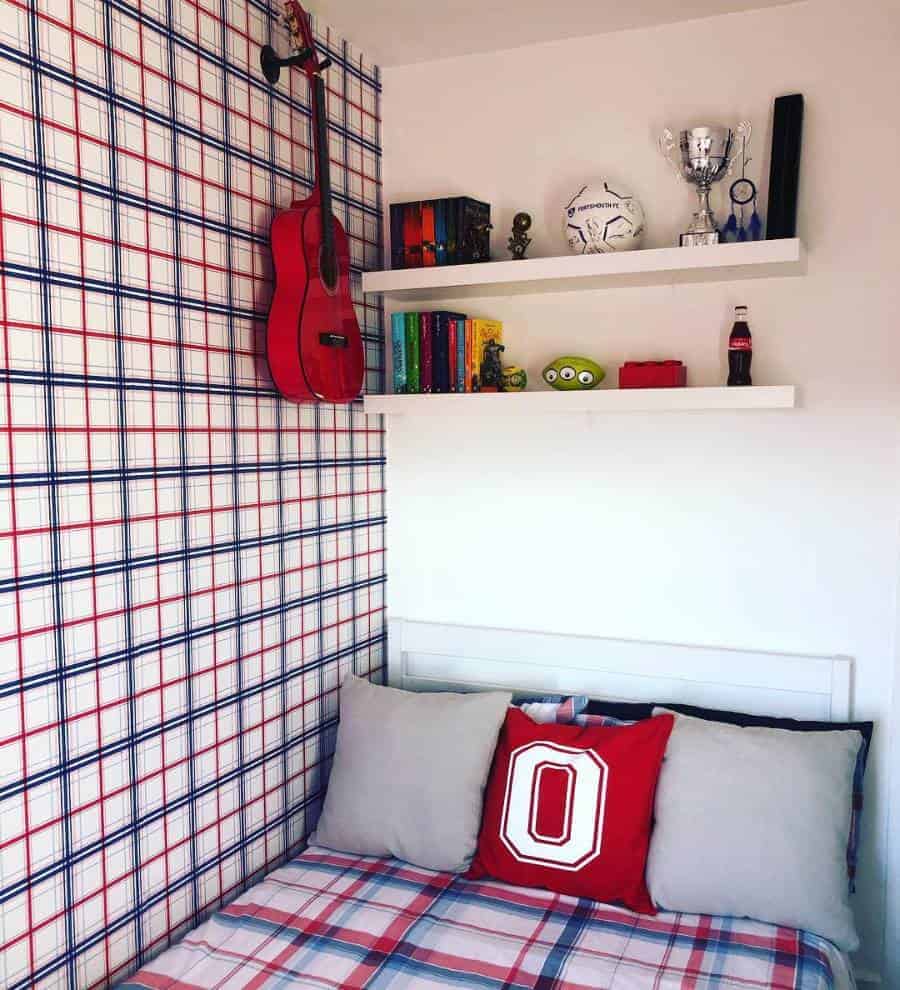 8. Monochromatic Boys' Bedroom
This sophisticated approach to design exudes a sense of maturity and refinement, perfect for a young boy's evolving taste. The monochromatic theme provides a canvas for creative expression, where pops of contrasting colors or patterns can be incorporated through artwork, textiles, or accessories.
Whether it's a sleek, modern space or a rustic-inspired retreat, the monochromatic boys' bedroom offers endless possibilities to curate a stylish sanctuary. This design concept allows for a timeless appeal, adapting effortlessly as your child grows, ensuring that their bedroom remains a reflection of their evolving personality.
Embark on a journey where simplicity becomes a statement and monochromatic magic transforms a boys' bedroom into a space that is both visually captivating and creatively inspiring.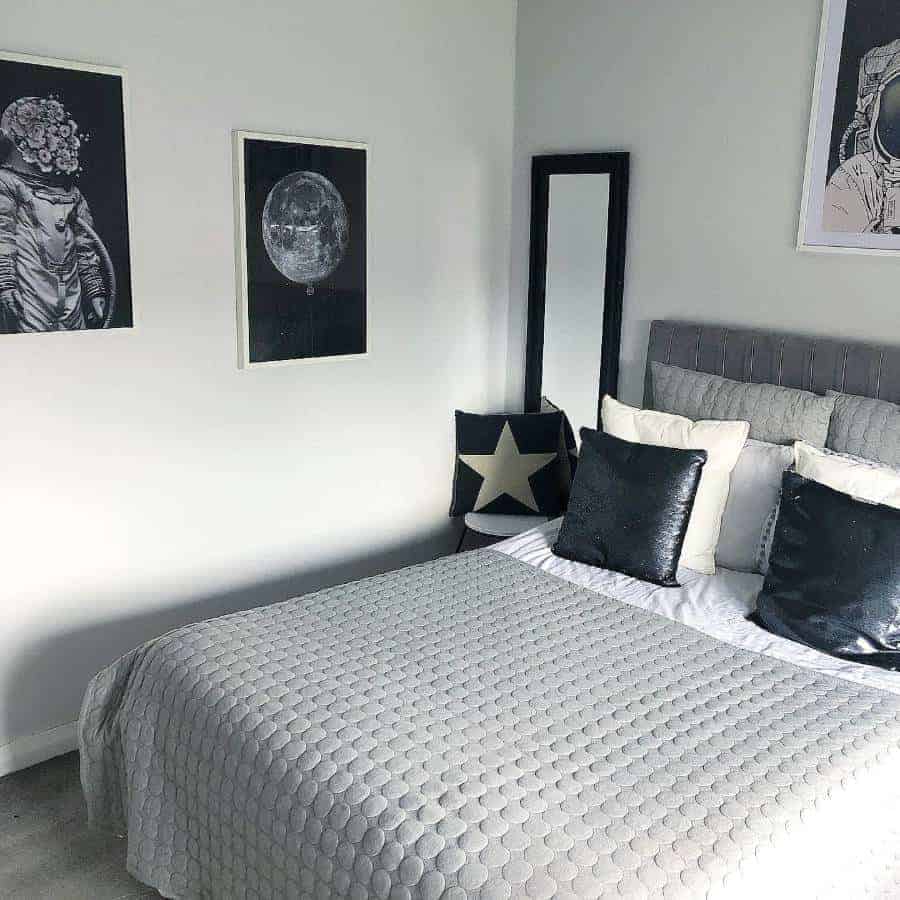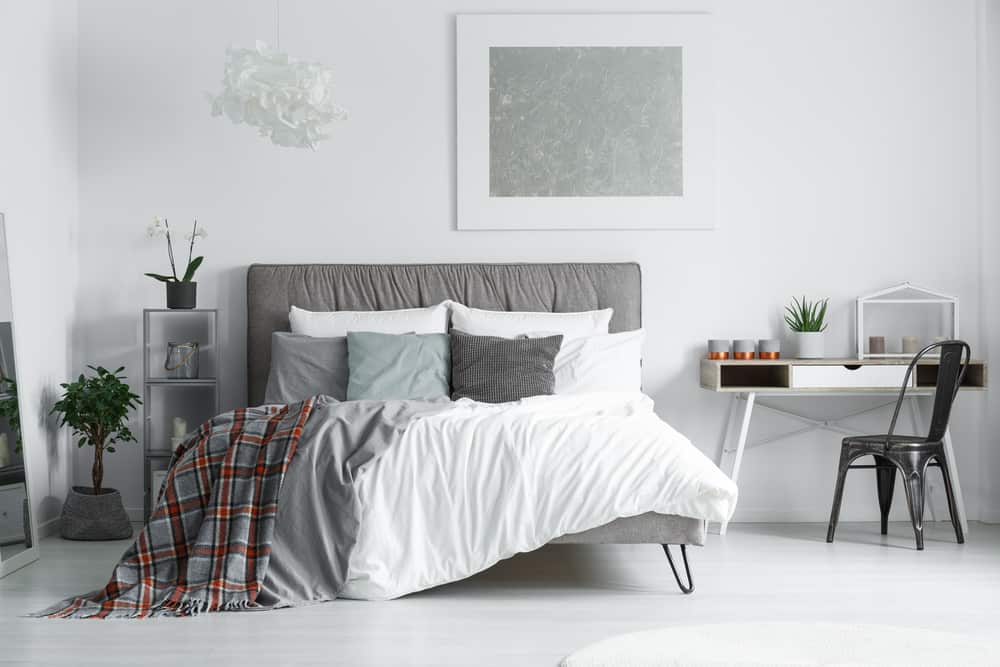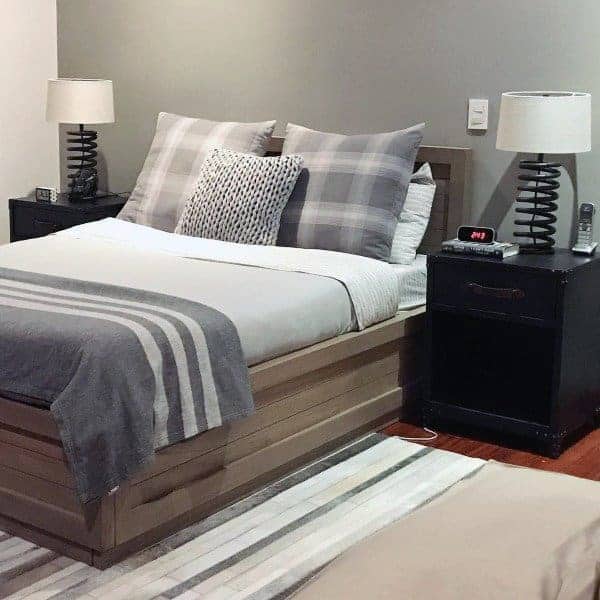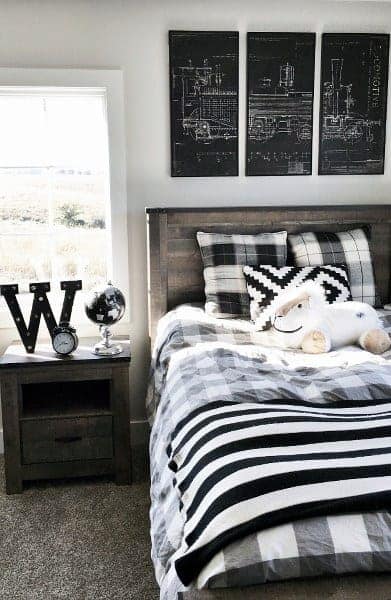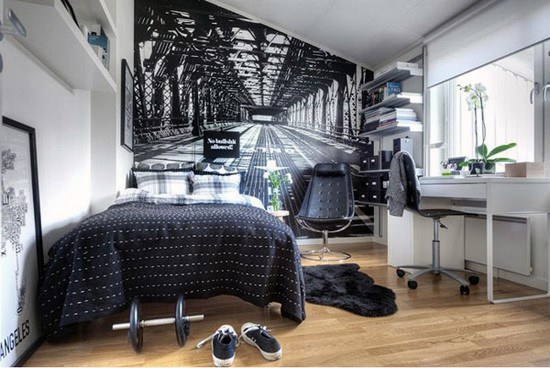 9. Loft-Style Shared Boys' Bedroom
A loft not only maximizes the available space but also adds an element of adventure and wonder to the room. Custom-designed storage solutions seamlessly integrate into the loft structure, ensuring that every item has its place, keeping the room organized and clutter-free.
Vibrant and bold colors, inspired by the boys' interests, adorn the walls, creating an energetic atmosphere. Personalized touches, such as themed bedding and playful wall decals, add a sense of individuality to each child's space.
From secret hideouts and reading nooks to a shared play area, this shared bedroom with a bunk bed loft becomes a sanctuary where imaginations soar and lifelong memories are made.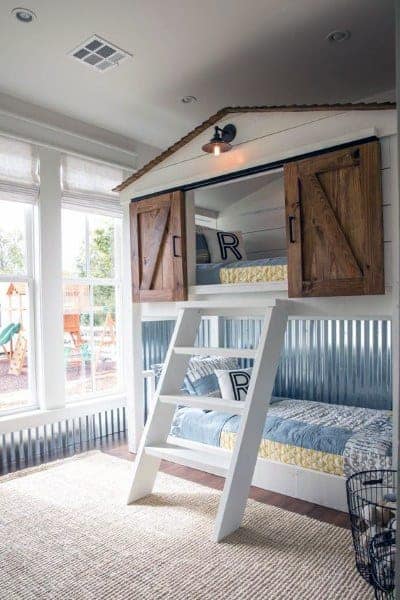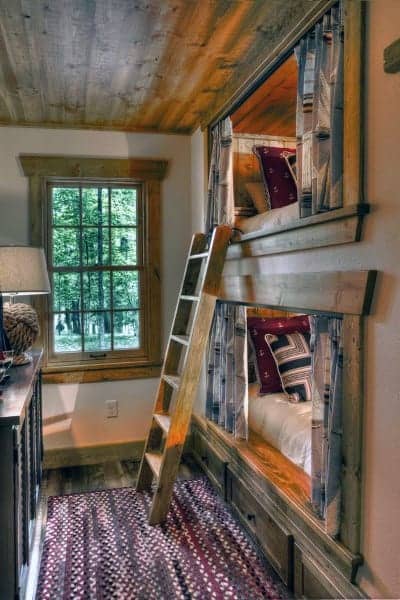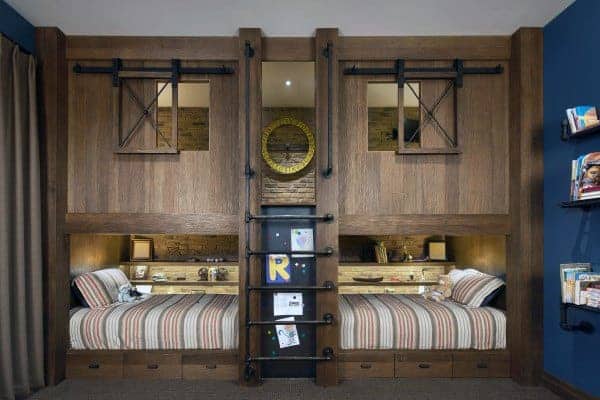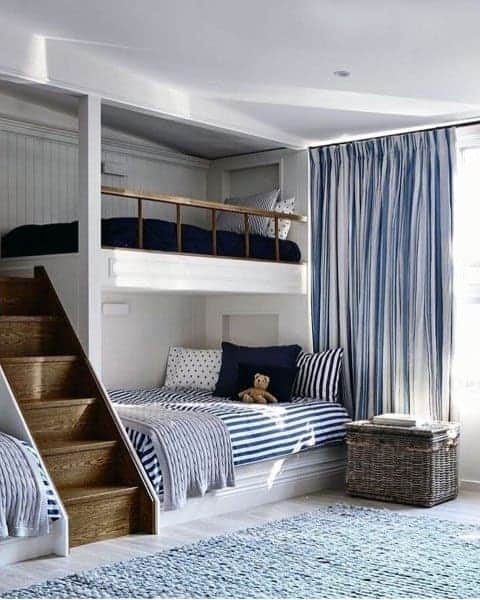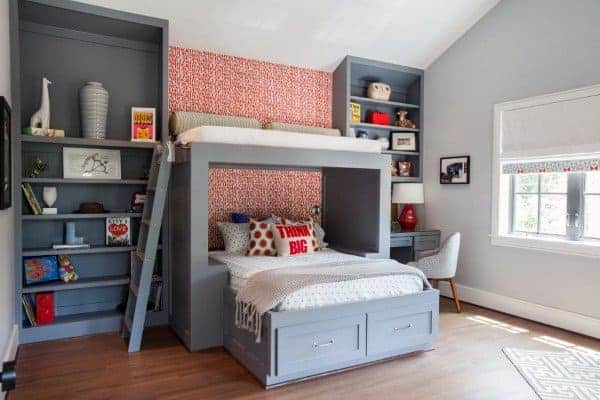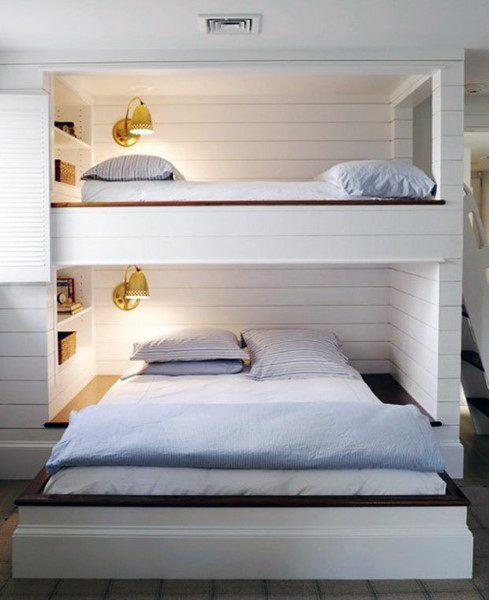 10. Vintage Aviation Hideout
With an airplane mural wall art as the focal point, your little aviator will feel like they are embarking on a journey through the clouds every time they enter their bedroom. The walls come alive with vivid colors and captivating details, igniting a sense of awe and wonder.
To enhance the aviation theme, carefully curated airplane memorabilia can be displayed on shelves or mounted on the walls, showcasing the rich history and allure of flight. From vintage propellers to model planes suspended from the ceiling, each piece adds a touch of authenticity and sparks the imagination.
The room becomes a sanctuary for aspiring pilots, where they can dream big and let their imaginations soar. Buckle up and get ready to embark on an adventure-filled journey in this aviation-themed boys' bedroom.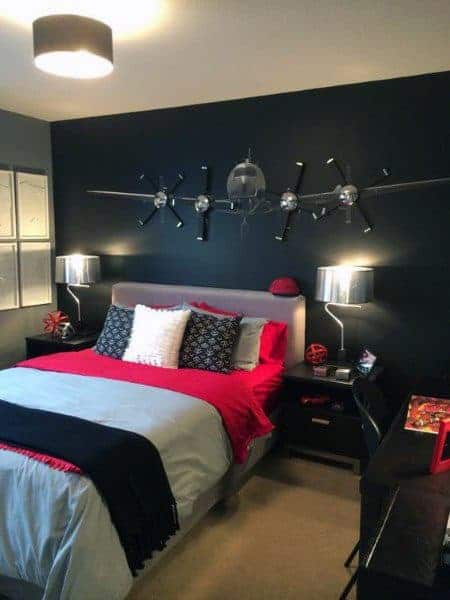 11. Typography Letter Wall Art
From their initials to inspirational words or even their favorite quotes, the possibilities are endless. Typography wall art brings a touch of creativity and individuality to the room, making a bold statement and capturing their imagination.
Whether it's sleek and modern typography or whimsical and playful fonts, these customized pieces become the centerpiece of bedroom decor. The oversized letters not only add visual impact but also serve as a constant reminder of their individuality and the power of self-expression.
With typography wall art, boys can truly make their bedroom a reflection of their unique style and personality, creating a space that inspires and uplifts their spirits.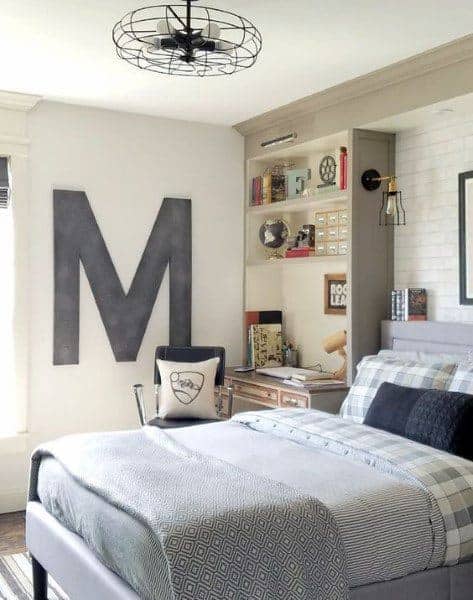 12. Subway Brick Wall
This textured backdrop becomes the canvas upon which creativity unfolds. The brick's raw, rugged appeal adds a touch of urban charm while infusing the space with a sense of adventure. Imagine sleek and modern furniture pieces, strategically placed against this backdrop, showcasing a fusion of functionality and aesthetics.
From a streamlined study desk to a cozy reading nook, each element complements the overall theme. Splashes of vibrant colors and patterns pop against the brick wall, injecting energy and personality into the space. Whether it's bold artwork, contemporary wall decals, or statement lighting fixtures, every detail contributes to the boys' bedroom decor that exudes creativity and captures their unique spirit.
The subway brick wall becomes not only a visual focal point but a symbol of urban sophistication, transforming the space into a haven that inspires and ignites the imagination.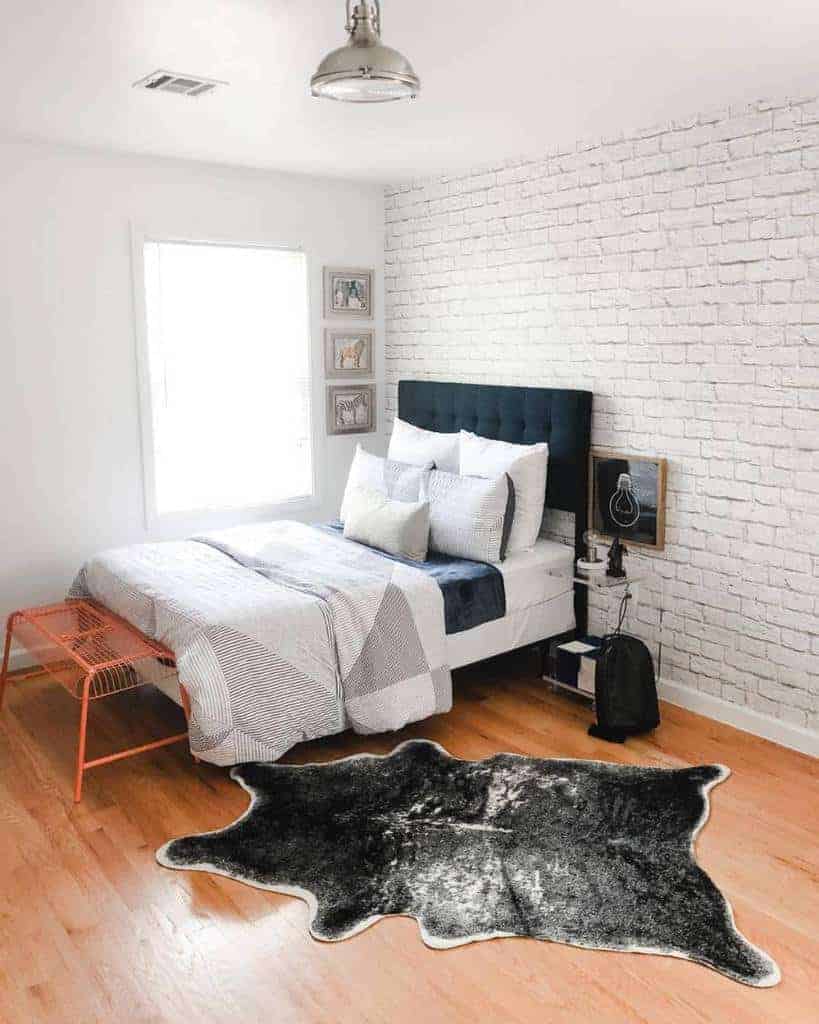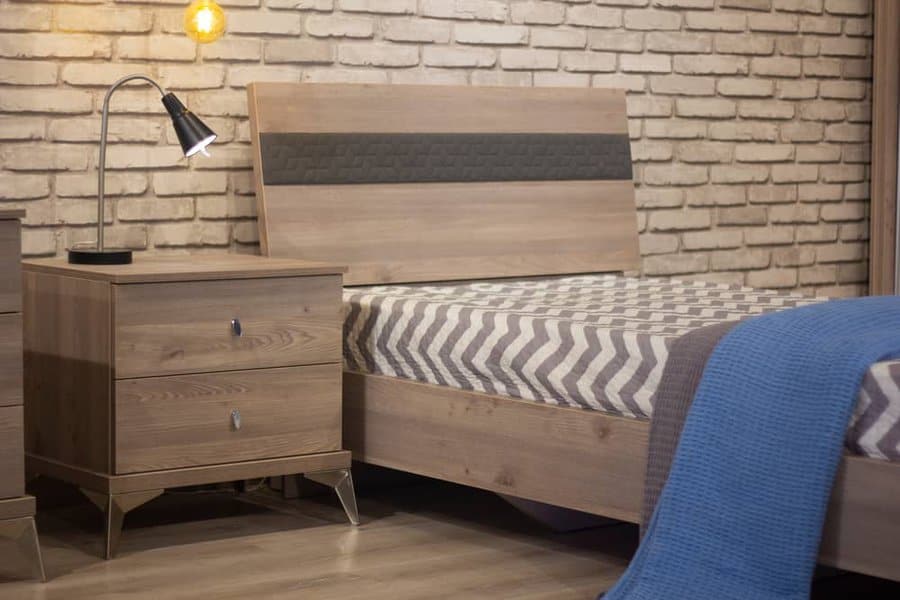 13. Man Cabin Style
Step into a world where rustic charm meets timeless nostalgia with boys' bedroom decor inspired by the allure of a farmhouse cabin interior. Envision a space adorned with vintage cabin decor, where every detail tells a story of adventures past. The centerpiece of this design is the weathered wood, which lends an authentic and rustic appeal.
From reclaimed barn doors to rough-hewn wooden beams, the use of weathered wood adds character and warmth to the room. Imagine antique lanterns casting a soft glow, creating an inviting ambiance reminiscent of nights spent under starry skies. Accents such as plaid patterns, cozy flannel blankets, and vintage-inspired signage complete the scene, evoking a sense of nostalgia for simpler times.
This creative blend of elements creates a boys' bedroom that is both rugged and charming, capturing the essence of a bygone era in a space that is perfect for daydreaming, storytelling, and creating lasting memories.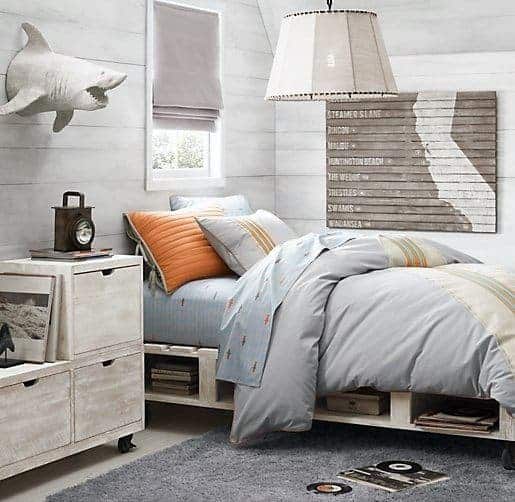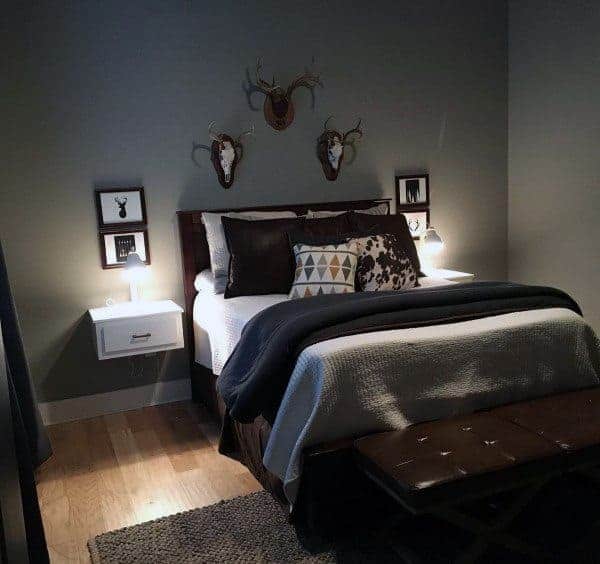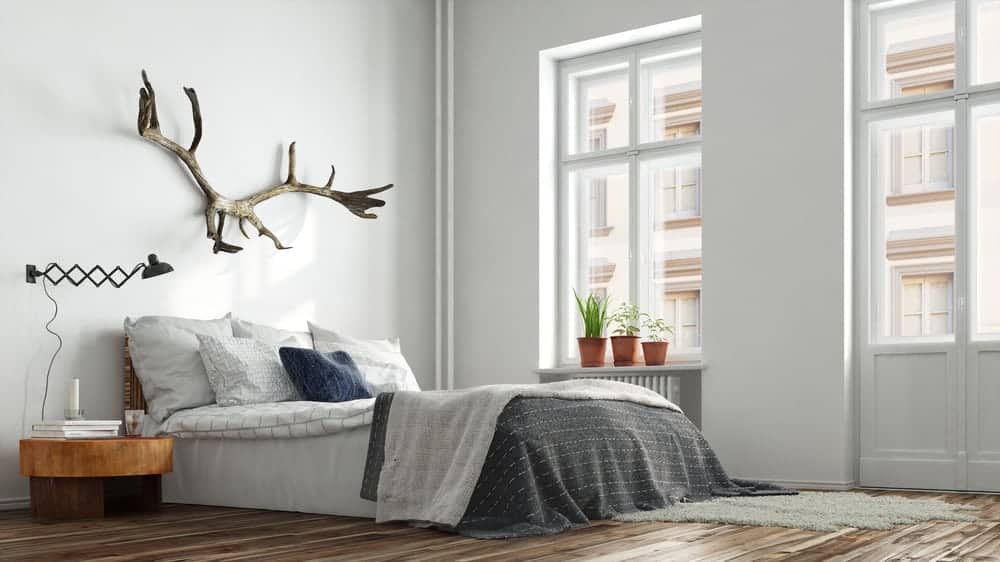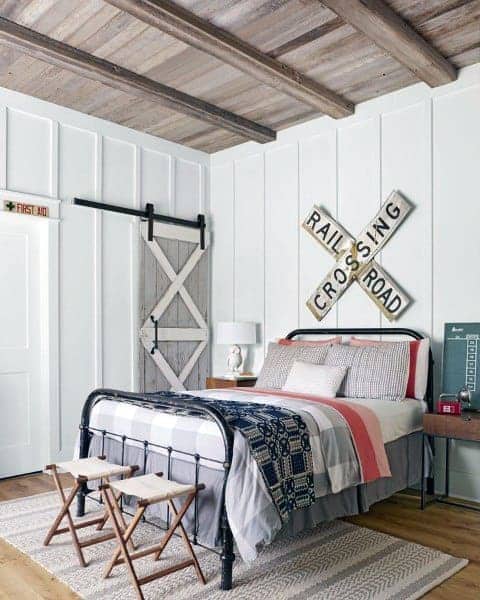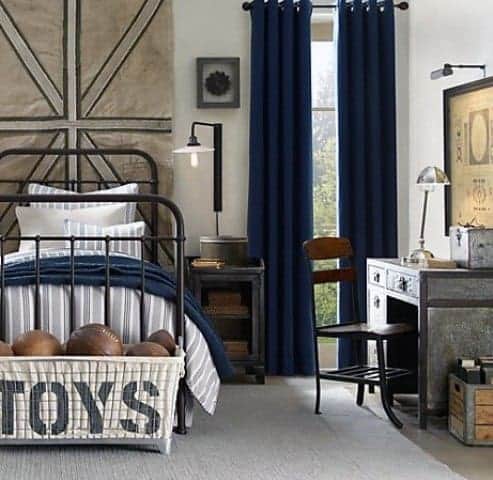 13. Space-Themed Boys' Bedroom
Transform your boys' bedroom into a celestial haven with a touch of cosmic inspiration. Picture an enchanting space where the wonders of astrology and the mysteries of space come alive. At the heart of it all, a captivating constellation accent wall takes center stage, adorned with a mesmerizing arrangement of stars that seem to twinkle against a backdrop of midnight blue.
Each constellation tells a unique story, inviting your young dreamer to explore the vastness of the universe right from the comfort of his room. The rest of the decor harmonizes seamlessly with this celestial theme, with celestial-themed bedding, glowing moon-shaped lamps, and planet-inspired throw pillows.
The room becomes a portal to otherworldly adventures, igniting your child's imagination and fueling their curiosity about the cosmos.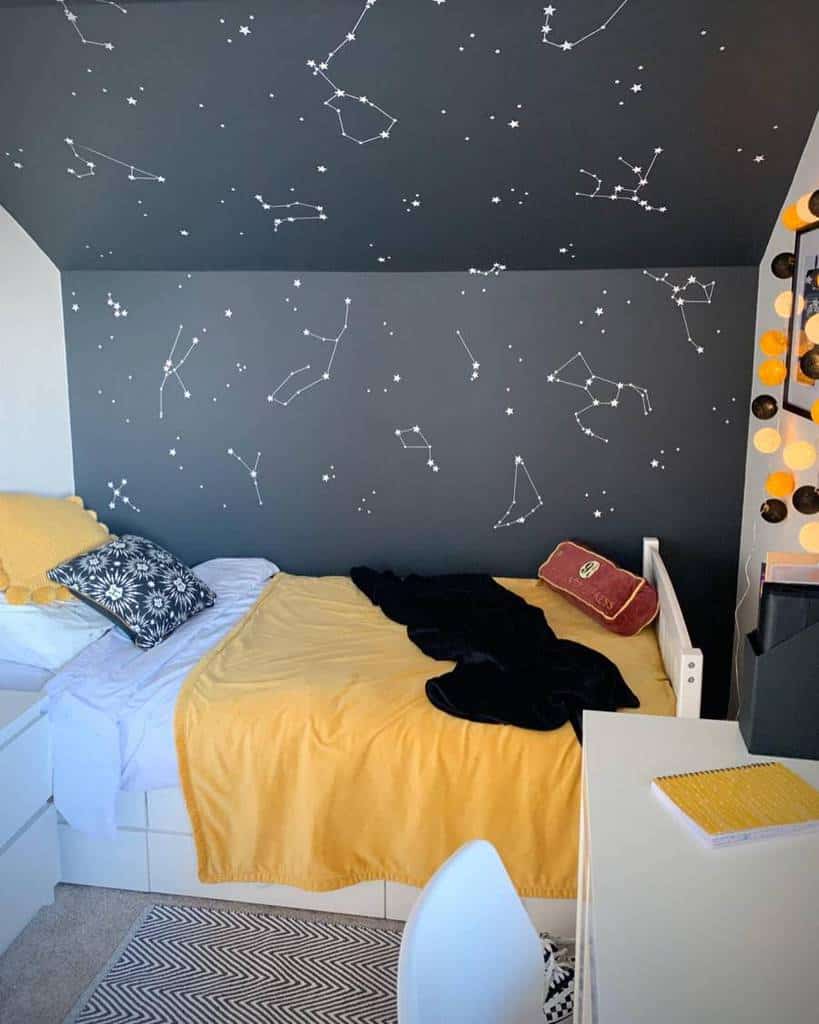 14. Artist's Studio Bedroom
Picture a boys' bedroom with a chalkboard wall, a canvas waiting to be filled with endless possibilities. This unique feature not only unleashes the inner artist in your child but also adds an element of interactive learning to their sanctuary.
From colorful chalk drawings that come to life to inspiring quotes and educational diagrams, the chalkboard wall becomes a dynamic backdrop for exploration and self-expression. It's a space where ideas can flourish and where young artists can proudly showcase their creations.
By incorporating this playful and interactive element into a kids' bedroom, we transform it into a vibrant haven that fosters creativity, learning, and endless fun. Let your child's imagination soar as they immerse themselves in a world where their bedroom becomes a canvas, and every day is a new opportunity to create and learn.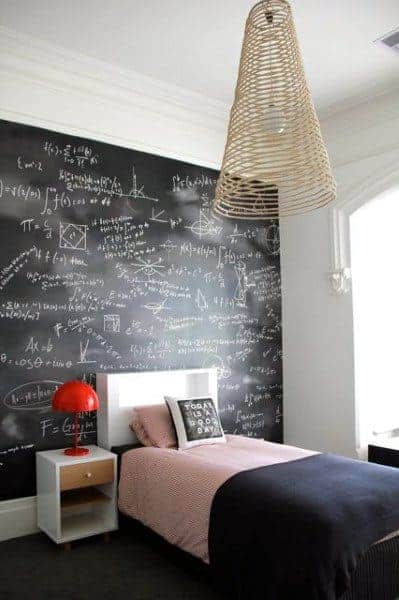 Boy's Bedroom FAQs
What should be in a boy's bedroom?
A boy's bedroom should include the basics, plus whatever accessories make him happy. Choose a bed that fits his needs — a bunk bed, loft bed, or perhaps even a king-size bed for a teenage boy. Add a chair, rug, and dresser. If you have room for a bookshelf or toy box, all the better. Allow him to decorate with his favorite colors and themes.
How often should I redecorate my son's bedroom?
Most interior designers recommend redecorating a boy's bedroom every three to four years. Keep whatever furnishings and elements he hasn't grown out of, and replace any childish artwork or decor. Definitely ask for his input on decor decisions and, within reason, give him the freedom to choose what he likes best.
How do guys decorate their dorms?
Furnishing your son's dorm room may be the last time you have any real input on his bedroom decor. While girls may try to outdo each other by creating the cutest dorm room on campus, guys tend to focus on practicality and simplicity. His style should factor into your color and style choices. You can use a trunk for storage and a footrest, while sports, video games, and music posters round out the aesthetic.