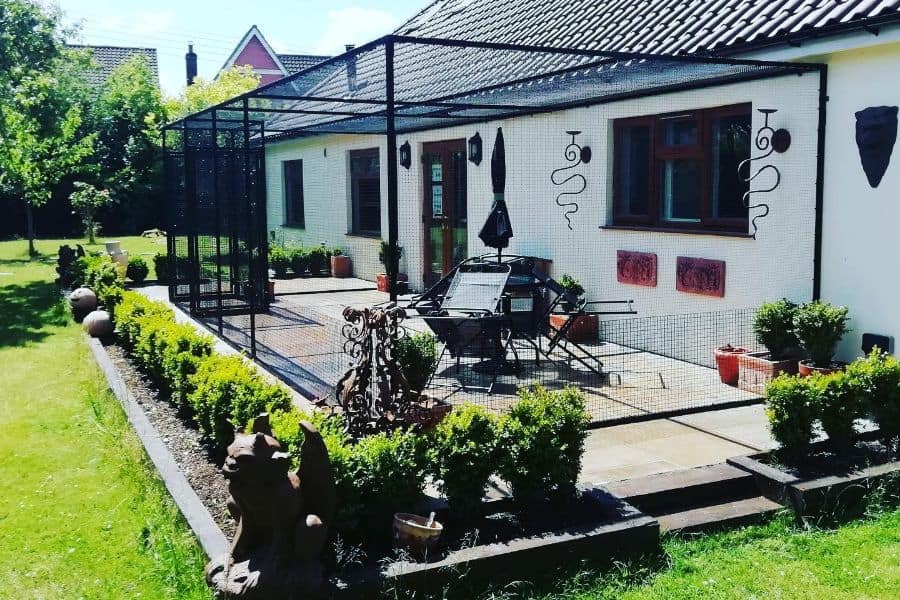 53 Catio Design Ideas for Your Backyard
There's plenty of research to support keeping domestic cats indoors. Not only are house cats infamous for taking out native songbird populations, but roaming around outside can also be extremely dangerous for your feline companion.
Every cat owner wants to give their pet the best life possible, and a regular old cat tree doesn't always cut it. If your cat longs to be outside and enjoy the fresh air, a catio might just be the perfect solution.
Keep reading for some of the best catio ideas that both you and your furry companion are guaranteed to love.
1. Install A Large-Sized Enclosed Cat Enclosure
If you're looking for a creative and fun way to let your cats do some outdoor exploration at the same time keeping them safe from the dangers of the outside world, consider building a large-sized cat enclosure or "catio"! This kind of large outdoor cat enclosure should have wire mesh walls on top and sides, as well as wood flooring.
Another great option could be an outdoor patio extension tailored to fit your kitty's needs (for basking in the sunshine and stretching those paws). When planning, remember that it's all about providing cats with an outdoor experience while protecting them too. A large-sized cat enclosure could be just what they need!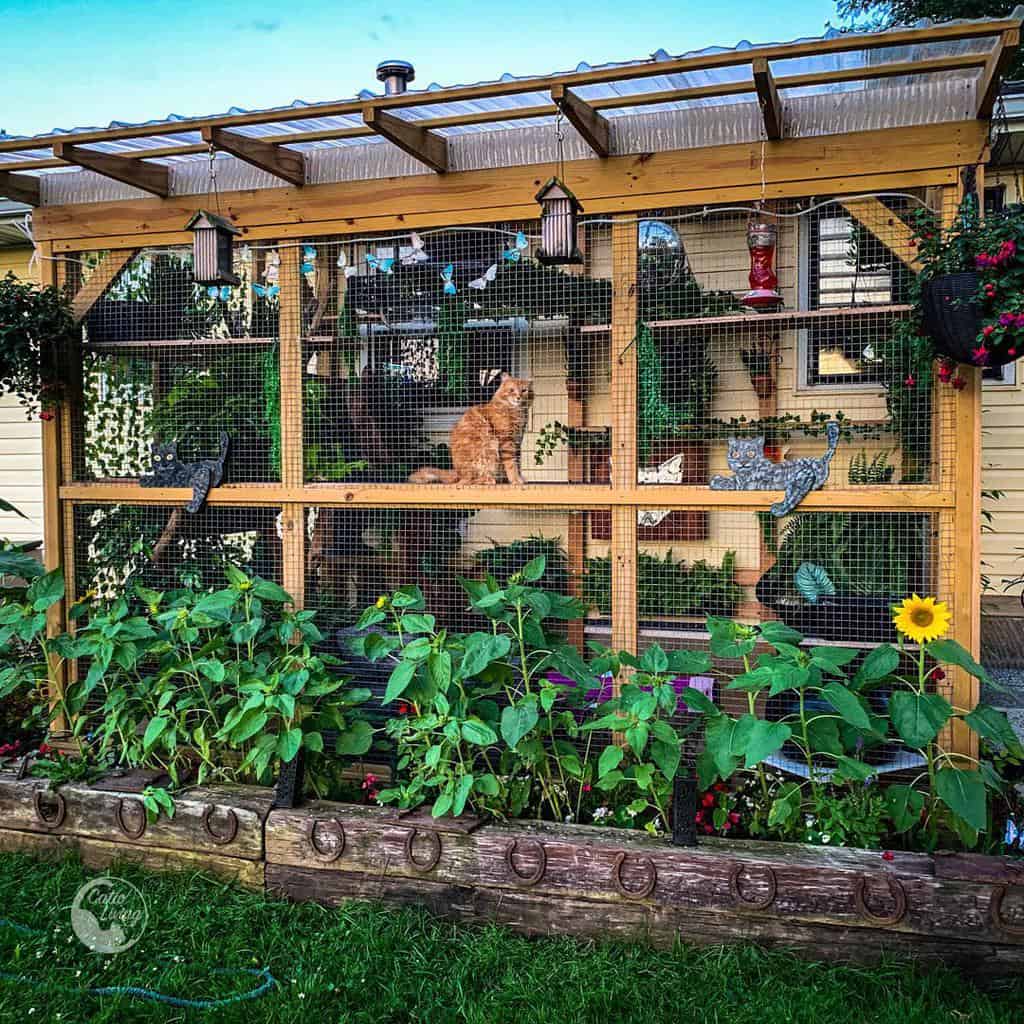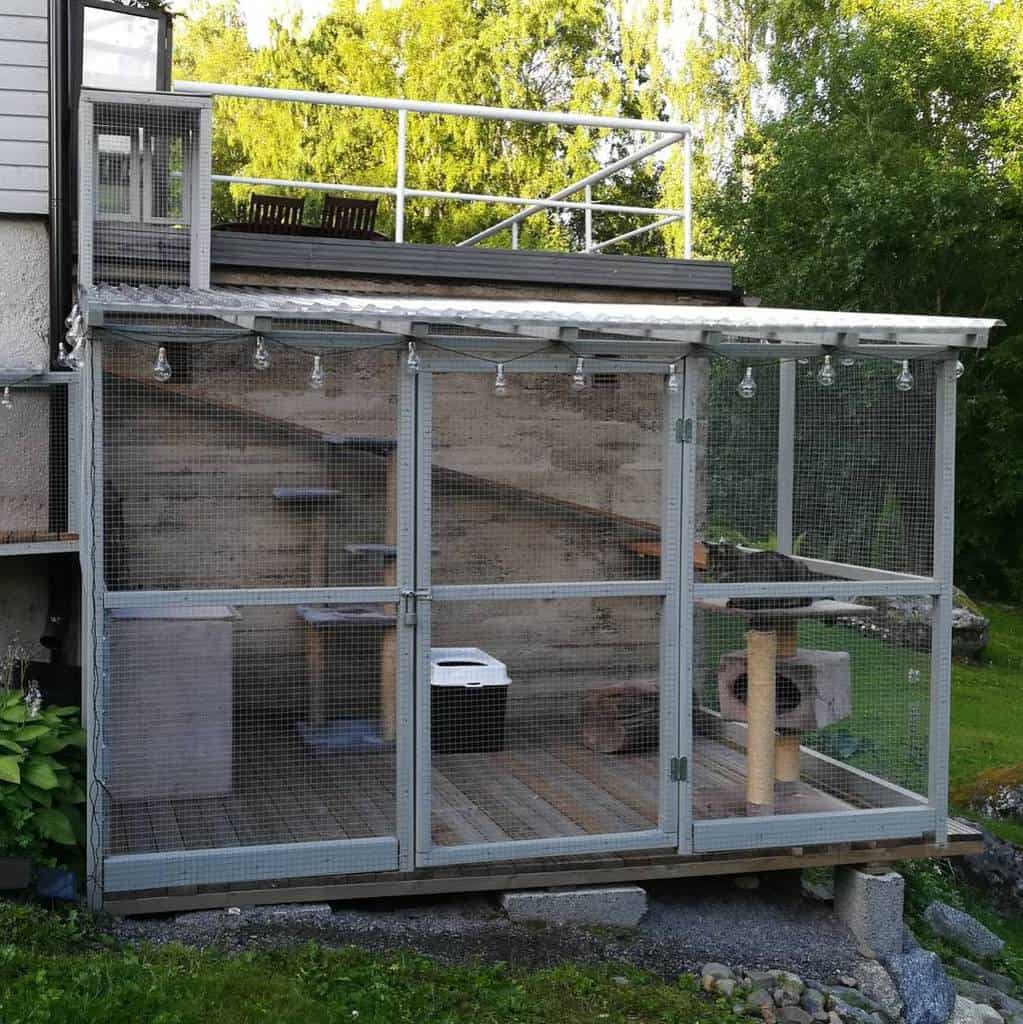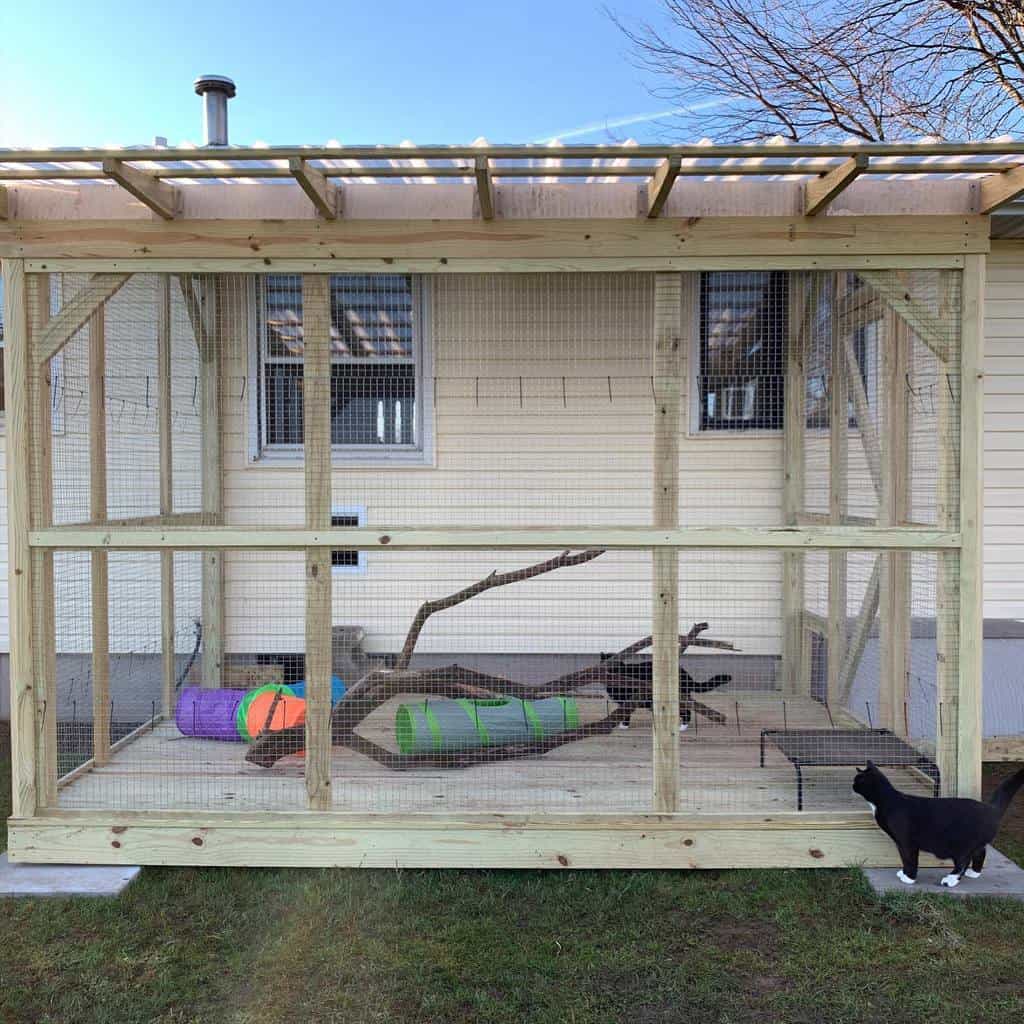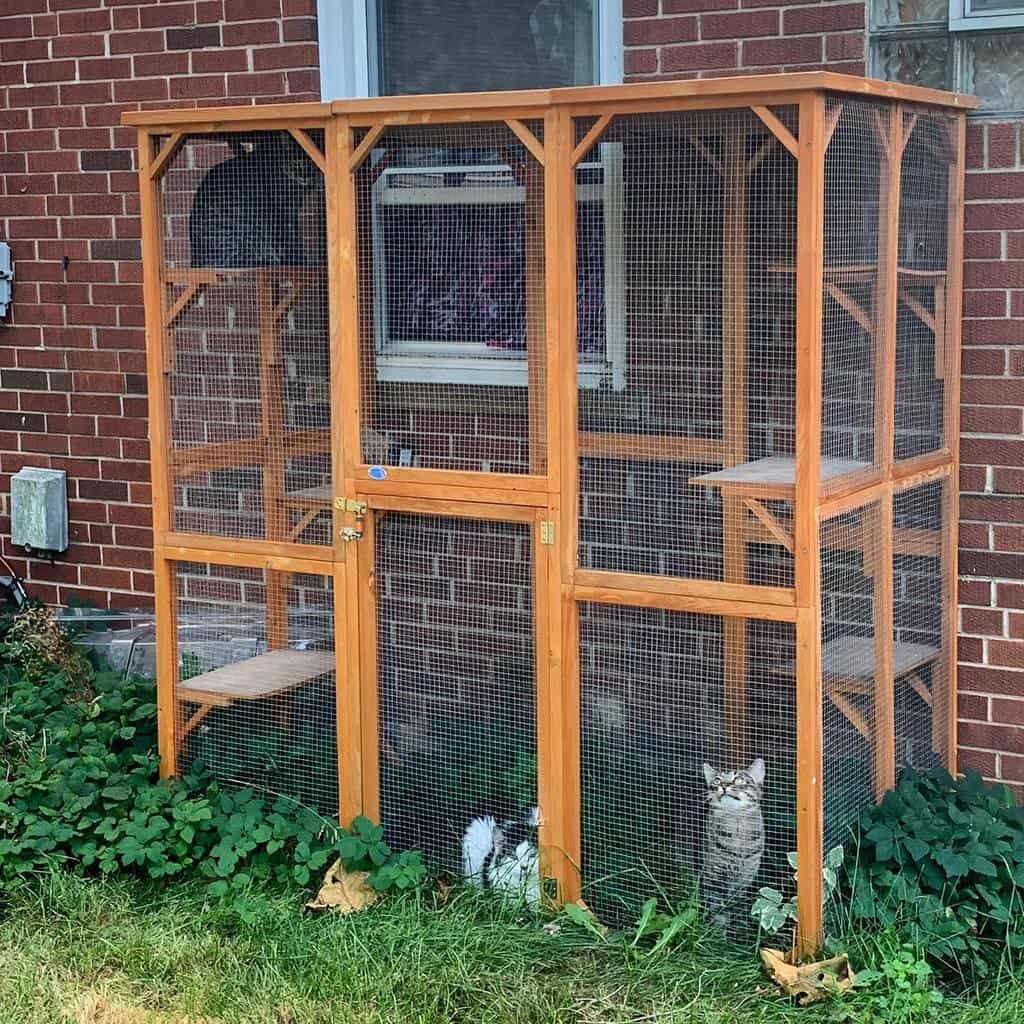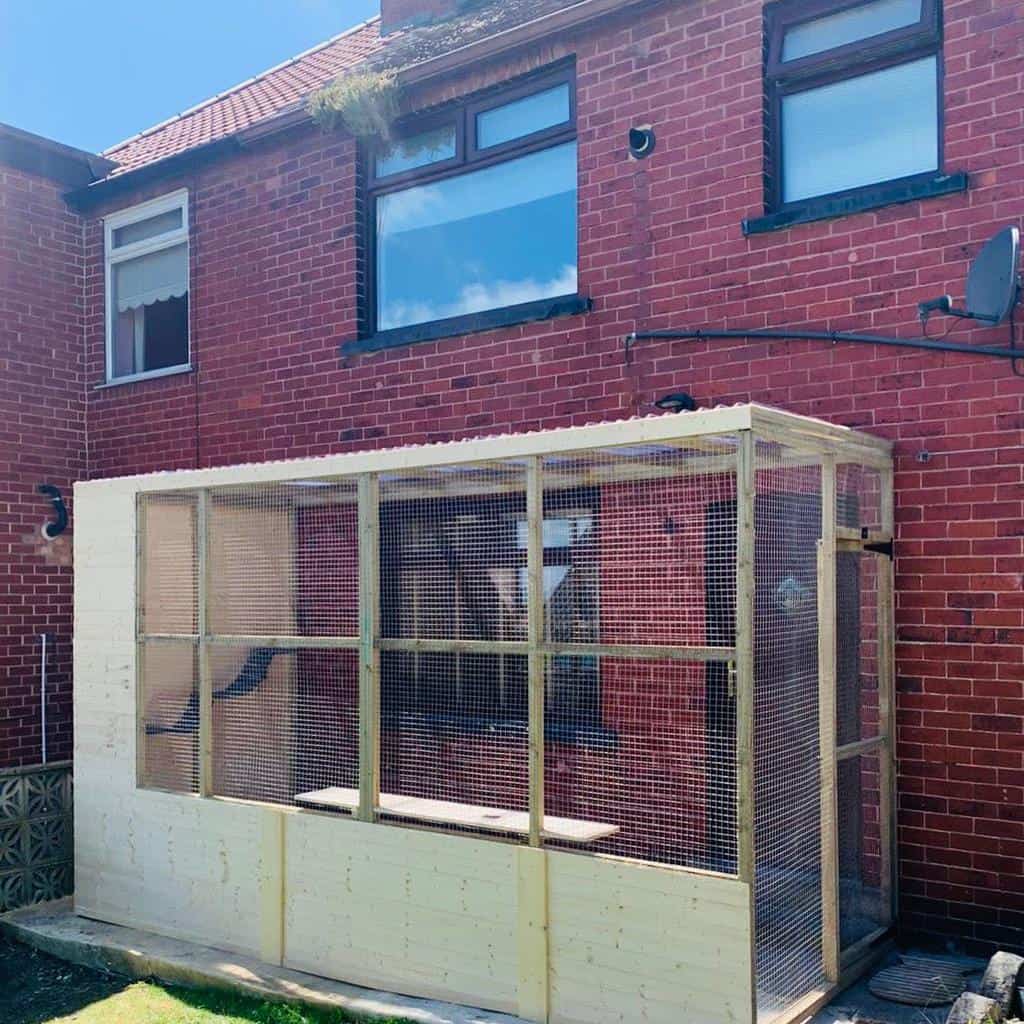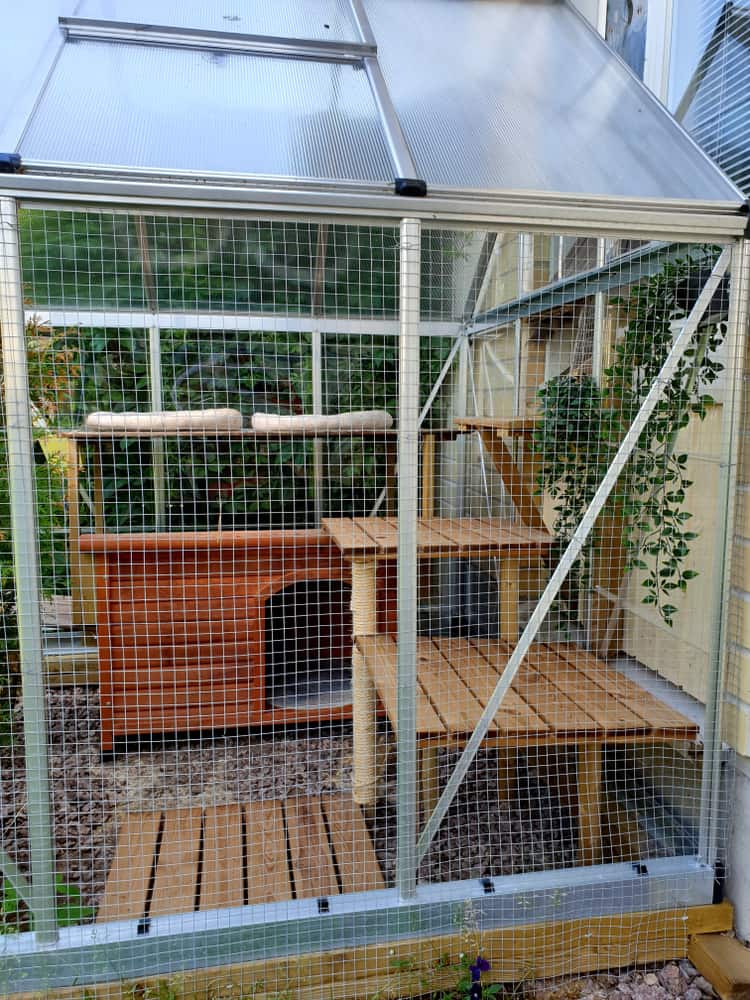 2. Get A Cage For Space Efficiency
Create your cat's dream catio! Catios are enclosures that give cats safe access to the outdoors without risking their safety, and they come in a variety of sizes and designs based on your cat's needs. If you need a more efficient option, you can opt for pre-fabricated cat cages.
These consist of basic platforms with adjustable cat gates, ideal for keeping all kinds of pets inside your catio, including birds and lizards. Those who don't have the time or money to build their own cat cages can also look into custom-built catios, which offer an extra layer of protection while also providing valuable space.
Whether big or small or custom-built, catios are an amazing way to keep your cat safe while also giving them plenty of room to explore the great outdoors!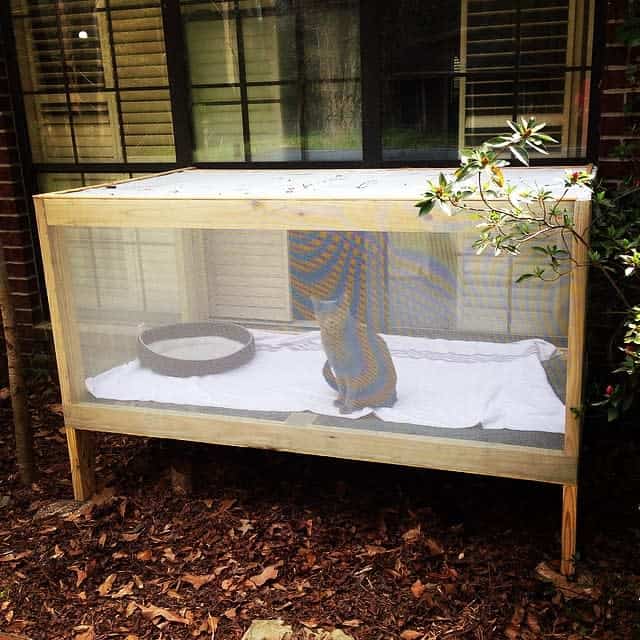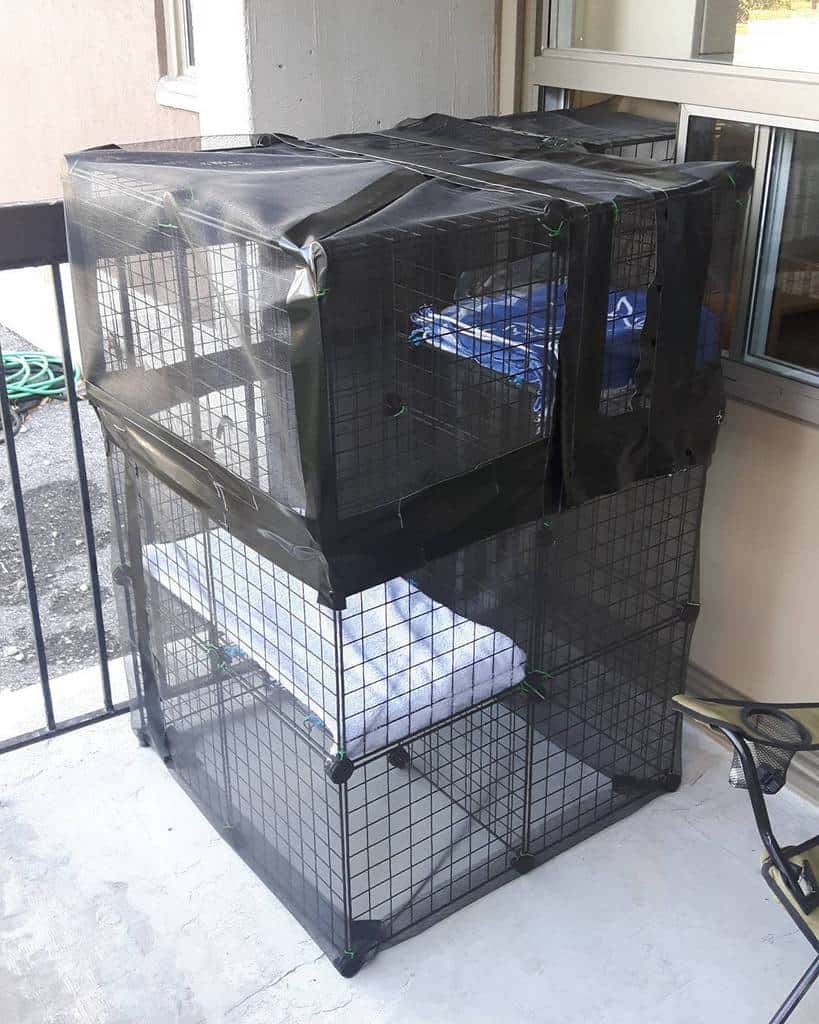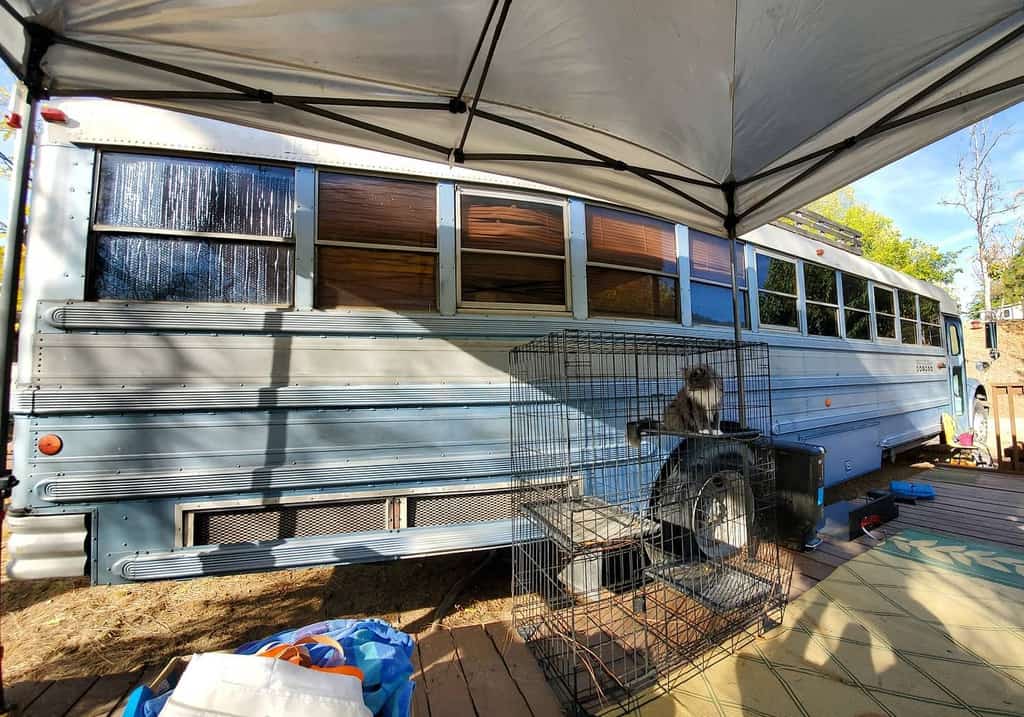 3. Opt For A Cage On Wheels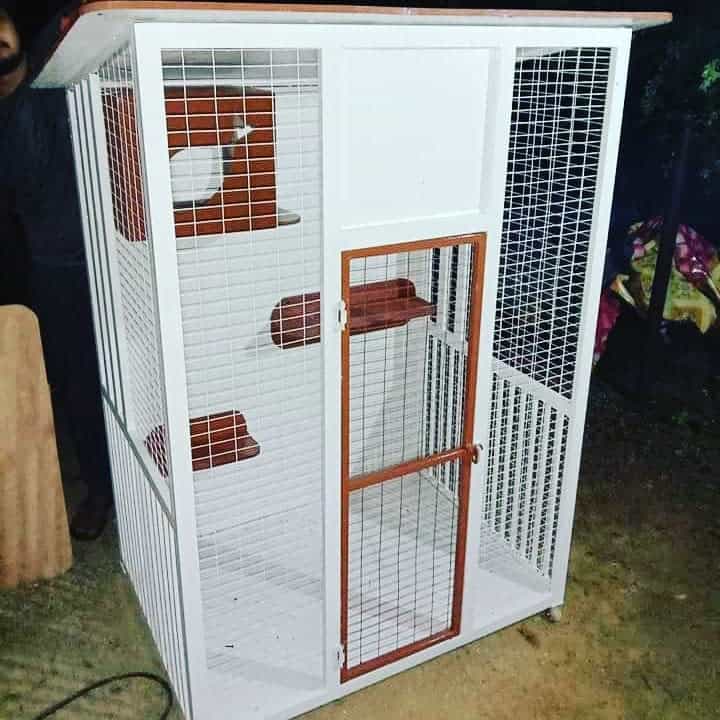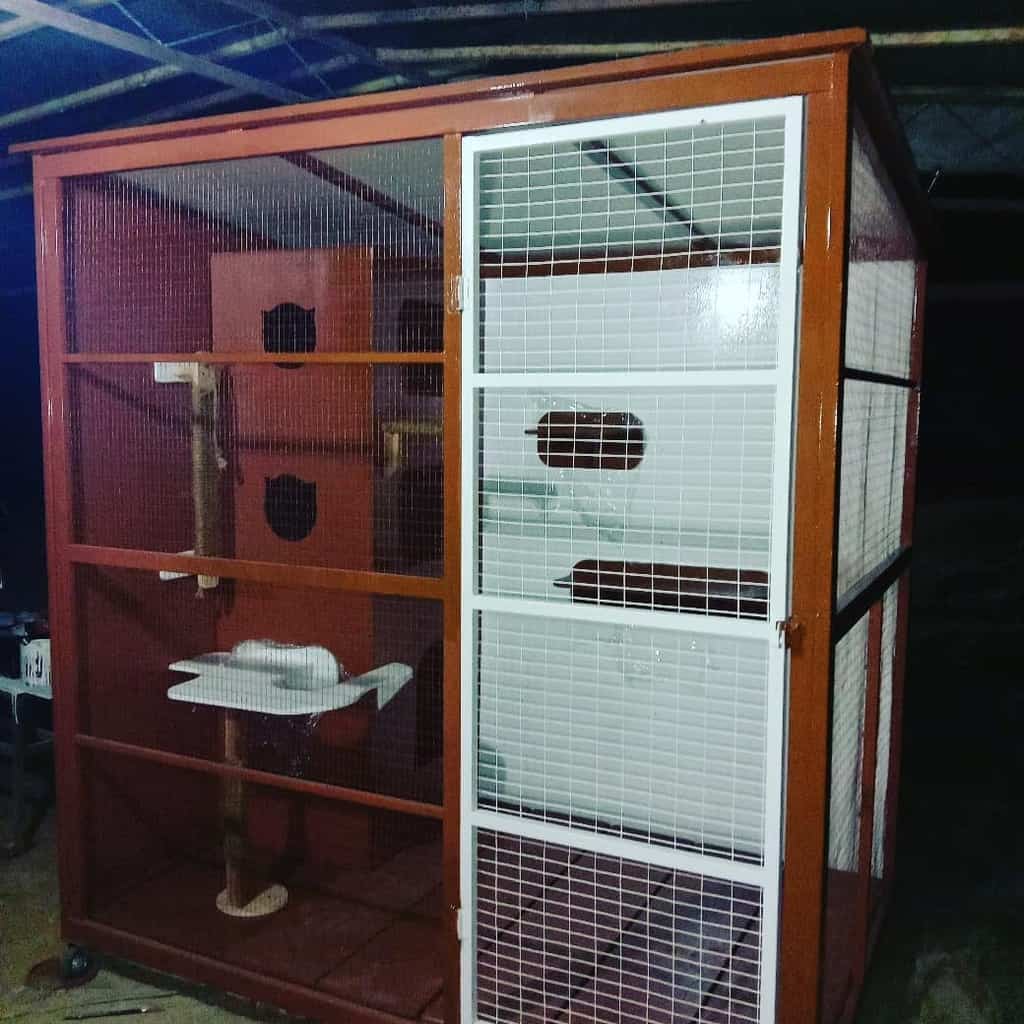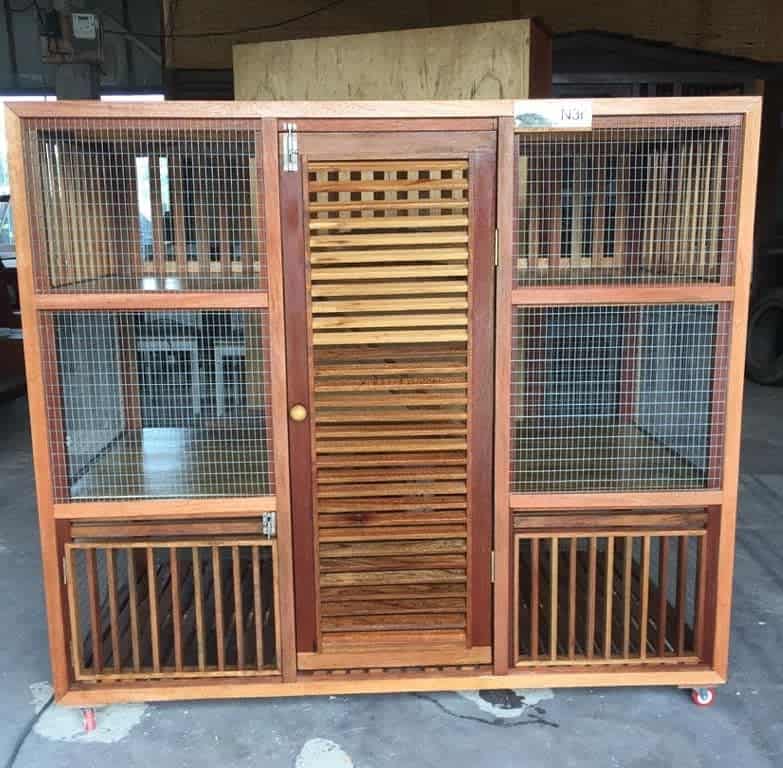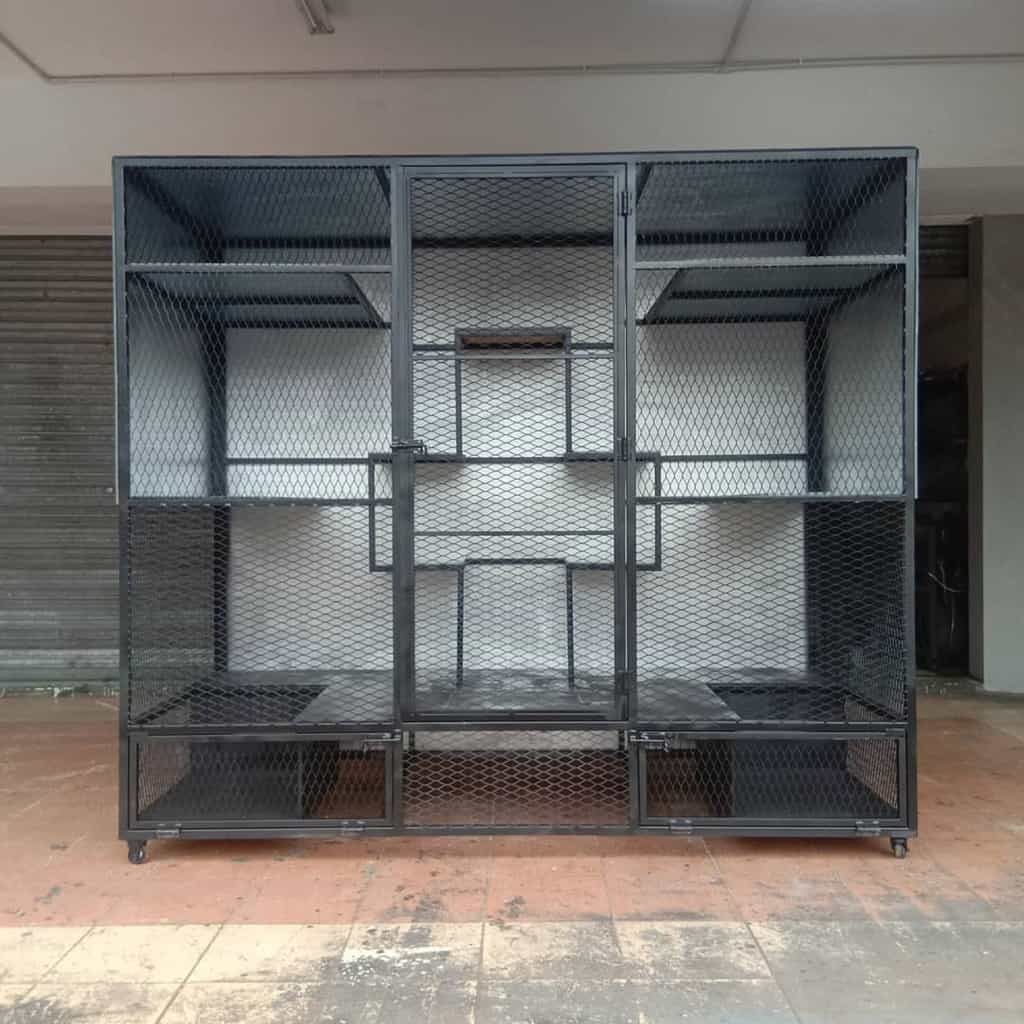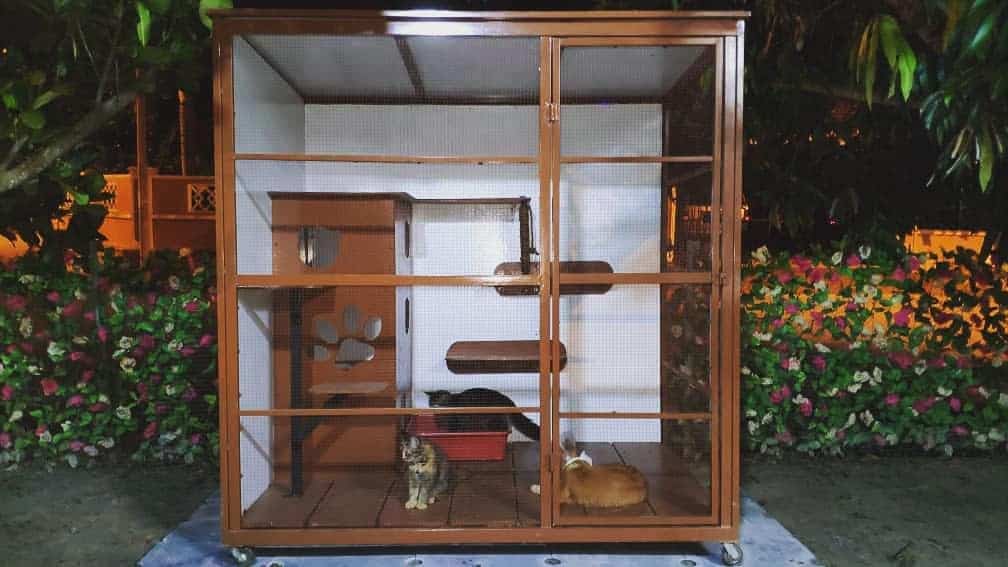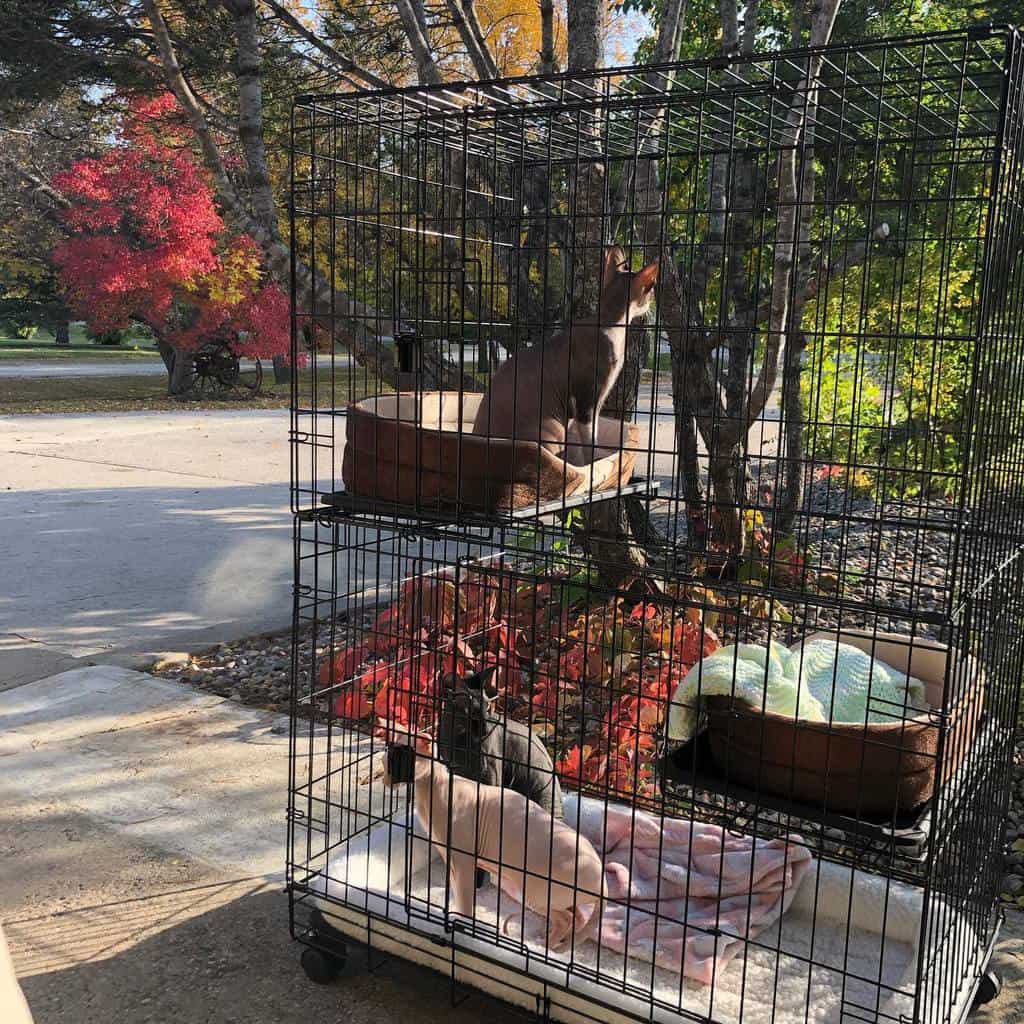 4. Get Your Cat A House
One fun catio idea is to create a cat house that looks exactly like a real human house. Start with a bungalow roof and add a shiplap on the walls – this will give the cat house a cozy, cottage feel. Add some cat-friendly plants and flowers around the cat house for your cat's entertainment.
And don't forget those cute window boxes so your cat can look out at the world from inside their safe haven. With the right supplies, you can easily turn any old catio into a beautiful miniature home for your precious feline friend!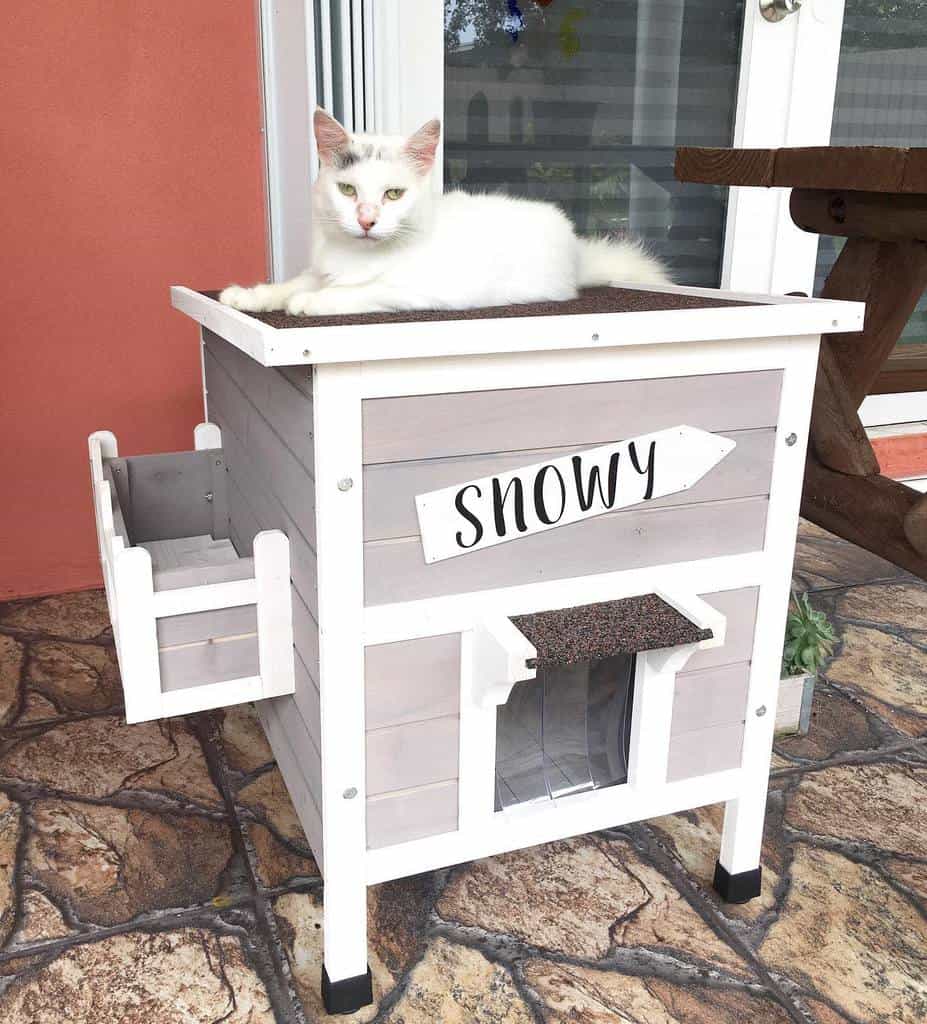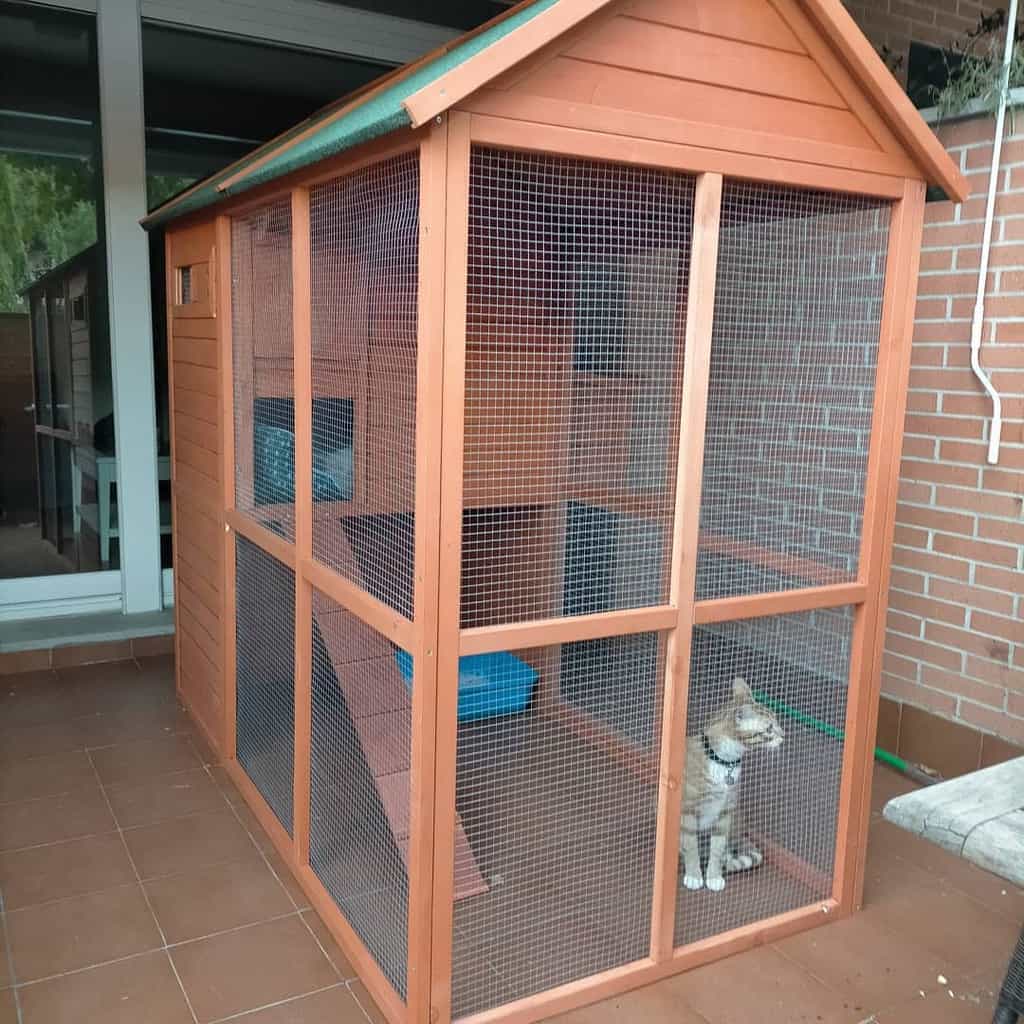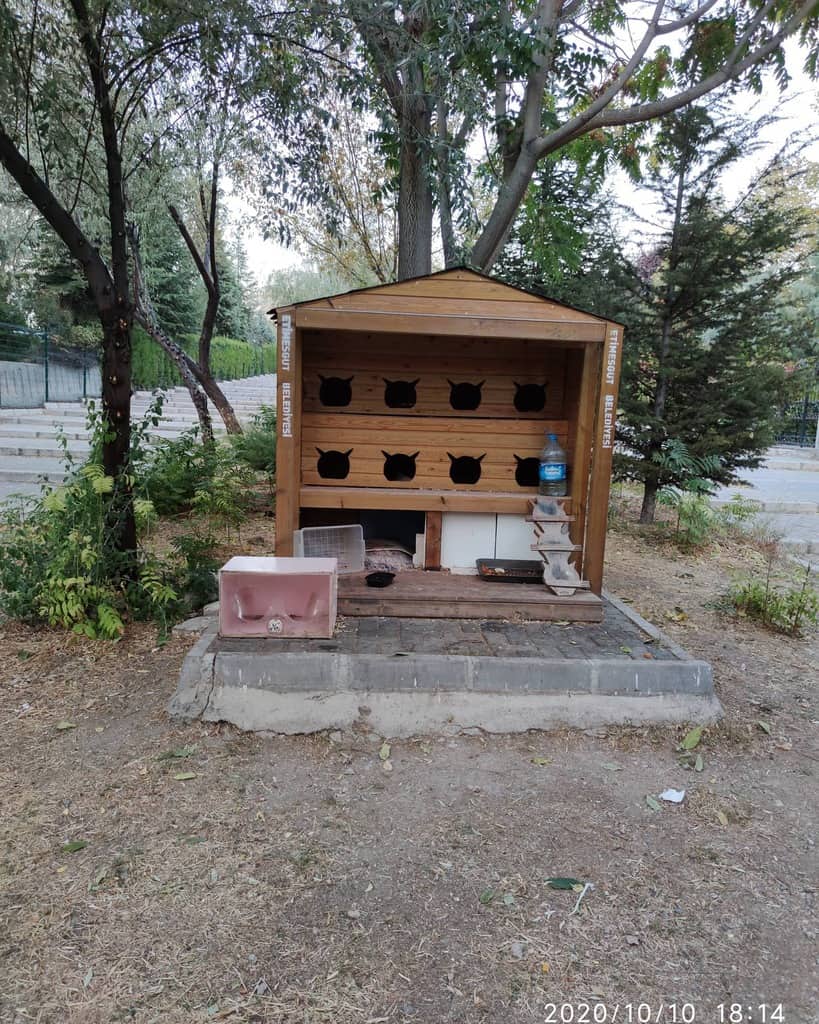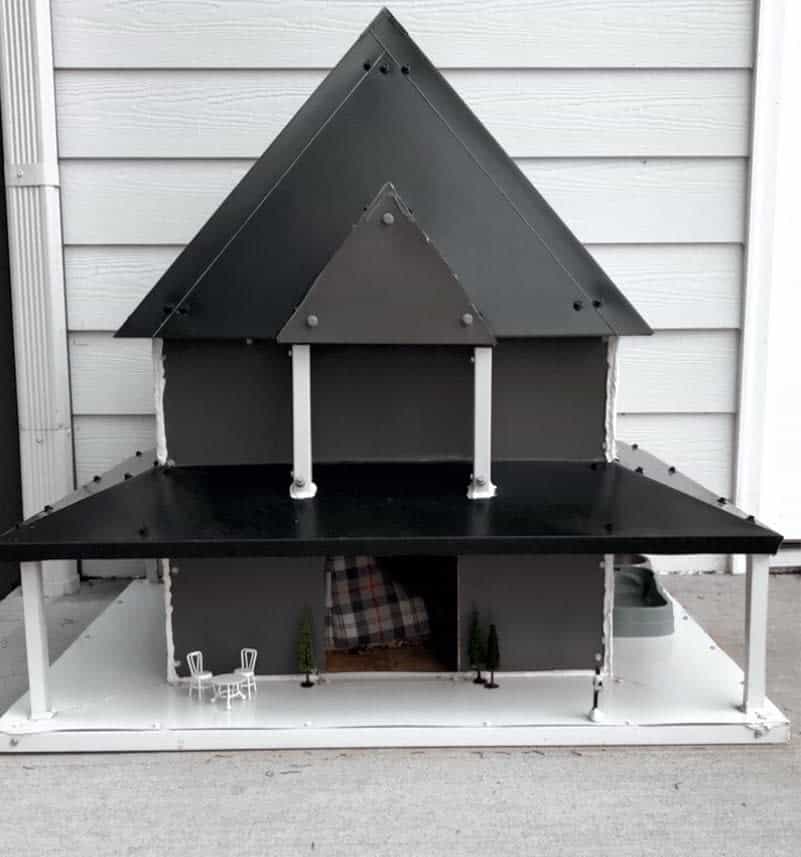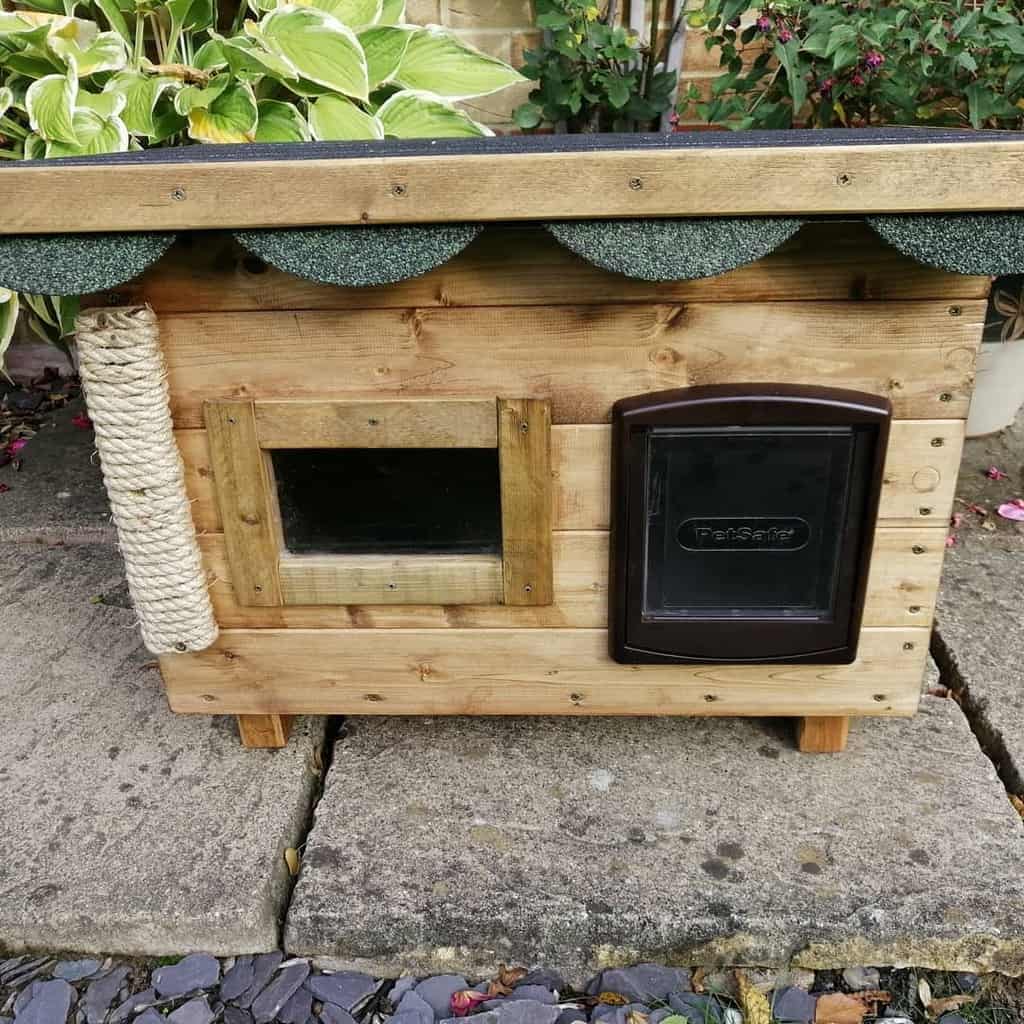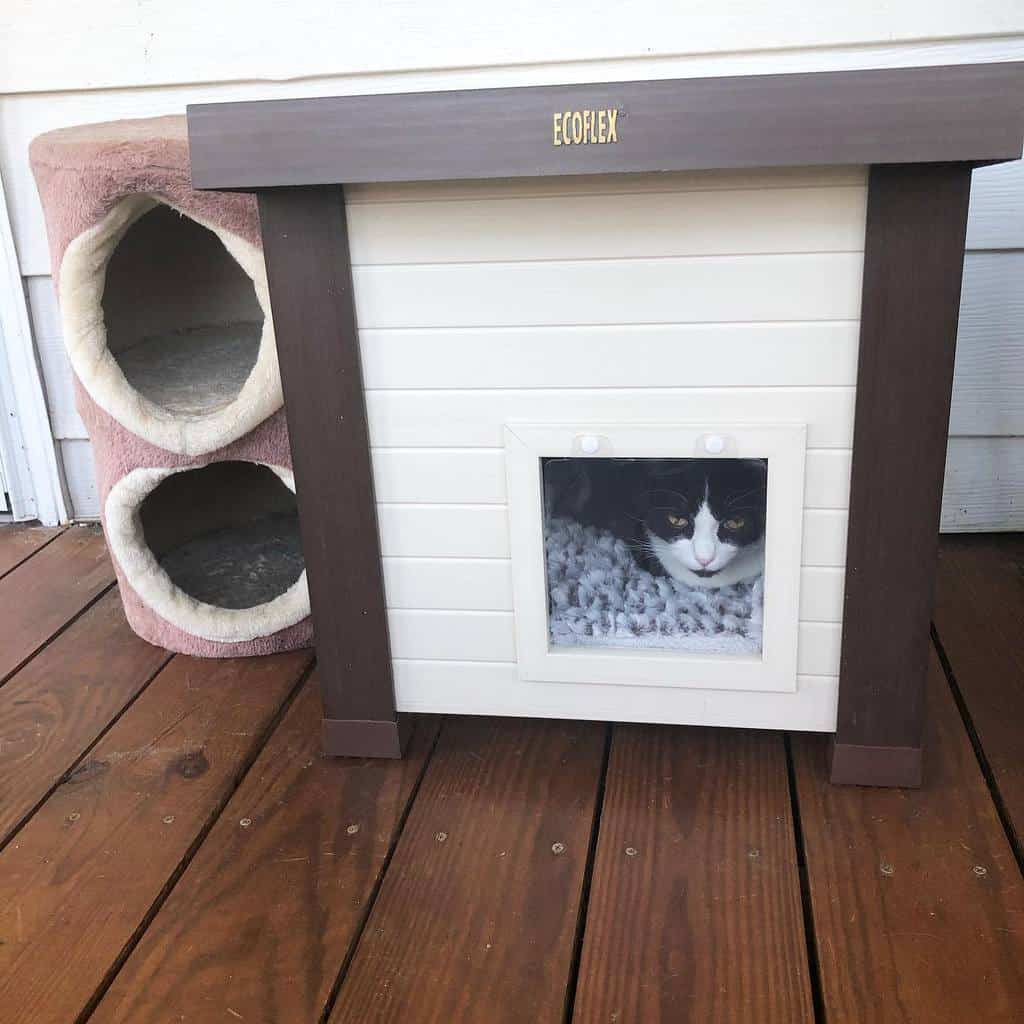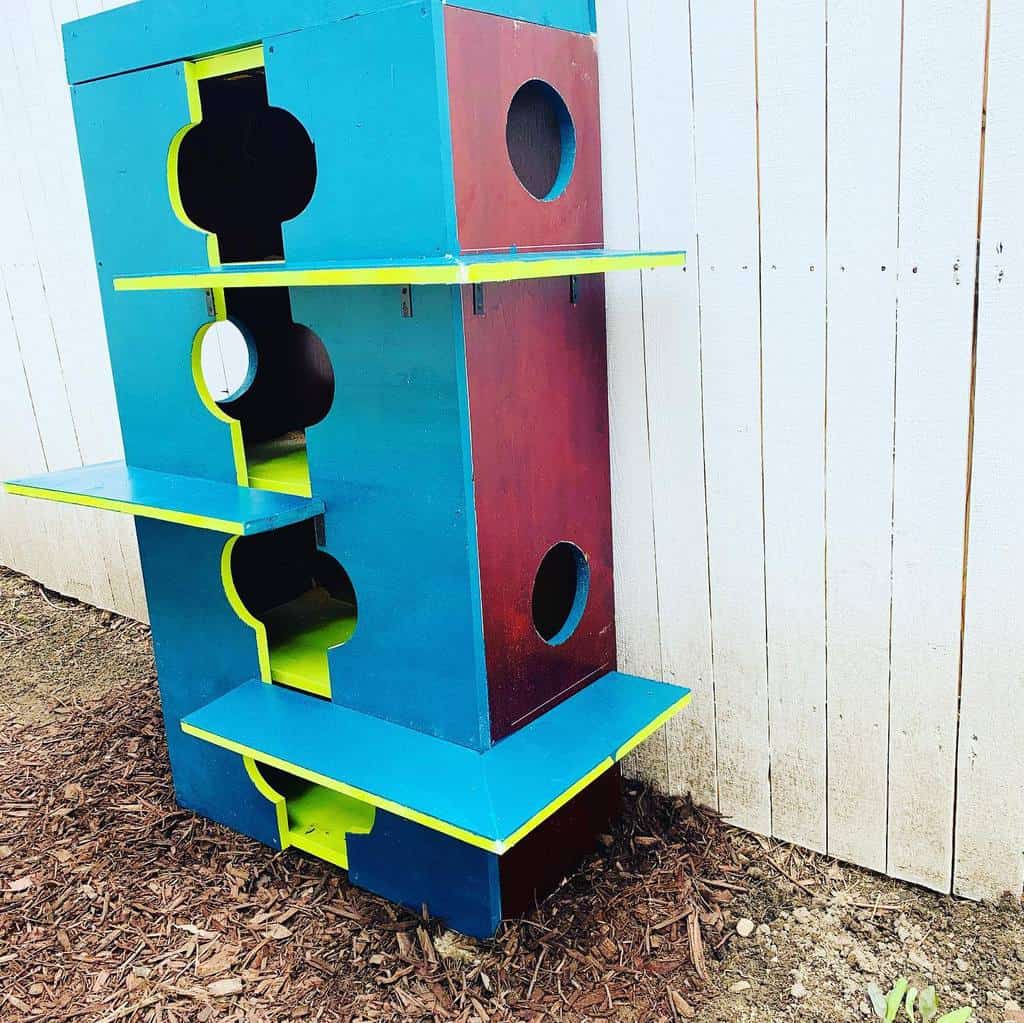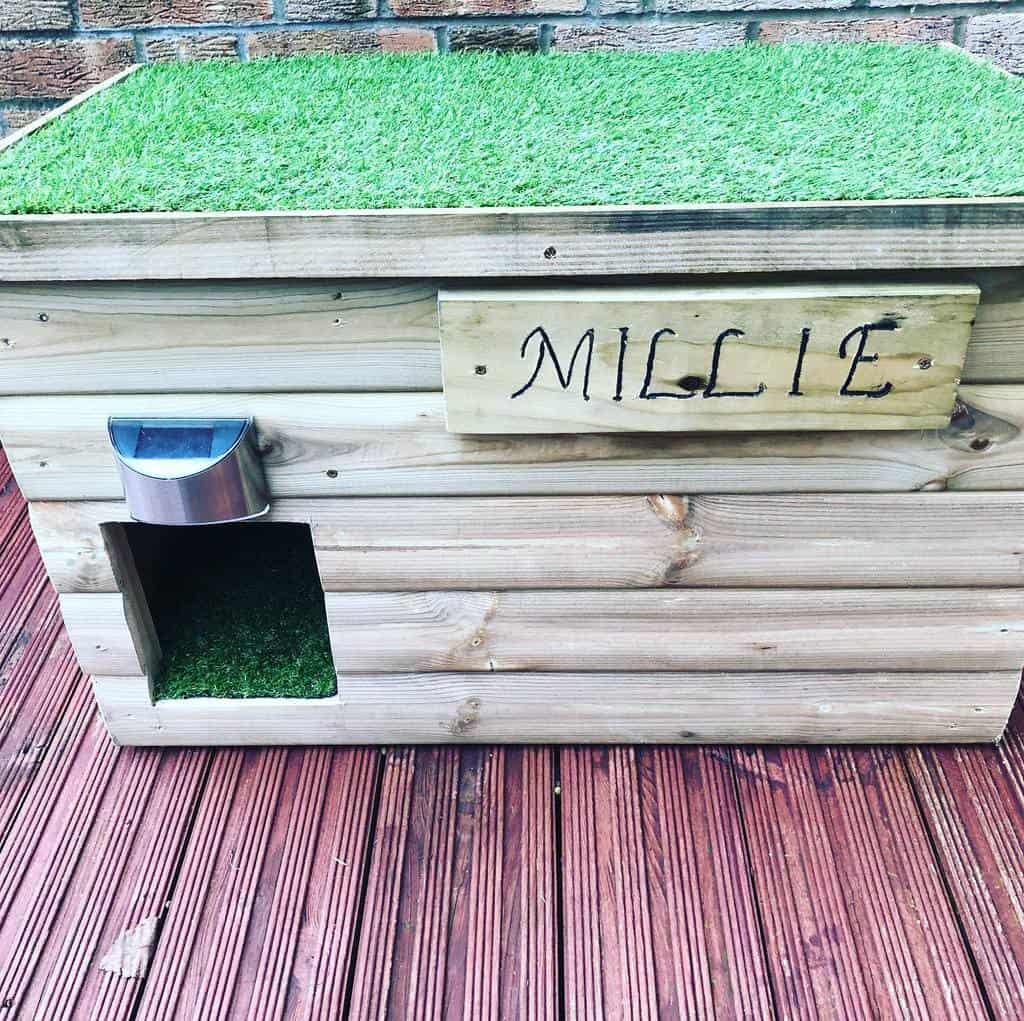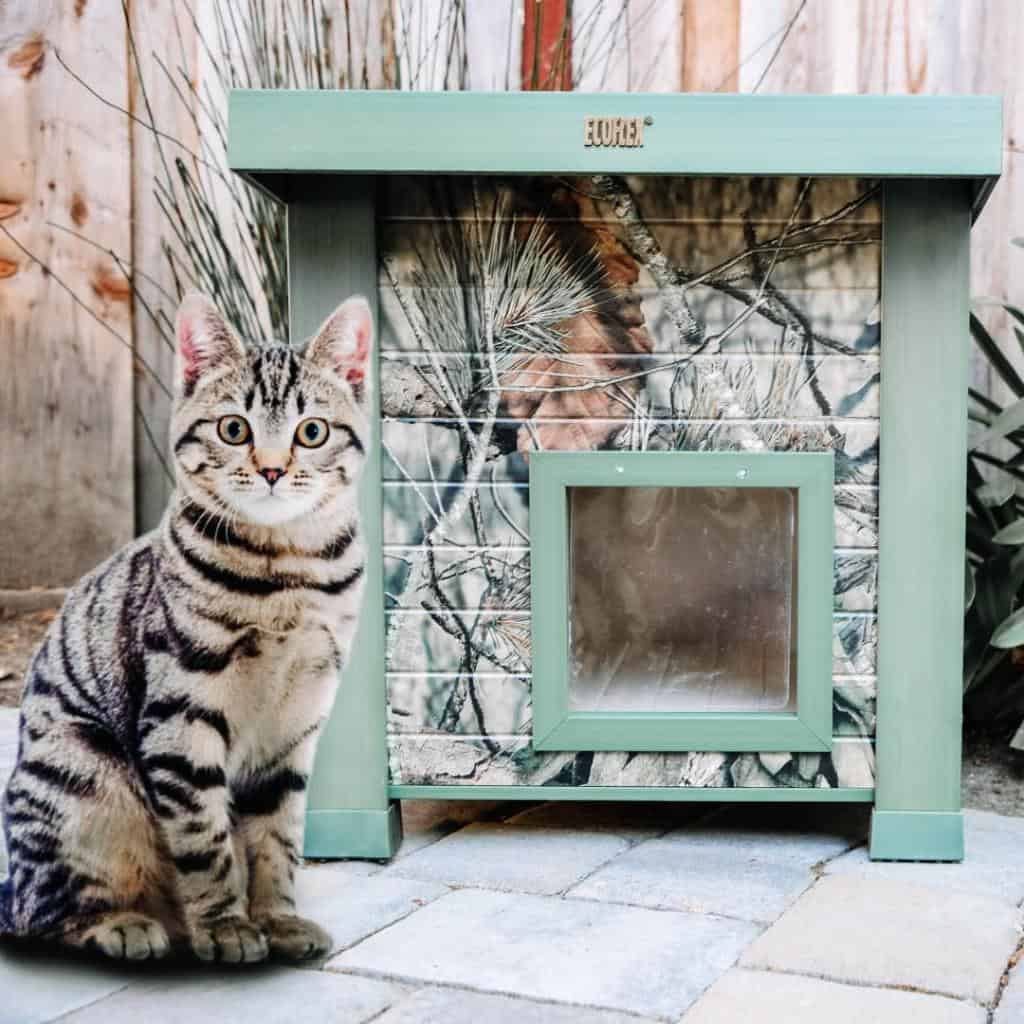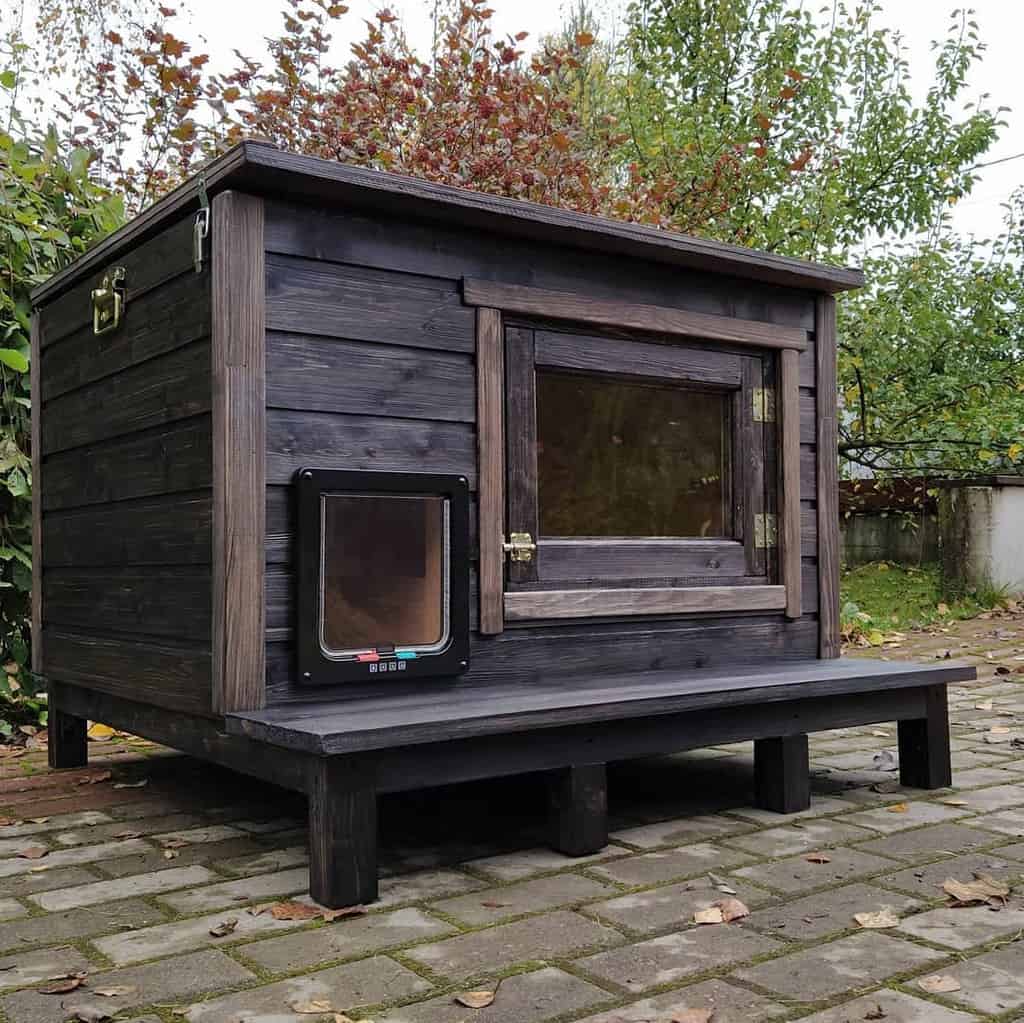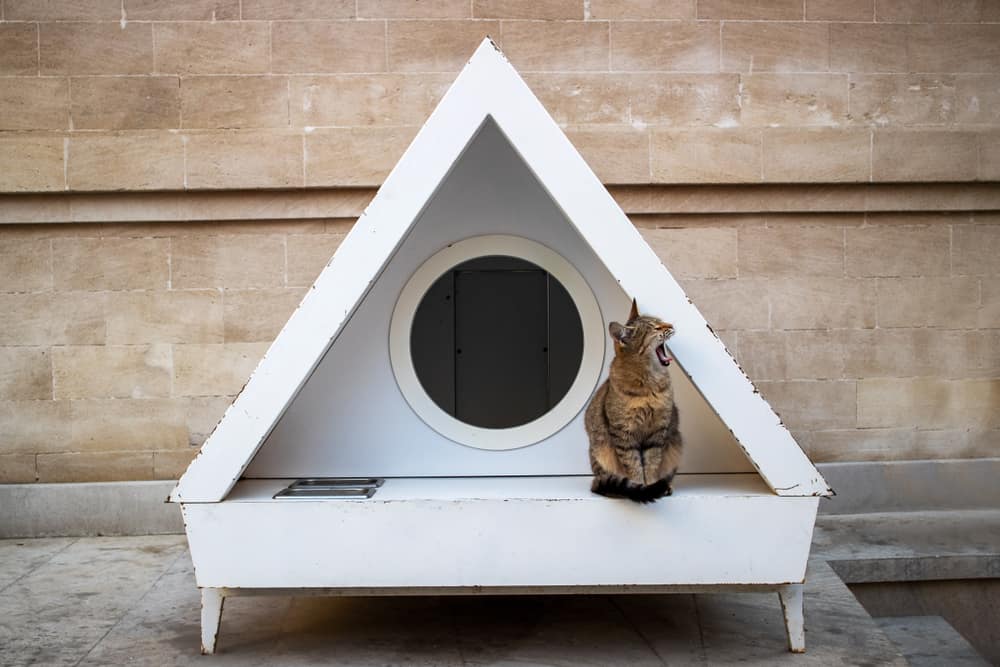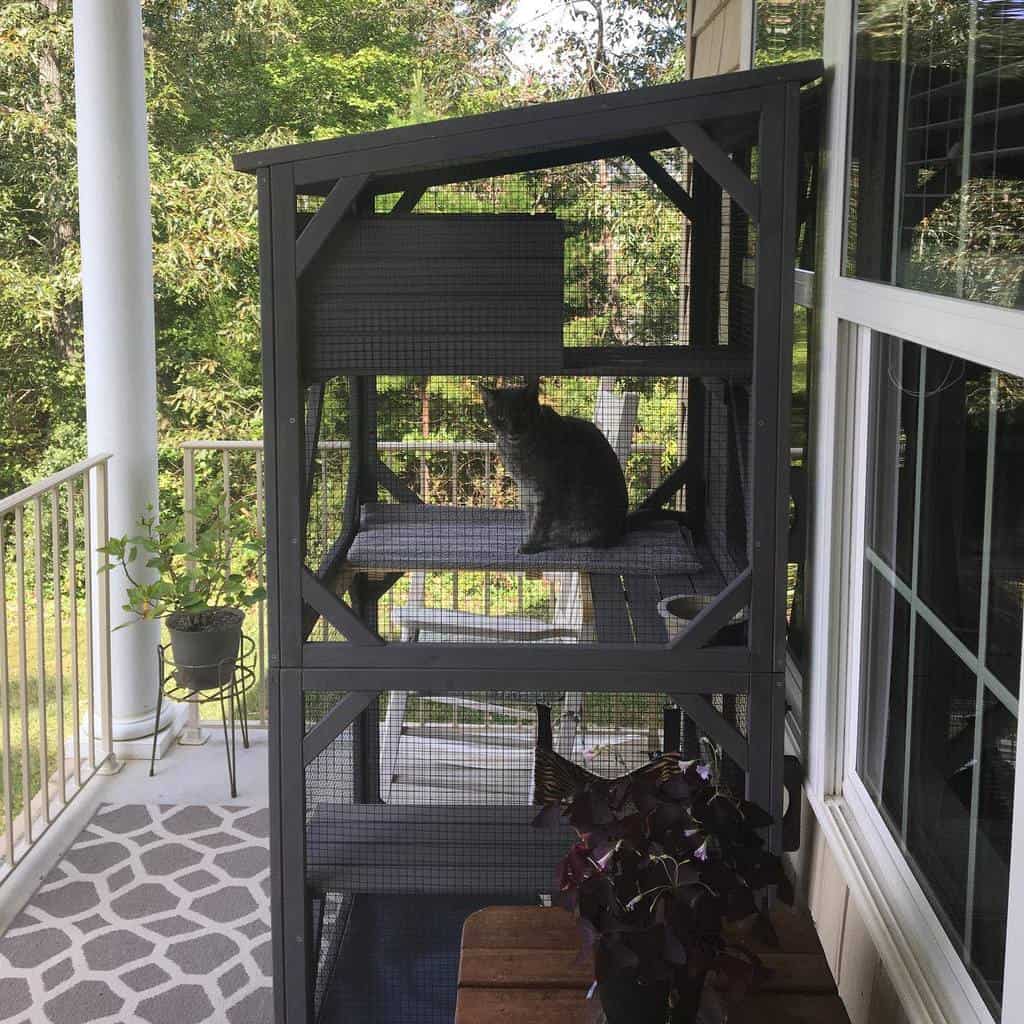 5. DIY Your Own Catio With Wire Mesh
A DIY catio is a simple but creative project that provides captivating views of birds, bugs, and nature. You can make one yourself by attaching wire mesh or poles around an outdoor space to create a secure outdoor enclosure.
It's an innovative way to ensure your pet is safe while still enjoying the great outdoors! With just a few items you can make your own DIY catio in no time, leaving your feline friend with plenty of space to explore, exercise and play.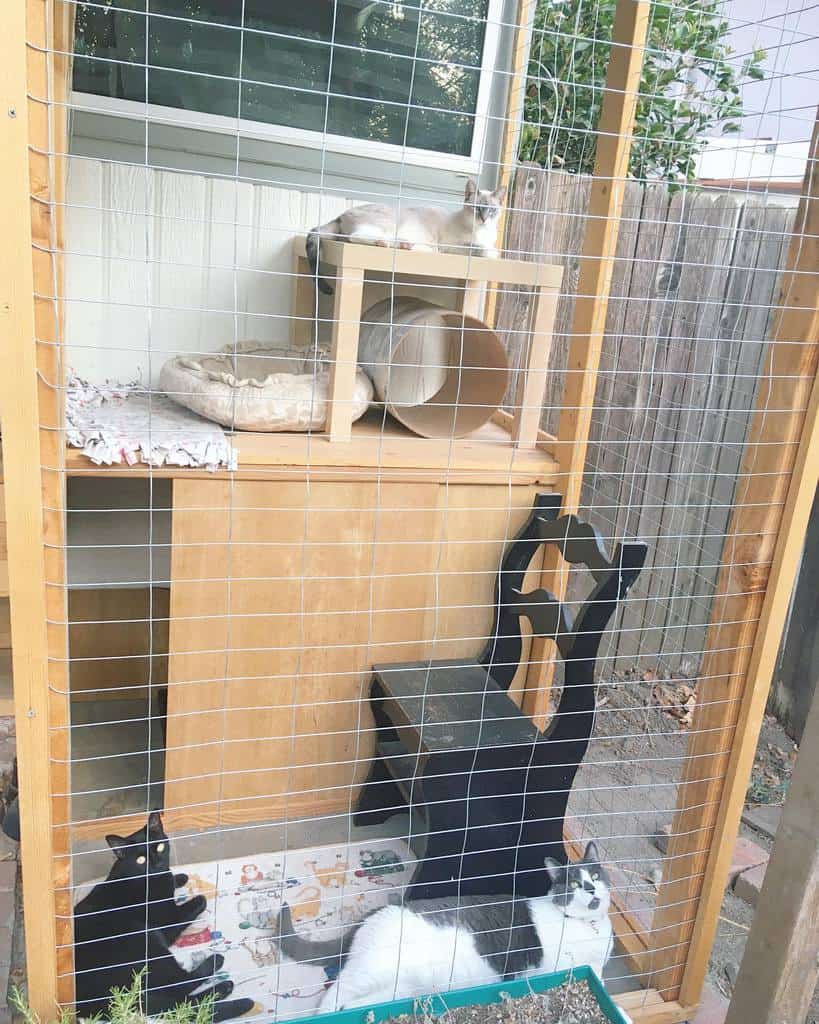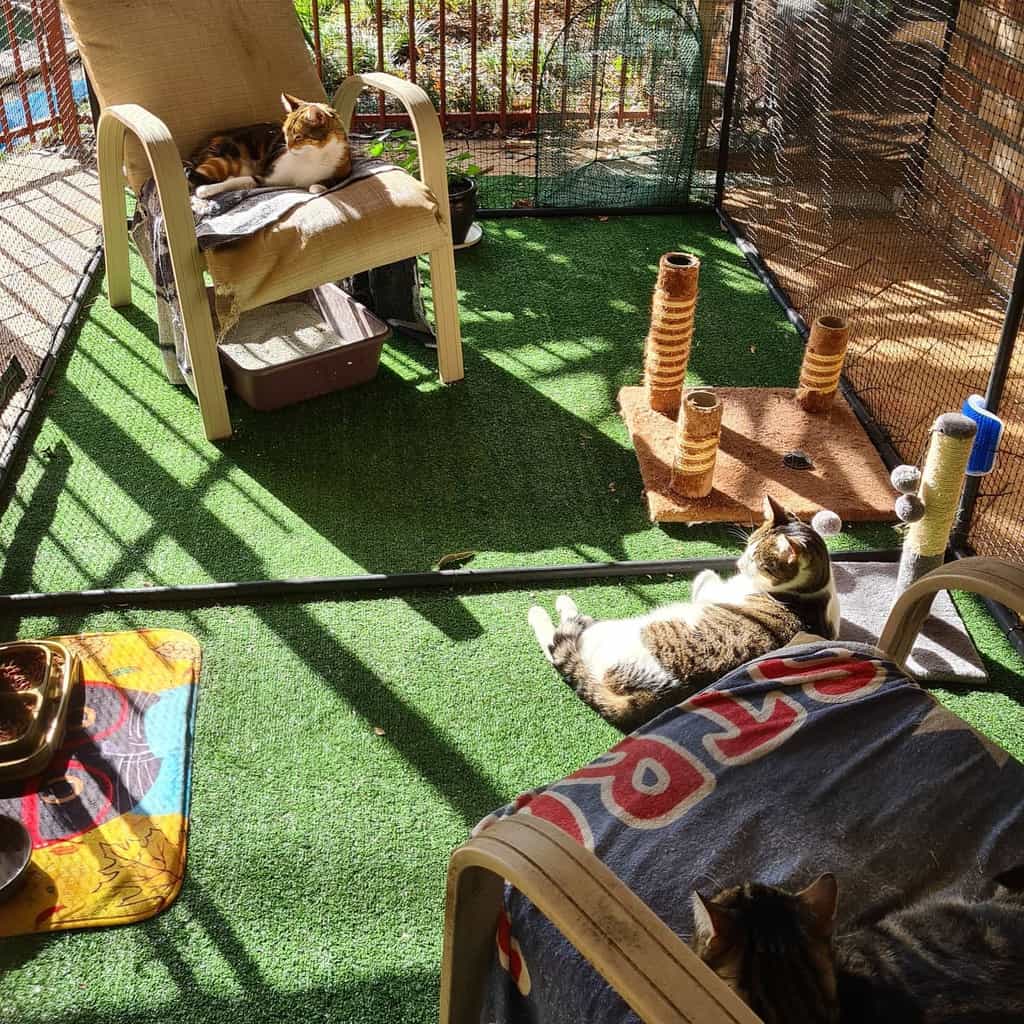 6. Decorate The Catio With Potted Catnip
An exciting way to decorate your catio is with potted catnip plants. Not only does it add some greenery, but it also gives the kitty a special treat as an added bonus!
You can even combine the decor with ornamental grasses and other foraged materials for a truly unique habitat. Your cats will love having their own outdoor space to explore and enjoy in safety, just make sure it provides enough sunshine and you can customize your catio any way you'd like!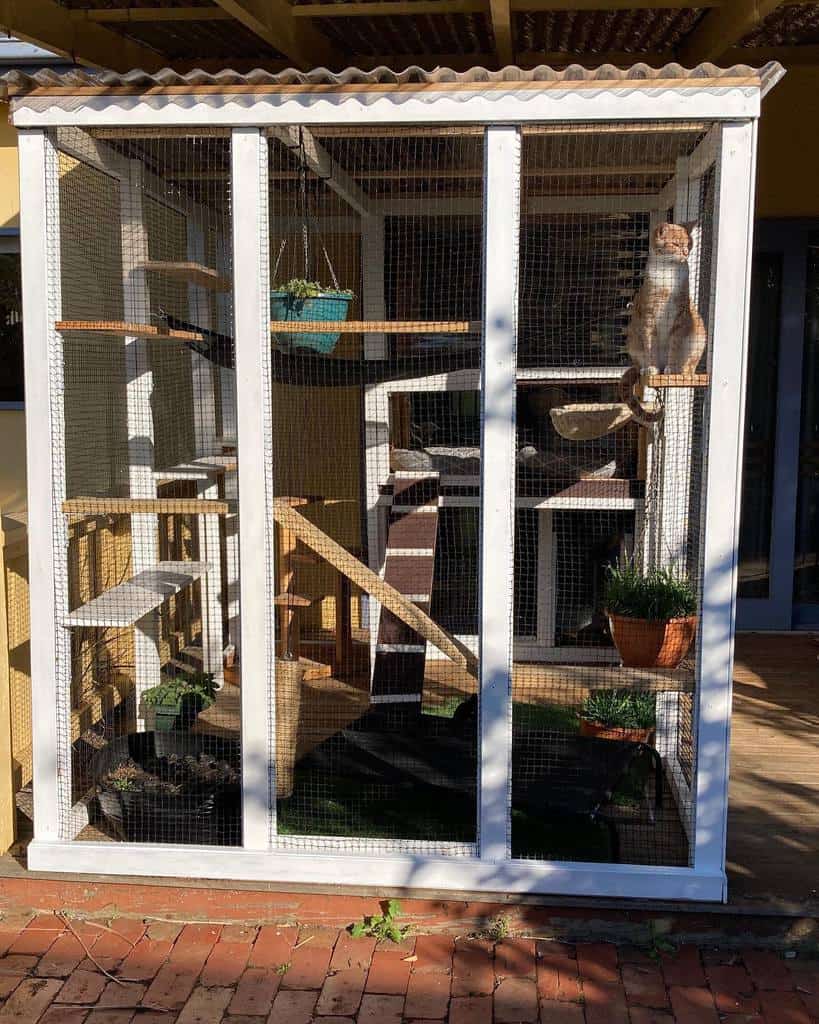 7. Tiered Cages For Multiple Cats
Catios offer endless opportunities for creative enrichment and playtime with your fur babies. From hand-crafted tiered cages to modular habitats, the options are seemingly endless! Creating tiered cages is a great way to make sure multiple cats get an equal share of fun time without disruption.
By attaching multiple cages side-by-side or stacking them on top of one another, you can keep cats off each other's backs while still giving each one their own safe environment to explore and have fun.
And let's not forget about the things in your catio that keep it looking nice; use colorful rugs, plants, climbing structures, toys, and other accessories for an inviting space for your cats!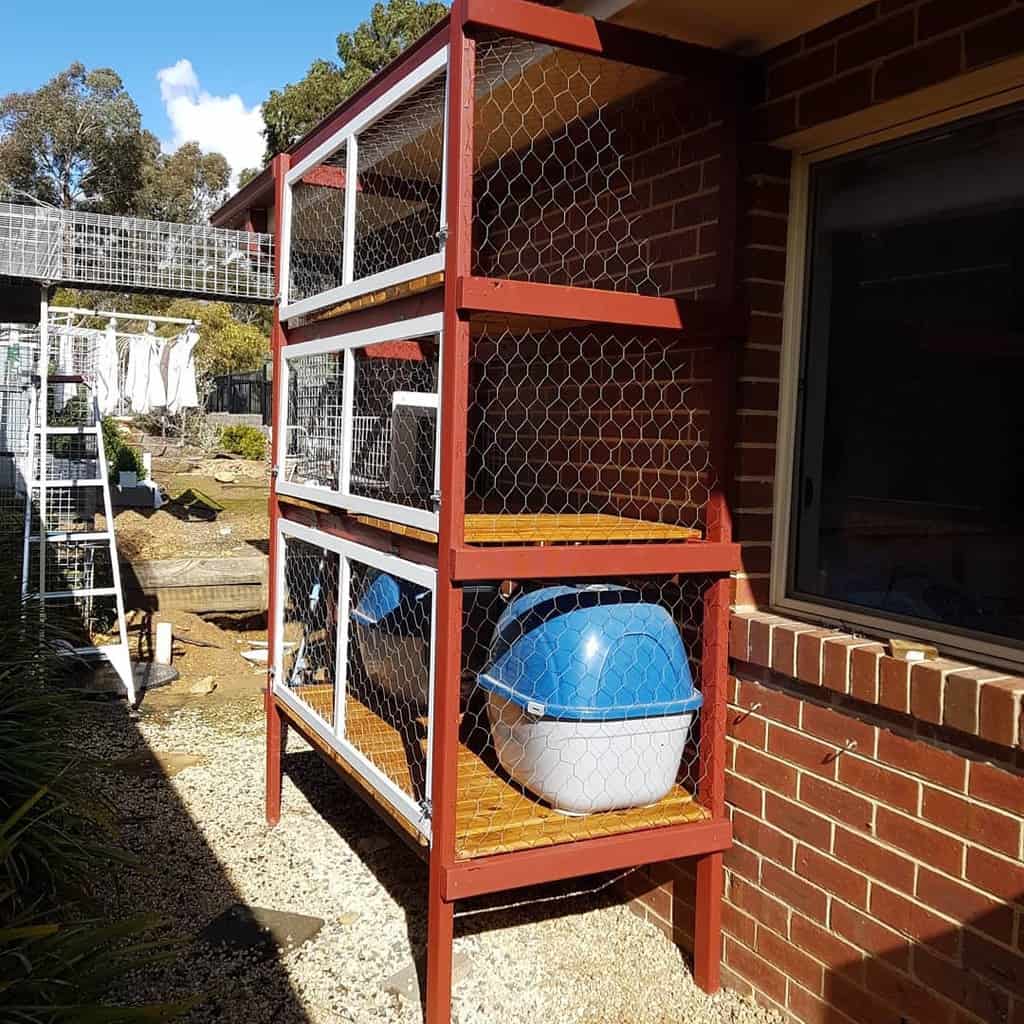 8. Experiment With Vertical Spaces
Catios are the perfect way to provide your feline friend with the outdoor access they crave while keeping them safe from predators. When considering ideas for your catio, wall ramps are an easy addition that will give them a fun way to jump up and down; while providing them with vertical lounge space can really help make it something special.
You could also add some plants to give them areas to explore, and clear roofing so they can still bask in some much-needed sun. With just a little bit of creativity, you can easily craft the perfect outdoor oasis for your fur baby.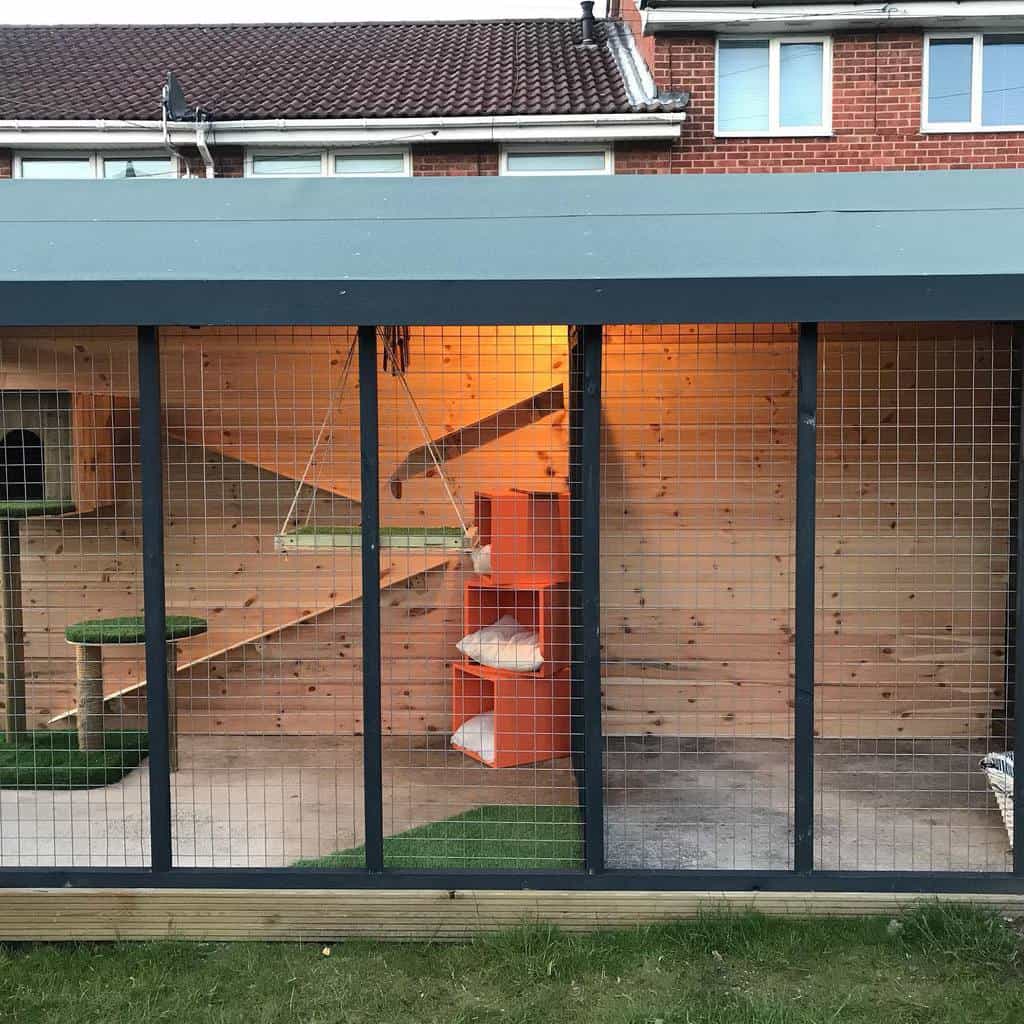 9. Match The Cage With Nature
Painting the cage in a green or natural tone will help it seamlessly blend with its surroundings. Place plants around the cage and include bird feeders to offer visual stimulation as well as calming sounds of birds chirping.
Tire swings or scratching posts inside the cage are fun additions that enrich your cat's life and encourage mental exploration of the outdoors. With a bit of creativity, you can create an enjoyable haven for your pet while promoting environmental sustainability.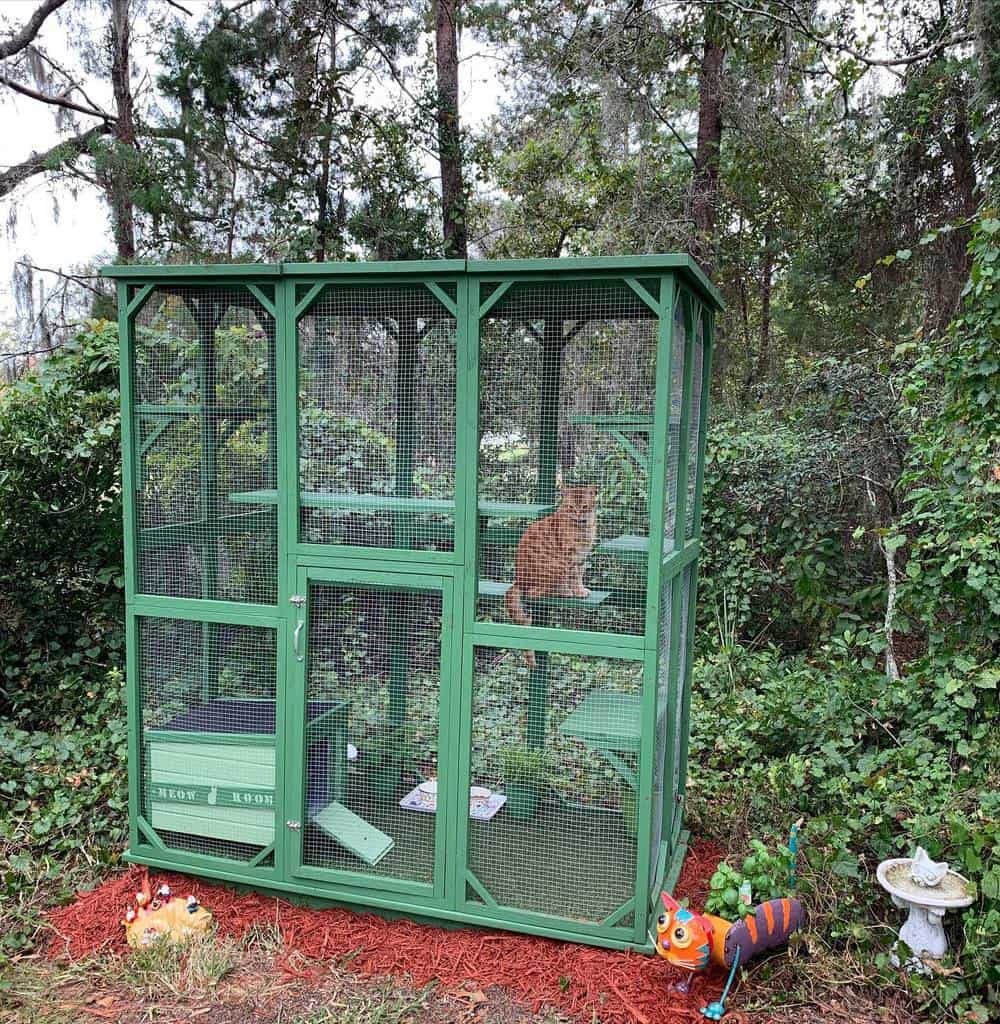 10. Build A Durable Catio With Metal Frames
Creating a durable and comfortable catio for your feline friend is easy when you start with quality materials. Metal frames are an excellent choice because they're strong, durable, and can withstand all sorts of weather conditions.
When you add on durable netting or PVC panels to keep your cat safe, you'll have the perfect outdoor space that provides much-needed stimulation and fresh air. Then all that's left to do is to accessorize with a few toys, scratching posts, and even some plants for added environmental enrichment.
With these ideas in mind, you'll be sure to craft the perfect secure oasis for your beloved feline in no time!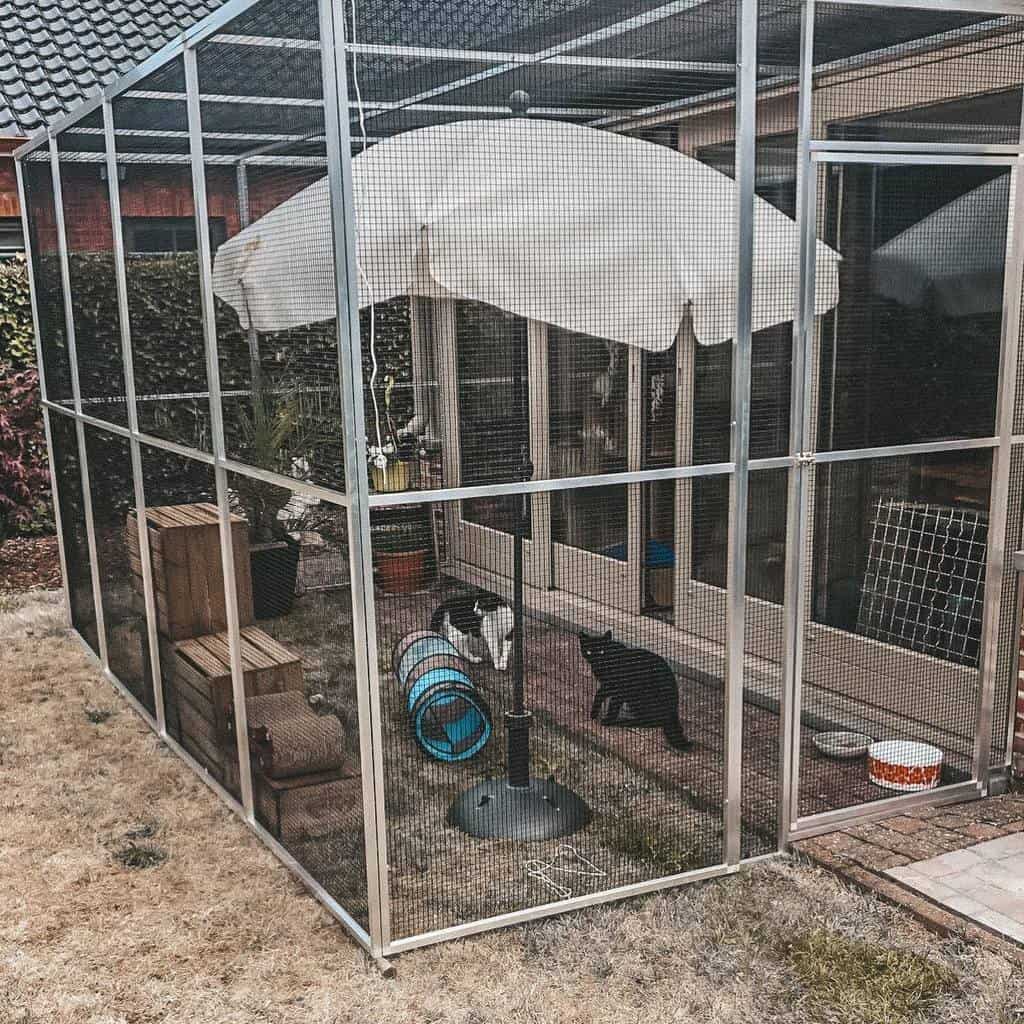 11. Screen Your Porch
Catios, or cat patios, are a great way to co-habitat with your pet and provide them with fresh air. If you're looking for creative patio ideas, using a porch with a screen is an ideal option. This allows your cat to relax and breathe in the fresh air without being exposed to any of nature's potential risks!
You can also use this porch to lounge with your kitty and spend some quality time outdoors while enjoying their company in the comfort of your own home. Not only will you be able to make outdoor memories together, but you'll also be providing a safe environment where your pet can enjoy the best of both worlds – indoors and outdoors!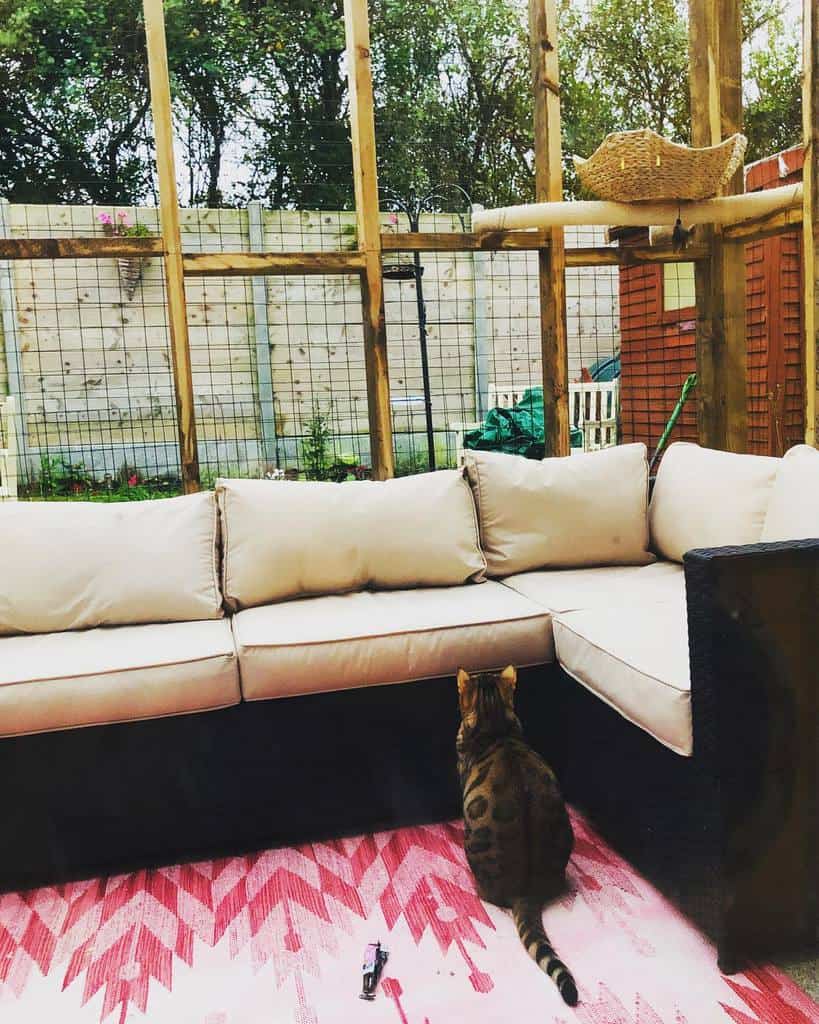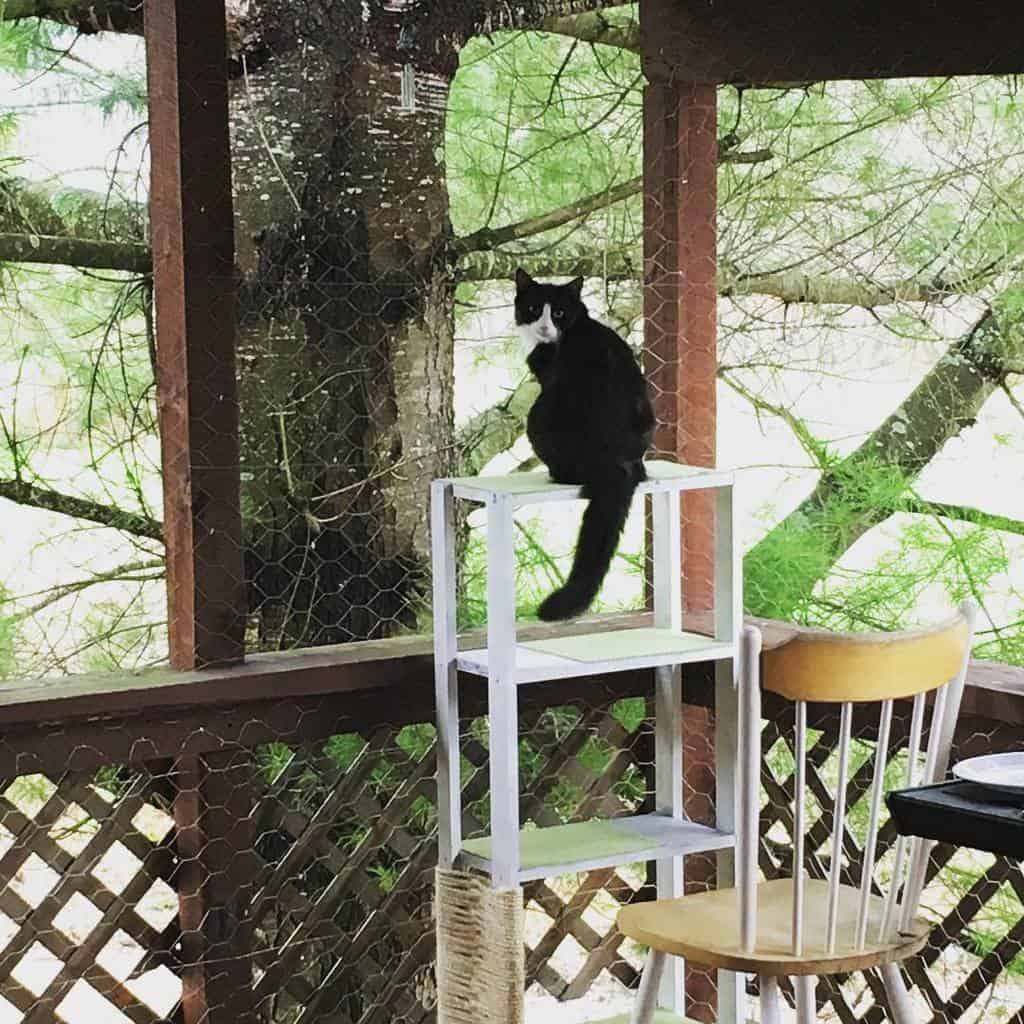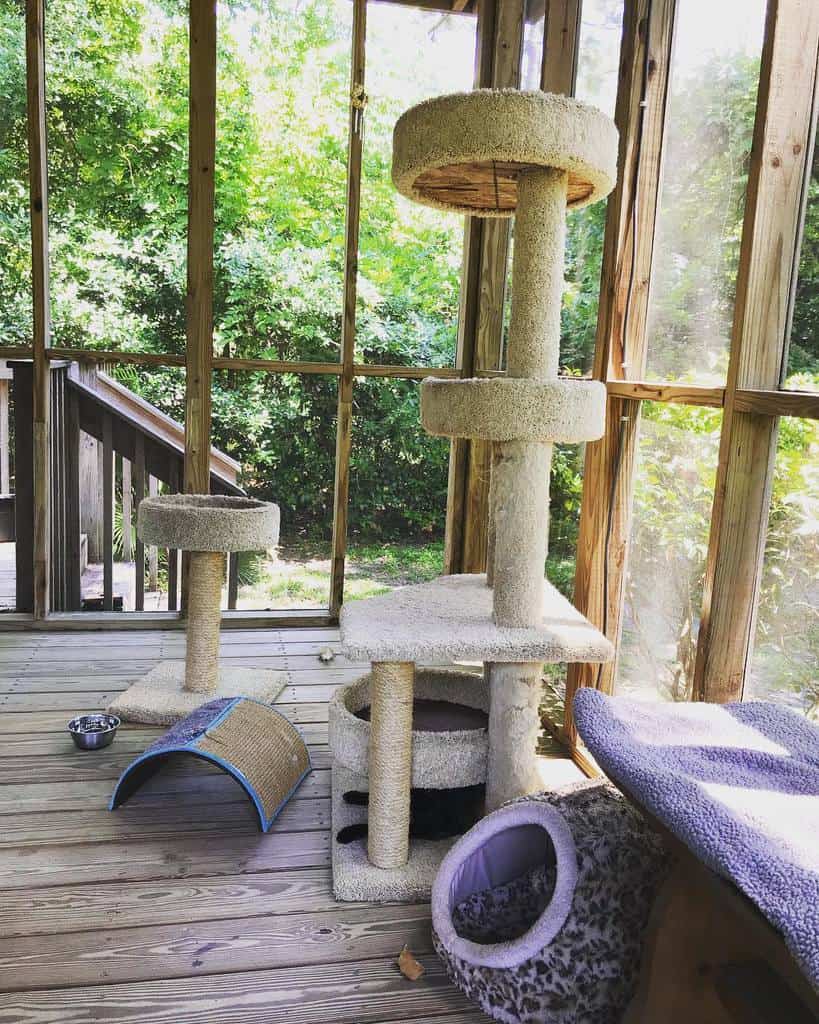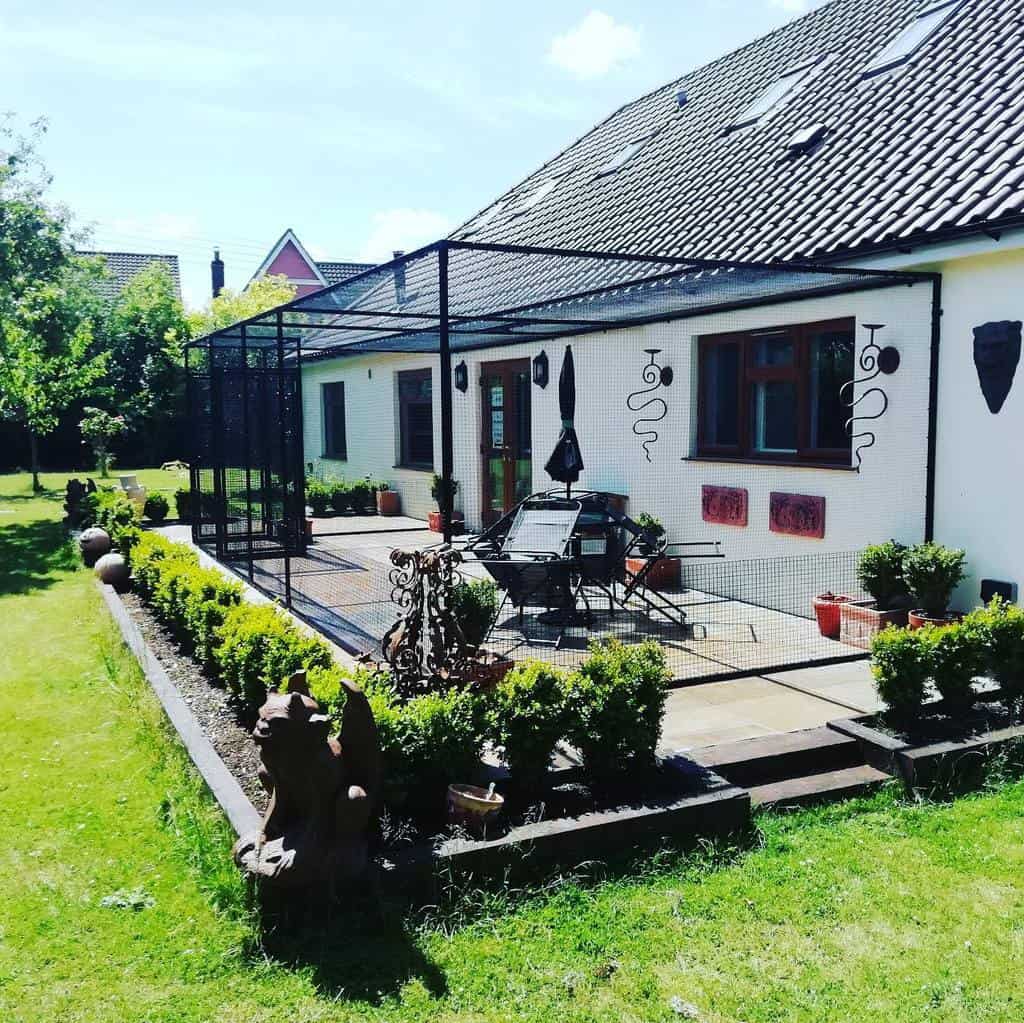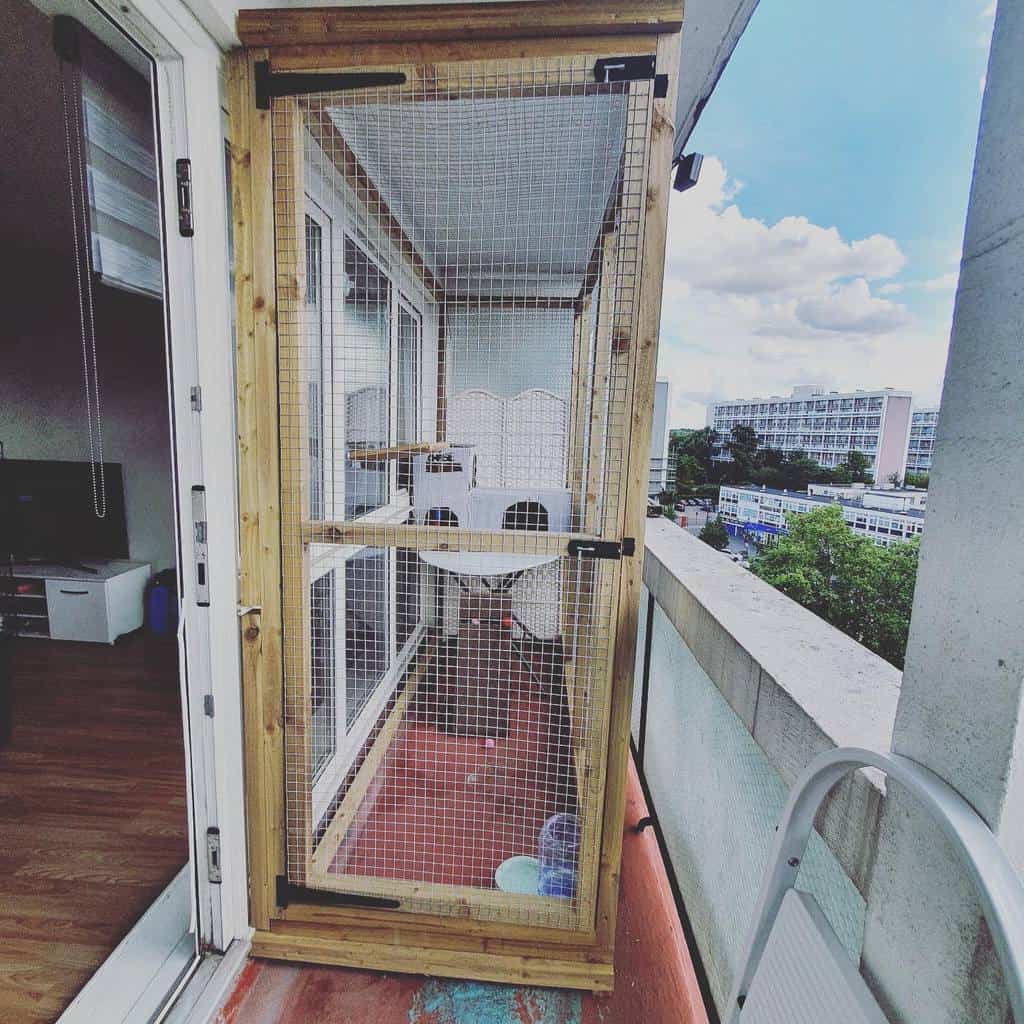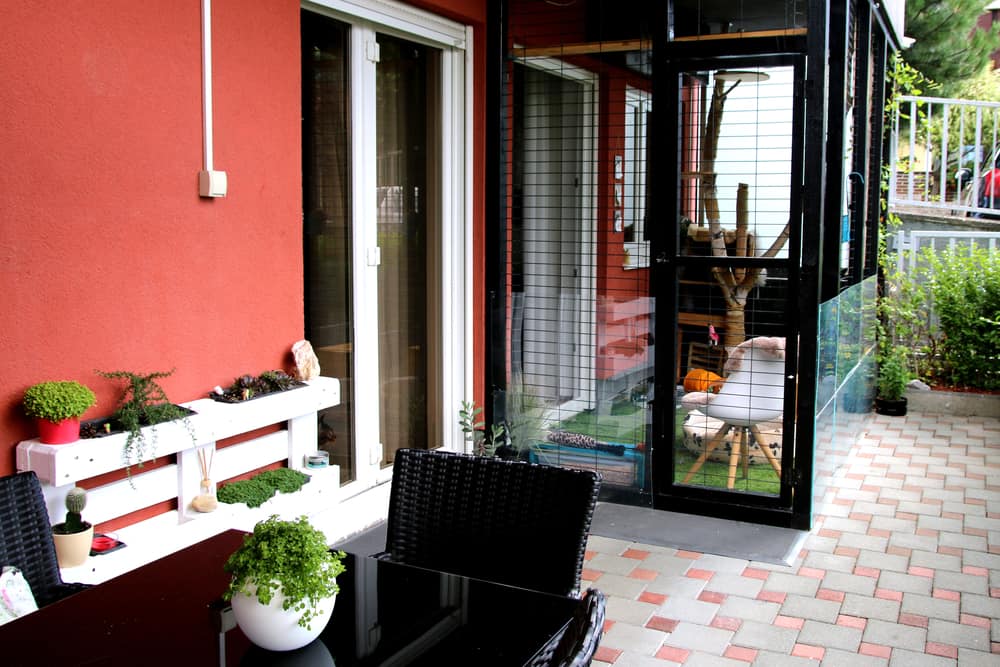 12. DIY Walkway Ramps
DIY walkway ramps coupled with reclaimed wood and scratch boards are all you need to give your feline friend their own private outdoor retreat.
Designing DIY walkways from one level of the catio to another can both provide a sense of exploration and exercise in your cats' life while also making sure they stay safely inside their catio environment.
Meanwhile perches made with reclaimed wood and enough room for scratching posts can make sure your kitty has plenty of activities right outside your door.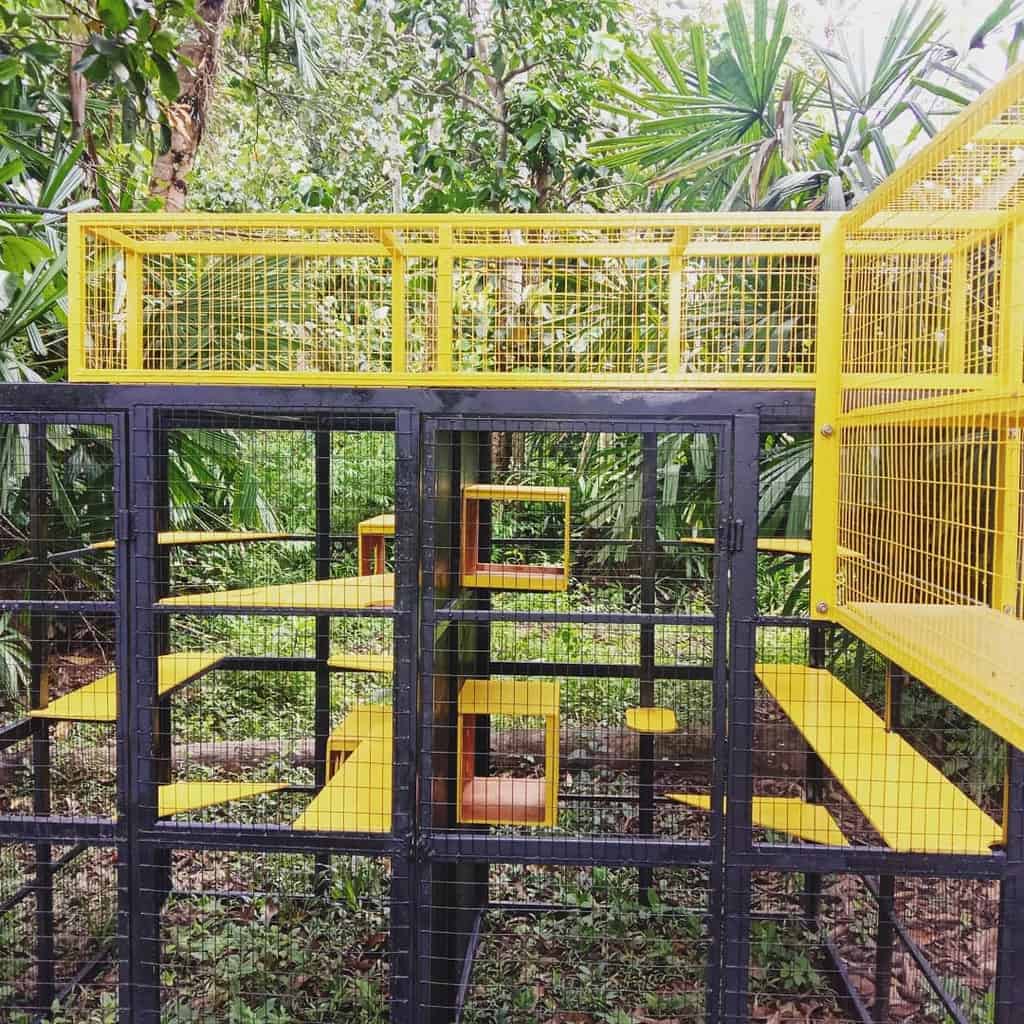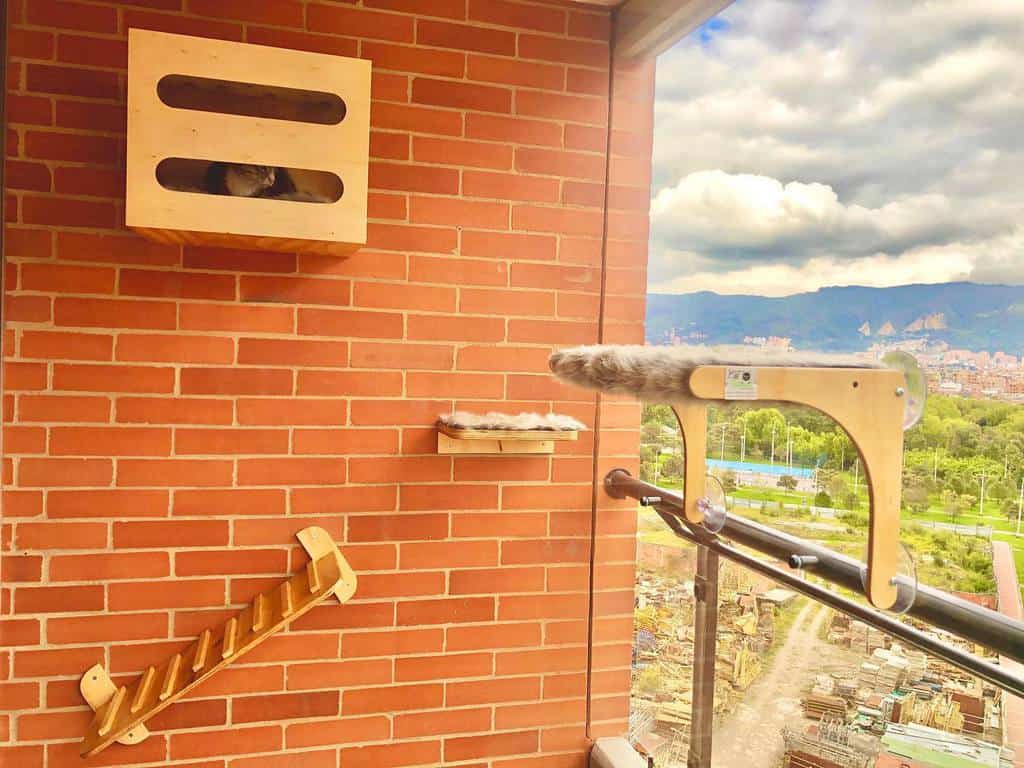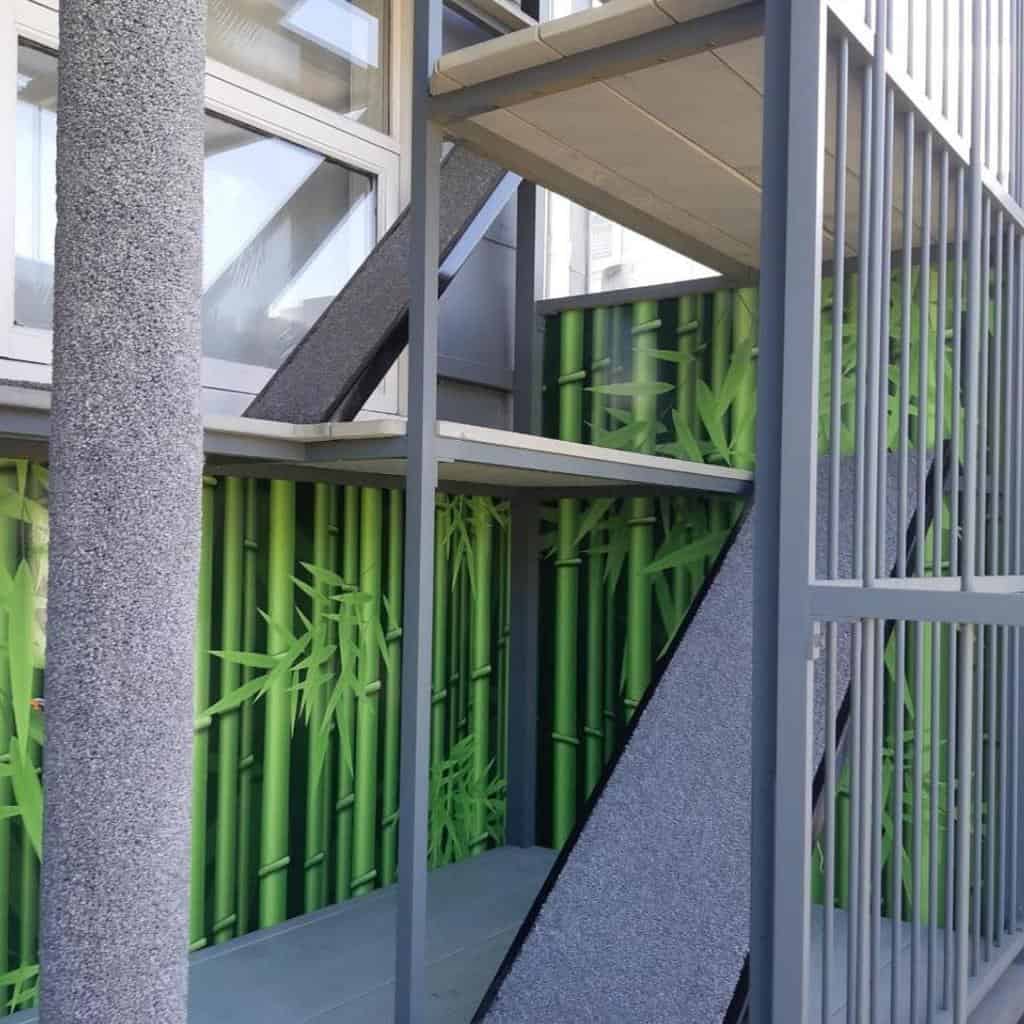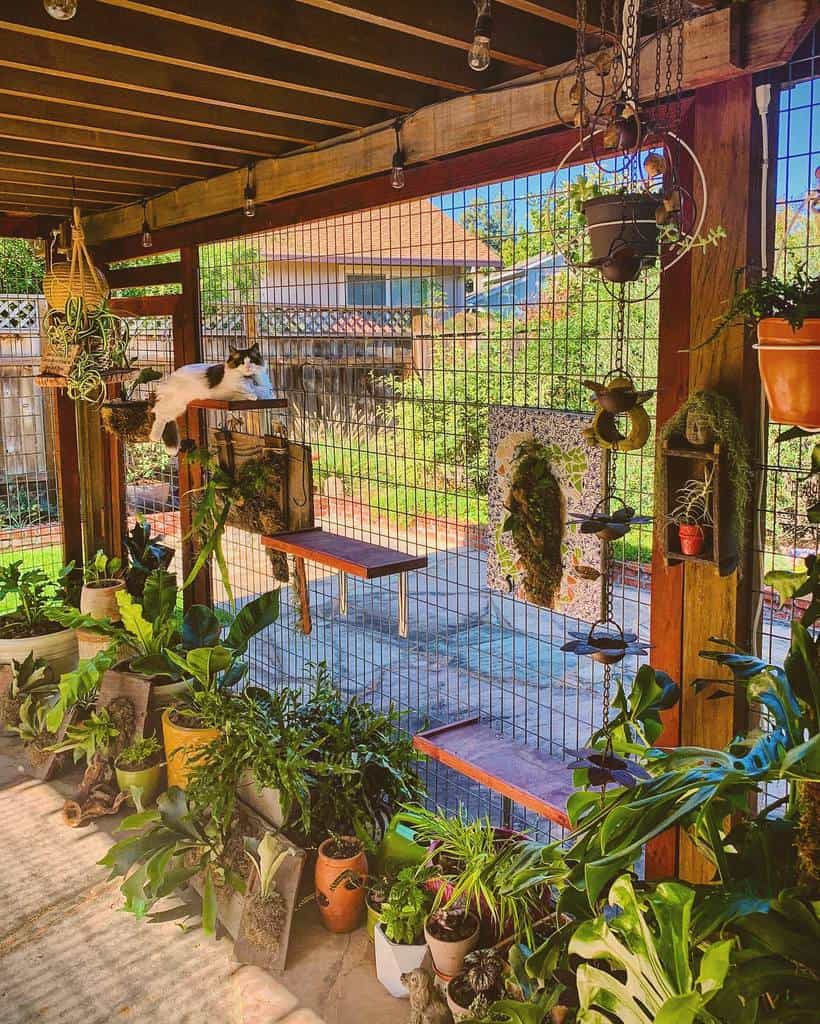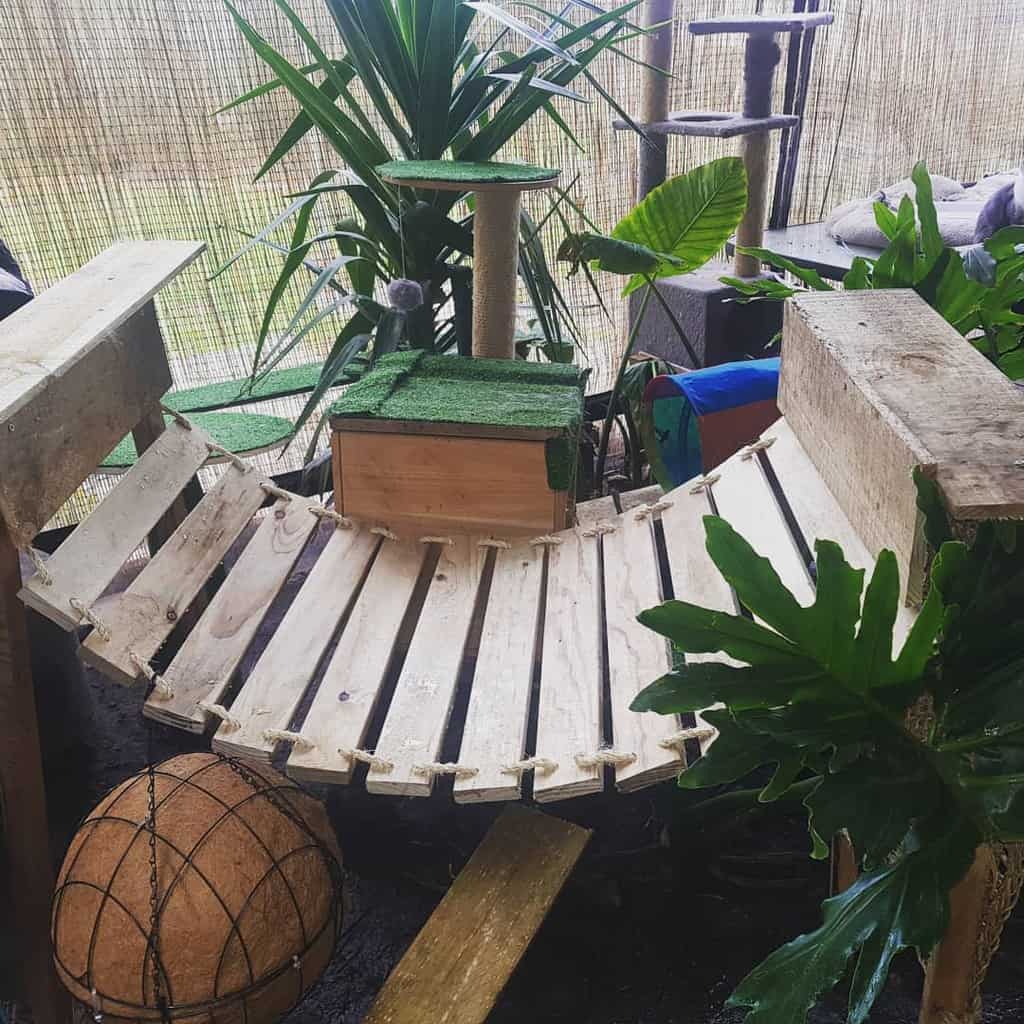 13. Set Up A Window Catio Extension
Catios are a great way to give your feline friend some much-deserved outdoor time without worrying about them wandering off. Instead of building a completely new addition to your home, why not consider window extensions?
These window extensions are essentially window-sized balconies and come with screens so that no pests or predators can get in! This practical catio idea is an inexpensive and easy way to provide your kitty with all the sun, breeze, and view they need while remaining secure.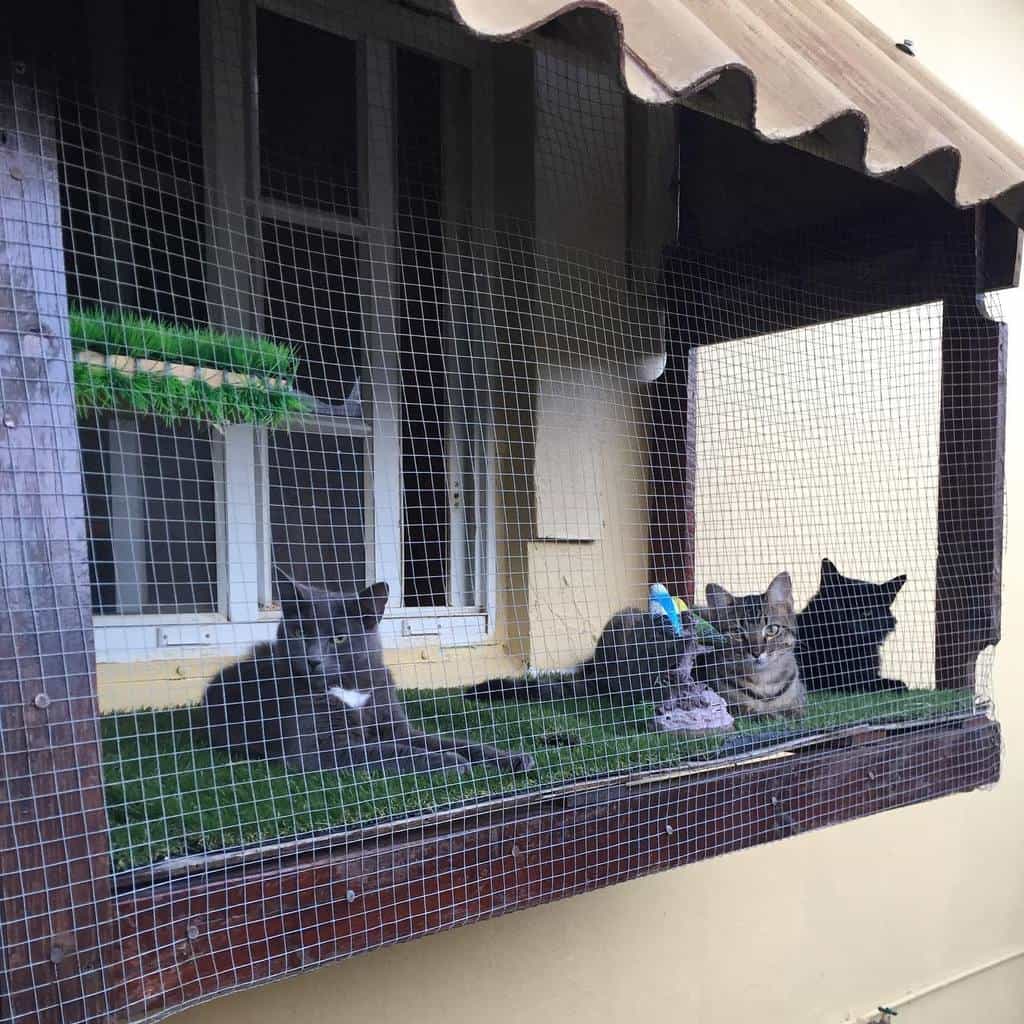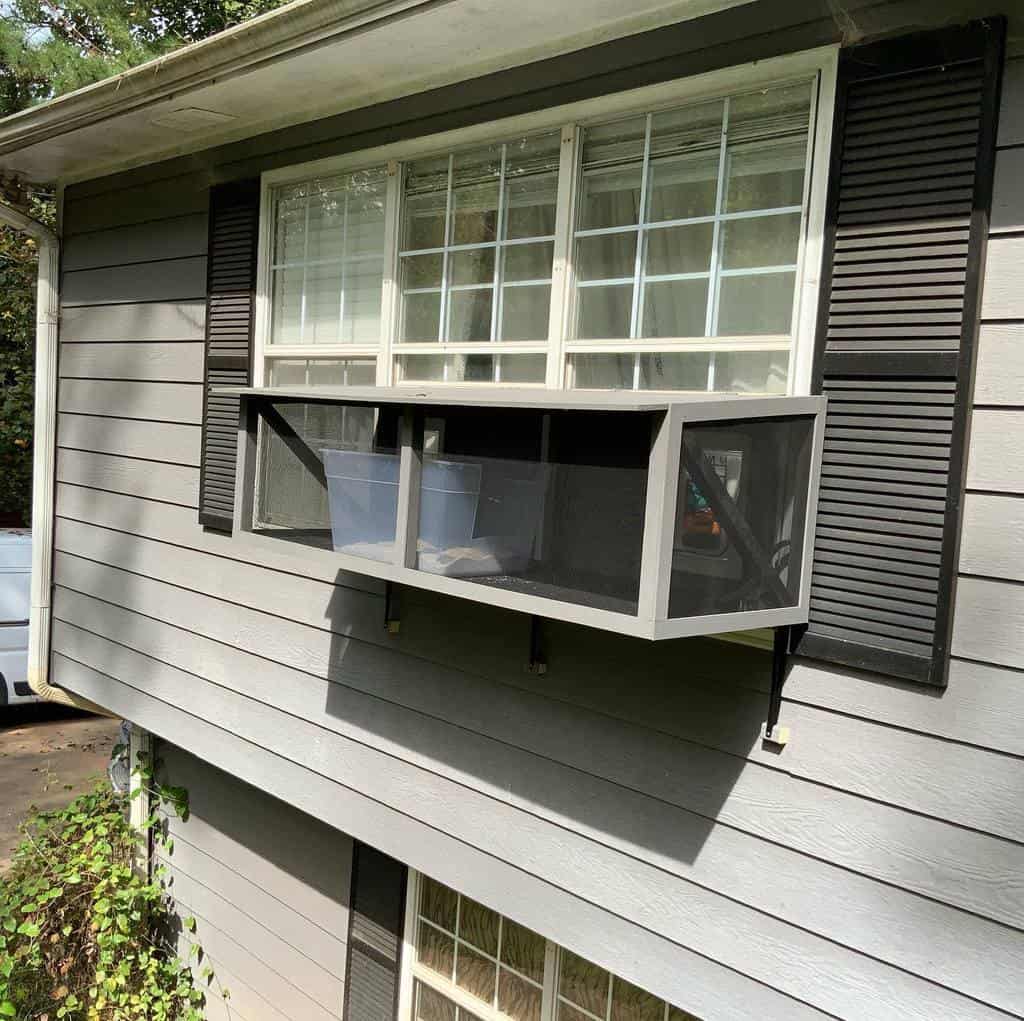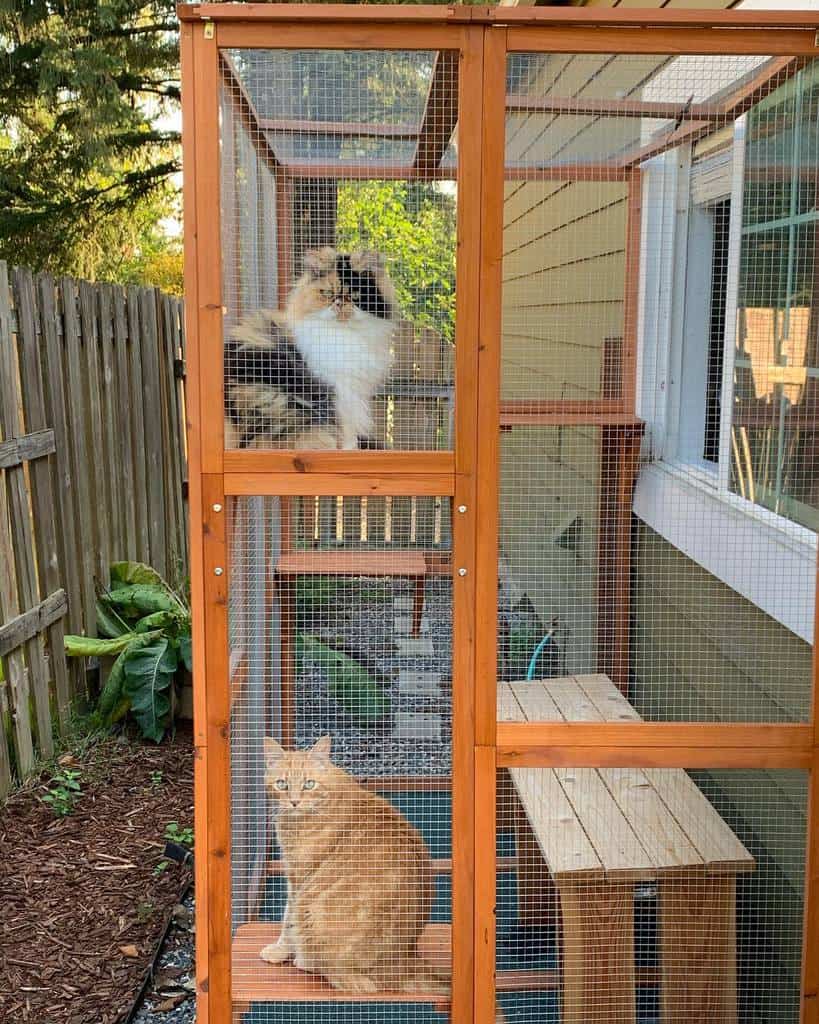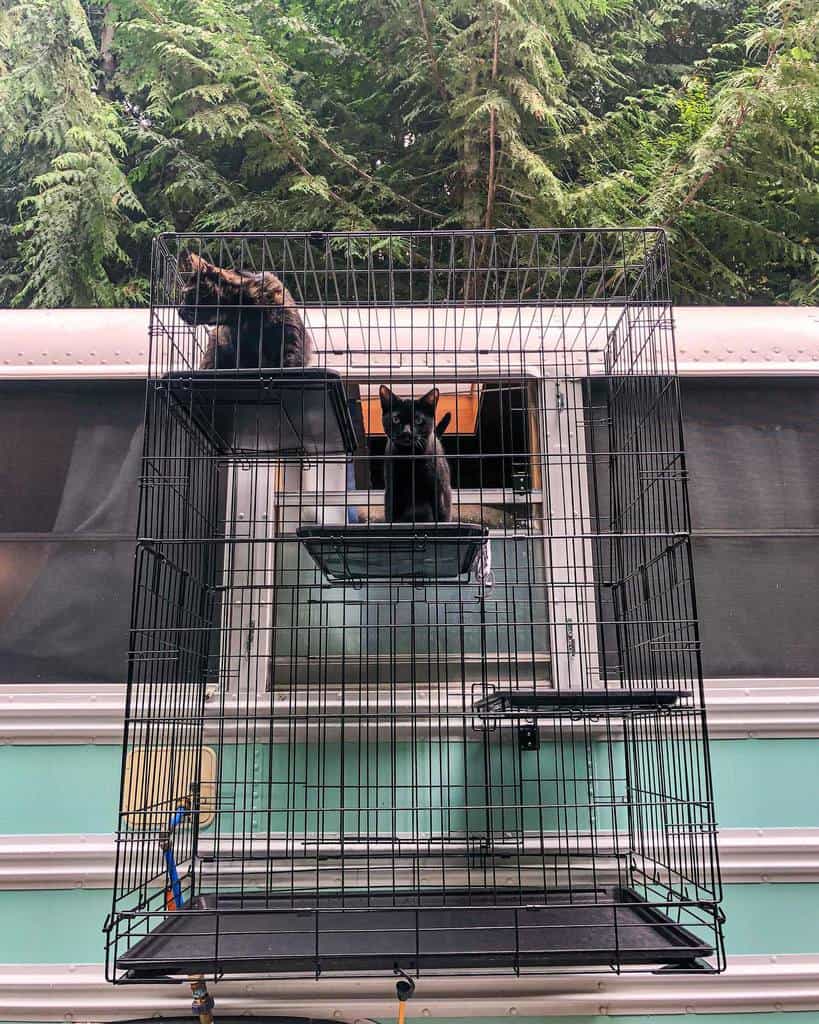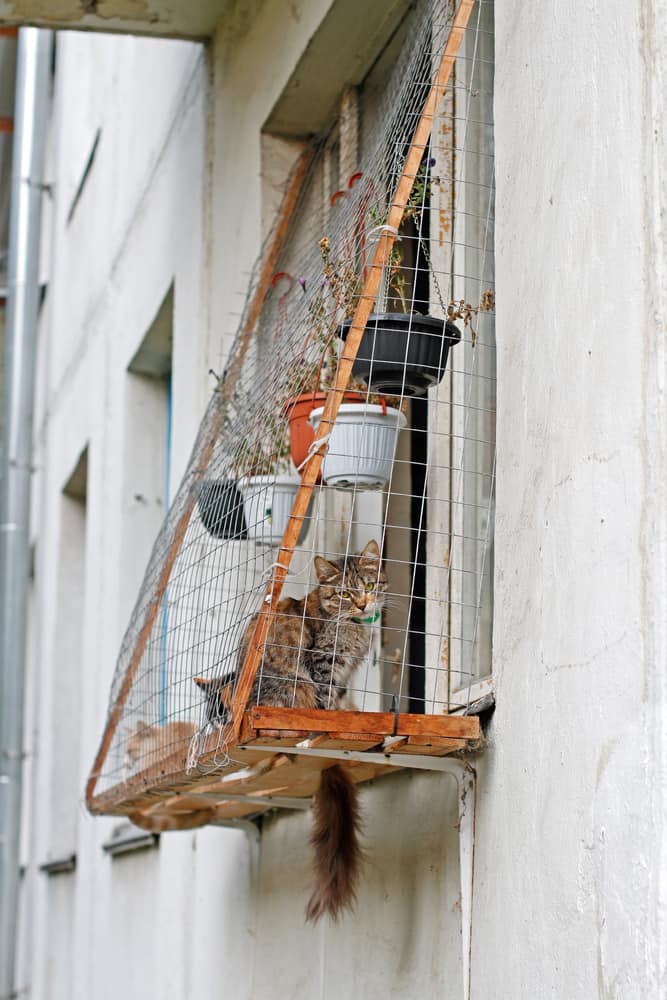 Catio FAQs
Can you leave a cat in a catio unsupervised?
For your cat's safety, supervision is recommended. This doesn't mean you need to be right next to the catio at all times. But you should be close enough to intervene if your cat gets stuck, attempts an escape, or otherwise needs your help.
Do you need to include a litter box in your catio?
It's always a good idea to include a litter box in your outdoor cat enclosure. If your cat will only be spending short periods of time in the enclosure and space is limited, it's fine to leave out the litter box. Just make sure your cat has a means of getting to their litter box (or letting you know) if the need arises.
Are there any other risks associated with using a catio?
Keeping cats indoors protects them from a lot of environmental hazards. Staying up-to-date on vaccines is especially important if you want to start letting them spend time outside in a catio. There's very little chance your cat will catch a mouse or bird in their outdoor enclosure. But there's still a chance they could be exposed to viruses or parasites.