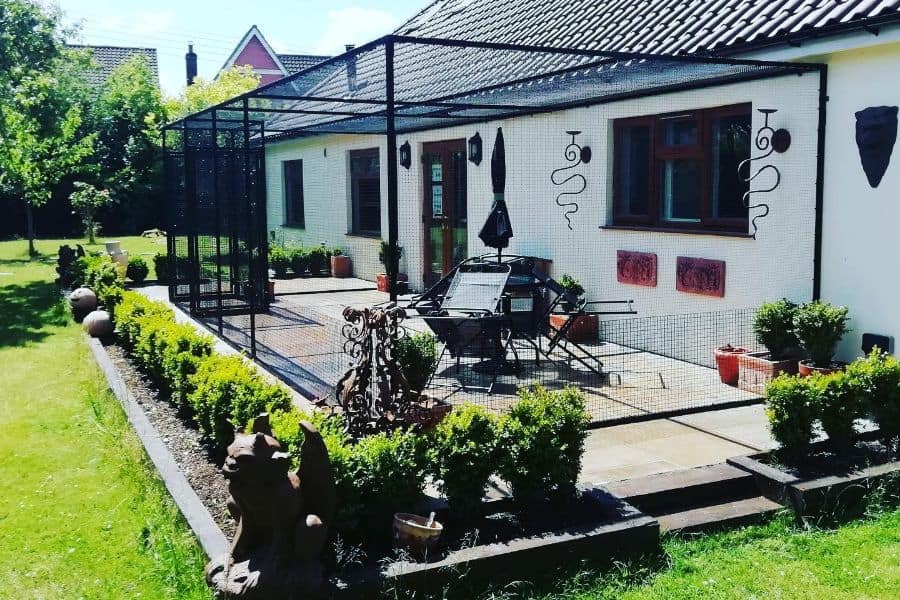 There's plenty of research to support keeping domestic cats indoors. Not only are house cats infamous for taking out native songbird populations, but roaming around outside can also be extremely dangerous for your feline companion.
Every cat owner wants to give their pet the best life possible, and a regular old cat tree doesn't always cut it. If your cat longs to be outside and enjoy the fresh air, a catio might just be the perfect solution.
Keep reading for some of the best catio ideas that both you and your furry companion are guaranteed to love.
1. Backyard
You might scoff at sacrificing a sizable chunk of your backyard patio for a cat enclosure. But keep in mind that a larger catio benefits both you and your feline friend. A big catio can even offer enough room for you to climb inside, as well.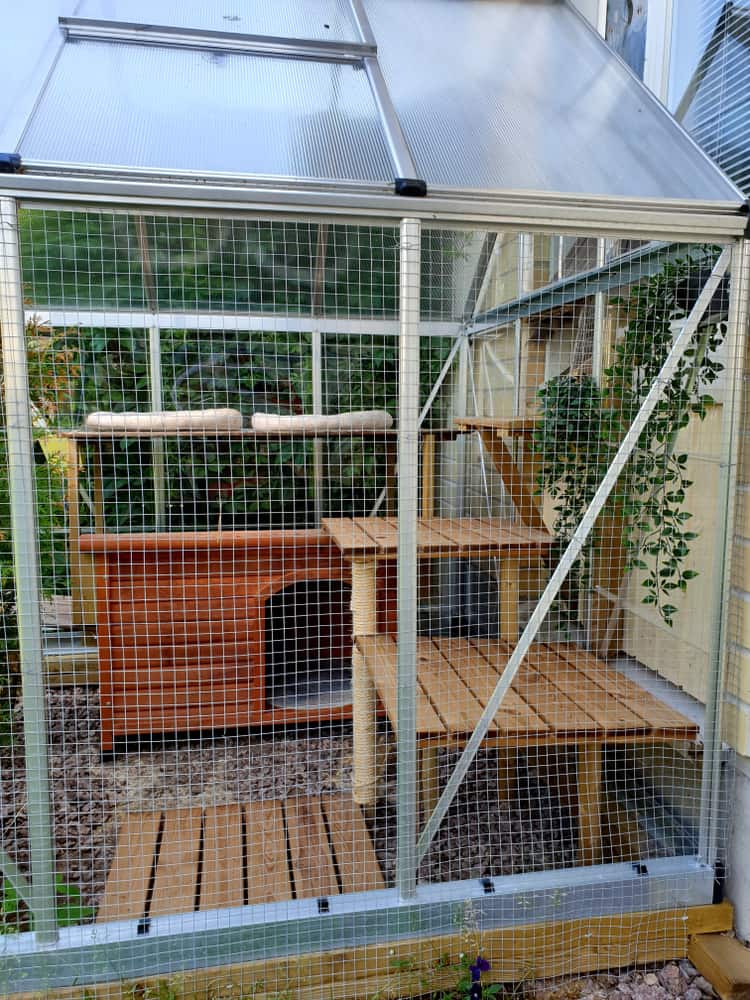 It's not enough to just stick your kitty in a glorified cage outside. Add some enrichment! Toys are great but don't underestimate the mental intrigue of living cat-safe plants or branches for climbing.
While a catio is a true luxury not every feline gets to experience, don't leave your kitty completely exposed. Plant tall flowers or shrubs around the enclosure's perimeter for privacy. Ensure part of the catio offers shade and at least one prime hiding spot.
2. Cage
In an ideal feline world, every kitty would have a catio with tons of open space. If that's not an option for you right now, there's nothing wrong with a space-efficient compromise.
Even something as simple as a large pet cage can provide your cat with some much-needed fresh air. This is a great option for cats who dislike going outside on a leash (yet still spend their time meowing to be let out).
You can easily customize your feline-approved cage with some spray paint and decorative hardware. Install some matching toys, dishes, and bedding for a coordinated catio paradise.
3. Cat House
We've all heard of a dog house. Why not upgrade your outdoor kitty's digs with a custom-built cat house? A cat house is also the perfect shelter for neighborhood cats who might not have a home to retreat to in bad weather.
At its core, all a cat house really needs is a roof and some walls. Add carpeting (recycled works great) for comfort. You can even install a flap over the door and an electric heater during winter.
While your cat won't care about the aesthetics of their house, take the time to stain or paint the exterior to suit your own tastes. Wrap part of the house in twine for a DIY scratching post your furry friend will love.
4. DIY
Catios have become quite popular, and it's not hard to find ready-built enclosures for sale at some pretty outrageous prices. Following a DIY catio plan doesn't just save money, it also gives you the freedom to design a catio you and your cat will adore.
The simplest way to build a DIY cat patio is with a PVC pipe or wood and something like chicken wire for the walls. Wire mesh fencing works well — remove or cover any sharp ends before placing your cat inside.
You have full control over if your catio is freestanding or connects to a window or doorway. Include varying levels in your cat enclosure design so your feline companion can climb, jump, and find the perfect vantage point for bird-watching.
5. Enclosure
No two cats (or their owners) are exactly alike. So it makes sense that the world of catios would include enclosures of all different sizes, materials, and styles.
Some cat owners prefer a fully enclosed catio. Others opt to section off a portion of their yard or balcony. As long as your pet cat can't get out — and potential dangers can't get in — choose whichever enclosure works best for your outdoor space.
Being outside is exciting for any indoor cat. Still, it's important to include variety in your cat enclosure. Ramps, walkways, platforms, and tunnels are all great options. Plant some cat-safe grass inside to supplement your cat's folic acid intake.
6. Outdoor
If you want your catio to truly feel like an outdoor living space for your cat, bigger is better. Ensure that your cat has lots of vertical space to explore.
For the most authentic outdoor cat experience, skip the metal or plywood roof. Instead, use the same wire mesh for the top of your catio as you use for the walls. Cover a small section of the enclosure for some shade.
If your catio will be completely independent of your home, make sure you have a safe way to get your cat to and from its new hangout spot. A pet carrier or harness will work fine, but you can also build a tunnel going from your home to the outdoor cat enclosure.
7. Porch
Building a catio from the ground up can be a great way to spend a few weekends. If your home has a covered or screened porch, though, there's an easier way to give your cat the life it deserves.
There are essentially two ways to turn a porch or patio into a catio. You can secure the entire porch, turning it into an outdoor cat cage. Or you can build a separate cat enclosure within the existing porch.
This project isn't just for ground-level porches. You can also use these techniques to transform a raised deck or balcony into an enriching outdoor experience for your beloved cat.
8. Walkway
Most, if not all, cats like to climb, explore, and generally get into any nook or cranny they can find. You can embrace your cat's desire for variety — as well as get the most out of the space you have available — by incorporating walkways into your catio design.
If your catio connects to an exterior window of your house, use a walkway to connect this entrance to the main structure. You can also use ground-level or elevated walkways to connect several enclosures.
No matter how small or simple your catio design, walkways, and other raised structures are incredibly important. Add a wall-mounted perch system to your custom catio and use a bridge to connect everything. Your cat will love it.
9. Window
When it comes to home improvement, it often feels like there's never enough physical space to bring our best ideas to life. Fortunately, you don't need a ton of space to instantly improve your cat's quality of life with a mini window catio.
Window-mounted catios come in all sizes, with most offering just enough room for your cat to stretch their legs. Of course, there are also enclosures with window access and plenty of extra space to run around!
The one downside to a window catio is that you won't always want to leave the window open as a cat door. It's a good idea to have another entry point in your catio design for such occasions.
Catio FAQs
Can you leave a cat in a catio unsupervised?
For your cat's safety, supervision is recommended. This doesn't mean you need to be right next to the catio at all times. But you should be close enough to intervene if your cat gets stuck, attempts an escape, or otherwise needs your help.
Do you need to include a litter box in your catio?
It's always a good idea to include a litter box in your outdoor cat enclosure. If your cat will only be spending short periods of time in the enclosure and space is limited, it's fine to leave out the litter box. Just make sure your cat has a means of getting to their litter box (or letting you know) if the need arises.
Are there any other risks associated with using a catio?
Keeping cats indoors protects them from a lot of environmental hazards. Staying up-to-date on vaccines is especially important if you want to start letting them spend time outside in a catio. There's very little chance your cat will catch a mouse or bird in their outdoor enclosure. But there's still a chance they could be exposed to viruses or parasites.