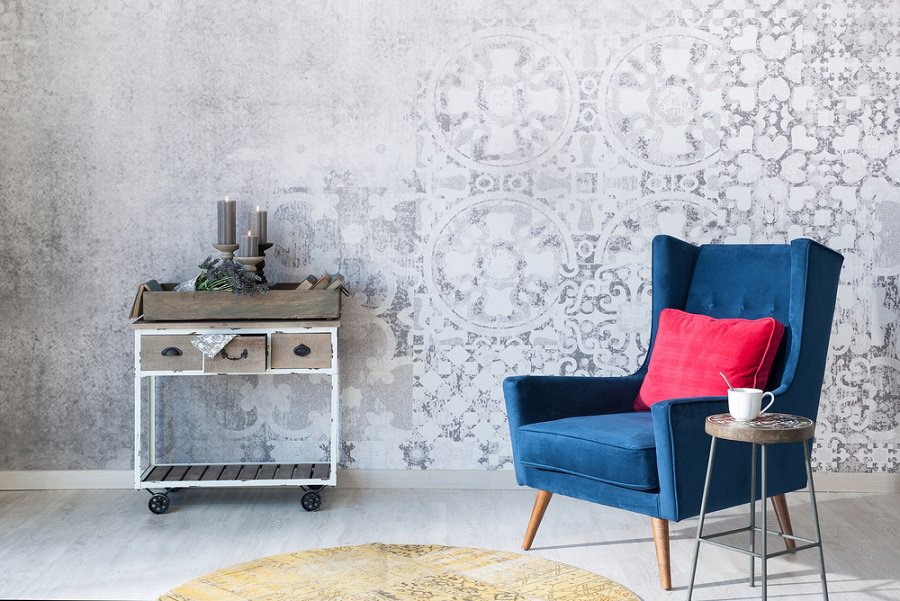 14 Cheap Ways to Cover Walls
Plain white walls are boring. So stop staring at those large blank walls in your home and finally do something with them. Turn some of them into accent walls or choose a wall treatment that you can do on all of the walls in a single room.
Whatever you decide, it's time to bring some life and color into your home. You don't have to break the bank with a large budget, either. All you need is some creativity and DIY enthusiasm.
Check out these cheap ways to cover walls and get inspired to upgrade the walls in your home.
1. Traditional Wallpaper
Let's start with a traditional wall treatment, wallpaper. Skip your grandmother's style of wallpaper and that awful wallpaper paste. It's messy and clumsy.
Choose a more affordable modern option called peel and stick wallpaper. You remove the back and press it onto the wall. Then when you are ready for a change or move, you can unpeel it, and the wall goes back to being boring and white.
This temporary wallpaper doesn't disappoint when it comes to style. You'll find all of the colors and patterns that traditional wallpaper comes in.
A classic repeating floral pattern like this would look perfect in a grand millennial or French country interior design aesthetic. You could go bolder with a modern large-scale design that takes up the entire wall without any repeating.
2. Fabric Wall
Another classic wall treatment for plain walls is to use fabric. It's similar to wallpaper, but the covering is made of fabric instead of paper. This used to be popular because it added an extra layer of texture and depth to the walls.
These days, textured wallpaper can achieve a similar effect. However, using actual fabric adds warmth and sound dampening qualities that wallpaper can't mimic.
You can use almost any type of fabric, which lets you tailor your wall treatment to your budget. Quilting cotton is going to be the most affordable but velvet or upholstery fabric will give you the most luxurious look. You can also buy a specially made fabric wall with a particular effect such as brick, wood or a landscape.
Leather will have a sophisticated and slightly moody feel. Avoid fabrics with stretch, such as jersey, because it will be a nightmare to work with.
Keep in mind that you'll need to glue the fabric to the wall, making this idea less apartment-friendly than peel and stick wallpaper.
3. Wood Paneling
Cover your large wall with wood paneling to add texture and a touch of nature. This isn't the dark wood paneling from the 70s, though.
These days, you can buy wood paneling in light, medium, or dark wood tones. This lets you find the perfect shade of wood for the design aesthetic you're trying to achieve.
There are also a variety of patterns, from simple planks to a board and batten design. You could create your own design with wood trim strips arranged to create geometric shapes on the wall. You could cut your own diamonds or triangles from varying wood thicknesses to create depth.
4. DIY Wall Art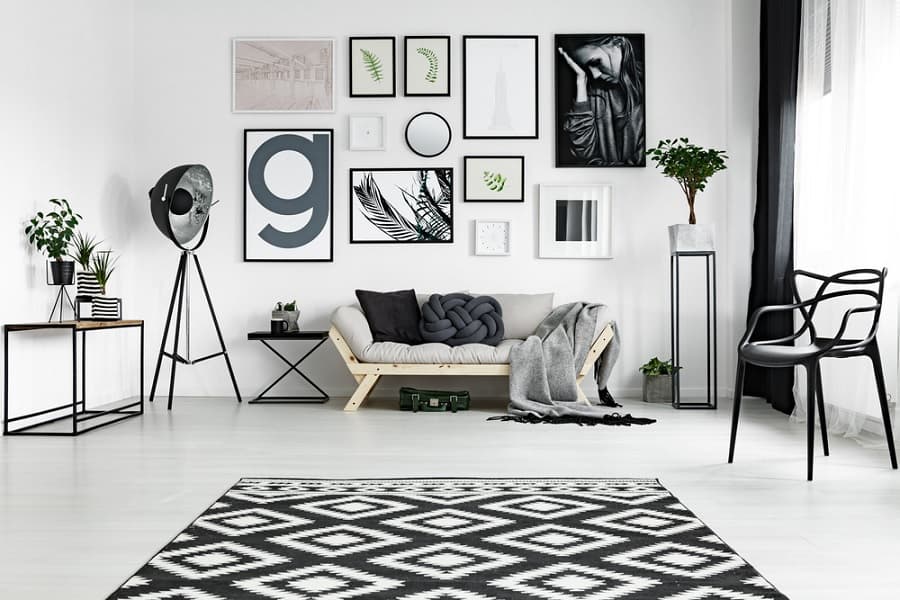 Are you artistic or creative? Then why not make your own wall decor for a one-of-a-kind design? You could frame or hang your artwork on the wall to create a gallery wall design. The more you hang on the wall, the more wall you cover.
Some DIY wall decor ideas skip the frames completely and plaster the art directly onto the wall like your own custom wallpaper. The trick to making this look work is to cover the entire wall from top to bottom and left to right.
You don't even have to use your own art for this approach. You could use your favorite magazine pictures, posters, or album art. Just be sure to fully adhere each piece to the wall and line everything up so that there are no gaps where the wall can peak through.
5. Textured Wall
Adding texture to your bad walls will hide imperfections and create depth in the room. The easiest textures to achieve on your own are orange peel and knockdown.
You can buy the supplies at your local hardware store and do the application yourself. Plan to paint the wall as the texturizing material will be a different color from your wall, even if they are both white.
You can also add texture with vinyl wall panels that have a texture to them. They typically have a geometric-inspired pattern like this that gives your wall a 3D effect.
6. Tile
Tile isn't just for your bathroom walls anymore. Use it on the other walls in your home and have a durable wall treatment that will transform the look of your home. You could use it in your breakfast nook, on the wall around your fireplace, mudroom, or even your front entryway.
Choose a large-scale tile to keep the design looking modern. Small scale tiles will create too much pattern, which can quickly look overwhelming on an entire wall.
In some rooms, only use the tile on the bottom half of the wall. This gives you the benefit of the tile without making the room too cold or increasing echo.
Use a bullnose or border tile along the top edge to give your tiled wall a professional finish. If traditional tile is still out of your budget, you can use peel and stick tile. It comes in sheets and is easy to cut to size.
7. Wall Decals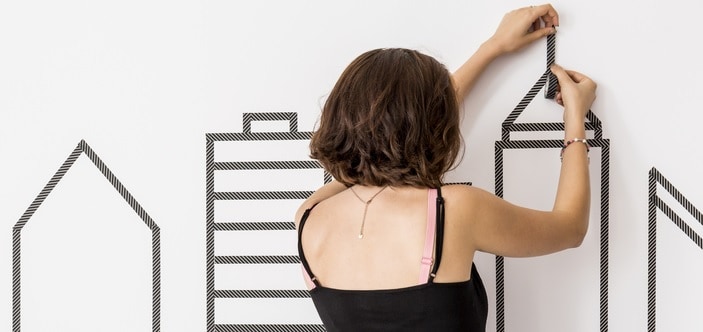 You don't have to cover all of your interior walls to give them an update. Vinyl wall decals are incredibly easy to peel and stick. These wall coverings could be a large sheet, text, or many small pieces.
A single large sheet is typically a large-scale image. This will cover the most area on your wall. Text can look a bit cliche, but if it's a saying that's meaningful to you, go ahead and add it.
Small pieces are typically meant to create a pattern on the wall, so scatter them throughout the wall. Be sure to fully press out the air bubbles so that your decals sit flush with the wall.
8. Paint
You don't have to go crazy with an overly complicated wall covering. Paint is affordable, and you can easily buy as little as you need to paint the wall. You can paint almost any surface, from drywall to plaster walls.
Choose one color or multiple colors. If you're trying to hide imperfections in the wall, paint a pattern that will distract the eye. For example, you could do simple stripes, a modern geometric design, or even an ombre effect.
9. Cork Panels
Cork is affordable and environmentally friendly. This makes it ideal for use in your interior design. While you're more likely to see it on a garage wall, you can also use it on your interior walls.
Choose thick cork sheeting, and you can then hang wall art from the cork. This protects your walls from holes and creates warmth in the room. Cork is also a great option if you are trying to dampen sound.
10. Foam Boards
Foam boards are predesigned wall coverings that you mount on the wall. You can transform the look of your ugly walls and elevate the look of your home. High-end and luxury homes have custom trim work. You can mimic this look with these boards.
Cover the entire wall with the boards for an elegant version of an accent wall. This more formal wall treatment idea if perfect for your dining room or home office.
There are also modern versions that come in geometric shapes. They mount at varying depths. Add your own LED strip lighting to the back of them, and you have an innovative design at a fraction of the cost.
11. Mirrors
If the room you're working in lacks natural light or is very small, then using mirrors can provide multiple benefits. Turn one wall into a feature wall that you cover in mirrors. This wall decoration will reflect what little natural light you have to work with.
It also reflects the rest of the room, creating the illusion that the room is much larger than it really is. Single-piece large mirrors can be extremely expensive, so fake it with multiple small mirrors.
You can copy DIY wall covering ideas and use peel and stick mirrors. Start by painting the wall black where you plan to place the mirrors. When the wall is dry, peel and stick the mirrors to the wall in a grid pattern, leaving a uniform amount of space between each one.
Leave the same amount of space around the outside of the mirror to create a black border. The result is a finished framed mirror look that looks nicer than simply placing the mirrors right up next to each other.
12. Tapestry
Give your walls an artistic touch that's perfect for a bohemian room by hanging a tapestry on the wall. Buy a curtain rod and add decorative finials. Hang your tapestry from the rod and let it be the focal point in the room.
Tapestries don't typically cover the entire wall, so try to center it on the wall. This solution is perfect for covering a damaged wall.
Your tapestry could be a handwoven macrame piece that's strung from a piece of driftwood. Or it could be a painted piece of fabric. Then there are traditional tapestries that have an authentic vintage appeal with delicate weaving.
13. Curtains
Similar to a tapestry, you can hang curtains to cover your walls. Unlike a tapestry, the fabric is standard curtain fabric that you'll hang from a rod.
Mount the rod at the top of the wall or even on the ceiling. Then hang curtains that are long enough to reach the floor. This is one of the easiest and most affordable cheap wall covering ideas, yet it will significantly elevate the look of your home.
This wall decoration idea is nice because you can easily change out the curtains and transform the room's look. Try layering a heavyweight curtain with a lighter-weight one for a layered look that brings more texture into the room.
14. Shelving
Give yourself more storage and elevate the look of your room by building faux built-in shelving. You could buy a shelving unit kit or build one from scratch. Then place the floor to ceiling unit in front of the wall. Paint it the same color as the walls so that everything blends together.
You now have additional storage and a place to display decor. This is a great option if your walls have suffered a lot of damage and there are plenty of visible patches.
To really sell the look, try adding crown molding to the top and baseboards around the bottom and top of the shelving unit, and then carry that trim around the rest of the room.