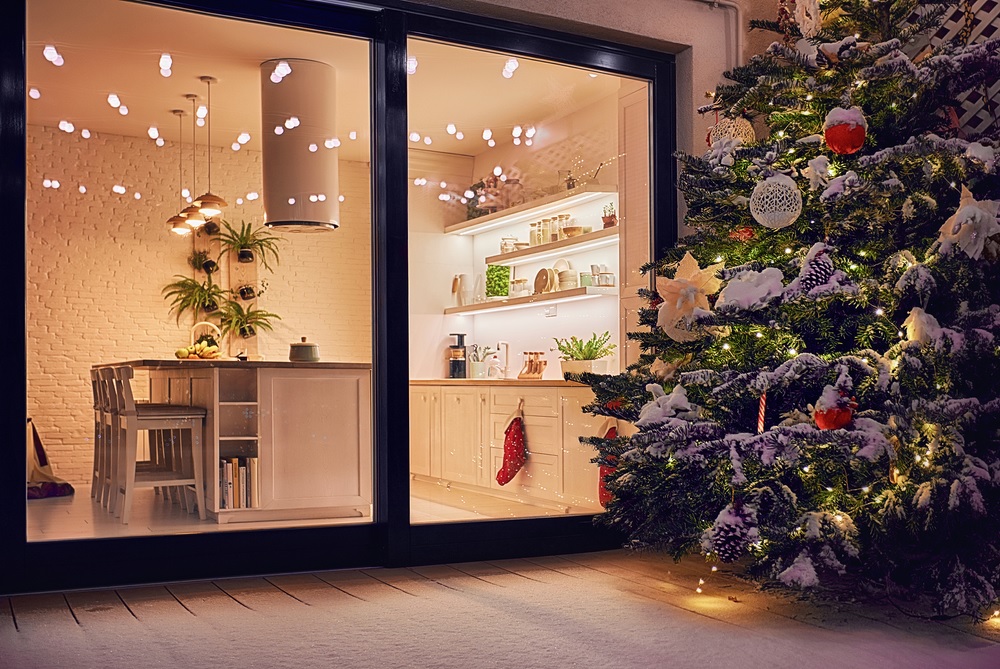 51 Christmas Tree Decoration Ideas
by — Andra DelMonico

Published on December 18, 2020

Updated on October 14, 2023
"I had a year-round Christmas tree with nothing but colored vinyl 45s hanging on it, like, old Elvis records and stuff."- John Prine
Your Christmas tree is the focal point and centerpiece of your home for the holiday season. There's no right way of decorating your tree. What you should focus on is how you want your tree to look. Start by deciding where you want your tree to be. Maybe you want it in the family room, or perhaps you want multiple trees throughout your home.
Now comes the fun part, checking out Christmas tree ideas and deciding a theme and decorating style. You could make all of the ornaments for your tree. Or you could choose a single color for a monochromatic look. Perhaps you want the tree to reflect the rest of your home's decor aesthetic. These Christmas tree decorating ideas will get you excited for the holiday season.
1. Showcase an Oversized Star
An oversized star topper brings a magical touch to your Christmas tree, ensuring it stands out in your festive decor. A shimmering gold or silver star offers a traditional appeal, while a radiant rainbow star introduces a distinctive flair. When selecting a star, consider complementing its hue with other ornaments and room decor to create a harmonious aesthetic.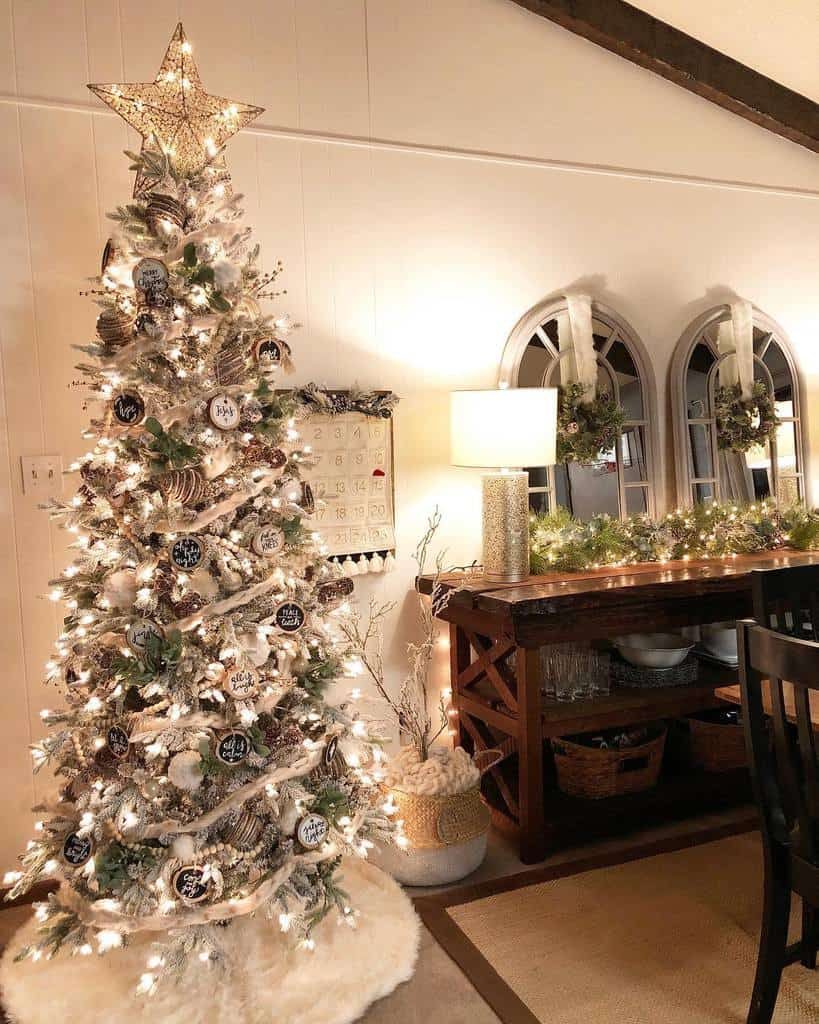 2. Embrace Bold Red Accents
Incorporating bold red ornaments instantly infuses your Christmas tree with festive warmth. Pair these with gold or white garlands to enhance the contrast and achieve a timeless look. For a cohesive holiday space, integrate similar red hues in your room's cushions or centerpieces, tying the entire room's decor together.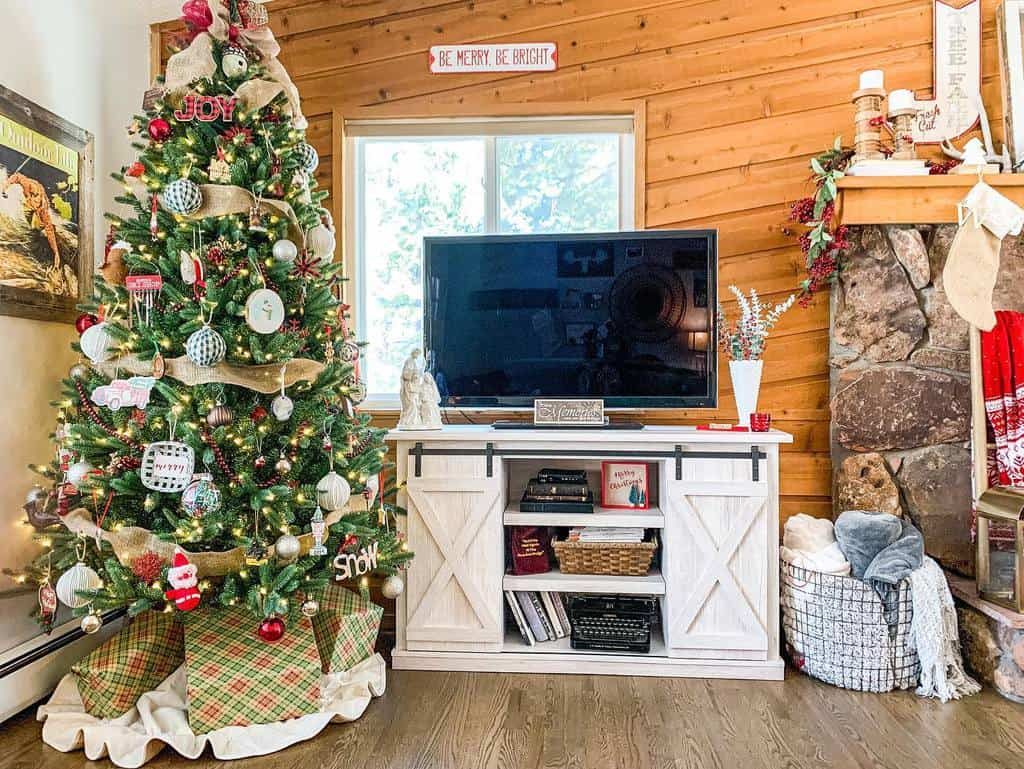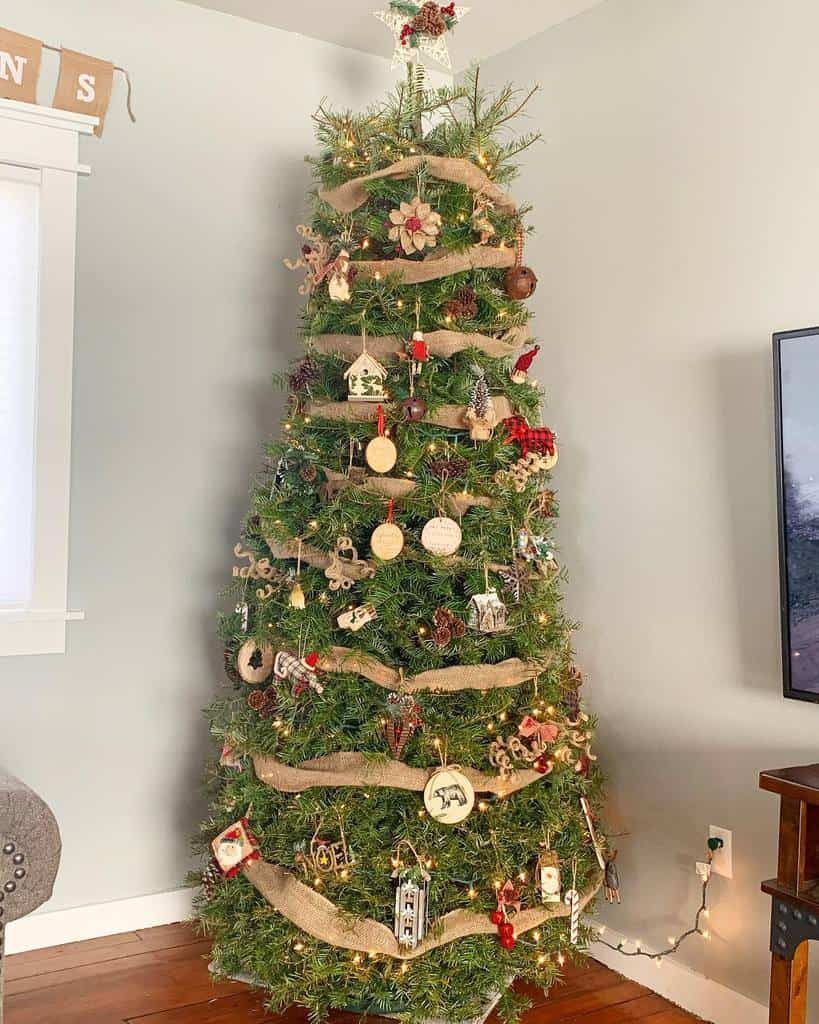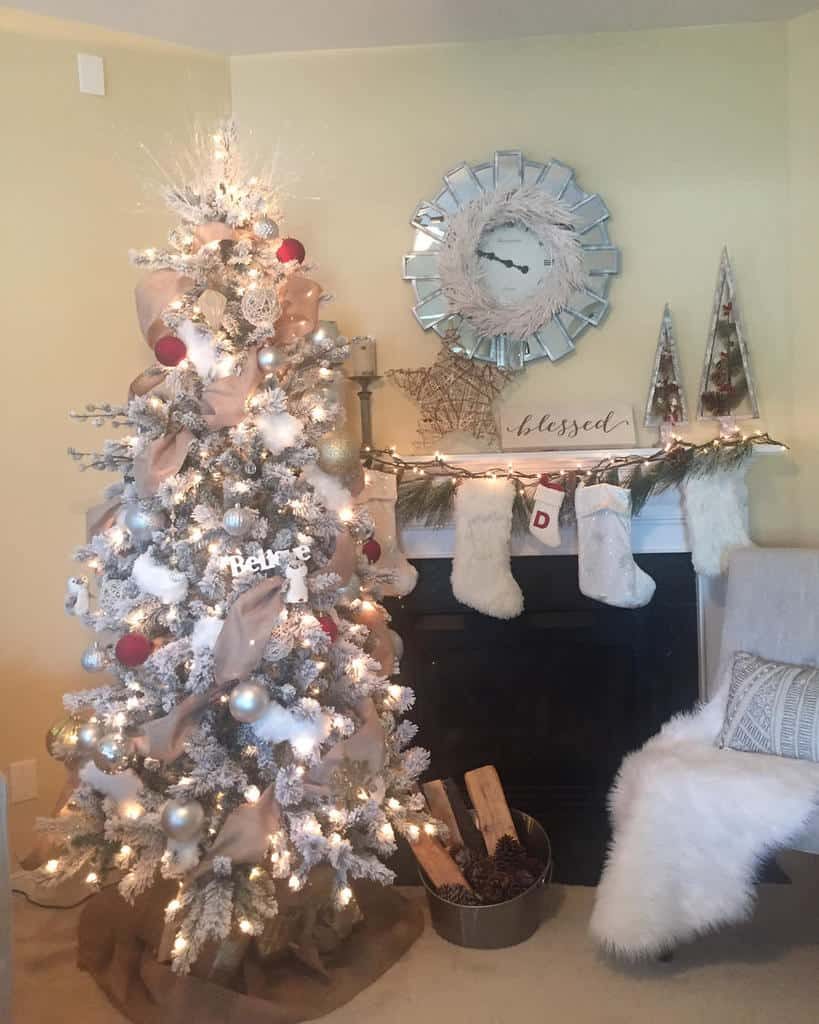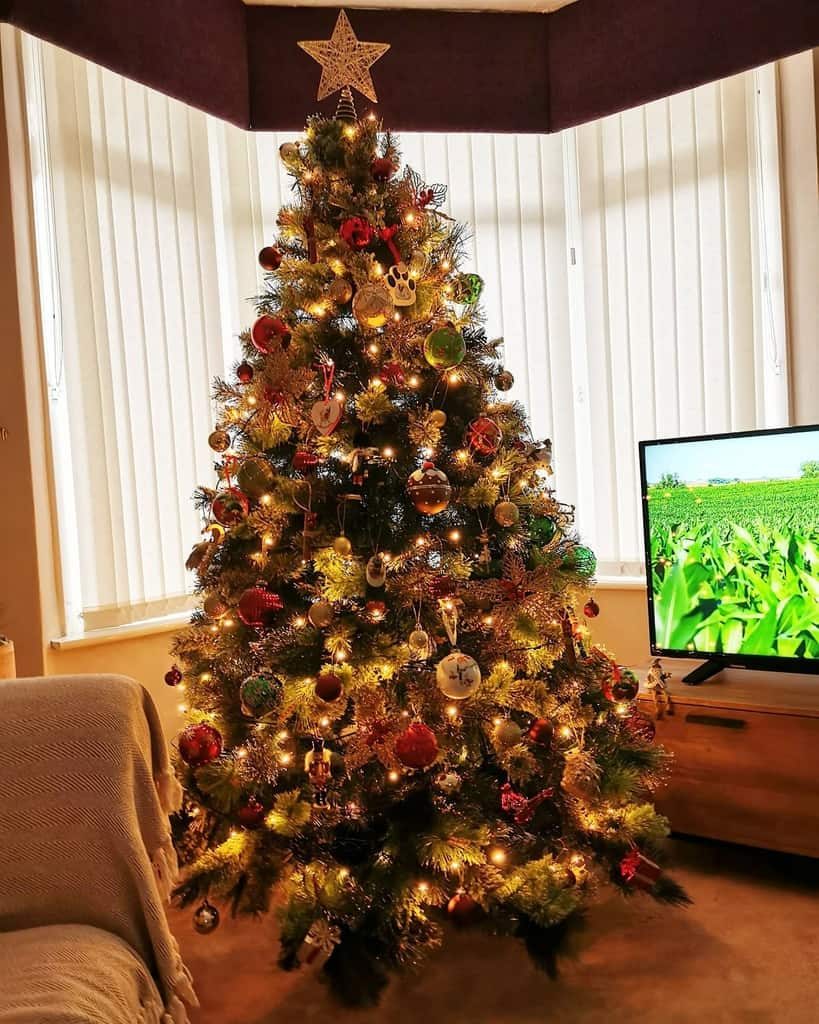 3. Elevate with Muted Pastel Ornaments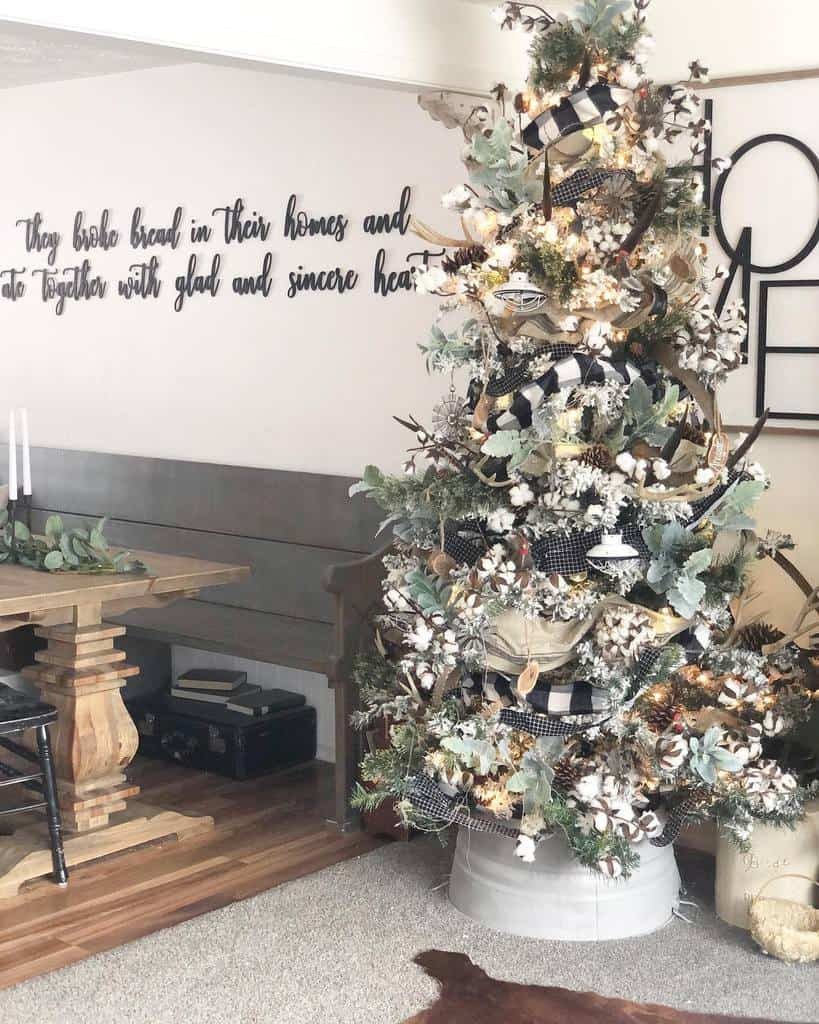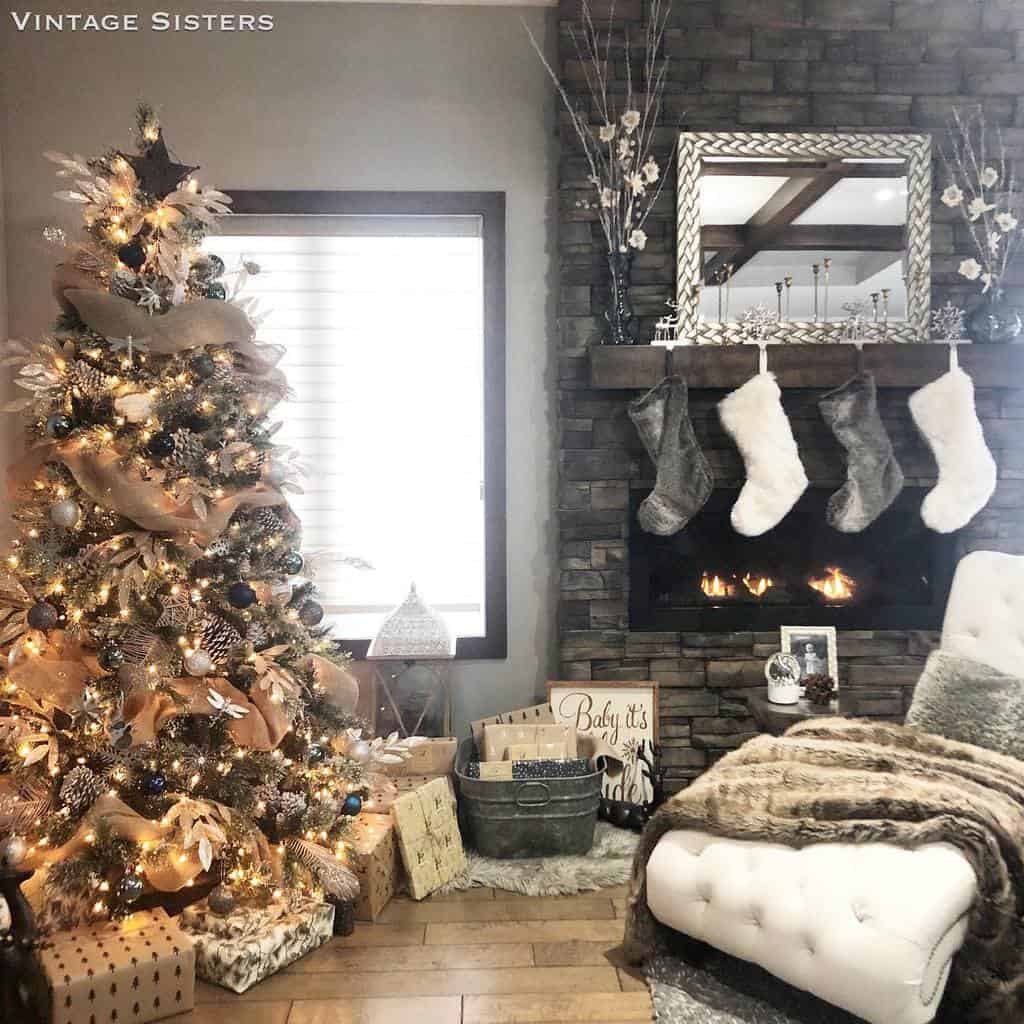 4. Choose a Single Ornament Hue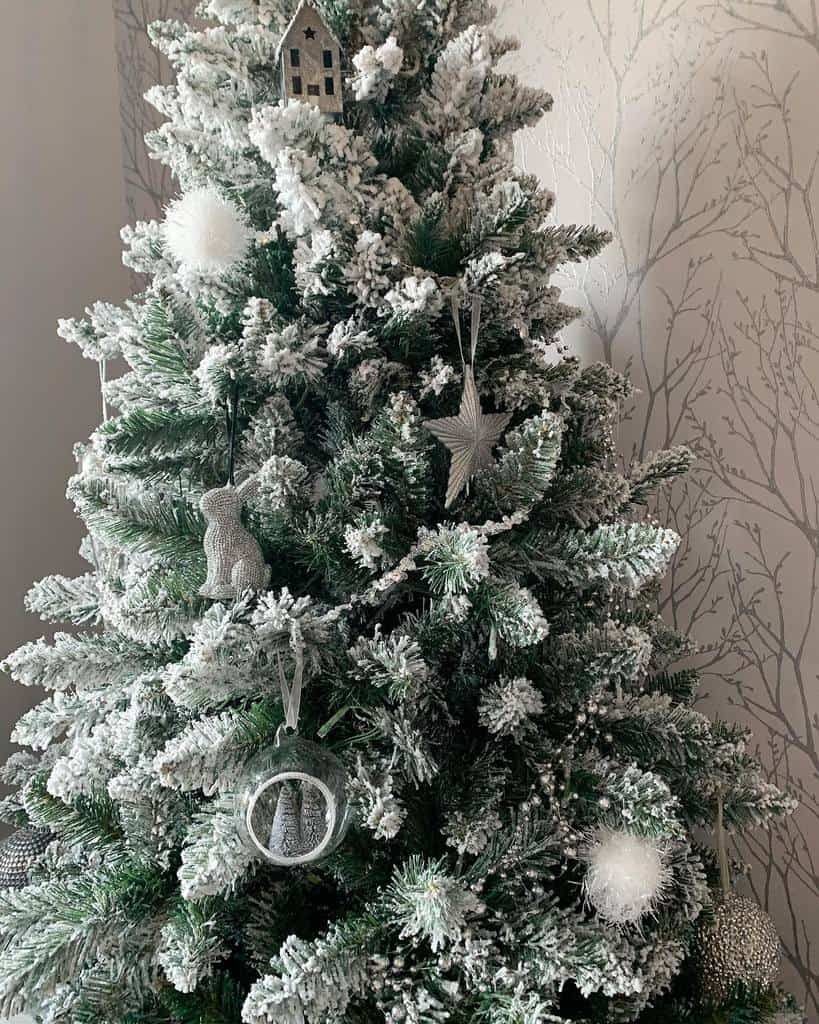 5. Create a Winter Wonderland Scene
Transform your Christmas tree into a serene winter wonderland with snowy effects and white ornaments. Incorporating twinkling lights replicates glistening snowflakes, enhancing the magical ambiance. To unify the theme, place plush white throws or faux fur rugs in the room, making the space feel as cozy as a snow-capped cabin.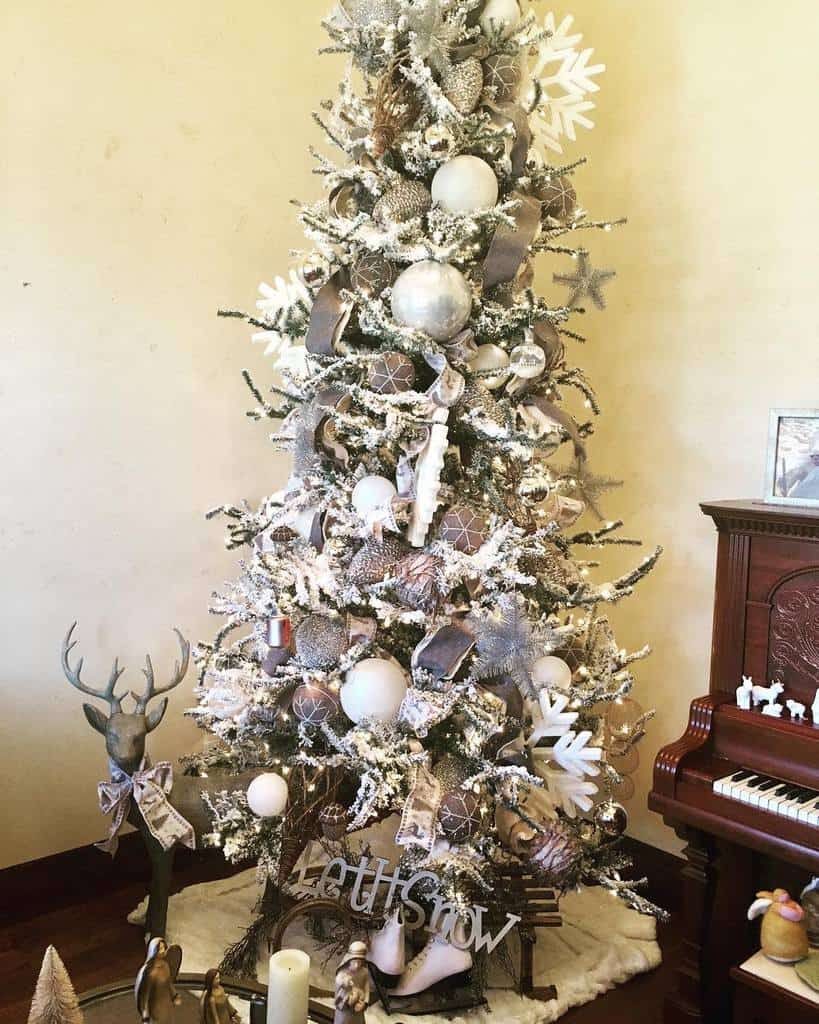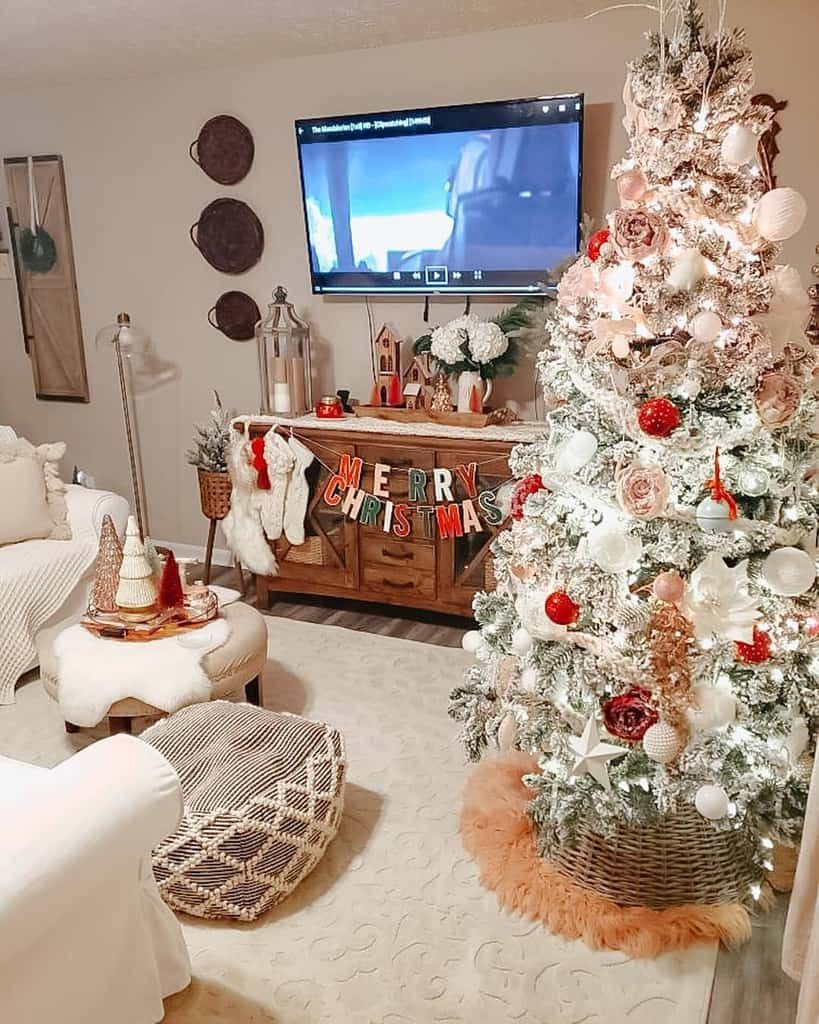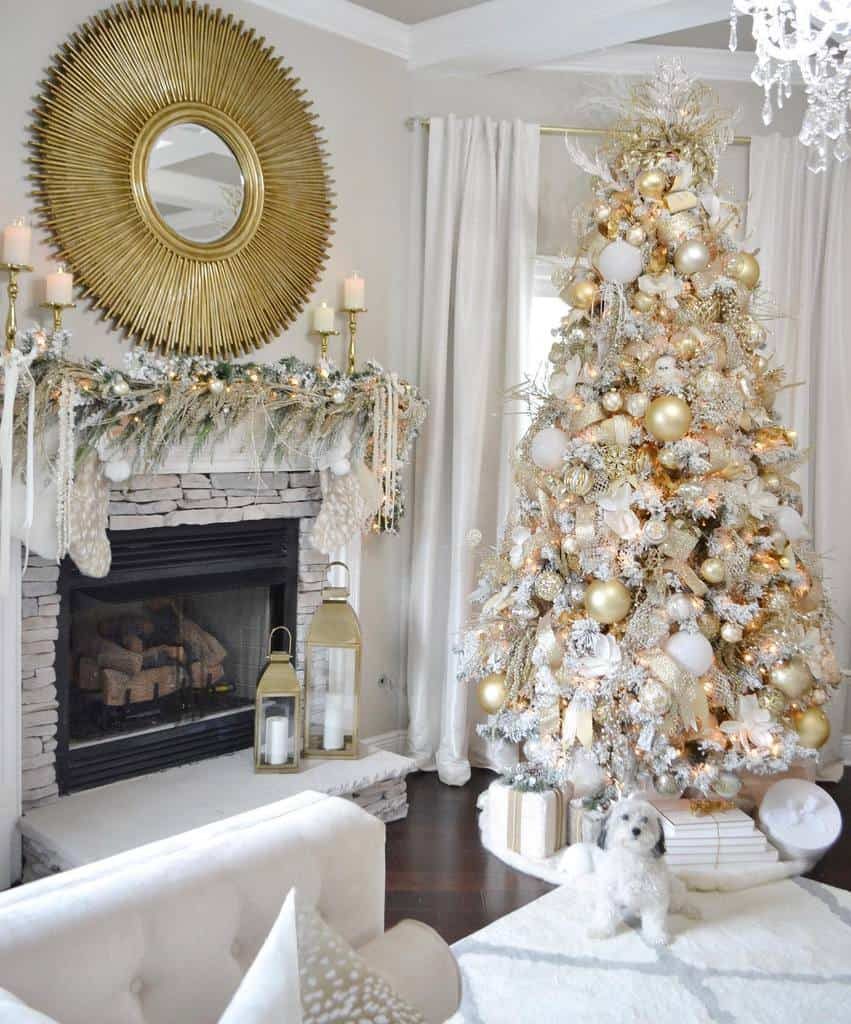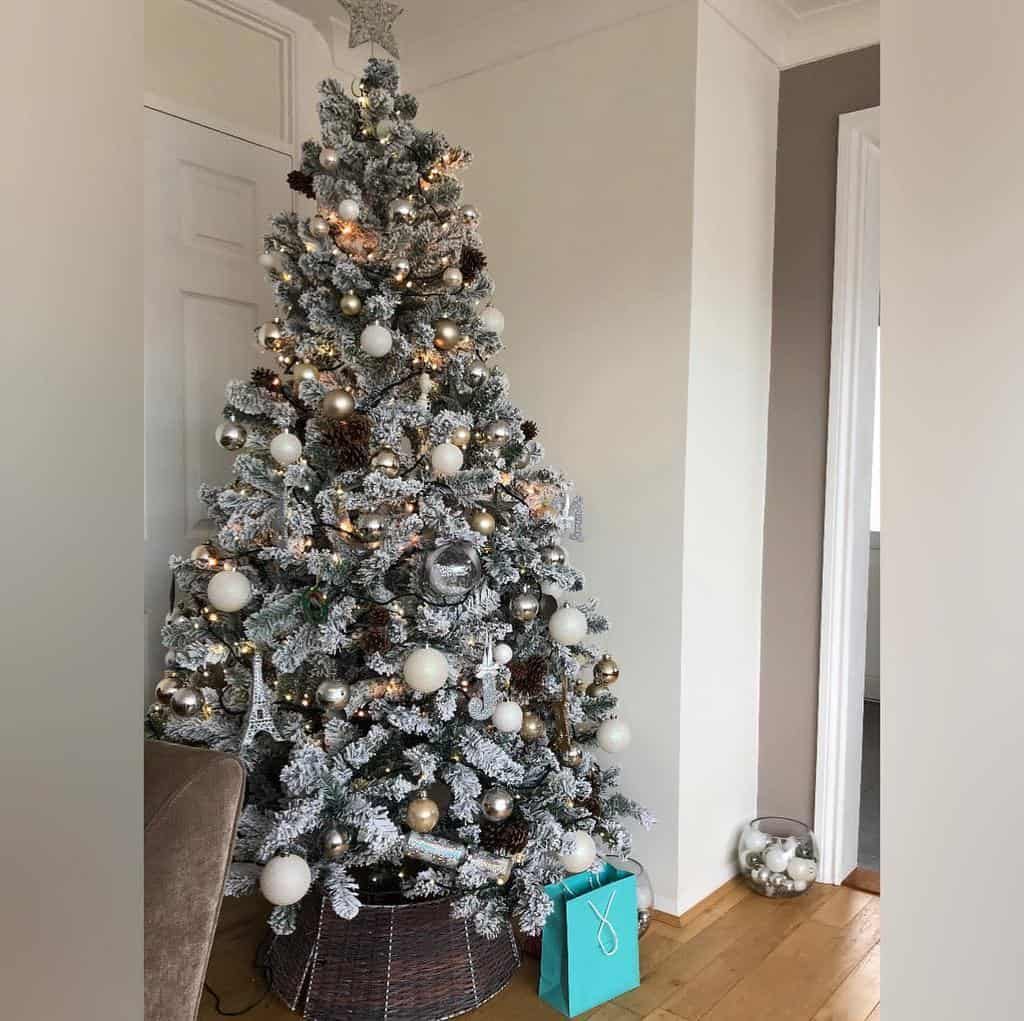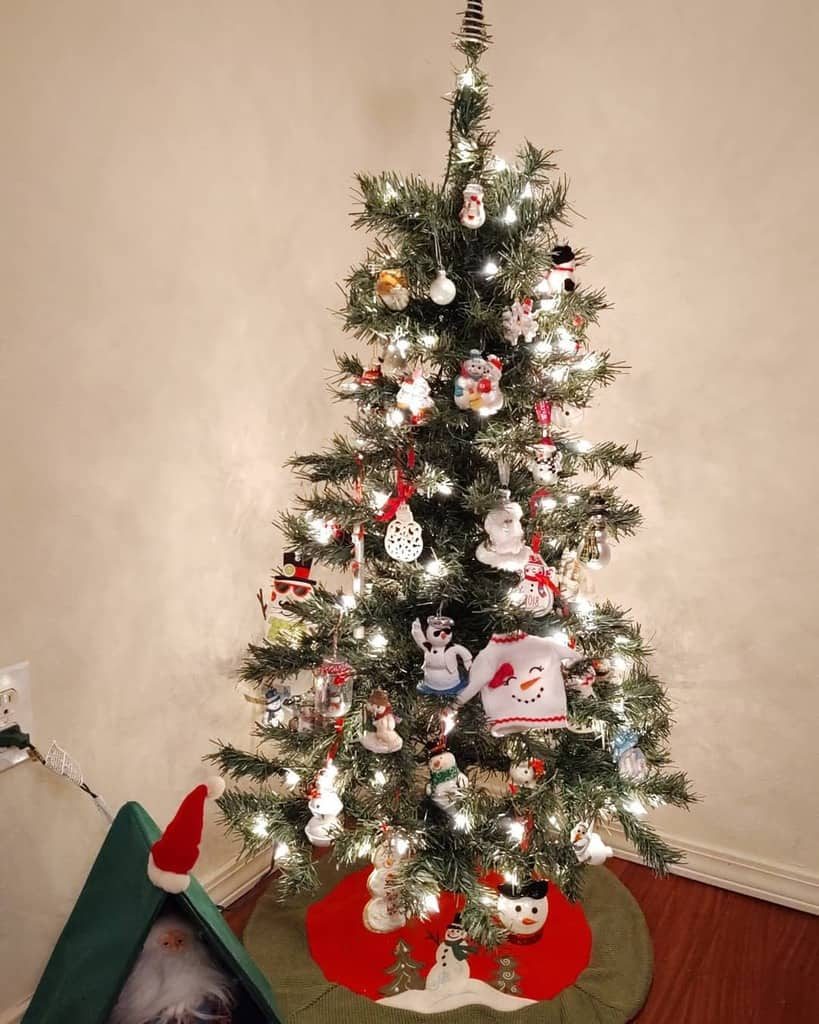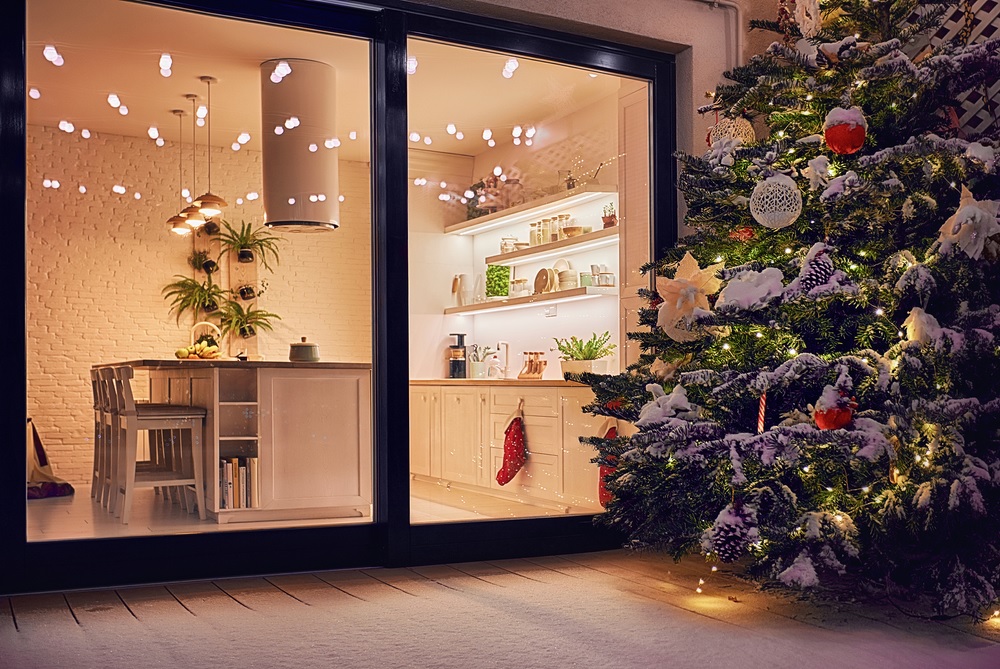 6. Blend Rose Gold and Silver
Merging rose gold and silver ornaments delivers both glamour and timeless elegance to your Christmas tree. Complement this duo with warm string lights to enhance the festive ambiance. To harmonize with this modern twist, consider adding metallic-hued cushions or centerpieces in the room, ensuring a sophisticated yet inviting holiday setting.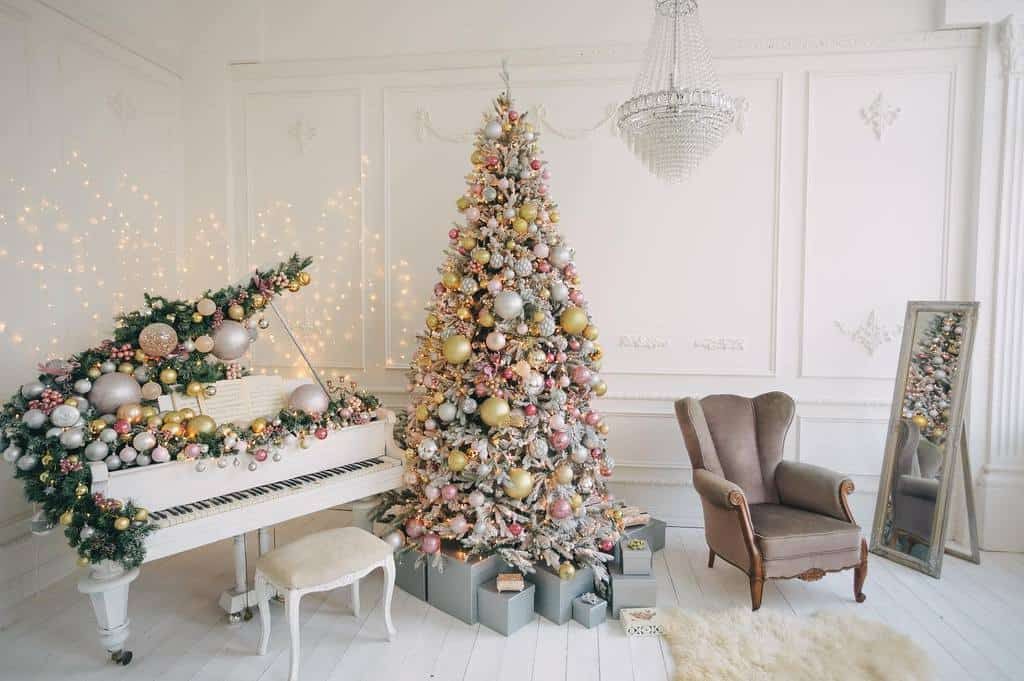 7. Illuminate Outdoor Christmas Trees
Brightening an outdoor tree with lights and ornaments elevates your backyard or patio's festive aura. A live tree acts as a natural centerpiece, radiating holiday cheer. While stringing lights can be a fun family activity, professionals can ensure a dazzling display. Surround the tree with cozy seating and lanterns, inviting everyone to savor the illuminated magic together.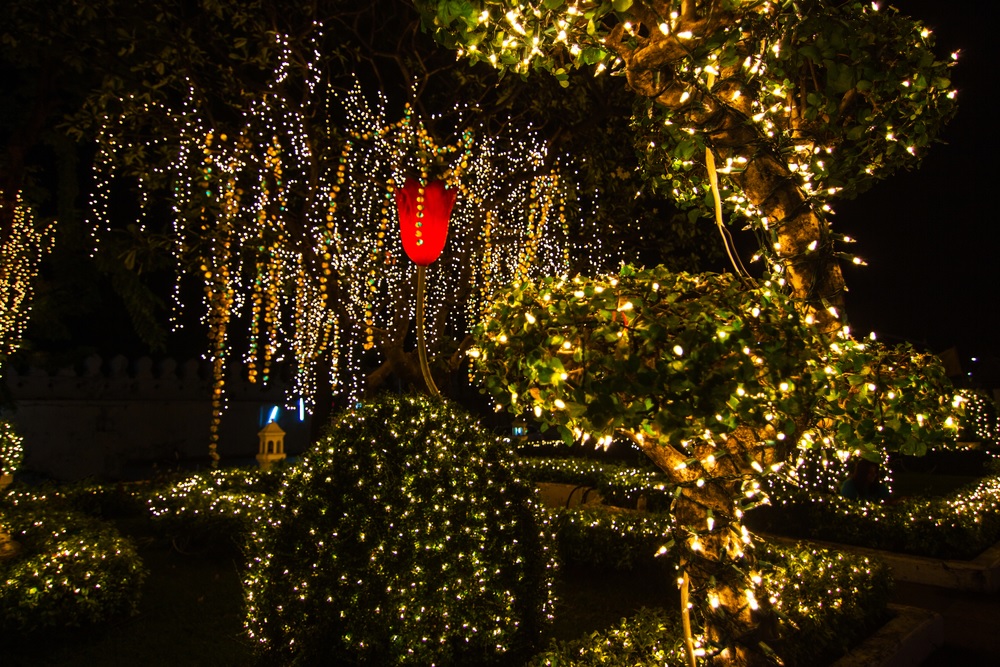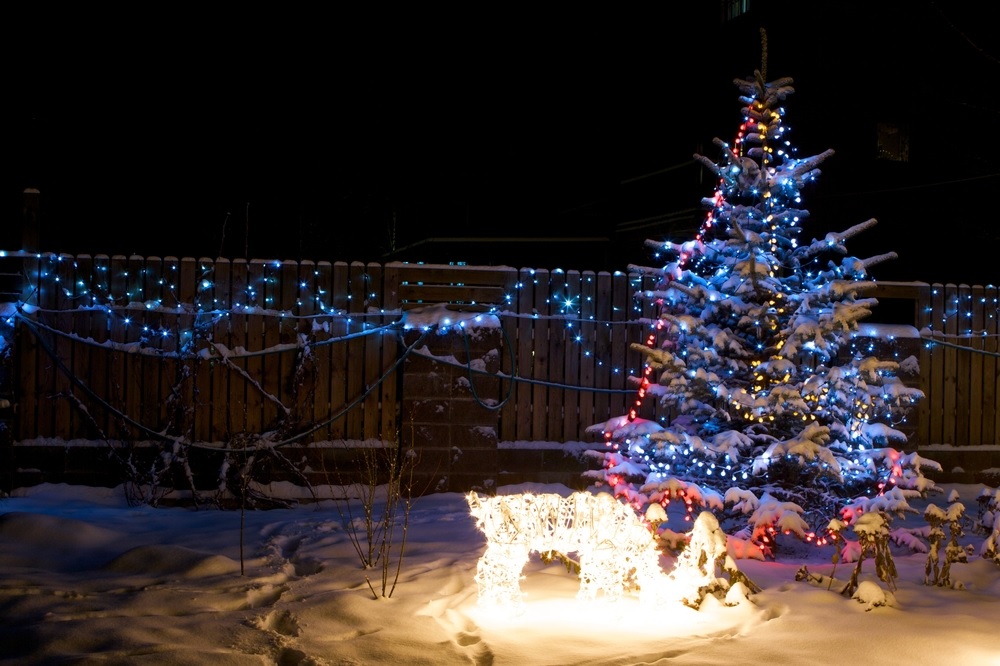 8. Design with Modern String Tree
A modern string Christmas tree offers a contemporary take, crafted from lights shaped into a tree formation. Suitable for tight spaces or a minimalistic approach, its versatile design allows for white, colored, or multicolored lights. Hanging it on a wall or suspending it from the ceiling adds drama without occupying floor space. Pair it with sleek holiday decor to harmonize the modern aesthetic throughout the room.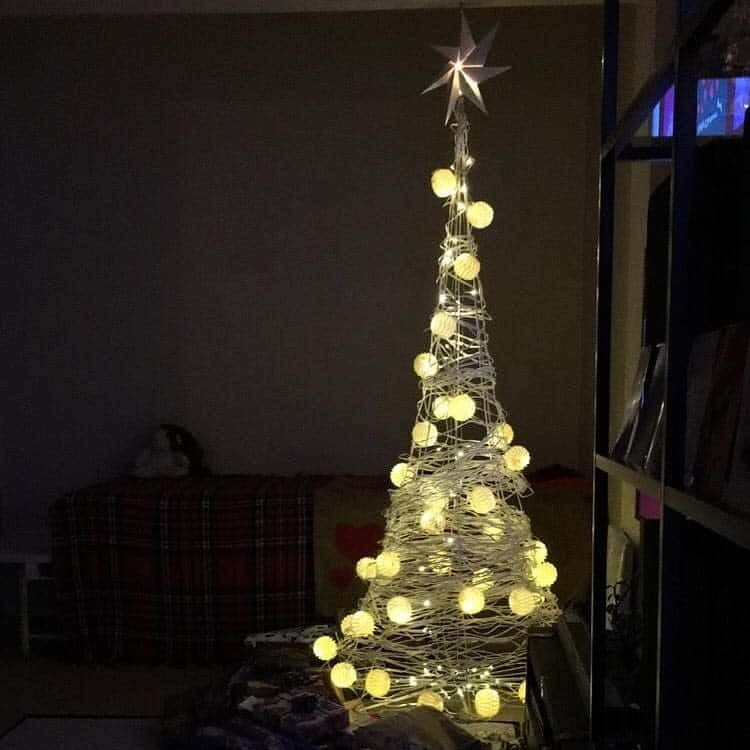 9. Opt for a Balloon Tree Design
The balloon Christmas tree offers a lively twist, crafted entirely from vibrant balloons. Suited for those desiring a jovial holiday centerpiece, the balloons can be tailored in diverse shapes and sizes for a bespoke display. Engaging kids in its creation can make the decorating process even more memorable. To amplify its playful vibe, consider adding balloon ornaments or pairing it with similarly festive decor pieces.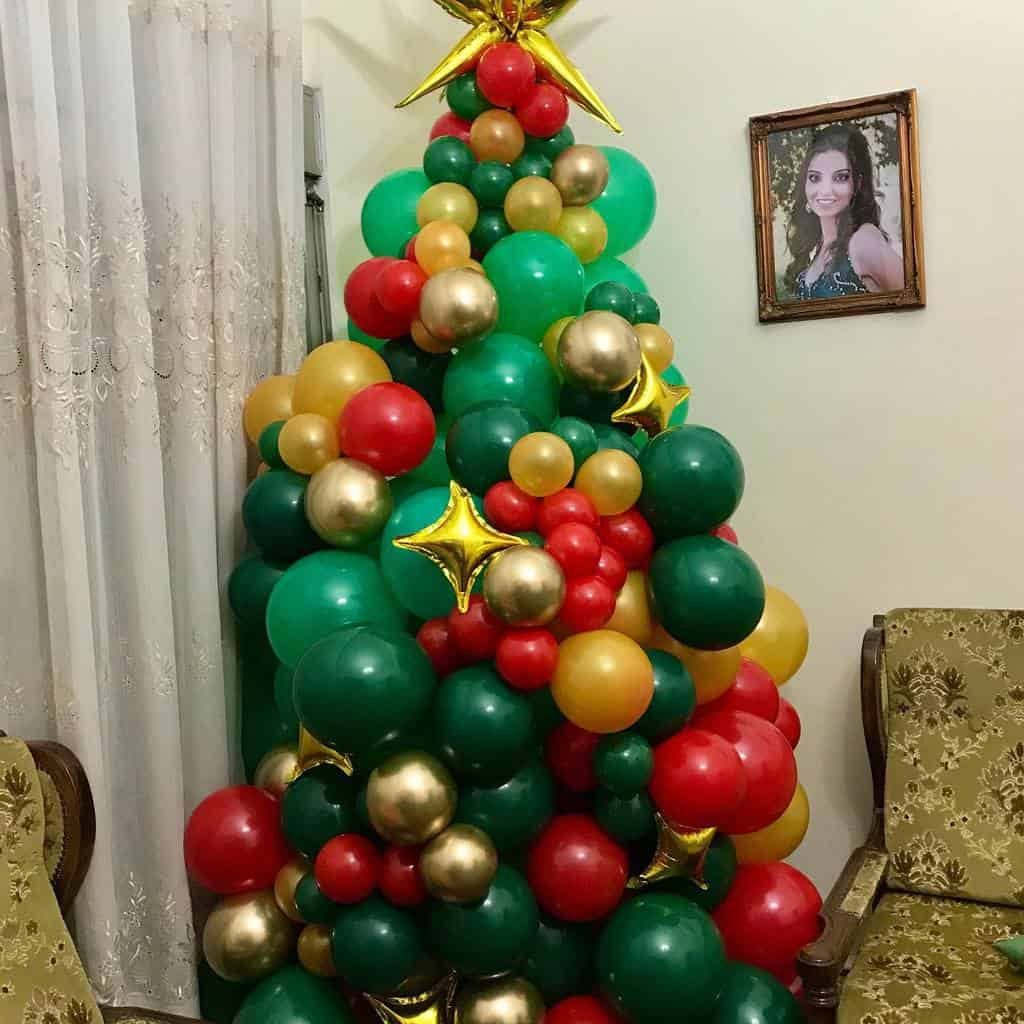 10. Embrace Modern Metal Tree Structure
The metal bone Christmas tree melds edginess with holiday spirit, offering a contemporary decorating option. Its durable design can be accentuated with lights and ornaments or kept minimalist. The intriguing bone-shaped design ensures it becomes a talking point during festive gatherings. Beneficially, its modular nature ensures easy disassembly and storage for future festivities. Pair with industrial-style decor to seamlessly integrate into your space.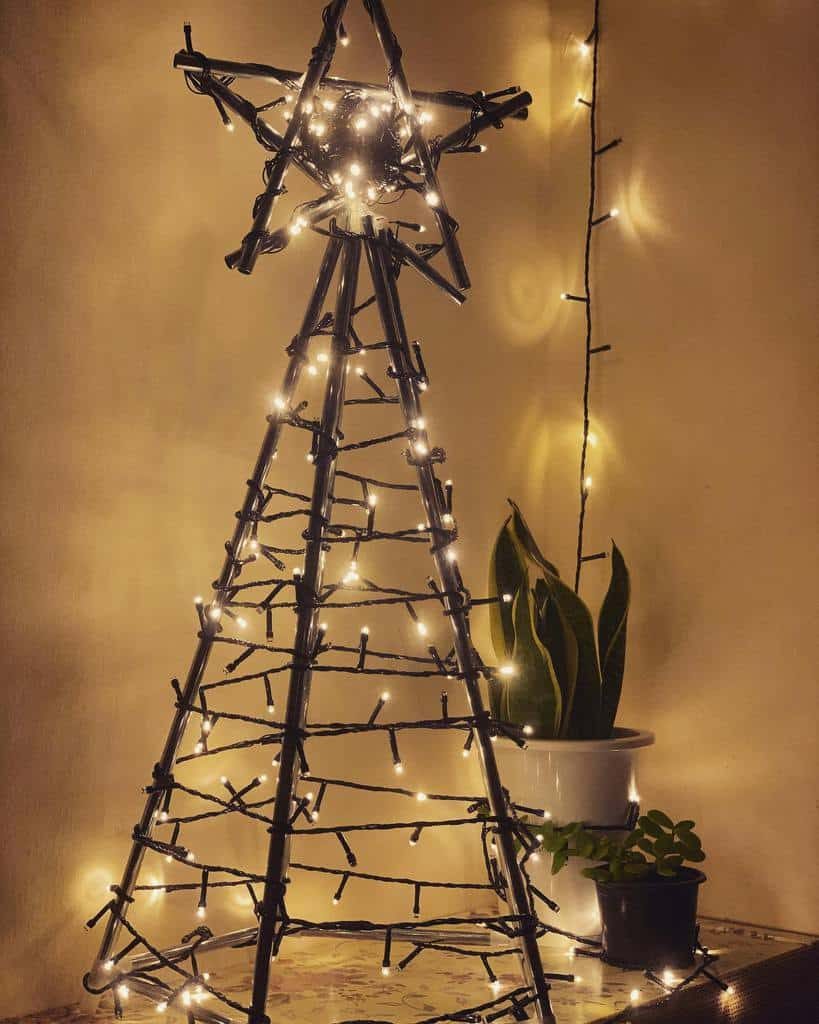 11. Craft a Paper Christmas Tree
Crafting a paper Christmas tree offers a customizable, budget-friendly holiday centerpiece. Tailor its size and style to match your space, and enhance its appeal with light ornaments or color-coordinated balls for added depth. With just scissors, paper, and chosen decorations, you can create a festive tree that's both charming and reflective of your personal style. Consider placing it atop a table with other paper crafts for a cohesive theme.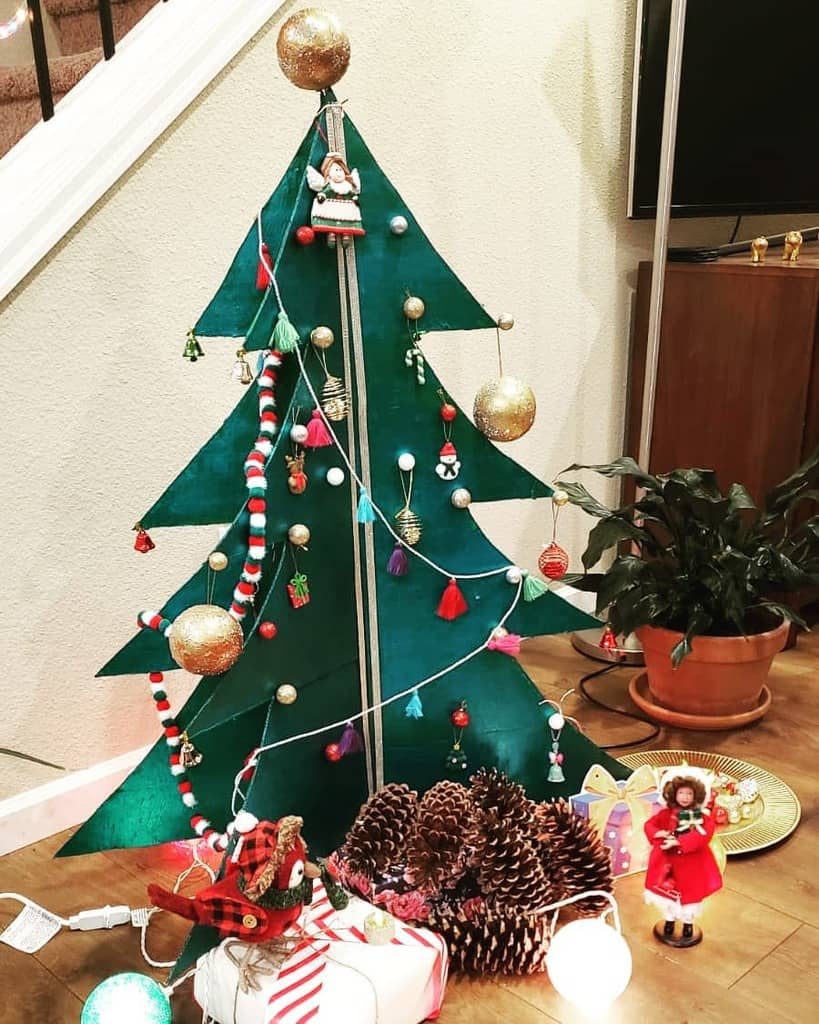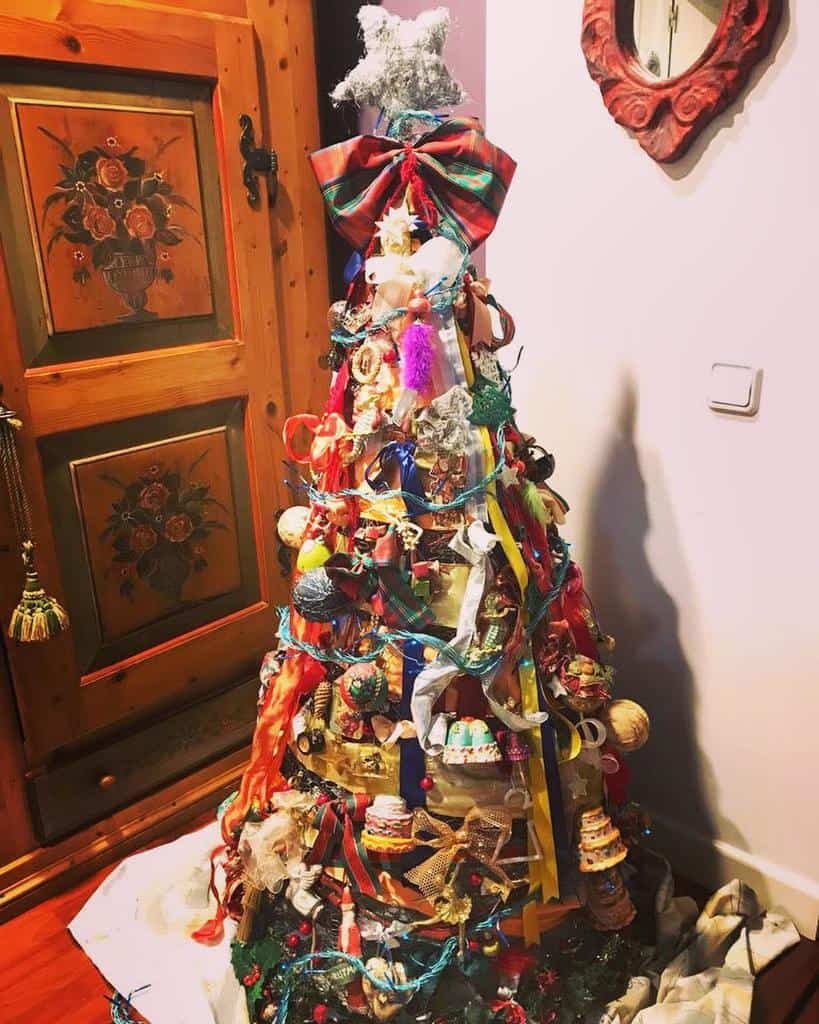 12. Build with a Wood Pallet
A stacked wood pallet tree offers a rustic, warm centerpiece for your festive decor. Its versatile design can be adorned with ornaments and lights, ranging from minimalist to vibrant. As an eco-friendly DIY project, it repurposes materials, making it not only a unique decoration but also a sustainable choice. To enhance the rustic feel, pair with burlap ribbons or wooden ornaments.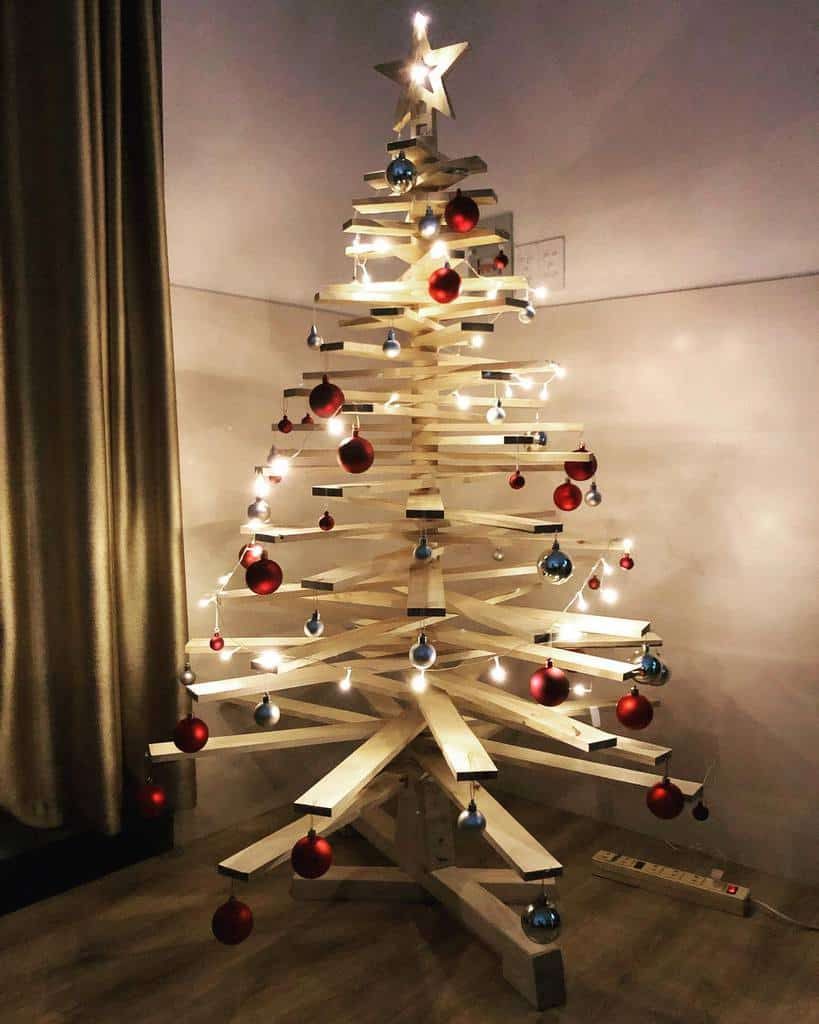 13. Stack for Creative Tree Designs
Redefine your festive centerpiece with a creative object stack, like wine bottles or books, to form an innovative tree silhouette. This space-saving design is not only stylish but also eco-friendly, repurposing items you already own. Customize it to echo your personal style and set the stage for intriguing conversations during holiday gatherings. To accentuate, add small ornaments or fairy lights for a touch of festivity.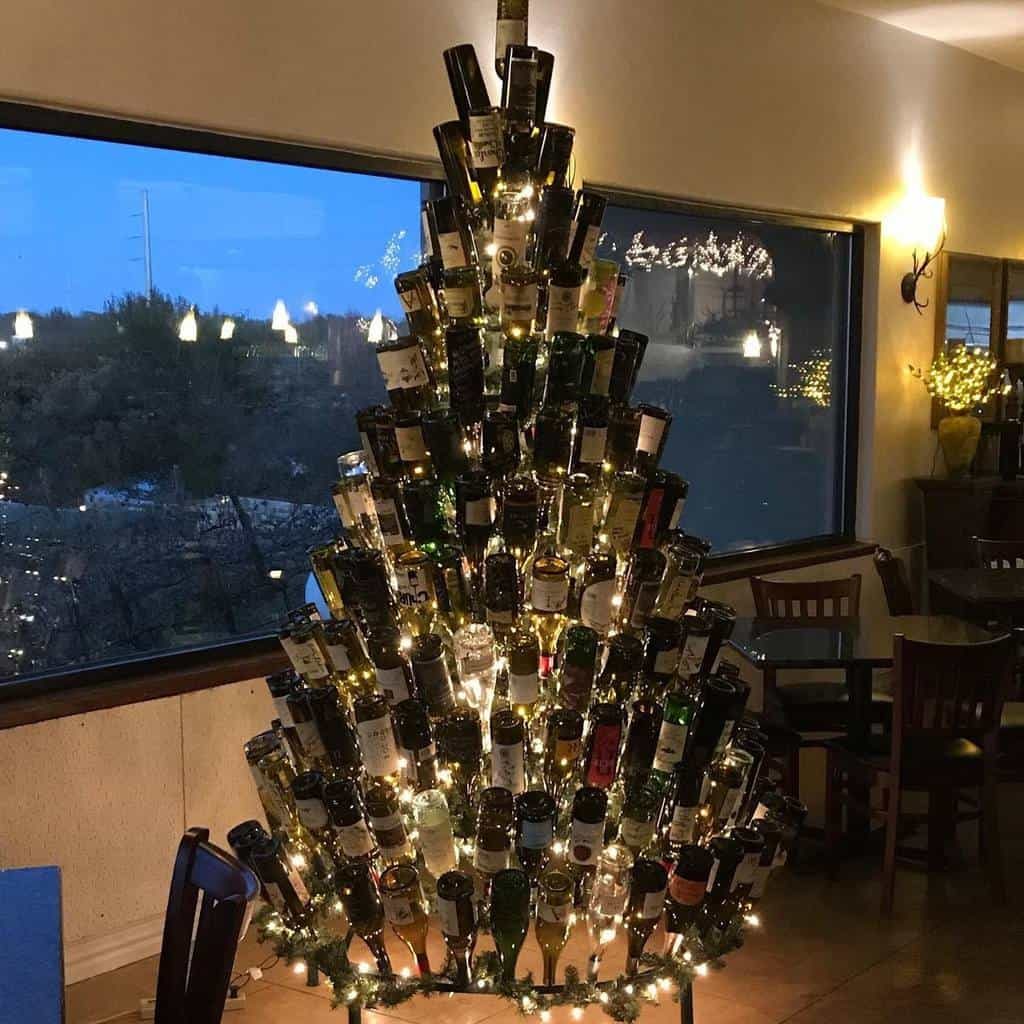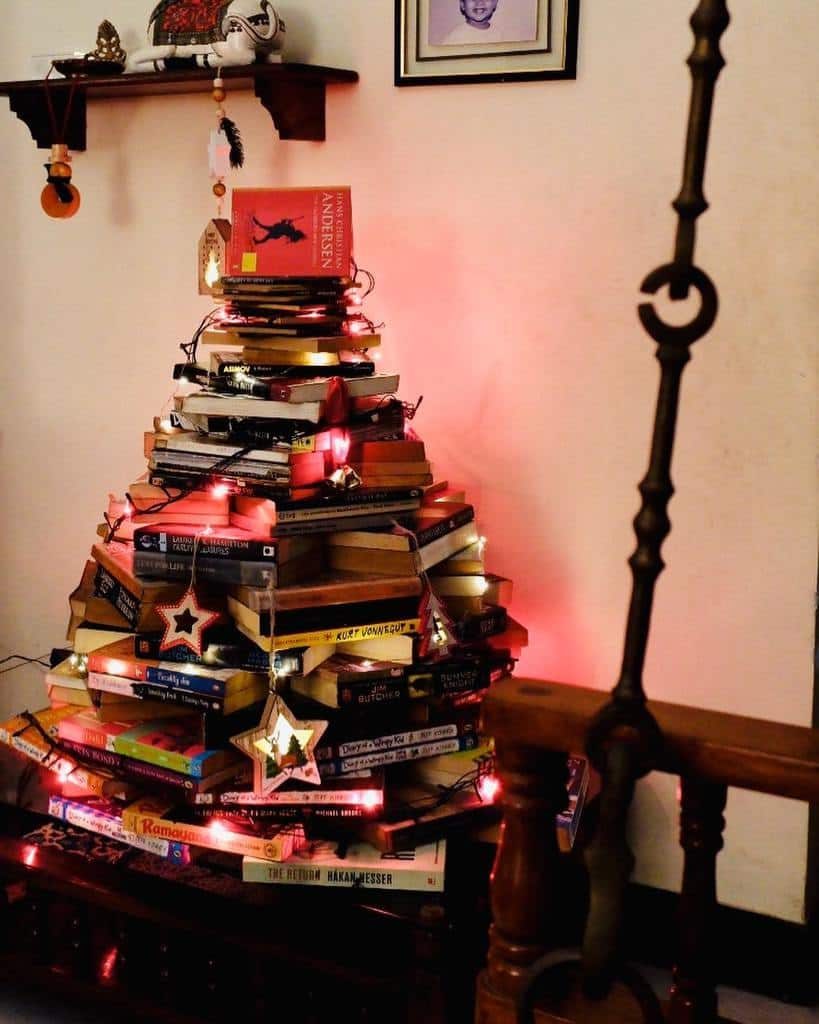 14. Explore Unique Tree Shapes
Diverge from the norm by choosing a Christmas tree with an atypical shape. Asymmetrical trimming or varied branch levels can breathe fresh life into your festive centerpiece. Complement the unconventional shape with distinct ornaments like handmade crafts or vintage baubles. This inventive approach ensures your tree not only dazzles but also narrates a unique story.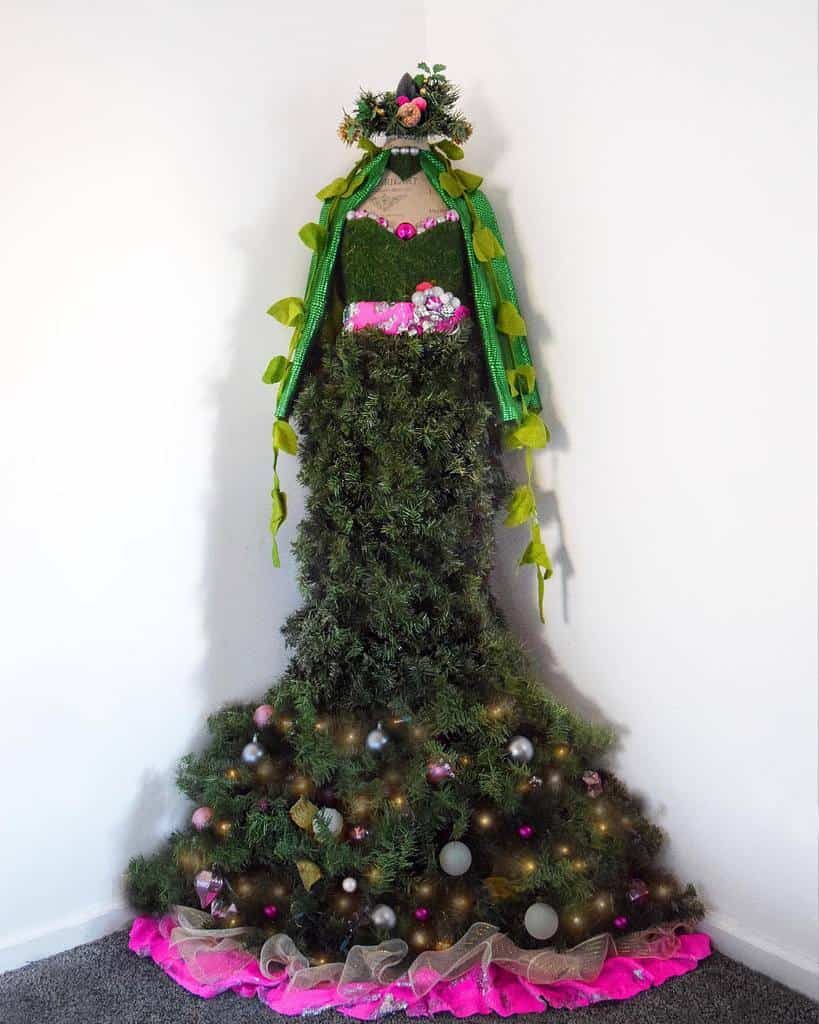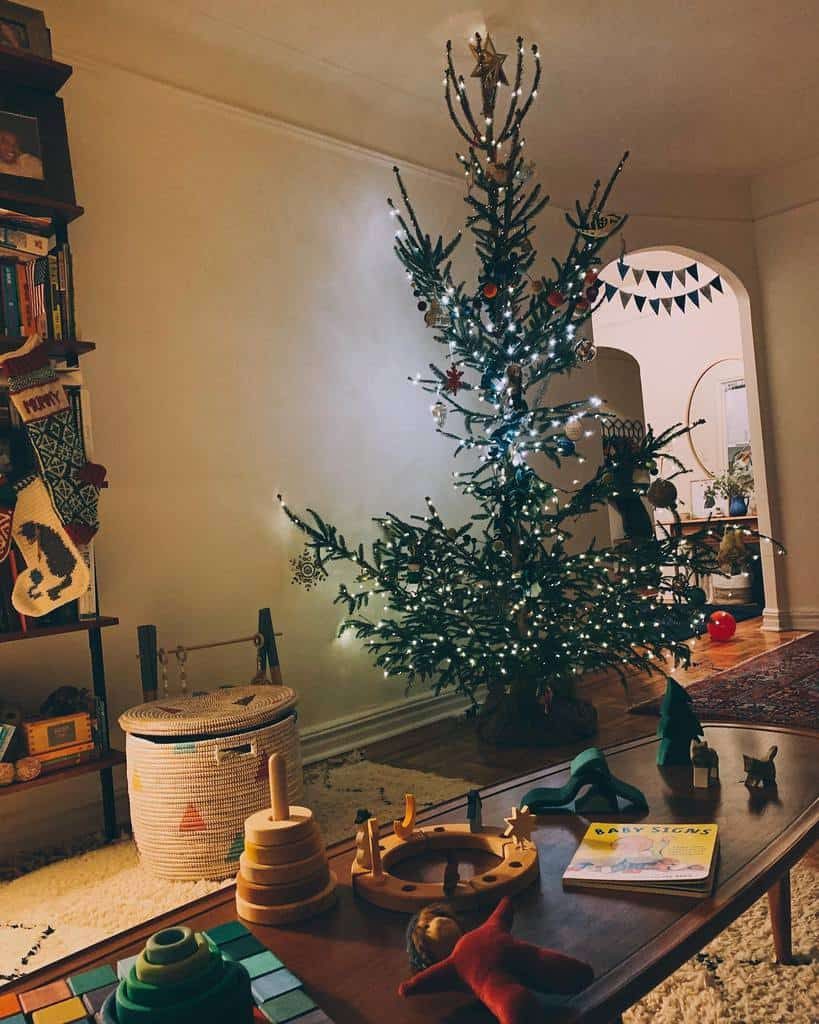 15. Illuminate Simply with Lights
A strand of lights can transform your tree into a radiant centerpiece, offering coziness with minimal effort. Depending on your aesthetic, opt for warm white or vibrant colorful lights. For slender trees, this minimalistic touch exudes elegance and charm. Pair with understated room decor to accentuate the tree's simplistic beauty.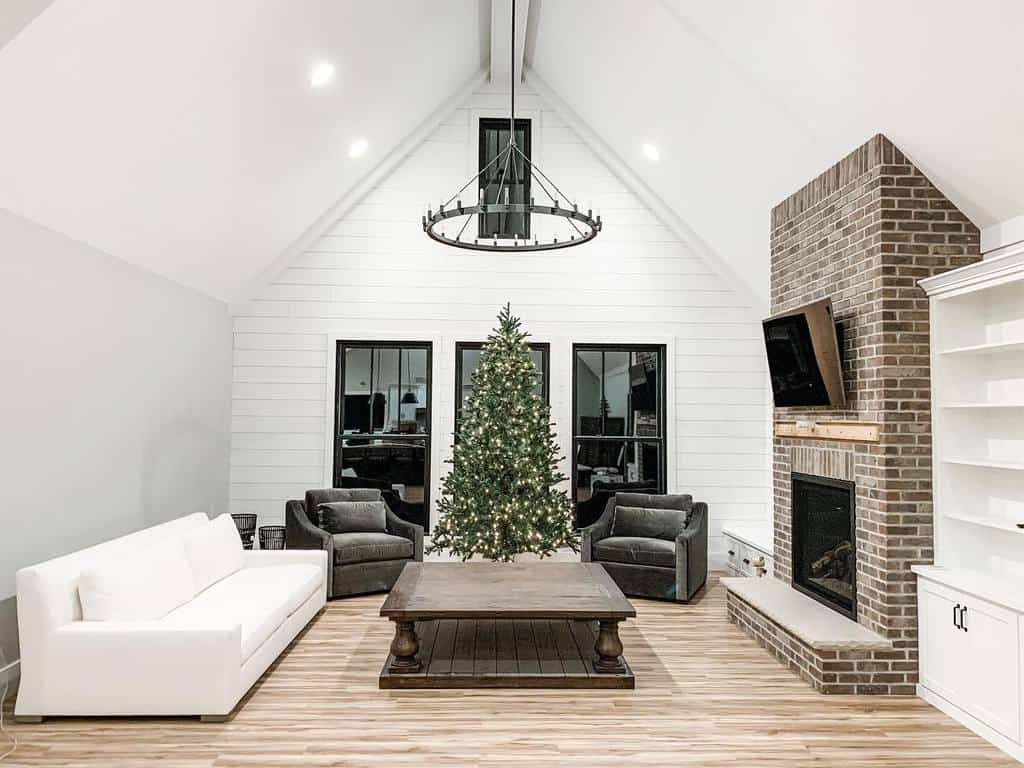 16. Adorn with Table Tree Ornaments
Incorporating a wooden Christmas tree ornament on your table provides a rustic charm, captivating guests during festive dinners. These handcrafted wooden trees, ranging from minimalist to ornate designs, infuse natural warmth without the upkeep of live trees. To complement its presence, consider pairing with earth-toned table settings or golden candleholders, cultivating a cozy and memorable holiday ambiance.
17. Highlight a Miniature Christmas Tree
A mini Christmas tree is a delightful solution for those seeking a compact or low-maintenance festive touch. Its size allows for effortless decorating and cleanup, making it ideal for smaller spaces or supplementary decor. Pair with tiny ornaments or fairy lights to enhance its charm. Consider placing it on side tables or countertops to sprinkle holiday joy throughout your home.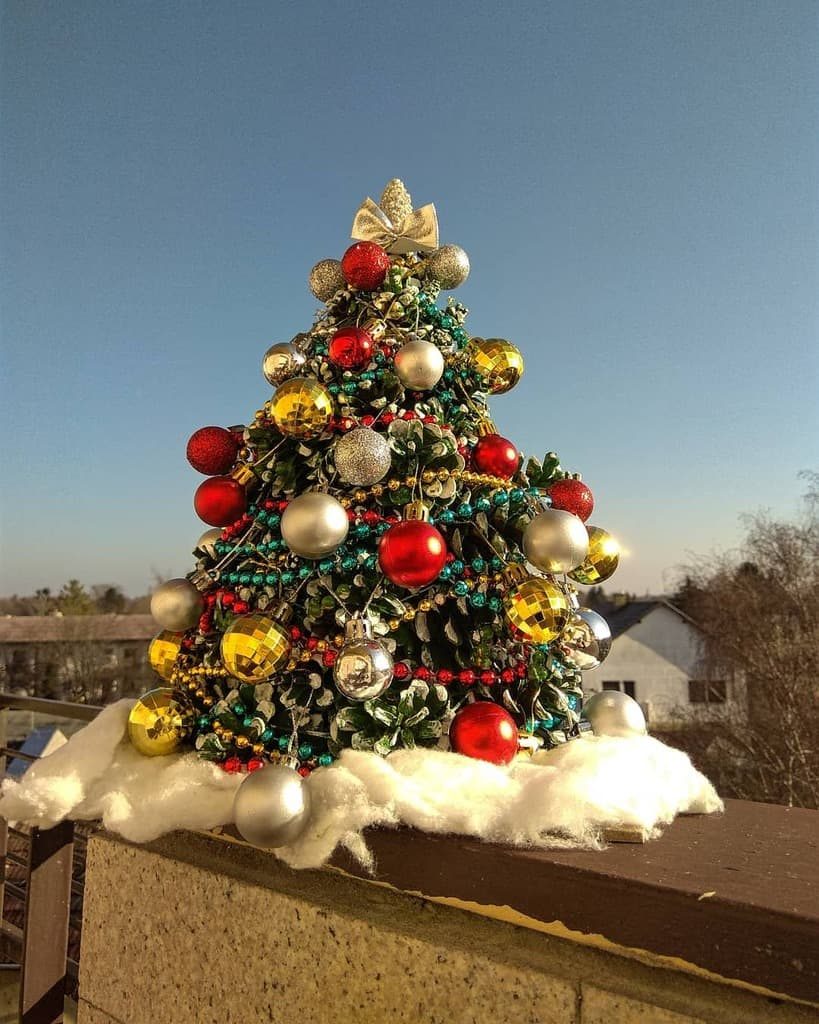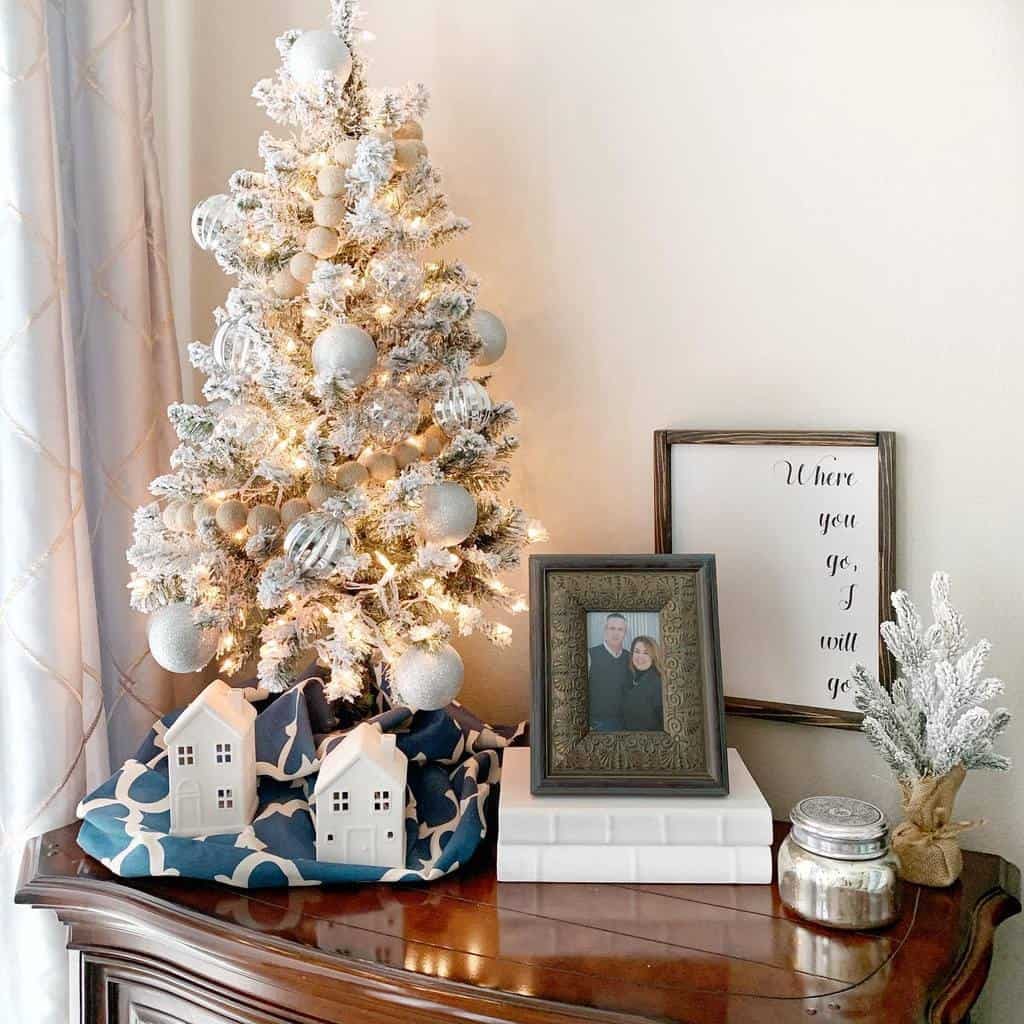 18. Design with Driftwood Elements
A driftwood Christmas tree effortlessly merges rustic charm with coastal elegance. Gathered from beach walks, crafting this tree becomes both sustainable and an engaging holiday activity. Its organic allure radiates warmth, making it a versatile piece fitting for interiors or porches. To elevate its coastal essence, consider adorning with sea glass ornaments or soft blue fairy lights.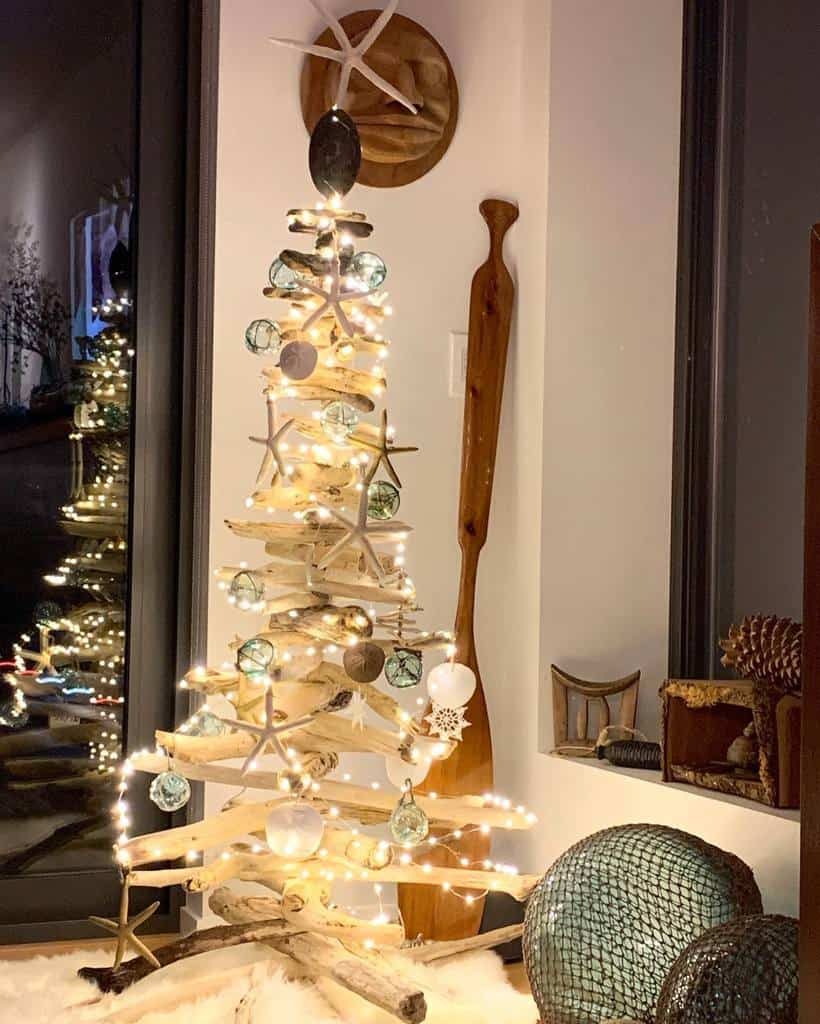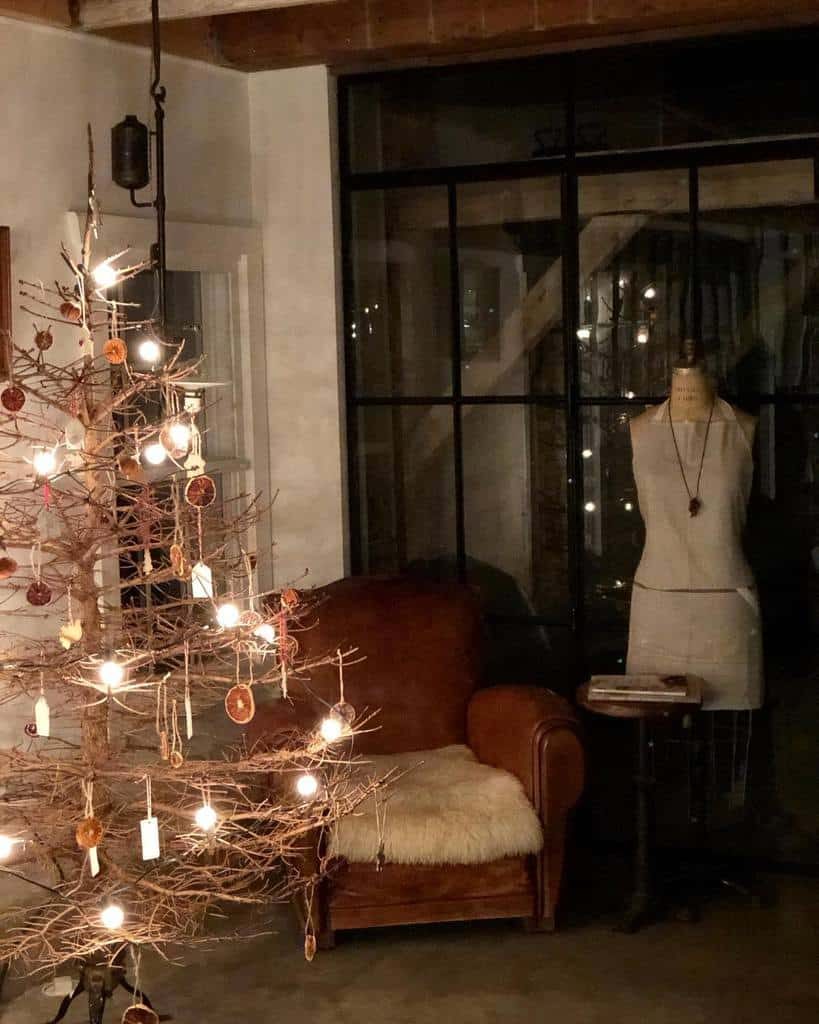 19. Go Pure with a White Tree
Choosing a white Christmas tree offers a pristine canvas, opening doors to myriad decorating visions. For a sleek appearance, maintain a monochromatic theme with white ornaments. Alternatively, amplify its elegance with vibrant baubles or metallic accents. Its versatility ensures your decor speaks volumes, positioning the white tree as a striking holiday focal point.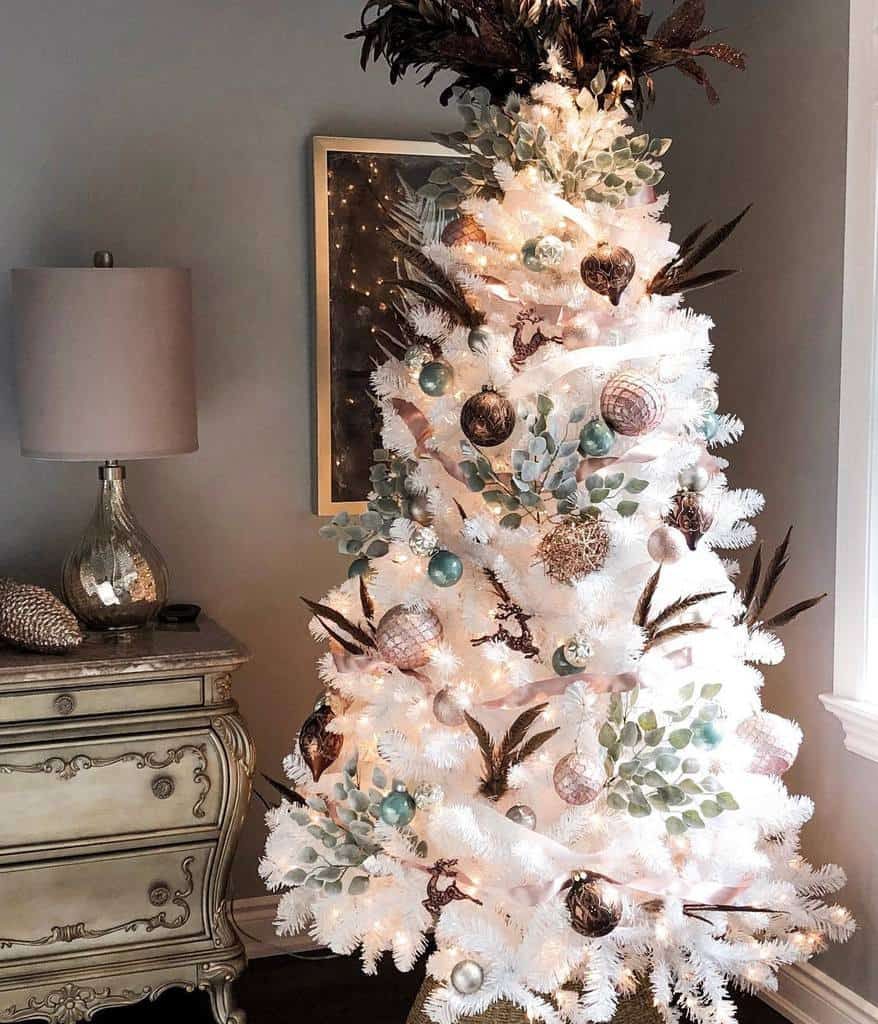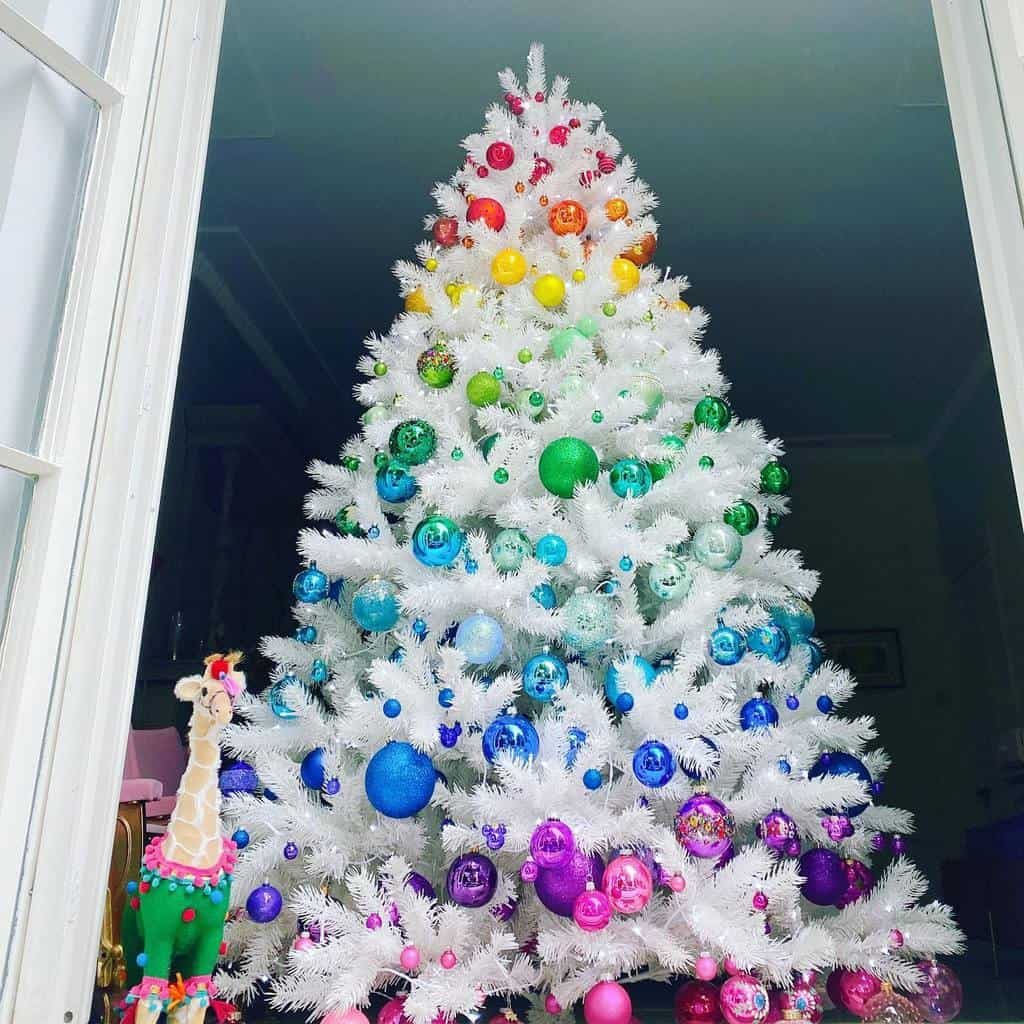 20. Merge Halloween and Christmas Themes
Dare to be different with a Halloween-themed Christmas tree, blending two beloved holidays into one captivating display. Illuminate with eerie orange and black lights and dangle spine-chilling ornaments to set the spooky tone. For an unexpected tree topper, swap out the classic star for a witch's hat. This thematic merge offers an unforgettable and enchanting decor piece, ensuring a double-take from every guest.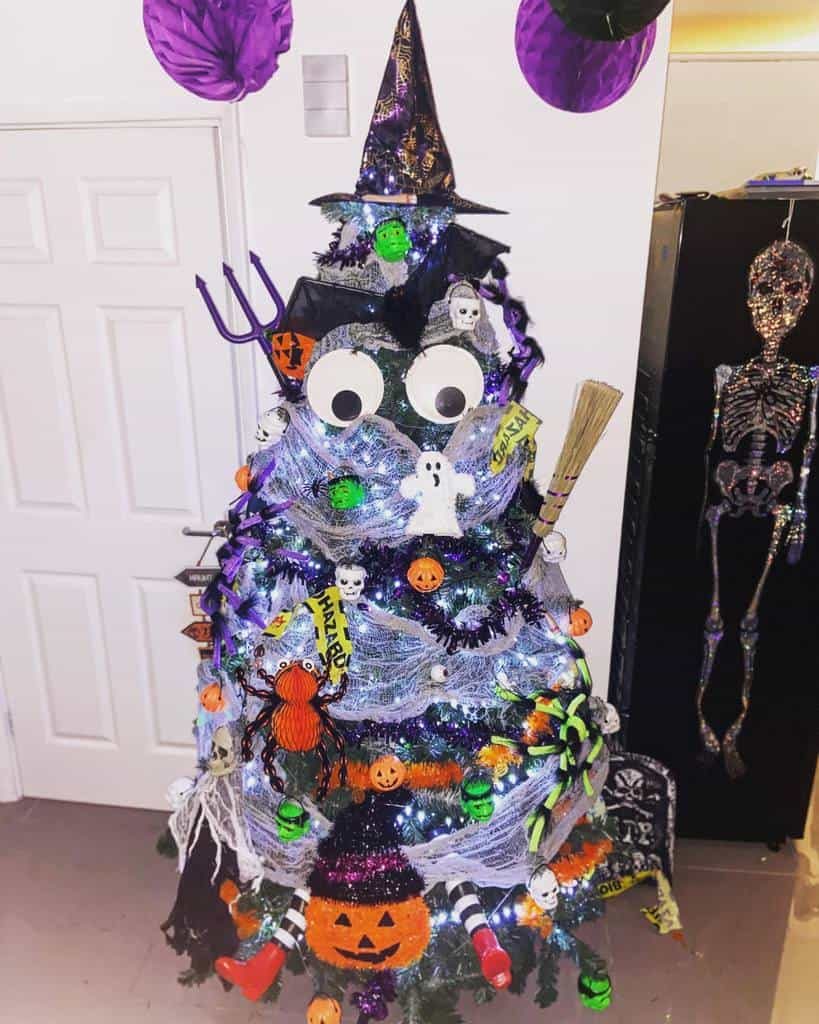 21. Celebrate with a Rainbow Tree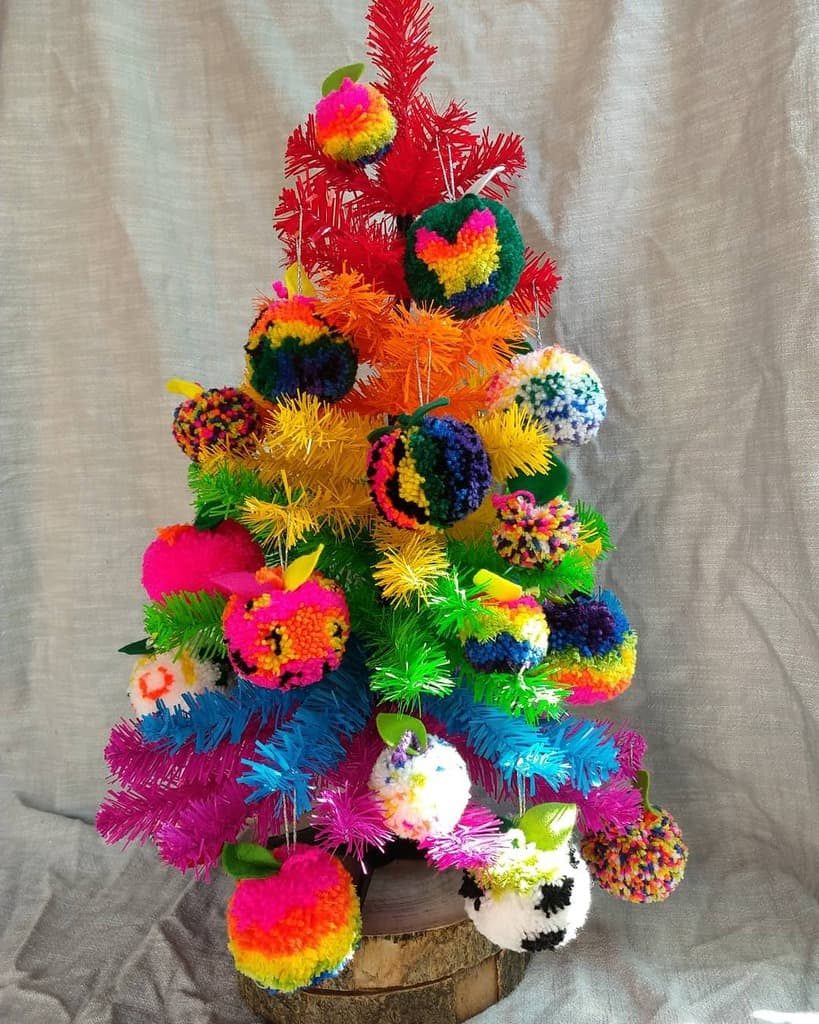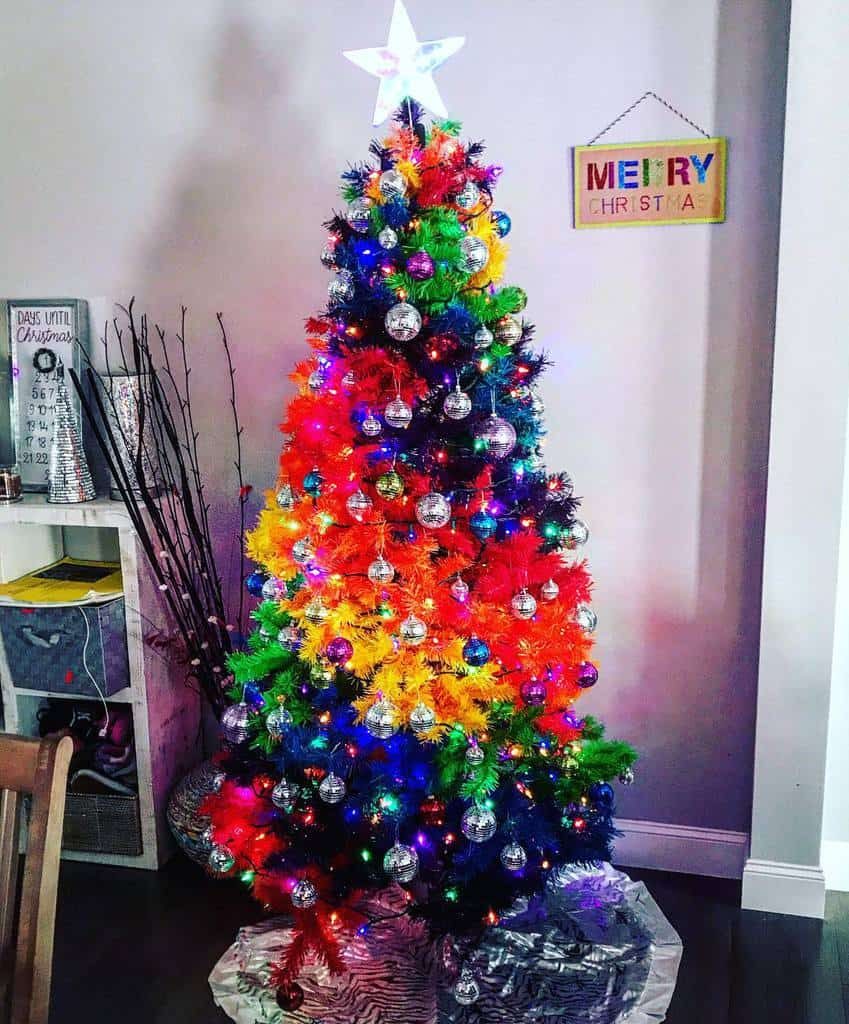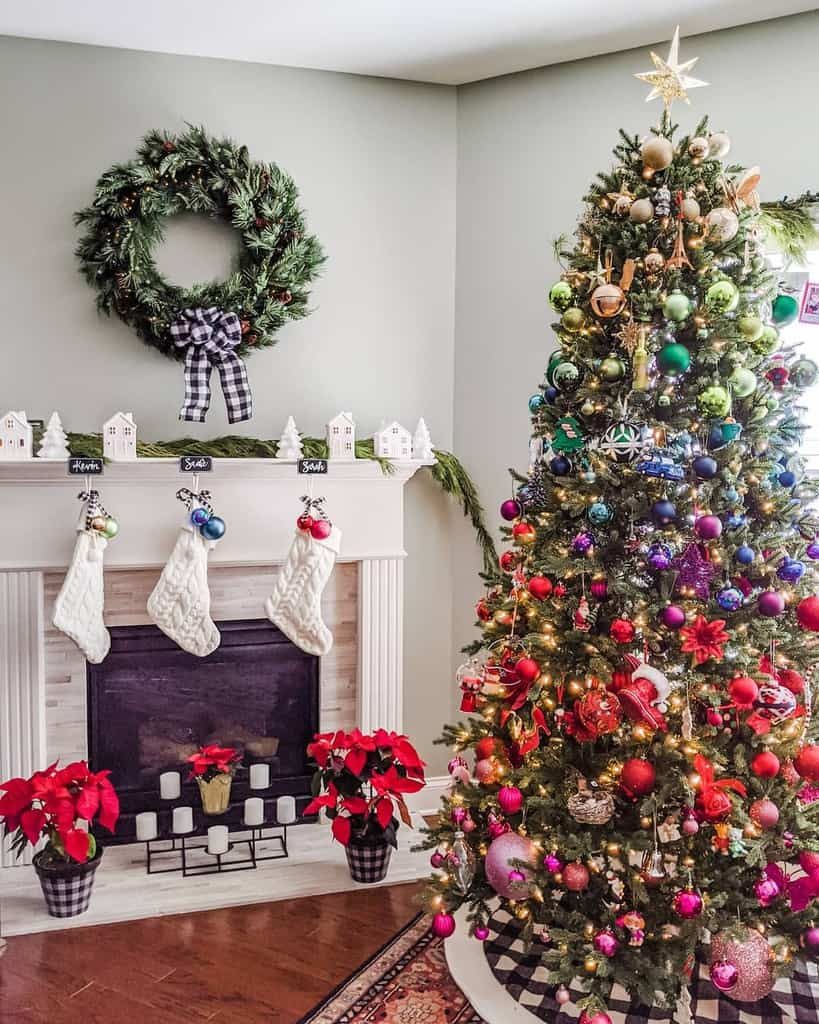 22. Diversify with Colored Lights
Brighten your festive space with a rainbow Christmas tree, radiating cheer and vibrancy. Strategically arrange ornaments in a gradient of hues, transitioning seamlessly from one color to the next. This dazzling array is not restricted to grand trees; even a petite tabletop variant can exude charm. Tailor the theme with eclectic ornaments, crafting a contemporary and lively centerpiece that truly embodies your personal flair.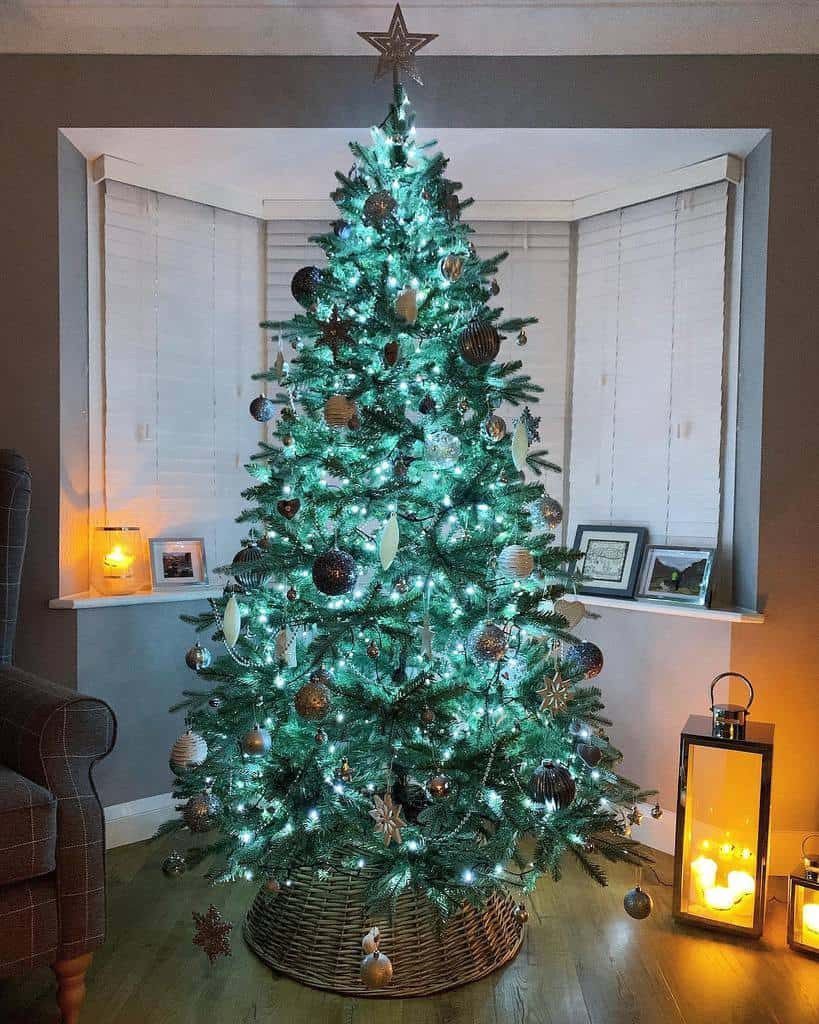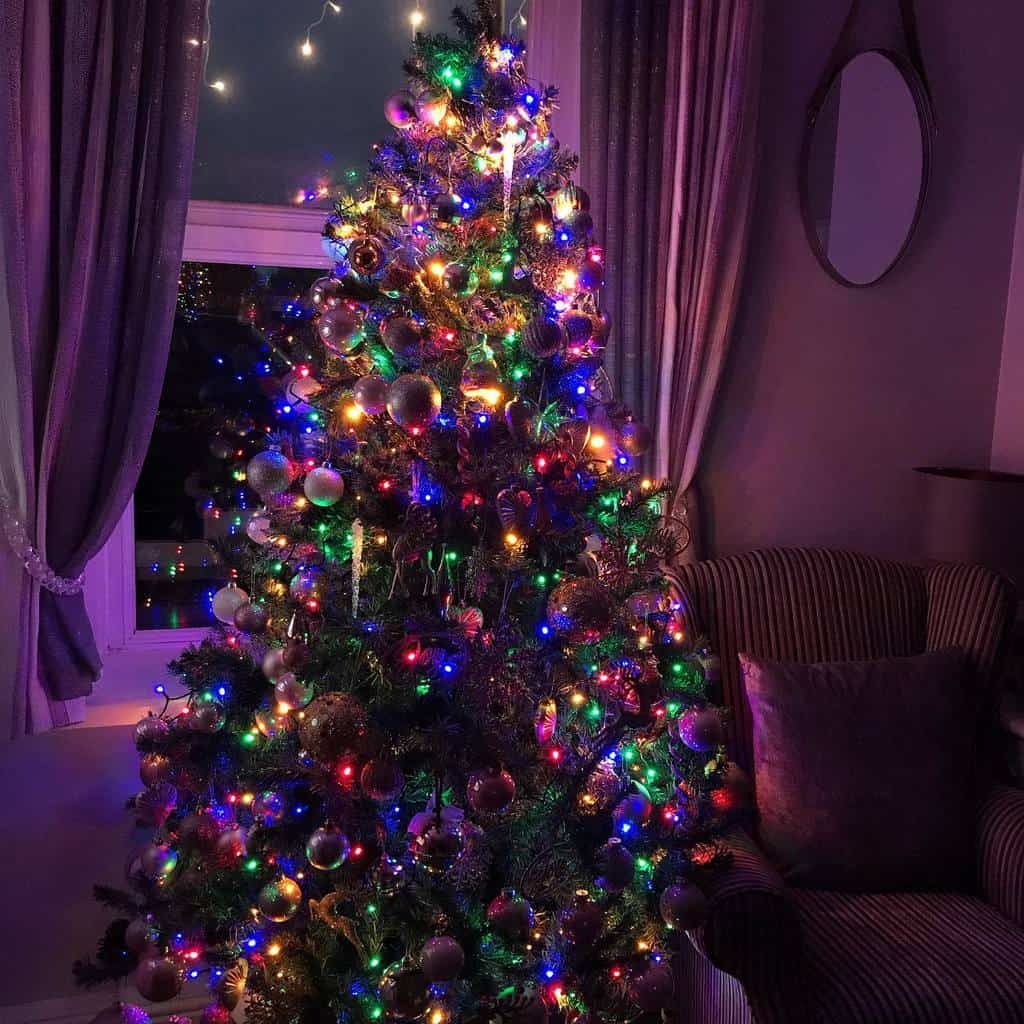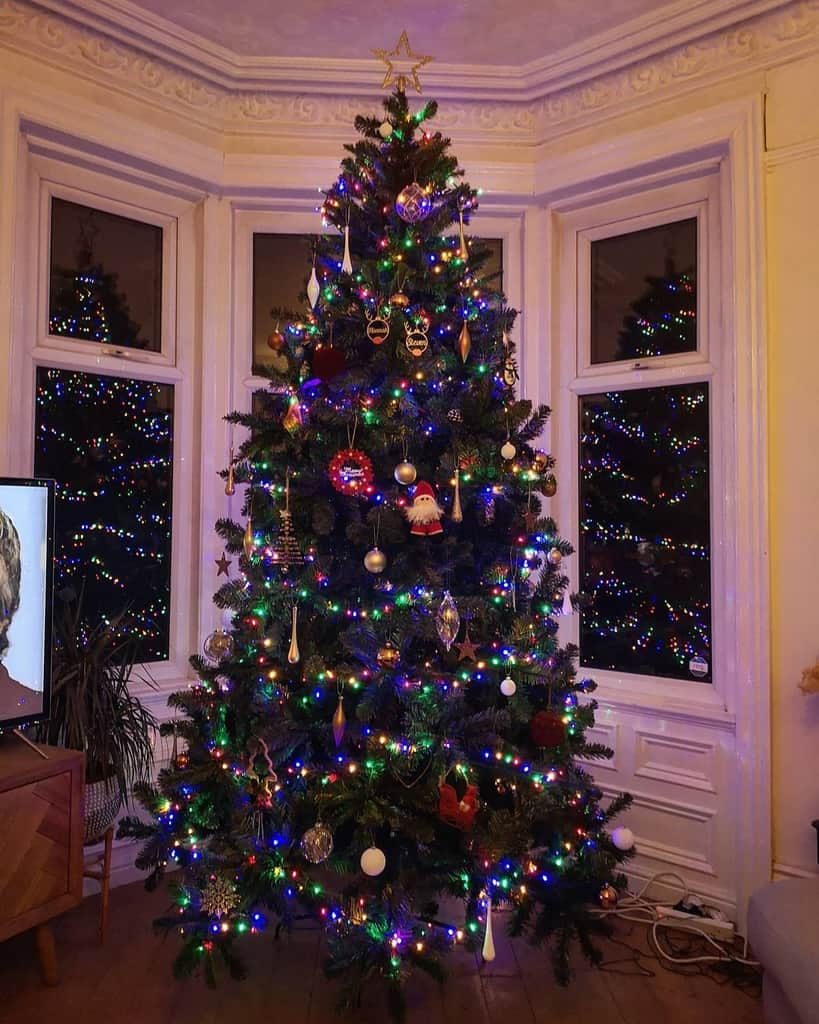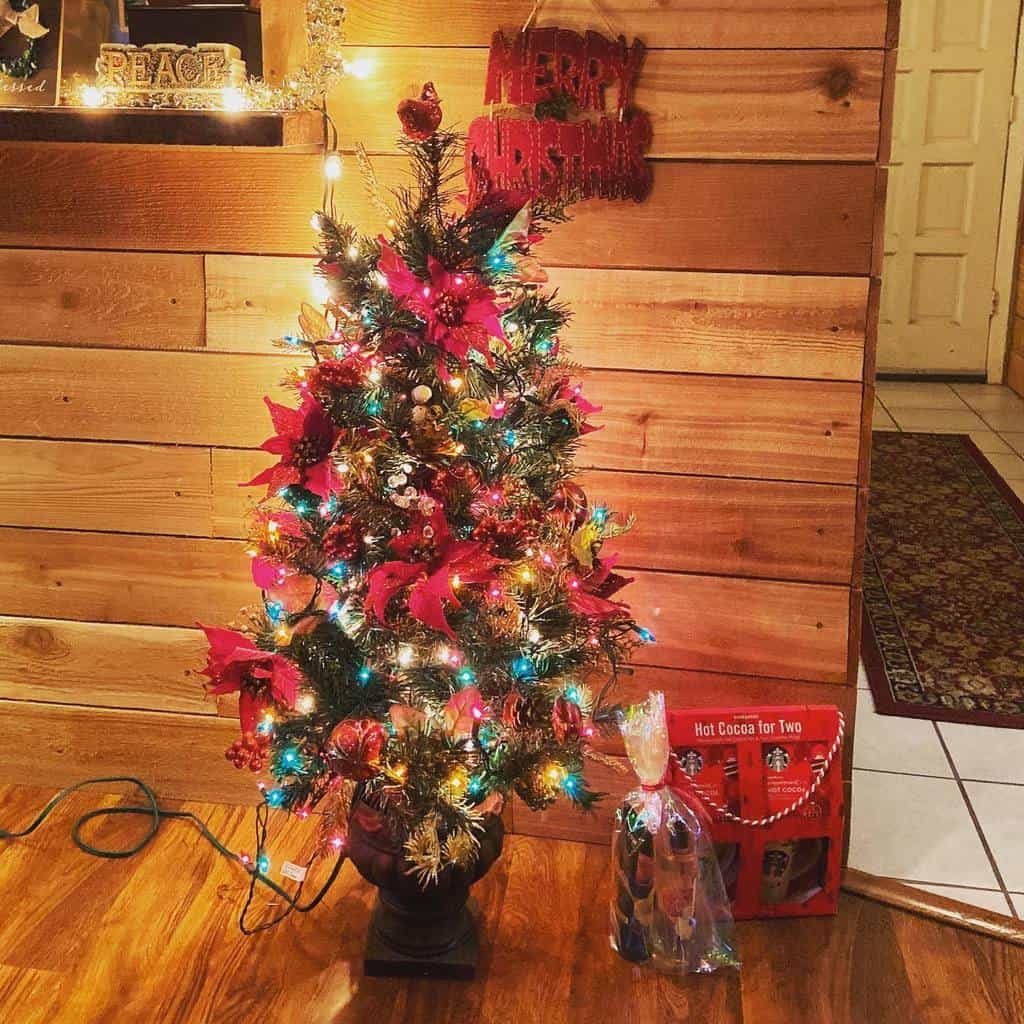 23. Mount a Christmas Tree on Wall
For those tight on space or seeking an inventive twist, a wall-mounted Christmas tree is the answer. Fashion the tree outline using materials like driftwood or tape, then embellish with garland or twinkling lights. This concept maximizes wall real estate, offering holiday vibes without the fuss of a full tree. Its design can be effortlessly tailored, seamlessly integrating into your existing decor while reflecting your distinctive style.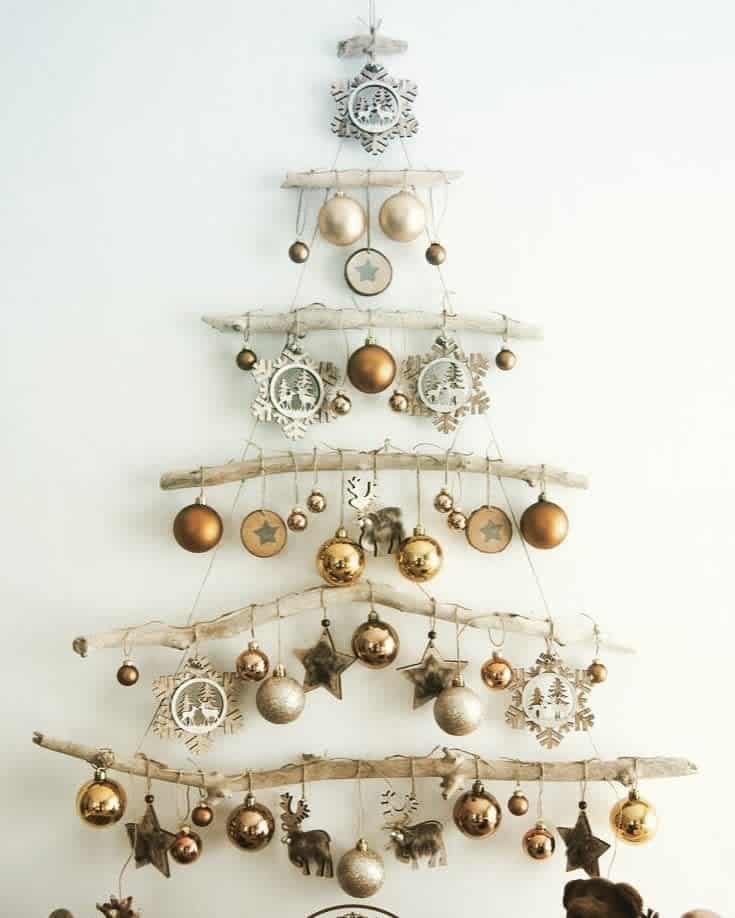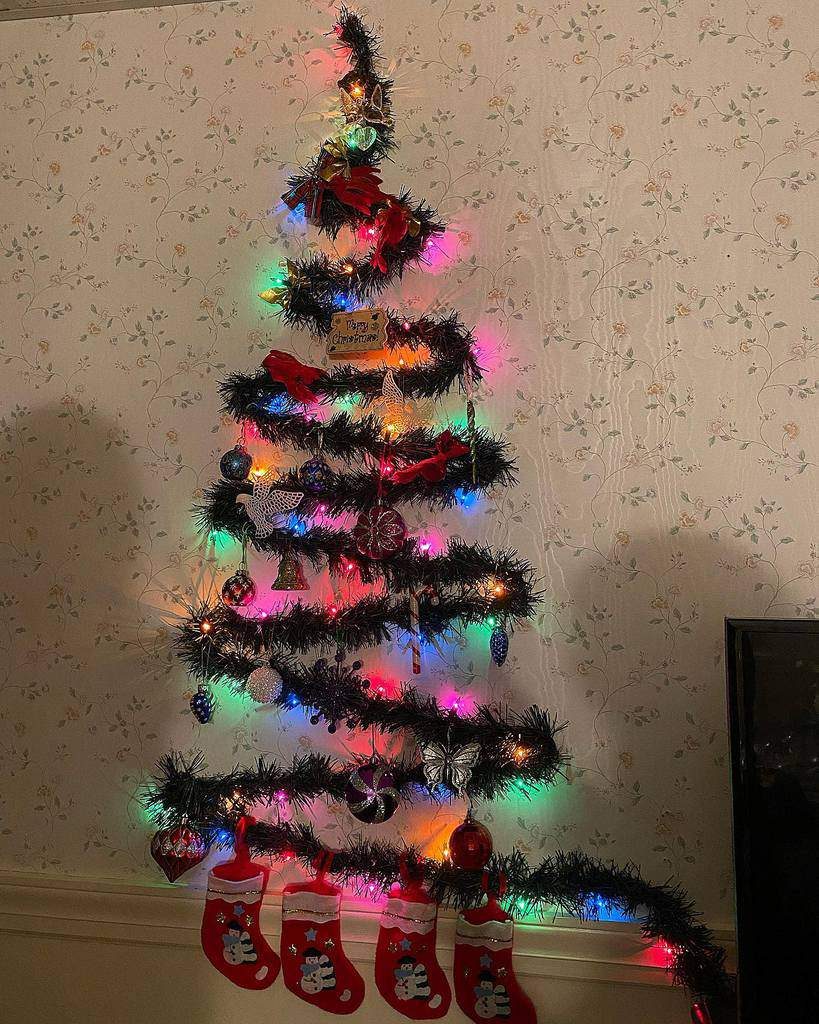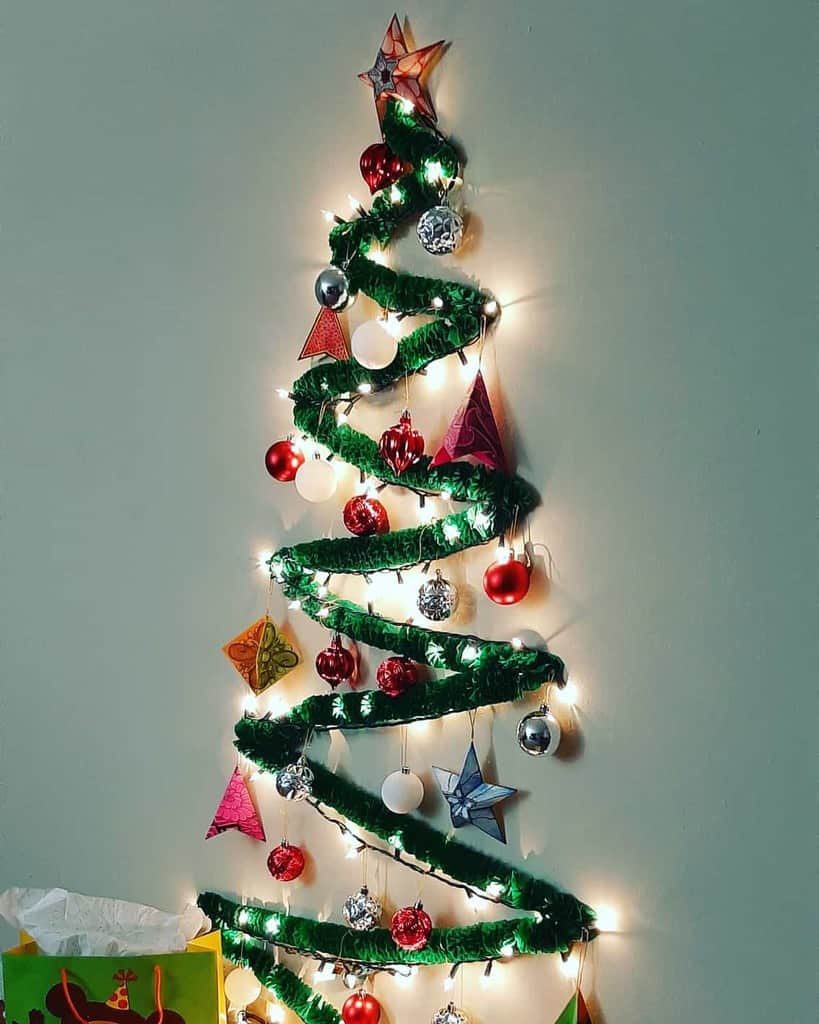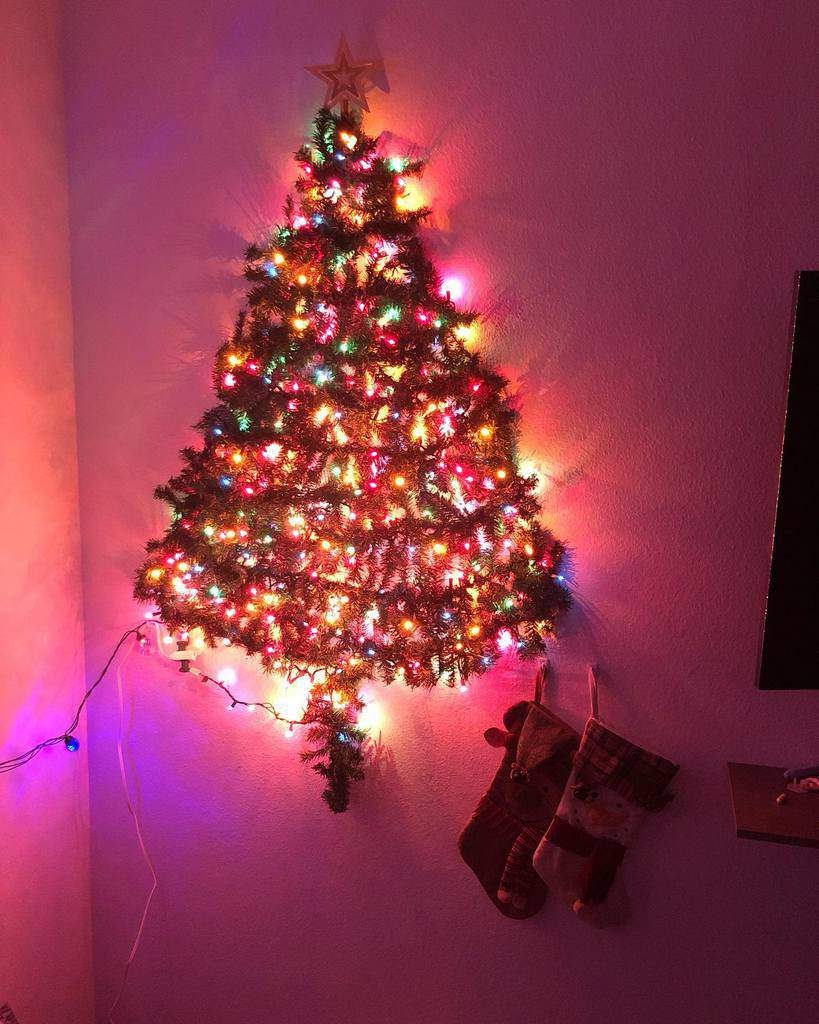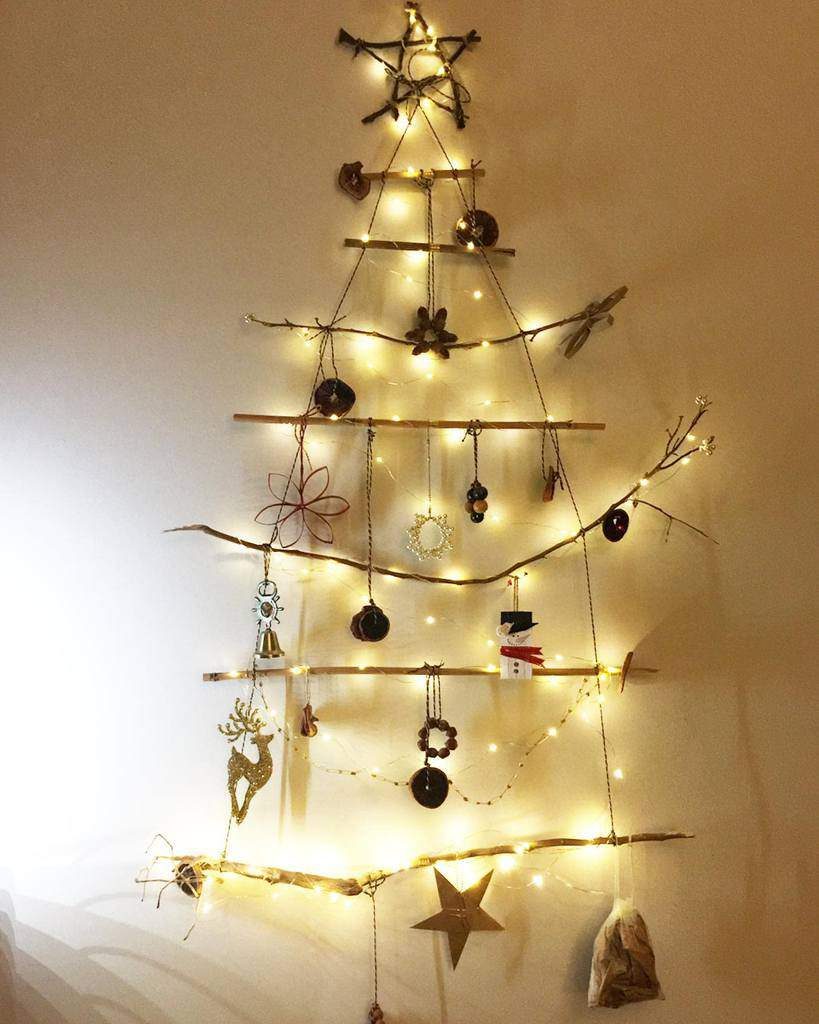 Christmas Tree Decor FAQs
What are the things you put on a Christmas tree?
Technically, you can put anything you want on your Christmas tree. Traditionally, people put candles on them. However, this is a fire hazard. Instead, start with string lights. Tinsel is another traditional decorative item, but it's dangerous to pets. Popular decorative items are garland and ornaments with a tree topper or angel.
How can I make my Christmas tree look nice?
Before you decorate your artificial tree, separate and fluff the branches. Wrap a tree skirt around your Christmas tree base to give the bottom a finished look and hide the stand. Use picks and garland to hide the holes that you find in the tree. Use a theme for your ornaments so that everything blends and complements each other.
How do you put lights on a Christmas tree like a pro?
Start by checking that all of the bulbs work. Begin adding lights at the top of the tree and work your way down and around the tree. Intertwine the lights so that they are both on the outside and towards the center of the tree. Aim to create even coverage throughout the tree.