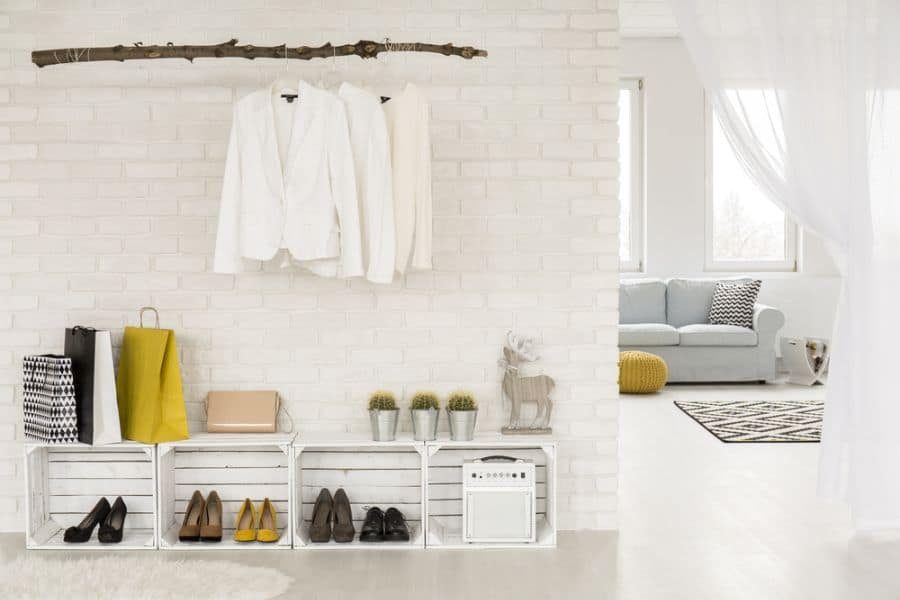 83 Best Closet Organization Ideas
"I like my money right where I can see it… hanging in my closet." – Sarah Jessica Parker
Do you shove things in your closet and then force the door closet to hide the mess? This is no way to live. Embrace a simpler life by tackling the closet clutter. When you have a messy closet, it makes getting ready more challenging and doesn't preserve your clothing or accessories in their top condition.
Closet organization ideas go beyond your bedroom closet, though. You can apply these storage solutions and organizational systems to all of the closets in your home. You'll realize that you have more extra space than you thought you had.
1. Accessories Storage Ideas
If you have lots of accessories, then you need a way of keeping them organized. Otherwise, you'll forget what you own and never find what you want when you want it. Dividers are a must for keeping your accessories organized.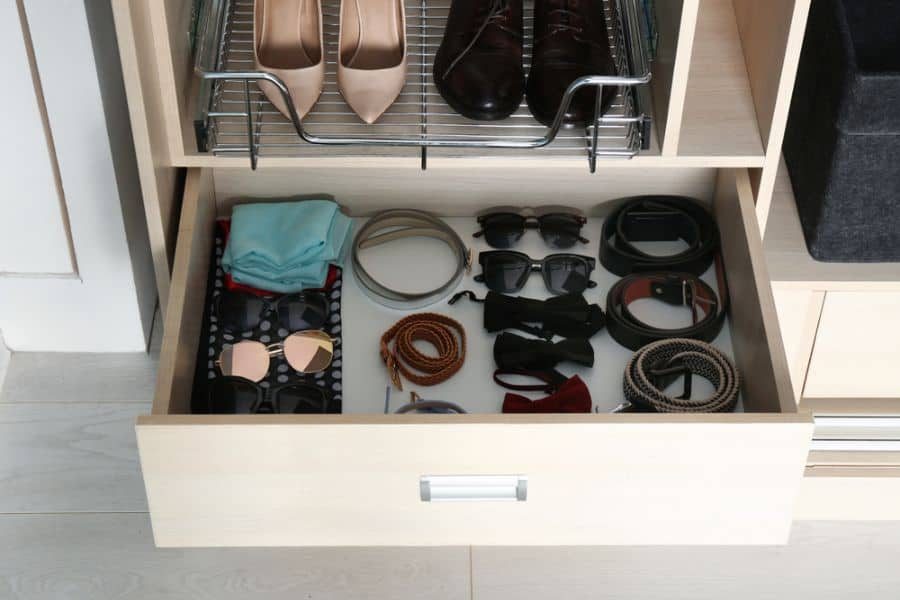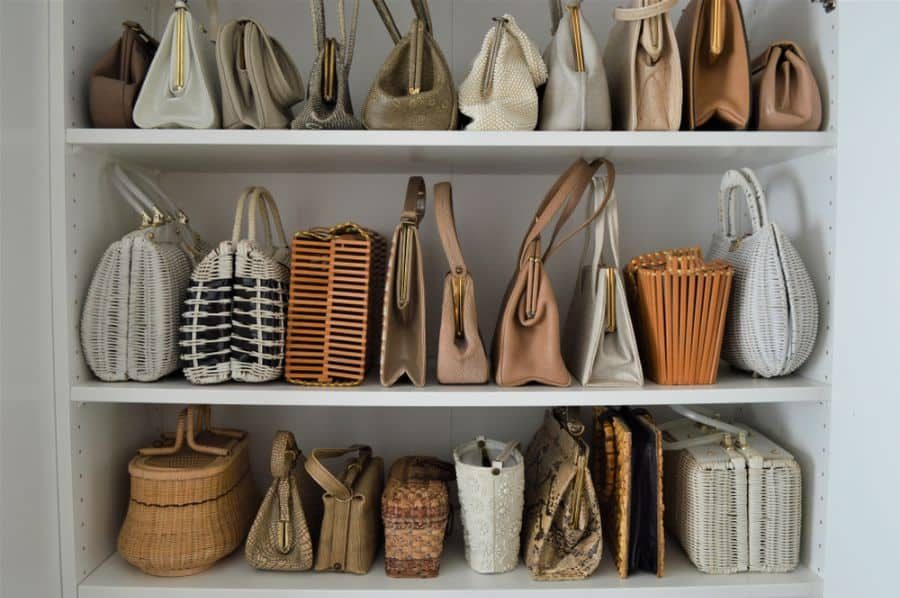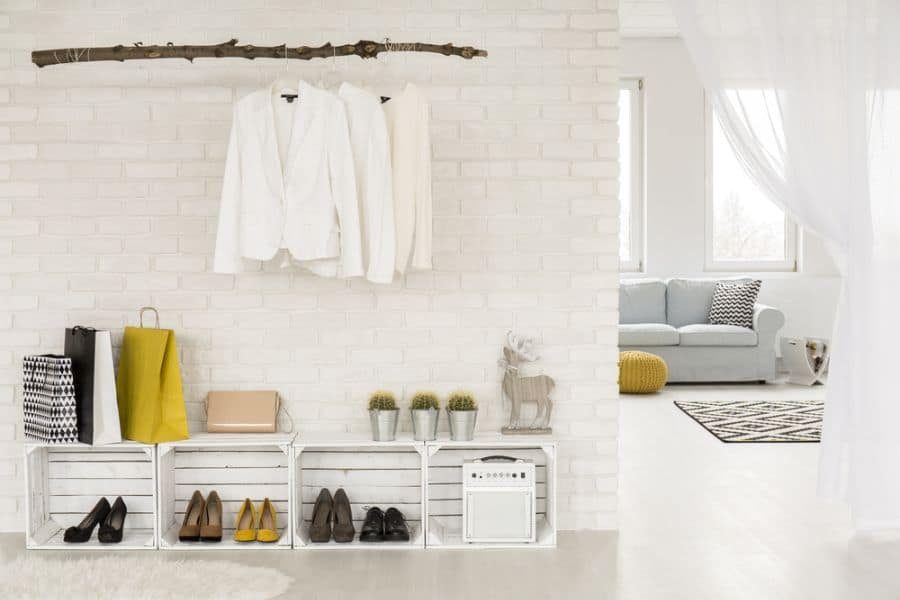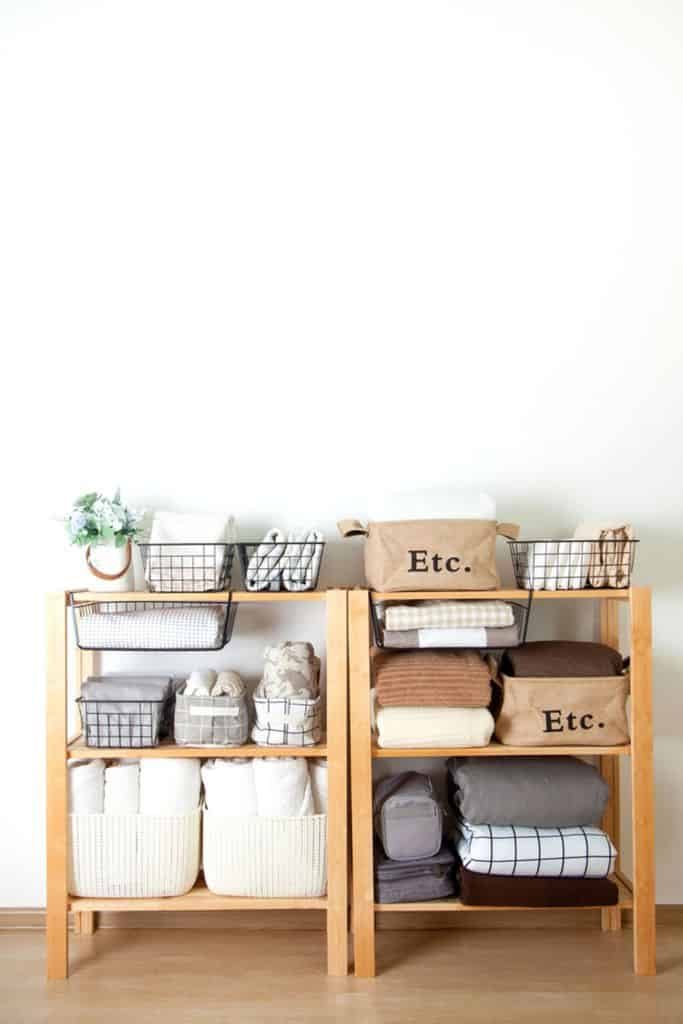 A shelf divider is perfect for organizing larger accessories, such as scarves, purses, or hats. Drawer dividers are perfect for keeping your smaller accessories organized.
Use these for storing your watches, sunglasses, bowties, jewelry, and belt buckles. To keep your accessories protected, only use drawer dividers that are lined with a soft material, such as felt, suede, or velvet.
2. Baskets And Boxes
Baskets are the perfect storage solution for organizing the items in your closet. They transform sloppy shelves into neatly organized spaces. Wire baskets are nice as storage bins, but they tend to have larger holes, making it easy for smaller items to fall through them.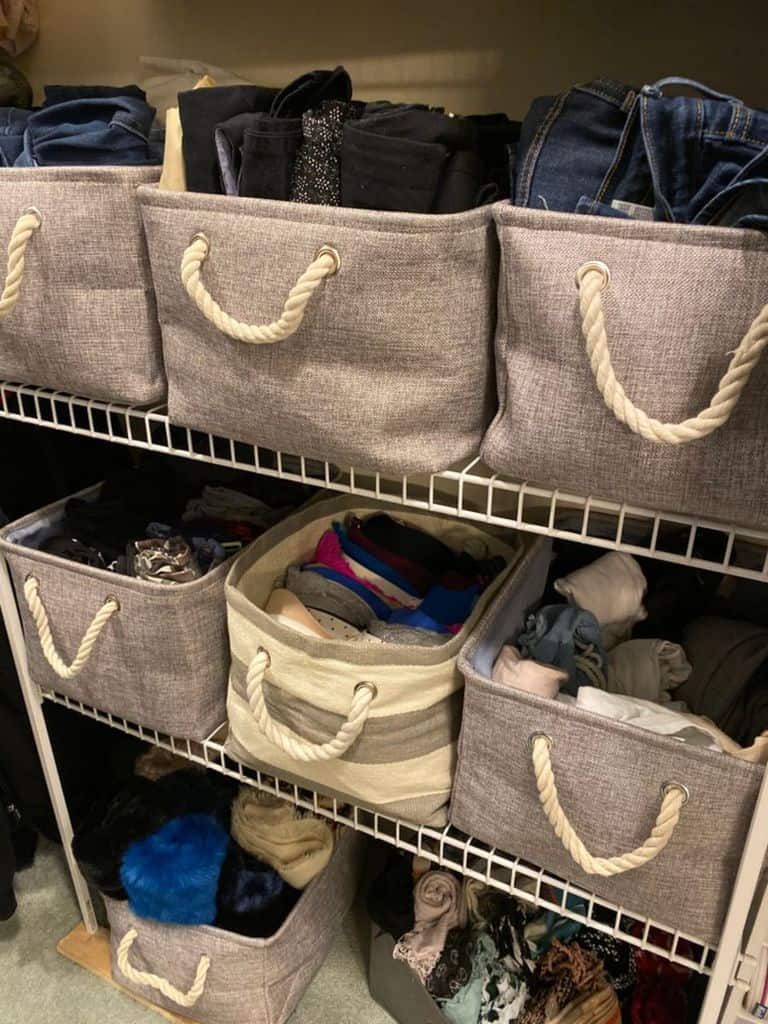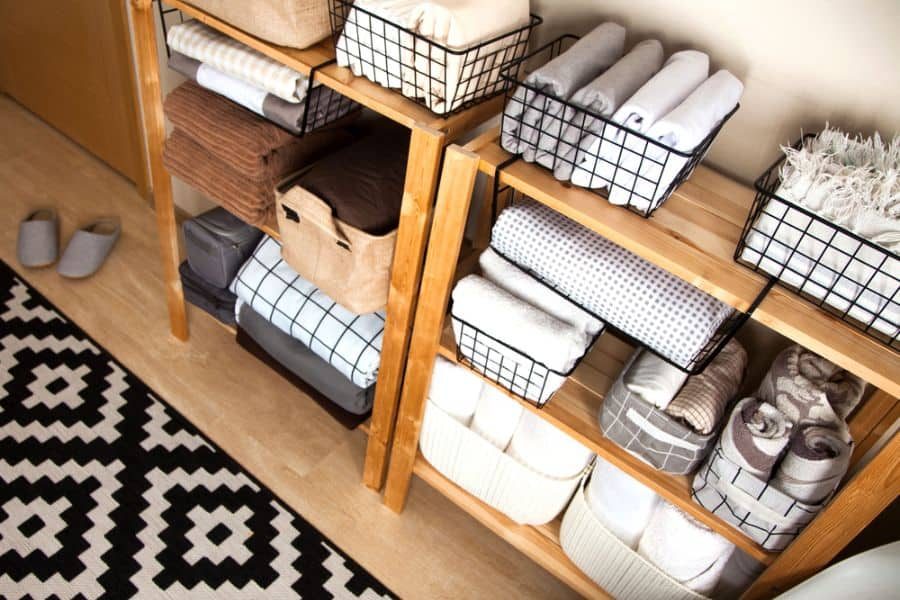 Instead, opt for baskets that are a tighter weave or bins that are made of solid fabric. If you have your heart set on wire baskets, look for ones that have a fabric liner. This makes them easier to use and look less industrial.
3. Budget Closet Organization Ideas
You don't have to spend a lot of money to have an organized closet. Sure, fancy organizational systems are tempting, but they can also be expensive. Instead, opt for a DIY approach that lets you get creative with how you organize your closet.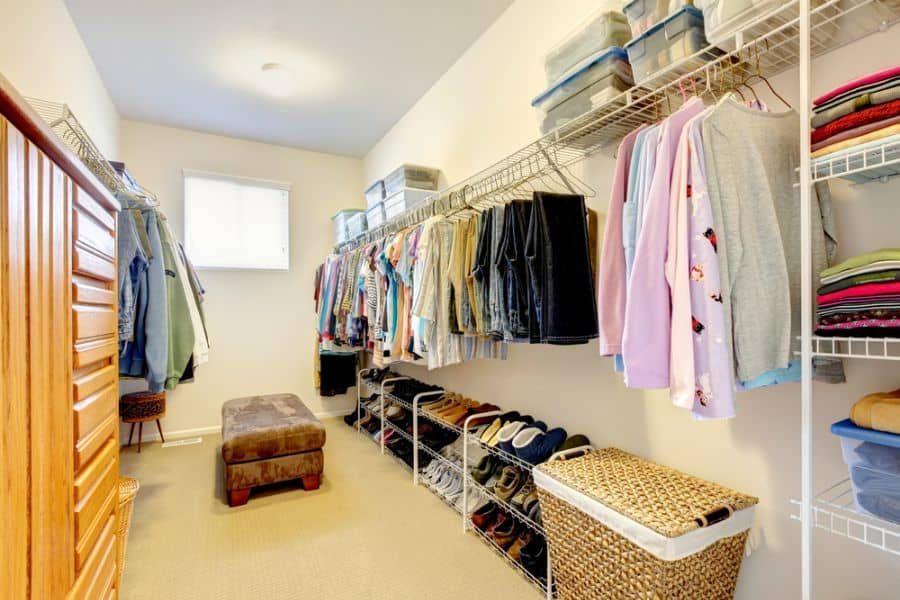 The easiest DIY closet organization idea is to add a tension rod. This gives you additional space to hang more items. If you don't have many long items, such as full-length dresses, you end up with additional space that isn't getting utilized. You can hang a cubby organizer that gives you more shelf space.
4. Closet Shelf Organization Ideas
You could place your items on your closet shelves and hope for the best. The problem with this is that we end up overloading the shelves, and then nothing stays where it's supposed to. If you have stacks of folded items, consider dividers to keep the stacks from falling over into each other.
Large bins also work well for holding similar items together. Look for ones that are either clear on the front or can be labeled. This will make it easier to find what you're looking for.
Plastic and metal bins are affordable, but give your closet a utilitarian or industrial feel. Investing in wicker or cloth-lined bins will cost more but have more versatility in design.
5. Clothes Rack Ideas
Some spaces require more storage than what a closet can provide. That's when you need to consider adding a clothing rack. These are portable and convenient. This gives you more space to store clothes that require hanging.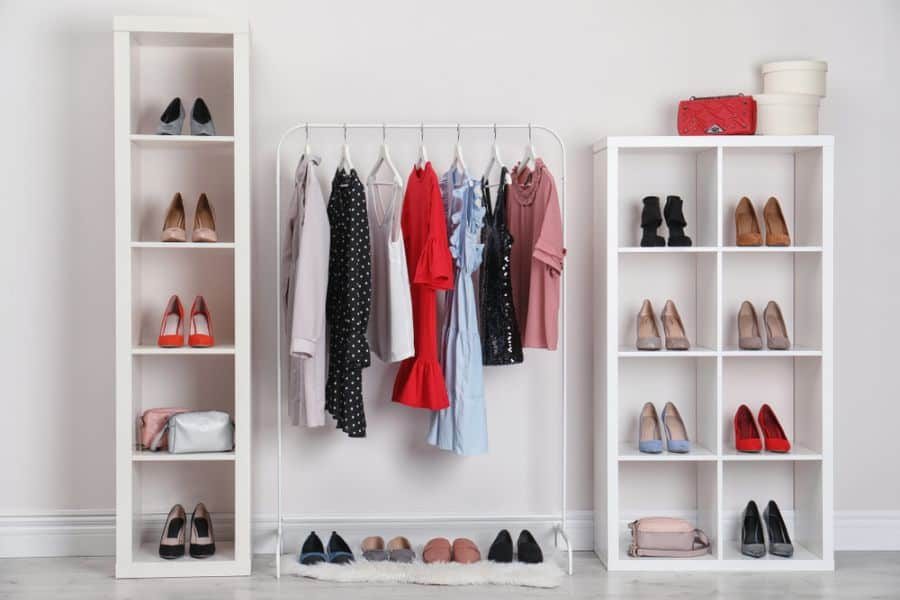 Look for a rack that's easily moveable with caster wheels. They should have a lock to hold them in place. Pay attention to the durability and weight limit of the rack. It needs to be strong enough to hold the weight of the clothes you want to hang on it.
Consider using the rack in conjunction with your closet. You could rotate them seasonally so that the clothes on the rack are seasonally appropriate and easily within reach.
6. Corner Closet Organization Ideas
Dead corners are a frustration that everyone faces. They're counted as part of the room's square footage but are often wasted and left empty. You can make the most of these spaces by looking for storage ideas that focus on corner solutions.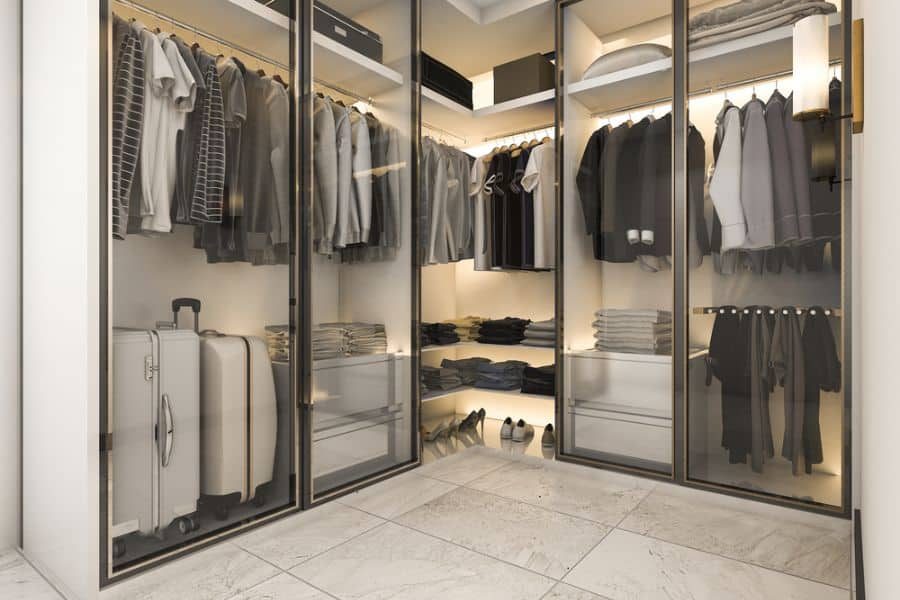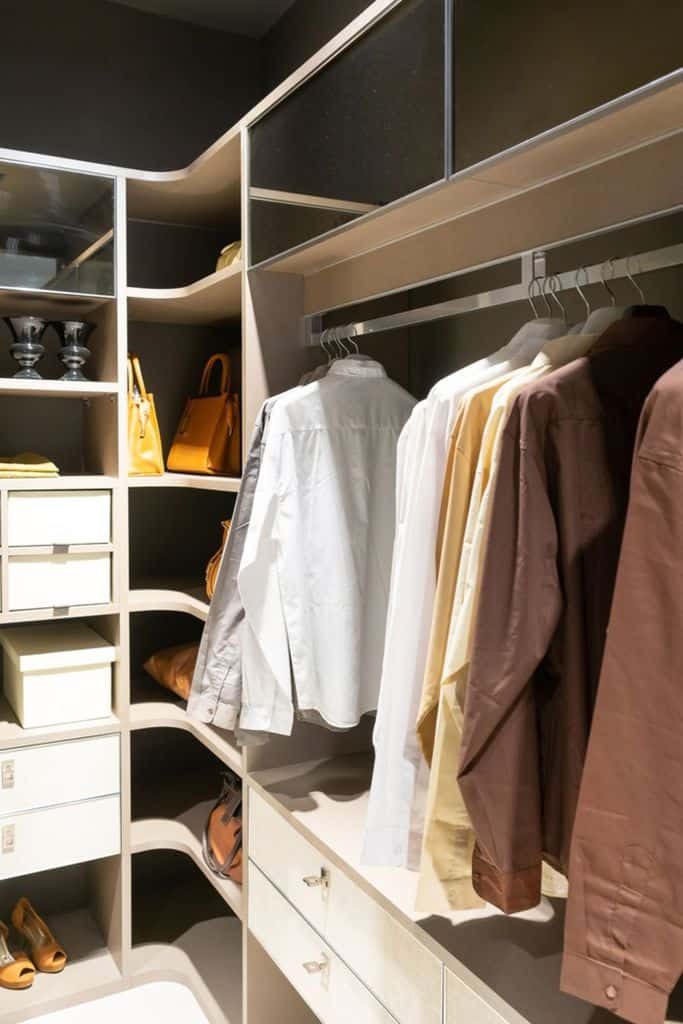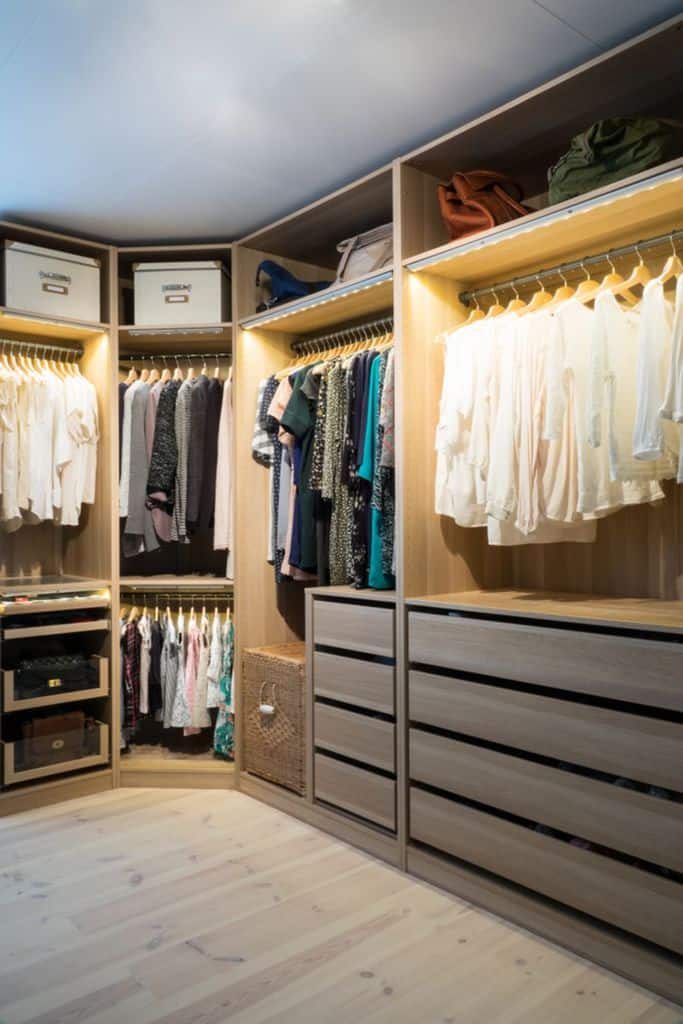 You could have wire shelves that you can use for storage of your folded clothes. You could also mount a corner rod for more hanging space. There are straight or even curved rods that are designed for mounting in a corner.
7. Drawer Organizer Ideas
Closet organizing pros have embraced the idea of drawers in recent years. Drawers are perfect for storing smaller items, such as accessories. These drawers are shallow, so you can have several in a space that would typically hold a single deep drawer.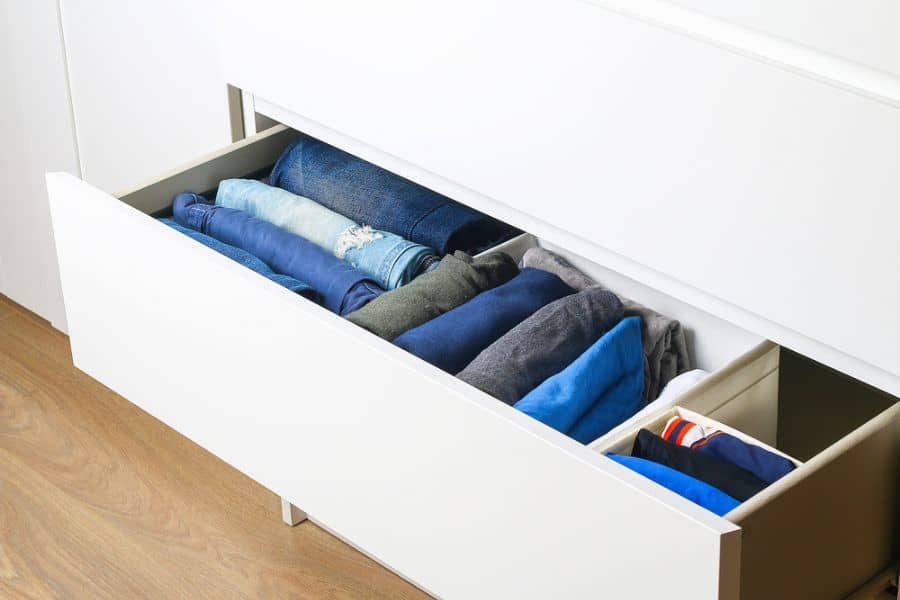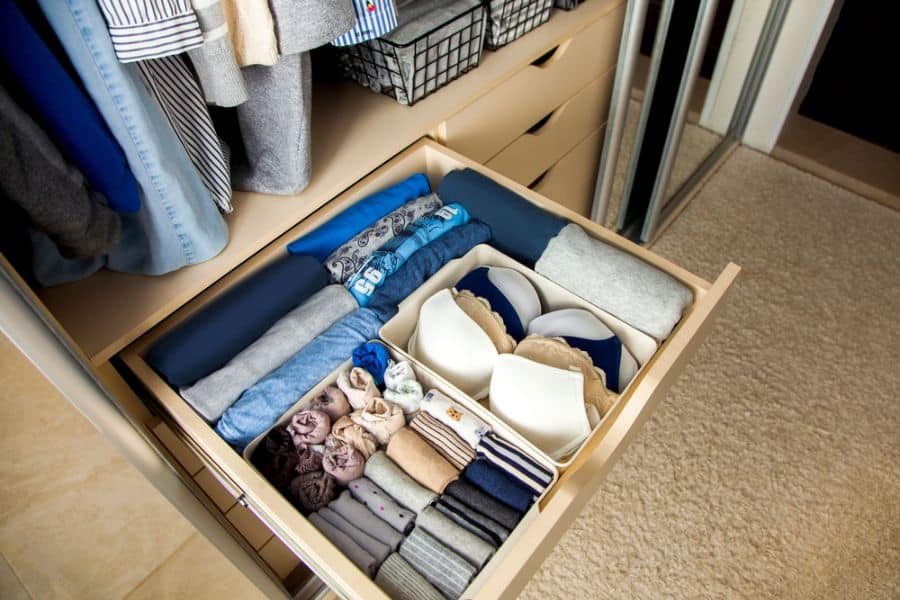 Consider adding a combination of shallow and deep drawers. You can then store clothing items in the deeper drawers. Sweaters that would stretch out and become deformed on a hanger should go in the drawers. You could also store other clothing items, such as t-shirts, sweatshirts, scarves, or cardigans.
8. Kid's Closet Organization Ideas
The biggest challenge about organizing kids' closets is the amount of stuff that they own. You need a way of keeping everything organized that's easy. A simple system will take less time to follow and be easier for your children to participate in.
Mount multiple hooks on the backside of the closet door. Put them at multiple levels so that some are adult height and others are your child's height. Now they can get involved.
Add dividers to the closet rod. These could be by size, color, activity, or season. Use color-coded tags that your child can learn as they get older. This empowers them to get involved and take ownership of their own closet.
9. Modular Closets
Not everyone has the gift of organization. If you are one of these people, then using a modular pre-fabricated system is the best option. The Elfa closet system is a great option. You measure your closet and arrange the components while taking into account your storage needs.
Working with an expert who specializes in closet design can give you additional closet storage ideas. This can help you figure out the best storage solution for your closet space and belongings.
What's nice about a storage system is that if you find your storage needs changing, you can easily reorganize the system to adapt.
10. Organizational Systems
Start by deciding the purpose of the closet. The organizational system needs to make sense with the items you want to store in it.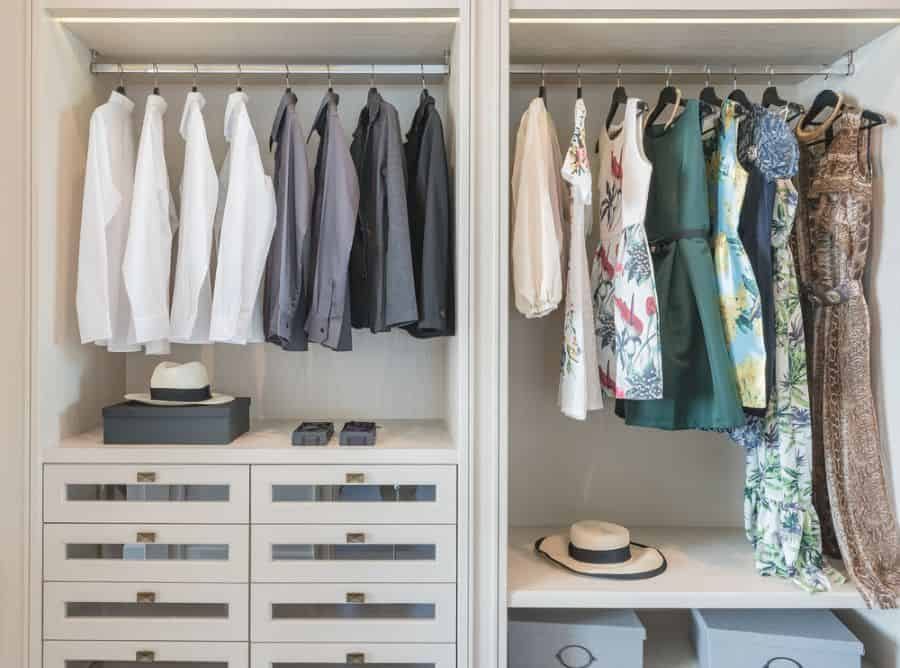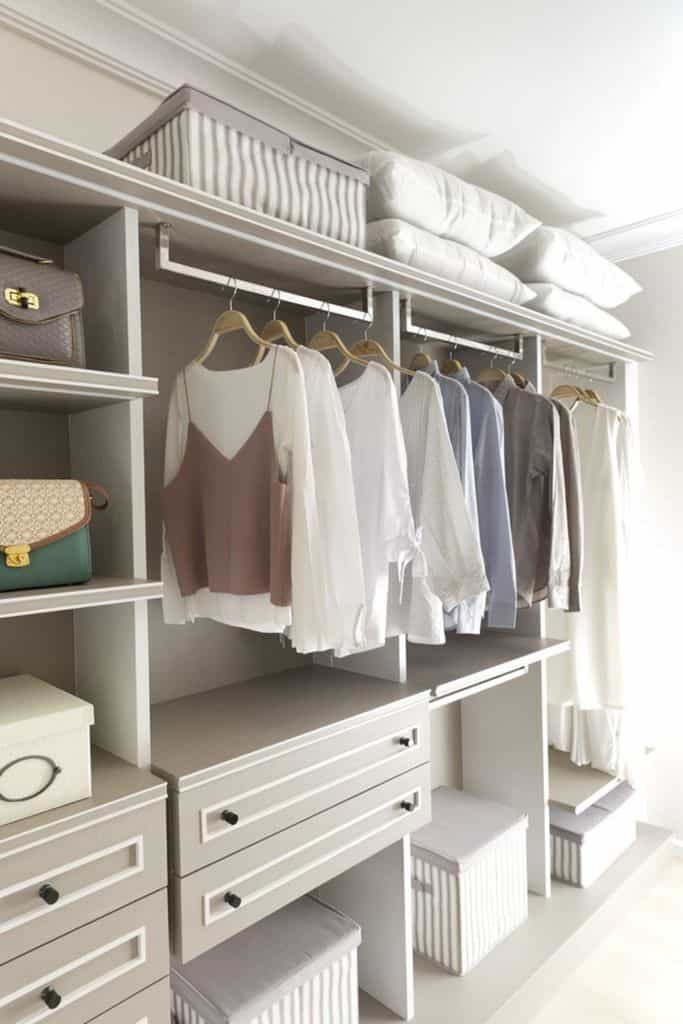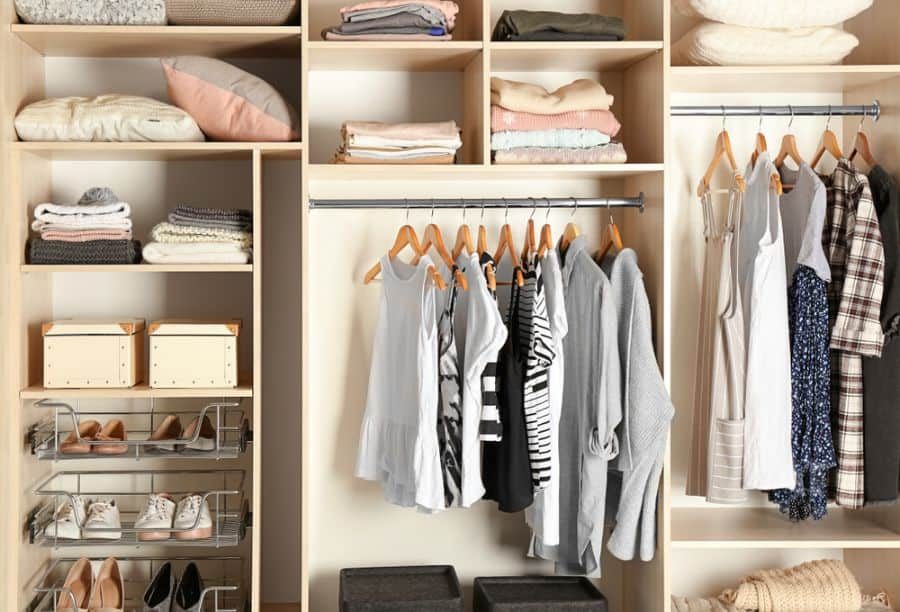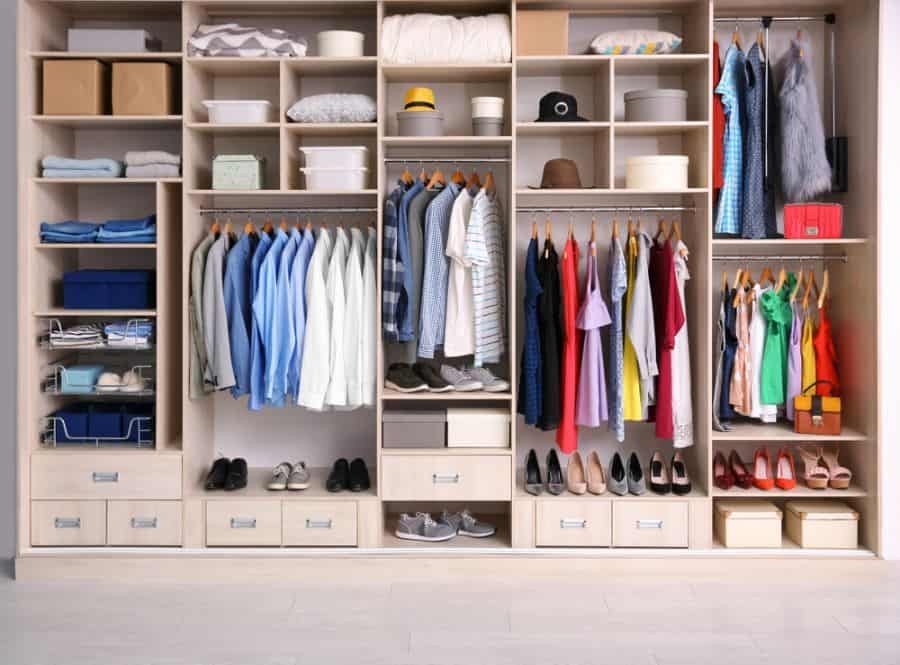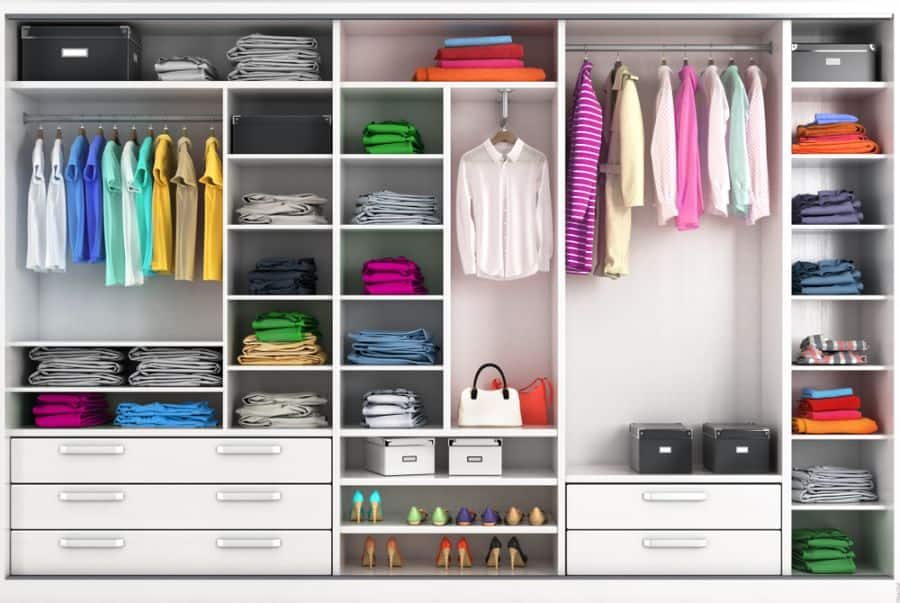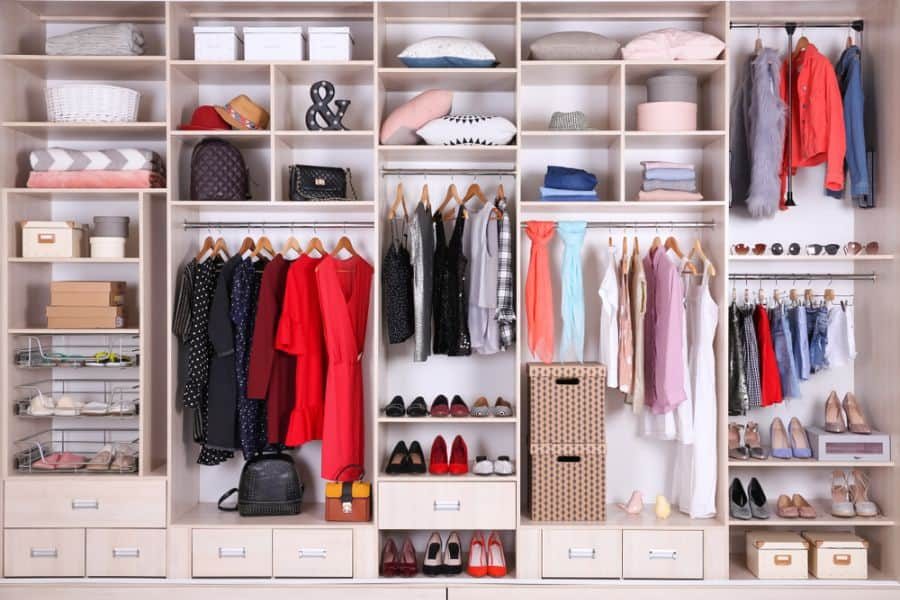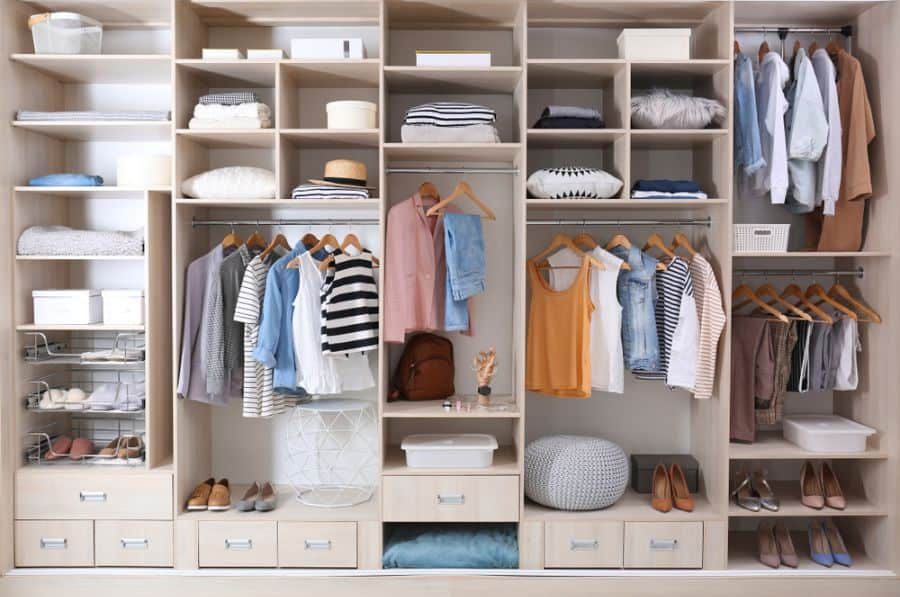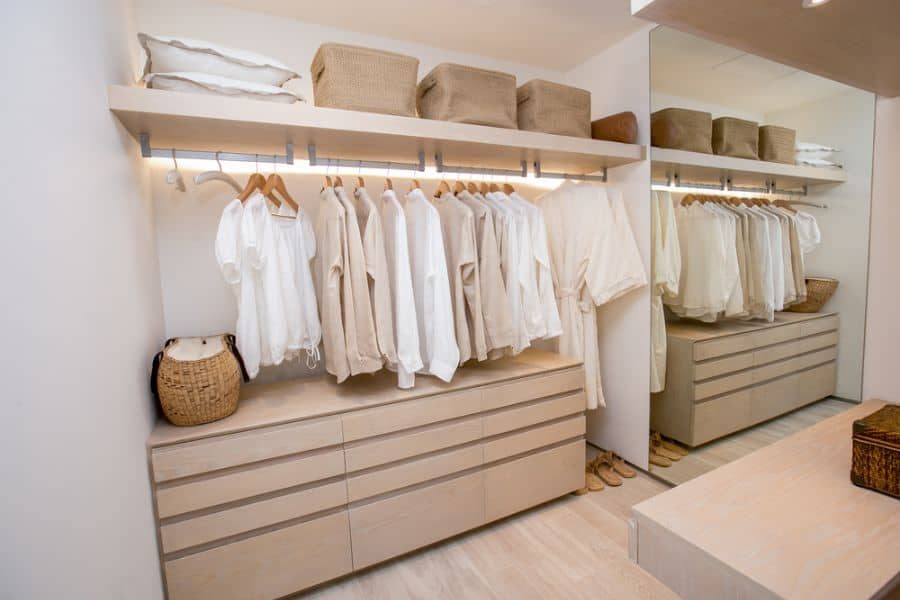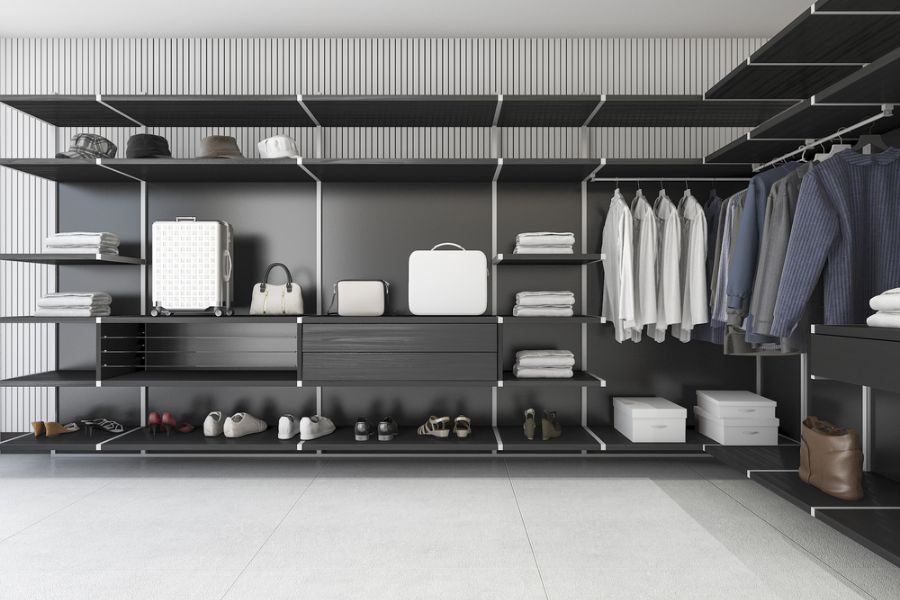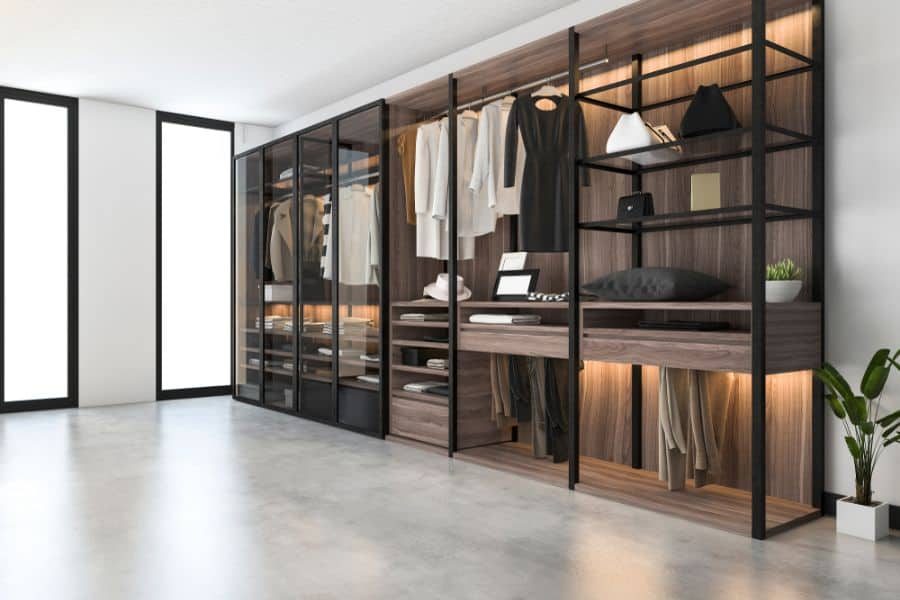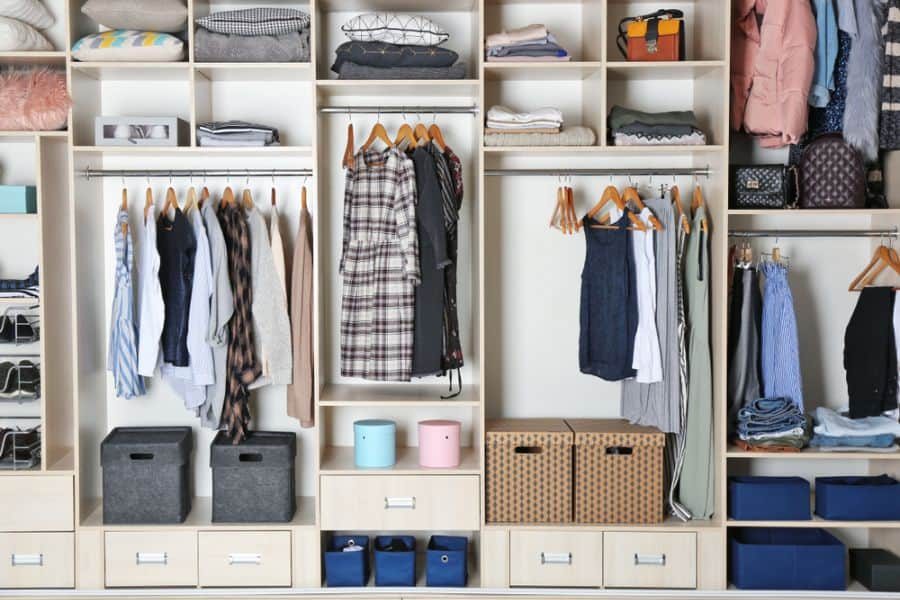 A linen closet is a space that tends to hold a lot of folded items. So hanging bars and baskets aren't the best option. Drawers and shelves will give you the most amount of storage space.
A small closet that you aren't sure what to do with can have a little of everything, some shelves, a hanging bar, hooks, drawers, and baskets.
Nursery closets are a temporary solution. Your child will grow up in the blink of an eye. So plan for your nursery closet to evolve and adapt with your family. A modular system works best in this situation.
11. Shoe Organizers
The easiest way to organize your shoes in the closet is with a shoe rack on the floor. The floor is often a space that gets neglected. This makes it an open space that's perfect for shoe storage. Choose a long and low rack that will give you multiple levels.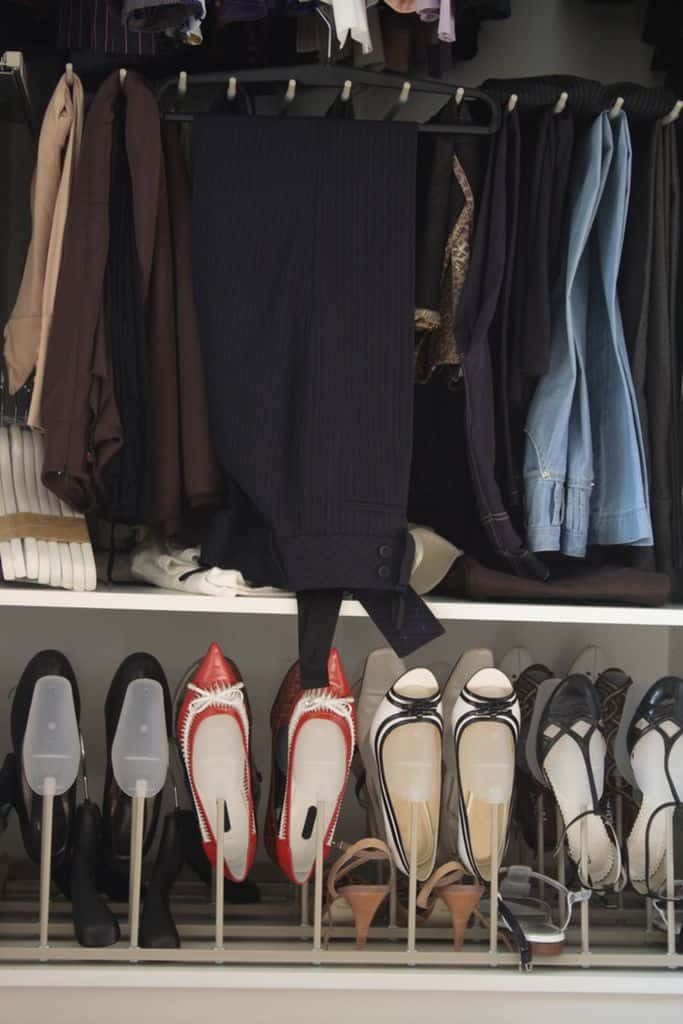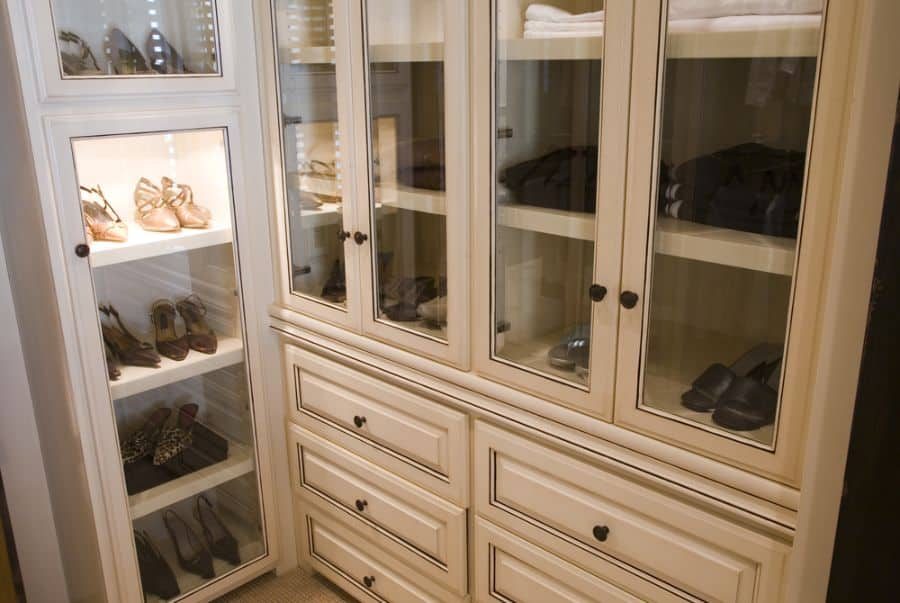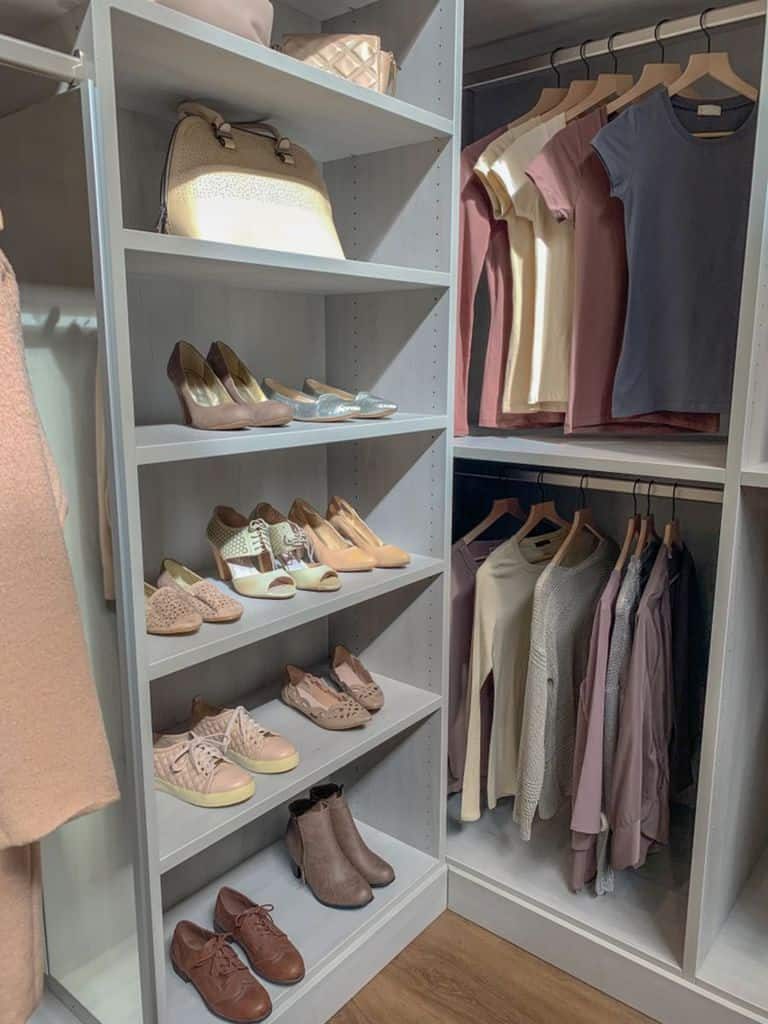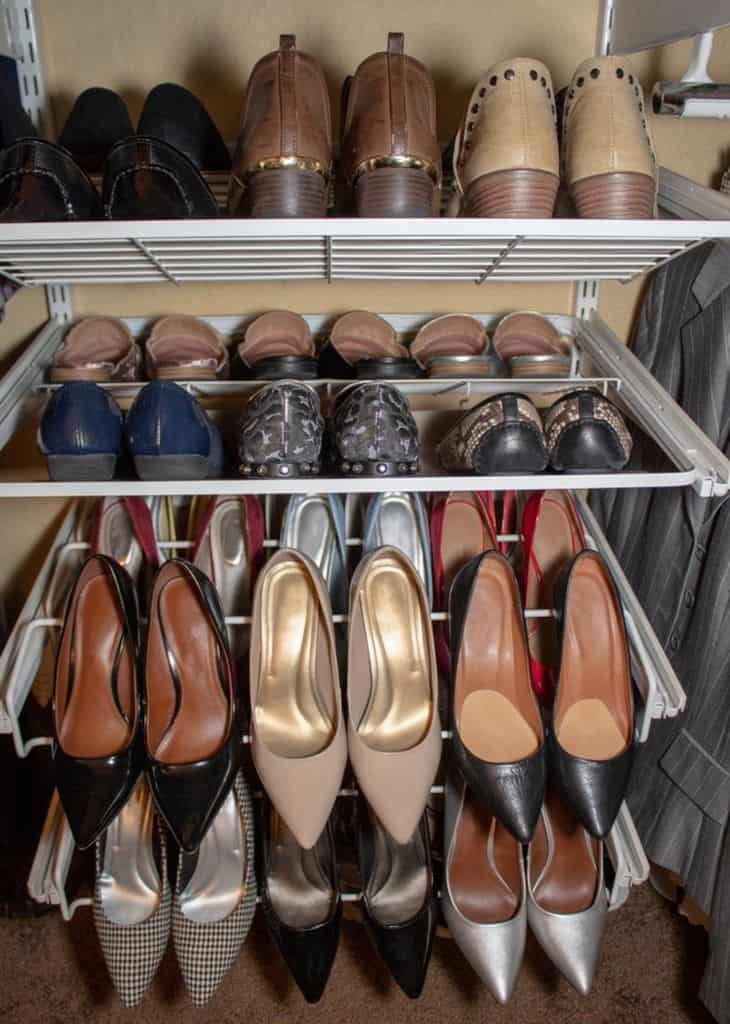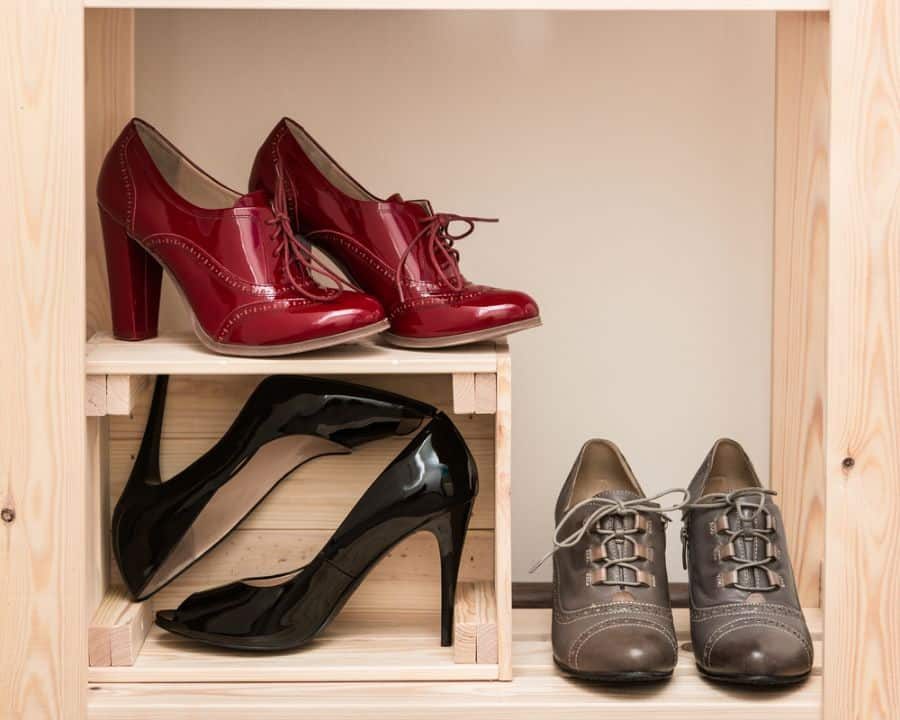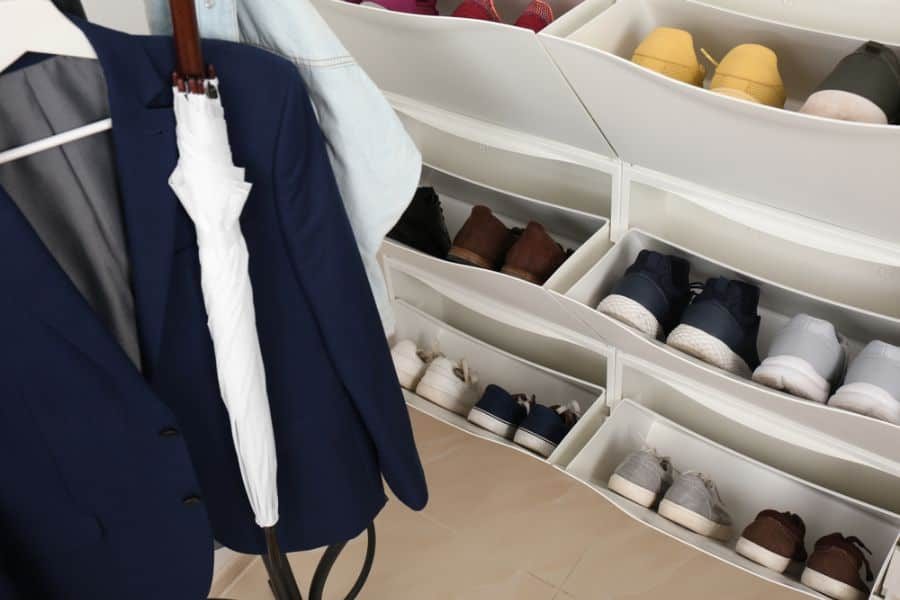 Larger closets can give you more freedom in how you organize your shoes. Take them off of the floor and use some of your shelves. This brings your shoes to eye level and is perfect for storing boots. Use customizable shelves that allow you to move their heights to fit the different shoe styles.
12. Small Closet Organization Ideas
Just because you have a small closet doesn't mean that you can't have an organized closet. You just need to find the right organizational system for the closet. This could be different for each type of small space that you have.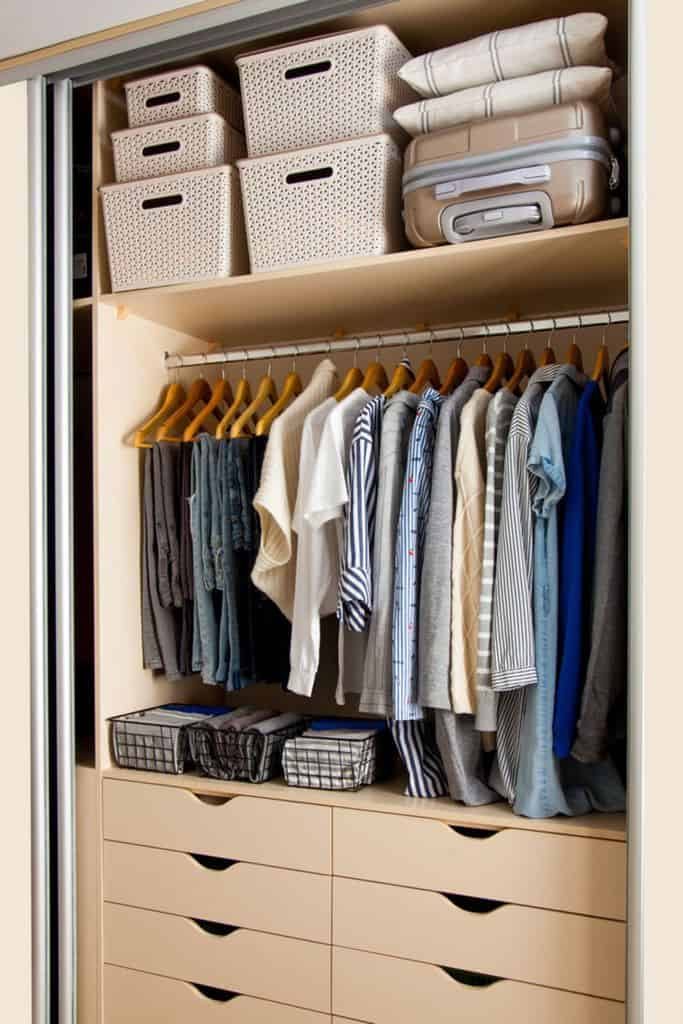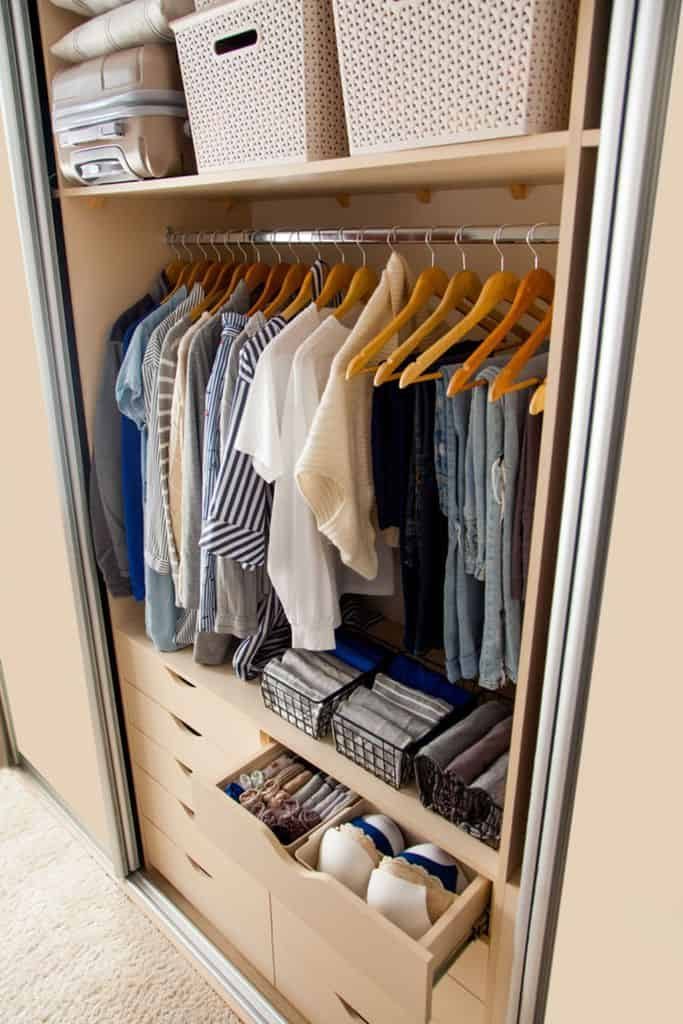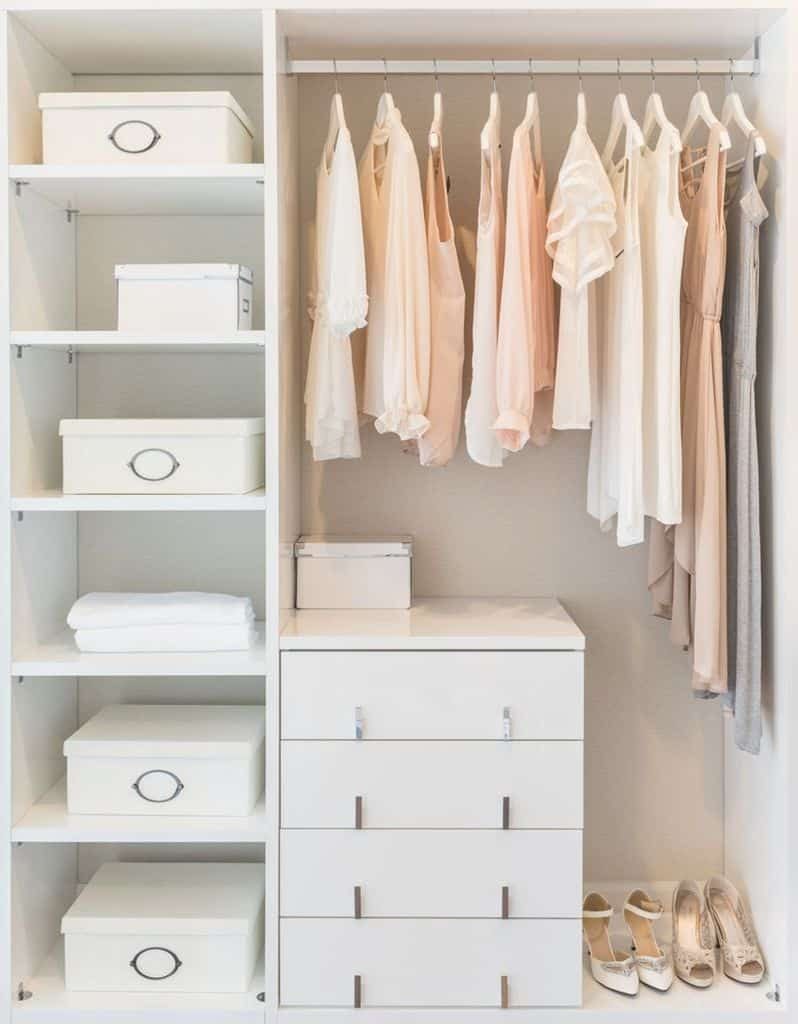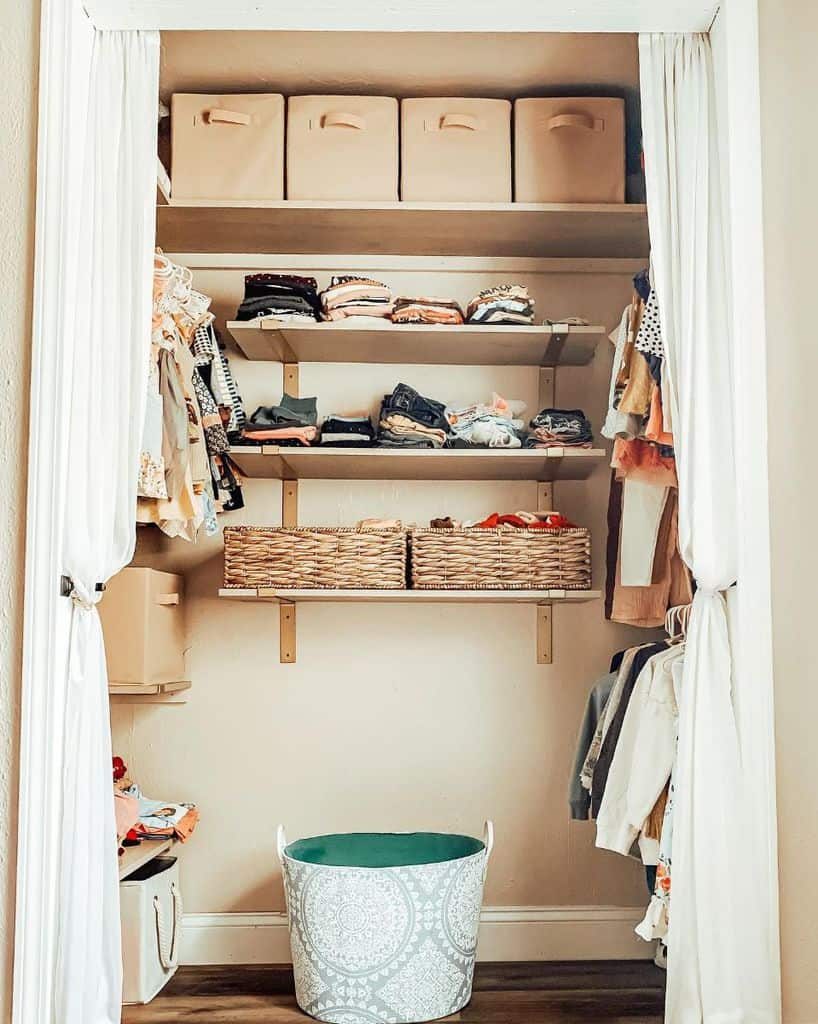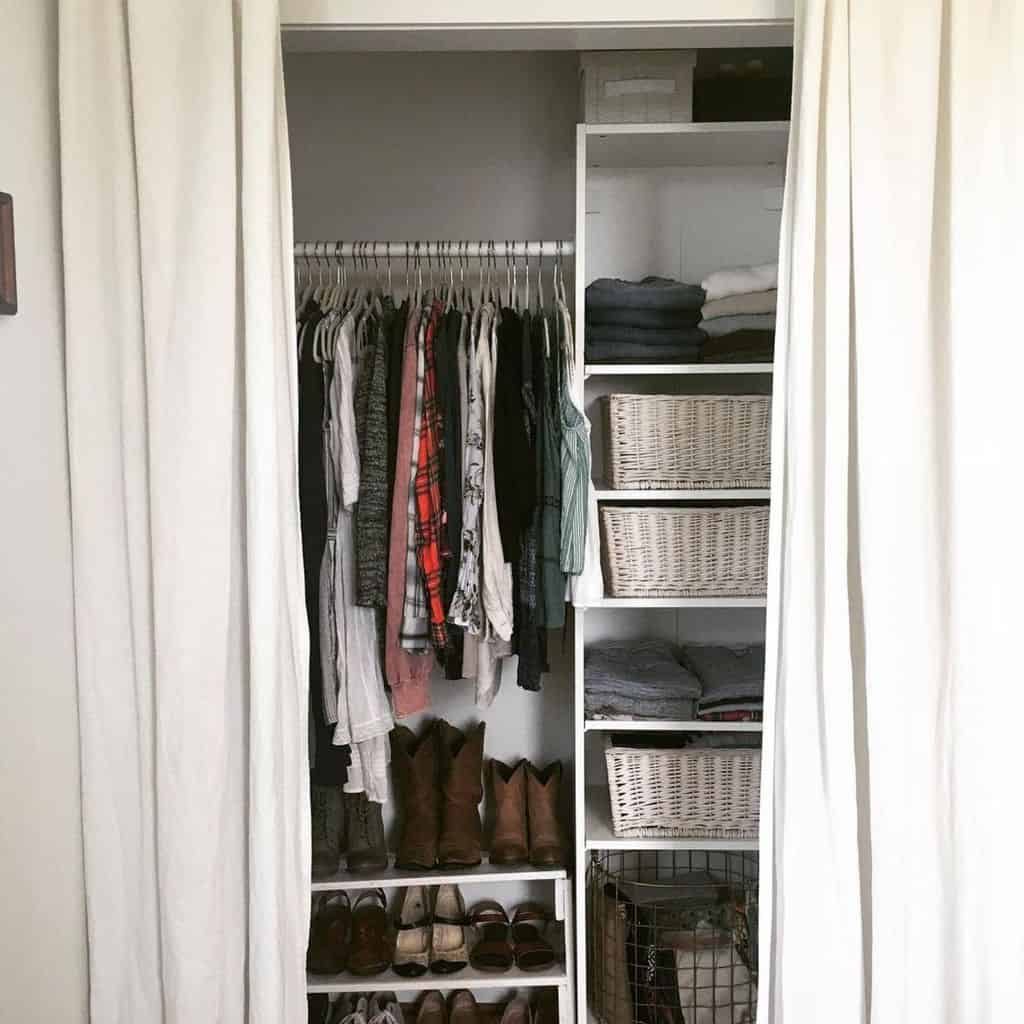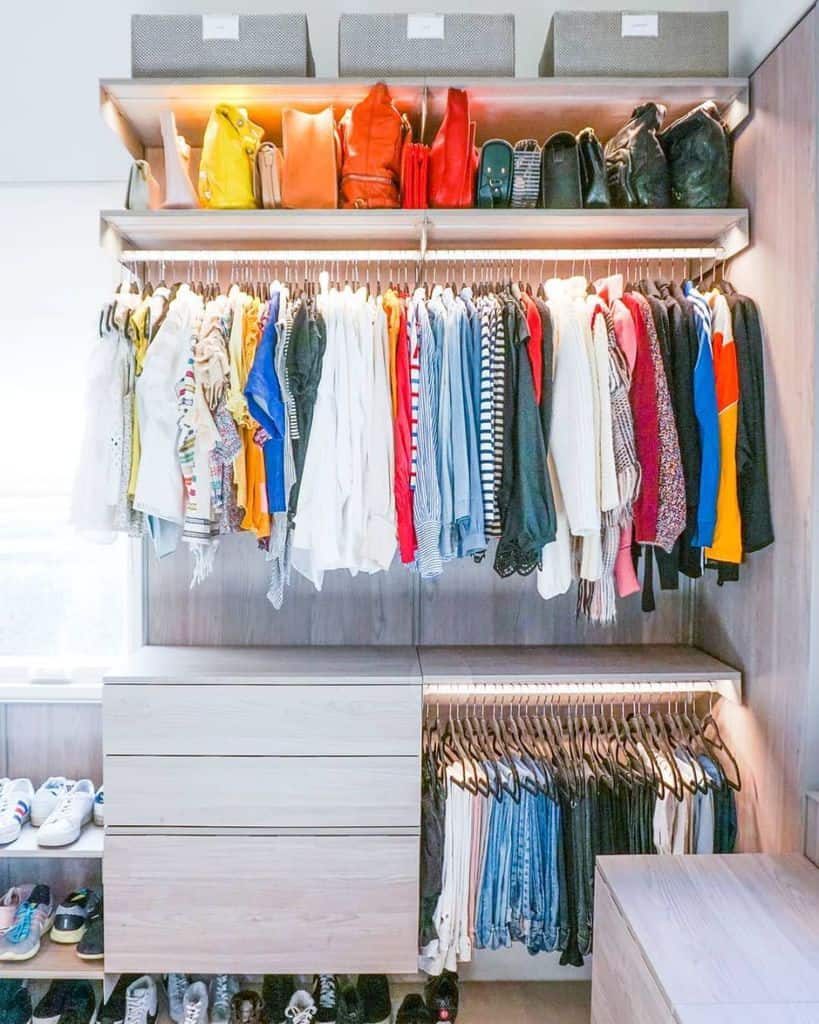 A coat closet is small but meant for holding bulky coats. Add hooks to the backside of the door to hold small items, so they don't get lost among the coats.
Linen closet organization requires more shelving space to hold folded bed linens and towels. Take out the hanging bar and install more shelves with dividers to help keep the stack organized.
13. Space Saving Ideas
Small spaces require you to get more creative about how you organize your clothing. Closet space savers let you hang more by utilizing more of the vertical space. Only so many hangers fit next to each other on the railing.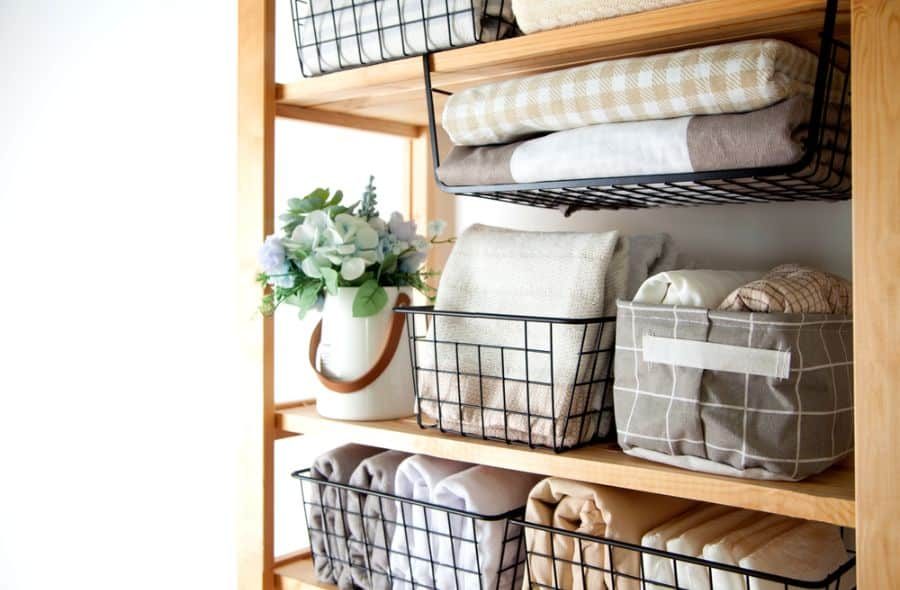 Create more storage space with multi hangers. These are hanging solutions that have space for several shirts or pants. You'll hang two hooks on the bar to make it horizontal while you load it. Then unhook one side and let it hang vertically. You can hang more clothing items in a small amount of space.
14. Walk-In Closet Organization
If you have a walk-in closet, then revel in the ample amount of space that you have. Now it's time to make the most of what you have. Start with an empty master closet and take stock of what you own. You can then invest in a custom closet organizational system. This lets you create more storage space for the items that you own the most of.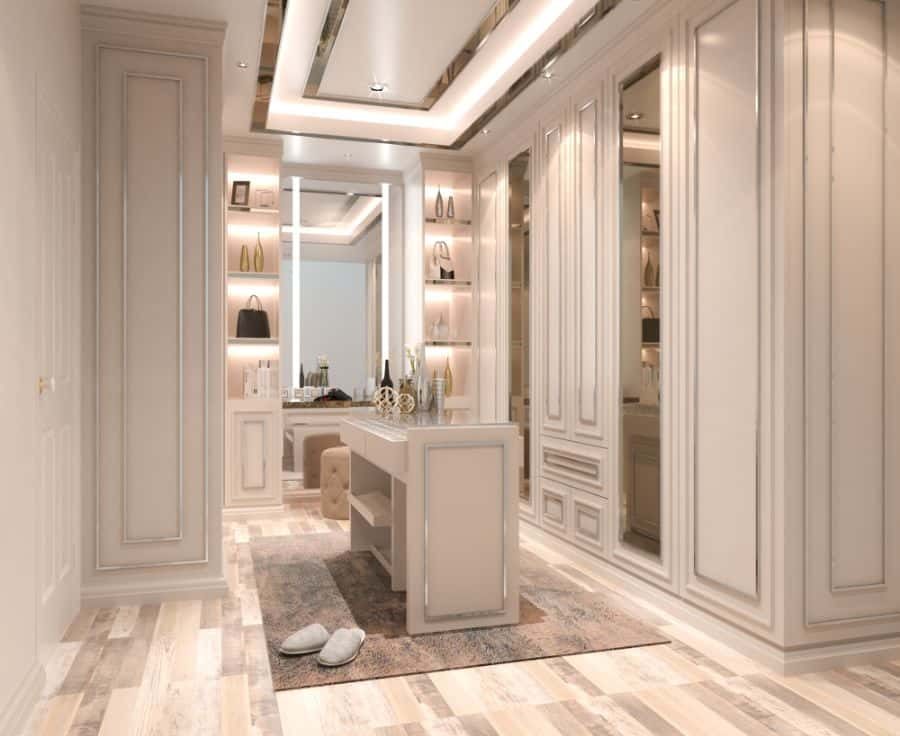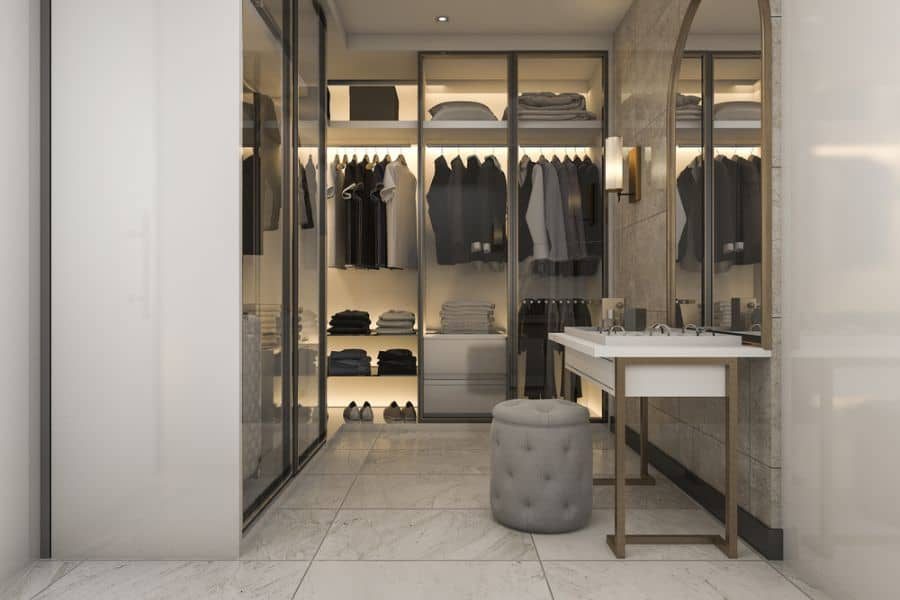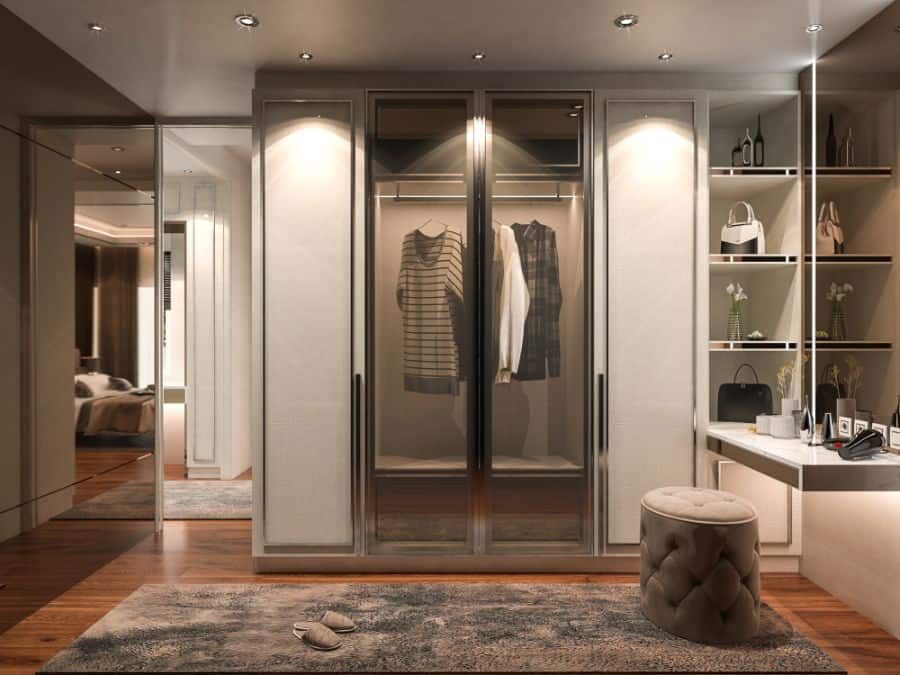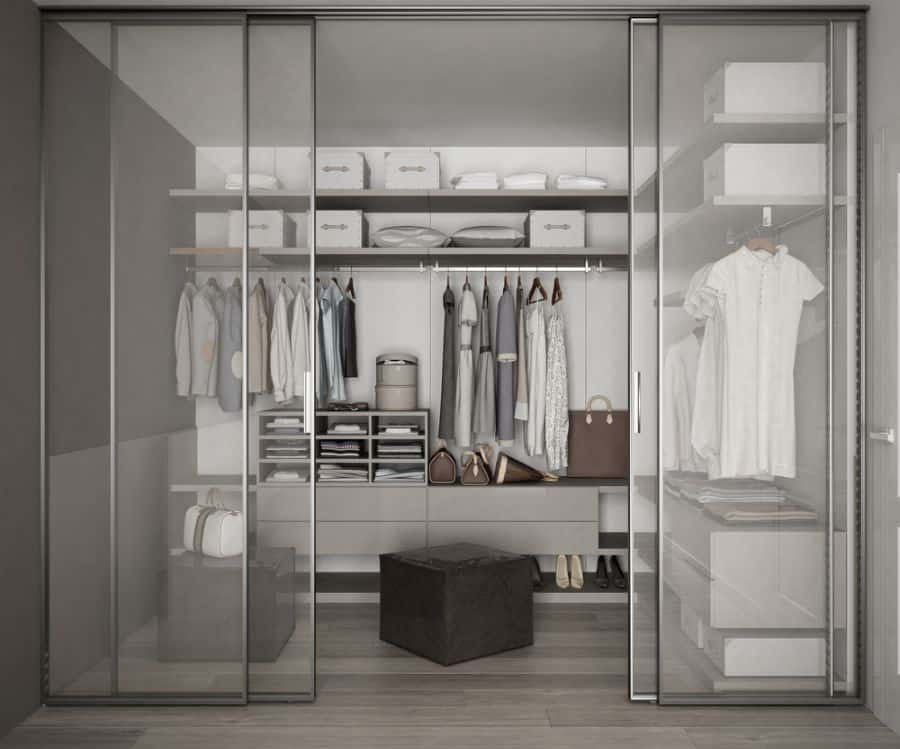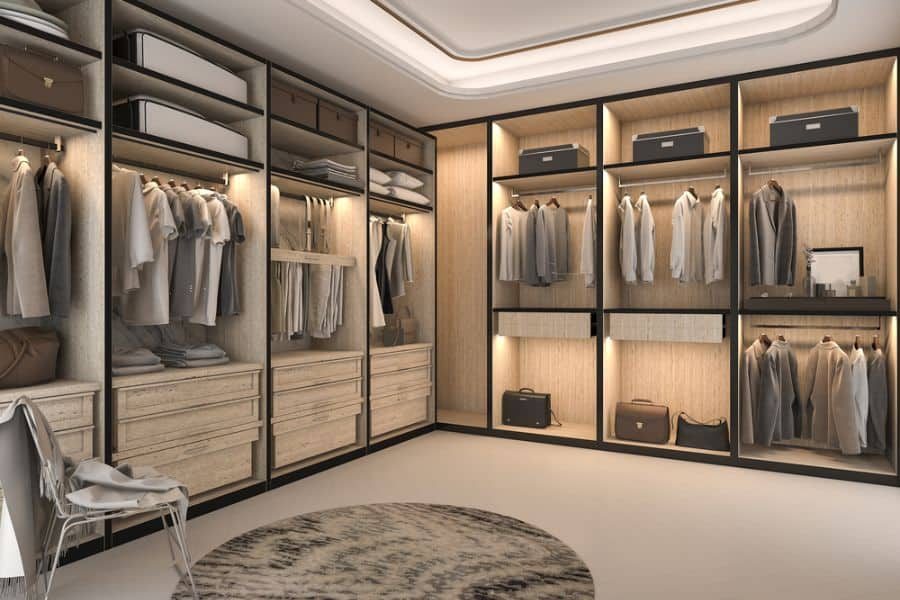 If you don't want to install an entire system, start out with closet dividers. These are hanging tags that will separate your clothes on the rack. They are also vertical panels that mount on the shelves to create individual spaces.
Closet Organization FAQs
How do I organize my small closet with a lot of clothes?
Start by sorting through your clothes and getting rid of anything you haven't worn in a year or two. Separate the remaining clothes into the ones that need hanging or folding. Create enough space for the hanging clothes. Then use the remaining space for baskets and shelves for the folded clothes.
How do you organize a small baby closet?
Sort the clothing by size and age. Use dividers to visually separate the clothing and make it easy to find something. Use one type of hanger for everything to make it look neater and take up less space. Use bins or shelves to store the small items that can't be hung.
Should you fold or hang jeans?
One method isn't better than the other. Blue jean material is durable and can withstand either folding or hanging without risking it losing its shape. Whether you fold or hang will depend on your organizational style and the storage space that you have available.