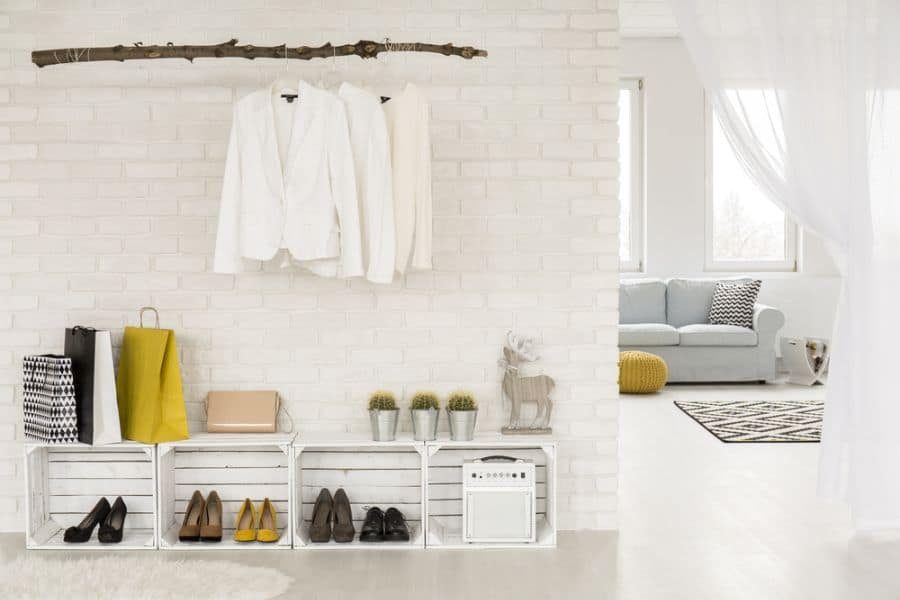 83 Best Closet Organization Ideas
by — Andra DelMonico

Published on January 25, 2021

Updated on September 28, 2023
"I like my money right where I can see it… hanging in my closet." – Sarah Jessica Parker
Do you shove things in your closet and then force the door closet to hide the mess? This is no way to live. Embrace a simpler life by tackling the closet clutter. When you have a messy closet, it makes getting ready more challenging and doesn't preserve your clothing or accessories in their top condition.
Closet organization ideas go beyond your bedroom closet, though. You can apply these storage solutions and organizational systems to all of the closets in your home. You'll realize that you have more extra space than you thought you had.
1. Efficient Drawer Organizers
Enhance your closet's functionality with clever and chic drawer inserts. These smart solutions optimize space and maintain impeccable order. With dividers and organizers, they create compartments for socks, underwear, accessories, and more, ensuring every item finds its place.
To achieve this design, measure your drawers and choose inserts that fit snugly. Consider complementary elements like a color-coordinated closet for a cohesive look. Elevate your closet game, save time, and infuse elegance into your space with these organizers.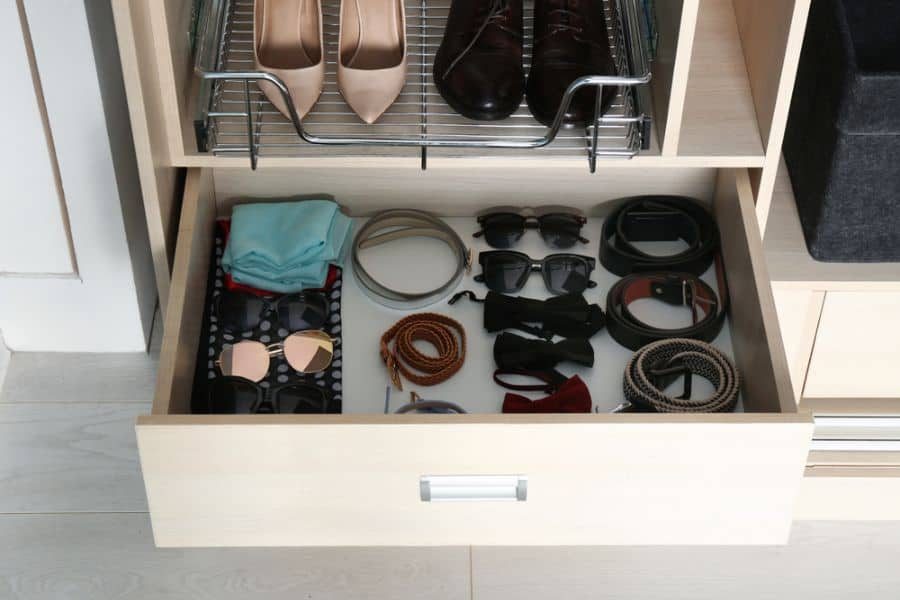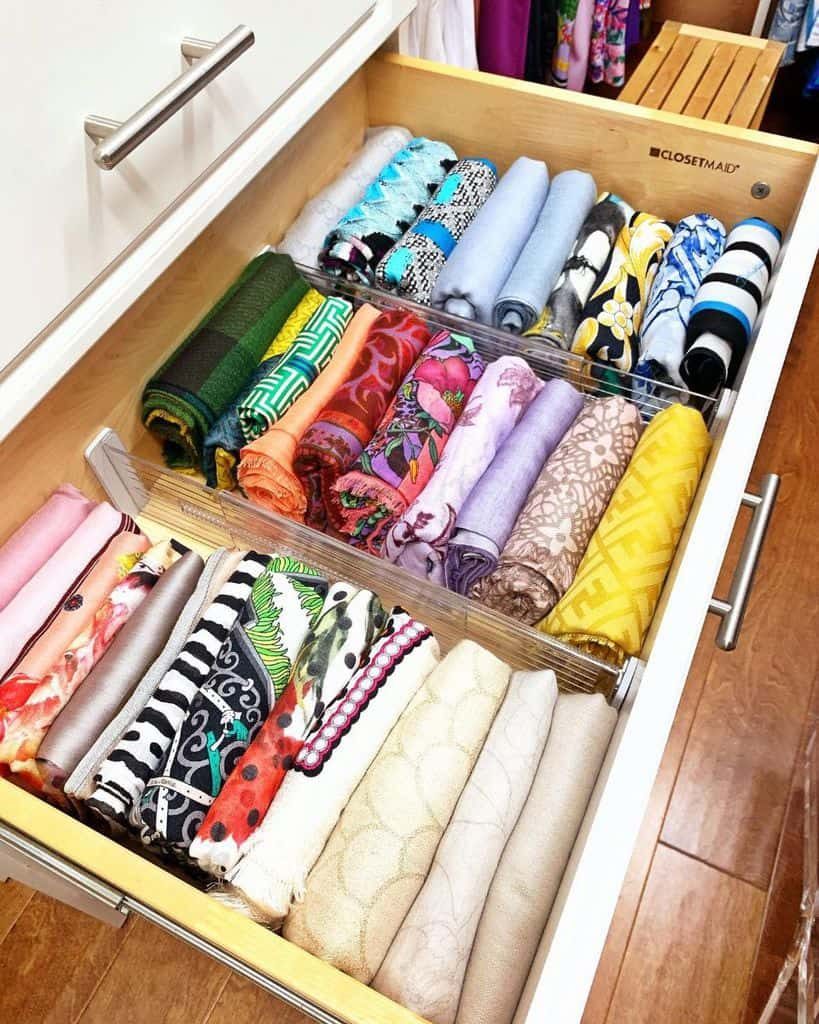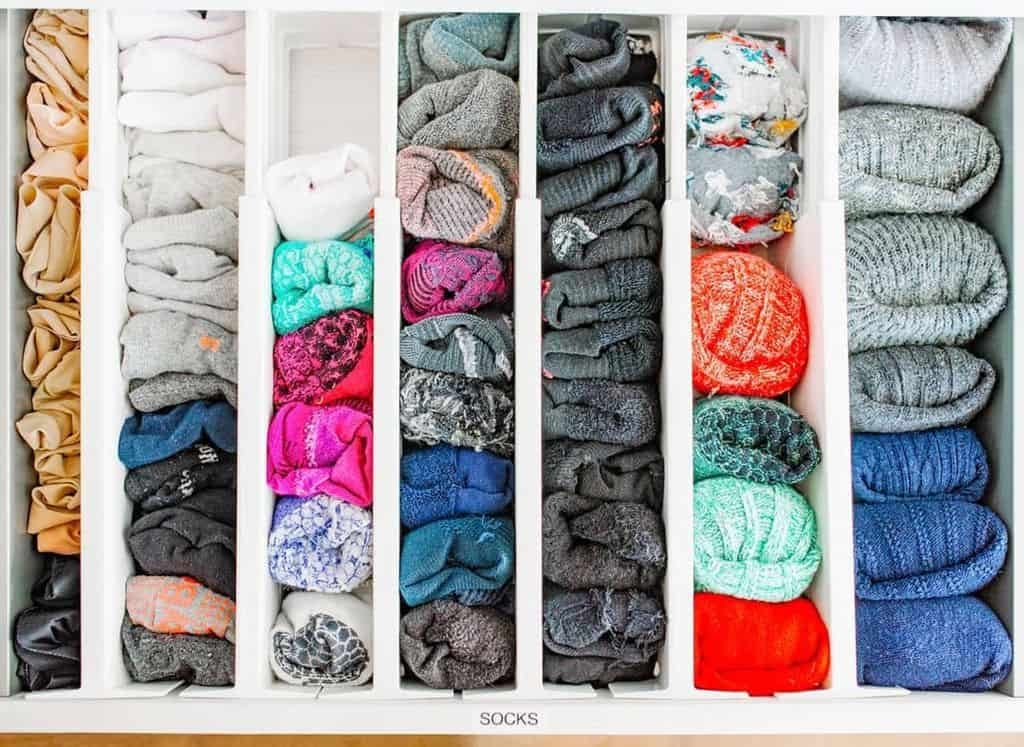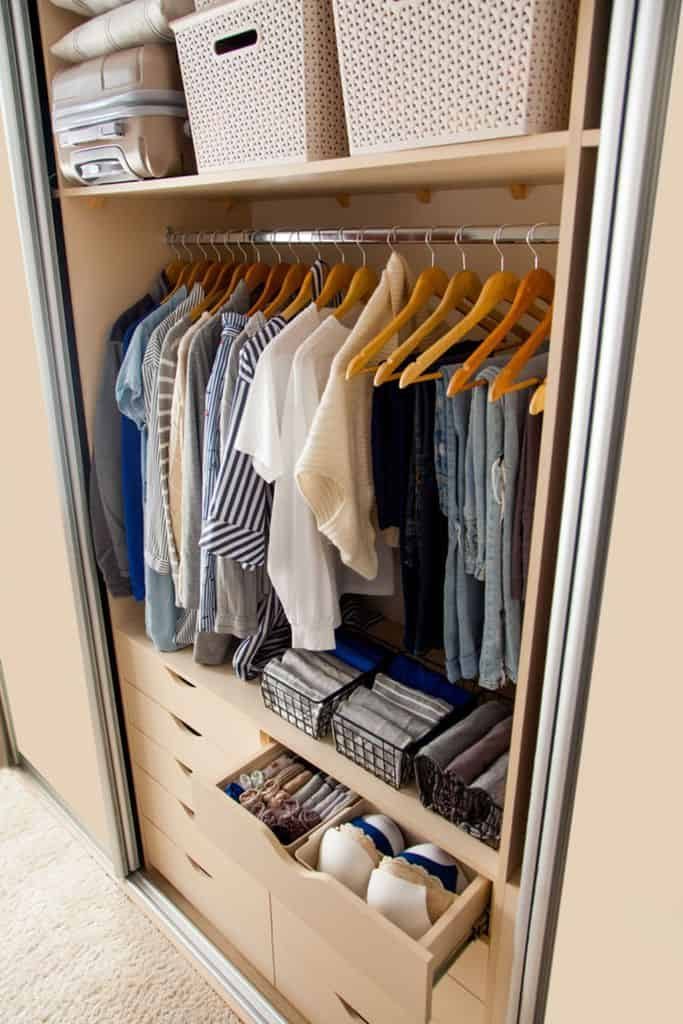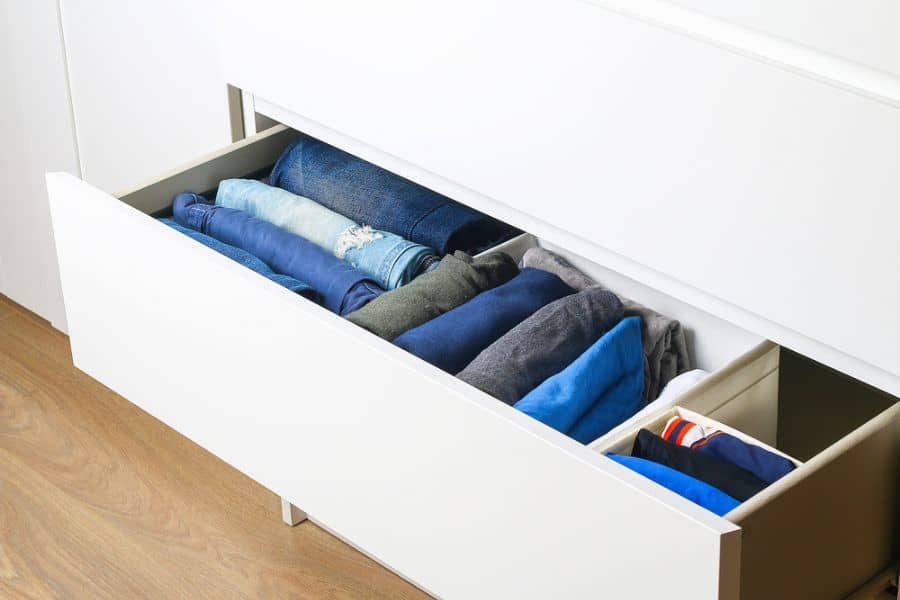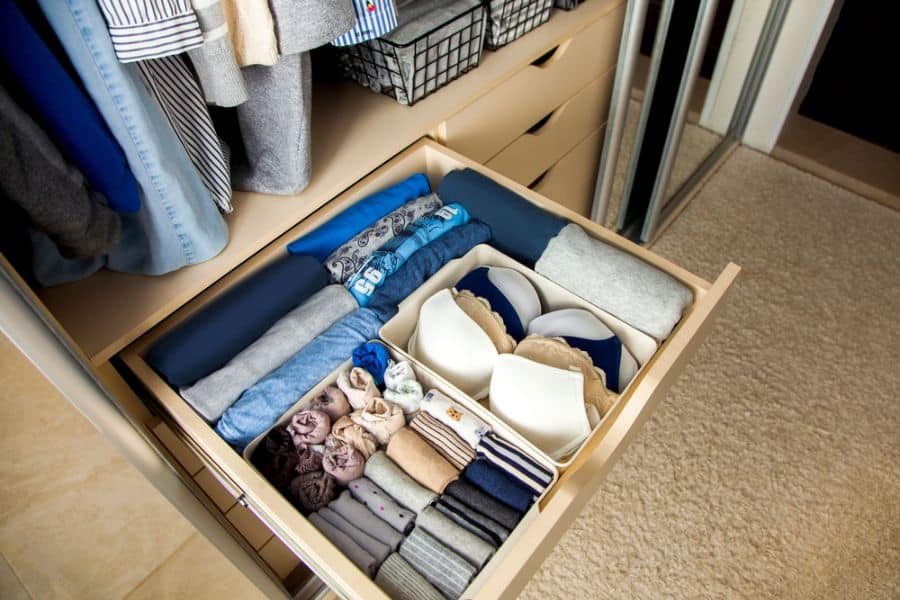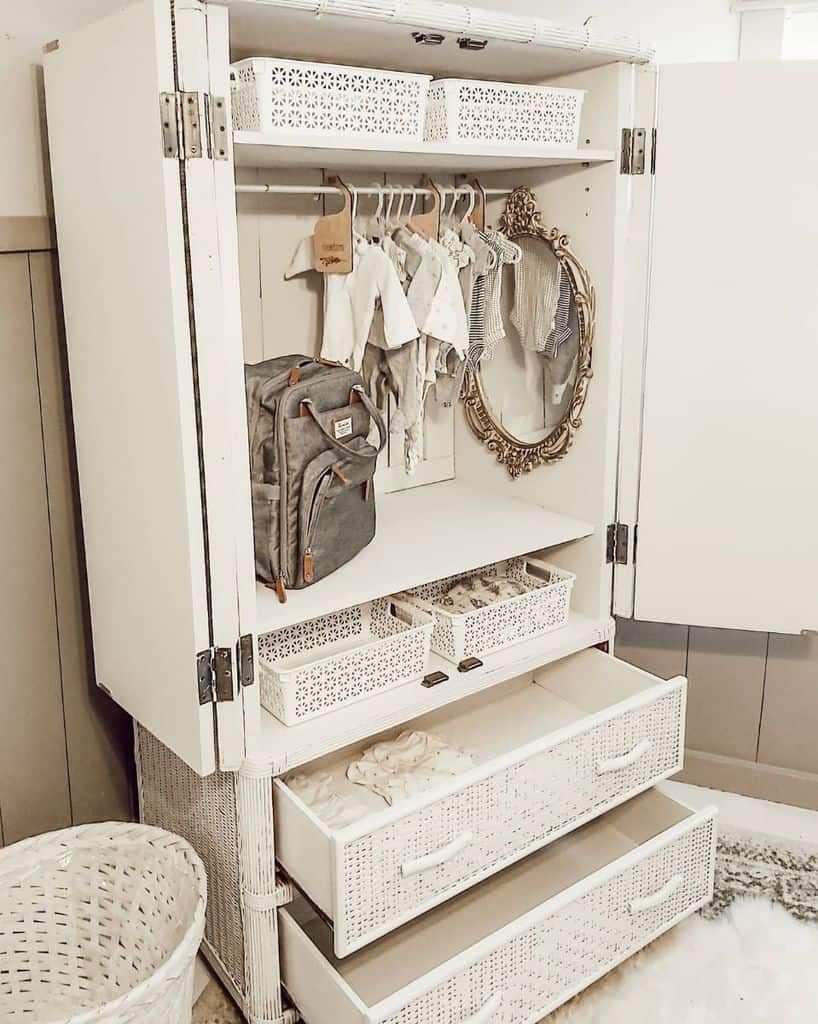 2. Customizable Modular Shelving
Transform your closet into a functional and chic space with the magic of modular shelves. These versatile units redefine closet organization, thanks to their adaptability. Customize the layout to fit your unique storage requirements.
To achieve this look, measure your closet's dimensions and select modular shelving units that fit snugly. Enhance the design further by adding labeled closet organizers for impeccable order. Make the most of your closet's vertical space, and you'll discover endless possibilities for maximizing storage capacity with these adaptable shelves.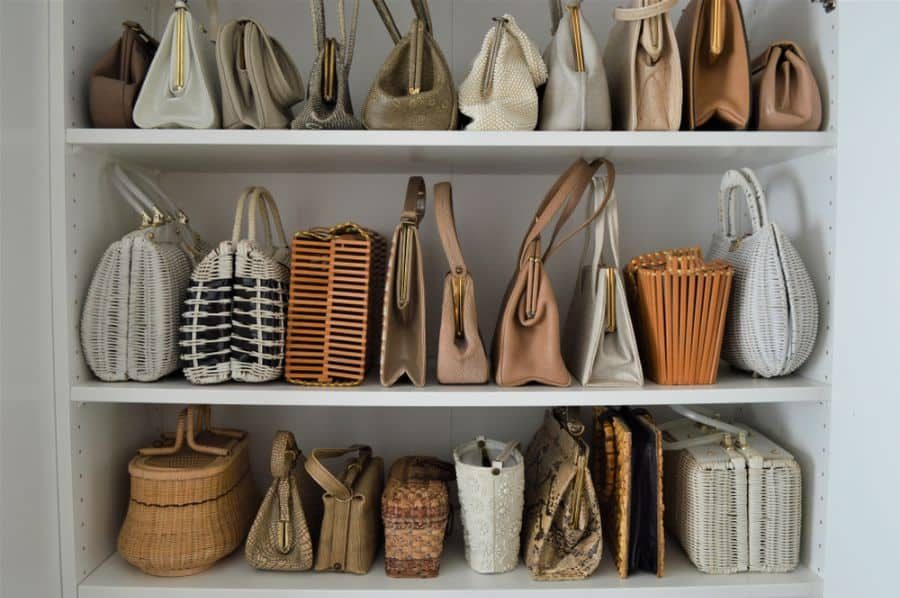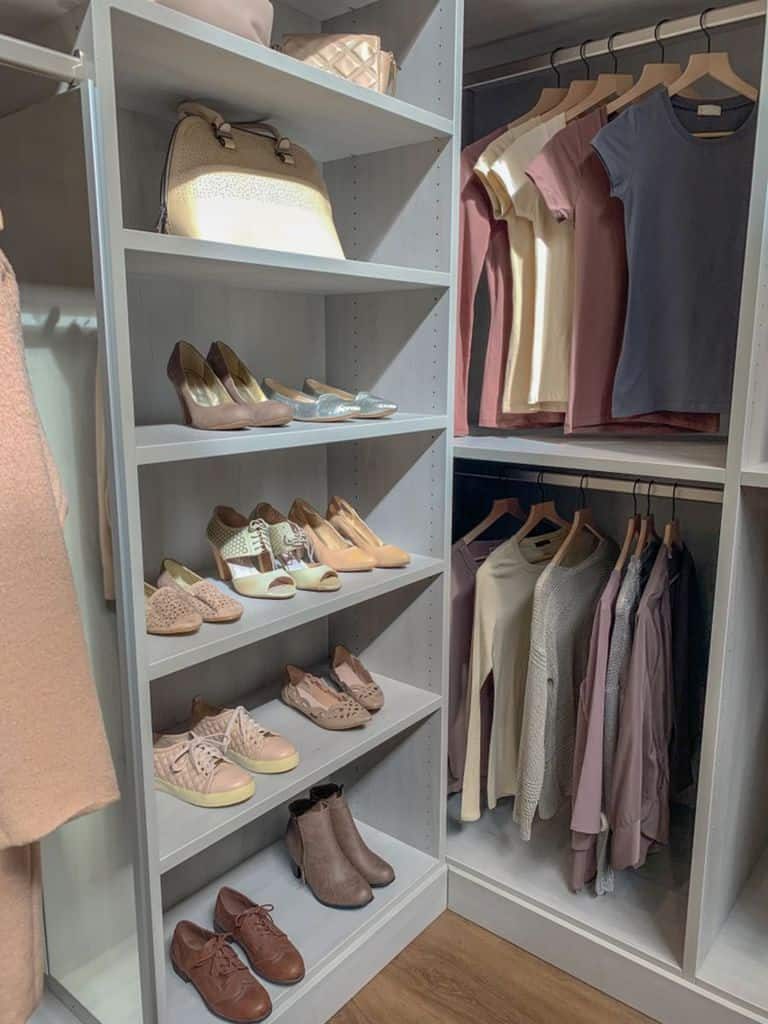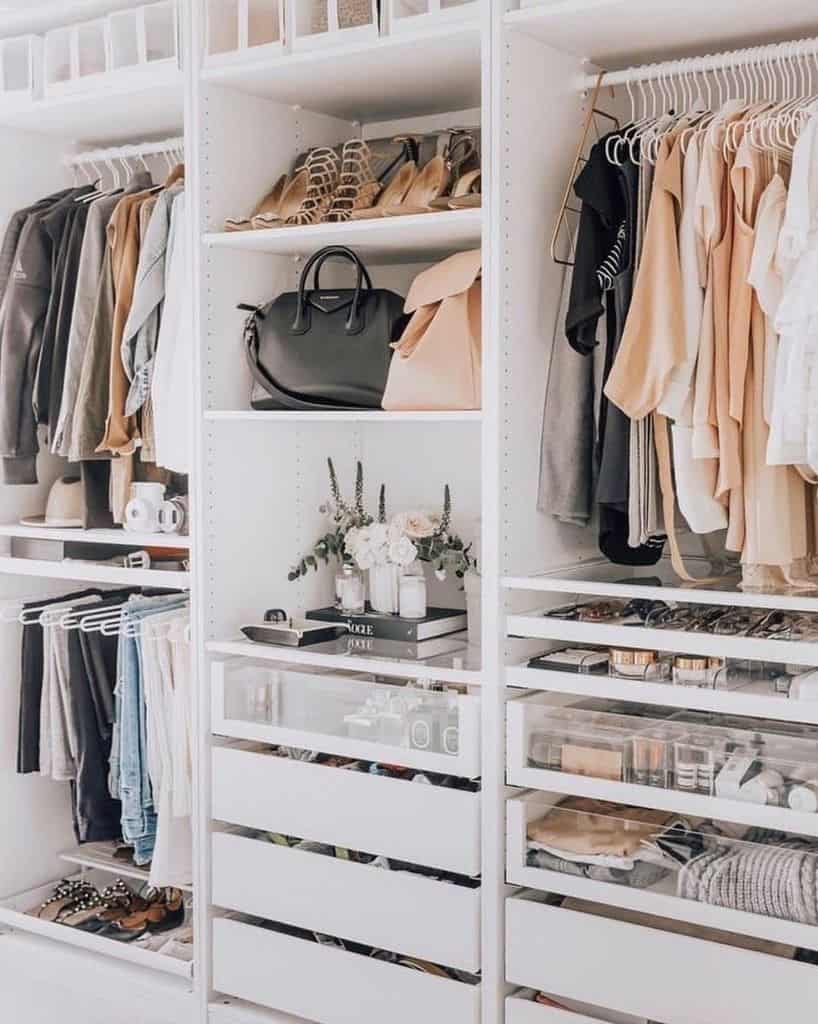 3. Space-Saving Over-Door Storage
Optimize your closet's functionality by utilizing over-door storage solutions. Hang a shoe organizer to neatly stow your footwear and make room for accessories. Utilize smaller pockets for scarves, belts, and jewelry to ensure easy access.
To implement this design, choose an over-the-door organizer that suits your closet's dimensions and complements your decor. For added flair, coordinate the organizer's color or pattern with your closet's overall theme. Embrace the benefits of decluttered space, maximized floor area, and organized belongings while infusing personal style into your closet.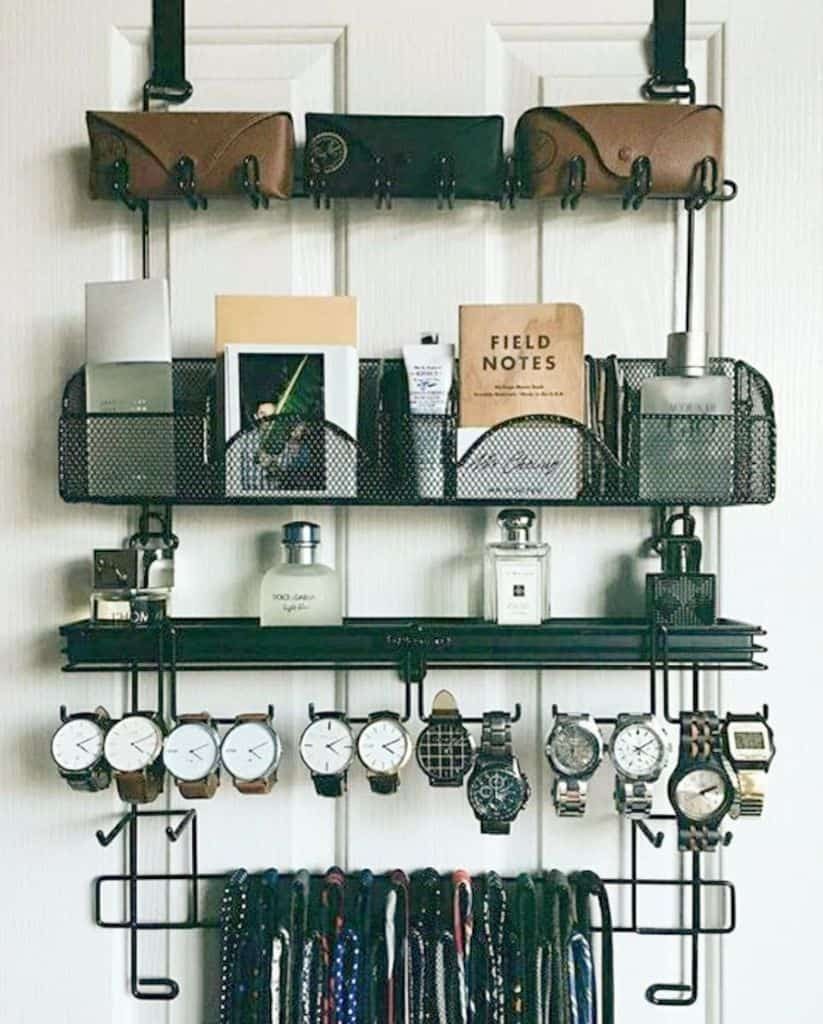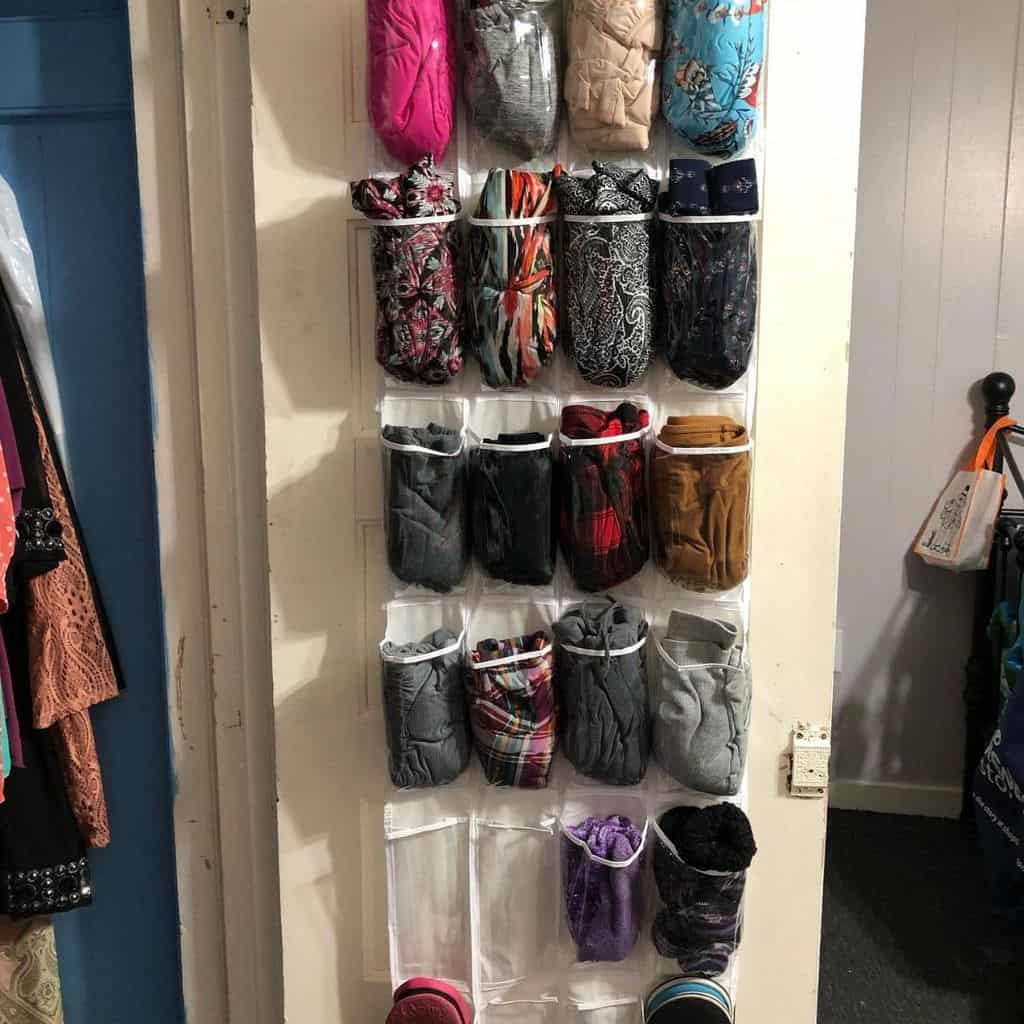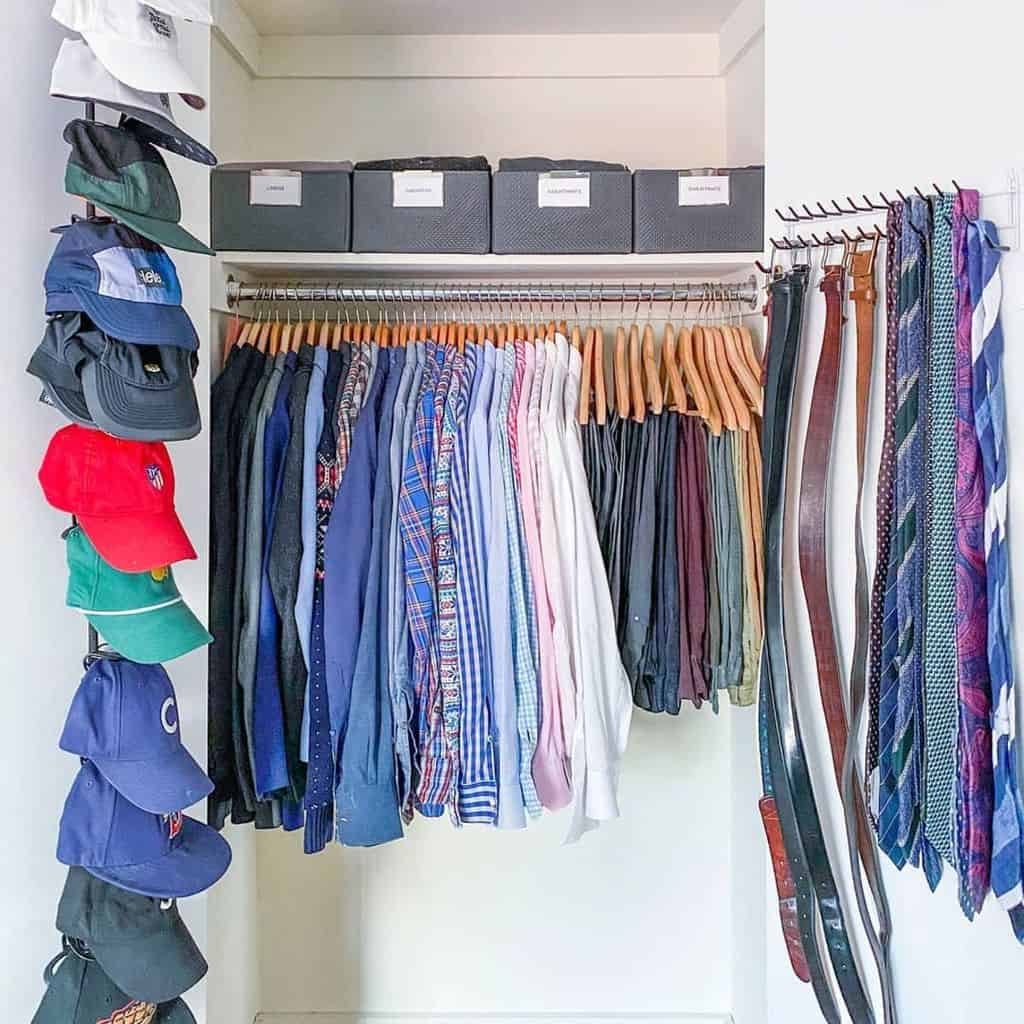 4. Creative Crate Shelf Transformation
Infuse rustic warmth into your closet with repurposed wooden crates turned shelves. This DIY project not only adds character but also optimizes storage while promoting sustainability.
To achieve this look, source wooden crates and transform them into shelves by sanding, painting, or staining them to match your closet's aesthetic. Combine these shelves with labeled closet organizers for efficient storage. The sturdy construction of wooden crates ensures longevity, while their open design simplifies access and organization, streamlining your daily routine.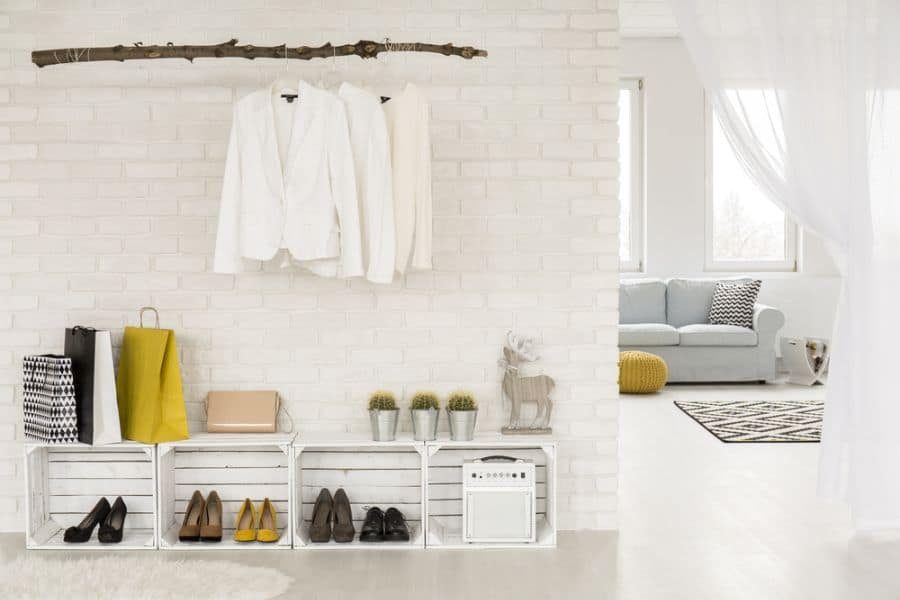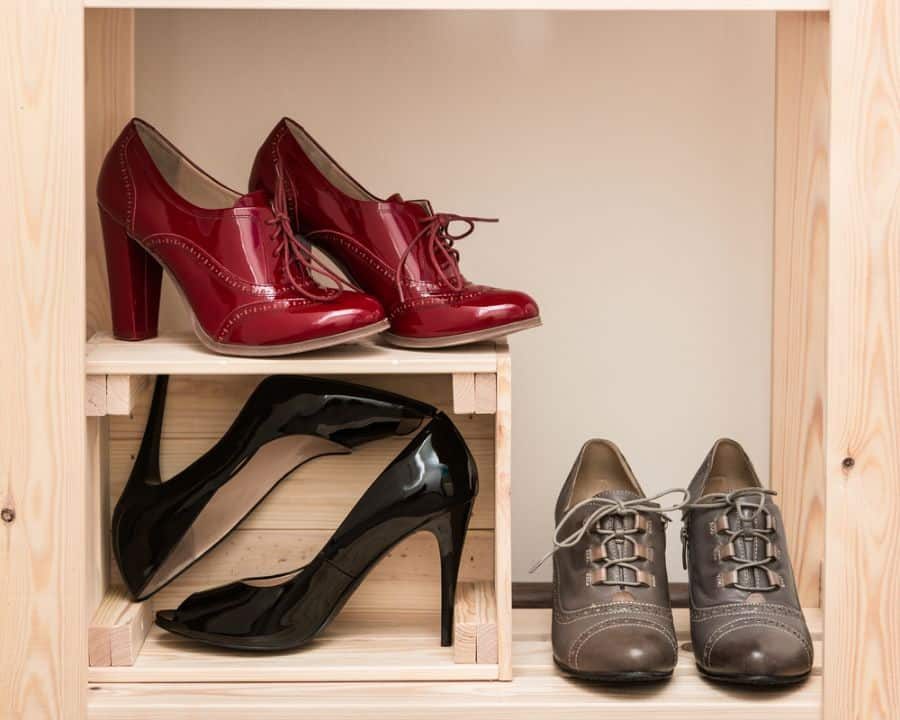 5. Double-Decked Closet Design
Elevate your closet's functionality by adopting a two-tiered approach that maximizes vertical space. The upper level accommodates seasonal or less-used items, while the lower tier keeps daily essentials accessible.
To implement this design, invest in double-decked closet organizers and ensure your closet's height allows for this setup. Consider color-coordinated closet elements for a harmonious look. This approach not only expands your storage capacity but also simplifies your daily routine, bringing order to your closet and making it effortless to find and organize your clothing by category.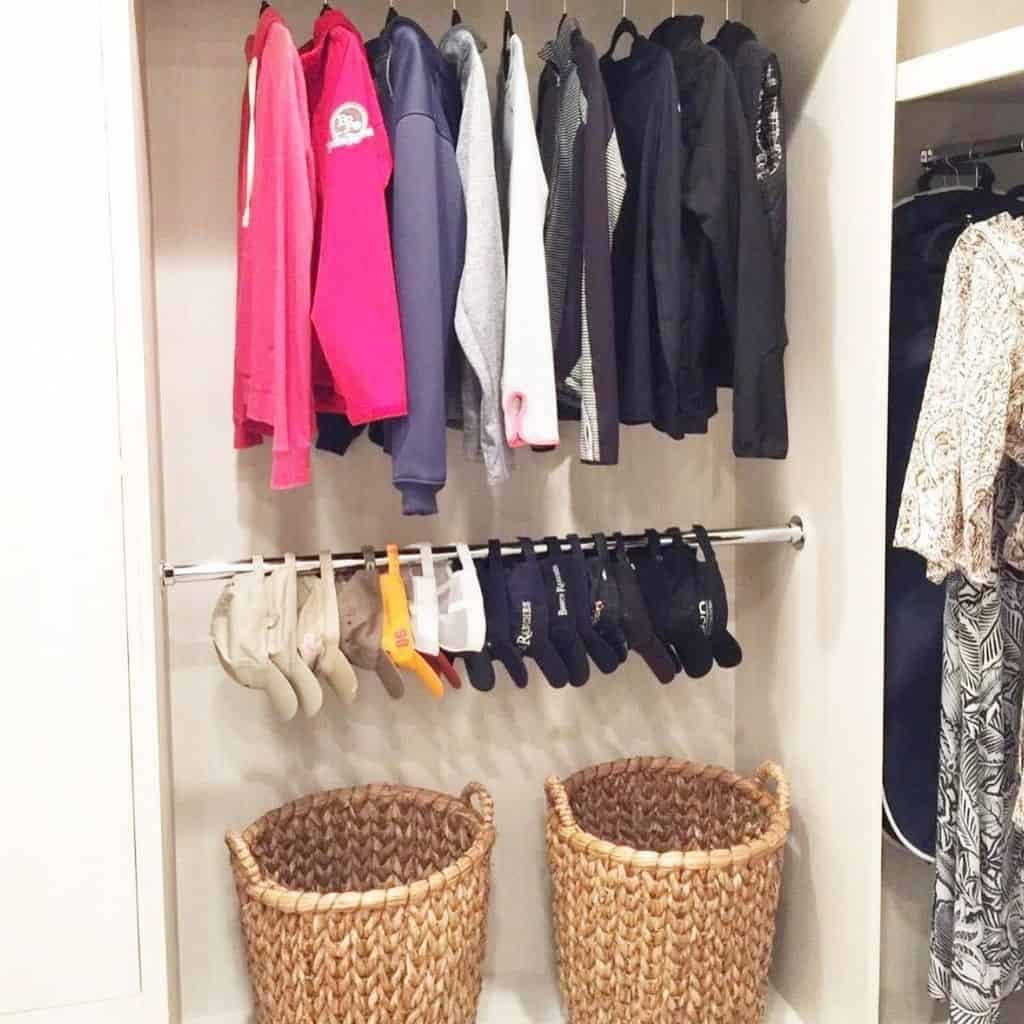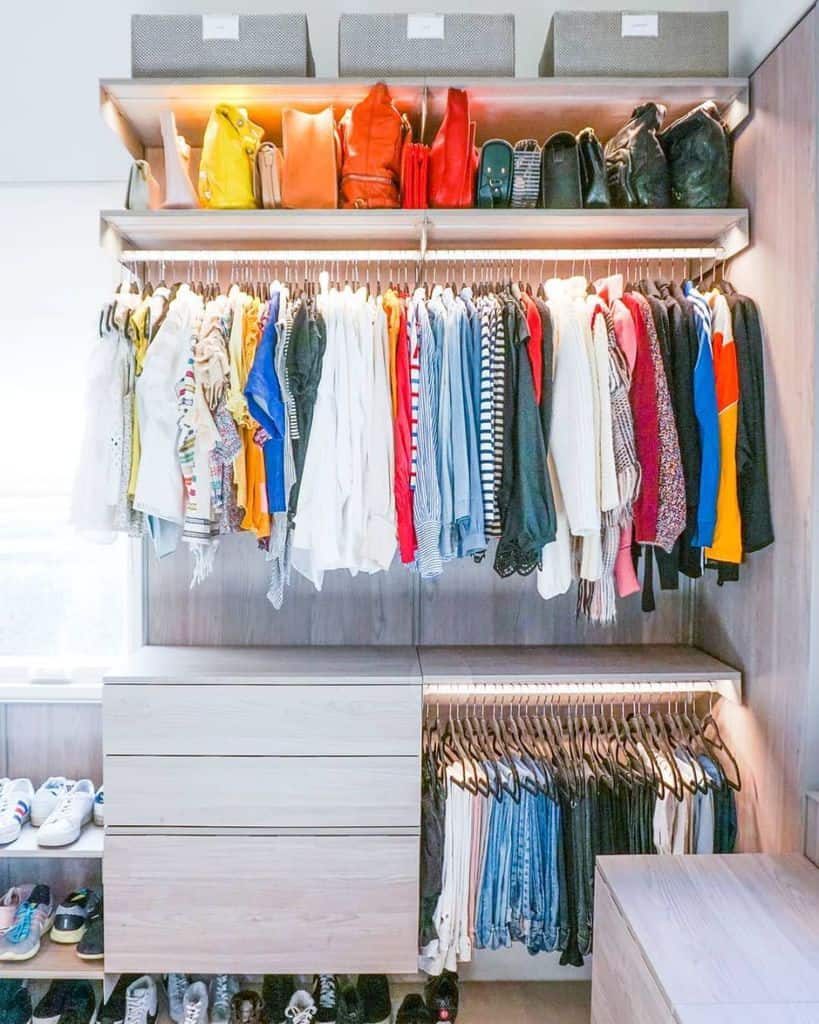 6. Foldable Fabric Organizer Solution
Revitalize your closet with space-saving style by integrating collapsible fabric organizers. These versatile gems elevate organization while enhancing your closet's aesthetics.
To adopt this design, select fabric organizers that fit your closet's dimensions and style. Complement them with labeled closet organizers for precise order. The foldable feature ensures easy storage when not in use, optimizing closet space. Say farewell to clutter and embrace a well-organized, visually pleasing closet where your clothes are neatly categorized and readily accessible, simplifying your morning routine.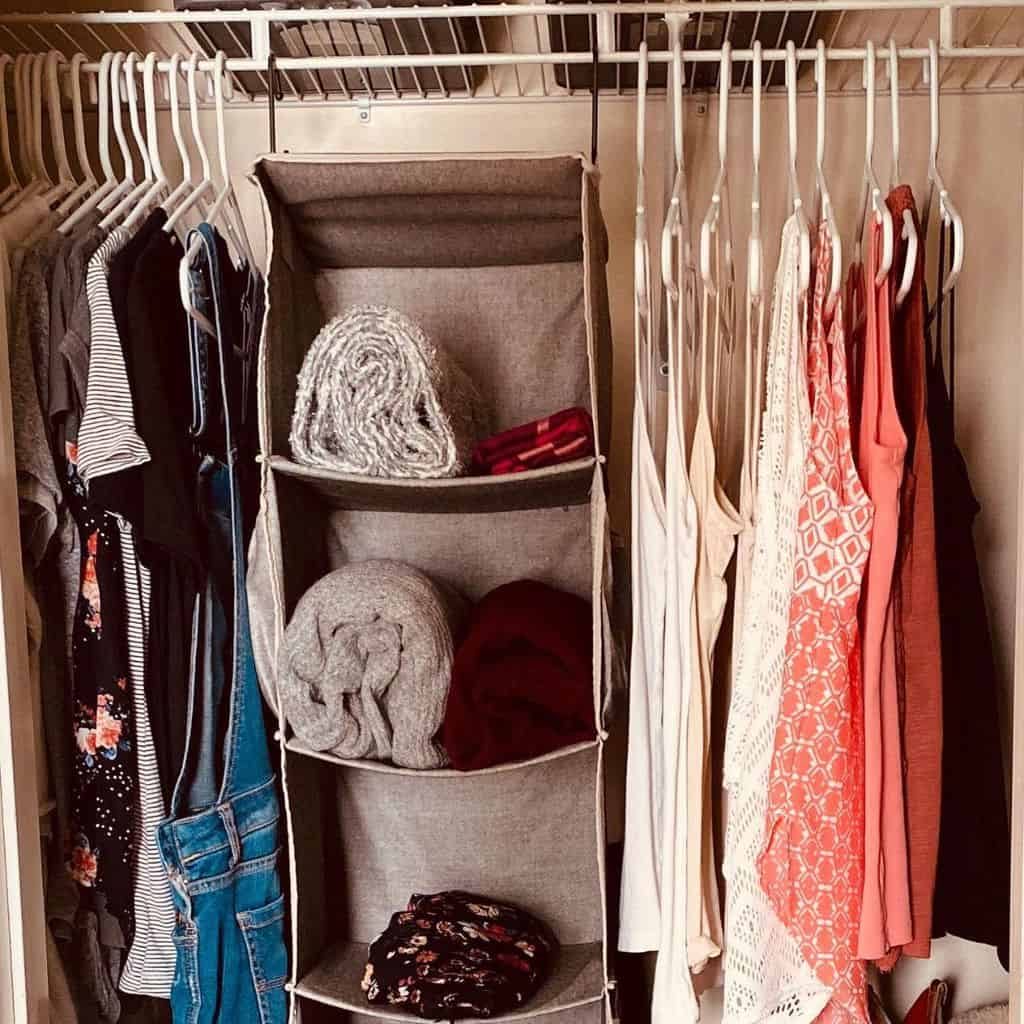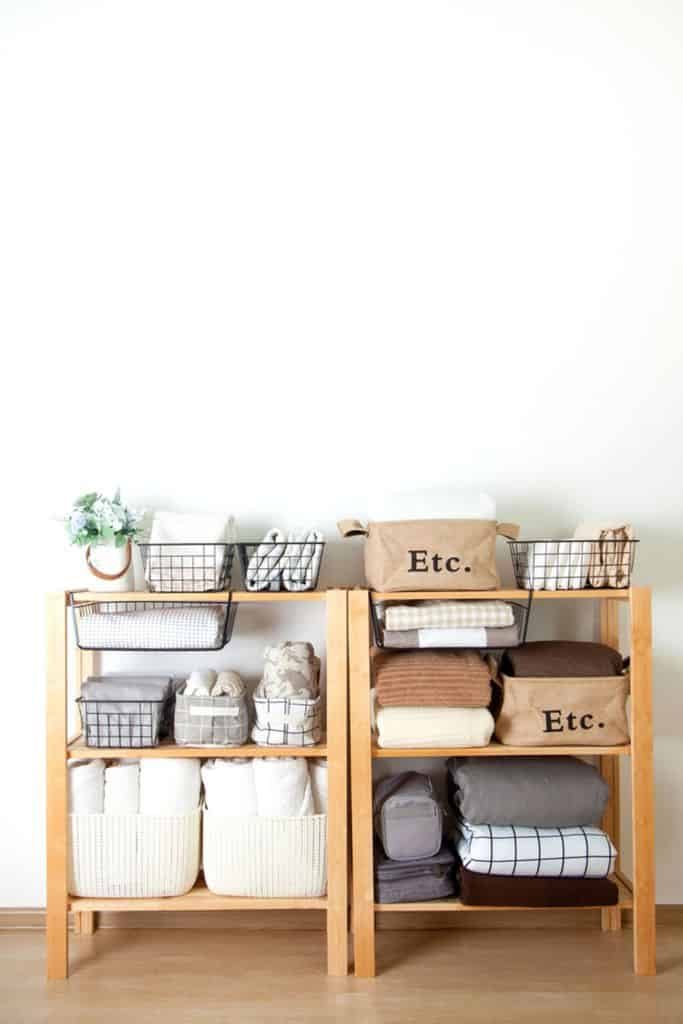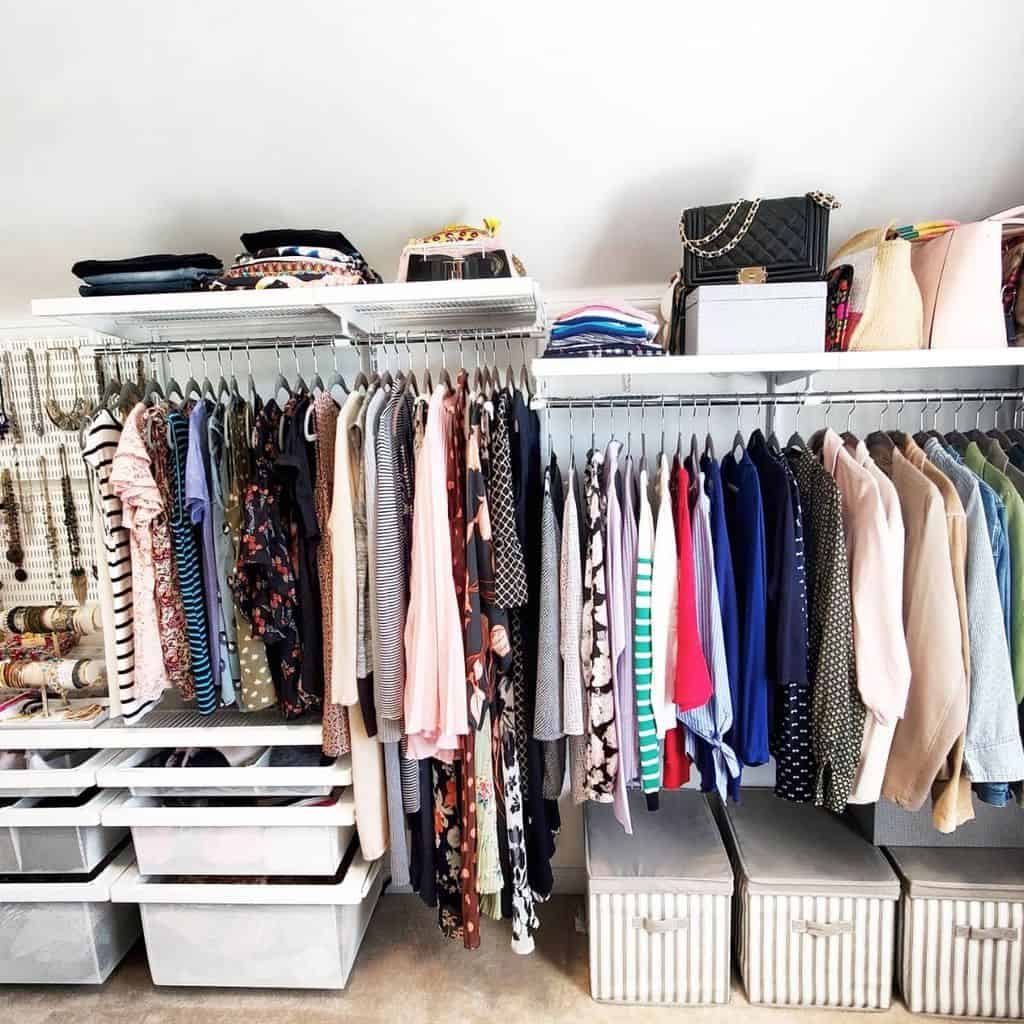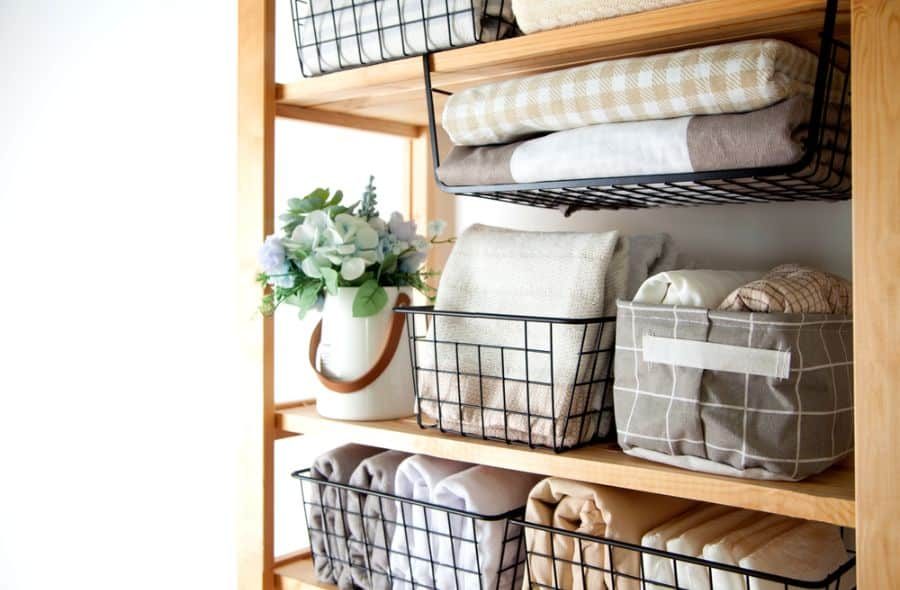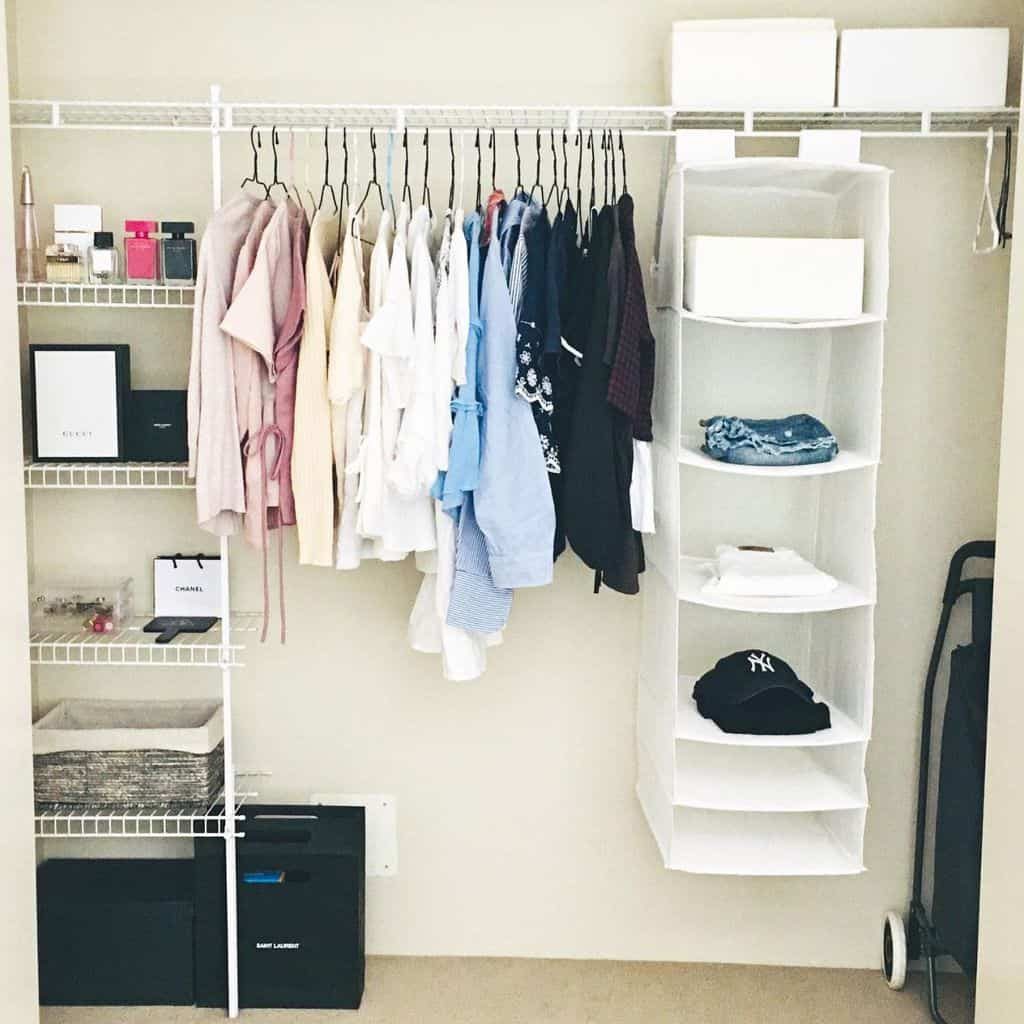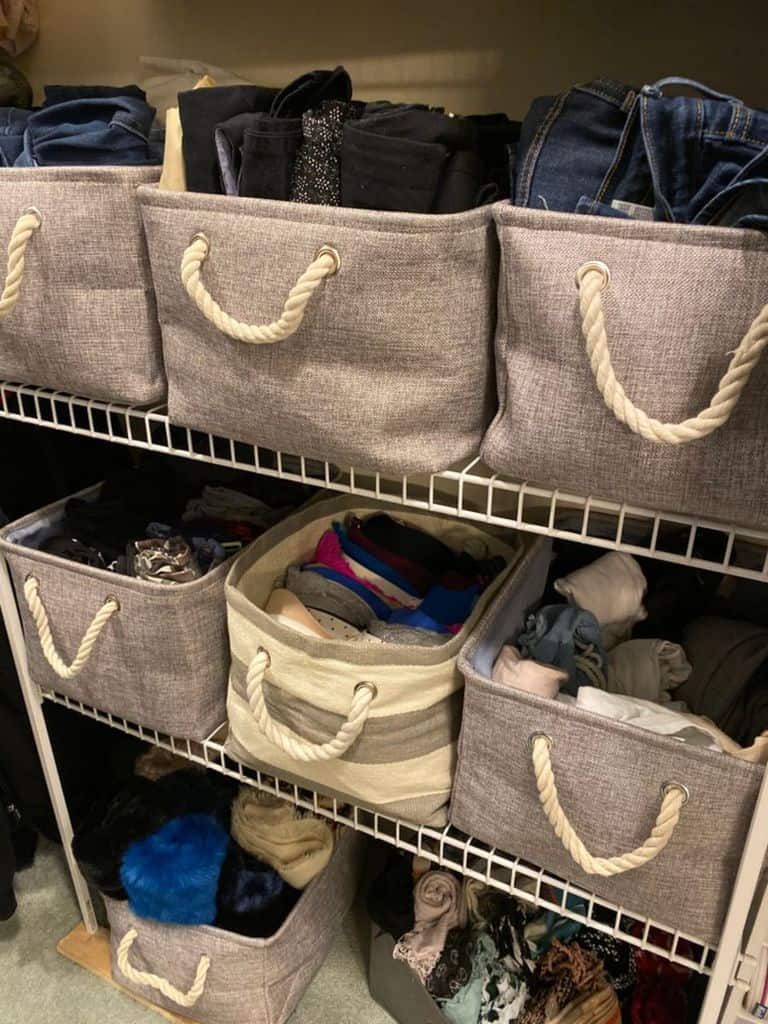 7. Basket Organizers for Neatness
Enhance closet elegance and tidiness with stylish basket organizers. Choose woven varieties in diverse sizes and shapes to optimize storage versatility. From accessories to shoes and handbags, these baskets bring organization and charm to your space.
Implement this design by arranging baskets on open shelves for added texture and visual appeal. For superior organization, label or color-code the baskets according to different categories. This approach not only elevates aesthetics but also simplifies item retrieval, making your closet a visually pleasing, functional haven.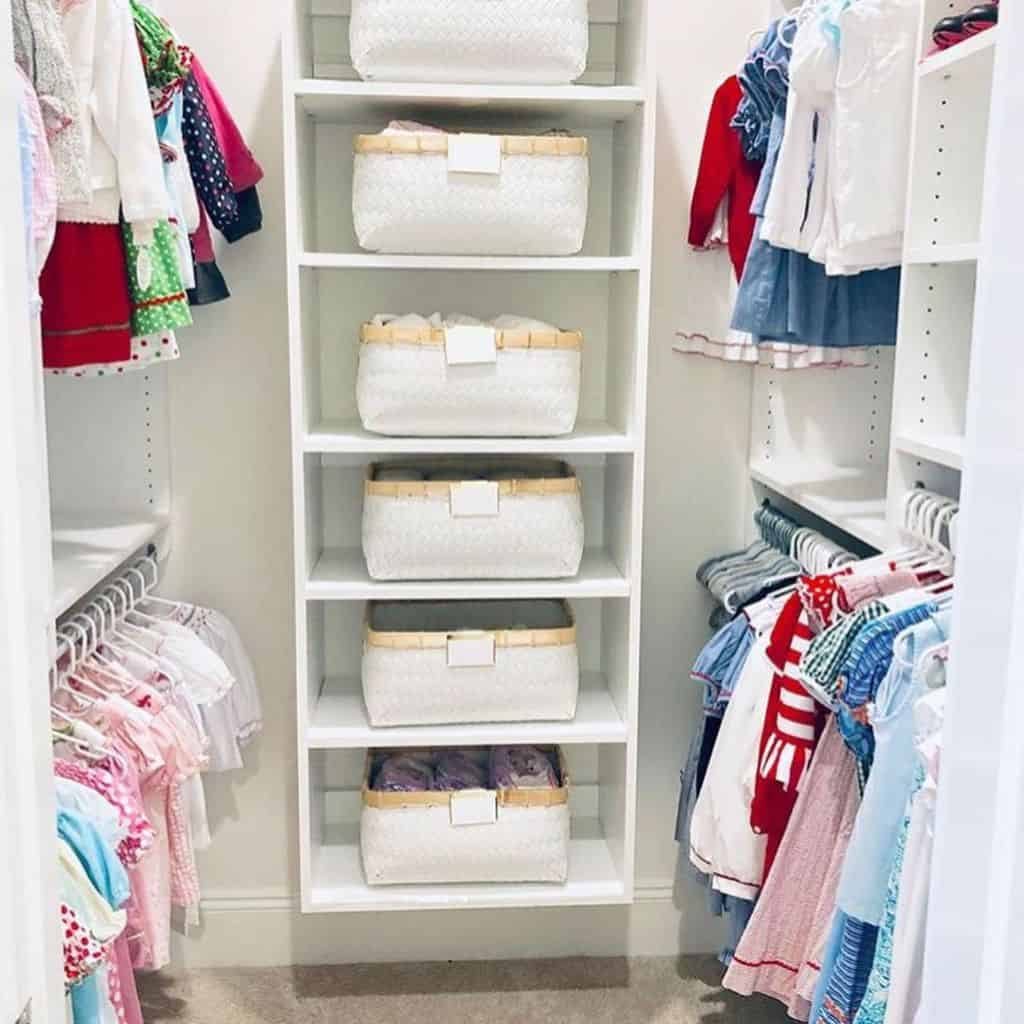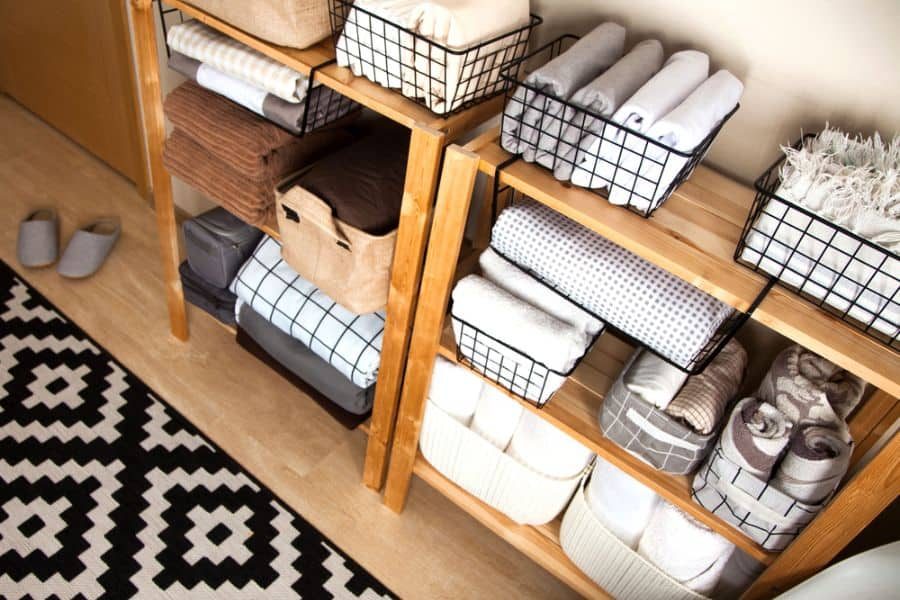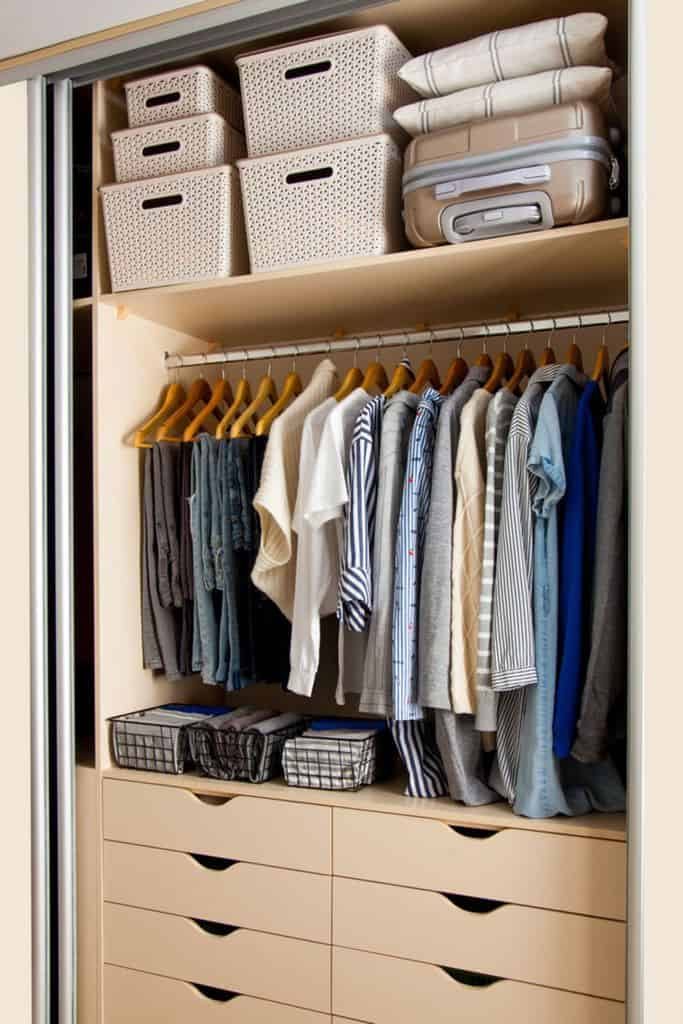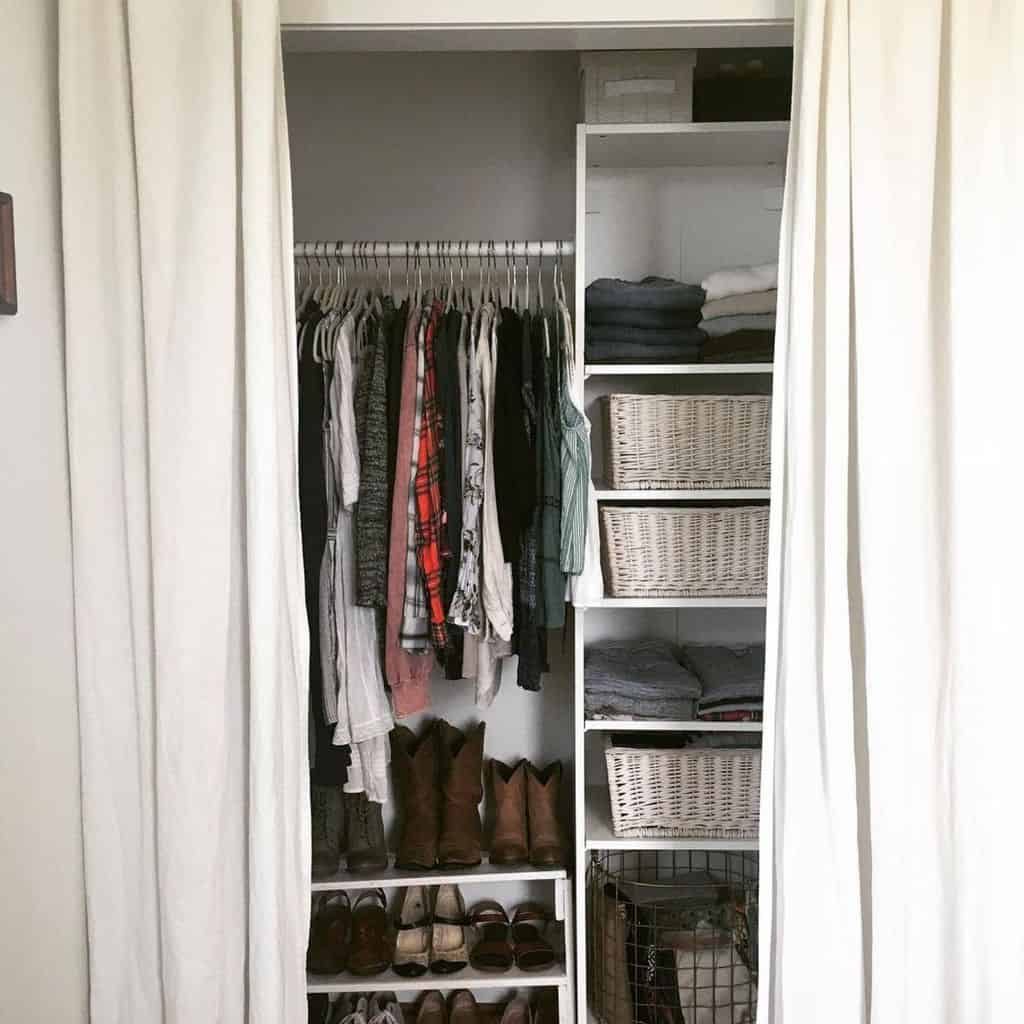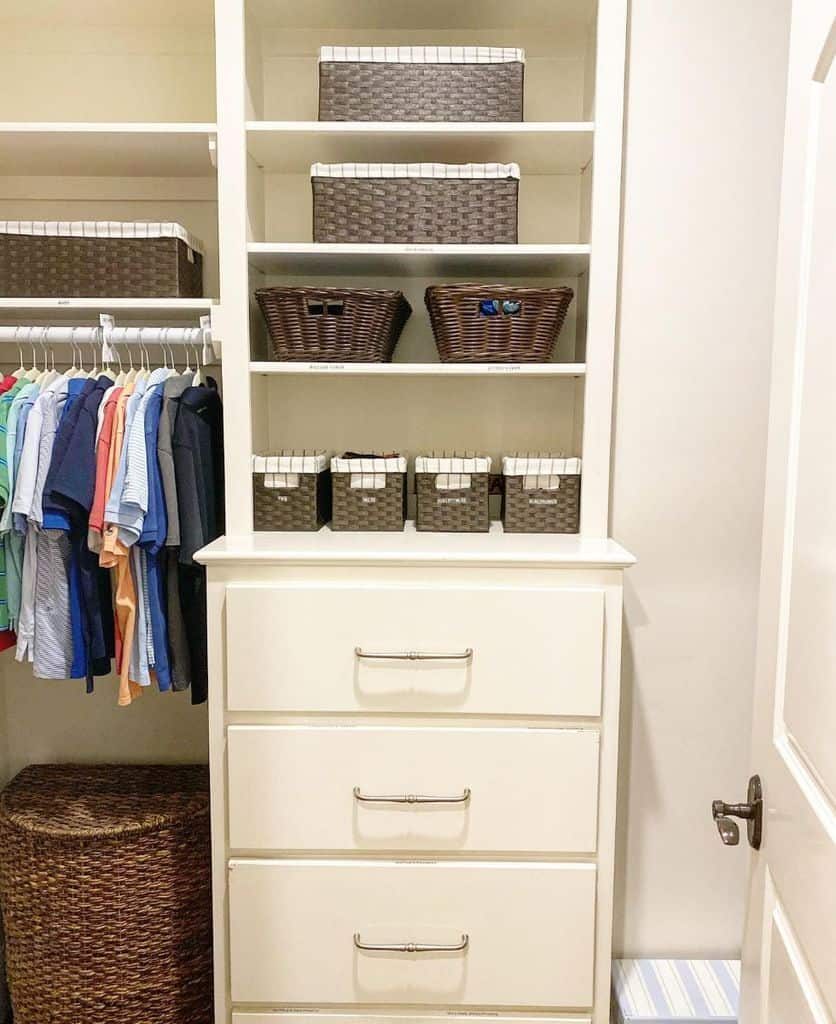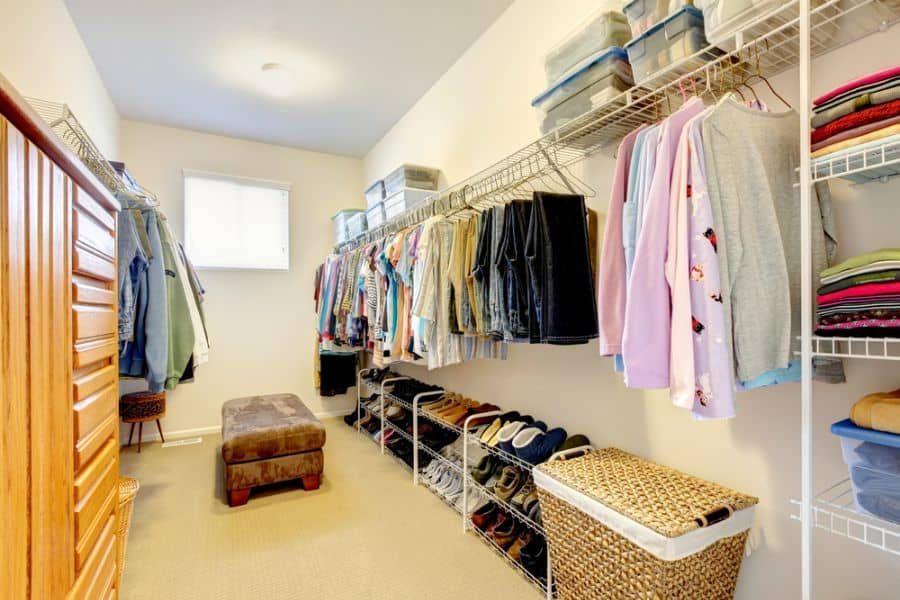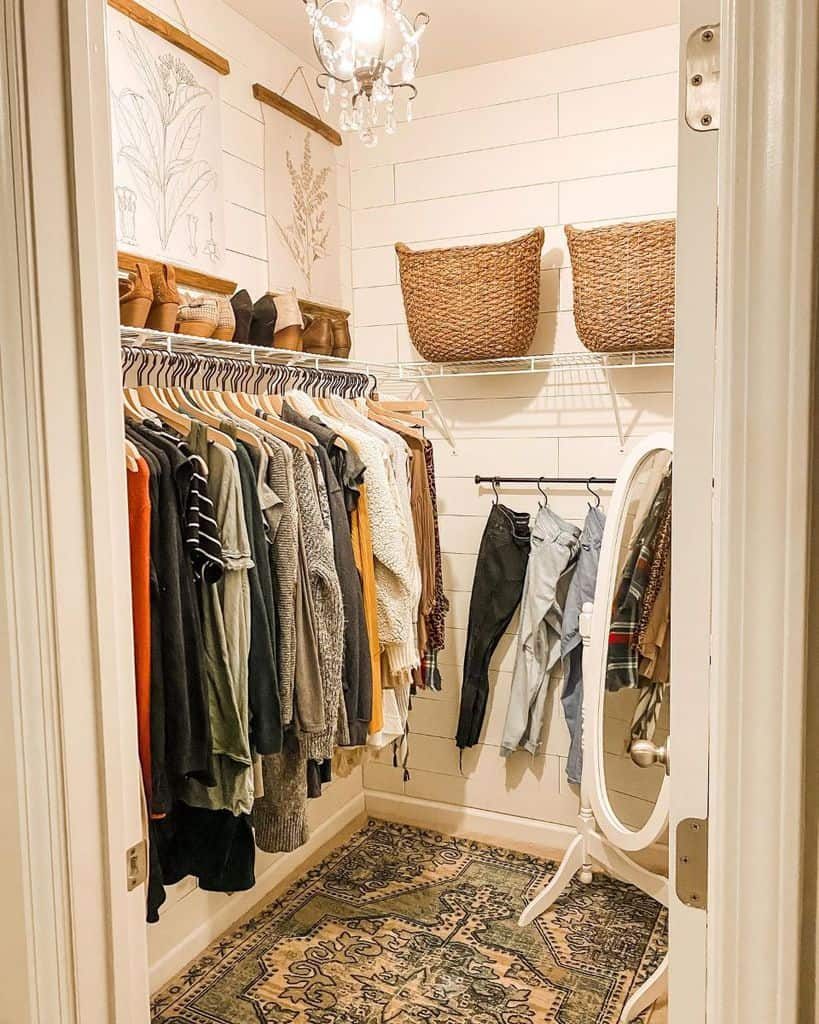 8. Peg Board for Versatile Storage
Elevate your closet's style and functionality by incorporating a versatile pegboard. This innovative solution maximizes space and streamlines small-item organization.
To implement this design, install a pegboard on a closet wall and customize it with hooks, baskets, and shelves. Utilize it for hanging jewelry, belts, scarves, and other accessories, ensuring easy access and a clutter-free display. Attach containers or jars for items like makeup brushes or stationery. Consider painting the pegboard to match your closet's aesthetic. With this addition, your closet gains both chic style and practicality for keeping small items tidy and accessible.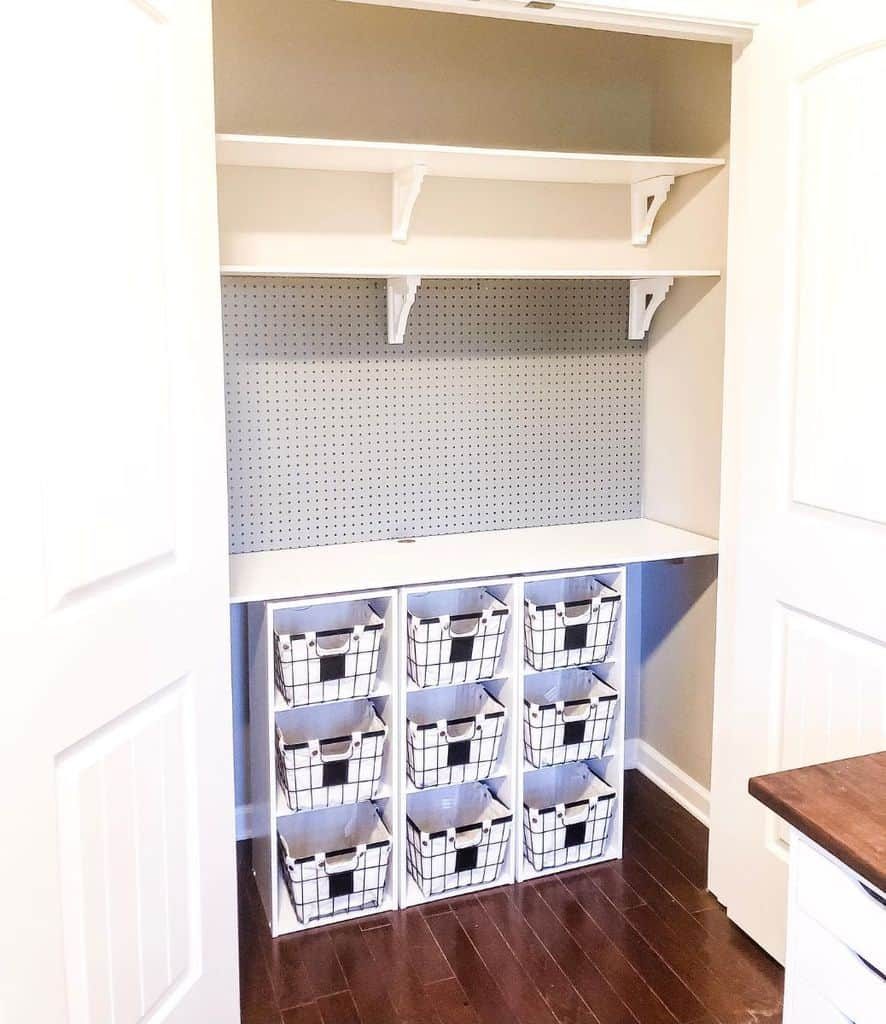 9. Floating Shelves in Walk-In Closets
Achieve a sophisticated, clutter-free walk-in closet with the addition of sleek floating shelves. These minimalist marvels maximize storage while exuding contemporary charm.
To bring this design to life, install floating shelves for a clean and organized appearance. Showcase your favorite shoes, handbags, or accessories to infuse style into your space. Optimize functionality by grouping similar items and using labeled baskets or bins for smaller belongings. This approach not only enhances your closet's organization but also adds a modern, elegant touch to your daily routine. Elevate your walk-in closet into a visual delight and practical storage haven.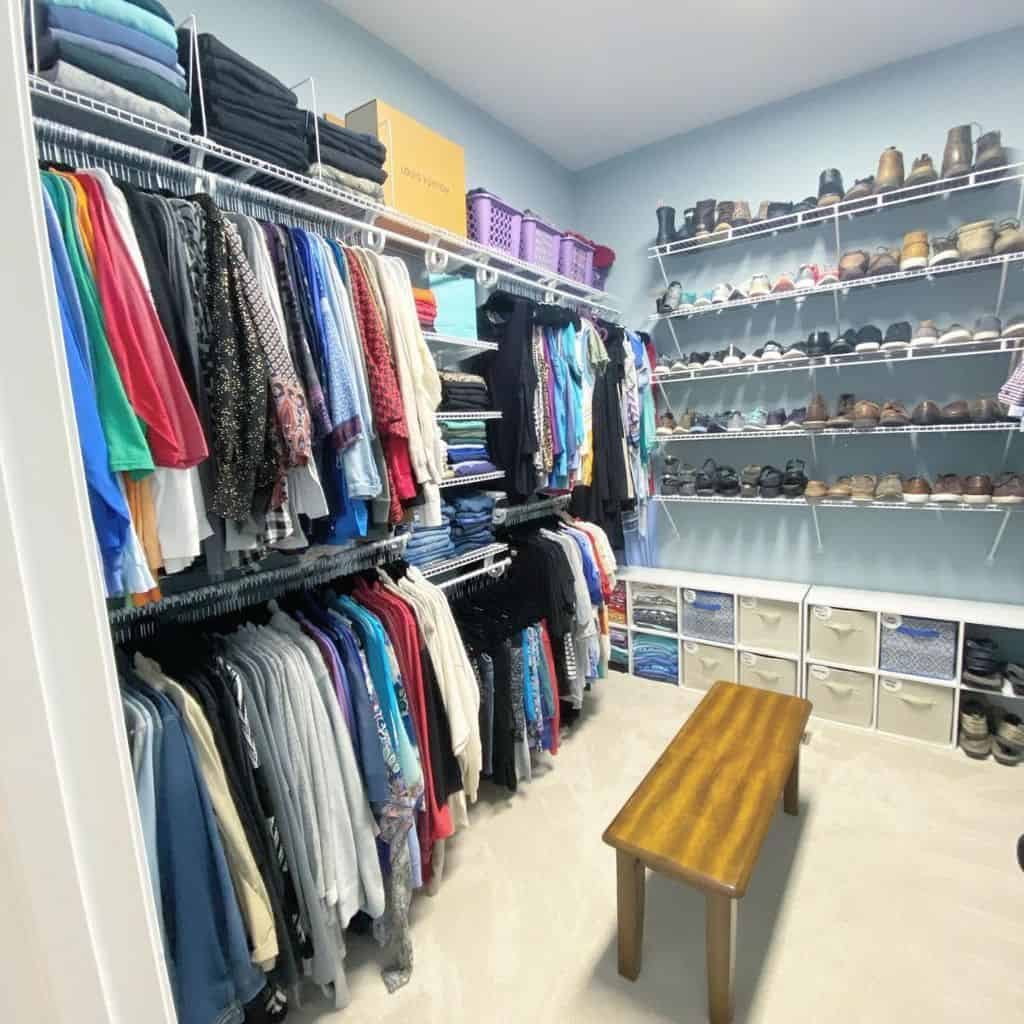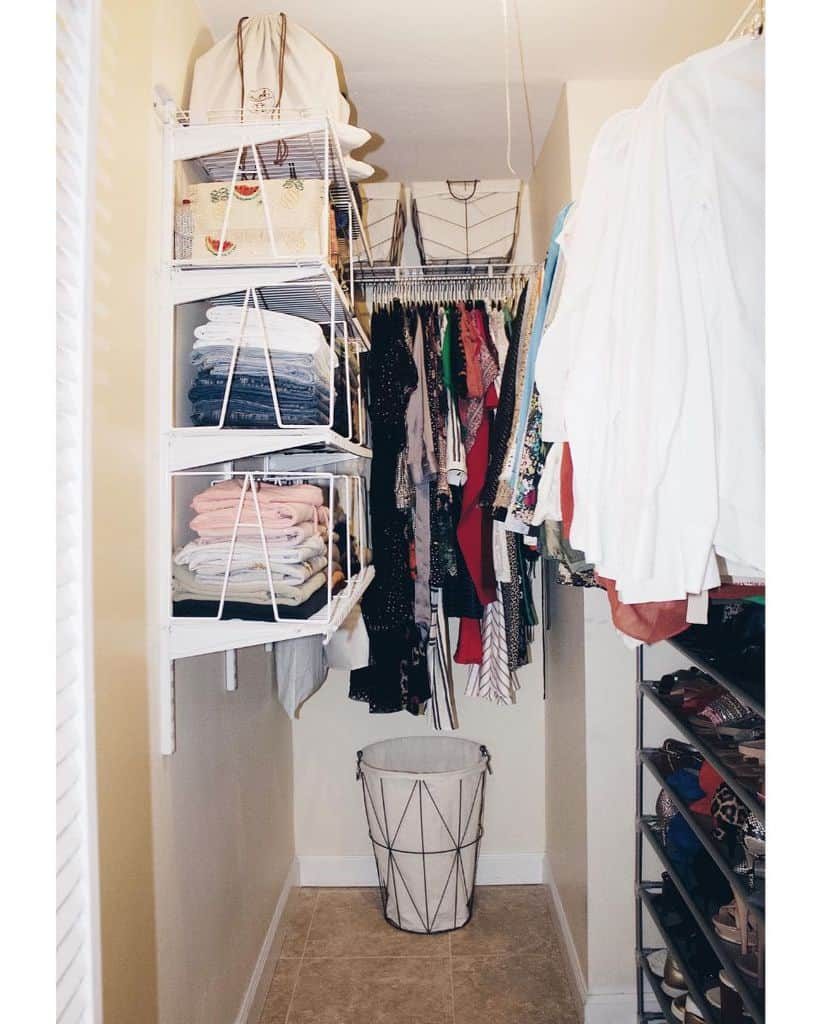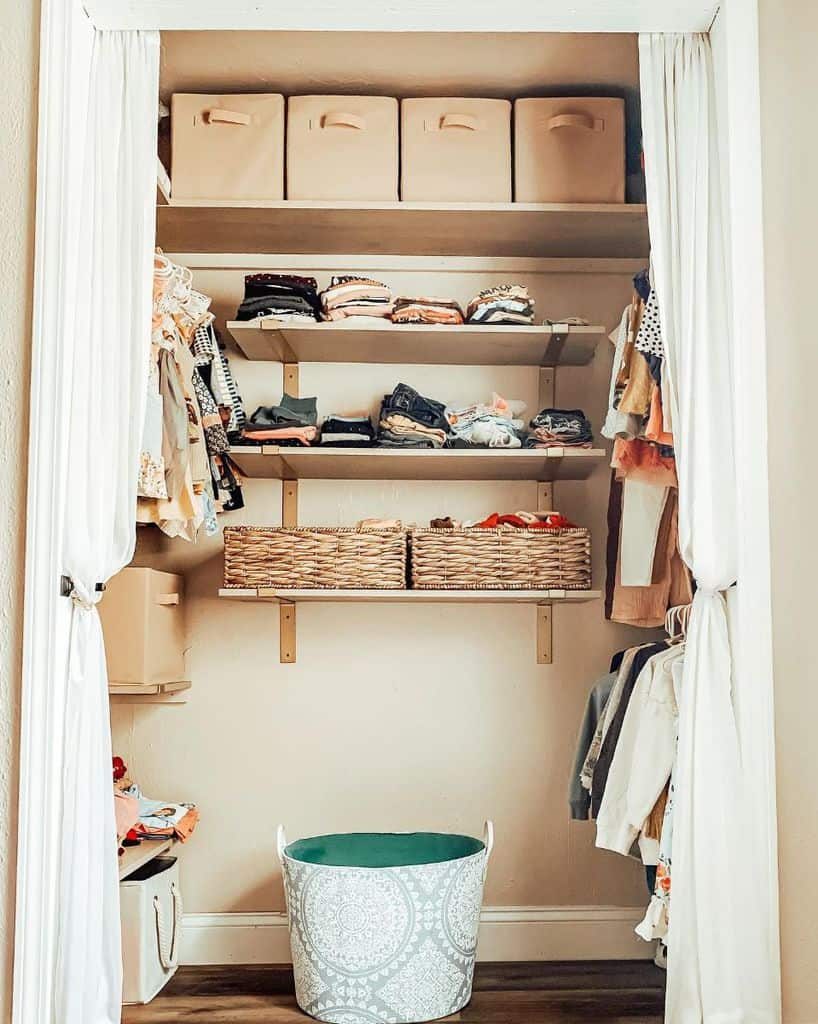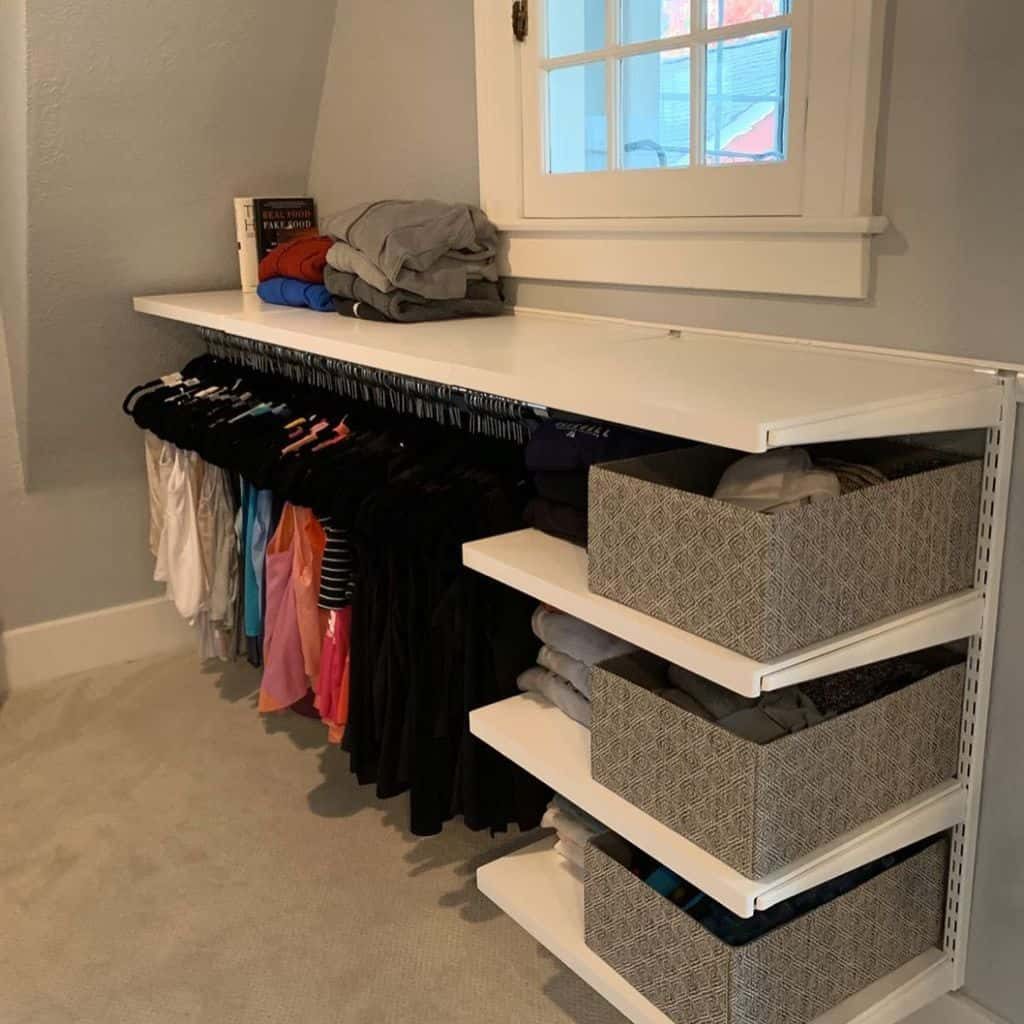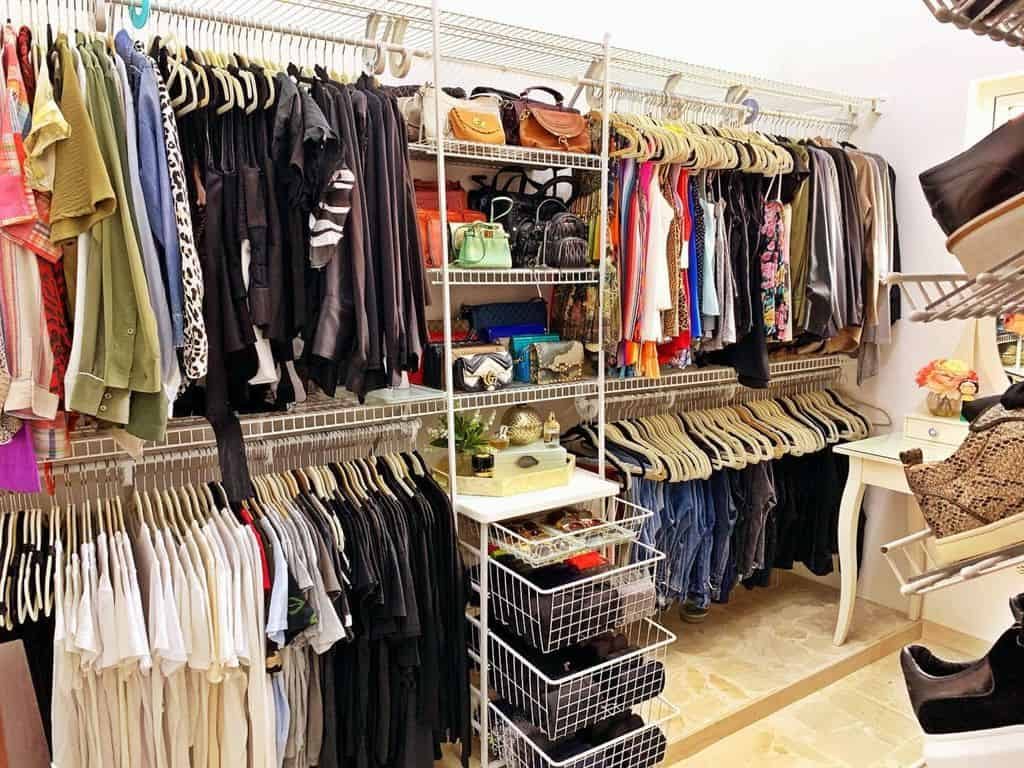 10. Harmonious Color-Coordinated Wardrobe
Achieve closet perfection by organizing your garments and accessories by color, creating a visually pleasing and cohesive ensemble.
To implement this design, begin by sorting items by color, grouping similar shades for a gradual transition. This not only enhances aesthetics but also simplifies outfit selection. Elevate the look further with matching hangers and complementary storage bins. Use color-coded dividers or small bins for accessories like scarves, belts, and jewelry to keep them impeccably organized. Embrace the elegance of a color-coordinated closet, making daily outfit selection effortless and your space chic and visually pleasing.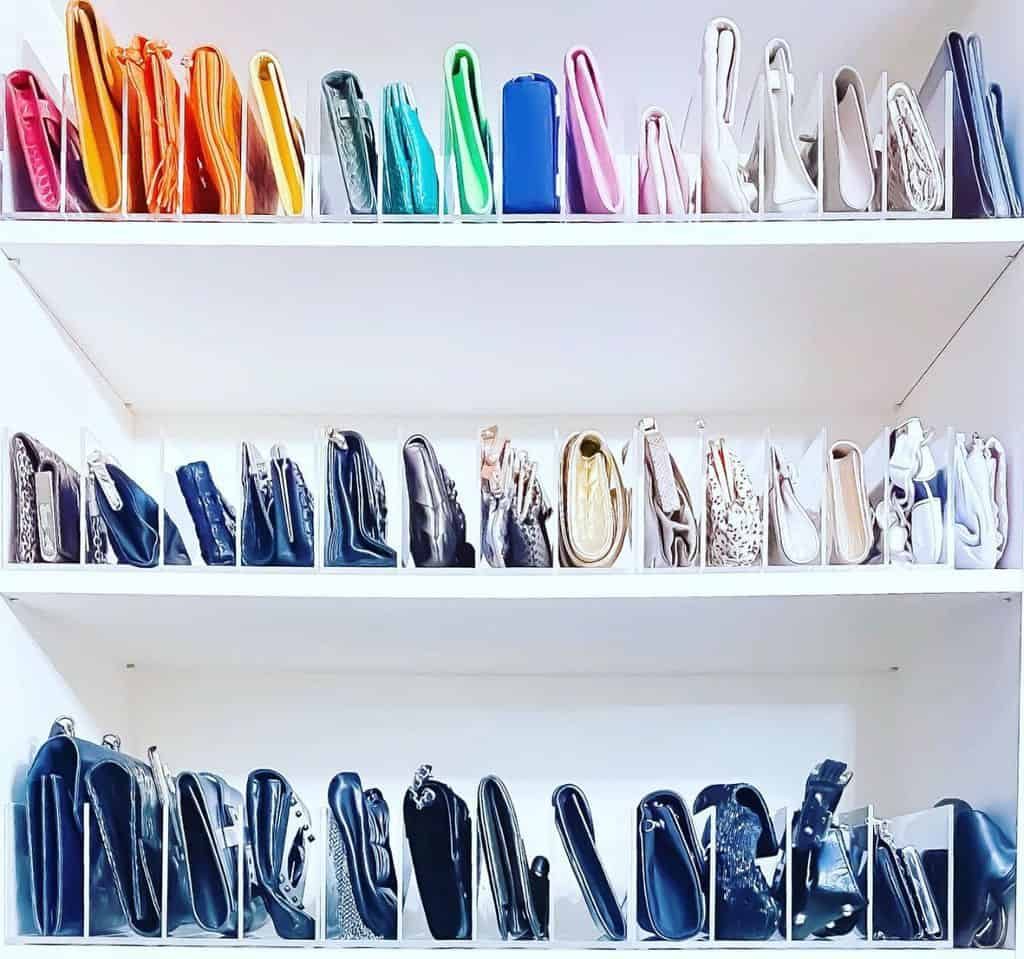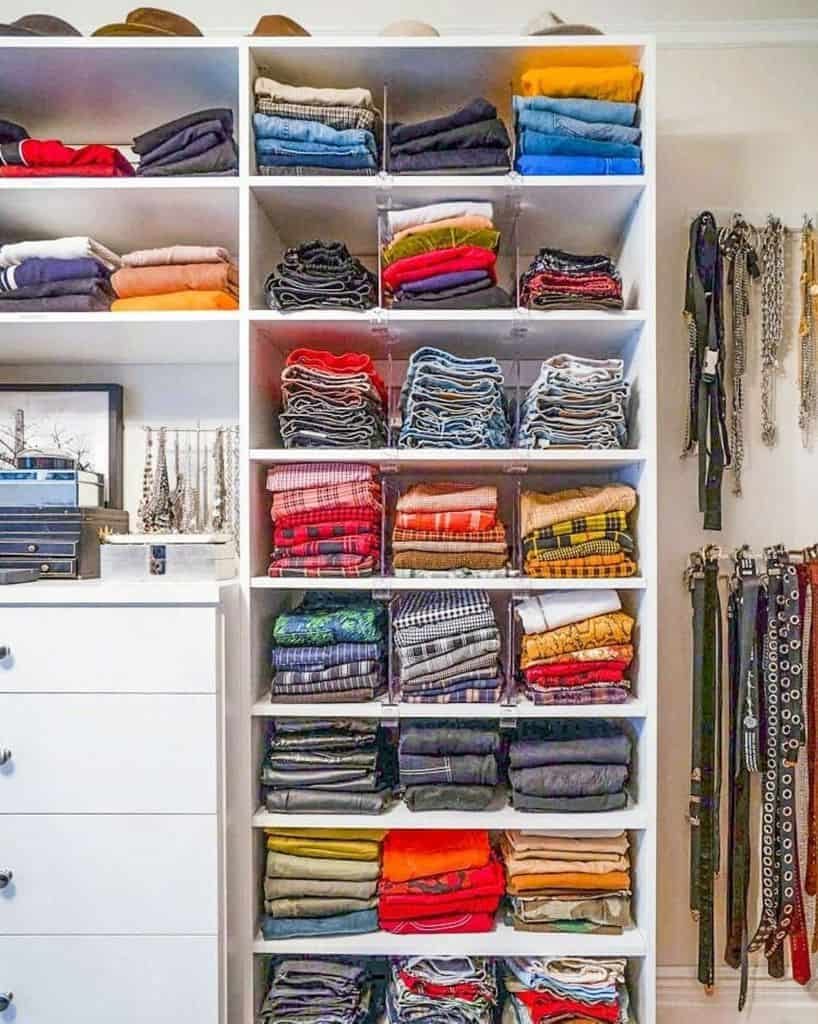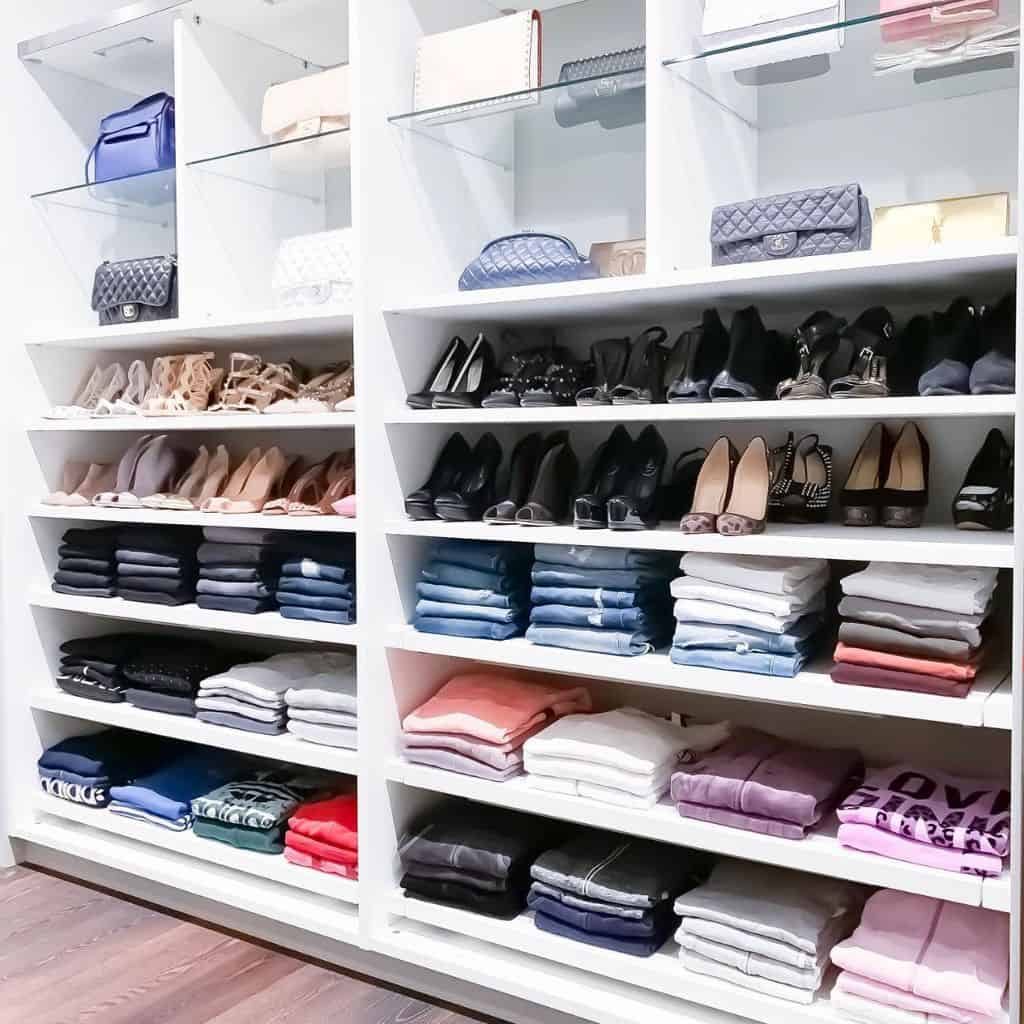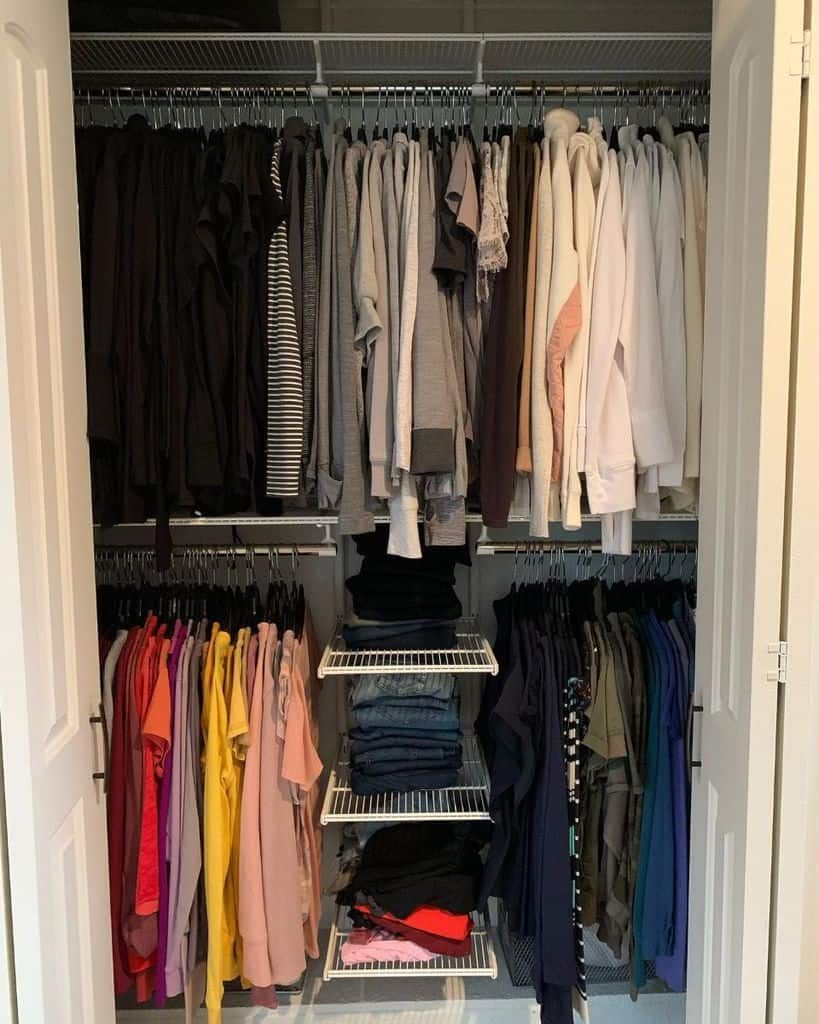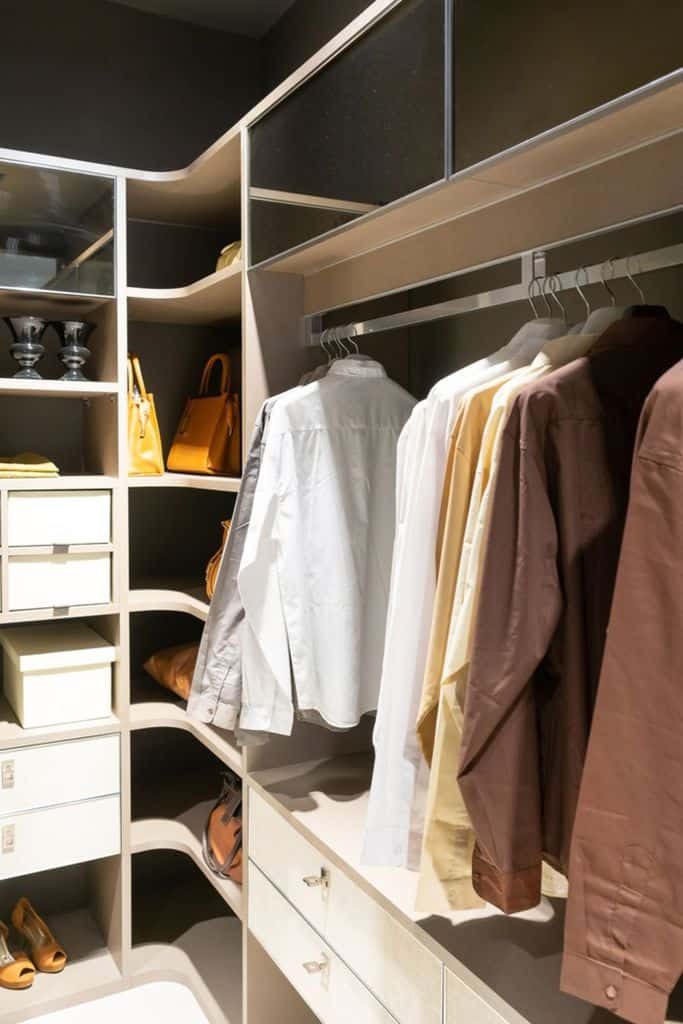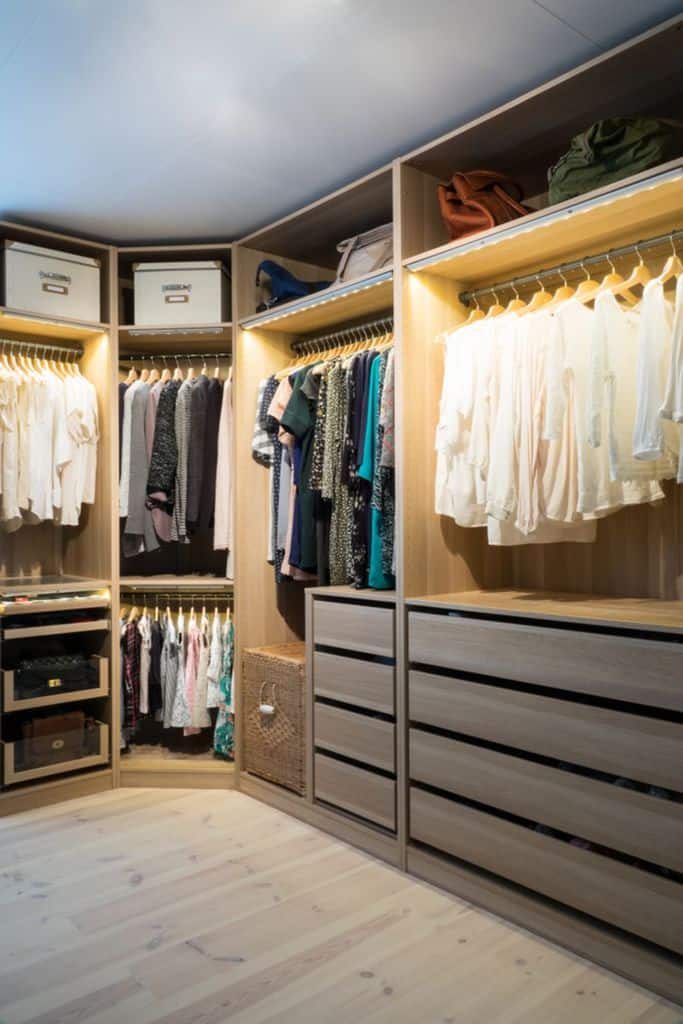 11. See-Through Closet Divider Panels
Simplify your daily routine with transparent acrylic dividers that offer easy visibility and protection for your belongings. Arrange handbags or shoes by style, color, or occasion for a visually pleasing display.
To enhance this design, label each section or incorporate hooks and shelves for additional storage. With transparent acrylic dividers, you'll create an organized, visually appealing closet that takes your organization to the next level. Elevate your closet game while making your items easily accessible and well-protected.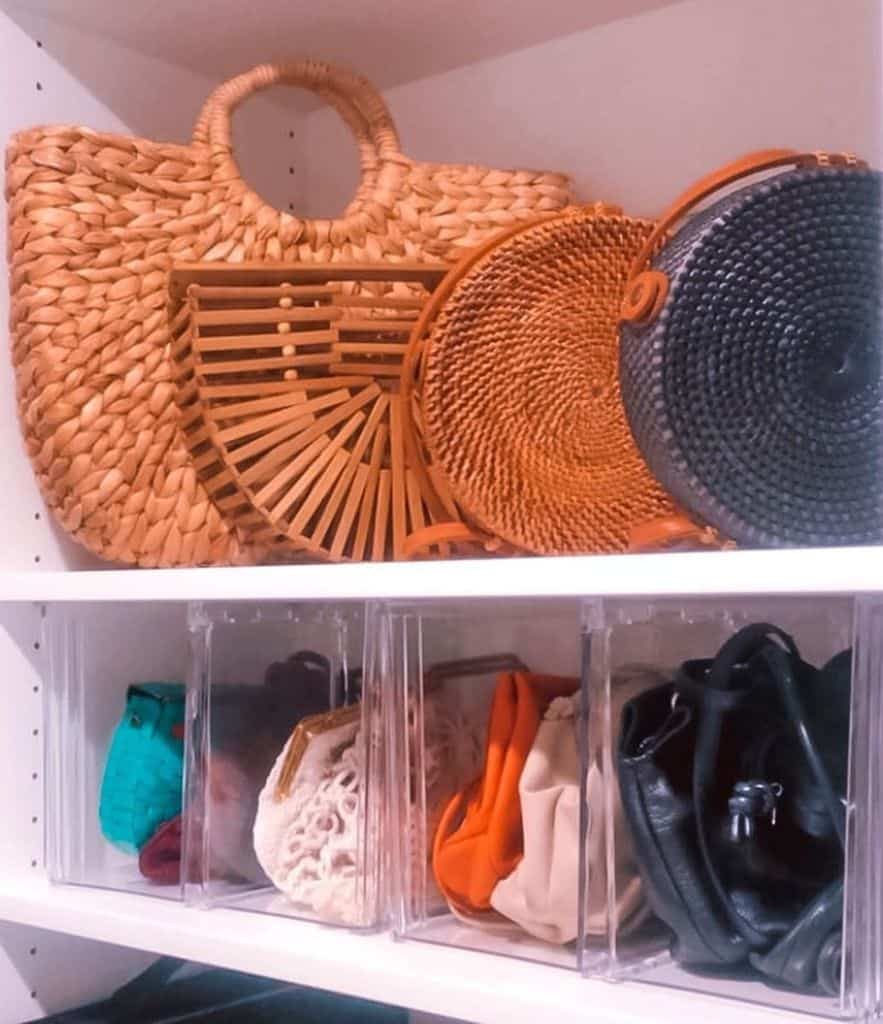 12. Stylish Open Closet Concepts
Embrace the idea of a standalone rack, elevating your wardrobe to an artful display. Opt for modern designs with a protective glass door, infusing elegance and dust-free preservation into your closet.
Organize your garments by color or category for effortless access and a sense of order. With open closet storage, you transform your closet into a stylish centerpiece, ensuring your clothes are both accessible and artistically showcased. Elevate your space with this concept, making your closet a chic and functional focal point in your home.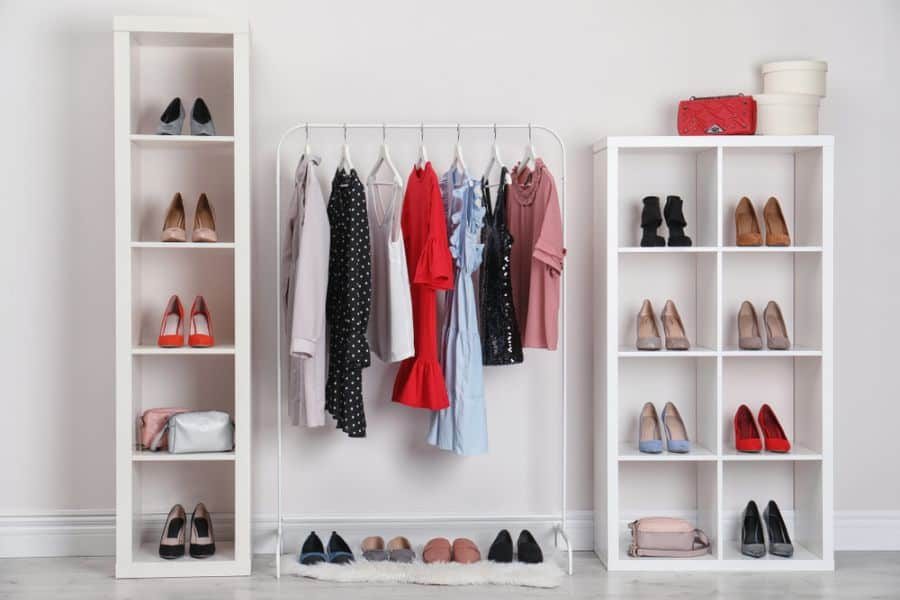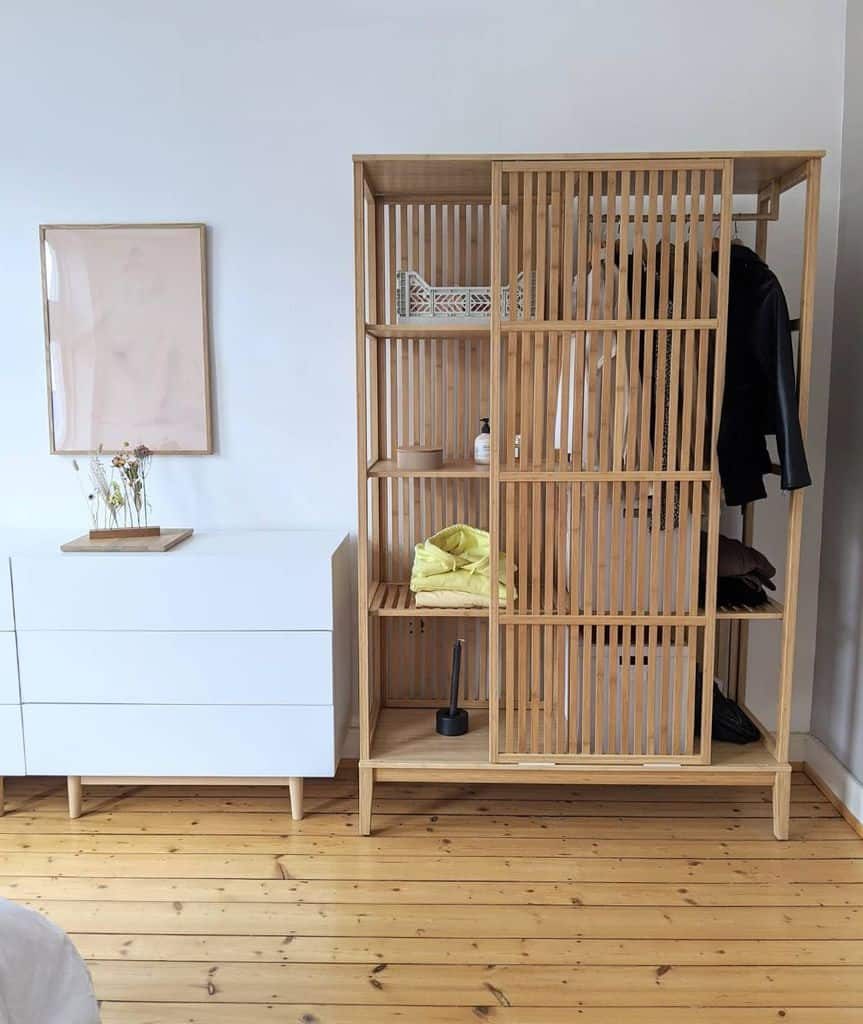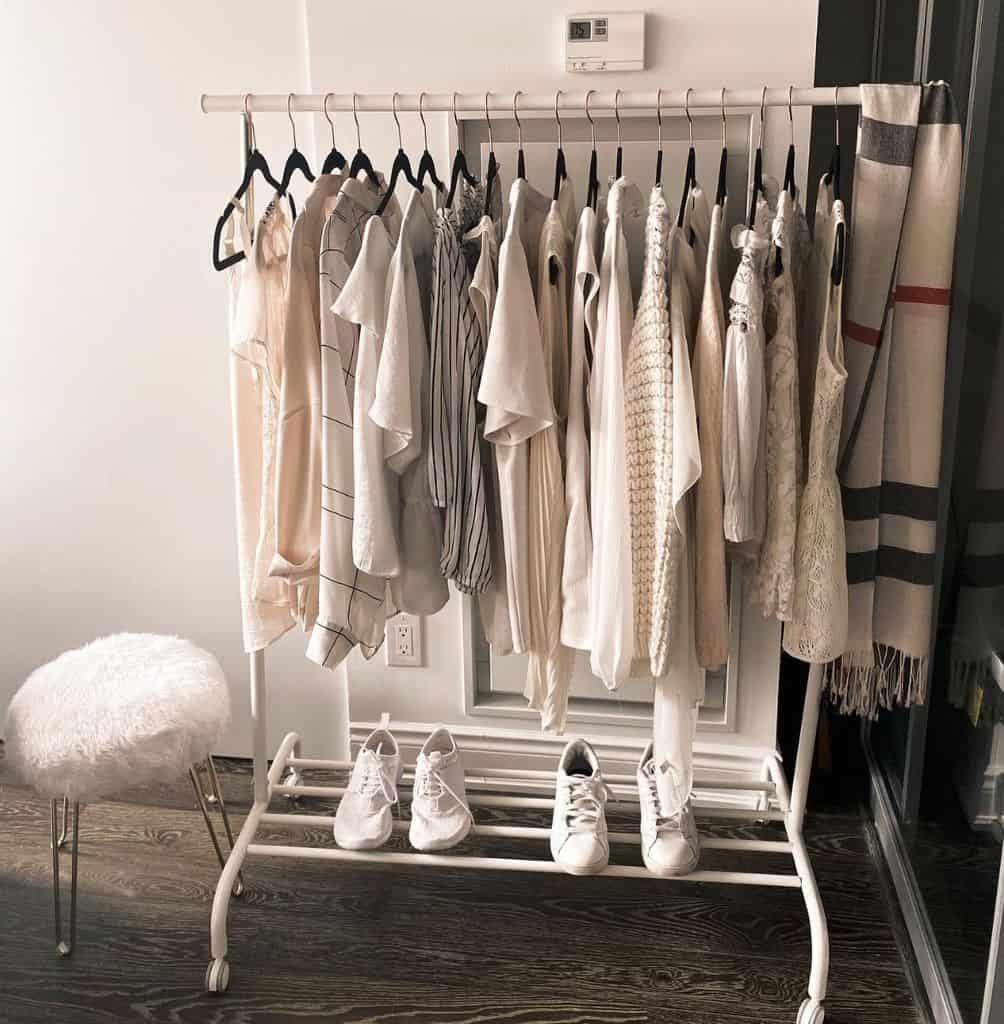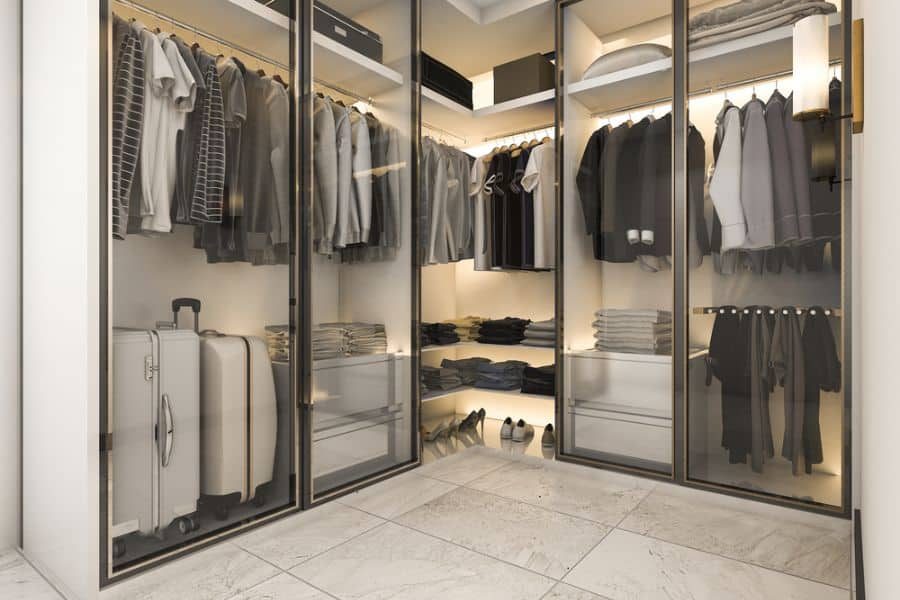 13. Clearly Labeled Closet Systems
Bring order and personality to your closet with labeled organizers. Whether it's handwritten tags, elegant nameplates, or playful chalkboard labels, personalize your space.
With everything clearly labeled, your mornings become stress-free as you easily find your favorites. Explore various shapes, sizes, and materials for organizers to meet your unique needs and enhance your closet's aesthetic. Infuse charm and organization into your closet with this simple yet effective approach.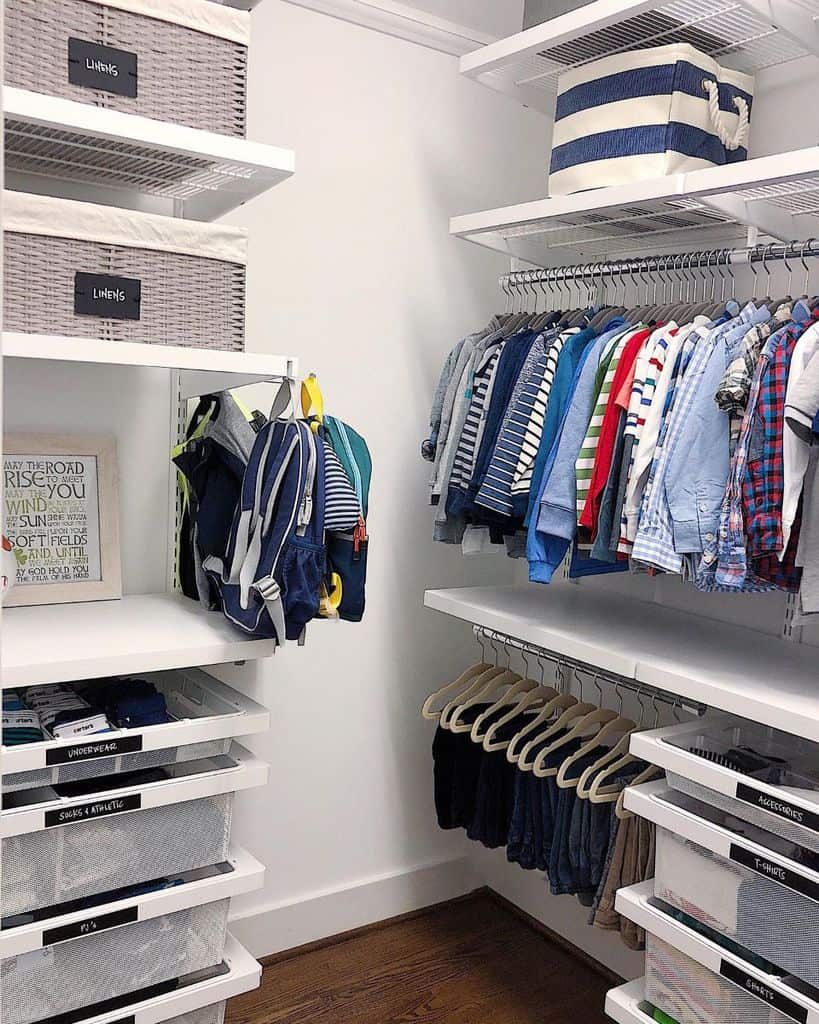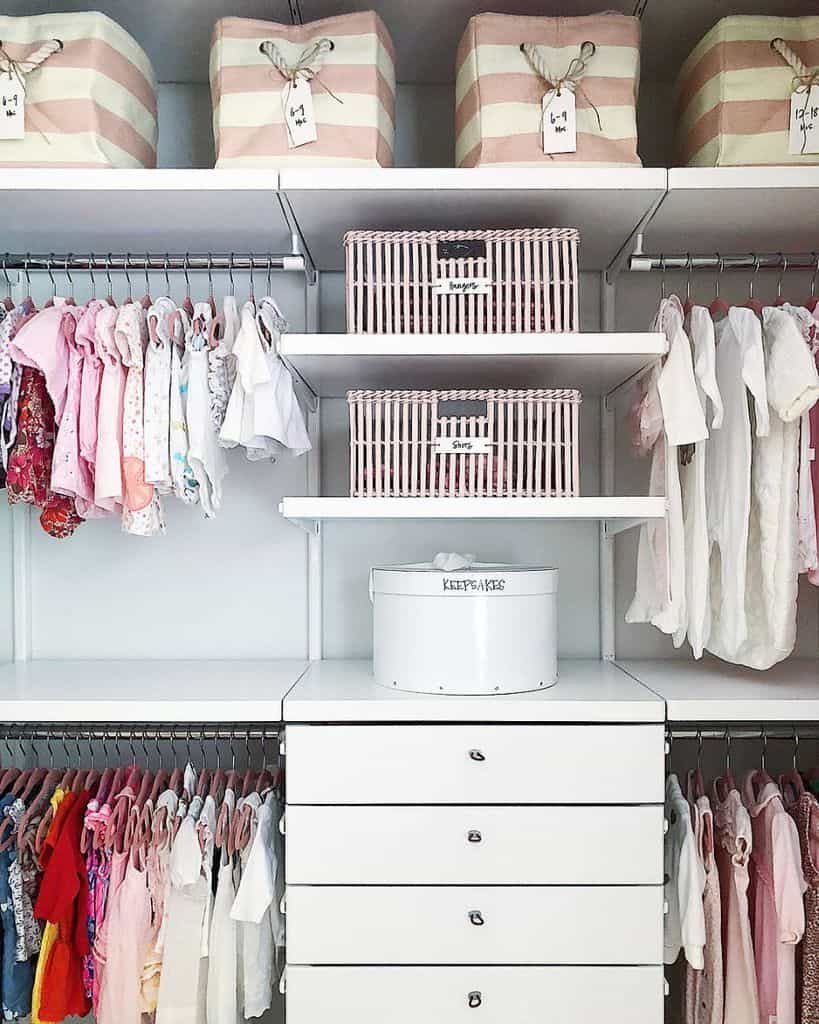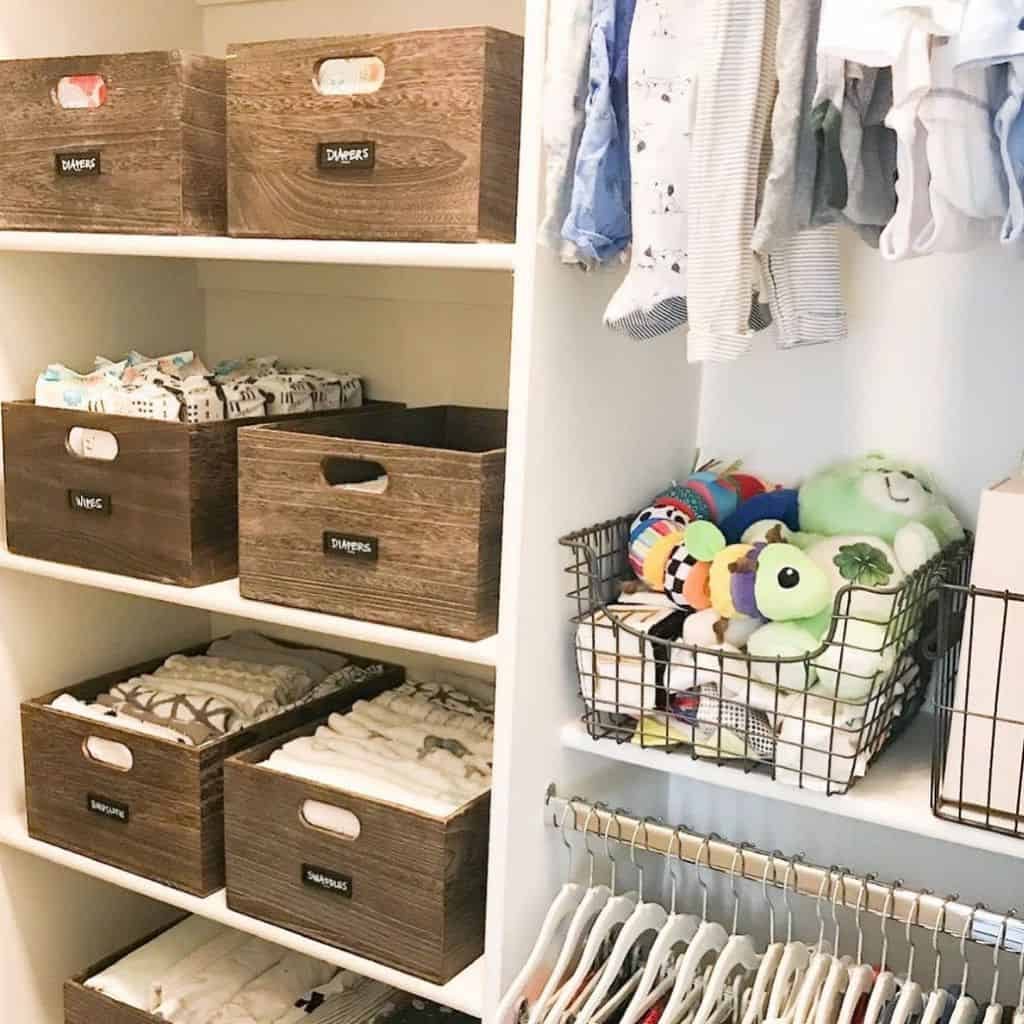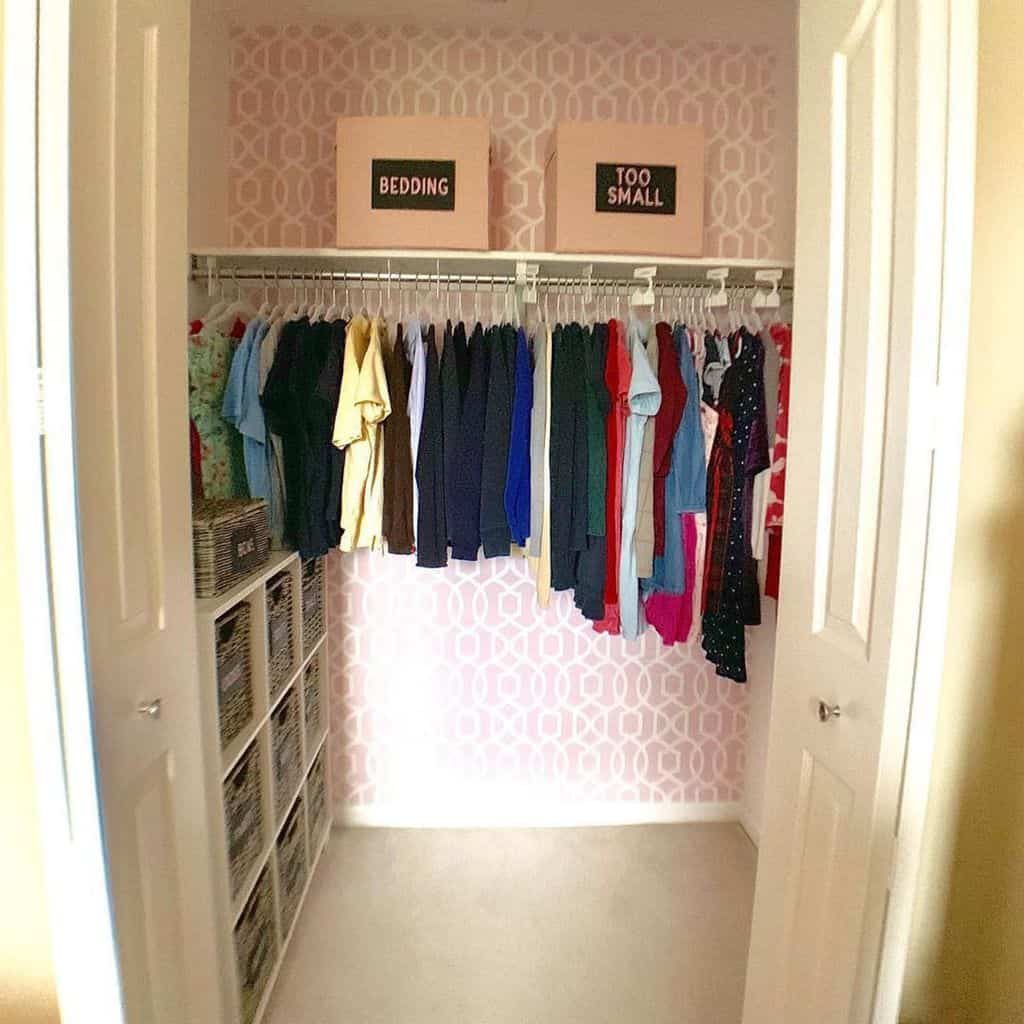 14. Shoe Rack Integrated Closets
Declutter and elevate your closet with a dedicated shoe shelf. Opt for a wall-mounted shoe rack to maximize vertical space, showcasing your footwear collection in an organized fashion.
Select a design that harmonizes with your closet's style, whether it's sleek and modern or charmingly rustic. A shoe rack not only simplifies access to your shoes but also adds a touch of sophistication. Step into your closet oasis, effortlessly choosing the perfect pair for any occasion. With a well-organized shoe shelf, you'll gain more space, reduce stress, and imbue your closet with chic functionality.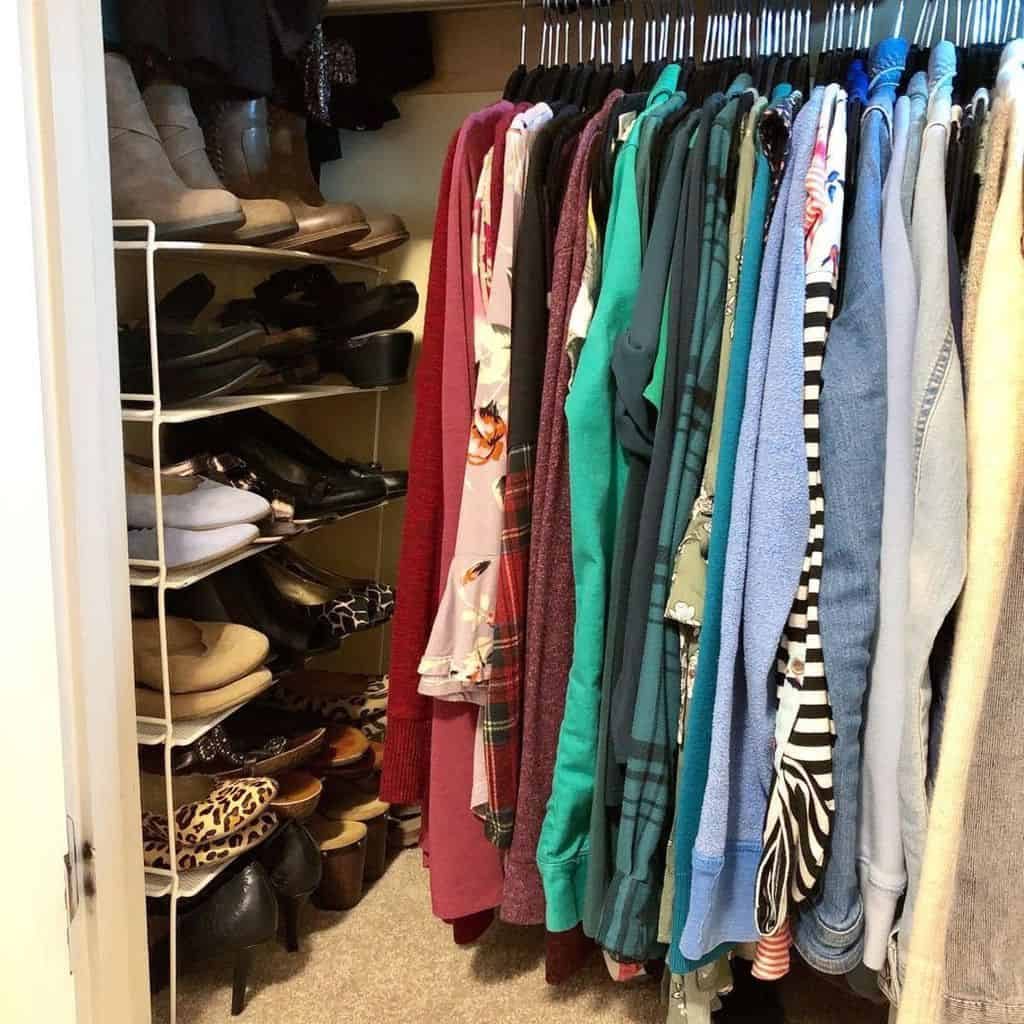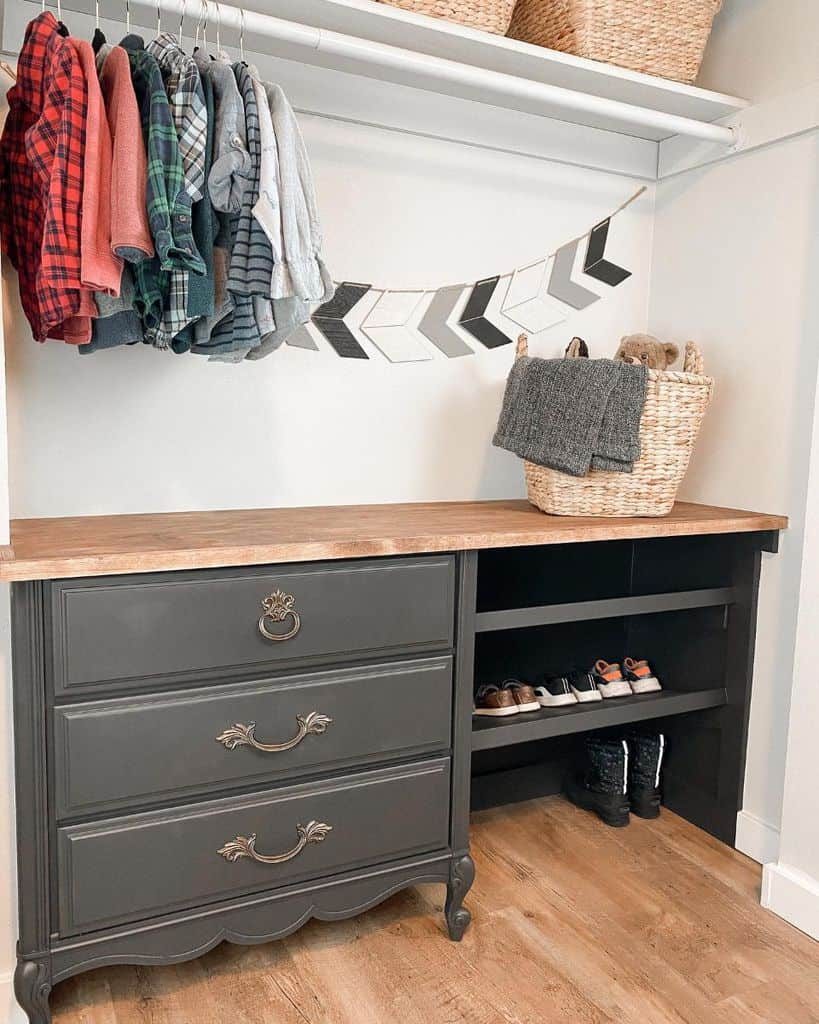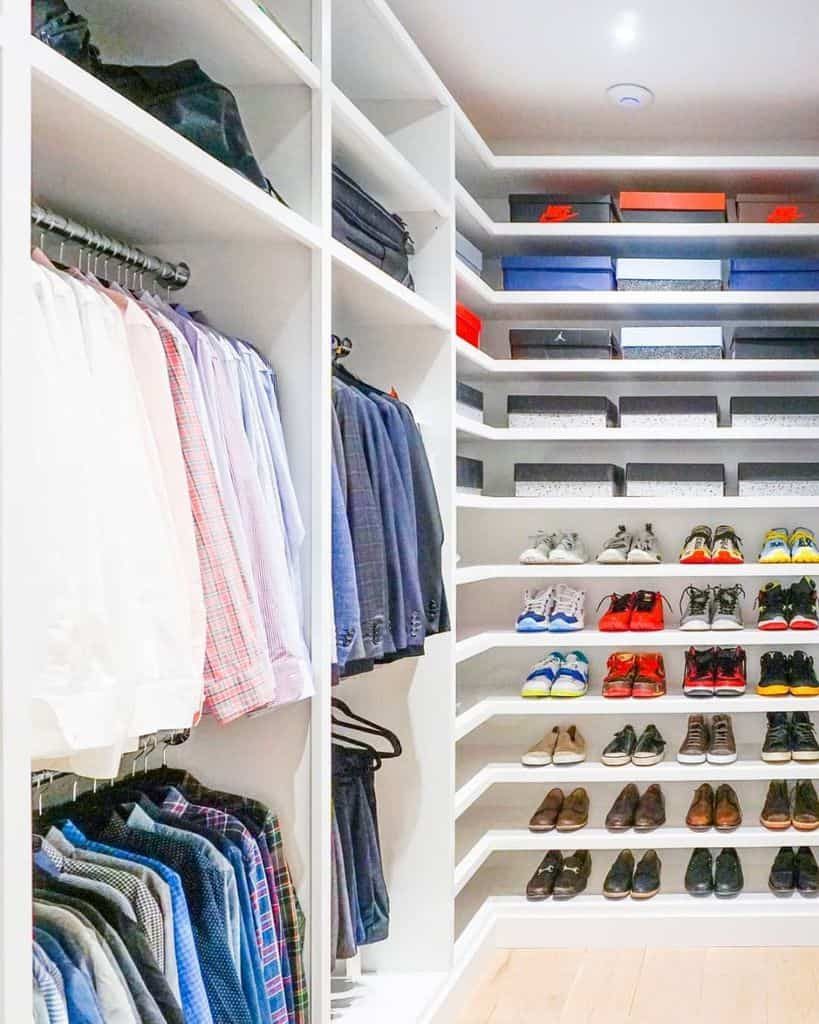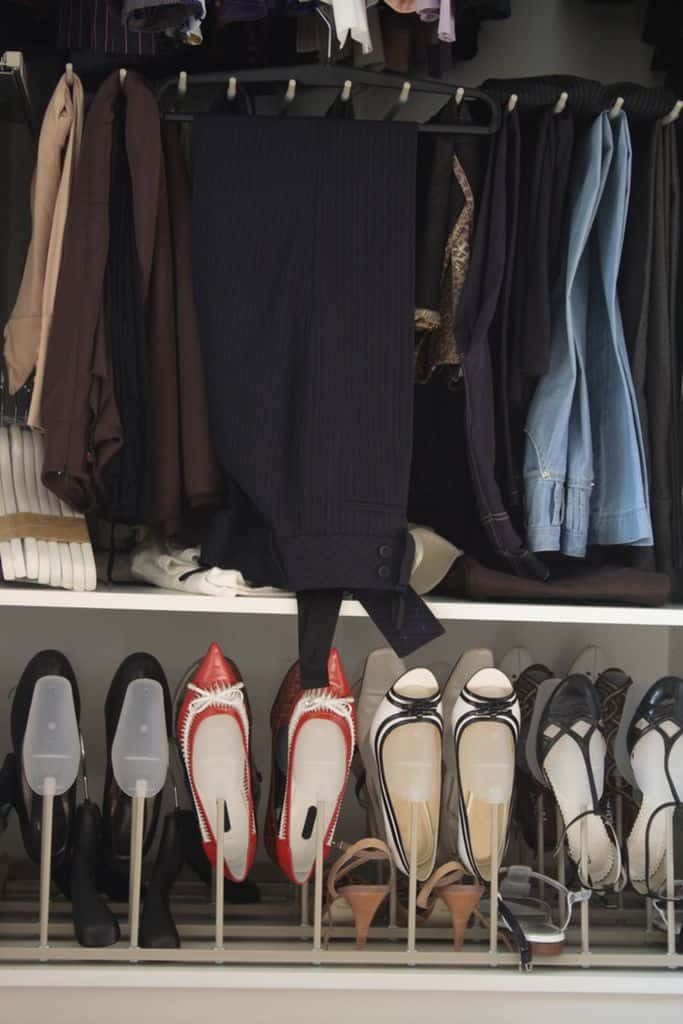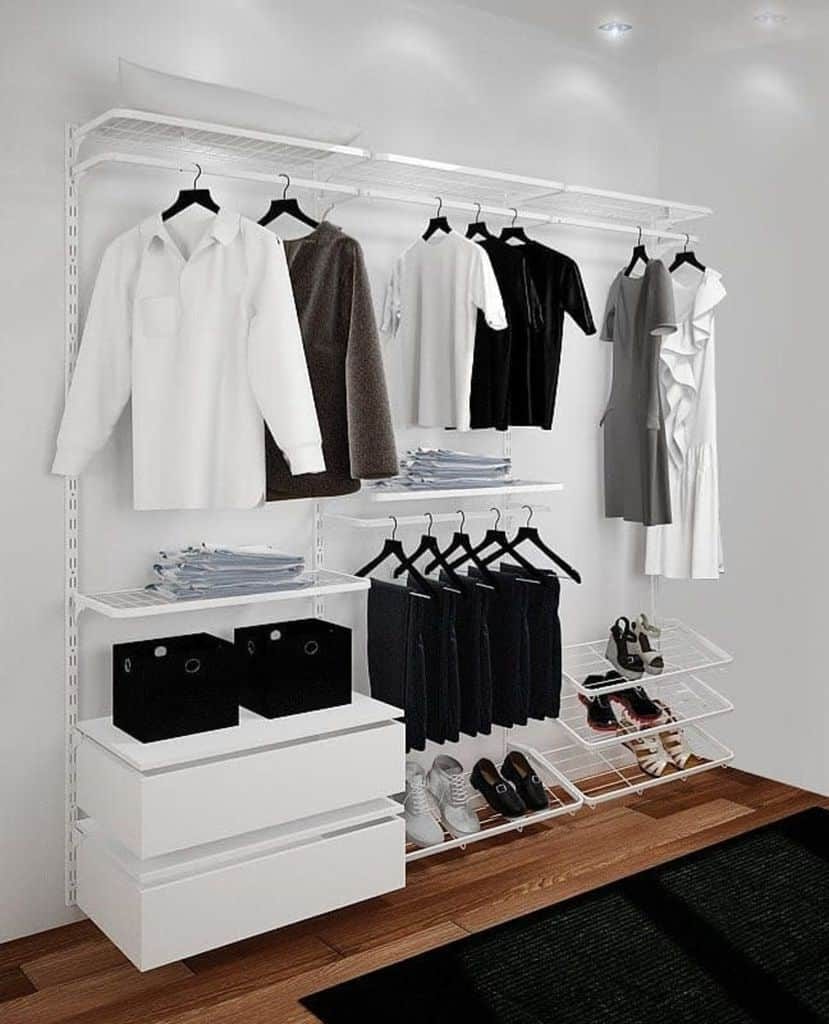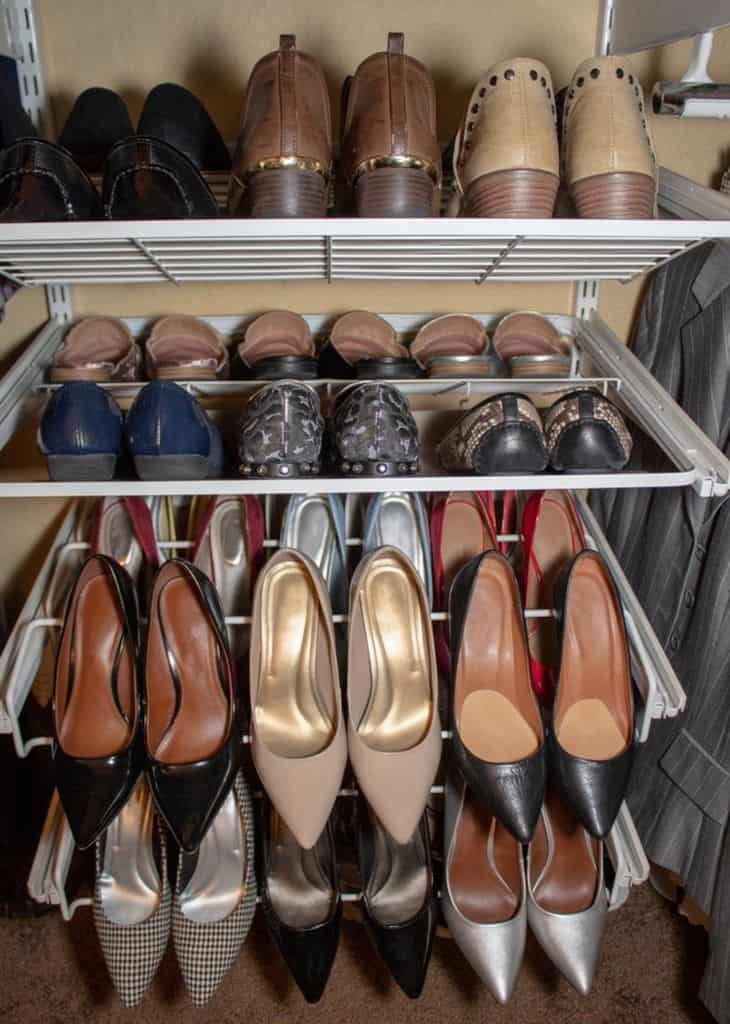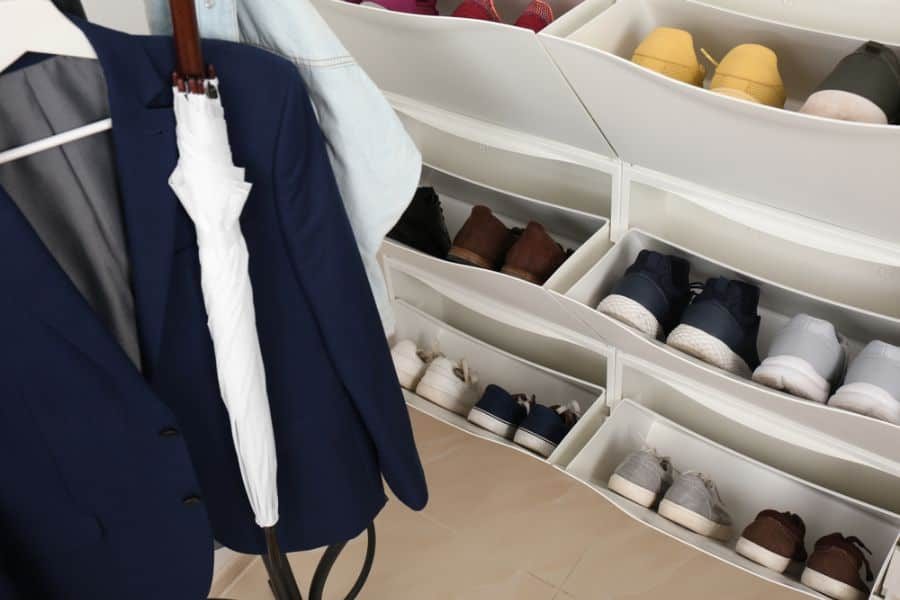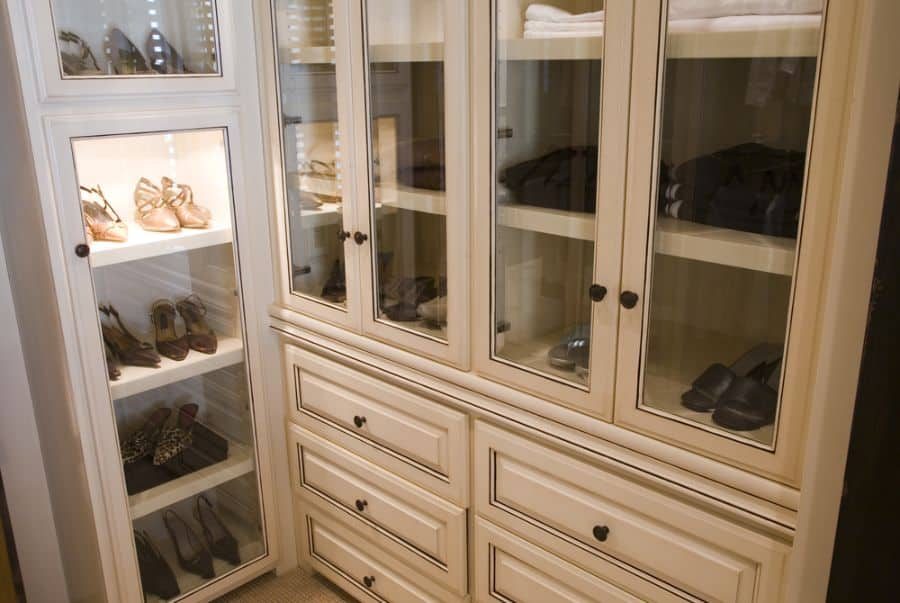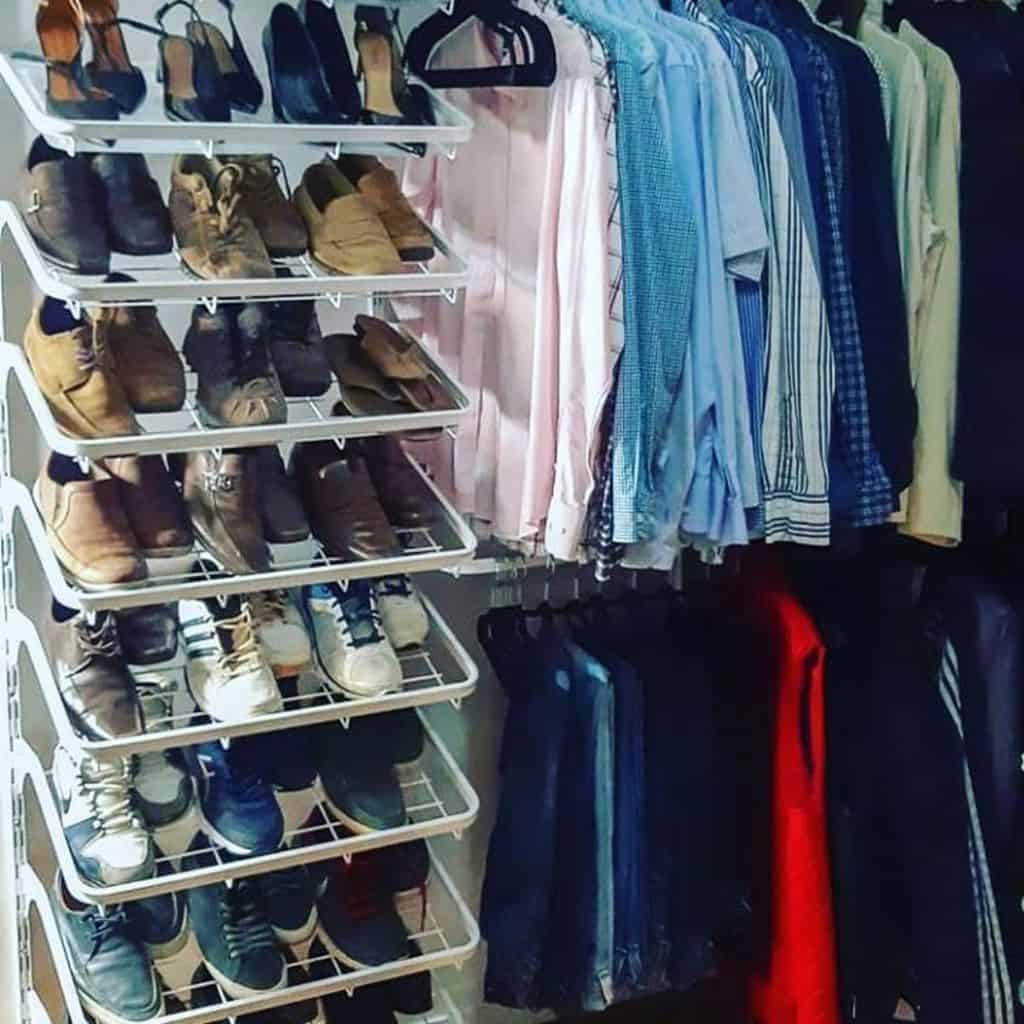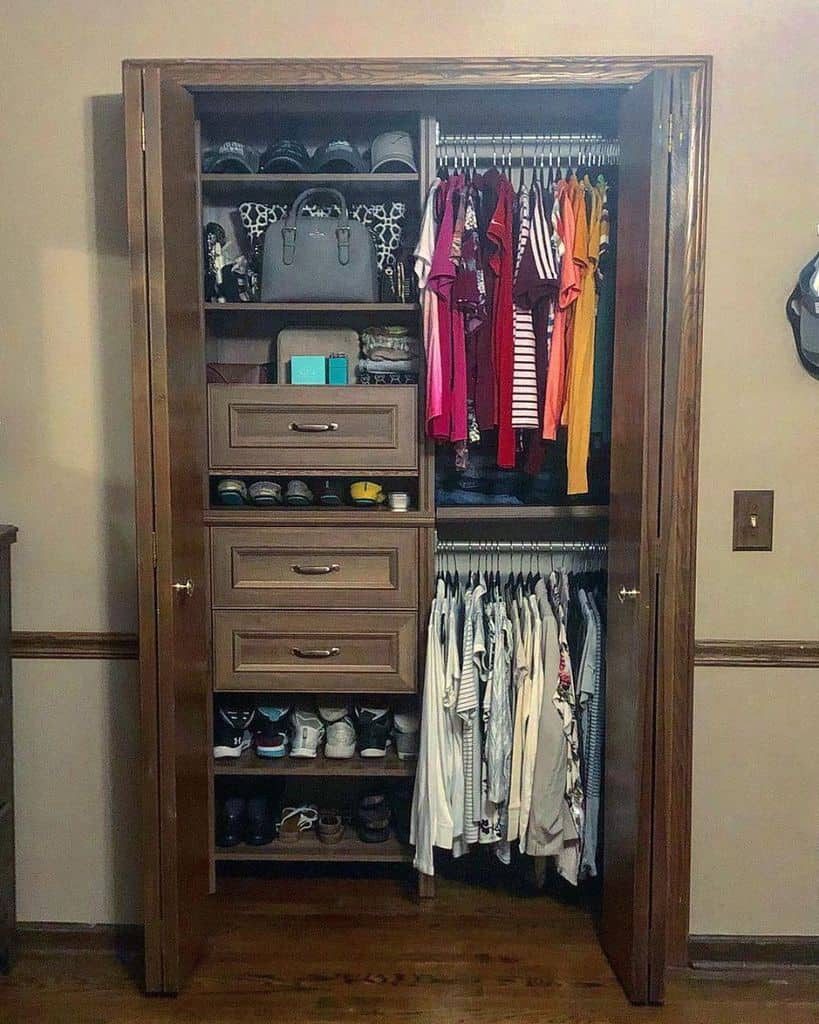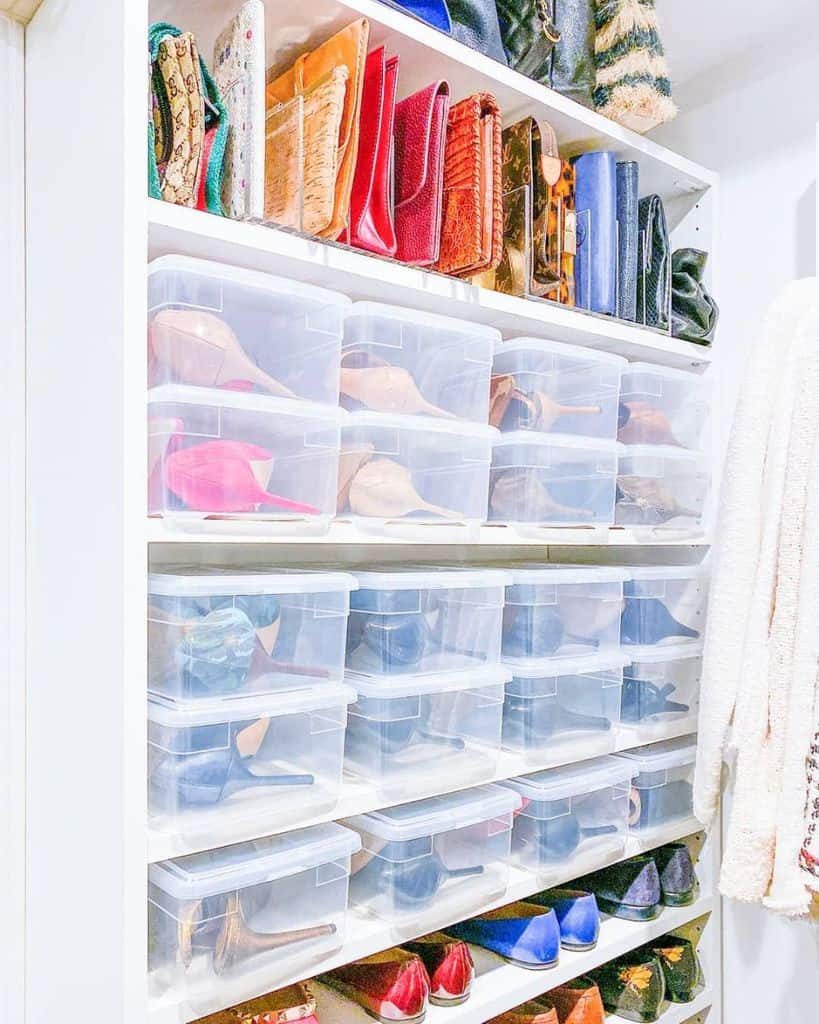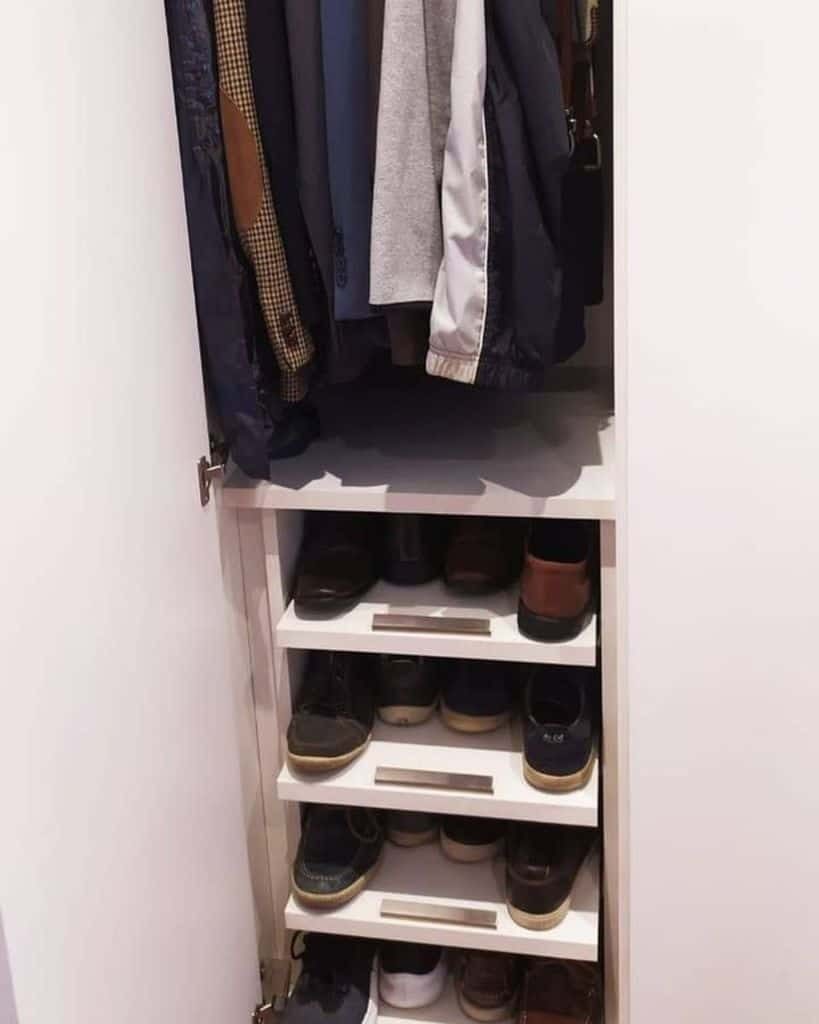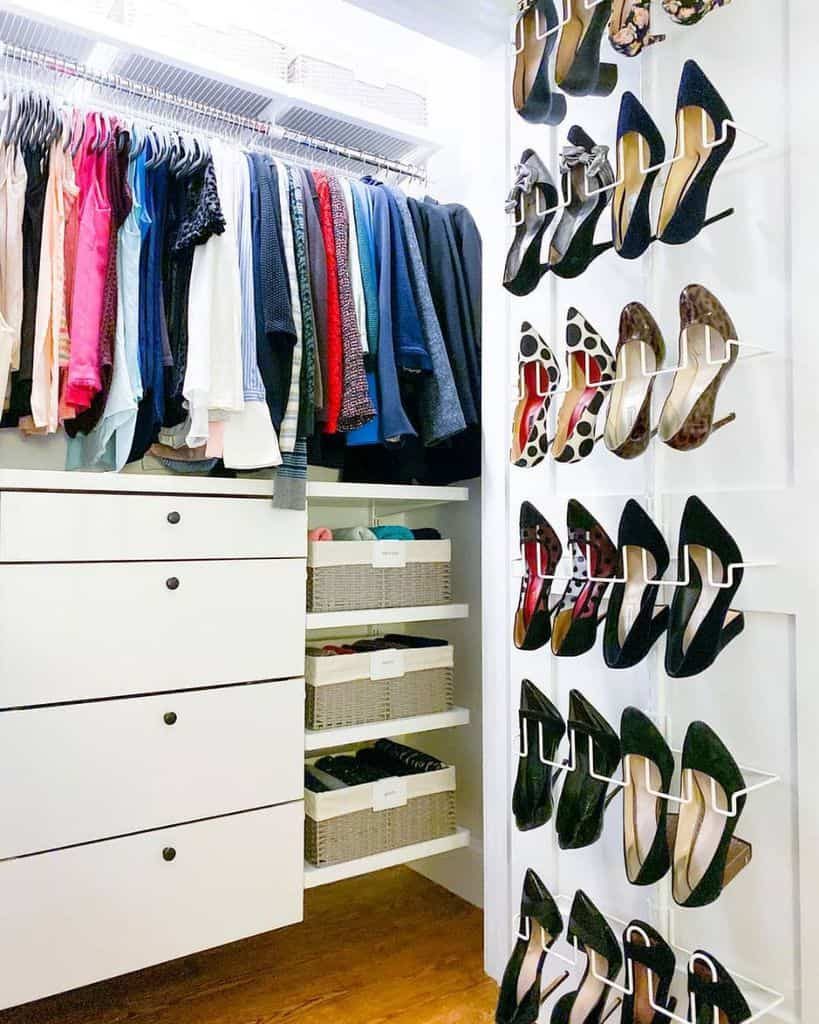 15. Streamlined Wall Closets
Optimize your closet space with a full-wall concept, making every inch count. Install end-to-end shelving for efficient storage of clothing, accessories, and essentials, ensuring nothing goes to waste.
This setup allows for designated zones for hanging clothes, folded garments, shoes, and accessories like belts and handbags. Enhance organization with stylish bins and baskets for smaller items. With a wall closet featuring end-to-end shelving, you'll create a chic and functional space that simplifies your daily dressing routine. Make the most of your space and enjoy a well-organized closet.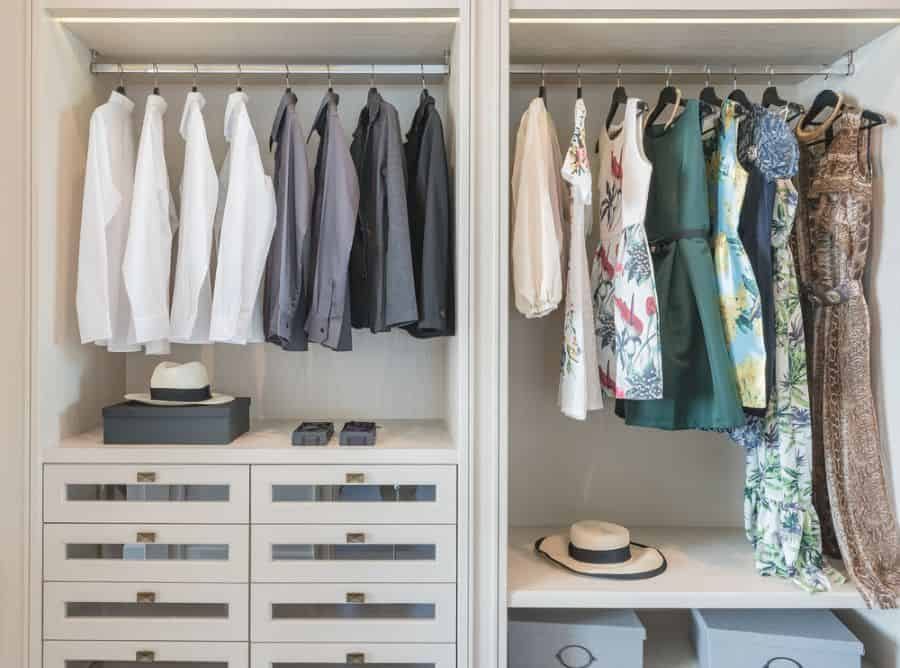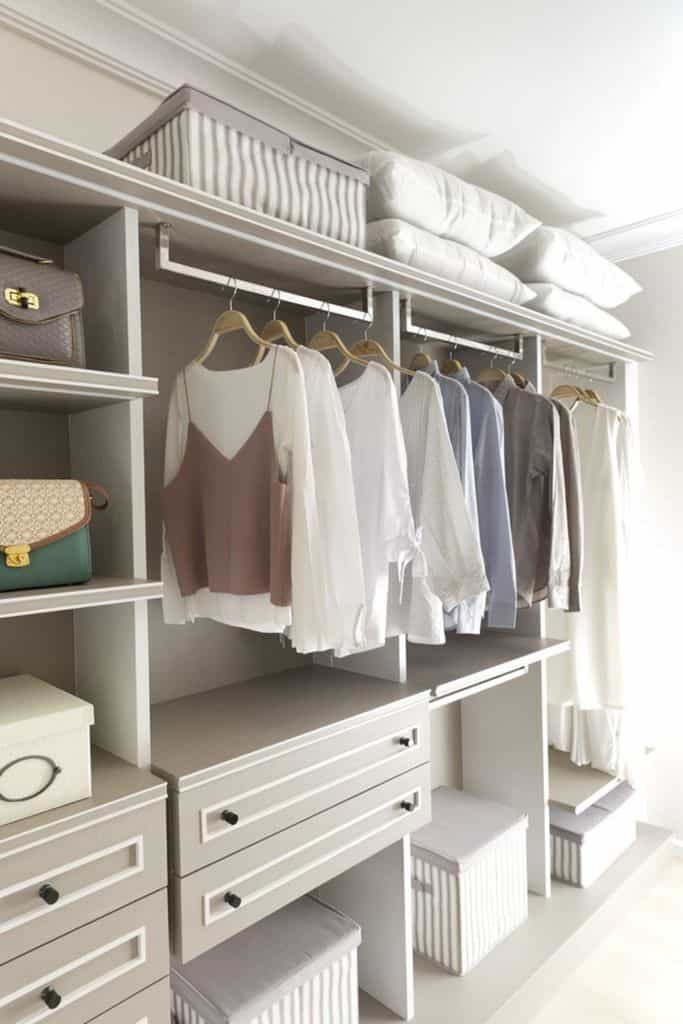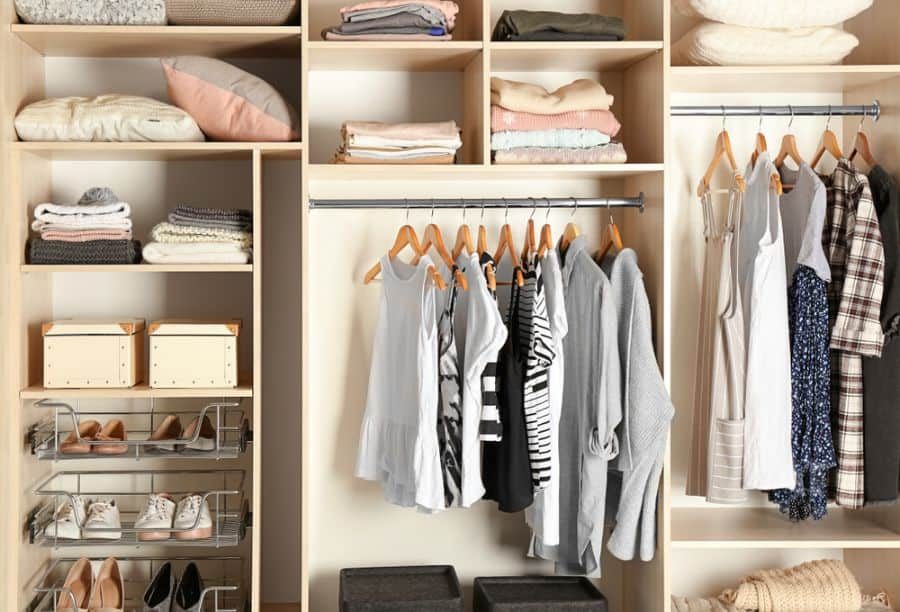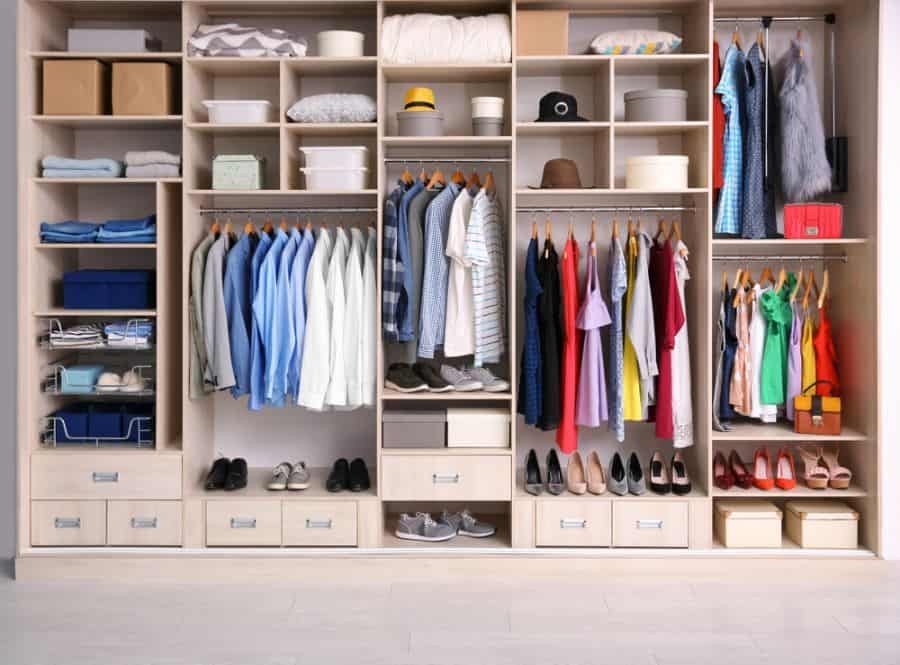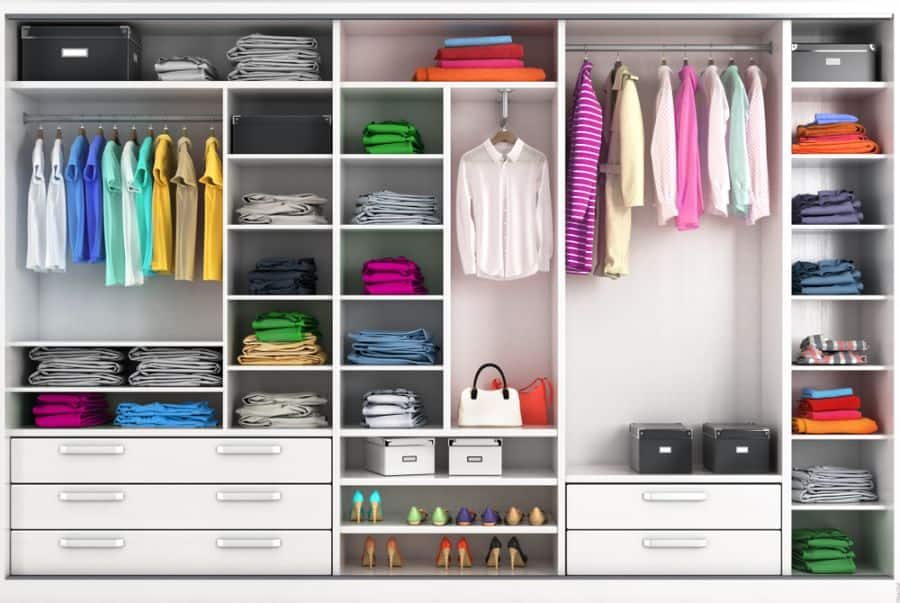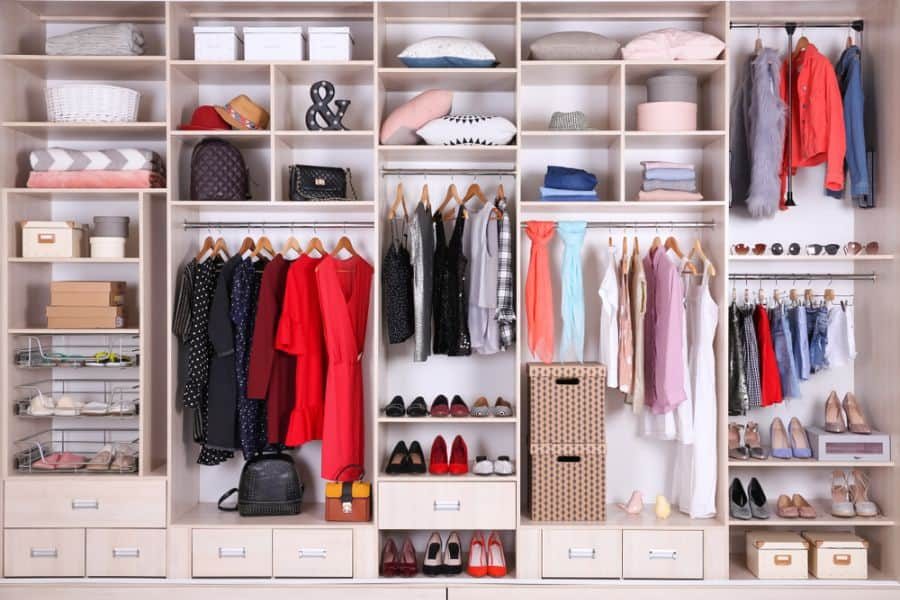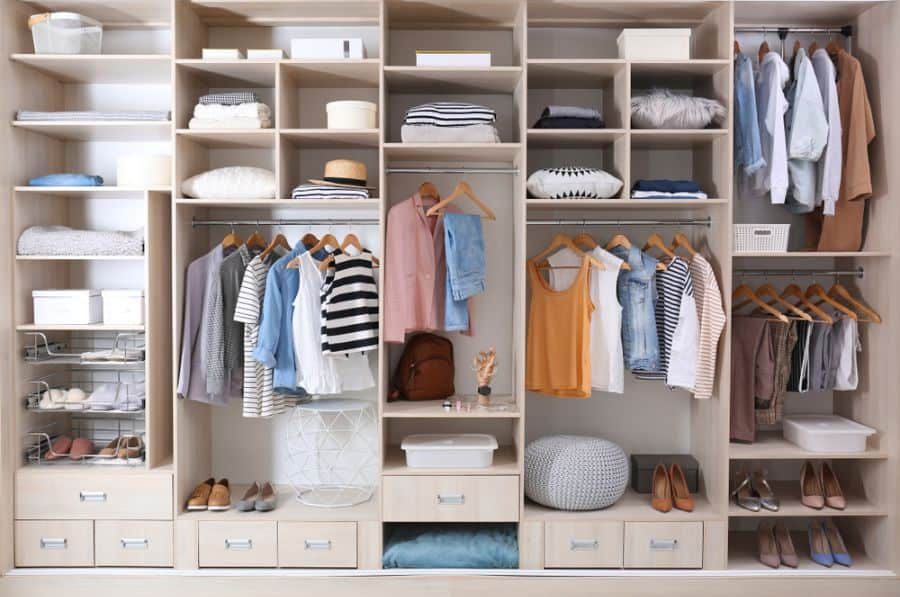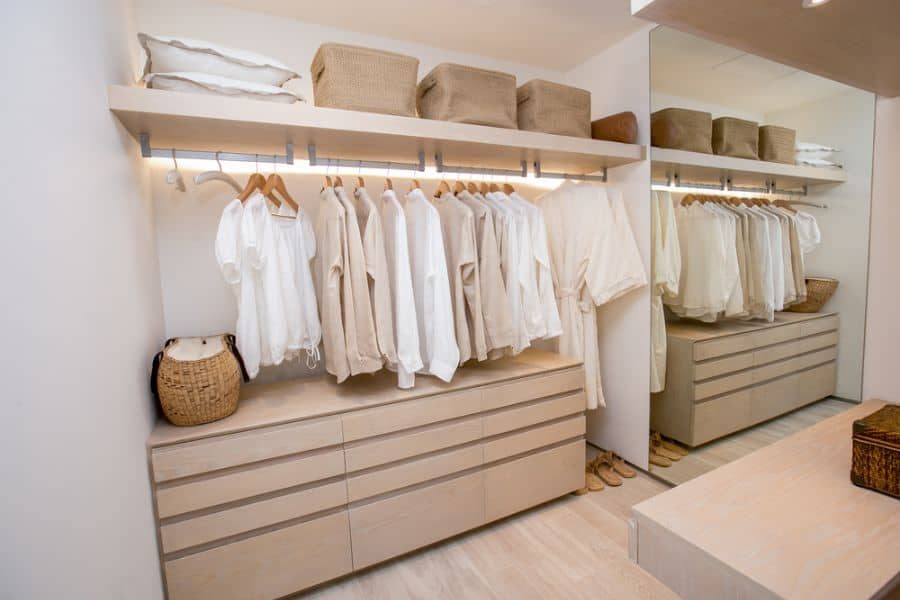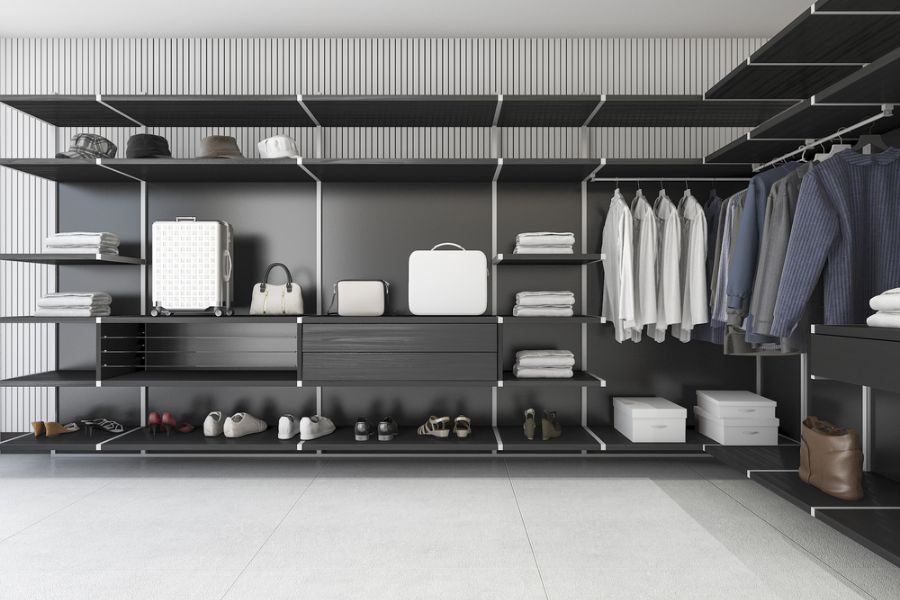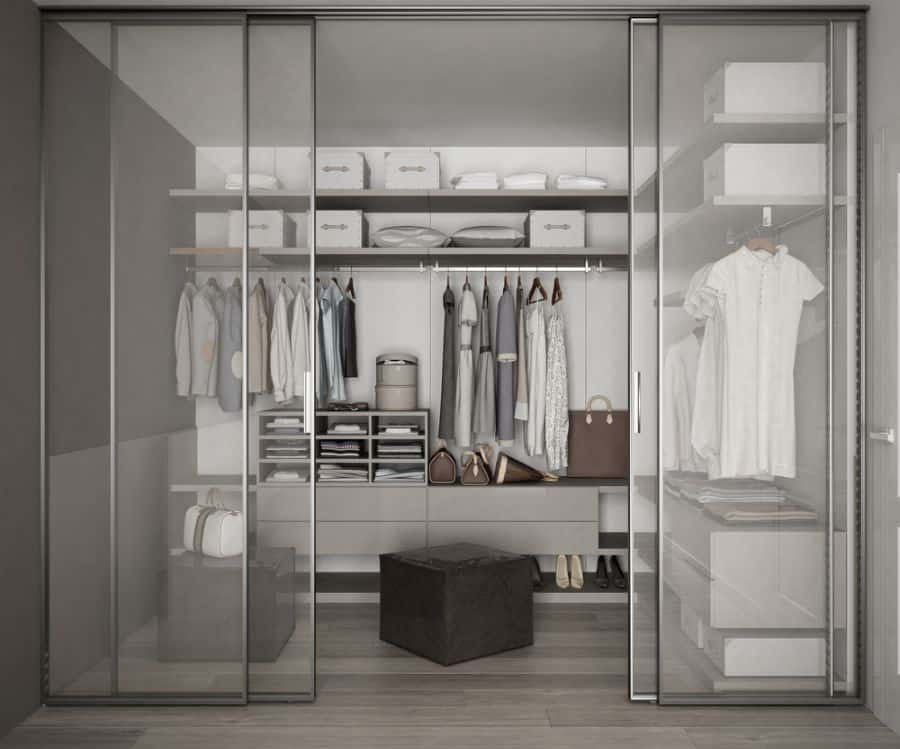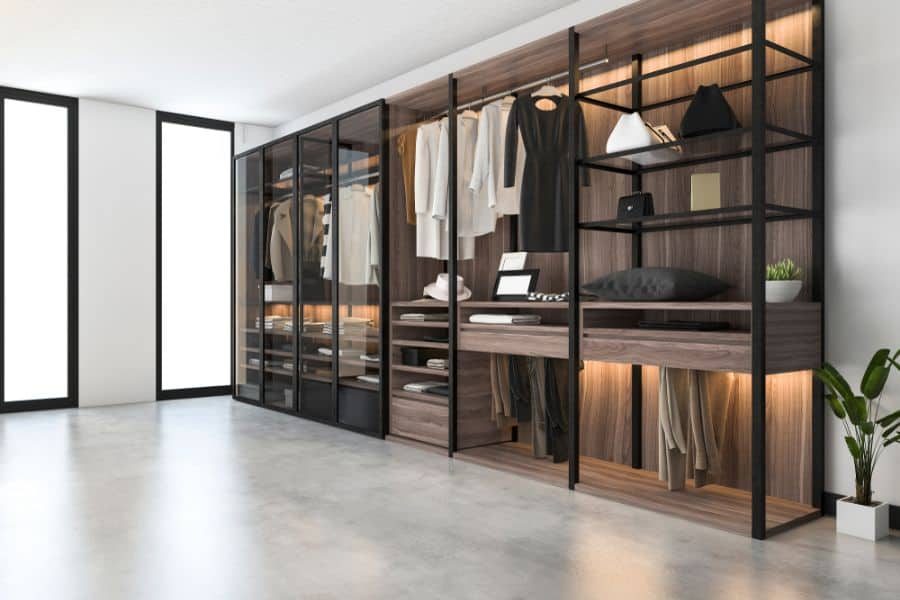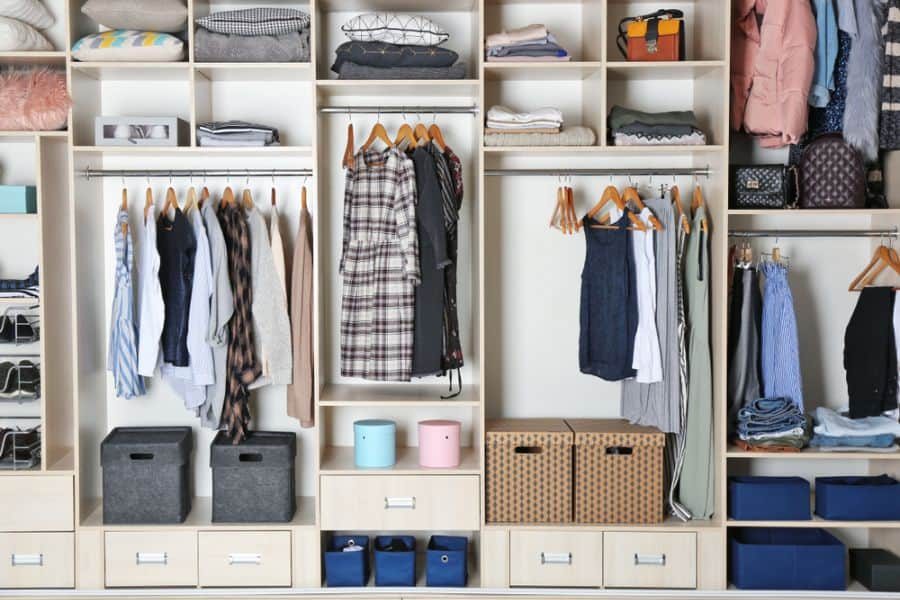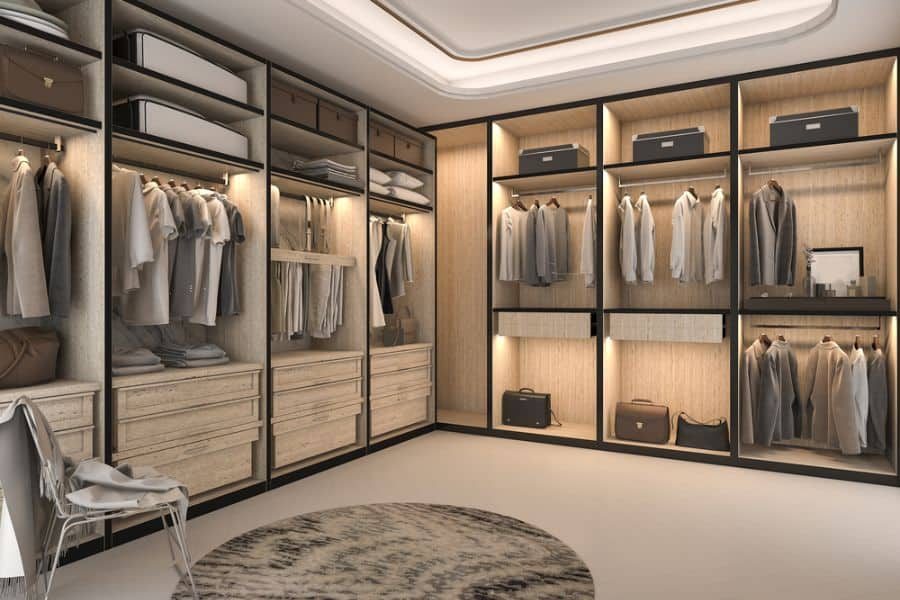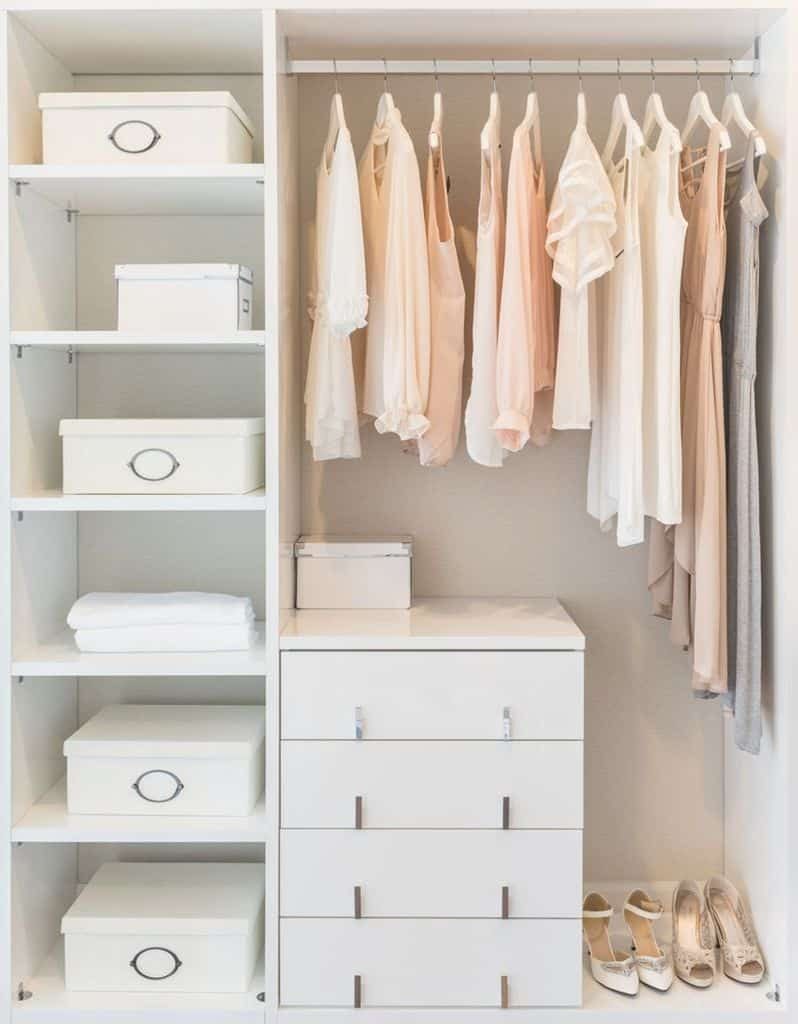 16. Luxurious Walk-In Closet Vanity
Blend function with luxury by incorporating a spacious storage area and a dedicated vanity into your walk-in closet. Imagine the convenience of sitting amidst organized clothes and accessories, effortlessly applying makeup or styling your hair in front of an elegantly framed mirror.
This vanity space becomes your personal haven, offering comfort and sophistication. The stool ensures a cozy seat, while the mirror enhances the area with natural light and glamour. Whether it's a daily outfit selection or preparing for special occasions, having a vanity in your walk-in closet delivers both chic style and practicality, elevating your fashion experience to the next level.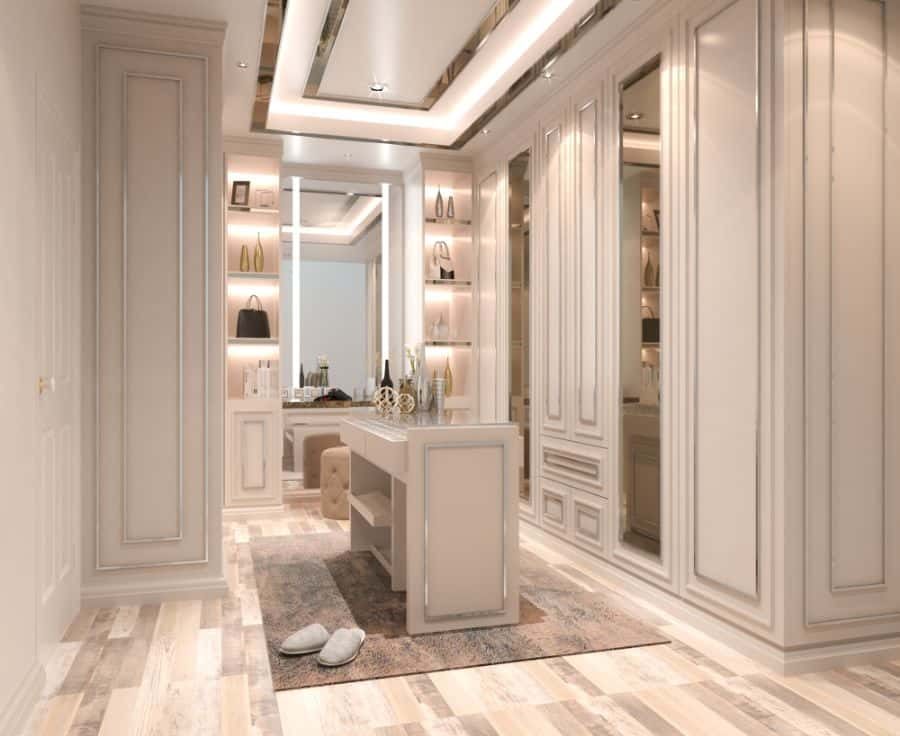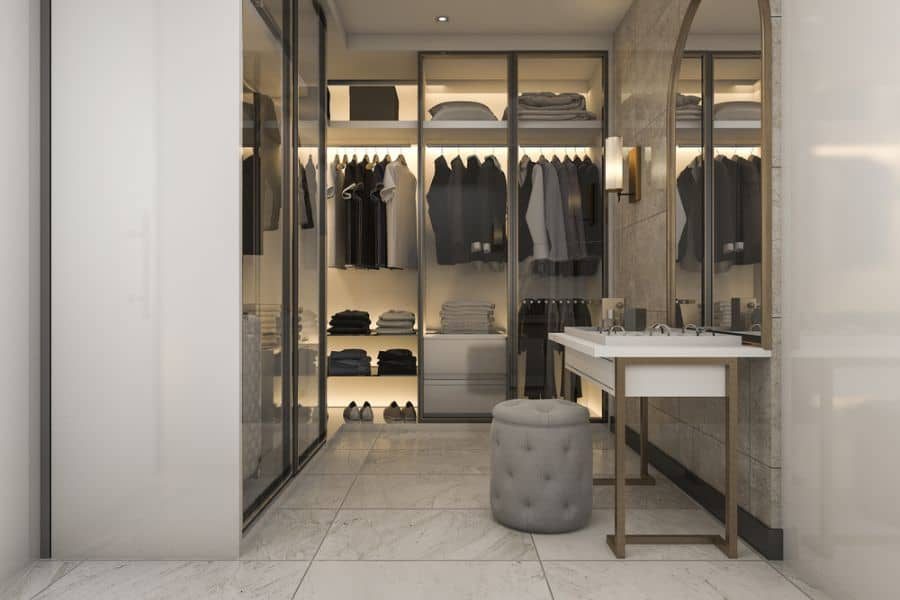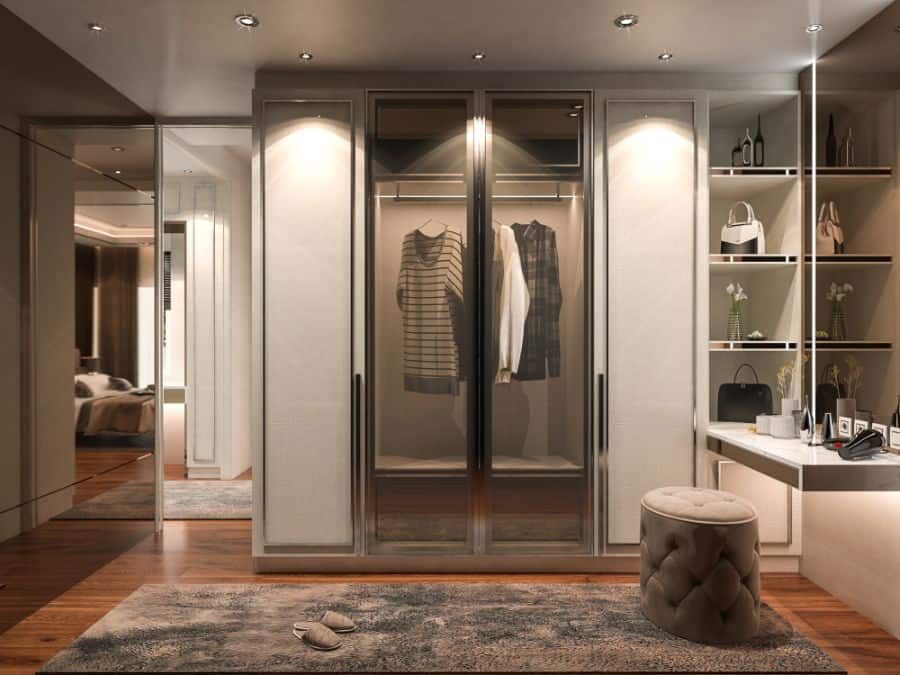 Closet Organization FAQs
How do I organize my small closet with a lot of clothes?
Start by sorting through your clothes and getting rid of anything you haven't worn in a year or two. Separate the remaining clothes into the ones that need hanging or folding. Create enough space for the hanging clothes. Then use the remaining space for baskets and shelves for the folded clothes.
How do you organize a small baby closet?
Sort the clothing by size and age. Use dividers to visually separate the clothing and make it easy to find something. Use one type of hanger for everything to make it look neater and take up less space. Use bins or shelves to store the small items that can't be hung.
Should you fold or hang jeans?
One method isn't better than the other. Blue jean material is durable and can withstand either folding or hanging without risking it losing its shape. Whether you fold or hang will depend on your organizational style and the storage space that you have available.