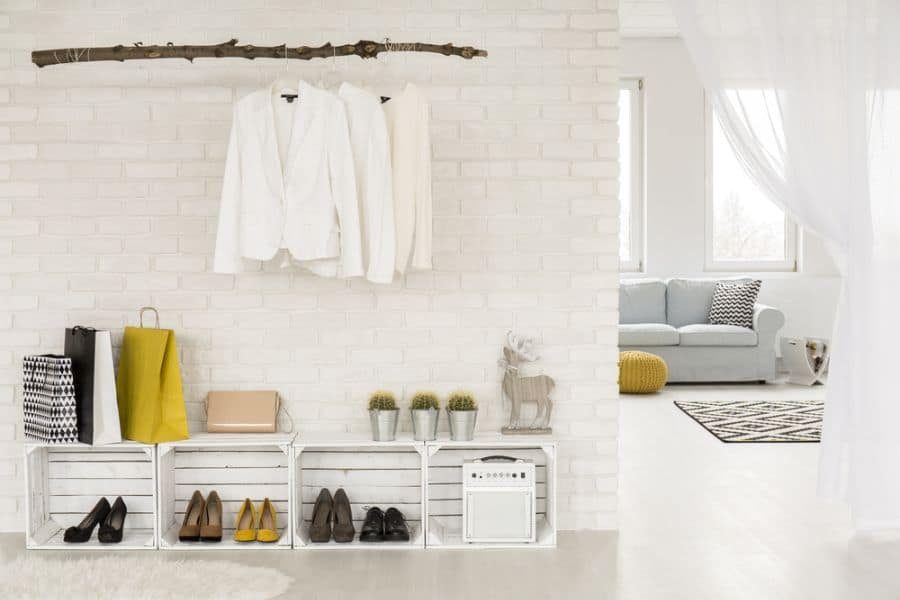 83 Best Closet Organization Ideas
"I like my money right where I can see it… hanging in my closet." – Sarah Jessica Parker
Do you shove things in your closet and then force the door closet to hide the mess? This is no way to live. Embrace a simpler life by tackling the closet clutter. When you have a messy closet, it makes getting ready more challenging and doesn't preserve your clothing or accessories in their top condition.
Closet organization ideas go beyond your bedroom closet, though. You can apply these storage solutions and organizational systems to all of the closets in your home. You'll realize that you have more extra space than you thought you had.
1. Drawer Inserts
Elevate your closet organization with the help of clever and stylish drawer inserts. These practical tools are designed to maximize space and keep your belongings neat and tidy. With dividers and small organizers, drawer inserts create designated compartments for various items, allowing you to easily find what you need and keep everything in its place.
Use them to sort and store socks, underwear, accessories, and other small items, ensuring that each item has its dedicated space. The benefits of using drawer inserts are numerous. They help prevent clutter, streamline your morning routine, and make it easier to maintain an organized closet. By keeping your items separated and organized, drawer inserts not only save you time but also add a touch of sophistication to your closet space.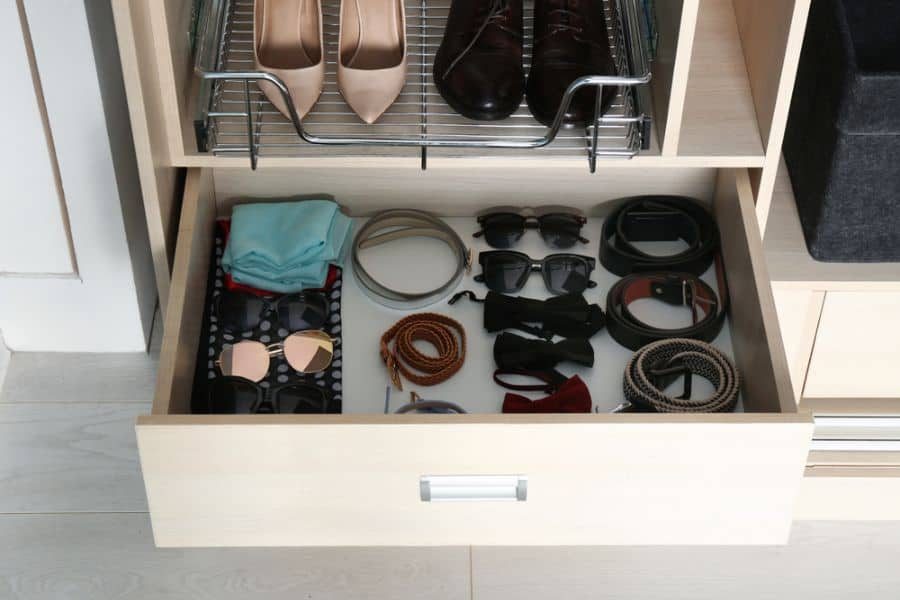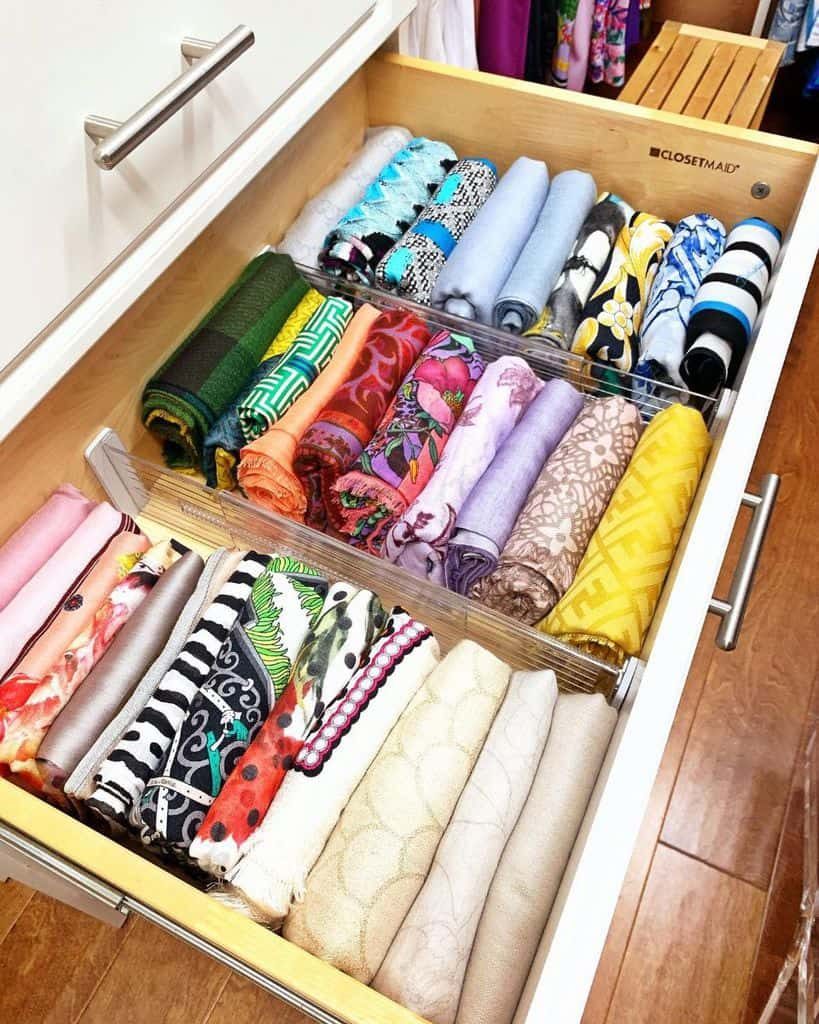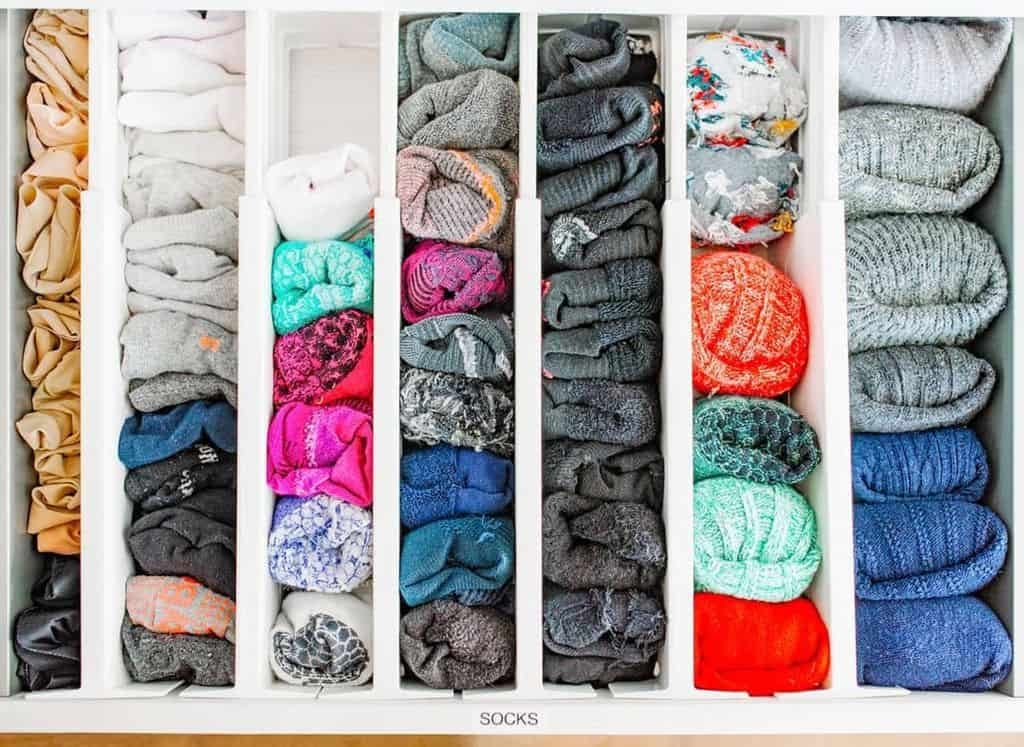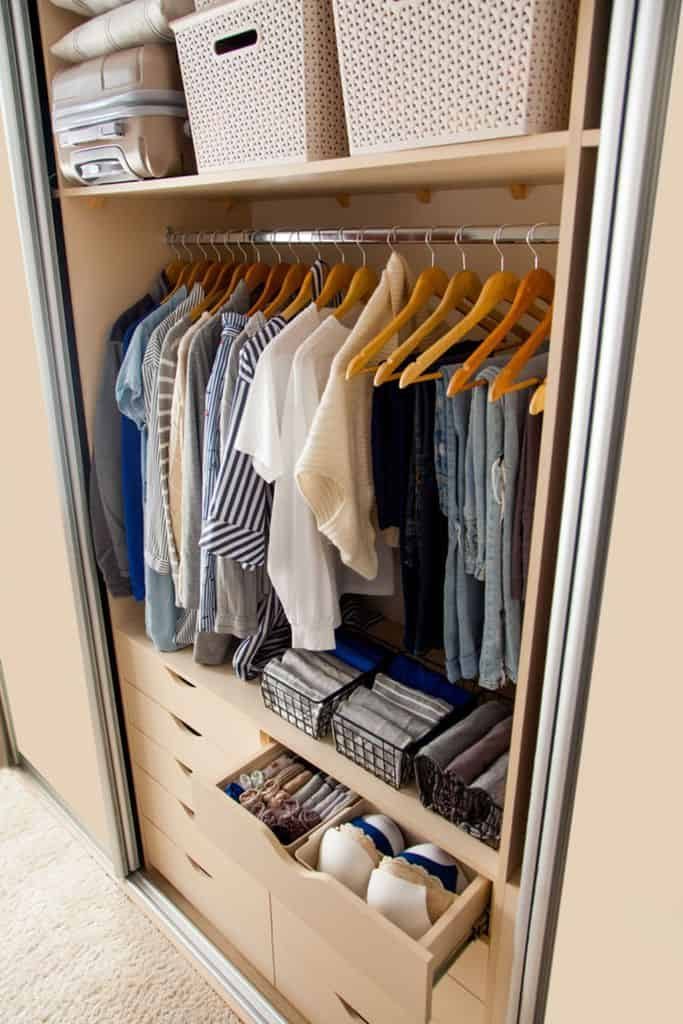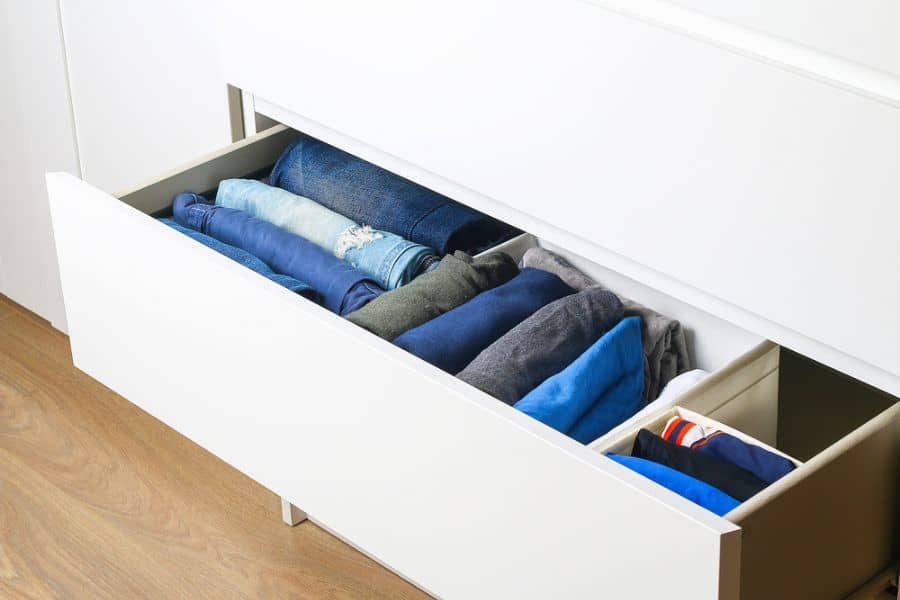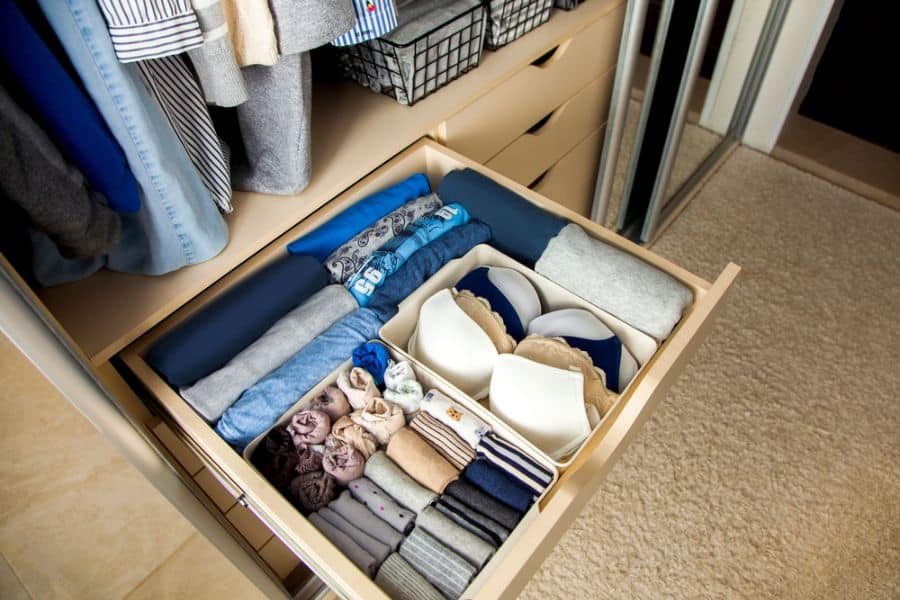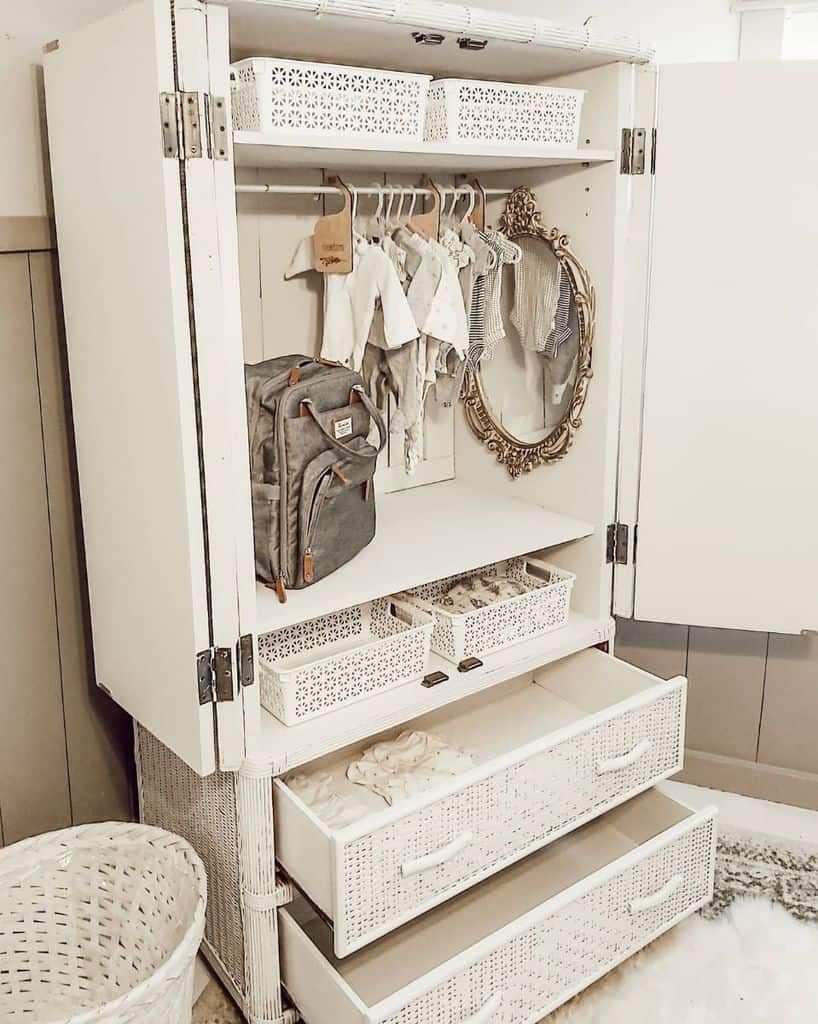 2. Modular Shelves
Revamp your closet into a stylish and functional space with the help of modular shelves. These versatile storage units are a game-changer when it comes to closet organization. The beauty of modular shelves lies in their adjustability, allowing you to customize the configuration to suit your specific needs.
Whether you have a collection of shoes, handbags, or folded clothes, these shelves can be arranged and rearranged effortlessly to accommodate items of various sizes. They offer endless possibilities for organization, ensuring that every item has its designated place. With modular shelves, you can maximize vertical space, making the most out of your closet's capacity.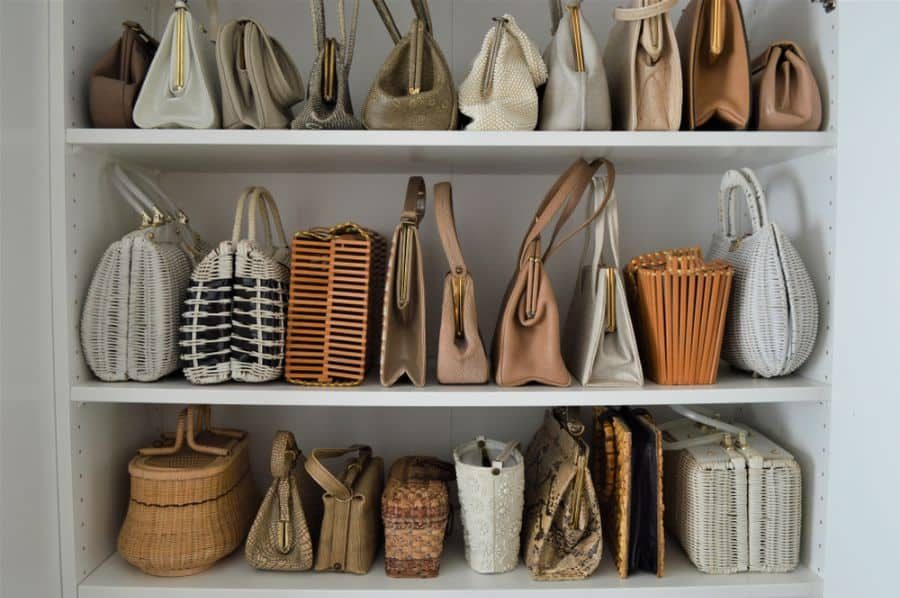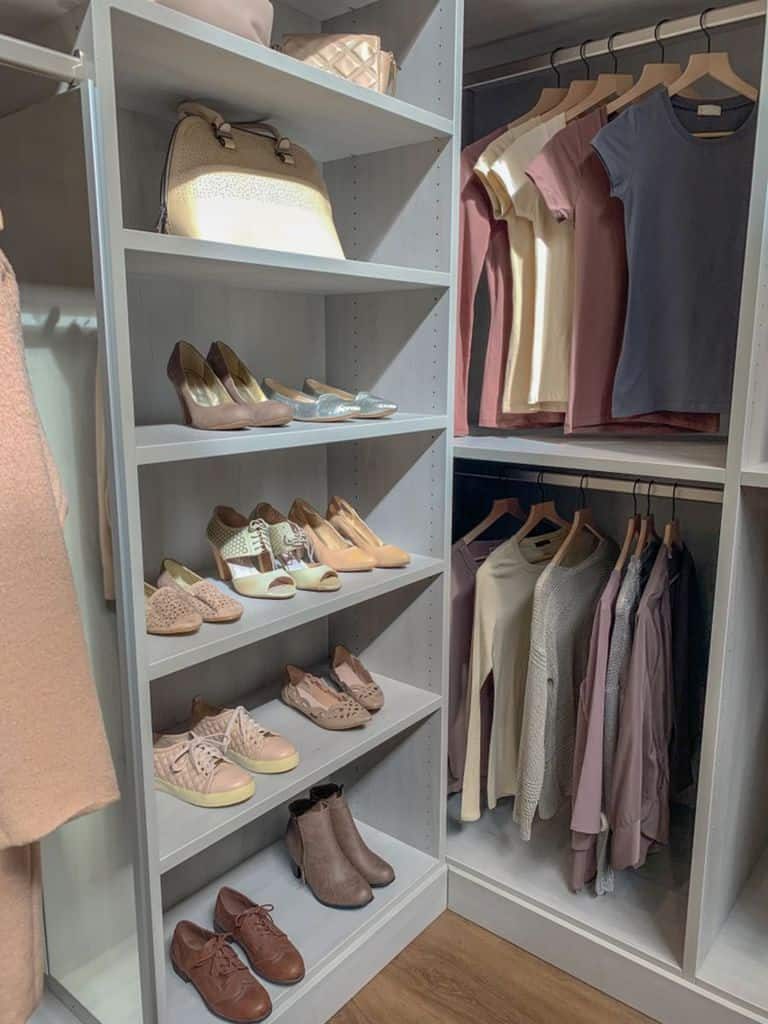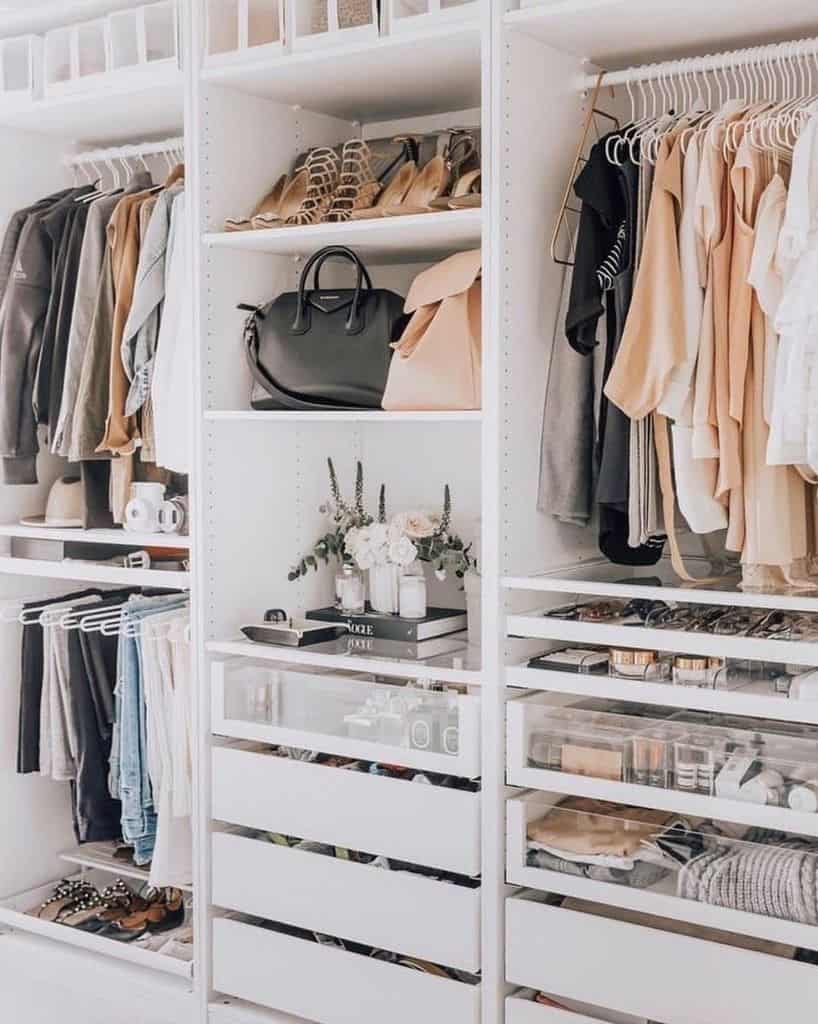 3. Over-the-Door Storage
Hang an over-the-door shoe organizer to keep your footwear neatly arranged and easily accessible. Use small pockets to store accessories like scarves, belts, and jewelry, ensuring they're within reach whenever you need them.
The benefits of over-the-door storage are endless: it helps declutter your closet, saves valuable floor space, and keeps your belongings visible and well-organized. Plus, the variety of colors and patterns available in over-the-door storage options allows you to add a pop of personality to your closet while keeping it functional and chic.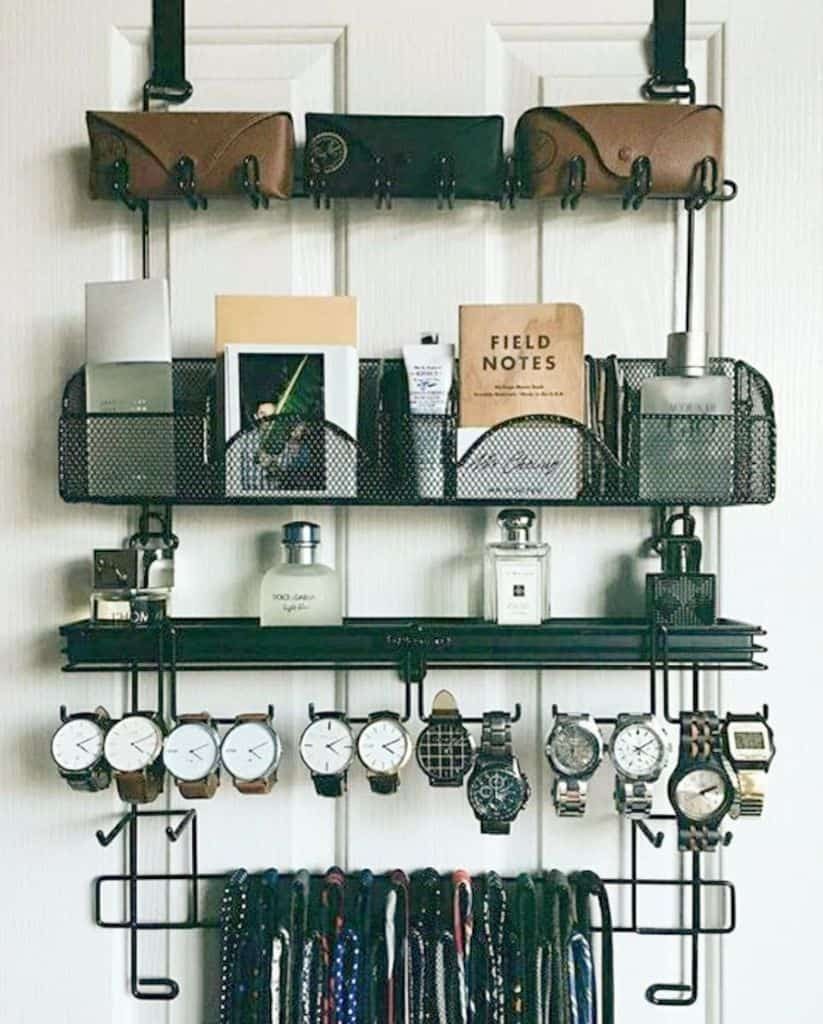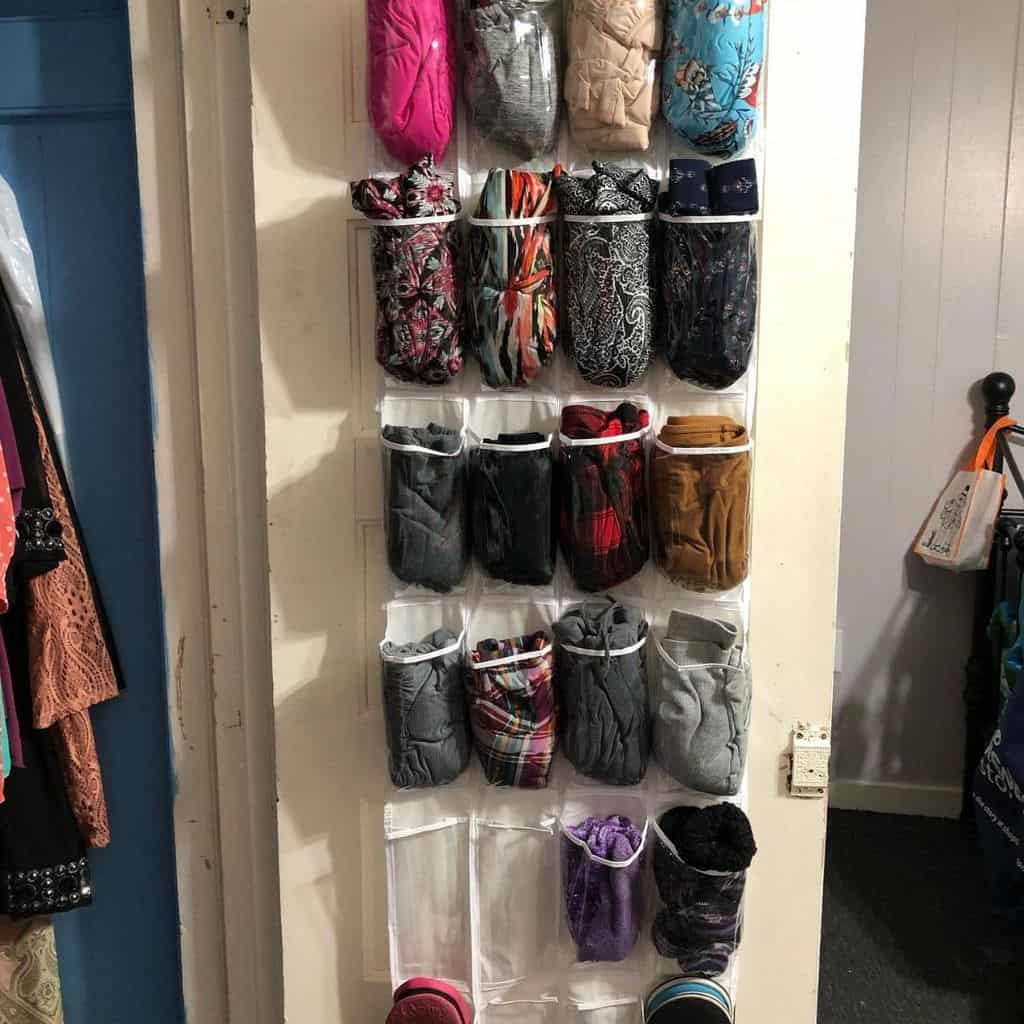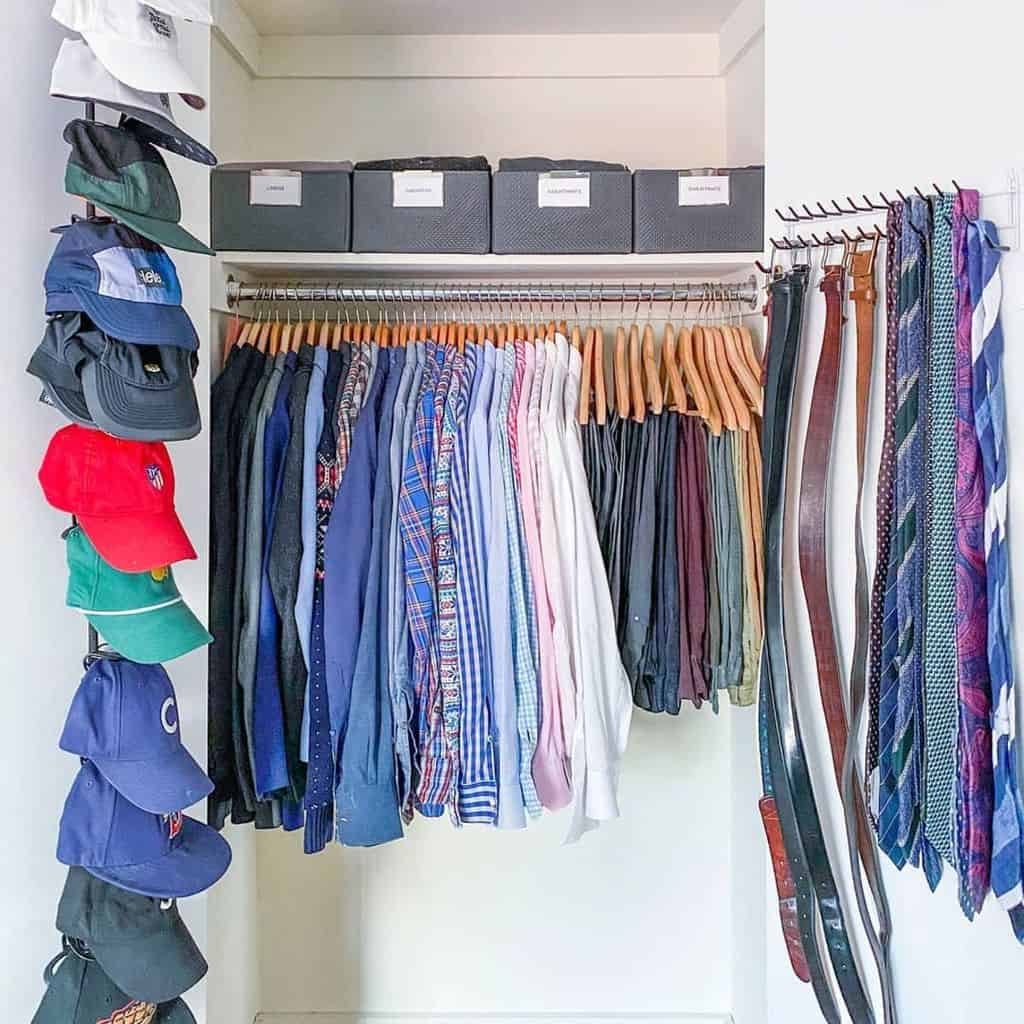 4. Repurposed Crate Shelf
Embrace the rustic charm of wooden pallets and create a functional storage solution that adds character to your space. By repurposing crates and transforming them into shelves, you not only maximize your storage potential but also give a new life to materials that would have otherwise been discarded.
The benefits of this approach extend beyond the aesthetic appeal. The sturdy construction of wooden crates ensures durability, allowing you to store your belongings with ease and confidence. Plus, the open design of the crate shelves makes it effortless to access and organize your items, making your daily routine a breeze.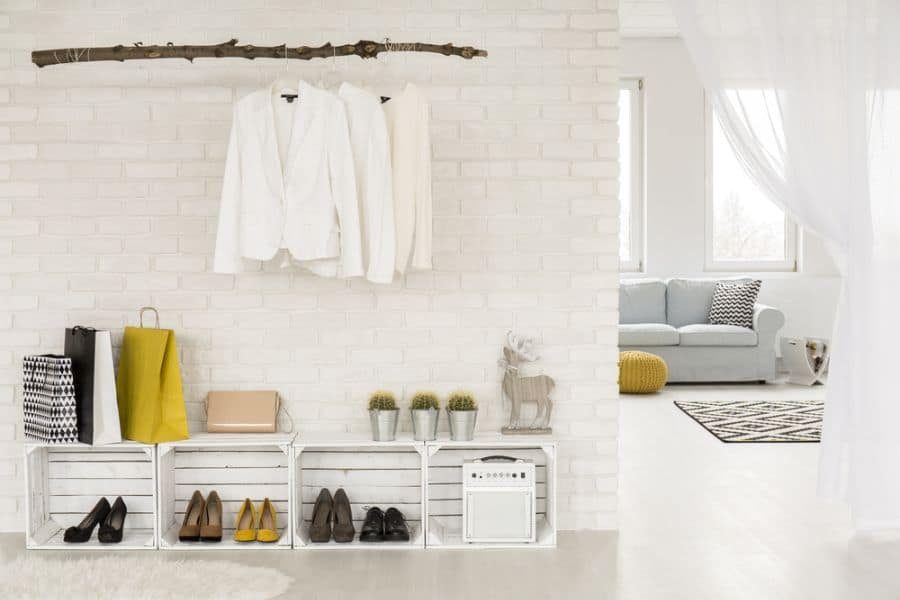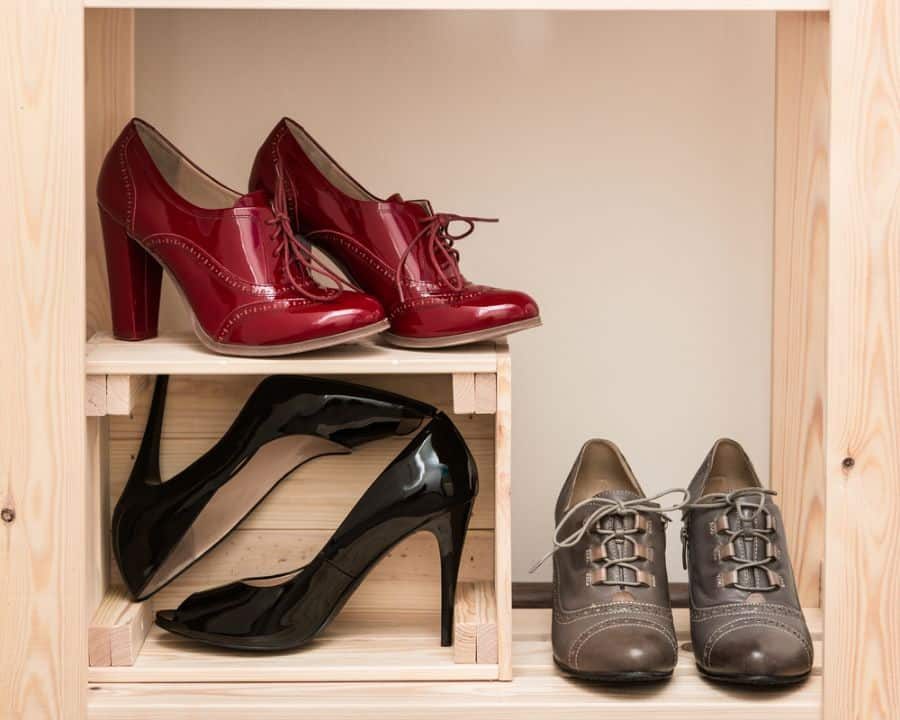 5. Two-Tiered Closet
This innovative solution maximizes vertical space, providing you with ample room to store and showcase your wardrobe essentials. The upper tier offers a perfect spot for storing out-of-season clothes or less frequently used items, while the lower tier keeps your everyday favorites within easy reach.
With designated sections and compartments, you can separate clothing by category, making it effortless to locate specific items. Not only does the two-tiered closet optimize storage capacity, but it also streamlines your morning routine, ensuring that everything has its designated place.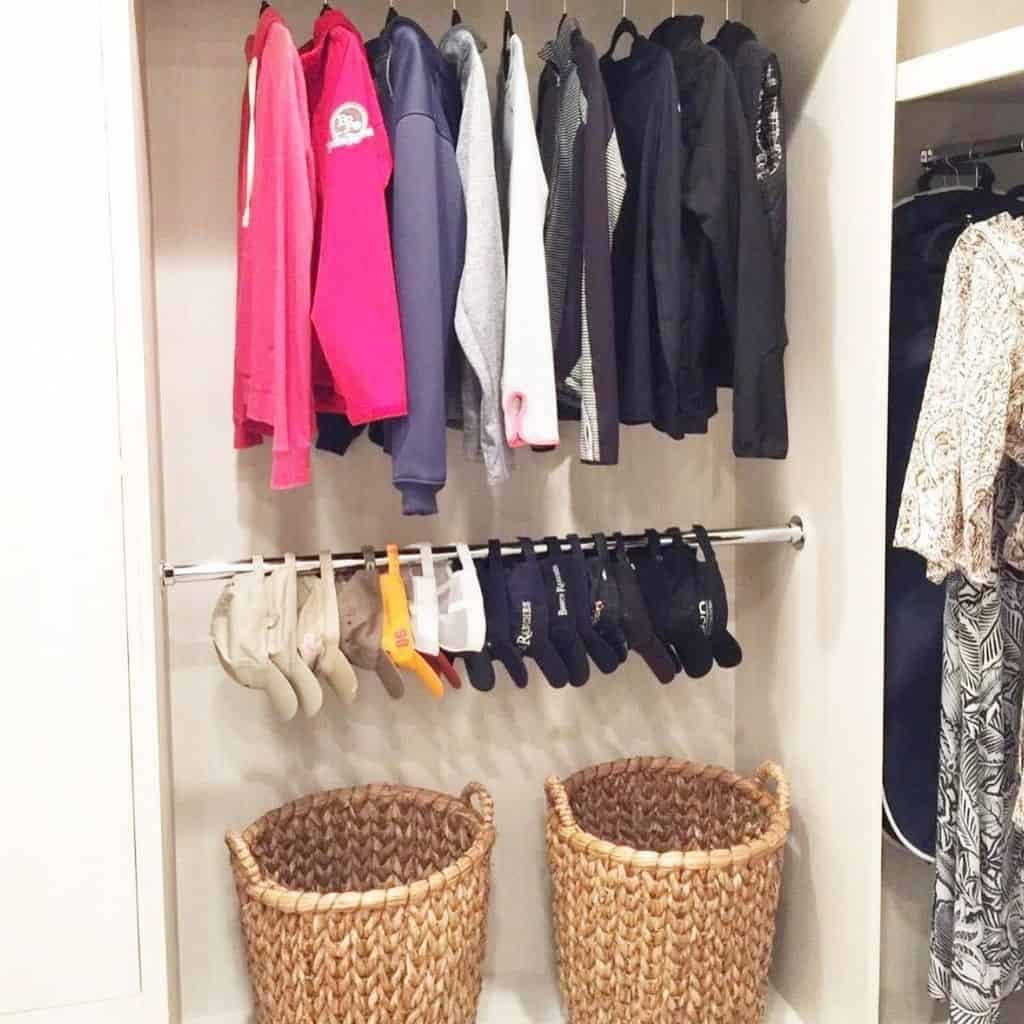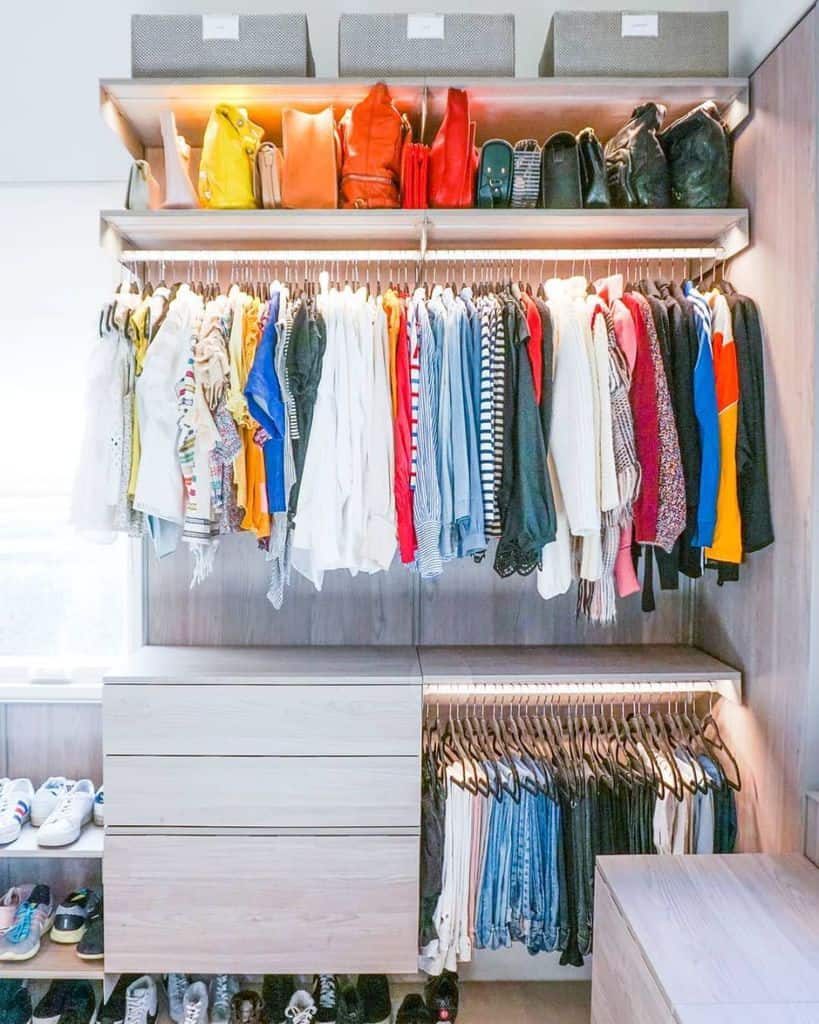 6. Collapsible Fabric Closet Organizer
Revamp your closet with chic and functional organization ideas that will transform the way you store your clothes. Consider incorporating collapsible fabric organizers, a versatile solution that maximizes space while adding a touch of style to your closet. These organizers are perfect for arranging and categorizing your clothes, making it easy to find what you need.
They come in various sizes and compartments, allowing you to store everything from shirts and pants to accessories and shoes. The collapsible feature ensures that you can easily fold them up and store them away when not in use, saving valuable space in your closet.
With these fabric organizers, you can say goodbye to clutter and hello to a well-organized and visually appealing closet. Your clothes will be neatly arranged and easily accessible, making getting ready in the morning a breeze.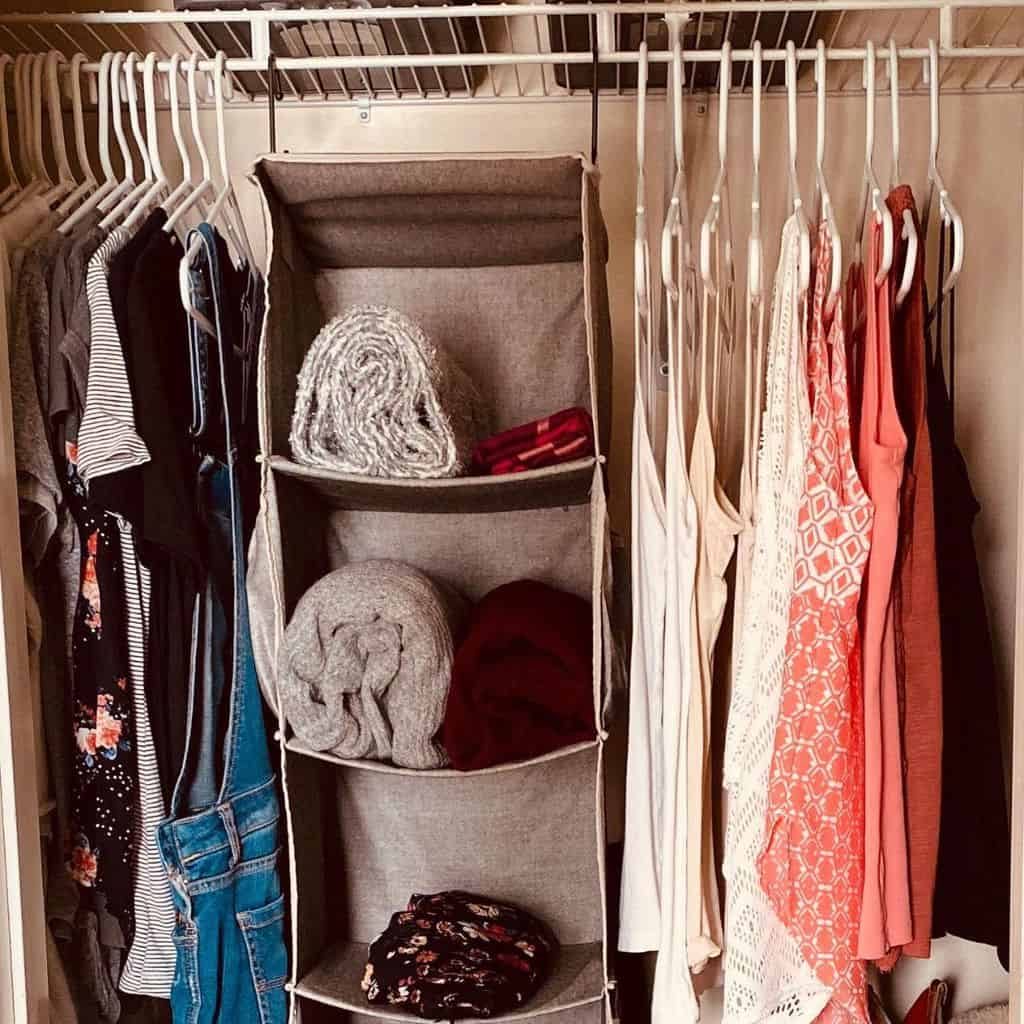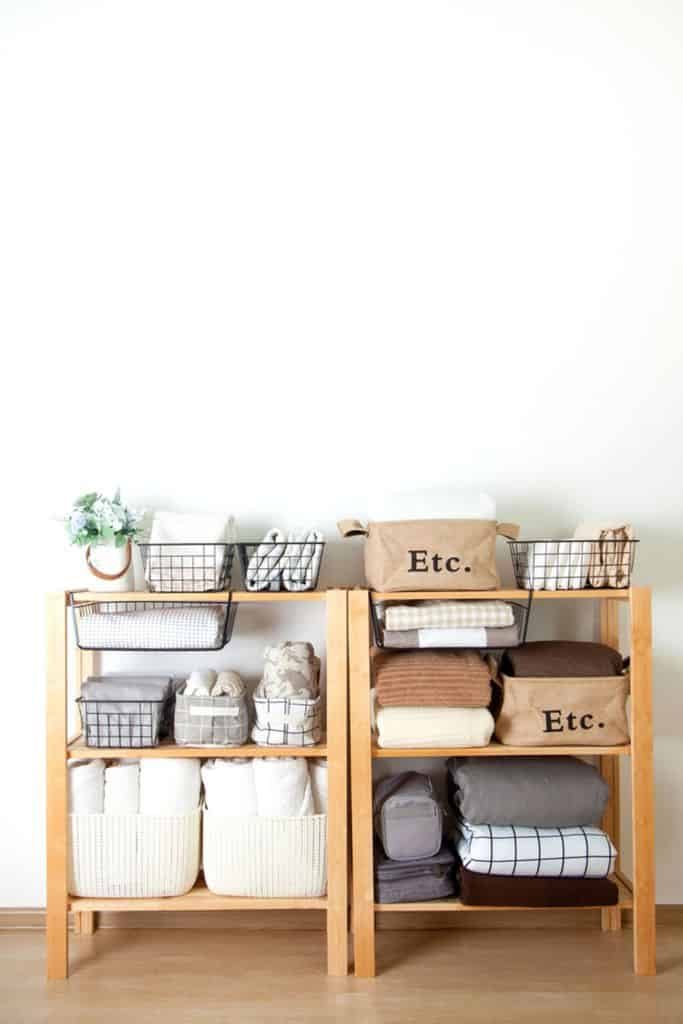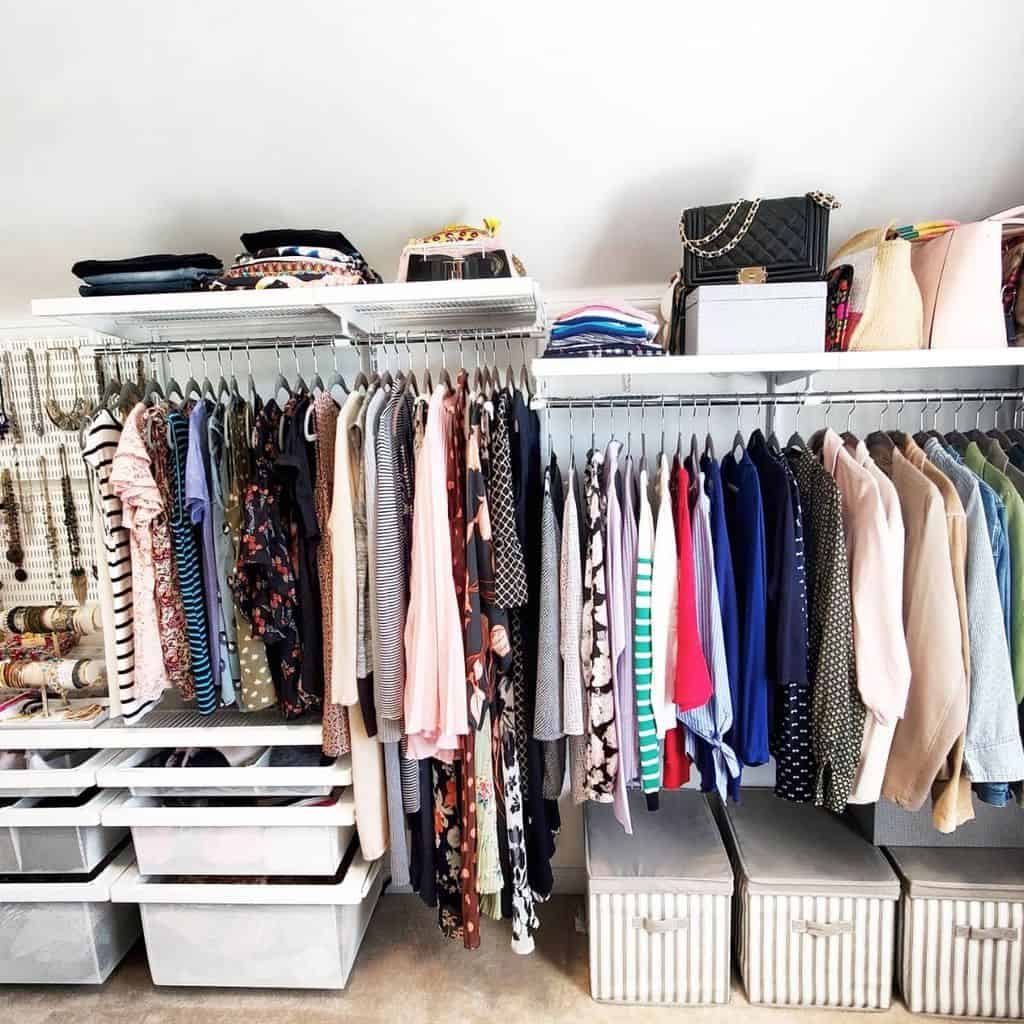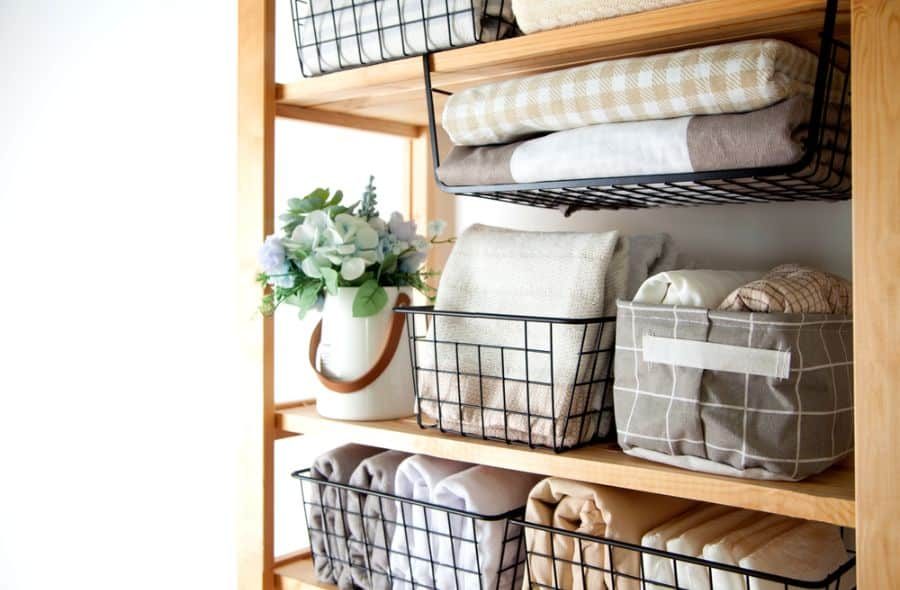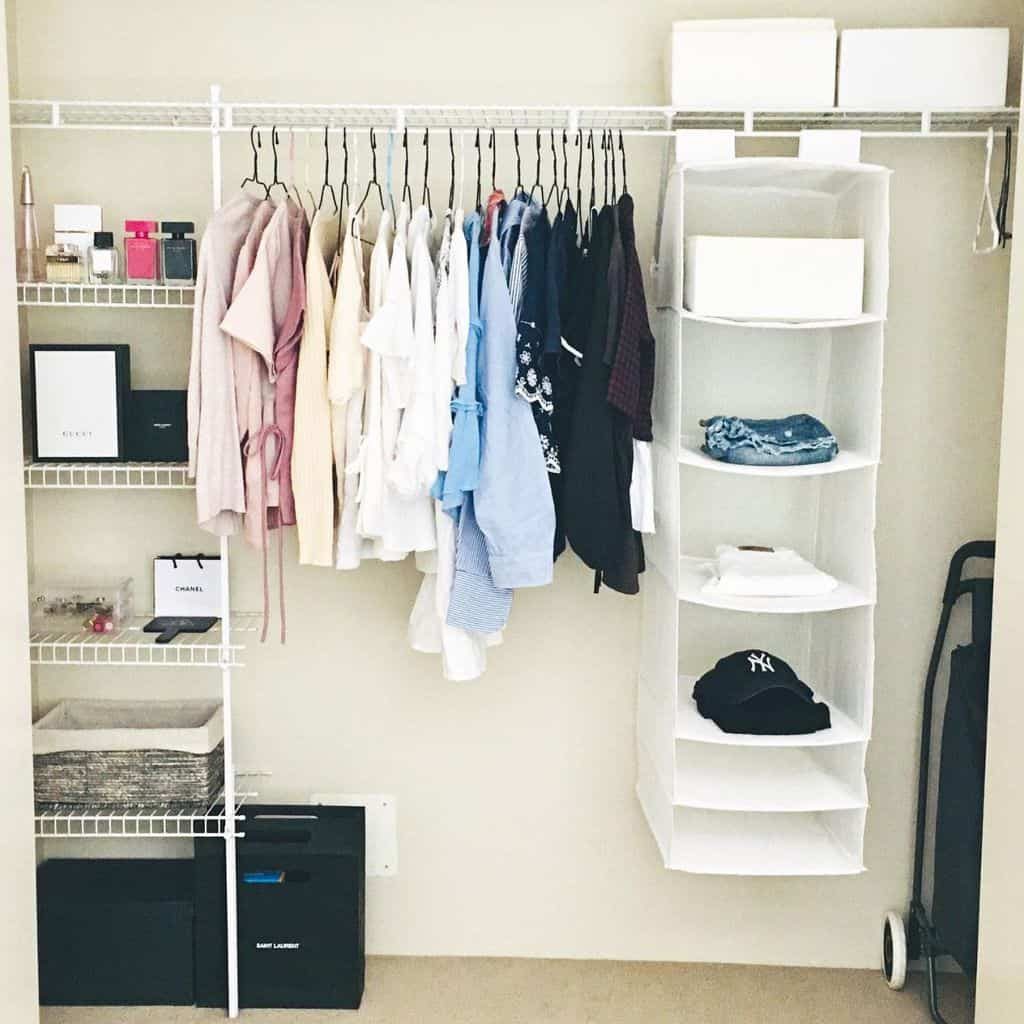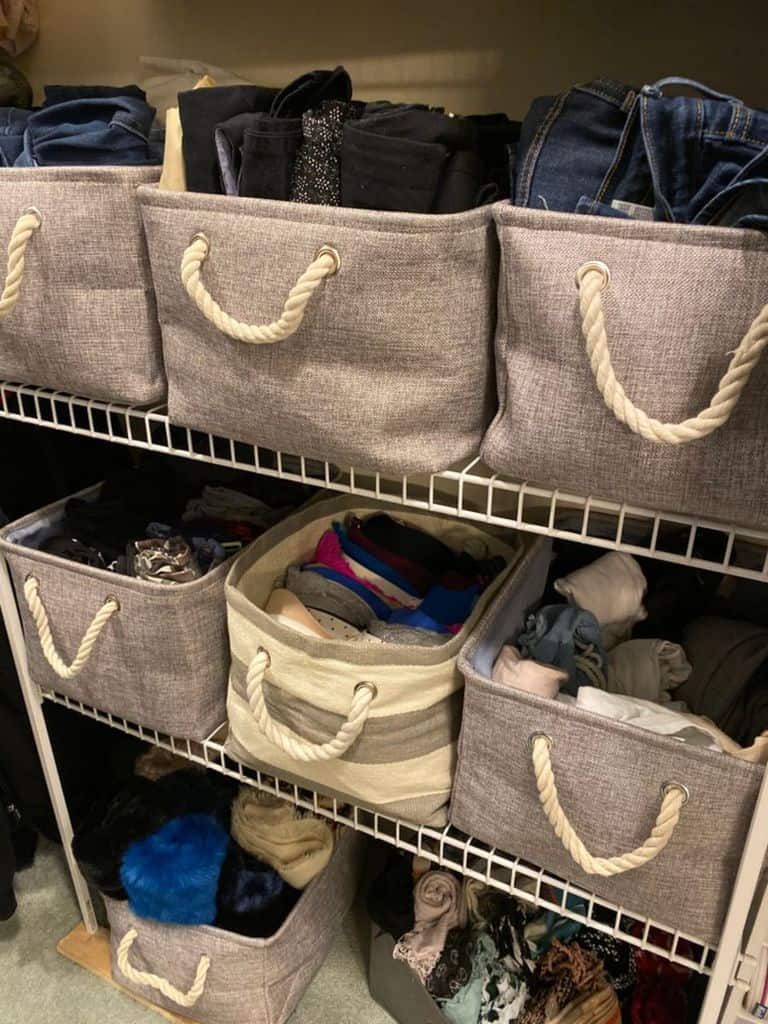 7. Closet Basket Organizers
These chic storage solutions are not only functional but also add a touch of charm to your space. Opt for woven baskets in various sizes and shapes to accommodate different items and maximize your storage potential. From clothing accessories to shoes and handbags, these basket organizers provide a neat and tidy way to keep your belongings in order.
They are particularly great for open shelving, adding texture and visual interest while keeping your items easily accessible. To make the most of your basket organizers, label them with tags or use color-coded baskets for different categories, making it easier to find what you need at a glance.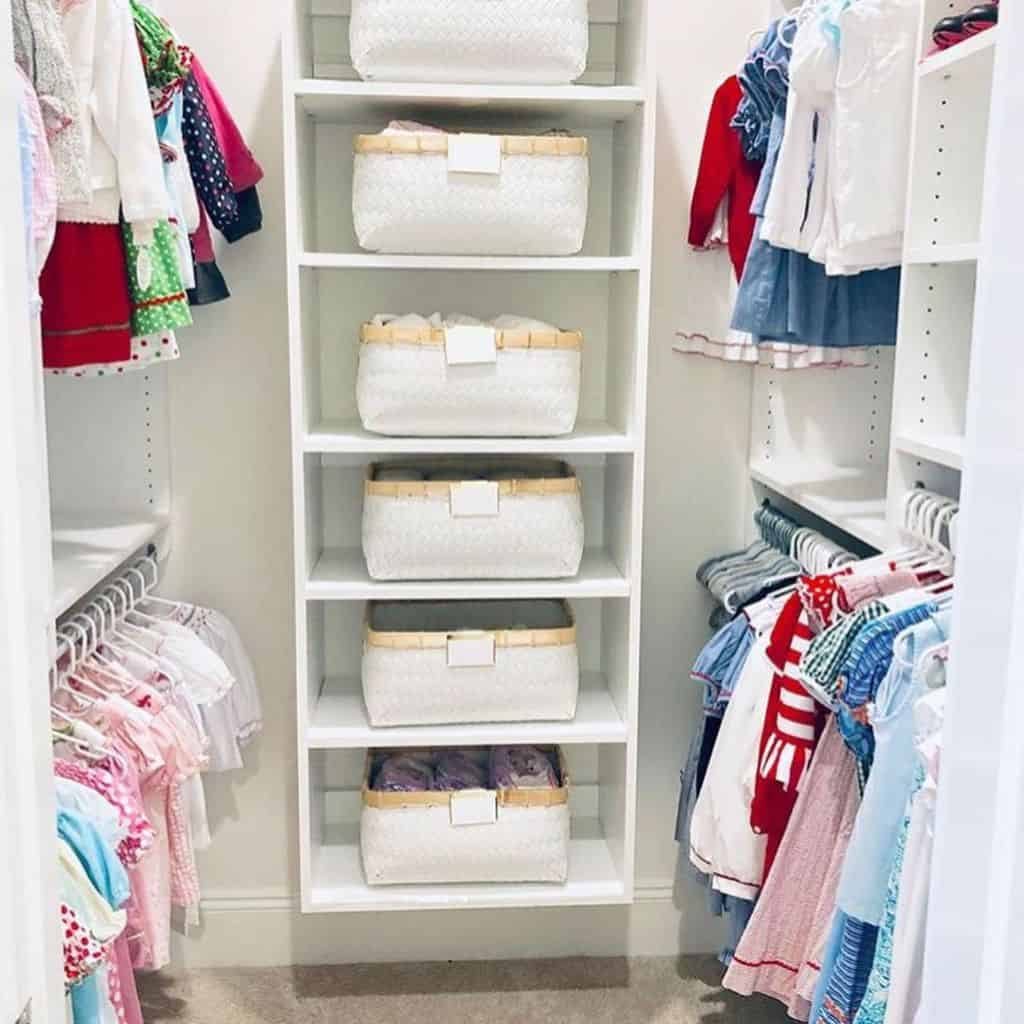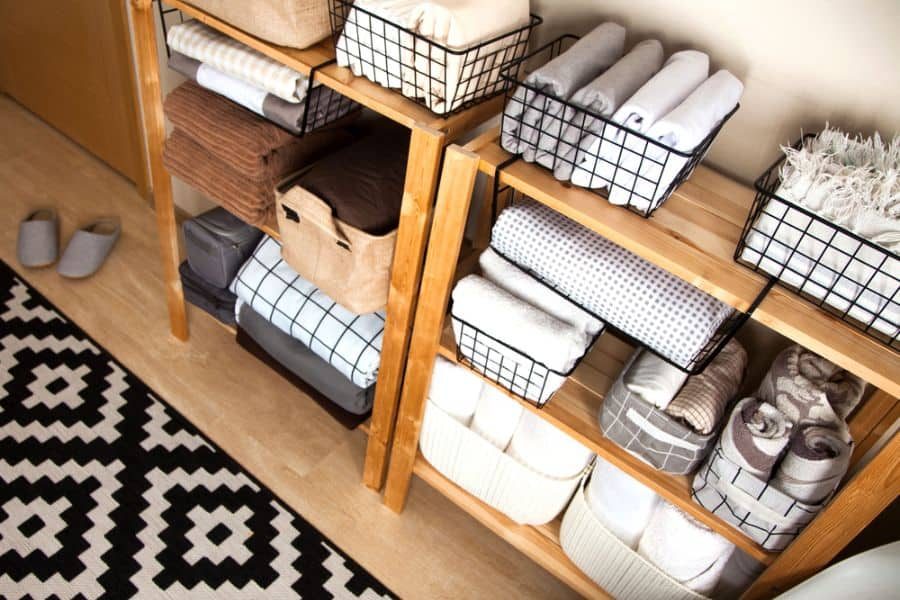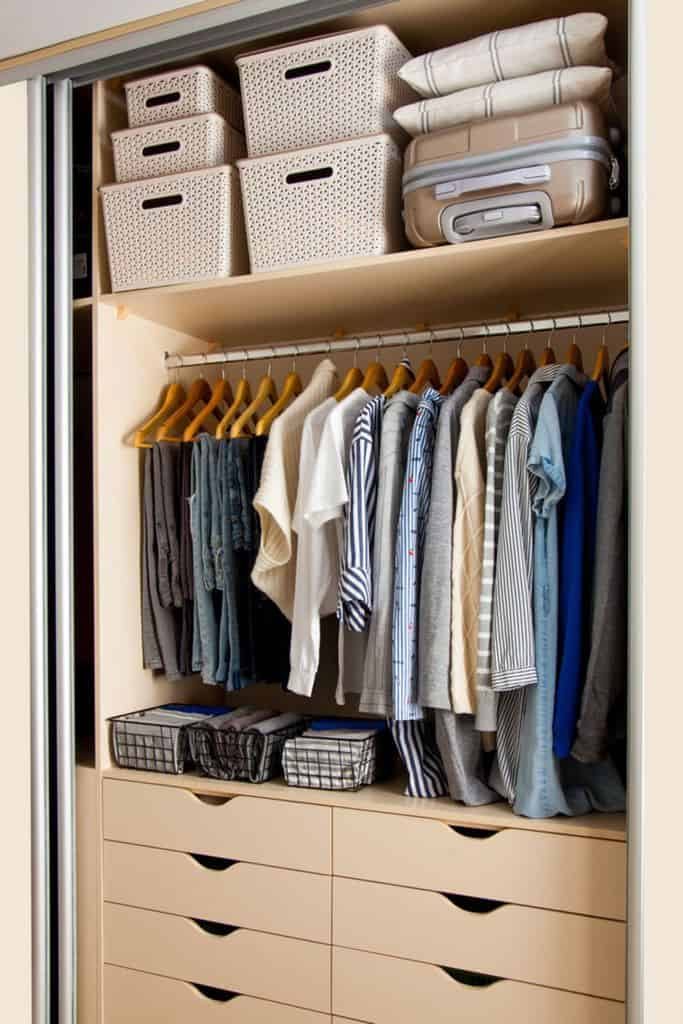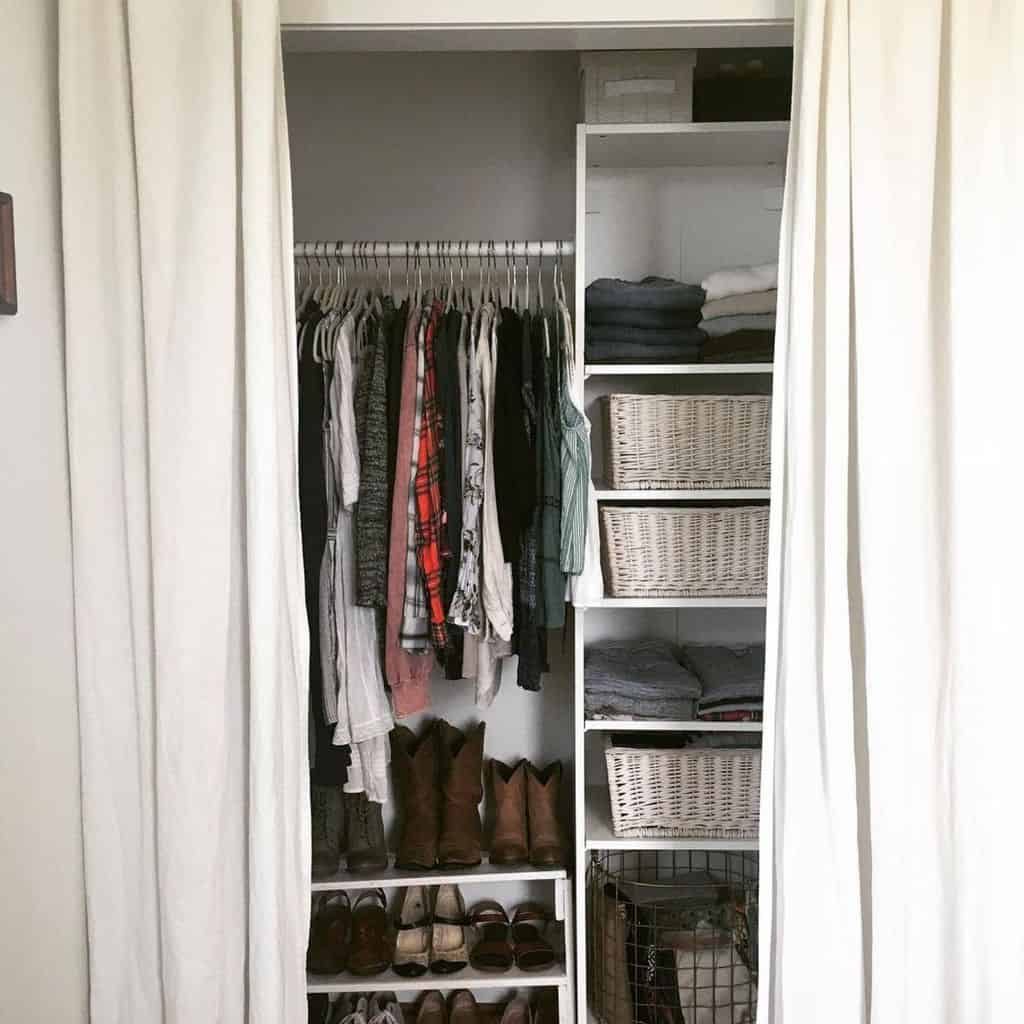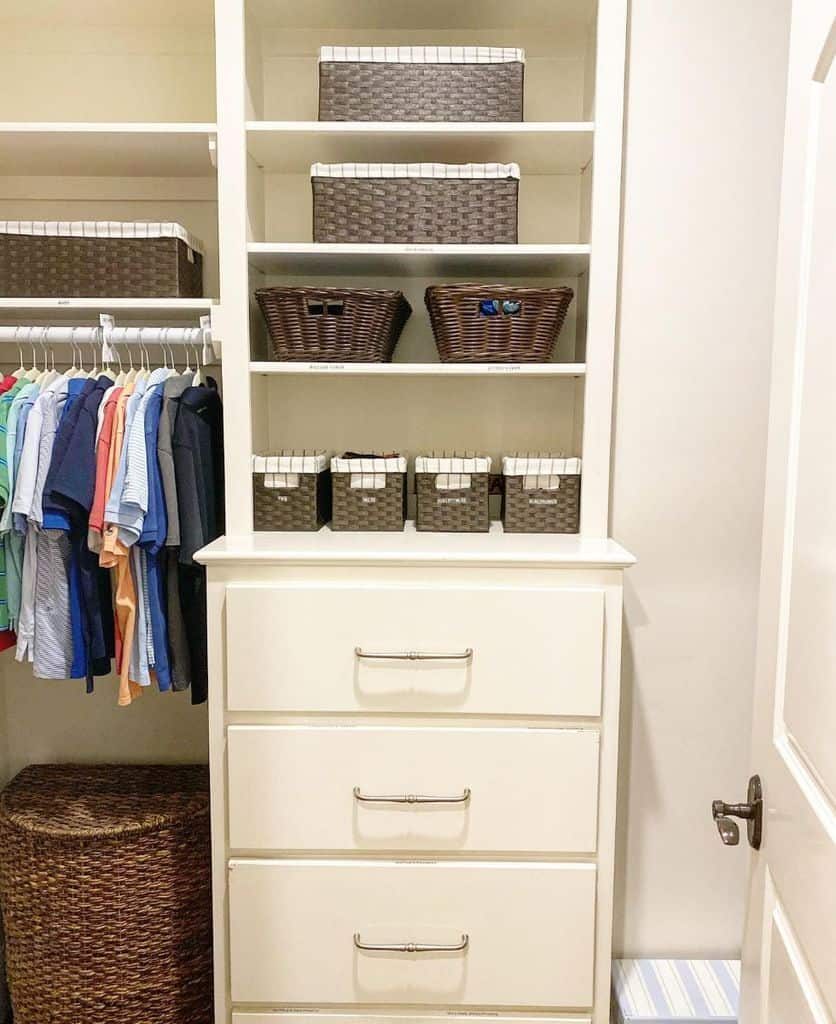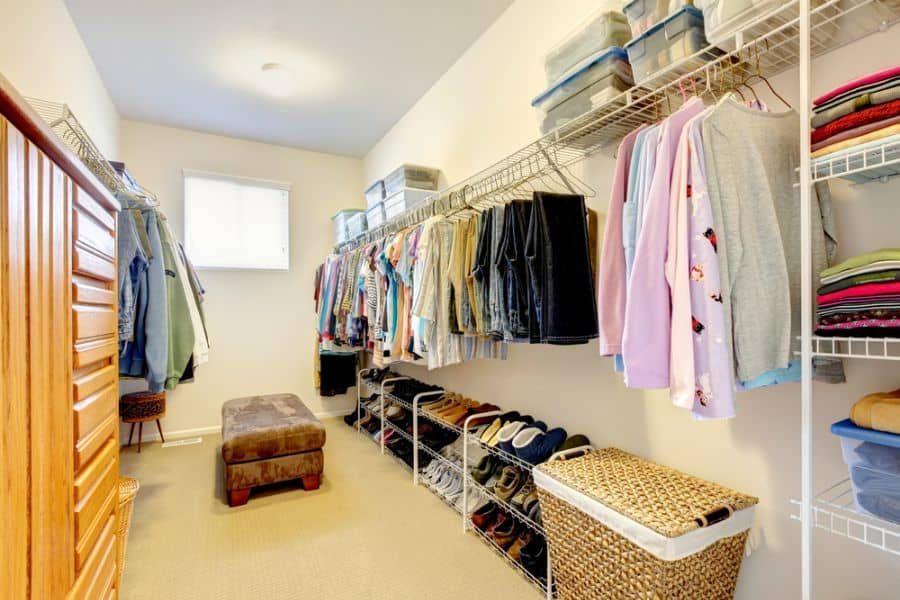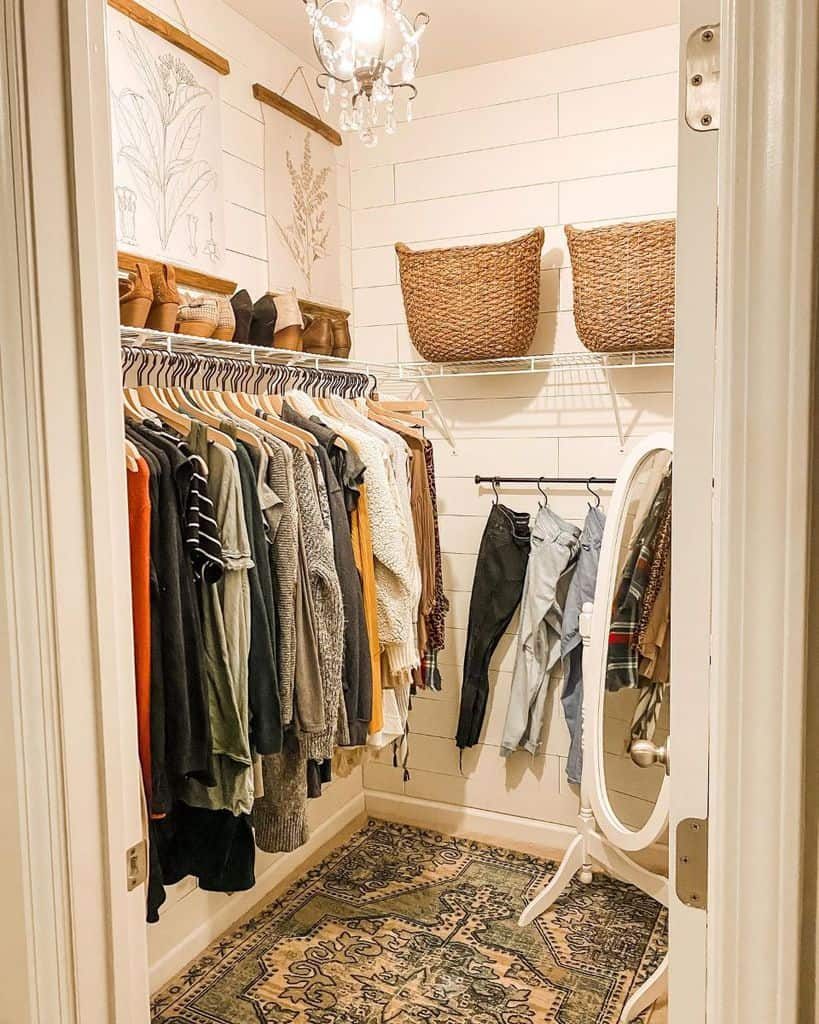 8. Closet Peg Board
Transform your closet into a stylish and functional space with the clever use of a closet pegboard. This innovative idea allows you to maximize storage and keep small items organized with ease. Simply install a pegboard on one of the walls of your closet and customize it with hooks, baskets, and shelves. Use it to hang jewelry, belts, scarves, and other accessories, keeping them neatly displayed and easily accessible.
Additionally, you can attach small containers or jars to store items like makeup brushes, hair accessories, or even stationery. To enhance the aesthetic appeal, consider painting the pegboard in a color that complements your closet's overall design. With a closet pegboard, you'll have a chic and functional solution to keep your small items organized and within reach.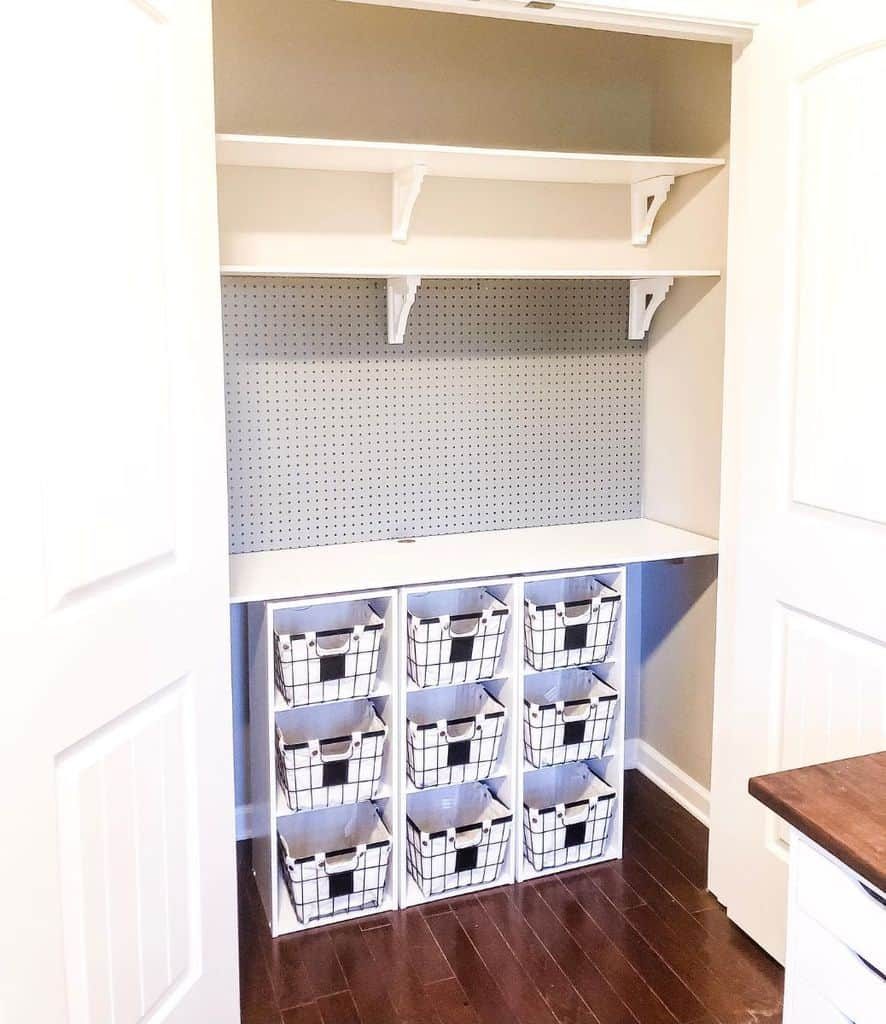 9. Walk-In Closet Floating Shelves
These sleek and minimalist shelves provide the perfect solution for maximizing storage space while maintaining a chic and contemporary aesthetic. Install them in your walk-in closet to create a clean and streamlined look. Use the floating shelves to display your favorite shoes, handbags, or accessories, turning them into stylish decor elements.
To make the most of your floating shelves, consider grouping similar items together and using baskets or bins to keep smaller items organized. Don't forget to label each shelf to easily locate your belongings. By implementing floating closet shelves, you can create a functional and visually appealing storage system that not only optimizes your closet space but also adds a touch of modern elegance to your daily routine.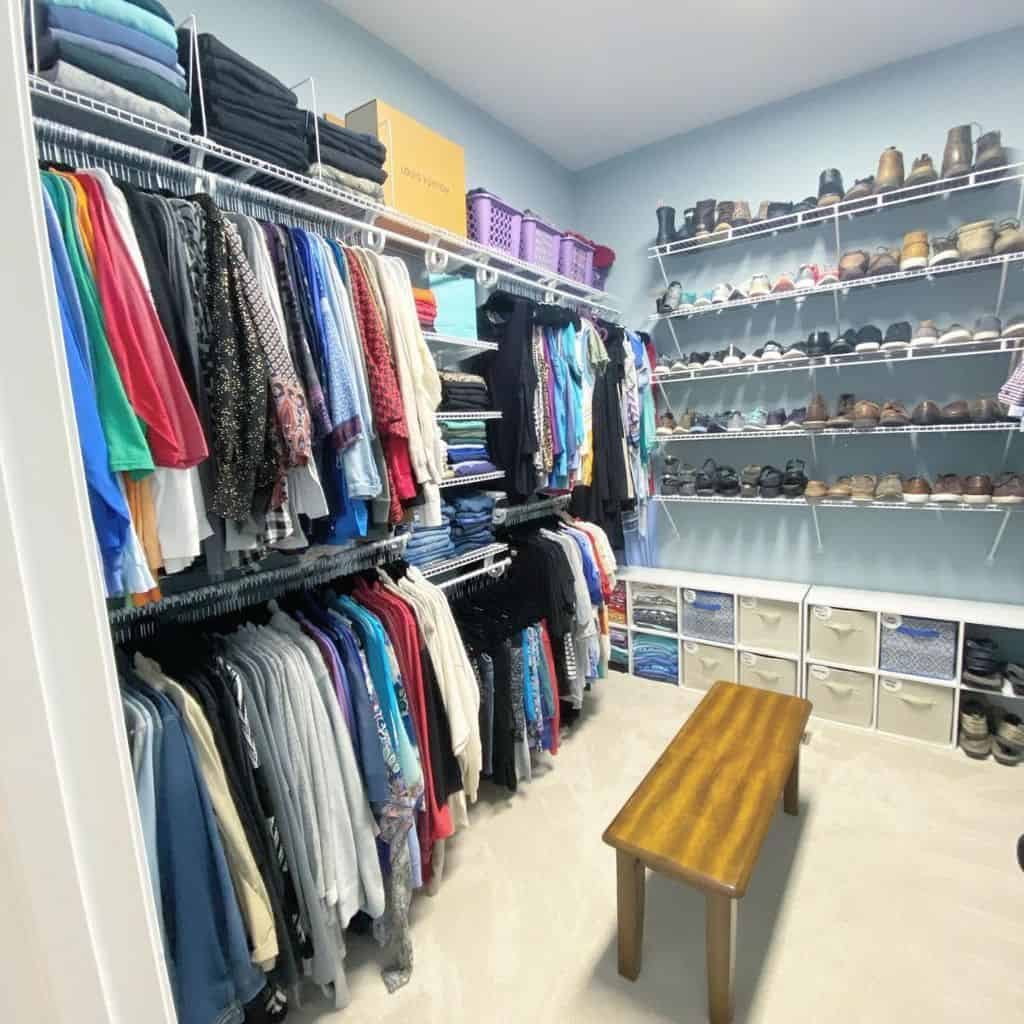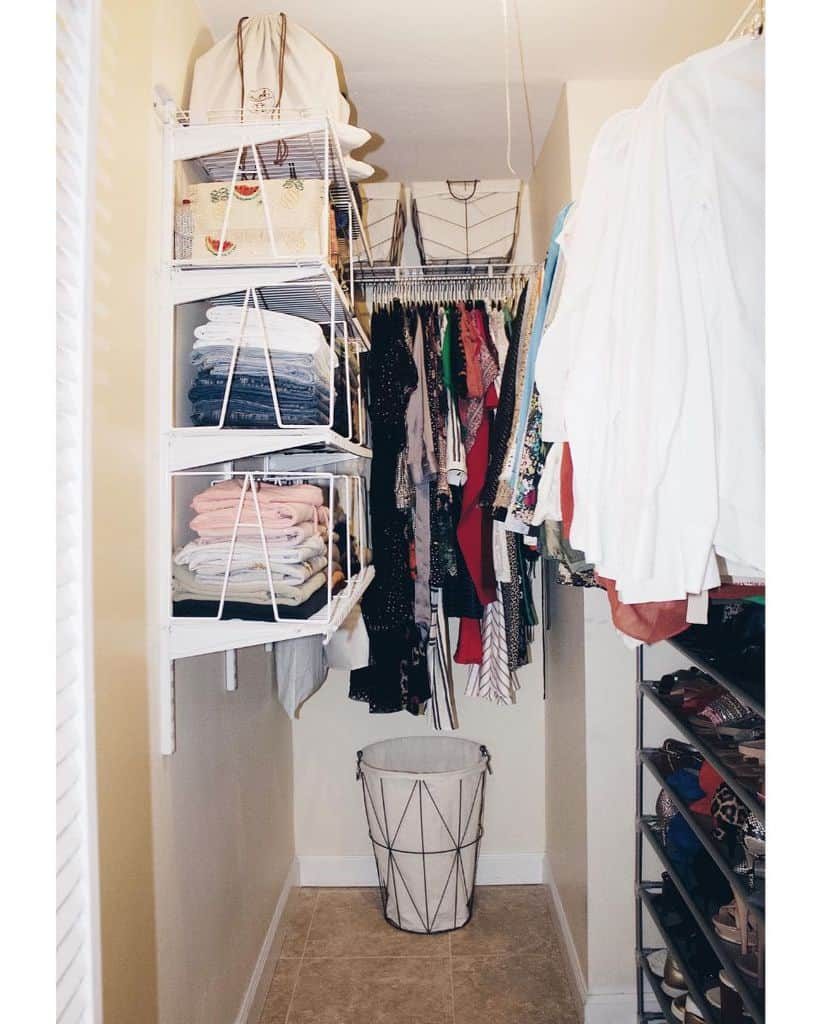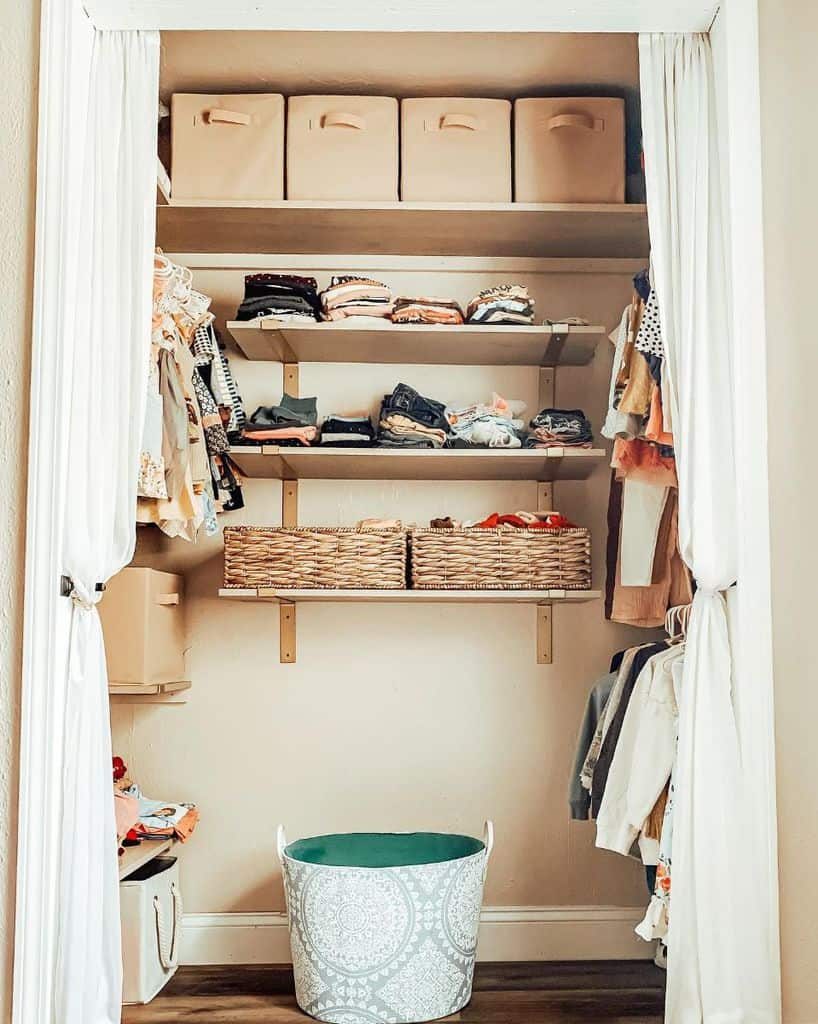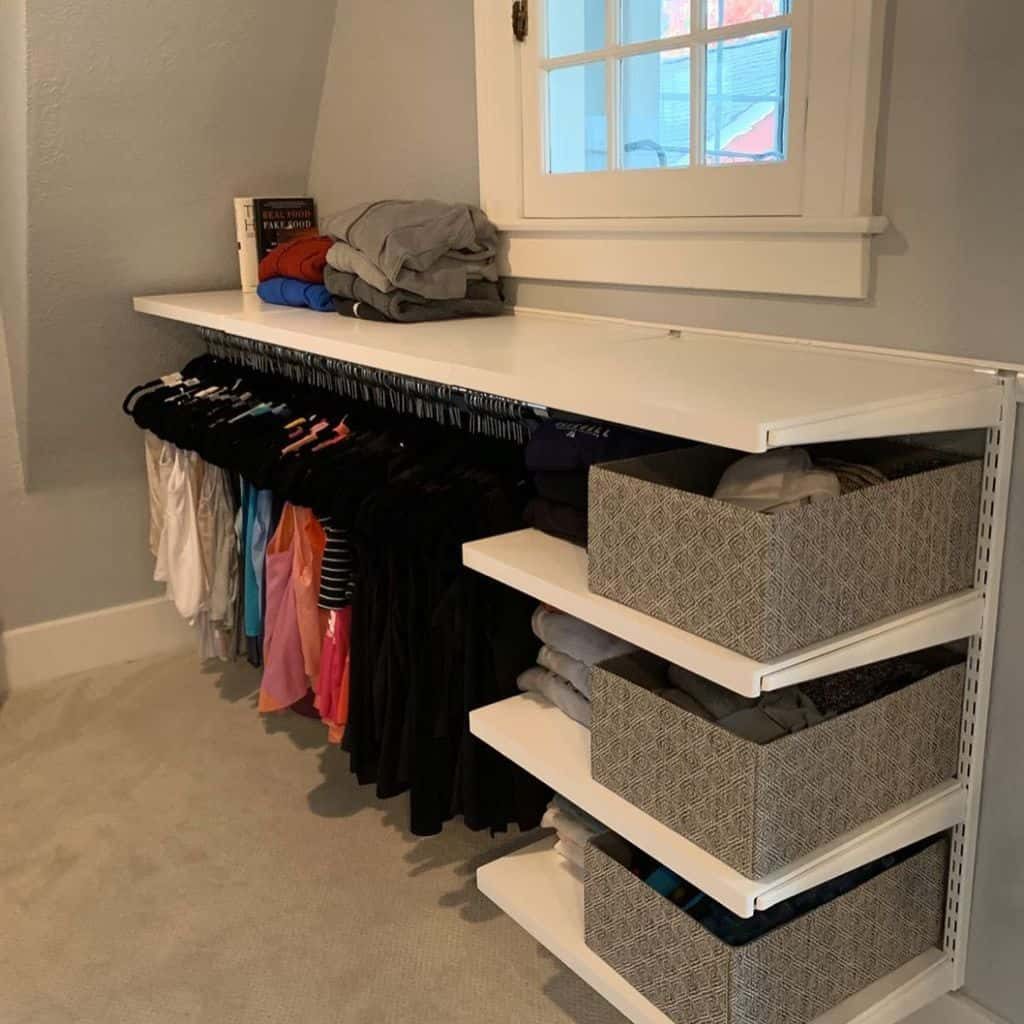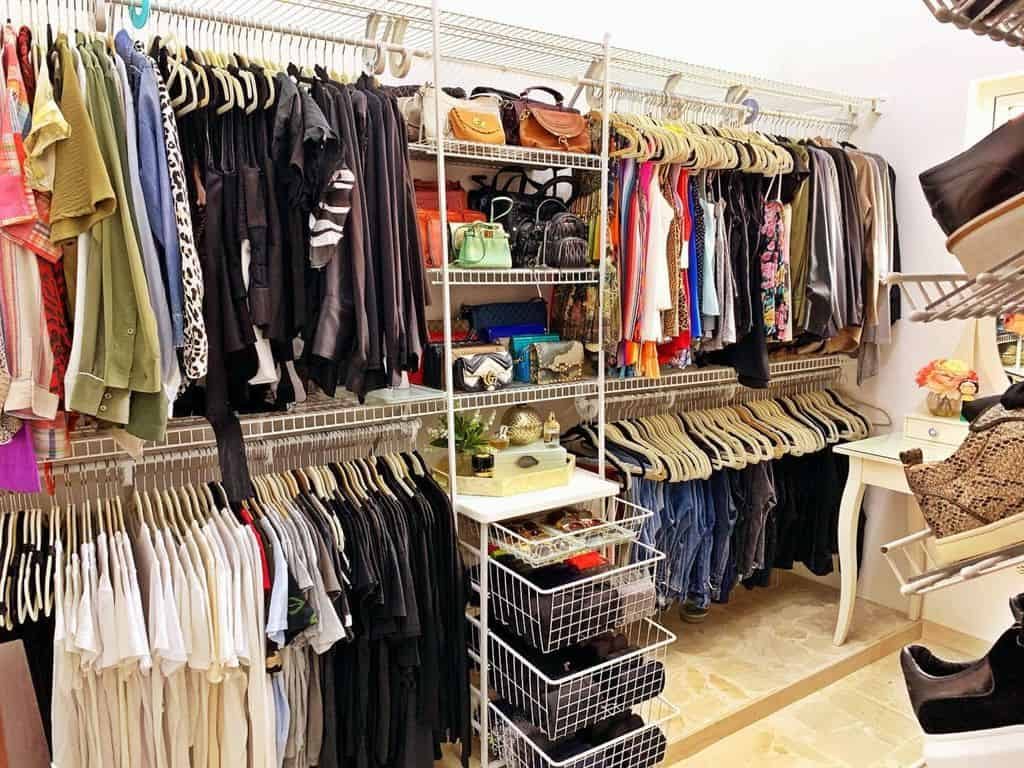 10. Color-Coordinated Closet
By organizing your clothing and accessories based on color, you can create a visually pleasing and cohesive look. Start by sorting your items by color, grouping together similar shades and hues. Arrange your clothes from light to dark or vice versa to create a gradual transition. Not only does this make your closet aesthetically pleasing, but it also makes it easier to find and coordinate outfits.
Consider investing in matching hangers and storage bins in complementary colors to further enhance the overall look. For accessories like scarves, belts, and jewelry, use color-coded dividers or small bins to keep them neatly organized. Embracing a color-coordinated closet not only brings a touch of chicness to your space but also simplifies your daily routine by making it easier to locate and pair items.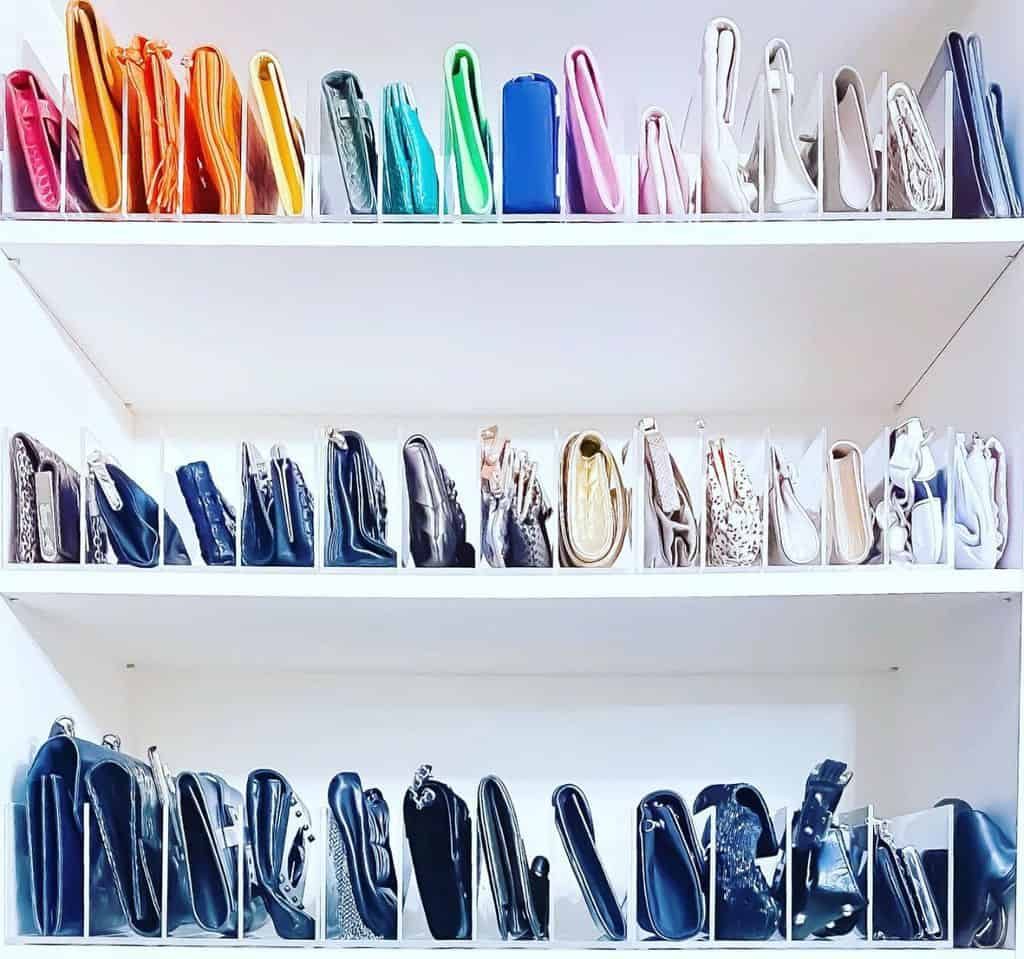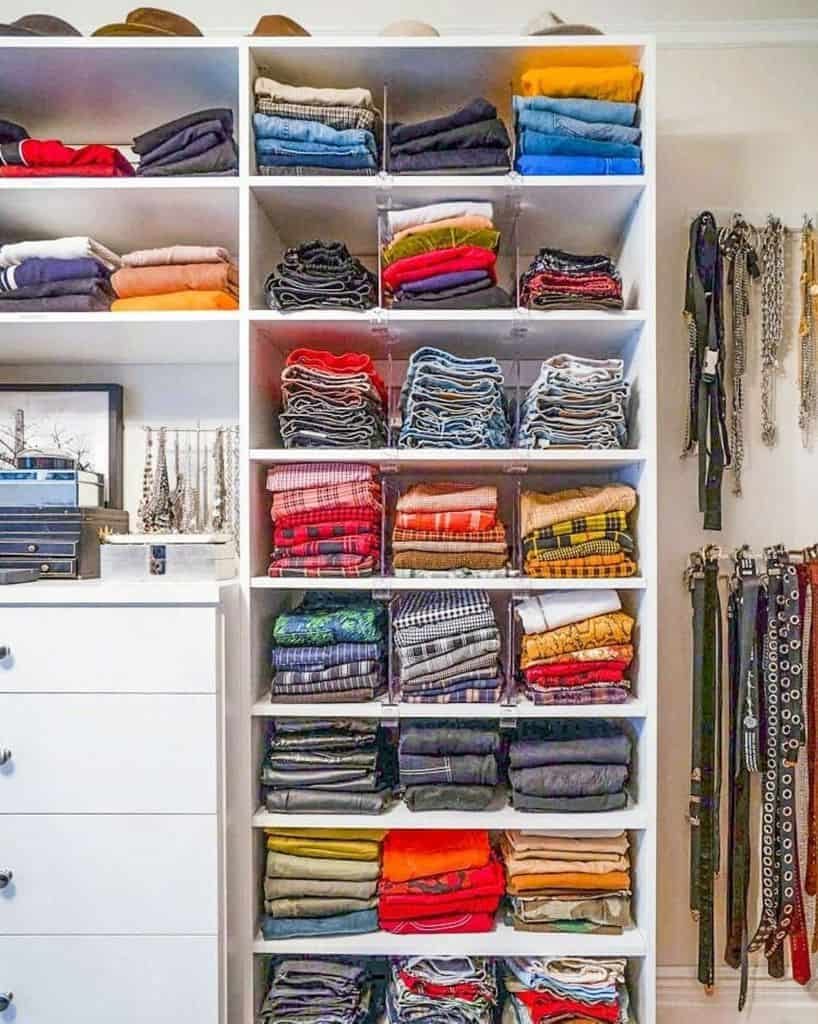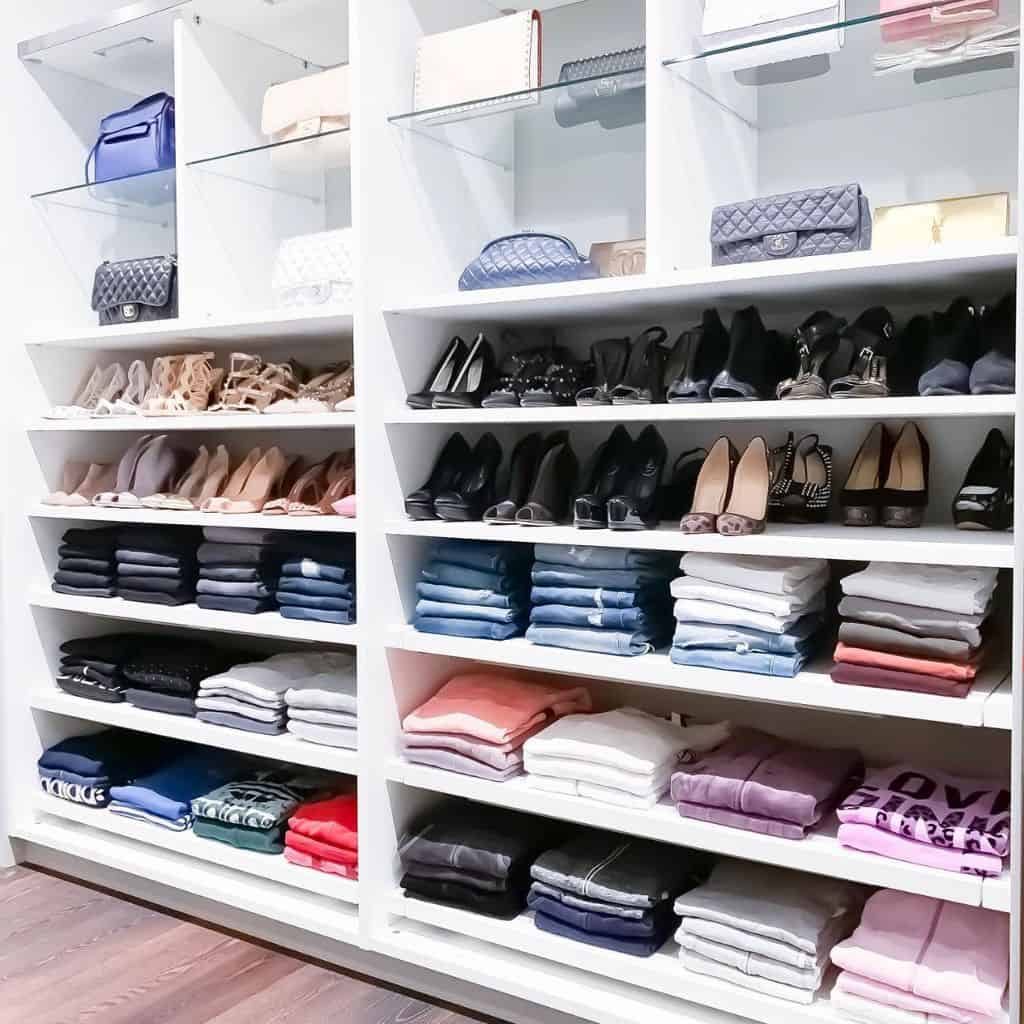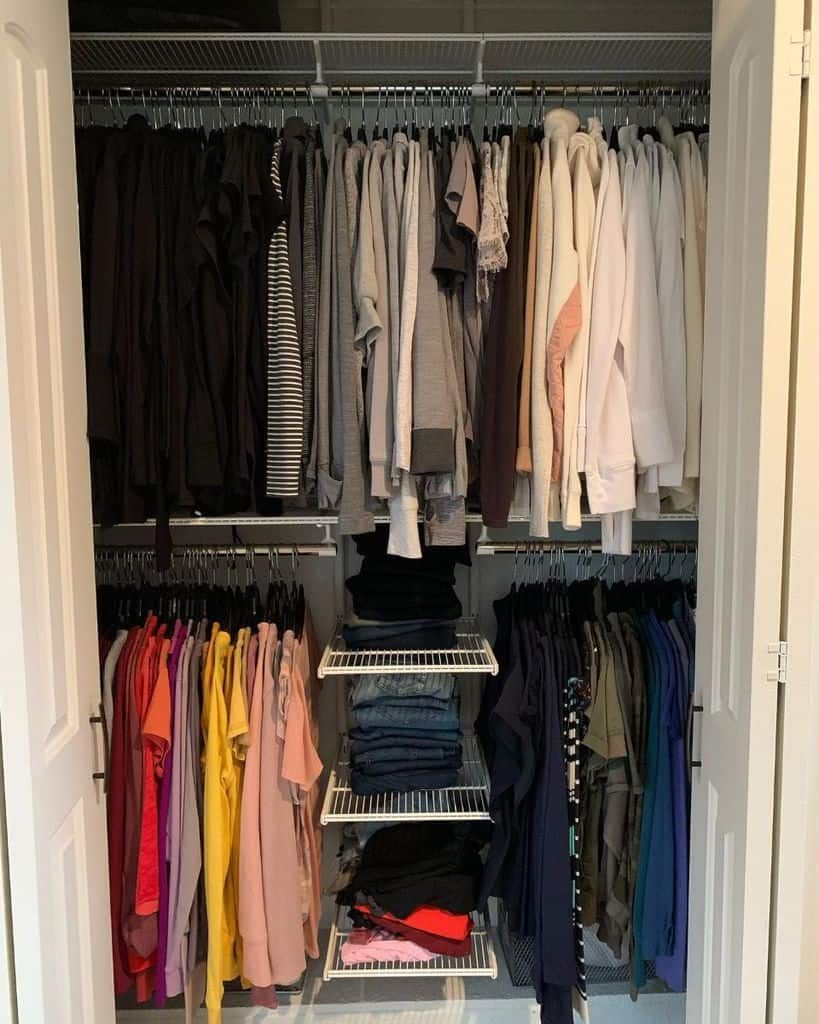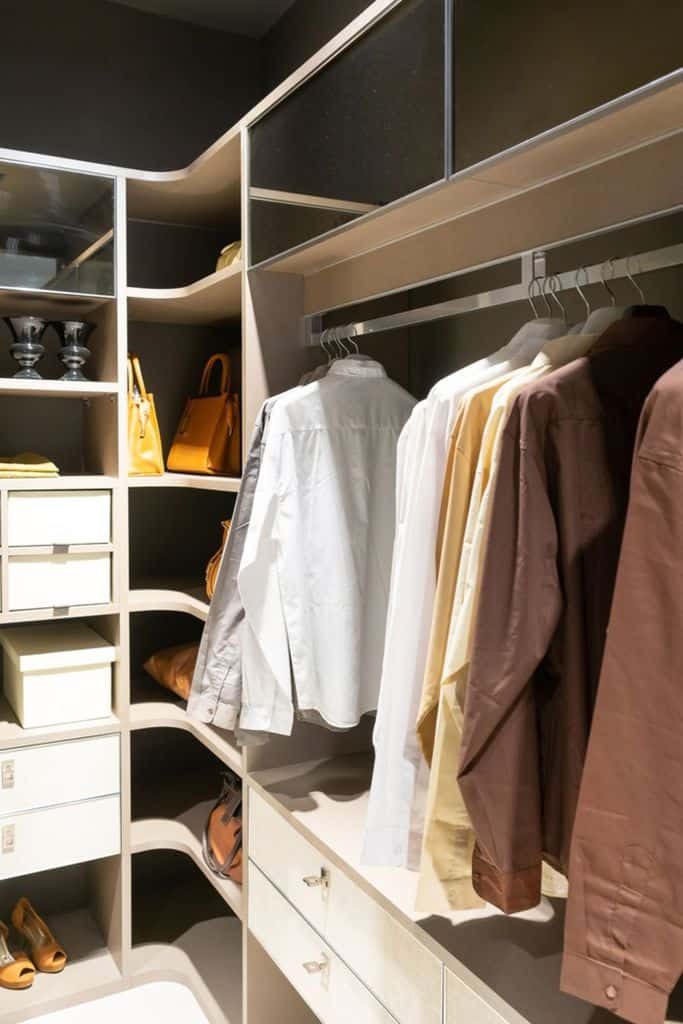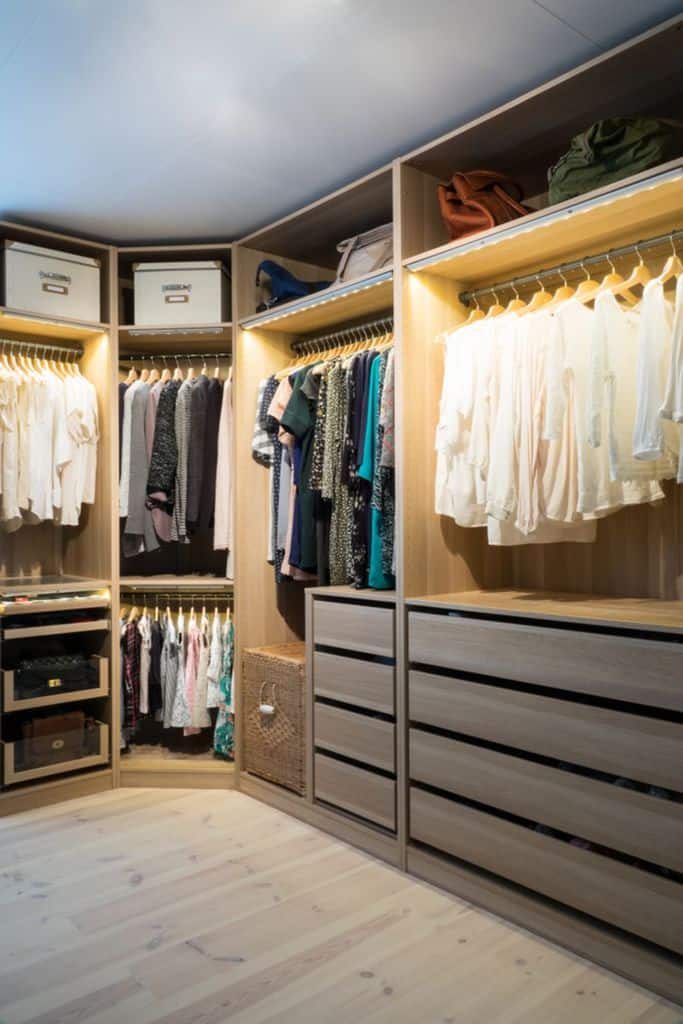 11. Transparent Closet Dividers
Utilizing transparent acrylic dividers allows you to easily see and access your belongings while keeping them neatly arranged and protected. Arrange your handbags or shoes by style, color, or occasion, creating a visually pleasing display that makes getting dressed a breeze.
To maximize the effectiveness of these dividers, consider labeling each section or incorporating additional storage accessories like hooks or shelves. By implementing transparent acrylic dividers, you'll achieve a functional and visually appealing closet that elevates your organization game to a whole new level.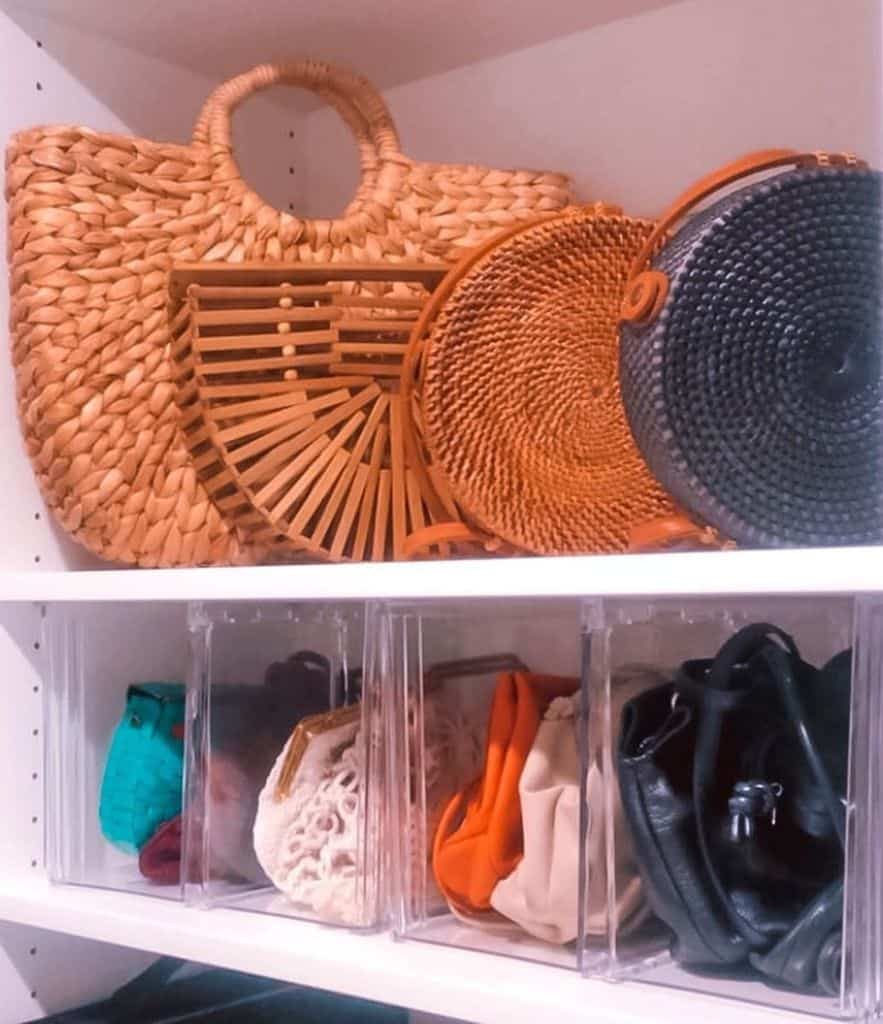 12. Open Closet Storage
Adopt the concept of a standalone rack that beautifully displays your carefully curated wardrobe. Opt for a sleek and modern design with a glass door that adds a touch of elegance while keeping your clothing protected from dust. The open storage allows you to showcase your favorite pieces, creating a boutique-like atmosphere within your own home.
Arrange your garments by color or category, making it easy to find what you need and ensuring a sense of organization and efficiency. With open closet storage, you can turn your closet into a stylish focal point, while also ensuring that your clothes are easily accessible and beautifully displayed.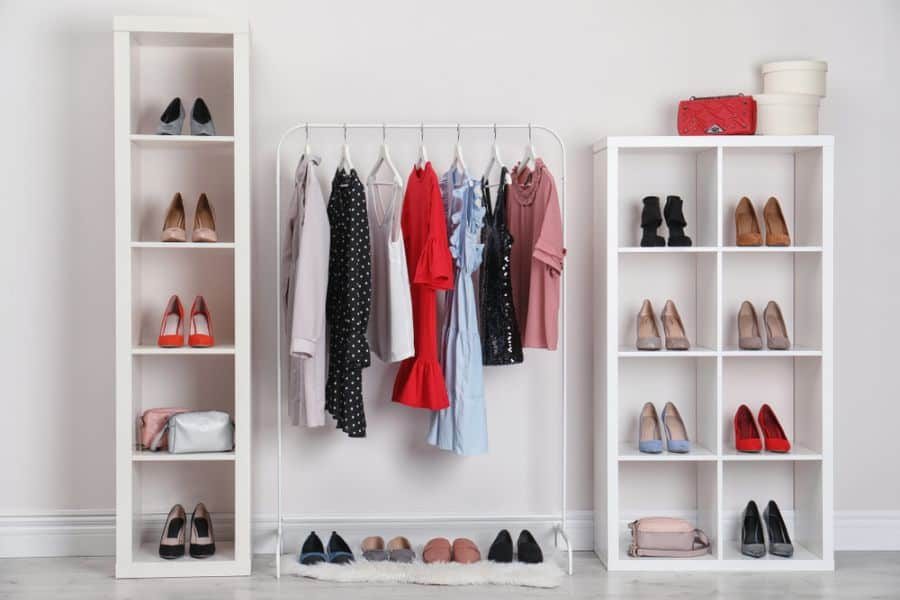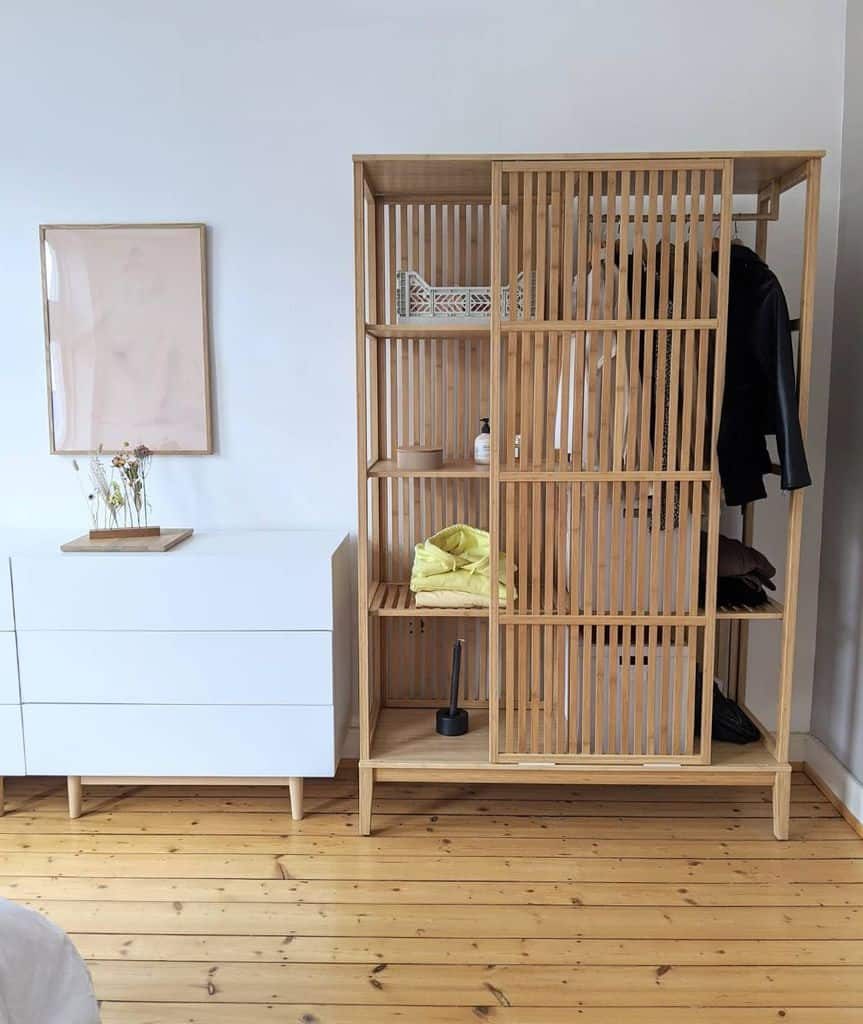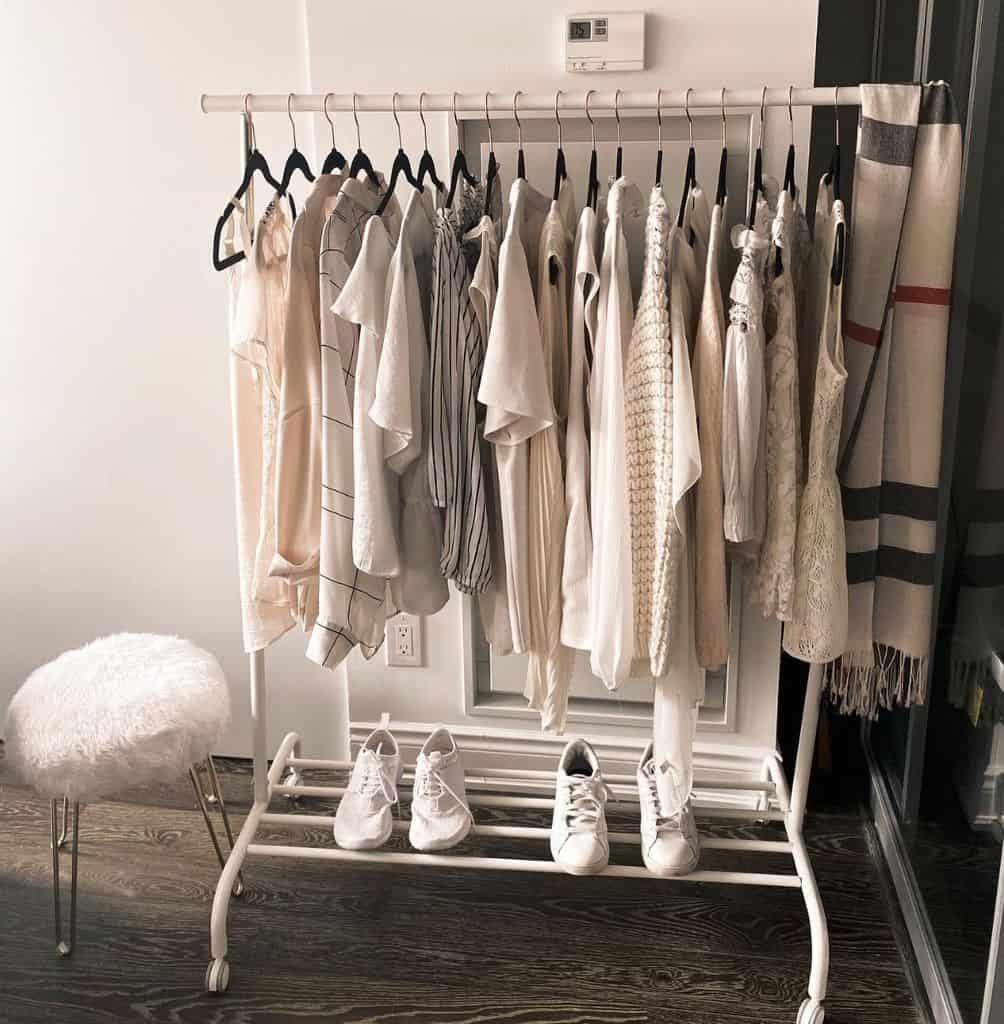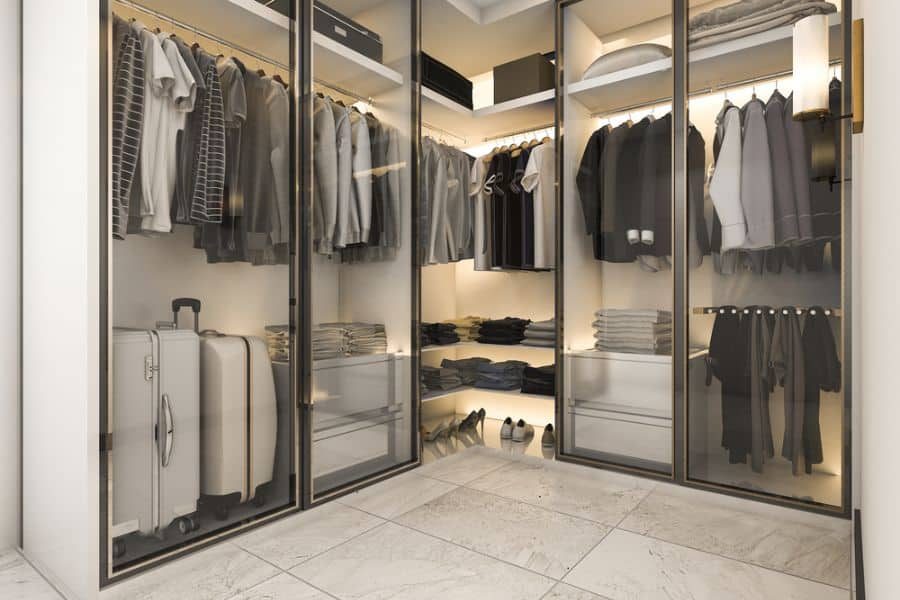 13. Labeled Closet Organizers
By labeling your closet organizers, you not only create a clear system but also add a touch of charm to the space. Whether it's handwritten tags, elegant nameplates, or playful chalkboard labels, the choice is yours to infuse your personal style.
With everything neatly labeled and in its designated place, you'll have easy access to your favorite items and enjoy a stress-free morning routine. Get creative with different shapes, sizes, and materials for your organizers, ensuring they suit your specific needs and enhance the overall aesthetic of your closet.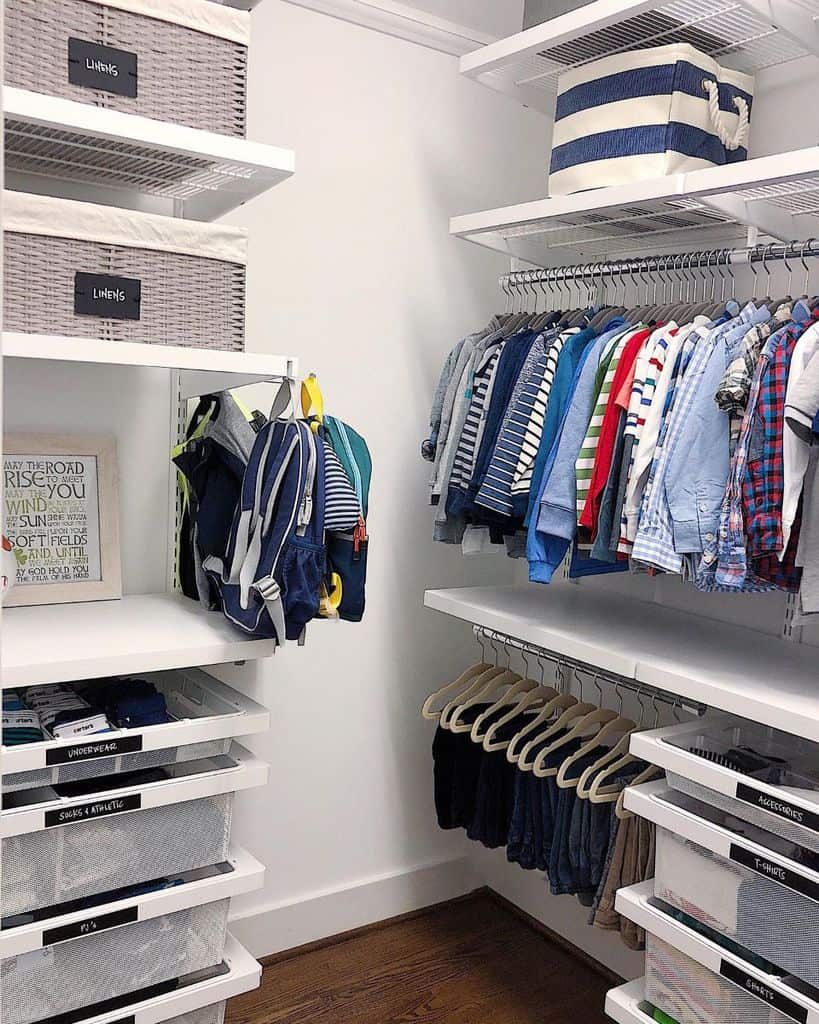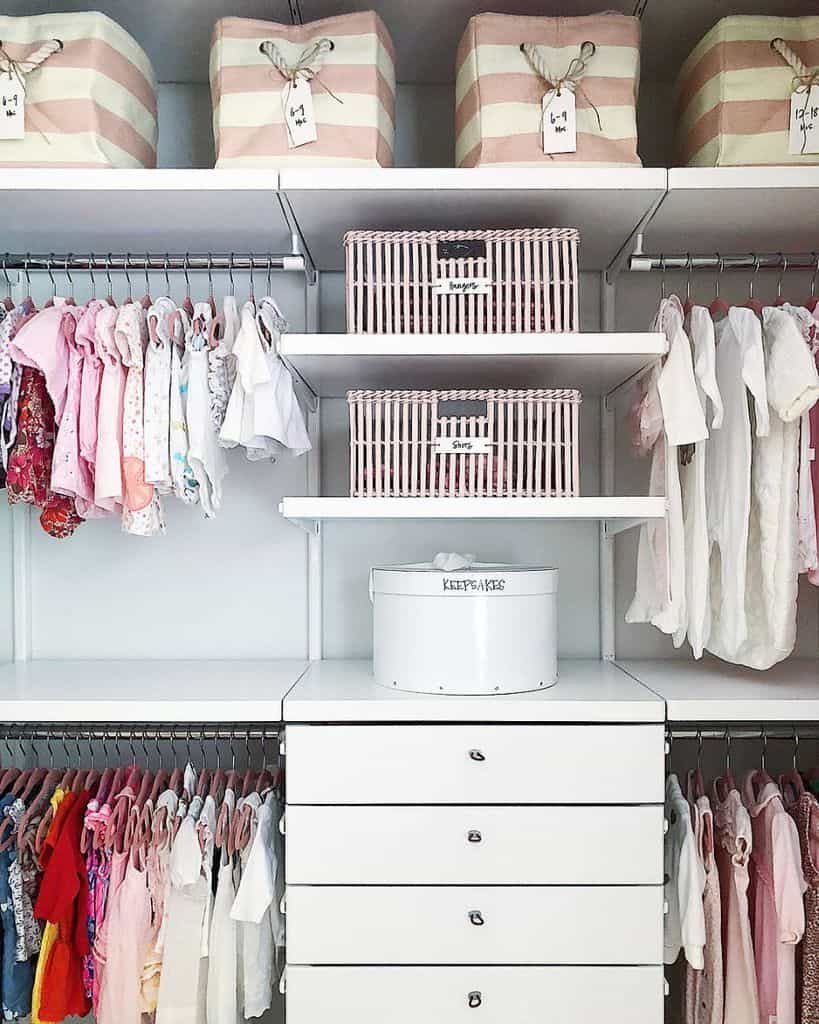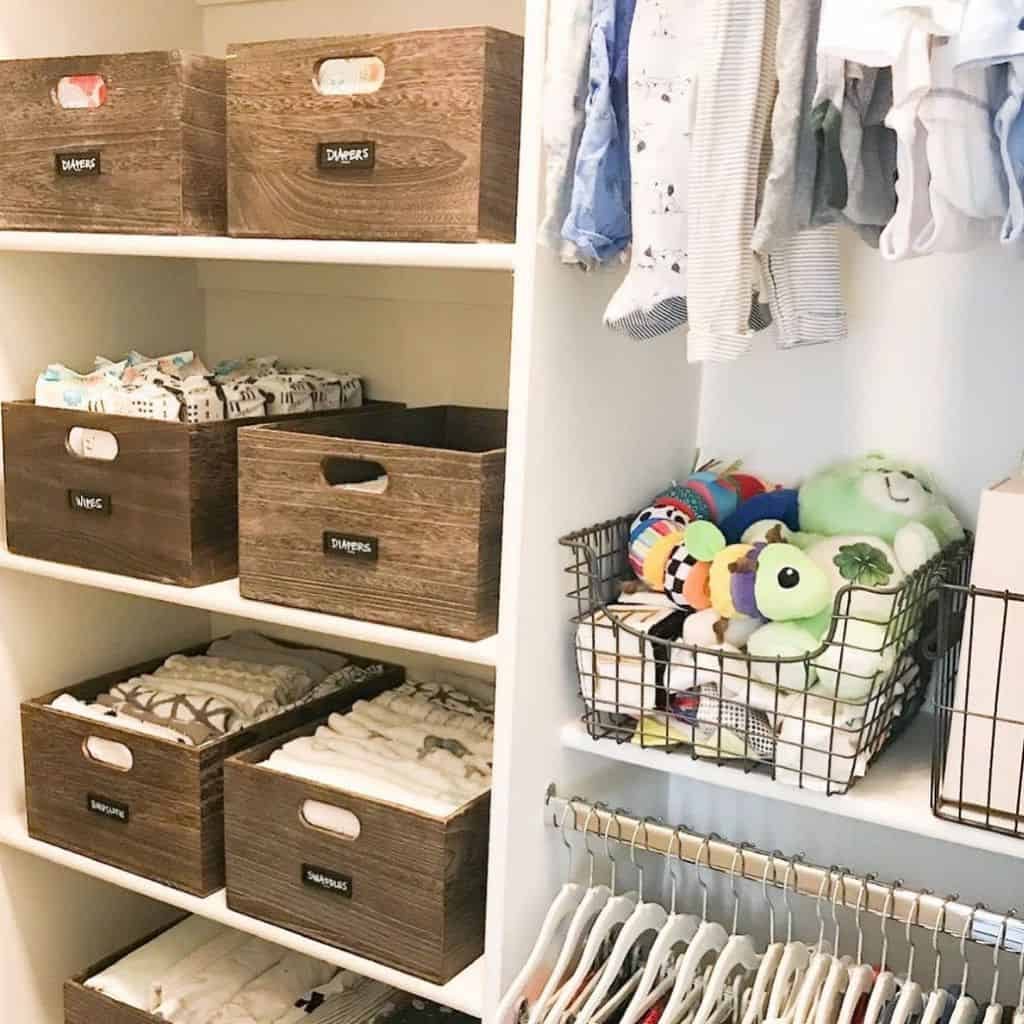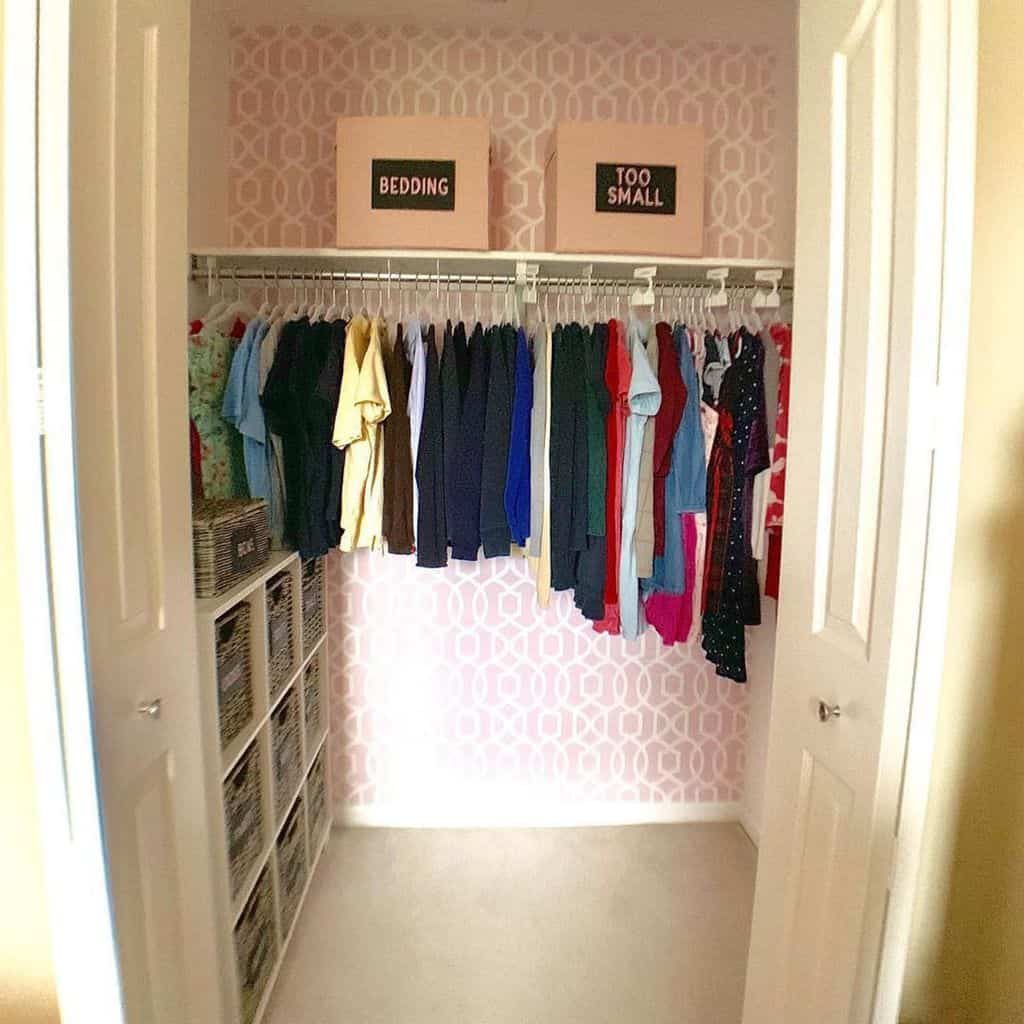 14. Closet With Shoerack
Say goodbye to cluttered floors and jumbled piles of shoes with a dedicated shoe shelf. Opt for a mounted shoe rack that maximizes vertical space, allowing you to neatly display and access your beloved footwear collection. Choose a design that complements your closet's aesthetic, whether it's sleek and modern or rustic and charming.
A shoe rack not only keeps your shoes organized and easily accessible, but it also adds a touch of sophistication to your closet. Step into your closet oasis and effortlessly find the perfect pair for any occasion. With a well-organized shoe shelf, you'll have more space, less stress, and a closet that reflects your chic and functional style.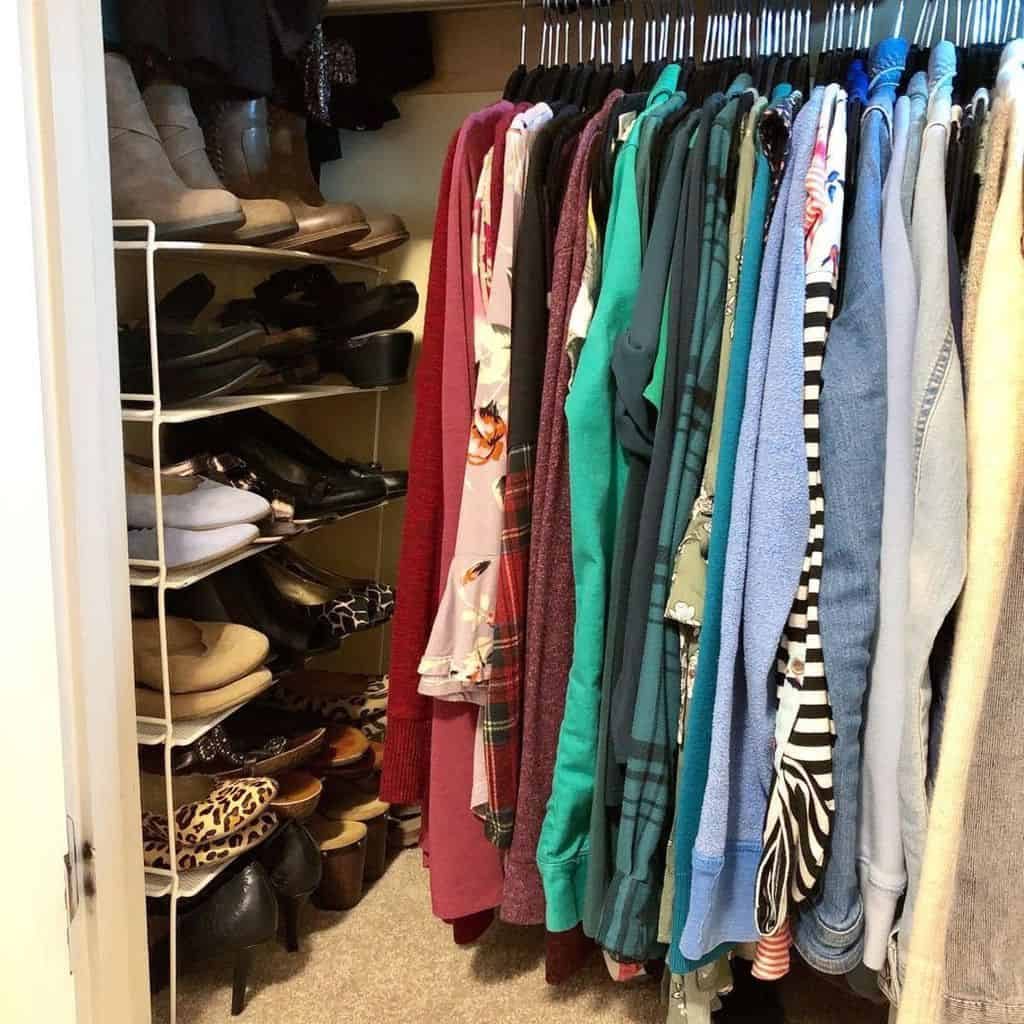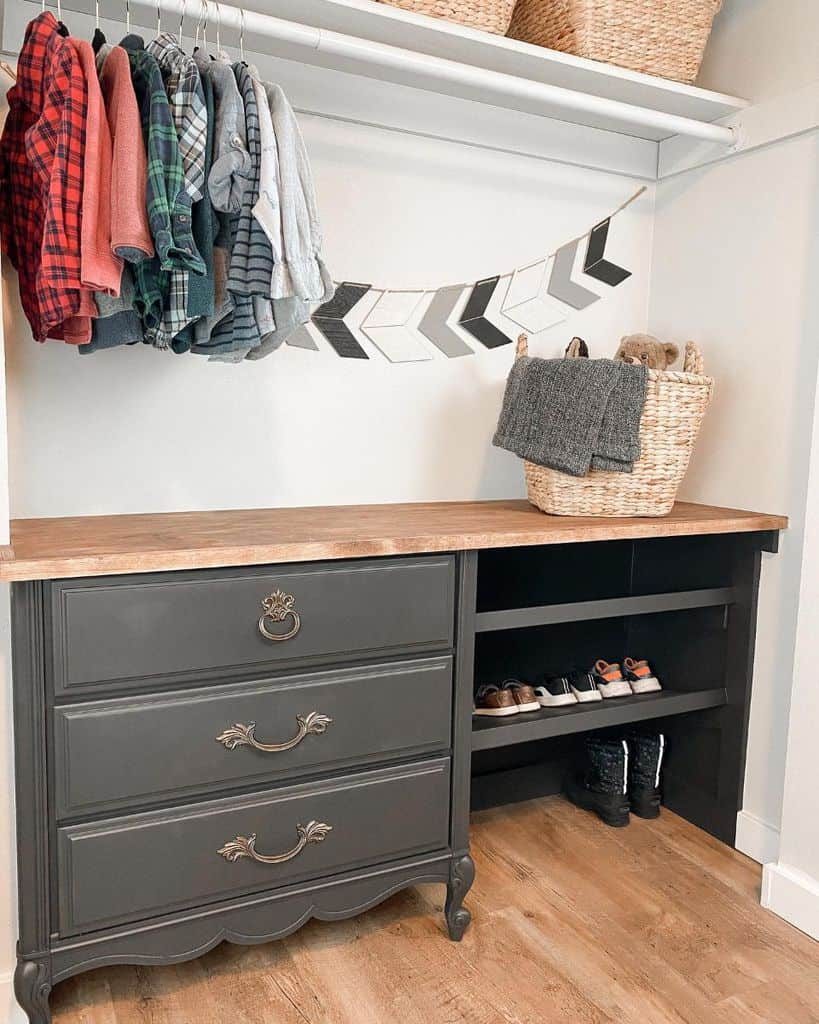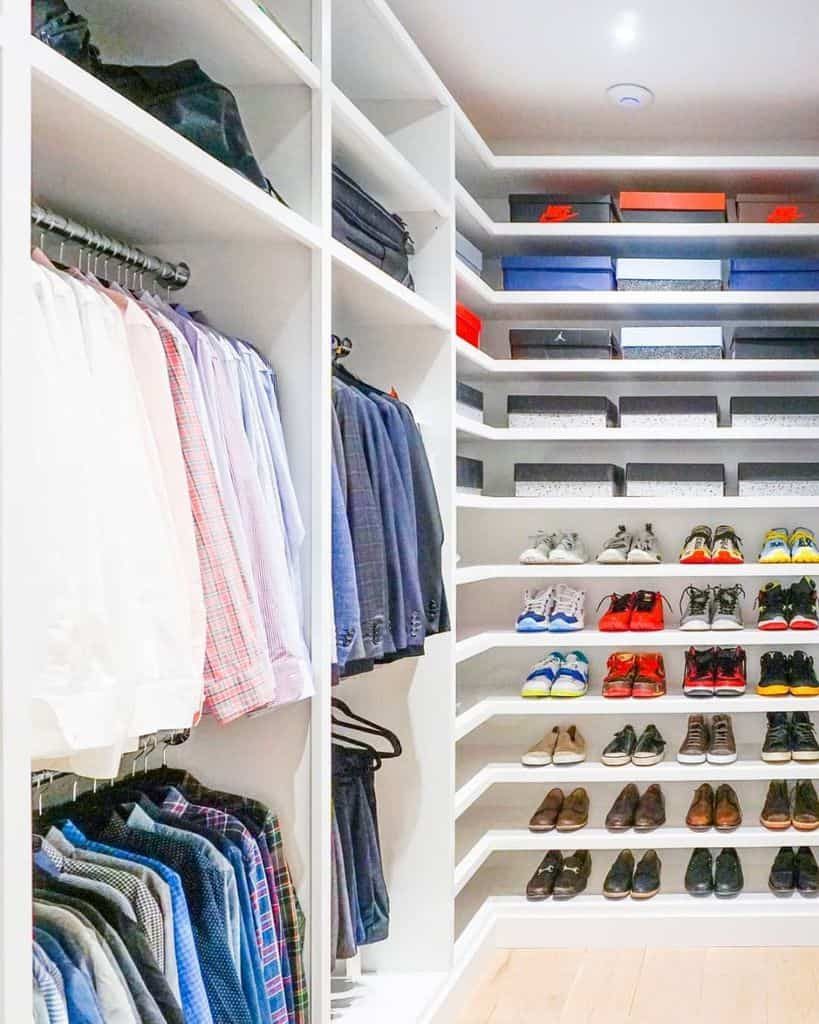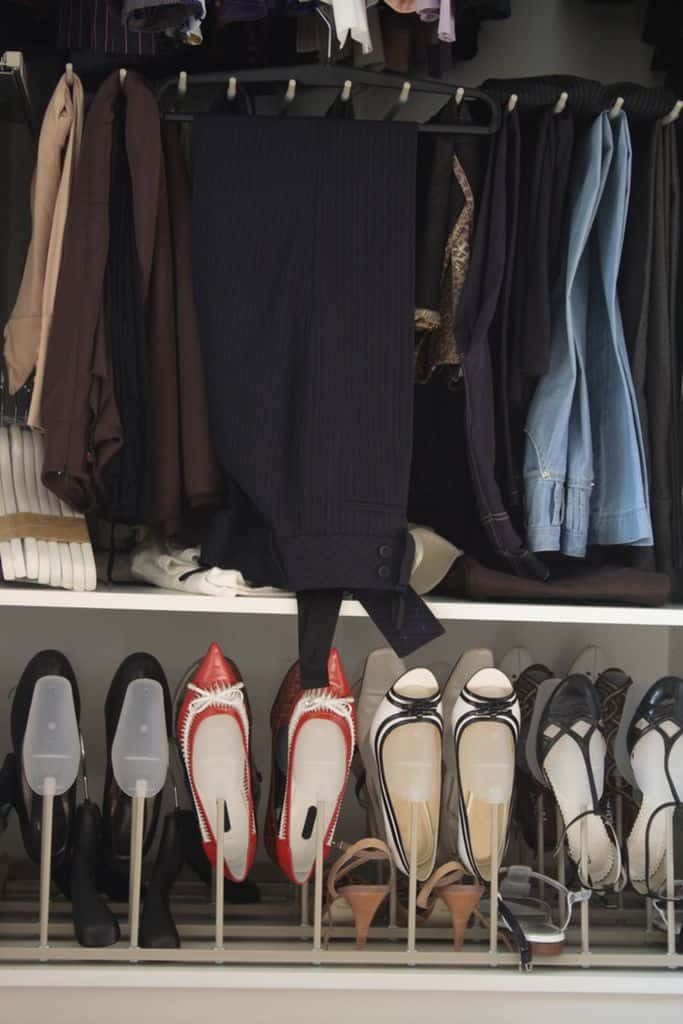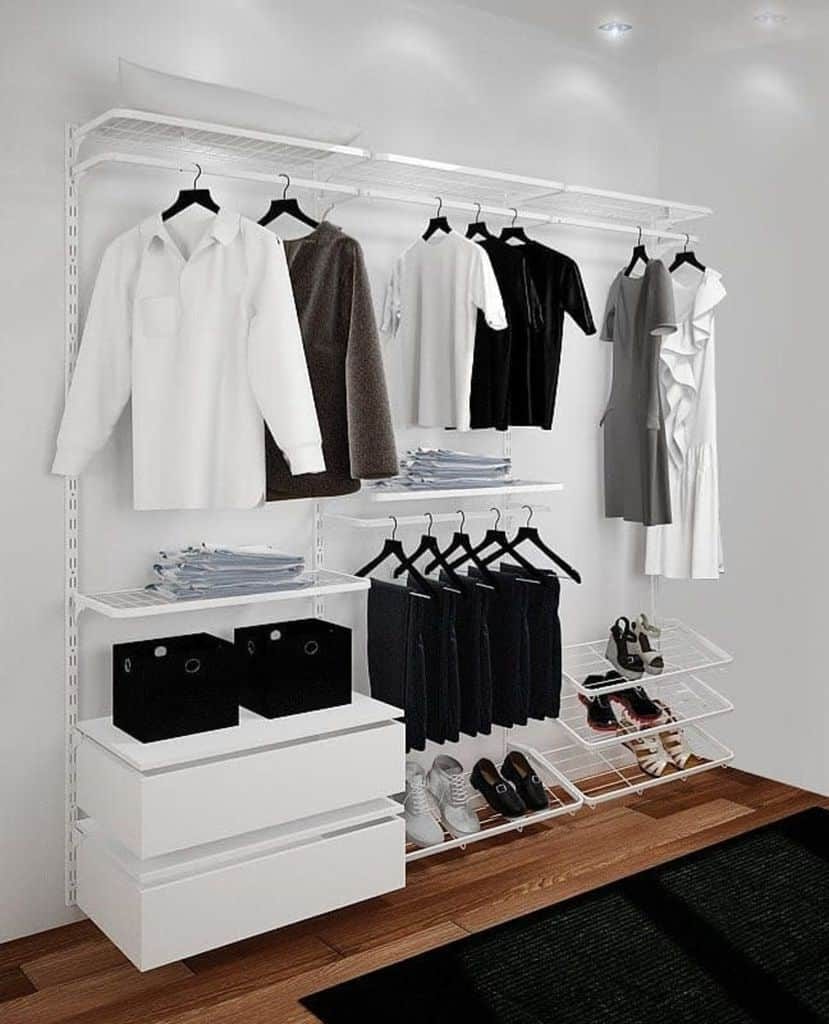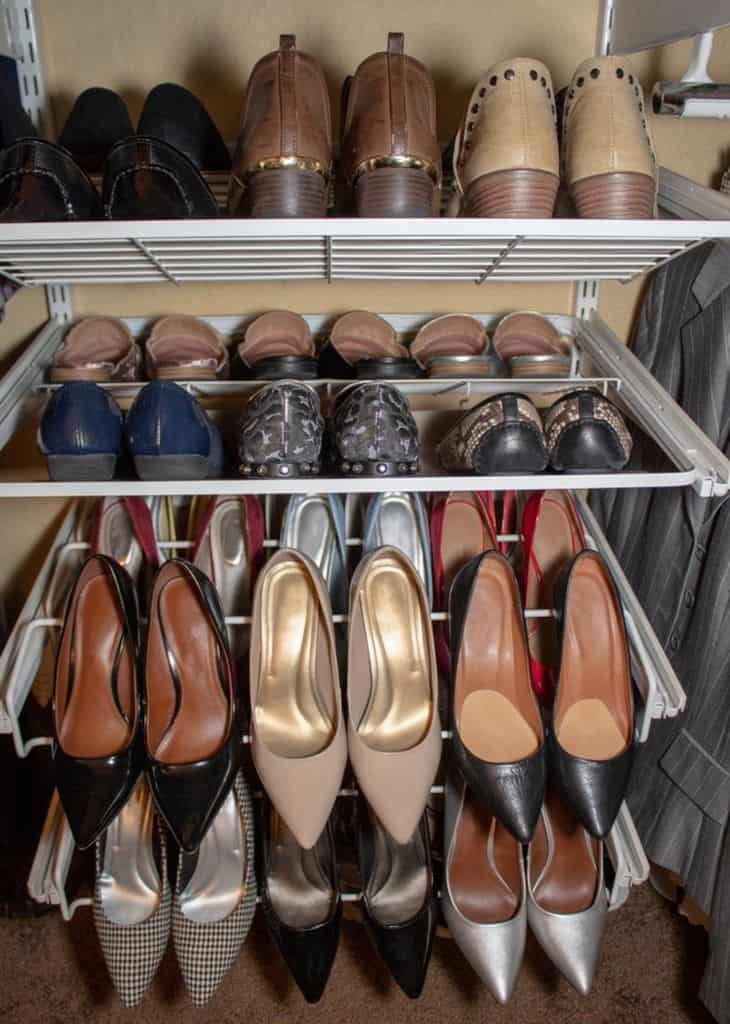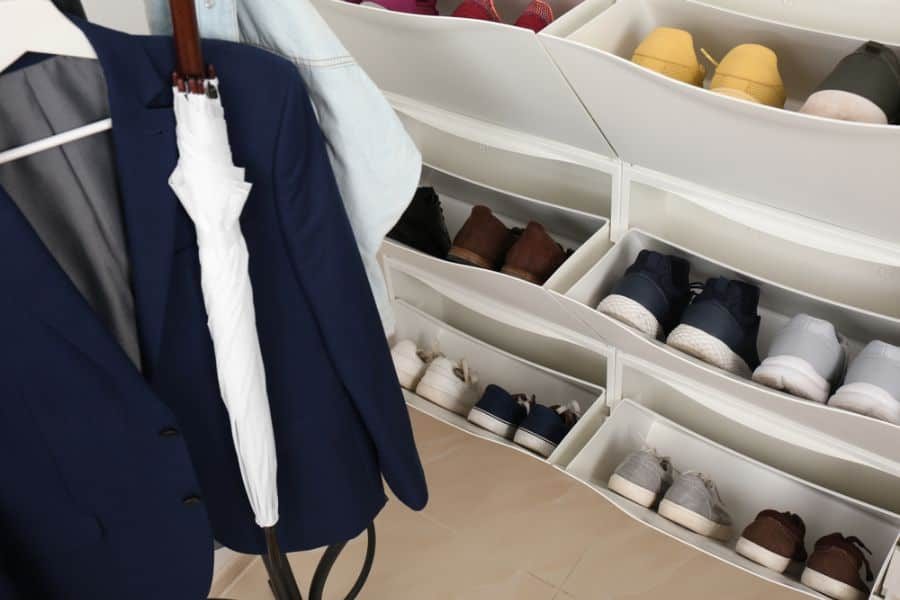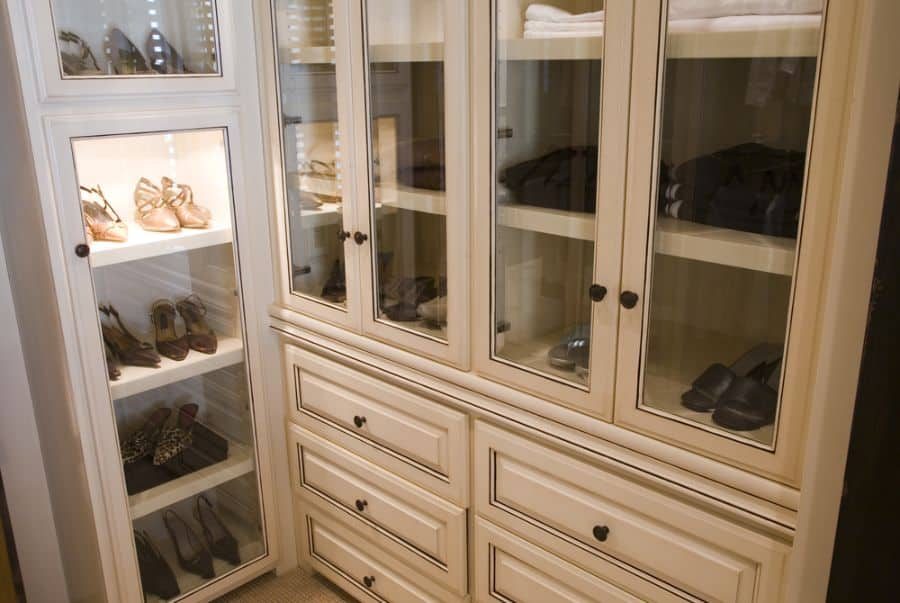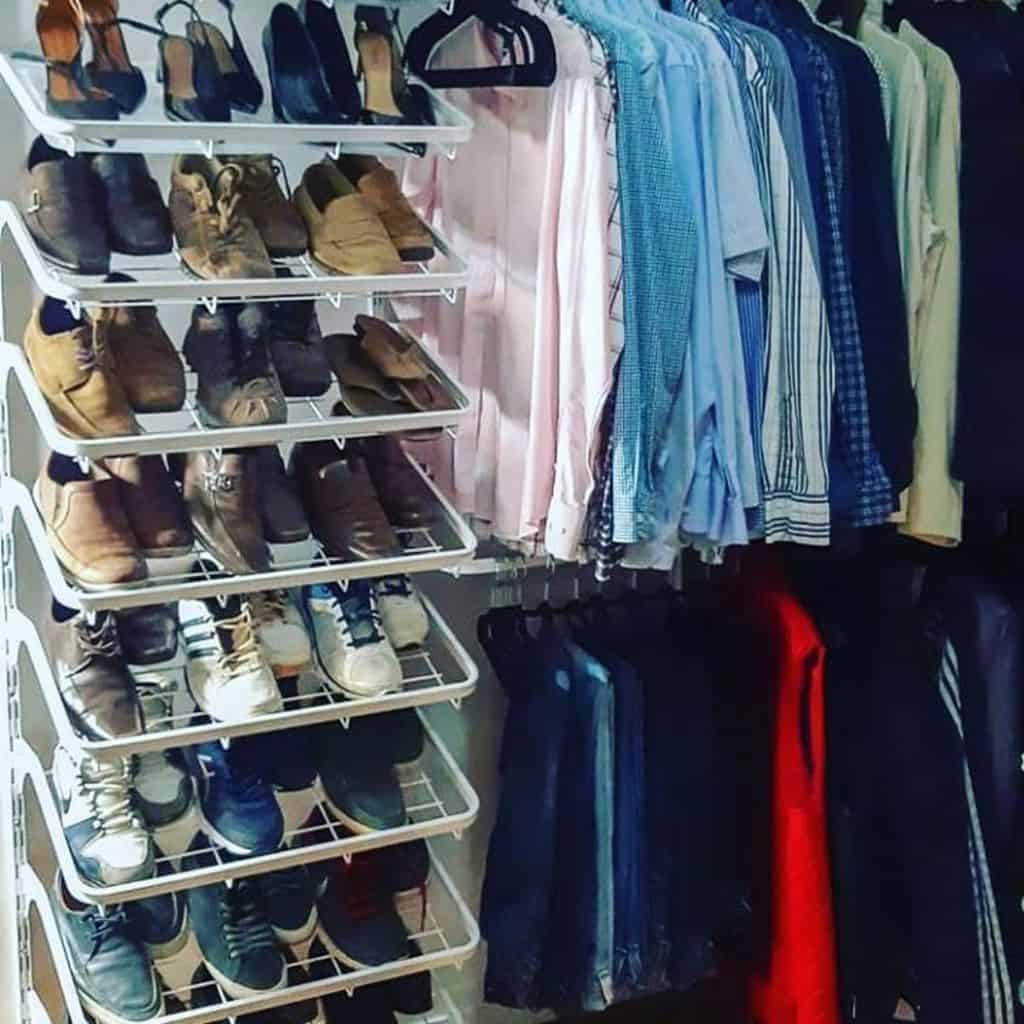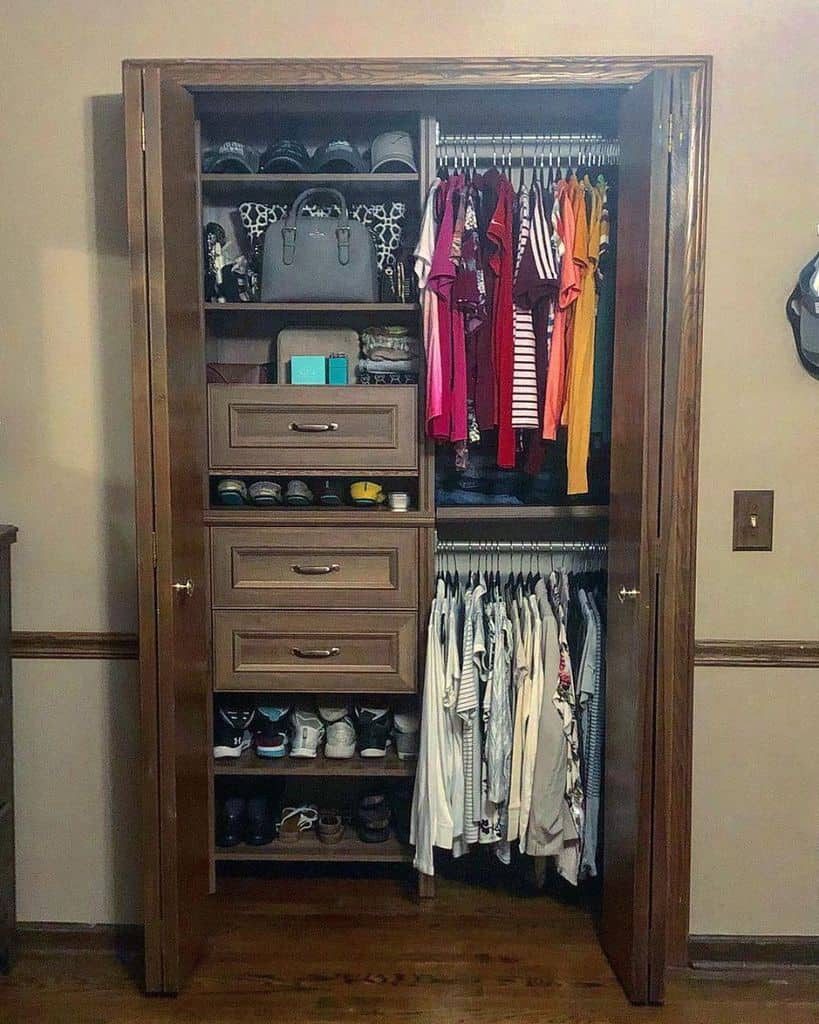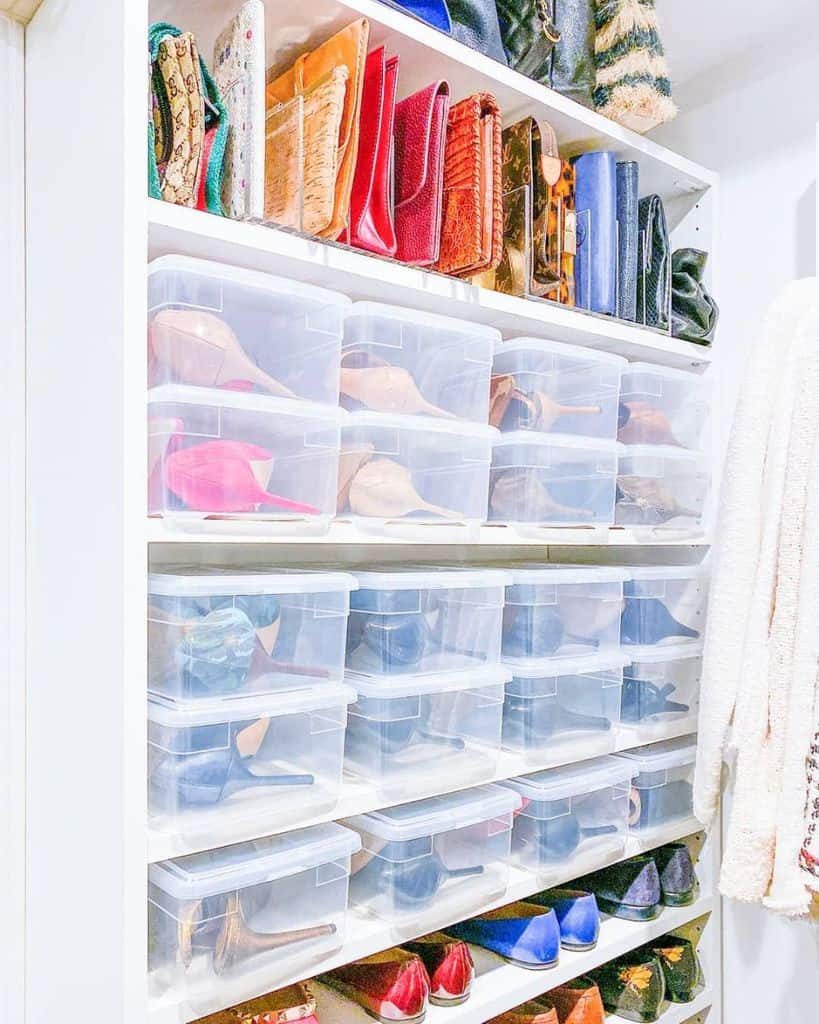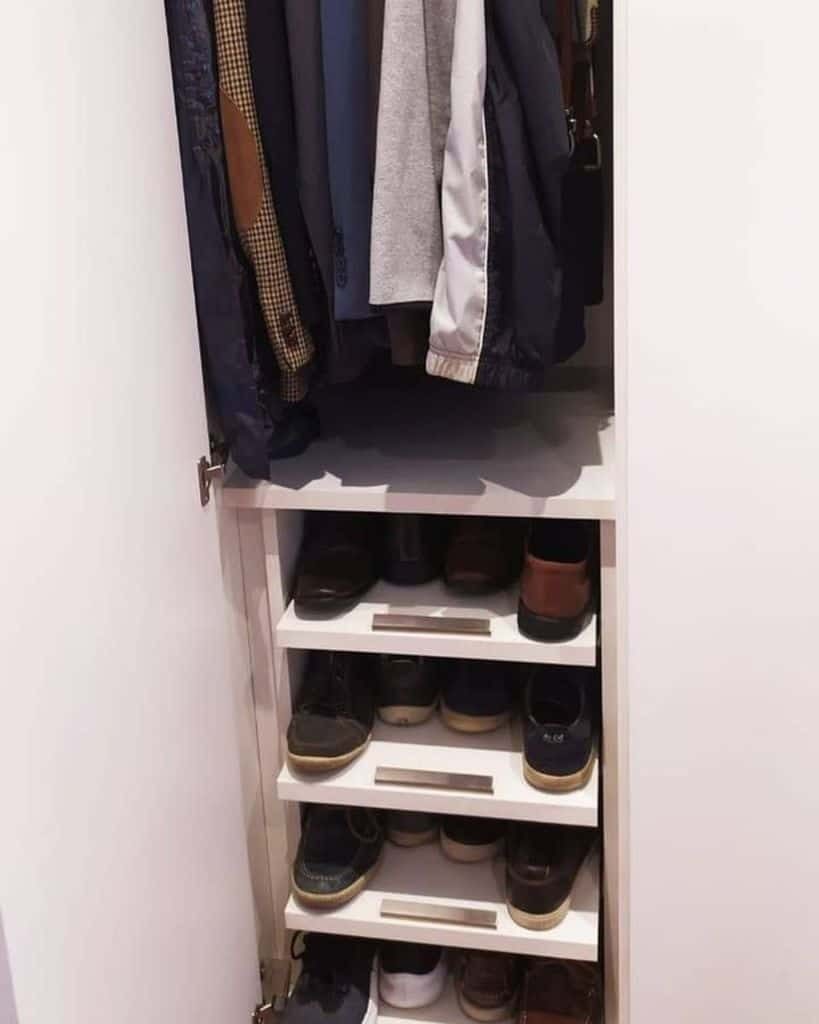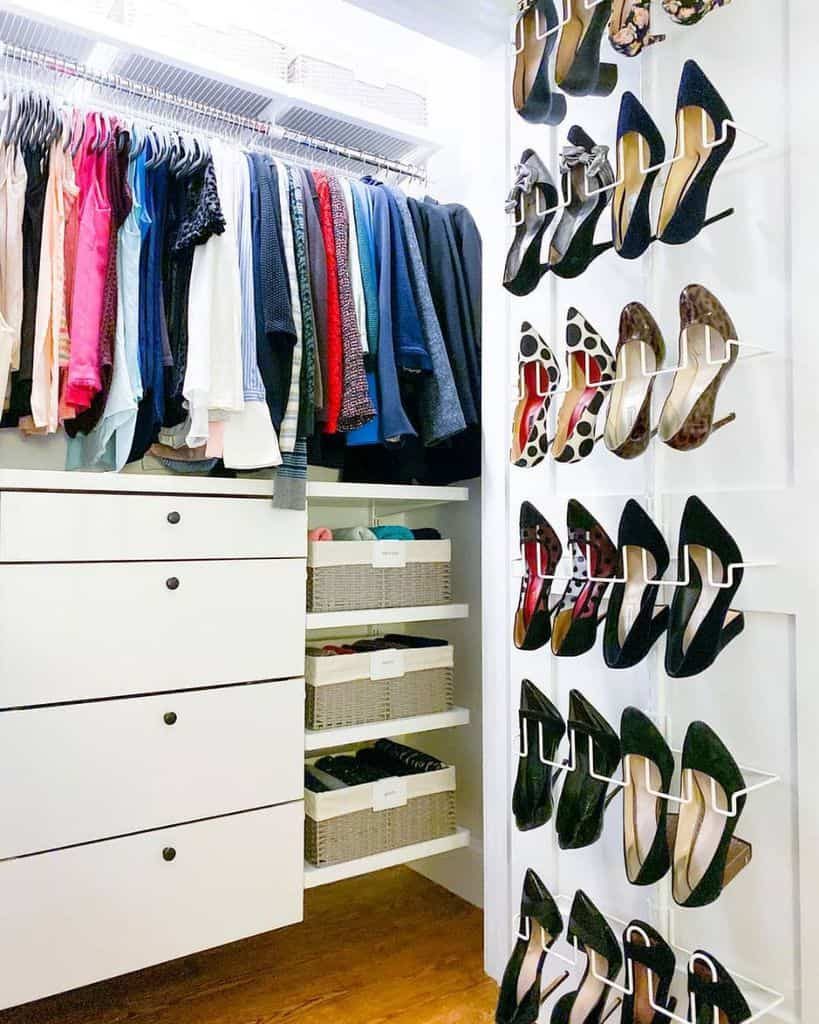 15. Wall Closet
. Embrace the concept of a full wall closet, where every inch of space is utilized efficiently. Install end-to-end shelving that provides ample room for storing your clothing, accessories, and other essentials. This clever setup ensures that no space is wasted, allowing you to neatly organize your items and keep everything within easy reach.
With a wall closet, you can create designated areas for hanging clothes, folded garments, shoes, and even accessories like belts and handbags. Add stylish storage bins and baskets to corral smaller items and keep them organized. By incorporating a wall closet with end-to-end shelving, you'll achieve a chic and functional space that makes getting dressed a breeze.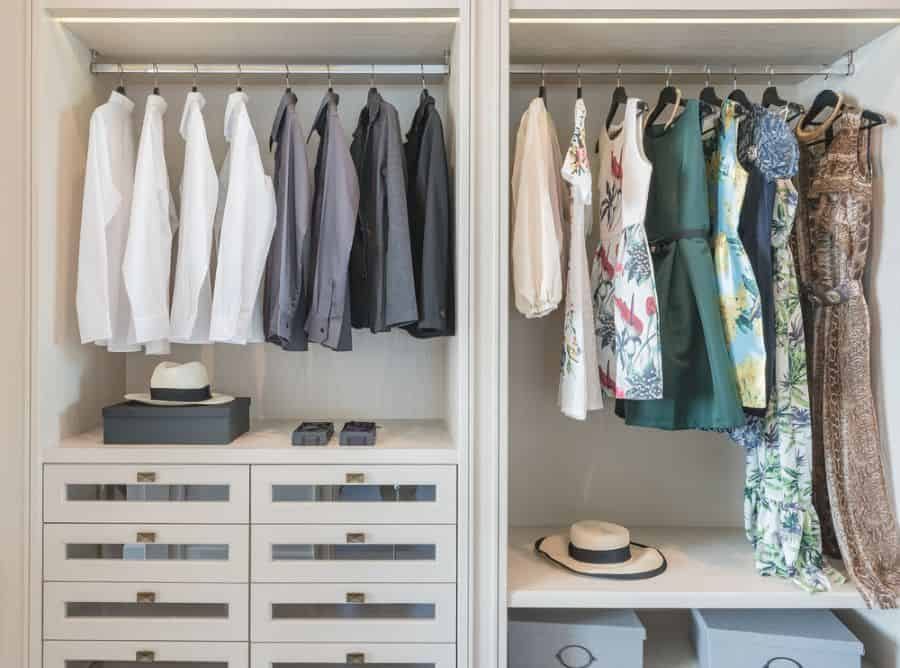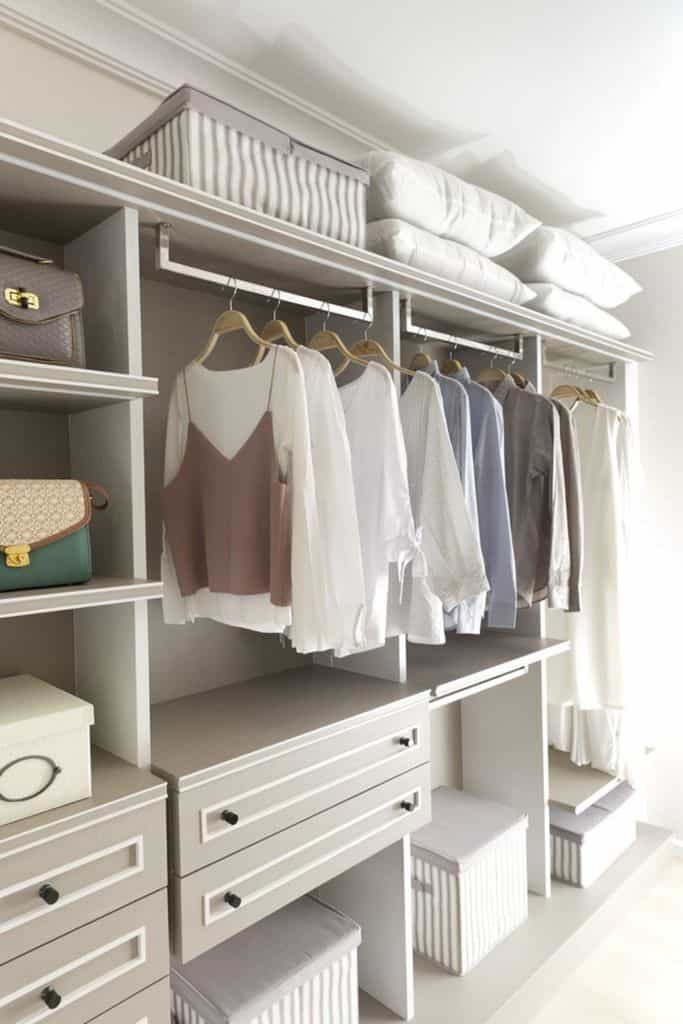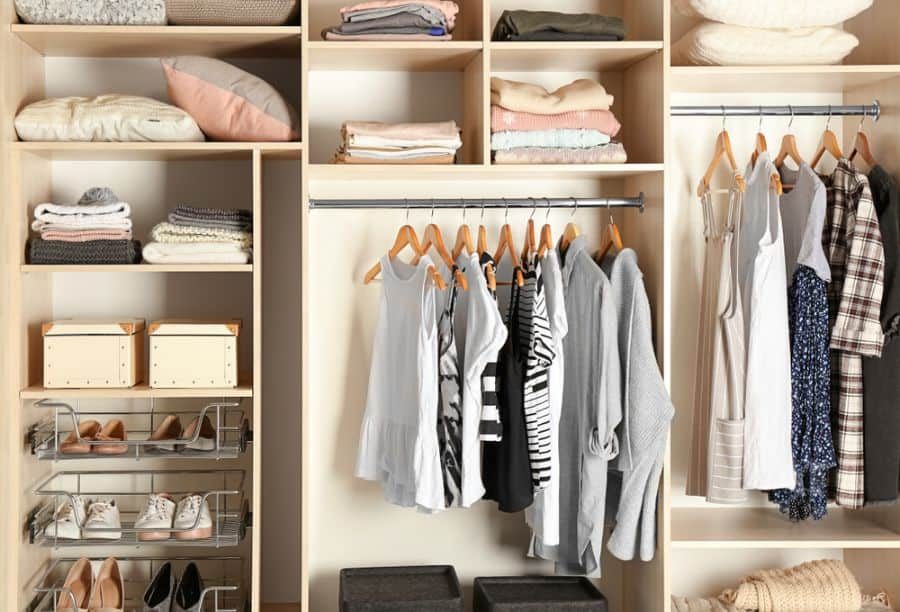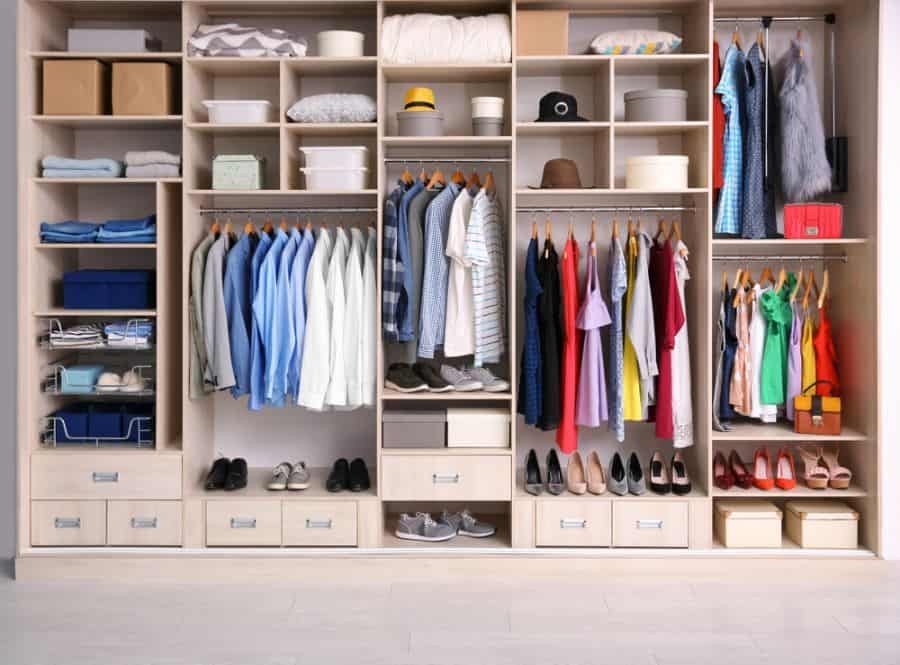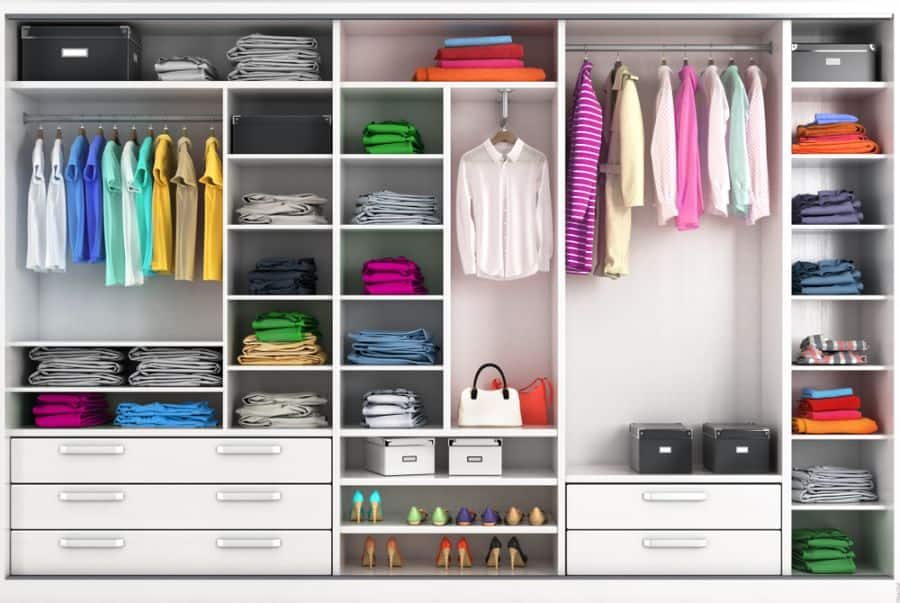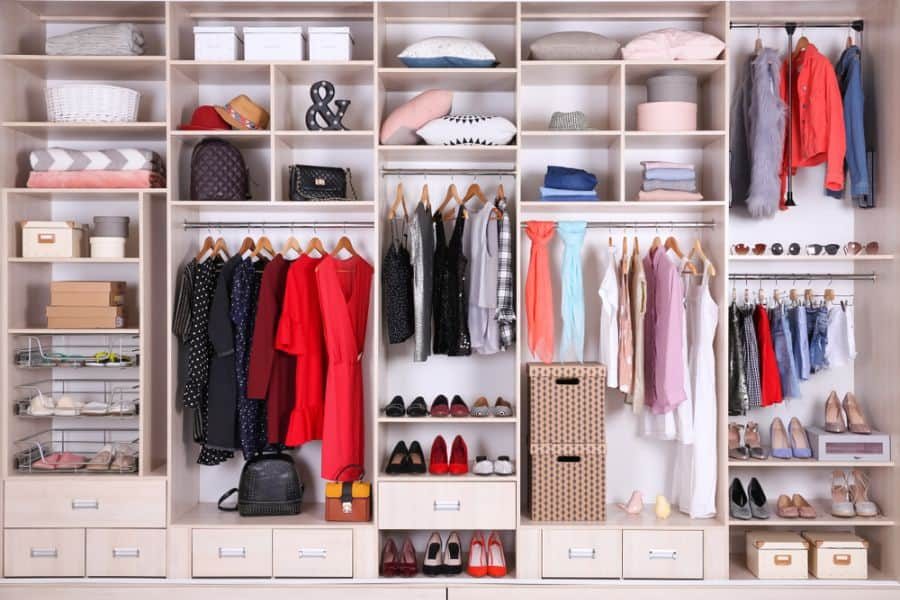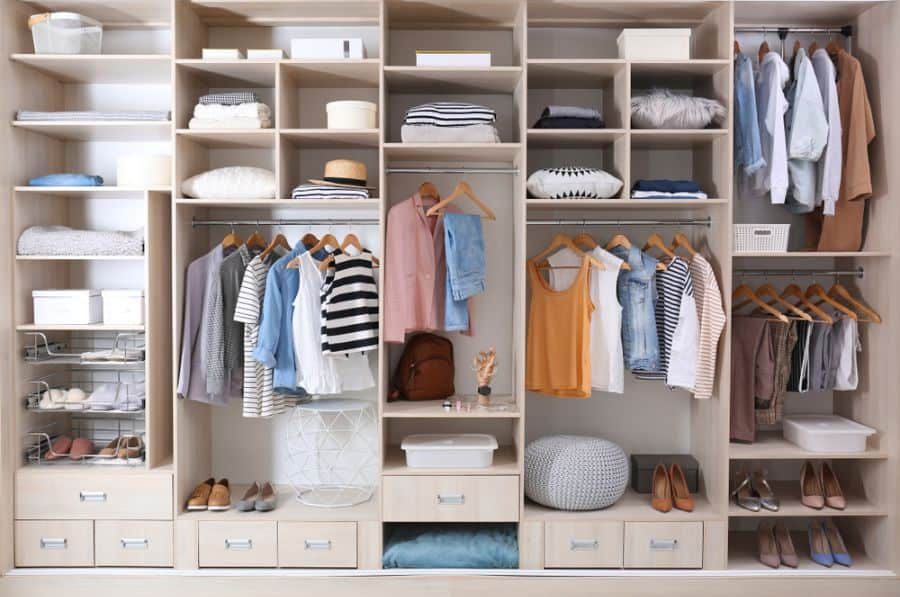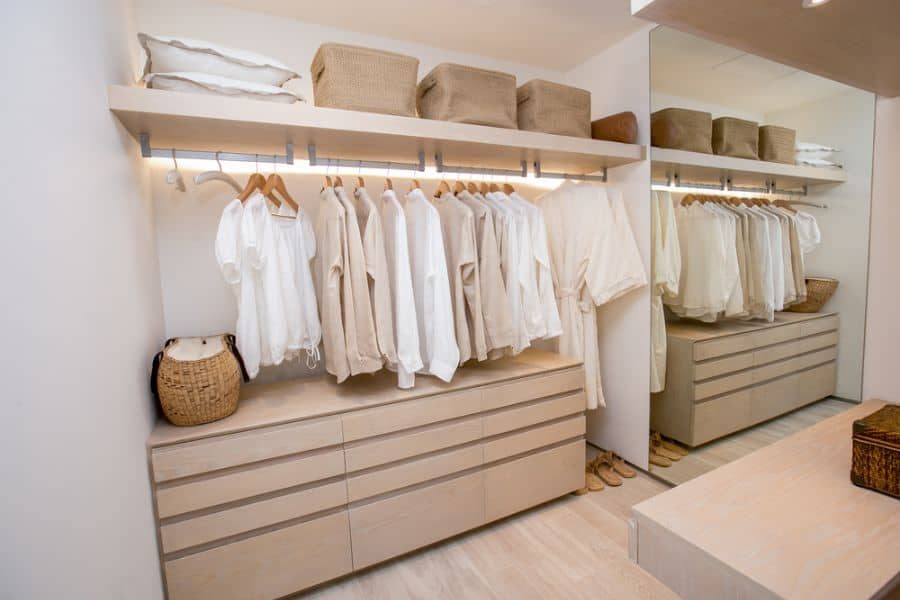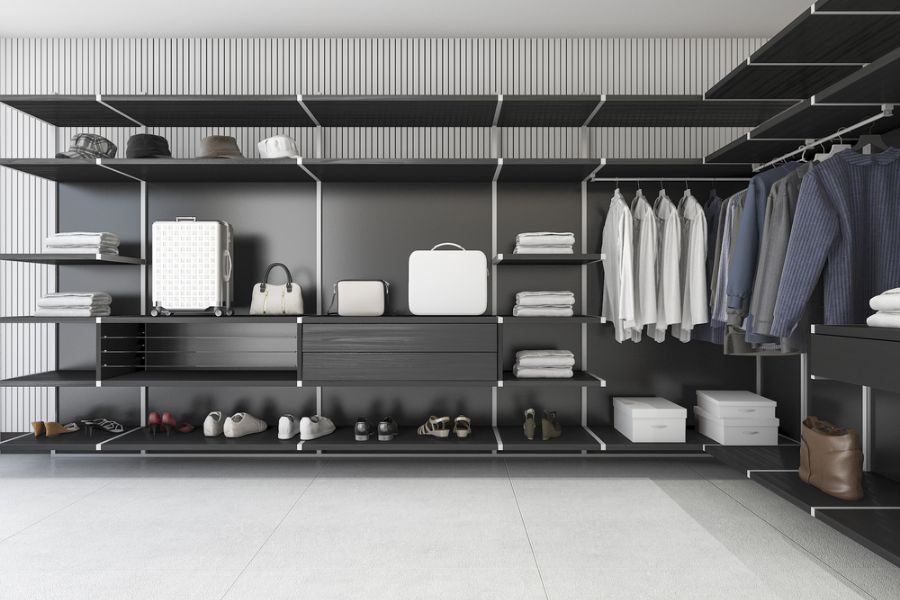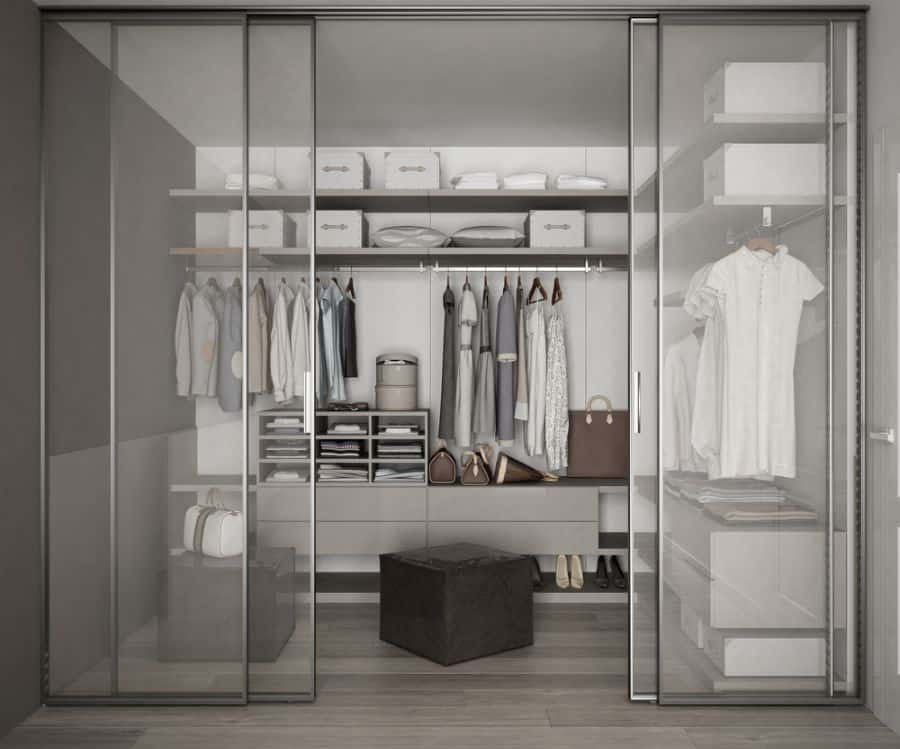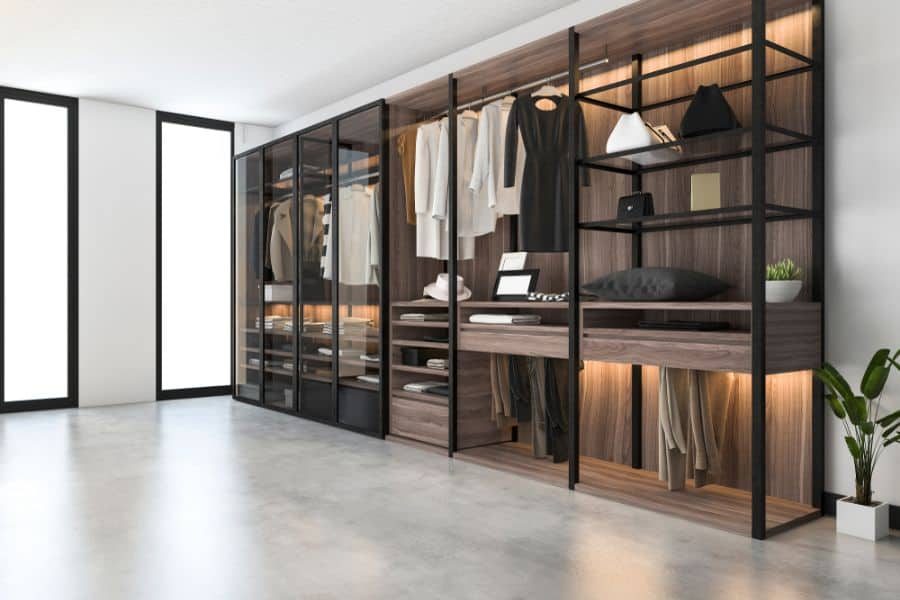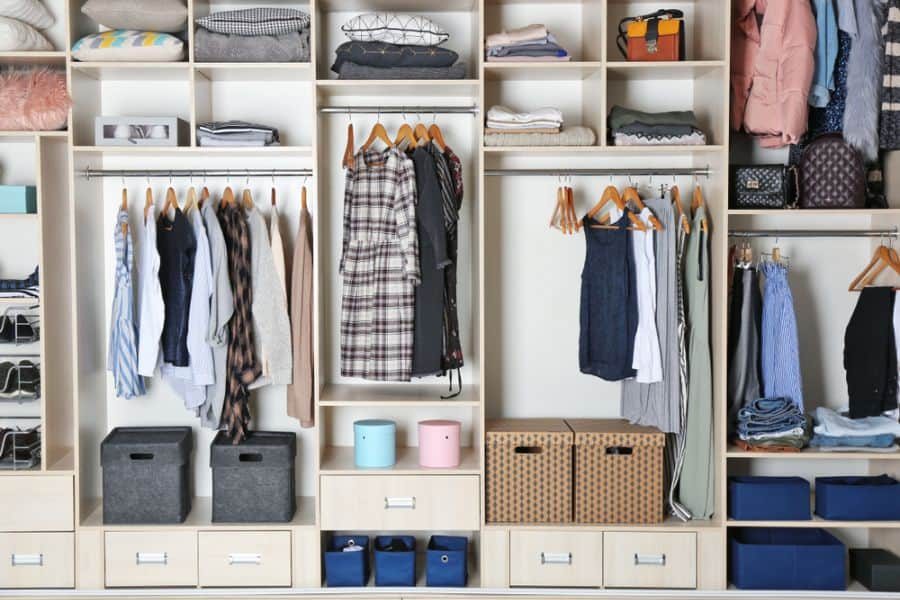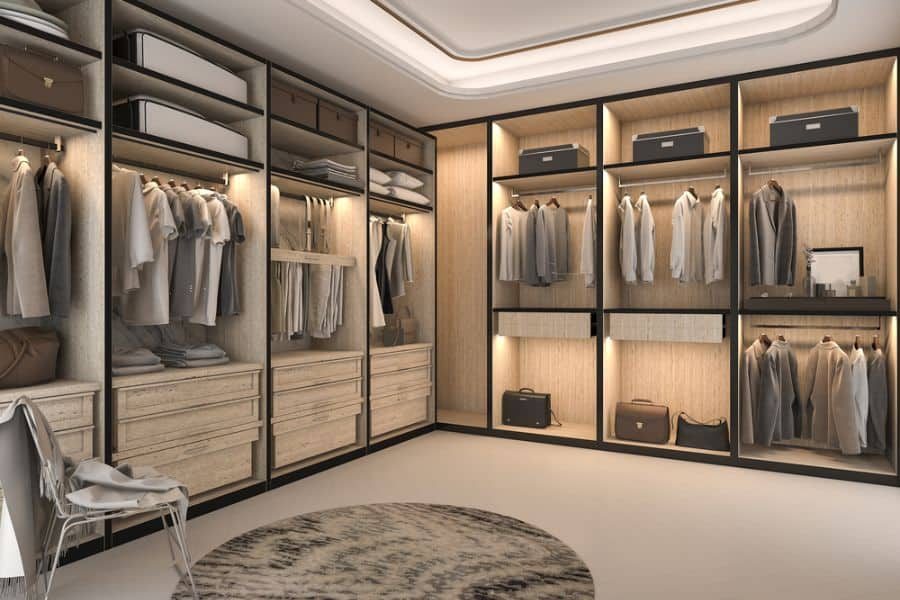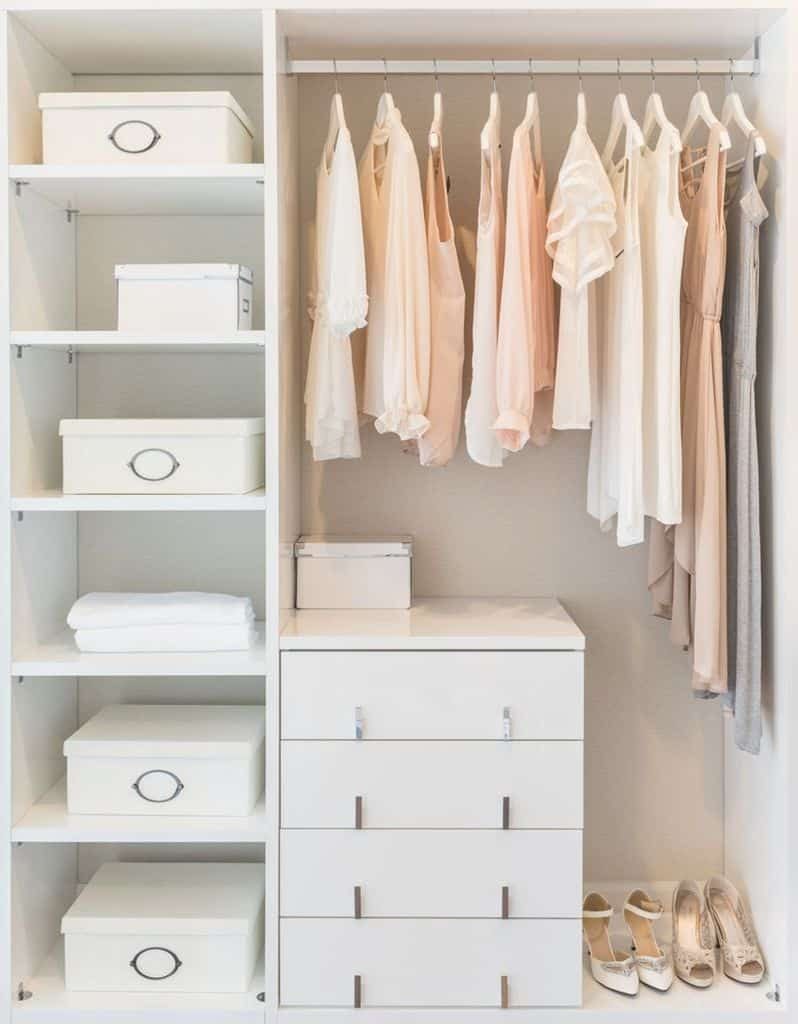 16. Walk-In Closet With Vanity
This clever idea combines the convenience of a spacious storage area with the luxury of a dedicated vanity space. Picture yourself perched on a comfortable stool, surrounded by neatly organized clothes and accessories, while you apply makeup or style your hair in front of a beautifully framed mirror.
The vanity area becomes your personal oasis, allowing you to get ready with ease and sophistication. The stool provides a comfortable seat, while the mirror reflects natural light and adds a touch of glamour to the space.
Whether you're selecting the perfect outfit for the day or preparing for a special occasion, having a vanity in your walk-in closet creates a chic and practical solution for all your fashion needs.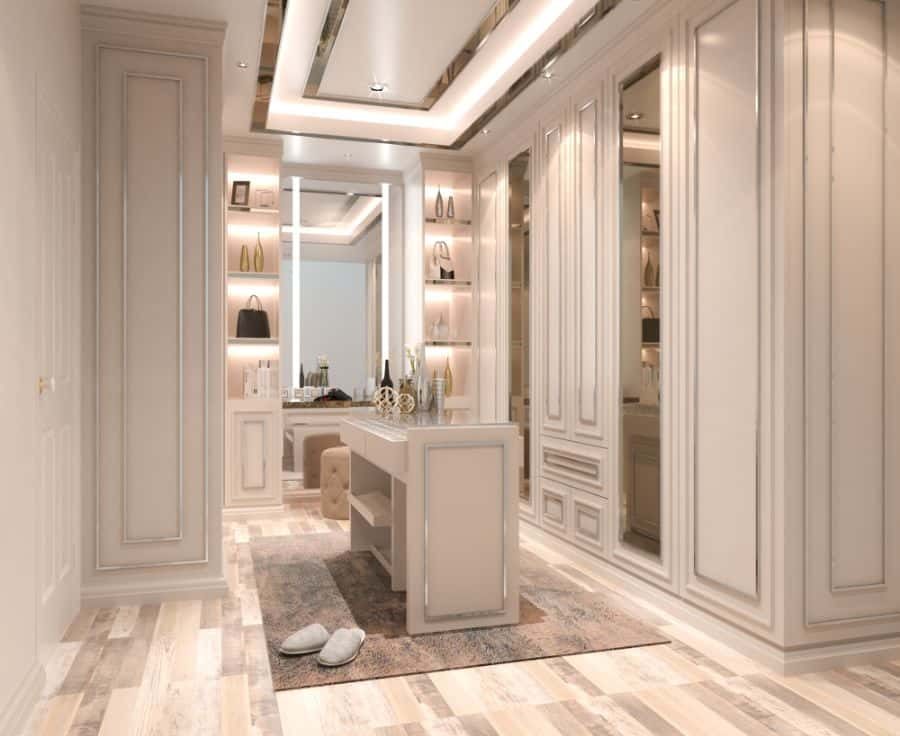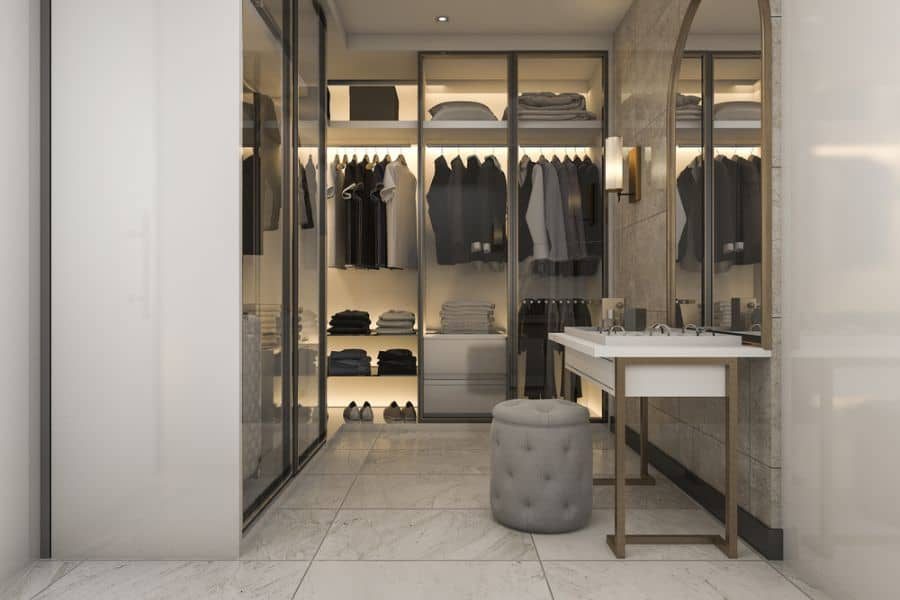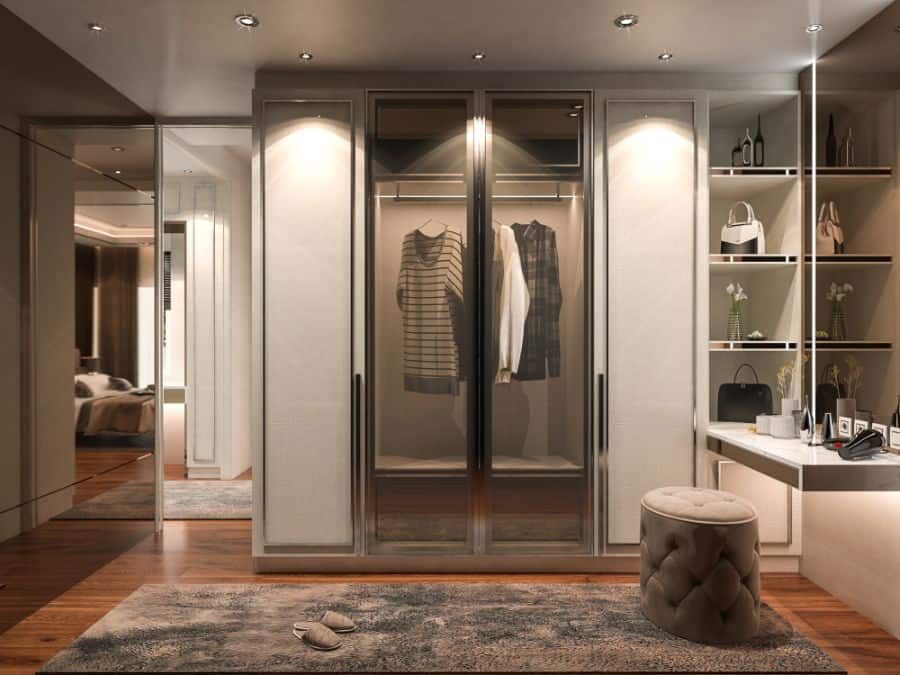 Closet Organization FAQs
How do I organize my small closet with a lot of clothes?
Start by sorting through your clothes and getting rid of anything you haven't worn in a year or two. Separate the remaining clothes into the ones that need hanging or folding. Create enough space for the hanging clothes. Then use the remaining space for baskets and shelves for the folded clothes.
How do you organize a small baby closet?
Sort the clothing by size and age. Use dividers to visually separate the clothing and make it easy to find something. Use one type of hanger for everything to make it look neater and take up less space. Use bins or shelves to store the small items that can't be hung.
Should you fold or hang jeans?
One method isn't better than the other. Blue jean material is durable and can withstand either folding or hanging without risking it losing its shape. Whether you fold or hang will depend on your organizational style and the storage space that you have available.