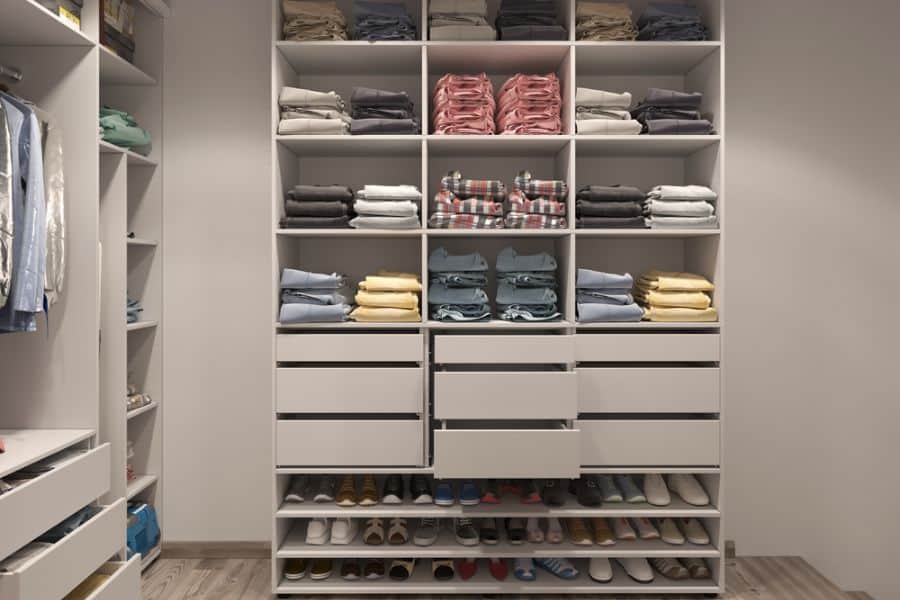 30 Closet Shoe Storage Ideas to Maximize Your Space
"I like my money right where I can see it… hanging in my closet." – Sarah Jessica Parker
How do you keep your shoes organized? Are they in a large pile on your bedroom or closet floor? This is a terrible way of storing your shoes. You can never find the pair you want, and it causes more damage than necessary, shortening the useful life of your shoes. What you need is a shoe organization and storage solution. You could have a cabinet, rack, ladder, tree, or shelves.
These closet shoe storage ideas will help you find the perfect storage solution for your shoe collection.
1. Cabinets
Building cabinets into your closet elevates your closet and gives it the look of a custom closet build. Ditch the wire racks that don't properly support your shoes and replace them with a complete storage system for all of your clothes, accessories, bags, and shoes.
Look for a closet storage system that has a logical shoe organizer for the type and number of shoes that you own. Some systems have an entirely separate shoe closet section or a separate shoe cabinet that you can buy. This is nice because you can buy more than one for a larger shoe collection.
2. DIY
Sometimes the best solution is to build your own DIY shoe rack. This lets you customize the amount of storage you have to perfectly fit the size of your shoe collection and the amount of space you have available. You could build simple shelves, a storage rack, or a full cabinet with doors.
When building your DIY shoe storage, remember that your shoes need air circulation. Your feet sweat when you wear shoes, and this moisture stays in the shoes after you take them off. However you store your shoes, they need air circulation to dry out and prevent the buildup of bacteria.
3. Entryway
You need a shoe storage solution in more than just your closet. Having a shoe cubby in your mudroom or entryway gives people a place to put their shoes when entering your home. It could be something simple like a tray on the floor or a basket. A console cabinet could have shelves or cubbies for people to set their shoes on.
If you have a larger space to work with, then add more than just shoe storage. Pair it with a shoe bench that gives people a place to sit while taking their shoes on and off. Add hooks or baskets that people can use to hang their coats and bags.
4. Master Closet
The master closet tends to be the largest closet in the home. This gives you the most storage space for your shoe storage solution. If you are the type of person who likes to save your shoe boxes, then you will need this extra space.
Even if you don't save the original cardboard box, you could keep your shoes in individual boxes. Clear Tupperware is nice but lacks the necessary ventilation. Fabric boxes with a clear front allow for airflow while still letting you see the shoes inside. However, these boxes take up the most amount of closet space. You will need to have a small shoe collection or a very large closet for this storage system.
5. Modern
The modern way to store shoes is to hide them. This smart shoe storage solution creates a sleek look with slab cabinet fronts that create a smooth and continuous line. Hidden shoe storage looks neat and clutter-free. Modern designs maximize the available space by being vertical. This minimizes the amount of required floor space while maximizing the number of shoes it can hold.
Modern shoe storage also keeps your shoes in unexpected places. This could be a shallow wall cabinet that fits anywhere from your bathroom to your hallway. You could have a bench that sits at the end of your bed, making your shoes readily available once you put your pants on.
6. Organization
You may need more than one system for storing your shoes. This is because you could have several different types of shoes. Look for shoe organizer ideas that work for each of your shoe types. A shoe drawer works well for sneakers and dress shoes but isn't ideal for sandals and strappy heels. Boot hangers are perfect for storing tall boots that have a long leg shaft. A shoe ladder can give you the flat surface you need for sandals and heels.
Making the most of your shoe storage space requires you to combine these different solutions. It also ensures that you store your shoes properly to preserve their quality.
7. Rack
Shoe rack ideas are nice because they give you a complete furniture piece that can contain your shoe collection. There are door shoe racks, hanging racks, and freestanding ones. They come in a range of sizes, from three or four pairs of shoes to over twenty pairs.
Look for a rack shoe holder that makes sense with the size and shape of your closet. It could be long and low to the ground, or it could be narrow and tall. To maximize the space in your closet, look for a rack that will fit into the available empty space that you have. There are affordable options that you can buy and put together.
8. Shelves
If you have a shoe collection that you enjoy looking at, then turn it into your room decor. Mount floating shelves on the wall in multiple rows. Space them just far enough apart to place your shoes in pairs on the shelves. Dress shoes and sneakers will need less space than high heels and boots.
This storage idea is about combining function and design. Choose a shoe shelf that looks beautiful and matches the rest of your room design. A farmhouse design will look good with reclaimed wood shelves. Modern designs would benefit from stainless steel or sleek black shelves. Scandinavian or contemporary shelves are typically light wood.
9. Small
A small closet presents a unique challenge because you have limited space for everything you would typically keep in a closet. You can use the floor space to store the shoes you wear most often during a particular season. For summer, this means your sandals and other warm-weather shoes. Then during winter, you would have your closed-toed shoes and boots. If you have enough room, you could have a hanging shoe organizer that mounts on a tension rod or hangs on the back of your closet door.
The shoes that you aren't going to wear during the current season can be stored elsewhere. Purchase storage boxes that slide under your bed frame. Or keep them in a hall closet. Some smaller closets have height to their advantage, so you could store them on a higher shelf that isn't easily accessed for daily use items.
Closet Shoe Storage FAQs
How do you organize your shoes in a drawer?
Organize your shoes by type or use. Keep all of your sneakers together in one drawer, then your dress shoes, sandals, heels, and boots in their own space. This makes it easier to find what you are looking for while getting ready. It also helps you know and see what you have, so you are more likely to wear all of your shoes.
How do I keep my shoes from dry rotting?
Always air out your shoes for at least 24 hours after you wear them. Try to avoid wearing the same pair of shoes two days in a row. Don't leave your shoes to sit in direct sunlight while they are airing out. Most importantly, regularly wear your shoes!
Can I store my shoe collection in the garage?
The garage is not a good place for storing your shoes. First, it is inconvenient because it isn't near where you get ready for the day or get dressed. The garage is also a less than ideal environment for storing shoes. The extreme heat will dry them out and cause them to warp. This makes the shoes brittle, which leads to them falling apart when you try to wear them.