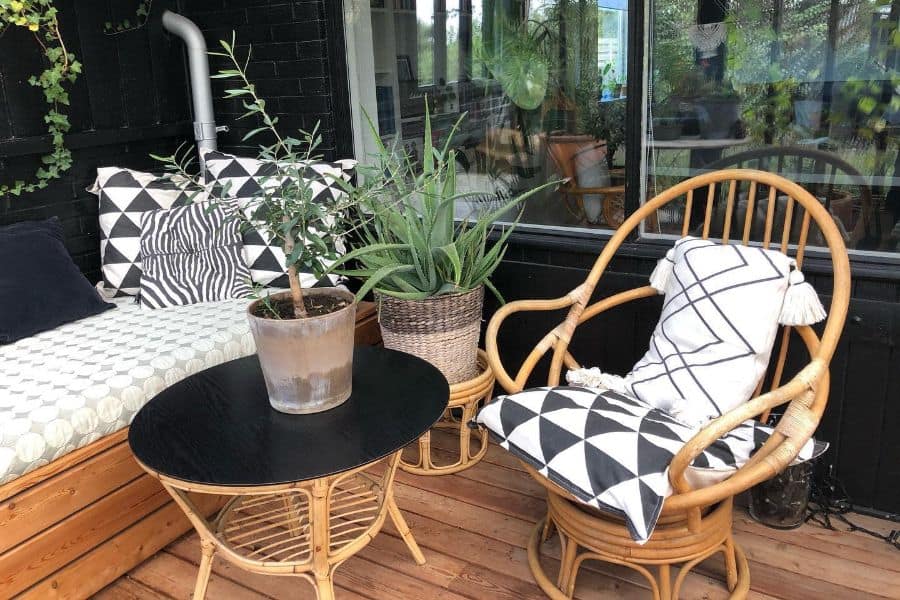 96 Best DIY Coffee Table Ideas to Inspire You
"I think a coffee table is one of the most important things. It's where everything happens." – Georgia Toffolo
What's sitting in the center of your living room? Chances are, it's a coffee table.
This short table sits proudly in the center of the room and gives you the perfect place for displaying decor, arranging books or magazines, or placing your glass. It could even give you more storage space.
If your living room doesn't have a coffee table, then your living room is clearly missing something.
Thankfully, these coffee table ideas will help you get inspired. That way, you can find the perfect gorgeous coffee table that will complete your living room furniture design.
1. Decor
Decide what type of coffee table decor you want to use as decorative accents.
Commonly picked decorative objects are candle holders, greenery, vases, floral arrangements, or a tray that holds several other items. You could also use seasonal decor, such as pumpkins in the fall.
Coffee table styling is an art. Look at coffee table decor ideas to help you understand what looks good and what flops.
The trick is to create a visual display that looks interesting without being overdone or cluttered. Sometimes, it's good to stick to one decorative item and use it as the room's focal point.
2. DIY
You can build a DIY coffee table if you struggle to find anything you like. A simple ottoman can be constructed from an old tire that you cover in twine.
You could stack vintage suitcases, the kind that are more like trunks that have a hard exterior and are shaped like rectangles.
A popular DIY coffee table idea is to build one out of recycled pallets. You could simply stack two pallets on top of each other. However, this can take up too much floor space.
A better option is to break the pallet down and build the coffee table to fit your living room. With either method, place a sheet of glass over the top. This gives you a smooth and flat surface on the top.
3. Glass
A glass coffee table looks elegant and is the perfect solution for smaller living rooms.
Because the glass is transparent, you see through it, and it tricks the eye into thinking the room is larger than it really is.
Look for a nesting table. This will give you two or three tables that nest inside each other.
When you're not using them, they take up very little space. Then when you need them, you separate them and have a large living room coffee table. These tables tend to look modern with metal frames and minimalist designs.
4. Living Room
Consider the rest of your furniture when choosing your coffee table. The coffee table design you choose needs to complement the rest of your interior design. Otherwise, your coffee table will look strangely out of place.
Your coffee table doesn't have to perfectly match; this would actually be a bad thing. It only needs to complement the other furniture.
Perhaps it's scaled to fit the size of the other furniture. Or it could be the same design approach. It could have a similar color that's found elsewhere in the room.
5. Makeover
If your old coffee table is starting to look tired, but you don't want to give up the convenient storage space that it has, then it's time for a makeover. You can refresh the look of your coffee table and make it feel like something new. This saves you time and money.
To give your table a new look by painting, reupholstering, or replacing the top on it with something different. Perhaps you currently have a wood top. Place a piece of marble on top of the wood, and you have a completely different look.
6. Modern
As with other modern furniture, your coffee table should have long straight lines and sharp corners. Hairpin legs are good at creating a clean, modern silhouette.
They're also perfect for a small living room because this modern coffee table design eliminates bulk and allows the eye to see through it beyond the table. This helps to keep your living room feeling spacious.
Other modern coffee tables use unexpected materials. A popular choice is to use a metal frame with a marble top. This combines sleek metal with natural stone material.
7. Painted
You found the perfect coffee table, but unfortunately, it's the wrong color. Don't let that stop you from buying it.
All you need to do is paint it your desired color. Chalk paint can help you create a unique coffee table. Its flat finish is perfect for creating a rustic look.
You can also create an elegant cocktail table by spray painting it a metallic color. This gives the coffee table a bit of flash.
For extra shine, seal the metallic paint with a clear coat. This helps to protect the paint and gives your coffee table a high shine.
8. Rustic
If you love the farmhouse style, you can use rustic decor to create your living room's aesthetic.
A rustic coffee table should look slightly worn in with aged wood and a vintage design. This will give the piece some authenticity. You could always buy a vintage coffee table.
When choosing your rustic table, decide if you want it to be only made of wood or if it can also have metal or other materials in the construction.
A true farmhouse table would be made solely of wood. However, modern versions will have decorative metal that adds to the design.
9. Small
If you have a small living room, you don't have to give up on the idea of having a coffee table display.
You can still have a stack of coffee table books or a single decorative piece on a small coffee table. Scale the display to the small size of the coffee table.
It can help to stick with a single decorative item. Otherwise, you risk the magazines or books taking up too much space on the coffee table. Then there's no room for anything else.
When choosing a small coffee table, stick with one that visually looks light. This will help the entire room to feel lighter, and with it, more spacious.
10. White
A white coffee table looks beautiful and helps to keep your entire living room looking bright and feeling big.
You can find white coffee tables in a wide variety of design styles. This enables you to find a coffee table to fit any decor and furniture theme.
You could have a white coffee table made out of wood, marble, glass, metal, or acrylic.
To keep your living room from feeling too cold or sterile, decorate your coffee table with items that have color.
Or you can use a coffee table that is predominately white and accented by color in the table's construction. A white and wood table will combine natural warmth and crisp white for a perfect balance.
11. Wood
While pallet coffee tables are trending right now, they aren't your only option.
Sure, you could break down a wooden pallet or use reclaimed wood to construct a coffee table. But this style of wood will only look good in a rustic or farmhouse living room. Any other style and you need to pick something else.
A wood slice table can give you a beautiful alternative. These tables feature a tabletop that's a slice of wood.
It looks like a cross-section of a tree trunk. Then it gets mounted on thin black metal legs. The table showcases the tree rings and the natural beauty of the wood.
The simple design helps the table to look beautiful in a minimalist, Scandinavian, modern, industrial, or even boho living room.
Coffee Table FAQs
What should I put on my coffee table?
Place decorative items of different heights to create a multi-tiered display. Try stacking books, placing a vase with fresh flowers, or a decorative object or two. If you want more than one of these, try stacking them on top of each other. Place the books on the coffee table, and then the vase on top. This will look less cluttered and give you more space on the coffee table.
What is the trend for coffee tables?
Modern materials are becoming more popular, especially when mixed together. This includes glass, metal, stone, and wood. You'll see more coffee tables with a modern aesthetic that features clean, straight lines and minimal ornamentation. Coffee tables with a unique shape or have a multi-functional design are also popular.
Is a coffee table necessary?
Most people agree that a coffee table is necessary because it gives you a place to display decor, rest your feet, and set down drinks. It also helps to center and anchor the entire living room. If you plan to have an area rug, it will anchor it and help to tie everything together.