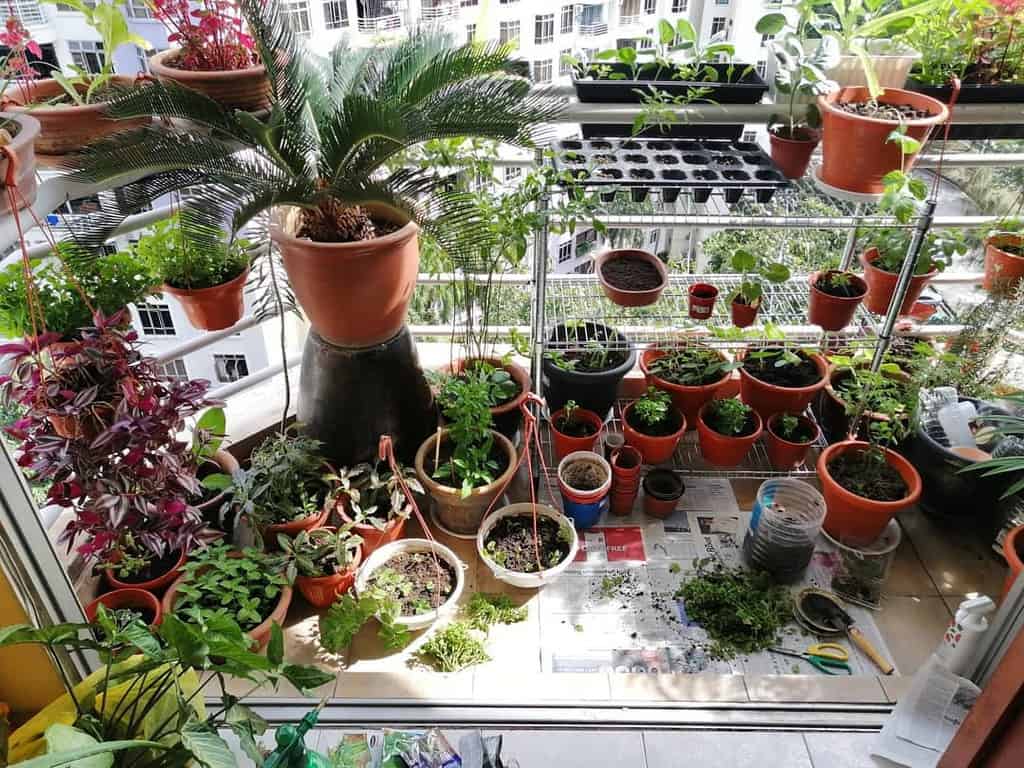 The Top 58 Container Garden Ideas
The past few years have inspired countless people to take up gardening as a personal hobby. And there's really no better way to feel one with nature whether you're working with several acres or a tiny garden plot!
But how do you put your green thumb to use when constructing a traditional in-ground garden isn't an option?
These diverse container garden ideas will show you how to make the most of limited space. (Yes, you can even start your own garden without access to a yard of any kind!)
1. Backyard
Digging into the soil isn't the only way to start your own backyard garden. Containers are an incredible alternative to traditional garden beds (and are renter-friendly!).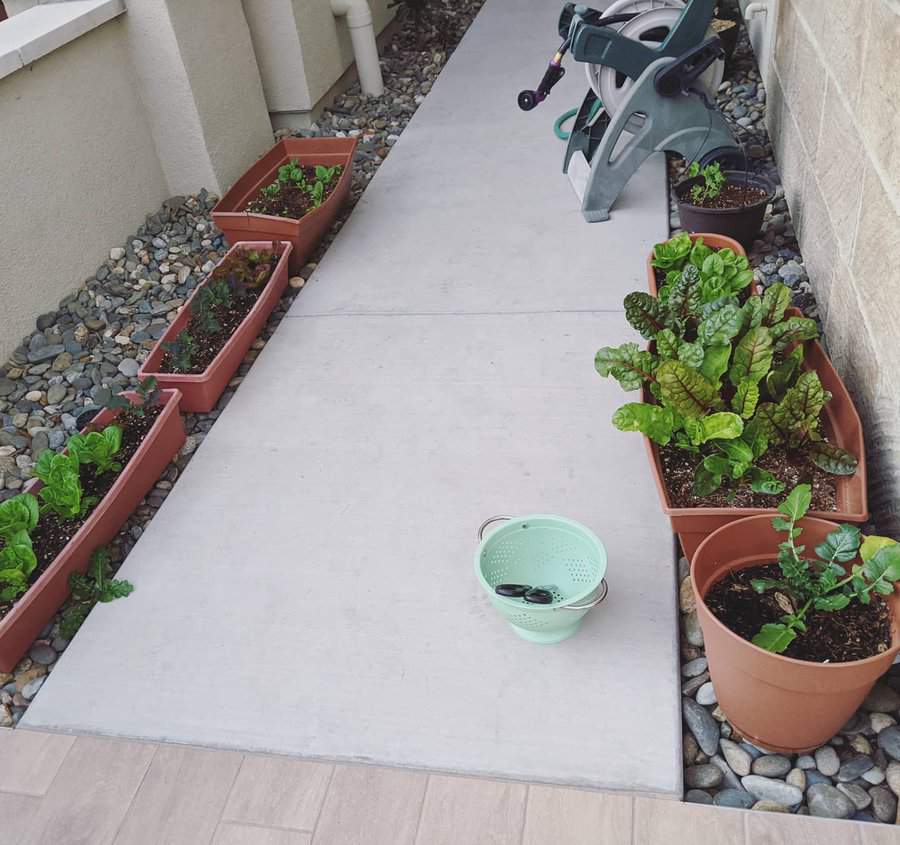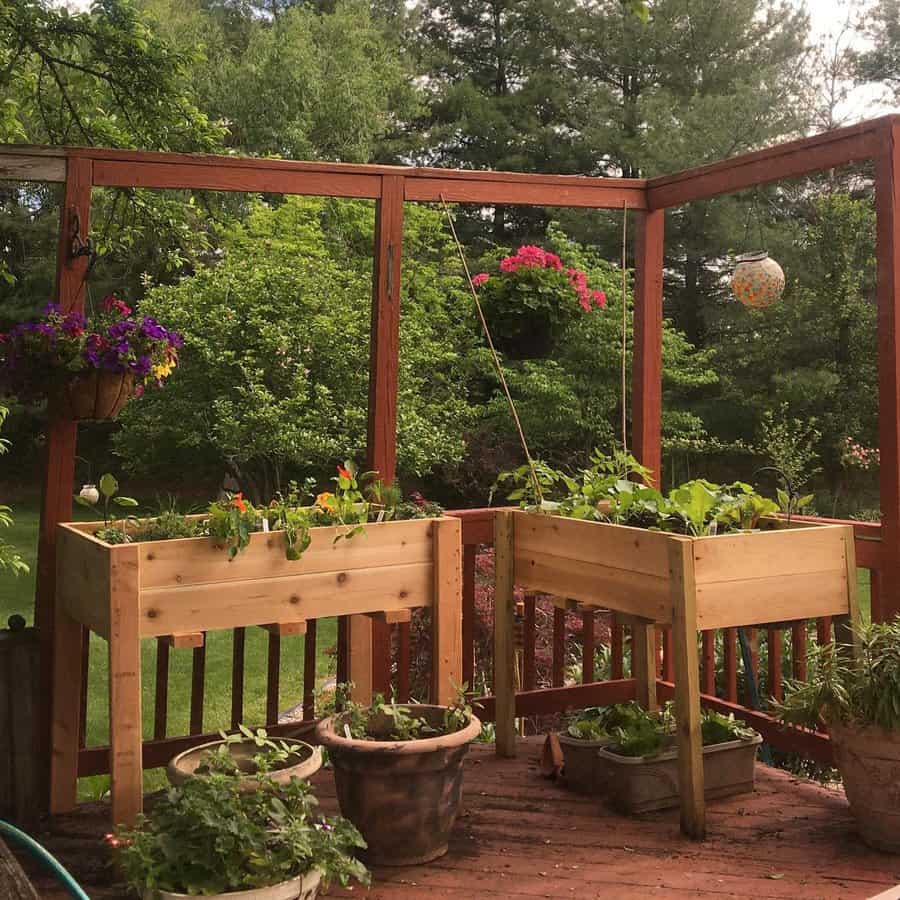 A backyard container garden can keep curious children and pets away from your most prized herbs and vegetables. Container gardening lets those with limited mobility plant, weed, and harvest without pain.
Regardless of your reason for starting a backyard container garden, there's no denying the sheer versatility. Container gardening is the perfect solution for climates with unpredictable weather. Moving your planters indoors can save a whole season's work from extreme heat or harsh storms!
2. Balcony
Perhaps the biggest audience for creative container garden ideas is anyone without a backyard to truly call their own. From a high-rise apartment to a suburban duplex, containers let you garden anywhere.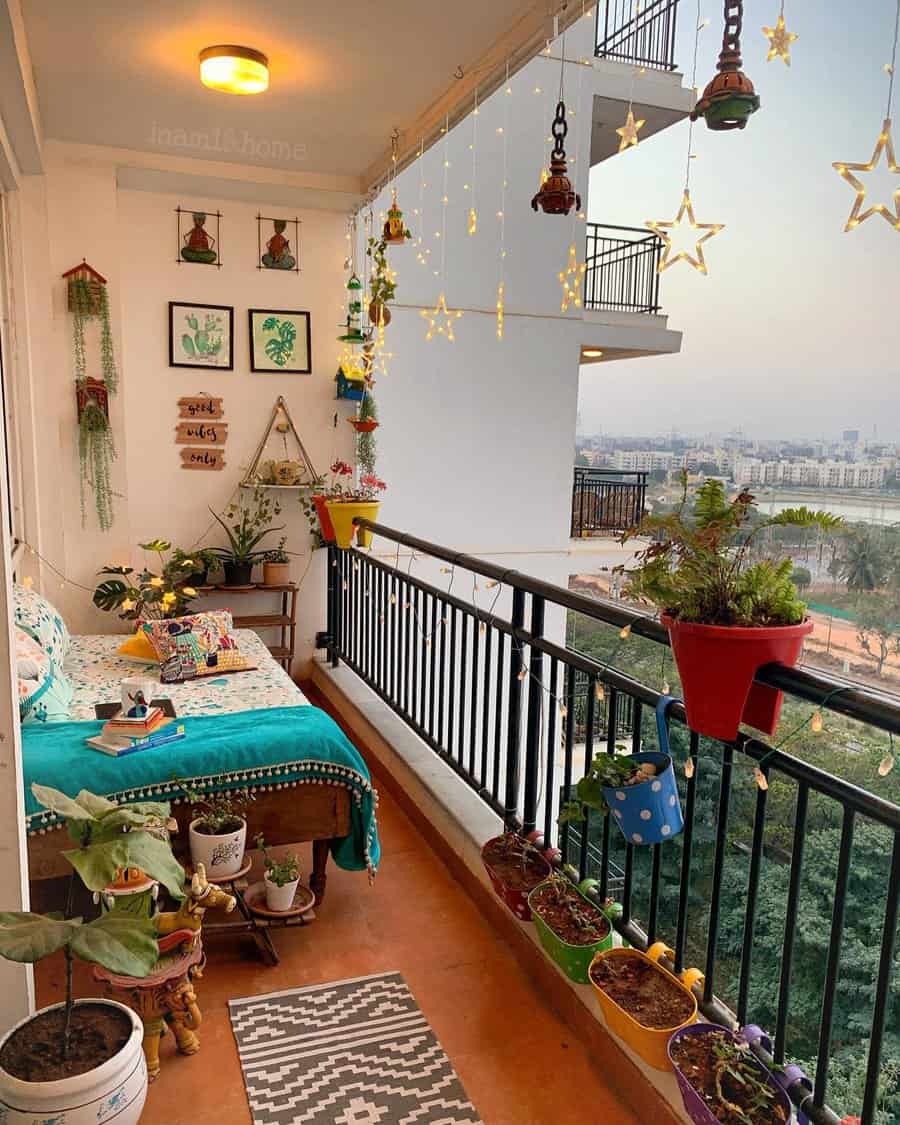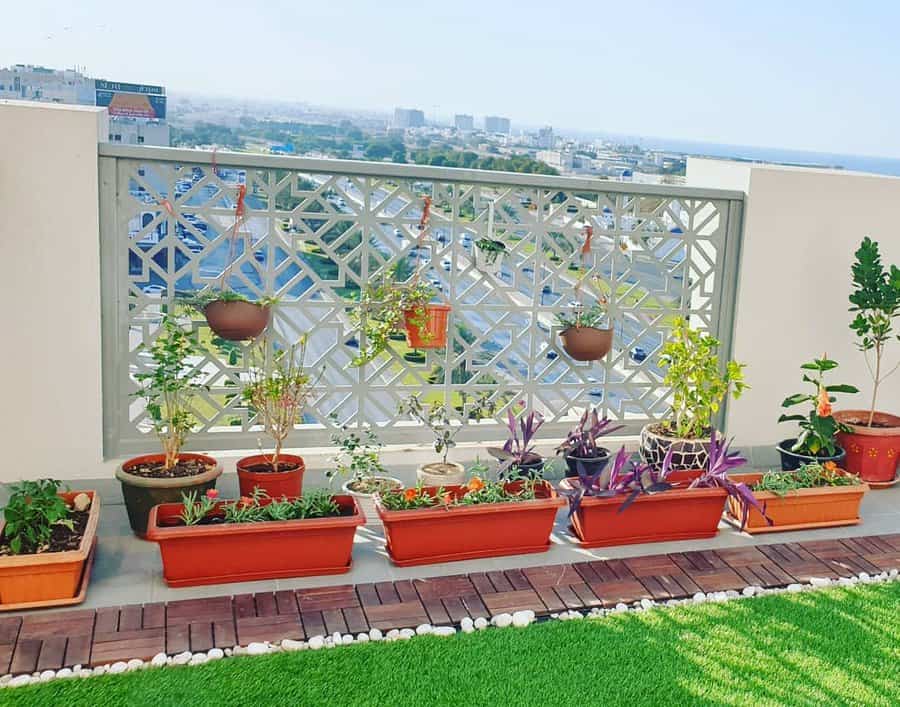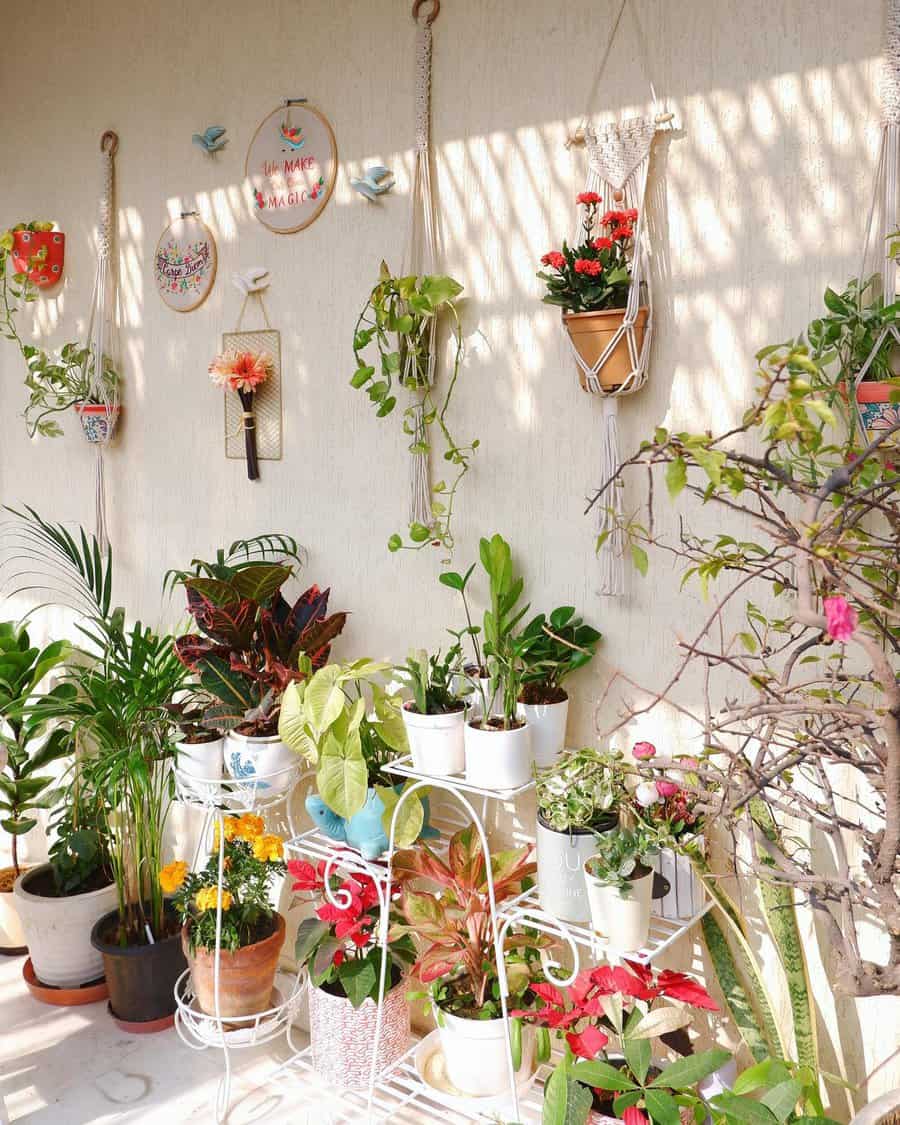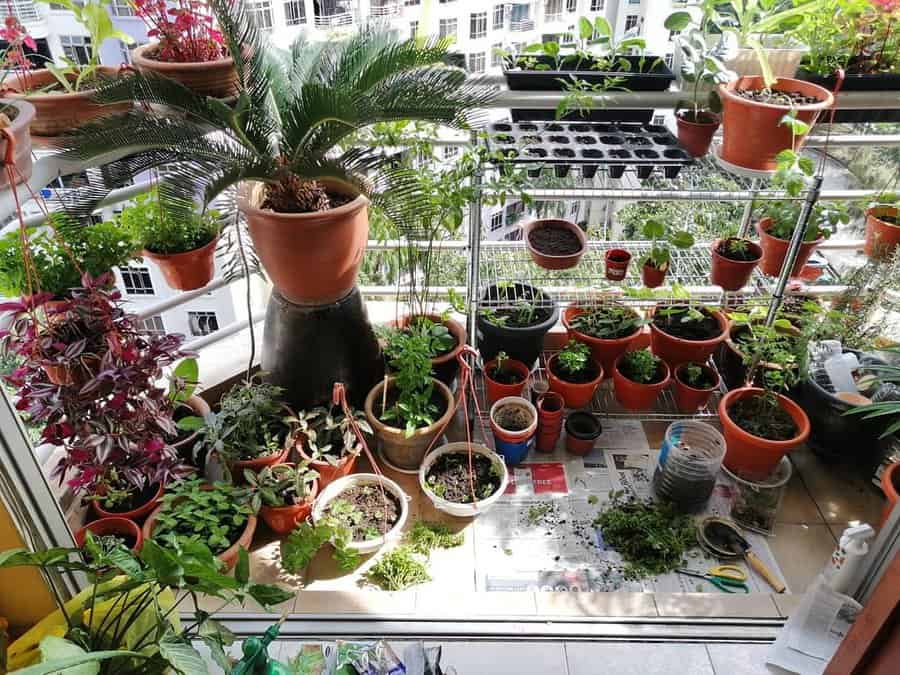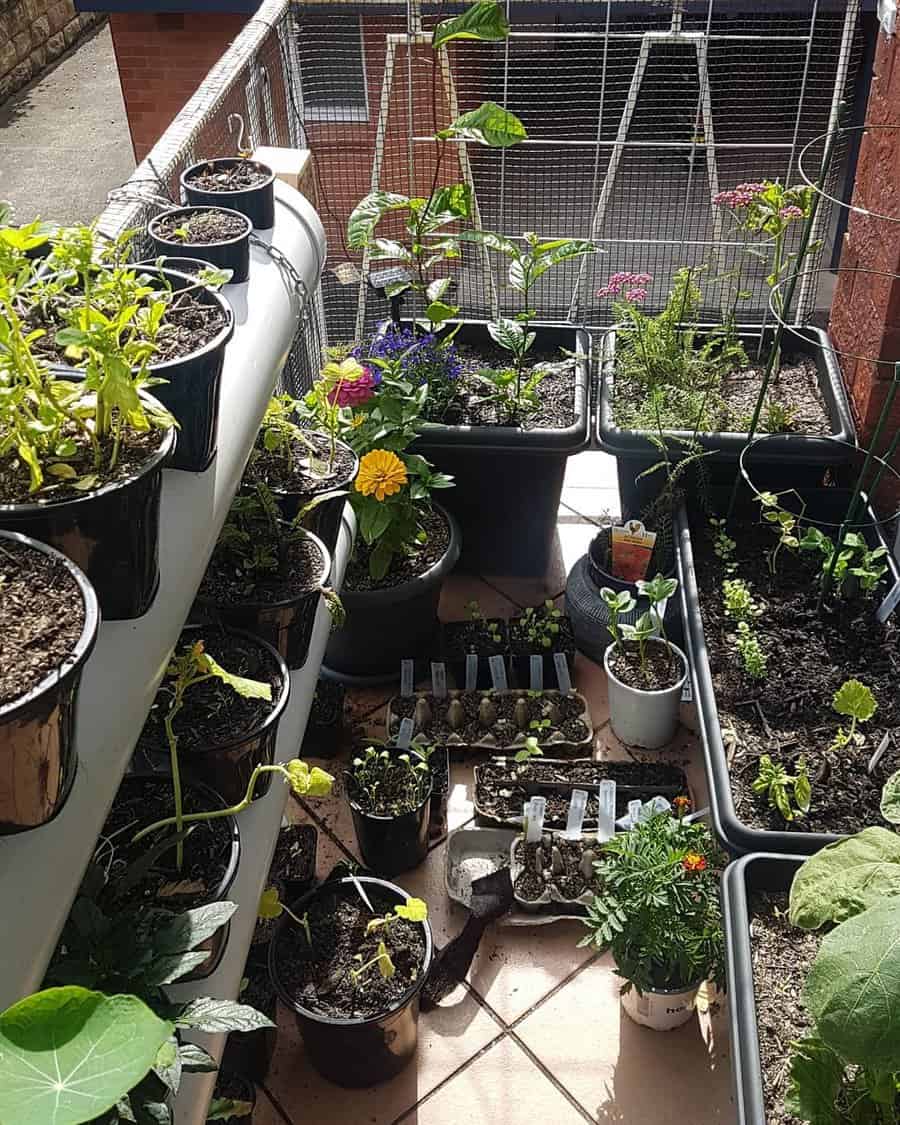 Containers can be used to cultivate edible plants or beautify an outdoor living space. Choose from standard planters arranged on the floor of your balcony or space-efficient hanging containers.
Keep in mind that growing plants on a balcony can leave them vulnerable to unique stimuli. Be sure your containers (and the plants within) can hold up to heavy wind and extended sun exposure for the best results!
3. Deck
Does your backyard deck feel disconnected from the rest of the outdoor space? If so, a few strategically placed garden containers could be the answer.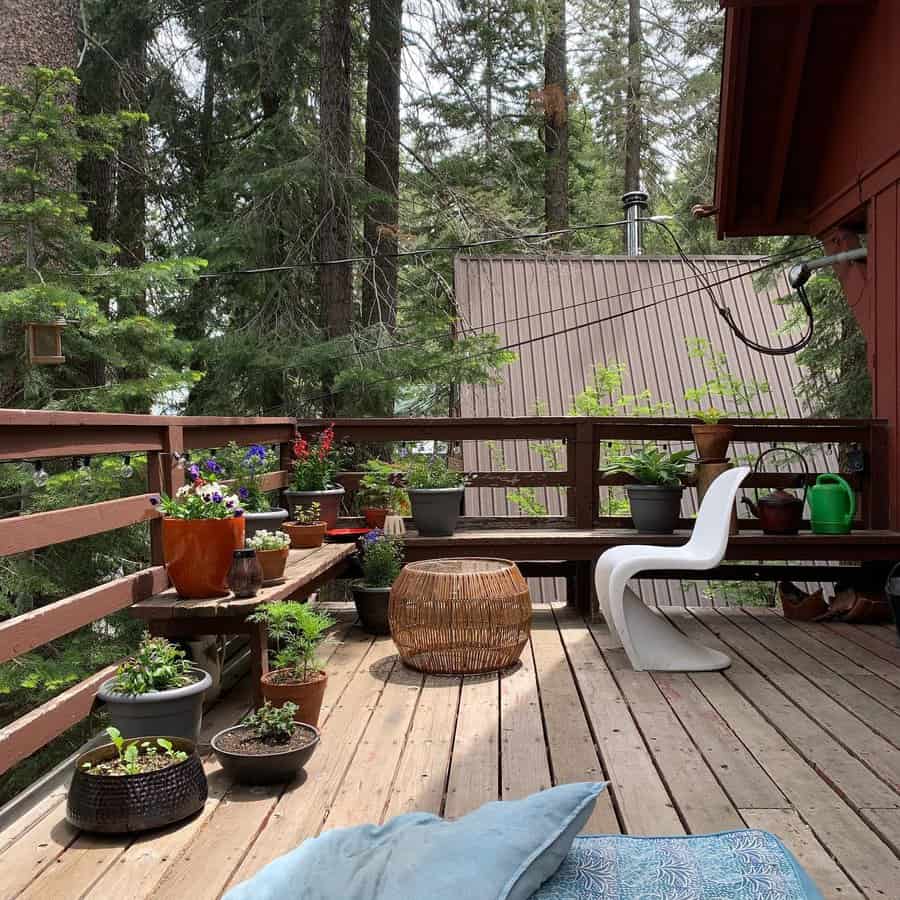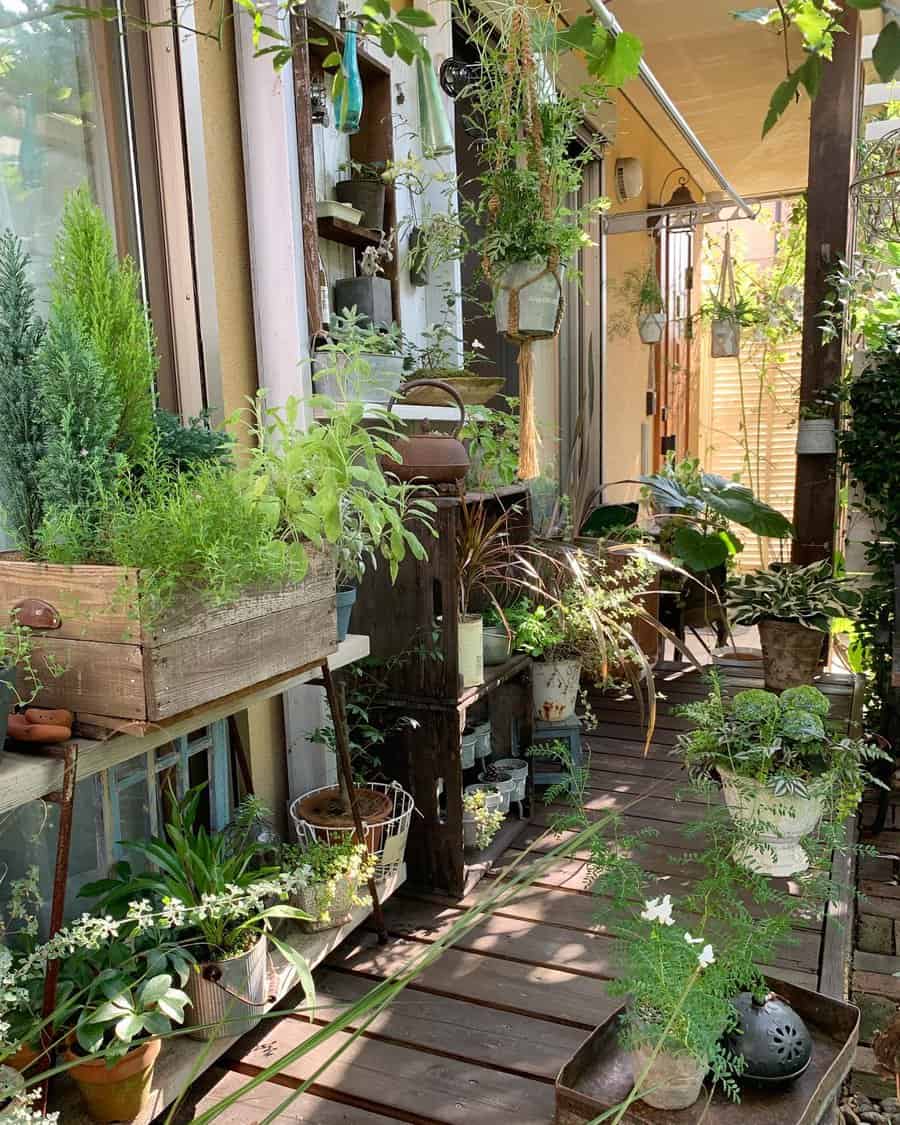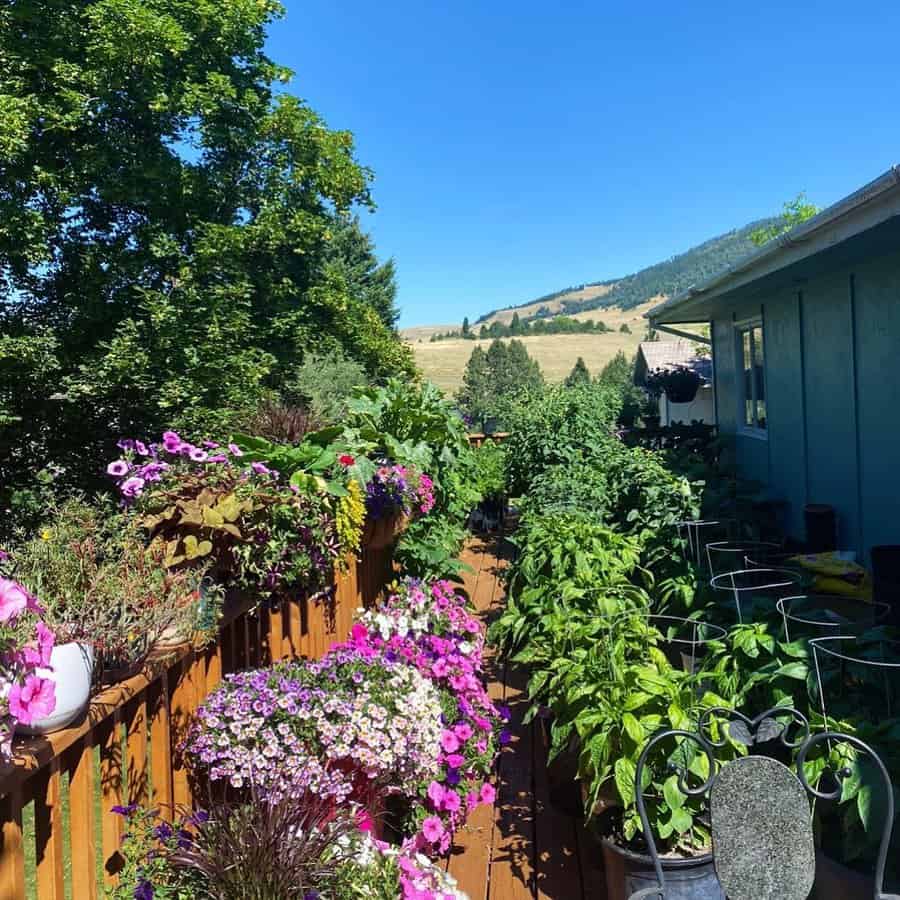 Container gardening isn't just for those who can't or don't want to install a regular garden bed in their lawn. This landscaping technique can also be used to bring life and beauty to structured outdoor spaces like a deck or pergola.
When arranging containers around your deck, think about how you would utilize houseplants within an indoor space. Use large planters to accent your patio furniture. Smaller potted plants can be placed on railings, tables, or in hanging baskets to add color to the overall design.
4. Flower
It's rare for a container garden to be completely devoid of flowers. Even a vegetable garden can include flowers for color or to deter common pests!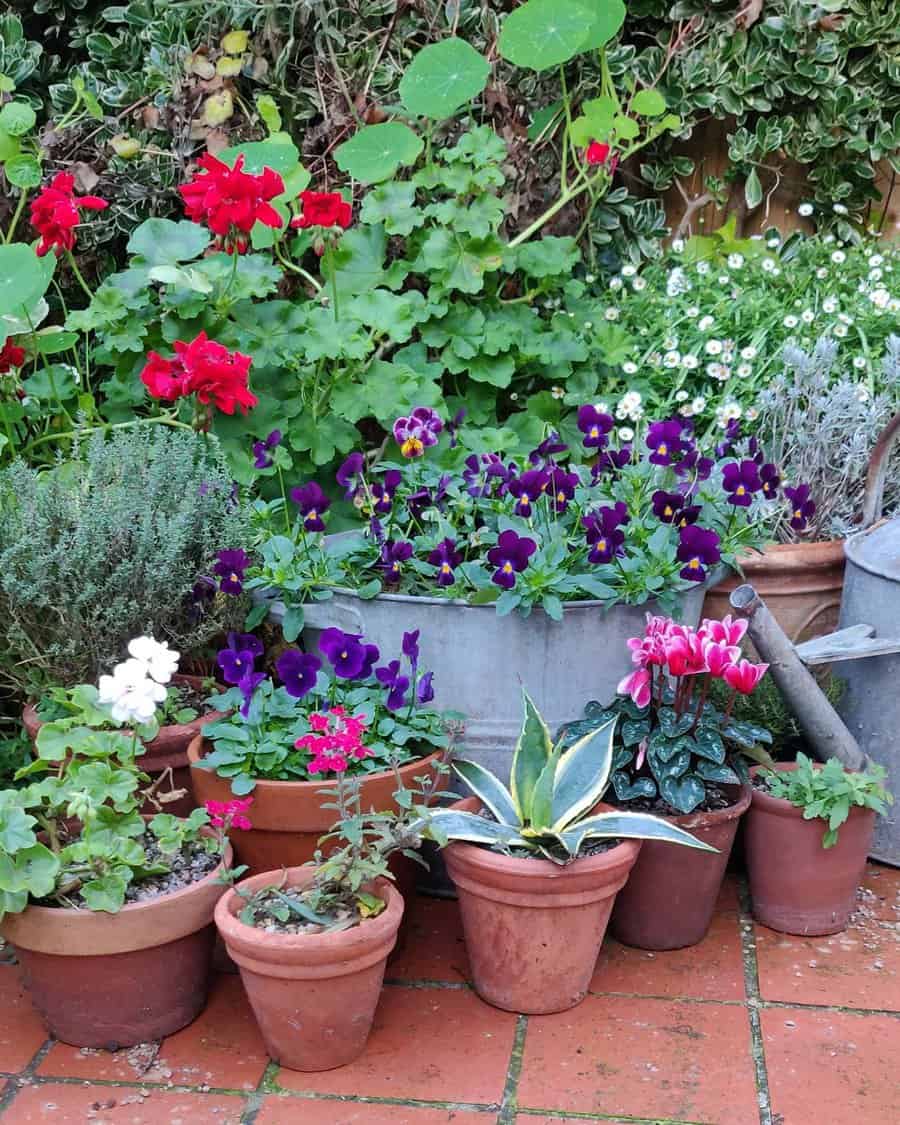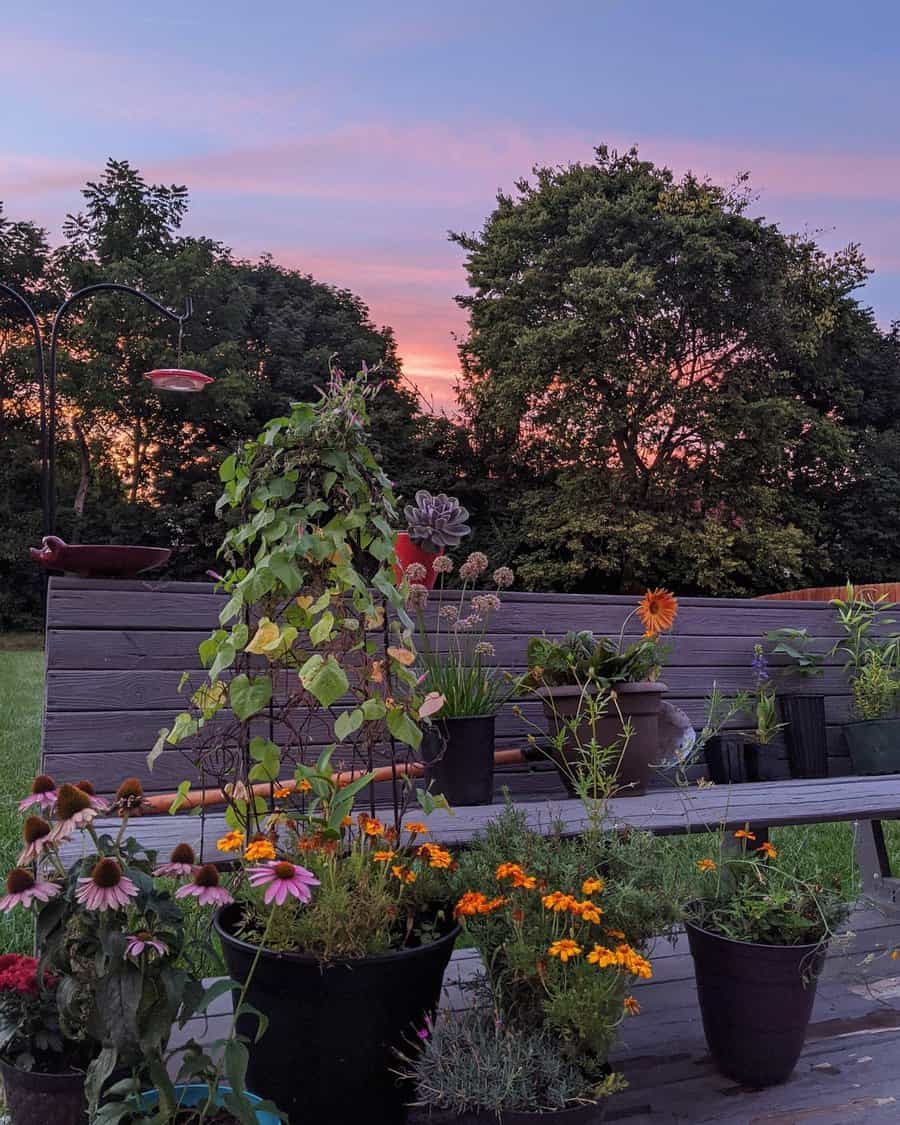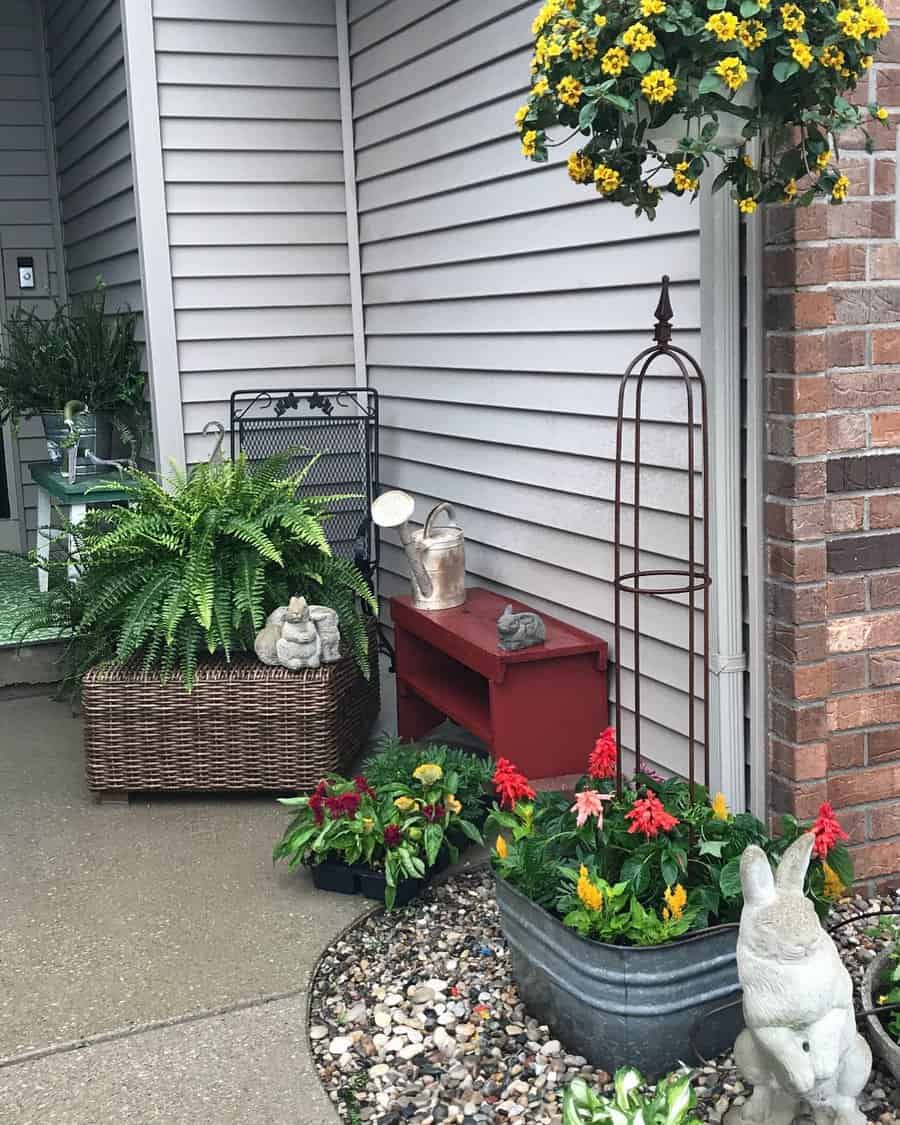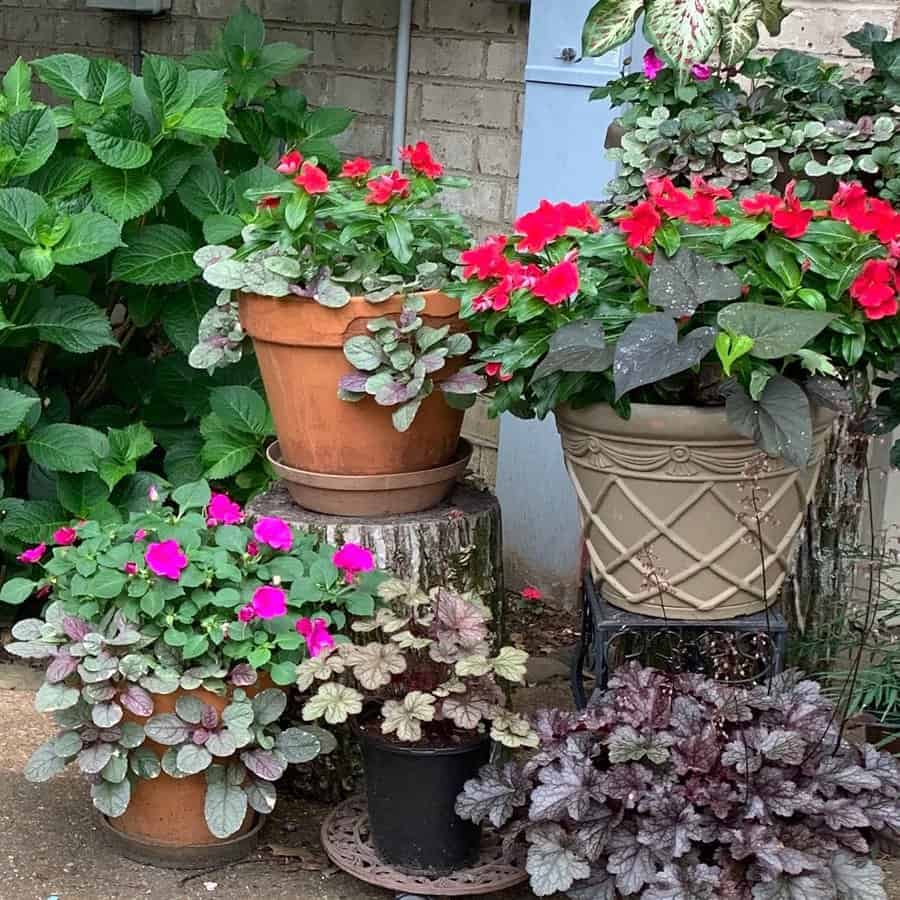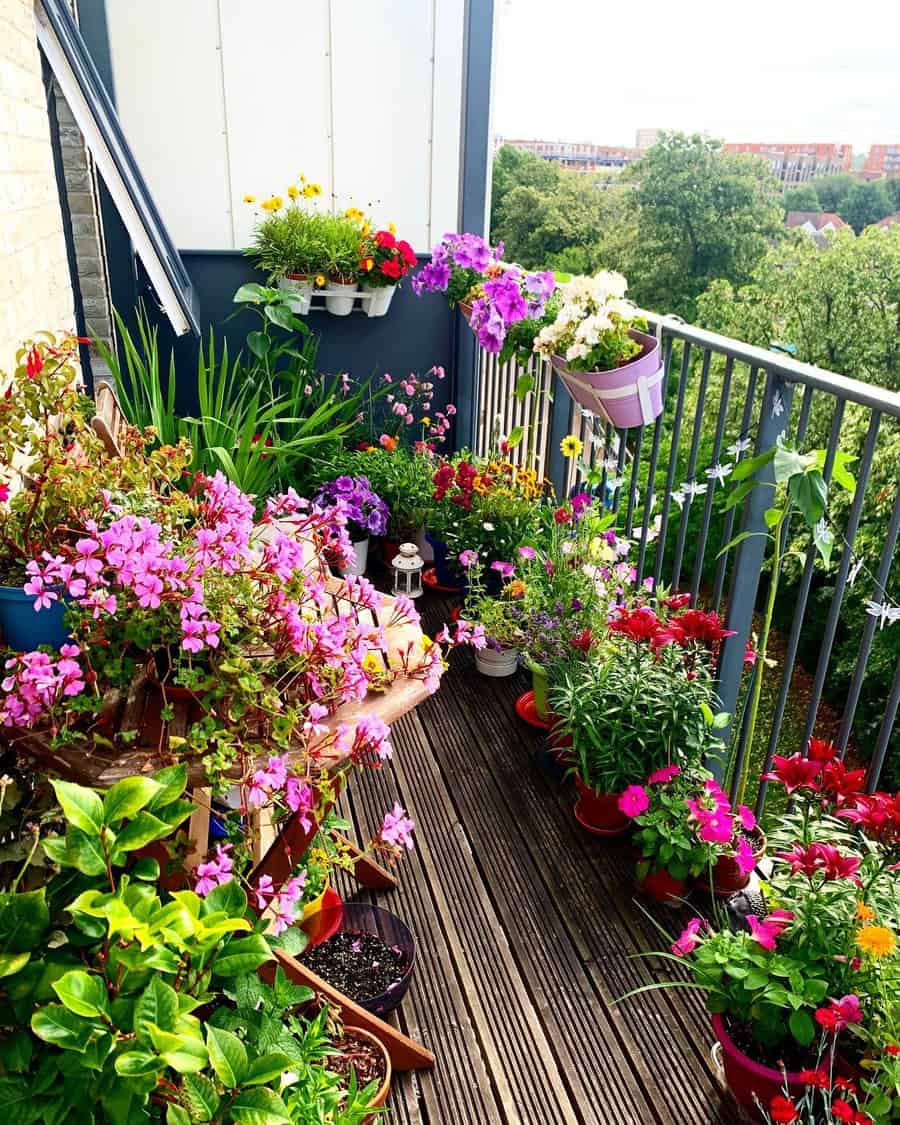 In terms of design, flowers are largely defined by color, shape, and size. The best floral arrangements include contrasting and complementary elements. Place your most dramatic (or tallest) flowers in the center of each container and surround them with more subdued accent blooms.
Most popular container flowers are annuals, meaning they die off after a single year. However, it doesn't take an expert gardener to keep hardy perennials like hydrangeas, roses, hibiscus, and other stunning flower varieties in large containers.
5. Front Yard
Every residential property is different. While most homeowners opt to place their garden in the backyard, there's nothing wrong with placing outdoor plants in the front yard instead.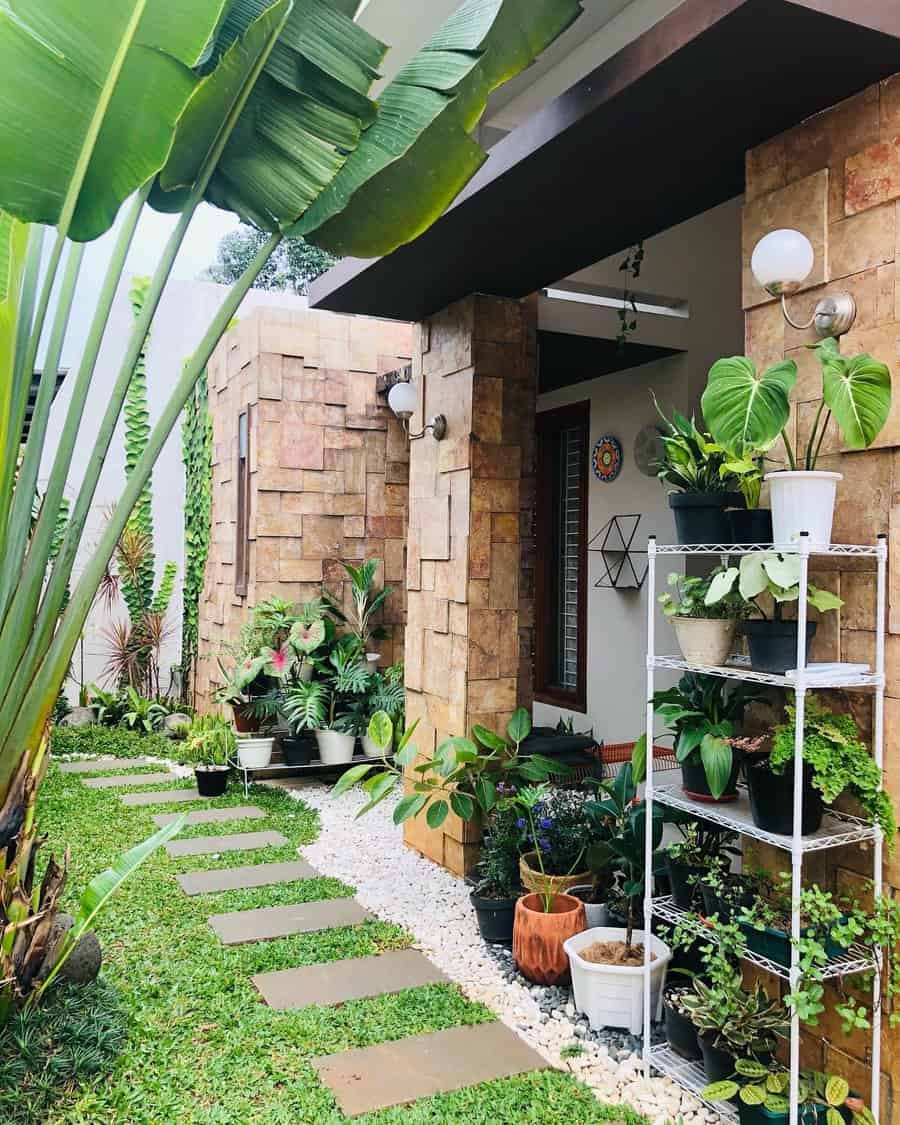 Decorative planters can frame a walkway or front entrance to add curb appeal to your home's exterior as a whole. Use containers alone or alongside standard in-ground landscaping.
For those looking for an eco-friendly and efficient alternative to a traditional grass lawn, container gardening makes it easy to grow vegetables, herbs, and native perennials. Many homeowners prefer the tidy look of containers planted with wildflowers and other native species.
6. Hanging
Something many plant enthusiasts fail to realize is that a hanging garden can be installed indoors or out. So hanging planters are excellent options for your backyard, patio, or indoor living spaces.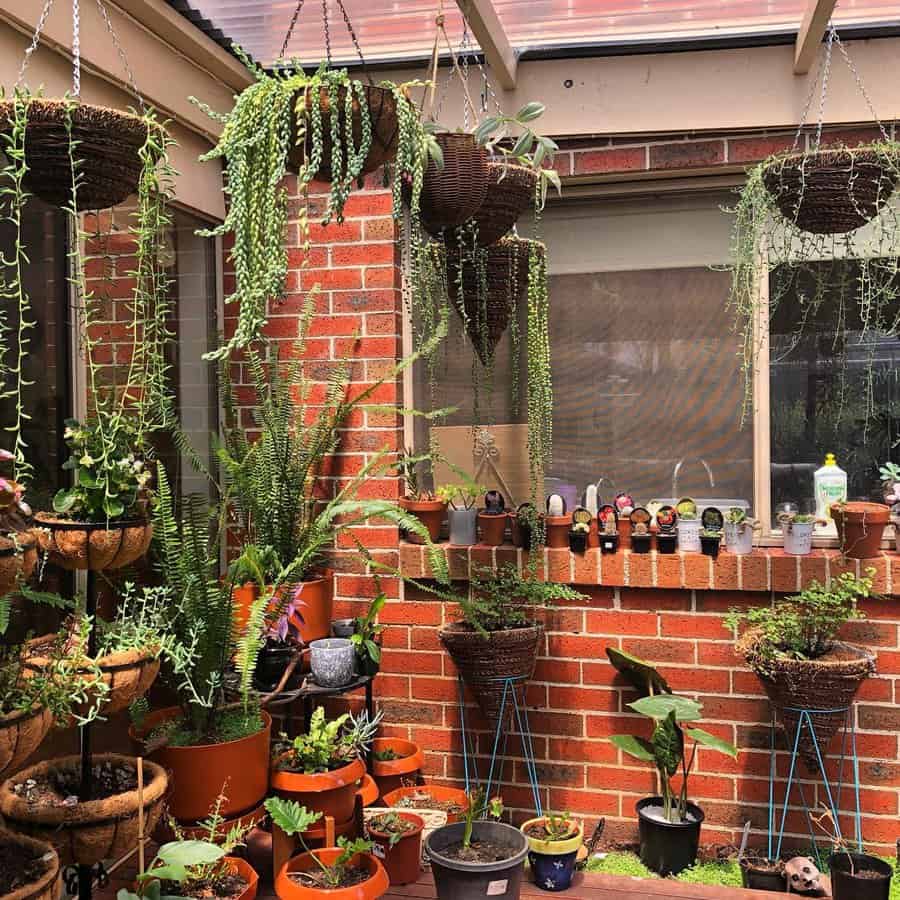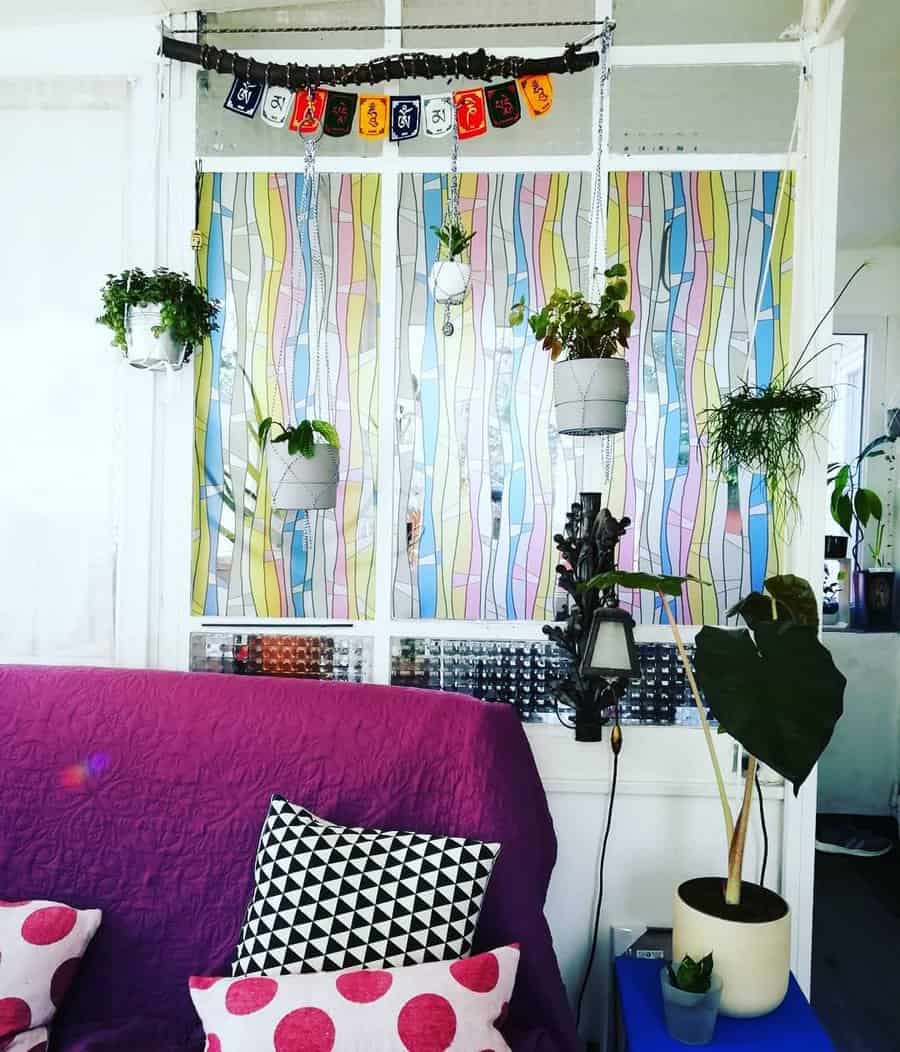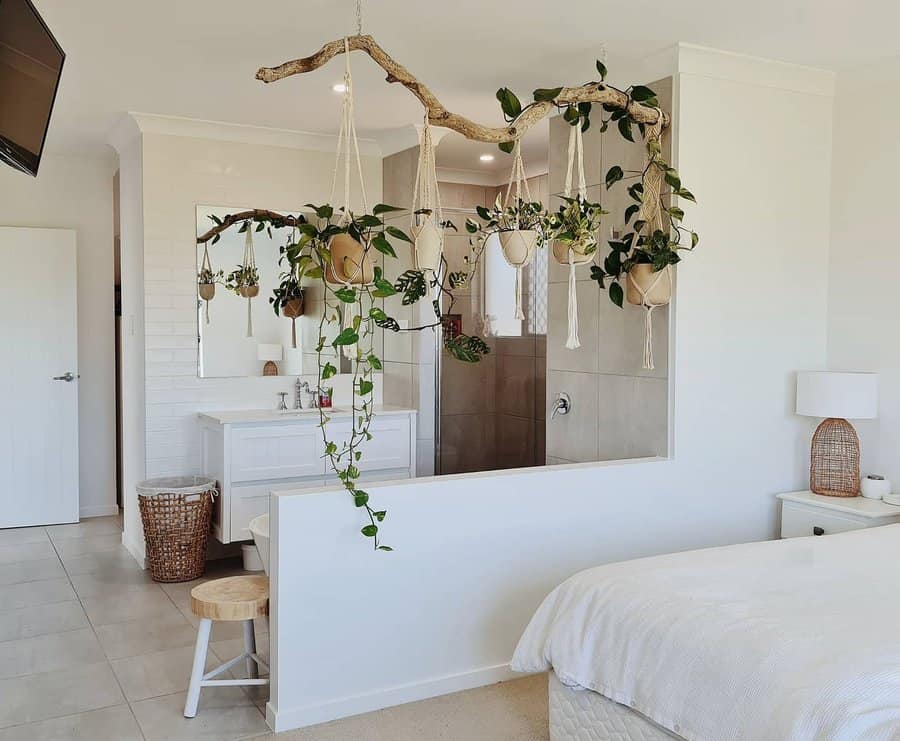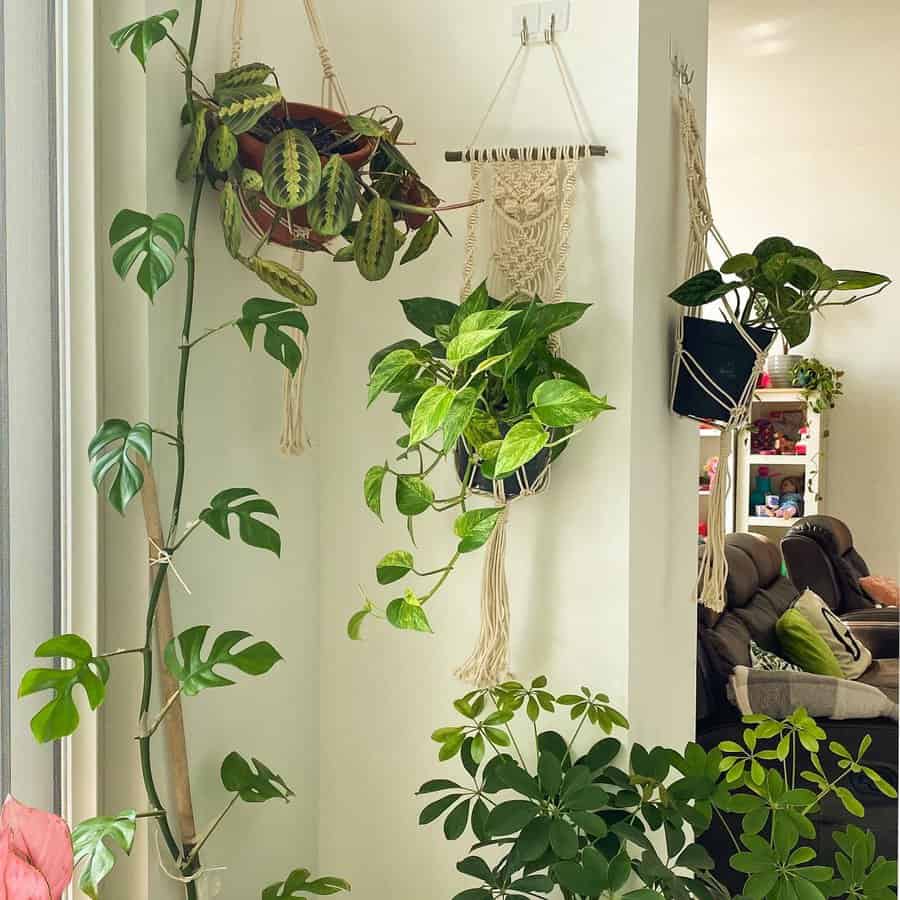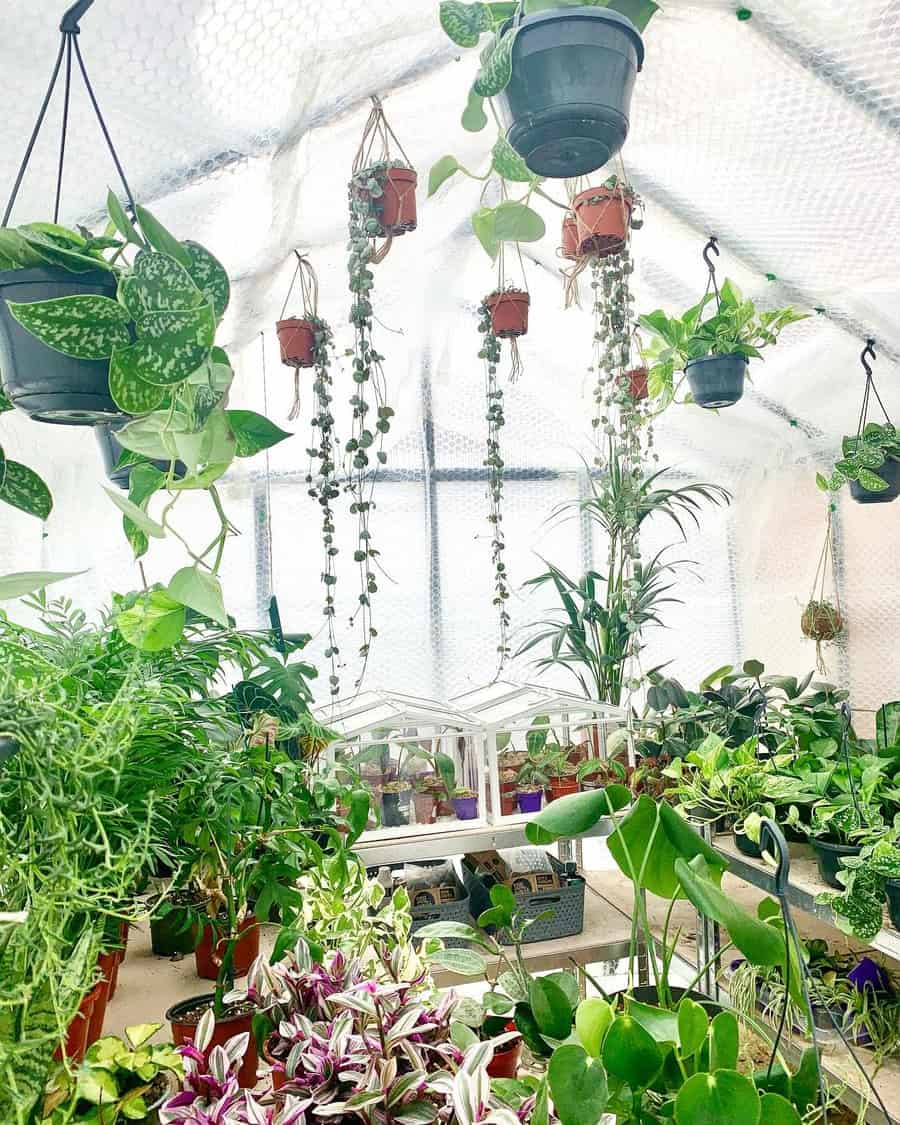 A hanging basket can be placed anywhere it will receive adequate sunlight. Outdoor containers can be hung from tree branches, shepherds' hooks, or porch rafters. Indoor planters can be easily installed with ceiling hooks.
Some plant species are better suited to a hanging container garden than others. For the greatest impact, opt for plants like calibrachoa, asparagus fern, or trailing succulent varieties.
7. Indoor
It's no mystery why so many people adore the aesthetic of a living space filled with lush plant life. But how do you take your average houseplant collection and transform it into an indoor garden?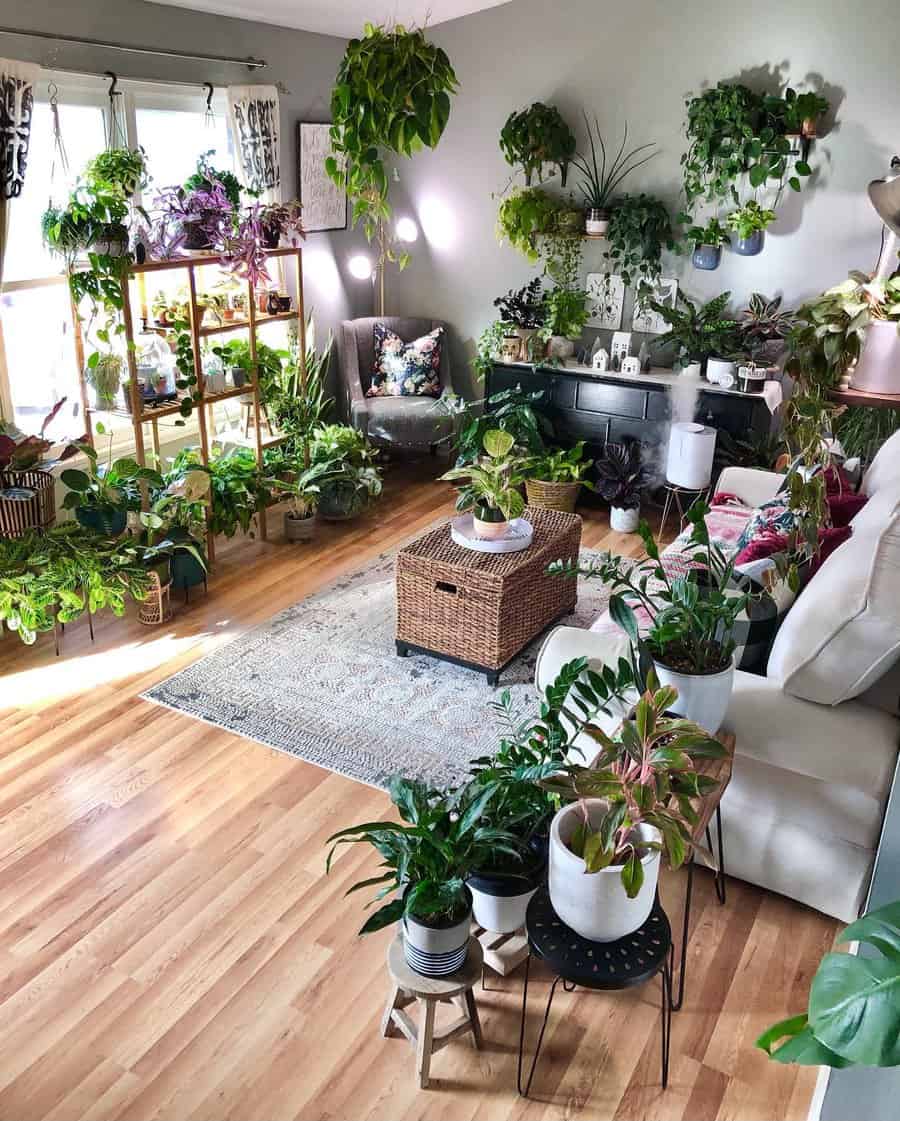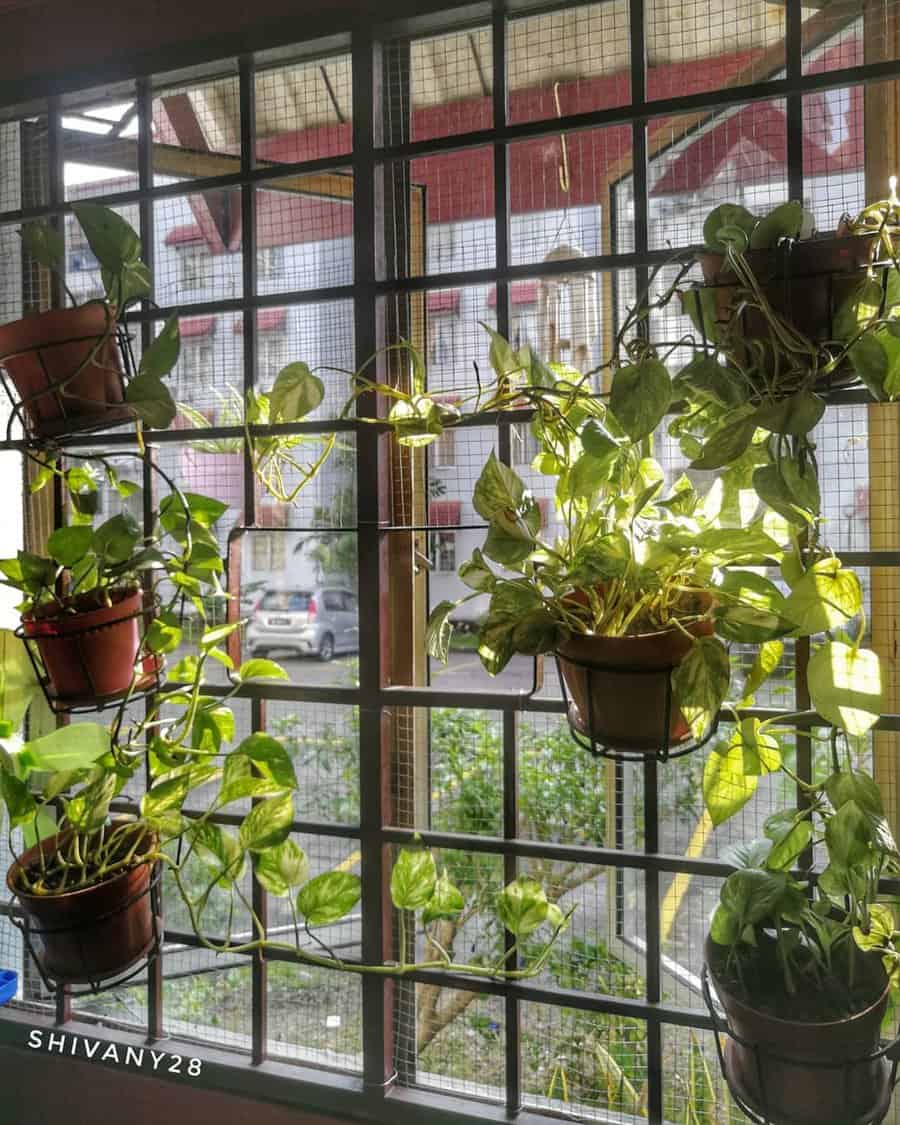 You can't cultivate an indoor jungle with plants that are half-alive. So it's important to prioritize varieties that will thrive in your home's conditions. Don't be ashamed to opt for low-maintenance plant species if that's what best suits your lifestyle!
Another great idea is to include a wide variety of plants and containers in your collection. You don't need to limit yourself to one specimen of each species. But play around with different planter styles and display heights to make your space look wild-grown.
8. Pallet
Handy DIYers are constantly finding ways to use pallet wood for new and exciting projects. And there's no shortage of garden container ideas that will let you put those old pallets to good use!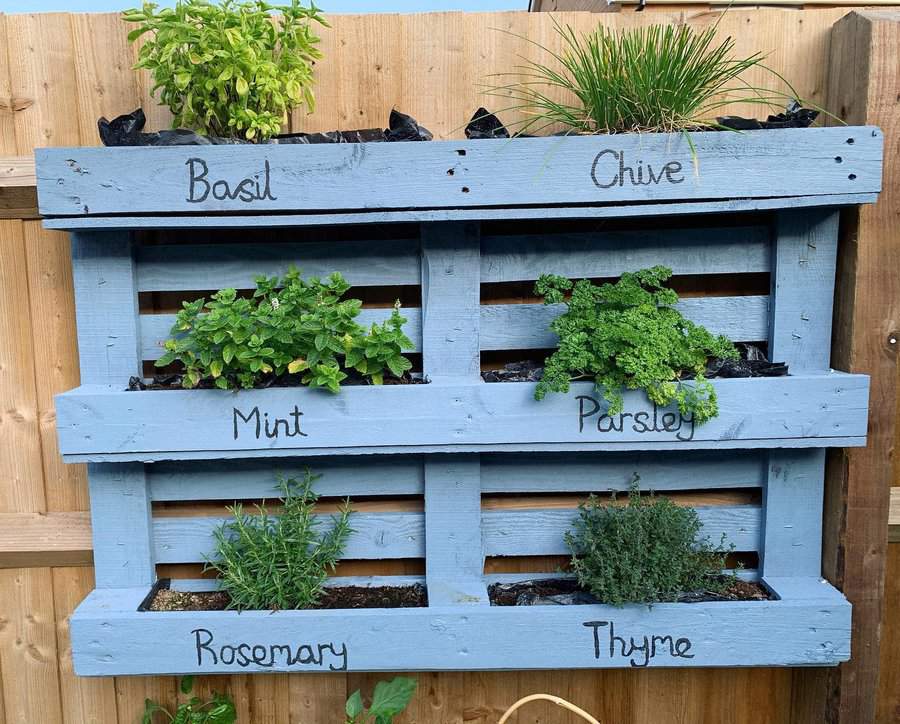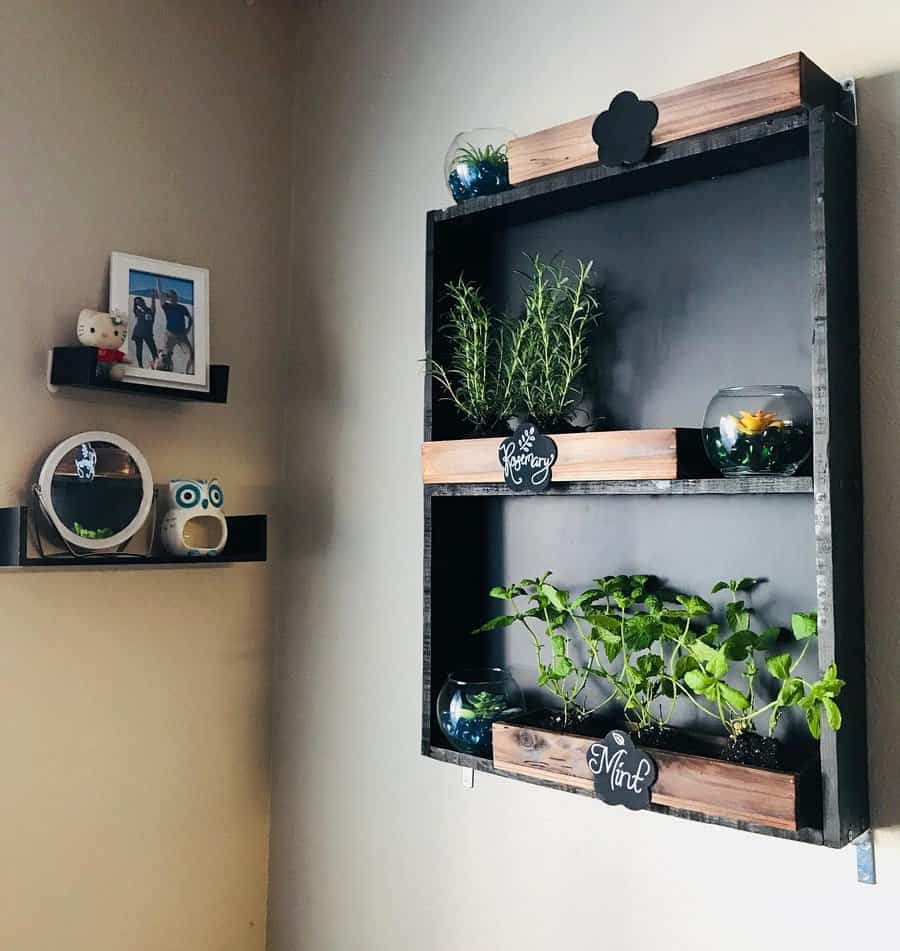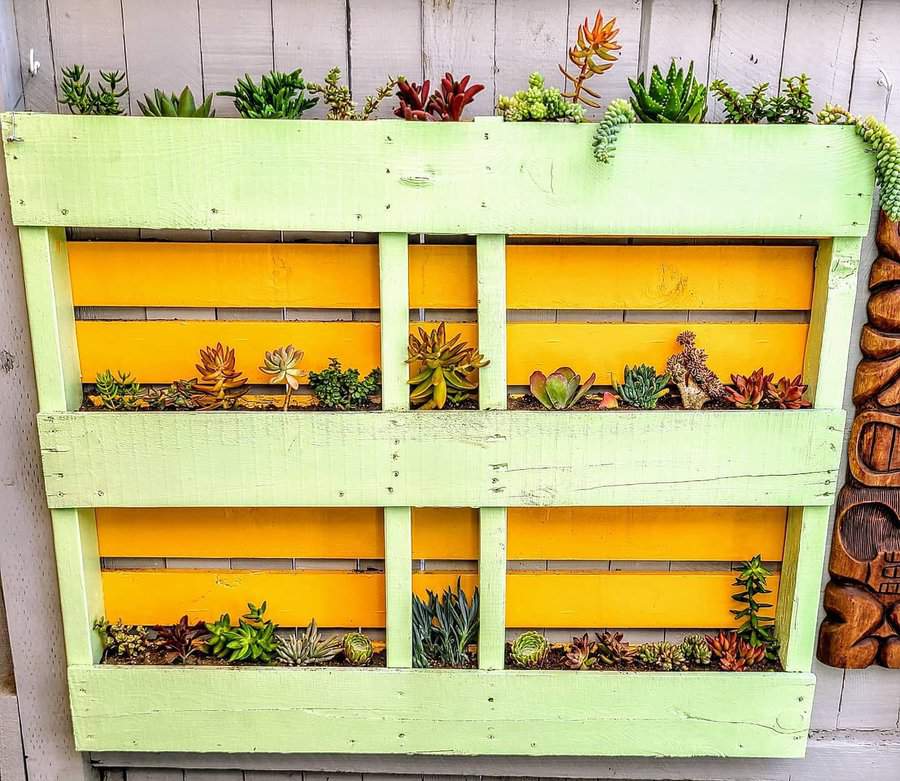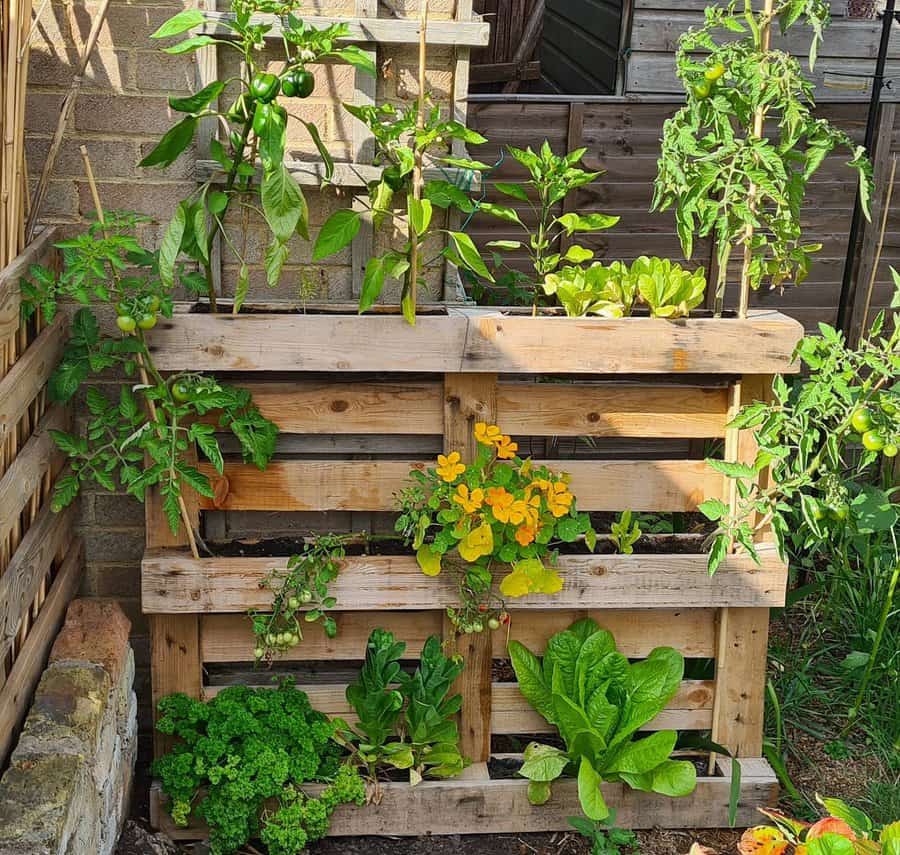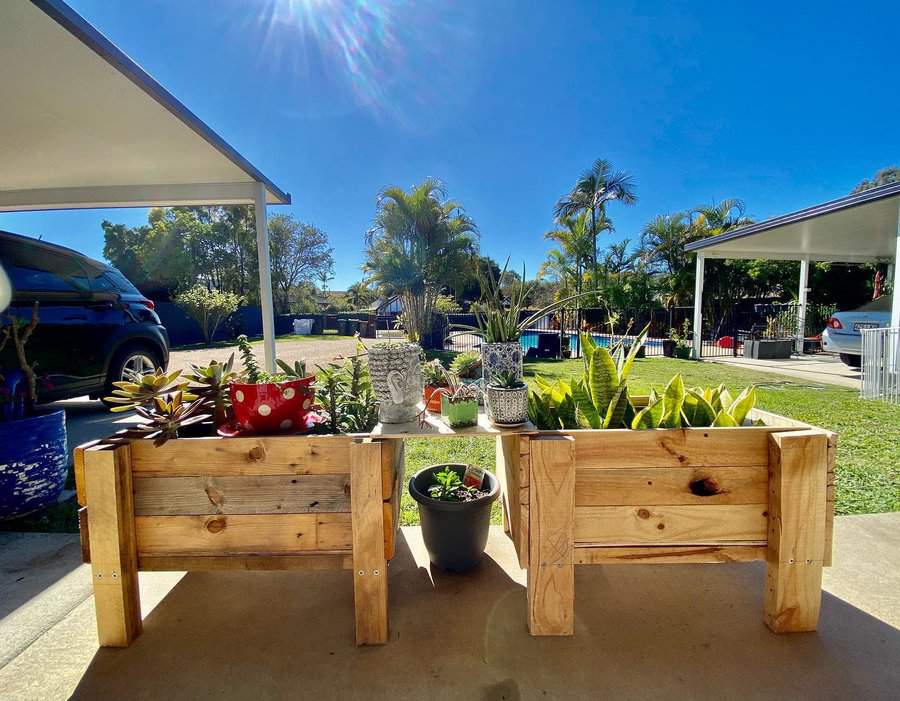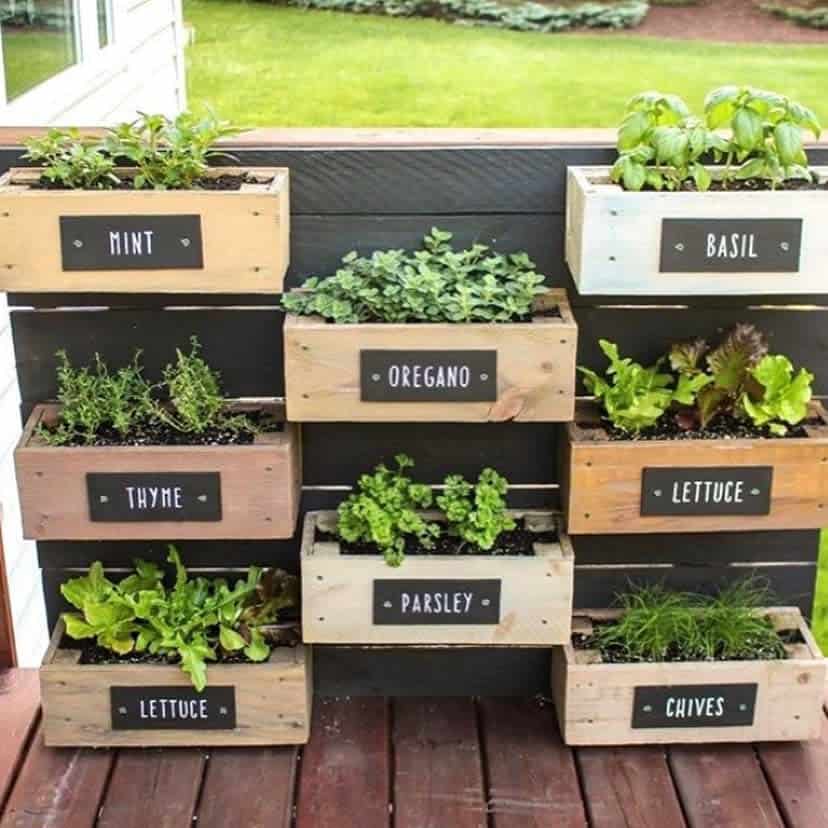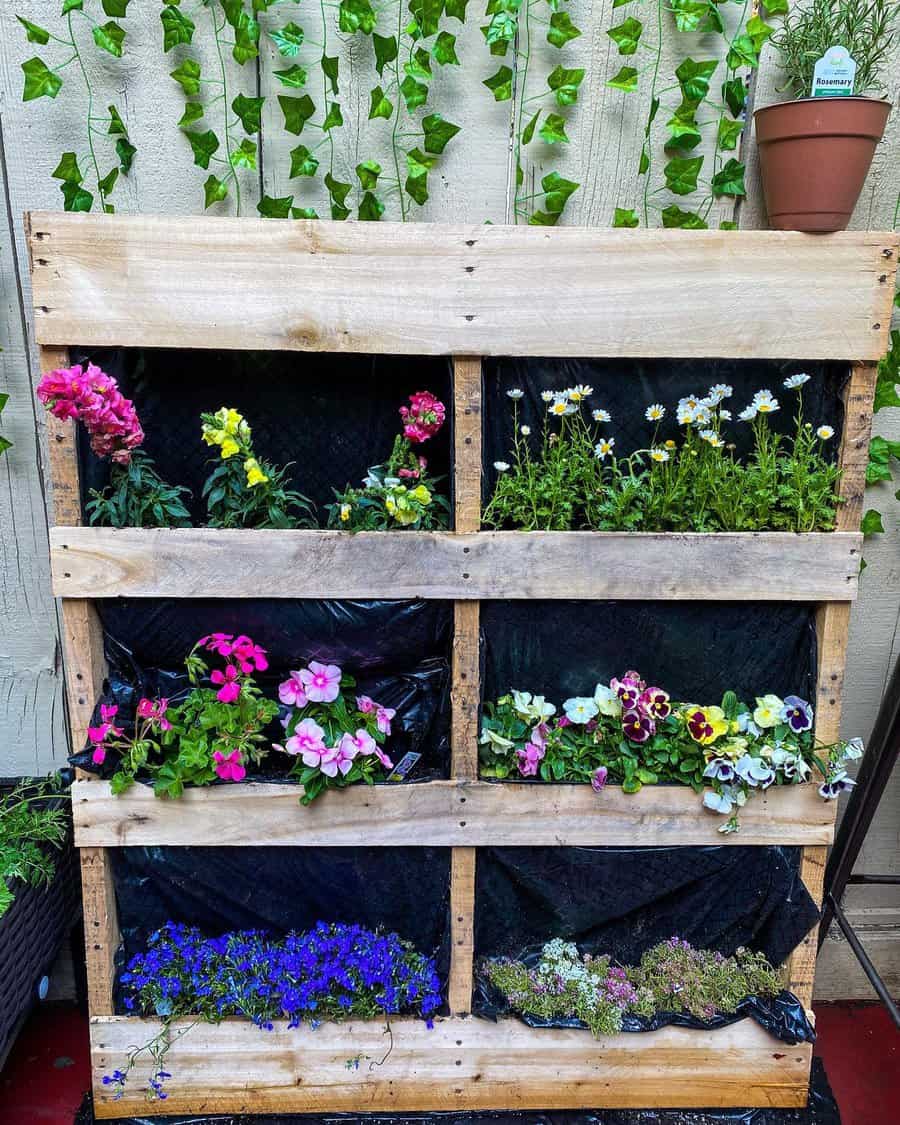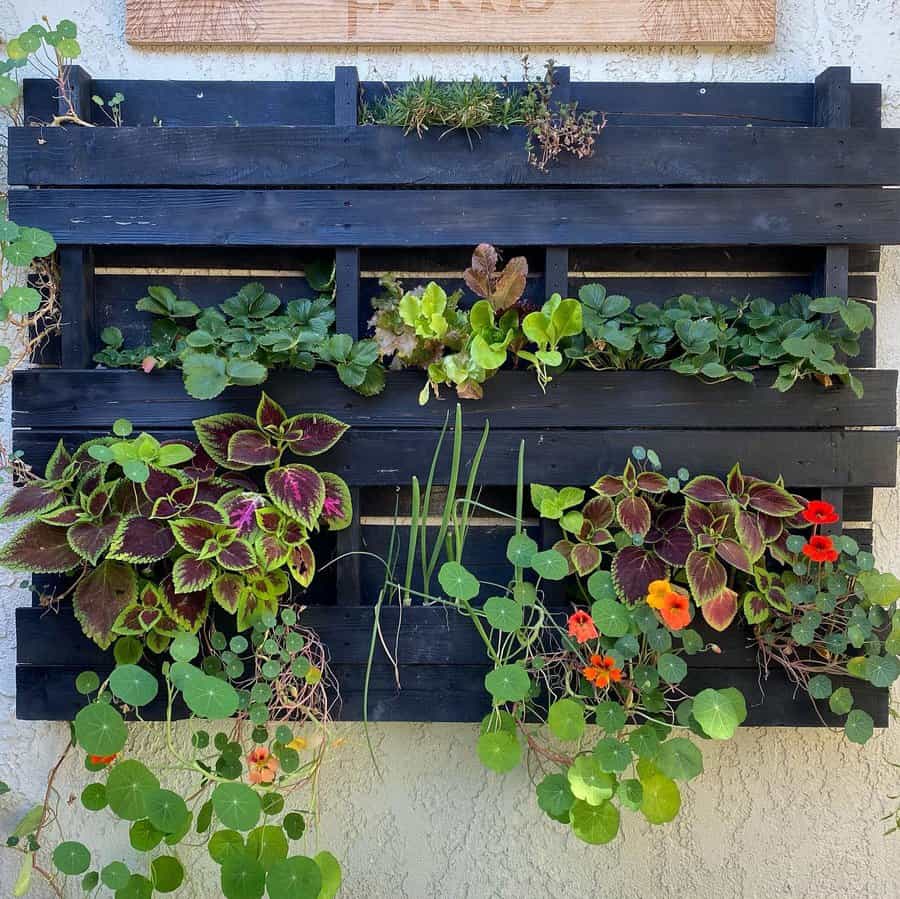 Just because your container garden is made of pallet wood does not mean it needs to look like it. You can use reclaimed pallets to construct all styles of garden containers without spending money on brand new lumber.
Old pallets can even be used to create hanging planters for your fence or home's exterior walls. These unique DIY containers are ideal for growing produce and herbs without taking up space in your backyard.
9. Patio
No matter the size or location, a patio is essentially an open-air room. So it only makes sense to approach the potted plants within this outdoor space as you would those inside your home.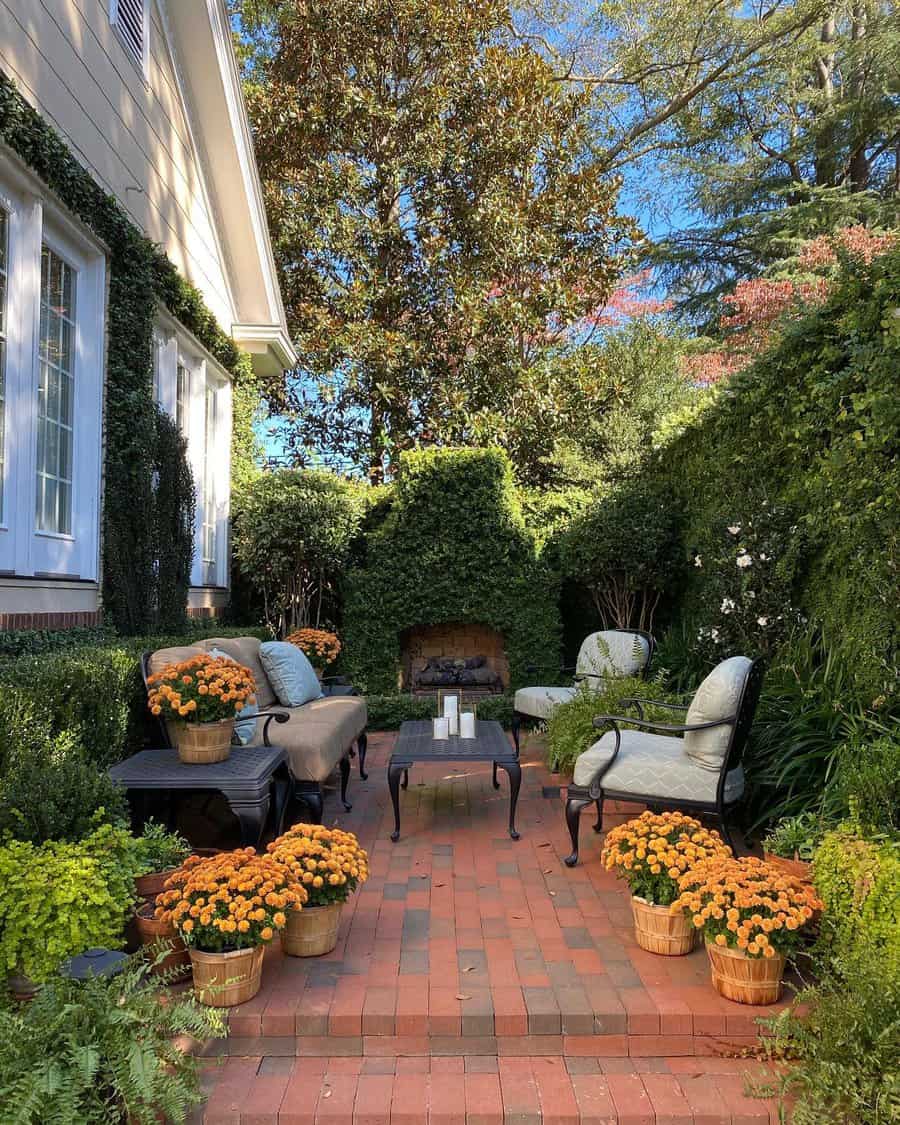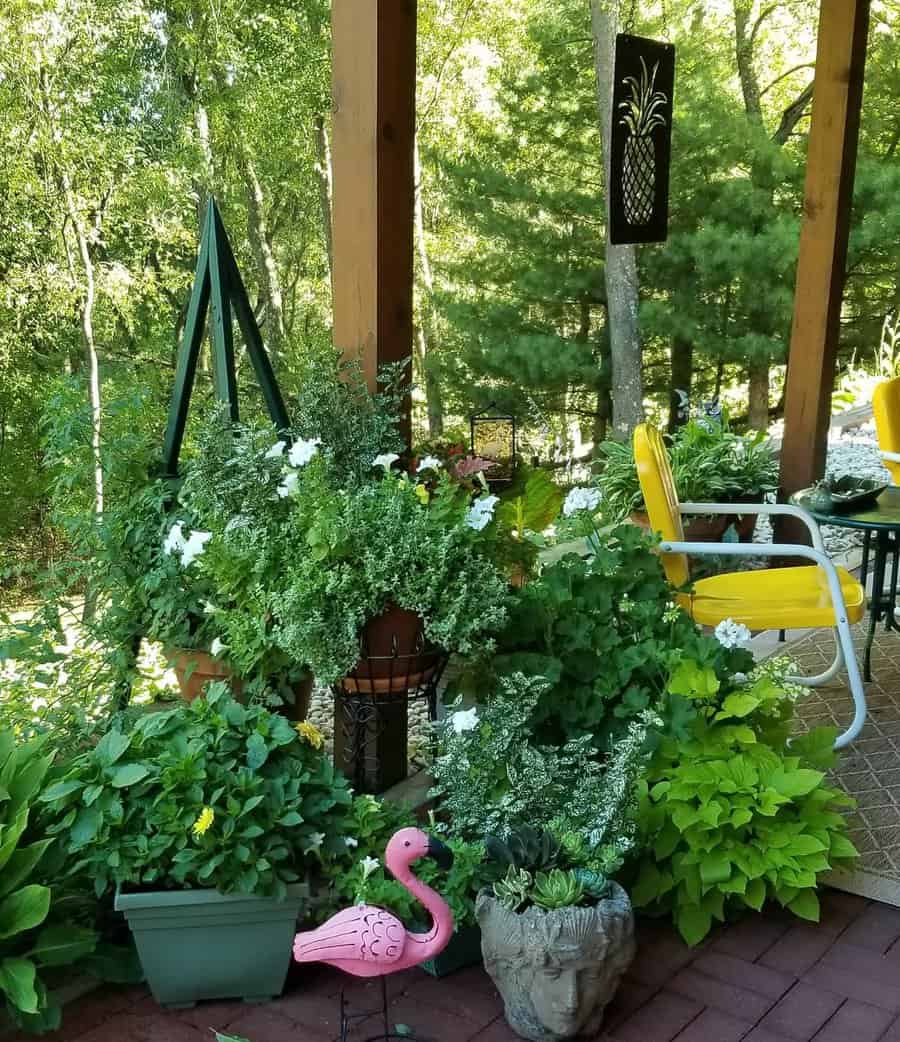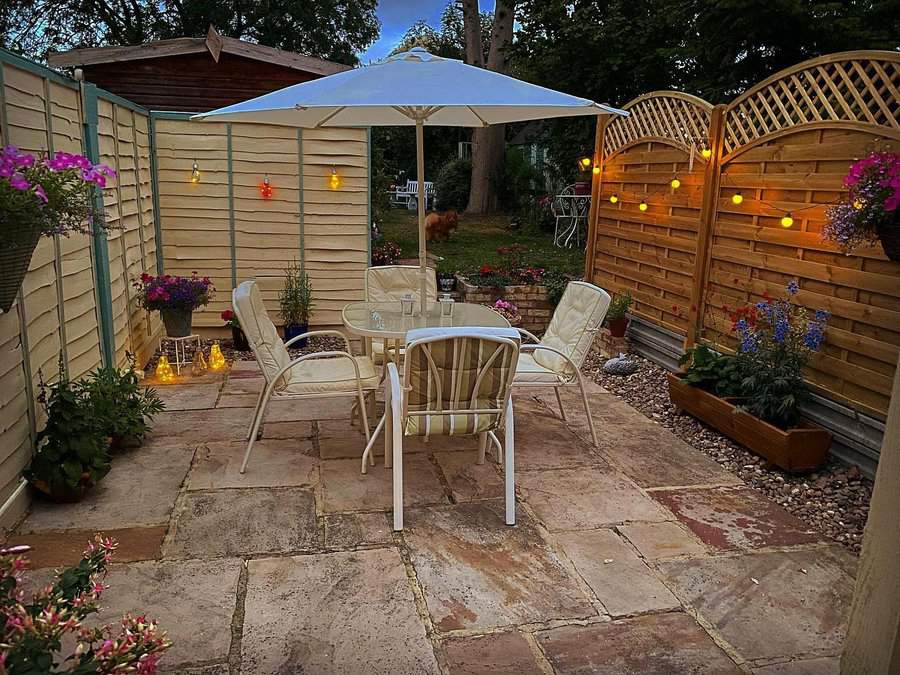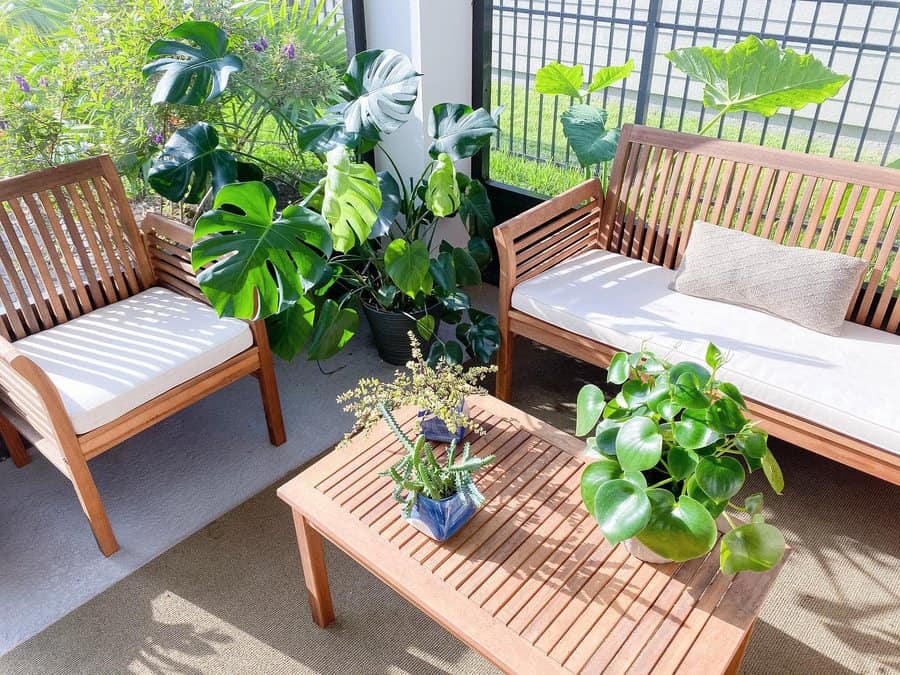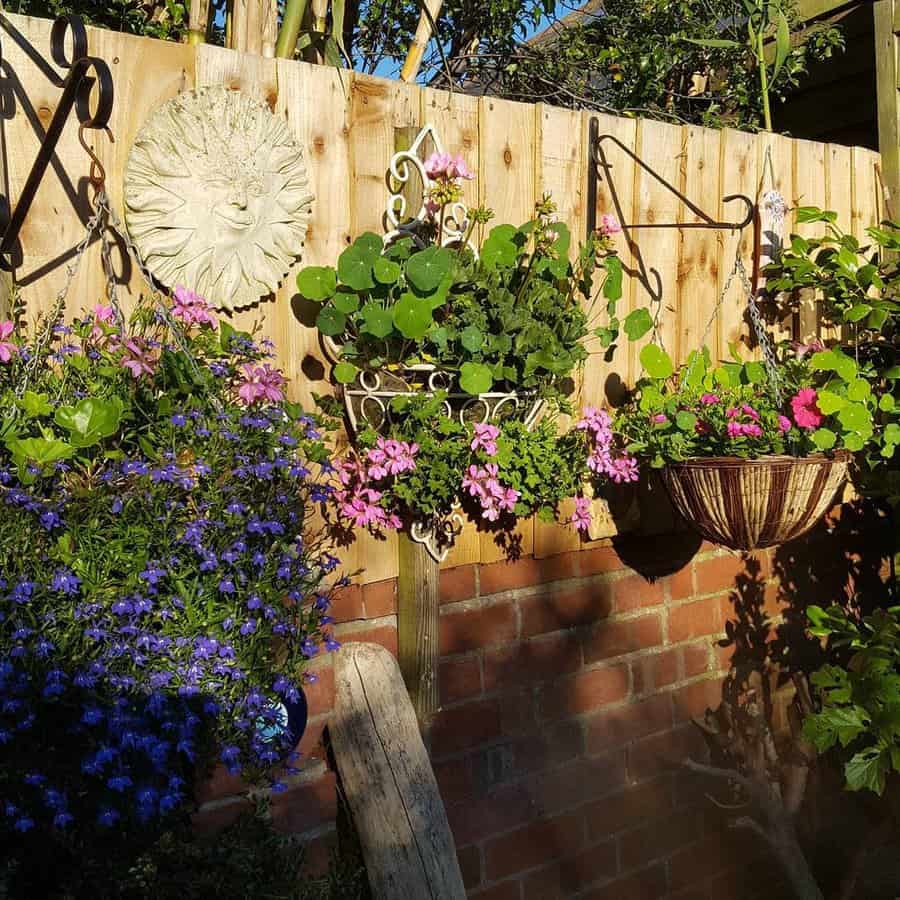 Include a variety of planters throughout your patio in the form of hanging baskets, wall-mounted containers, and standard flower pots. Look for ways to incorporate features of your backyard landscaping in your patio container garden design.
When selecting the best plants for a patio garden container, you shouldn't assume that the space receives full sun. Many patios are partially or completely covered in shade. But there are countless beautiful plant species that will thrive in these conditions if given the proper care.
10. Plants
Many gardeners make the mistake of believing only a select few plant varieties will thrive in containers. While it's true that some species prefer to live in the ground, there are very few plants that can't be grown in the right container!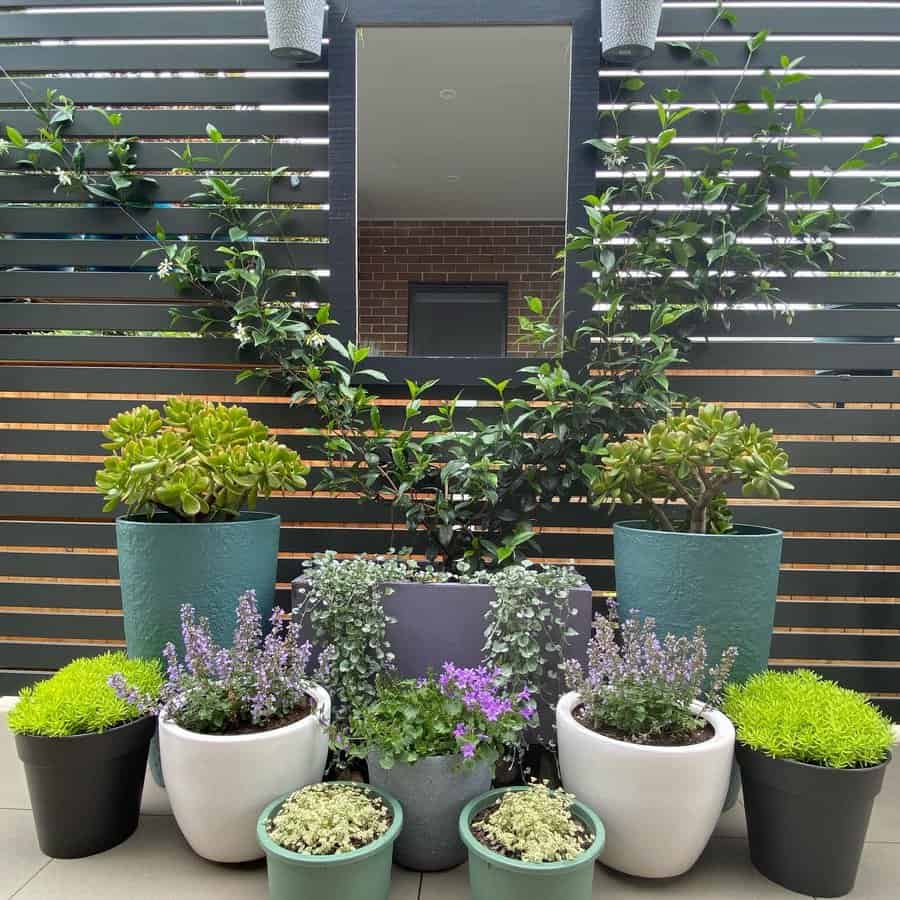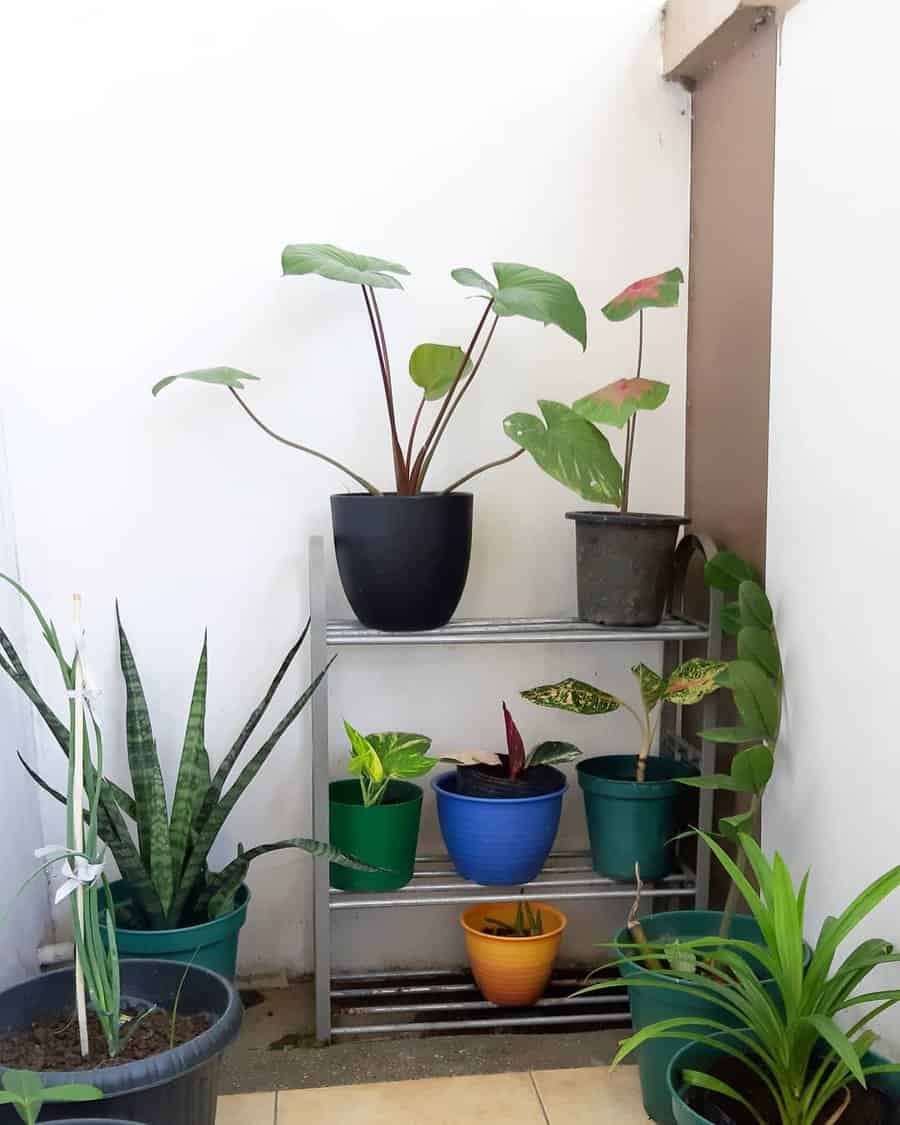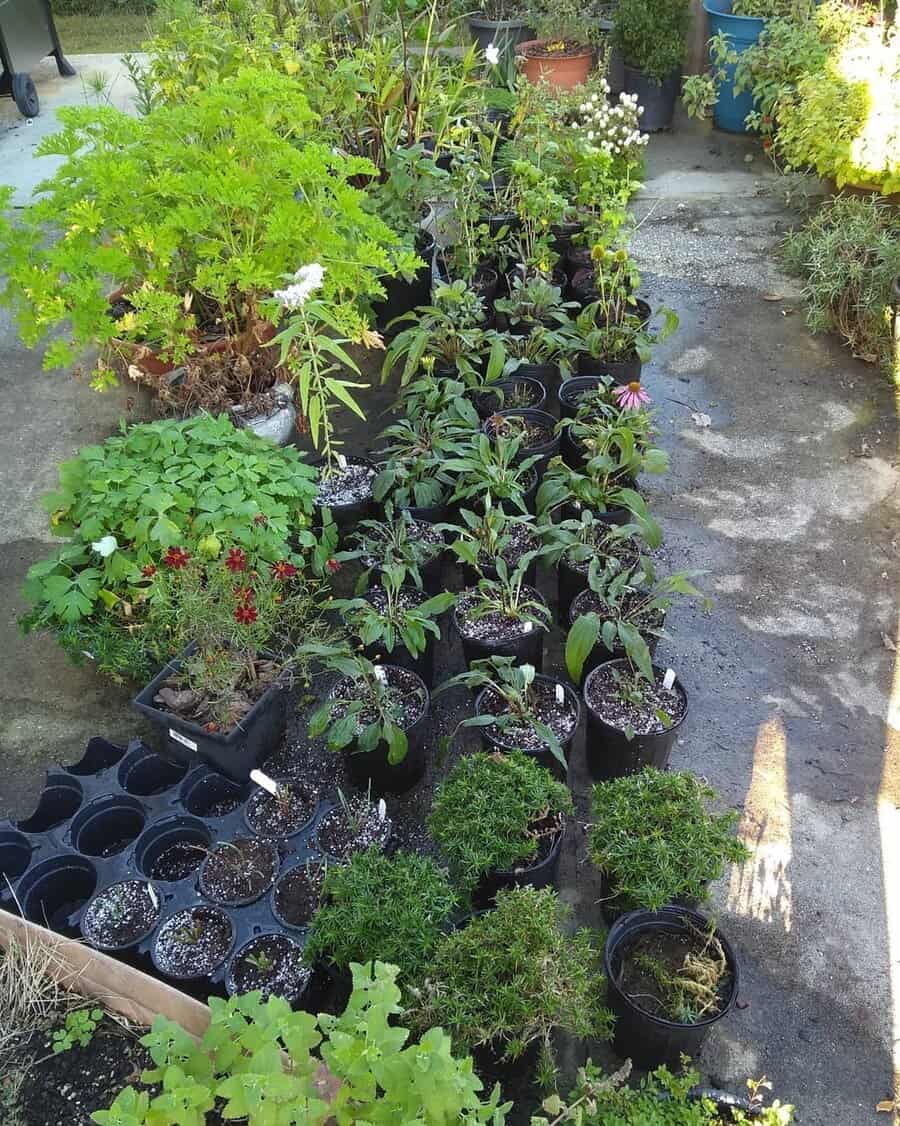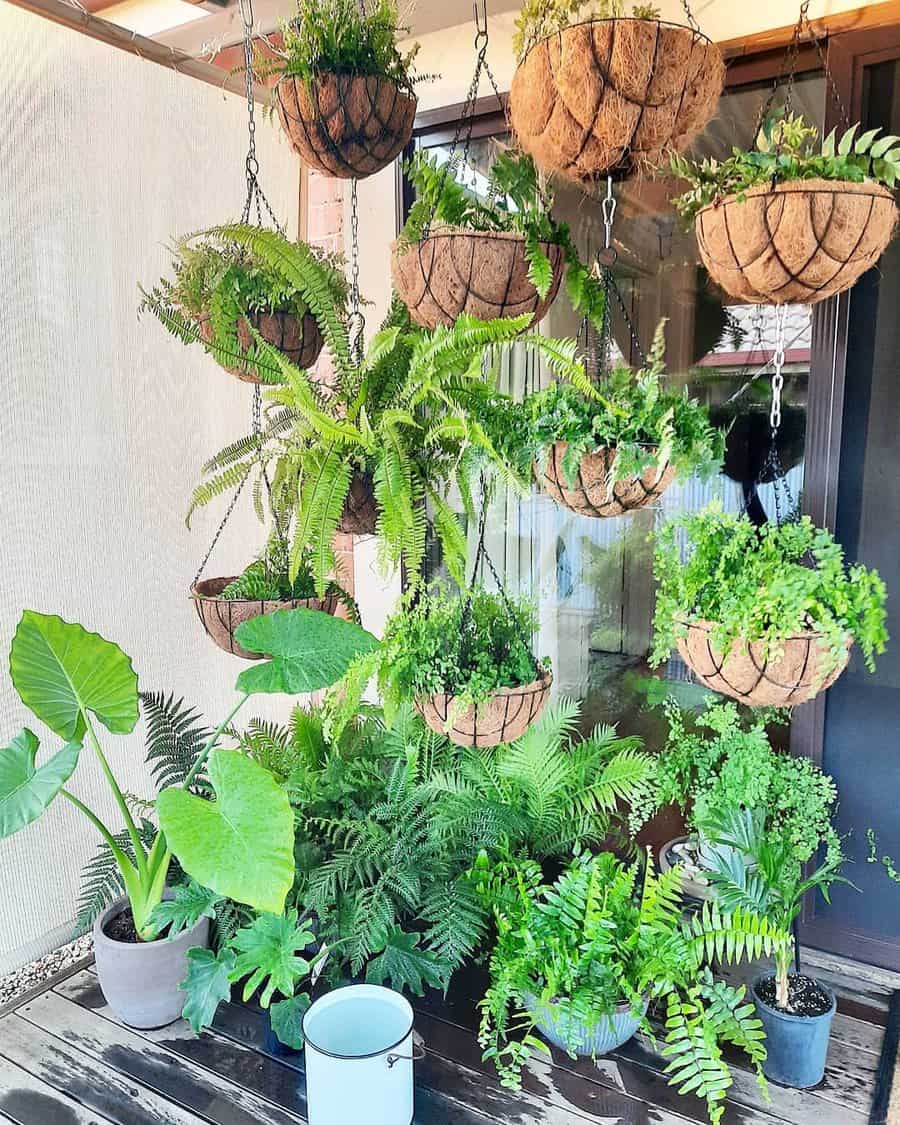 There are many reasons to opt for a container garden — e.g., space efficiency, accessibility, or lack of yard. But did you know individual containers could also be the best option for your plants?
For collectors of rare or sentimental plant varieties, a container garden can be a wonderful investment. By planting your favorite specimens in wood boxes or glazed pots, you can help guarantee that each plant gets the exact care it needs.
11. Porch
There are many ways to utilize garden containers on your front porch. Framing your home's entryway with symmetrical planters is an excellent option for boosting curb appeal.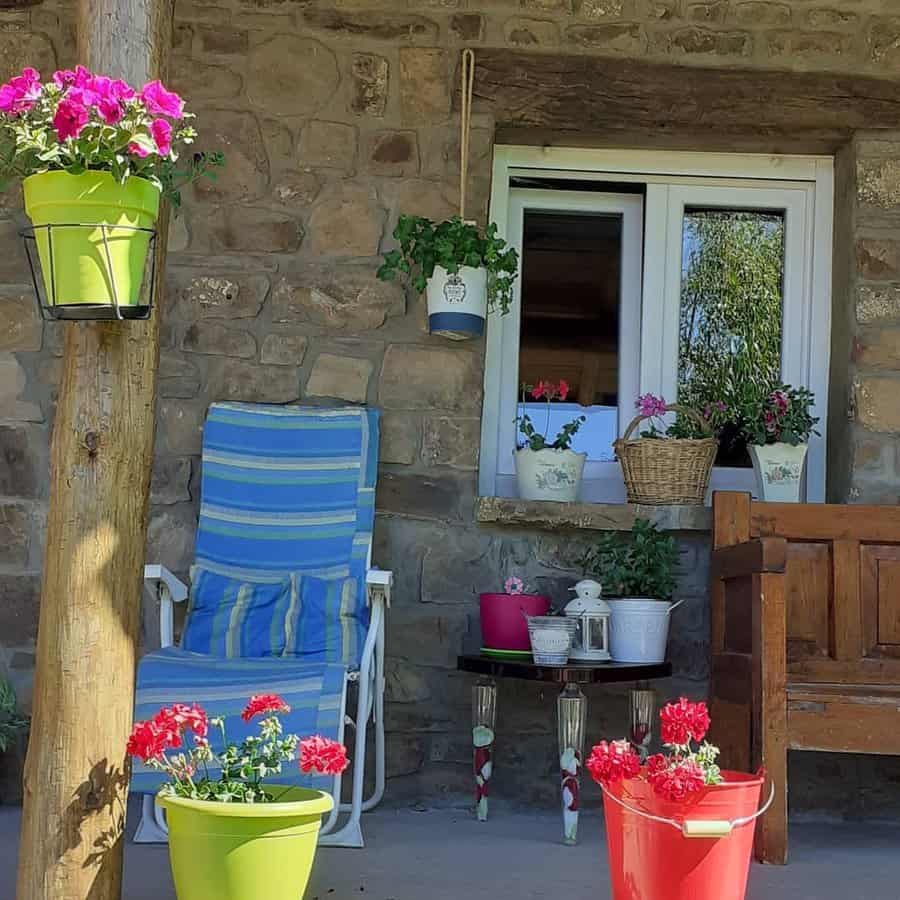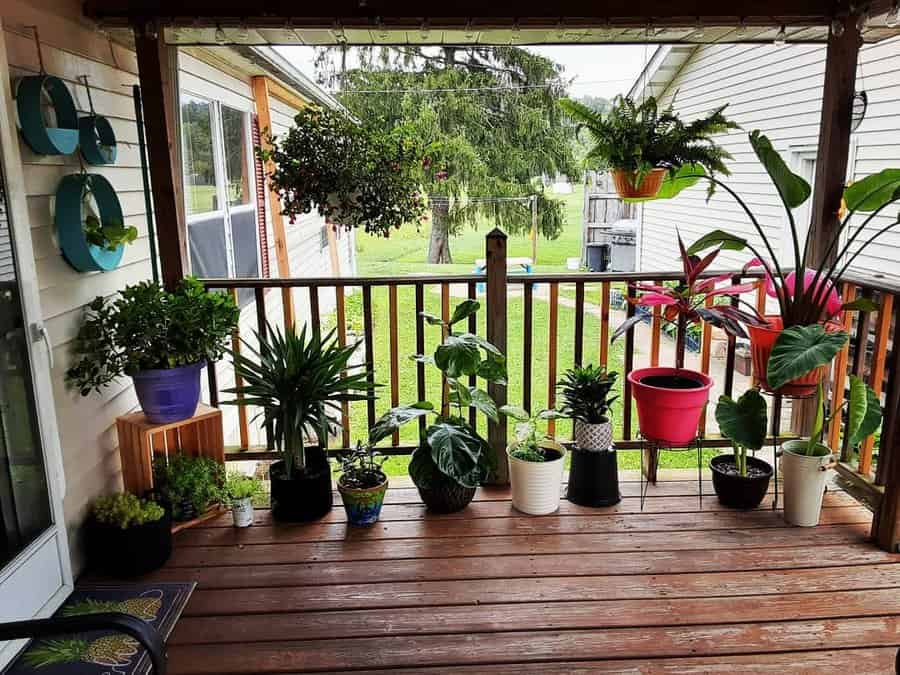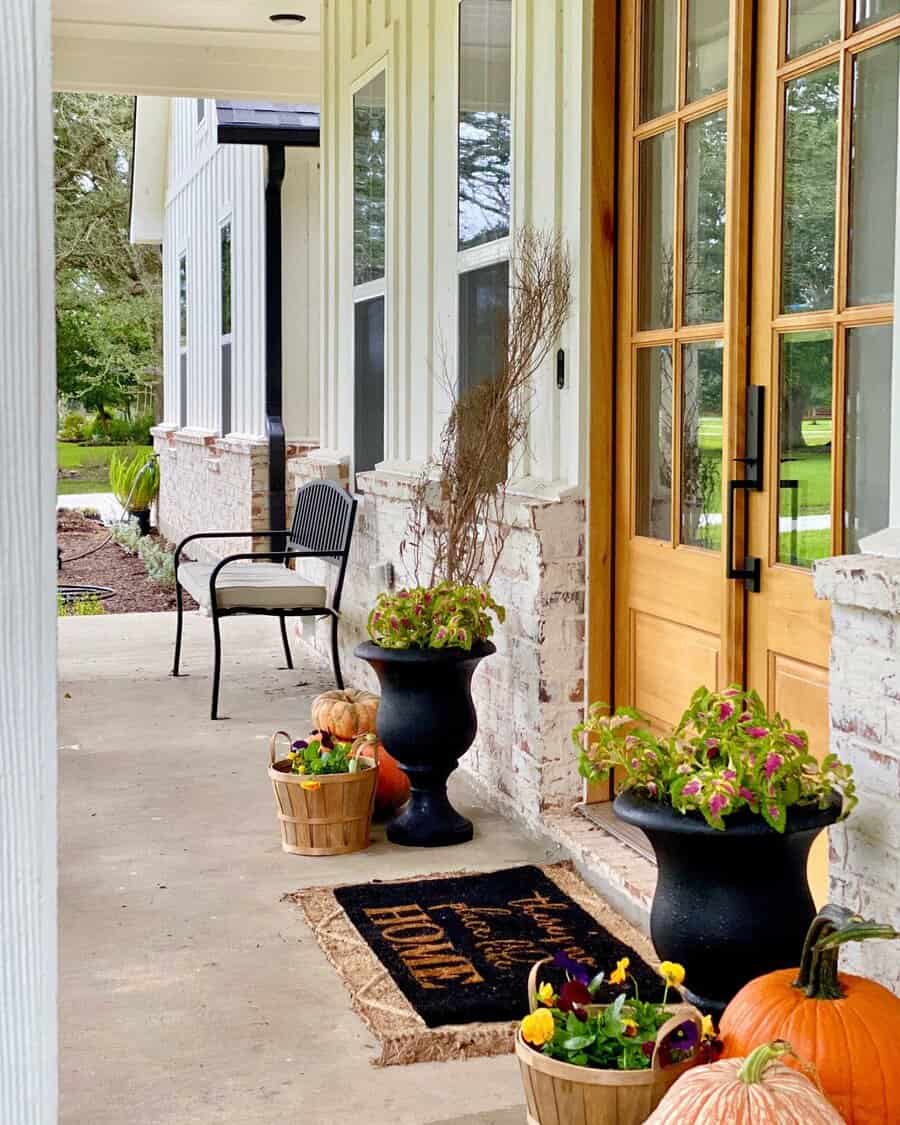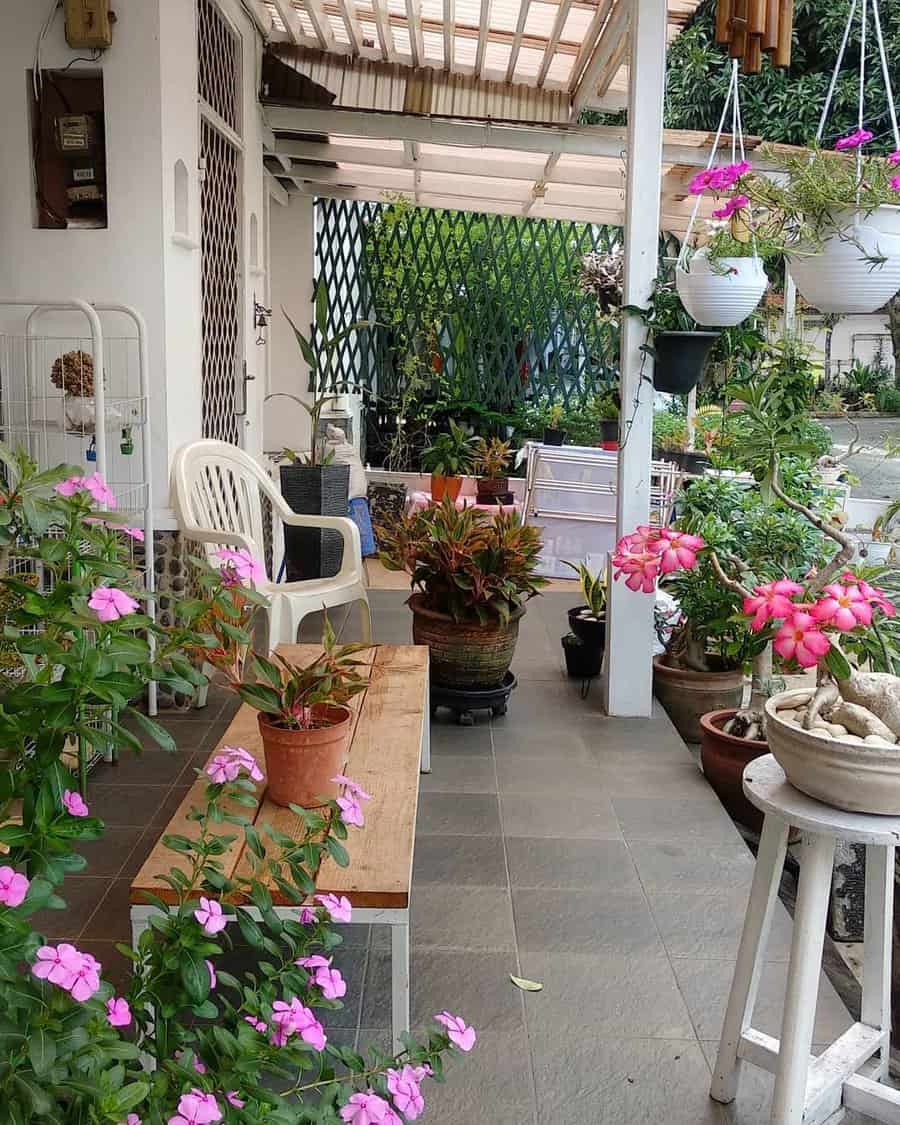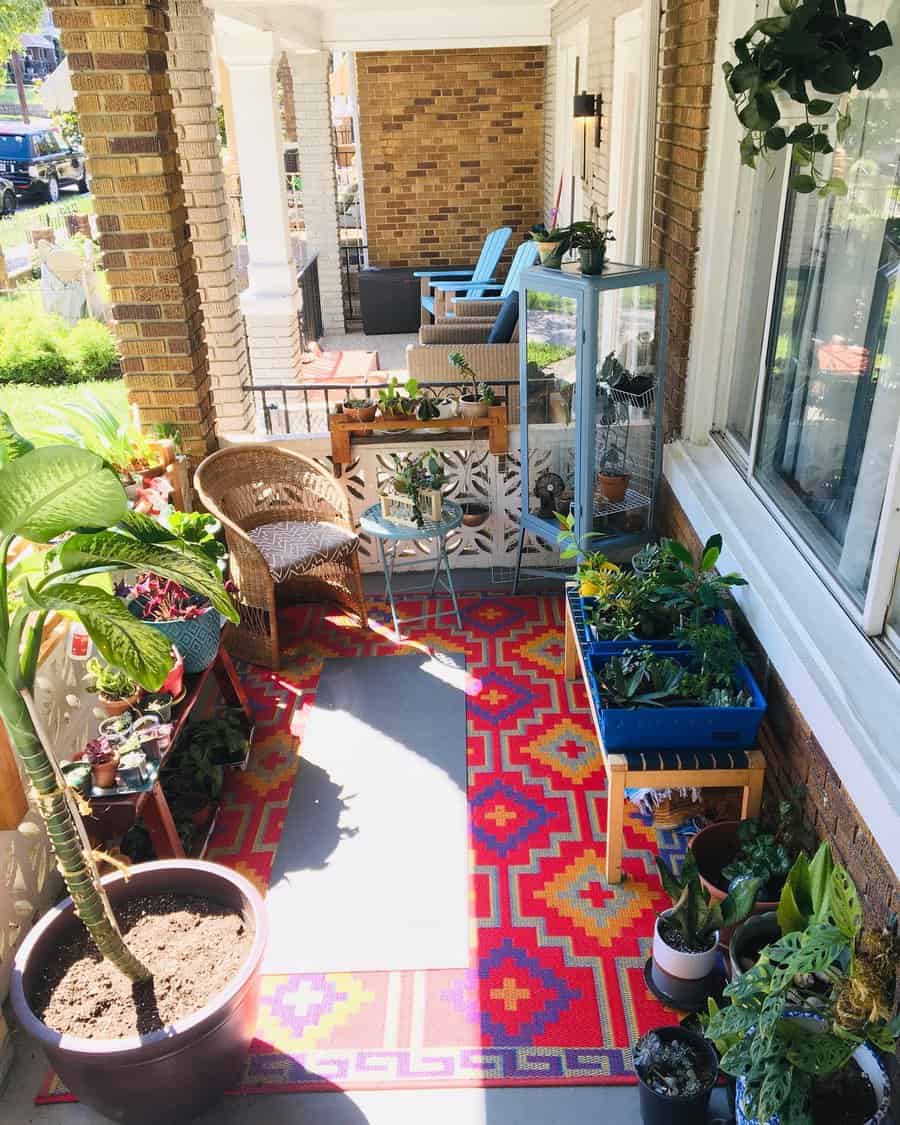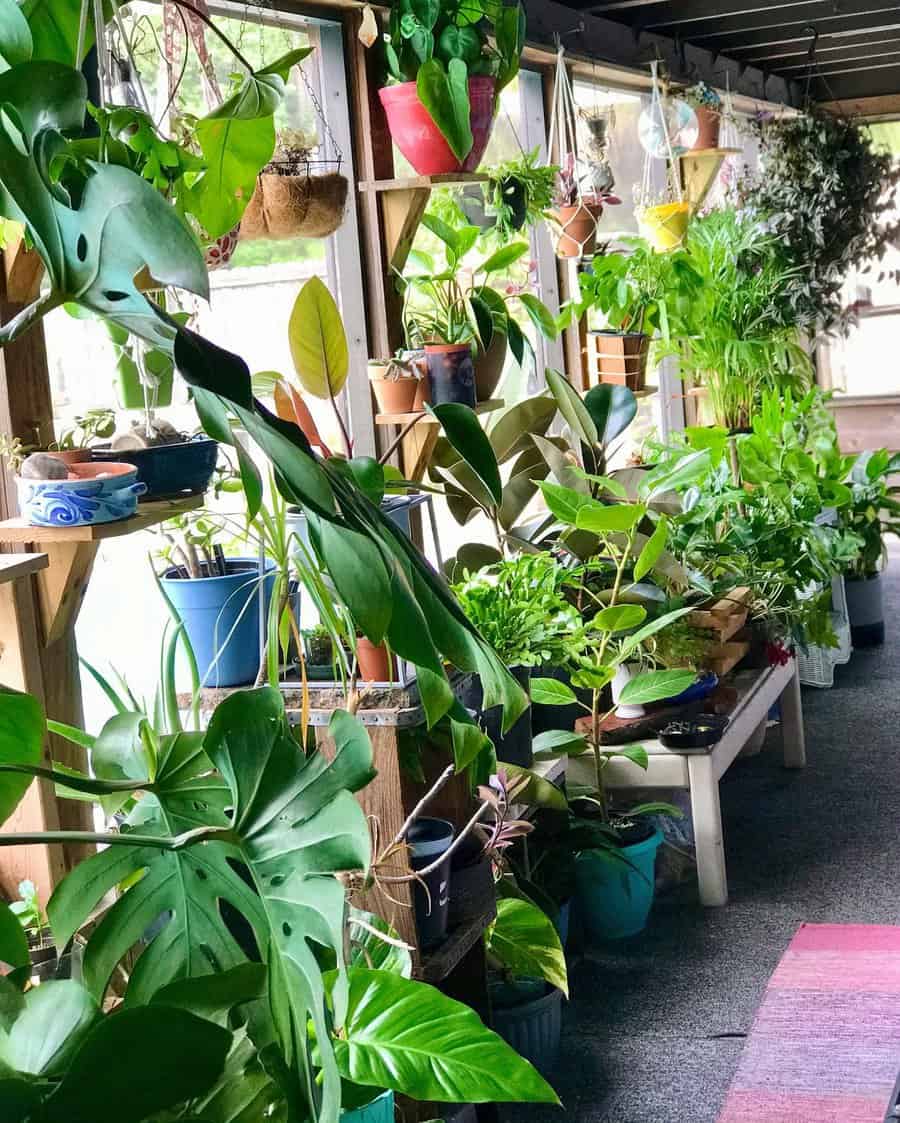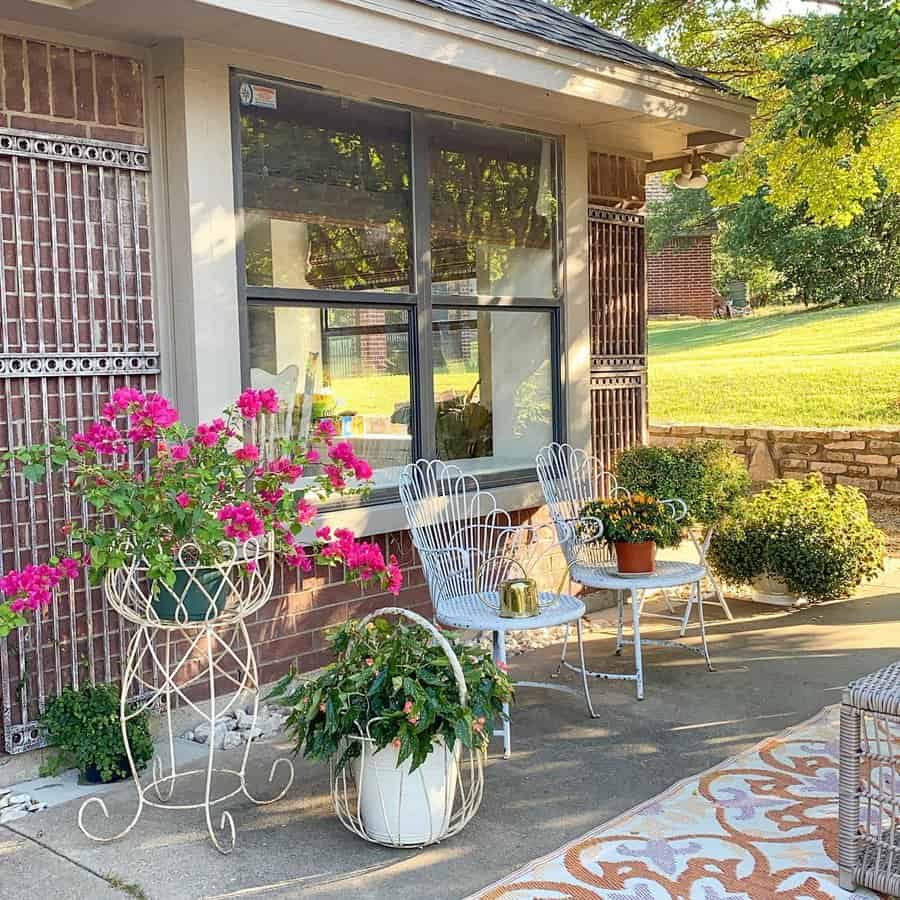 Hanging baskets filled with ferns or other tropical foliage will give the space a cozy, rustic atmosphere. Coordinate your porch planters with the nearby landscaping or window boxes for a facade worthy of a home design magazine.
Don't hesitate to use your porch planters for non-living decor as well. When the temperatures drop, flowering annuals can be easily swapped out for gourds or dried branches. And holiday planters are a great way to add color to your home's exterior during winter!
12. Succulents
If you struggle to keep up with watering or are looking for a unique alternative to regular flowers, succulent-filled containers are a great idea.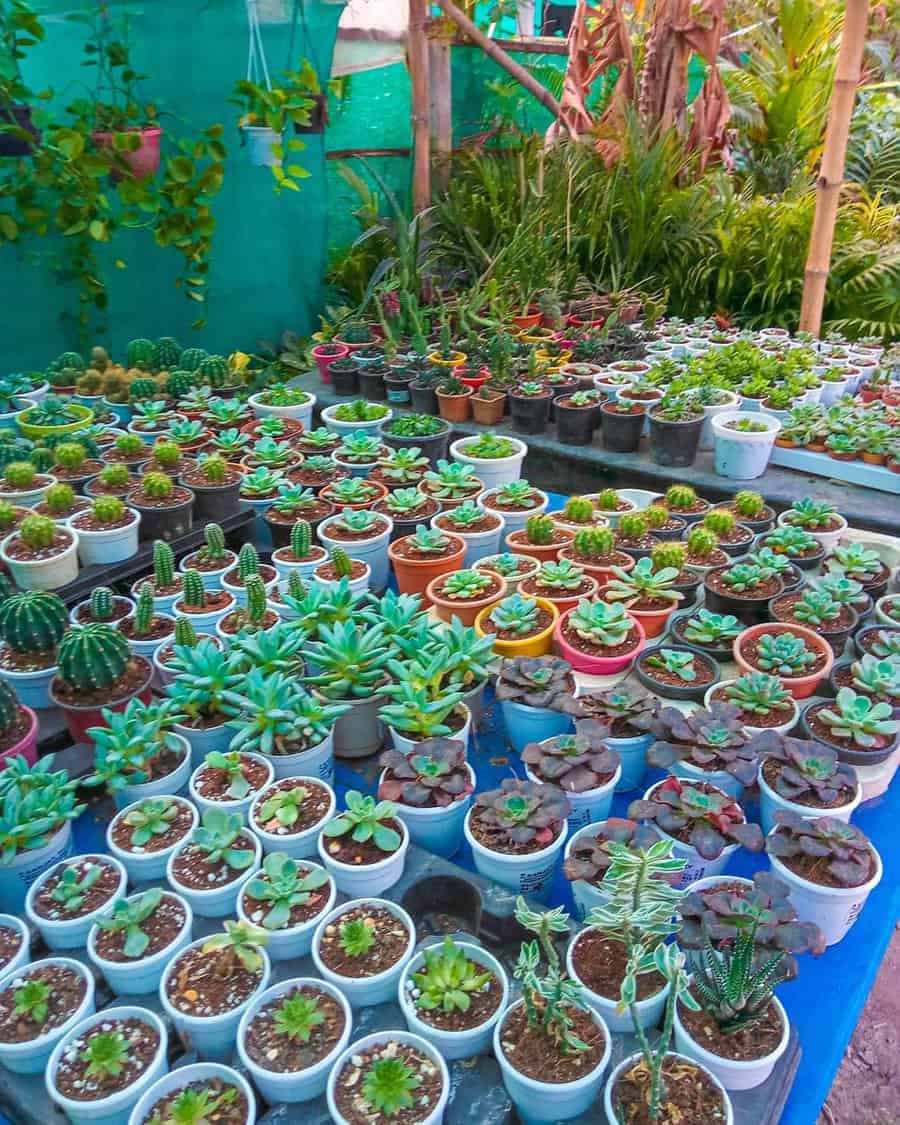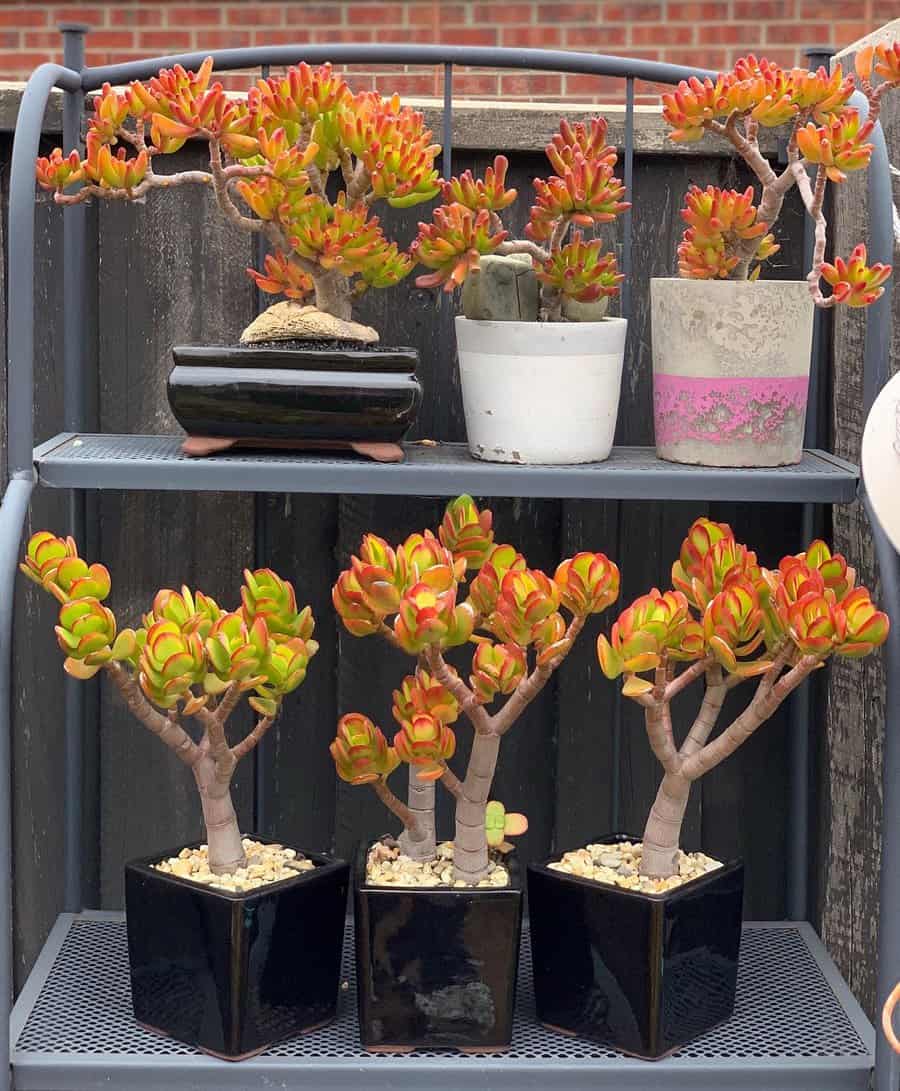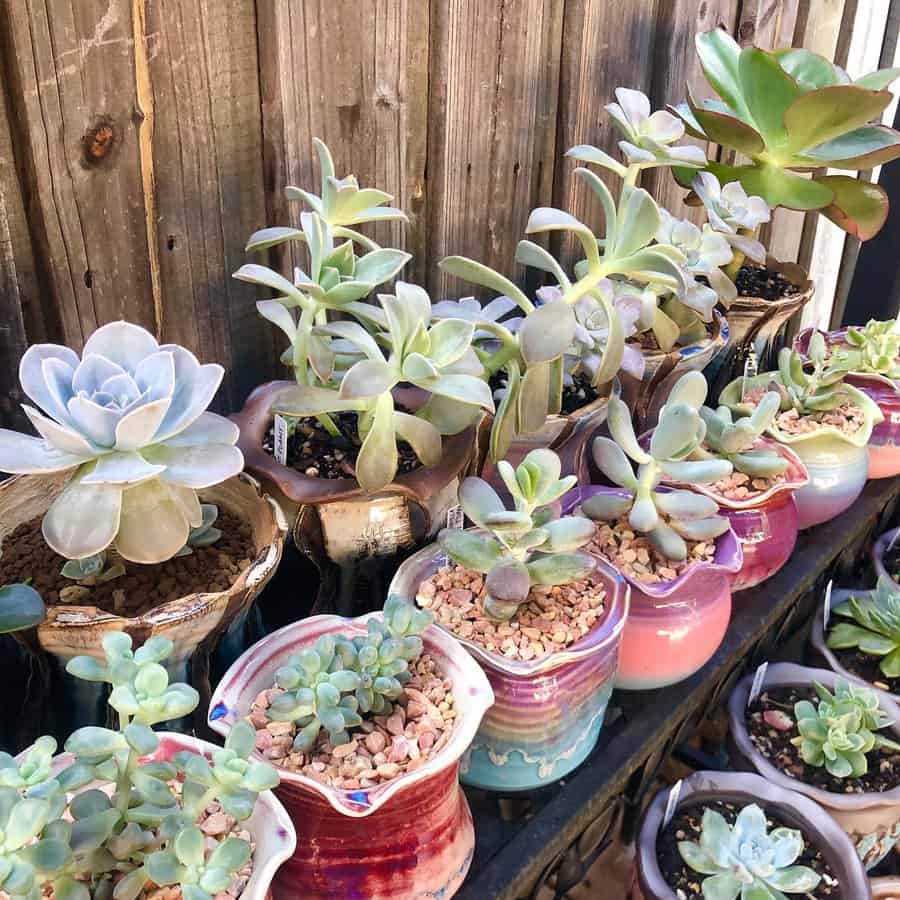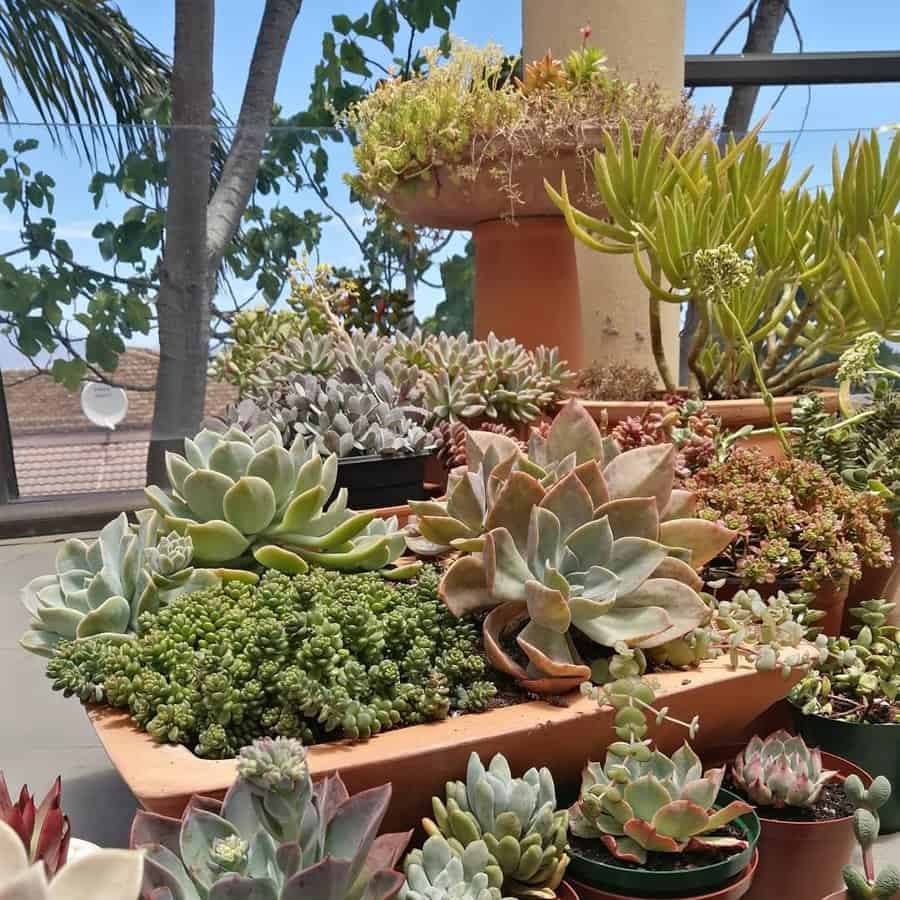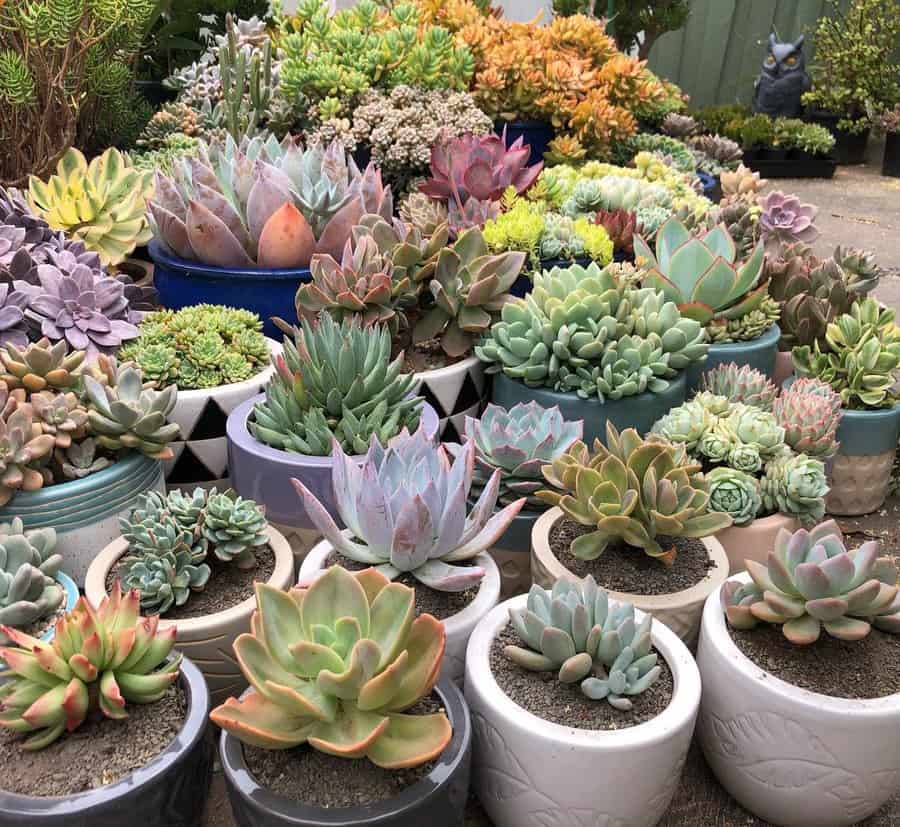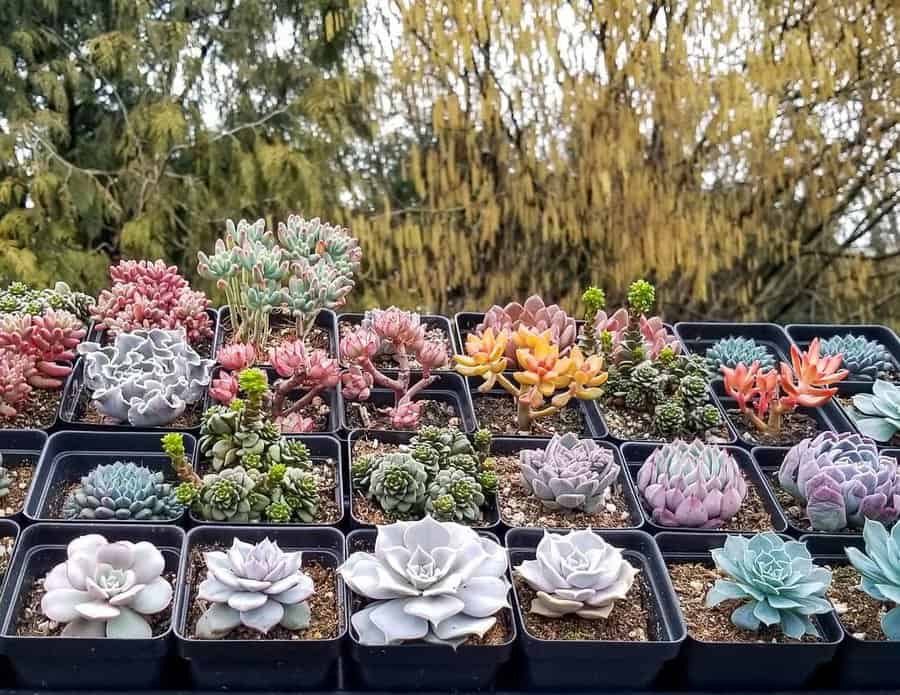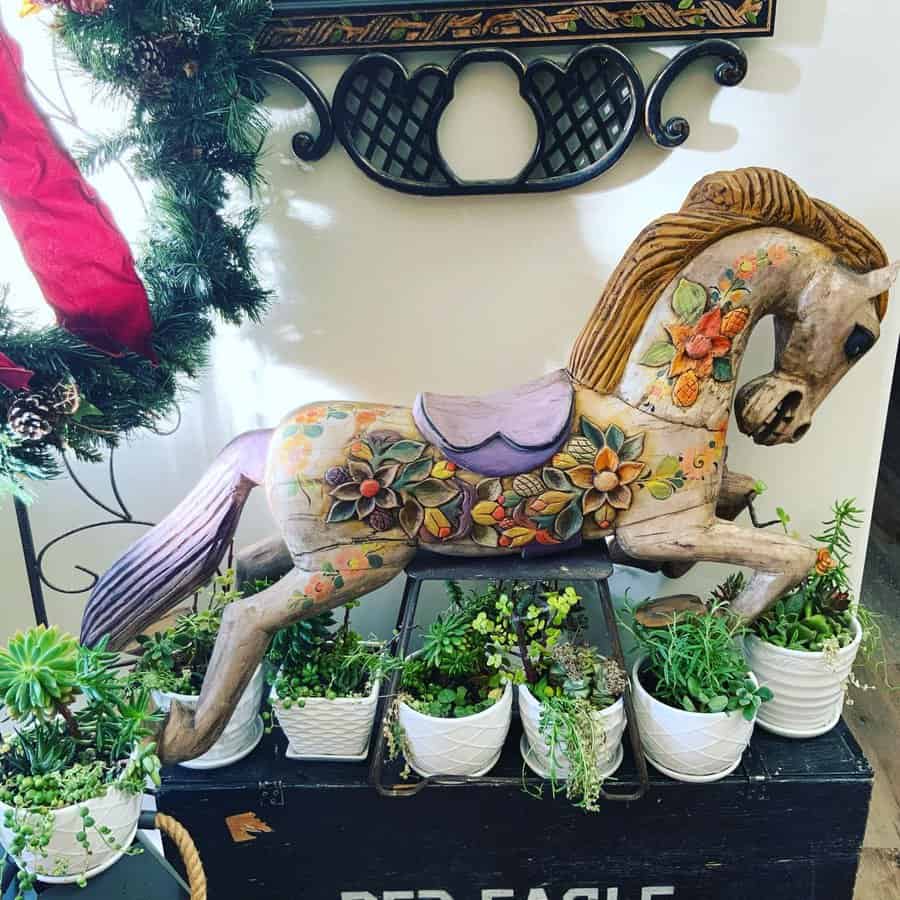 Succulents thrive in small, shallow containers. Keep this in mind when planting your succulent container garden. It's generally better to use several tiny pots than one or two large ones for your arrangements!
Most people know that succulents love arid, desert-like weather. But there are many species that can be grown in more temperate climates. Container gardening makes it easy to move your succulents indoors in cold weather.
13. Tropical
Did you know that most popular houseplants are native to tropical rainforests? From caladium to monstera, our homes and gardens would be far less lush without the discovery of this tropical greenery.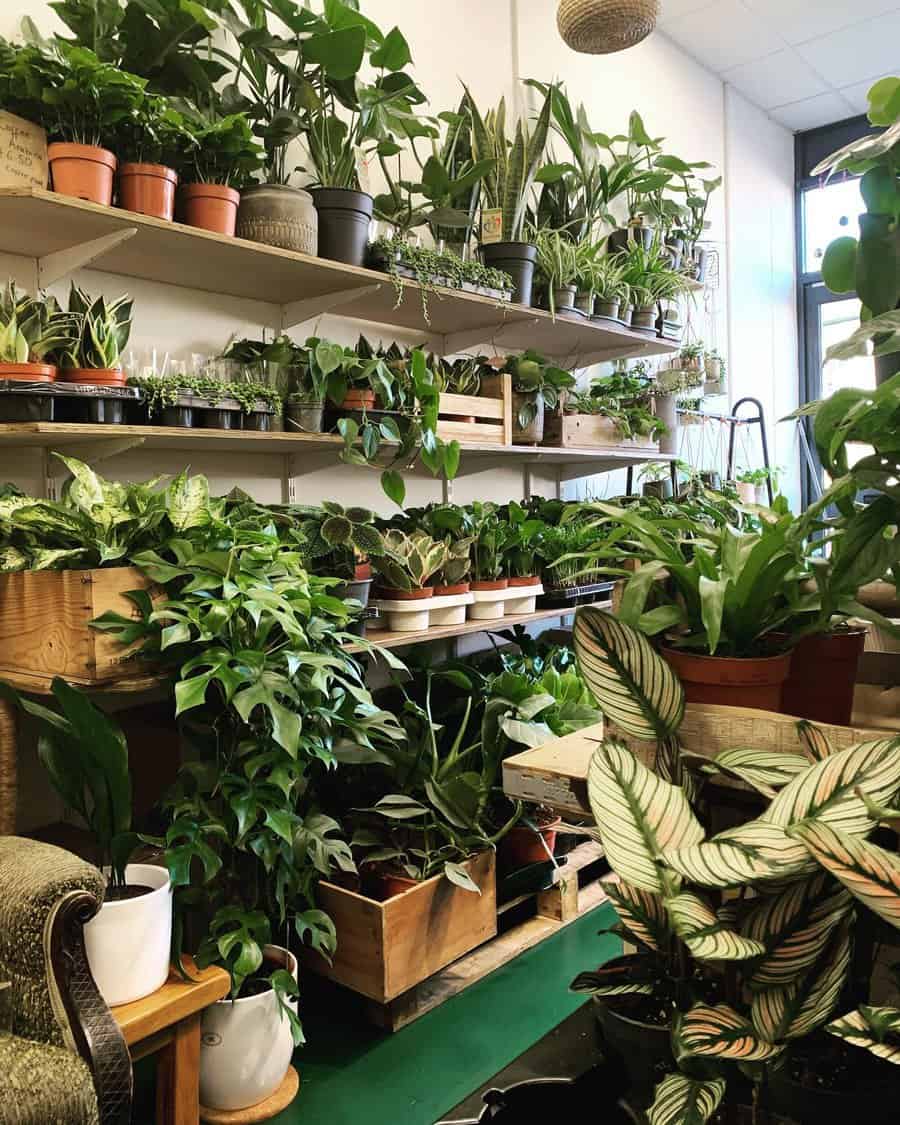 One of the greatest things about tropical plants is the variety of unique growing habits. There's no better way to make your living room or backyard look like a natural rainforest!
Tropical plants can also be kept outdoors — at least during summer. Be gentle when transitioning houseplants to your patio or balcony. Avoid excessive sun exposure and stick to a consistent watering schedule for the best results.
Container Garden FAQs
Does a container garden need drainage holes?
Experienced gardeners know that you should never use a terracotta pot without a drainage hole. The same is true of larger container gardens.
Placing containers directly onto the ground may interfere with adequate drainage after watering. If your container garden shows signs of poor drainage, consider raising the planter an inch or two above the surface below.
How do you fill extra-large planters?
Tall planters look great when filled with colorful annuals and bright foliage. But very few species require more than a few inches of soil to thrive. Conserve potting mix and improve drainage by filling the bottom of large containers with another material.
Rocks are an easy solution but will add a lot of unnecessary weight to the planter (however, extra weight may be desirable in some cases). Recycled plastic bottles or styrofoam can be used to fill the bottom of a tall planter before soil is added. You can also place a smaller pot upside-down to create a false bottom.