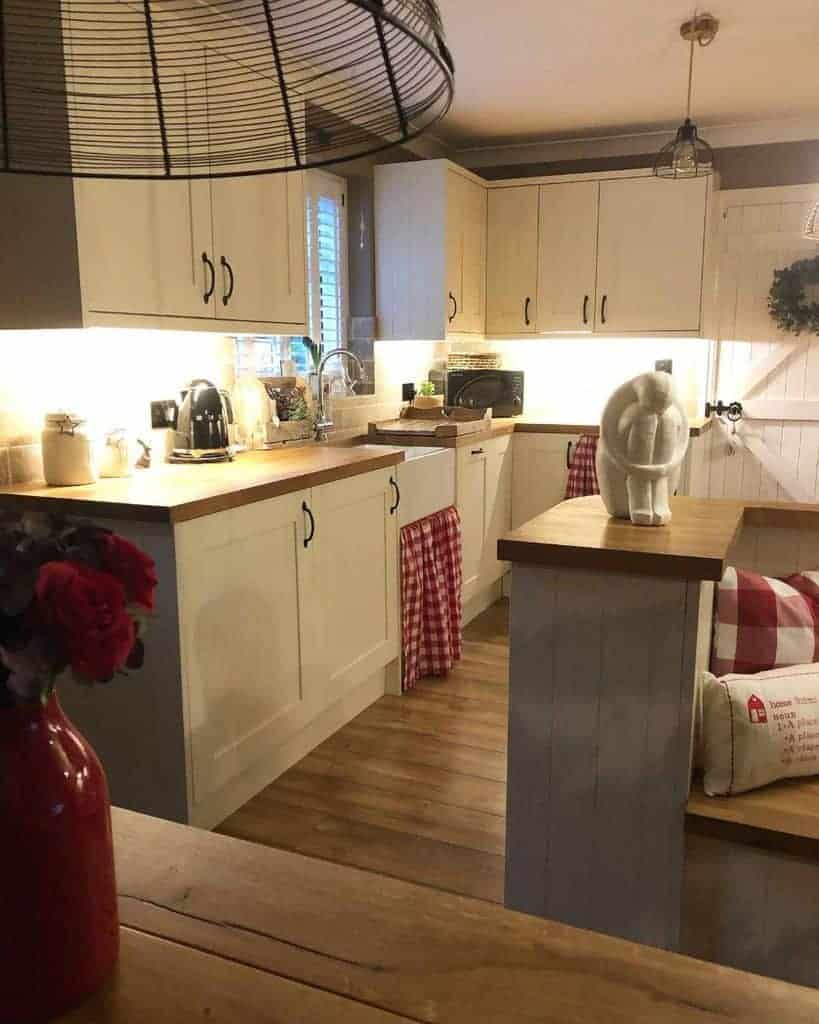 20 Inspiring Country Kitchen Designs for Your Home
"It isn't so much what's on the table that matters, as what's on the chairs." – W.S. Gilbert
A country kitchen exudes a comfortable warmth that makes it an ideal gathering space. It is the central work hub of the home, a space for making meals and memories, and where kids do homework and create crafts around a big kitchen table. A country kitchen stirs up friendly feelings and a return to a simpler lifestyle.
From the wooden floor to the beadboard-covered ceiling, country kitchen ideas create a welcoming, rustic vibe. Pour some iced tea into a mason jar, and take your time scrolling through our favorite country kitchen ideas. Whether you lean toward modern or vintage kitchen style, you'll find inspiration in this collection of country-influenced kitchen design ideas.
1. Traditional Country Style
Most rustic kitchen ideas hail from the traditional country style. You can bring that warm and welcoming country kitchen vibe to life by incorporating various natural textures and textiles. Traditional country kitchen design relies on a color palette that reflects the elements of nature found in the countryside. Think warm browns and greys, soothing greens and blues, and neutral areas of beige or white.
A country kitchen can also include darker colors, like evergreen, espresso, burgundy, or navy blue. You can find these colors on toile or floral fabrics that work well in a country–style kitchen. Toile fabrics usually showcase one dark color on a white or ivory background and depict the natural elements that bring life to the countryside. Landscapes, gardens, fountains, birds, flowers, and farm animals are all popular subjects on toile textiles.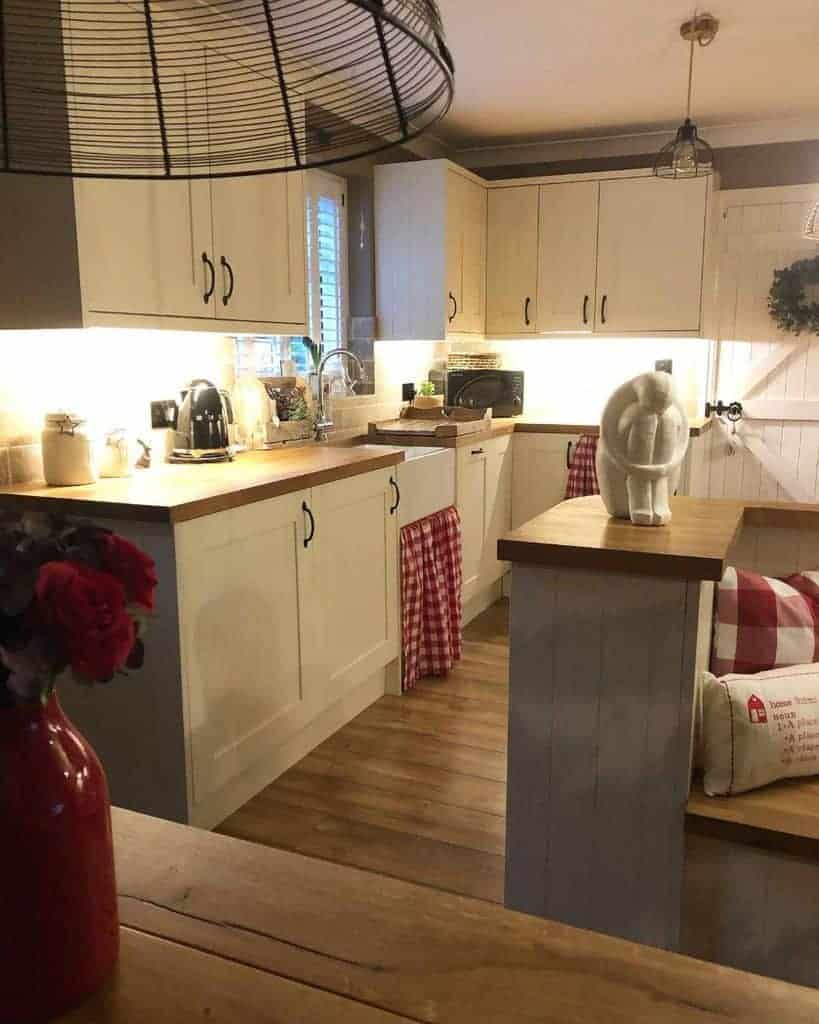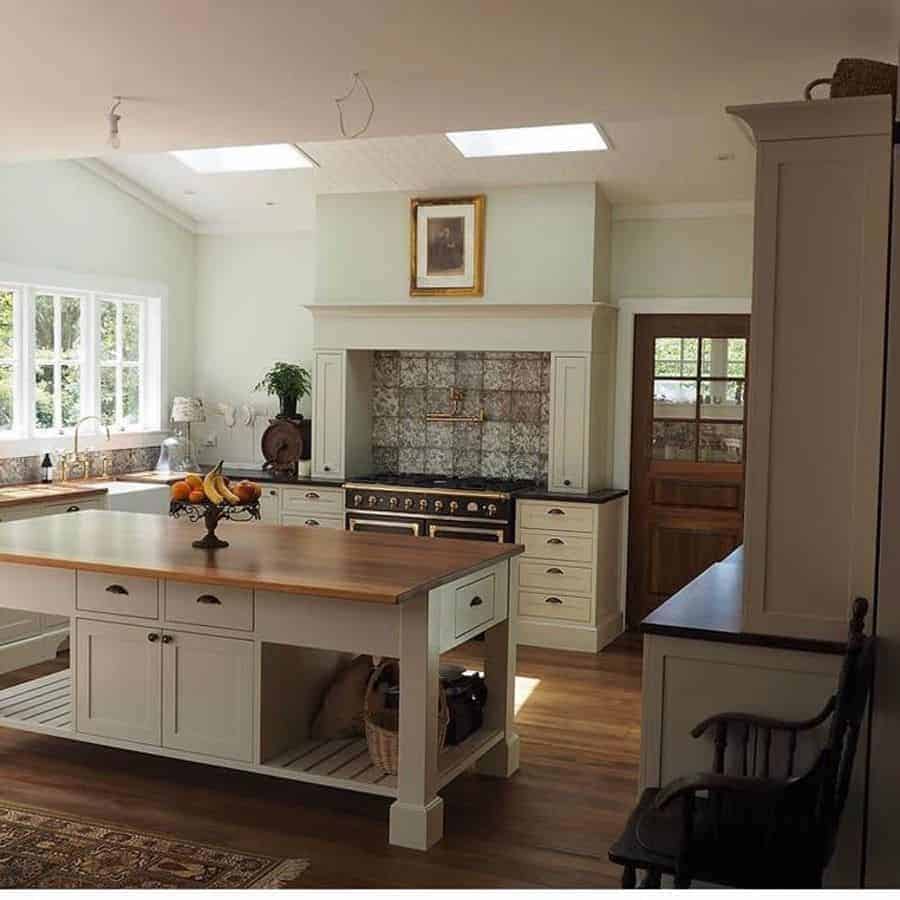 2. Modern Country Kitchen
Many people shy away from black in a country kitchen, but if you're marrying it with modern style, black can be ideal. During a kitchen remodel, replace your oven hood with a tall black tapered hood. A black-and-white patterned floor is a good merge between modern and traditional country styles. Mixing rustic elements with primary colors also captures that modern take on country decor.
Botanical prints can be one way to add country flair to an otherwise modern kitchen. Look for modernized textiles or prints in your chosen color palette. Add understated floral touches by including botanical accents on your tile backsplash, dishware, towels, or seat cushions.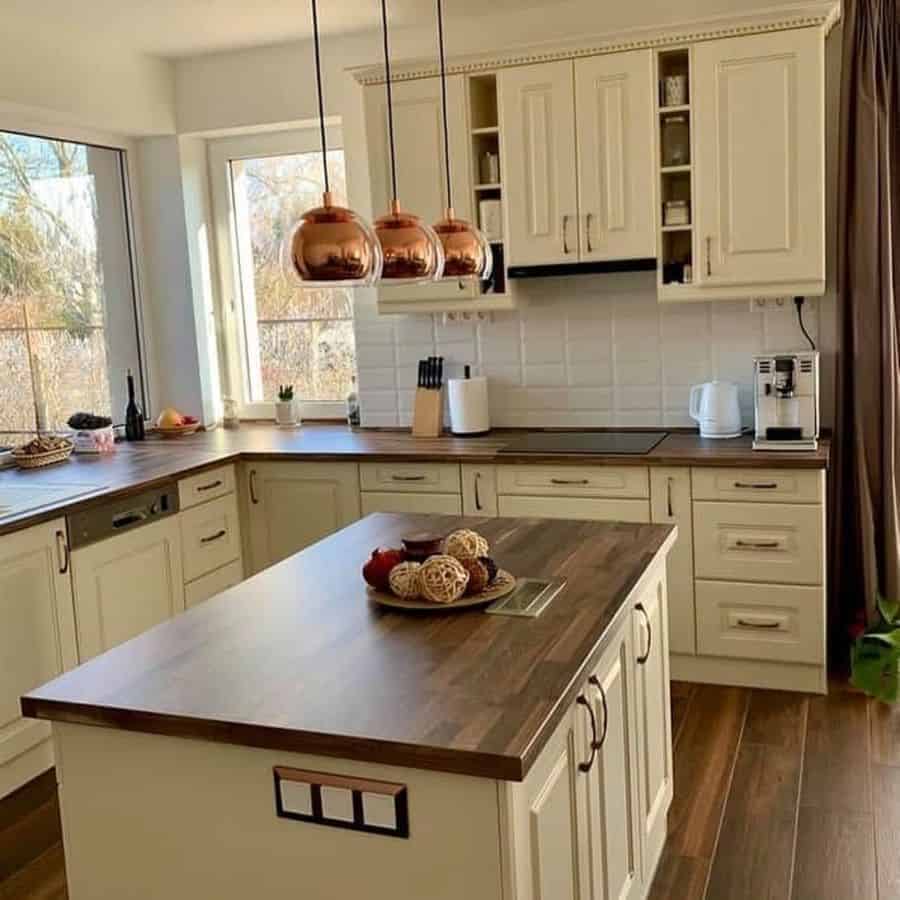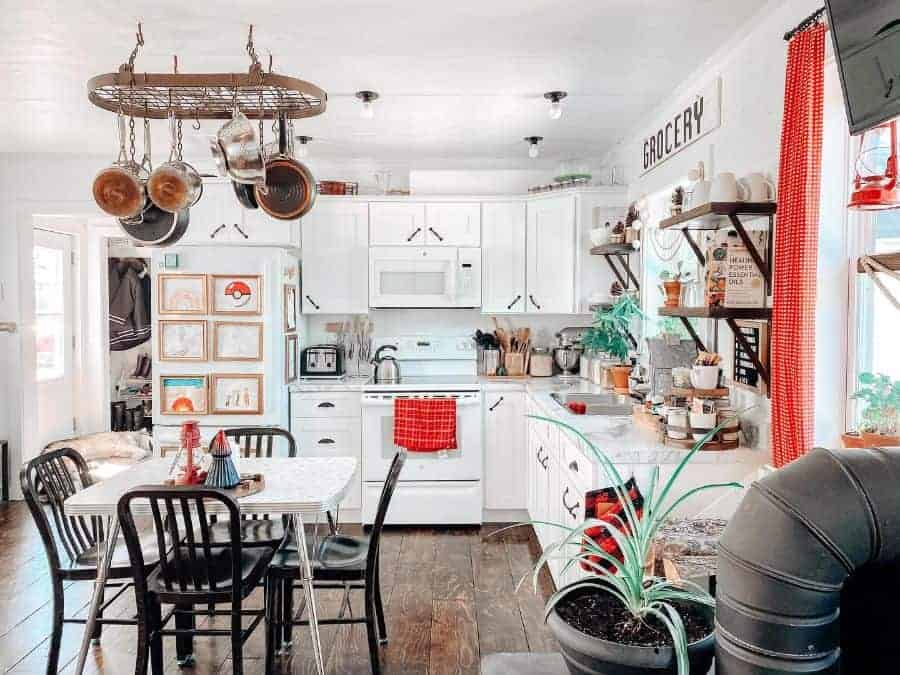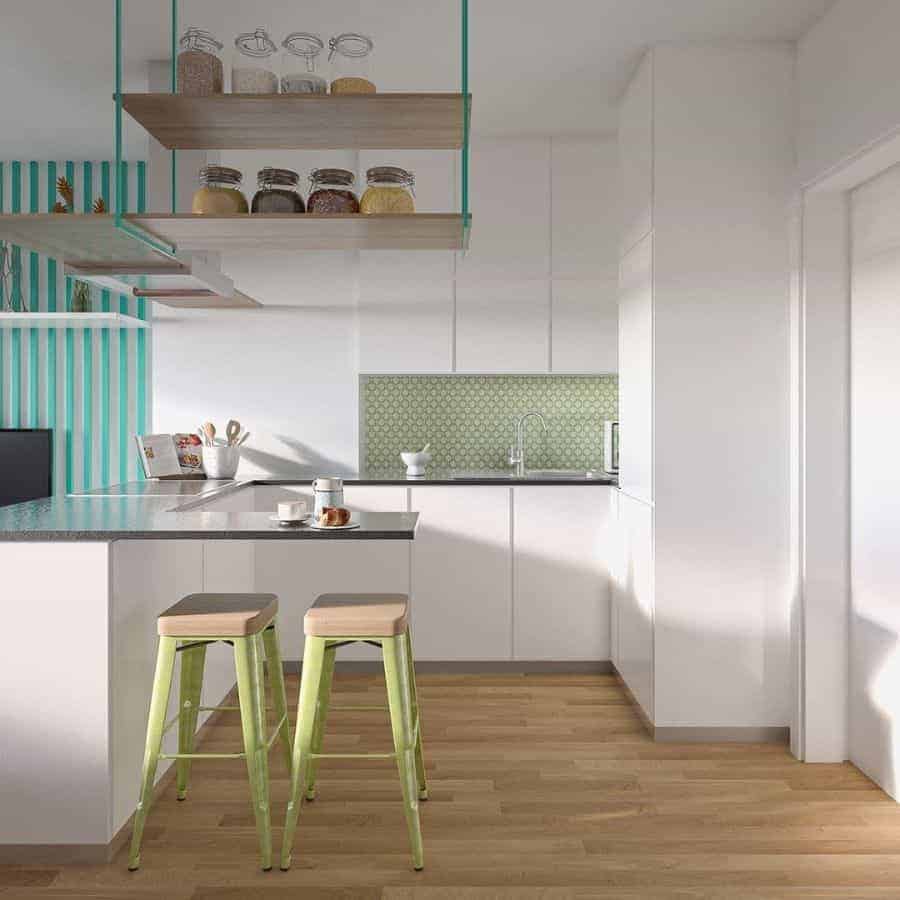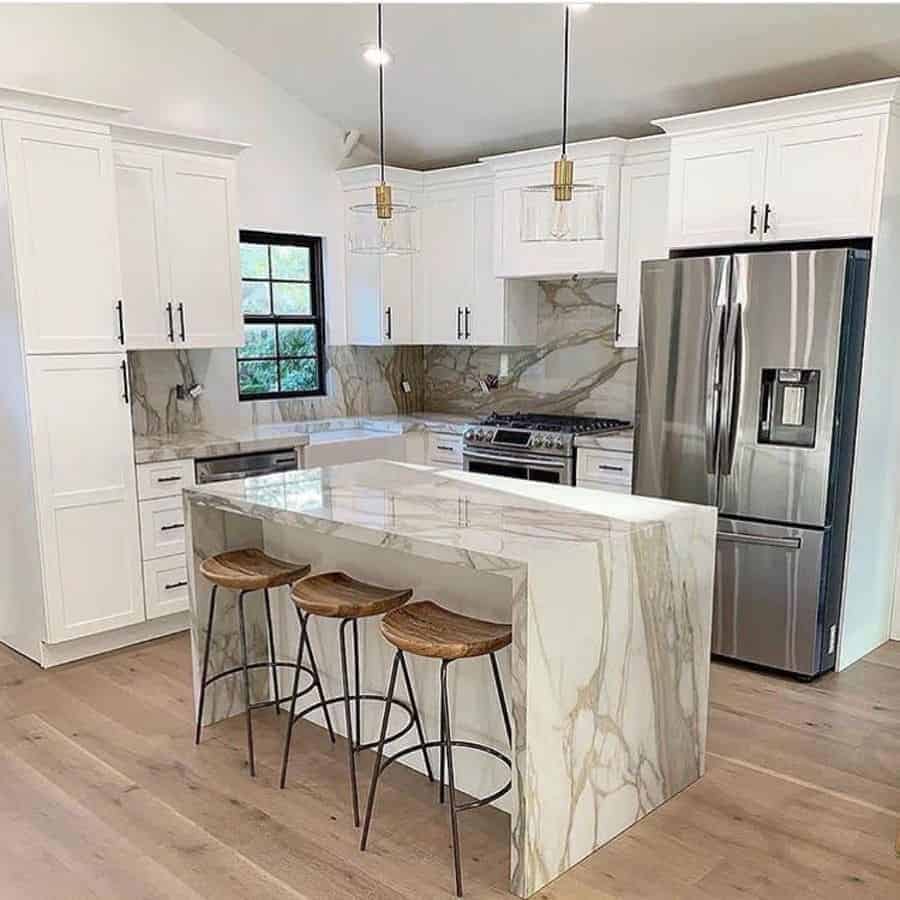 3. Natural Wood Kitchen Cabinets
Whether it appears as hardwood floors, wood cabinets, or stained wood furniture, natural wood is a must-have in any style of country kitchen design. Shaker cabinets are a classic style of wood wall cupboards, and you can stain them to coordinate with your preferred wood finish.
Butcher block is one of the classic worktops used in country kitchen design. Though you may not want all your countertop surfaces to be butcher blocks, you can designate one area for this material. You can also use it solely on a kitchen island, turning it into the home chef's primary workstation.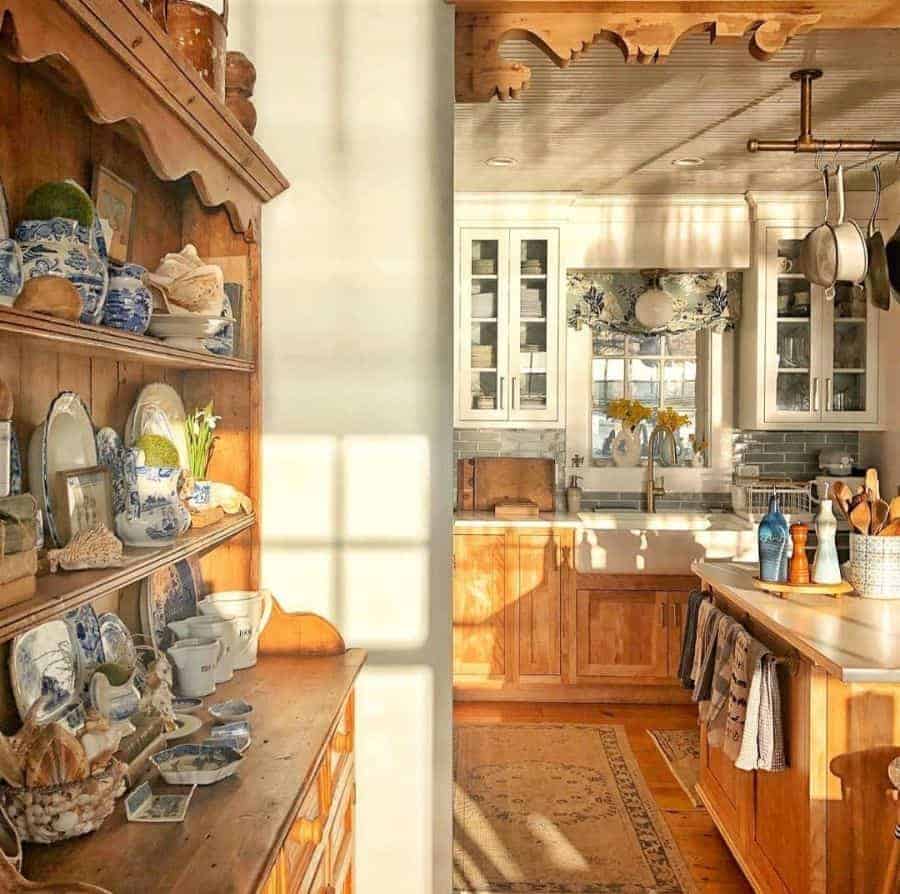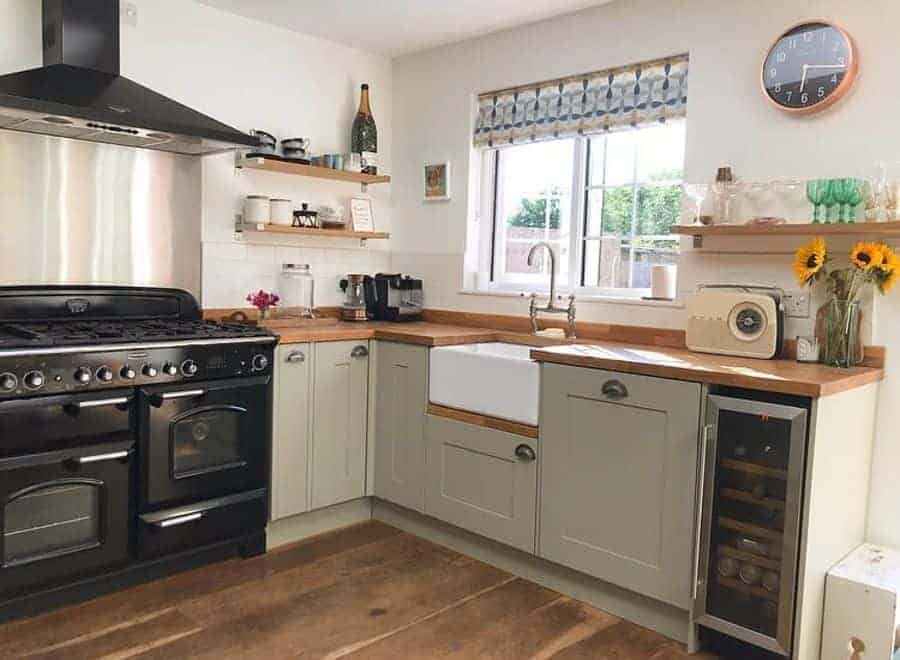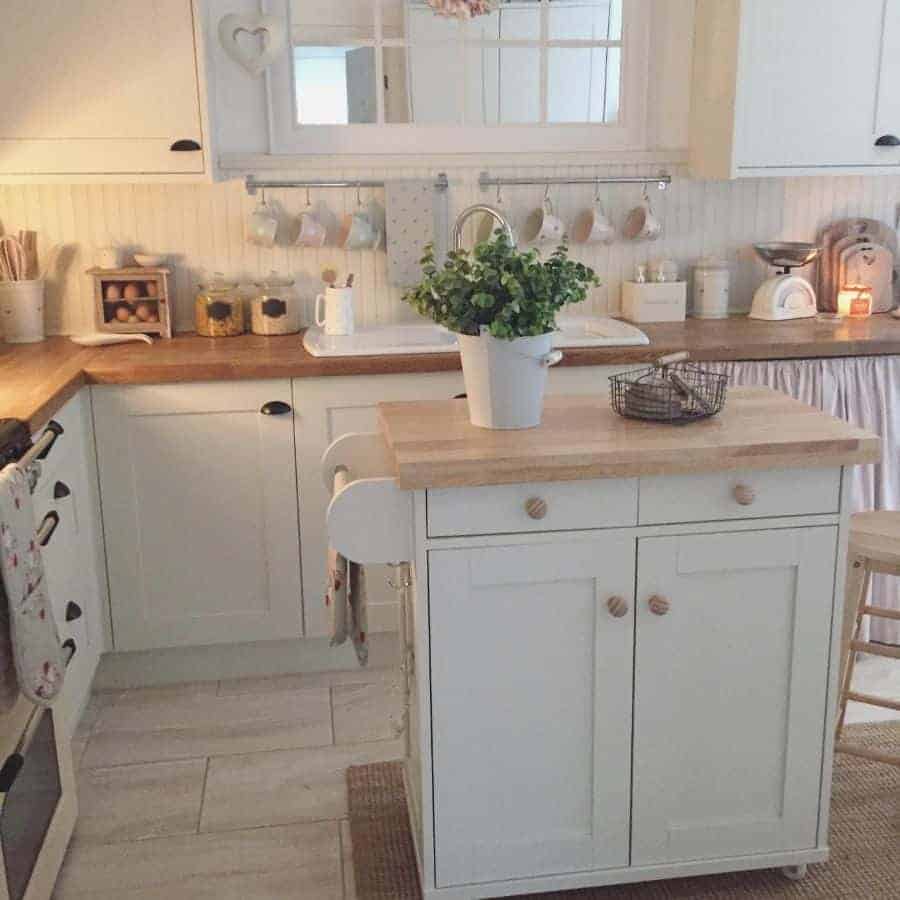 4. Vintage Style
Antiques instantly add a vintage feeling to any country kitchen. Place antique kitchen utensils on shelves or countertops. Collect Victorian milk glass platters and pitchers, then show them off inside a kitchen cabinet fitted with lead glass doors. Wrought iron light fixtures and cast iron cookware add a vintage feeling, even if they are actually new.
Dark hardwood floors with wide planks have always been popular in country kitchen design. They work well with rustic interior design or in more modern country kitchens. An exposed beam on the ceiling adds a rustic kitchen style, especially if rough-hewn and stained to match other wood elements in the room. Go full vintage by choosing retro-inspired major appliances instead of regular stainless steel appliances.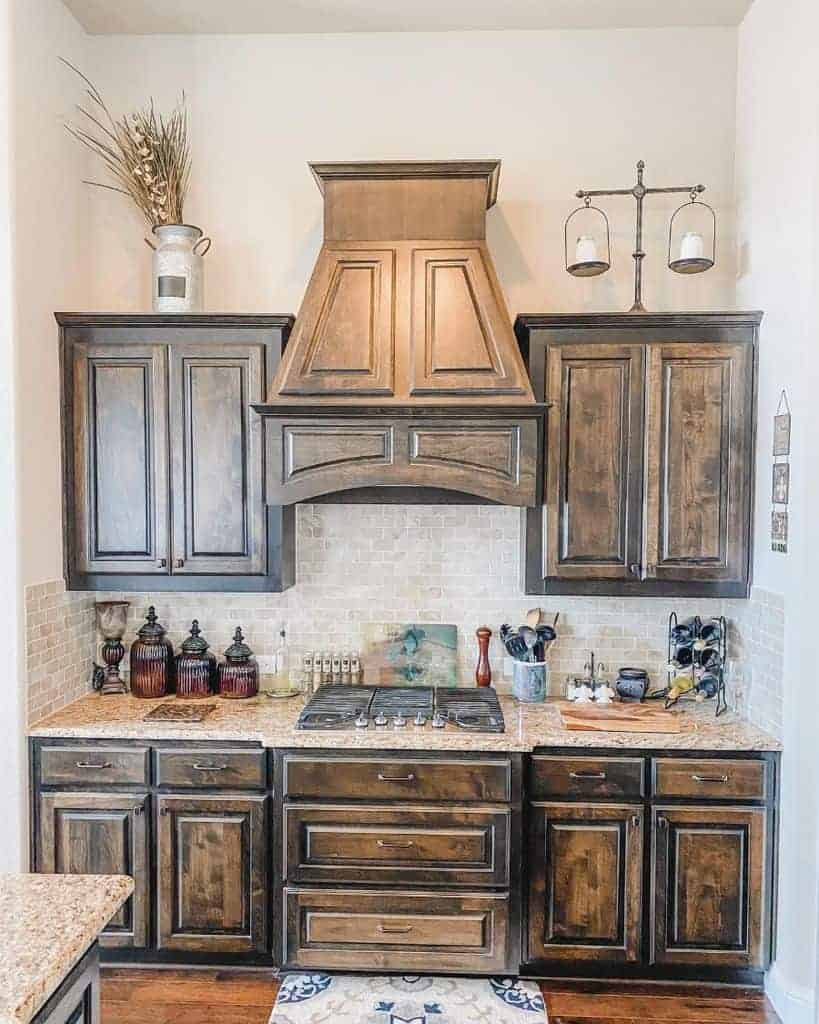 5. Classy Style
Country kitchen design doesn't have to be overly vintage or rustic. In fact, merging plenty of new elements with more weathered finishes is a perfect way to create a classy country kitchen. For instance, pair a weathered farmhouse style table with velvet upholstered chairs or use luxurious fabrics on your window treatments.
More refined kitchen ideas that also bespeak a country warmth include a painted tile backsplash above white marble countertops. Up the class factor of your country kitchen by adding modern kitchen light fixtures and displaying flowers in cut glass vases instead of mason jars.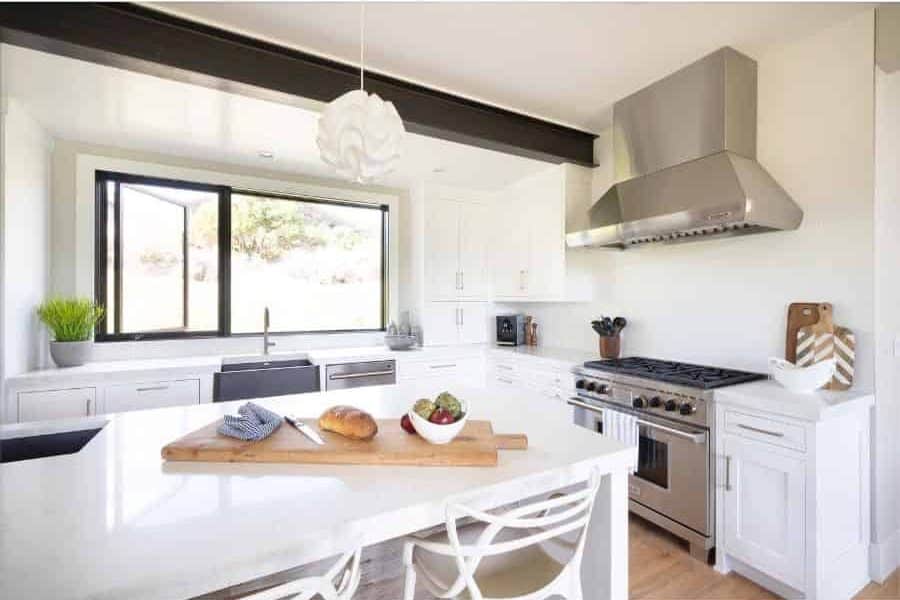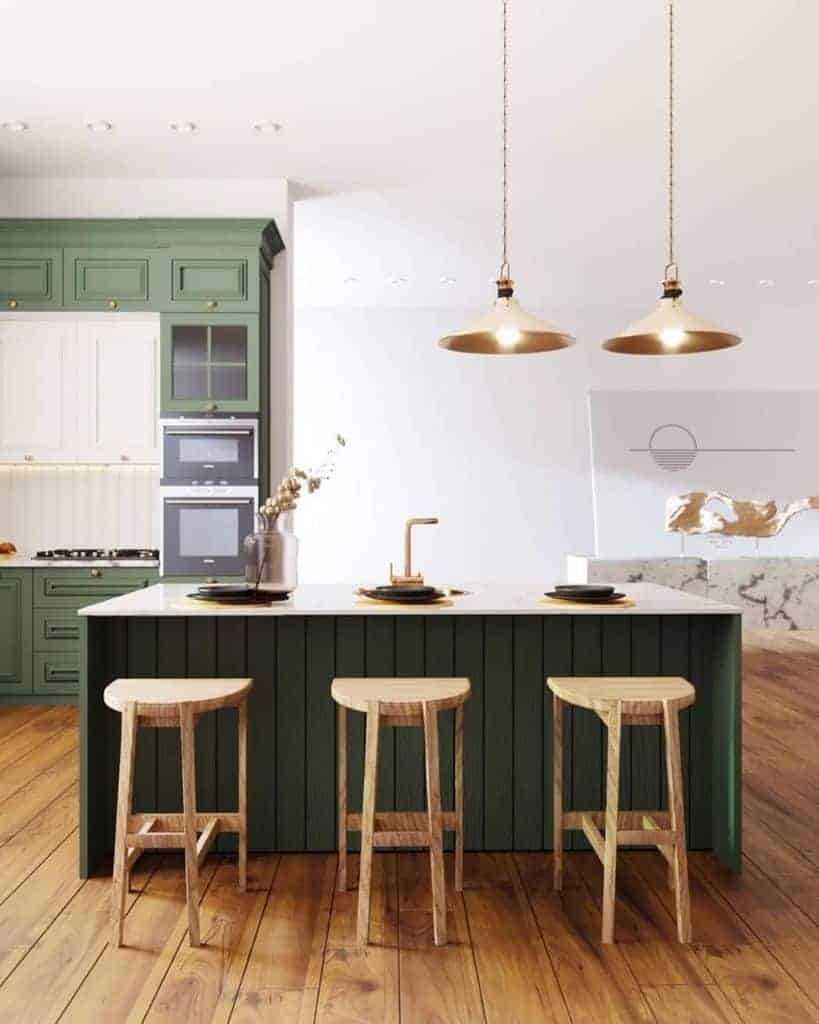 6. Country Kitchen for Small Spaces
White cabinets can help your small kitchen feel larger. A white arabesque or subway tile backsplash helps create the illusion of more space by continuing the cabinet color. The simple addition of a wooden butcher block countertop adds country flair to a small kitchen without paying for a full remodel.
Rustic country kitchen elements, such as an apron sink or a farmhouse style table, are now available in smaller-scale versions. This means that even those with a small kitchen can make all the best rustic touches fit into their limited space.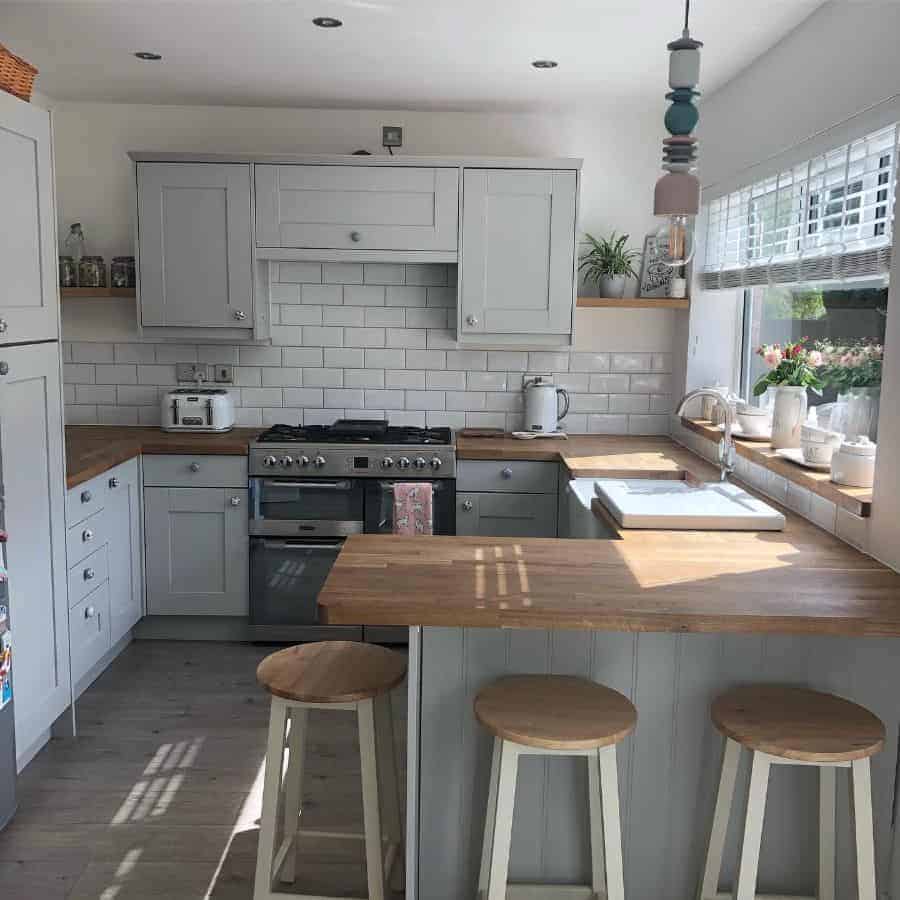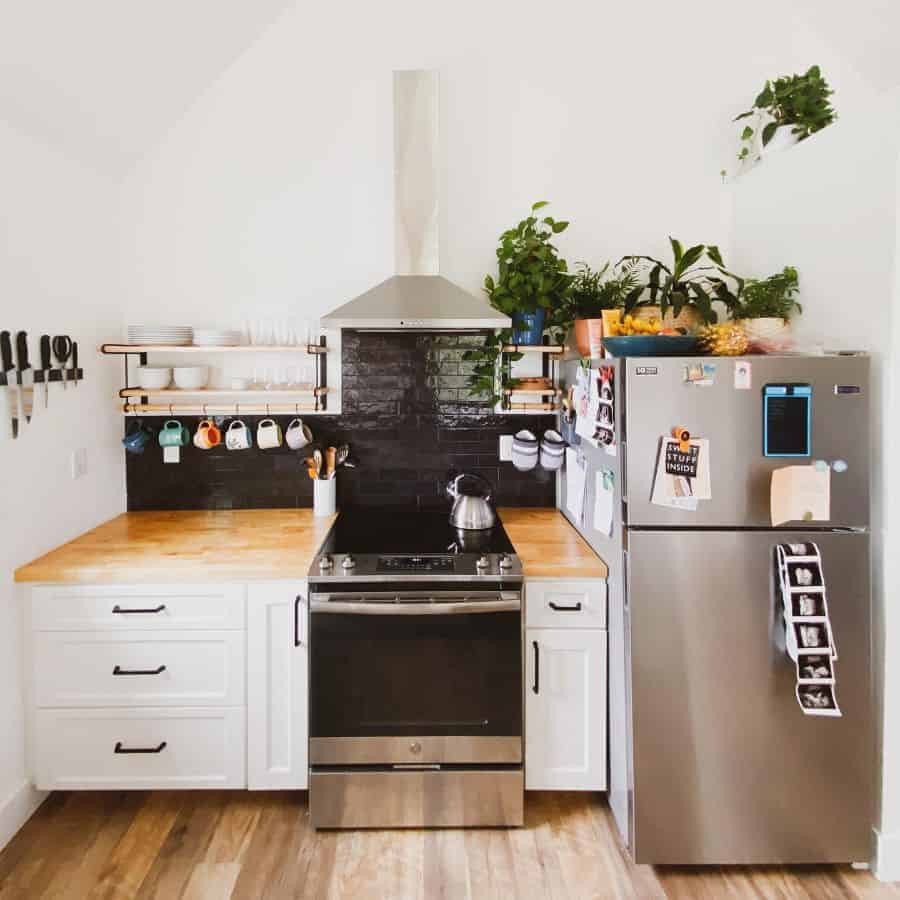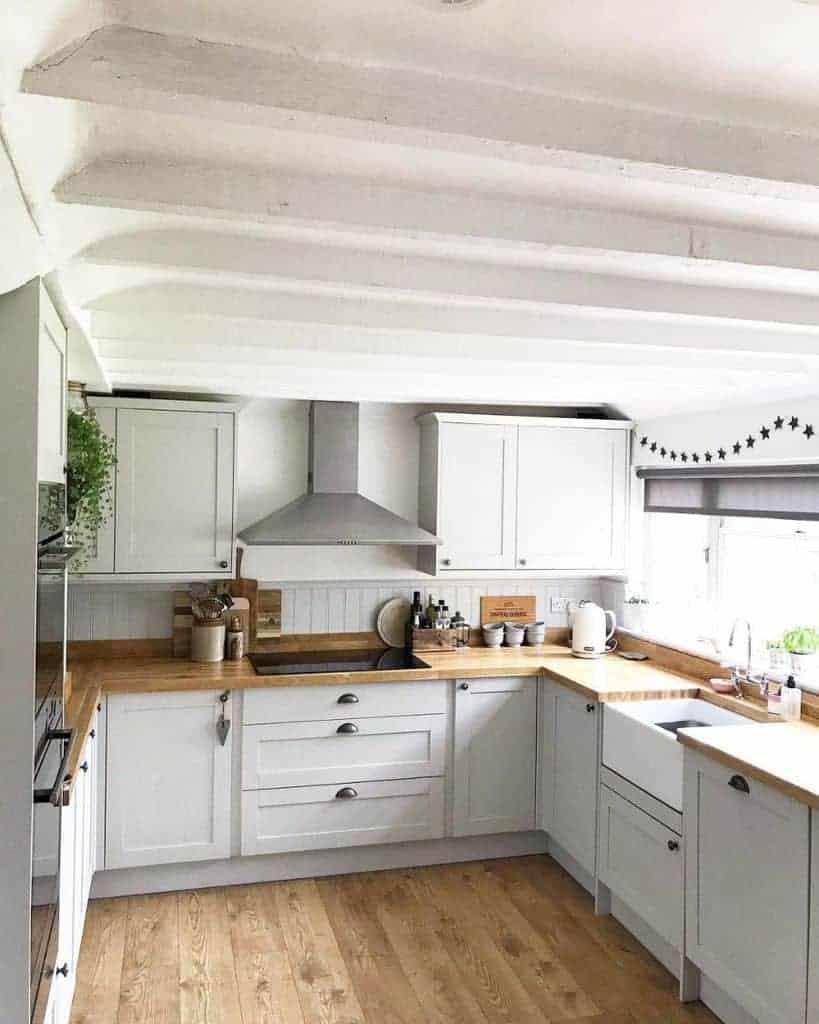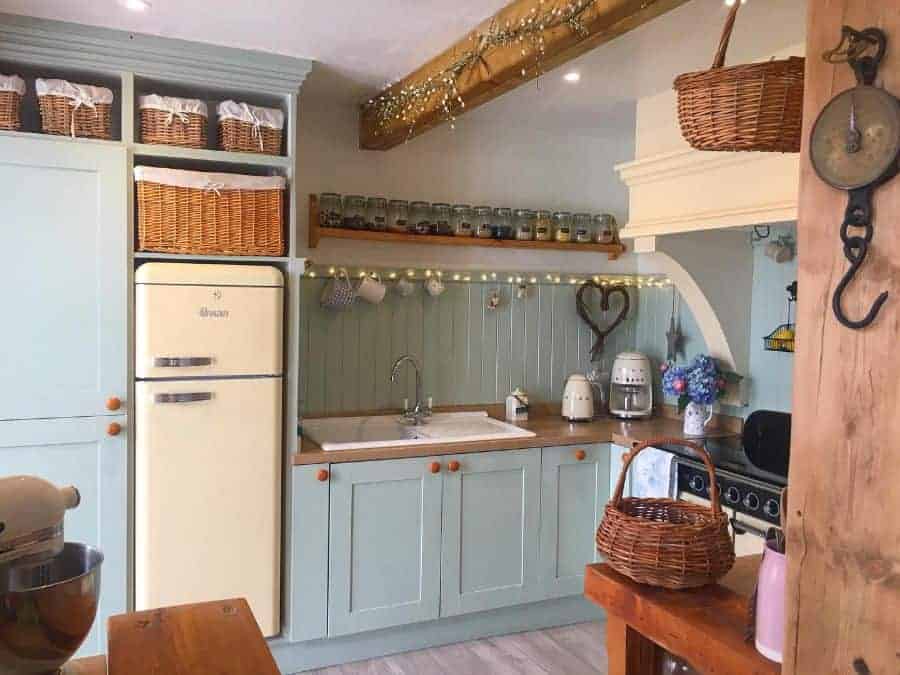 7. All-white Country Kitchen
An all-white country kitchen often reflects a marriage of country kitchen and farmhouse kitchen style. Designers love white in the kitchen because of the clean, spacious feeling it provides. However, a completely white kitchen can feel clinical. To make a white kitchen look and feel like country, you must soften the space with natural wood tones and warmly rustic design elements.
An all-white or mostly white kitchen needs a few pops of color to feel welcoming. You can accomplish this by painting your kitchen island or bar stools your favorite color. Or you can use textiles that add a punch of color, preferably natural tones of butter yellow or sage.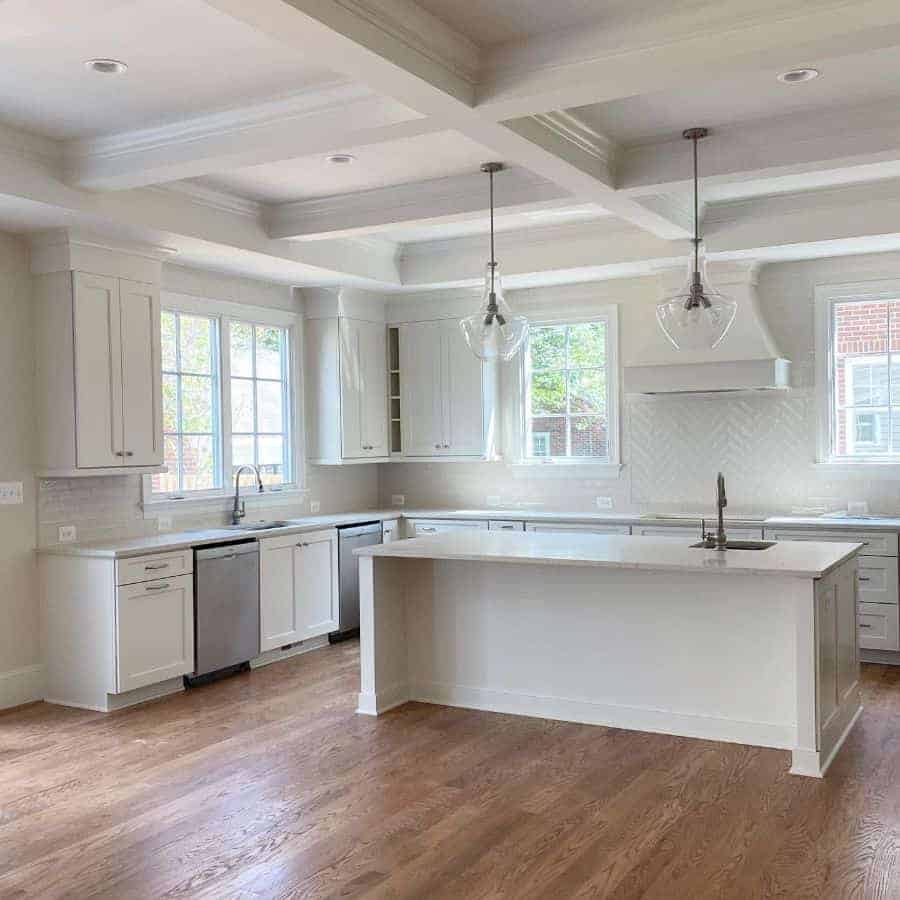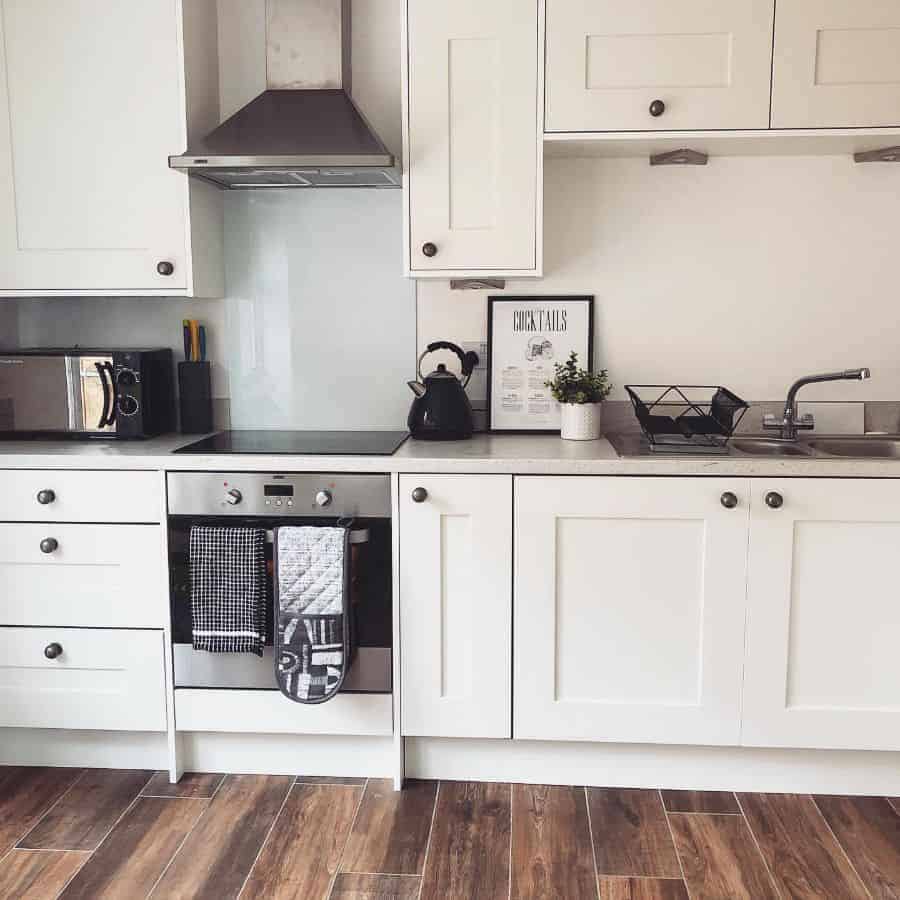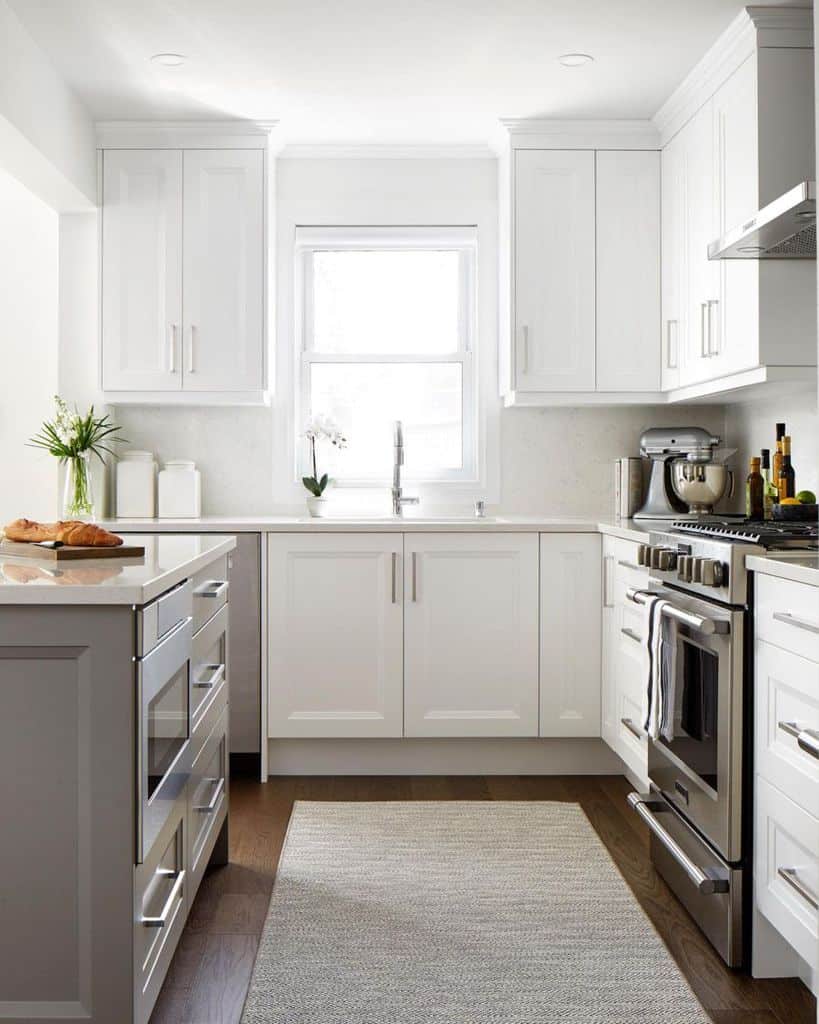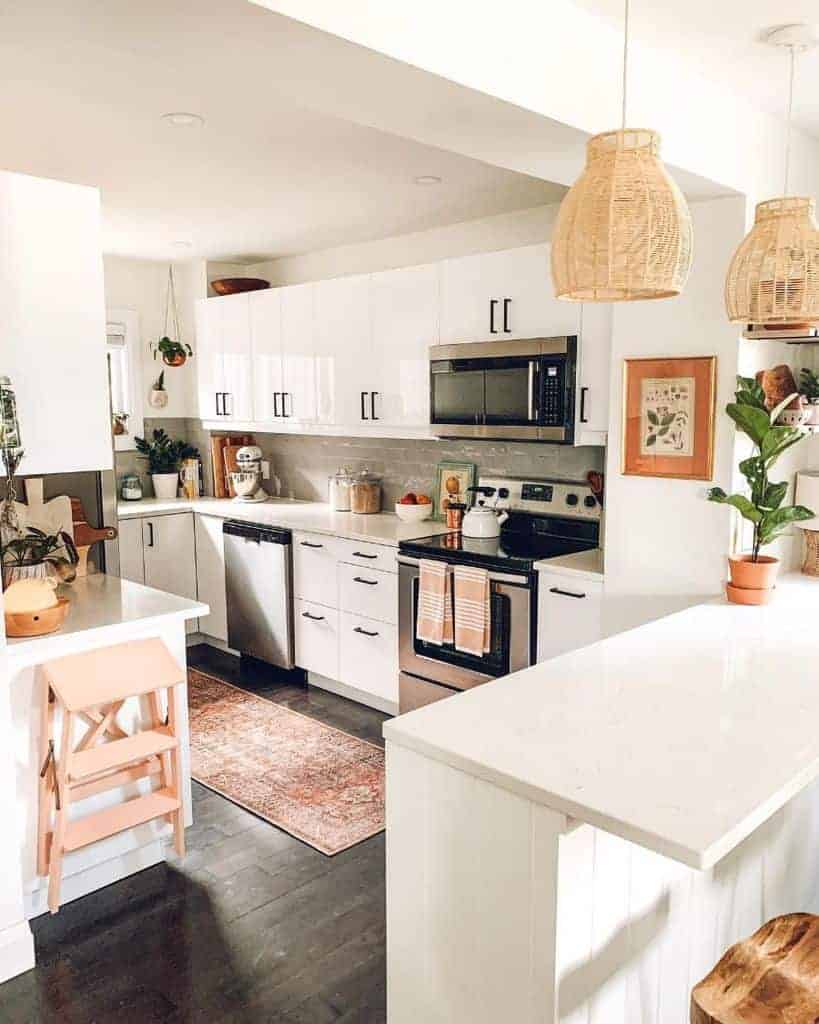 Country Kitchen FAQ
How can I make my kitchen look country?
Making a few simple changes can help bring that warm country kitchen feeling into your home. Changing to a neutral/natural color palette is a start. Consider beige, browns, natural shades of green or blue, or butter yellow. Add botanical or toile patterns, and don't be afraid to mix textile patterns.
Should kitchen cabinets be lighter or darker than the walls?
There are no hard design rules on which finish should be darker. Because cabinets take up most of the visual space in your kitchen, most designers base their choices on the size of the room. Light or white cabinets work better in small kitchens, while dark cabinets add coziness to a large kitchen design.
What is the most popular color for a kitchen?
Although you can use any color you like in your home, designers and homeowners favor certain colors when it comes to kitchen design. White, gray, ivory, yellow, blue, green, and red are the most popular colors appearing in kitchens today.