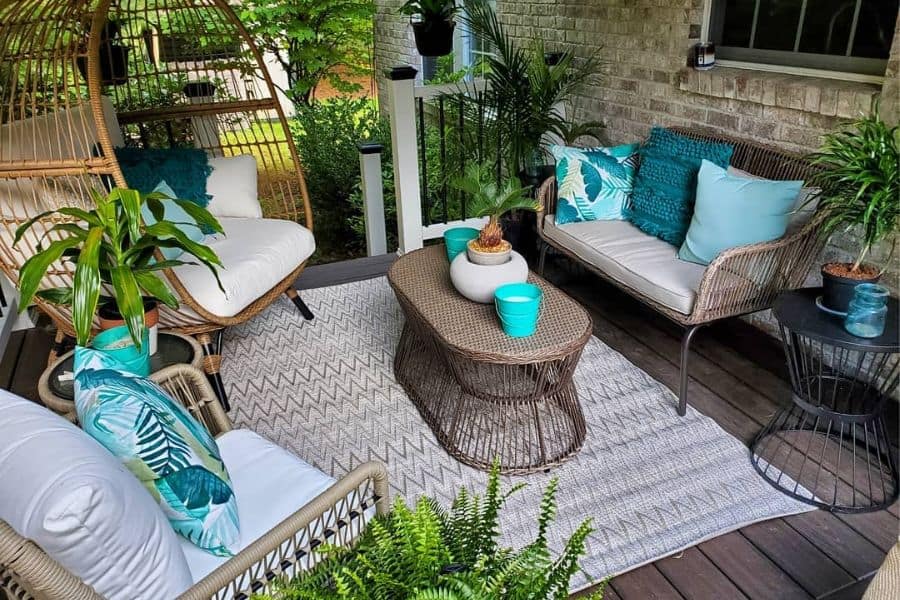 The Top 46 Deck Furniture Ideas
"Furniture should always be comfortable. And always have a piece of art that you made somewhere in the home." – Tamara Taylor
Your deck is sitting empty in your backyard, and it's time you do something with it. An old and busted patio set isn't going to cut it anymore. With more people embracing the outdoor living lifestyle, you need to step your game up and approach decorating your deck the same way you would the interior of your home.
Create a comfortable seating area where you can sit back and relax. There should be the right amount of shade so you're protected from the sun. You should have privacy but not block the airflow, so you stay comfortably cool. These deck furniture ideas will help you figure out the best use of your backyard deck.
1. Backyard
If your deck takes up the majority of your backyard, then turn it into a multi-use space. Have different areas that are arranged with different types of furniture. For example, you could have a large flat area that's designed to be the outdoor dining area. It could have a pergola overhead and a large dining table. Then make another area that will serve as the lounge area with a sofa and large umbrella.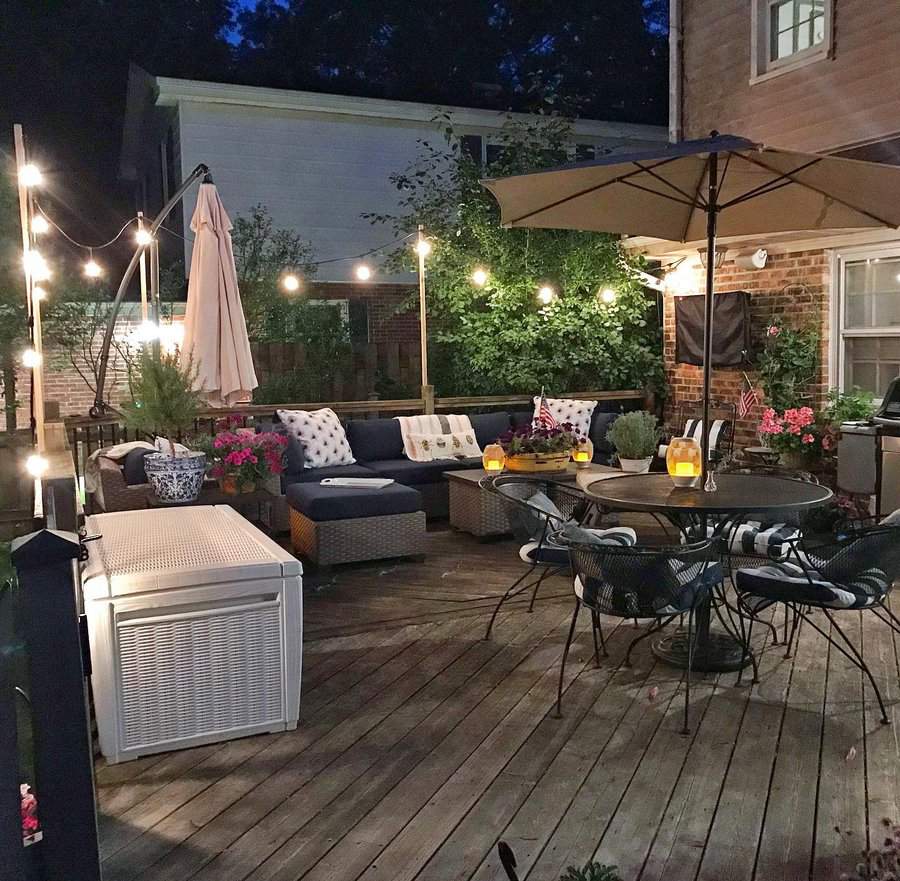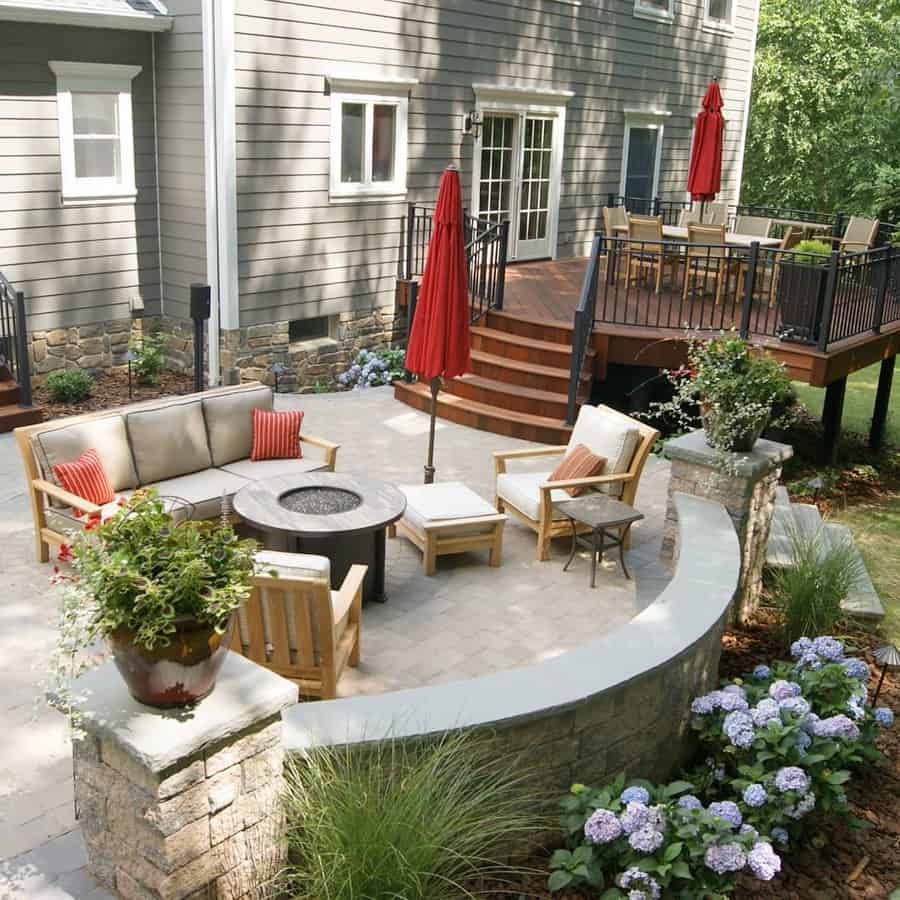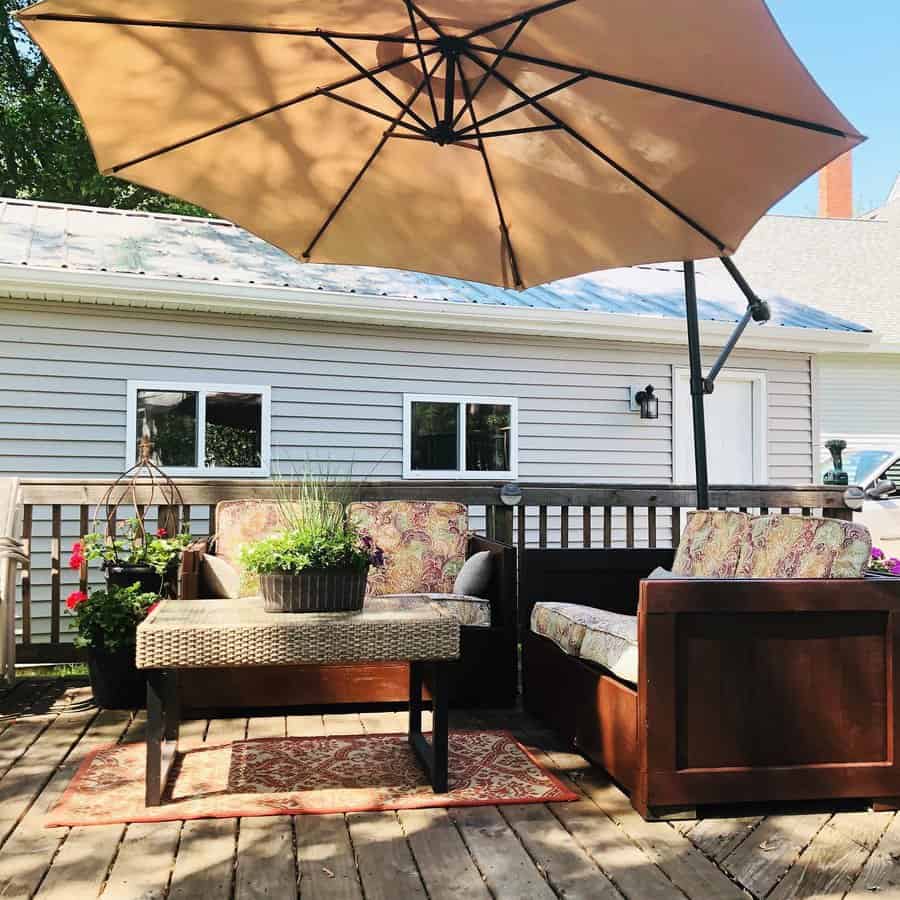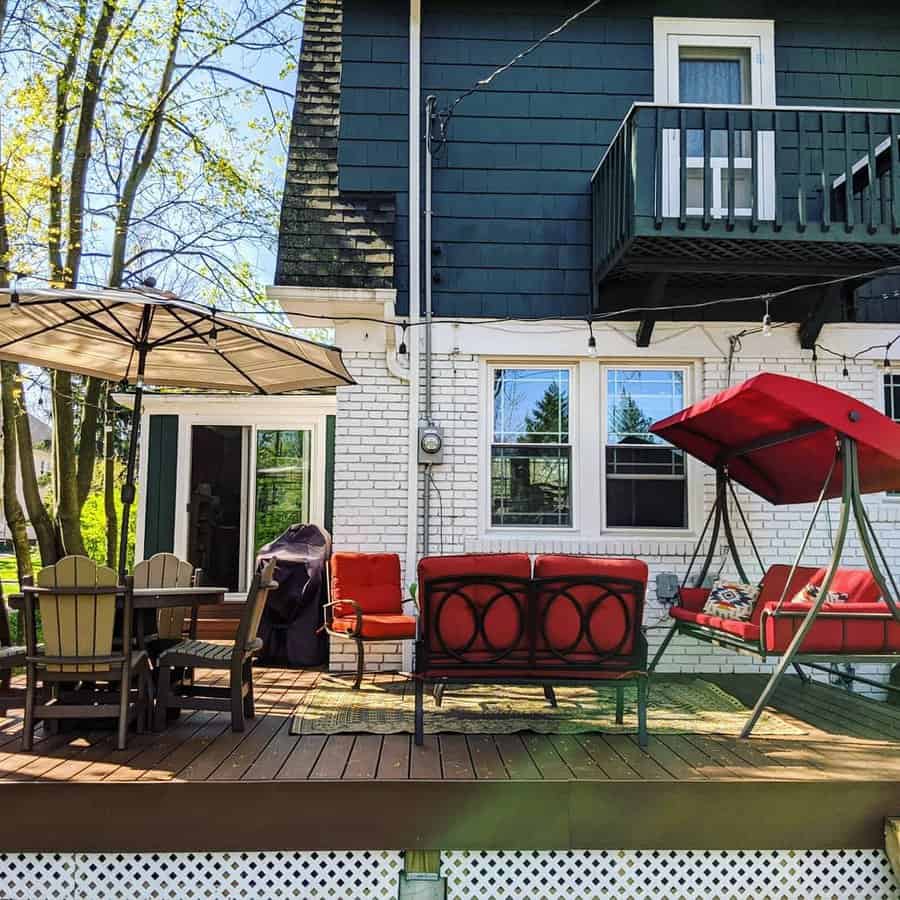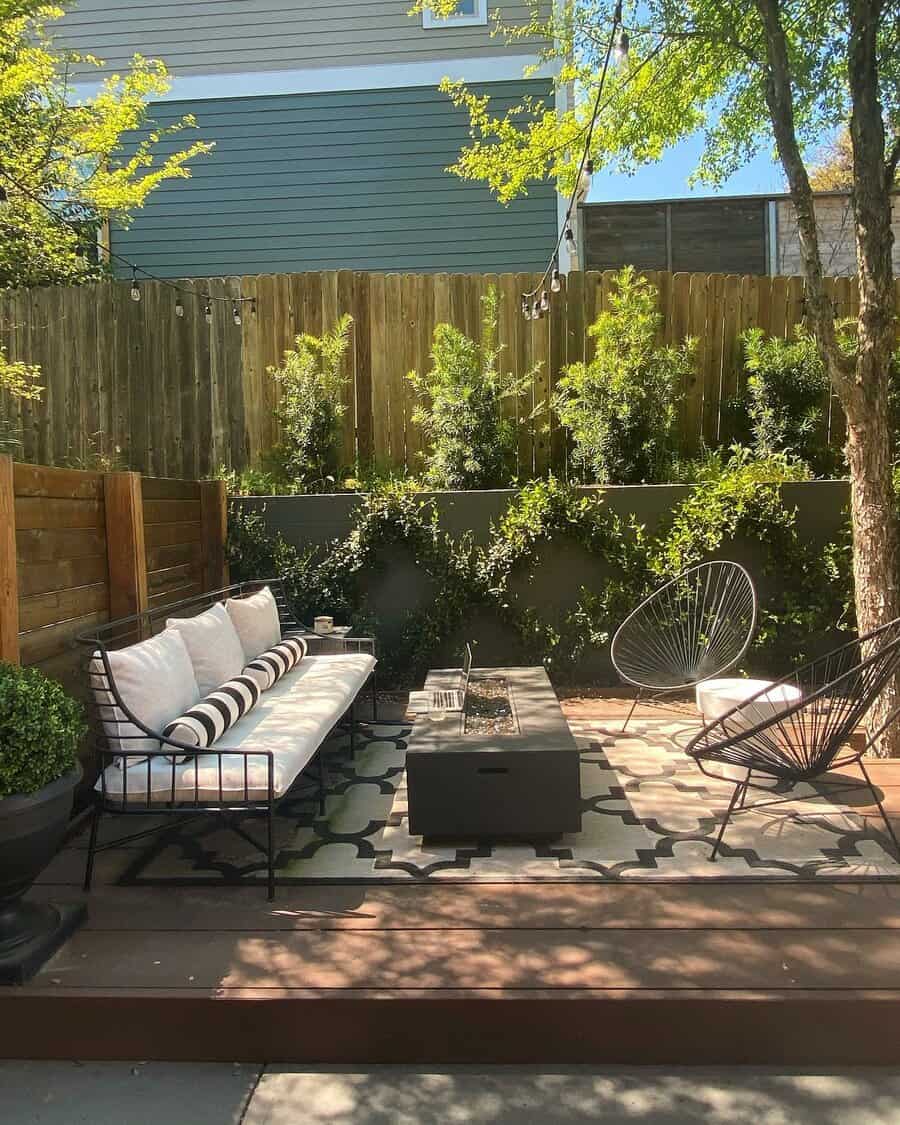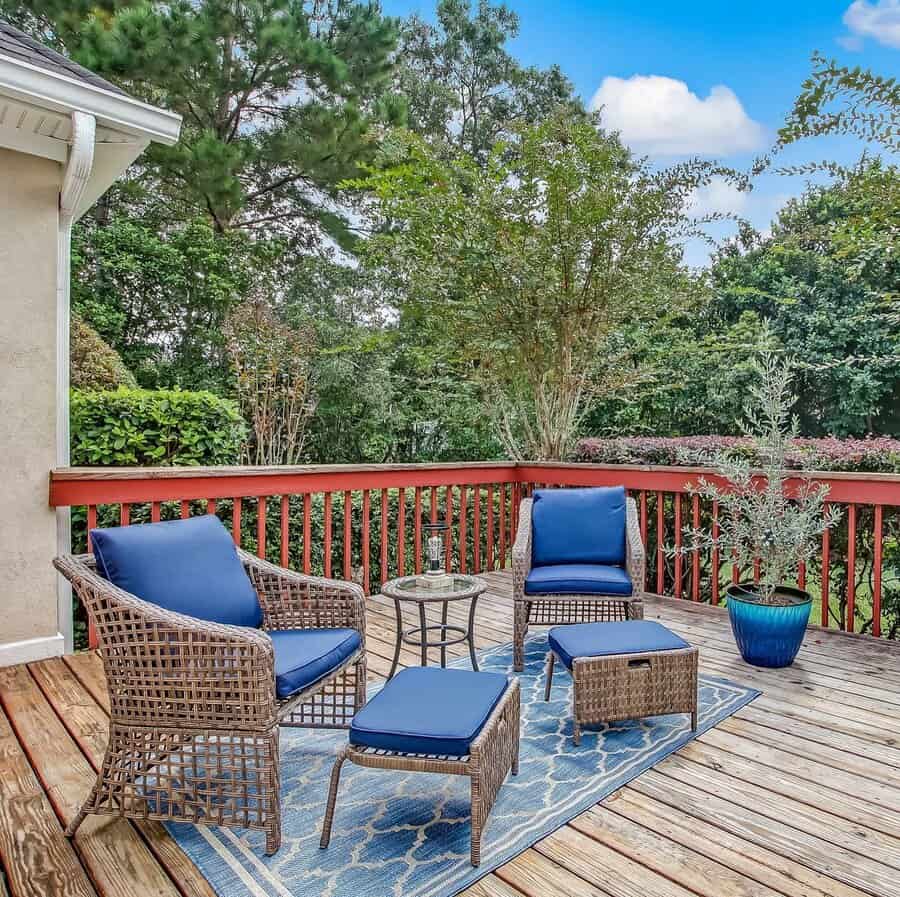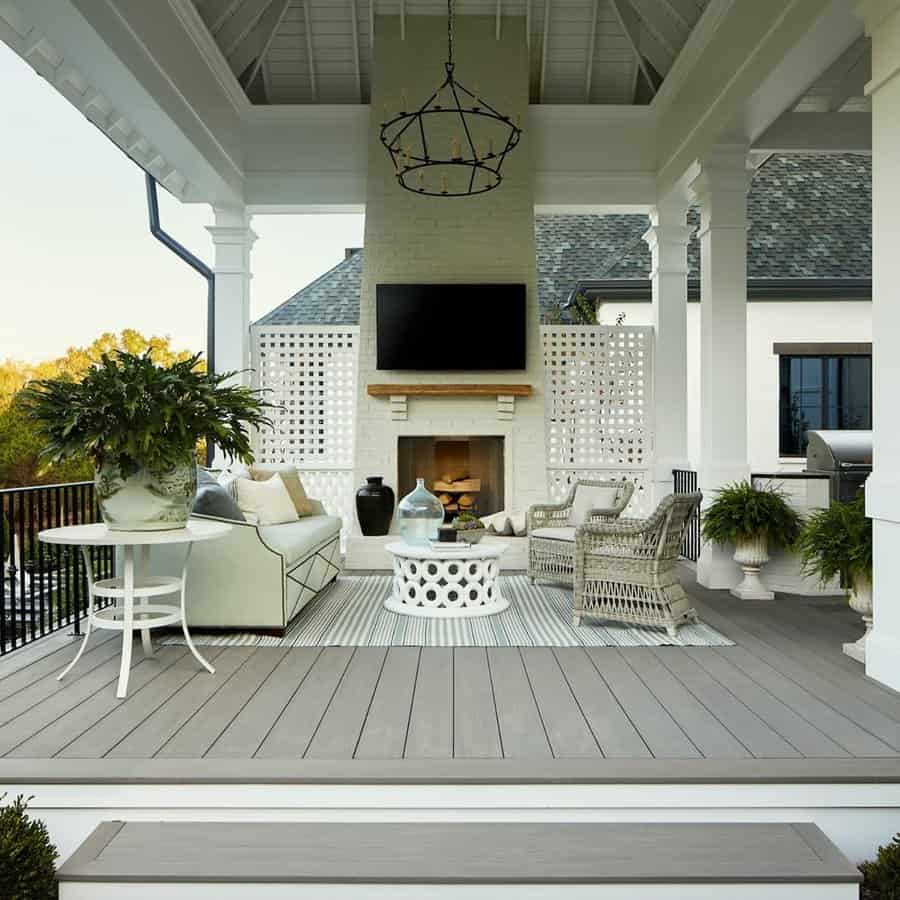 Further out on the deck and away from the house could be the fire pit. This gives you a warm outdoor space for entertaining during the colder months. You could build a fire pit into the deck or have a portable one that sits on it. For a modern look, skip the pit design and opt for a table with a fire feature in it.
2. Chairs
Make your deck more comfortable by adding chairs that you want to sink back into and relax. Sit in several types of outdoor chairs to find the best option for your deck. The chair also needs to fit the amount of space you have available. Large decks can support rocking chairs. A small and narrow deck could look perfect with a porch swing bench.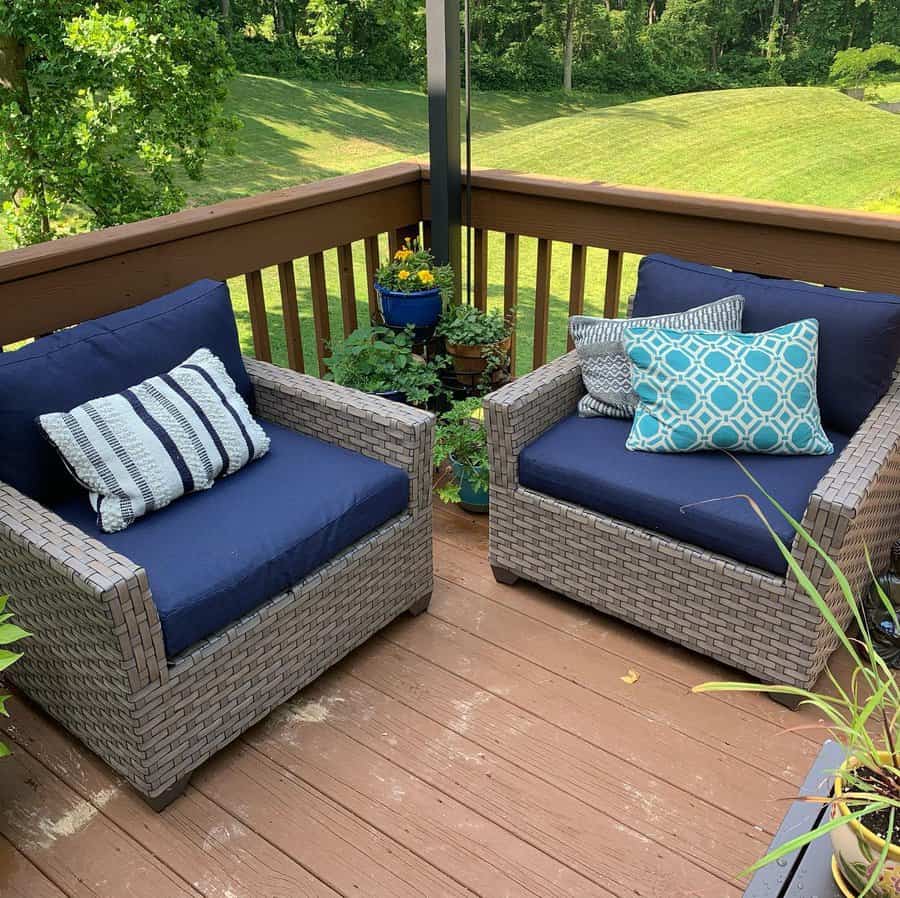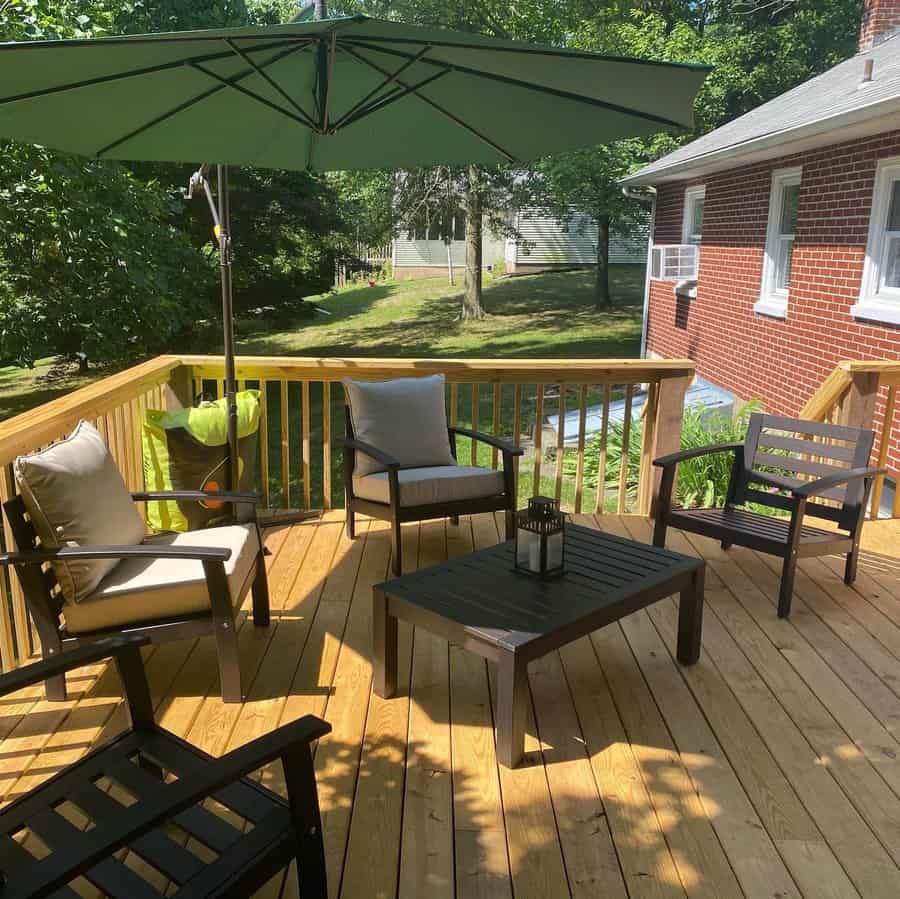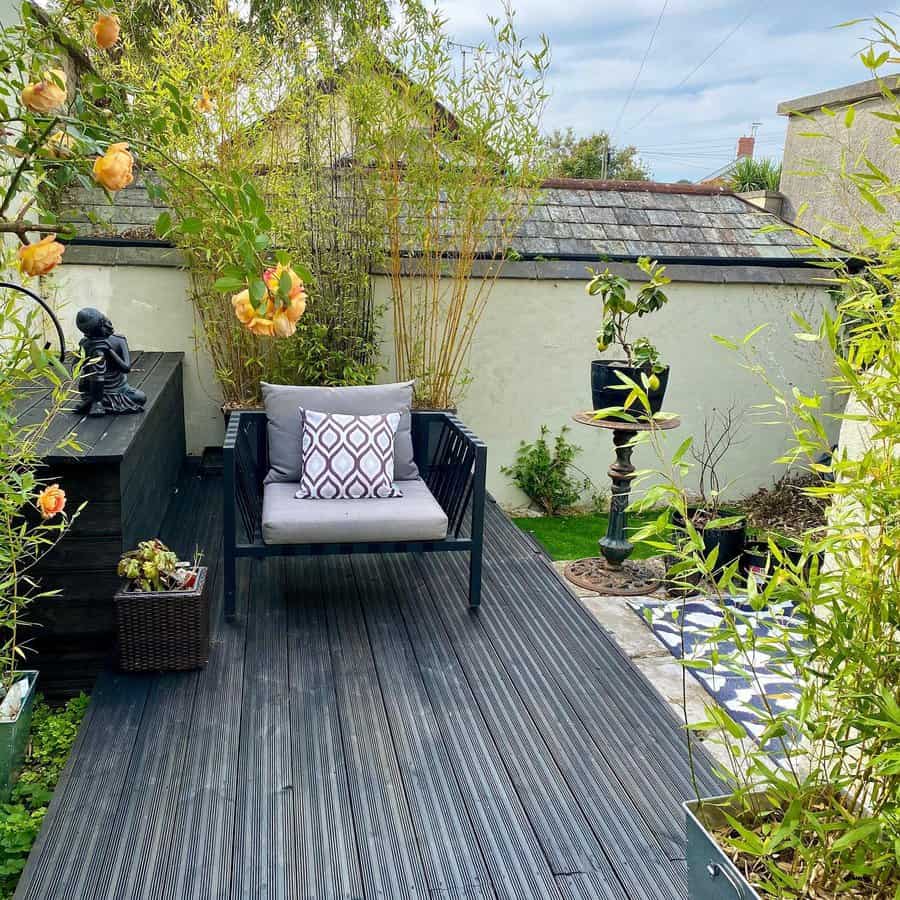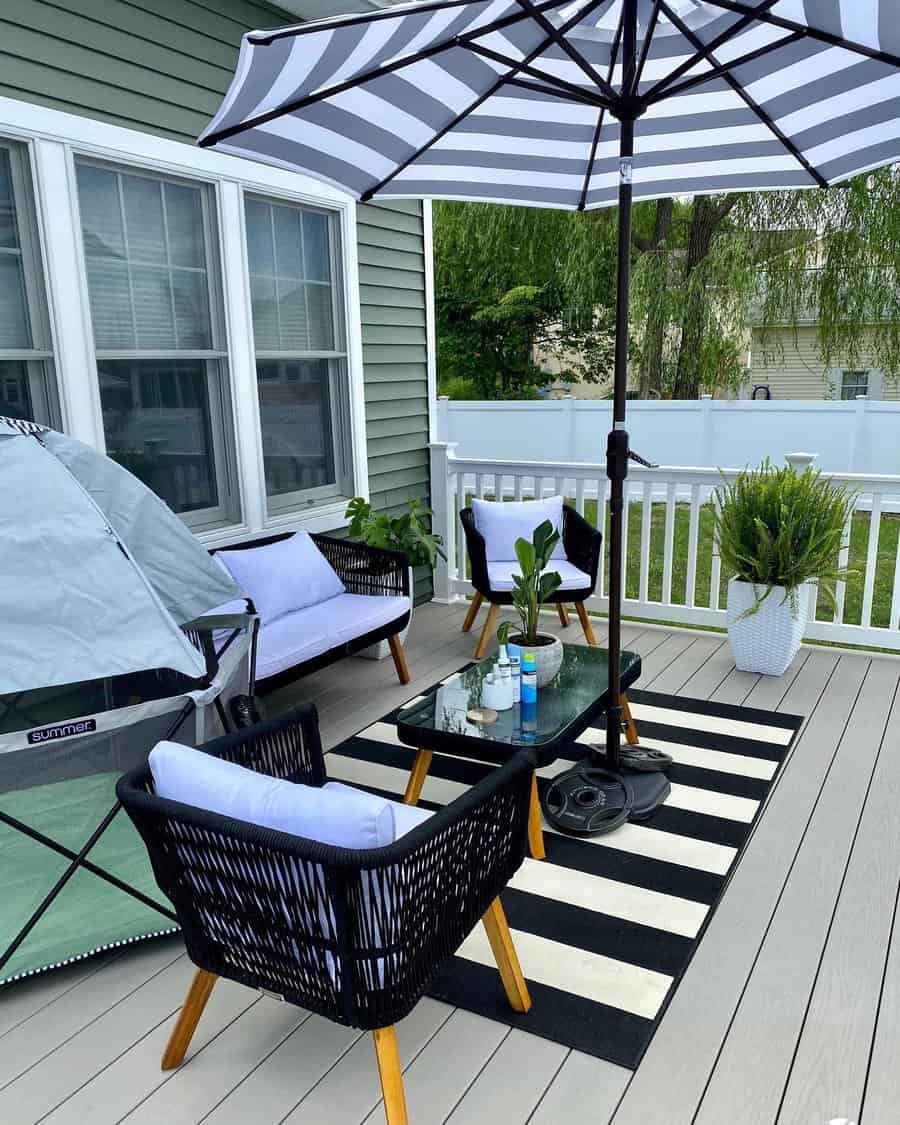 After you choose your chairs, finish them with patio cushions. Use outdoor fabric to make them more durable. Even if you choose chairs that don't have a seat and back cushion, you can still dress them up with a throw pillow. A square shape is easy to find. If you want to add a creative look, try a rectangular lumbar pillow or even a shaped one.
3. DIY
If you are handy and have the right tools, you can build your own patio furniture. There are plenty of DIY outdoor furniture projects online to help you get started. The easiest method is to use wood. You could build separate pieces of furniture or build a bench-style seat right into the side of your deck.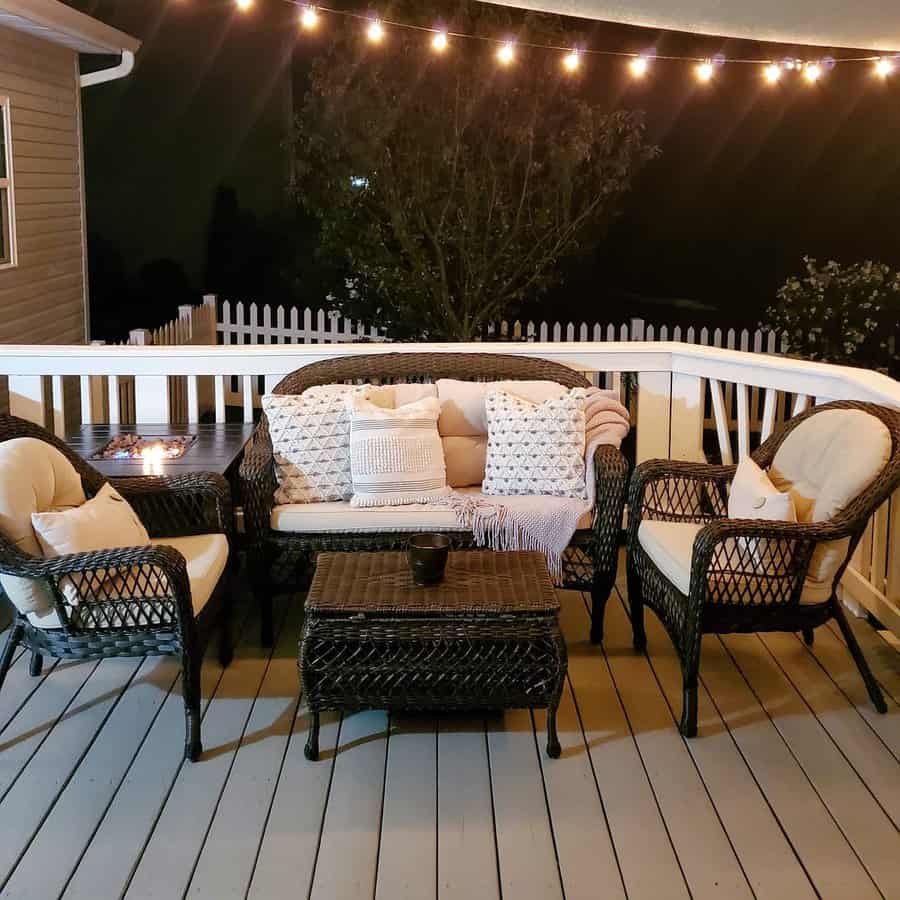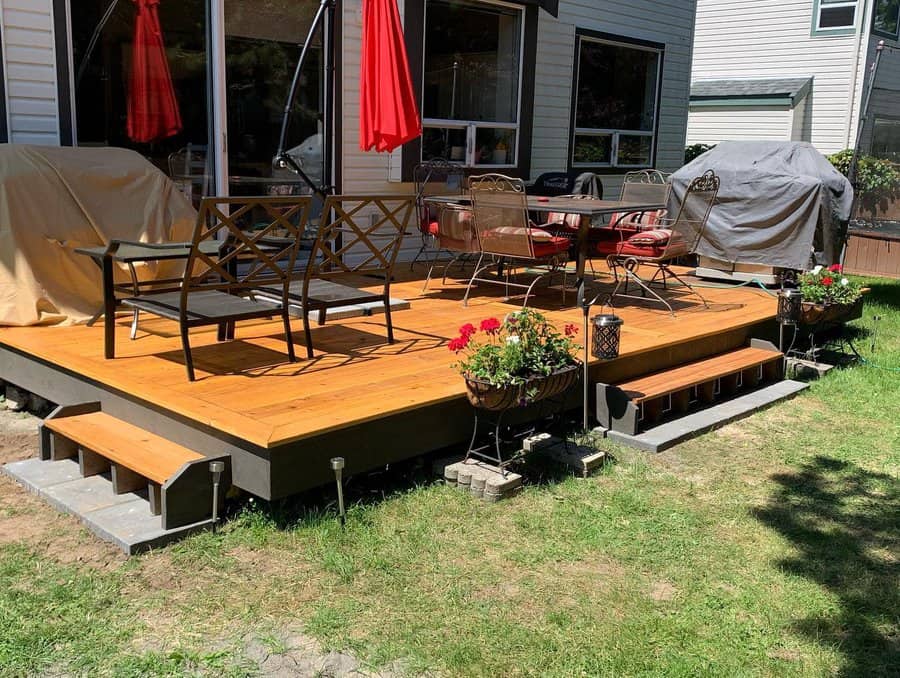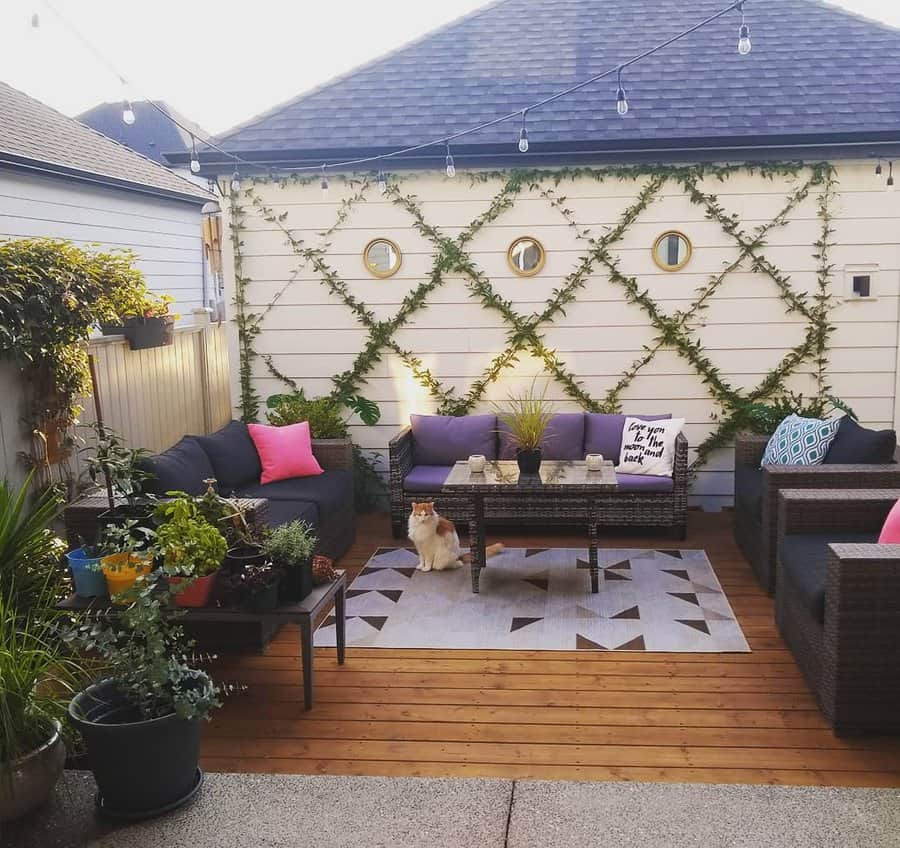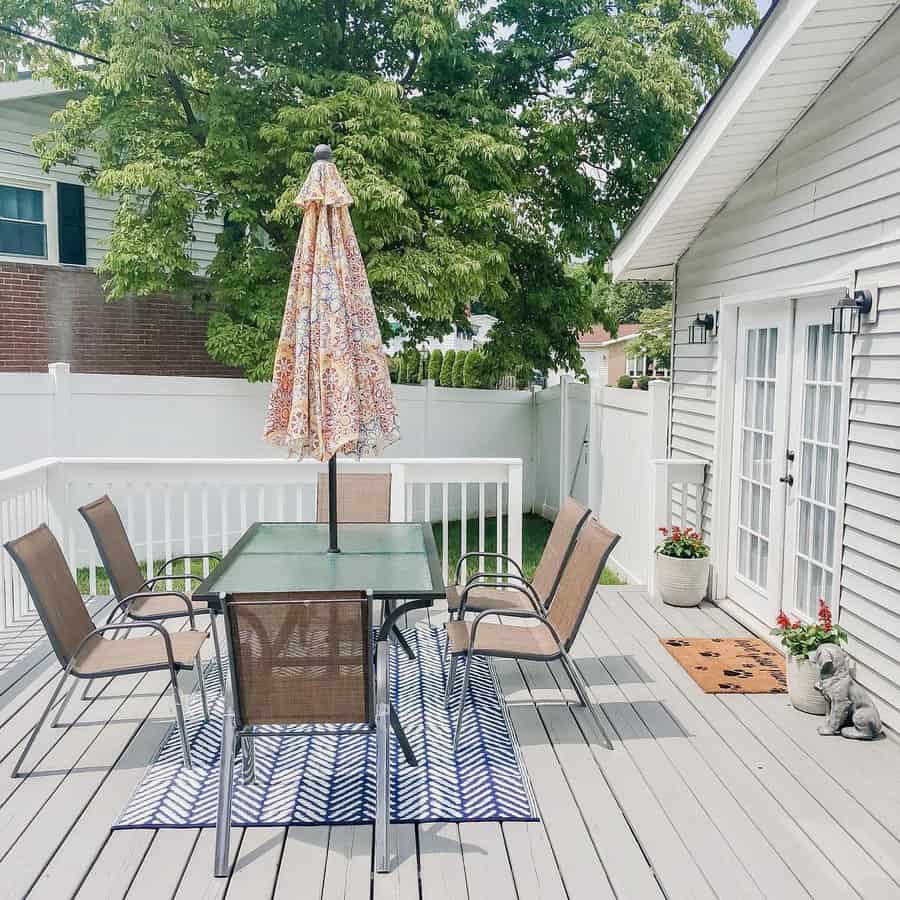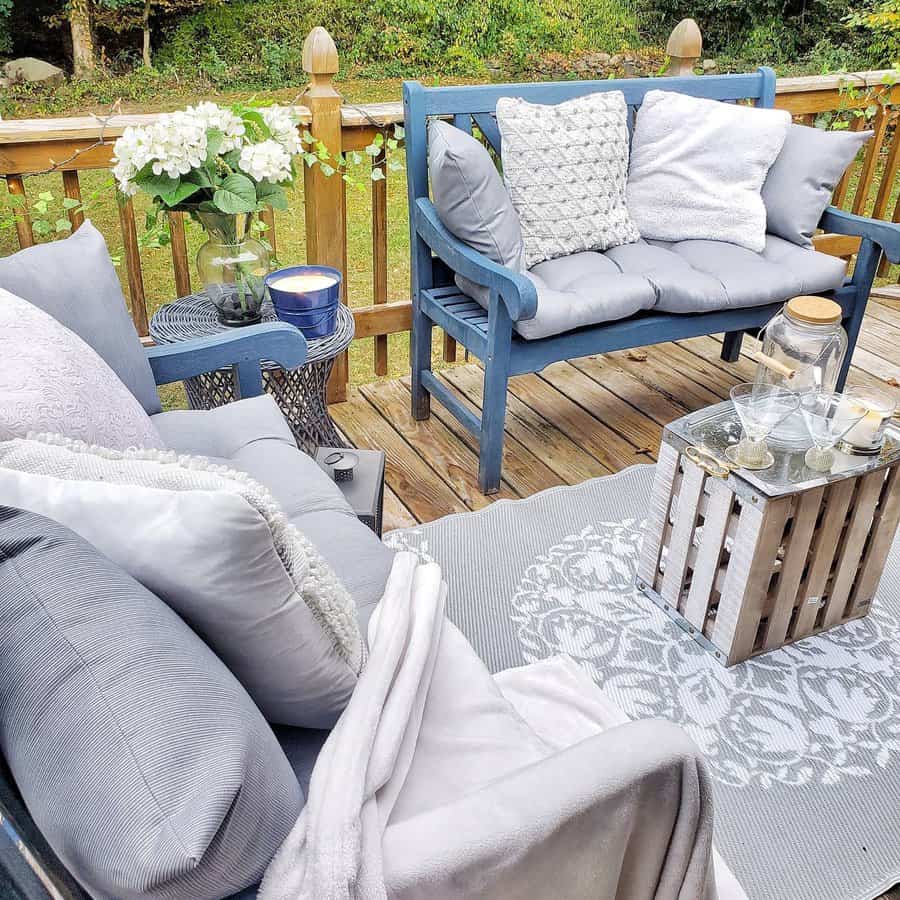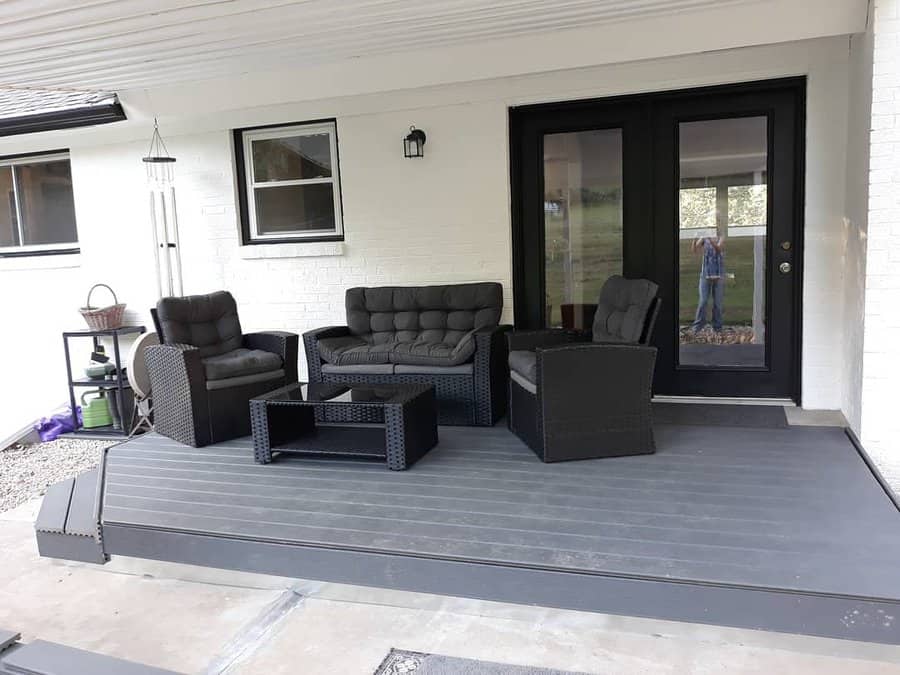 If you are new to woodworking, then it's smarter to stick with a kit that you only have to assemble or a pallet wood project. The wood planks in pallets are all the same size and precut, so all you have to do is put them together.
4. Coffee Table
Turn your deck into an outdoor living room by adding an outdoor rug, sofa, and coffee table. Add string lights for soft mood lighting. Finish the space with outdoor decor that turns your arrangement into a comfortable living room space.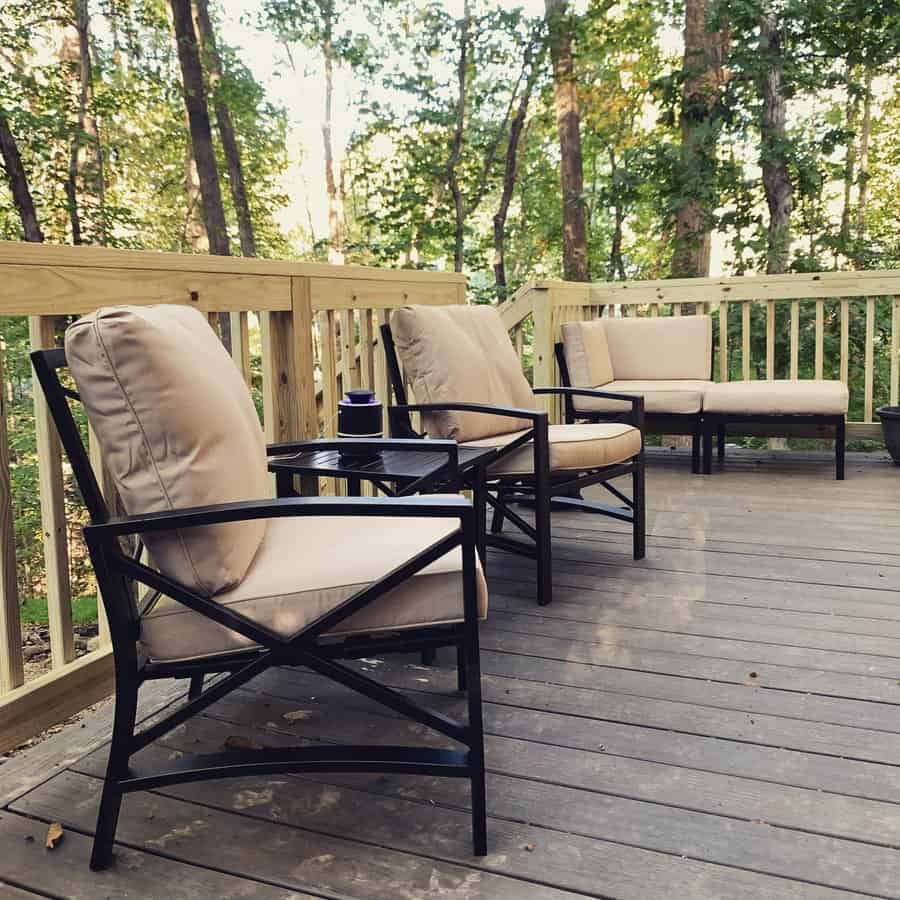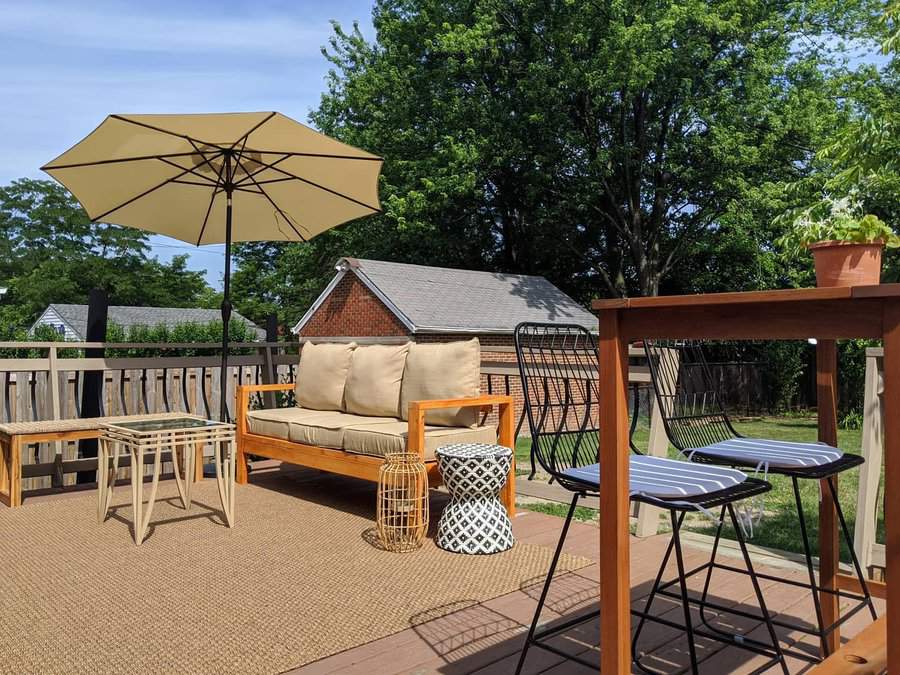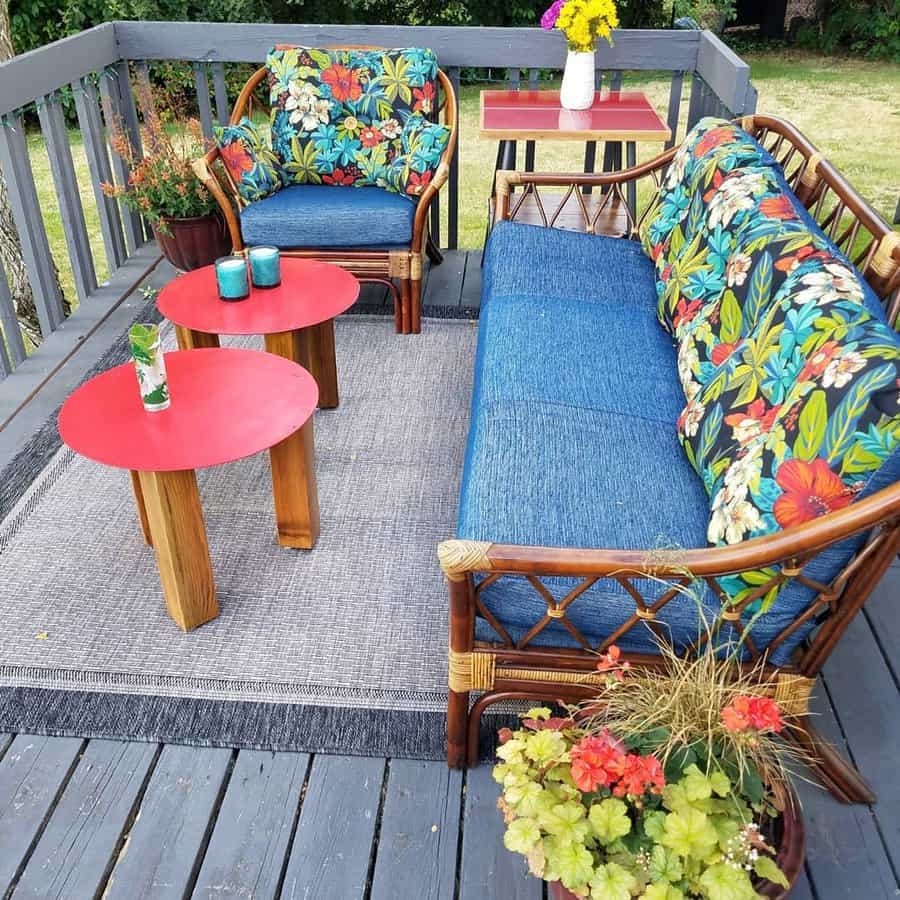 Look at the shape of your deck when choosing the shape of your coffee table. A long deck looks better with an oval or rectangle table. A square-shaped deck looks better with a square or round coffee table. You should be able to comfortably walk around the coffee table to access the seating you have arranged around it.
5. Dining Table
Creating an outdoor dining area is about more than throwing a picnic table on your deck. Let's face it, the attached benches on picnic tables are awkward to sit down and get up from. Elevate your outdoor area by skipping the picnic table and opting for a patio table and chairs.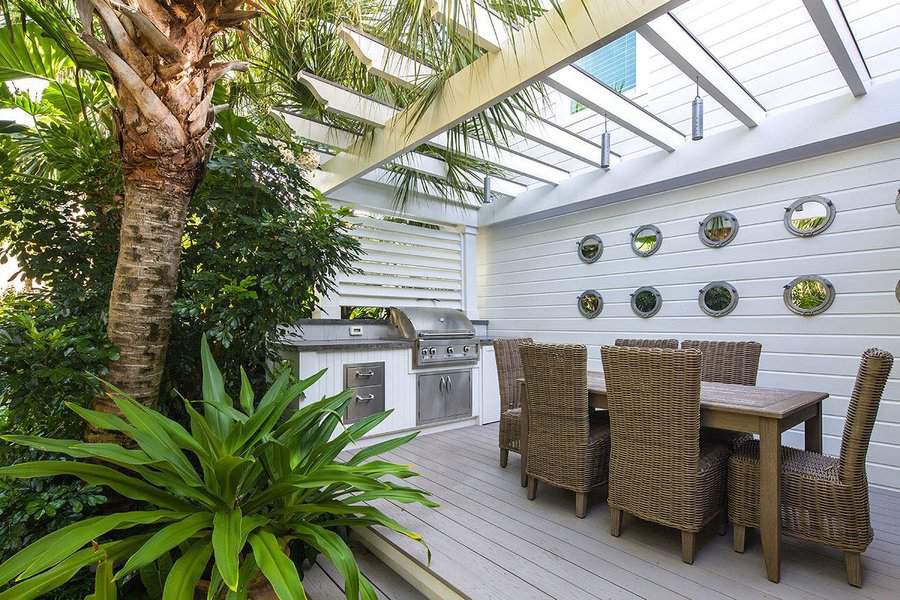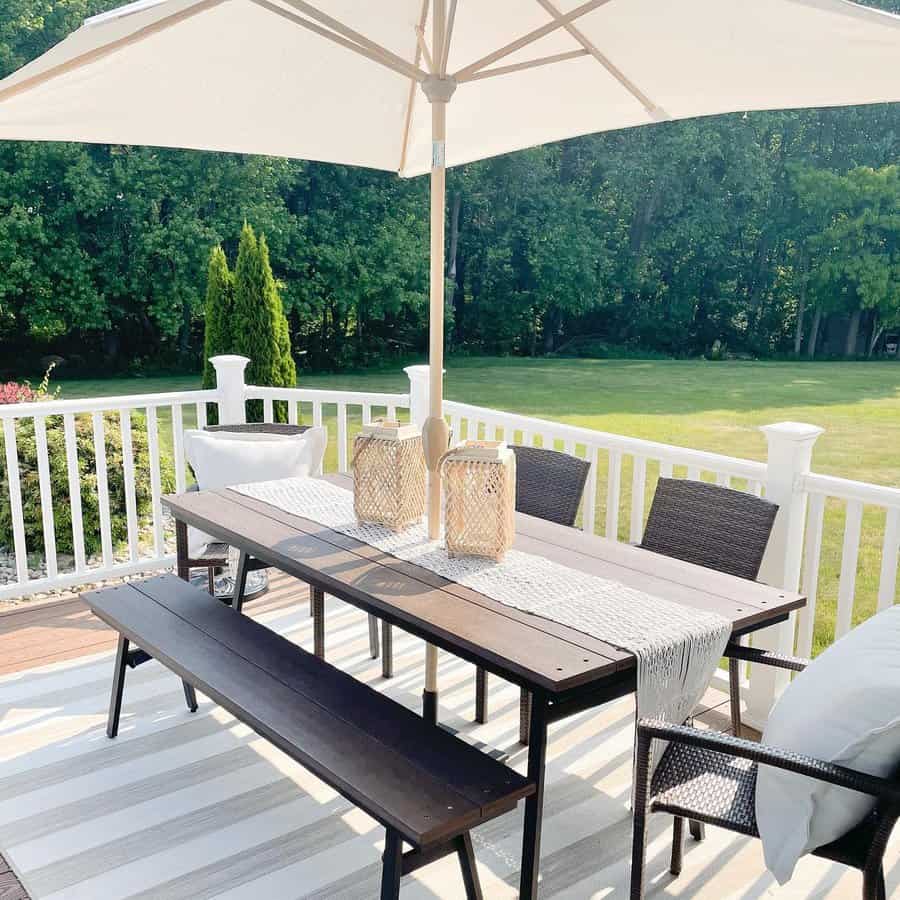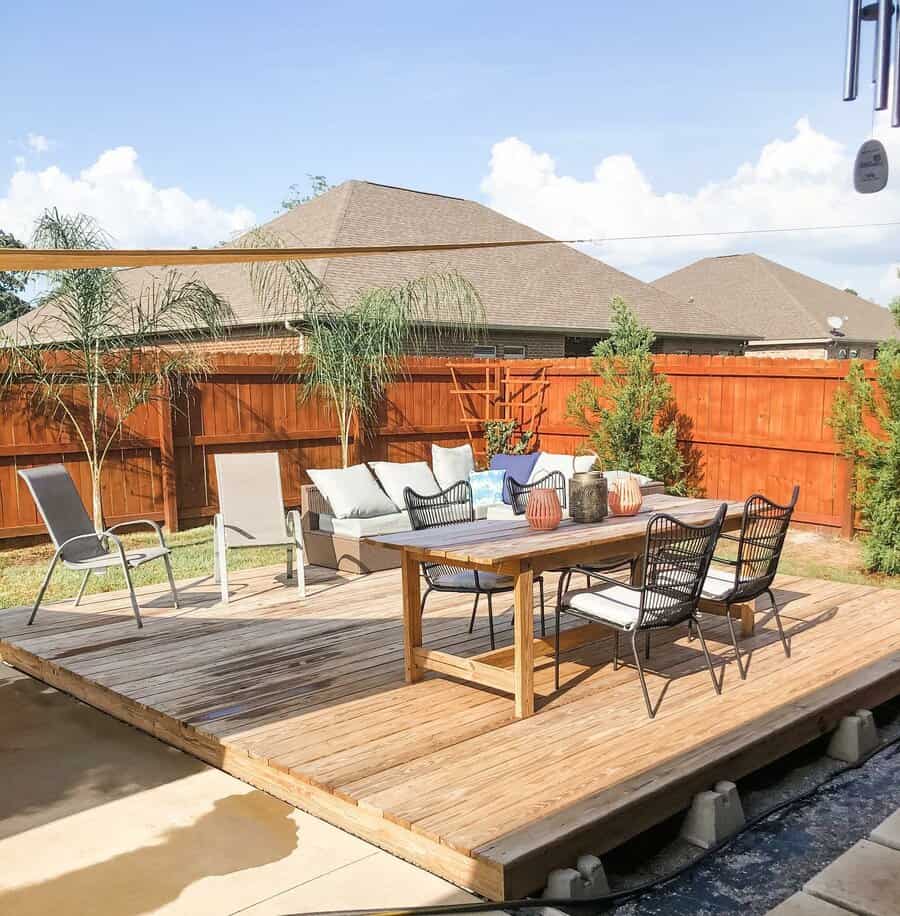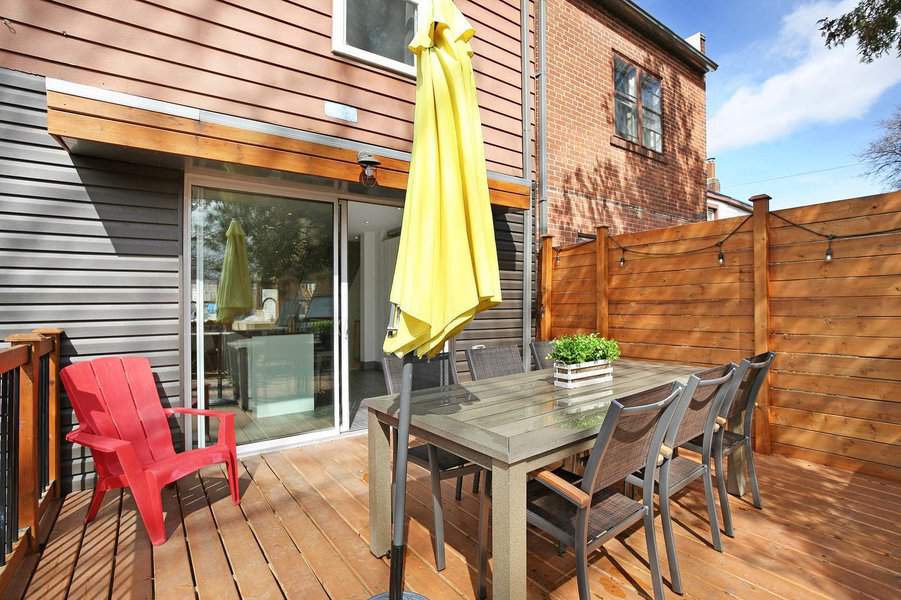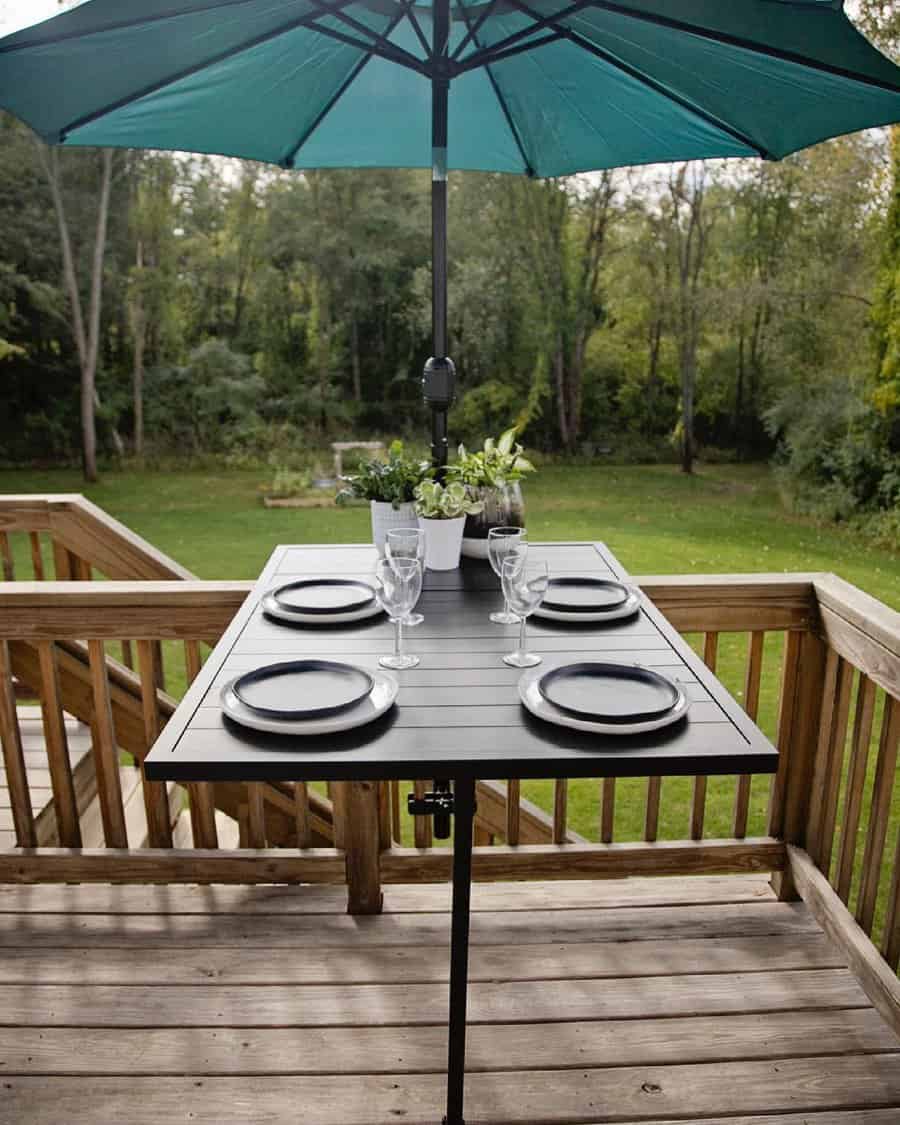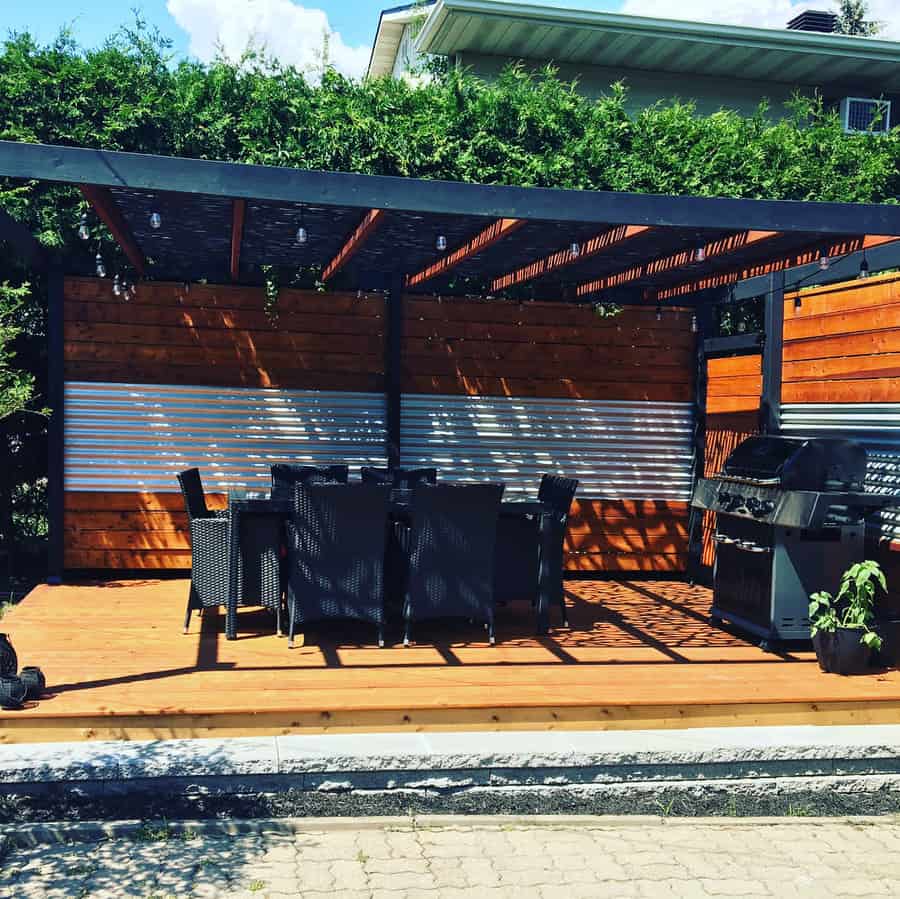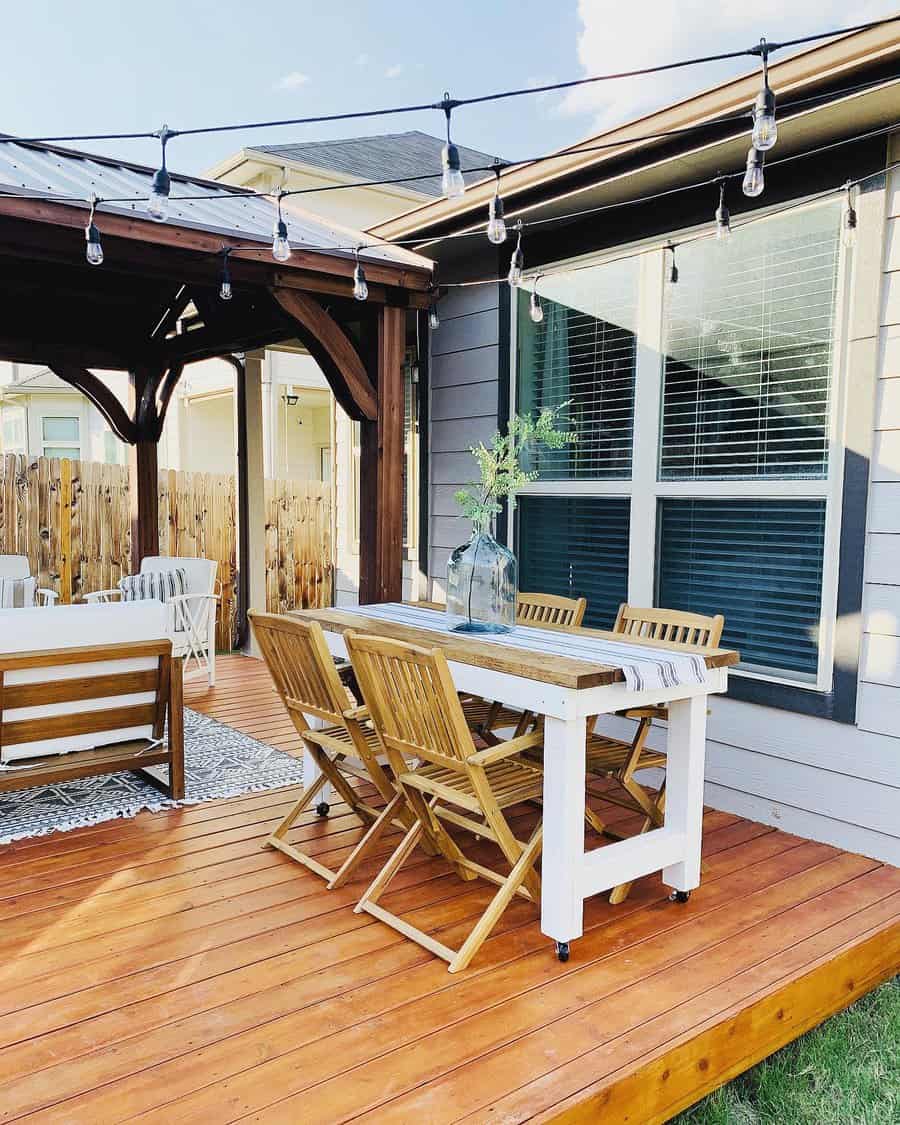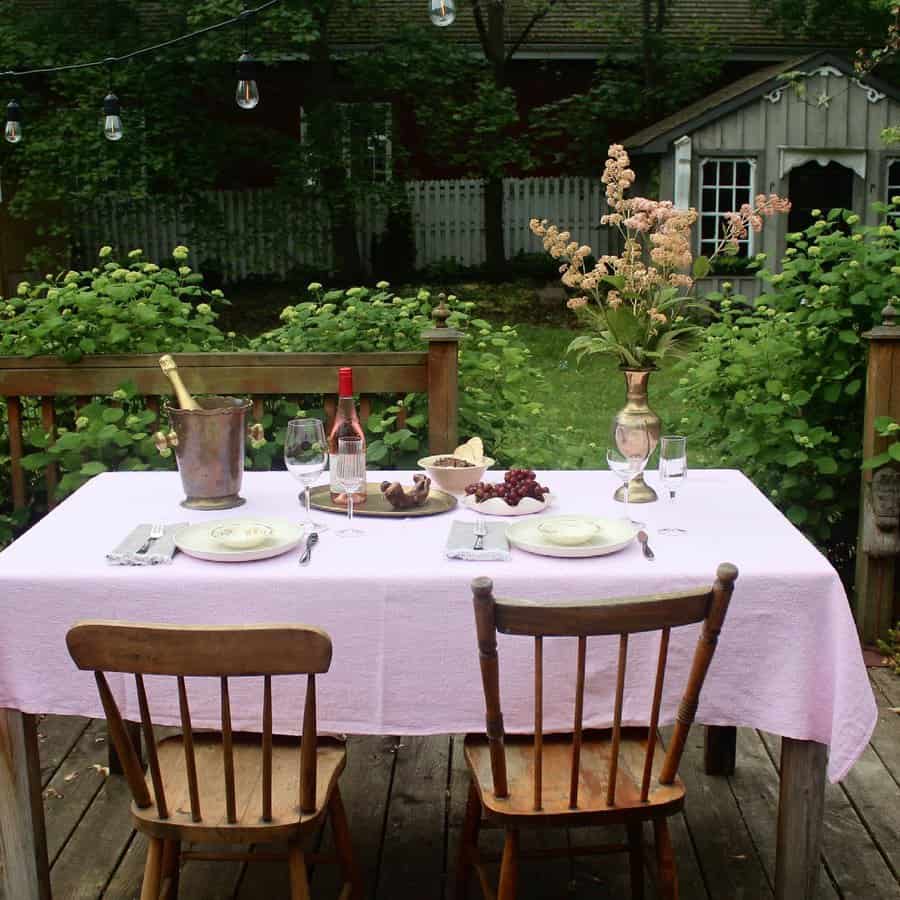 Choose a table shape and size that fits the size and shape of your deck. For example, a long and skinny deck won't look right with a round table. If you want a less formal dining space, consider a taller table for bar height dining.
6. Garden
Create a tropical escape around your deck furniture by growing a garden. Choose large-leafed plants that will grow tall and wide. This provides natural shade while also creating a sight and sound barrier from the neighbors. If you have enough space, you can grow your plants directly in the ground. If you don't have the landscaping room, arrange them in pots around the outside edge of your deck.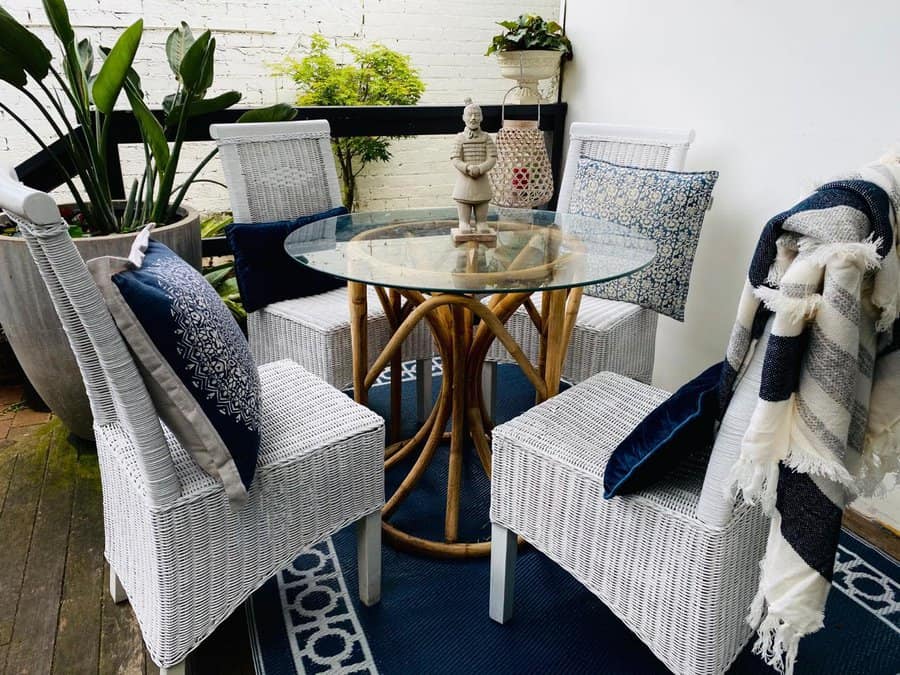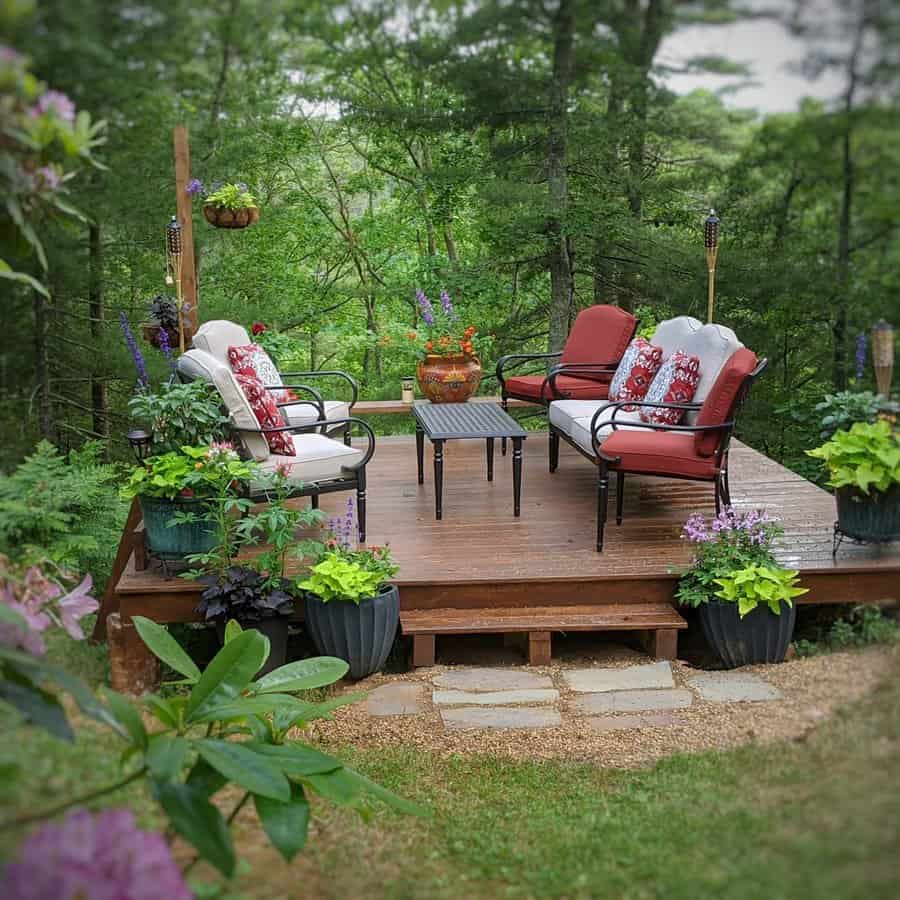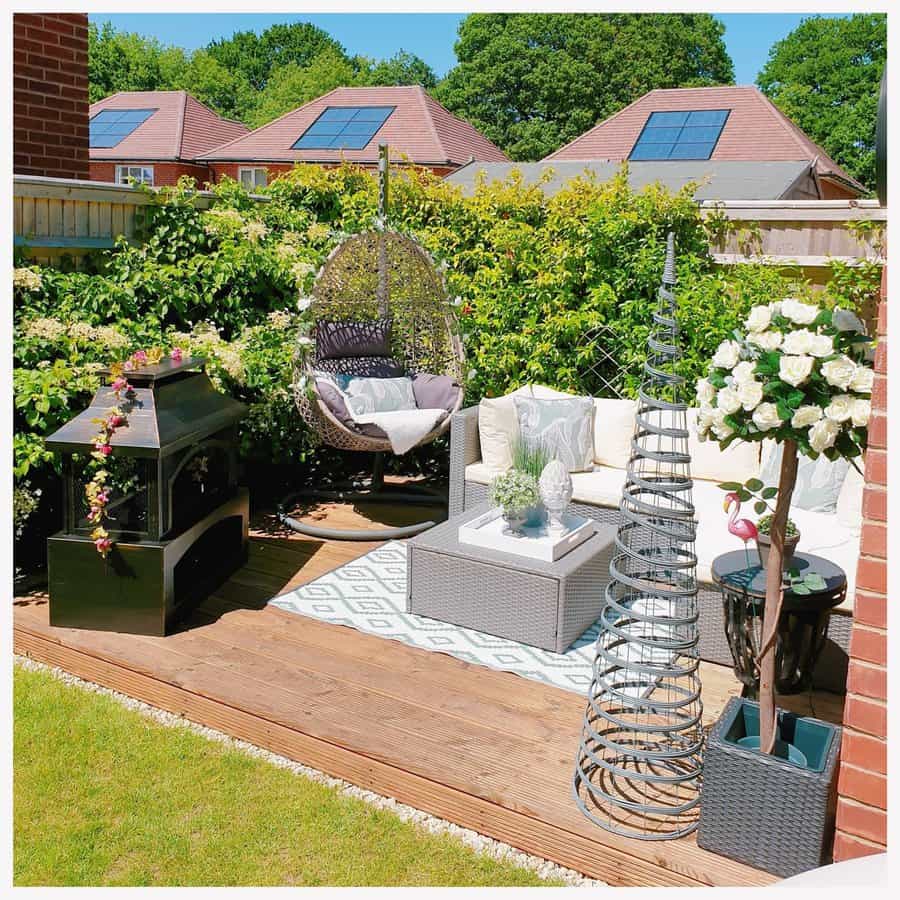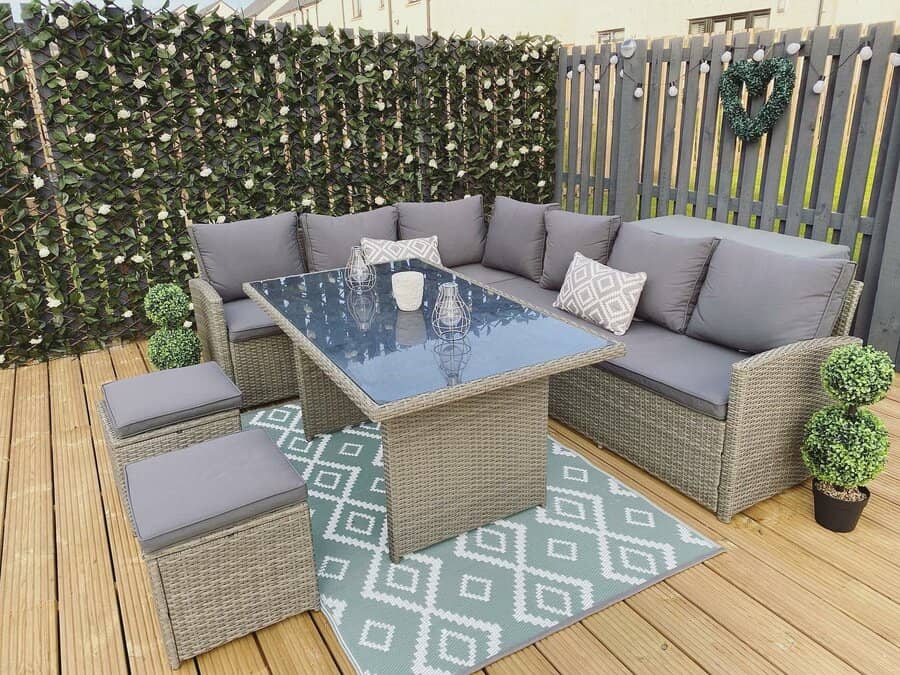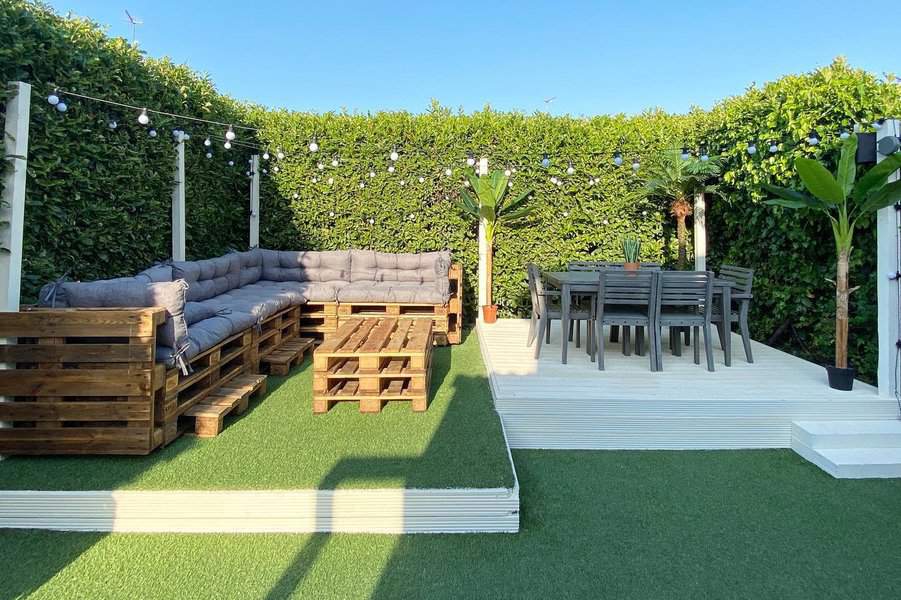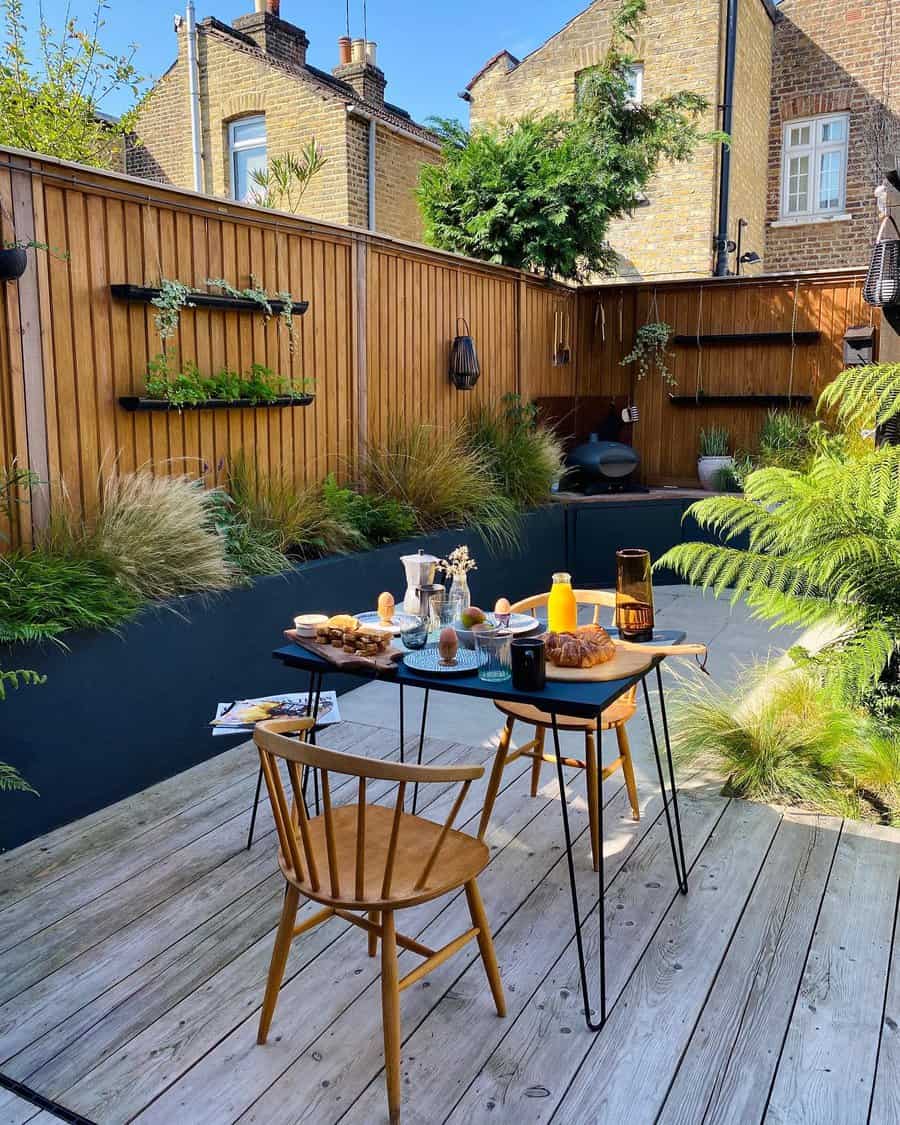 Small decorative plants that flower can add color to your patio. Place a planter in the middle of your dining table or coffee table. Hang a planter from your covering or pergola. If your deck has a railing, you can hang a long planter on there.
7. Metal
Be careful when buying metal deck furniture. Aluminum is lightweight and corrosion-resistant. However, you'll need to bring it inside if there's high wind or you risk it blowing away. Stainless steel is an option, but it needs to be high quality, or it will corrode. Wrought iron is the traditional metal used for outdoor furniture. It's durable and looks beautiful. However, it's also expensive and incredibly heavy.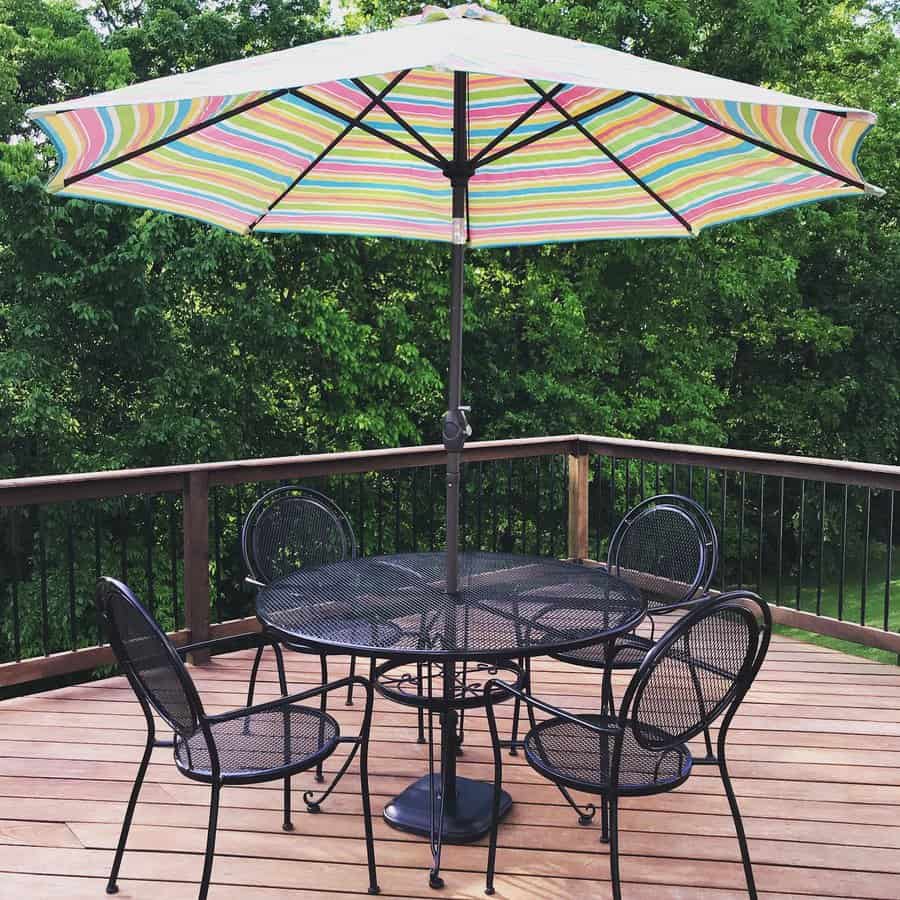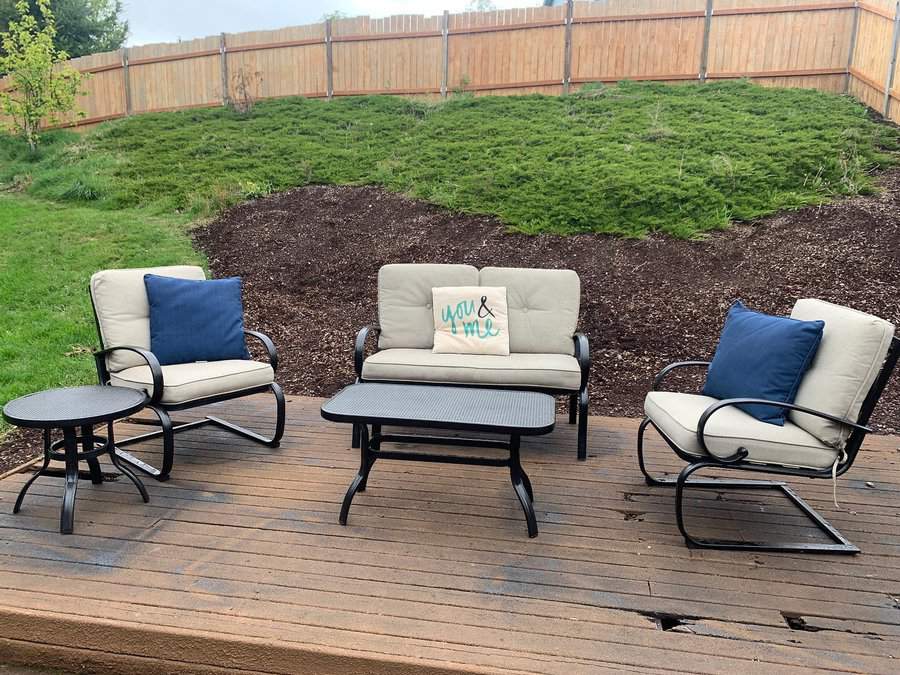 Metal can be uncomfortable and potentially skin blistering hot. If you decide you want metal, make sure you add cushions for comfort. Or opt for a modern feel with a mix of materials. You can find elegant and sophisticated deck furniture that uses metal as the frame and wood for the seat, back, and arm rests.
8. Pool
Having a pool in your backyard means you have a mini escape just steps from your back door. Complete the tropical escape feel by adding lounge chairs. These long chairs are perfect for stretching back and soaking up the sun.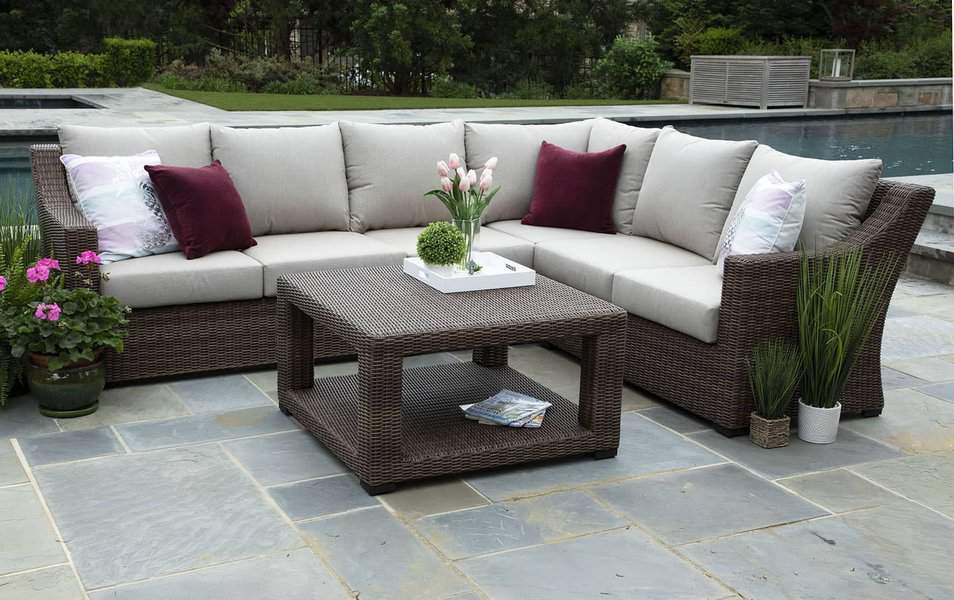 You can find affordable decking chairs that have fabric stretched out on a metal frame. Another affordable option is the lounge chairs made from PVC or plastic. These are lightweight and come in a variety of colors. For a resort feel that's more sophisticated, upgrade to all-wood chairs and a soft cushion. These are heavier, though, so you may find them harder to maneuver.
9. Rustic
Feel like you are one with nature by choosing rustic furniture pieces. Wood is a must for this. Look for pieces that are handmade or at least look handmade. They could have round tree trunks with just the bark removed for the legs. You can also find pieces that embrace the natural shapes and curves of the wood, giving the furniture a unique look.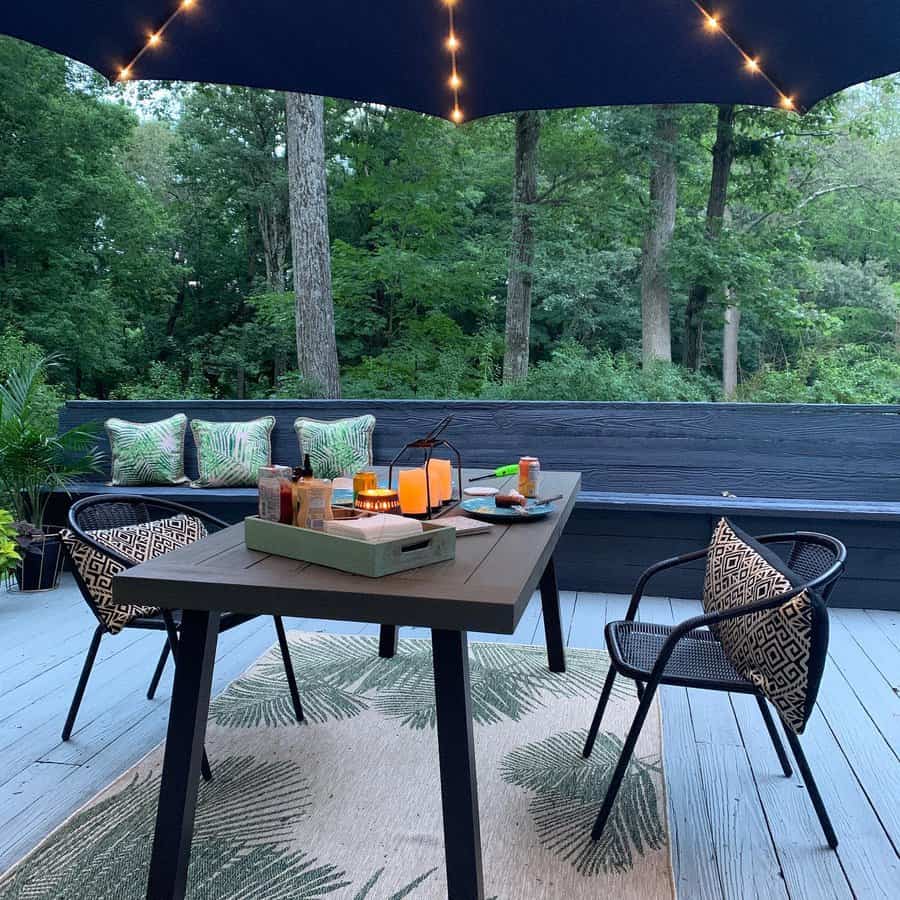 Don't try to get too fancy with the rest of your outdoor living space. Everything else on your backyard patio needs to make sense with the rustic aesthetic you are going for. You could have a natural stone coffee table or lights that are vintage lanterns. Build a stone fireplace for adding warmth in the winter.
10. Sofa
Adding a sofa to your deck creates a relaxing space with plenty of seating. Look for deck decorating ideas that dress up the sofa. That way, it looks more like an entire design theme and not just a random sofa sitting by itself. Pair it with other outdoor patio furniture, like accent chairs, coffee table, side tables, or even a hanging chair.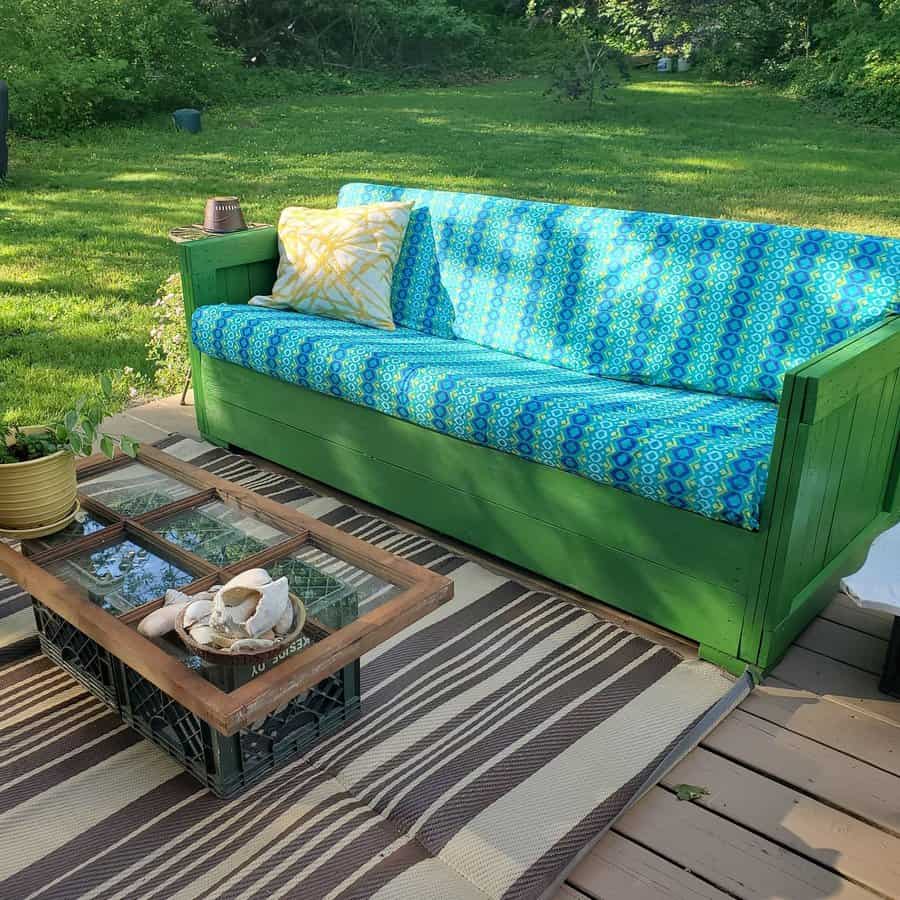 Only choose a sofa that's meant to be outdoors. It should have durable outdoor fabric. Then dress up the sofa with throw pillows. For a modern look, keep the fabric simple and chic, such as white, grey, or tan. If you're going for a tropical look, then opt for something with a floral print.
11. Wicker
A classic material for outdoor furniture is wicker. It has a lovely texture and looks beautiful as porch furniture. However, it isn't the most durable, so it's best to use it on a covered patio. Don't get confused between the terms wicker and rattan. They are often used interchangeably, but they are not the same thing. Rattan is a strong and durable vine-like plant. Wicker is a type of weave that's used when making furniture. For the most durability, look for rattan furniture in a wicker weave.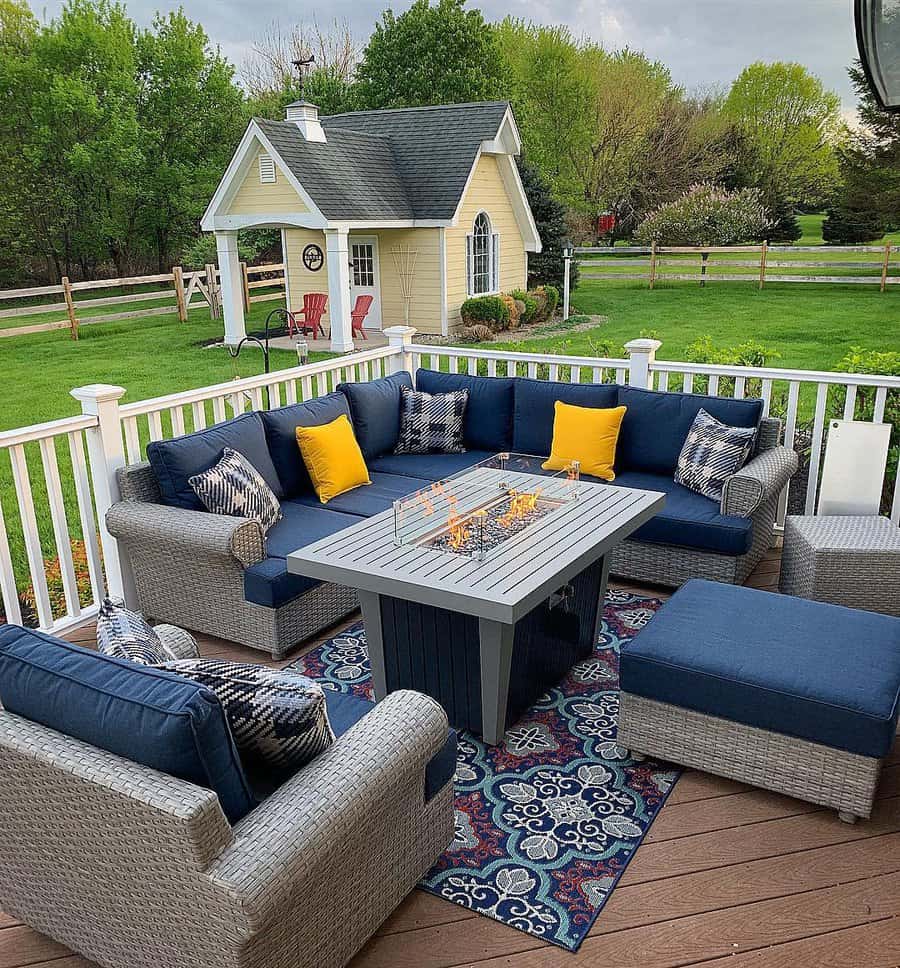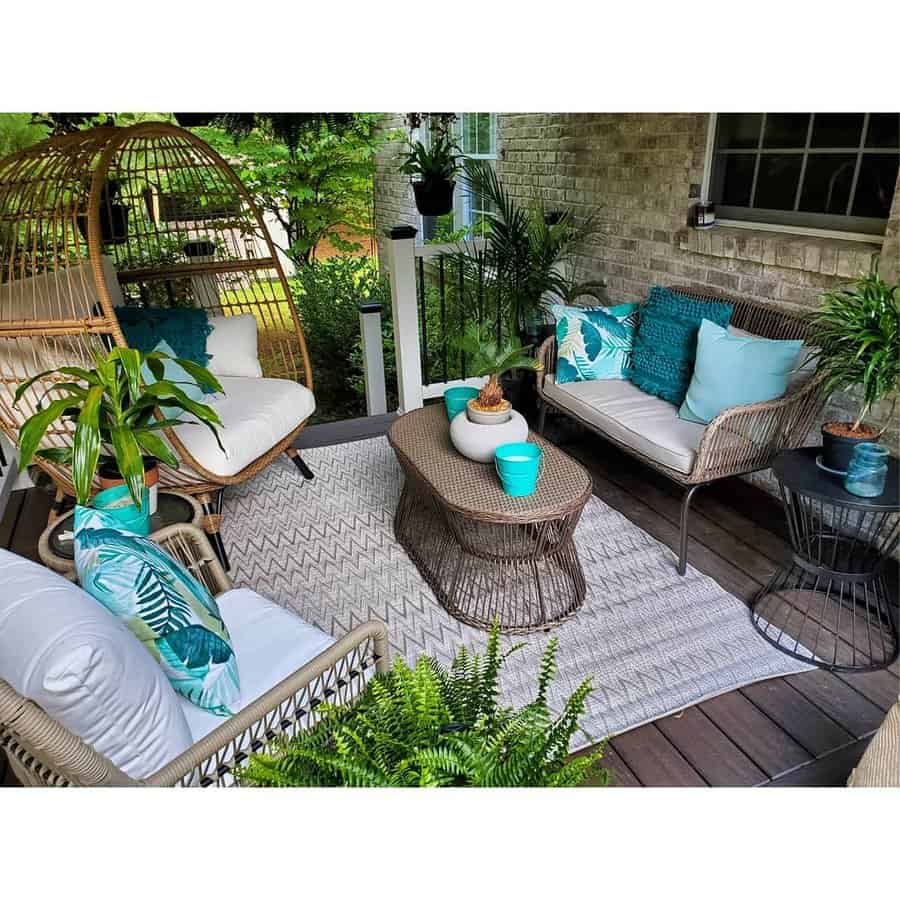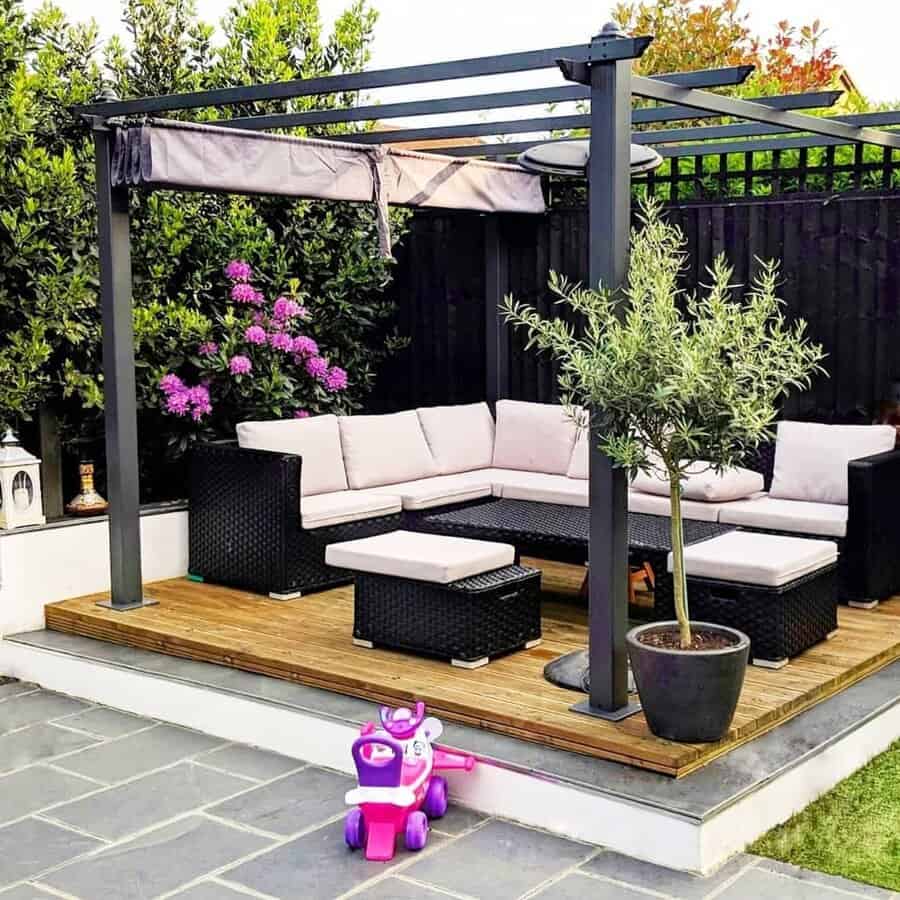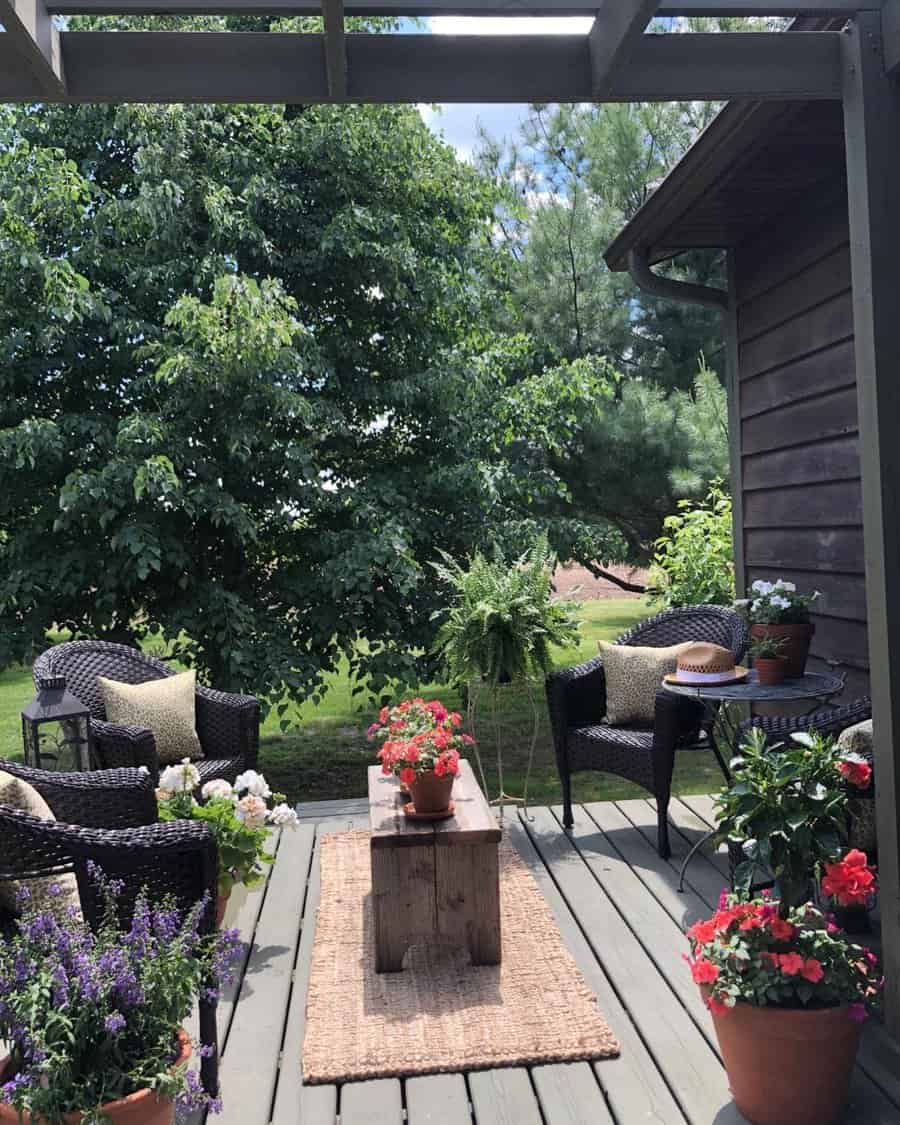 Many patio decorating ideas will show you how to use wicker furniture in your outdoor design effectively. For example, you could use it for your loveseat or sofa. It can be beautiful as an accent chair, coffee table, or even a shade on a light fixture.
12. Wood
There are a ton of outdoor furniture ideas that use pallet wood. You could make everything from a pallet sofa to an outdoor bar. The biggest problem with most of these ideas is that they do not treat the wood. Sure, pallet wood gets treated with harsh chemicals or steam, but this makes the wood more durable and bug resistant while being used as a pallet. It needs a different kind of protection when used as deck furniture. Seal or varnish your pallet wood when using it to make furniture.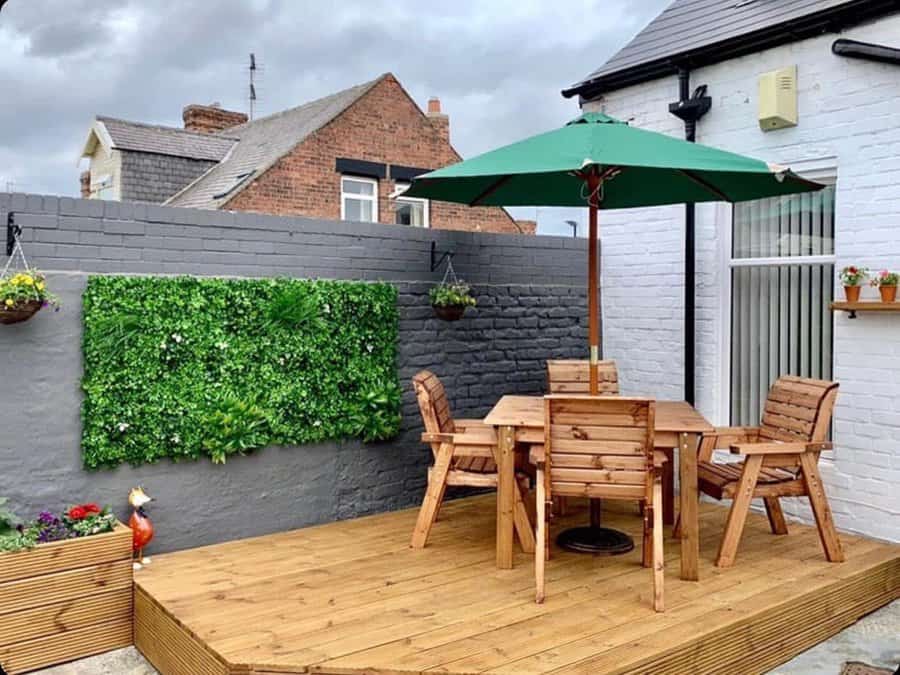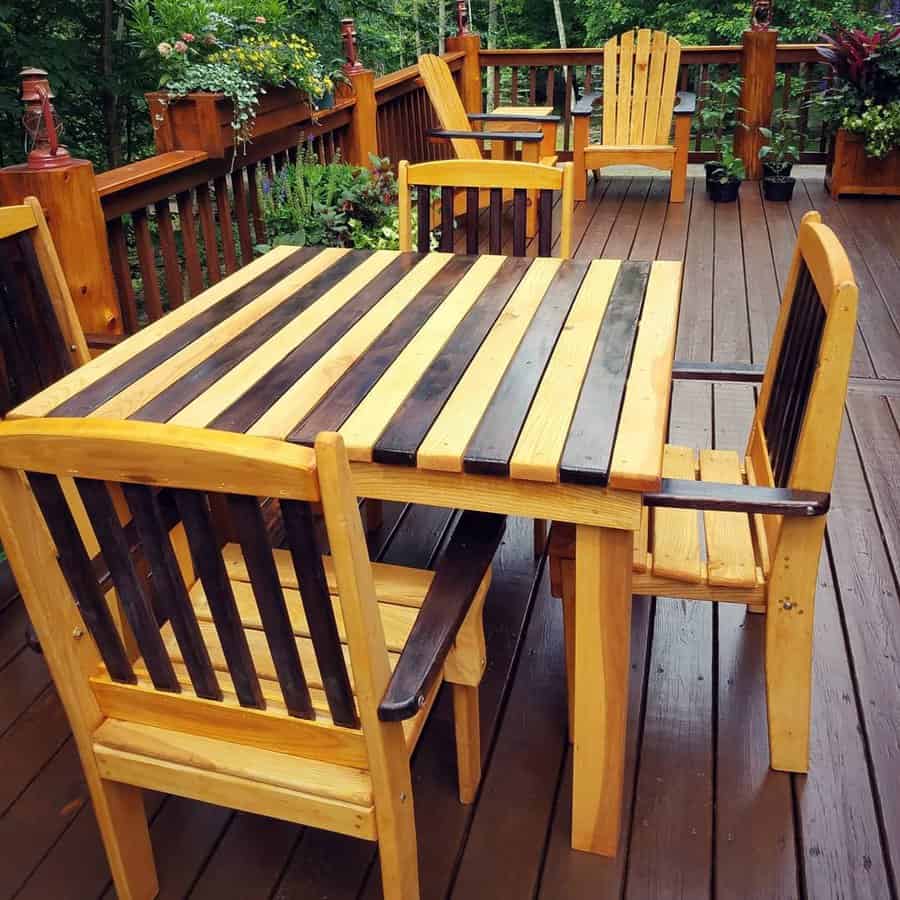 Instead of pallet wood, use wood that's designed for use outside. Teak, cypress, redwood, cedar, and douglas fir are all durable and beautiful woods that will last better than pallet wood. Hardwoods are impervious to water, making them ideal for places that are high in humidity or see a lot of rainfall.
Deck Furniture FAQs
How can I make my outdoor furniture better?
If your old deck furniture has fabric, then you could reupholster it, change out the pillows, or add a slipcover. If you don't have cushions, then you can spray paint it a new color. Wood furniture looks beautiful and like new again with a bit of work. You can oil it, sand it down and stain it, or varnish it.
How do you make outdoor wood furniture look good?
You have to take care of your wood furniture to make it look good. Painting is the easiest method, but you lose the look of the wood. Oiling, sealing, and varnishing protect the natural look of the wood. Then keep your wood furniture in a place where it is protected from the sun and weather elements.
Why are patio sets so expensive?
Patio furniture is more expensive than indoor furniture because it's made to be more durable. It gets put through more, so it needs to be made of higher quality materials and stronger construction. While you can buy low-cost deck furniture, it won't last, and you will replace it sooner. This ultimately costs you more than investing in the high-quality and more expensive deck furniture.