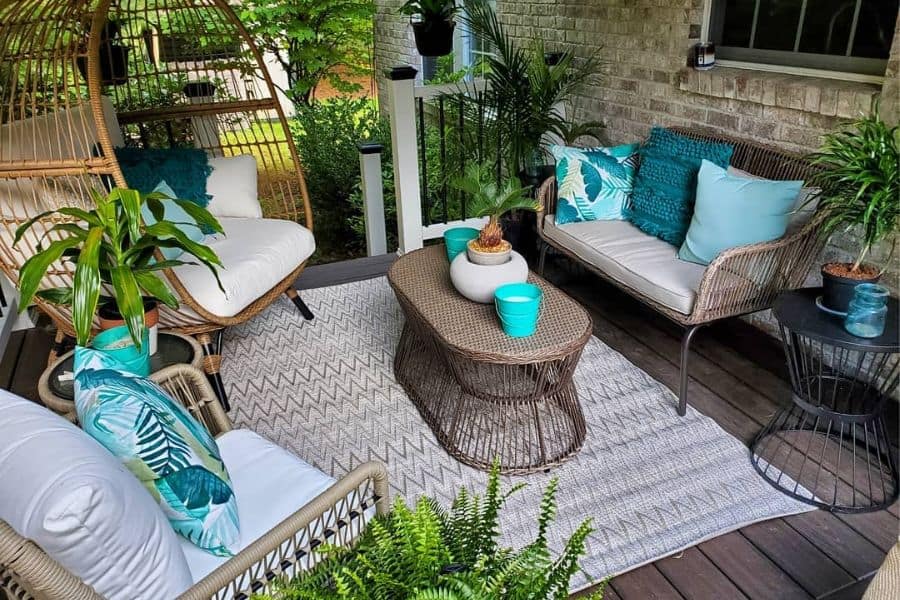 The Top 46 Deck Furniture Ideas
"Furniture should always be comfortable. And always have a piece of art that you made somewhere in the home." – Tamara Taylor
Your deck is sitting empty in your backyard, and it's time you do something with it. An old and busted patio set isn't going to cut it anymore. With more people embracing the outdoor living lifestyle, you need to step your game up and approach decorating your deck the same way you would the interior of your home.
Create a comfortable seating area where you can sit back and relax. There should be the right amount of shade so you're protected from the sun. You should have privacy but not block the airflow, so you stay comfortably cool. These deck furniture ideas will help you figure out the best use of your backyard deck.
1. Lounge Chairs
If you're looking for a way to take your outdoor space to the next level, consider lounge deck furniture. With lounge chairs that come equipped with futons and cushions, you'll never want to go back to boring, uncomfortable outdoor seating.
These chairs are not only stylish, but also incredibly comfortable, making them the perfect place to curl up with a good book or take a nap in the sun. And if you're hosting a party or get-together, lounge deck furniture is a great way to ensure your guests have a cozy, comfortable place to relax and socialize.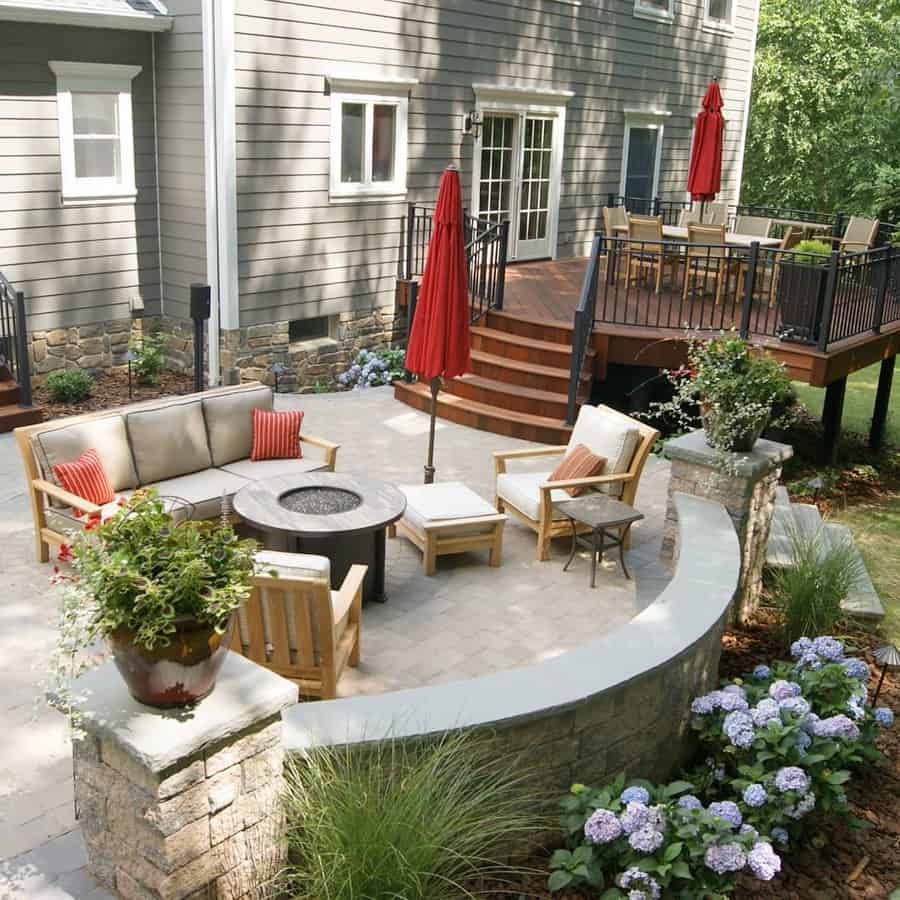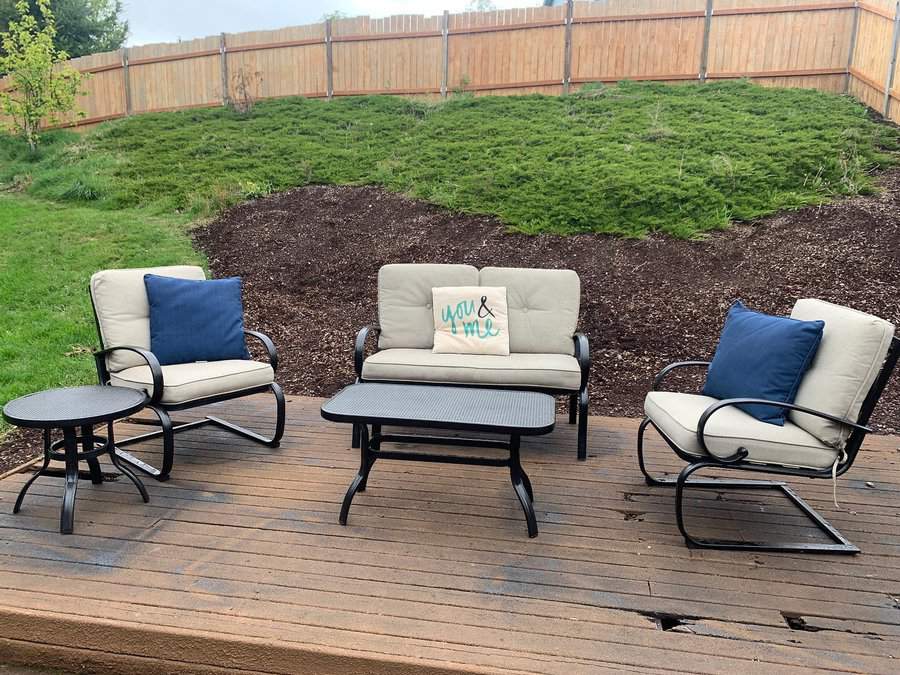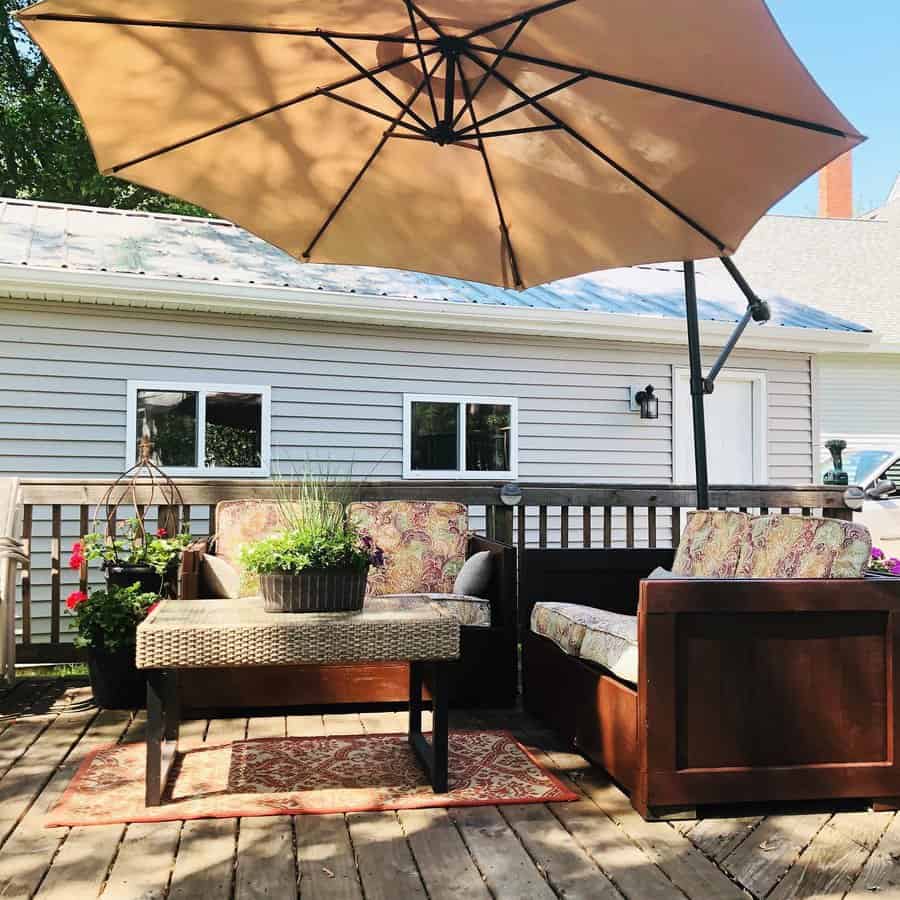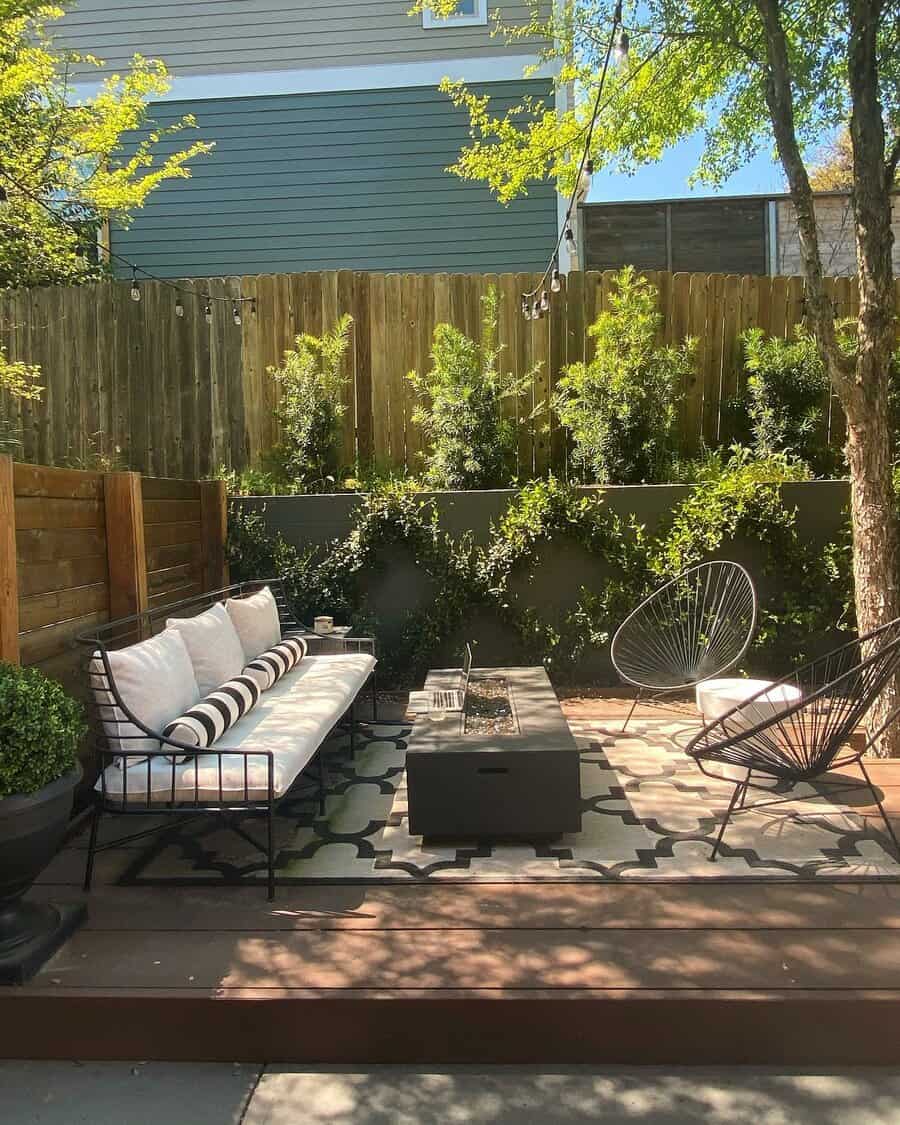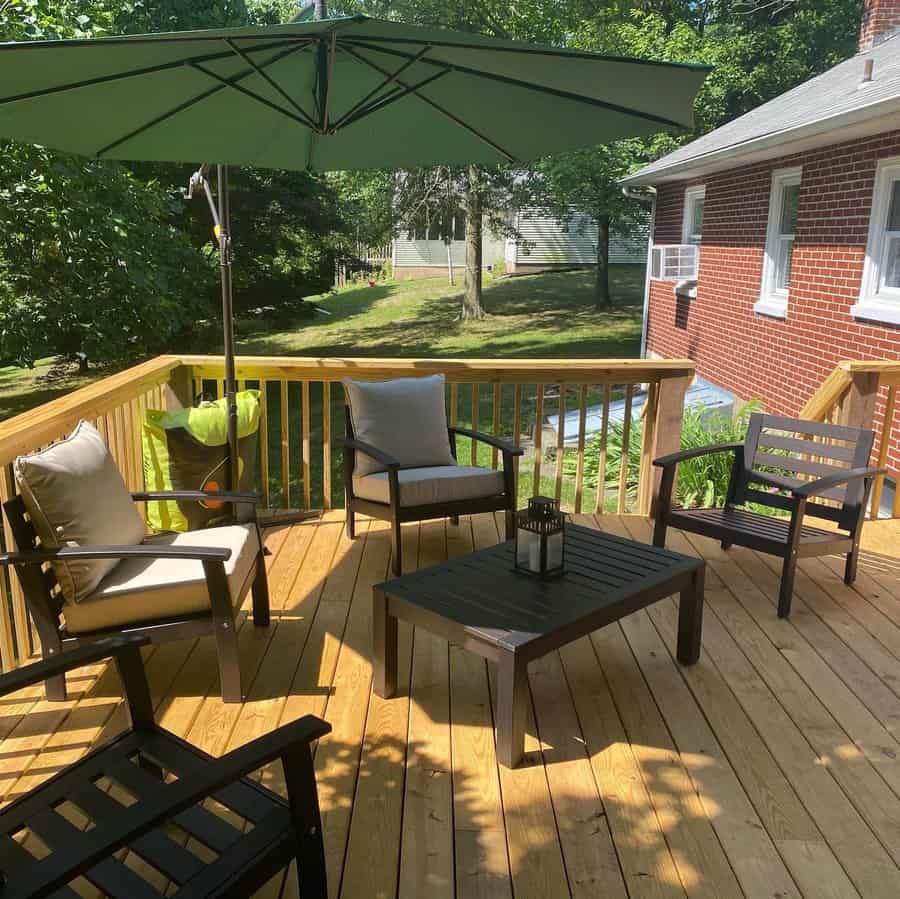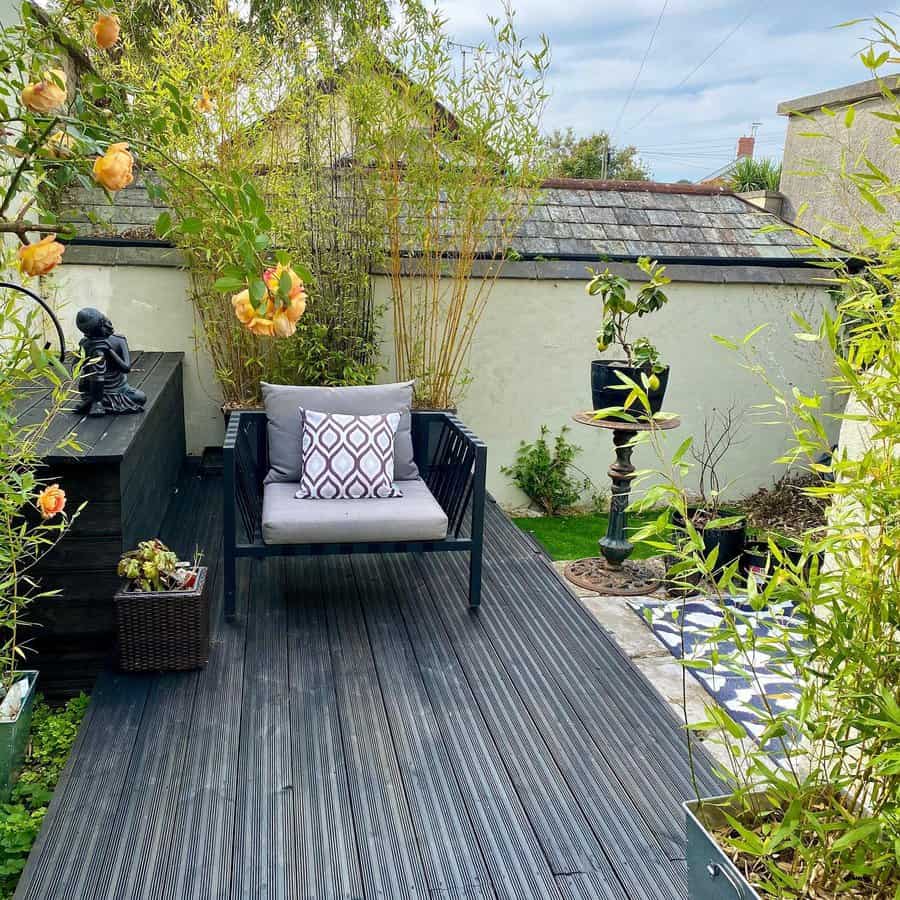 2. Swinging Bench
When it comes to deck furniture, a swinging bench is a true standout. Unlike traditional chairs or sofas, it offers a gentle rocking motion that can help reduce stress and promote relaxation. And let's face it, who doesn't love a little swinging action? But don't let its playful nature fool you – a swinging bench is also a practical choice for your outdoor space.
It can seat multiple people at once, making it perfect for gatherings or family time. Plus, it's often made from sturdy materials like wood or metal, so you can count on it lasting for years to come.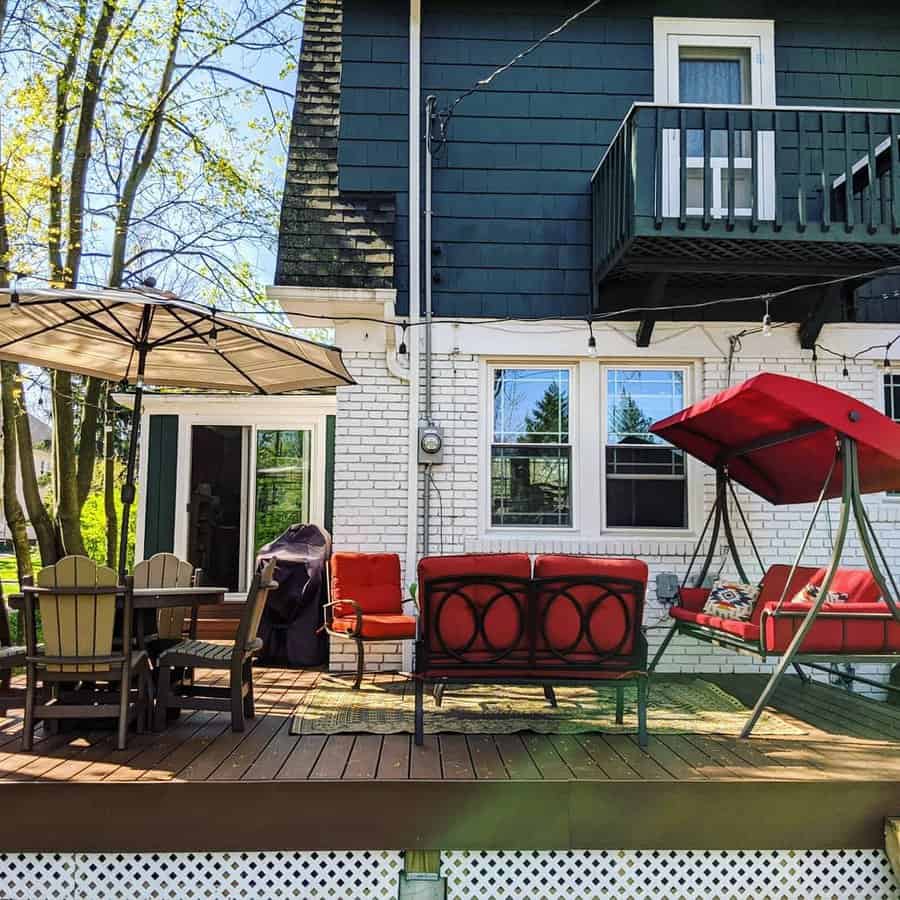 3. Wicker Chairs
Wicker deck furniture is a classic choice for those looking to add some style and comfort to their outdoor space. But before you rush out and buy that set of wicker tables and chairs, there are a few things you should know.
First, there's the question of plastic or real wicker. While plastic wicker is more affordable and resistant to weather and UV rays, it can look and feel cheap compared to real wicker. Real wicker, on the other hand, is more durable and has a more natural look and feel, but requires more maintenance and may not be as resistant to the elements.
Additionally, be sure to choose cushions that are specifically made for wicker furniture, as they will fit better and last longer. With these considerations in mind, you can enjoy your beautiful and comfortable wicker deck furniture for years to come.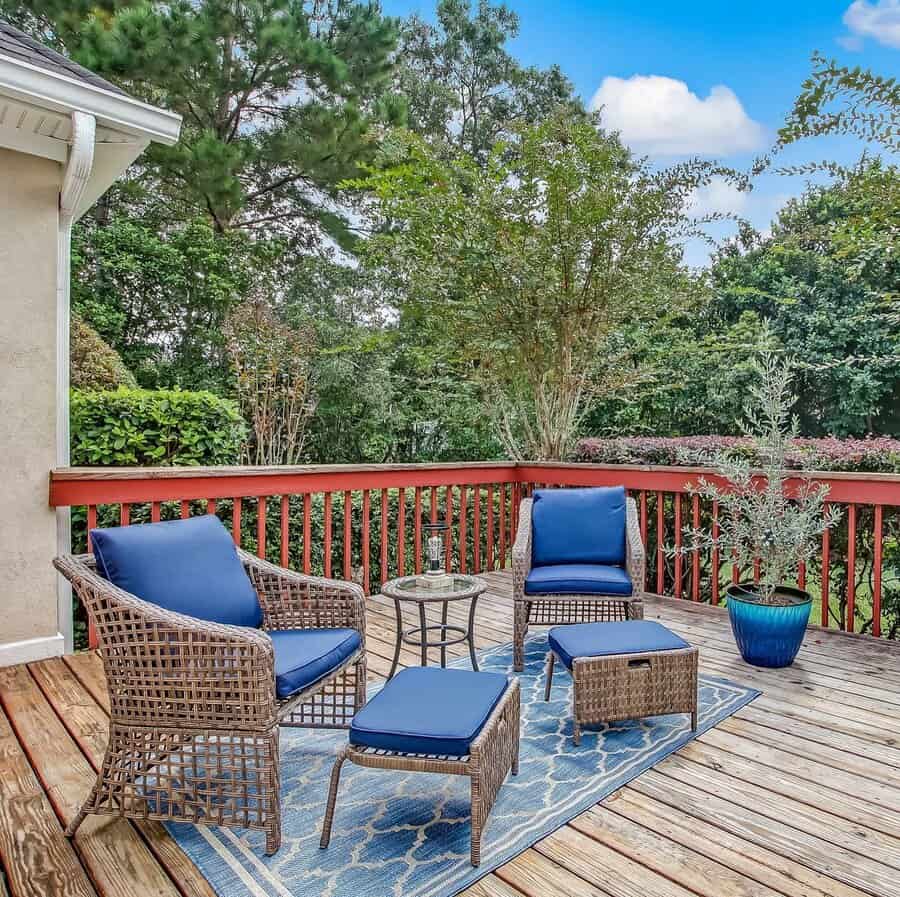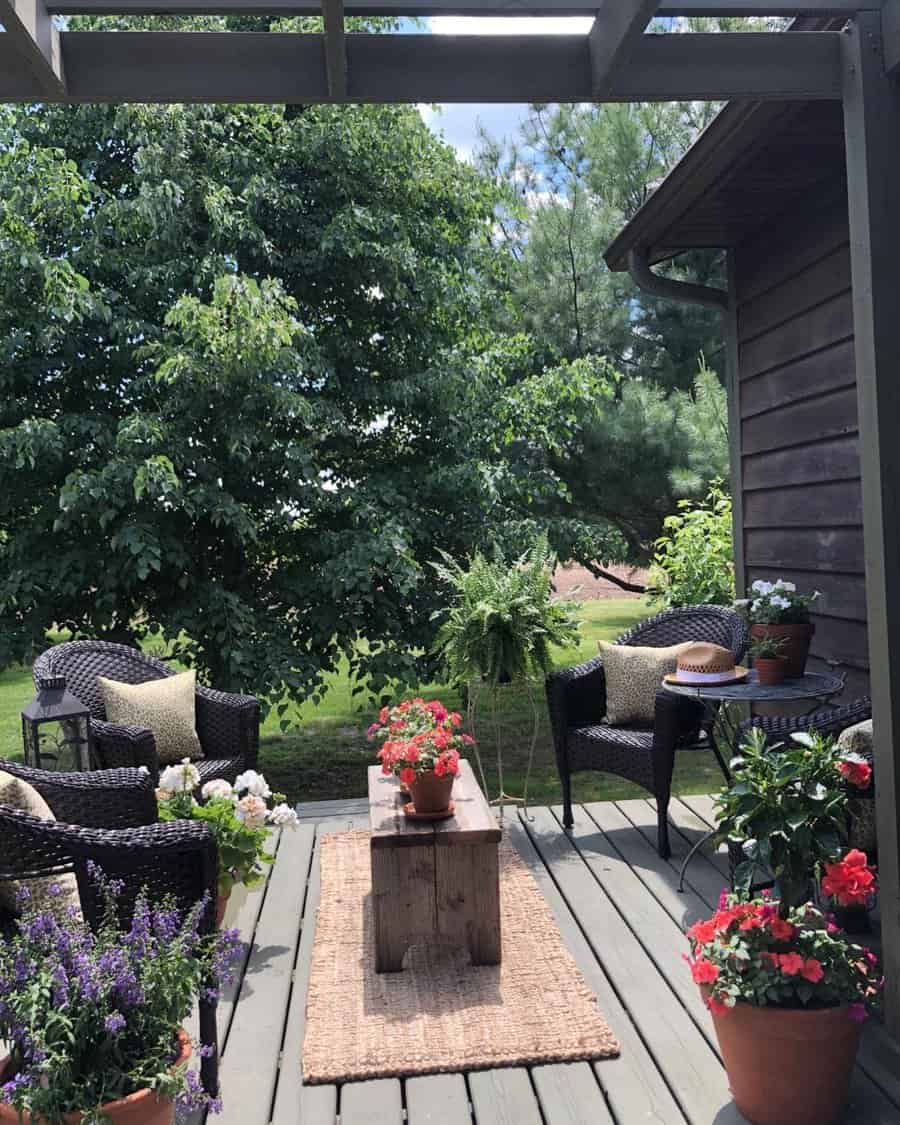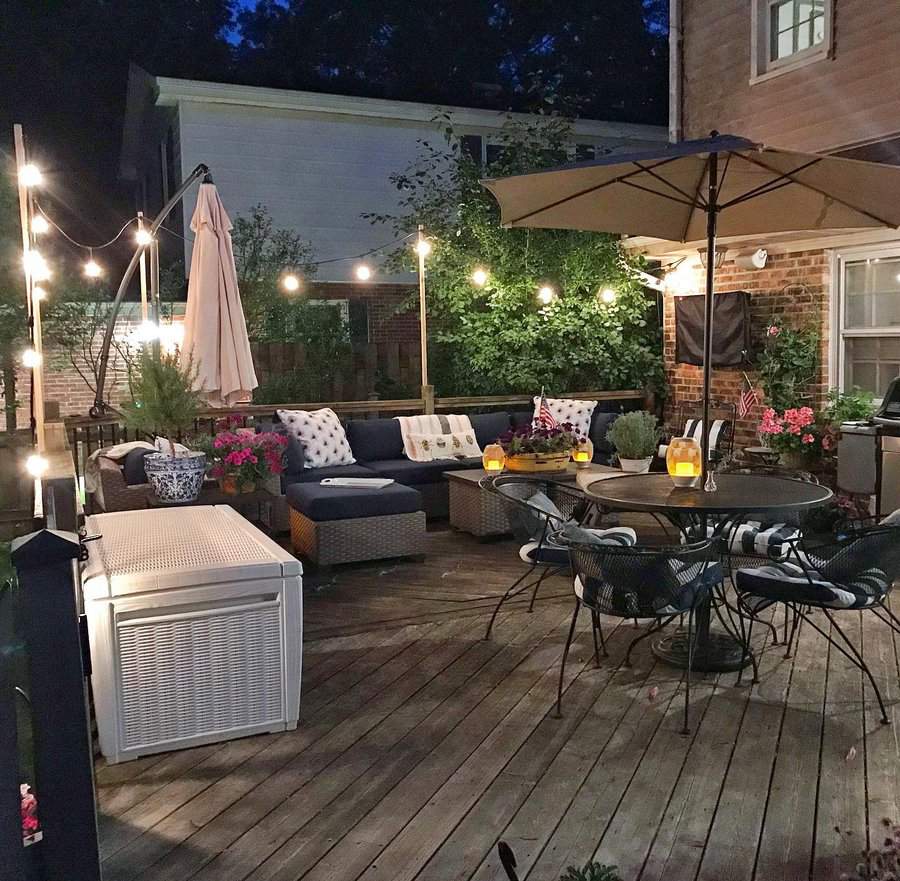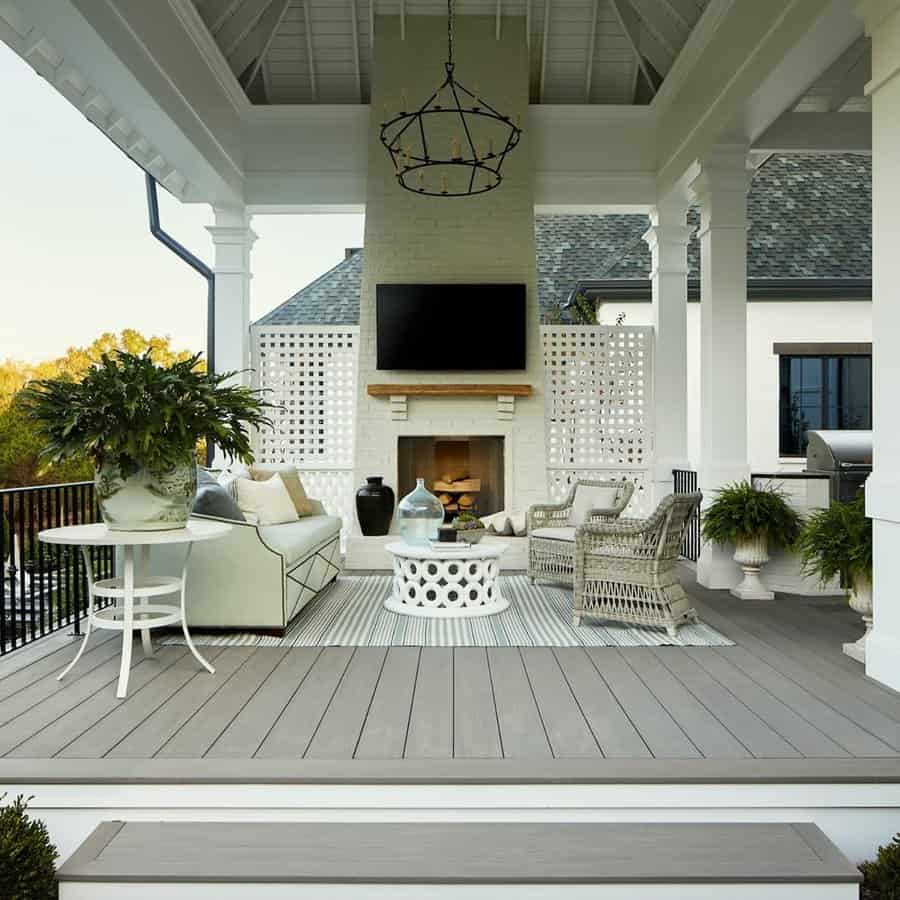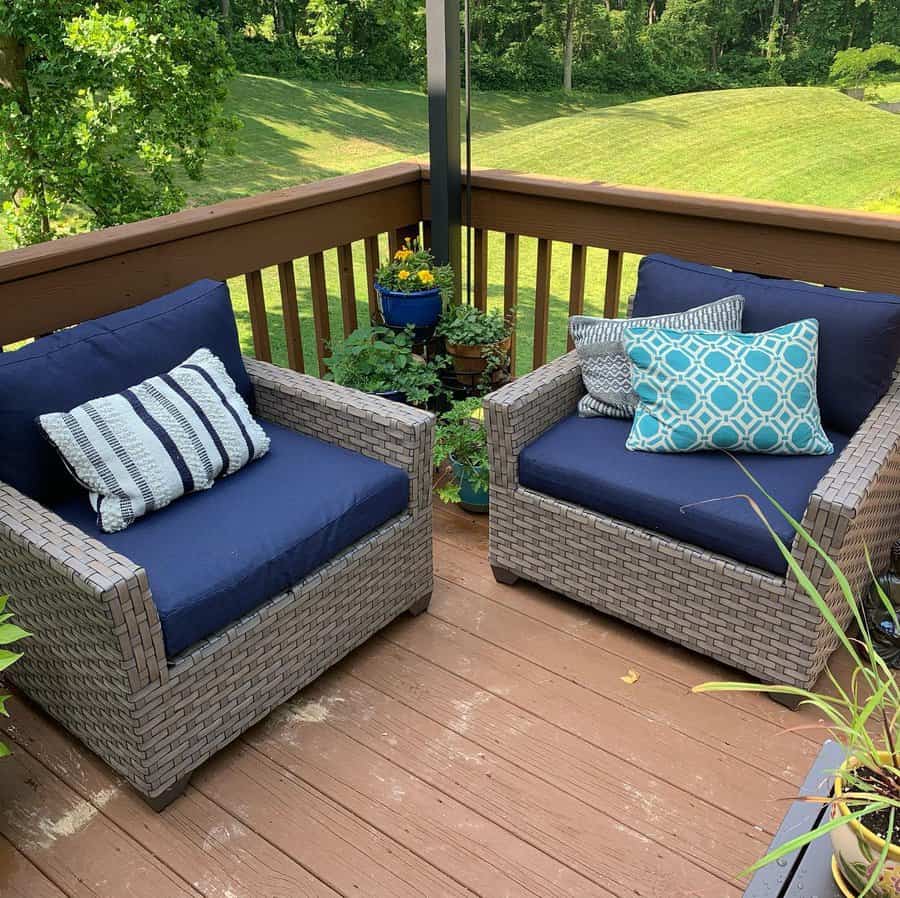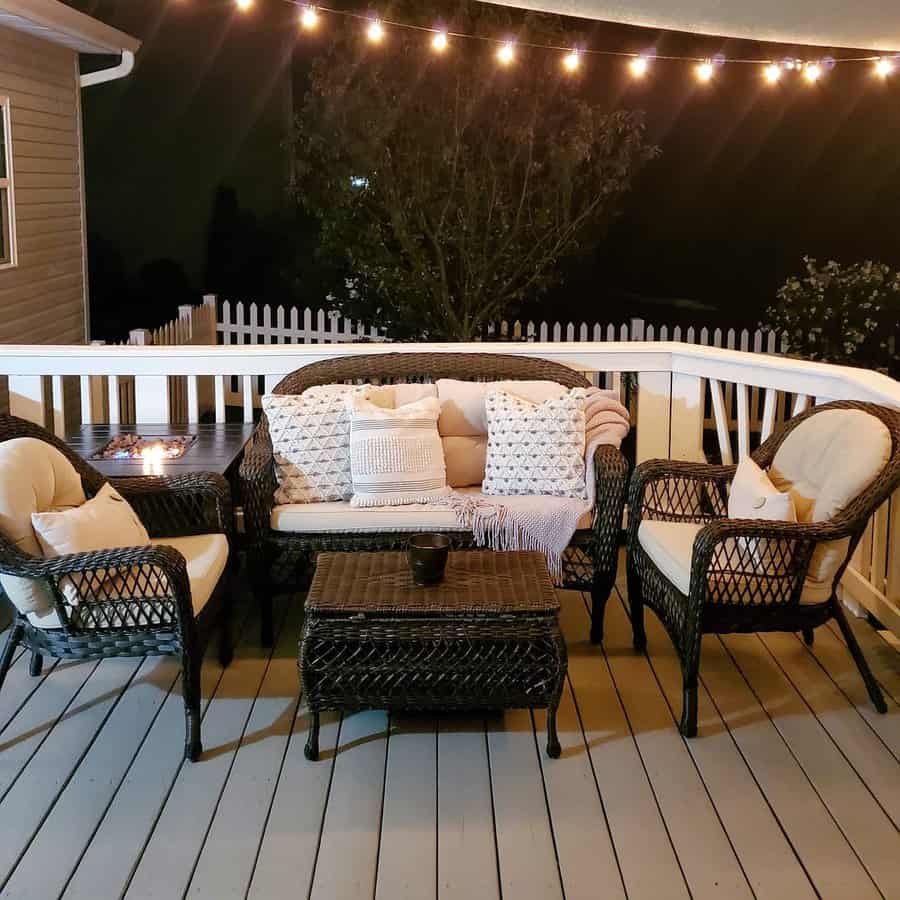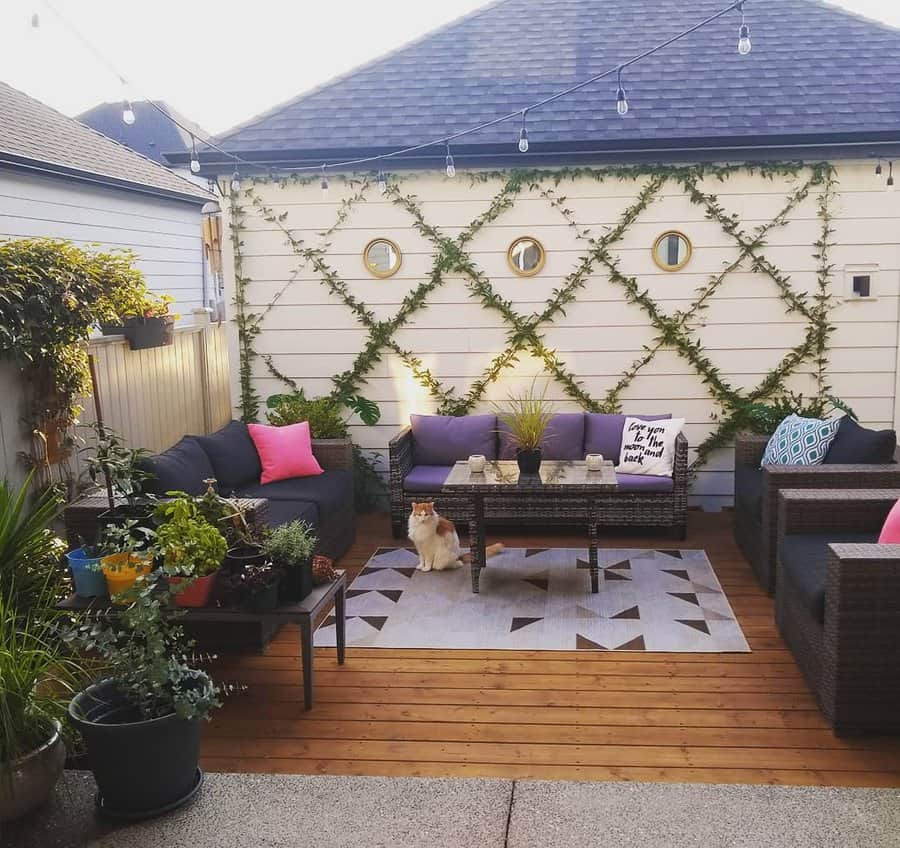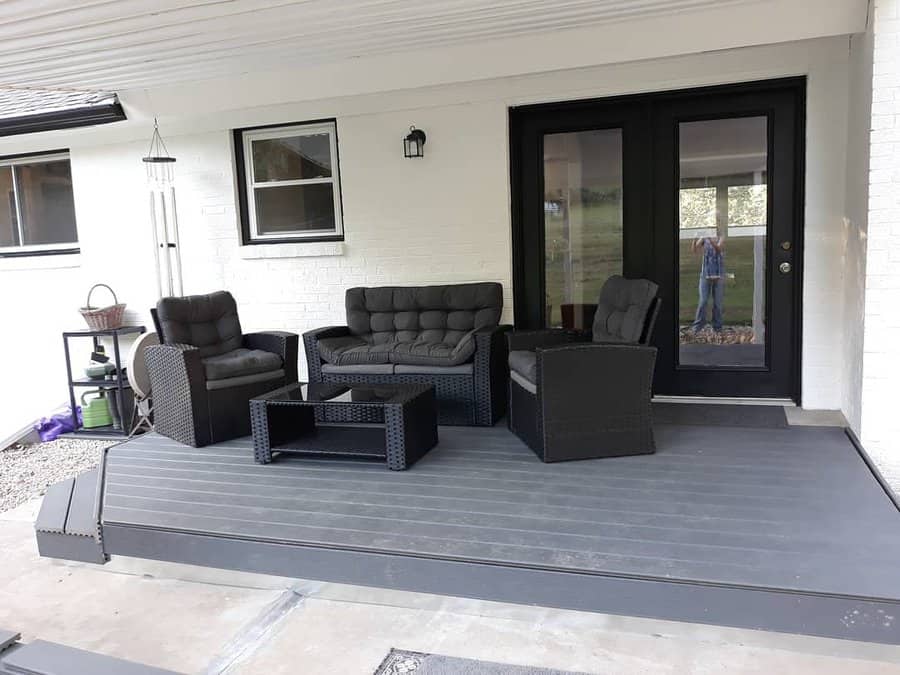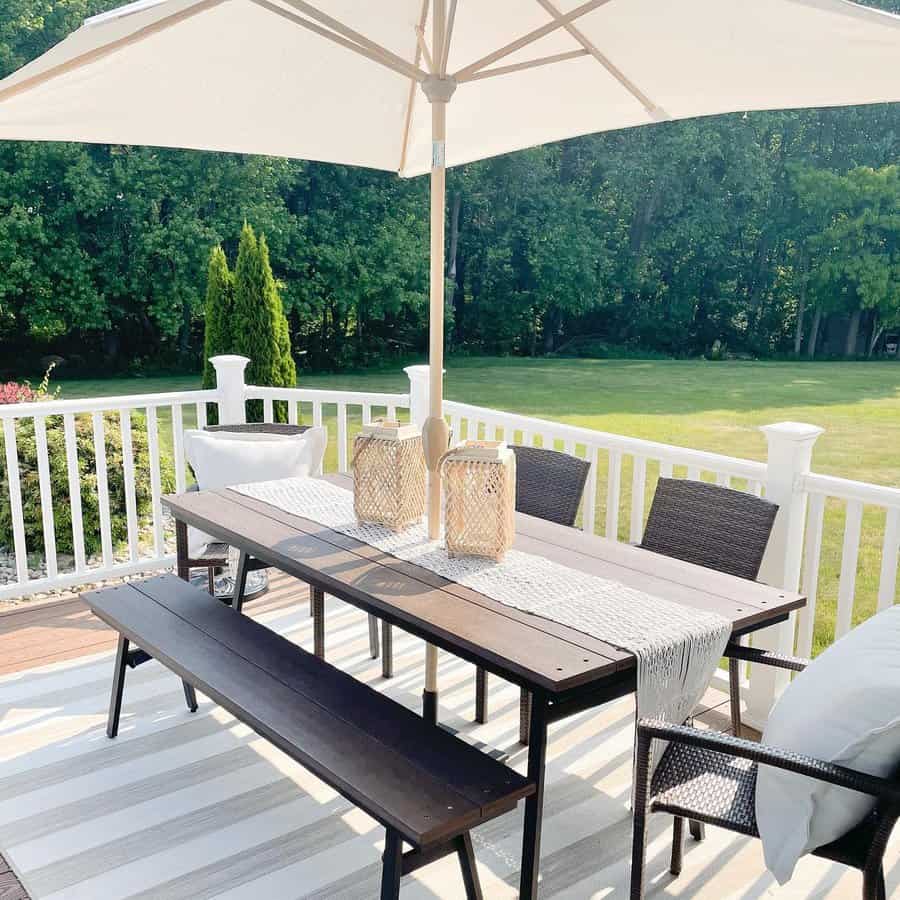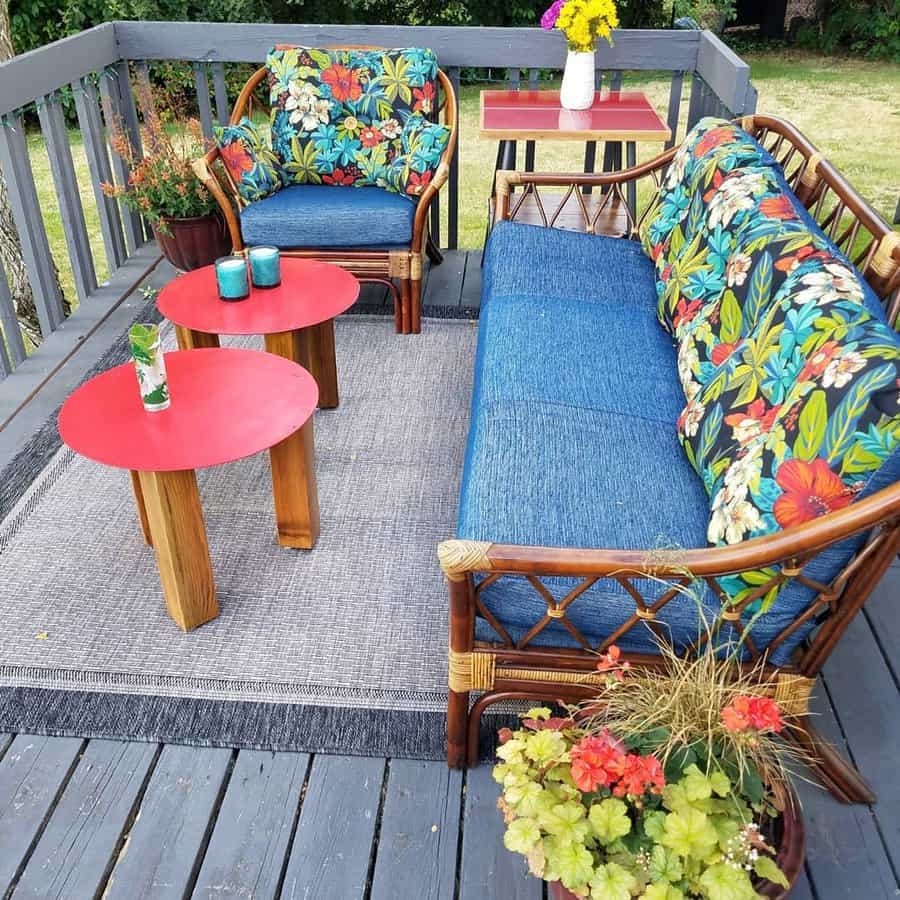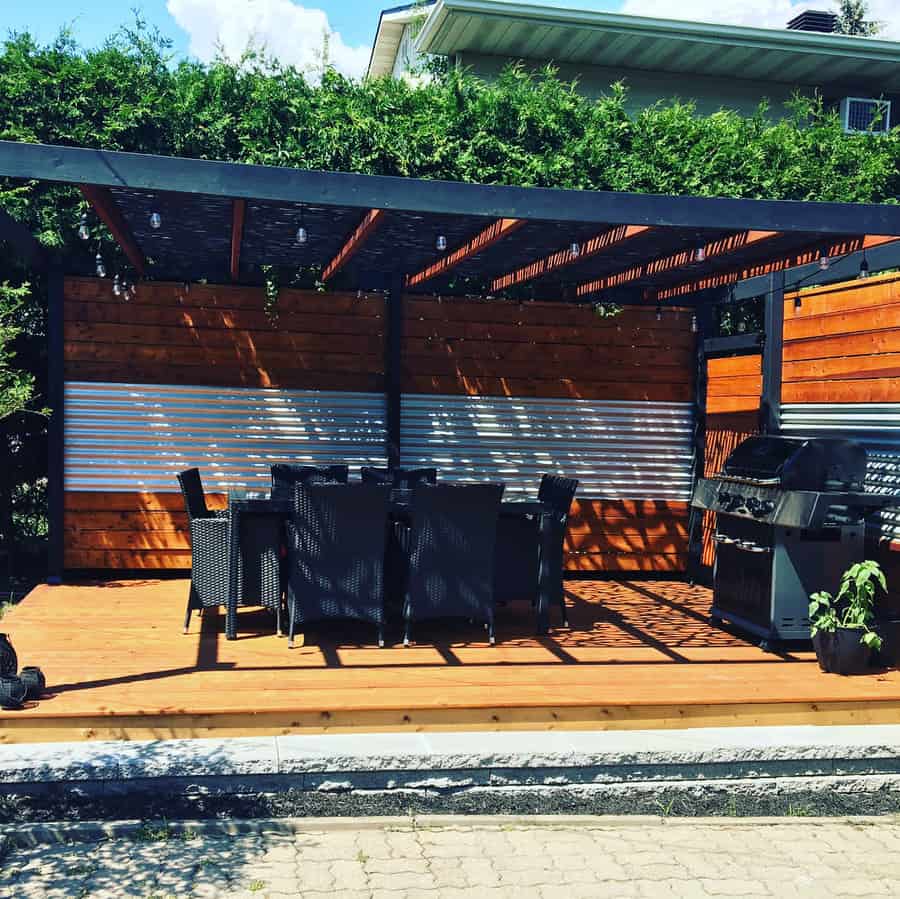 4. Woven Macrame Chairs
Macrame chairs are the ultimate way to achieve a bohemian and rustic look on your deck. These chairs are made by hand, woven with intricate knots to create a unique piece of furniture. The bohemian style is all about mixing and matching colors and textures, and macrame chairs are no exception.
You can find them in a variety of colors and styles, allowing you to create a truly personalized and eclectic outdoor space. Plus, they're incredibly comfortable, making them the perfect place to relax and unwind after a long day.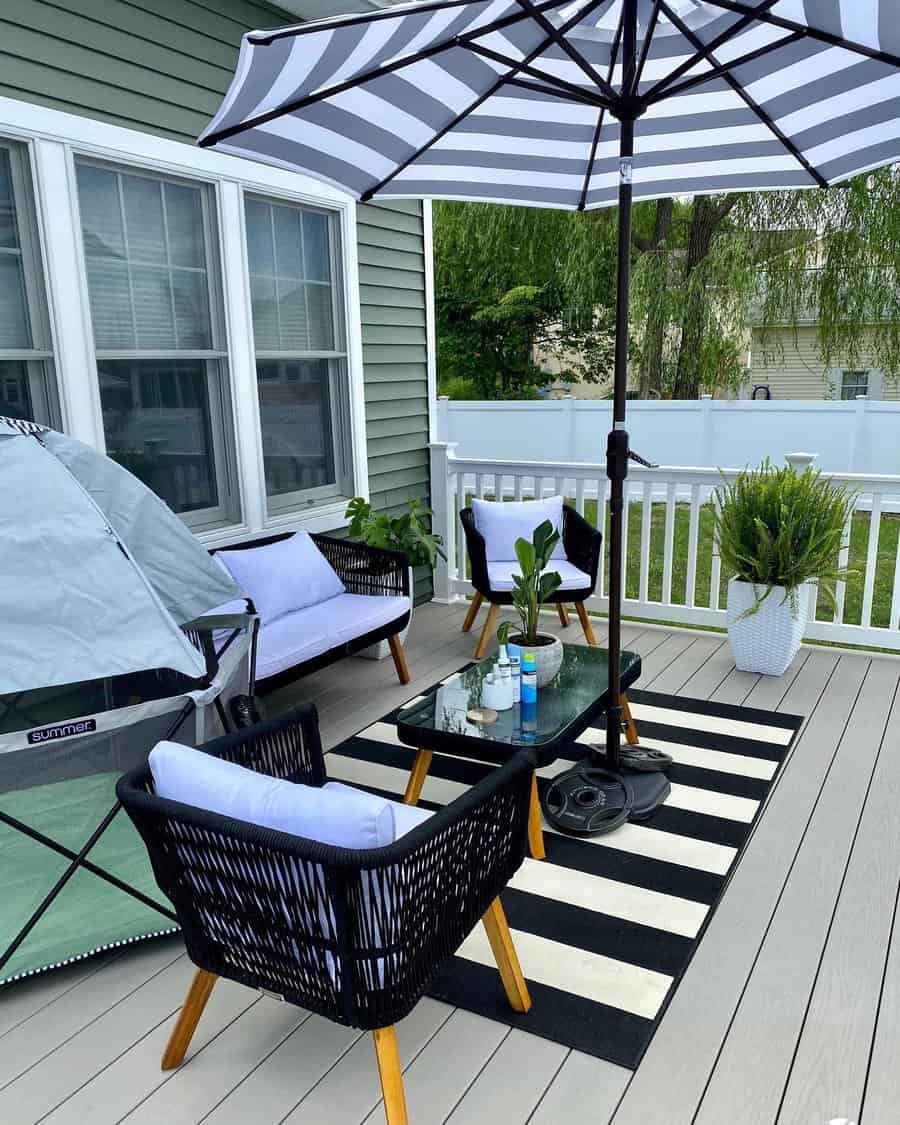 5. Bistro Set
If you're looking for a versatile and functional outdoor furniture option, a bistro set deck may be just what you need. Perfect for dining, coffee, or brunch, a bistro set deck adds a touch of Parisian flair to your outdoor space.
It's also great for small space living, as it doesn't take up much room on your deck or patio. Made from durable materials such as metal, wood or wicker, a bistro set deck is built to withstand the elements and last for years.
Not to mention, it's an affordable option for those who want to add a touch of style to their outdoor space without breaking the bank.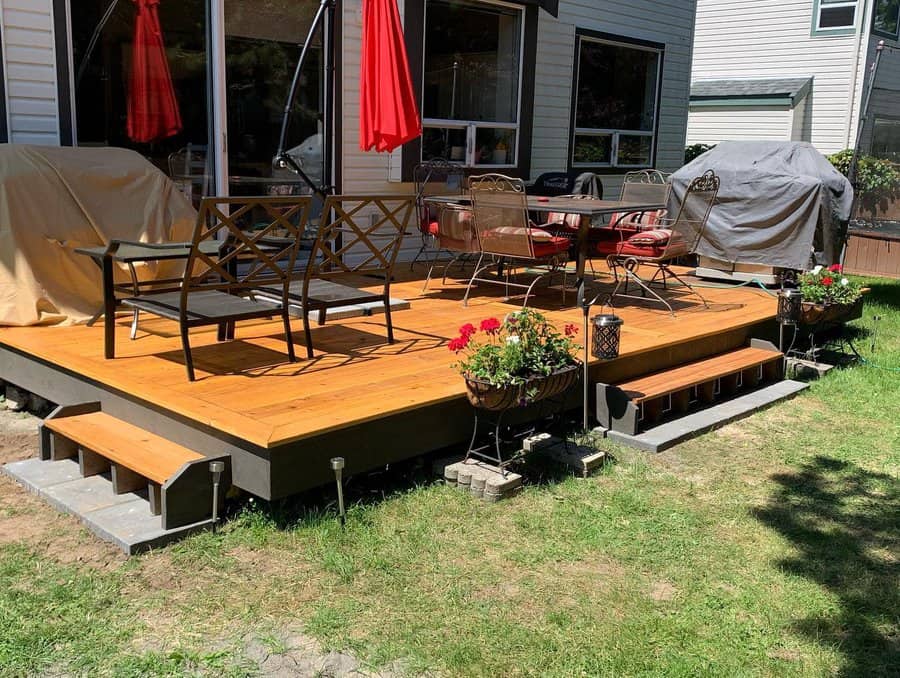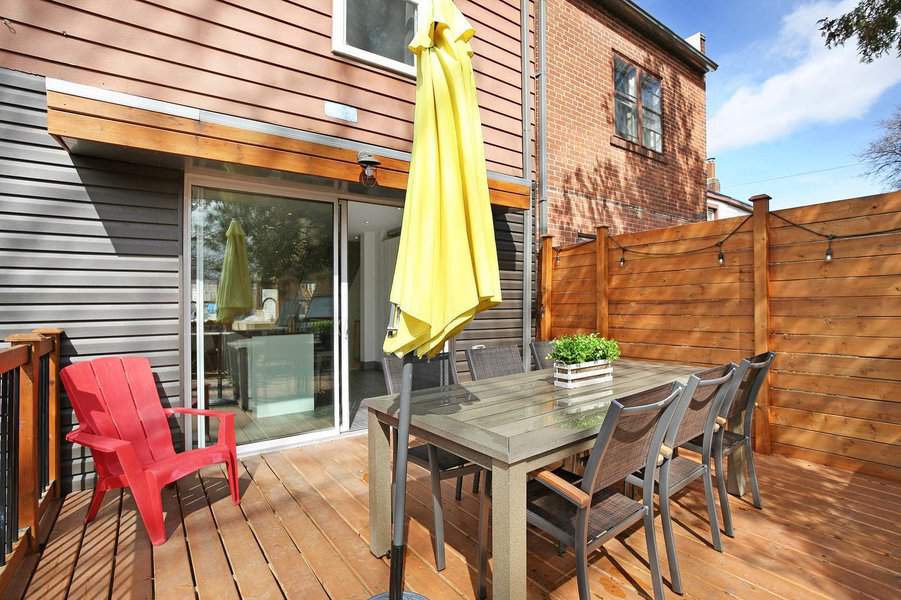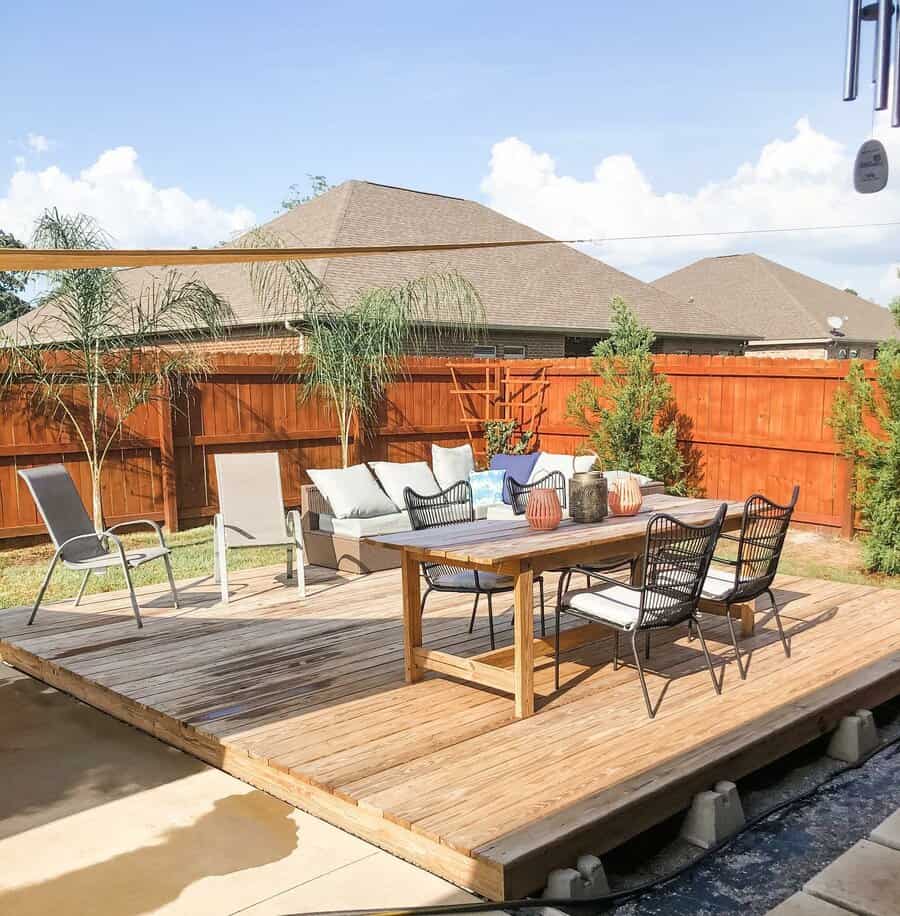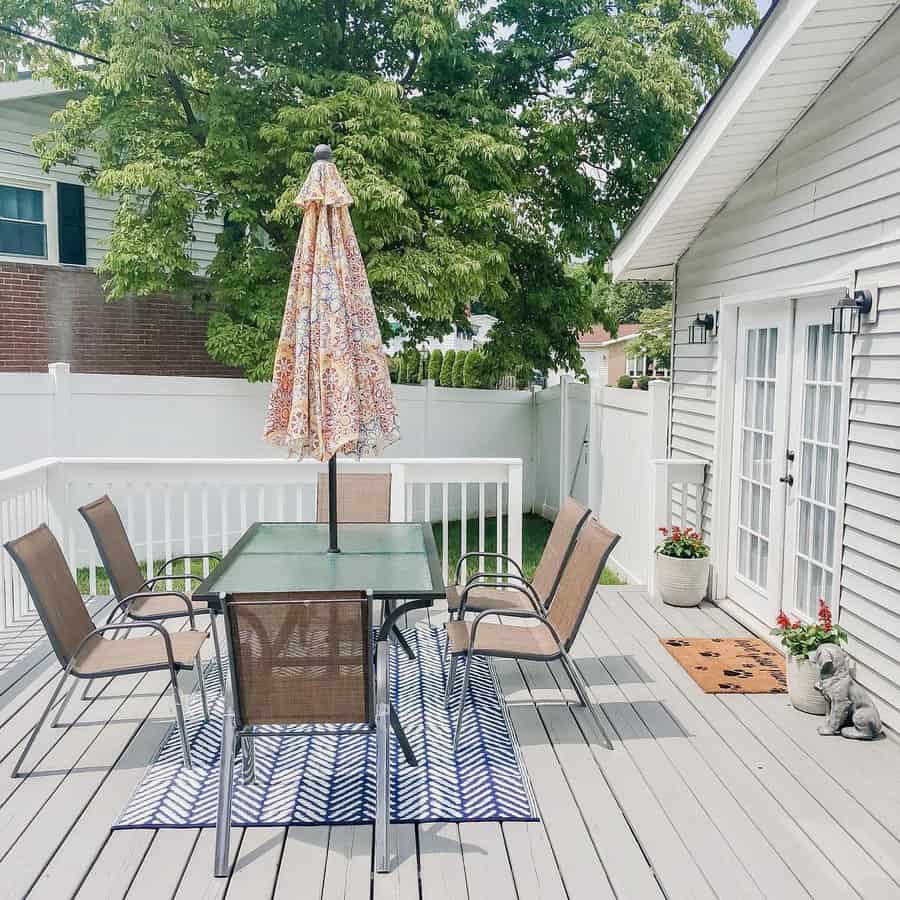 6. Distressed White-Washed Furniture
Distressed deck furniture is the perfect way to add some character and charm to your outdoor living space. With white-washed tables and chairs, you can create a shabby chic look that's both stylish and inviting. The distressed finish gives the furniture a weathered and worn appearance, as if it's been loved and used for years.
Not only does this add a touch of nostalgia and personality to your deck, but it also helps to camouflage any nicks, scratches, or dents that may accumulate over time. A pretty shabby chic style is also versatile enough to work with a wide range of decor themes and color palettes.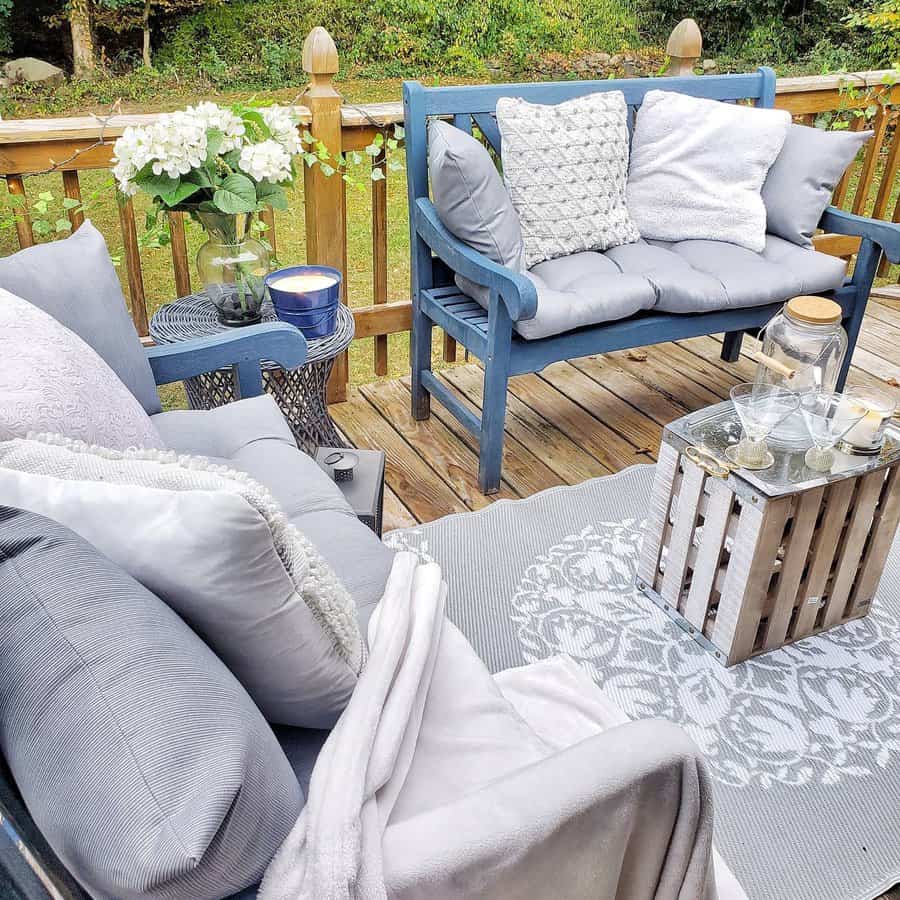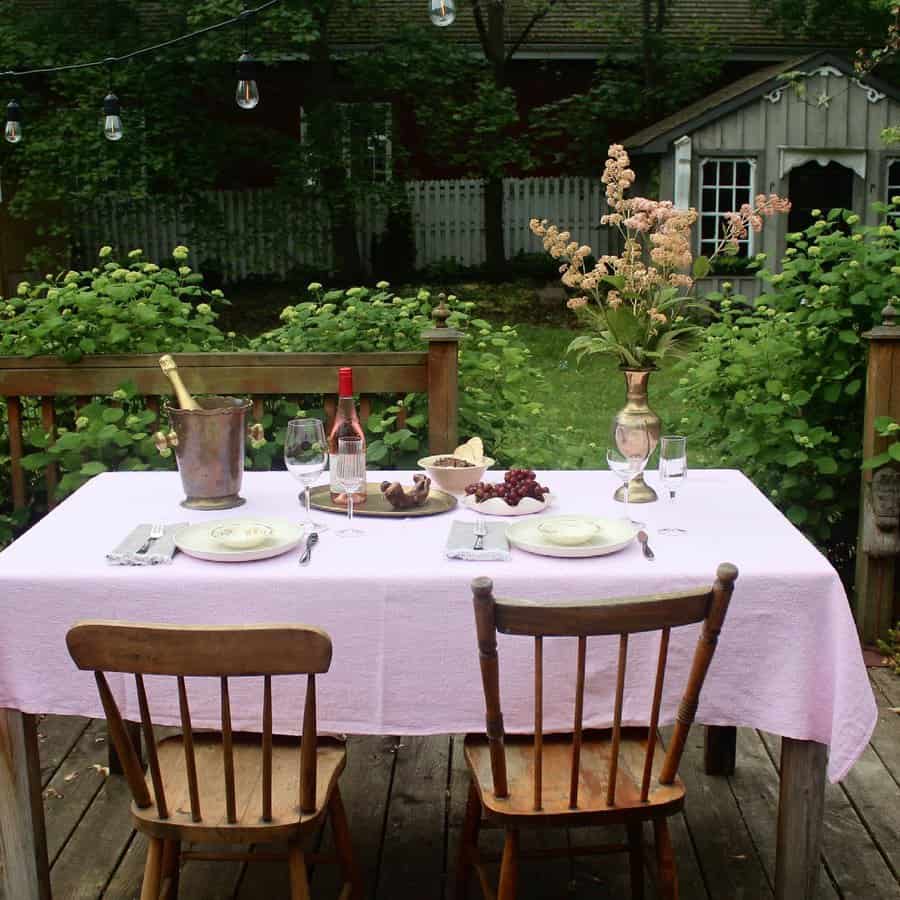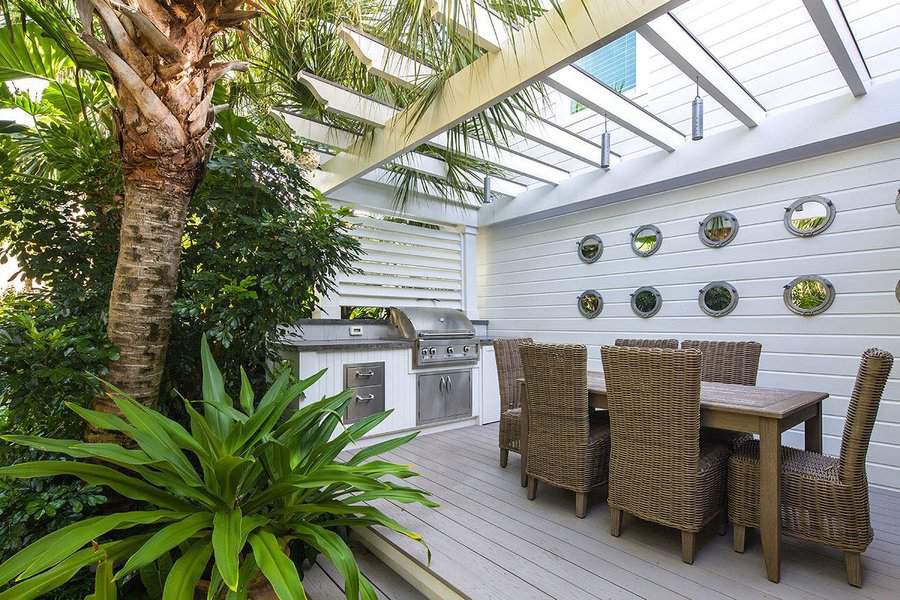 7. L-Shaped Daybed
When it comes to outdoor lounging, nothing beats the comfort and versatility of an L-shaped daybed. This unique piece of deck furniture is a real game-changer, providing ample seating space for you and your guests, while also doubling as a cozy spot for an afternoon nap.
Whether you're catching up with a friend or simply relaxing with a good book, an L-shaped daybed has got you covered. With its stylish design and plush cushions, it's the ultimate in outdoor comfort and relaxation.
Plus, it's perfect for smaller decks, as it optimizes the use of space by fitting snugly into a corner. So why settle for boring, standard outdoor furniture when you can have the ultimate in relaxation and style with an L-shaped daybed?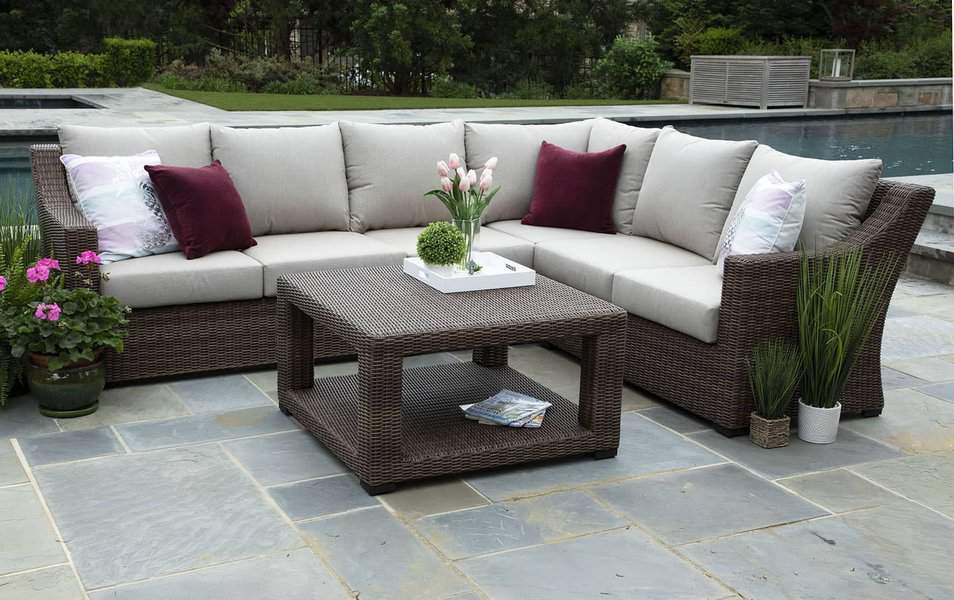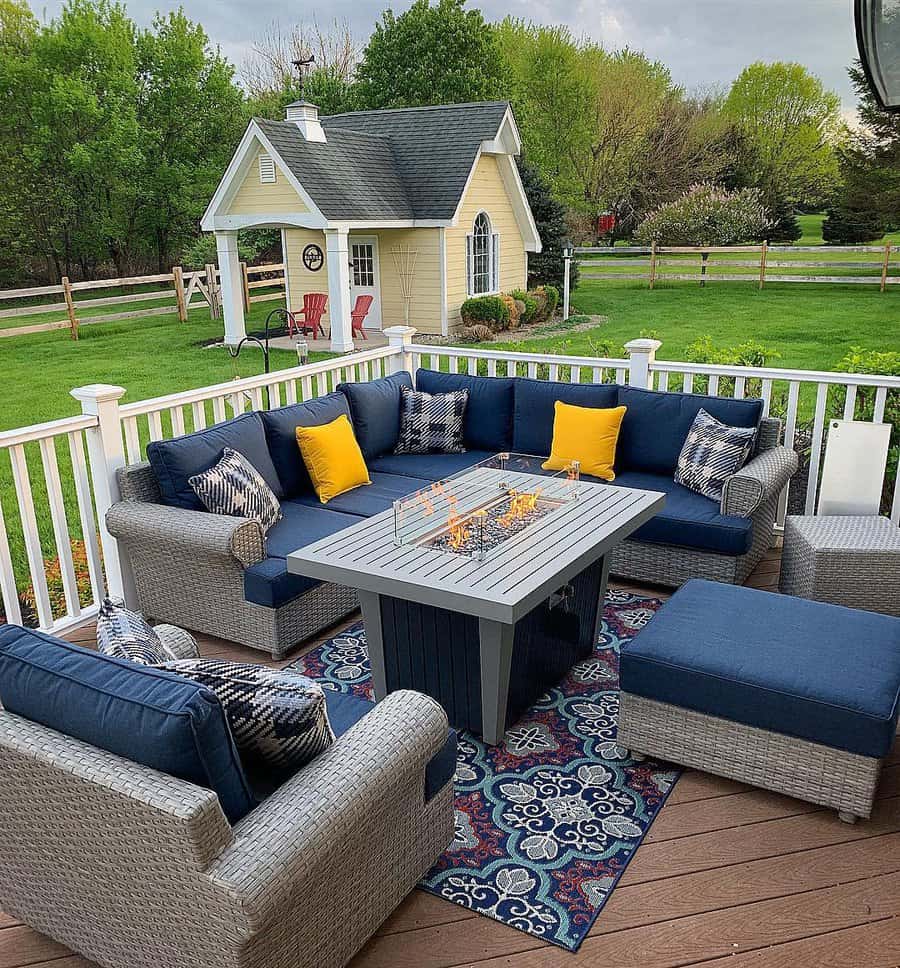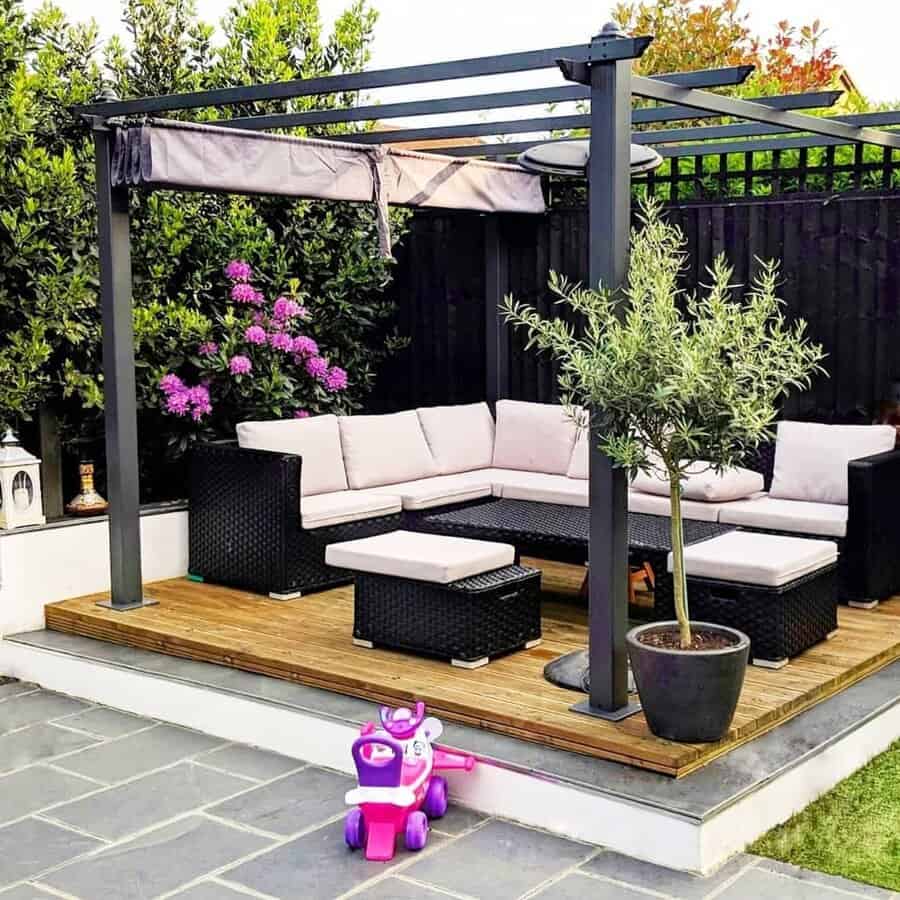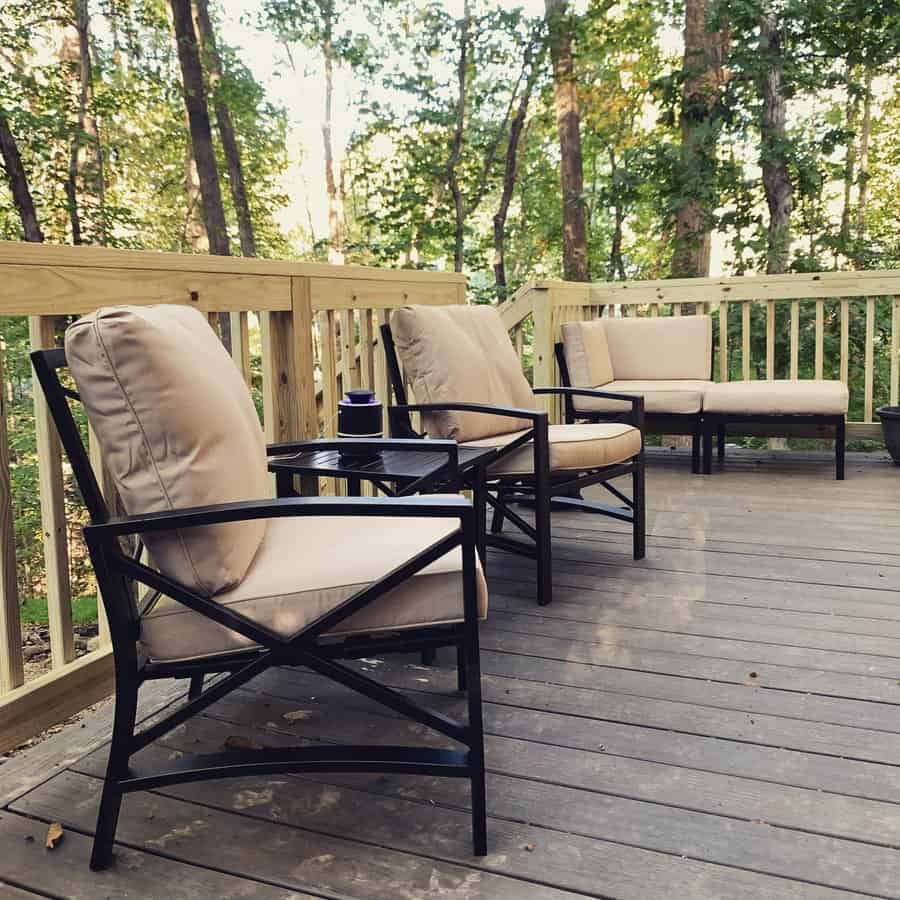 8. Side Tables & Stools
When it comes to creating the perfect outdoor space, side tables and stools are a must-have addition to your deck furniture collection.
Not only do they provide a convenient spot to rest your drink or book while you soak up the sun, but they also add an extra layer of style and functionality to your outdoor oasis. With a variety of materials, colors, and designs to choose from, you can easily find side tables and stools that complement your existing decor and match your personal taste.
They're also lightweight and easy to move around, so you can reposition them to suit your needs. Whether you're hosting a barbecue or simply enjoying a quiet moment alone, side tables and stools are the perfect way to elevate your deck game and make the most of your outdoor space.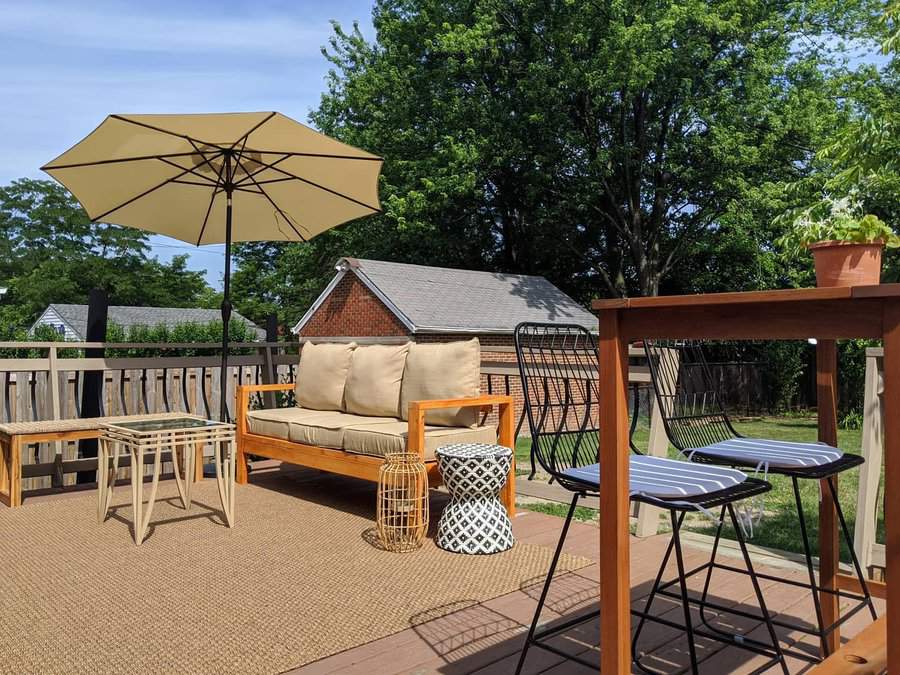 9. Foldable Picnic Table
Ah, the joys of outdoor dining and entertaining, but who wants to lug heavy, bulky furniture around? That's where foldable picnic table deck furniture comes in – the perfect solution for the on-the-go party host.
With its compact and lightweight design, you can easily set up a charming picnic or barbecue spread in a flash, without breaking a sweat. And when the party's over, simply fold it up and tuck it away for easy storage until your next alfresco gathering.
These versatile tables are not just practical, but stylish too. With a variety of finishes and colors available, you can effortlessly elevate your outdoor decor and impress your guests with your hosting skills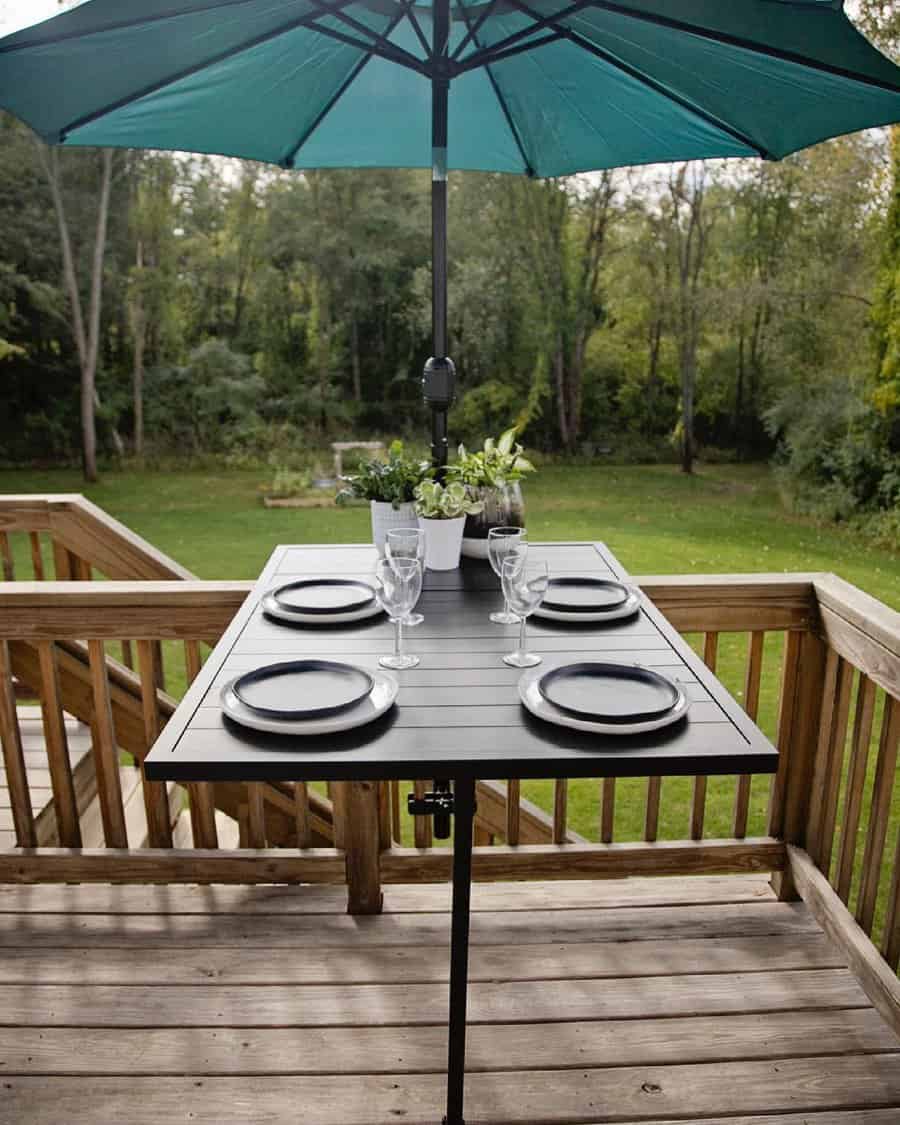 10. Rolling Bistro Table
This versatile piece of deck furniture is not only stylish with its sleek design and modern lines, but it's also highly functional with its ability to easily move from one spot to another.
Whether you're enjoying a solo breakfast in the morning sun or hosting a cozy dinner party, this table can easily be rolled to wherever you need it.
Plus, its compact size makes it perfect for smaller decks or balconies. So say goodbye to the hassle of dragging around heavy furniture and hello to the convenience of a rolling bistro table.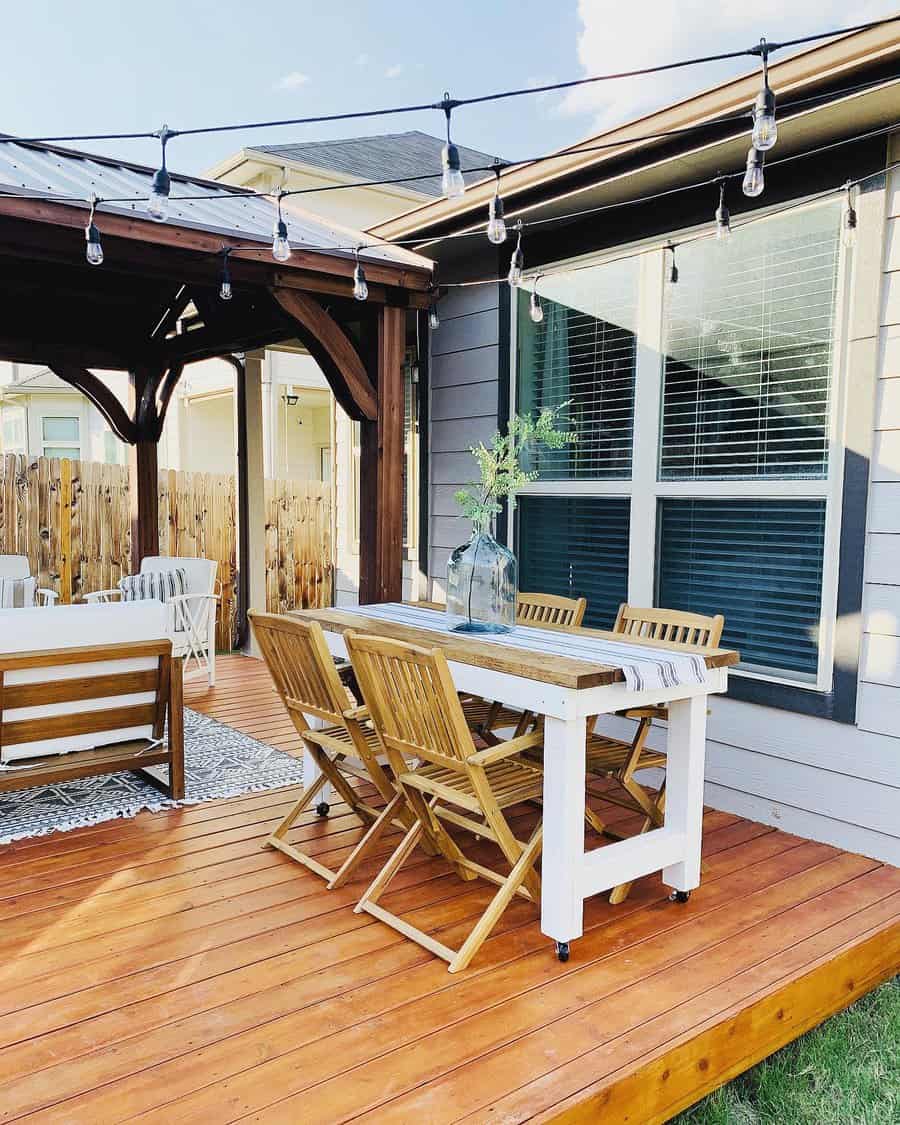 11. Cushions and Pillows
What's the point of having a deck if you can't relax and unwind on it? That's where deck furniture with cushions and pillows comes in, offering the ultimate in comfort and style. Whether you prefer a classic look or something more modern, there's no shortage of options to choose from.
Think plush, overstuffed cushions that cradle your body just right, and pillows that add a pop of color and personality to your outdoor space. Plus, with materials designed to resist fading, mold, and mildew, you can enjoy your deck furniture with cushions and pillows season after season.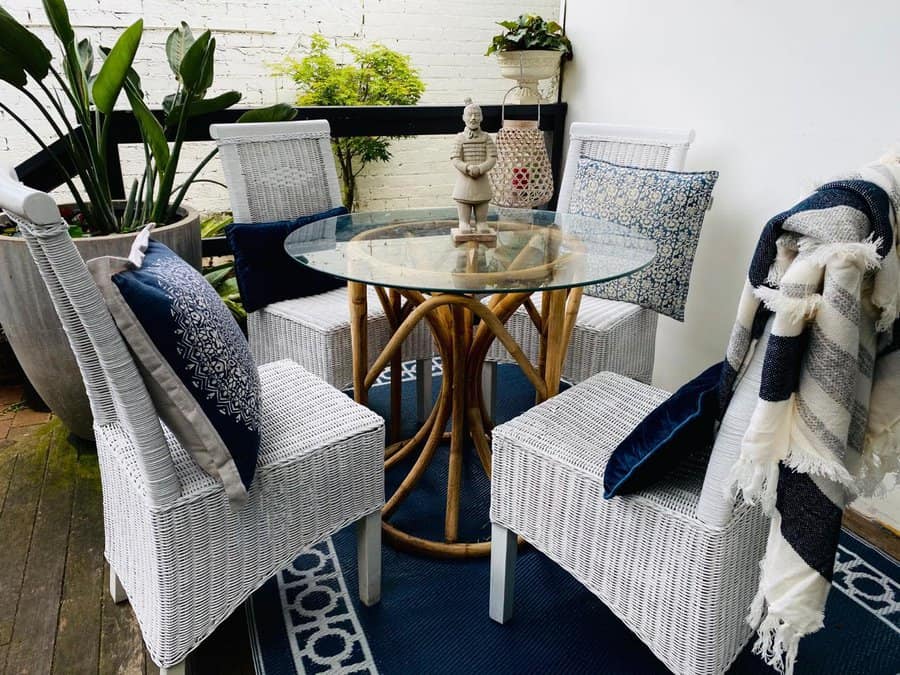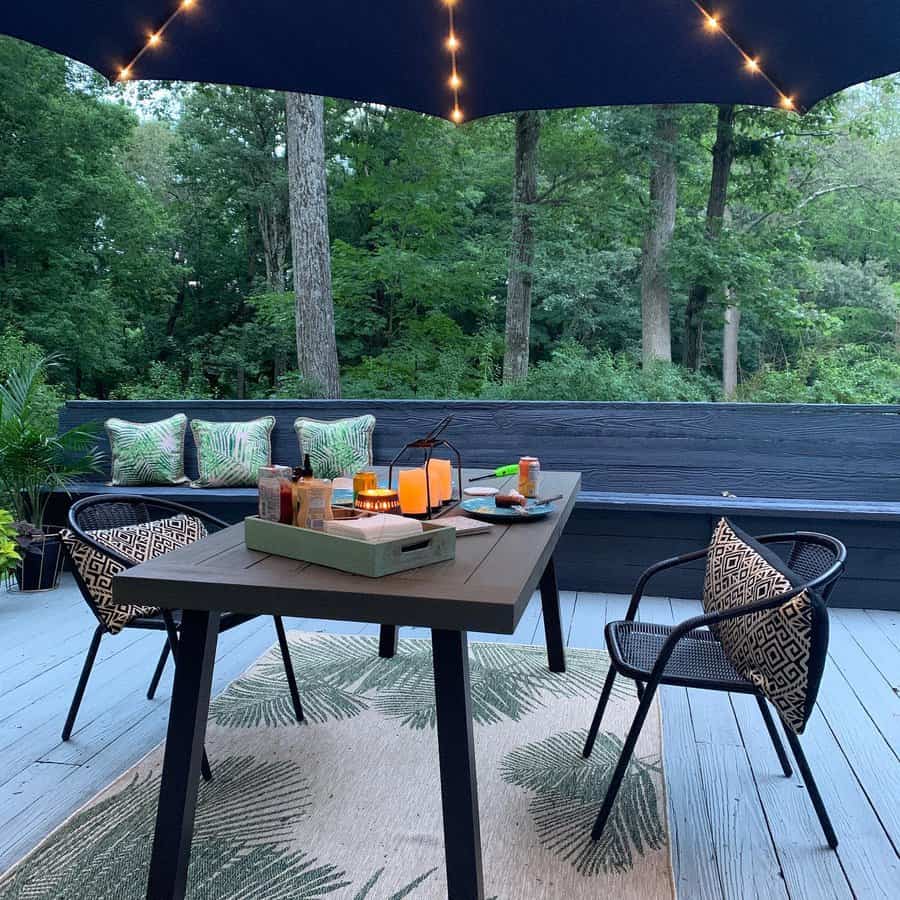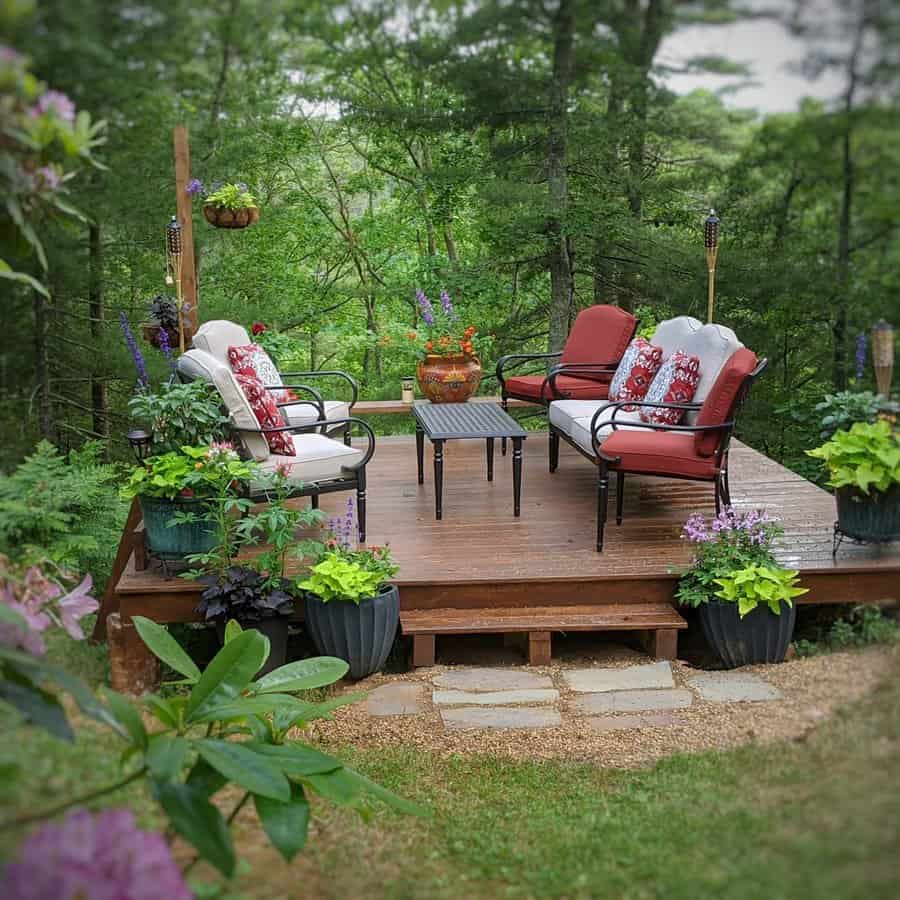 12. Outdoor Rugs
Ah, the joys of lazy afternoons spent lounging on your deck furniture, soaking up the sun and sipping on a refreshing drink. But wait, what's that underfoot? Rough, splintery wood? No, no, no. That just won't do. Think outdoor area rugs for the deck, the perfect solution for adding some much-needed style and comfort to your outdoor oasis. W
ith a wide range of colors, patterns, and textures to choose from, you can really make a statement and elevate your deck game. Not to mention, they're durable enough to withstand the elements and easy to clean.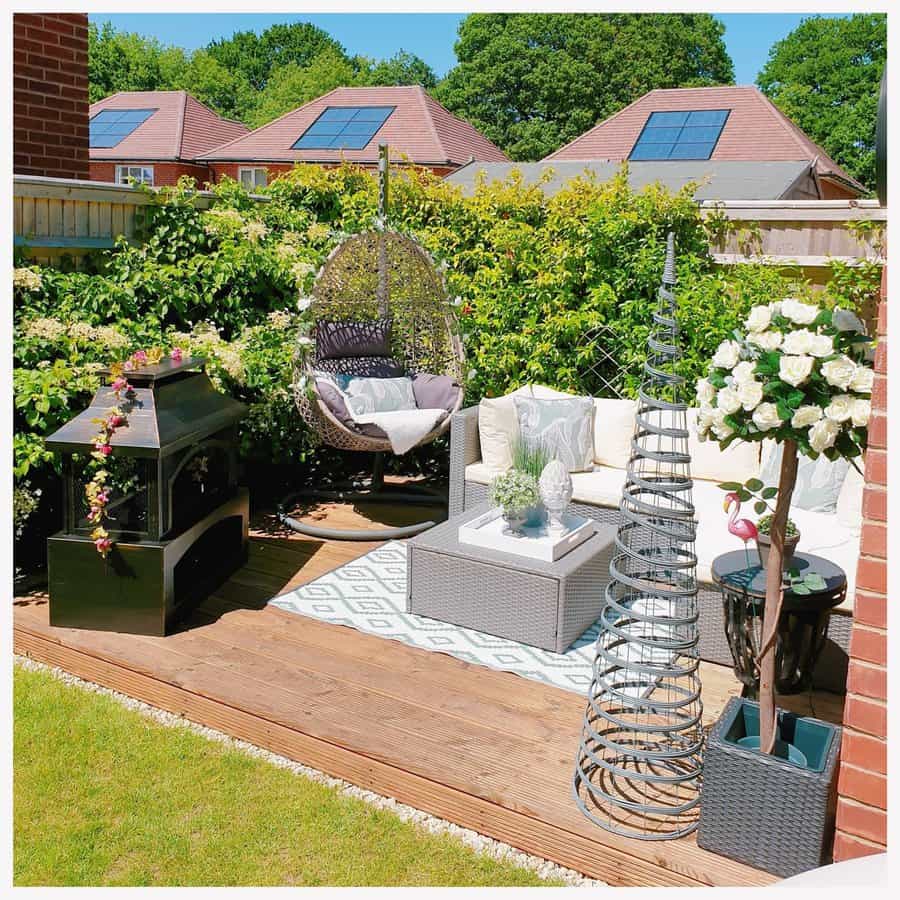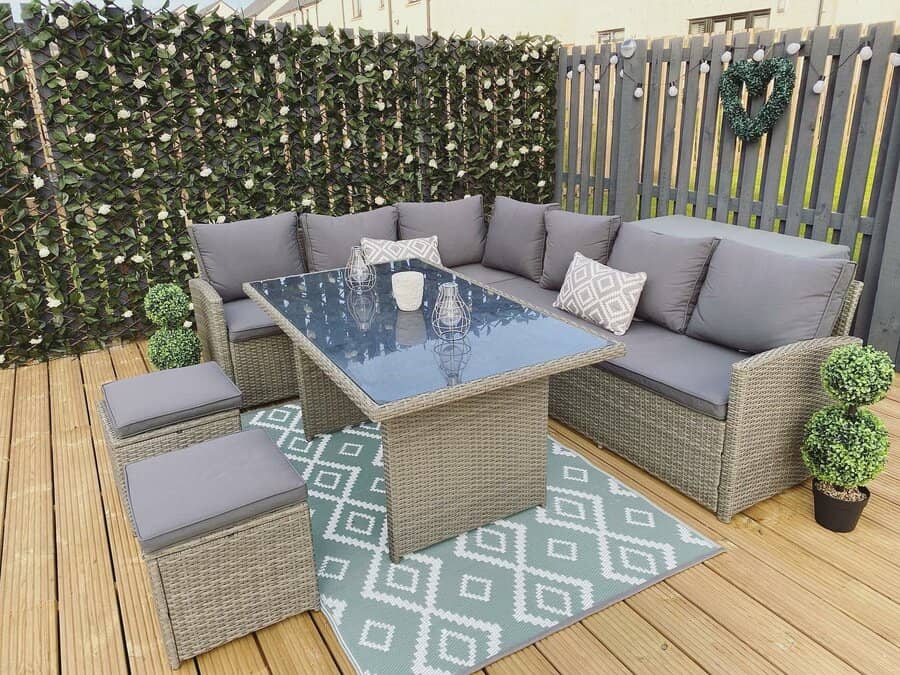 13. Wooden Pallet Sofa
Looking for a unique and rustic addition to your deck? Look no further than a wooden pallet sofa! Not only is it an affordable and eco-friendly option, but it also adds a touch of charm and character to your outdoor space.
You can unleash your inner DIY guru and easily create your own custom-made wooden pallet sofa with some basic tools and a little creativity. Plus, with the ability to stain or paint the pallets any color you want, you can truly make it your own.
Add some fun and funky cushions, some twinkly lights, and a couple of cold drinks and you've got yourself a cozy outdoor oasis perfect for lounging, reading, or even napping in the sun.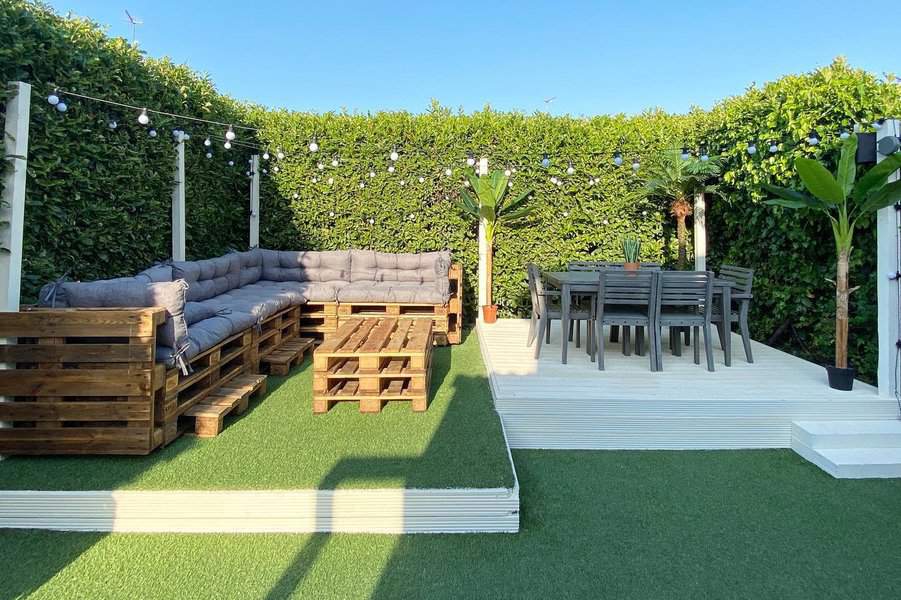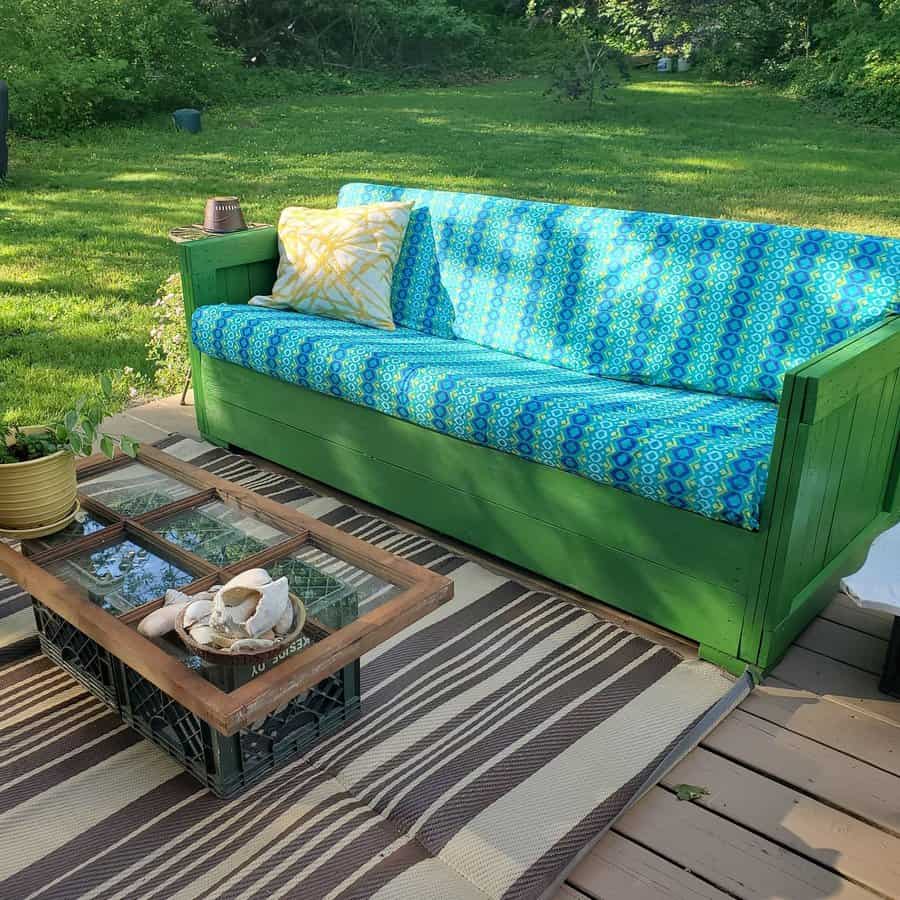 14. Minimalist Coffee Table
Minimalist deck furniture is a perfect way to create a smooth, cohesive outdoor look that caters to comfort and simplicity. By using clean lines and sleek designs, you'll be able to achieve a timeless and effortless vibe, seamlessly blending with the natural beauty of your outdoor environment.
Opting for furniture pieces that are multi-functional allows for the most efficient use of space while still providing a comfortable and stylish setting for entertaining guests or simply lounging outside.
With a thoughtful approach, you can create a zen-like atmosphere that truly allows you to relax and appreciate your outdoor space in all its splendor.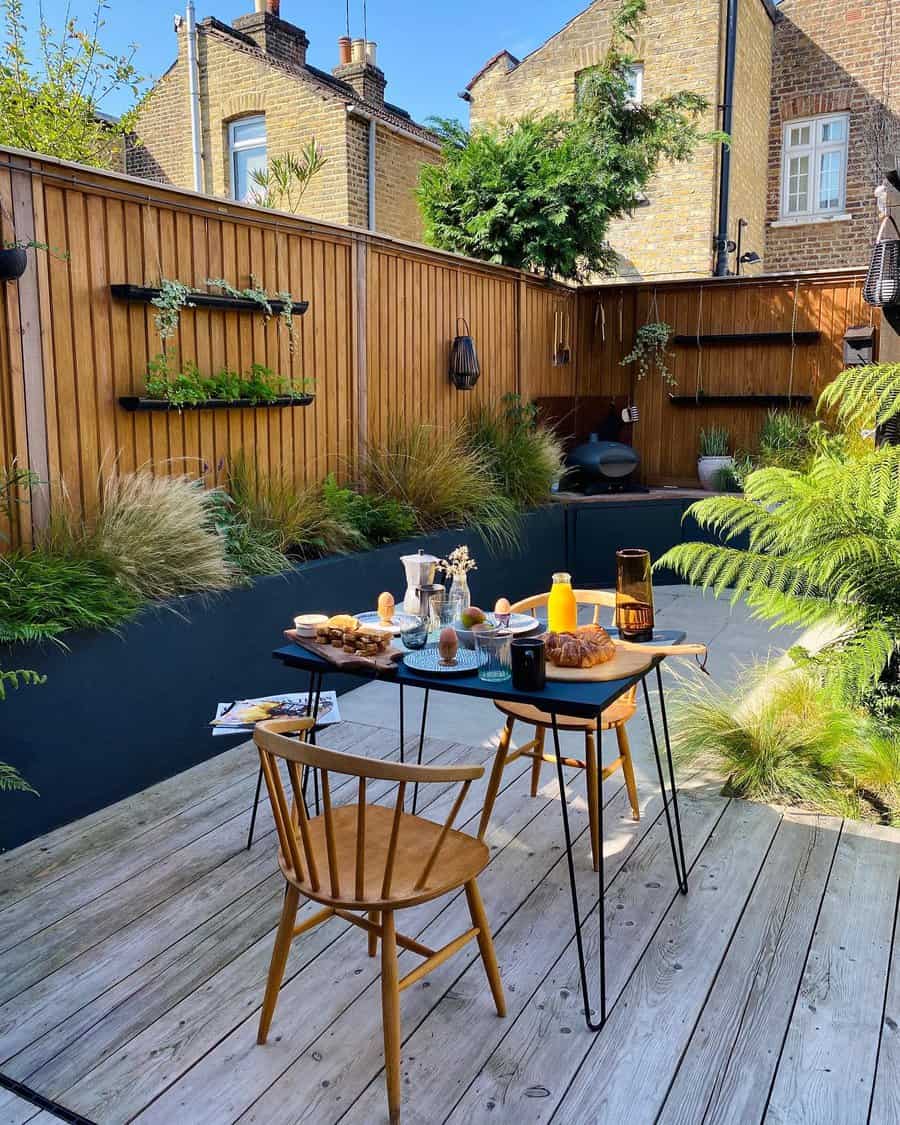 15. Umbrella
When it comes to enjoying the great outdoors, a picnic is a classic choice. And what better way to make sure you stay comfortable than with some deck furniture and a trusty picnic umbrella? Not only does an umbrella provide shade on a sunny day, but it also adds a whimsical touch to your outdoor setup.
Pair it with some cozy chairs and a table, and you have the perfect spot to enjoy some snacks or a meal with friends and family. Don't let the sun or rain ruin your picnic plans – invest in some deck furniture and an umbrella to create the ultimate outdoor oasis.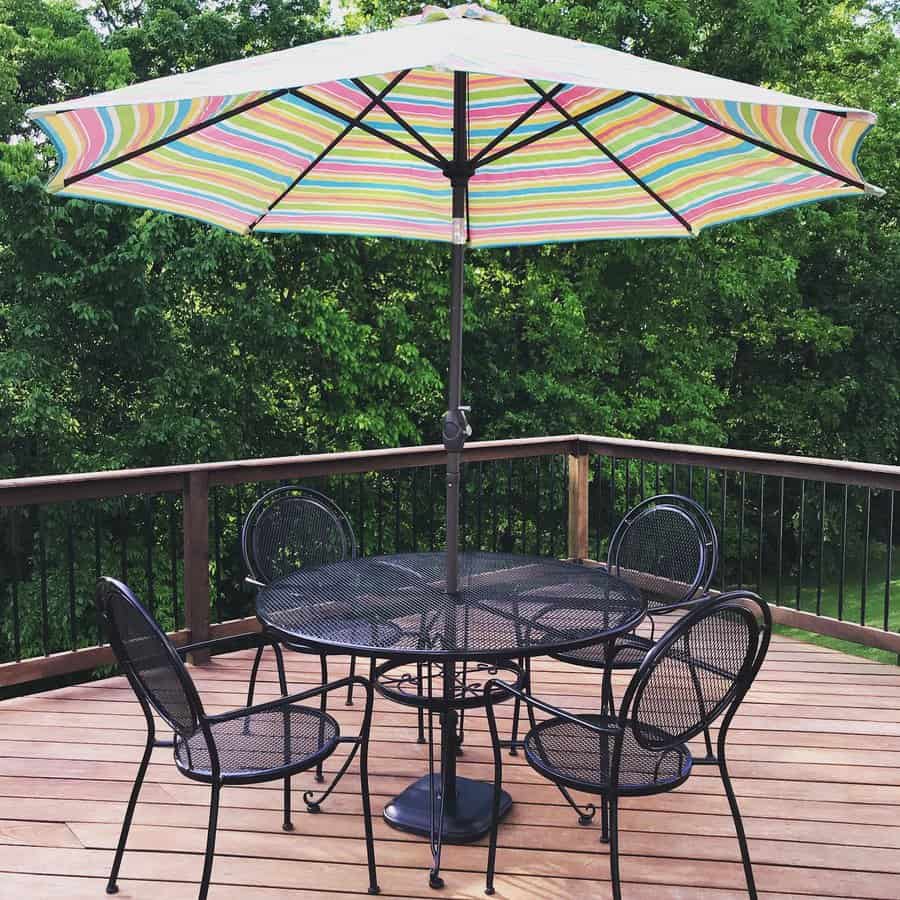 16. Egg Chair
Imagine yourself lounging on an egg chair, the epitome of comfort, modernity, and style. This unique piece of deck furniture adds a touch of whimsy to your outdoor space, while also providing ample support for your back and neck.
Its sleek design and curved shape mimic the feeling of being cradled in a warm embrace, allowing you to fully unwind and let go of any stress. The egg chair deck furniture is the perfect addition to your backyard oasis, encouraging you to take a break from the hustle and bustle of daily life and simply enjoy the beauty of the outdoors.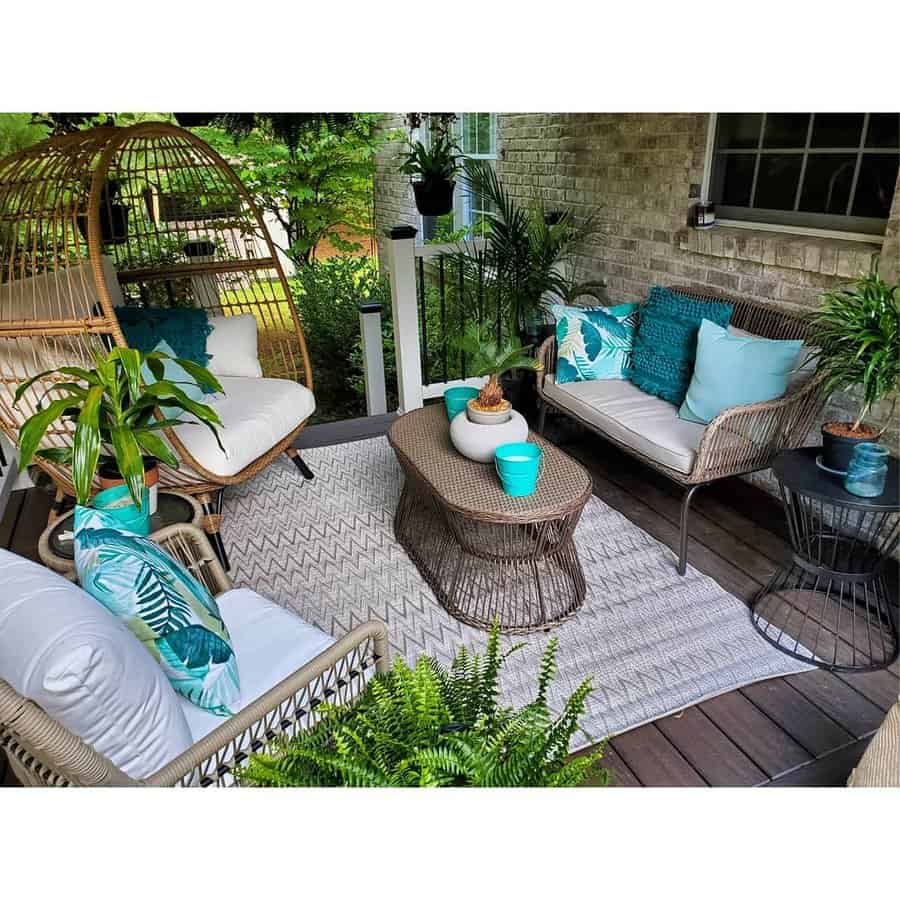 17. Wooden Chairs
Mix and match wooden pieces to create an eclectic vibe or go for a cohesive look by sticking to one style. Consider a rustic wooden bench, a sleek modern chair, or playful colorful cushions. Add some greenery with potted plants or incorporate a cozy outdoor rug to tie everything together.
The possibilities are endless when it comes to designing the ultimate wood deck furniture oasis. So, get inspired and make your outdoor space your own!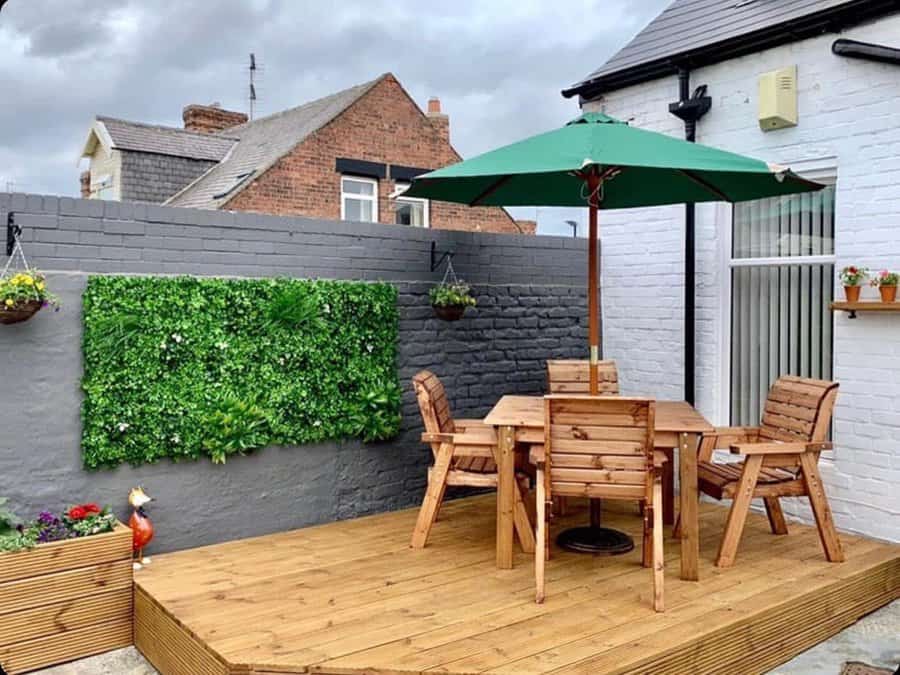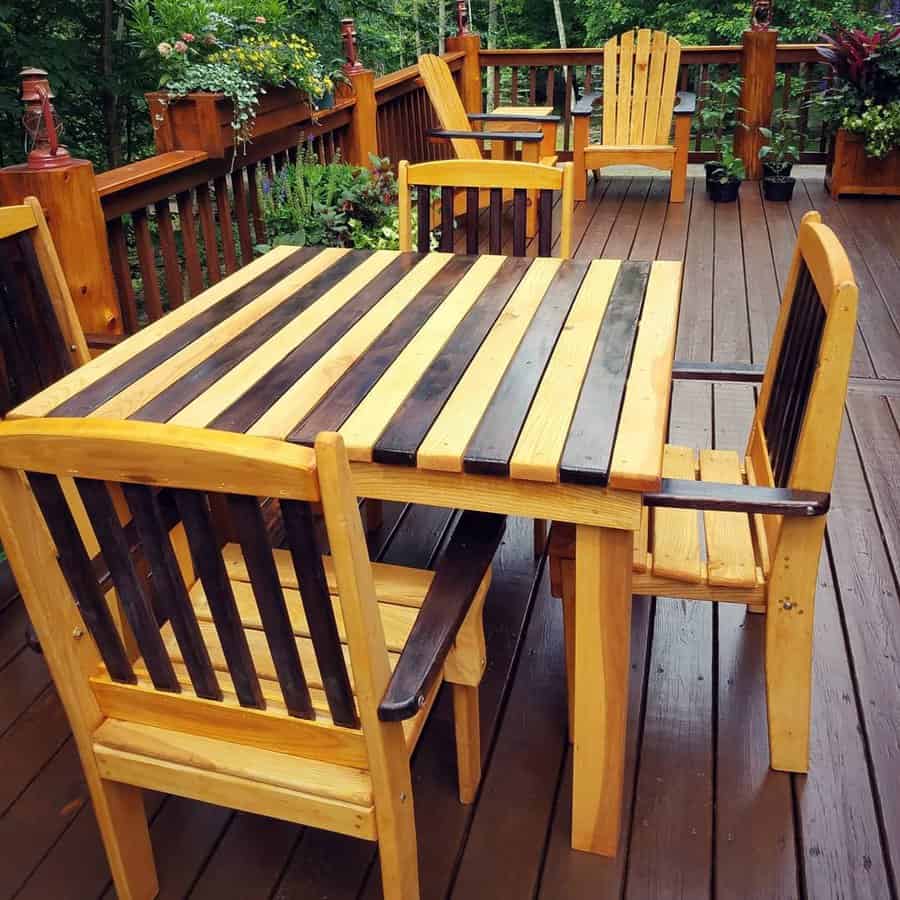 Deck Furniture FAQs
How can I make my outdoor furniture better?
If your old deck furniture has fabric, then you could reupholster it, change out the pillows, or add a slipcover. If you don't have cushions, then you can spray paint it a new color. Wood furniture looks beautiful and like new again with a bit of work. You can oil it, sand it down and stain it, or varnish it.
How do you make outdoor wood furniture look good?
You have to take care of your wood furniture to make it look good. Painting is the easiest method, but you lose the look of the wood. Oiling, sealing, and varnishing protect the natural look of the wood. Then keep your wood furniture in a place where it is protected from the sun and weather elements.
Why are patio sets so expensive?
Patio furniture is more expensive than indoor furniture because it's made to be more durable. It gets put through more, so it needs to be made of higher quality materials and stronger construction. While you can buy low-cost deck furniture, it won't last, and you will replace it sooner. This ultimately costs you more than investing in the high-quality and more expensive deck furniture.