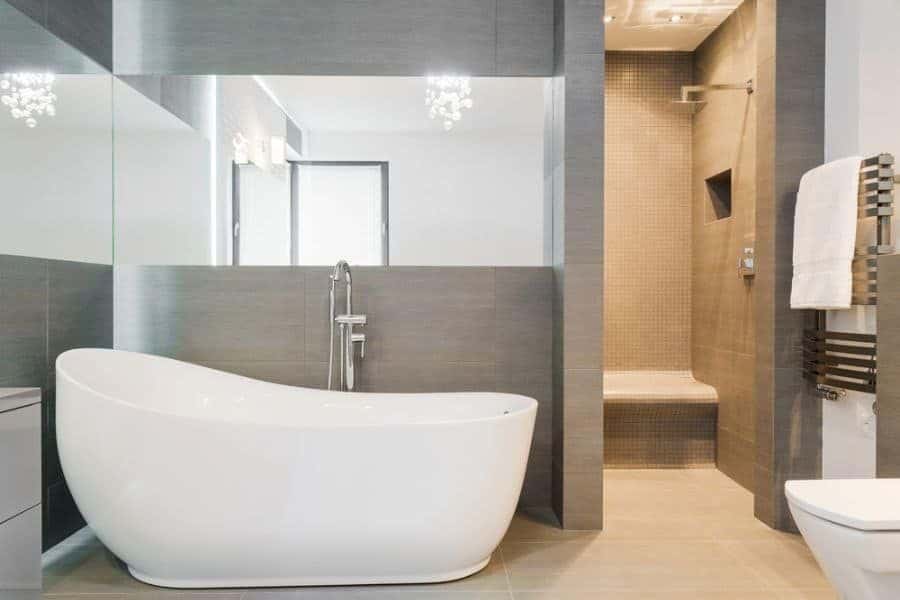 The Top 72 Doorless Walk-In Shower Ideas
by — Andra DelMonico

Published on March 4, 2021

Updated on October 25, 2023
It's time to say goodbye to your busted and worn-out shower curtain. Your master bathroom deserves better. Modern design trends embrace the idea of having a separate shower and tub area in your bathroom. Consider taking this approach with your bathroom remodel.
These doorless walk-in shower ideas will show you that walk-in showers are the future of bathroom design. Even if you already have a walk-in shower, these ideas will show you that it's time for an update. Consider replacing your shoer's tired design and replacing it with one that uses frameless glass or an open concept.
1. Explore Decorative Tile Patterns
Choosing decorative tiles allows for a seamless transition from the shower to the rest of the bathroom, creating a spacious ambiance. Focus on vibrant mosaic patterns, geometric designs, or nature-inspired motifs to create a captivating focal point and add character to your space. For a complete look, coordinate the tile colors with bathroom accessories or wall paint. This approach not only enhances the aesthetic appeal of your bathroom but also elevates your daily shower experience to a luxurious spa-like retreat, all while showcasing your unique design sensibilities.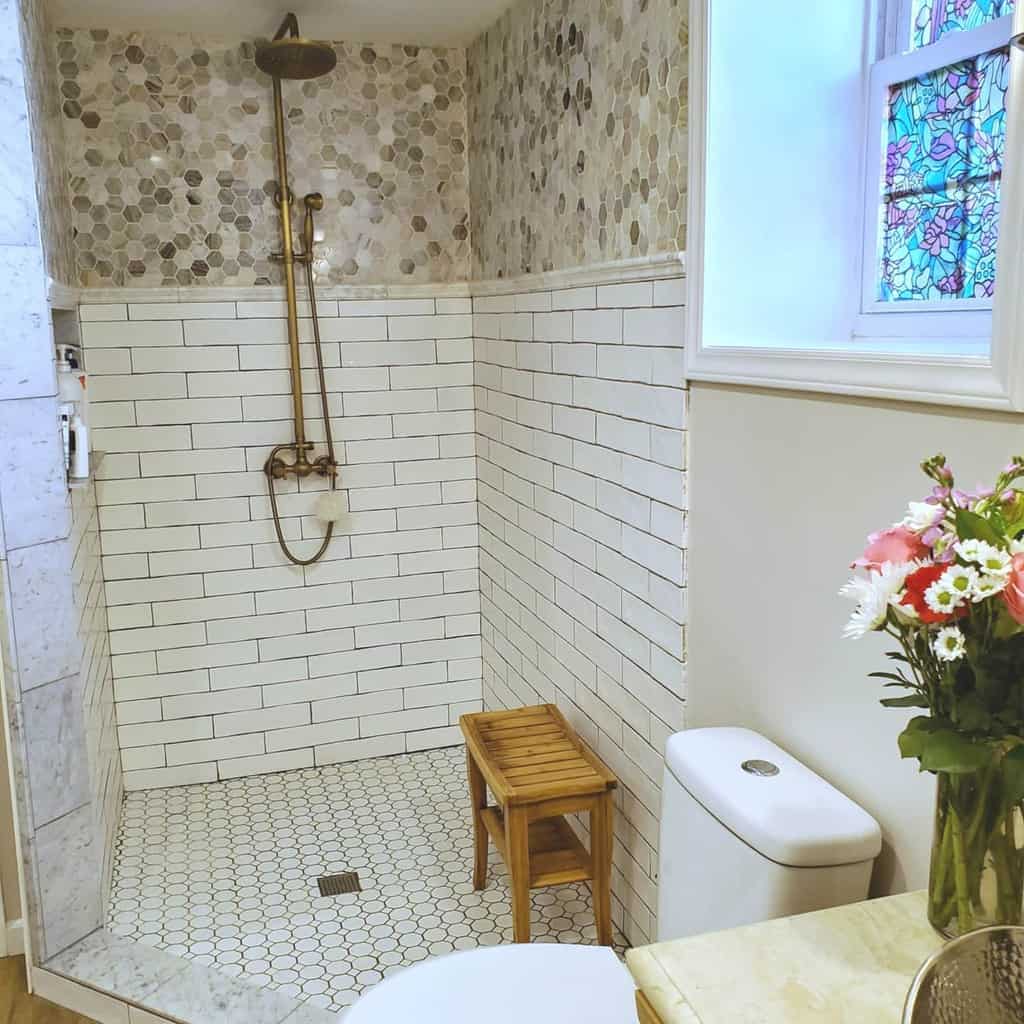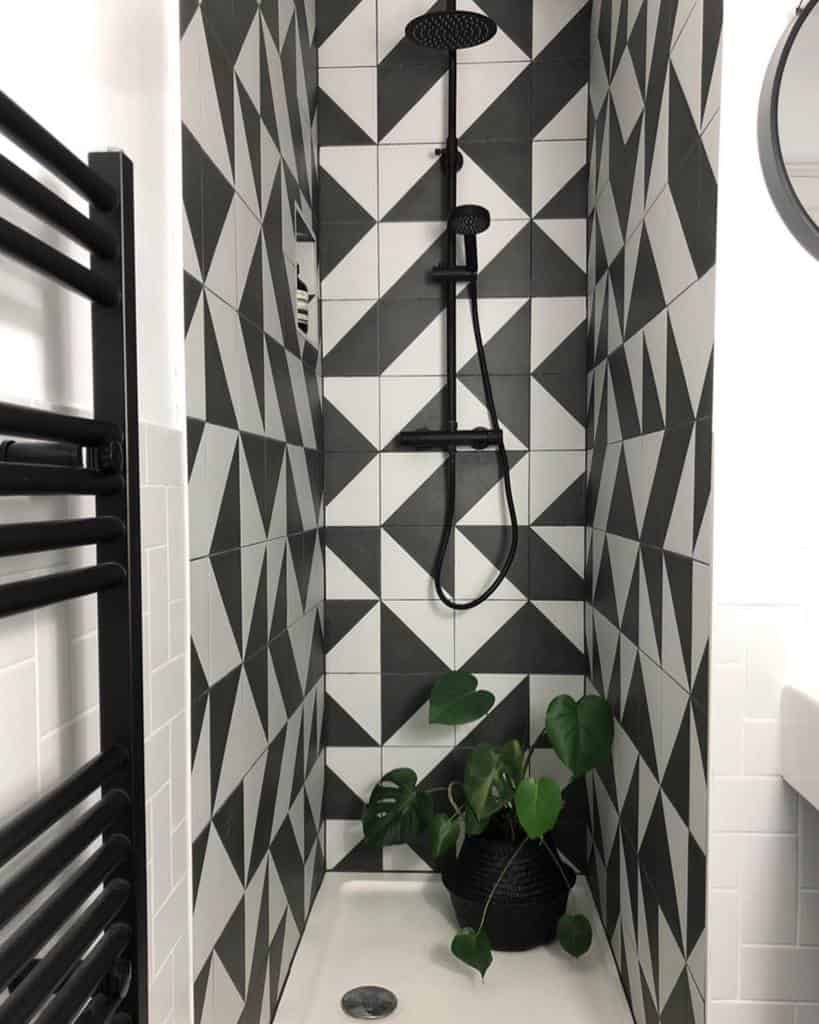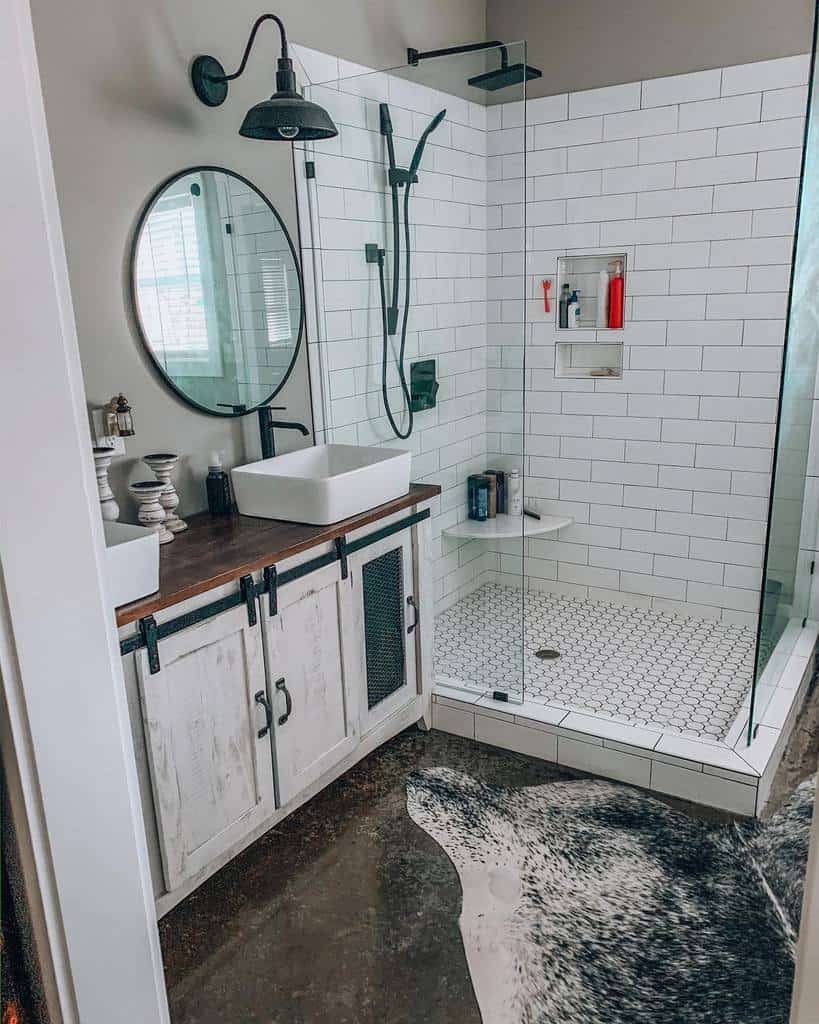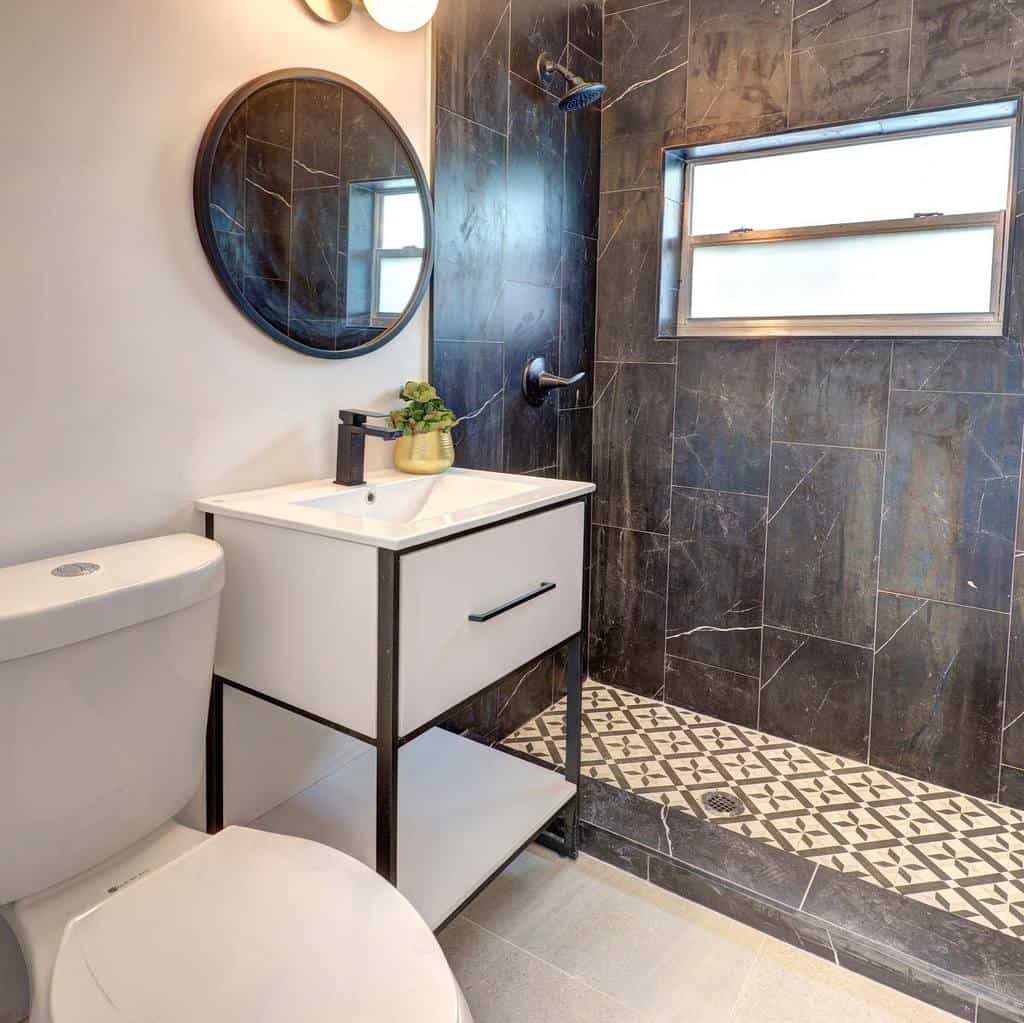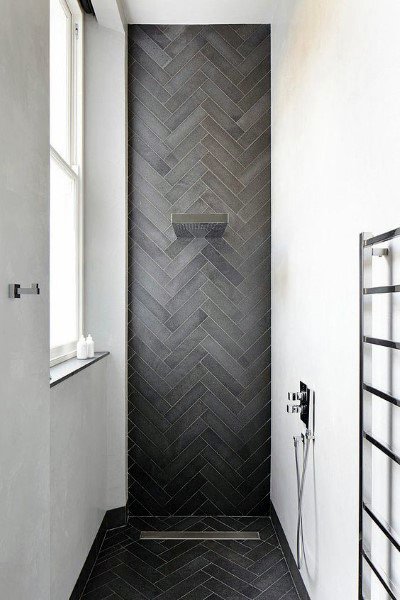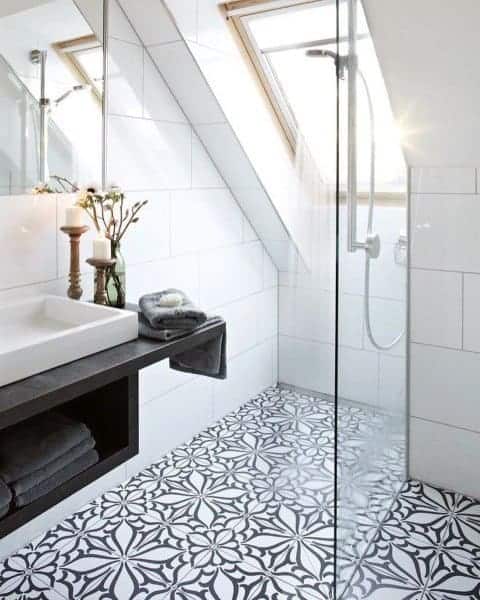 2. Innovative Tiled Shower Barriers
Extend the tiling from the floor up to create a cohesive and striking focal point in your doorless walk-in shower. A half wall adorned with well-coordinated tiles adds privacy, depth, and dimension to the space. Choose tiles that enhance the shower area's visual appeal and create a sense of spaciousness. By doing so, you embrace the elegance of doorless walk-in showers, achieving a perfect blend of style, function, and an inviting atmosphere.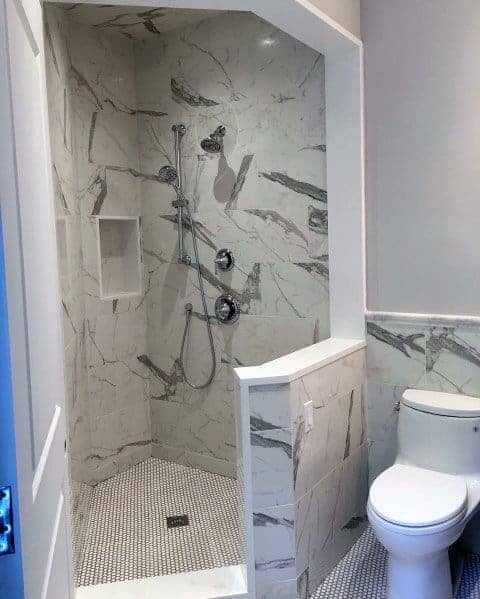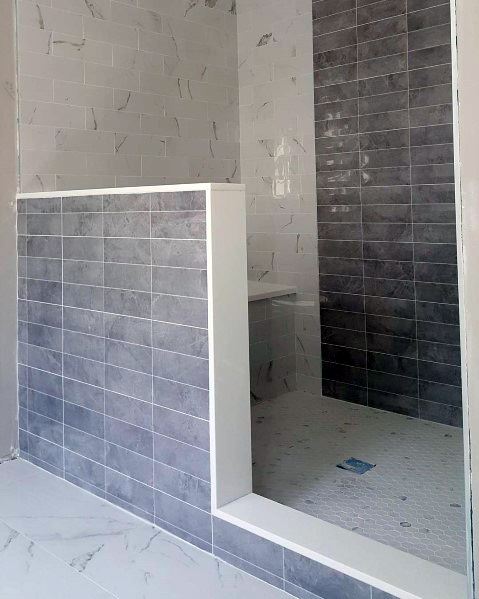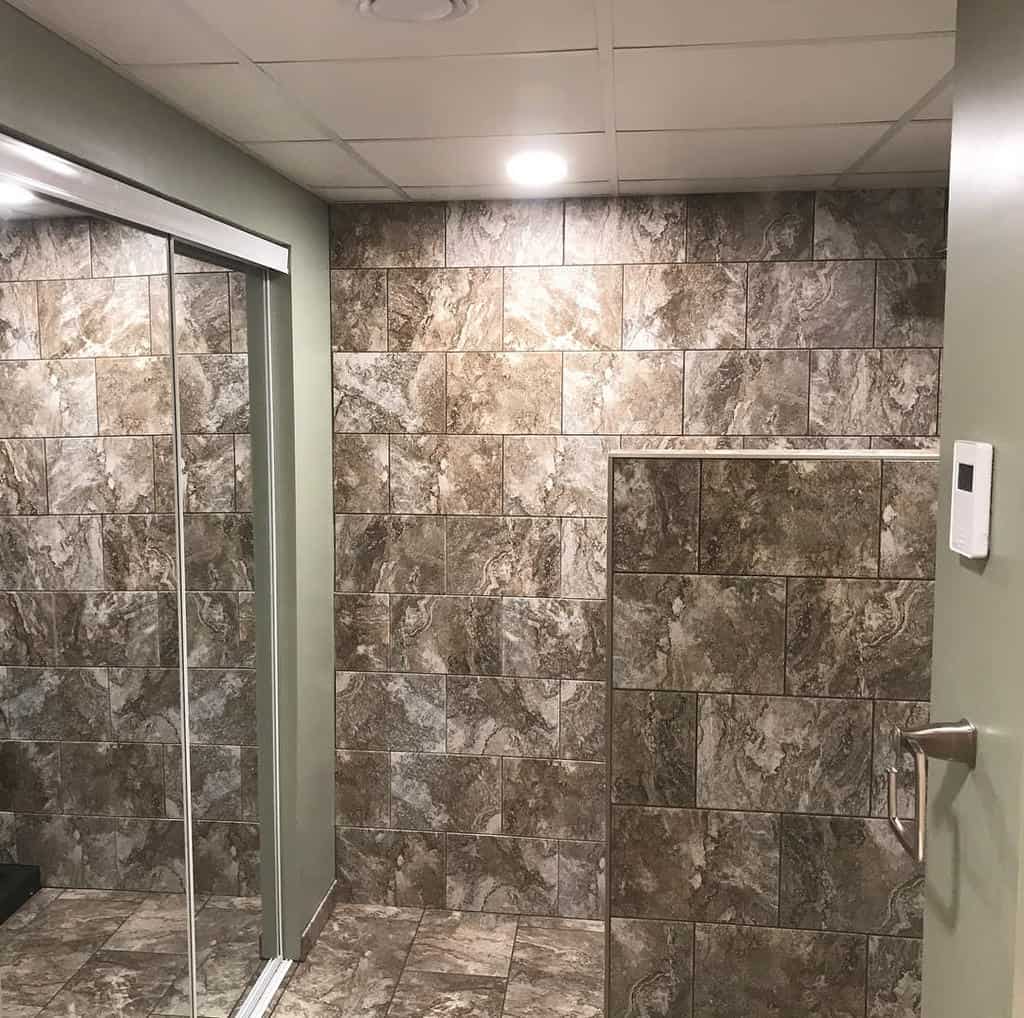 3. Stylish Grid Shower Walls
Transform your bathroom with a grid shower wall, featuring sleek, transparent glass panels that enhance the sense of openness in the space. Its design, reminiscent of elegant French windows, allows natural light to flood in, creating a bright and welcoming atmosphere. The grid pattern adds an architectural element, introducing structure and visual intrigue. Embrace this minimalist yet striking option for a doorless walk-in shower to make a bold design statement while maintaining an airy and spacious feel.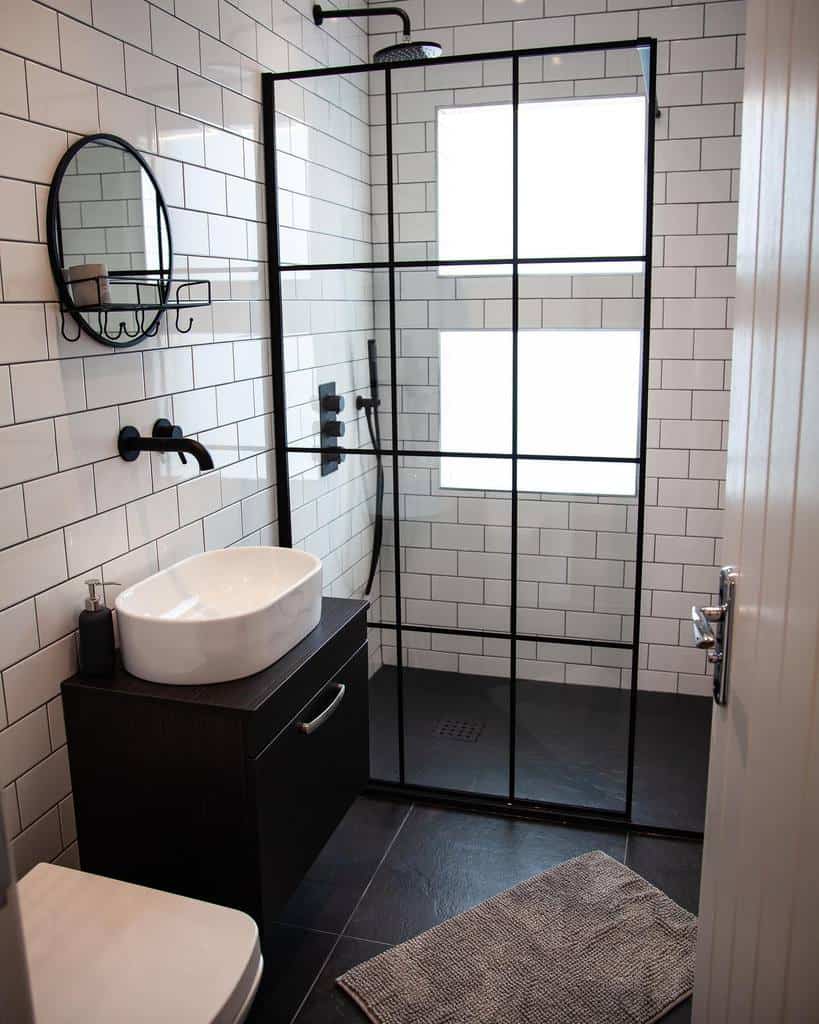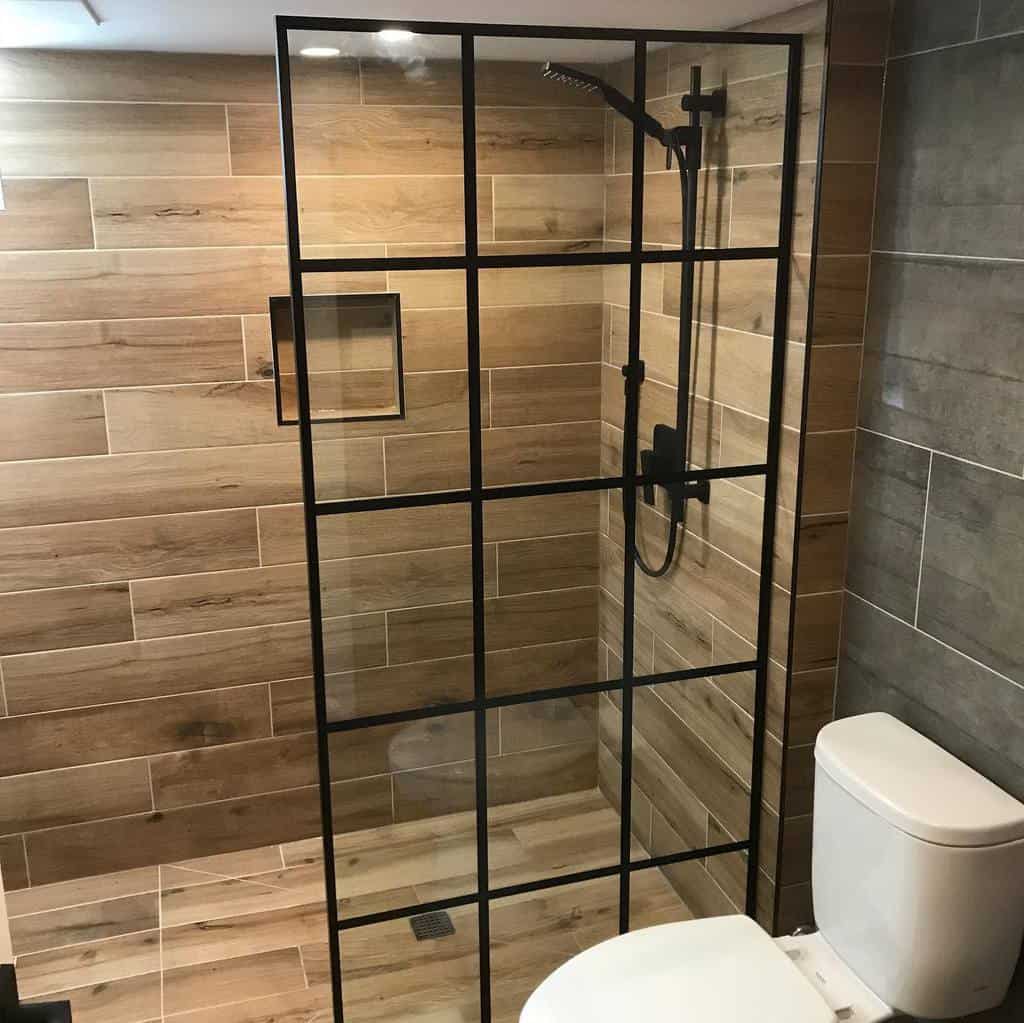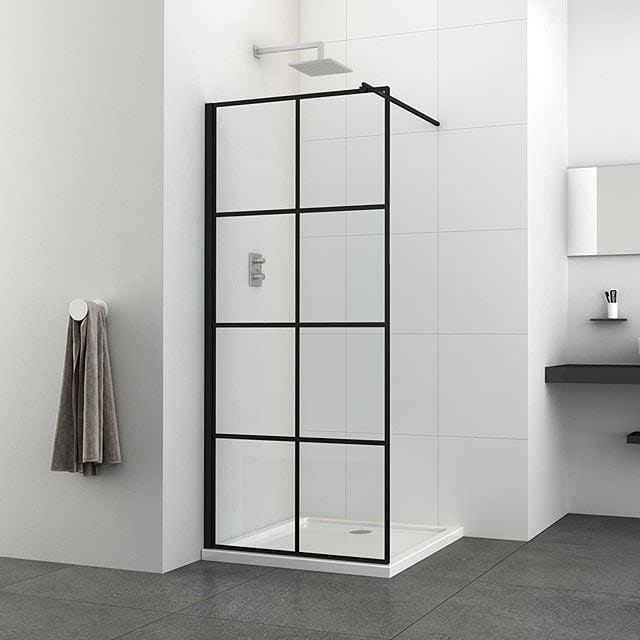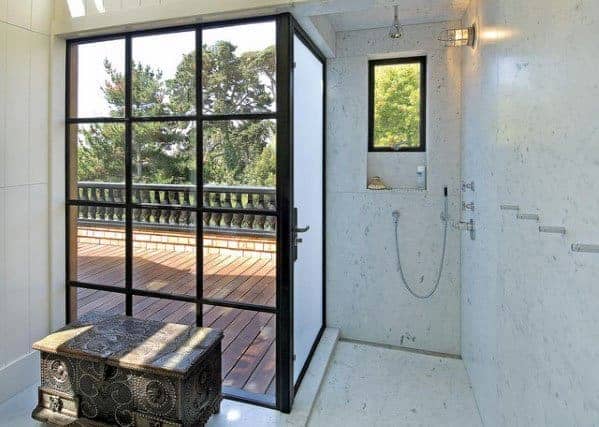 4. Elegant Frameless Glass Dividers
Elevate your bathroom's ambience with a modern frameless glass divider in a doorless walk-in shower. This design not only provides a seamless, open aesthetic but also allows abundant natural light, amplifying the room's brightness and spaciousness. The transparent nature and clean lines of the divider impart a sense of airiness and sophistication. Plus, without the hassle of a traditional shower door frame, maintenance becomes a breeze. Embrace this minimalist yet luxurious design to turn your bathroom into a contemporary oasis.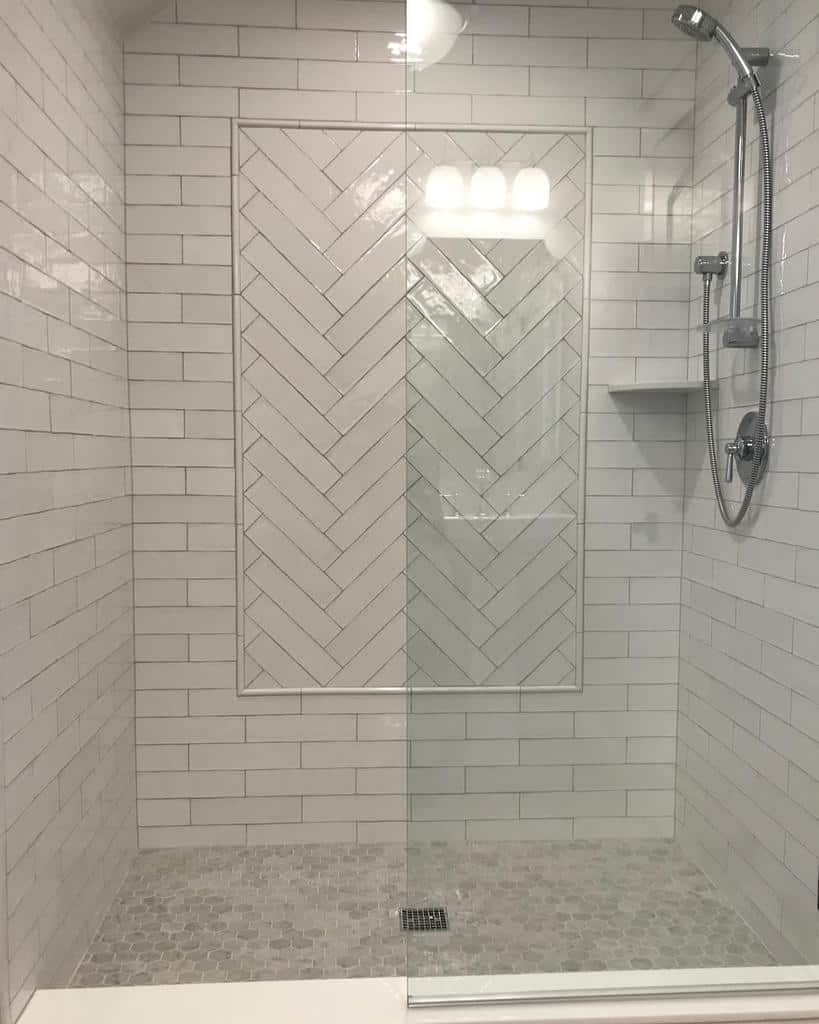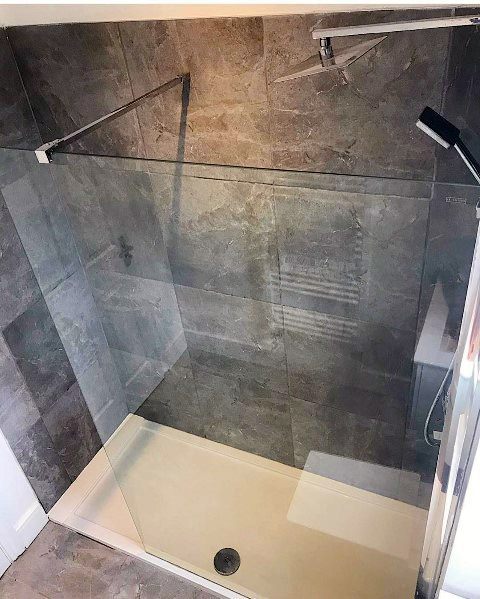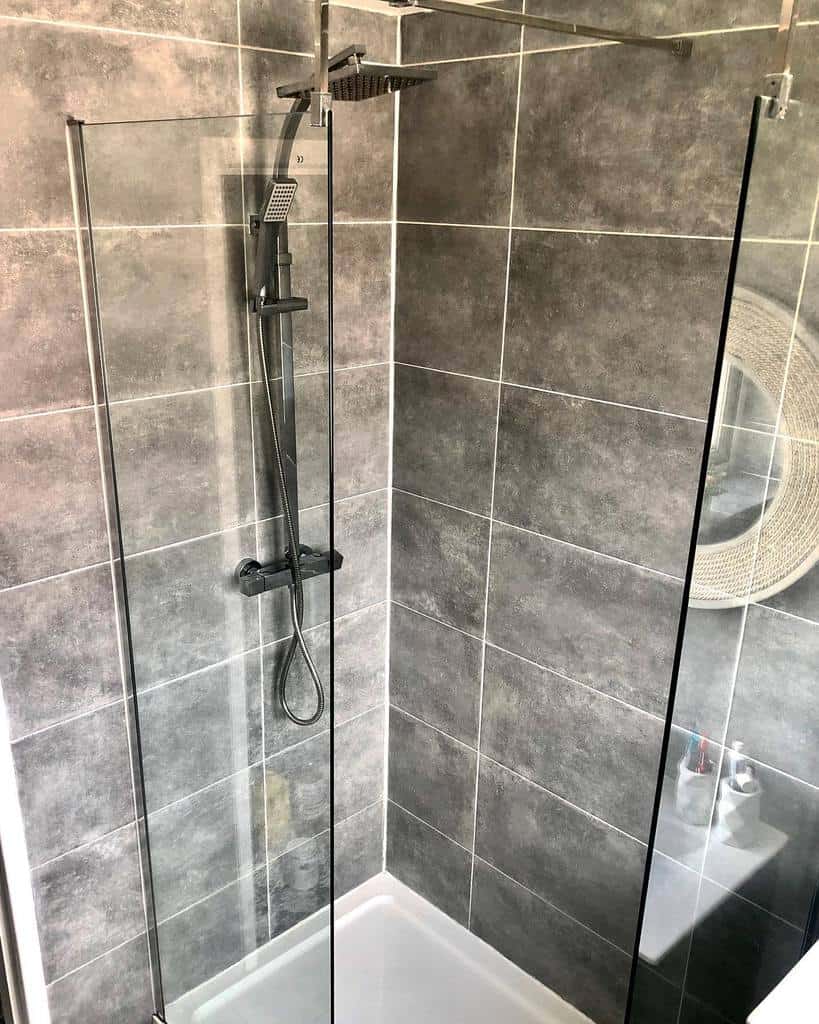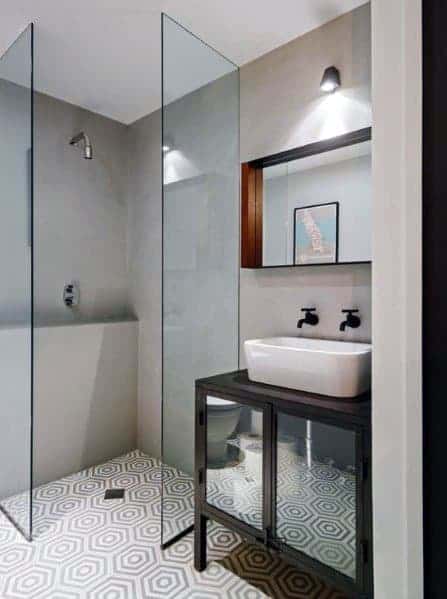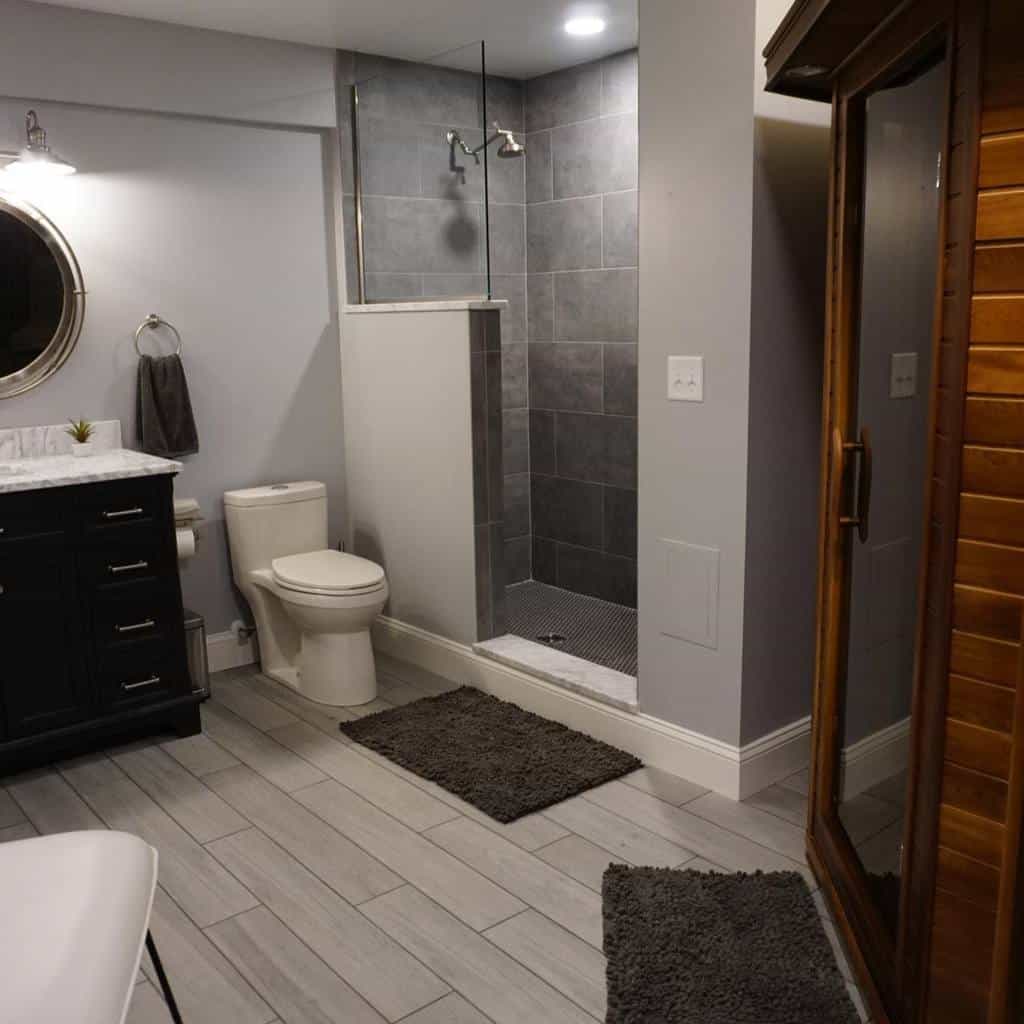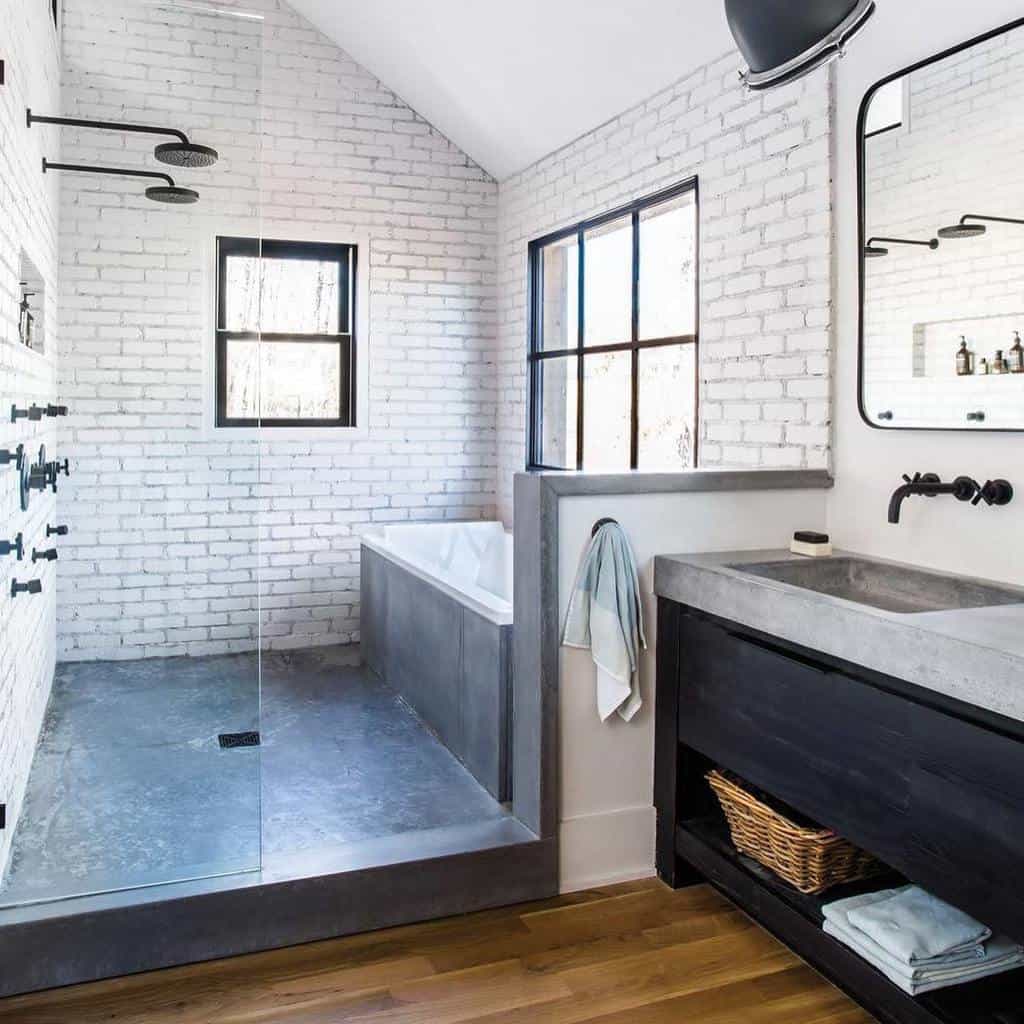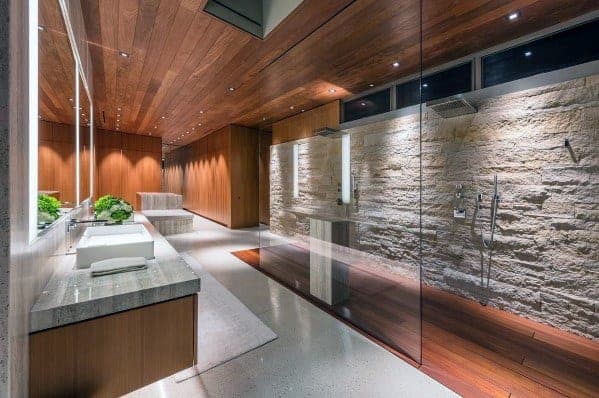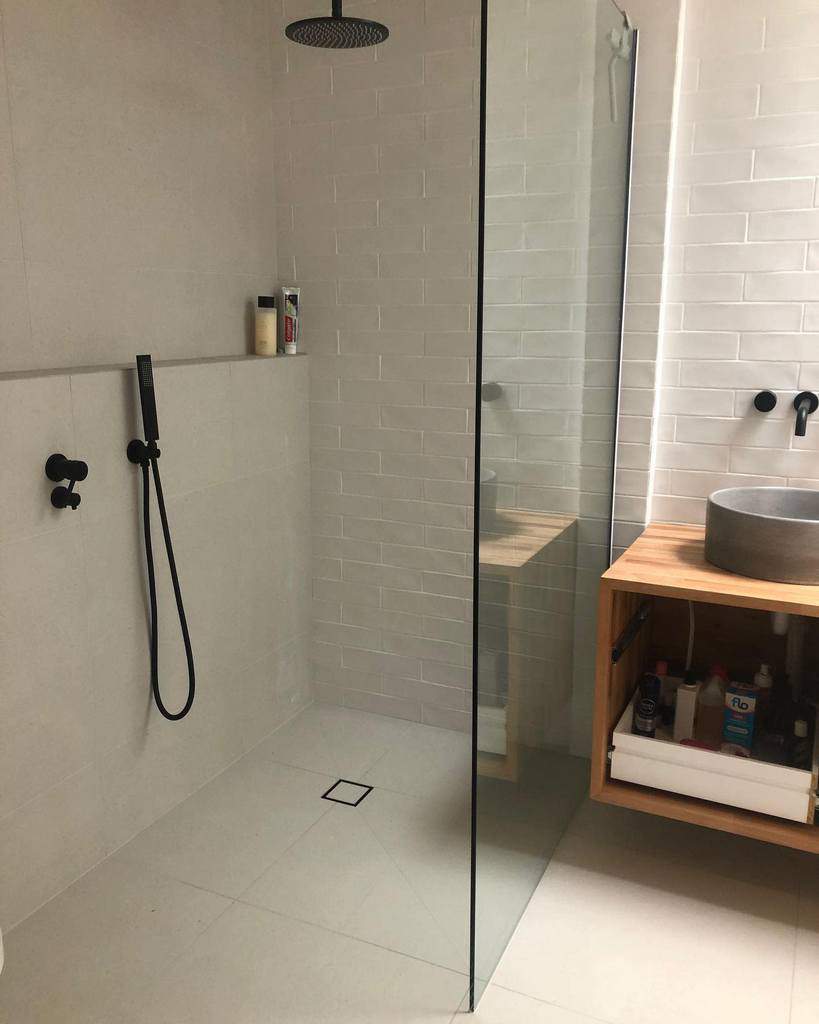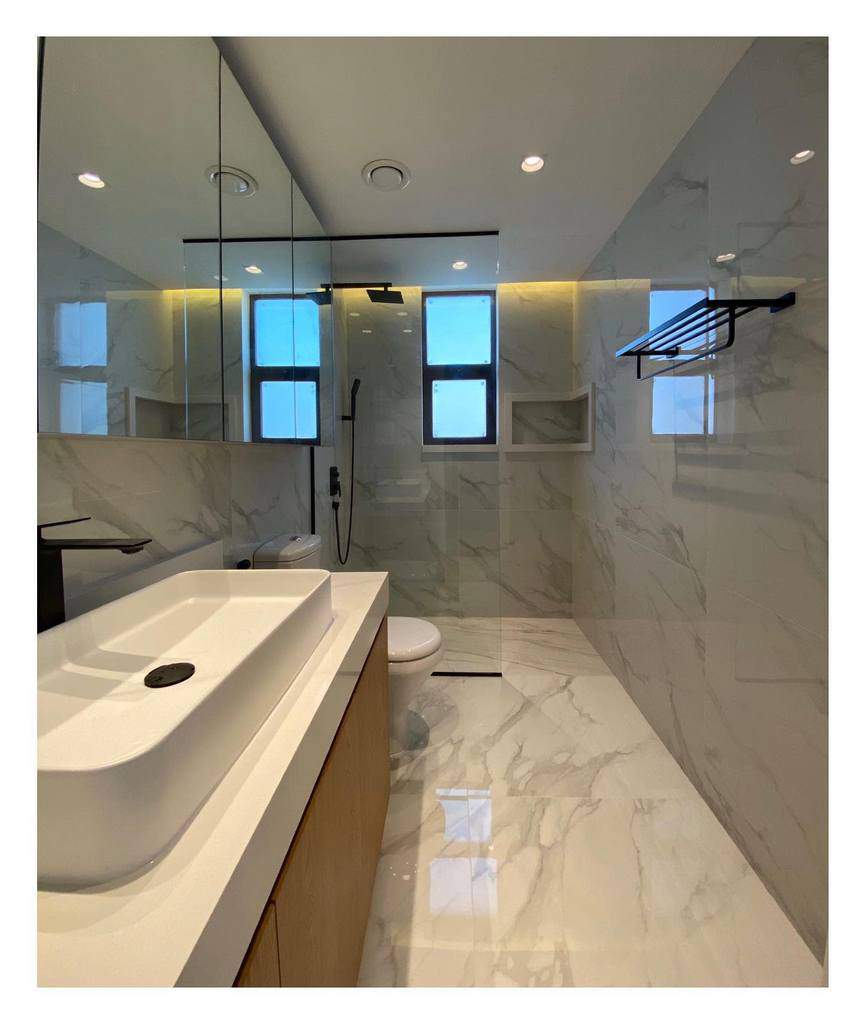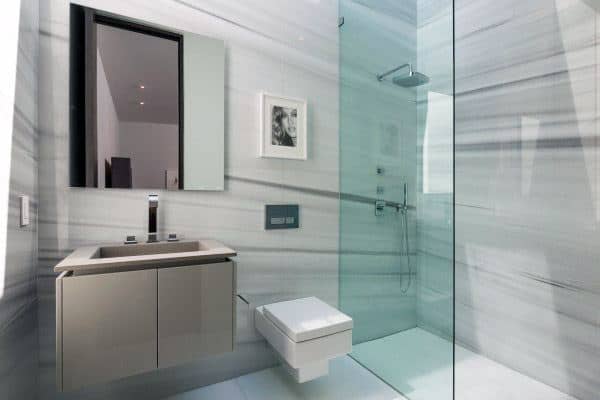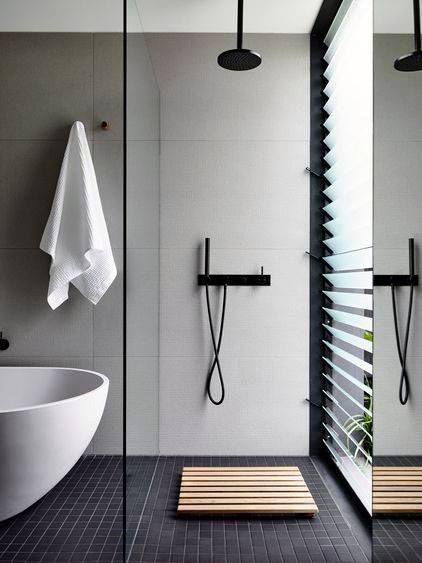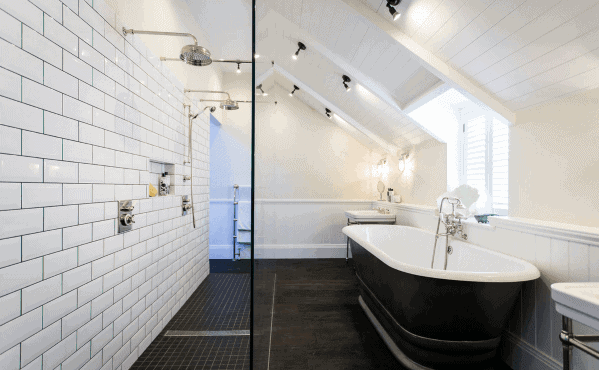 5. Classic Framed Glass Dividers
Introduce a touch of modern elegance to your bathroom with a doorless walk-in shower, complemented by a chic framed glass divider. This transparent feature enables natural light to permeate the space, brightening the area and creating a warm, welcoming ambiance. The frame adds an element of sophistication, neatly separating the shower while preserving the open, airy feel of the room. Ideal for showcasing stunning tile work or exquisite shower fixtures, this design choice ensures your bathroom emanates luxury and transforms it into a personal spa-like sanctuary.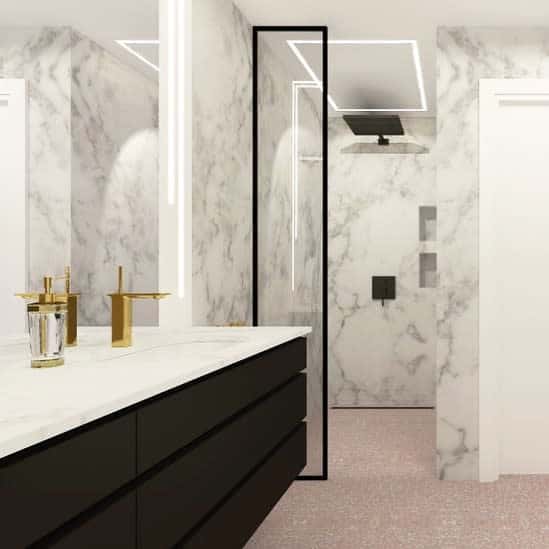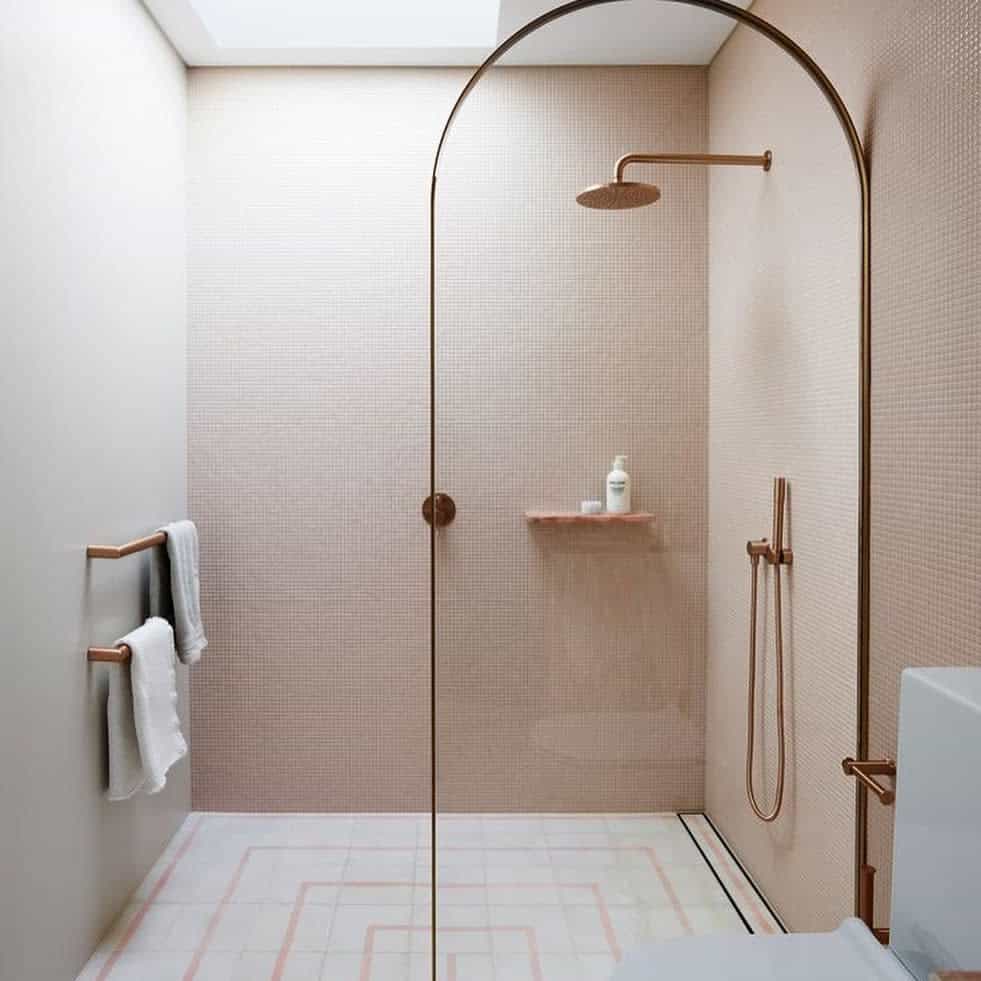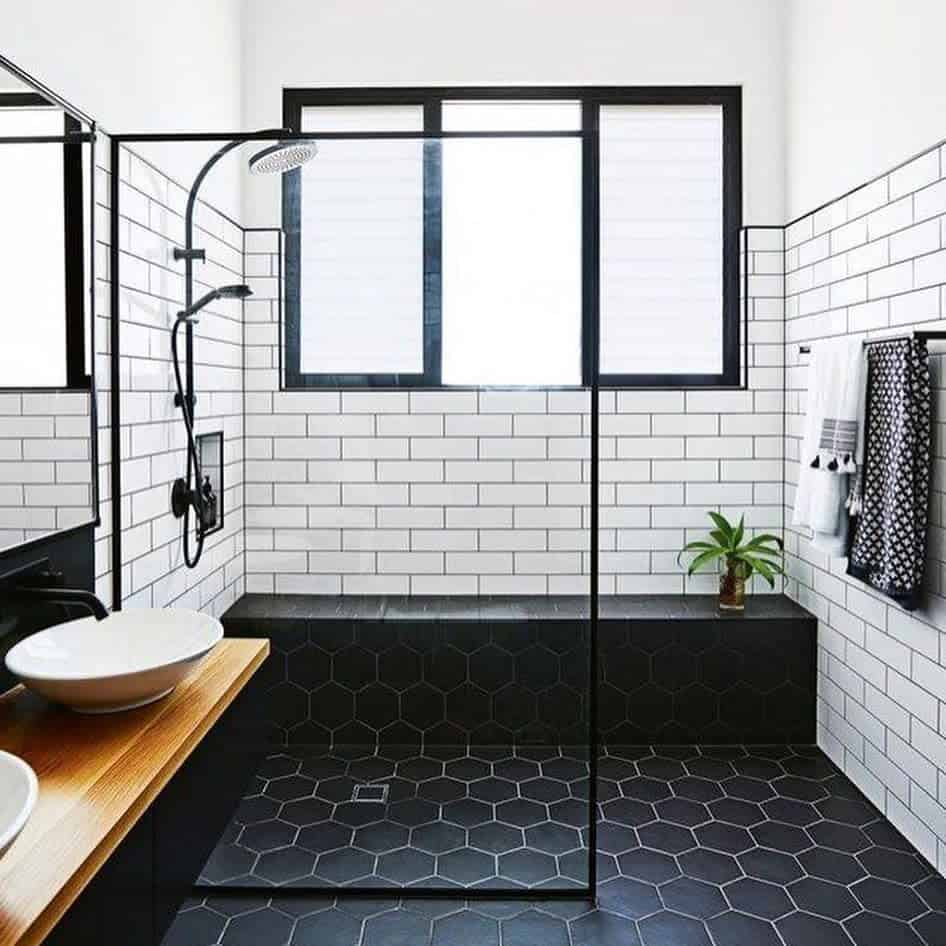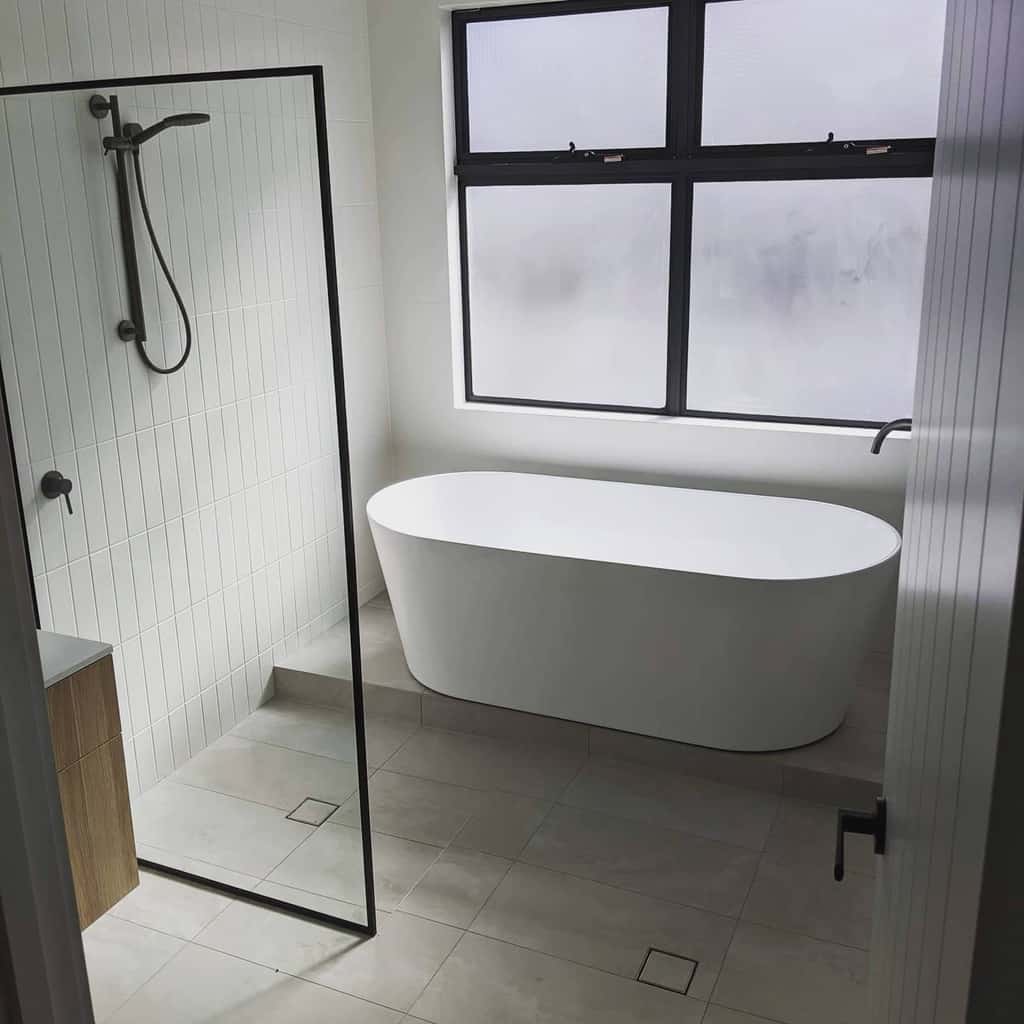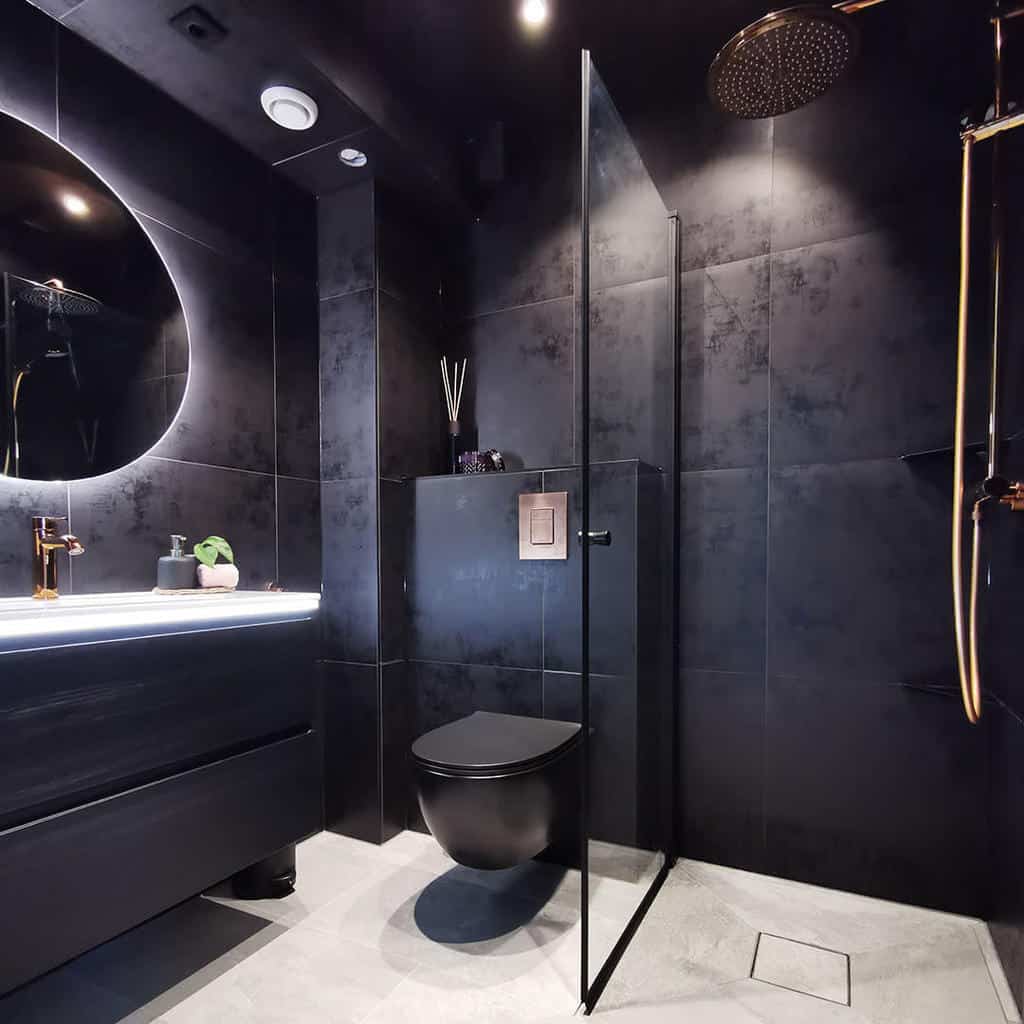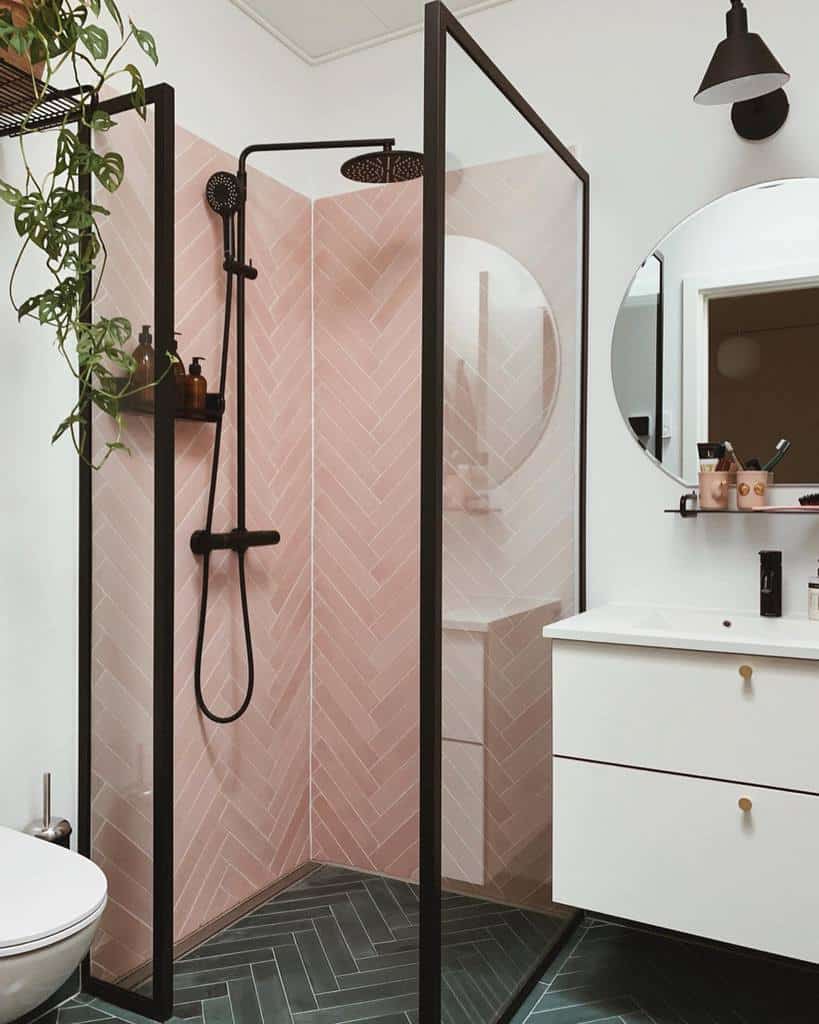 6. Modern Half Wall Partitions
The half-wall partition in a doorless walk-in shower delineates the space without compromising accessibility, enhancing both visual appeal and ease of use. You can tailor this feature to suit your bathroom's aesthetic by choosing from a variety of materials including glass, tile, or stone. Beyond adding architectural intrigue, the half-wall improves the flow and perceived spaciousness of the area. Opt for this stylish yet functional solution to elevate your bathroom's design and enjoy the seamless blend of freedom and elegance it offers.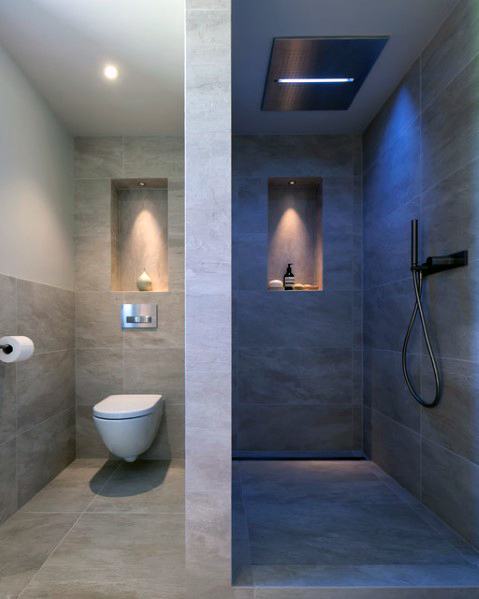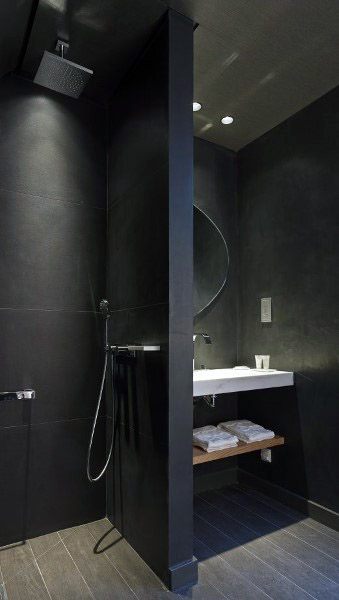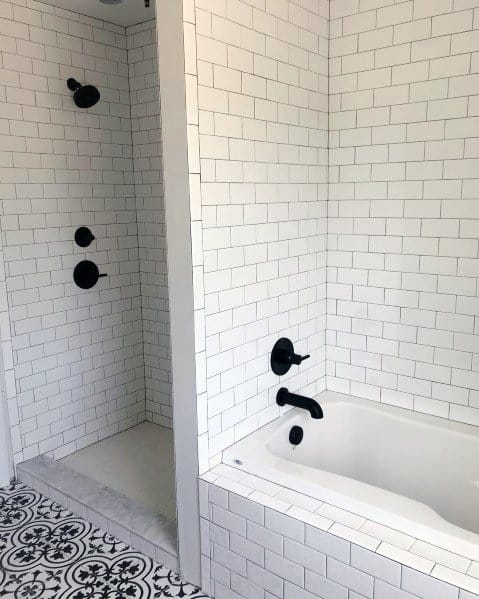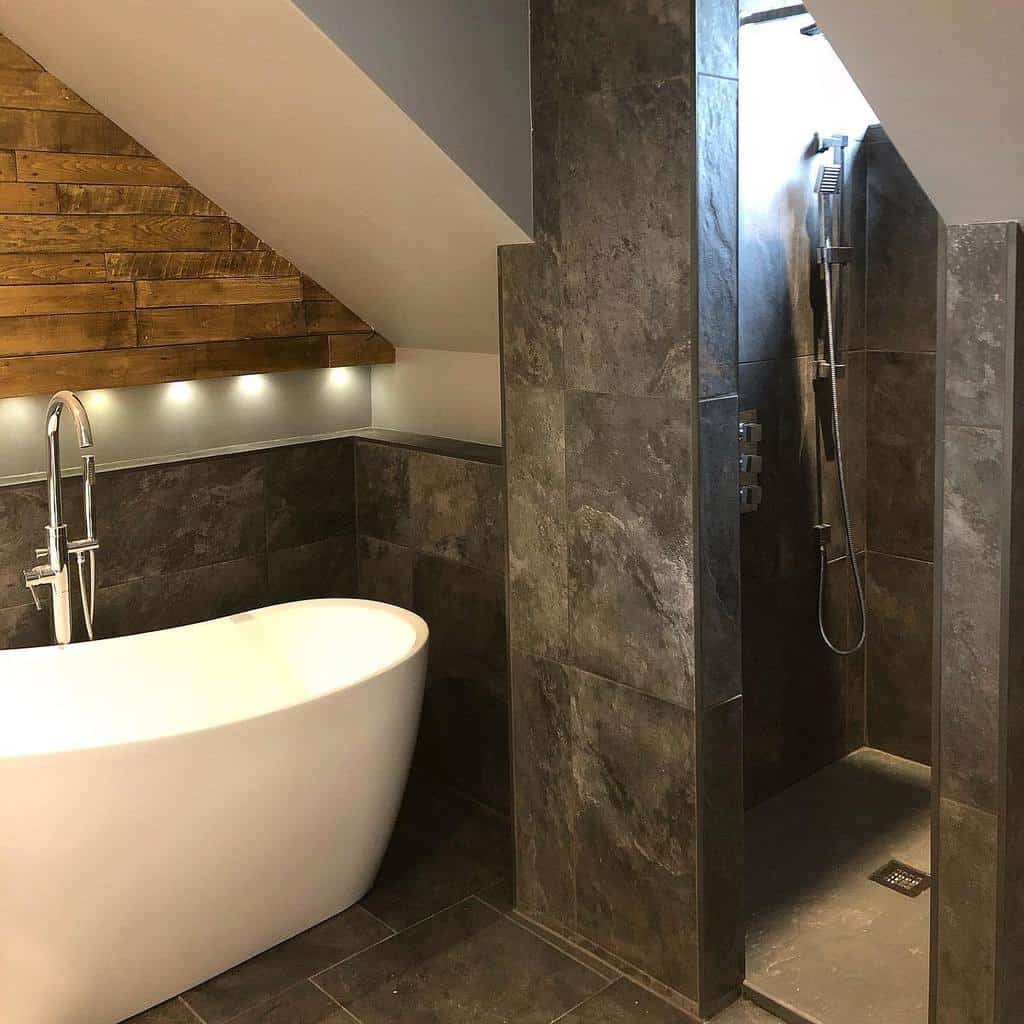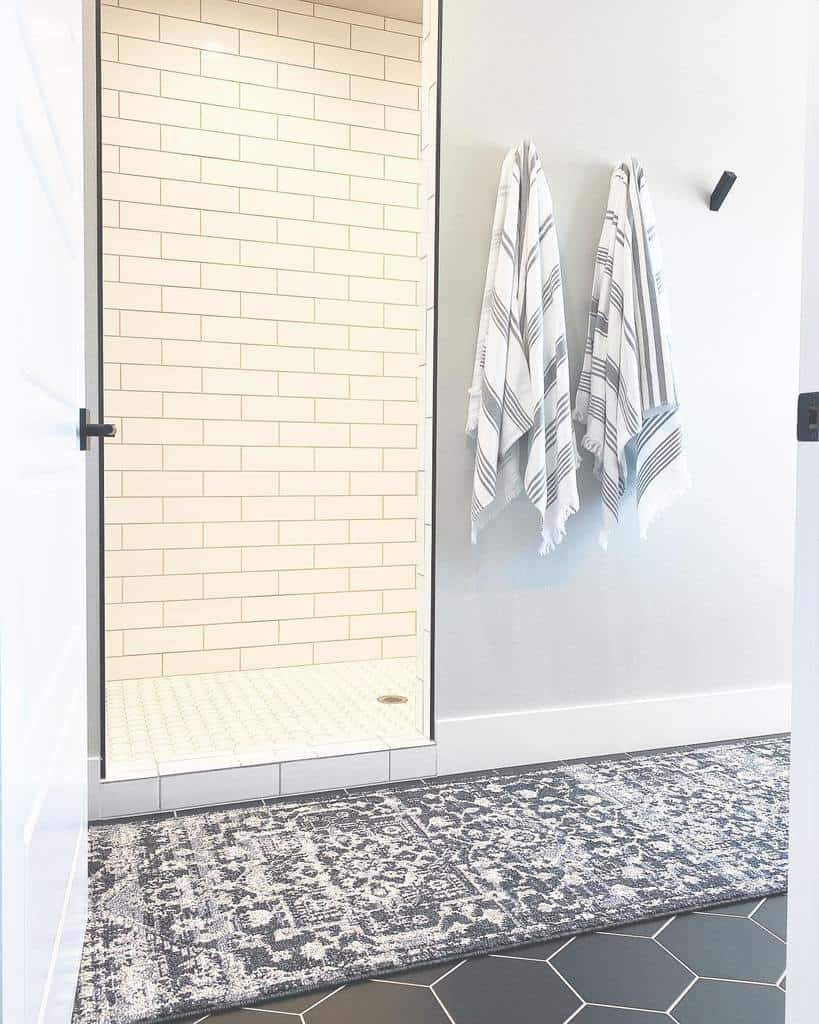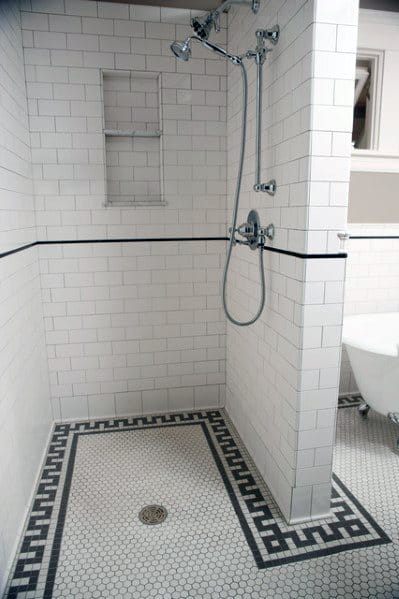 7. Unique Pebbled Tile Floors
Pebbled tile flooring introduces a natural element to doorless walk-in showers, blending aesthetics with a comforting tactile experience. Walking on this unique surface emulates the feel of a gentle foot massage, infusing daily routines with a spa-like serenity. Its contemporary and minimalist design ensures the shower area harmonizes effortlessly with the broader bathroom space. For those seeking both relaxation and refined style, this flooring option is a refreshing way to enhance your bathroom's ambiance.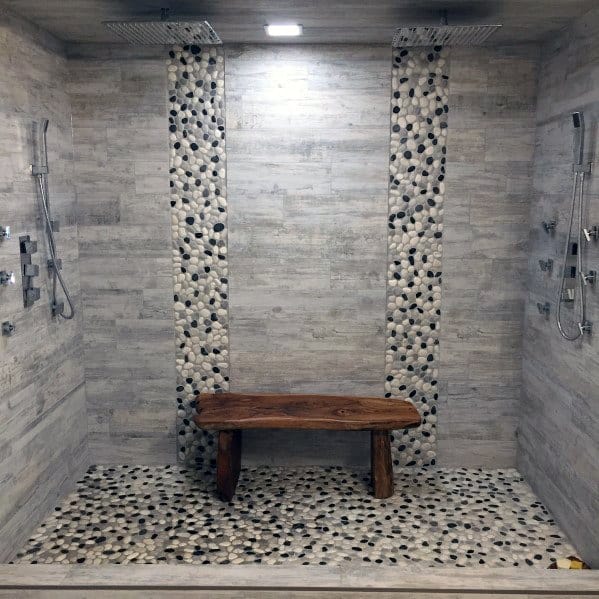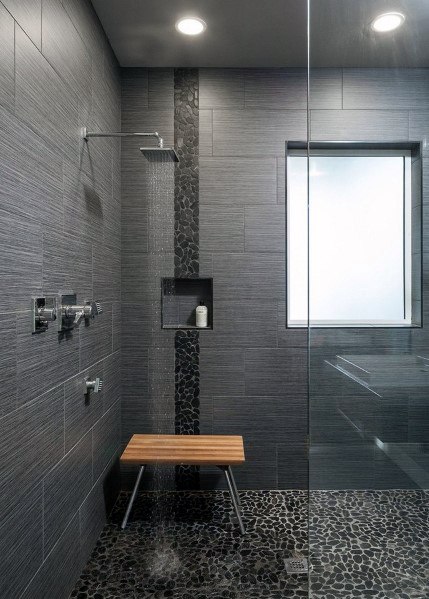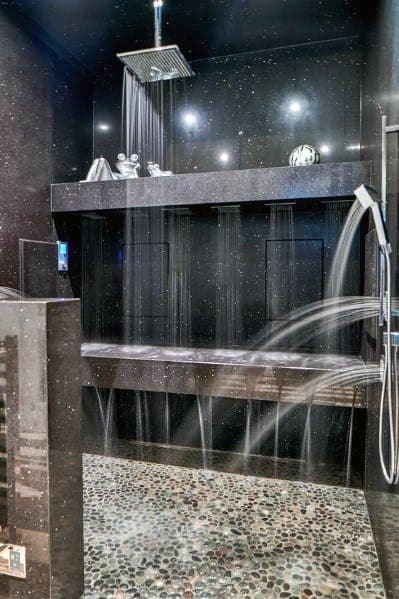 8. Chic Beveled Tile Showers
Beveled tiles in a doorless walk-in shower captivate attention, crafting a luxurious atmosphere with their unique ability to catch and reflect light, adding depth and intrigue to the space. This tile choice, sleek and modern, transforms the shower area into a standout feature of your bathroom, marrying functionality with unparalleled style. The absence of a traditional shower door underscores the accessibility and convenience of this design, ensuring that your bathroom makes a bold, sophisticated statement.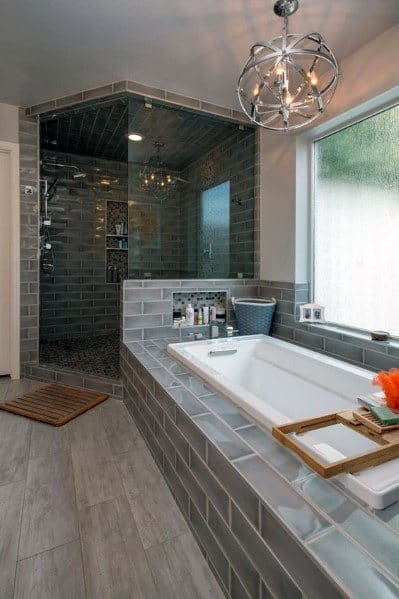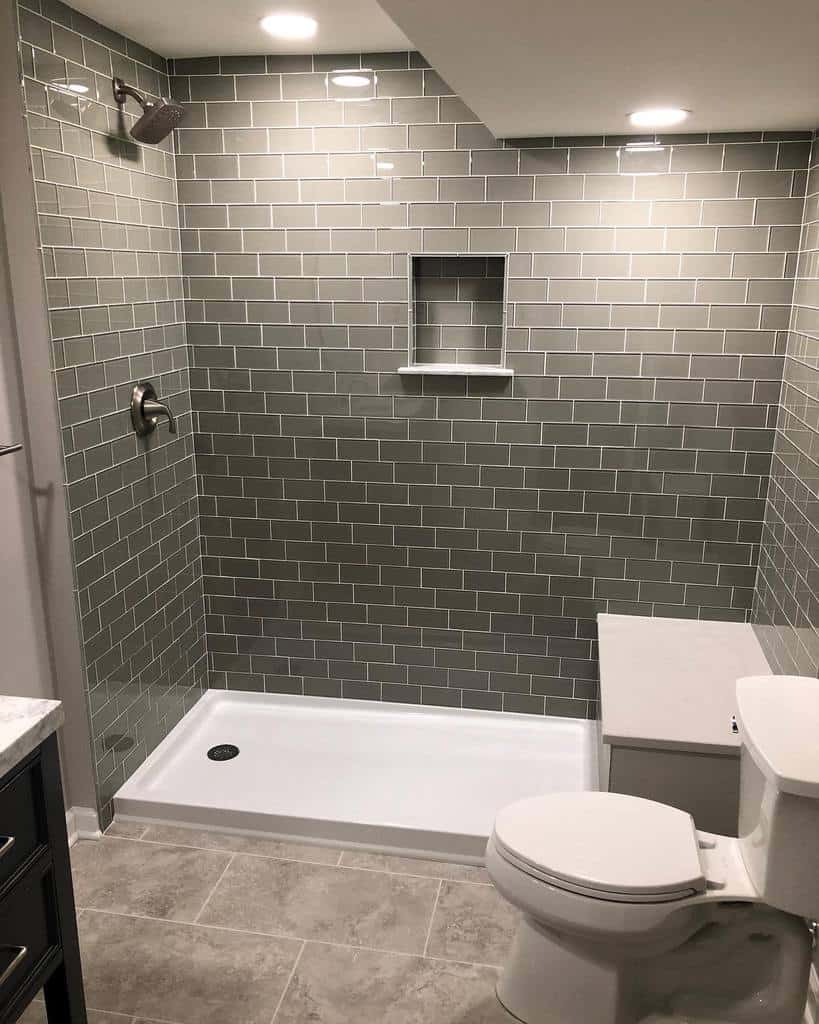 9. Invigorating Body Spray Heads
Enhance your shower experience with the addition of body spray shower heads, transforming your doorless walk-in shower into a haven of relaxation and invigoration. These shower heads provide a cascade of water from multiple directions, enveloping you in a spa-like sensation. For those with narrower showers, strategically place the spray heads on all sides to optimize the rejuvenating experience. Indulge in this luxurious feature and let the invigorating water streams wash away the stresses of your day, embodying the epitome of modern bathing luxury.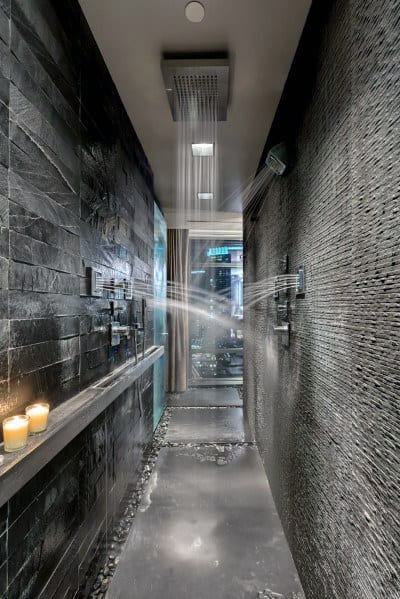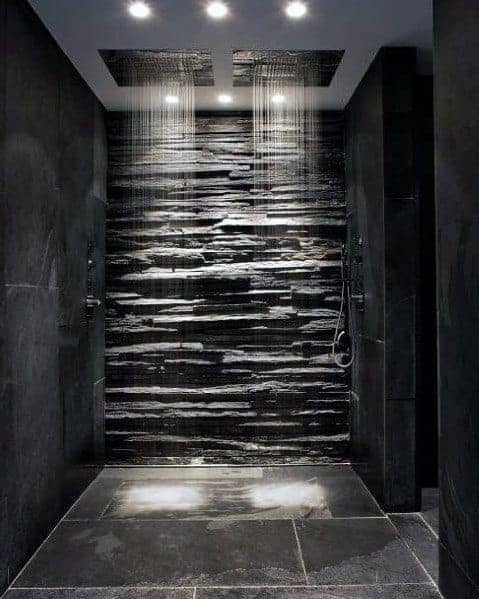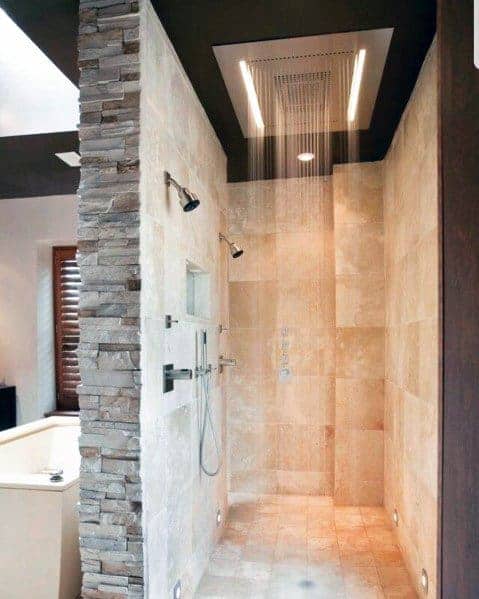 10. Ambient LED Star Lighting
Illuminate your recessed walk-in shower with ambient LED star lighting to accentuate its minimalist design and clean lines. This lighting choice not only intensifies the shower's serene atmosphere but also highlights the seamless integration of the shower space within the broader bathroom. The doorless design promises easy access and maintenance while emphasizing openness. Dive into this immersive showering experience, where the ambient lighting combines with the elegant design, making your bathroom a sophisticated and relaxing retreat.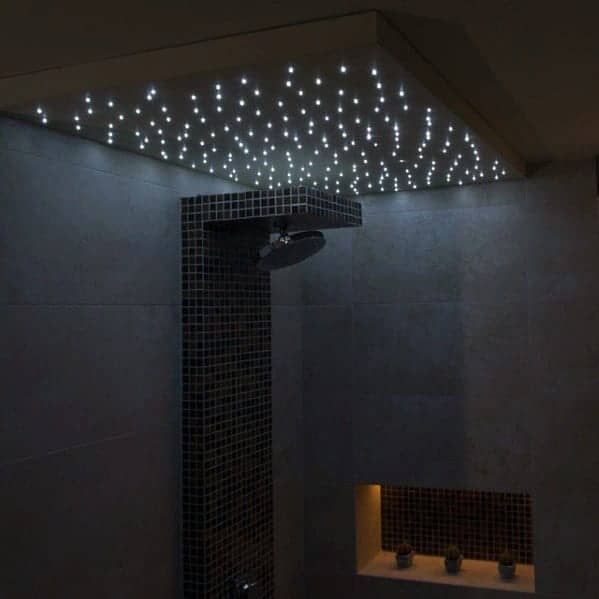 11. Seamless Recessed Shower Designs
Embrace the elegance of a recessed walk-in shower to enhance the sense of spaciousness and continuity in your bathroom. The minimalist aesthetic and clean lines underscore the seamless integration with the rest of the space, providing an open and inviting ambiance. This design ensures ease of access and simplifies cleaning routines, making it a practical yet stylish choice. Transform your bathroom into a sanctuary of relaxation and refined sophistication with a doorless, seamlessly integrated shower experience.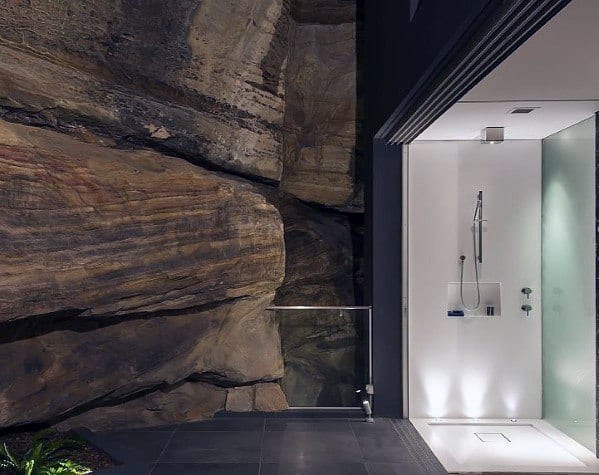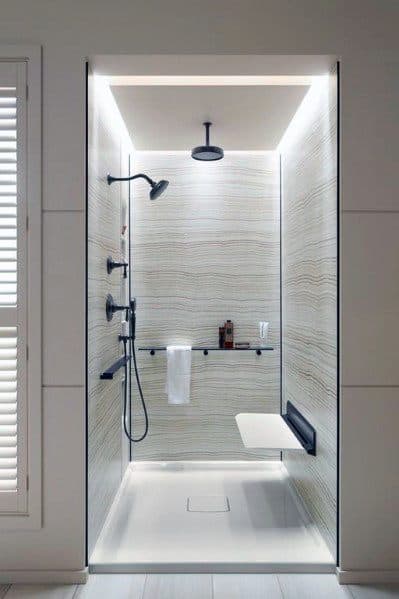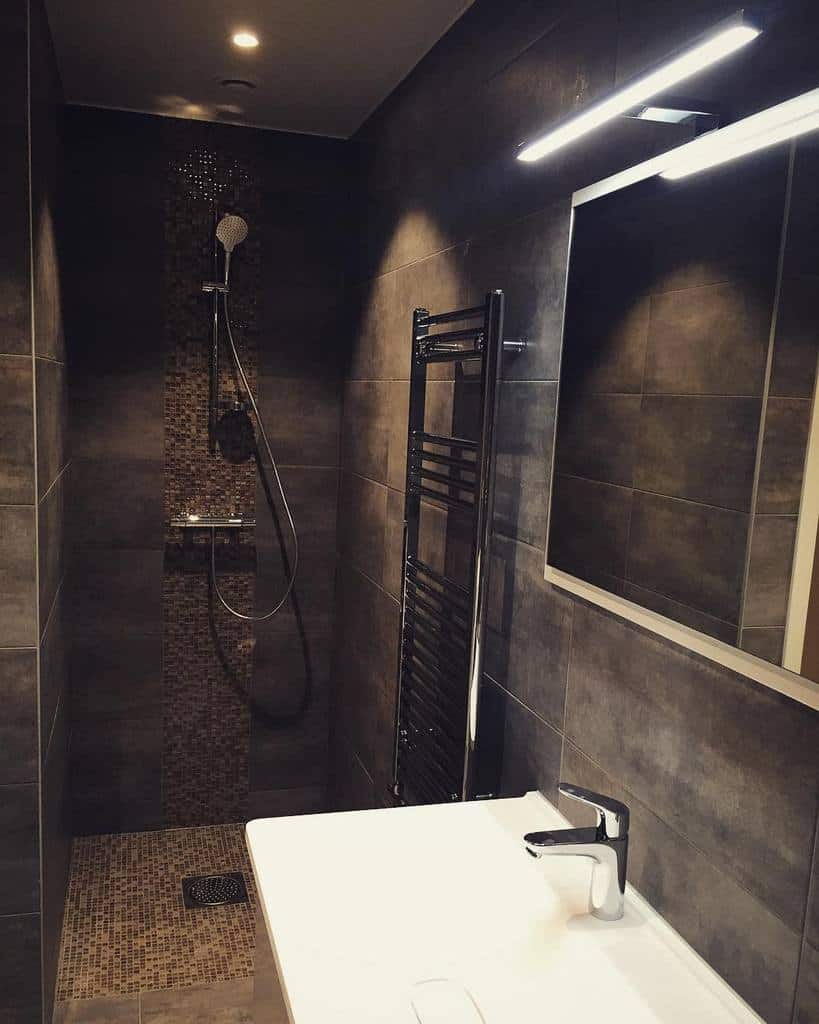 12. Sleek Panel Privacy Screens
Introduce a wood panel privacy screen to your doorless walk-in shower for a blend of style, elegance, and practicality. The natural texture and warmth emanating from the wood create a serene, spa-like environment, while the screen itself efficiently delineates the shower space, ensuring privacy. This feature serves as a stylish focal point, elevating the overall aesthetic of your bathroom. Opt for this elegant solution to enjoy a luxurious shower experience, where privacy and sophistication coexist in perfect harmony.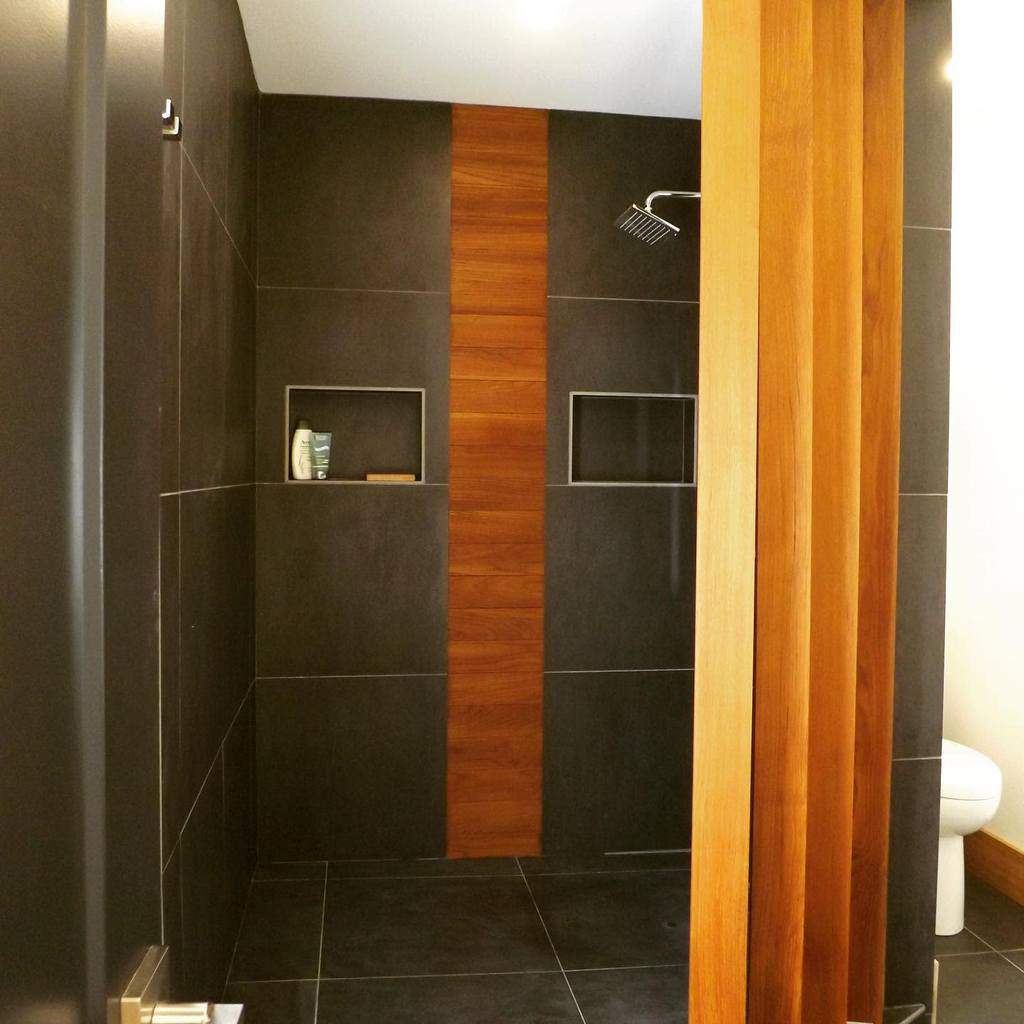 13. Sophisticated Frosted Glass Dividers
Enhance your bathroom with a touch of contemporary elegance through a doorless walk-in shower, graced by a frosted glass divider. This sophisticated choice adds a sleek, modern touch to the space while fostering an airy, spacious atmosphere. The stylish partition ensures privacy in the shower area while still permitting natural light to gently filter through, striking the ideal balance between seclusion and openness. Indulge in a luxurious shower experience, surrounded by the subtle elegance of frosted glass.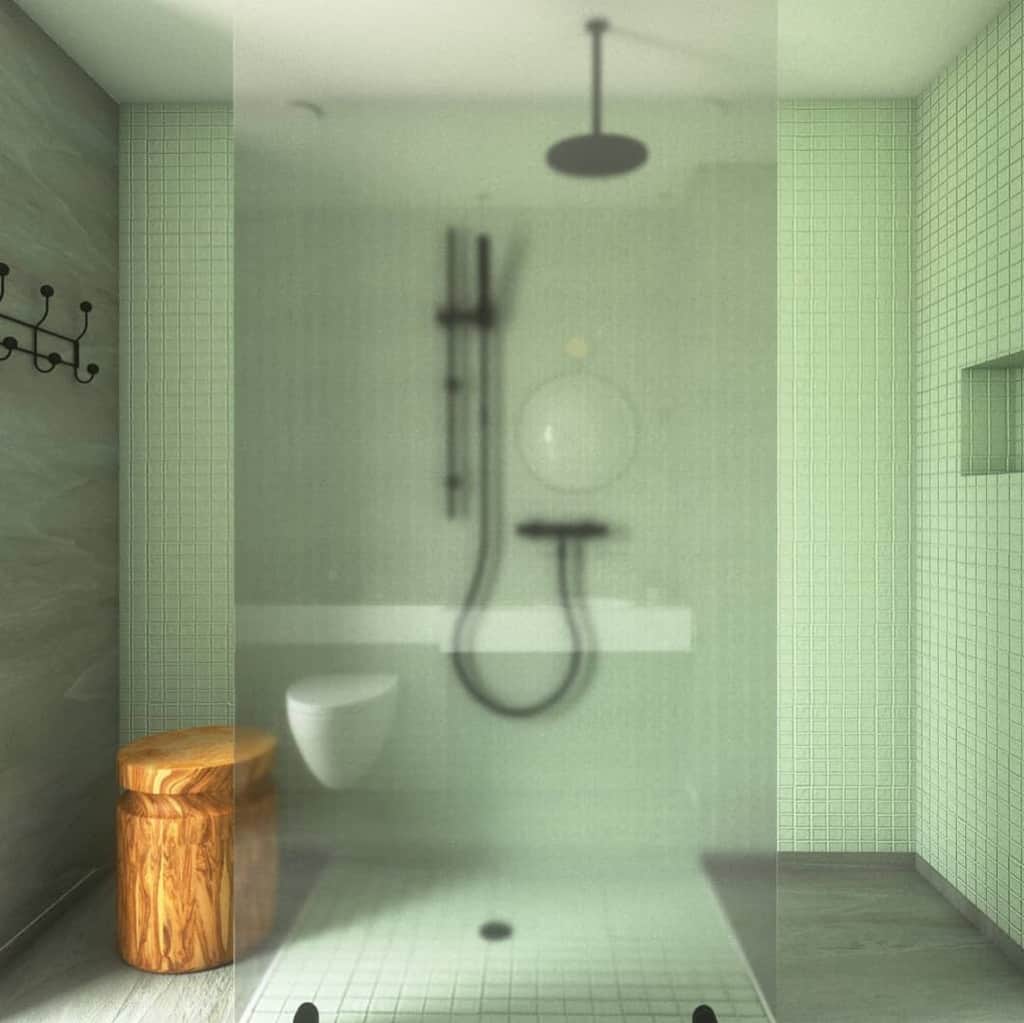 14. Combo Walk-In Shower and Tub
Marry the opulence of a bathtub with the convenience of a doorless walk-in shower for a harmonious and innovative bathroom design. This luxurious combination gifts you the spaciousness of an open shower and the indulgence of a relaxing bathtub soak. The open design, devoid of a traditional shower door, visually amplifies the space, creating a welcoming ambiance. Options abound from integrating a freestanding tub within a generous walk-in space to combining a sleek alcove bathtub with the shower. Revel in this modern design that affords both versatility and elegance, delivering the ultimate bathing sanctuary tailored for relaxation and style.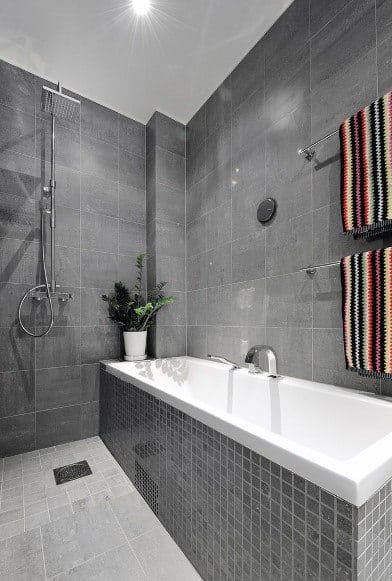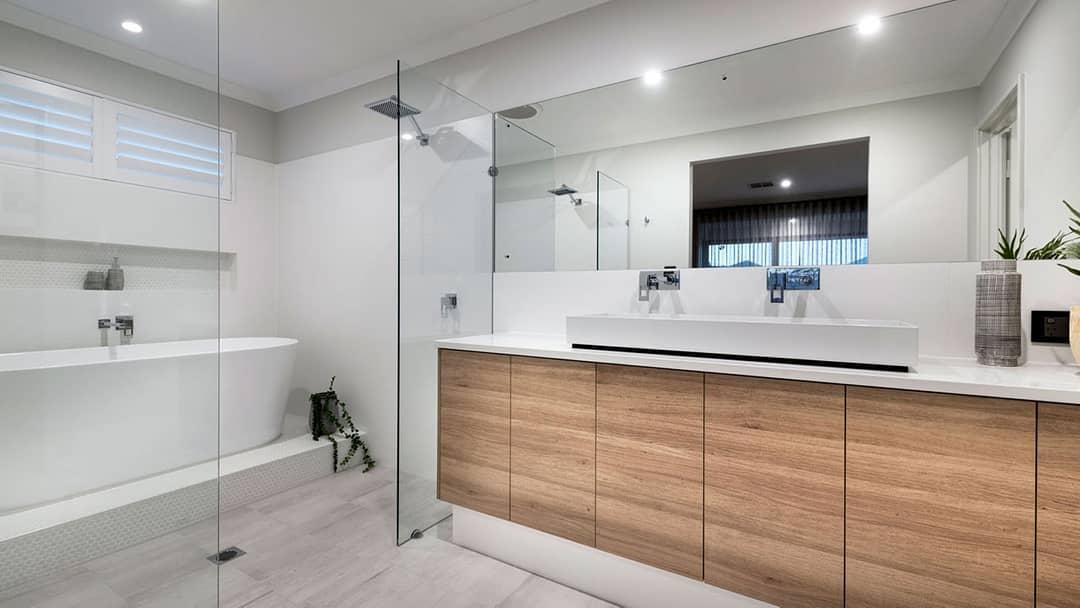 15. Industrial Corrugated Metal Accents
Introduce an industrial flair to your bathroom with a corrugated metal accent wall, pairing seamlessly with your doorless walk-in shower. This unique design choice infuses the space with a contemporary, edgy vibe while maintaining a cohesive aesthetic throughout. The absence of a traditional shower door streamlines cleaning routines and enhances accessibility, offering practical advantages to complement its visual appeal. For those with an appreciation for modern and unconventional design, this combination of a doorless walk-in shower and corrugated metal detailing delivers a striking focal point, brimming with character.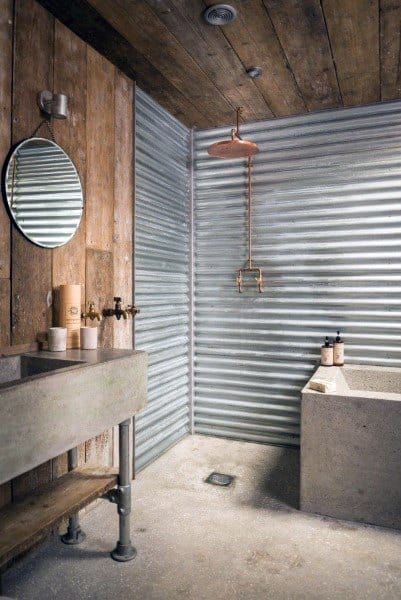 16. Aerial Delight with Skylight Showers
Transform your shower experience with a doorless walk-in design complemented by a stunning skylight window. This innovative approach extends the visual space of your bathroom, bathing it in natural light and creating a luminous, open atmosphere. Start your day basked in sunlight or unwind under the stars, enjoying a unique connection to the outdoors. Besides its aesthetic allure, the skylight enhances ventilation and introduces a rejuvenating, natural element to your daily routine, merging elegance with well-being.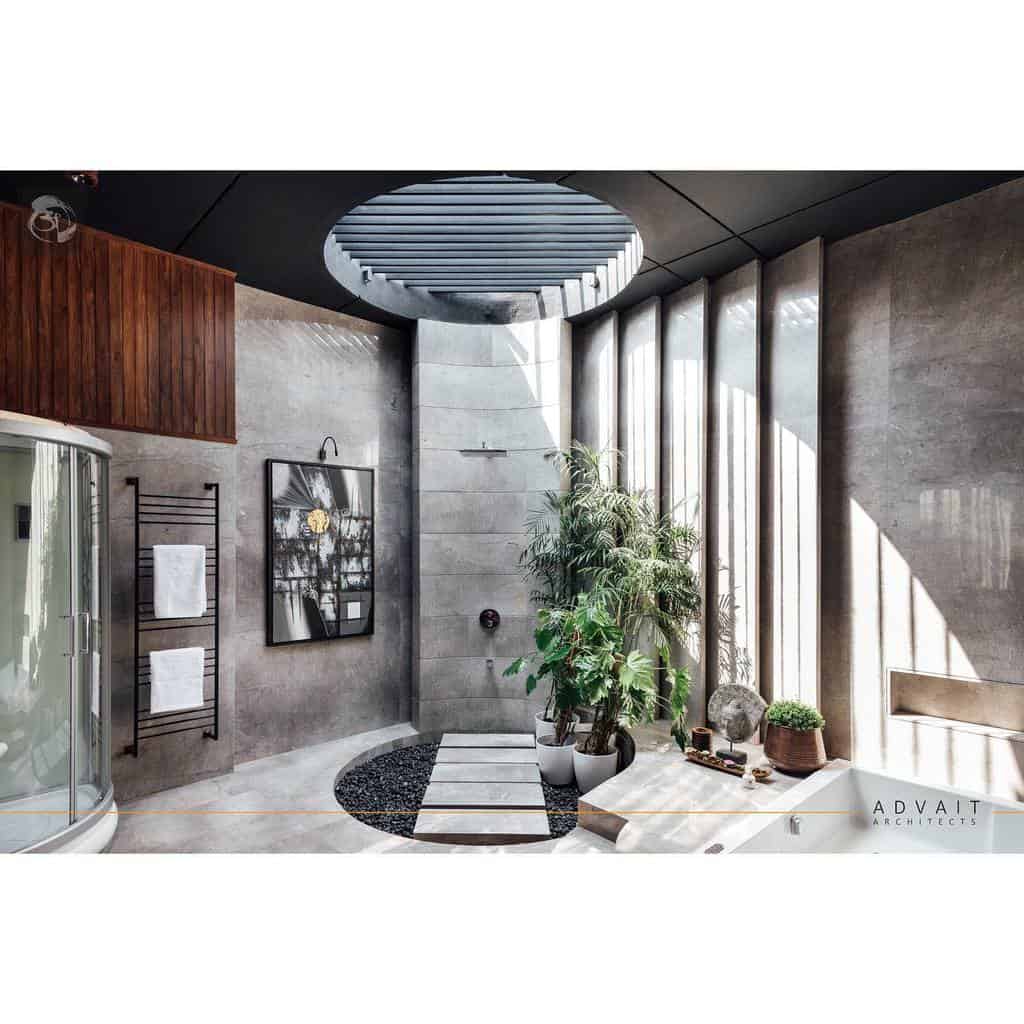 17. Rainfall Ceiling-Mounted Showers
Experience the luxurious embrace of a rainfall shower with a ceiling-mounted showerhead in your doorless walk-in shower. This design frees up your bathroom space, inviting you into an uninterrupted oasis of relaxation. Feel the gentle cascade of warm water from above, enveloping you in a soothing, rejuvenating embrace, reminiscent of a serene rainfall. The absence of a shower door not only adds to the visual spaciousness but also ensures effortless access, melding opulence with convenience. Indulge in a bathing sanctuary that embodies contemporary elegance and a unique sense of freedom.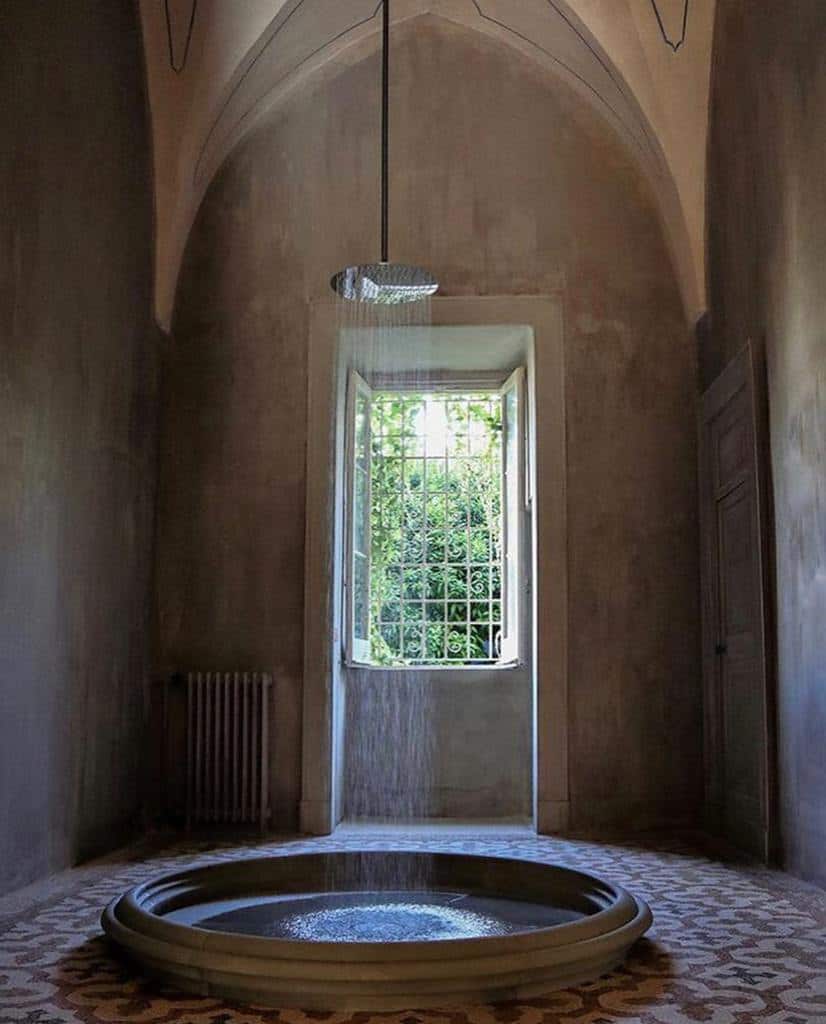 18. Walk-In Showers with Smart Storage
Elevate your shower experience by integrating recessed shelves into your walk-in shower walls, combining aesthetics with practicality. These built-in shelves serve as both a visual accent and a functional storage solution, keeping your shower essentials accessible while maintaining a tidy appearance. Customize the materials and finishes to match your bathroom's style, from sleek tiles to contrasting patterns, adding a touch of sophistication to your shower space. This design innovation optimizes available space, making it ideal for bathrooms of all sizes and ensuring both form and function coexist seamlessly.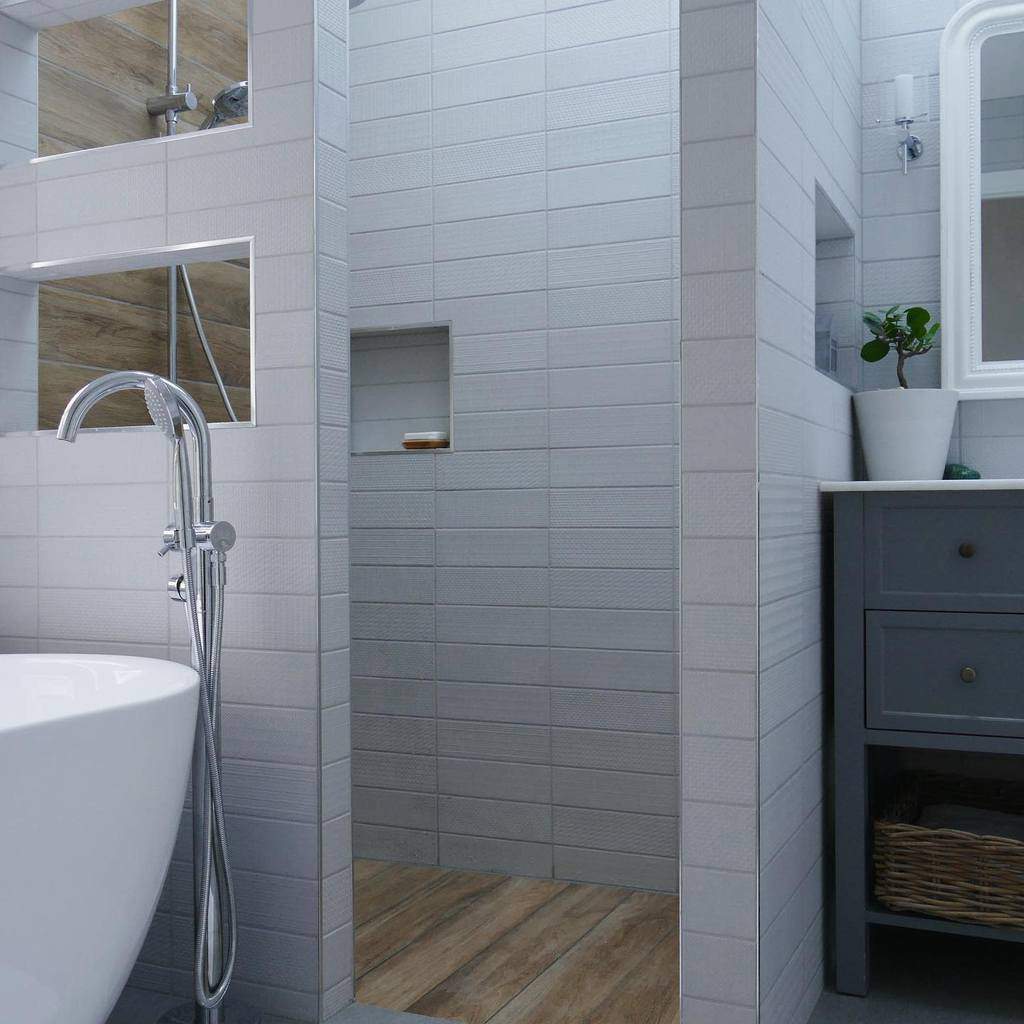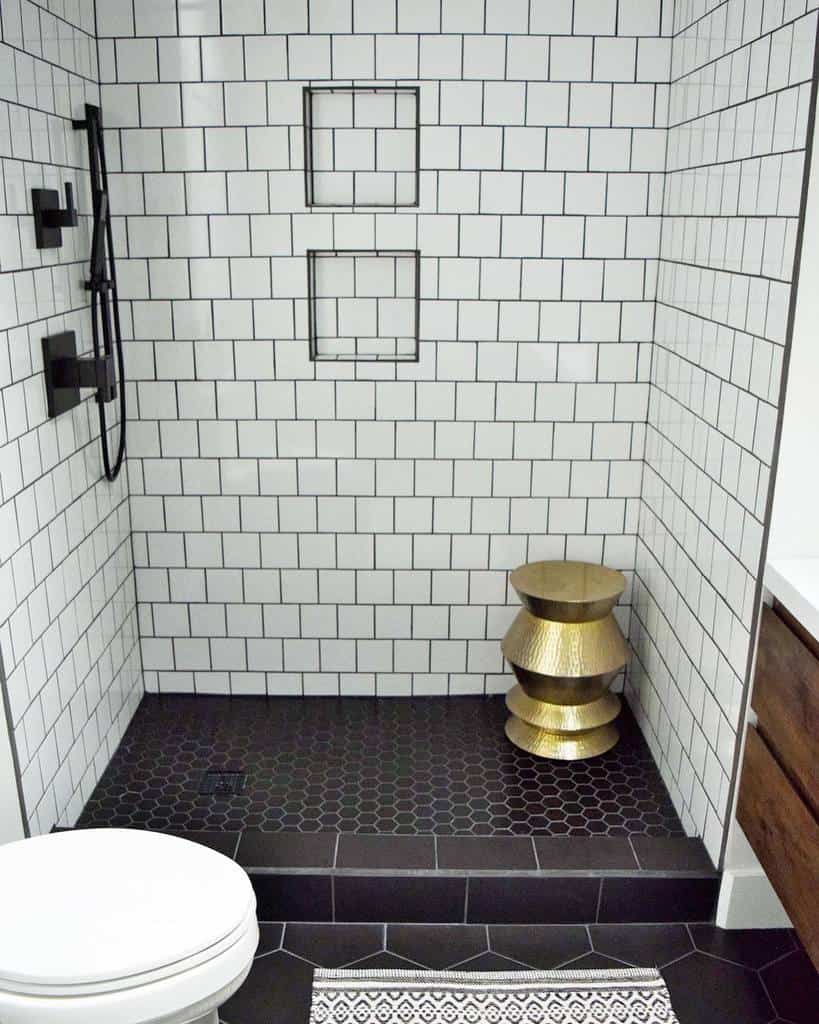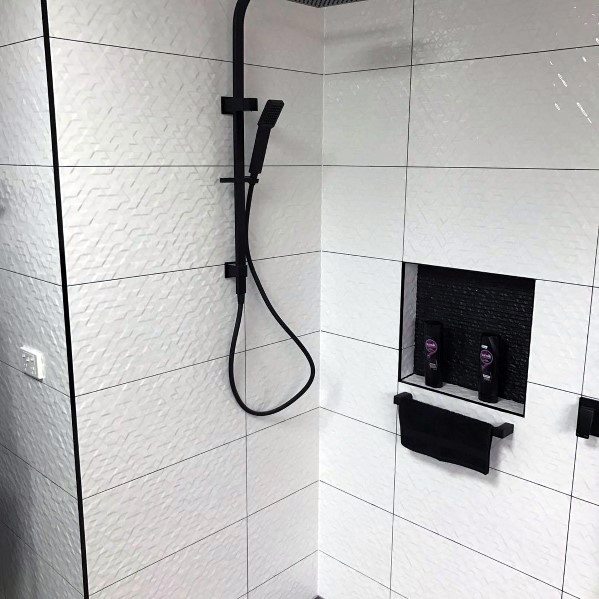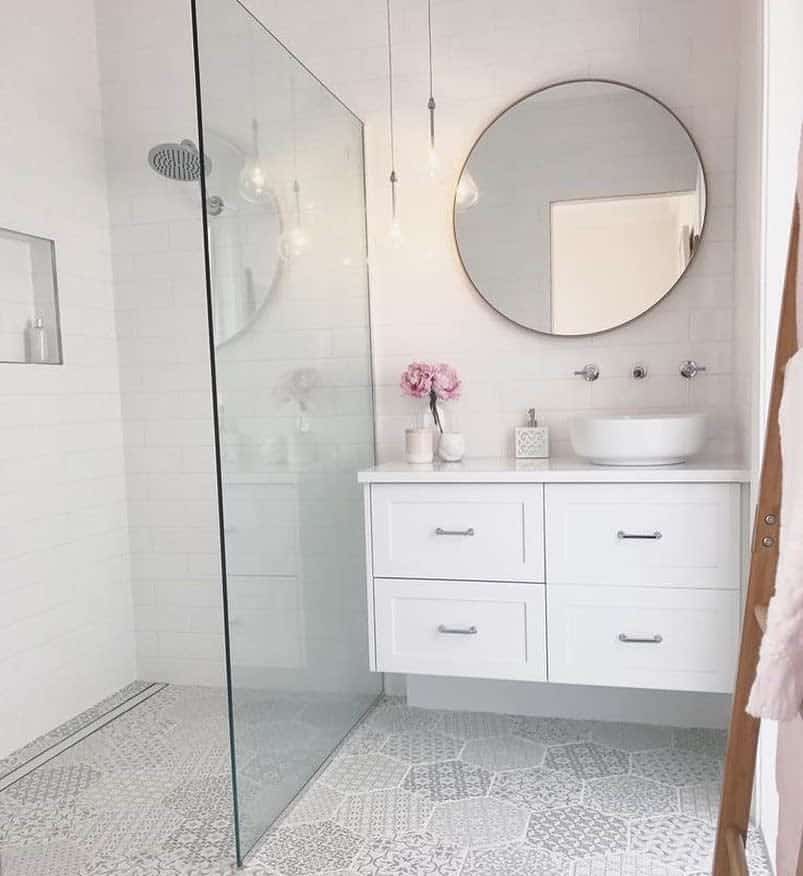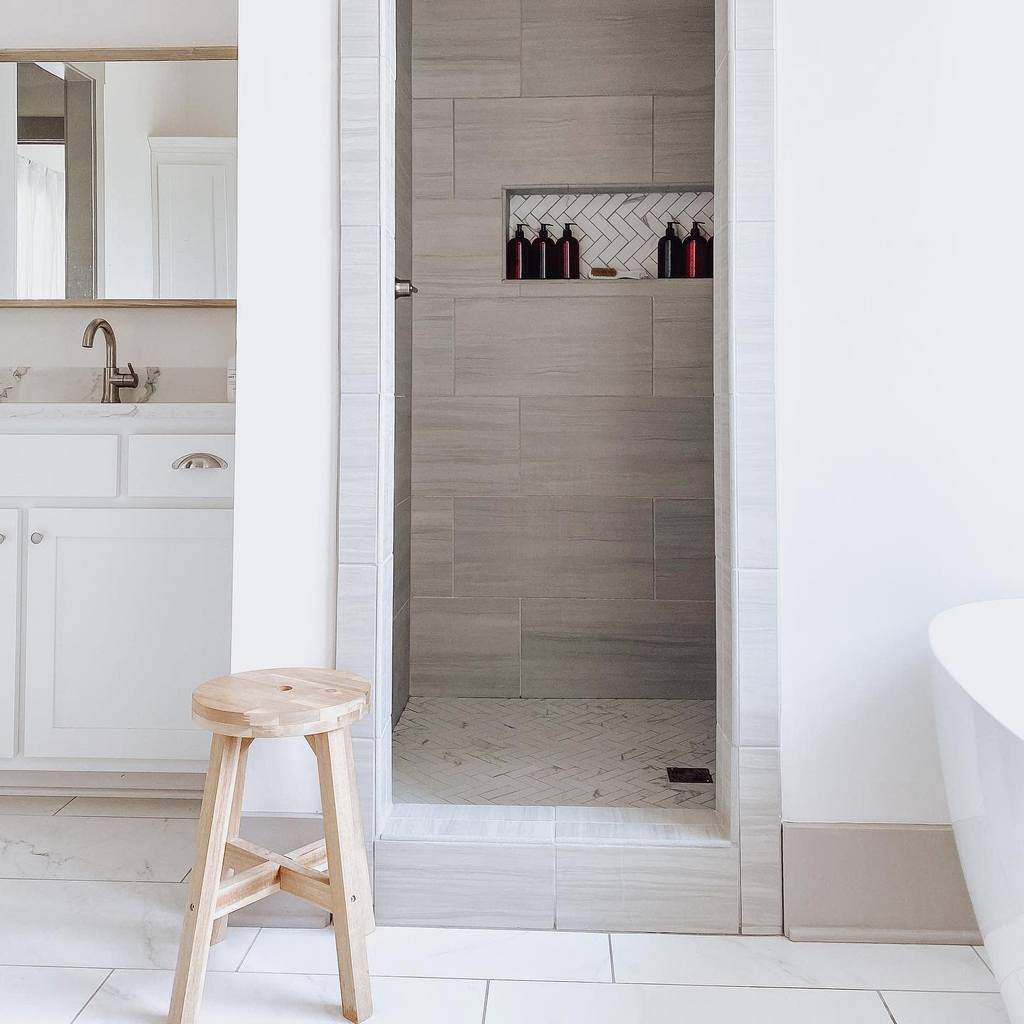 19. Rustic Wooden Pallet Showers
With a doorless entry, your shower space seamlessly integrates into the bathroom, promoting fluidity in the design. Upon stepping in, your attention is immediately captivated by the charming wooden pallet wall accent. The wood's natural texture and warmth instill a tranquil, organic ambiance, offering a space to relax and rejuvenate. This distinctive feature acts as a focal point, infusing visual intrigue and making a bold, unique statement within your bathroom.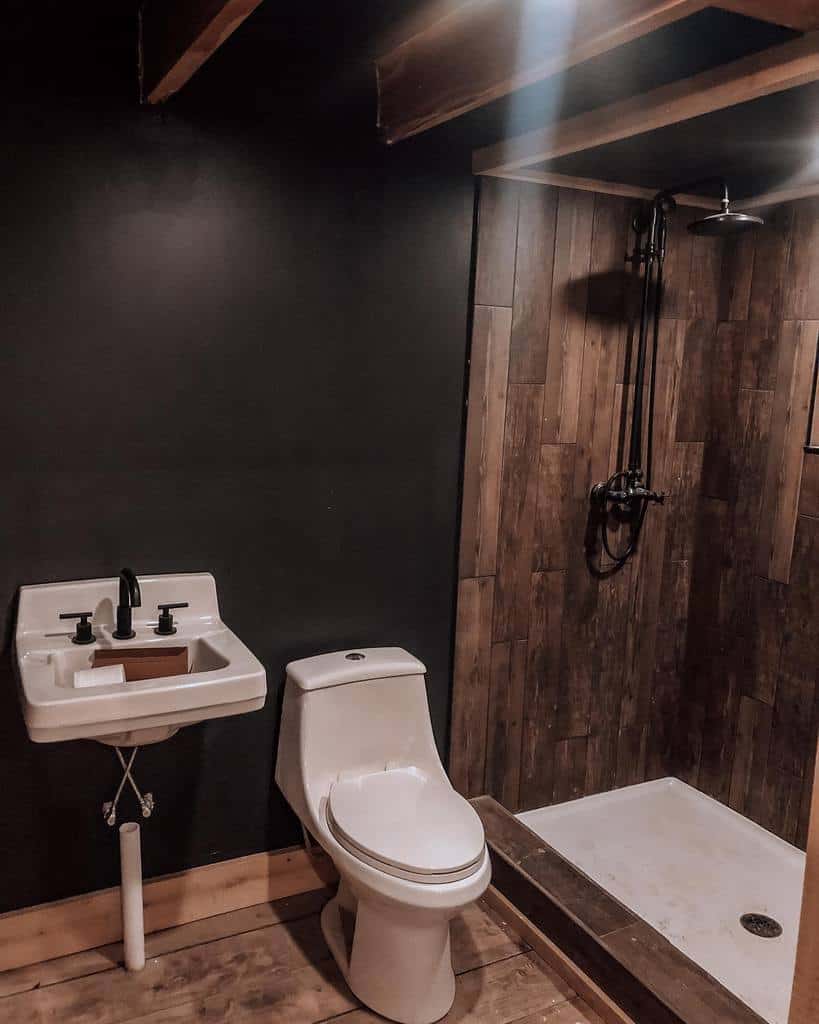 20. Comfortable Built-In Shower Benches
Eliminate the constraints of a traditional shower door for an open and spacious bathroom ambiance. A sleek built-in bench elevates your walk-in shower, transforming it into a sanctuary of relaxation. With this comfortable seating option, you can fully immerse yourself in the shower experience, whether you seek a quick refresh or a leisurely pampering session. Embrace the combination of comfort and convenience, offered by a doorless walk-in shower with a built-in bench, for a truly indulgent bathing experience.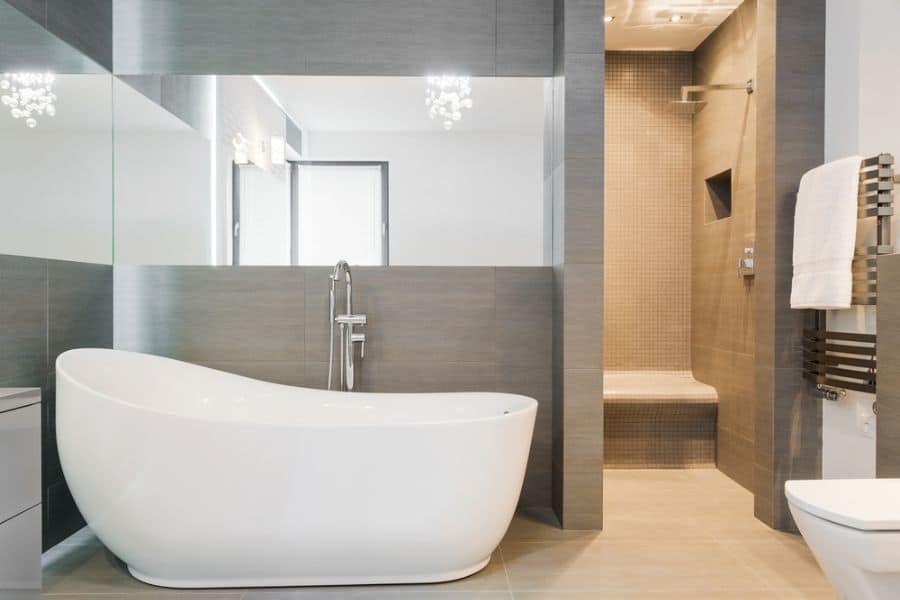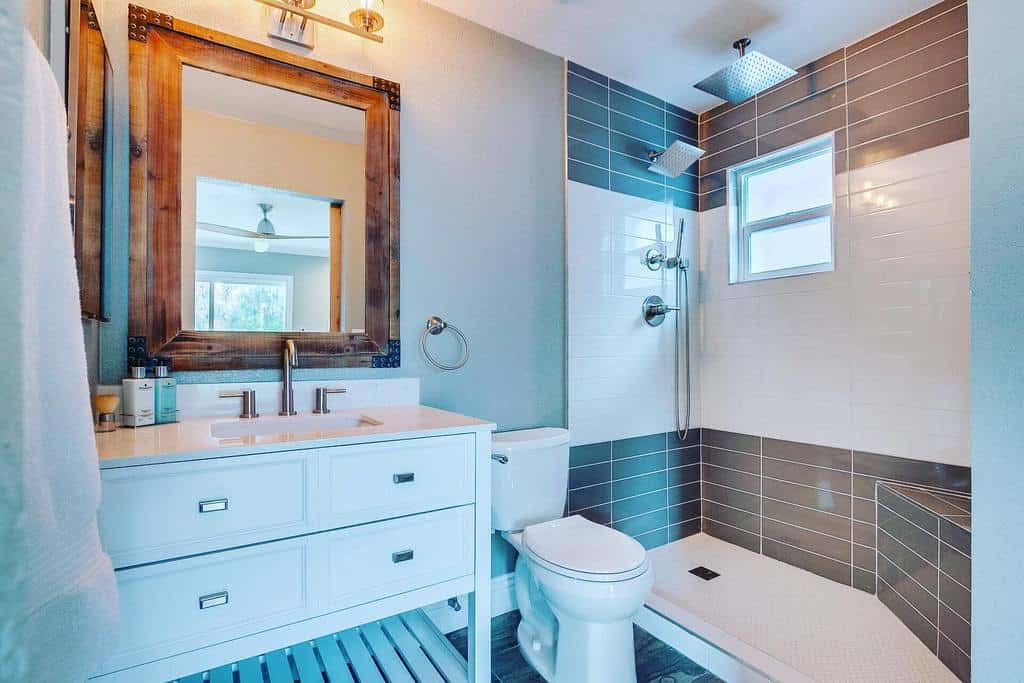 21. Versatile Showers with Curtains
Elevate your bathroom into a haven of luxury with a doorless walk-in shower and a stylish shower curtain. This design innovation ushers in an open and spacious feel, imbuing your bathroom with modern sophistication. The removal of a traditional shower door seamlessly merges your bathroom with the shower area.
The addition of a shower curtain introduces both elegance and flexibility, allowing you to personalize the appearance and atmosphere of your shower space without a long-term commitment. Select a curtain with patterns or textures that harmonize with your bathroom's decor, whether it's sleek and minimalist or vibrant and bold, for a truly versatile and chic shower experience.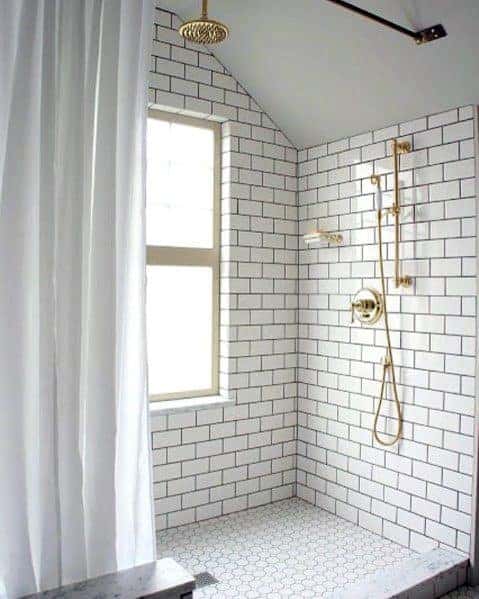 22. Embracing Open Plan Bathrooms
Welcome the contemporary and sophisticated allure of an open-plan bathroom by removing dividers and traditional shower enclosures. This approach fosters a seamless, spacious bathing experience. The absence of doors elevates your bathroom's aesthetics while offering a practical solution for easy accessibility.
A doorless walk-in shower promotes a fluid, continuous flow, making your bathroom appear larger and more inviting. The absence of barriers enhances your freedom of movement, allowing you to enjoy a refreshing shower with unbridled ease.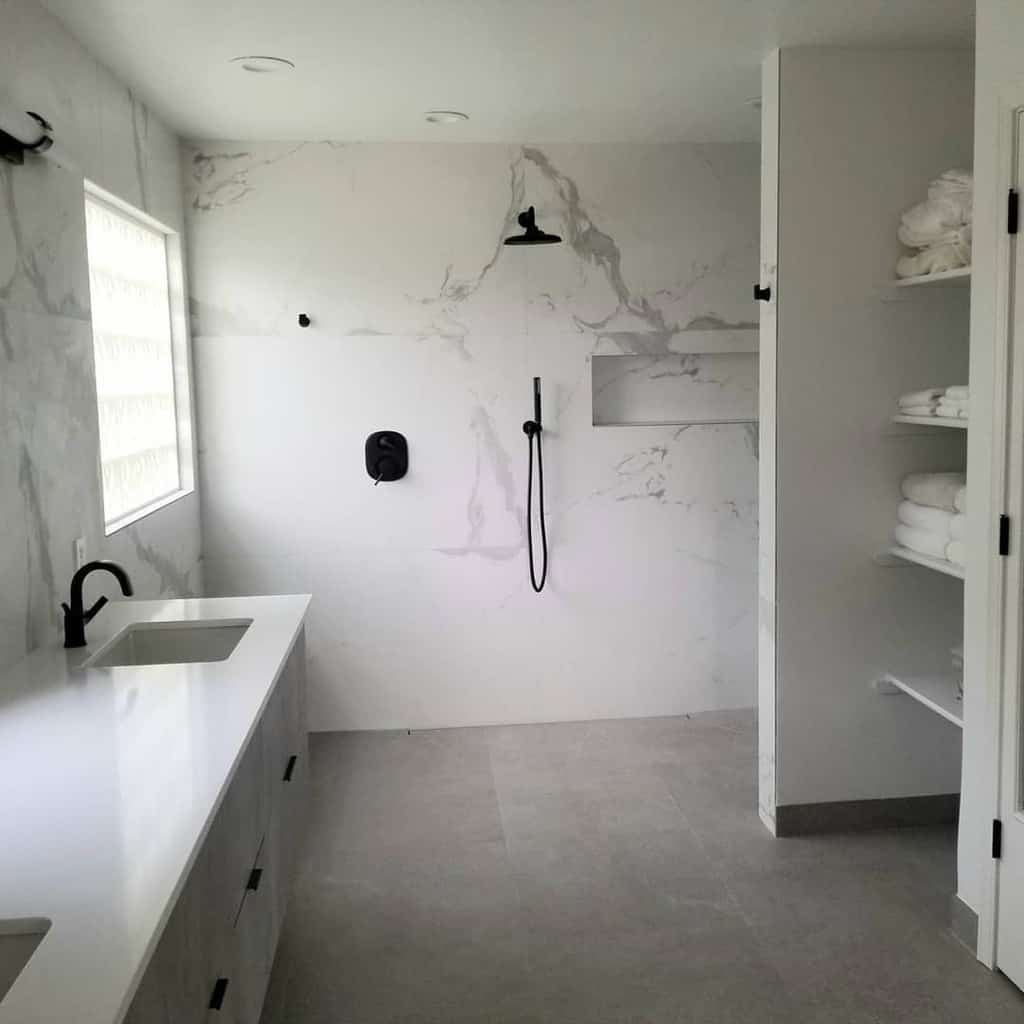 Doorless Walk-In Shower FAQs
How big does a walk-in shower need to be to not have a door?
At a minimum, your walk-in shower should be 42 inches by 60 inches. You need more space so that you can avoid accidentally splashing outside of the shower and into the rest of the bathroom. Most walk-in showers are a custom design, so they can be any size or shape that works with the space you have available in your bathroom.
What can I use instead of a shower door?
You can use a shower curtain, tub shield, glass blocks, or a tiled wall. You could also skip having a wall completely and leave the entryway open. Not having any shower door makes cleaning your shower easier and faster.
Do doorless showers get cold?
Some people do complain that doorless showers are cold and drafty. This takes away some of the enjoyment of having this style of shower. However, others claim that this isn't the case. It all comes down to how the shower is designed and whether or not airflow is directed into the shower.