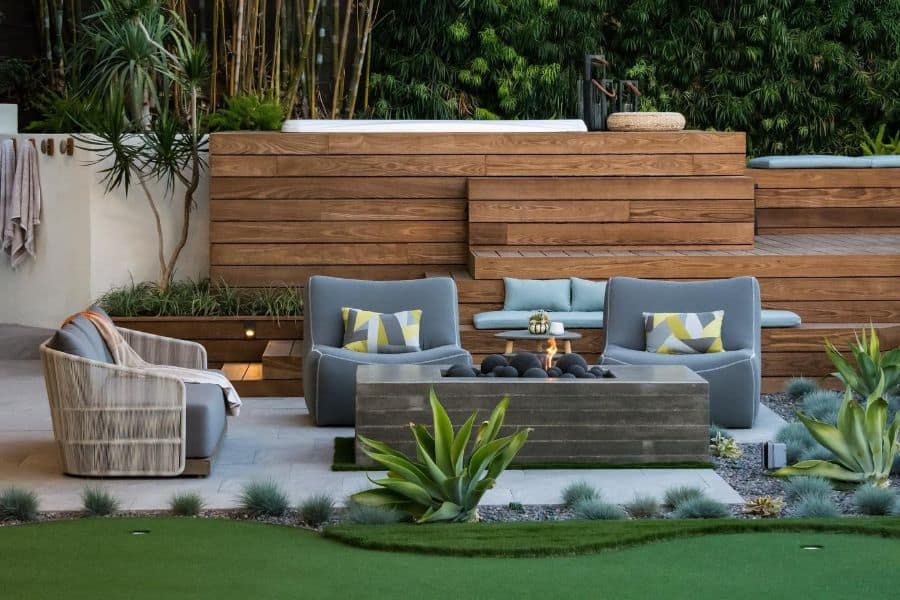 49 Fire Pit Ideas for Your Backyard
by — Andra DelMonico

Published on October 26, 2021

Updated on October 15, 2023
Have you always wanted to build a fire pit in your backyard but never got around to building it? Then now is the time. With more people embracing the outdoor living lifestyle, building a fire pit increases your use of your property and increases your property value.
Don't get lazy and slap a cheap fire bowl on your lawn and call it a day. This won't last, and ultimately, it won't create the aesthetic and atmosphere that makes people want to stick around and hang out. Instead, build a high-quality permanent structure that is durable enough to last for years to come.
These outdoor fire pit ideas will help you design the perfect setup for your backyard.
1. Stylish Brick Fire Pit Designs
When exploring brick fire pit designs, think about incorporating exposed brick or stamped brick patterns. Exposed brick adds a rustic, natural touch to your backyard, perfect for an earthy ambiance. Stamped brick patterns, on the other hand, provide a unique visual flair. To achieve this look, consult a professional mason for construction advice, and complement your brick fire pit with cozy outdoor seating and soft lighting to enhance the inviting atmosphere in your outdoor space.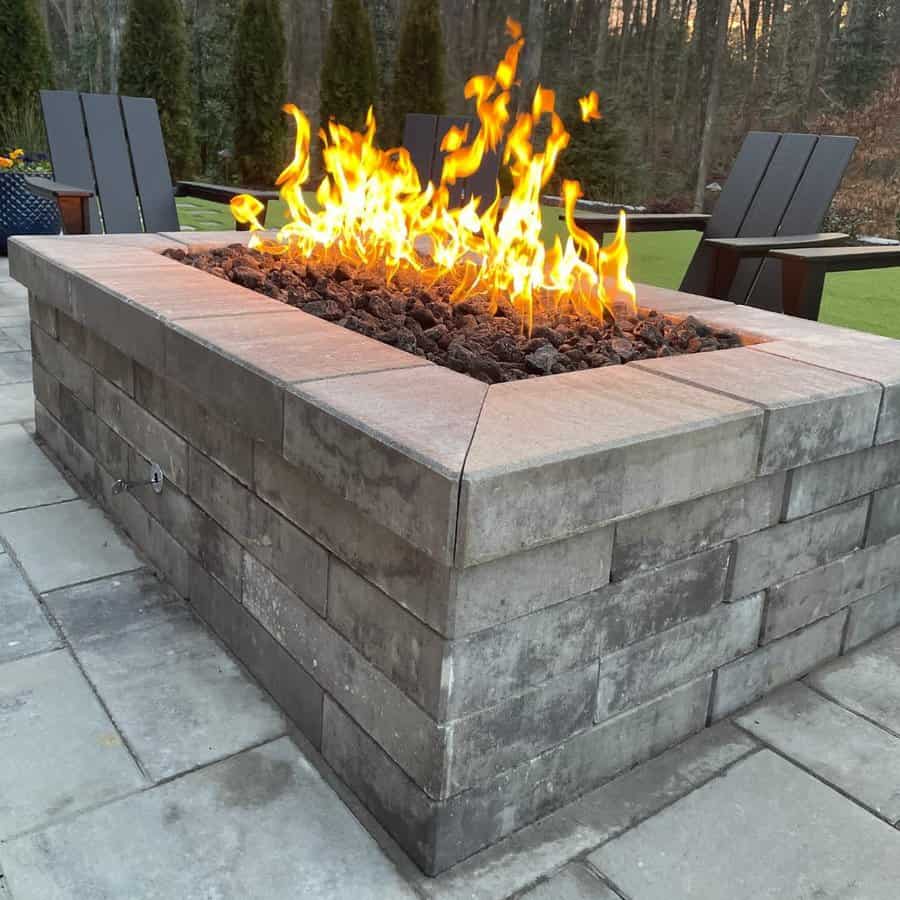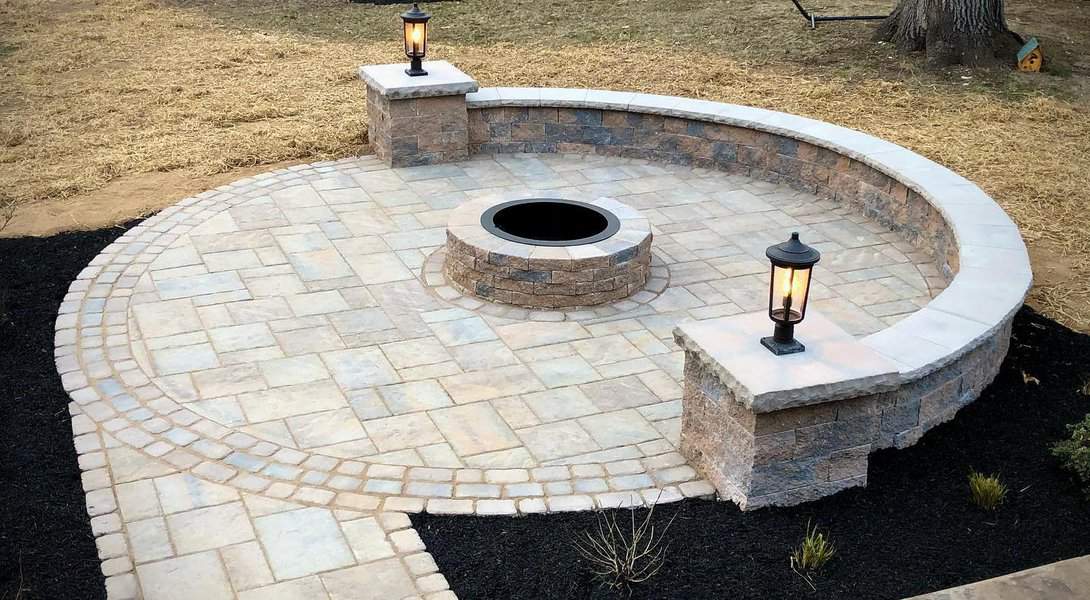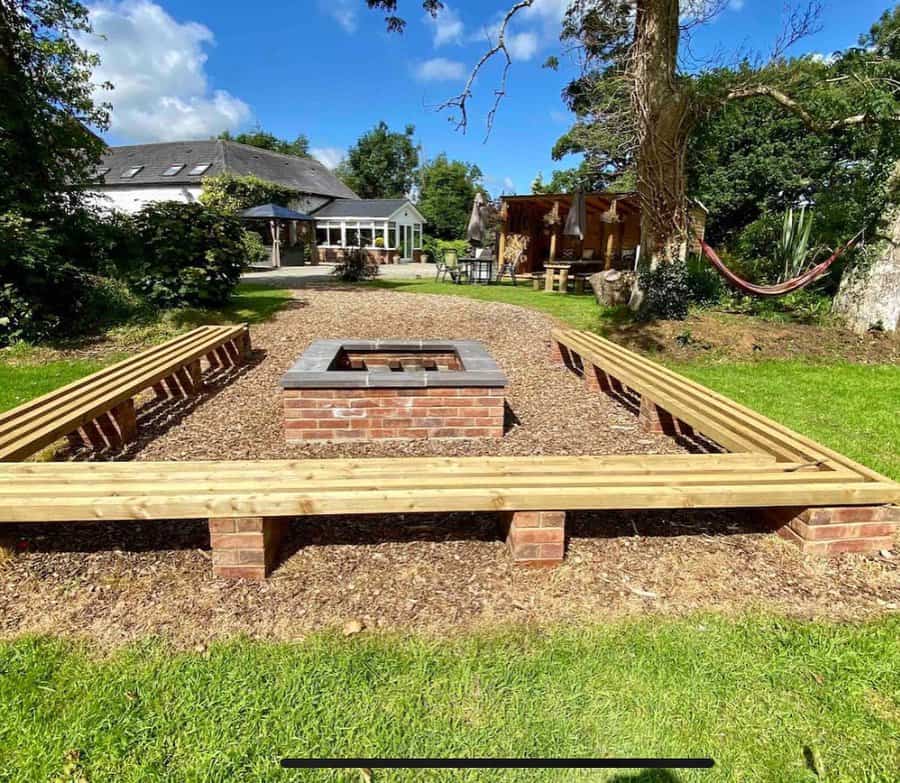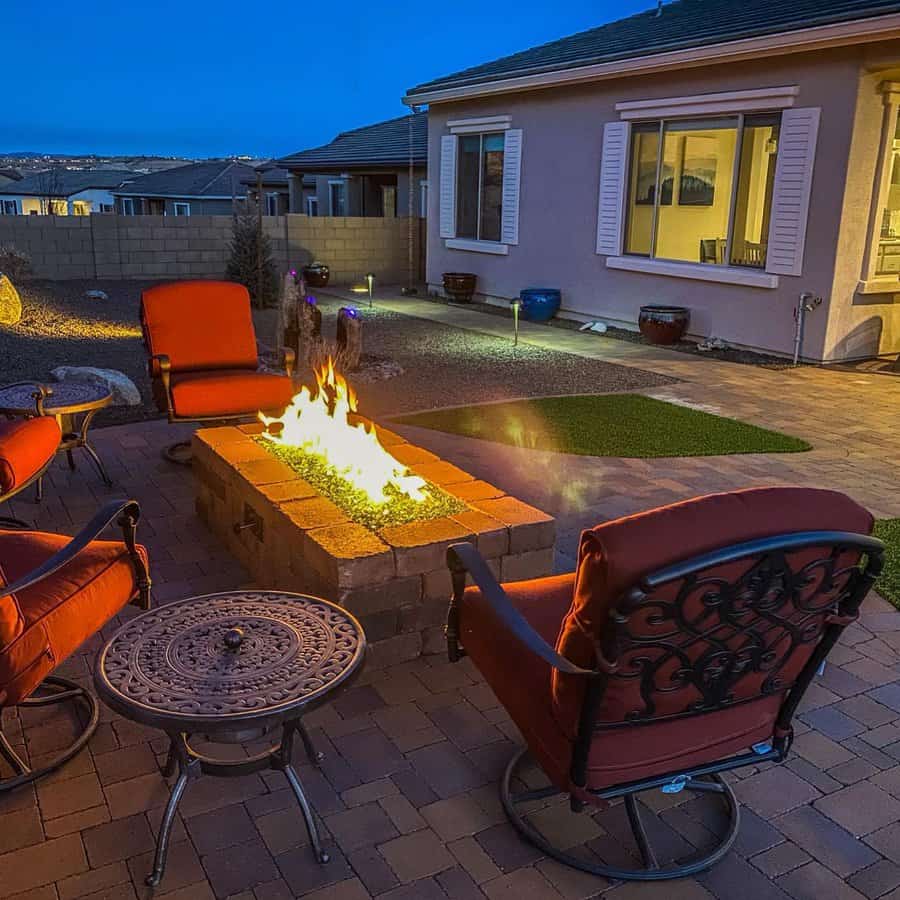 2. Cozy Fire Pits with Seating
Create a welcoming outdoor space with fire pits and comfortable seating. Fire pits are perfect for year-round gatherings. To ensure all-weather comfort, invest in weatherproof seating options. Whether it's a small get-together or a larger event, a well-designed fire pit with ample seating transforms your backyard into an inviting hub for memorable moments. Enhance this space with cozy cushions, throws, and lighting to provide the perfect ambiance for guests.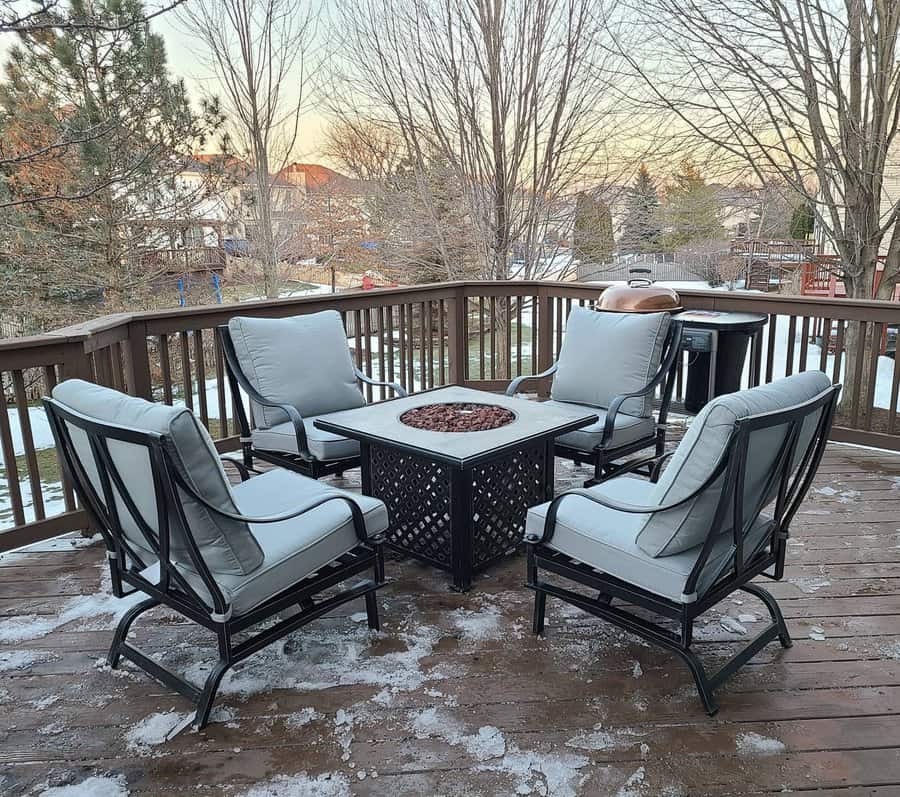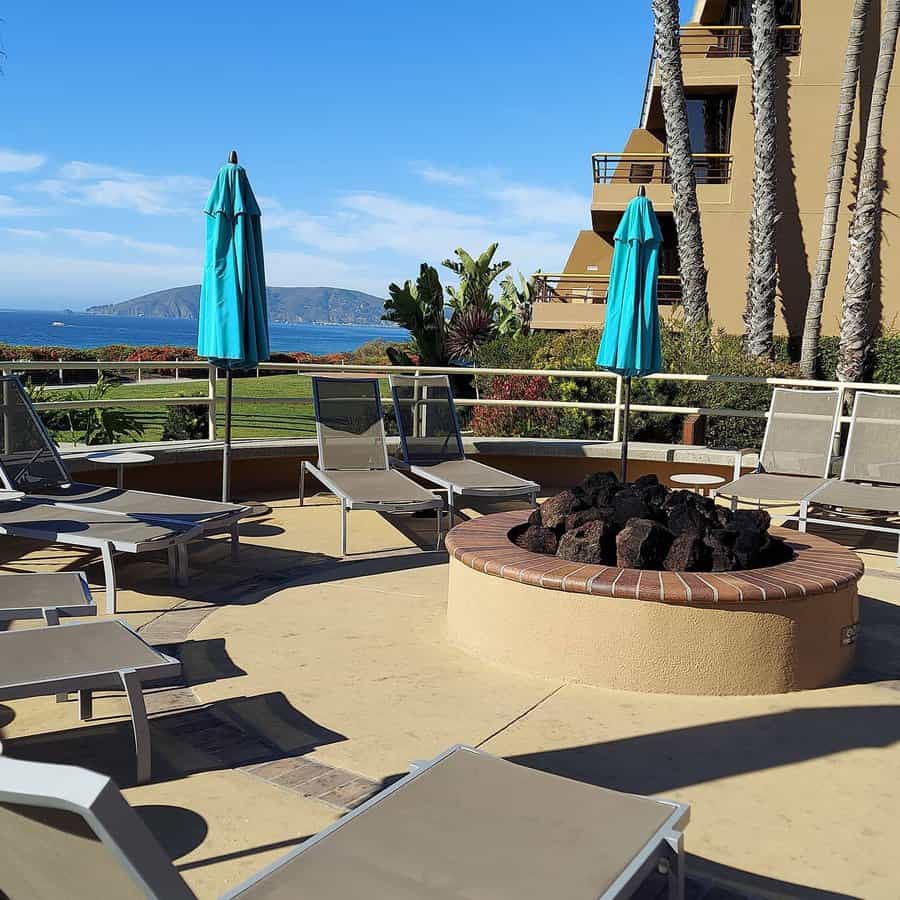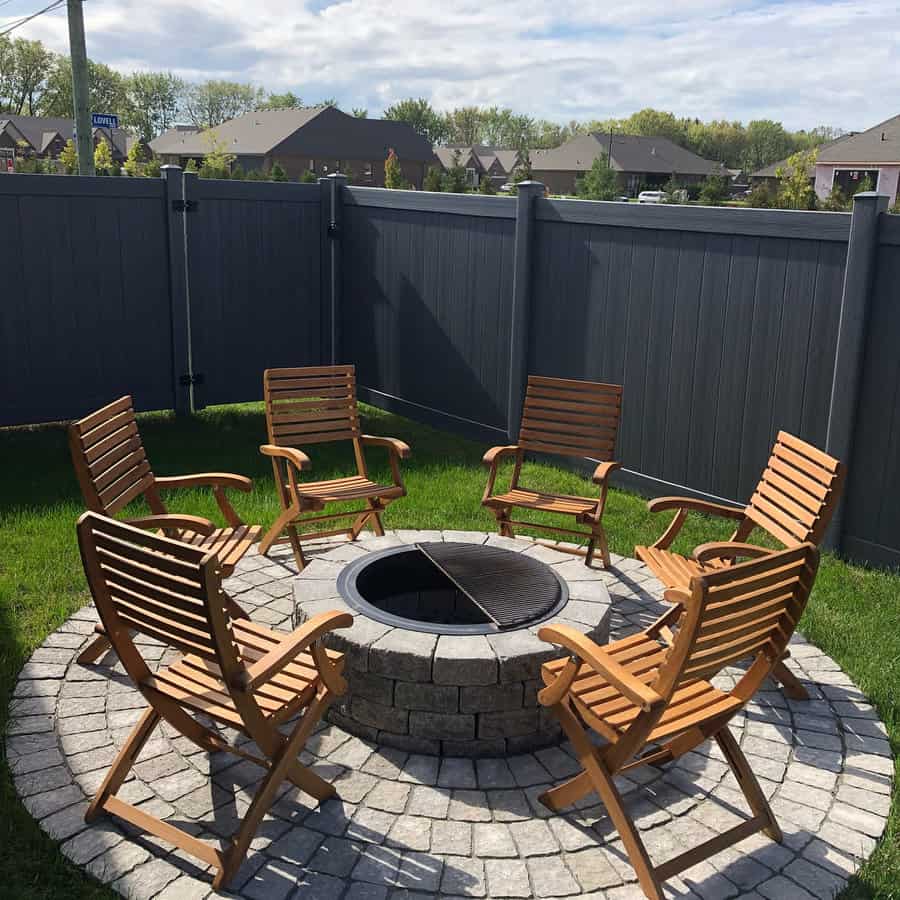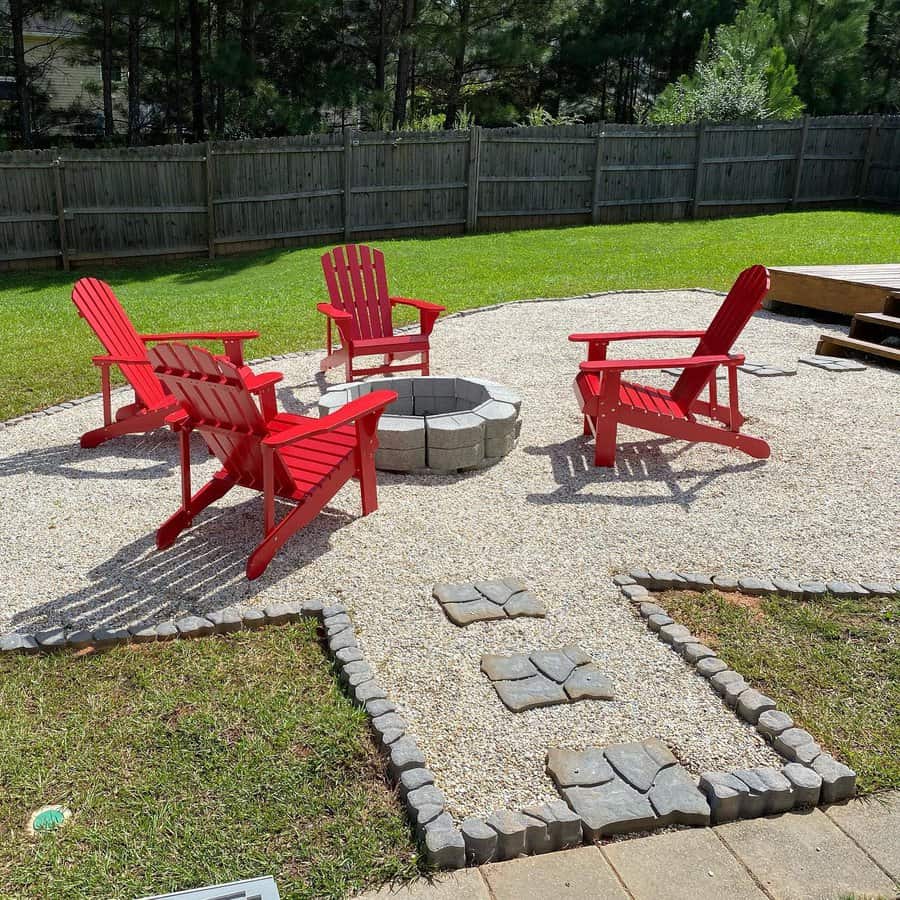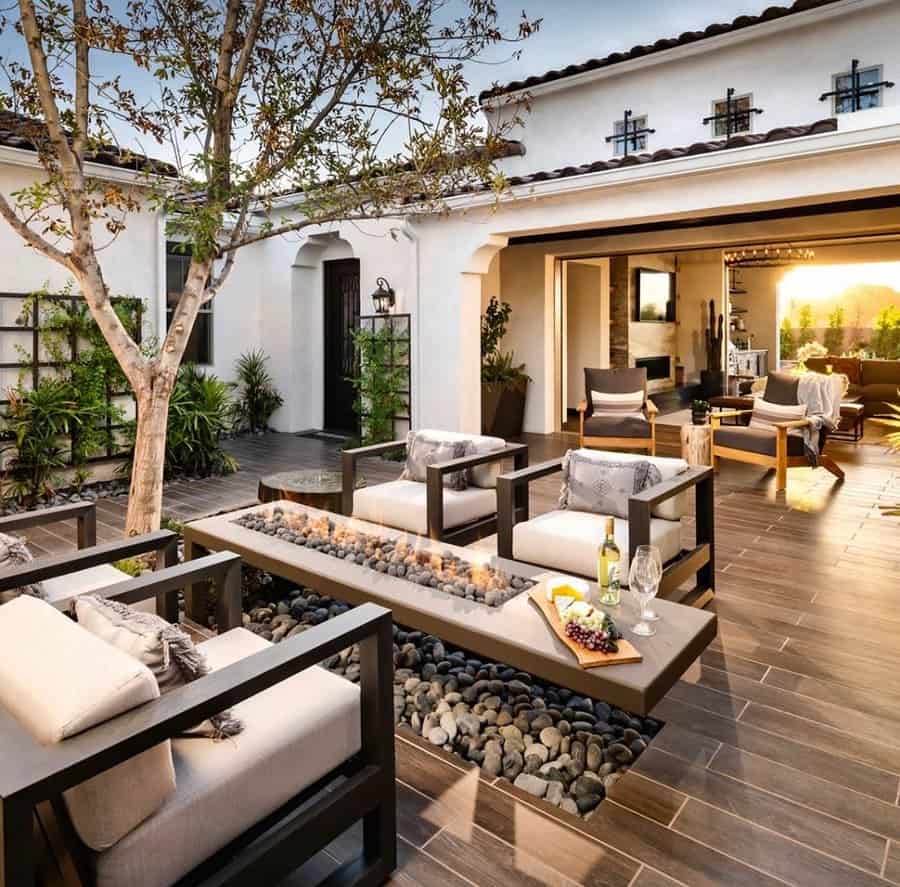 3. Contemporary Concrete Fire Features
For a blend of rustic charm and modern comfort in your outdoor space, consider contemporary raw concrete fire pits. These fire features provide a cozy atmosphere while maintaining a stylish, industrial appeal. To enhance the raw aesthetic, surround your concrete fire pit with decorative pebbles, creating a captivating design element. This conversation-worthy addition to your backyard is ideal for creating a warm and visually engaging environment for gatherings. Pair it with minimalist outdoor furniture and natural greenery to complete the contemporary look.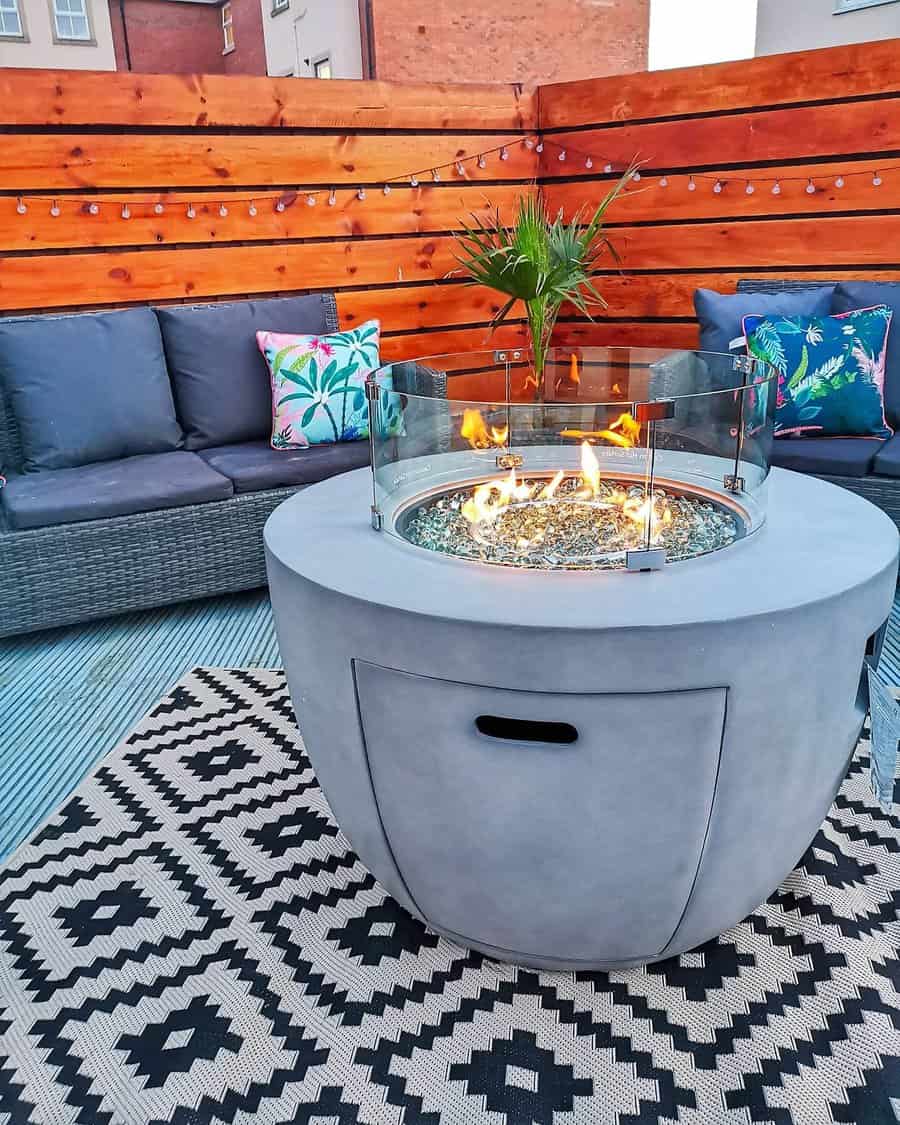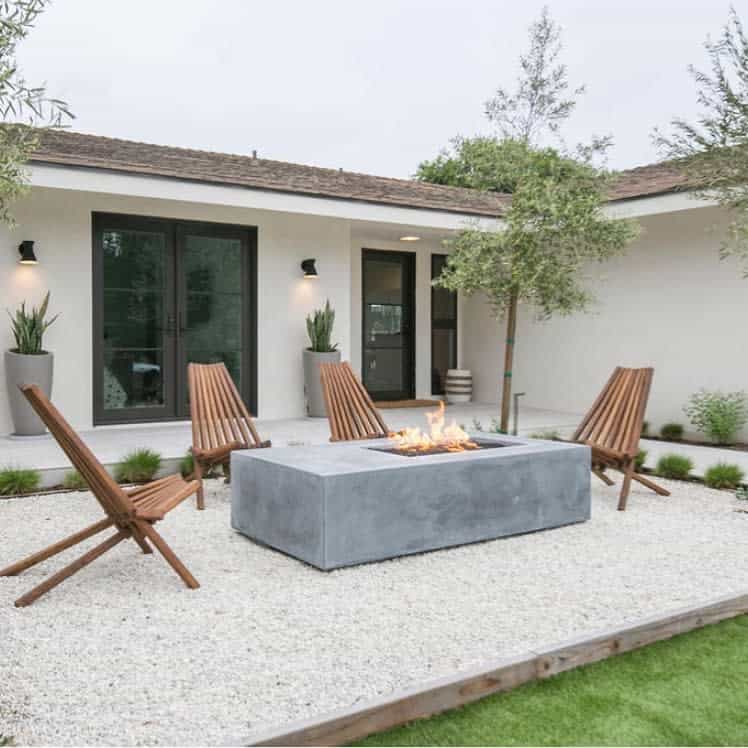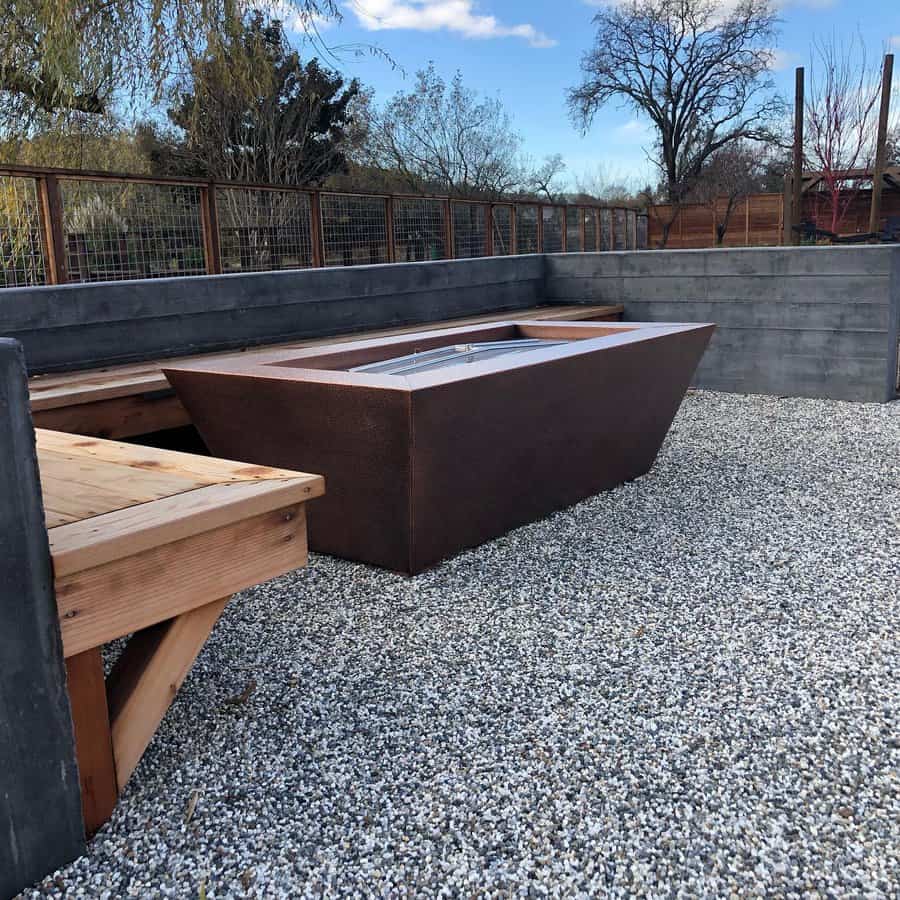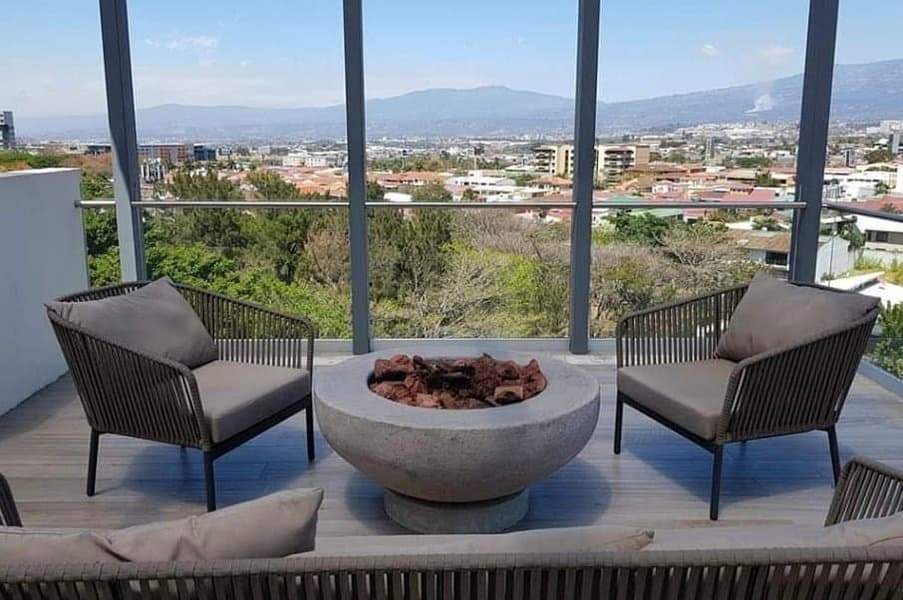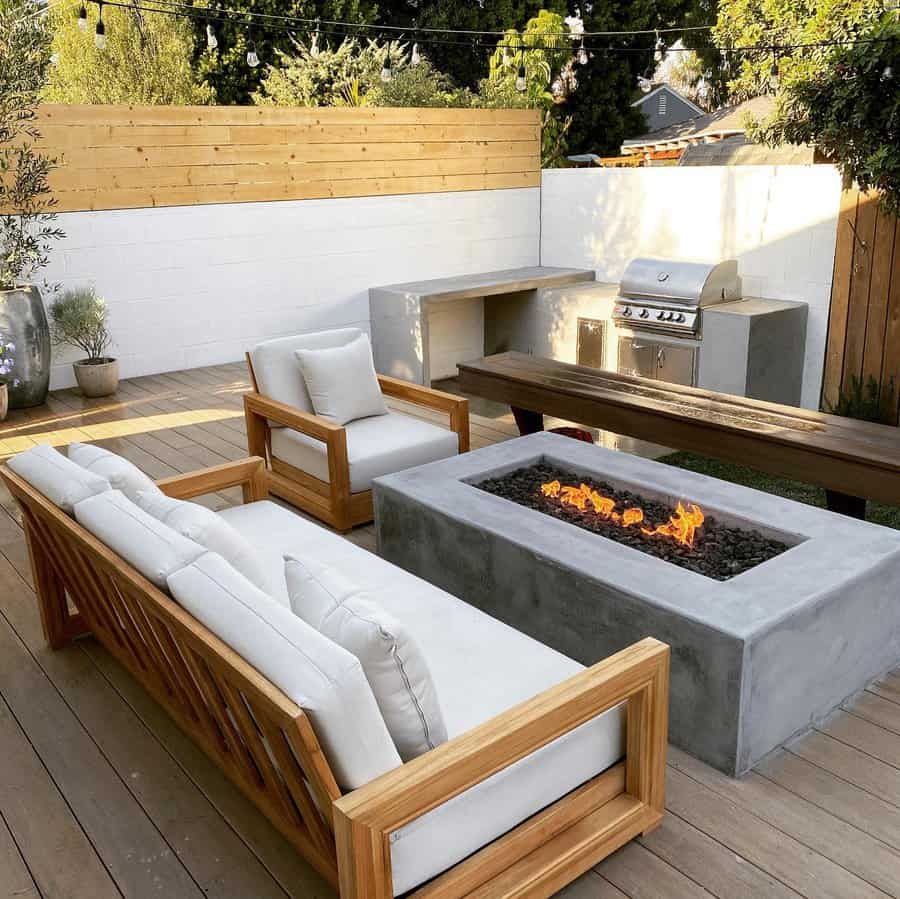 4. Affordable DIY Brick Fire Pit
You don't need to spend a fortune for a welcoming fire pit in your backyard. Constructing a low-cost DIY brick fire pit is a budget-friendly option that guarantees cozy evenings with loved ones. Gather loose bricks to create your own fire pit, perfect for coffee mornings and barbecue evenings. To enhance the space, consider adding a fireproof seating area and a storage unit for firewood nearby, ensuring you're well-prepared for memorable outdoor moments without overspending.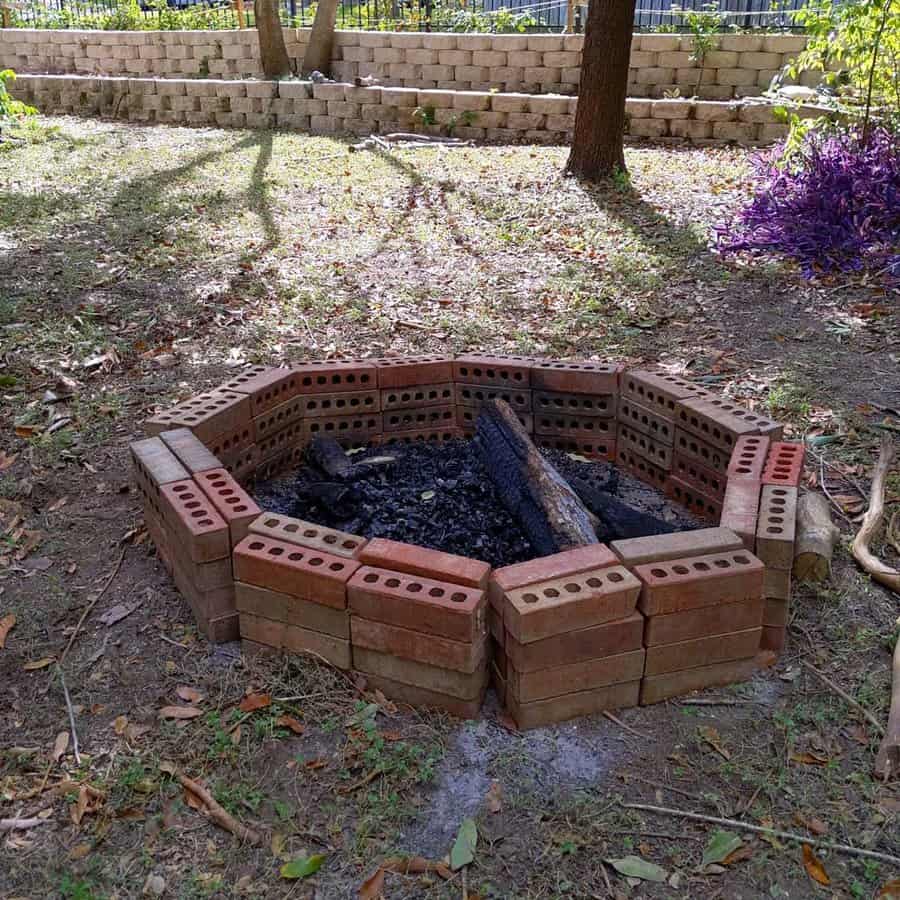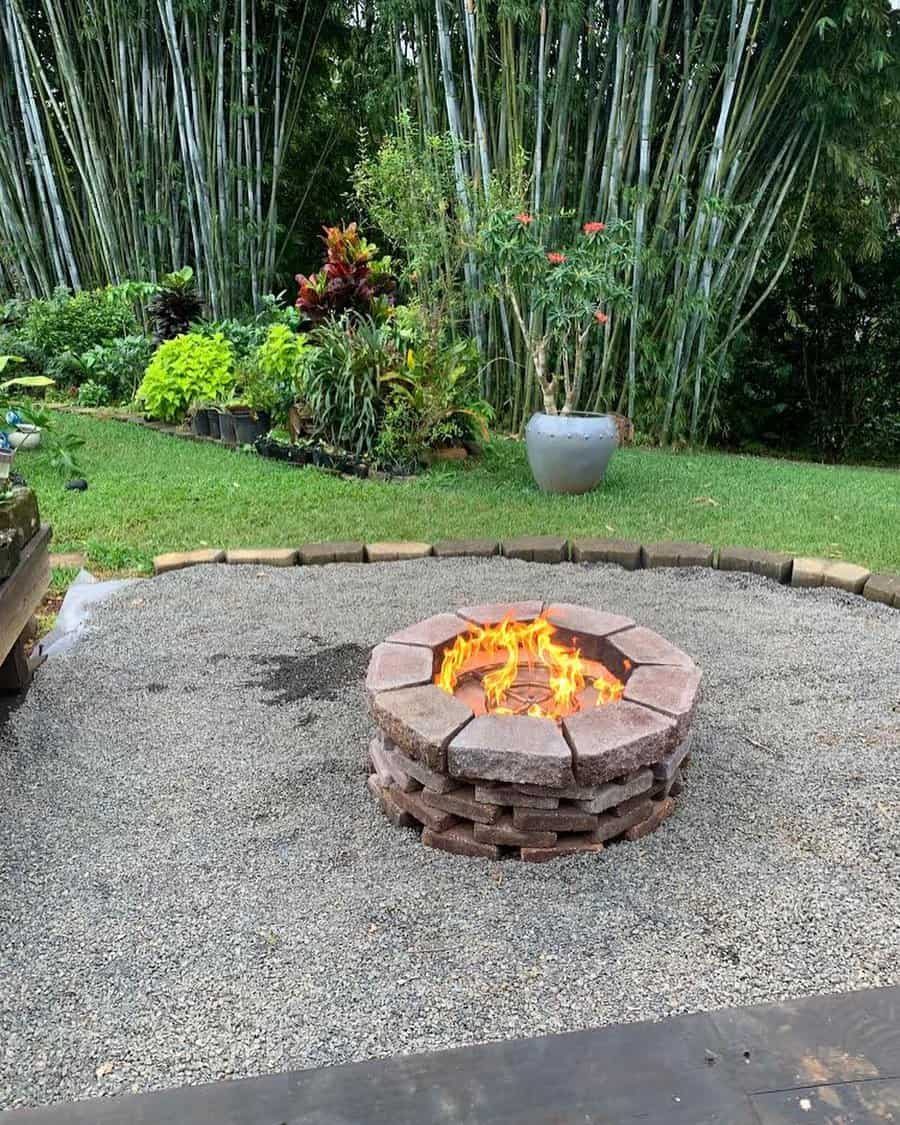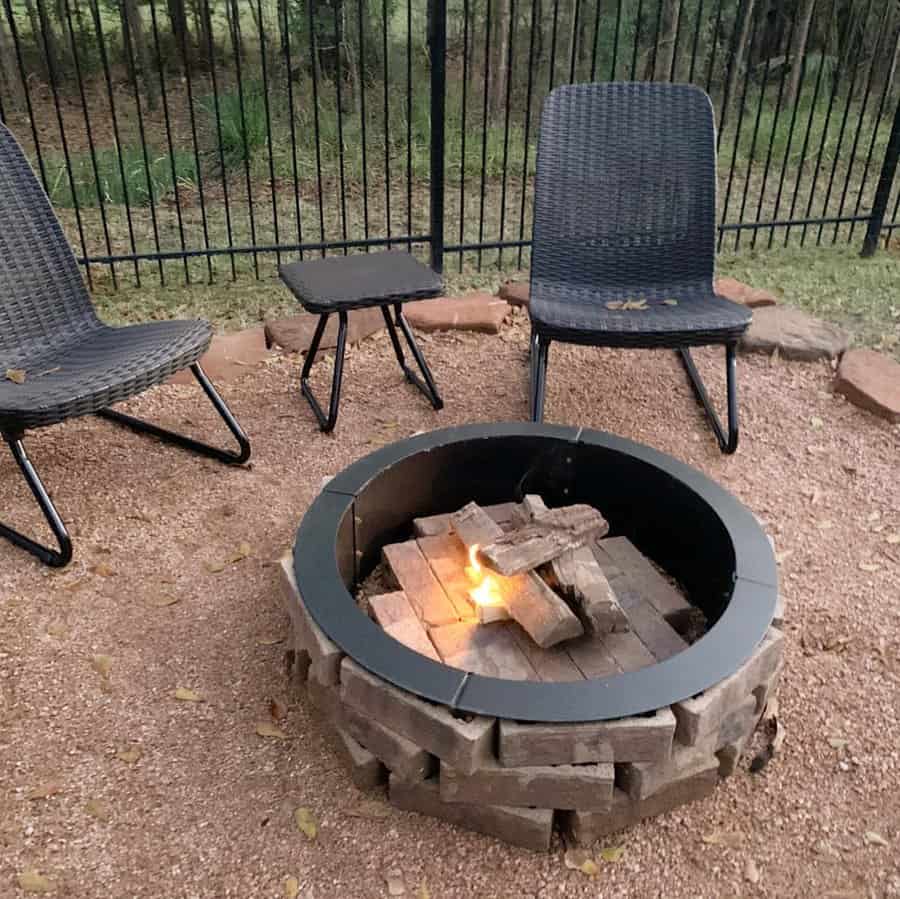 5. Sleek Minimalist Fire Pit Ideas
Revamp your outdoor area with an elegant, understated fire pit built to last, showcasing sleek steel construction. This fire pit is built to endure diverse weather conditions while contributing a touch of sophistication to your outdoor get-togethers.
Whether you're in search of a cozy retreat for cool evenings or a captivating centerpiece for your upcoming gatherings, this minimalist fire pit strikes the ideal chord with its clean design and robust steel build. Finish the setting with modern outdoor furnishings and soft lighting to establish a warm ambiance suitable for both relaxation and entertainment.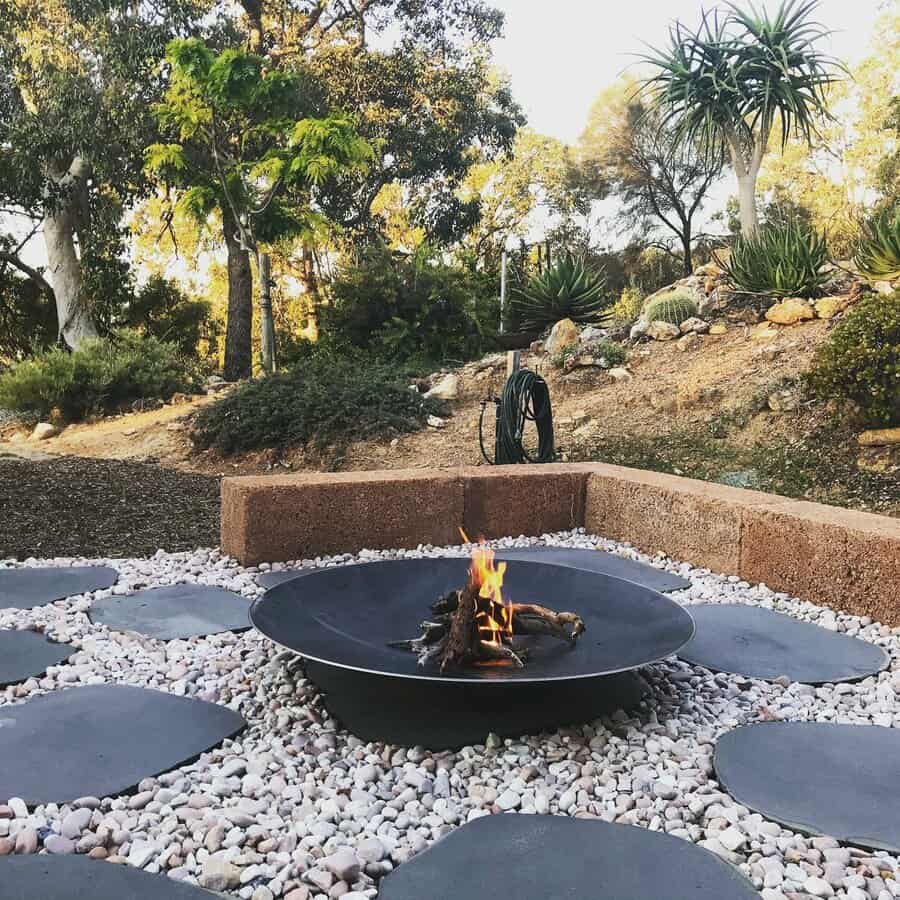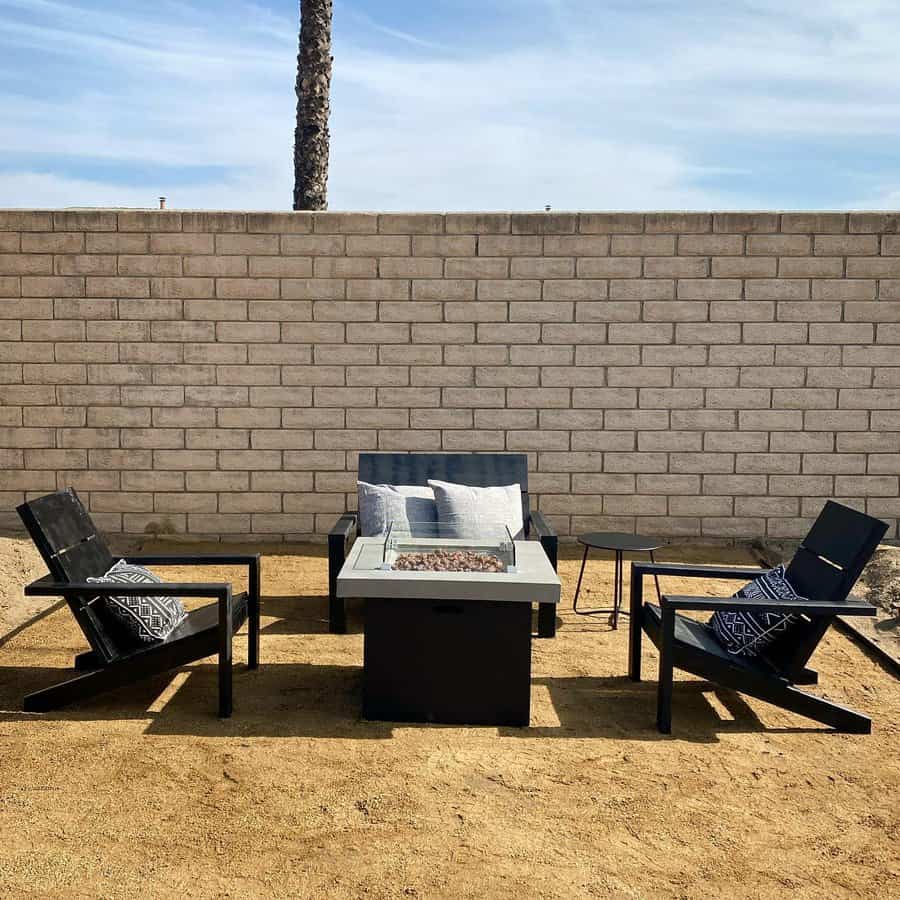 6. Unique Composite Fire Pit Designs
Enhance your outdoor space with a one-of-a-kind composite fire pit design. These concrete fire pits offer versatility with various stylish cover options. Crafted from concrete, they come in natural wood or elegant tile finishes, doubling as functional furniture pieces for your patio.
Select a concrete fire pit that harmonizes with your outdoor style, whether it's a cozy haven or a refined setting. Complete the look by incorporating comfortable seating, outdoor rugs, and cozy throws, creating a hospitable ambiance for gatherings where style and warmth coexist.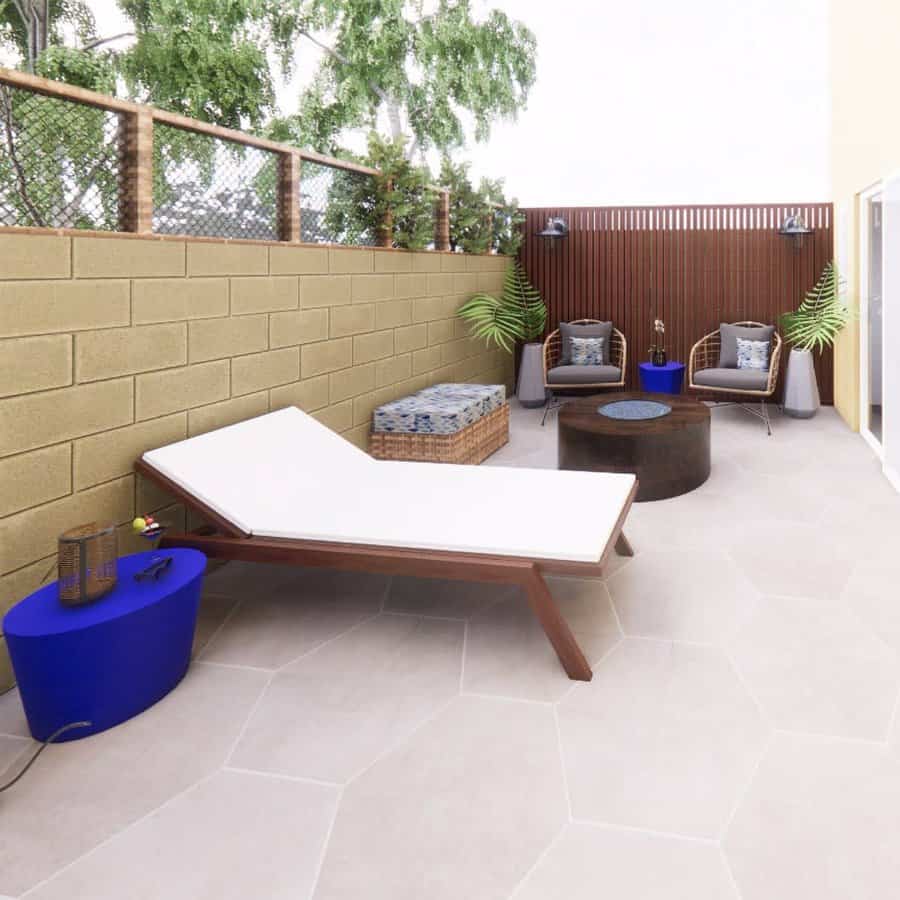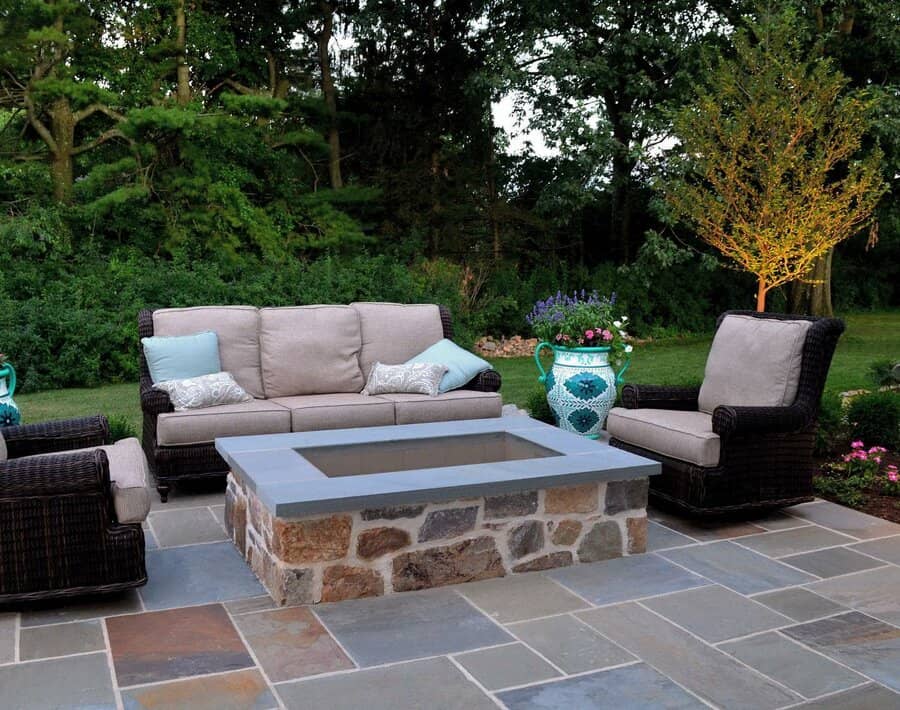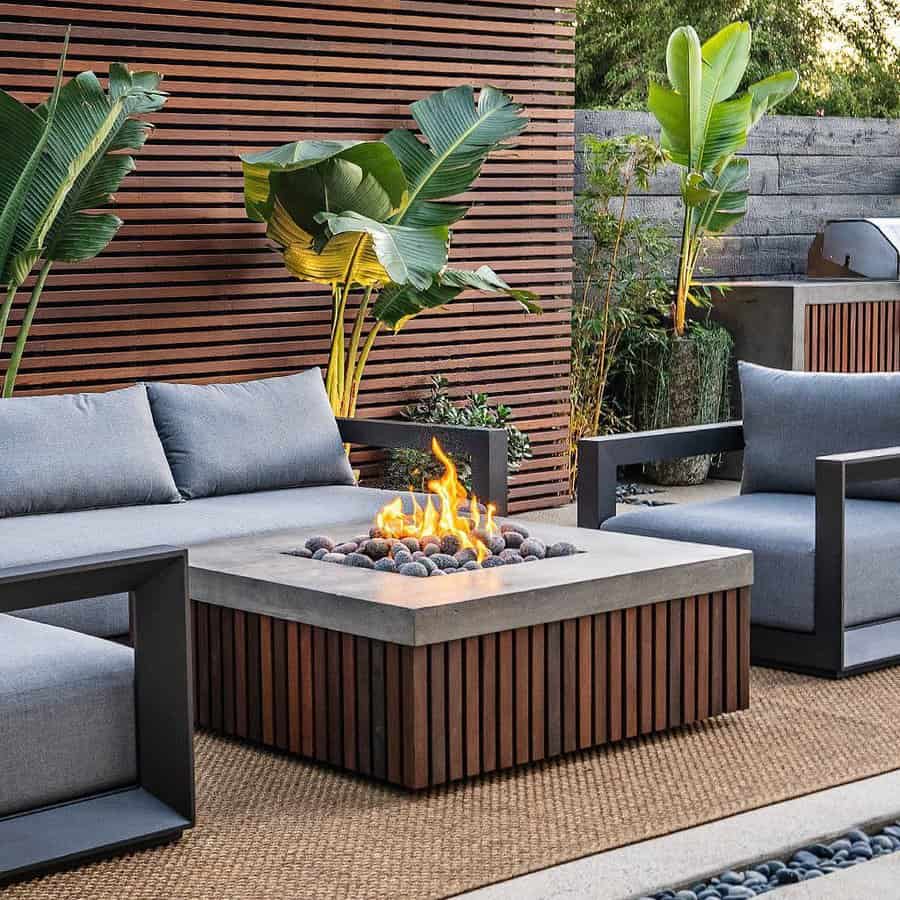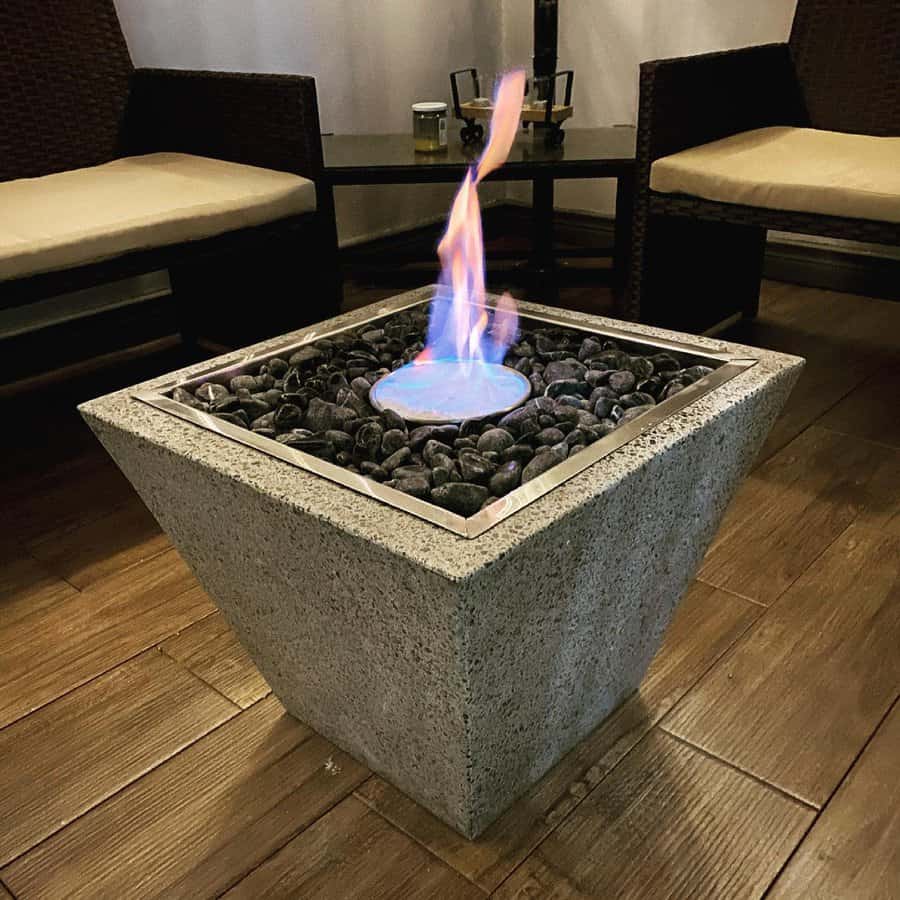 7. Circular Propane Gas Fire Columns
Explore the steel propane gas fire column, your ideal outdoor companion. This sleek and minimalist design elevates your patio gatherings, creating a warm and inviting ambiance. Its portability makes it easy to set up, impressing friends and family. To maximize your outdoor experience, add comfortable seating, outdoor decor, and soft lighting for an unforgettable atmosphere. Enjoy your outdoor space to the fullest with the steel propane gas fire column.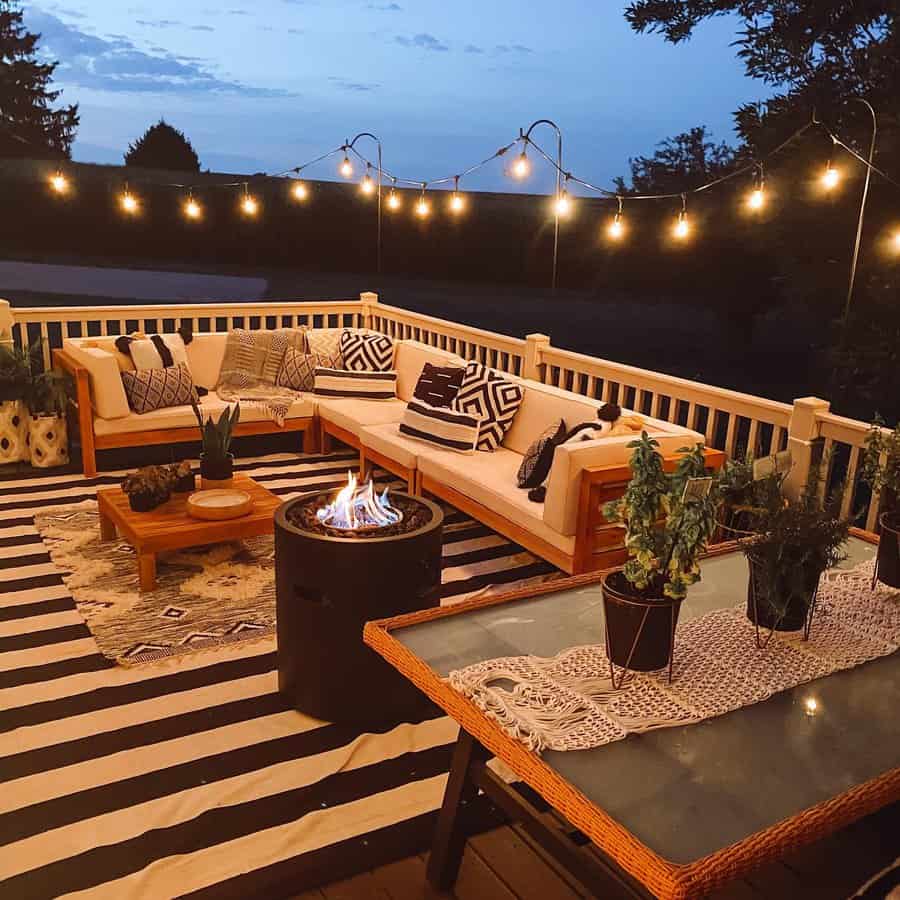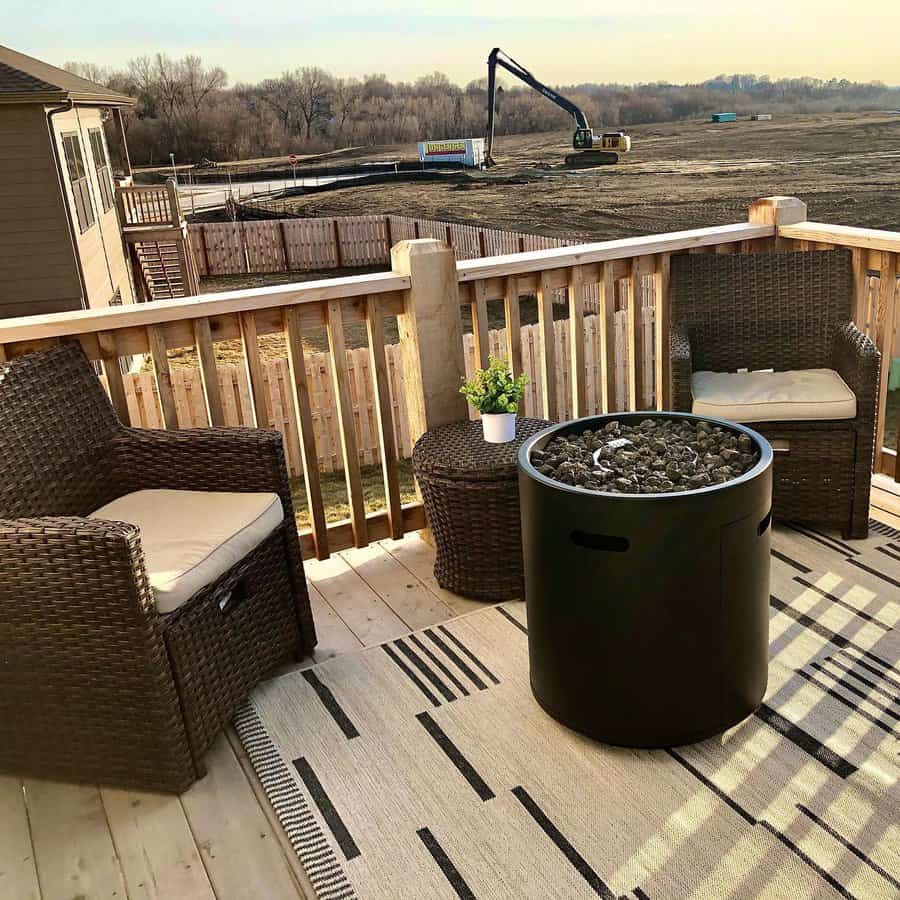 8. Wicker Table Fire Pit Combos
Experience warmth and ambiance with a wicker table and built-in propane gas fire pit, ideal for cozy evenings. The combination provides a captivating focal point and a convenient heat source for your outdoor space.
Share stories with friends or unwind solo, all while staying comfortably warm. To make the most of this setup, complement it with plush outdoor seating, cozy throws, and ambient lighting, ensuring that your outdoor area remains inviting and comfortable throughout the year.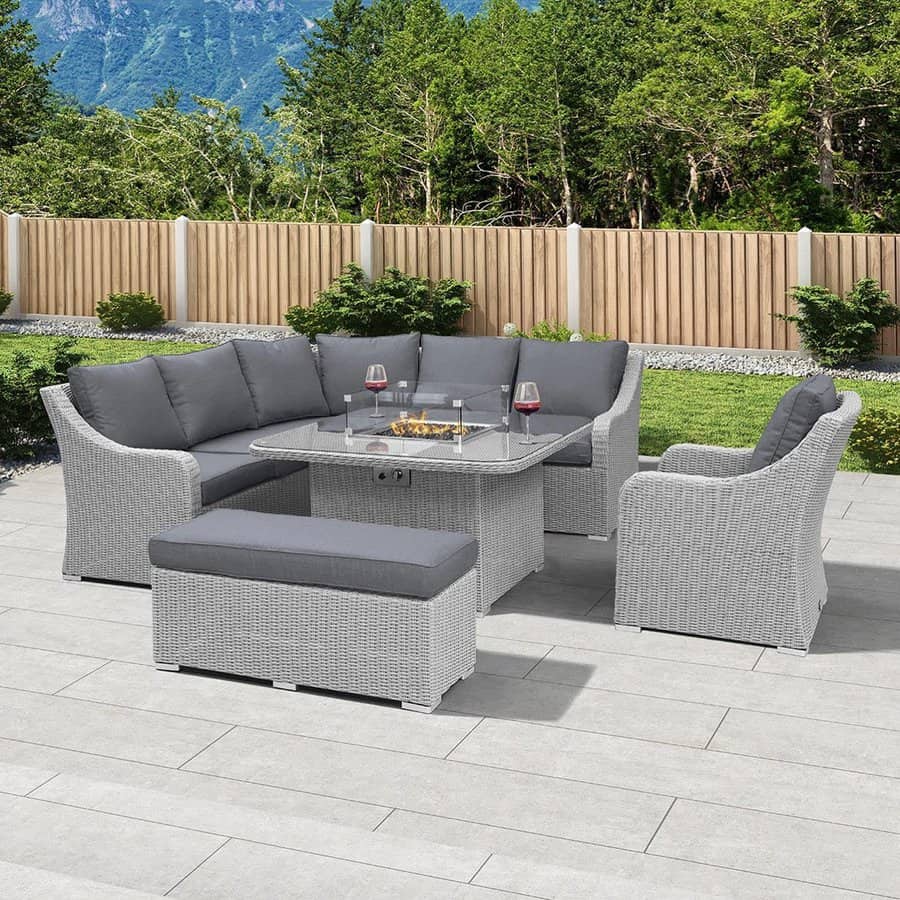 9. Sunken In-Ground Fire Features
Elevate your outdoor space with sunken in-ground fire installations, bringing warmth and a welcoming ambiance to your surroundings. To craft this appealing addition, dig a hole that accommodates your desired fire ring size, layer it with gravel, and surround it with pavers. This feature is perfect for hosting gatherings or enjoying intimate moments with your family. Enhance the setting with comfortable seating, outdoor decor, and gentle lighting, creating a cozy haven in your backyard for making lasting memories.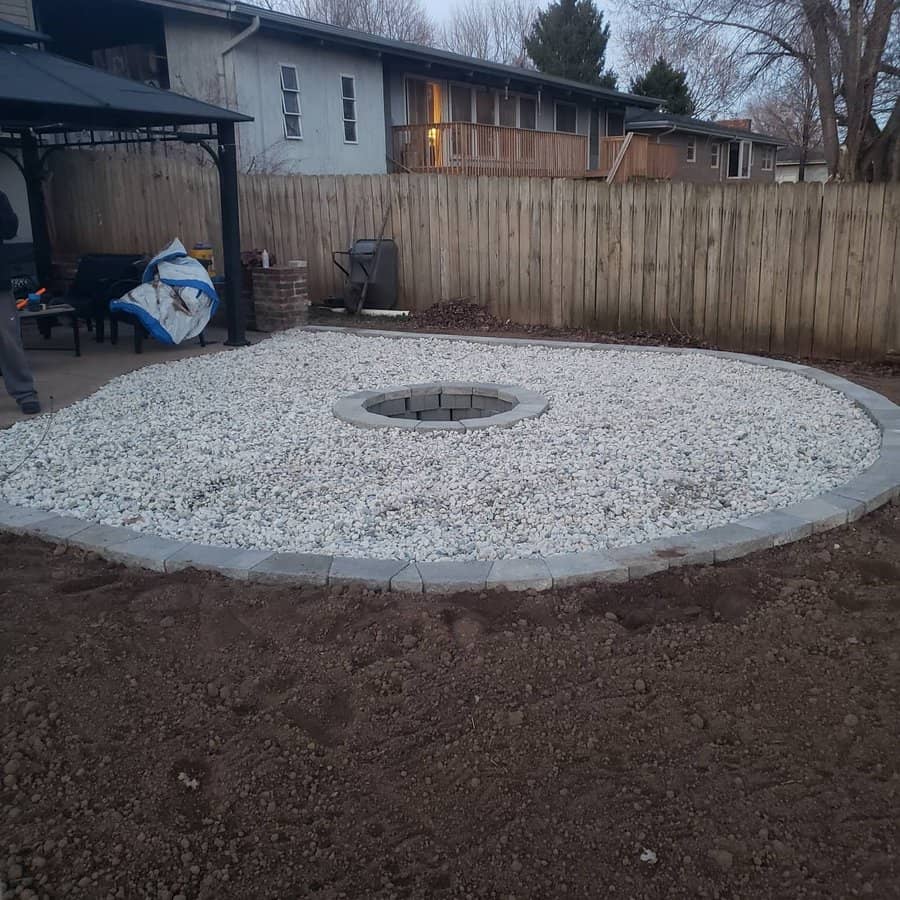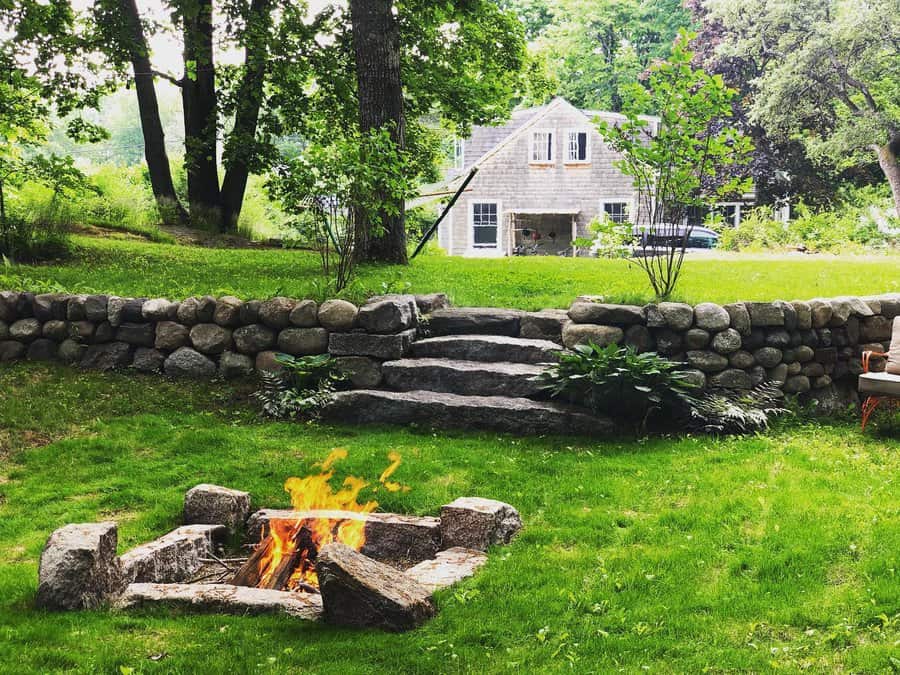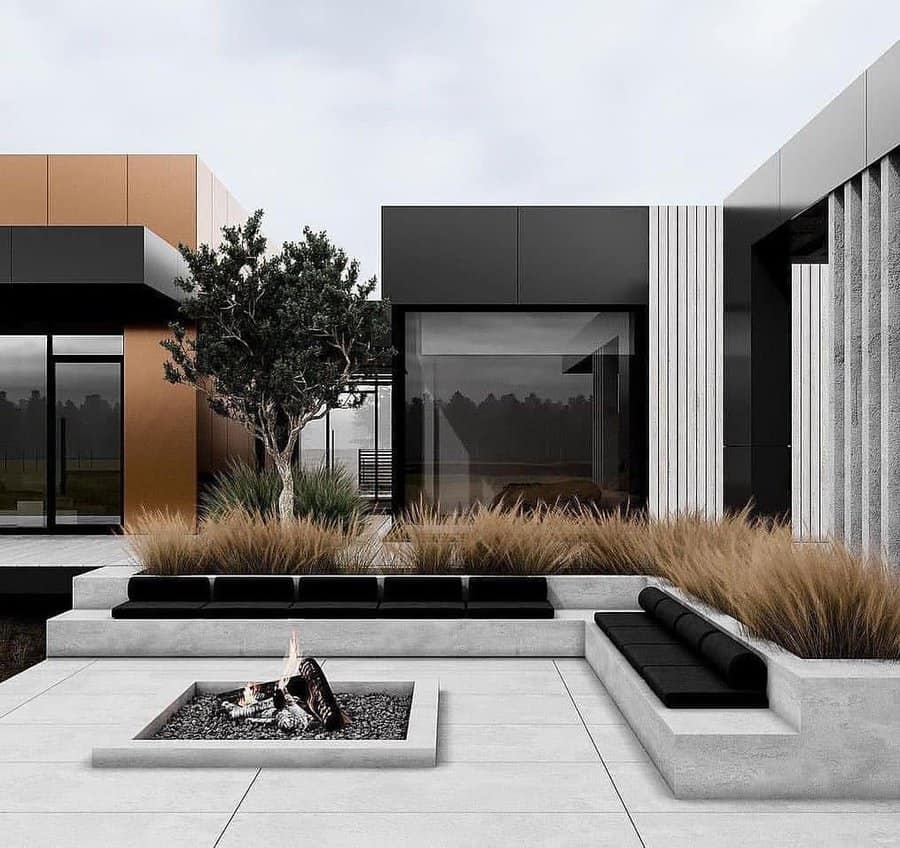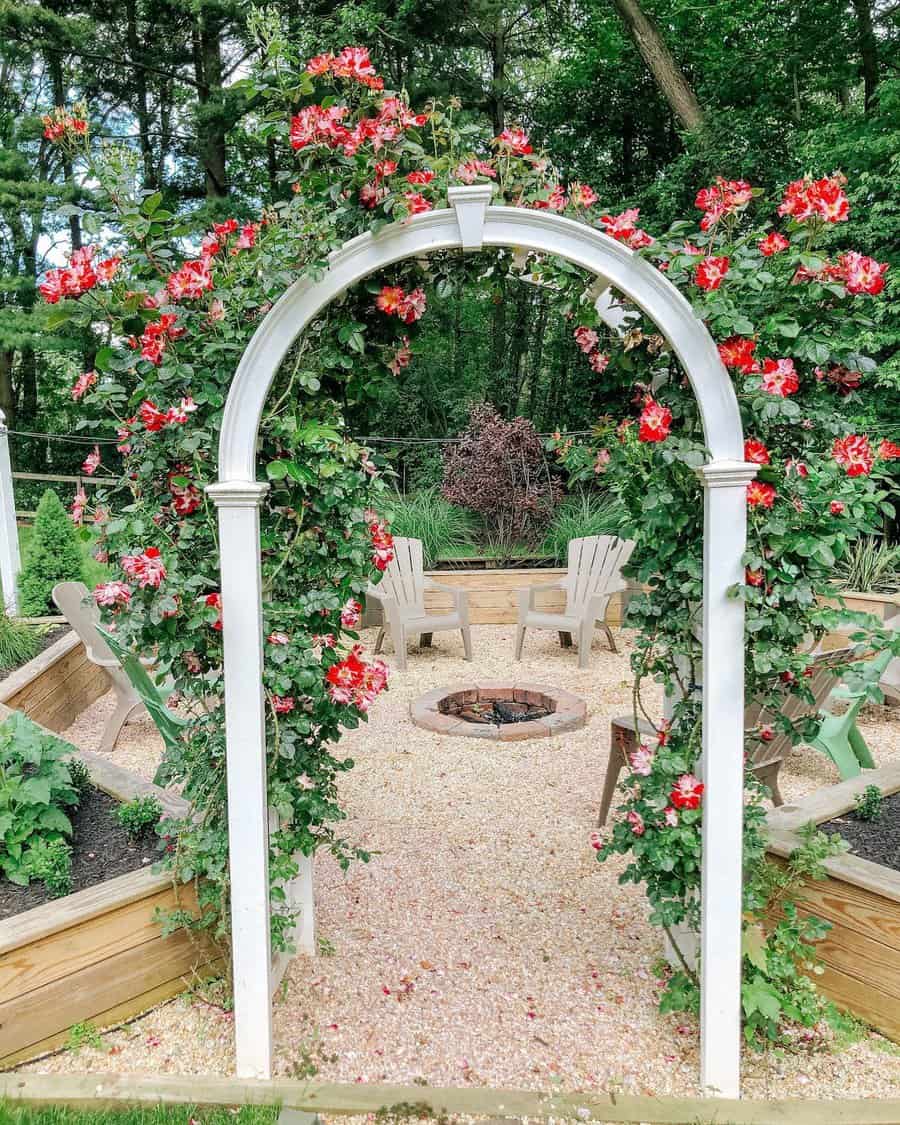 10. Trendy Metal Fire Pit Options
When it comes to creating an inviting summer atmosphere in your backyard, trendy aluminum fire pits are a top choice. These versatile fire pits can serve as the focal point of your outdoor space, offering a cozy ambiance for gatherings with loved ones. To elevate your experience, consider adding a grill attachment, allowing you to roast marshmallows for delectable s'mores or grill up delicious meals to satisfy your guests. With these metal fire pits, your summer gatherings will be unforgettable.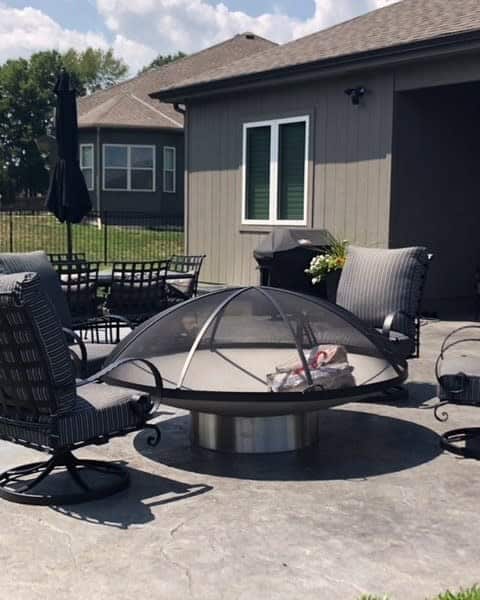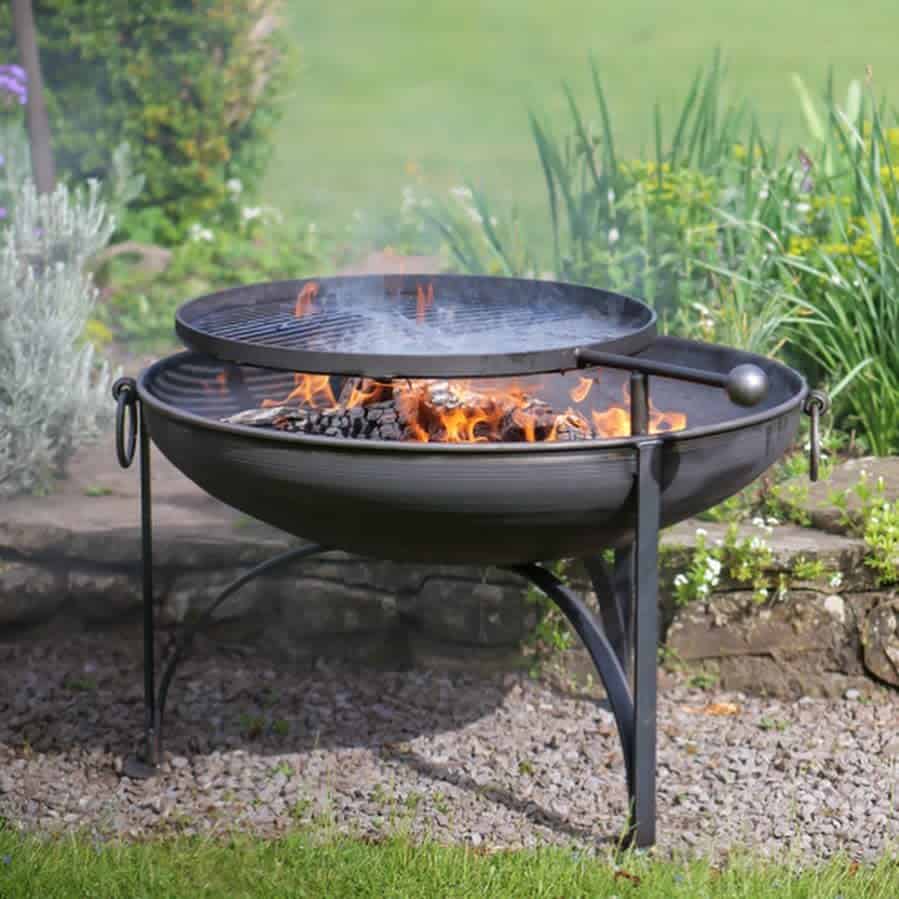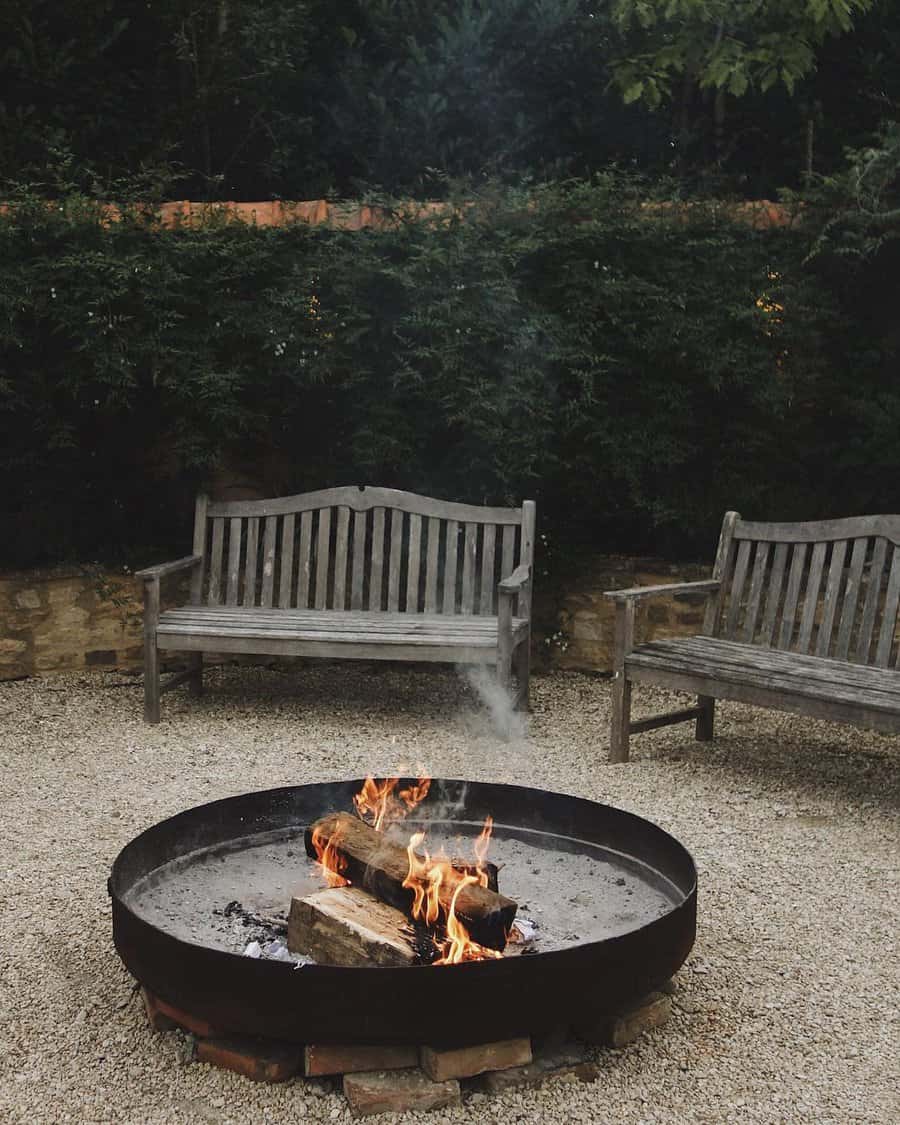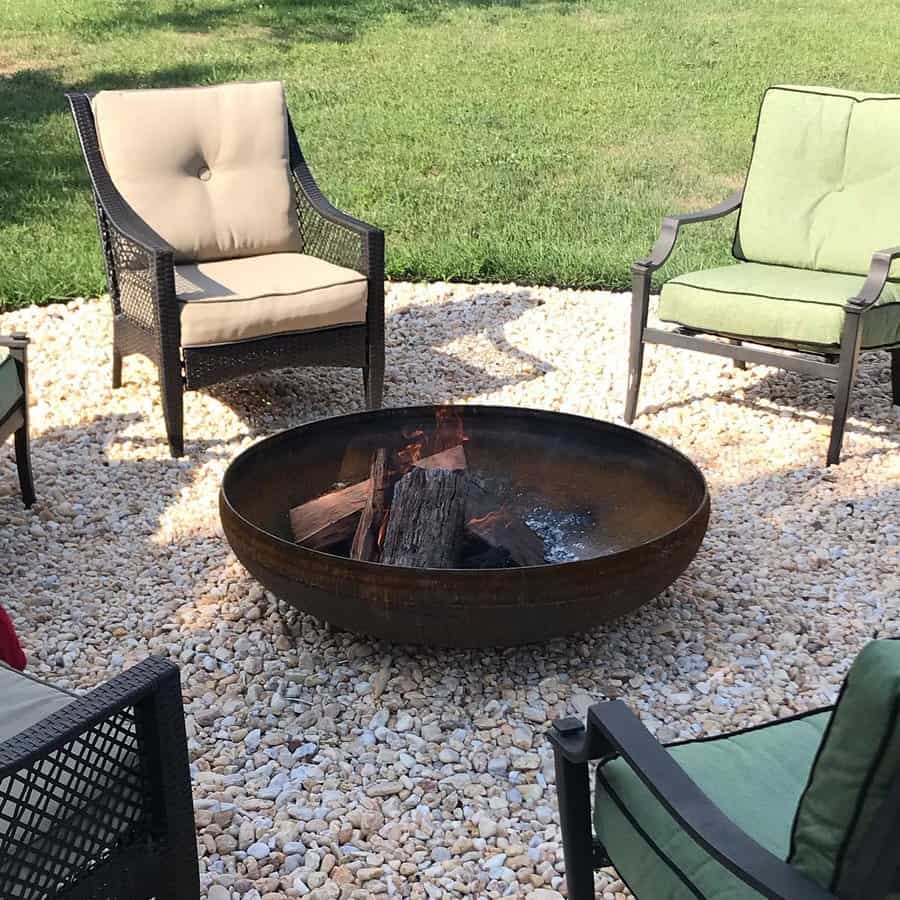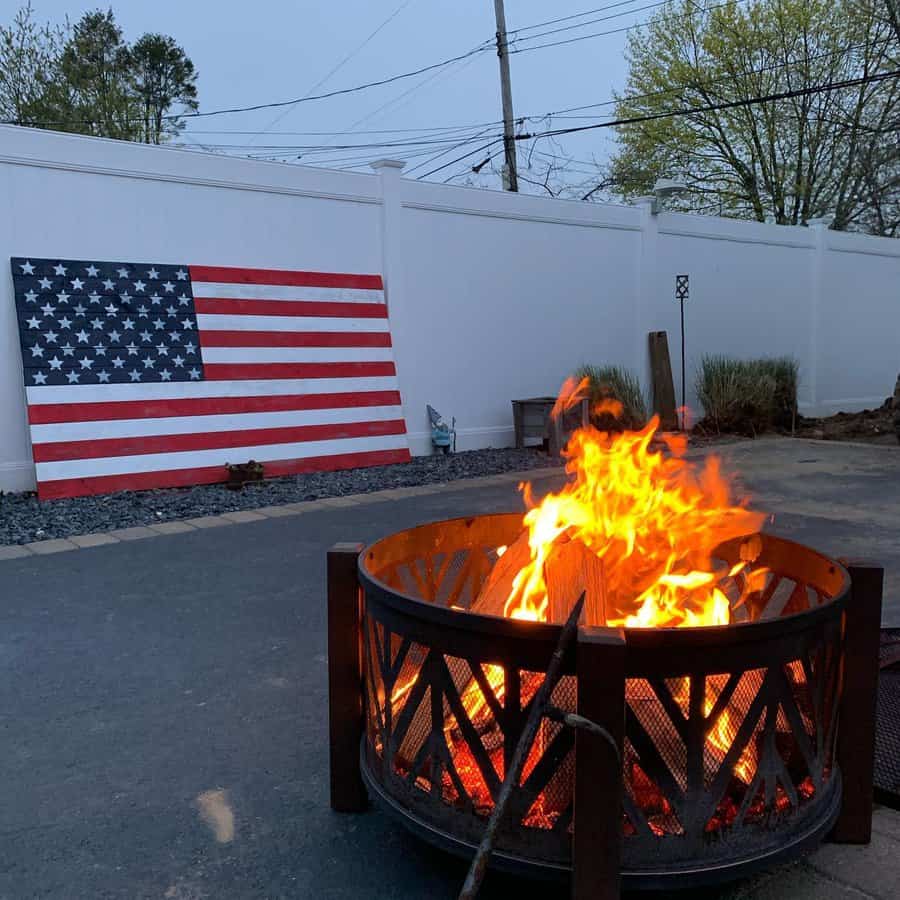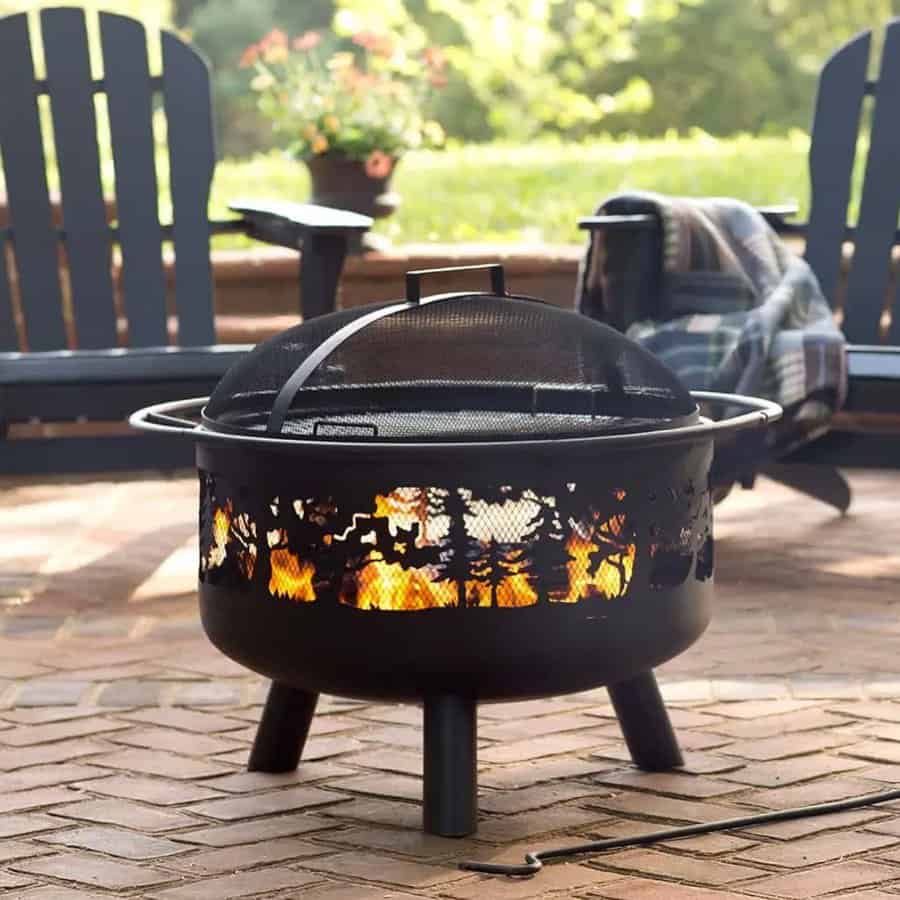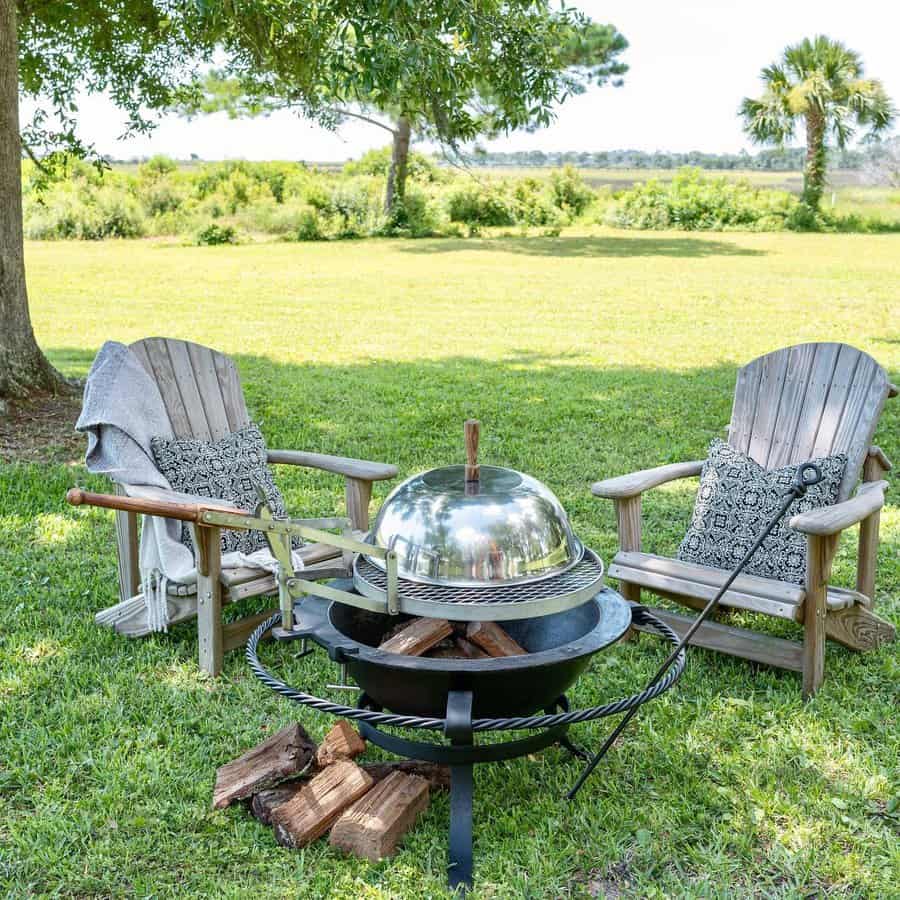 11. Modern Box-style Fire Pit Designs
Upgrade your outdoor space with a contemporary box-style propane gas fire pit. Enhance its appeal by surrounding the box with decorative pebbles, effortlessly transforming it from an everyday outdoor lounge into an intimate gathering spot.
This versatile addition provides a warm and inviting ambiance for evening gatherings and doubles as a stylish coffee table during the day. For a simple yet impactful upgrade that sparks engaging conversations, make a modern fire pit the centerpiece of your outdoor living area.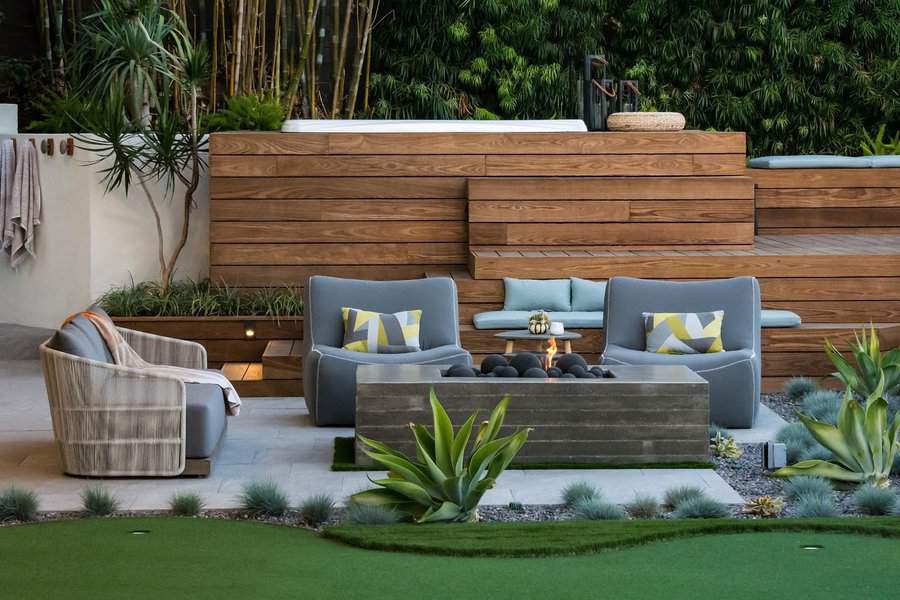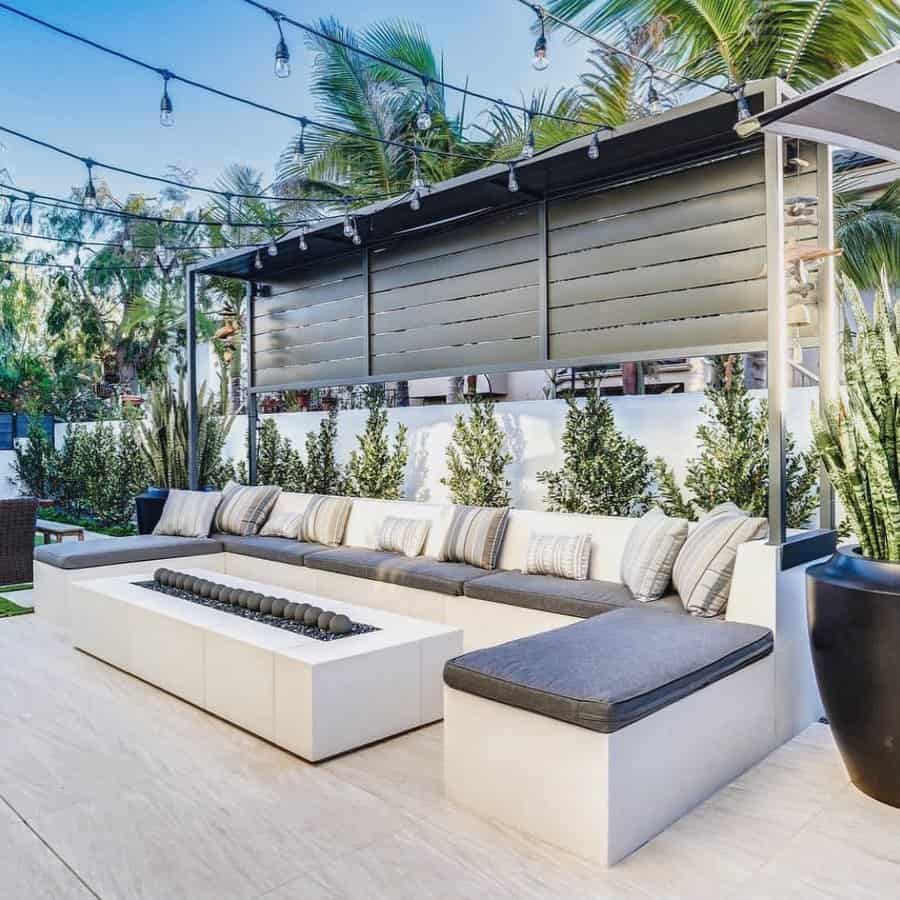 12. Natural Stone Fire Pit Inspirations
For a touch of rustic charm in your outdoor space, consider a natural stone fire pit. Its rustic appeal adds a unique and natural element to your area, creating a warm and inviting atmosphere. To complement your patio, cleverly position the fire pit to harmonize with stamped tiles, infusing tranquility and serenity into your backyard.
Let the stones and your property's layout dictate the fire pit's shape – angular and block-like stones are ideal for a square design, while smaller, rounded stones are perfect for a circular pit. Don't be confined by convention; mix and match stone shapes to create a fire pit that suits your space and style.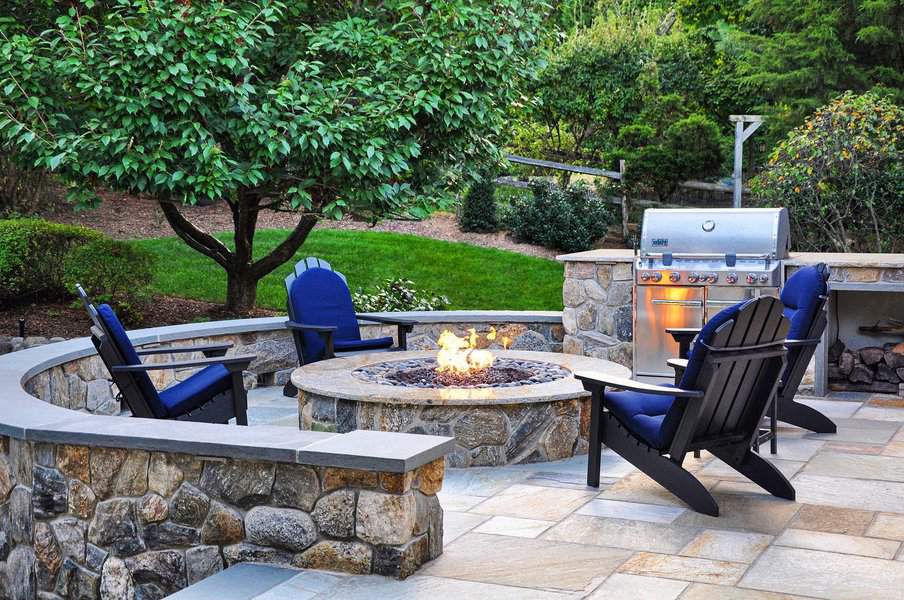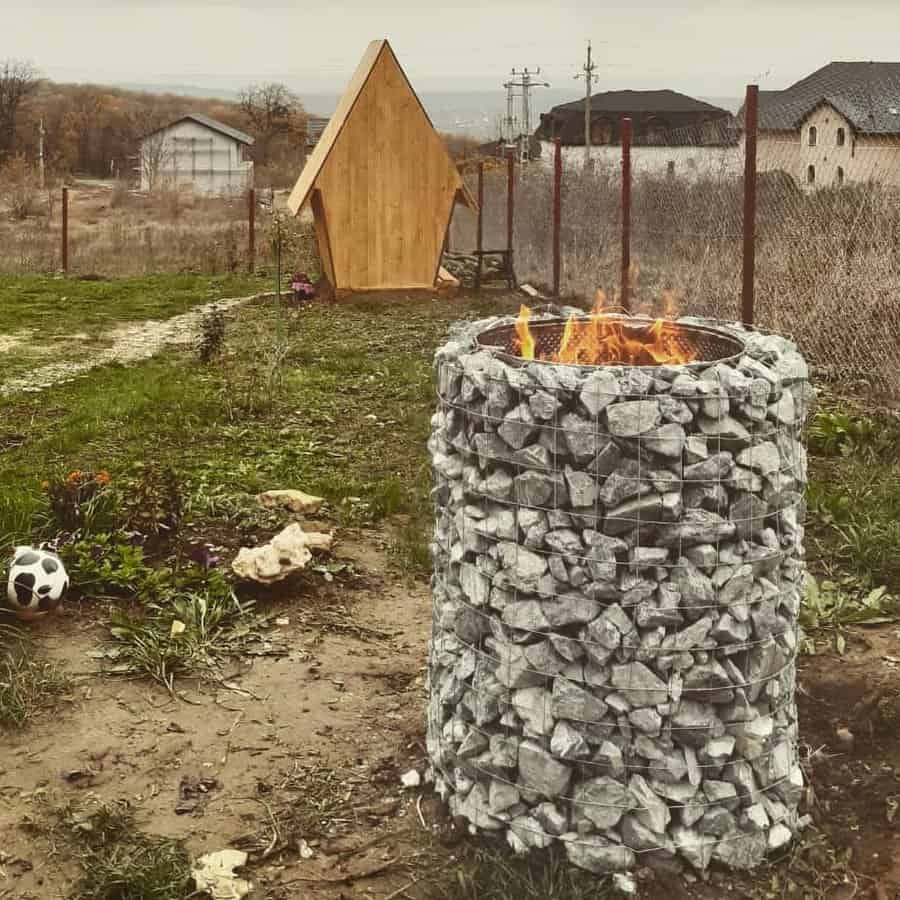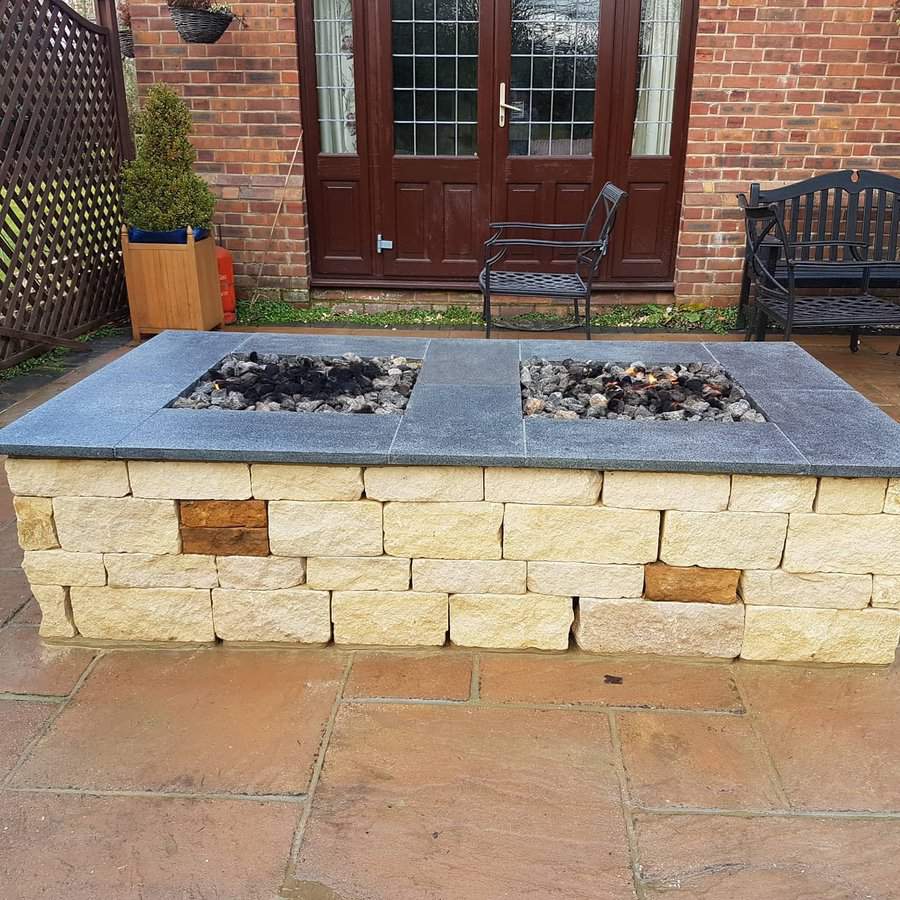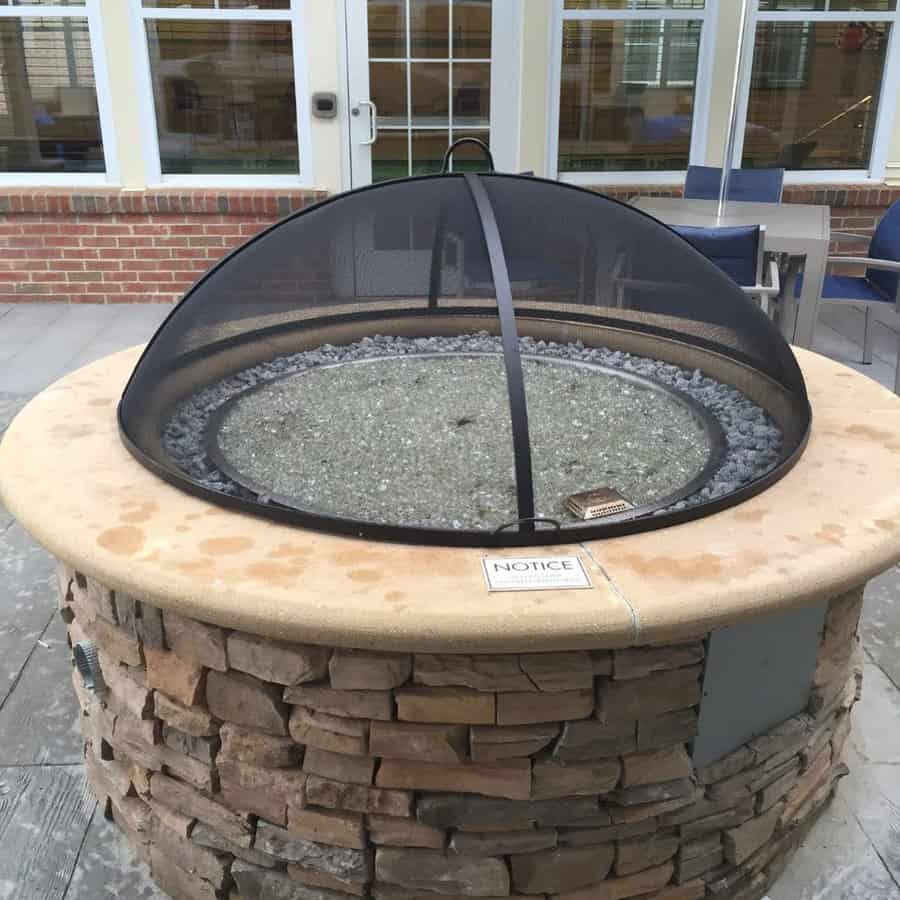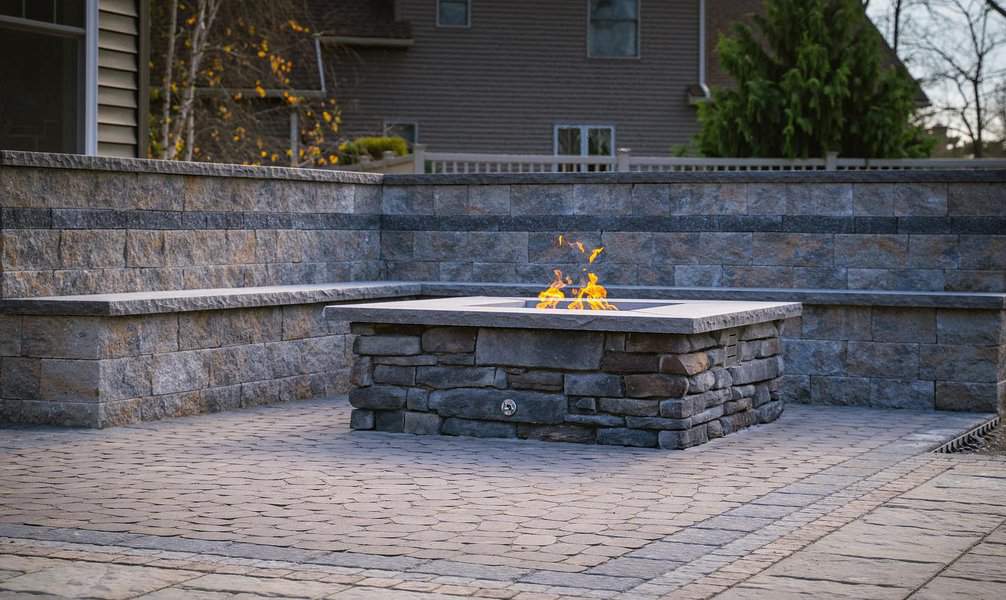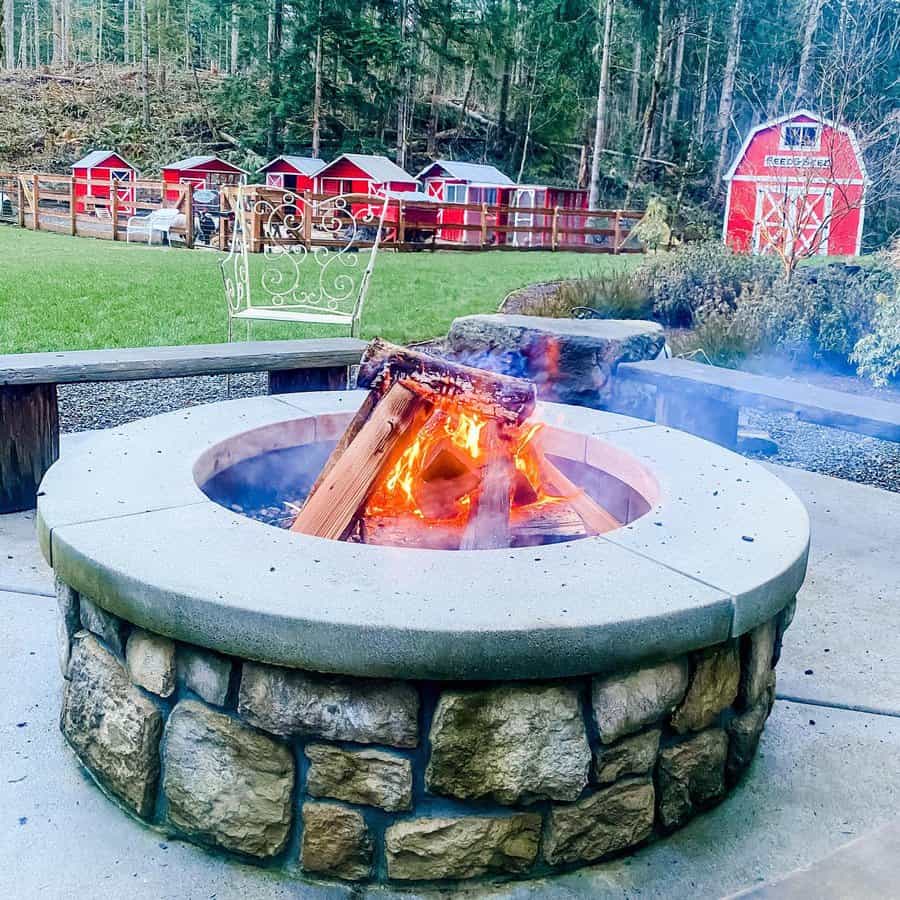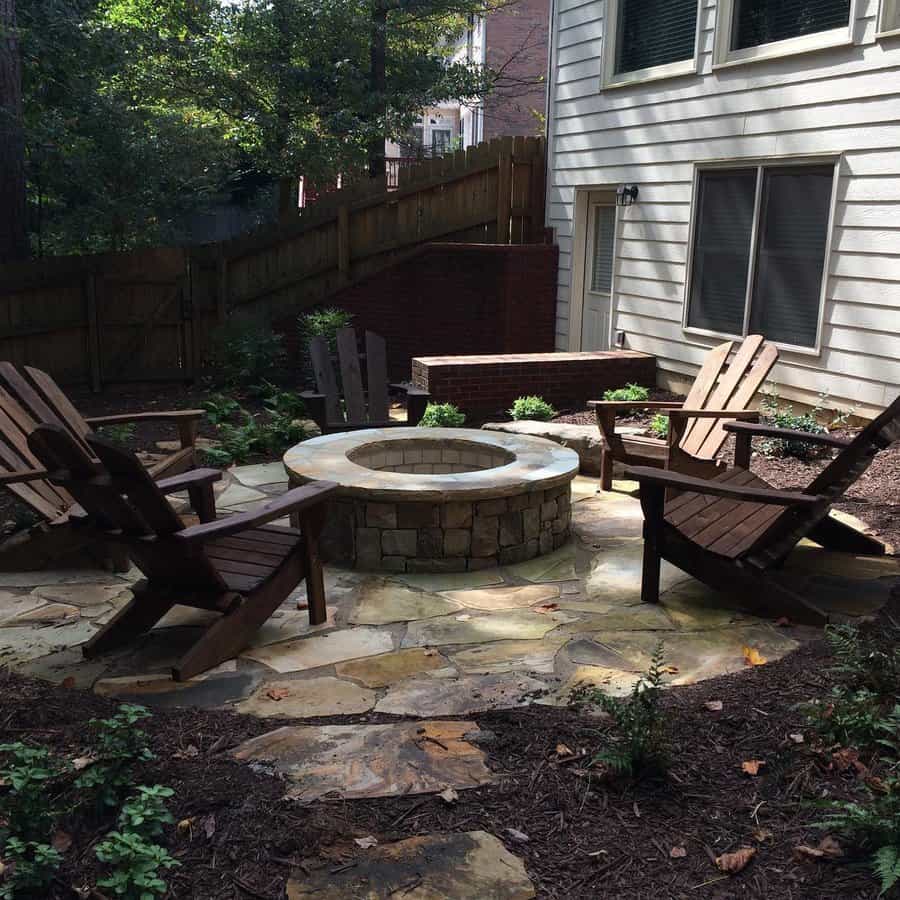 Fire Pit FAQs
What do you put in the bottom of a fire pit?
The first layer in the bottom of your fire pit should be sand. This creates a non-flammable and dense layer at the base of your fire pit. Then top this layer with lava rocks, fire pit glass, or gravel. These are all durable materials that encourage airflow while also being safe for use in the potentially very high heat of your fire.
How can I make my fire pit look better?
Look beyond the basic functionality of your fire pit. It should be aesthetically pleasing by using stones or pavers that have an attractive color. Consider building these pavers out to create a solid base for your chairs. A low outer wall around the outside of the seating area can block strong winds and reflect the warmth created by the fire pit back towards you.
How deep should a fire pit be?
The depth of your fire pit depends on the overall size of your project and how in-depth you want to get with your project. A simple DIY fire pit could be as shallow as six to eight inches. You can easily go deeper if you want. However, don't make your pit so deep that it struggles to get air, and you can't enjoy the actual fire.