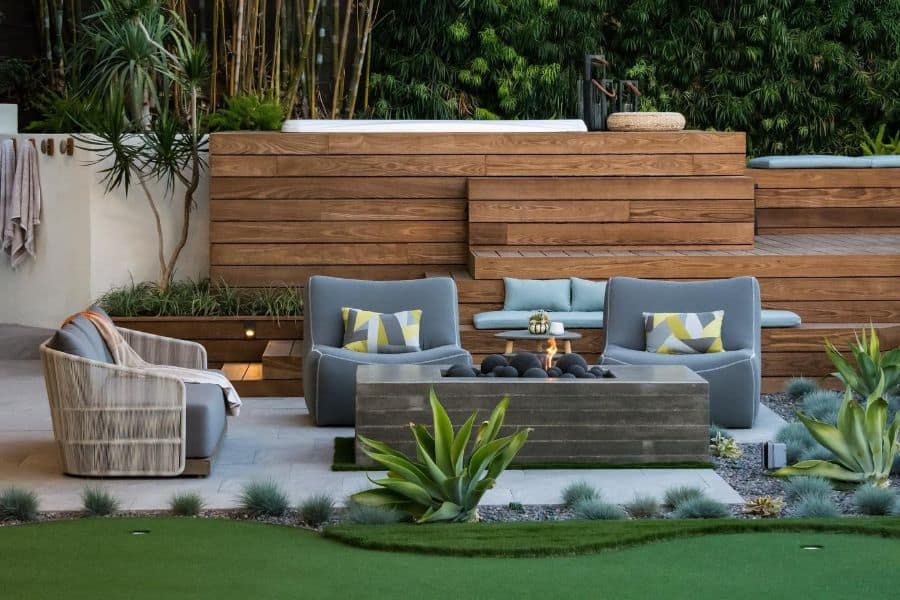 49 Fire Pit Ideas for Your Backyard
Have you always wanted to build a fire pit in your backyard but never got around to building it? Then now is the time. With more people embracing the outdoor living lifestyle, building a fire pit increases your use of your property and increases your property value.
Don't get lazy and slap a cheap fire bowl on your lawn and call it a day. This won't last, and ultimately, it won't create the aesthetic and atmosphere that makes people want to stick around and hang out. Instead, build a high-quality permanent structure that is durable enough to last for years to come.
These outdoor fire pit ideas will help you design the perfect setup for your backyard.
1. Brick Fire Pits
Bricks are an easy material to work with, and their small size makes it easy to customize the size and shape of your fire pit. For example, classic red bricks will give your fire pit a colonial feel, while modern pavers have a contemporary look. You could even use stacked stone for a rustic or country cottage feel.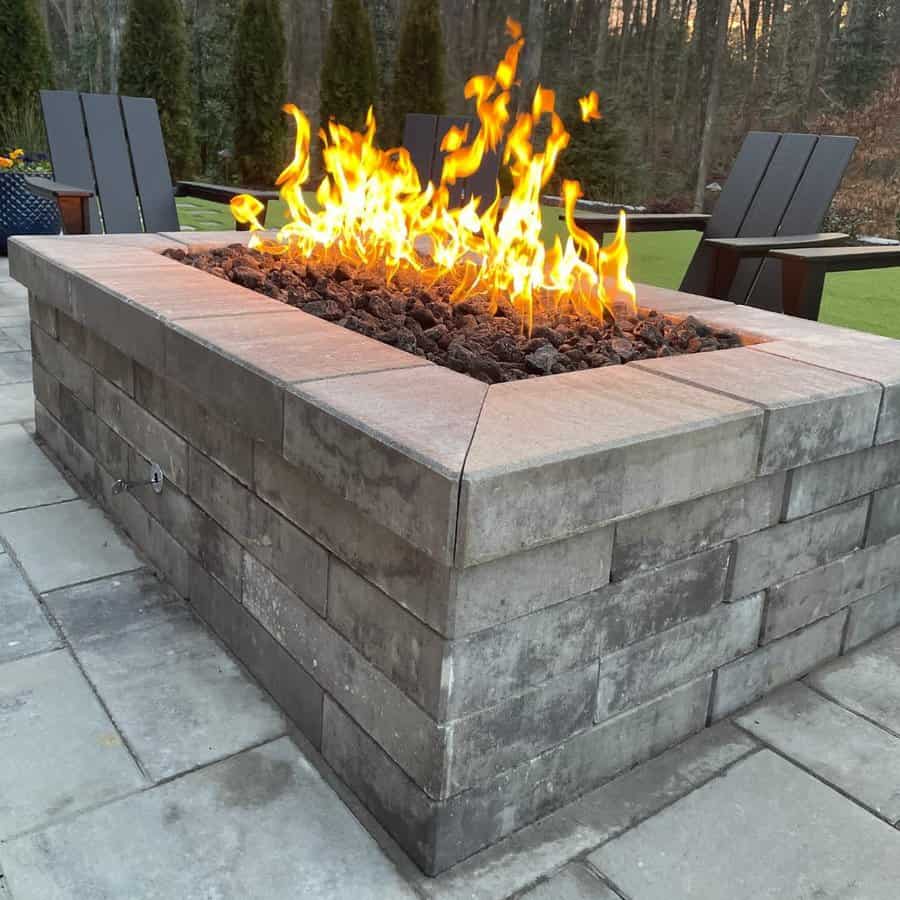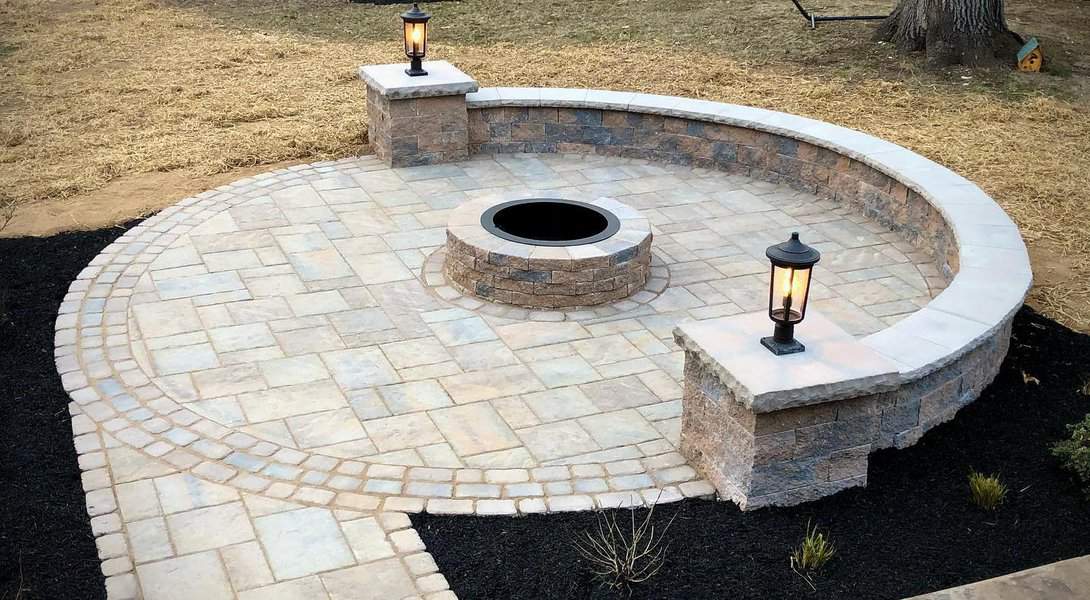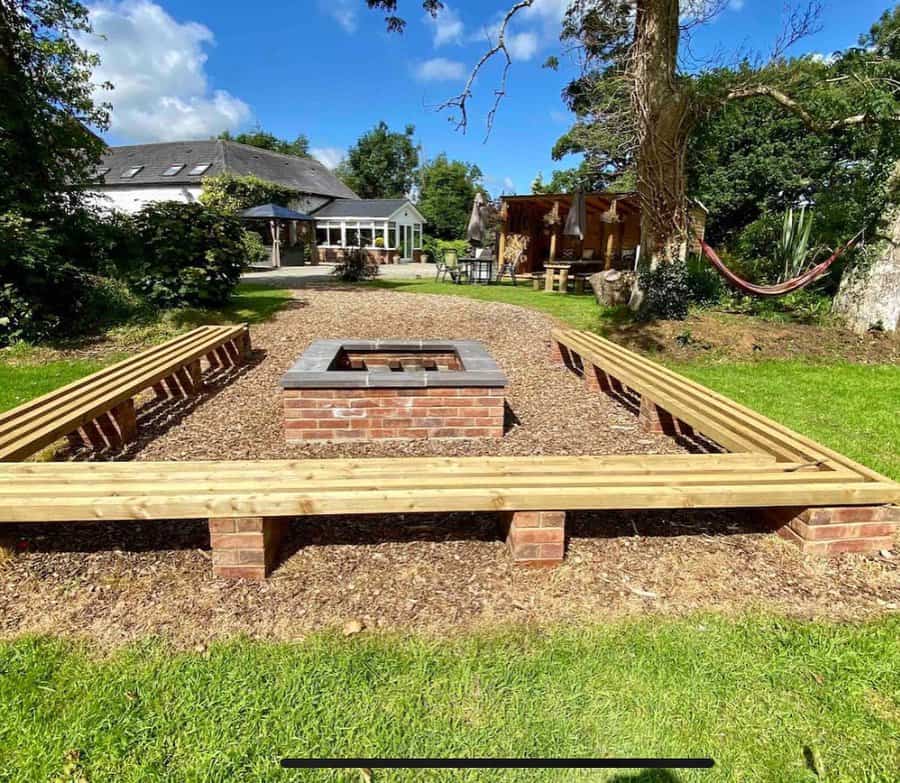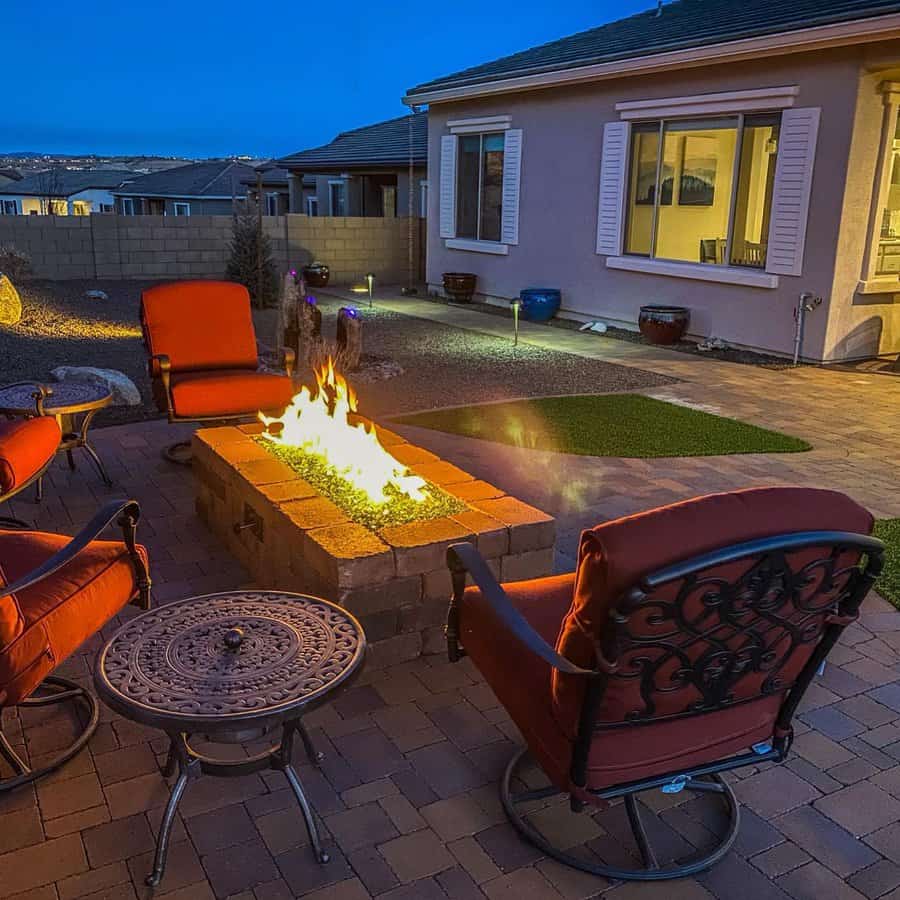 These are all great options if you plan to build your fire pit on your paver patio. It will tie the two design elements together and make it look like they were intentionally built together. It also makes building your fire pit faster since you can to use the already laid pavers as the base for your fire pit.
2. Fire Pit Seating
The best fire pit in the world isn't complete without a seating area. Adirondack chairs are perfect because they put you in a relaxed seating position. The large back gently slants back and supports your entire body. There are nicely shaped flat armrests that are perfect for setting a drink on. The rolled front of the seat gently curves under your knees for the right amount of support.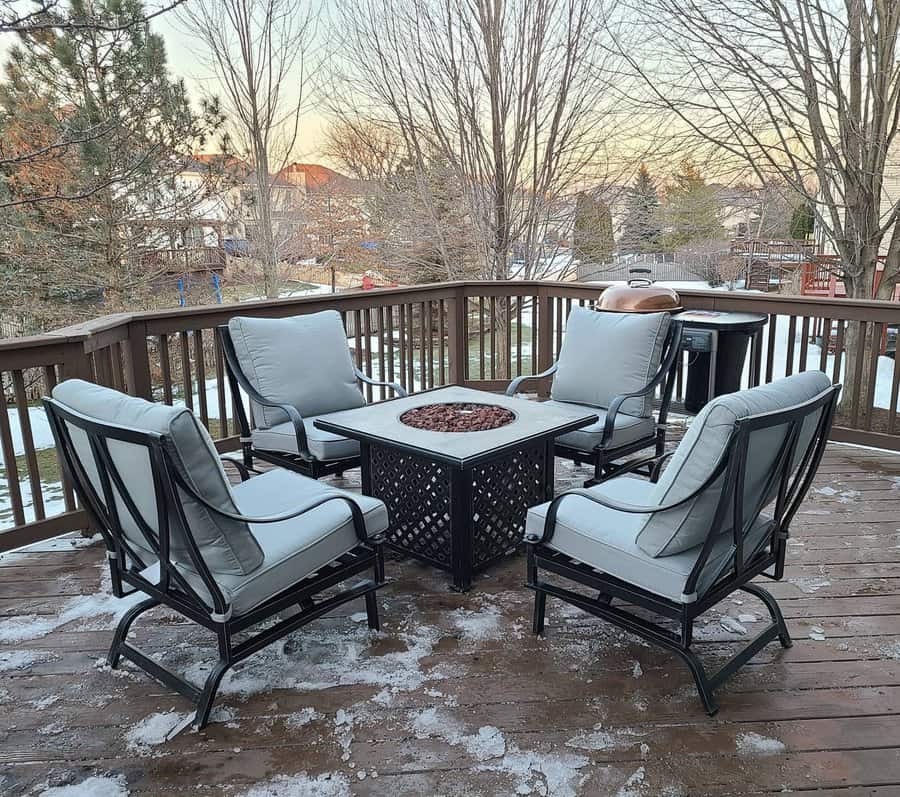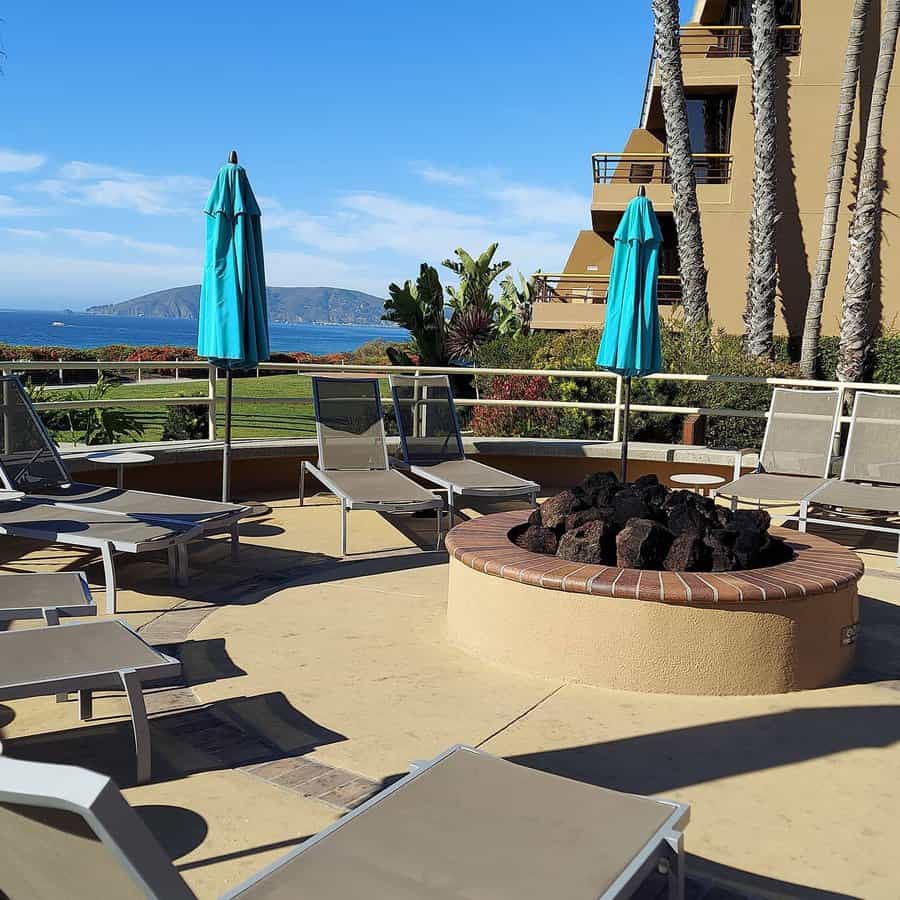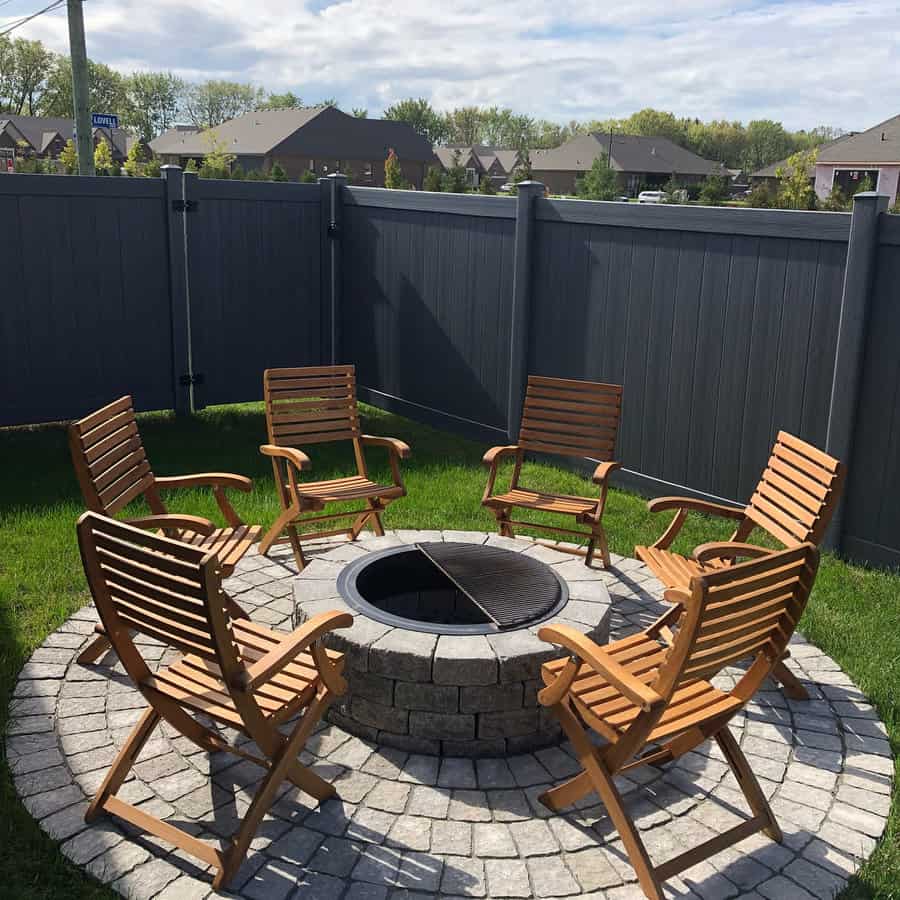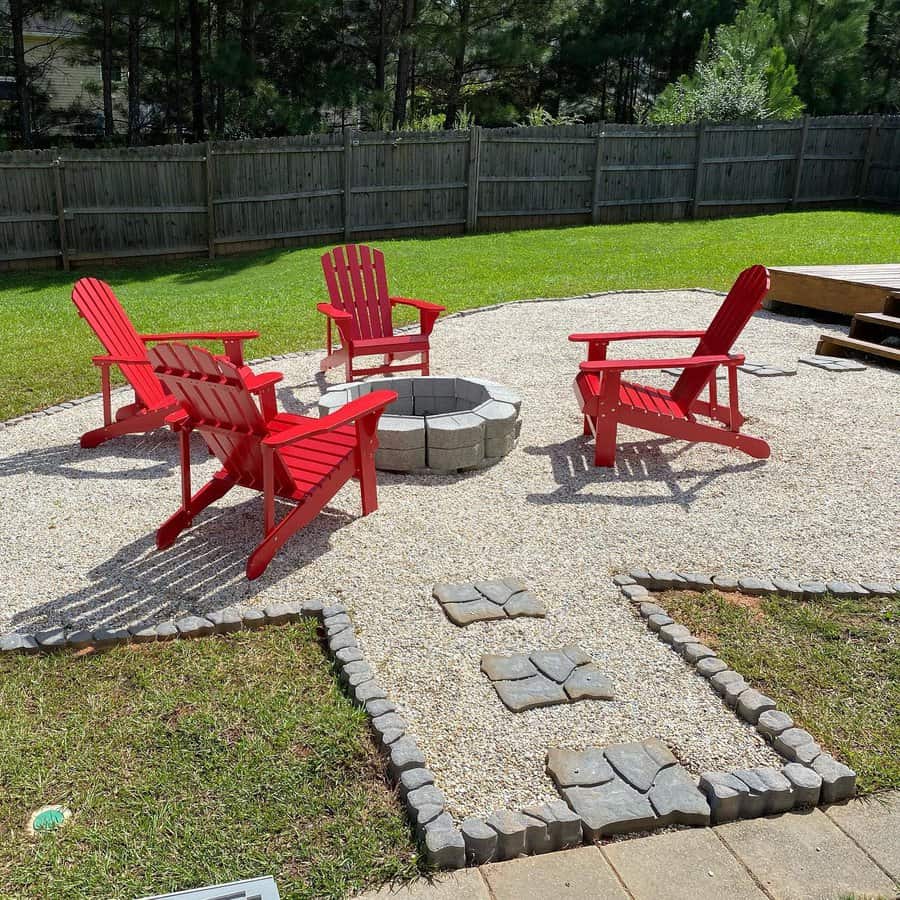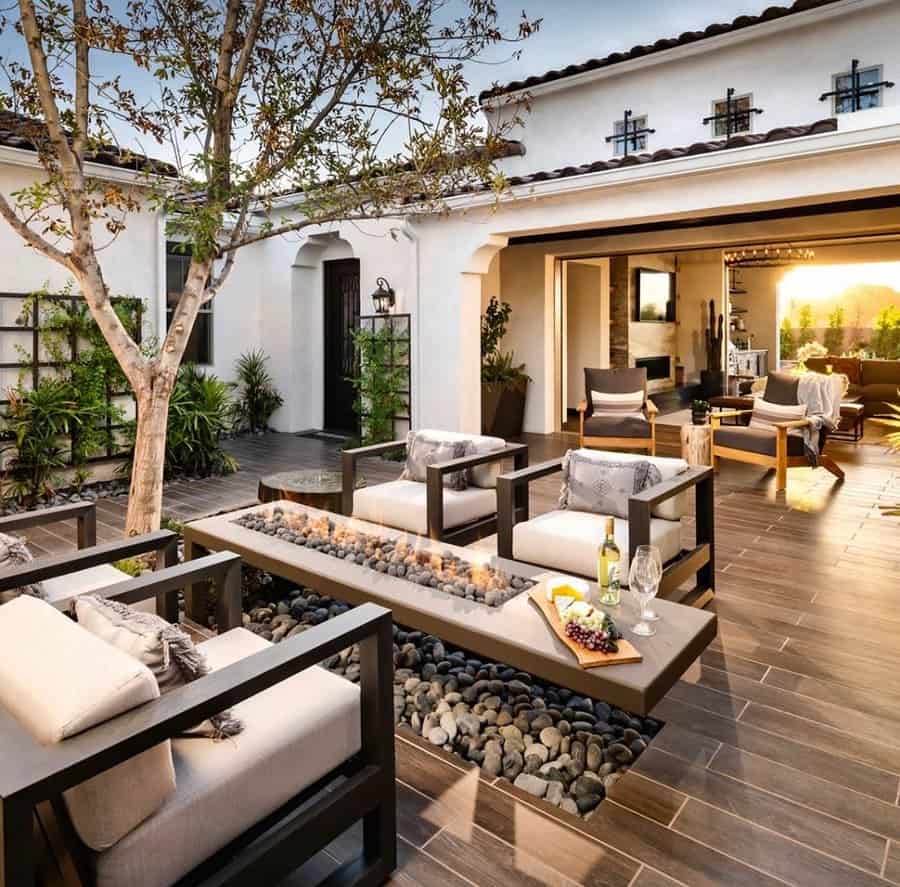 Arrange comfy chairs around the fire pit area, leaving space behind, between, and in front of the chairs. The space makes it easier and safer for people to walk around without having to get too close to the fire pit.
3. Concrete Fire Pits
Give your fire pit a modern flair by using concrete. Instead of building your fire pit layer by layer, you can purchase a single poured concrete molded frame or base. They come in various shapes, sizes, and thicknesses to suit any budget or backyard size. You'll even find some that double as furniture, such as a coffee table.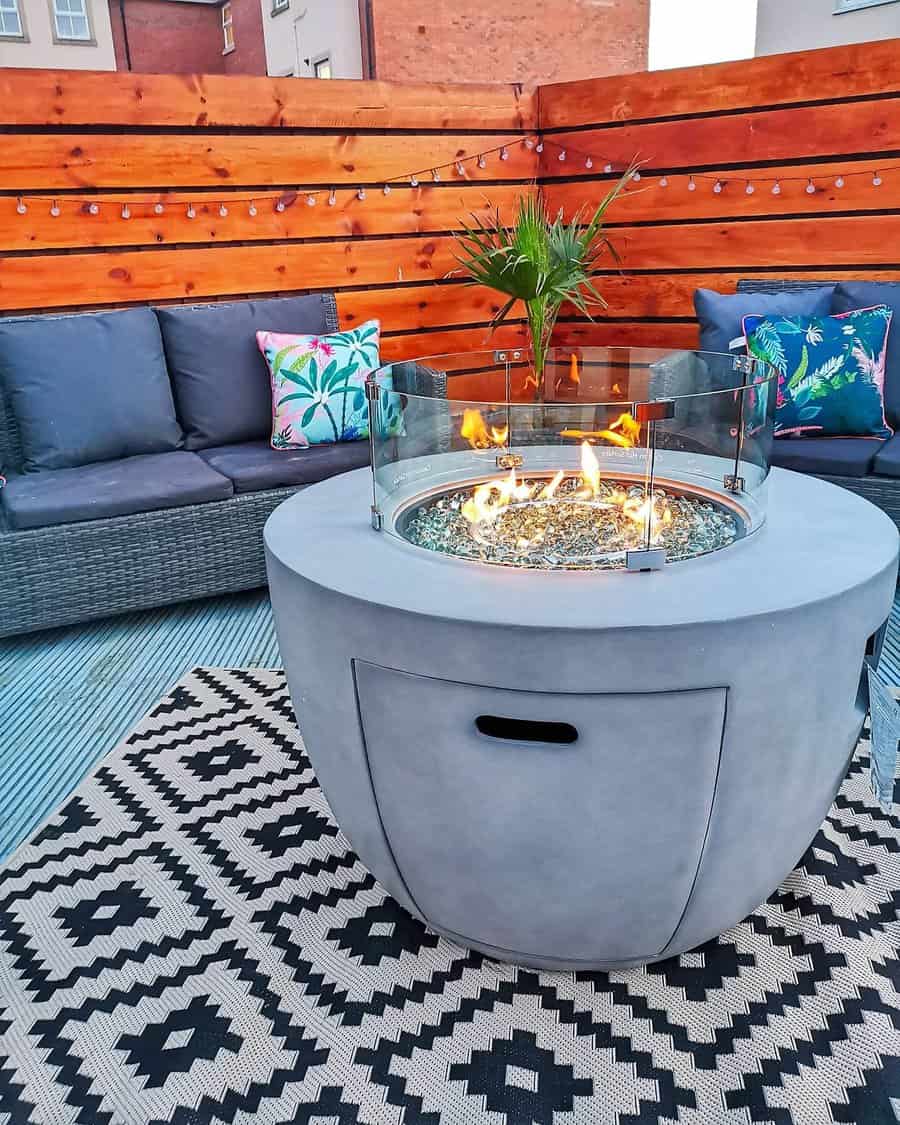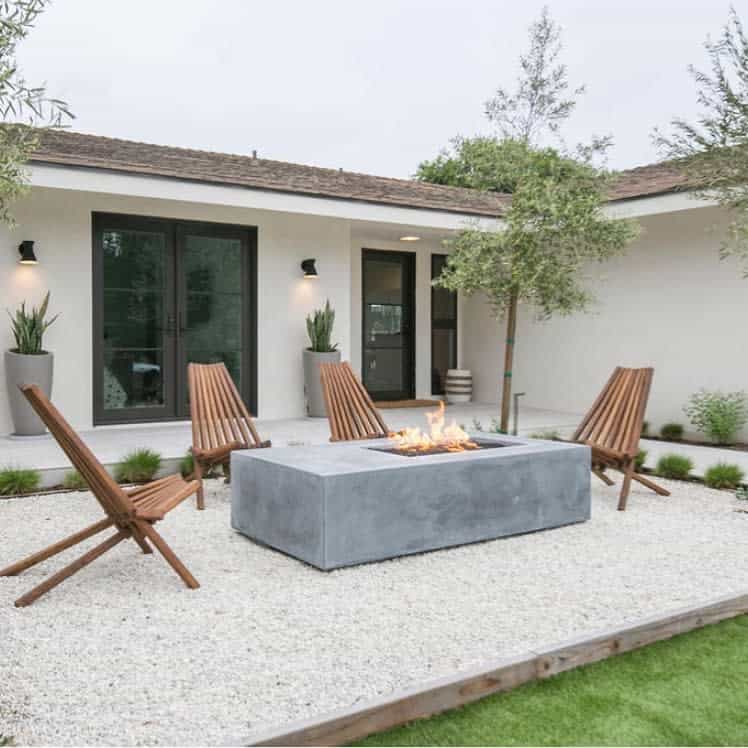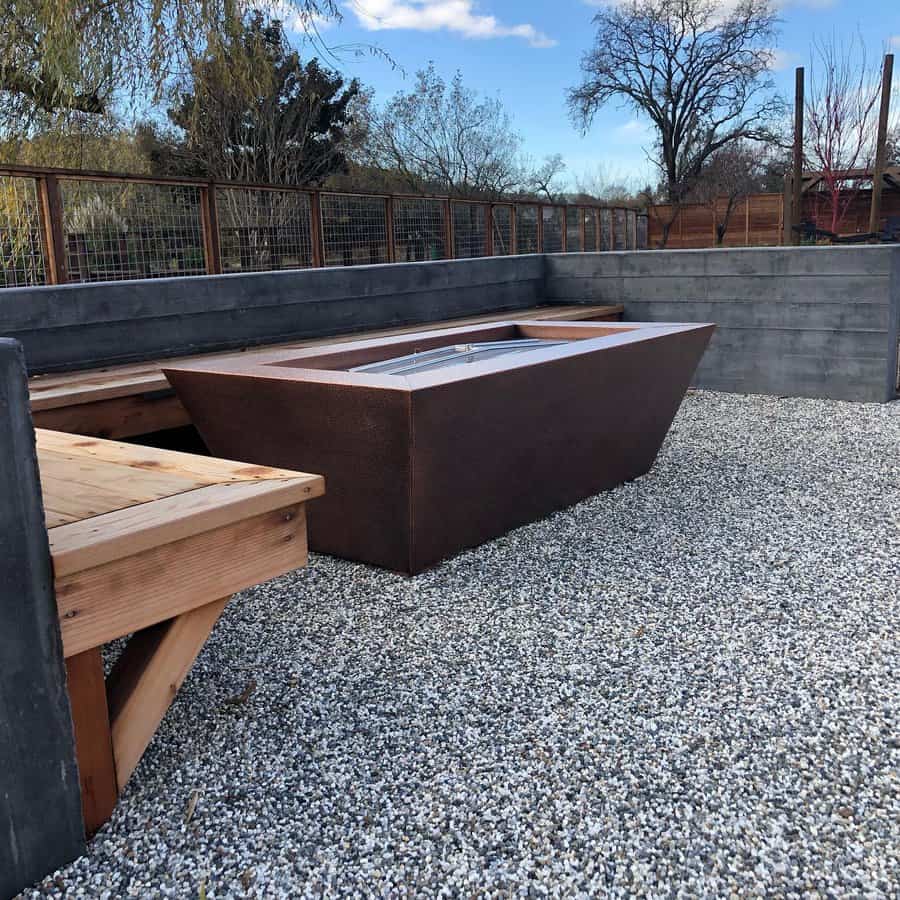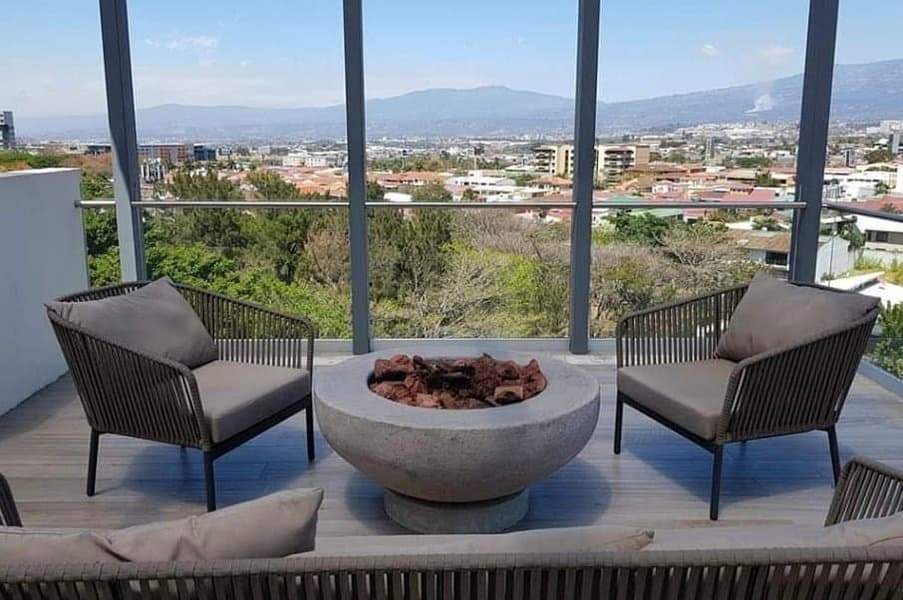 You typically won't find this style as a wood-burning fire pit. Instead, they will have decorative river rocks or fire glass in the basin, and then the flames are fueled by a propane tank hidden underneath the concrete structure. 'These outdoor fire pit ideas are perfect for someone who wants the look and feel of a fire pit with the convenience of an on/off switch.
4. DIY Fire Pits
You don't have to buy a fire pit or hire an expensive contractor to build your fire pit. A DIY fire pit gives you full control of your fire pit design and is kind to your budget. Before tackling any DIY fire pit idea, make sure you know the dos and don'ts of fire pit safety. Never build your fire pit too close to a building or other permanent structure. It should also not have any large tree branches overhanging it.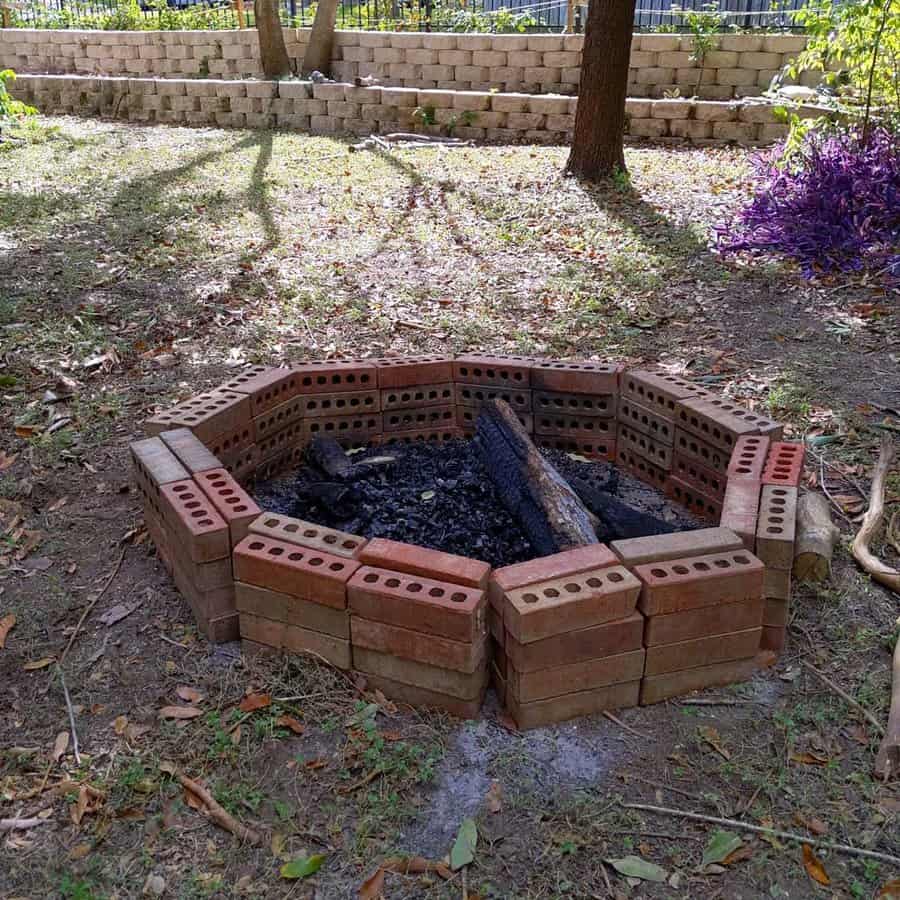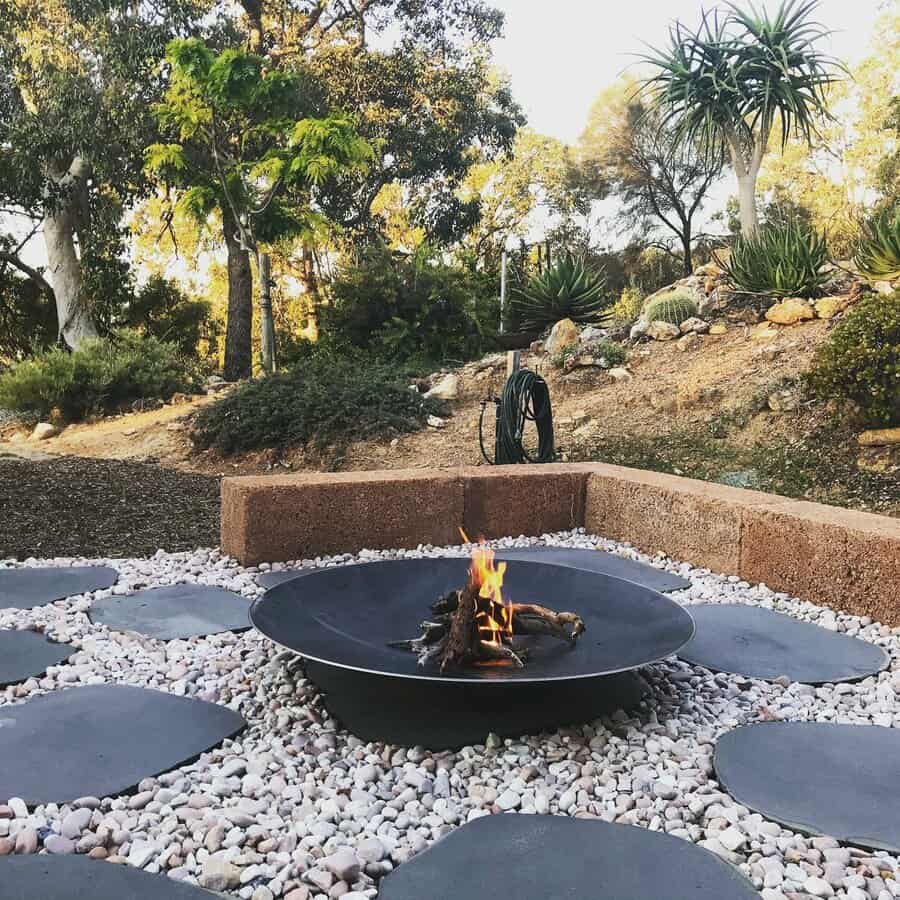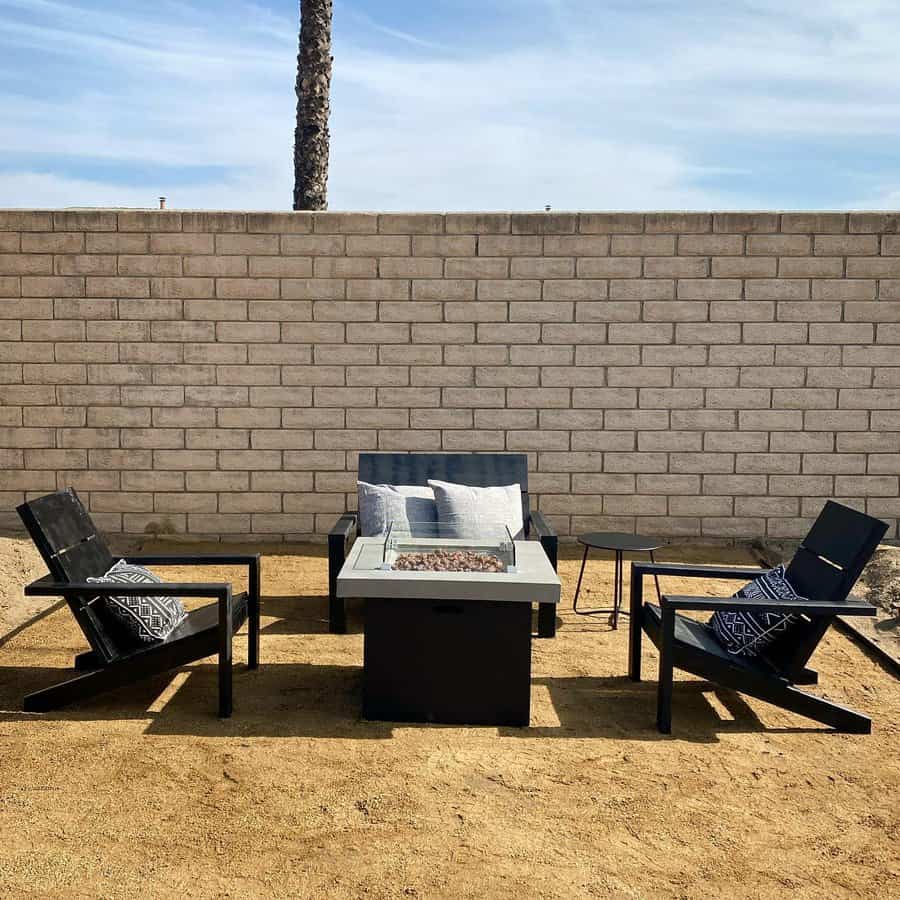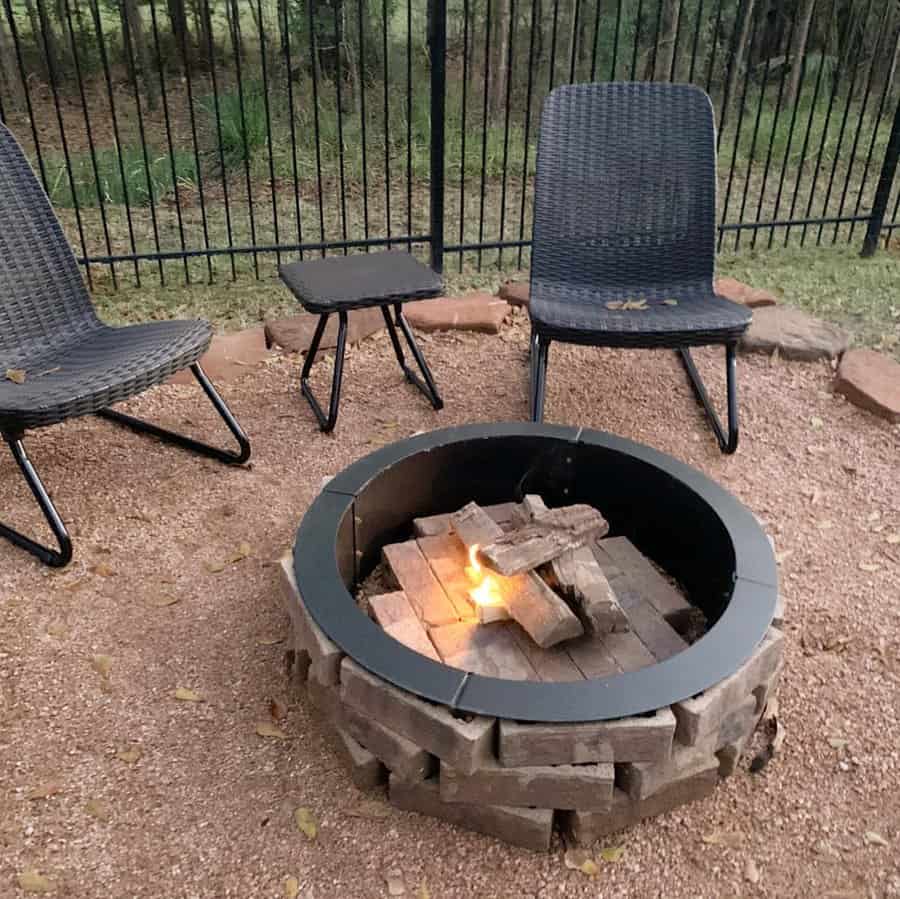 A simple fire pit made from bricks, concrete blocks, or pavers is easy to build. Start by digging out any grass or vegetation from where you plan to build your fire pit. Create a level surface with paver sand and then gravel, lava rock, or fire glass. Build the fire pit large enough to allow for enough airflow to get a healthy fire going. Spread pea gravel around the outside of the fire pit for a fire-safe material that's also easy to arrange chairs or walk on.
5. Fire Pit Designs
The options are endless when it comes to the design of your outdoor fireplace. Consider the size and design of the rest of your outdoor living space. If you have a modern feel to your backyard, then you'll want to do the same with your fire pit. A rustic aesthetic means you should continue this theme with your fire pit.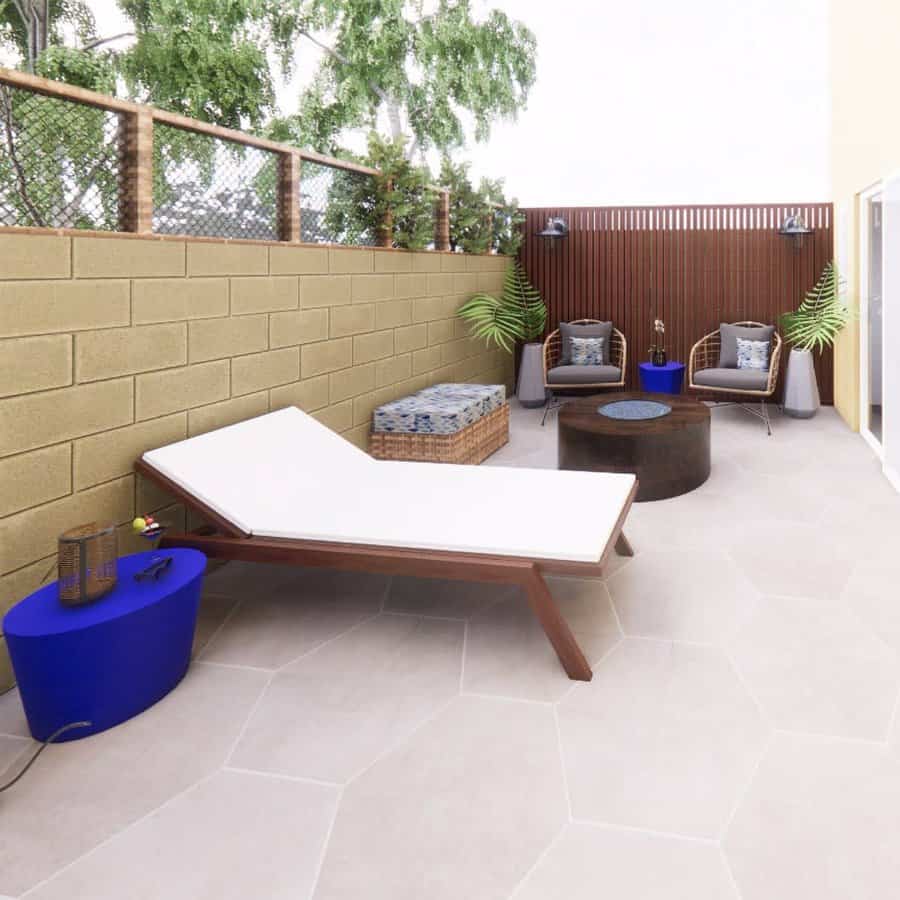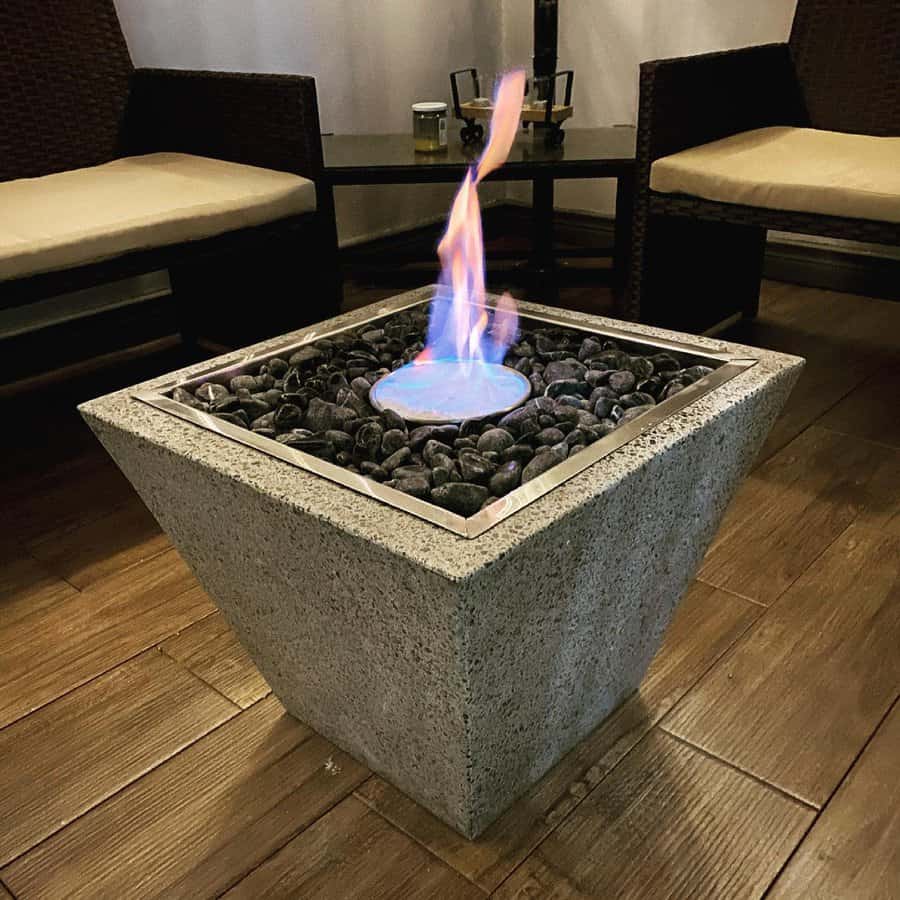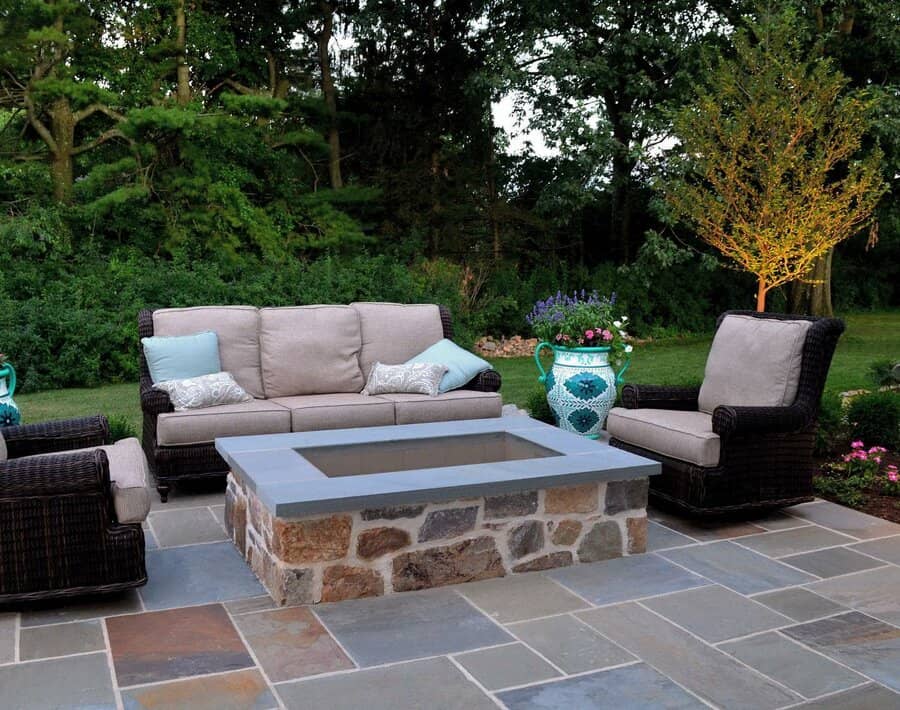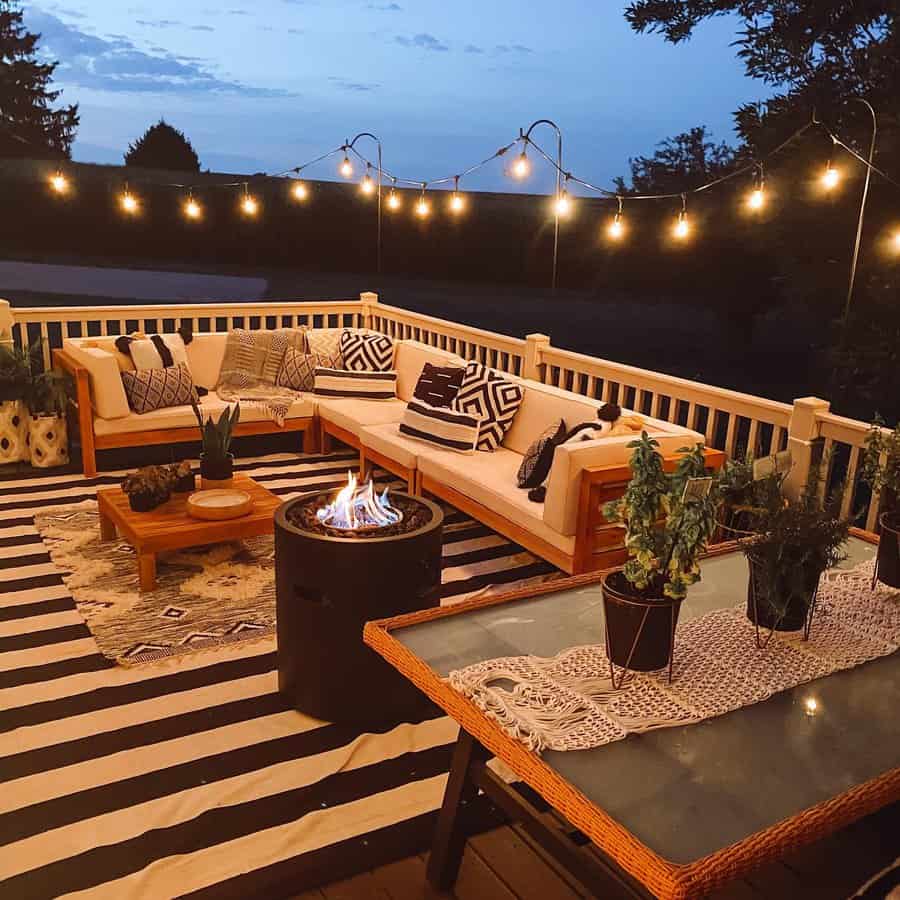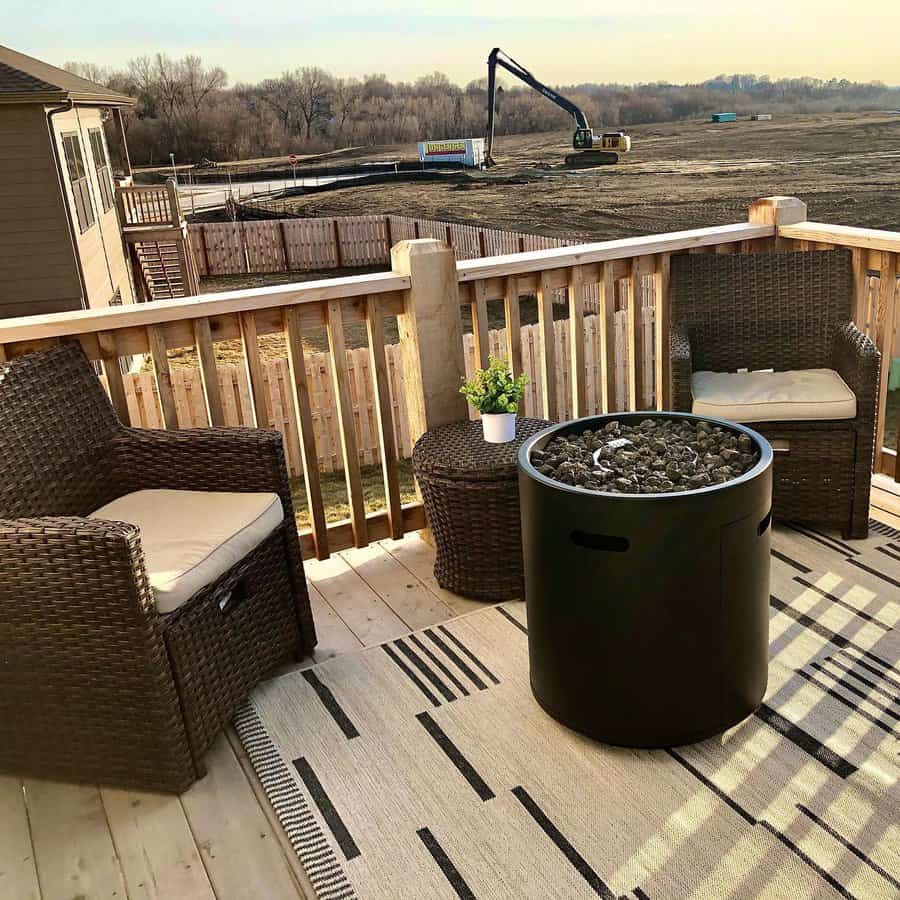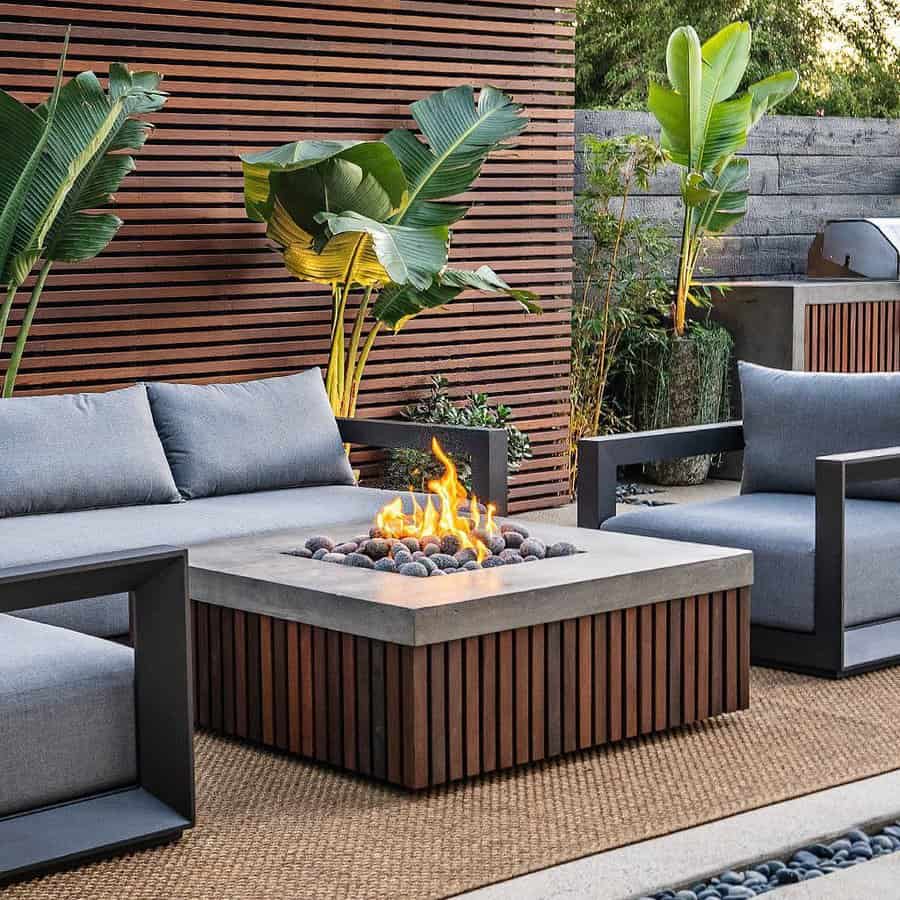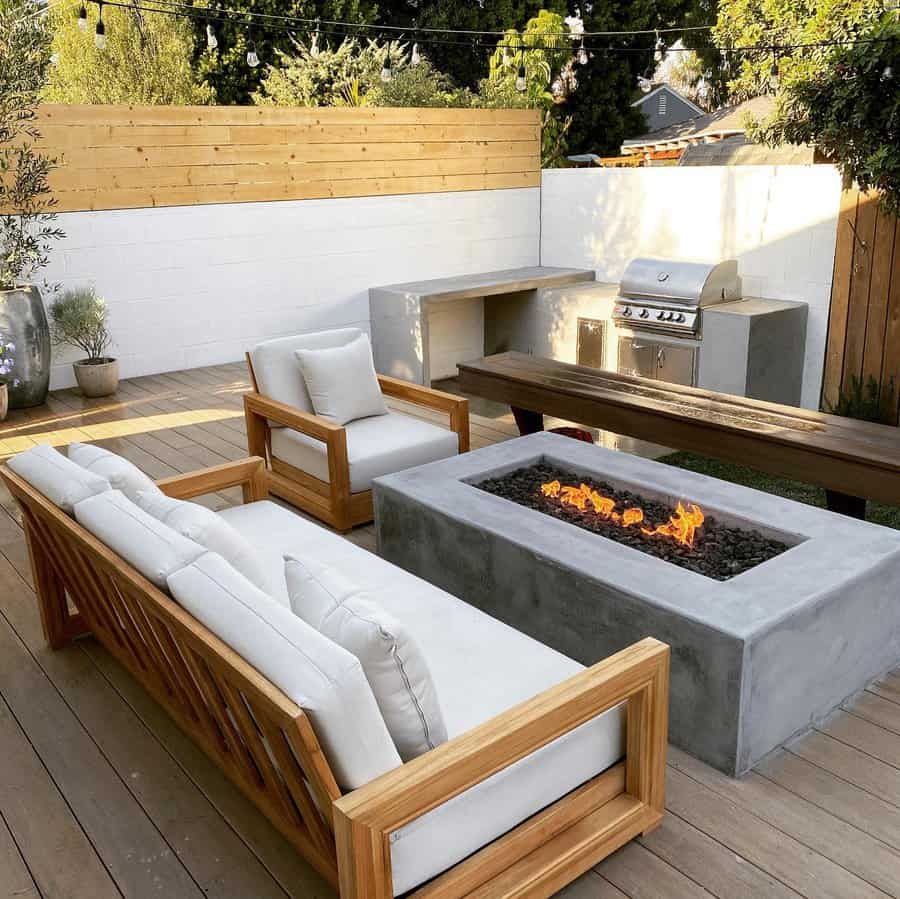 You could build your fire pit into the rest of your backyard design. Perhaps you already have a large seating area that wraps around a corner of your deck or patio. This outdoor space is a prime spot for adding a fire pit in the middle of it. You already have the outer seating, so the fire pit just creates ambiance.
6. Fire Pits for Garden
Create a fantasy-like or whimsical atmosphere in your backyard by placing your fire pit in the middle of a garden. Start with a round fire pit ring that you build on a stone paver base. Then add walkways leading out from this central point. Have small, intimate alcoves around the fire pit with a bench or two chairs. Plant bushes and large, dense plants between and around each alcove. This gives you privacy and creates an intimate space that blocks both sightlines and sound waves.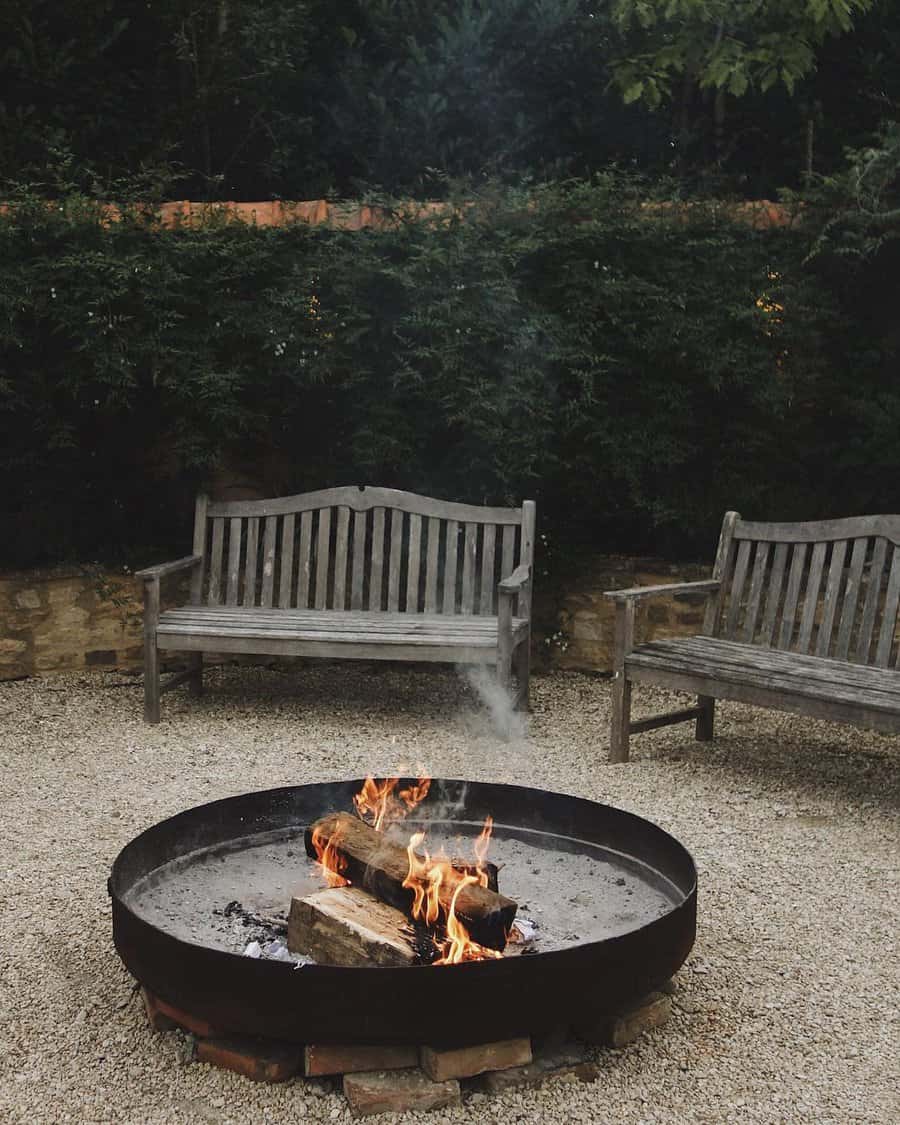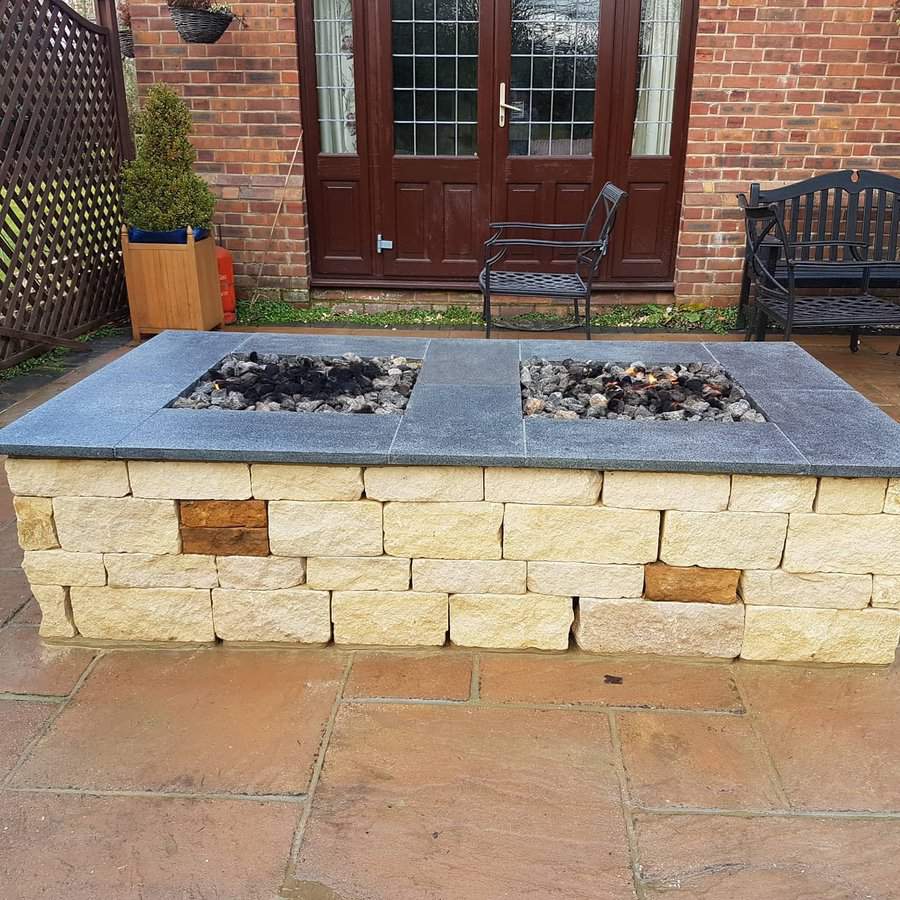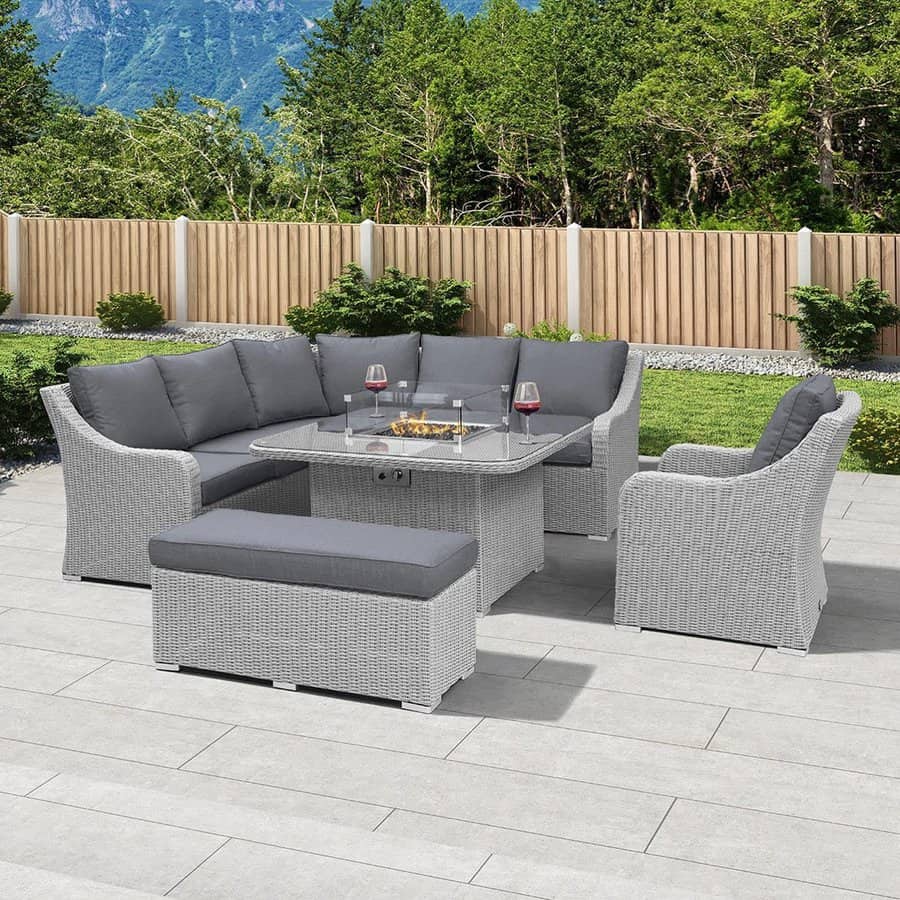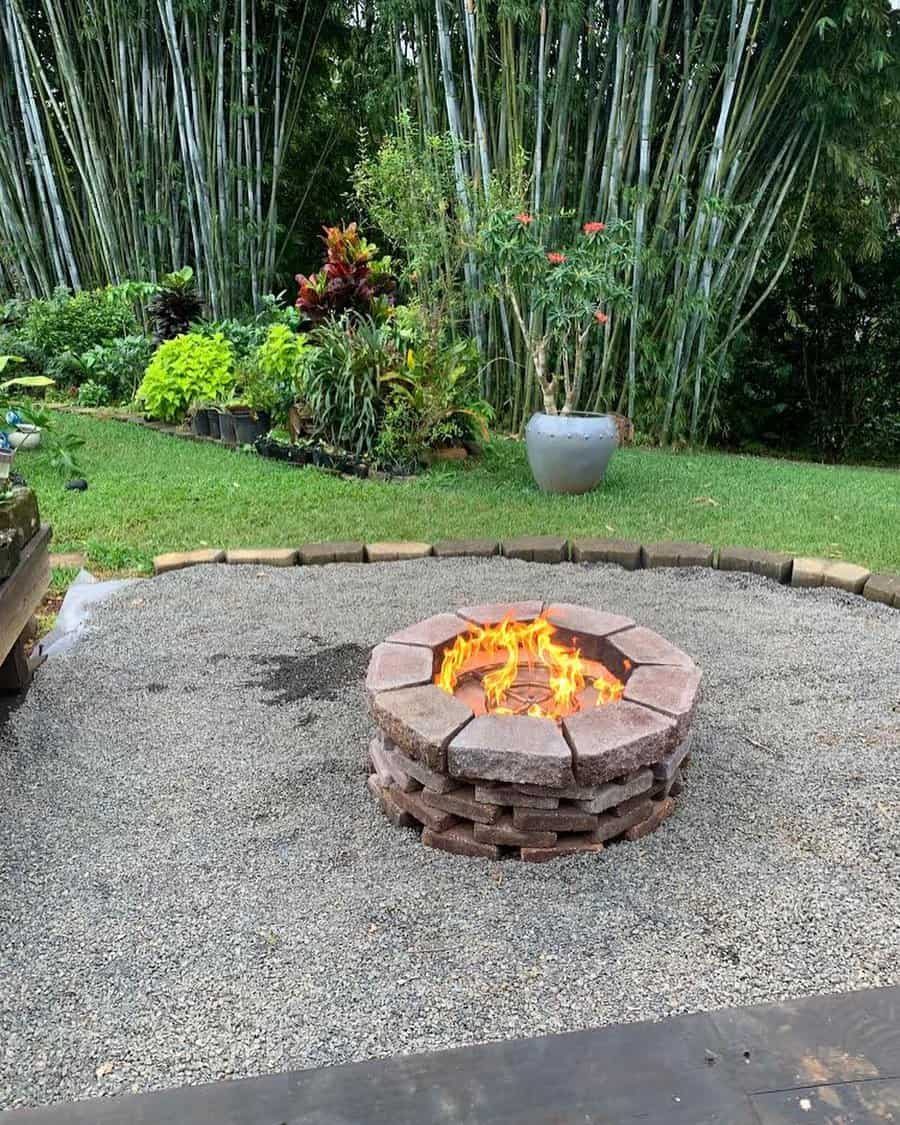 For even more privacy, add a retaining wall around the outside of the backyard fire pit seating area. Then turn the area on the outside of this retaining wall into a raised plant bed. This raises the height of the plants and creates an almost enclosed space.
7. In-ground Fire Pits
Instead of having a large fire pit that sticks out like a sore thumb, you can build an in-ground fire pit. First, you'll need to dig a hole into the ground and sink your fire bowl into it. Then add a fire ring around the outside. This prevents the surrounding earth from caving in on your fire pit.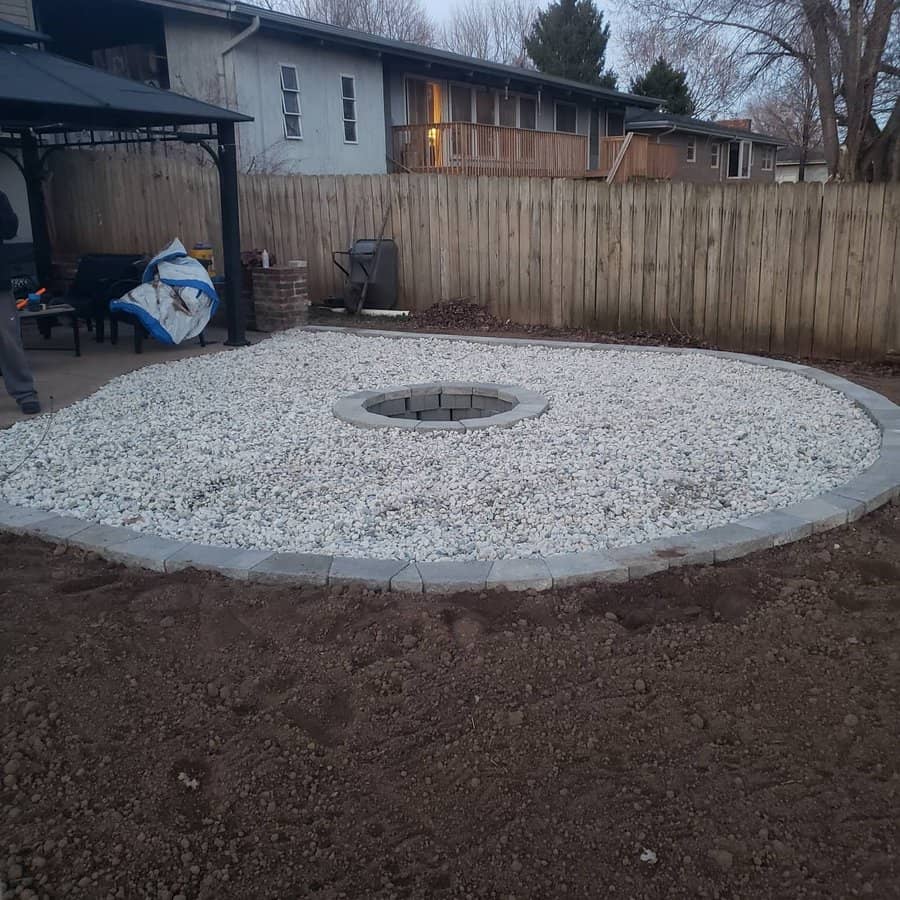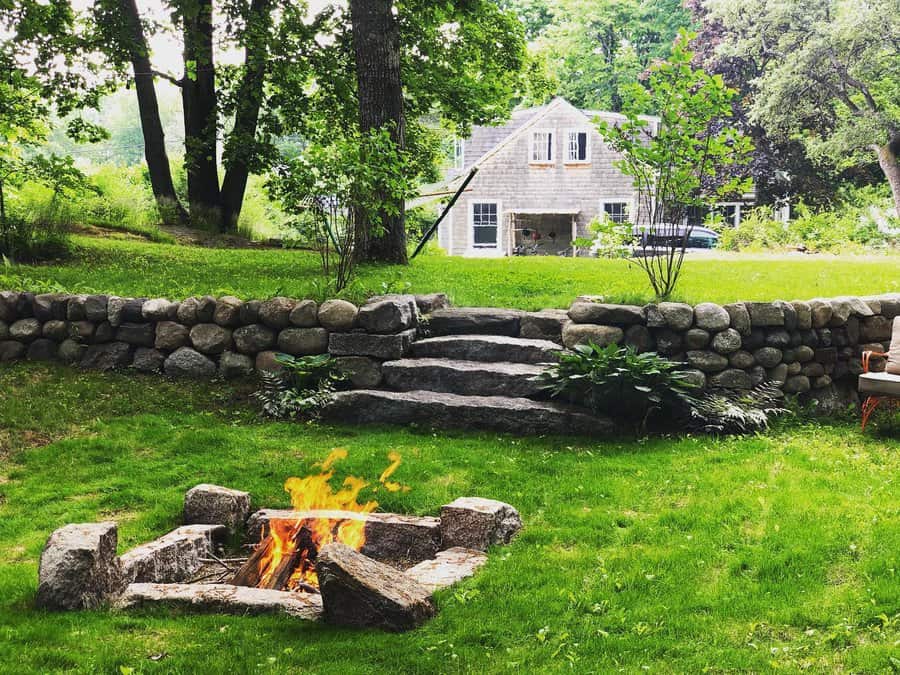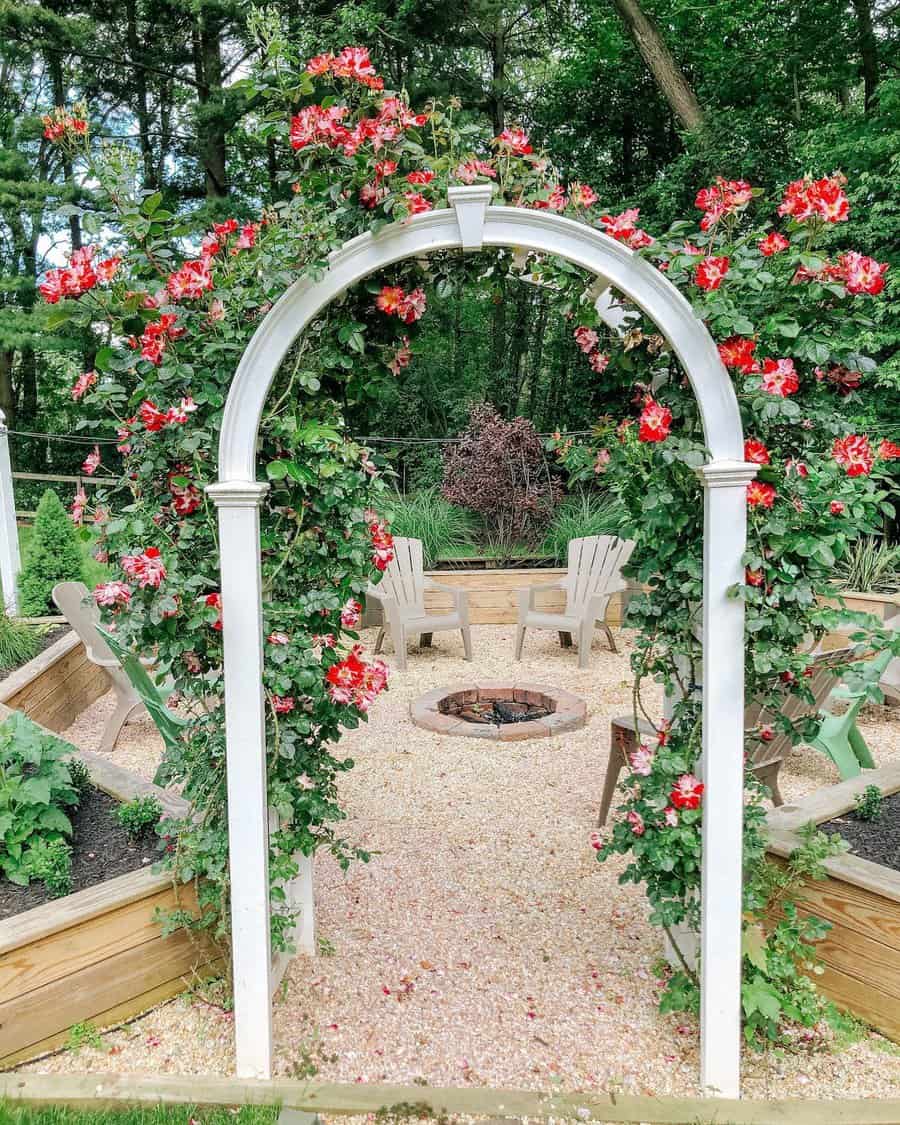 Plan to arrange your seating relatively close to the fire pit so that you can look down and see the wood fire burning. Your other option is to have a fairly shallow fire pit bowl so that while the fire pit is in the ground, the actual fire is still above ground.
8. Metal Fire Pits
If you aren't ready to have a fire pit in your backyard year-round, then consider a metal fire pit. You can set it up for the season and then put it away when you aren't using it. Some metal setups are small enough to be a portable fire pit so that you can take it with you.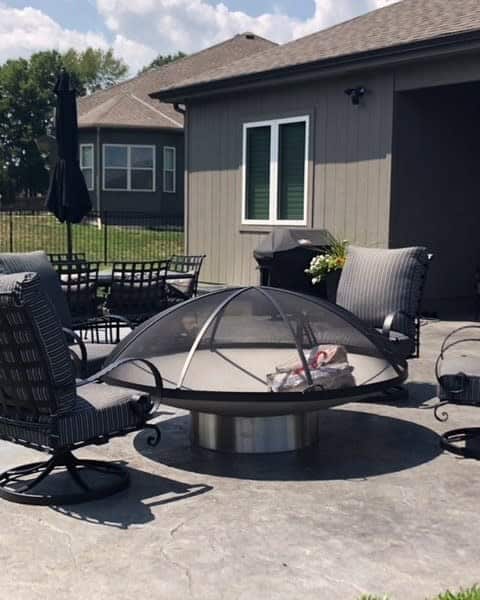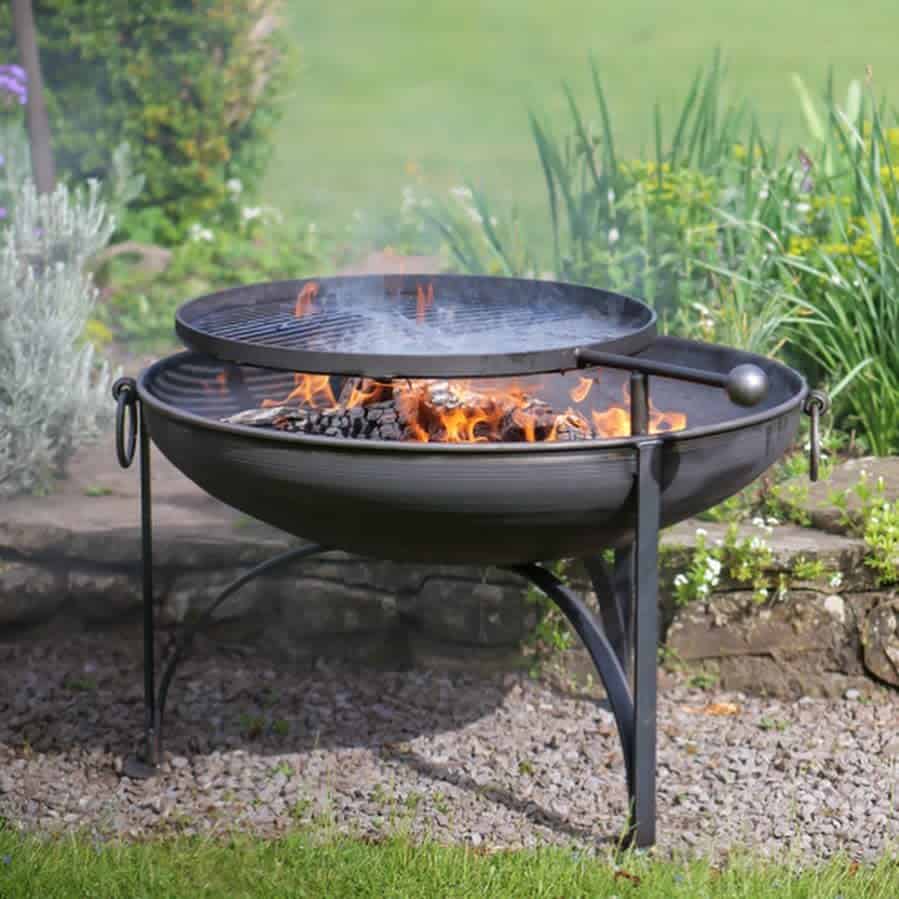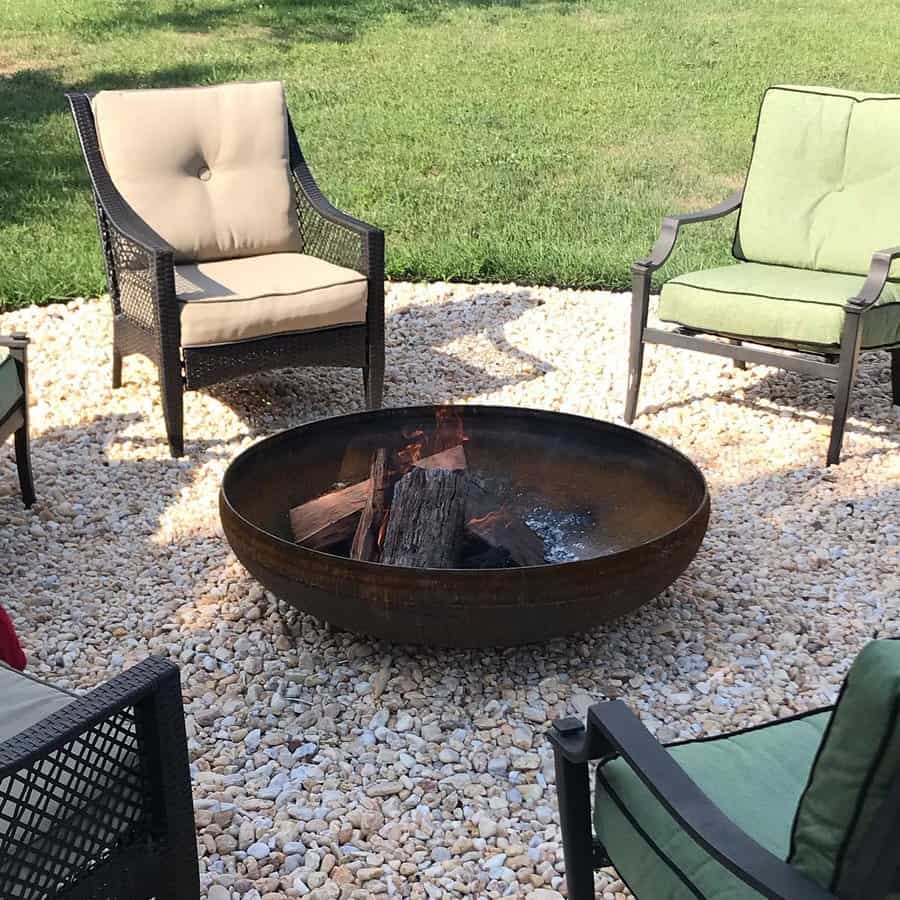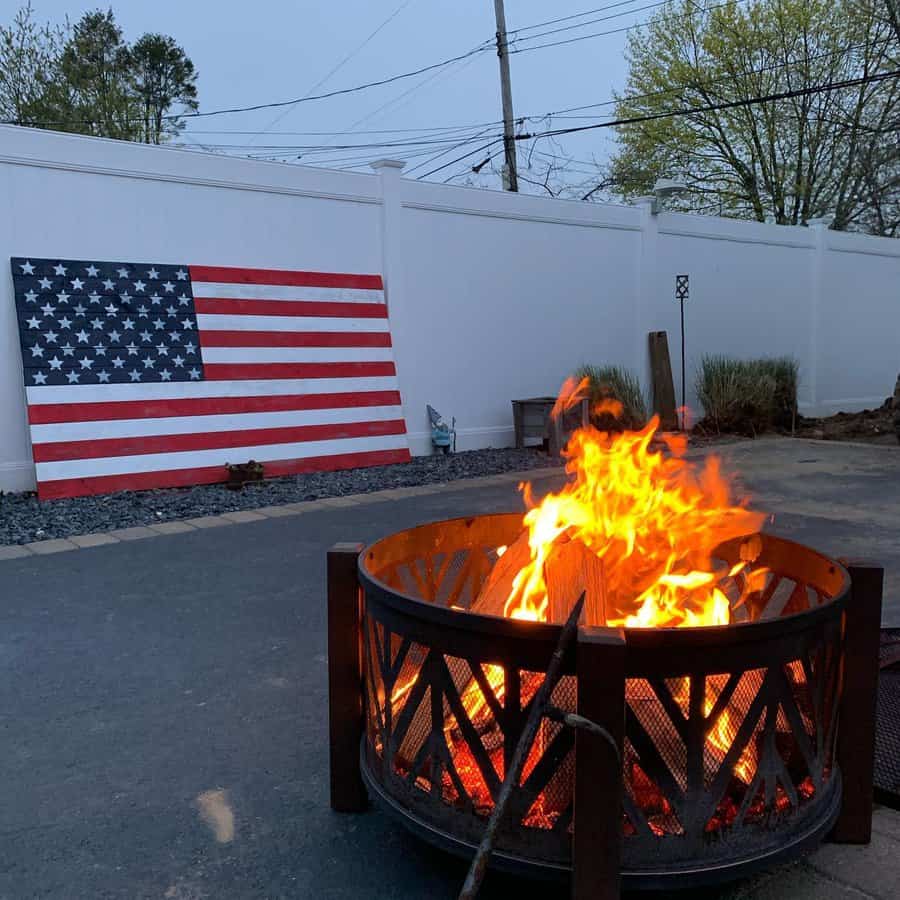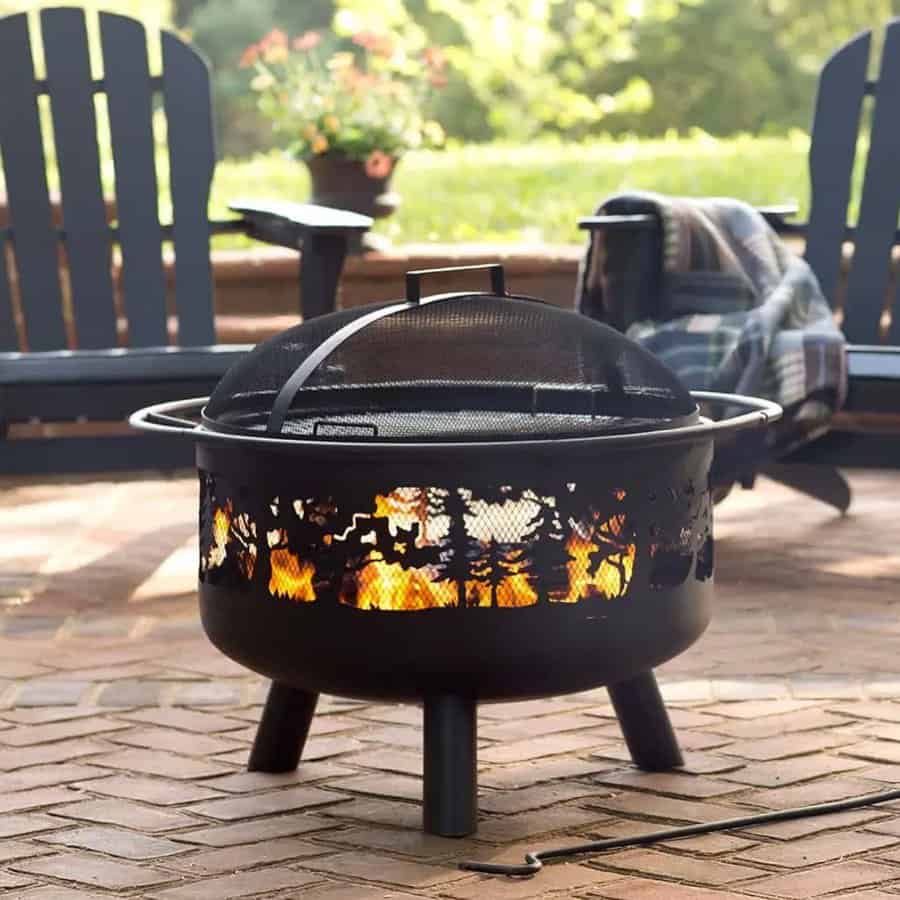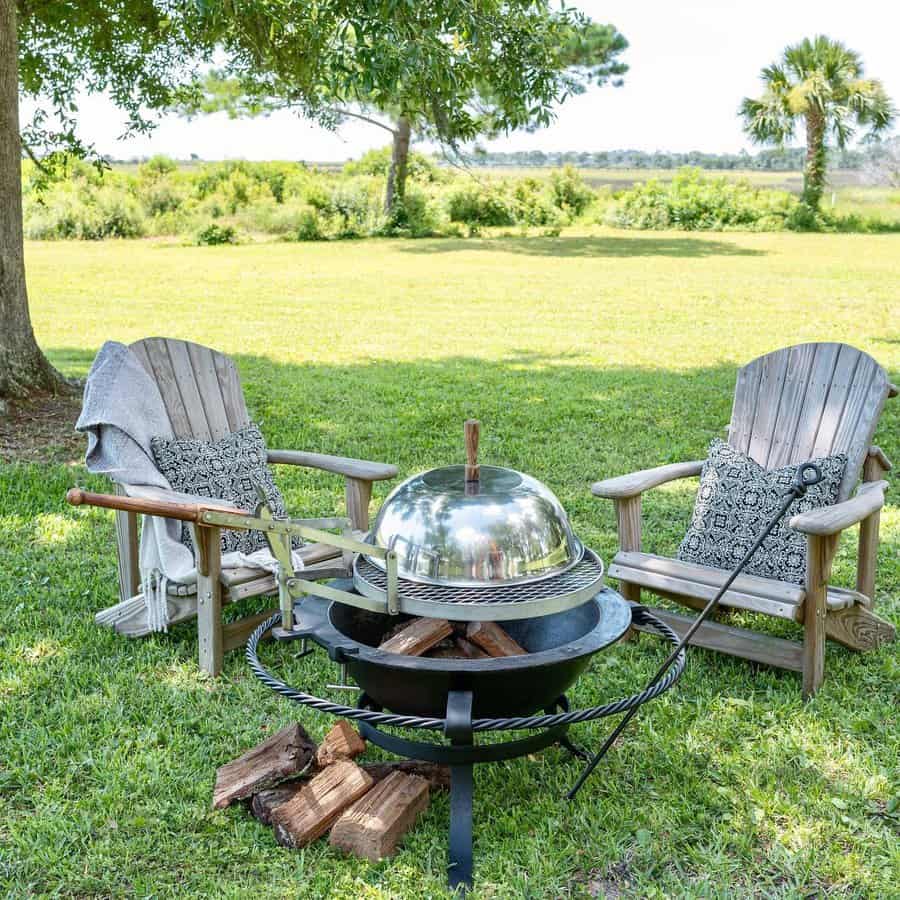 Be careful with metal fire pits because cheap metal will rust out. Invest in one that is corrosion resistant to help prevent this. A powder coating is also a nice touch because the metal is hidden behind a protective layer, and it gives the metal finish a different color.
9. Modern Fire Pits
Modern fire pits aren't really pits but look more like an elegant fire feature. Add a fire pit table, coffee table, or pot. Decorate your tabletop fire pit with fire glass. This gives something for the flame to flicker around and the light to reflect on. It can also add a touch of color.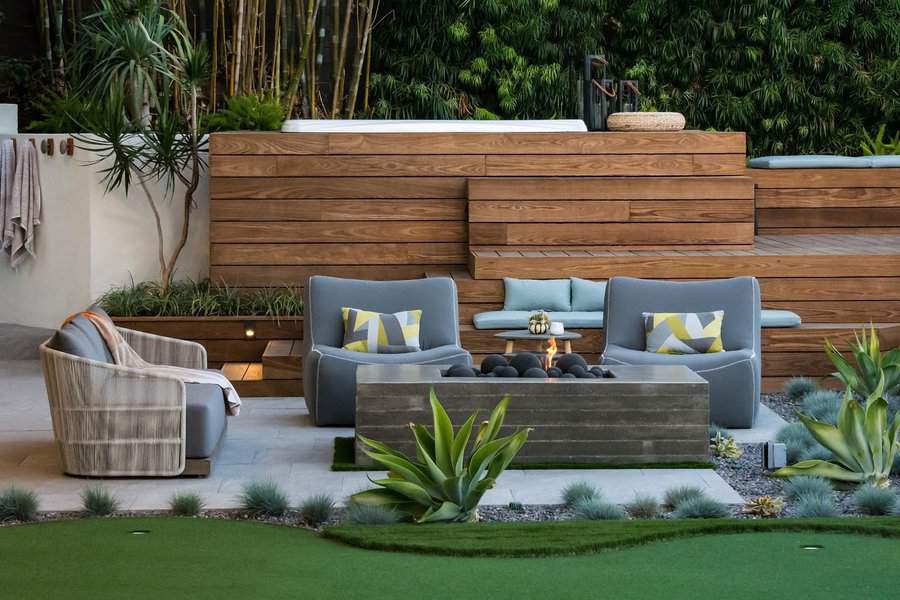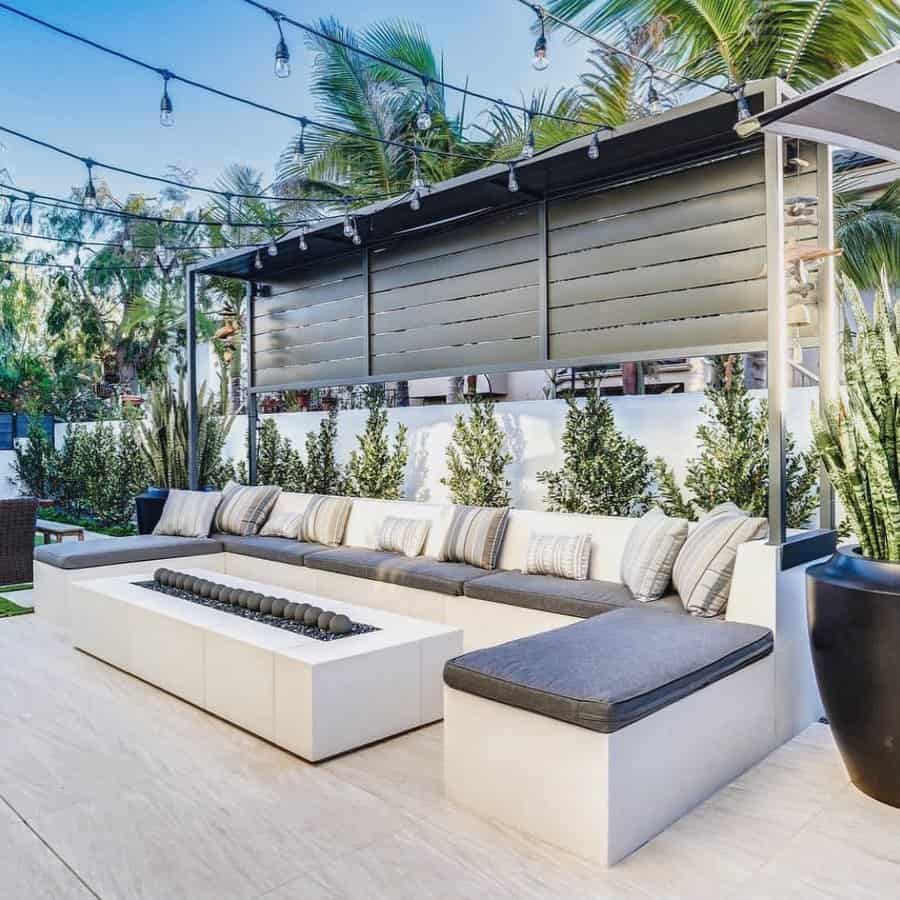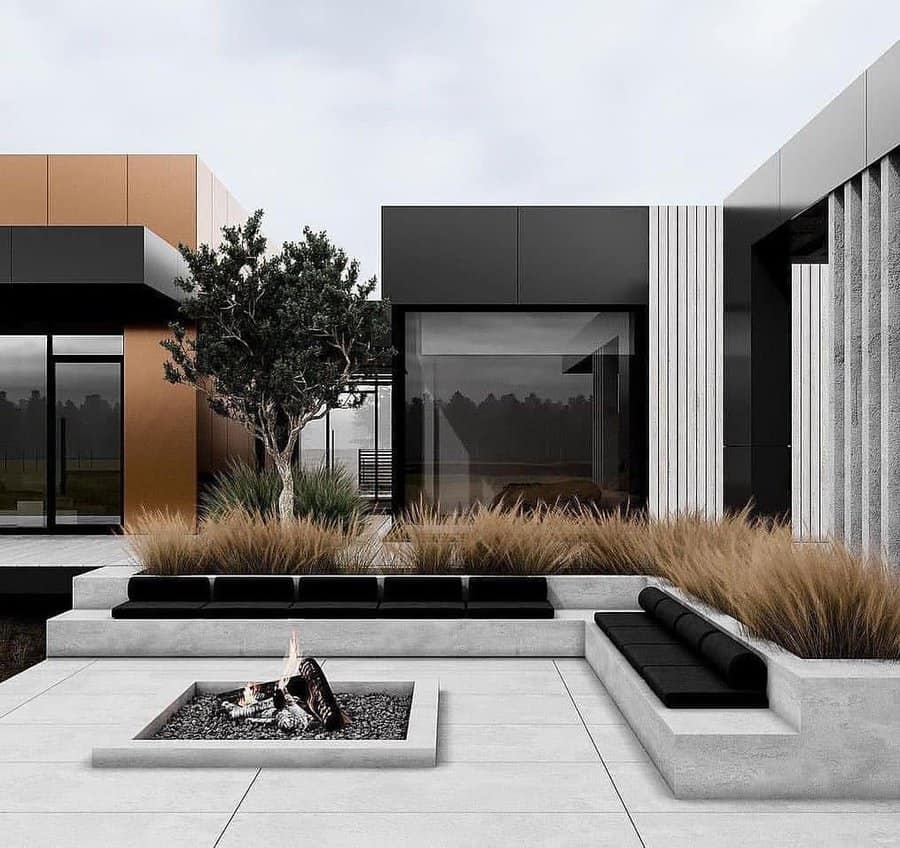 These modern designs turn on with the push of a button and adjust with a dial. You won't need wood because they are a gas fire pit. However, you will have to occasionally replace the tank in your propane fire pit. The tank is typically hidden under the table so that it's protected and doesn't take away from the look of your patio.
10. Stone Fire Pits
Using local stones to build your fire pit creates a natural and rustic look. A stone fire pit looks best when built into the surrounding rock patio. This blends everything together for a cohesive look throughout your patio and backyard.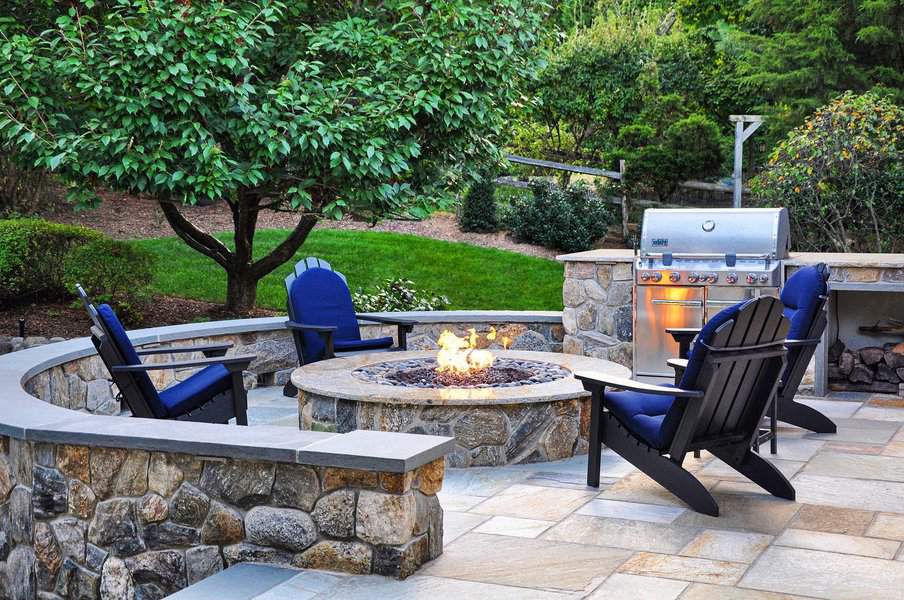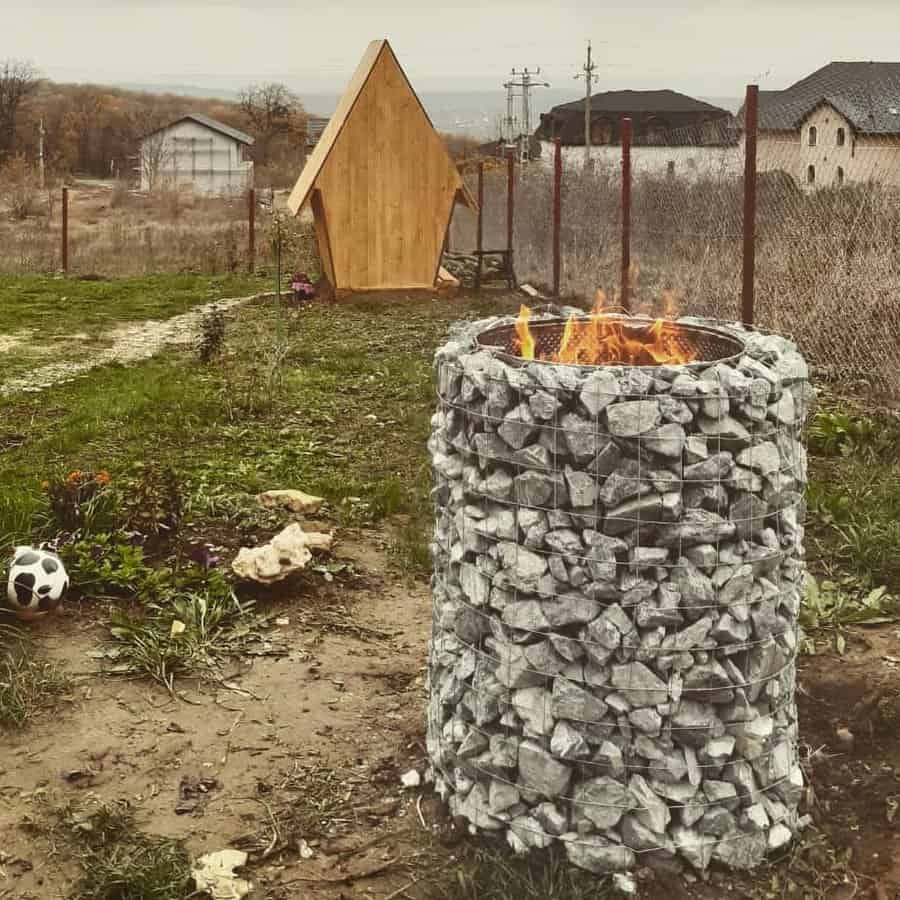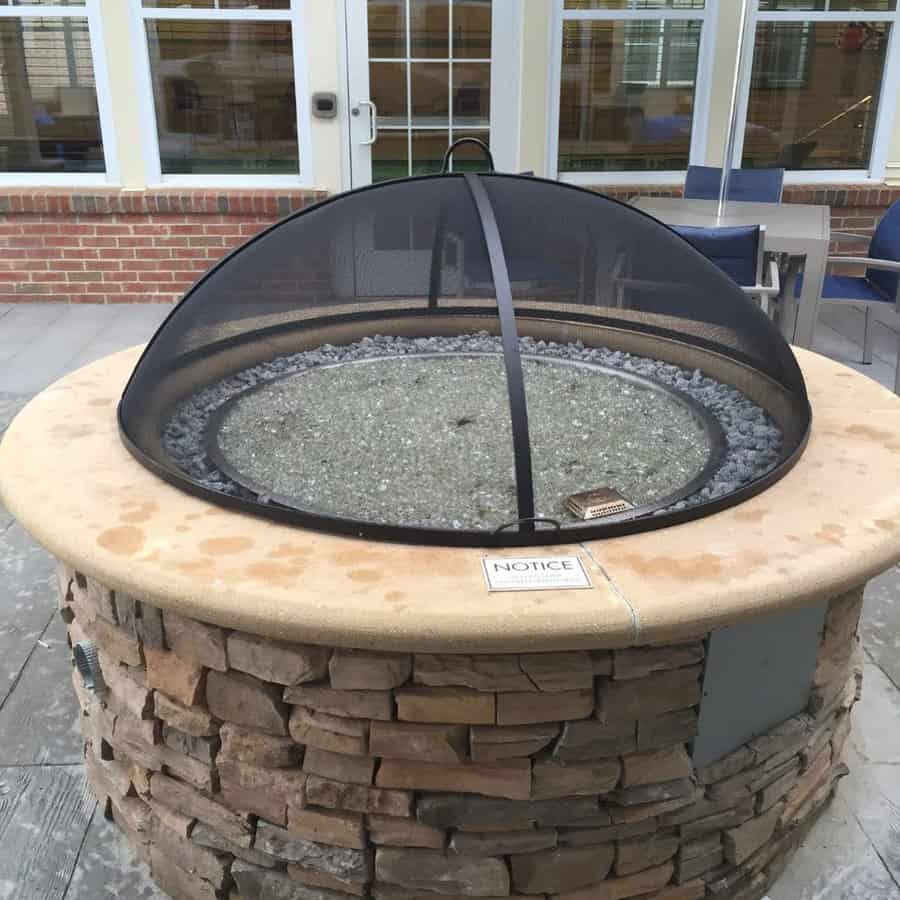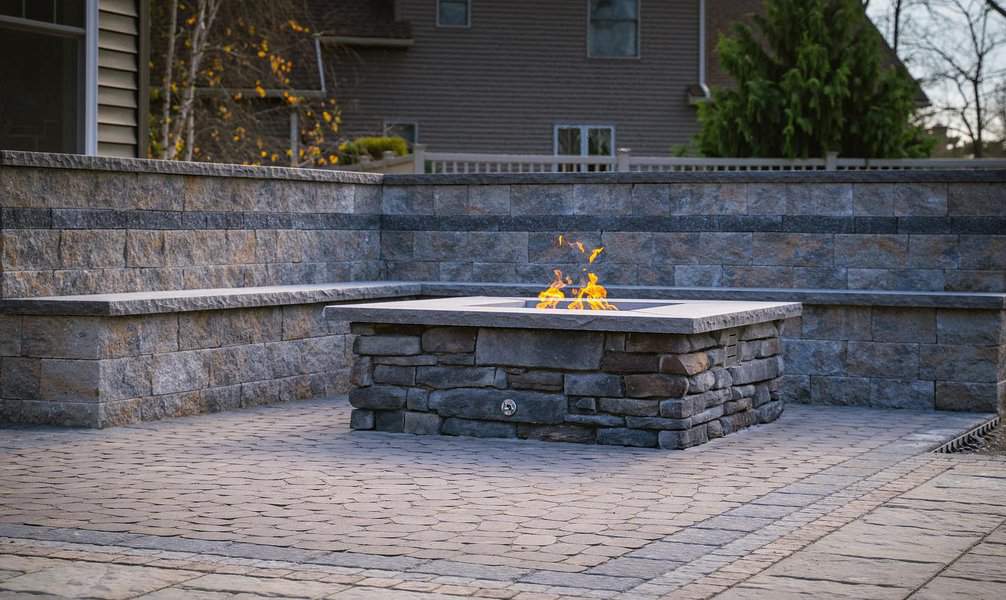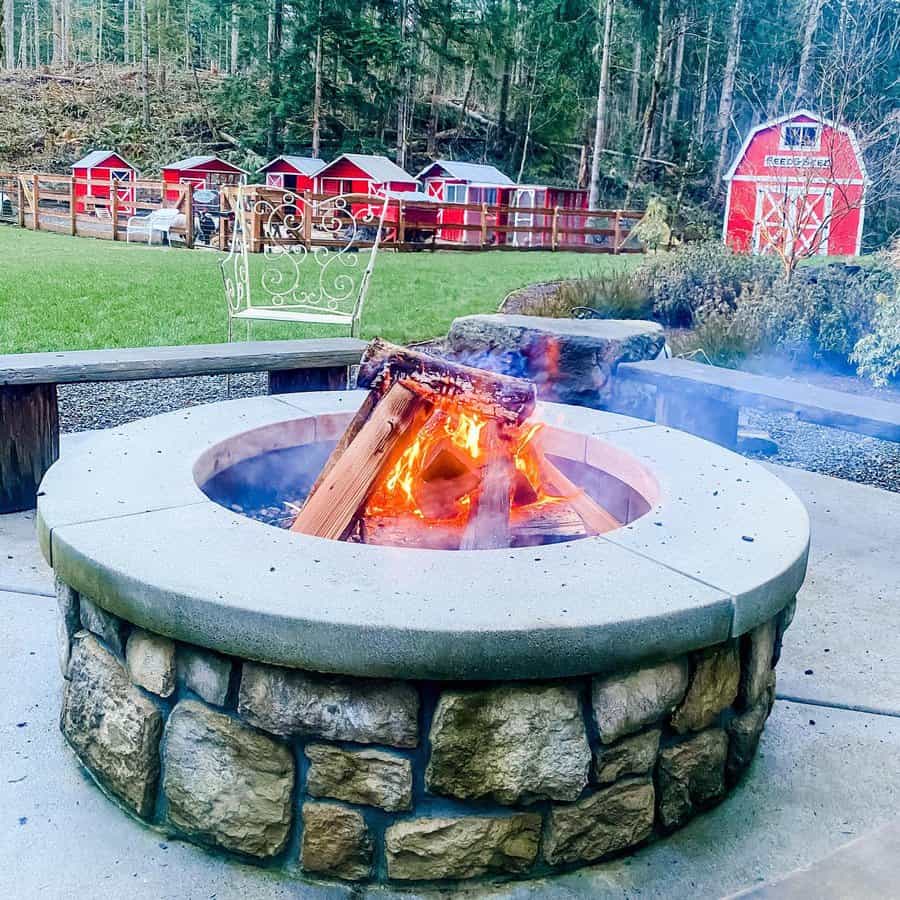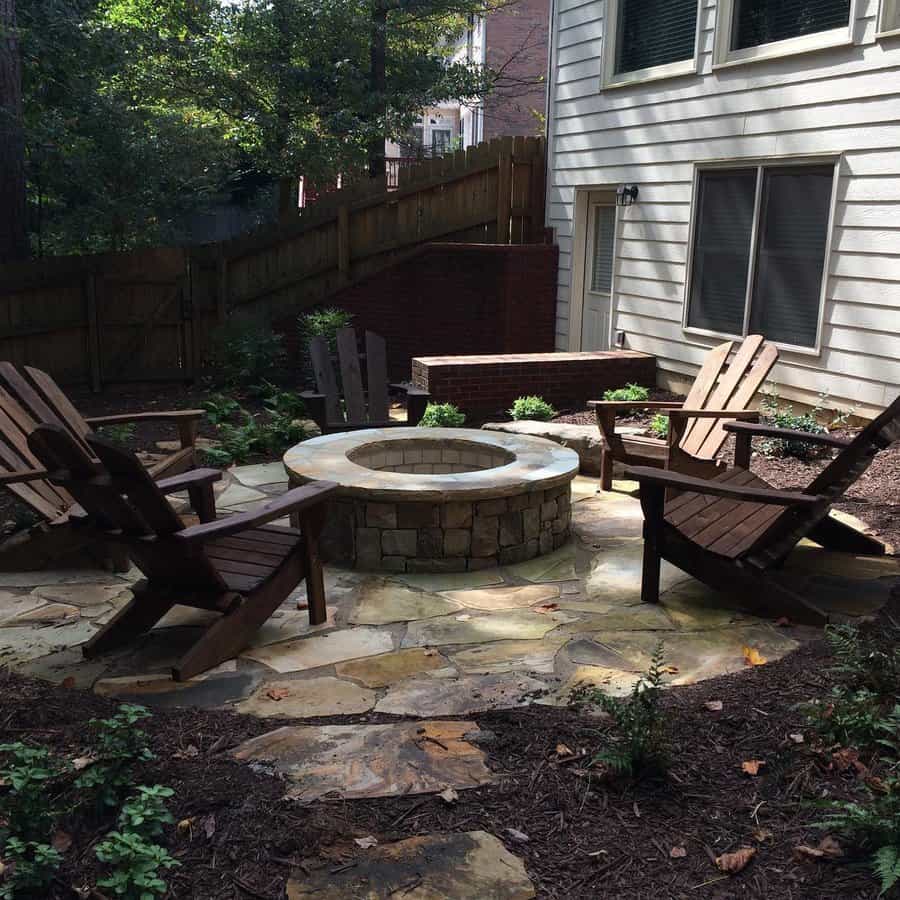 Use the rocks and your property to dictate the shape of your fire pit. Angular and block/like rocks are best used to build a square fire pit. Smaller and more rounded stones work best to build a circular fire pit. However, this is just a guide. You can use square or rectangular stones to make a round fire pit when the pit is large enough to overcome the shape of the stones.
Fire Pit FAQs
What do you put in the bottom of a fire pit?
The first layer in the bottom of your fire pit should be sand. This creates a non-flammable and dense layer at the base of your fire pit. Then top this layer with lava rocks, fire pit glass, or gravel. These are all durable materials that encourage airflow while also being safe for use in the potentially very high heat of your fire.
How can I make my fire pit look better?
Look beyond the basic functionality of your fire pit. It should be aesthetically pleasing by using stones or pavers that have an attractive color. Consider building these pavers out to create a solid base for your chairs. A low outer wall around the outside of the seating area can block strong winds and reflect the warmth created by the fire pit back towards you.
How deep should a fire pit be?
The depth of your fire pit depends on the overall size of your project and how in-depth you want to get with your project. A simple DIY fire pit could be as shallow as six to eight inches. You can easily go deeper if you want. However, don't make your pit so deep that it struggles to get air, and you can't enjoy the actual fire.