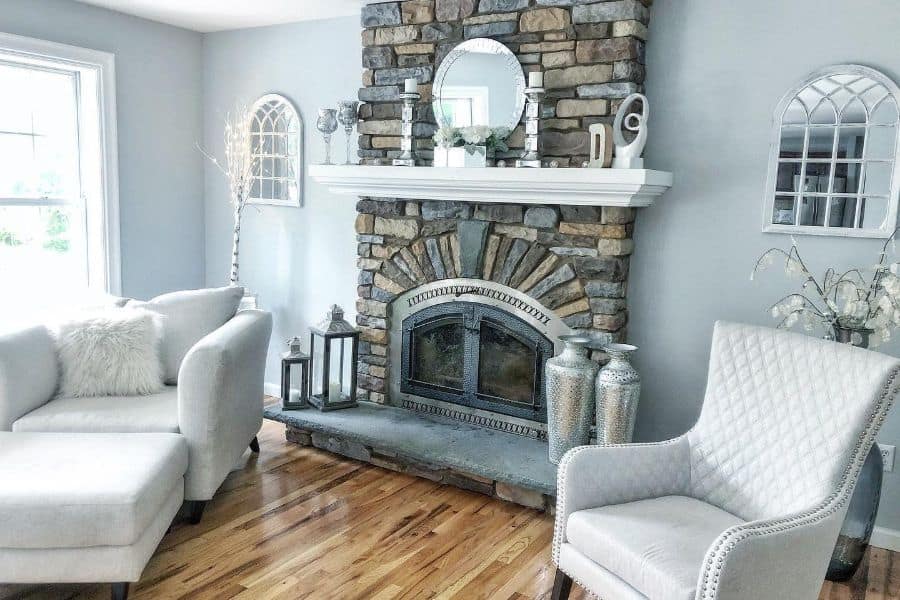 The Top 77 Fireplace Décor Ideas
"For me, there's nothing better than curling up in my favorite blanket on a cloudy or rainy day and just knit. Especially in front of the fireplace." – Magdalena Neuner
Having a fireplace in your home gives it a warm and welcoming feeling. It's the perfect place to gather around with friends and family to stay warm in the cold winter months.
Because your fireplace is the natural focal point of the room, you should decorate it. This takes more thought and planning than just throwing some stuff on the mantle. You need to think about the architect of your home, the rest of your decor, furniture style, and the season.
These fireplace decor ideas will help you create a beautiful display in your home.
1. Boho
If you love boho mantel decorating ideas, you can create a similar look on your fireplace. Curate your decoration from a variety of places. Embrace colorful items for a traditional boho feel. Keep things neutral for a modern take on this design approach.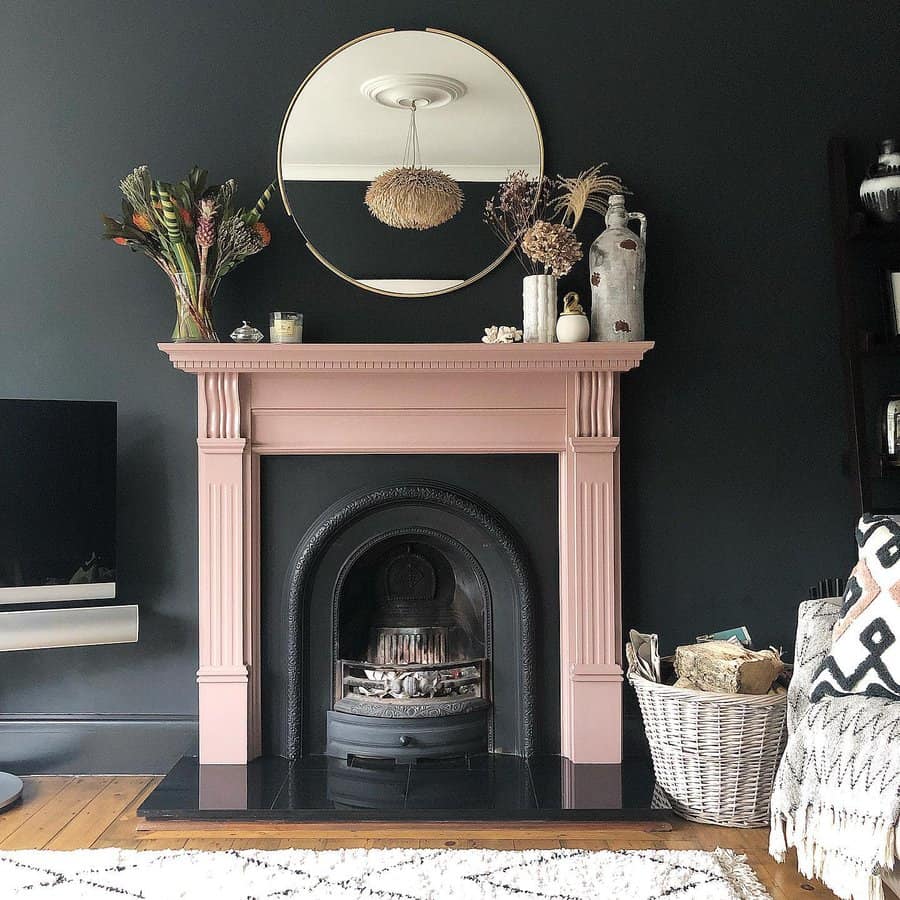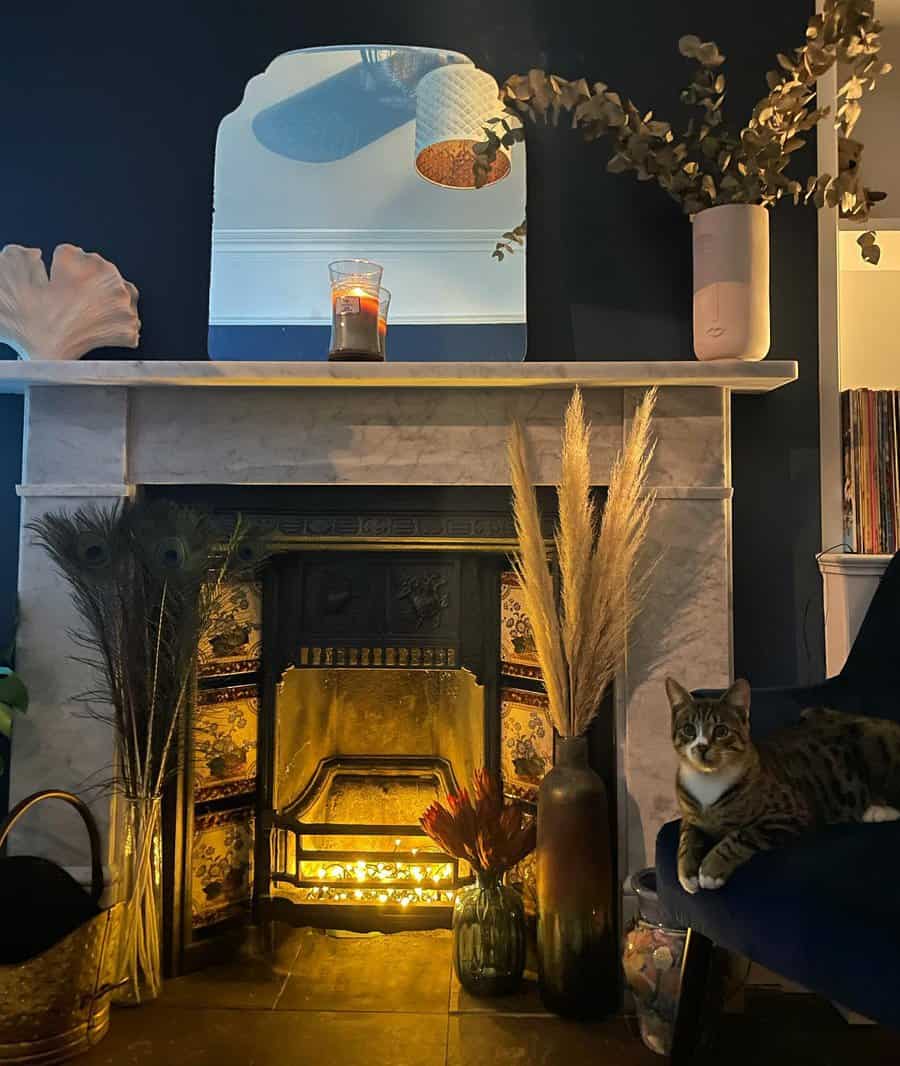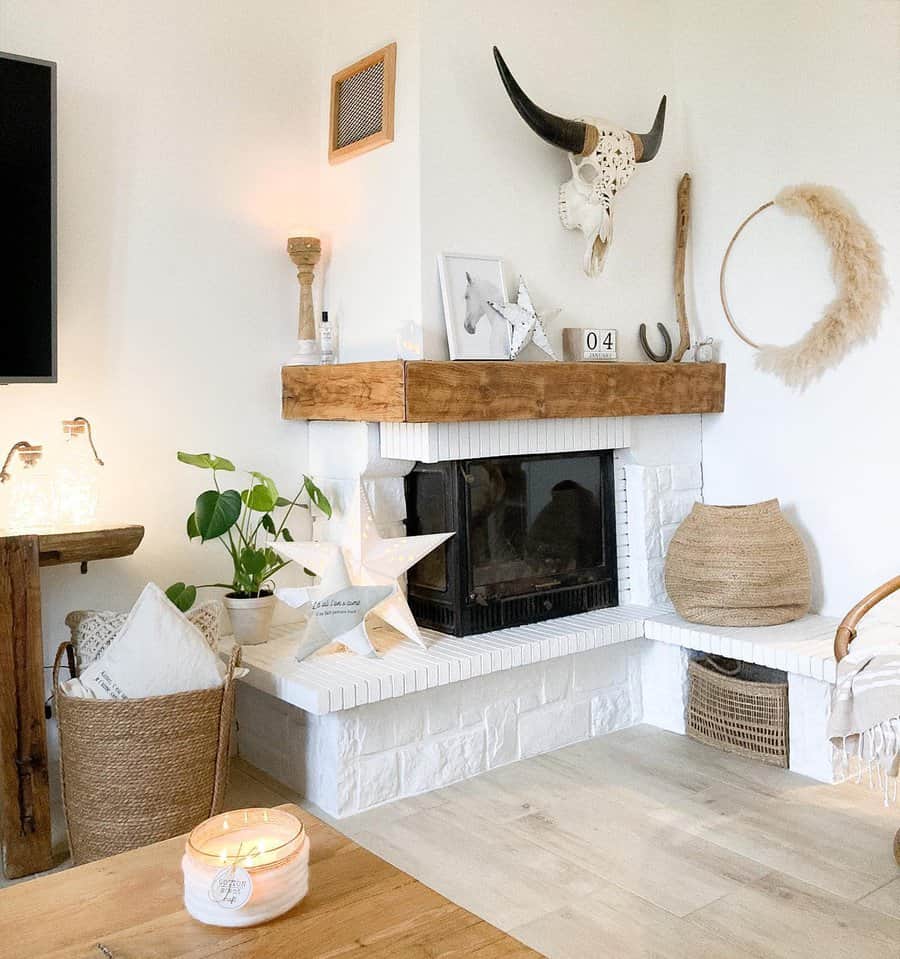 Don't let your decor become too matched or systemic. It should have a laid back feel that makes it look effortless. Choose handmade pieces that aren't perfect. Don't try to do too much, you don't want it to look cluttered.
2. Christmas
The fireplace is the perfect place to display your holiday decor. Sure, you have a Christmas tree, but the fireplace creates a warm gathering place. Start by decorating the mantle. Place items of different sizes and heights in a balanced design across its length.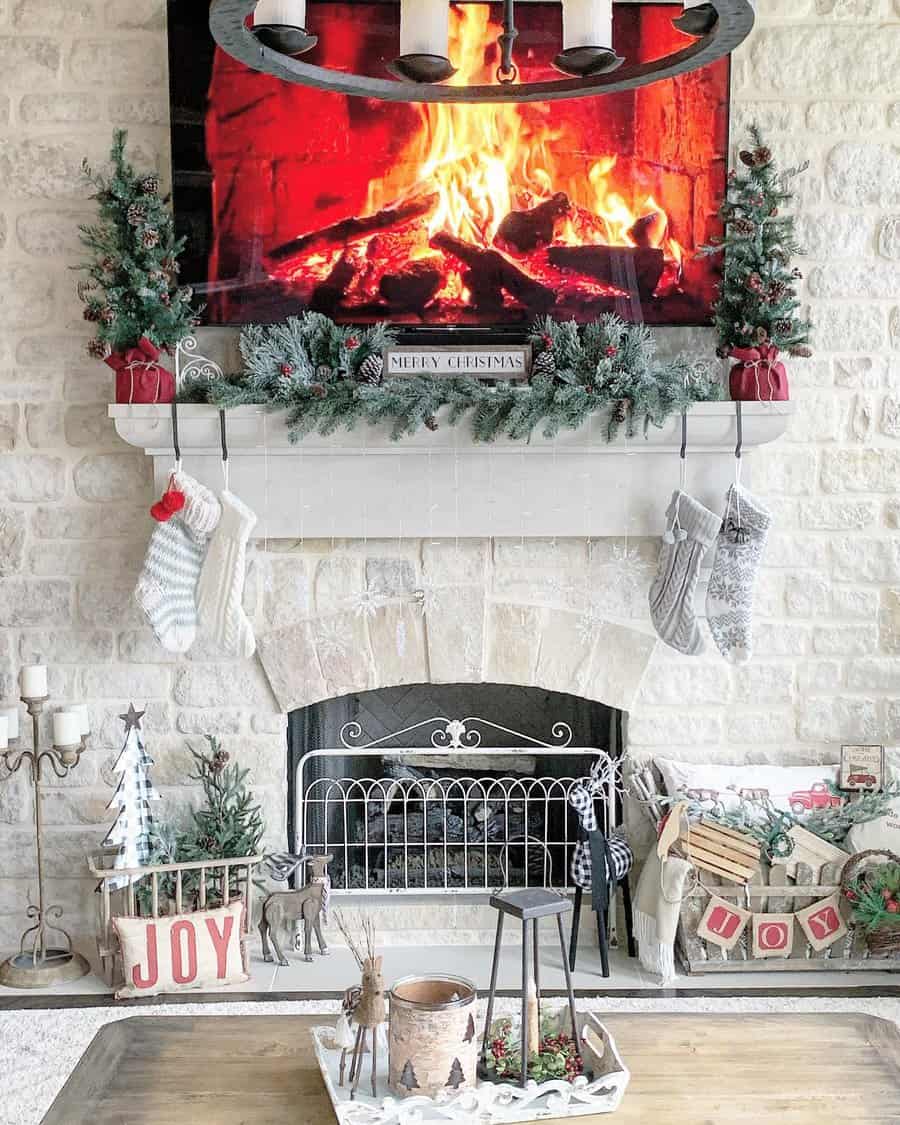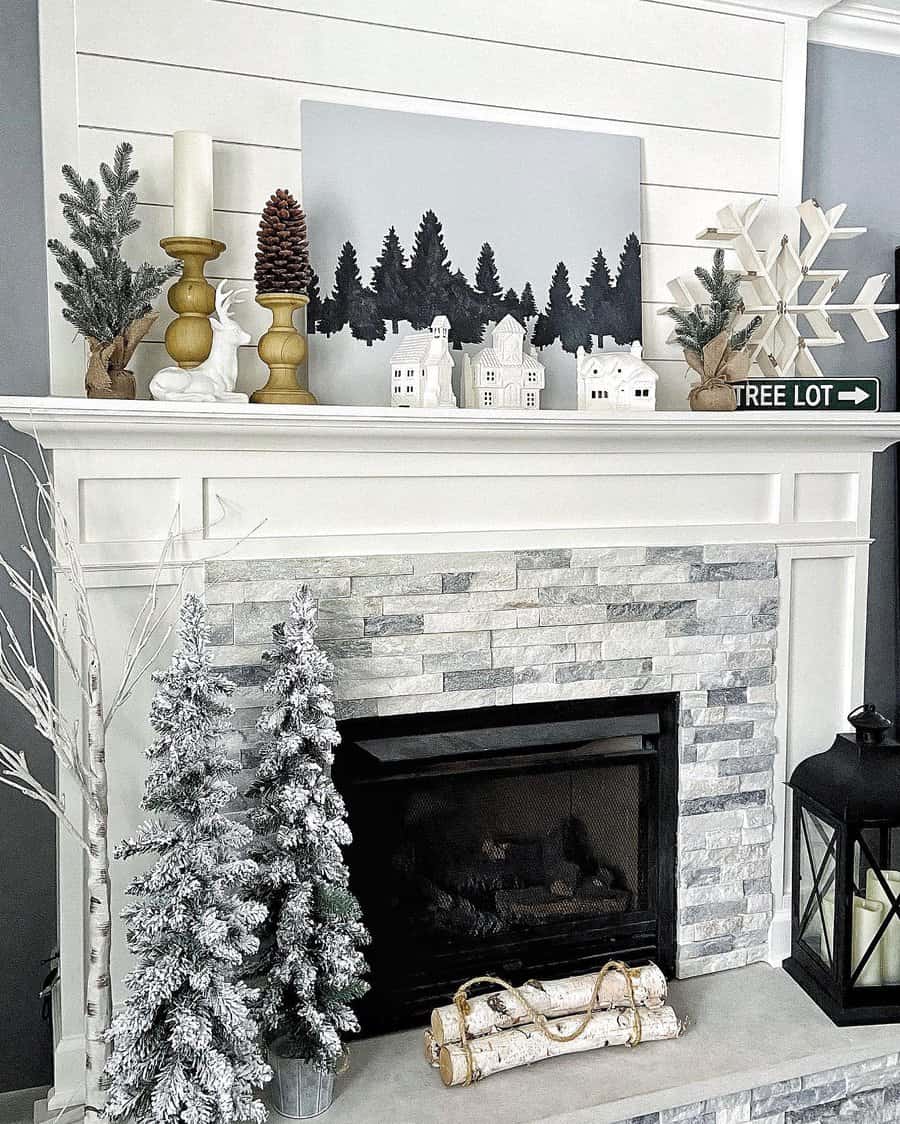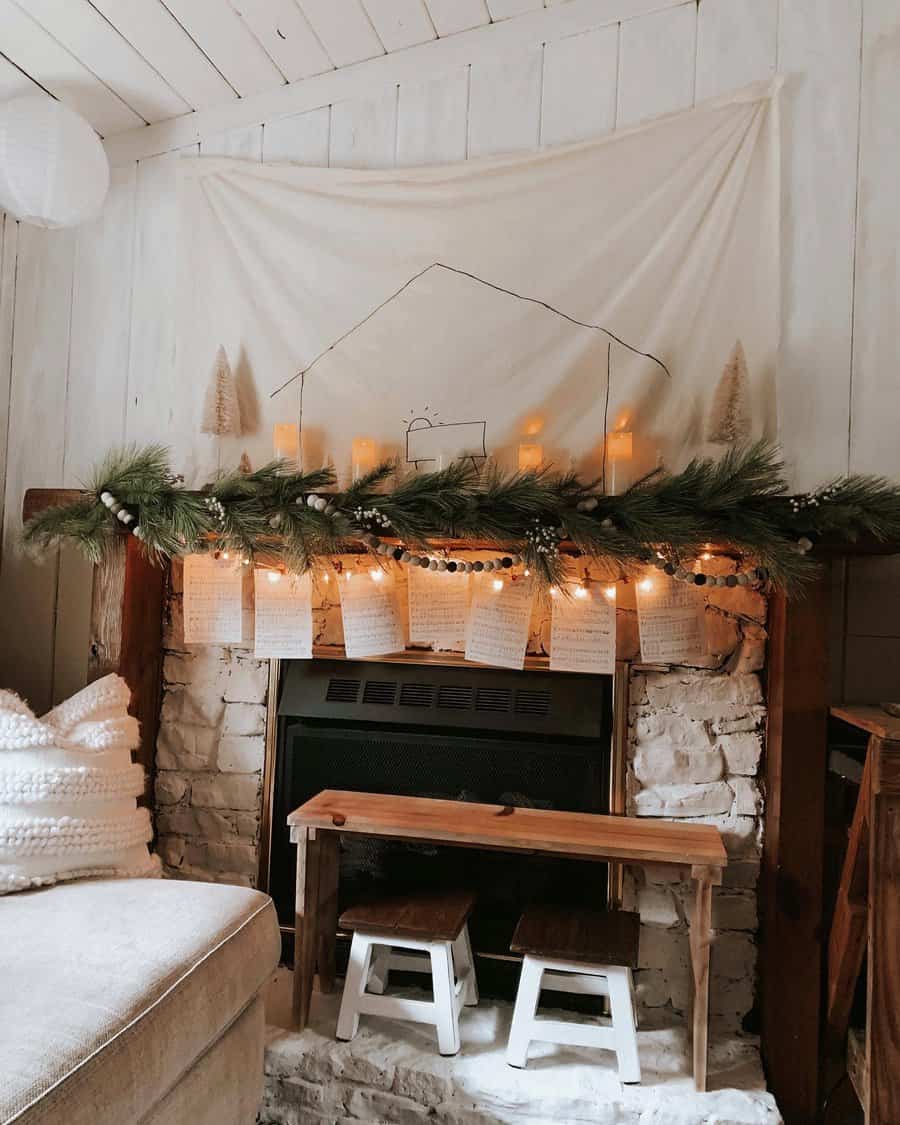 You can also place items around the front of the fireplace. The hearth does get hot and is close to the fire, so do not place items that are flammable too close to the fireplace. Decor that's made of metal is a good option.
3. Contemporary
Modern fireplaces look sleek but lack some of the rustic coziness that you're used to. You could accomplish the look in your home with a white fireplace, An electric fireplace is another modern fireplace trend.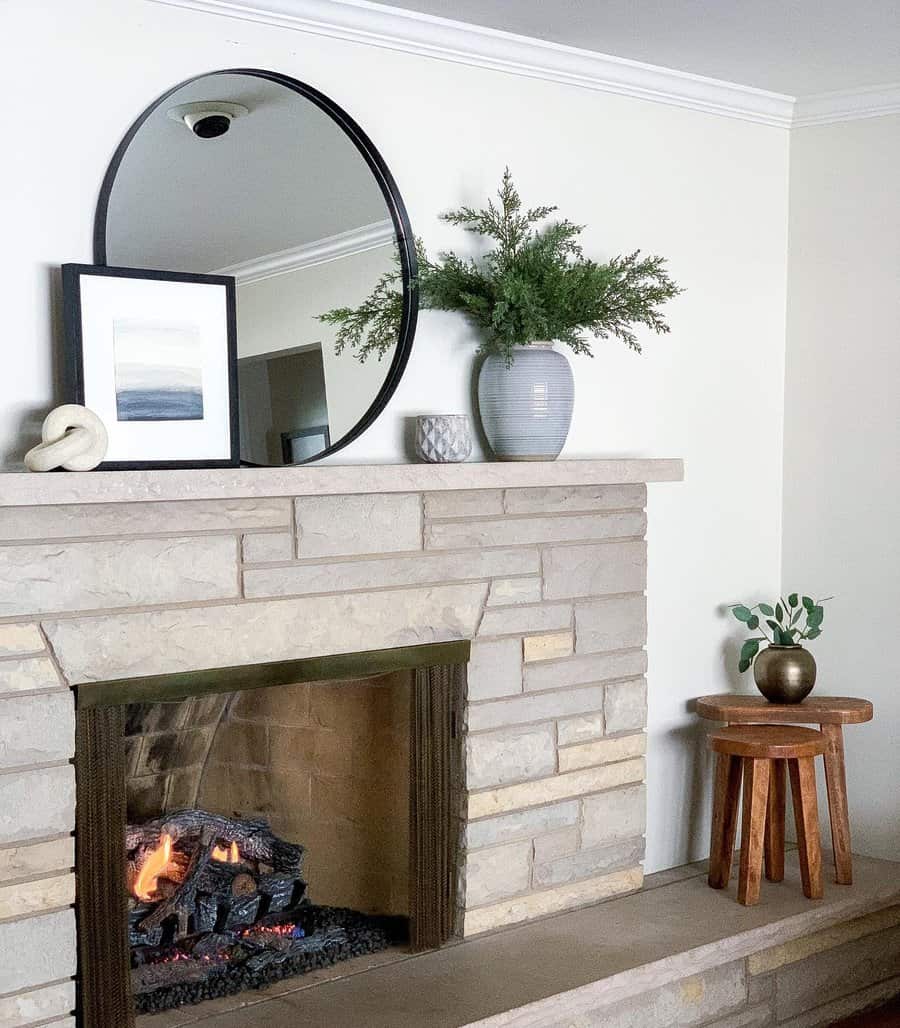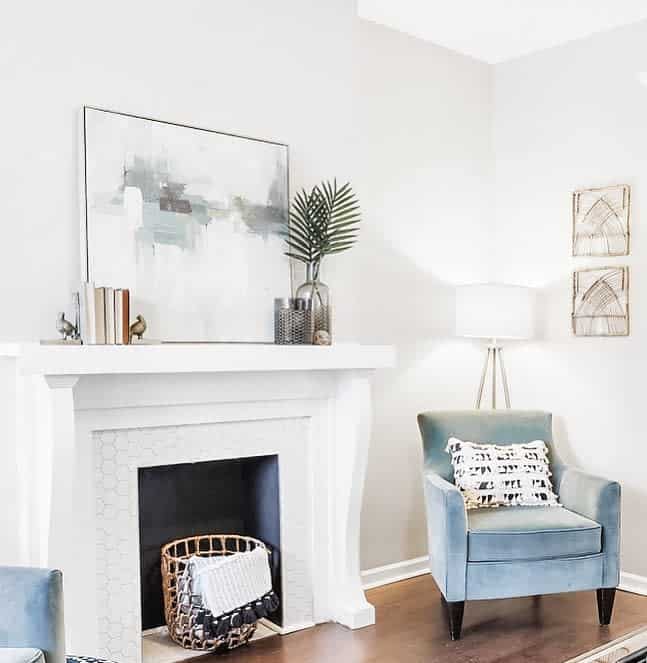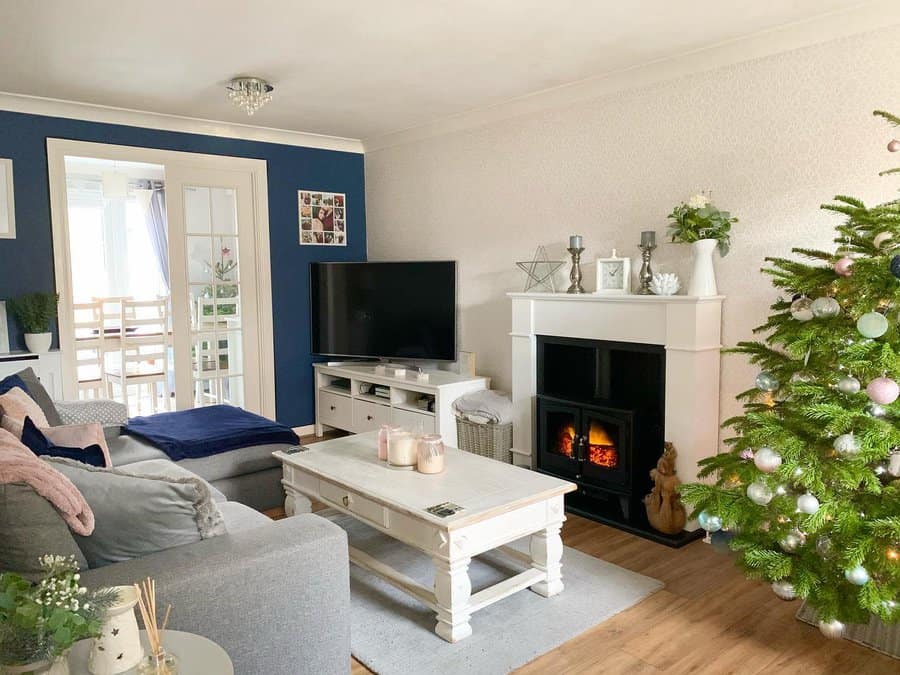 These fireplaces are harder to decorate because they tend to lack a true hearth and mantle. Arrange tall decor on either side of the fireplace. Potted plants are good for this because they add a touch of nature, help to freshen the air, and are colorful.
4. Cottage
The decor around your fireplace can give your home a romantic cottage feel. Have a large porcelain vase that's full of colorful seasonal blooms. Keep the colors soft but not neutral. Safe green, pink, and robin's egg blue will create a soft and slightly feminine feel.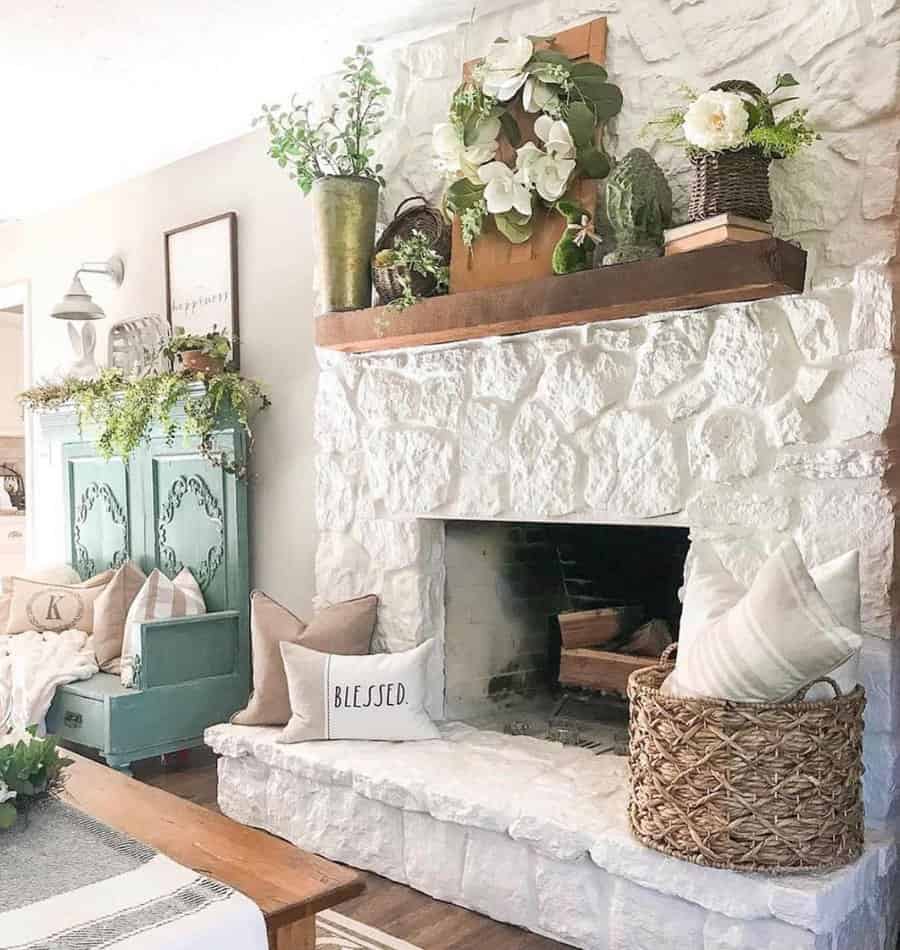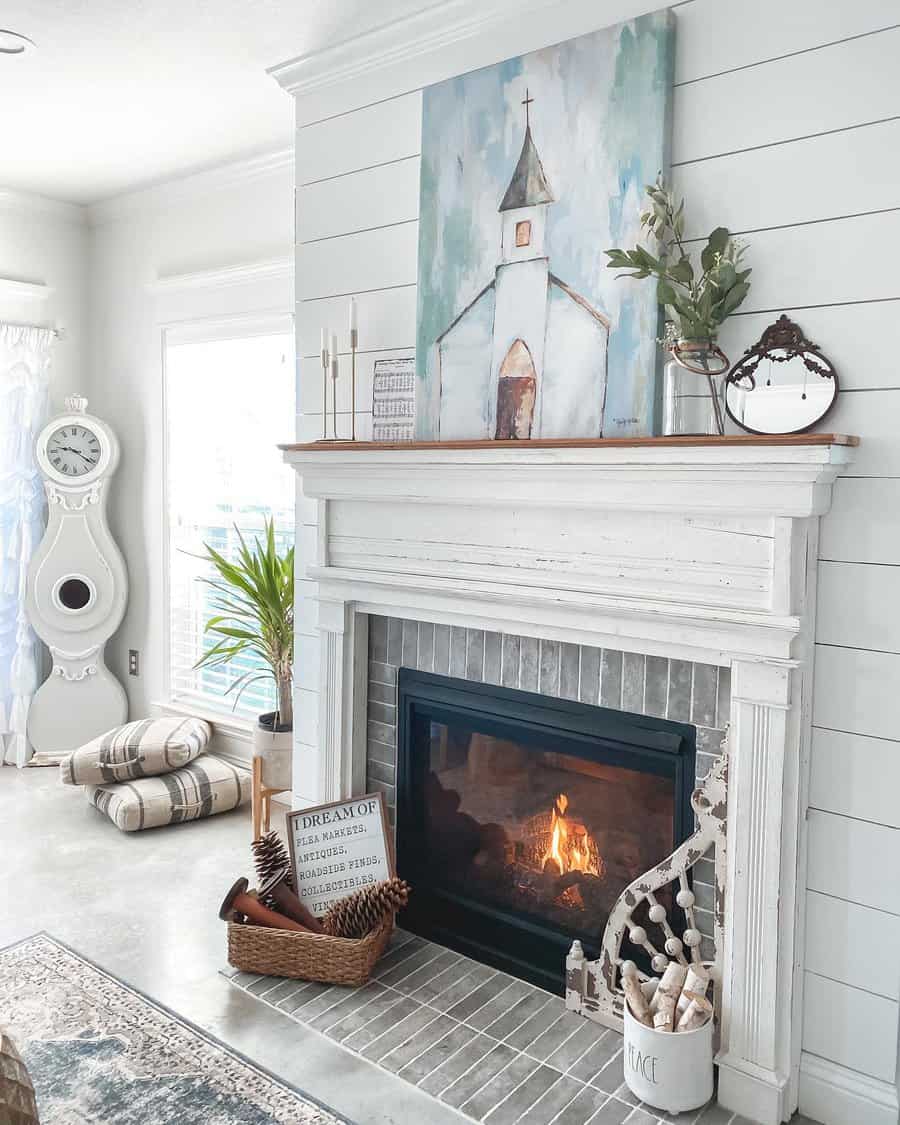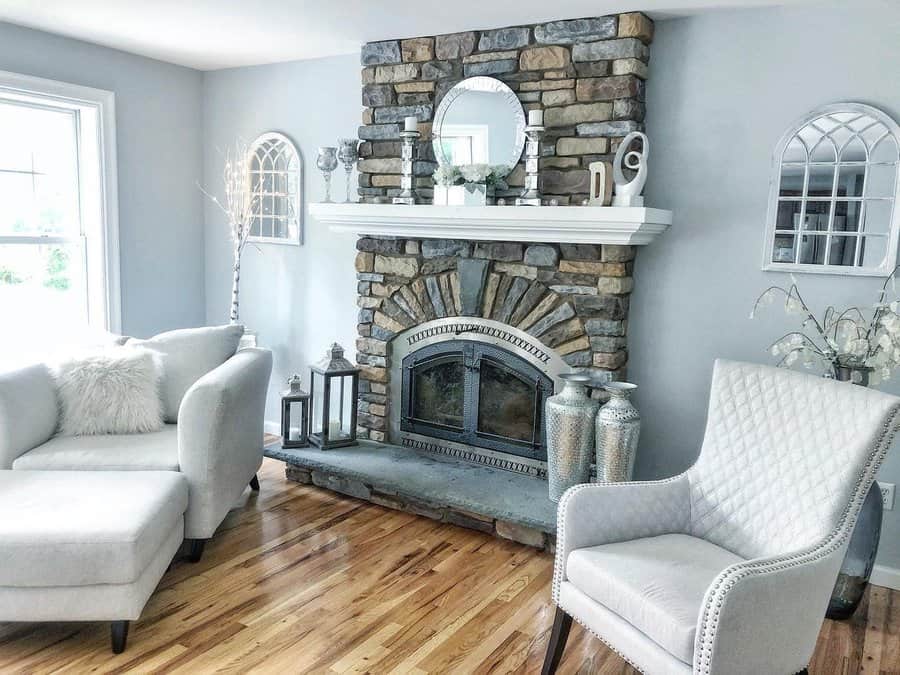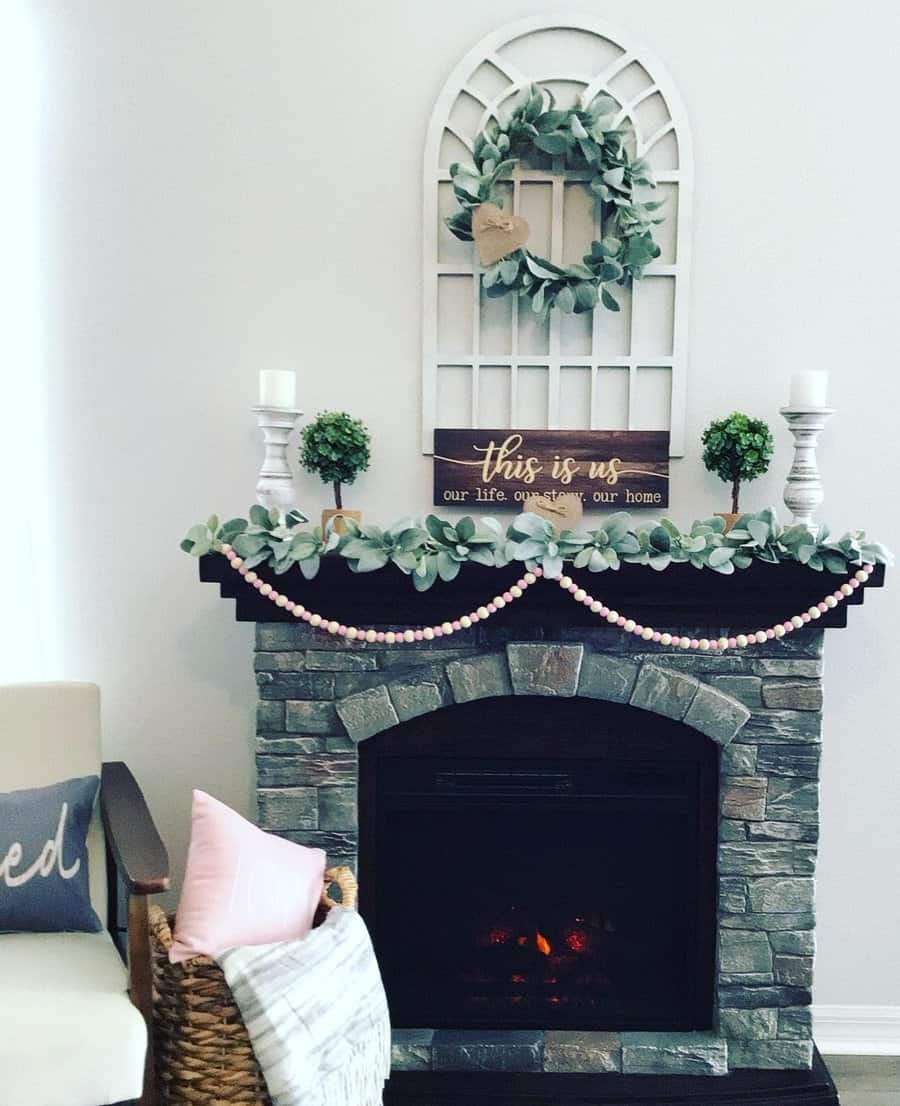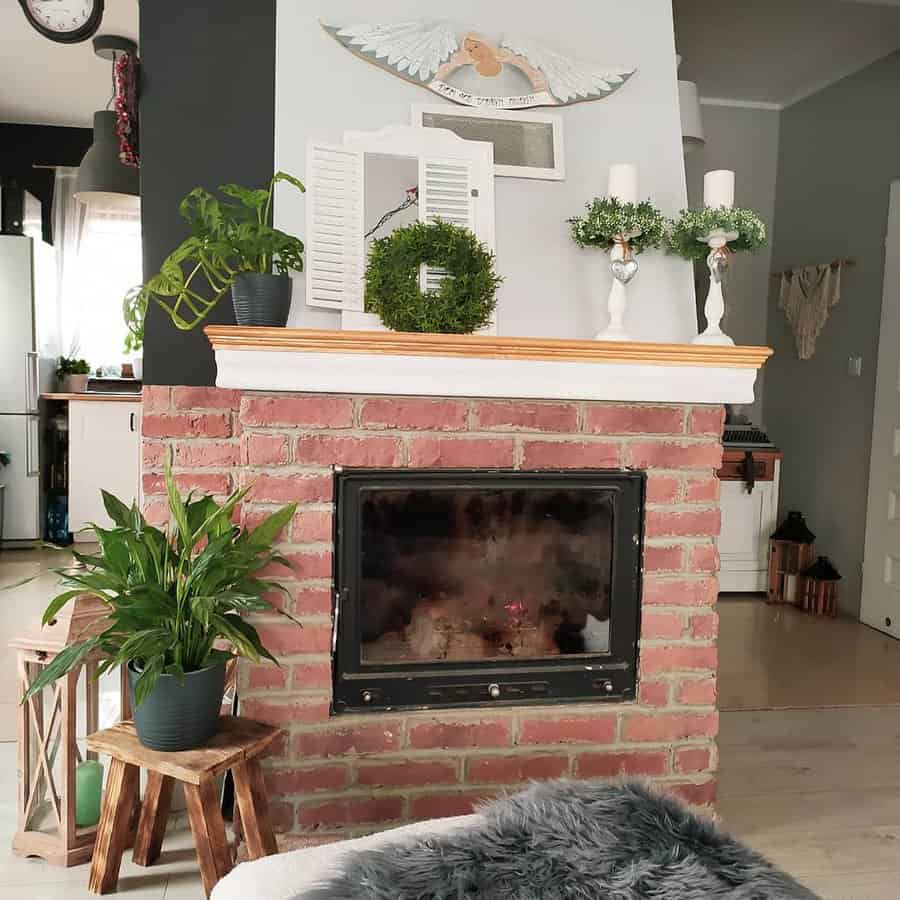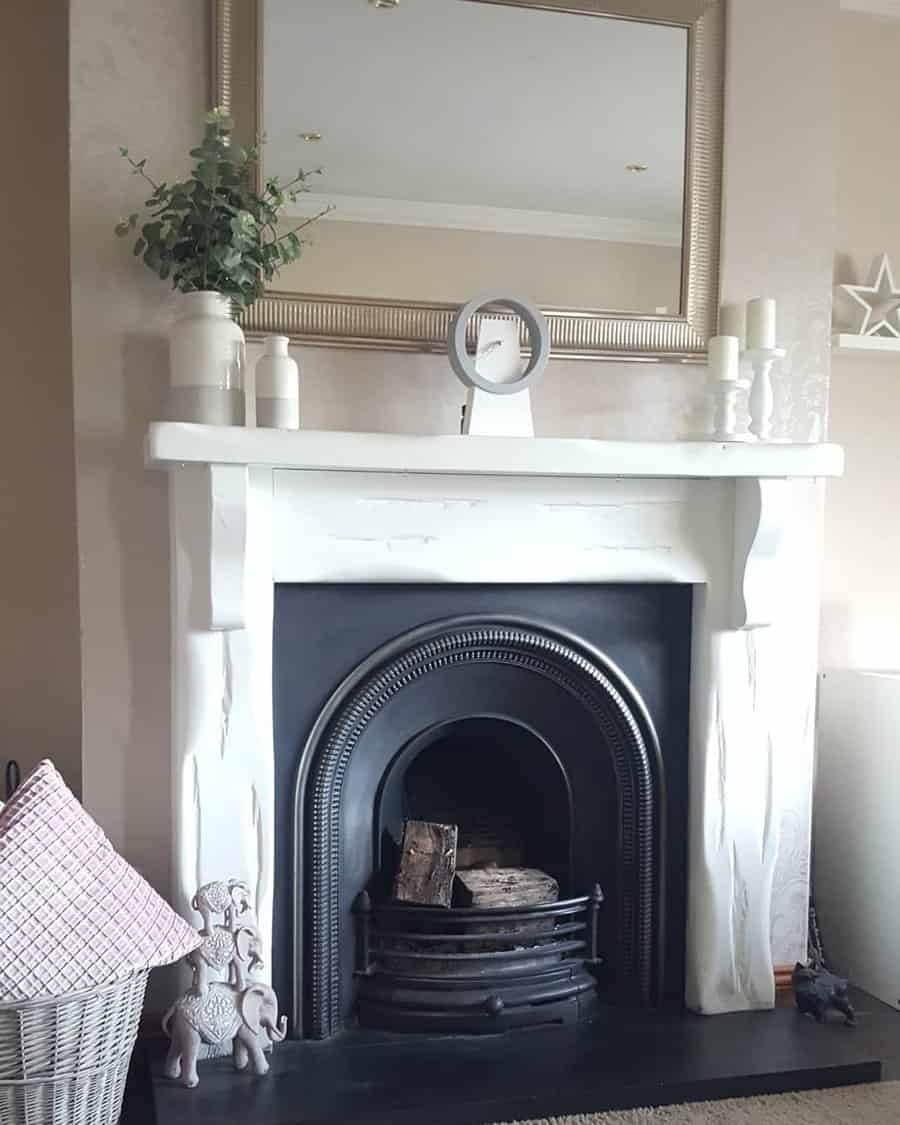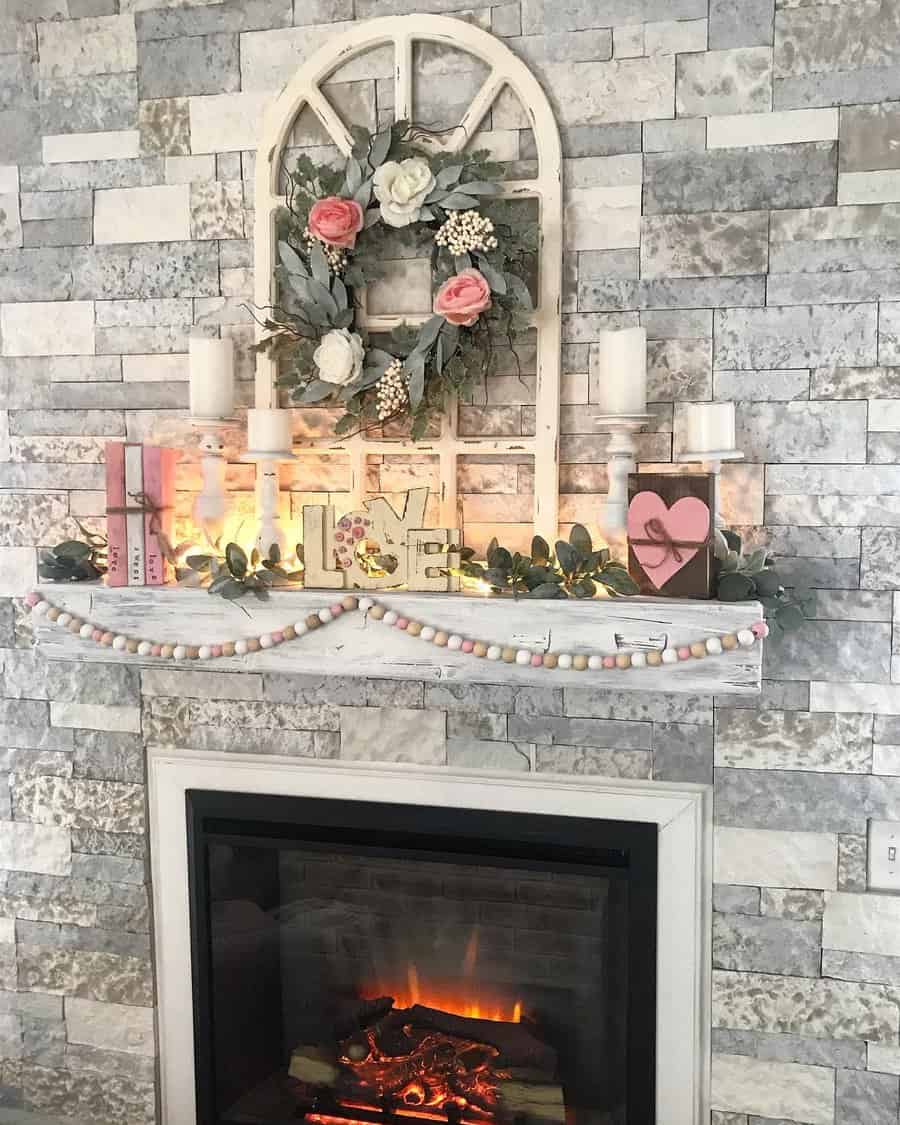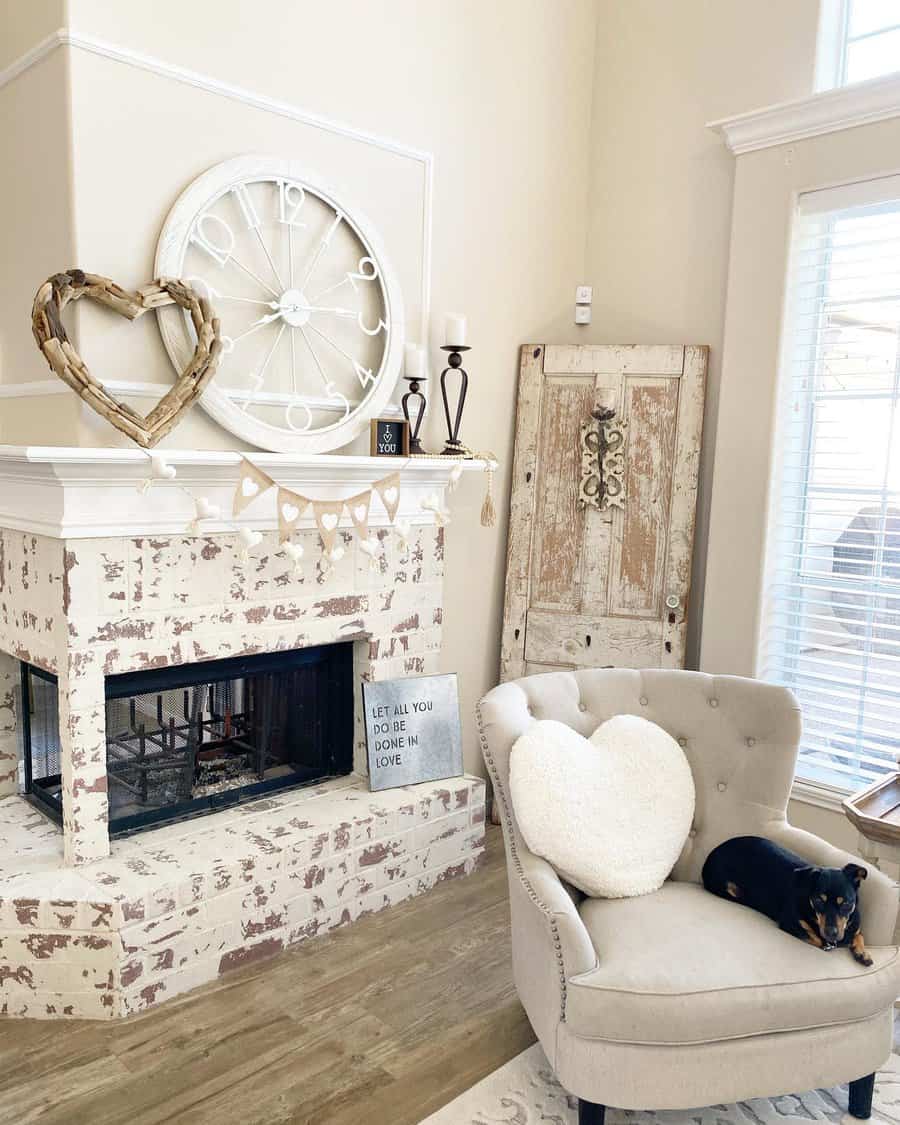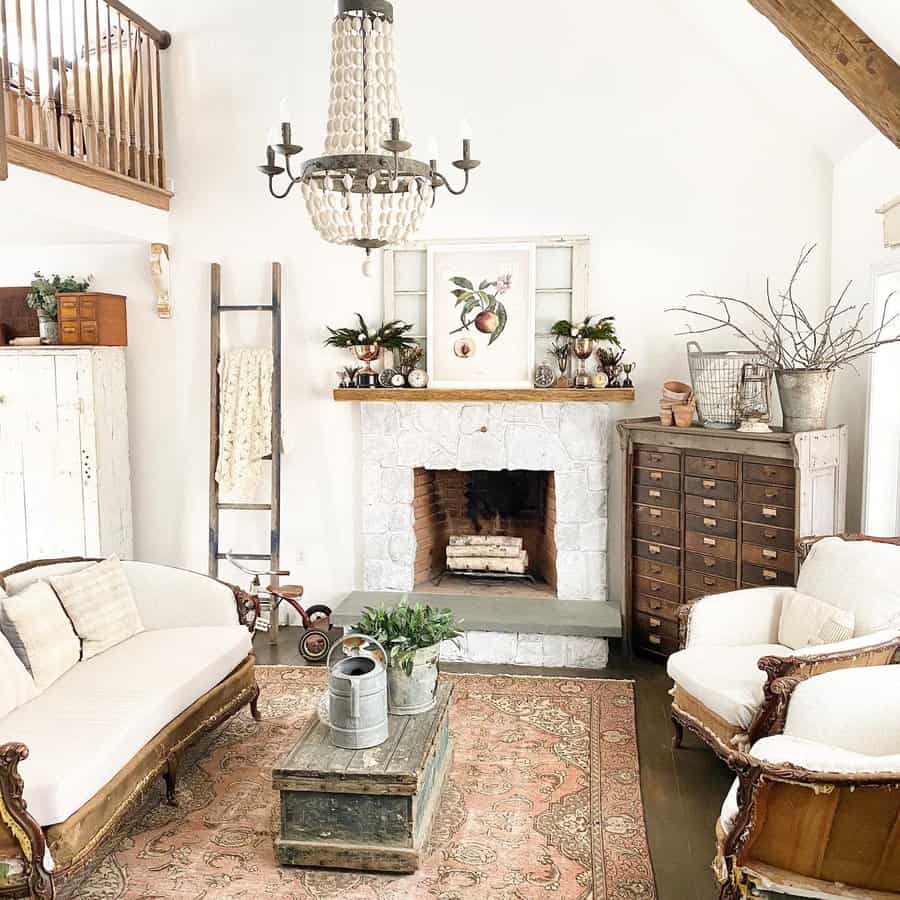 Drape a delicate handmade doily over the mantle. Look for pieces that have a feminine feel and are handcrafted. Pressed flowers in a frame, watercolor painting, and a small batch aromatherapy candle are all good options.
5. Fall Decor
When fall rolls in, it signals a dropping of temperatures and more use of your fireplace. With the fireplace the star of the show, it's the perfect time to decorate. Embrace the season with decor that's inspired by fall.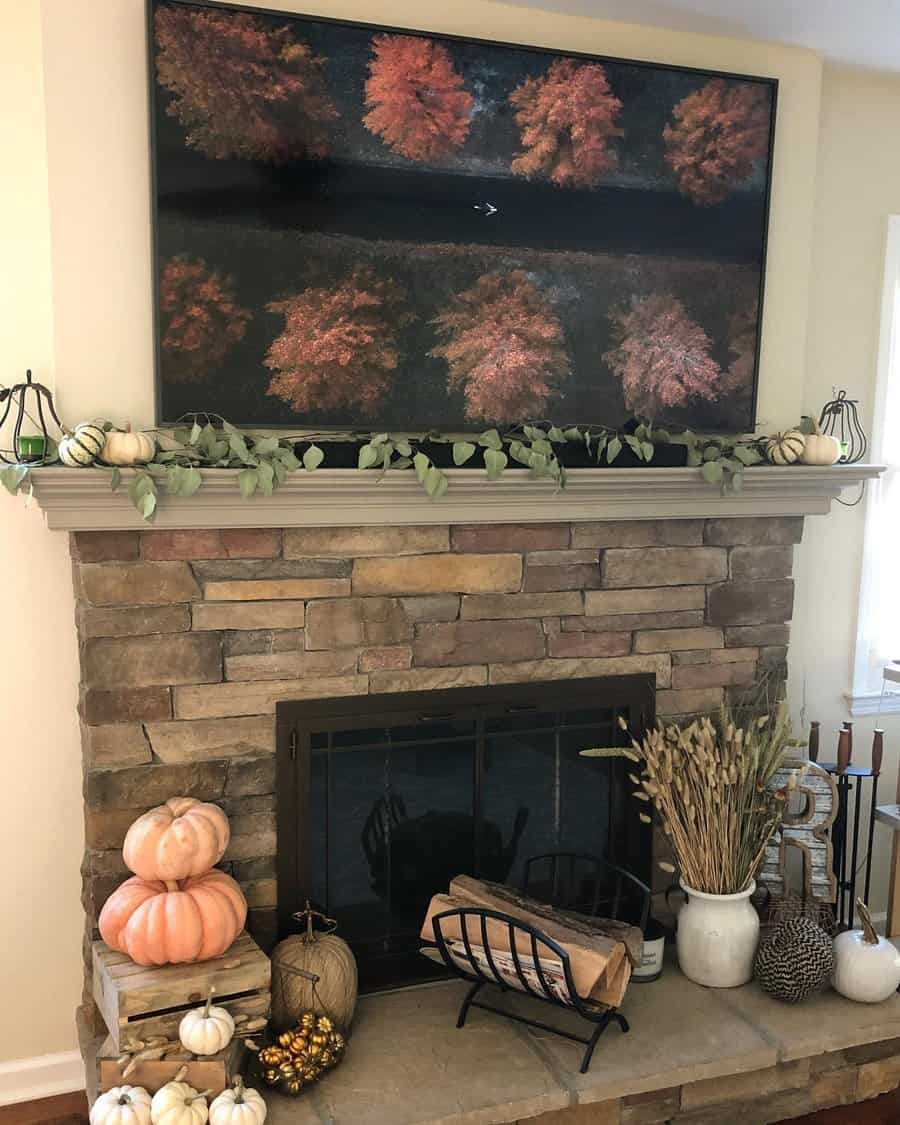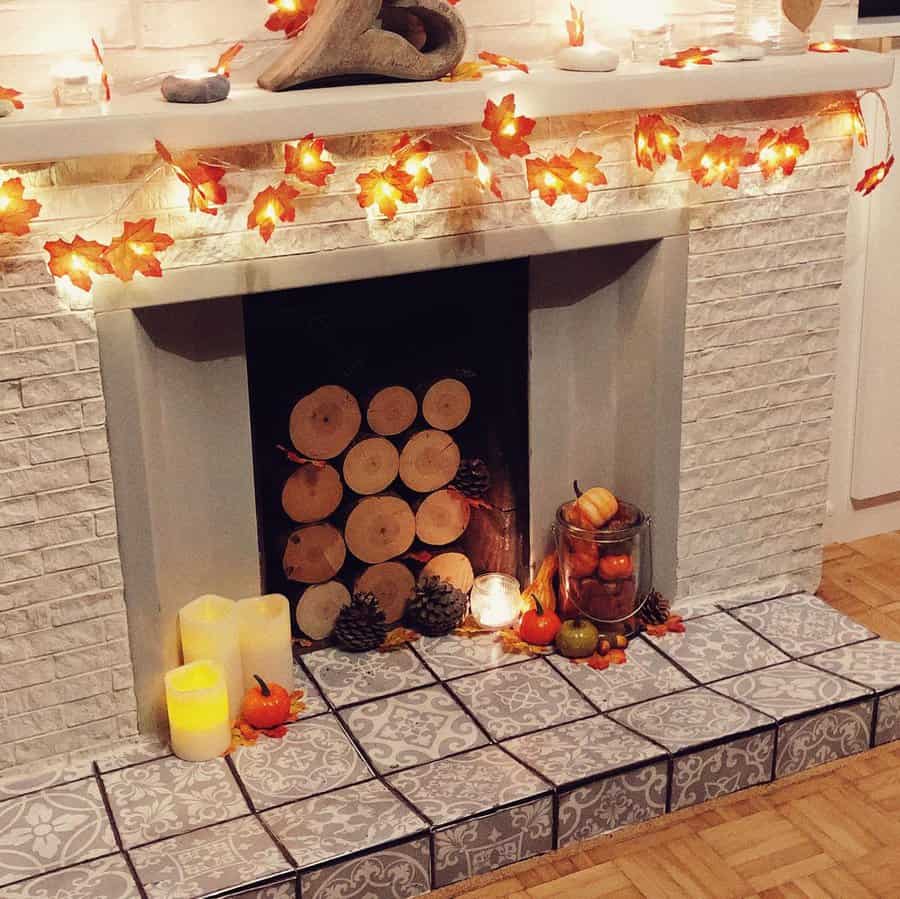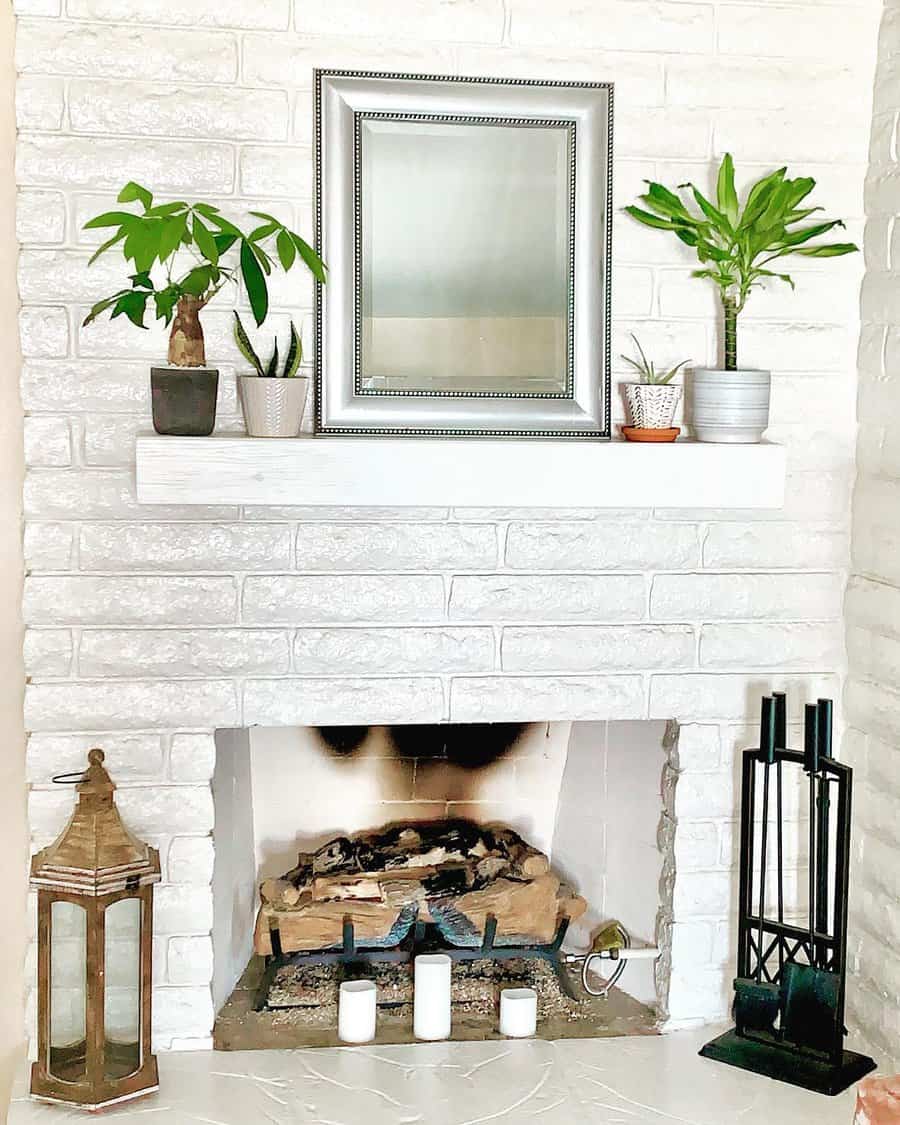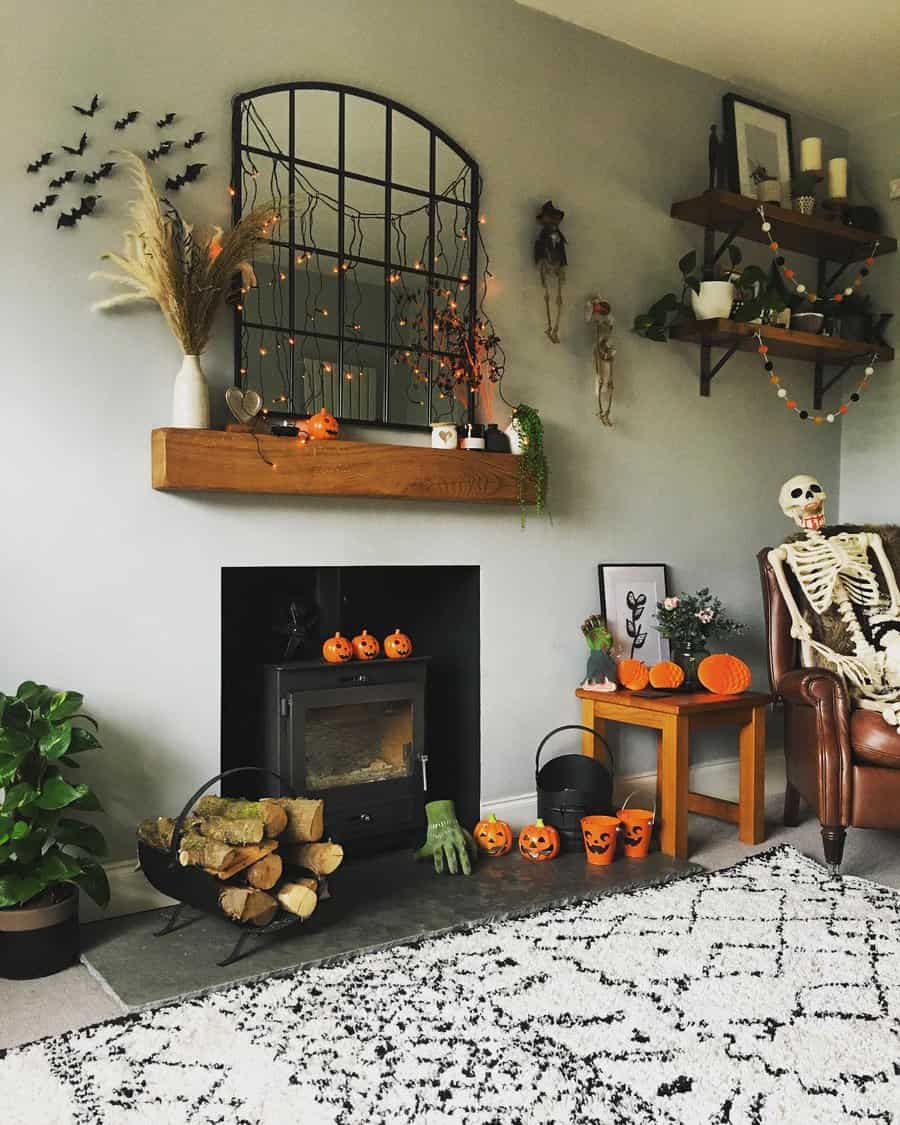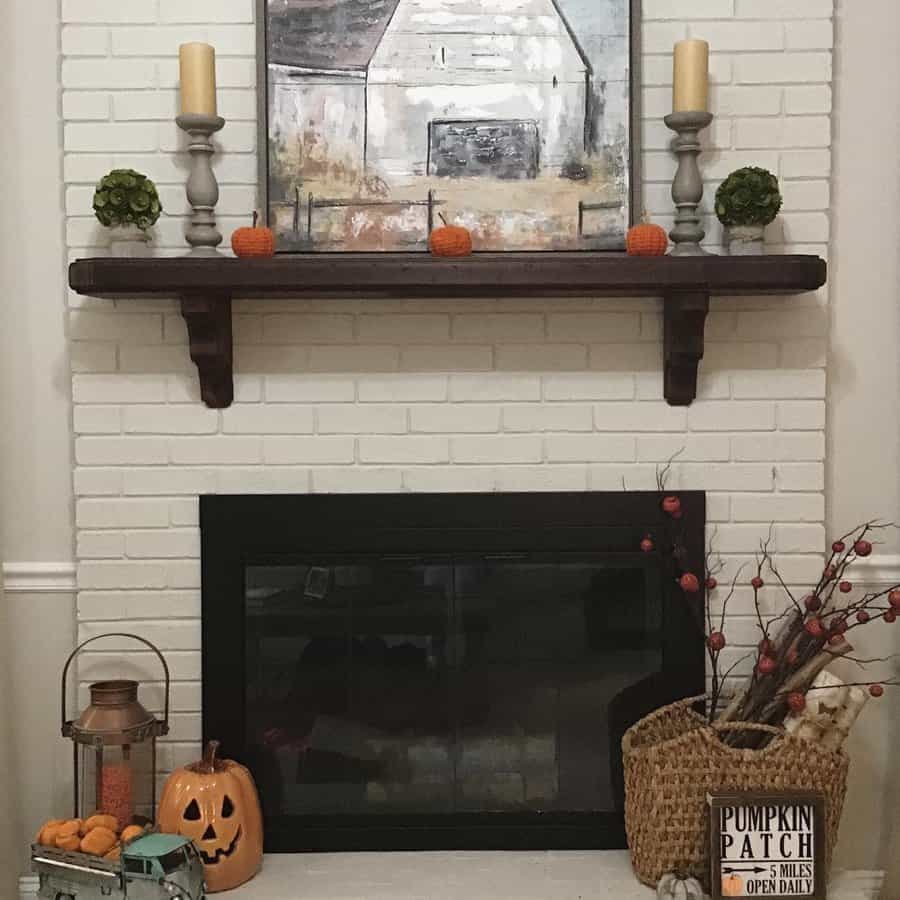 Halloween decorations are perfect for late September and into October. You can then transition your decorating into November by using more Thanksgiving-inspired produce.
Add white pumpkins, dried corn, and a variety of gourds. If you want to inject some color, add fall leaves that are red, yellow, and orange.
6. Farmhouse
You don't get more farmhouse than an all brick fireplace. A close second is a stone fireplace. If you're remodeling your fireplace, you can use these materials to build your refreshed fireplace.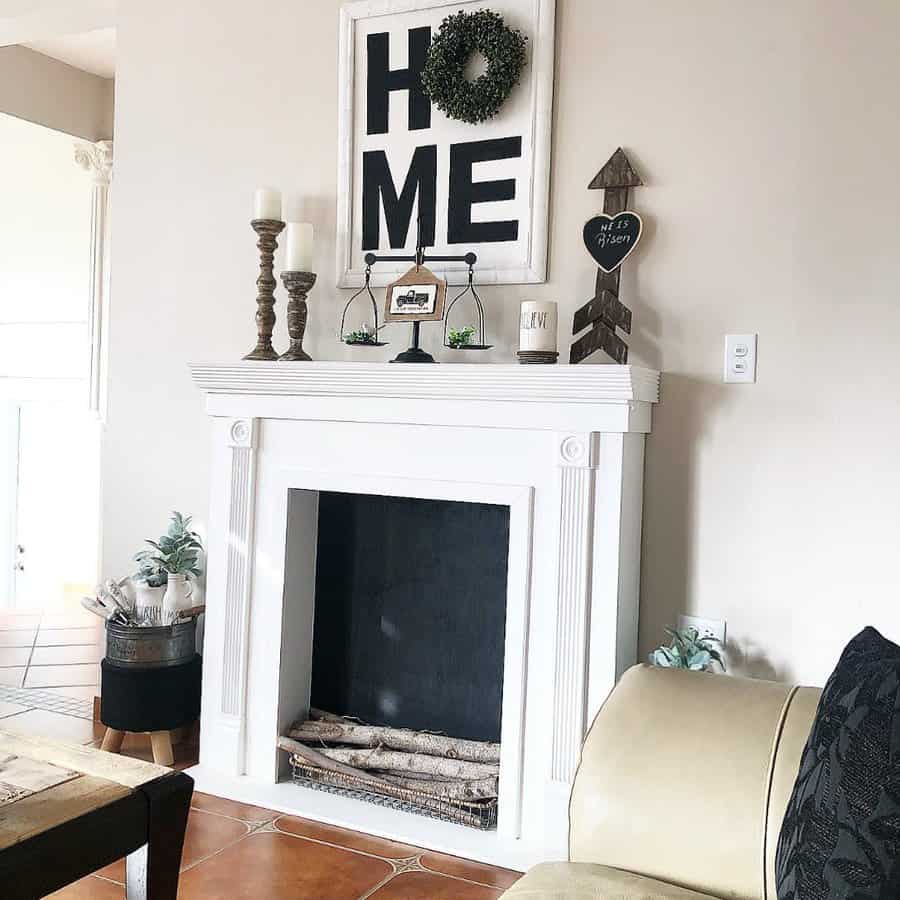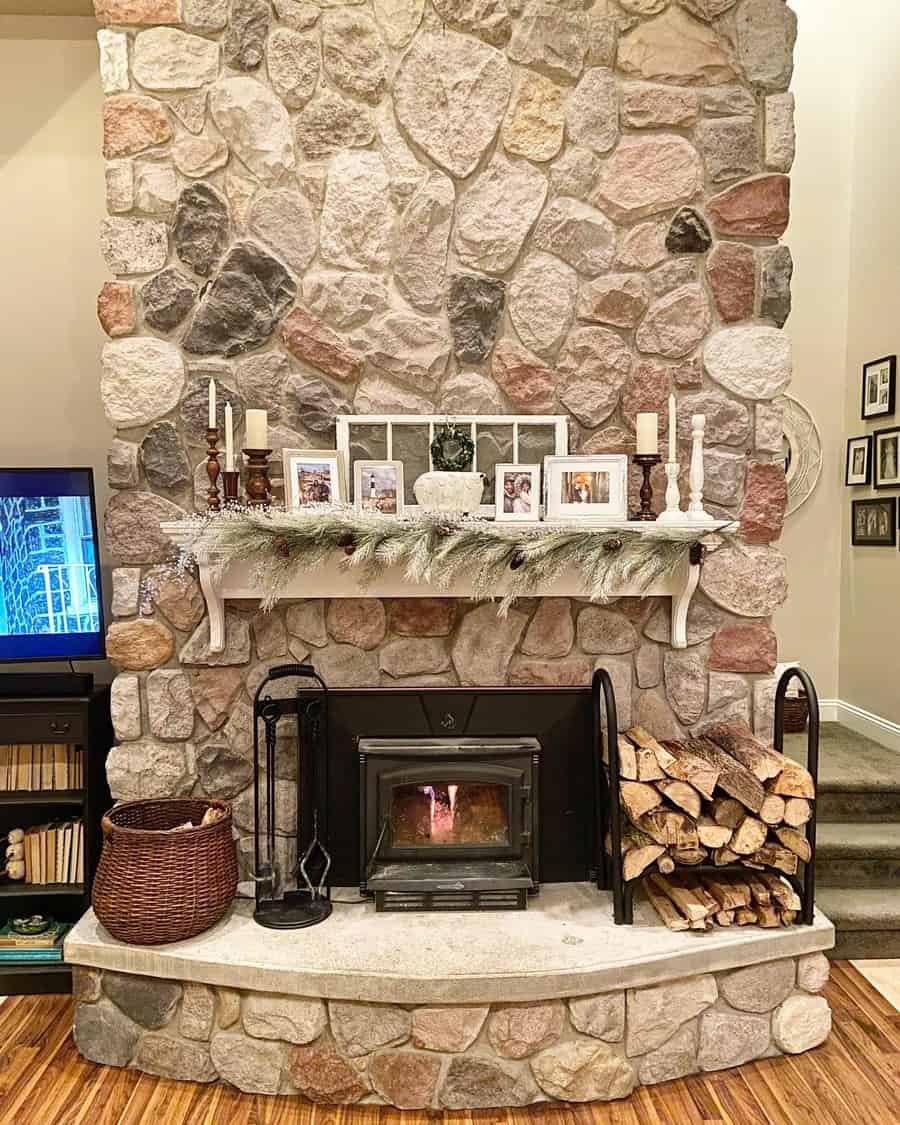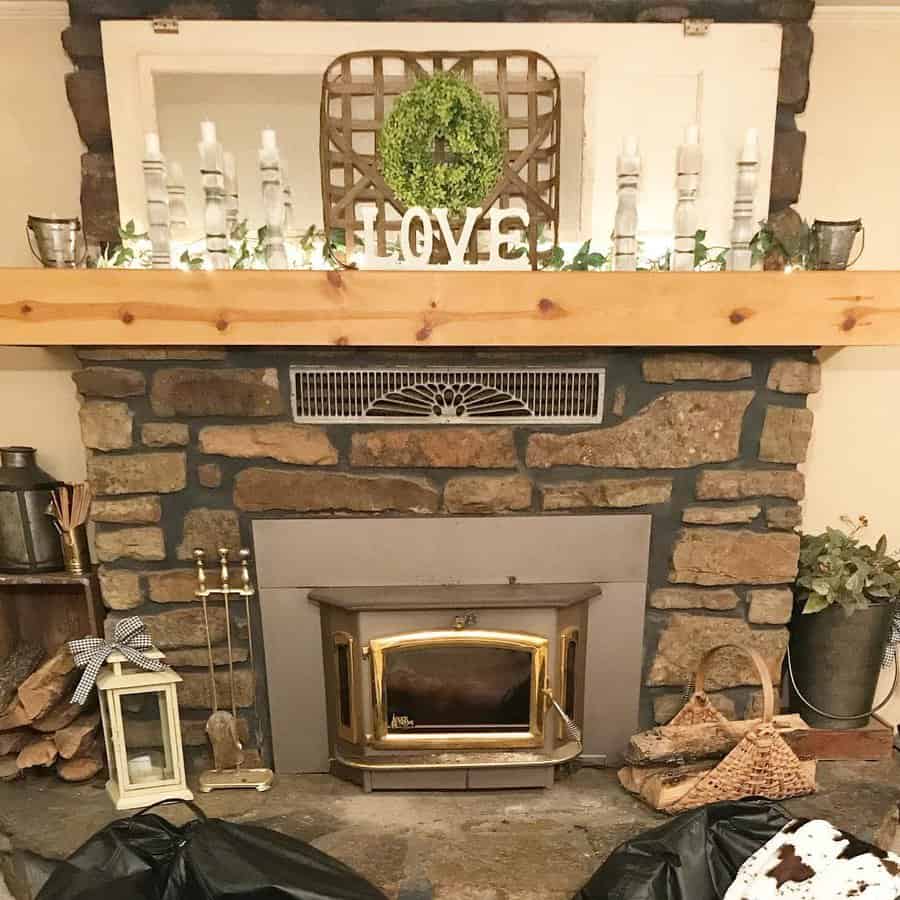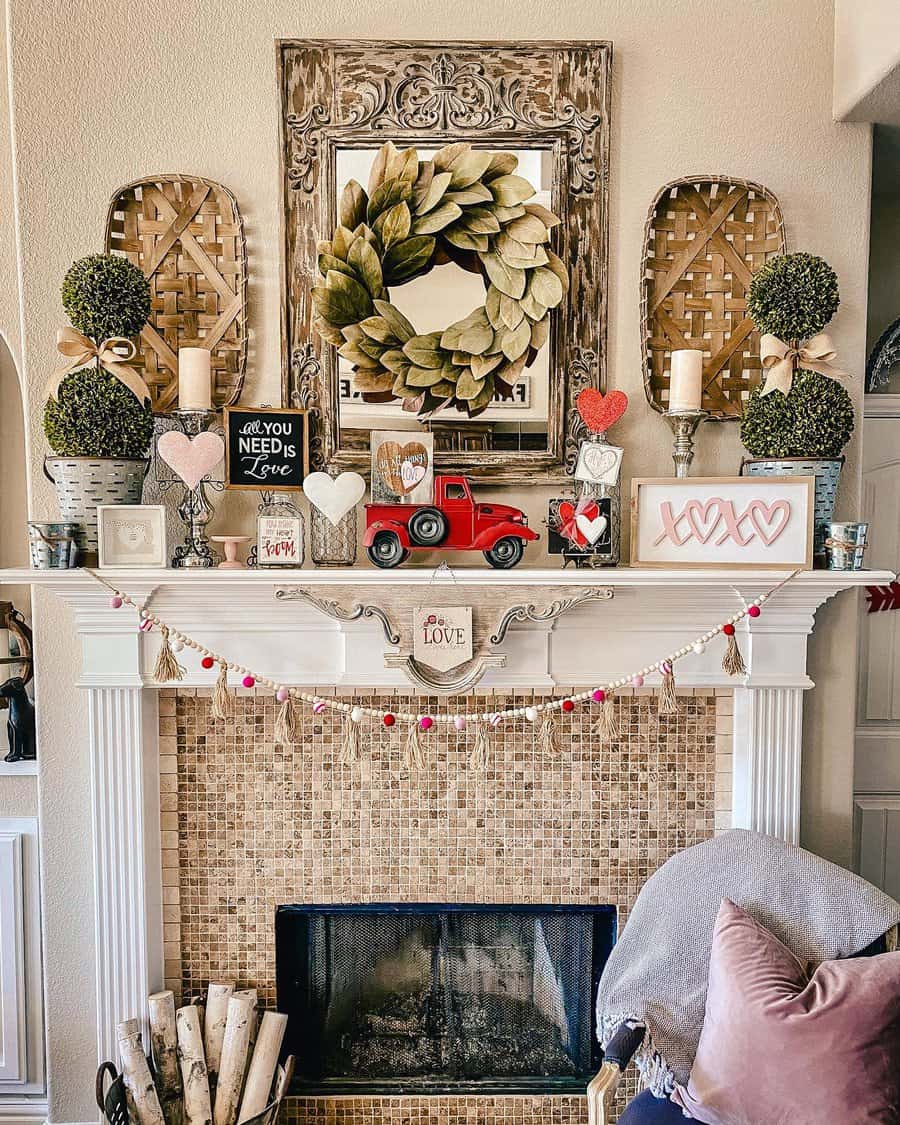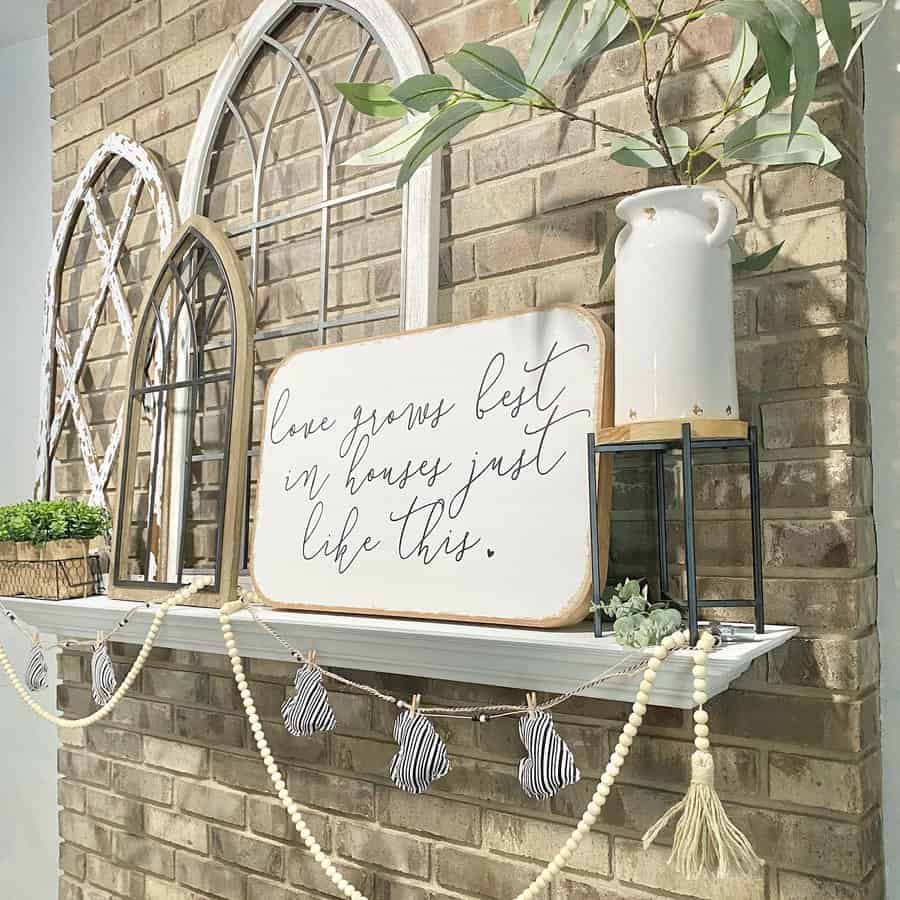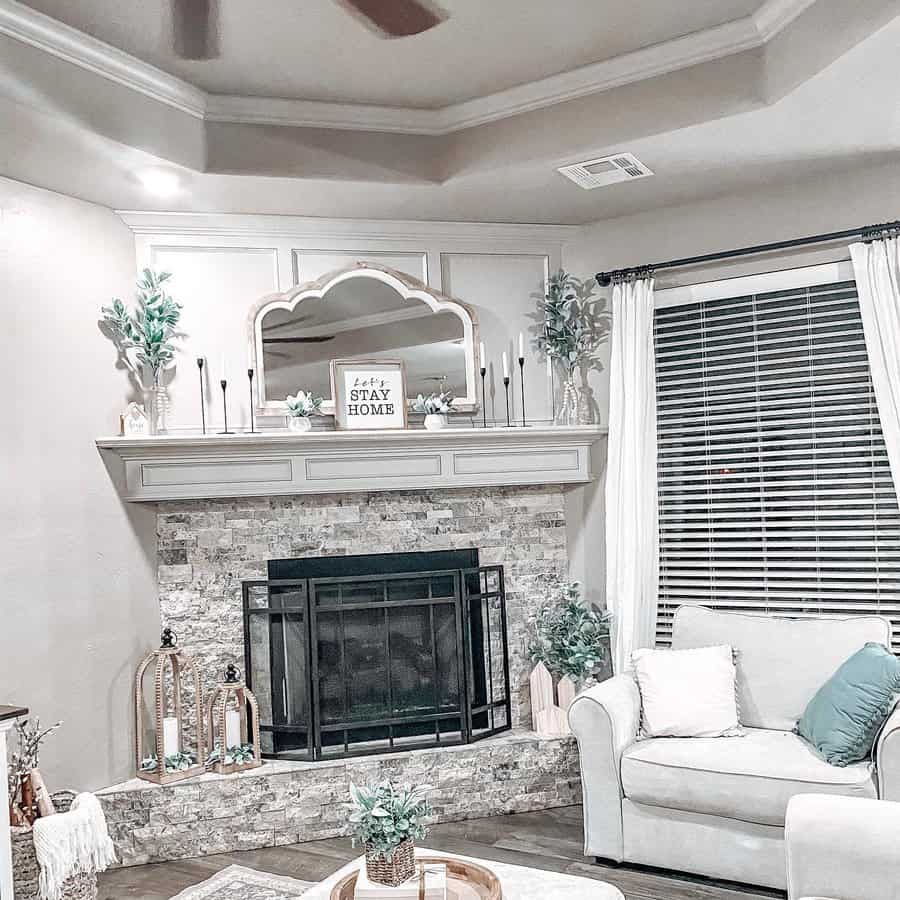 Decorating a farmhouse fireplace is about repurposing items to give them a second life. While you could be faux-aged pieces, too many of these look overly styled.
For a genuine feel, stick with items you find at vintage and antique shops. If they look a bit worn, that's even better.
7. Hearth
An unused fireplace is a perfect place for creating an elaborate hearth display. This is the area directly in front of the fireplace opening. You could mimic the look of a used fireplace with an arrangement of candles.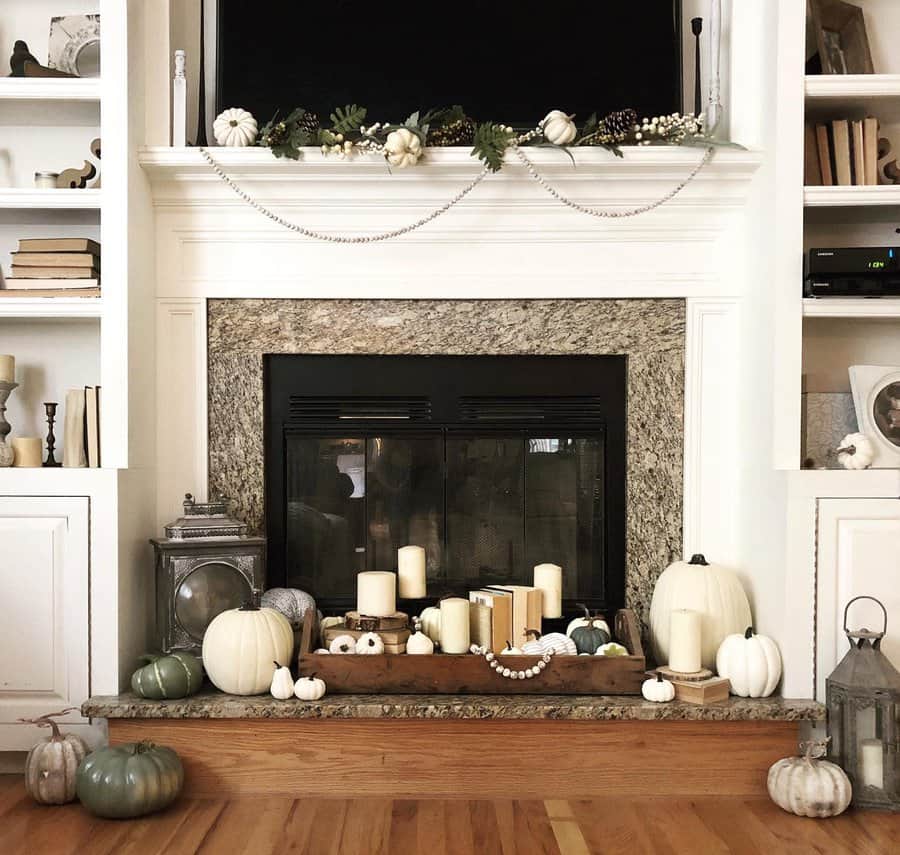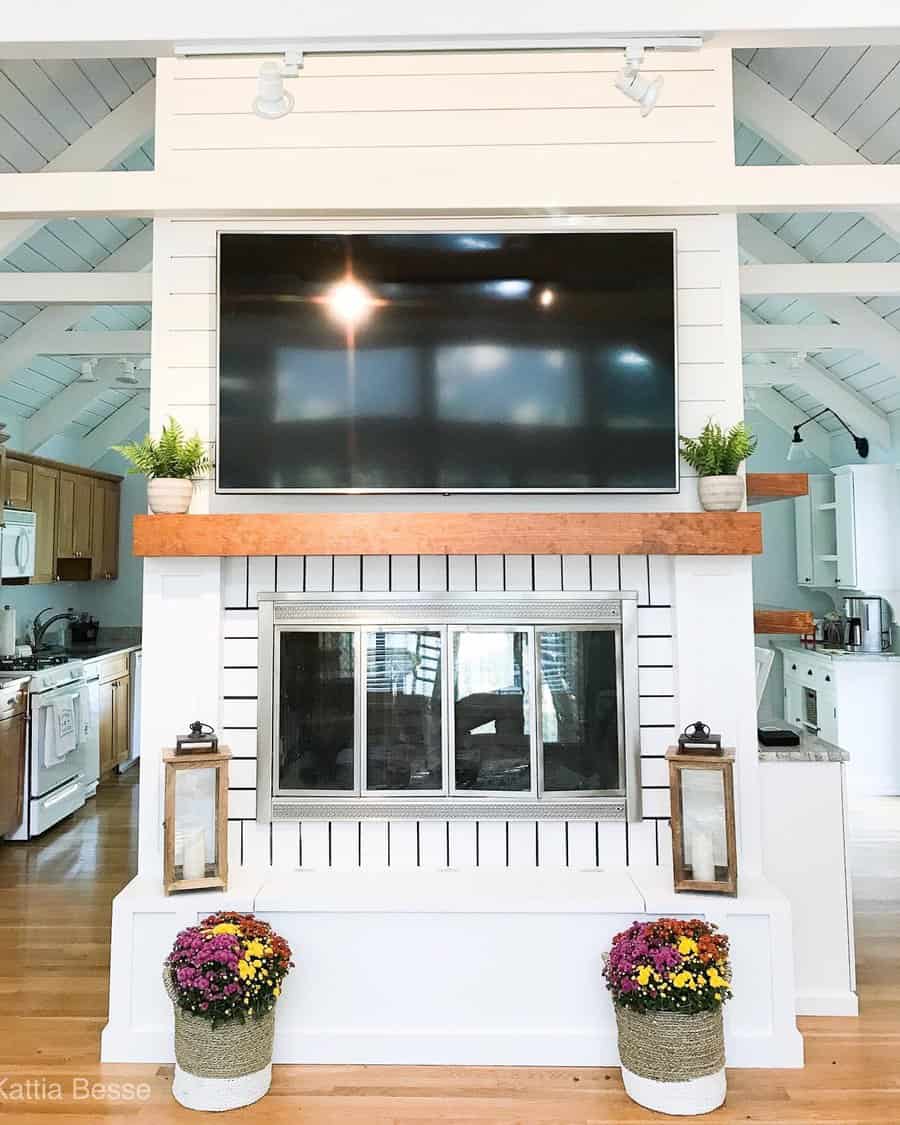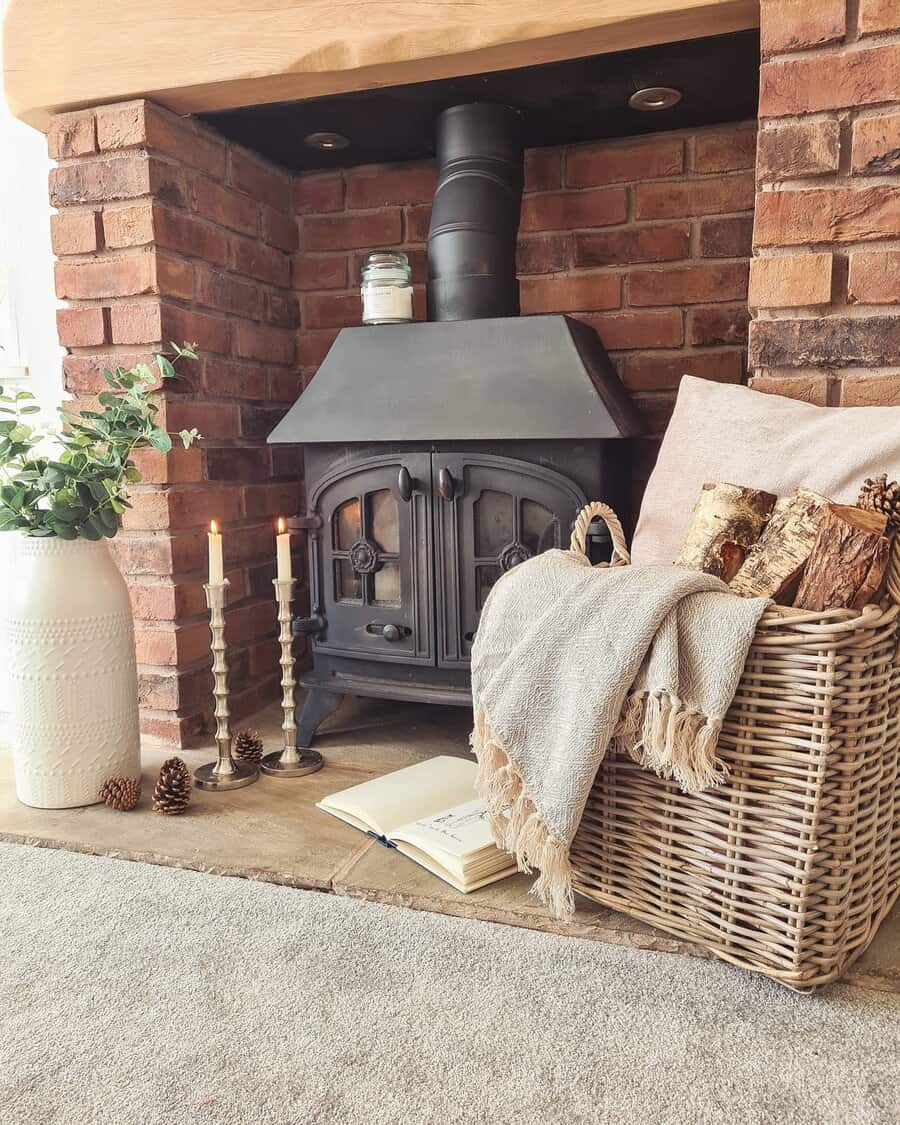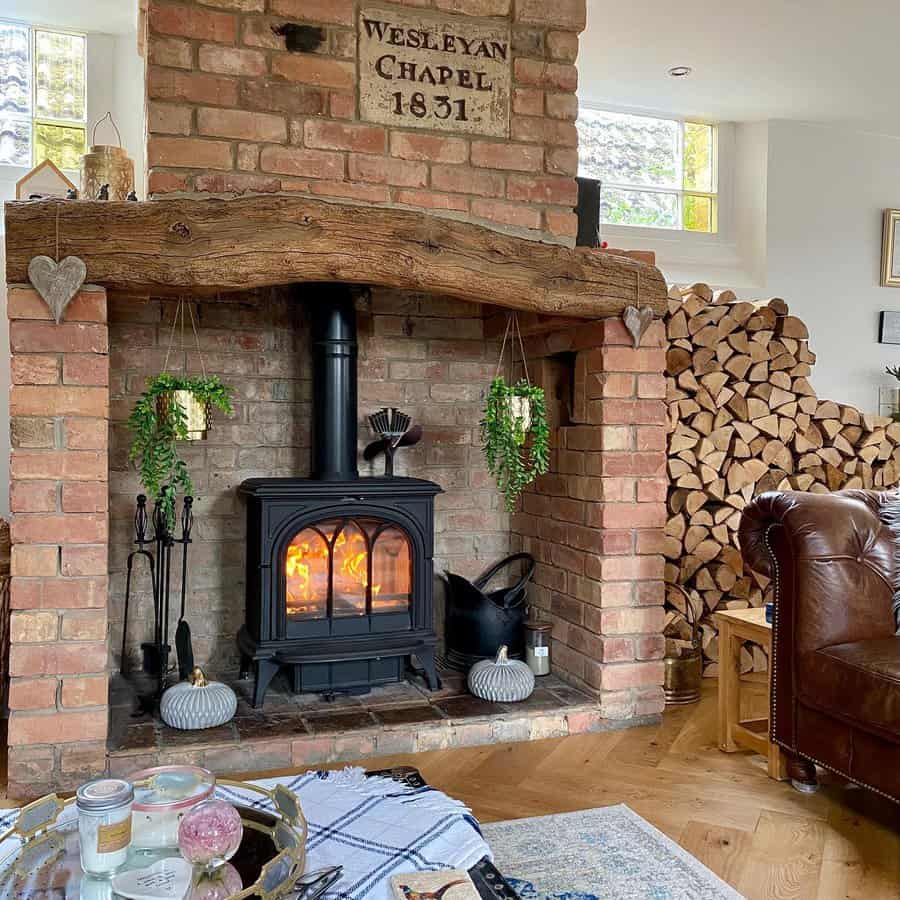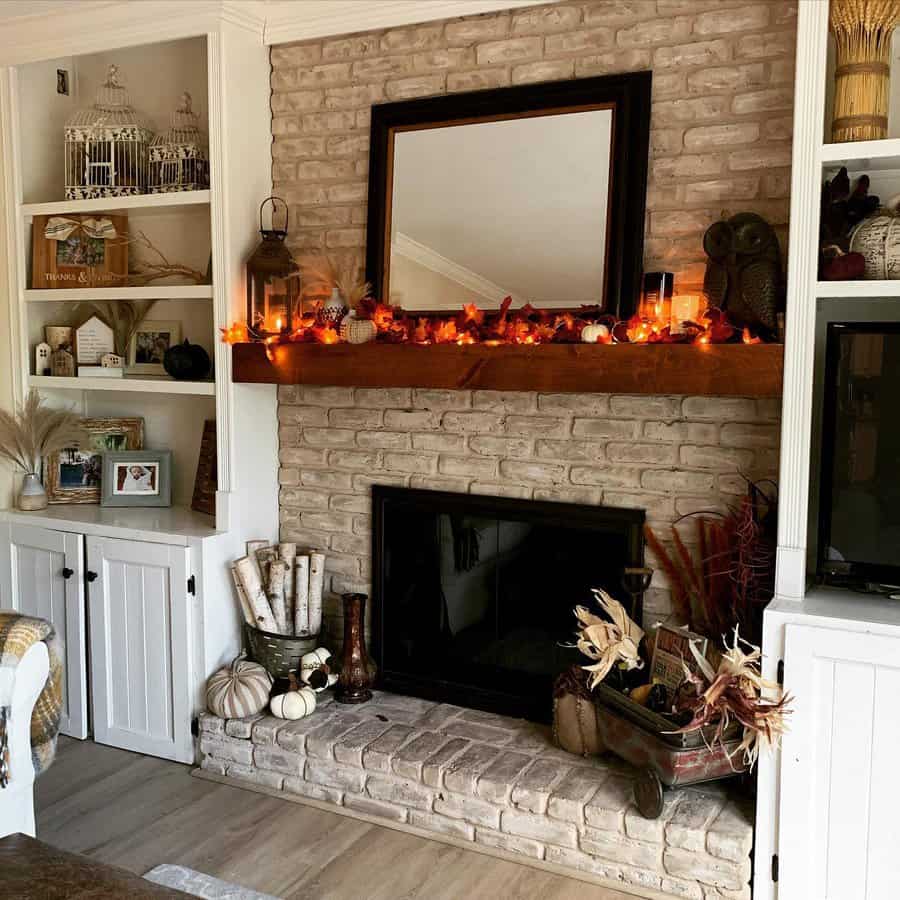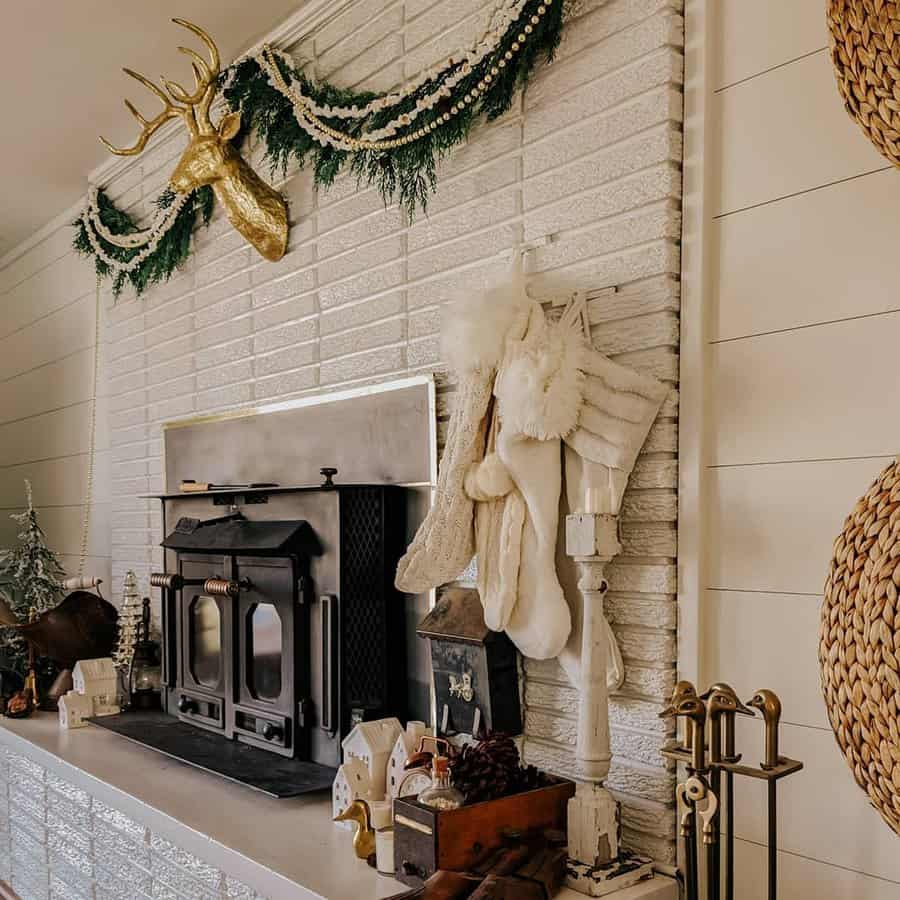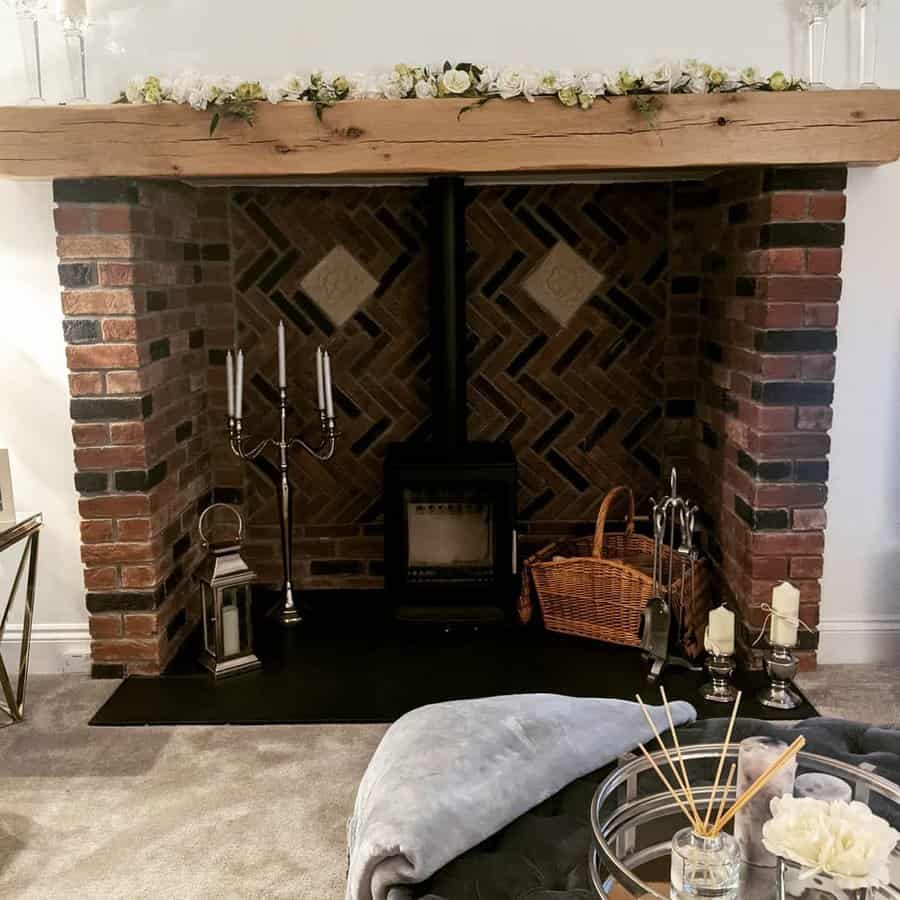 You could stack cut logs and fill the entire fireplace opening. A large basket can give you a container for a seasonal display of cut blooms, grasses, and dried grains.
Arrange another basket with extra pillows and throw blankets. This is perfect for adding an extra feeling of coziness to the room.
Read more: 56 Fireplace Hearth Ideas
8. Mantle Decor
When looking at fireplace mantel ideas, think about your home and personal style. If your family is important, then use it as a place to showcase all of your loved ones. If you love plants and gardening, then arrange them on your mantle.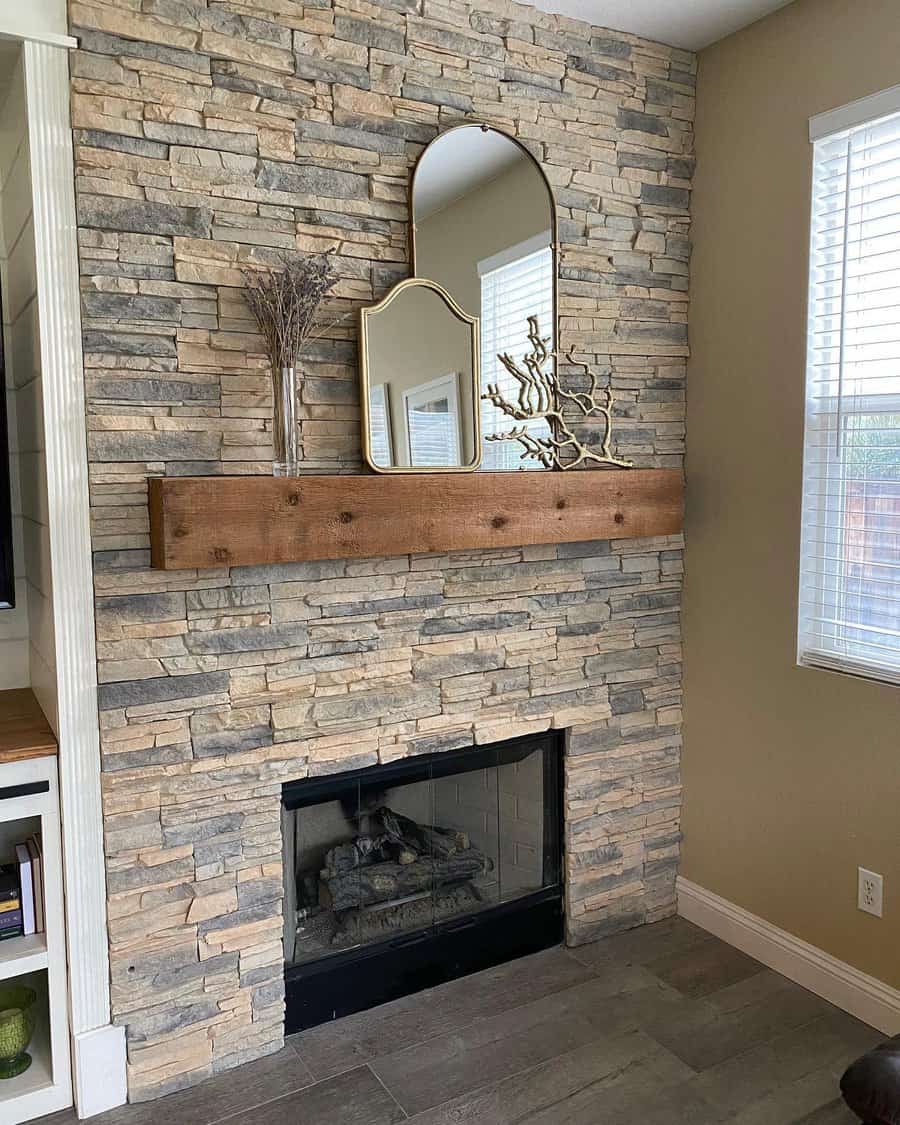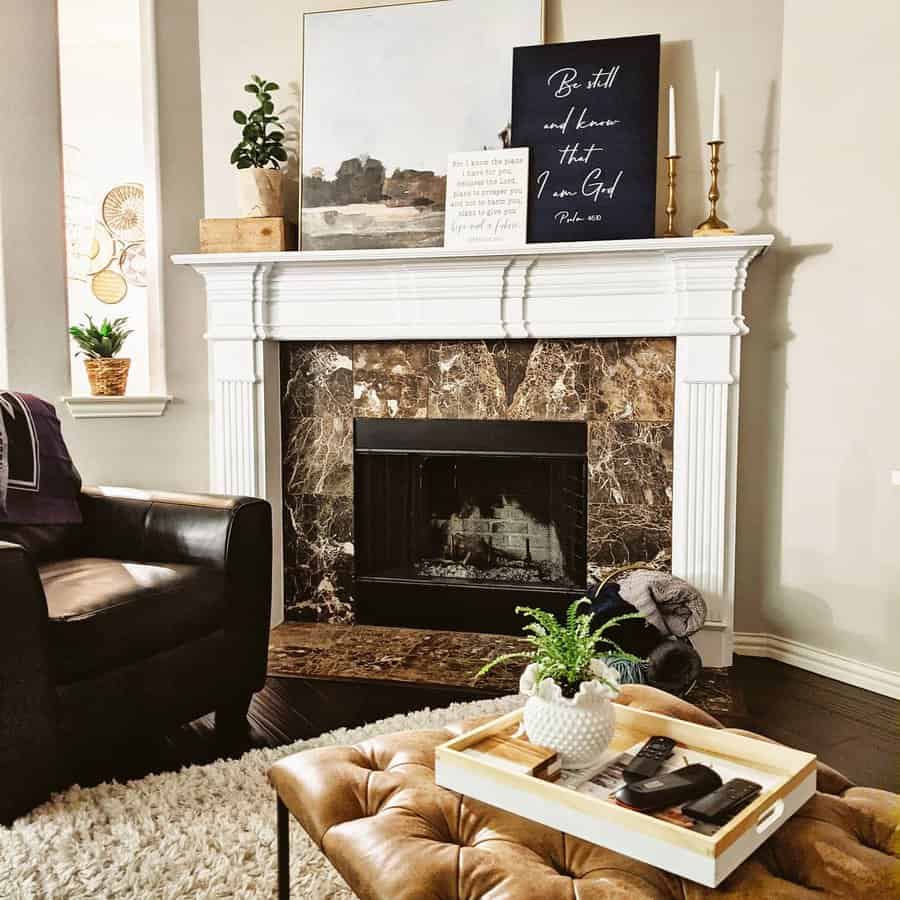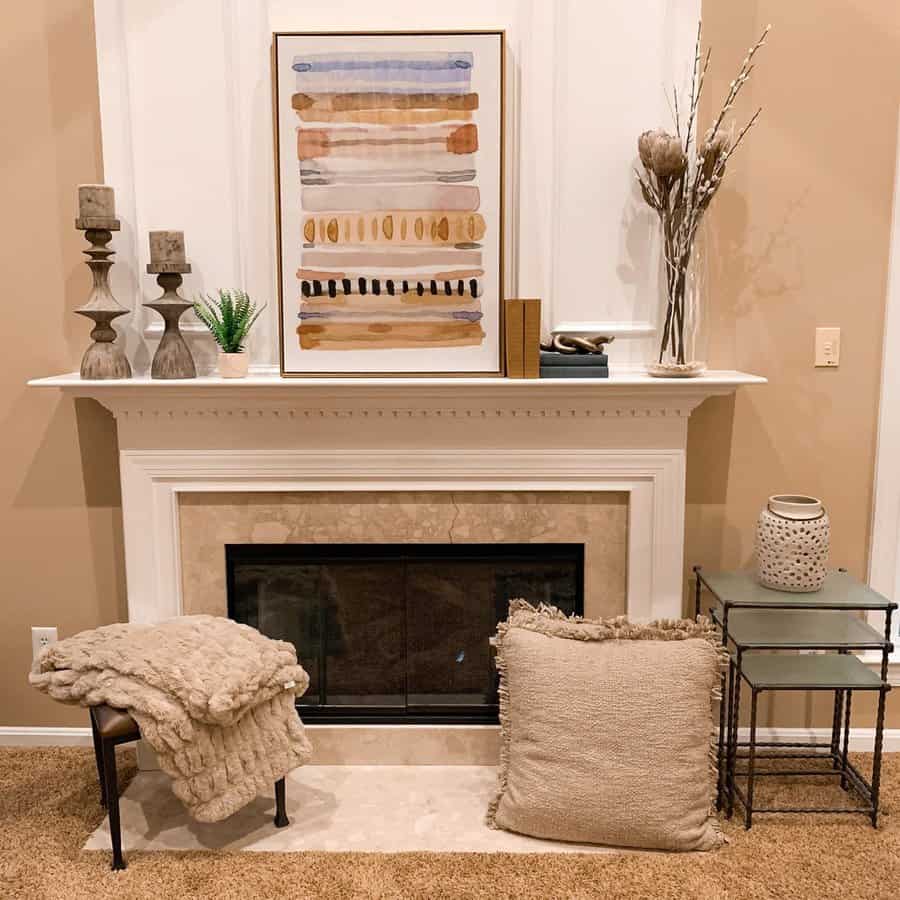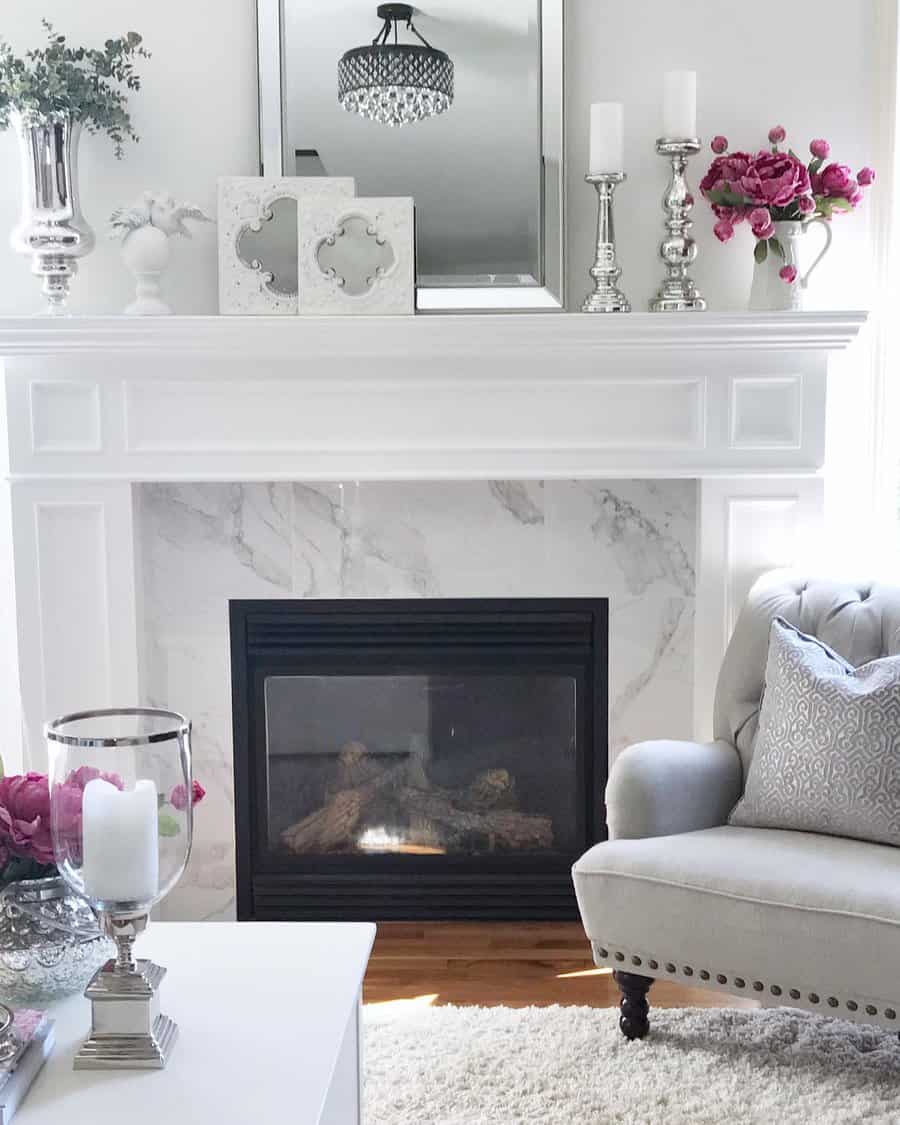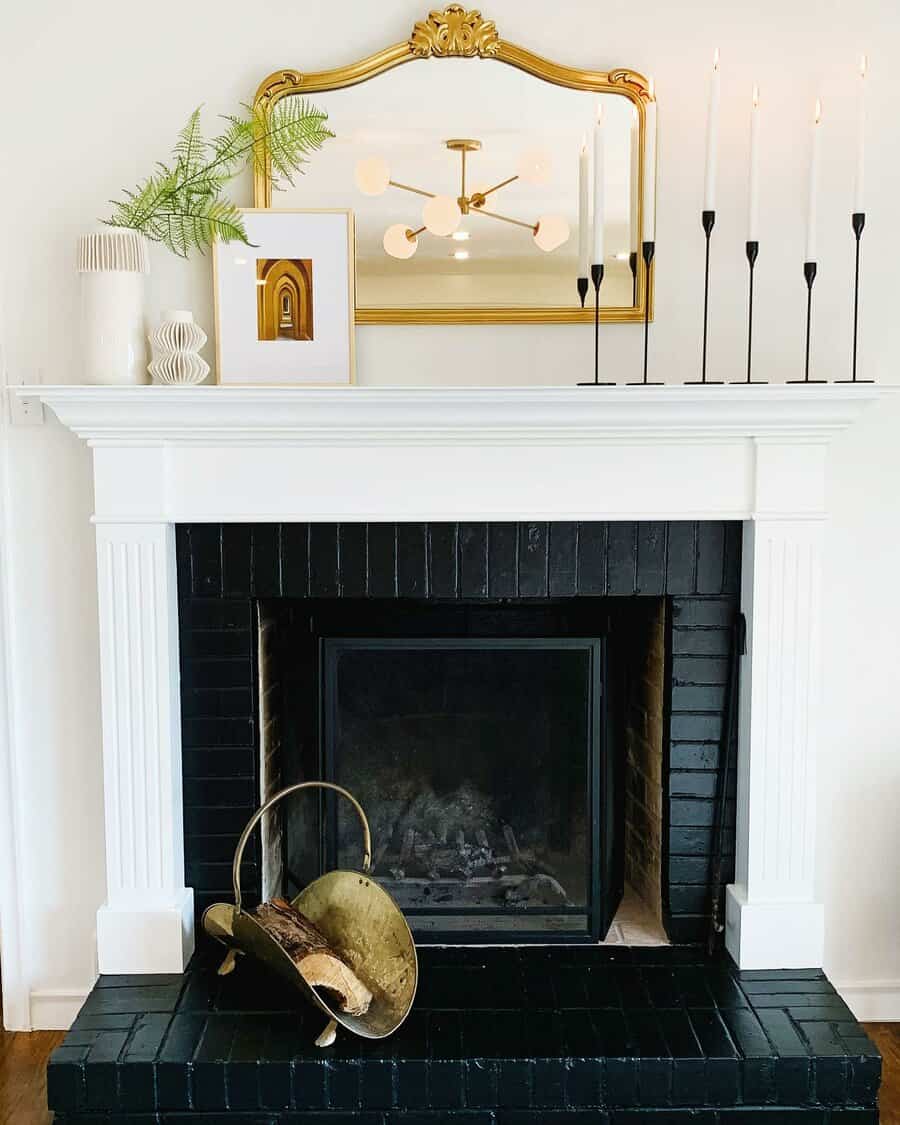 A non-working fireplace gives you extra space. Use the alcove for extra storage. You could have a mini library in it. Even if you don't have a fireplace, you could still create the look with a faux fireplace. Mount a mantle and surround on the wall with faux bricks where the fire would be.
Read more: 59 Fireplace Mantel Ideas
9. Mirror
One of the most popular decorating ideas is to hang a mirror over the fireplace. This works especially well for fireplace ideas because the fireplace is a natural focal point in the room.
When people enter the room, one of the first places they look is the fireplace. With a mirror just above it, this will be the next place they look.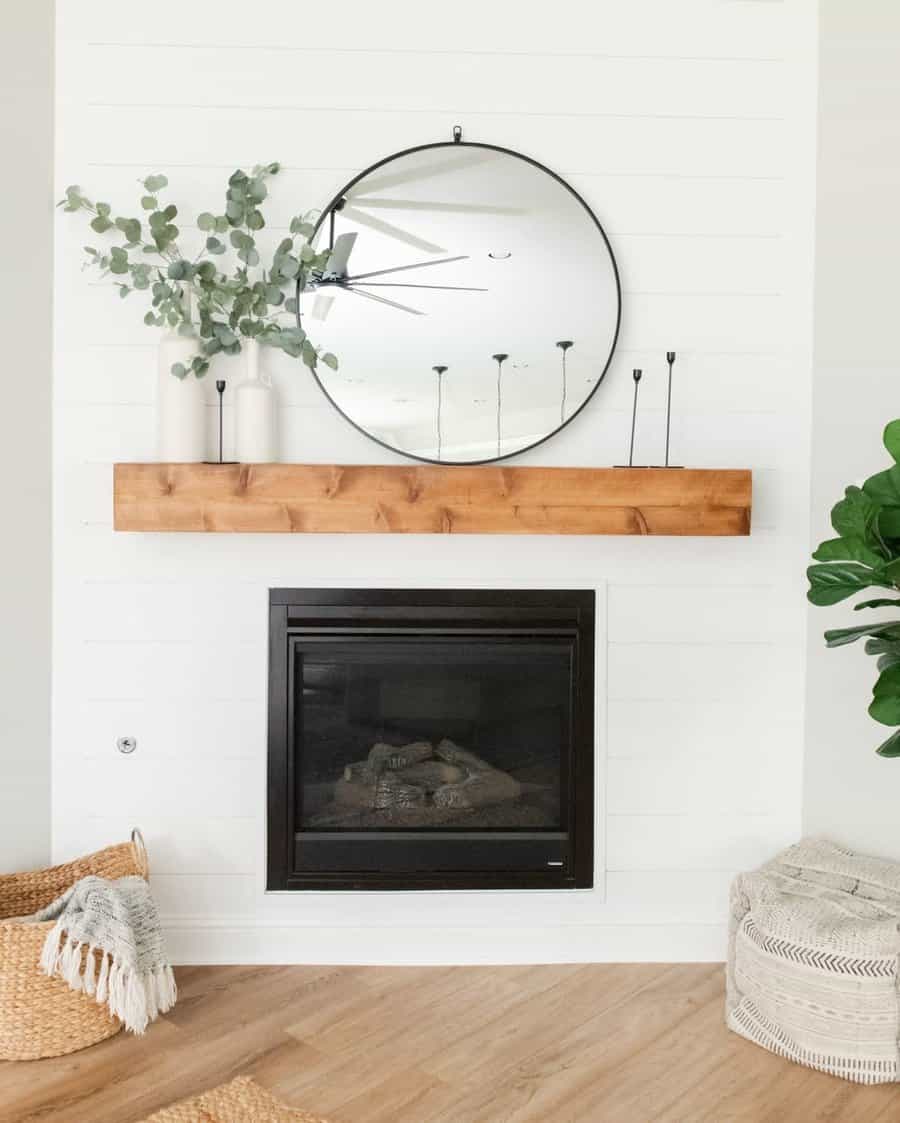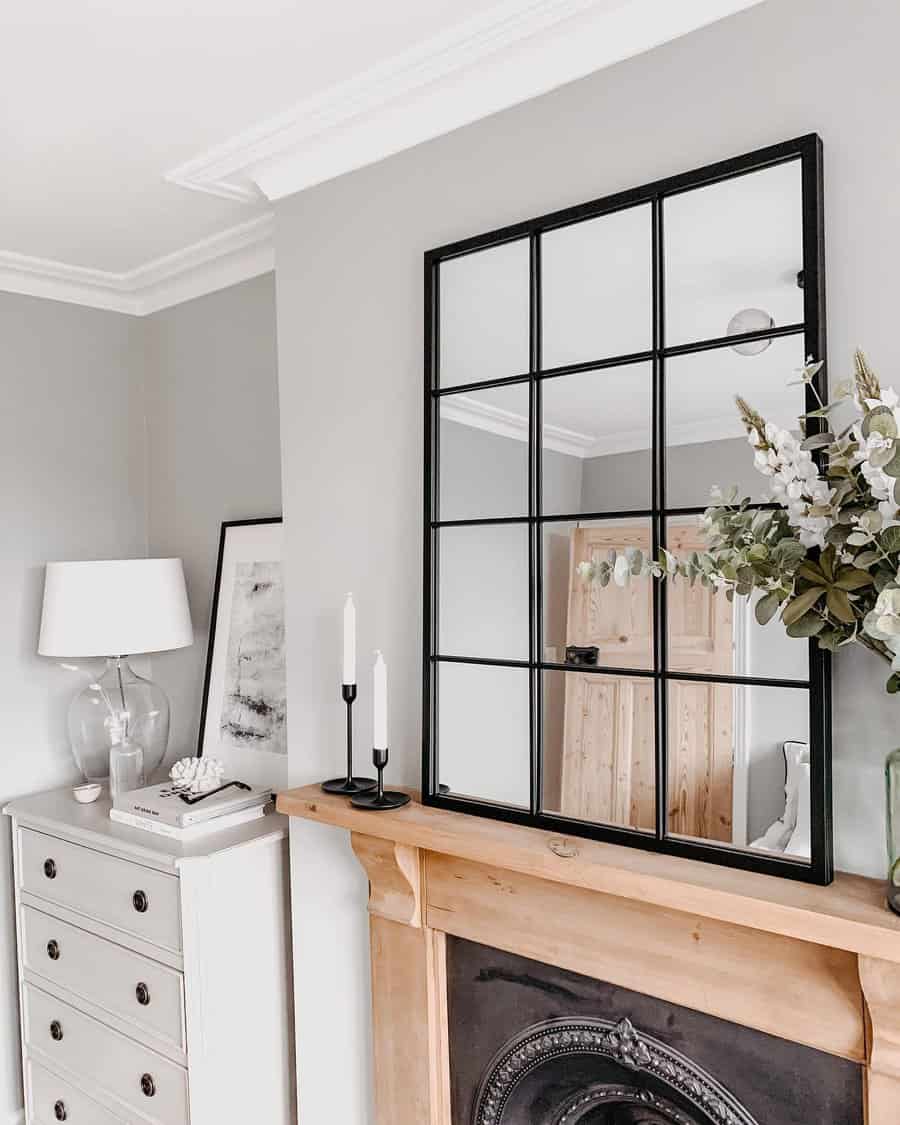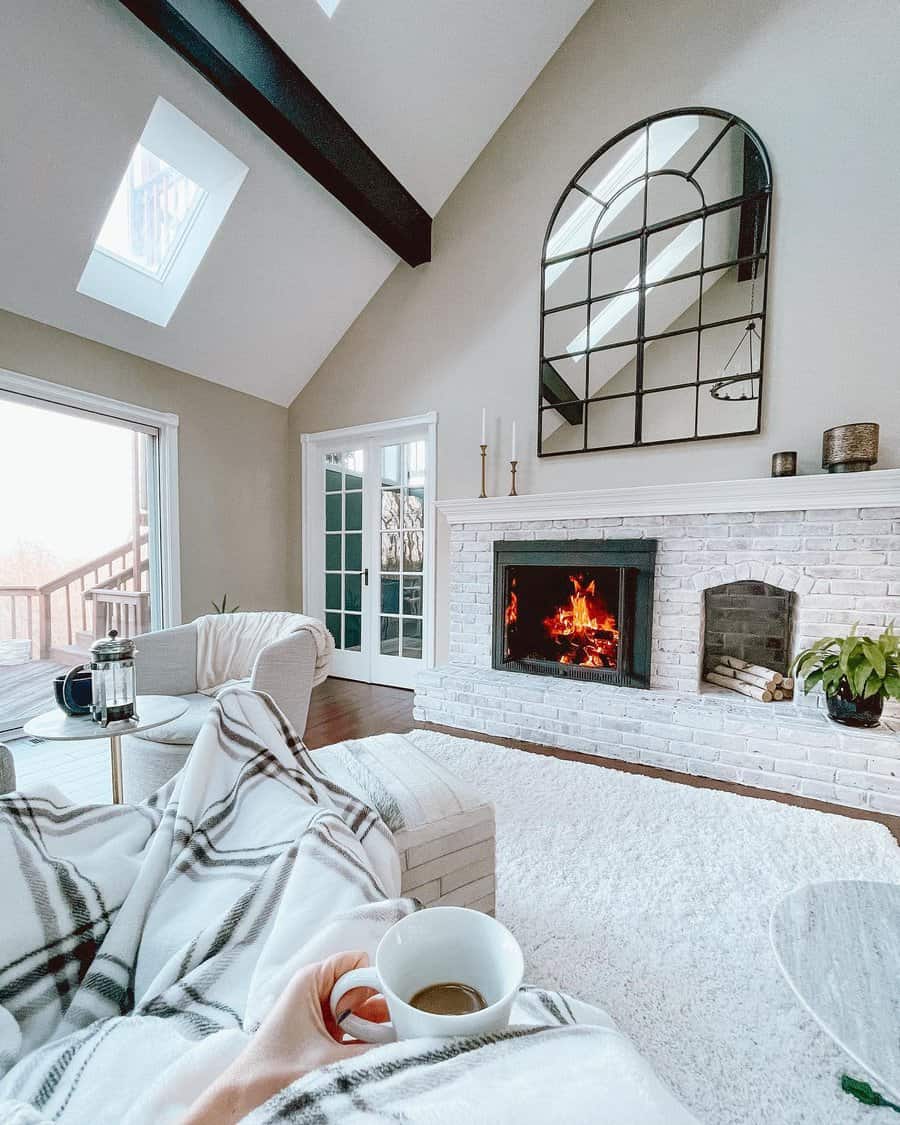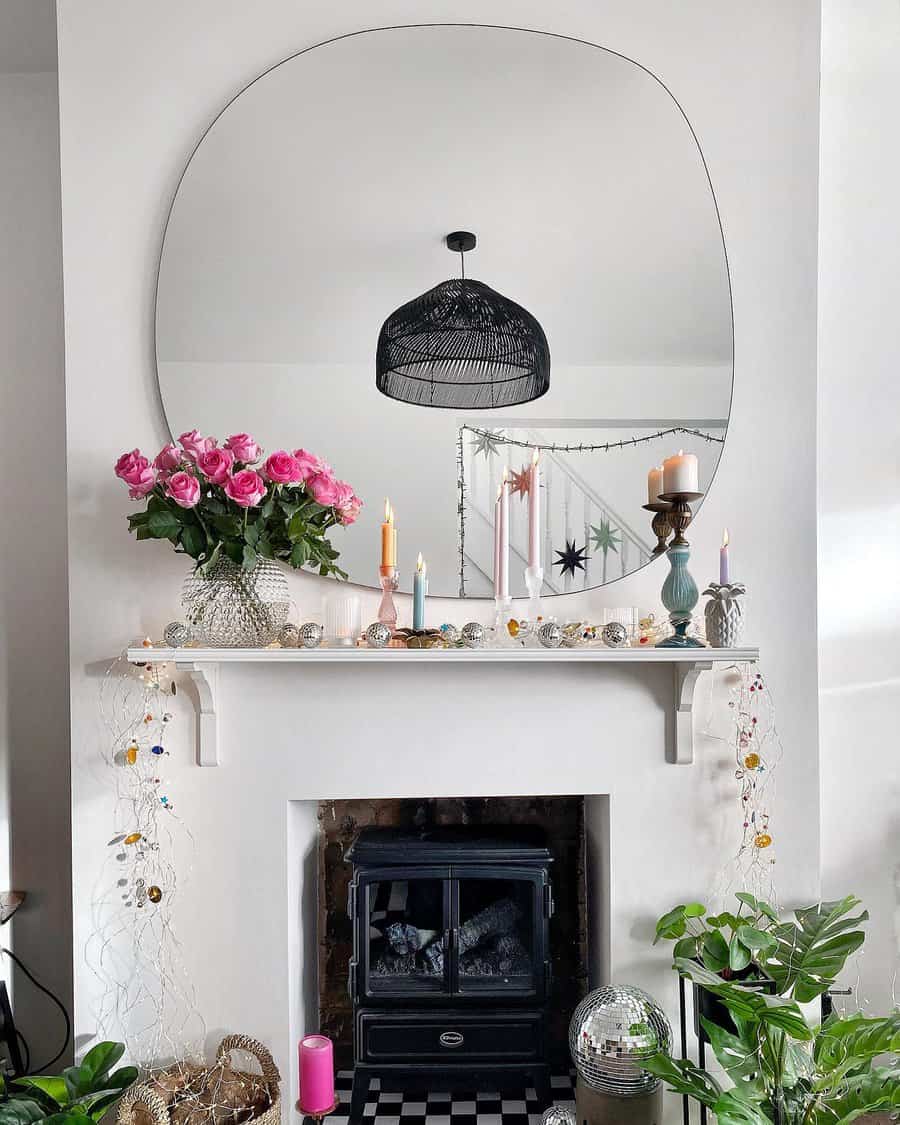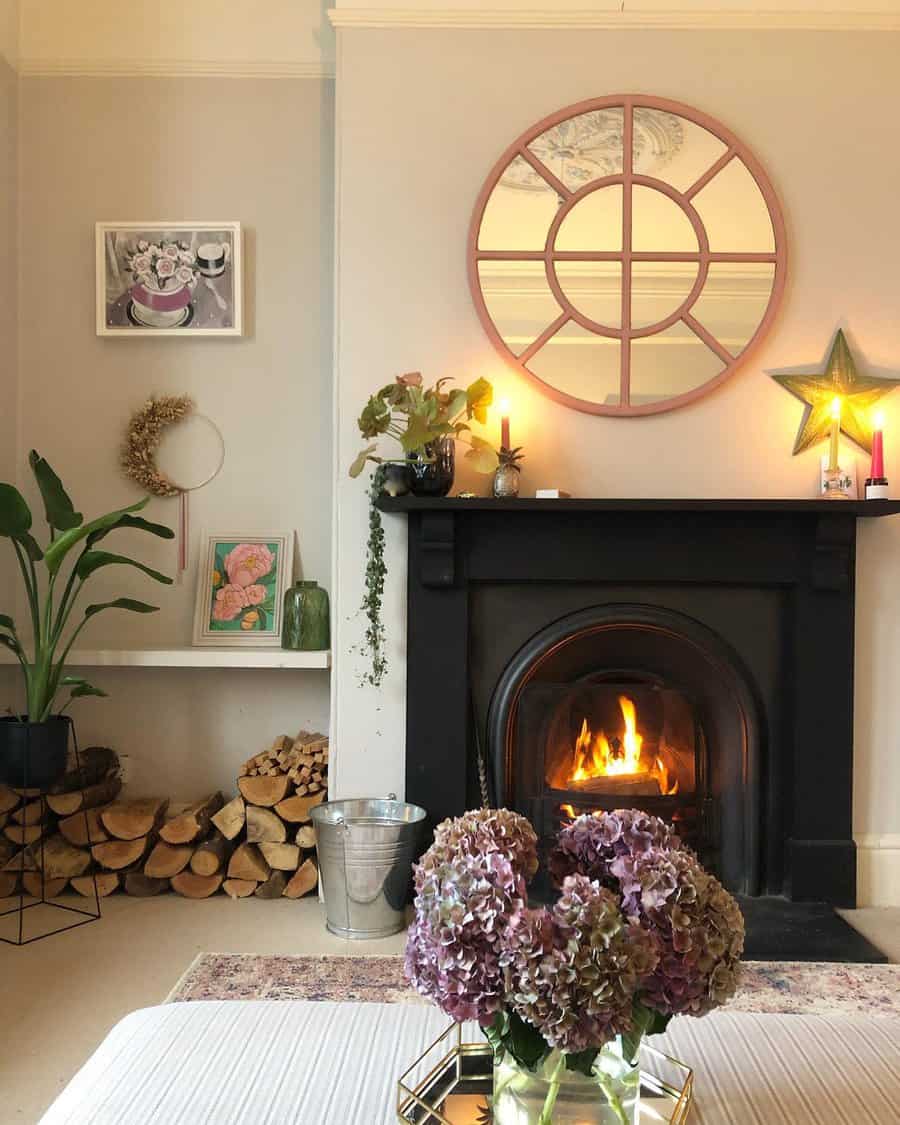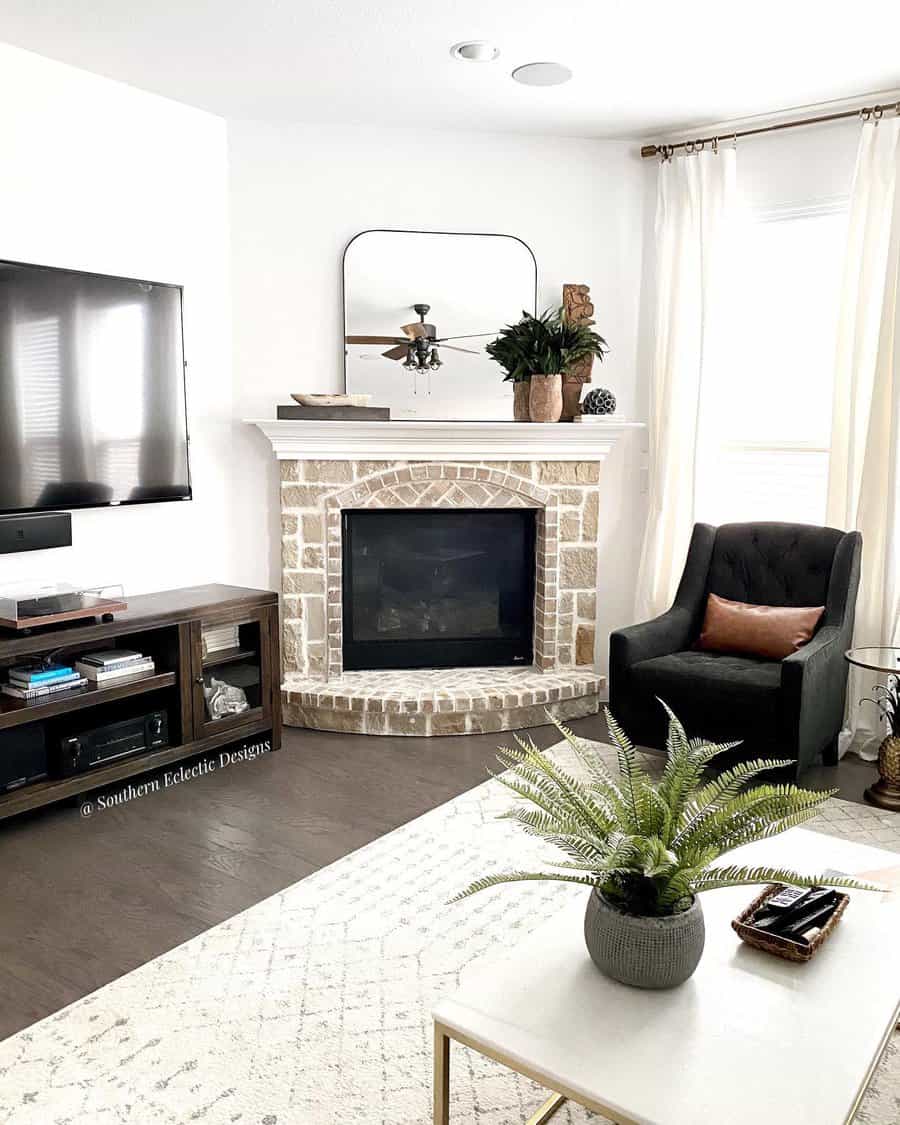 Match the mirror to the size and shape of the fireplace. A long mantle with a lower ceiling will look best with a rectangle mirror hung horizontally.
A skinnier fireplace with a tall ceiling will look best with the rectangular mirror hung vertically. A balanced fireplace and wall can look beautiful with a square or round mirror.
10. Neutral
Some fireplace mantel decorating ideas embrace the neutral approach. You can have this look for your fireplace by choosing decor that matches the neutral color scheme of the rest of your room.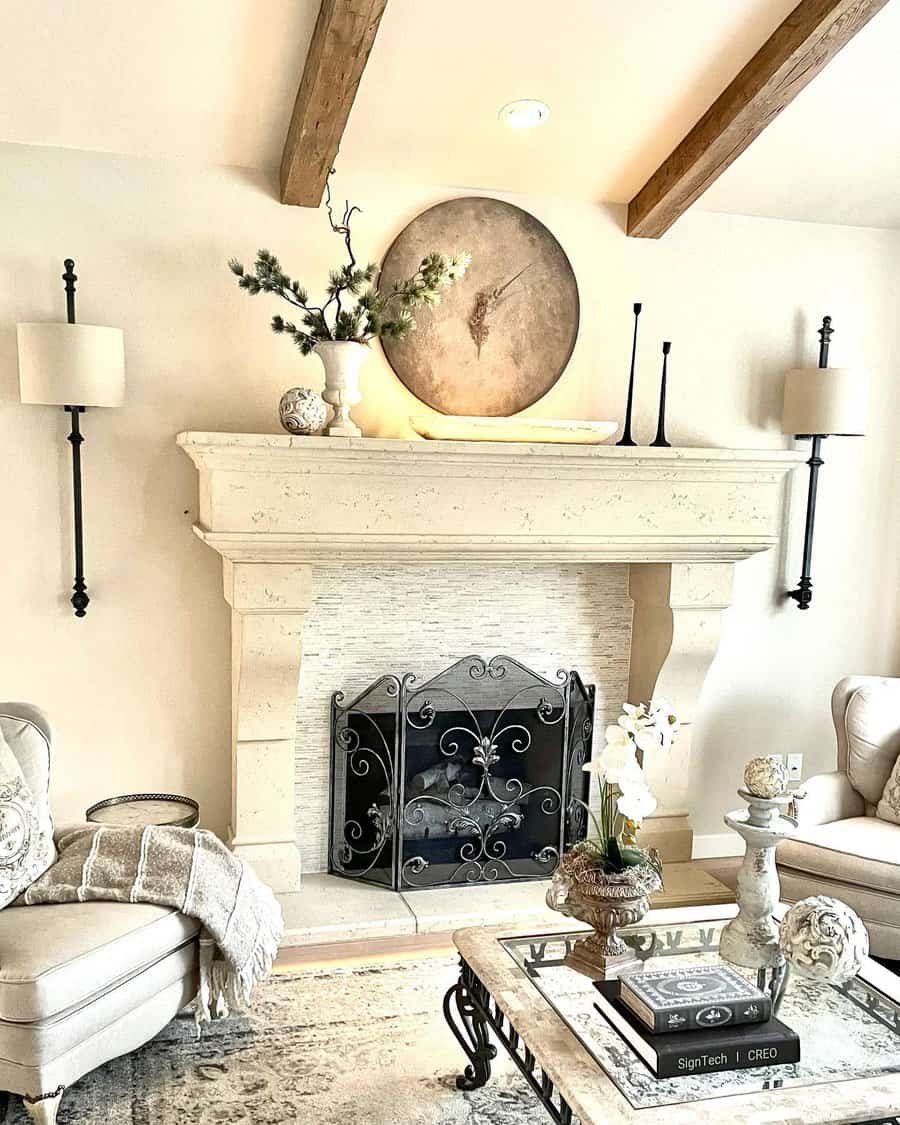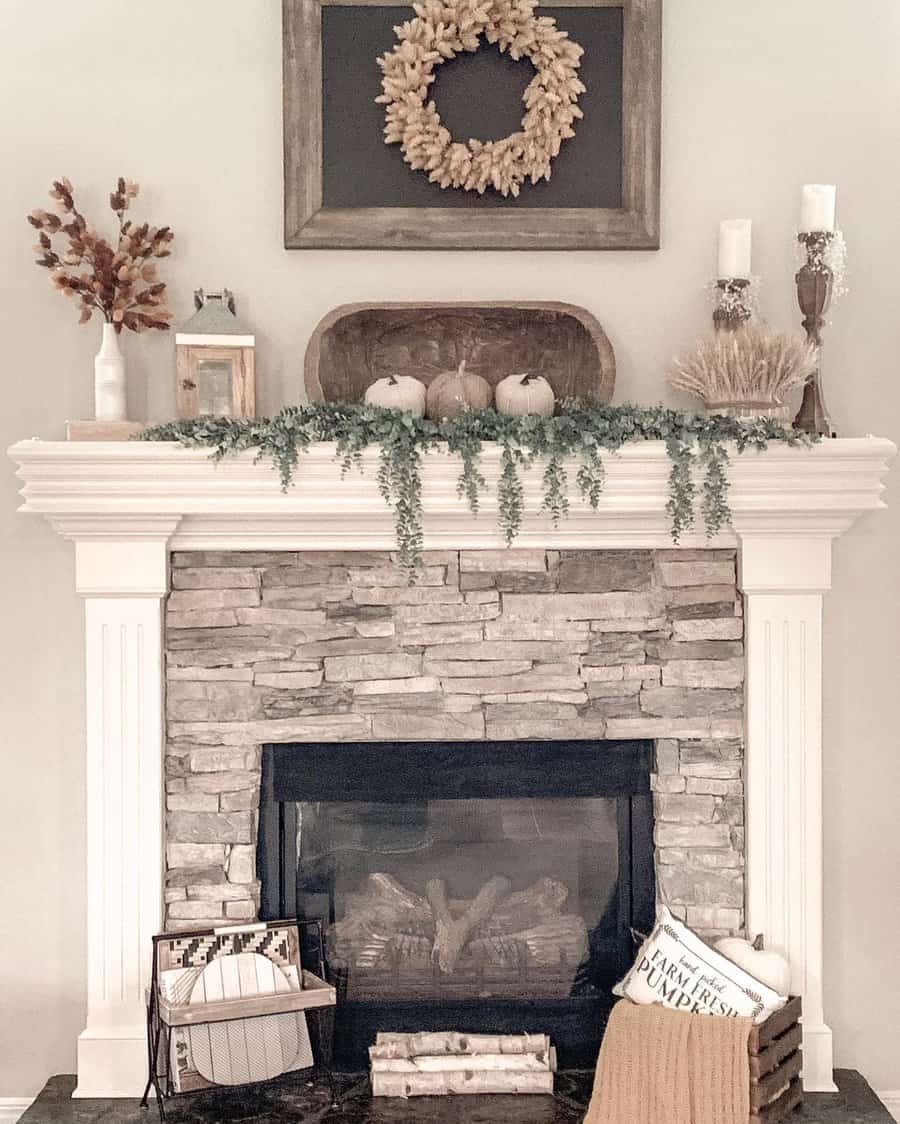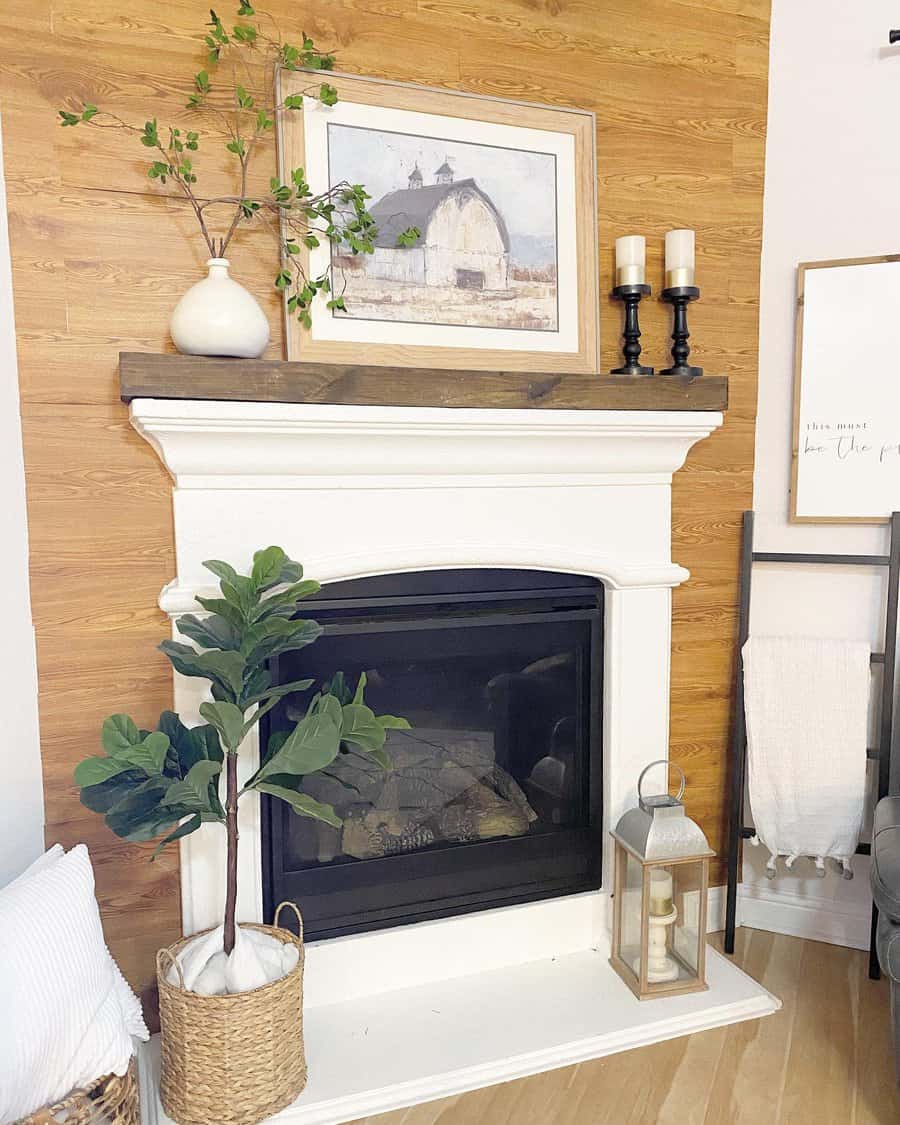 What's nice about neutral colors is that you can easily match the wood and stone colors already present. You could have wood decor, like a handmade wooden bowl, carved figurines, or picture frames. Mix in pottery, porcelain, or ceramic pieces. You could display plates, bowls, or a tall vase.
11. Plants
Arranging local and seasonal plants on your fireplace is an easy way to bring nature inside. Choose greenery that is found locally or thrives inside for easy care. If you don't want the ongoing maintenance of plants, you could have a vase with flowers.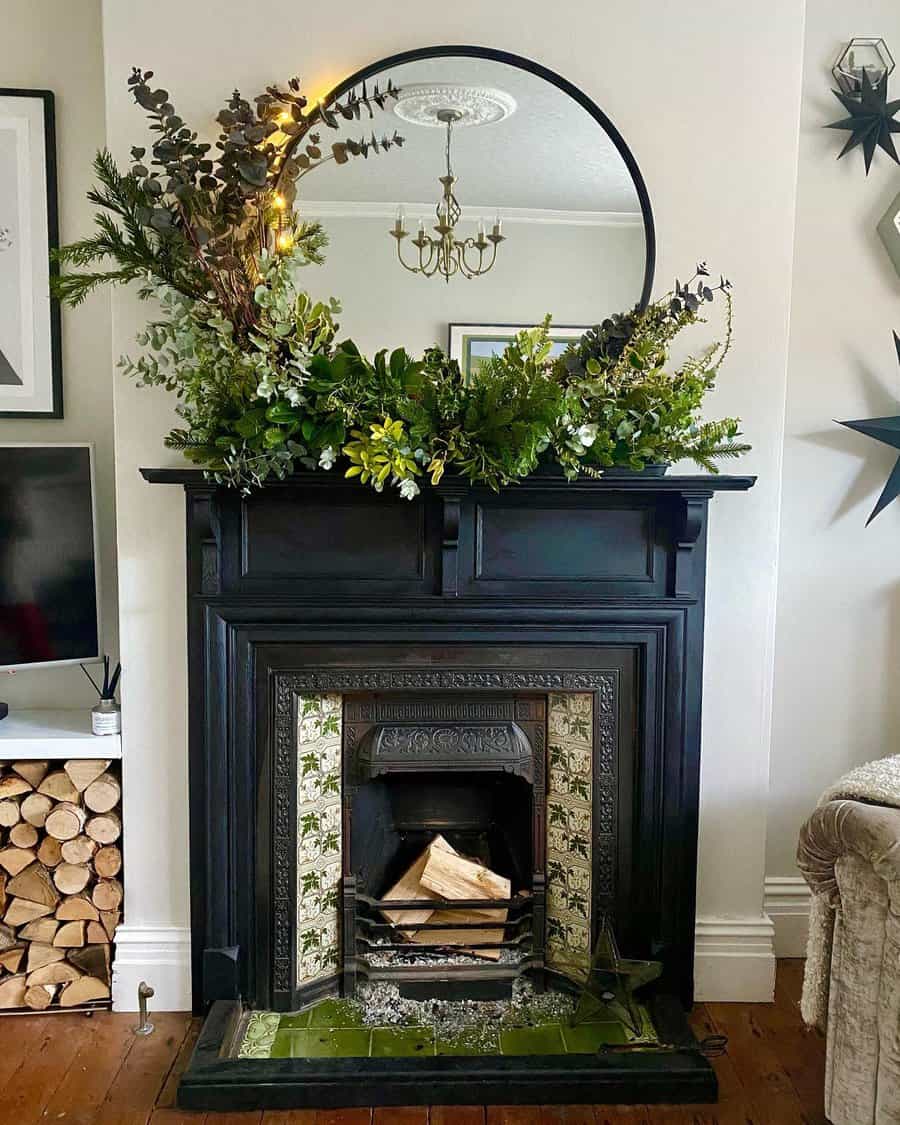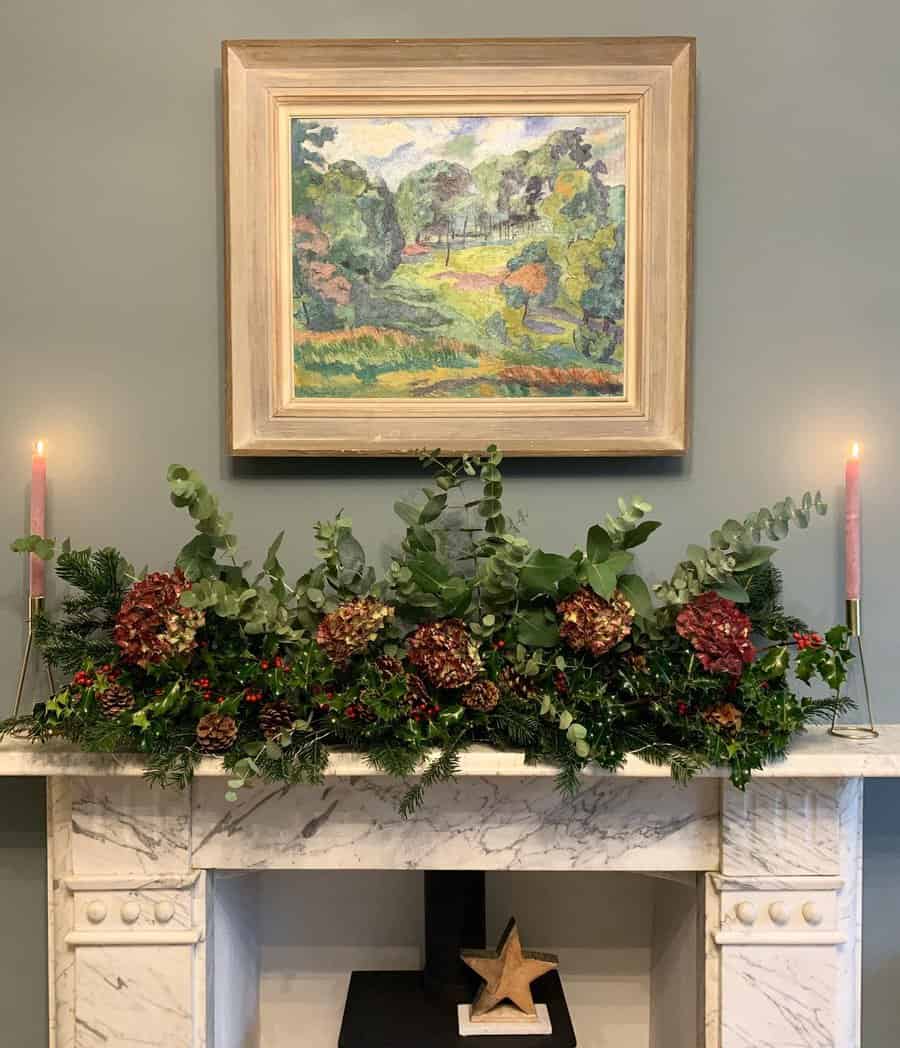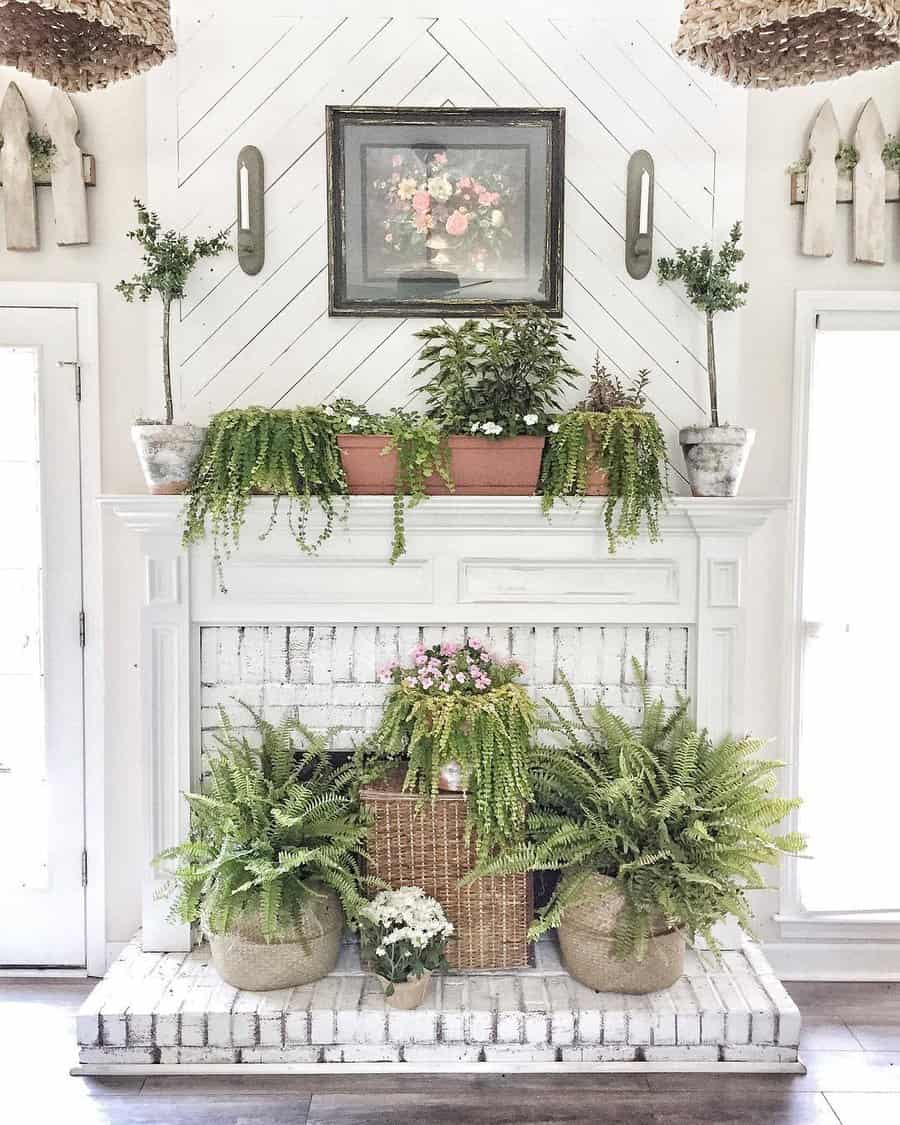 Not all plant displays need to be leafy and green. Instead, you could arrange pinecones, dried grains, or a cluster of branches. These are nice options because they don't require any maintenance and will last for months.
12. Rustic
Give your entire home a rustic feel by using reclaimed wood for a rustic mantel. It should have knots, knurls, and scars from past uses. Look for a straight piece. Otherwise, it could throw off the balance of your fireplace.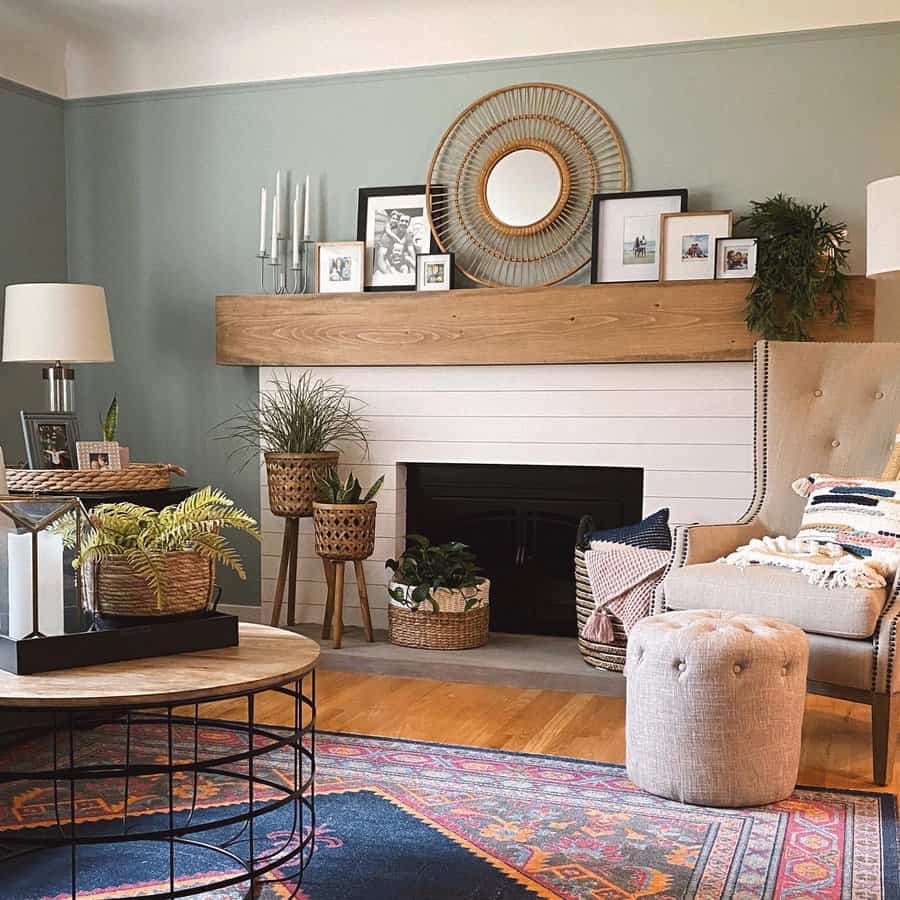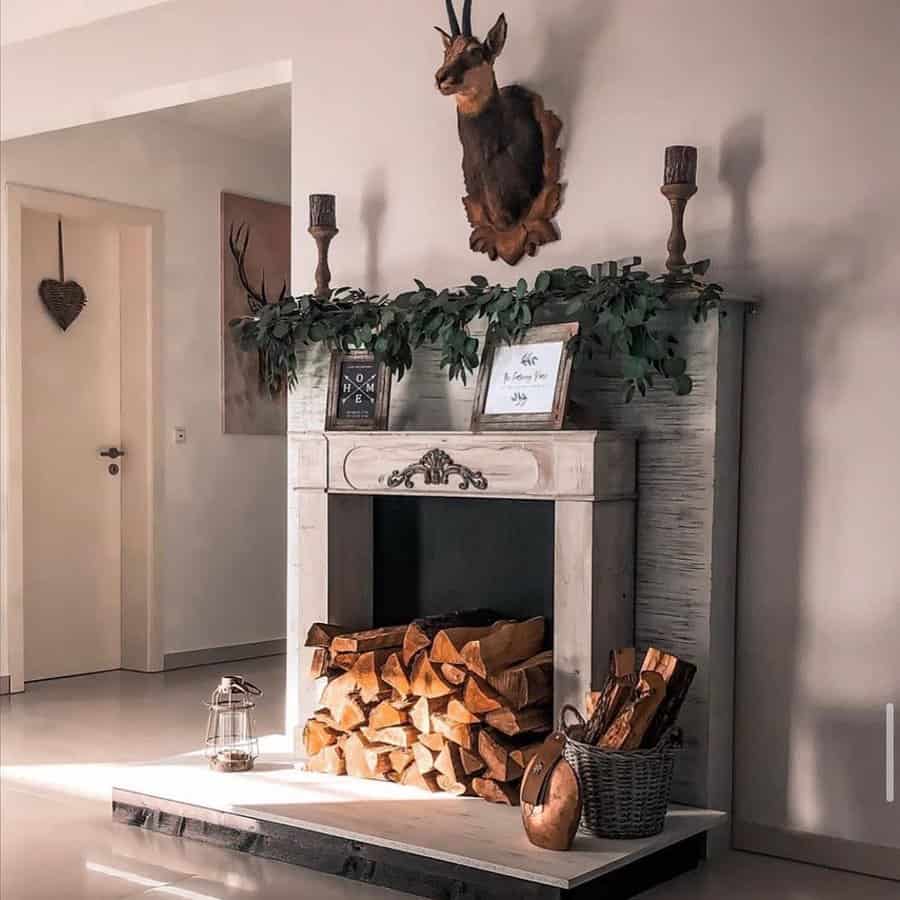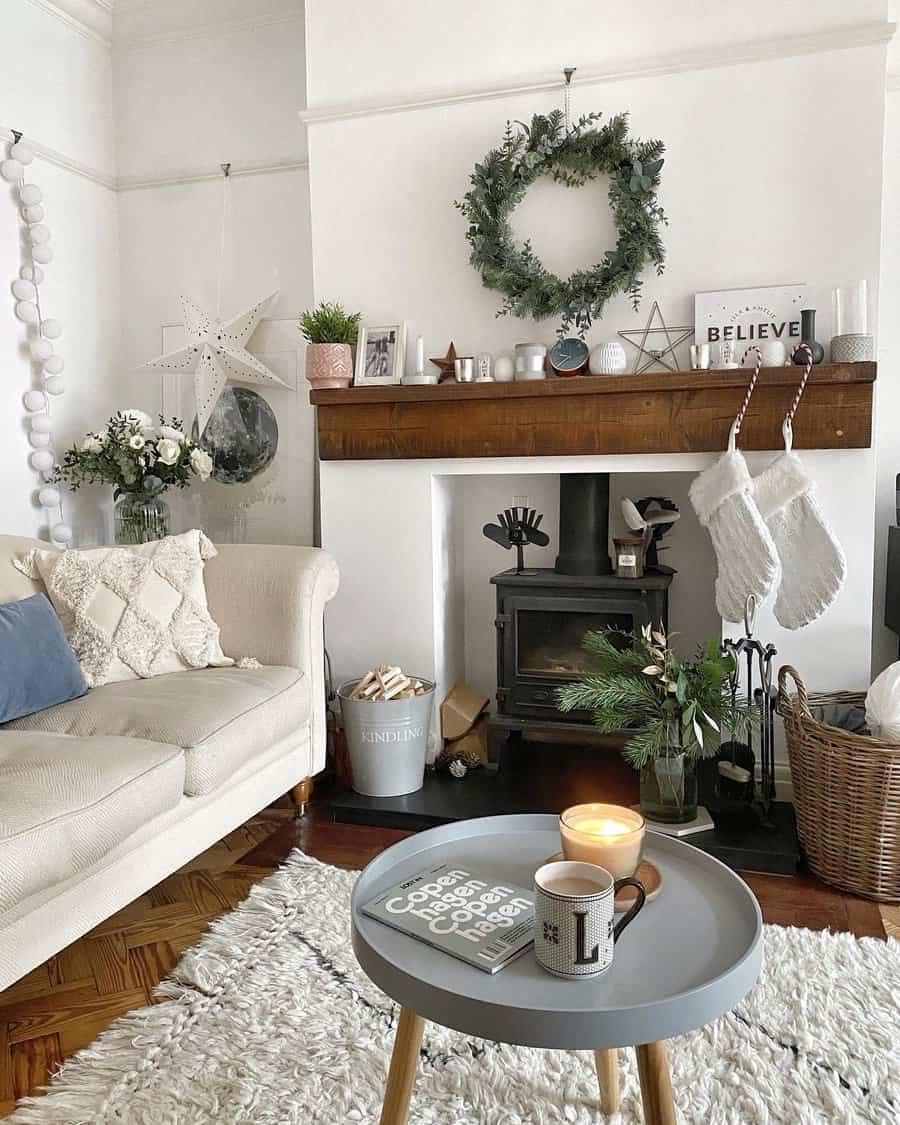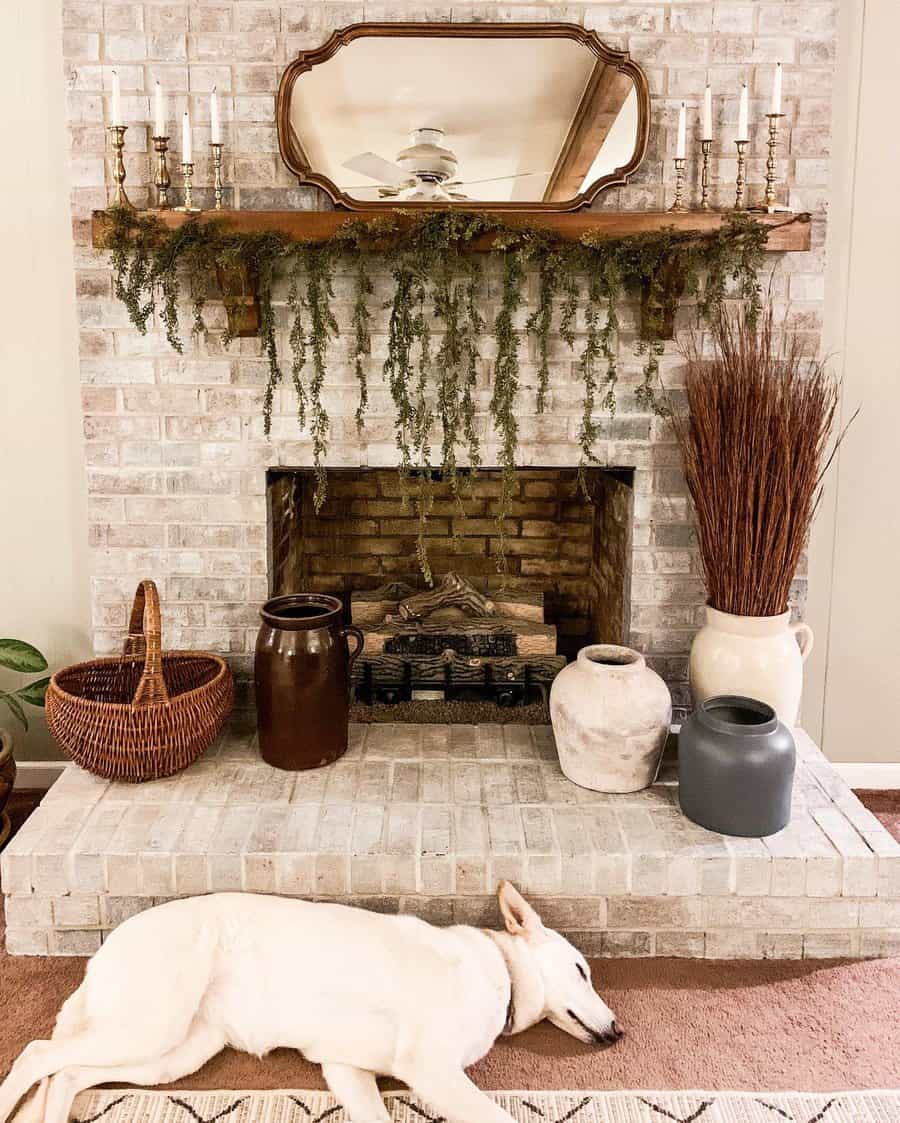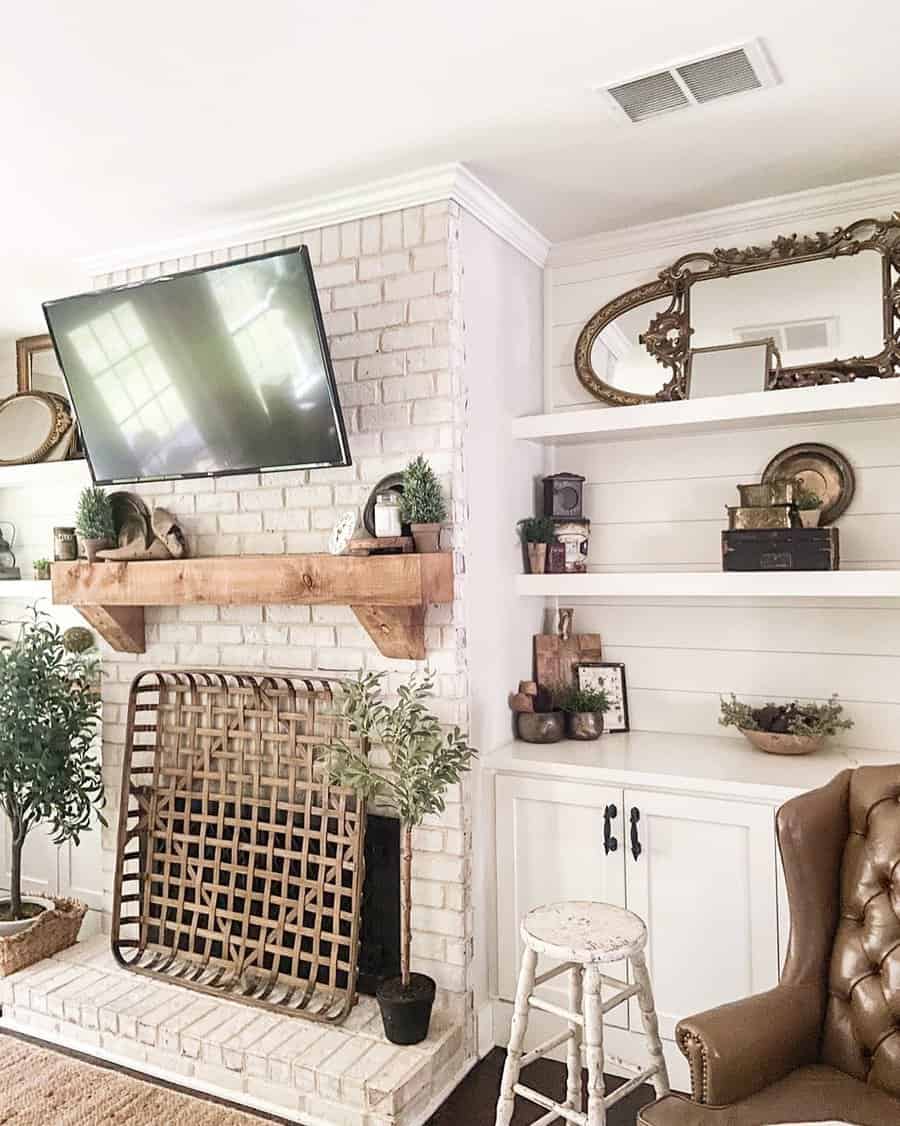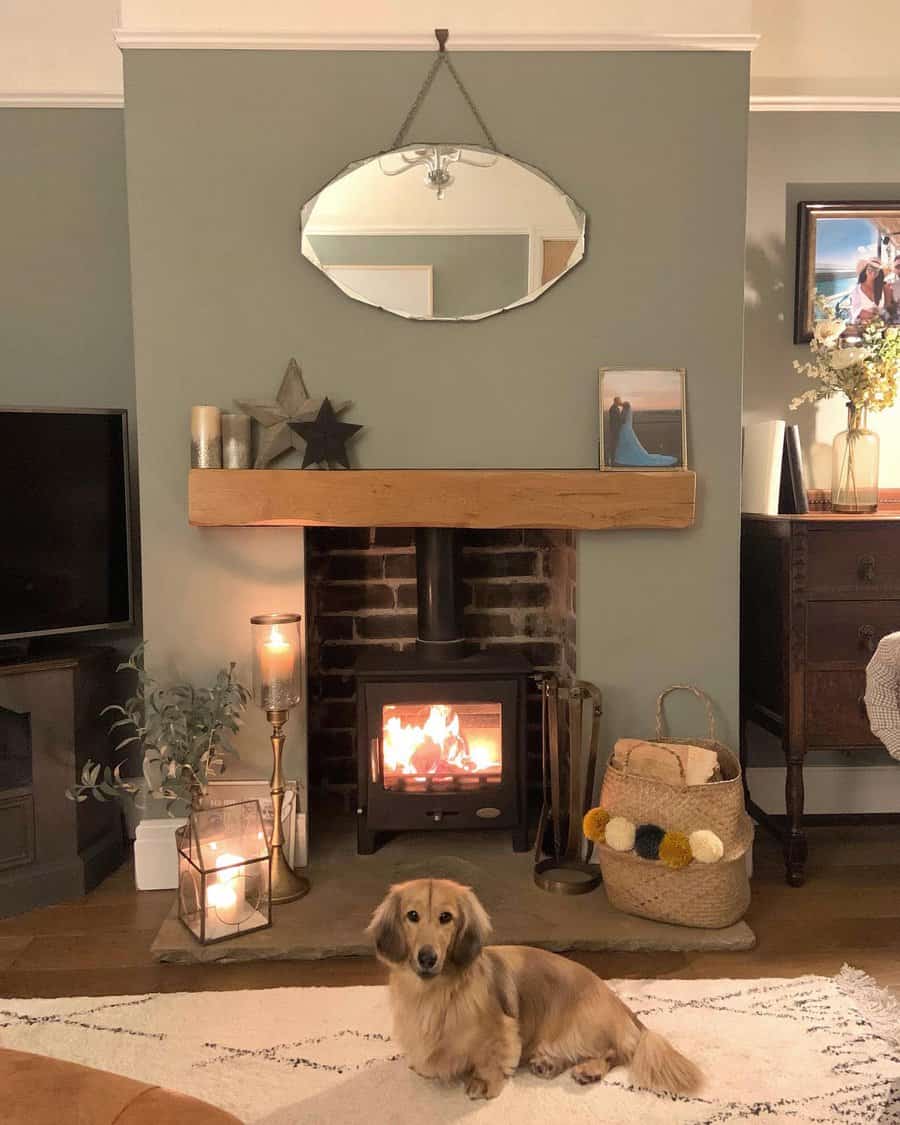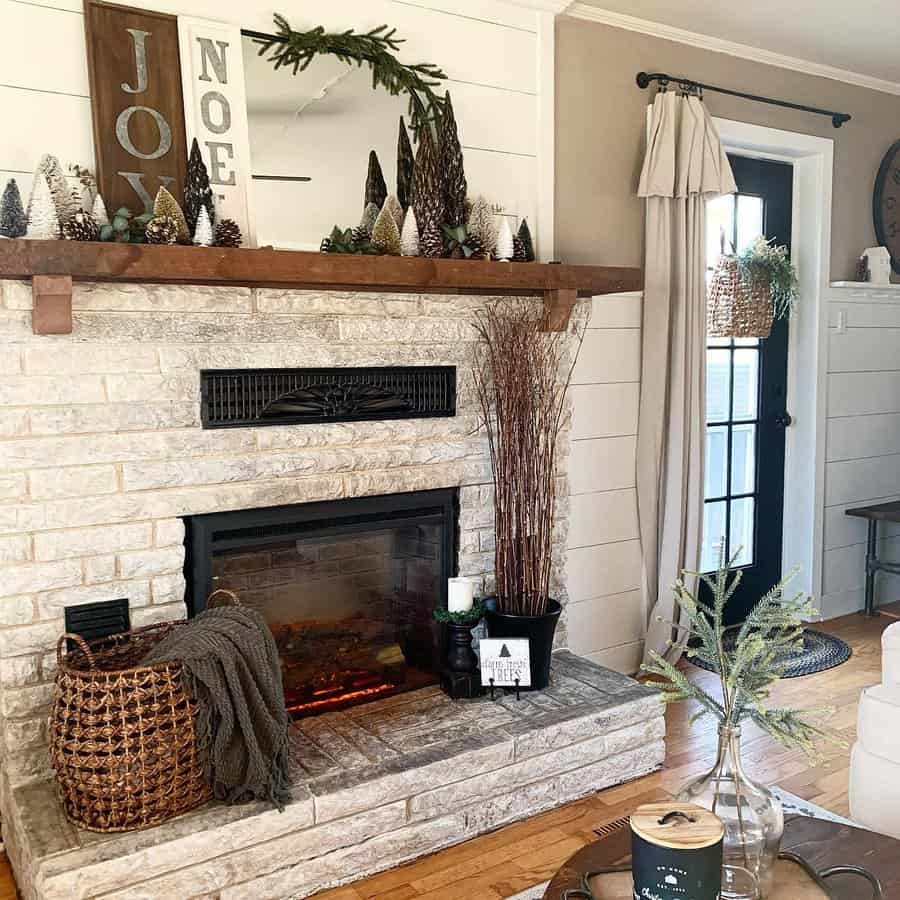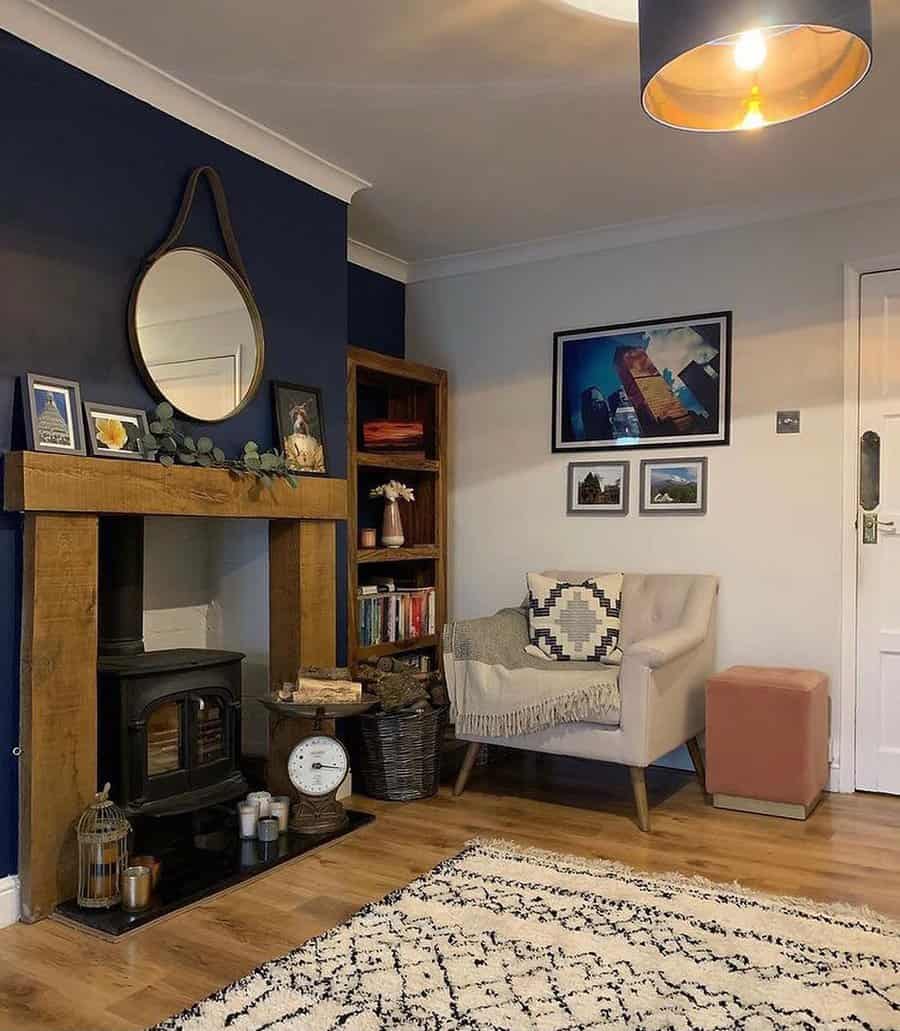 Decorate your mantel and hearth with items that you would find on a farm. It could be old metal milk jugs, porcelain pitchers, washboards, or produce bins.
Then add natural elements, such as flowers, greenery, grasses, or produce. It helps to find pieces at your local antique shop for an authentic feel.
13. Surround
The surround is the area on the wall that surrounds the fireplace. You don't want to hang decor here. Instead, you can decorate by choosing a decorative material for the wall.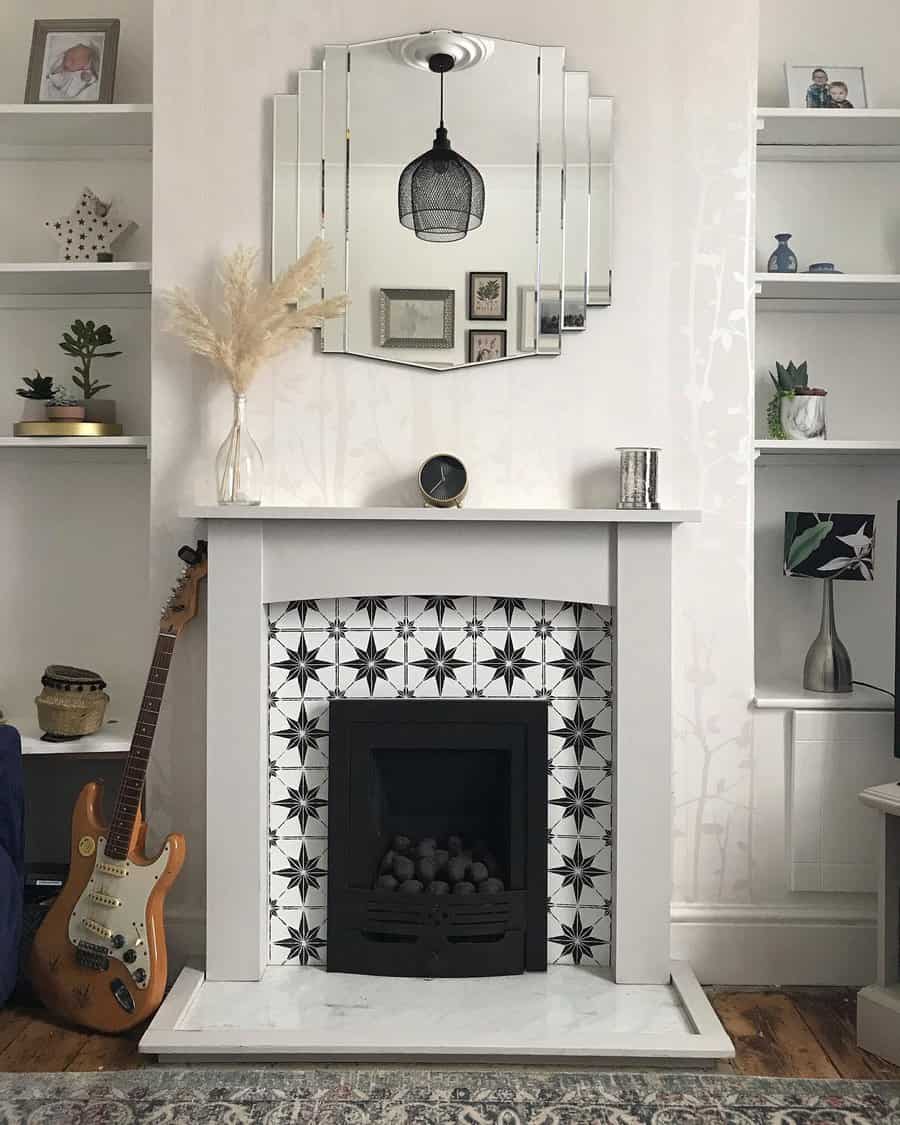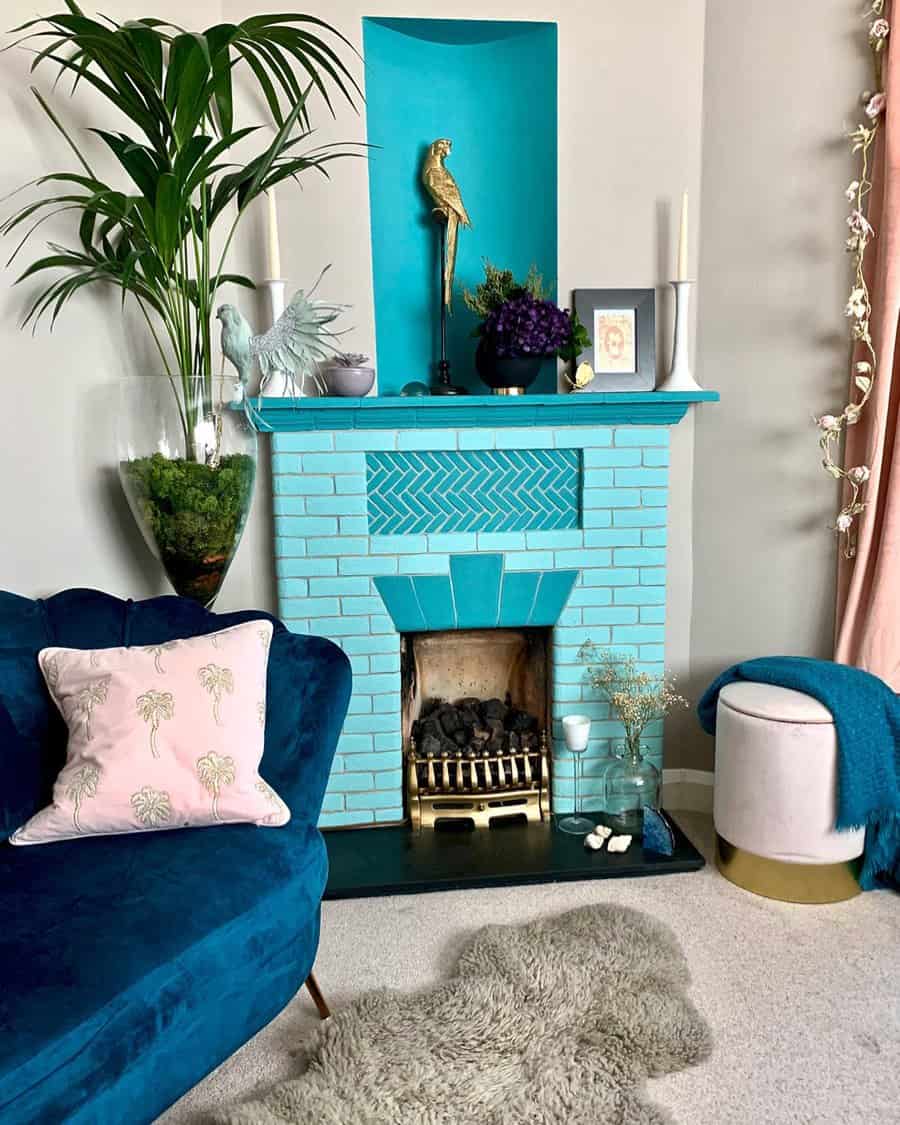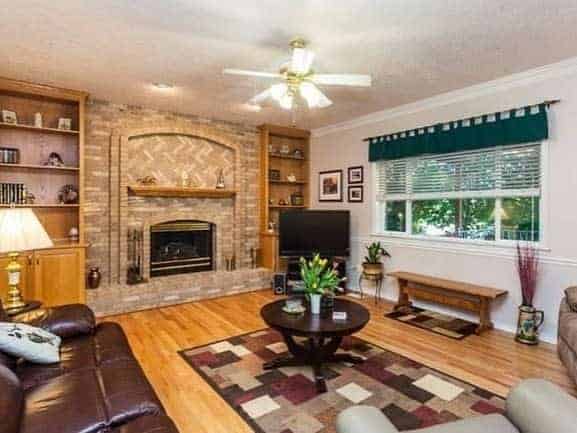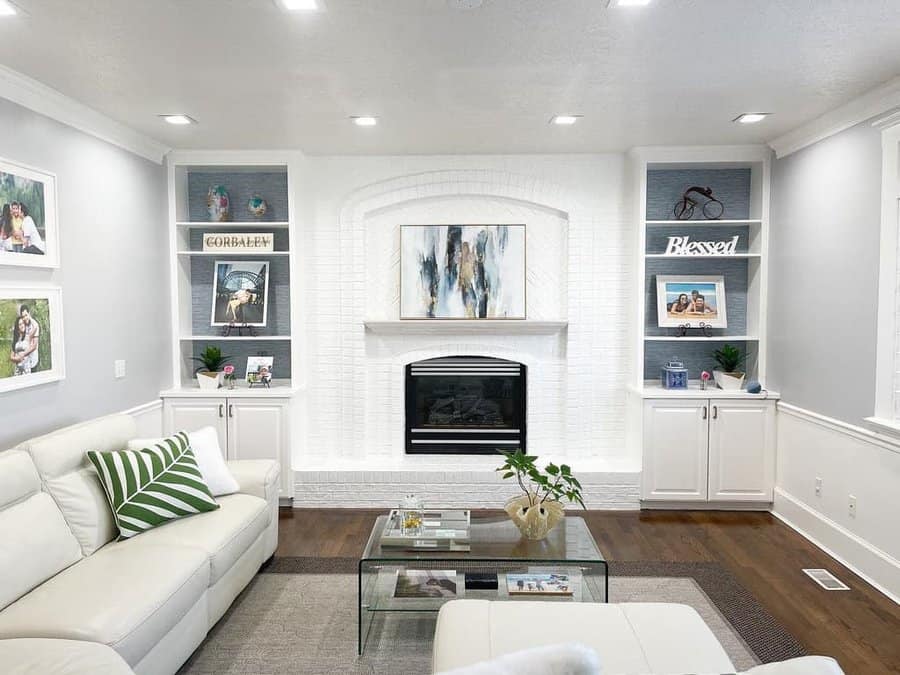 Tile and stone are both good options because they are decorative, durable, and resistant to heat. A small mosaic tile will add color and texture.
A large slab of marble will give your fireplace an elegant and modern feel. Random stones will look a bit rustic for a farmhouse feel. For a refined yet country look, use stacked stone with more uniform shapes. Bricks are a traditional material that you could use.
Read more: 56 Fireplace Surround Ideas
14. Vintage
Fireplaces have been a part of homes ever since people began living in houses. They may have varied in size and design, but their purpose of providing heat and ambiance hasn't changed. If you have an older home, embrace your classic fireplace with vintage-inspired decor.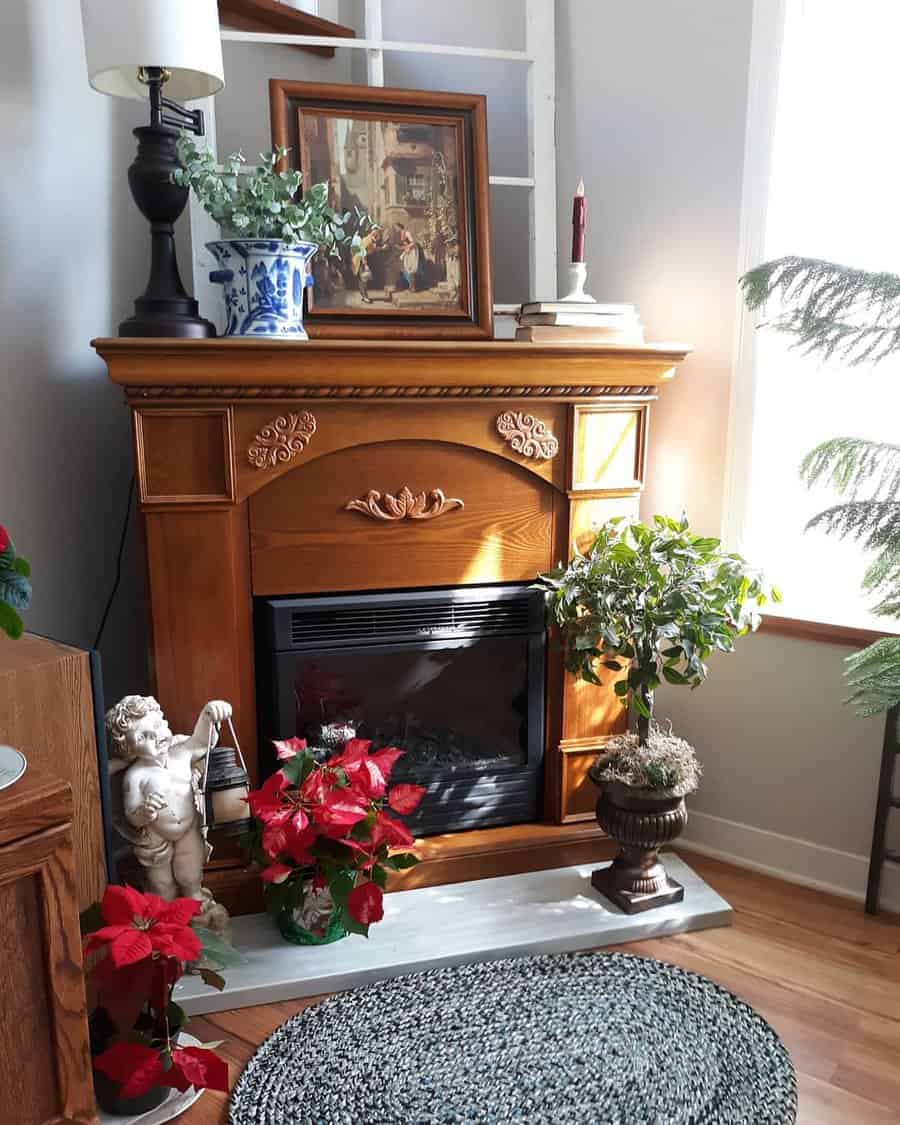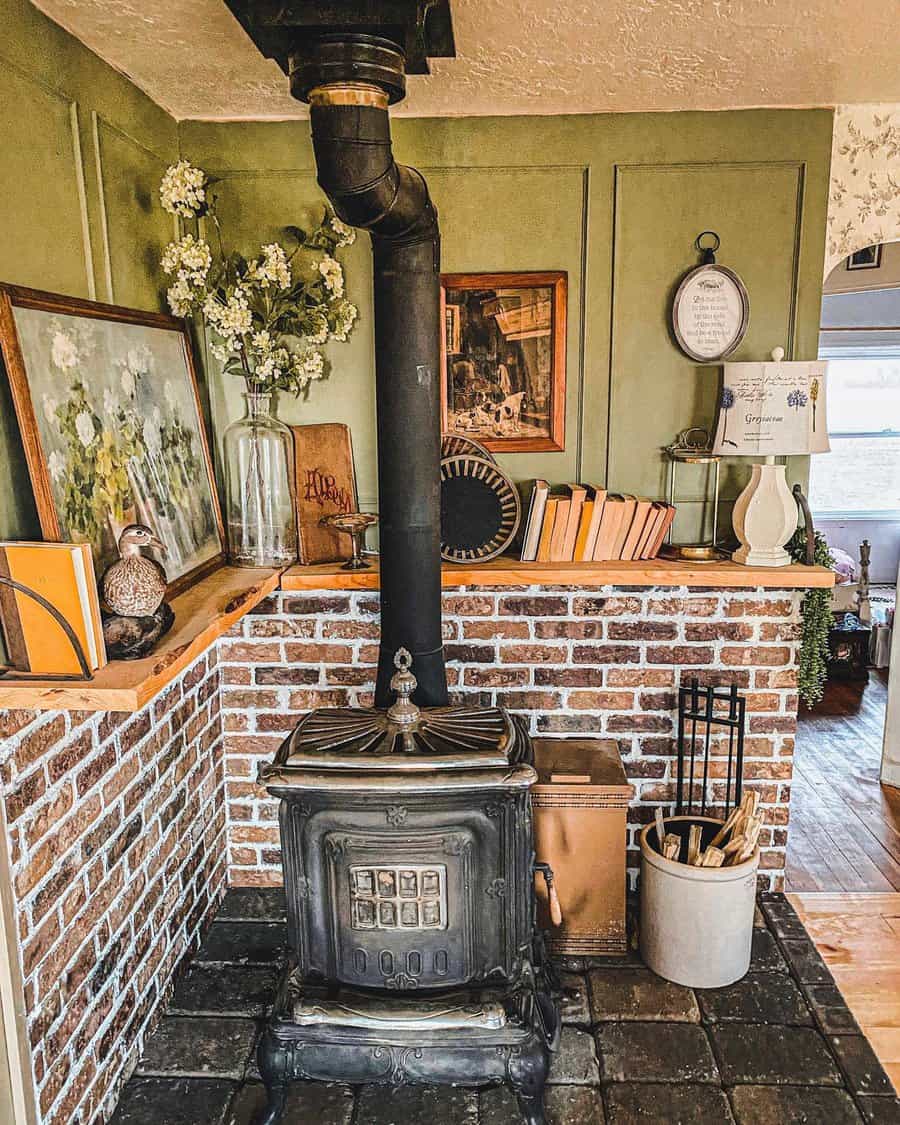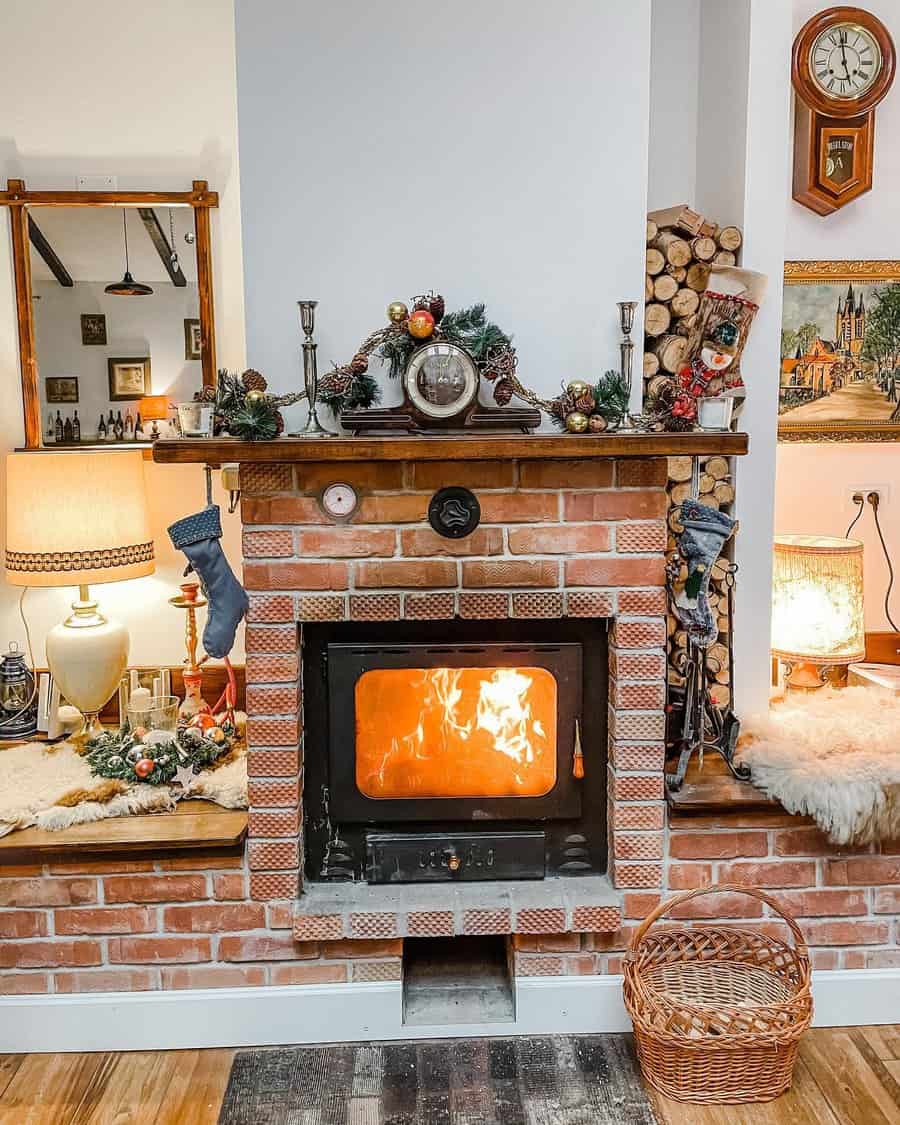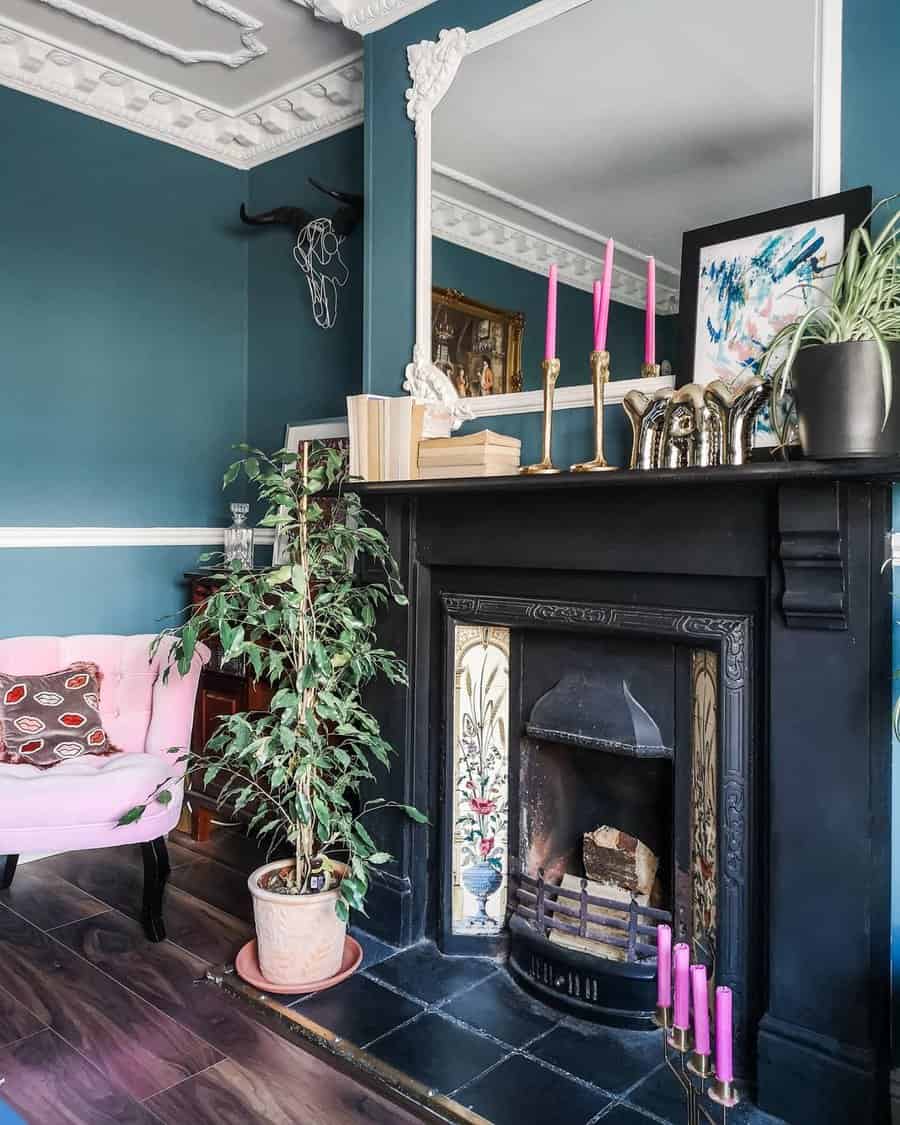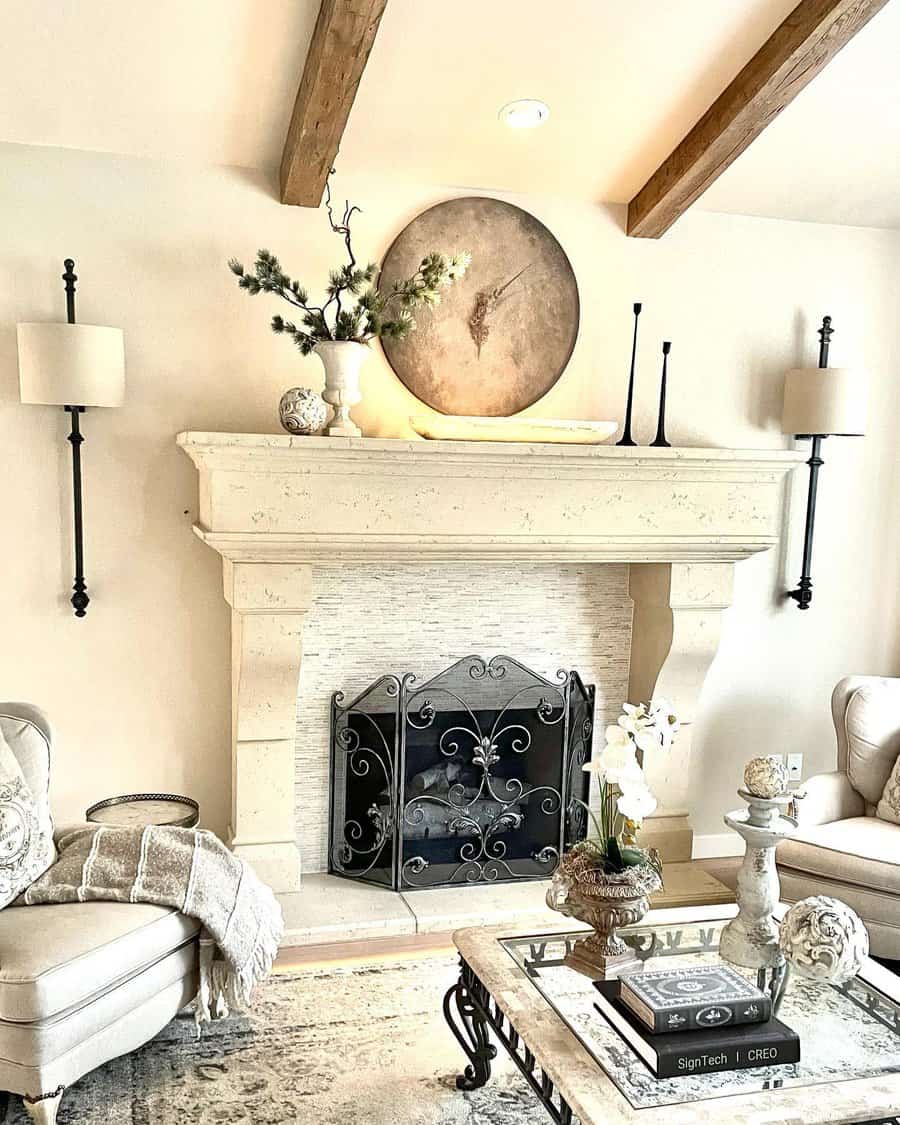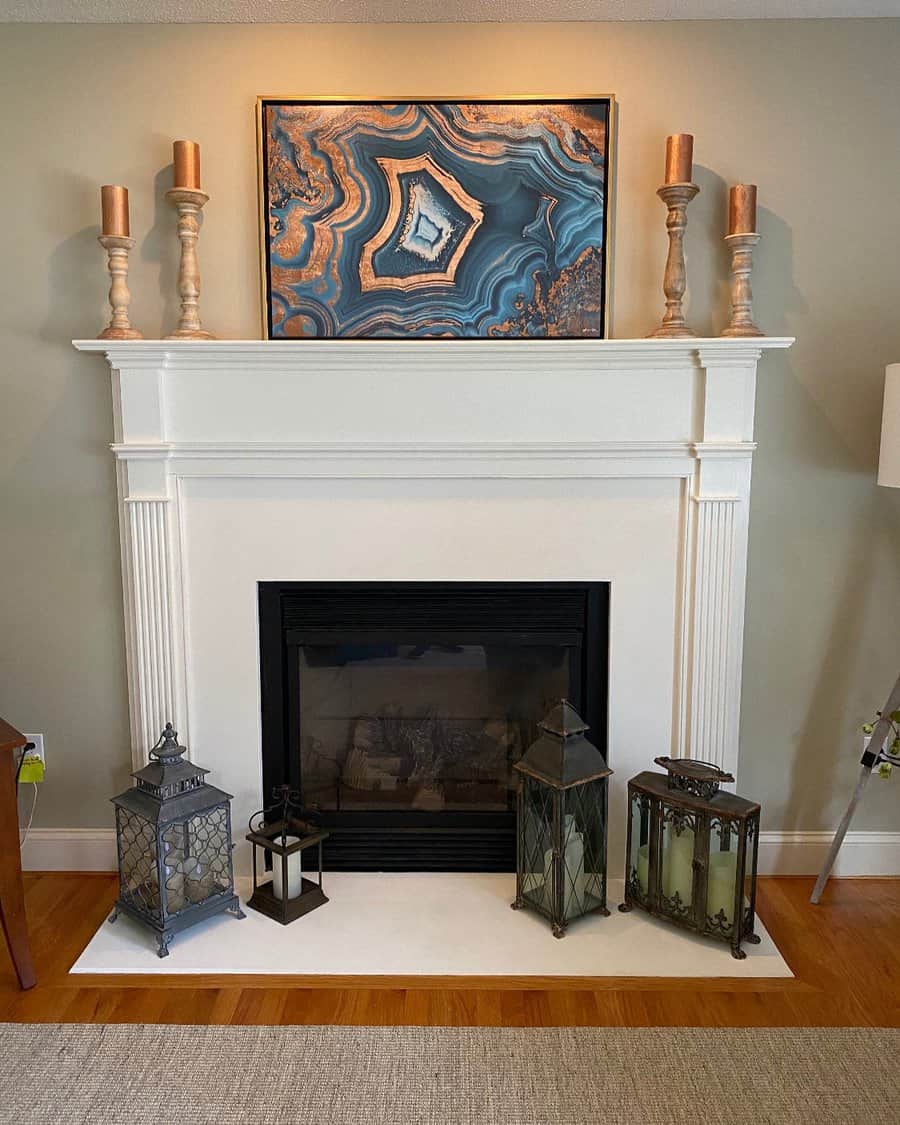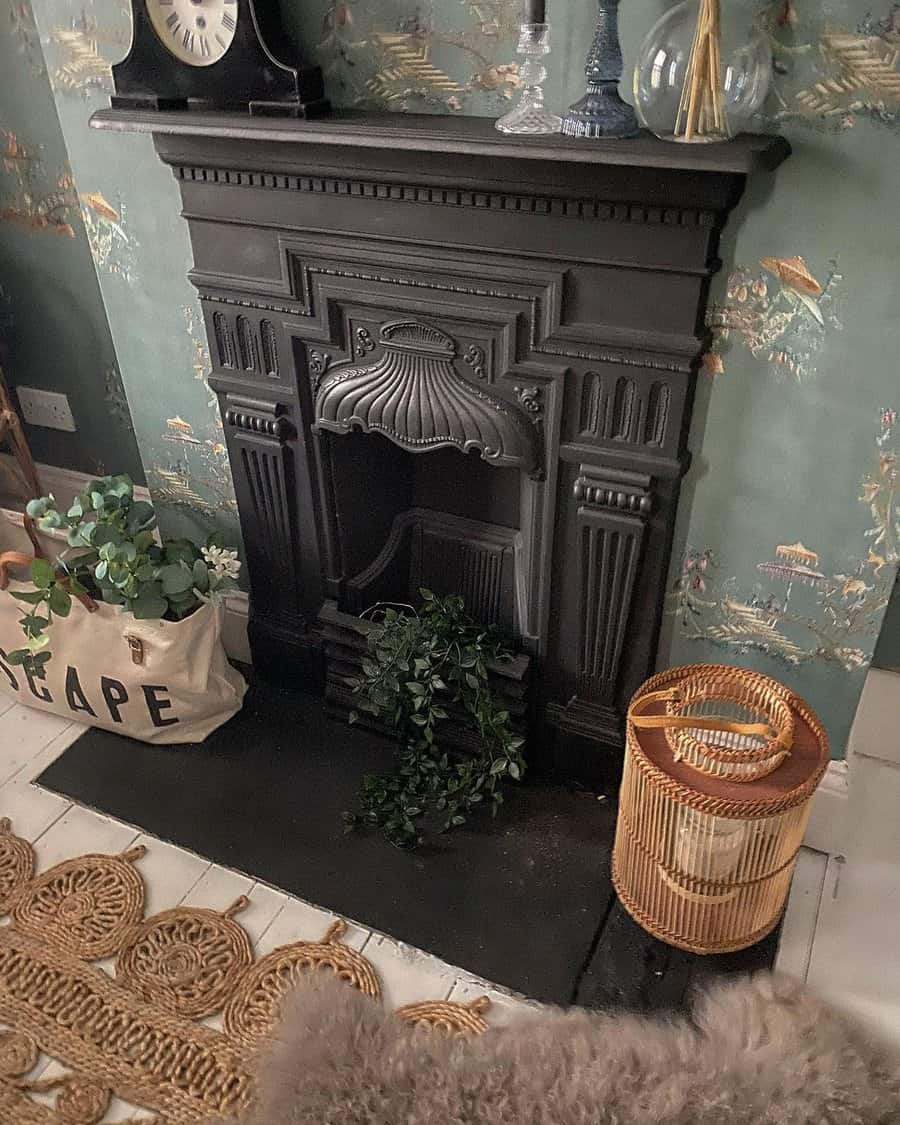 Arrange pillar candles, candlesticks, or a candelabra on the mantle. Highlight the vintage feel of the mantle, hearth, and fireplace surround.
Place a fireplace screen in front of the opening. This gives the fireplace a traditional feel while also filtering the heat and protecting your living room from stray embers.
15. Wall
Many fireplace decorating ideas focus on the hearth and mantle, but this leaves out one important area in the room. Don't forget to decorate the wall above the fireplace.
Stick with something large that will make a statement. This is not the place for a gallery wall that requires people to get up close to see everything.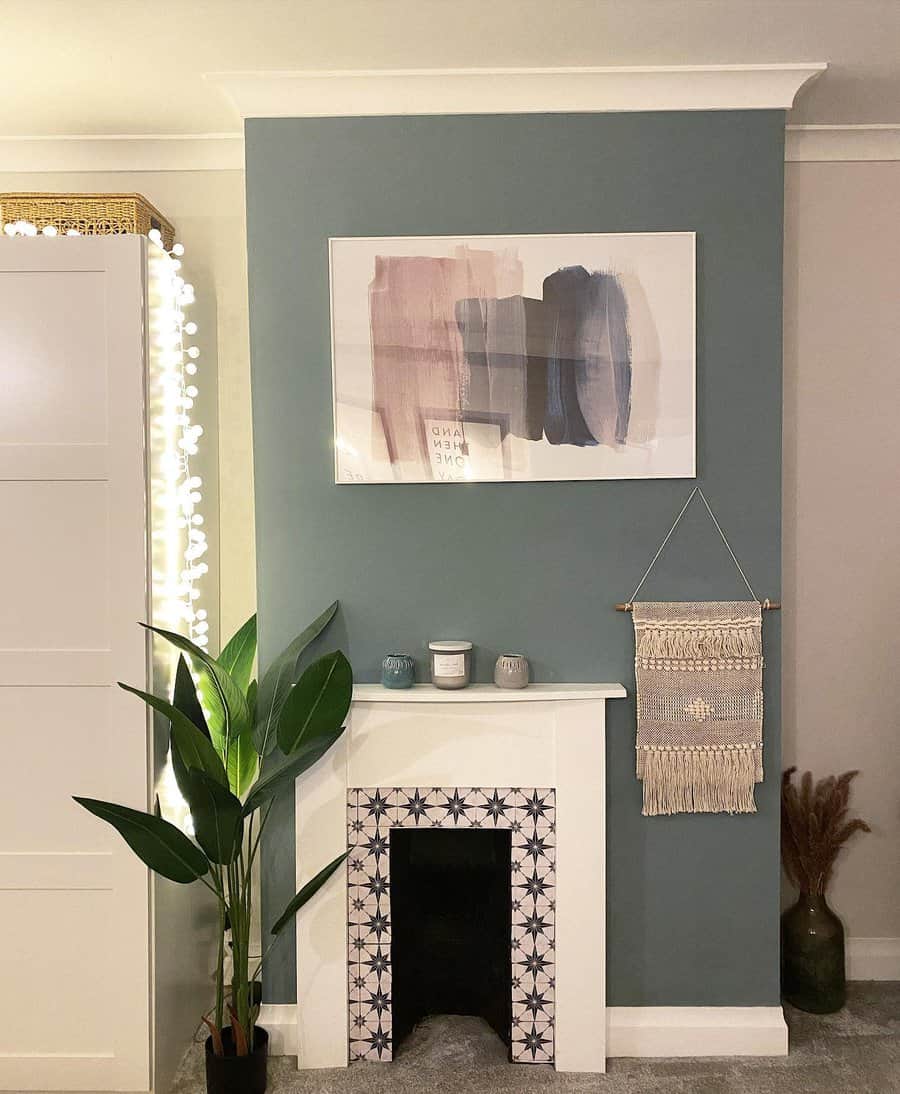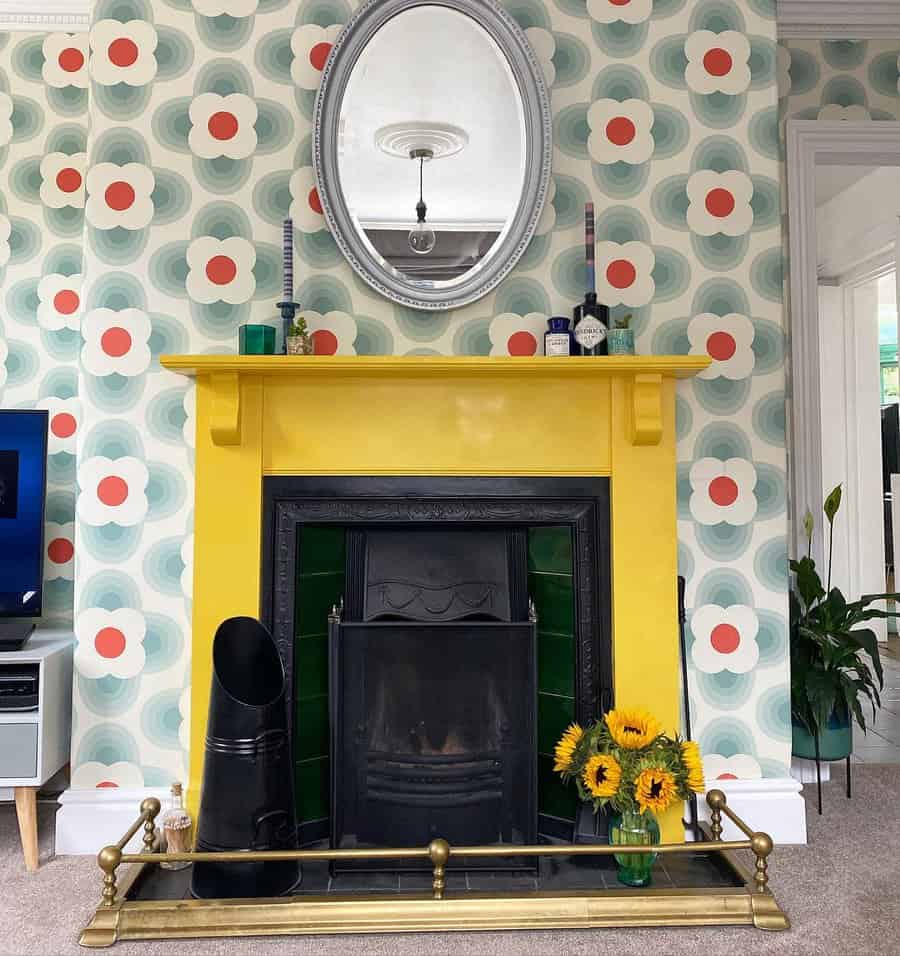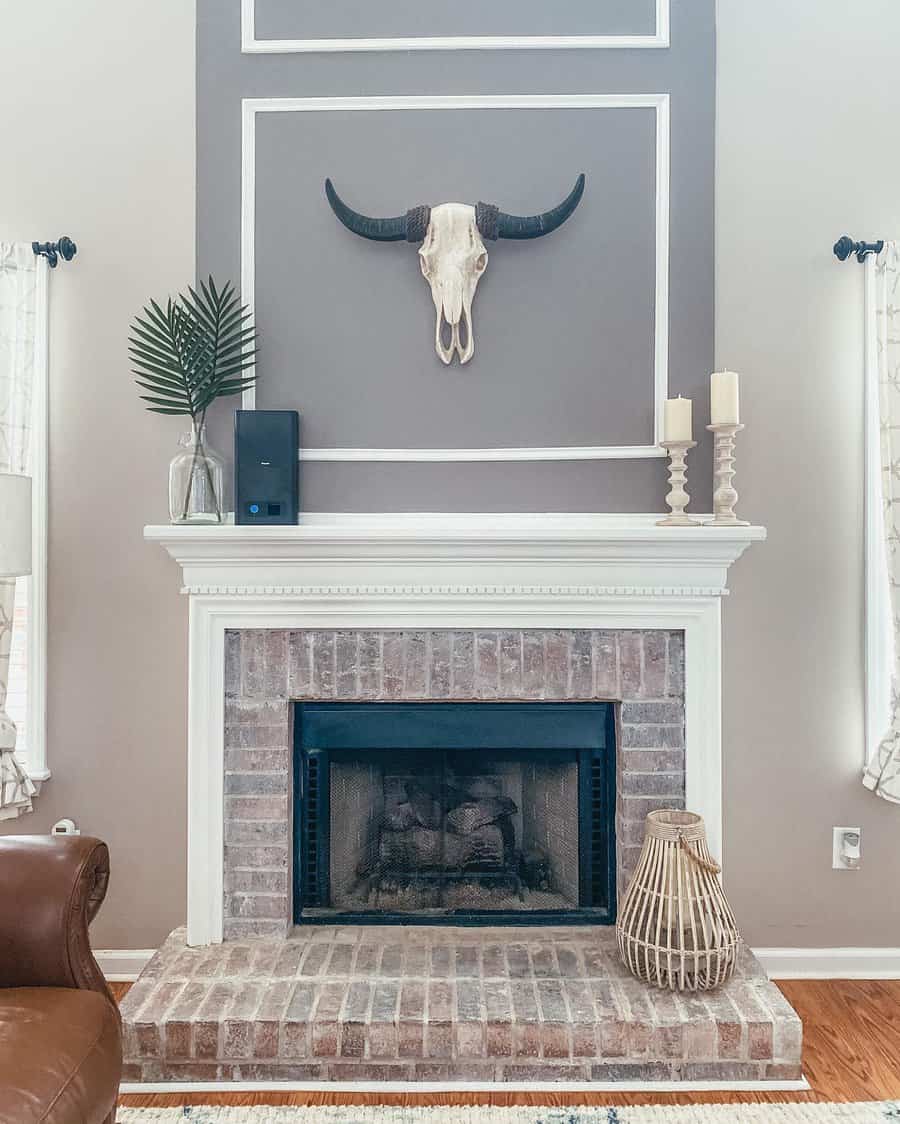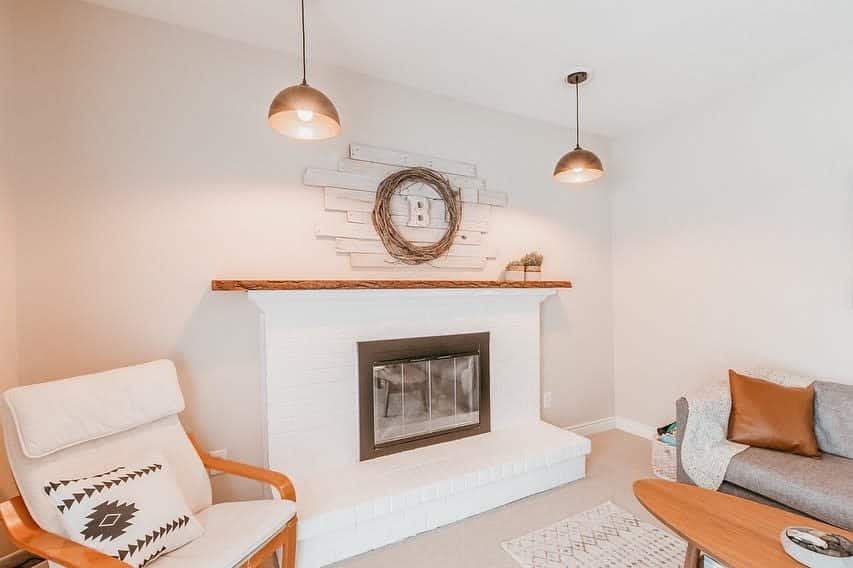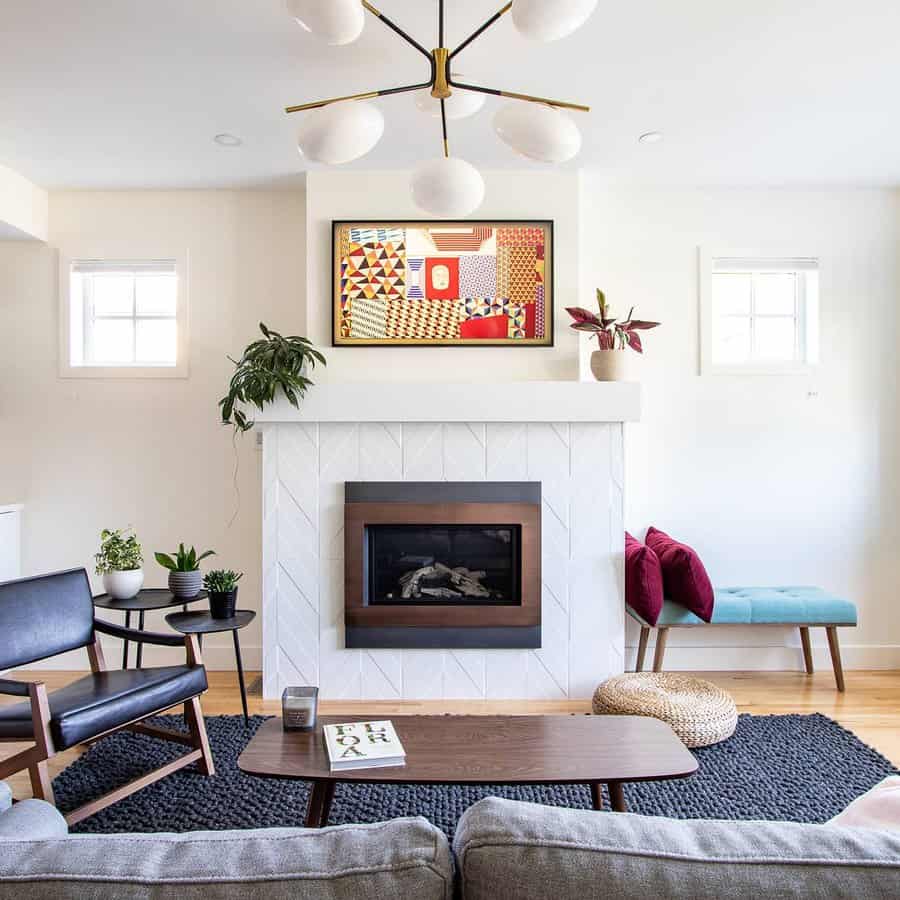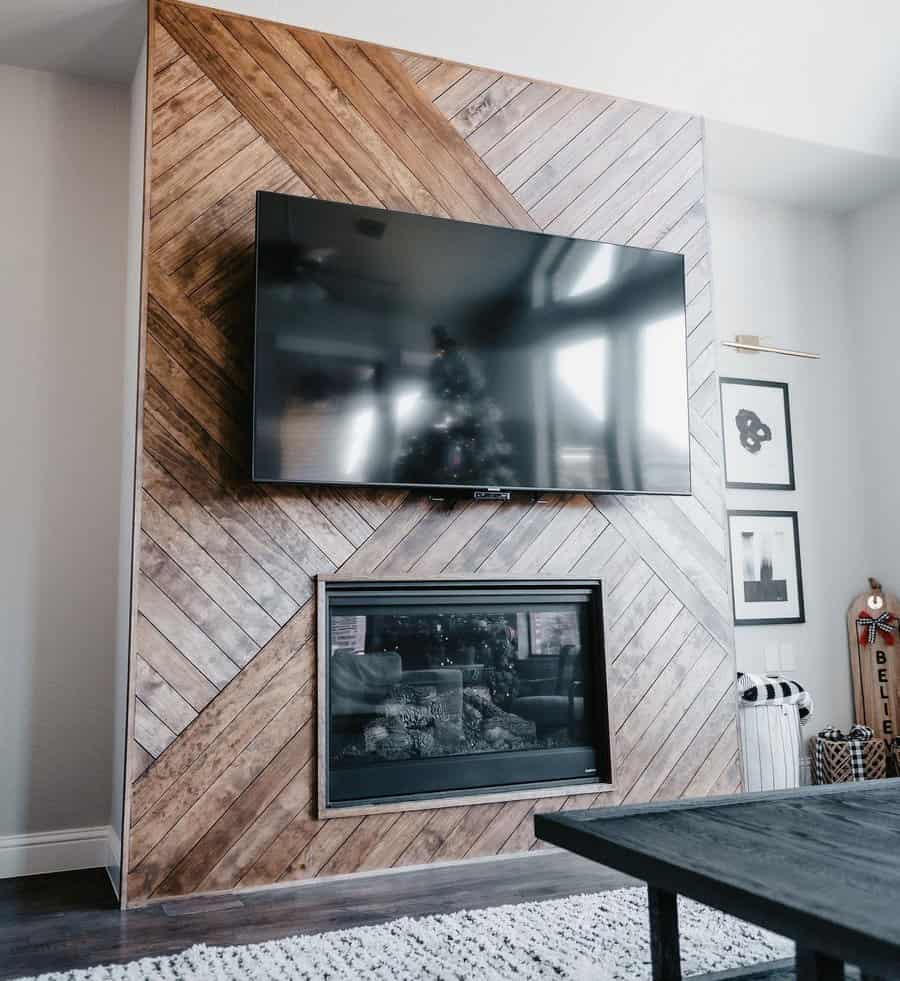 If you have a large piece of art, such as a painting or sculpture, this is the place for it. You could also hang your tv here. However, keep in mind that whatever you hang here needs to be properly supported by studs in the wall.
It can also get quite hot from the fire below and smoke rising through the chimney, so keep this in mind when hanging sensitive electronics.
Read more: 60 Fireplace Wall Ideas
Fireplace Decor FAQs
What do you put around a fireplace?
When it comes to decorating your fireplace, think about where in the home your fireplace is located. Then consider the rest of the decor in the room. The decor around the fireplace should make sense with the rest of the room. You can also change the decor to be seasonal.
What is the trend for fireplaces?
Fireplace trends are leaning towards bold and modern designs. These fireplaces feature linear lines, are one-sided, and have a clean design. The goal is to create a striking presence in the room to create a natural focal point.
Can you put a TV above a fireplace?
Yes, you can mount your TV on the wall above your fireplace. However, you'll need to be careful of a few things. Check to make sure the TV won't get damaged by the heat. Then, make sure there is a sound base in the wall that you can anchor the TV on.