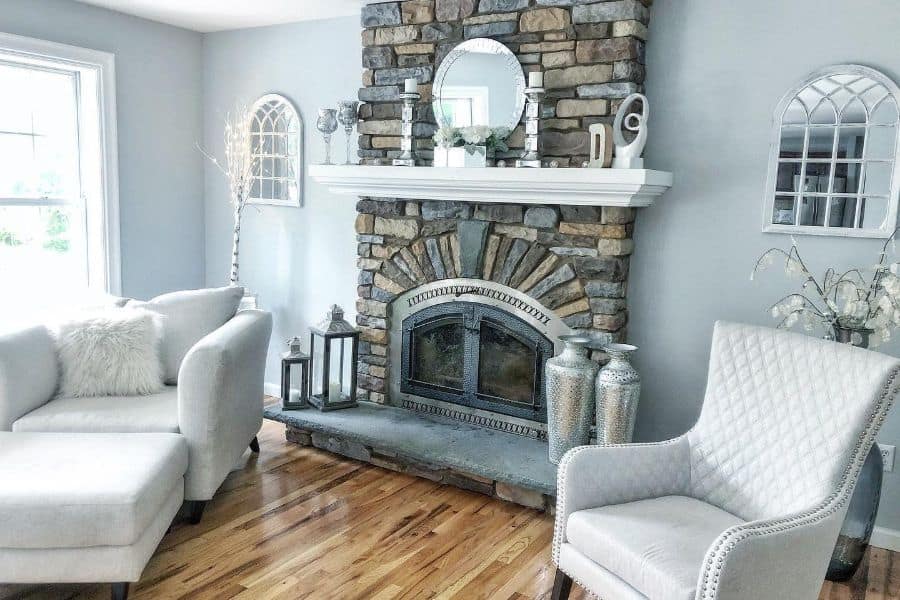 The Top 77 Fireplace Décor Ideas
"For me, there's nothing better than curling up in my favorite blanket on a cloudy or rainy day and just knit. Especially in front of the fireplace." – Magdalena Neuner
Having a fireplace in your home gives it a warm and welcoming feeling. It's the perfect place to gather around with friends and family to stay warm in the cold winter months.
Because your fireplace is the natural focal point of the room, you should decorate it. This takes more thought and planning than just throwing some stuff on the mantle. You need to think about the architect of your home, the rest of your decor, furniture style, and the season.
These fireplace decor ideas will help you create a beautiful display in your home.
1. Enhance with Elegant Dried Flowers
Introduce a touch of natural sophistication to your fireplace with elegant dried flowers, creating an inviting focal point in your living space. Select flowers in subtle hues to seamlessly integrate with your room's color palette, fostering a serene ambiance. Position them in a chic vase, allowing their graceful form and textured appeal to draw attention. Not only do dried flowers provide aesthetic pleasure, but their durability ensures your fireplace mantel remains a captivating feature for an extended period. With the option to display a singular vase or craft a thoughtful arrangement, dried flowers infuse your fireplace decor with a blend of rustic allure and enduring elegance.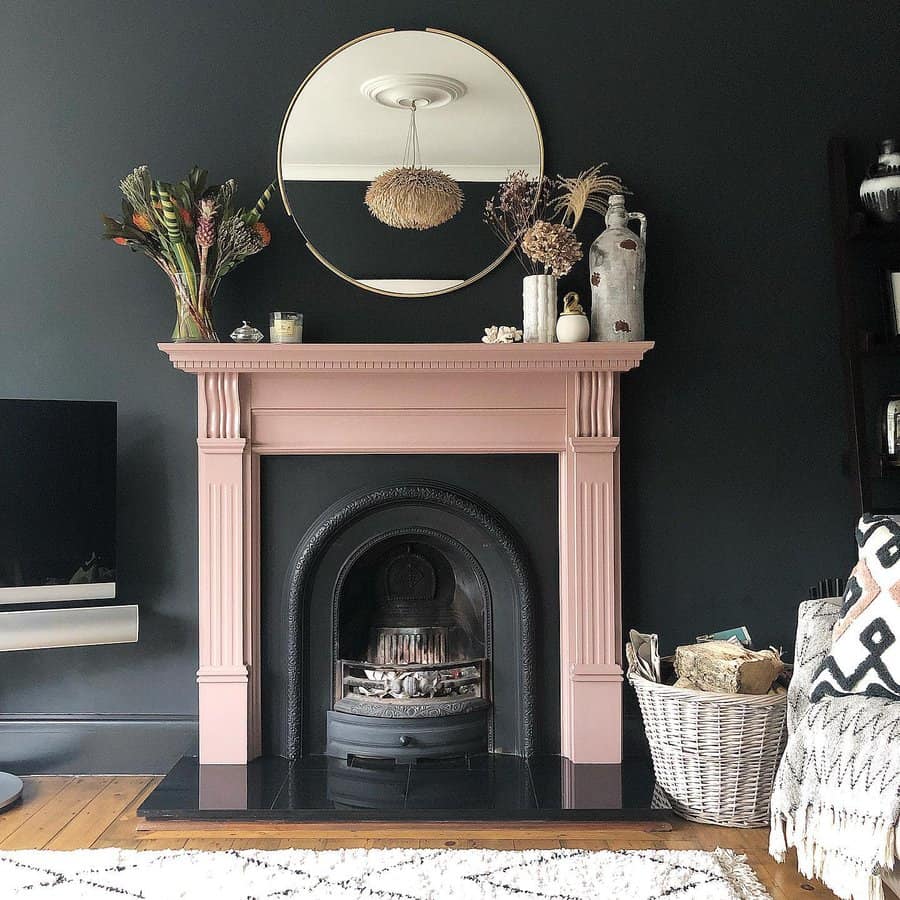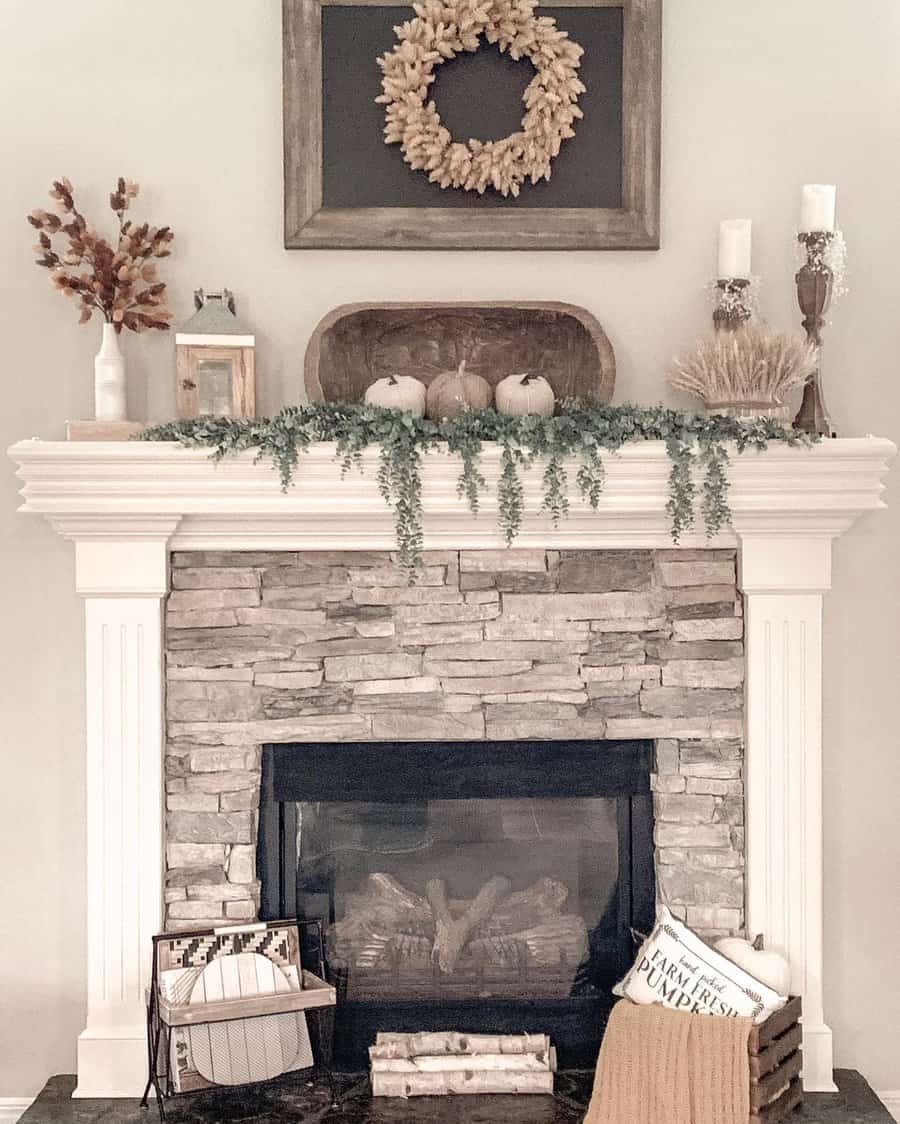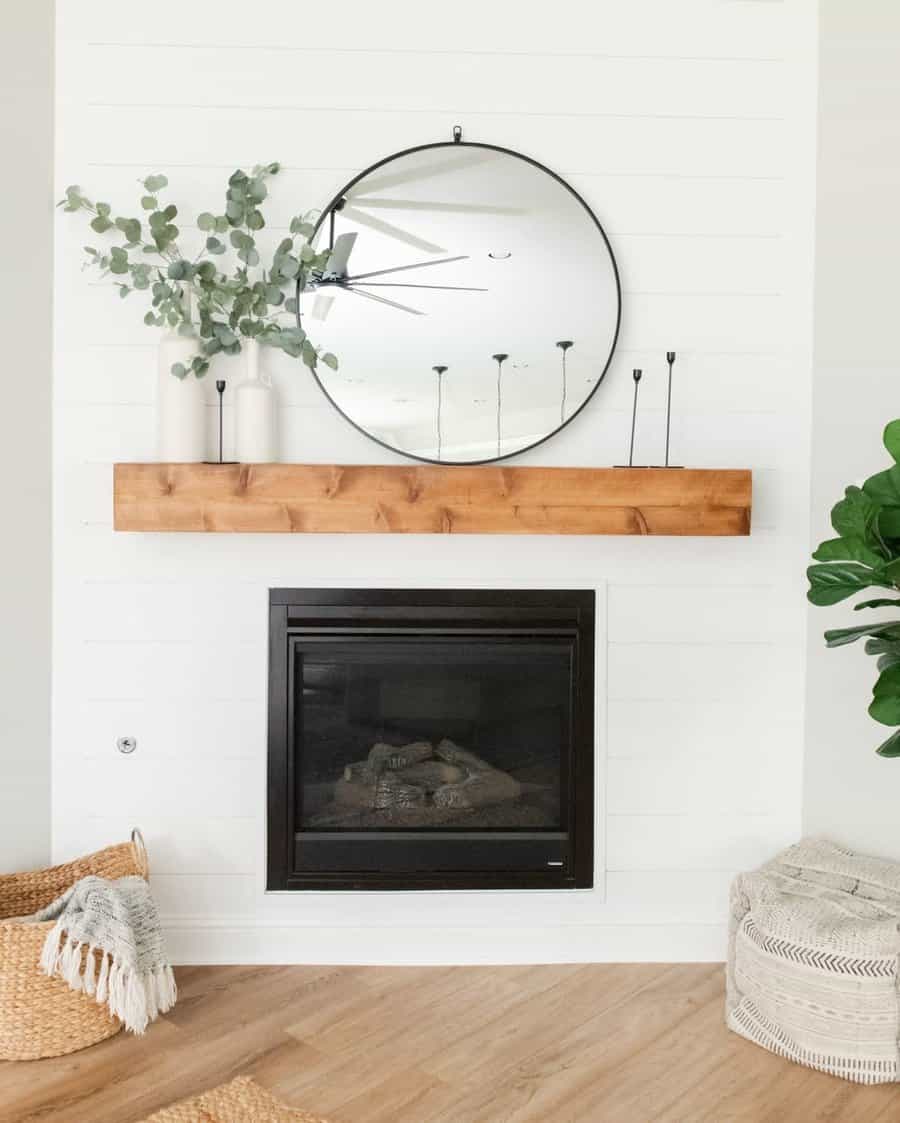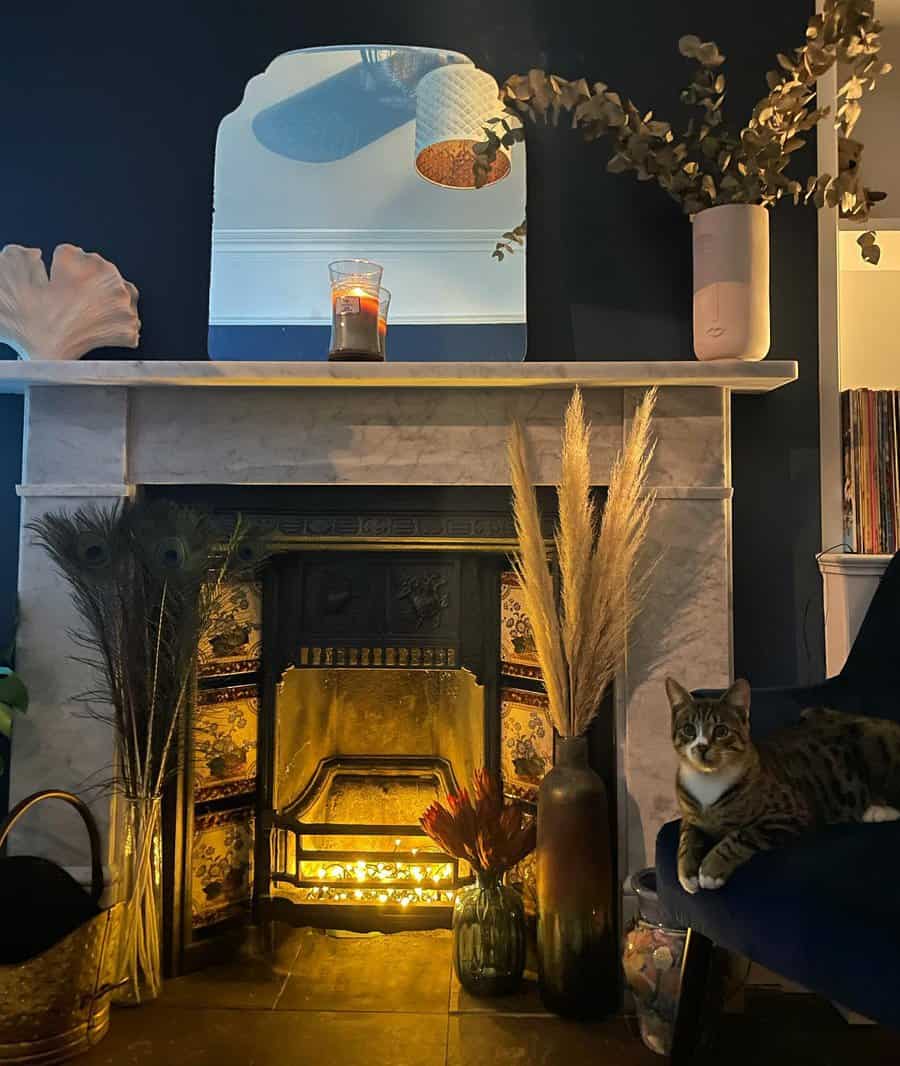 2. Create Contrast with Monochrome Decor
Transform your mantelpiece into a captivating centerpiece using a monochrome color palette to achieve a polished and refined look. Choose pristine white ceramic vases and populate them with fresh blooms, pairing them with an assortment of white candles at varying heights for a touch of grace. Ensure a seamless visual flow by echoing white accents throughout your living space, promoting a cohesive and balanced ambiance. To amplify the inviting nature of your room, incorporate white textiles like plush faux fur throws or richly textured cushions on adjacent seating options. Adopting a monochrome decor strategy not only elevates your fireplace but also imbues your space with a sense of timeless charm and understated sophistication.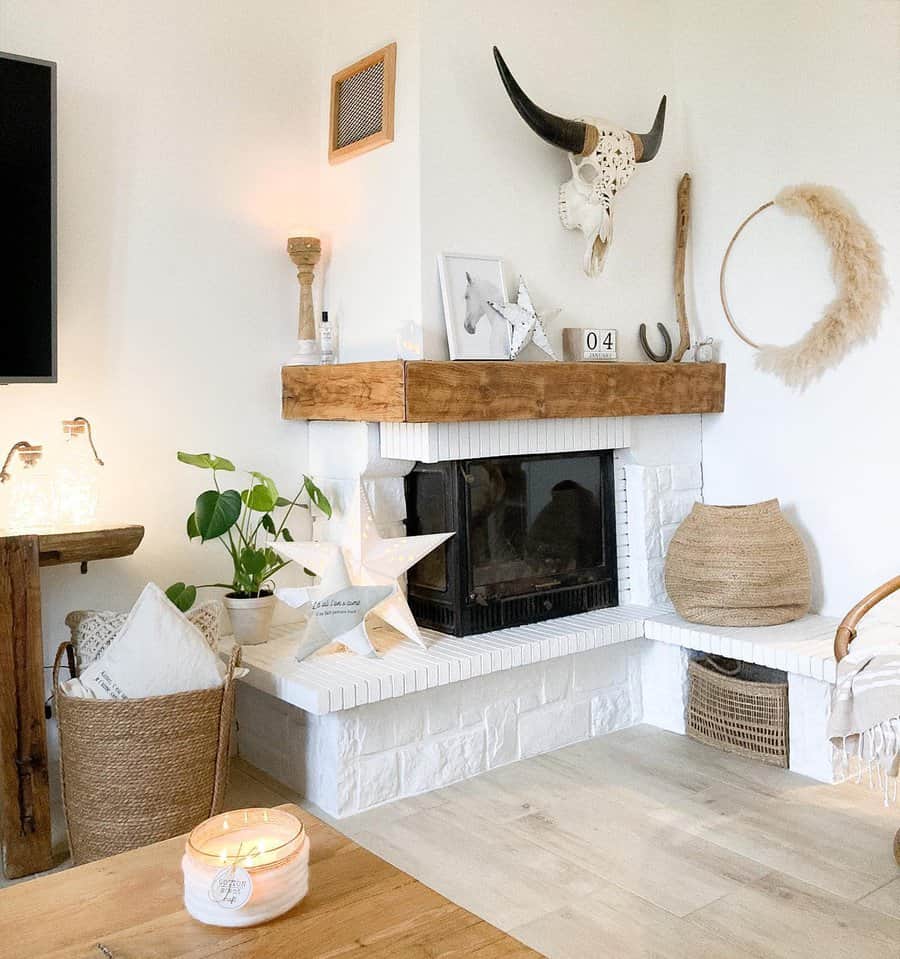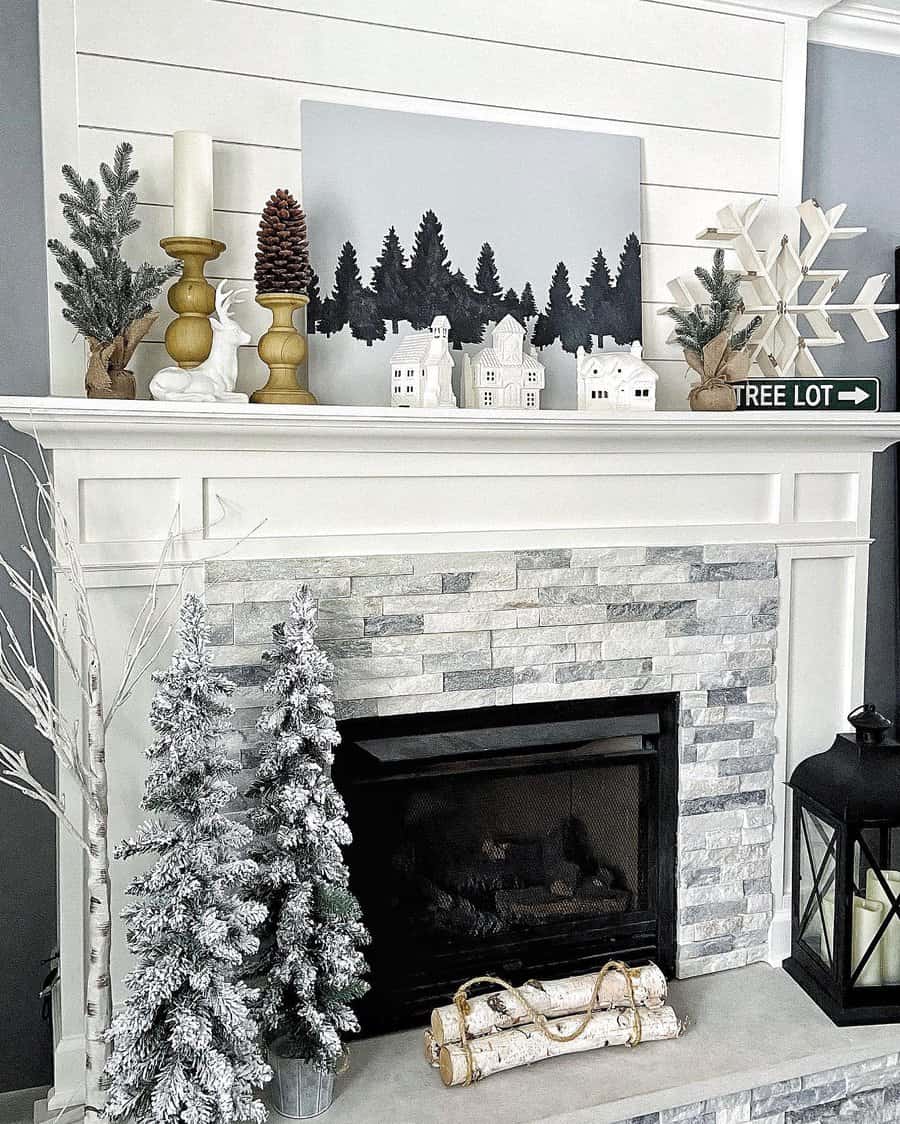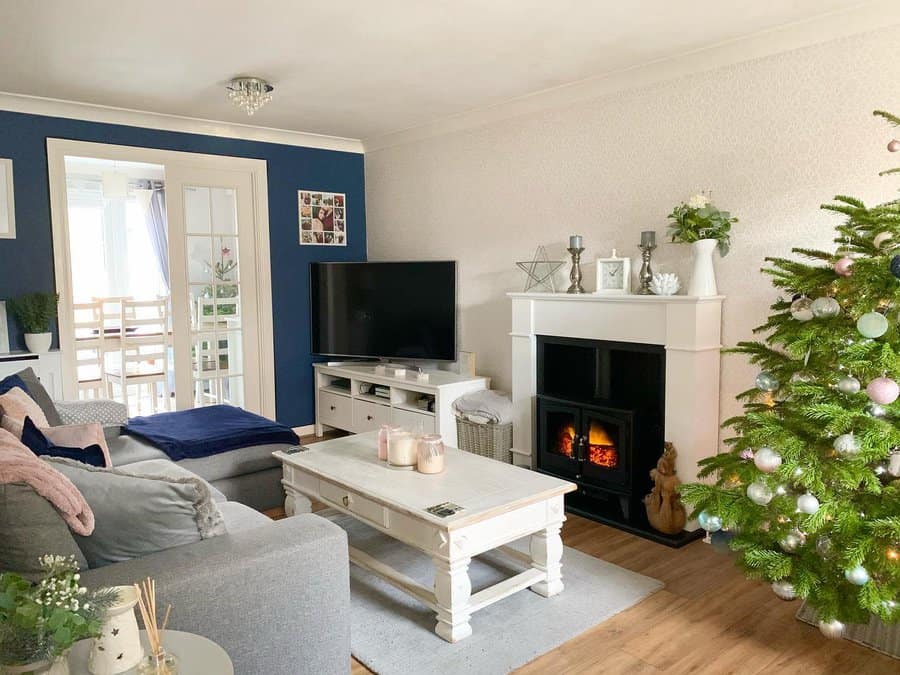 3. Celebrate the Seasons with Garlands
Enhance your fireplace decor with a seasonal garland, choosing from a vibrant array of flowers and foliage to reflect the current time of year. Opt for daffodils and tulips in the spring, sunflowers and hydrangeas in the summer, colorful leaves and berries in the fall, and evergreens and pinecones during winter. Drape your chosen garland along the mantel, allowing it to gently fall down the sides of the fireplace, creating an alluring visual display. This not only turns your fireplace into an enchanting focal point but also fills your living space with a refreshing and vibrant atmosphere, celebrating the beauty of the changing seasons.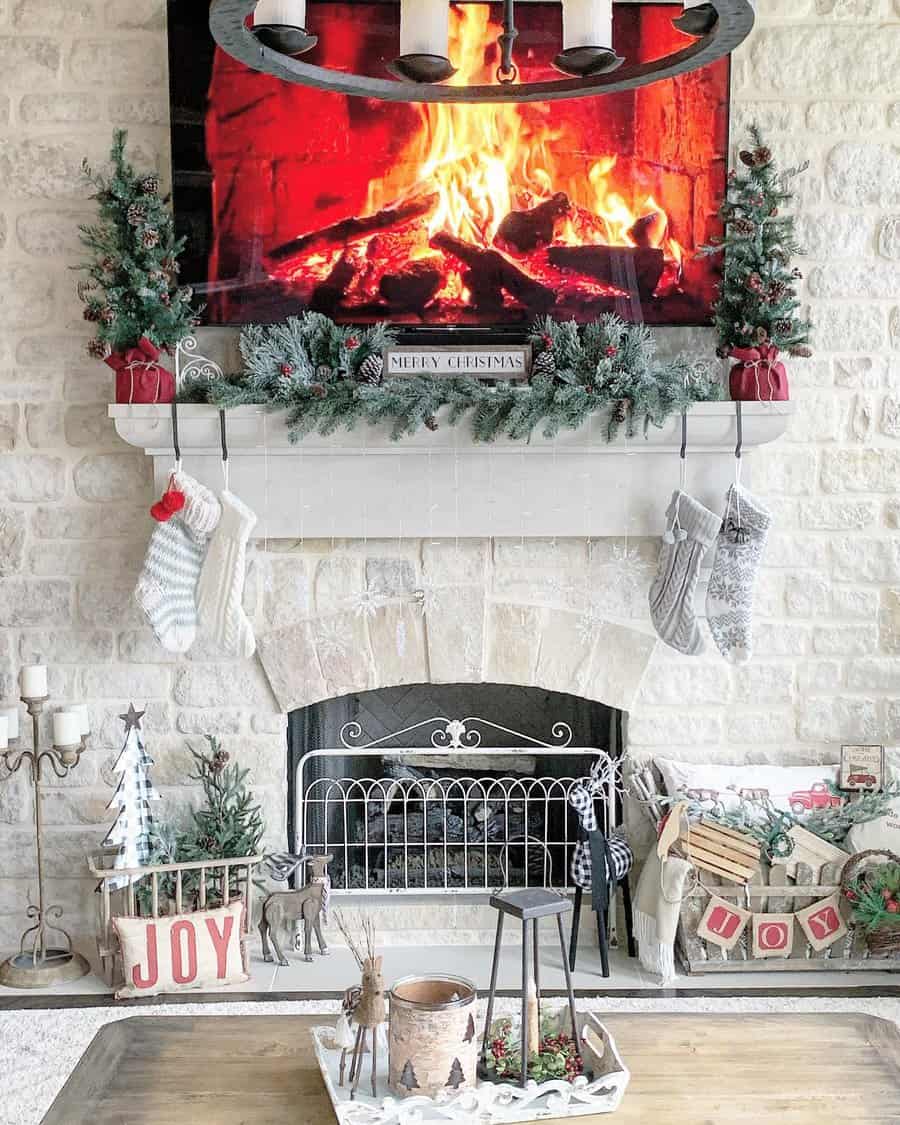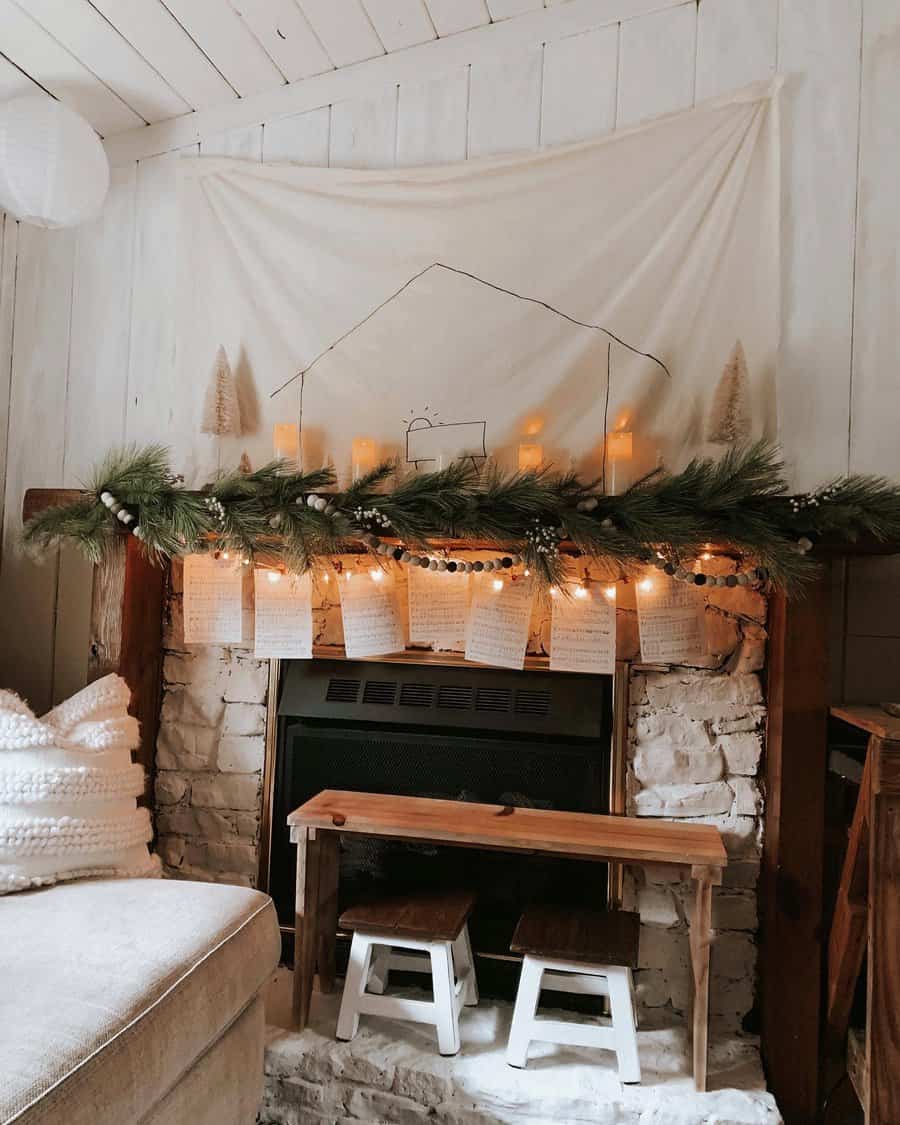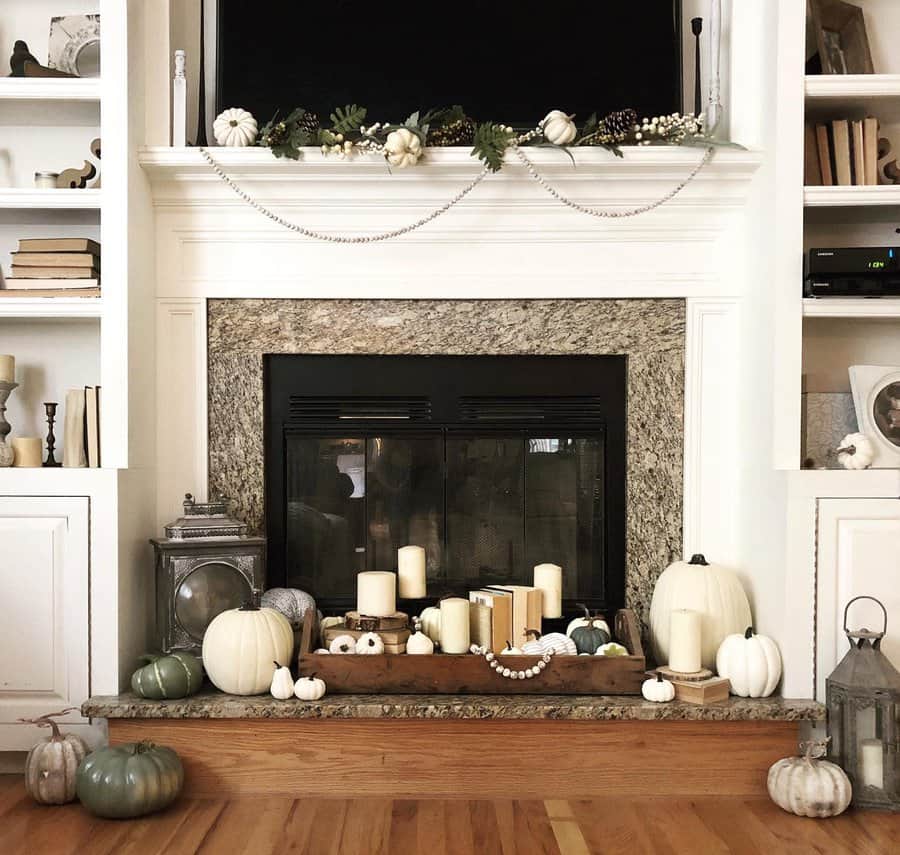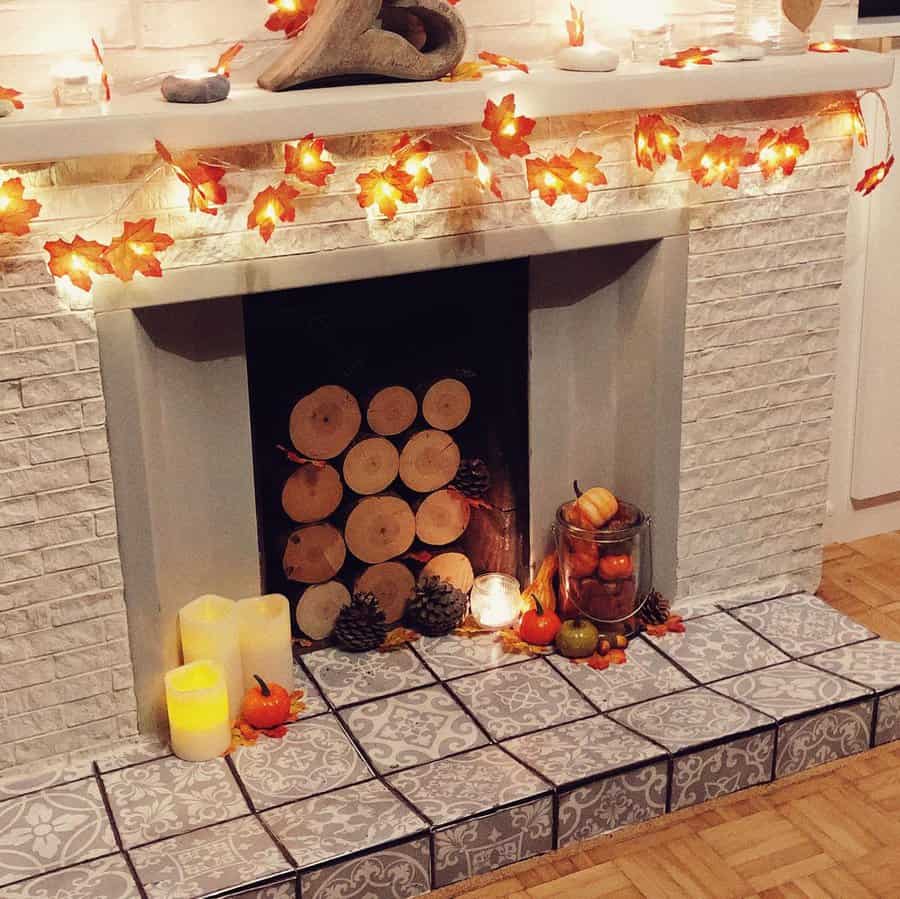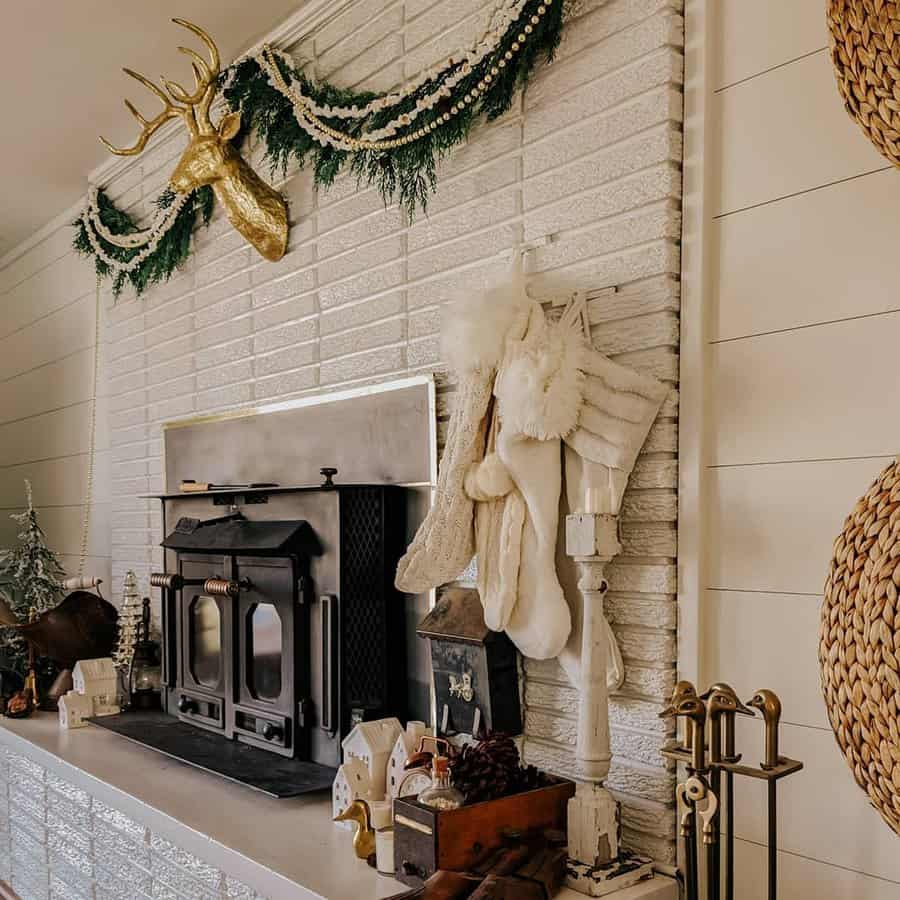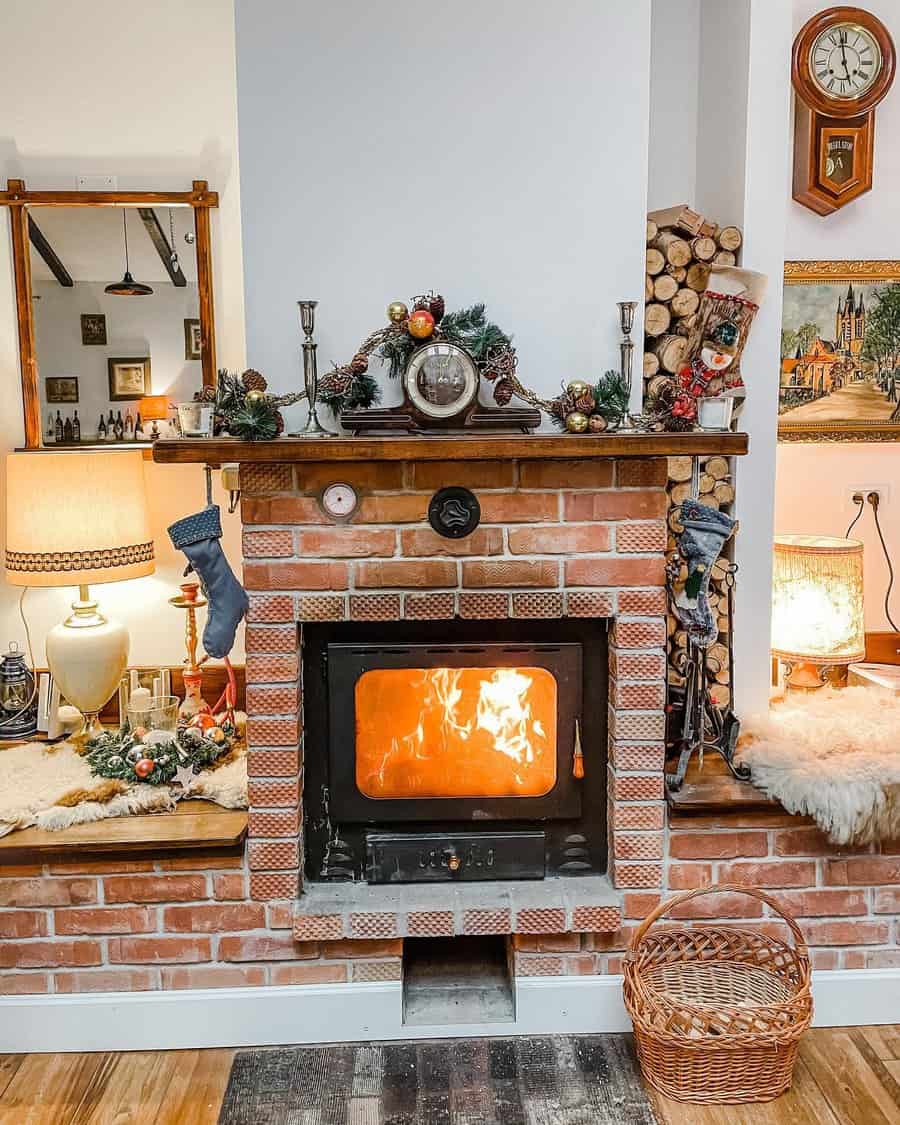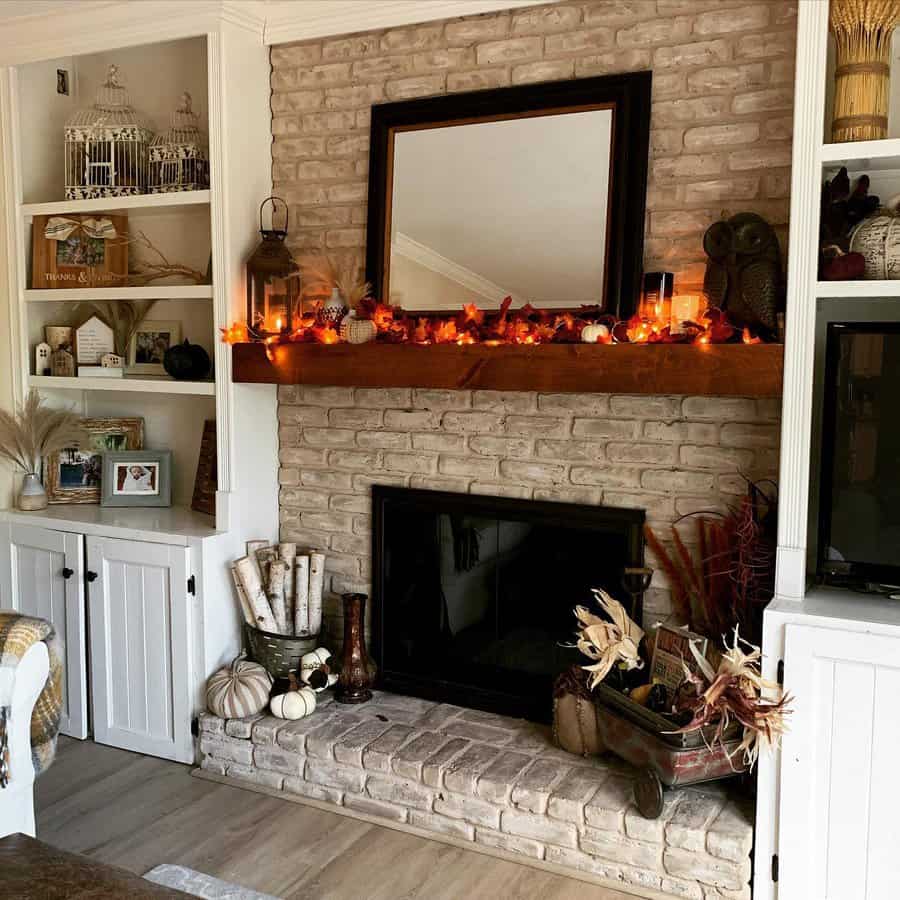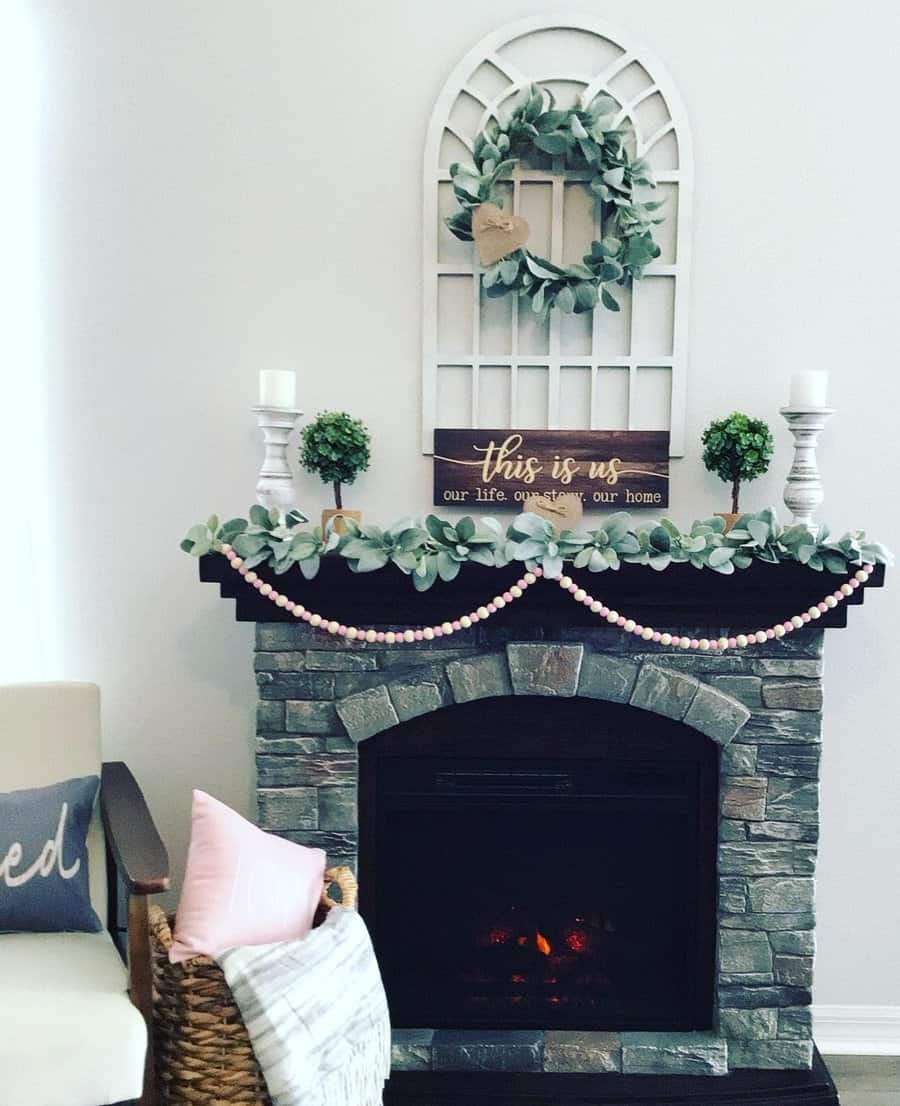 4. Reflect Style with a Mantel Mirror
Transform your fireplace into a striking visual point with a carefully chosen mantel mirror that reflects and amplifies natural light throughout the room. This is an especially effective strategy for brightening up the space and creating a more open and welcoming atmosphere, ideal for smaller living areas. Opt for a mirror framed in a style that complements your interior design, whether you lean towards a modern, vintage, or glamorous aesthetic. Not only does a mantel mirror enhance the room's appeal, but it also introduces depth and spaciousness, solidifying its status as a pivotal element of your fireplace decor.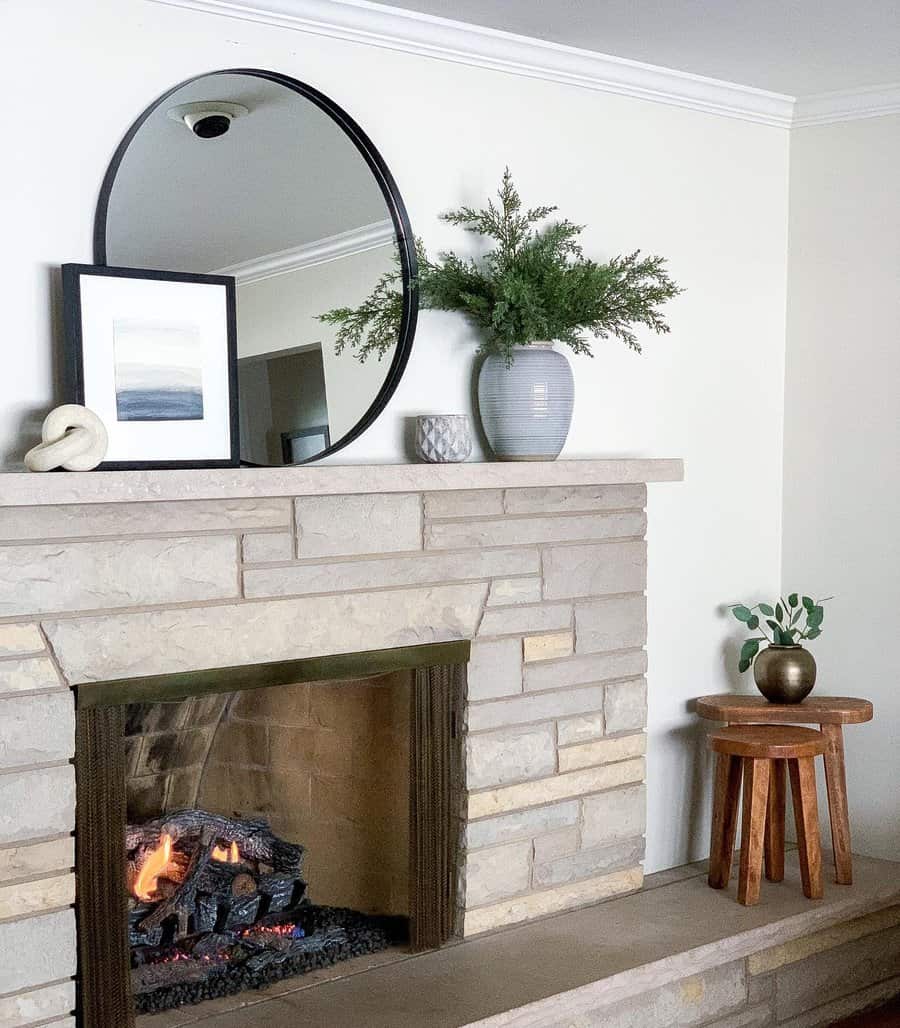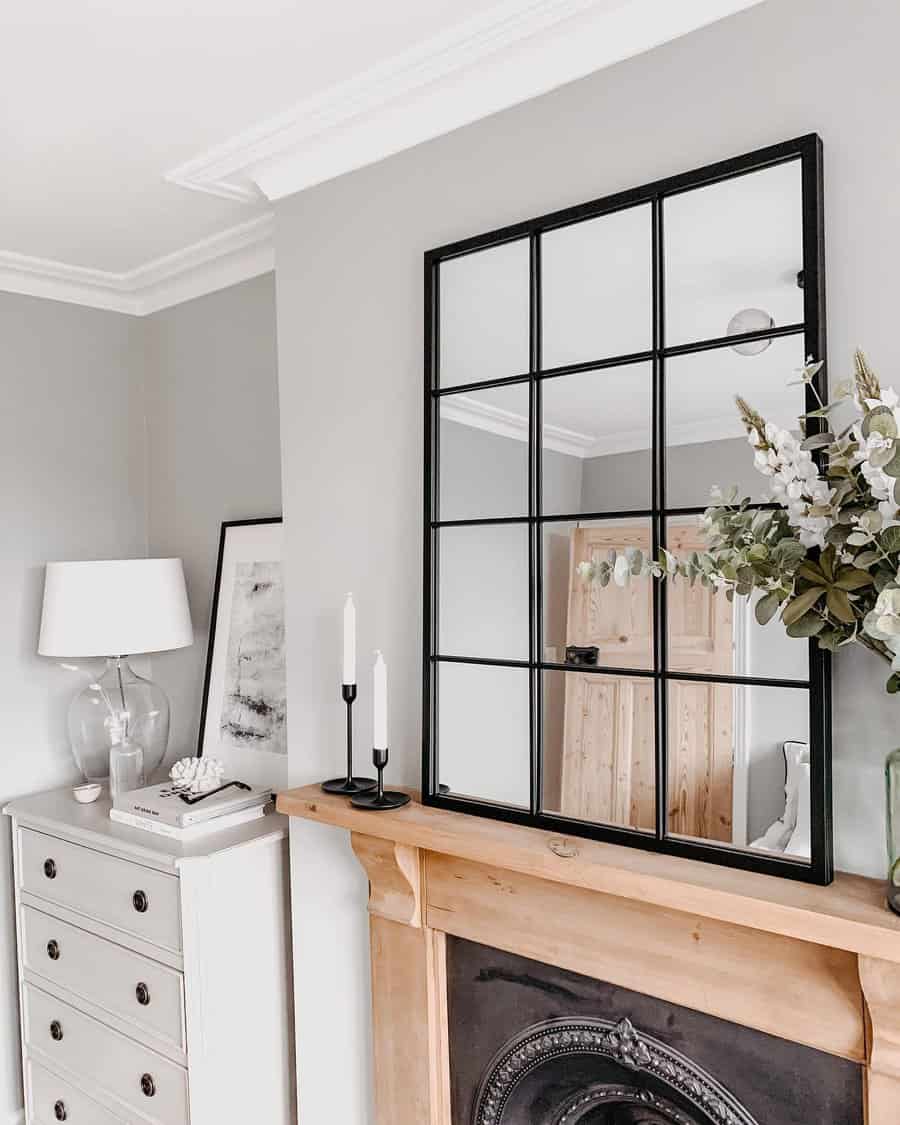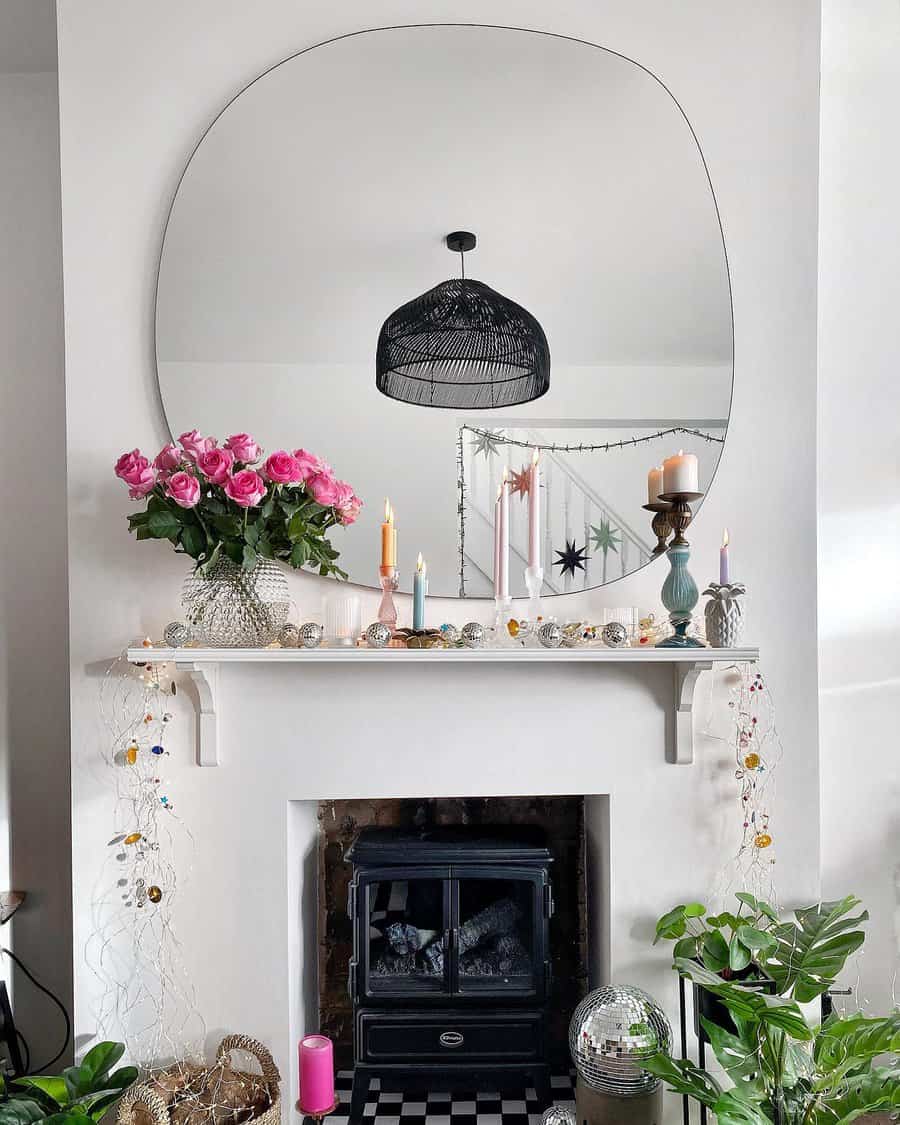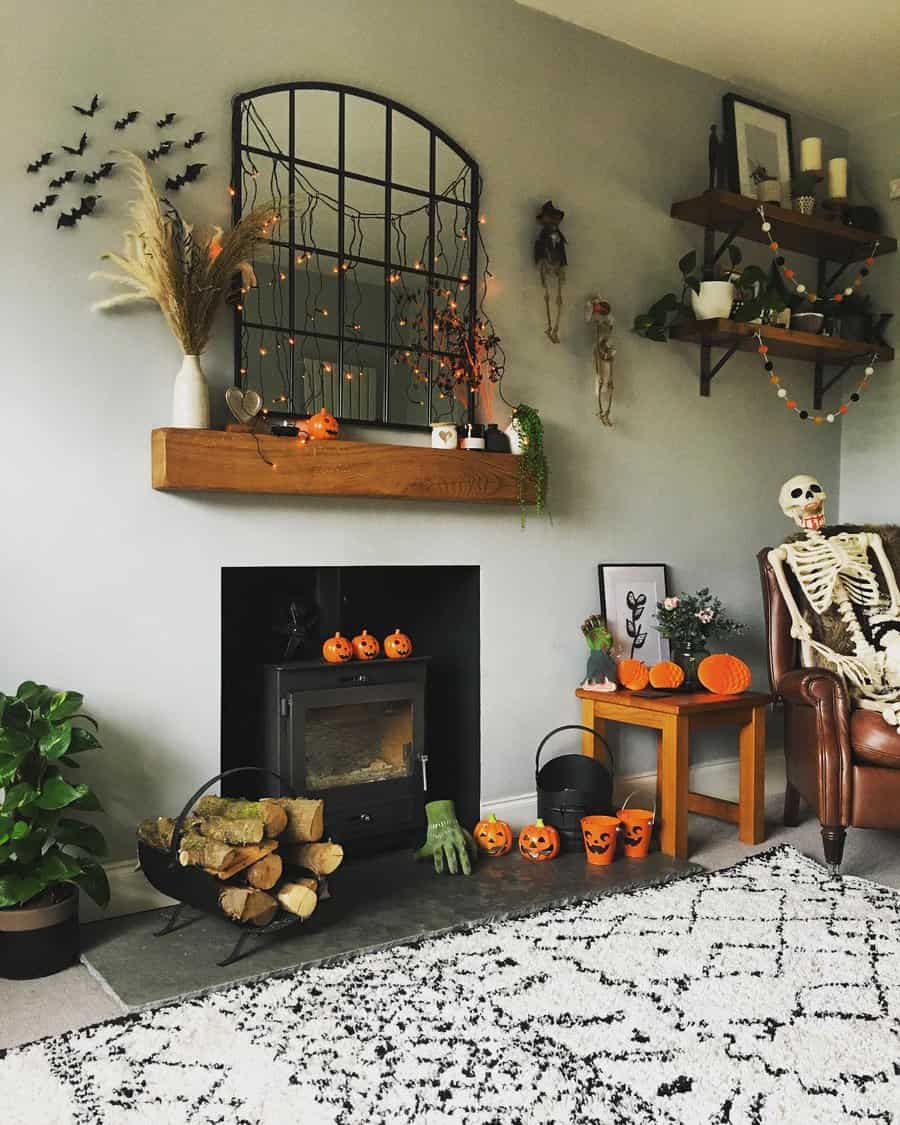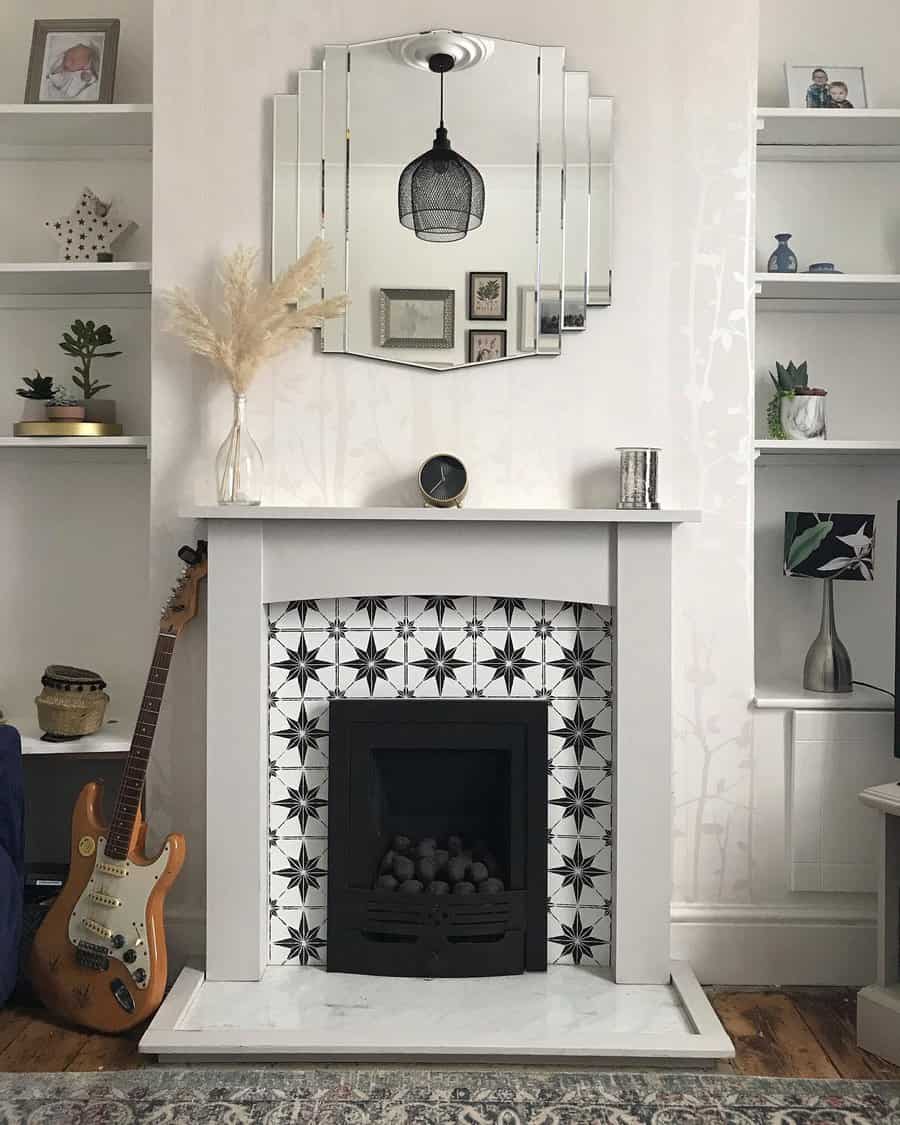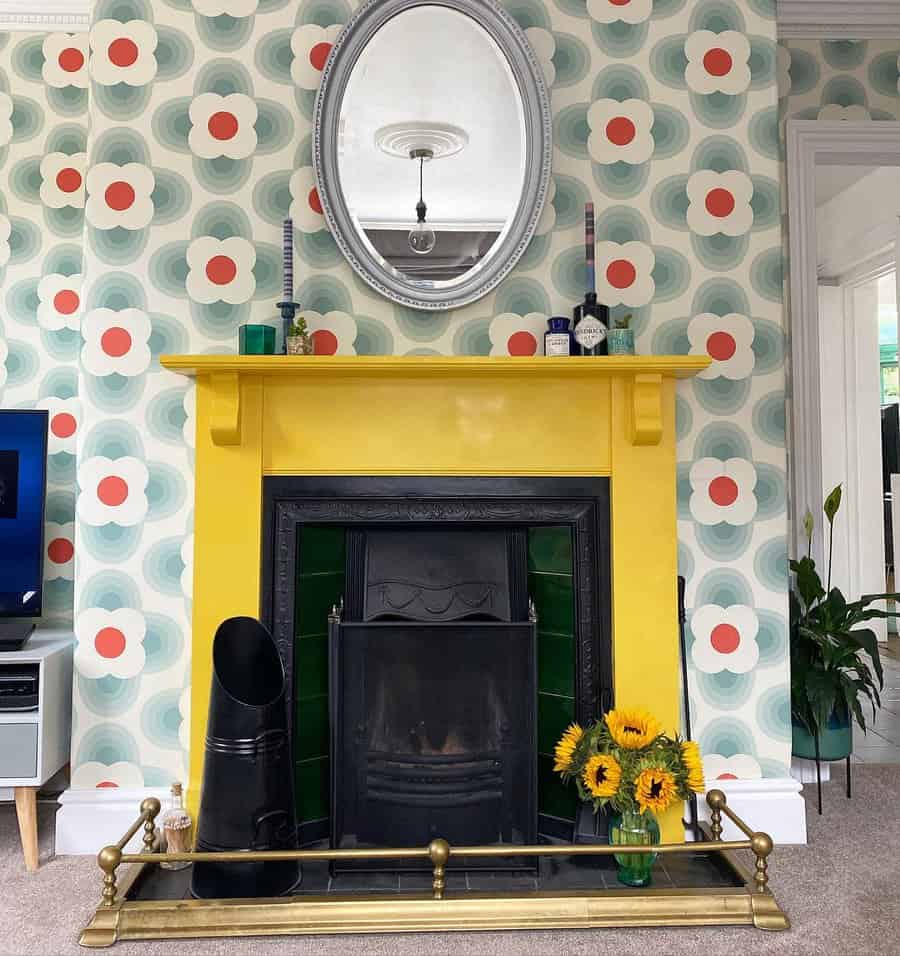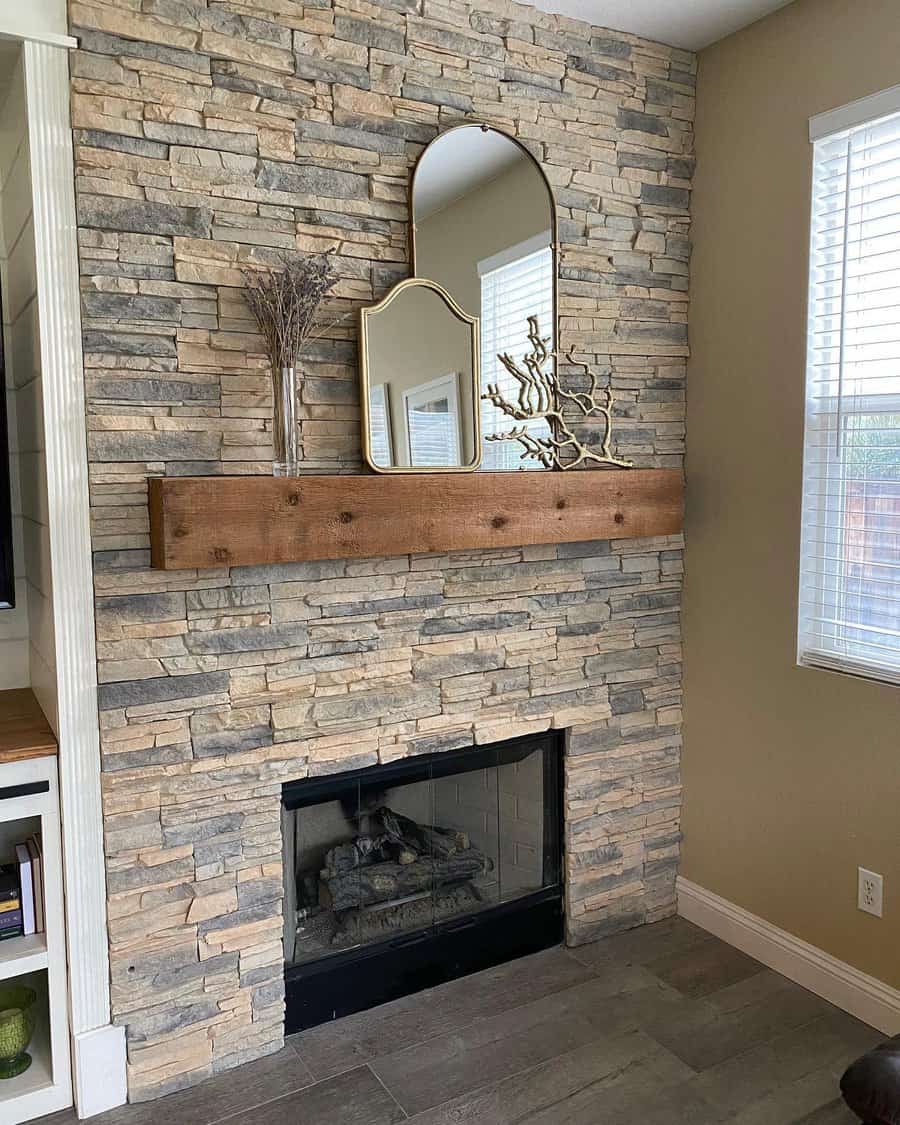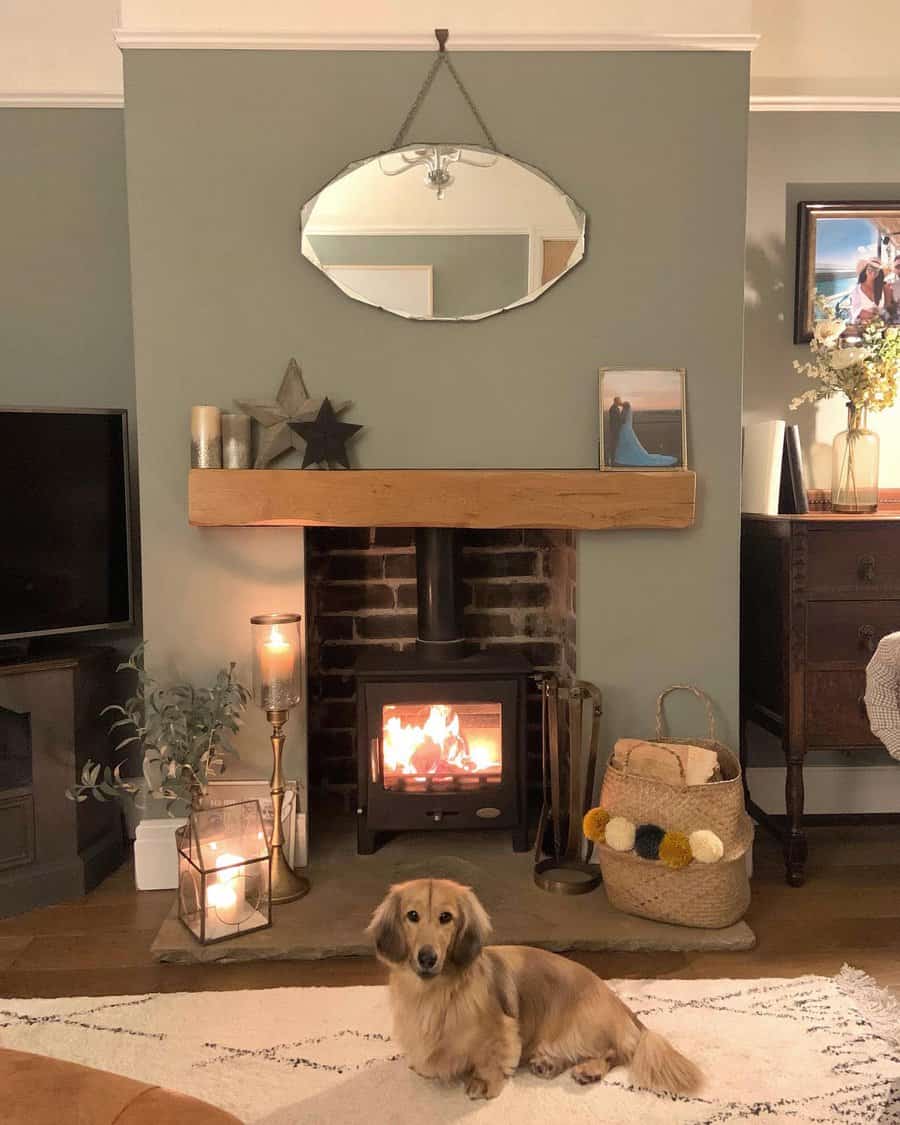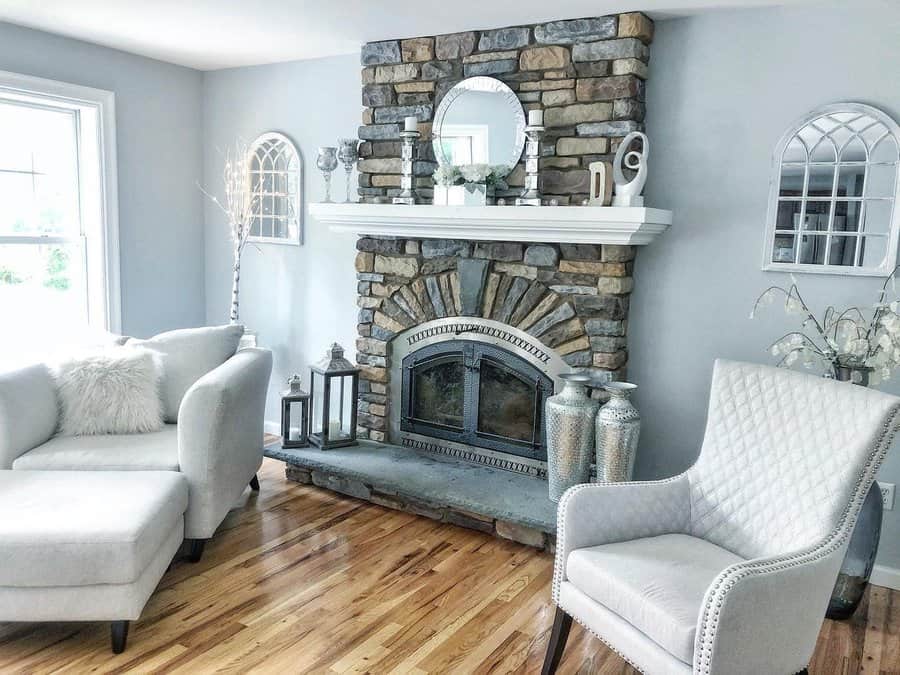 5. Personalize with a Canvas Art Piece
Elevate your fireplace decor with a captivating canvas art piece, choosing either a singular bold statement or an intriguing gallery wall arrangement. This artistic touch not only commands attention but also infuses your living space with a strong sense of personality and style. Select artwork that aligns with your aesthetic preferences and enhances the room's existing decor for a harmonious visual experience. For an added touch of elegance, framed canvas prints can provide a sophisticated edge, while frameless options offer a sleek, contemporary feel. In doing so, your fireplace transcends its traditional role, becoming a stunning visual focal point that beautifully balances functionality with artistic flair.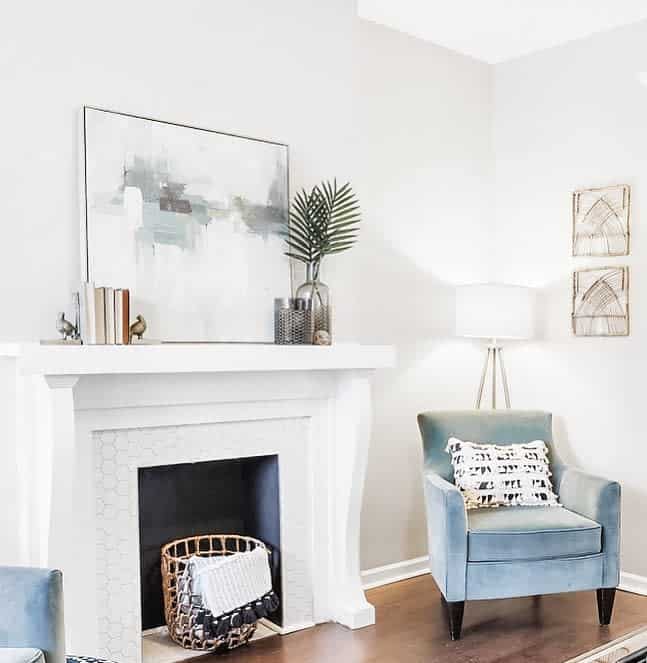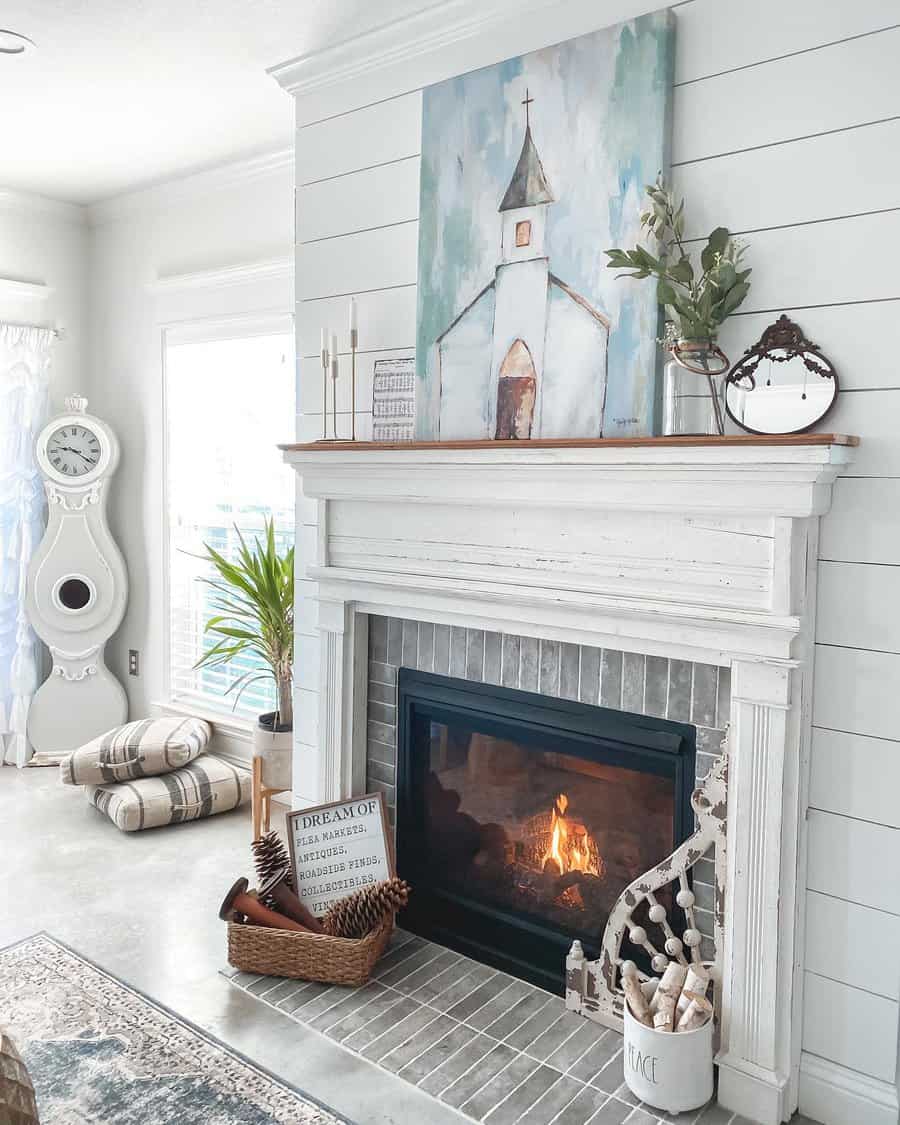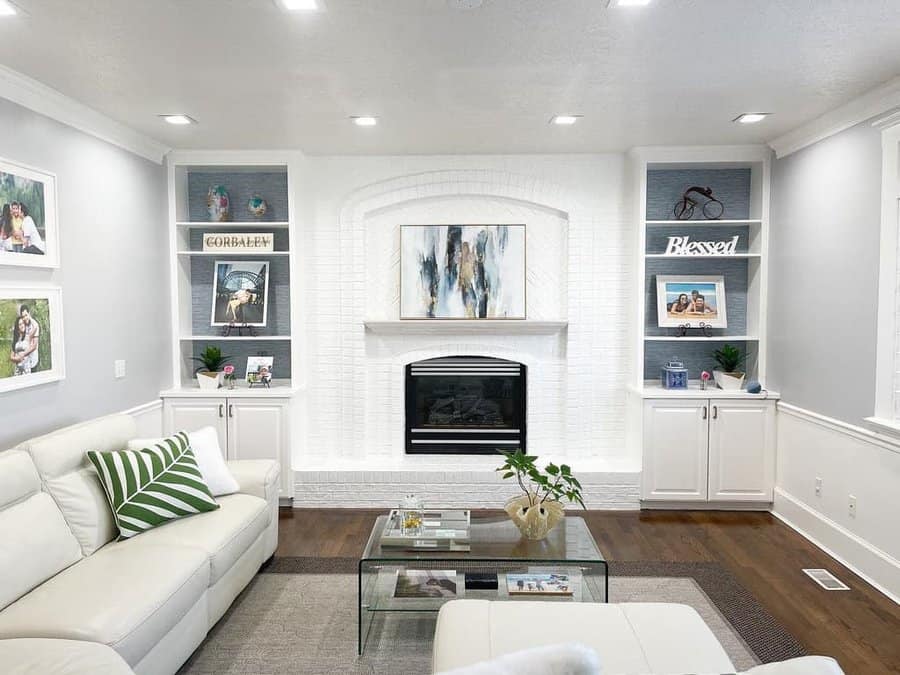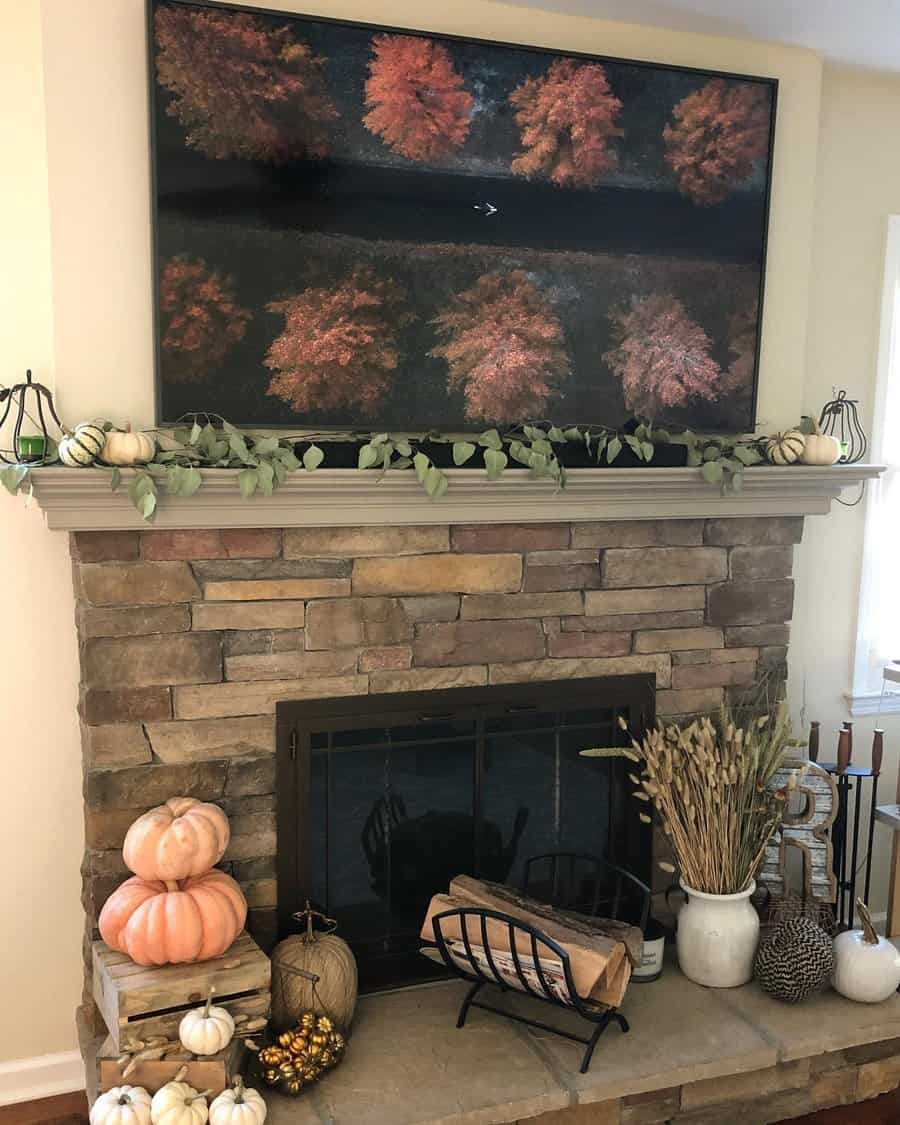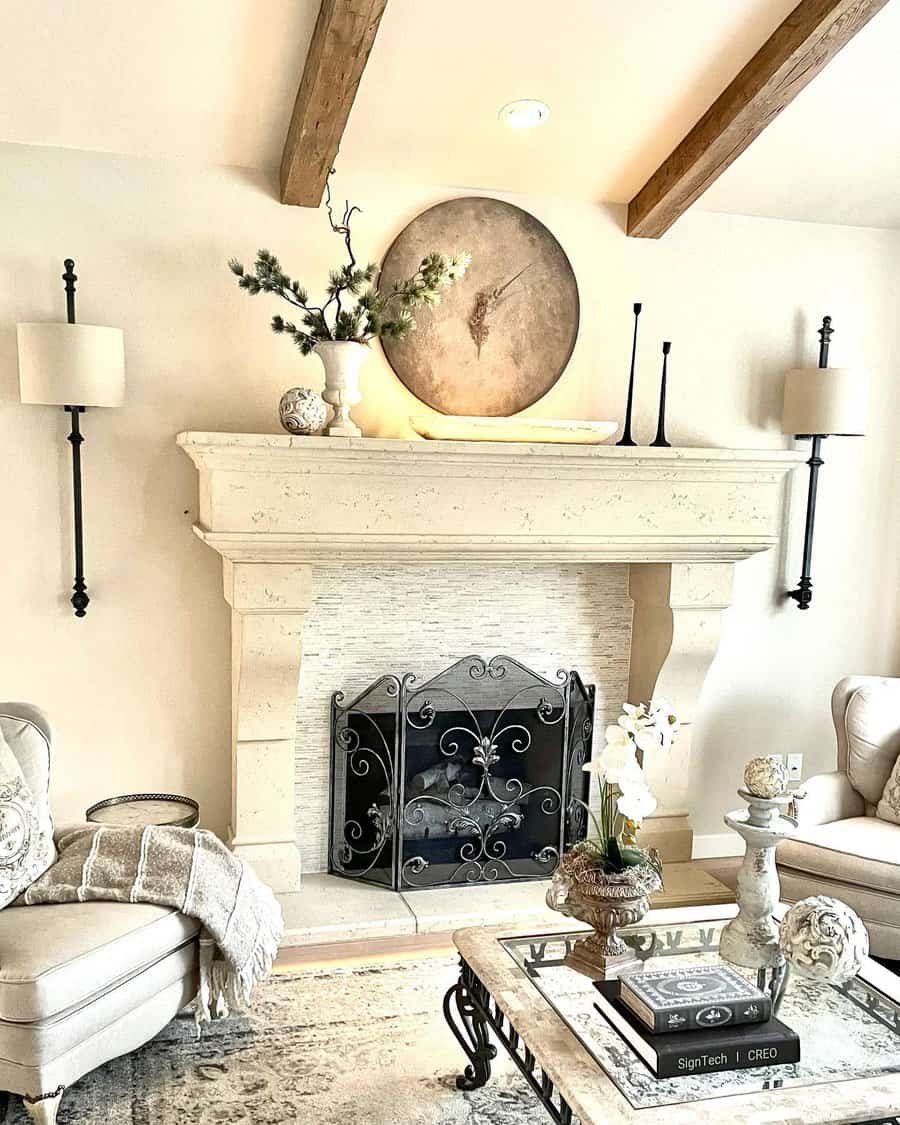 6. Evoke Warmth with Rustic Decor
Create a warm and inviting atmosphere around your fireplace with the allure of rustic decor. Integrate distressed items like weathered wooden frames, antique lanterns, and vintage books to infuse character and a touch of history into the space. Showcase personal mementos or flea market discoveries on the mantel for a truly unique display.
Complement the rustic theme with textural elements such as woven baskets, snug knit throws, and cushions in earthy tones to amplify the sense of warmth and comfort. You might also consider hanging vintage-inspired artwork or an array of antique mirrors to capture and reflect the fireplace's ambient light. Through rustic decor, your living room transforms into a quaint and cozy haven, full of charm and reminiscent of times gone by.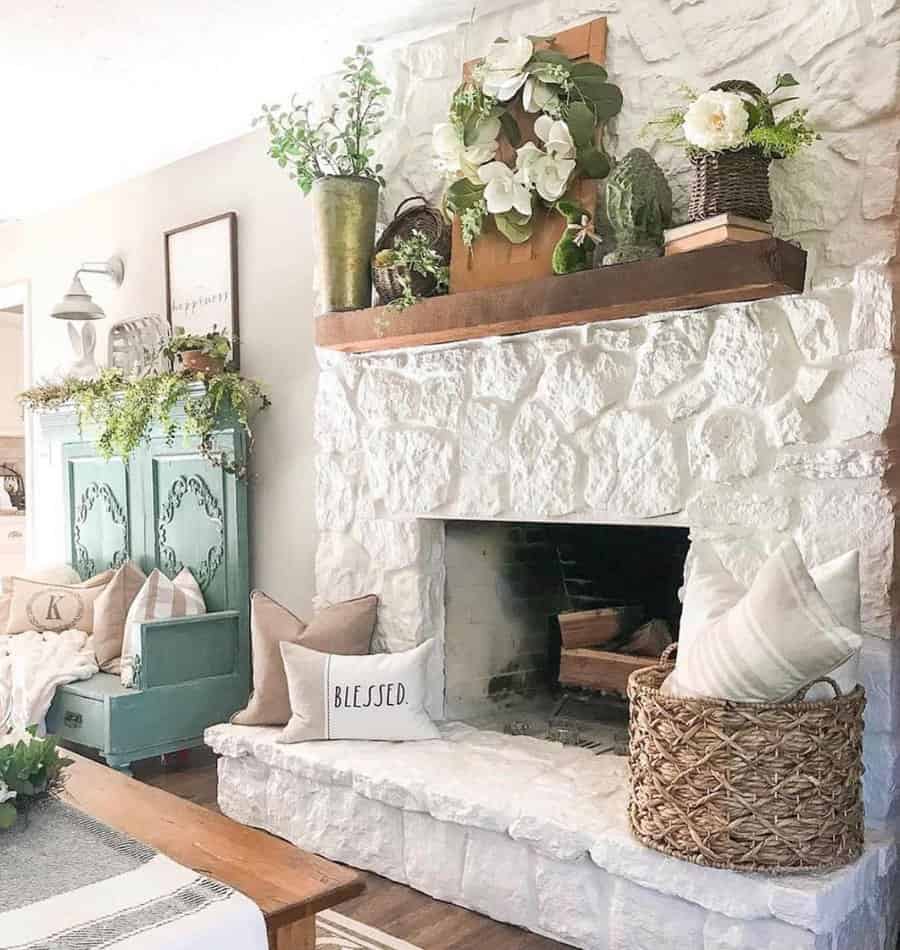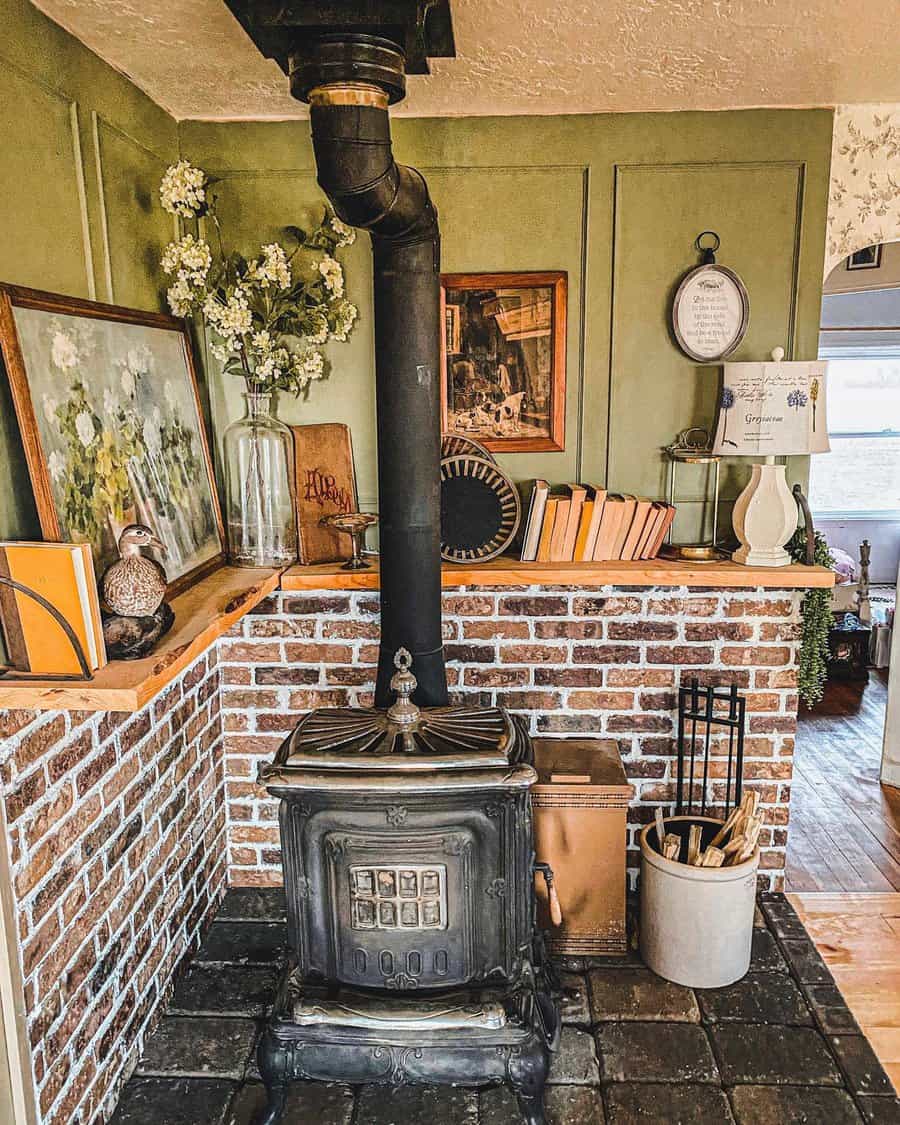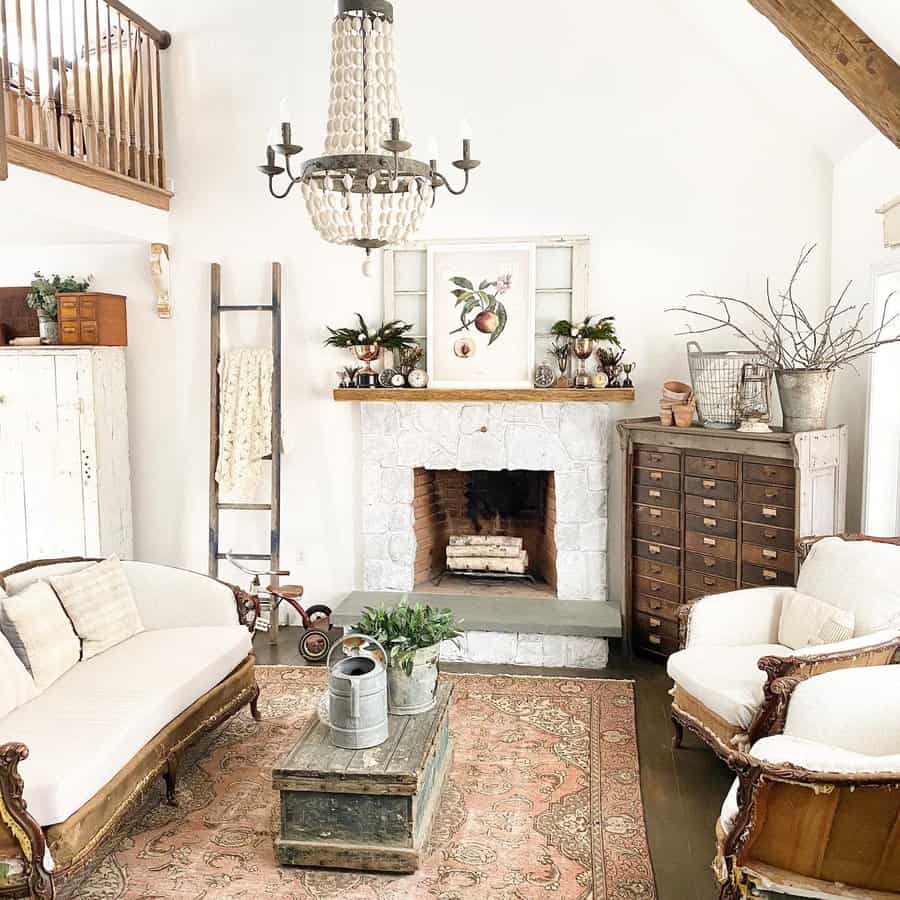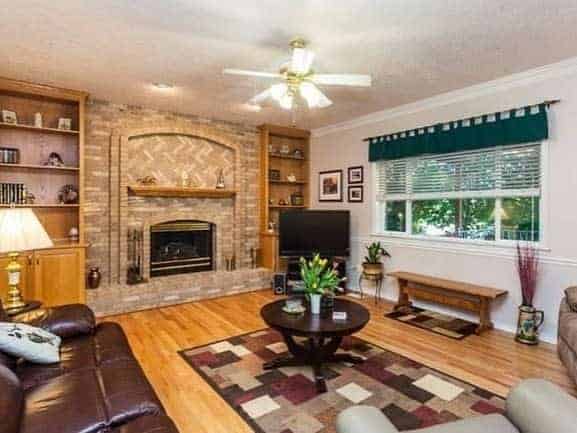 7. Illuminate Beauty with Mantel Candles
Craft a mesmerizing centerpiece by embellishing your fireplace mantel with an assortment of candle stands in diverse styles and heights. Select scented candles that resonate with your preferences, infusing the room with inviting fragrances that set a tranquil ambiance. For an added touch of sophistication, introduce decorative diffusers among the candles, letting their aromatic mists mingle with the fire's warmth.
Whether you savor the gentle flicker of candlelight during cozy evenings or relish the soothing scents, fireplace candles elevate the room's appeal, fostering an intimate and captivating setting. Allow the soft glow and enticing aromas to envelop your space, establishing a haven of relaxation and serenity within your living room.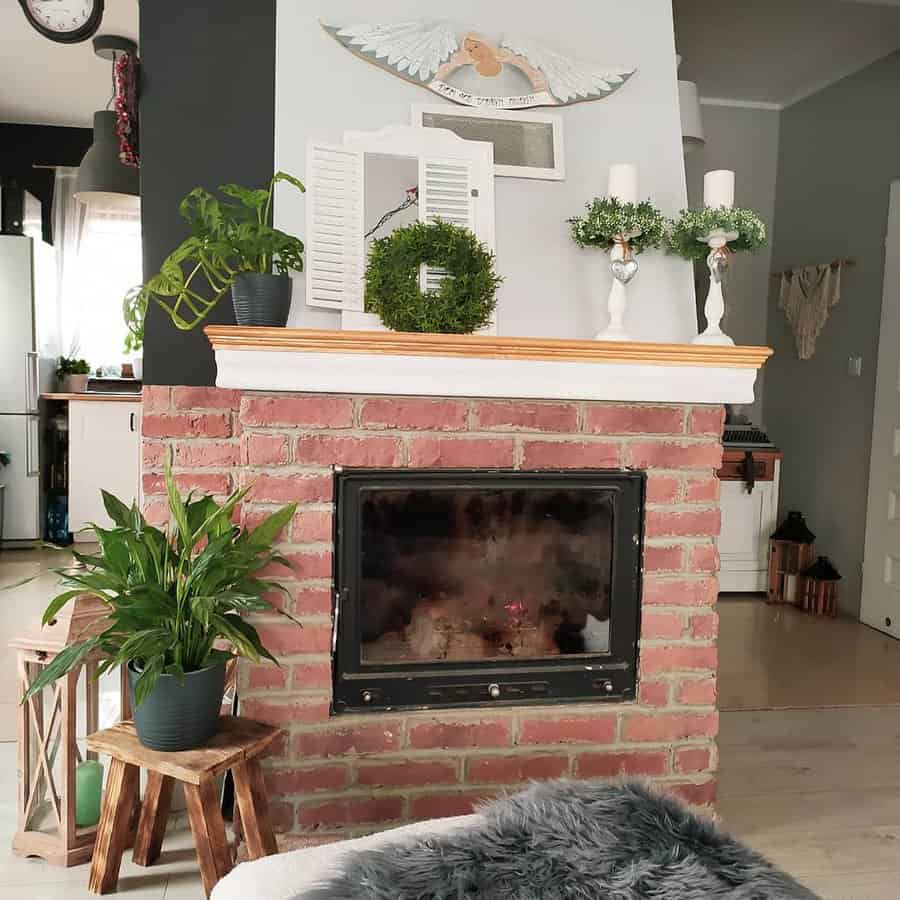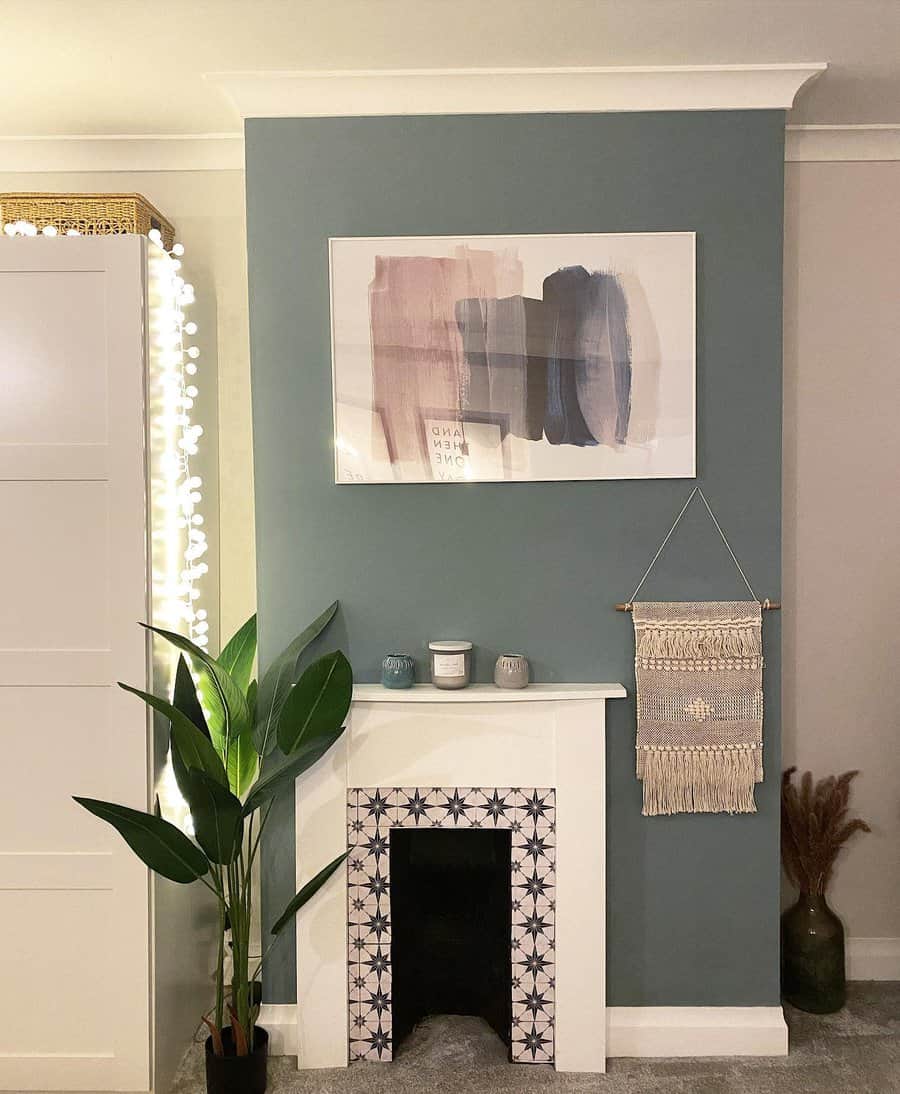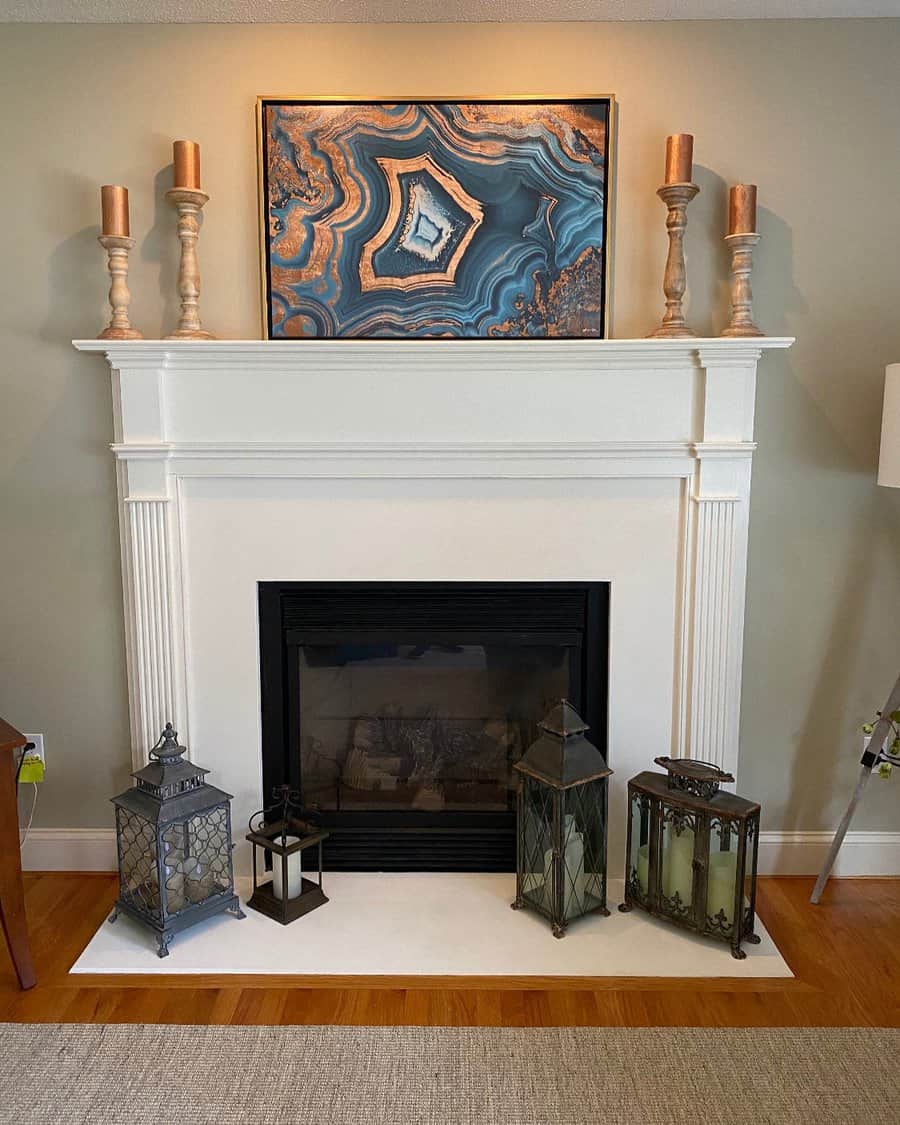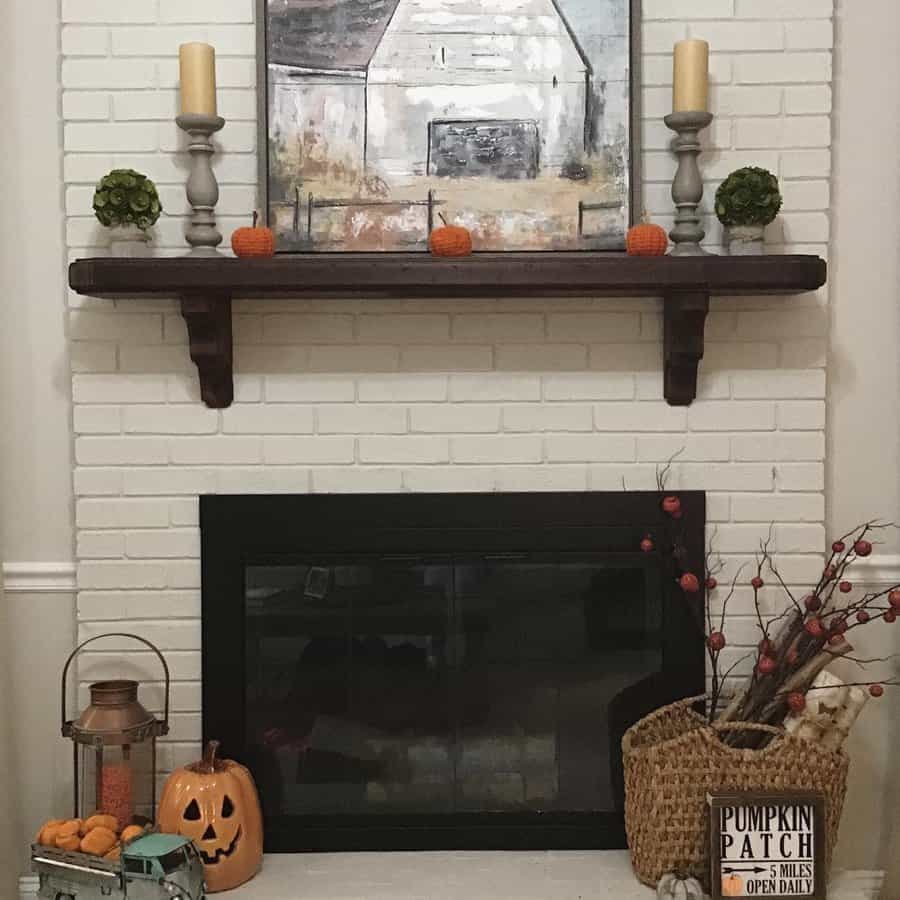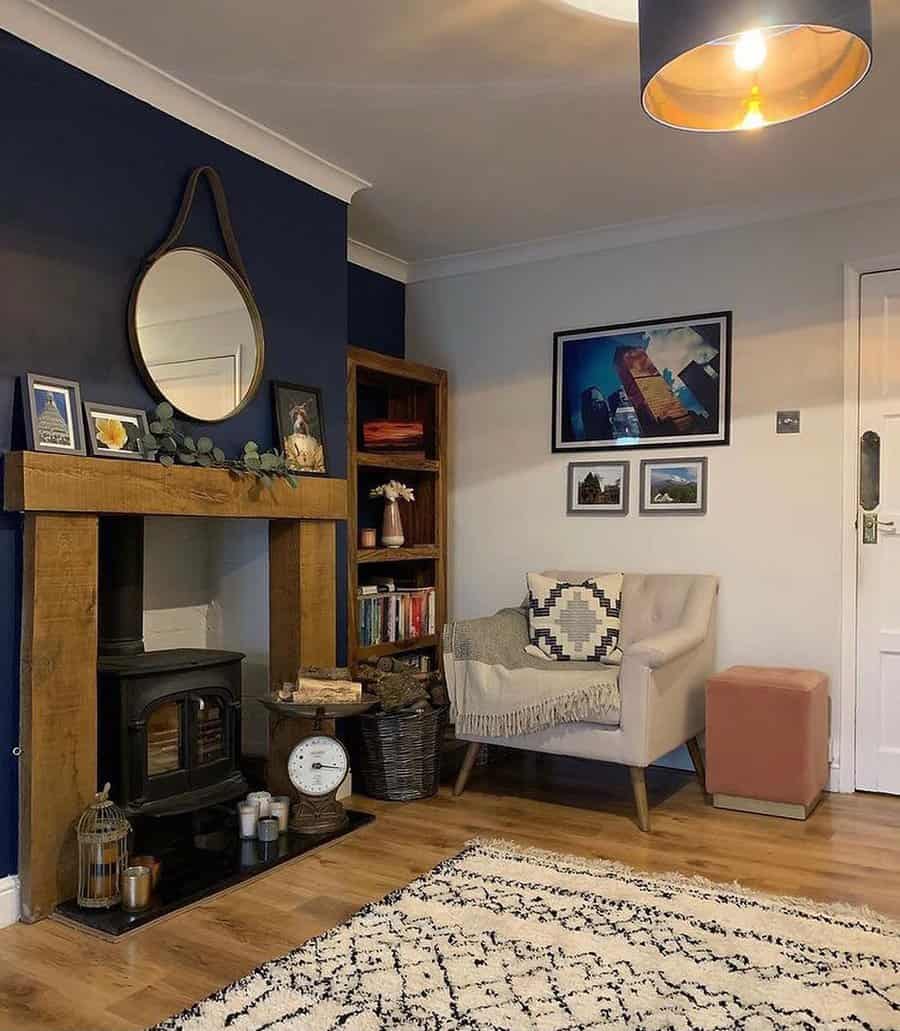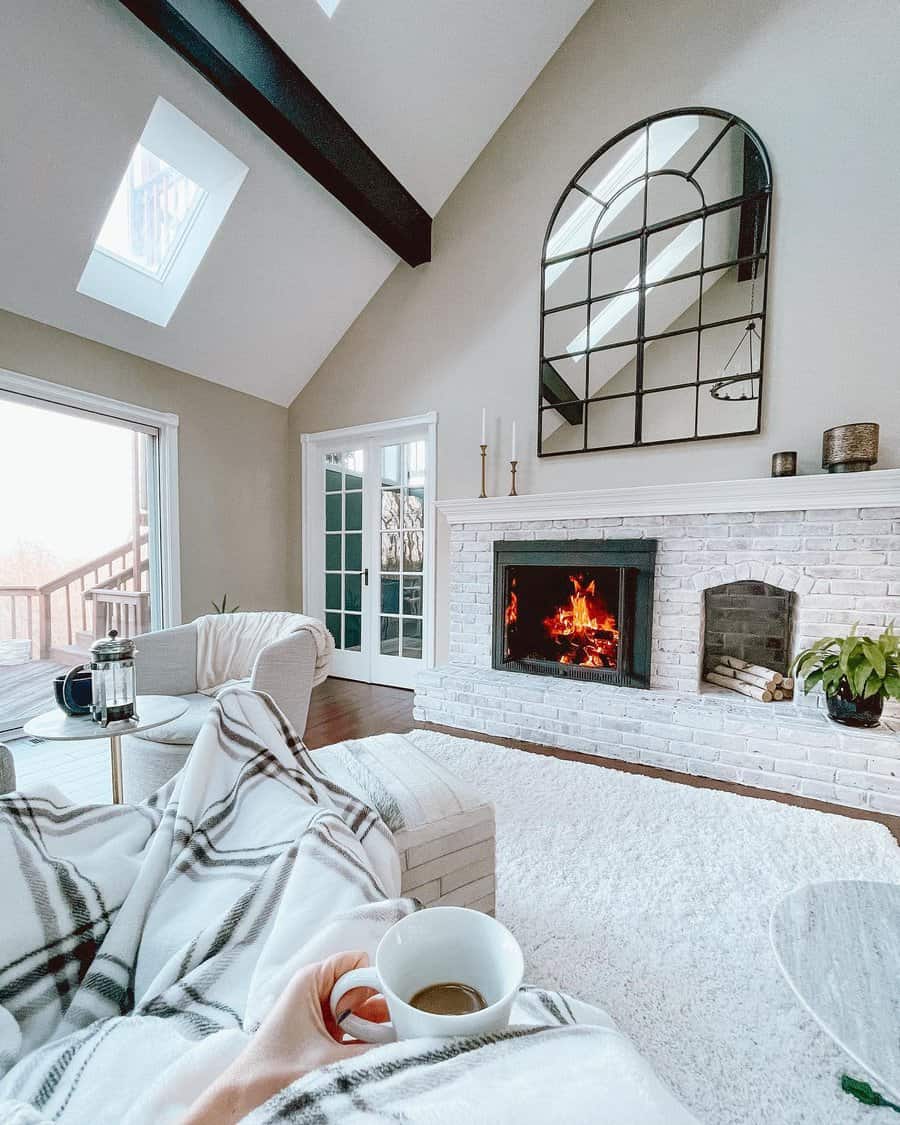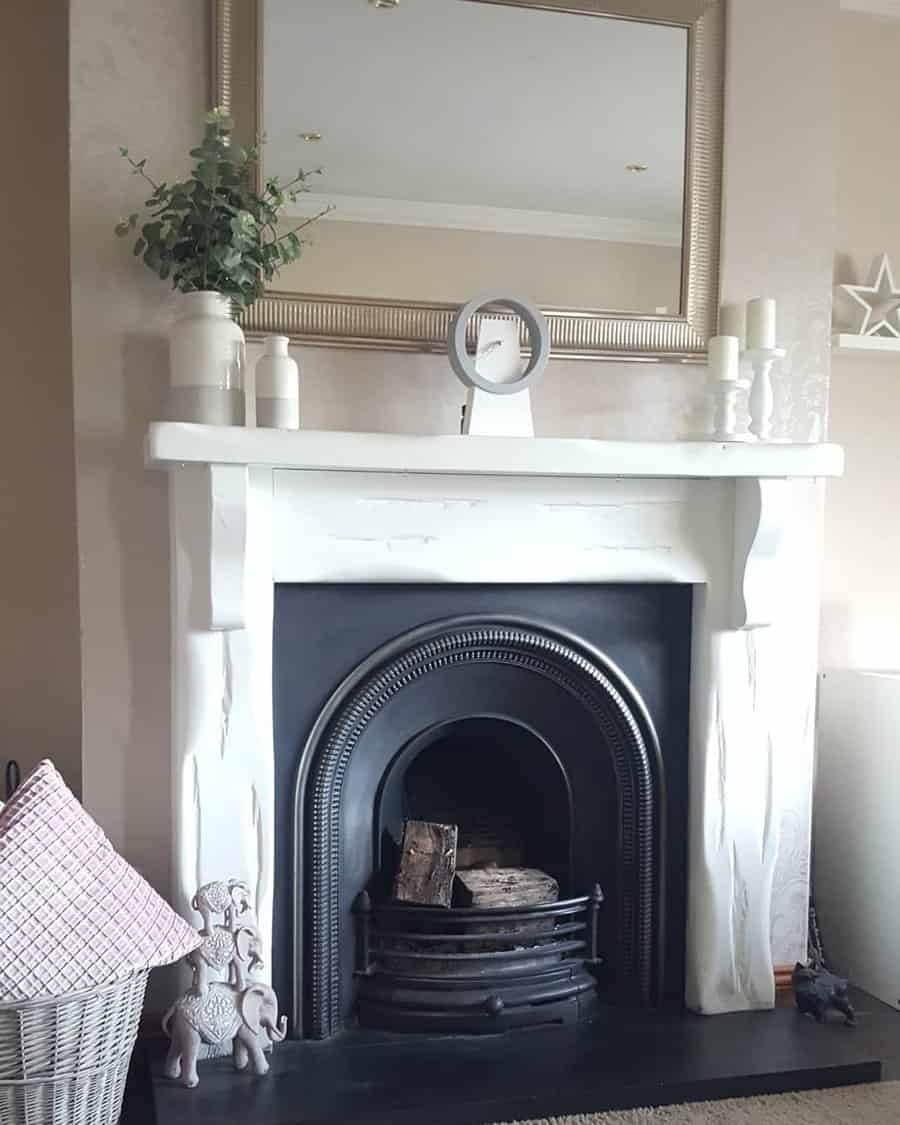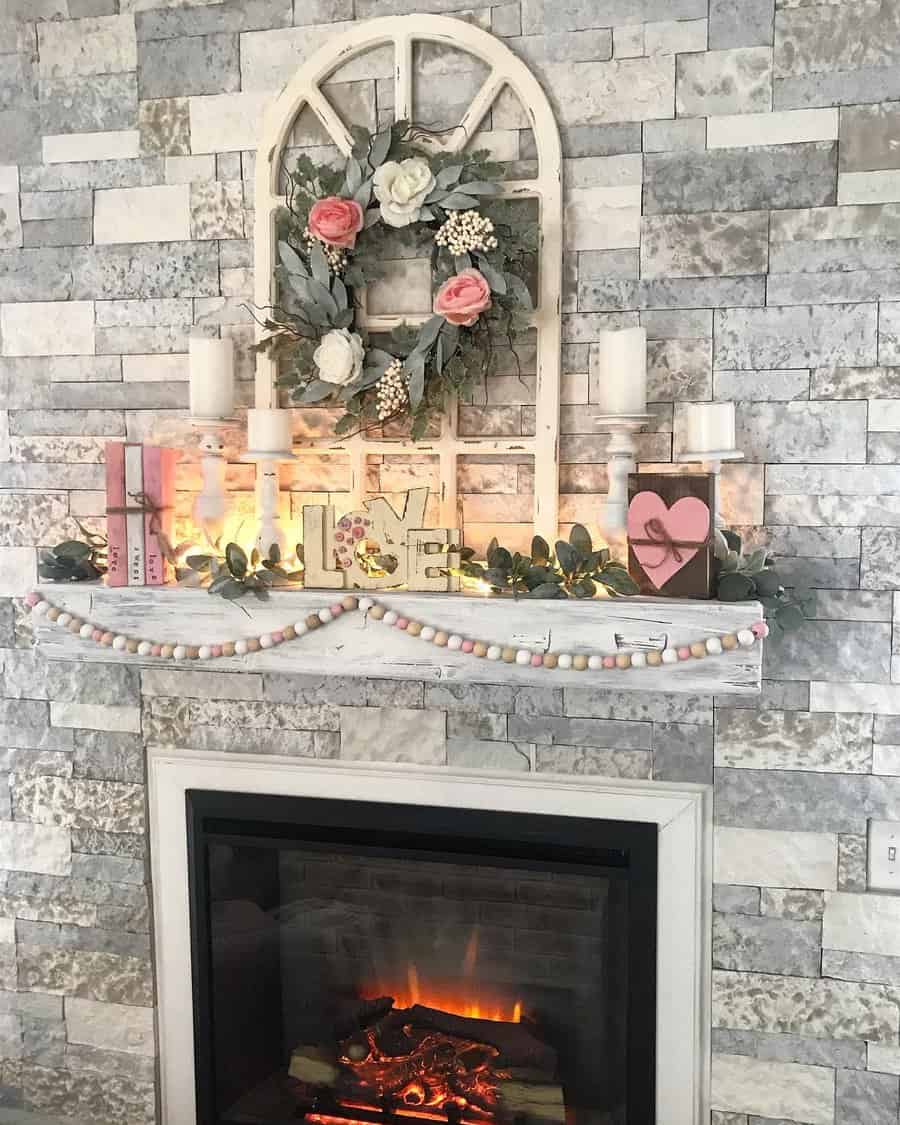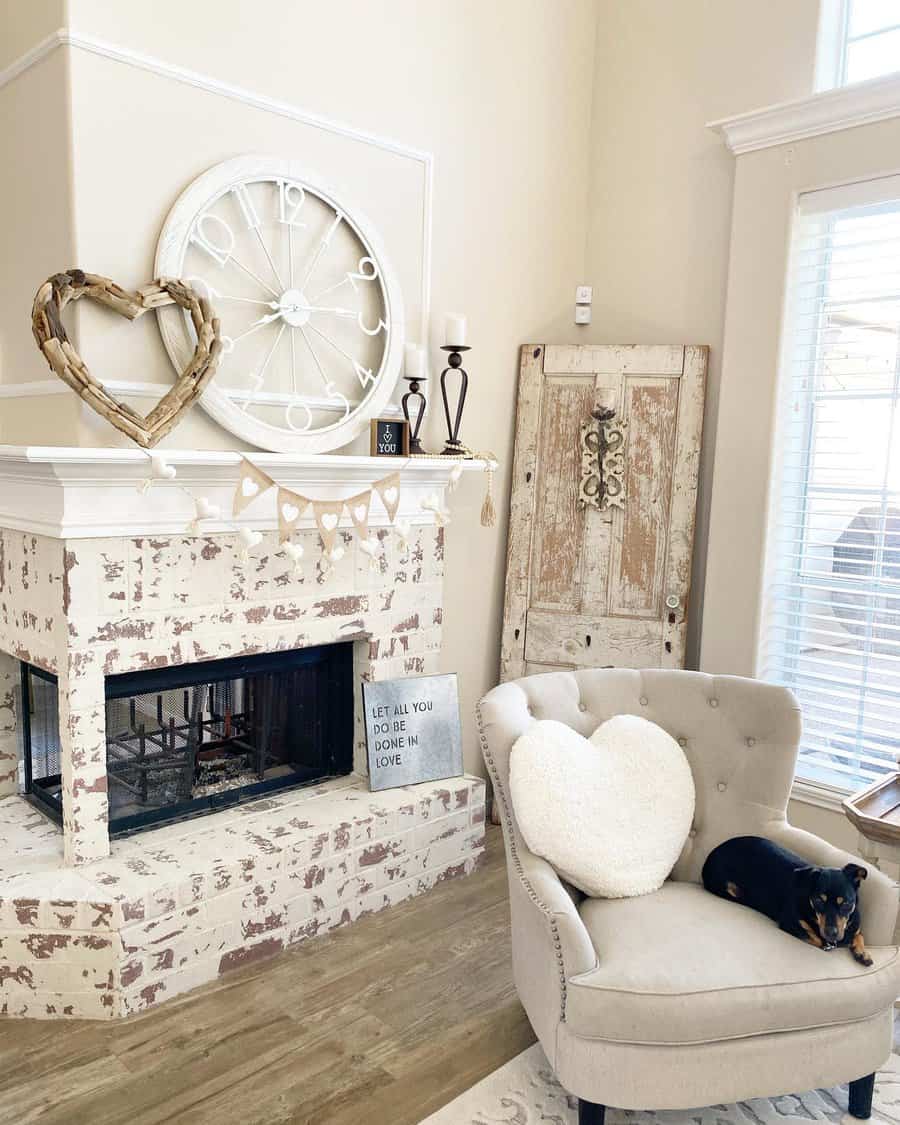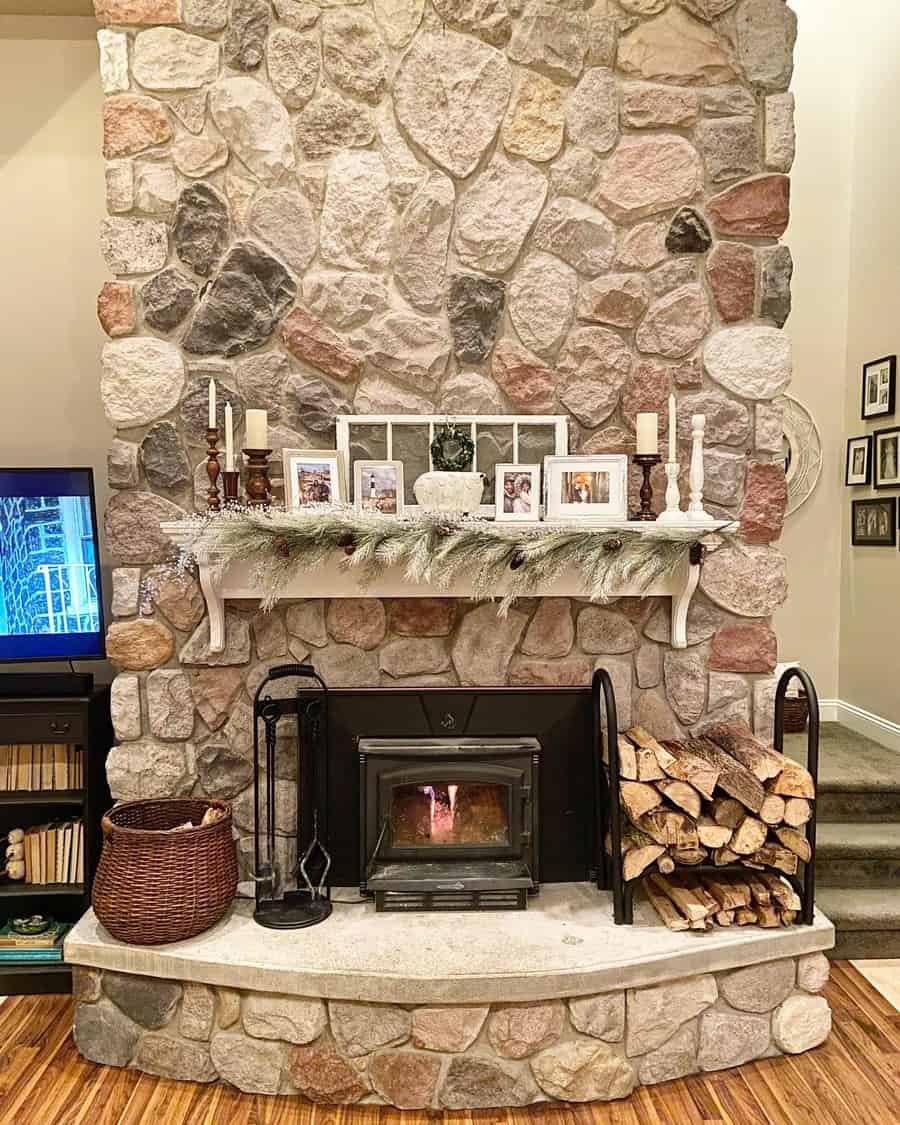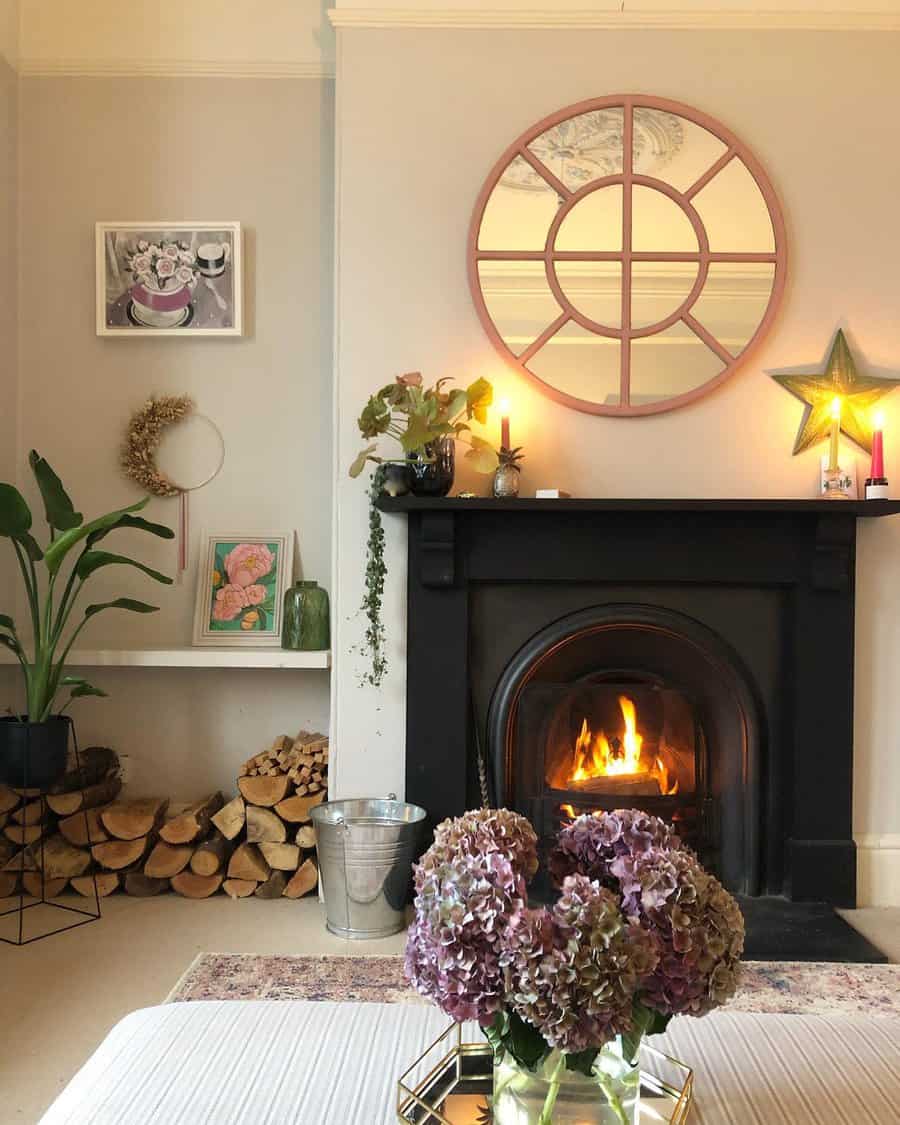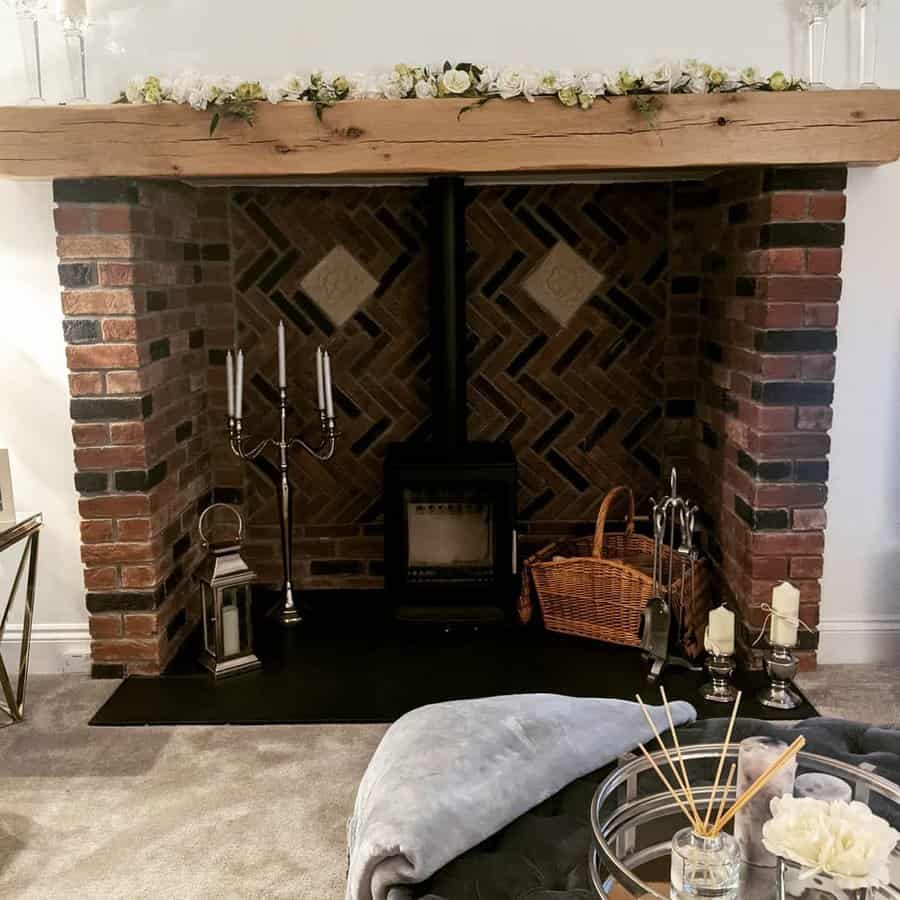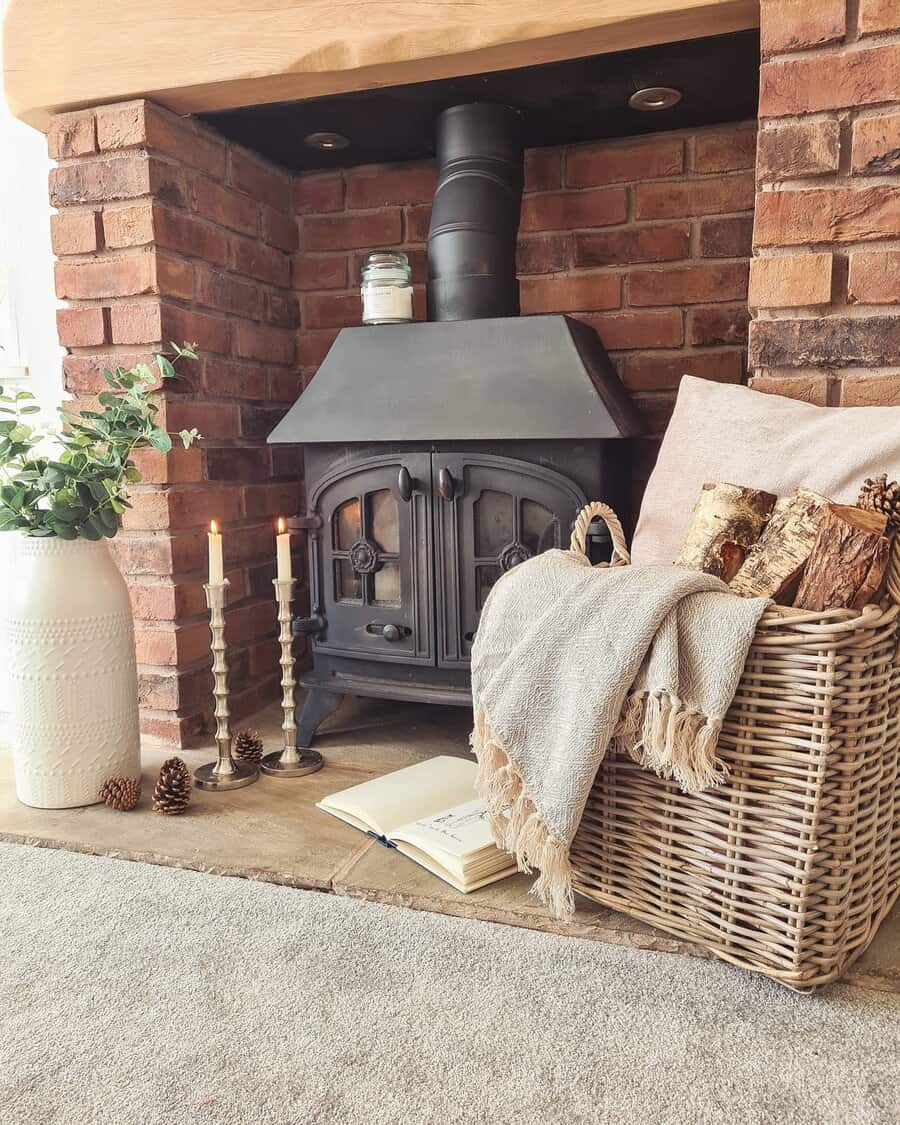 8. Freshen Up with Potted Plants
Revitalize your fireplace area with the addition of potted plants, infusing your space with the beauty of nature and a lively ambiance. Select a mix of plants varying in size and texture, from towering leafy greens to delicate blooms, to create an engaging and visually captivating arrangement.
Position them thoughtfully on the mantel, around the hearth, or on adjacent shelves and side tables, introducing depth and dimension to your fireplace decor. The lush greenery not only lends a softening touch to the overall aesthetic but also imbues your living room with a soothing and vibrant atmosphere, creating a fresh and inviting ambiance.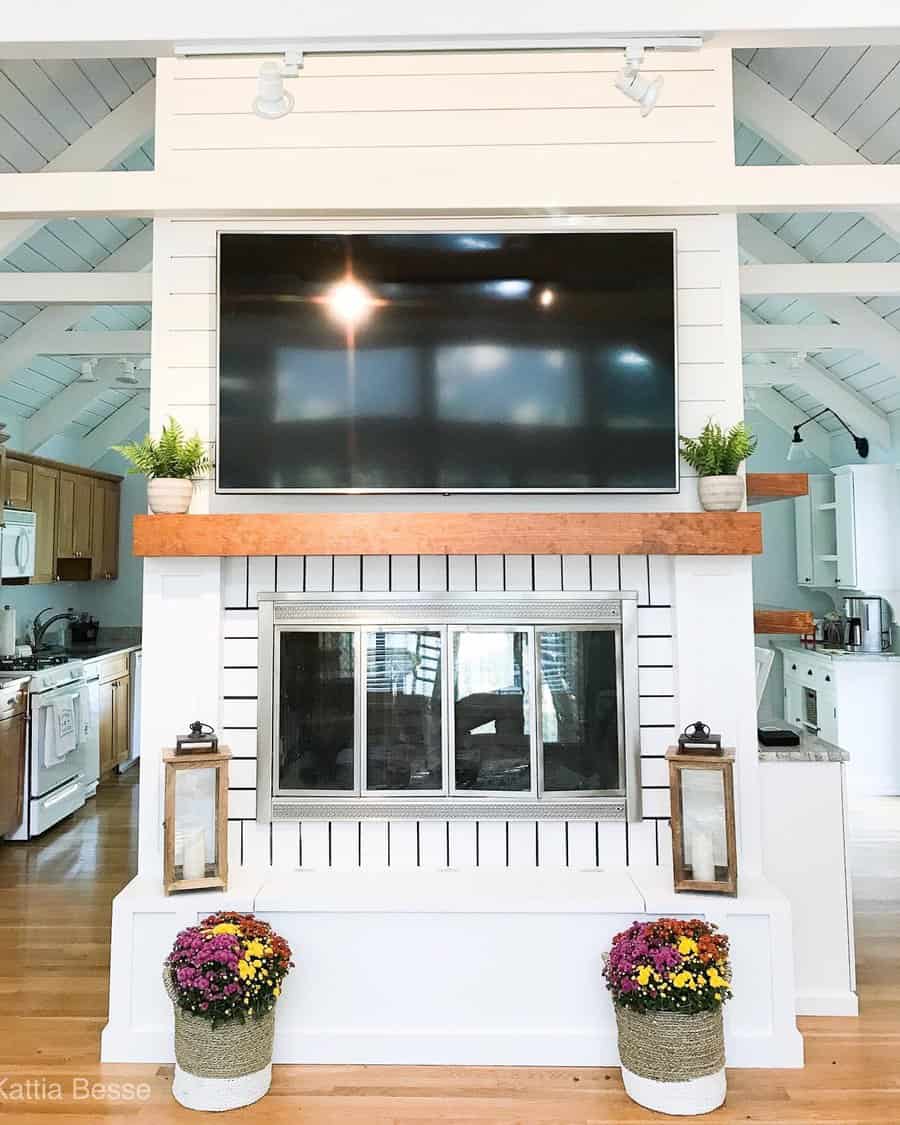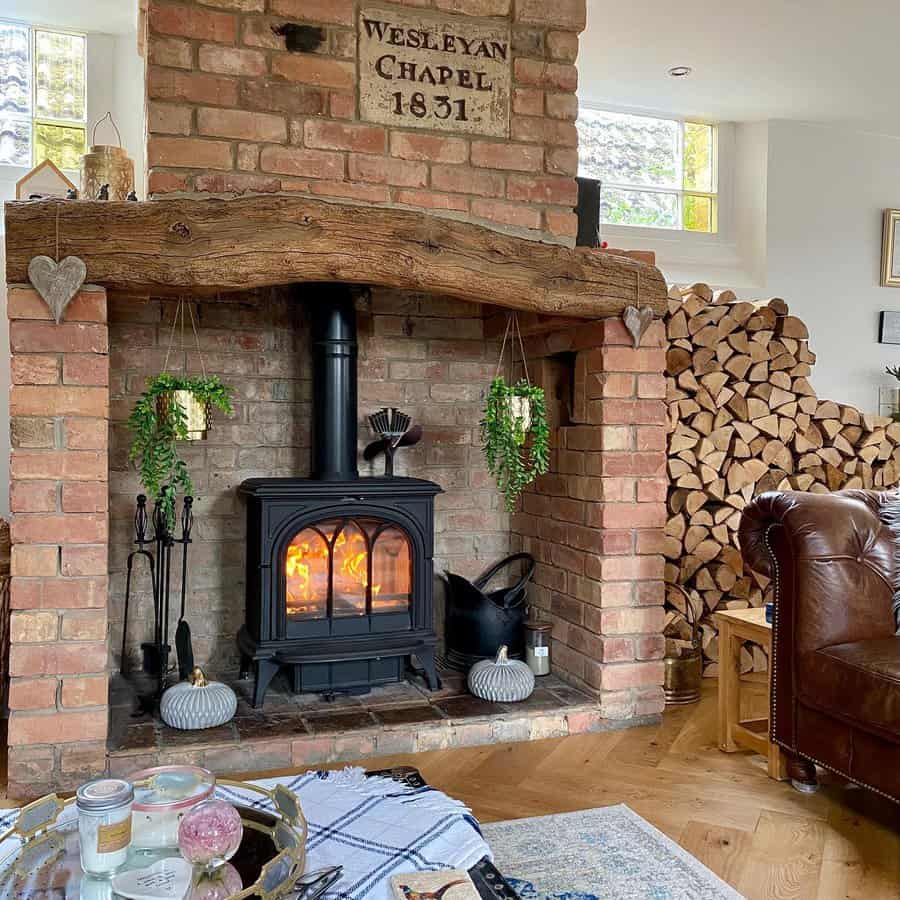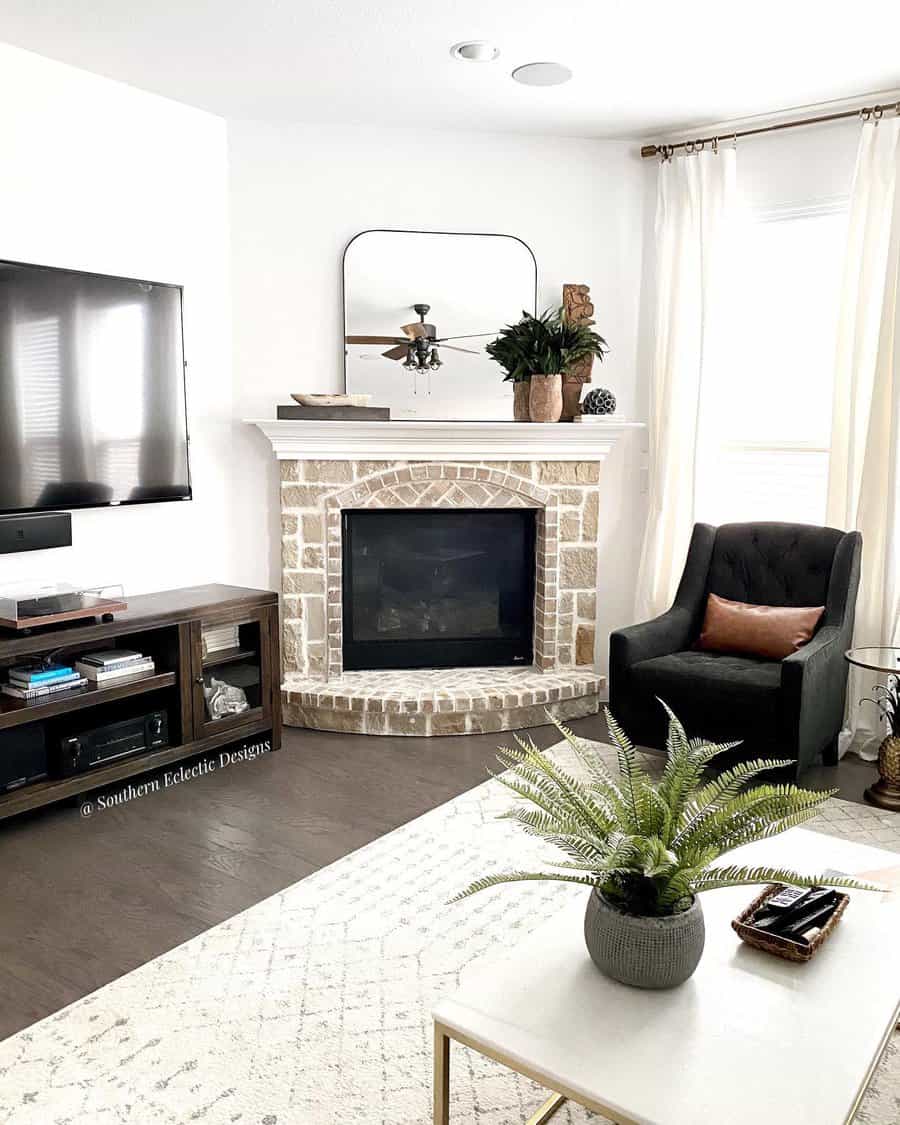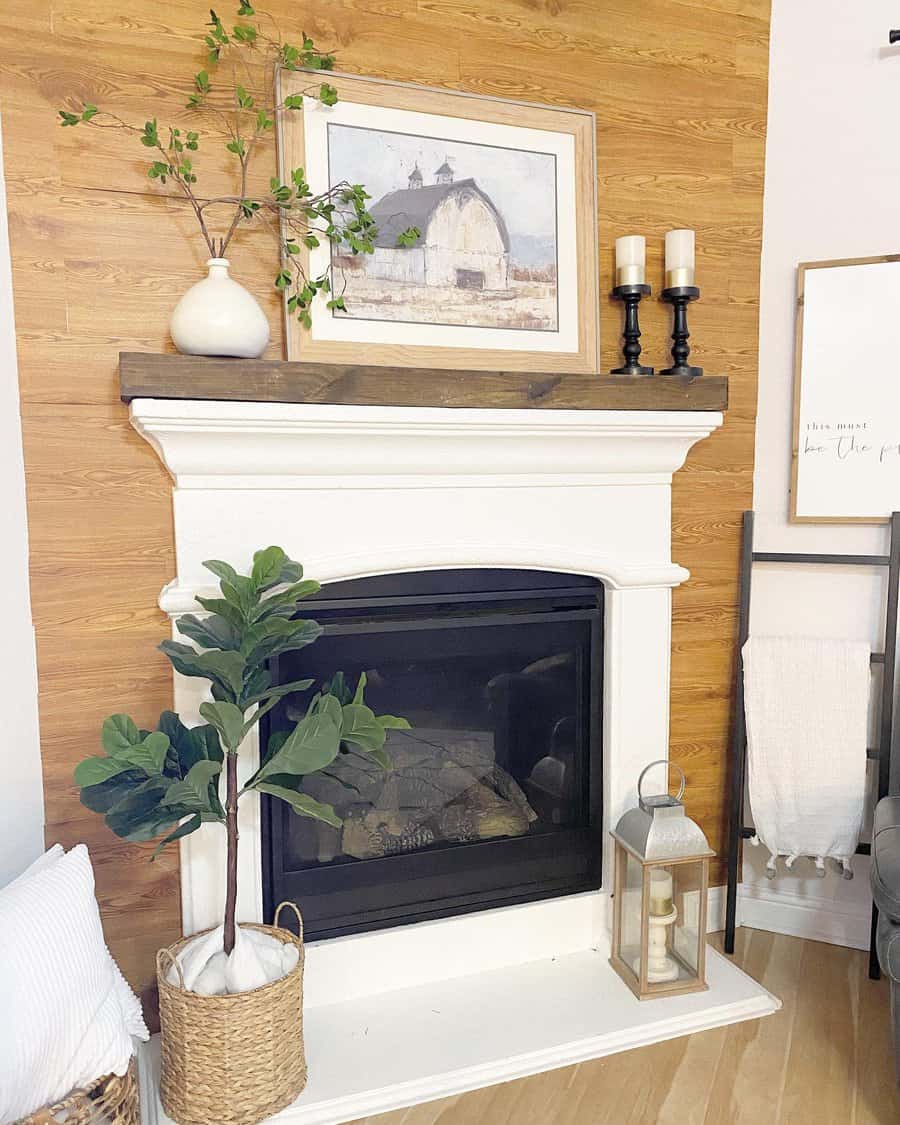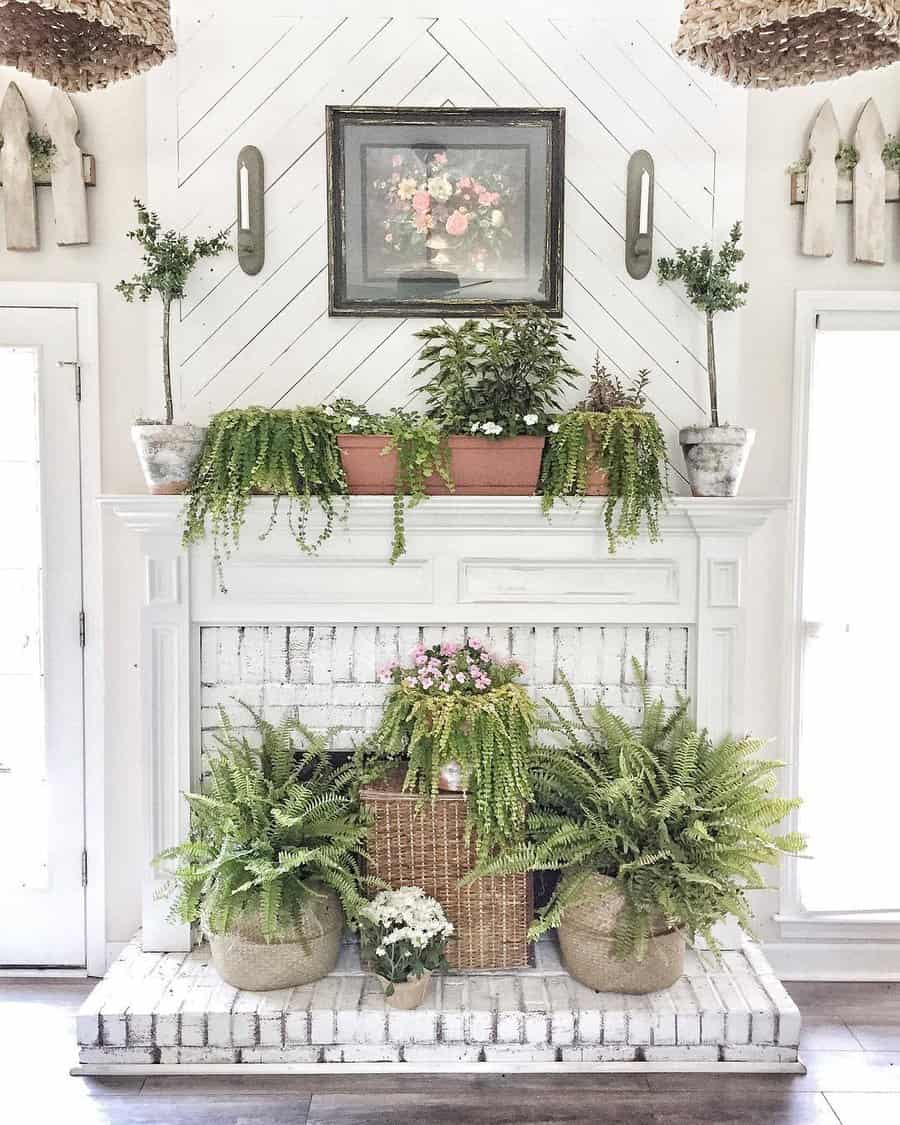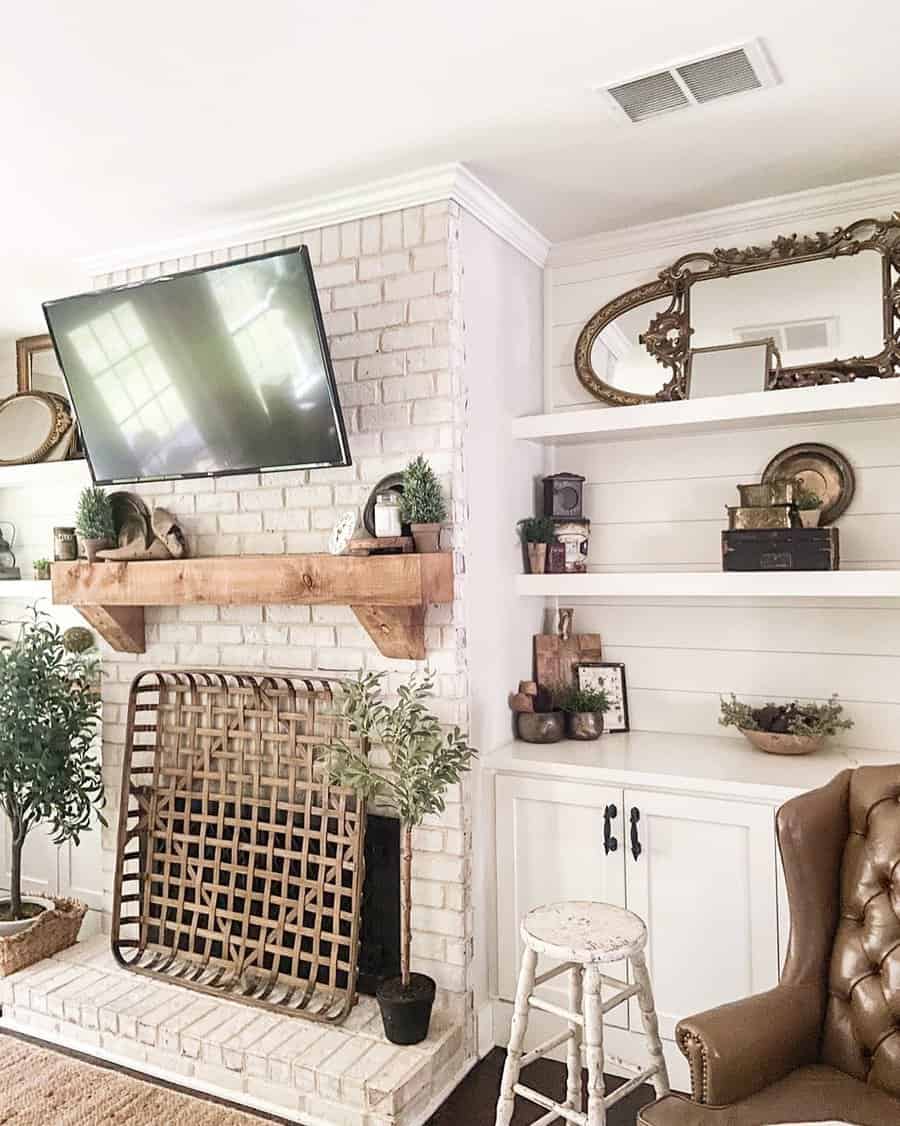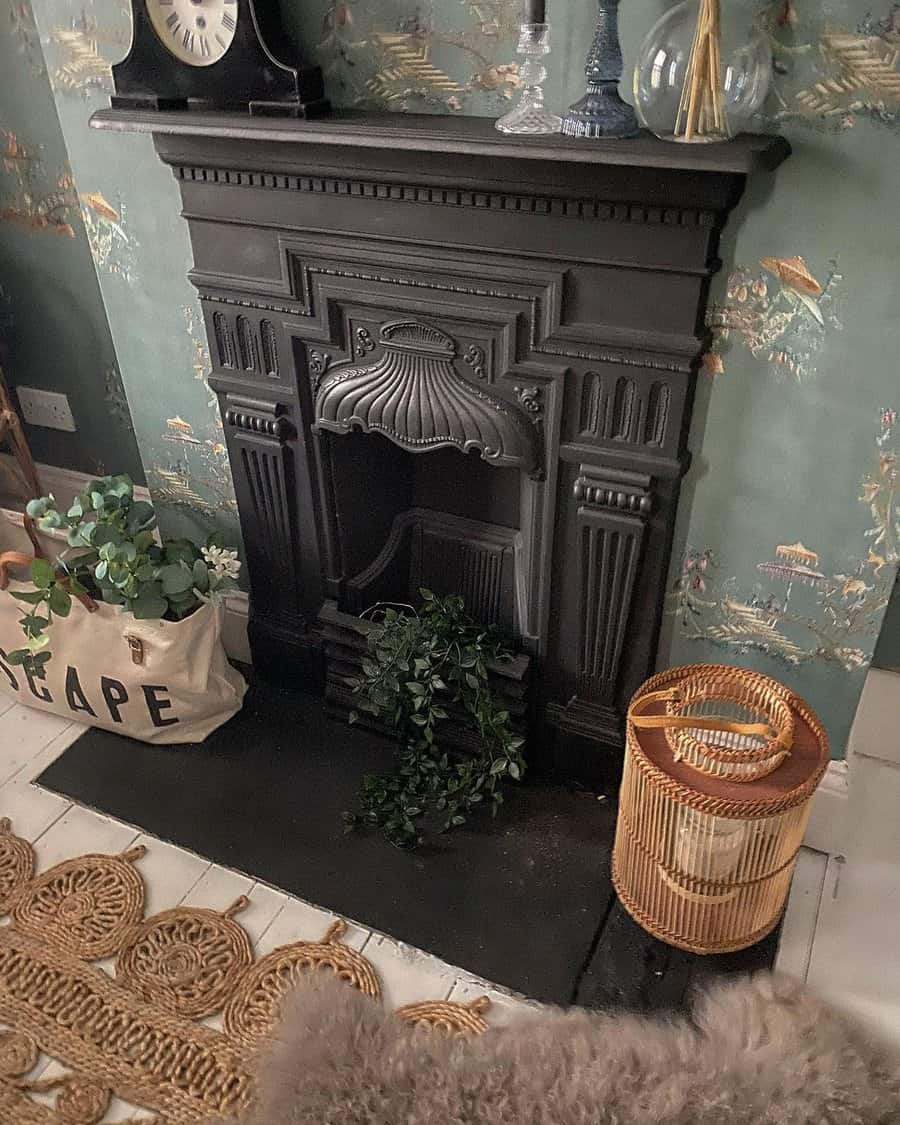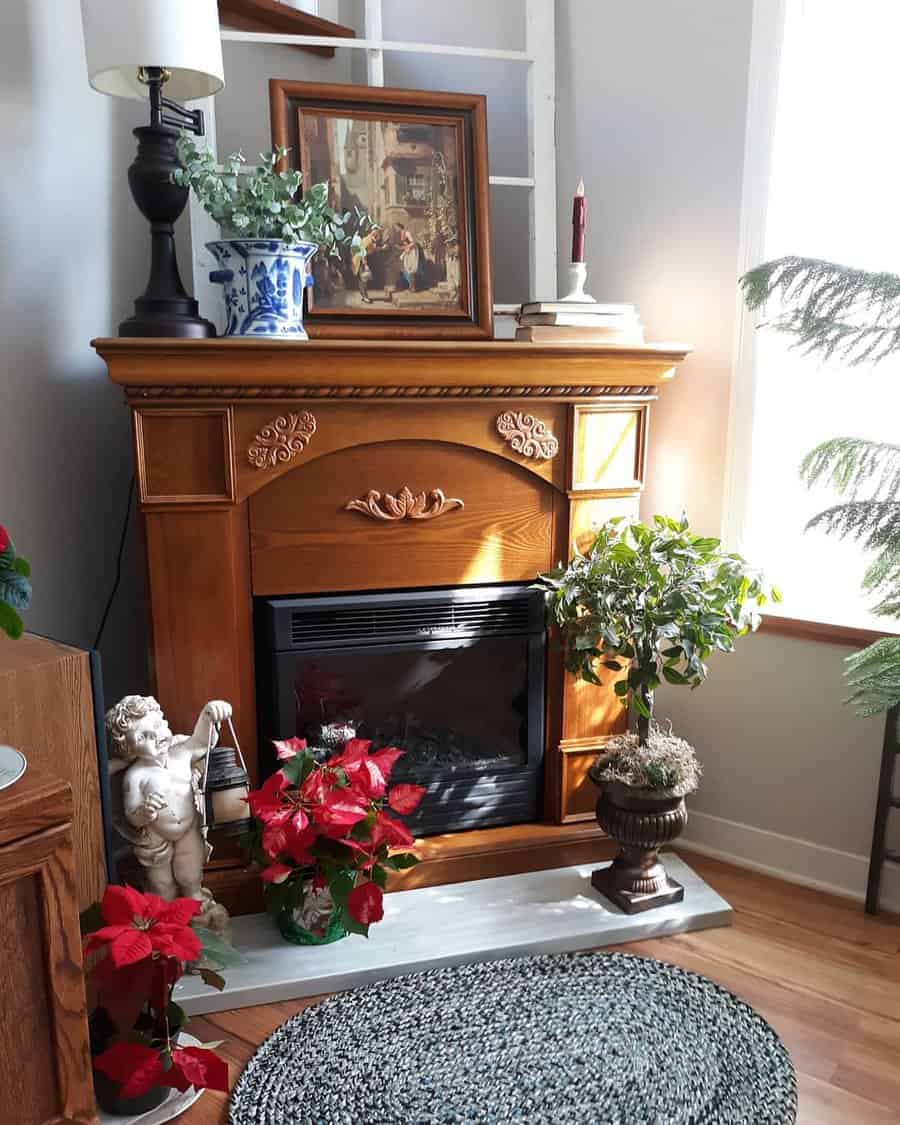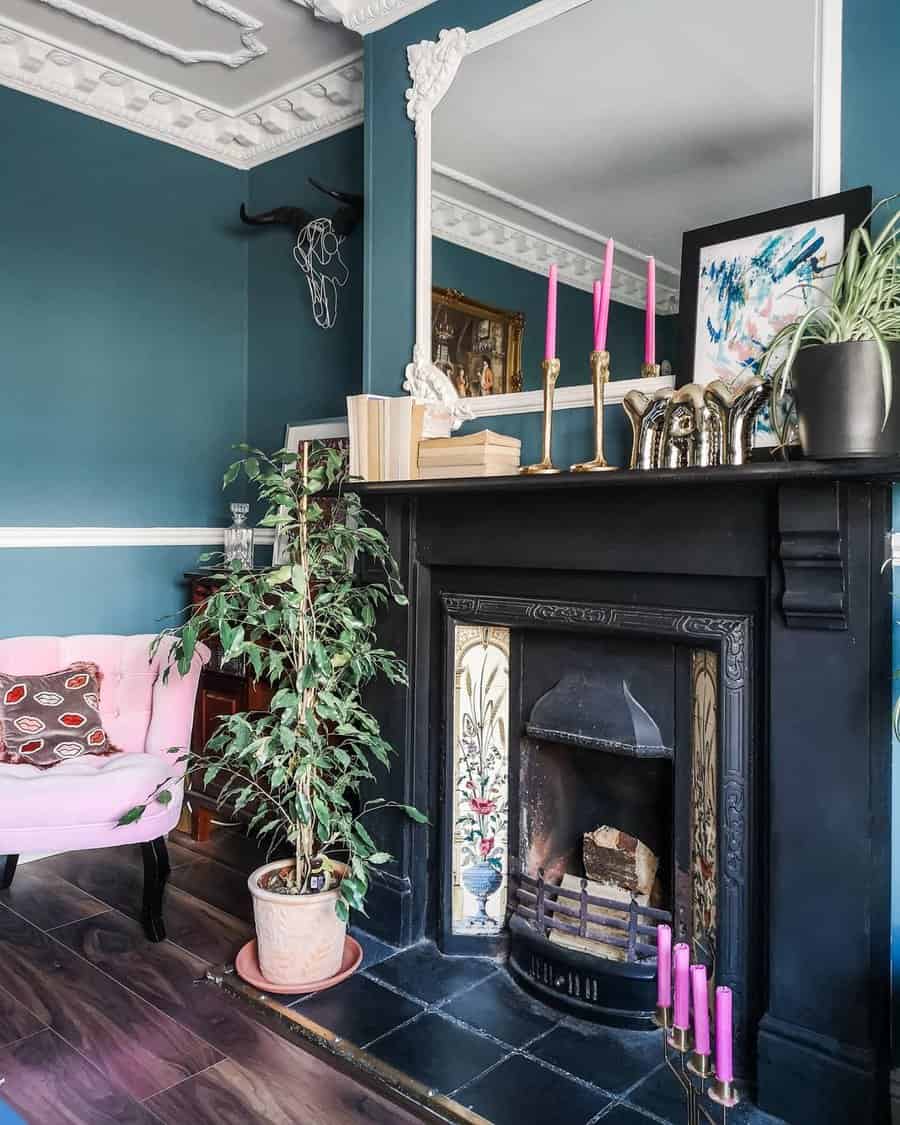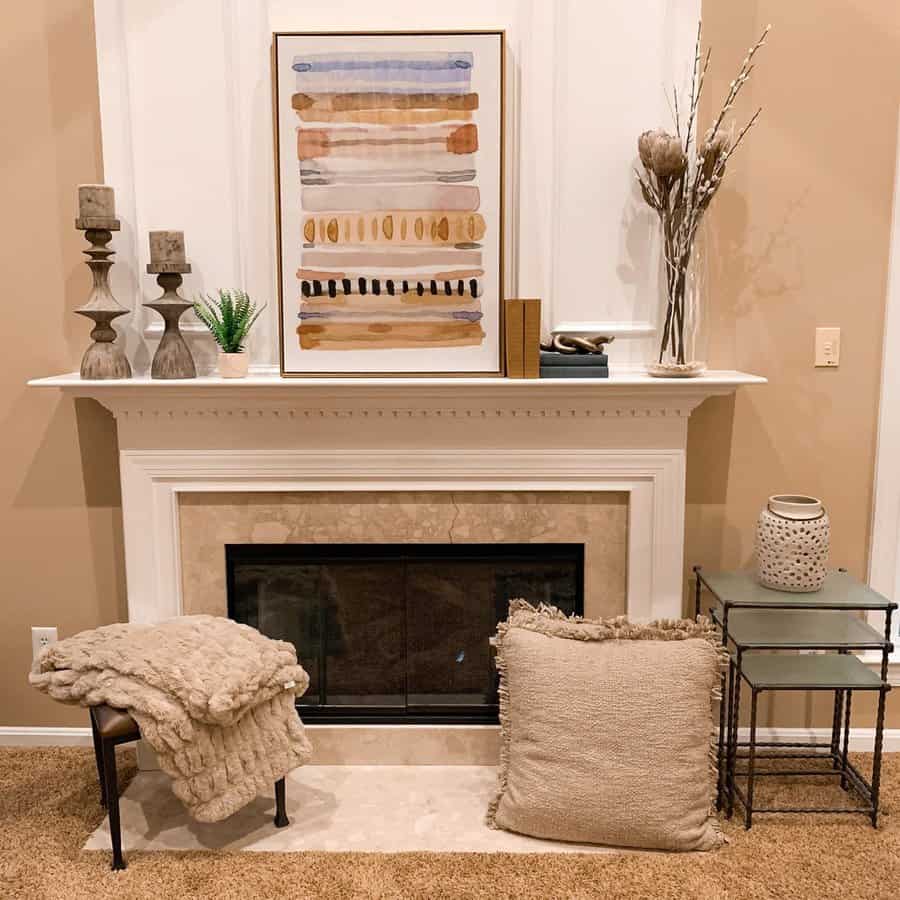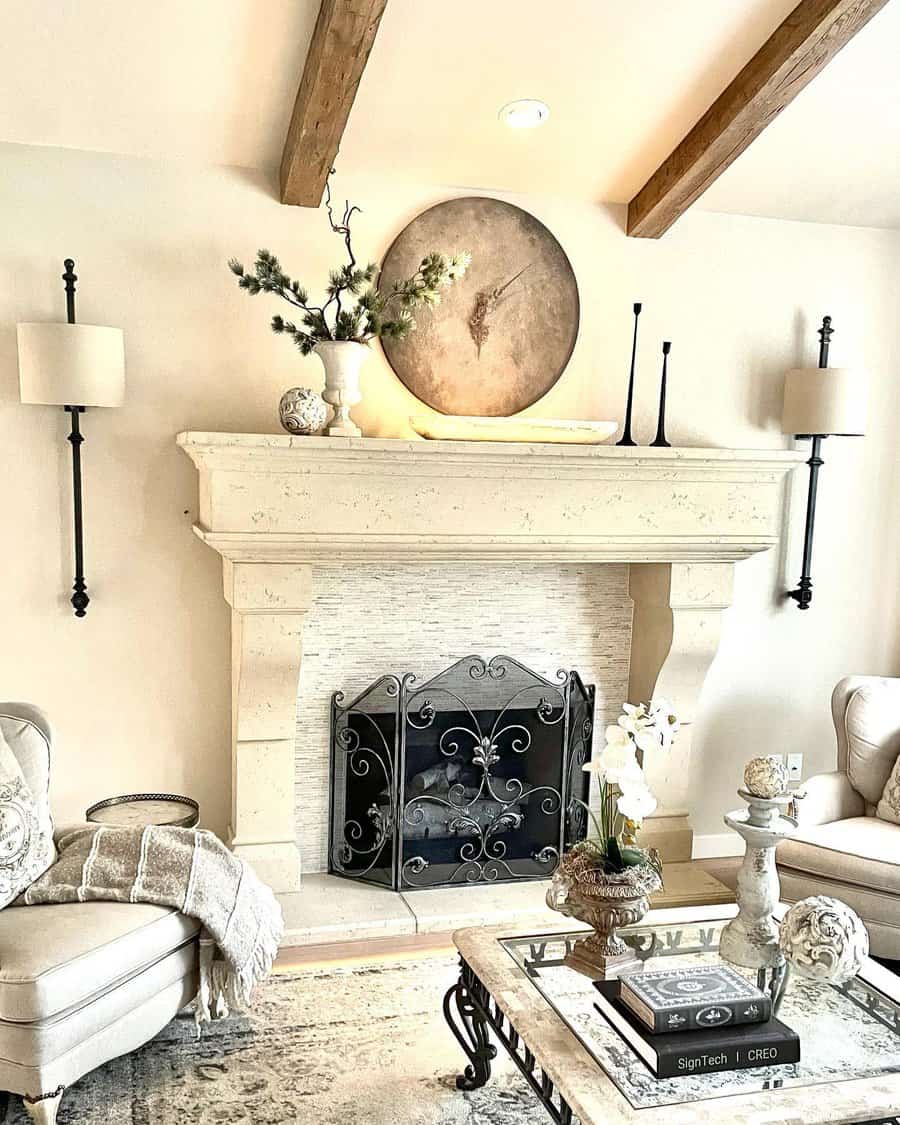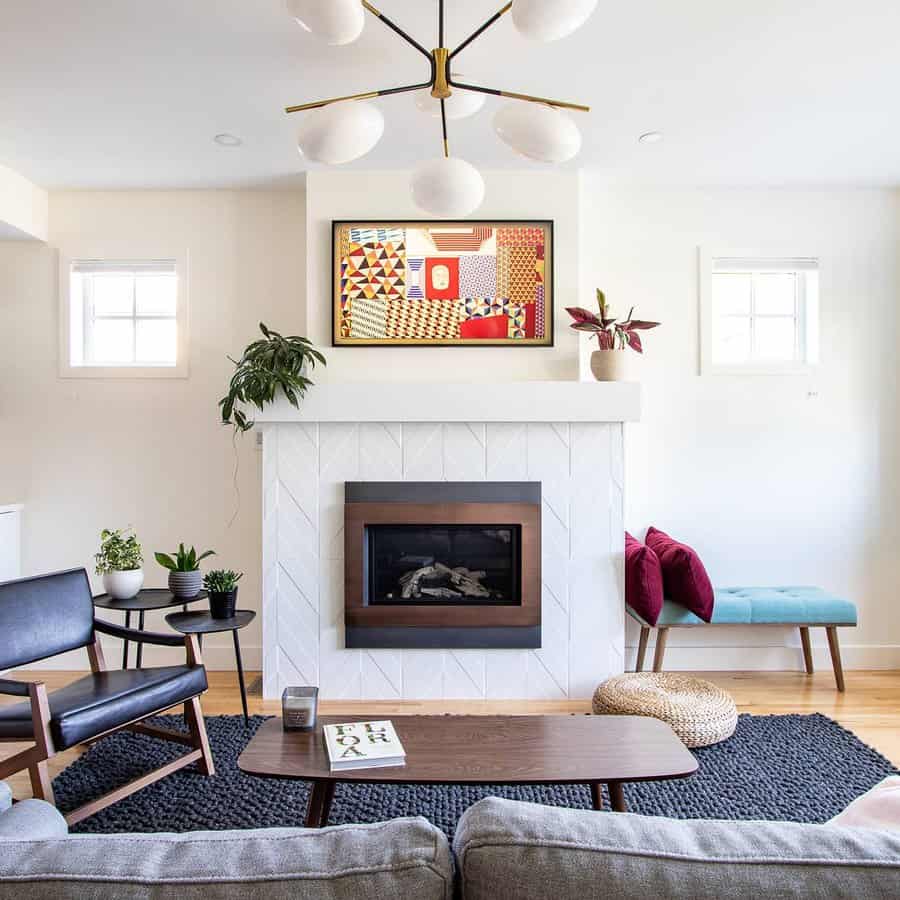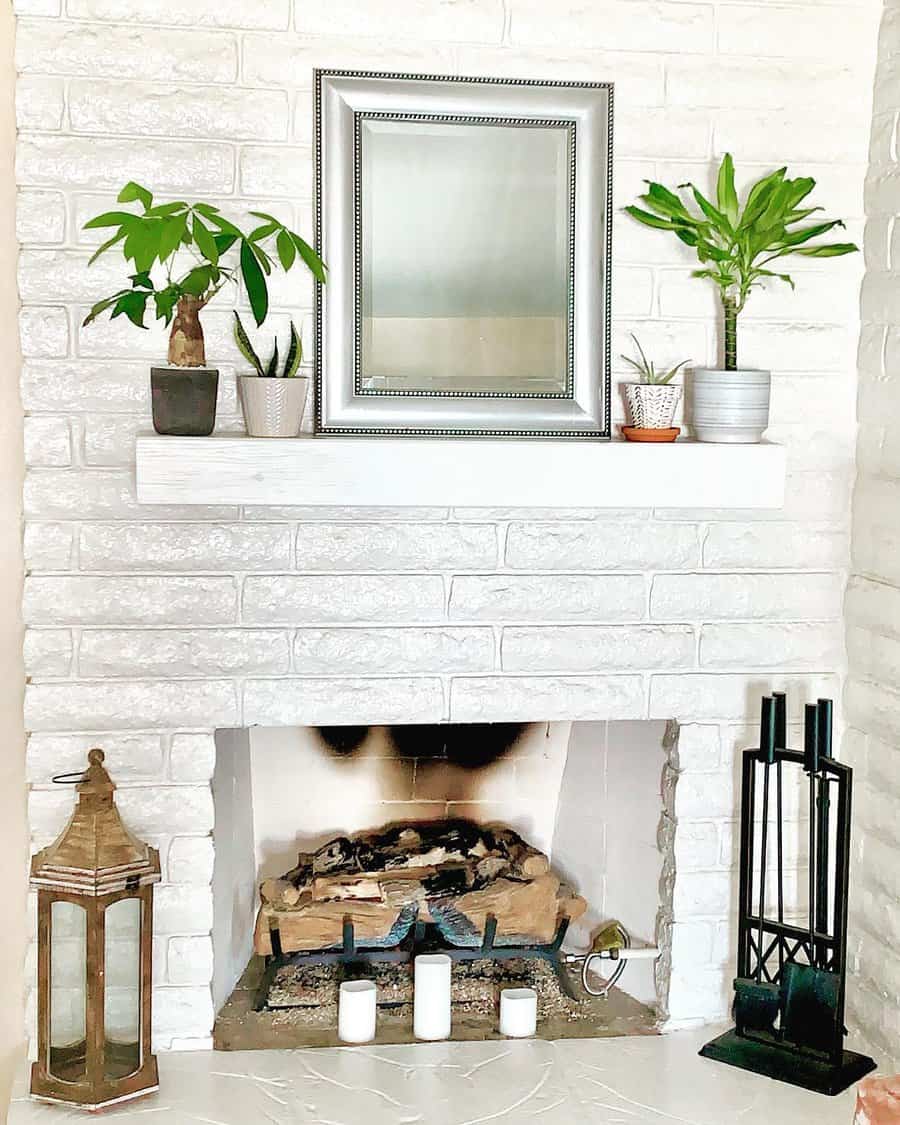 9. Express Yourself through Typography Art
Infuse your fireplace area with a sense of identity and inspiration by incorporating framed quotes or typography pieces. These expressive additions not only serve as a focal point but also spark engaging conversations. Select quotes, phrases, or song lyrics that hold personal meaning and align with your style and beliefs.
Choose frames that harmonize with your decor, whether it leans toward modern minimalism or rustic eclecticism. Typography art combines the warmth of the fireplace with the power of words, injecting depth and character into your living room. Transform it into a cozy and welcoming sanctuary where meaningful memories are created and conversations flow freely.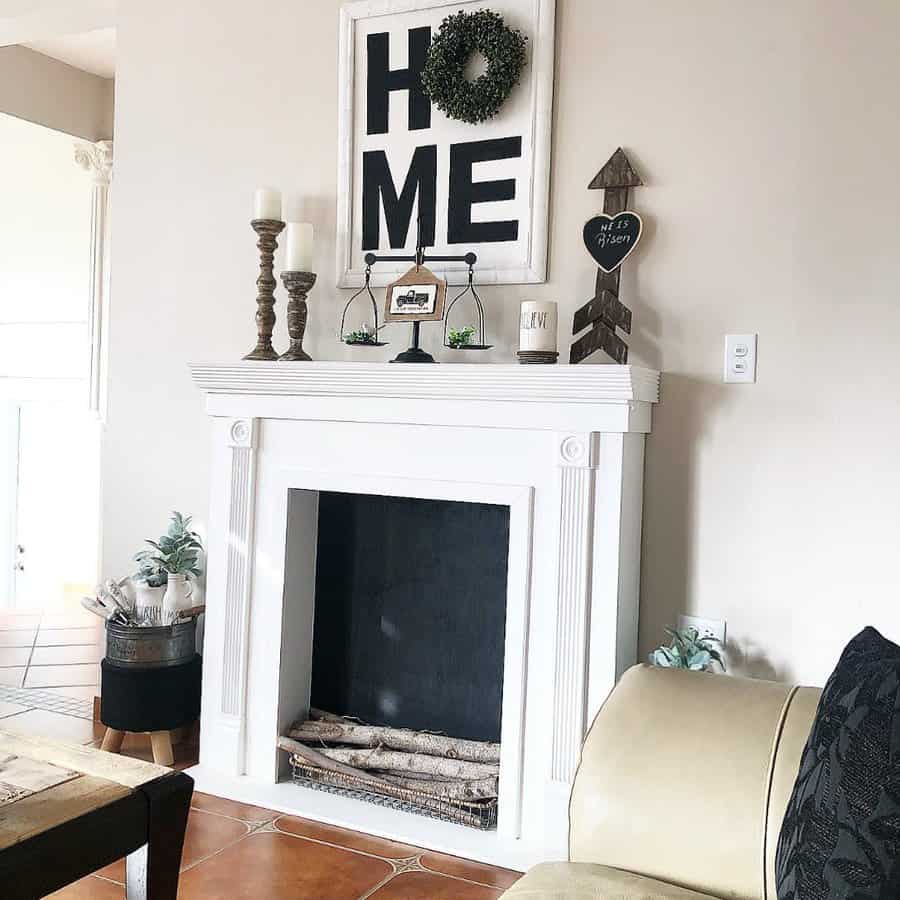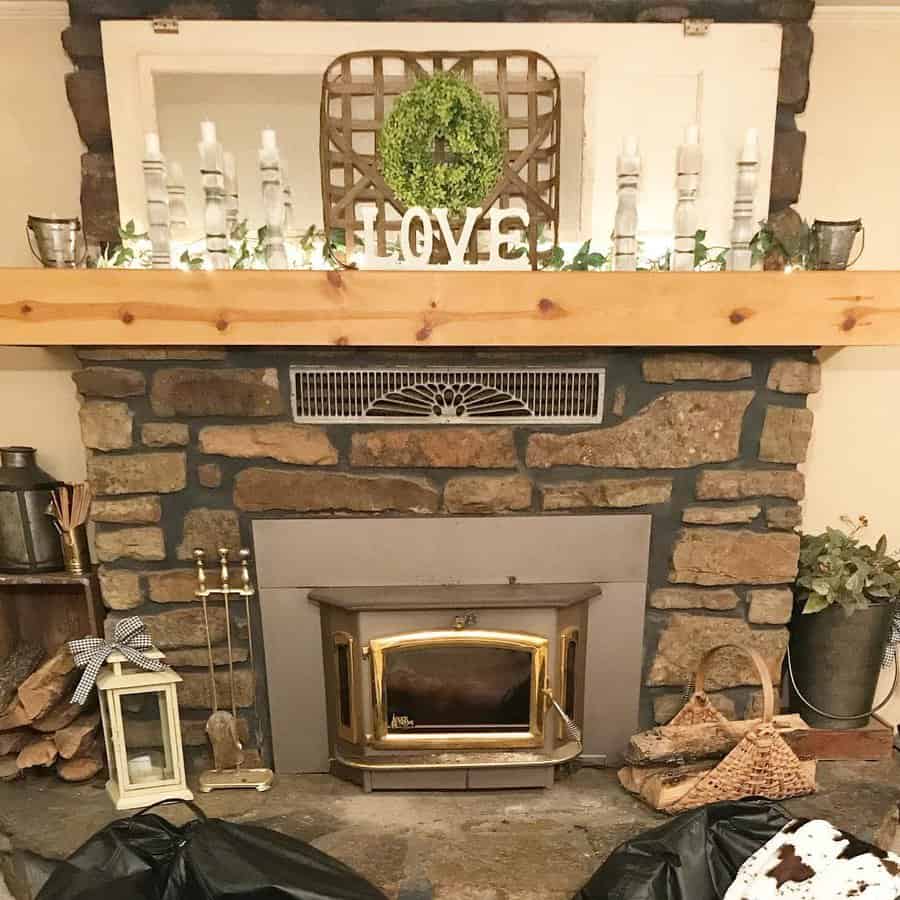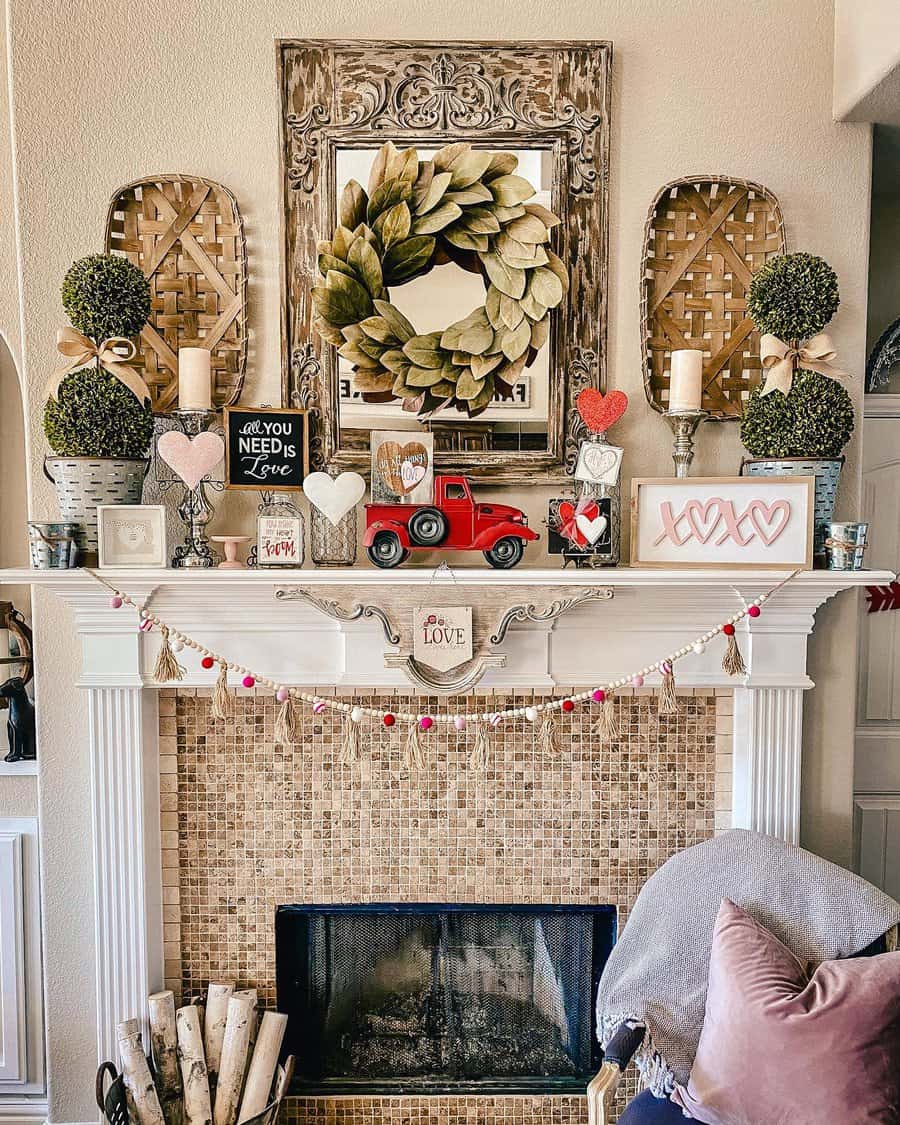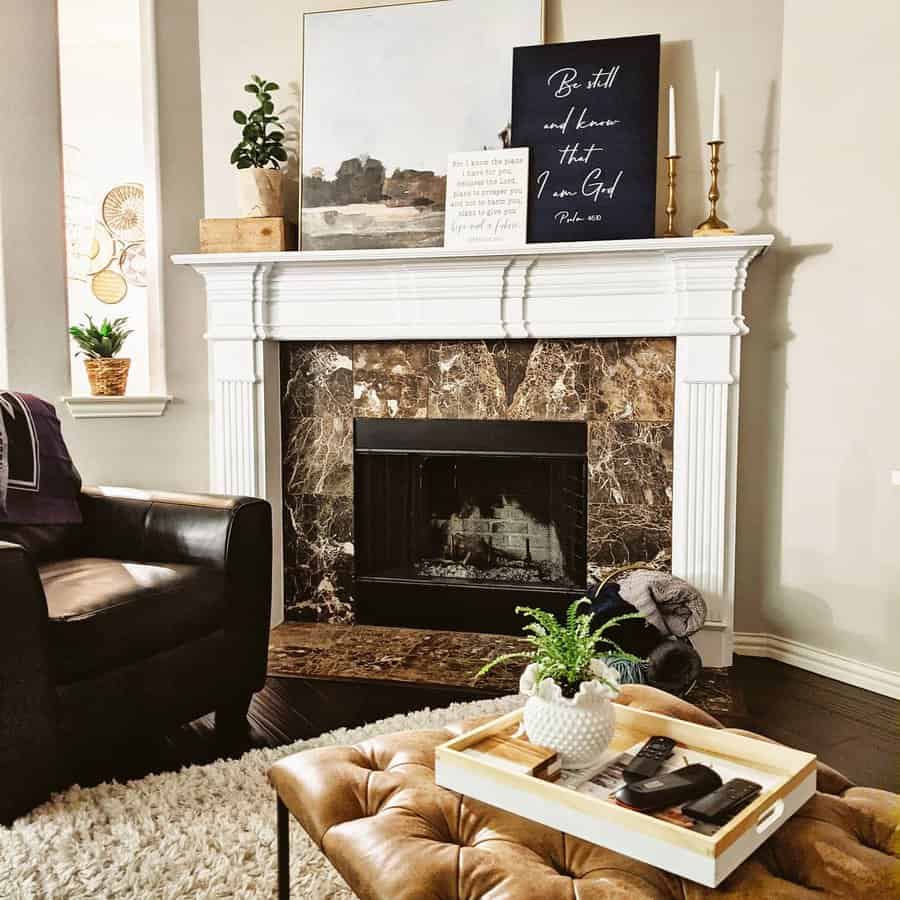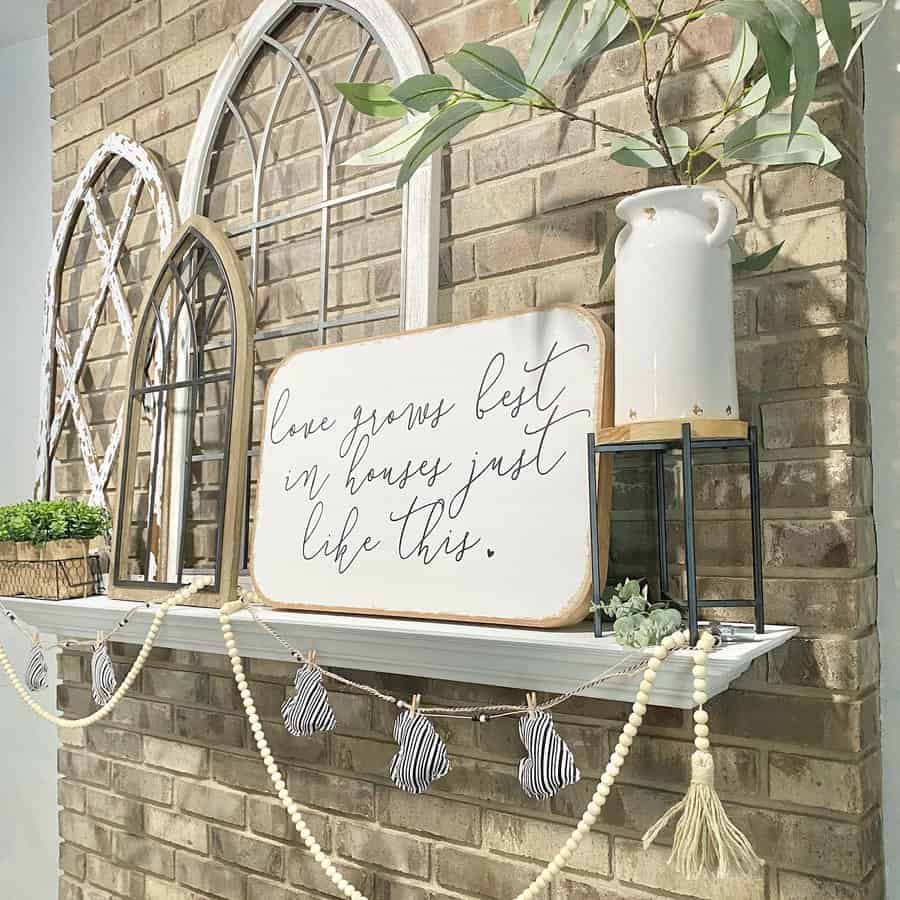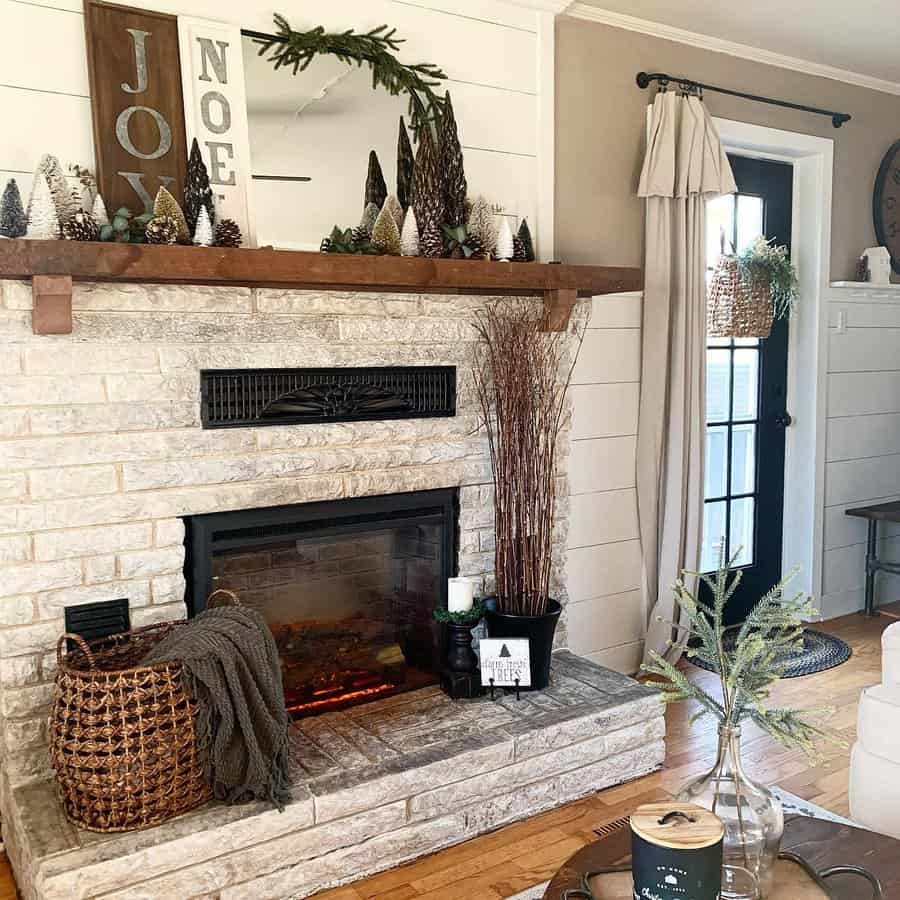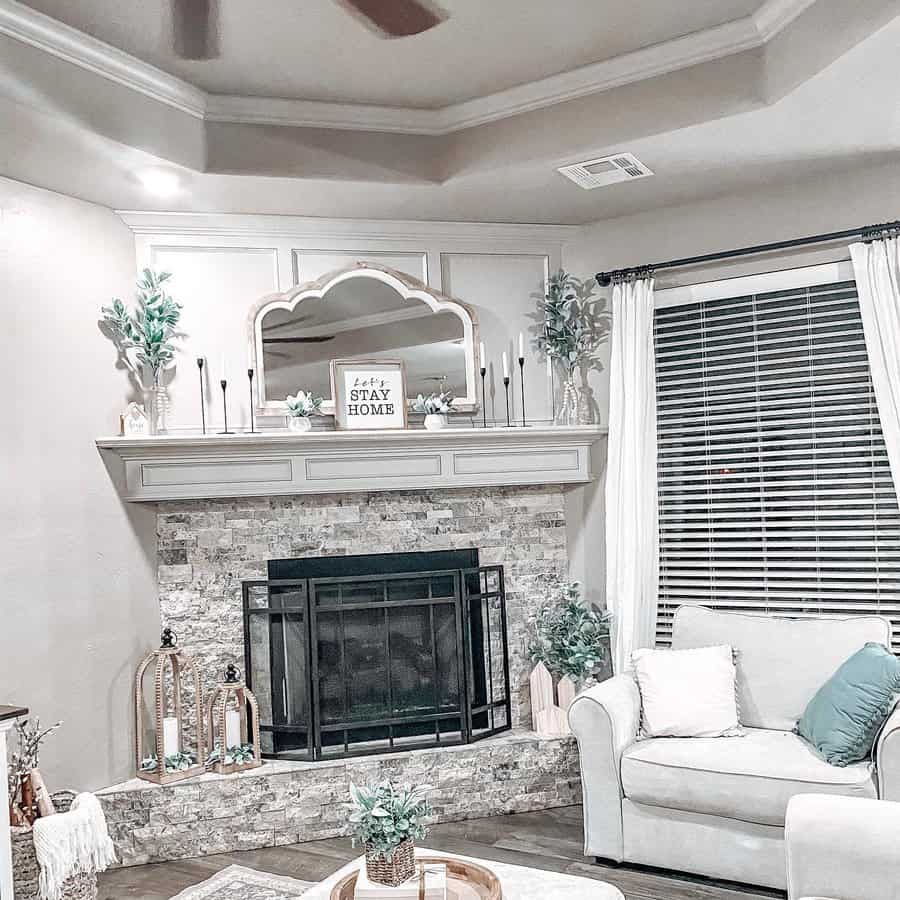 10. Shine Bright with Metallic Decor
Elevate your living room's ambiance by embracing the allure of metallic accents in your fireplace decor. Install a captivating metallic mirror above the fireplace to introduce a touch of glamour and sophistication. Its reflective surface not only enhances the room's visual appeal but also imparts depth and luminosity.
Enhance this effect by incorporating exquisite metallic candle holders that cast a warm, flickering glow, setting the stage for cozy evenings. Elevate the overall aesthetic by integrating other metallic decor elements like vases, sculptures, or picture frames, infusing an opulent touch and establishing a cohesive design theme throughout your living space.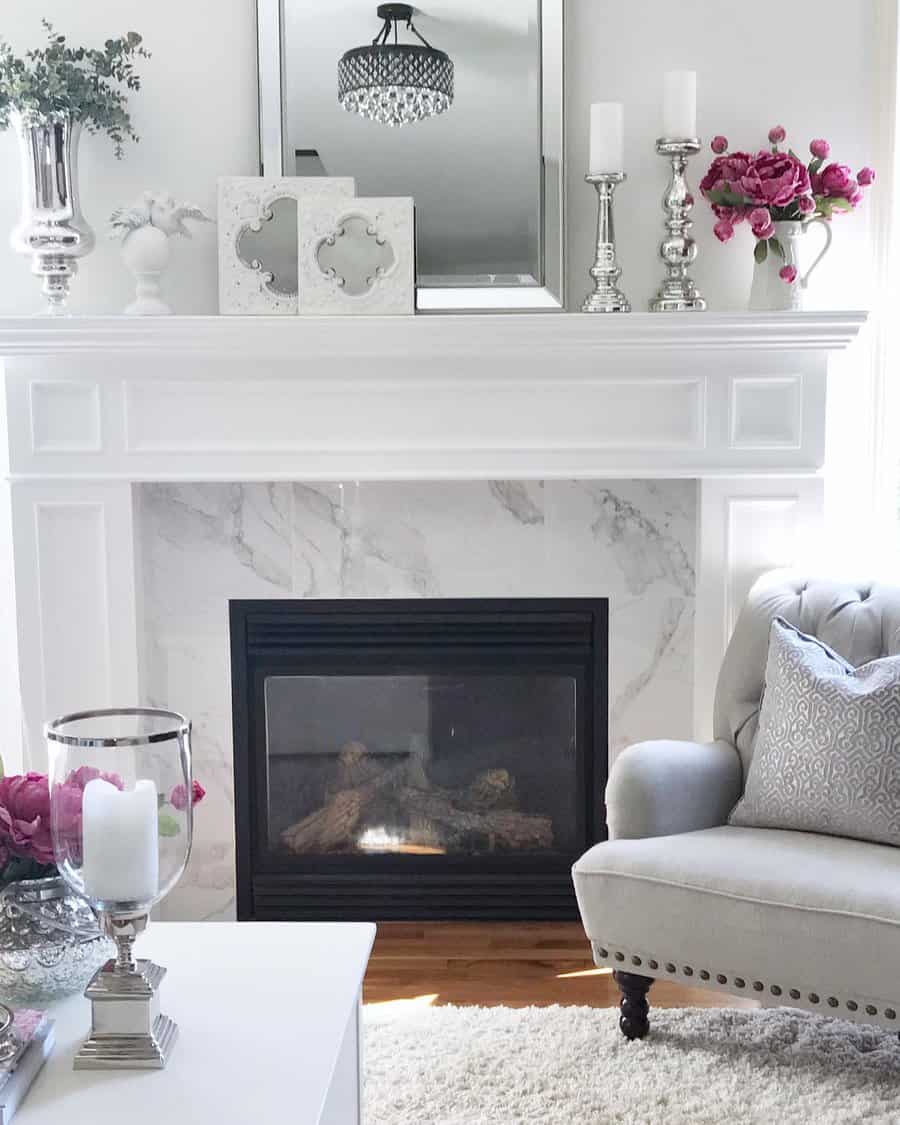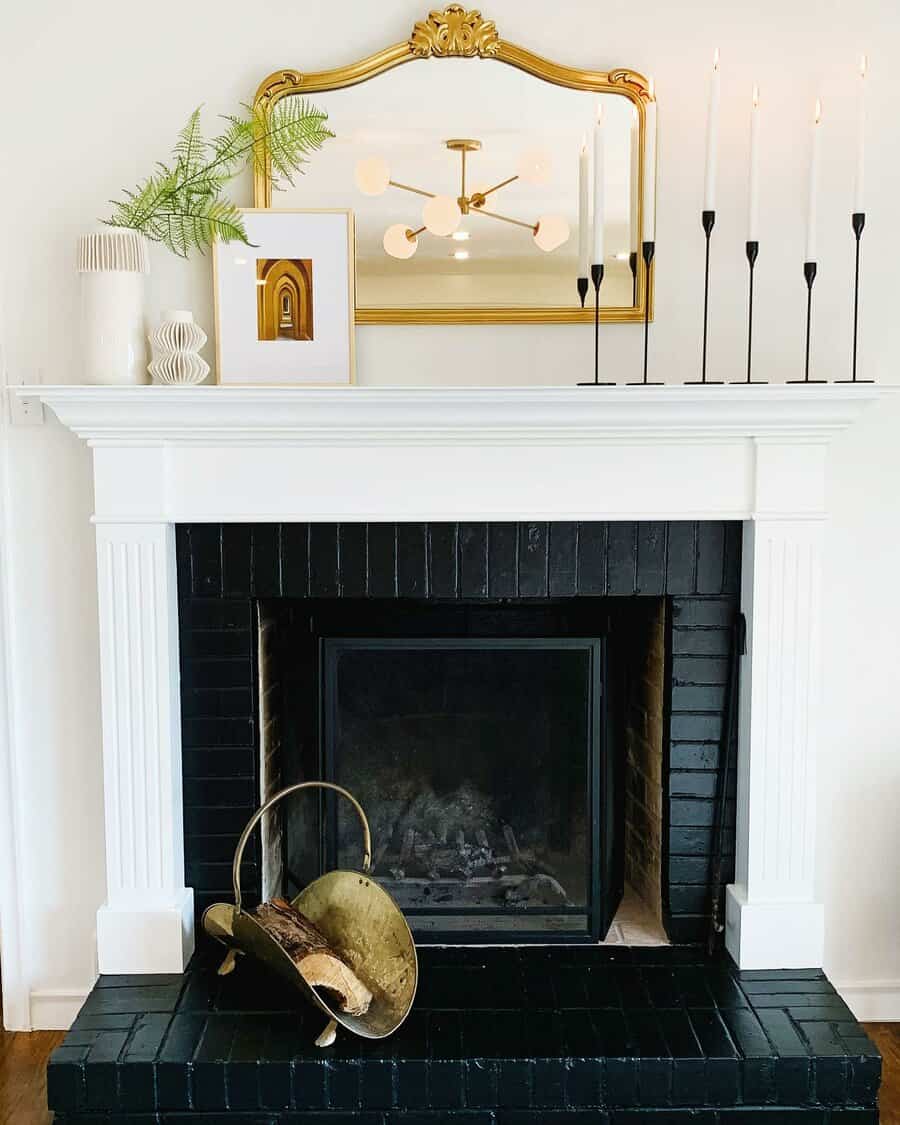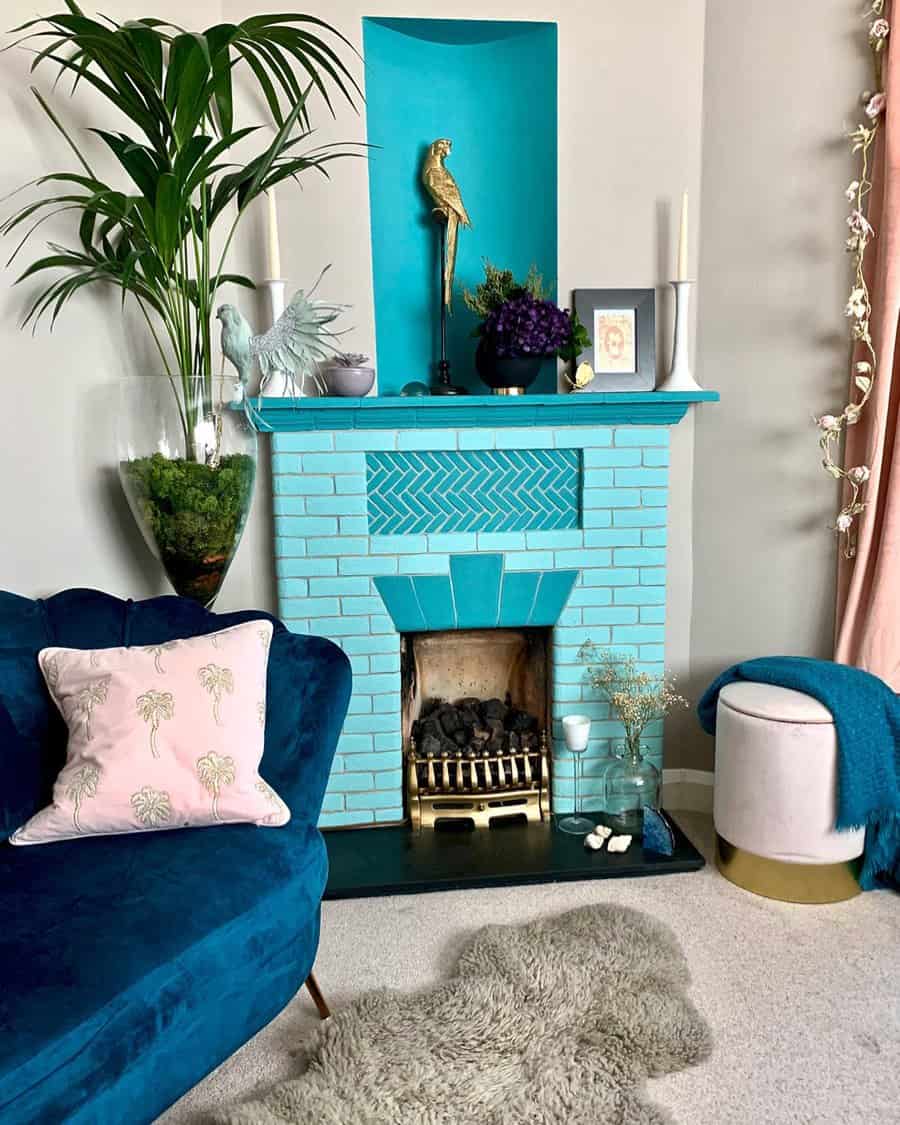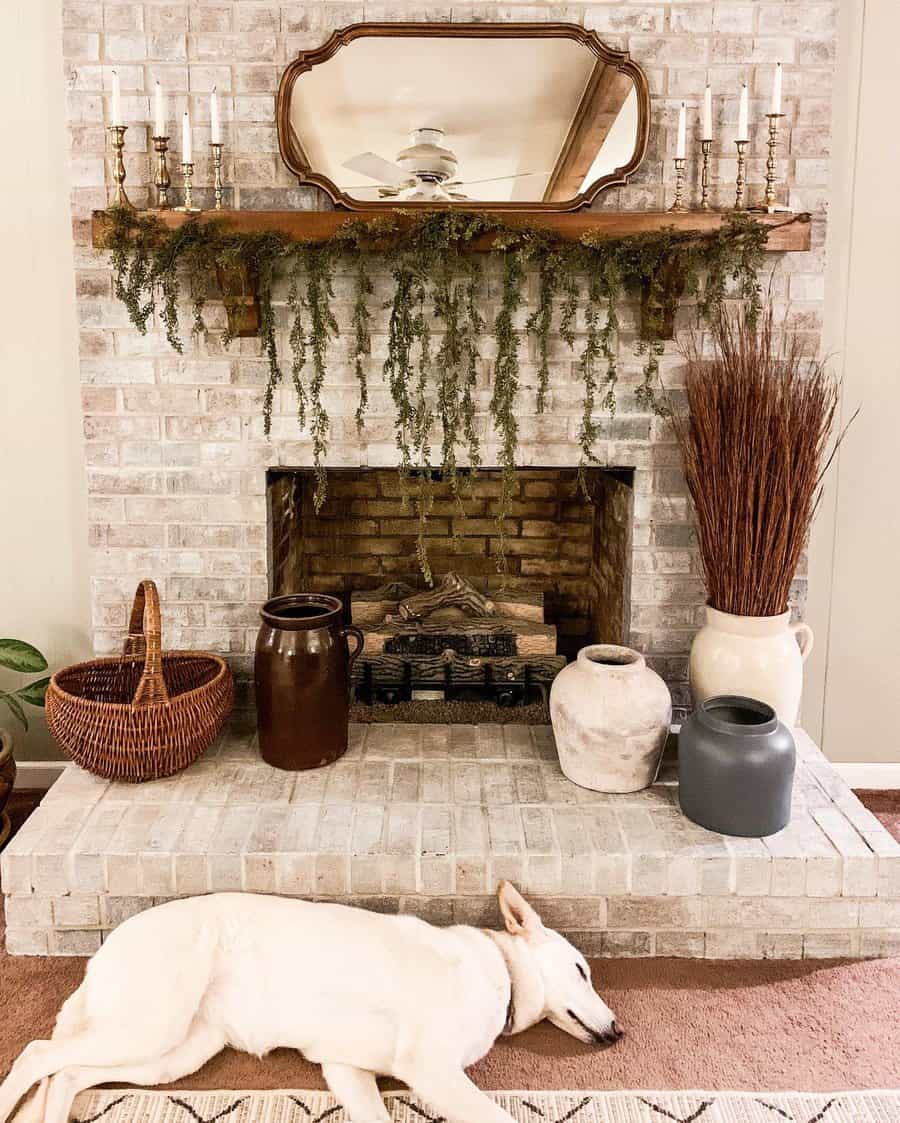 11. Beautify with Arranged Artificial Garlands
Elevate your fireplace decor with carefully arranged artificial garlands, whether they're lush and green or adorned with vibrant flowers. The key lies in arranging them to capture attention and harmonize with your overall aesthetic. Get imaginative by incorporating elements like pinecones, ornaments, or fairy lights to add layers and visual intrigue to the garland.
Experiment with textures and colors to craft a distinctive look that resonates with your style. Extend the garland along the mantel's length or drape it gracefully across the fireplace opening for a unified and enchanting presentation. The versatility of artificial garlands allows you to adapt their theme or color scheme to match the season or your current mood, making them a versatile and chic choice for your fireplace decor.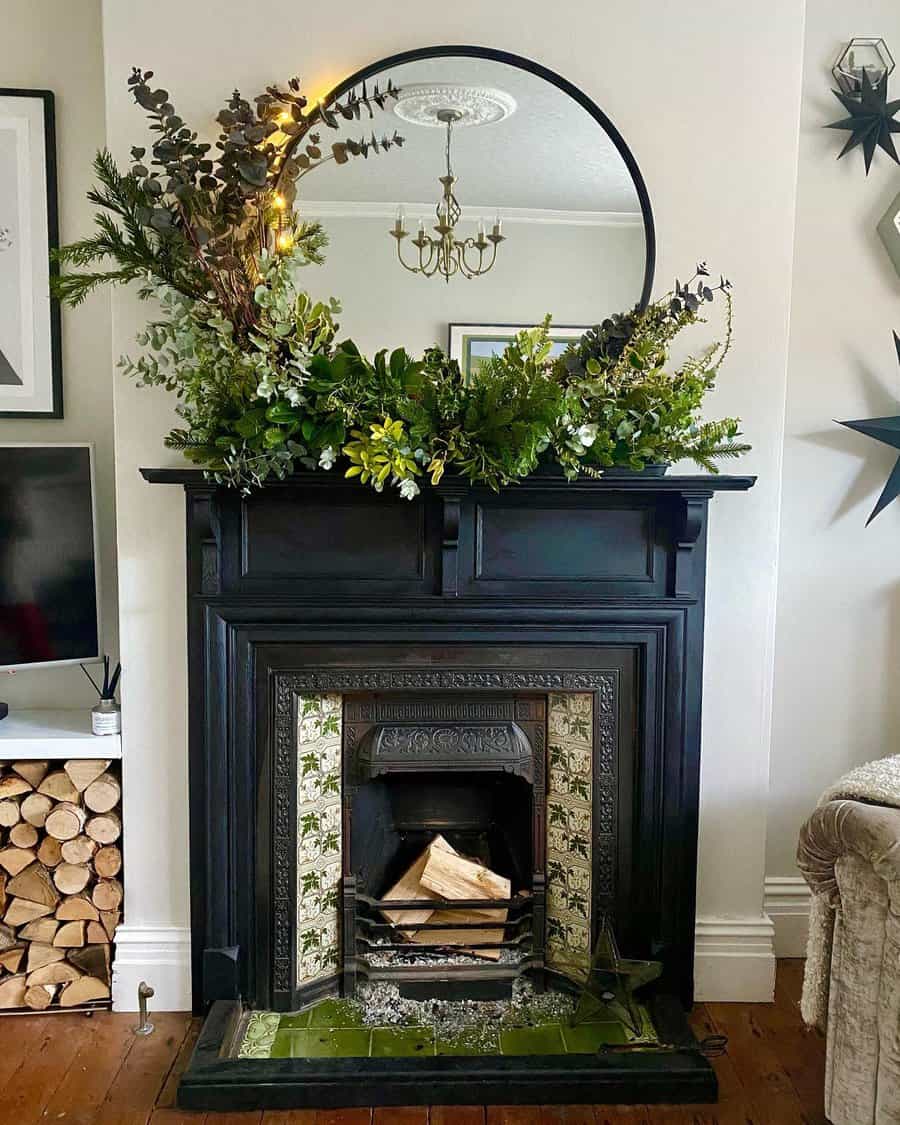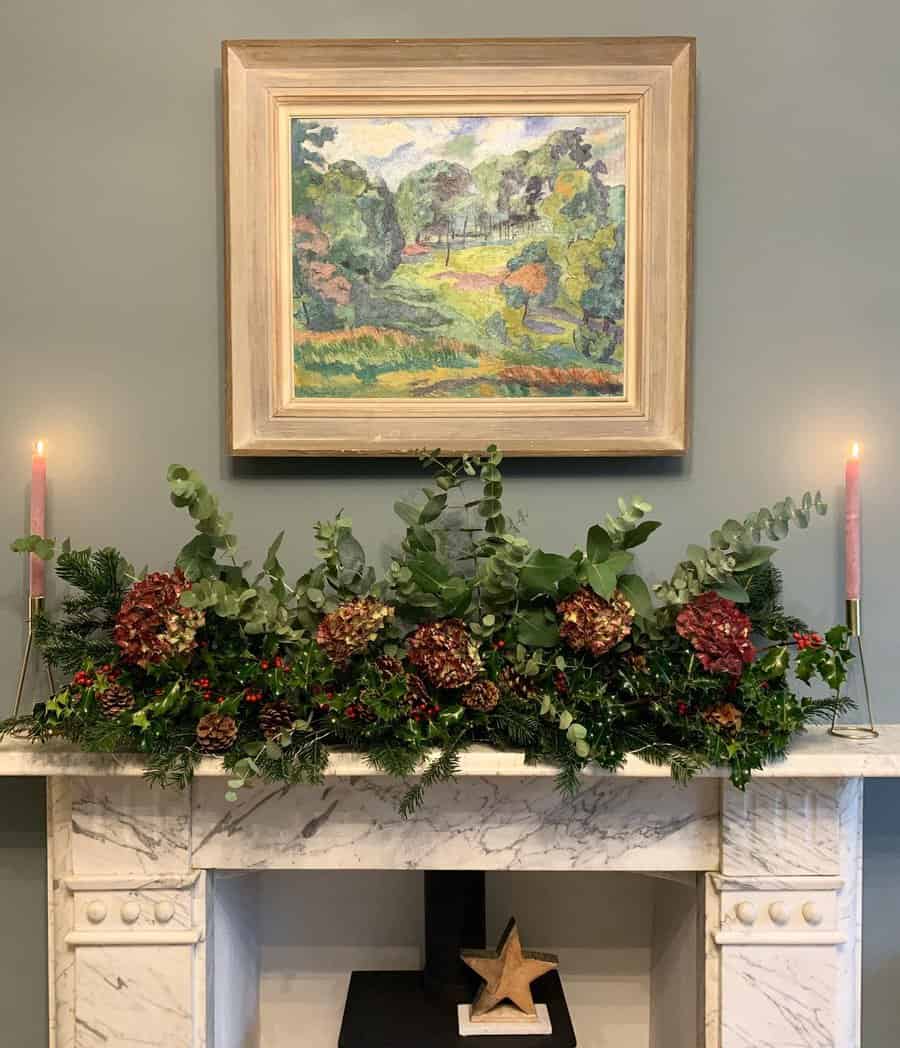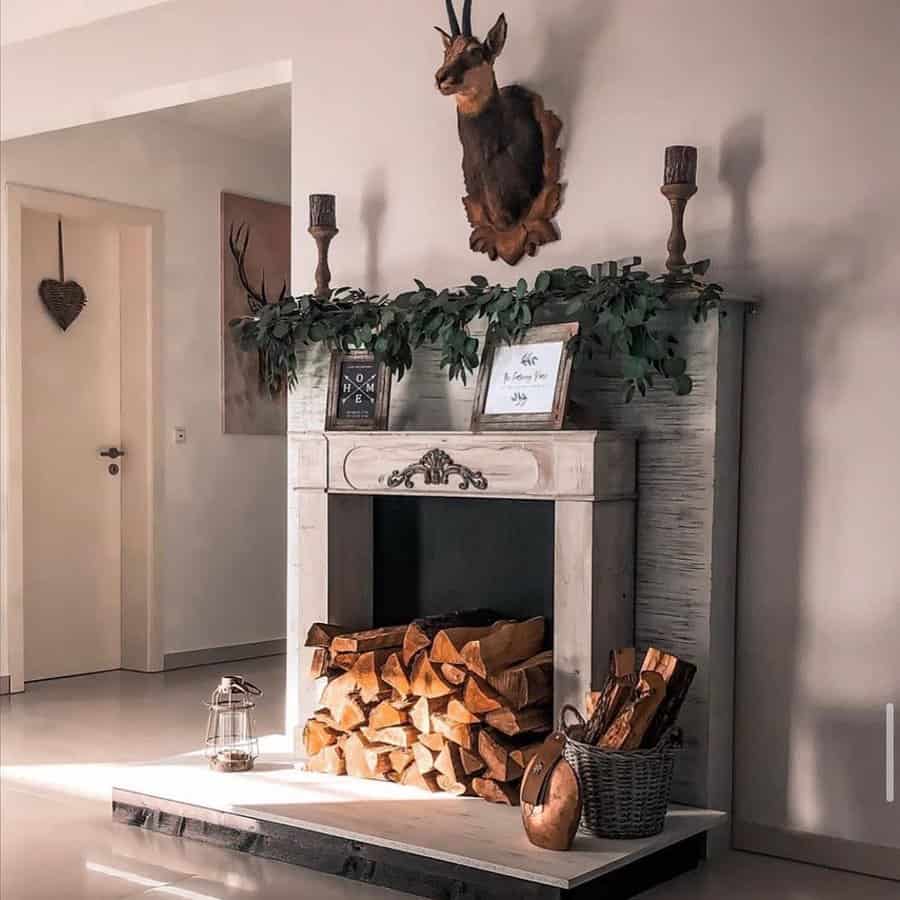 12. Share Memories in a Picture Gallery
Elevate the space above your fireplace by adorning it with an eclectic and sophisticated picture gallery. Select an array of frame styles, sizes, and finishes to craft a visually engaging display. Infuse sentimental charm into your living space by incorporating family photos, artwork, or vintage postcards.
Experiment with diverse arrangements, whether overlapping frames or organizing them in symmetrical or asymmetrical patterns, to achieve a unique and dynamic presentation. By transforming your fireplace into a captivating picture gallery, you not only enhance the room's focal point but also showcase your personal style, creating a warm and inviting atmosphere rich with cherished memories.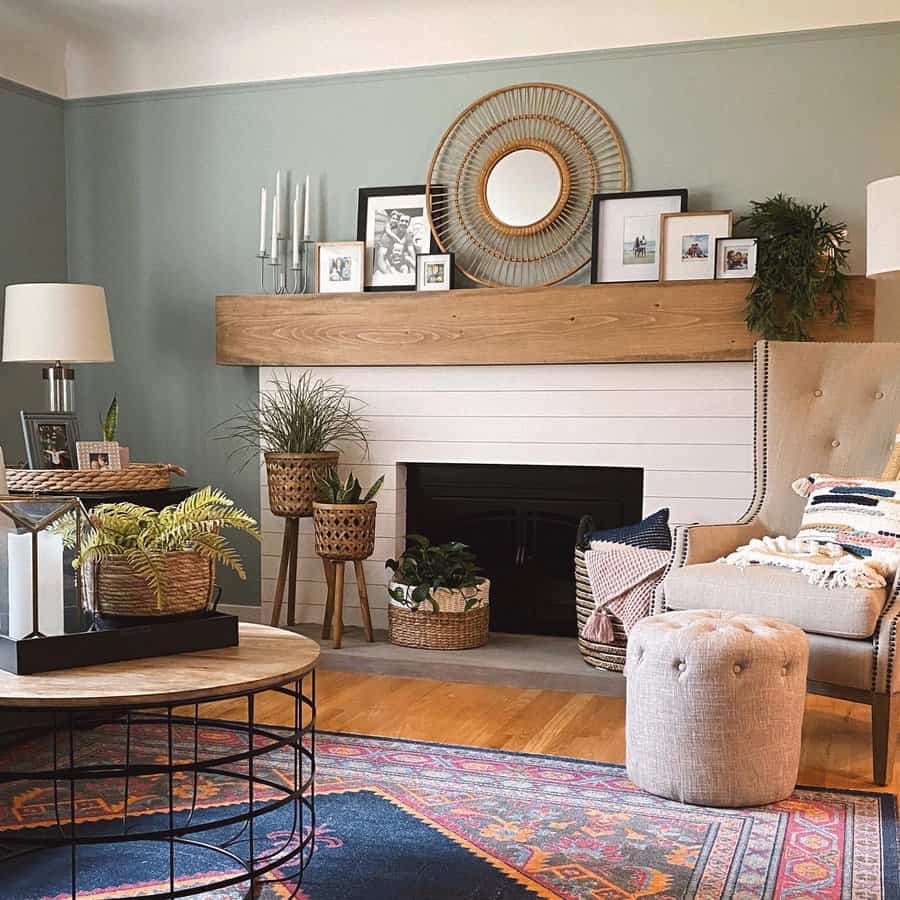 13. Adorn with a Seasonal Fireplace Wreath
Add a touch of natural beauty to your fireplace decor with a seasonal wreath—a simple yet elegant idea that commands attention. Opt for wreaths crafted from seasonal foliage like lush greenery or delicate flowers to infuse your space with a fresh and inviting atmosphere.
Choose a wreath design that aligns with your decor style, whether traditional or contemporary. To showcase it prominently, hang the wreath on the wall above your fireplace or mount it directly on the mantel. This wall-mounted display ensures your wreath becomes the focal point, enhancing the timeless charm of your fireplace.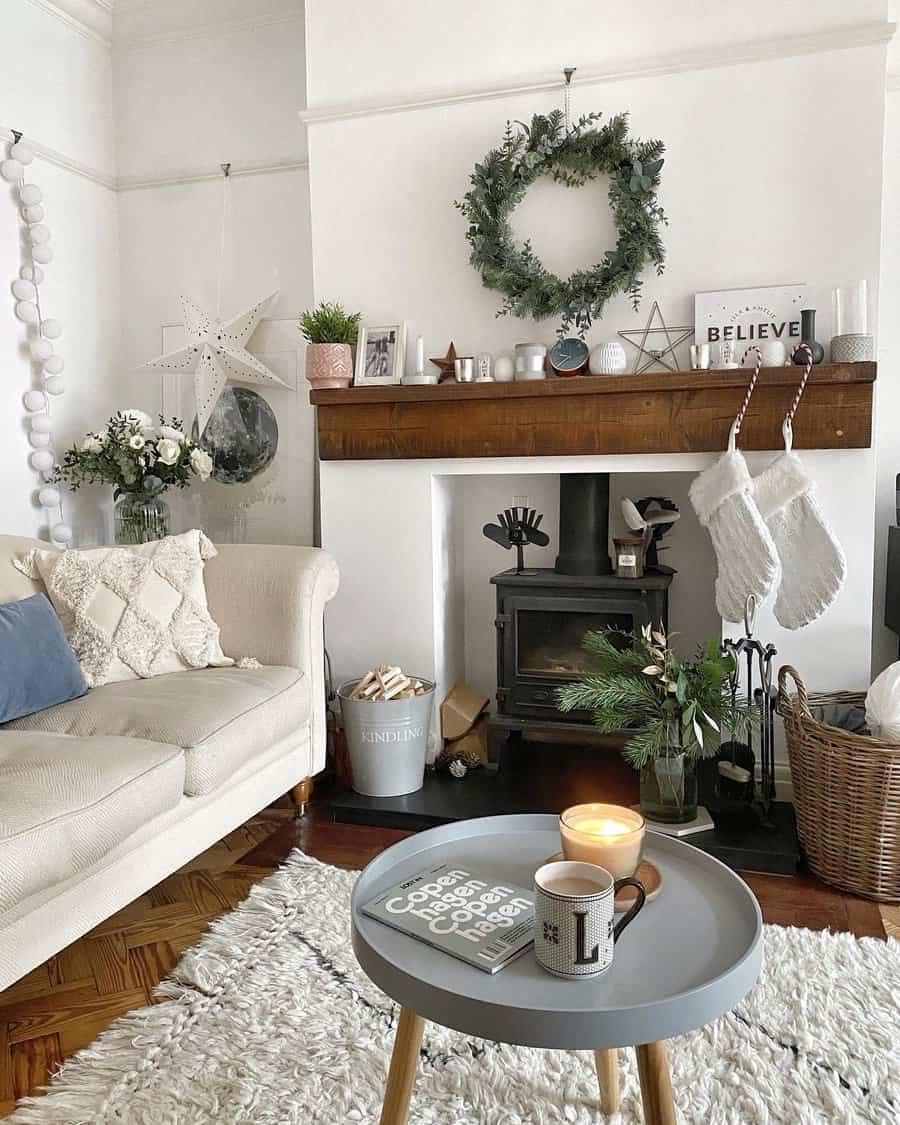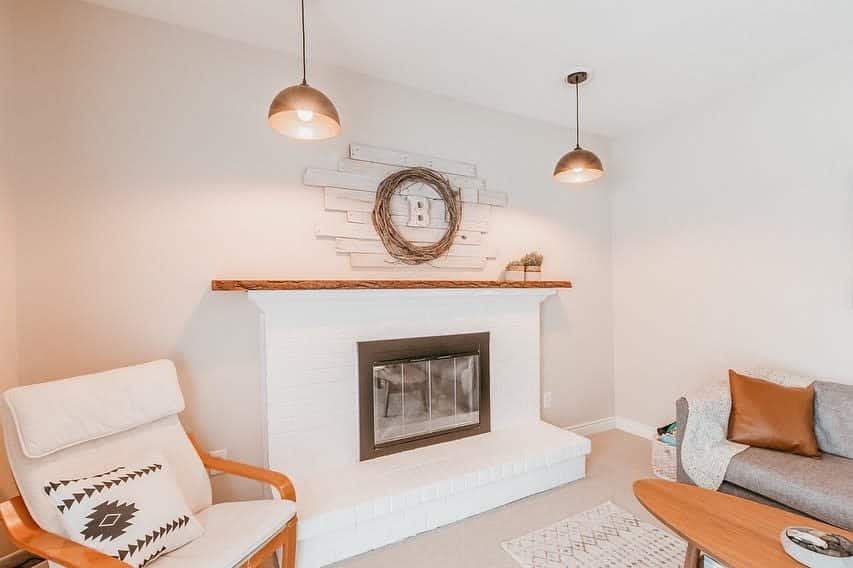 14. Make a Statement with Bull Horns
Inject personality and intrigue into your space with a unique and eye-catching piece—a beautifully crafted, wall-mounted bull horn ornament. This ornament, inspired by traditional design, captures attention with its intricate details and warm, earthy tones, becoming a captivating focal point above the fireplace mantel.
In addition to embracing the rustic aesthetic, the bull horn ornament infuses your space with authenticity and natural allure. Create a harmonious blend of traditional and contemporary styles by pairing it with complementary decor elements such as vintage-inspired candle holders, textured rugs, and warm-toned furniture. This fusion elevates your fireplace decor, making a bold and stylish statement.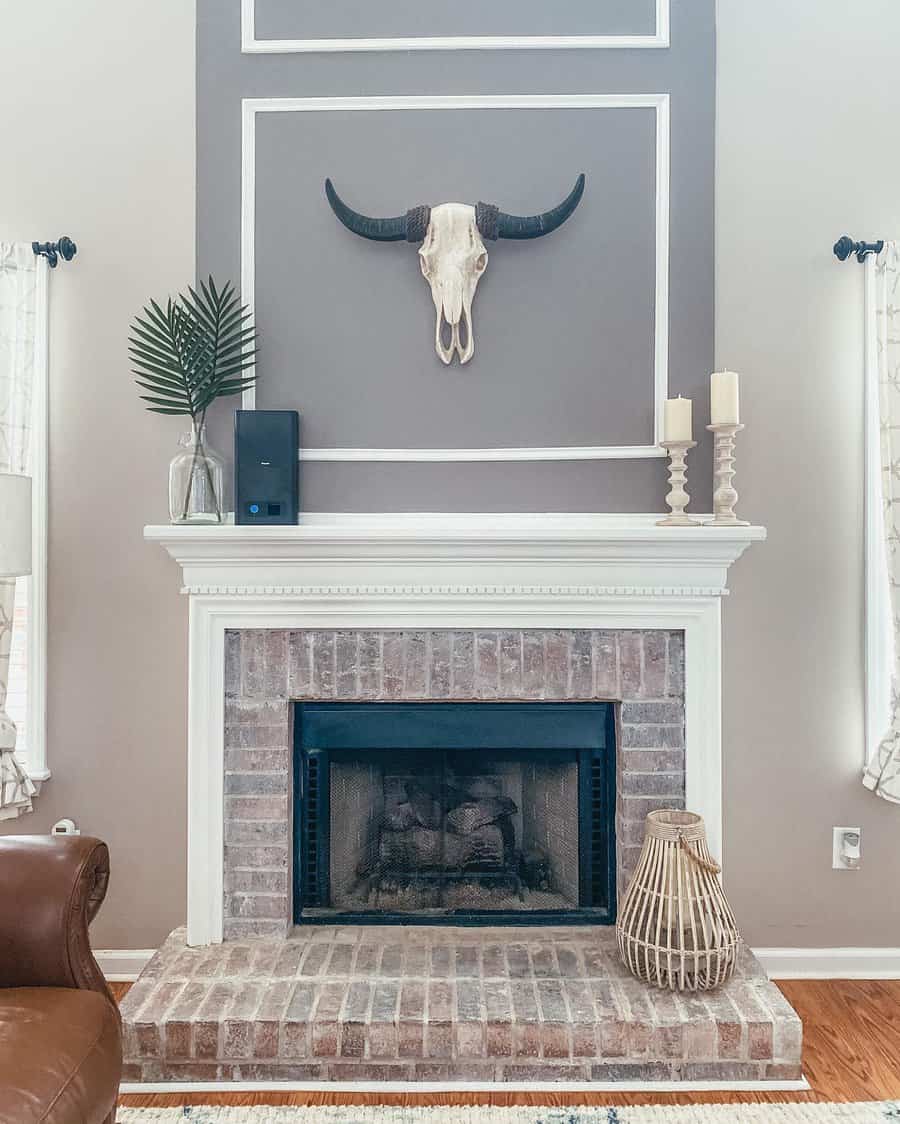 15. Integrate Entertainment with a TV Wall Fireplace
Enhance your living room's ambiance and style with a stunning TV wall fireplace—a harmonious fusion of functionality and elegance. This innovative fireplace design seamlessly integrates a sleek gas fireplace into the wall beneath your television, creating an alluring focal point that combines practicality with visual impact.
A TV wall fireplace delivers a unified and polished appearance, providing both the warmth and comfort of a fireplace alongside a dedicated space for your entertainment system. Its modern, clean-lined design adds a touch of sophistication to your living room, amplifying its contemporary allure. With this fireplace decor concept, you can fashion a chic and inviting atmosphere where relaxation, entertainment, and the comforting glow of flames come together seamlessly for your enjoyment.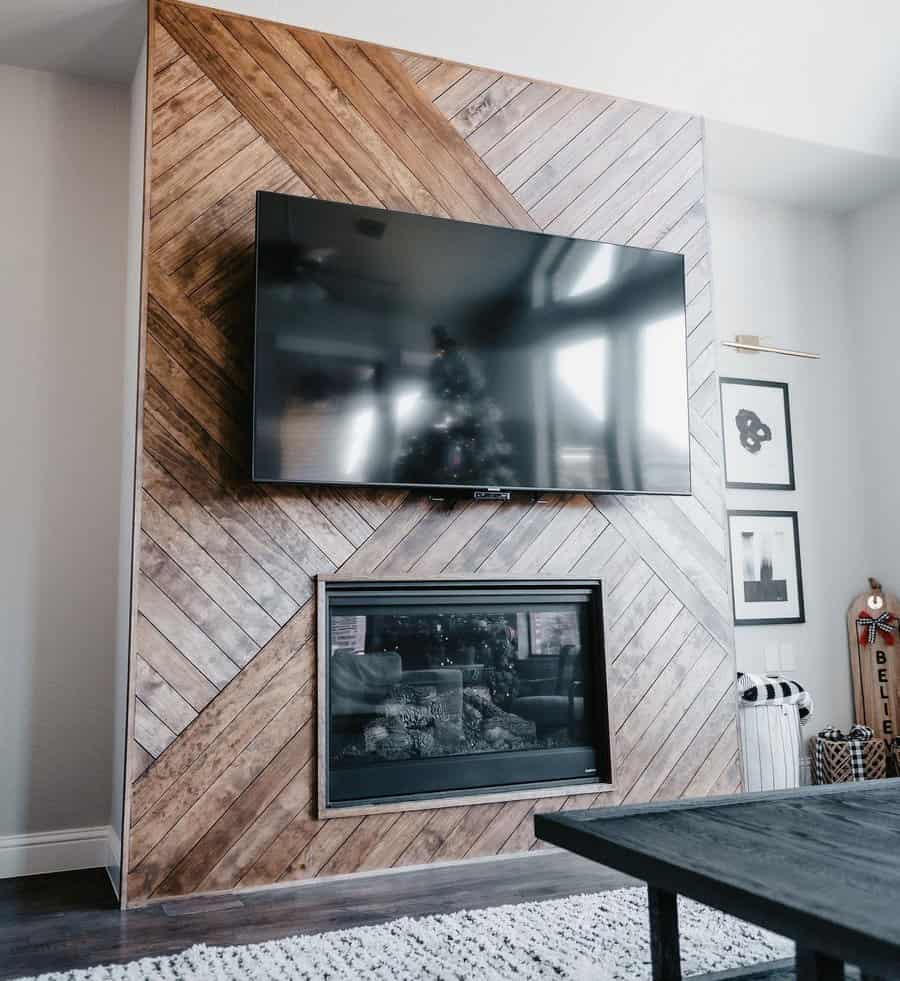 Fireplace Decor FAQs
What do you put around a fireplace?
When it comes to decorating your fireplace, think about where in the home your fireplace is located. Then consider the rest of the decor in the room. The decor around the fireplace should make sense with the rest of the room. You can also change the decor to be seasonal.
What is the trend for fireplaces?
Fireplace trends are leaning towards bold and modern designs. These fireplaces feature linear lines, are one-sided, and have a clean design. The goal is to create a striking presence in the room to create a natural focal point.
Can you put a TV above a fireplace?
Yes, you can mount your TV on the wall above your fireplace. However, you'll need to be careful of a few things. Check to make sure the TV won't get damaged by the heat. Then, make sure there is a sound base in the wall that you can anchor the TV on.