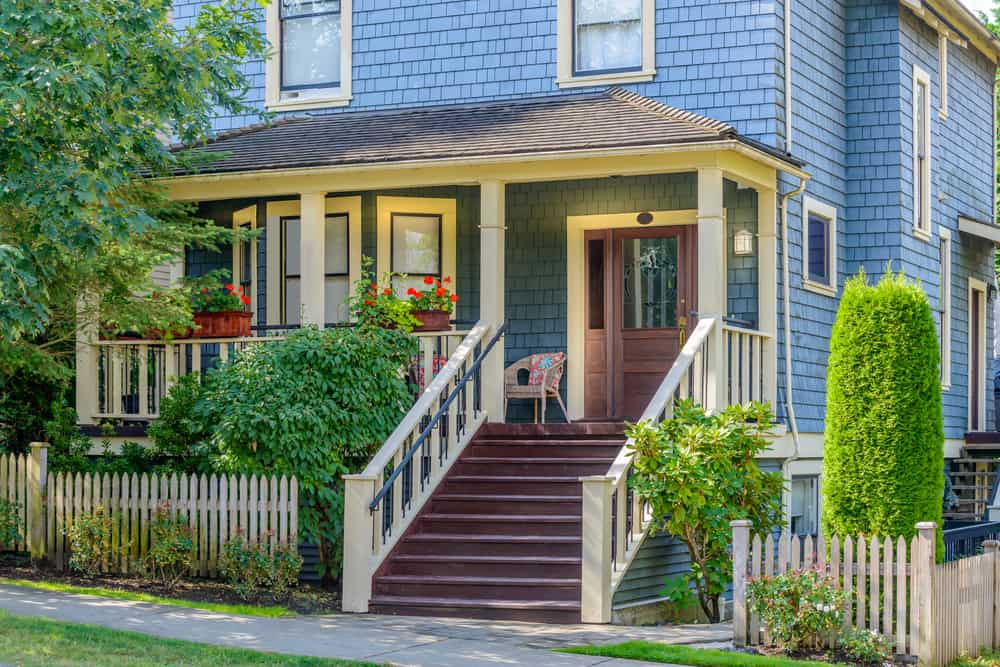 The Top 40 Front Porch Railing Ideas
Not all outdoor living spaces are on the backside of your house. Instead of having a patio on the backside of the house, you could have a porch on the front side. You could add a porch swing with a decorative railing design.
Your porch should be like a welcoming front space for those coming to visit your home. It doesn't have to be large or stretch the entire length of your home. It should, however, look like a finished part of your home as if it was initially a part of your home's construction.
These front porch railing ideas will help you upgrade the look of your home to improve your home's curb appeal and increase its value.
1. Embrace Nature with Rustic Wood Designs
Wood porch railings are more than just functional; they can be a centerpiece of rustic allure. Opt for honey-hued wood grains to contrast with garden greenery, or choose intricate carvings to give an artisanal touch. Pair with other natural elements, like stone steps or a log bench, to amplify a cozy, rustic vibe.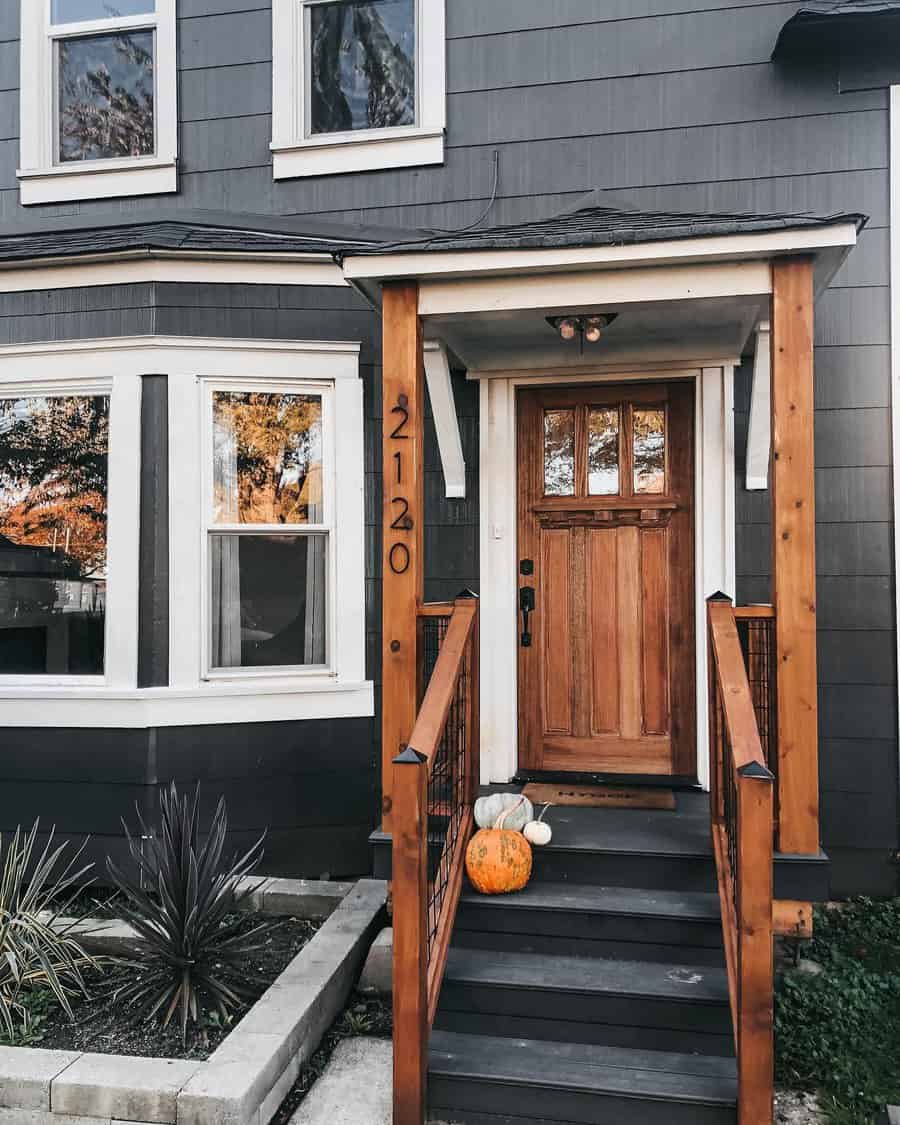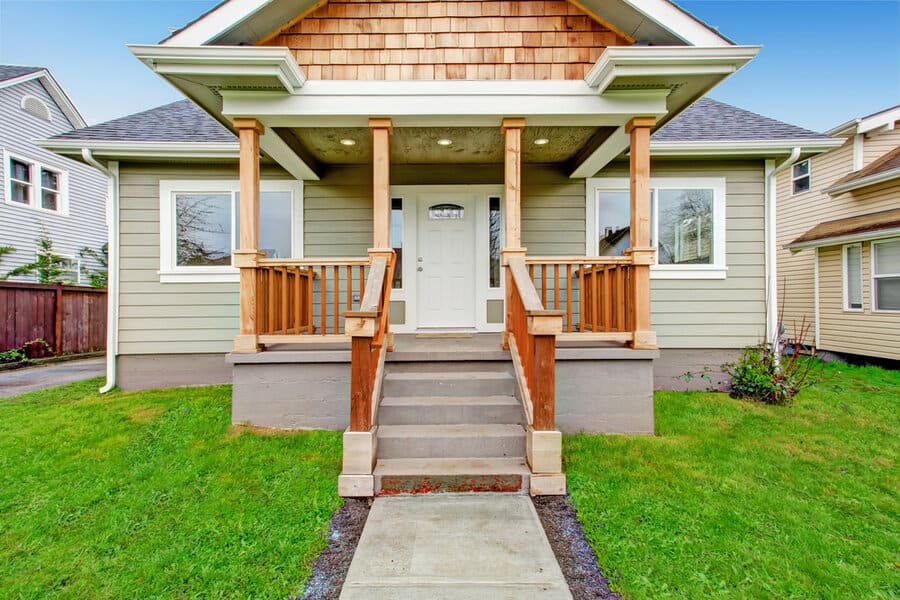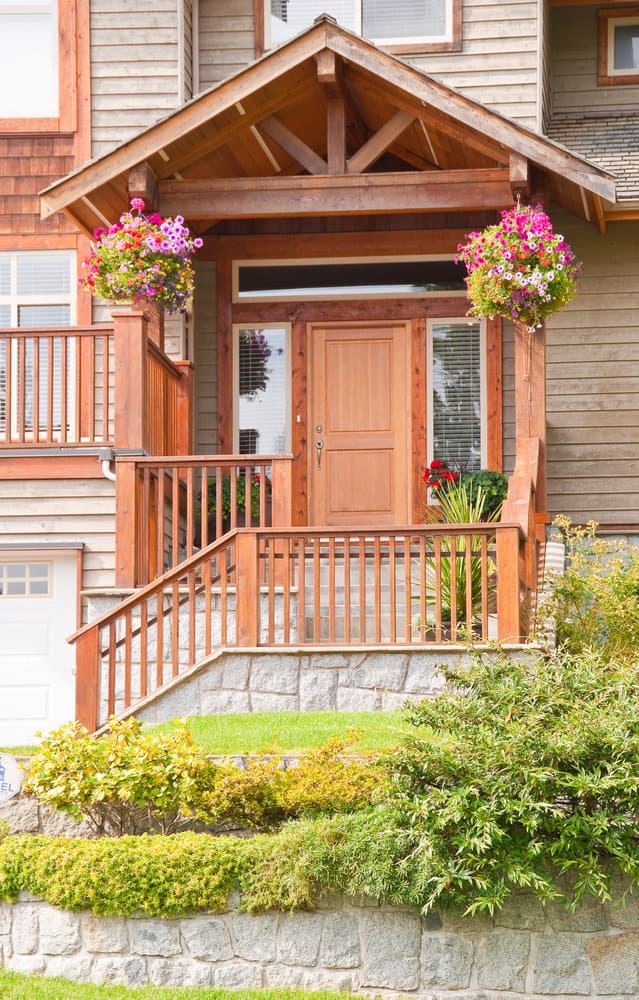 2. Achieve Elegance with Brickstone Details
Brickstone porch railings merge beauty with safety. Consider choosing unique patterns or intricate designs to turn your porch into an artistic masterpiece. For a harmonious design, match the railing's brick or stone color with exterior walls or pathway tiles. Remember, customization in texture and shape can make your entryway both welcoming and timeless.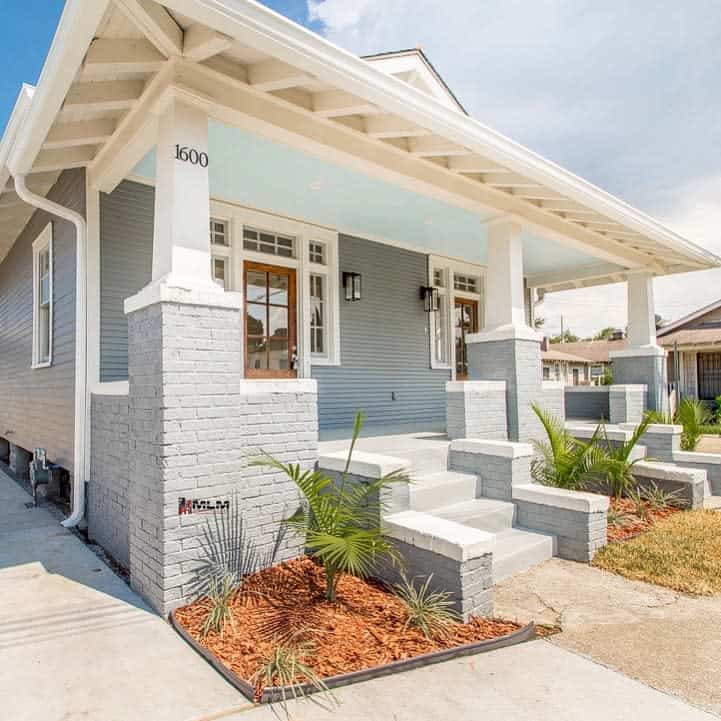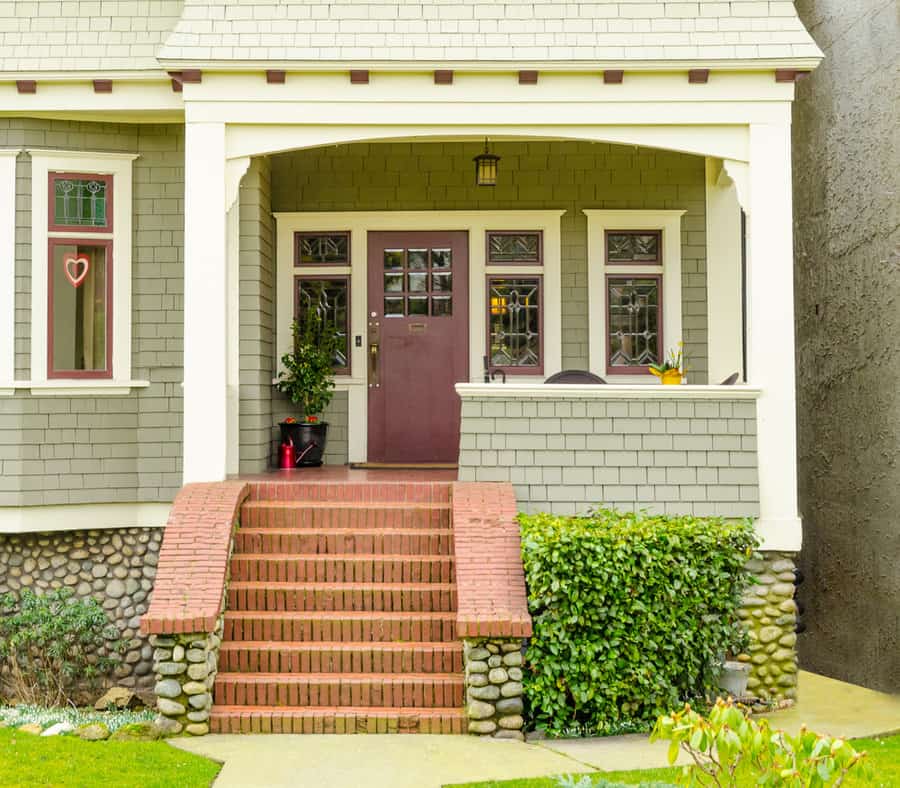 3. Delicate Lacework Railings for Vintage Charm
Lacework railings, with their intricate swirls and flourishes, instantly transport you to a vintage era, reminiscent of Victorian tea sessions on the porch. Beyond safety, these railings are a testament to skilled craftsmanship. To enhance the vintage appeal, pair lacework railings with pastel-colored furnishings or add period-appropriate light fixtures nearby.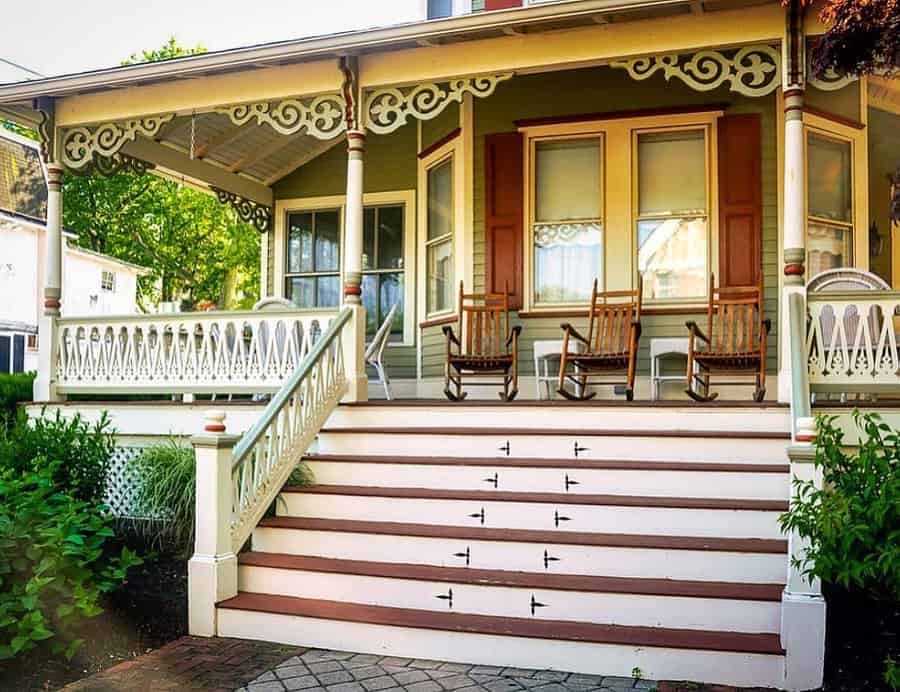 4. Modern Appeal with Geometric Railings
Geometric railings, with their crisp lines and symmetrical designs, can elevate a home's facade to contemporary brilliance. Beyond aesthetics, they ensure safety for porch dwellers. To amplify their modern look, complement the railing with sleek outdoor furniture and minimalistic planters or light fixtures.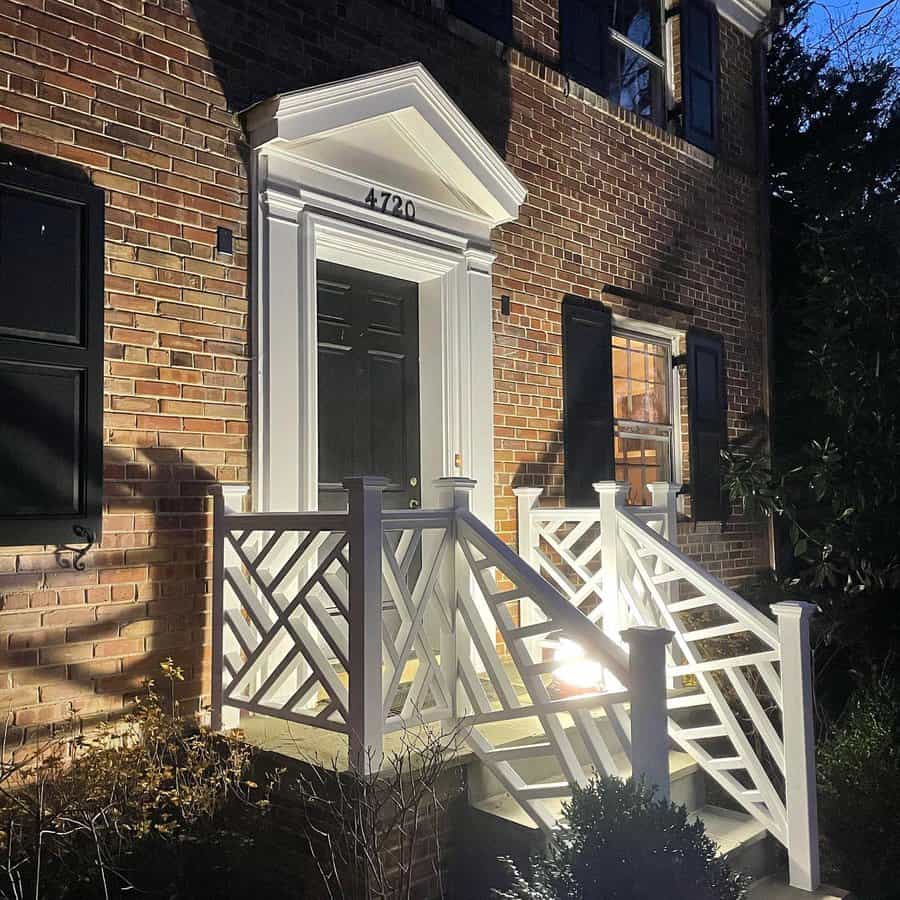 5. Timeless Beauty of Classic White Railings
Classic white railings offer a timeless backdrop, perfectly accentuating vibrant flowers or winding vines. Their clean lines and universal style ensure safety without compromising aesthetics. For a cohesive look, pair these railings with neutral-toned furnishings or brightly colored cushions to create an inviting porch haven.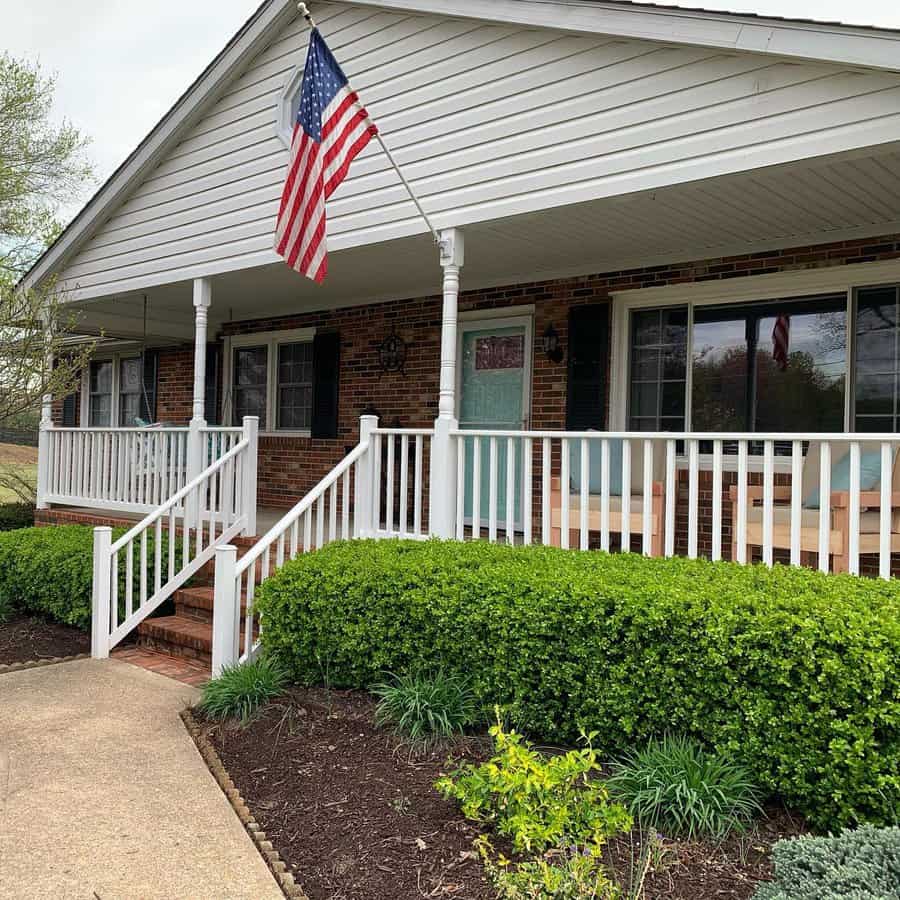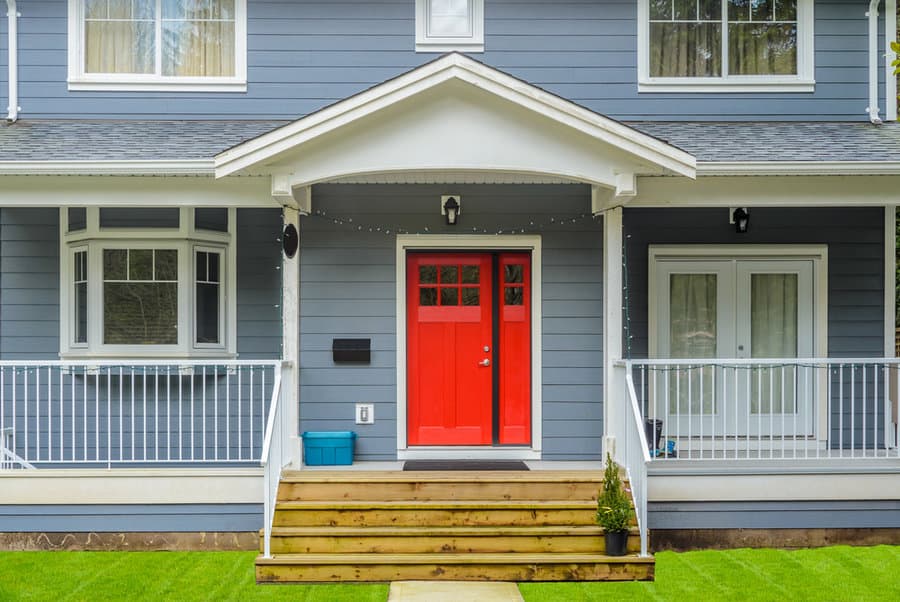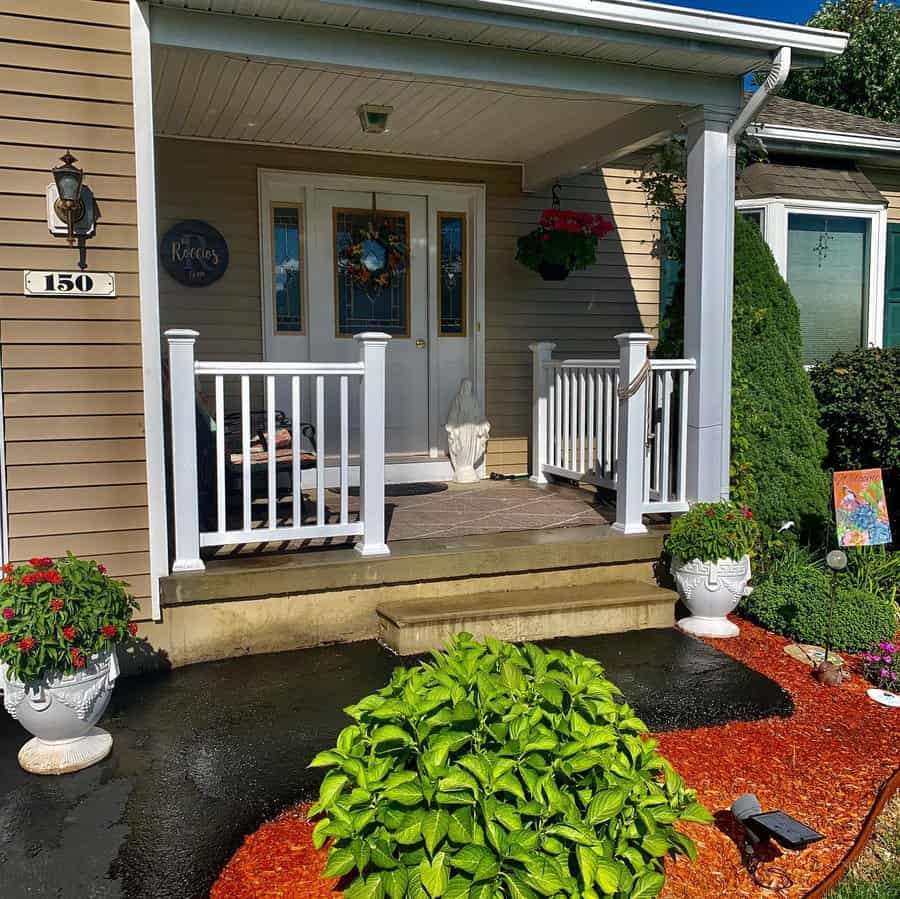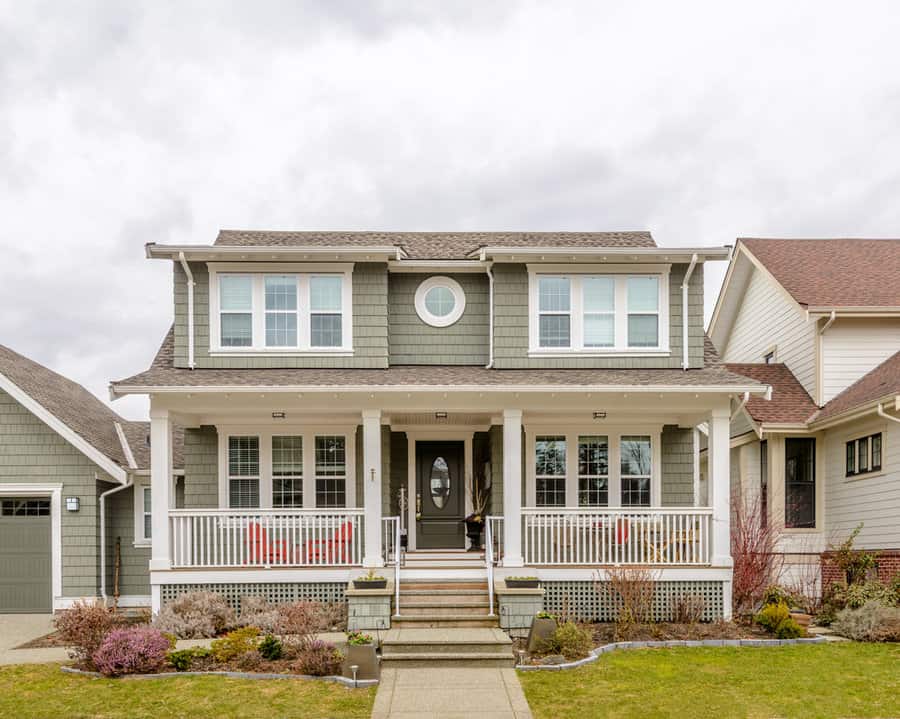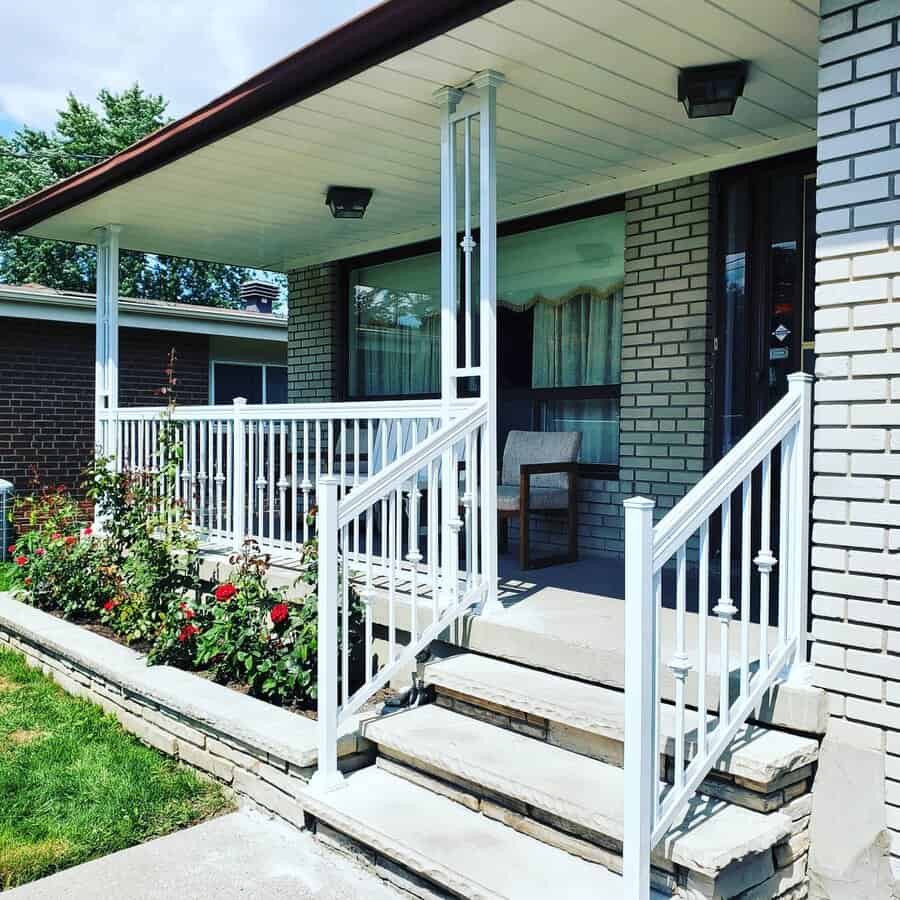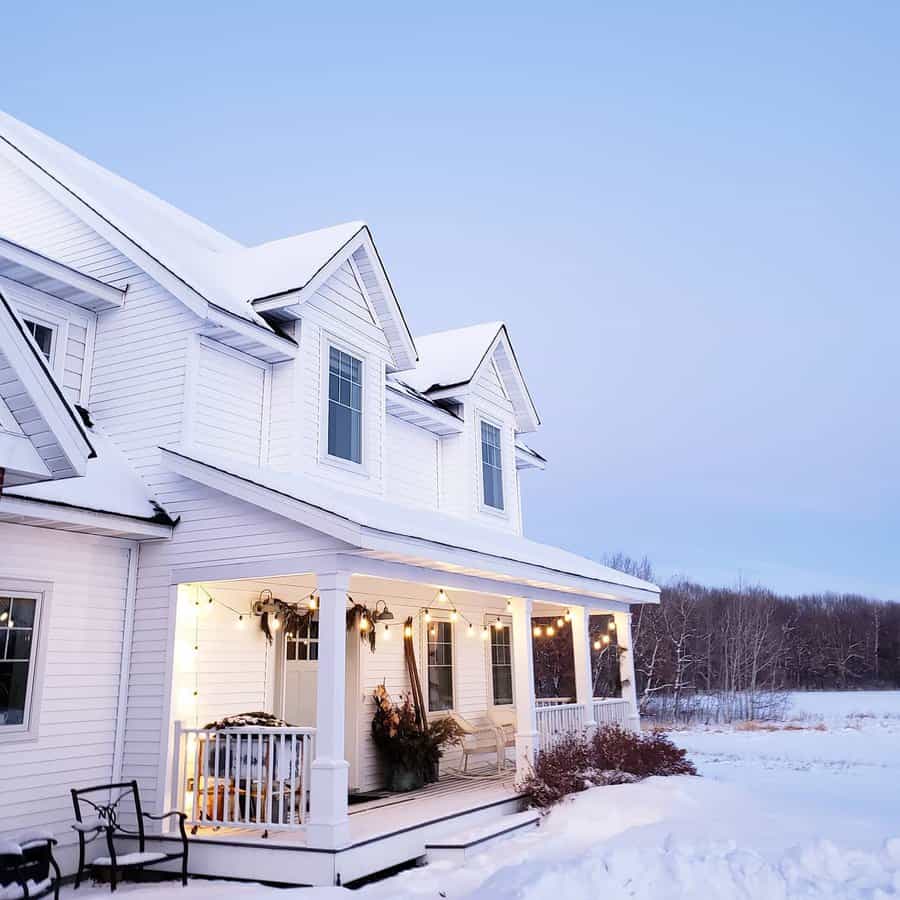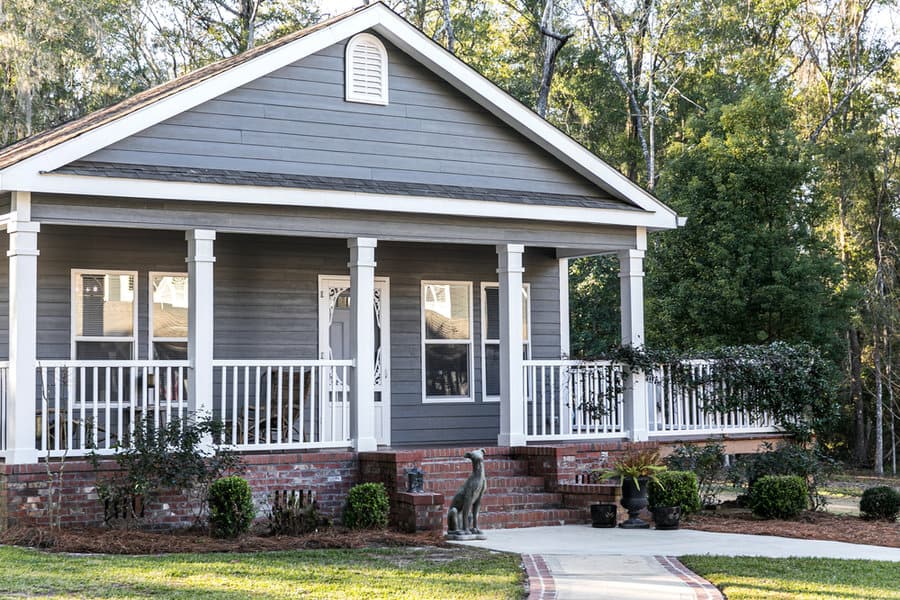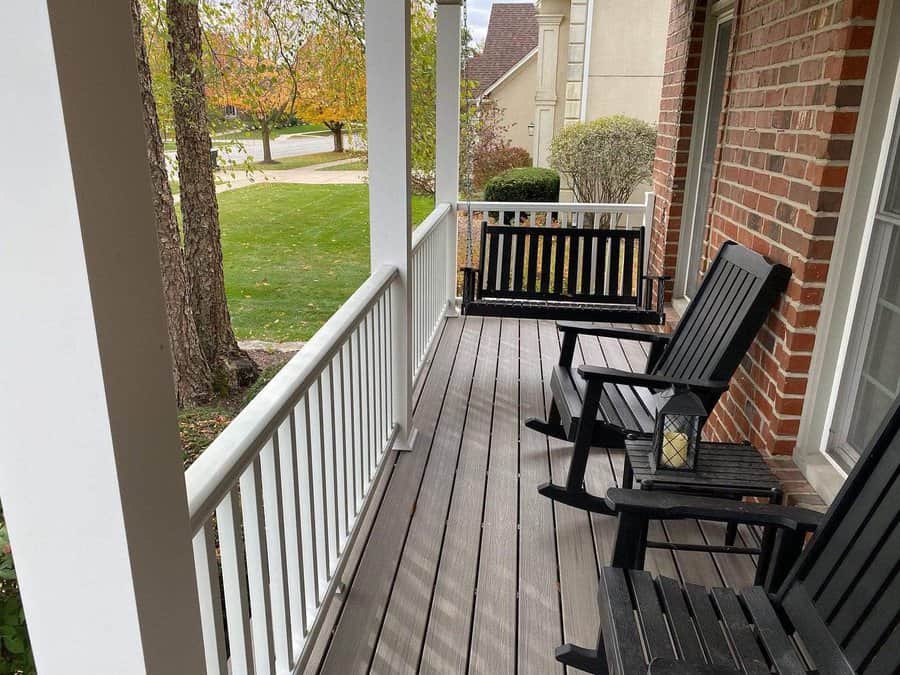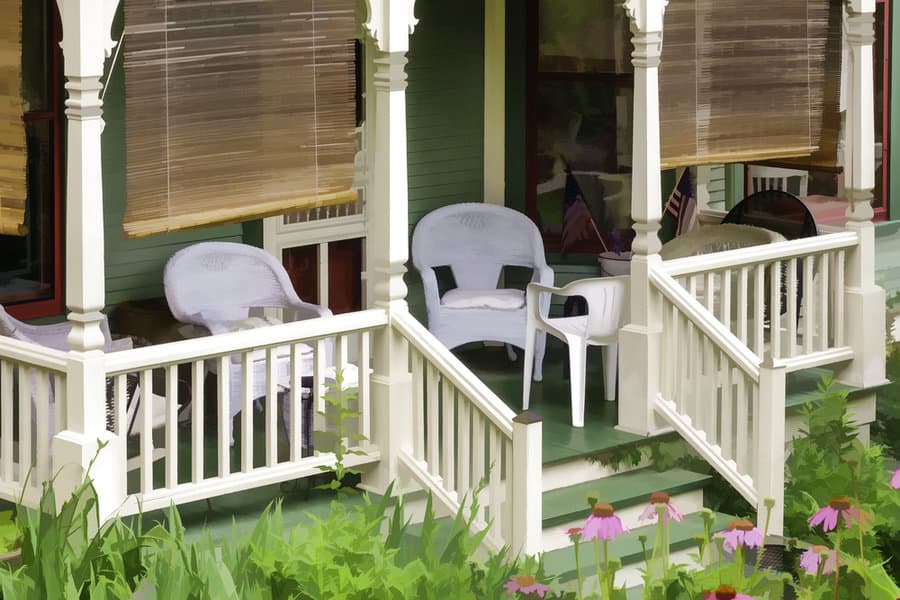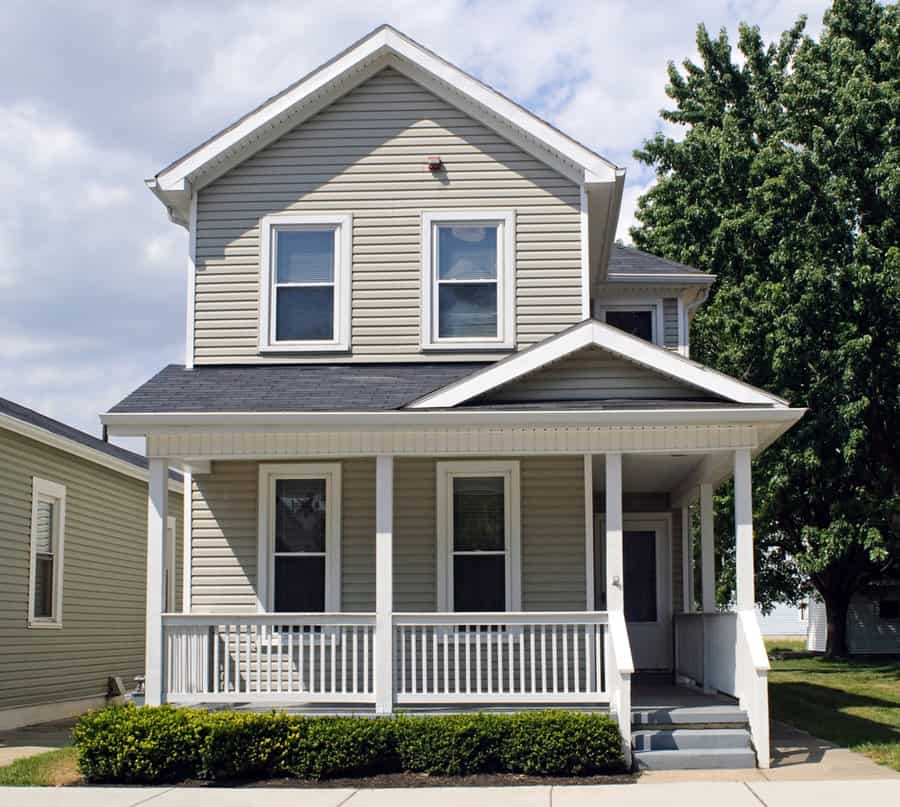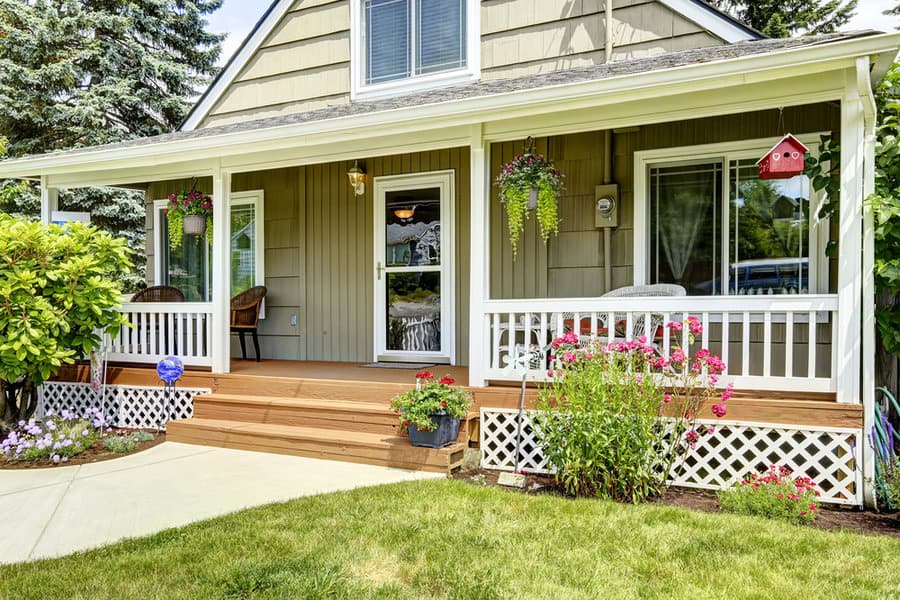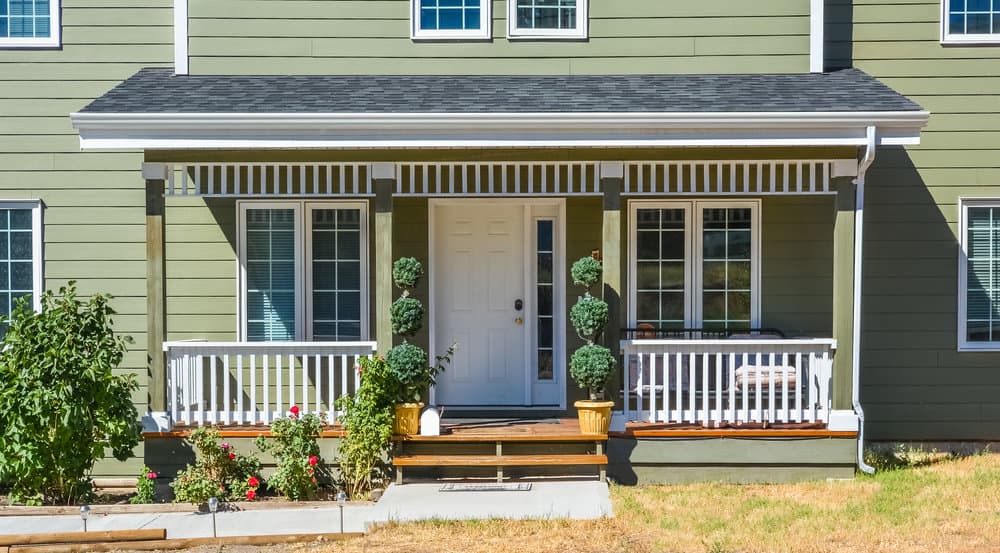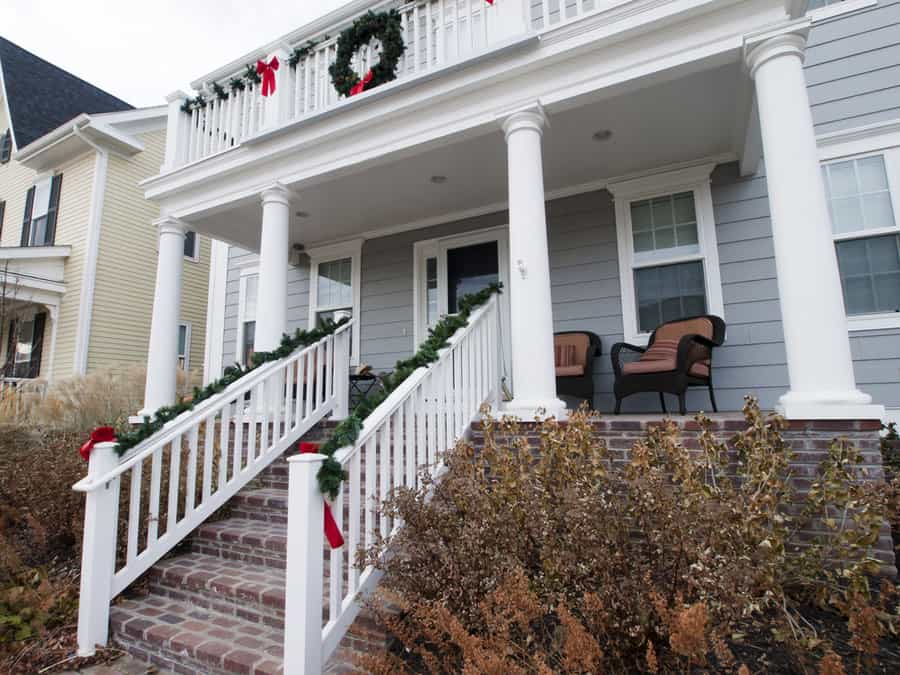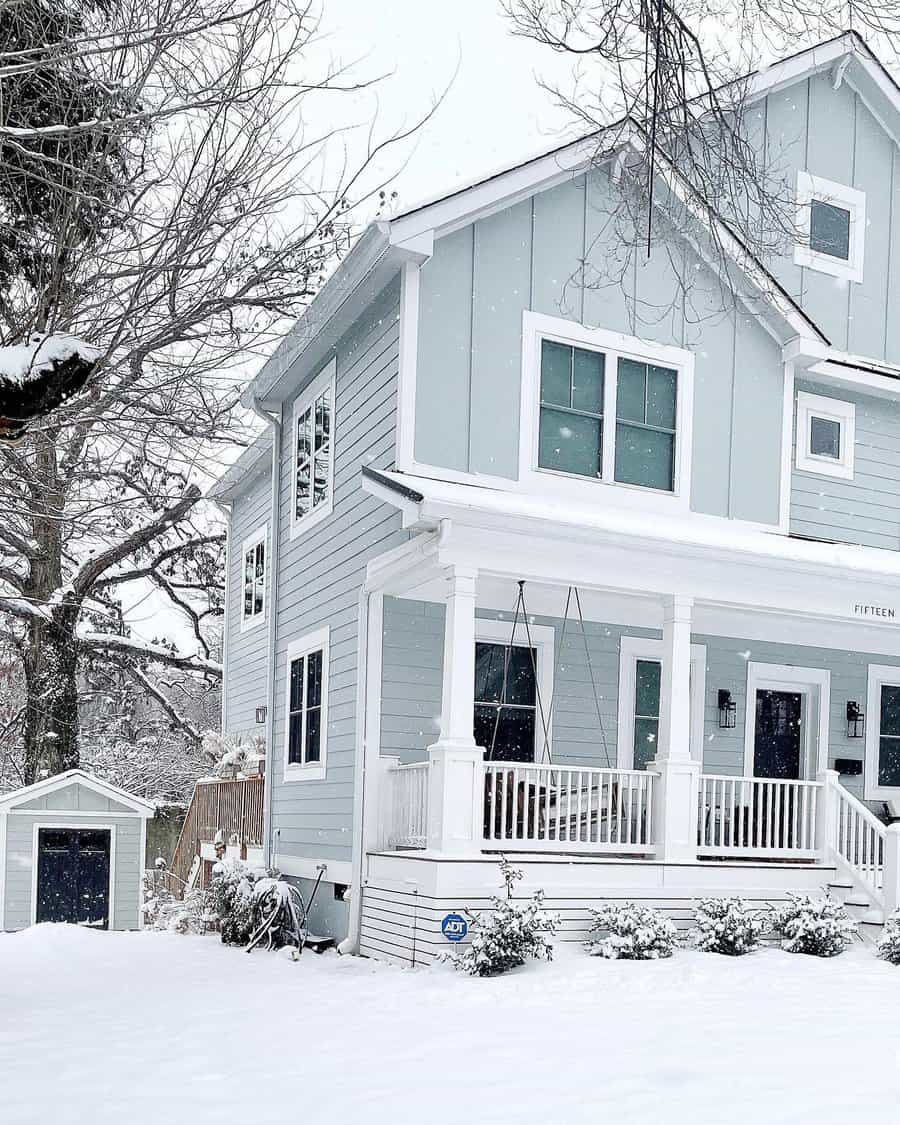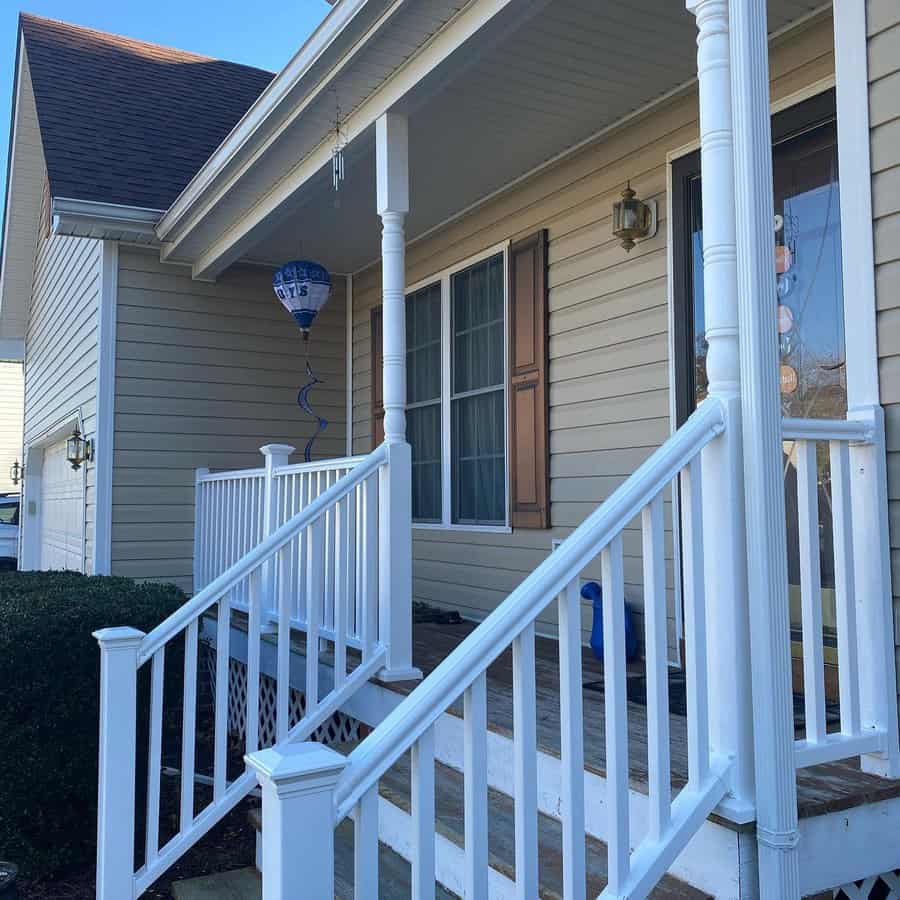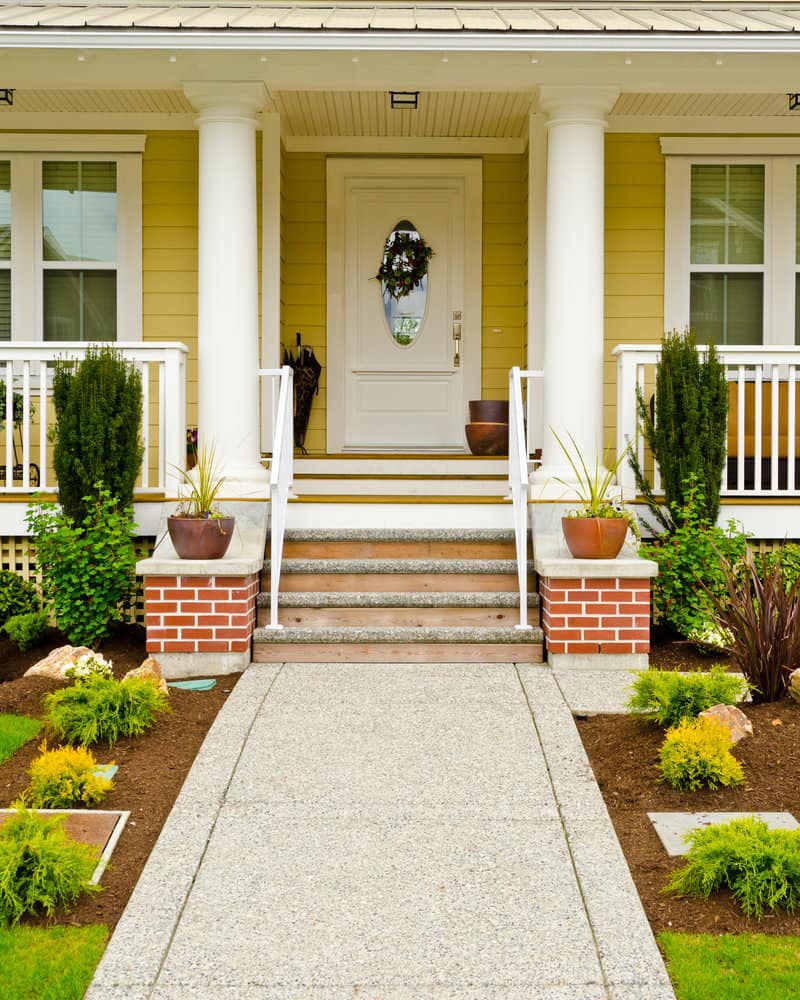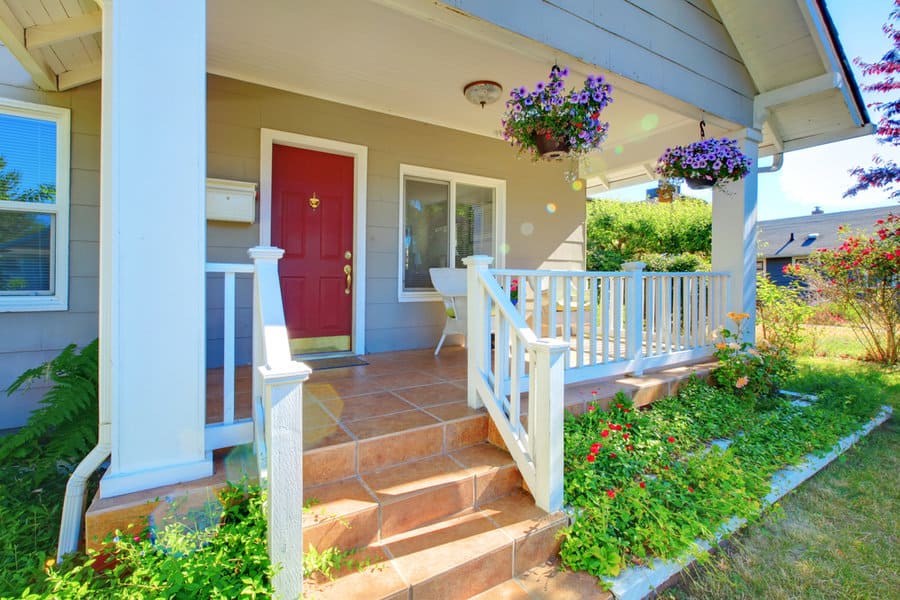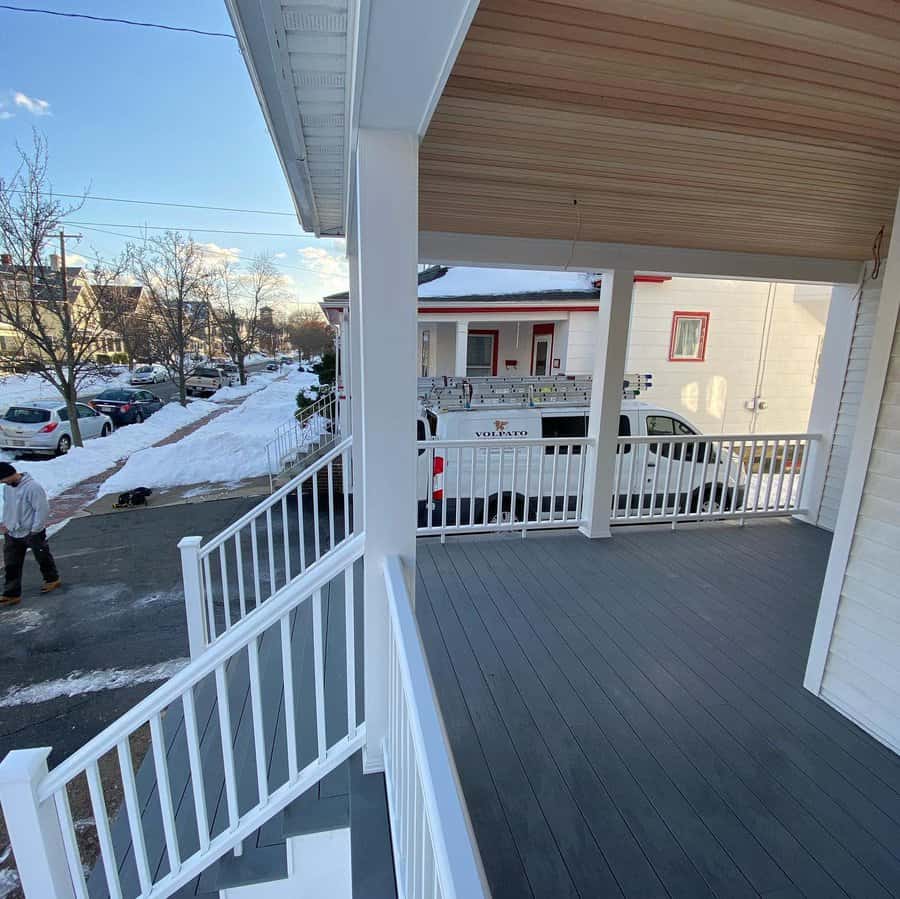 6. Sleek Horizontal Metal Railings Stand Out
Horizontal metal railings, especially in a striking black finish, offer a modern aesthetic while ensuring an unobstructed view. This design, with its clean lines and minimalist approach, serves as a functional yet sophisticated touch to any porch. To enhance its elegance, pair the railing with muted-colored furniture or strategically placed lighting for added ambiance.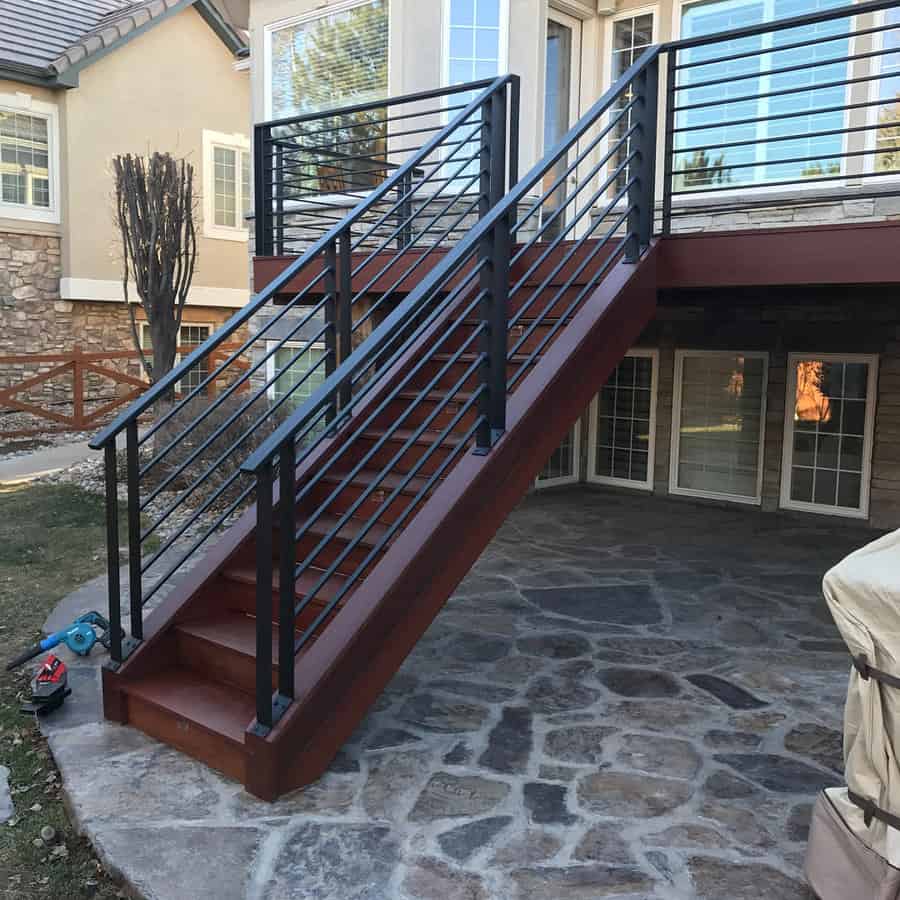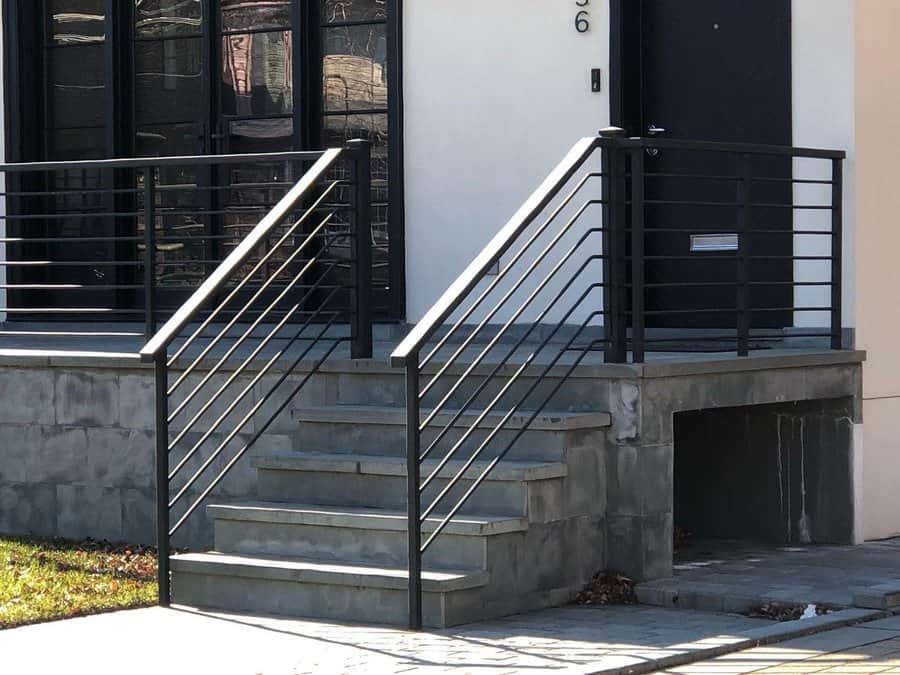 7. Blend of Metal & Wood Exudes Warmth
Metal and wood railings epitomize a harmonious blend, merging the rugged durability of metal with the organic warmth of wood. This combination lends unique character to homes, standing out yet feeling inviting. To highlight this balance, choose furnishings that echo these materials or add greenery for a complete, cohesive look.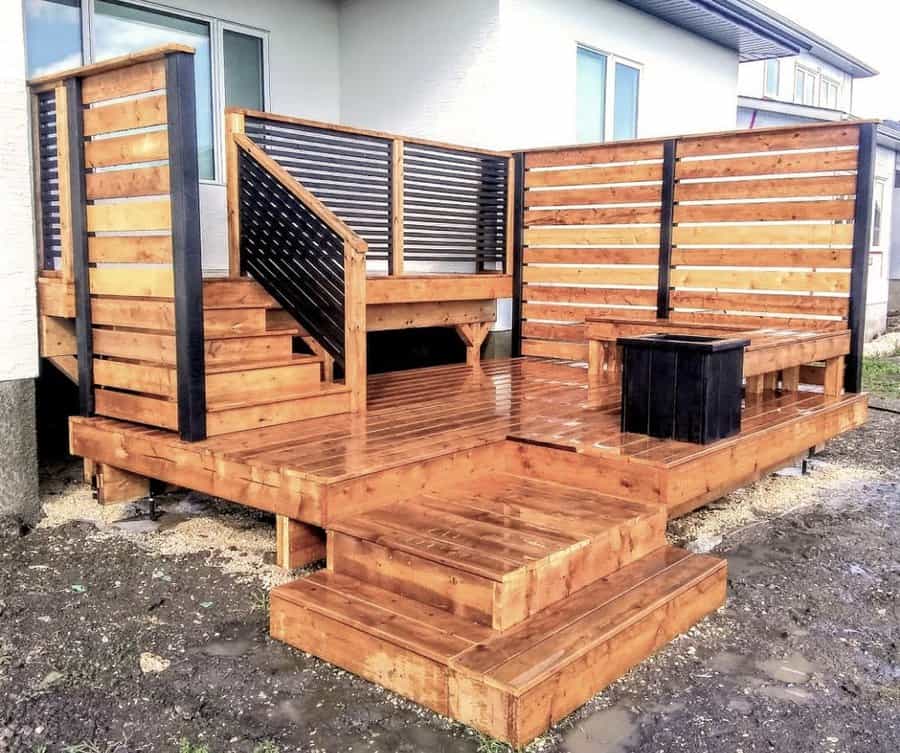 8. Bold Aesthetics with Black Metal Railings
Black metal railings bring a bold and captivating presence to any porch. Their sleek lines and dark hue provide both safety and a modern edge to a home's exterior. To enhance their striking appearance, consider pairing with contrasting light-toned furnishings or adding ambient lighting for evening allure. Their durability ensures lasting appeal through seasons and years.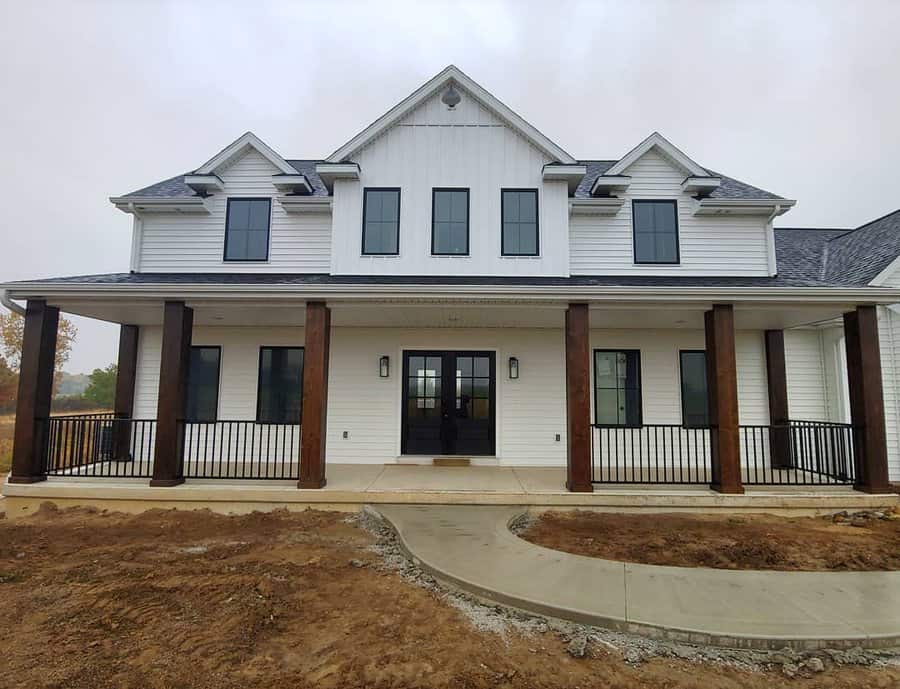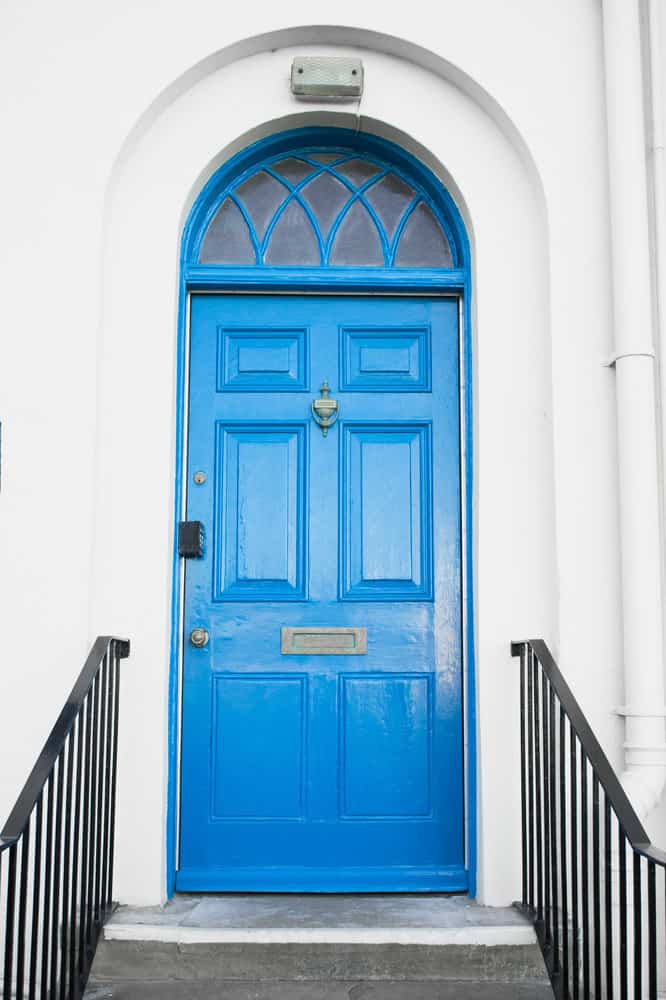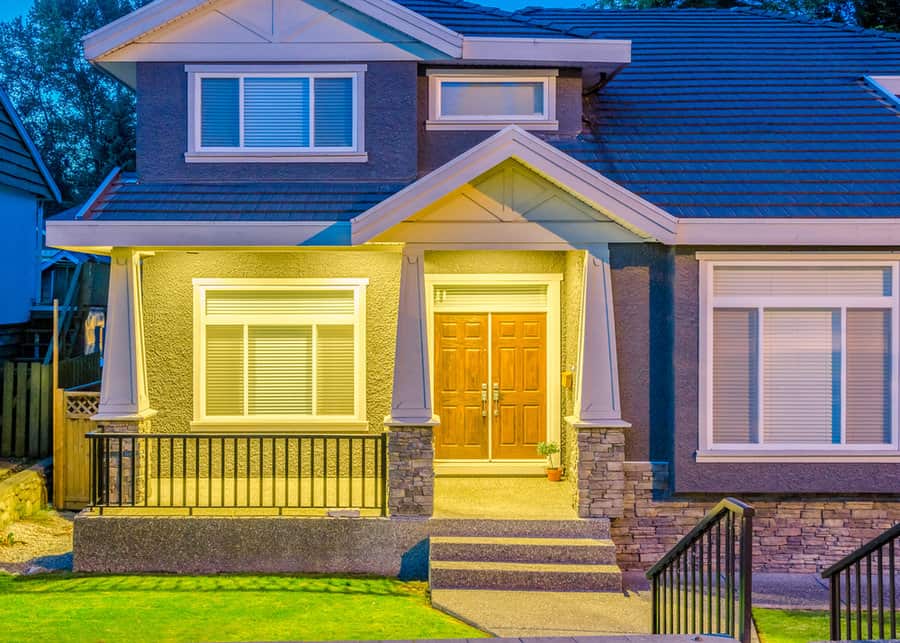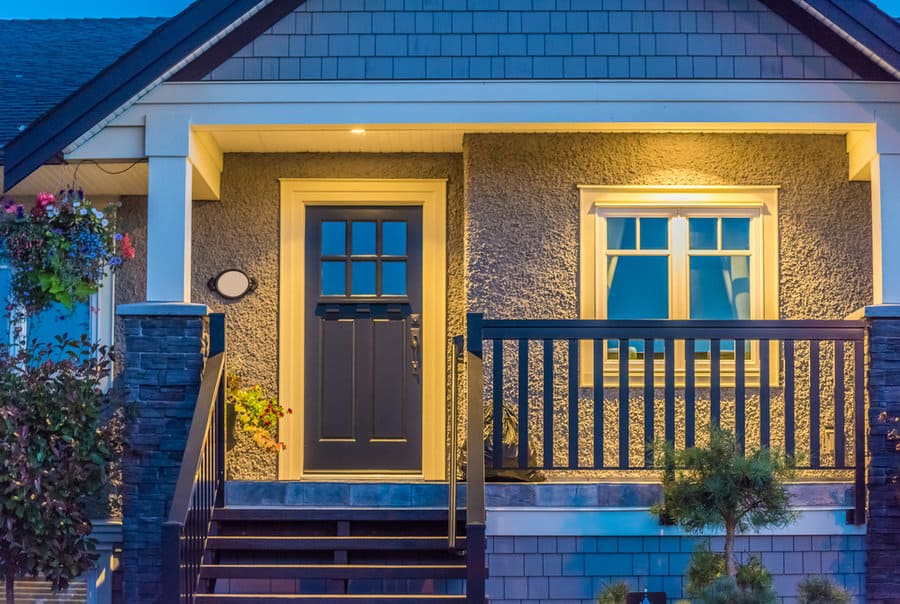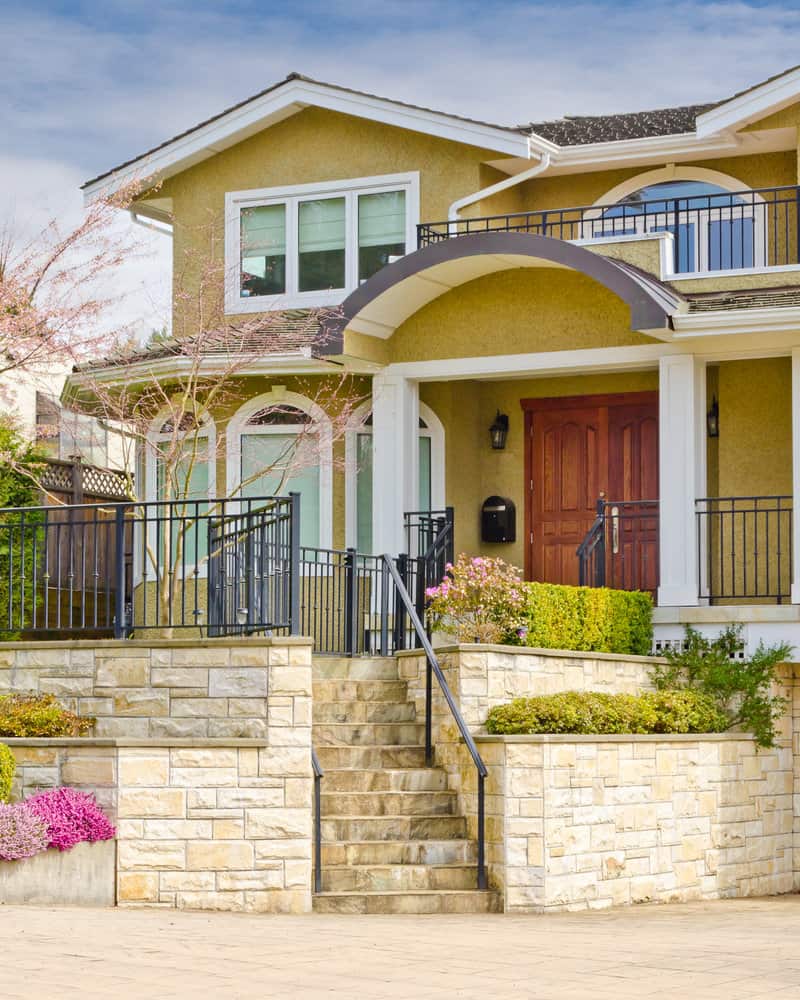 9. Update Tradition with Contemporary Colonial Styles
Contemporary colonial railings blend historic charm with modern flair, rejuvenating any porch's appearance. By embracing sleek lines and versatile materials like wrought iron, wood, or glass, these railings nod to tradition while encapsulating modern elegance. To maximize the look, match with period-appropriate furnishings and incorporate planters for a fresh, updated facade.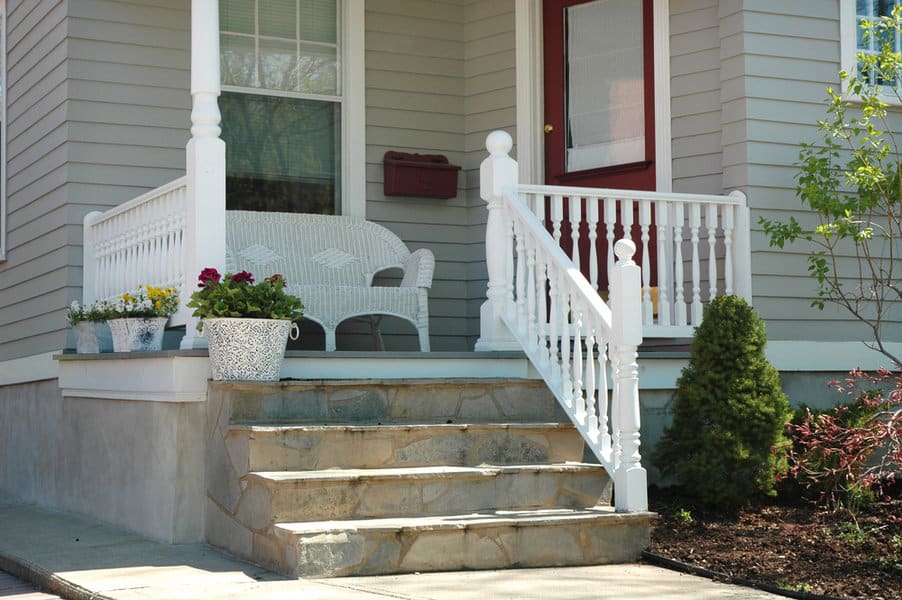 10. Mix and Match with Dual-Toned Railings
Dual-toned porch railings offer a dynamic twist, blending contrasting colors or materials to boost curb appeal. From classic black and white to bolder choices like navy and gold, the design variations elevate both aesthetics and safety. To harmonize the look, coordinate with complementary outdoor furnishings or accessories, ensuring your porch stands out with personalized flair.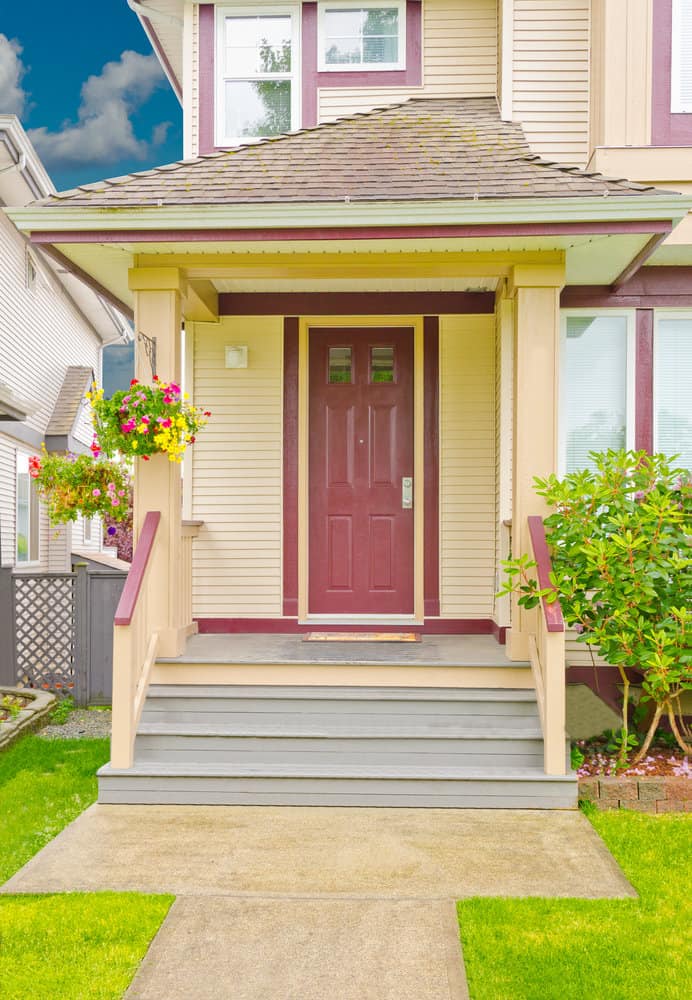 Front Porch Railing FAQs
Should a front porch have a railing?
Yes, your front porch should have a railing. If your porch is more than 30 inches above the ground, then you must have a railing. At this height, it could potentially be dangerous if someone were to fall off of the edge of your porch. Adding a railing also improves the look of your front porch. 
How much does it cost to put a railing on a porch?
Building a railing on your porch will depend on the size of your porch and the style of railing you decide to build. If you have a ten-foot deck, then you could build a railing for as little as $1,000. However, if you decide to install the railing yourself, your materials could cost you as little as $500. 
How far apart should deck railing posts be?
There are two standard sizes for your deck posts, 4×4 and 6×6. If you decide to use 4×4, then they should be no farther apart than six feet. If you use 6×6 posts, they should be no further apart than eight feet. This spacing is required because the posts need to have enough strength to support the railing. However, placing them closer together is nice because you can create a decorative look.