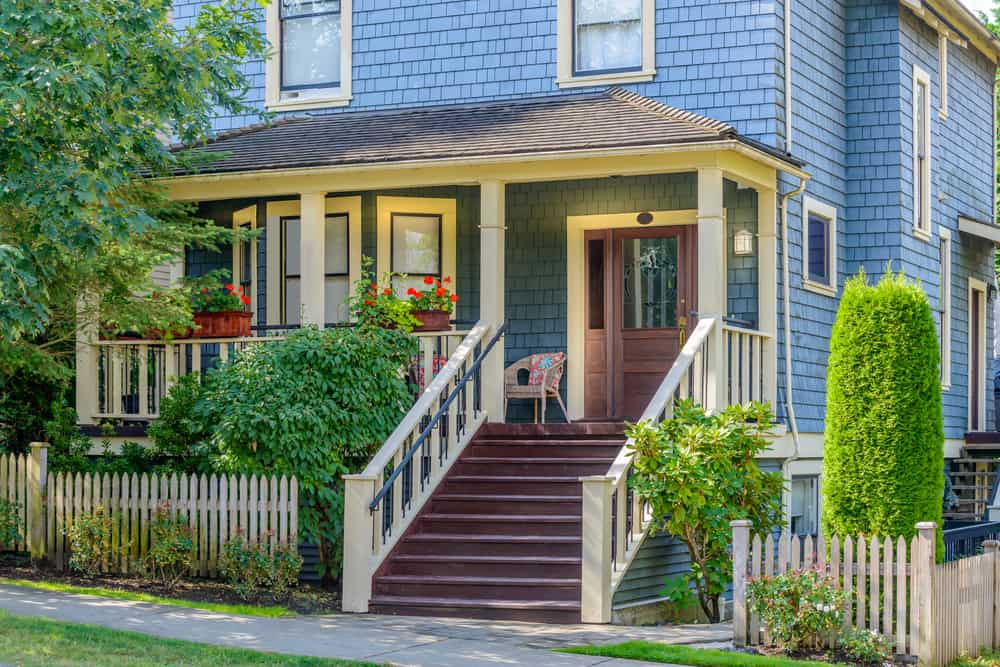 The Top 40 Front Porch Railing Ideas
Not all outdoor living spaces are on the backside of your house. Instead of having a patio on the backside of the house, you could have a porch on the front side. You could add a porch swing with a decorative railing design.
Your porch should be like a welcoming front space to those coming to visit your home. It doesn't have to be large or stretch the entire length of your home. It should, however, look like a finished part of your home as if it was initially a part of your home's construction.
These front porch railing ideas will help you upgrade the look of your home to improve your home's curb appeal and increase its value.
1. Cable
Cable railing systems use tough metal stainless steel cables that are strung taught through railing posts. The posts and top railing are made from wood, helping to stabilize the cables.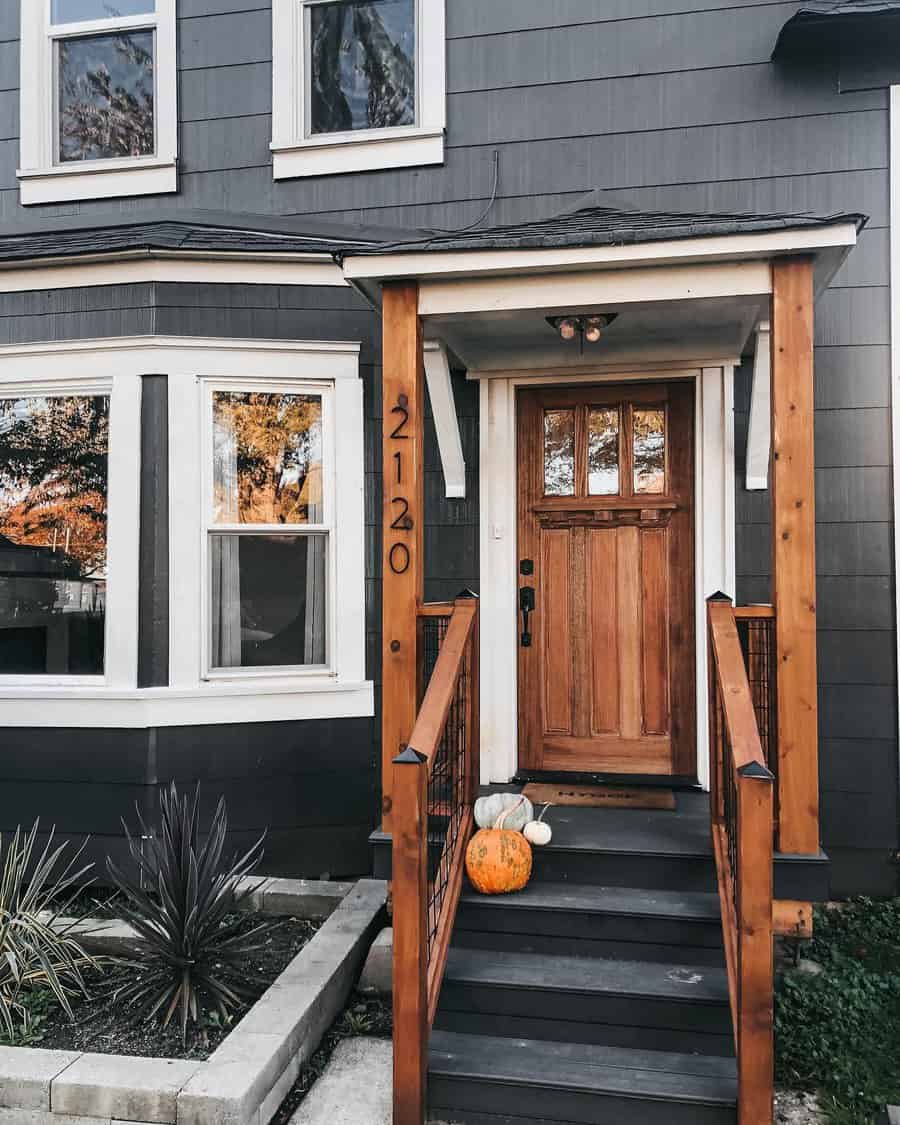 You can install this type of railing system yourself with an all-in-one kit. You'll install the posts with pre-drilled holes. Then string the cables through the holes and secure them.
Finish with the railing on the top. This type of railing system is perfect if you want to have a modern-looking railing but can't afford glass.
2. Concrete
Poured concrete is another commonly used material in commercial construction. This makes it a good option for modern or industrial designs. Concrete is an affordable building material, so you can use concrete blocks. Then cover the blocks with a finishing material like stucco or siding.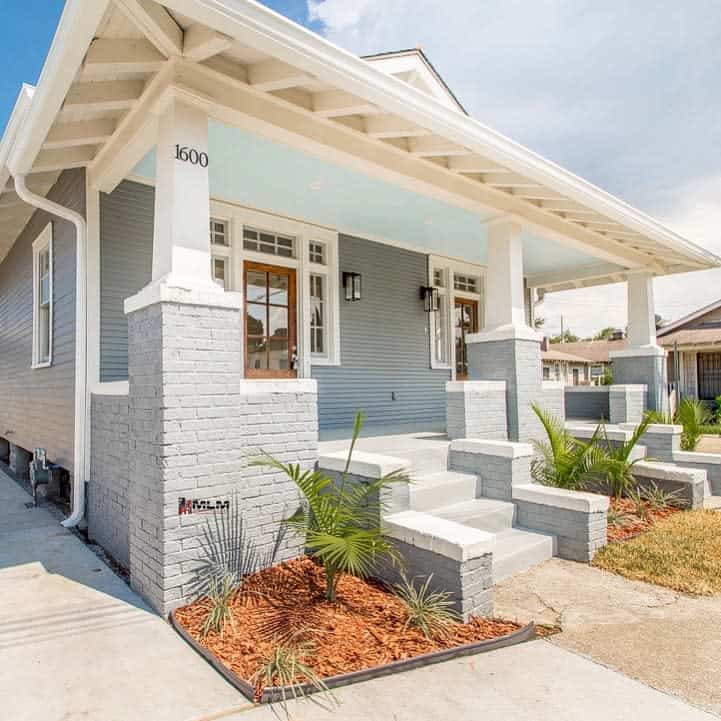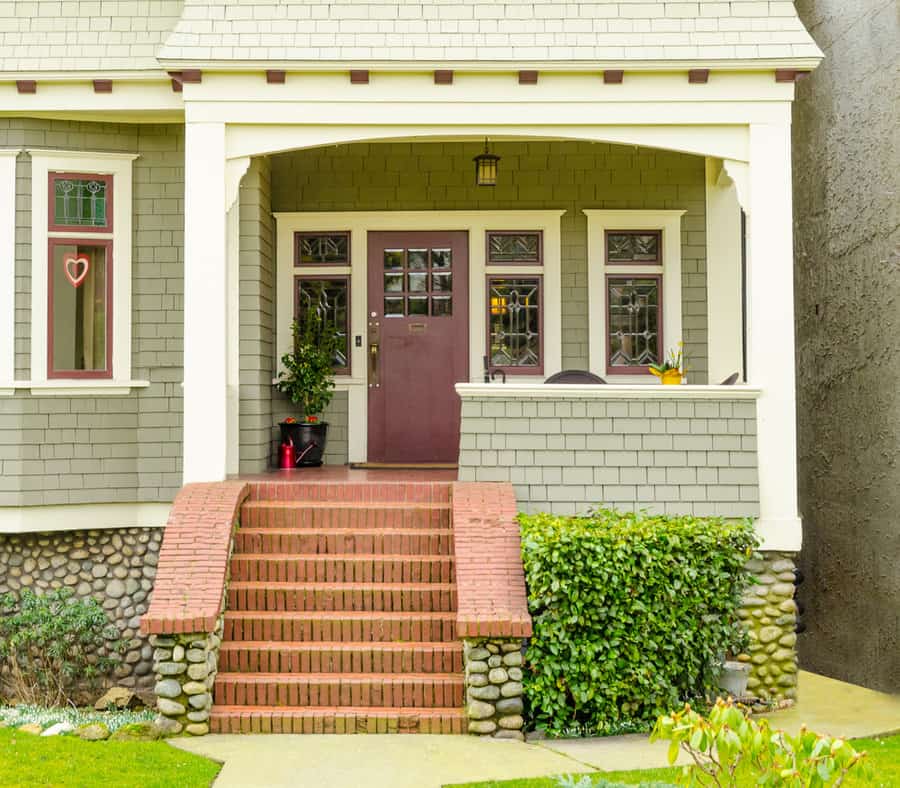 Concrete doesn't allow air to flow, so be careful about how high you build your railing. A smart alternative is to build a screen porch with this railing style. Keep the concrete edge low, and then install the screen from the top of the concrete railing to the ceiling. The screen can make your porch more enjoyable by protecting you from bugs and insects.
3. Customized
If you have a larger budget, you can splurge and create a custom porch railing on the front of your home. The glass panels get vertically placed next to each other to create a single railing. A glass railing looks best on a modern home. It creates a minimalist look, uses a construction material commonly used in commercial buildings, and features long straight lines with minimal ornamentation.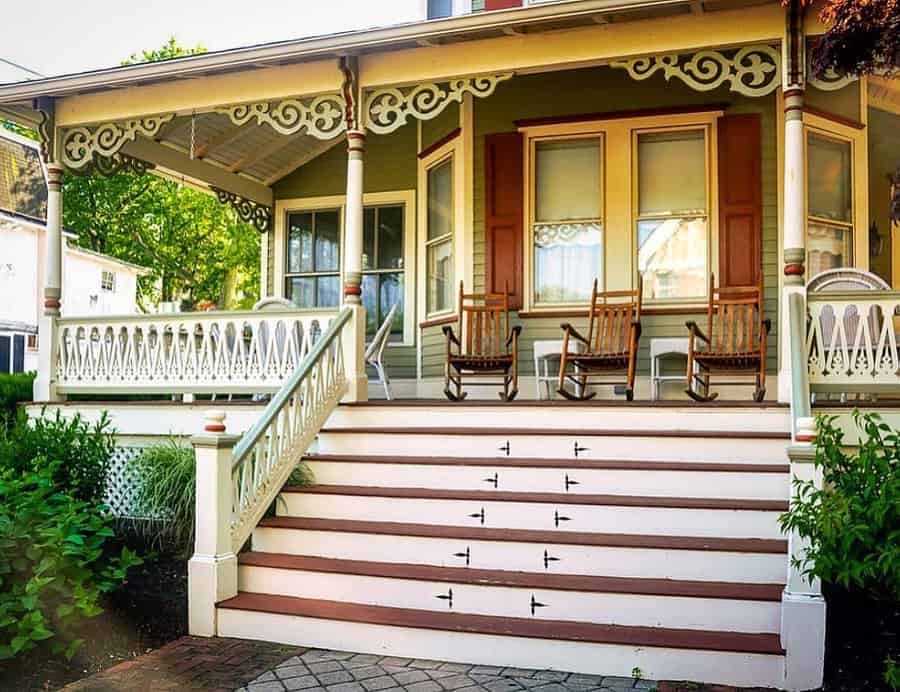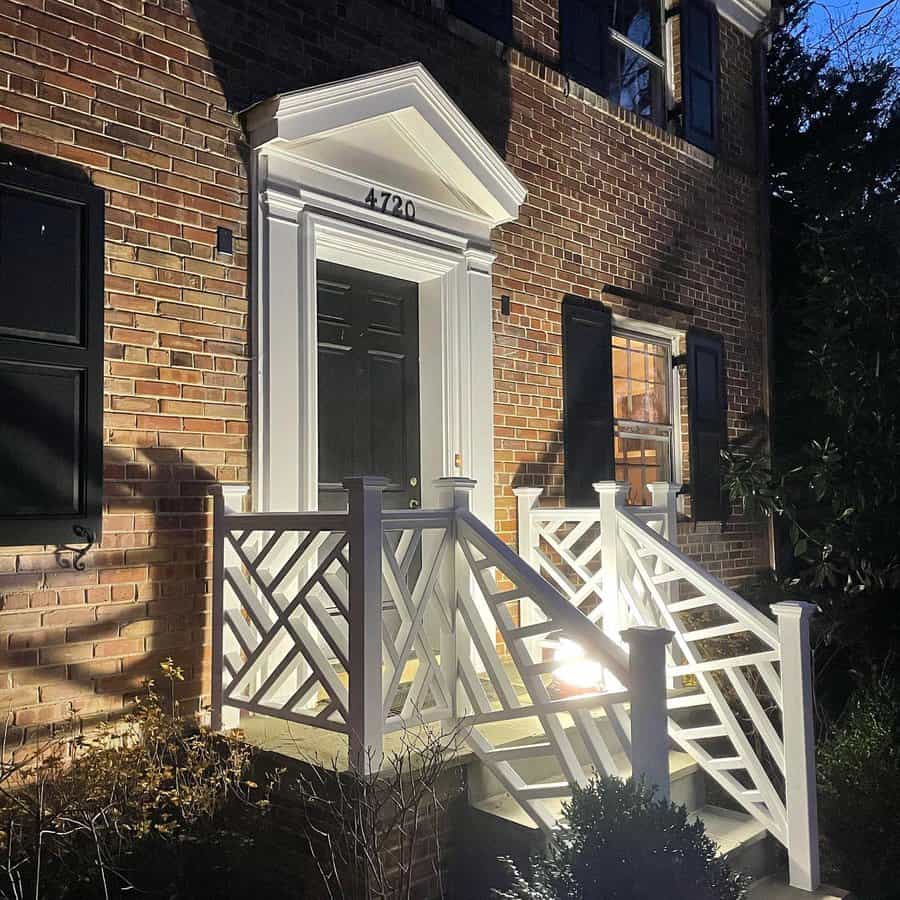 Be careful when choosing a glass deck railing; it requires regular washing to ensure it stays clean and clear. Letting your glass railing become dirty or covered in a green film of mildew will quickly degrade your home's curb appeal.
4. Deck
Don't feel like you are limited to only considering porch railings. You can use a deck railing kit for a simple DIY option. Look at deck railing ideas to get inspired by homes that have a similar architectural design as your home. Then you can get an idea of what a particular guard rail design will look like on your home.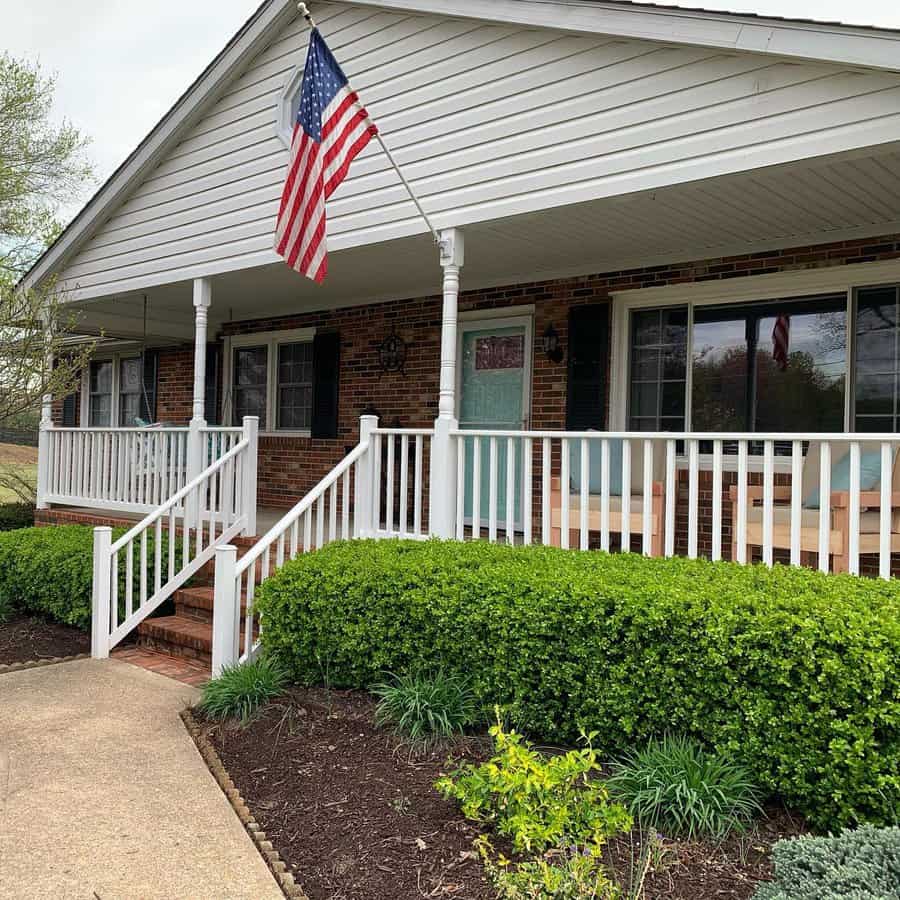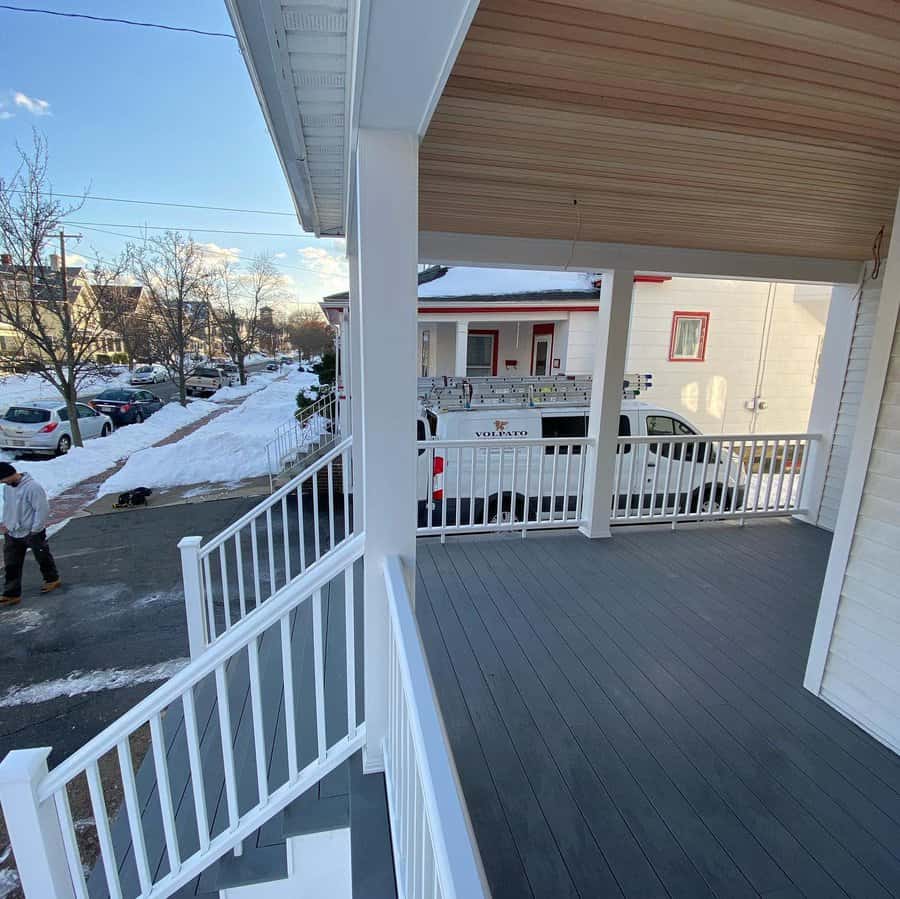 You want to enhance the look of your home, not close it in or make it look unwelcoming. If you already have a deck with a railing on the back of your home, then consider sticking with this design for your front porch. That way, your home has a cohesive design on the front and back of your home.
5. Horizontal
A horizontal railing system can help your home seem larger and longer. Having horizontal rails below the top porch rail creates multiple long lines that run the length of your home. This creates the optical illusion that your home is longer. It also gives your railing a modern feel by having multiple horizontal lines.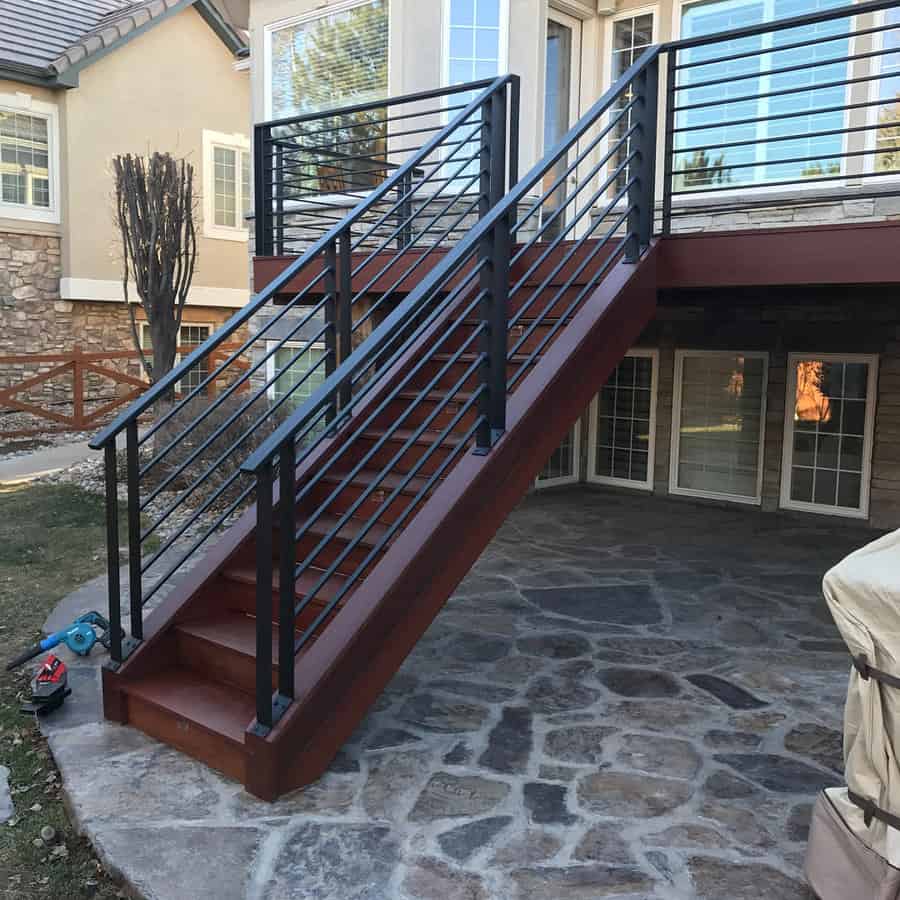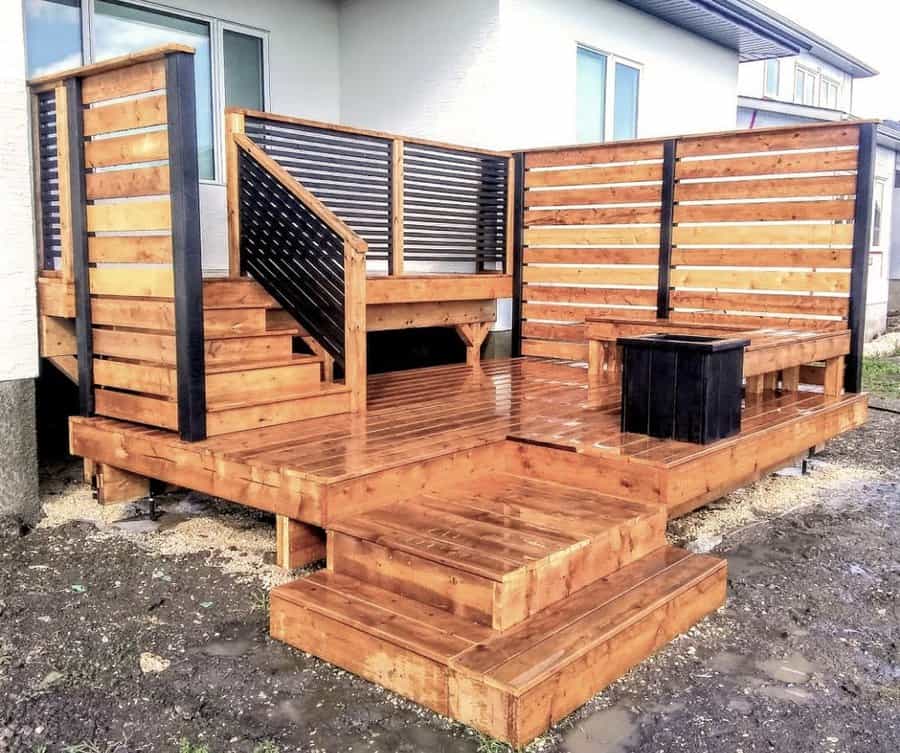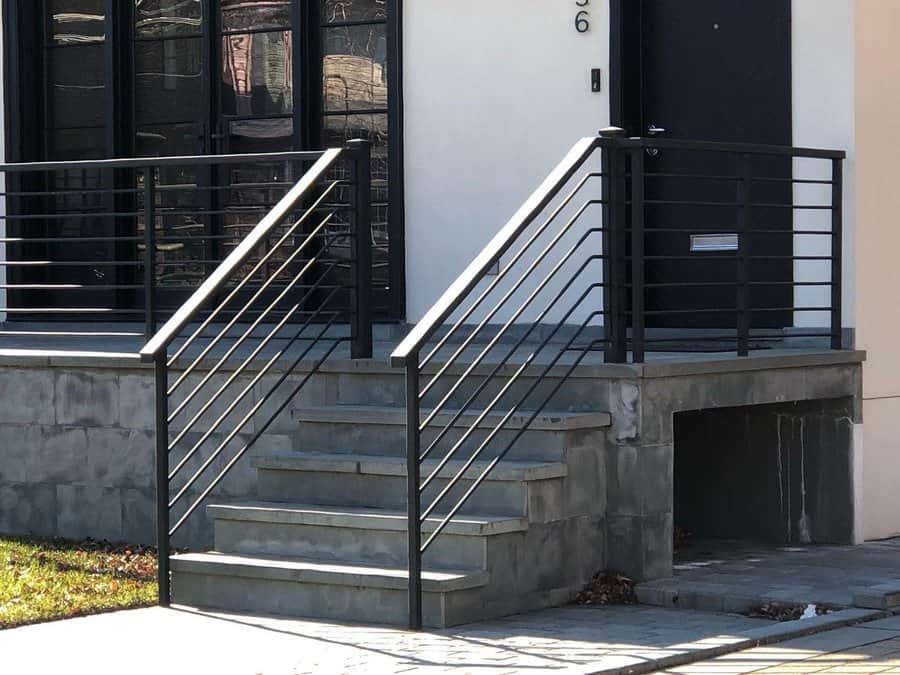 A typical example of a horizontal railing is a cable system. However, some kits come with metal rails. Black or aluminum horizontal rails look lovely with a wood top rail for a fresh and clean design.
6. Metal
Metal railings are elegant and durable. They are also low maintenance. An aluminum railing is affordable, lightweight, and corrosion-resistant. It comes in various stamped designs for a modern look to your home.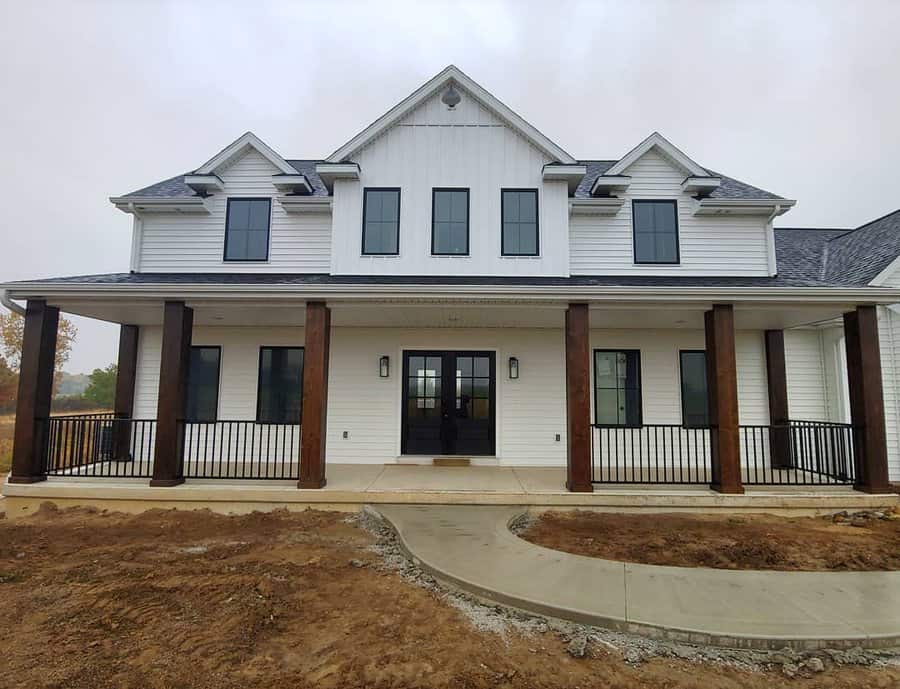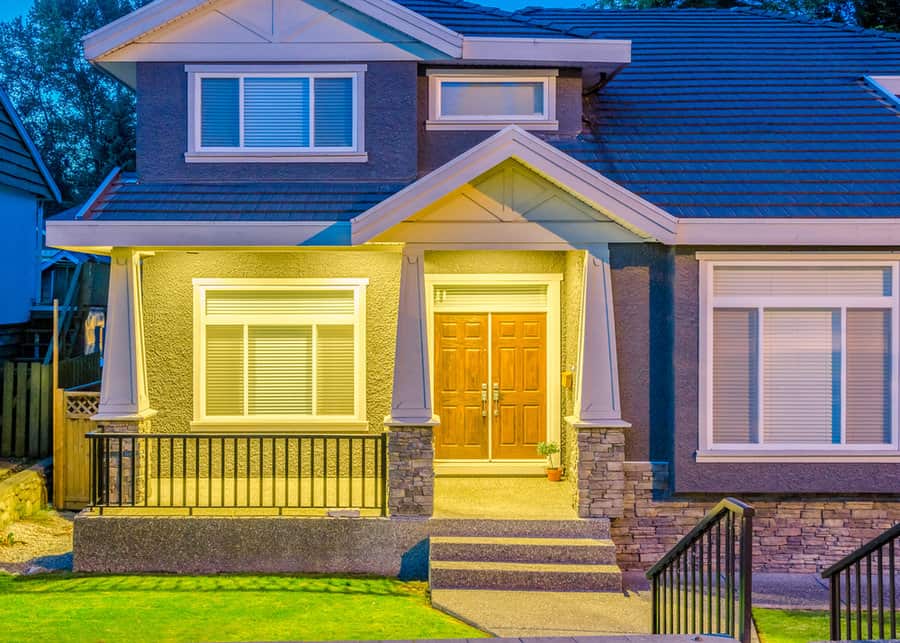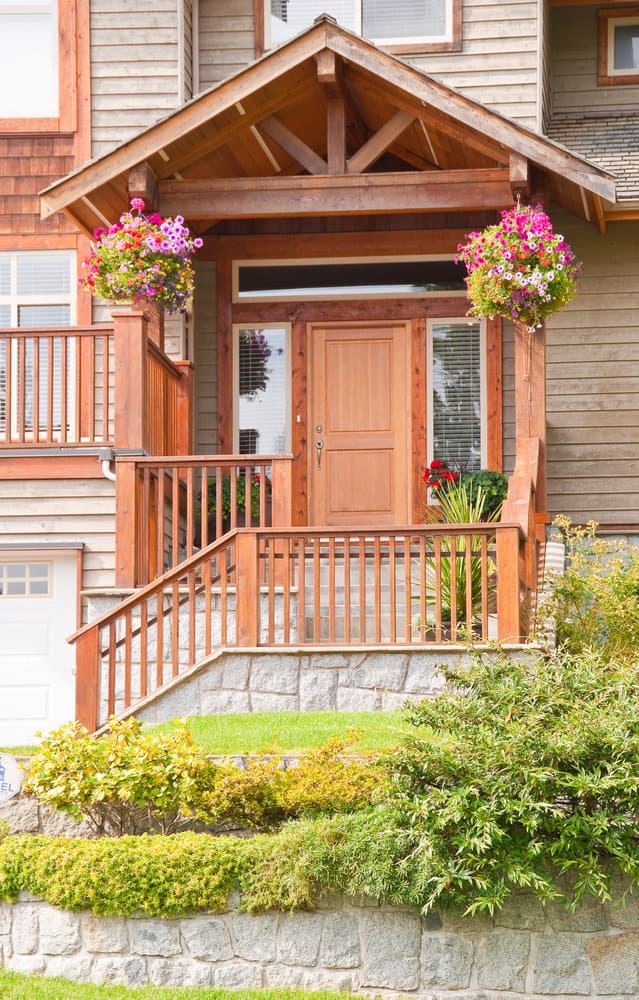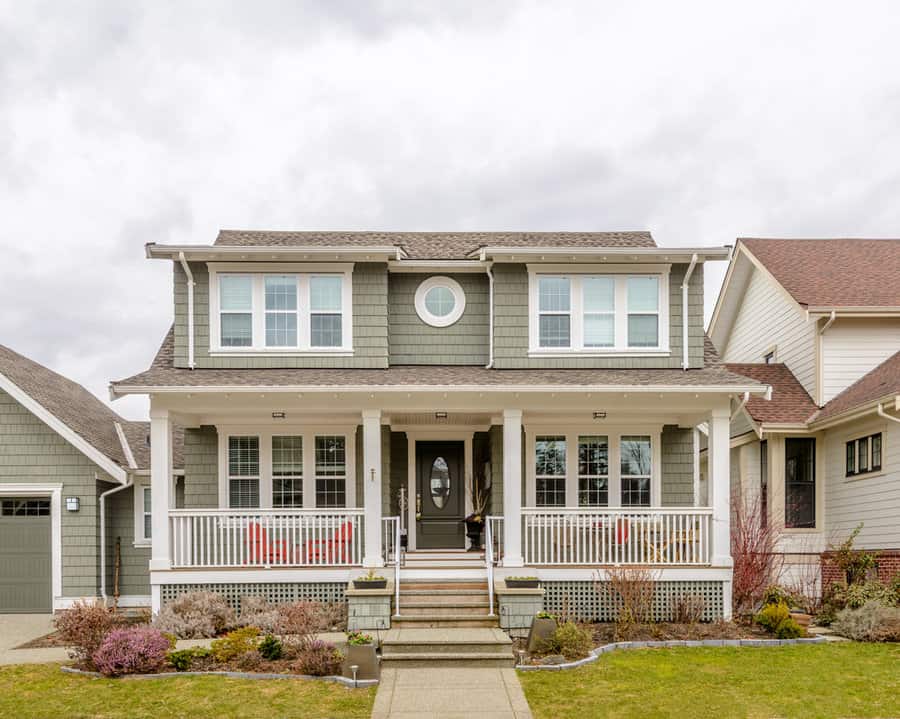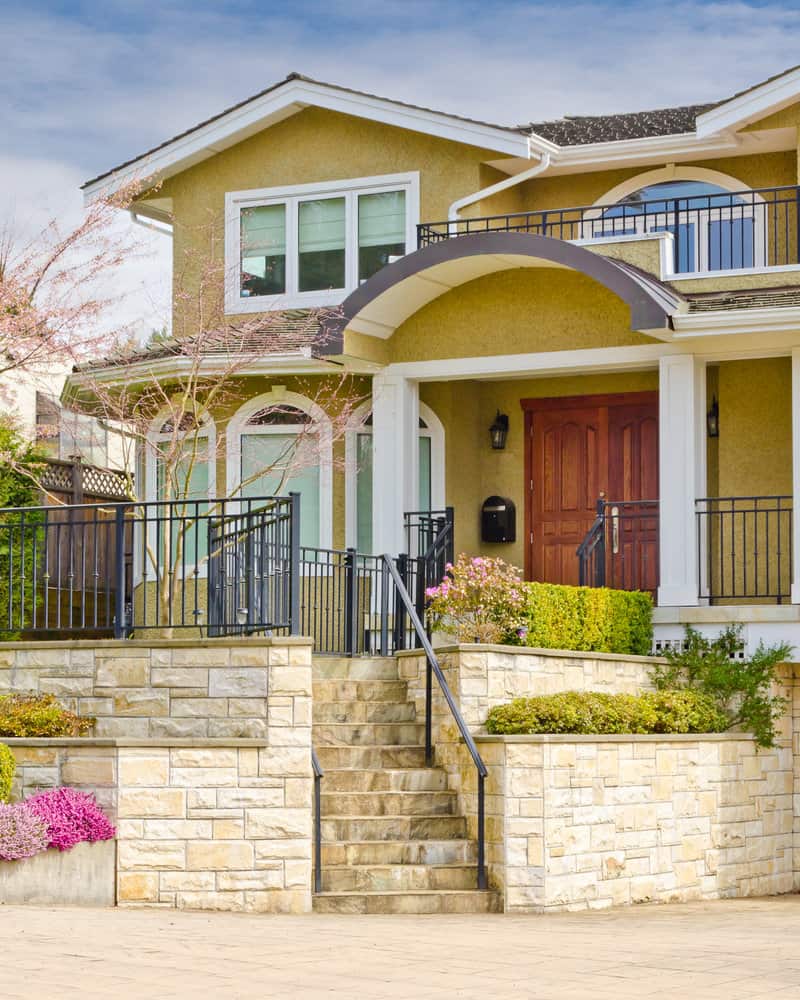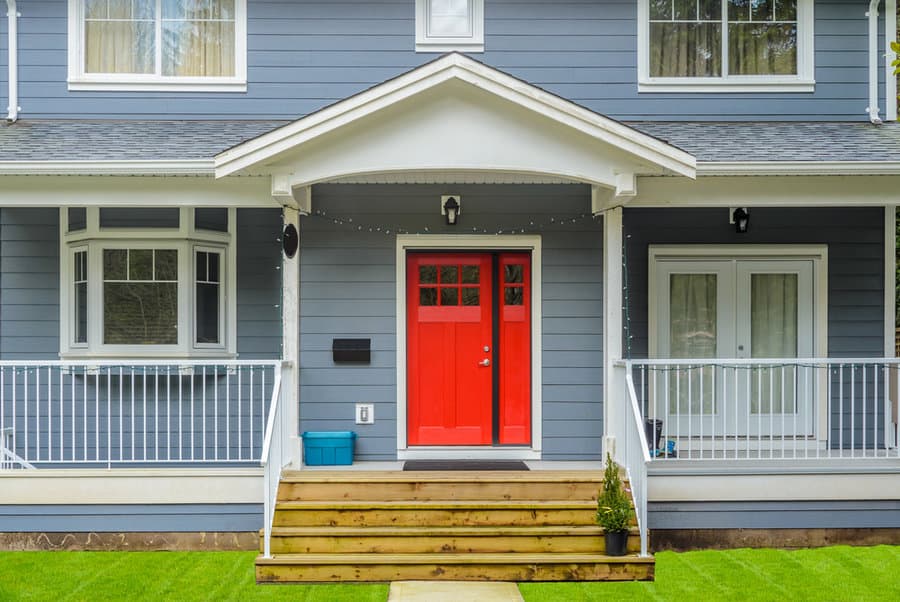 If you prefer a more traditional look, stick with a wrought iron railing. It will require a much larger budget, and the railing will be considerably heavier, making installation more laborious. However, wrought iron is incredibly durable and can last for decades or even a century.
Traditional wrought-iron designs feature overly ornate porch designs. If you prefer a more modern look, you can find designs that feature simple and straight balusters.
7. Painted
While you don't need to paint composite decking, if your porch is made from wood, you can paint it a color to complement the rest of your home. Try painting the deck rail an accent color. This offsets the color of the porch railings from the rest of your home.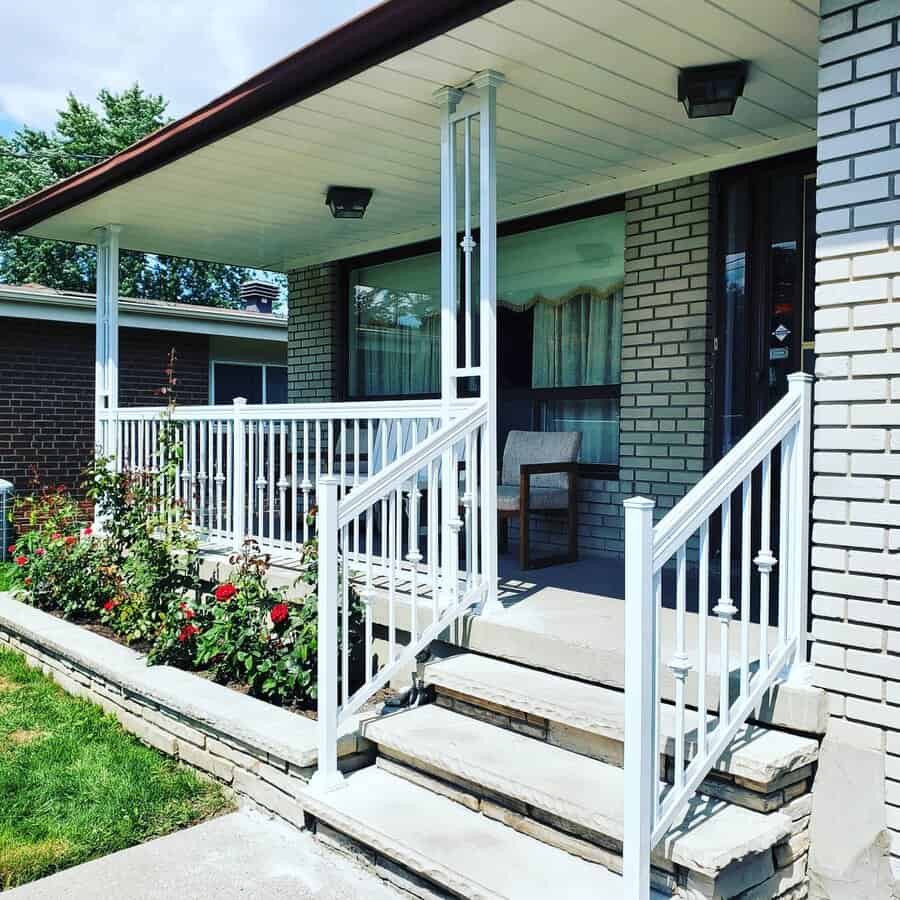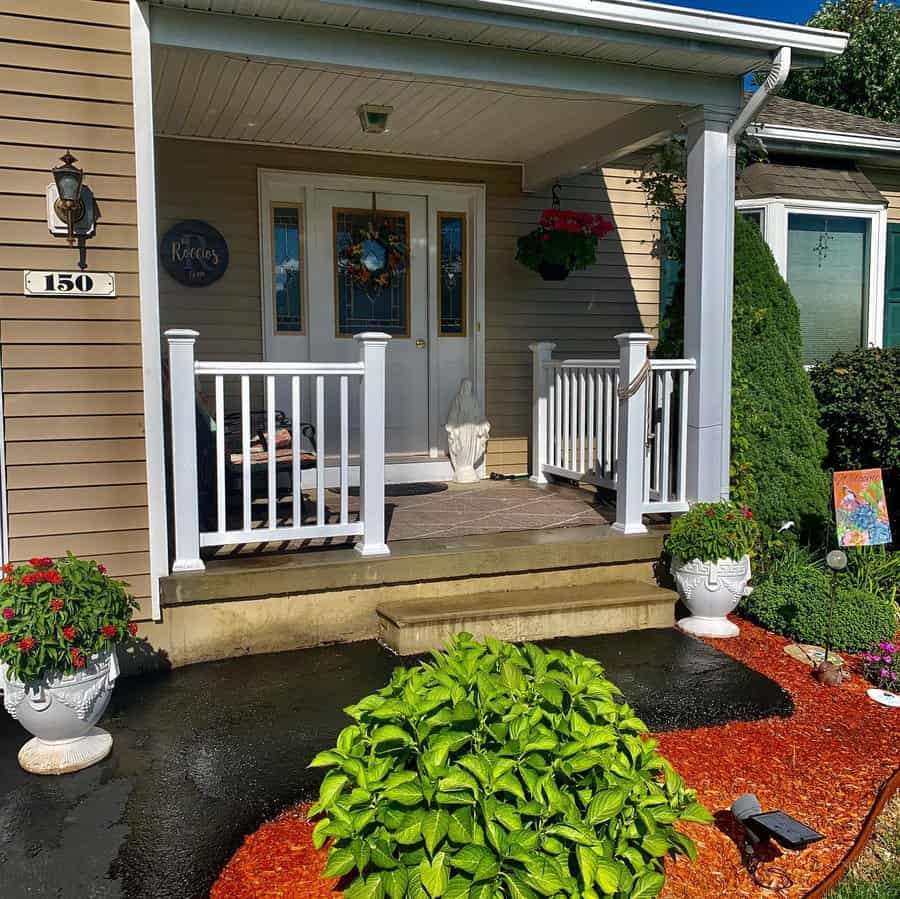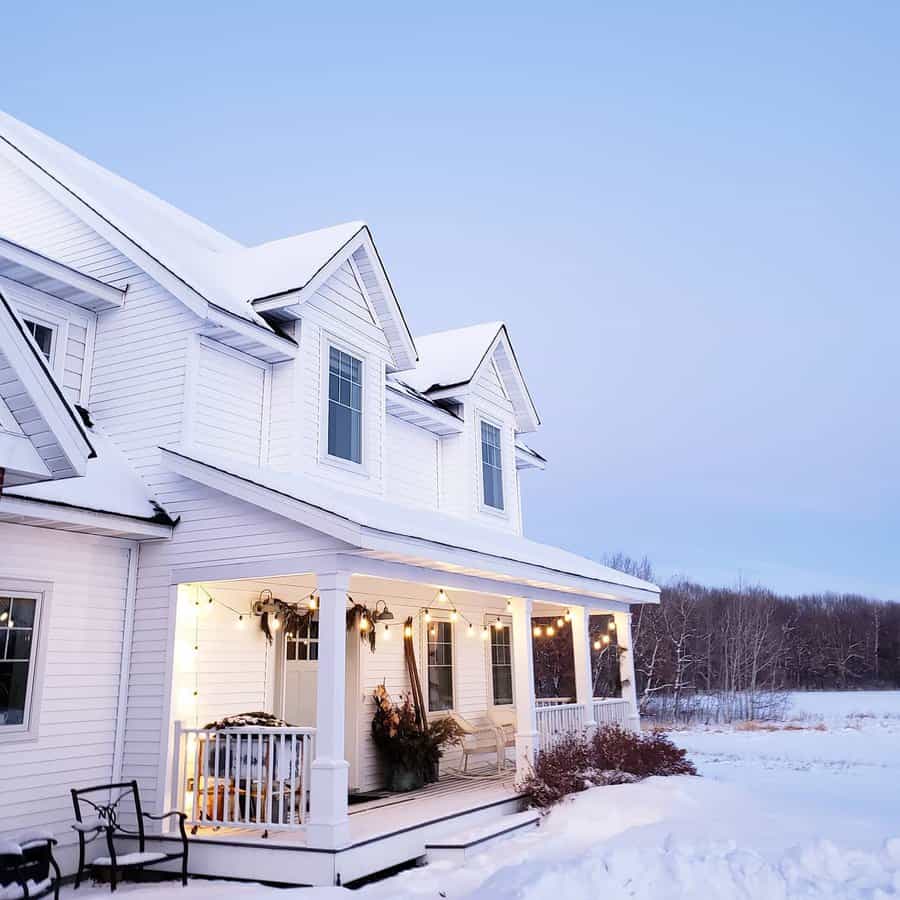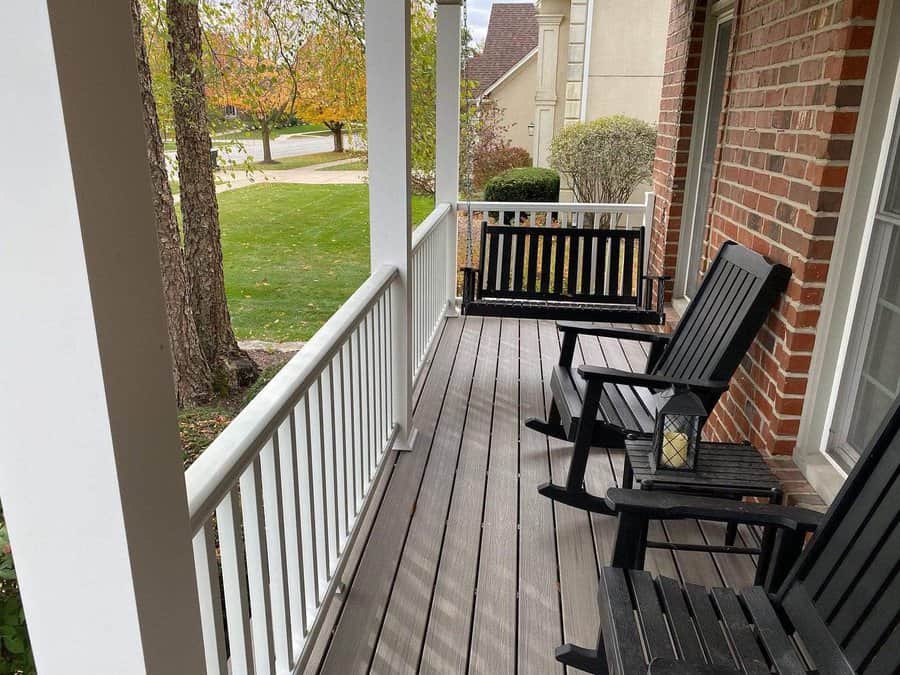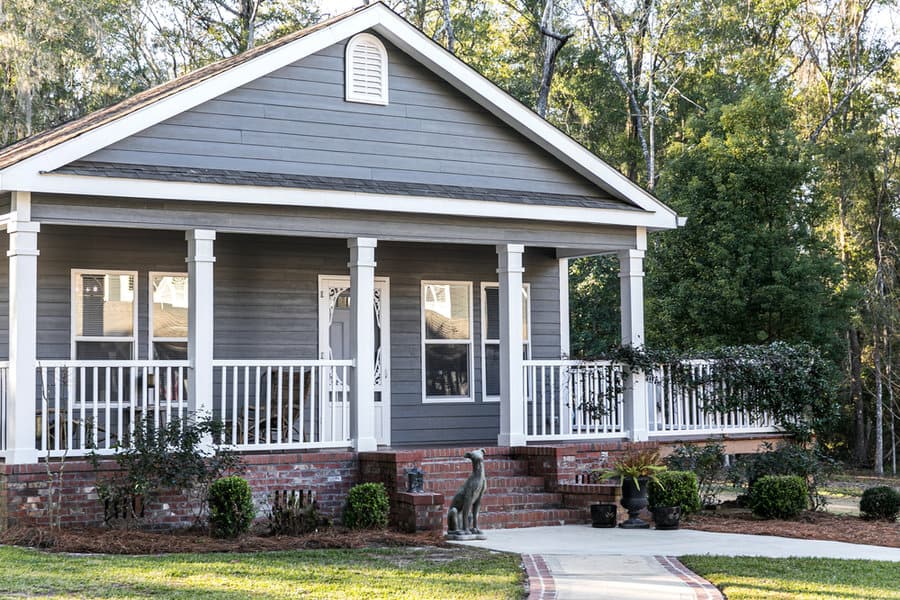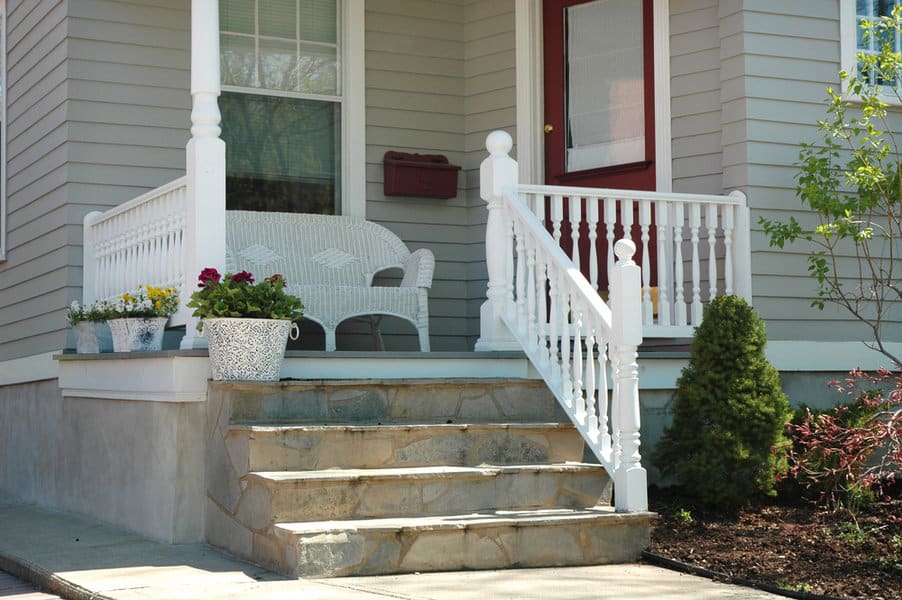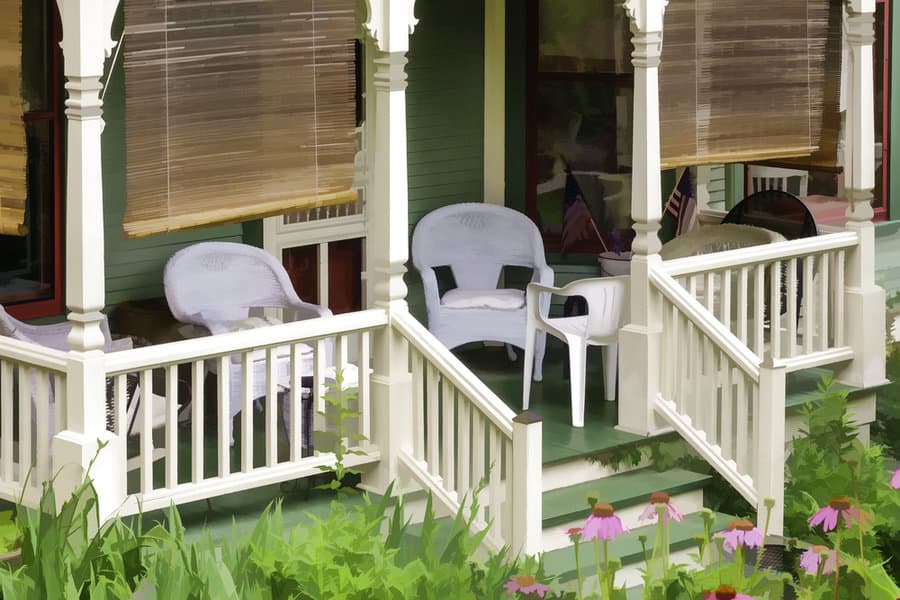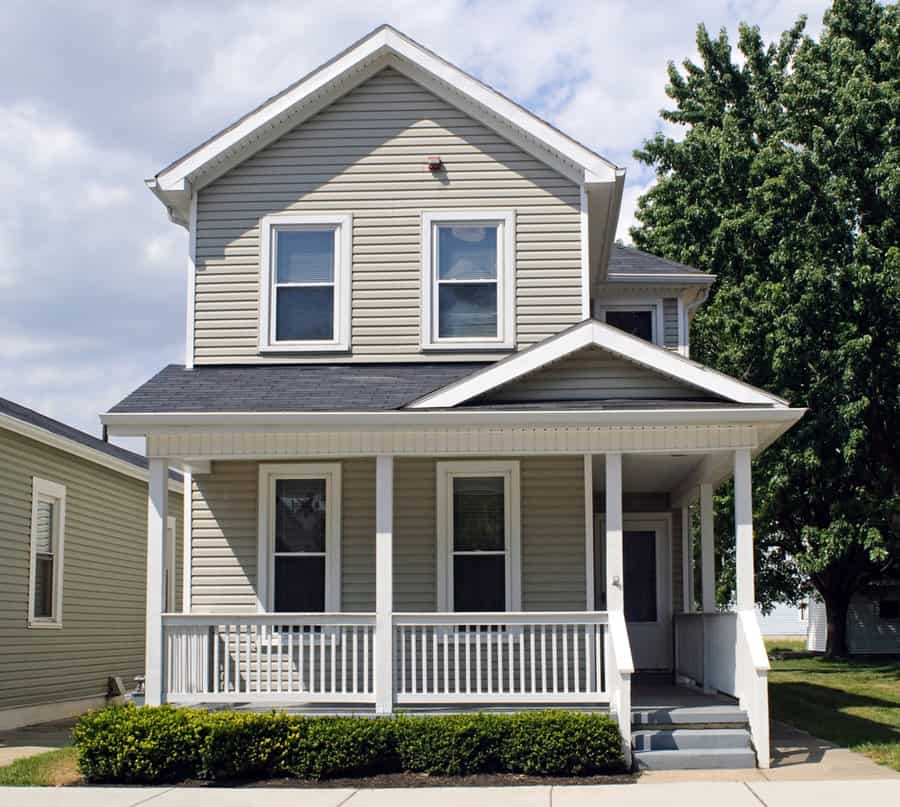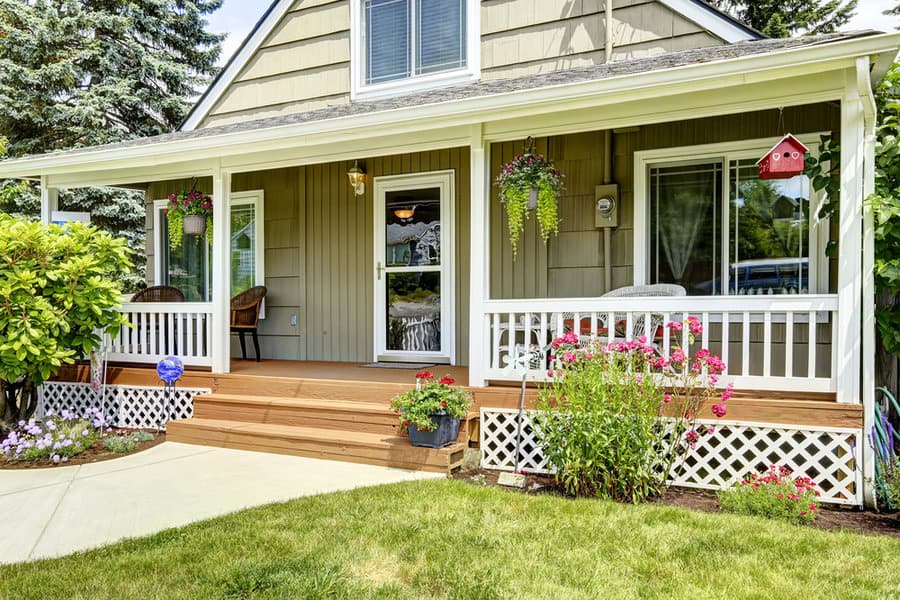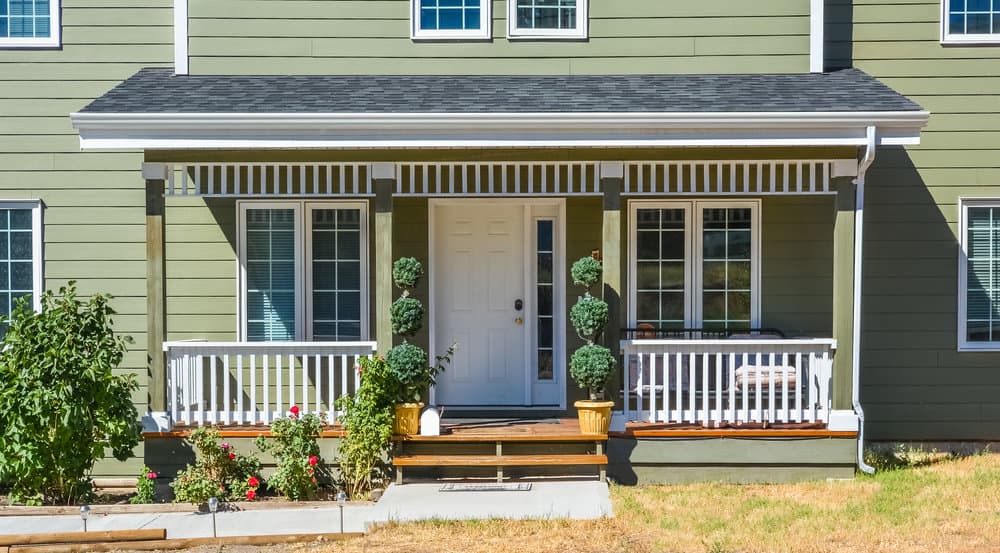 You could paint the entire railing one color or choose two colors. However, if you choose two colors, use those two colors to accent the rest of the home. Choosing a limited color palette ensures you have an appealing and uncluttered design for your home's exterior.
8. Step
If you have steps leading up to your porch, you need more than just exterior railings. You also need to have a stair railing. This isn't just for looks; it's also so that your home complies with building codes.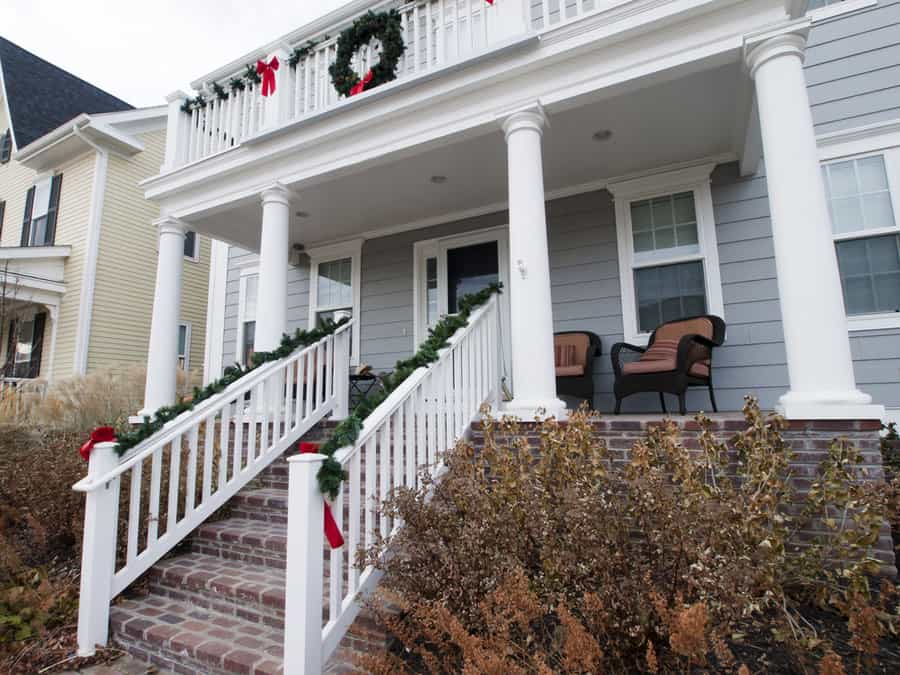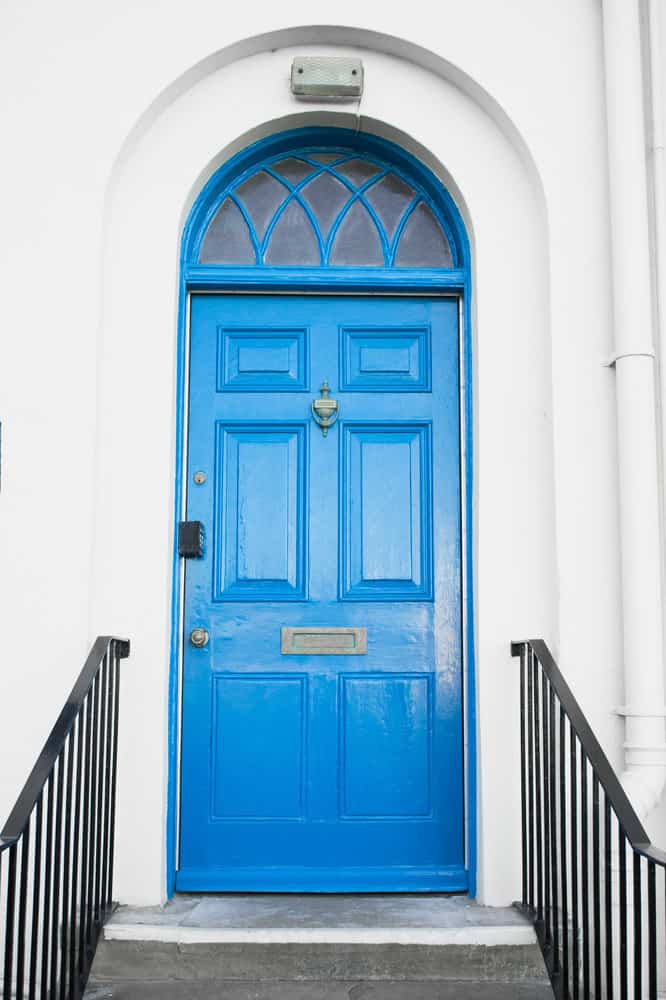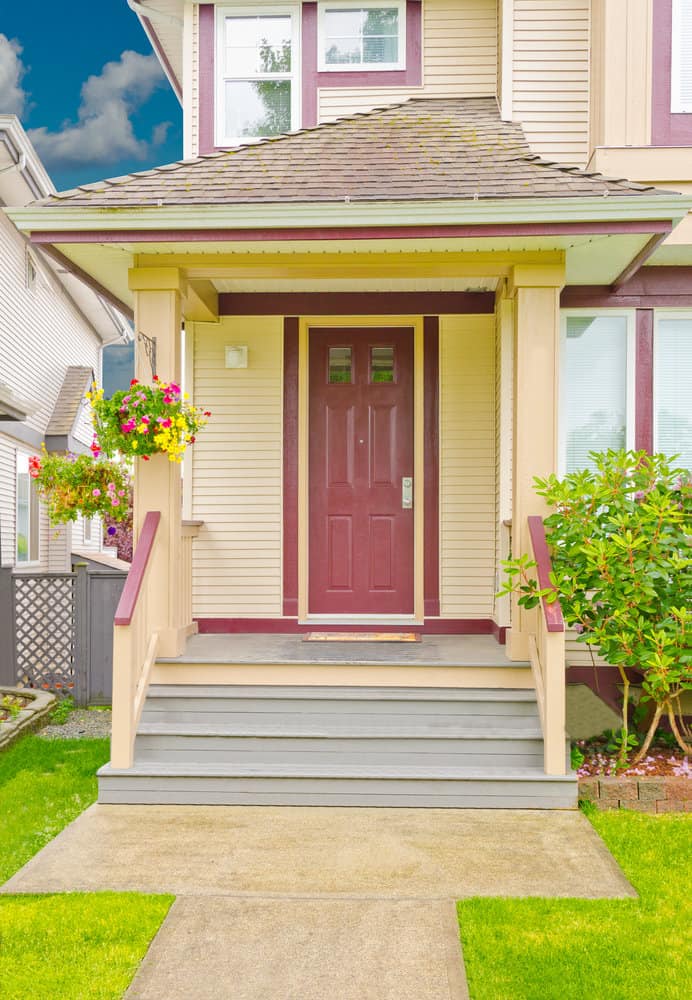 You may be able to get away with having one railing on one side of the stairs. However, you should also consider the look of your house. Adding a railing on either side can give your home symmetry, which can improve the curb appeal of your home.
9. Vinyl
Consider adding a vinyl railing and balusters to your porch for a durable and low-maintenance handrail option.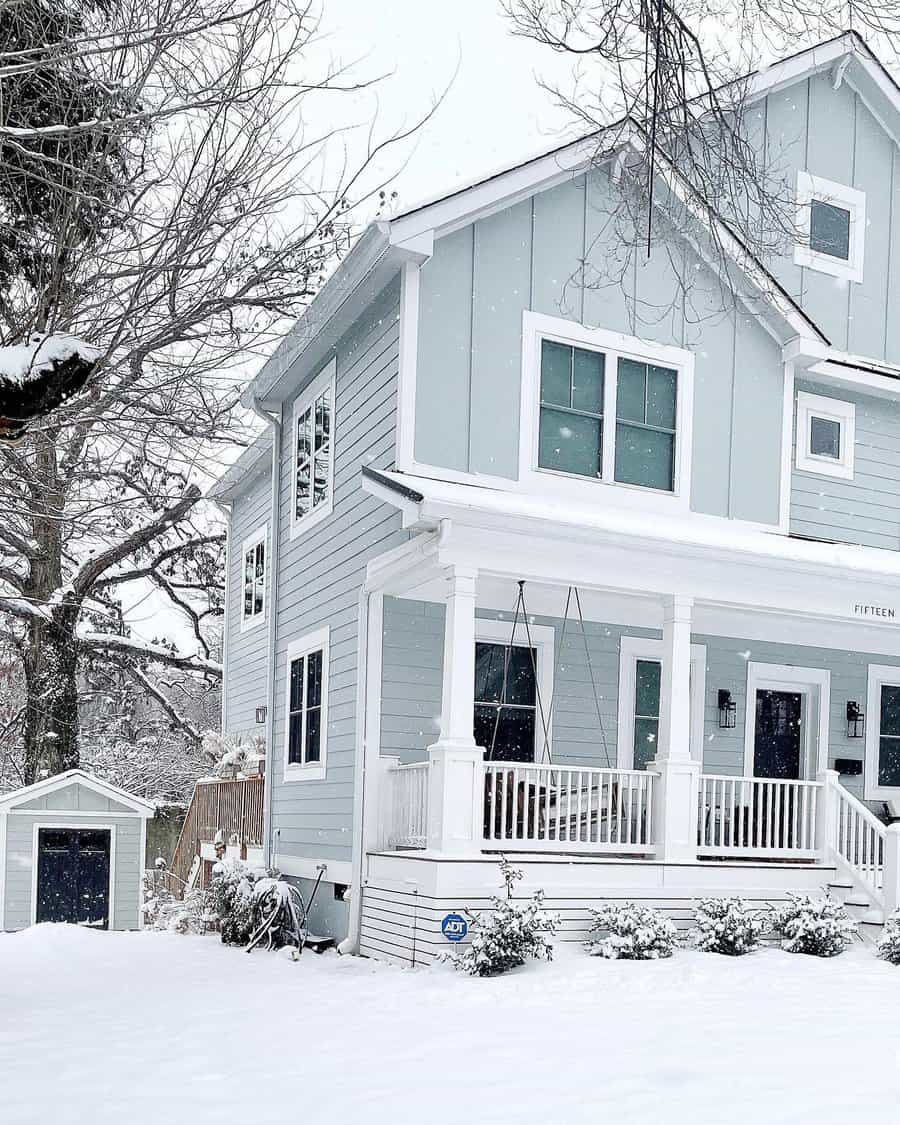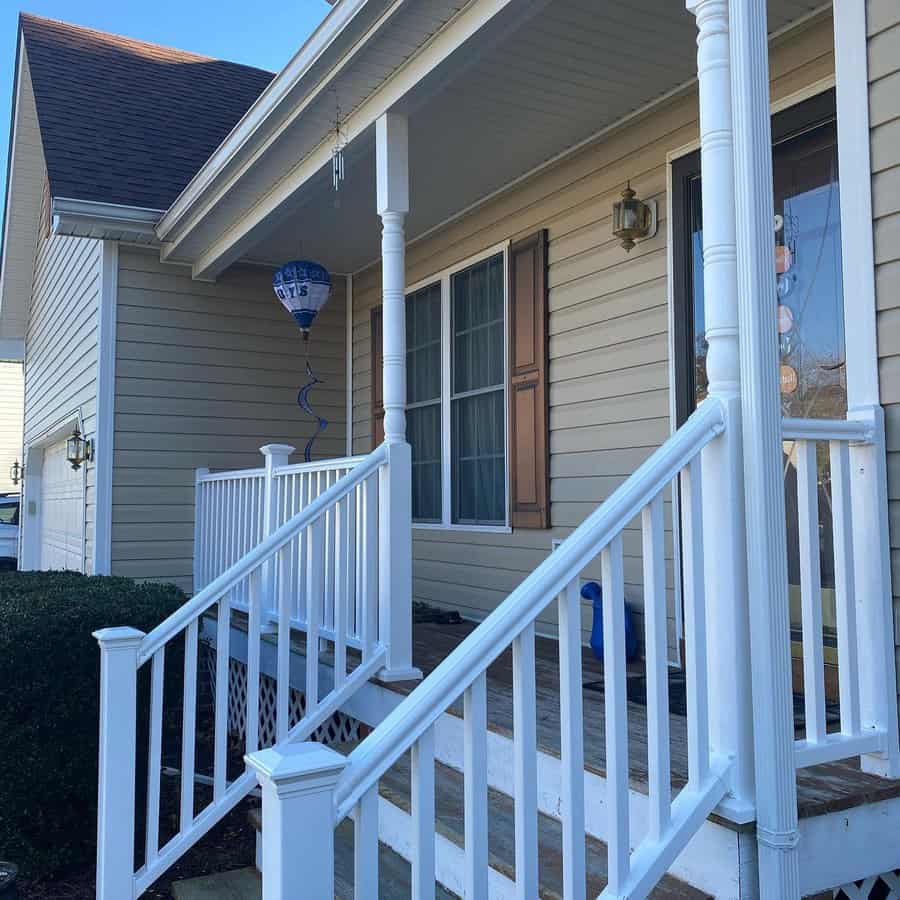 Vinyl is popular among deck ideas because it comes in a wide range of colors, is durable, and is long-lasting. It also looks good with a composite deck, so you can add the same type of railing to the front and back of your house. While the majority of vinyl railings are white, you can give it a finished look with black pickets. This creates a beautiful contrasting look
10. Wood
If you already have a wooden deck, it also makes sense to add a wood porch. That way, your wooden deck on the back of your house matchesthe wood porch on the front of your house. If you have experience with home projects and woodworking, you can build a DIY deck.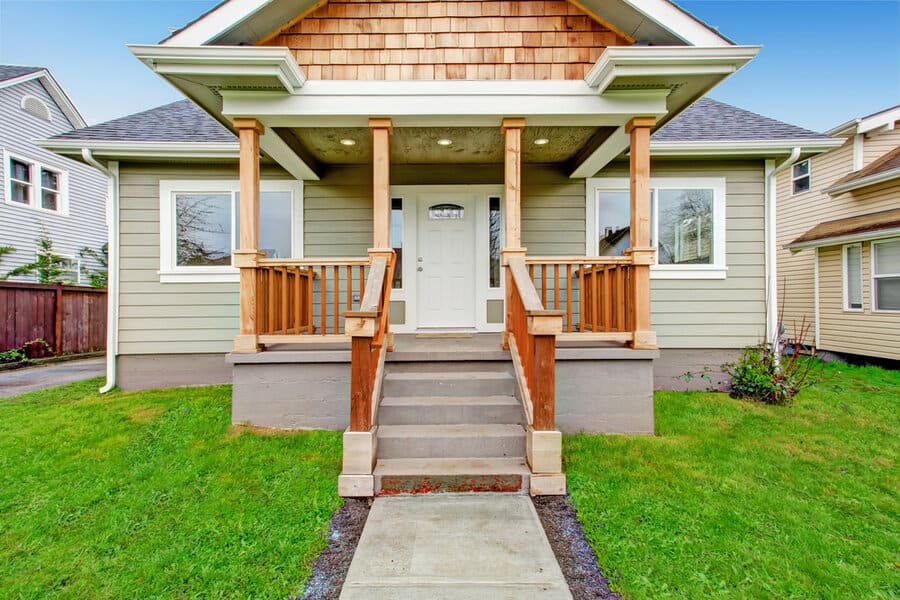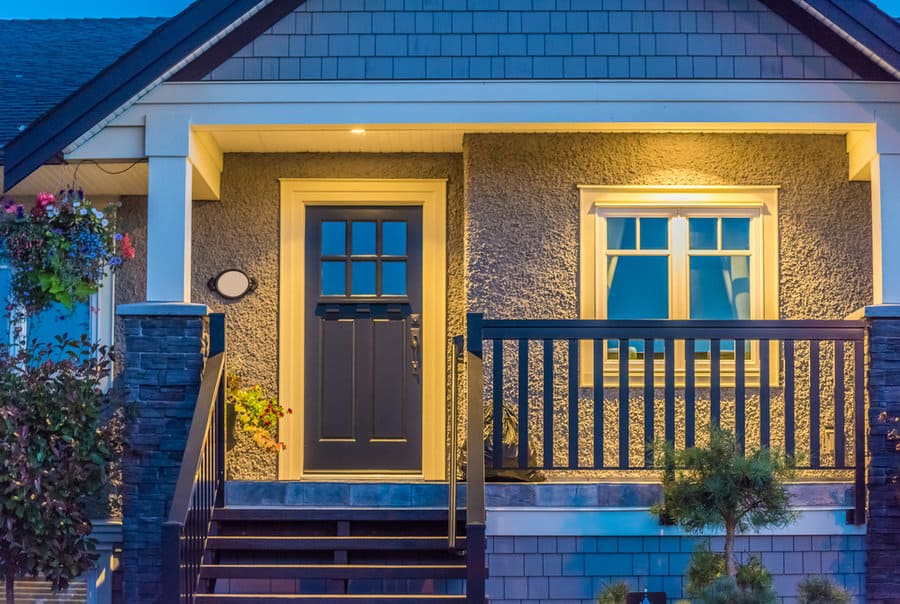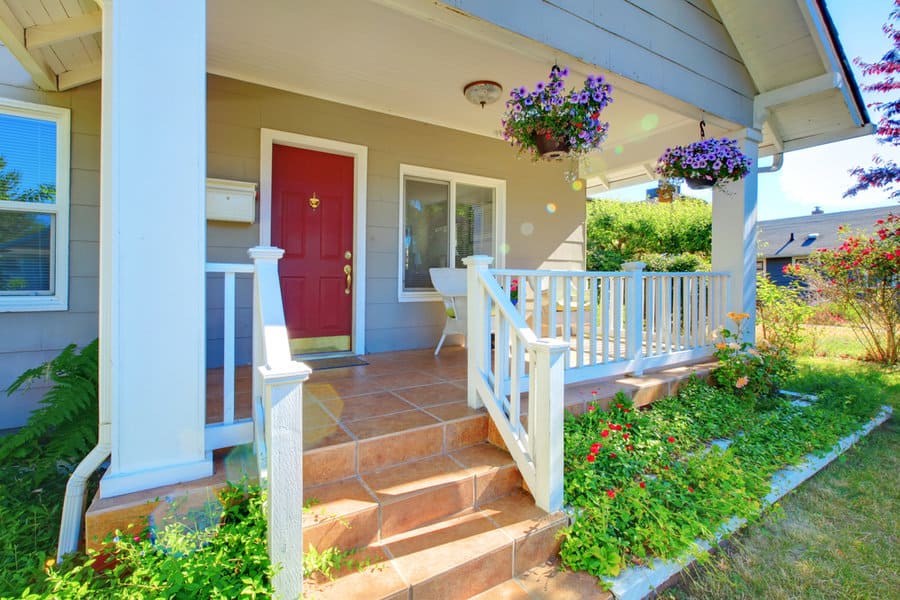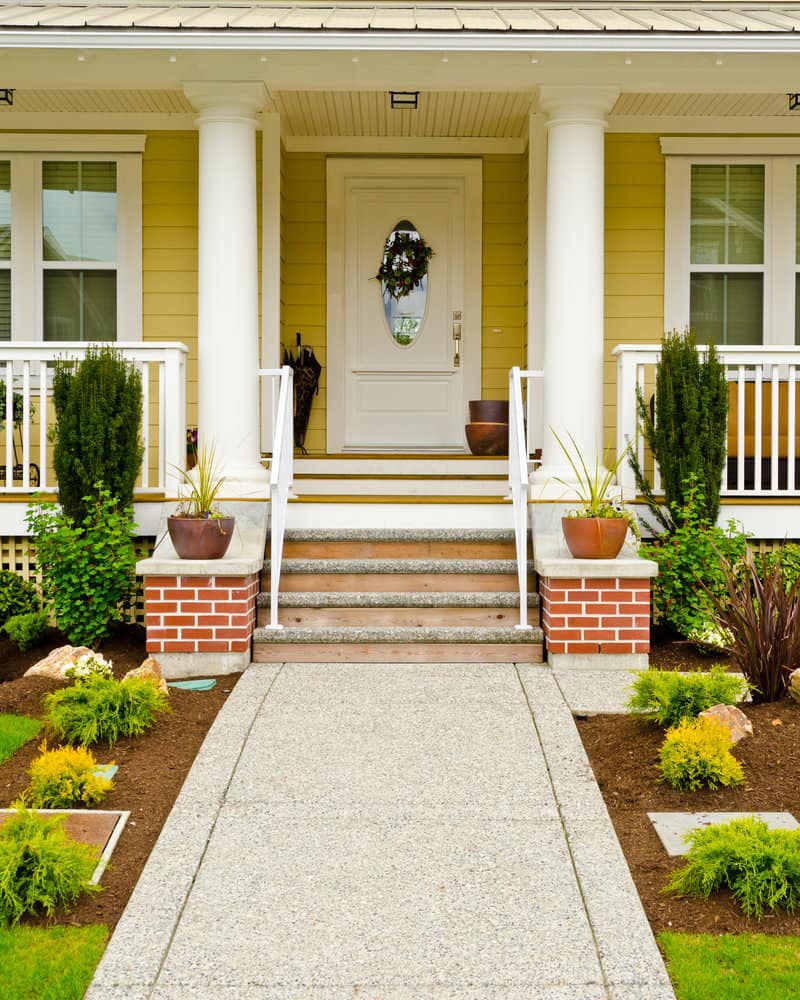 Once you have the base of your deck built, you can add a wooden railing. While wood deck railings tend to be really simple in design, the balusters that go under the wood railing can be intricately carved.
Front Porch Railing FAQs
Should a front porch have a railing?
Yes, your front porch should have a railing. If your porch is more than 30 inches above the ground, then you must have a railing. At this height, it could potentially be dangerous if someone were to fall off of the edge of your porch. Adding a railing also improves the look of your front porch. 
How much does it cost to put a railing on a porch?
Building a railing on your porch will depend on the size of your porch and the style of railing you decide to build. If you have a ten-foot deck, then you could build a railing for as little as $1,000. However, if you decide to install the railing yourself, your materials could cost you as little as $500. 
How far apart should deck railing posts be?
There are two standard sizes for your deck posts, 4×4 and 6×6. If you decide to use 4×4, then they should be no farther apart than six feet. If you use 6×6 posts, they should be no further apart than eight feet. This spacing is required because the posts need to have enough strength to support the railing. However, placing them closer together is nice because you can create a decorative look.