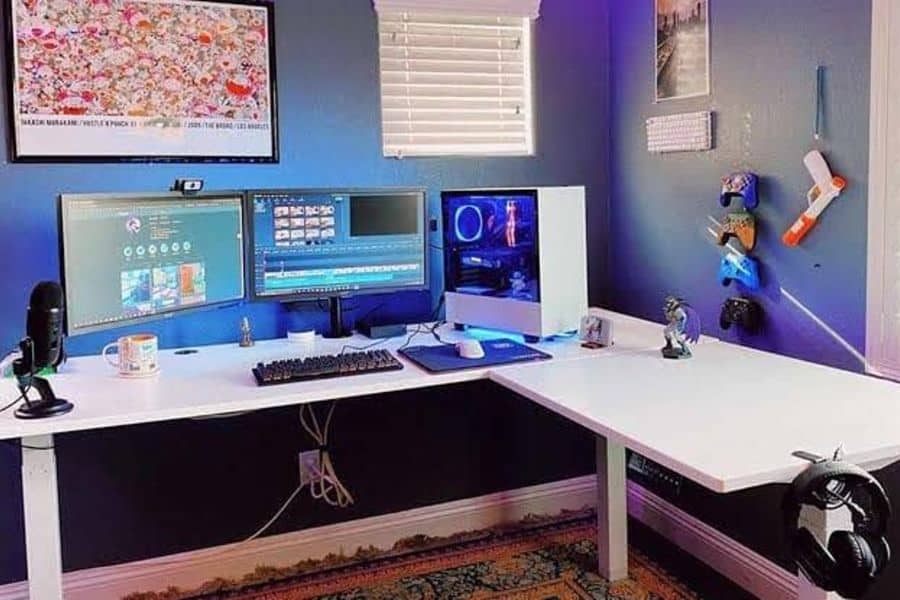 The Top 31 Gaming Desk Ideas
Computer and console gamers have been at war for years. But if there's one advantage PC gamers have over the latter, it's awesome computer desk setups.
From customizable RGB lighting to multi-monitor displays, being a gamer has never been more stylish. For many gamers, ensuring their computer looks good is nearly as important as its processing power!
If you want to take your computer setup to the next level, check out the gaming desk ideas below for some top-notch inspiration.
1. Design
Amateur designers often fall into the trap of thinking decor is the only way to give their home style and personality. But the type of furniture you choose can have the biggest impact of any design choice.
Investing in a computer desk that is both functional and aesthetically pleasing is a great way to upgrade your gaming setup. There are tons of designs to choose from, ranging from classic to futuristic.
You may have trouble finding a dedicated gaming desk that suits your personal style. In these cases, you can expand your options by building a DIY gaming desk or using another piece of furniture like a table or shelf.
2. Drawer
One of the easiest ways to improve the appearance of your desk setup is by keeping the surface clean. Drawers are ideal for holding small gaming accessories like controllers, headphones, or spare cables.
Ample storage space is particularly important if your computer desk serves dual purposes. When it's time to switch from work to play — or vice-versa — you can easily clean your desk surface by placing unnecessary items in a drawer.
Can't find a ready-made desk with enough storage built in? You can quickly put together a DIY computer desk with a couple of filing cabinets and a large shelf or tabletop!
3. Girly
Female gamers are certainly not new. But it's only been in recent years that gaming rig companies realized there was a huge market interested in girly accessories.
If your gaming room is full of pastels and aesthetic decor, then a white desk will match perfectly. However, a desk made of light wood or a steel frame will also work.
You can give any gaming setup a feminine touch with soft RGB lighting and a cozy chair. When selecting gaming equipment like a mouse pad or headphone hook, be sure to invest in designs that suit your style as a whole.
4. L-Shaped
An L-shaped desk (or corner desk) is an excellent way to maximize usable space for your gaming setup.
If you're looking to install a gaming setup in your living room or another multi-use space, an L-shaped desk is likely the best option.
An L-shaped desk has nearly double the amount of space for monitors, towers, and other gaming PC accessories than a normal one. So any gamer who uses dual-monitors should consider investing in this style of desk.
Thanks to the extra elbow room provided by an L-shaped desk, you don't need to worry about feeling cramped. You can even use one as a double-sided computer desk for two people.
5. Minimalist
It's high time for the "messy gamer" cliche to die! Adopting a minimalist aesthetic for your computer gaming desk is an excellent way to fight this stereotype by playing in style.
Stick with a coherent color scheme throughout your entire gaming setup. This includes everything from the furniture to smaller details like your computer monitor screensaver. Most minimalist palettes include white or black plus a couple of accent colors.
One thing is certain: Minimalism and clutter cannot co-exist. Keep your gaming desk clear of day-to-day items and unnecessary decor. You'll want to ensure your desk design includes plenty of storage and a great cable management system as well.
6. Office
Did you know the average age of a PC gamer in the United States is 35? So the fact that many gaming desk ideas also double as home workspaces should come as little surprise.
Investing in a high-powered computer can mean more efficient work and play. But it's important to ensure your computer desk serves both purposes. This is especially true if you frequently take video calls in your home office.
You can give your gaming desk a more professional edge by using a neutral color scheme. While you don't need to forgo RGB lighting altogether, it should be kept to a minimum. Leave space on your desk for paperwork and install a cup holder for your morning pick-me-up.
Read more: 67 Home Office Desk Ideas
7. Setup
Of course, every gaming enthusiast knows that it's more about what you do with the desk than the desk itself.
One of the simplest ways to give your setup a polished look is to invest in matching computer accessories. Just sticking to an all-black or white color scheme can have a huge impact on your gaming setup's overall aesthetic.
RGB lights and customizable signs are two examples of popular desk decor. Many modern PCs even have built-in RGB lighting. Coordinating all of these elements, along with your monitor background, is a great way to make your gaming setup look like that of a professional.
8. Small
Social media is filled with photos of gaming setups featuring multiple screens and mile-long desks. If you live in a dorm or small apartment, though, your gaming desk might only be big enough to hold your keyboard, mouse, and a single monitor.
Hang a shelf over your main desk setup to store accessories like your gaming headset or external speakers. You can also use this surface to display small decorative items and avoid cluttering up your actual desk surface.
Physical storage isn't the only challenge in setting up a small gaming desk. Be sure to prioritize cable management. Otherwise, your tiny computer desk could end up looking like a digital rats' nest!
Read also: 83 Small Office Ideas
9. Wooden
There's no shortage of unique gaming desk designs to choose from. But if you want to give your game room a more mature aesthetic, a classic wooden desk might be the best option.
Not only are wood desks extremely sturdy but they also suit nearly all interior decor styles. Just be sure to invest in a solid wood desk that features plenty of built-in storage and cable management solutions.
You might not be able to customize your desk setup with rhythmic RGB lighting. Yet you'll be able to rest easy knowing your gaming furniture is built to last. Pair your new desk with a sleek leather gaming chair and modernist decor.
Gaming Desk FAQs
What is the best size for a gaming desk?
You can use almost any desk for gaming as long as it can accommodate your entire setup.
In general, you want your desk surface to be at least 2 feet deep to hold your monitor, keyboards, and mouse. Otherwise, choose a length and height that is comfortable and works well in the available space.
Can I use a standing desk for gaming?
Standing desks are popular among office workers looking to reduce the amount of back and neck strain they experience from sitting at a computer all day. These desks can also create a more comfortable gaming experience.
If you want to choose between sitting and standing at your computer, look for a desk with adjustable feet. This feature allows you to raise or lower your desktop as needed.