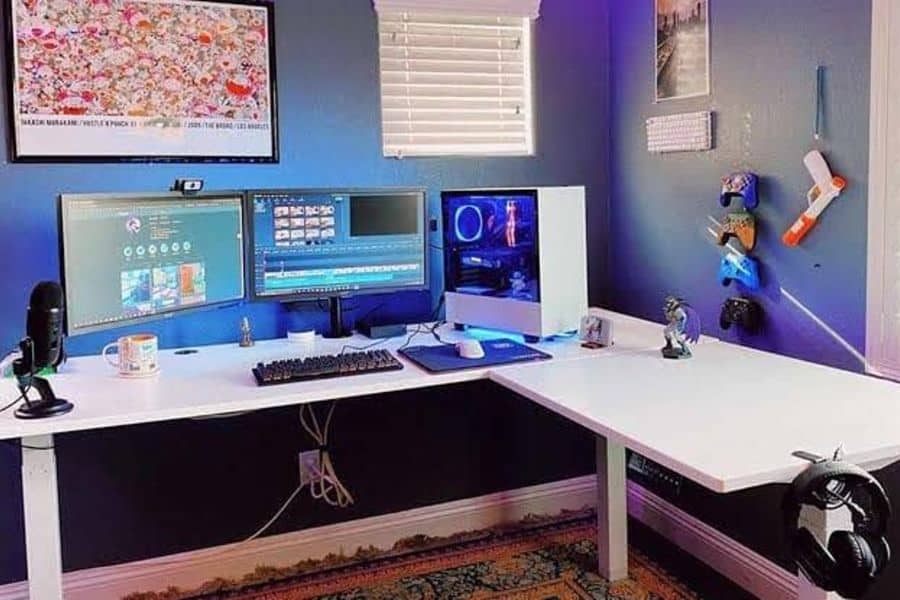 The Top 31 Gaming Desk Ideas
Computer and console gamers have been at war for years. But if there's one advantage PC gamers have over the latter, it's awesome computer desk setups.
From customizable RGB lighting to multi-monitor displays, being a gamer has never been more stylish. For many gamers, ensuring their computer looks good is nearly as important as its processing power!
If you want to take your computer setup to the next level, check out the gaming desk ideas below for some top-notch inspiration.
1. Get An Illuminated Mouse Pad
There's nothing quite like an immersive gaming experience, and a great gaming desk can make all the difference. If you're looking for a desk that will elevate your gaming setup to the next level, consider one with an illuminated keyboard.
The soft glow of the keys creates a sleek and stylish atmosphere, while also providing practical benefits such as increased visibility and reduced eye strain. Not only will a gaming desk with an illuminated keyboard elevate your game, but it will also add a touch of futuristic flair to your gaming setup.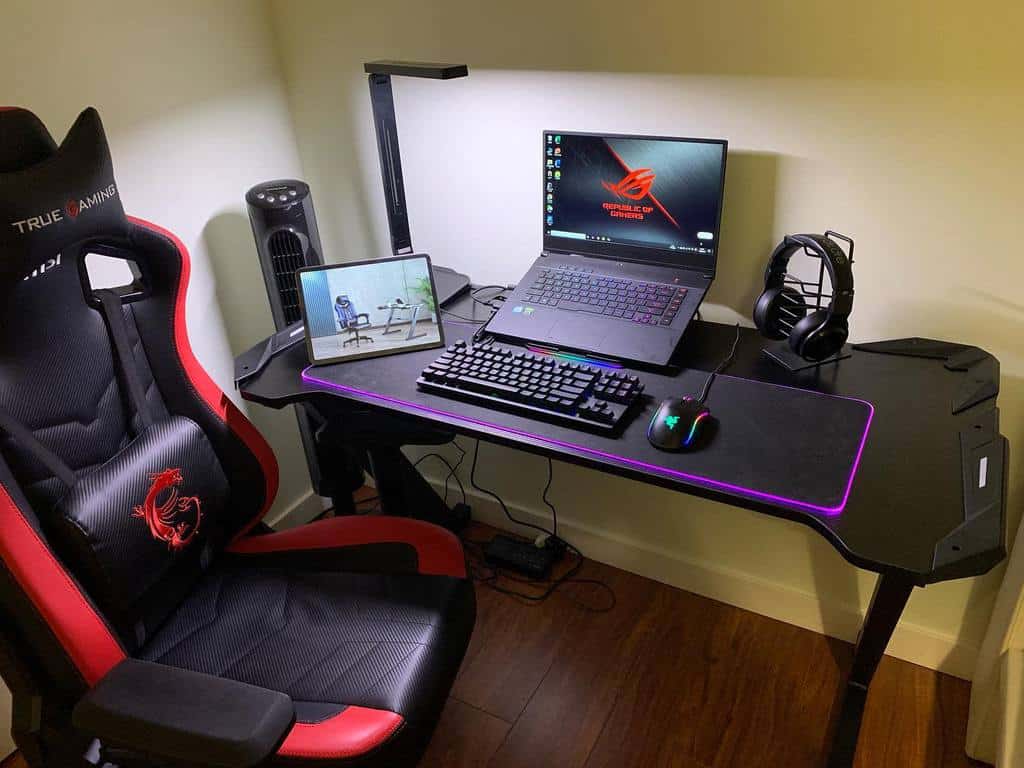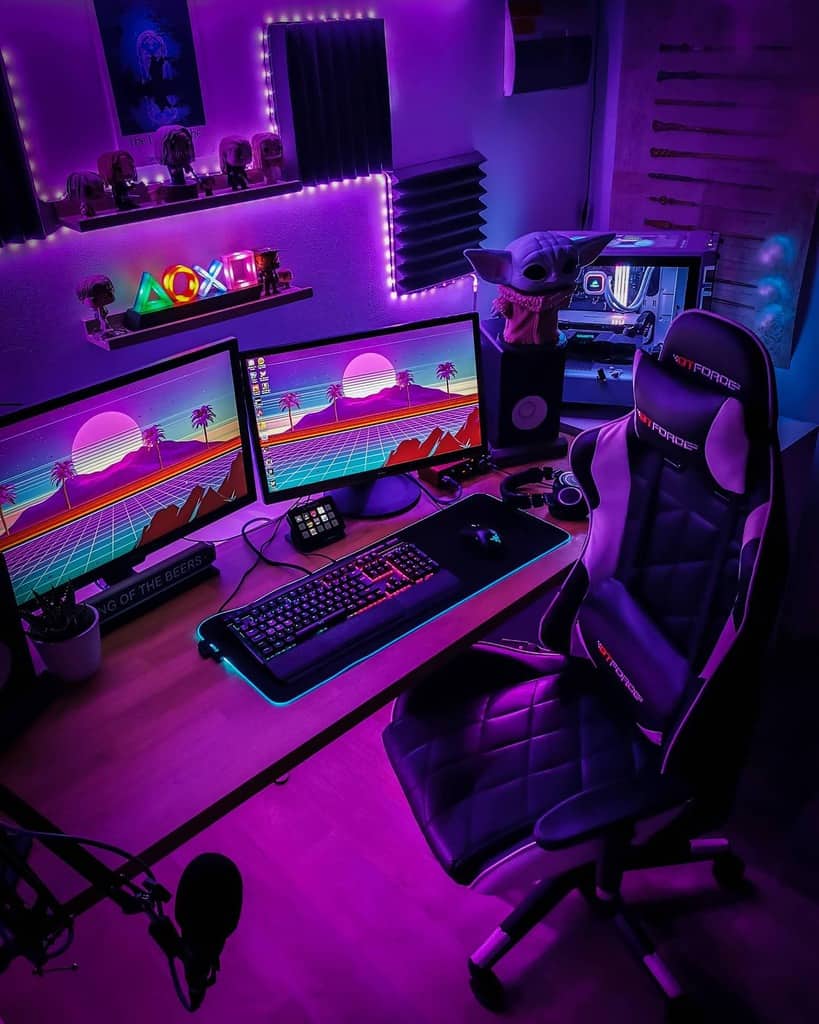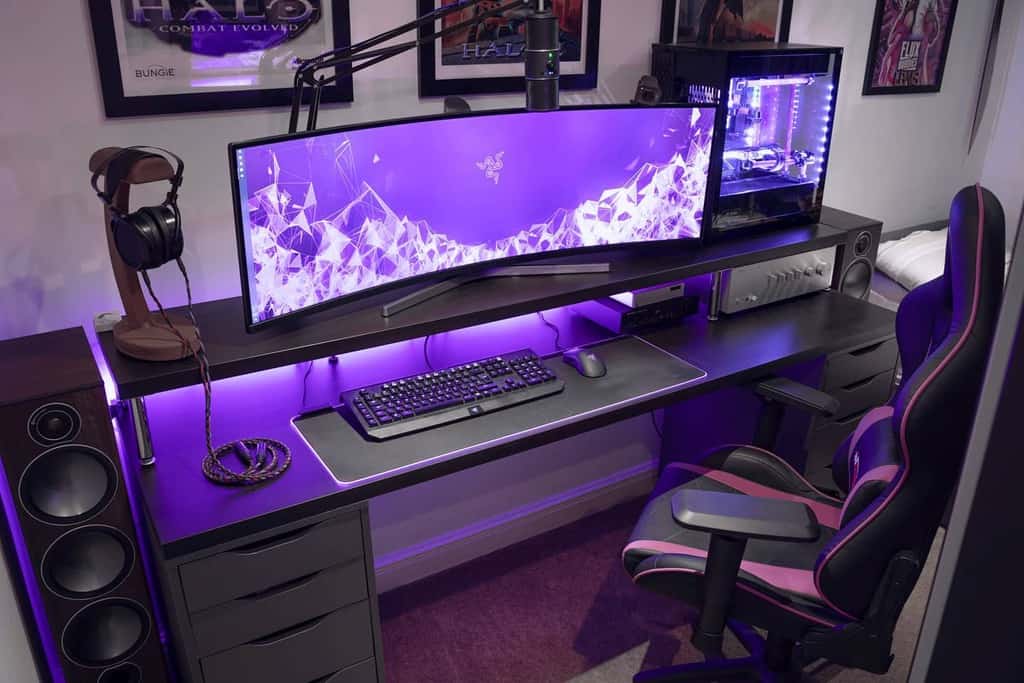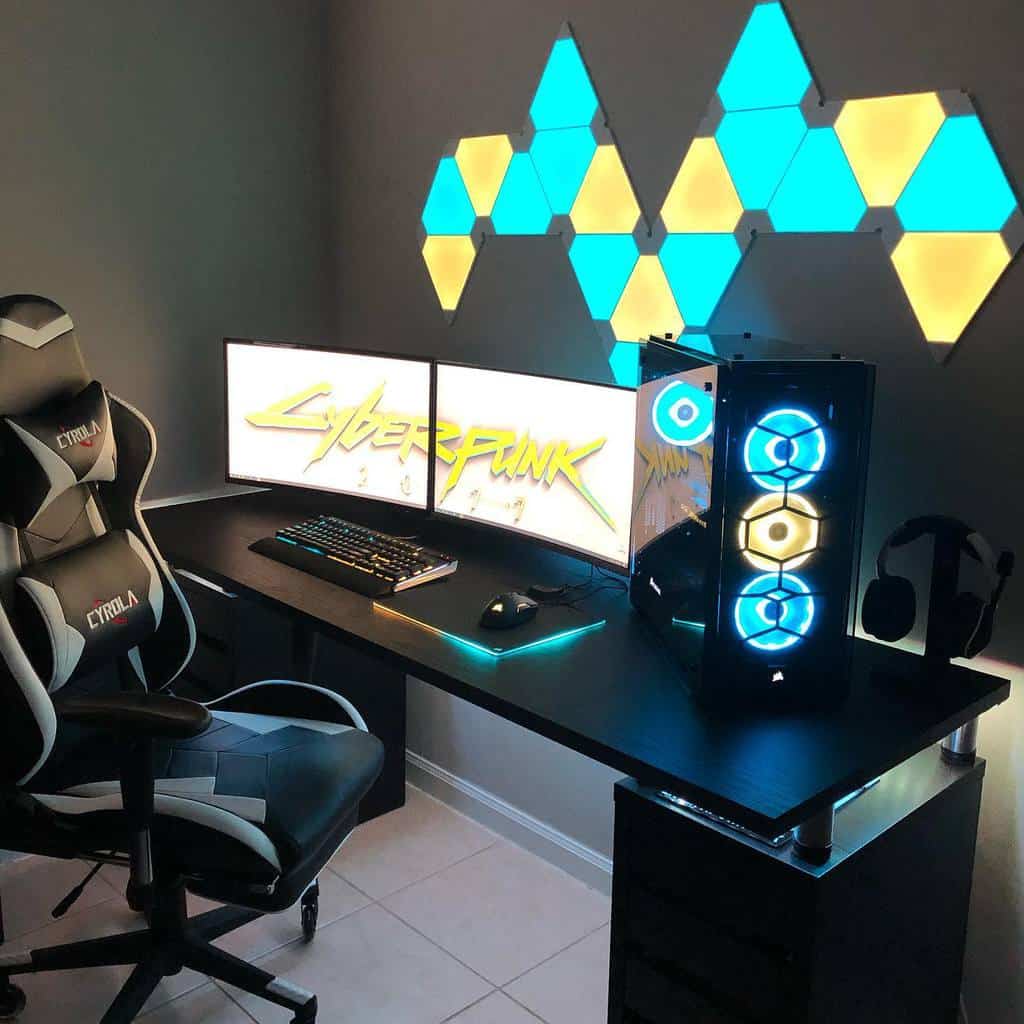 2. Utilize The Corner Of Your Home
As a gamer, having a dedicated space for the game is essential to maximizing your performance and overall experience. That's where a gaming desk comes in, and if you have limited space, a corner gaming desk is a perfect solution.
Not only does it make the most of your available space, but it also provides a comfortable and ergonomic setup that can help reduce fatigue and strain on your body during long gaming sessions. With a corner gaming desk, you can have all the functionality and features of a standard gaming desk but in a compact and space-saving design.
Whether you're a casual gamer or a serious competitor, a corner gaming desk can help take your game to the next level.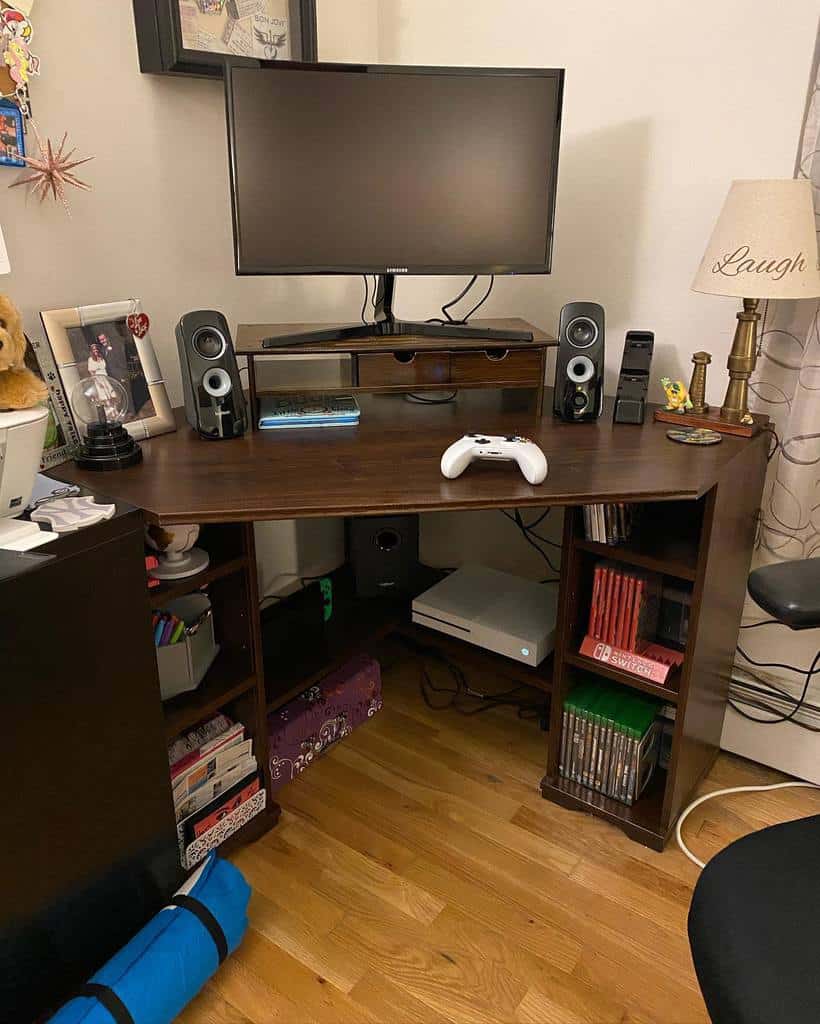 3. U-Desk For Multi-Taskers
If you are in the market for a new gaming desk, then a U-shaped gaming desk may be the perfect fit. The U-shape creates ample room for your gaming setup, ensuring that everything is within reach.
Not only is it functional, but it also adds a touch of aesthetics to your gaming space. The U-shaped gaming desk is a practical and versatile option that will take your gaming experience to the next level.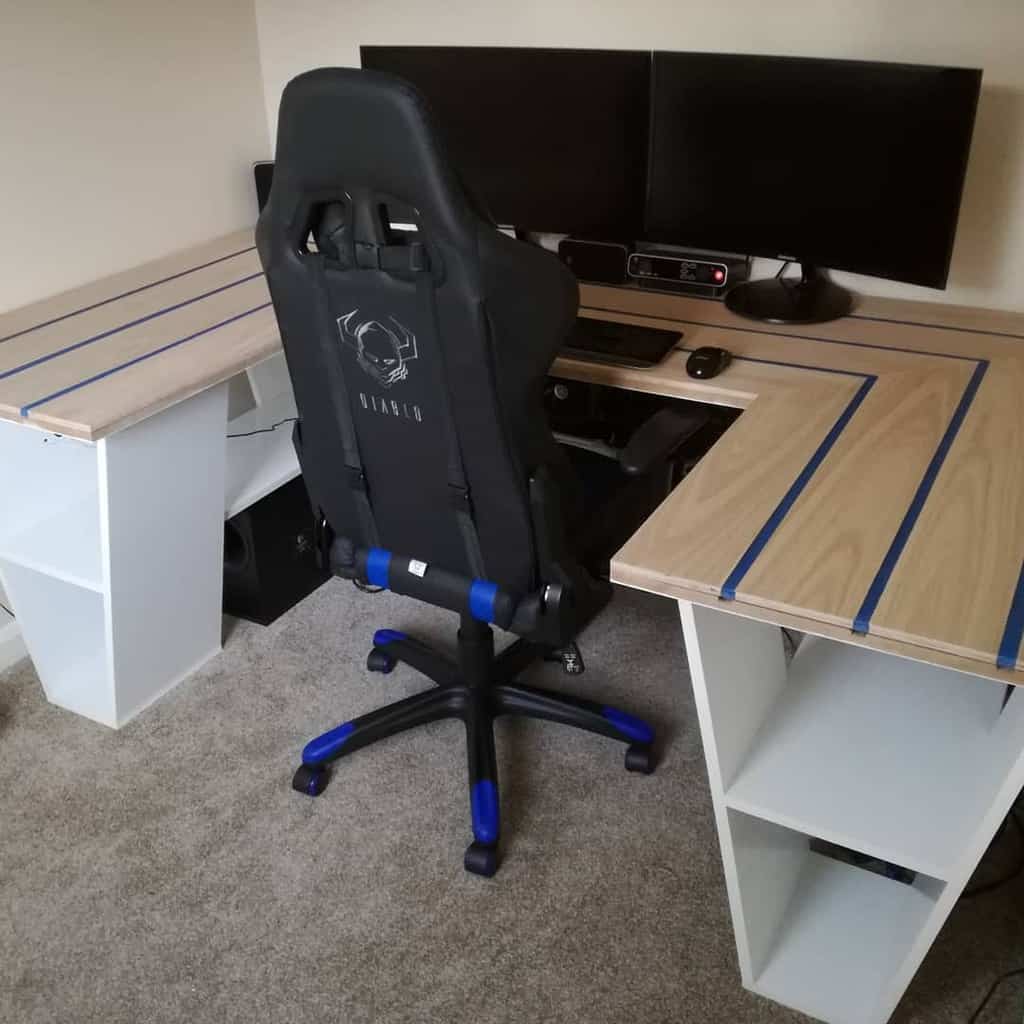 4. Desk With LED Strips
When it comes to creating the ultimate gaming setup, a quality gaming desk should be at the top of the list. And what better way to enhance your gaming experience than with a gaming desk that features LED strips? Not only do they add a cool aesthetic to your space, but they also provide a soft glow that can help reduce eye strain during extended game sessions.
Plus, the added customizable lighting can make for some seriously epic gaming moments. Whether you're a professional gamer or casual player, a gaming desk with LED strips is a must-have for any setup.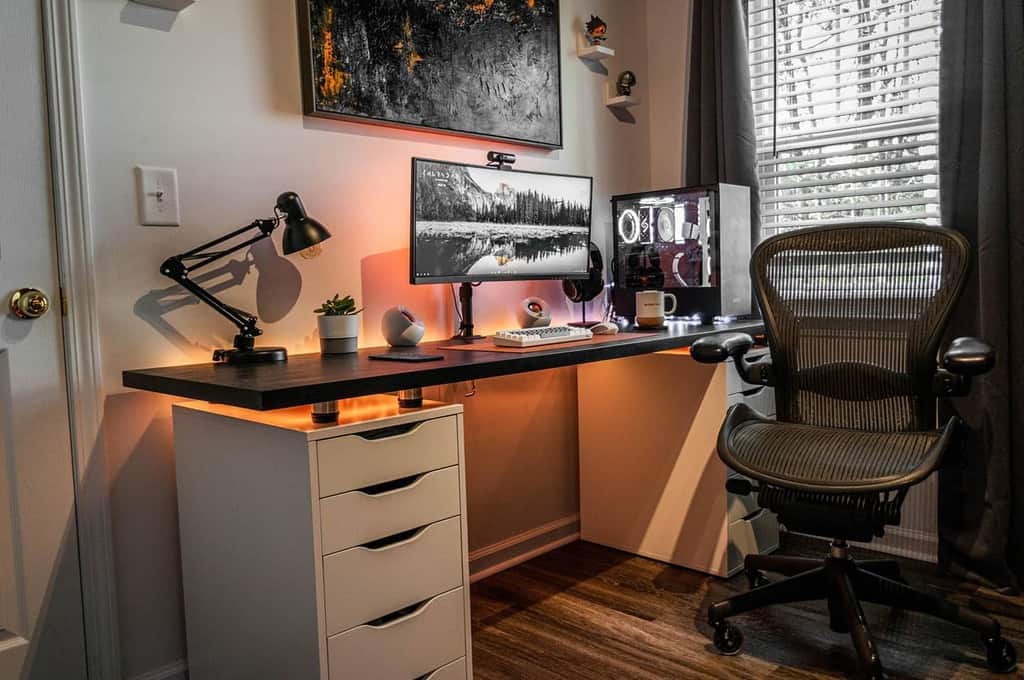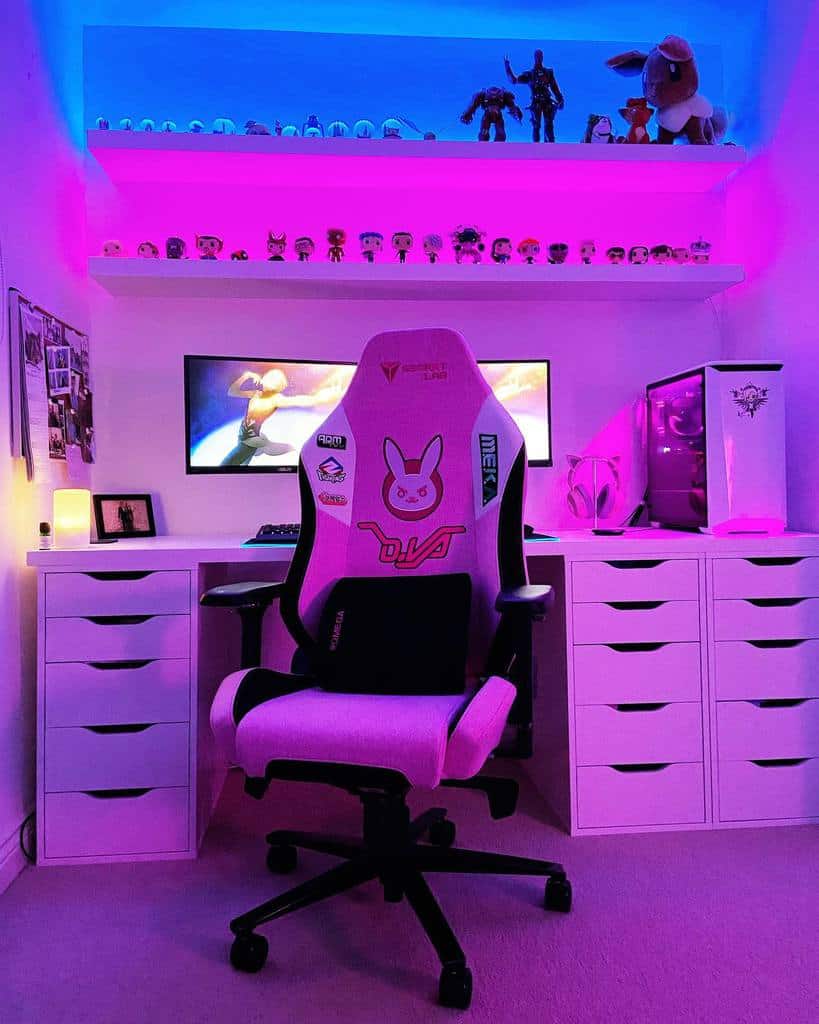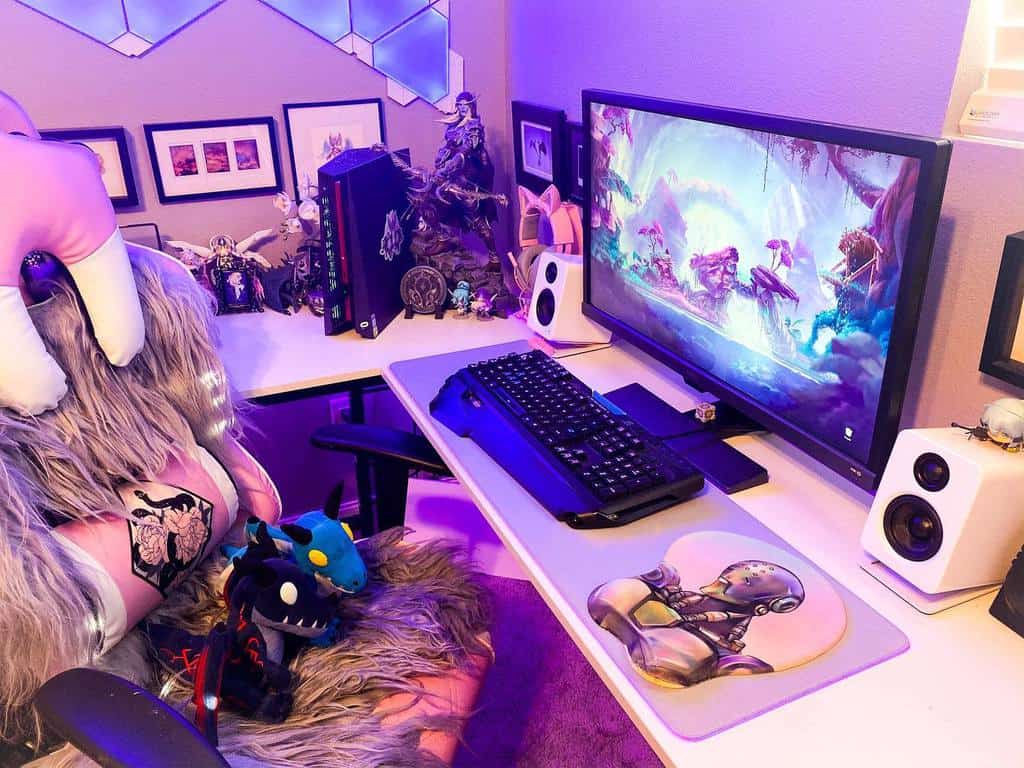 5. Monochrome Set Up
Gaming setups are a crucial aspect of any gamer's life. When it comes to choosing the right gaming desk, you want something that offers style, functionality, and durability. The monochrome gaming desk is an ideal piece of furniture for anyone who is looking for a minimalistic and sleek design.
The desk's black and white color combination gives it a timeless and versatile appearance that would fit perfectly in any modern interior.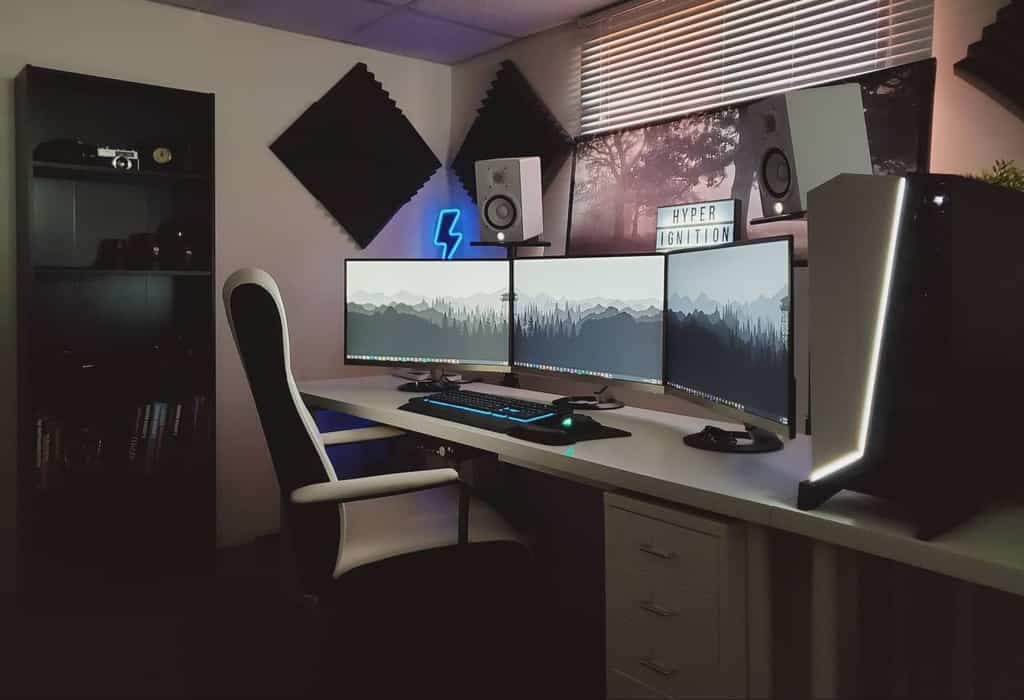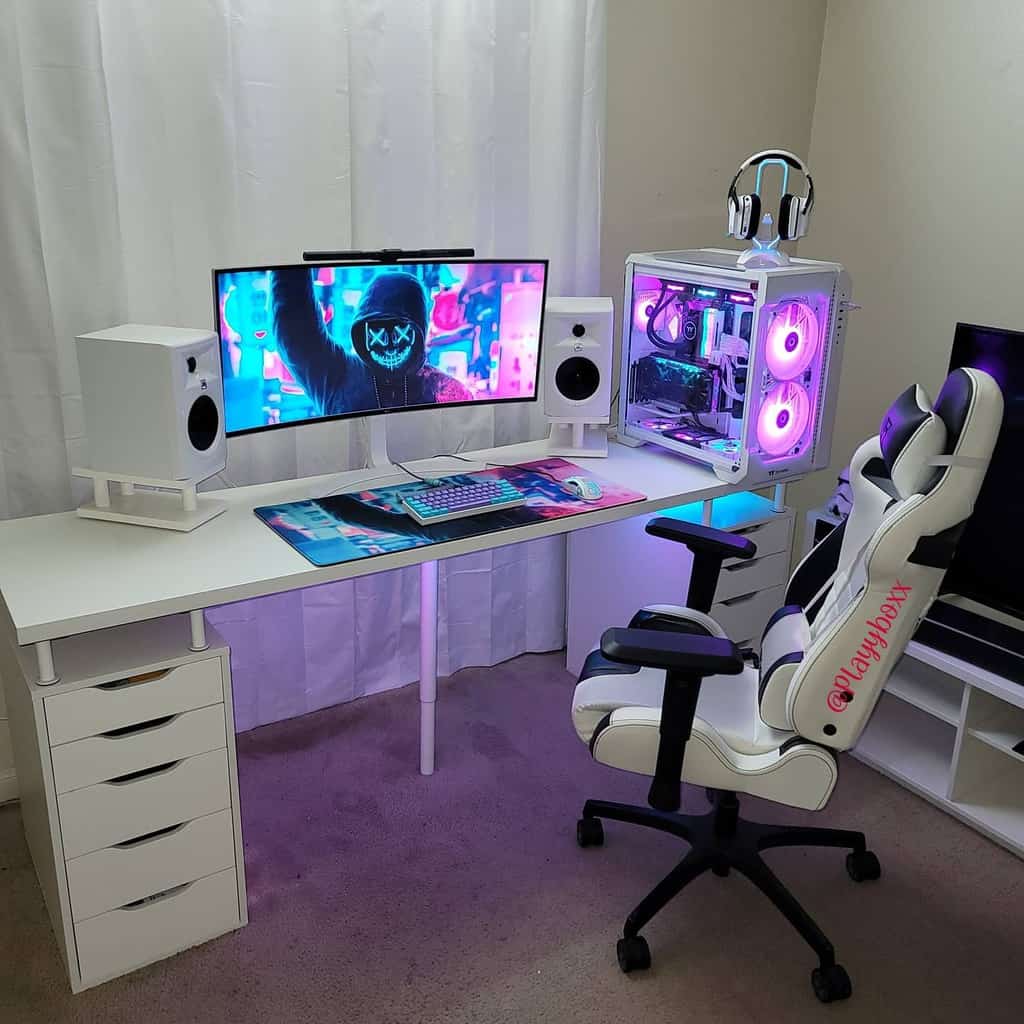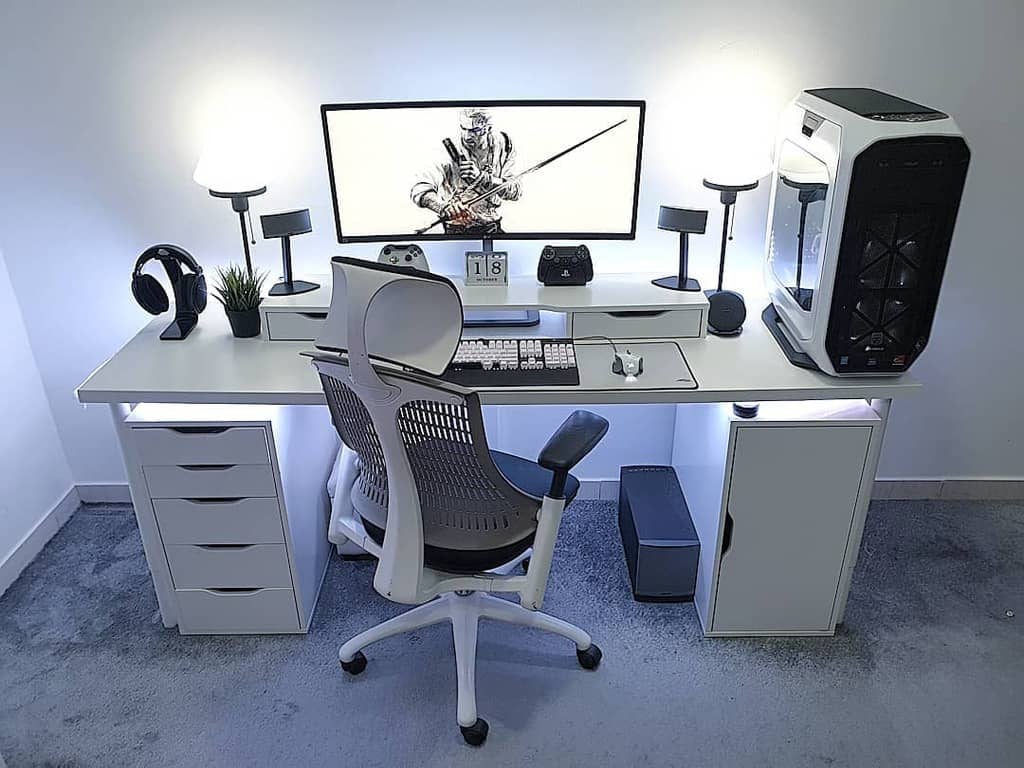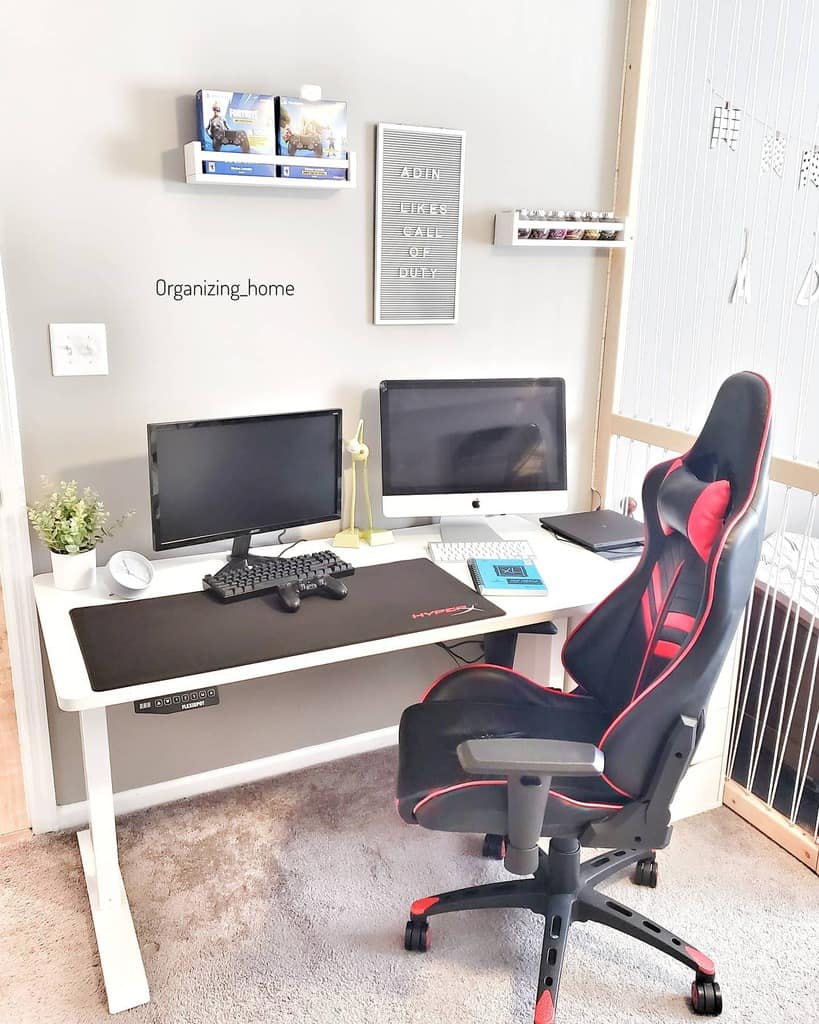 6. L-Desks
Gamers everywhere know that having the right setup can make all the difference in gameplay. That's why an L-shaped gaming desk is a must-have for any serious gamer. With ample surface area for multiple monitors and accessories, as well as the added flexibility of being able to configure the desk to fit your space, there's no better way to enhance your gaming experience.
Not to mention, the sleek and modern design of L-shaped gaming desks can add a touch of style to any gaming room. So why settle for anything less when you can elevate your gaming setup with the perfect L-shaped desk?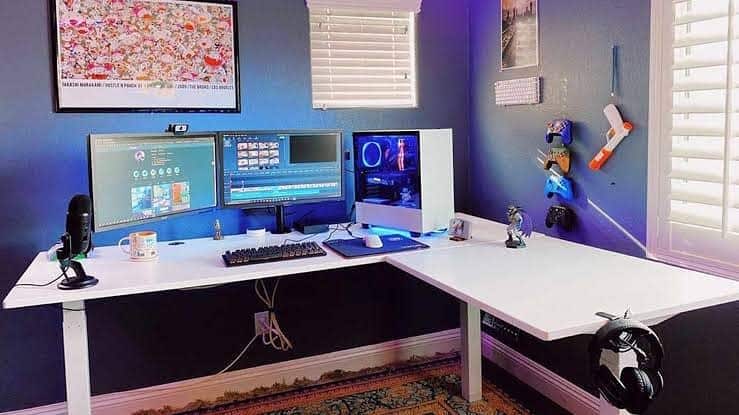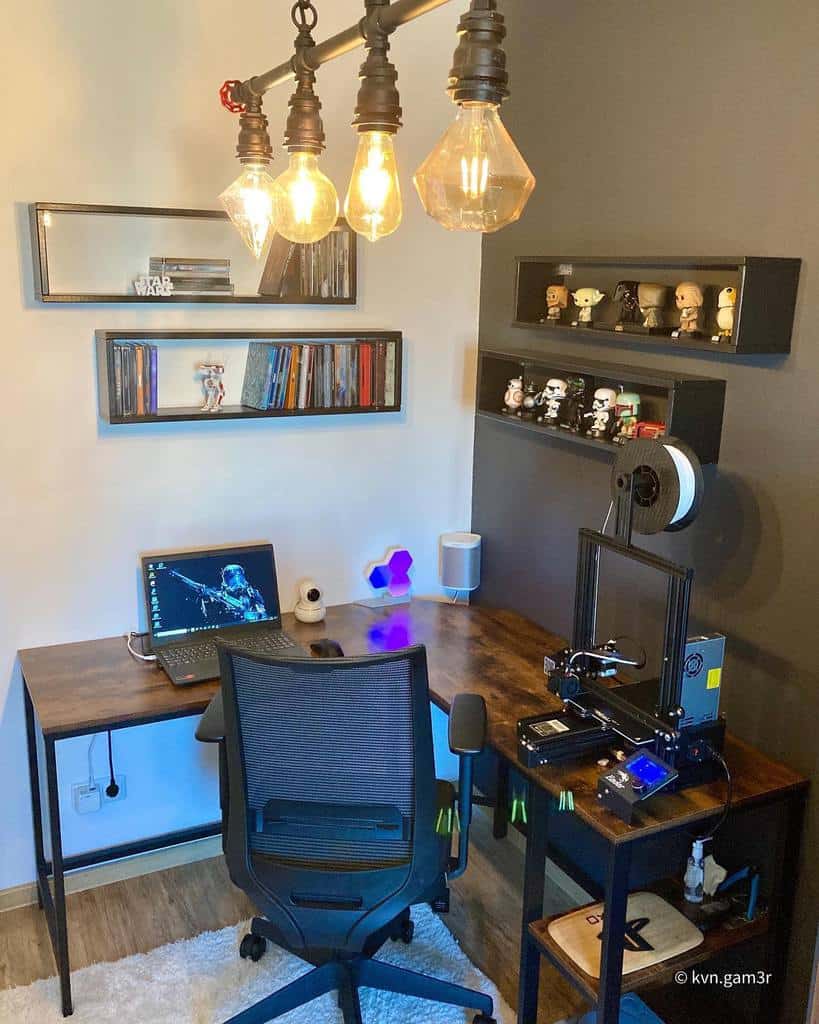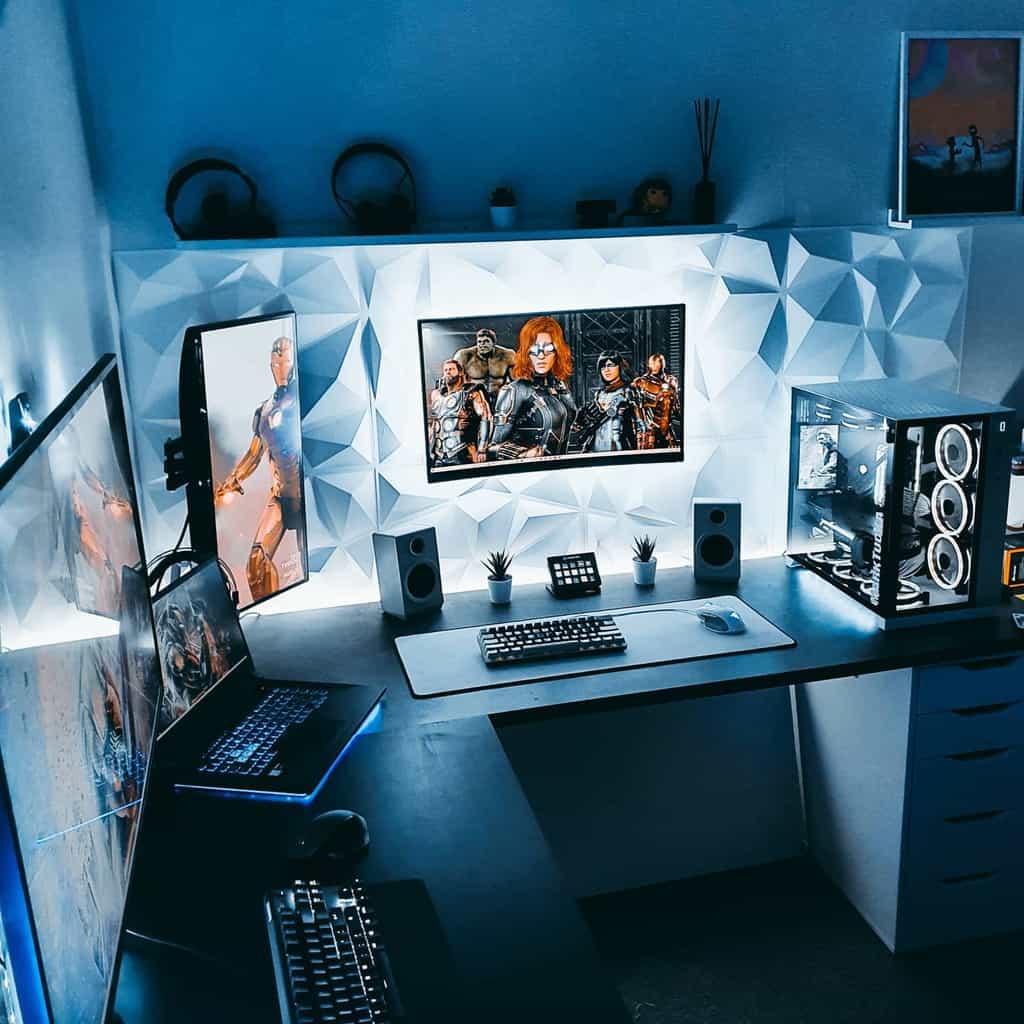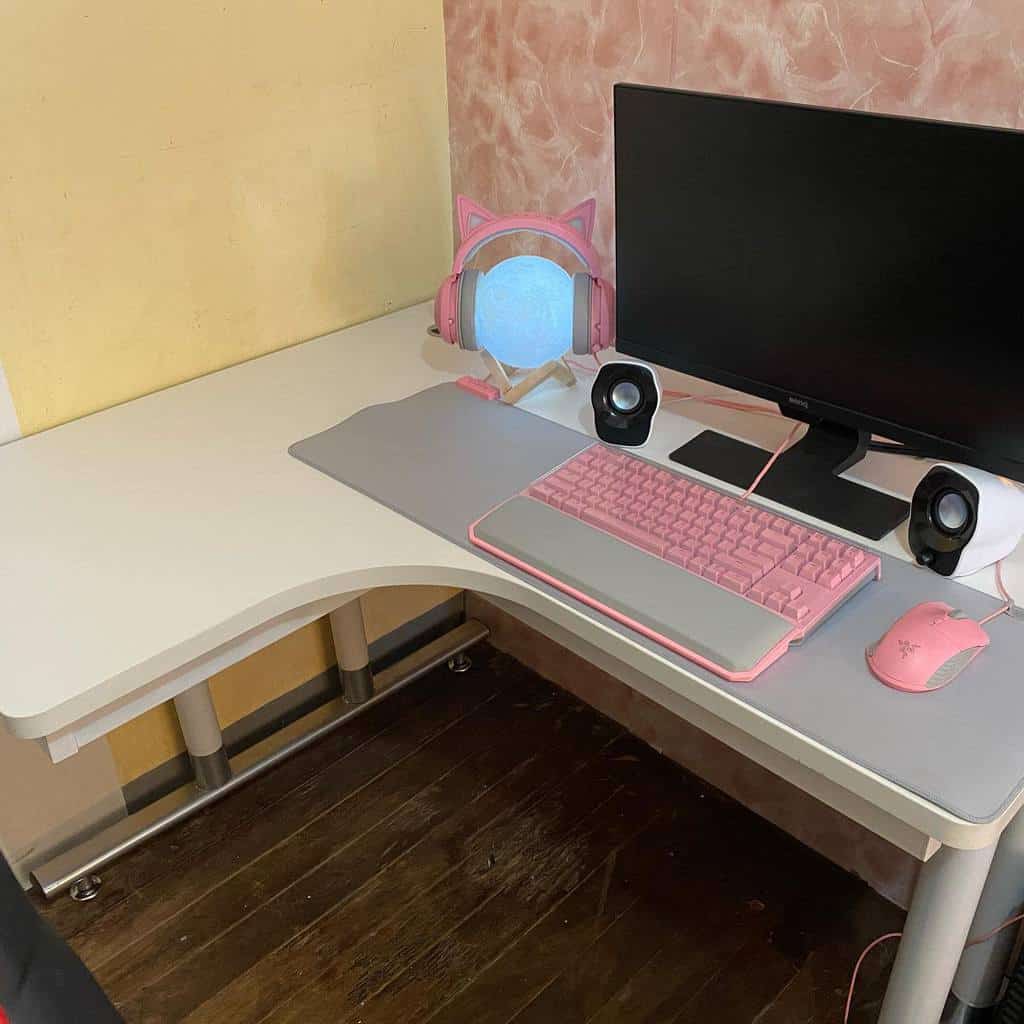 7. Office & Gaming Set-Up
Are you in search of a perfect set-up that caters to both work and play? Look no further than a wooden desk that can handle your professional duties as well as your gaming needs. An elegant wooden desk not only adds sophistication to your office but also provides a sturdy base for your computer and monitors.
The natural feel of wood complements any décor and creates a warm environment for your gaming sessions. With a well-built office and gaming set-up, you'll be comfortable and efficient throughout the day. You will never have to compromise on comfort and productivity any longer!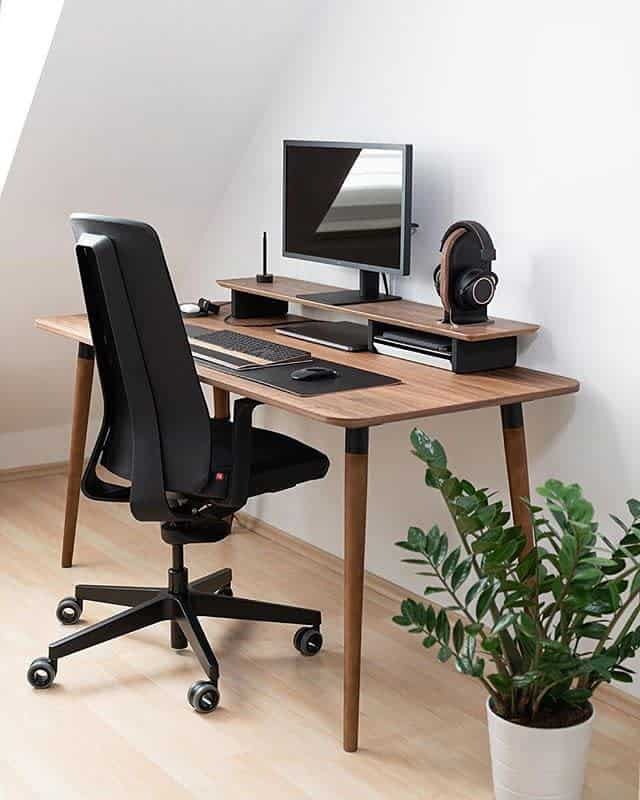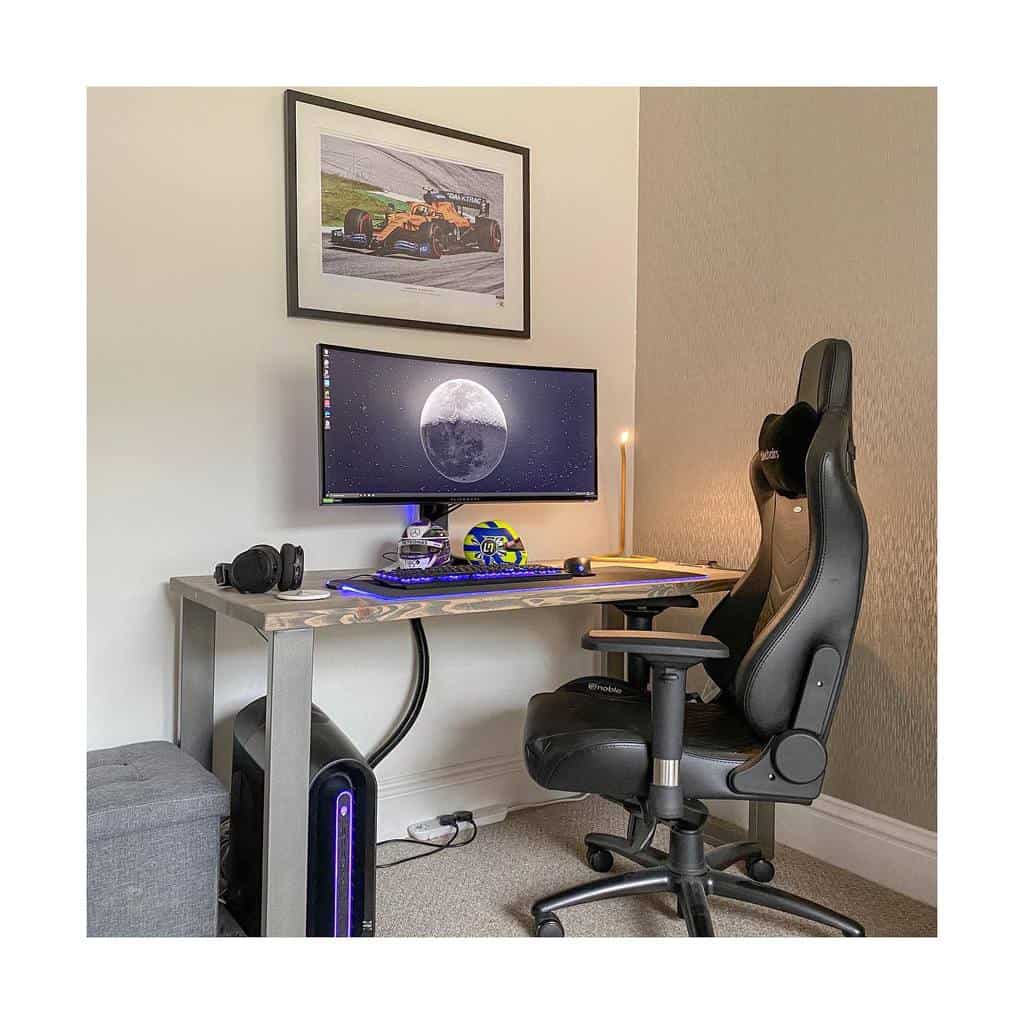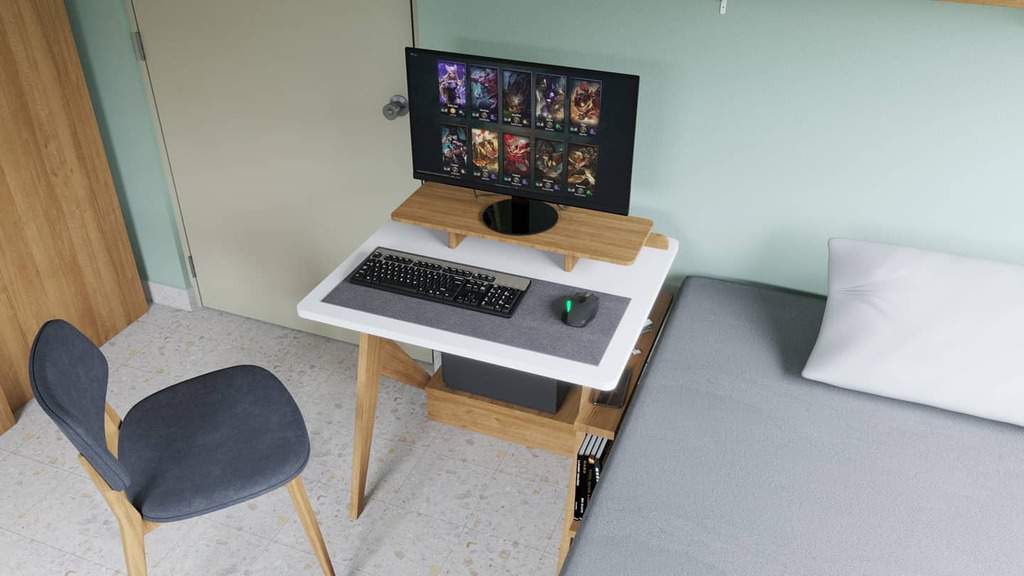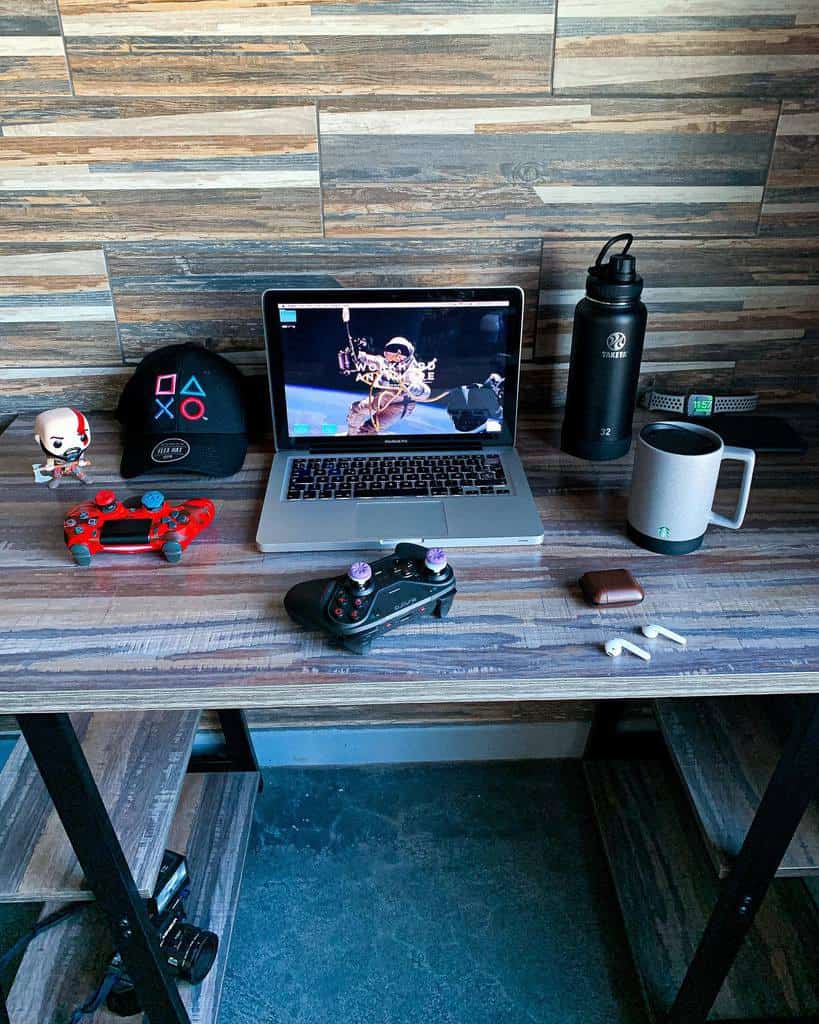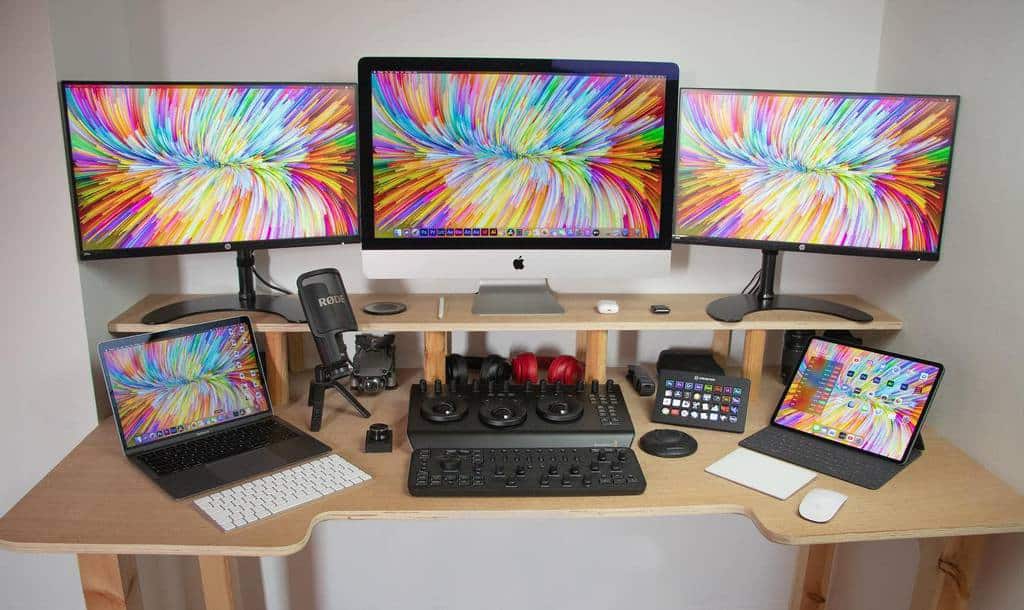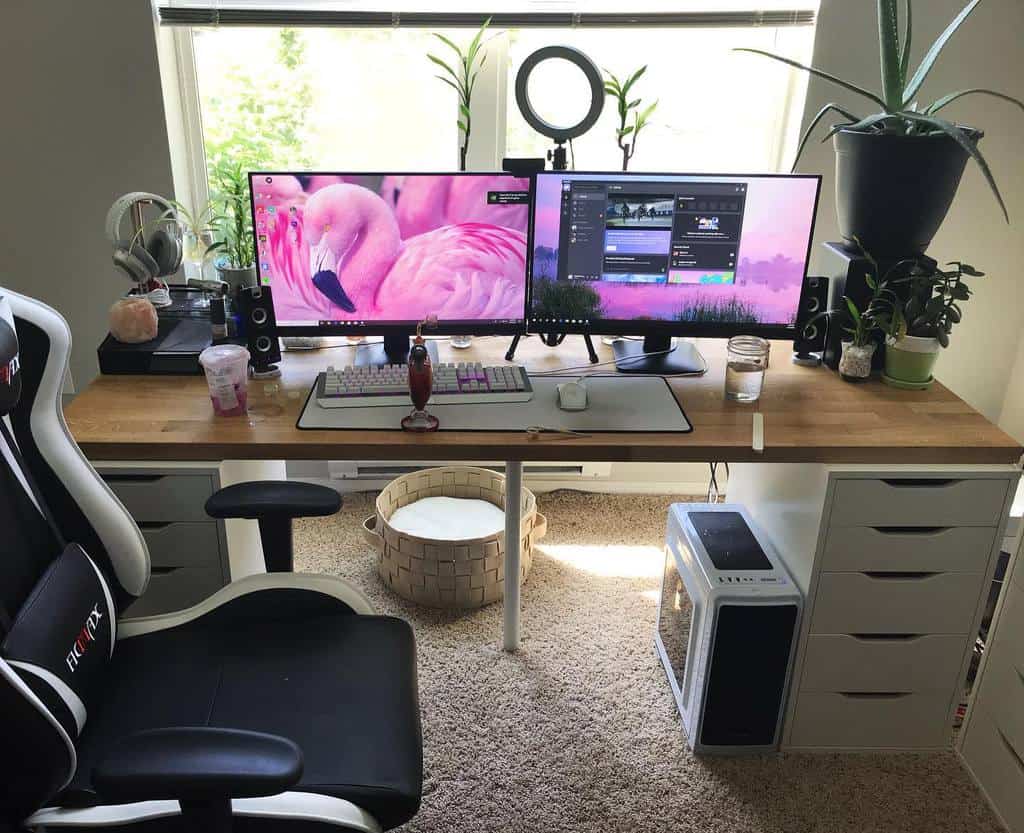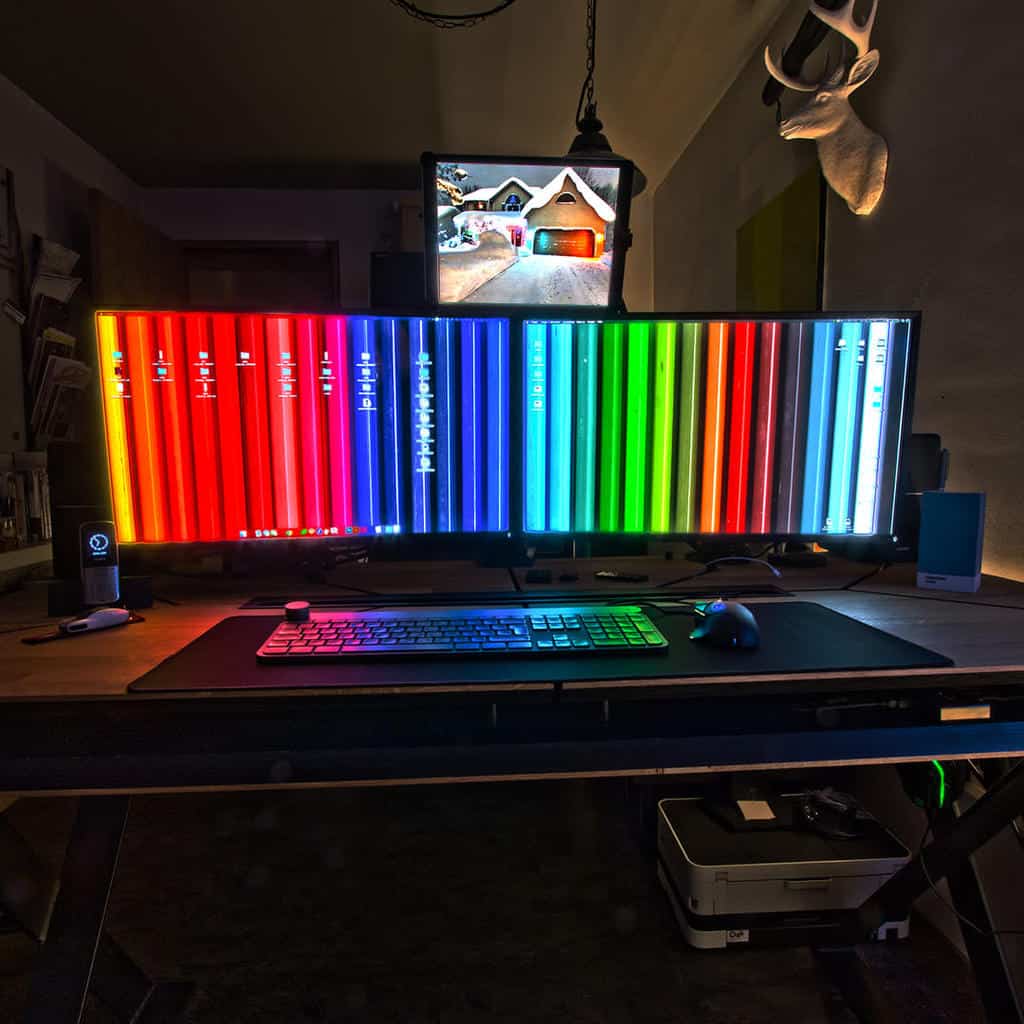 8. Attach Modular Light Panels
The perfect combination of style and functionality, a gaming desk with modular light panels is a must-have for any serious gamer. With its sleek design and customizable lighting options, this desk not only enhances the visual appeal of your gaming setup but also helps you stay focused and engaged for hours on end.
Whether you need more workspace or additional storage, the modular panels provide the flexibility you need to create your perfect gaming environment. Say goodbye to boring, mundane desks and hello to an immersive gaming experience that rivals the pros!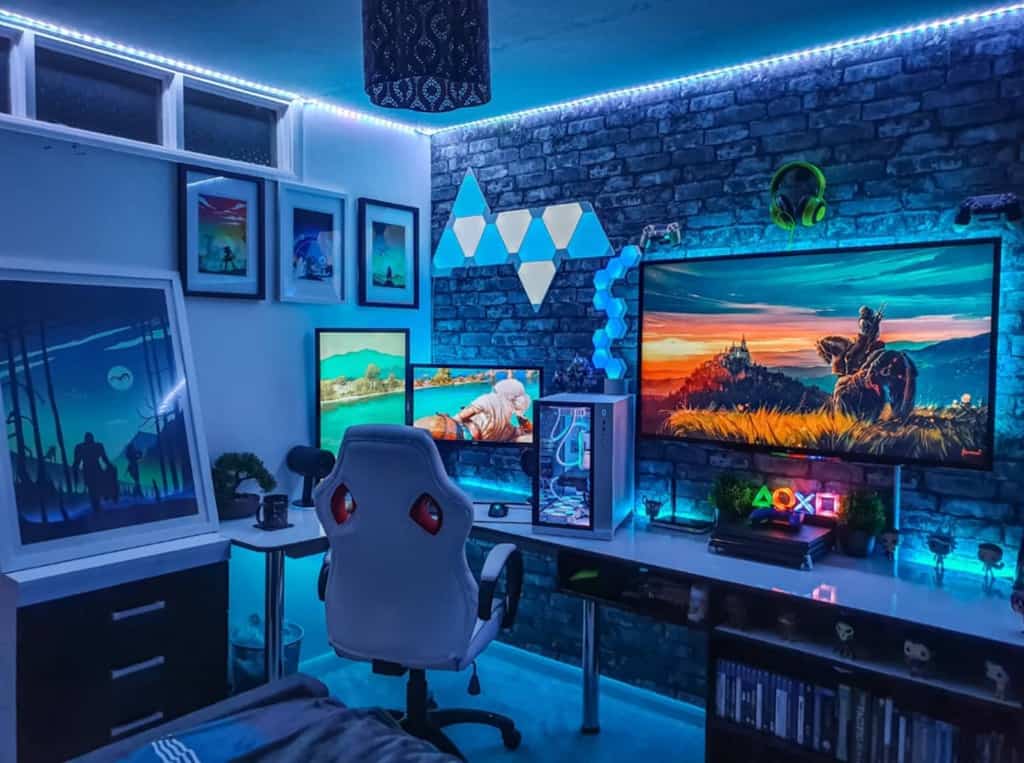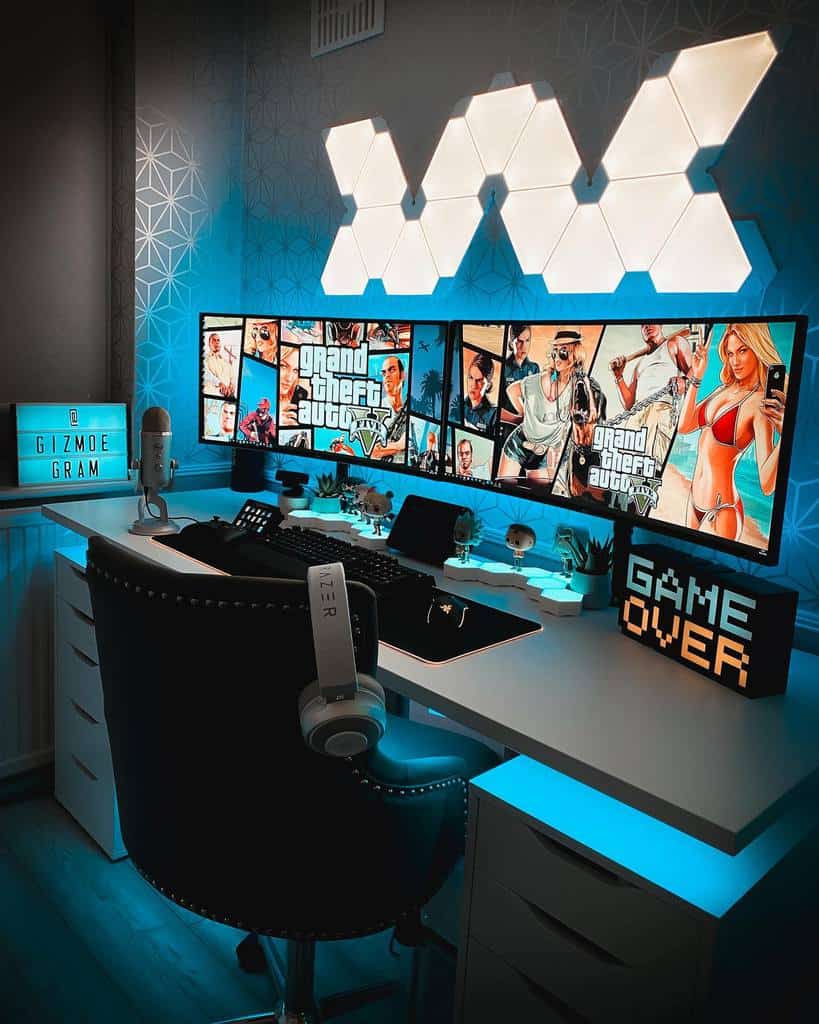 9. CPU With RGB Cooler Fans
However, gamers understand that having the right setup is crucial to achieving the ultimate immersive experience. A gaming desk with a built-in CPU and RGB cooler fans is an excellent addition to any serious gamer's arsenal.
Not only is it sleek and modern in appearance, but the cooling fans also help keep your gaming system running smoothly and efficiently, preventing the dreaded lag that can ruin your gameplay. With this type of setup, you won't have to worry about cluttering your workspace with a bulky CPU, and you can focus on what really matters: winning.
So, if you love gaming and want to take your setup to the next level, a gaming desk with a CPU and RGB cooler fans might be just what you need.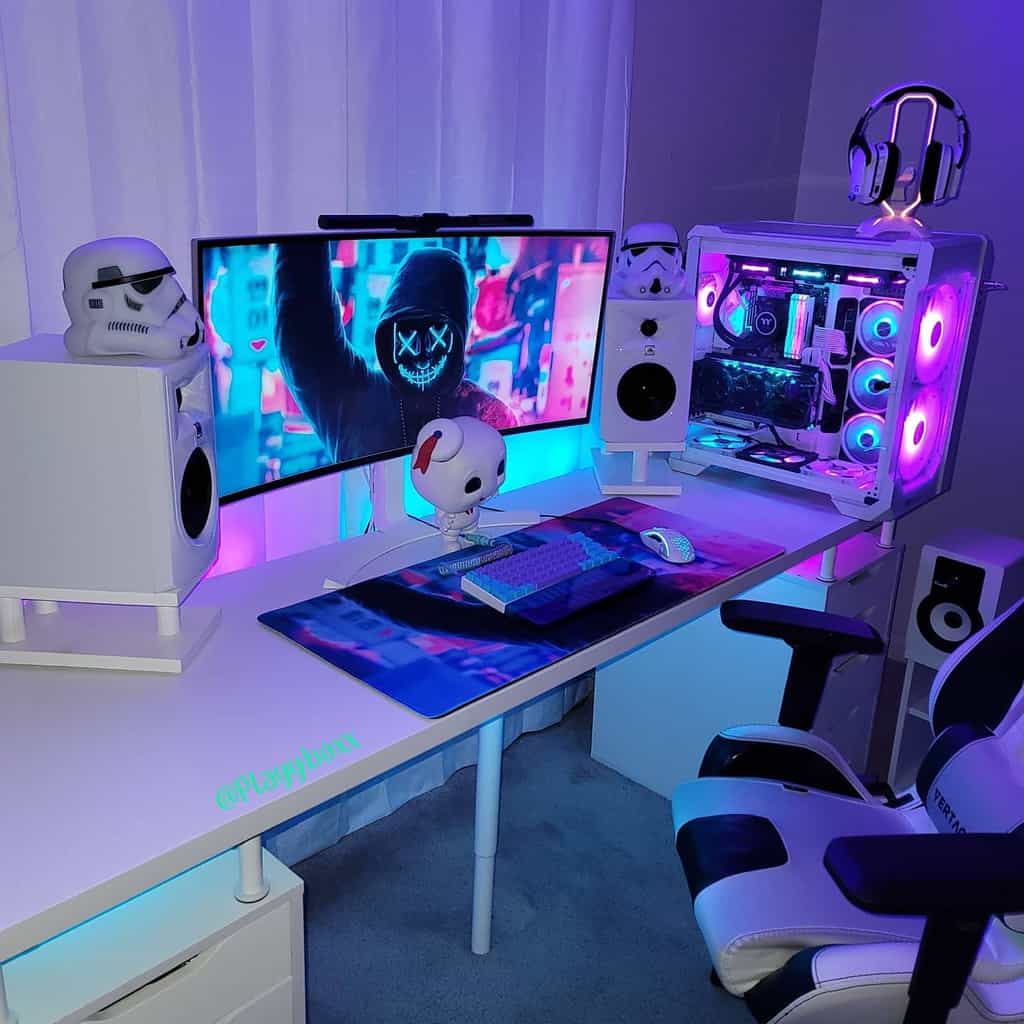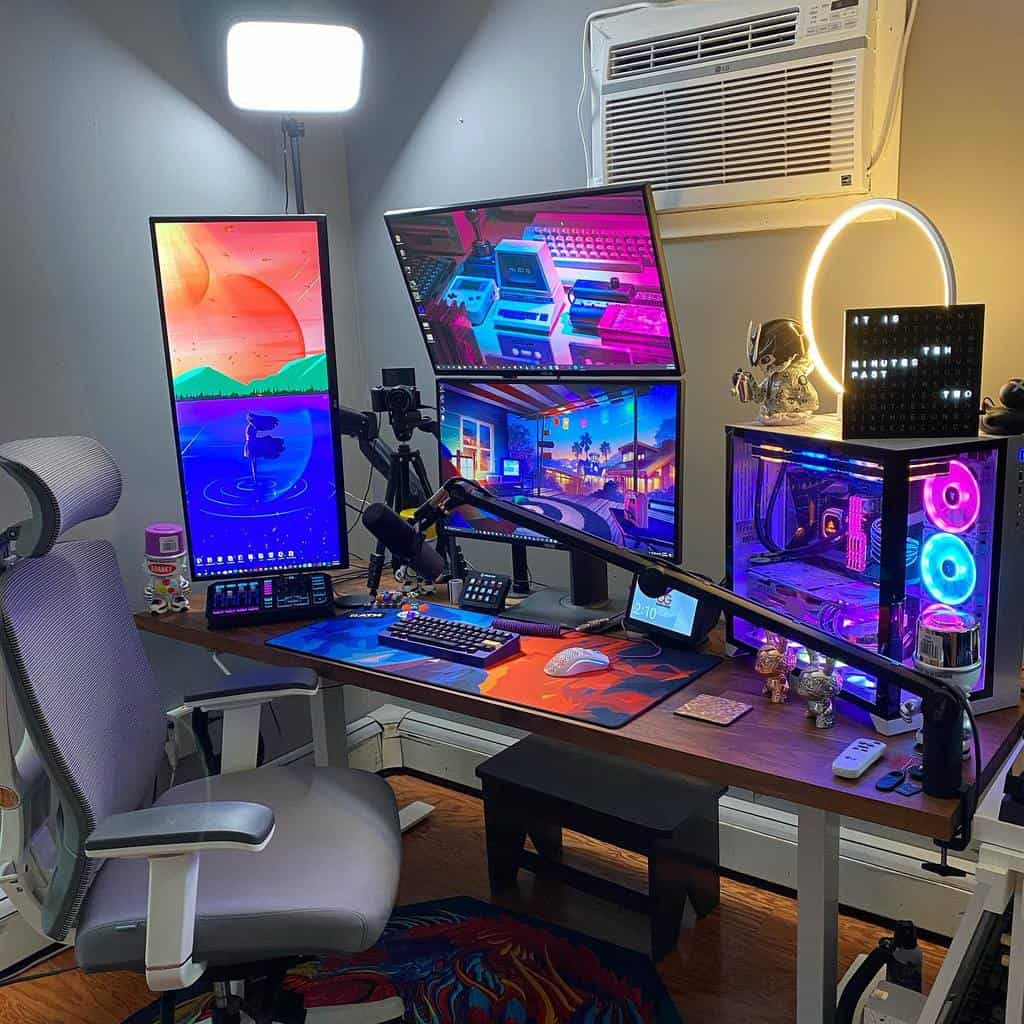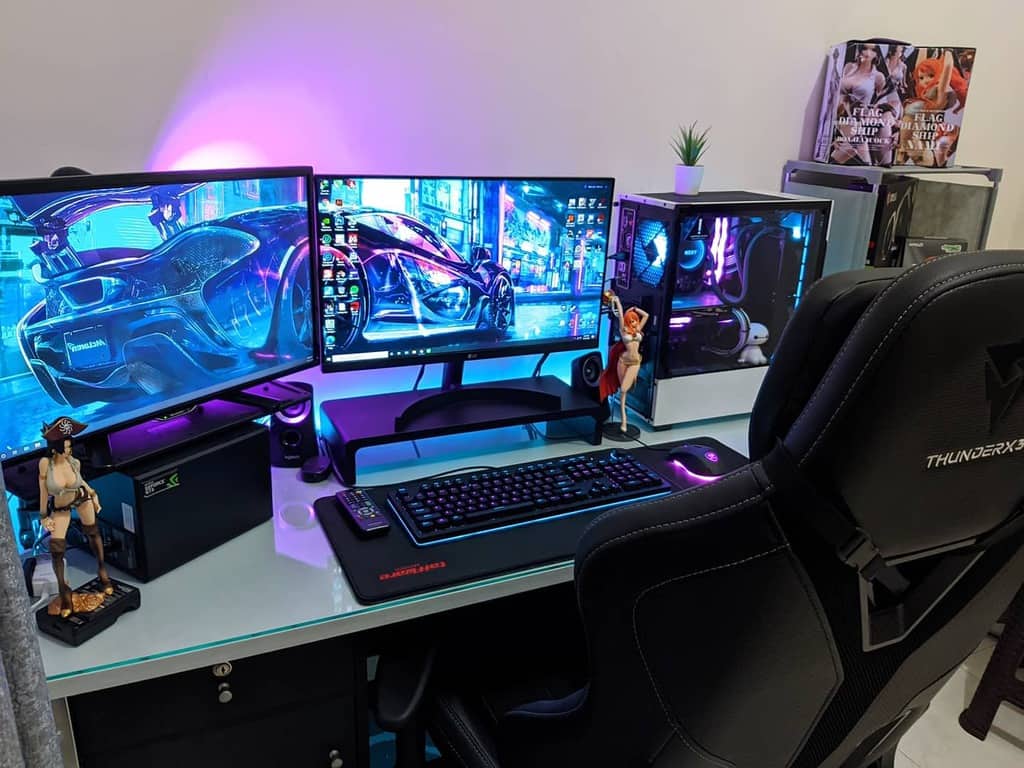 10. Install Acoustic Panels
Gamers know the importance of a good setup when it comes to dominating their favorite games. A gaming desk with acoustic panels can give you a competitive edge by providing an immersive gaming experience without disturbing others in the room.
The high-quality materials used in these desks can reduce the amount of ambient noise and echo, giving you a clearer sound and making it easier to communicate with teammates during online gameplay.
Additionally, the built-in cable management system can keep all your cords organized, allowing for a clean and sleek setup. Investing in a gaming desk with acoustic panels can revolutionize the way you experience your favorite games and help you rise to the top of the leaderboard.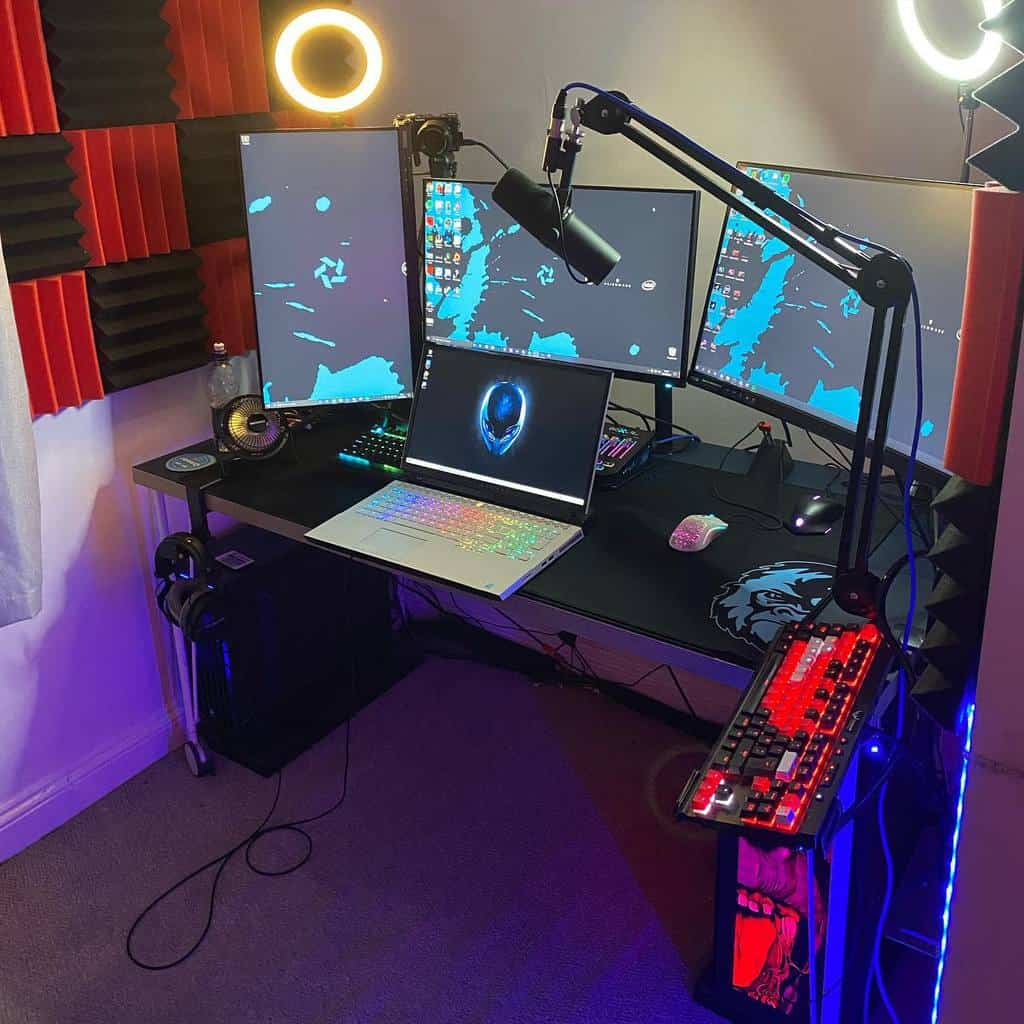 11. Display Your Toy Collection
If you're looking for a gaming desk that brings an element of playfulness to your workspace, look no further than the desk adorned with toy collectibles. This unique piece of furniture is the perfect combination of practicality and fun, allowing you to display your love for gaming and unique figurines all in one.
Not only will this desk provide a functional space for working, but it will also serve as a visual reminder of your interests and passions, making it a conversation starter for anyone who enters the room. The details and colors of the collectibles also add a playful pop of color and vibrancy to your office, creating a space perfect for gaming, working, or even just hanging out with friends.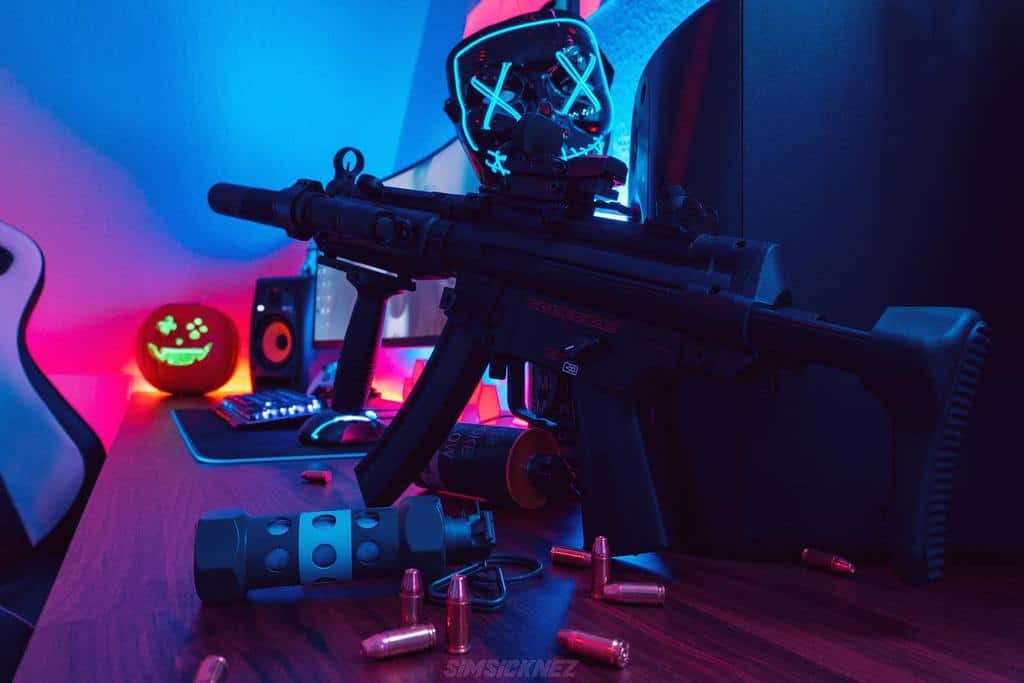 Gaming Desk FAQs
What is the best size for a gaming desk?
You can use almost any desk for gaming as long as it can accommodate your entire setup.
In general, you want your desk surface to be at least 2 feet deep to hold your monitor, keyboards, and mouse. Otherwise, choose a length and height that is comfortable and works well in the available space.
Can I use a standing desk for gaming?
Standing desks are popular among office workers looking to reduce the amount of back and neck strain they experience from sitting at a computer all day. These desks can also create a more comfortable gaming experience.
If you want to choose between sitting and standing at your computer, look for a desk with adjustable feet. This feature allows you to raise or lower your desktop as needed.