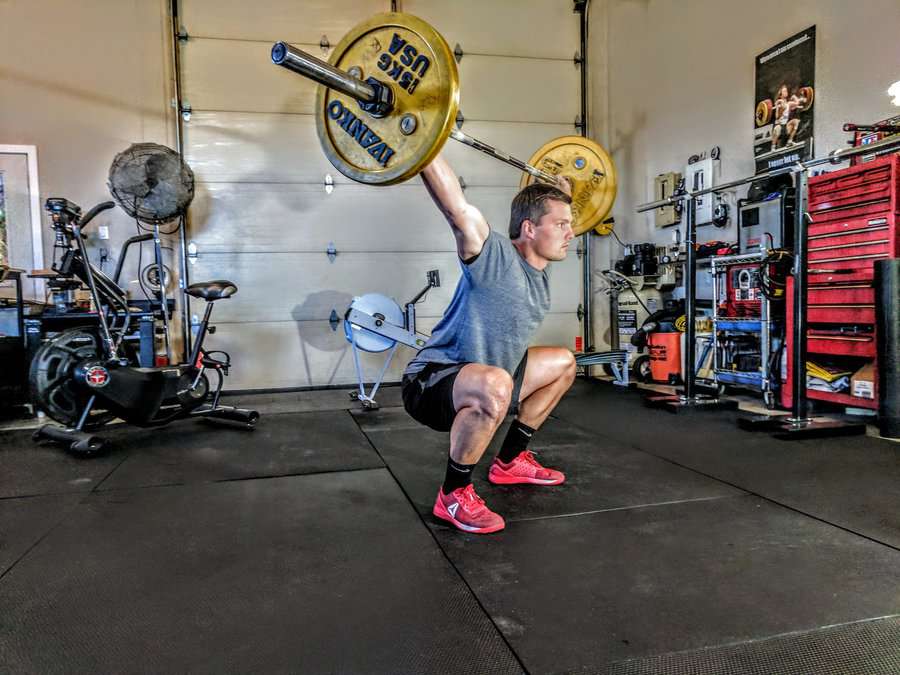 A garage gym can be a fantastic alternative to an expensive gym membership. Building a home gym requires an investment up front, but can save you thousands of dollars over time.
Having a garage gym not only eliminates commercial gym membership fees, it also restores the time lost to your daily gym commute. Best yet, having your gym equipment at home can increase your motivation to exercise. Our top garage gym ideas and inspirational garage gym photos will show you how to bring your workouts home.
1. Barbell
A barbell and free weight set is a crucial piece of equipment in most gyms. Used for weightlifting, bodybuilding and weight training, a barbell allows you to easily switch weight plates based on what type of exercise you're doing. There are also barbell models that come in a pre-set weight and cannot be adjusted.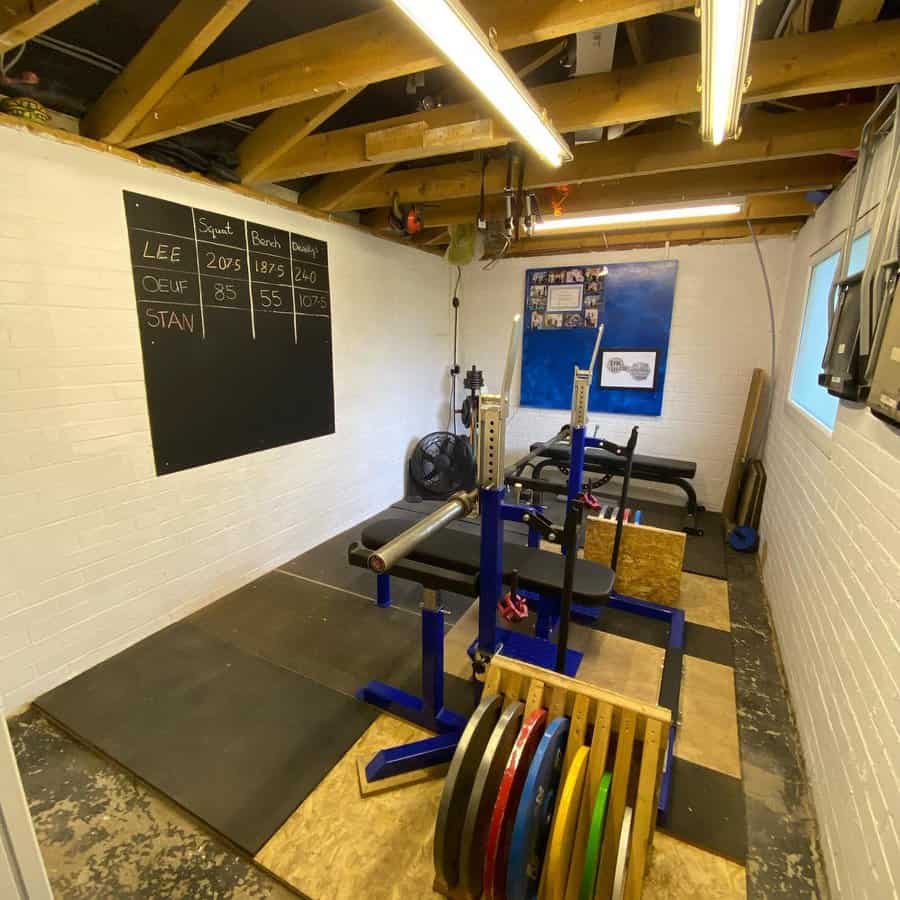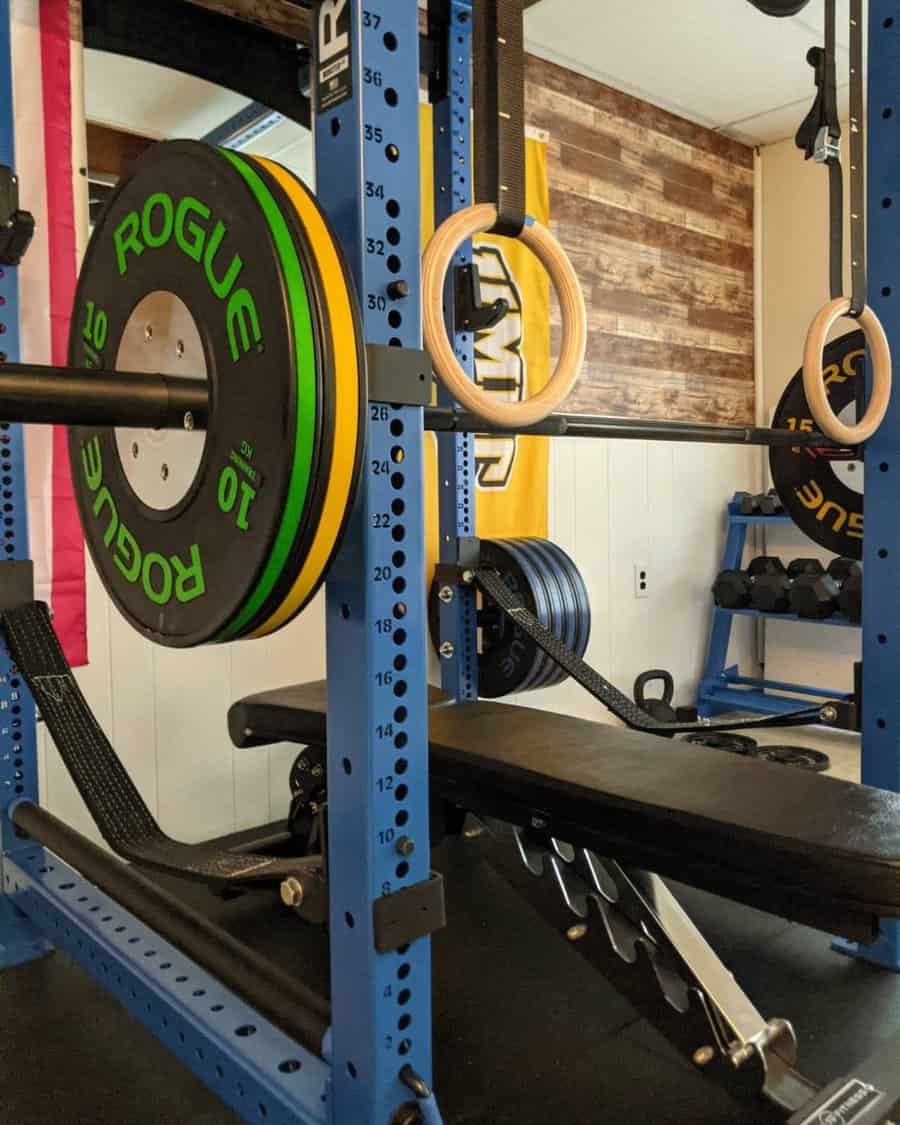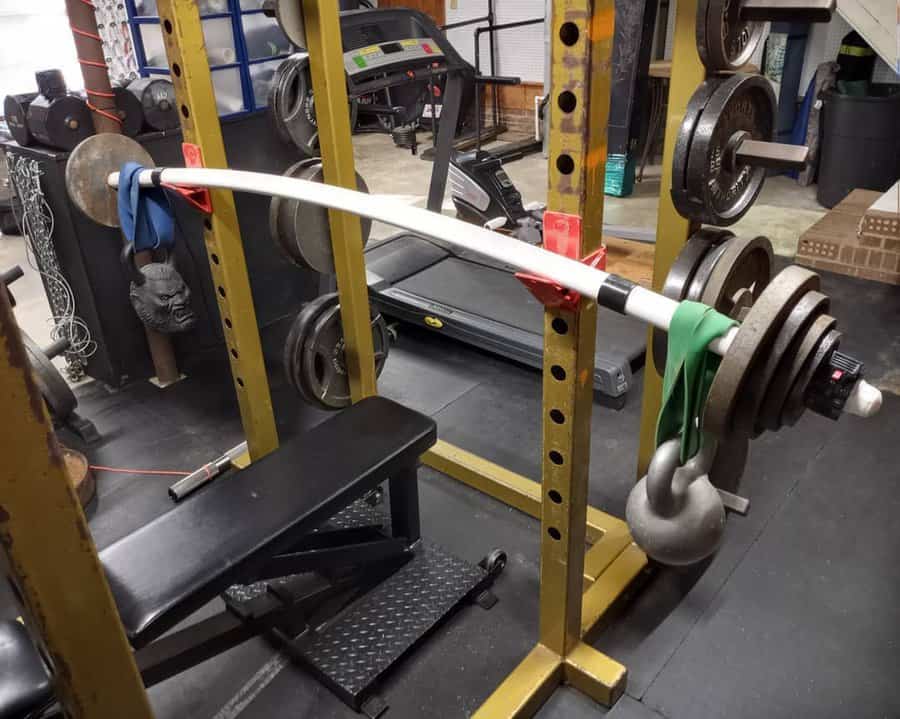 Barbells are a good home gym choice if you're building a garage gym on a budget. Using a barbell to do the "Big 4" exercises (bench press, deadlift, overhead press, and squat) gives your entire body a good workout without needing machines to target individual muscle groups.
2. Bench
A workout bench is another key component in a garage gym. They are versatile, allowing you to train your chest, triceps, and entire upper body with various exercises.
A weight bench is most beneficial when it can incline or decline. These adjustable benches have moving parts that might make them wear out quicker, but being able to choose different angles while exercising is worth it.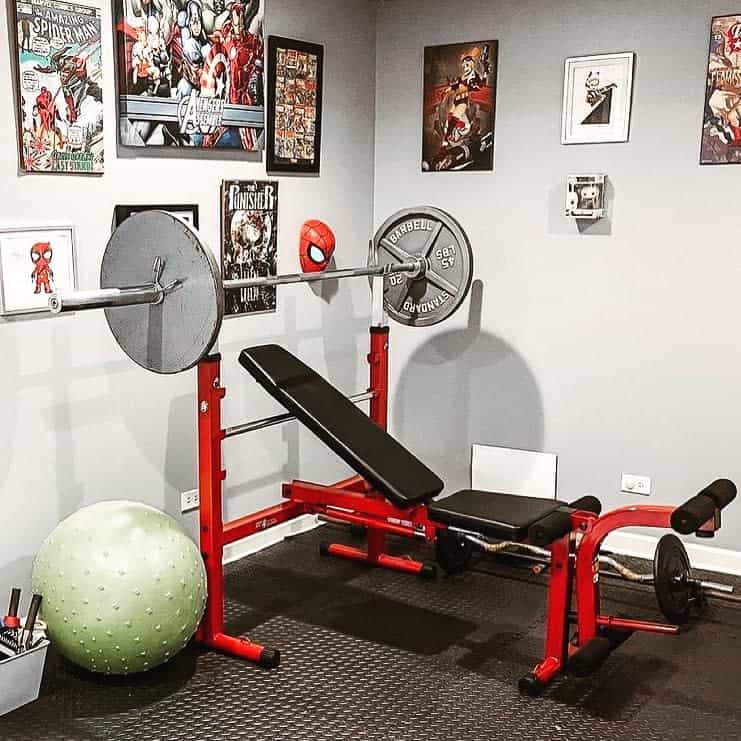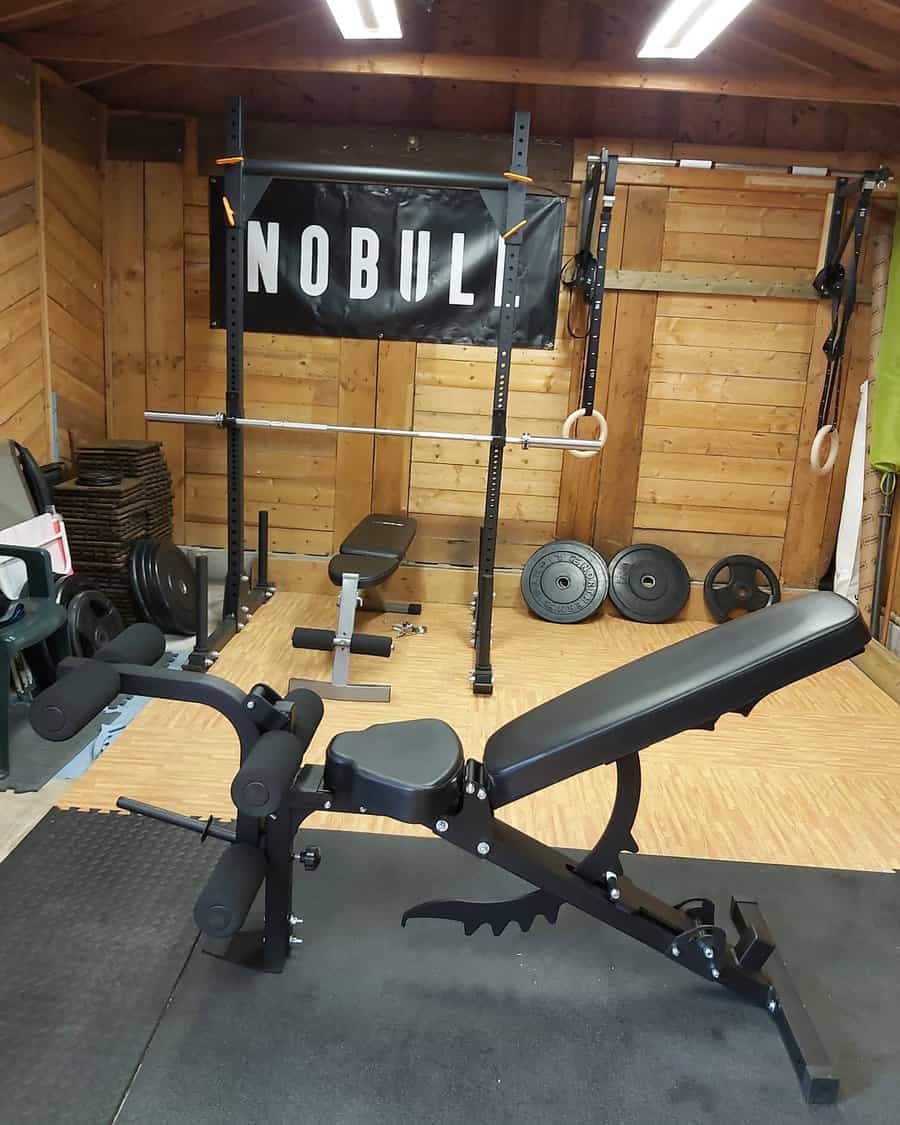 An Olympic weight bench has a multi-height racking system that permits safe and comfortable barbell racking. This type of bench takes up more garage space than other benches, but can be really helpful if you do a lot of upper body training.
3. Boxing
A workout space for boxing will look a little different than a standard home gym. Whether boxing or kickboxing is your thing, you'll need the appropriate punching bag for your sport. Most beginners choose a standing heavy bag, which takes up less space than a swinging bag.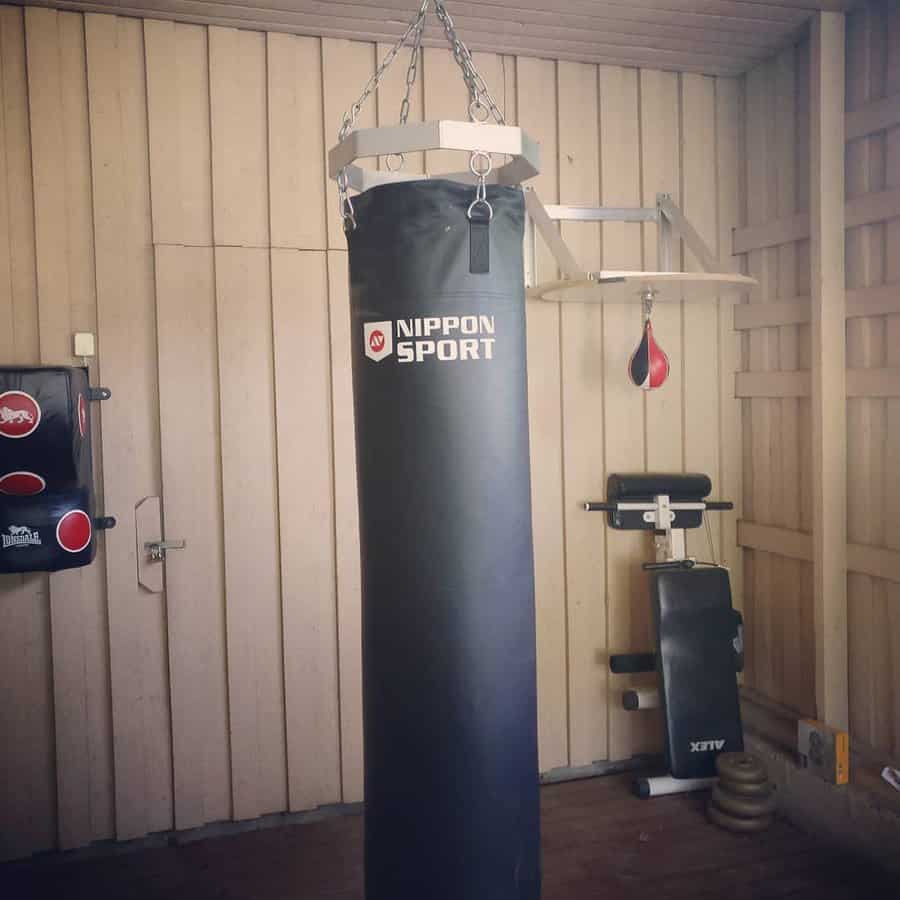 A jump rope is another must in a boxing home gym, for cardio strengthening and boxing footwork. You'll also want a yoga mat or another cushioned floor covering for doing calisthenics.
4. Calisthenics
Calisthenics is one of the best garage gym ideas because this workout plan doesn't require any special equipment. All you need is a cushioned floor mat for comfort.
Calisthenics use your body weight for training. They're a balanced combination of aerobic and anaerobic exercise, providing cardio and muscle-building benefits. Examples include pushups, sit ups, crunches, leg raises, mountain climbers, planks, lunges, and squats.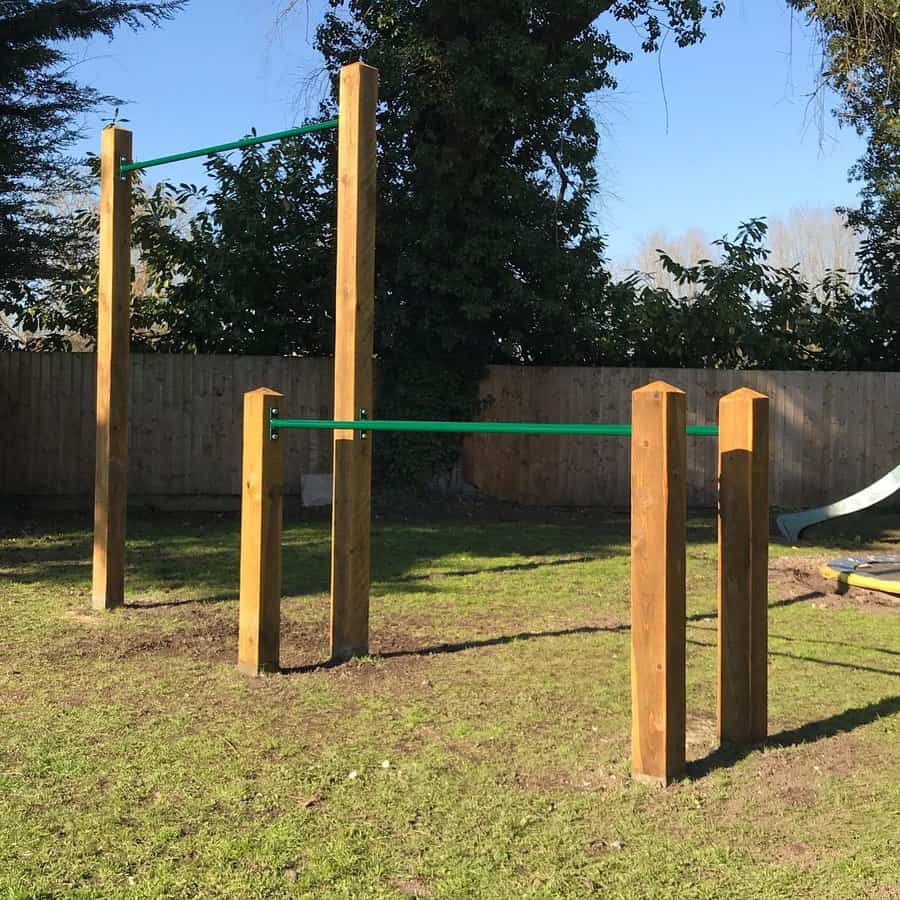 If you want to add equipment to your exercise routine, hang gymnastic rings from the ceiling, or invest in a good resistance band set.
5. Compact
If your garage gym ideas are limited to a tiny garage—or one corner of a larger garage—you can still create a functional home gym. Look for ways to store weight and dumbbell sets on the wall instead of racks that rest on the floor.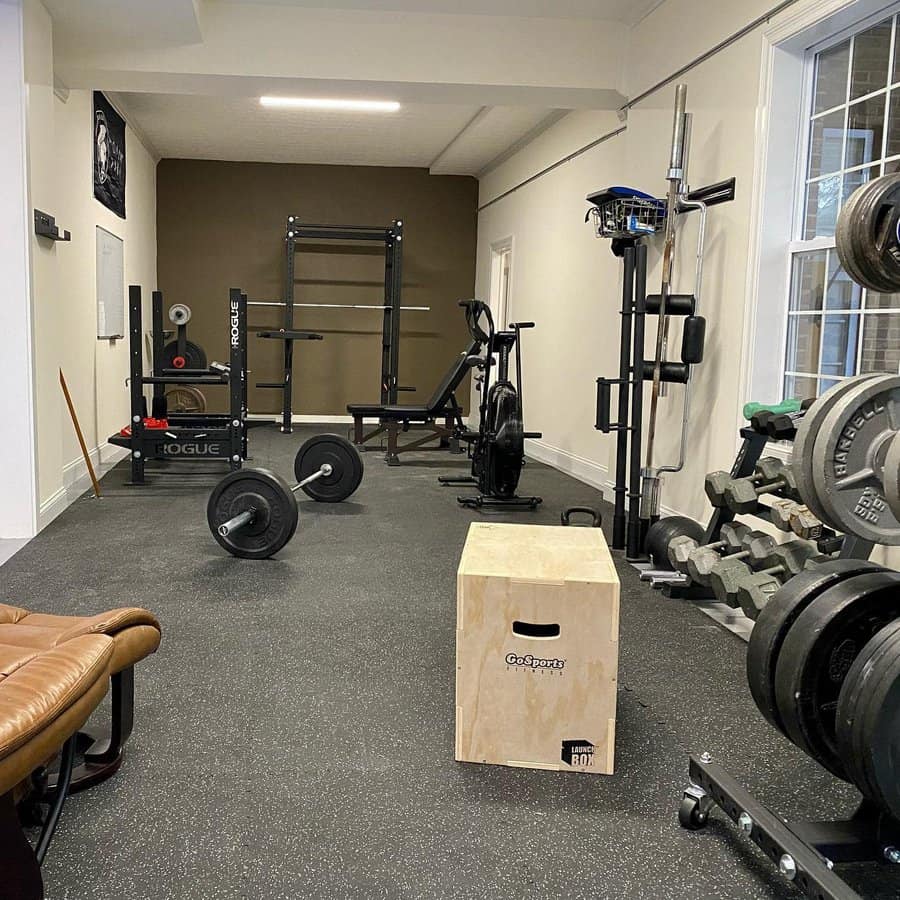 Eliminate crowded gym floor space by focusing on calisthenics instead of adding a cardio machine or two, such as an exercise bike or treadmill. Paint your gym walls white and add plenty of lighting to make the small gym feel larger.
6. Crossfit
Crossfit is a high-intensity strength and conditioning workout. While many people join a Crossfit gym for classes, it's possible to create a great Crossfit garage gym at home.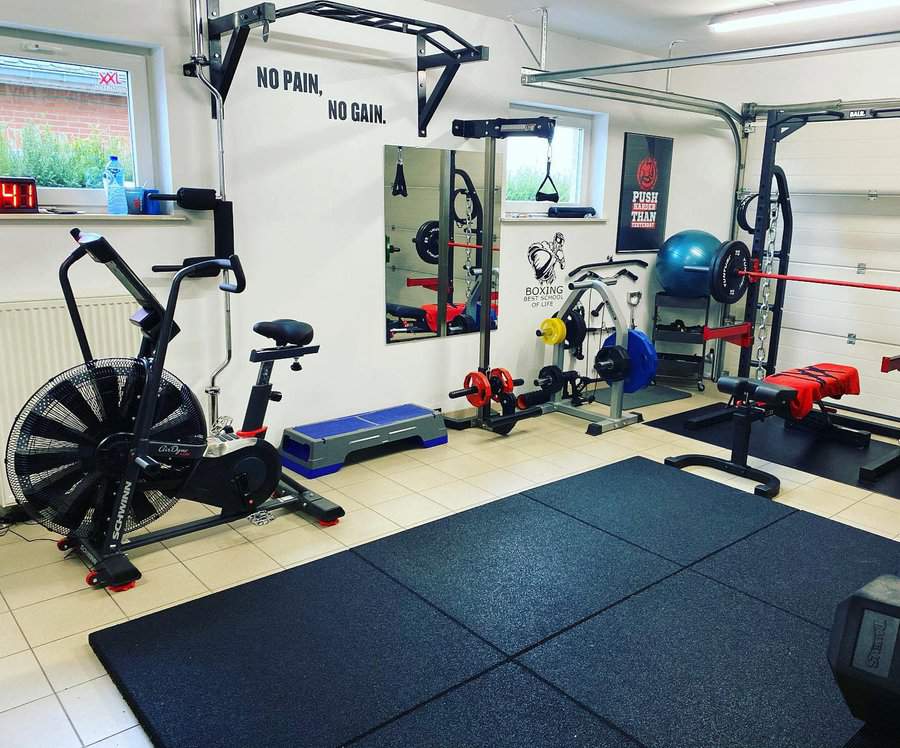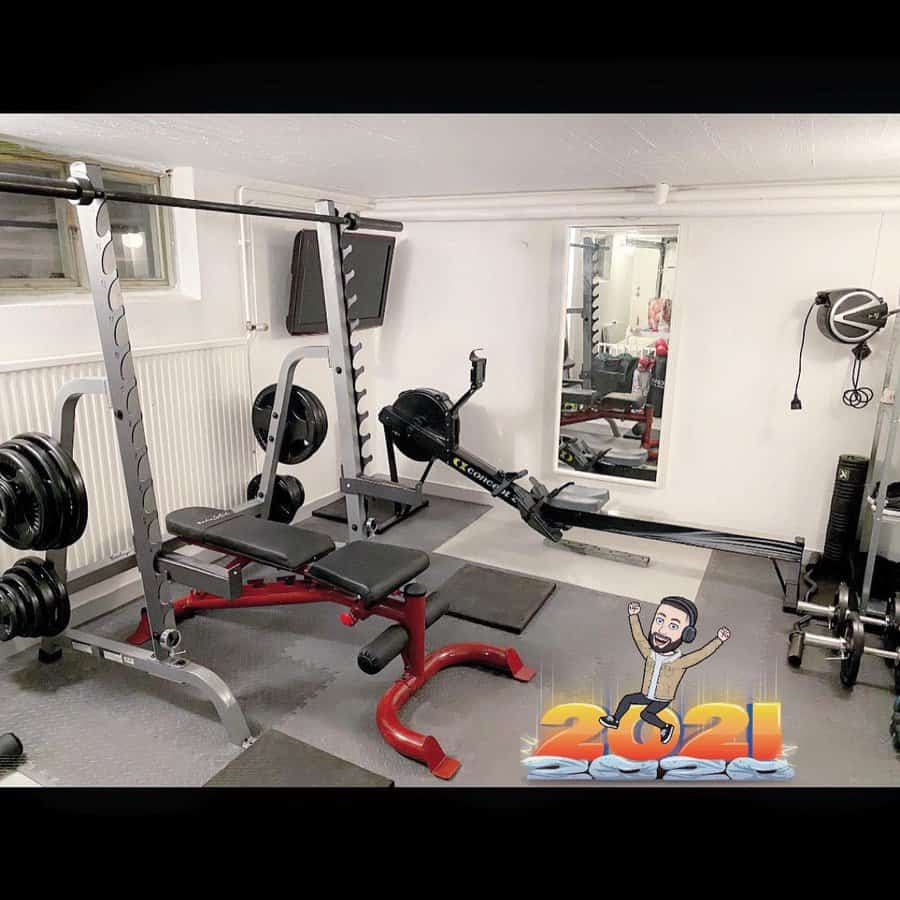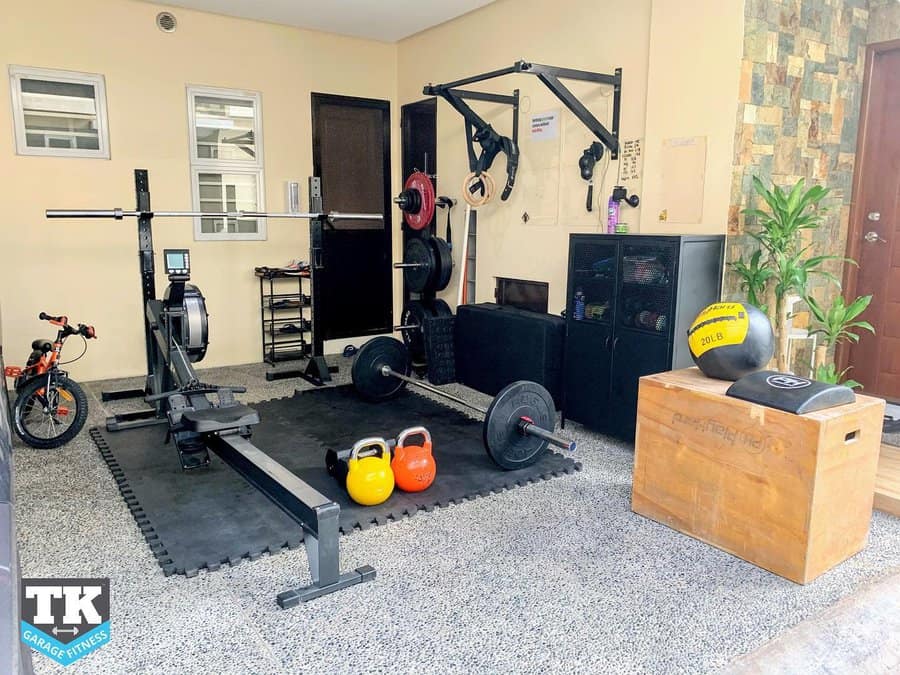 Crossfit is made up of functional movements that you use in everyday life, such as pulling, pushing, and squatting. Therefore, stock your Crossfit home gym with kettlebells, battle ropes, medicine balls, sand bags, and a weighted vest. A power rack, weight bench, weight lifting barbell, and a bumper plate and collar set will also be beneficial to have in the workout space.
7. DIY
Your first DIY garage gym idea should be purchasing rubber tiles or floor mats to protect your garage floor. Working out on a rubber mat also protects you by providing a cushioned surface beneath your feet.
Horse stall mats are among the most durable flooring options in a gym. You can buy stall mats at tractor supply stores or online. Let them air out for a week or so before putting them inside the garage, as they have a strong rubber smell that needs to dissipate.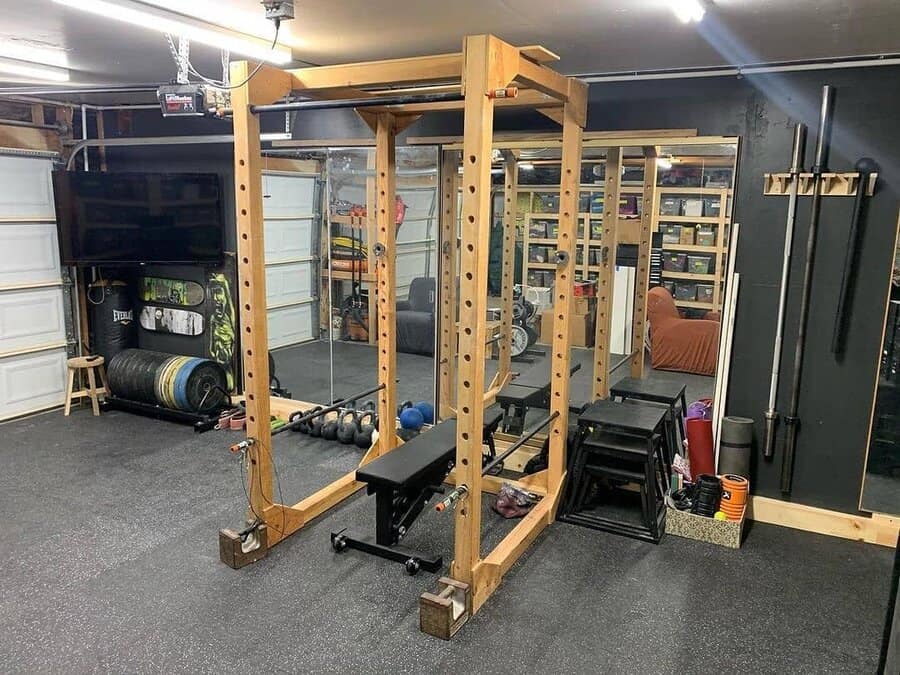 Give some thought to lighting and music when designing a garage gym. Garages tend to be dark spaces, so you may need to hire an electrician to install more light fixtures. Most people find music a key component in inspirational garage gyms. Feel free to install a speaker system if you're so inclined, but a decent Bluetooth speaker and your phone's music playlist may also suffice.
8. Power Rack
A power rack is a set of metal bars that allow you to lift weights safely alone, without a spotter. A power rack includes safety features such as pin pipes and strap safeties to catch weights if you fail. It's most often used for Olympic lifts, deadlifts, bench presses, and squat exercises.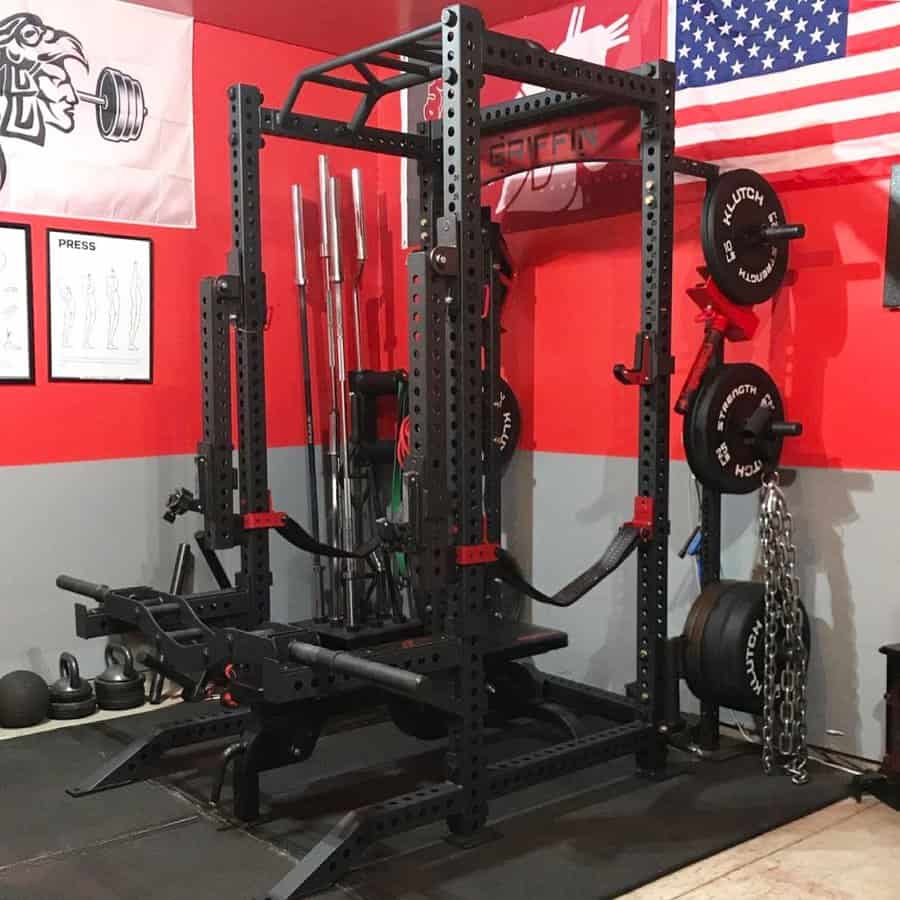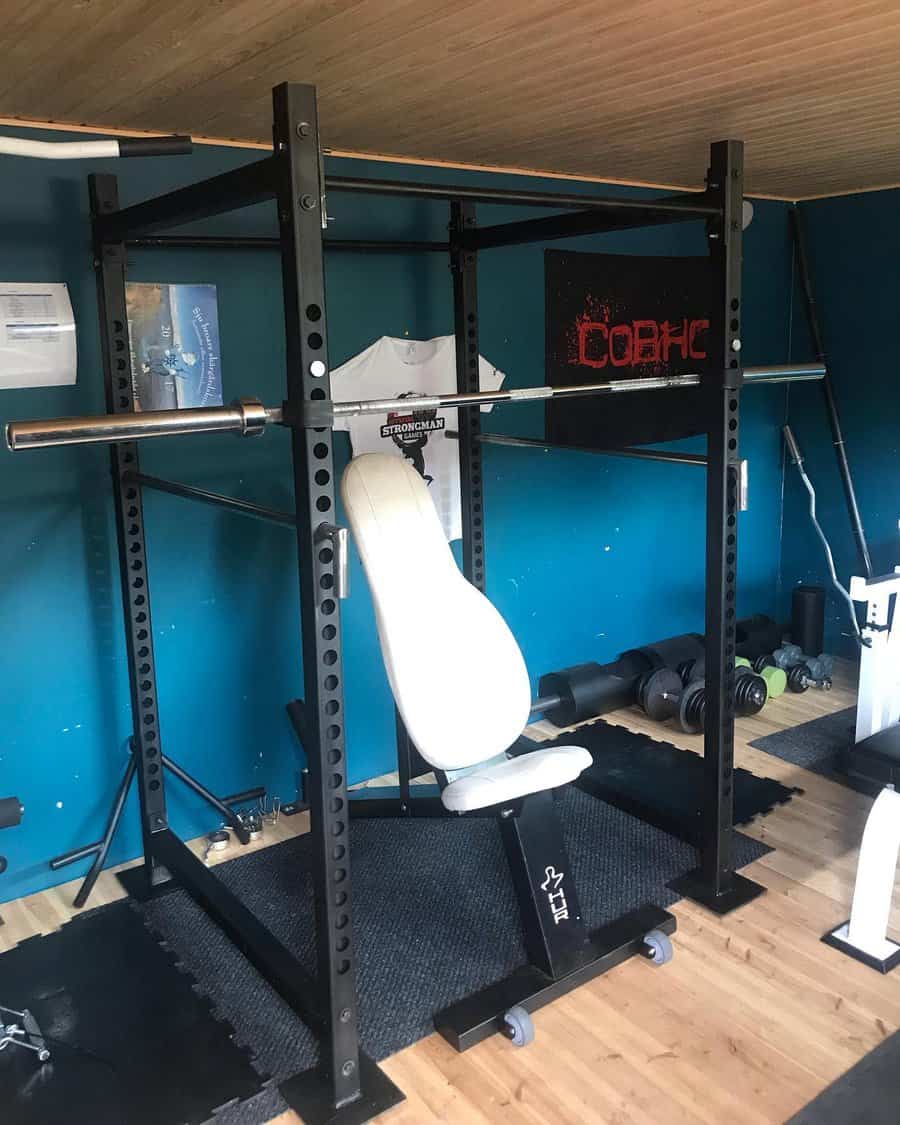 A power rack may be called a full rack or squat cage, but it's not the same as a squat rack. Also called a squat stand, a squat rack usually has a pull up bar across its width. It's a smaller version of a power rack. A squat rack can be customized and is more affordable than a bigger power rack.
9. Pull Bar
A pull bar is a great home gym idea if you want an inexpensive, effective way to strengthen your upper body. A pull bar, or pullup bar, is an overhead bar that you grasp then lift your whole body upwards. It exercises your arm, back, and shoulder muscles.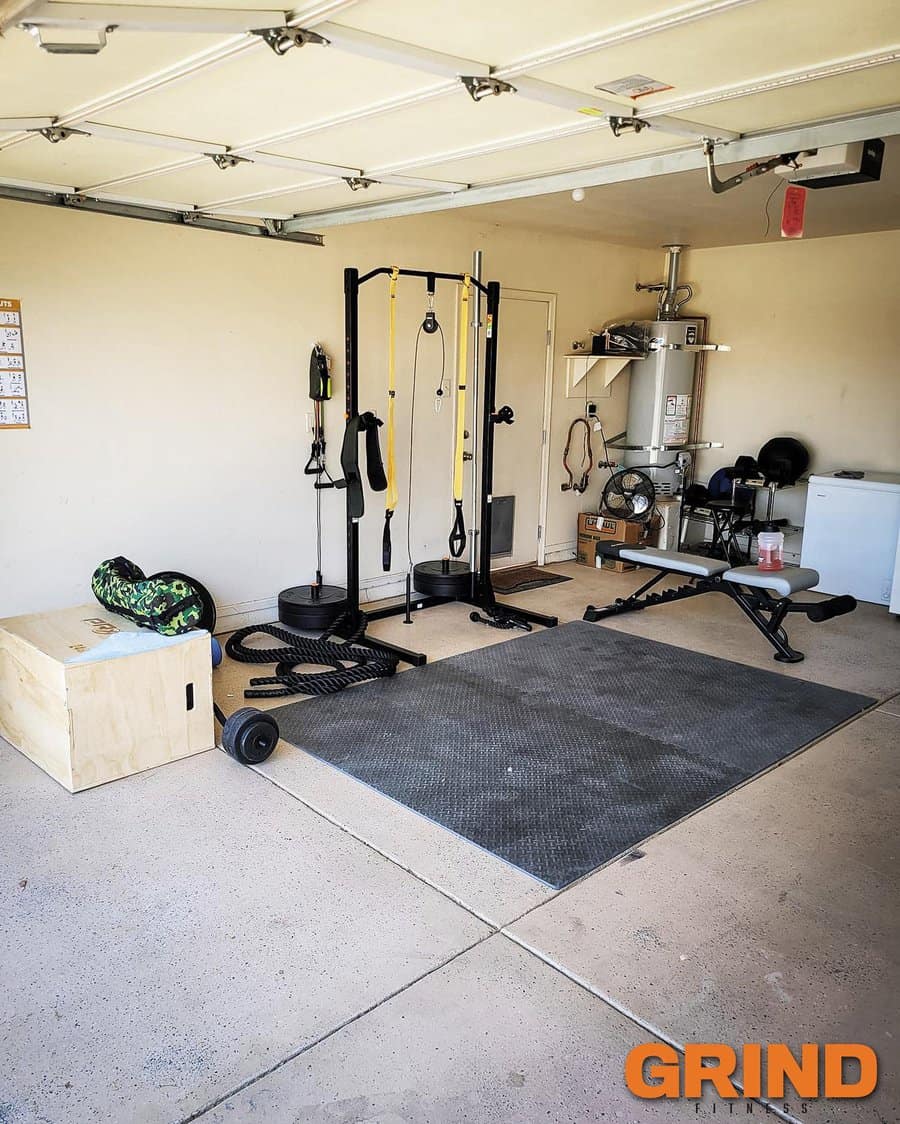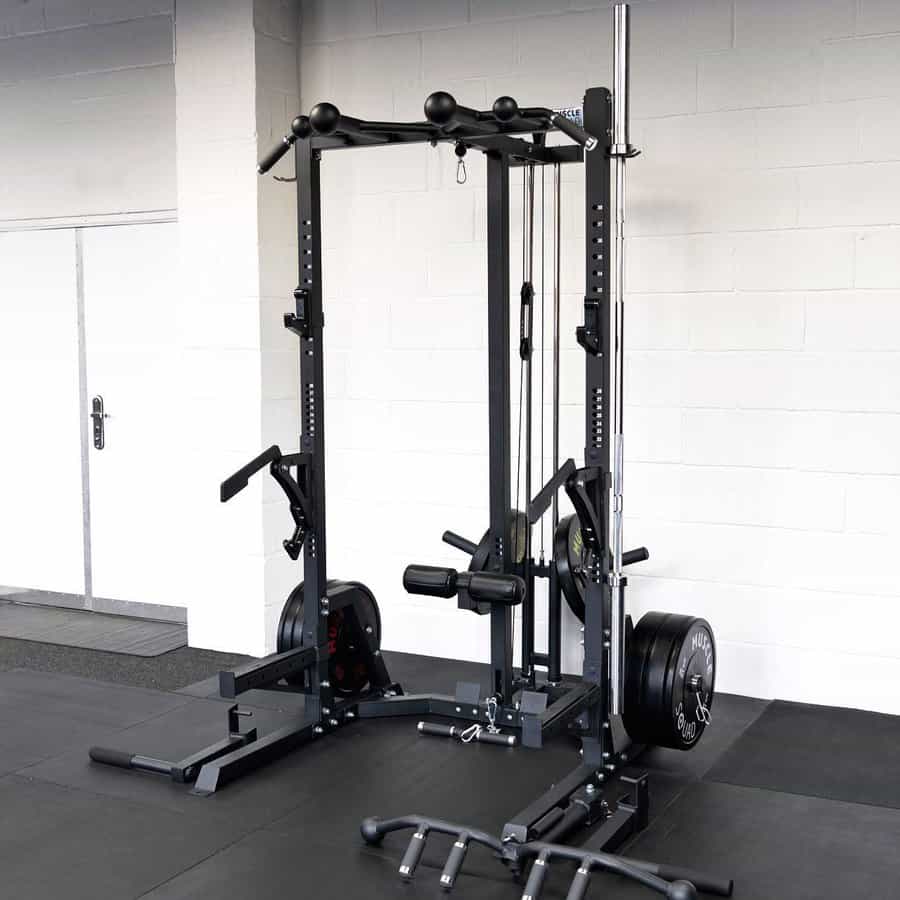 A pull bar can be hung over a doorframe or you can add it to your power rack. It can also be ceiling mounted or joist mounted. Some are a simple horizontal bar, while others have handles perpendicular to the main bar. For a more challenging workout, get a flying pull up bar that has bars at different levels.
10. Stationary Bike
A stationary bike is an excellent addition to a home gym. Not only does it allow you to do a great cardio workout rain or shine, it's an easy form of exercise regardless of your fitness level.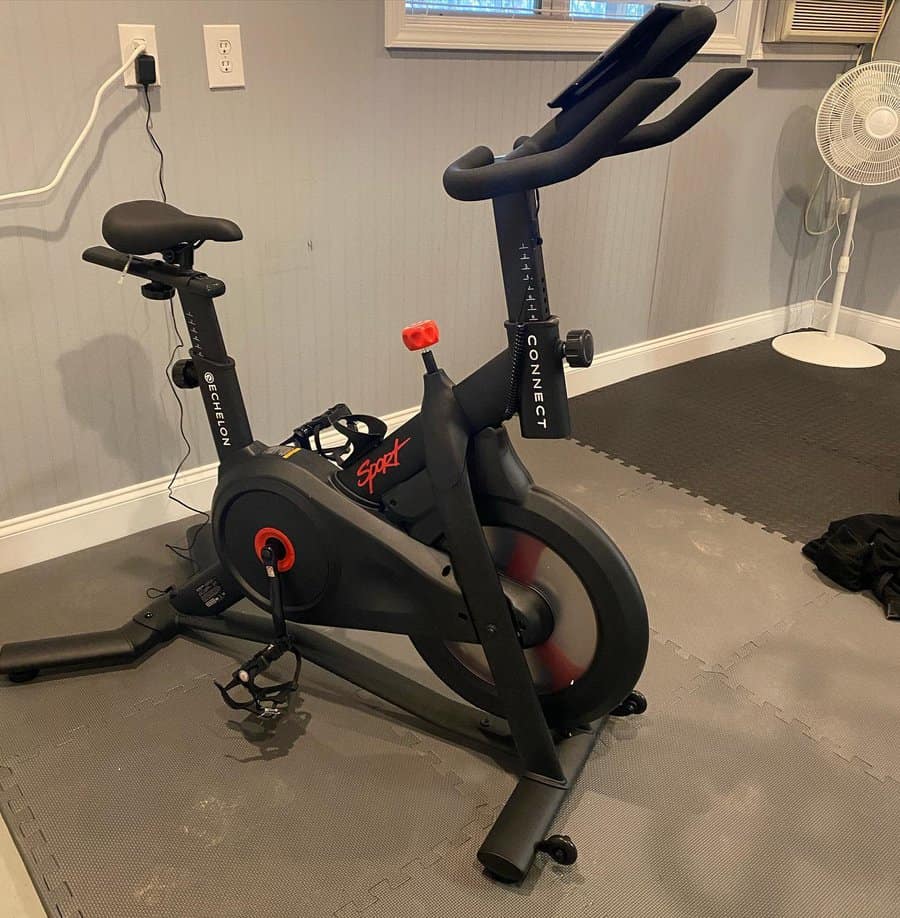 If you need a lower impact type of bike, consider a recumbent bike. This type of stationary bike leans back to relieve pressure on the knees. It may take up a bit more floor space than a standard bike, however.
11. Treadmill
Treadmills have long been loved for their ability to give you all the benefits of a long walk without having to step outside. You can also get caught up on Netflix while you work out in the comfort of your own gym.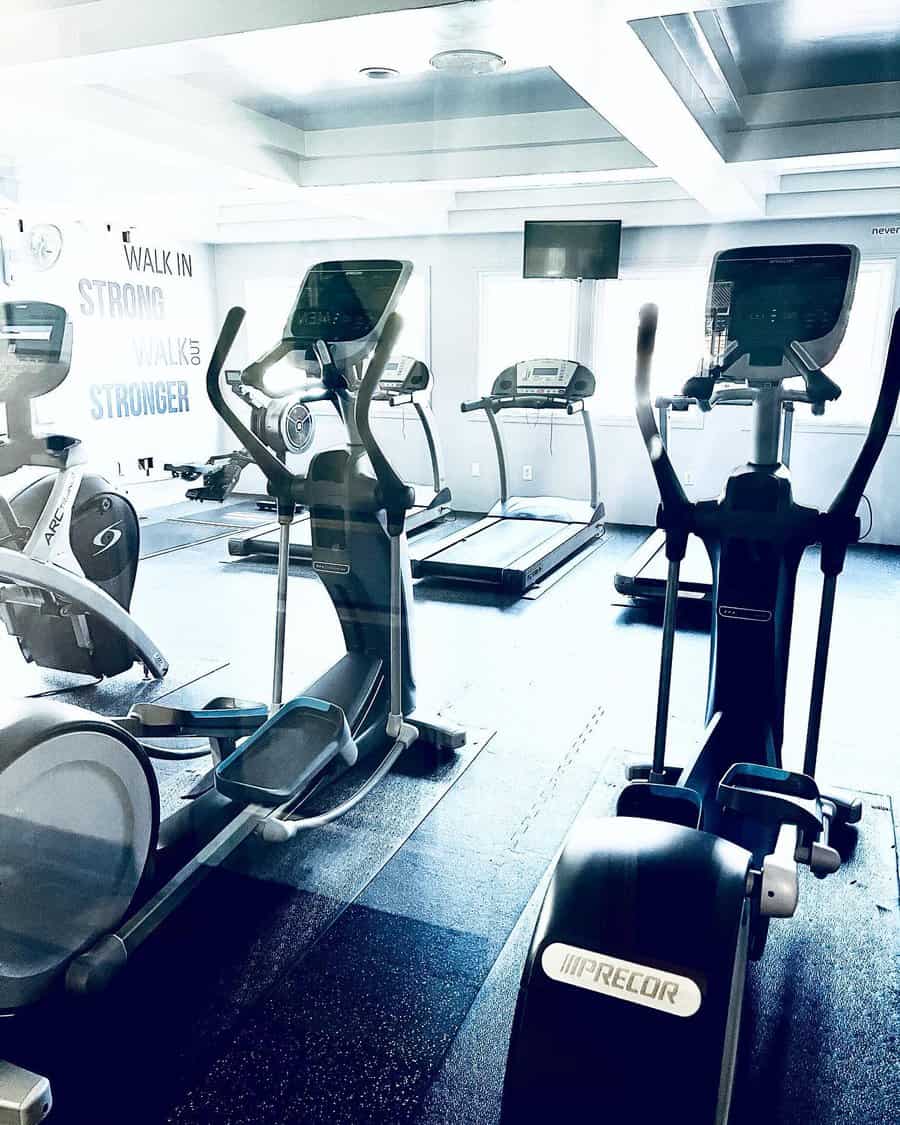 If garage gym space is limited, shop for a treadmill that folds up and out of the way when not in use. You can also move the treadmill inside the house, to a guest room or other area that has spare floor space.
Read also: 48 Garage Man Cave Ideas