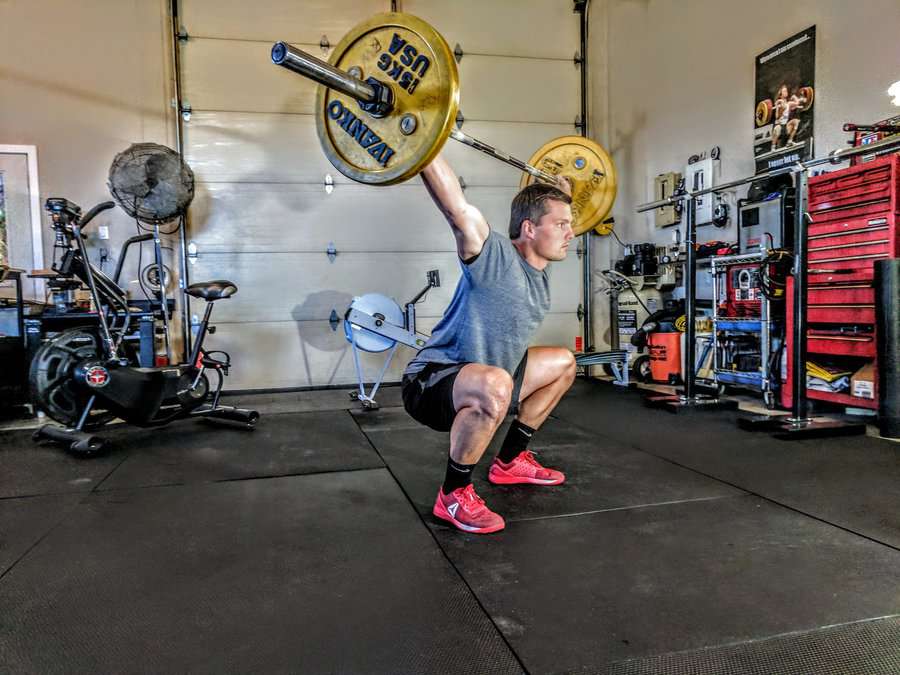 A garage gym can be a fantastic alternative to an expensive gym membership. Building a home gym requires an investment up front, but can save you thousands of dollars over time.
Having a garage gym not only eliminates commercial gym membership fees, it also restores the time lost to your daily gym commute. Best yet, having your gym equipment at home can increase your motivation to exercise. Our top garage gym ideas and inspirational garage gym photos will show you how to bring your workouts home.
1. Hidden Basement Gym
Creating a garage gym is the perfect way to get an amazing workout right in the comfort and privacy of your own home.
Imagine weight lifting on a weight bench while your favorite set list is playing on the stereo at full volume. Picture yourself snatching up barbells while you stare up at the beautiful shiplap wall. Plus with a black board, you can jot down reps and weight to track your progress each session and slowly reach your fitness goals.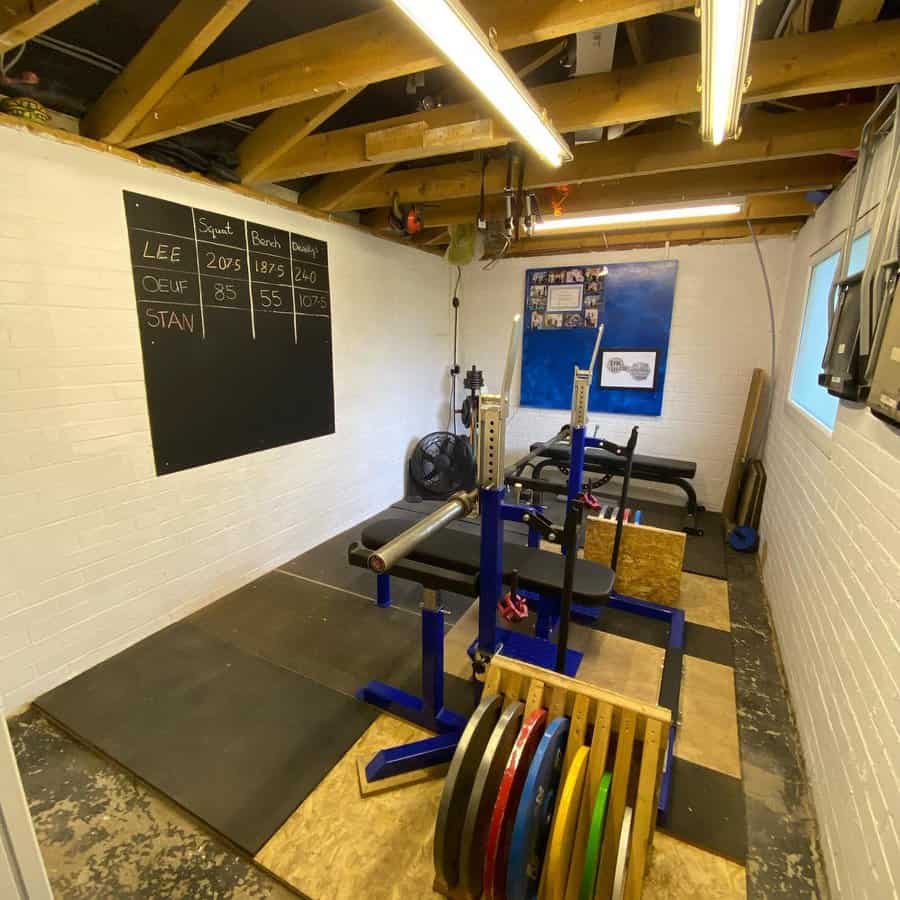 2. Home Gym For Powerlifters
Working out in your very own garage gym could be the perfect way to power up yourself at home! A power rack is ideal for performing free weight exercises like squats and deadlifts, while a pair of dumbbells will let you target those muscles for a sculpted physique.
Don't forget to add in a few weight bench exercises too — the best part about working out at home is being able to tailor your routine to whatever you need, not just what's available at the gym.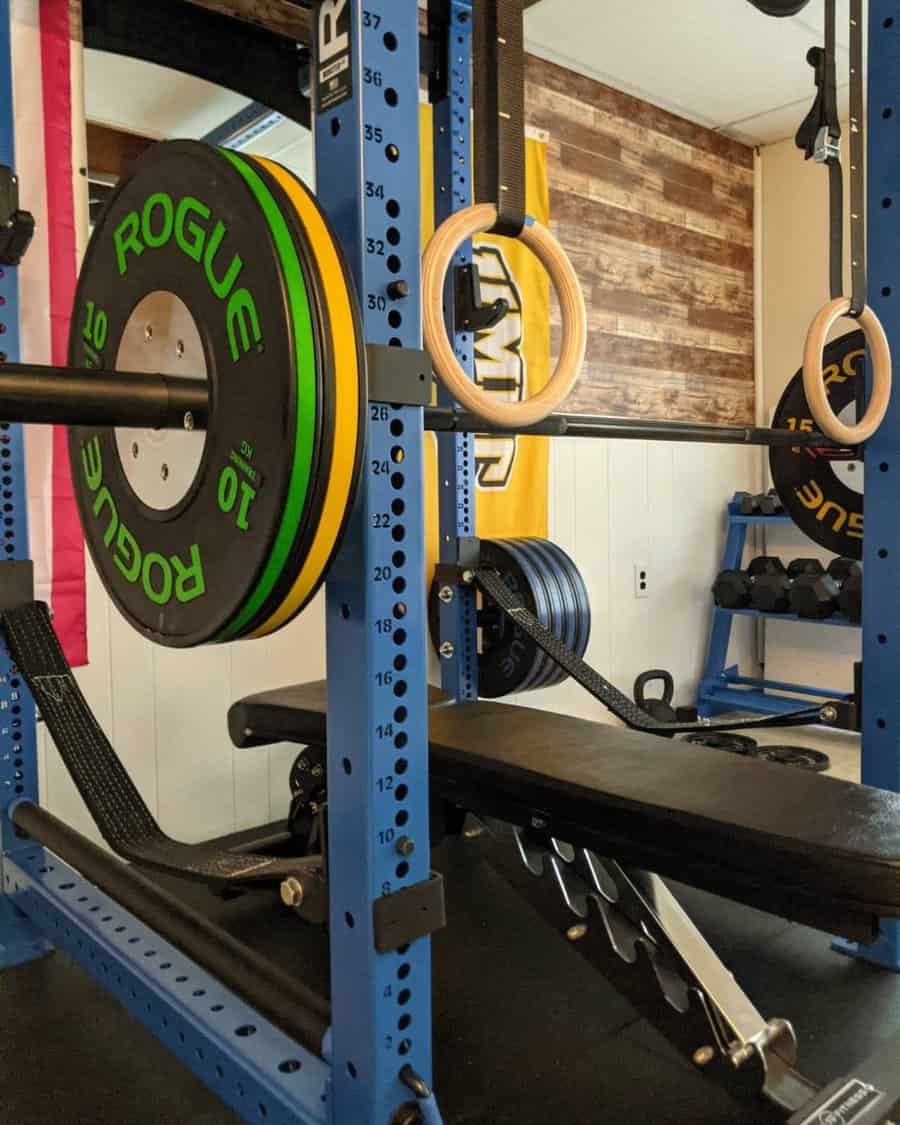 3. Do-It-Yourself Gym
With the old barbells, a DIY workout bench, and a few old weights scrounged up from around the neighborhood, anyone can transform their regular old garage into an amazing and practical home gym for committing to sweat-breaking fitness goals.
With so many options available for designing and customizing your own garage gym to fit any fitness goal or style of exercise, you can create the perfect space for achieving your new body or workout routine with ease and convenience!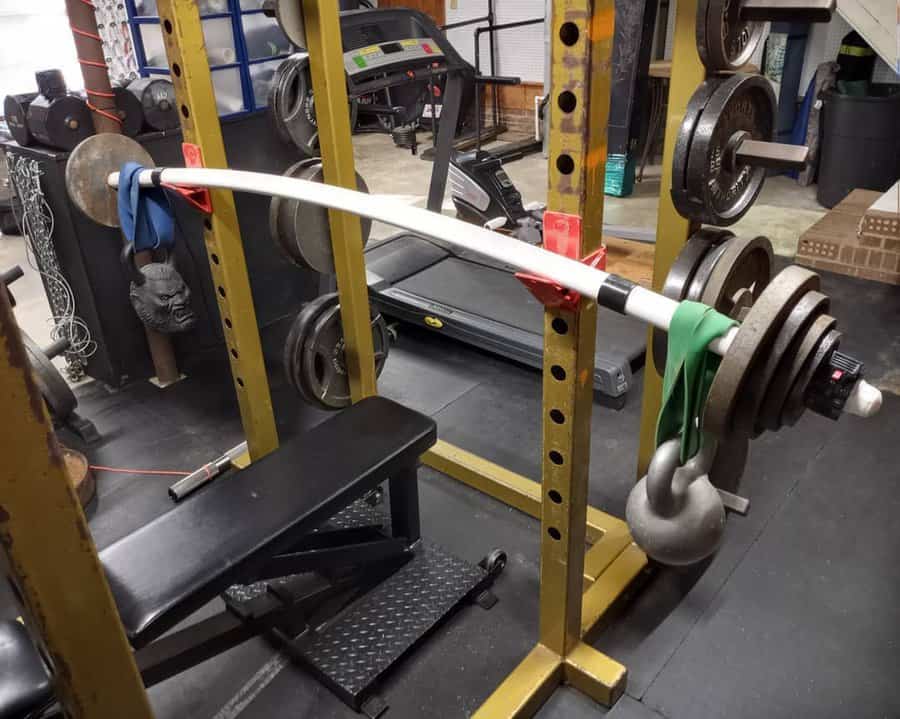 4. Spiderman-Themed
With a makeshift garage gym, you can become spiderman. No, really! All it takes is the right set up including spiderman posters for motivation, a red weight bench to show off your spidey strength and some weights to get those biceps bulging.
The possibilities in this space seem endless because you are in charge of your goals and the equipment that helps you reach them.
So lace up your spiderman sneakers and get ready to customize your workout routine like no Marathon gym treadmill ever could.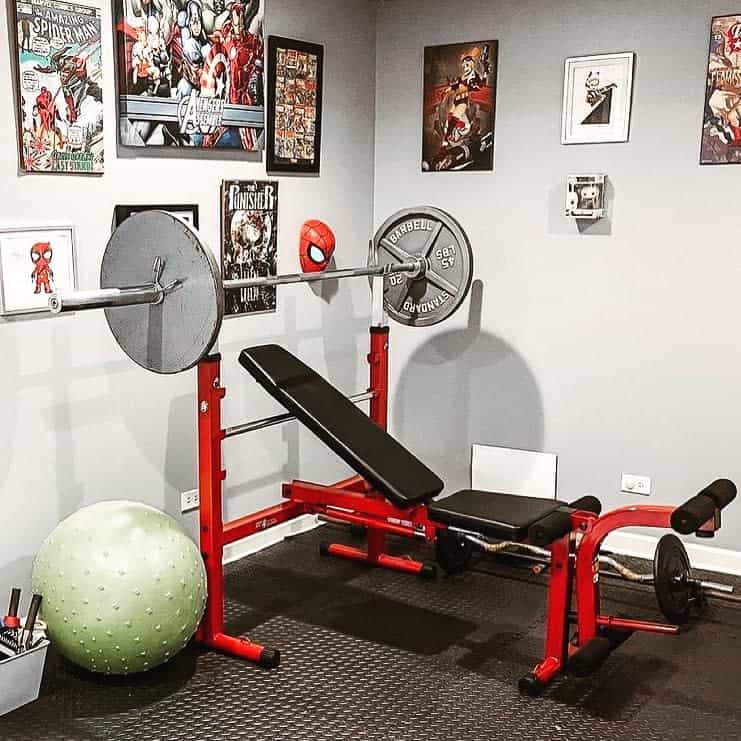 5. Small Cabin Garage Gym
Nothing sparks motivation for exercise quite like having your own garage gym! Home workouts are on the rise as more of us embrace the convenience of exercising in our own space.
With just a wooden wall and some durability tested weight bench, you can start building strength and endurance from the comfort of your own home.
But why stop there? For a full-body workout, consider adding some gymnastic rings for an effective upper body challenge. With a simple setup, it's easy to turn your garage into a fitness oasis without breaking the bank.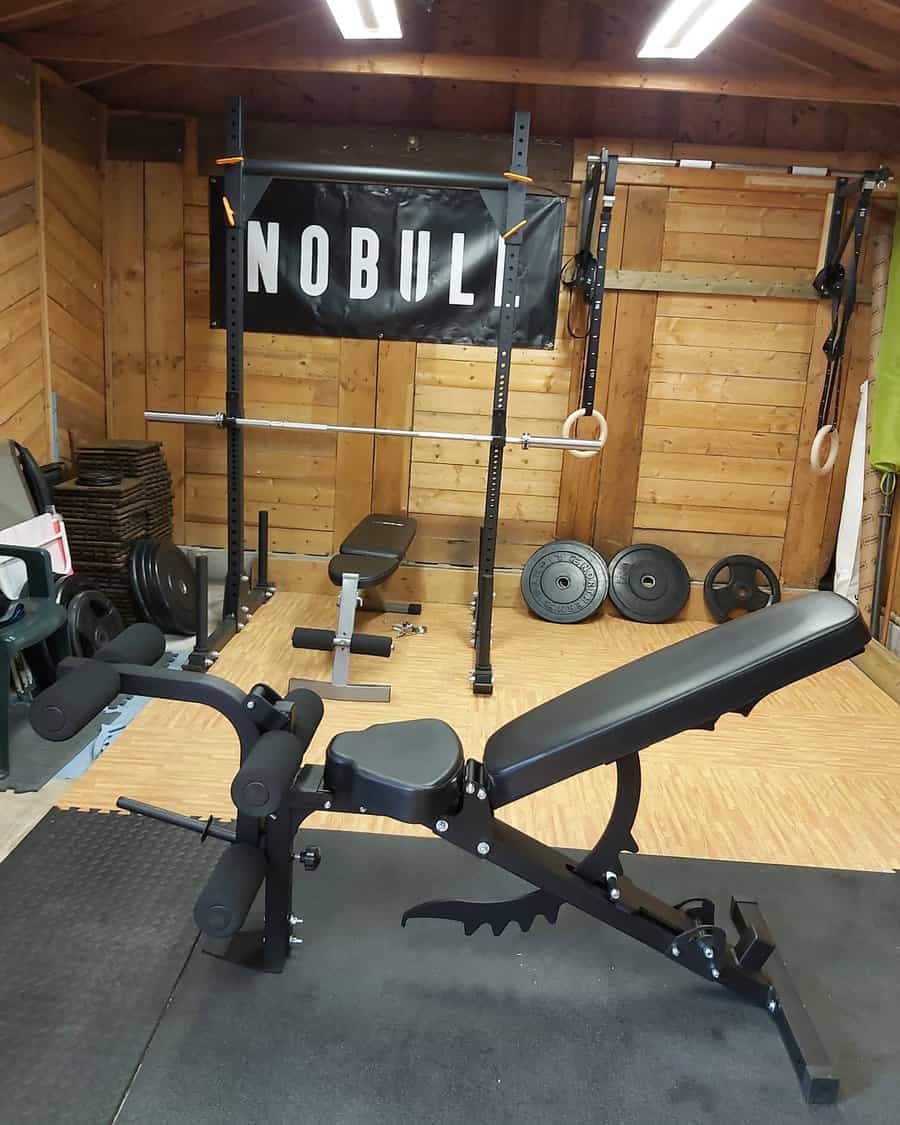 6. Minimalist Home Boxing Gym
A garage gym is the perfect way to elevate your fitness routine and build some serious strength.
With boxing equipment, free weights, a bike or treadmill, and wooden vertical shiplap walls for that modern touch – you'll have everything you need to fight off boredom and focus on yours goals. Just flip on the tunes, let the energy flow and watch your progress start to soar!
Create your own private boxing club with everything you need in a less-than-ordinary location.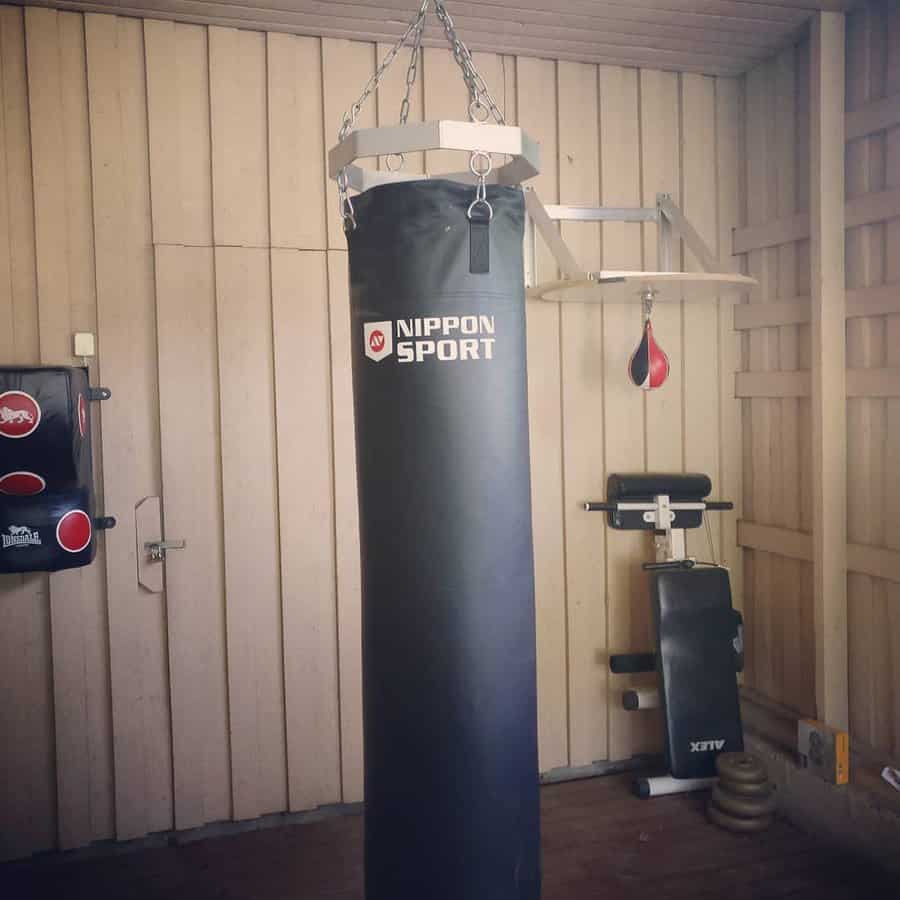 7. Garage Gym With Accent Wall
Setting up a garage gym is like opening the door to a world of possibilities.
With accent walls to set the vibe and functional fitness equipment like plyometric boxes and barbells on deck, you get the chance to create an environment that will support your active lifestyle for years to come.
Installing a home gym comes with many benefits – from the convenience of doorstep access to being able to customize your own space – so go big and embark on a journey of self exploration today.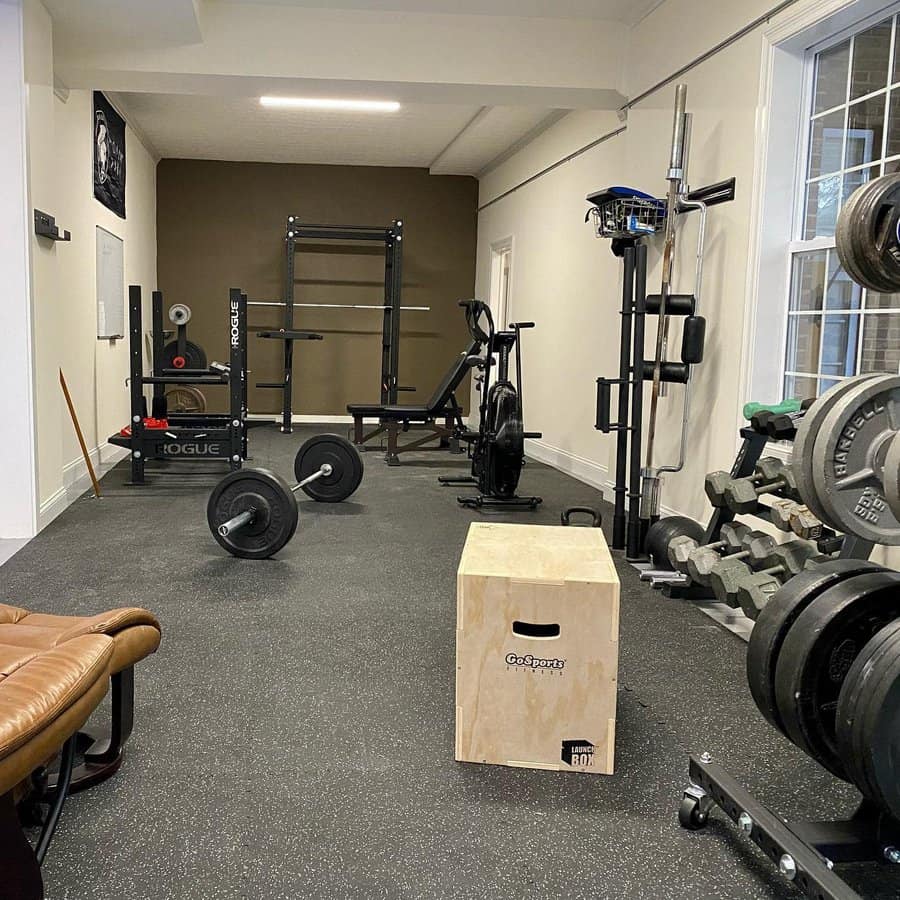 8. Gym Wall Quotes
Working out in a garage gym has its advantages – chief among them, the motivation boost offered by fitness quotes on the walls of your home gym. Everyone can use a few words of inspiration to remind them that proper nutrition and exercise are essential for health and wellbeing. And with a rubber gym floor mat underneath you, working out will be something you look forward to every day!
Not only can it cushion feet and ankles from impact exercises, but these mats also bring personality to any space, making it an environment that is enjoyable and encourages motivation for each workout session.
Whether you prefer lifting weights or running laps – get creative with your garage gym's decor and make sure motivation is always close at hand!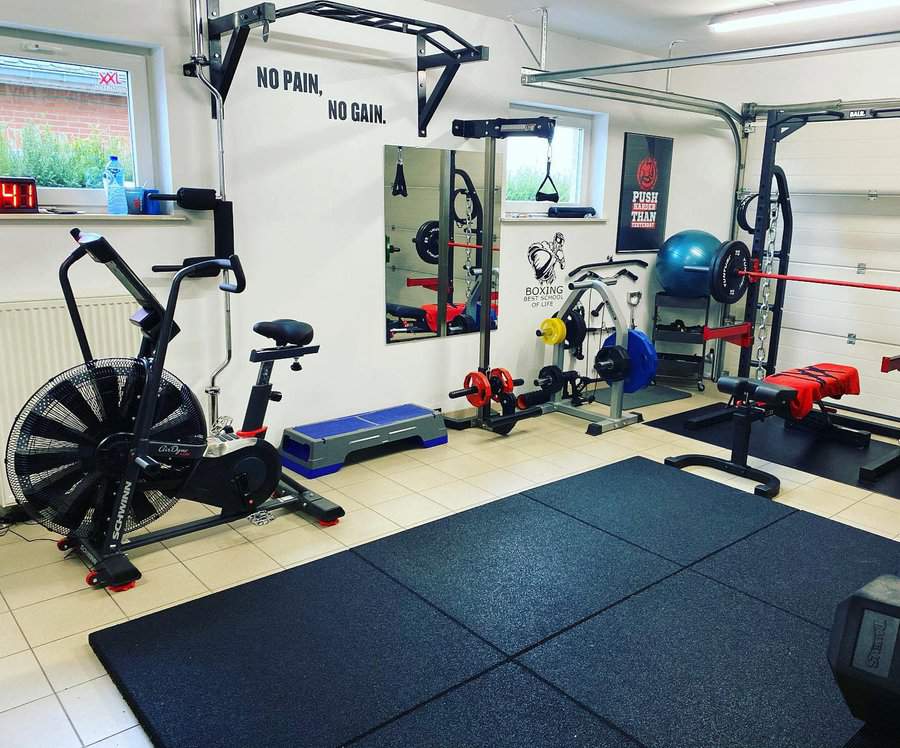 9. Minimalist Monochrome Home Gym
Creating a monochrome color palette of whites and grays for your garage gym is the perfect way to create an airy, calm atmosphere in which you can focus on pushing yourself.
To really round out the look and experience, install a full-body mirror on one of the walls and watch as you build strength and endurance.
Take down posters of motivational quotes or add some monochrome artwork to the white walls if you want more decor inspiration. Finally, complete the look with some light fixtures since natural lighting can be lacking in garages.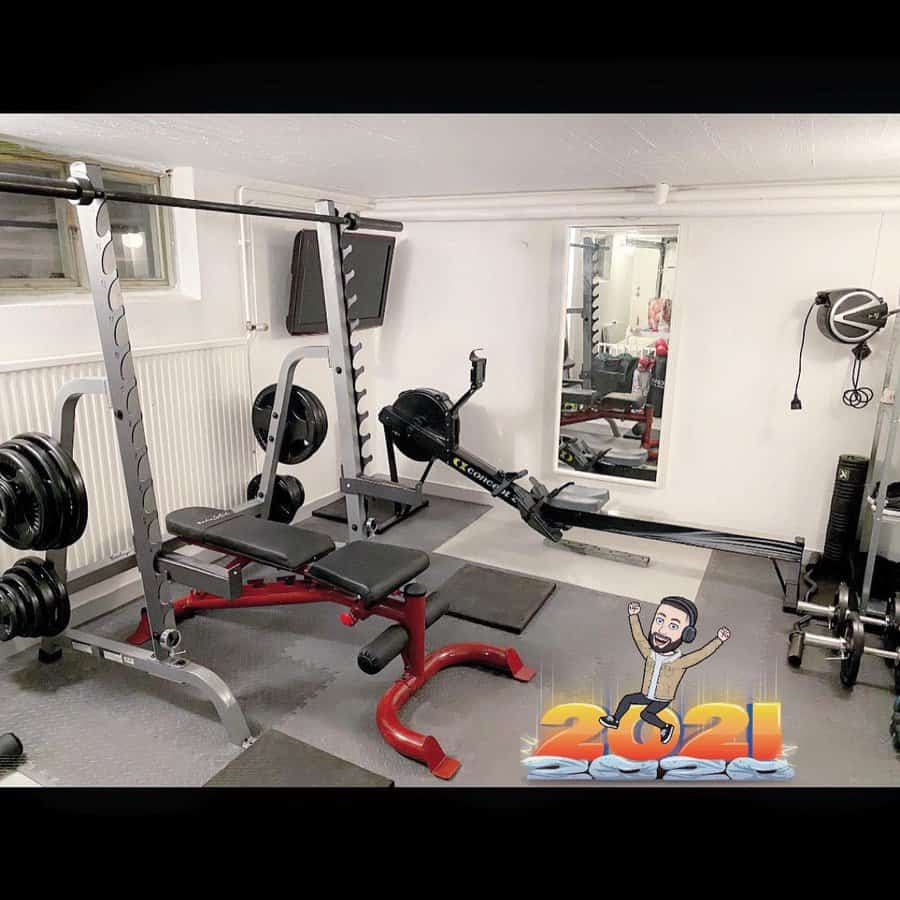 10. Outdoor Garage Gym
If you're looking for an outdoor gym experience, look no further than a garage gym! Not only can you work out on your calisthenics equipment in the sun, but you'll have a fully-equipped workout that exceeds traditional gym workouts.
For example, with the use of a gym puzzle mat, you can customize and refine your outdoor workout routine.
Also, if it's too hot or cold outside, a garage provides the right ambiance to accomplish your fitness goals. So go ahead and take full advantage of these outdoor conditions to create an outdoor and unique workout space in your home's garage.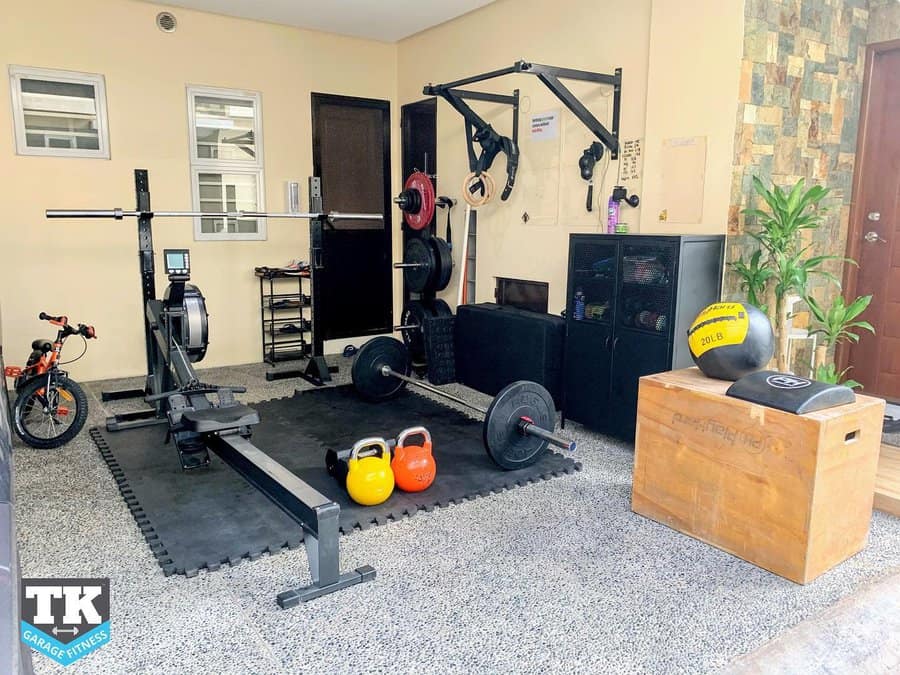 11. Black & Wood Minimalist Workout Space
Imagine transforming that empty garage into your own personal oasis, the ultimate retreat: a garage gym! Lift the wooden power rack to your desired height, hang up a wall mirror to help perfect your technique, and, for an extra bit of fitness-mood setting, add some black walls.
Your newly revamped space will provide all the necessary tools you need to get on track with your physical fitness goals, without ever needing to leave home.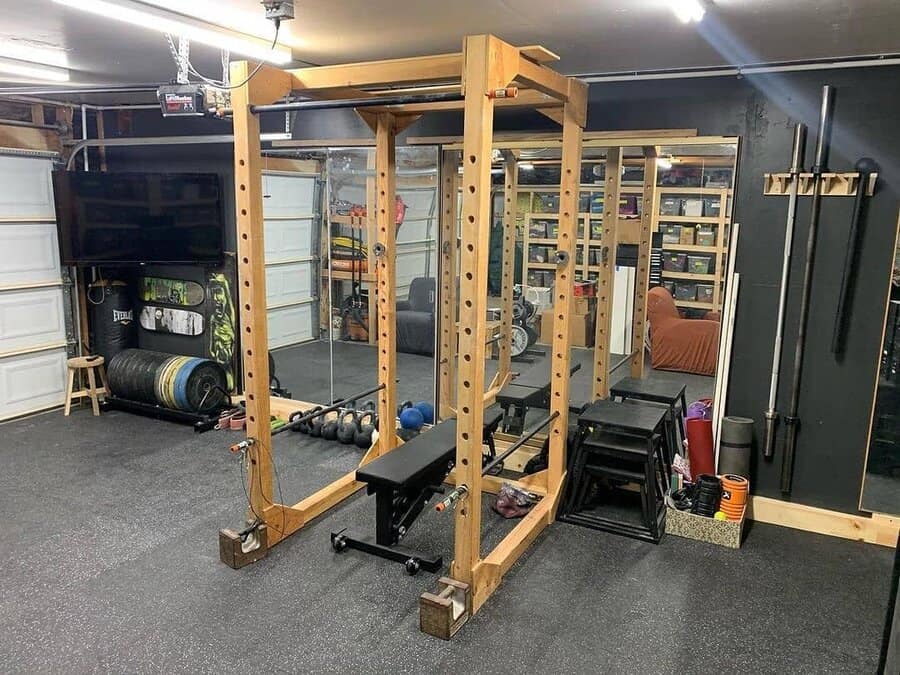 12. Home Gym With Red Walls
With red walls enveloping the room and motivational gym posters on every inch of open space, setting up a home garage gym doesn't get much easier than this.
Take your routine to the next level with a personal sanctuary for weight training and physical activity; it's sure to be inspiring! Whether you prefer solo workouts or pumping iron with friends, your own garage gym guarantees you can keep up with your progress in comfort and privacy.
Get ready to make long-term fitness goals with the ease and efficiency of having your own custom set-up — red walls adorning posters of historic bodybuilders included.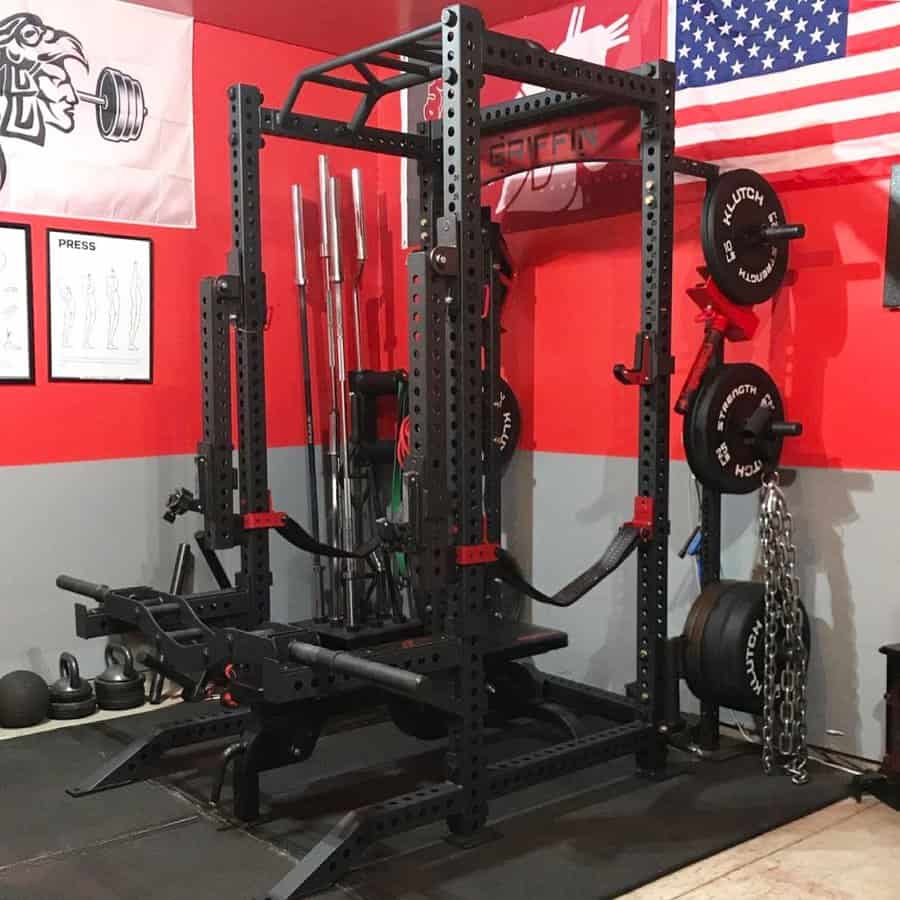 13. Straightforward & Simple Garage Gym
Transform your garage into a personal gym and you'll feel like you've got your own standalone sanctuary to work out. It doesn't have to be fancy; the essentials of a bench, some dumbbells on the floor, and your hard-earned certificates on the wall are all you need for the perfect place for self-improvement.
With a garage gym, you won't even have to leave home for that great workout – just open up the door and enter your haven of focus and dedication.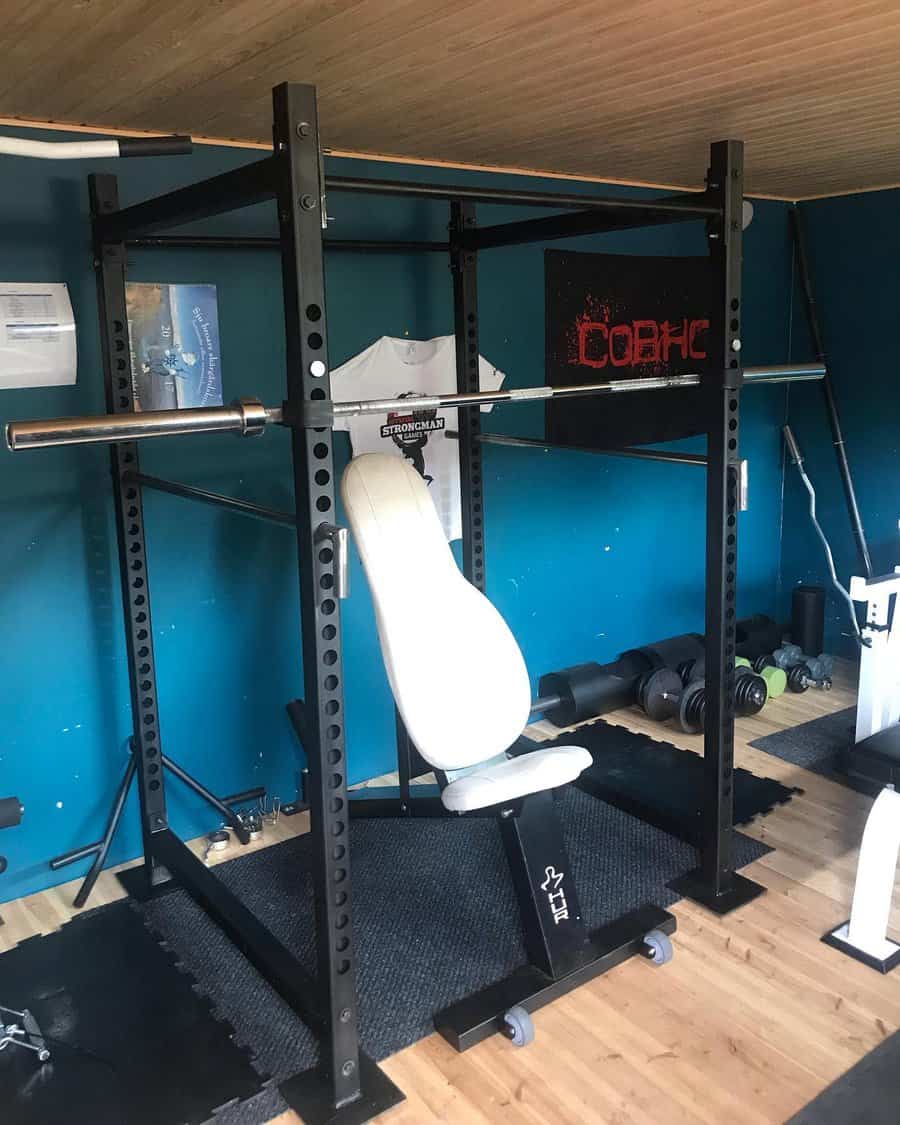 14. Minimalist CrossFit Gym
Transform your garage into the ultimate crossfit gym with ease! With a few elements like wall hooks, power rack and crossfit rope, you can create an awesome space to train and focus on achieving your fitness goals.
From bodyweight workouts to weightlifting sessions, you'll find yourself quickly falling in love with your very own garage gym. Create something special that allows you to express yourself and understand how much achievement you can get with just the right equipment and a positive attitude.
Making the most of your crossfit journey starts with creating a space where it all begins; a garage gym where all your hard work pays off!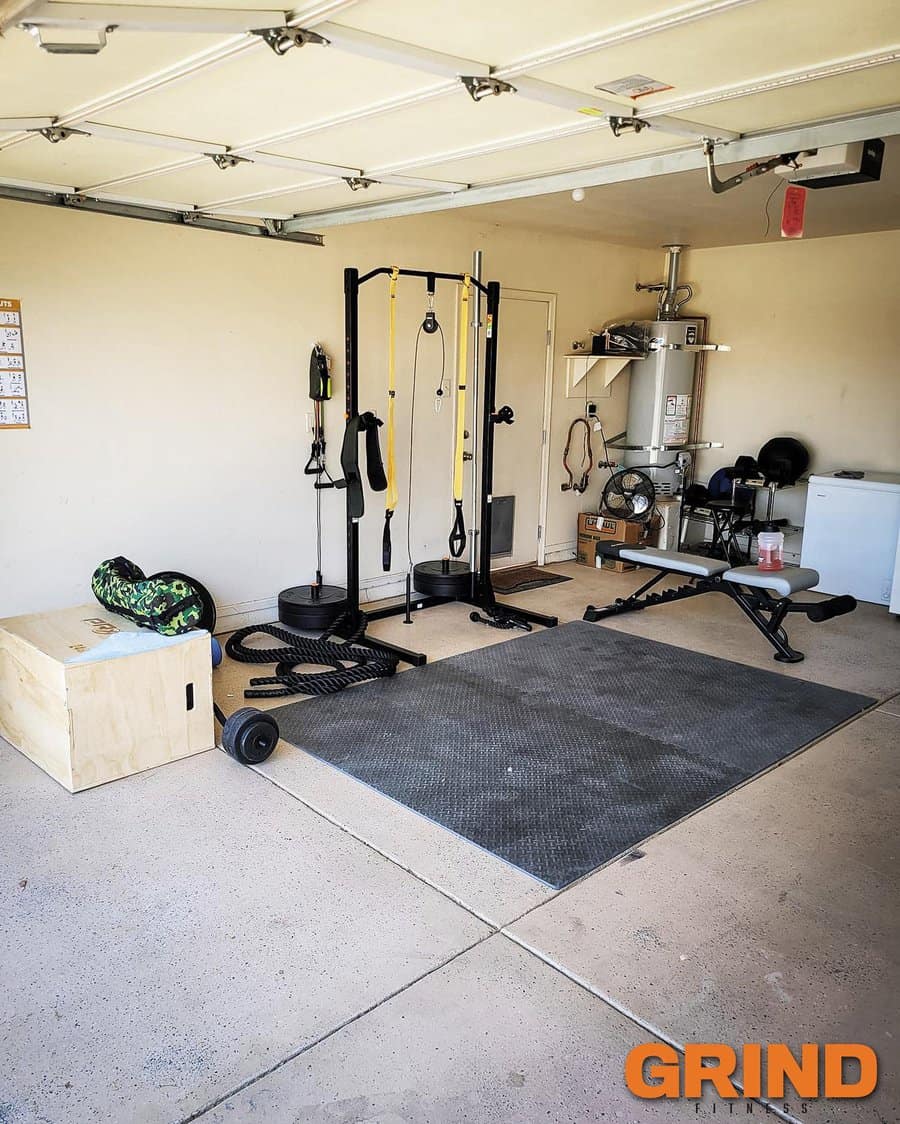 15. Brightly Lit White Garage Gym
Exercise is an important part of a healthy lifestyle, and having your own garage gym at home makes it easy to stay active. With white walls surrounding you, you don't need to worry about being confined to the same four walls of a public gym–it's like your own little fitness haven.
Add some sleek black gym equipment for an even more contemporary look, and you're ready for an effective and comfortable workout space that keeps your motivation running high.
No more awkward glances from strangers or being surrounded by sticky floors–just an open floor plan designed just for you.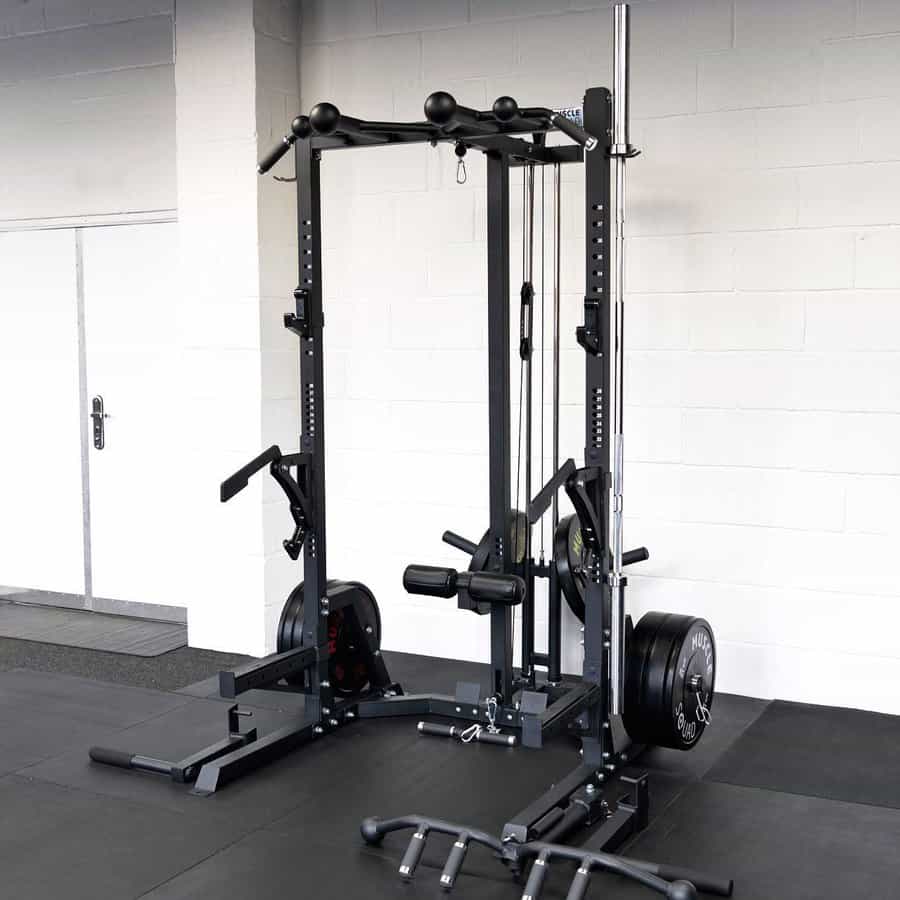 16. Garage Cardio Corner
Having a garage gym is one of the most convenient and cost-effective ways to get fit. Create a designated workout corner in your garage and begin organizing one area at a time. Start off with one piece of cardio equipment — such as a treadmill, spin bike, or rower — which can act as the foundation for your fitness journey.
Then you can slowly start adding free-weights and other pieces of equipment that help you reach and surpass your fitness goals.
The best part about having a garage gym is that it's only yours — there's no one waiting to take your machine or getting in the way of sweat-filled workouts!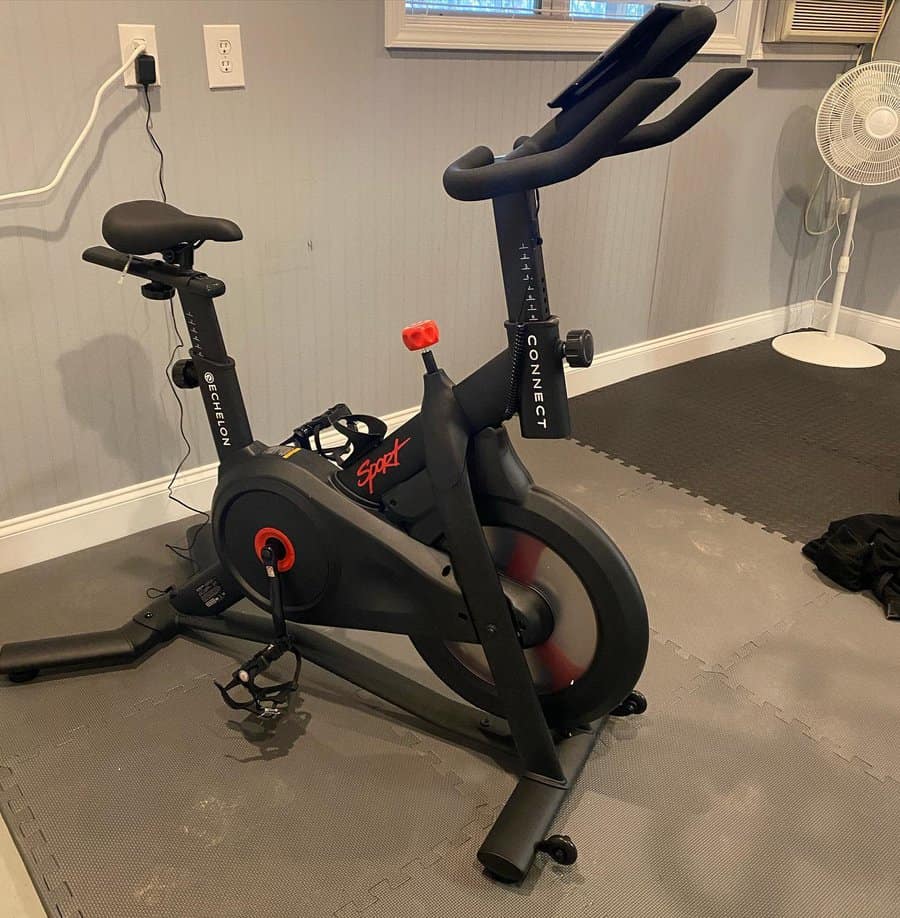 Read also: 48 Garage Man Cave Ideas