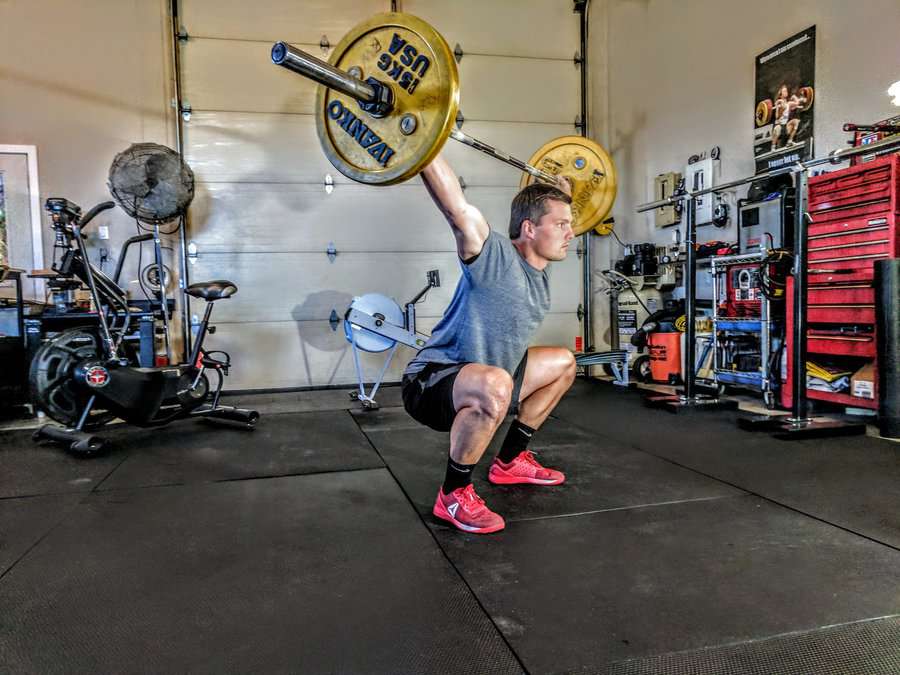 A garage gym can be a fantastic alternative to an expensive gym membership. Building a home gym requires an investment up front, but can save you thousands of dollars over time.
Having a garage gym not only eliminates commercial gym membership fees, it also restores the time lost to your daily gym commute. Best yet, having your gym equipment at home can increase your motivation to exercise. Our top garage gym ideas and inspirational garage gym photos will show you how to bring your workouts home.
1. Budget Garage Gym Ideas
You don't have to break the bank to transform your garage into a home gym. The process can be a simple DIY project. Just paint the walls a neutral color like off-white or beige, throw in some rubber floor mats for protection, install budget-friendly exercise equipment, and you're good to go.
You can create an atmosphere conducive to workout motivation by hanging a blackboard where you can keep track of your and your family members' progress. You can later add budget-friendly accessories, such as speaker systems and mirrors, to finish off your own intense exercise hub.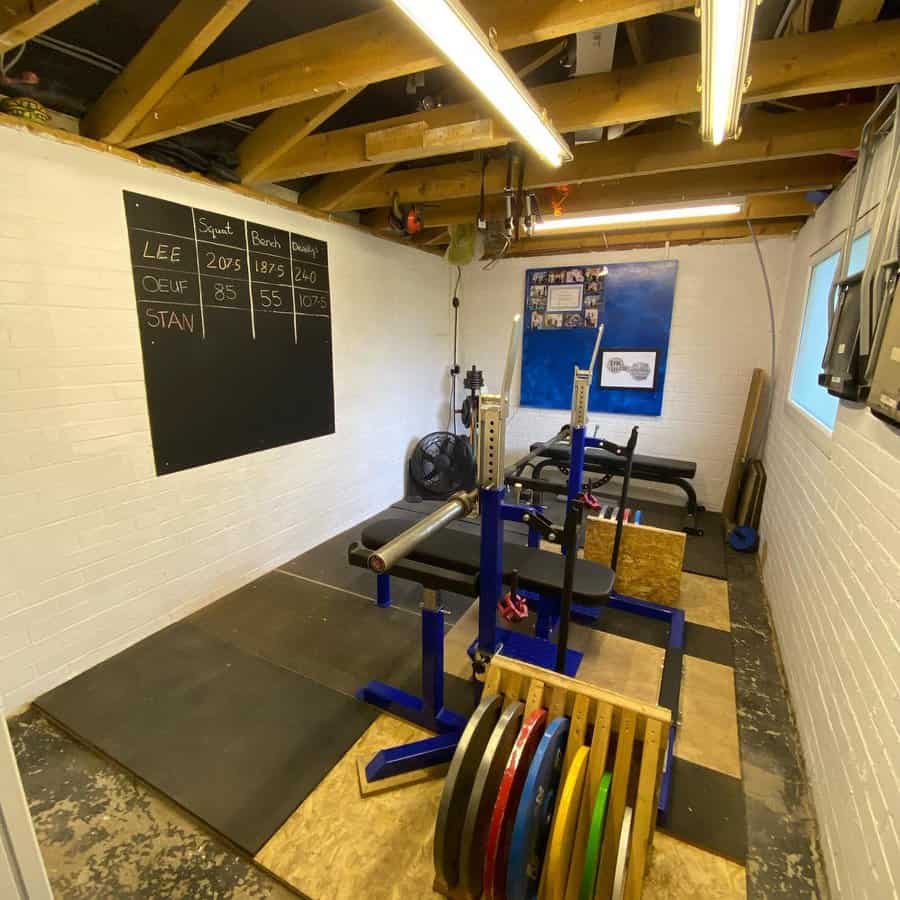 2. Garage Gym Essentials
Working out from home can be a great way to make sure you stay active without the need to go to a gym. Among the essential equipment for a garage gym are a weight bench and a squat rack or a power rack. Whether you're a fitness guru or a novice weight lifter, power racks offer flexibility and reliable results. This comes in versatile designs and customizable options, opening up the possibilities of what can be achieved with a garage gym.
You can even get creative with color-themed equipment to spruce up your space; some power rack designs come in vibrant shades and attractive metals that are sure to inspire your inner athlete. So, make sure to include a weight bench with a power rack in your list of must-haves for your new garage gym!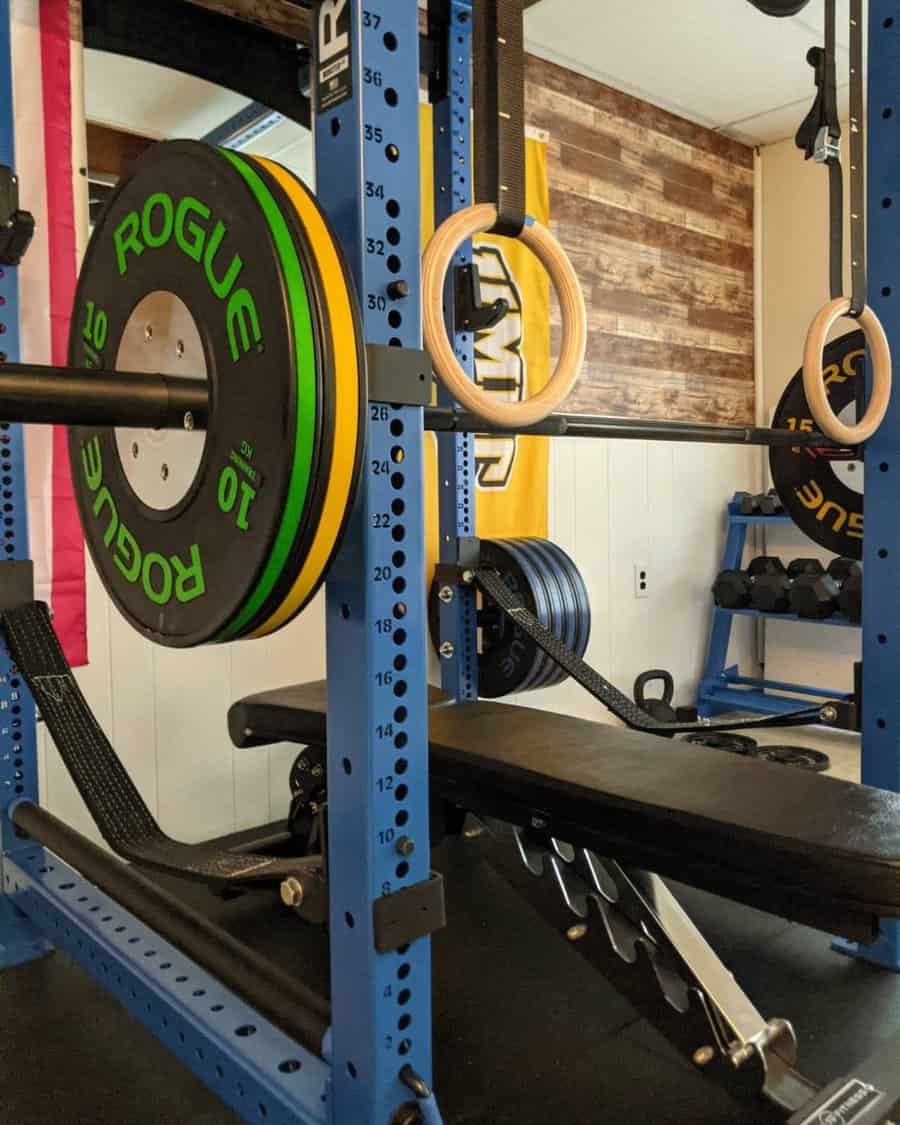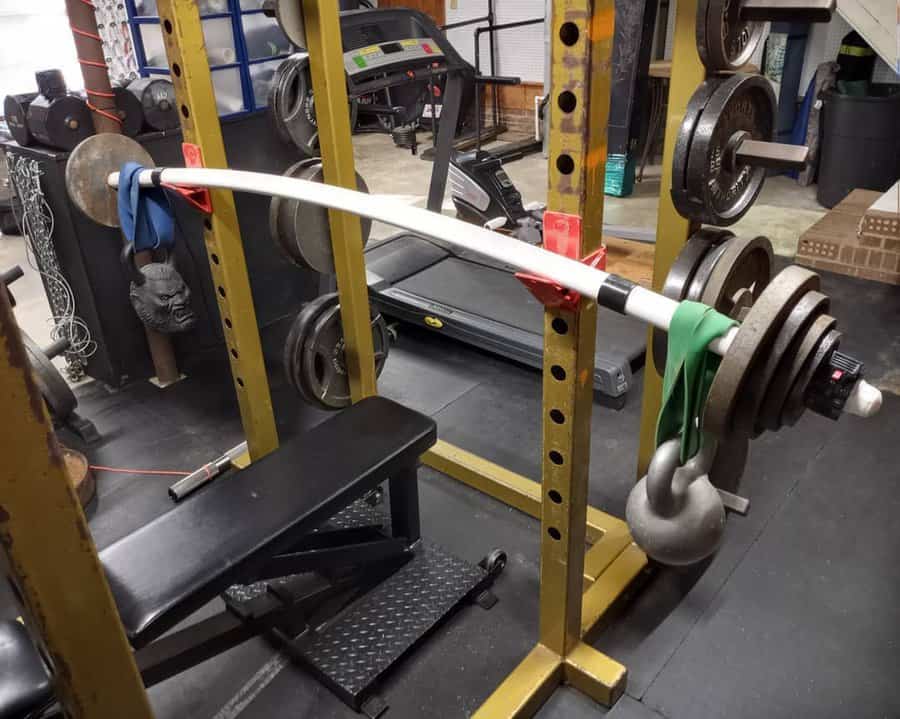 3. Marvel-Themed Garage Gyms
If Marvel Comics characters have inspired you, why not transform your garage into a Marvel-themed gym? Hang Marvel hero and anti-hero posters around the walls and plan workouts based on your favorite Marvel storylines.
For even more motivation and enjoyment, incorporate Marvel characters into your workout names. You could name each of your workouts after Marvel heroes, such as Spiderman's "Spidey Squats" or Iron Man's "Chest Blaster," and work up a sweat while in pursuit of becoming superhuman! Showing off action-packed Marvel posters while pushing your body to the limit will make your next session of workouts much more enjoyable.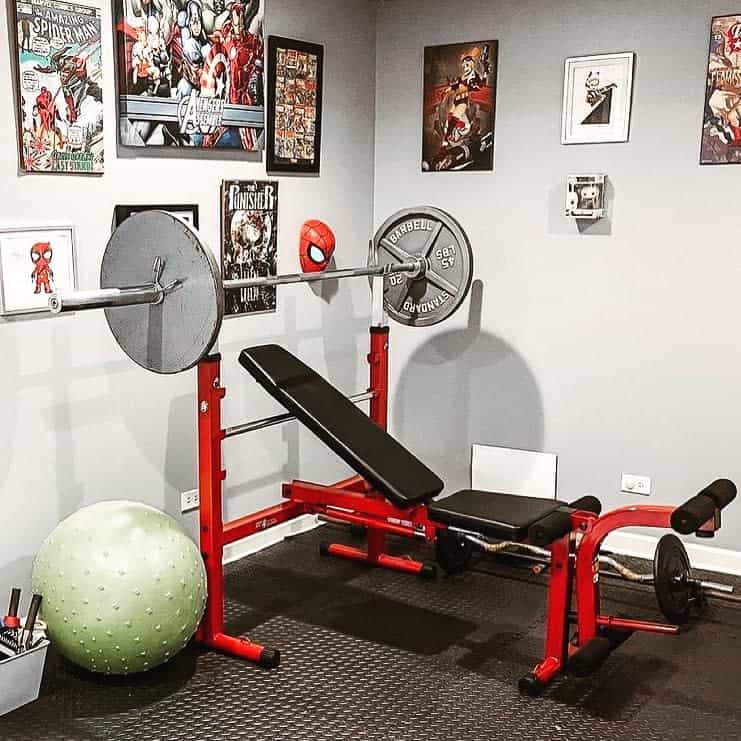 4. Rustic Garage Gym Ideas
One of the most creative and natural-looking garage gym ideas is using natural wood in the design. Natural wood paneling provides a warm, low-key atmosphere that invites you to have focused workouts in your home gym.
Adding rubber floor mats will provide protection, and their natural hues will complement the rustic and earthy look of your garage gym. Finally, throw in a "No Bull" poster to finish off the space with style and attitude. This will be an inspiring reminder that it's time to sweat!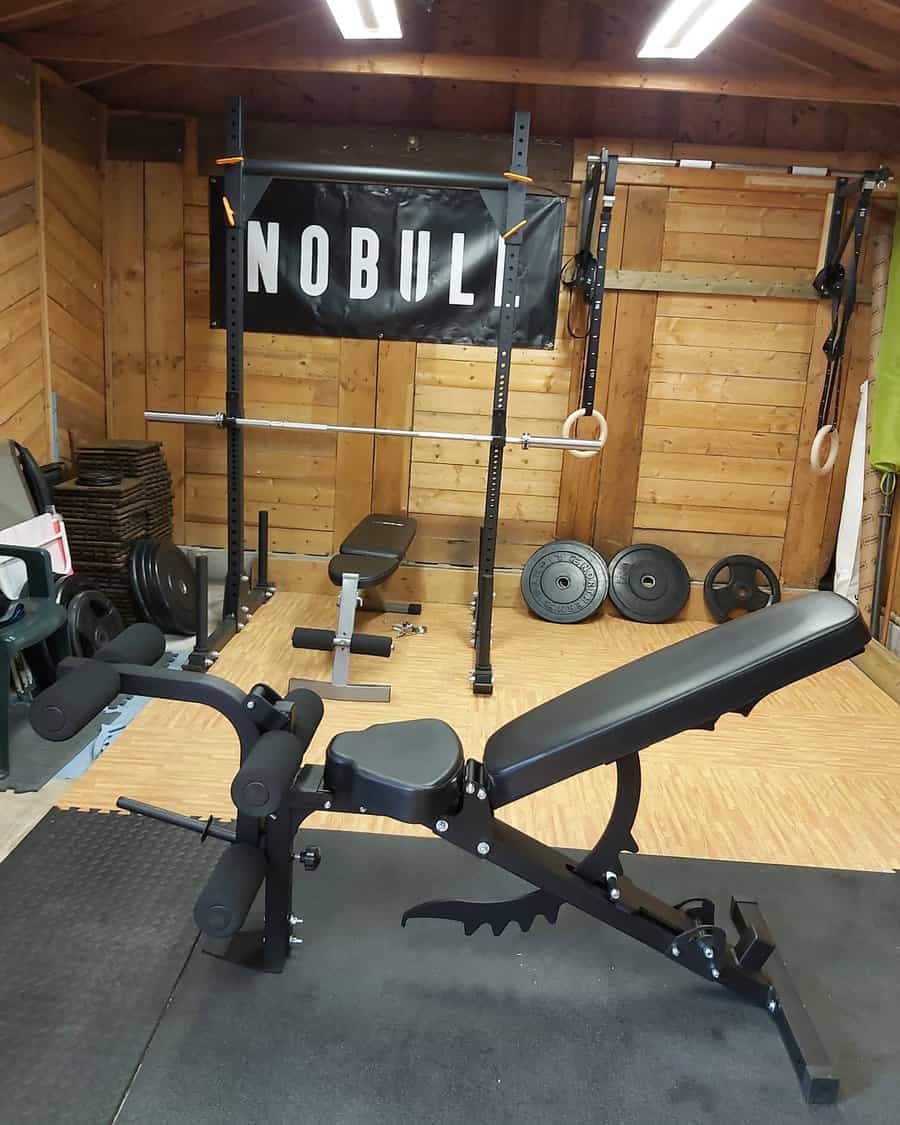 5. Boxing Garage Gym Ideas
If you're a boxing enthusiast, you can just hang a punching bag in your garage gym to work on your punching power and agility. Add a floor mat to make sure you're training safely, plus some other assorted boxing equipment like gloves and hand wraps.
With this setup, you'll soon have yourself a mini boxing gym in your own pocket of space! Create a personal boxing area that is tailored specifically to what works best for you – because it's your very own studio at home.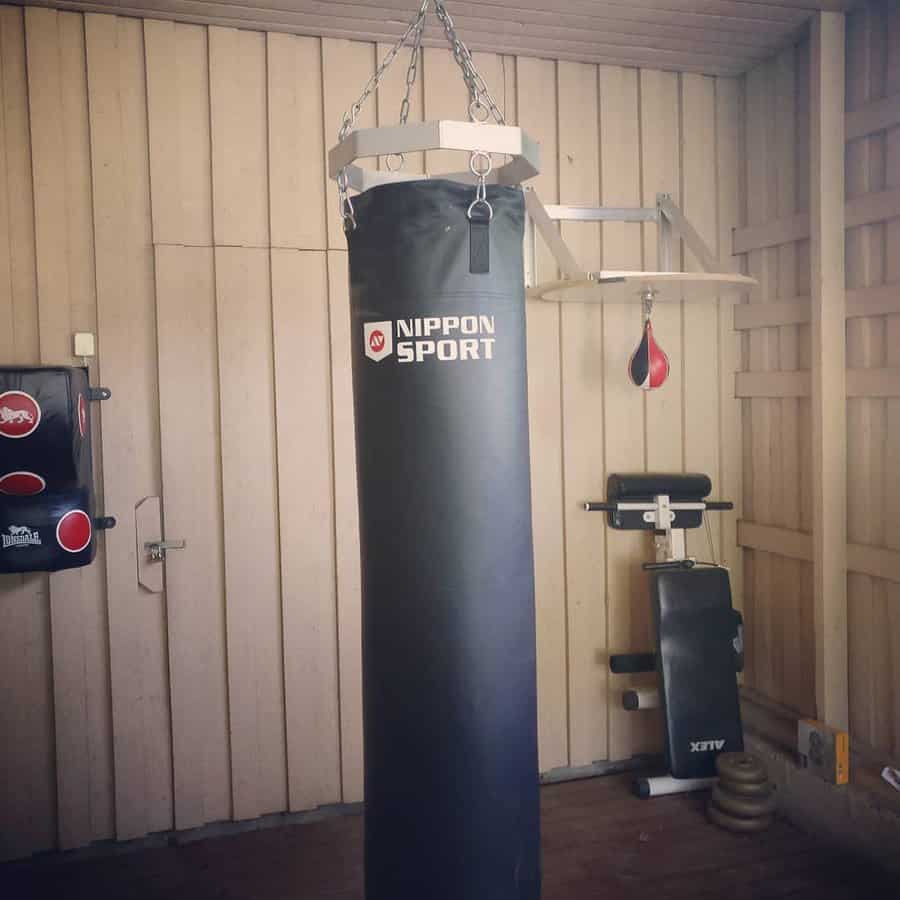 6. Bodybuilding Garage Gym Ideas
Feeling motivated to pump some iron? You can get that barbell and dumbbell workout by transforming your garage into a home gym. Whether you're into bodybuilding or just want to stay fit, having a dedicated space for exercising in your garage makes sense.
Implement a bodybuilding setup with barbells and dumbbells, and add a power rack and a stationary bike to fit your preferred workout intensity and style. To create a home gym atmosphere, paint an accent wall in a rich brown hue while keeping the other walls neutral.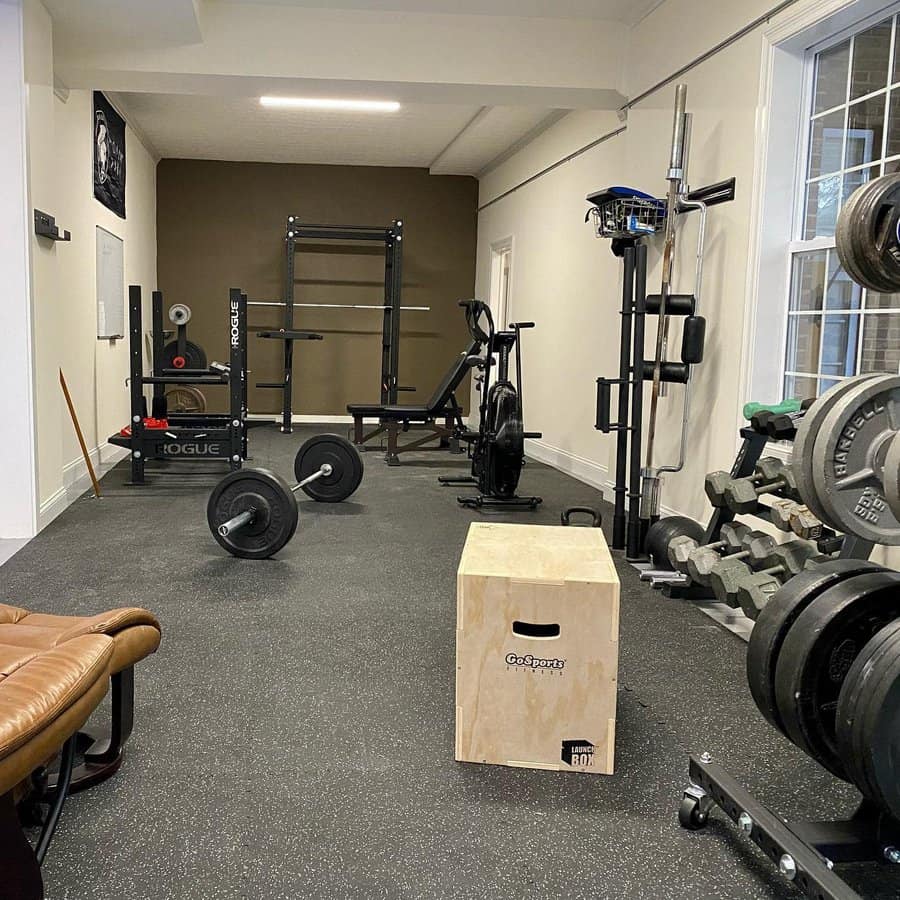 7. Black and White Garage Gym Ideas
If you want to make your home gym stand out from the rest, a black-and-white design is the way to go. Paint your walls white or any light neutral color to create a striking contrast against your black workout equipment and dark flooring.
Add motivational quotes on the wall and a pop of red that is sure to energize even the most daunting of workouts. You can also keep the glass windows in your garage unobstructed to keep the space bright and airy. When done right, your black-and-white garage gym will be both visually stimulating and motivational.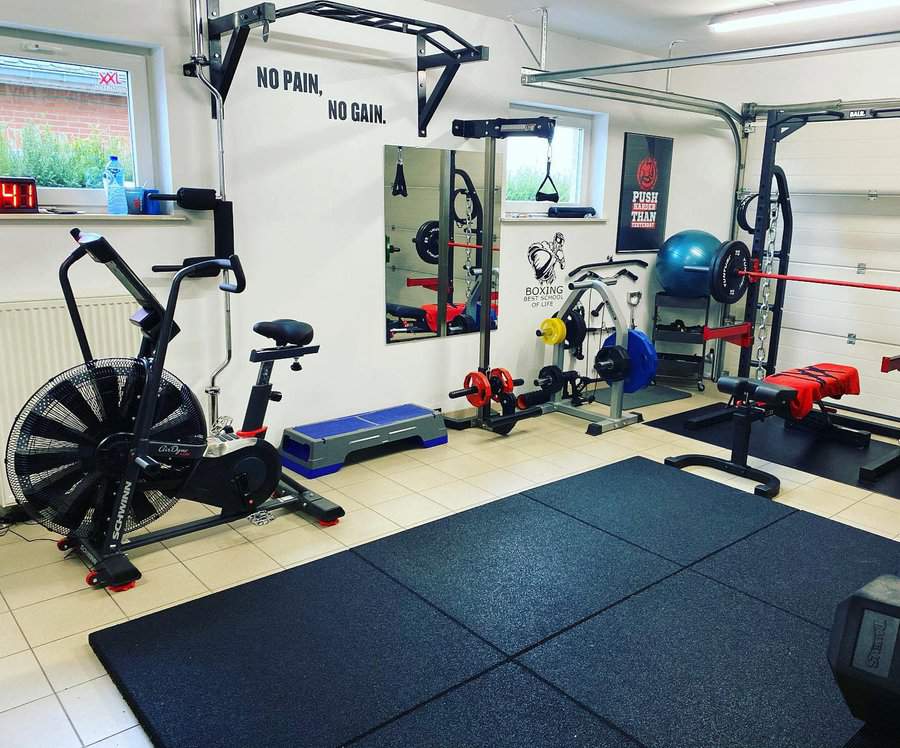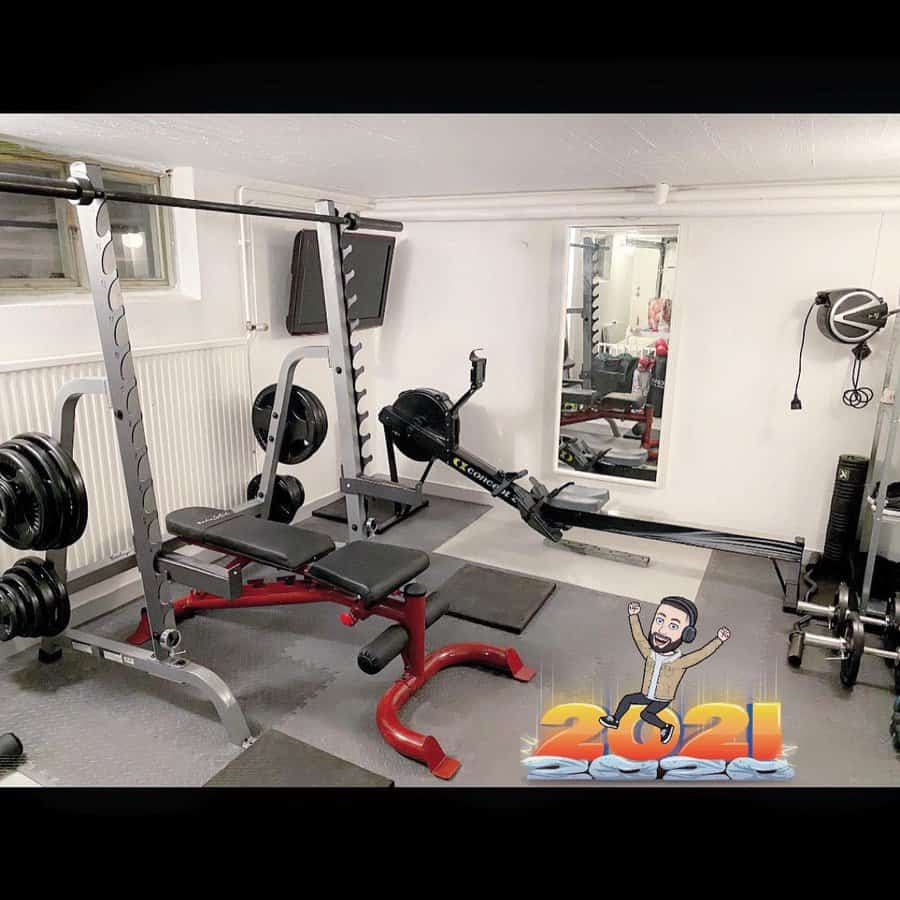 8. Simple Garage Gym Ideas
If you're looking to create a simple garage gym, you can easily do so with a few main pieces of equipment. Barbells, gymnastic rings, colorful kettlebell weights, and a sturdy, wall-mounted pull-up rack can be the foundation for any strength-building routine. 
If you want to add some extra flavor to your workouts and personalize your space further, consider how plants and natural light might play into your garage gym design. They could make all the difference in helping jumpstart your motivation.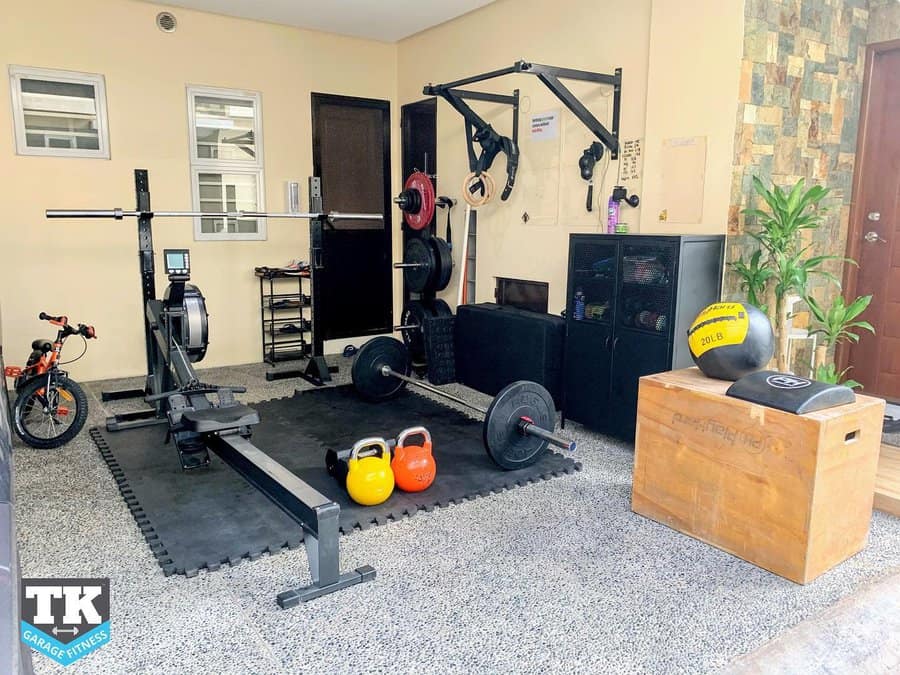 9. Power Racks for Garage Gyms
If you want to create a heavy-duty yet budget-friendly garage gym, you should consider purchasing a heavy-duty power rack as a centerpiece. Not only does this equipment allow for more heavy-duty weight training, but it also offers ultimate versatility with its ability to accommodate multiple exercises in smaller spaces.
Power racks are heavy-duty and durable, allowing you to maximize the potential of your workouts. From improving performance on bench press movements to utilizing the space you have effectively, you can find new ways to challenge yourself in the comfort of your own garage!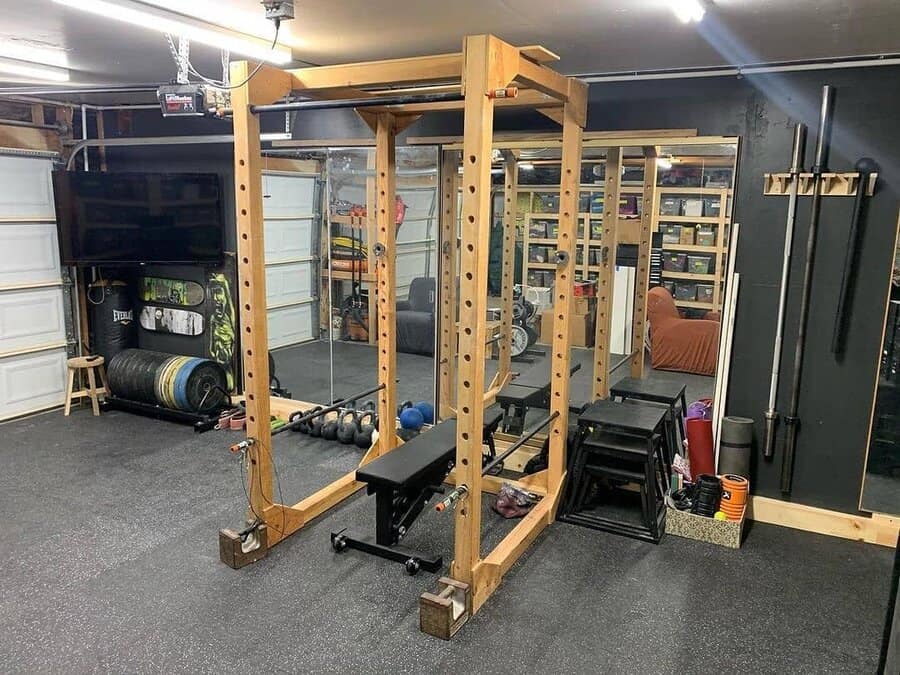 10. Colorful Garage Gym Ideas
If you're looking for a creative way to spruce up your home gym, colorful garage gyms are the way to go. Vibrant reds and blues can be used on the walls to create an exciting atmosphere where you can experience intense focus and drive.
Color blocking with a strong upper wall of red can be very effective for the garage gym look. You can paint the walls a cool blue. It's an excellent way to give yourself an exhilarating workout atmosphere from the comfort of your own home.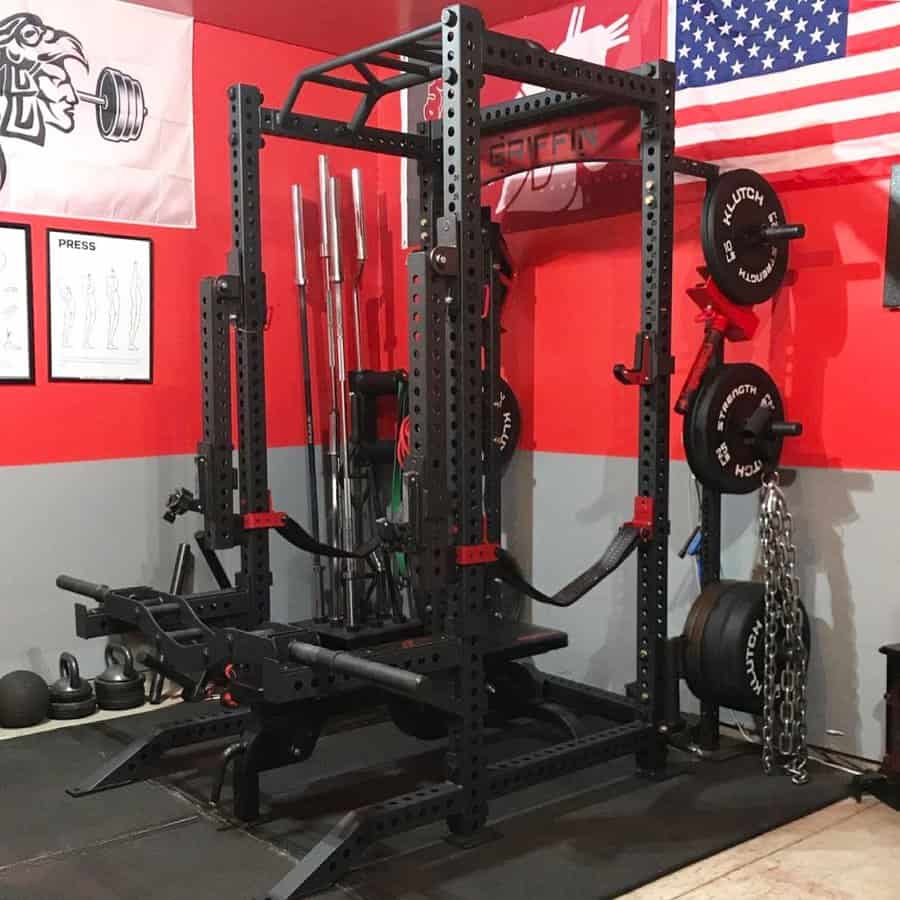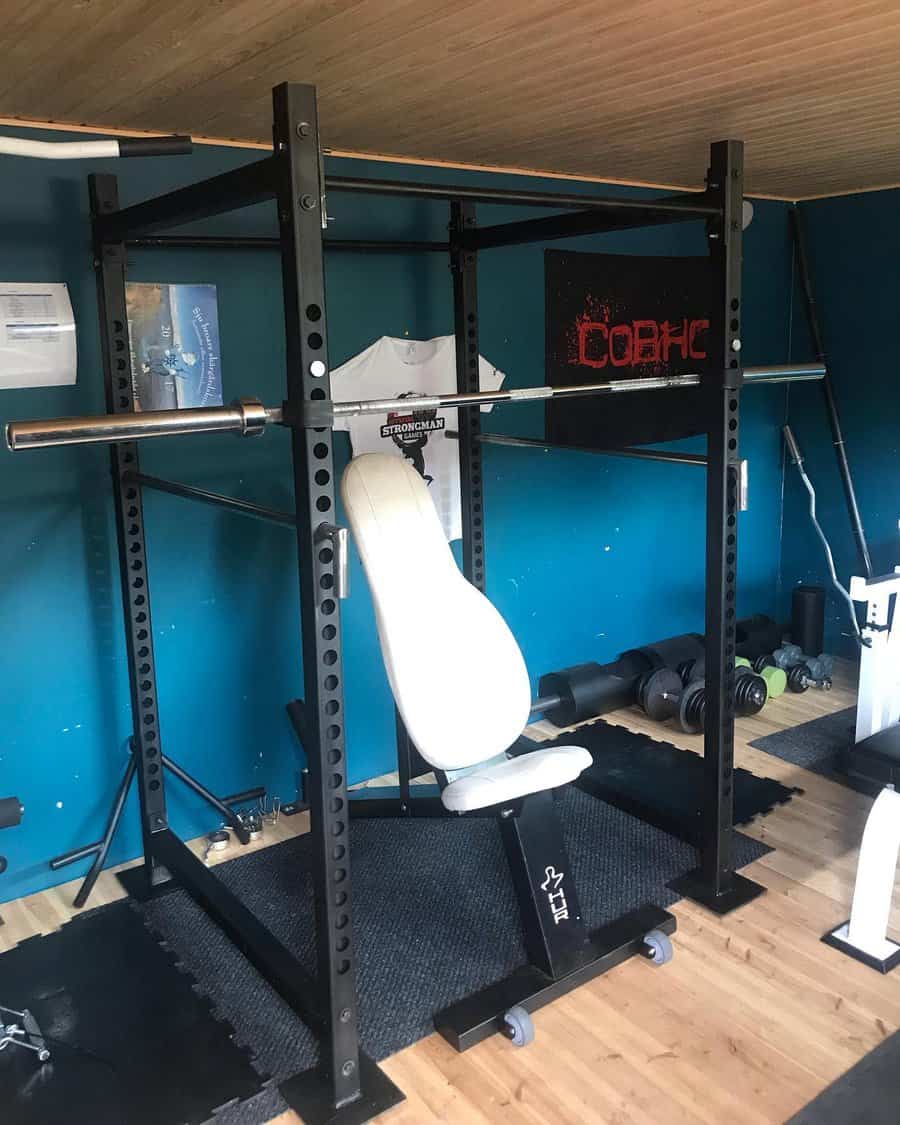 11. Strength-Building Garage Gyms
Home gyms come in all shapes and sizes, but resistance bands can transform any garage into the perfect place to stay fit. From amateur athletes to beginners just starting their fitness journey, resistance bands can easily be incorporated into workouts for a comprehensive full-body strength-building exercise at home.
While resistance bands alone provide an effective workout, adding a pull-up bar can intensify the resistance program to get your body ready for any goal. With these two additions to the garage, you can now create the ultimate gym design tailored to fit both your space and budget.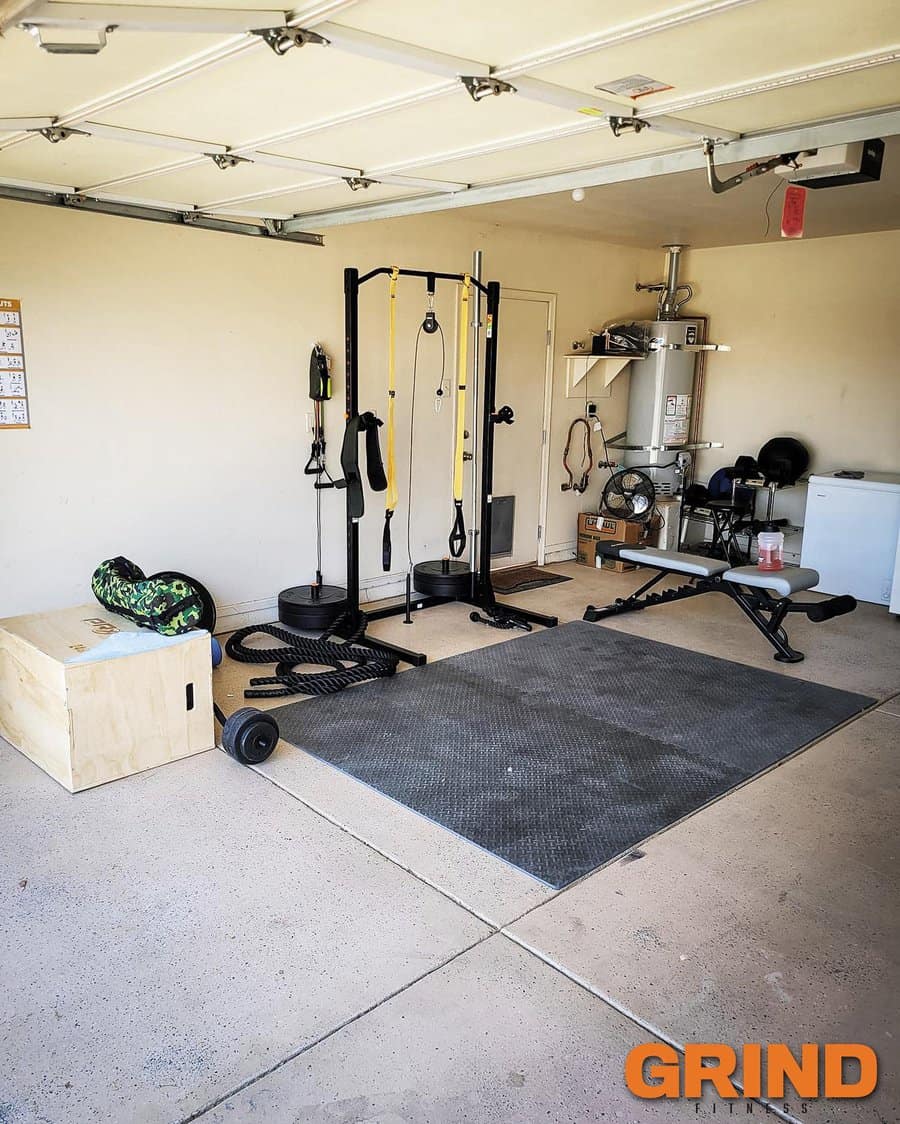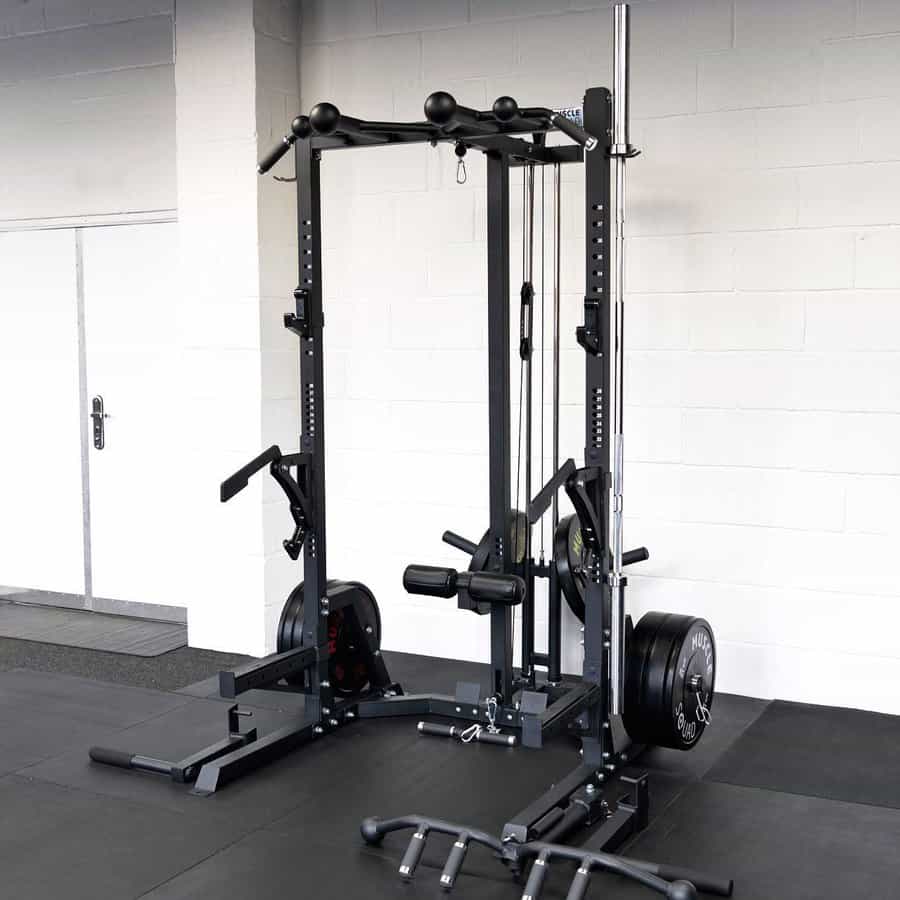 12. Stationary Bikes for Garage Gyms
A stationary bike for your garage gym is a great way to do cardio exercises at home. Not only are stationary bikes convenient and cost-effective, but you can also choose from a variety of styles that match the rest of the look and feel of your space.
Whether you want an indoor bike for an entryway, a spin bike for stationary exercises, or a folding electric bike to make trips more fun, there's a stationary bike built just for your needs.
With the right stationary bike in your garage gym, you can relish in all the cardio benefits that come with regular exercise — from improved heart health to increased energy levels — without ever having to leave the comfort of home.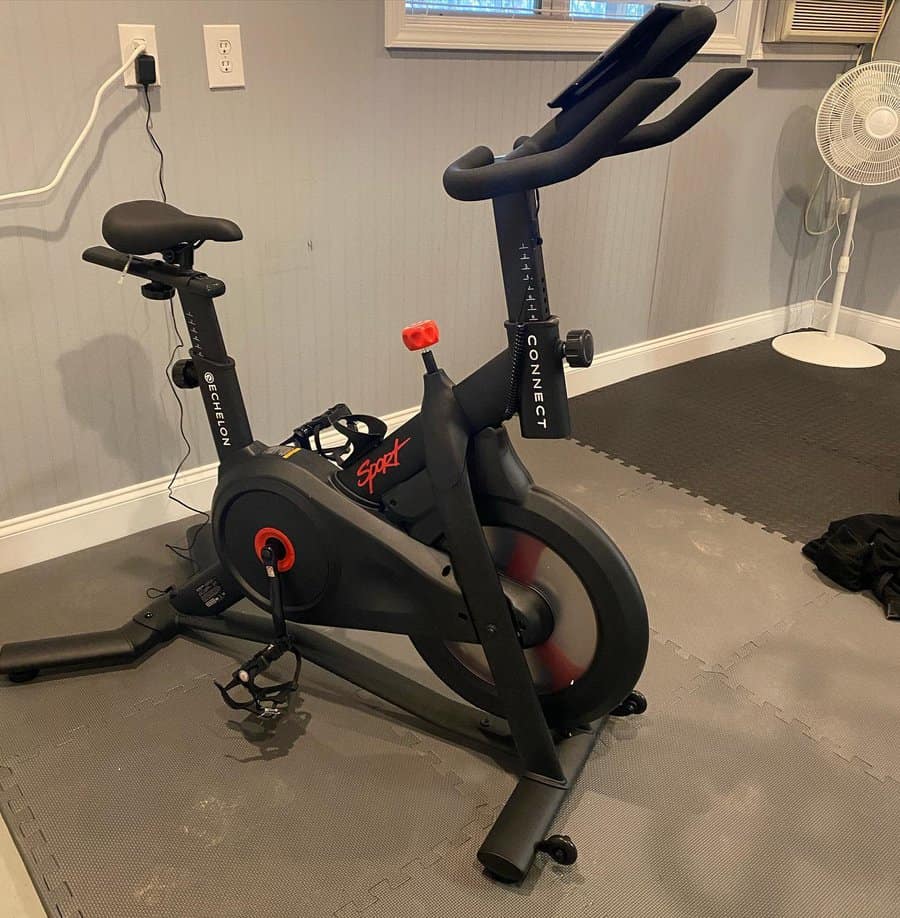 Read also: 48 Garage Man Cave Ideas