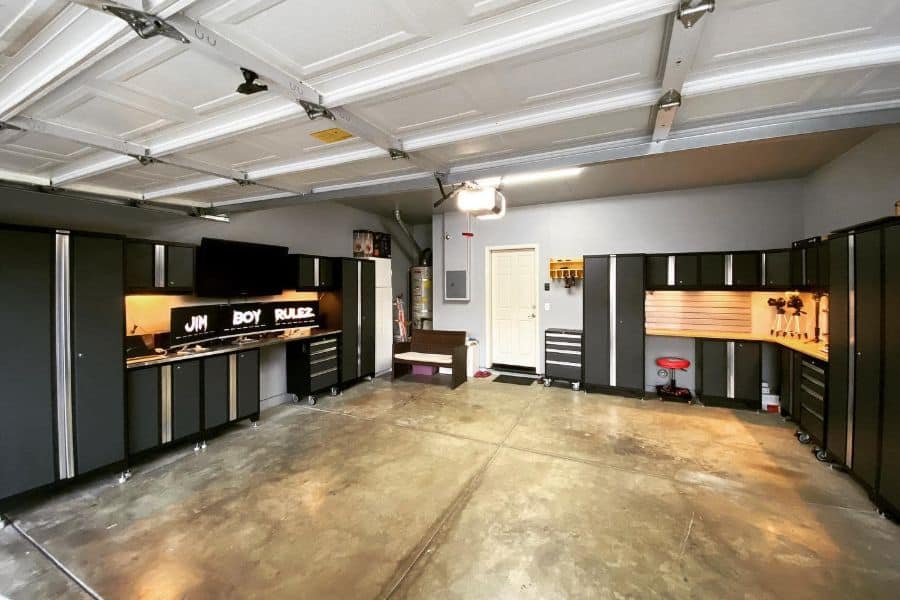 48 Garage Man Cave Ideas and Inspiration
by — Andra DelMonico

Published on November 8, 2021

Updated on October 15, 2023
You need a place that you can escape to. It should be a place where you and your best buddies can relax, joke around, and have a good time. It should have privacy so that everyone can drop their guard, be themselves, and have a good time. Did you know that you have the perfect spot for a man cave already built in your home? All you need to do is turn your garage into a man cave.
These garage man cave ideas will have you cleaning out the old boxes and turning your garage into the hang-out place to be.
1. Create Your Own Private Bar Oasis
Elevate your garage into a personalized bar haven, perfect for hosting game nights and movie gatherings. Curate a cozy atmosphere with plush seating options, including leather couches and comfortable chairs. By incorporating a private bar, you can conveniently access refreshments during your leisurely movie evenings and lively get-togethers. Explore a multitude of design possibilities to shape a one-of-a-kind garage man cave that caters to memorable moments with loved ones.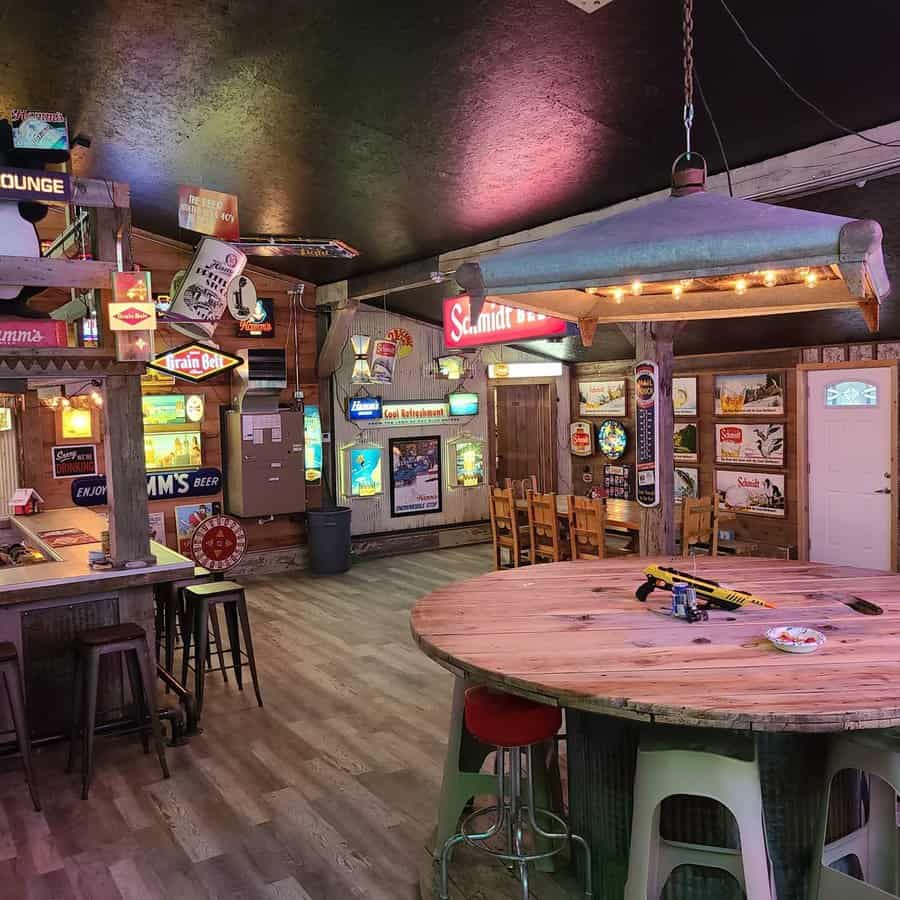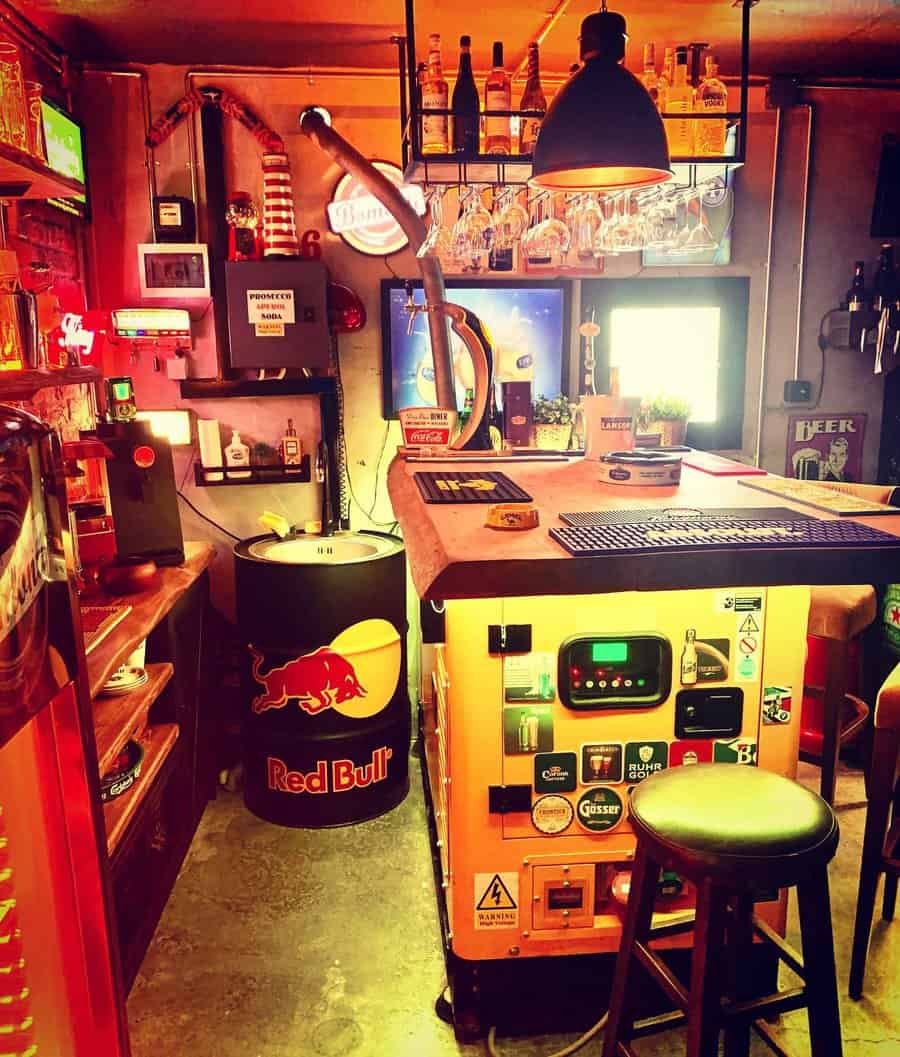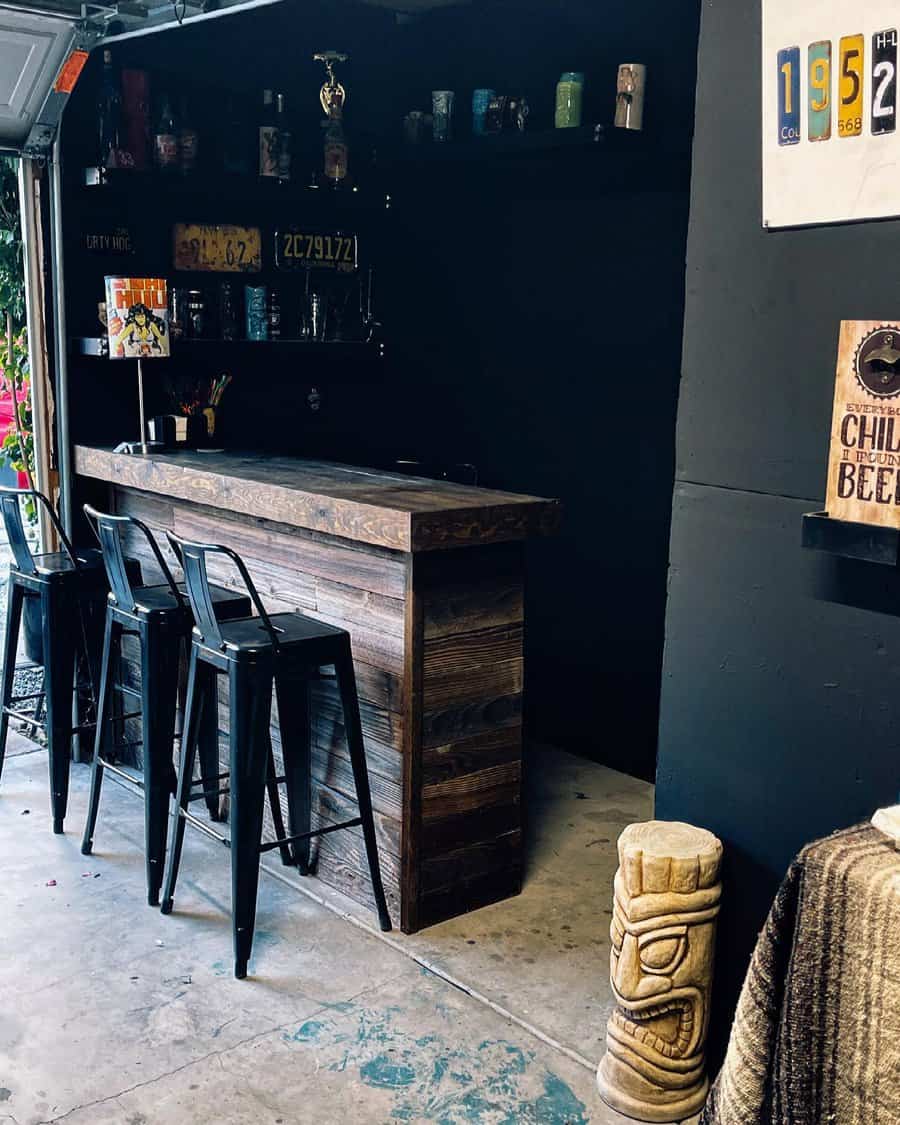 2. Display Vintage Wall Art Masterpieces
Transform your garage man cave into a captivating retreat by adorning your walls with a carefully curated collection of vintage wall art that reflects your personality. Whether it's classic artwork, vintage advertisements, or custom license plates, let your style shine through.
To complete the look, furnish the space with comfortable seating and playful accessories. Create your ideal "man's haven" where you can unwind and escape daily stress by embracing your creative side and designing a space that resonates with your tastes.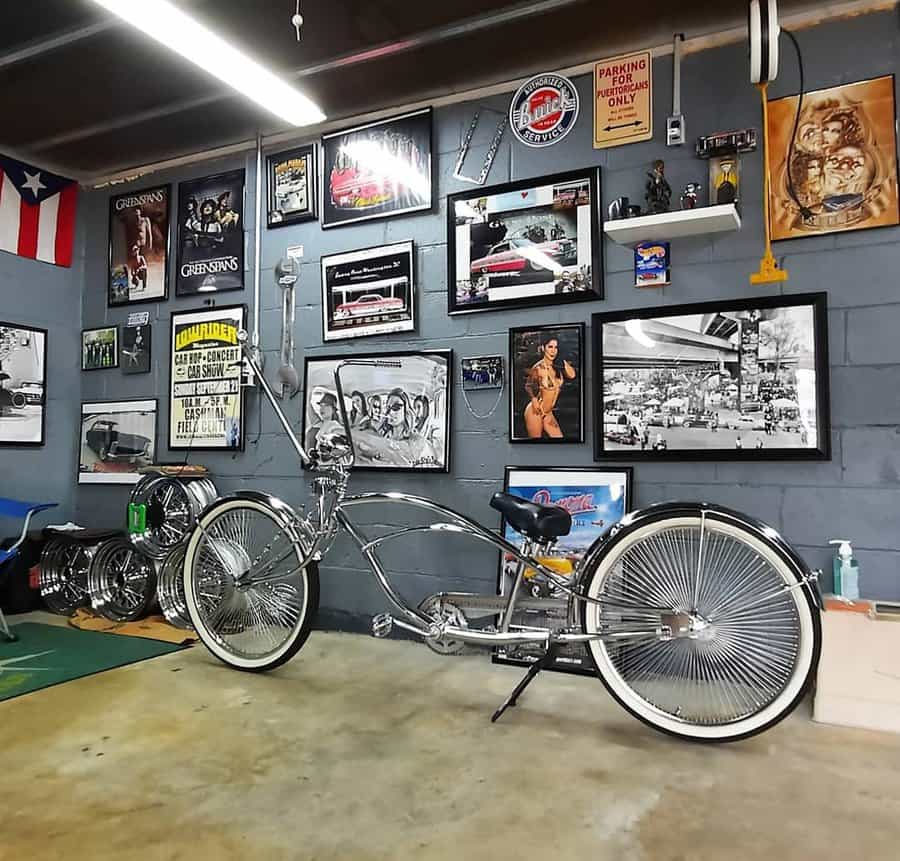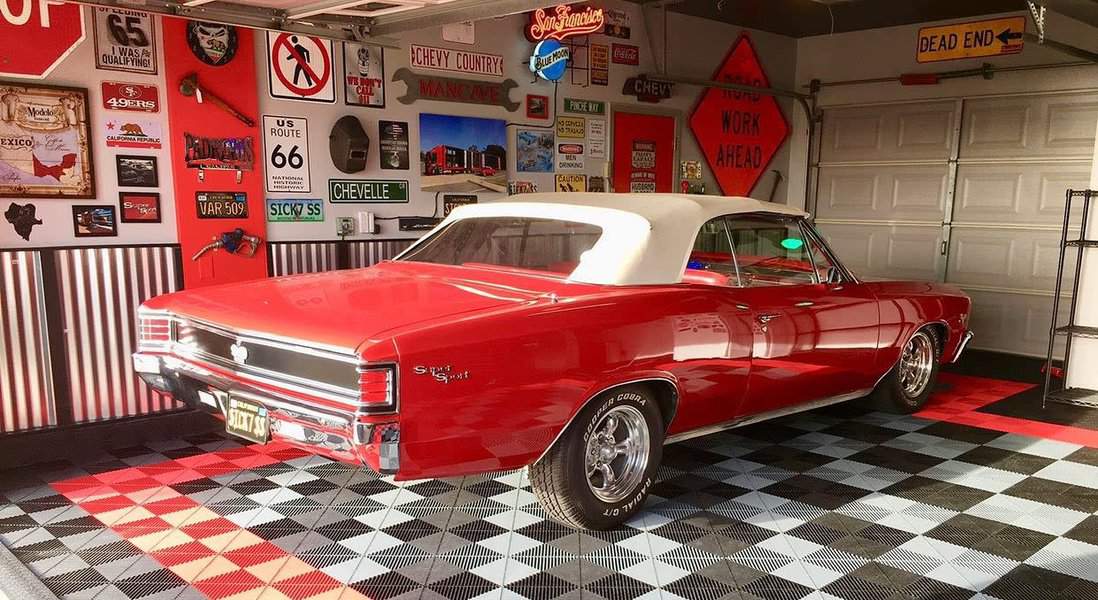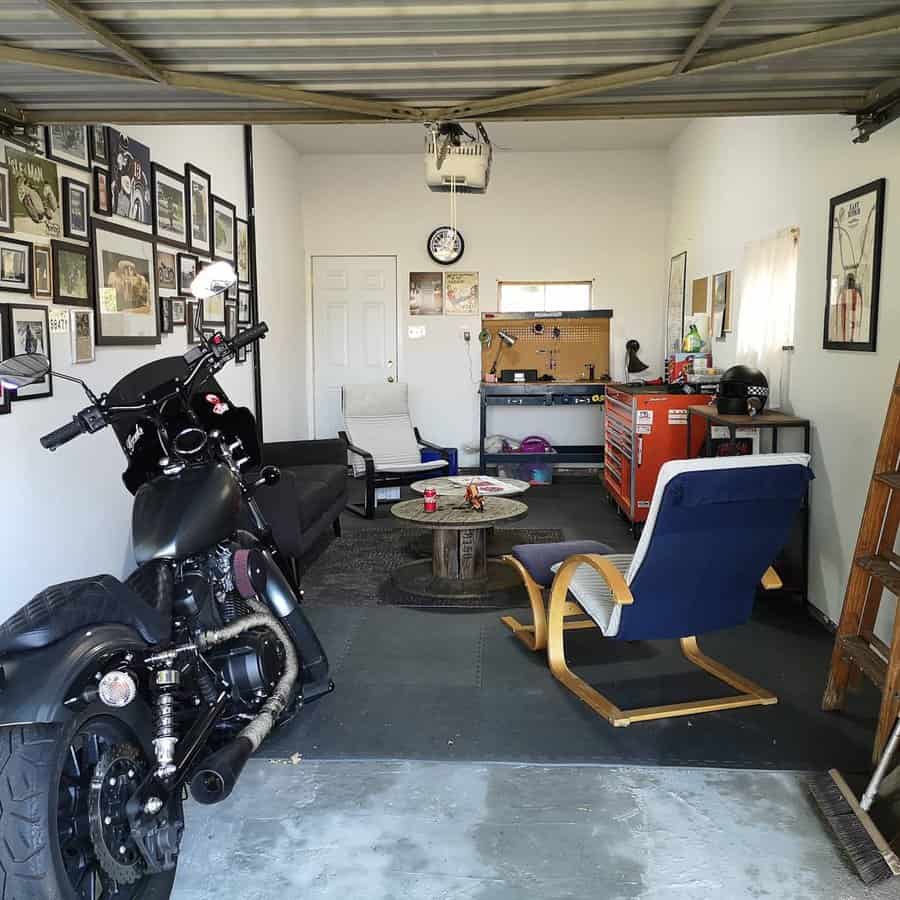 3. Craft a Stylish Pool Table Haven
Turn your ordinary garage into an exceptional man cave by incorporating a pool table and crafting an entertainment area. Whether it's savoring a refreshing beer with friends or vying for the highest score, this space will evolve into the ultimate gathering spot. Shape your personal retreat for relaxation and solace. Begin the journey to create the ideal man cave you've always aspired to today.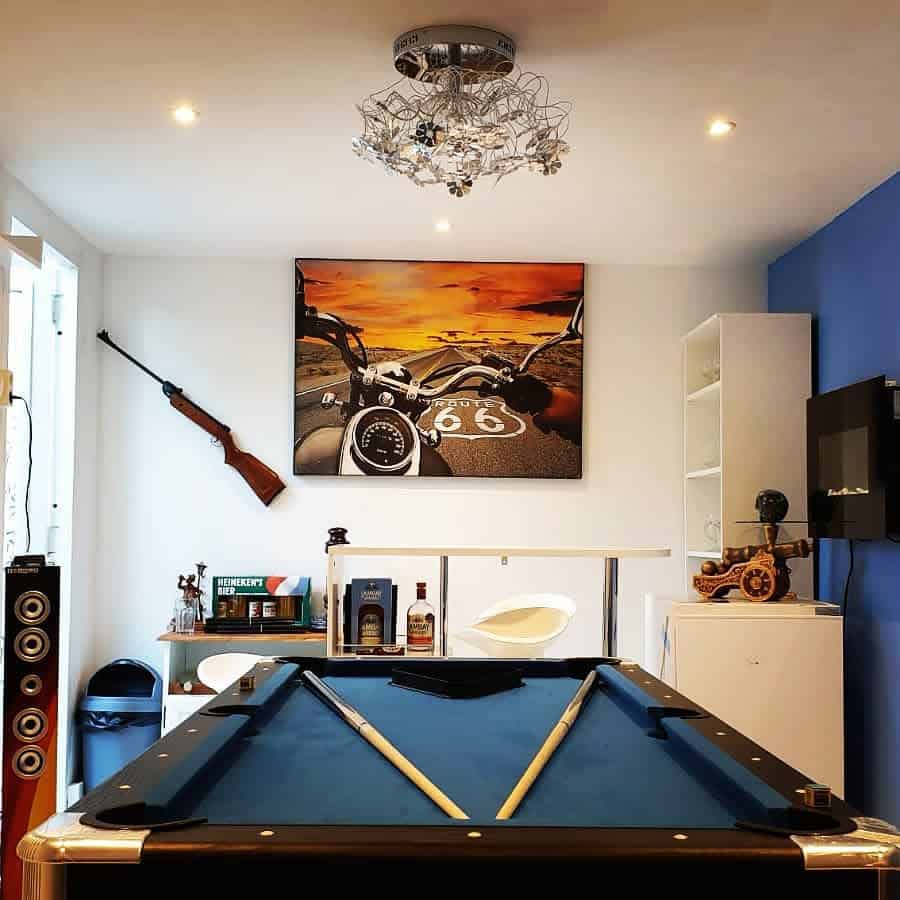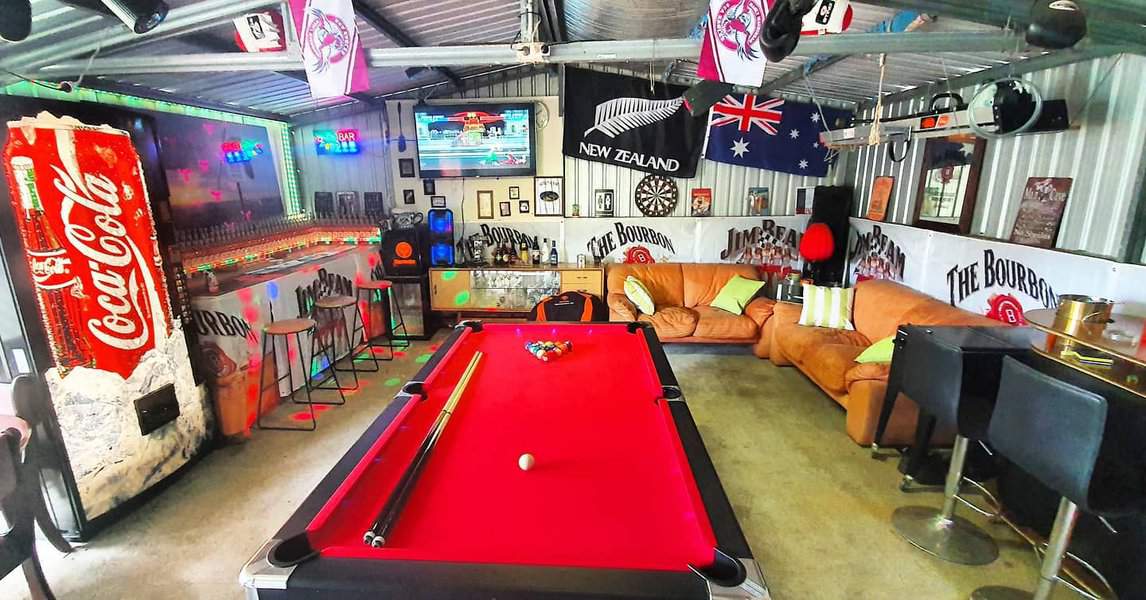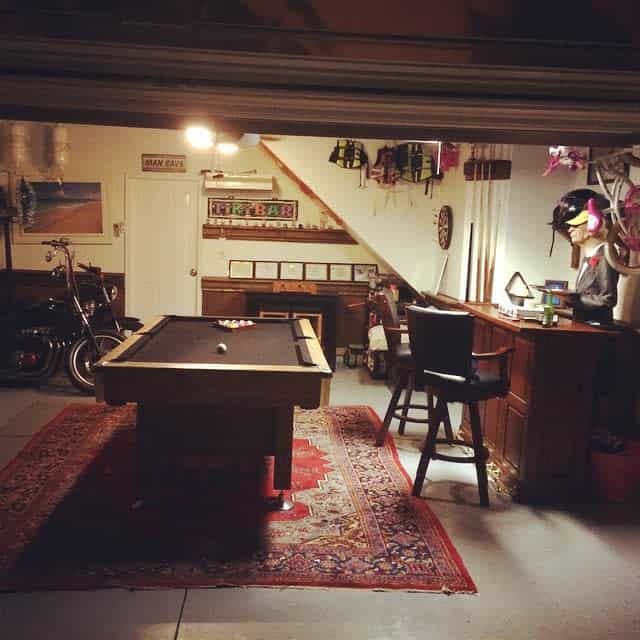 4. Embrace Industrial Chic Decor
For an authentic industrial-style man cave, your garage is a prime canvas. Achieving this look is easier than you think. Begin by installing exposed brick wall coverings to set the mood and texture. Seek out second-hand furniture that complements the industrial aesthetic and add personal touches to make the space your own. Transform your garage into an industrial wonderland for those much-needed escapes after a hectic day.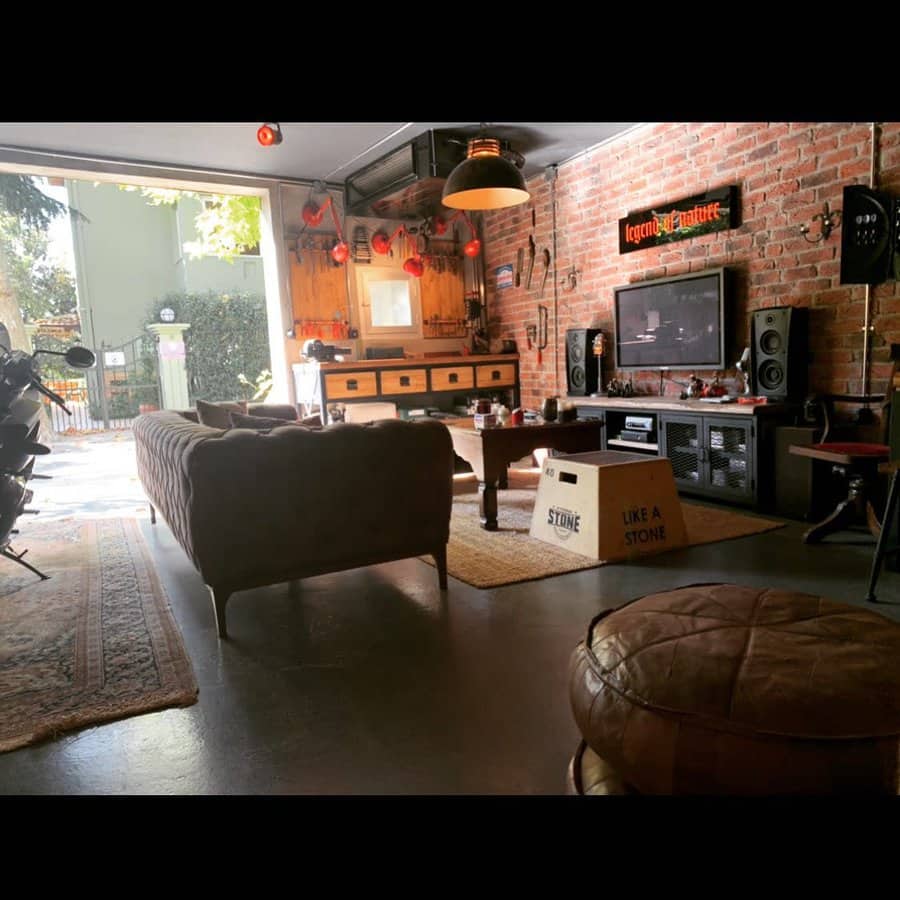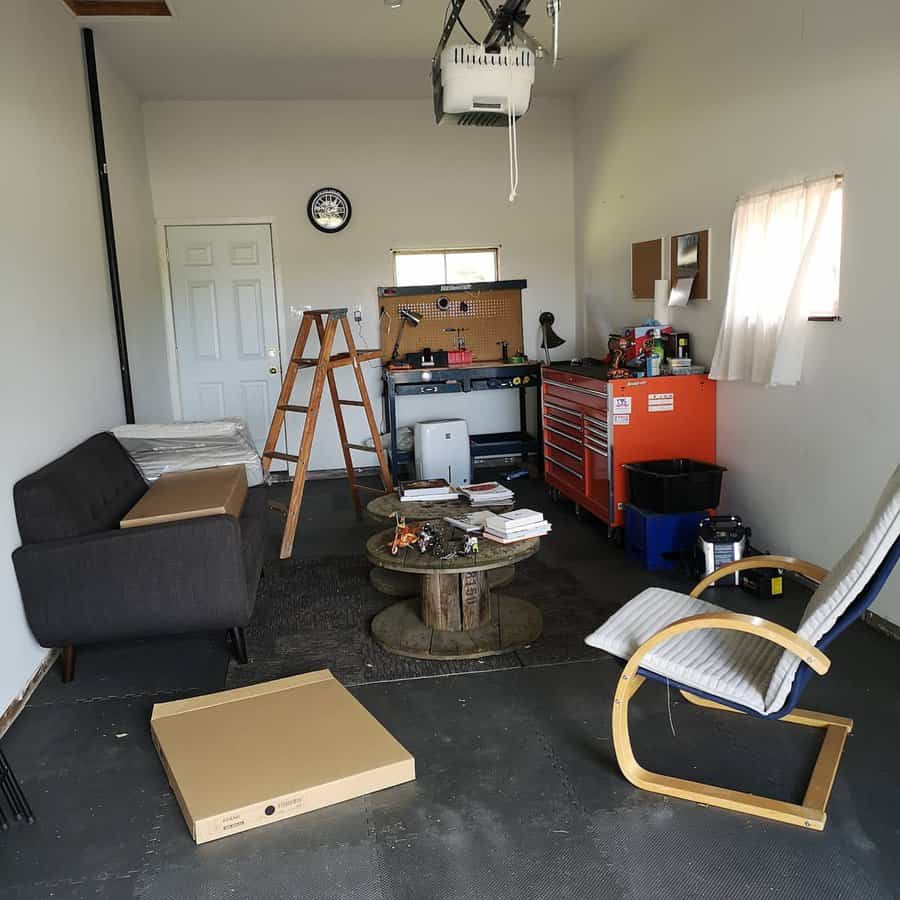 5. Showcase Your Beloved Vehicle
Turn your car-themed garage into an impressive man cave, complete with a designated display area for your beloved racing memorabilia. Showcase car models, hats, flags, and car-themed artwork to create a personalized space that honors your passion for cars. Complement this with comfortable furniture, a flat-screen TV, and additional racetrack or car show mementos to build your ultimate car enthusiast's retreat.
Elevate the atmosphere with stylish decor, including vibrant rugs, subtle wall tones, contemporary lighting, and a top-notch sound system, perfect for enjoying race nights or car show screenings with friends.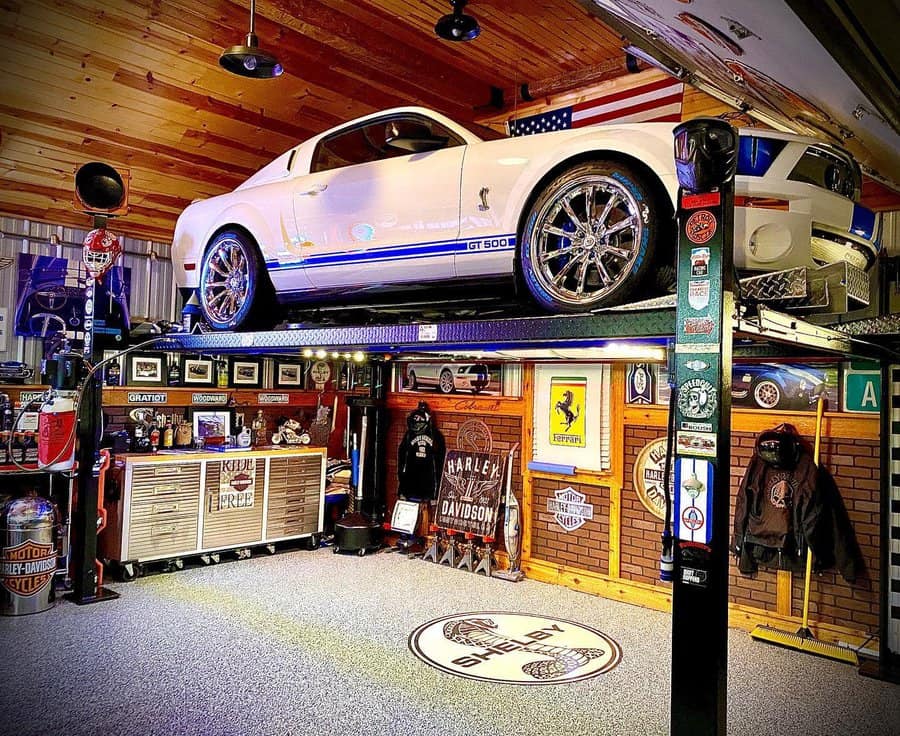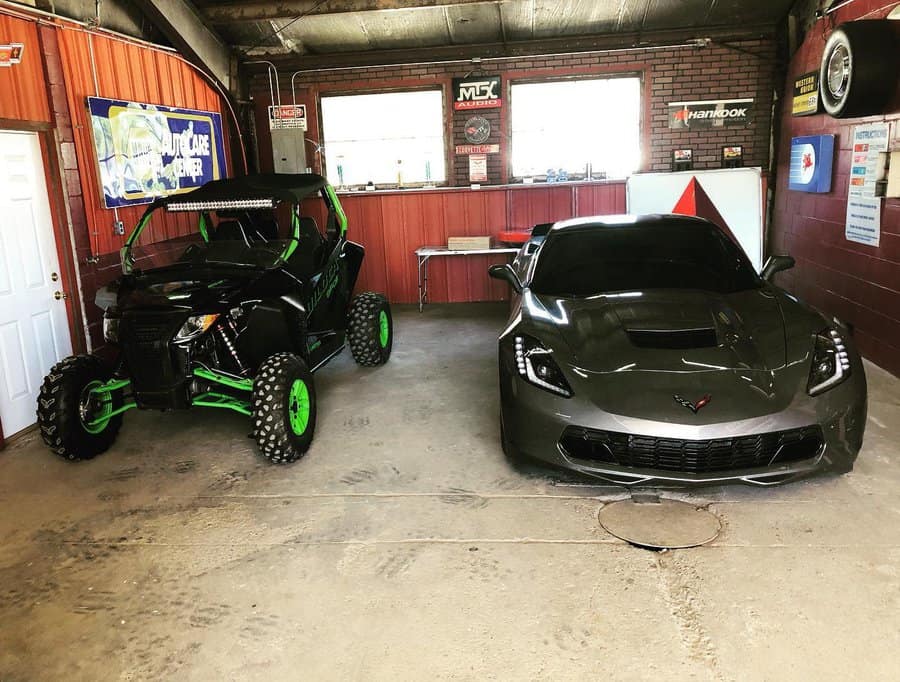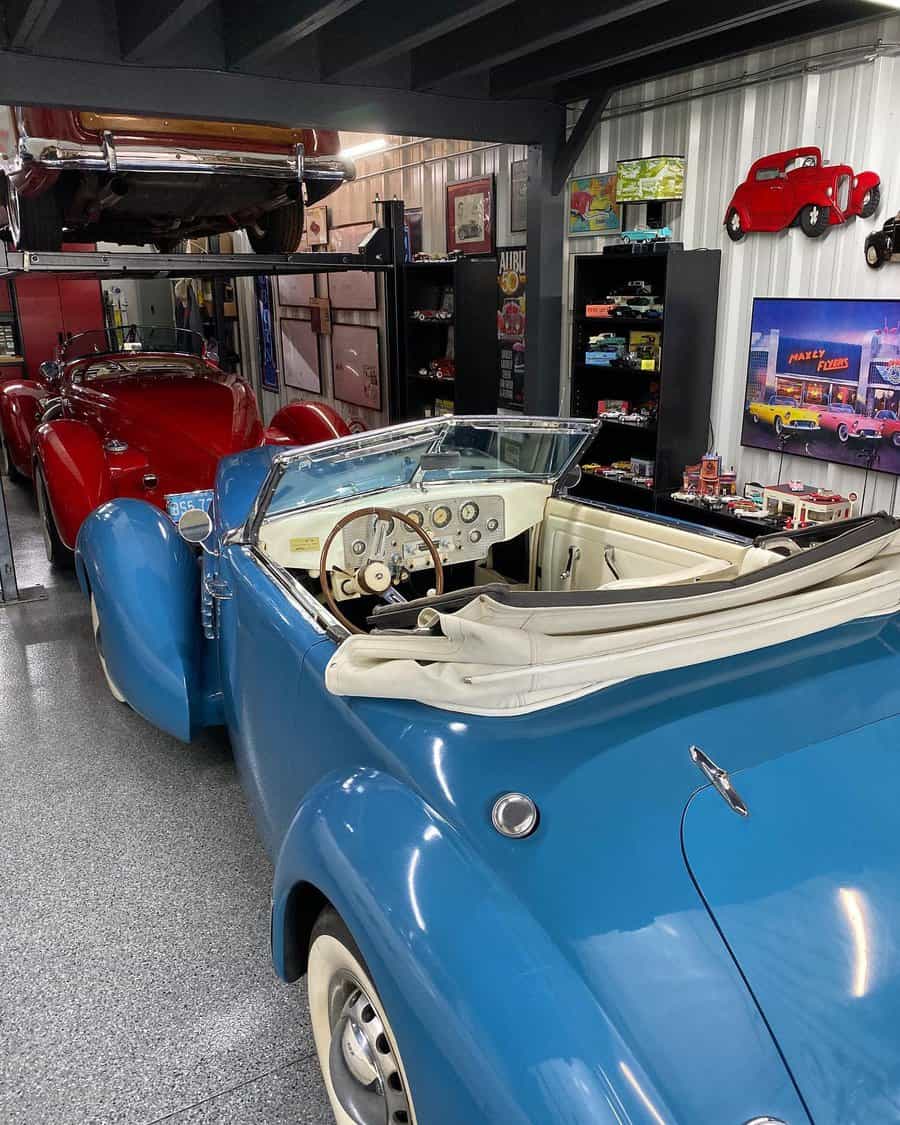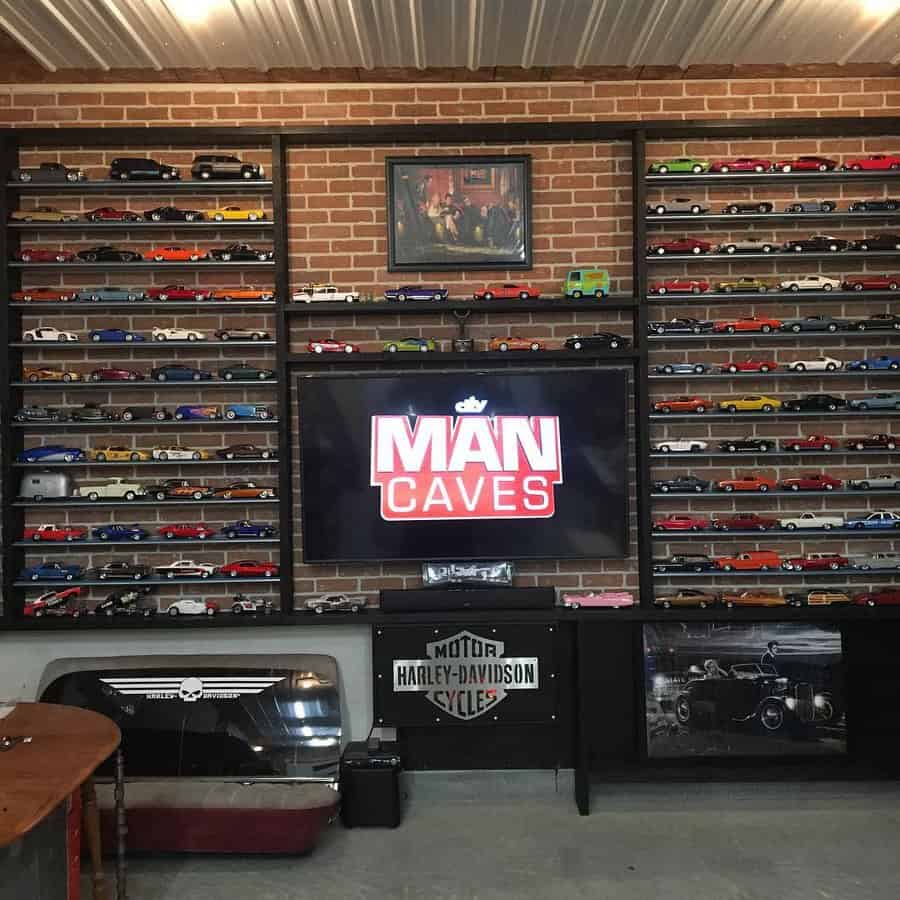 6. Illuminate with Creative Lighting Ideas
A garage man cave offers a canvas for creativity and personal expression. To infuse the space with character, explore imaginative lighting options. Incorporate multi-colored string lights and LED strips to instantly create a fun, vibrant atmosphere while ensuring ample illumination for usability. By incorporating these inventive touches and adding personalized items, you can transform a plain garage into an extraordinary man cave brimming with personality.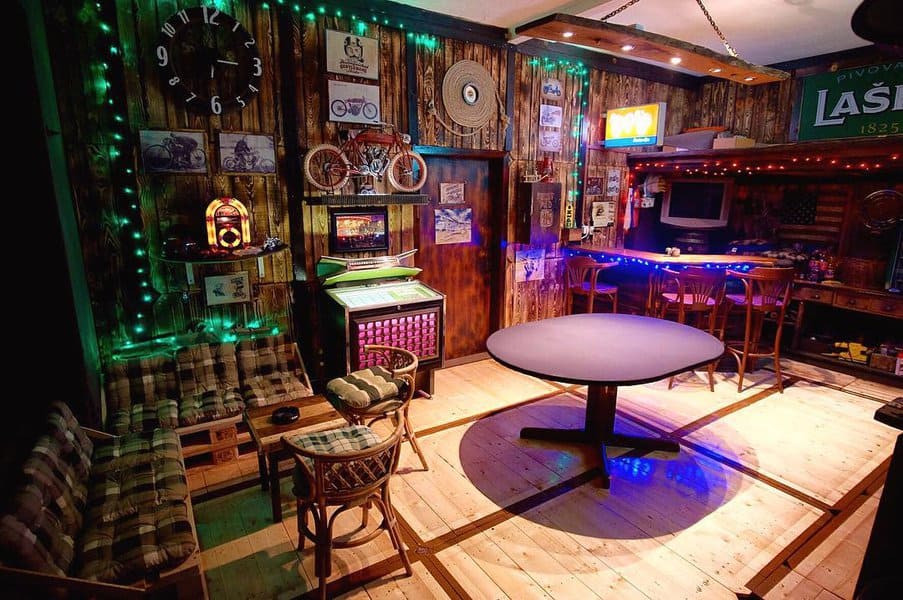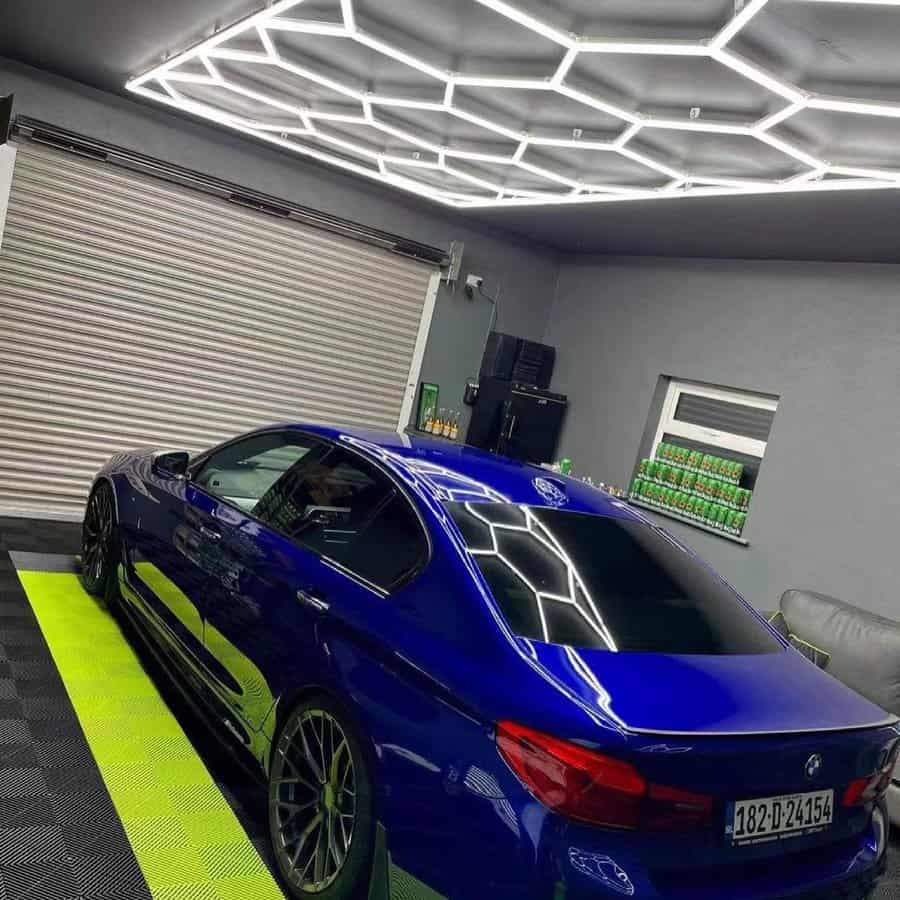 7. Craft DIY Wall-Mounted Bar Seating
Maximize your small garage's potential by crafting wall-mounted bar seating and stools, transforming it into a functional and snug entertainment area. This space is ideal for hosting friends or unwinding after a hectic day.
Tailor your man cave to your specific requirements, ensuring it exudes comfort and warmth. Whether you're entertaining guests or seeking solitude, wall-mounted seating provides the convenience to relish your newfound oasis.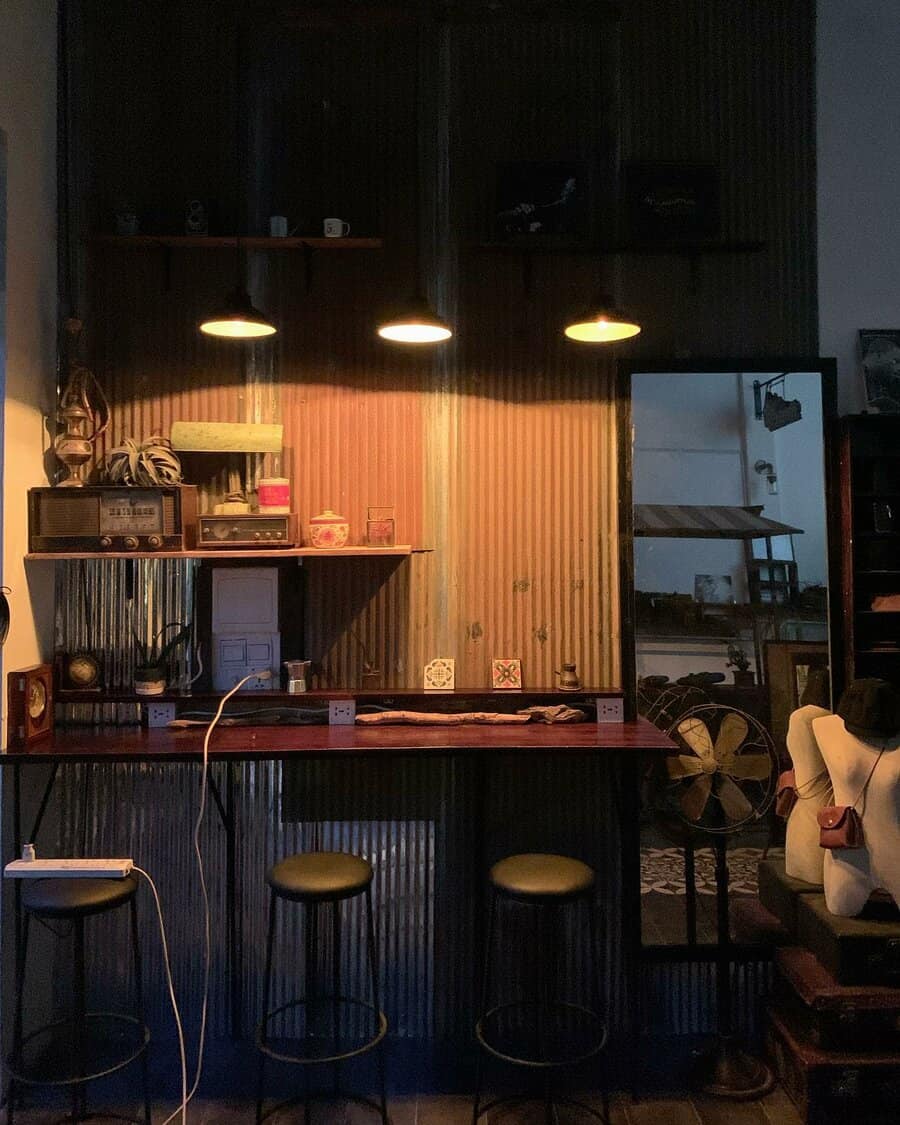 8. Transform into a Walk-In Closet Retreat
Optimizing your garage for the ultimate man cave experience means thinking creatively about space. Design a walk-in closet with ample shelving to accommodate everything from tools to your wardrobe.
Careful planning and thoughtful design can ensure your man cave is a haven for both entertaining friends and enjoying moments of solitude. Your garage doesn't have to be limited to car storage – it can be a space where you showcase your achievements and take pride in your personal retreat.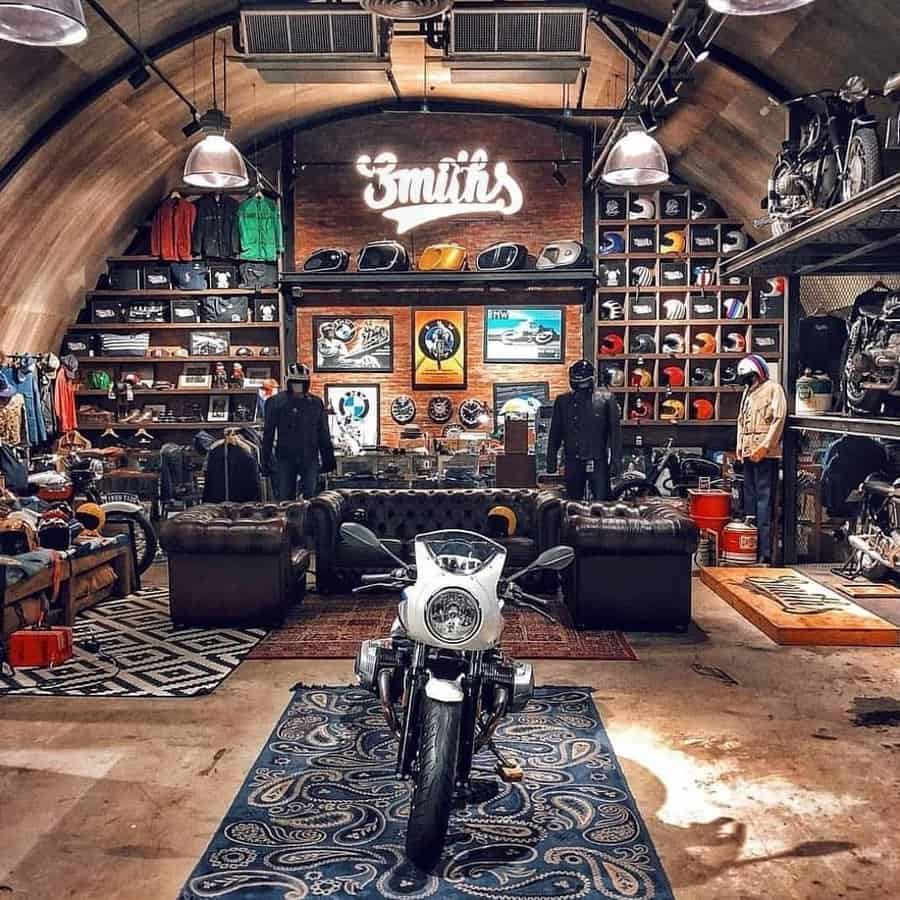 9. Elevate with Checkerboard Flooring
A garage man cave is a versatile space for relaxation and entertainment. Instantly elevate it with eye-catching checkerboard flooring and well-planned design elements. Combine checkerboard flooring with modern furniture and a top-notch home audio system to create a cool and comfortable ambiance that will impress your guests.
Your garage man cave is not just an escape from the daily grind; it's an opportunity to showcase your unique style and achieve an urban chic look. Incorporating checkerboard flooring adds a burst of personality that both you and your friends will appreciate.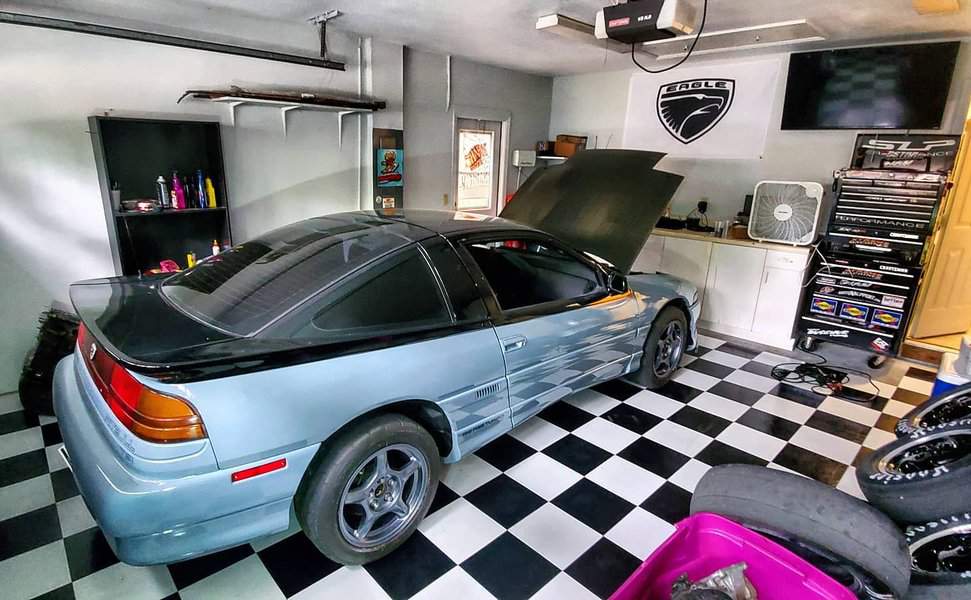 10. Add Cozy Comfort with an Area Rug
In your garage man cave, an area rug can transform your space into an inviting hub for entertaining, relaxation, and escape from the daily grind. Explore a wide range of area rug options, from plush and comfy materials to bold colors and captivating designs. Whether you opt for a vibrant or understated design, an area rug will imbue your garage with a unique, personalized touch. Seize the opportunity to customize your man cave and make it distinctly your own by choosing the perfect area rug.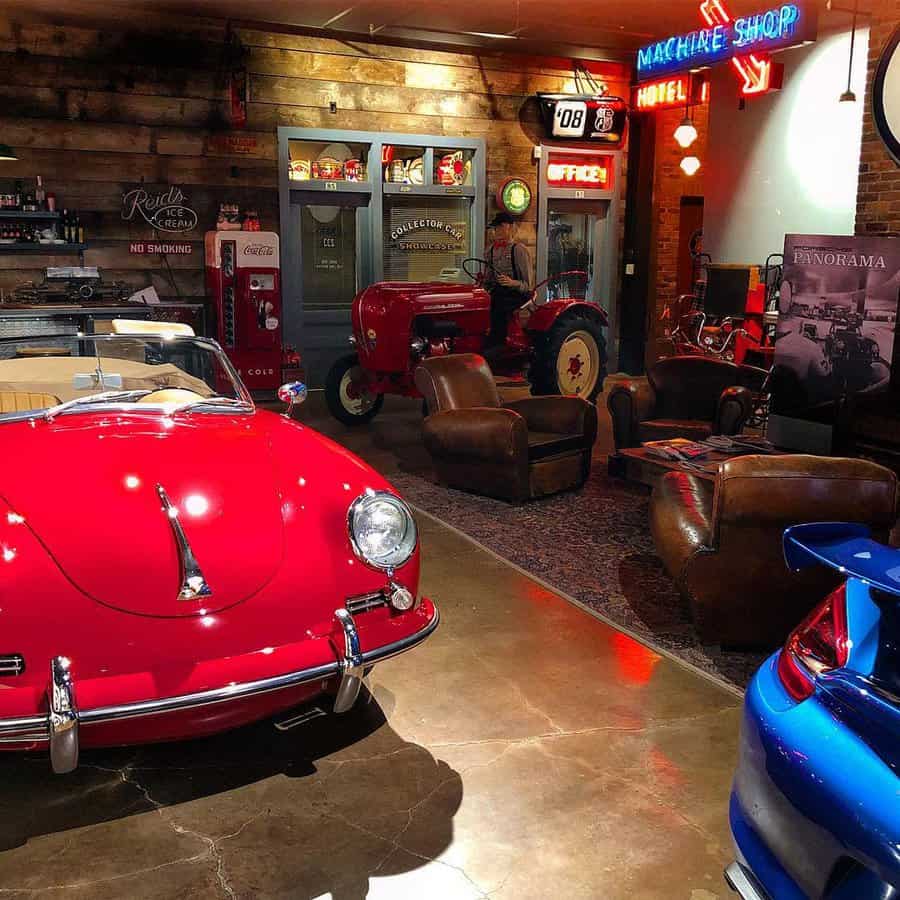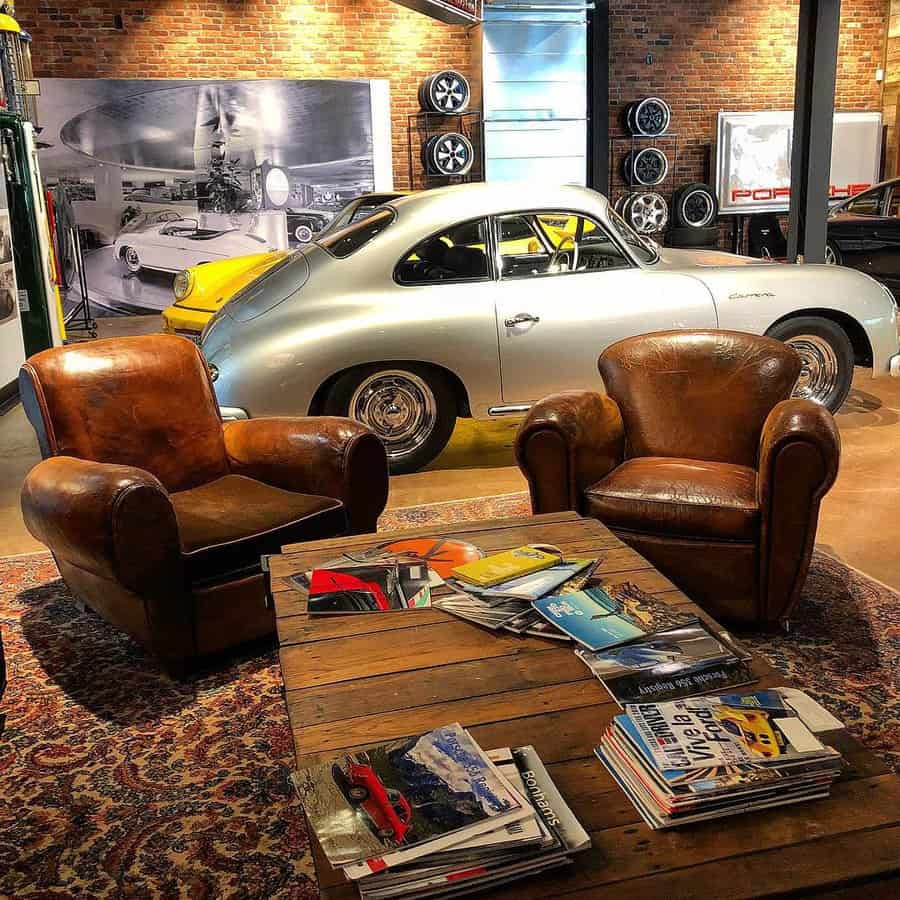 11. Level Up with a Gamer's Haven
Convert your regular garage into the ultimate gaming and relaxation haven. A garage man cave provides an ideal setting for a high-performance gaming PC, a large high-resolution TV, and comfortable seating for immersive gameplay. Enhance your space with the latest gaming gadgets, like surround sound speakers and top-tier streaming equipment, to elevate your gaming experience. Get started on crafting your gamer's den by unleashing your creativity and incorporating the best in gaming technology.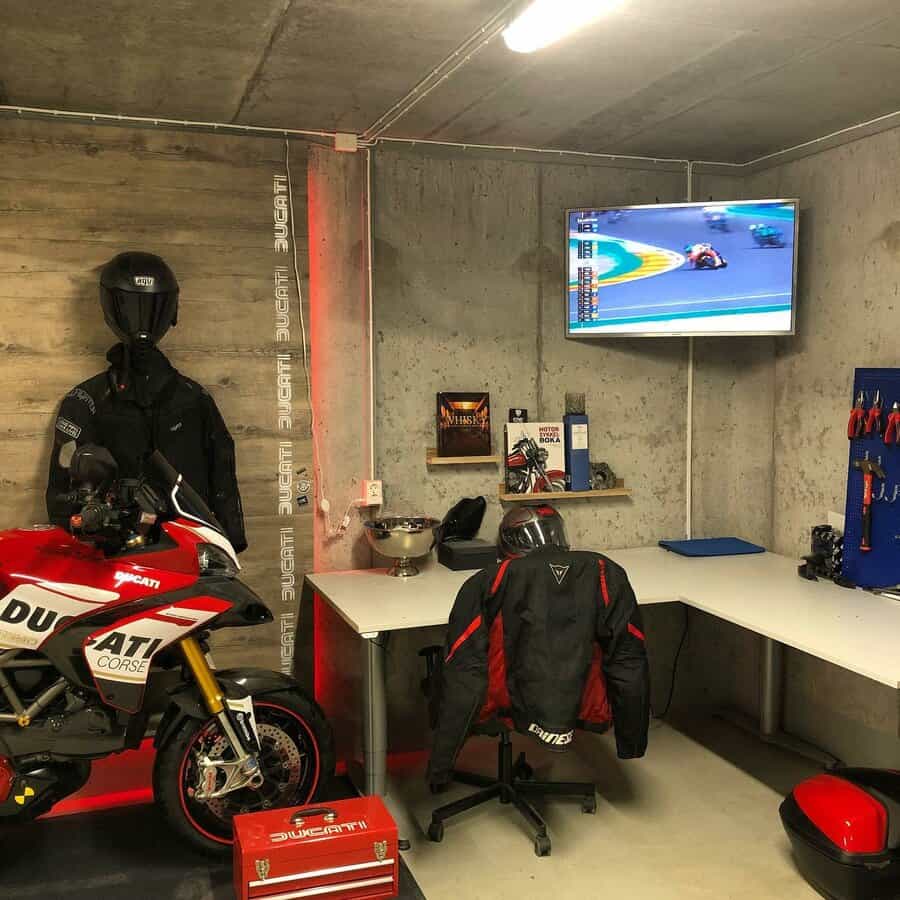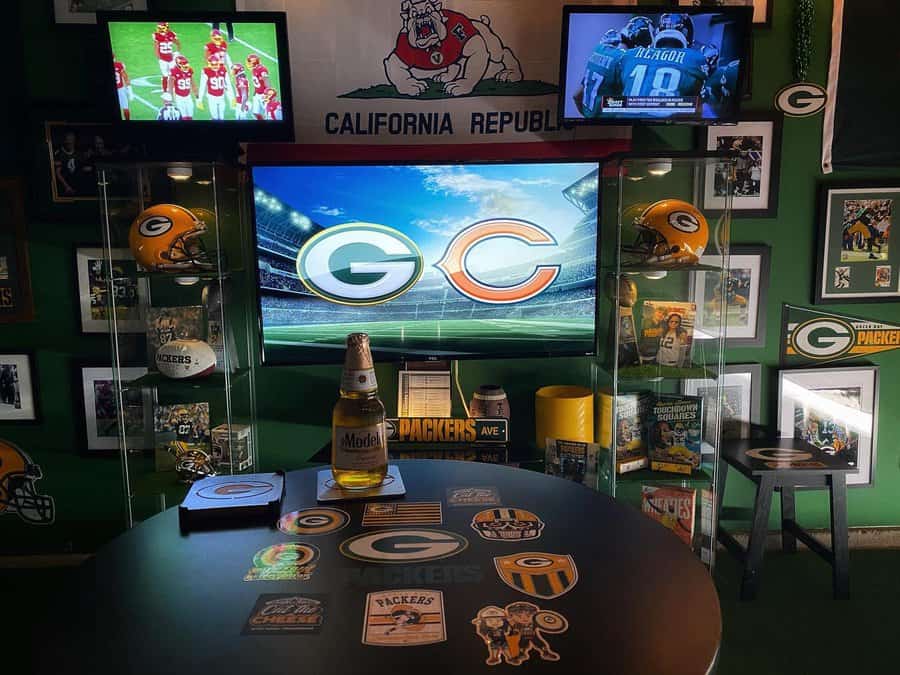 12. Establish a Functional Work Desk
For those in need of an inspiring workspace, consider adding a functional work desk to your garage man cave. This desk serves as an excellent solution for organizing tools and supplies, enhancing productivity and creativity during work sessions. By equipping your man cave with essential work elements, you'll have a well-organized space that promotes both efficiency and inspiration.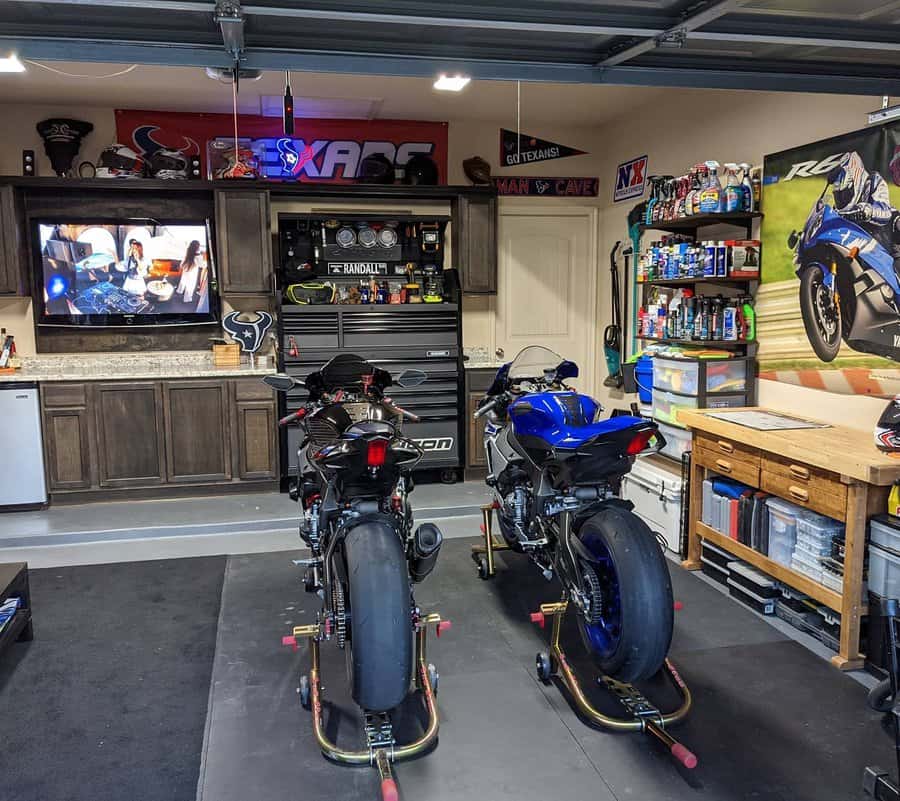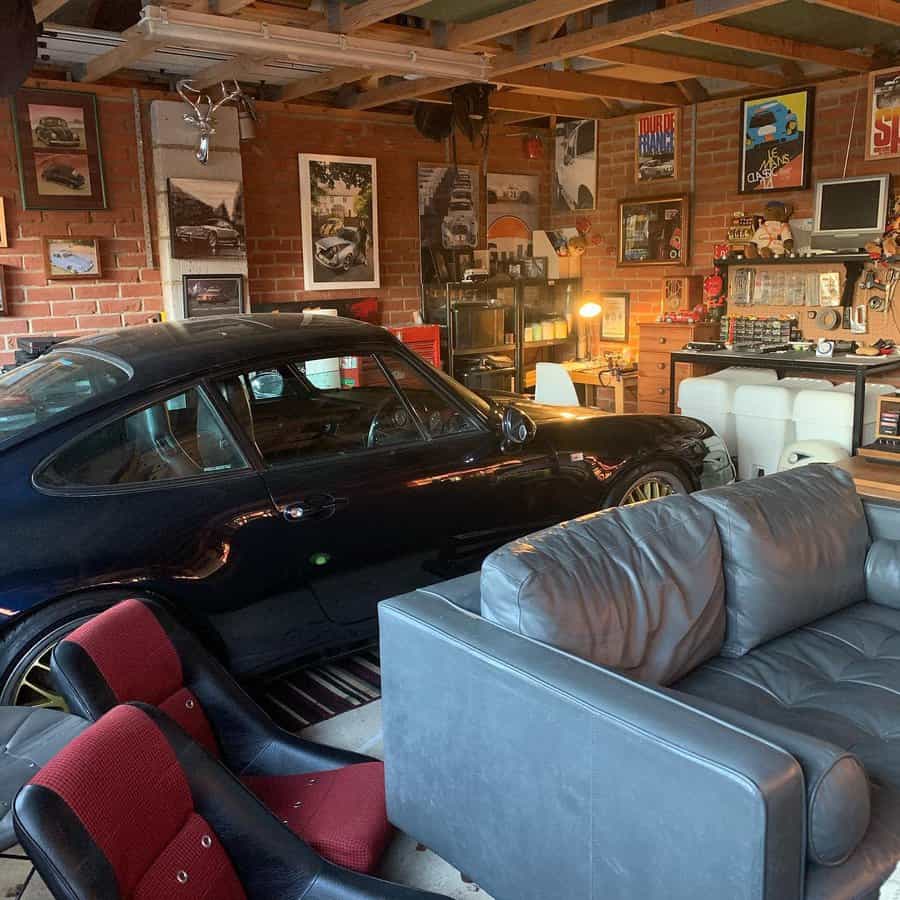 13. Maximize Space with a Garage Mezzanine
Make the most of your spacious garage by considering the addition of a mezzanine, transforming it into a superb man cave. With the mezzanine in place, you can create an outstanding entertainment area featuring comfortable seating and a mini bar. Elevate your man cave with distinctive elements like arcade games and large-screen TVs to ensure it stands out as a unique, one-of-a-kind space. Whether you seek solitude or plan memorable gatherings with friends, this personalized area guarantees a fantastic time.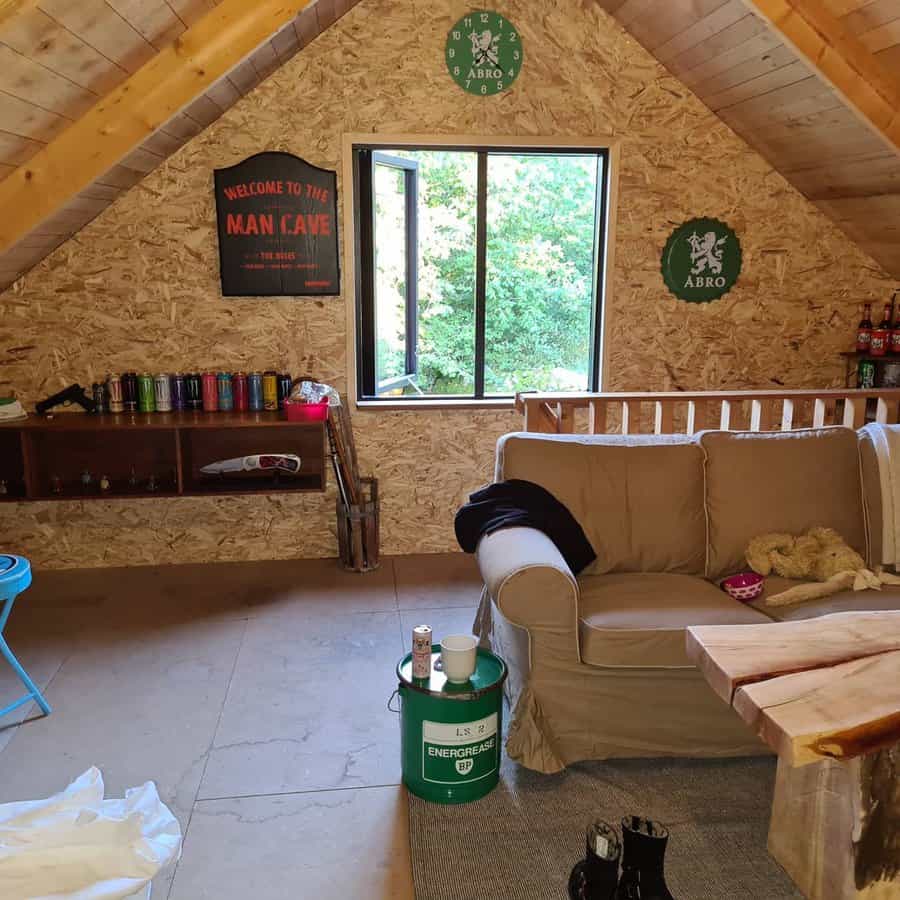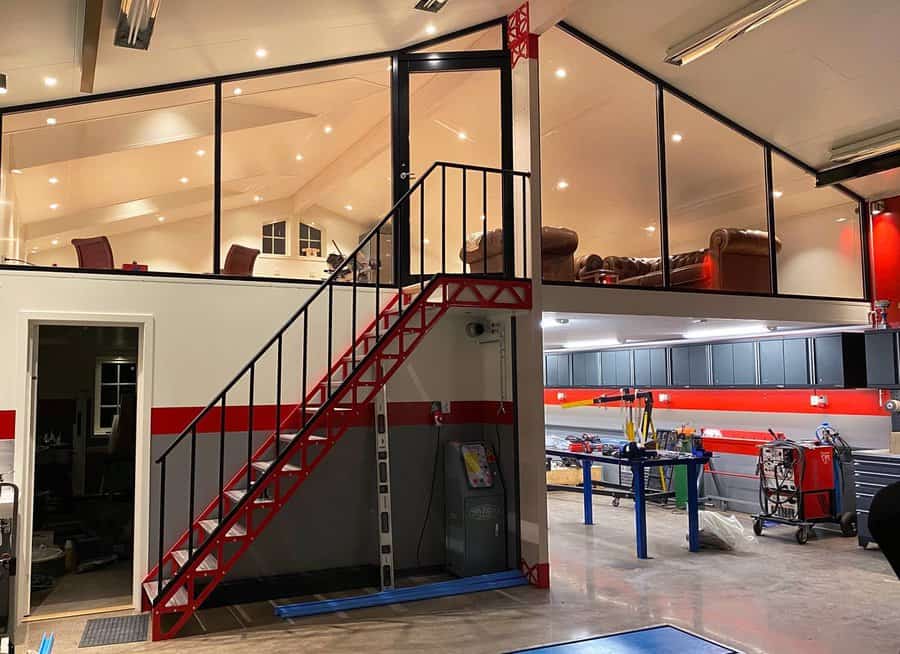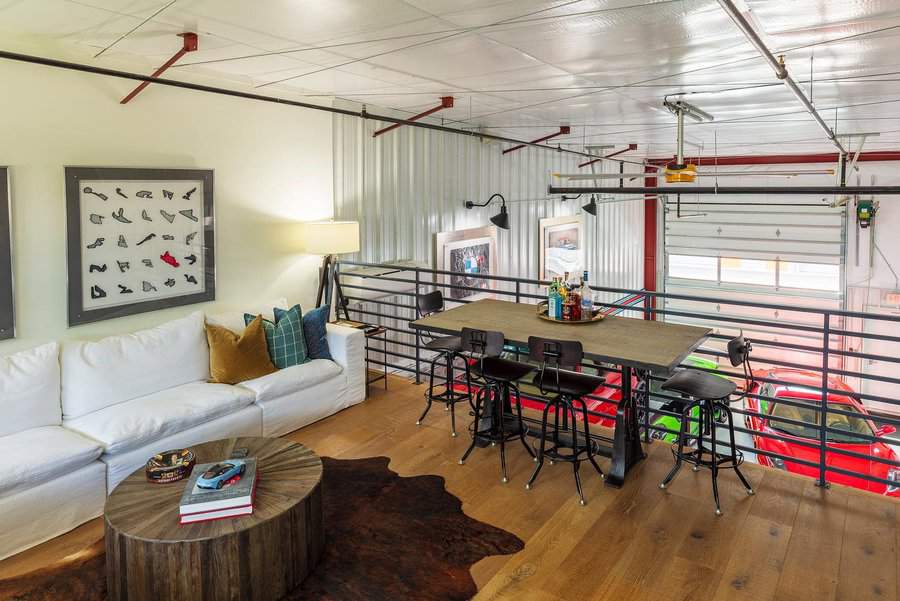 14. Achieve Minimal and Modern Elegance
Upgrade your garage's aesthetic by introducing elements of contemporary design, including modern garage floor tiles and energy-efficient LED lighting. This clean and straightforward interior will transform your garage into an inviting sanctuary, ideal for unwinding or hosting exciting game nights. To create a modern man cave, concentrate on minimalist design elements and effortless contemporary flair. For an industrial twist, opt for garage floor tiles and vibrant wall colors that reflect your personal style, resulting in a sleek, individualized space.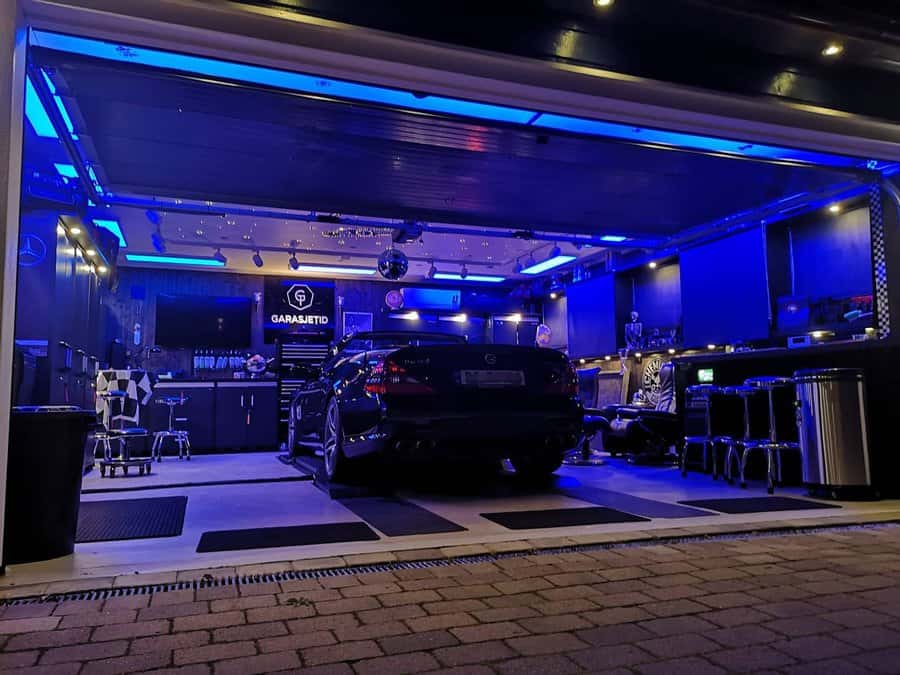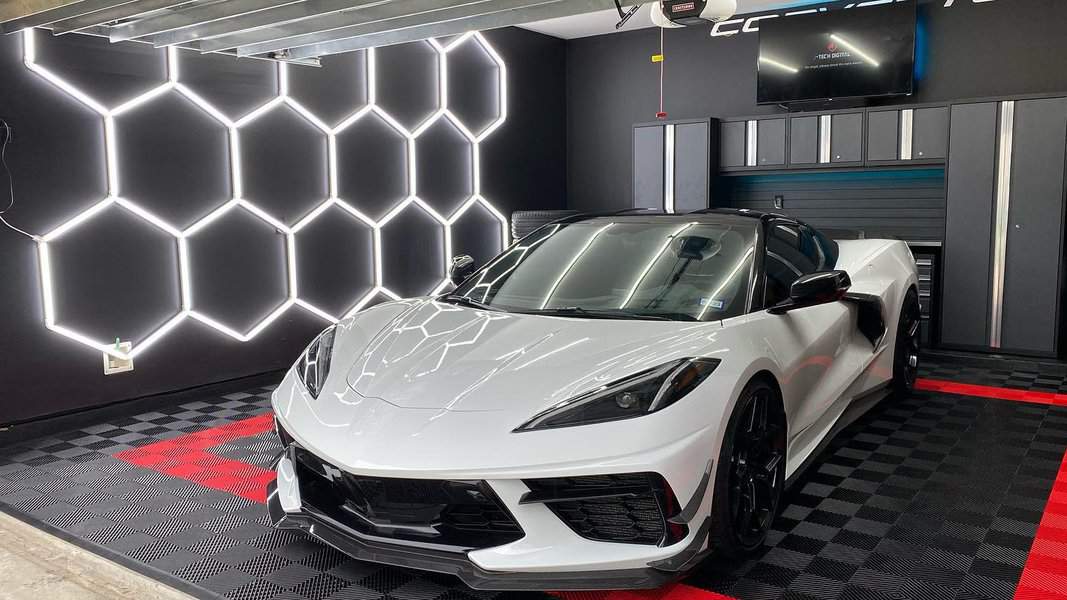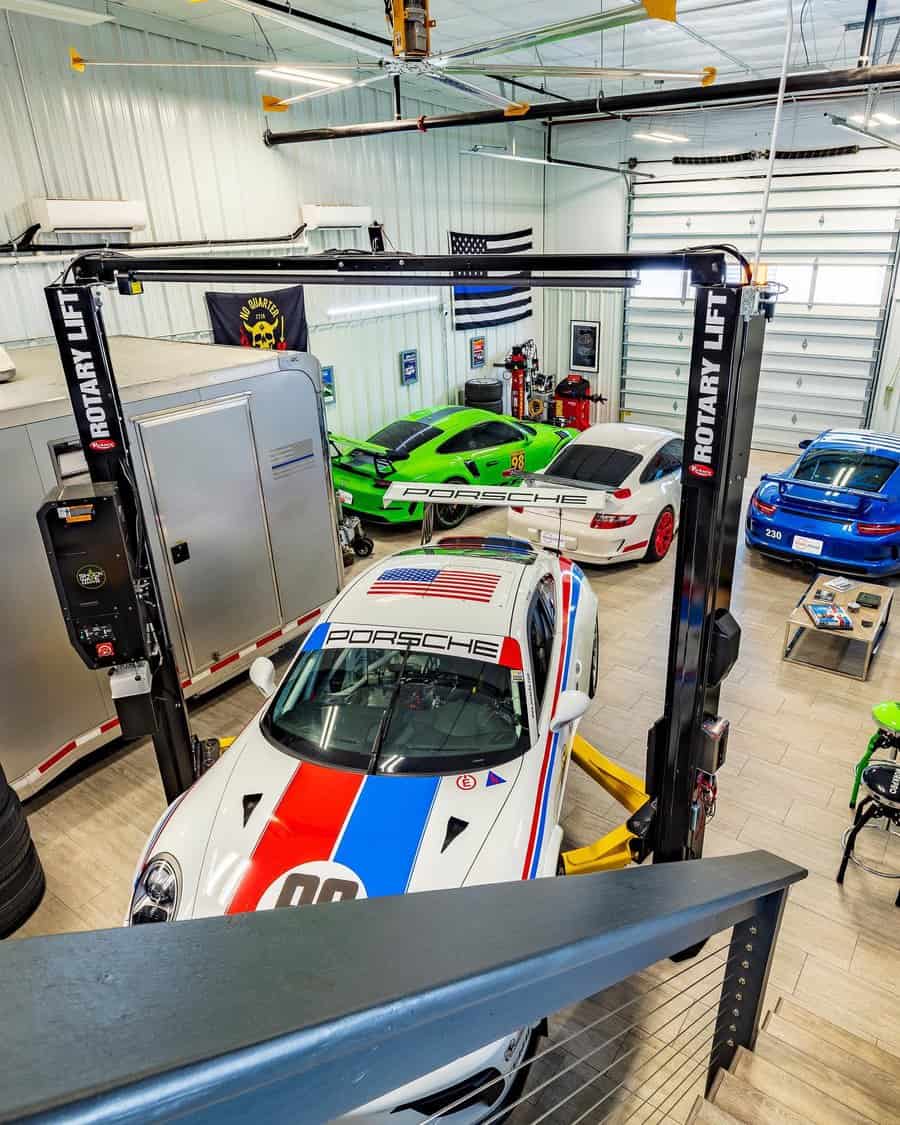 15. Infuse Rustic Charm into Your Space
Converting a rustic garage into an ideal man cave is a fulfilling weekend endeavor. To get started, infuse rustic charm into the interior using upcycled furniture, reclaimed wood for shelving, and vintage artwork as excellent conversation pieces. If space allows, consider incorporating a minibar and ample seating to facilitate entertaining.
The transformation of your garage into a personal retreat that blends rustic elements, industrial touches, and the coziness of home is a distinctive project. Craft your garage man cave hideaway, one that beckons friends and family to return time and again.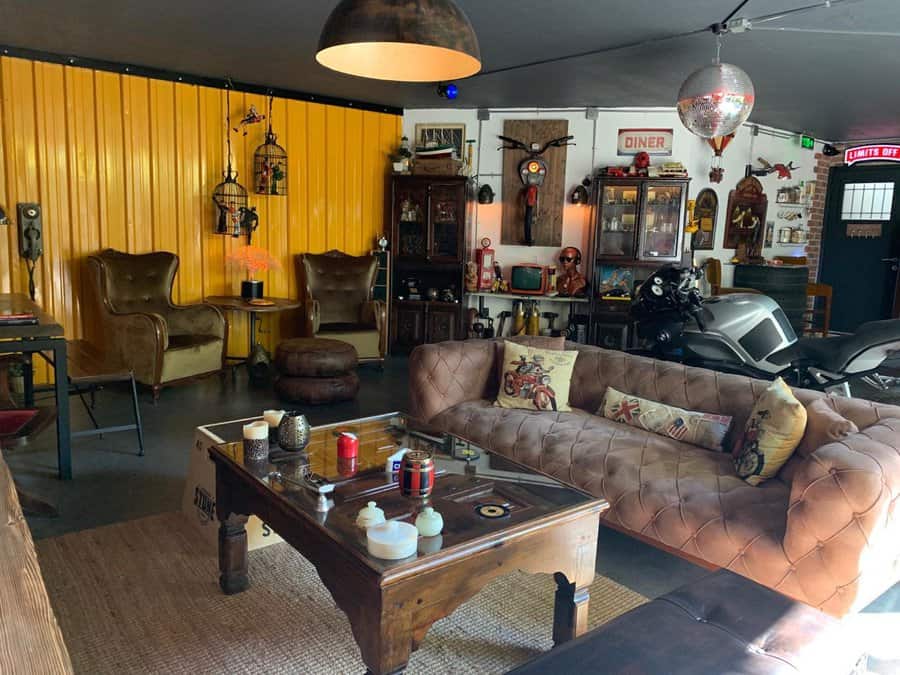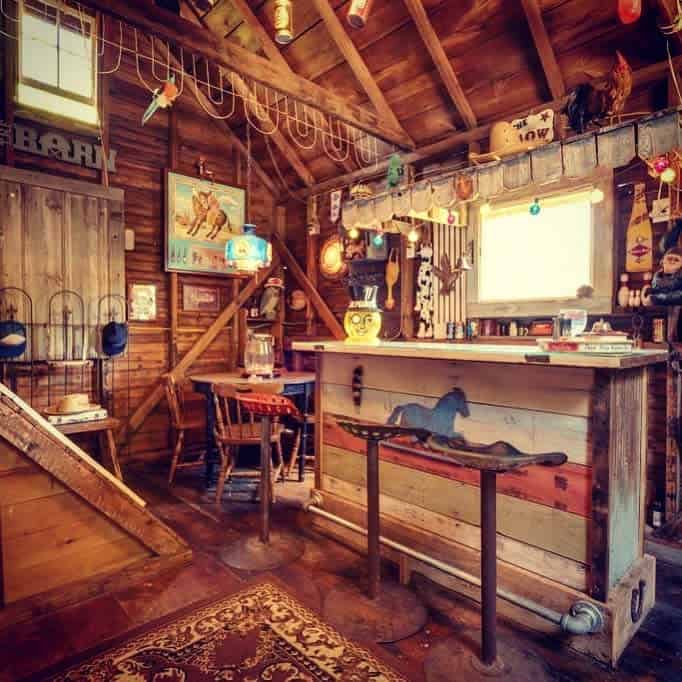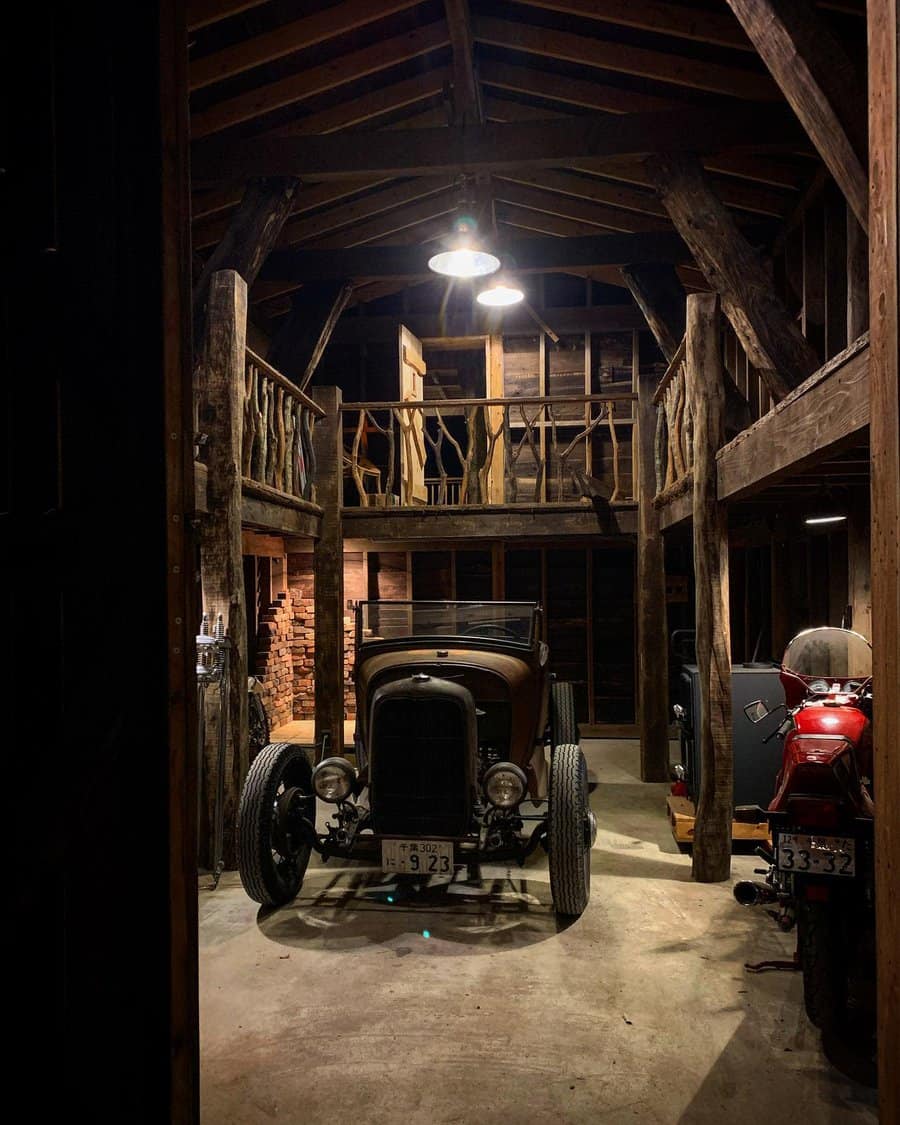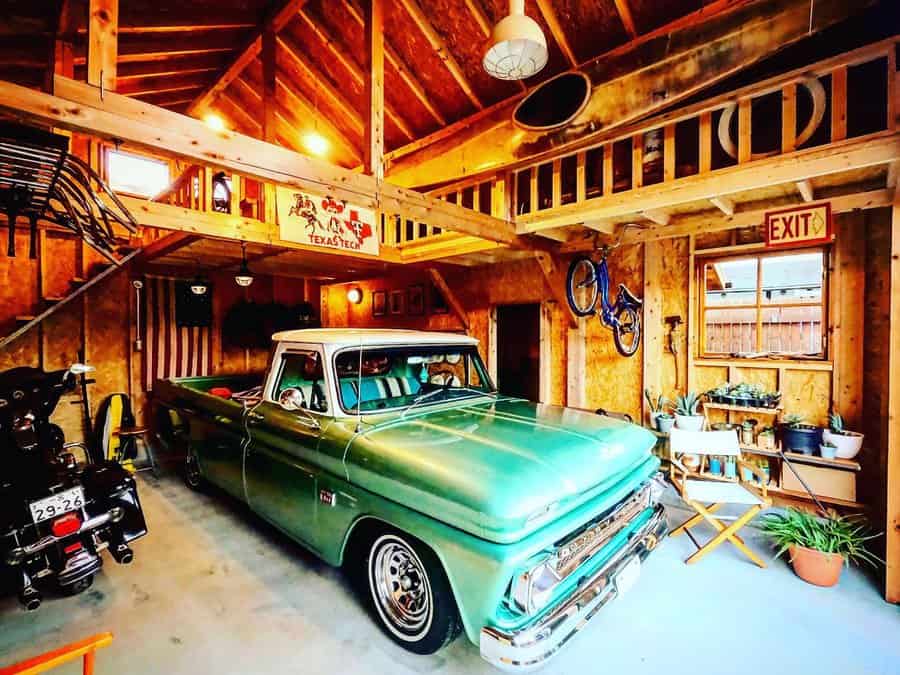 16. Optimize Organization with Storage Units
In your garage man cave, maximize organization by incorporating storage units and shelves to house your hobby equipment. This space provides the perfect balance between relaxation and keeping your cherished items within reach, whether it's woodworking, carpentry, art, or any other creative pursuit. With this setup, you can effortlessly blend your storage needs with your creative passion, creating a harmonious environment where both aspects of your personality coexist seamlessly.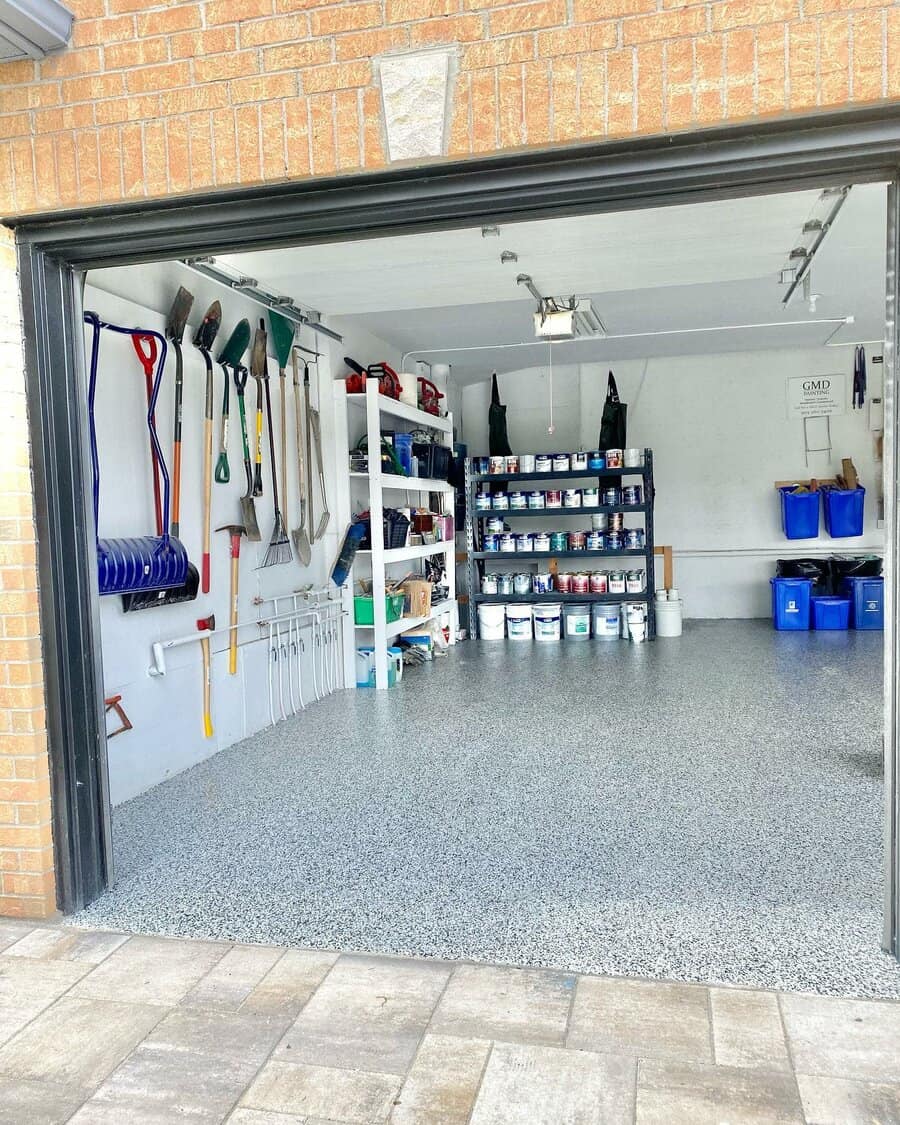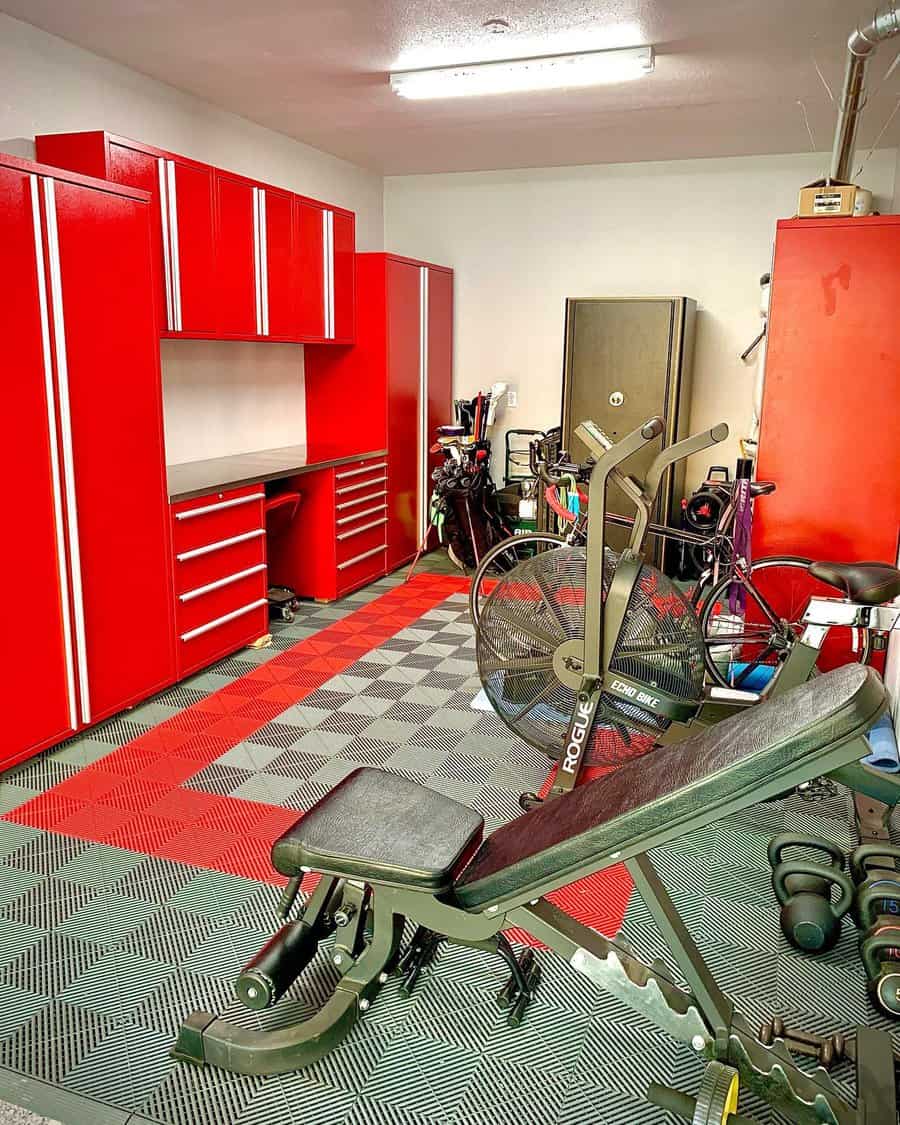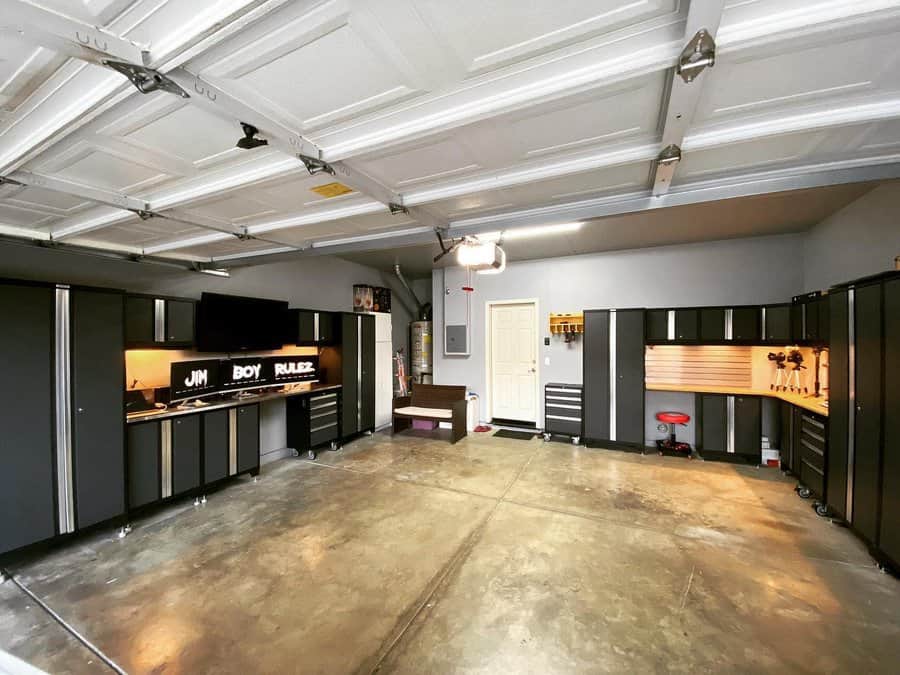 17. Create Your Dream Workshop Space
For DIY enthusiasts and handymen, a garage man cave can serve as the ultimate workshop. Fill it with a well-organized assortment of tools, woodworking supplies, pegboards, and custom-made crates designed for specific tasks. This workshop setup empowers you to tackle various projects, from furniture building to automobile restoration, with ease.
To cultivate a workspace that fosters both creativity and functionality, invest in a work counter or desk, a comfortable chair, and efficient storage solutions for your tools and materials. Enhance the ambiance with ample lighting and consider installing a fan for proper air circulation. With a thoughtfully designed workshop, you'll spend less time searching for tools and more time getting work done.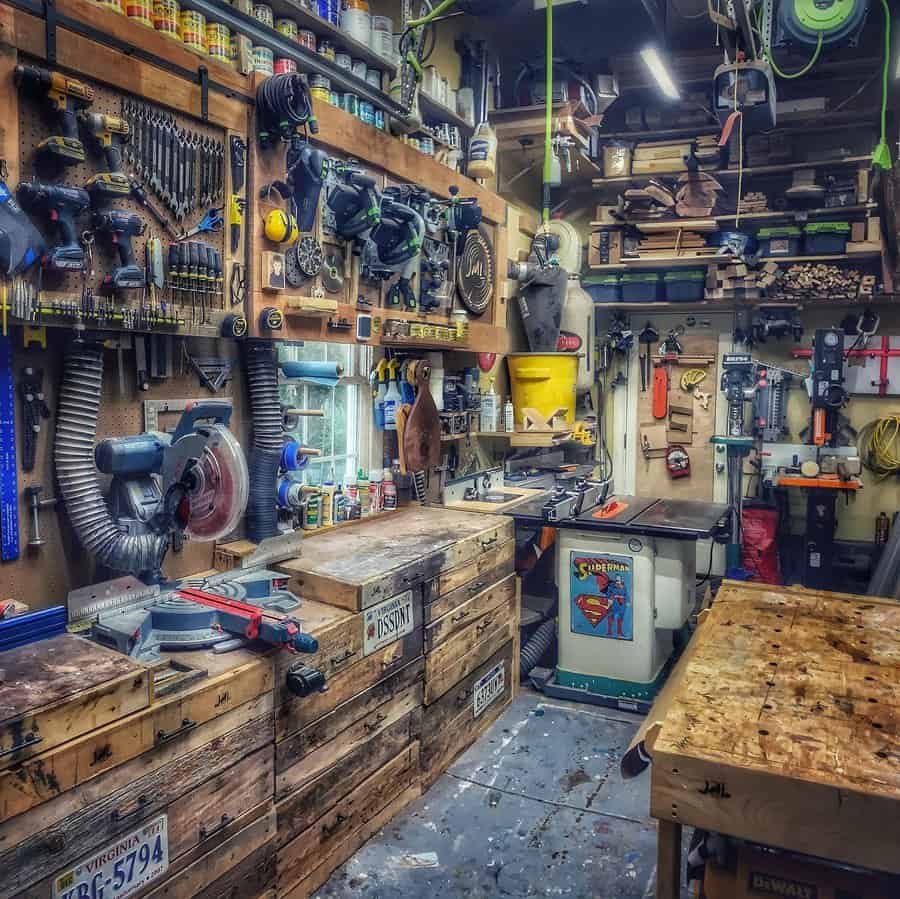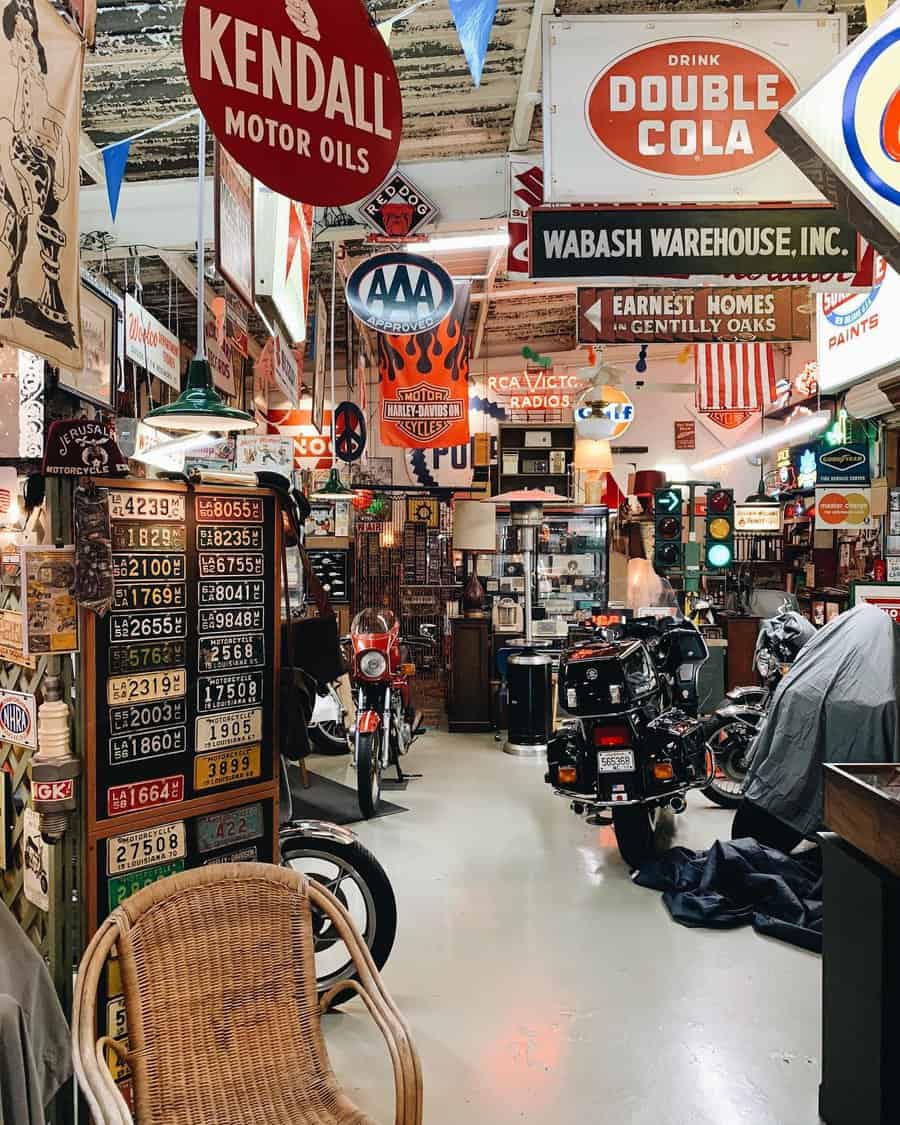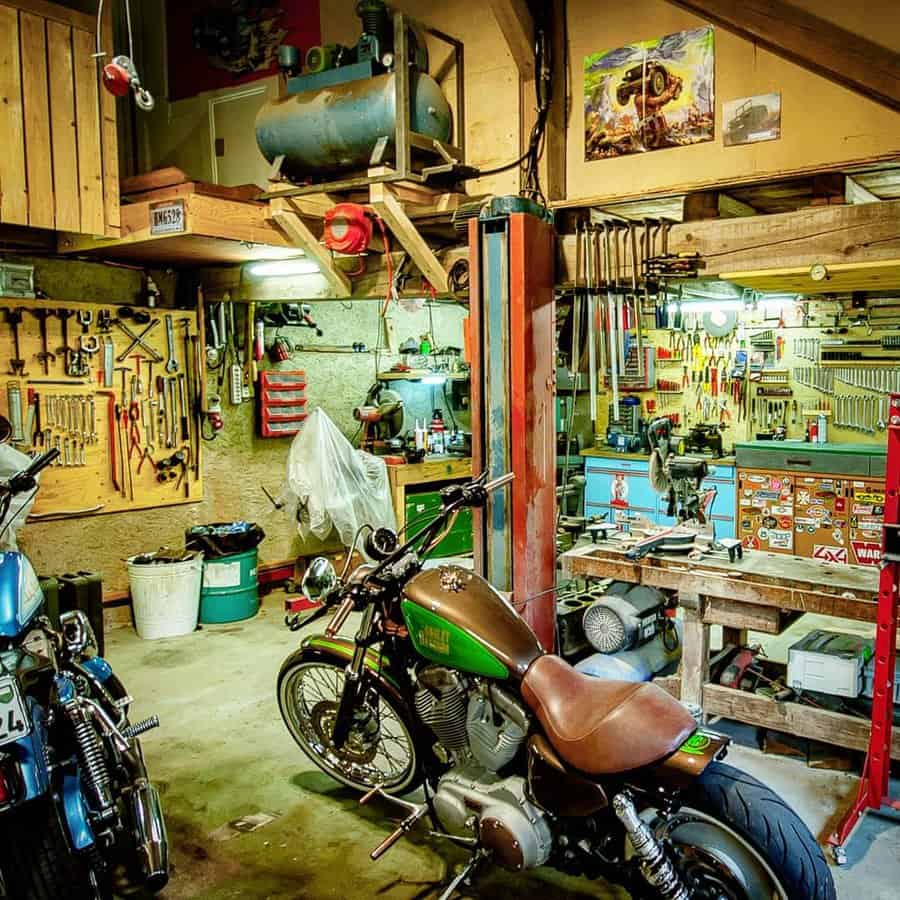 Garage Man Cave FAQs
What should every man cave have?
Every man cave should have some form of entertainment, a refreshment area, and comfortable seating. If you have a hobby, then it's the perfect place for displaying a collection. Don't forget about creature comforts, such as heating or AC, to make the space comfortable to be in.
What is a good size man cave?
Your man cave can be as big or as small as you'd like. However, if you have an intended purpose for it, then your cave needs to be big enough to comfortably accommodate the furniture and activities you want to do in your man cave. Consider how many people you plan to have over, as this can also influence how large your man cave needs to be.
How do I turn my garage into a pub?
Turn your man cave garage into a pub by giving it a relaxed and welcoming feel. Add accent lighting that will make it dimmer in the cave to mimic the light level in a pub. Build a bar on one side that you outfit with shelving for liquor bottles, a beer fridge, and glassware storage. Add comfortable seating in the form of bar stools, armchairs, love seats, and sofas. Add a TV or bar games to give people something to do while they are drinking.