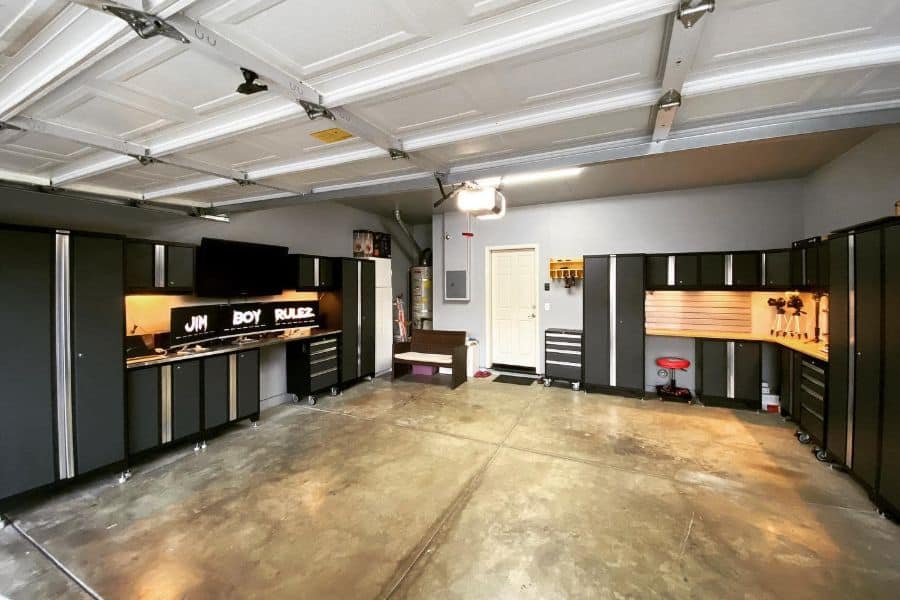 48 Garage Man Cave Ideas and Inspiration
You need a place that you can escape to. It should be a place where you and your best buddies can relax, joke around, and have a good time. It should have privacy so that everyone can drop their guard, be themselves, and have a good time. Did you know that you have the perfect spot for a man cave already built in your home? All you need to do is turn your garage into a man cave.
These garage man cave ideas will have you cleaning out the old boxes and turning your garage into the hang-out place to be.
1. Turn Into A Private Bar Area
From fun game nights to private bar areas and minibars, you can build the perfect private space without spending a fortune. Imagine playing pool on a new table surrounded by plush chairs and leather couches for maximum comfort.
Don't forget to add that private bar area so you don't need to go far for a snack or cold beverage during your private movie nights. With an array of unique design options, you can easily craft your custom garage man cave and enjoy plenty of memorable moments with friends and family.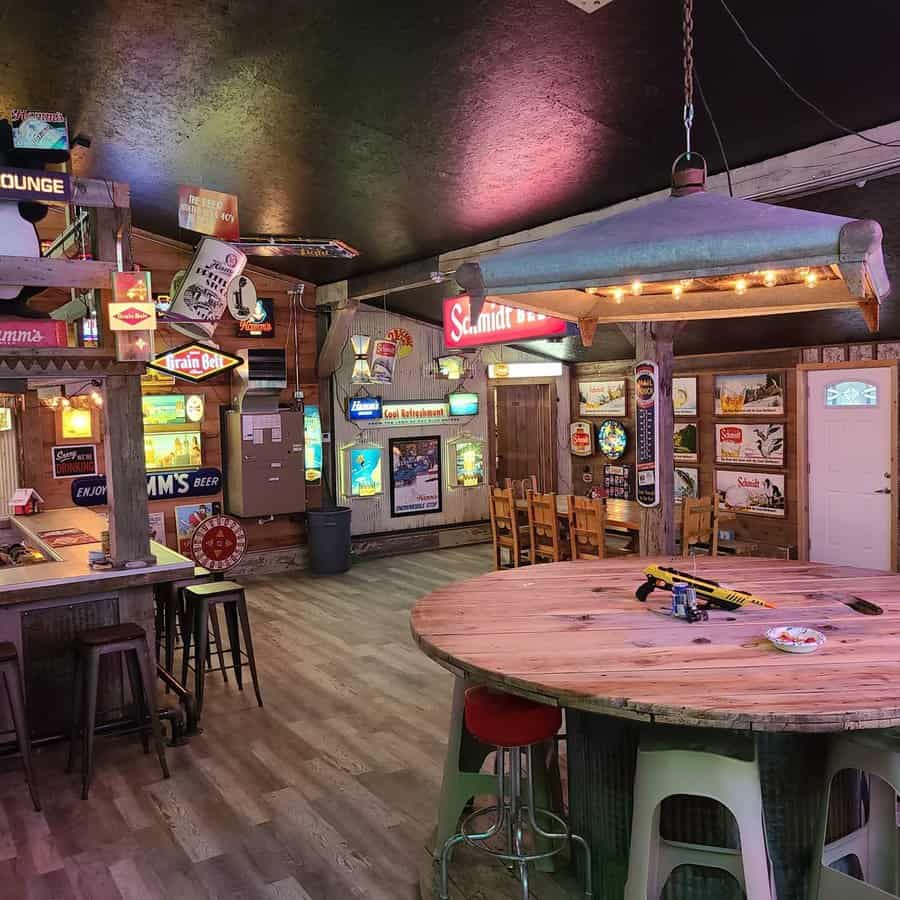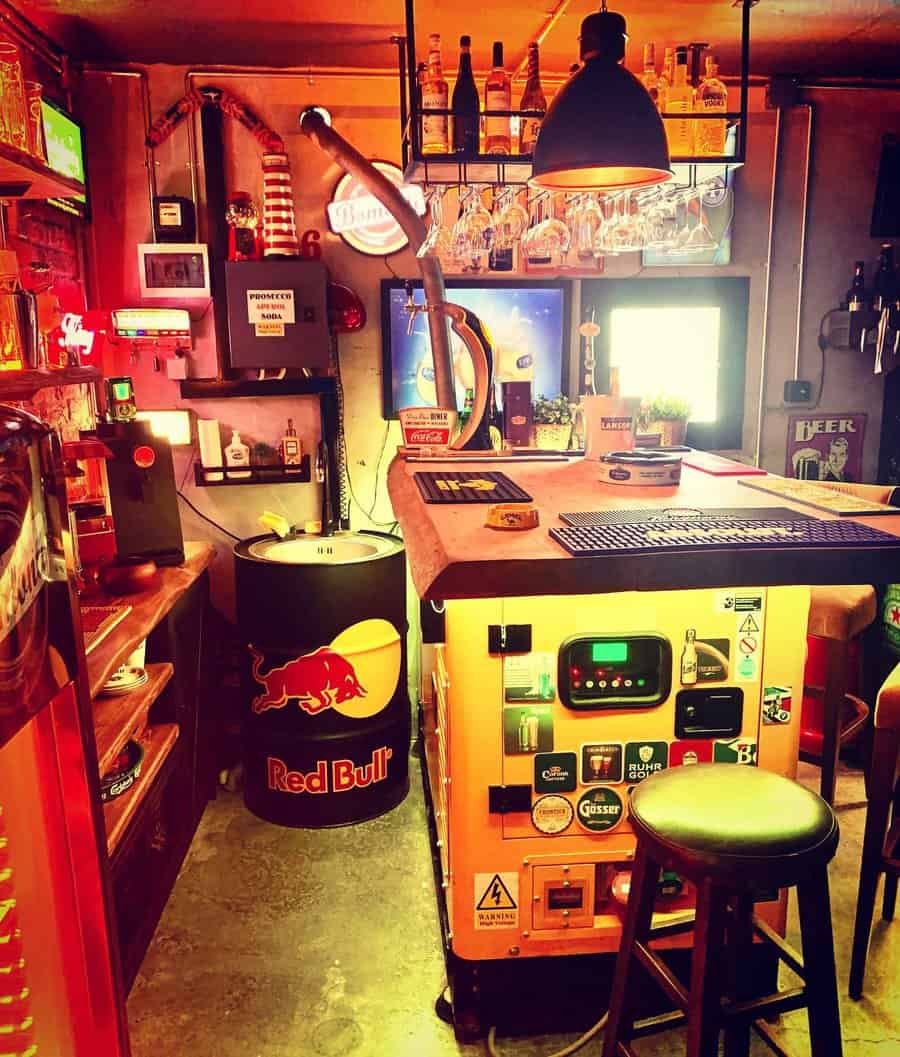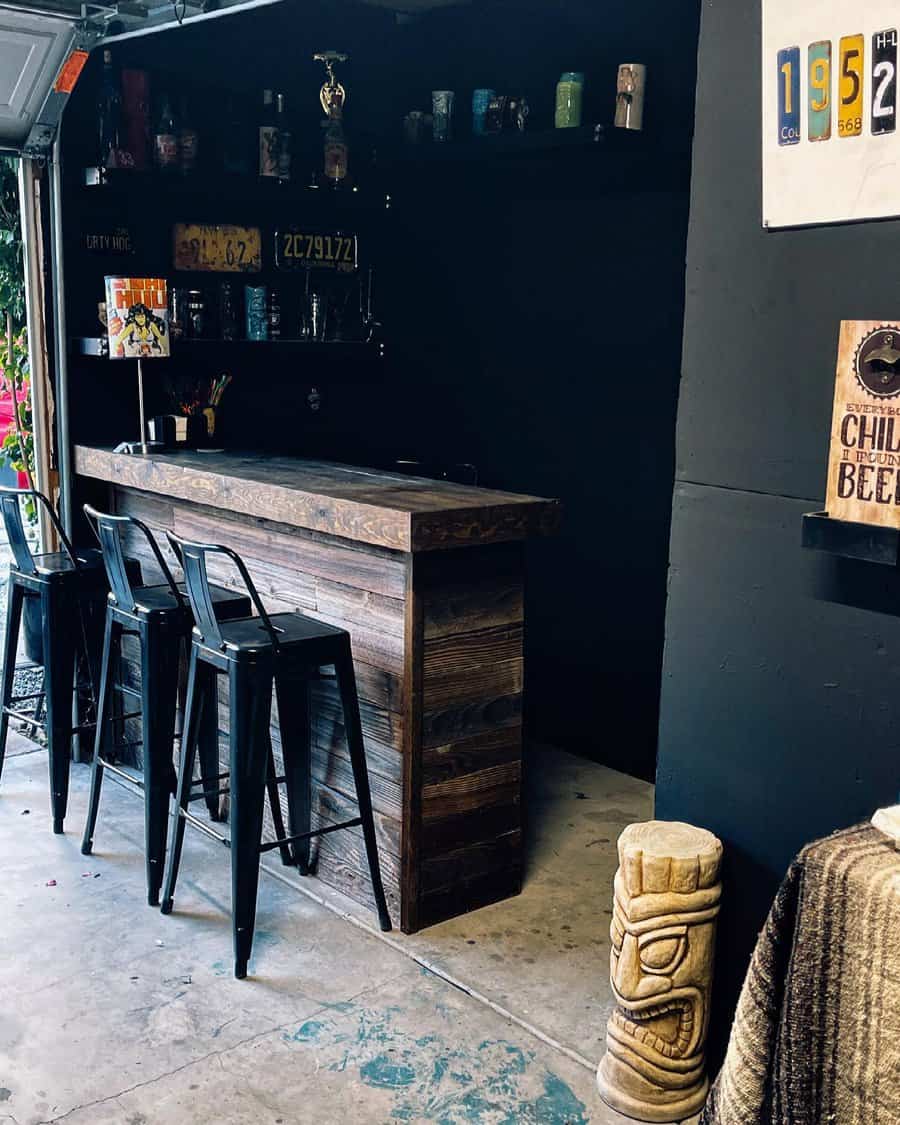 2. Showcase Your Vintage Wall Art Collection
Start by personalizing your walls with framed wall art collection that shows off your unique style – you could use artwork, vintage ads, or even custom plate numbers!
Accessorize with cozy furniture and fun accessories. A man cave is a perfect place to hang out in order to escape everyday stress and just chill. Achieve the true 'man's haven' atmosphere of your dreams by letting your creativity run free and designing an environment you truly love.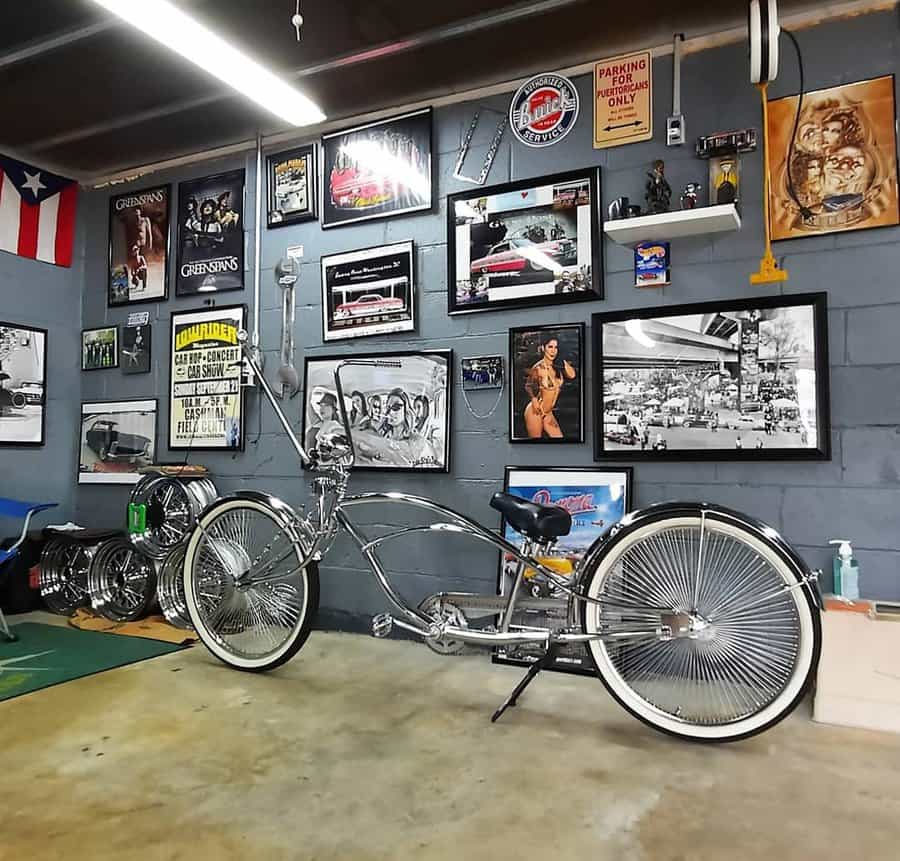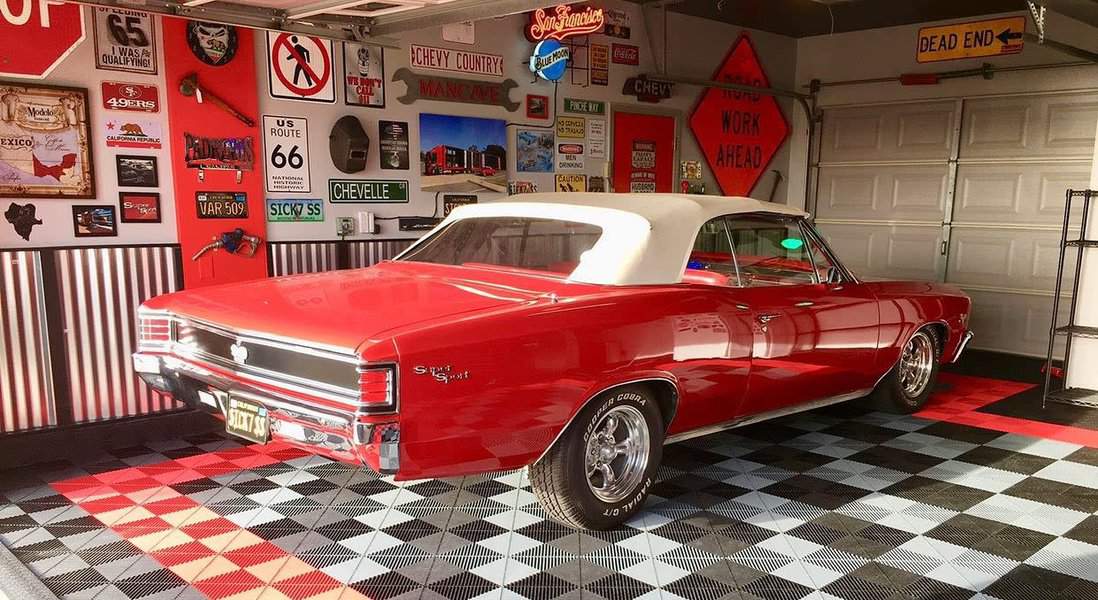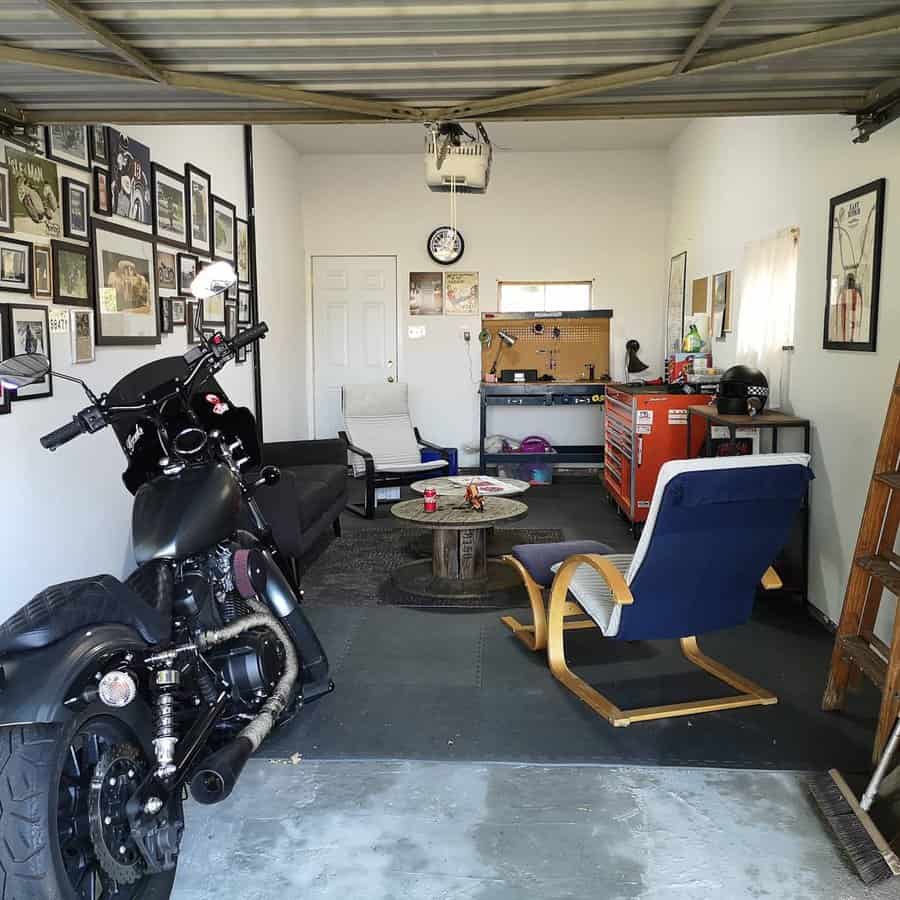 3. Set Up A Pool Table
Transform your ordinary garage into an extraordinary man cave by adding a pool table and creating an entertainment area. Whether you're settling in with a cold beer with friends or pooling your resources to get the highest score, this man cave will become the ultimate hang-out spot.
What could be better than creating your own private place to escape, relax and unwind? Get started today on creating the perfect man cave of your dreams.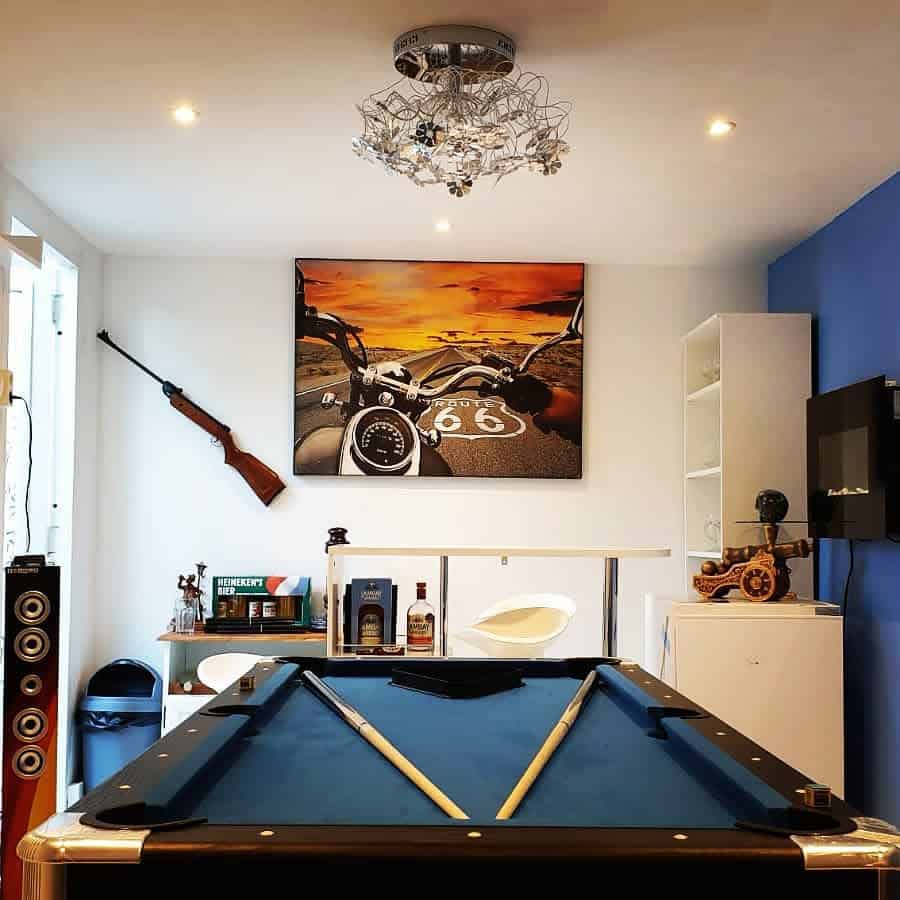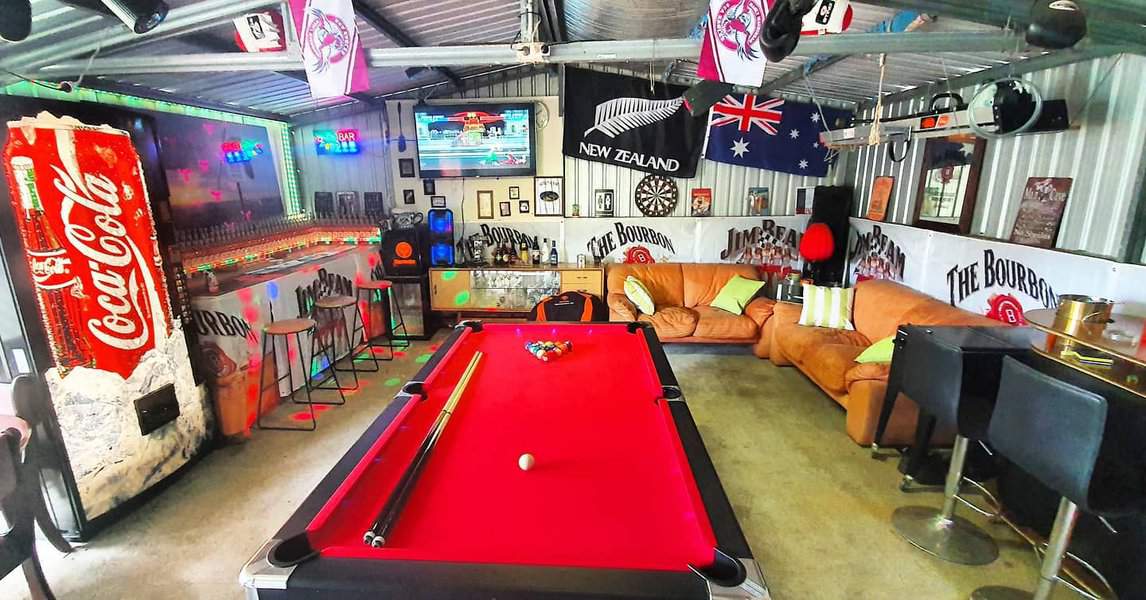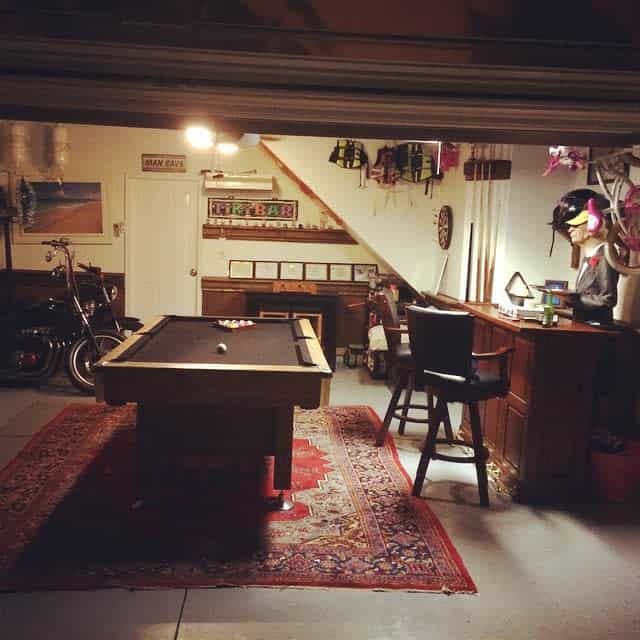 4. Opt For An Industrial Interior
Are you looking for the perfect industrial interior to create your own personal man cave? Look no further than a classic garage. With just a few simple touches, it can be transformed into a stylish industrial haven. Start by covering the walls with an exposed brick facing, setting the mood and texture of your industrial man cave.
Find second-hand furniture that fits the style and bring in some favorites from home to complete the look. You won't regret having your very own industrial wonderland to escape to after busy days!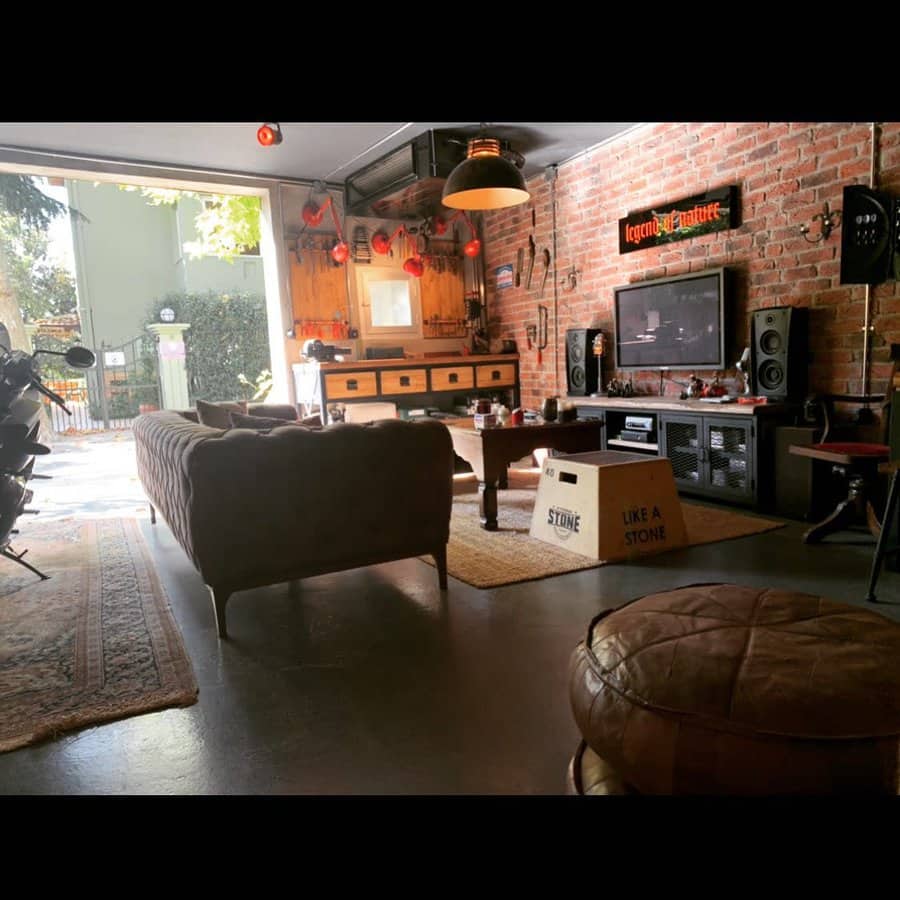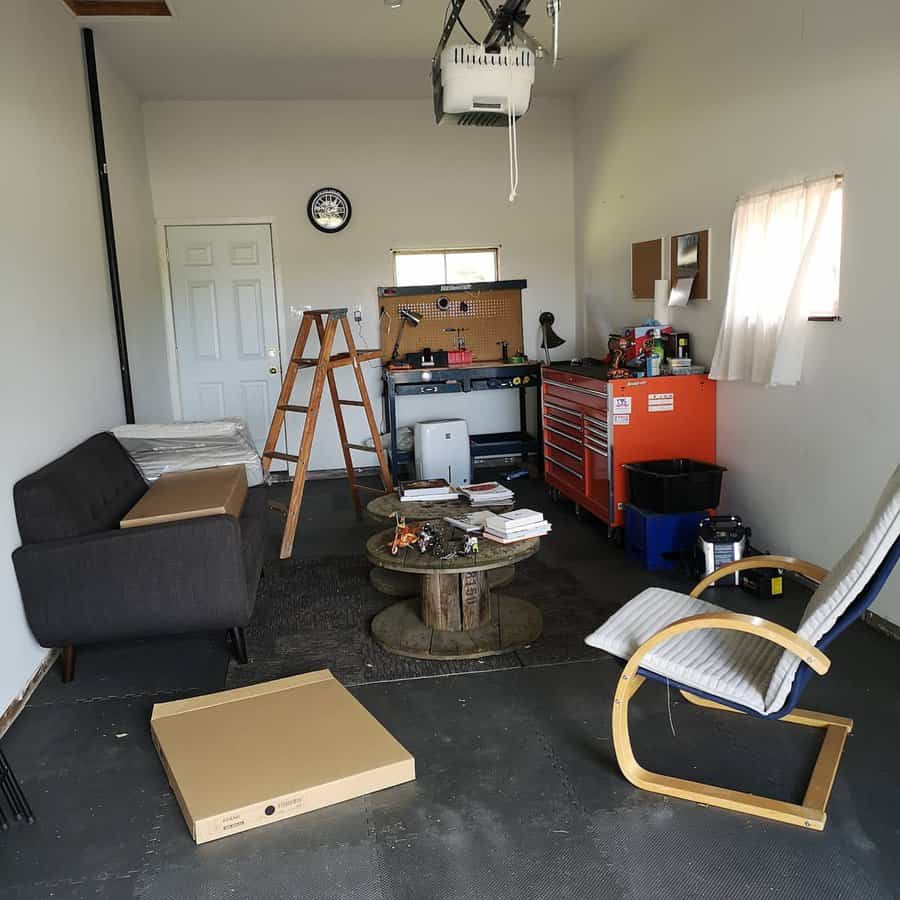 5. Give Your Car The Spotlight
Transform your car-themed garage into an awesome man cave and designate a special shelf for all your favorite racing merch! From car models to hats, flags, and car-themed artwork, you can create a personalized space that celebrates car culture. Add comfortable furniture and a flat-screen TV, some memorabilia from the racetrack or car shows, and voilà: you've got your own premier car enthusiasts to retreat.
Make it work hard and play hard with chic decorating ideas like bright rugs, muted walls, modern lighting, and a rocking sound system – perfect for a long night spent with friends around the track or car show on the big screen!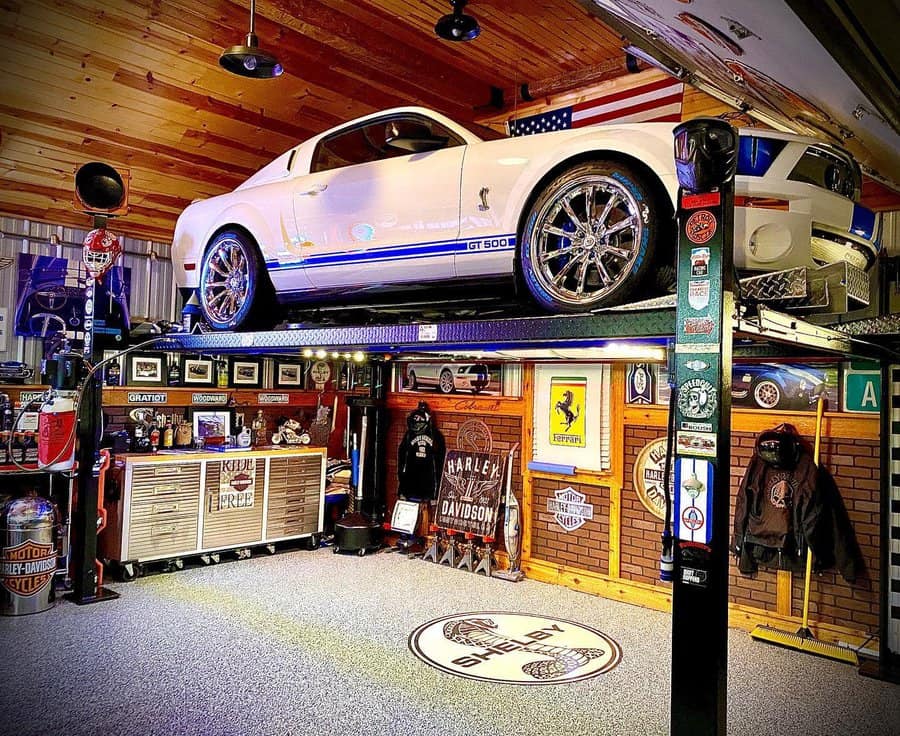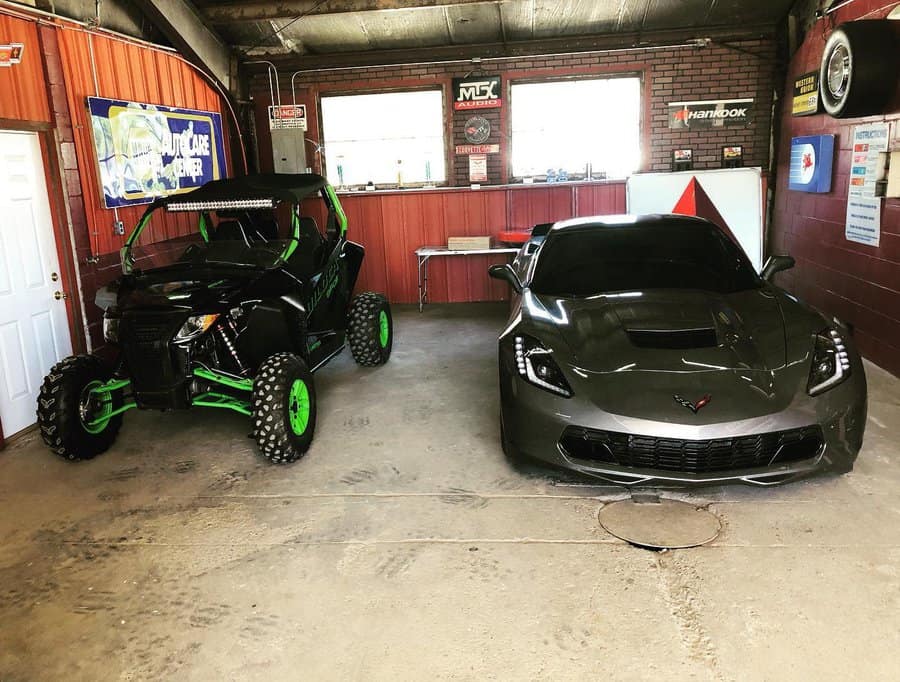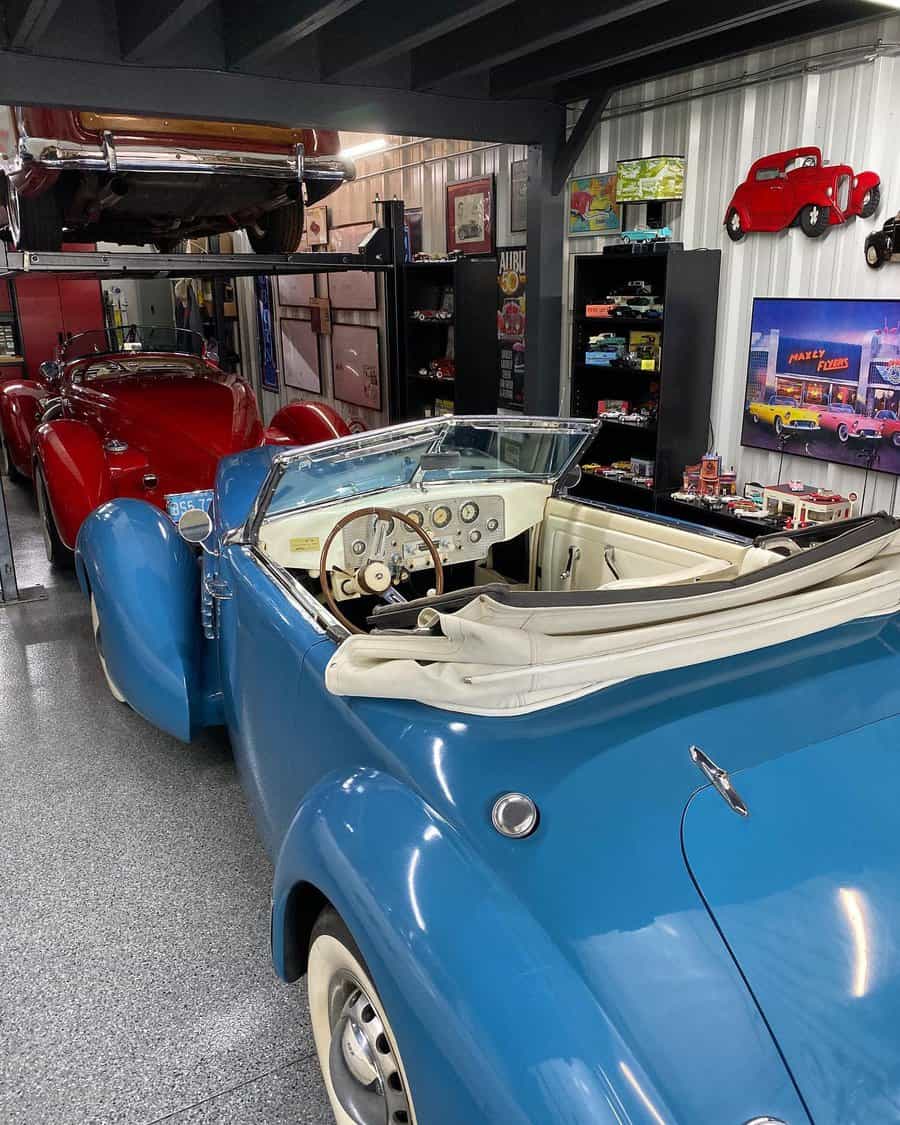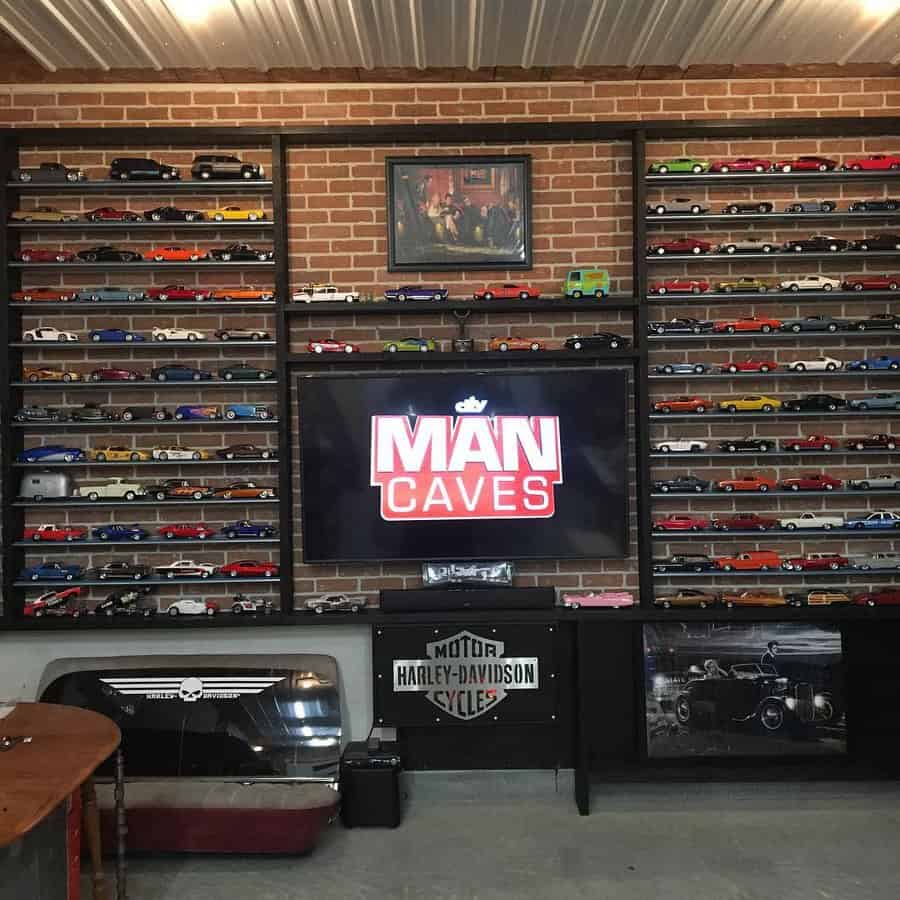 6. Be Creative With Lighting
A garage man cave is the perfect creative and professional outlet for those who want to get creative with their living space. By taking the creative reins, a creative aura can be cultivated around the entire room.
The use of creative lighting, such as multi-colored string lights and LED strips, can instantly add a fun, creative ambiance to the room while still providing enough light to make it usable. With these creative touches and a few items added in for personal enjoyment, an ordinary garage can become an extraordinary man cave full of personality!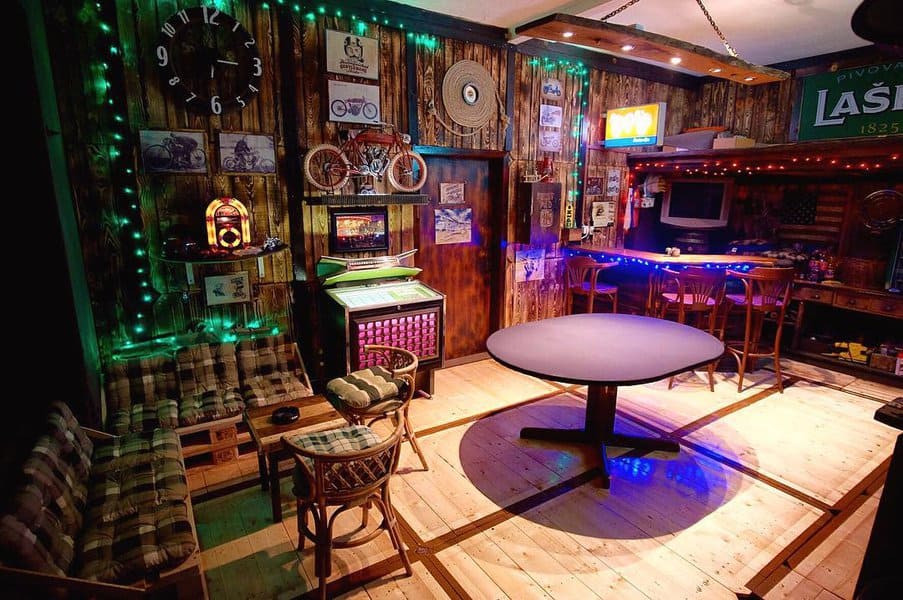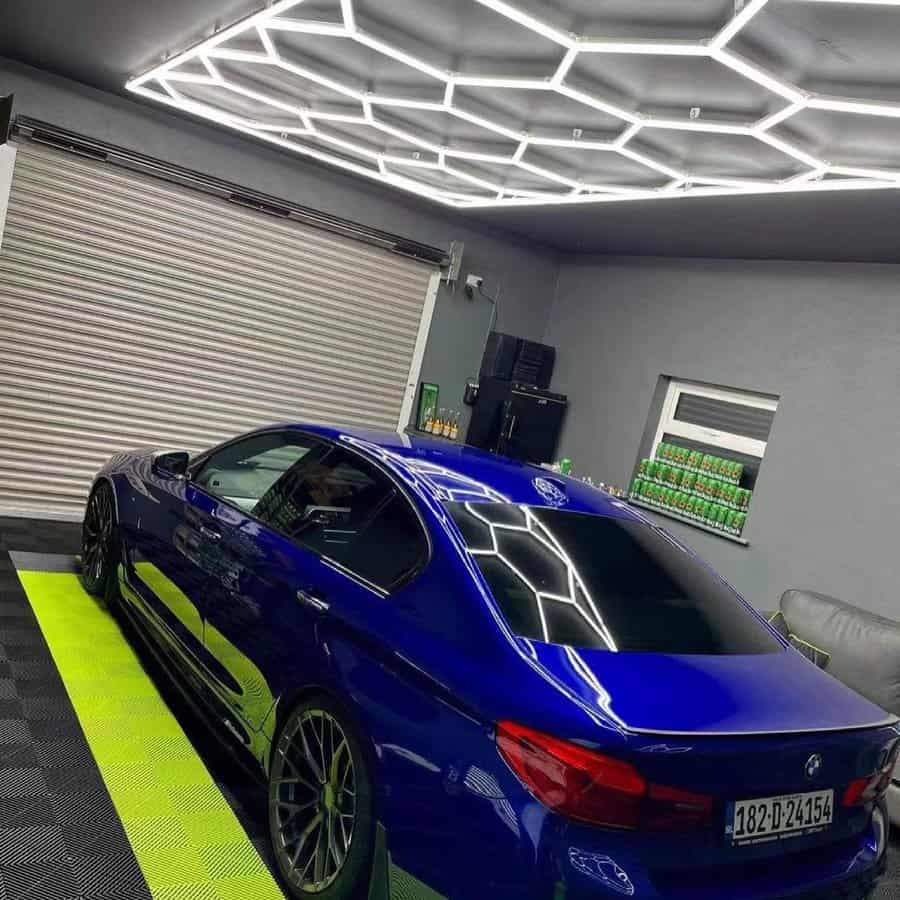 7. DIY A Wall-mounted Bar Seating
With wall-mounted bar seating and stools, you can transform any small garage into a cozy and practical entertainment area. This space is perfect for watching the big game with friends or simply winding down after a long day.
You can make your man cave unique to suit all of your needs while creating a comfortable and inviting atmosphere. Whether you're hosting guests or settling in for some alone time, wall-mounted seating makes it possible to easily enjoy your new oasis.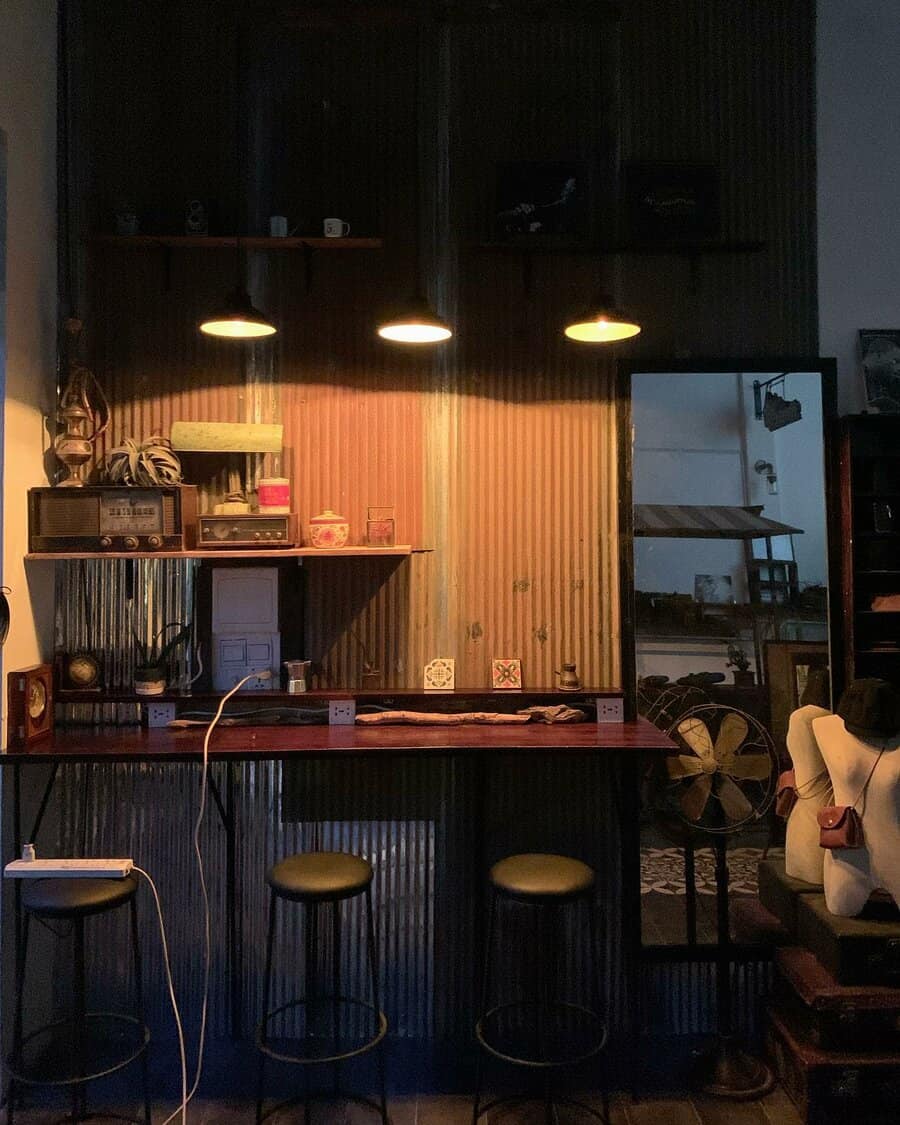 8. Turn Into A Walk-In Closet
The perfect garage man cave is all about getting creative with maximizing the space. A walk-in closet and plenty of shelving can provide the perfect spot to store everything from tools and materials to hung shirts and jackets.
With some careful planning and design you can make sure that each moment spent in your man cave is enjoyable – whether it's entertaining friends or indulging in a moment of solitude. Garages don't just have to be places where one stores their car. Make yours a place where you feel proud of your accomplishments.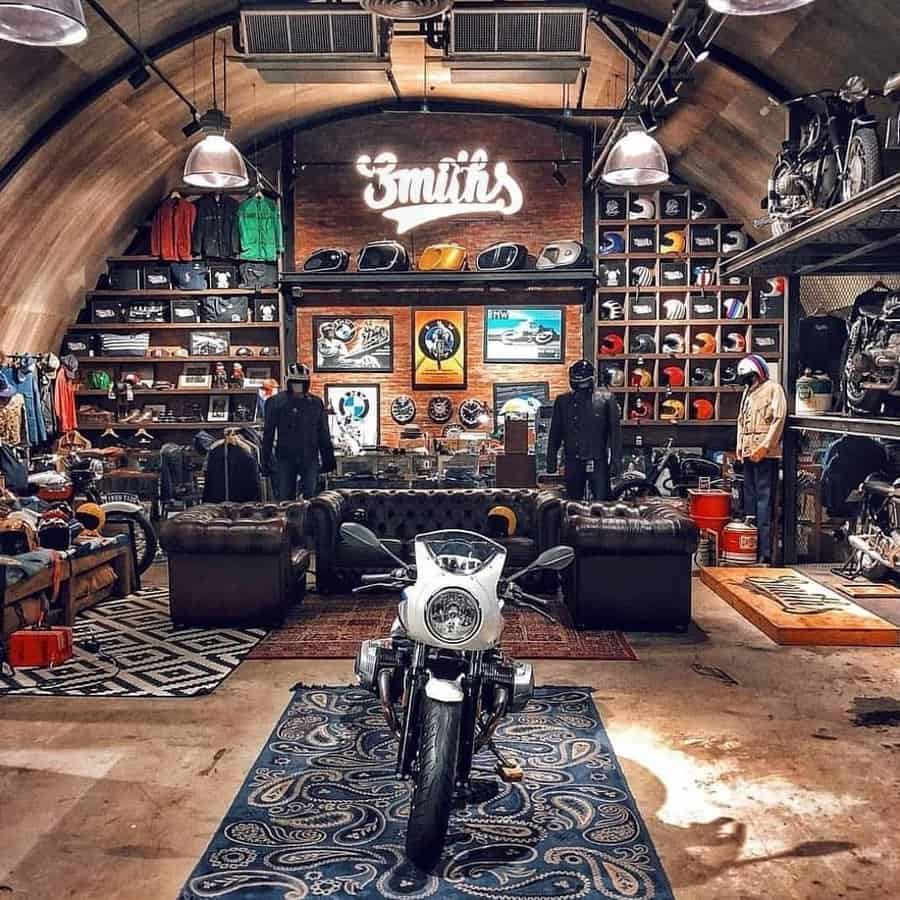 9. Opt For A Checkerboard Flooring
A garage man cave can be a great place to relax, unwind and entertain. With checkerboard flooring and the right design touches, you can transform your ordinary garage into an extraordinary man cave in no time. Your guests will be wowed by the comfortably cool vibe of checkerboard flooring paired with other modern amenities like trendy furniture and home audio systems.
In addition to providing an oasis away from the hustle and bustle of life, a garage man cave offers a unique way to show off your style while still achieving that urban chic look. No matter what you decide, checkerboard flooring can add an instant boost of personality that both you and your friends will love!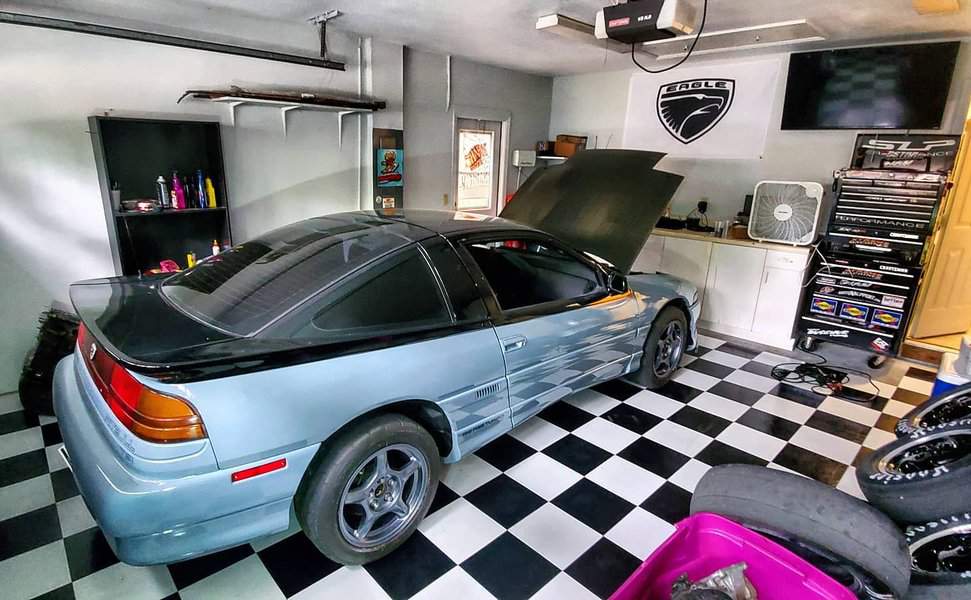 10. Try An Area Rug
An area rug can provide an area for you to entertain guests, relax with friends, or just get away from the hustle and bustle of everyday life. With area rug options ranging from soft, comfortable materials to bold colors and designs, you can have a space that is truly unique and one-of-a-kind.
Whether you go with a vibrant design or something more subtle, your area rug will turn your garage into a place that's all your own. Step up your game by taking advantage of this great opportunity to customize and make it yours!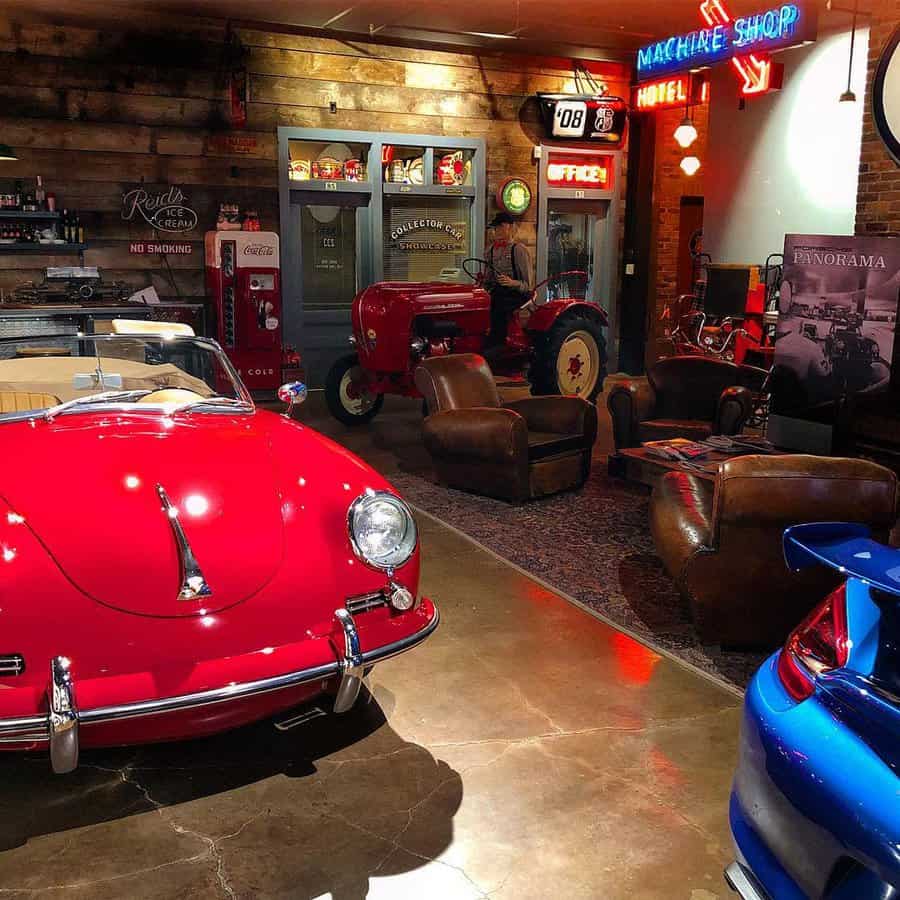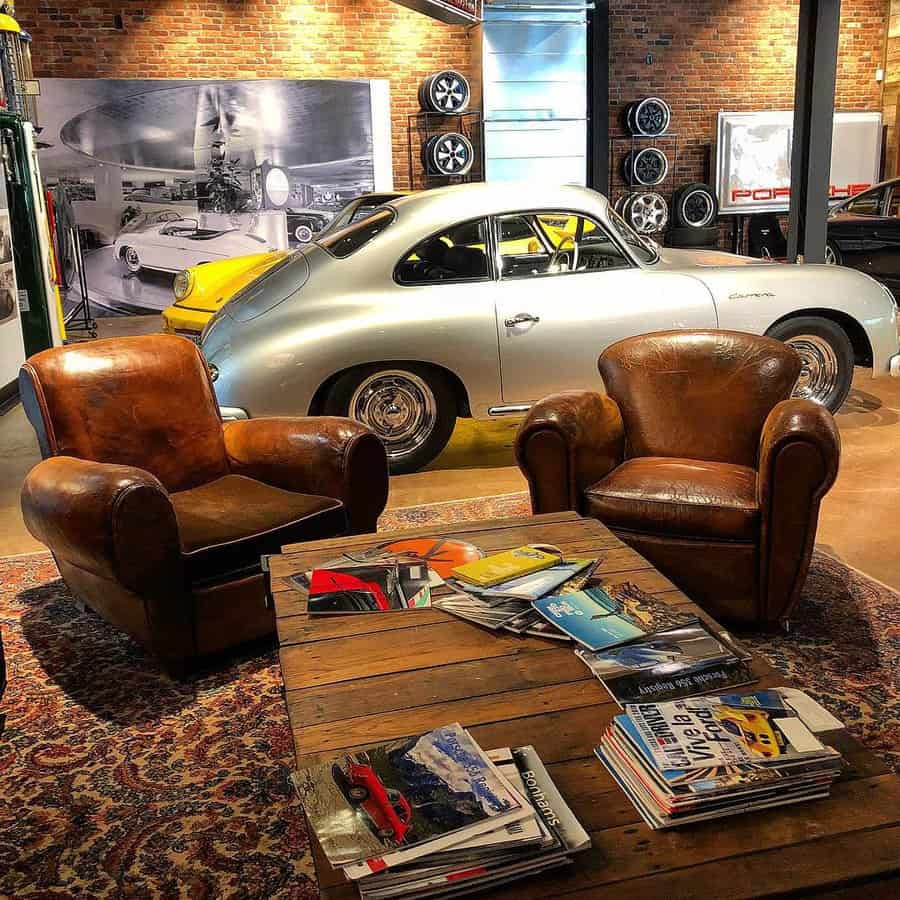 11. Set Up A Gamer Den
You can transform an ordinary garage into the ultimate destination for gaming and chilling. A garage man cave is an excellent place to set up a powerful gaming PC, a wide television to display visuals with the highest fidelity, and comfortable furniture to relax while enjoying your favorite titles.
Outfit your space with all the latest gamer gadgets such as surround sound speakers or high-end streaming equipment and take your game-playing experience to new heights. So get creative and start building your gamer den today!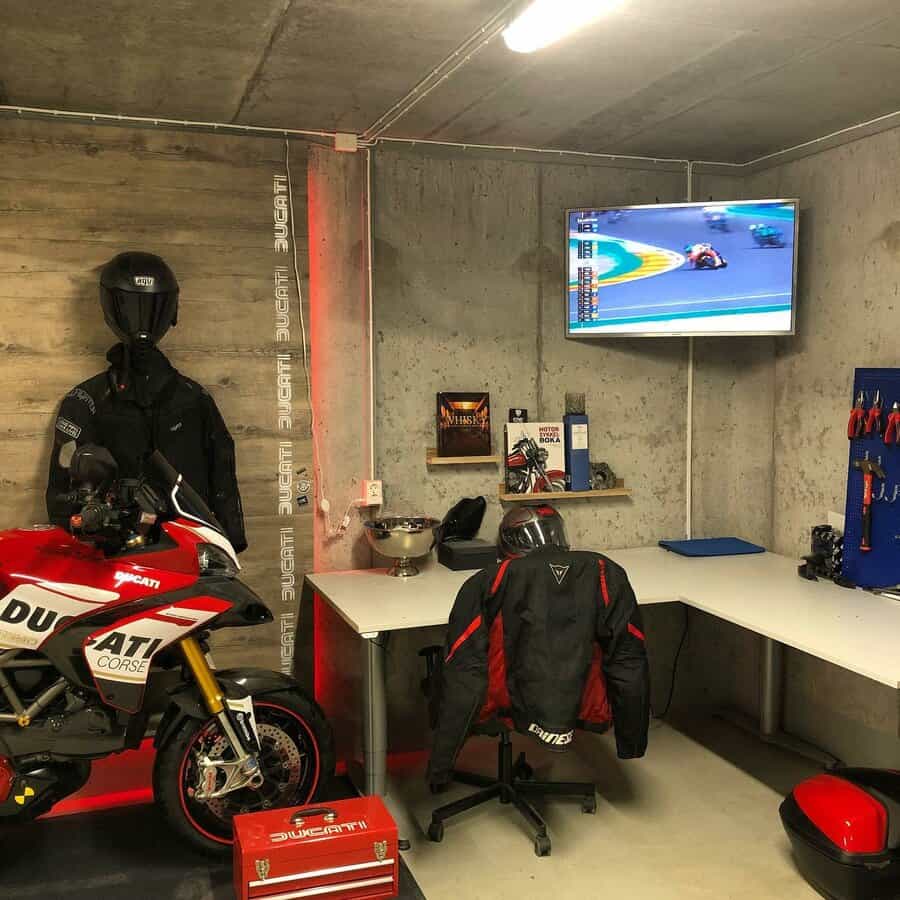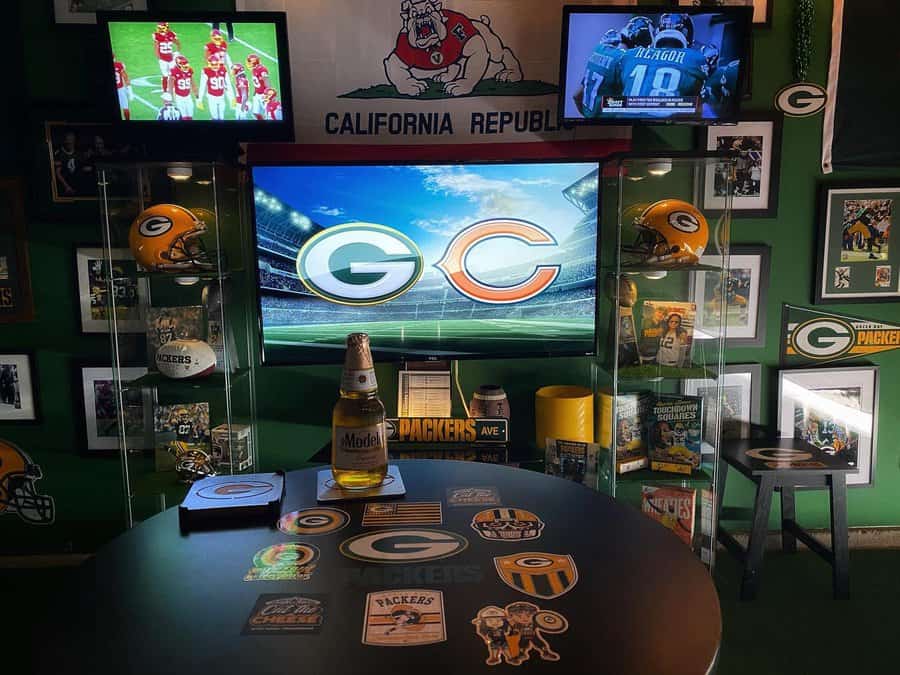 12. Install A Work Desk
If you've been searching for an inspiring workspace, look no further! A work desk is a perfect addition to any garage mancave for organizing tools and supplies. With these work essentials, you'll have everything you need to stay productive and creative during work sessions.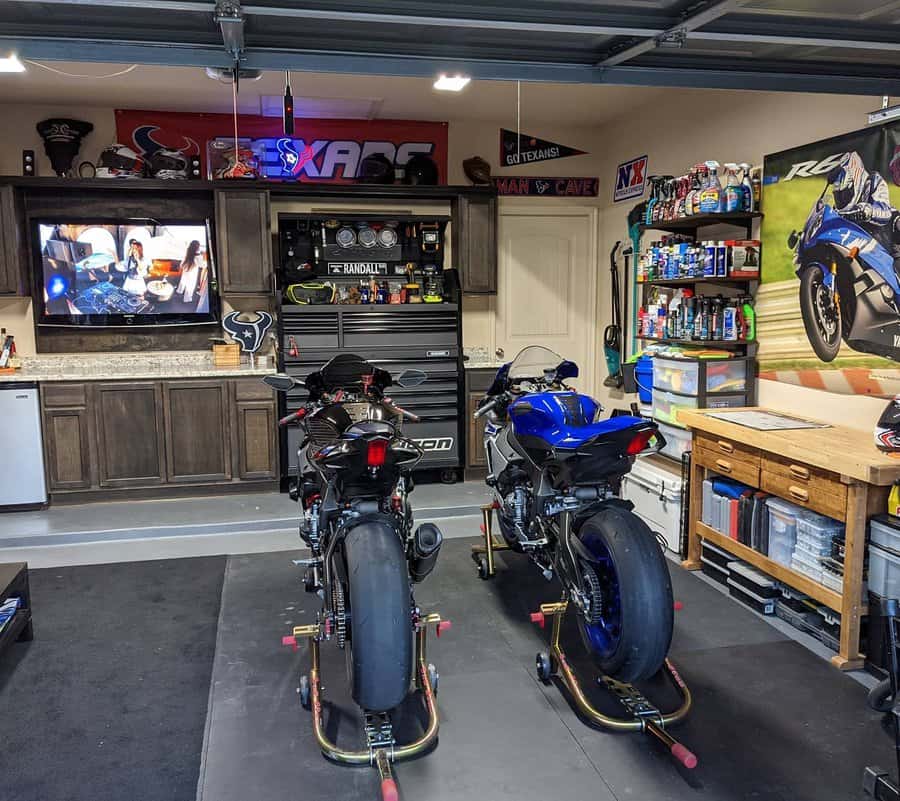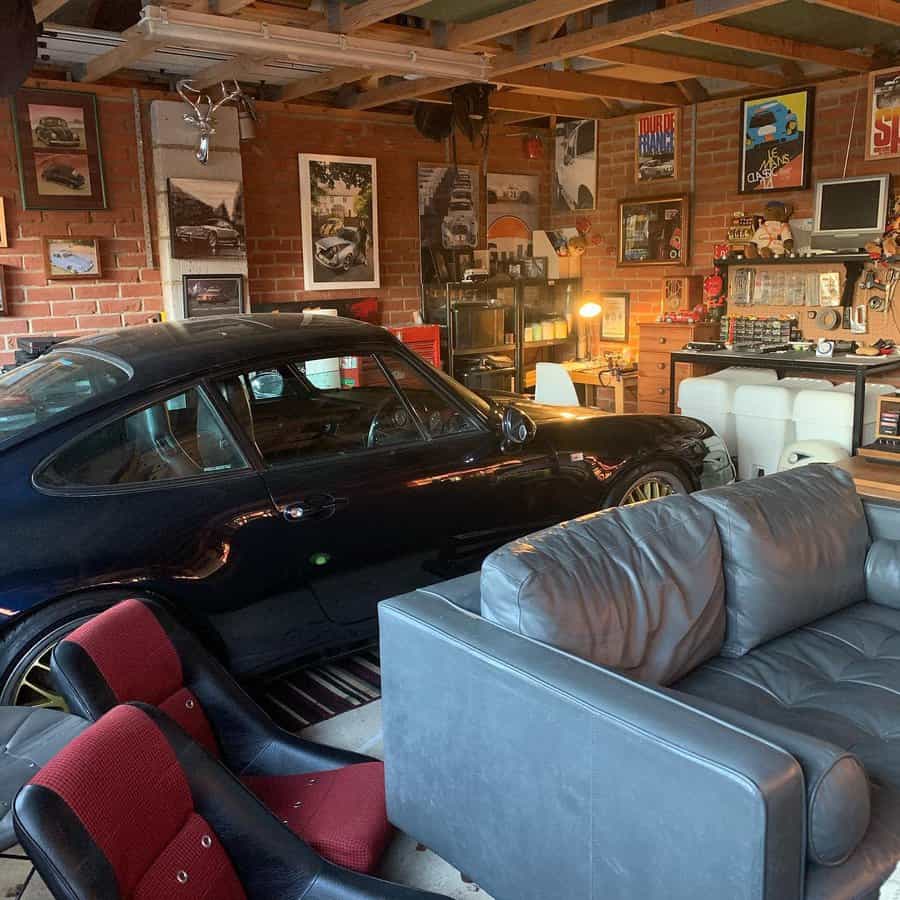 13. Utilize The Garage Mezzanine
If you have a garage with extra space, then why not utilize it to create the perfect man cave? Having a mezzanine built can transform the area into an amazing entertainment spot, complete with comfortable couches and a minibar.
You can easily expand your man cave into something unique that has never been seen before by adding special touches like arcade games and big-screen TVs. With this personalized space, you'll never have to worry about having some alone time or inviting friends over for an unforgettable night of fun.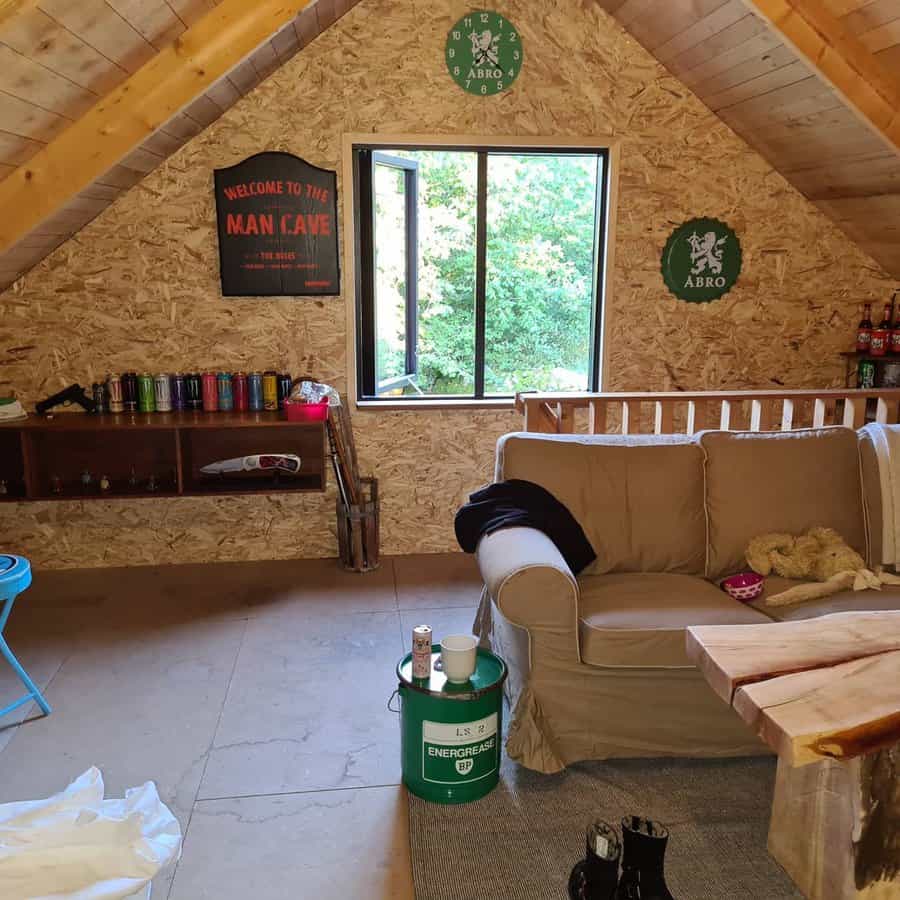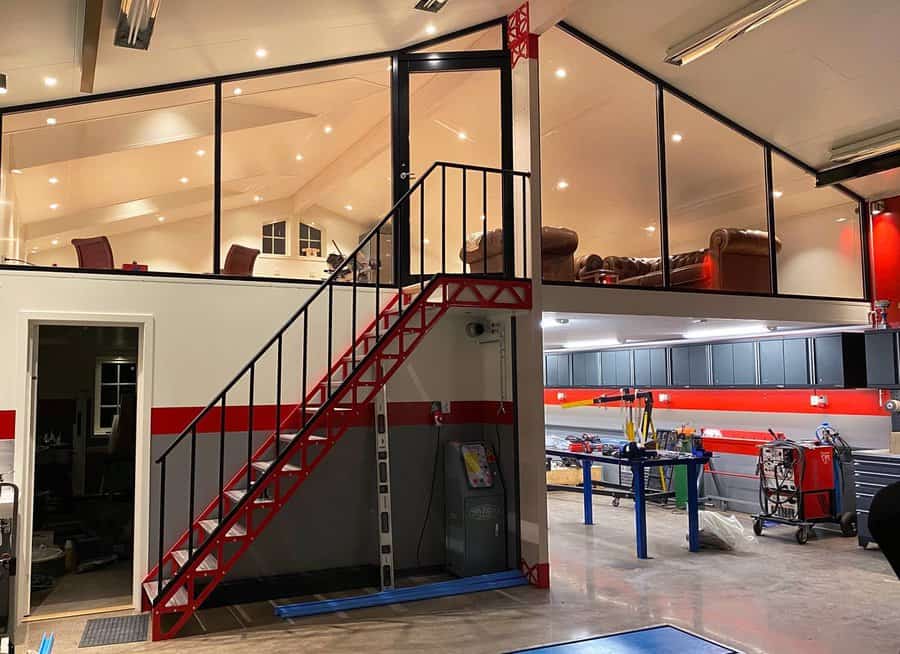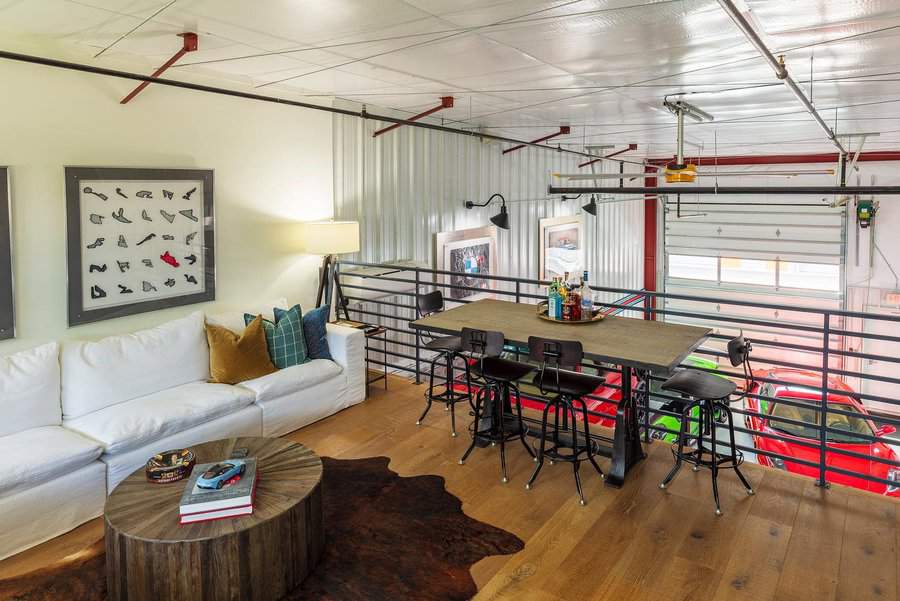 14. Go For A Minimal and Modern Look
Investing in a few modern features such as modern garage floor tile and LED lights will instantly upgrade the space. With a modern and minimal interior, your garage can be converted into an oasis where you can relax after a long day or invite friends over for an exciting game night.
Transform your garage into a modern man cave with minimal design accents and effortless modern style. Create a modern industrial look by installing garage floor tiles and painting the walls in bold colors to bring out your personality.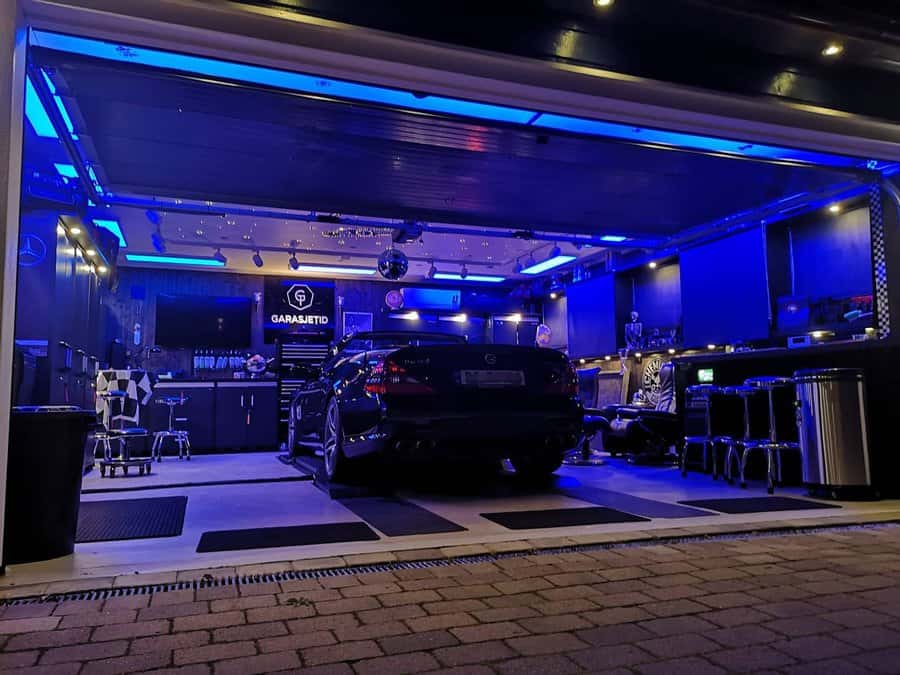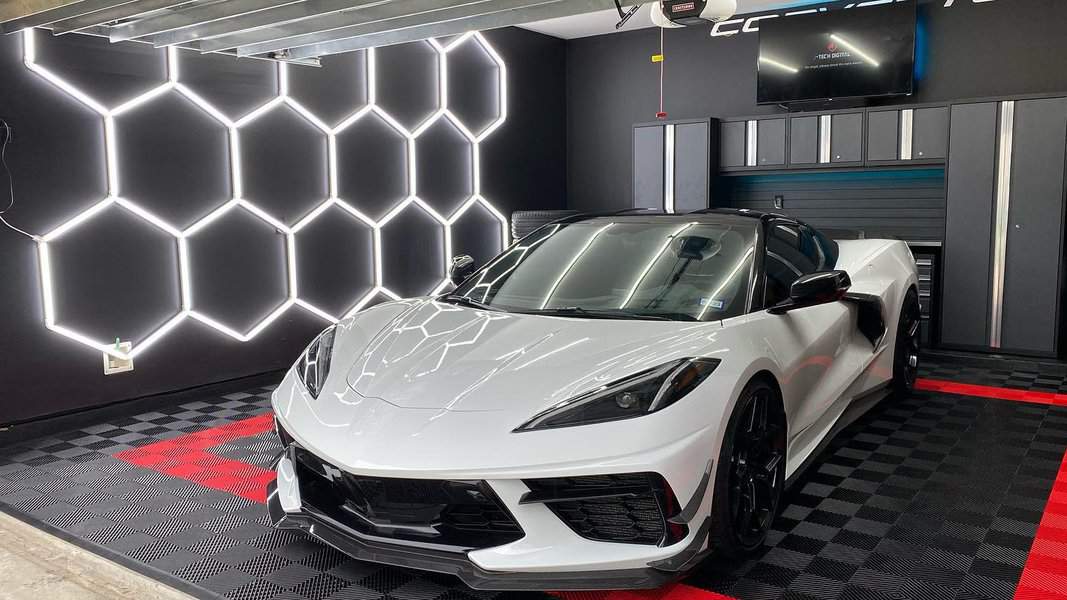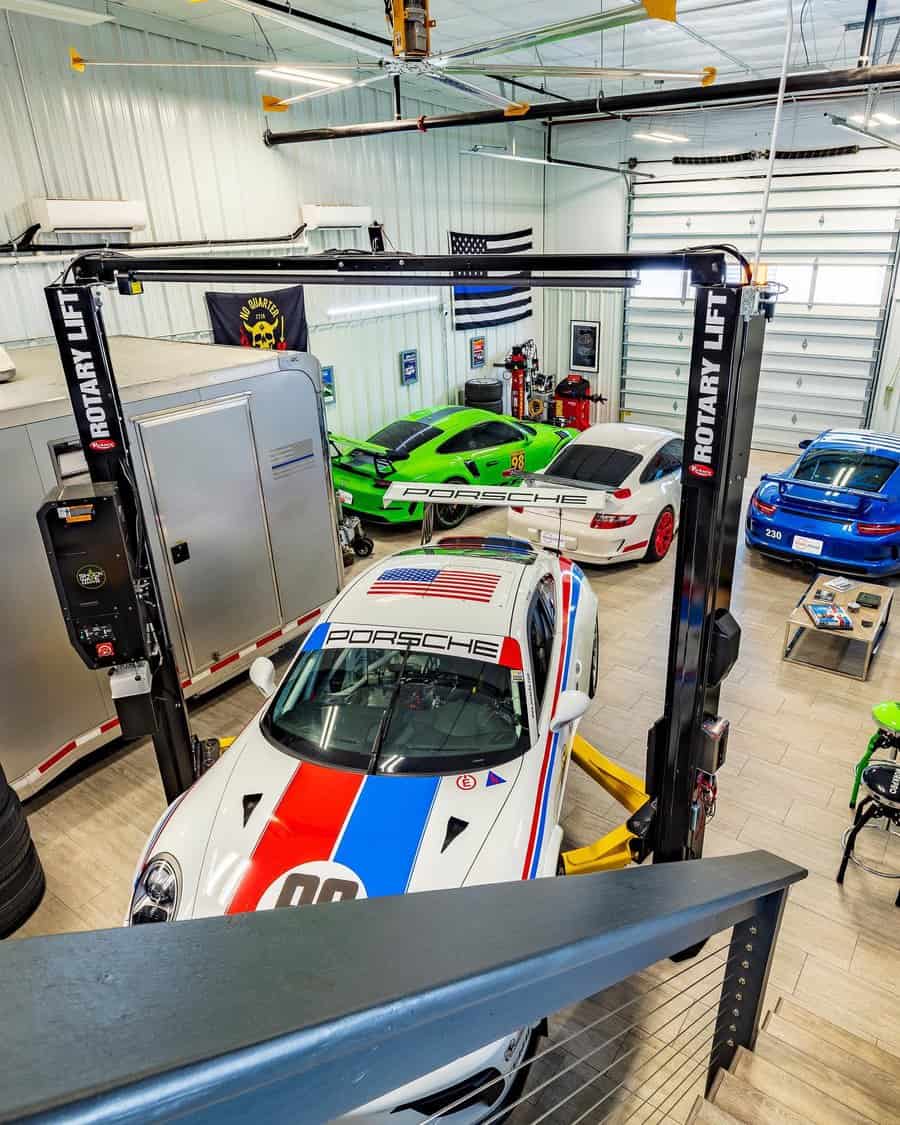 15. Opt For A Rustic Interior
Turning a rustic garage into the ideal man cave is a weekend project like no other. Start by creating a rustic interior with repurposed furniture, reclaimed wood for shelving, and vintage artwork as conversation starters.
If you've got some extra space, why not outfit it with a minibar and plenty of seating to encourage entertaining? There's something special about turning a garage into your own personal retreat – one that combines rustic vibes, industrial accents, and all the comforts of home.
Make it happen – create your own garage man cave getaway that has friends and family wanting to come back time after time.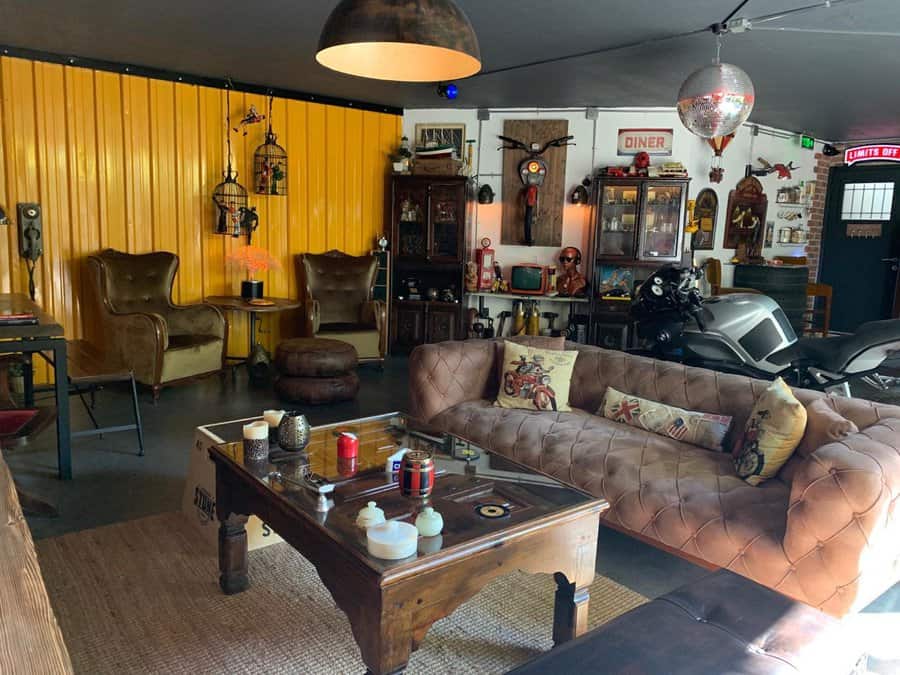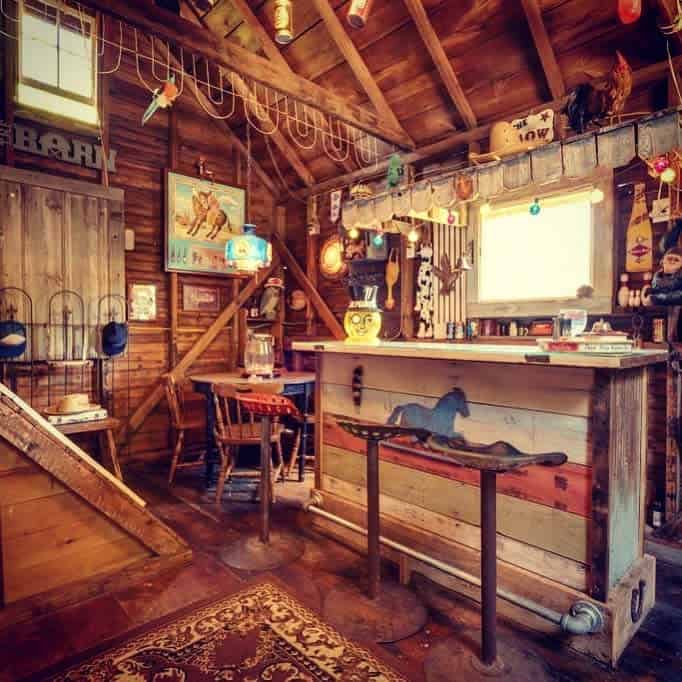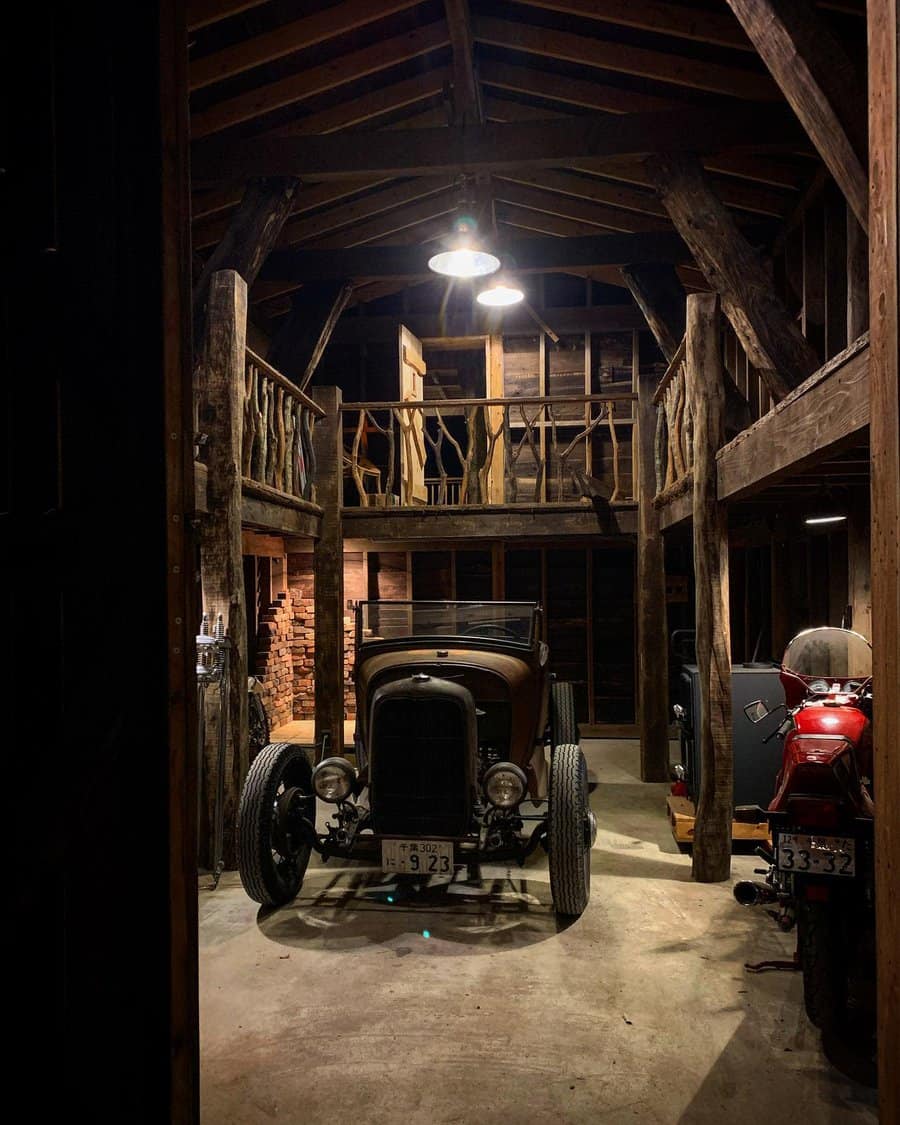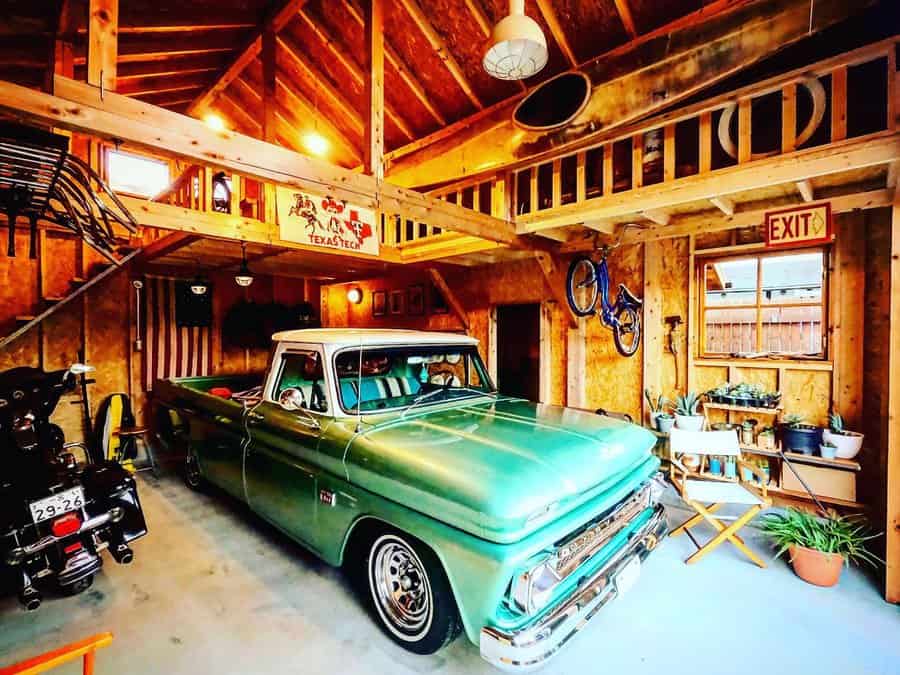 16. Install Storage Units
A garage man cave is the perfect place to turn storage units and shelves into organized hobby equipment. This can be a great way to drop in after a long day and keep your most special items close. Whether it's woodwork, carpentry, art, or any other creative hobby you specialize in–a garage man cave will give you the ideal space to relax without compromising on storage and organization.
With this kind of setup, both sides of your personality can harmoniously coexist the storage nut and the creative artist!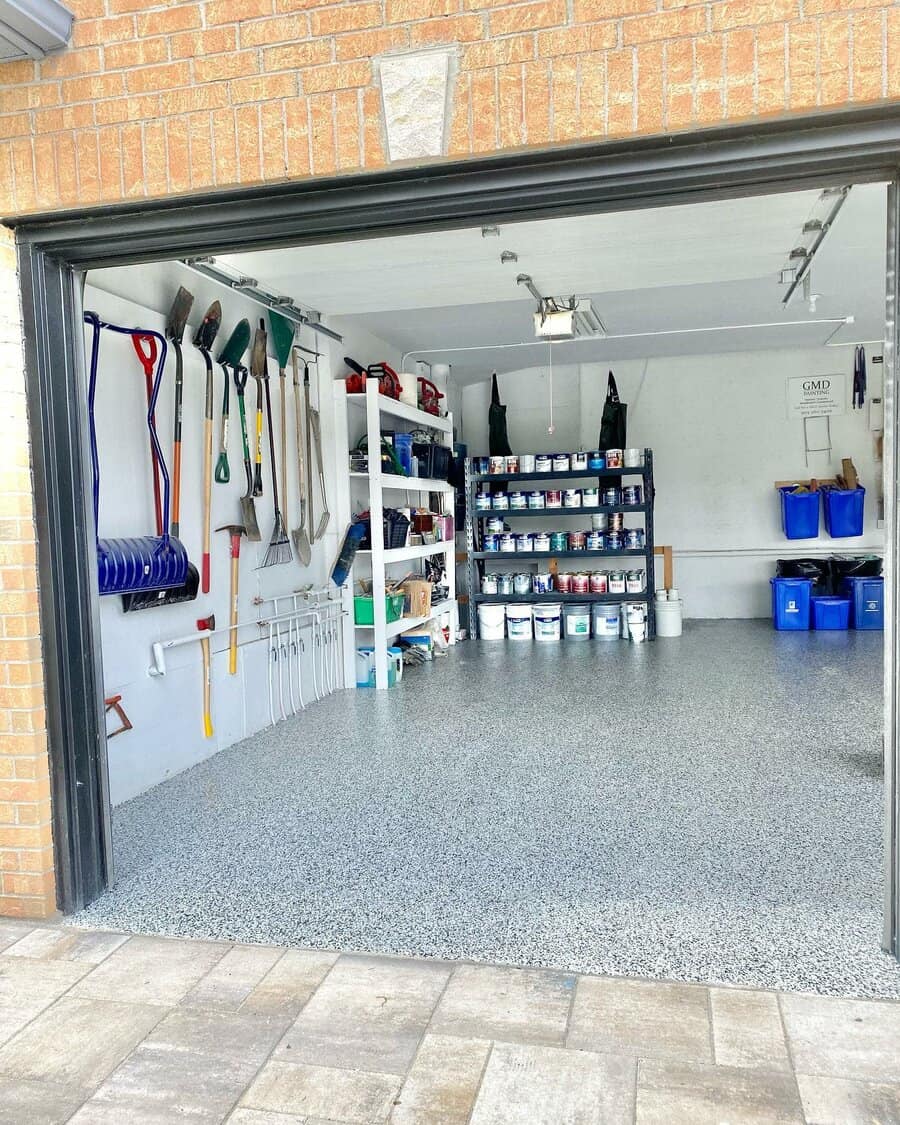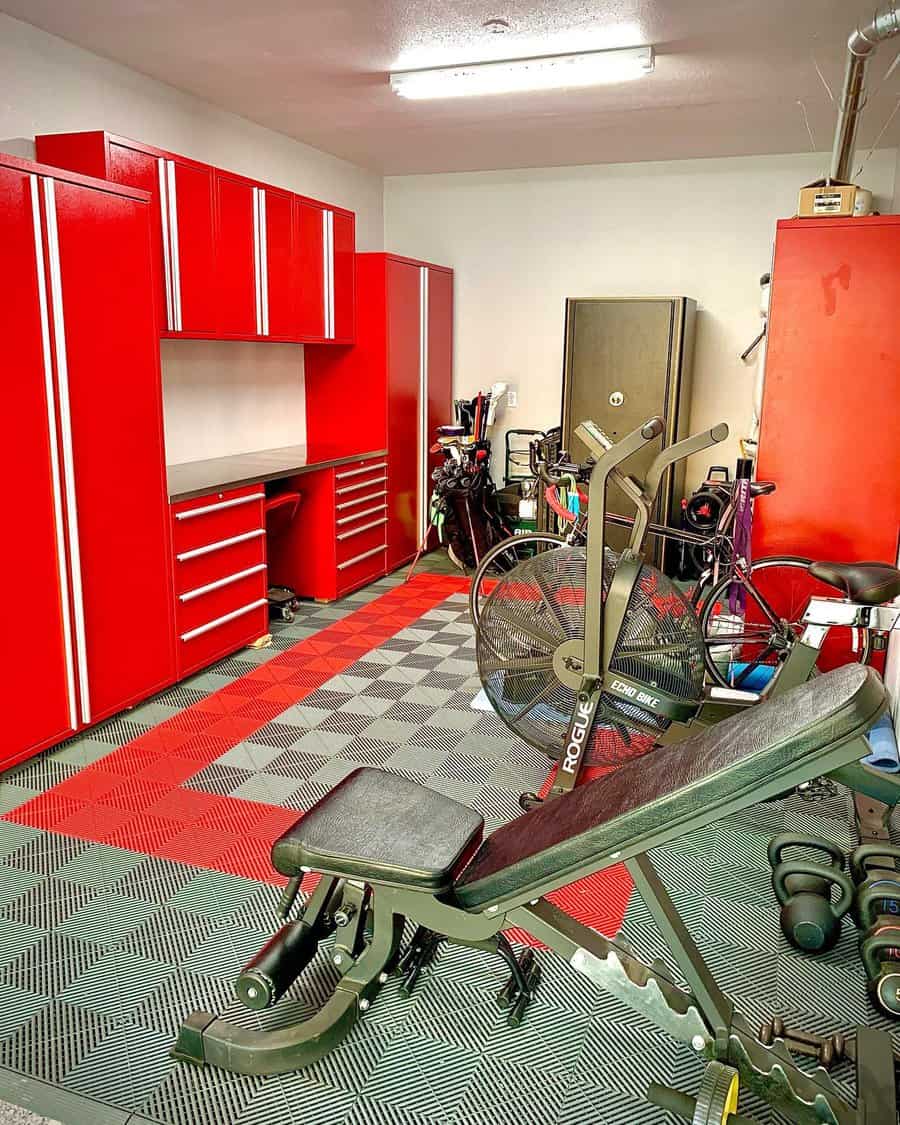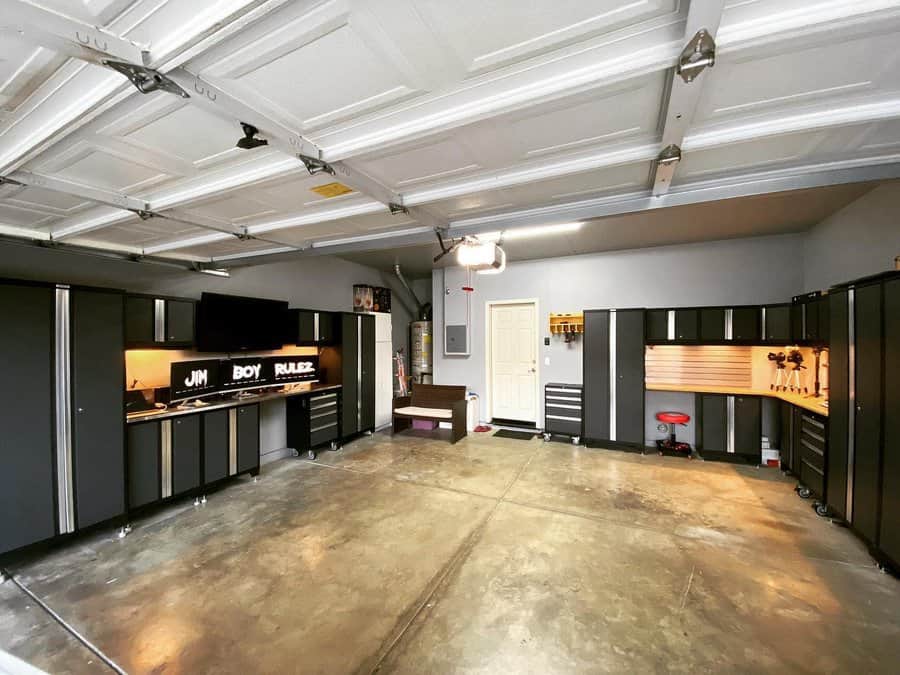 17. Turn Into A Workshop Area
For the handyman and for any DIY enthusiast, a garage man cave is the ultimate workshop area. Fill it with tools, wood, an array of peg boards, and crates carefully fashioned specifically for various tasks. With this workshop setup, any project can be tackled with ease: from building furniture to restoring old automobiles.
Create an environment that inspires creativity and functionality – one where anything and everything is possible!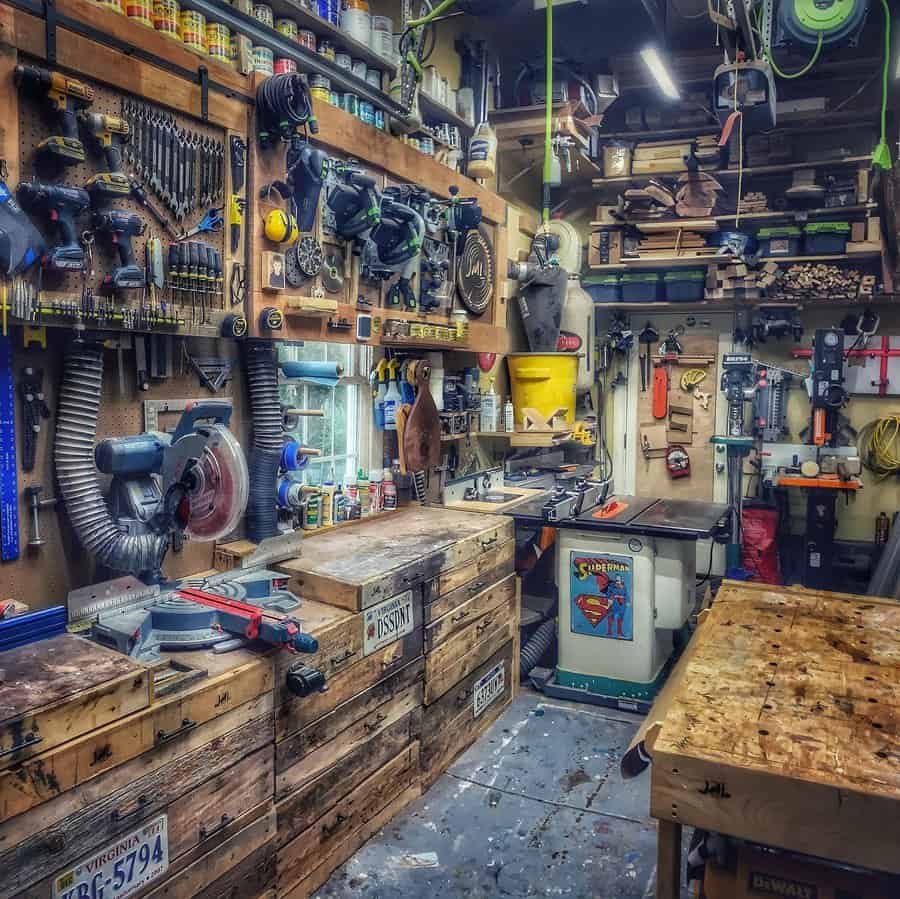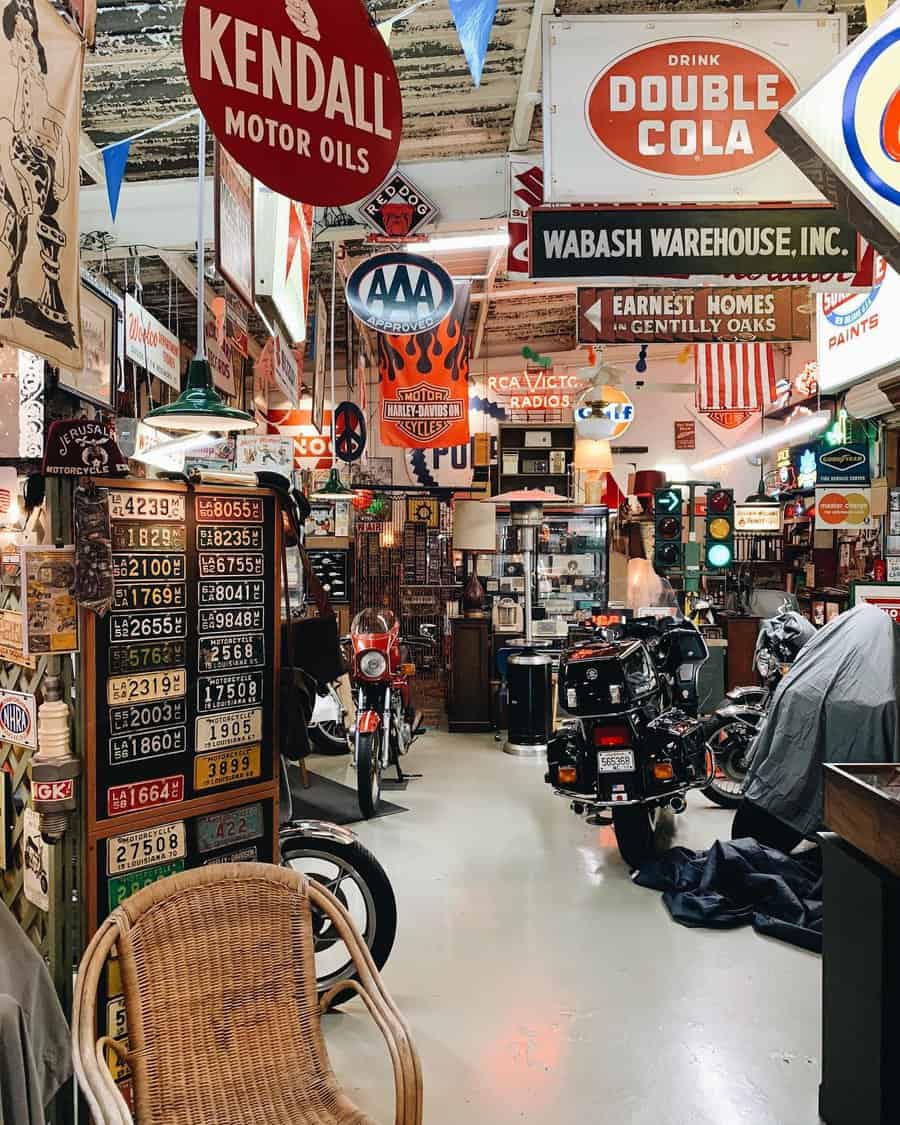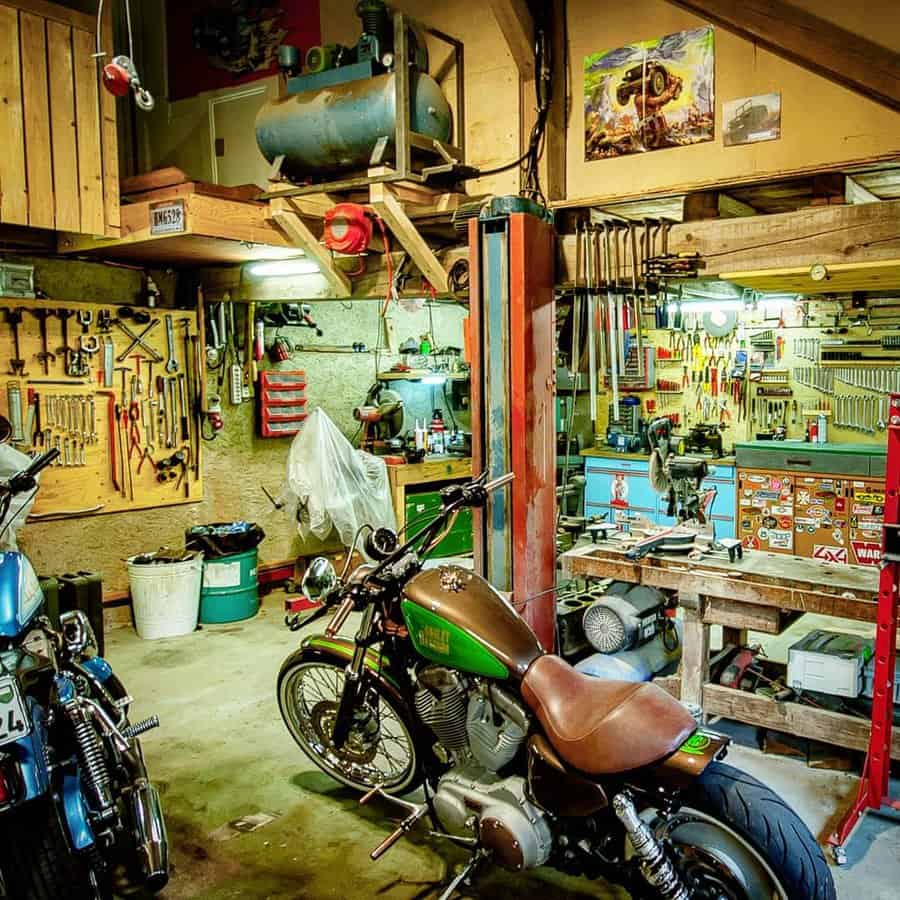 Outfit your workshop with a work counter or desk and a comfortable seat. Then add organized storage solutions for your tools and materials. That way, you'll spend less time hunting for what you need and more time actually working. Don't forget about adding plenty of light and possibly a fan to circulate air.
Garage Man Cave FAQs
What should every man cave have?
Every man cave should have some form of entertainment, a refreshment area, and comfortable seating. If you have a hobby, then it's the perfect place for displaying a collection. Don't forget about creature comforts, such as heating or AC, to make the space comfortable to be in.
What is a good size man cave?
Your man cave can be as big or as small as you'd like. However, if you have an intended purpose for it, then your cave needs to be big enough to comfortably accommodate the furniture and activities you want to do in your man cave. Consider how many people you plan to have over, as this can also influence how large your man cave needs to be.
How do I turn my garage into a pub?
Turn your man cave garage into a pub by giving it a relaxed and welcoming feel. Add accent lighting that will make it dimmer in the cave to mimic the light level in a pub. Build a bar on one side that you outfit with shelving for liquor bottles, a beer fridge, and glassware storage. Add comfortable seating in the form of bar stools, armchairs, love seats, and sofas. Add a TV or bar games to give people something to do while they are drinking.