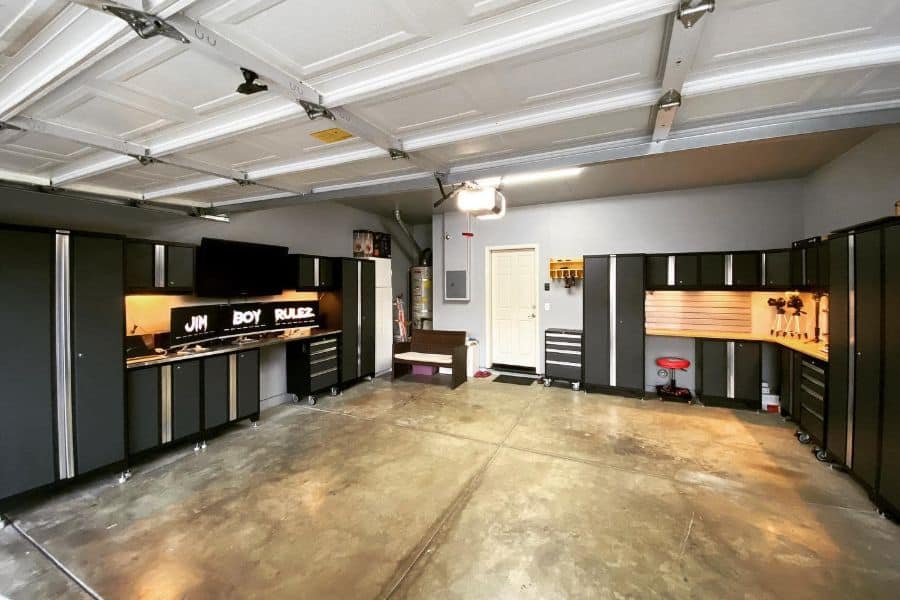 48 Garage Man Cave Ideas and Inspiration
You need a place that you can escape to. It should be a place where you and your best buddies can relax, joke around, and have a good time. It should have privacy so that everyone can drop their guard, be themselves, and have a good time. Did you know that you have the perfect spot for a man cave already built in your home? All you need to do is turn your garage into a man cave.
These garage man cave ideas will have you cleaning out the old boxes and turning your garage into the hang-out place to be.
1. Bar
The classic use for a man cave is to turn it into a private bar area. This is an easy idea to accomplish in your garage. Outfit your man cave bar with a mini-fridge, pool table, kegerator, and beer fridge. Hang bar theme man cave decor on the walls. You could turn it into a sports bar by adding bar stools and flat-screen TVs.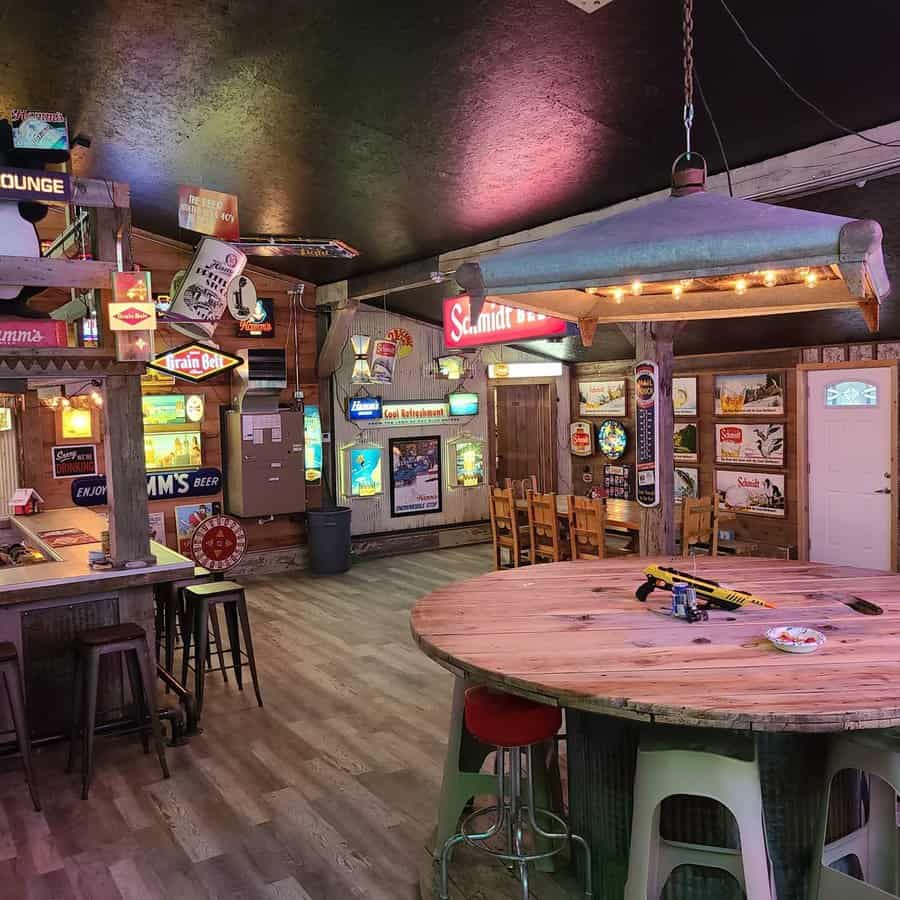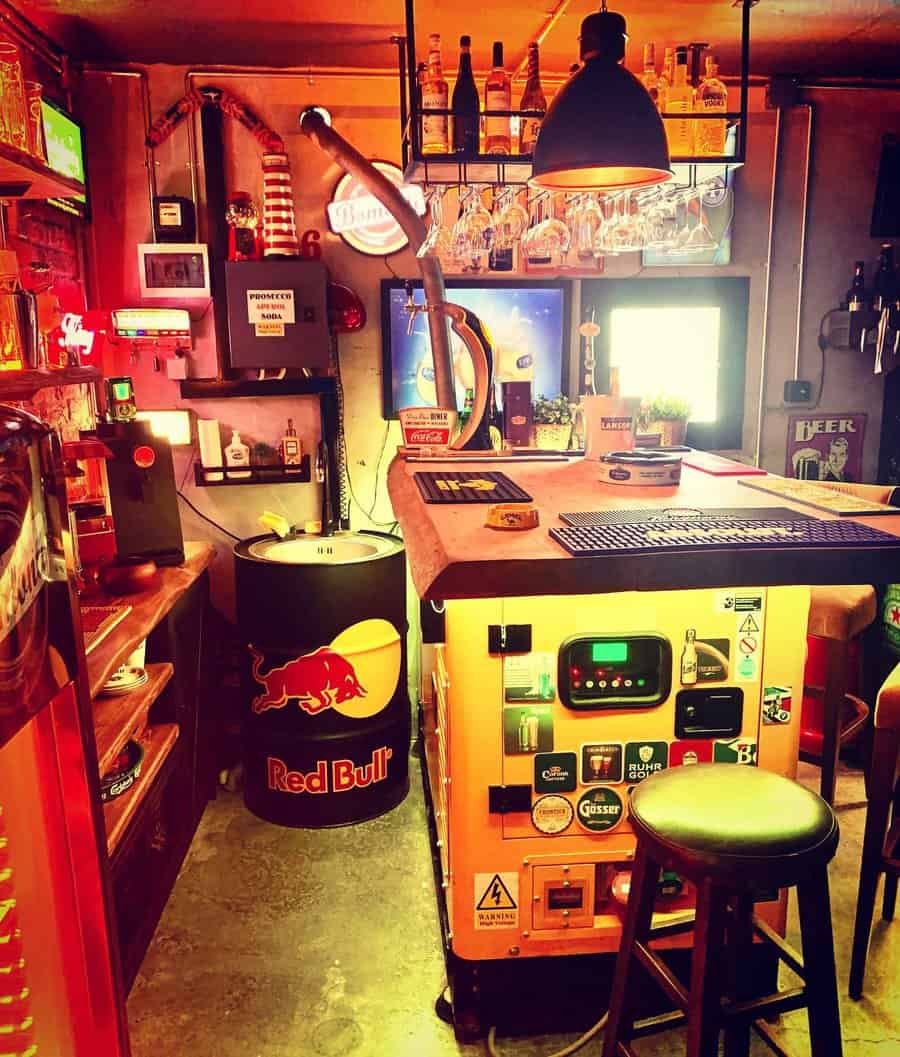 Add a lounge feel to your man cave bar by adding comfortable seating that you sink into. If you have the space, you can arrange a love seat and armchairs around a coffee table.
2. Budget
You don't have to spend a fortune turning your garage into a man cave. With a limited budget, you can get creative and do the work yourself and use recycled materials to build furniture for your man cave. A few free pallets, and you can build a couch, bar, or shelving. An old tire can become a shelf on the wall or the base for a coffee table.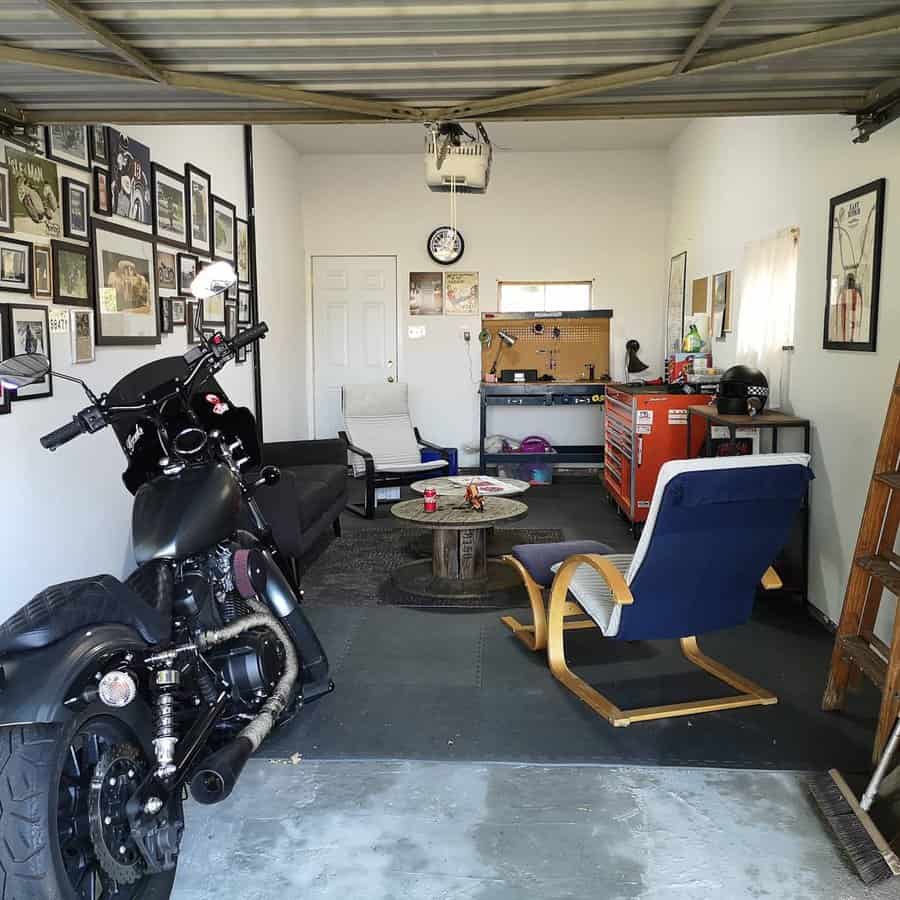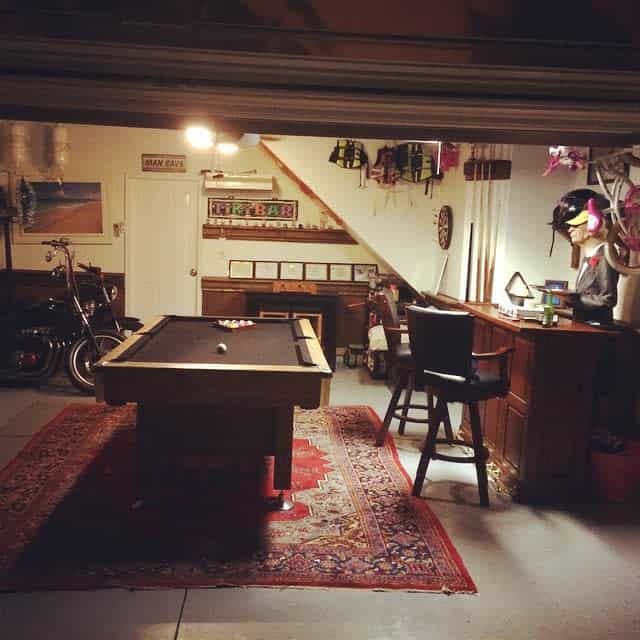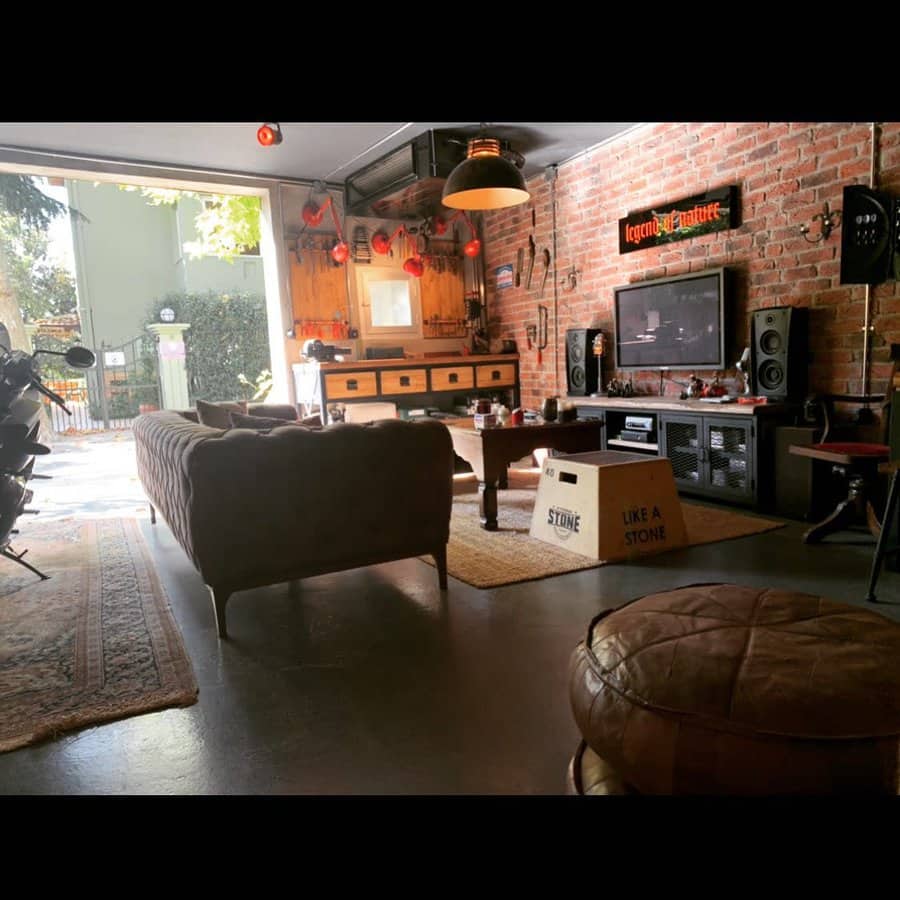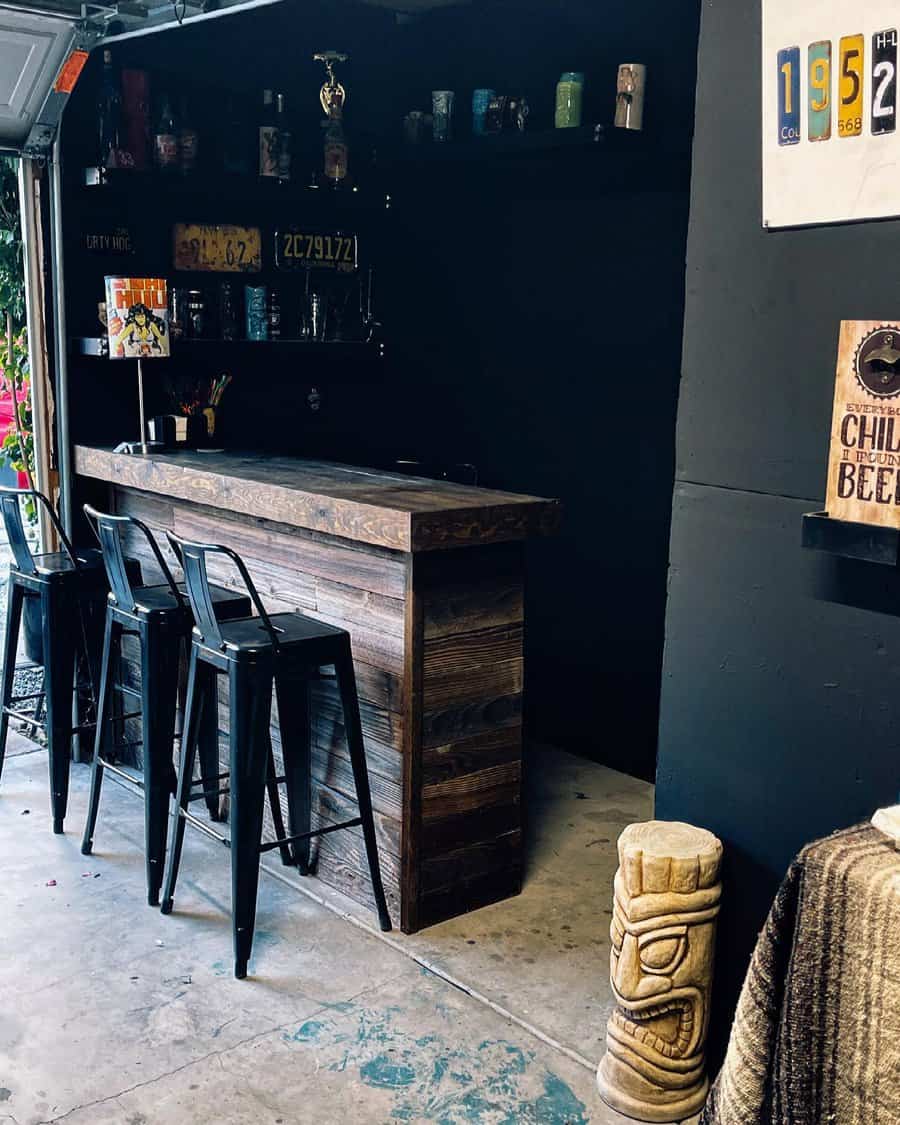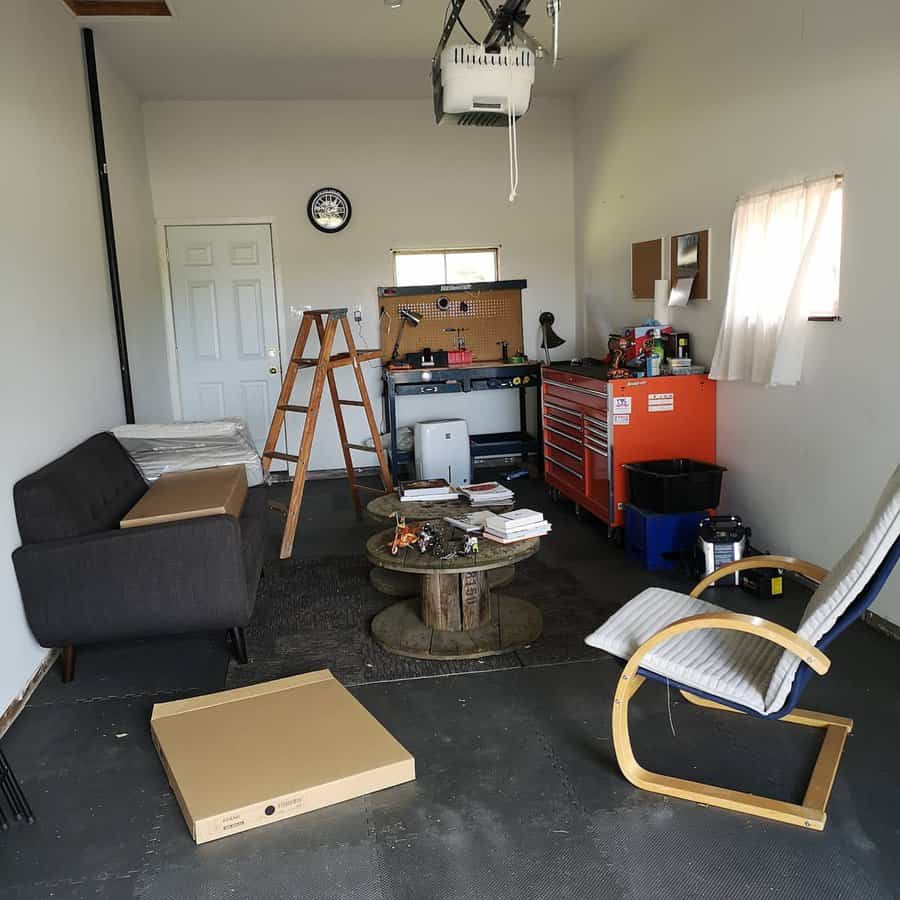 Working with a small room, scale the furniture and decor to the size of the room. This can help you save money by buying small pieces. You can also look for pieces that are multi-purpose. Try to use materials that you already have from your hobby. This saves you money and is built-in decor.
3. Car
Sure, your garage is supposed to house your car. But that doesn't mean you can't also use it as your man cave. If your passion is cars, then you can have the best of both worlds in your man cave. Choose man cave furniture that works with your car hobby. This could be a low stool on wheels or a bench that you can fold out of the way.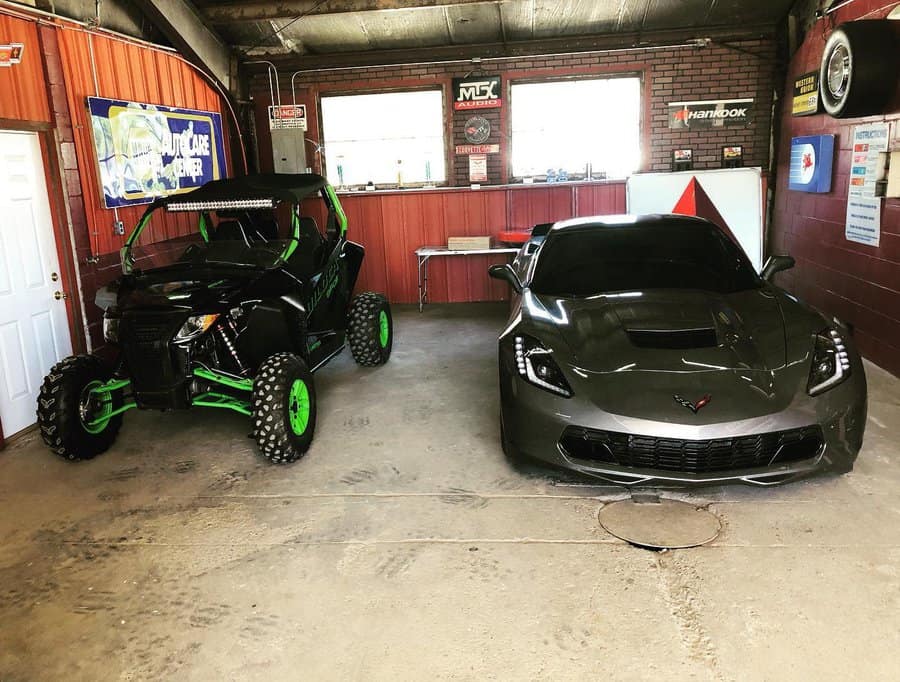 Unlike other man cave ideas on this list, your garage conversion should be minimal. Upgrade the flooring to something that's durable and easily cleaned. Add lighting that can illuminate your parked car so that it becomes a showcase centerpiece in your man cave.
4. DIY
Doing all of the work yourself gives you a sense of pride and accomplishment. Converting your garage into a man cave is much easier than a basement. All you need is some basic home improvement experience. Start by looking at cave garage ideas to get inspired and find a design that you want to emulate.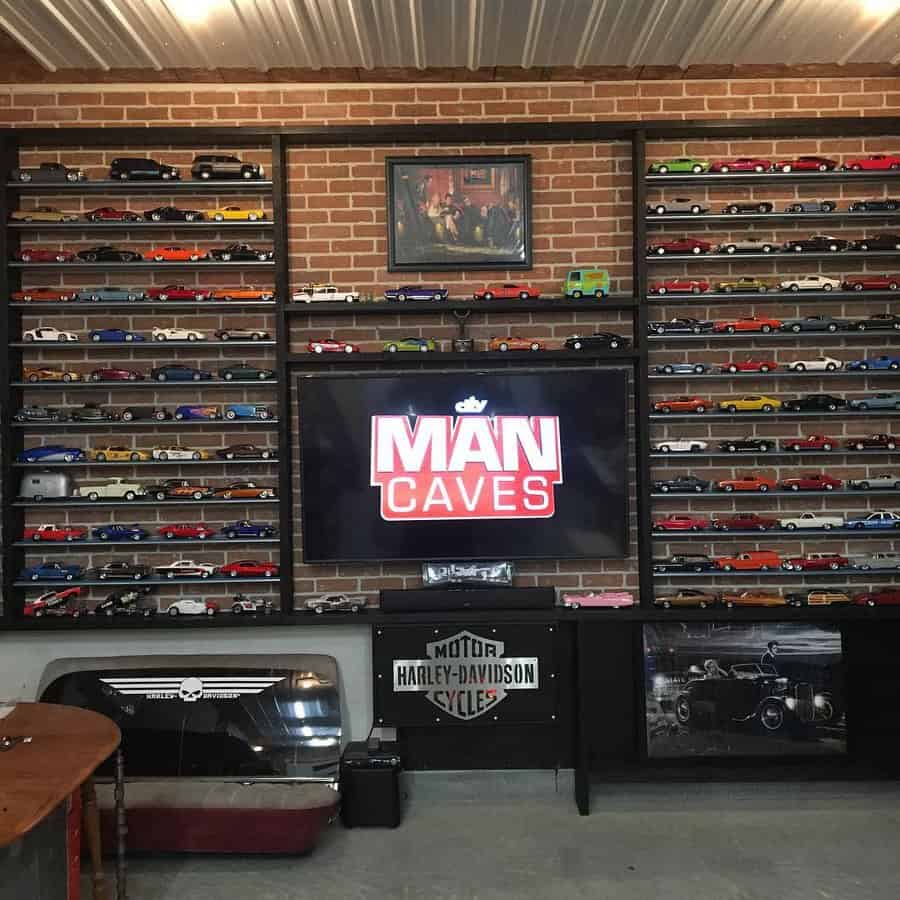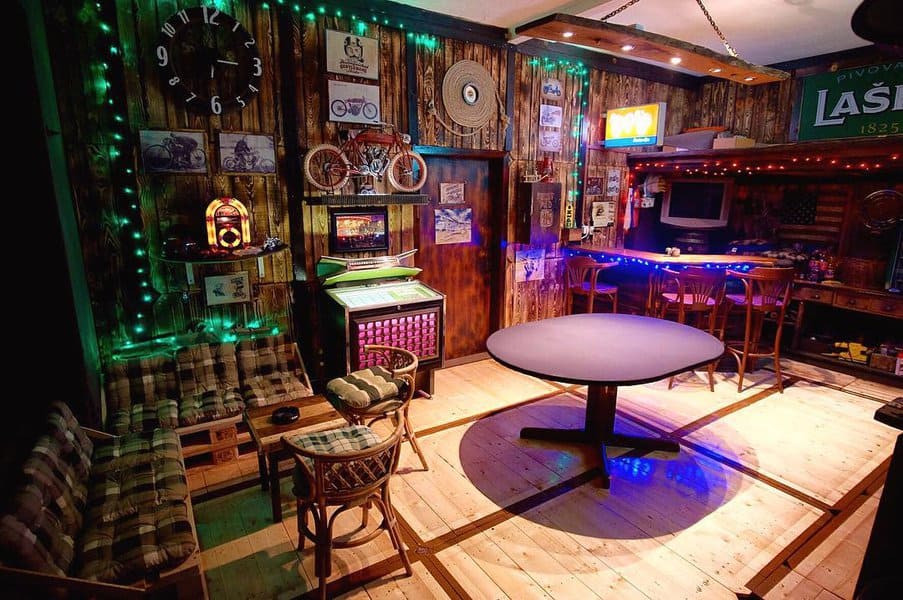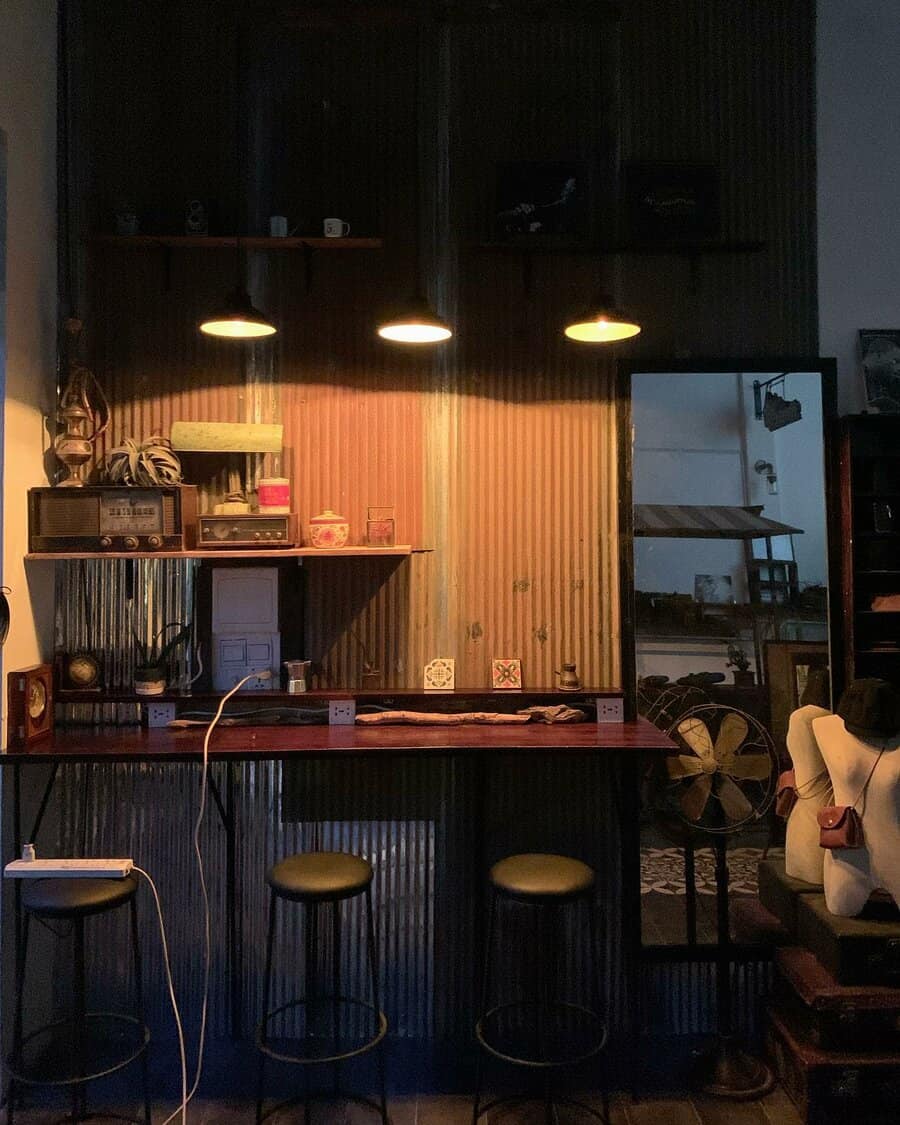 It helps to start in one spot and work your way through the garage. This could mean starting at the bottom of the garage floor. Or you could start at the back and work your way out towards the garage door. Doing this breaks up the project into small pieces, making it more manageable.
5. Design
Do more than the basics of adding flooring and furniture. The best man caves take things a step further with wall decor. Your man cave design should reflect your interests, hobbies, and passions. Hang decor on the wall that reflects who you are. Choose furniture that has a theme to it.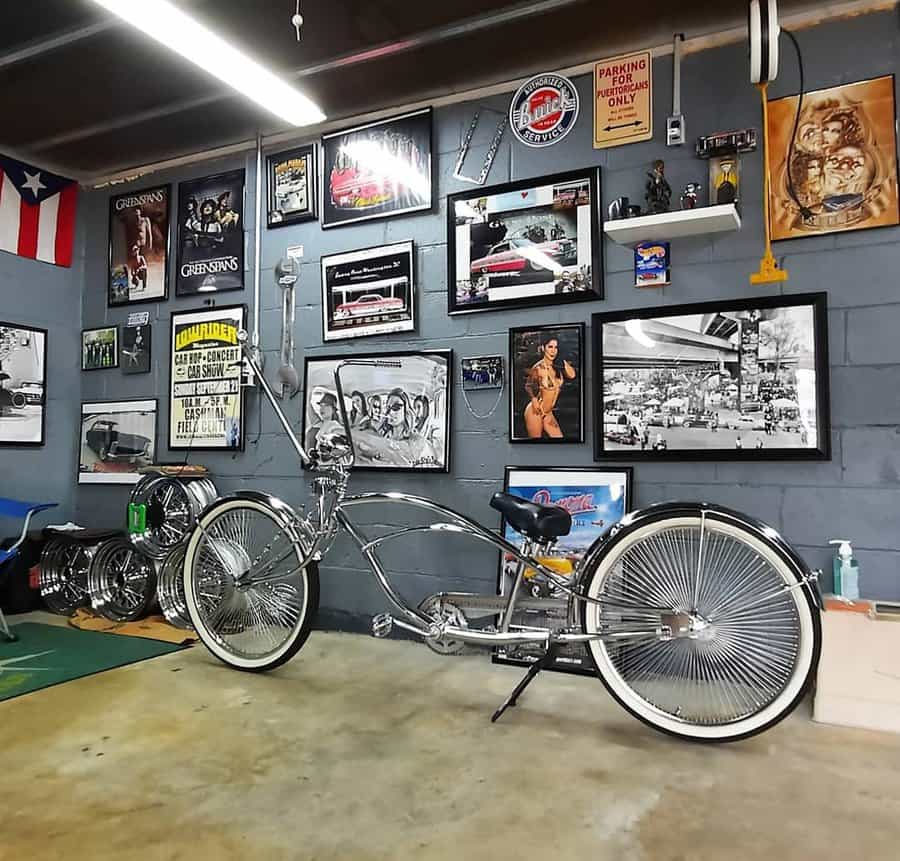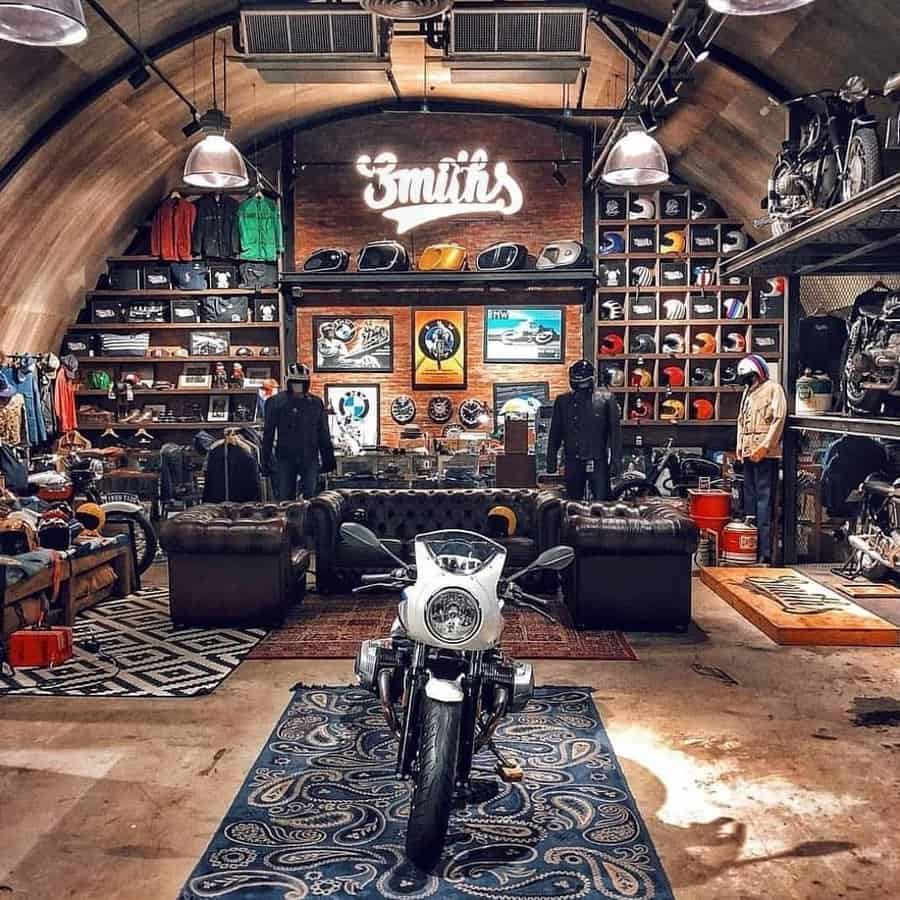 Your man cave is a chance to be in complete control. Choose furniture that your wife wouldn't allow in the house. Hang that funky light that doesn't make sense anywhere else. Add a floor-sized logo of your favorite motorcycle manufacturer. Lay down a carpet that looks like a football field. Choose chares that look like racing seats. Use baseball bats for the railing on the stairs. As you can see, there are no limits when it comes to the design of your man cave.
6. Flooring
Your garage probably has a concrete floor. If you've been using your garage for parking vehicles, then it's stained with fluids and dirty from your tires rolling on it. You'll need to give it a good cleaning before you start using your garage as a man cave. First, this is unsanitary and can be harmful to your health. Second, it probably doesn't smell great, which will make being in your man cave unpleasant. Use a cleaning agent to scrub the floor or a pressure washer to give your floor a good cleaning.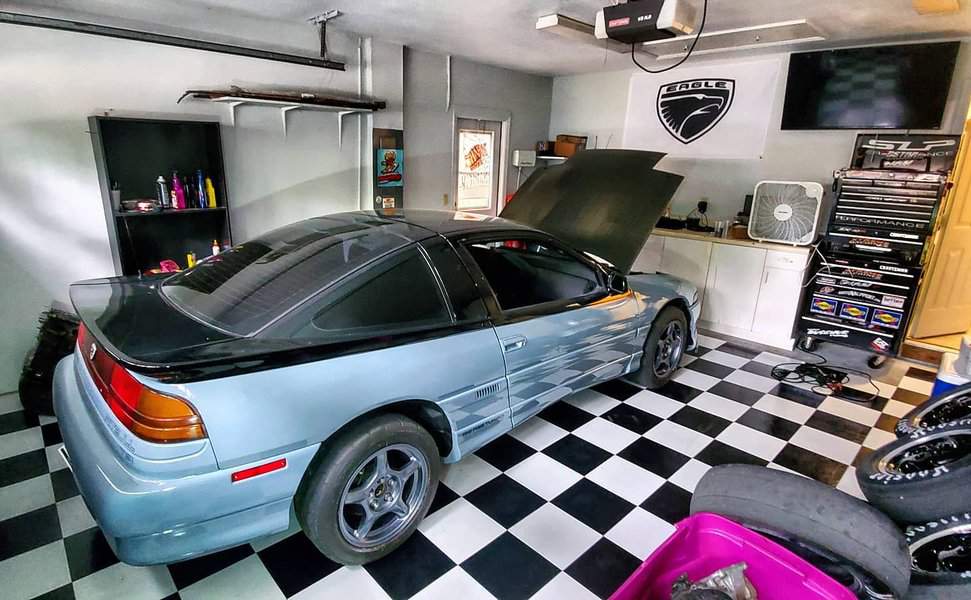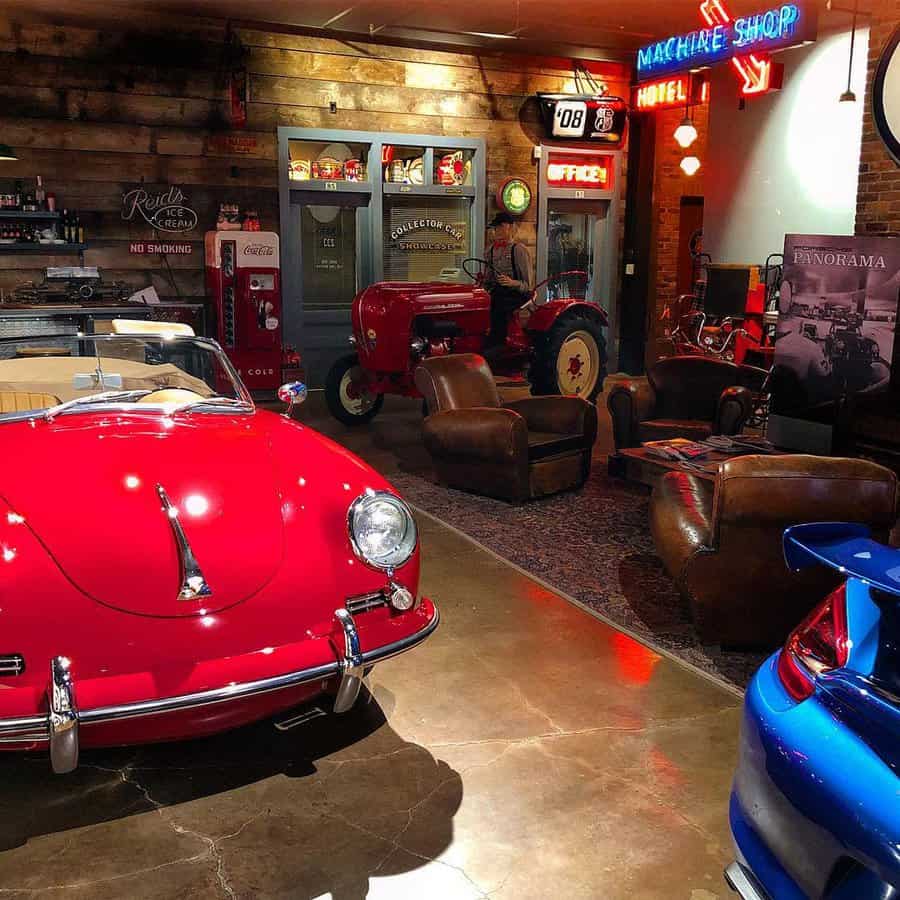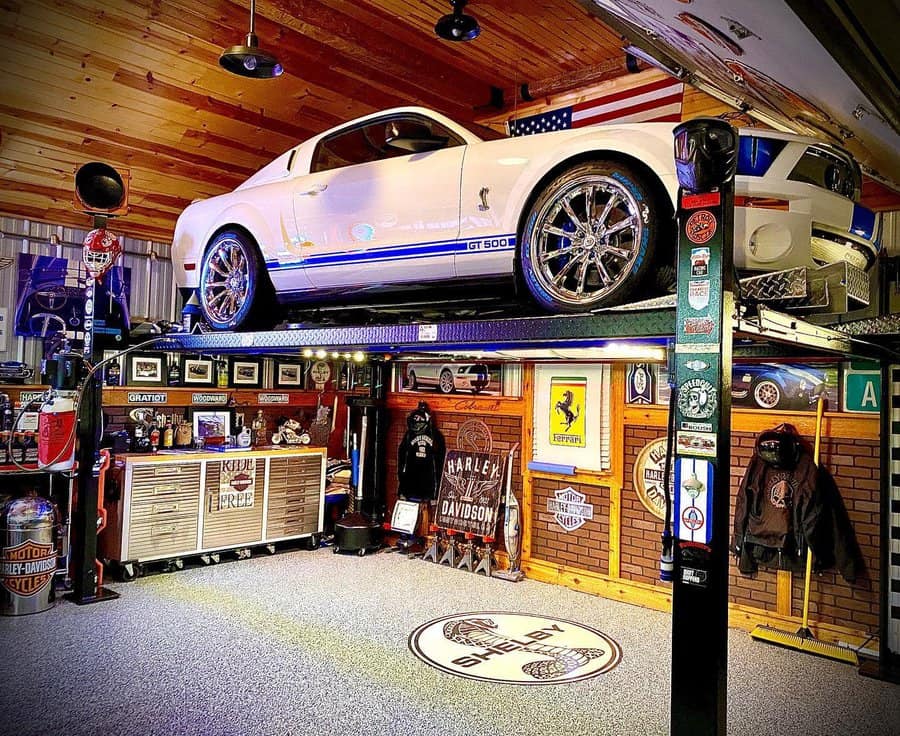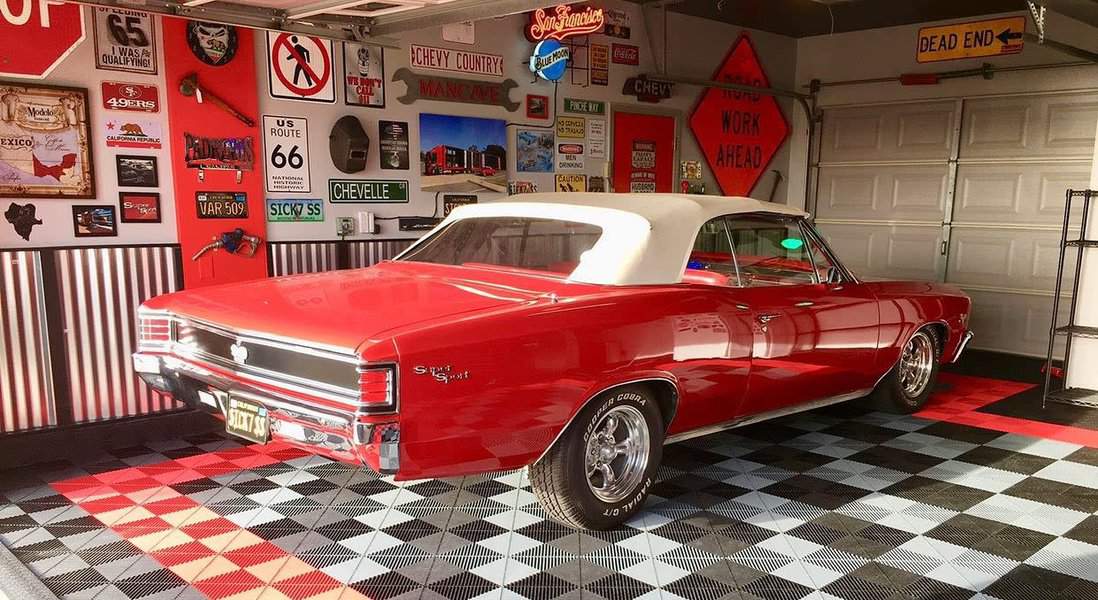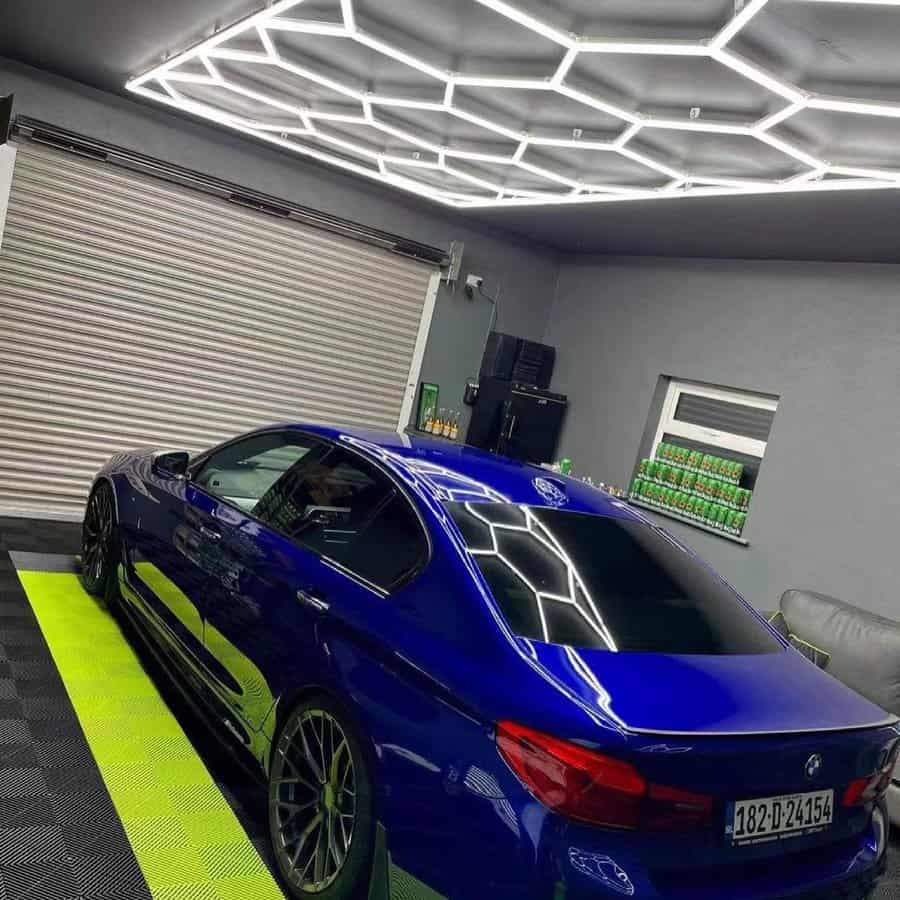 Instead of leaving the concrete bare, add flooring on top of it. This dampens the sound and gives your garage an interior room feel. Laminate or vinyl plank flooring can elevate the look of your garage. Carpet will feel soft and create a living room feel. A PVC or rubber interlocking tile will be durable and strong, making it perfect for use in a garage where you plan to still use your garage as a typical garage.
Read more: 26 Garage Flooring Ideas
7. Game Garage
Do you love video games? Then turn your garage into the ultimate gamer den. You'll need to insulate and are condition the space so that your sensitive electronics are protected. Add soft indirect lighting that creates the right ambiance in your game room. You don't want to be sitting in complete darkness, but it shouldn't be too bright either. Try using colored LED strips along the floor, under the furniture, or along the ceiling. This puts the light out of your direct line of sight.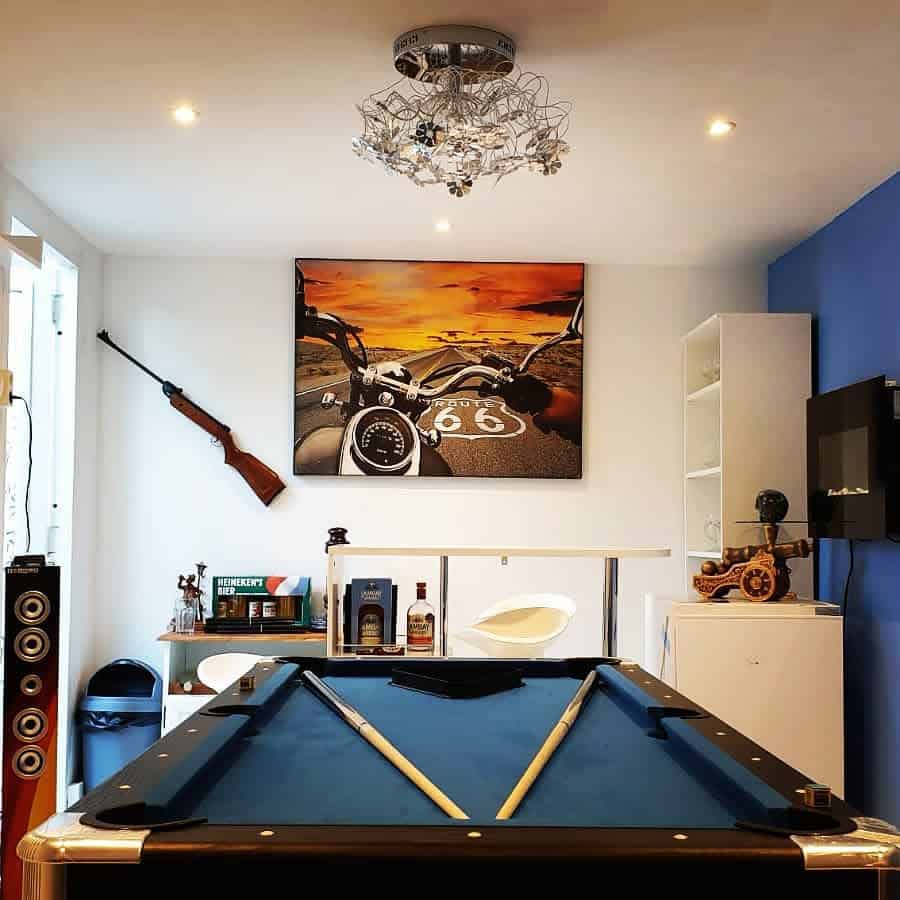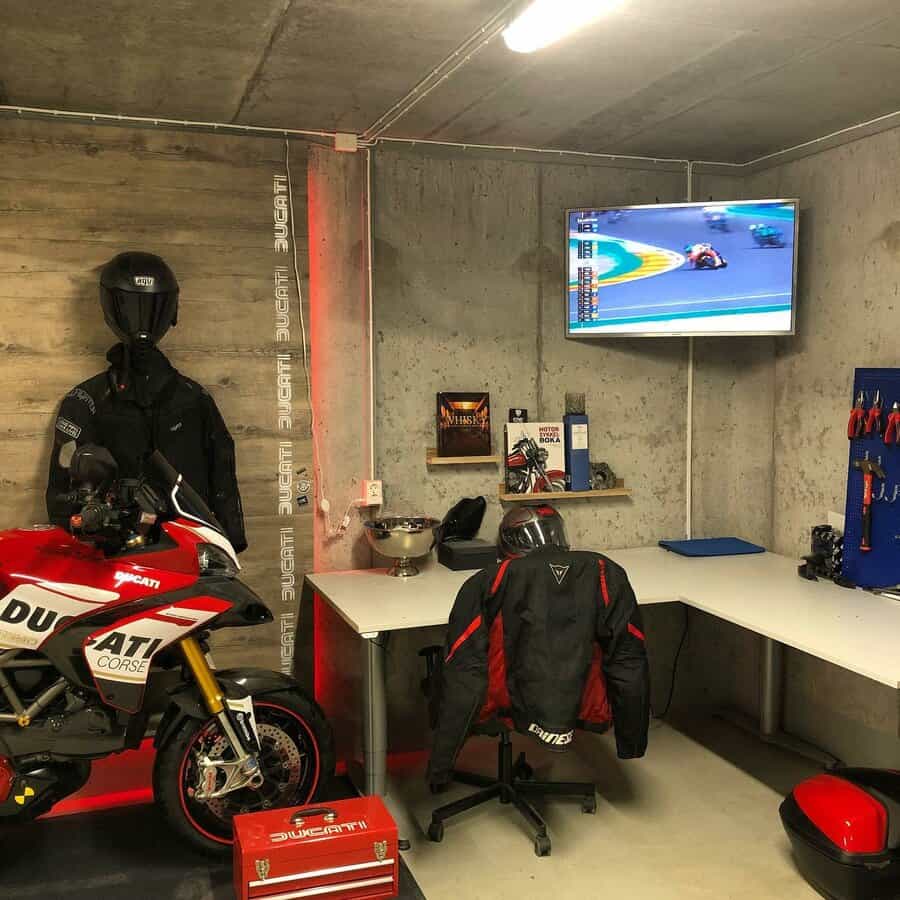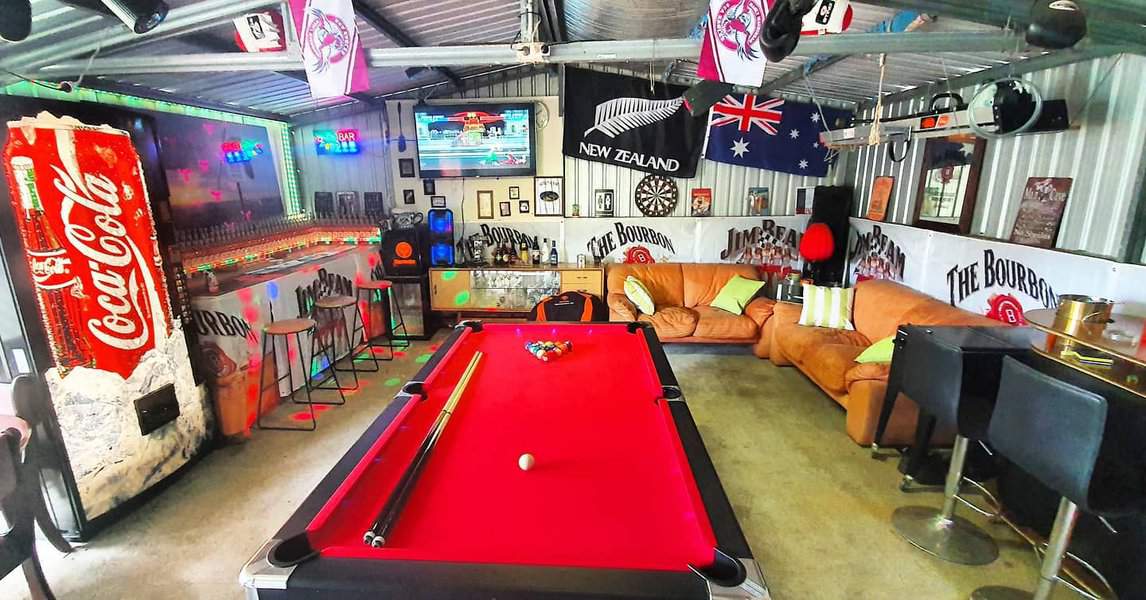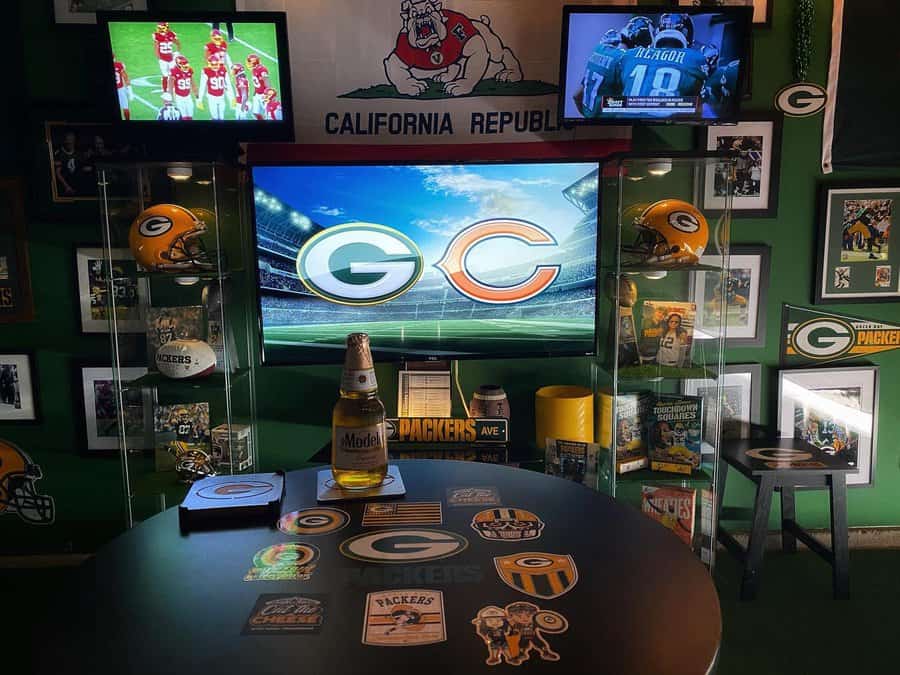 Not all games have to be video games. Some games are more interactive. A golf simulator could let you practice your swing during the winter months when hitting the green isn't possible. Or you could have interactive games that encourage your friends and family to join you.
8. Half
If you can't give up your entire garage to your man cave, then try only using half of the space. Then you can park your car on one side and have a man cave on the other. This approach works great for home gyms.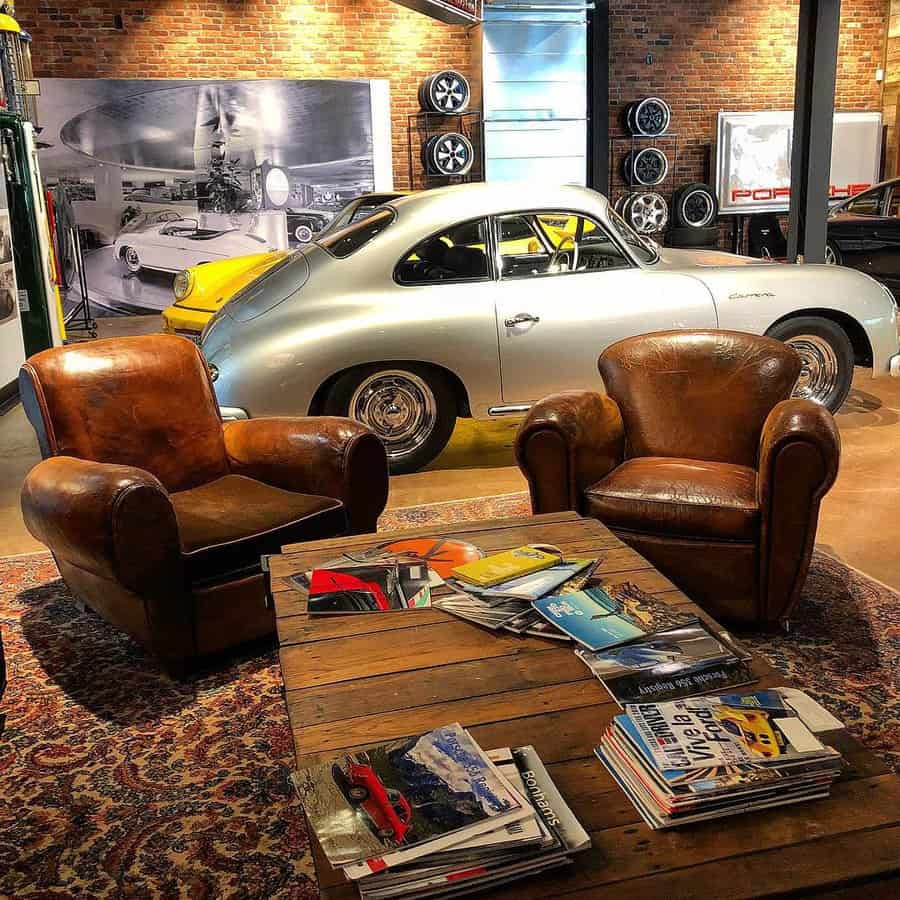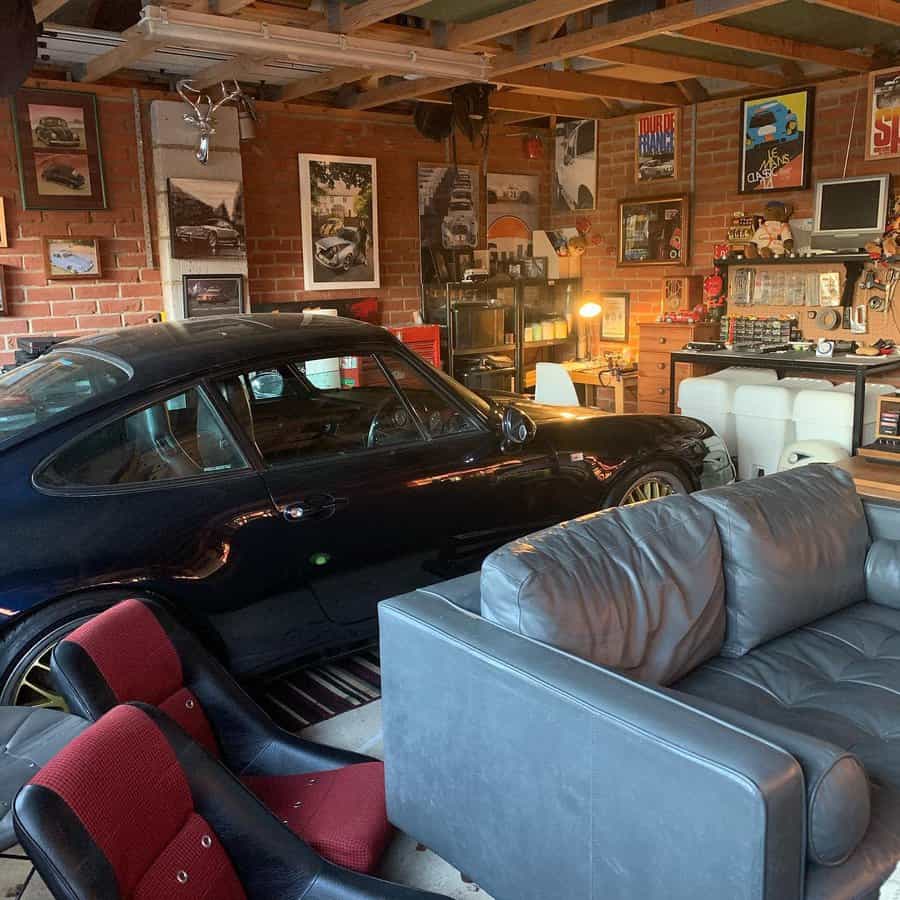 Lay down rubber mats or rubberized interlocking tiles. This will cushion your gym equipment and your body while working out. Then arrange your machines, free weights, or other equipment on the mats. Paint the wall with chalkboard paint for an easy place to keep notes on your workout routine or weight sets.
9. Mezzanine
Not all garages can support a mezzanine. You need to have a garage space that is two stories or at least has a very high peaked ceiling. Then you can build a loft platform along one garage wall with stairs that lead up to it. The raised platform makes for a perfect man cave garage because it has some built-in privacy. It also lets you continue to use the floor space for typical garage uses, like parking your car.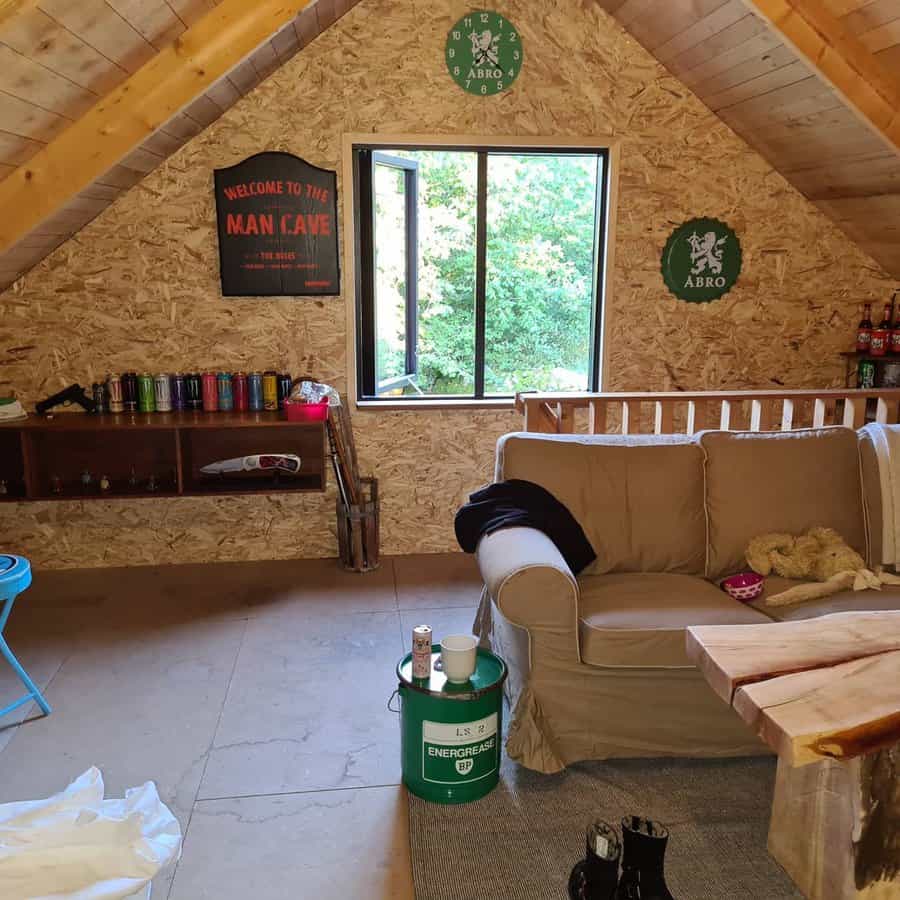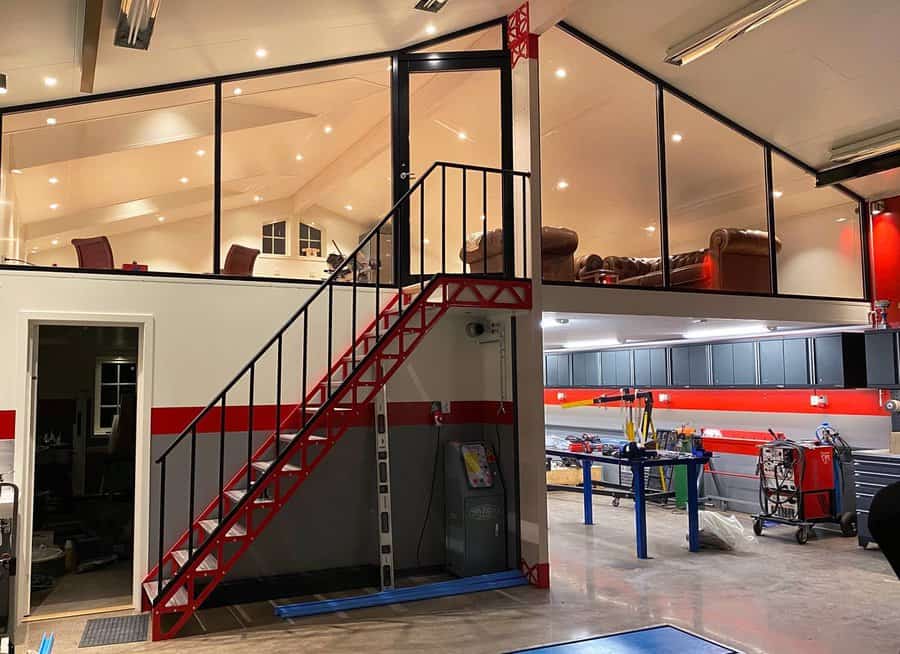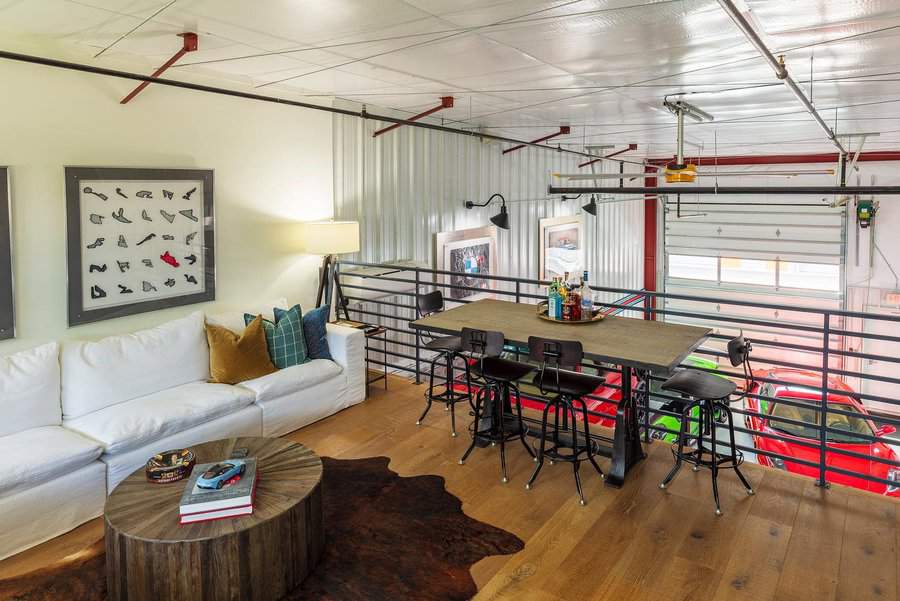 You won't be able to do a lot with the limited space, but you can add a sectional sofa, coffee table, and TV. Add a mini-fridge and Bluetooth speaker, and you have a chill hang-out spot.
10. Modern
Modern garage caves don't look anything like a typical garage or man cave. They almost look more like a living room. Start with a smooth polished or stained and sealed concrete garage floor. Add decorative modern light fixtures. Aim to have three layers of light so that you have ambient, task, and accent lighting.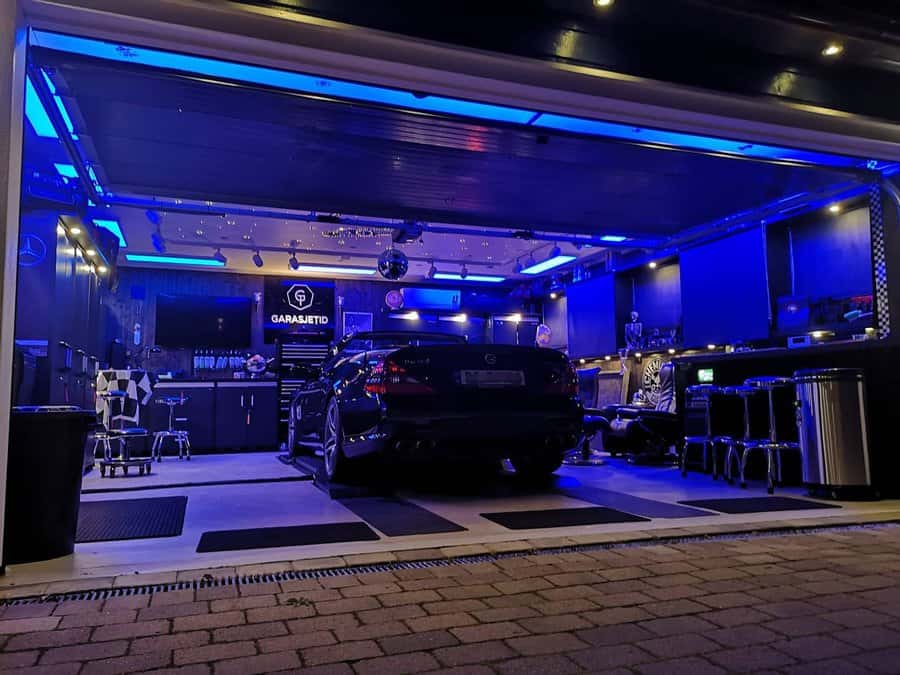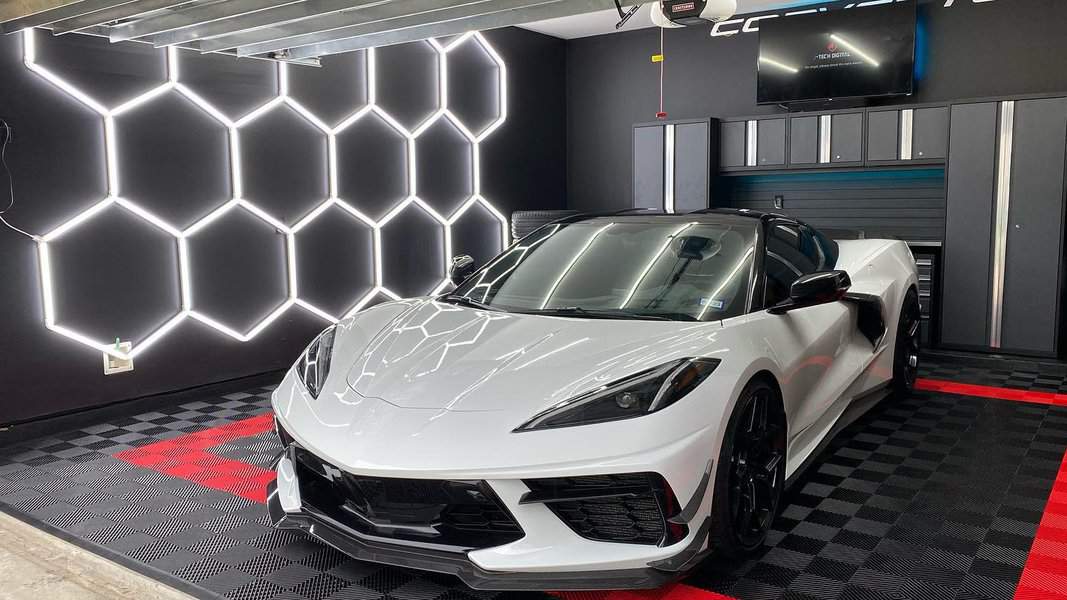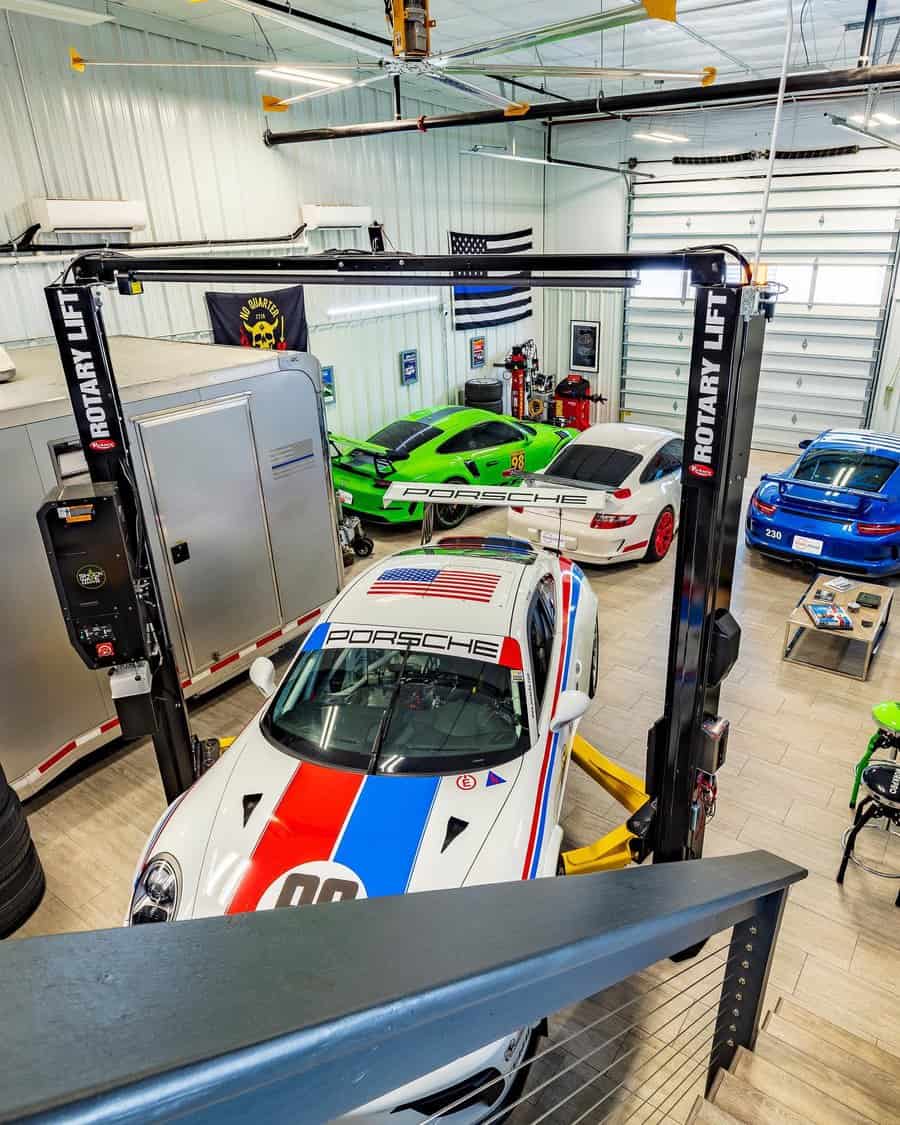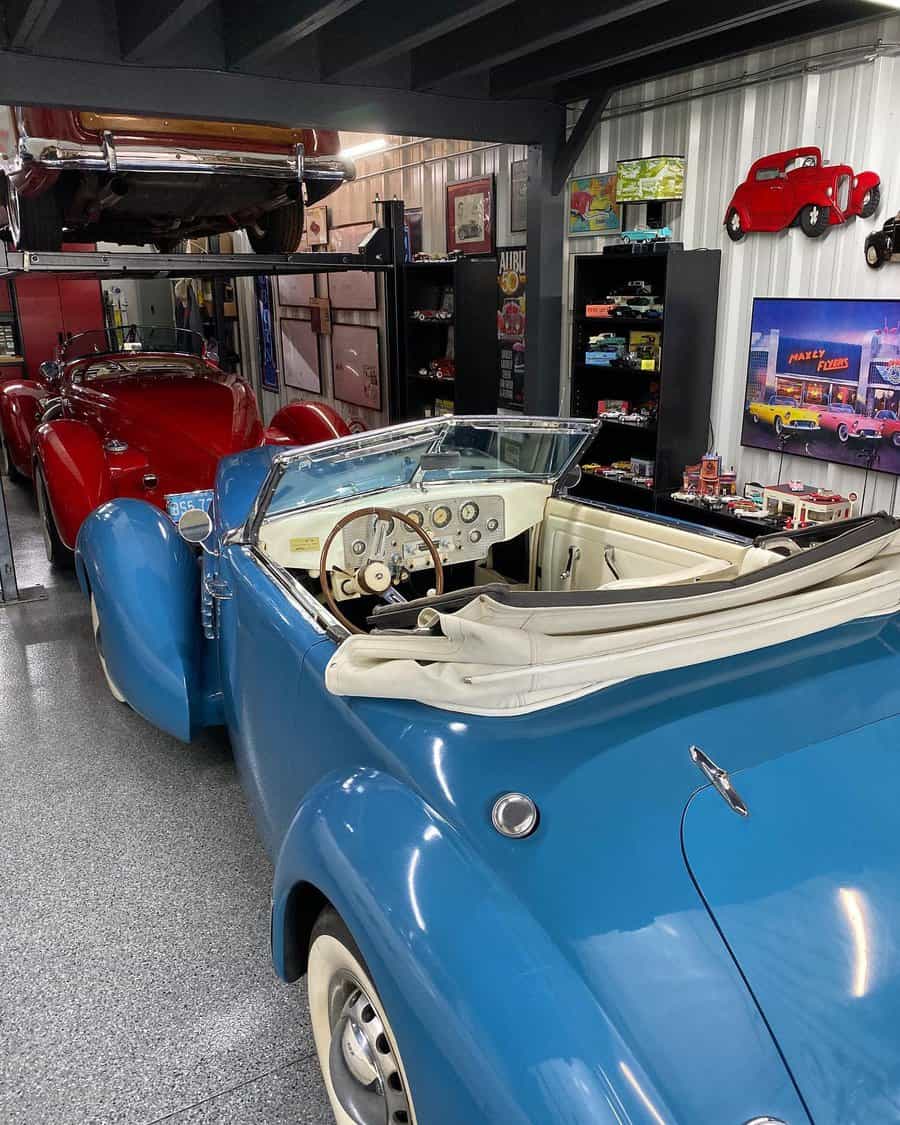 Choose modern interior furniture for your modern man cave. Keep the color palette neutral with plenty of white, black, grey, and beige. Use a combination of materials, such as concrete, wood, and metal. Skip the decor and leave the walls blank or choose a single focal piece.
11. Motorcycle
If you love to ride, then turn your garage into the ideal rider escape. Add a motorcycle lift that makes it easy to work on and clean your bike. Add race stands for quick tasks. Mount a wheel chock to the floor for a secure way of parking your motorcycle in the garage. If you're like most riders, you have friends who also ride, so you could mount more than one chock to accommodate multiple bikes.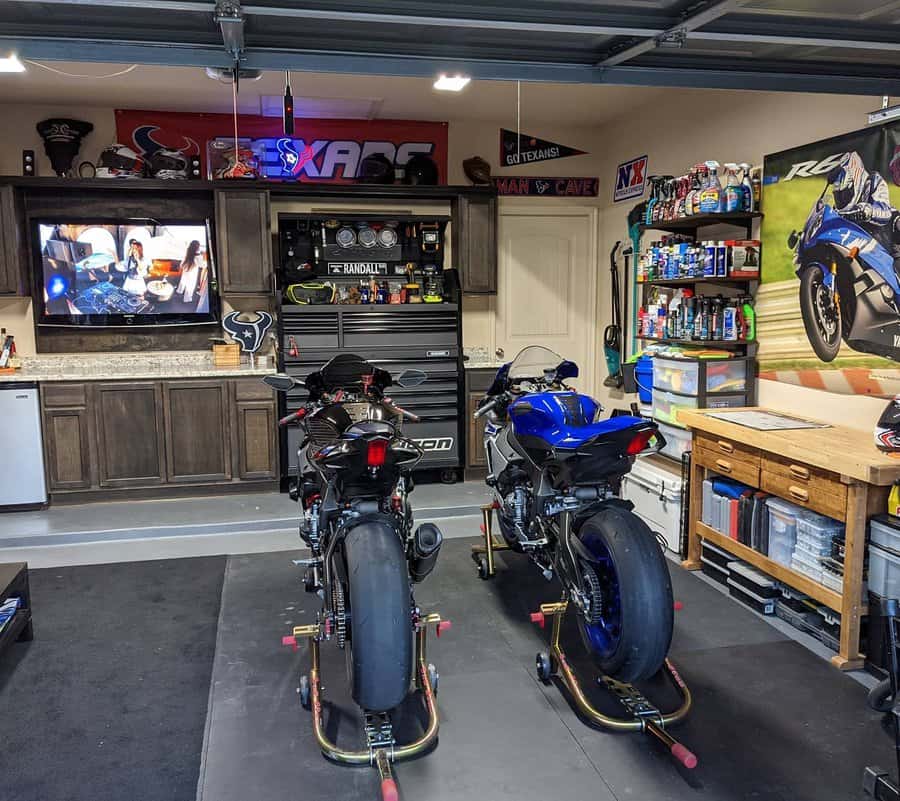 Add a gear rack on one wall. It could have a shelf for your helmet, boots, and gloves. Then underneath, it should have a rail that you can hang your jacket, armor, or exoskeleton from. If you go this route, you should also consider having your garage air-conditioned or temperature-controlled in some way. Extreme temperature changes and humidity can weaken the integrity of your gear and shorten its useful life.
12. Rustic Barn
If your garage is separated from your house, then why not give it a rustic touch by turning it into a barn. This is a perfect idea if you live in a more rural area where a barn would be an expected sight. Give the exterior a wood panel finish. Replace the builder-grade garage door with one that looks like traditional barn doors. You can also paint your existing door to look like wood barn doors for an affordable alternative.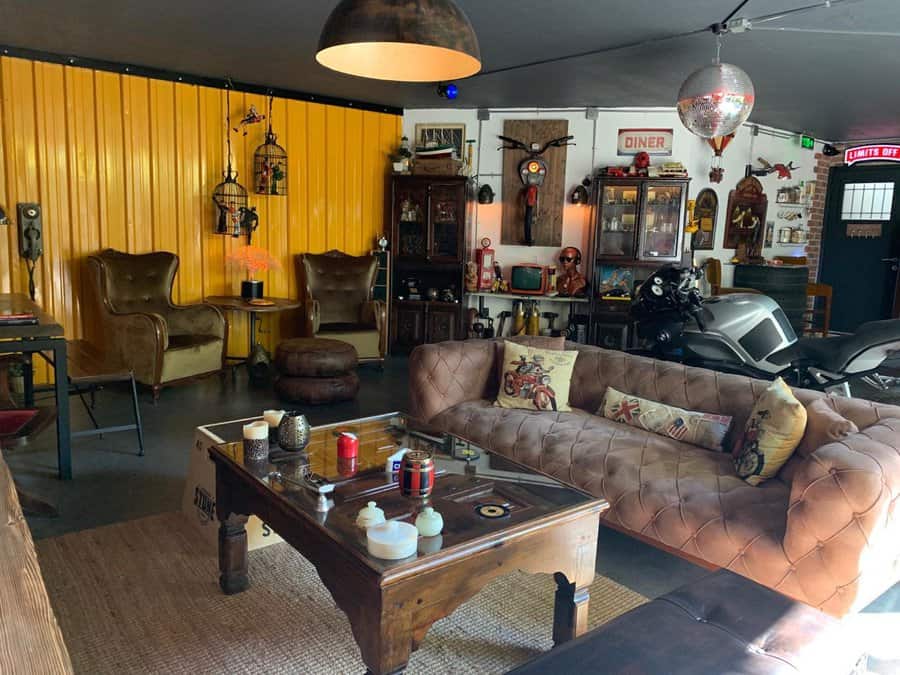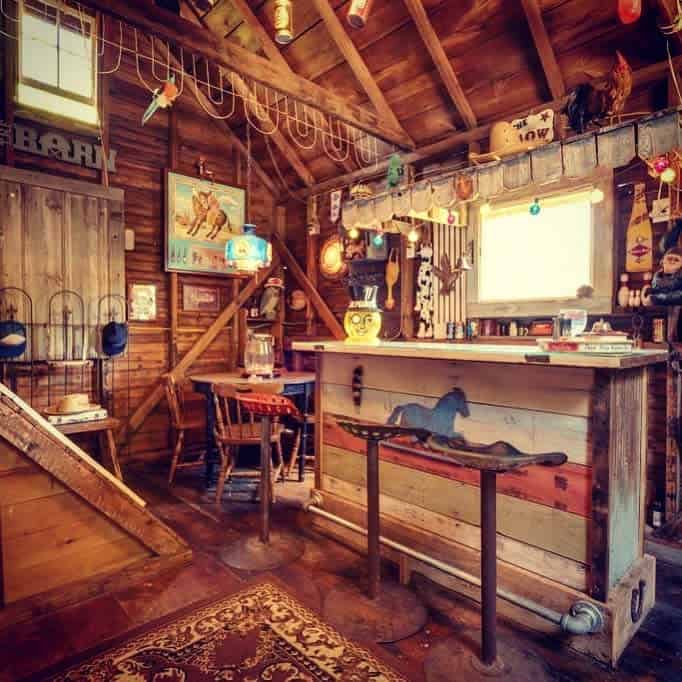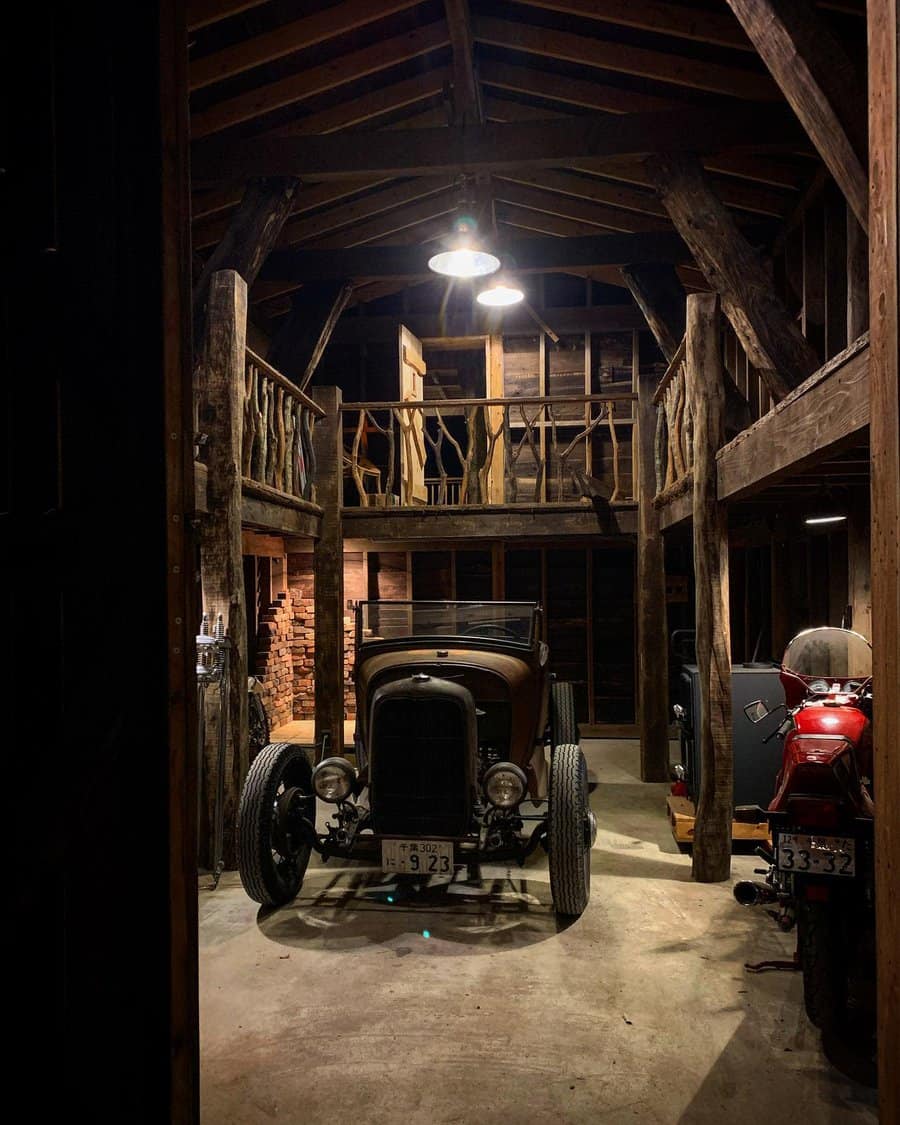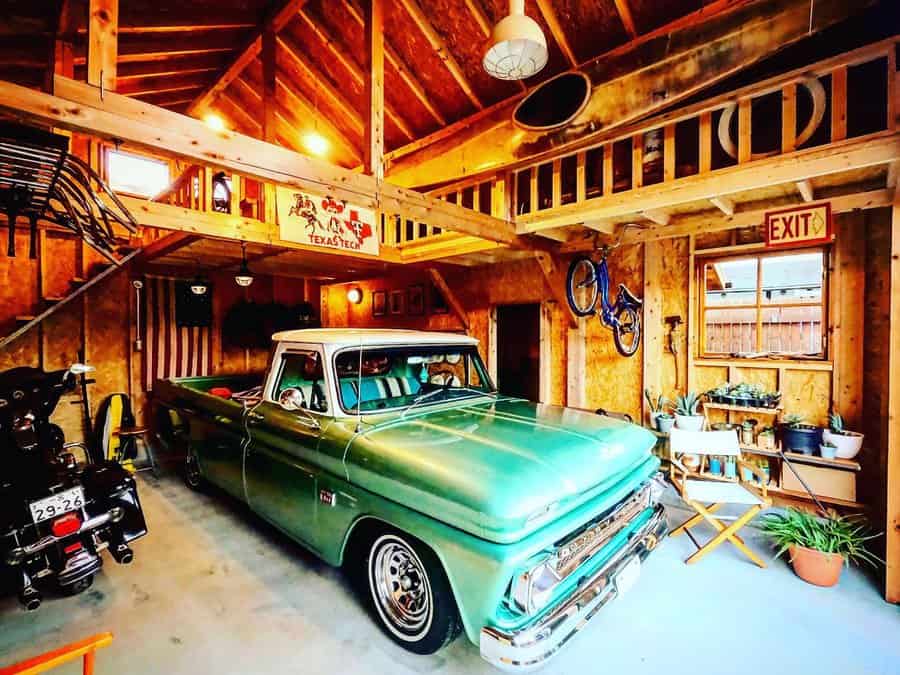 Complete the look by giving the inside a wood finish. Cover the ceiling with wood planks. You could add large wood beams. Remember, a peaked roof is a must for an authentic barn feel. Add small windows up high to bring in plenty of natural light.
13. Storage
Let's face it, most of us could use more storage space. Your garage can become your personal storage unit that's just steps away from your home. All of your items are readily within reach, and you won't have the extra cost of renting a storage unit. Your garage is also much larger than the average storage unit, meaning you can put a lot more in it.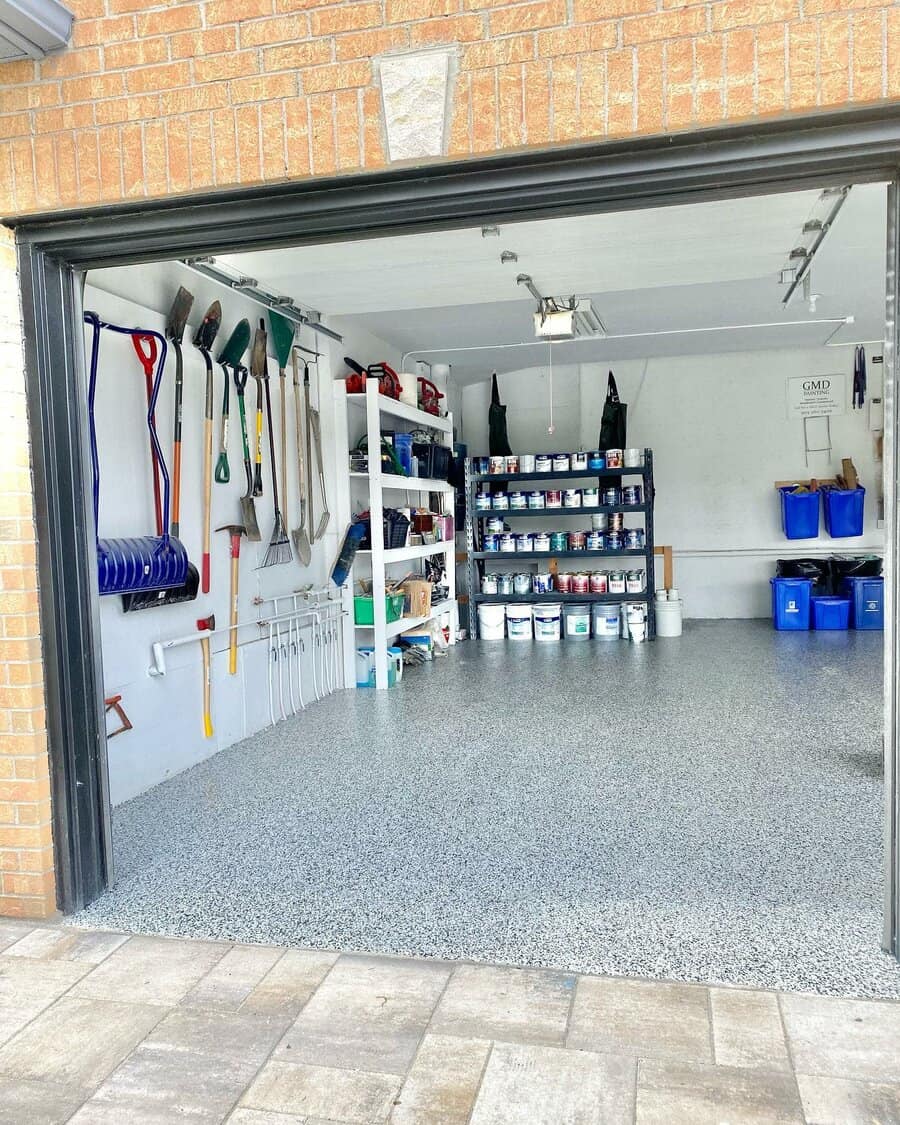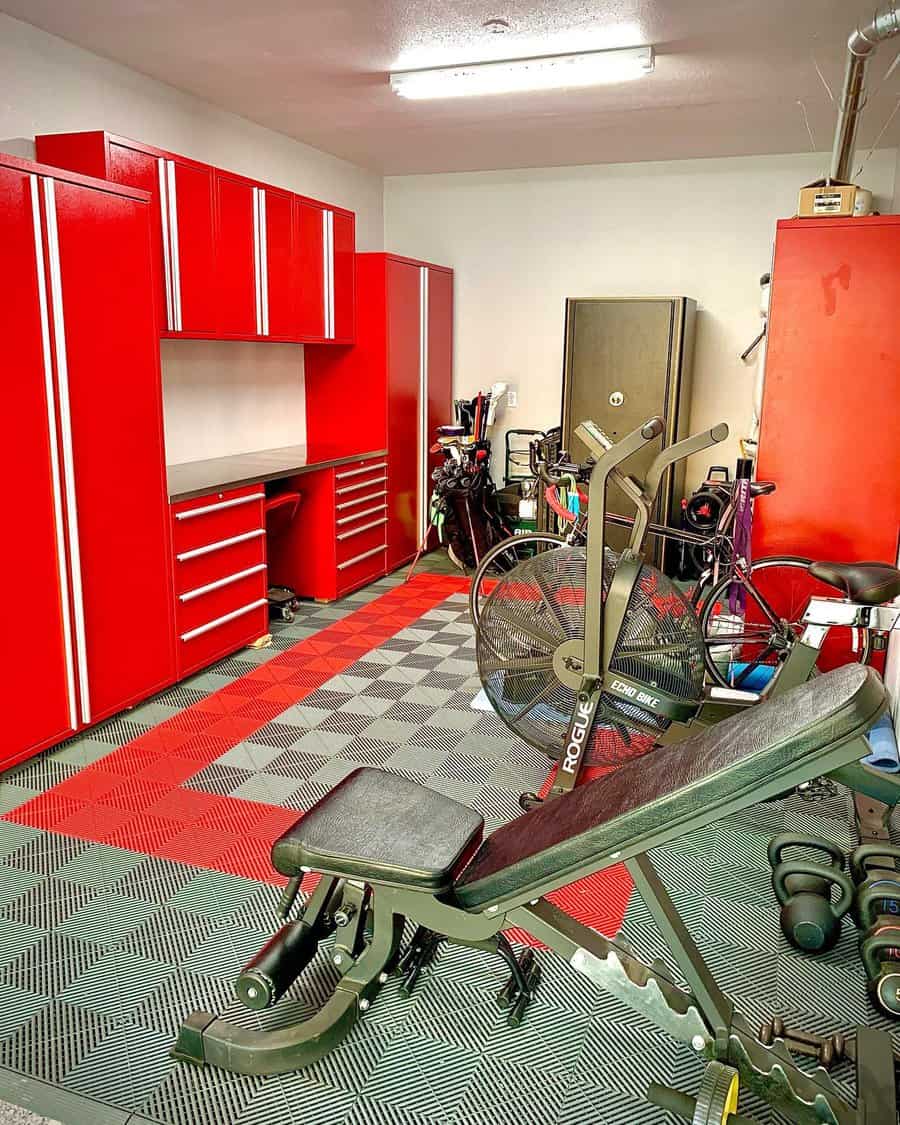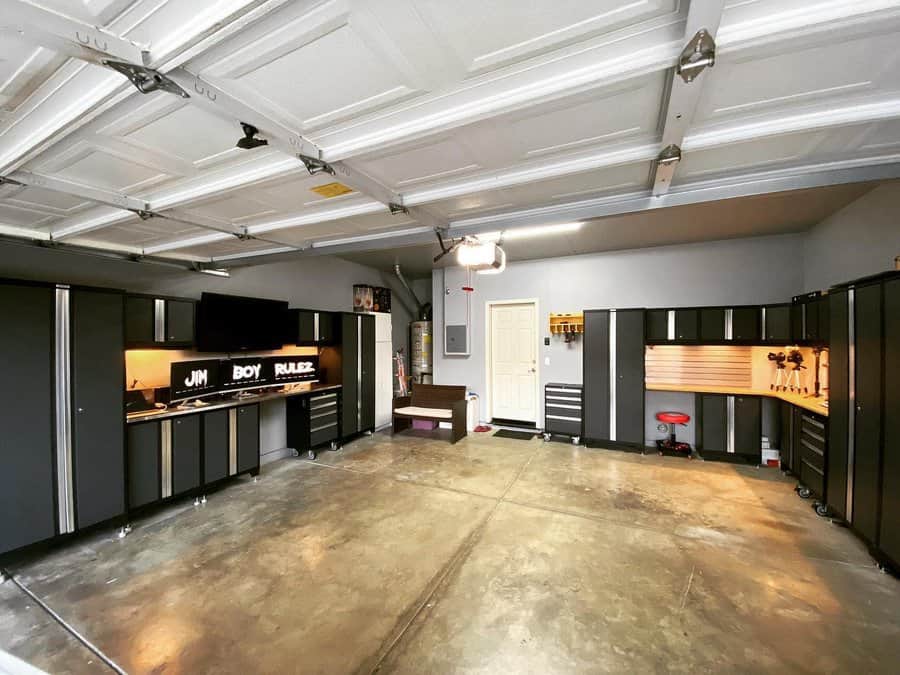 Add large racks that you can place storage boxes on. Label the boxes to make it easy to find what you need. Utilize as much of the vertical space as possible. You could even mount hanging racks from the ceiling that go over your car.
14. Workshop
A garage is a perfect spot to turn into a hobby shop. Escape to your garage and spend hours tinkering away at your favorite hobby. It could be painting miniatures, building ships in bottles, or intricate wood carvings. Whatever your passion is, keeping it in the garage ensures no one accidentally interferes with your latest project.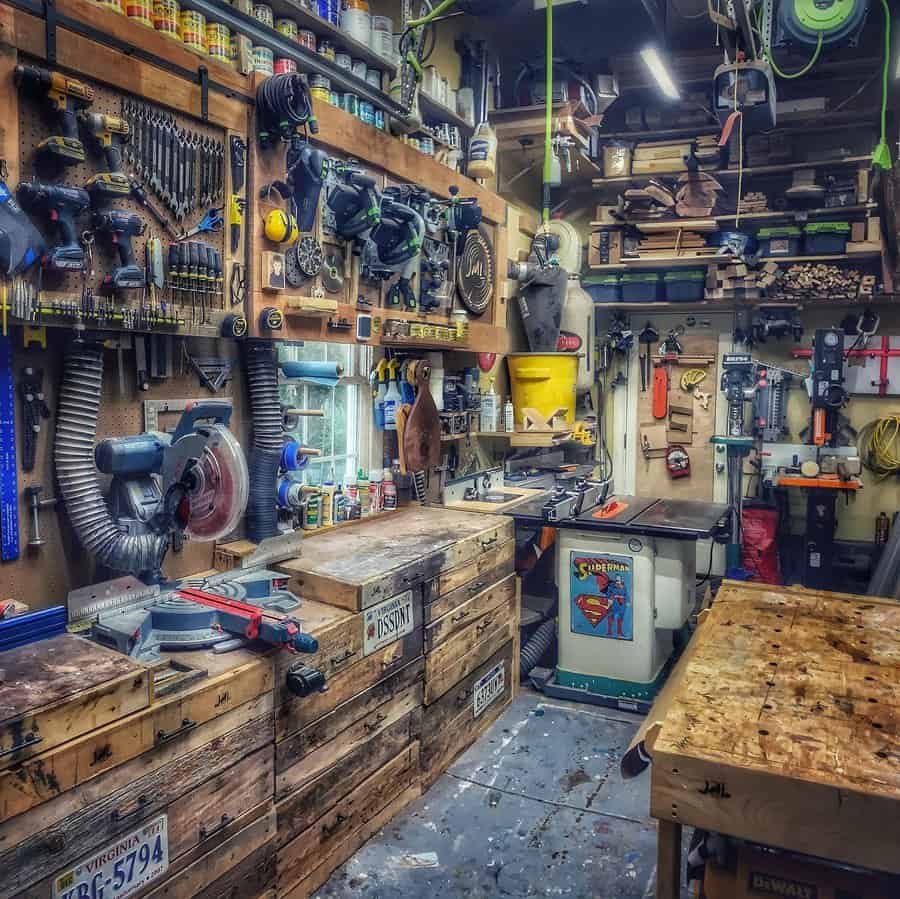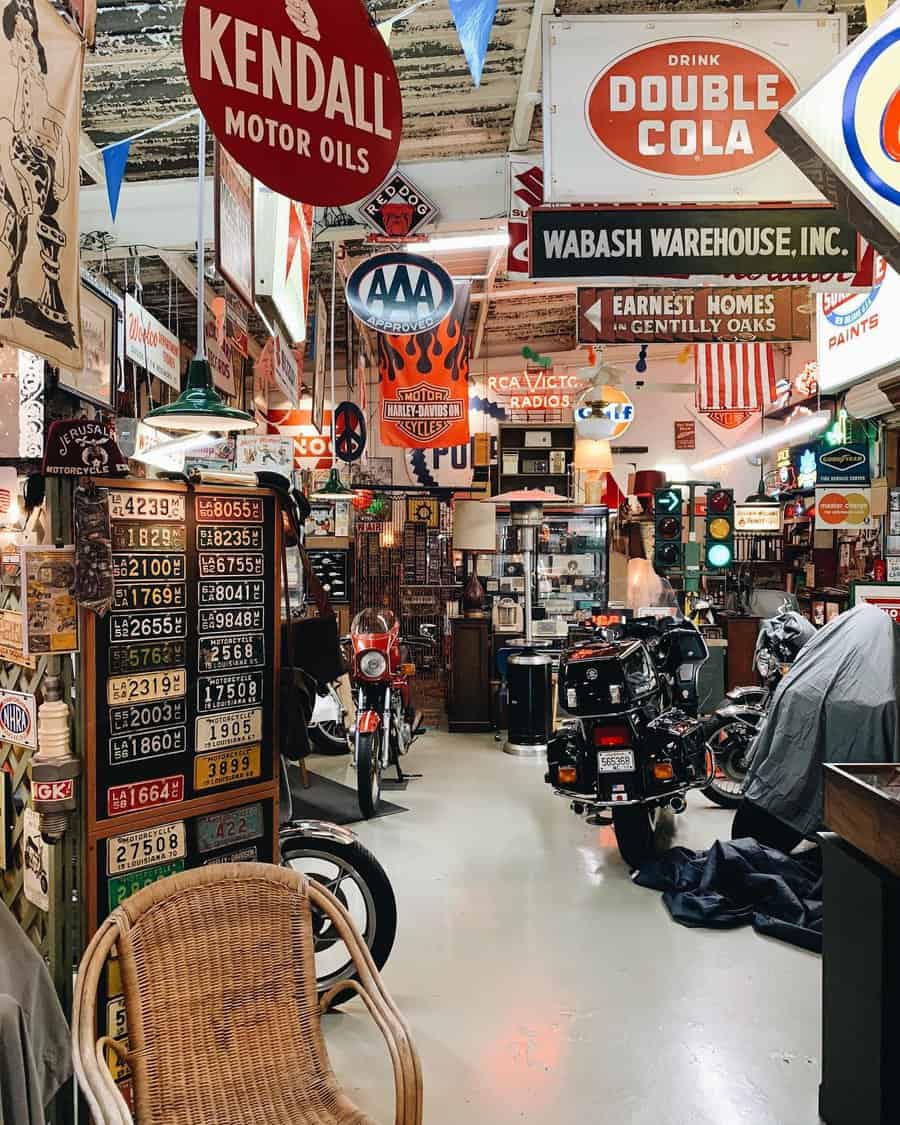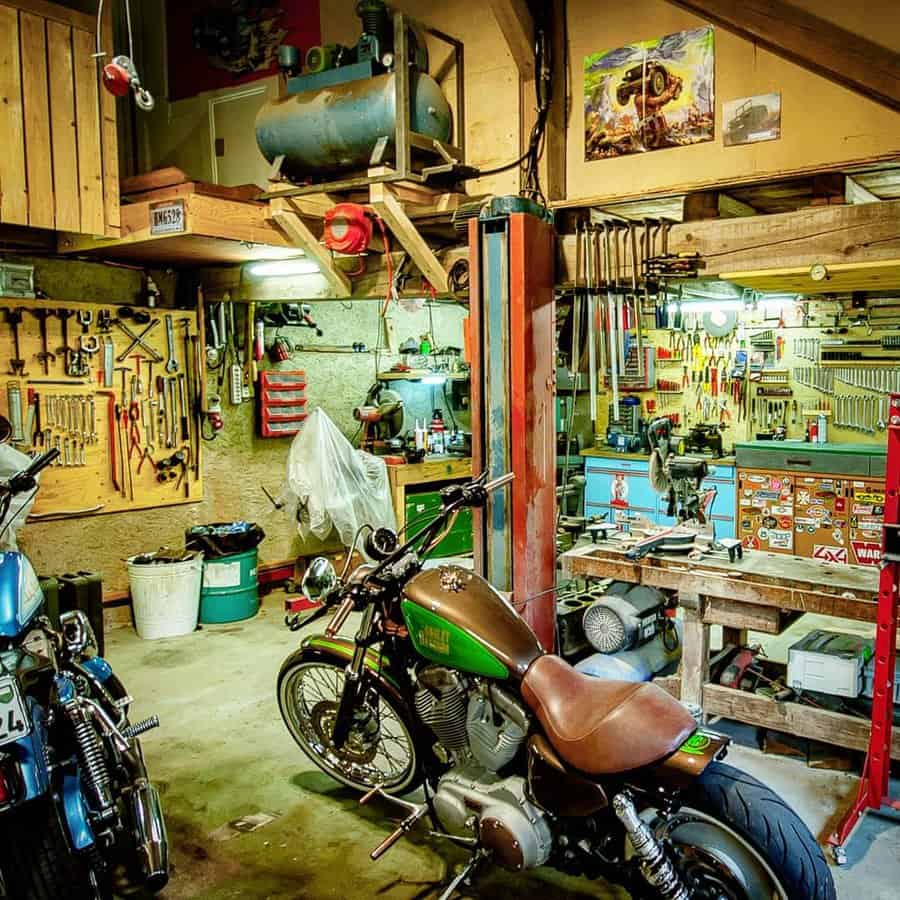 Outfit your workshop with a work counter or desk and a comfortable seat. Then add organized storage solutions for your tools and materials. That way, you'll spend less time hunting for what you need and more time actually working. Don't forget about adding plenty of light and possibly a fan to circulate air.
Garage Man Cave FAQs
What should every man cave have?
Every man cave should have some form of entertainment, a refreshment area, and comfortable seating. If you have a hobby, then it's the perfect place for displaying a collection. Don't forget about creature comforts, such as heating or AC, to make the space comfortable to be in.
What is a good size man cave?
Your man cave can be as big or as small as you'd like. However, if you have an intended purpose for it, then your cave needs to be big enough to comfortably accommodate the furniture and activities you want to do in your man cave. Consider how many people you plan to have over, as this can also influence how large your man cave needs to be.
How do I turn my garage into a pub?
Turn your man cave garage into a pub by giving it a relaxed and welcoming feel. Add accent lighting that will make it dimmer in the cave to mimic the light level in a pub. Build a bar on one side that you outfit with shelving for liquor bottles, a beer fridge, and glassware storage. Add comfortable seating in the form of bar stools, armchairs, love seats, and sofas. Add a TV or bar games to give people something to do while they are drinking.