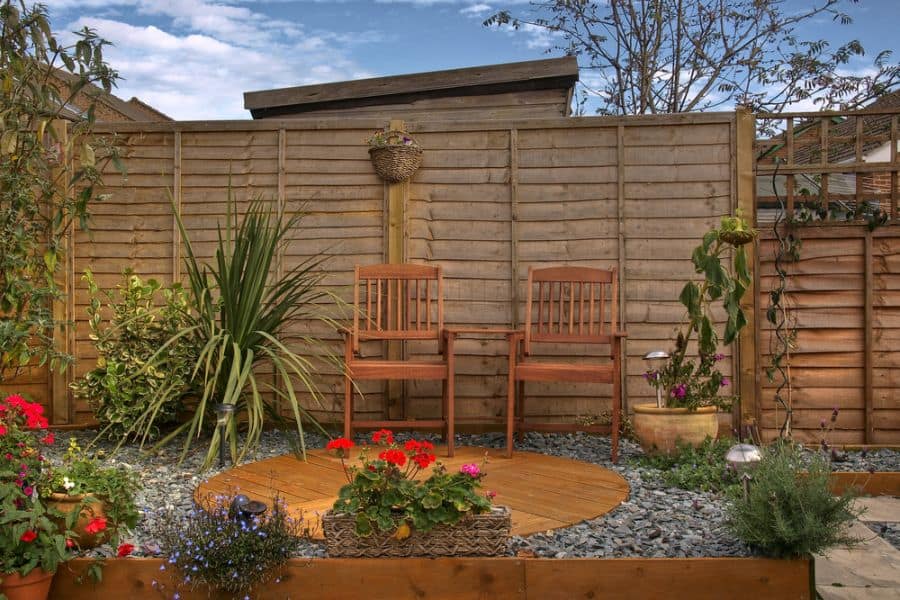 63 Garden Fence Ideas to Add Privacy to Your Backyard
There are countless reasons to construct a garden fence. Whether you're trying to keep hungry critters away from your hard-earned produce or add a bit of privacy to your backyard, the right fence can have a huge impact on your property's form and function.
Selecting a garden fence design isn't just about what looks best. Factors like height, panel style, material, and general purpose will all play a role in whether a specific type of fence will work for your garden.
Check out the garden fence ideas below for the best ways to define your own property.
1. Enclosure
A traditional fence will do little to deter birds and particularly motivated squirrels, raccoons, and other critters. So if maximum protection is your goal, opt for a full enclosure instead.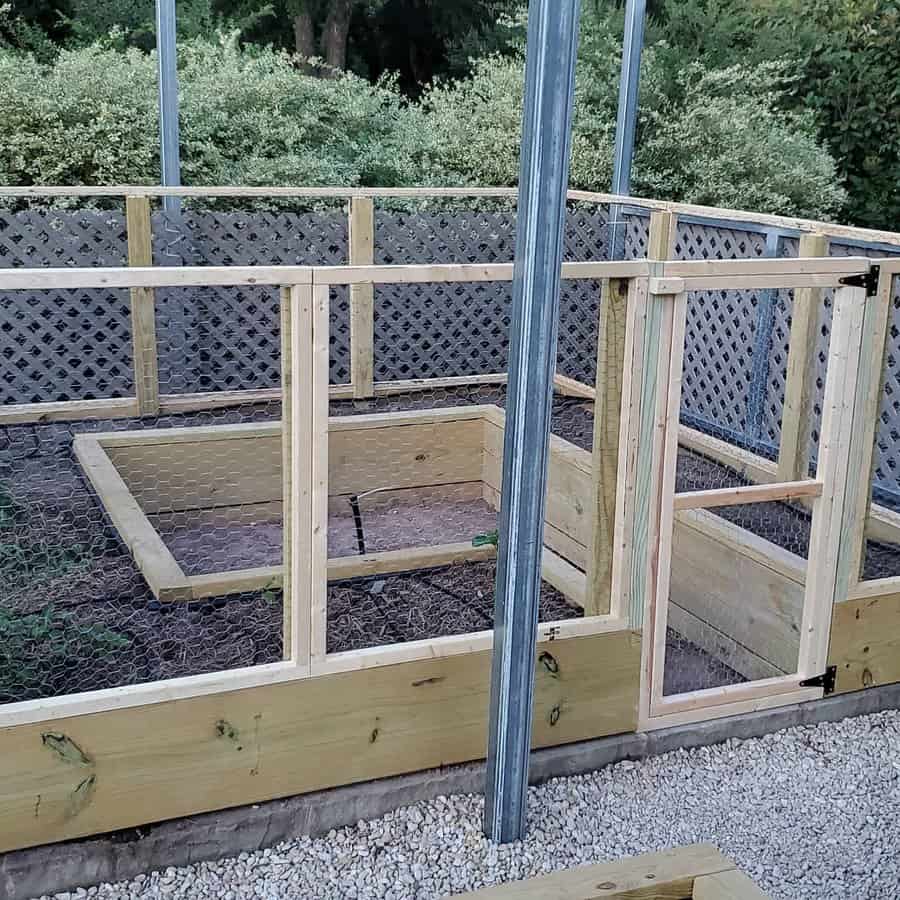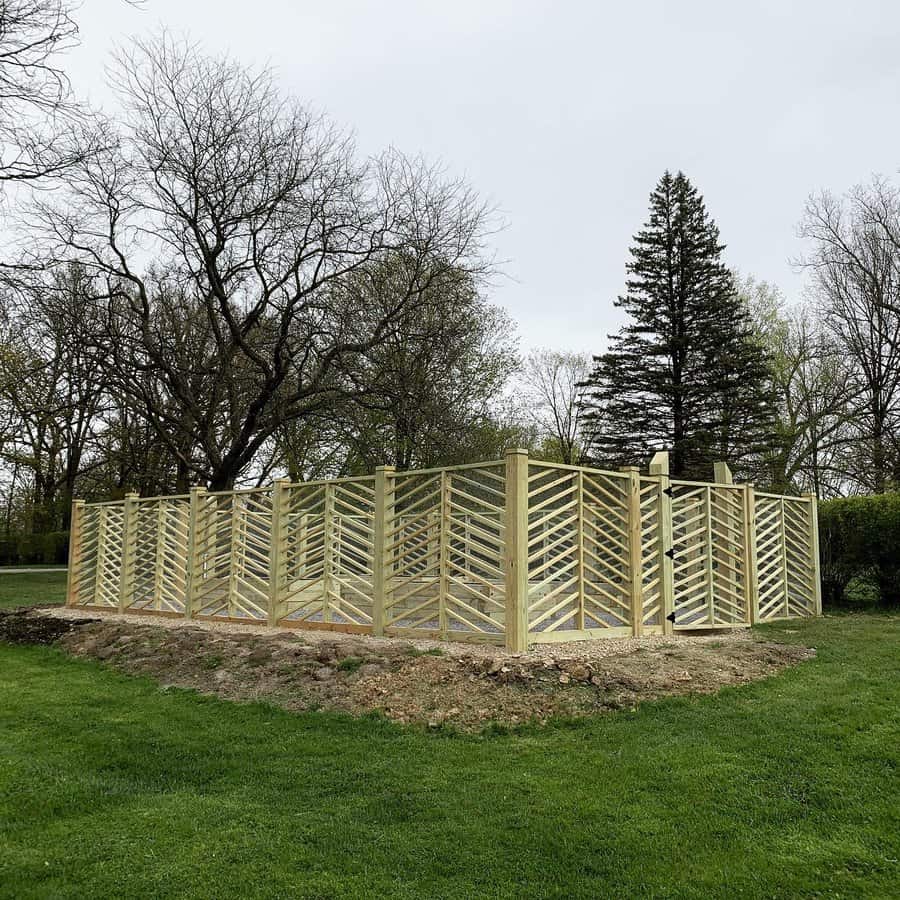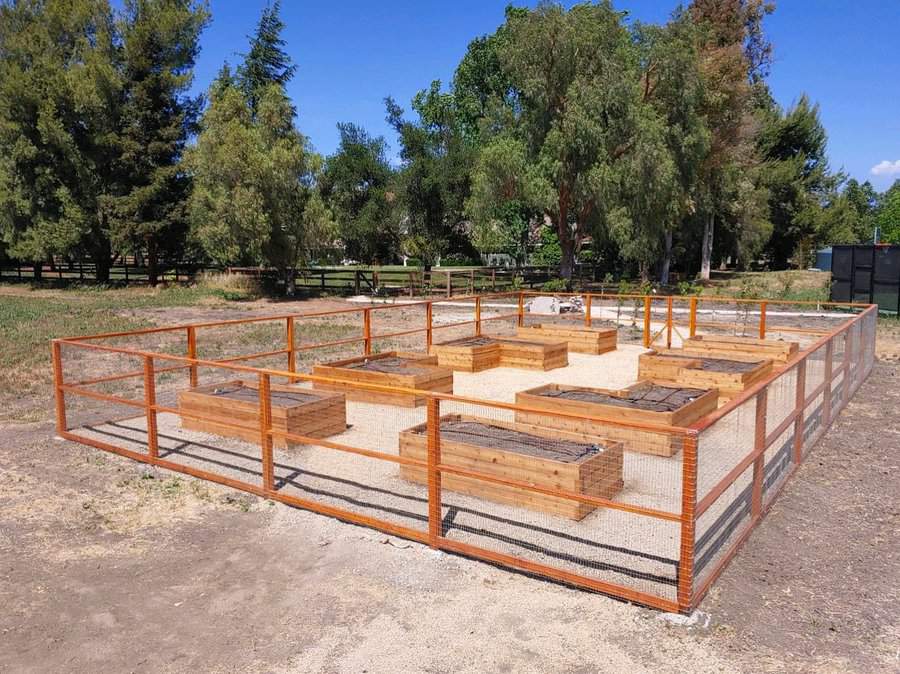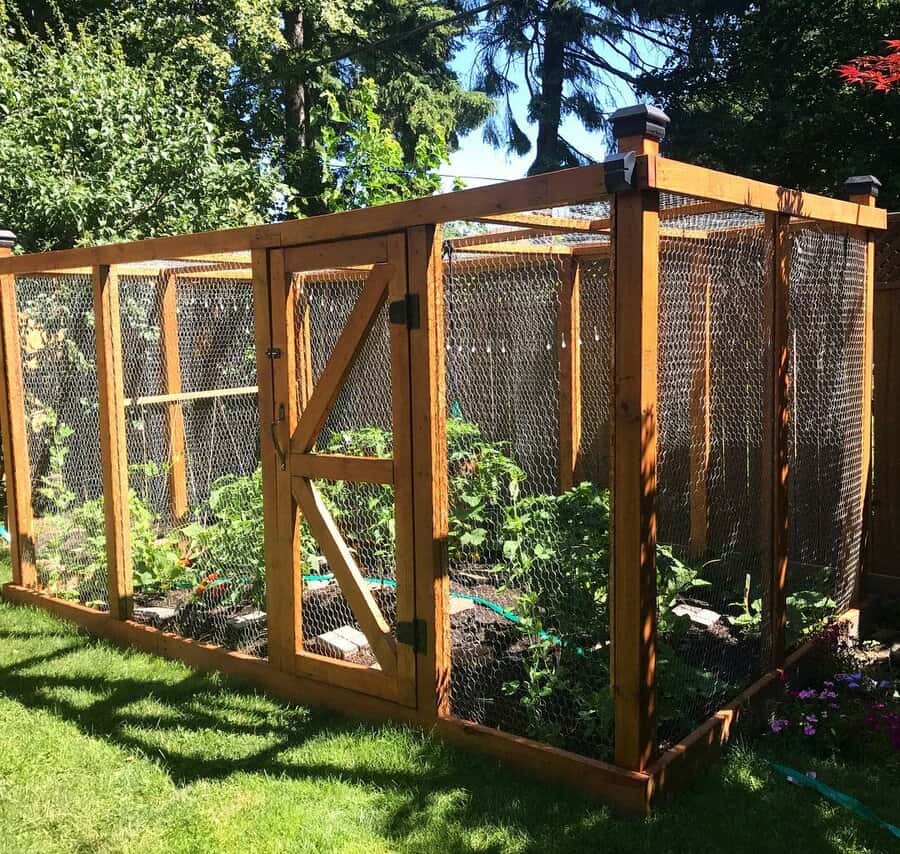 Constructing an enclosure for your garden (or just your most beloved plants) will keep everything short of insects from reaching your hard-earned fruit and vegetables. Use wire mesh to finish the enclosure roof so sunlight and rain can still get in.
While many gardeners invest in an enclosed fence to keep out wildlife, this style of fencing can also be used for aesthetic purposes. Enclosing your garden containers or in-ground beds with a gated fence can even keep pets and children from treading through your plants!
2. Inexpensive
High-quality privacy fencing isn't cheap. But if your goal is to keep critters or trespassers out of your garden with as little cost as possible, you definitely don't need anything fancy.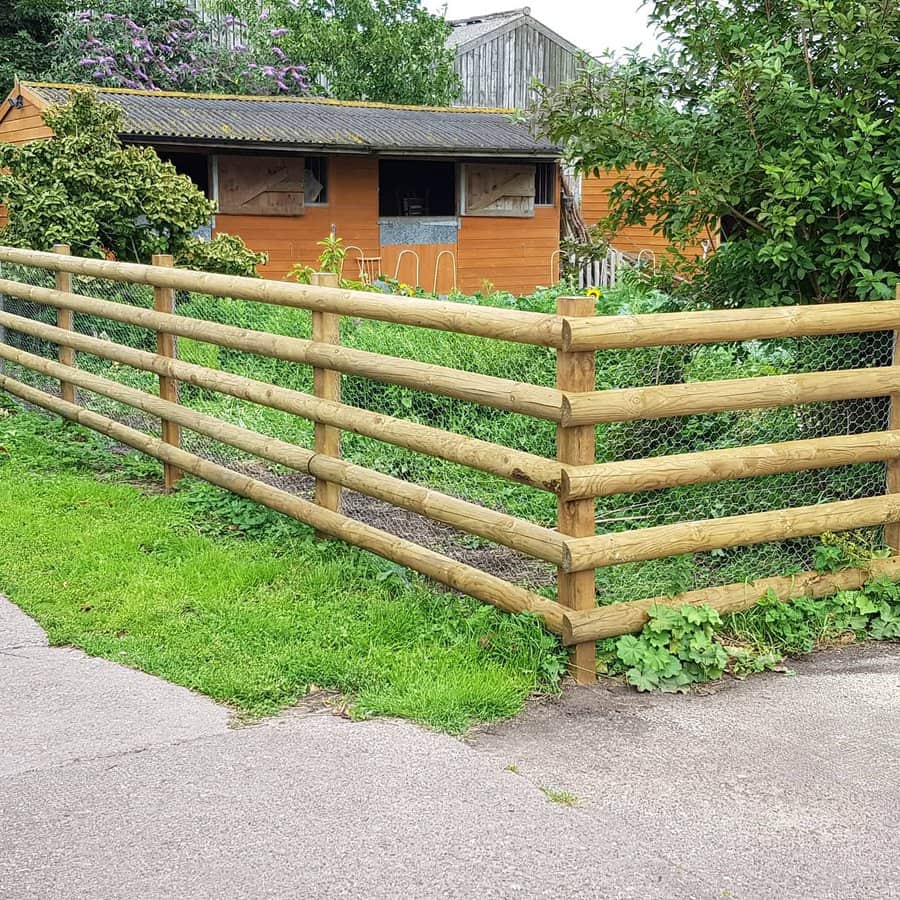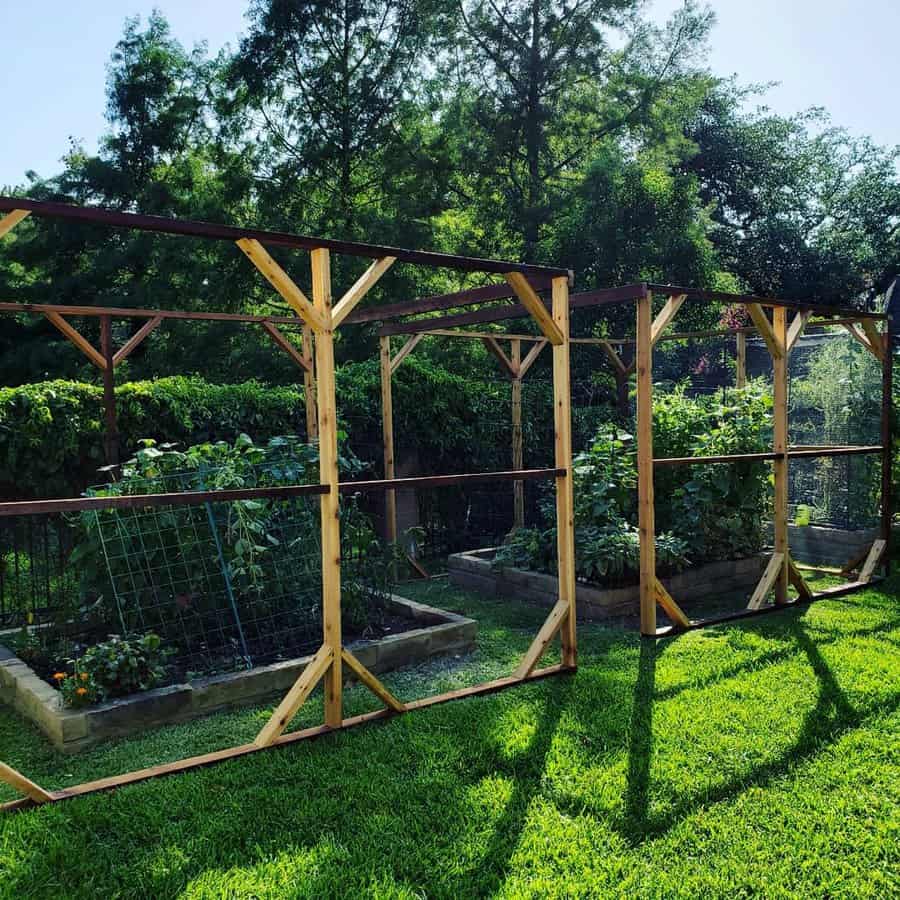 Of course, the easiest way to complete any DIY garden project is by using supplies you already own. Repurposed wood beams, chicken wire, or trellises are all potential fencing materials that might be gathering dust in your shed or garage.
Inexpensive does not need to mean unattractive. Take the extra time to ensure your DIY garden fence is straight and secure. A simple coat of paint or wood stain will give your makeshift fence an aesthetically pleasing finish.
3. Lattice
If you're looking for a unique yet functional fencing design, consider opting for lattice-style panels. A lattice fence offers almost as much privacy as solid fencing while still letting light and air through.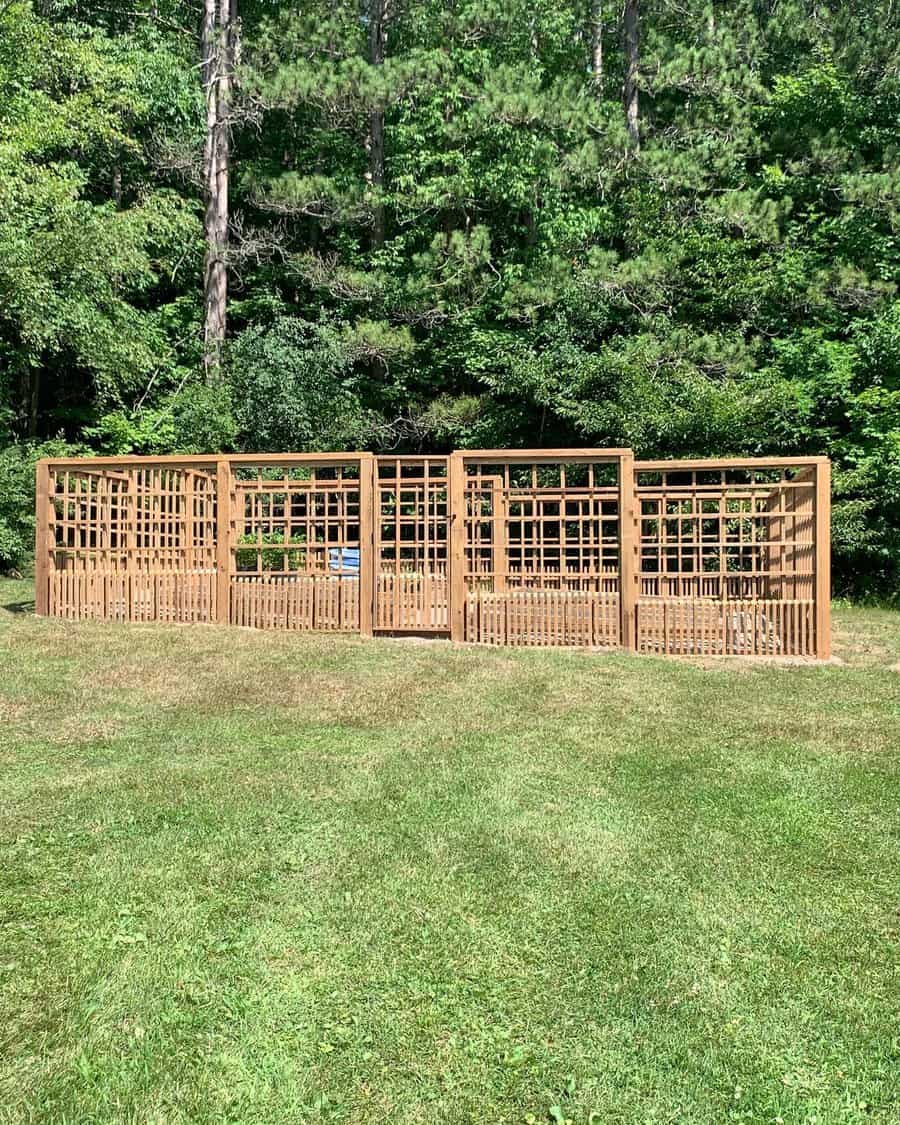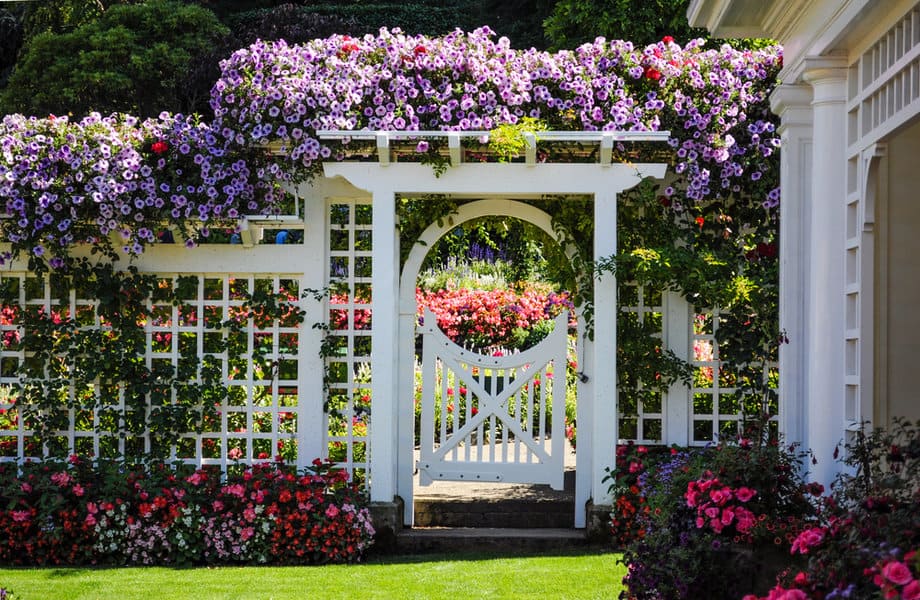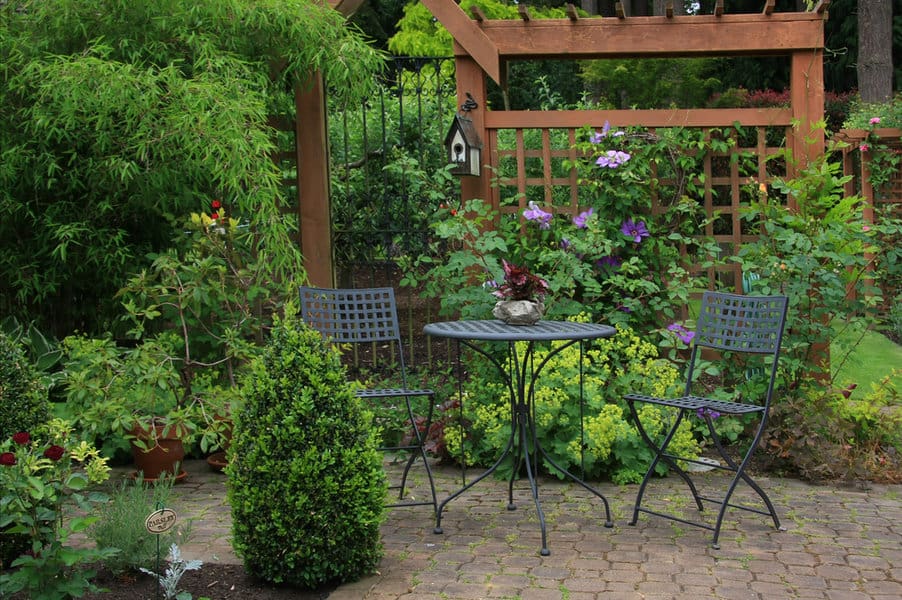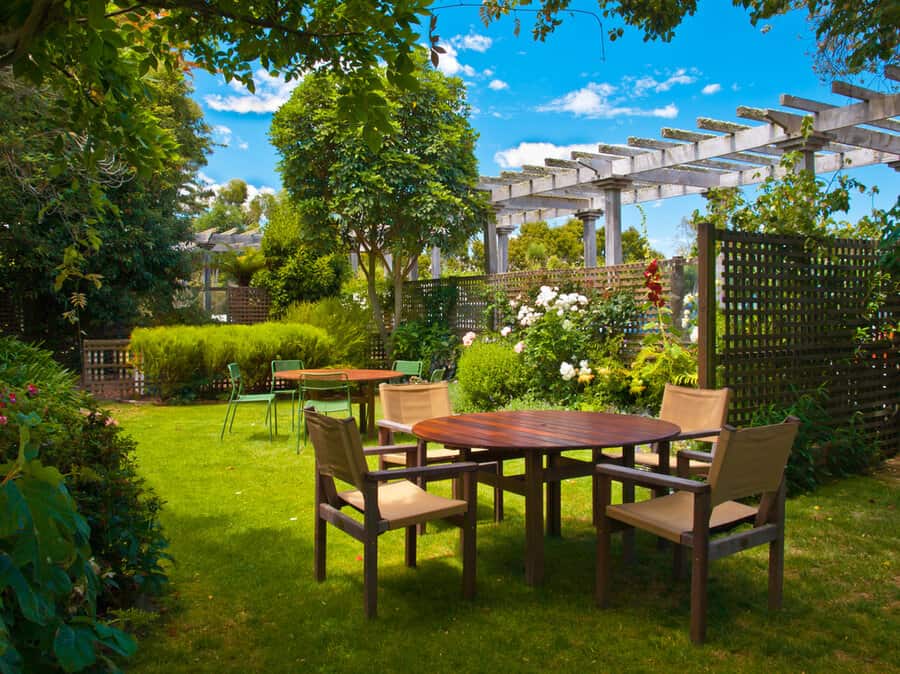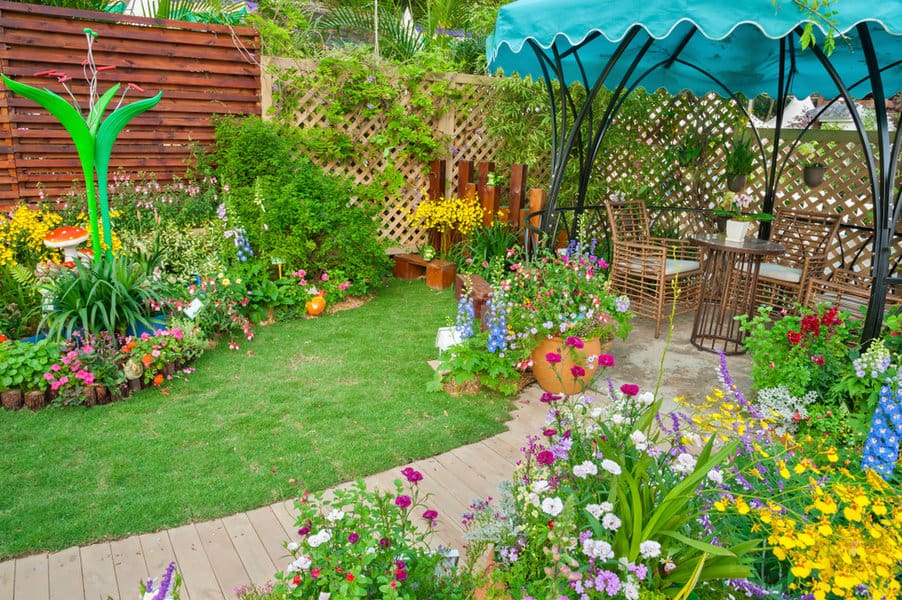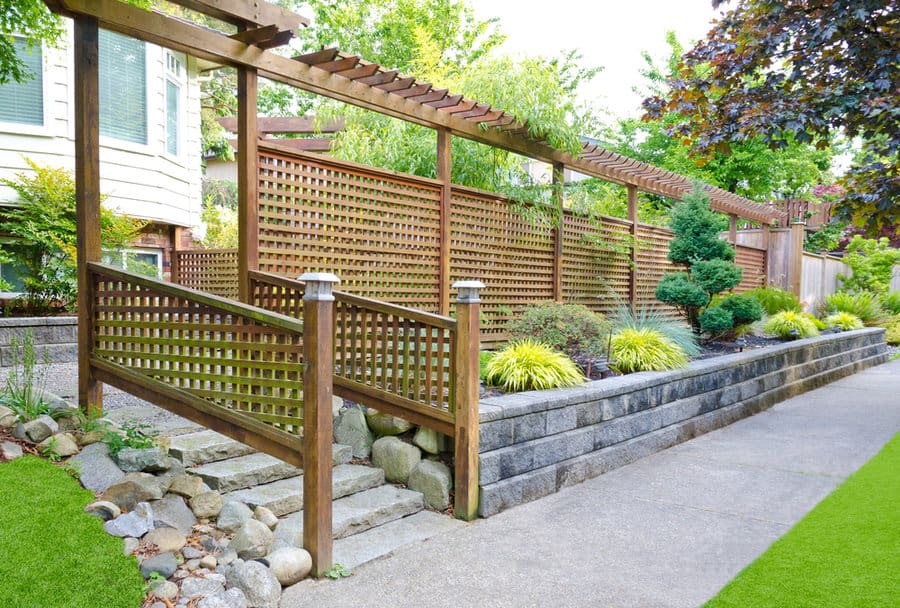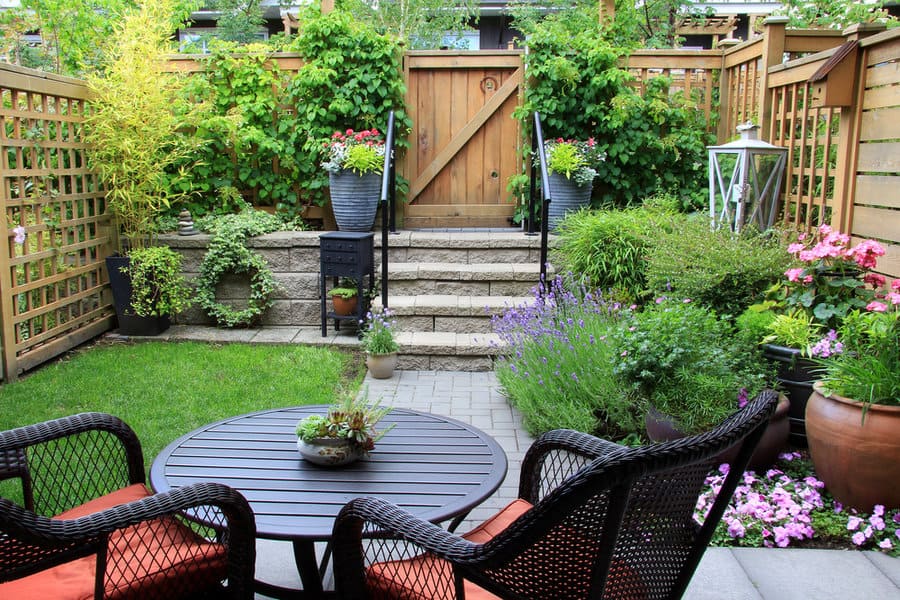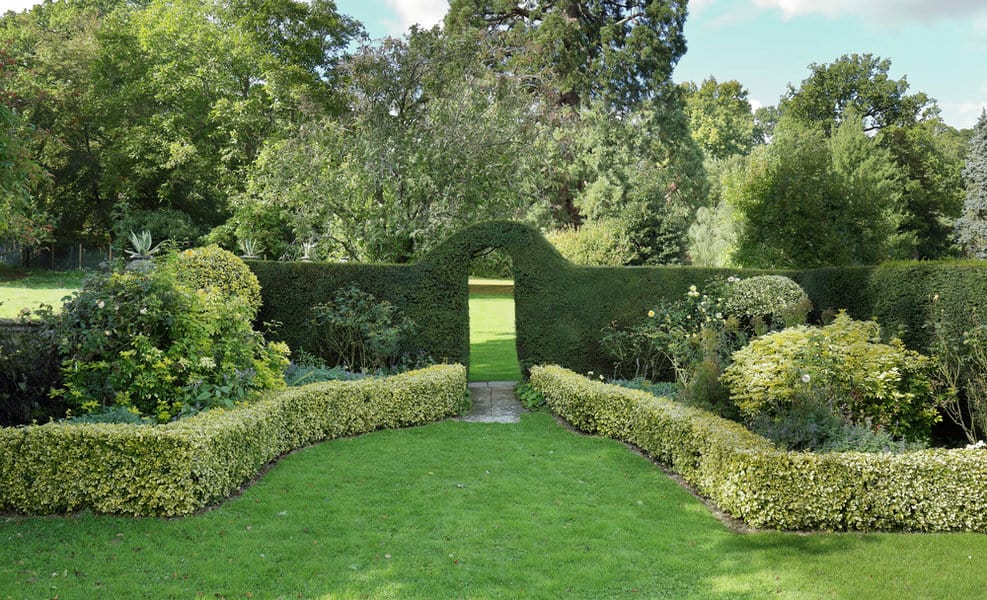 One of the best things about lattice fencing is that it can be seamlessly integrated into the garden. By training vines up each trellis, you can give your fence a dual purpose and increase the variety of plants that will thrive in your garden.
This style of fence is also a great option if you want to allow small animals to come and go from your yard. After all, not everyone is opposed to the local critters paying their garden a visit!
4. Living Fence
A living fence is any barrier made up of plants rather than wood, metal, stone, or another nonliving material. Most living fences are hedges. However, some climates allow for unique alternatives — i.e., a bamboo fence — for privacy and wind protection.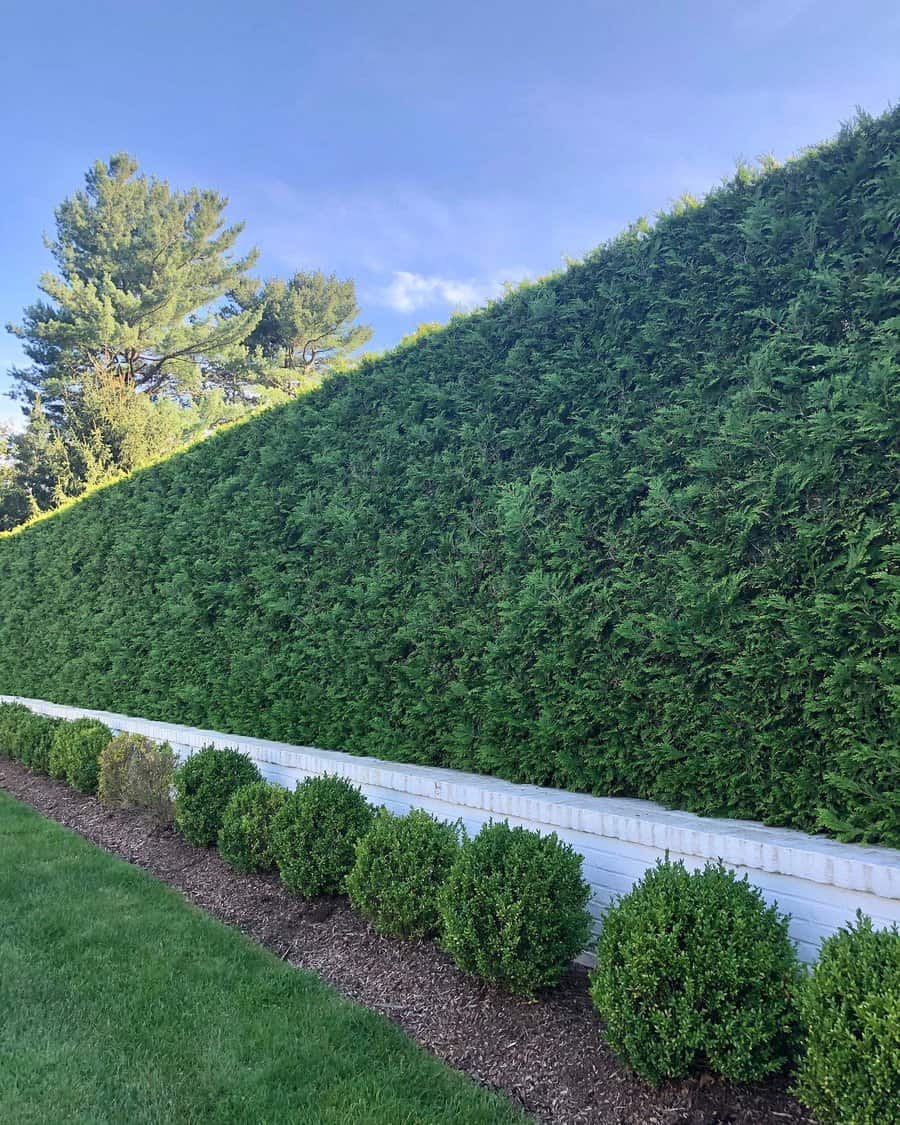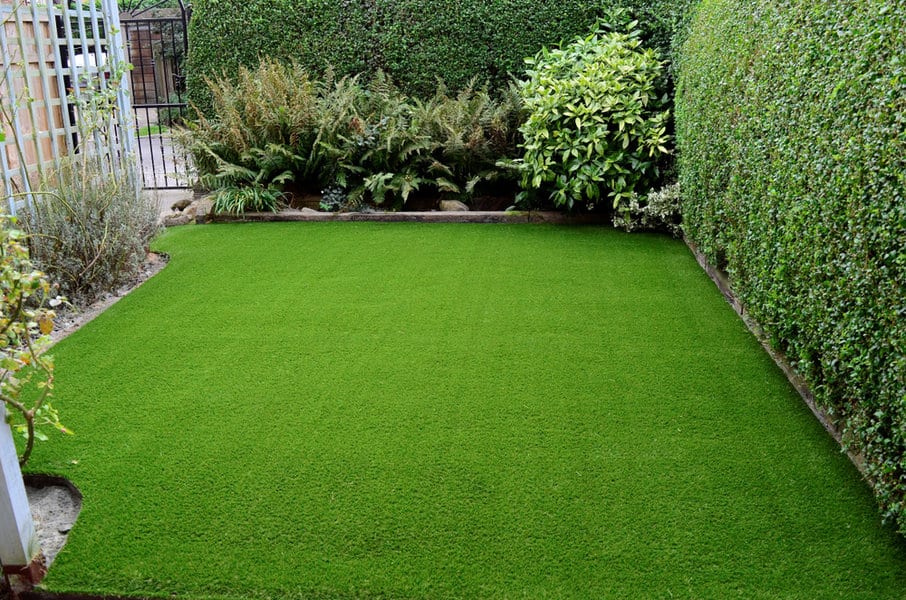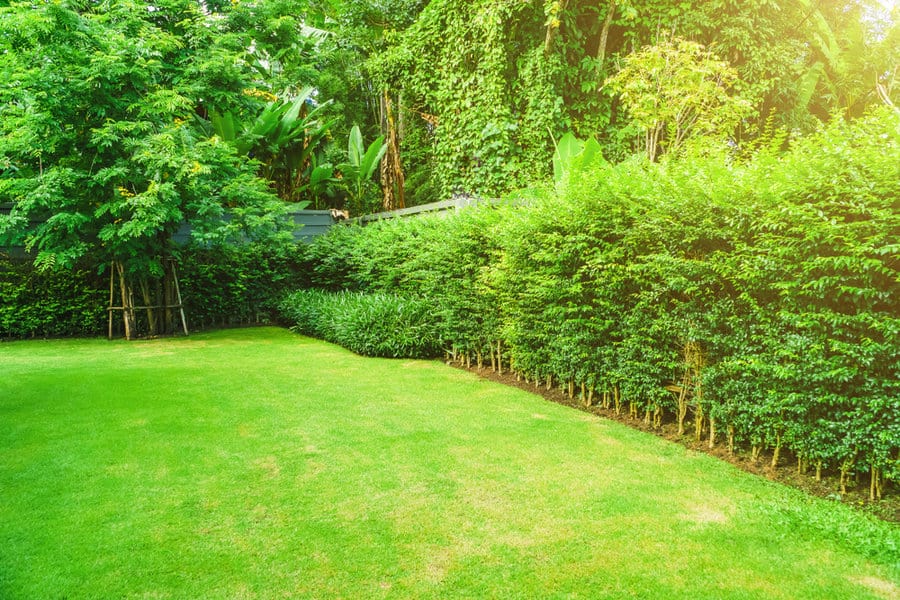 Another excellent technique for creating a living fence is to train dense, fast-growing vines along panels made of chain link or chicken wire.
Before installing a living fence, think carefully about your needs and expectations. While the appearance of a hedge or vine-covered fence can't be beaten, these structures require regular maintenance. And changing seasons may mean losing much of the privacy offered by your fence.
5. Metal
For a garden fence that looks great while keeping unwanted foot traffic away from your flower bed, you can't go wrong with a sturdy material like metal.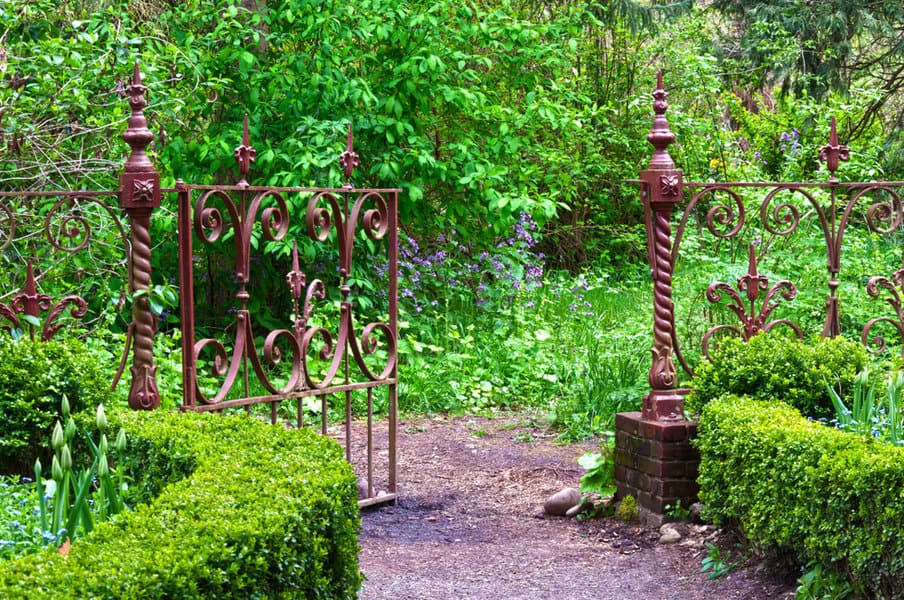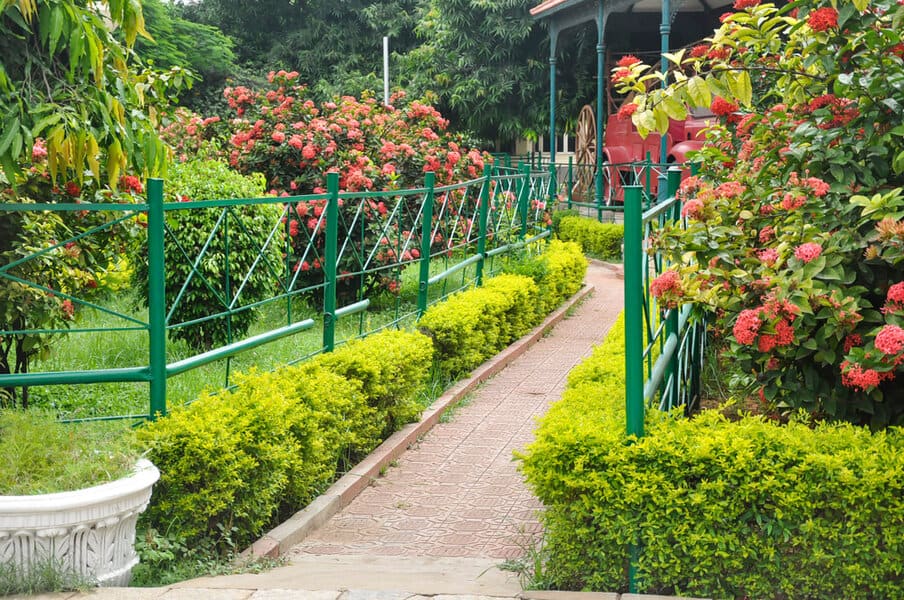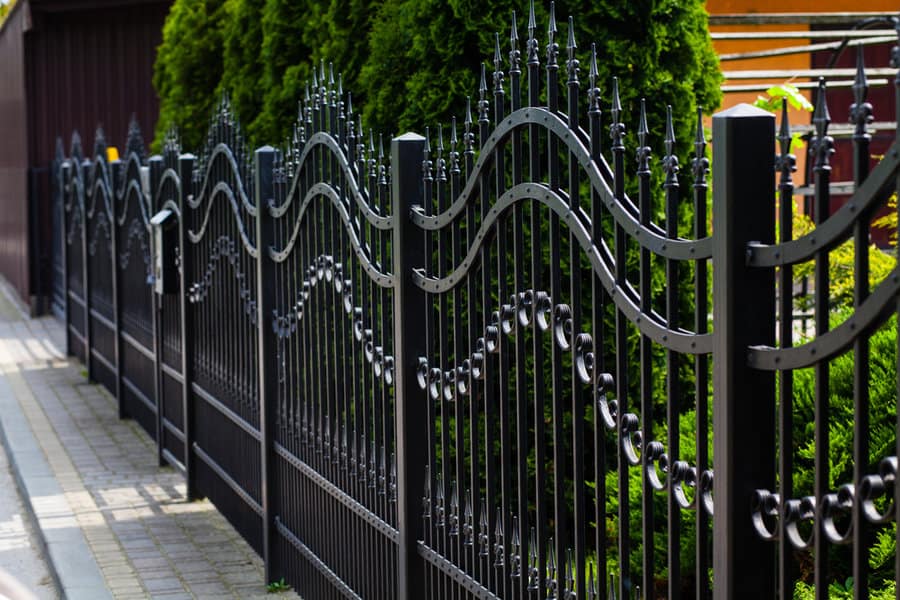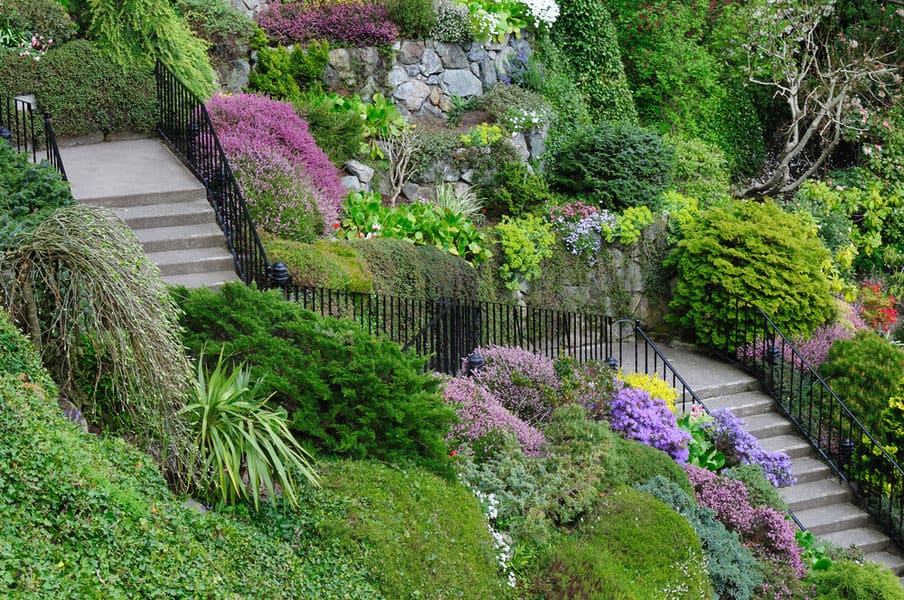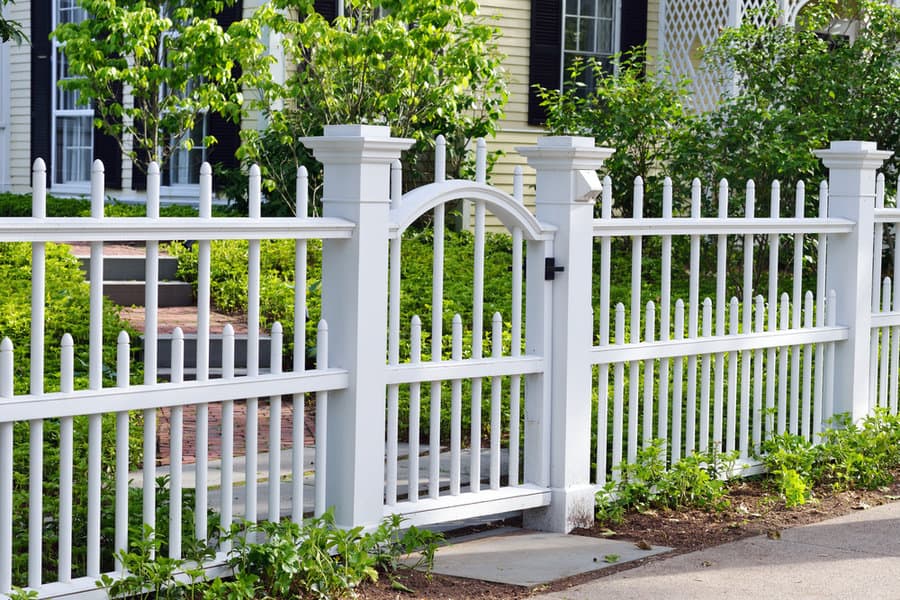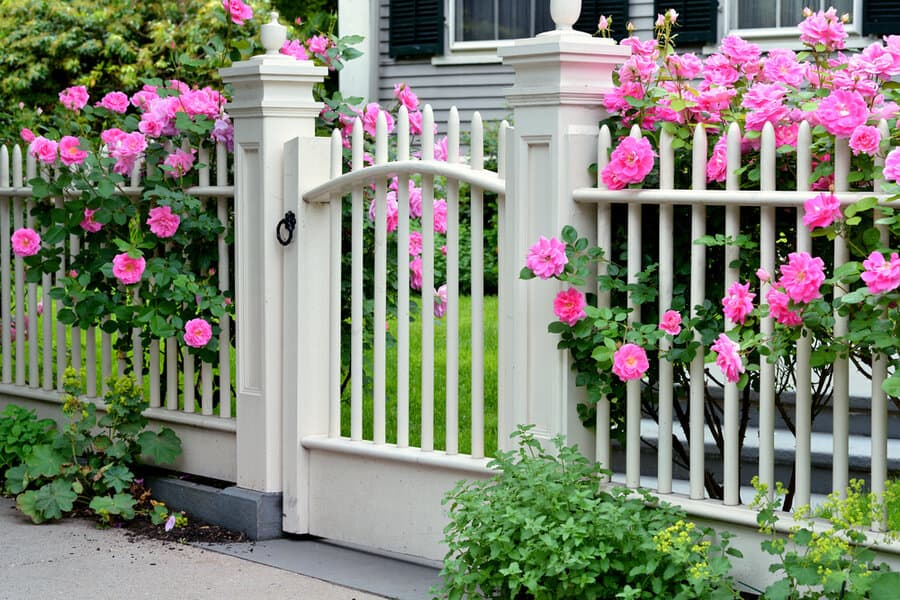 Wrought iron offers a vintage aesthetic that pairs perfectly with classic English- and Victorian-style gardens. However, there's no shortage of contemporary metal fence ideas to choose from if you'd prefer a more modern look. Even metal privacy fences are now an option.
Metal and wrought iron fencing are not as easy to DIY as many other materials. Once the fence panels are installed, though, few materials will last longer with minimal upkeep than metal!
6. Pallet
Pallet wood is incredibly durable and built to withstand all kinds of weather. So why not use reclaimed pallet wood to construct a sturdy fence for your garden?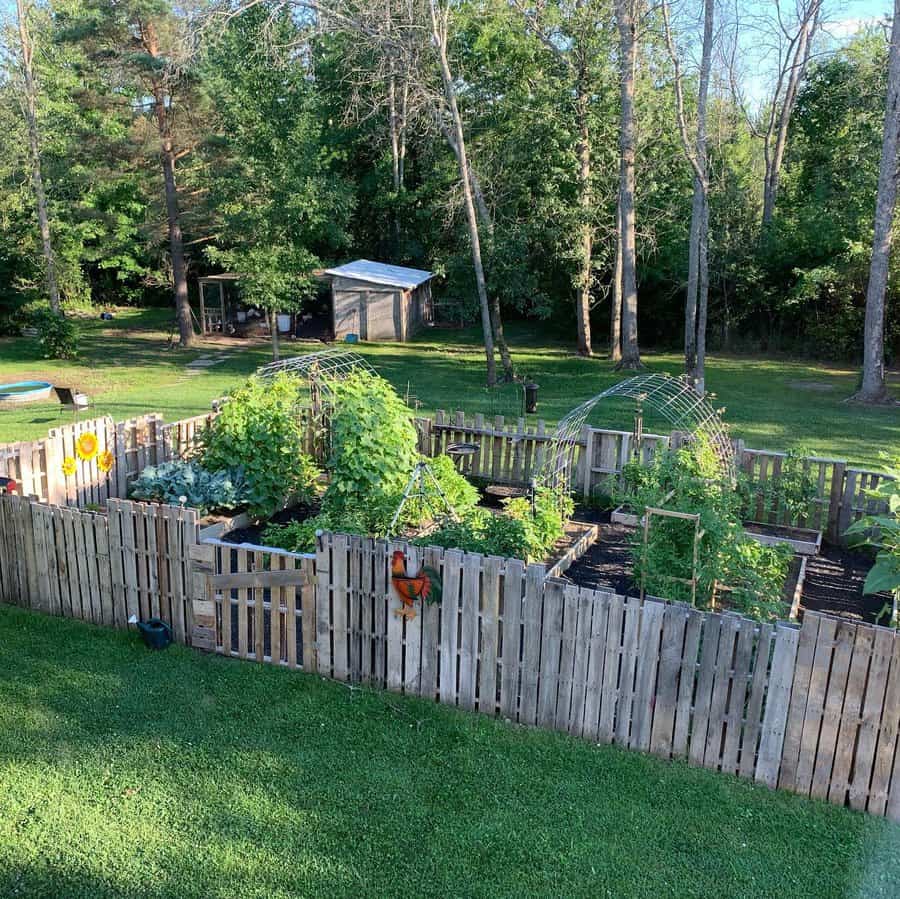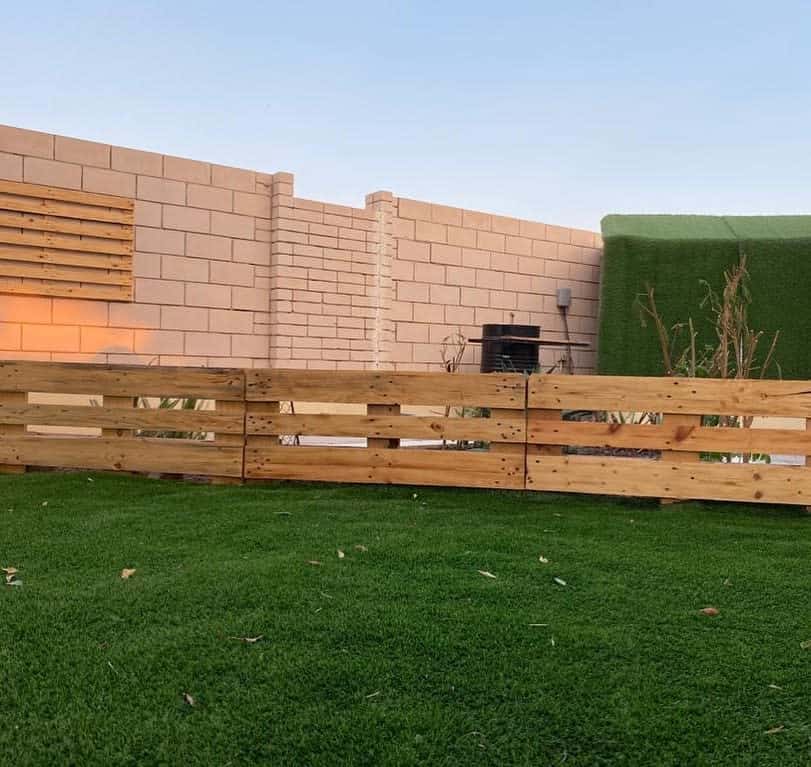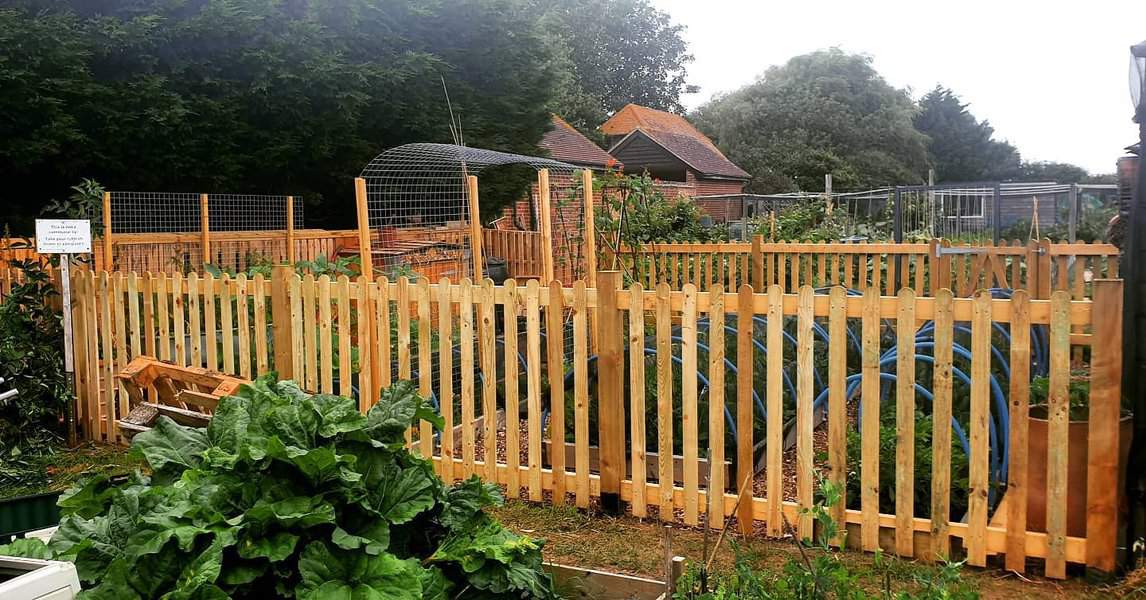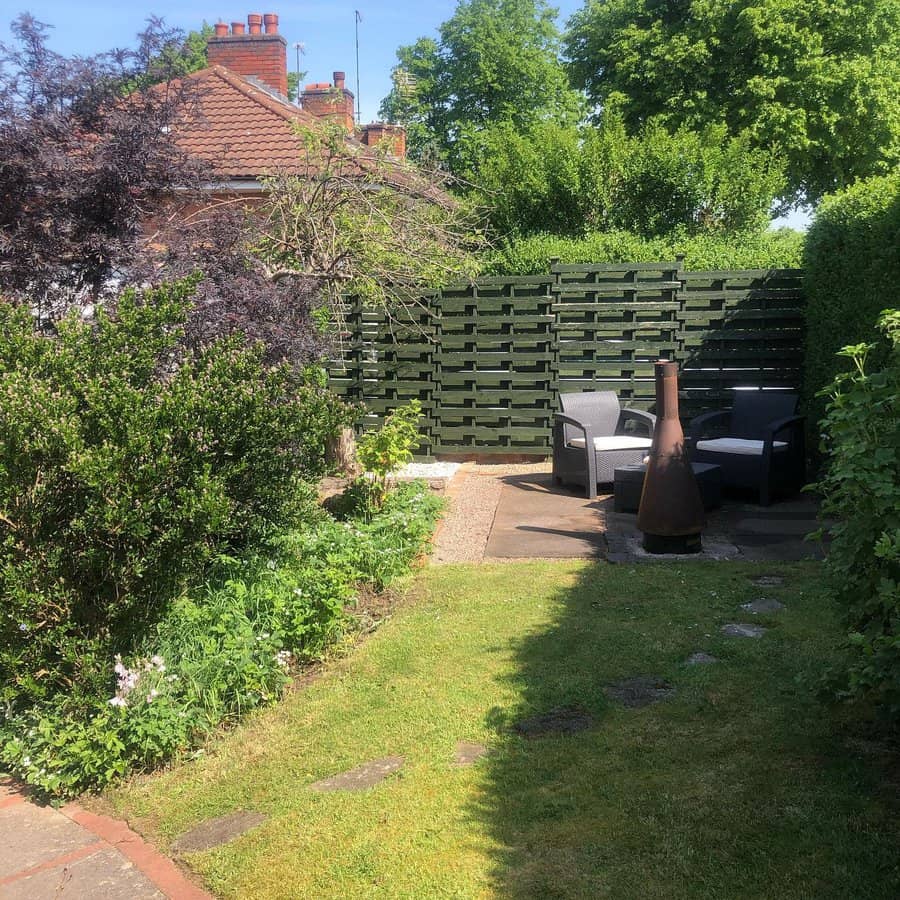 There are many different ways to build a garden fence out of old pallet wood. Vertical panels can be used to create a privacy fence or picket fence. Or you can mount beams horizontally for split rail-style fencing. Use a layer of chicken wire to keep out animals if needed.
If you're not a fan of the natural finish of pallet wood, grab your favorite outdoor paint and get to work. You can also sand and stain your fence posts for a cleaner aesthetic.
7. Picket
Out of all of the garden fence ideas to choose from, the picket fence is probably the most recognizable. Picket fences have been so popular throughout American history that they are synonymous with quaint, suburban life.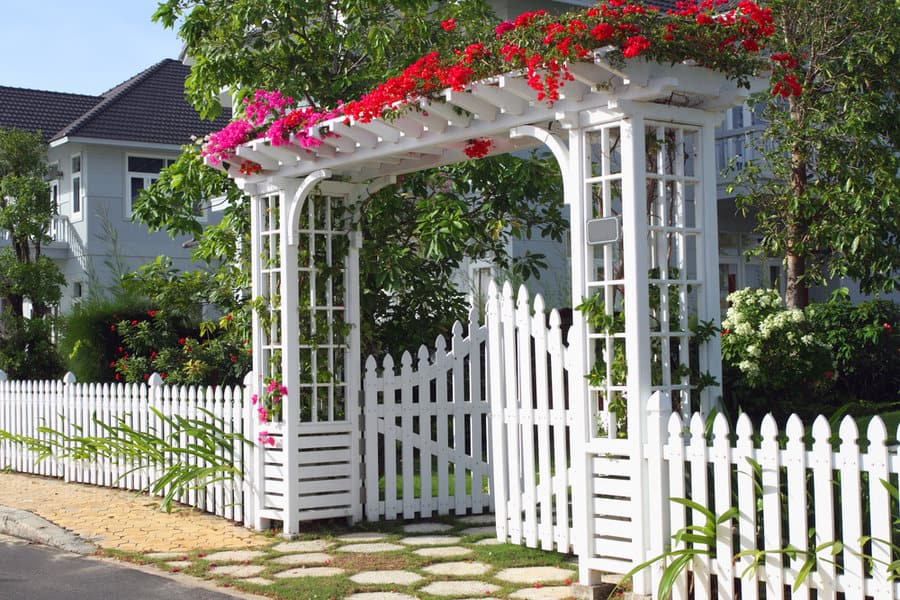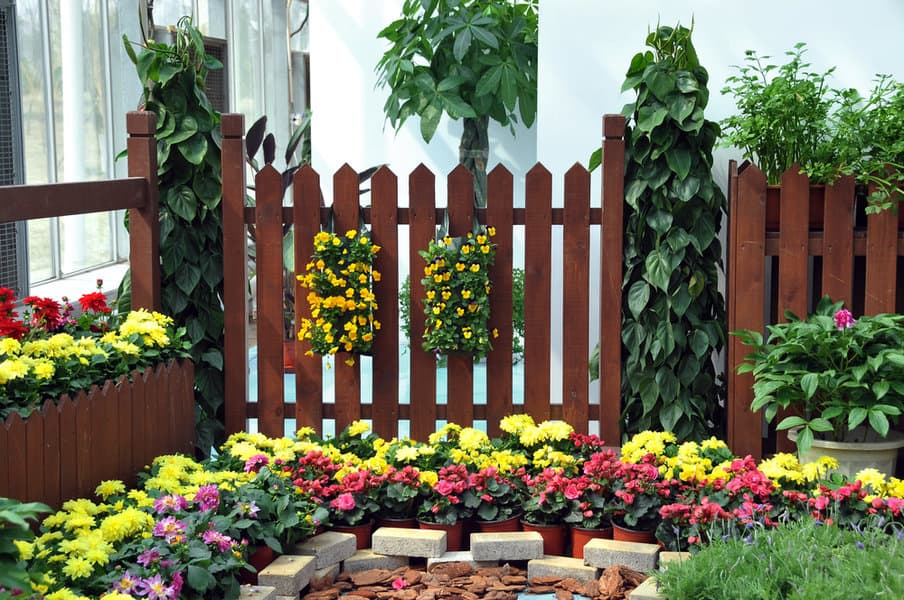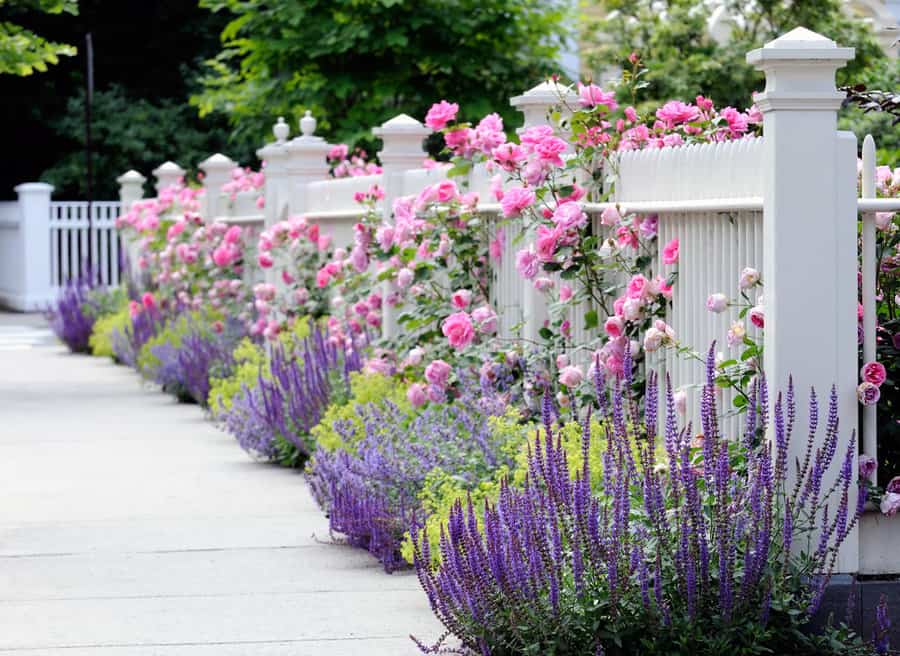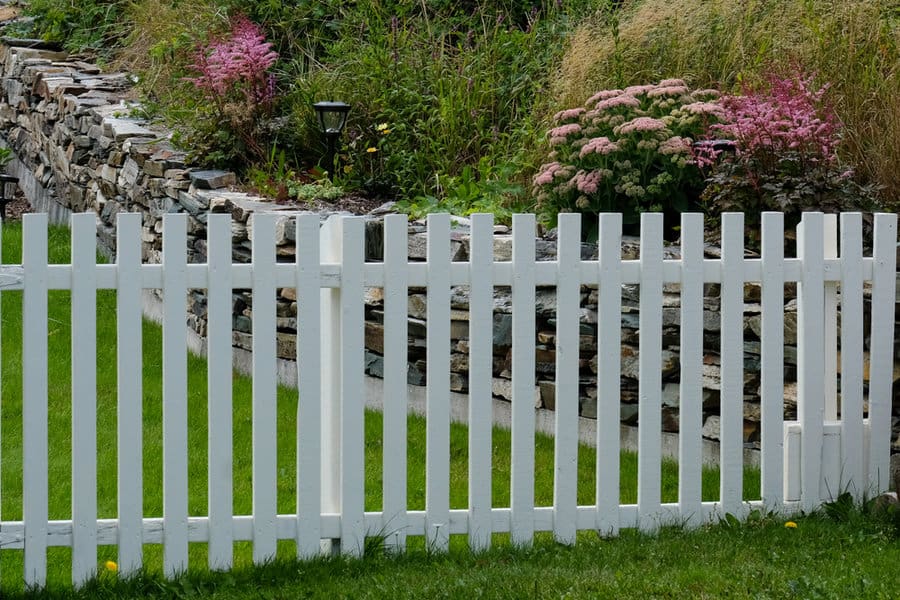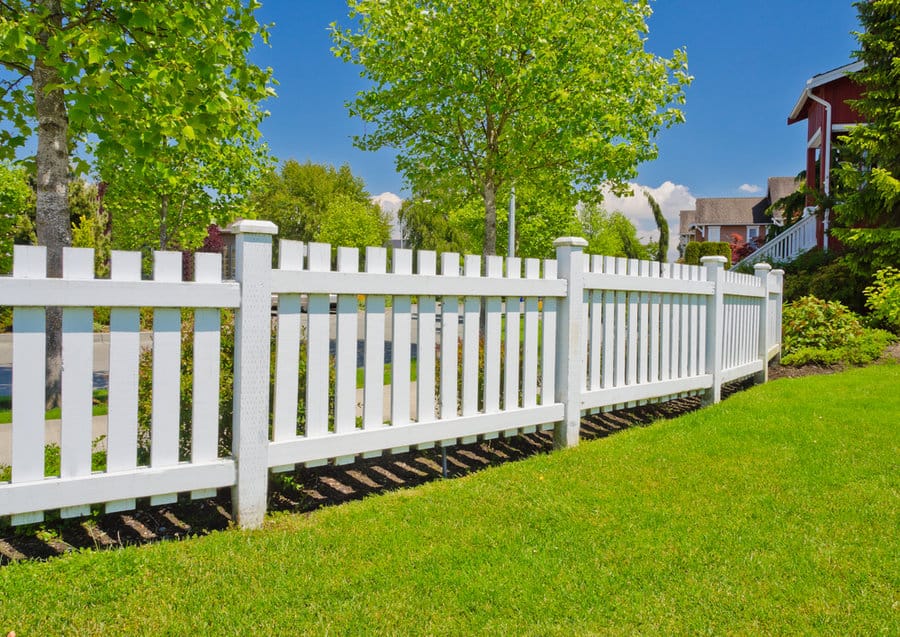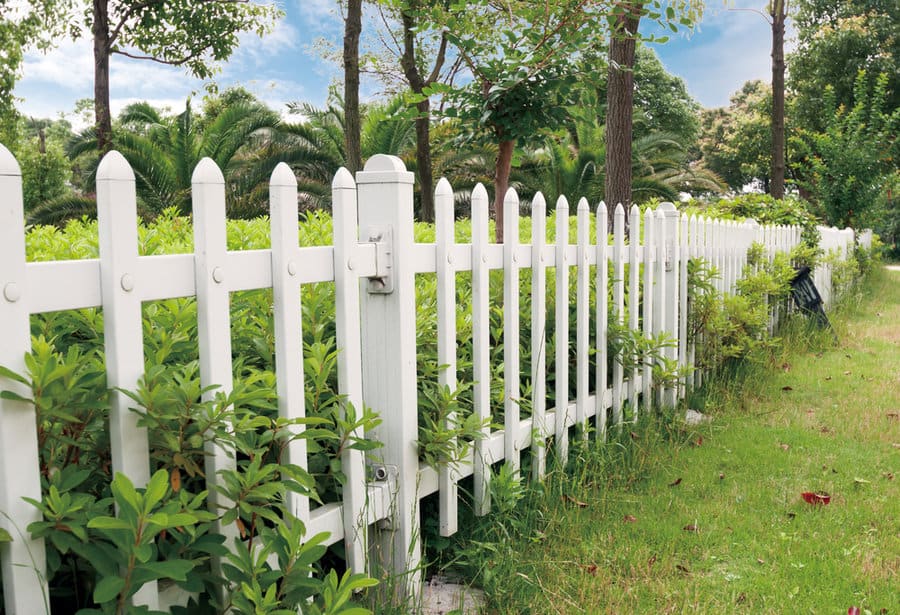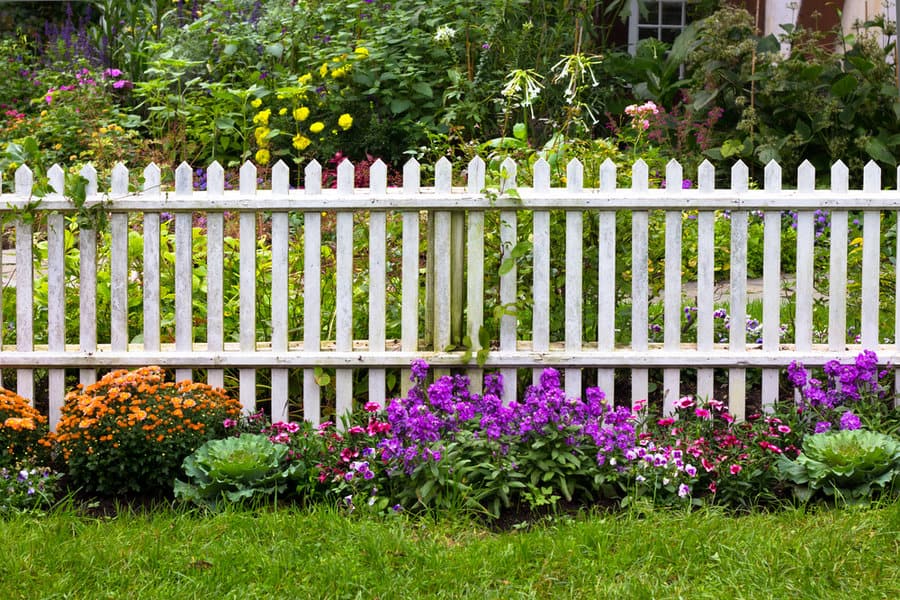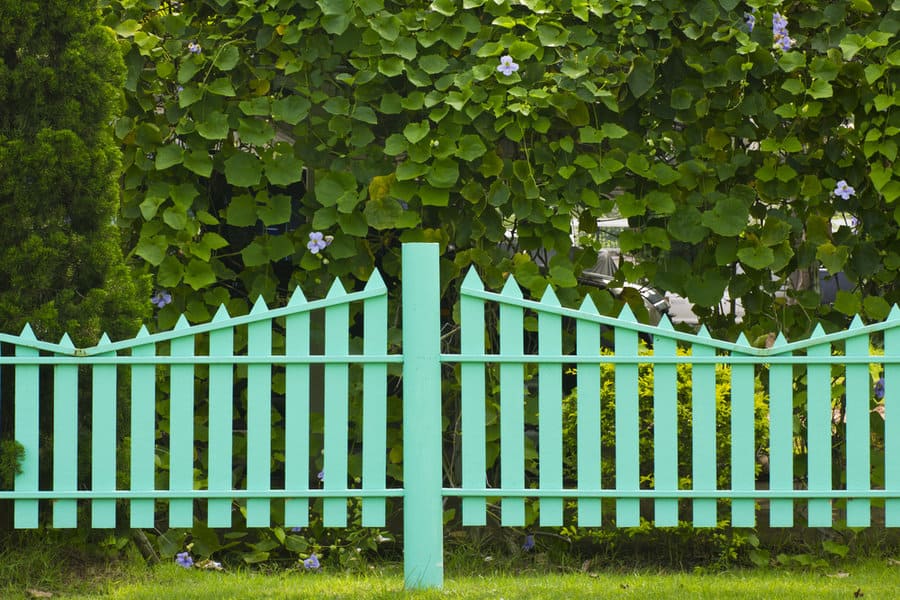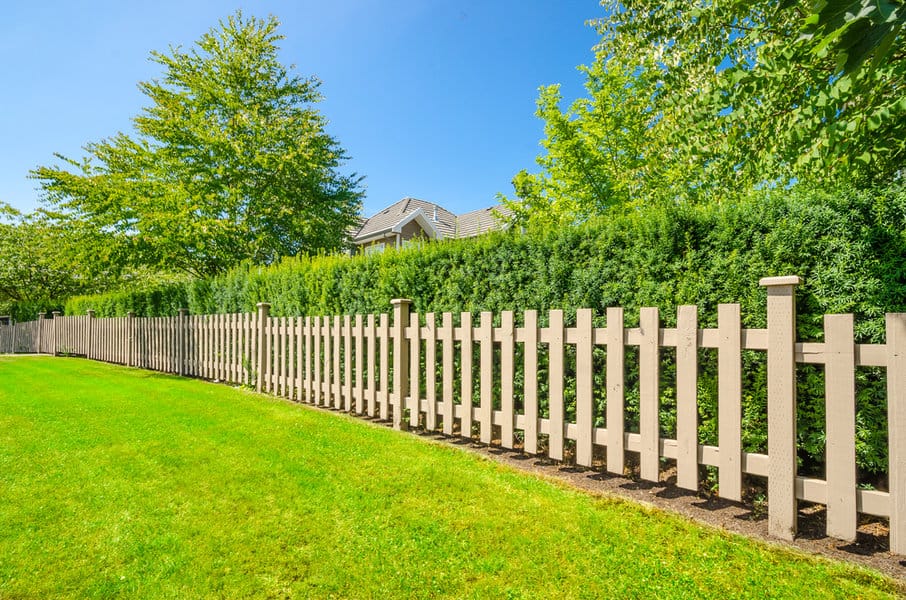 While a picket fence is unlikely to keep rabbits, squirrels, and birds away from your vegetable garden, this style is perfect for separating your yard from the road or sidewalk. Picket fences are most commonly made of wood, vinyl, or metal.
A picket fence does not need to be purely functional. Many homeowners enjoy the look of a classic picket fence surrounding their front yard or garden. This type of fencing pairs especially well with cottage-, colonial-, and farmhouse-style homes.
8. Privacy
A privacy fence is any fence that doesn't allow passersby to see through to the backyard or garden contained within. While most residential privacy fences are made of wood, there are also many examples made of stone, brick, vinyl, and metal.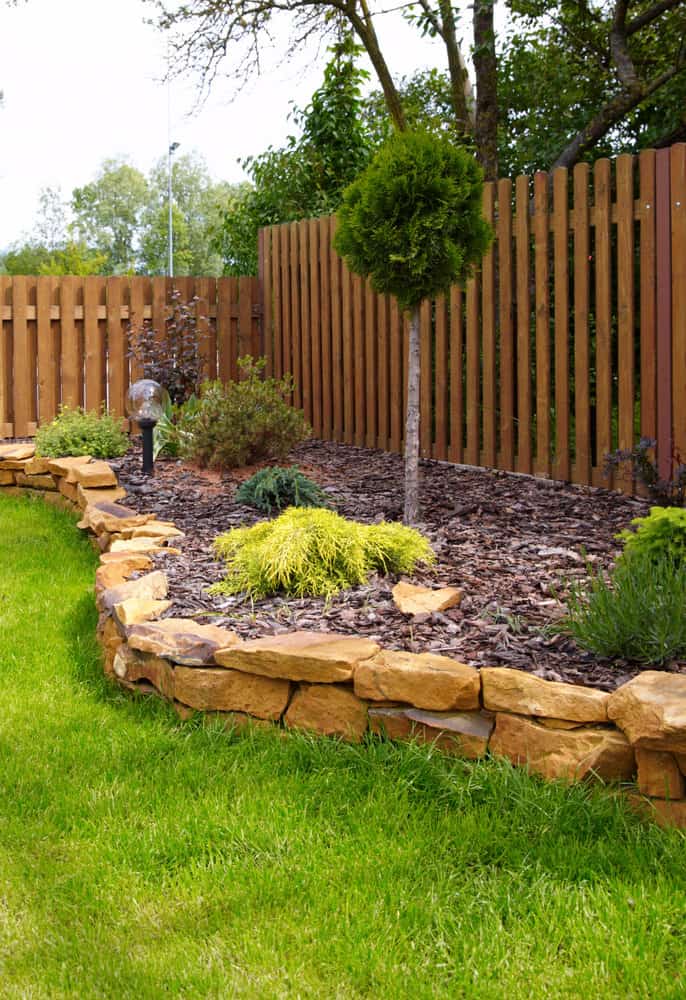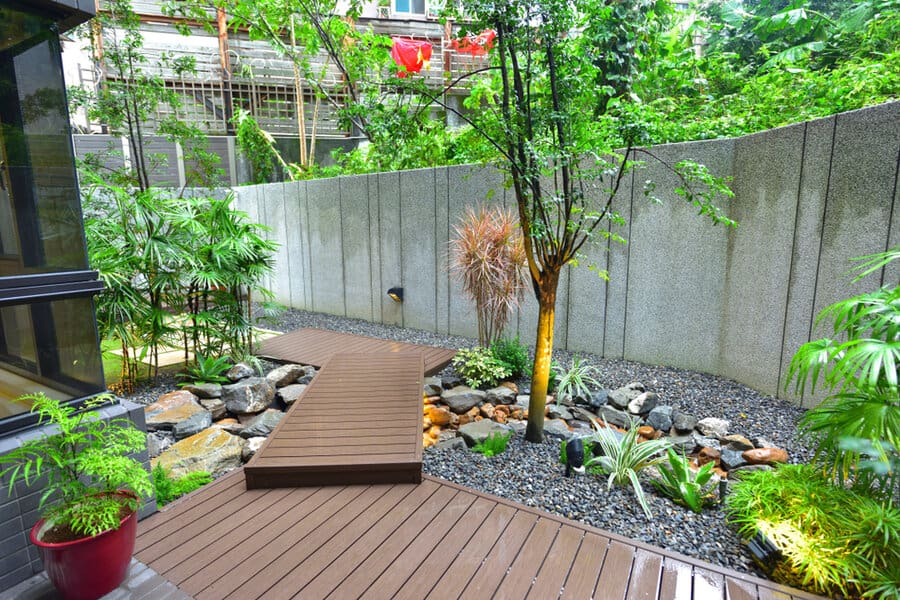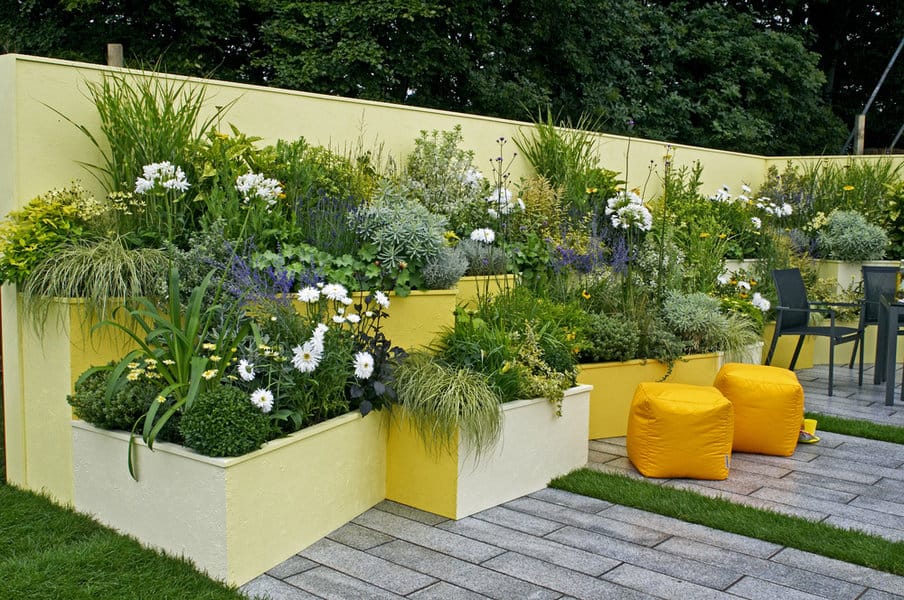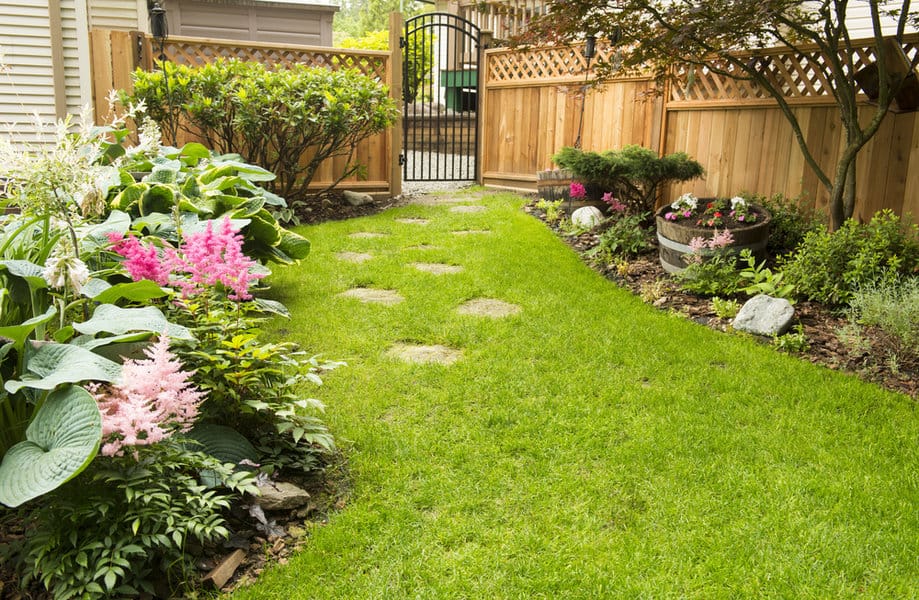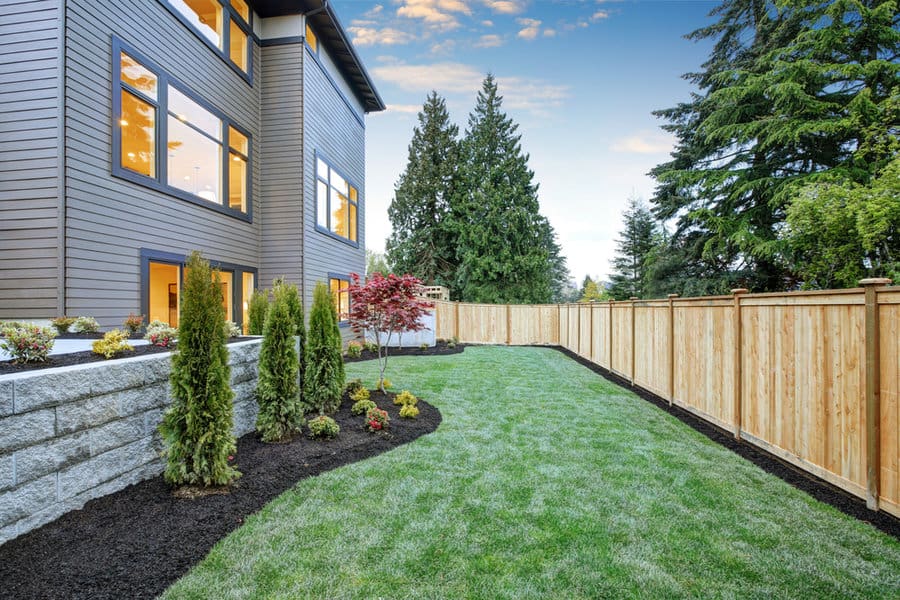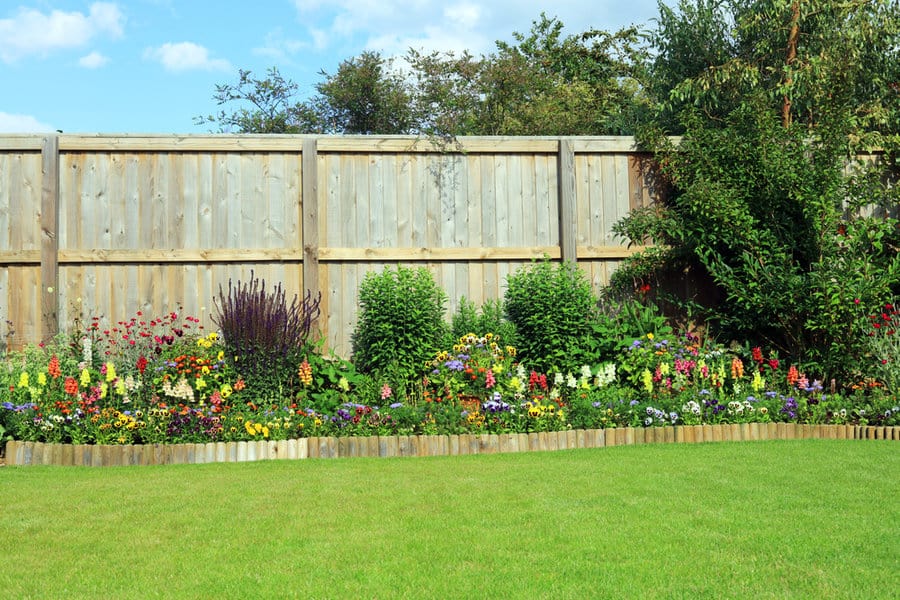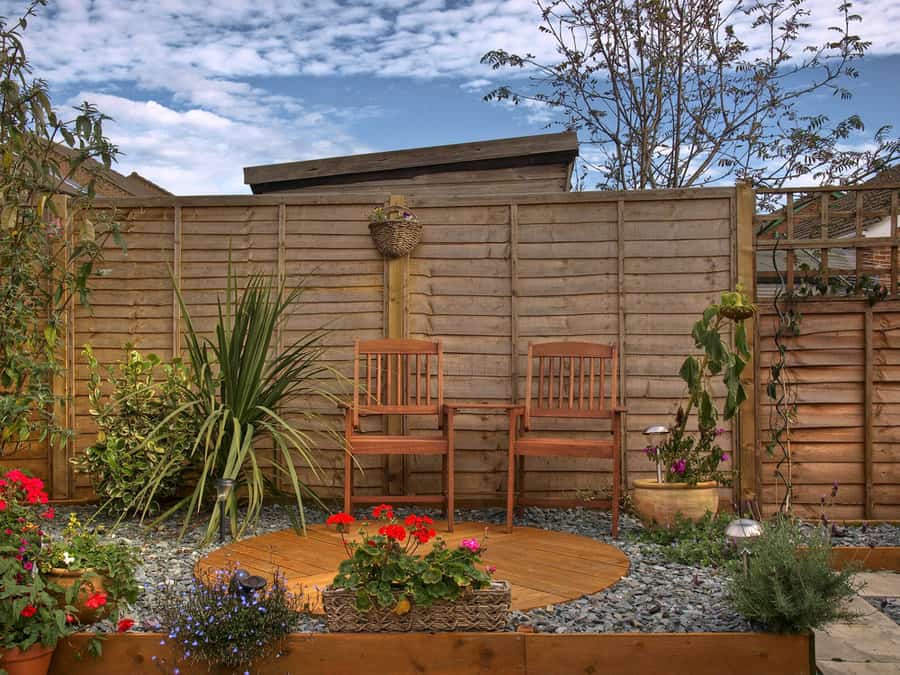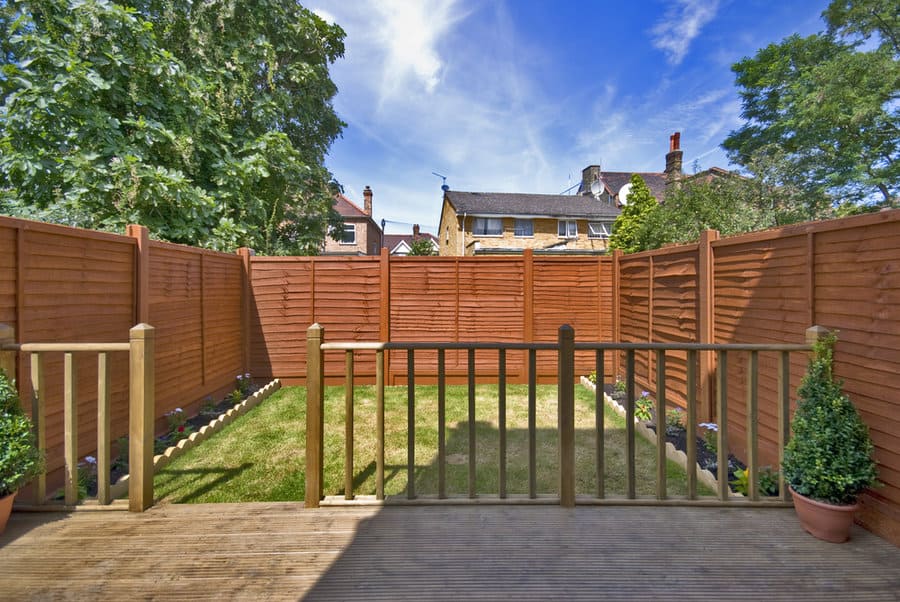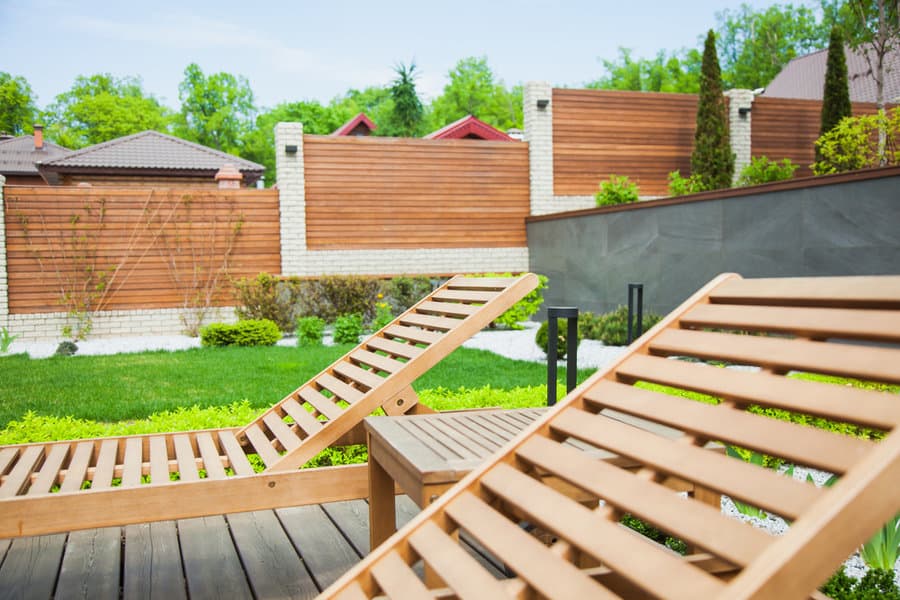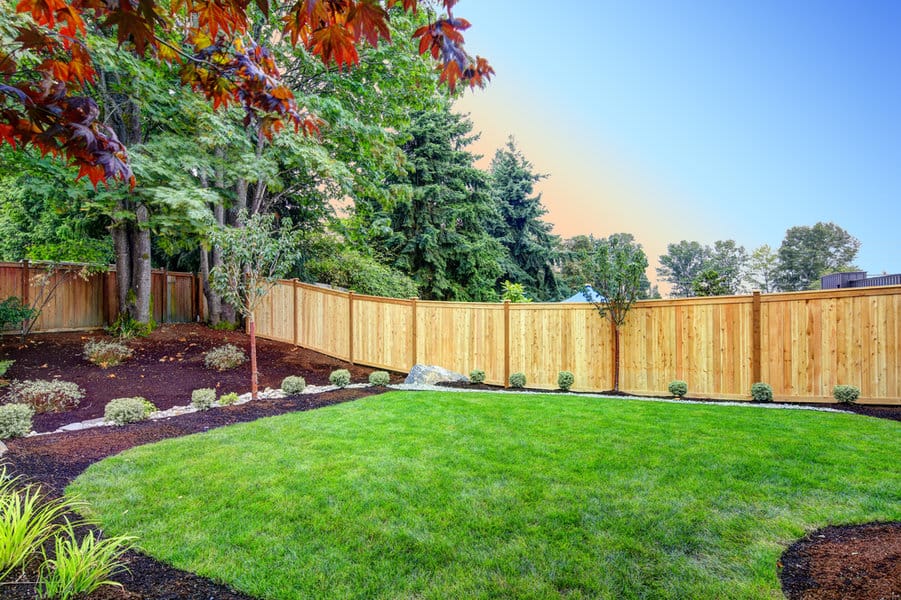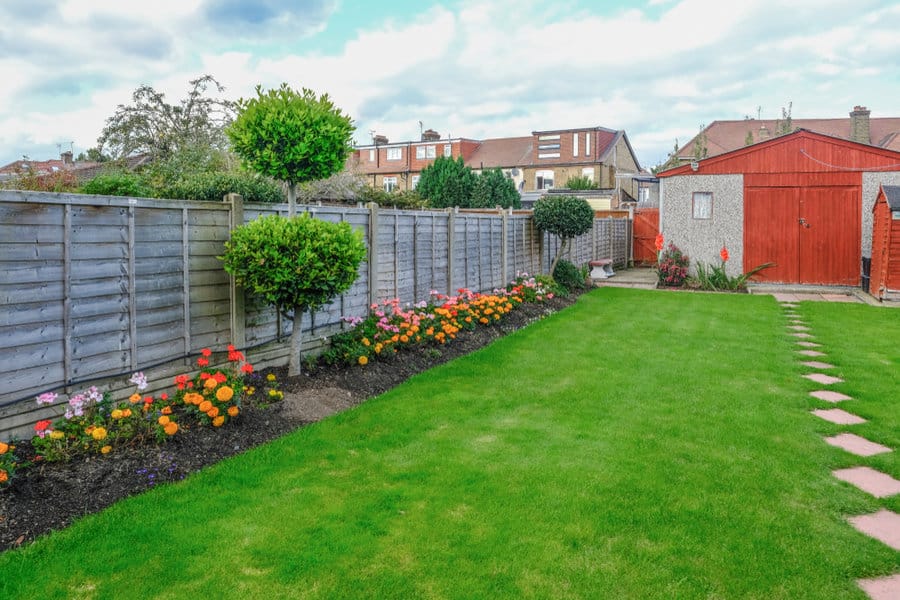 Another defining quality of privacy fences is height. After all, a solid fence would do little good blocking the line of sight into your backyard if it was only a few feet tall!
One thing to consider when installing a privacy garden fence is how it will affect the available sunlight. A tall fence may mean that more of your garden is in shade rather than direct light.
9. Rustic
Nothing complements a traditional vegetable garden like a rustic-style fence. Wood is the most obvious choice for rustic garden fencing. But you can also use sheet metal and chicken wire for greater stability.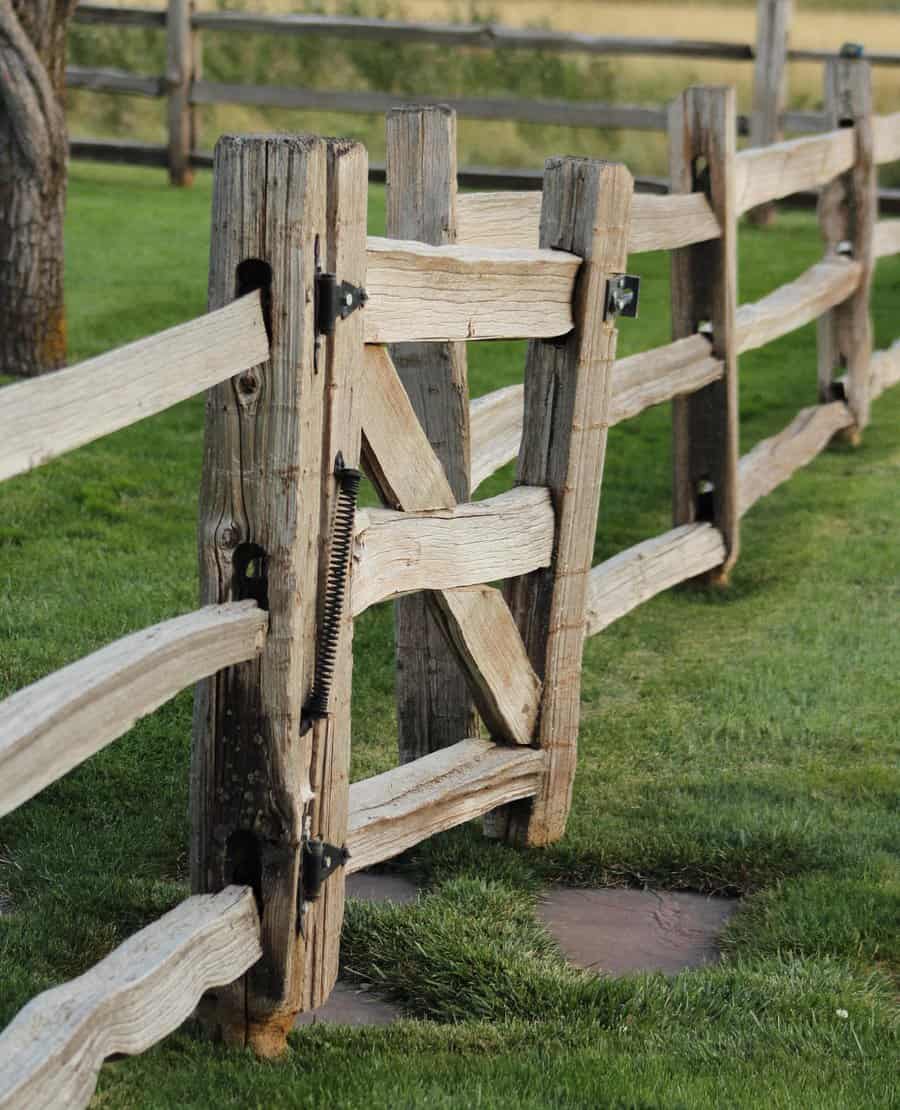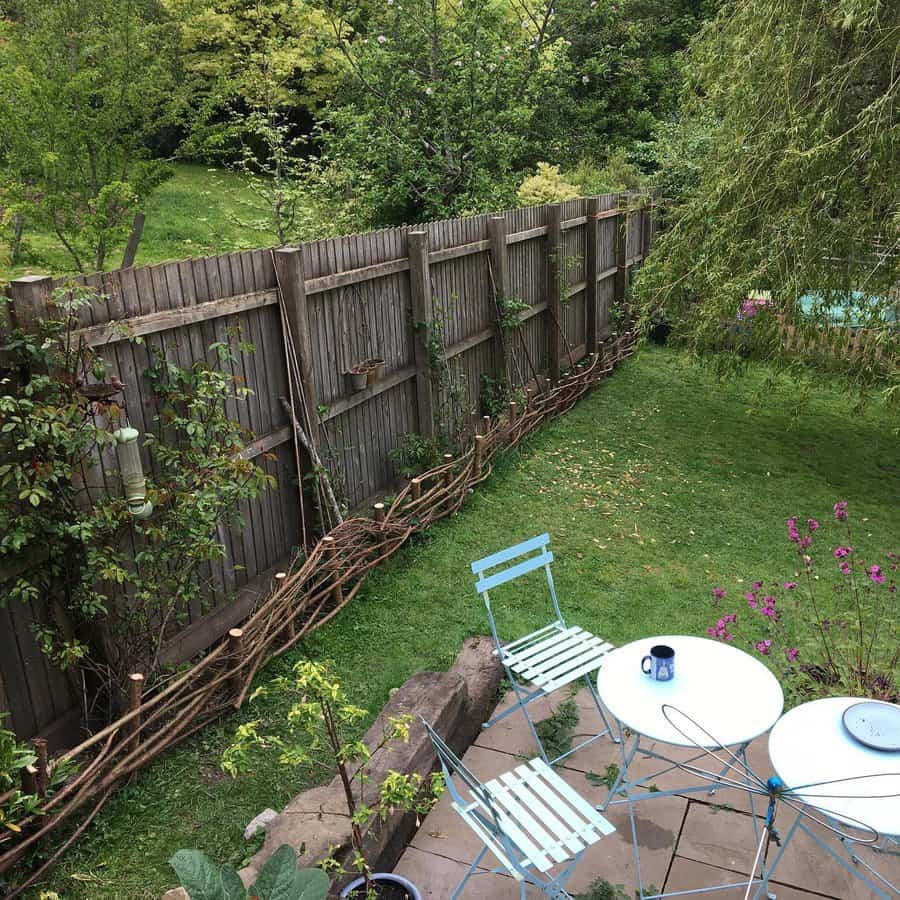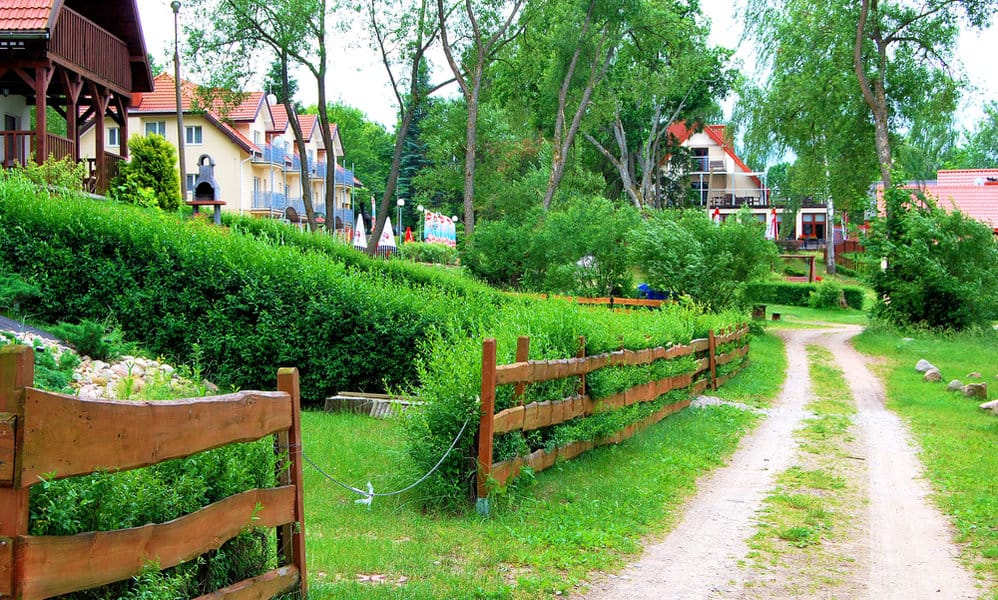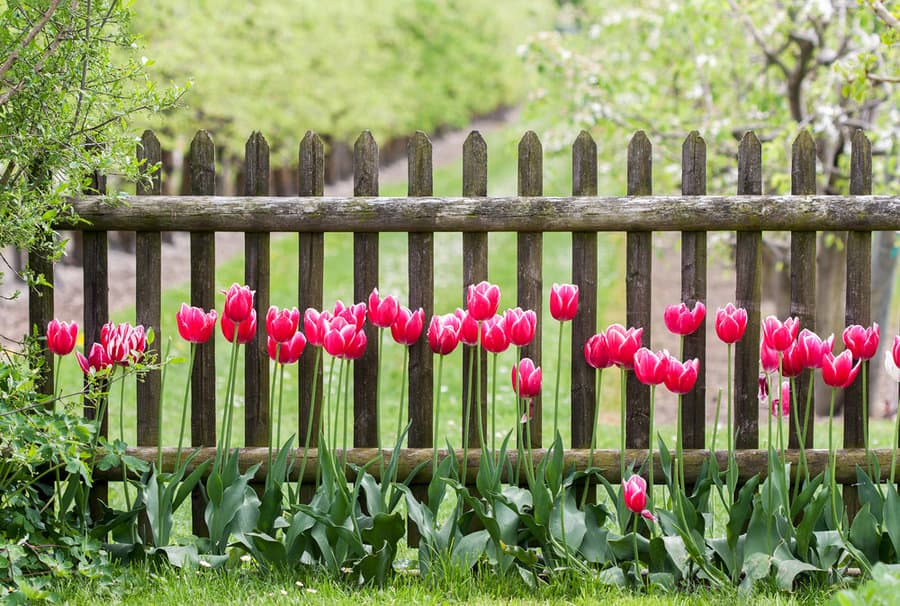 There are many styles to choose from: Split rail, pallet wood, and picket fence panels are all excellent options. For a more organic aesthetic, create a wattle fence out of dried branches and grass.
Perfection is the enemy of rustic charm. As long as your fence is structurally sound, there's nothing wrong with letting your fence posts show signs of age and weather exposure.
10. Vinyl
Vinyl fencing is lightweight, durable, and easy to install. And the best part is that high-quality vinyl doesn't look like vinyl at all (at least from a distance)!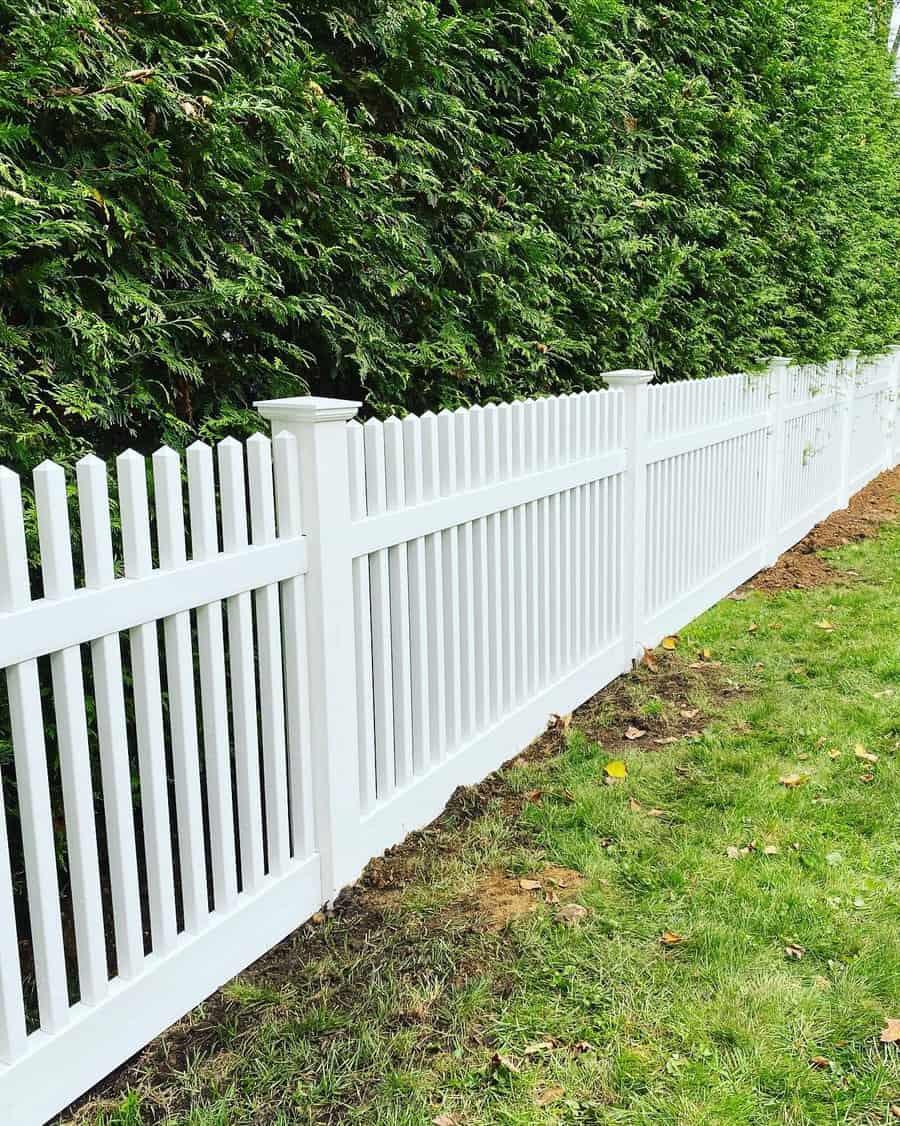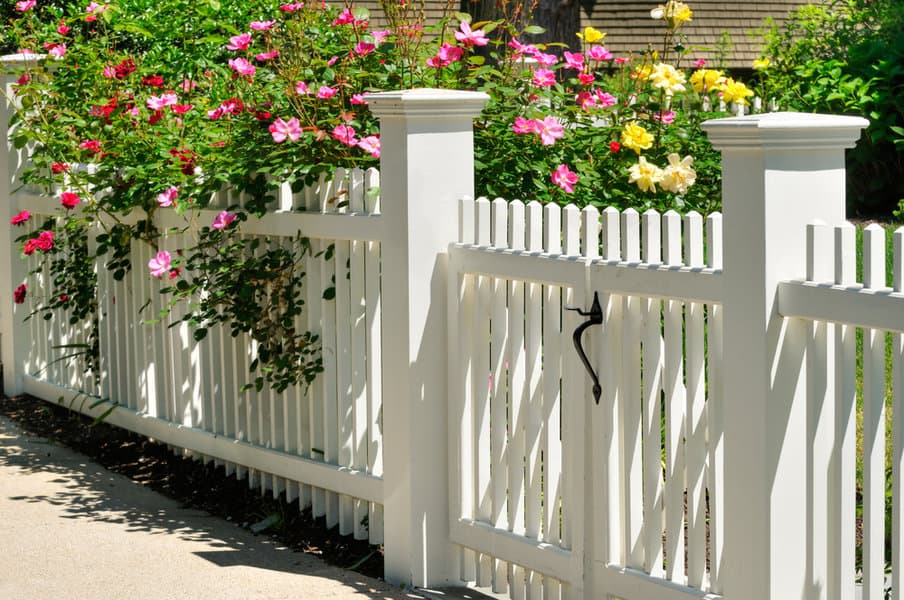 Vinyl fences come in a wide range of styles. This material is ideal for an attractive white picket fence or solid backyard fence. There are even vinyl finishes that look like real wood.
One downside of vinyl garden fencing is the initial cost. While installing vinyl fencing costs a bit more than wood, you'll likely save money in the long-term thanks to vinyl's ability to hold up to wear and tear without continual maintenance.
11. Wood
There's a reason so many garden fence ideas are made primarily (or entirely!) of wood. Wood fences are practical, affordable, and easy to DIY with limited building experience.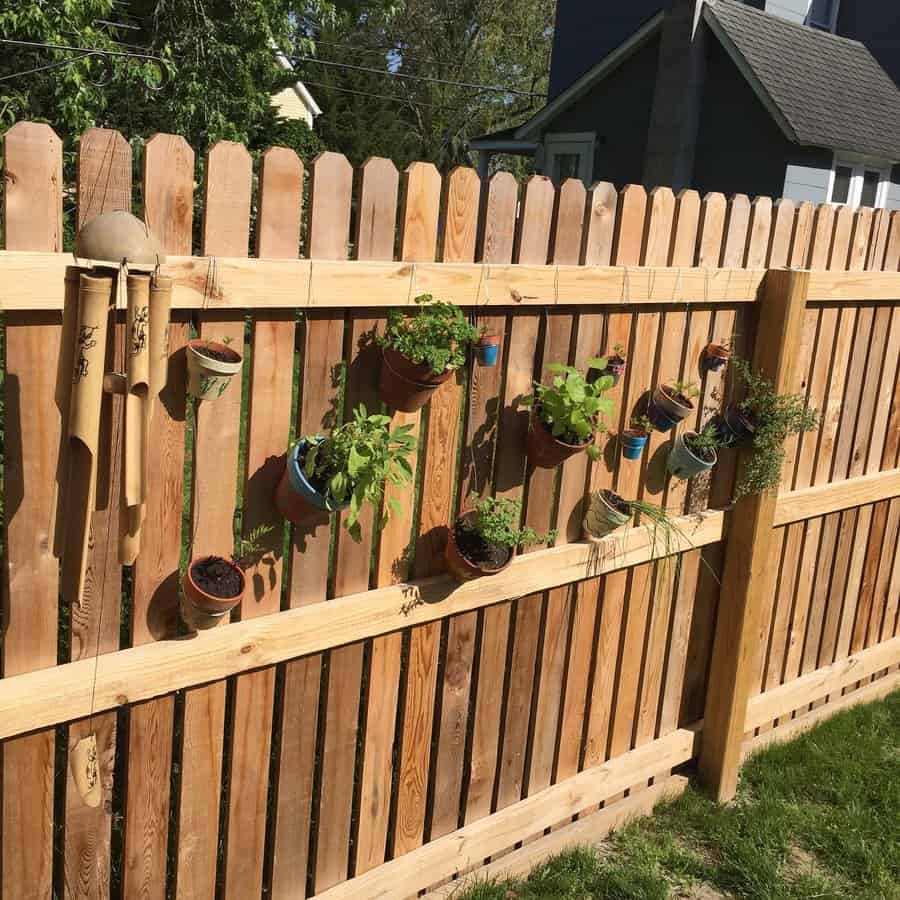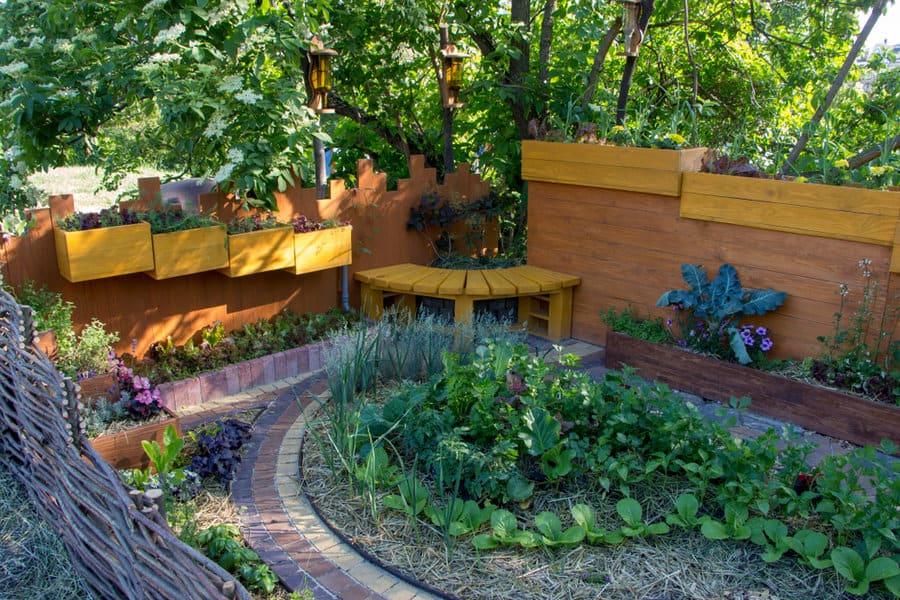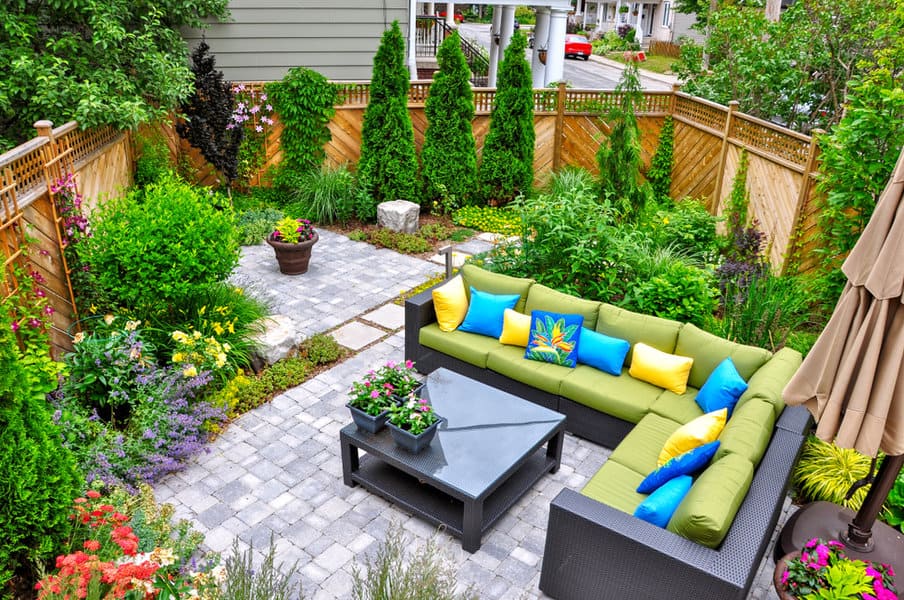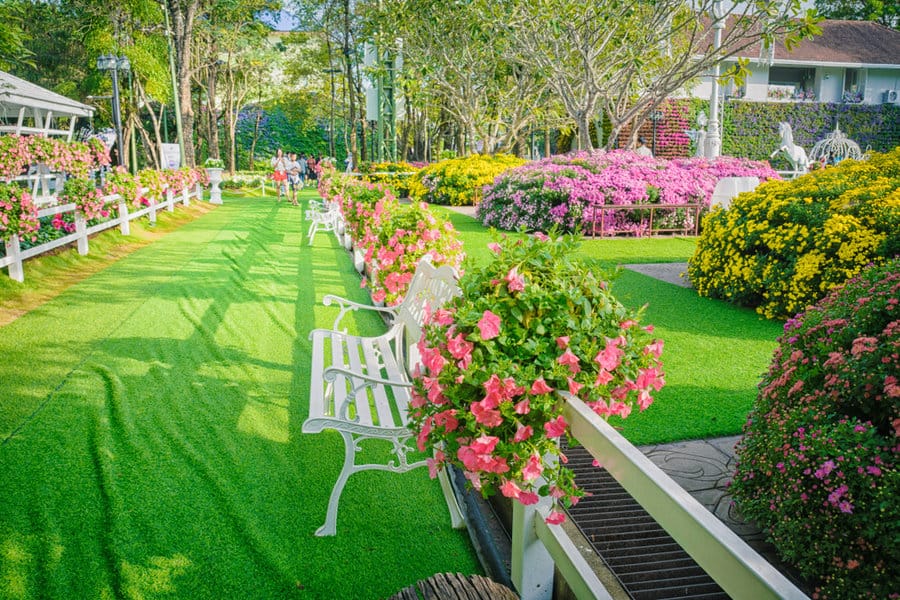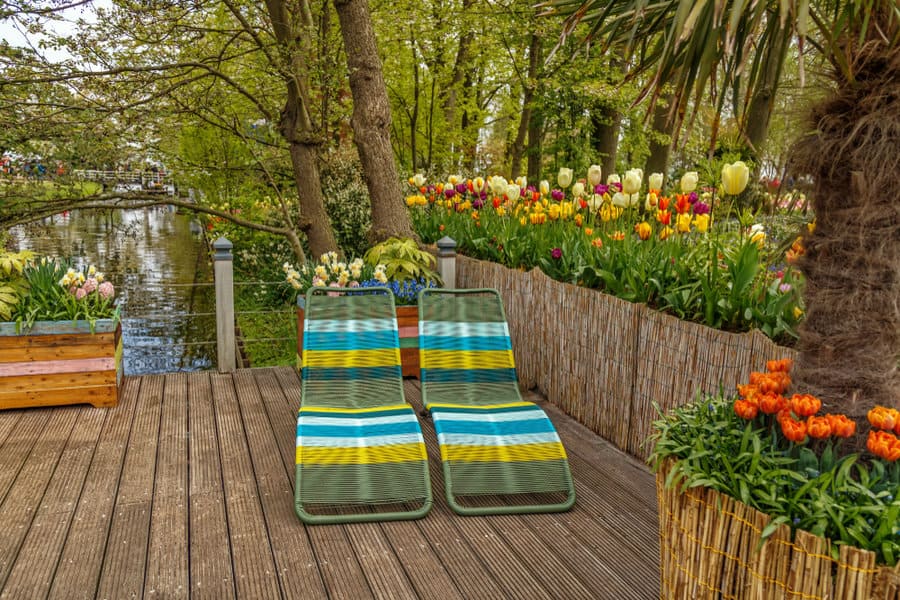 If you're willing to put a bit of elbow grease into your new garden fence, there's no shortage of designs that can be recreated using wood.
With stain or weather-resistant paint, your new wooden fence can take on any finish. And, with proper care, wooden fencing can be refreshed and renewed throughout its lifespan to suit your garden's changing aesthetic.
12. Woven
Woven fencing can be made of lumber, branches, reeds, and other flexible materials. Many home gardeners construct woven fences as temporary barriers — organic woven fencing is much more sustainable than plastic or chicken wire.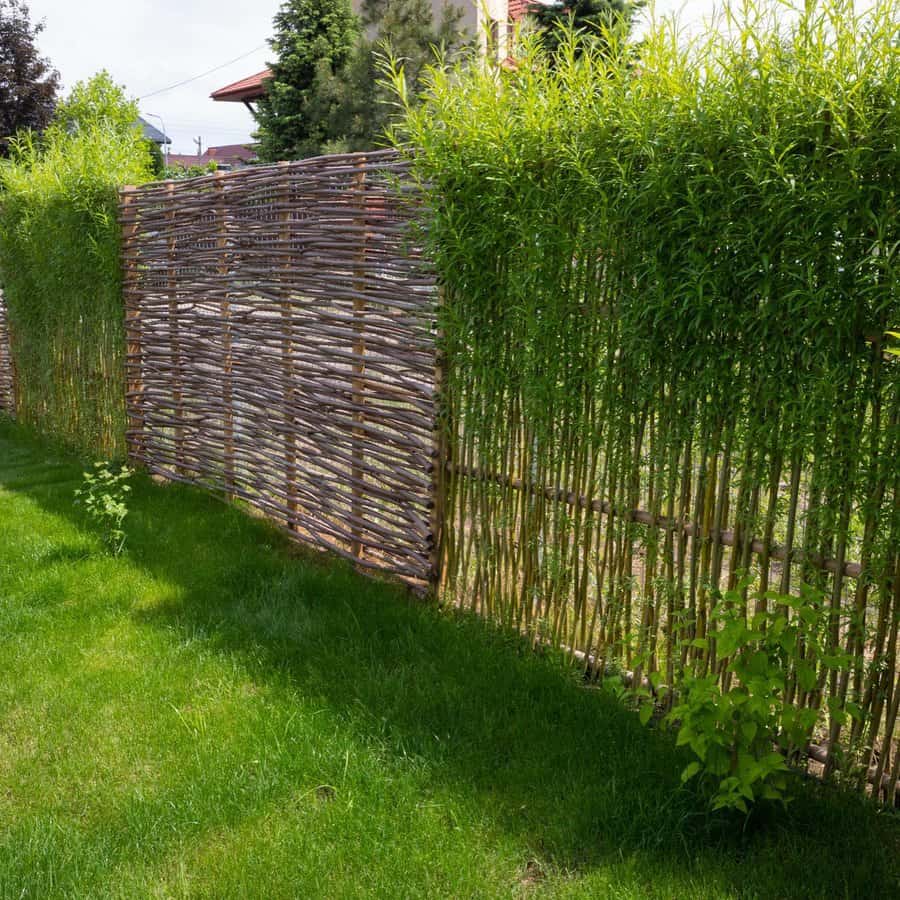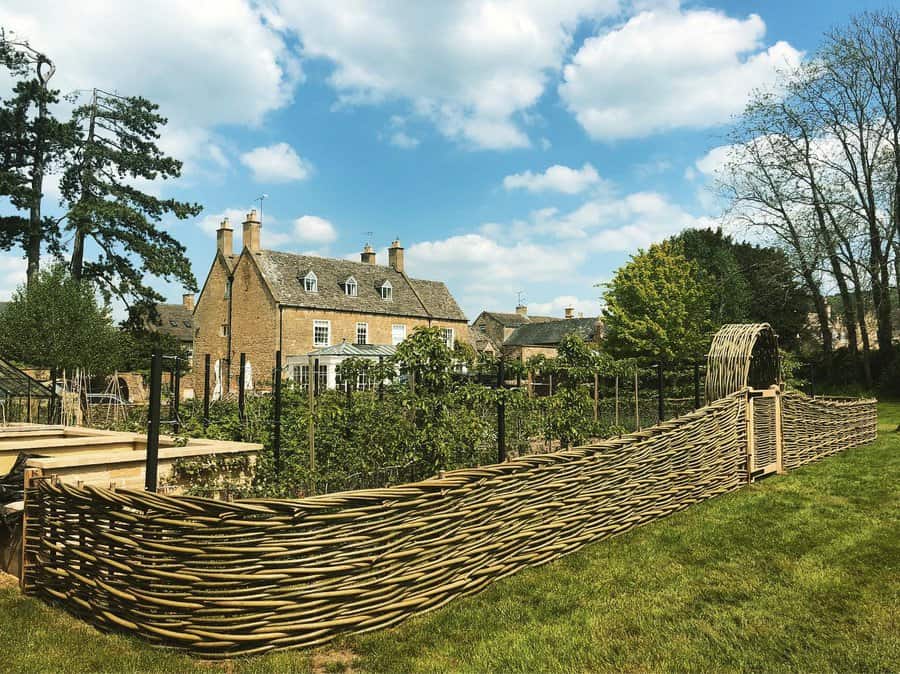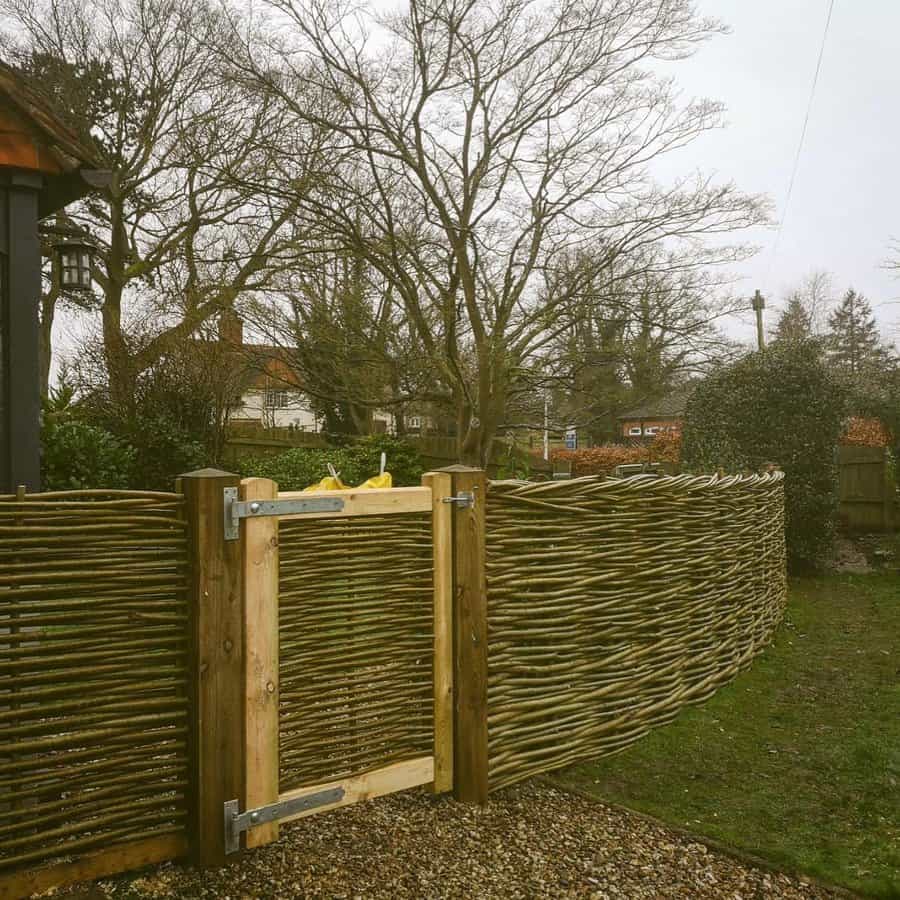 A woven fence made of living bamboo or willow can resemble a traditional trellis. This style of fencing is a unique alternative to evergreen hedges but requires constant care to maintain its uniform shape.
It's important to keep in mind that woven fencing is an art form that takes time to master! While it's possible to DIY a natural woven fence in your own garden, don't be discouraged if the finished product is less than perfect.
Garden Fence FAQs
How tall should a garden fence be?
The ideal fence height for your garden is largely a personal decision. While visual appeal does play a role, the most important factor in selecting a fence height is what you want the completed structure to keep out.
Standard garden fencing is 2 to 3 feet tall. Fences this height will keep out common garden pests, pets, and children. They will also prevent passersby from using your front yard or garden bed as a shortcut.
Fences that encircle the entire backyard tend to be taller than garden fences. For privacy, opt for a fence that is between 6 and 8 feet tall.
How do you prevent animals from digging under a fence?
Determined wildlife (and neighborhood dogs) will have no trouble digging under a typical garden fence. There are several ways to deter animals from digging under your new fence.
Chicken wire can be installed several inches under the soil to keep animals from digging under a fence. Galvanized welded wire is an even sturdier solution.
If installing something under the fence isn't possible, you can attach a piece of lumber or lay down heavy stones along the bottom edge.