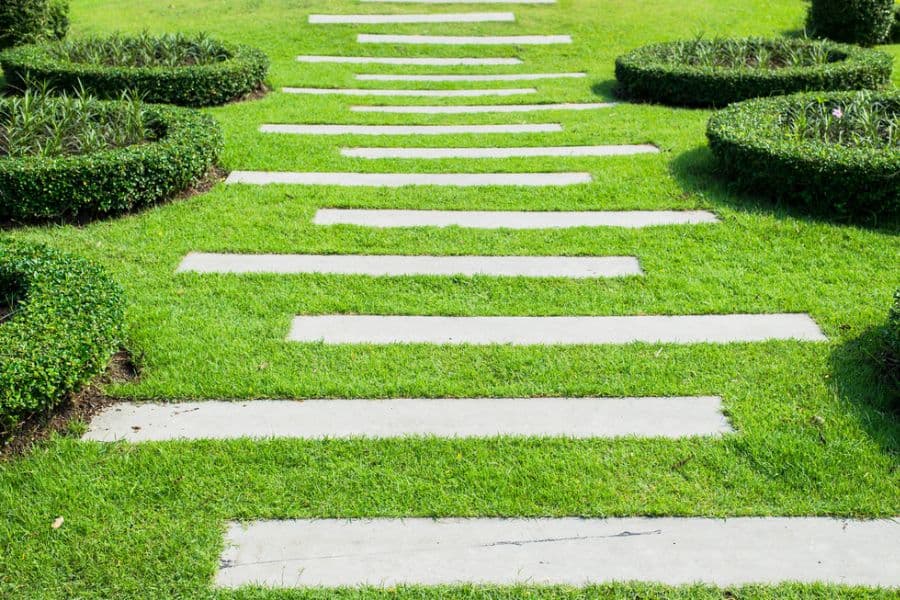 The Top 104 Garden Path Ideas
Having a beautiful garden in your backyard is pointless if you can't walk through and appreciate it. A garden walkway makes it possible to admire your flowers, marvel at your greenery, and harvest your produce. Your garden design should include a garden path that makes it easy to get from one side of your garden to the other. From romantic winding paths to functional straight lines, a garden path keeps your feet off the plants.
These garden path ideas will help you build a walkway through your garden so you can start enjoying the fruit of your labor.
1. Lush Grass Pavers for Serenity
Enhance your garden's allure effortlessly with grass pavers. These versatile elements offer an elegant solution to separate flower beds and garden sections. Craft straight or curved paths using stones, tiles, or painted bricks as edging. Pavers ensure better traction, preventing visitors from damaging delicate petals or slipping on muddy terrain. To achieve this design, lay pavers directly on the grass, creating a charming and serene garden pathway. Pair with well-placed garden ornaments or lighting for added ambiance.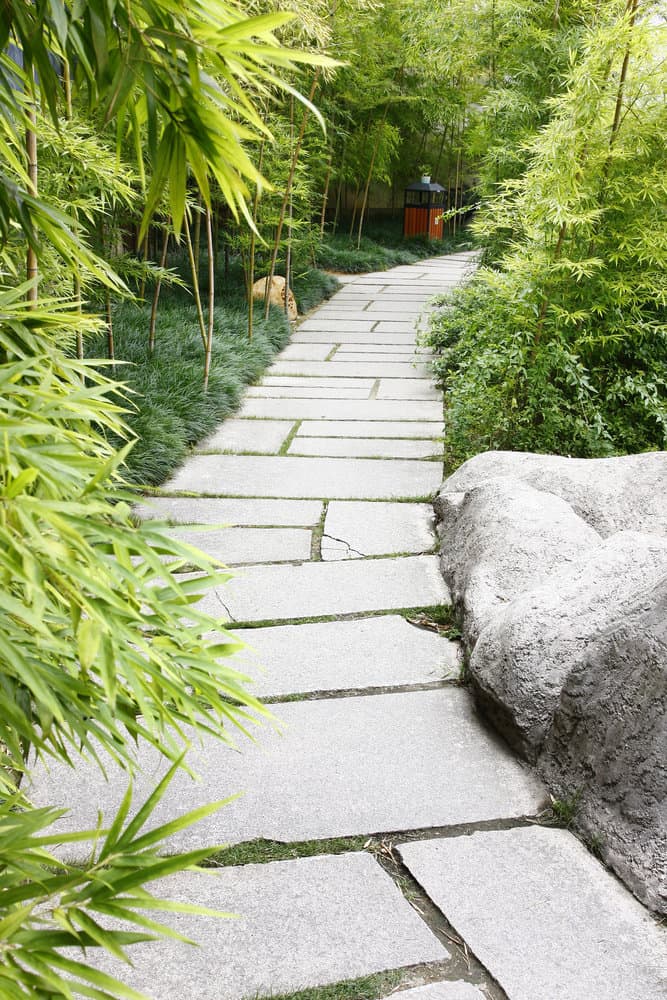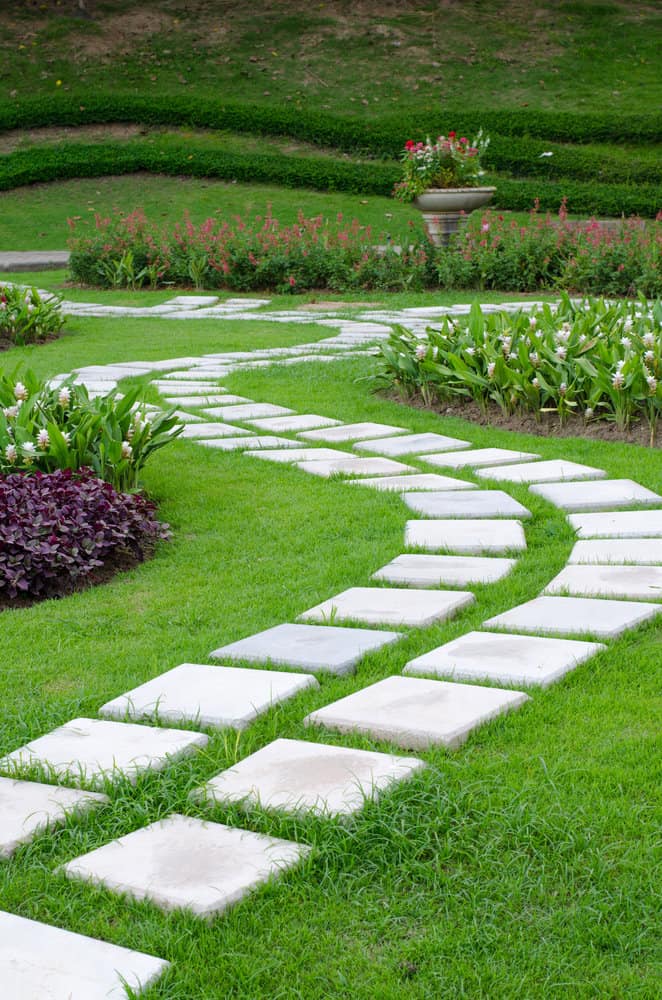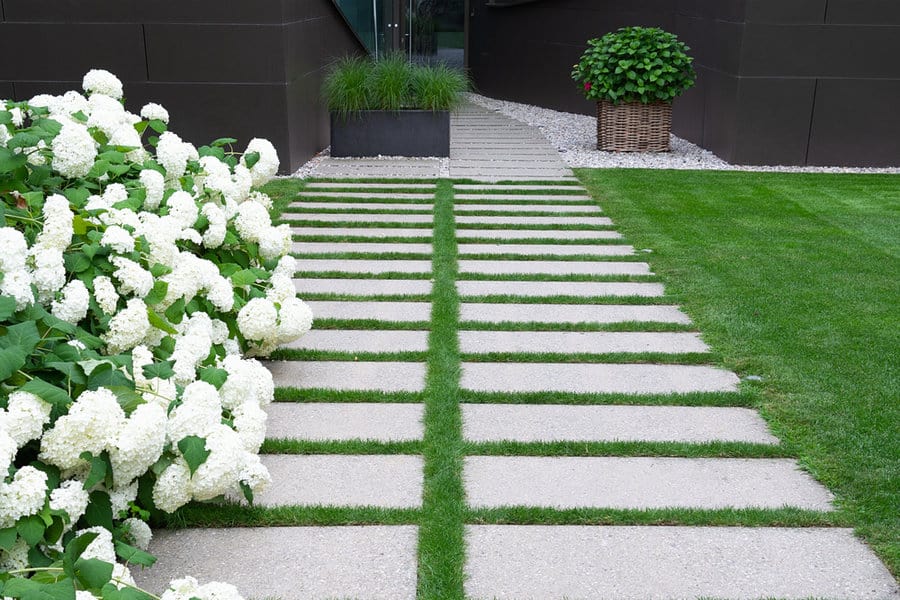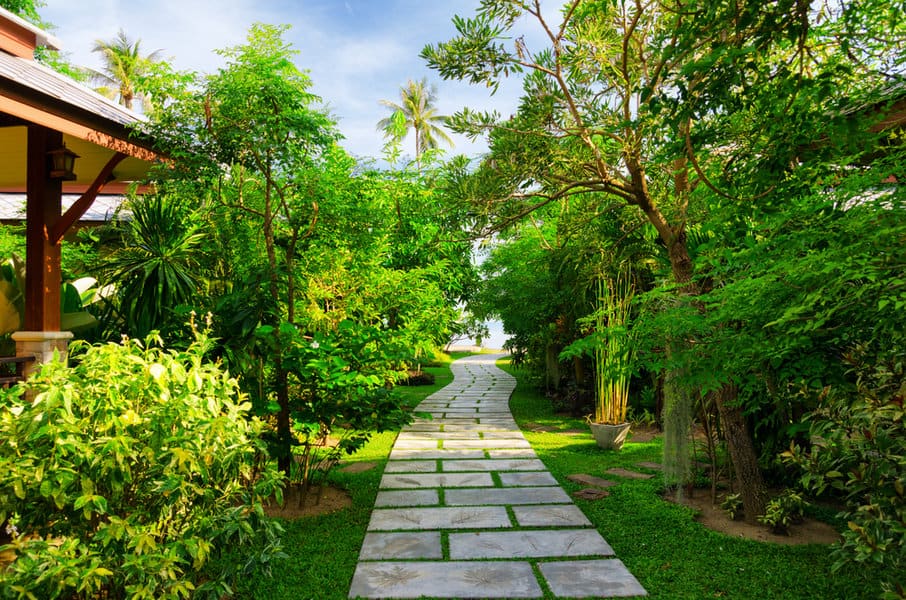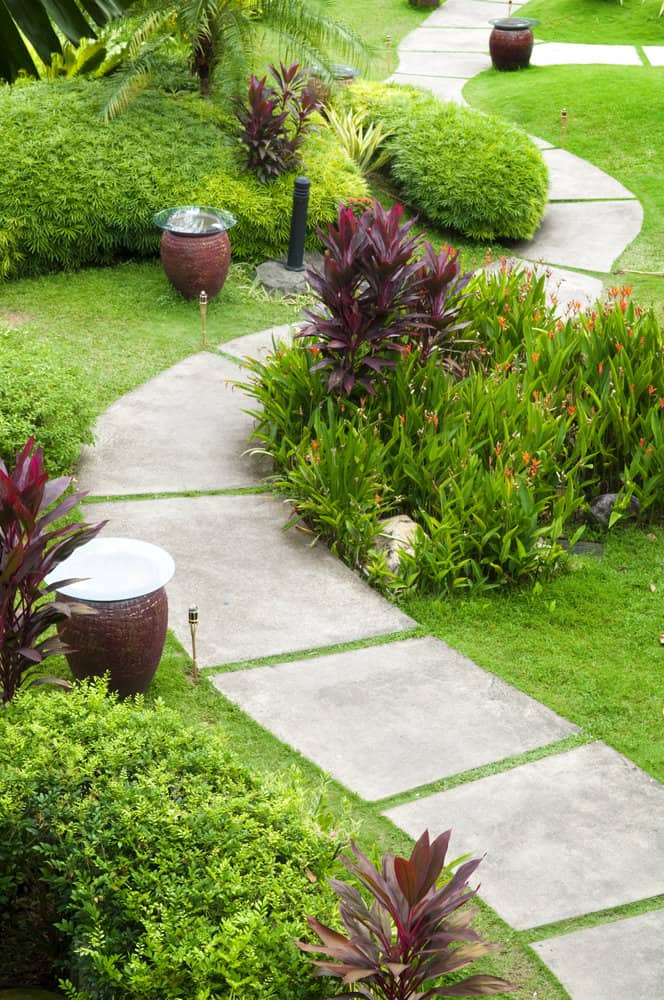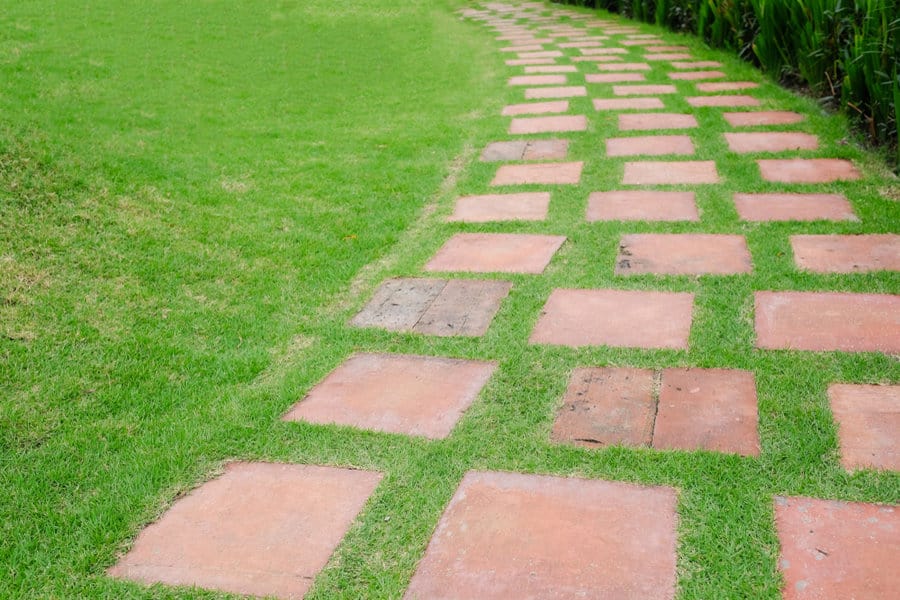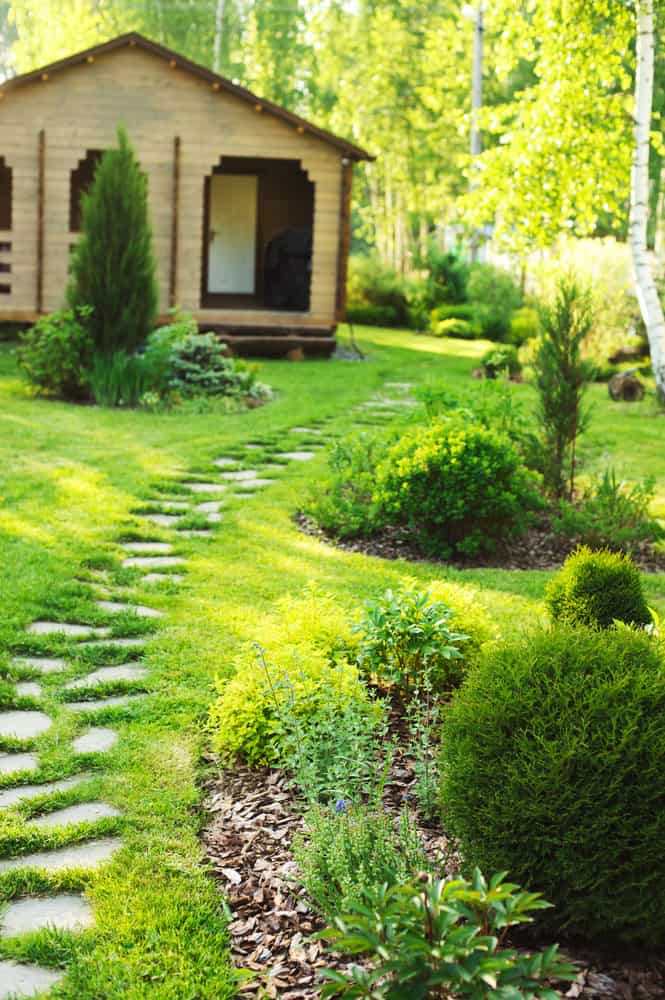 2. Graceful Pebble Pavers Underfoot
Transform your outdoor space into a welcoming oasis with the elegance of pebble pavers. These distinctive paths create visual intrigue with their unique material contrast. Enhance your garden's charm and let your creativity flourish; consider integrating solar floor lights into your pavers for a magical nighttime ambiance. Choose environmentally friendly pavers and rain-absorbing pebbles to promote garden sustainability. Discover the beauty of these pebble pavers while crafting a sustainable and enchanting garden pathway that stands out.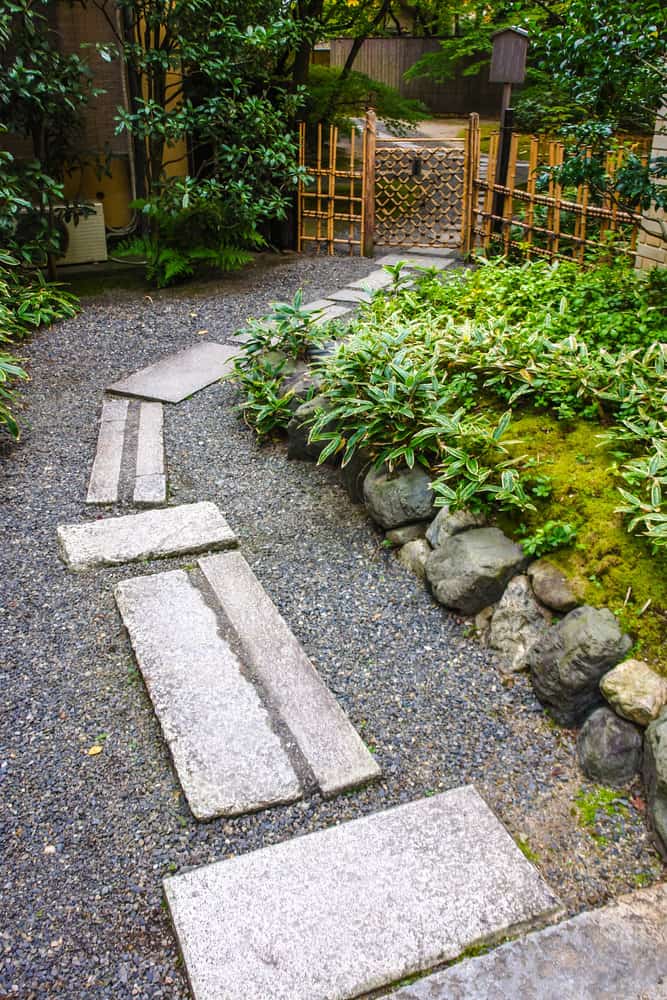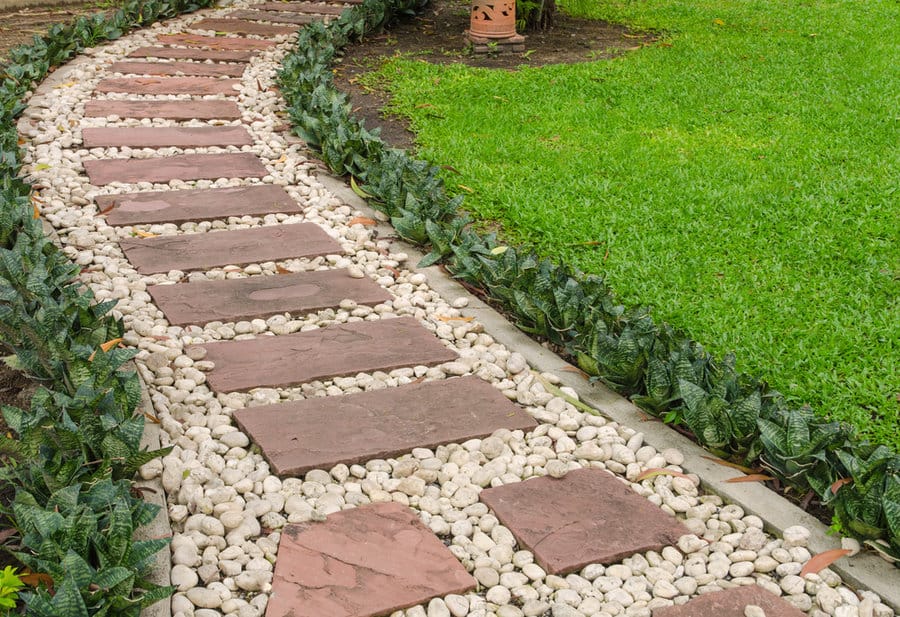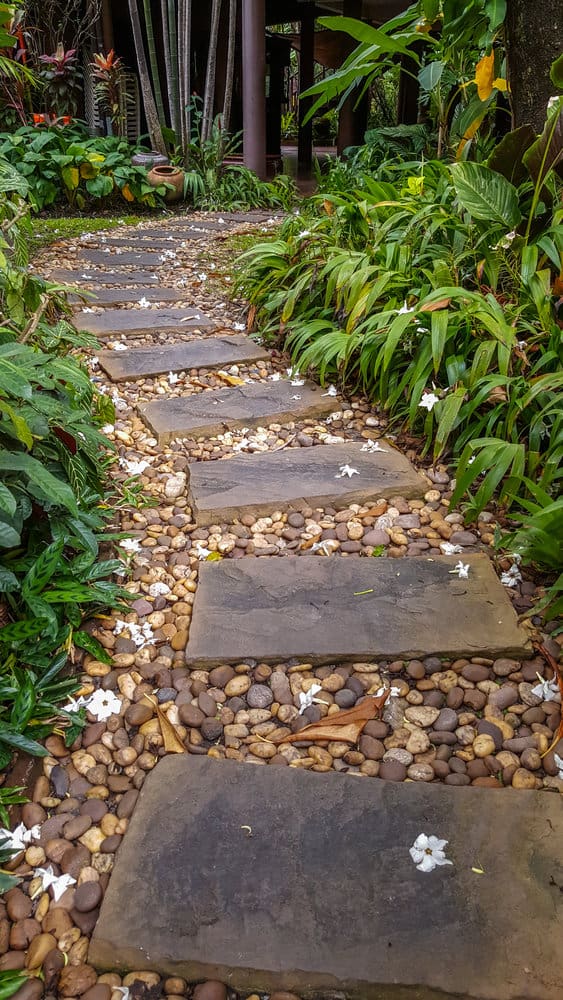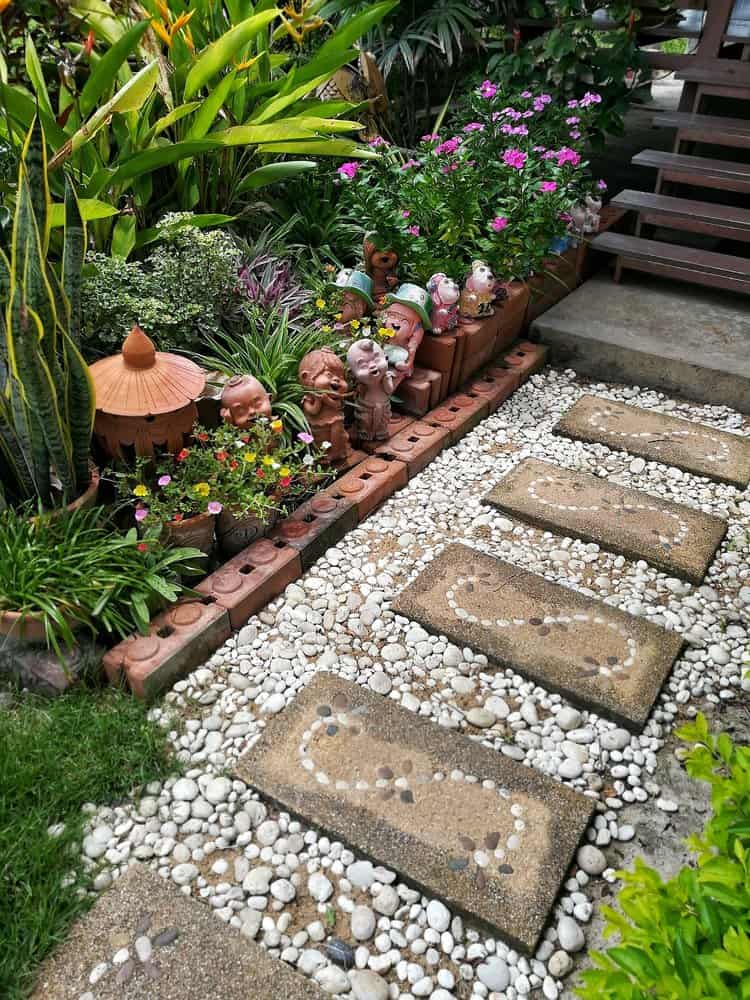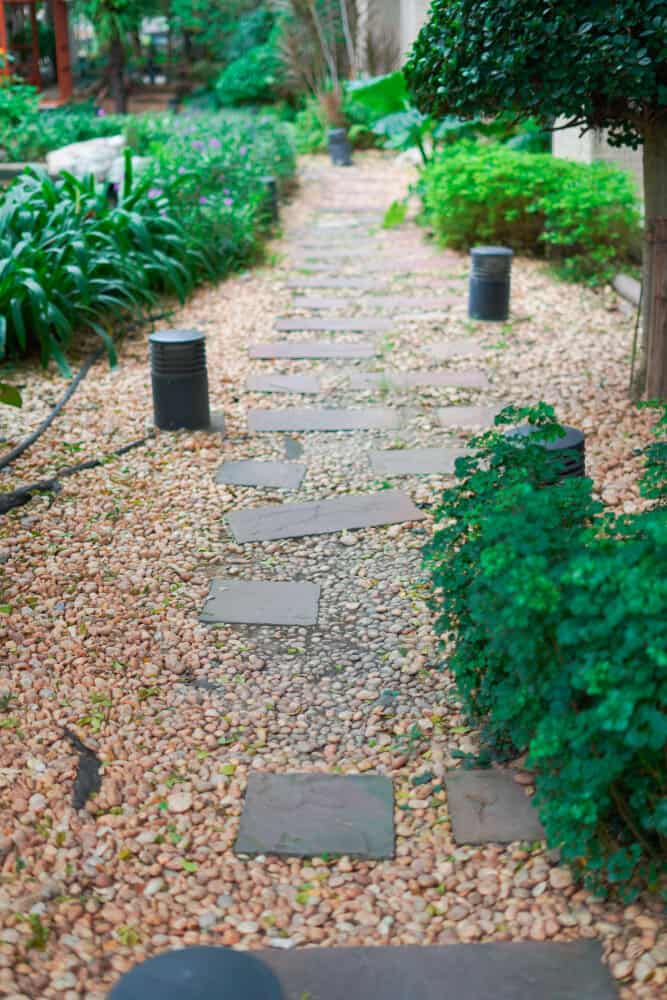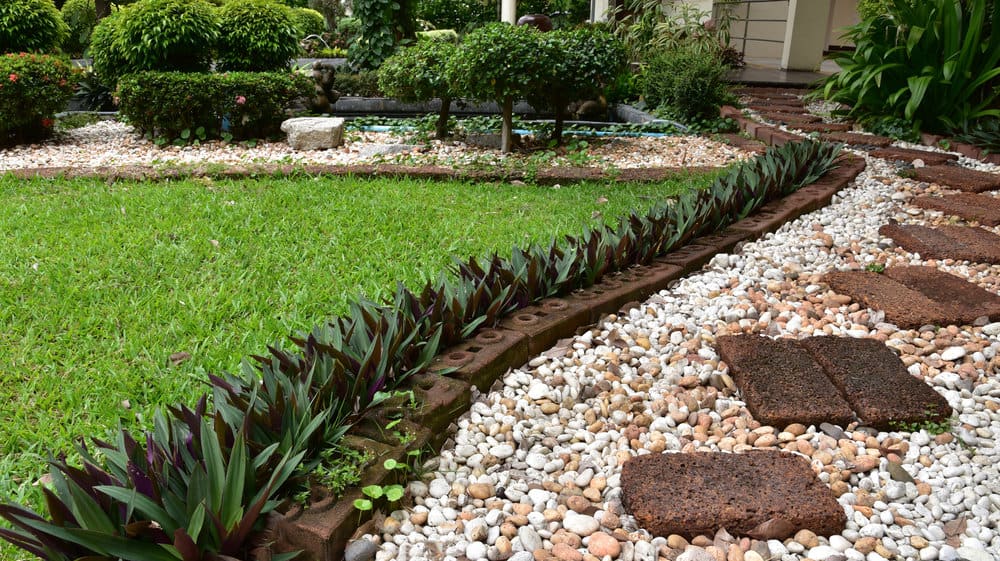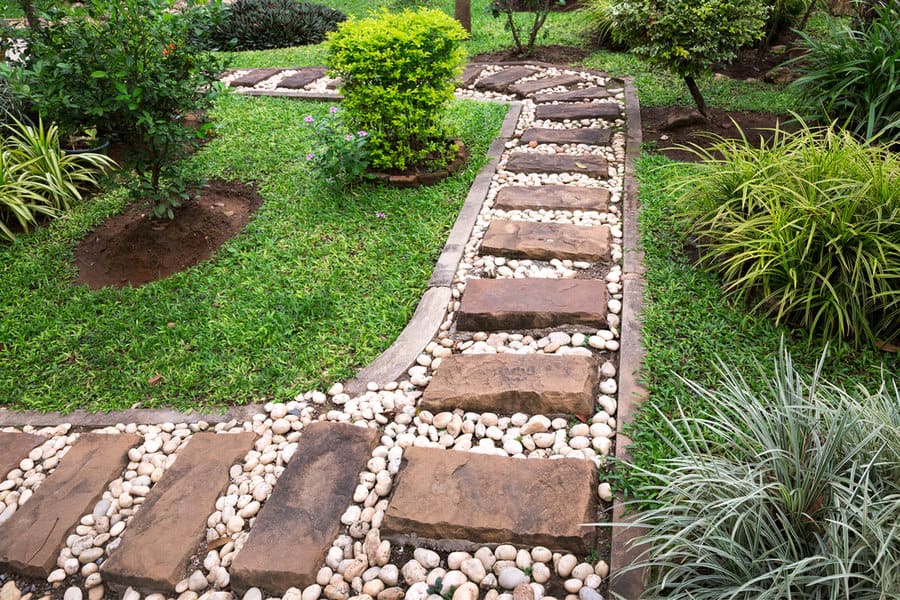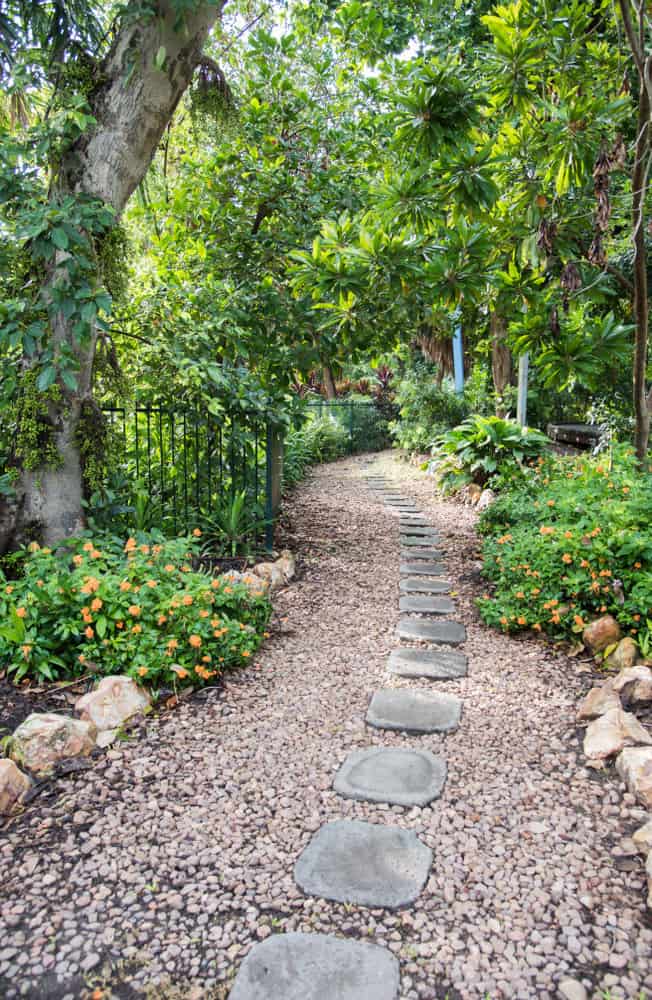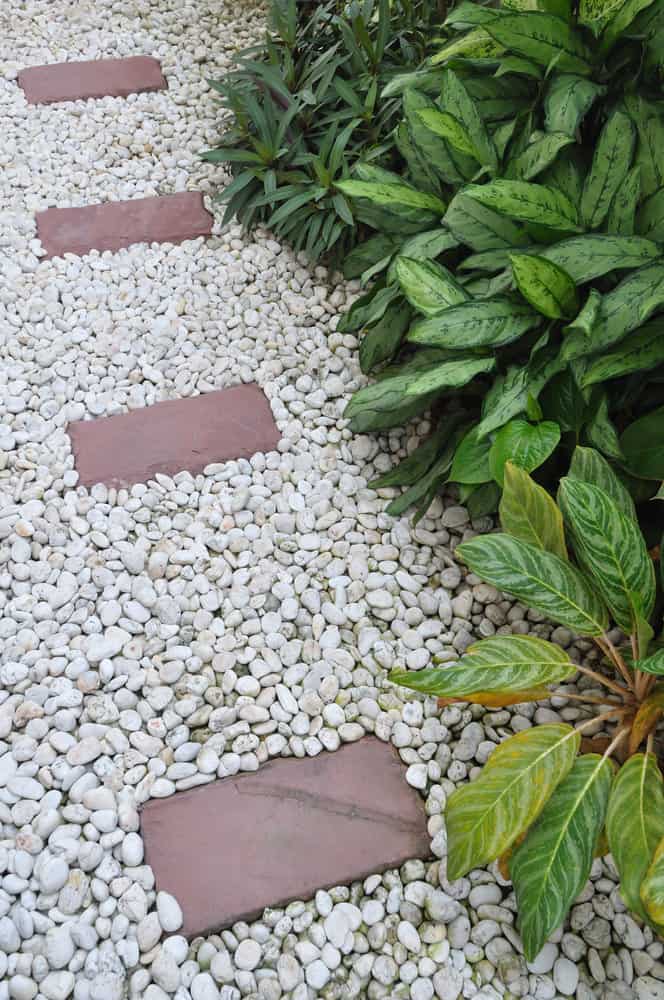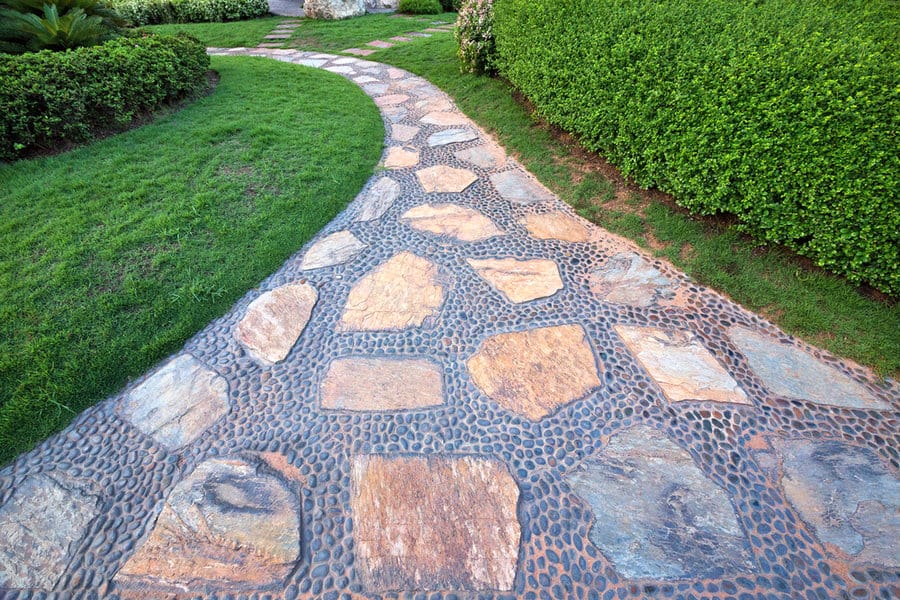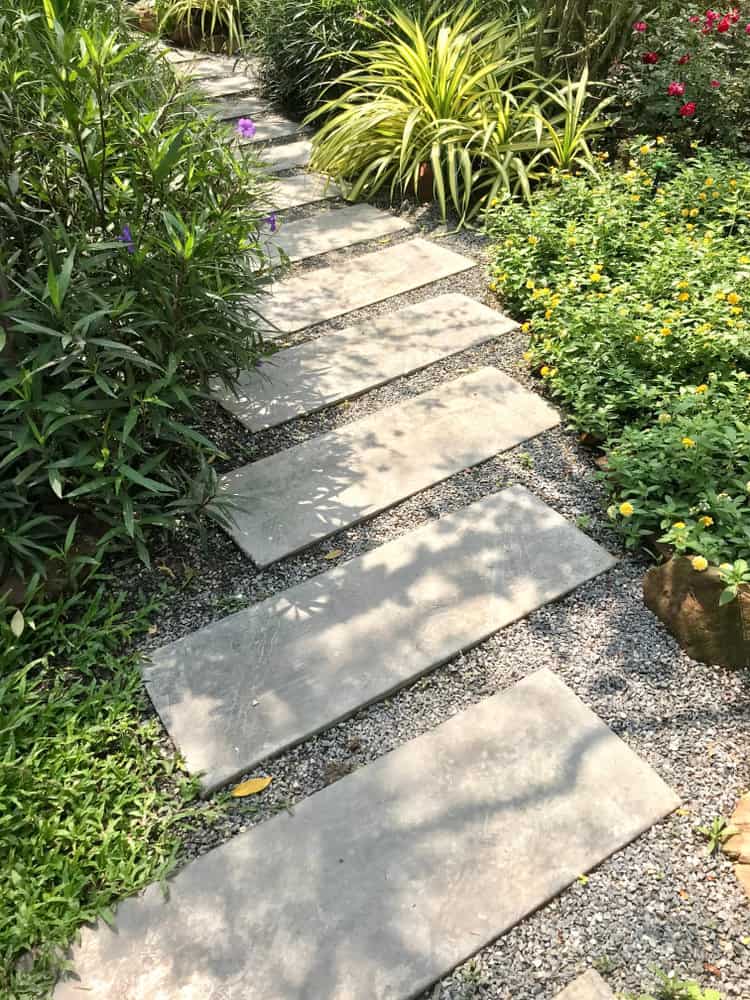 3. Stone & Grass: Nature's Harmony Path
Achieve a harmonious garden path by alternating stones and grass. This creative solution blends aesthetics with practicality. Enjoy the beauty of this path while enhancing stability on uneven terrain, making it perfect for yards with slopes.
Additionally, the grass between stones aids in drainage, preventing water buildup. Say goodbye to muddy footprints after rain while maintaining easy access to various garden areas. To create this path, place stepping stones strategically in the grass, ensuring both form and function. Consider integrating it into a larger garden landscape, combining nature's beauty with convenience.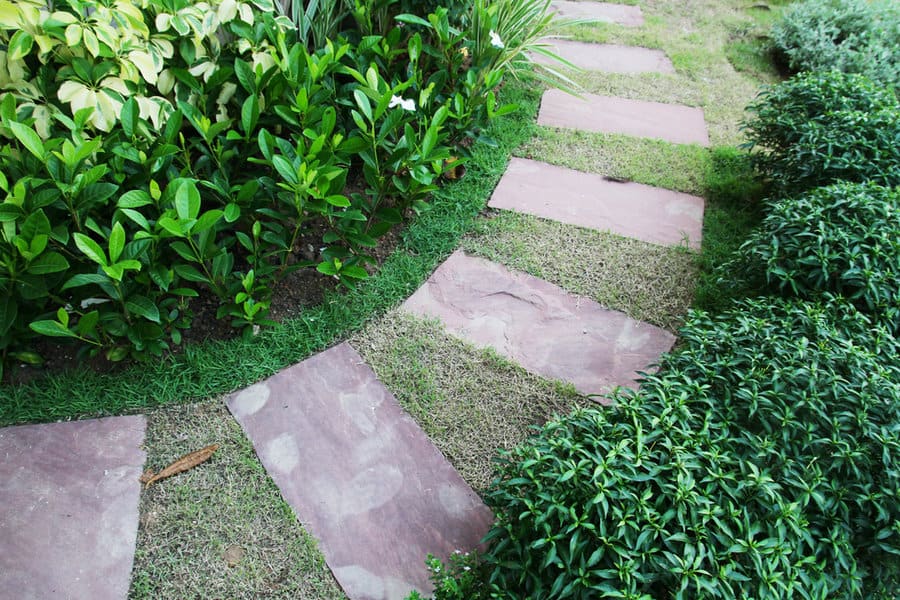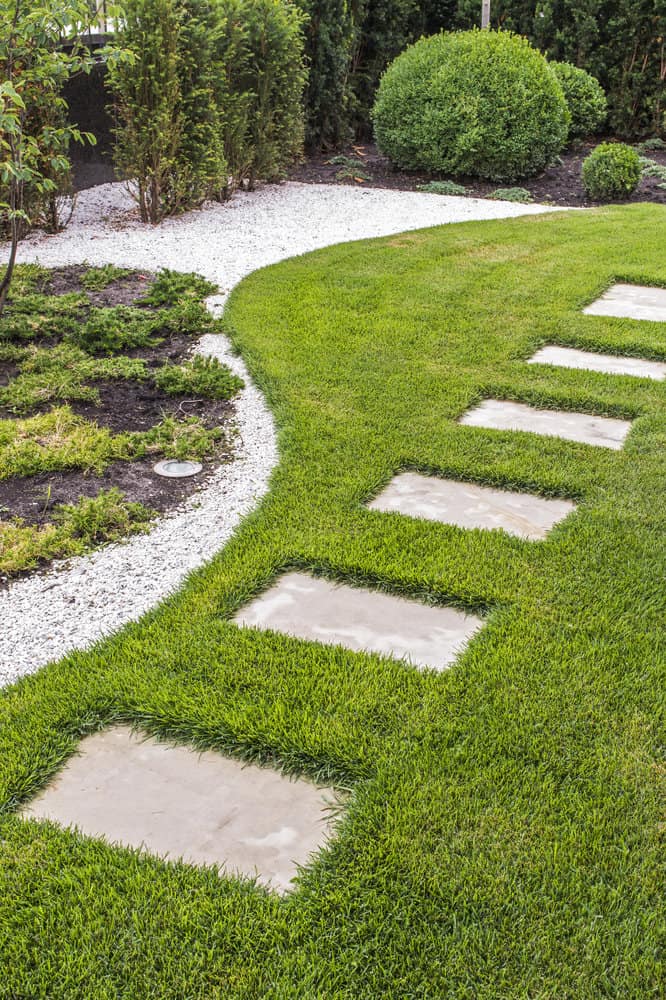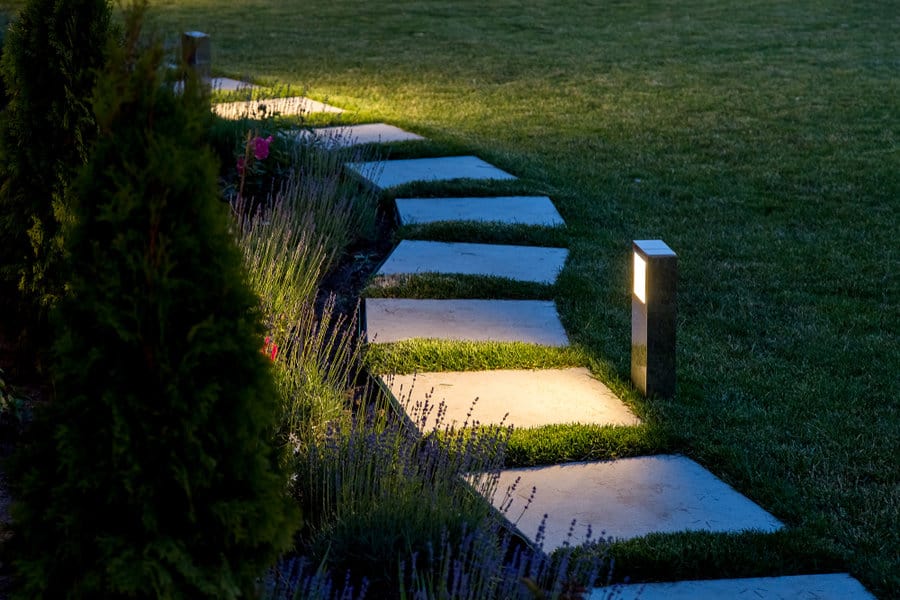 4. Elegant Patterned Stone Steps
Elevate your garden's aesthetics with a decorative path featuring patterned stone steps. These steps introduce texture, pattern, and depth to your outdoor space.
Unleash your creativity by experimenting with various stone colors and shapes to craft intricate designs. For an artistic touch, consider incorporating mosaic tiles or mixing concrete blocks into the pathway. By customizing your path to complement your garden's overall look, you'll take your outdoor oasis to a new level of elegance and charm. Explore the possibilities of patterned stone steps for a garden that truly stands out.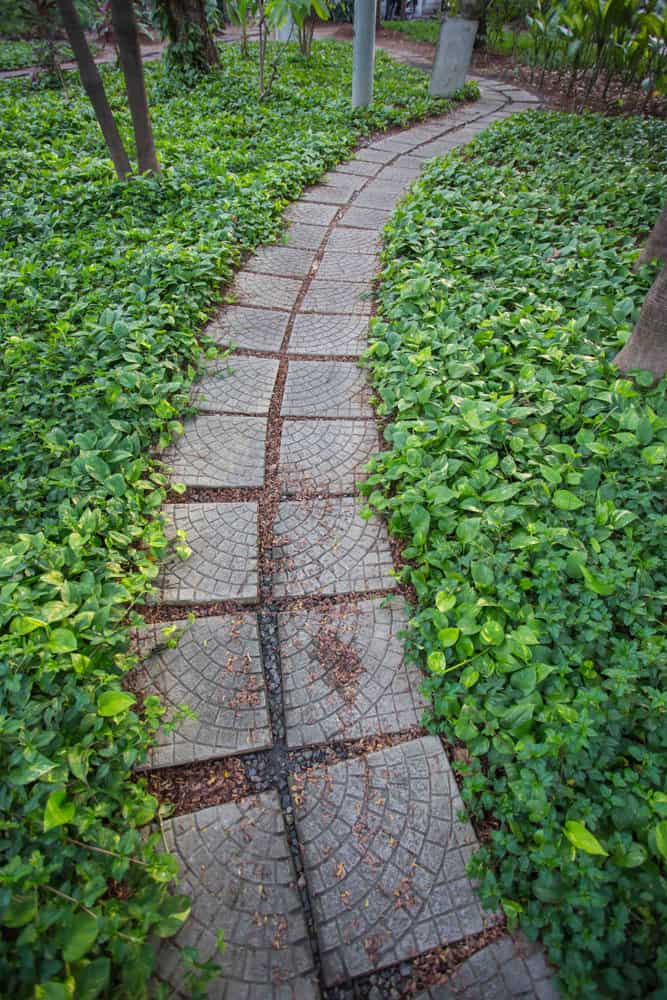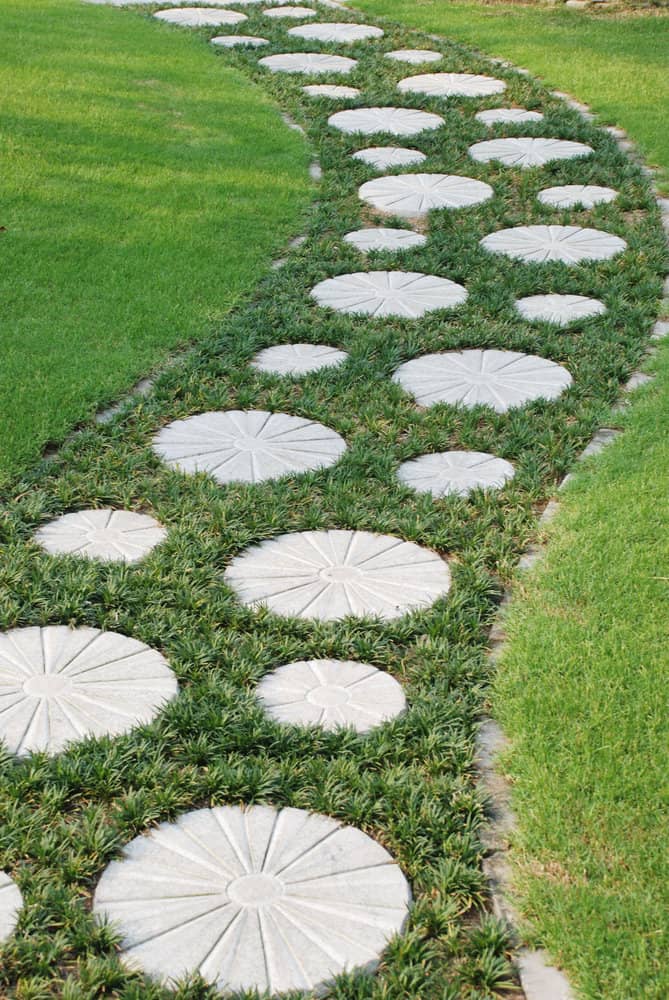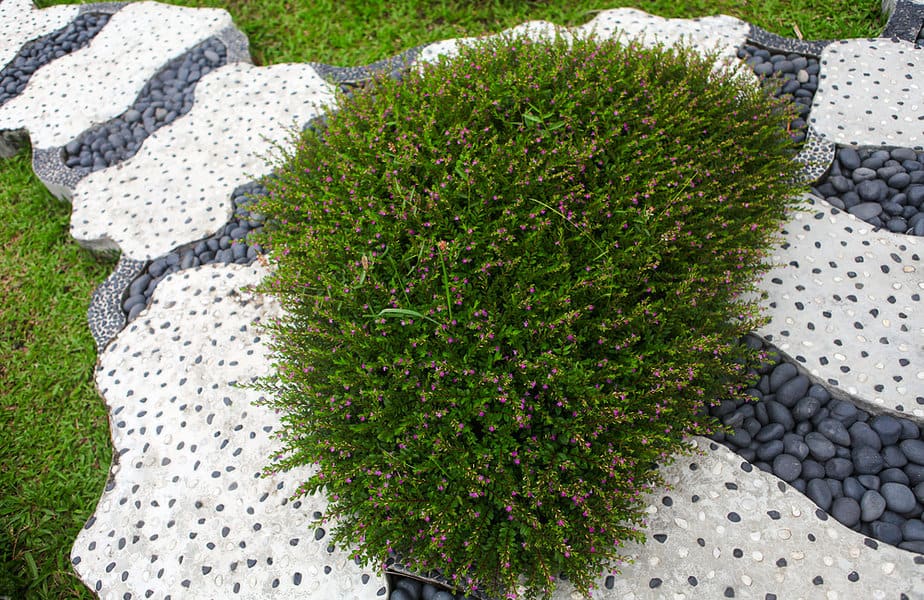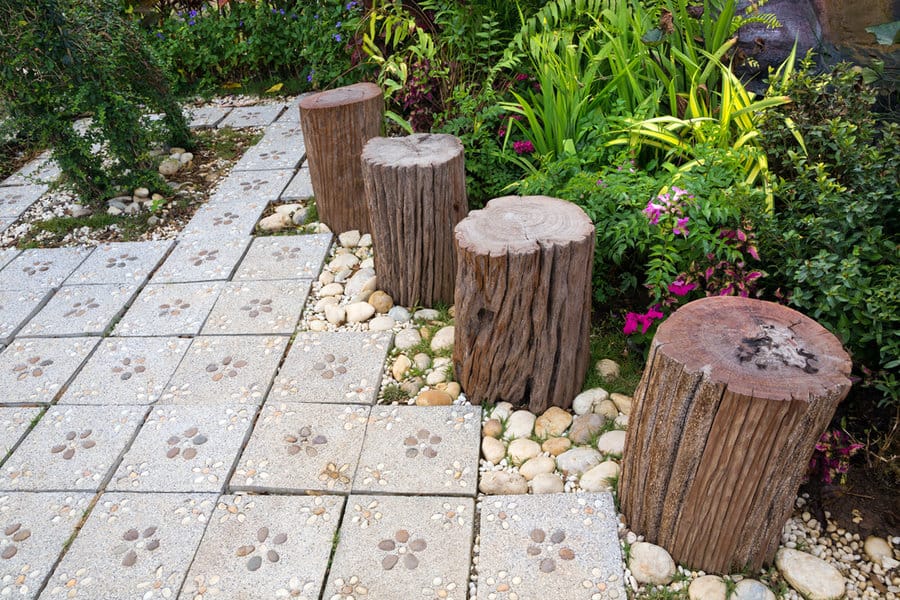 5. Tranquil Landscape Buffer Steps
Enhance your garden's aesthetics with landscape buffer steps, adding visual appeal and function. Choose between concrete or stone steps to achieve your desired look and create an elegant transition from garden to surroundings.
To elevate their beauty, consider placing a landscaped bush at the center of these steps, adding an aesthetically pleasing detail. These steps not only draw attention to your garden's lush greenery but also maintain a clear path for foot traffic. Transform your garden path into a captivating focal point, where every step is a journey through beauty and tranquility.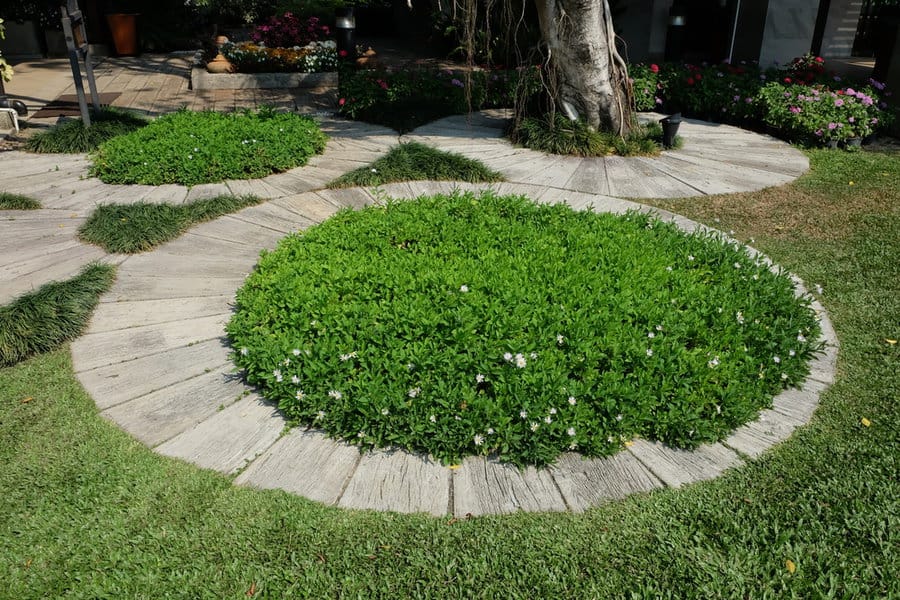 6. Natural Wood Slab Stairway
Infuse creativity into your garden path with the charm of wood slab steps. Whether you opt for small, rustic slivers or larger, more imposing arrangements, wooden steps offer an organic allure that captures attention.
These steps don't just invite exploration; they can also double as captivating outdoor decor. For a rustic touch, experiment with various wood types and distressing techniques. The beauty of designing with wood slab steps lies in the boundless possibilities. Transform your garden path into a natural, eye-catching masterpiece that complements your outdoor oasis effortlessly.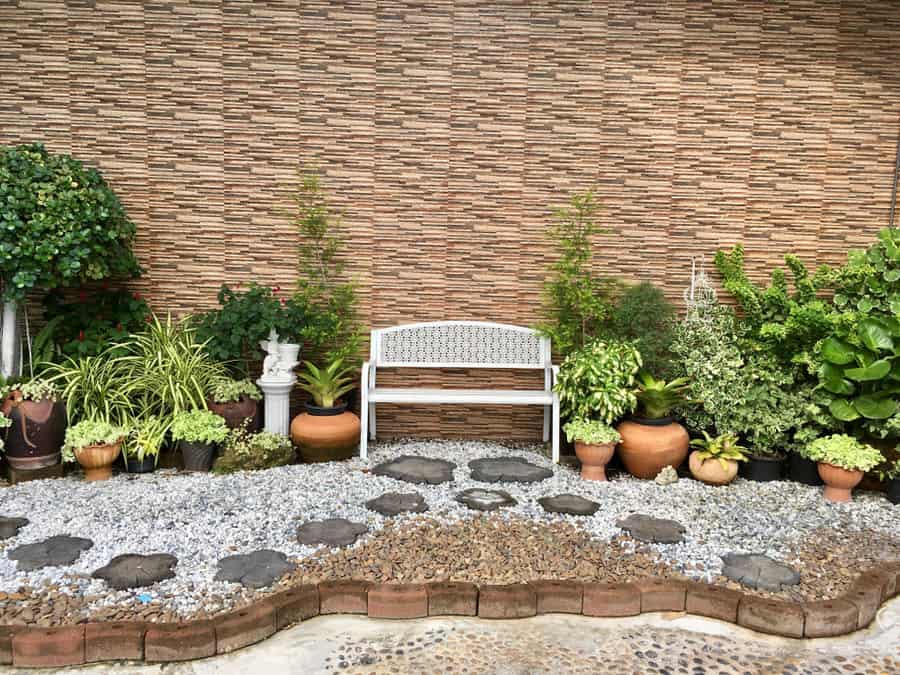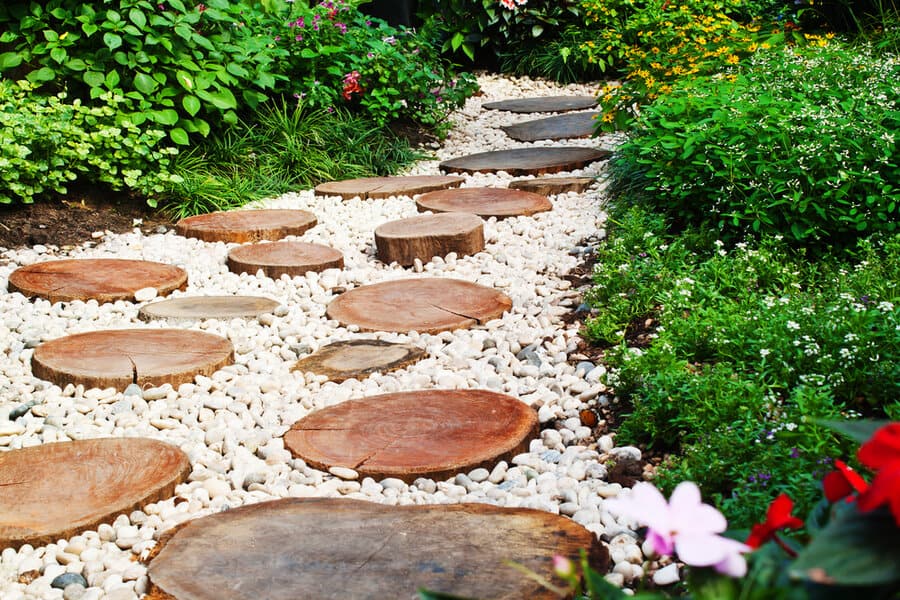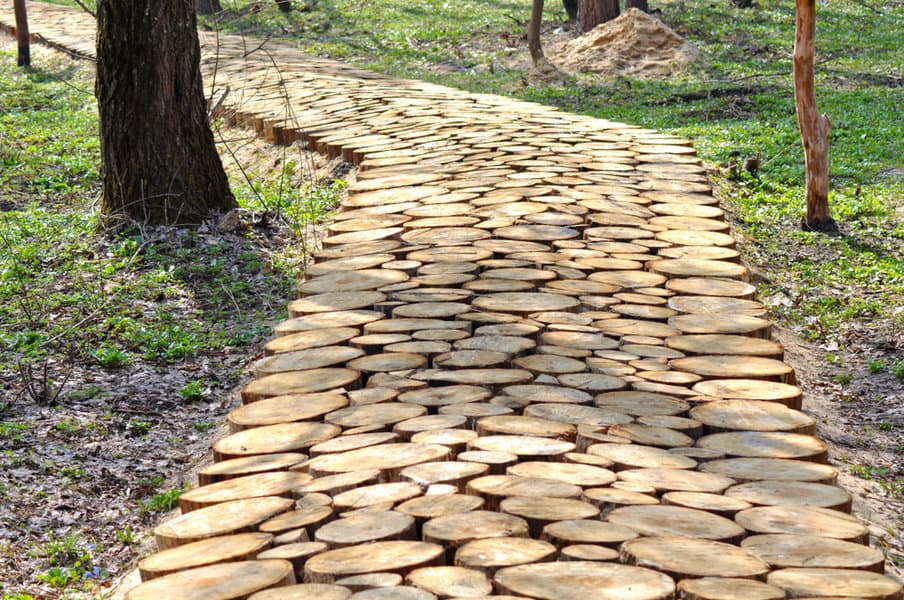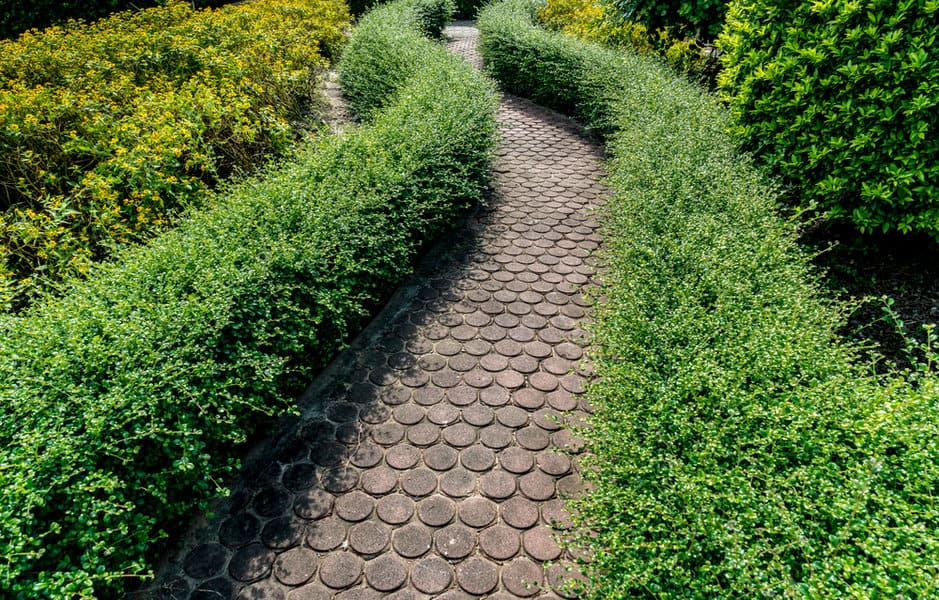 7. Square Steps: Simple Elegance
After tending to the lawn and weeding, elevate your garden's personality with a creative touch. Square concrete steps offer a modern and space-saving solution for a visually captivating garden path.
Play with installation angles to highlight your garden's focal points or maintain a traditional, evenly spaced arrangement. The possibilities are limitless when it comes to enhancing your garden path with distinctive ideas like these. Explore the elegance of square steps and make the most of your outdoor space, even in smaller yards.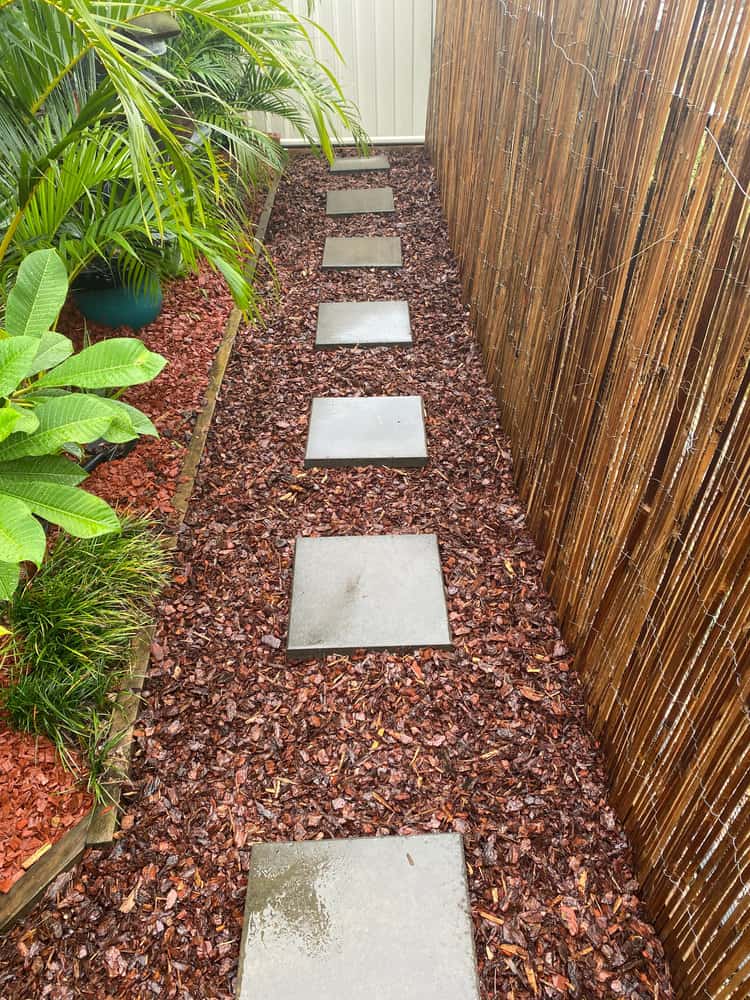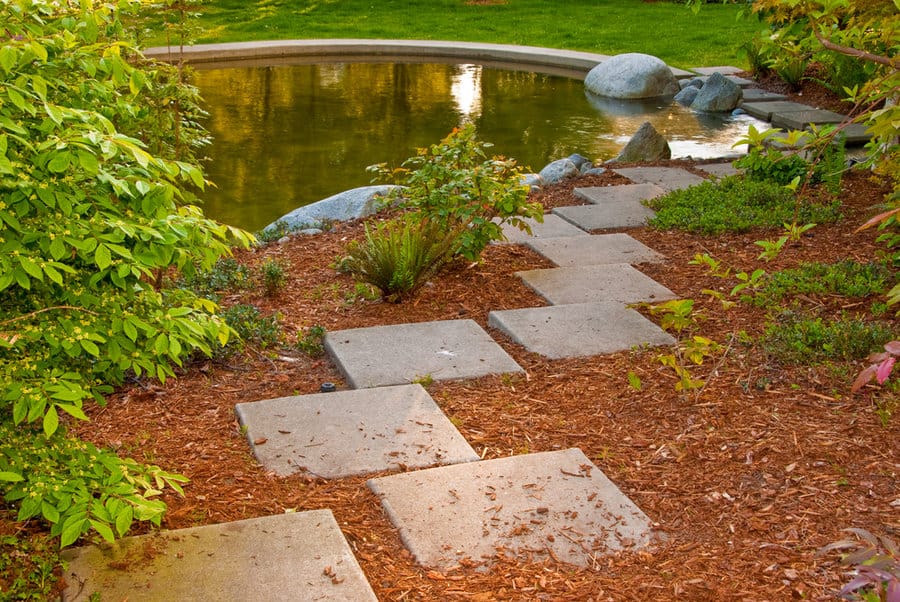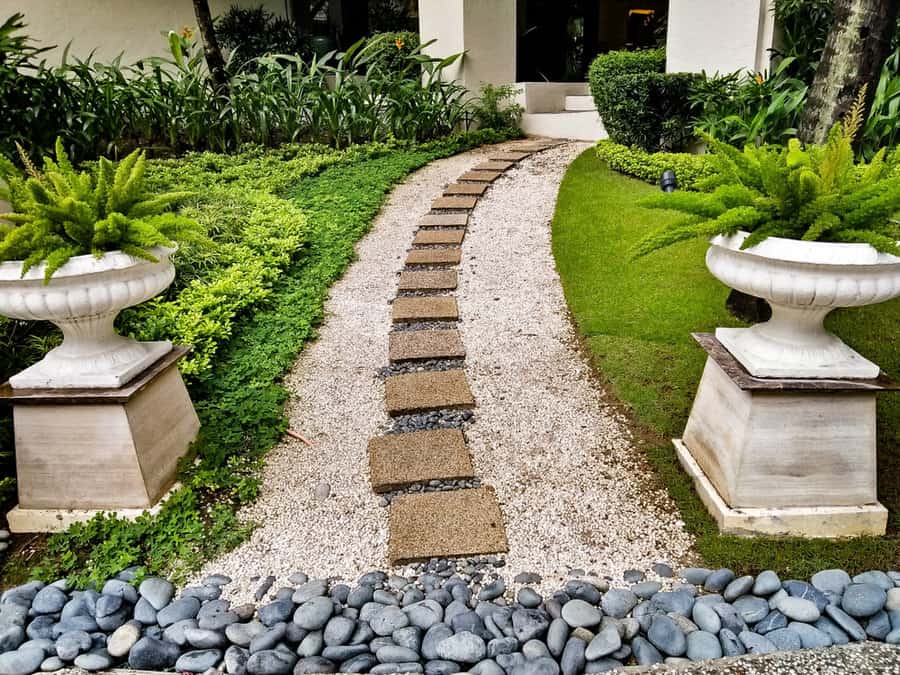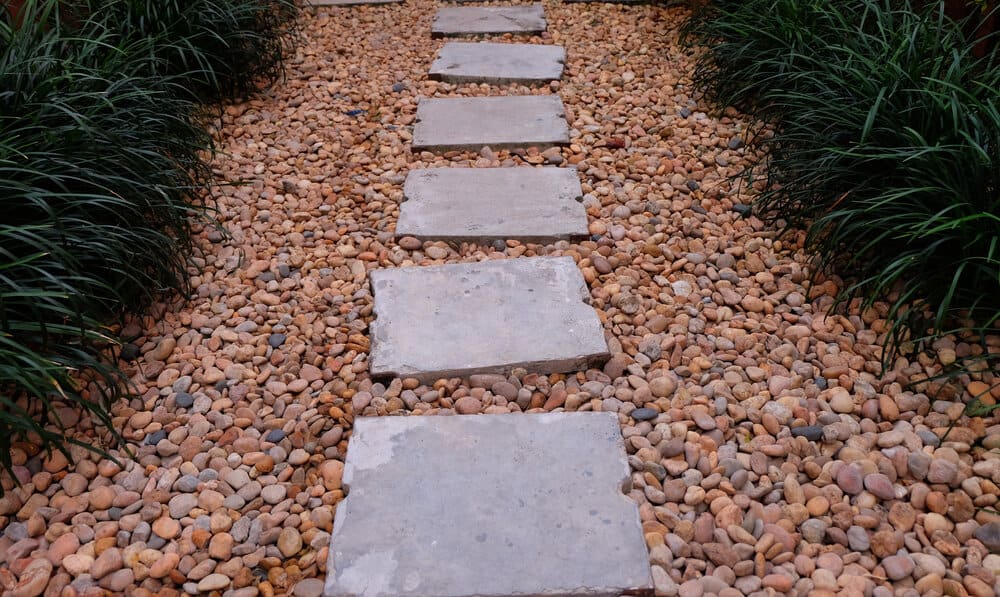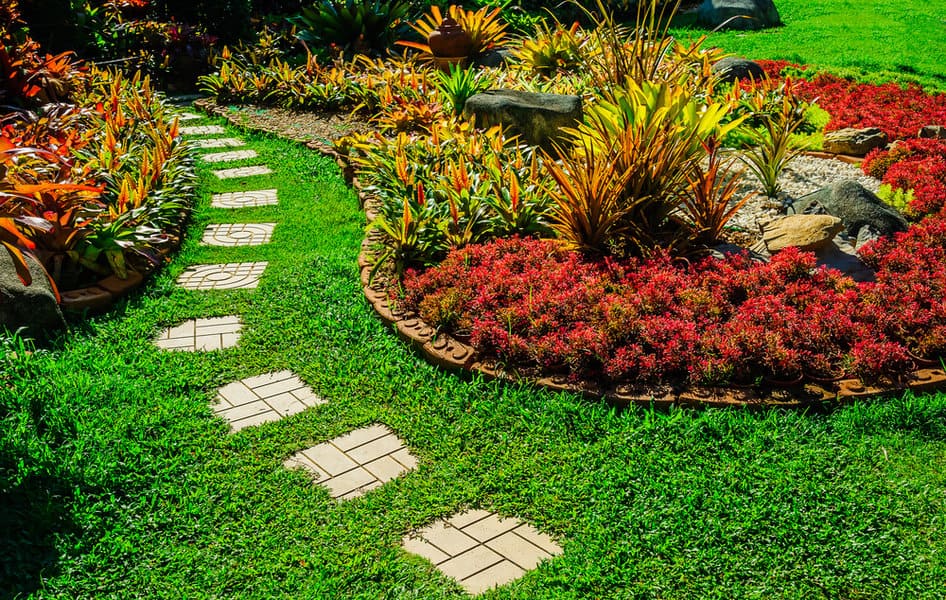 8. Pondside Concrete Walkway
Unlock the beauty of your garden with a creative concrete step bridge that crosses a pond or stream. This garden path idea not only adds aesthetic charm but also offers a serene vantage point to appreciate the surrounding water landscape.
Imagine a bridge crafted from concrete steps and finely sanded boards adorned with wildlife art—a stunning addition to any garden or backyard. To enhance the ambiance, consider interplanting ferns or other greenery at each level, infusing the path with a tranquil atmosphere. Create the perfect garden path with thoughtful designs that elevate your outdoor space into a haven of natural beauty and relaxation.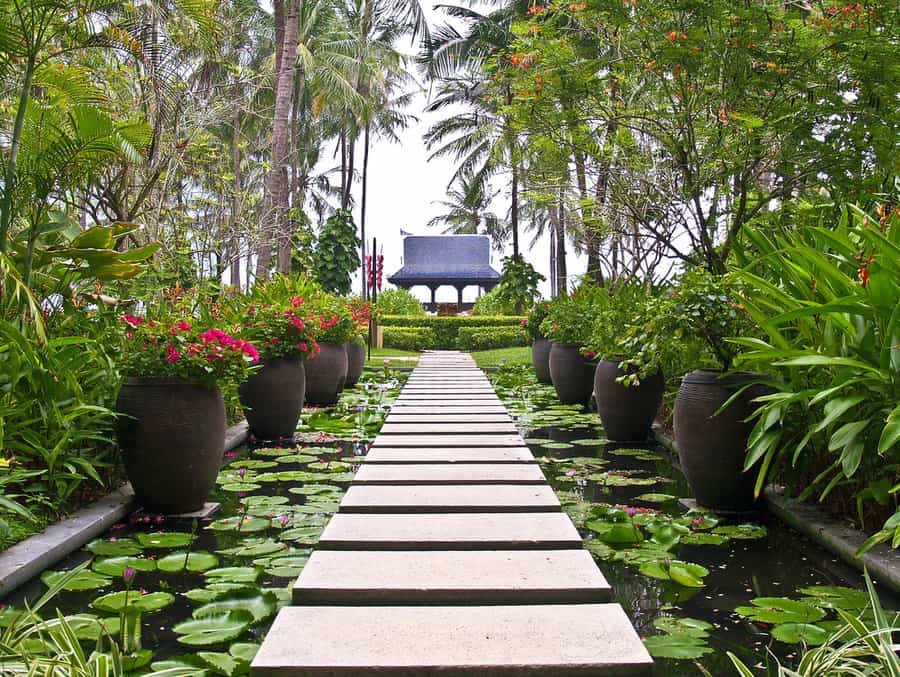 9. Freeform Steps: Scattered Charm
Make your garden path a true standout by embracing the charm of scattered freeform steps. This innovative design not only captivates visitors but also ensures an appealing and secure garden access.
Experiment with diverse materials like stones and pebbles, exploring various colors and textures to achieve your desired look. Elevate your path's uniqueness by incorporating paving circles or an S-curve effect. These special touches breathe life into your garden path ideas, making every stroll through your garden an enchanting experience.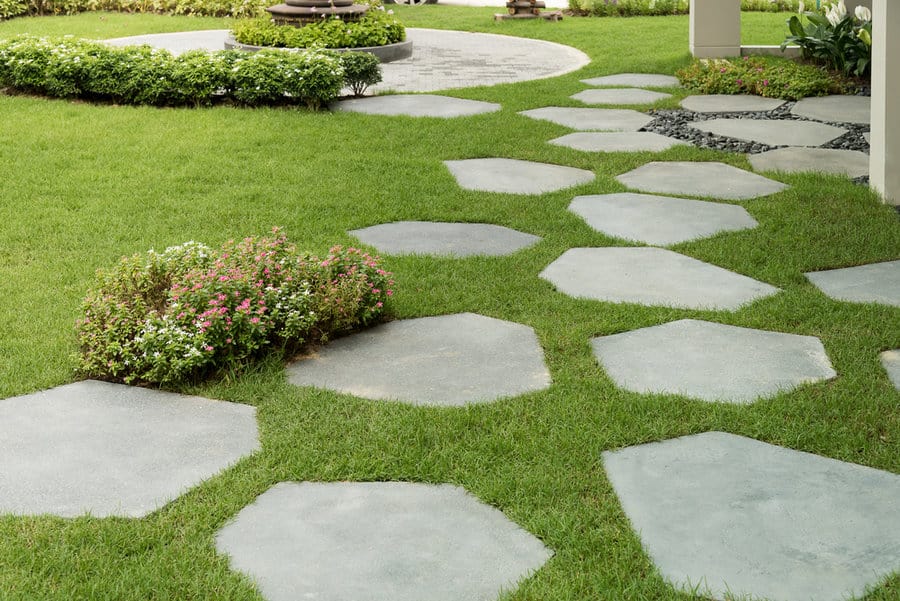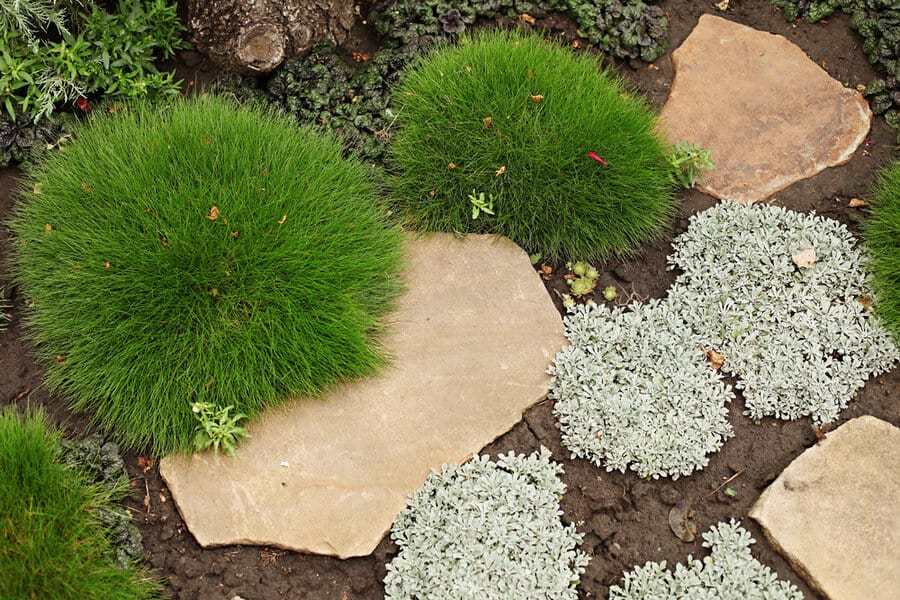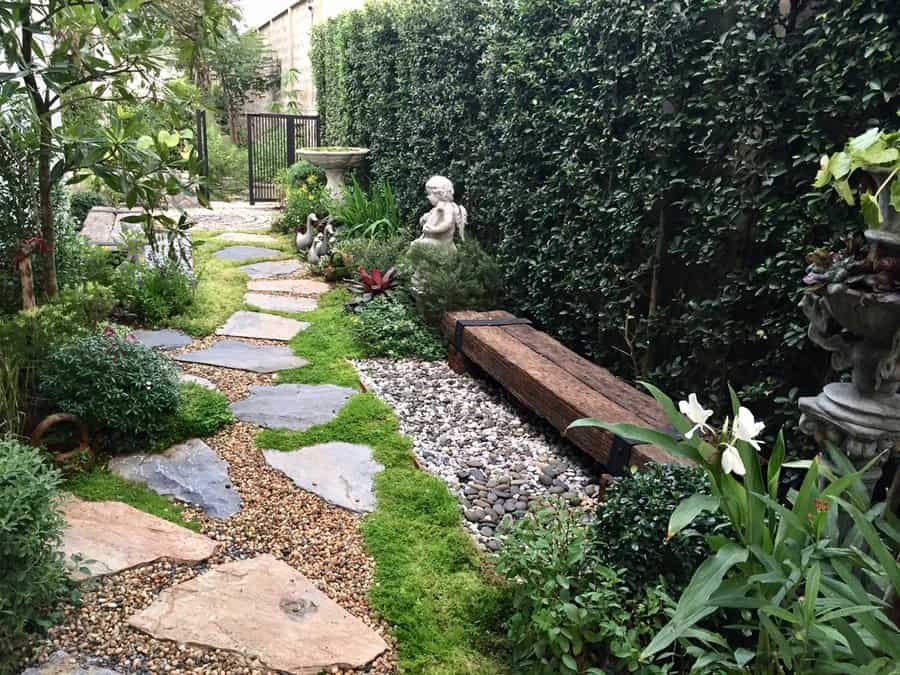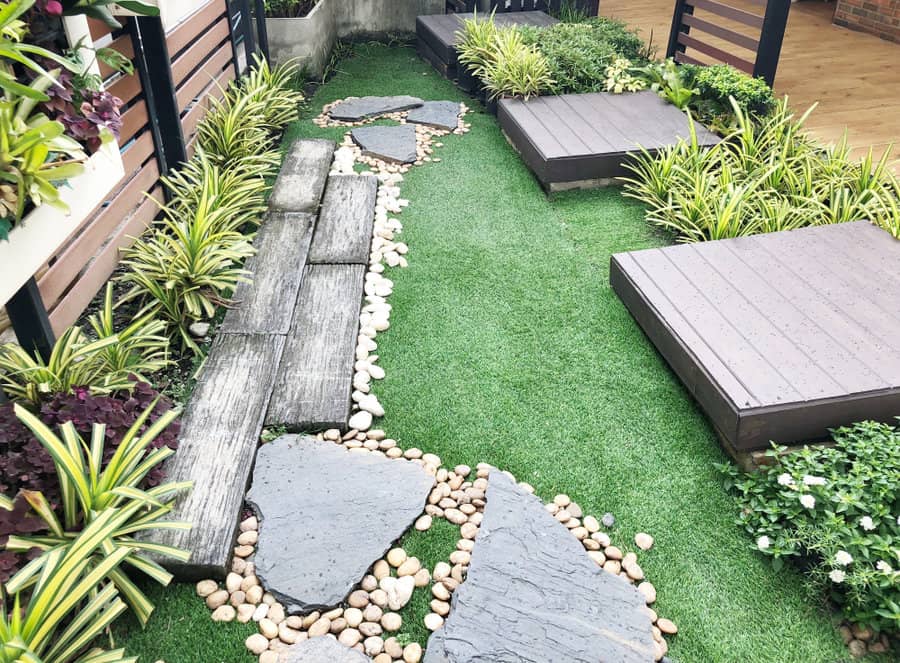 10. Bold Black Garden Stairs
For an utterly distinctive and attention-grabbing garden path, embrace the allure of black garden steps. These stairs offer a captivating departure from traditional pathways, injecting excitement into your outdoor space.
To achieve a modern and whimsical ambiance, position two sets of stairs flanking the path and fill the space in between with white pebbles. Experimenting with a medley of materials such as wood, stone, brick, gravel, and even metal can breathe life into your garden design. Take your time in selecting the right combination to infuse charm and personality into your outdoor haven. The result will be a garden path that truly stands out and delights all who wander through it.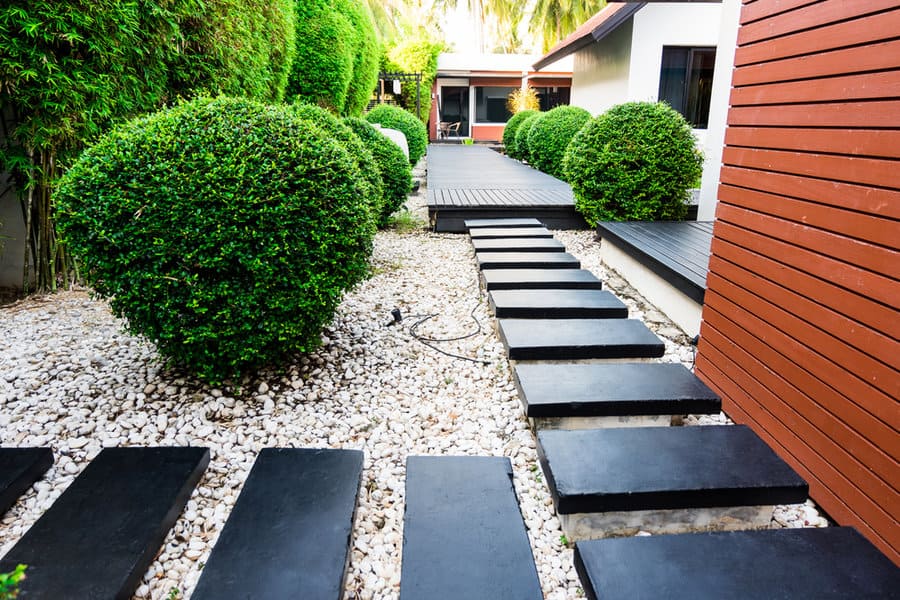 11. Zen-Style Layered Stone Steps
Discover tranquility in your garden with a serene Zen-style path. Crafted with round layered steps and embraced by tall trees forming an overhead canopy, this design is ideal for contemplative and peaceful walks.
Expand the Zen experience by incorporating gentle fountains, stone passageways, and soft candlelight to envelop the pathway in soothing ambiance. This transformation invites creativity, allowing you to infuse your personal touch into this calming garden oasis. Create an atmosphere that encourages reflection and serenity, making your garden path a sanctuary of peaceful beauty.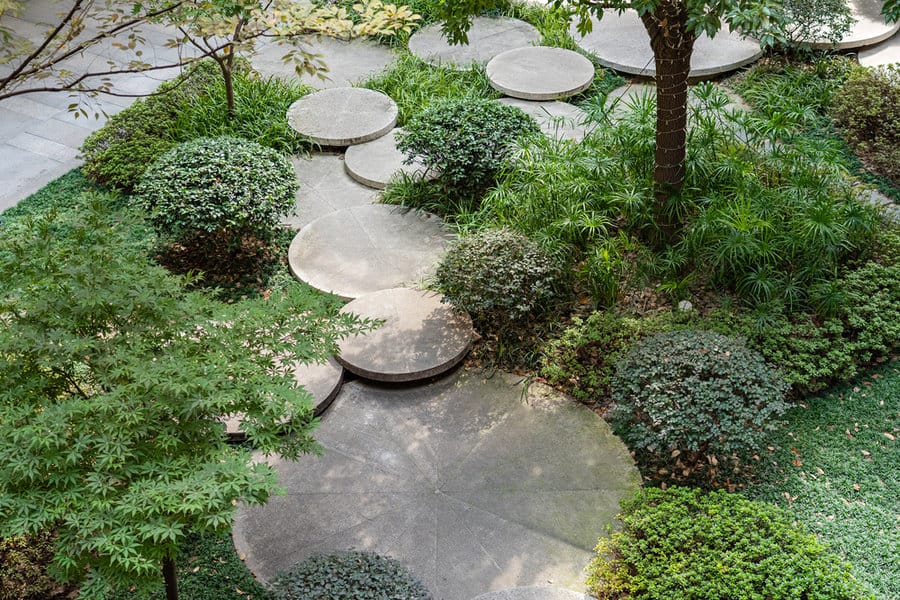 12. Geometric Marvels in Your Garden
Elevate your garden's allure with a meticulously designed path. For a touch of modern sophistication, consider the beauty of geometric steps. These eye-catching elements offer a captivating journey through your garden and can be a DIY project using flagstone, pavers, or even leftover slate.
Unleash your creativity to craft a garden path that is truly unique. Experiment with geometric patterns, colors, and materials to infuse personality and style into your outdoor space. Transform your garden into a haven of modern elegance, where each step is a work of art and a testament to your creative vision.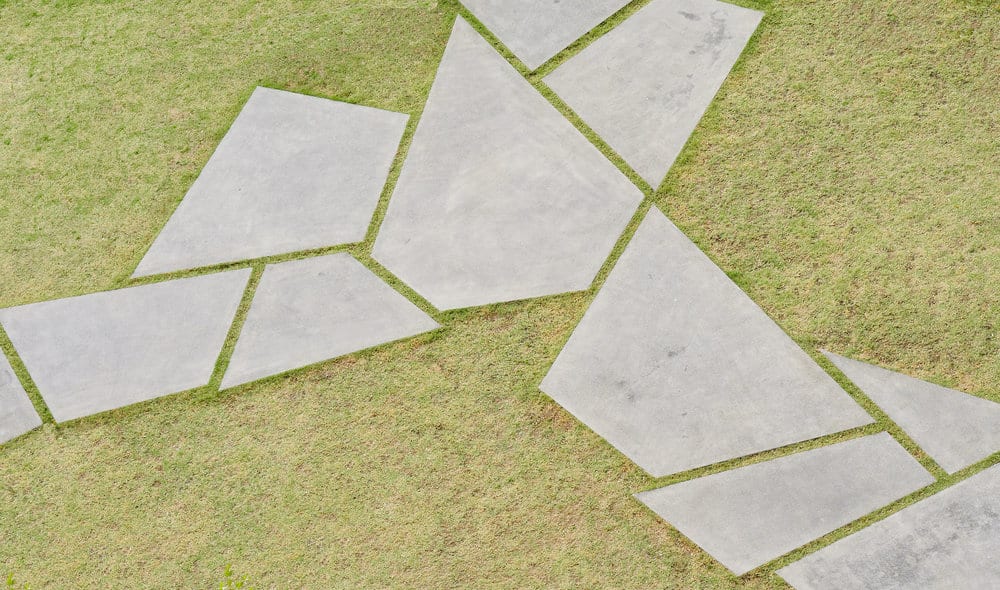 13. Pebble & Grass Islands Oasis
Enhance your outdoor space's beauty and character with a well-designed garden path. Explore creativity by incorporating a pebble and grass island path, a unique and playful approach. This winding path adds an element of surprise, creating distinct walkways bordered by intriguing textures.
Beyond its aesthetics, this pathway boasts low-maintenance and eco-friendly attributes, as it utilizes harmonious natural materials. This transformation turns your outdoor space into an inviting oasis, where the garden path itself becomes a delightful journey. Consider weaving this innovative design into your landscape to create a unique and charming outdoor haven.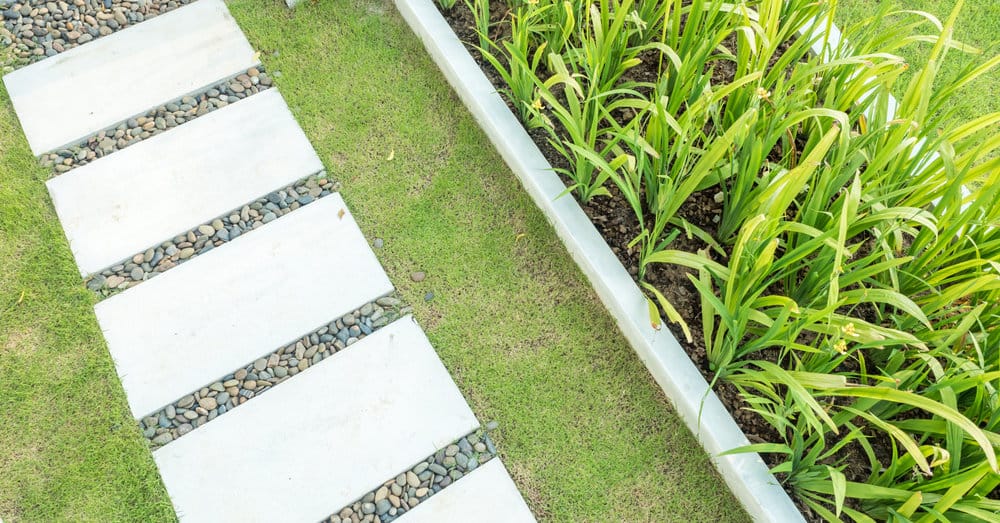 14. Timeless Red Brickstone Path
Achieve enduring elegance with a garden path adorned with red brick pavers. This classic choice not only enhances your garden's aesthetics but also infuses warmth and vibrancy into your outdoor haven.
The timeless allure of red brick pavers, coupled with creative placement and thoughtful design, elevates your garden into a realm of regal charm. Explore various design ideas, from curved pathways and straight routes to winding circles and mini islands that separate walkway sections. With red brickstone paths, your garden becomes a place where every visitor feels like royalty, surrounded by timeless beauty and inviting warmth.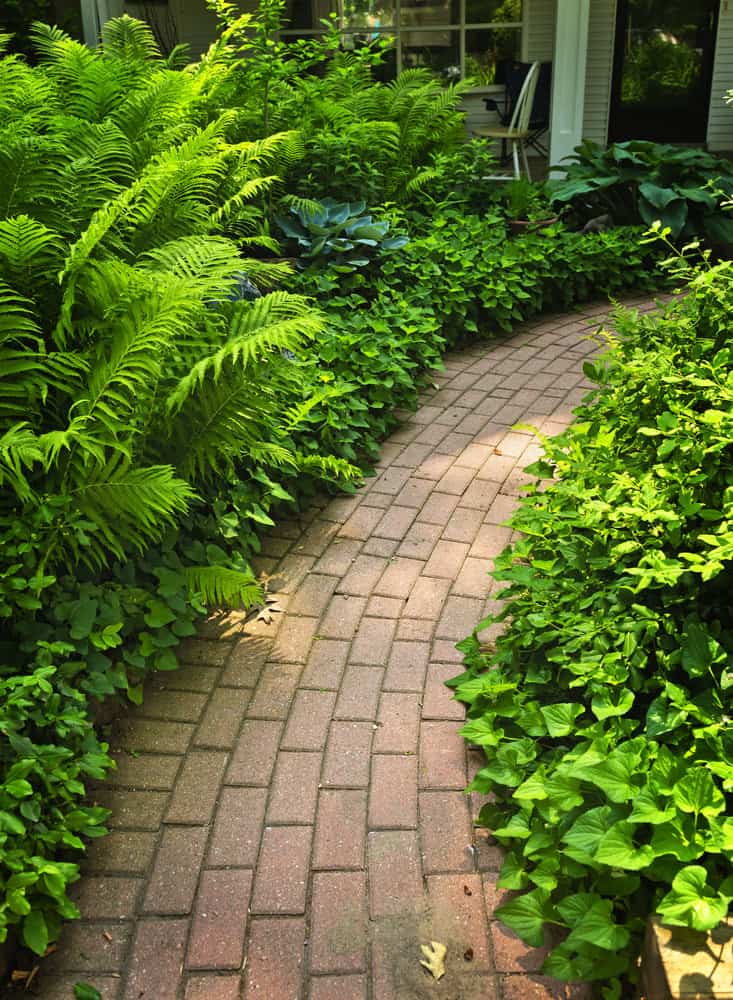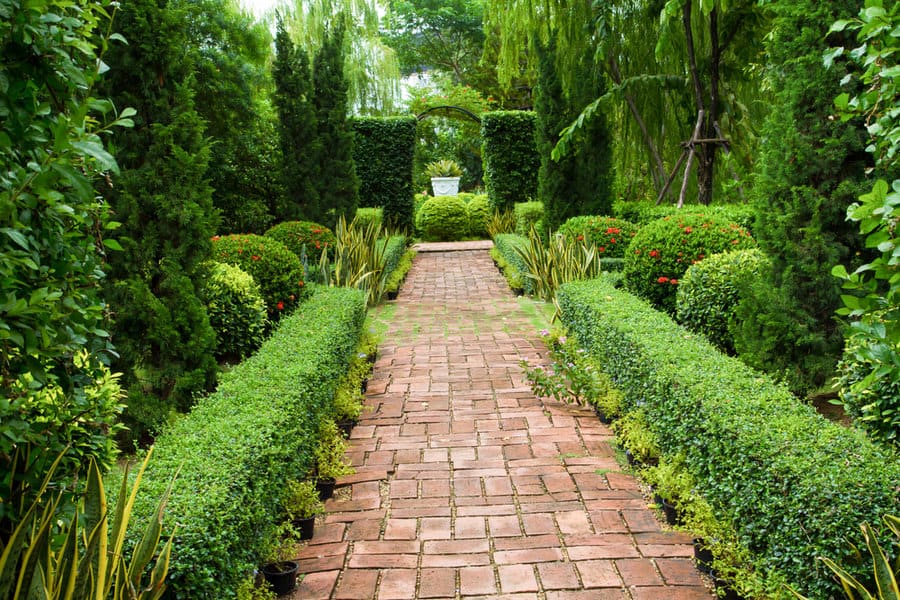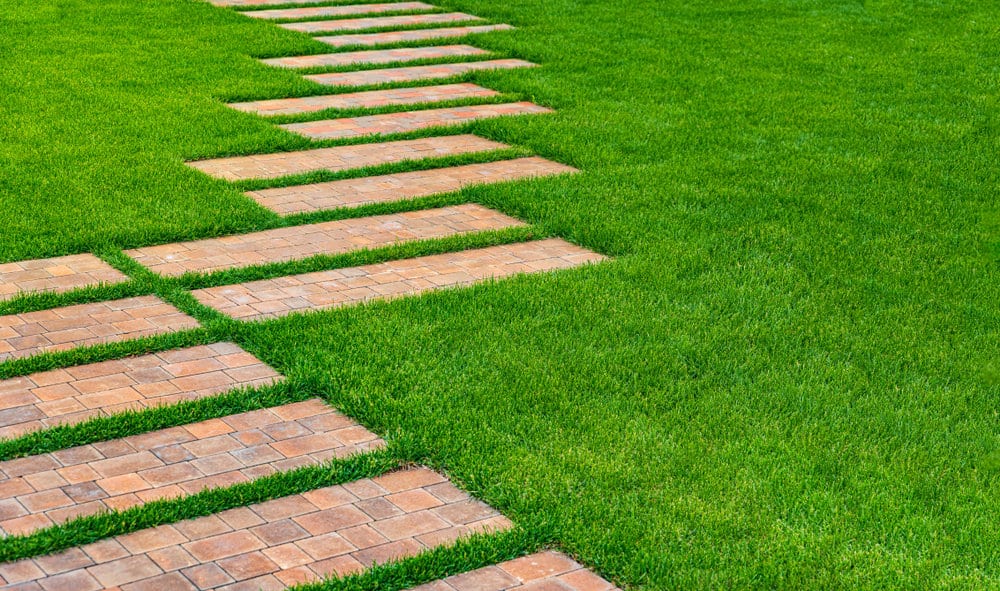 15. Artistic Pebbled Concrete Floor
Elevate your outdoor space with a stunning pebbled floor adorned with an elegant stone path. This design offers a perfect blend of visual appeal and functionality, providing secure footing and ensuring safe access to different areas of your garden.
To enhance its charm, incorporate colorful stones in various sizes to create eye-catching patterns and textures. With a dash of imagination and creativity, this design seamlessly merges the beauty of natural elements into your outdoor living area, delivering an irresistible aesthetic that transforms your garden into a captivating retreat. Explore the possibilities of an artistic pebbled concrete floor and bring the allure of the outdoors into your outdoor haven.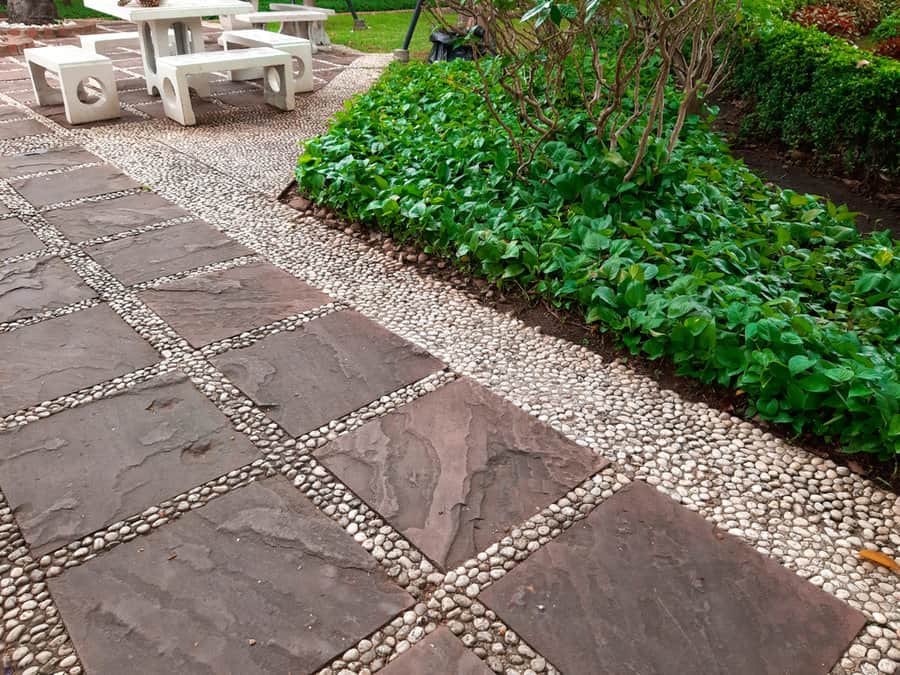 16. Tiled Walk Path: Contemporary Chic
Elevate your garden's elegance with a concrete tiled walk path, a creative solution that combines practicality with a clean and appealing aesthetic. This path not only facilitates easy navigation through garden beds and lawns but also enhances the overall look of your outdoor space.
The versatility of tiles, available in various shapes and colors, allows for complete customization to match your vision. If you have a larger budget and a spacious backyard, consider creating a winding stone path or an eye-catching route with cobblestones. The possibilities are endless when it comes to designing a garden path that reflects your style and elevates your outdoor oasis to contemporary chic. Explore these options to transform your garden into a haven of timeless beauty and functionality.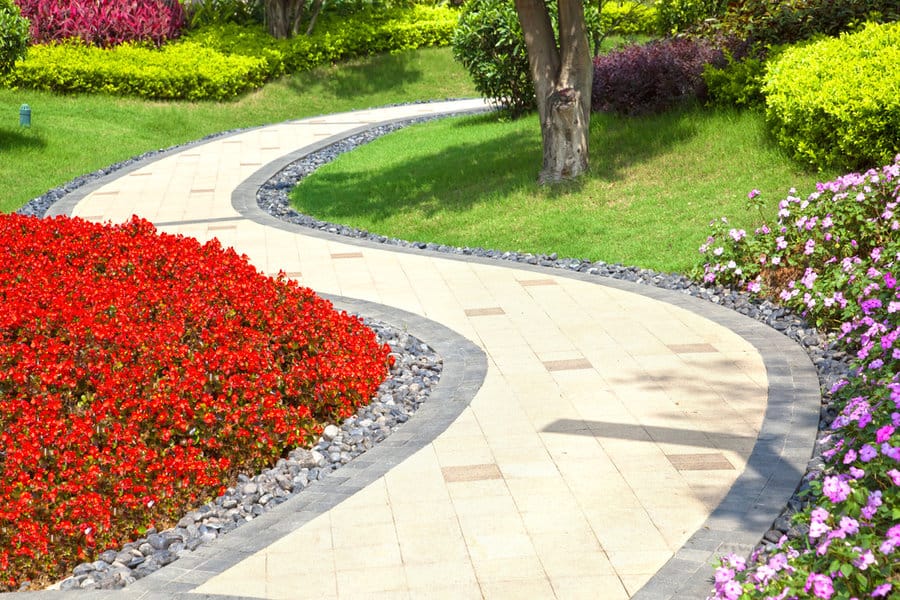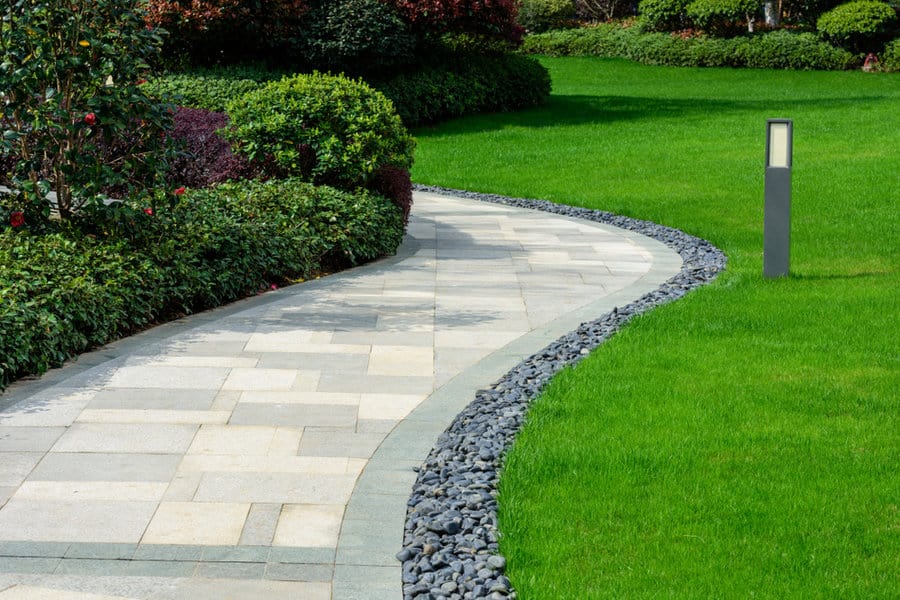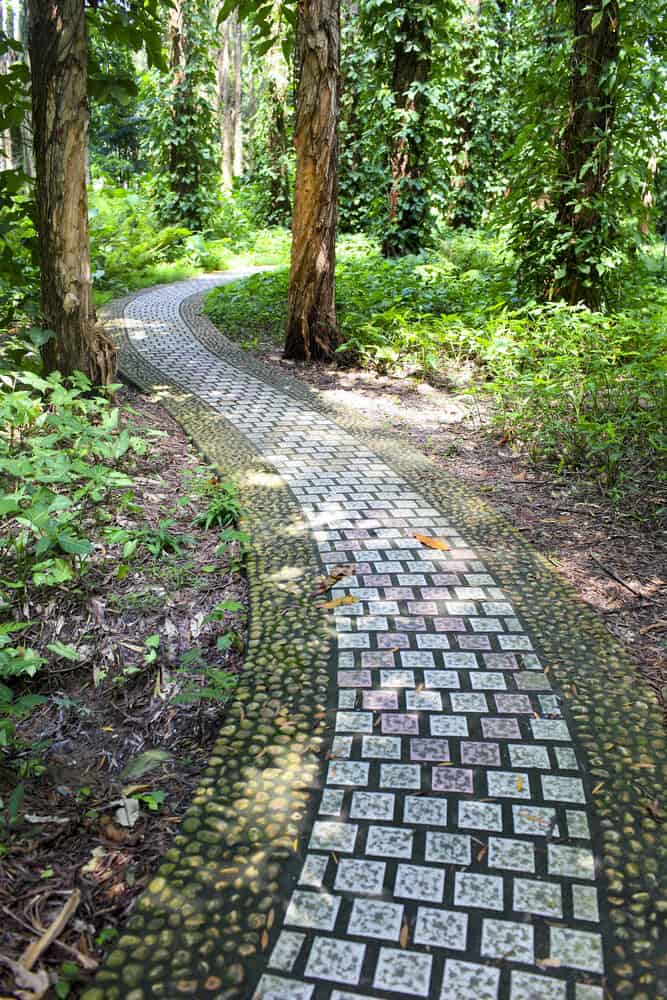 17. Herringbone-Patterned Walkway
Transform your garden with the charm of a herringbone-patterned brick path, offering a canvas for creativity and visual intrigue. This brick pattern introduces captivating visual interest and extra texture, elevating your outdoor space.
Consider using larger bricks for a luxurious appearance or opt for smaller ones for a subtler appeal, allowing you to tailor the path to your style. To complete the picture, add boundary edging with materials such as stone, purpose-shaped blocks, pebbles, or mulch. These finishing touches not only define the path's edges but also create an attractive and harmonious finish that complements the overall aesthetic of your garden. Explore the possibilities of a herringbone-pattern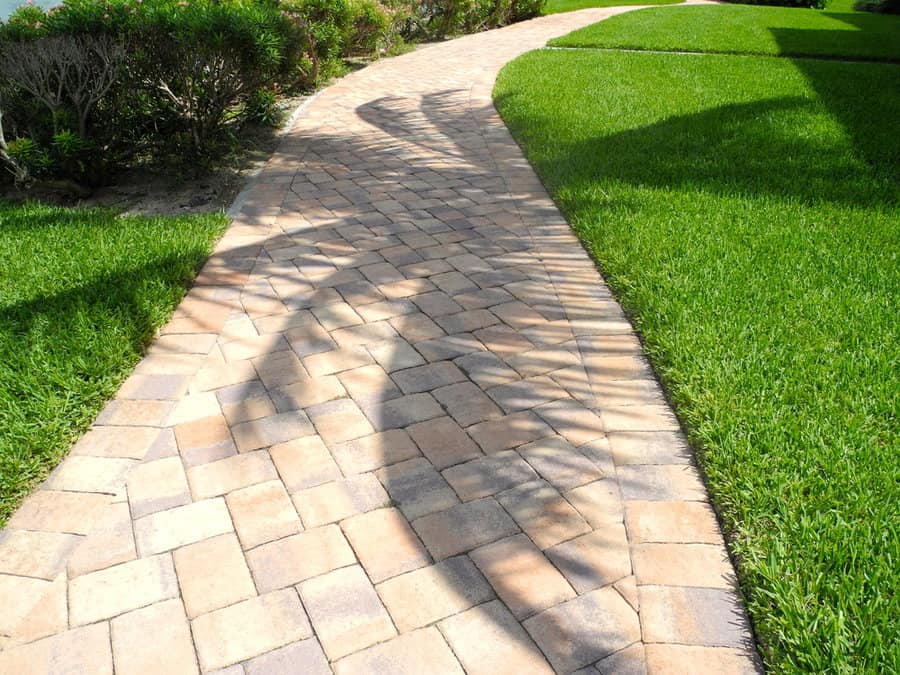 18. Interlocking Paving Stone Splendor
Crafting a garden path not only adds structure but also depth to your outdoor haven. For a distinctive touch, explore the beauty of interlocking pavers as an alternative to traditional brick patterns.
With interlocking pavers, you can design dynamic shapes that seamlessly transition between different garden areas, creating a sense of unity as you explore. These pavers are not only visually appealing but also easy to install and budget-friendly, making them an excellent choice for gardeners seeking unique pathways without breaking the bank. Explore the possibilities of interlocking paving stones to infuse your garden with splendor and cohesion.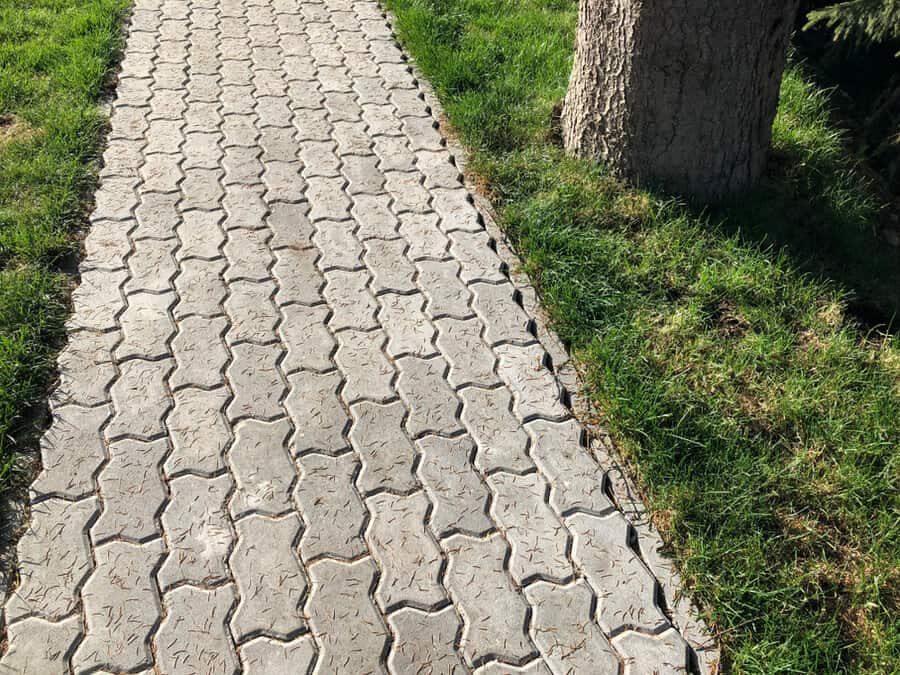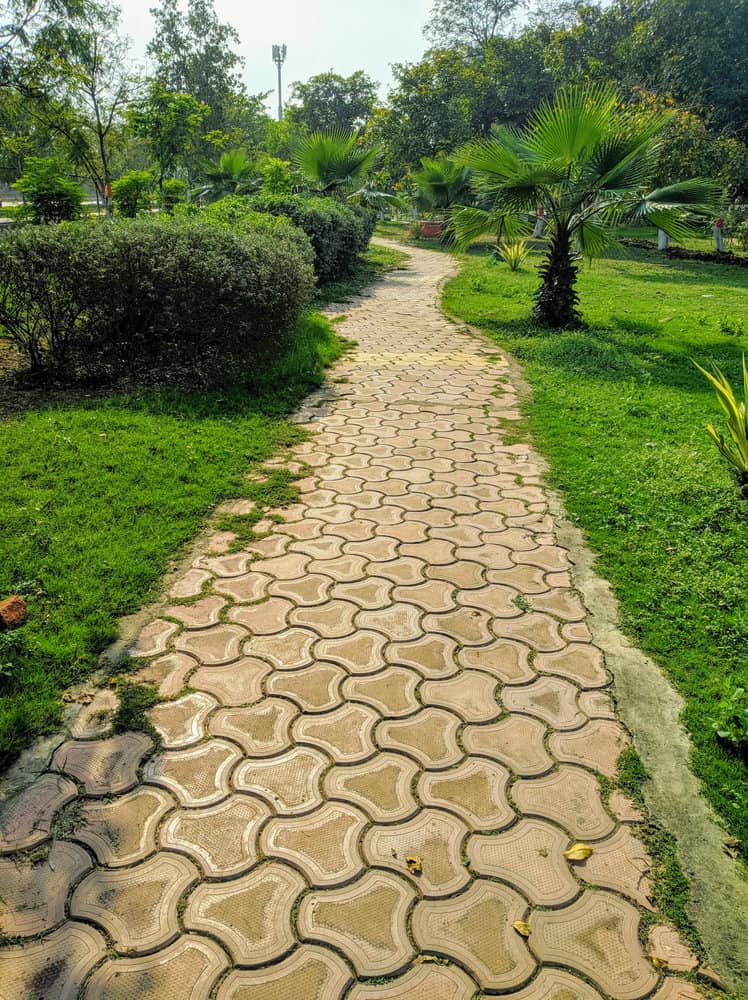 19. Meandering Pebbled Path Beauty
Whether you seek a classic or unique garden look, a pebbled path adds an intriguing touch. These paths not only enhance your landscape but also offer a pleasing walking experience with the cool, natural feel of pebbles underfoot.
Elevate its appeal by planting vibrant foliage like shrubs and flowers along its borders. For a distinctive touch, consider using colored glass chips instead of traditional gravel, infusing your garden with a special sparkle. Whatever path idea you choose, embrace the joy of creation and relish the beauty it brings to your outdoor space. Explore the possibilities of meandering pebbled paths, where every step is a journey through natural charm and creativity.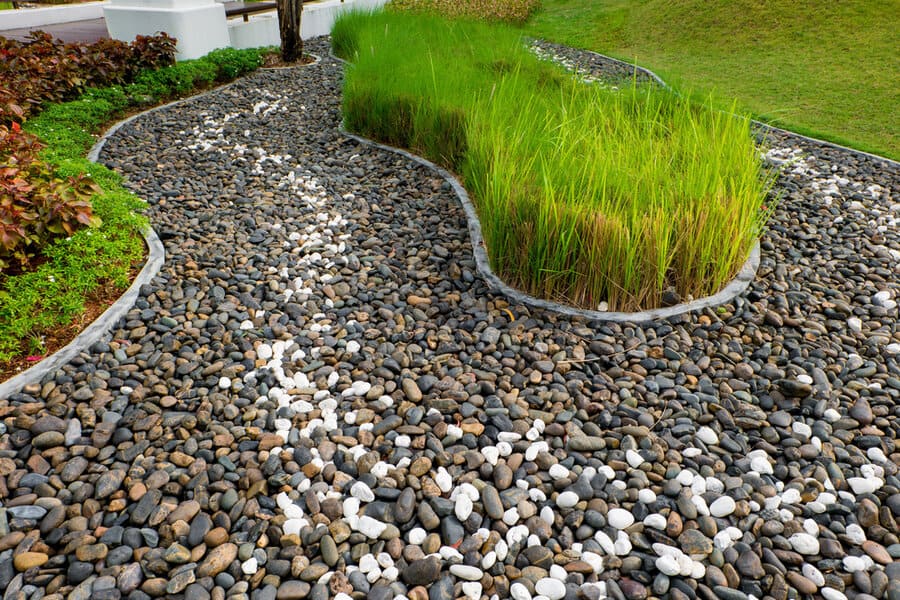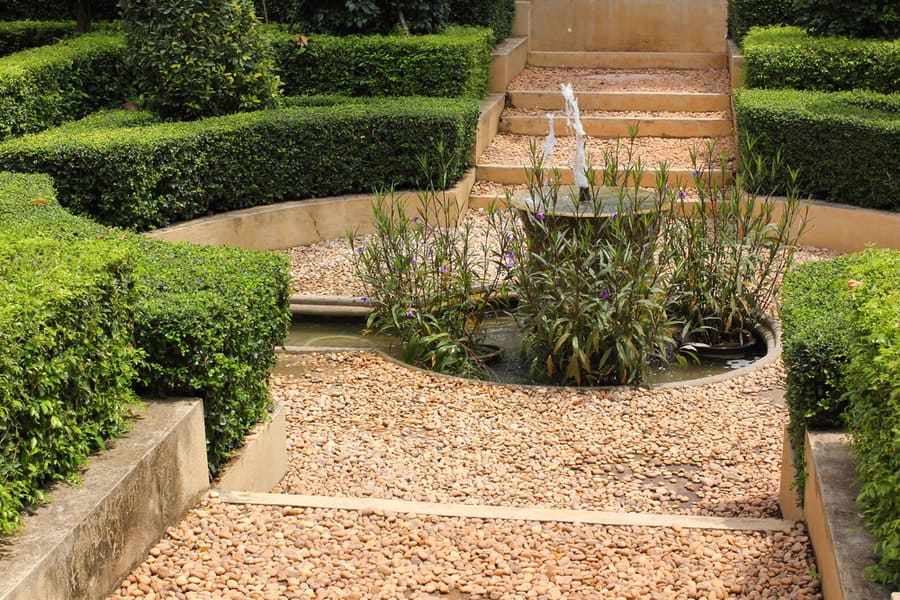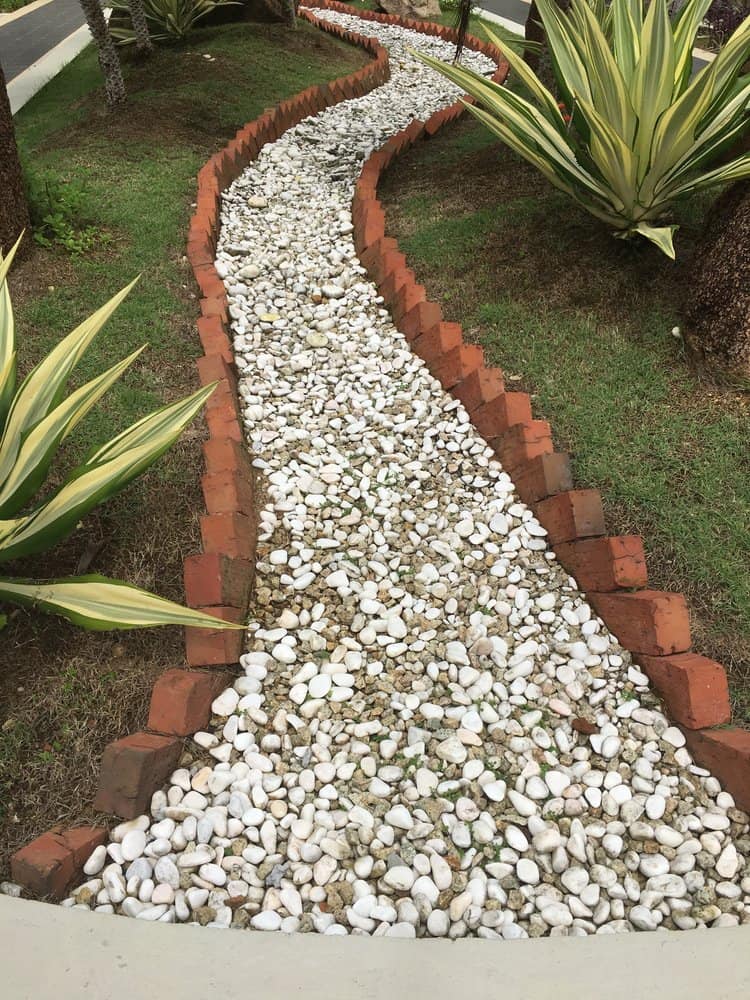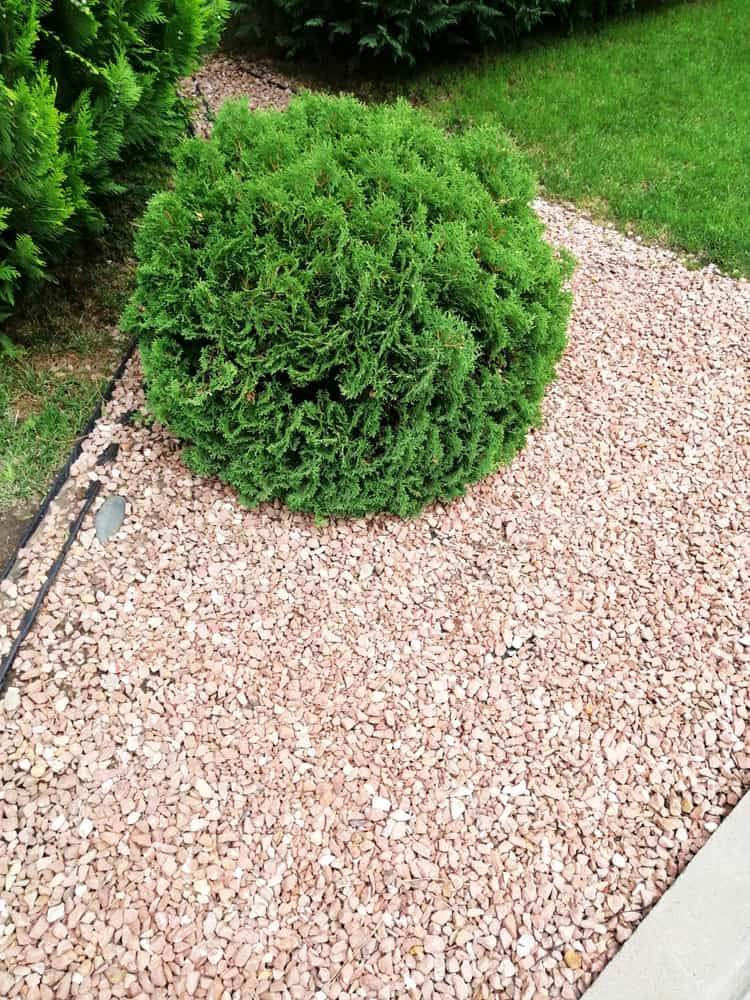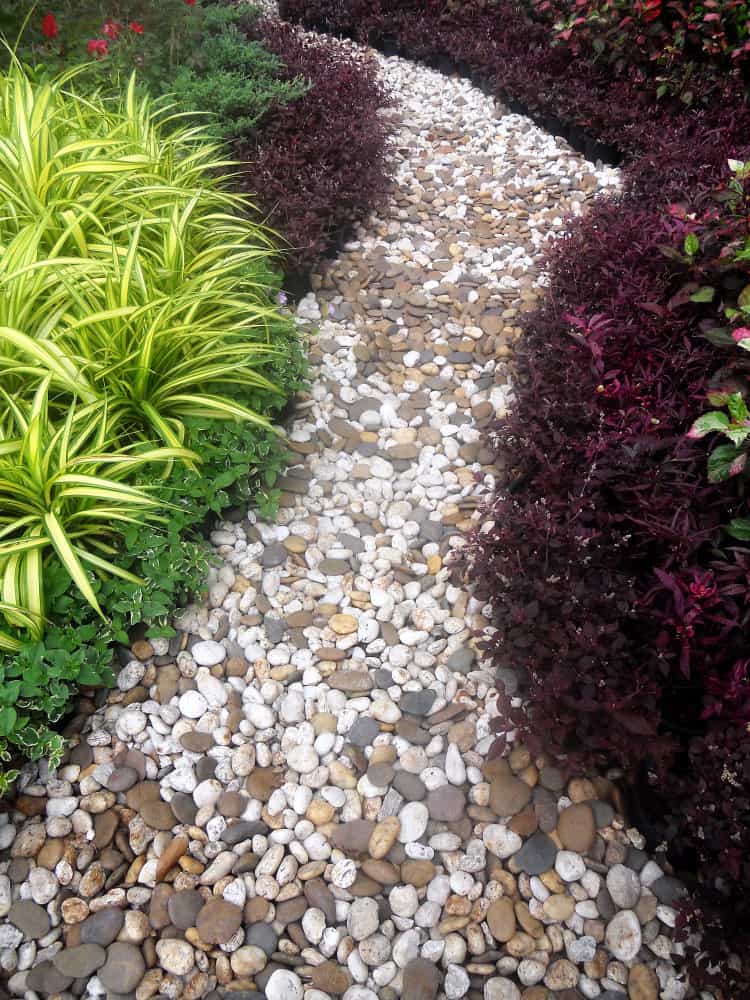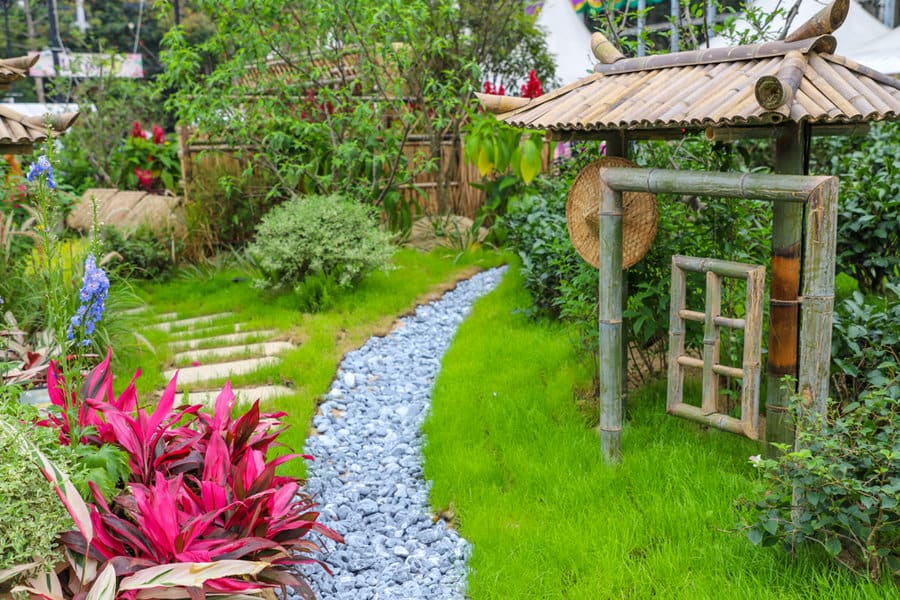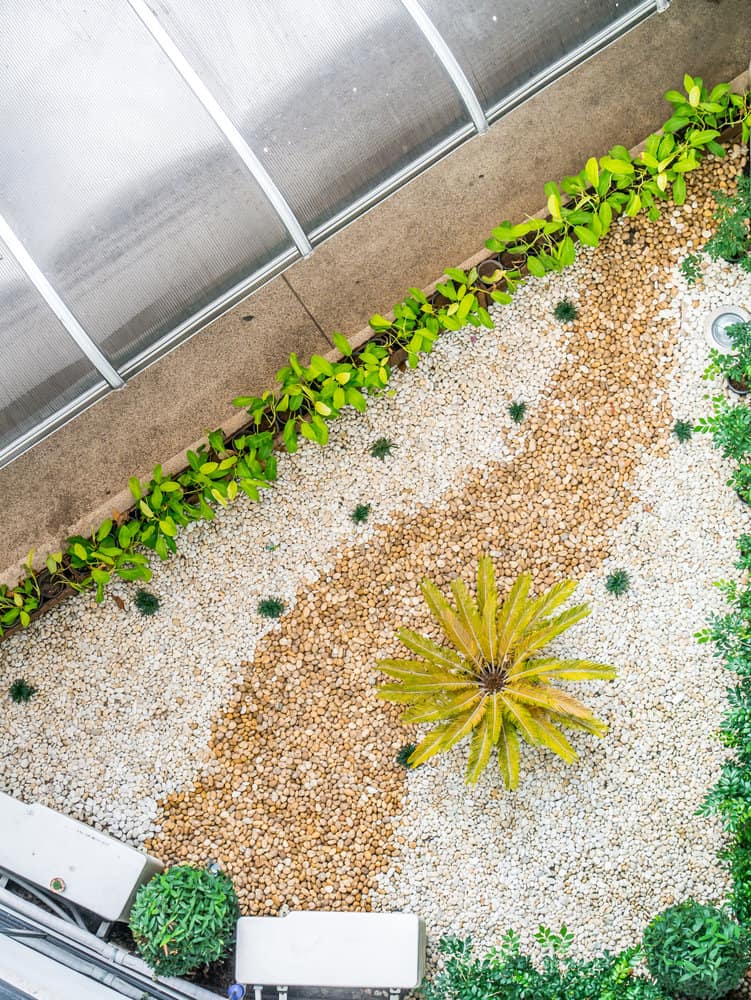 20. Majestic Oversized Rock Trails
Transform your garden path into a captivating experience with oversized rocks. Break free from the ordinary and infuse creativity into your outdoor space. Consider staining the rocks in soothing blues, subtle purples, or vibrant yellows and oranges to introduce playful bursts of color.
For a subtler approach, select polished rocks with varied textures and sizes, adding visual interest that truly captivates. Using stones for your garden path infuses the area with personality and charm, ensuring that each step becomes a journey through a majestic landscape filled with character and allure. Explore the possibilities of oversized rock trails and elevate your garden's aesthetics with a touch of creativity and uniqueness.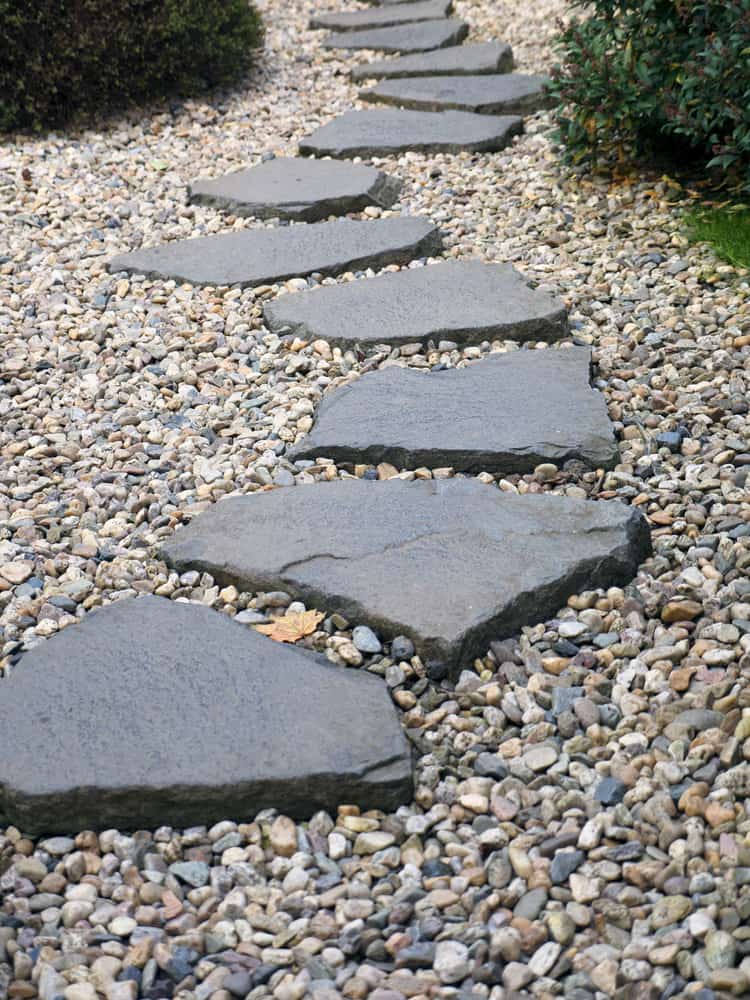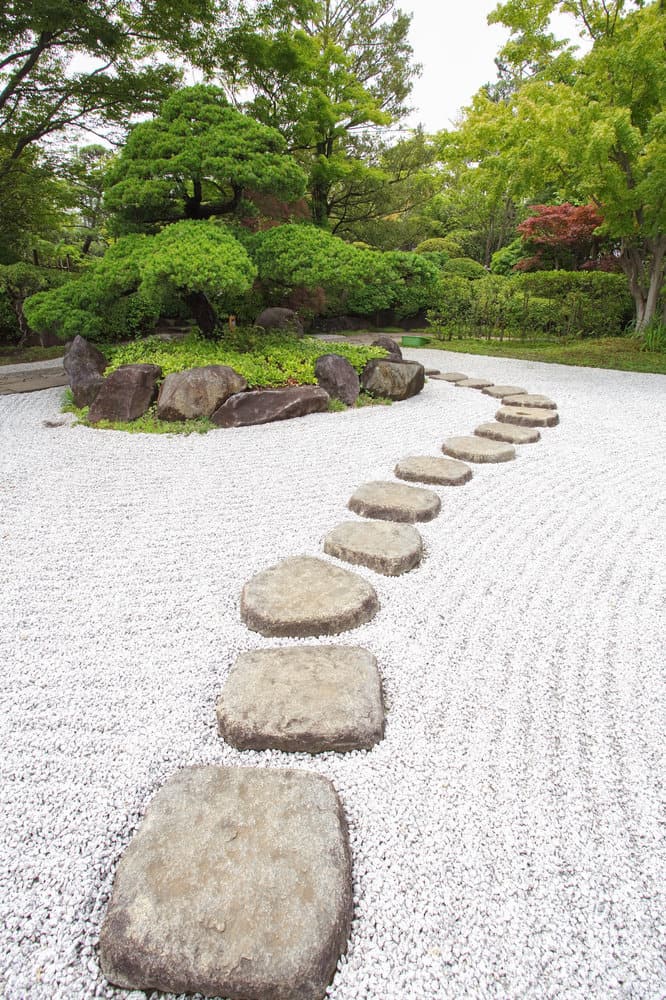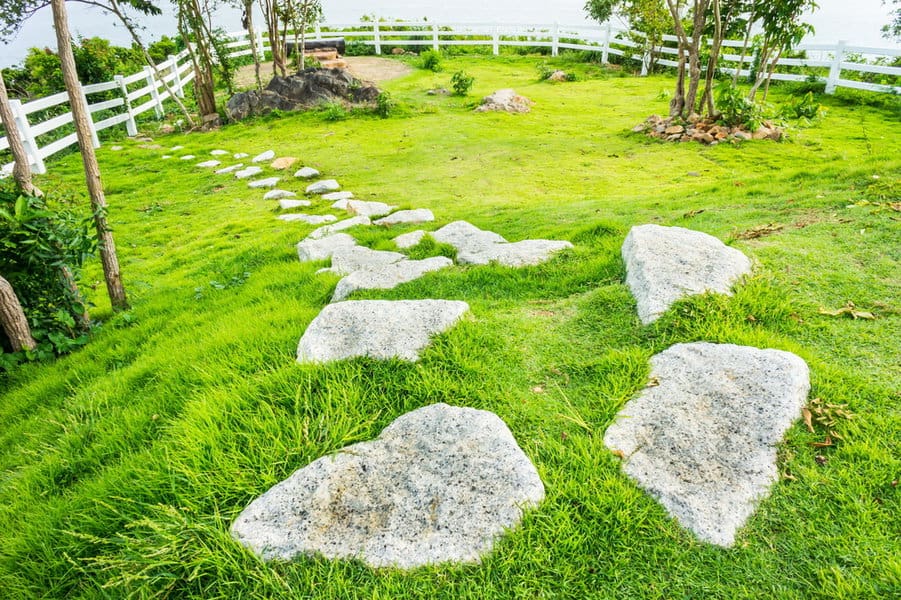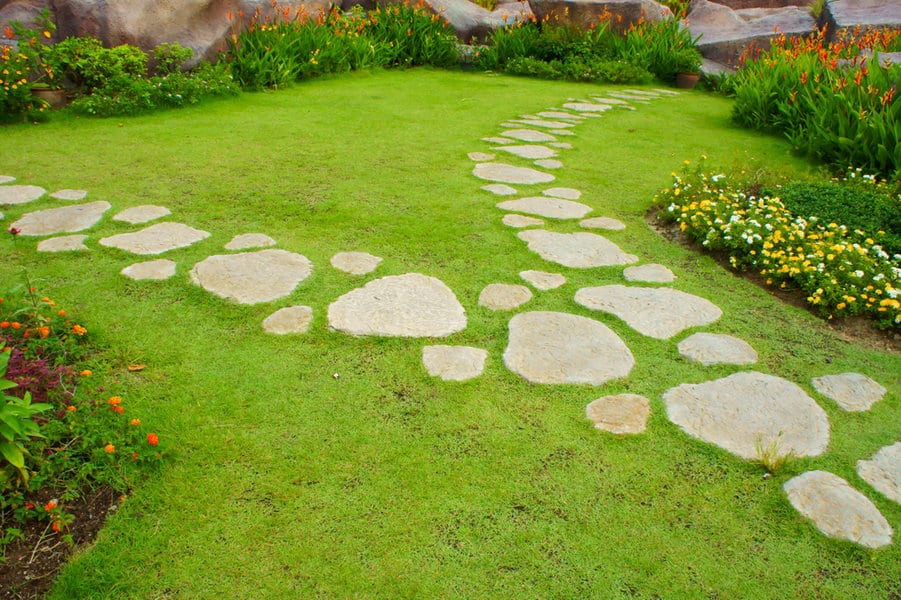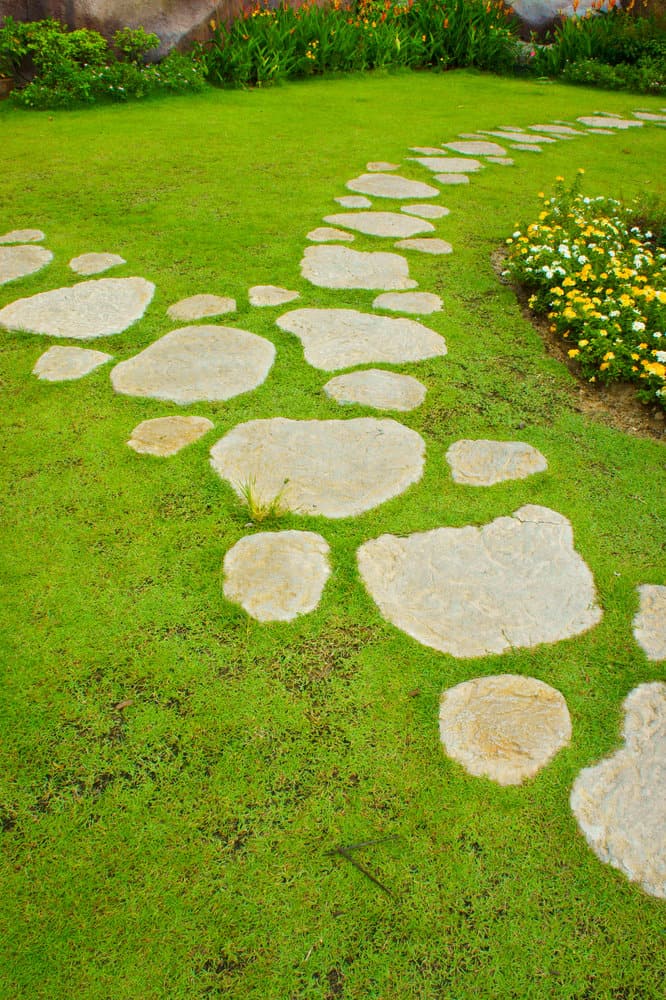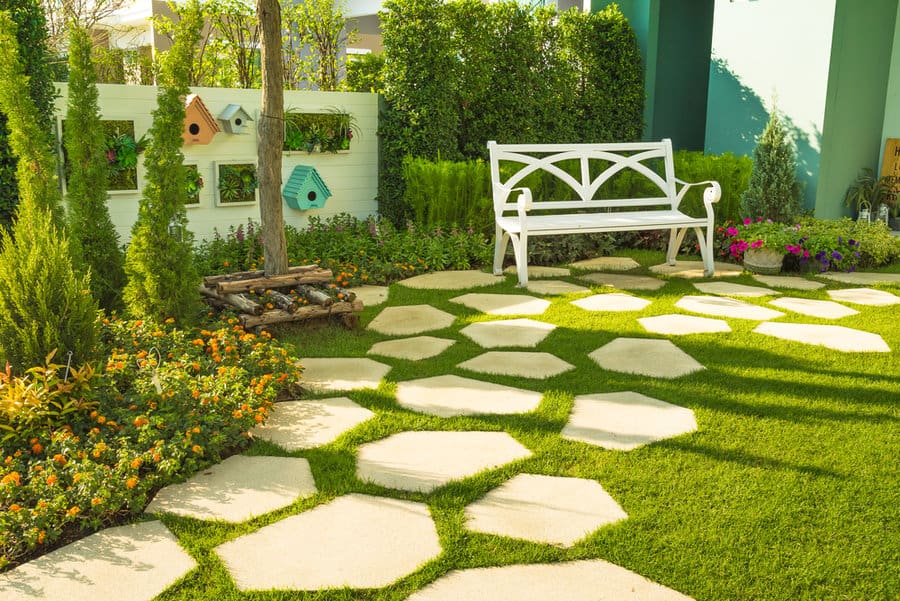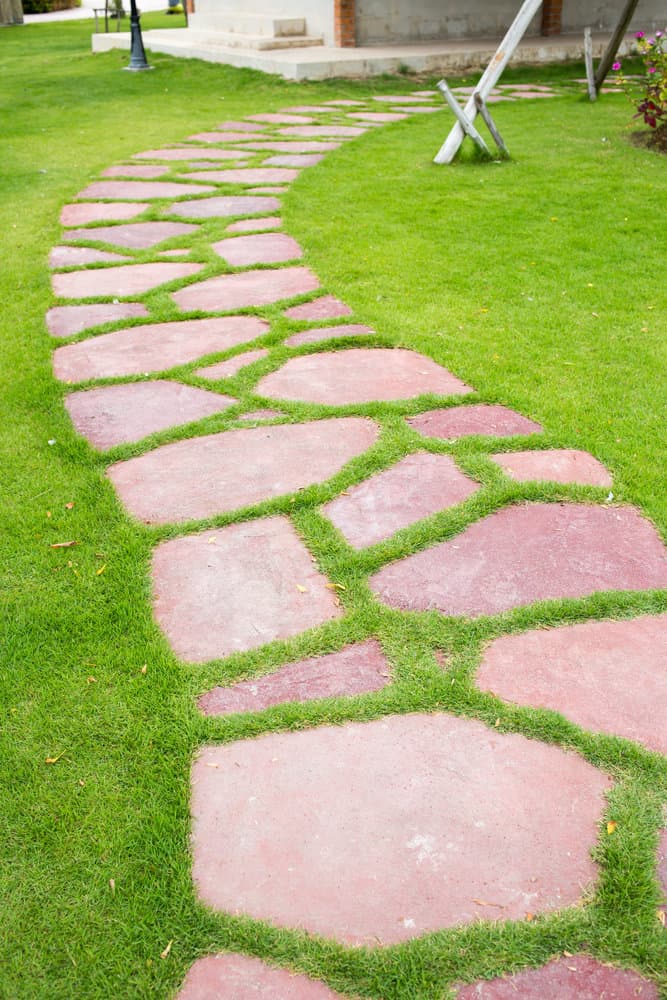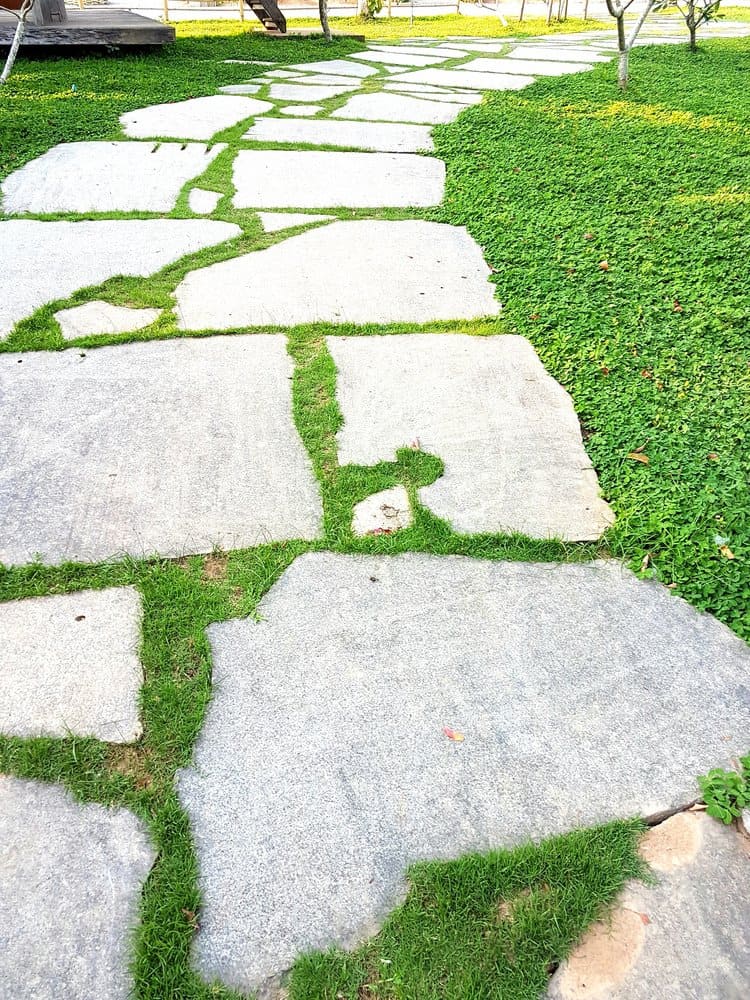 21. In-Out Walk Path: Seamless Flow
For a garden path that combines creativity and visual appeal, consider arranging concrete pavers in an "in-out" style. This design choice breaks up linear patterns and adds captivating visual interest to your outdoor space.
Not only does this arrangement enhance aesthetics, but it also redirects foot traffic away from areas you want to keep green. You can opt for a basic pattern for practicality or dive into a more ornate design by mixing various shapes and sizes of pavers. Let your garden path be a journey of seamless flow, guiding guests through your garden with style and functionality. Explore the possibilities of "in-out" walk paths to elevate your outdoor haven's charm and practicality.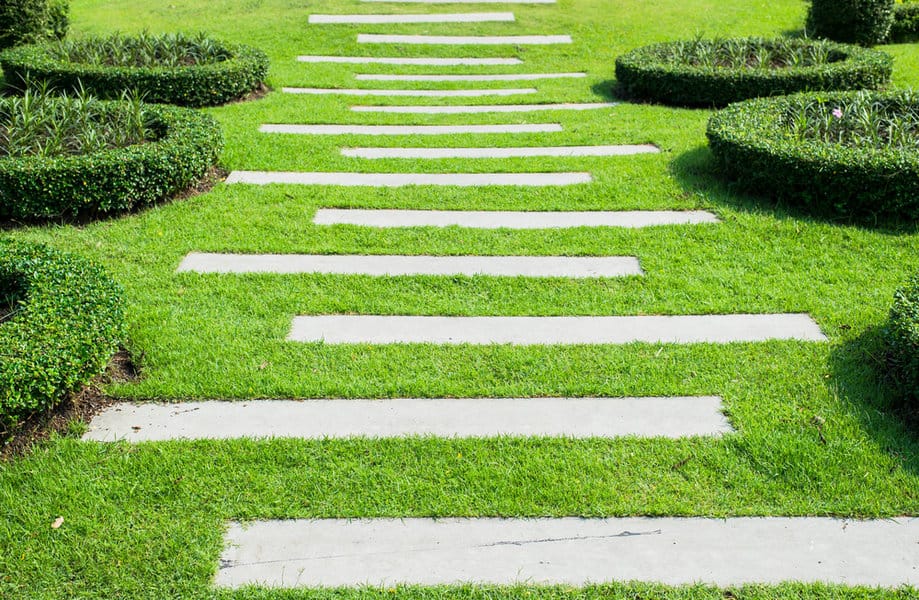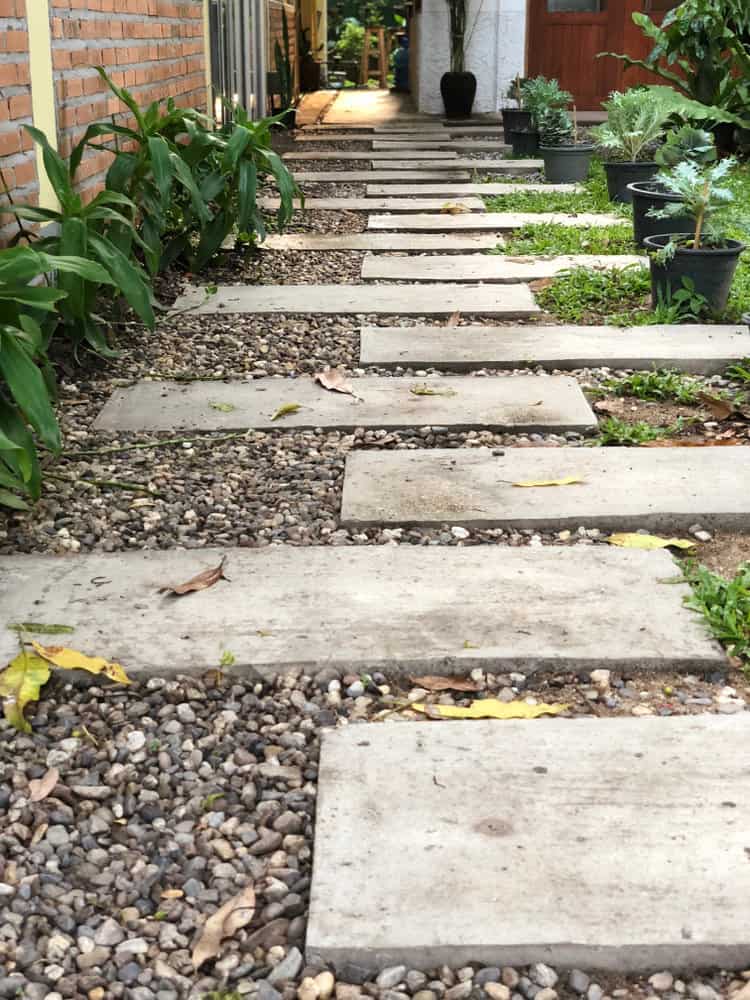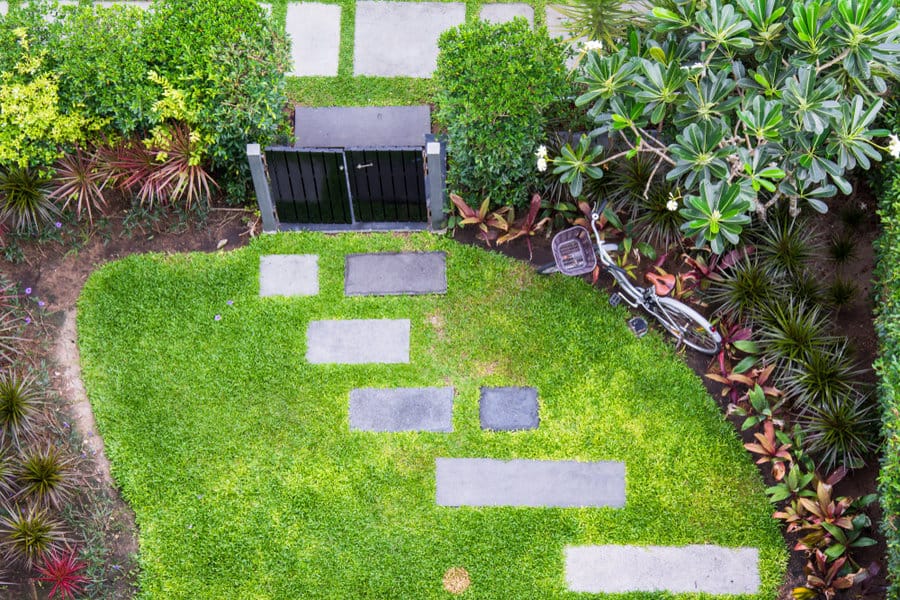 22. Stamped Concrete: Creative Elegance
For a garden path that captures attention and showcases your style, consider stamped concrete. Whether you lean toward a vintage cobblestone feel or a modern stone slab aesthetic, stamped concrete offers a unique look that can be customized to suit any design preference.
Beyond its visual appeal, stamped concrete boasts easy maintenance and durability. Enhance the path's charm by integrating flower beds, pebbles, and solar lanterns, creating an inviting atmosphere that you and your guests can enjoy year-round. Explore the elegance of stamped concrete and elevate your garden path into a work of art that combines creativity, durability, and style.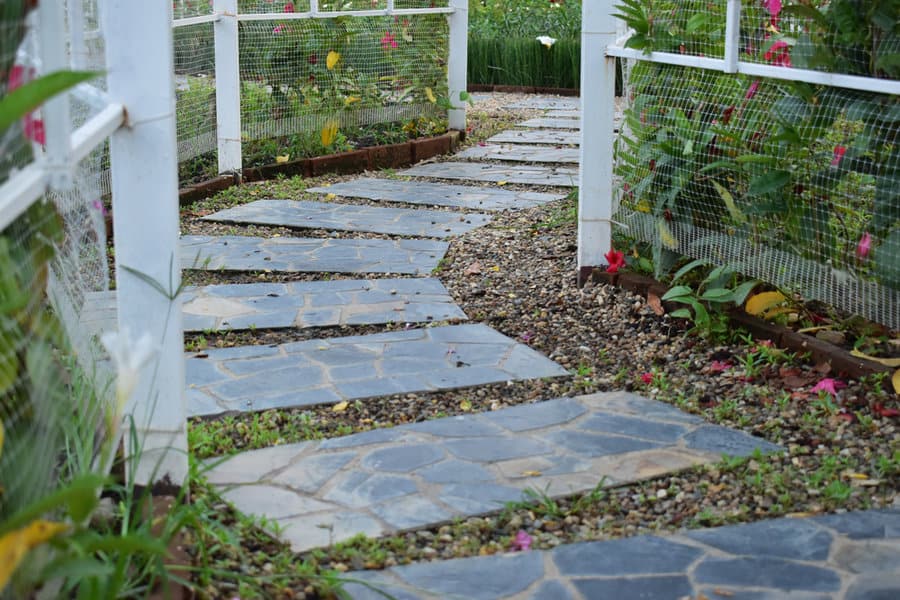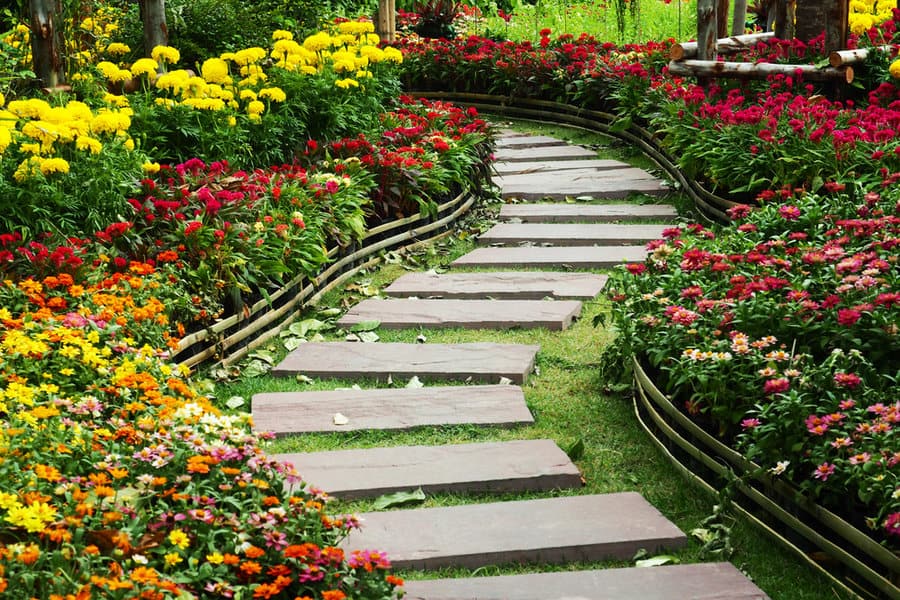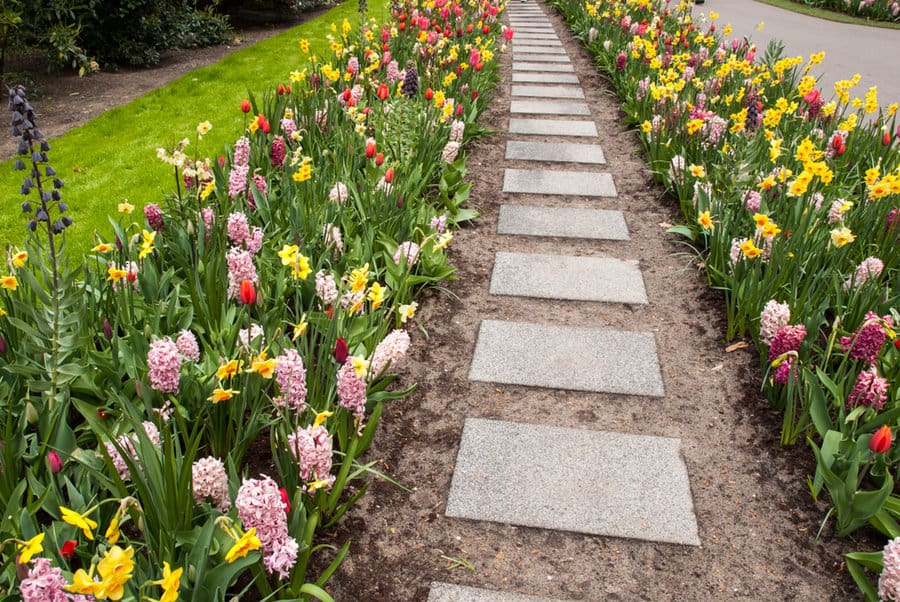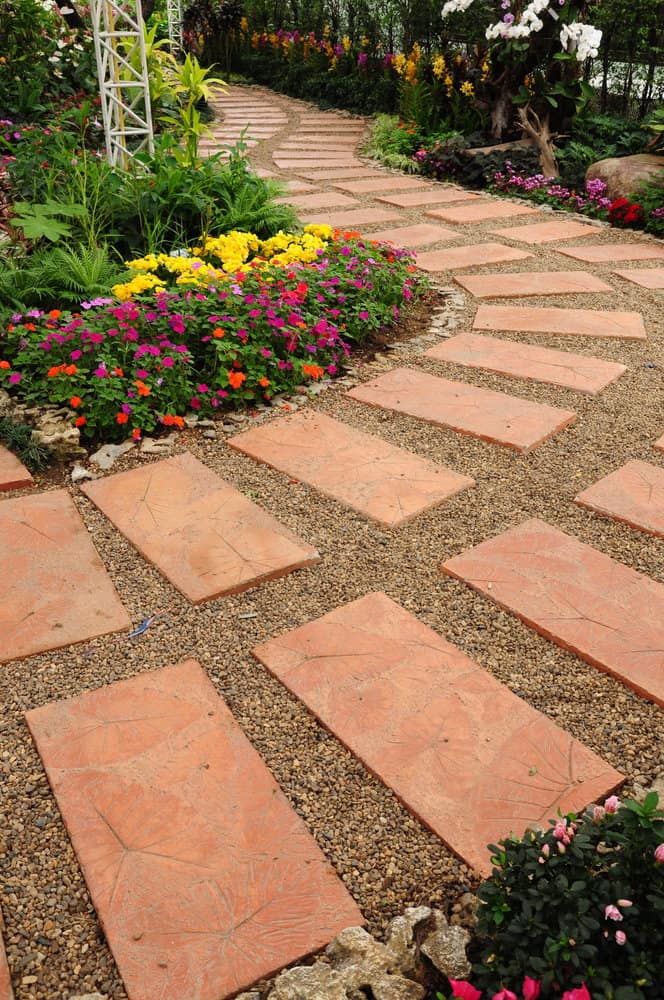 23. Ascending Walk Path: Step by Step
Embark on a captivating garden path project with an ascending walkway. Integrate curved stepping stones of diverse sizes and materials into a lush display of greens and yellows.
Enhance the dimension by planting along the step edges or incorporating creative handcrafted stonework. This not only offers a stunning backdrop to your garden's color palette but also infuses an extra touch of flair that adds charm to your leisurely strolls through your outdoor oasis. Discover the beauty of an ascending walk path, where each step is a journey through artistry, color, and serenity.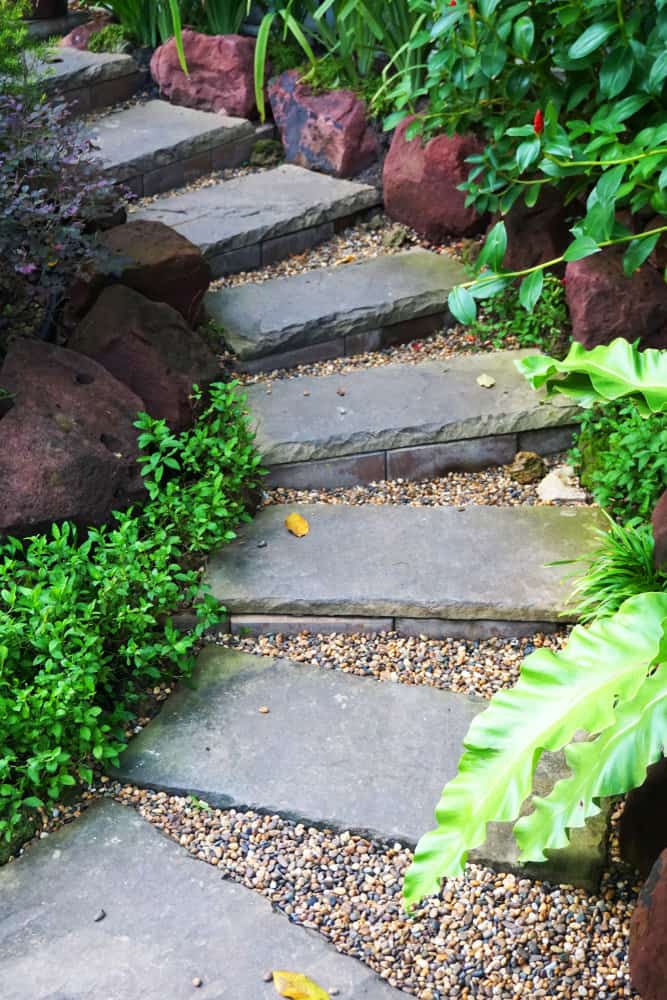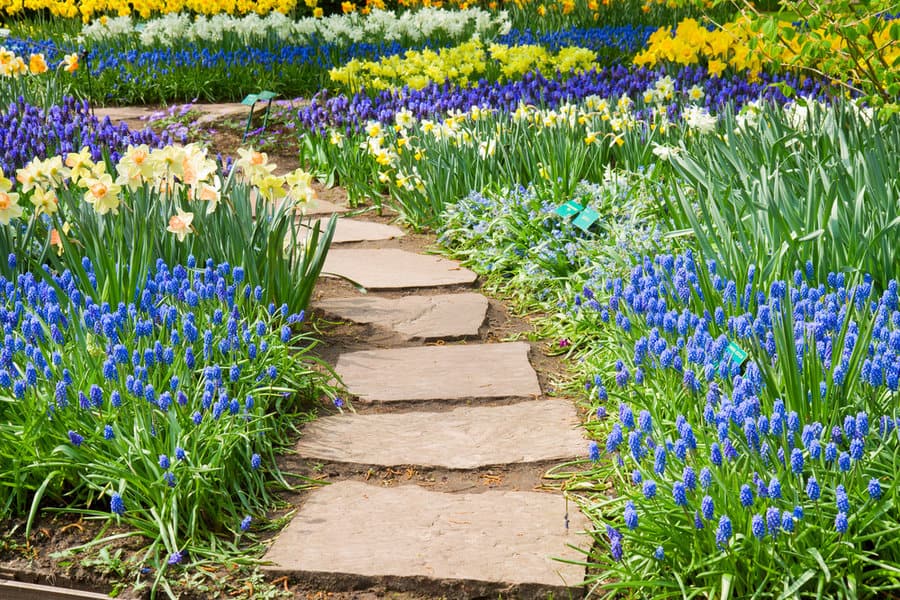 24. Vibrant Multi-Colored Pathways
Infuse your garden with creativity by crafting a visually stunning and distinctive garden path. Consider using multi-colored tiles to create a captivating avenue of rainbows, a warm welcome for your friends and family.
For a subtler yet equally eye-catching effect, explore the use of stones in two or three different colors, arranging them in alternating lines. To add depth and interest, scatter short winding pathways within the larger one. With these imaginative ideas, your garden path will stand out as a unique masterpiece, offering a delightful journey through vibrant colors, textures, and charm. Explore the endless possibilities of vibrant multi-colored pathways and make your garden a true work of art.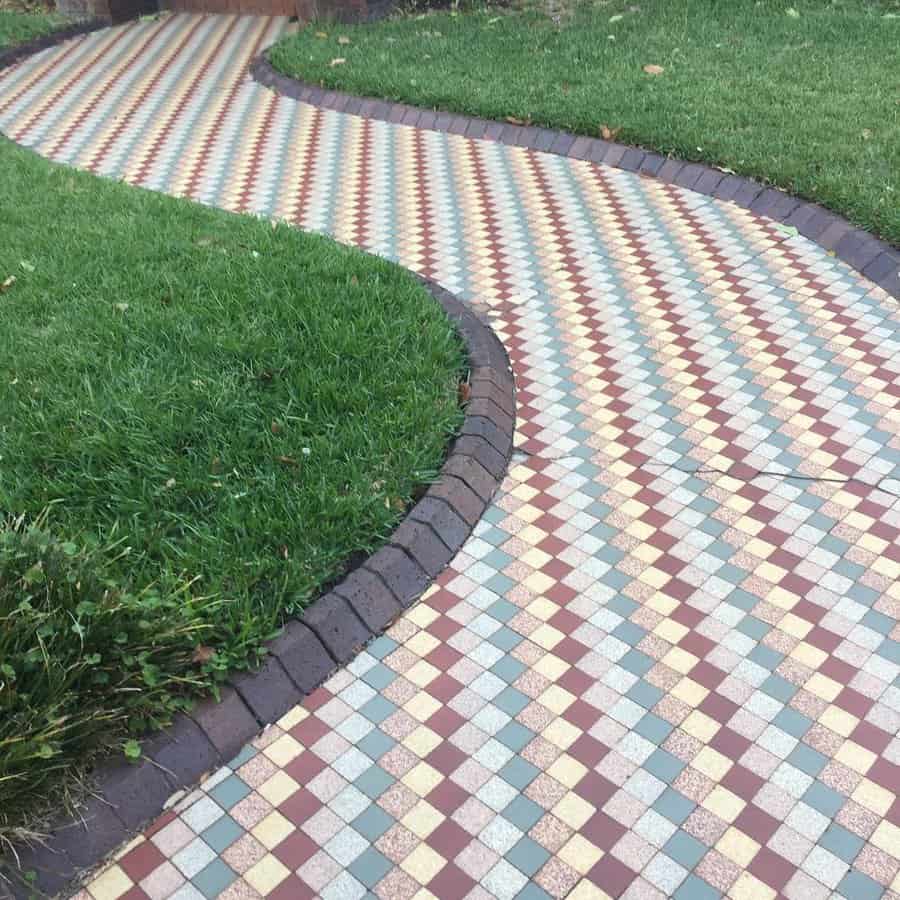 25. Creative Pebble Walkway Designs
Elevate your garden's allure with a captivating patterned pebble garden path. This imaginative concept breathes new life into your outdoor space, introducing texture, style, and a playful spirit.
Explore a range of sizes, from small pebbles to large stones, and combine various materials to craft unique designs. Create circular paths using stone paving slabs or intricate borders featuring contrasting shapes and colors. Whether you opt for adventure or subtlety, a patterned pebble garden path can transform your green space into an extraordinary outdoor masterpiece. Embrace the endless possibilities of creative pebble walkway designs and let your garden stand out as a work of art.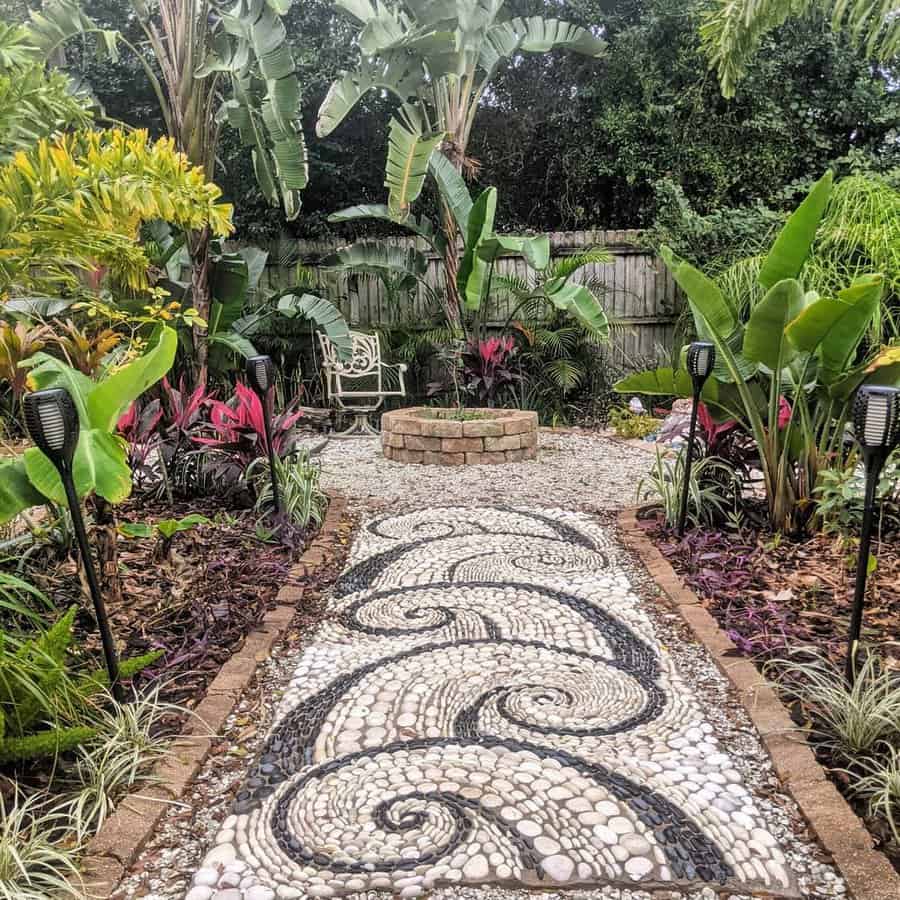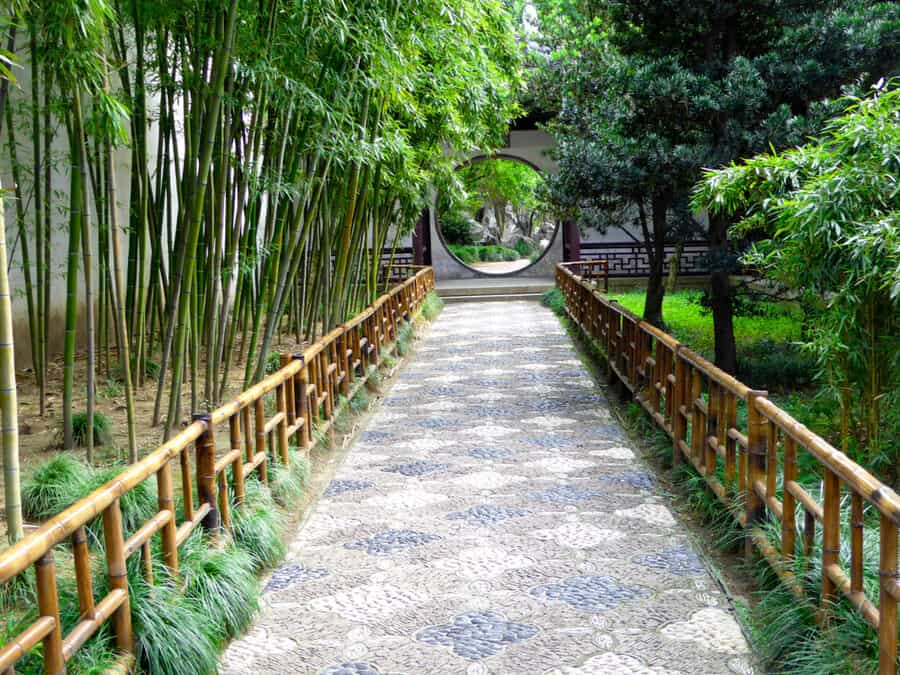 26. Wooden Walk Path: Rustic Charm
Enhance your outdoor space with the rustic charm of a wood garden path. Wood, readily available and affordable, offers endless creative possibilities with diverse textures and shapes.
Experiment with traditional stepping stones, larger logs, or repurposed furniture to craft something truly unique. Armed with just a few pieces of lumber, chisels, and a hammer, you can transform simplicity into an attractive, long-lasting garden feature. Embrace the warmth and character of wood as it weaves through your outdoor oasis, adding style and enduring beauty to your garden path.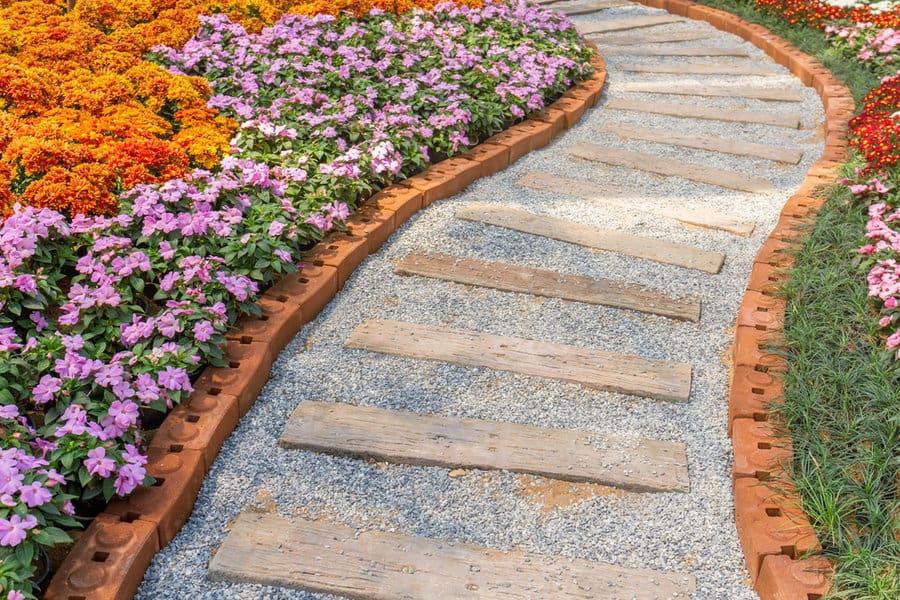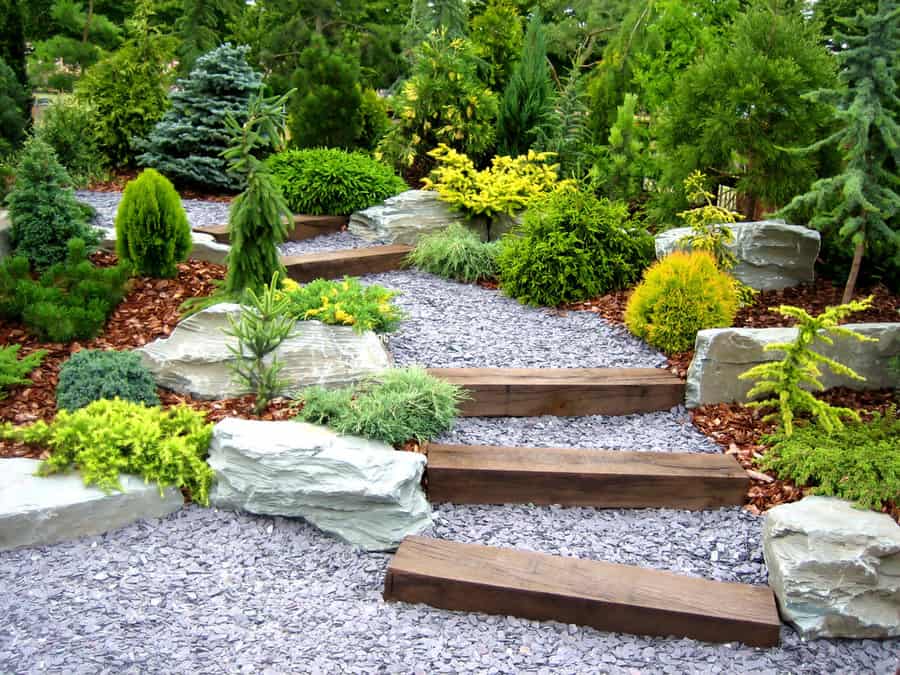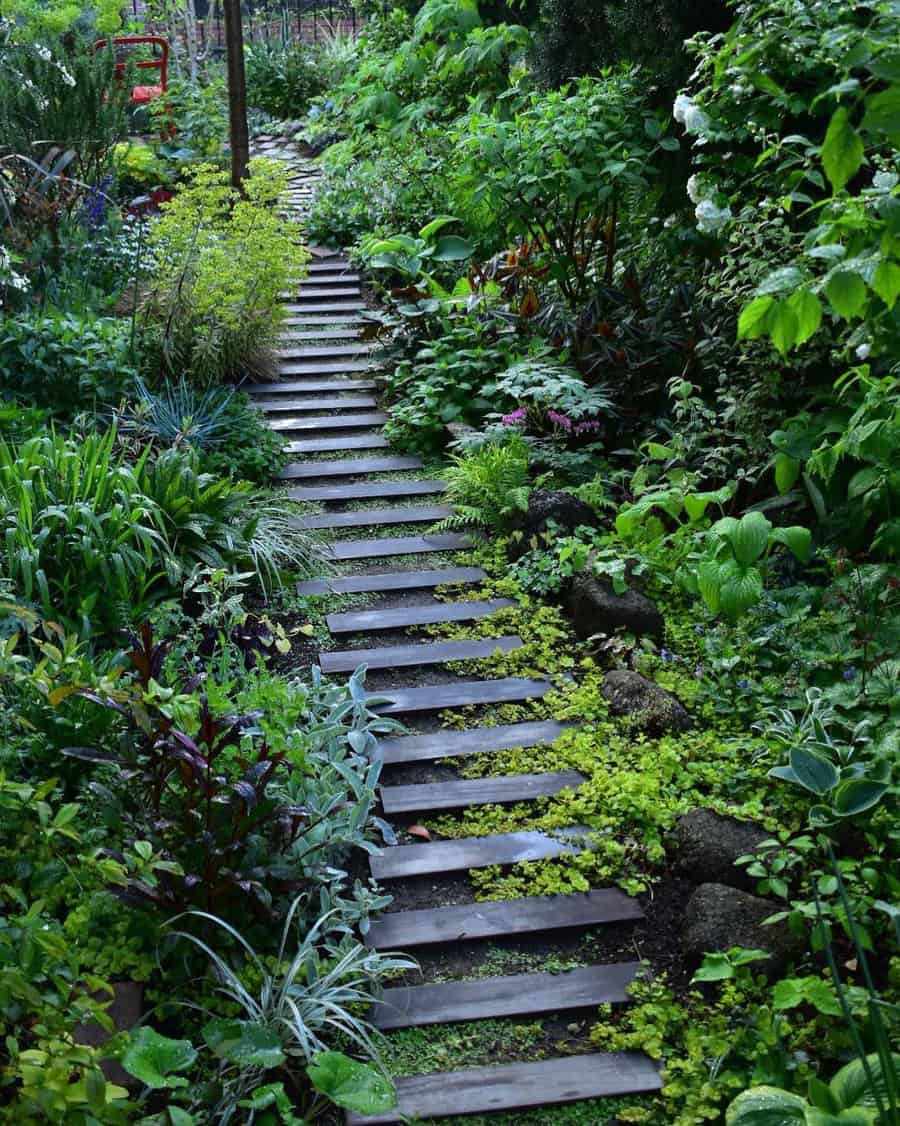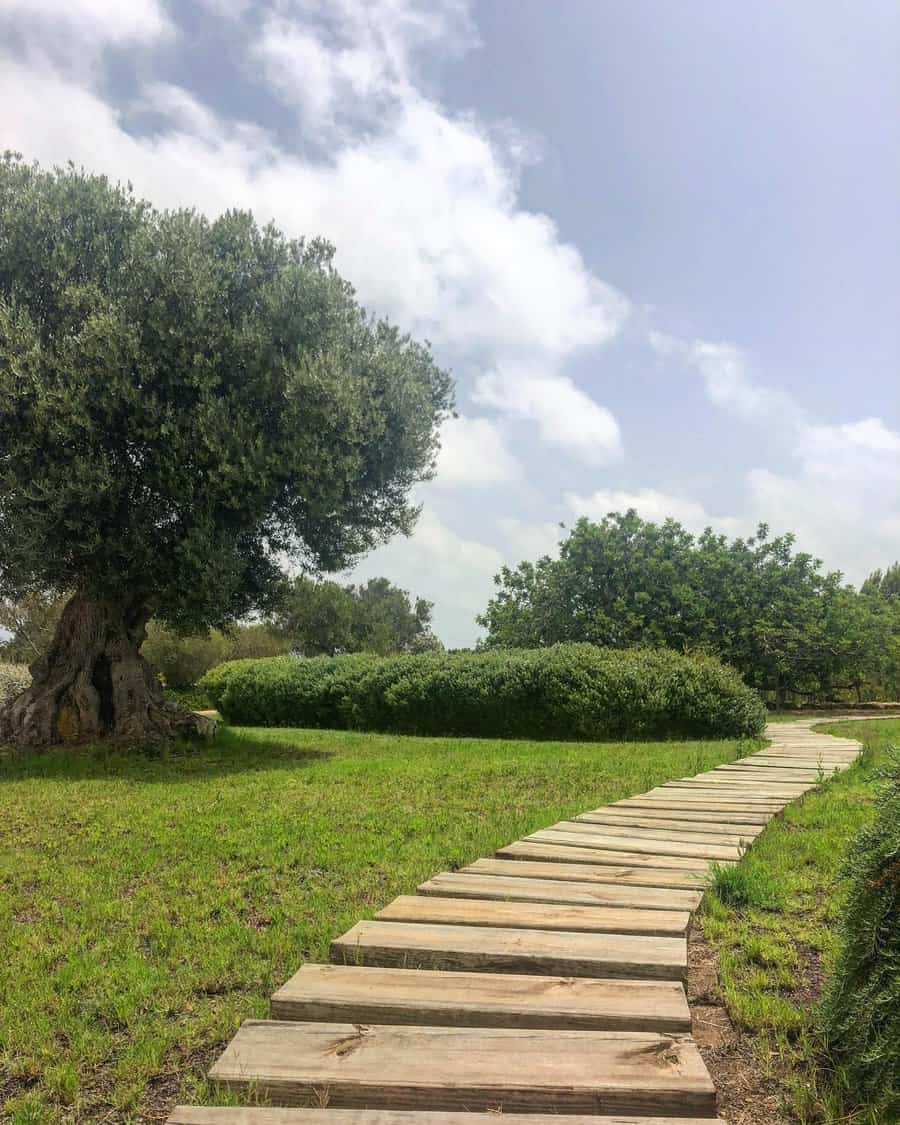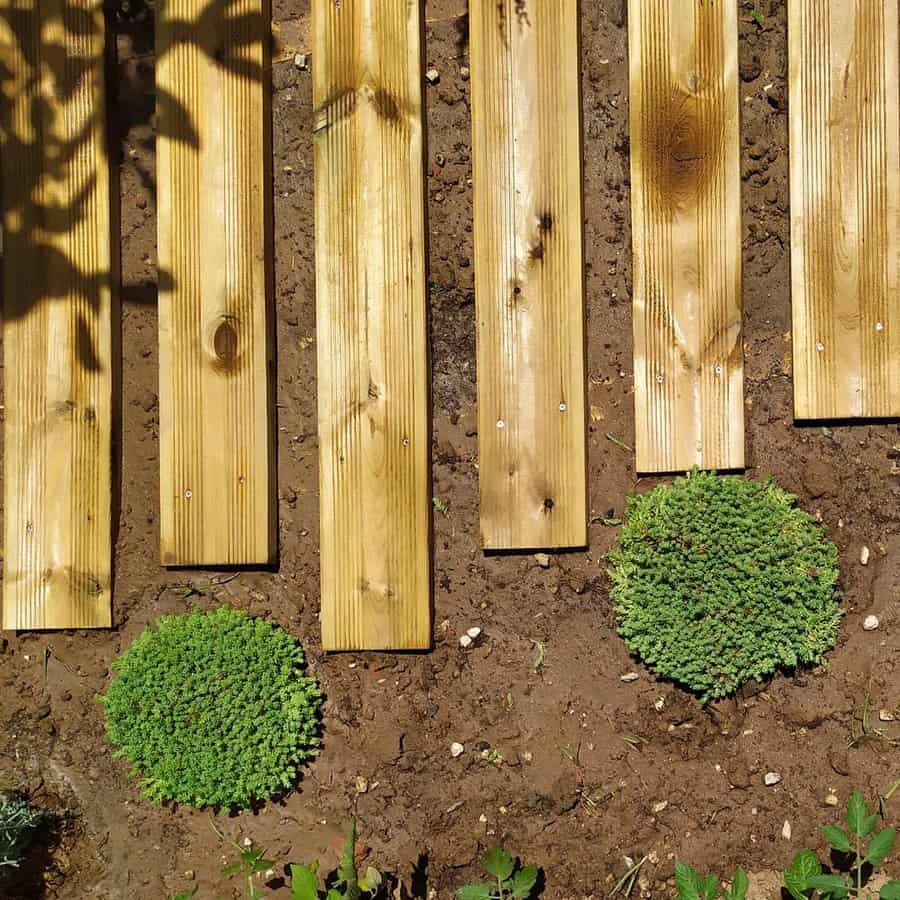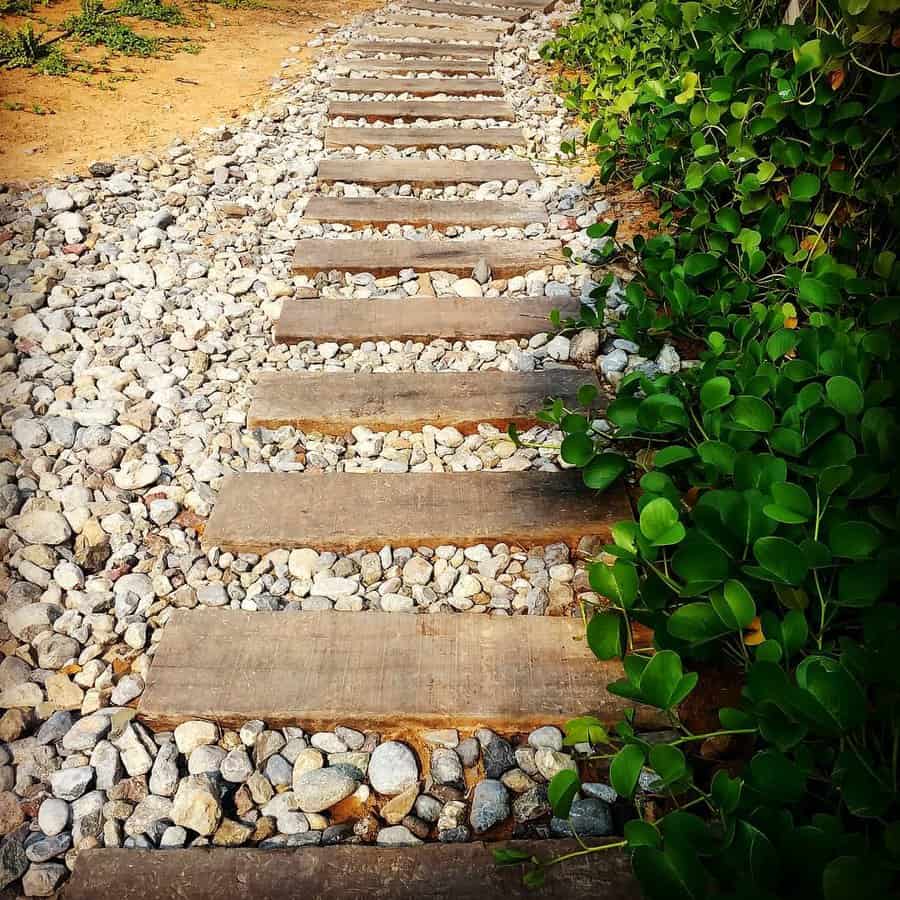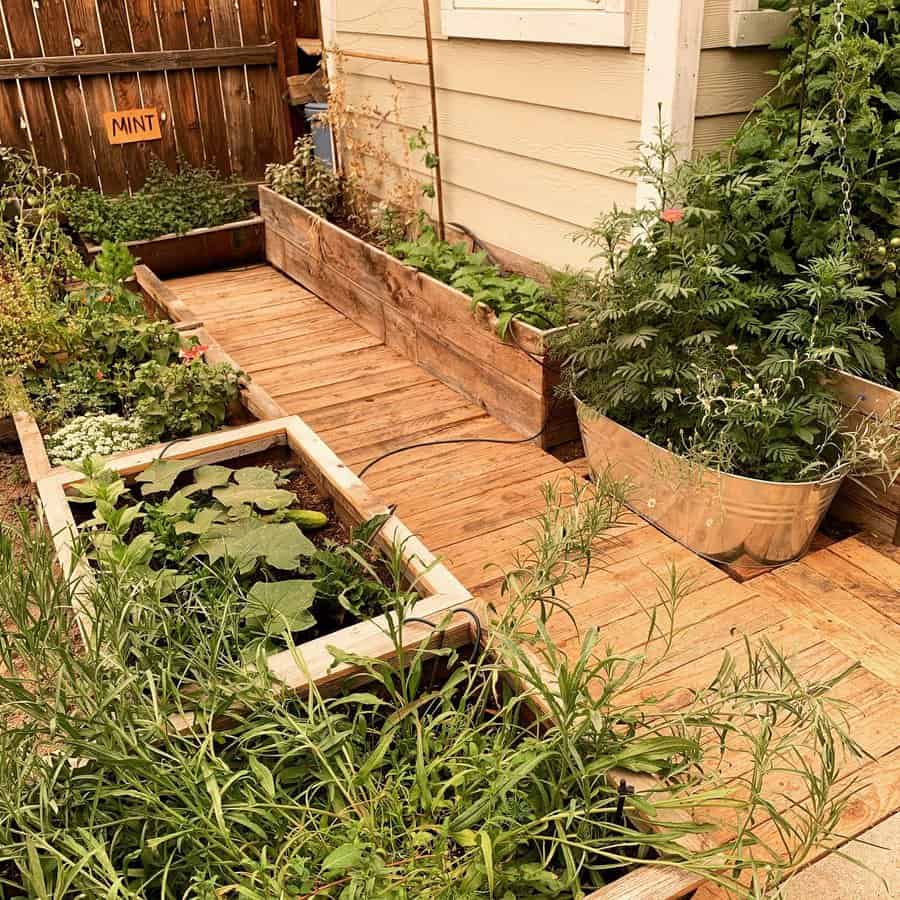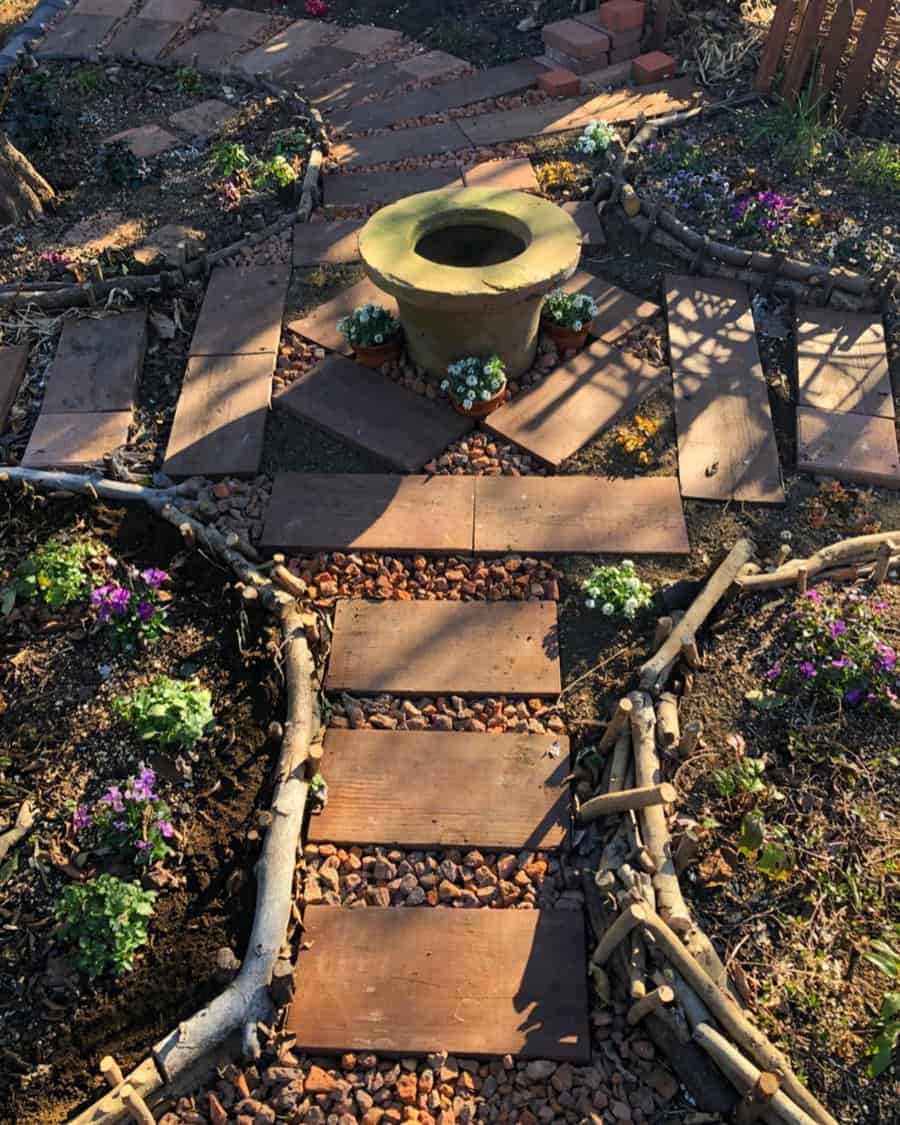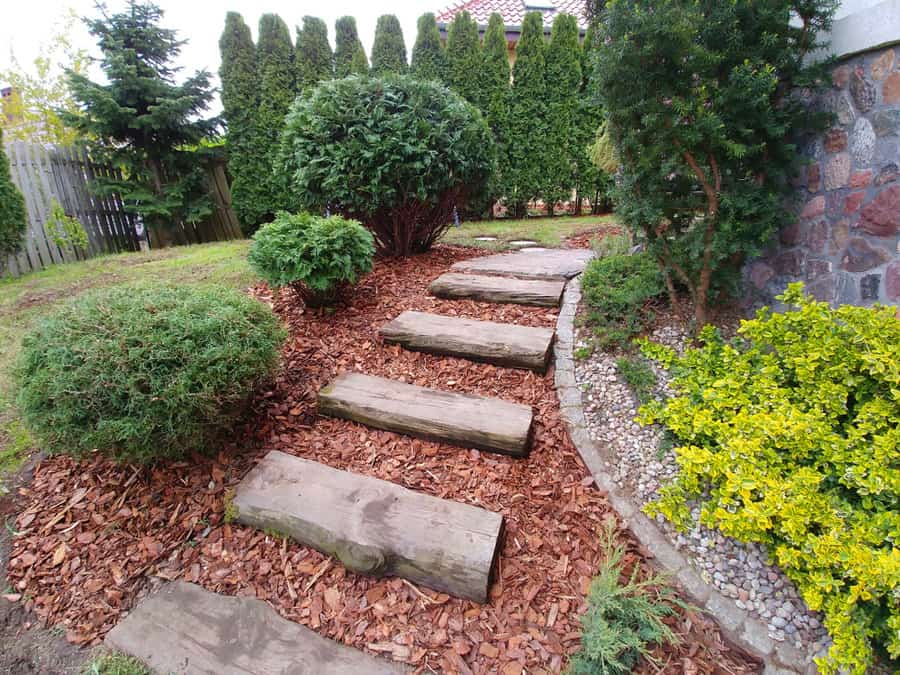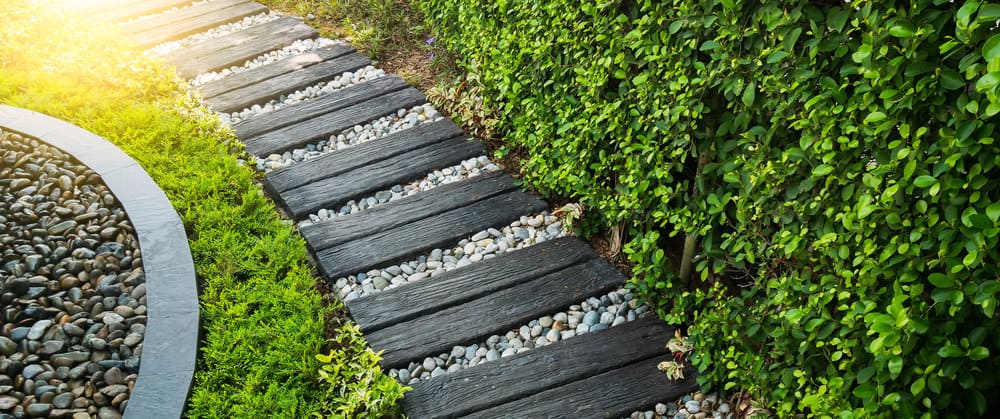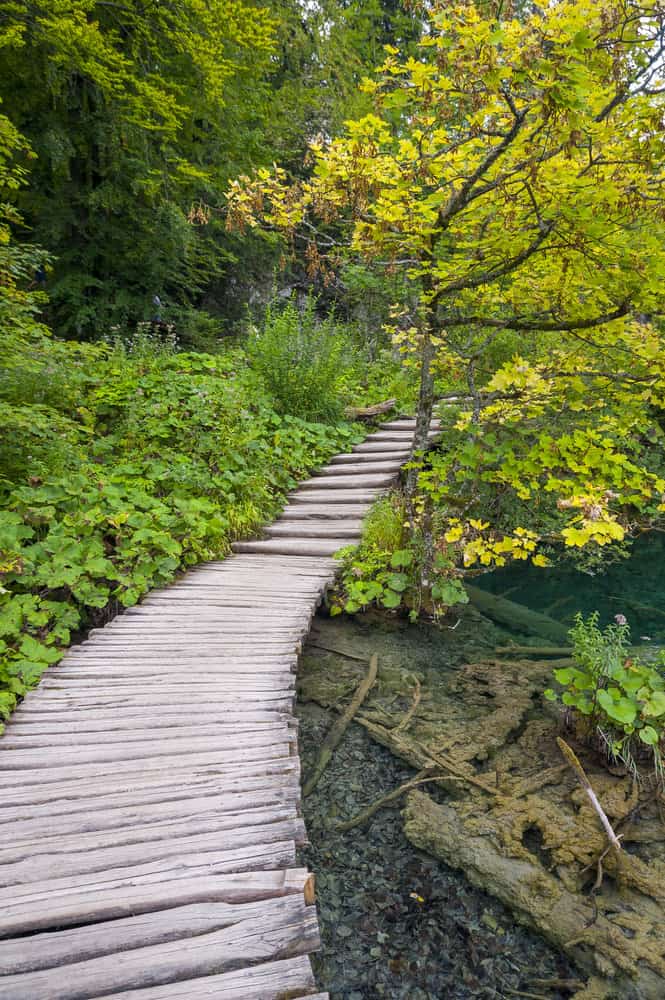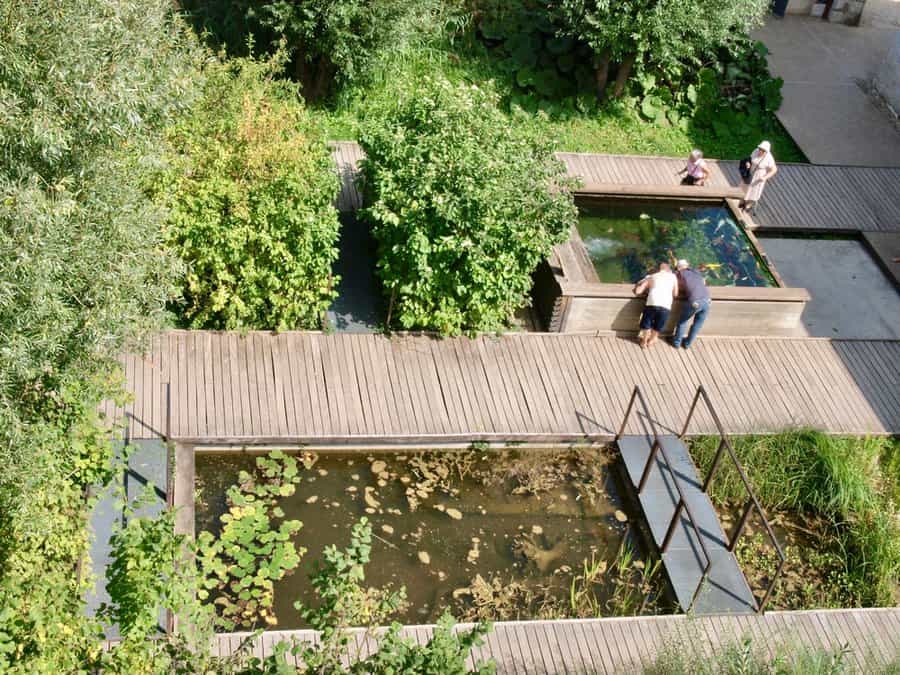 27. Cobblestone Path: Timeless Appeal
Evoke rustic nostalgia and tranquility in your outdoor haven with a cobblestone garden path. The use of large, irregular stones in cobblestones offers timeless charm and an instant transformation of any garden into a serene and inspiring sanctuary.
Positioned thoughtfully, these stones can create levels and curves that guide the eye along the path in unique ways. Your cobblestone pathway beckons exploration and inspires awe in all who journey along its winding track.
Enhance the experience by adding softly-lit lanterns at strategic intervals, allowing you to enjoy the path day or night and infusing the space with a romantic ambiance. A cobblestone garden path is more than just a walkway; it's a captivating escape from the everyday, inviting you to embrace its timeless allure and charm.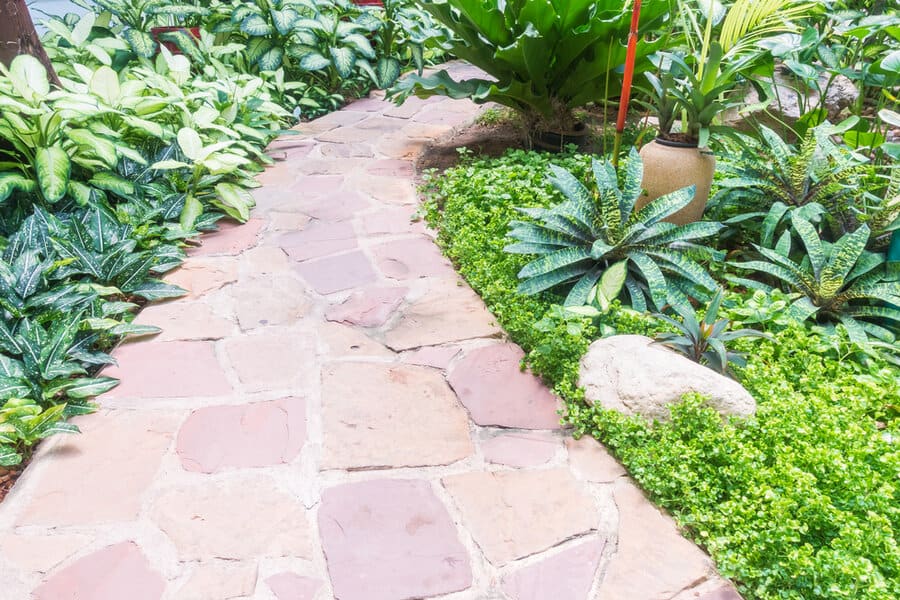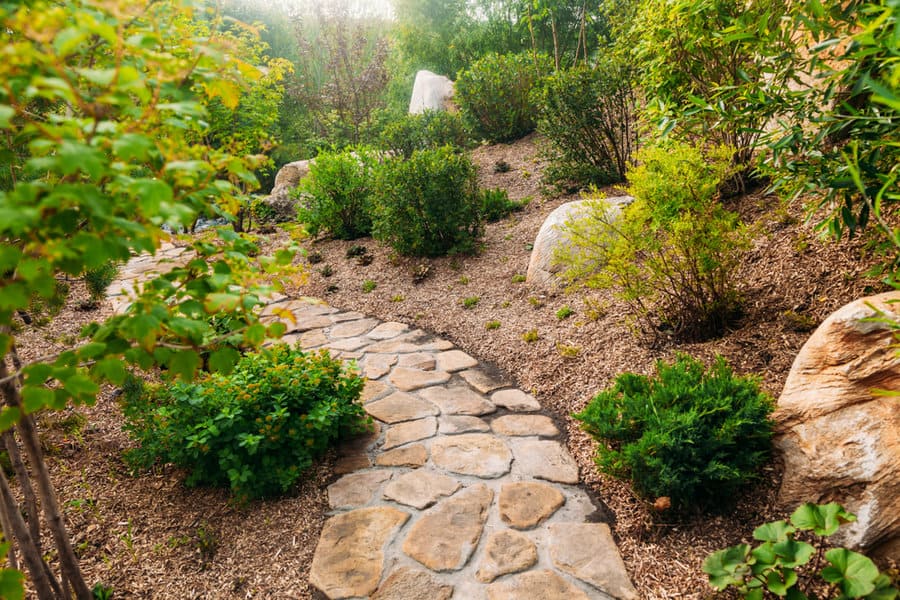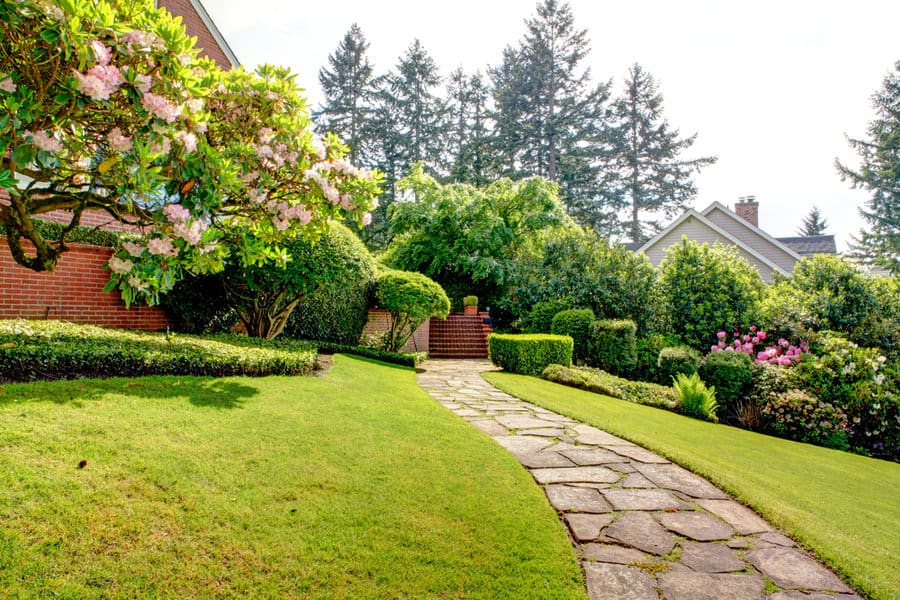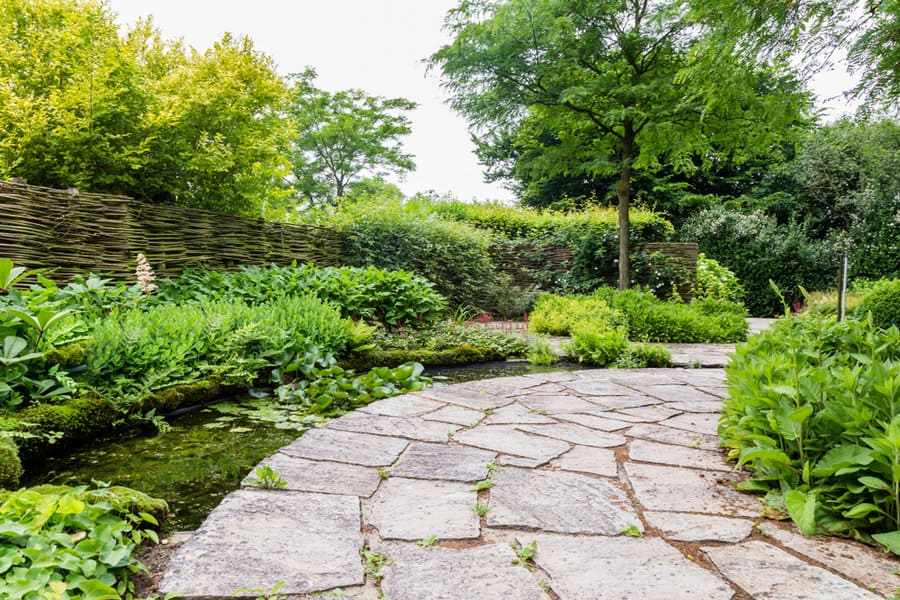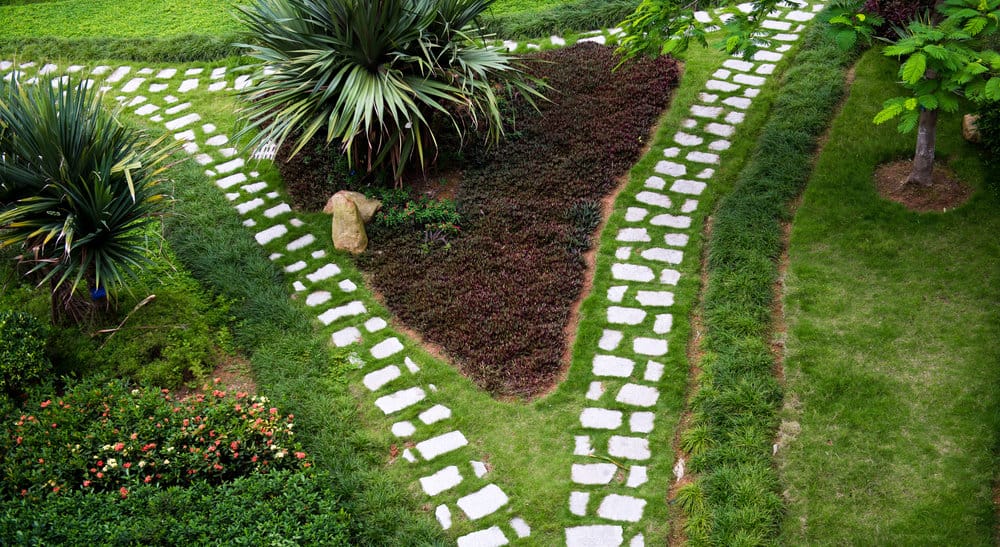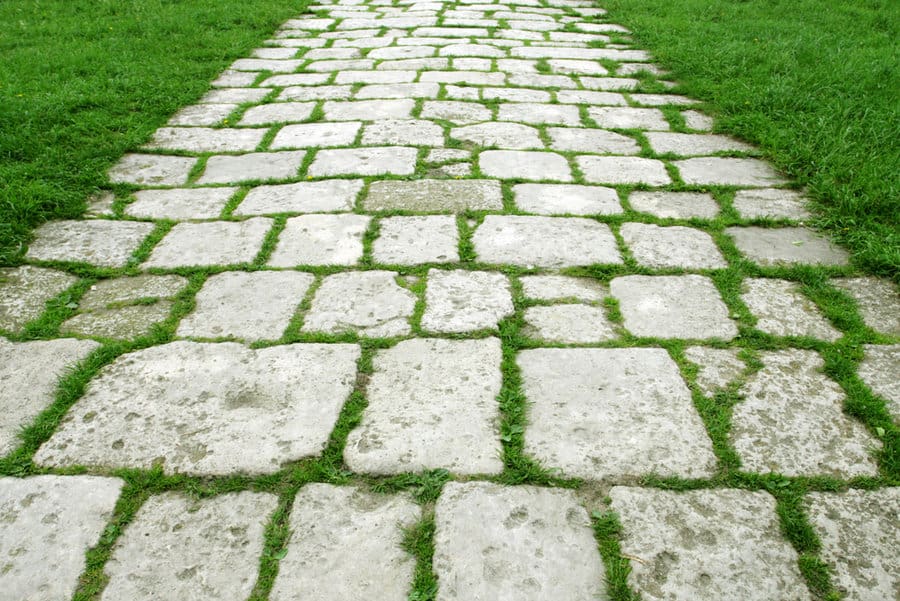 28. Granite Scraps: Natural Elegance
Elevate your garden's aesthetics with granite scrap steps, a choice that delivers visually engaging pathways through your lush green spaces.
These materials not only offer an eco-friendly and economical option but also provide a canvas for endless creativity. With various styles and a wide range of sizes, homeowners can introduce unique elements into their gardens.
From tiered walkways to terraced staircases and sinuous curves, you can recycle discarded stone and unleash your artistic imagination to craft a garden path that stands out from the ordinary. Embrace the natural elegance of granite scrap steps and transform your garden into a work of art that captivates all who wander through it.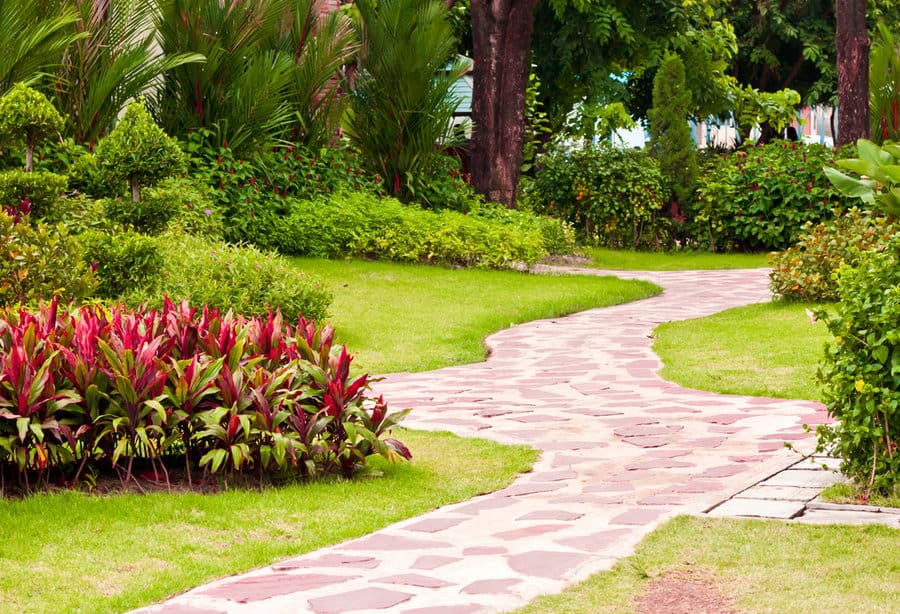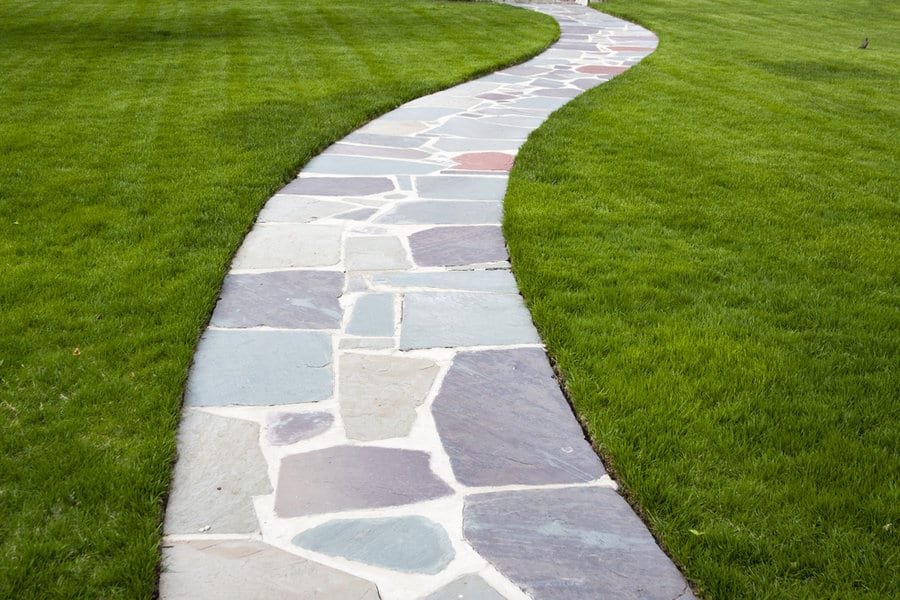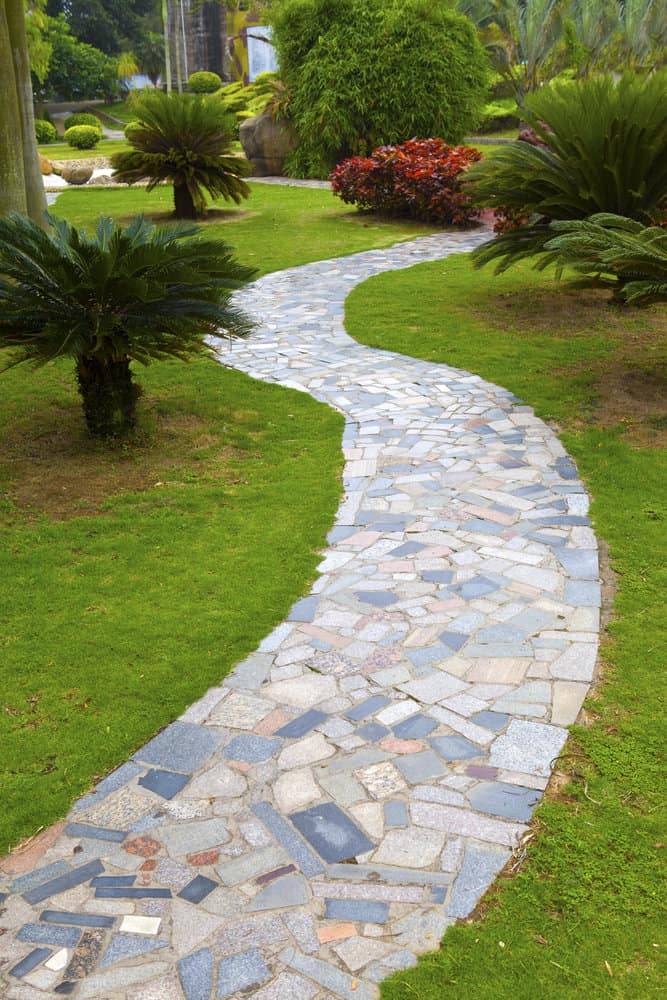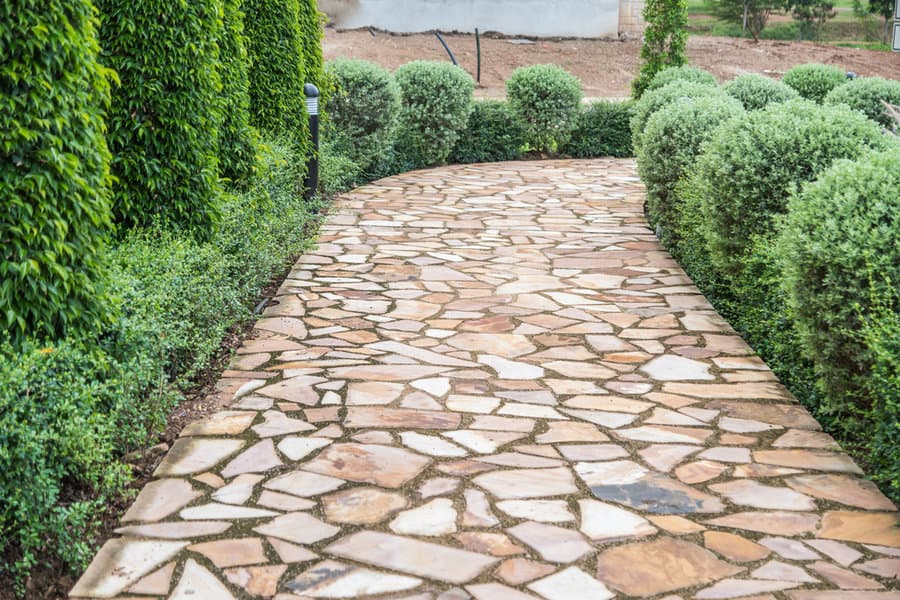 Garden Path FAQs
What is the cheapest way to make a garden path?
Gravel and mulch are the cheapest materials for building a path. They are readily available, and you can buy them yourself for a DIY project. Installation is simple and straightforward, saving you money on labor and supplies. First, remove any existing grass and topsoil. Next, spread a landscaping fabric to prevent weeds and other plant growth. Finish by spreading your mulch or gravel.
Can you just lay stepping stones on top of the grass?
While you can technically place stepping stones directly over your grass, this isn't the best installation method. For greater stability and a cleaner look, you should remove the grass and topsoil underneath the stones. Then, place the stepping stone on packed sand or sand that's mixed with fine gravel.
What is the difference between pavers and stepping stones?
Pavers are smaller and get positioned close together to create a continuous paved surface. A stepping stone is much larger in size and designed to stand on its own. You position them spaced apart and in a line to create a path. When walking, you step from one stone to the next.