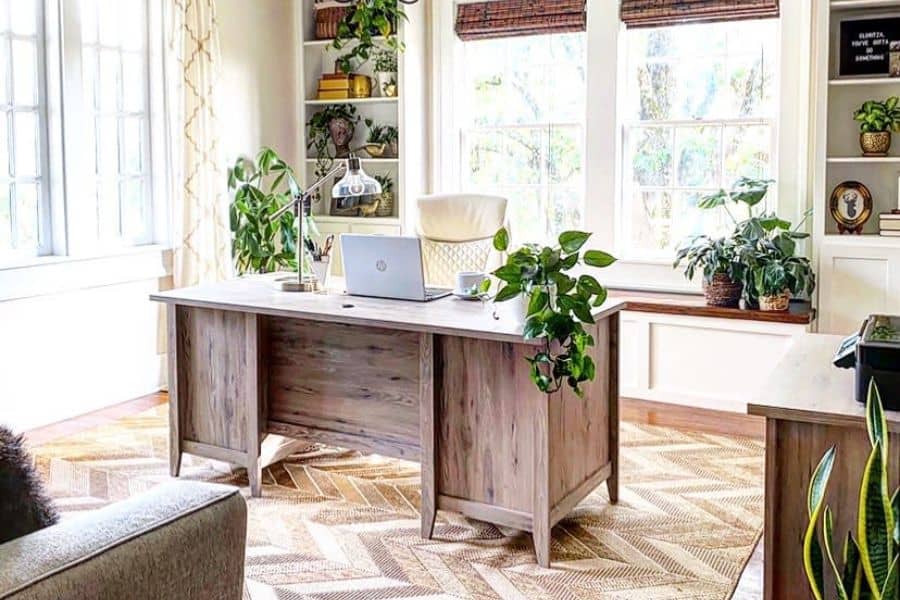 The Top 44 Home Office Ideas
Working from home has — for many people — become the new norm. And while this change is preferred by some workers more than others, no one can argue the benefit of having a dedicated office space at the ready.
Getting work done isn't just about having a functional space. If you neglect the design aspect of your home office, you're giving up on what keeps you productive on even the hardest days.
The home office ideas below will help you curate the perfect atmosphere for your personal workspace.
1. Utilize The Attic Space
As a creative individual, you need an environment that fosters your unique ideas and inspirations. Why not turn your often-overlooked attic space into your very own home office? With a little imagination and some elbow grease, you can transform this unassuming space into a one-of-a-kind creative haven.
Think of the possibilities: natural light streaming in from the roof, a bird's-eye view of your surroundings, and a space that is truly your own. Plus, with the added privacy and quiet of attic space, you can focus on your craft without the distractions of everyday life.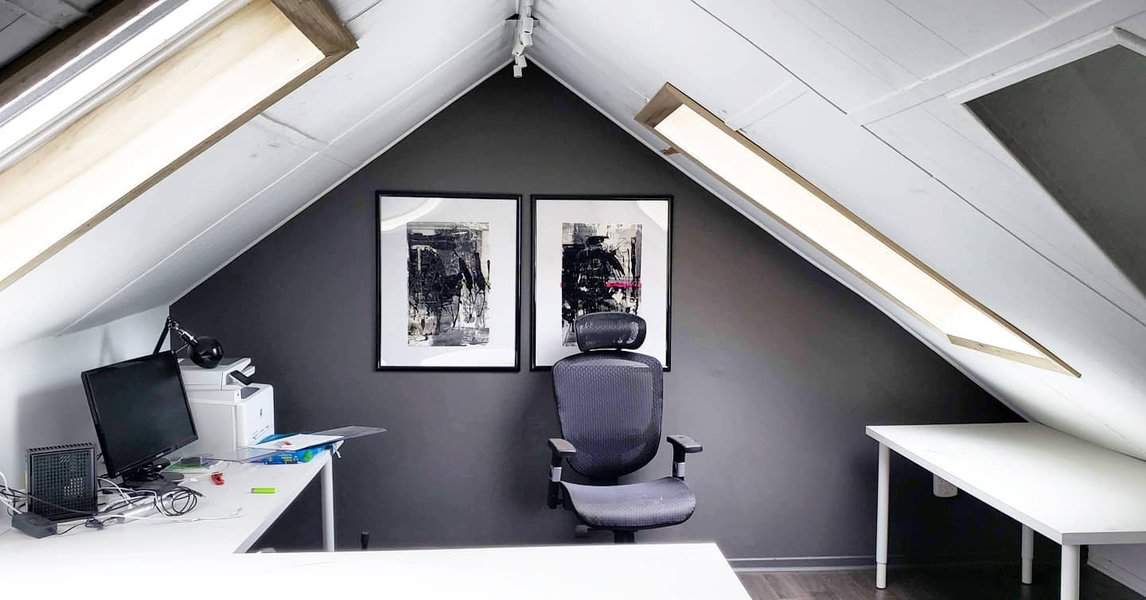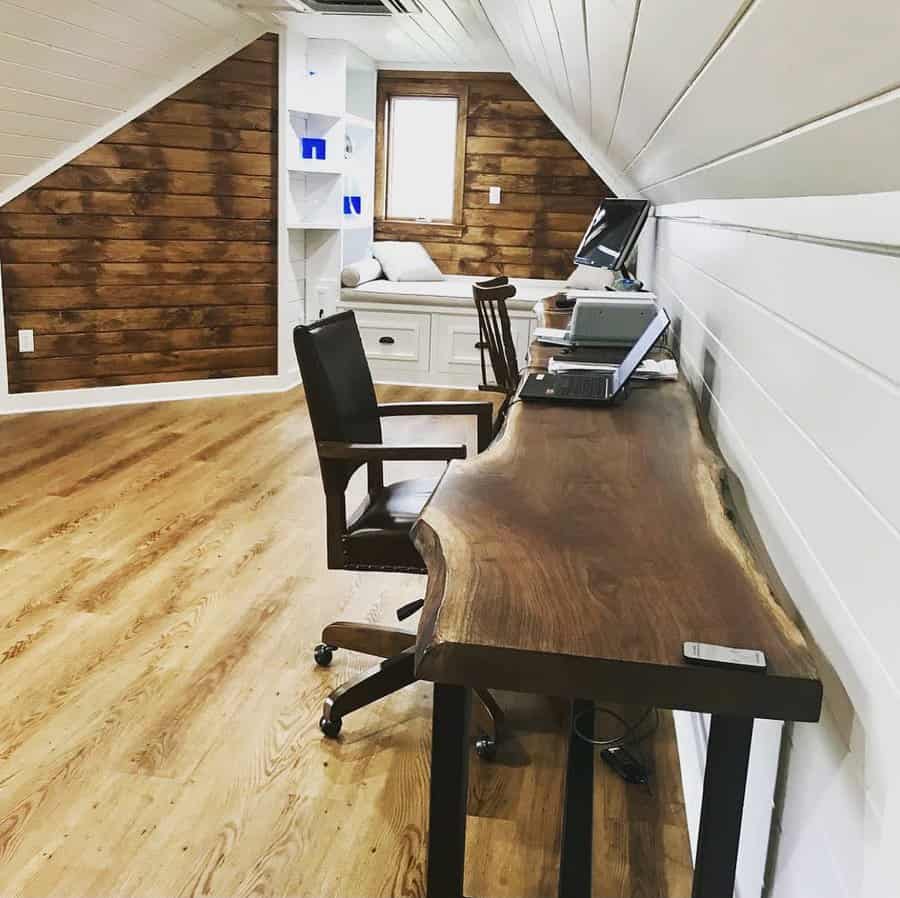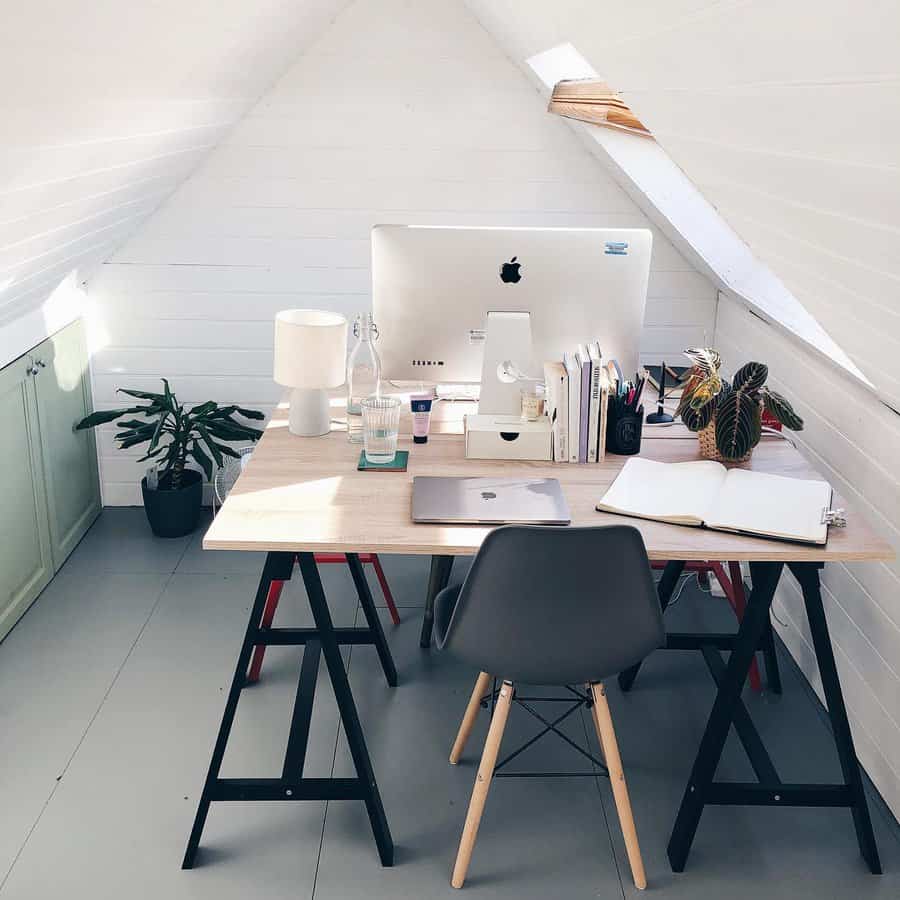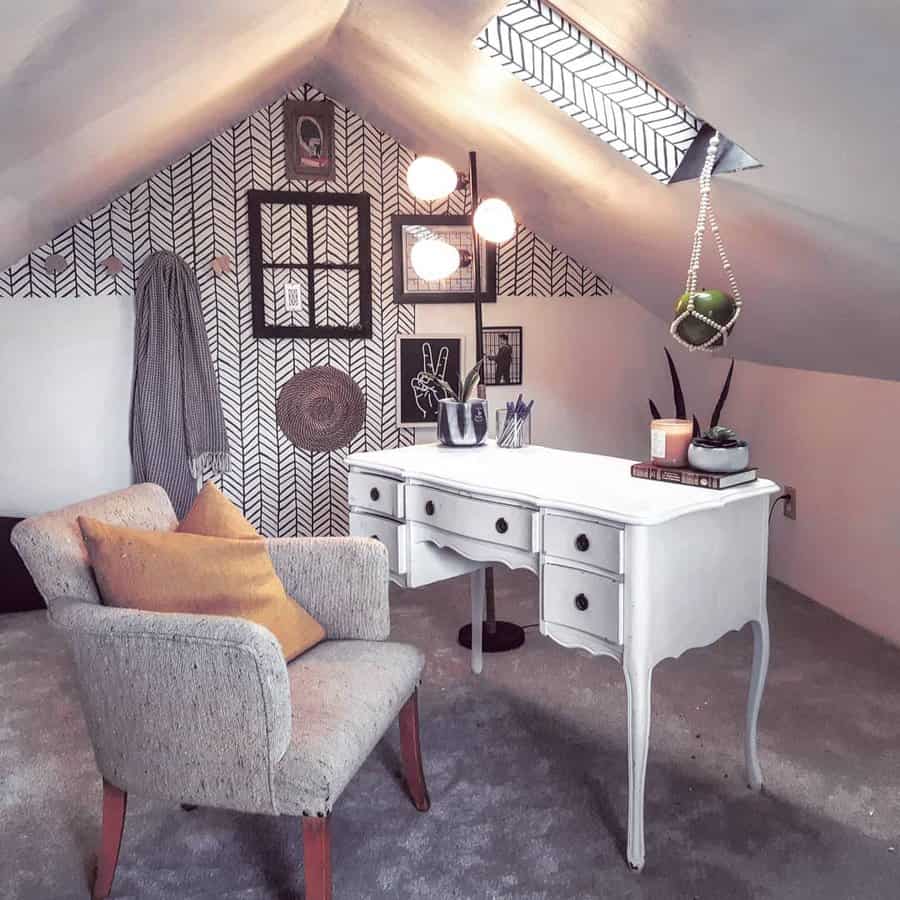 2. Natural Lighting
Working from home has become the new norm for many of us, but that doesn't mean you have to feel stuck in a dimly lit cubicle. Imagine feeling fresh and energized as you tackle your to-do list, all thanks to the abundance of natural lighting in your home office.
The sun's gentle rays cascade through your window, providing the perfect balance of warmth and illumination. This is not only beneficial for your productivity, but for your mental and physical health as well.
Embracing the power of natural lighting in your home office not only adds to your creative vibe, but helps you become more in tune with nature and all of its wonders. Say goodbye to fluorescent lighting and hello to the joys of working in a welcoming and sunlit atmosphere.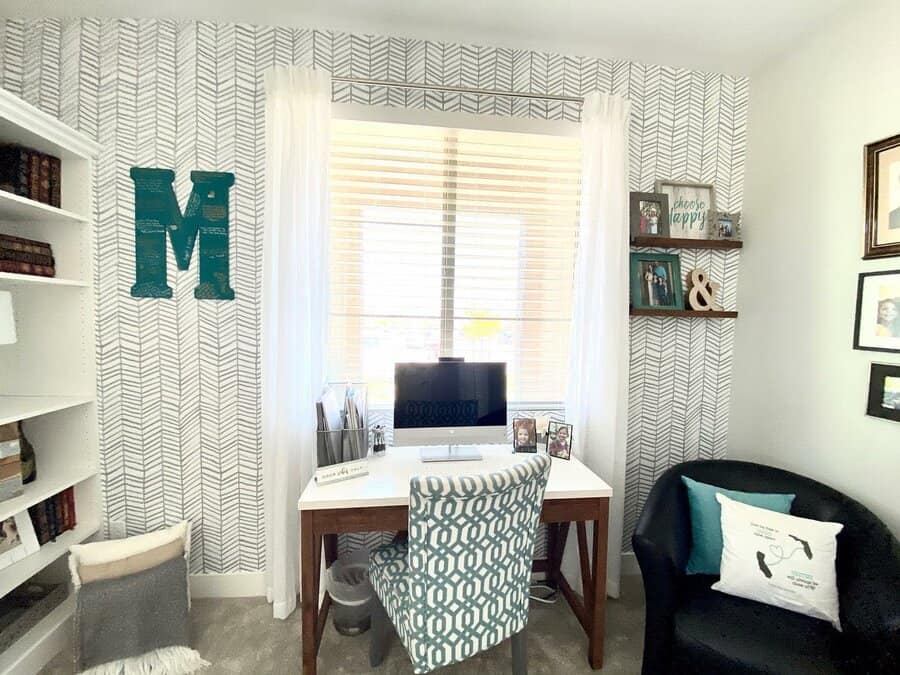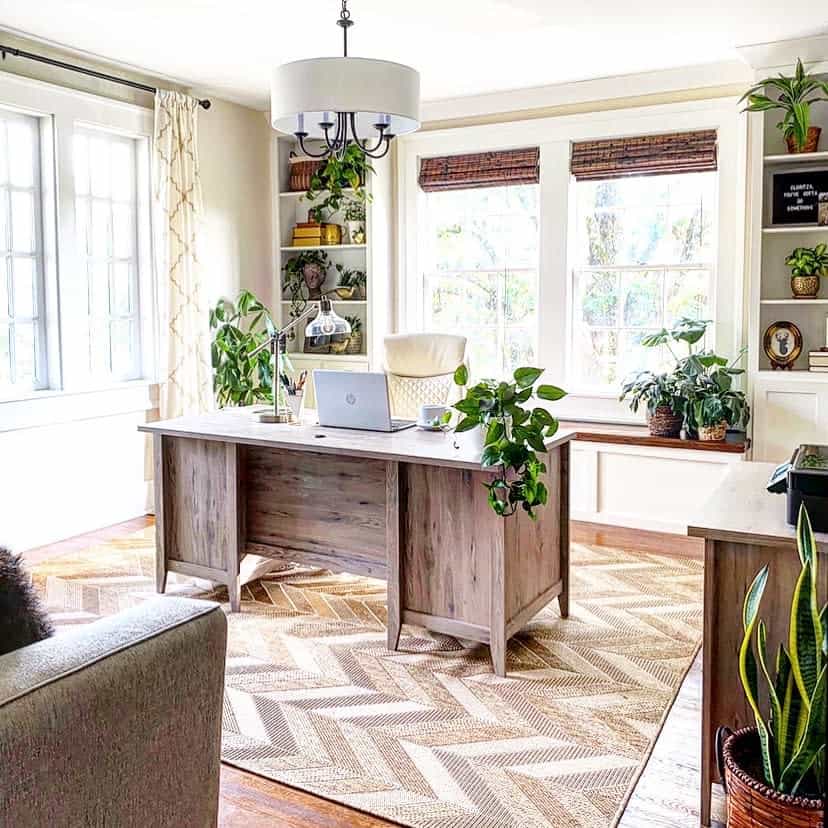 3. Bedroom Office
A bedroom home office is a perfect solution for those looking to merge work and relaxation within the confines of their personal space. The key to designing a stylish and productive bedroom office is to be creative with furniture placement and decor choices.
By opting for compact and multipurpose pieces like a storage bed and a sleek desk, you can create a seamless transition between your work and rest zones. Experiment with colorful accents, prints, and textures to make the space feel cozy and inviting.
Whether you're a freelancer or just need a work area for occasional tasks, a bedroom home office is a clever and stylish way to stay productive while enjoying the comfort and privacy of your own bedroom sanctuary.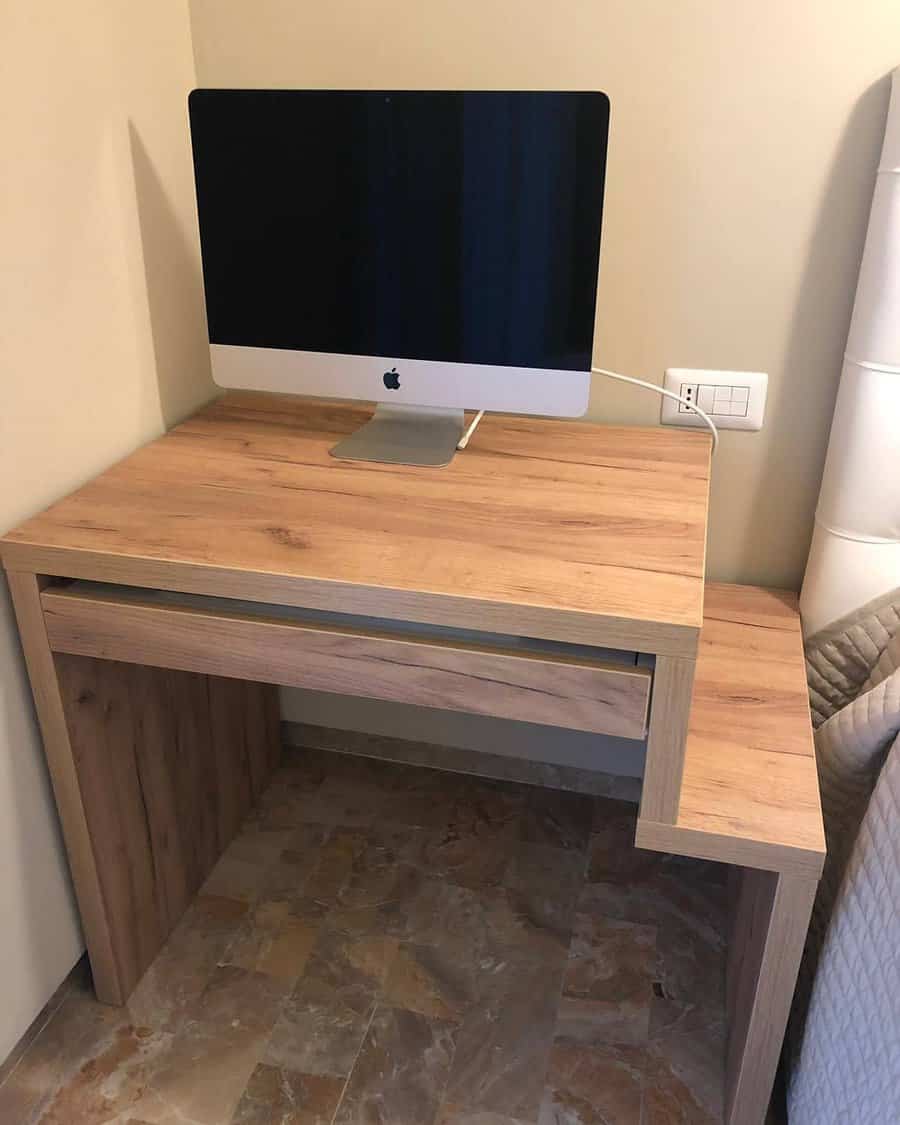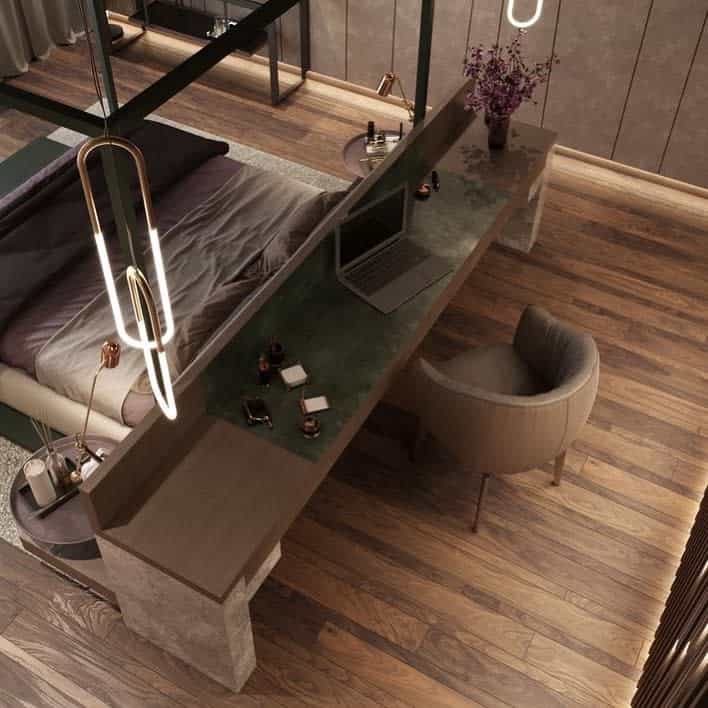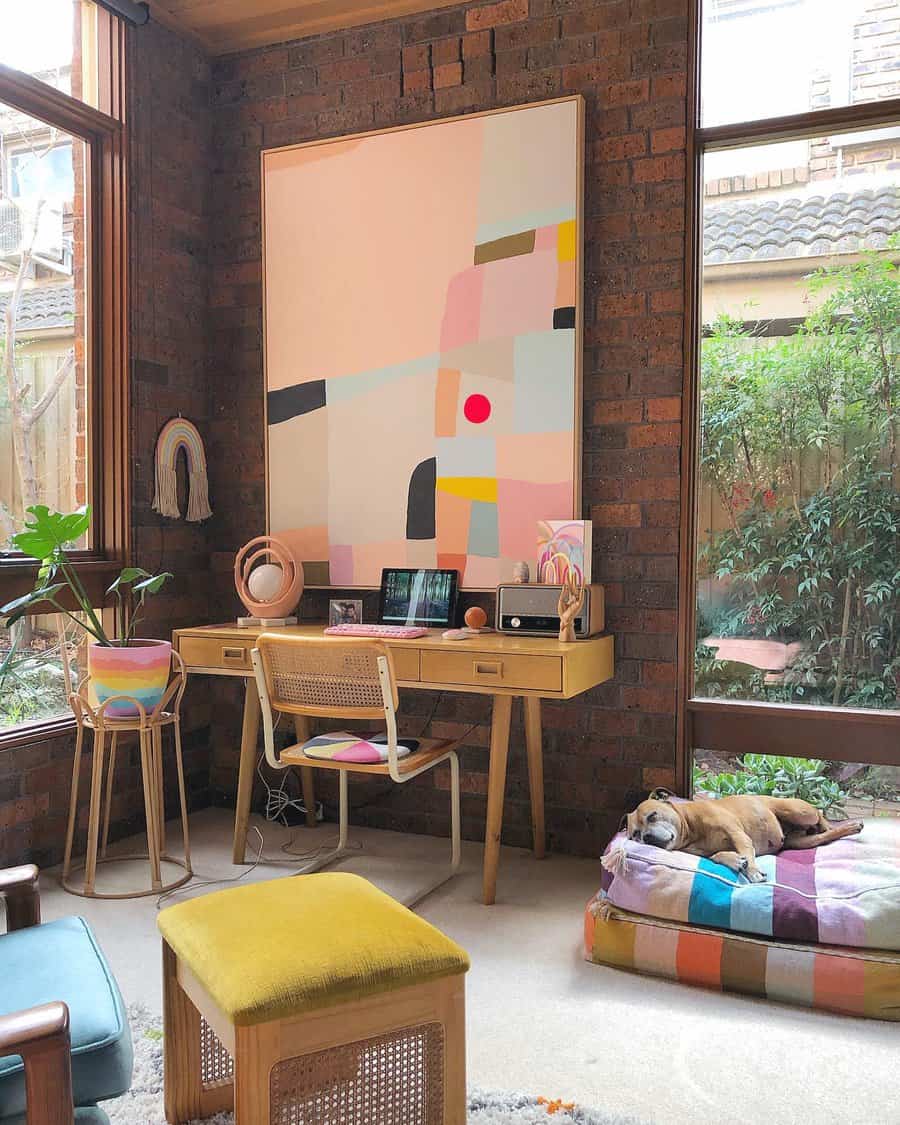 4. Floating Shelves
These modern and minimalist shelves are the perfect addition to any workspace. Not only do they provide ample storage for all your office essentials, but they also add a touch of sophistication to the room.
With a plethora of design options, from simple wooden shelves to metal and glass combinations, you're sure to find the perfect shelf to fit your aesthetic. So say goodbye to cluttered desks and hello to a chic and organized workspace with floating shelves.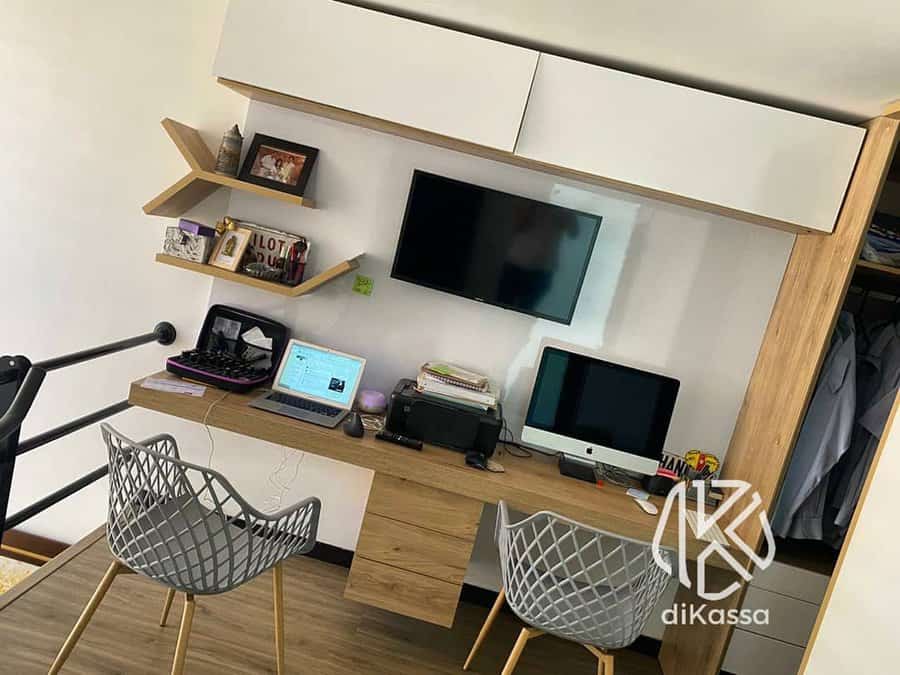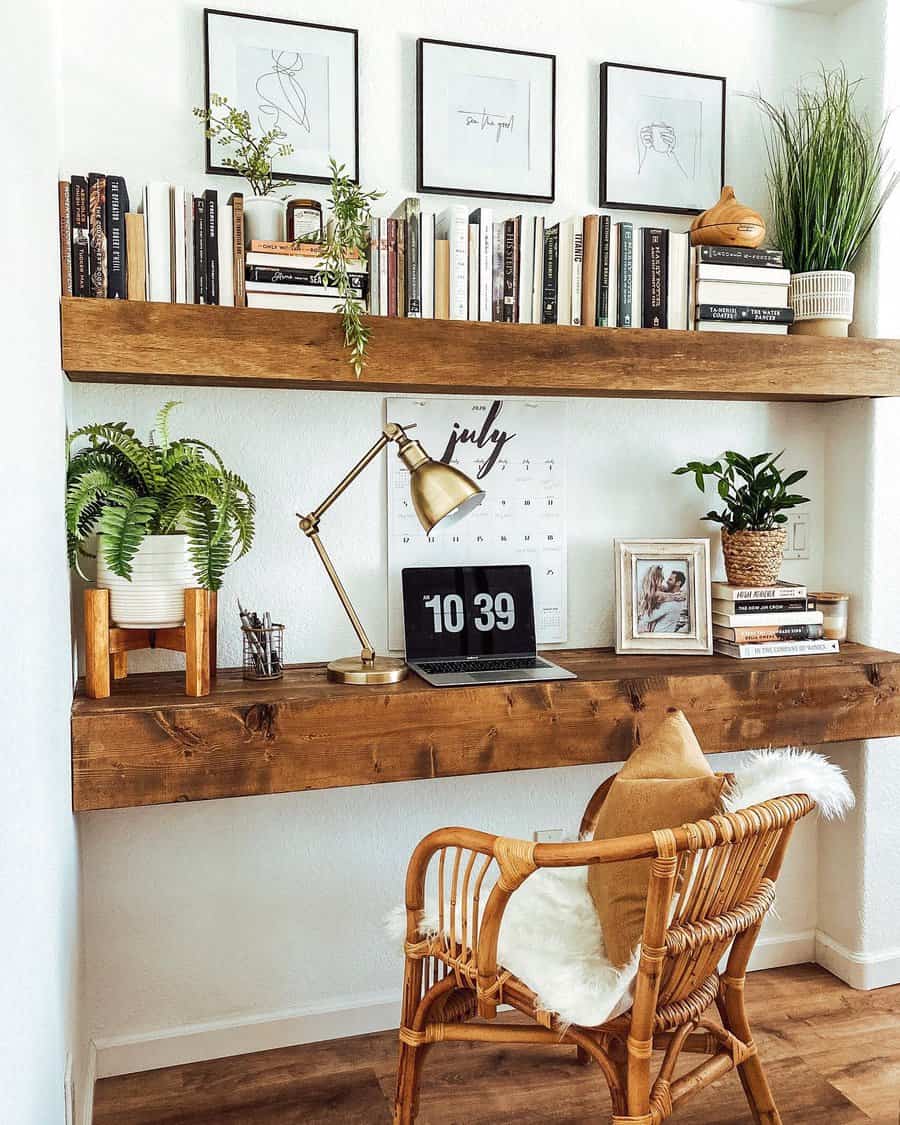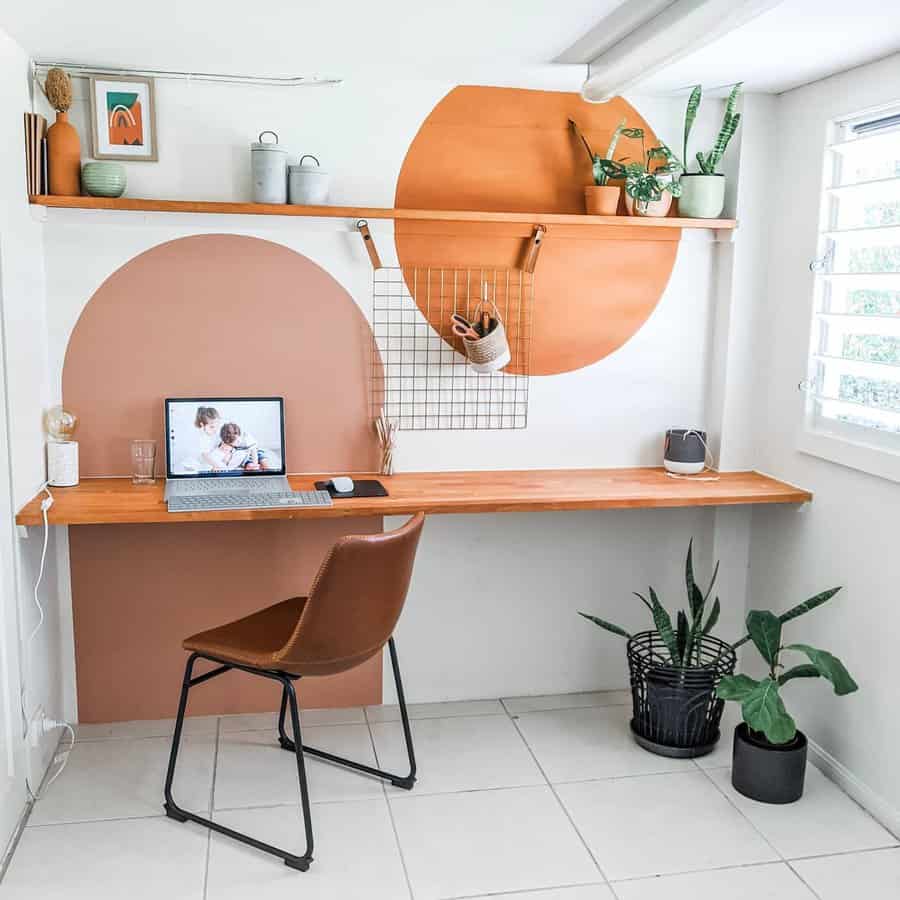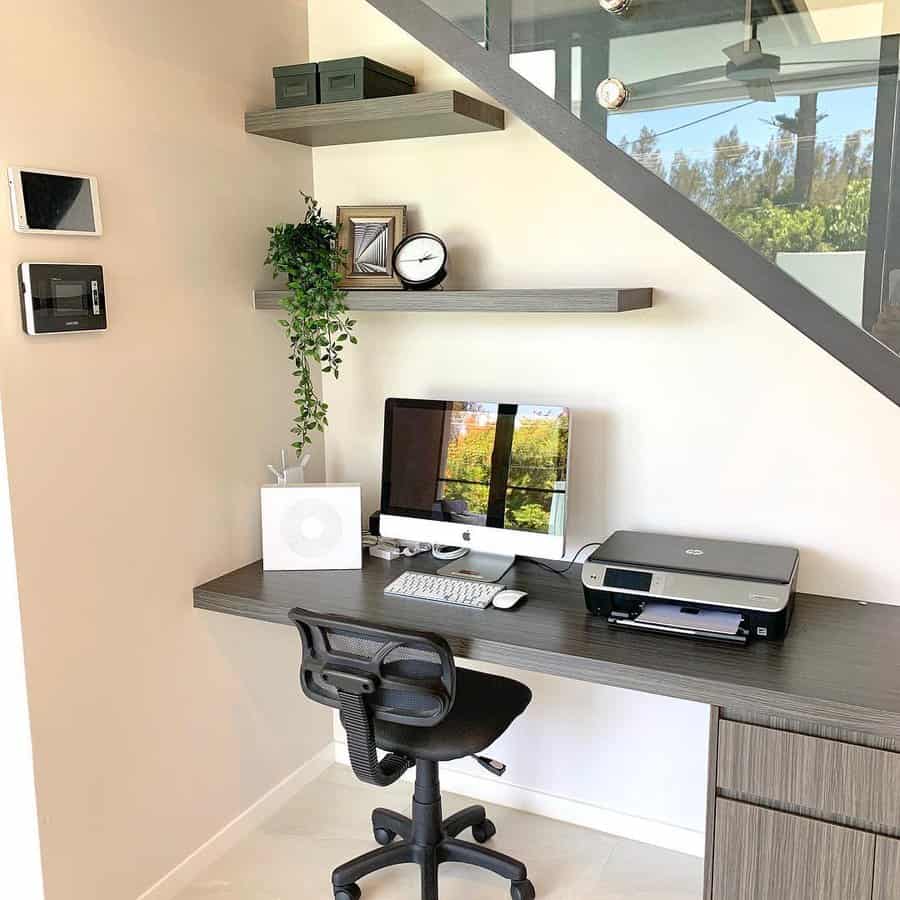 5. Recessed Office Space
Working from home has become more common than ever before, but not everyone has the luxury of a designated home office. That's where a recessed home office space comes in!
This creative solution allows you to have your own workspace without sacrificing the aesthetics of your home. You can have the best of both worlds – a welcoming living space and a functional office.
Imagine a cozy nook with a built-in desk, shelves for storage, and proper lighting that can be used as your own private command center. A recessed home office space is a smart and stylish way to make your work-from-home experience more productive and enjoyable.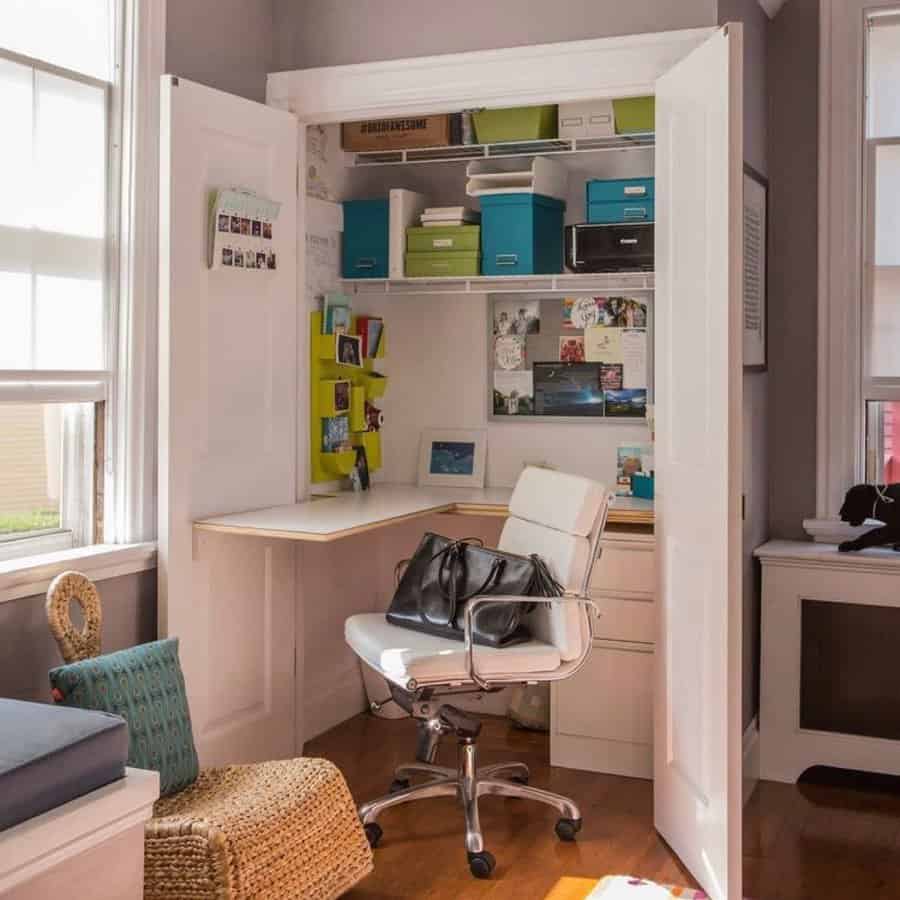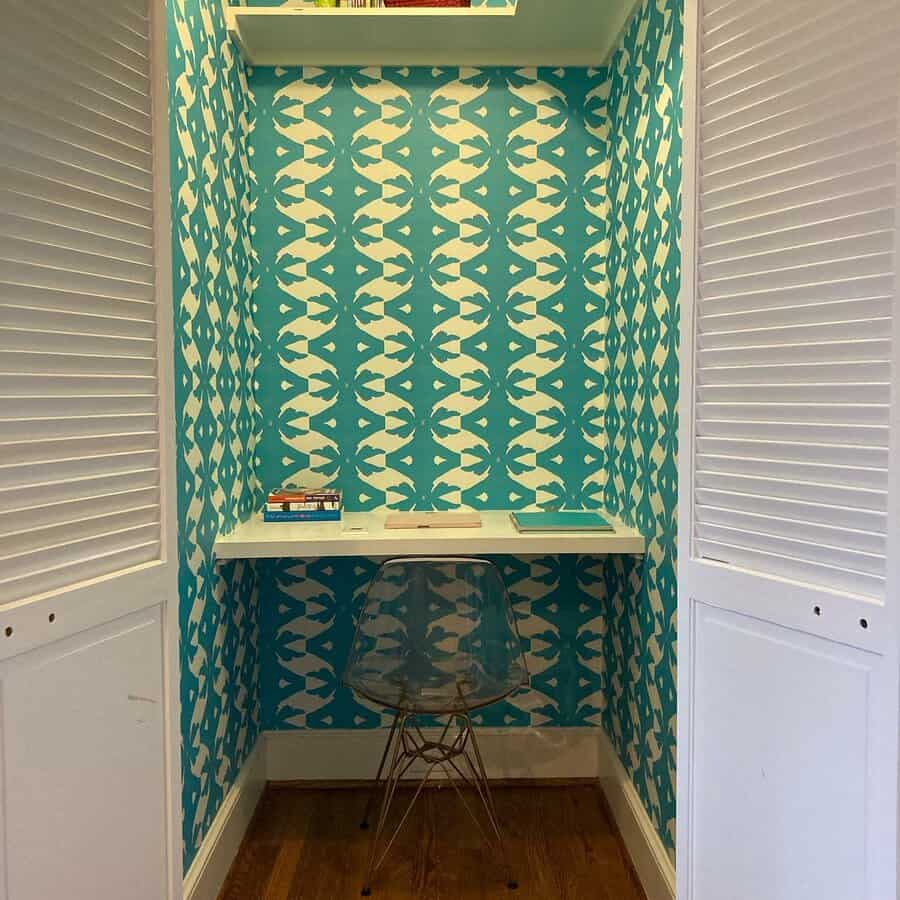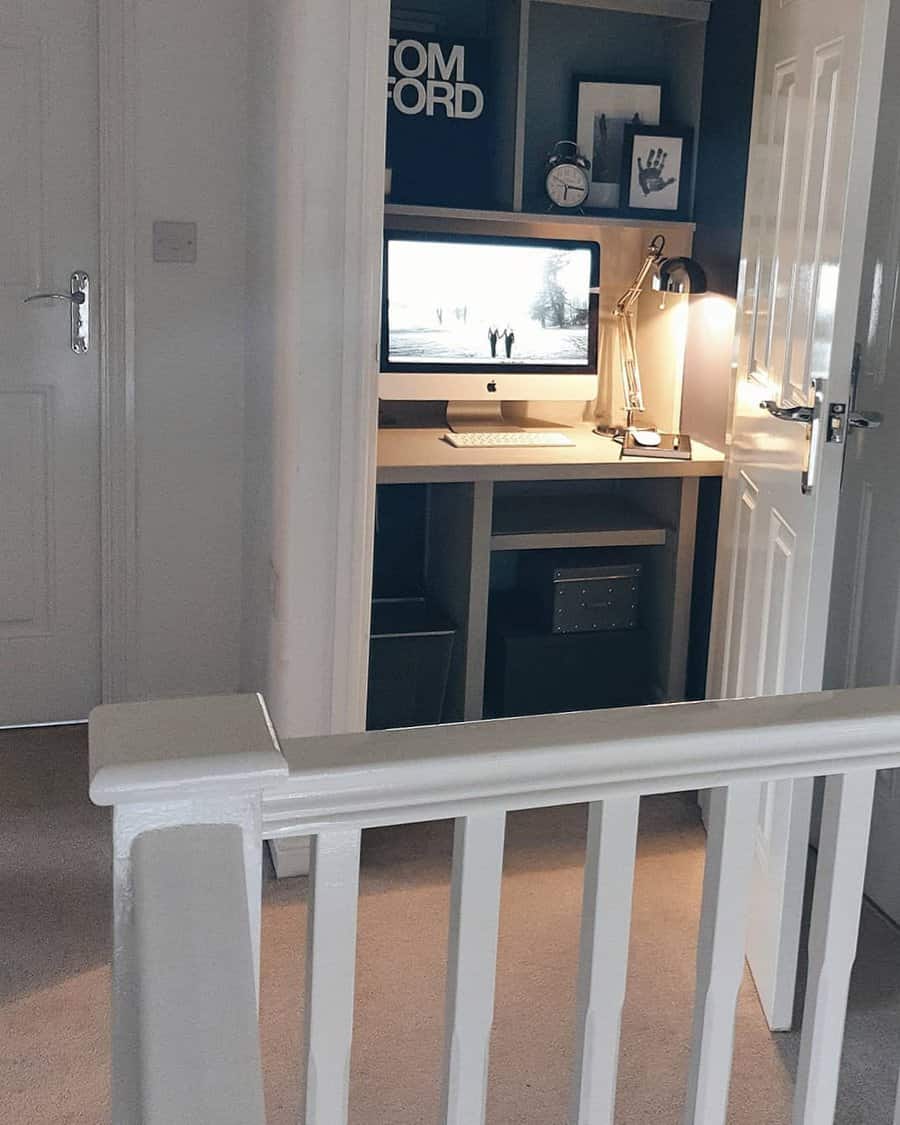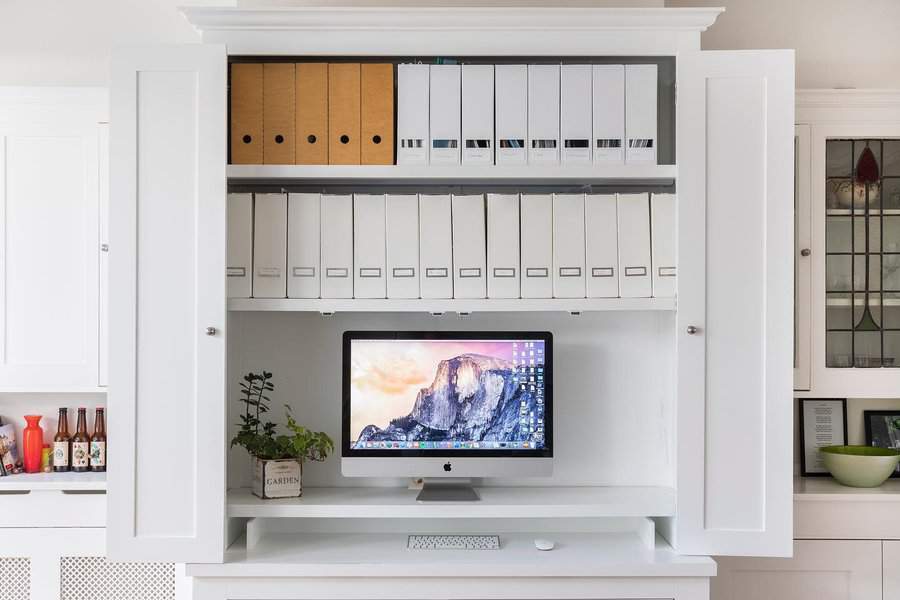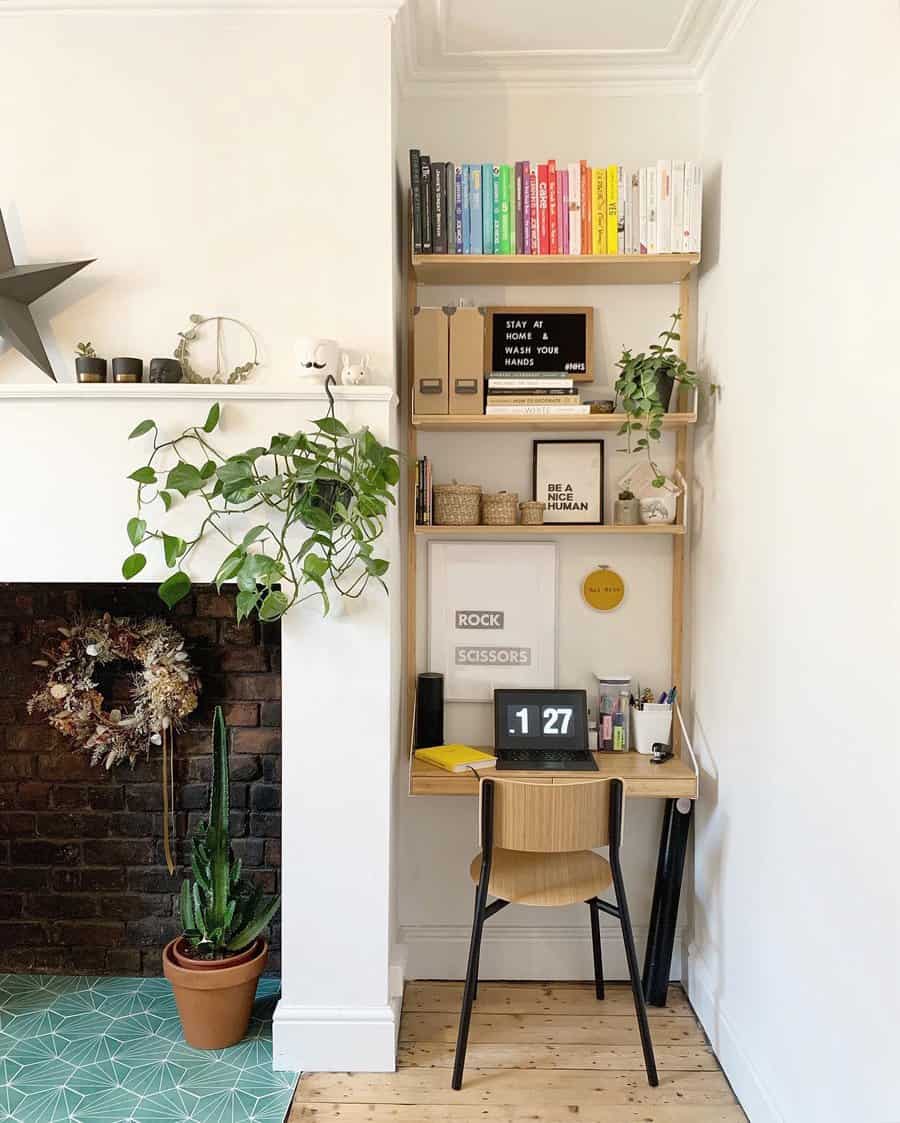 6. Personalize Your Space With Decor
A personalized home office can make all the difference in your productivity and overall happiness. Your home office should be a reflection of your unique self, from the color scheme to the decor and organization system.
It's the little personal touches that can make your workspace feel like a sanctuary, a place where you can focus and get your work done without any distractions. So, get creative and transform your home office into a space that inspires and motivates you.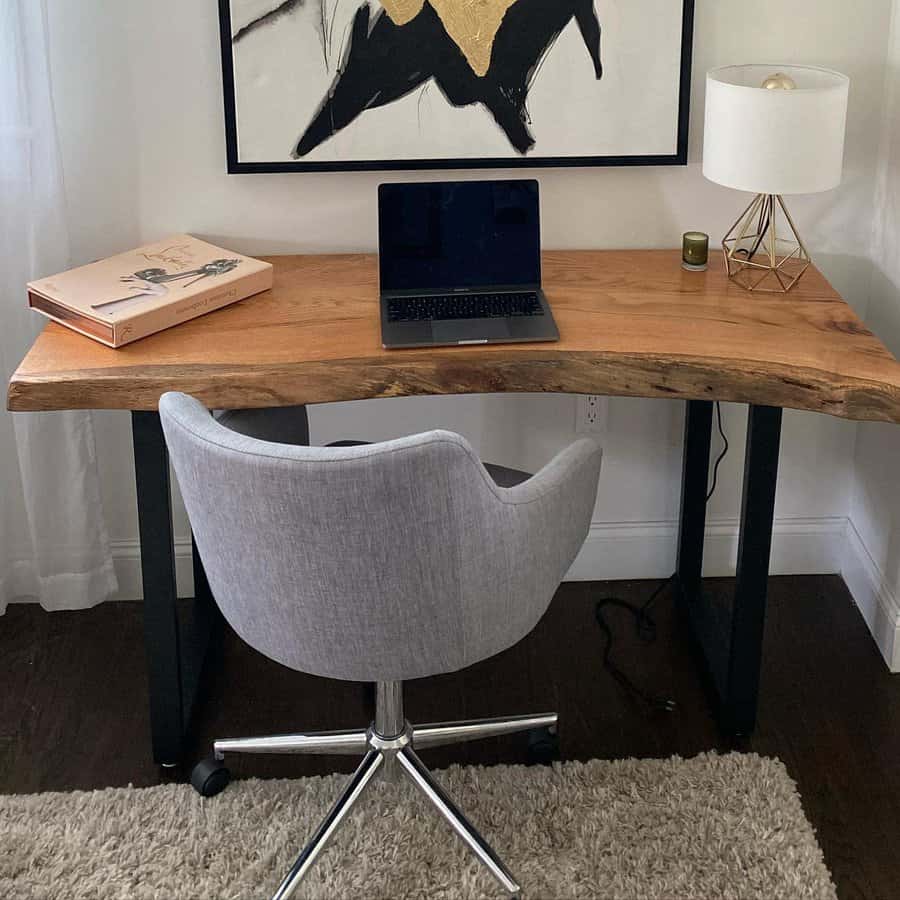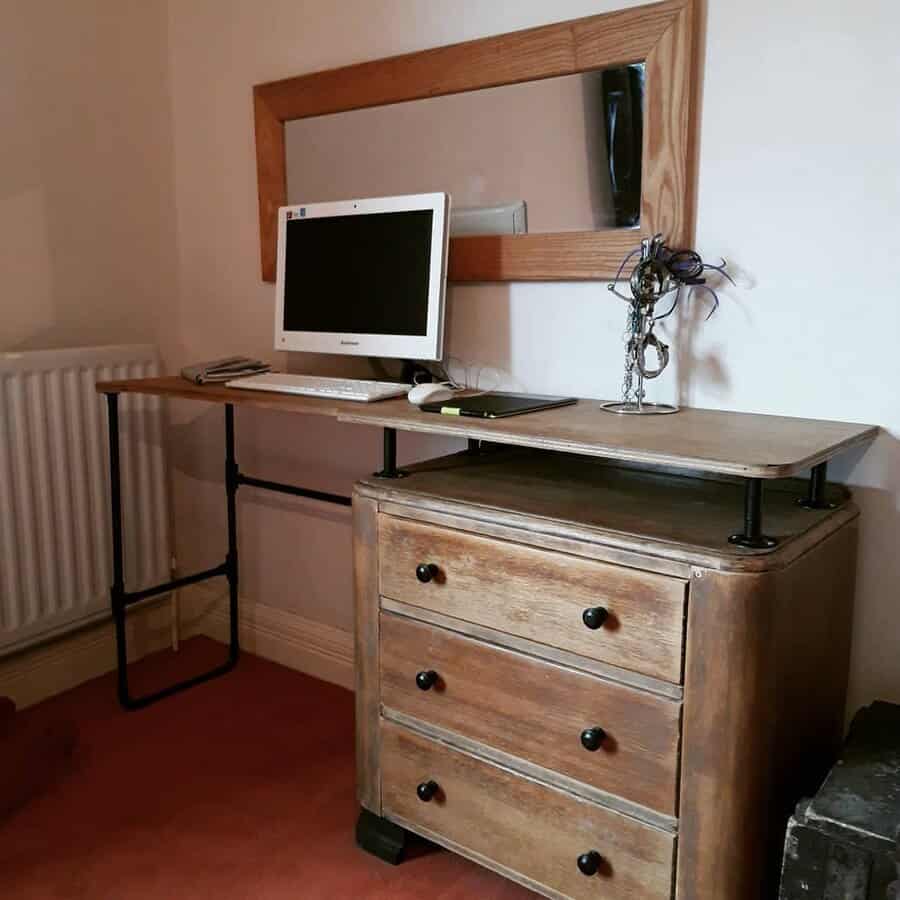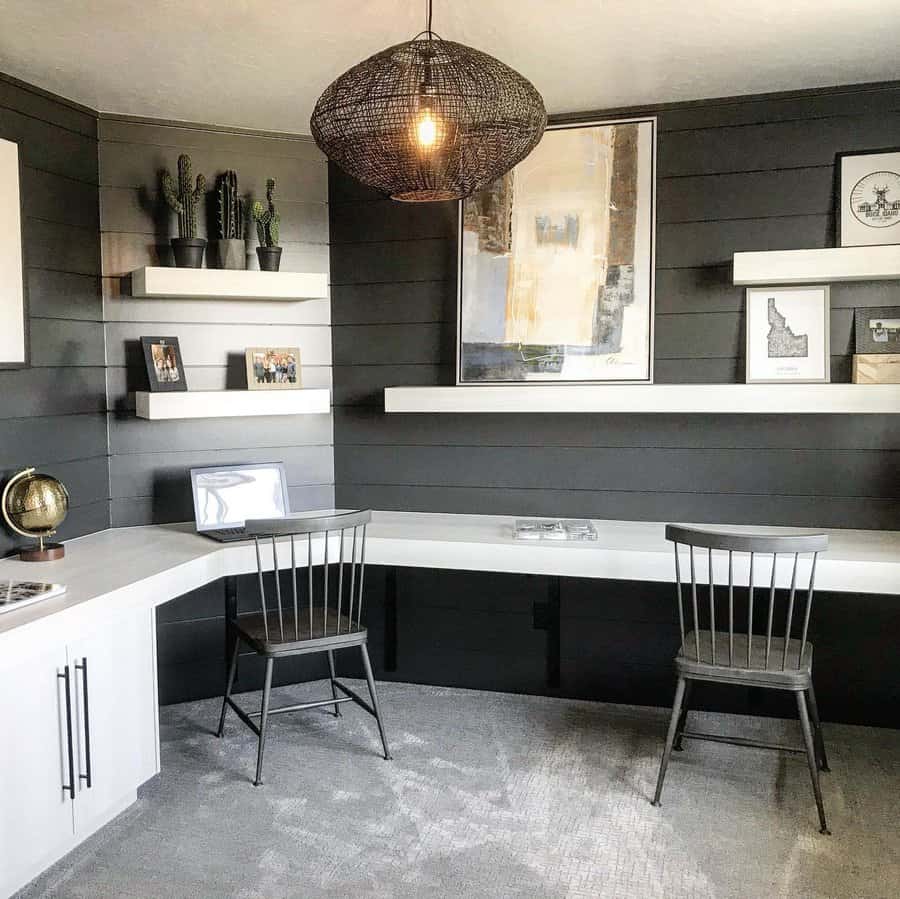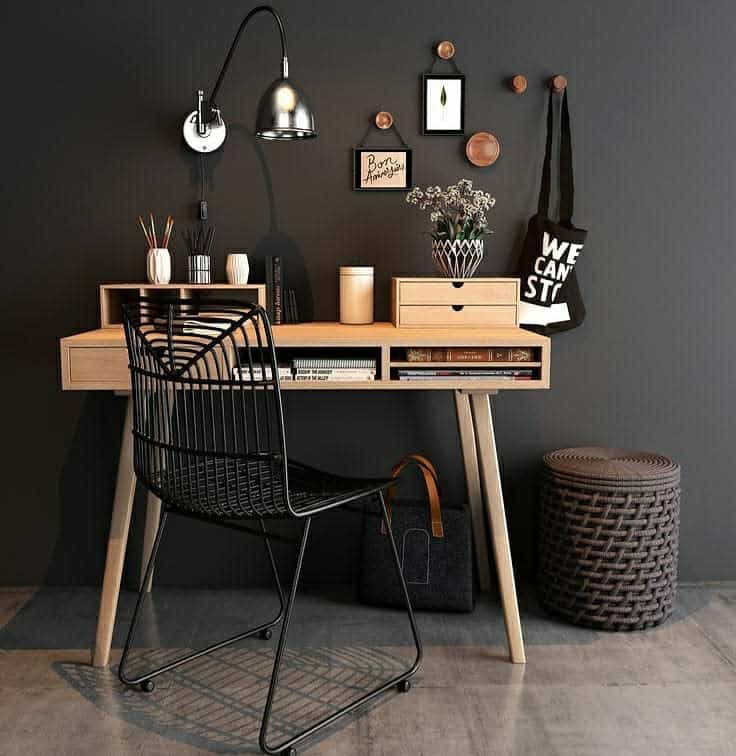 7. Incorporate Plants
Working from home can be both comfortable and productive. However, it can also feel isolating and uninspiring. That's where plants come in. Adding a few leafy friends to your home office can do wonders for your mood and your creativity.
No matter how small your workspace may be, there's always room for a potted plant or two. Not only will they add some natural color to a potentially drab space, but they can also purify the air and improve your overall wellness. So why not try incorporating some greenery into your home office? Your mind (and your plants) will thank you for it.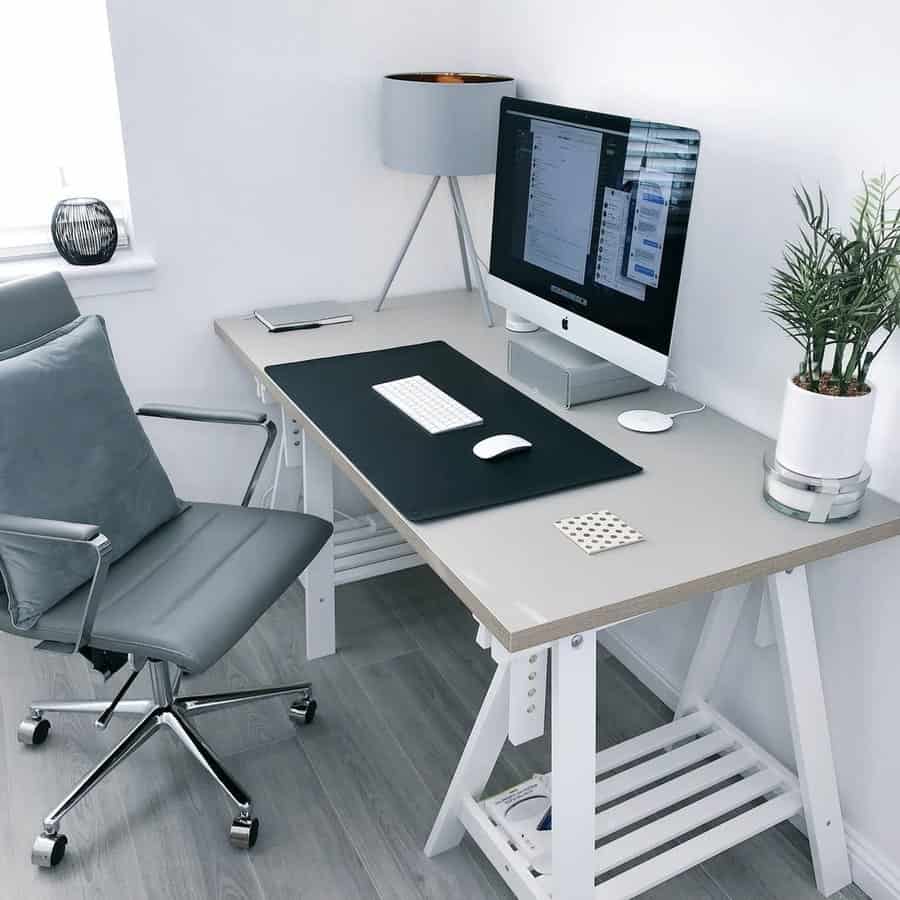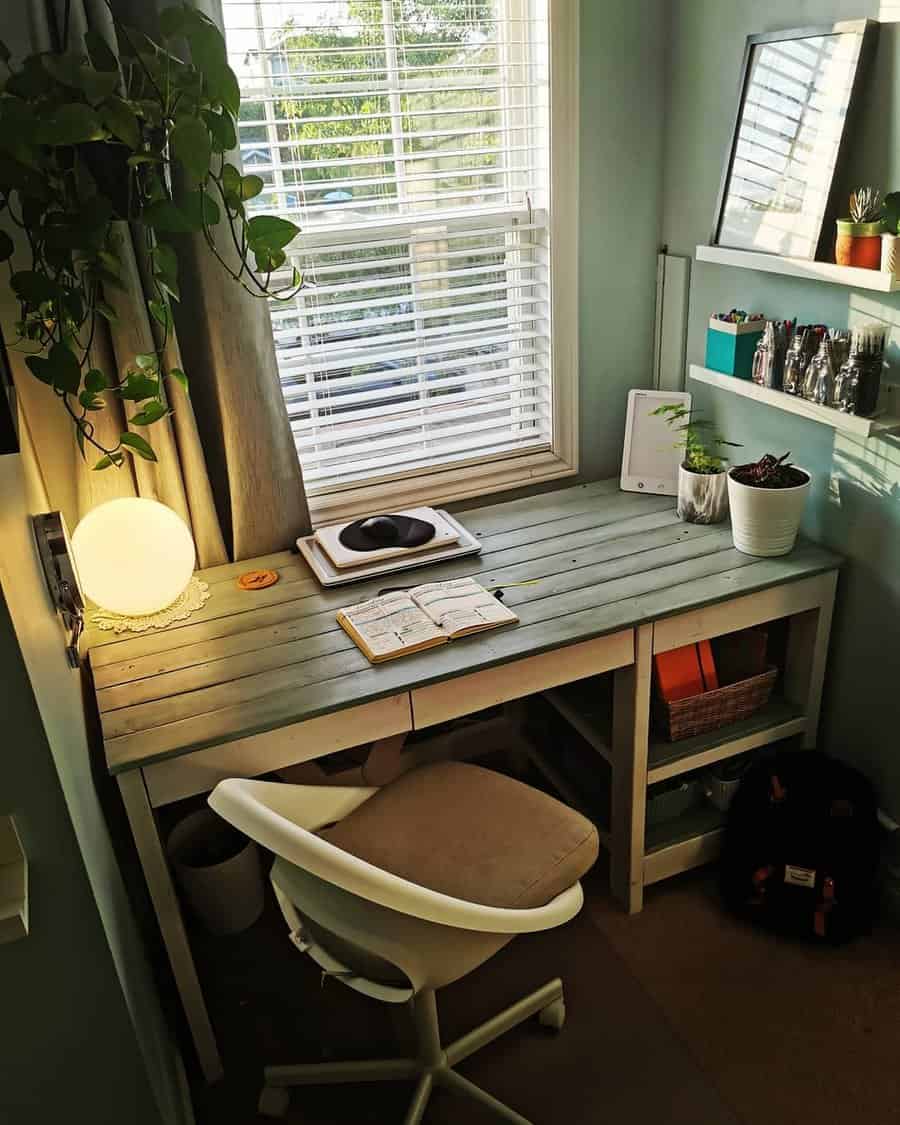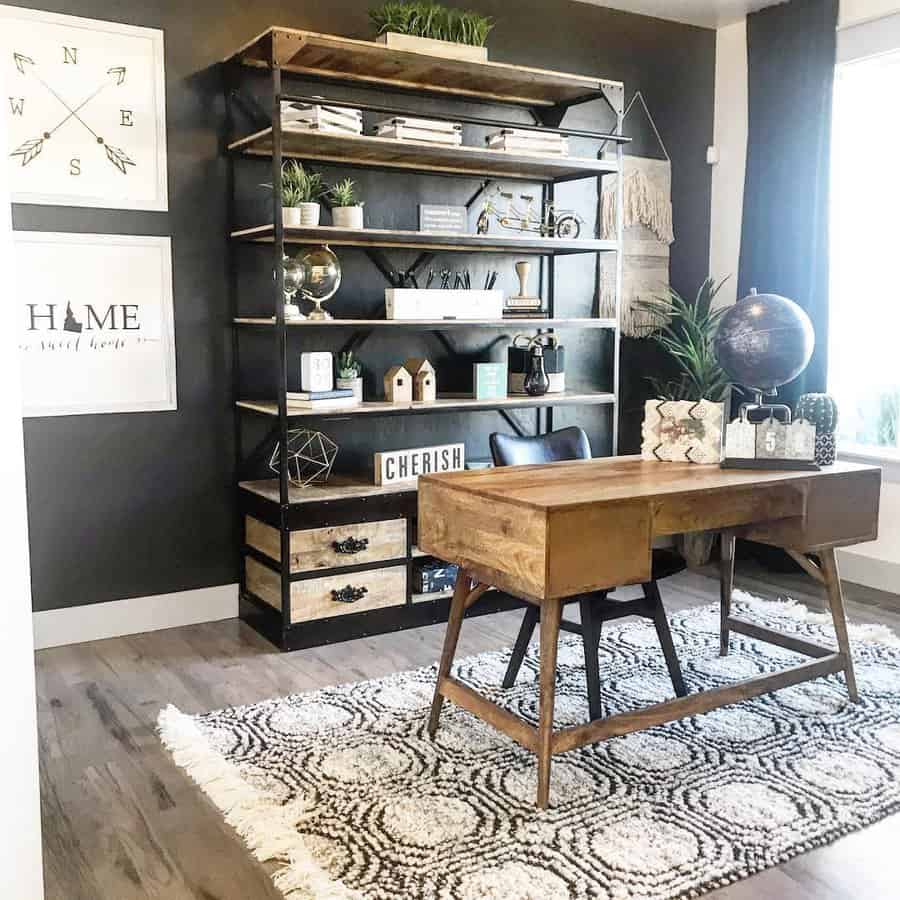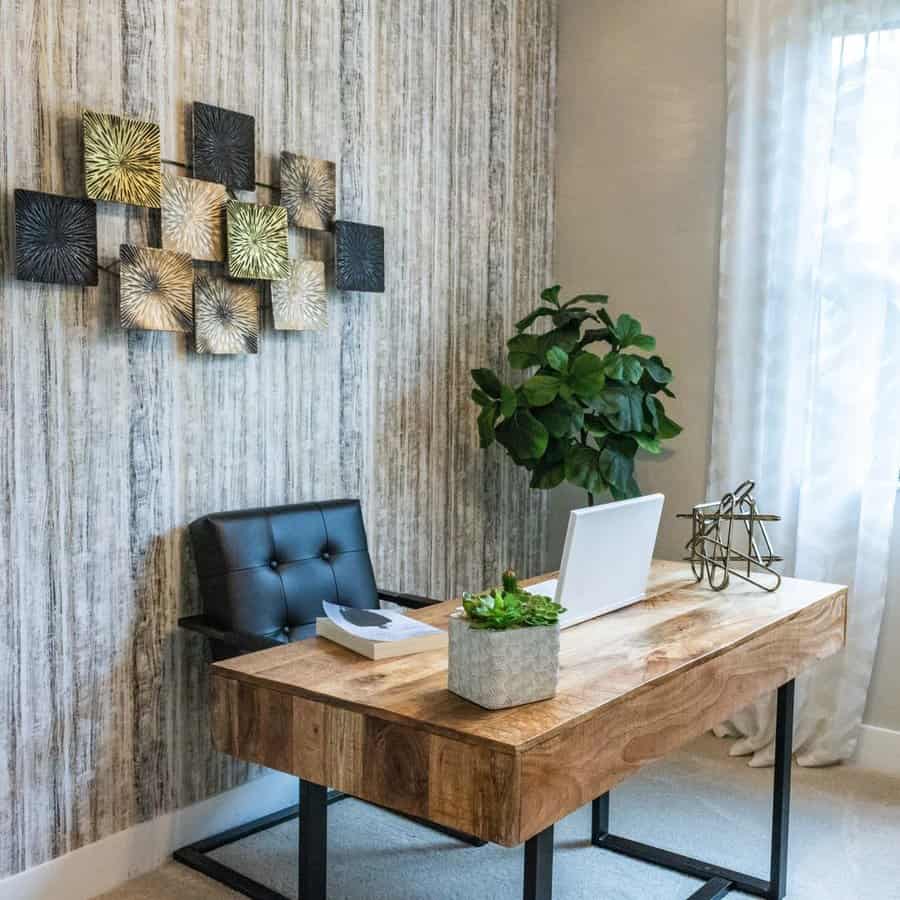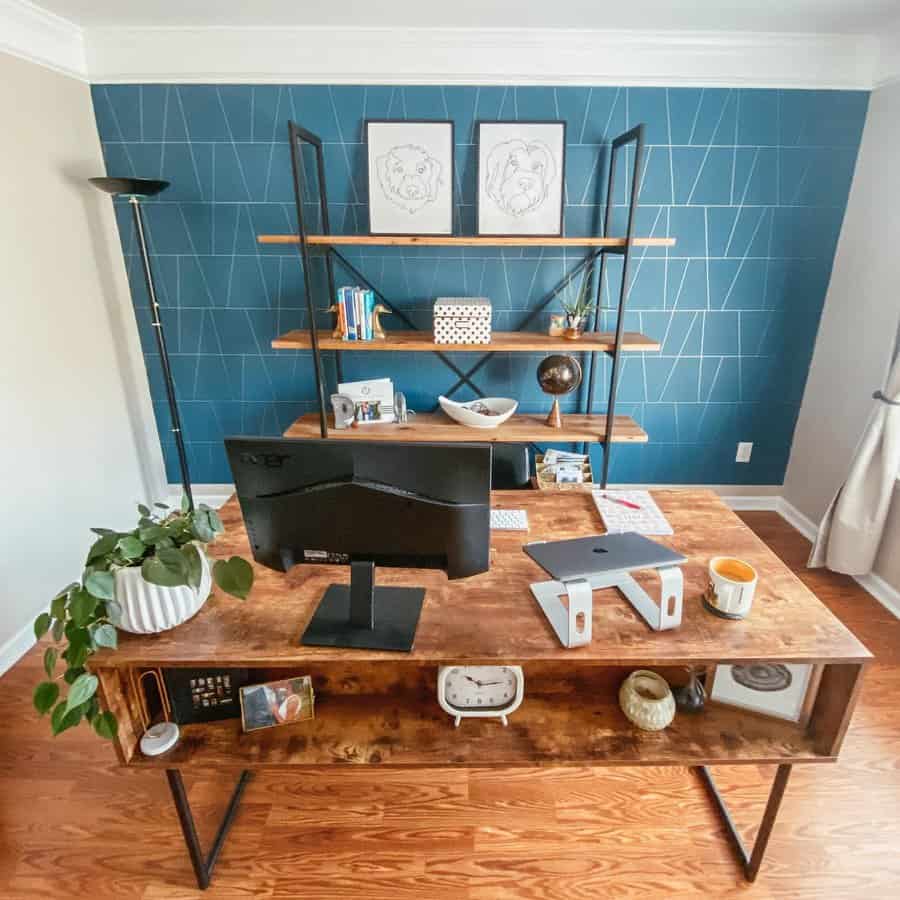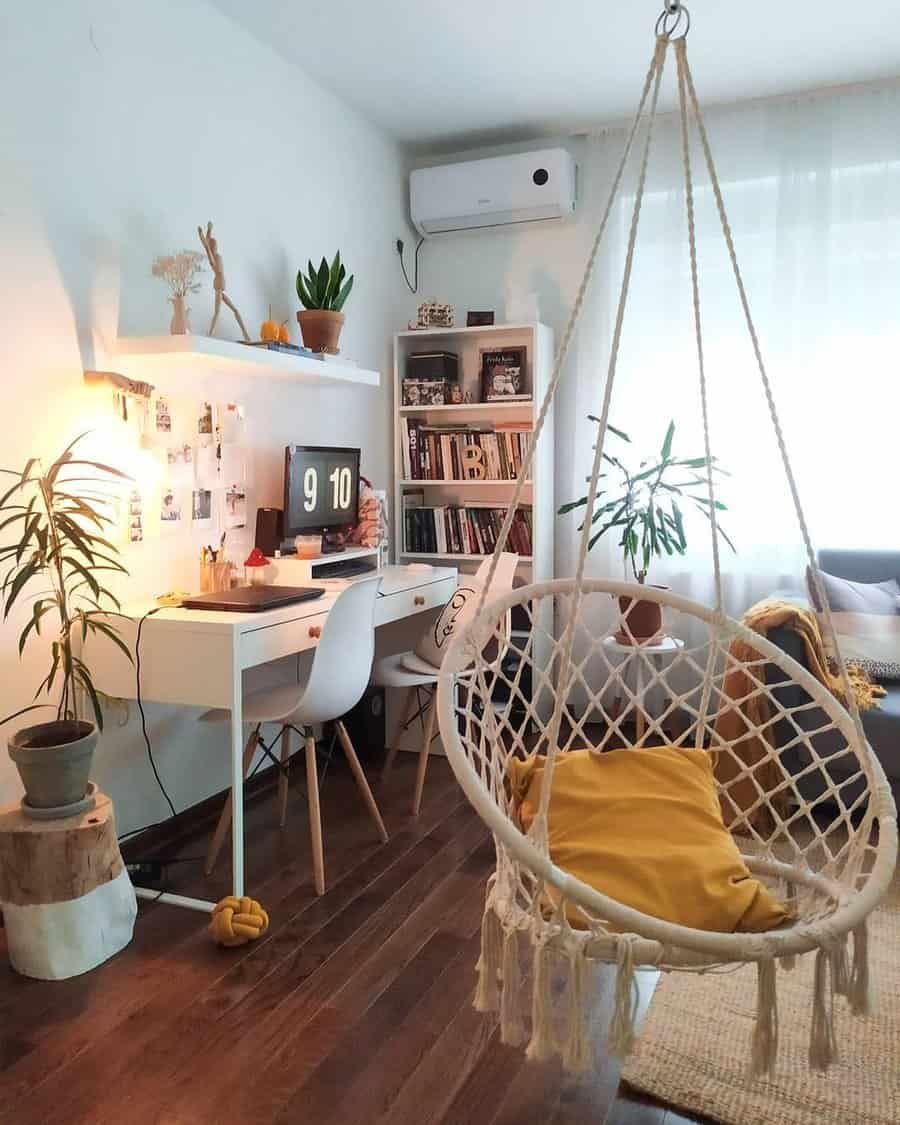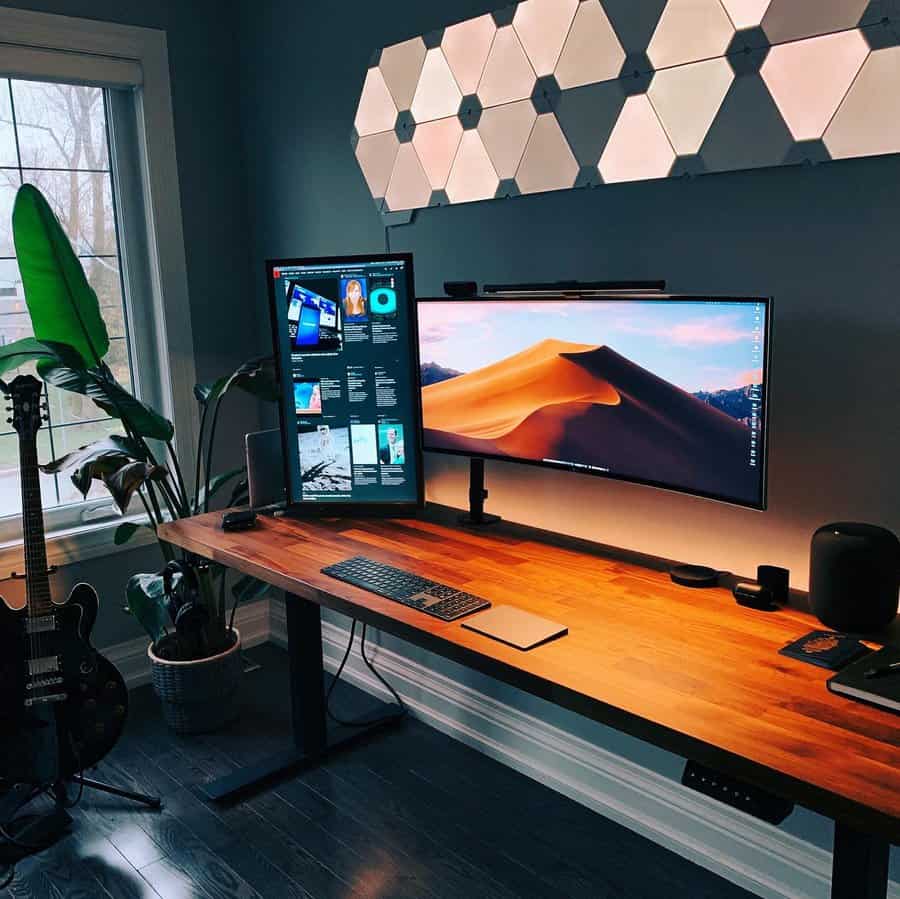 8. Add a Rug
Transforming your home office into a creative sanctuary can be easily accomplished with the addition of an area rug. Not only can an area rug bring warmth and personality to a space, but it can also create a designated area for work while separating it from the rest of your living space.
With the multitude of colors, textures, and patterns available, you can find an area rug that perfectly complements your personal style and inspires your productivity.
Whether you prefer a bold and playful design or a subtle and sophisticated one, your home office can be transformed into an inspiring place where you can let your imagination run wild.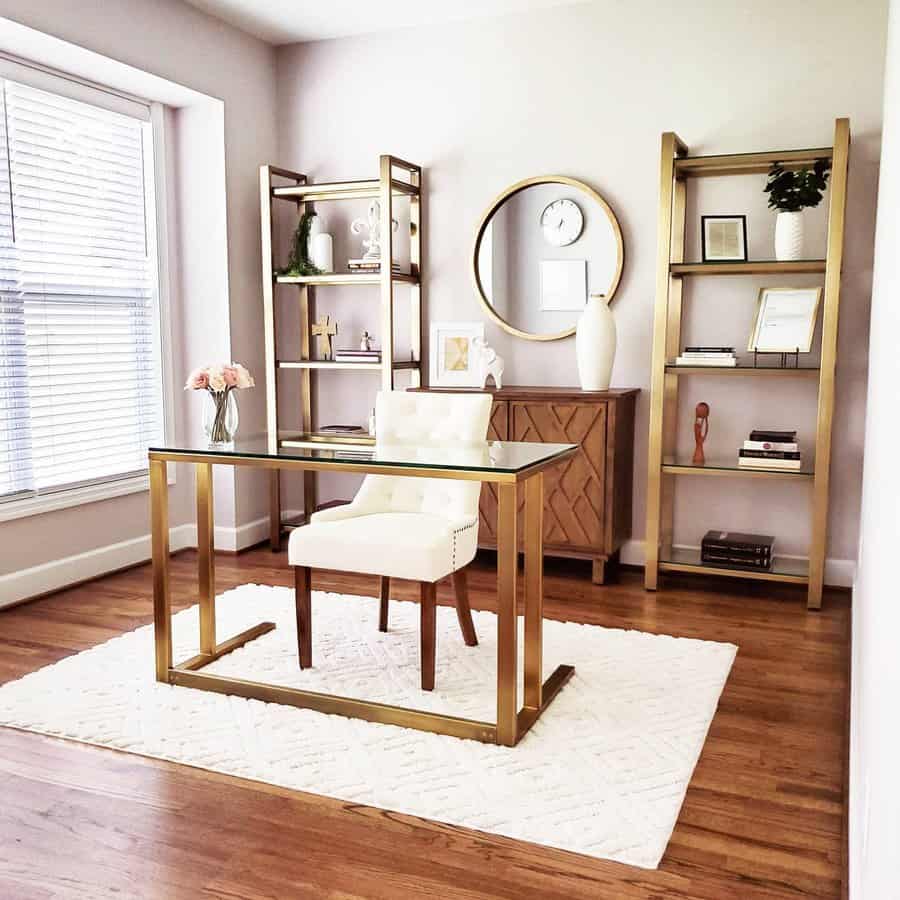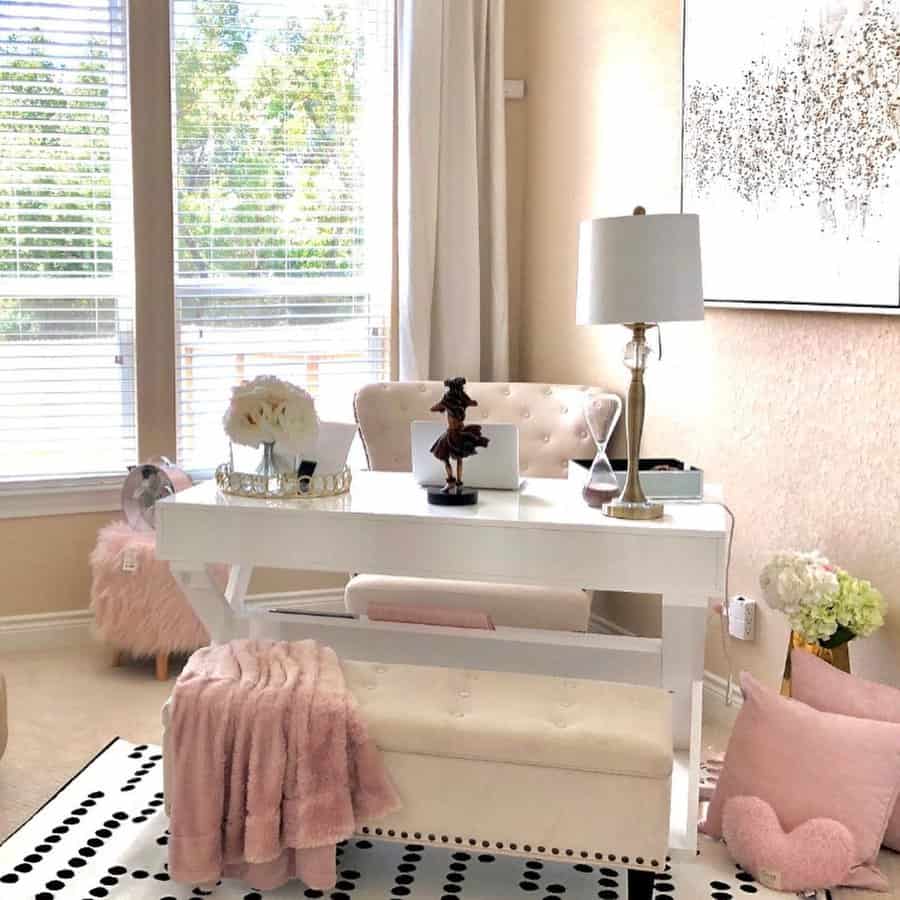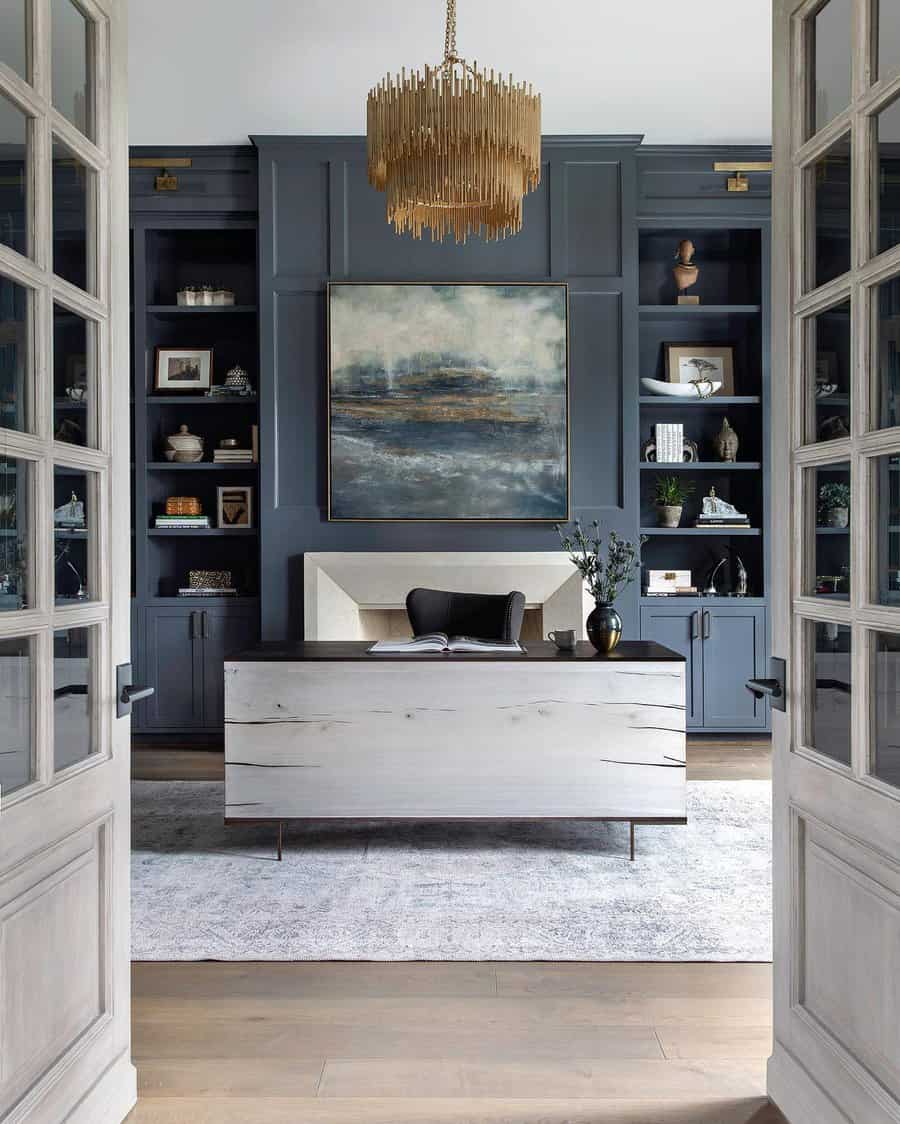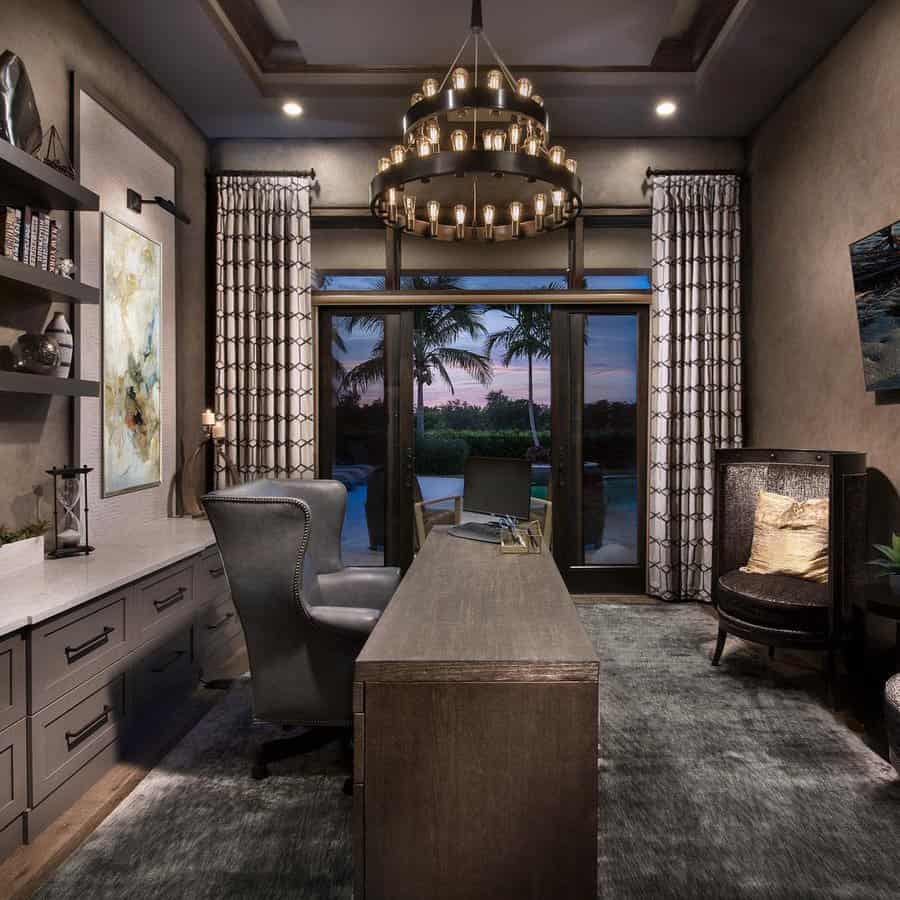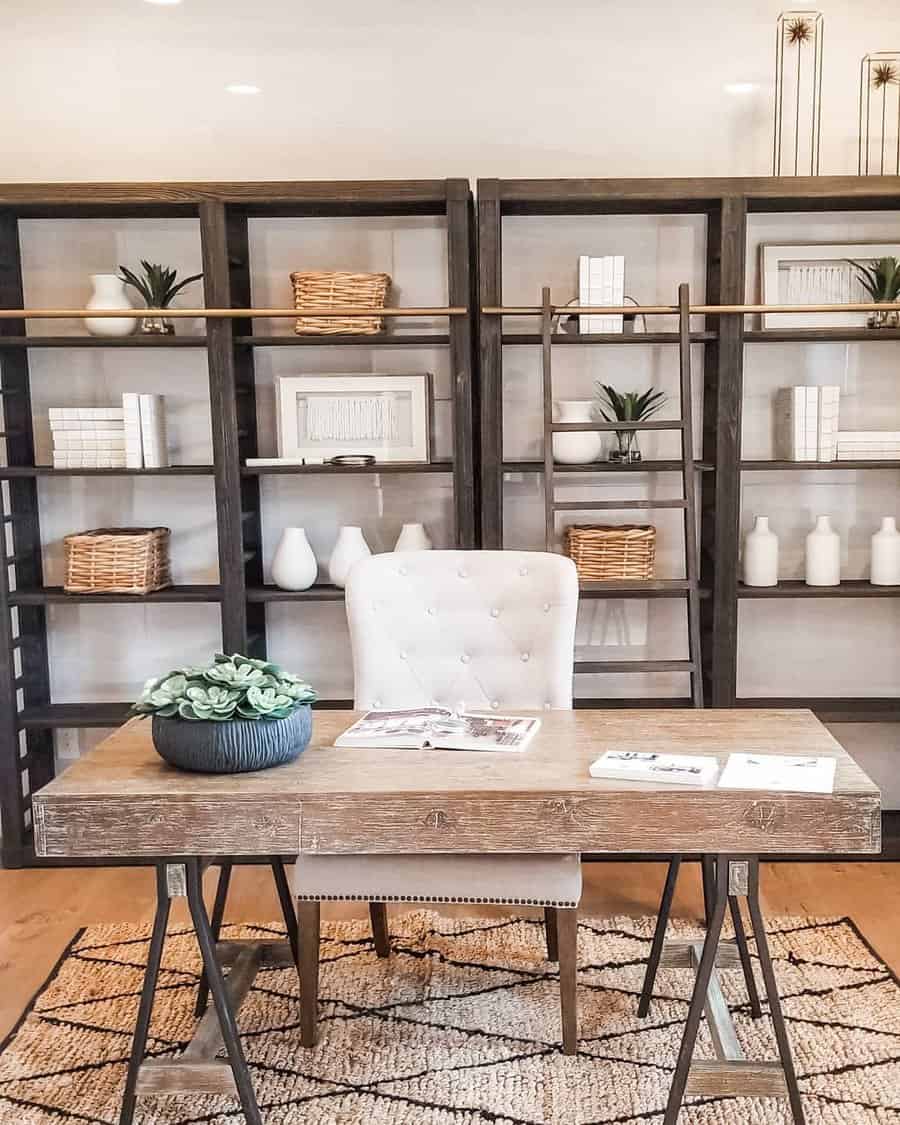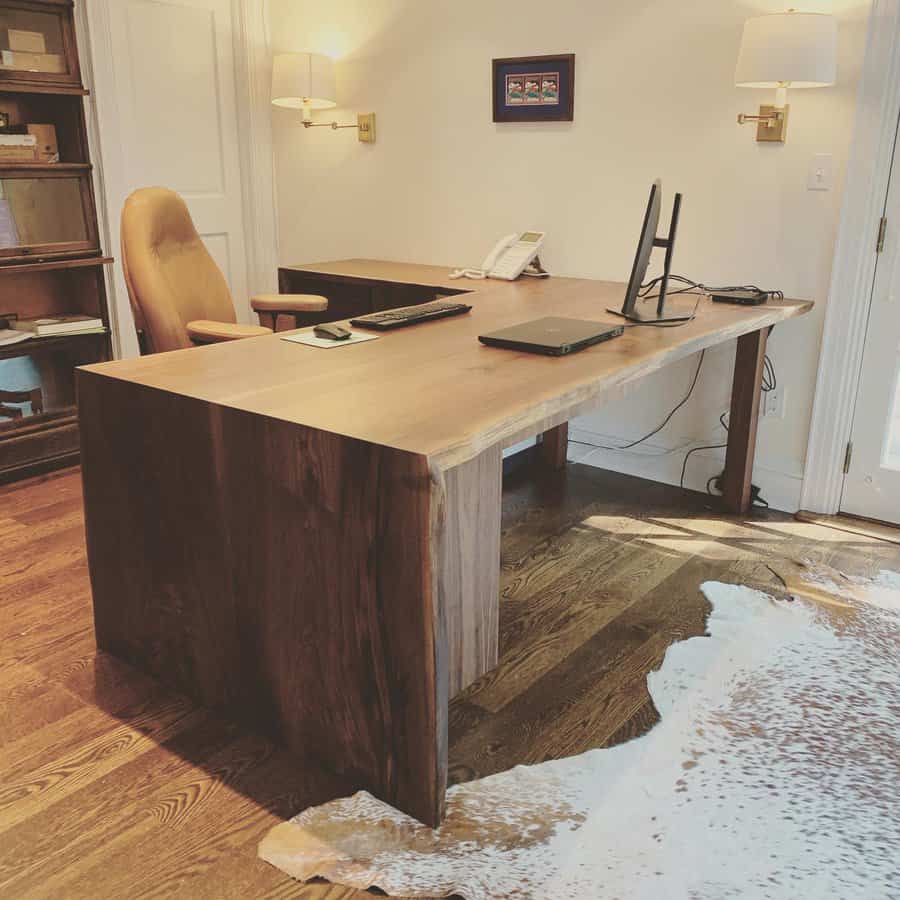 9. Monochromatic Set Up
Transforming your home office space into a monochromatic paradise is a creative way to spruce up your productivity. Think sleek black desks, cozy white flokati rugs, and statement pieces in shades of gray. A monochromatic space allows for a minimalistic and calming environment while adding a touch of creativity to your daily routine.
This style choice is perfect for those who love clean lines and a modern aesthetic. With minimal distractions and a cohesive color scheme, you'll never want to leave your new monochromatic office oasis. So grab a cup of coffee, turn on some chill music, and let your creativity start flowing in your new sleek workspace.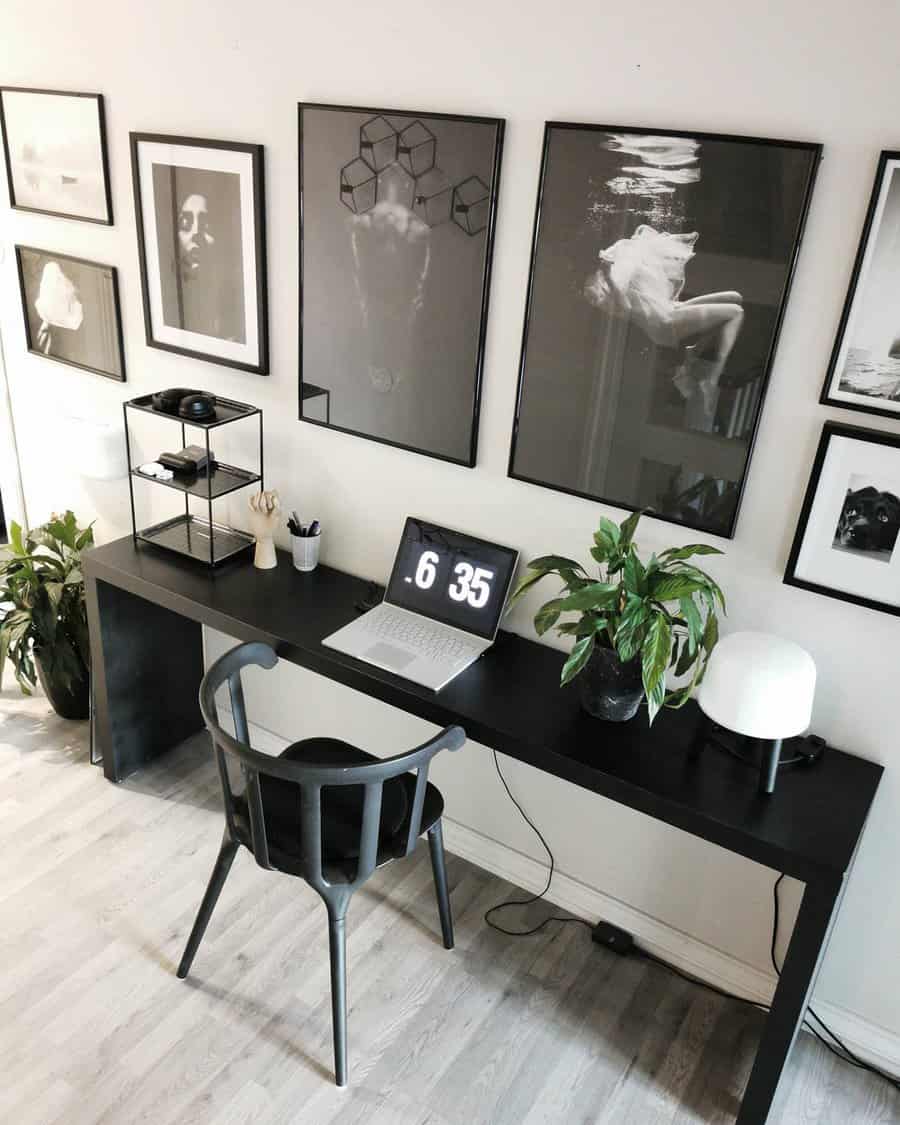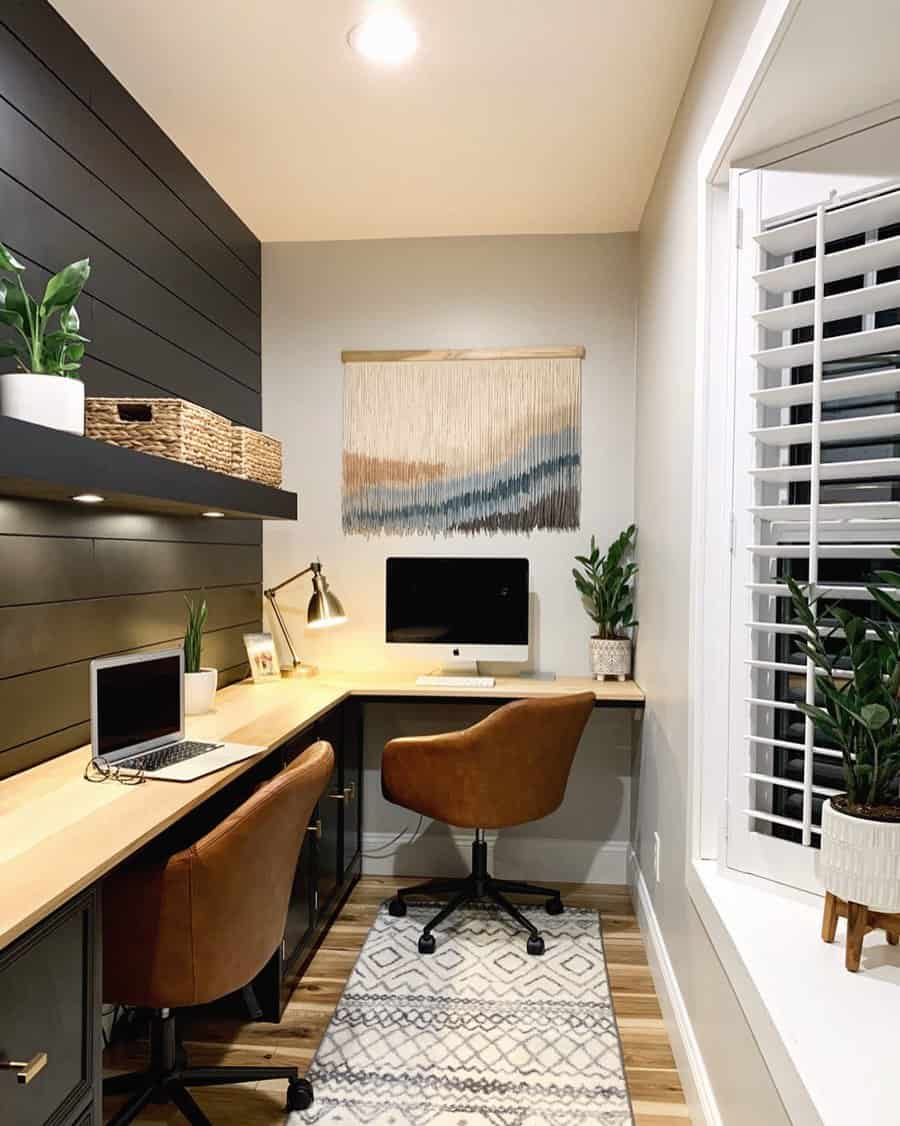 10. Modular Shelves
Modular shelves offer a versatile and customizable storage solution, allowing you to effortlessly display books, office supplies, and decorative accents. Whether you prefer a sleek and modern design or a more rustic aesthetic, there is a modular shelving system that will suit your unique style.
Additionally, the ability to easily rearrange and adjust the shelves means that you can switch up your office layout as often as your inspiration strikes. Embrace the possibilities of a modular shelf system and watch your productivity soar in your personalized home office.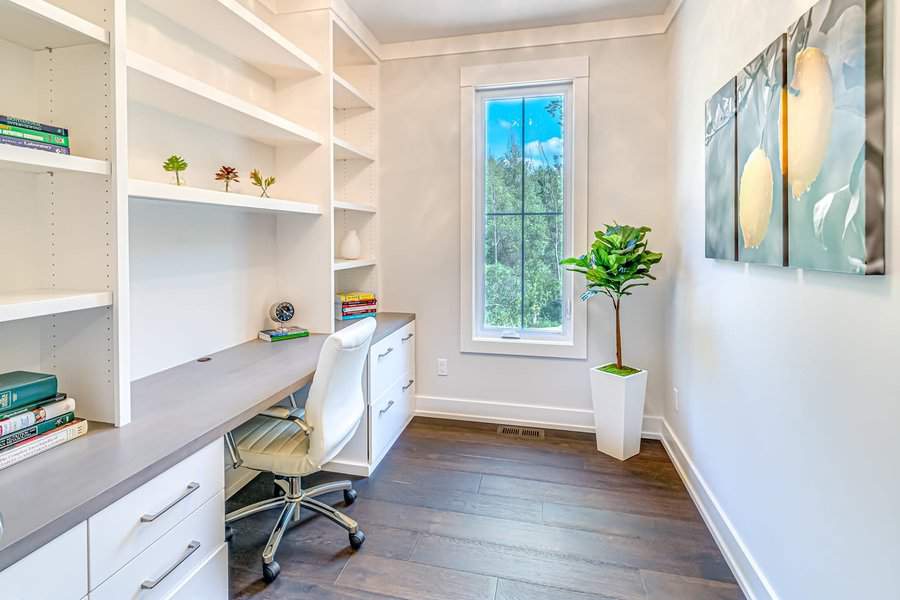 11. Pull-Out Desk
As we find ourselves spending more time at home, it's important to have a designated workspace where creativity can thrive. A home office with a pull-out desk provides just that – a functional yet stylish solution for saving space while boosting productivity.
Whether you're tackling a project for work or delving into a personal passion, the convenience of a pull-out desk allows you to easily shift from work mode to relaxation mode. And with the option to tuck it away when not in use, you can maintain a clutter-free living space without sacrificing style.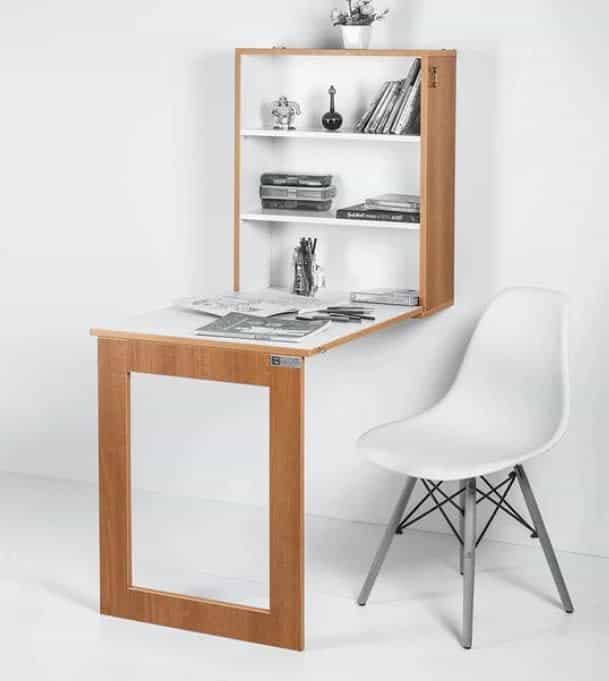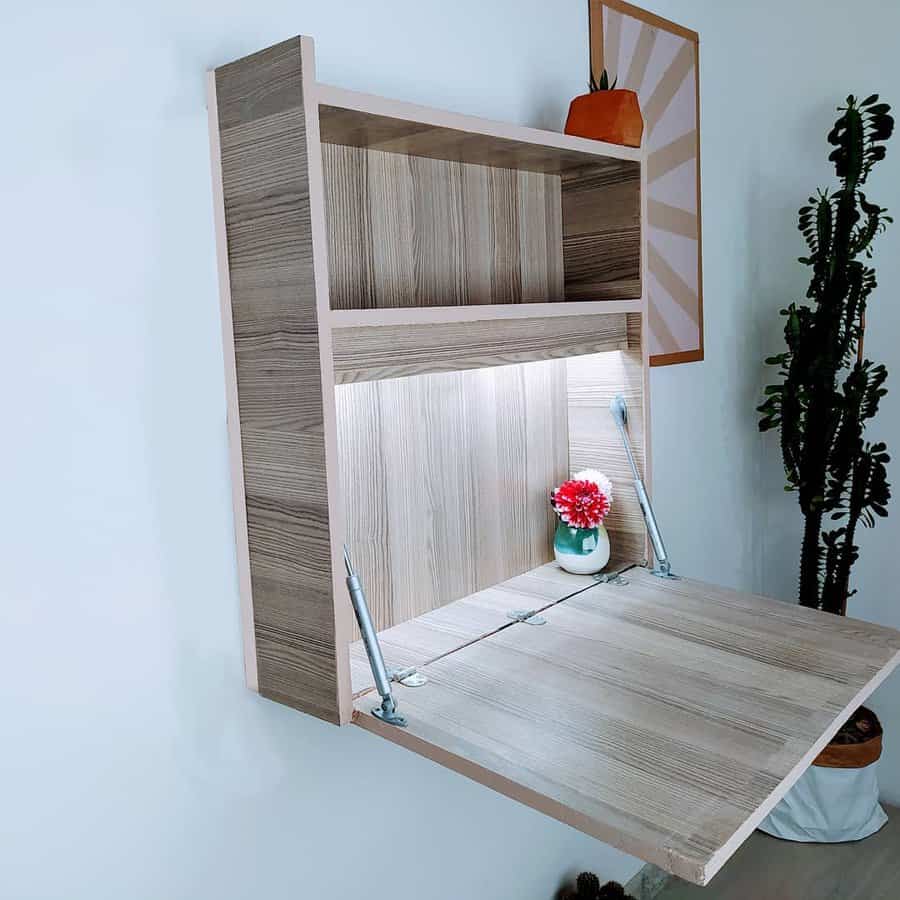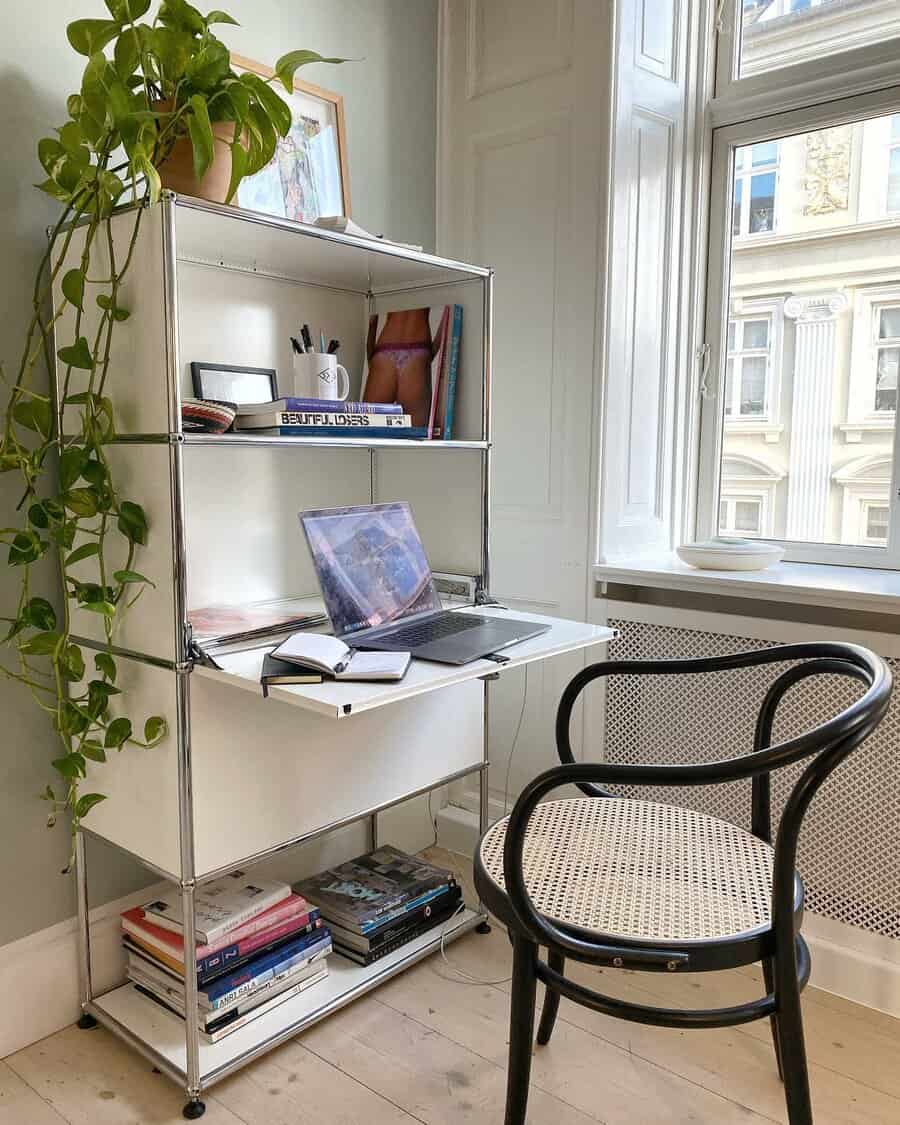 12. Install Bookshelves
A cluttered workspace can add stress to your workday, but with an office desk that features built-in bookshelves, you can keep your workspace organized and tidy.
Not only does incorporating bookshelves into your desk design give you additional space to store items like books, folders, and even decorative objects, but it also allows you to easily maneuver between tasks without having to leave your desk.
With everything easily accessible, you can focus on the task at hand and get more work done in less time. Plus, having shelves nearby can inspire creativity and serve as a reminder of your priorities, helping you stay on task and achieve your goals.