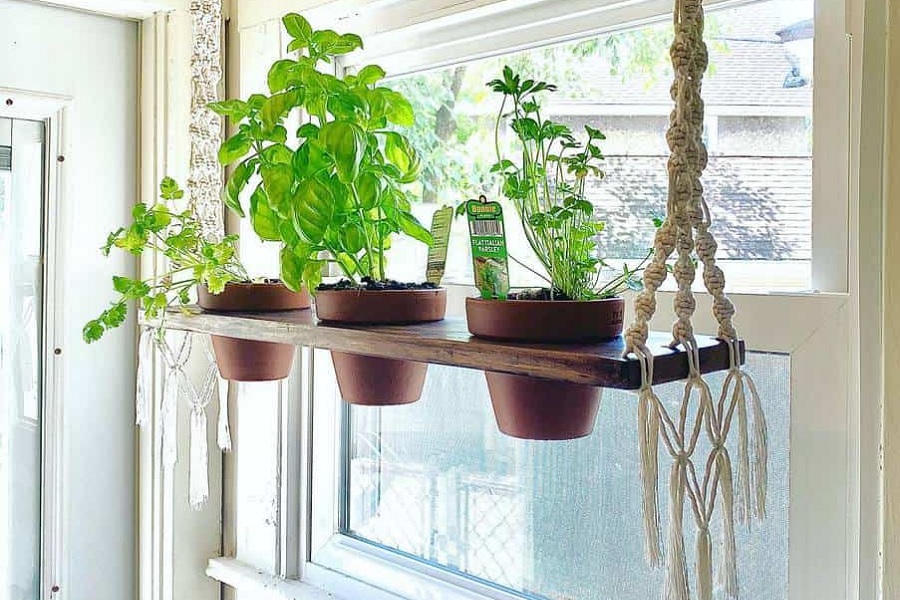 76 Amazing DIY Indoor Herb Garden Ideas
"Fresh herbs really belong anywhere you put them."- Alex Guarnaschelli
Whether you're a beginner learning how to boil water or prepare eggs or an expert with many recipes under your belt, fresh herbs will make your cooking better. There's no denying that fresh herbs give your food an intense flavor that blooms in the food for an explosive medley in your mouth.
Growing herbs indoors is the easiest way to start incorporating fresh herbs into your cooking. You just need to figure out the best way to grow those herbs in your kitchen. These indoor herb garden ideas will help you take your dishes to the next level.
1. Windowsill Planters
An indoor herb garden is a fantastic way to bring the lushness of the outdoors into your own home. Whether you're a gardening newbie or an experienced green thumb, creating your own windowsill planter can be as simple as rooting cuttings from your favorite herbs in soil-filled mugs or tin can pots!
Fresh, homegrown herbs are far more flavorful than those found in your local grocery store, and having them close by adds a delightful aura to any home no matter its size. Plus, windowsill planters require very little maintenance compared to large garden plots – making them perfect for both houses with lots of outdoor space, as well as people living in apartments in the city.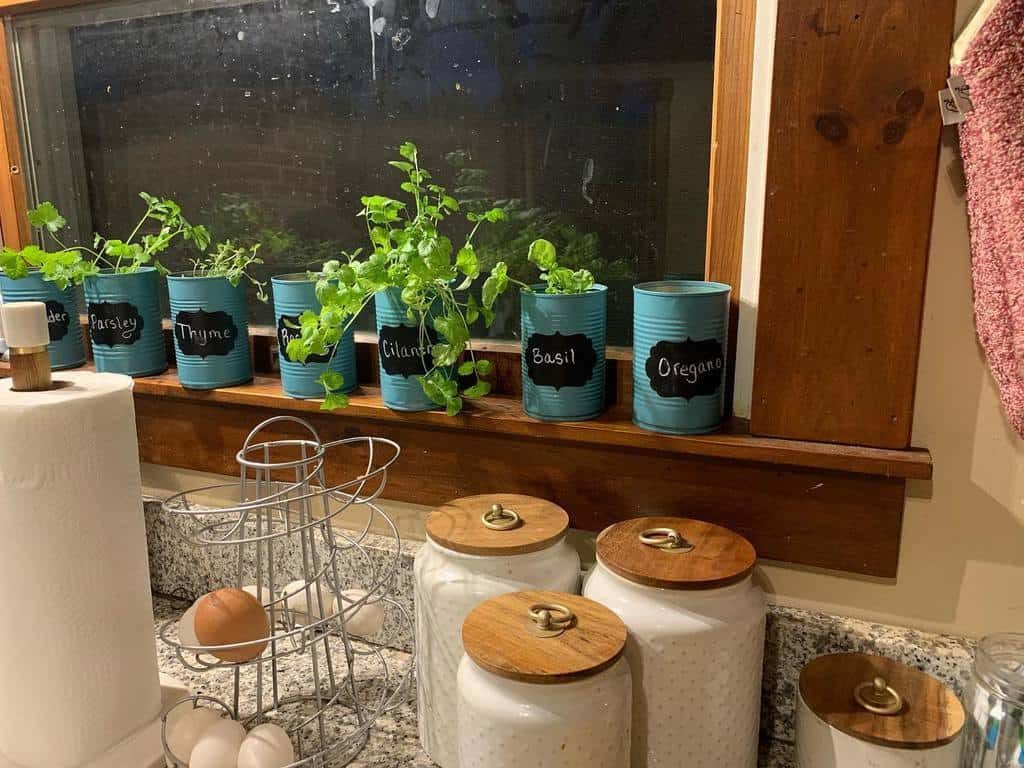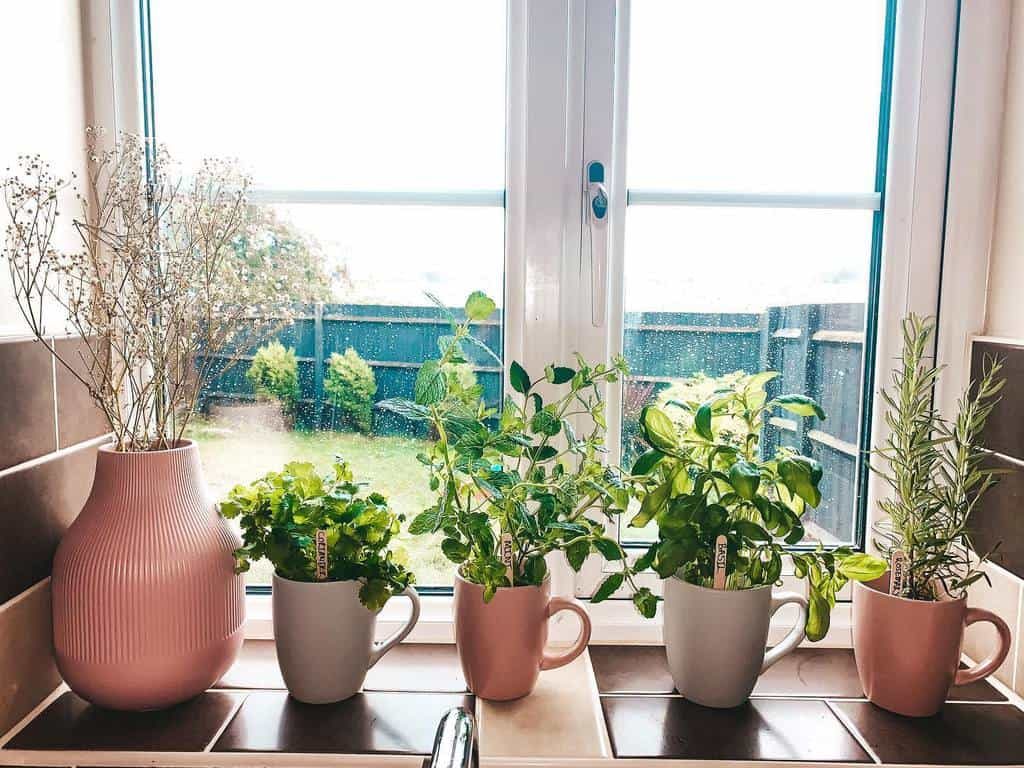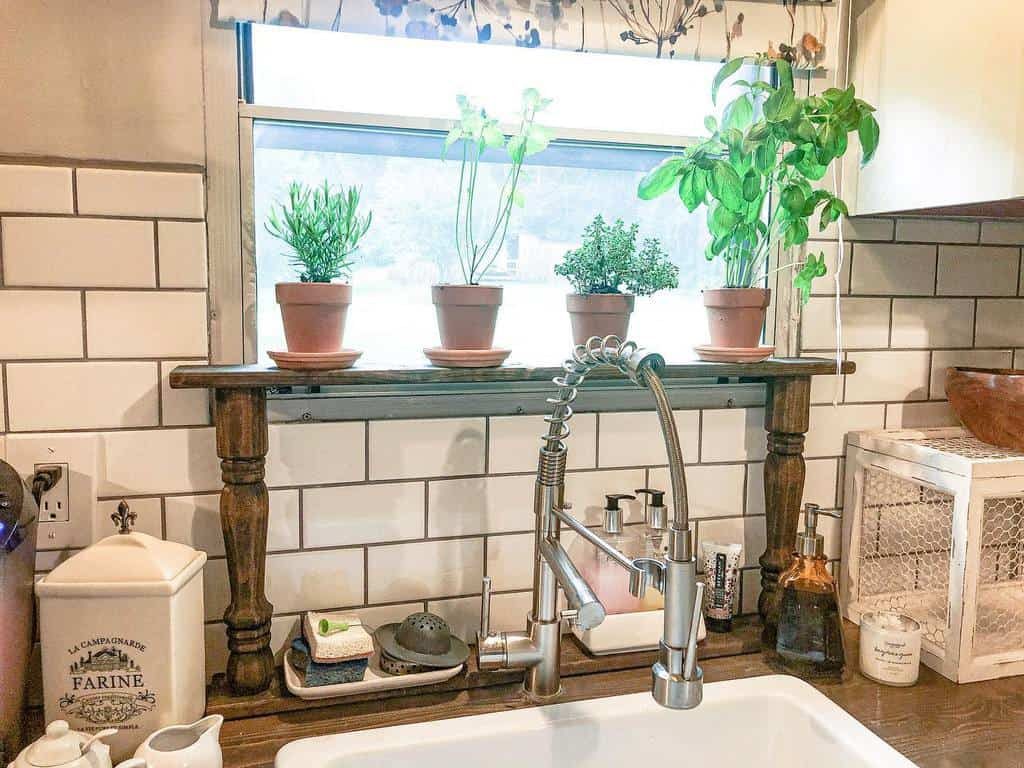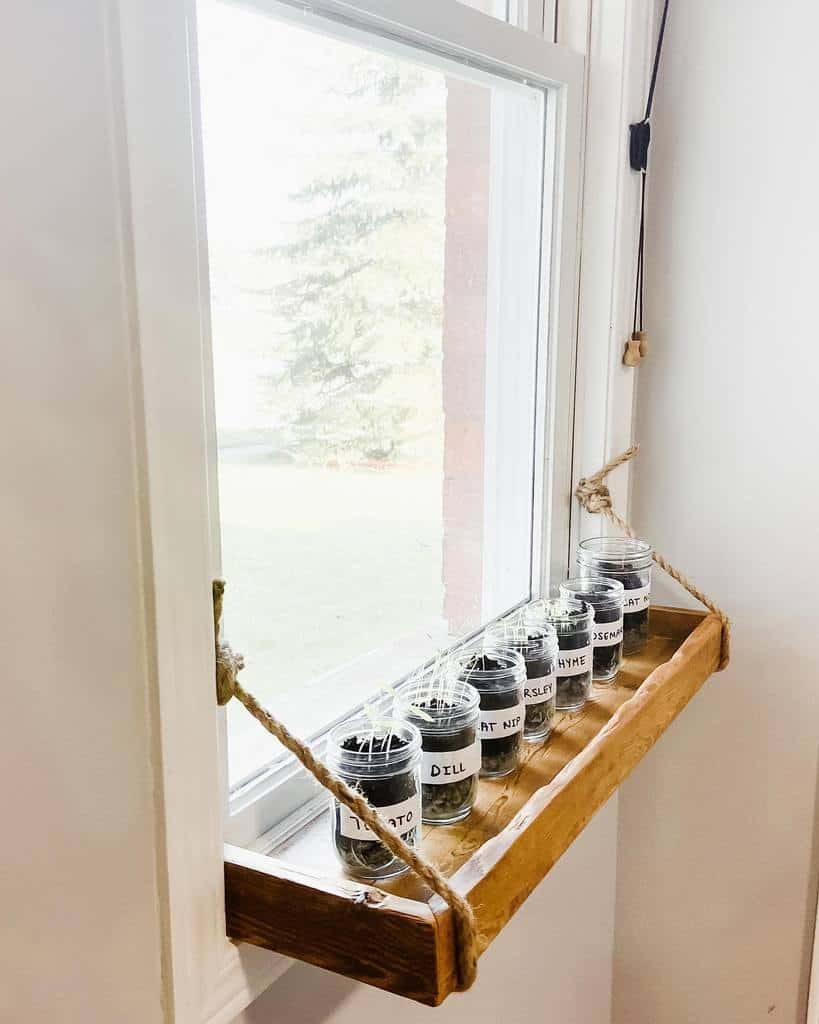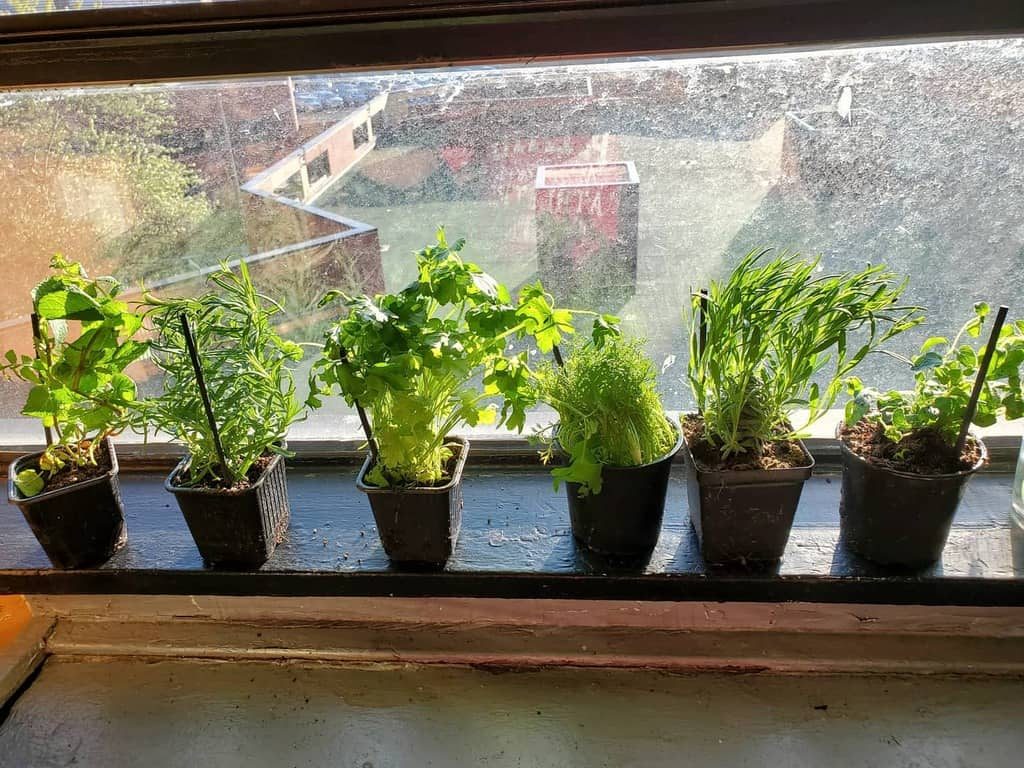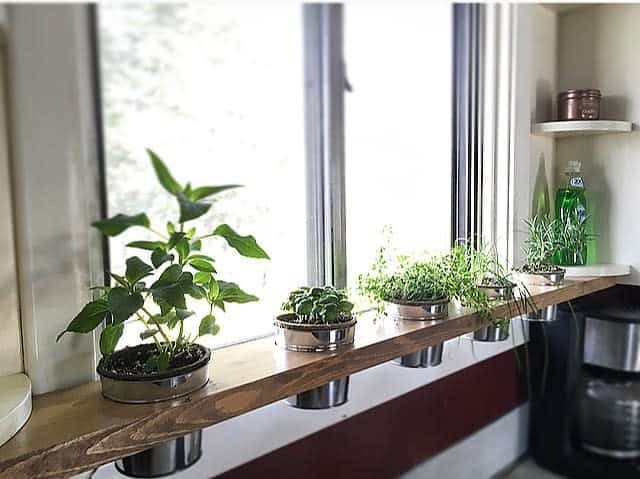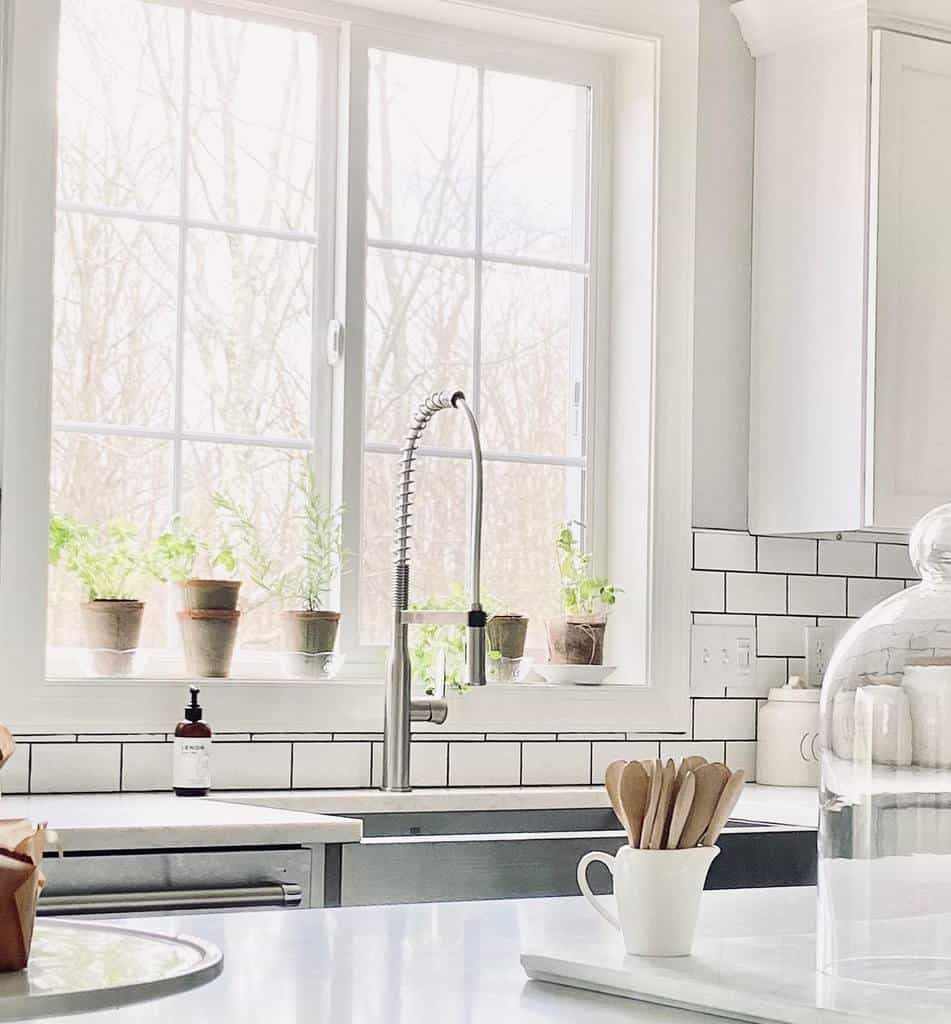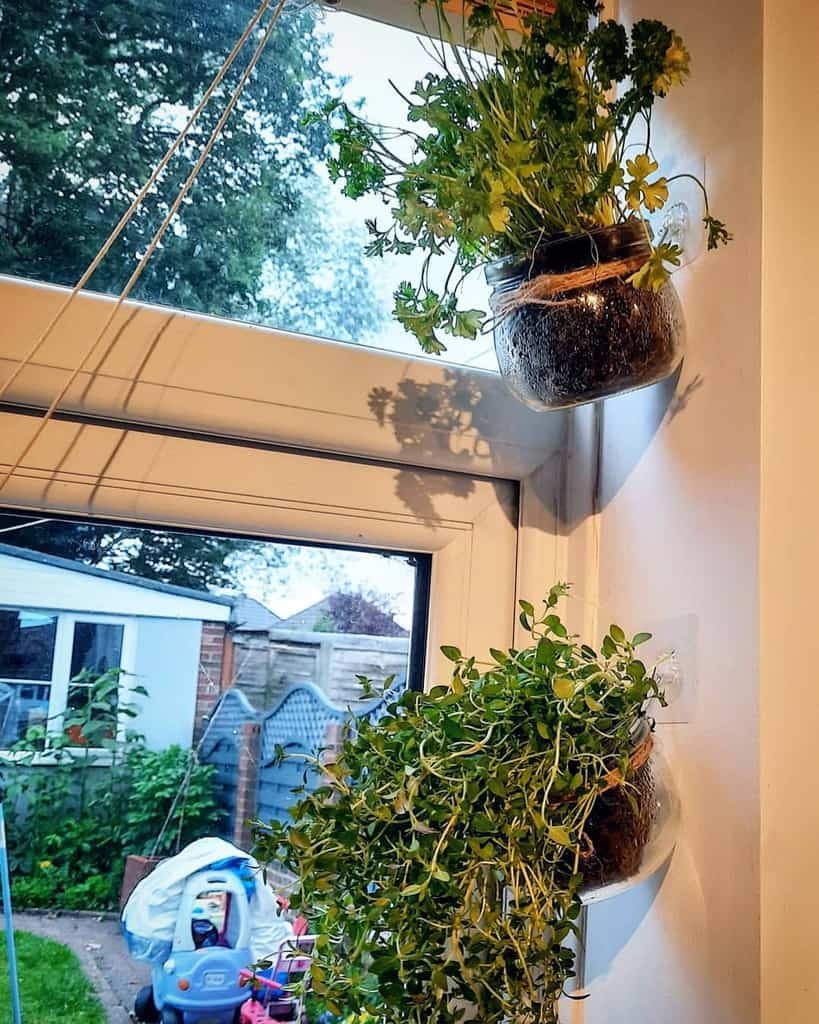 2. Ball Jars
Ball jars make for perfect planters that can be arranged in varying shapes along any window sill, or even stacked together for a colorful display that won't take up too much space. The airtight Ball jars allow you to capture moisture and humidity levels, creating an optimal environment for growing basil, parsley, and other herbs.
Use your kitchen-fresh herbs in pasta, and salads, or for endless DIY inspirations such as infused oils, teas, and soaps! With Ball jars and a little dedication to caring tasks like watering and proper light exposure, a gorgeous indoor herb garden is within reach.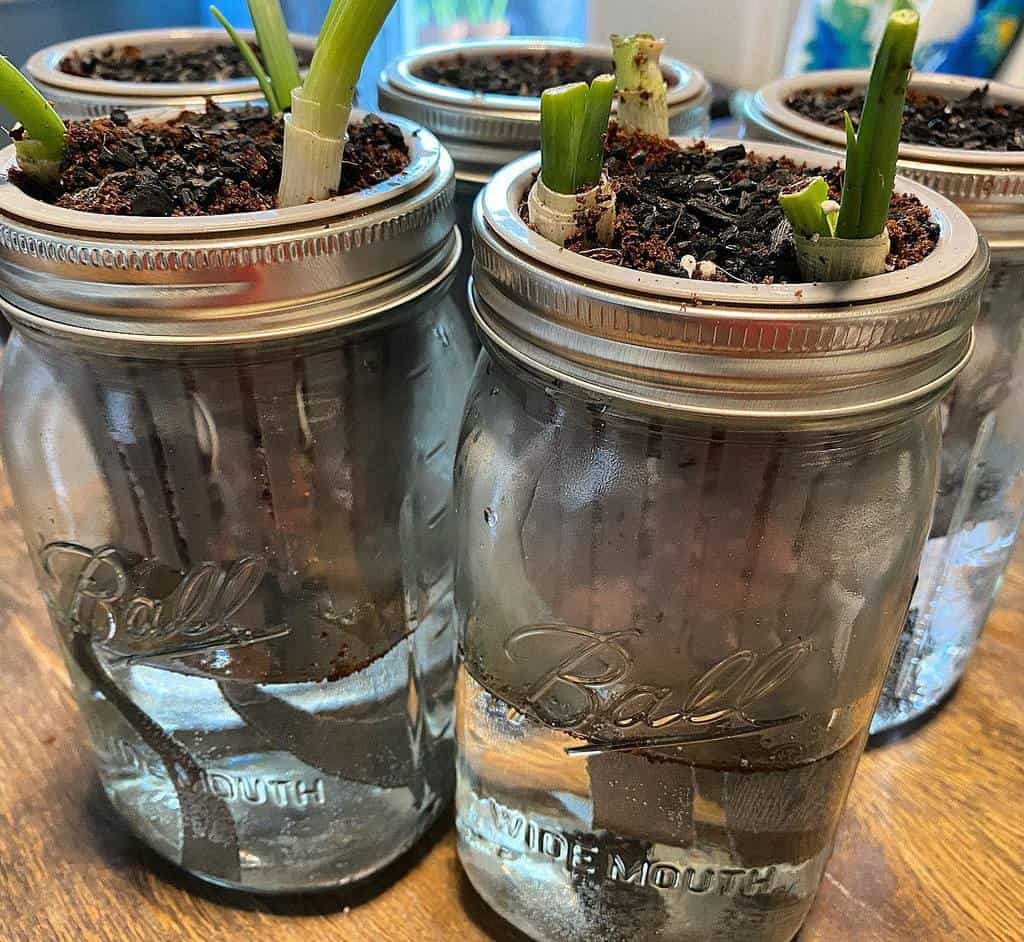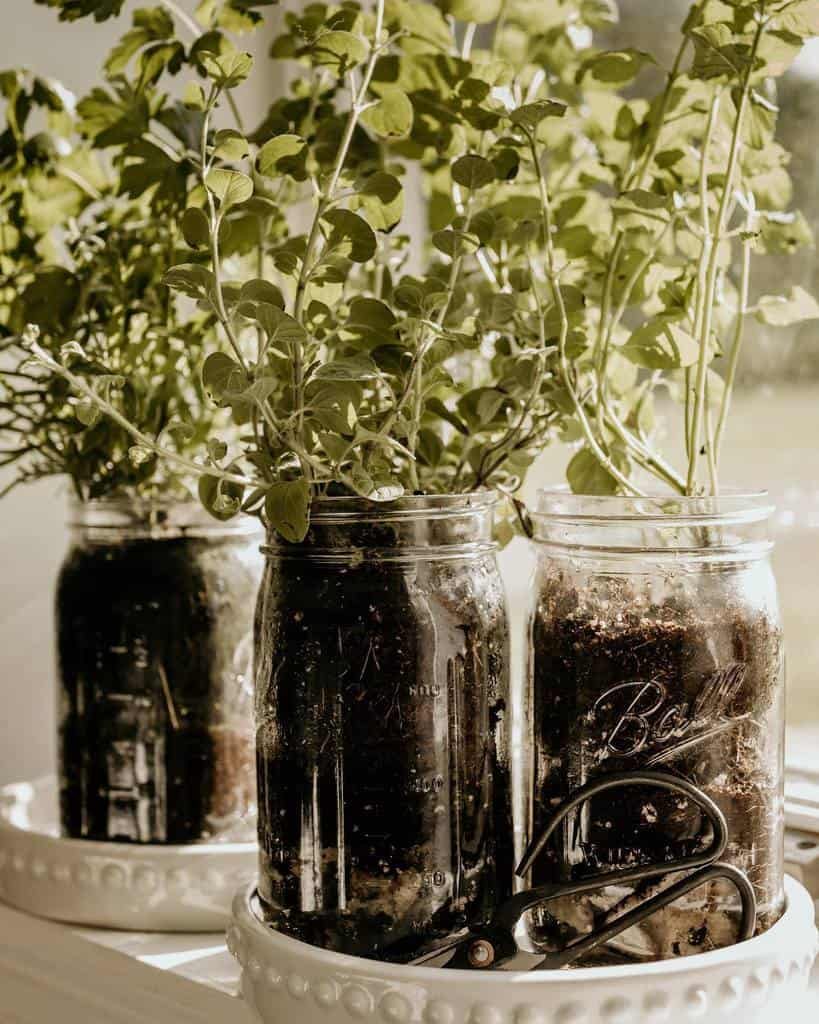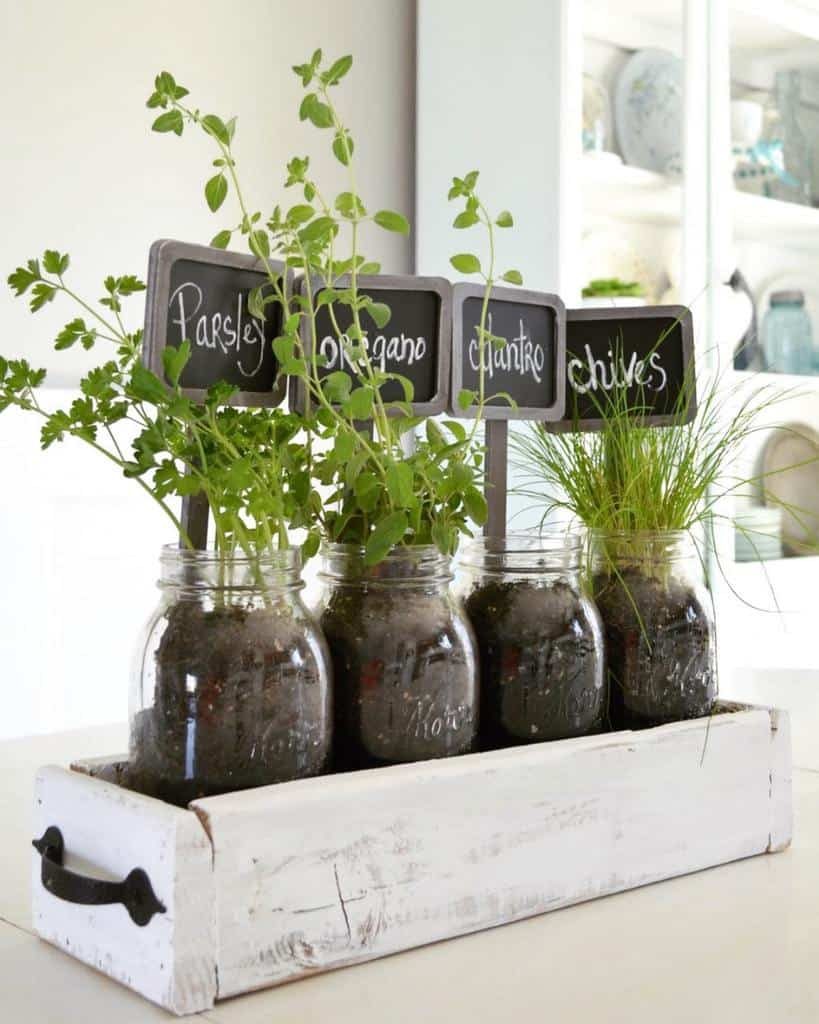 3. Repurposed Soda Cans
When it comes to creating an indoor herb garden, the possibilities are nearly endless. If you're looking for something truly unique and eye-catching, repurposed soda cans of vibrant designs and colors can be ideal containers for your kitchen plants!
Just make sure to give them plenty of sunlight and water, and maintain their soil pH–soon enough you'll have fresh herbs and a creative new addition to your home decor.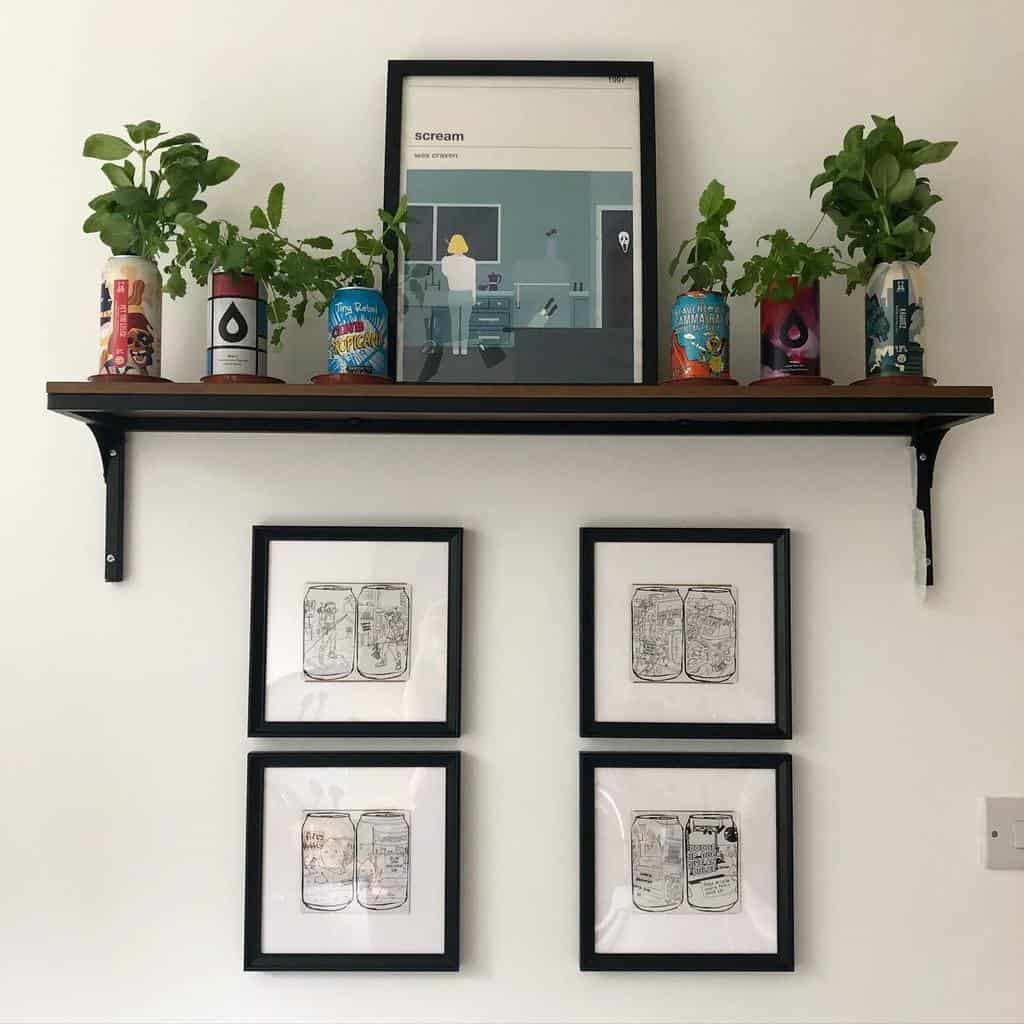 4. Tin Planter
If you're looking for an easy-to-maintain option, tin planters are a perfect choice – they look rustic and modern, providing a unique touch of character wherever you place them. Having an old tin planter paired with a variety of different herbs can be exactly what you need to add a bit of visual interest around your home.
With this creative idea, you're able to put fresh spices within reach so you can easily make yourself some delicious dishes from scratch. Who said gardening has to take up lots of space?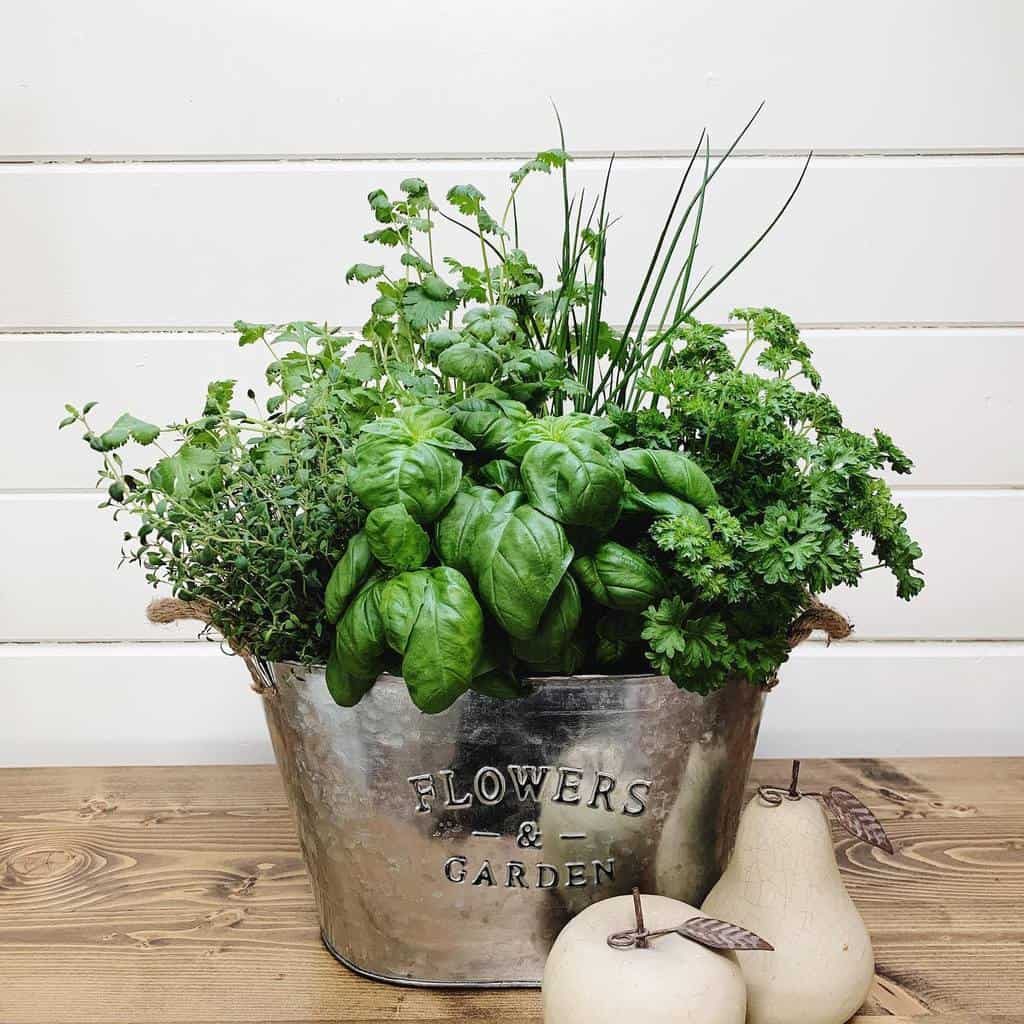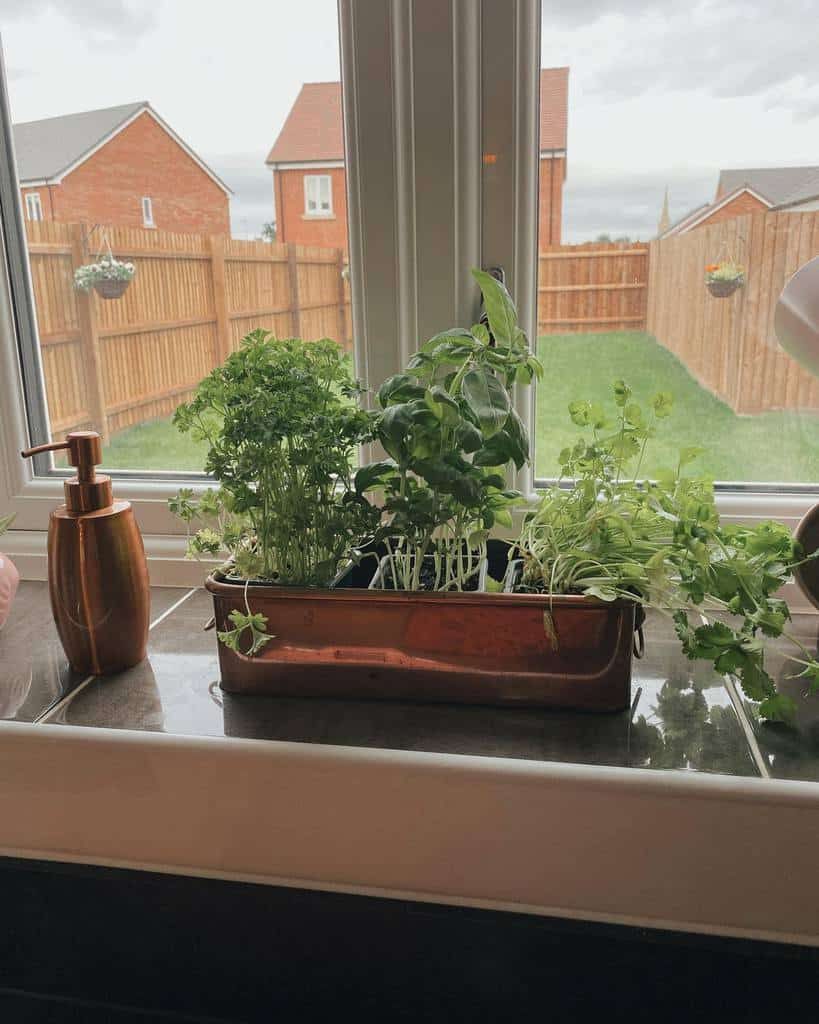 2. Hanging Herb Racks
Instead of relying on plastic potted plants, hanging racks are a terrific alternative; providing ample hanging space for your herb pots with the perfect style, look, and storage.
Not only that, hanging herbs will add visual height in any corner of the kitchen and create light shadows in the room—enhancing the décor tenfold! So try hanging some culinary or medicinal herbs to your kitchen walls today and get cooking and healing with some homegrown goodness!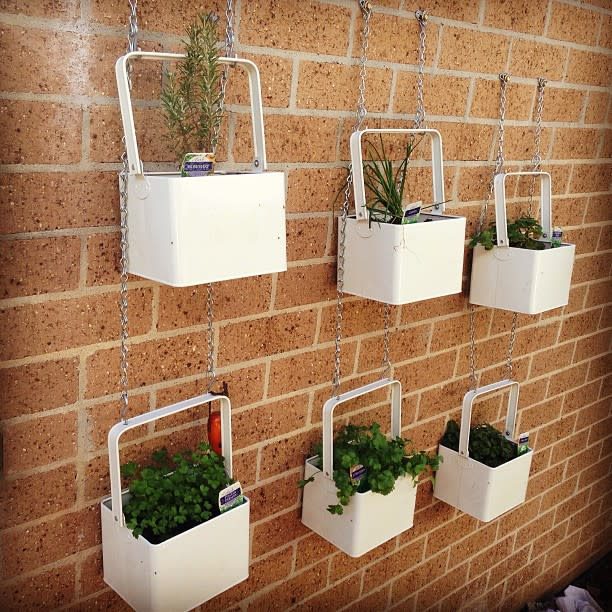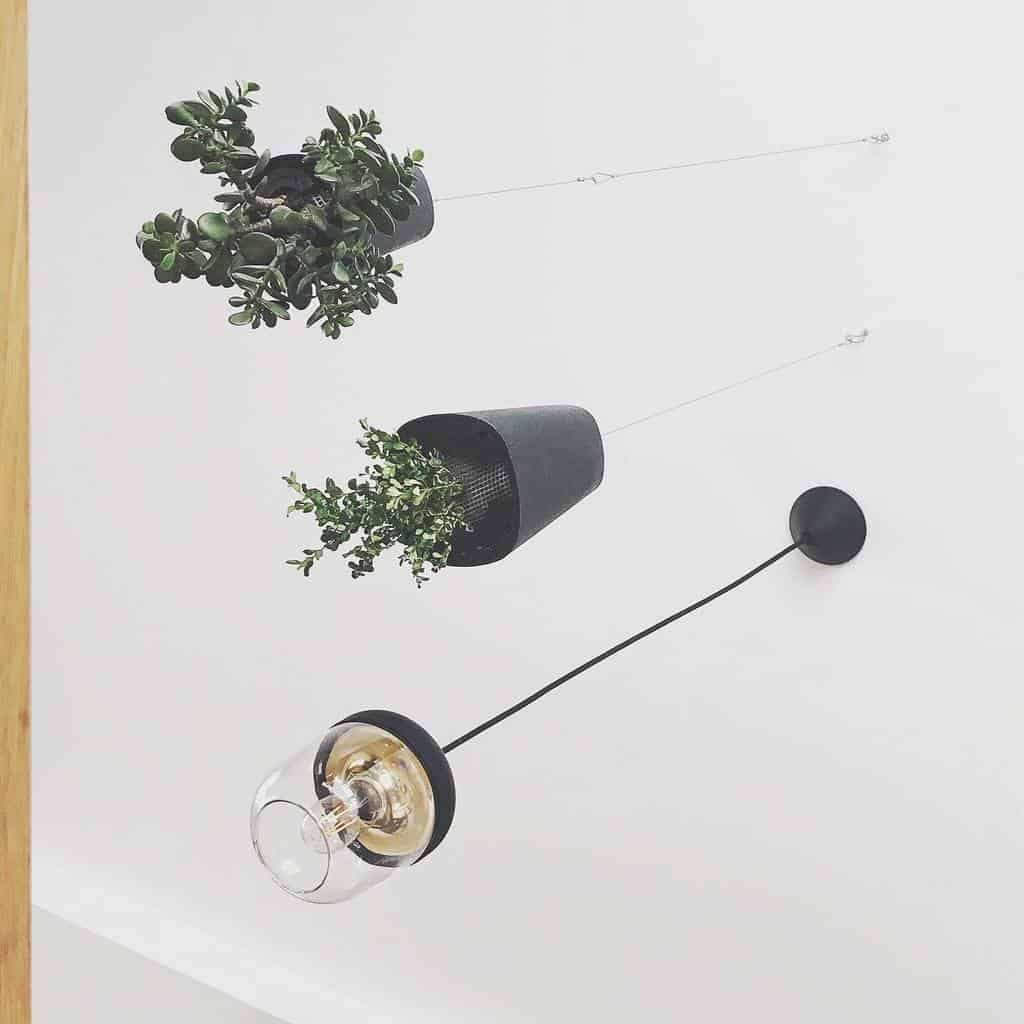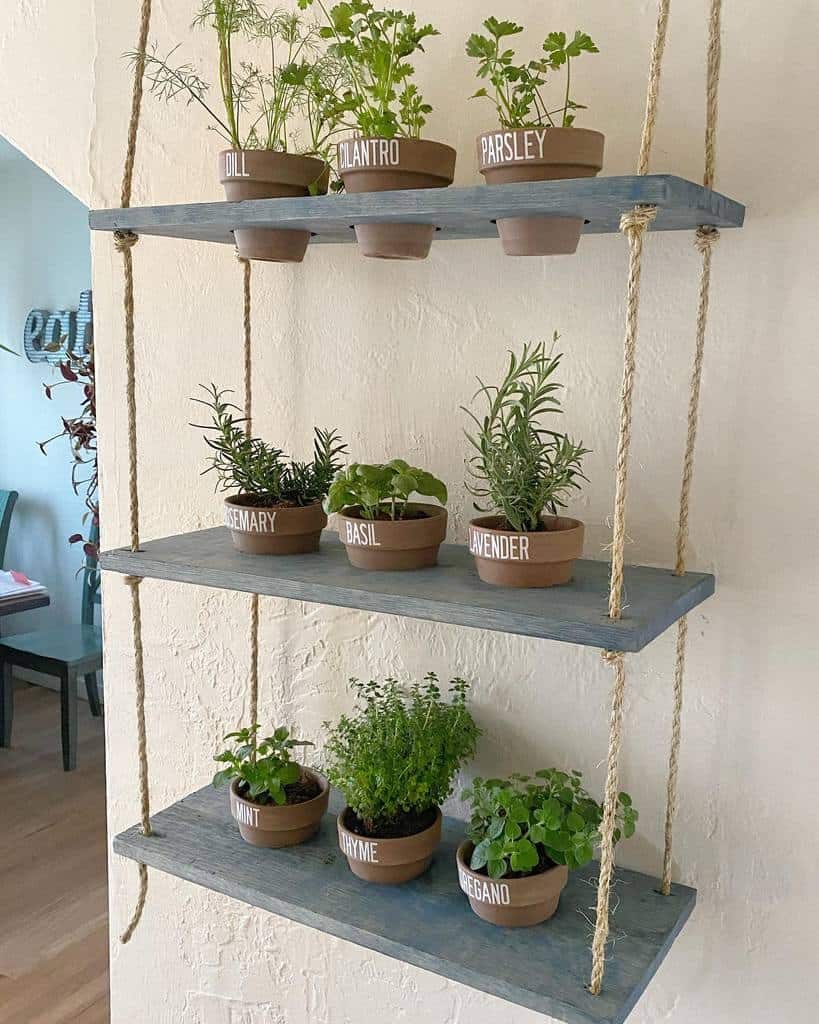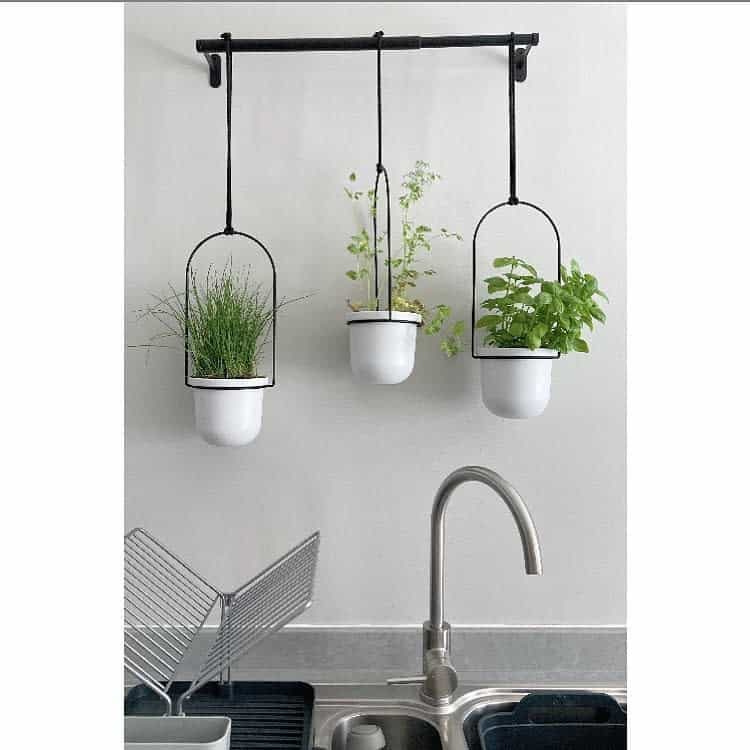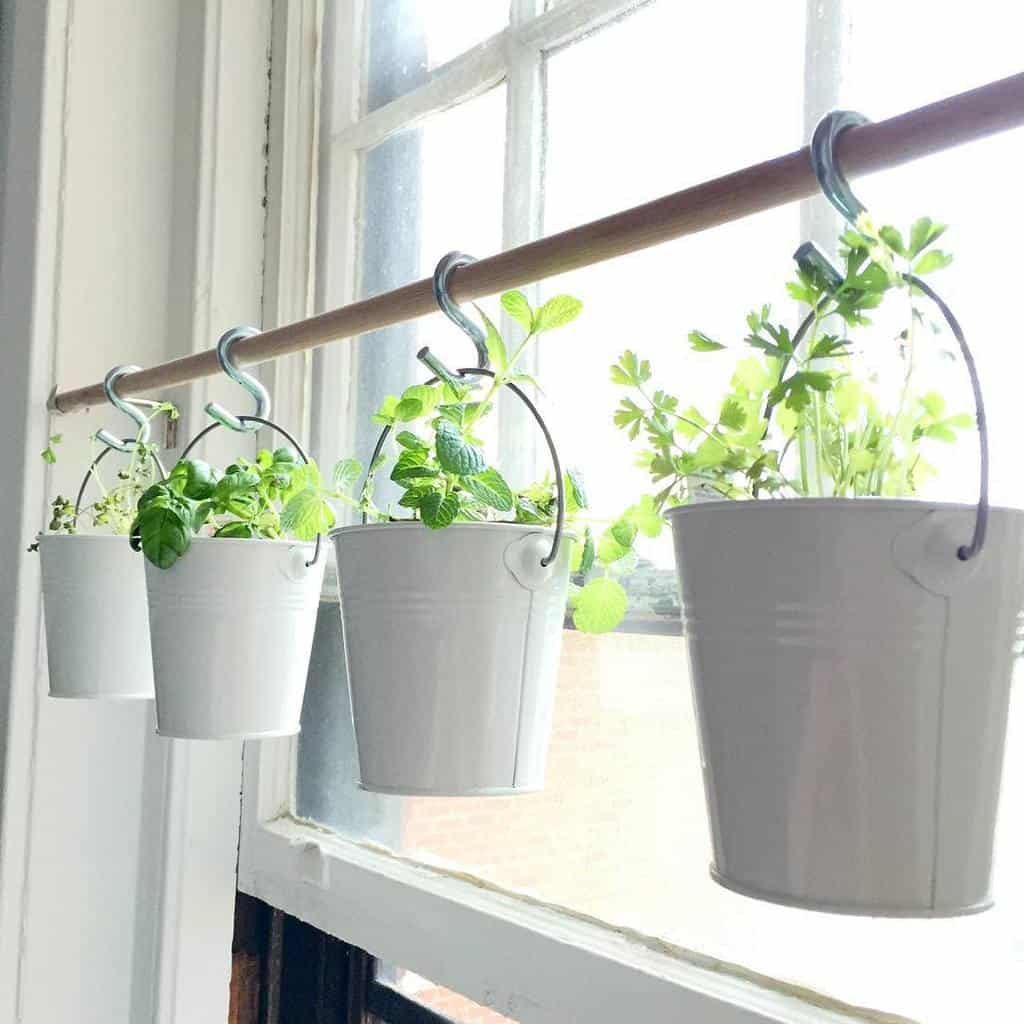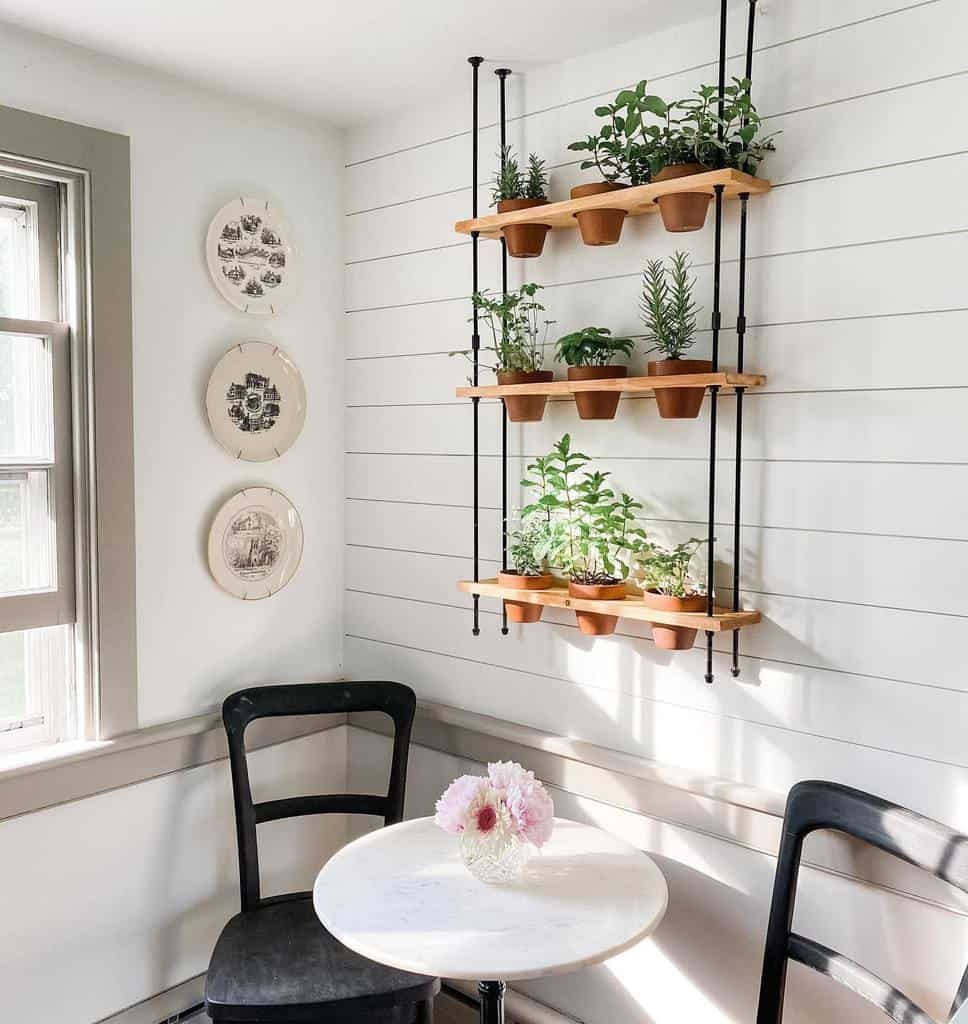 3. Macrame Hanging Planters
There's nothing quite like cultivating a vibrant indoor herb garden! All you need to make it happen is some macrame hanging planters, soil, and the best part of all – herbs that are as varied as your flavor palate!
These macrame-style planters add a great decorative touch to any kitchen corner, while also making it easy to place within reach when you want to quickly spruce up your dishes. Not only can indoor herb gardens be an eye-catching addition to your home decor, but they make harvesting fresh ingredients for your meals right at your fingertips.
So don't be intimidated by the thought of starting an indoor herb garden – just grab some macrame hanging planters and get ready for a burst of freshness in both color and flavor!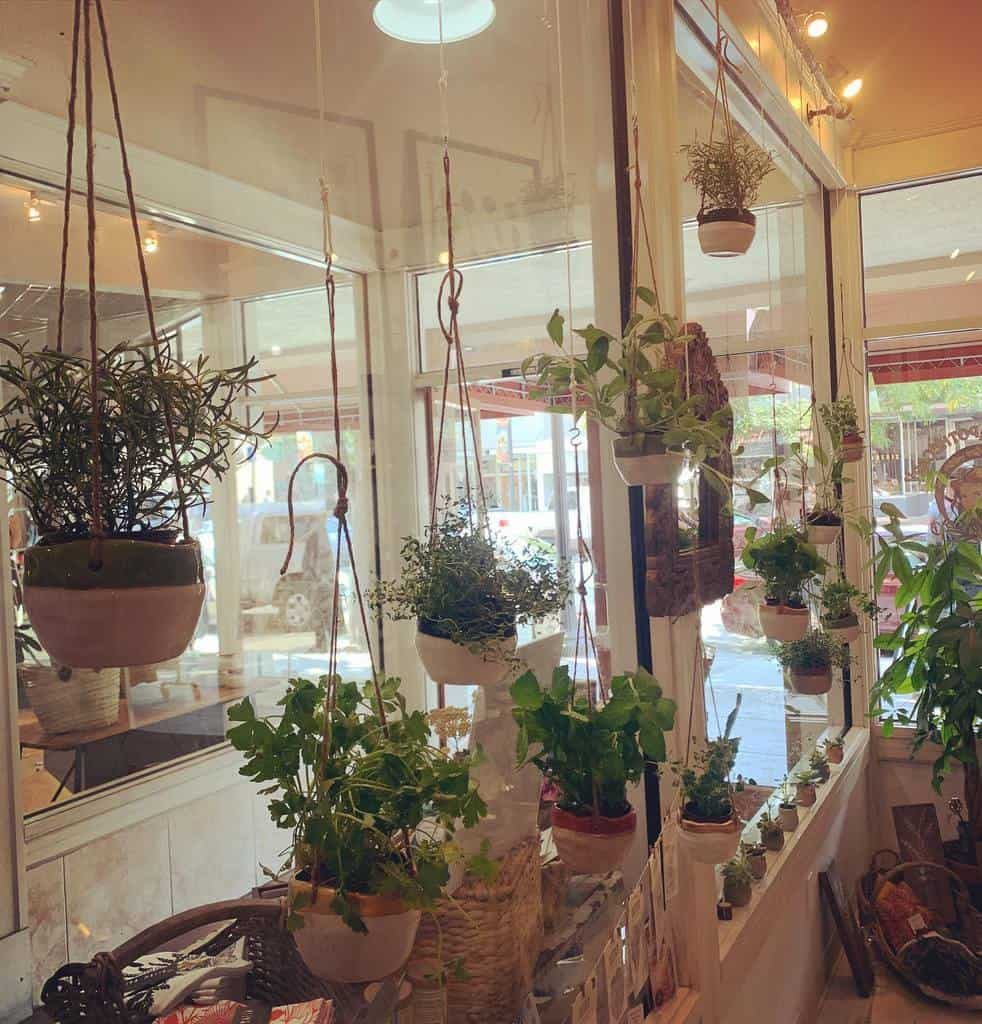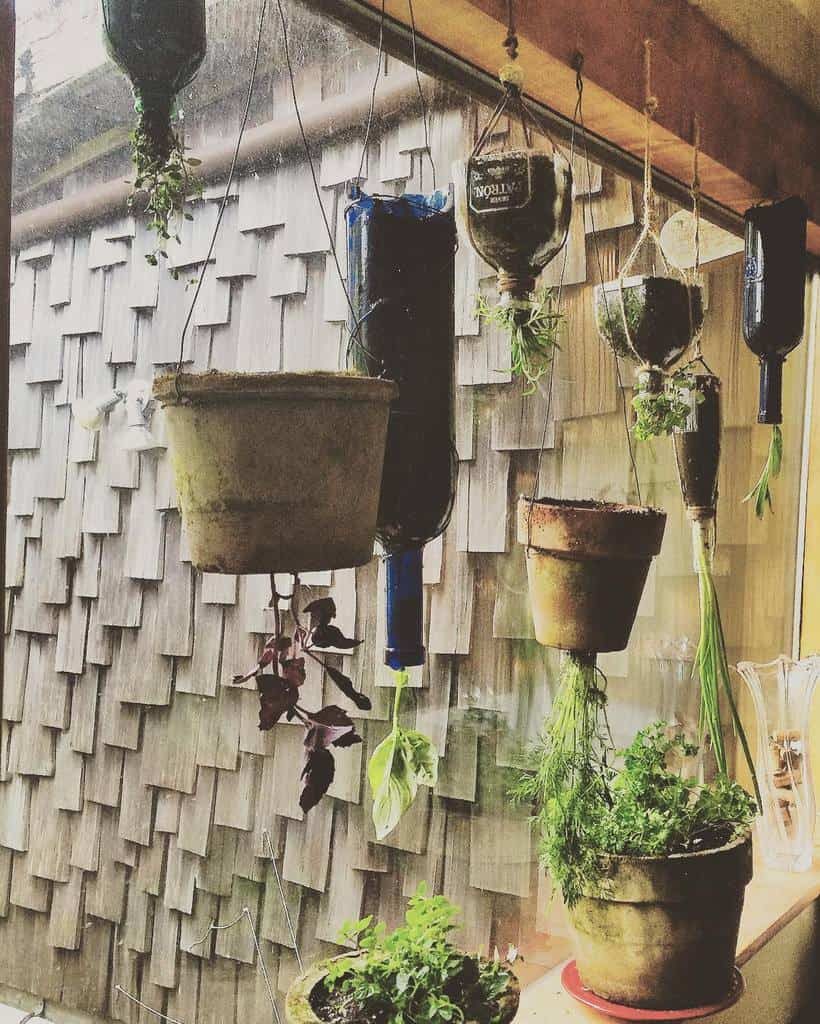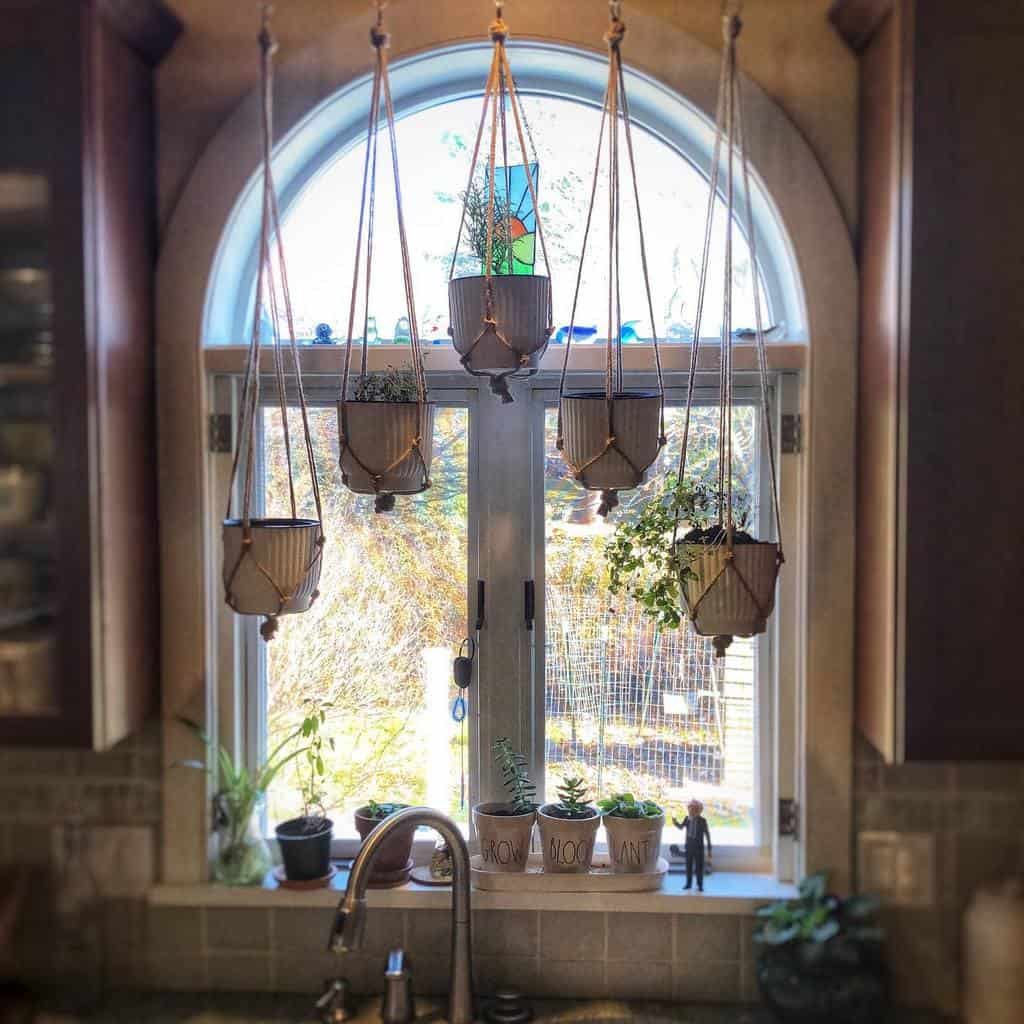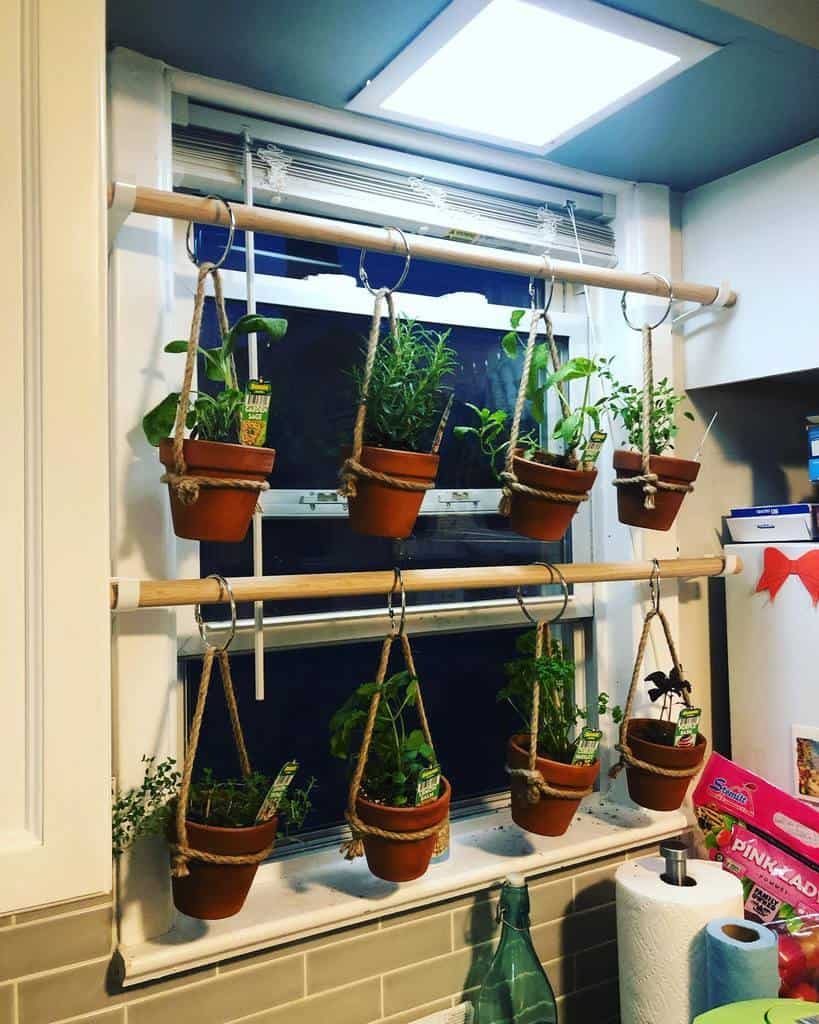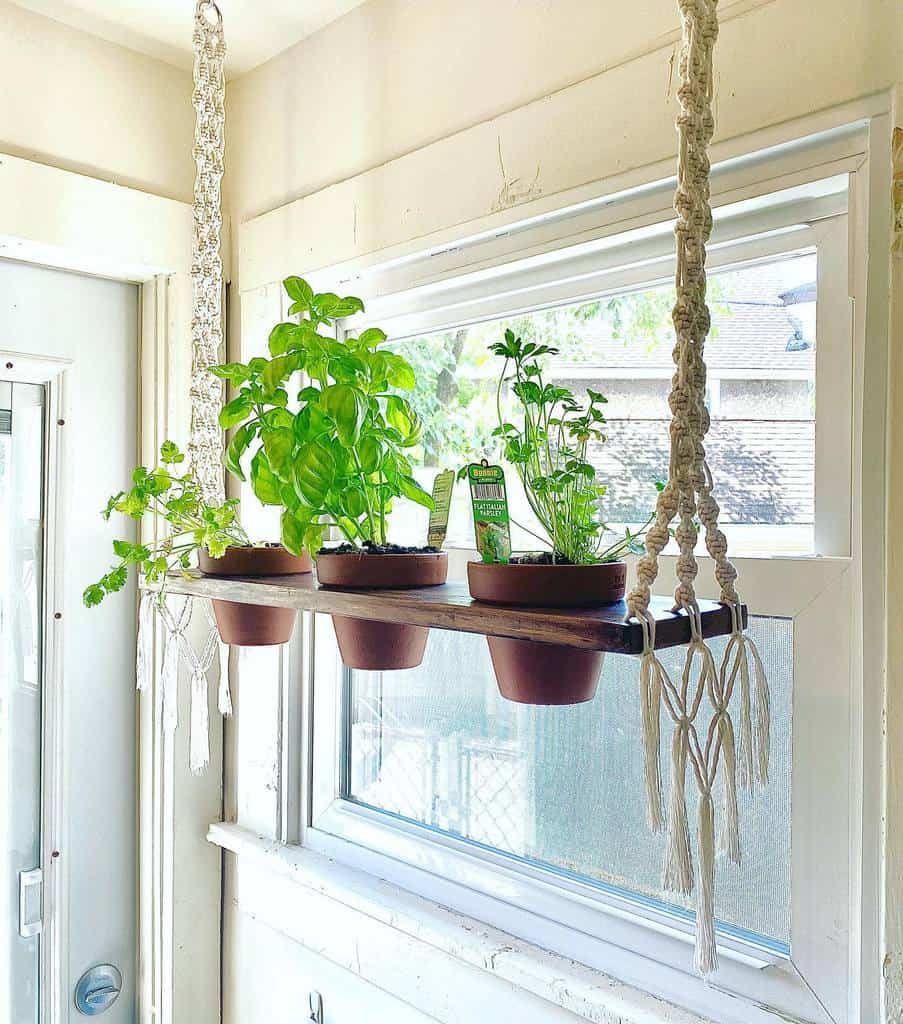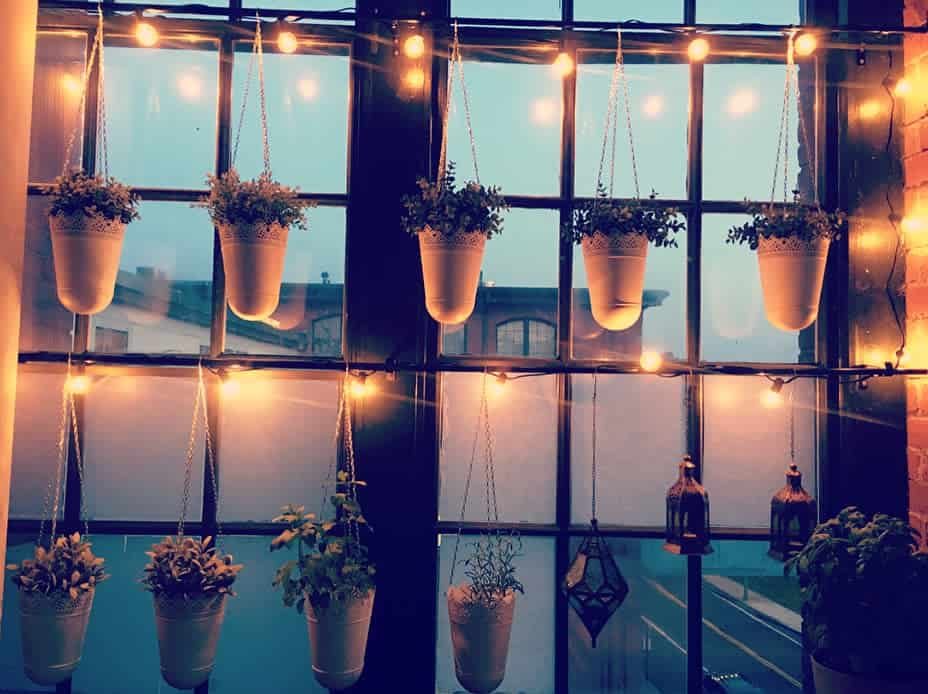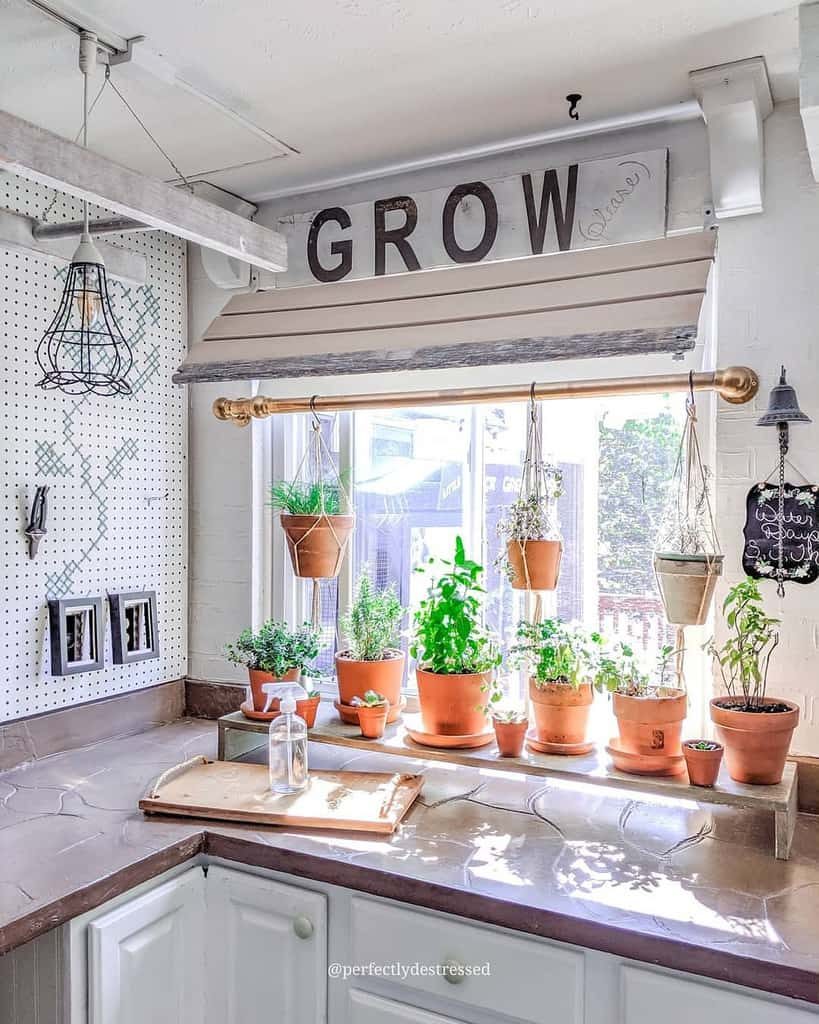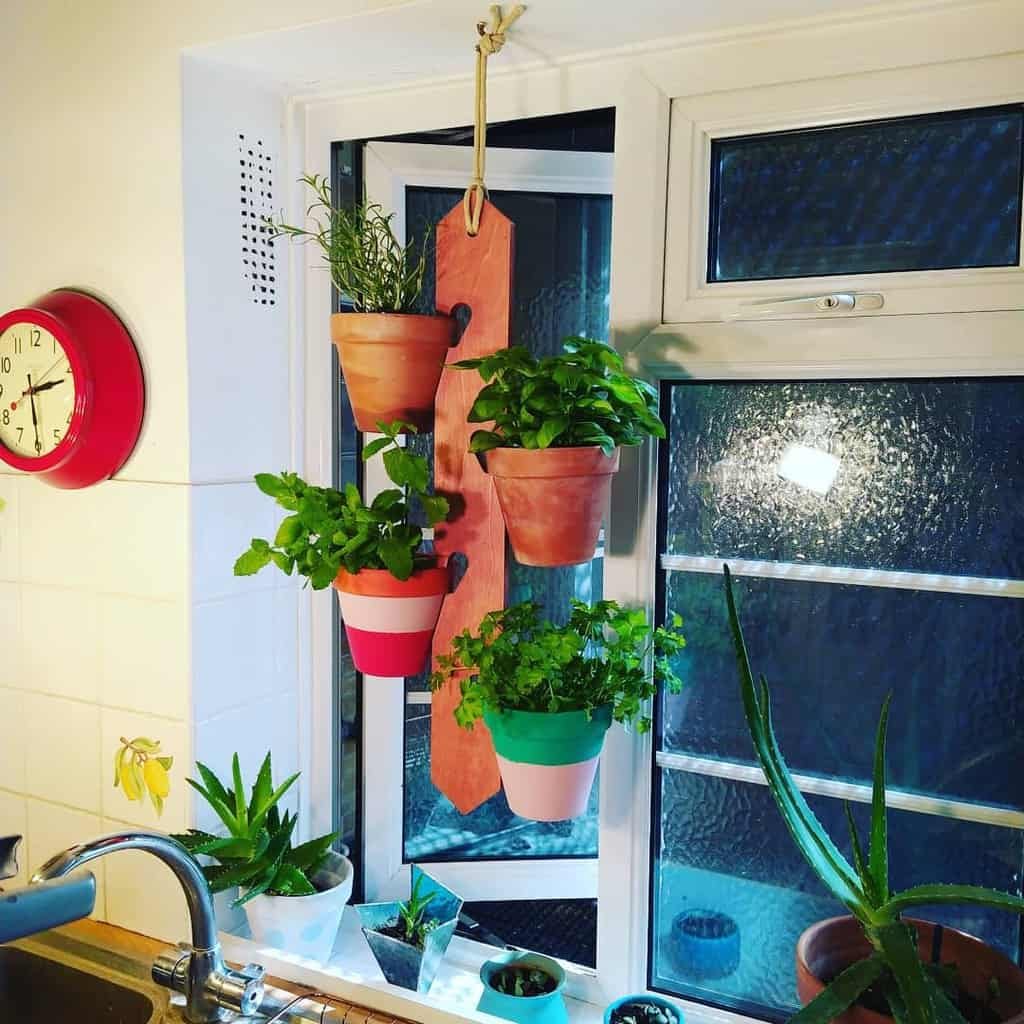 4. Hydroponics And Aquaponics Planters
Growing your own indoor hydroponics or aquaponics herb garden is the perfect way to add a modern touch while freshening up your home.
Even if you don't have much natural light in your space, you can easily invest in low-light hydroponics planters with an included LED light system to help support the growth of your herbs. Ask any experienced grower and they will tell you that hydroponics and aquaponics planters are the most efficient way to get those delicious basil and rosemary flavors without having to regularly check on soil conditions or watering levels.
Give it a shot – you won't regret having fresh herbs ready for meals right at your fingertips!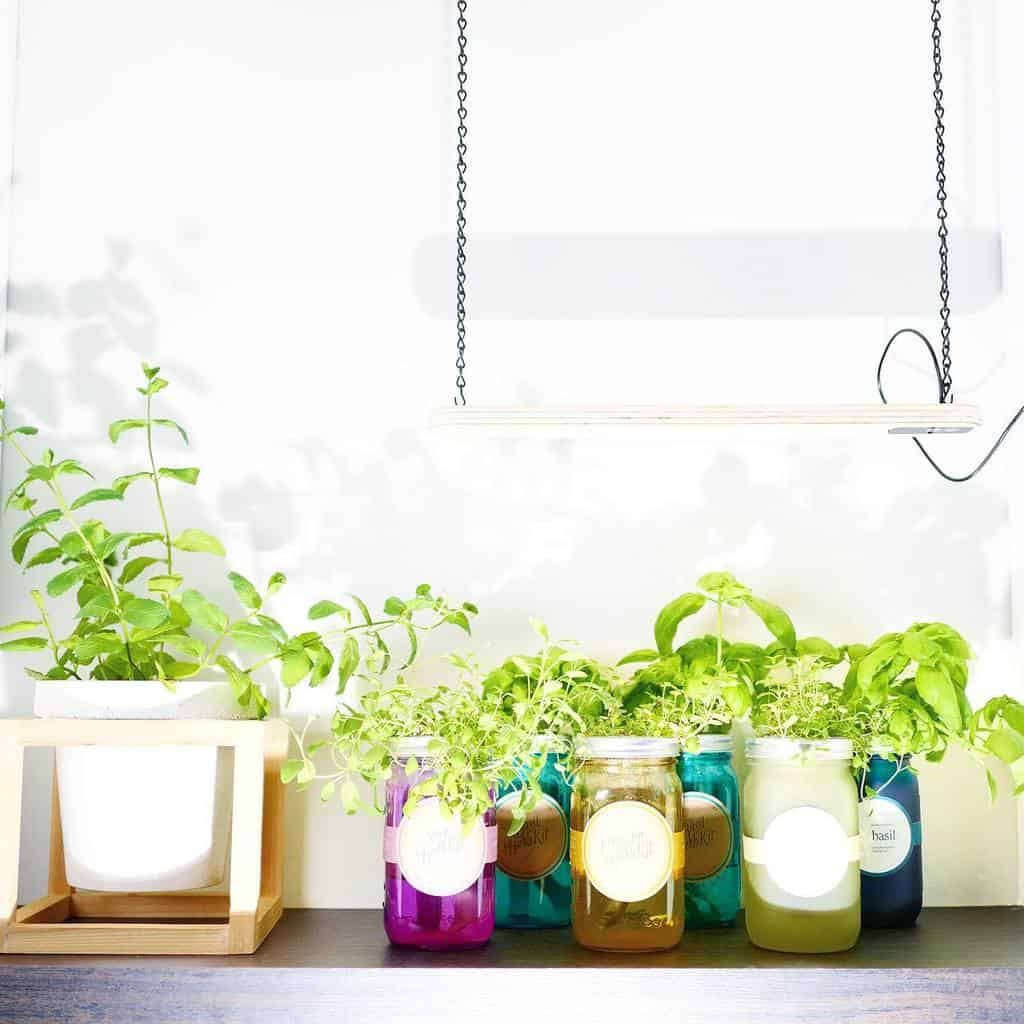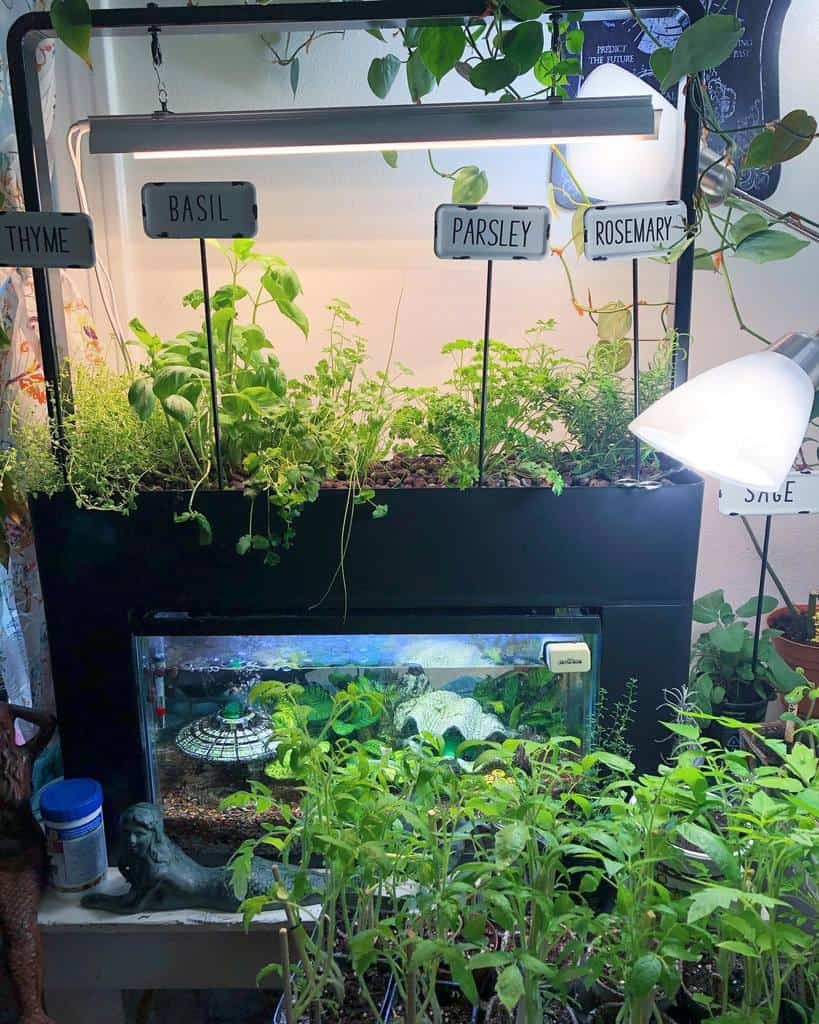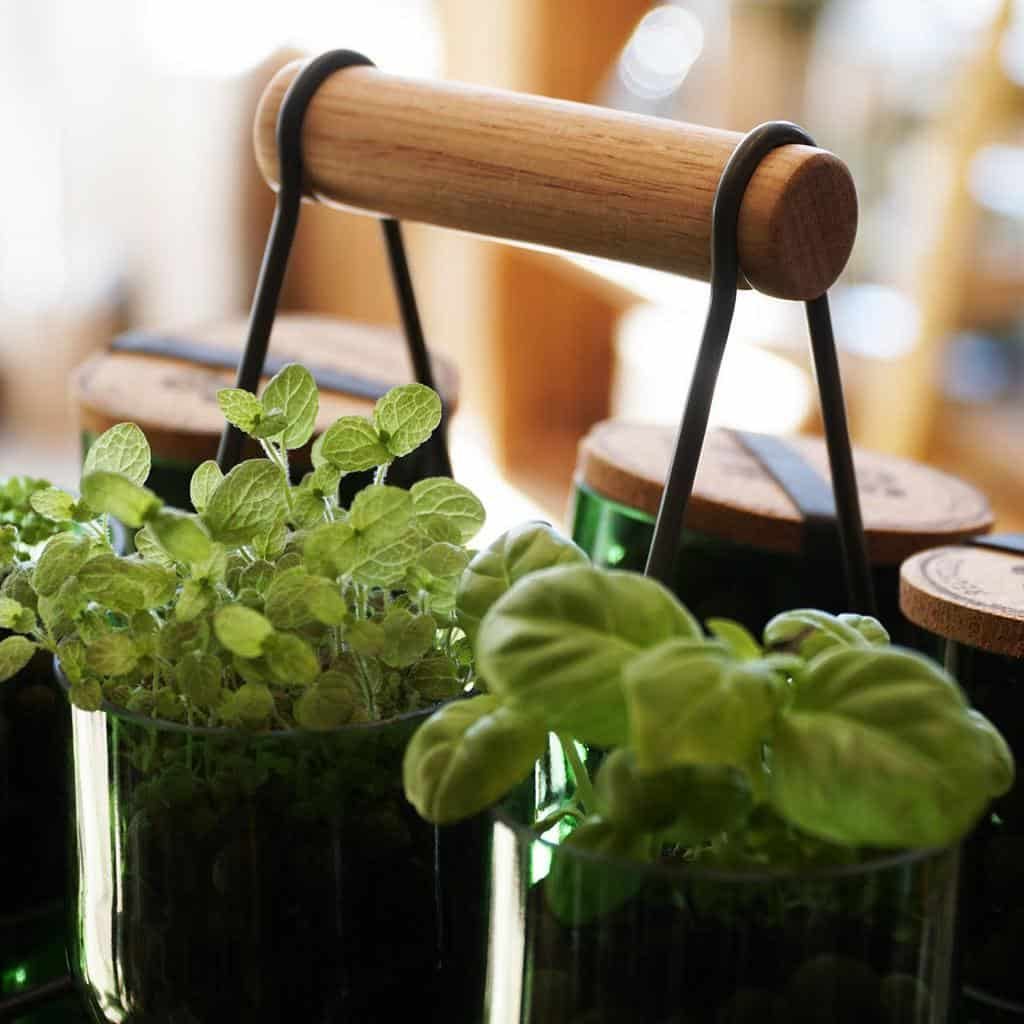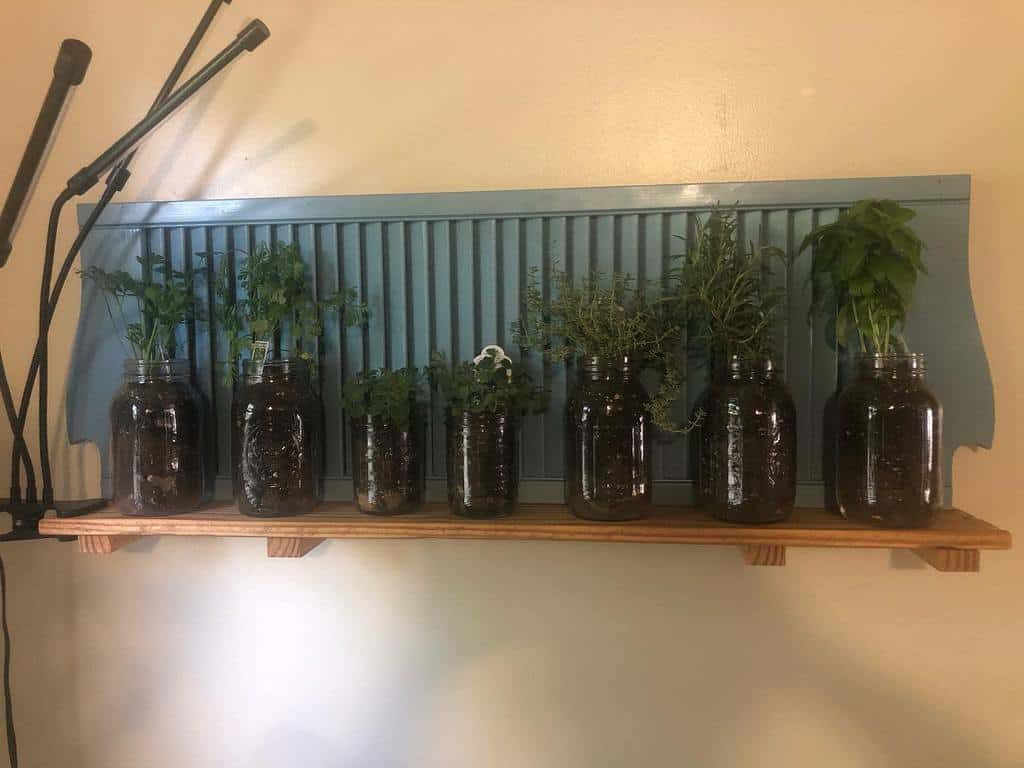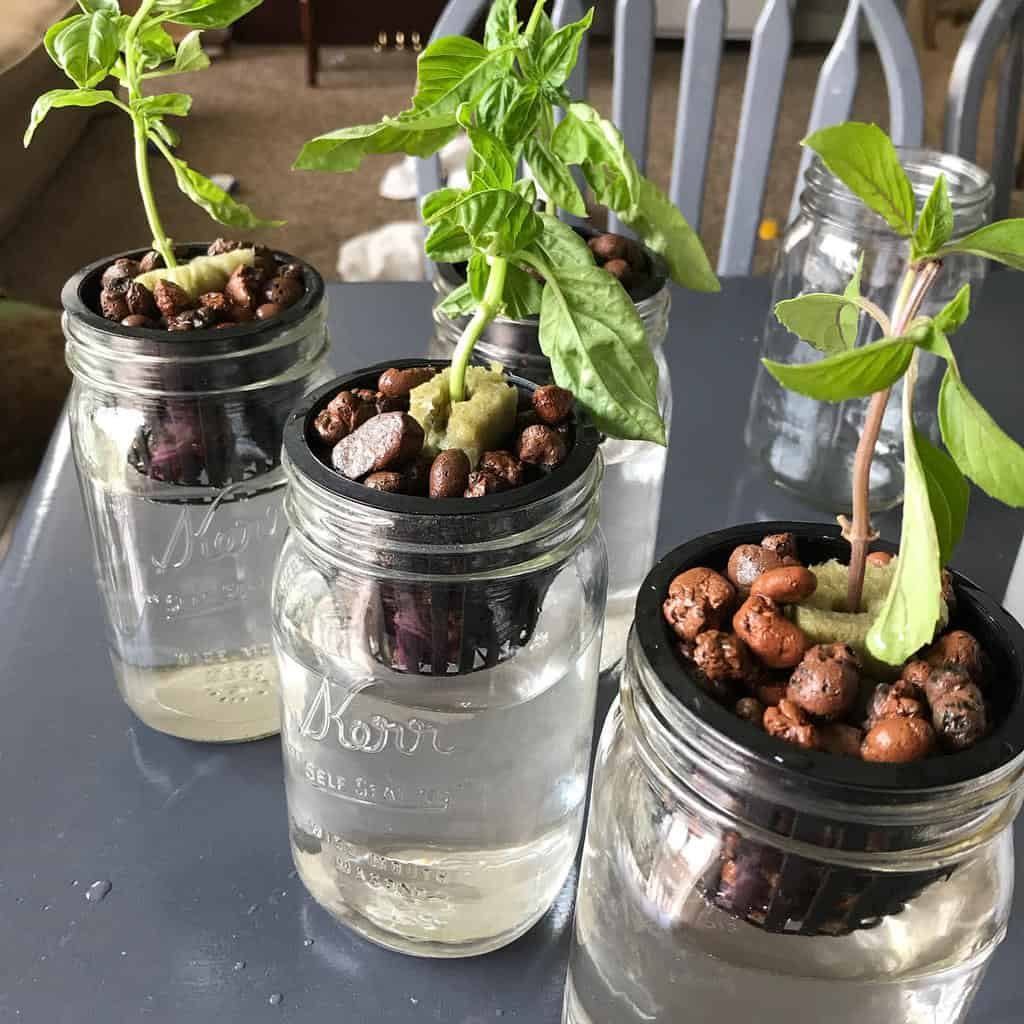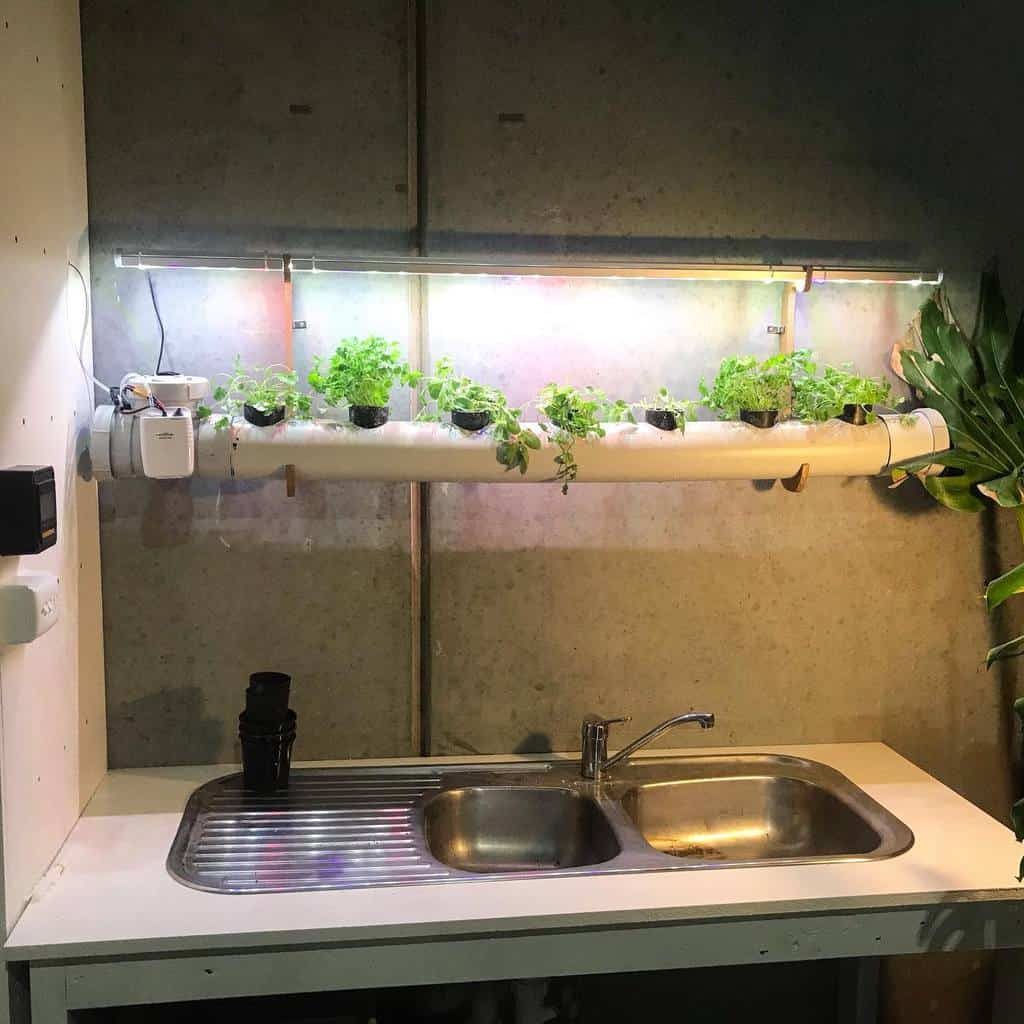 5. Pots In Trays
An indoor herb garden can be a source of delight for any home. Not only can you create a lush and vibrant look, but you can also add fun decor to your space with pots in trays. From traditional terracotta pots to colorful designer vessels, there is something special for every interior style.
Best of all, the finished product can make an eye-catching centerpiece, offering a welcome breath of freshness to any room. Get creative and give your living space the personal touch it deserves.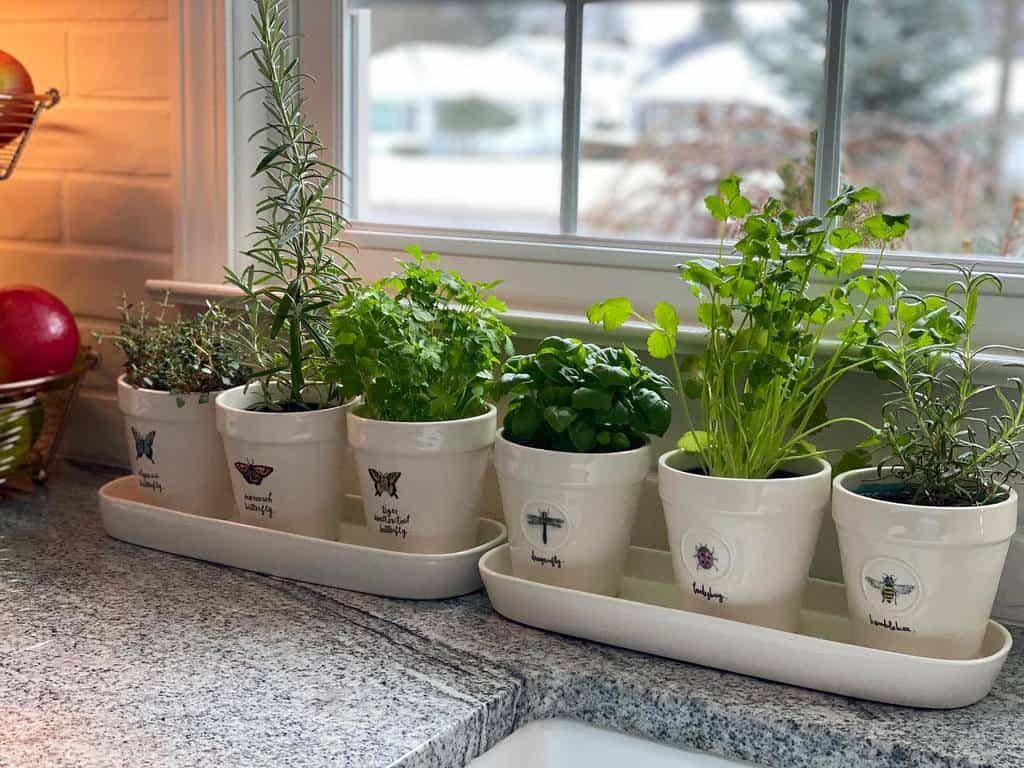 6. Wall-Mounted Herb Garden
As an alternative to taking up precious counter space, wall-mounted herb gardens offer an innovative way of gardening indoors and provide an impressive wall feature.
Wall racks are designed to tend to multiple herbs at once and can also be made out of recycled materials including scrap wood and pallets, giving new life and uniqueness to your wall-mounted herb garden that you can proudly display in your home.
For those seeking fresh flavor without the hassle, adding wall-mounted herb gardens is a creative solution that will look great as well – a win-win for every home.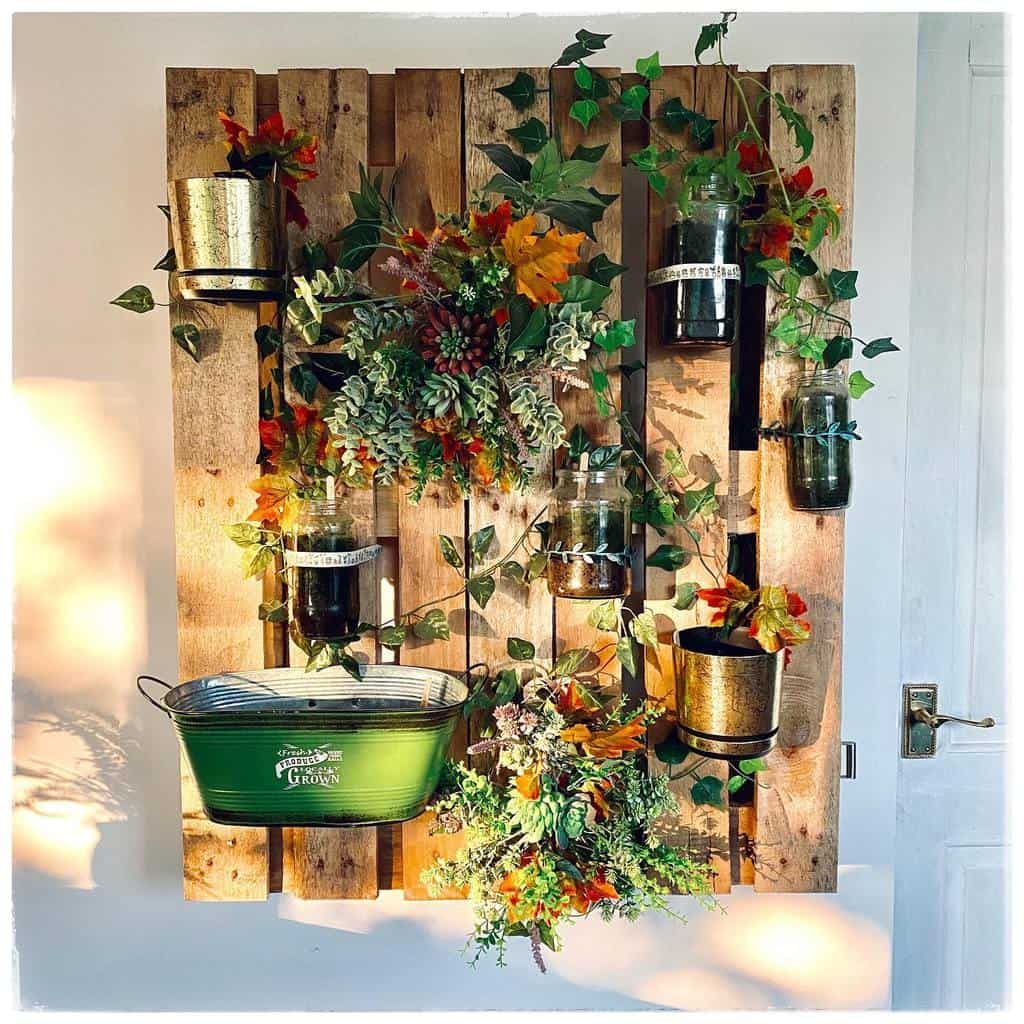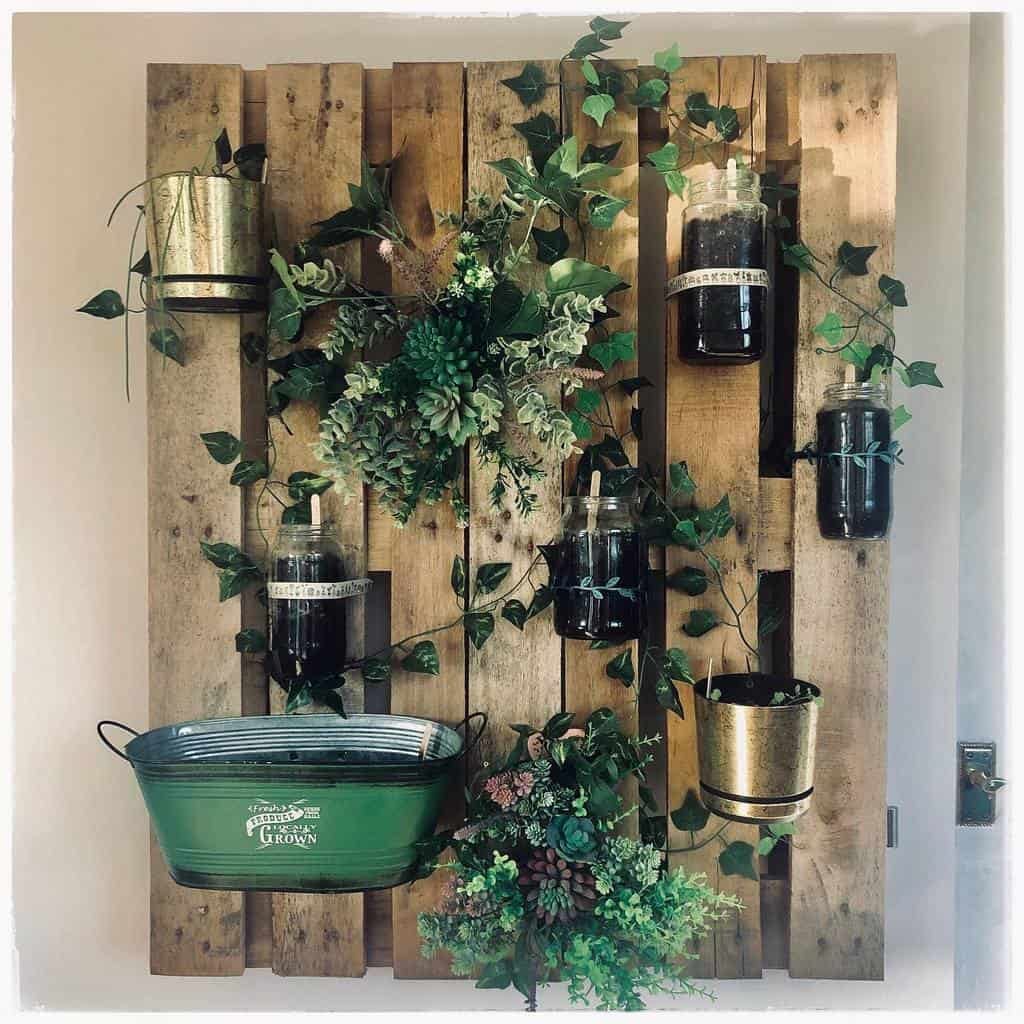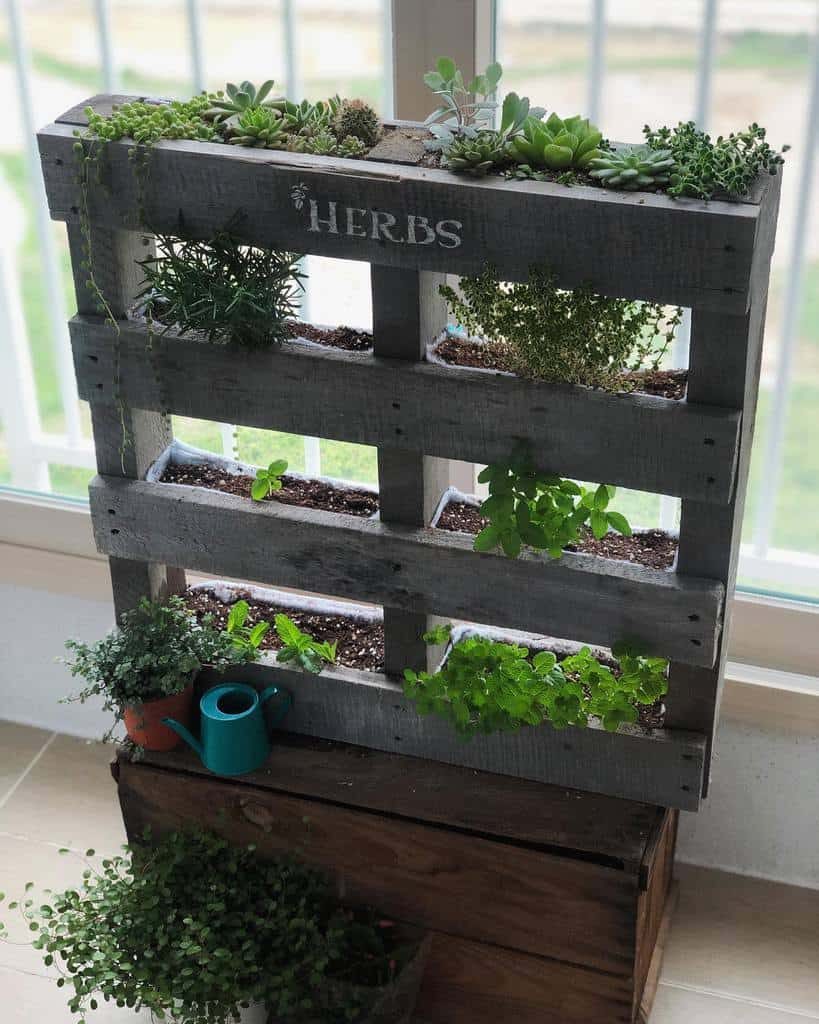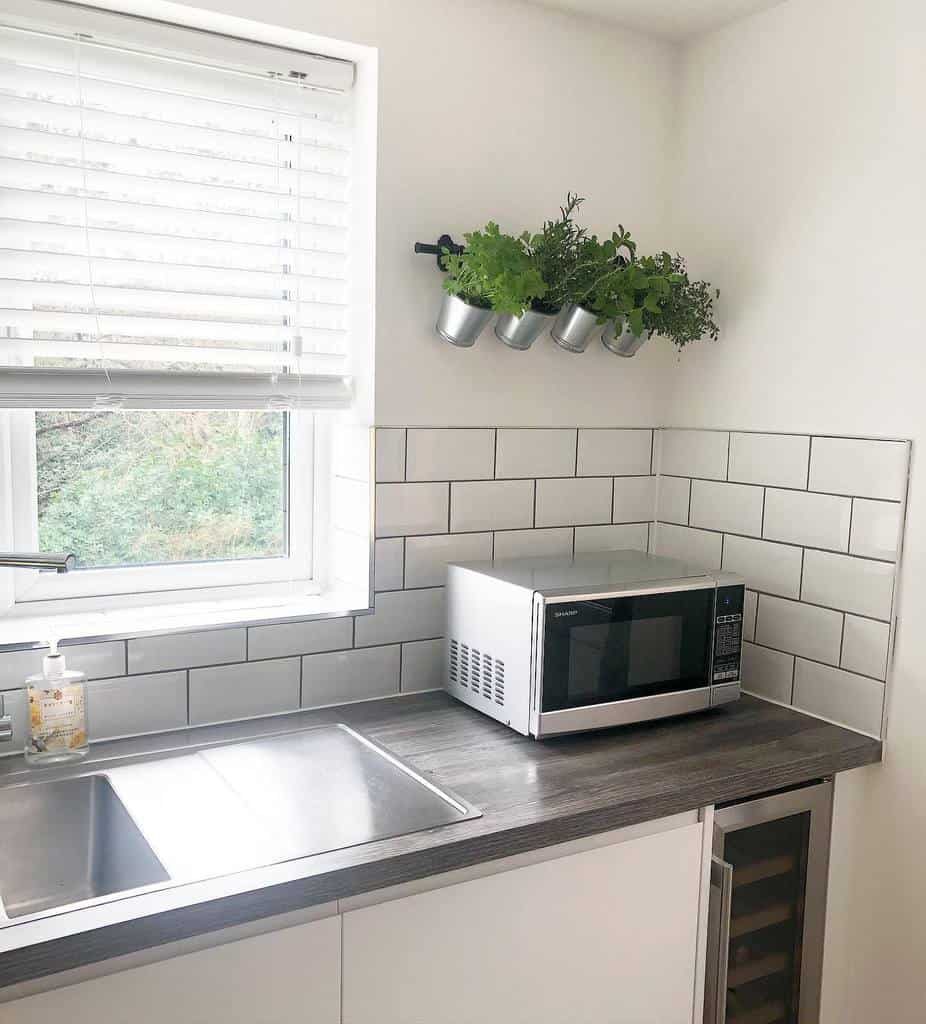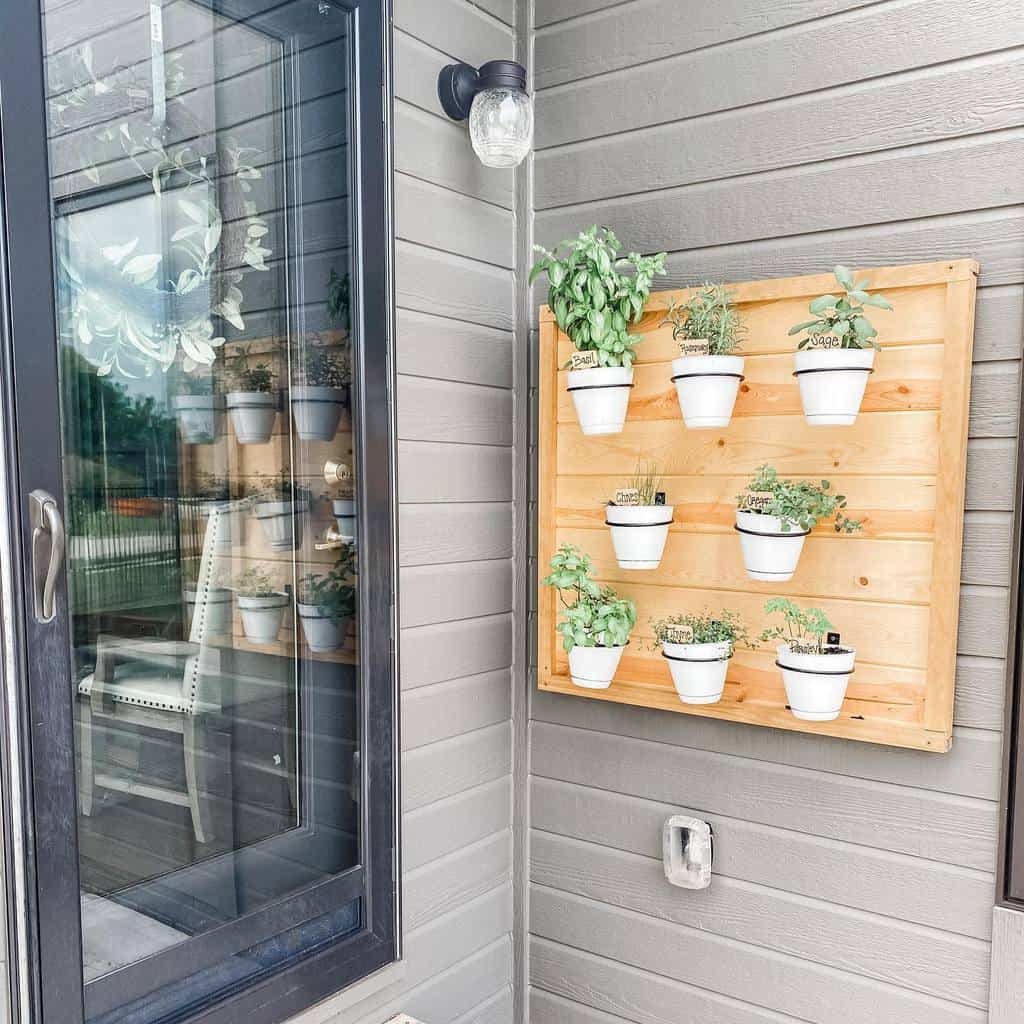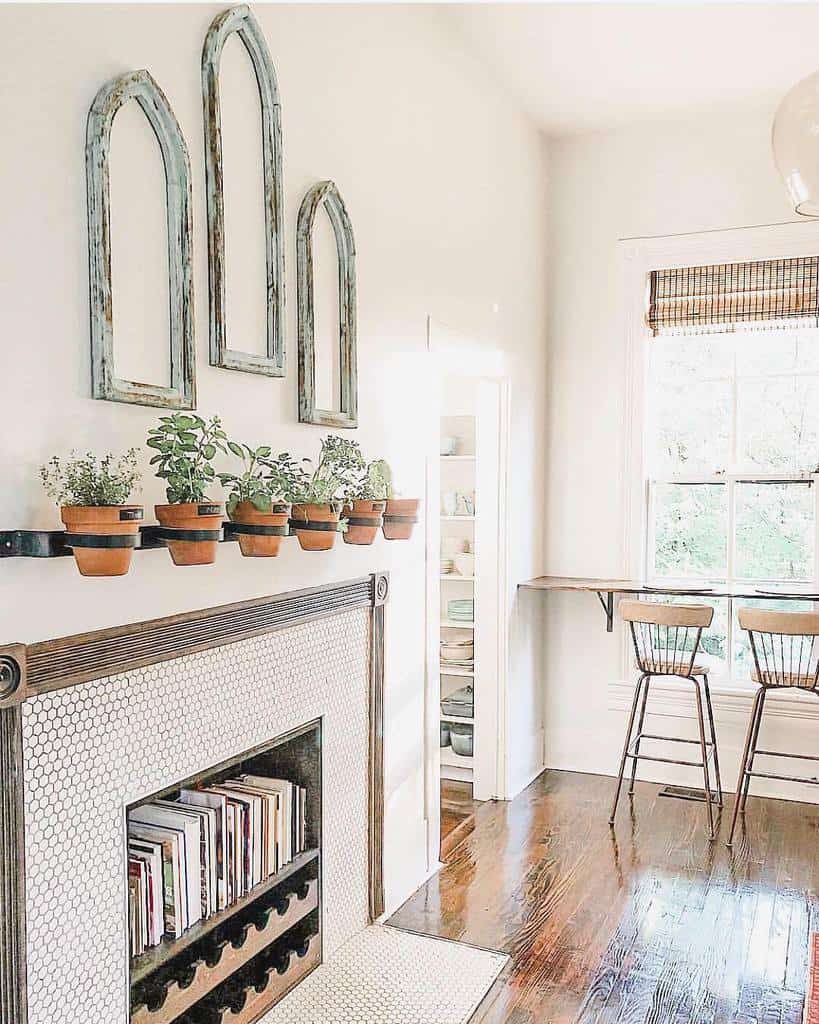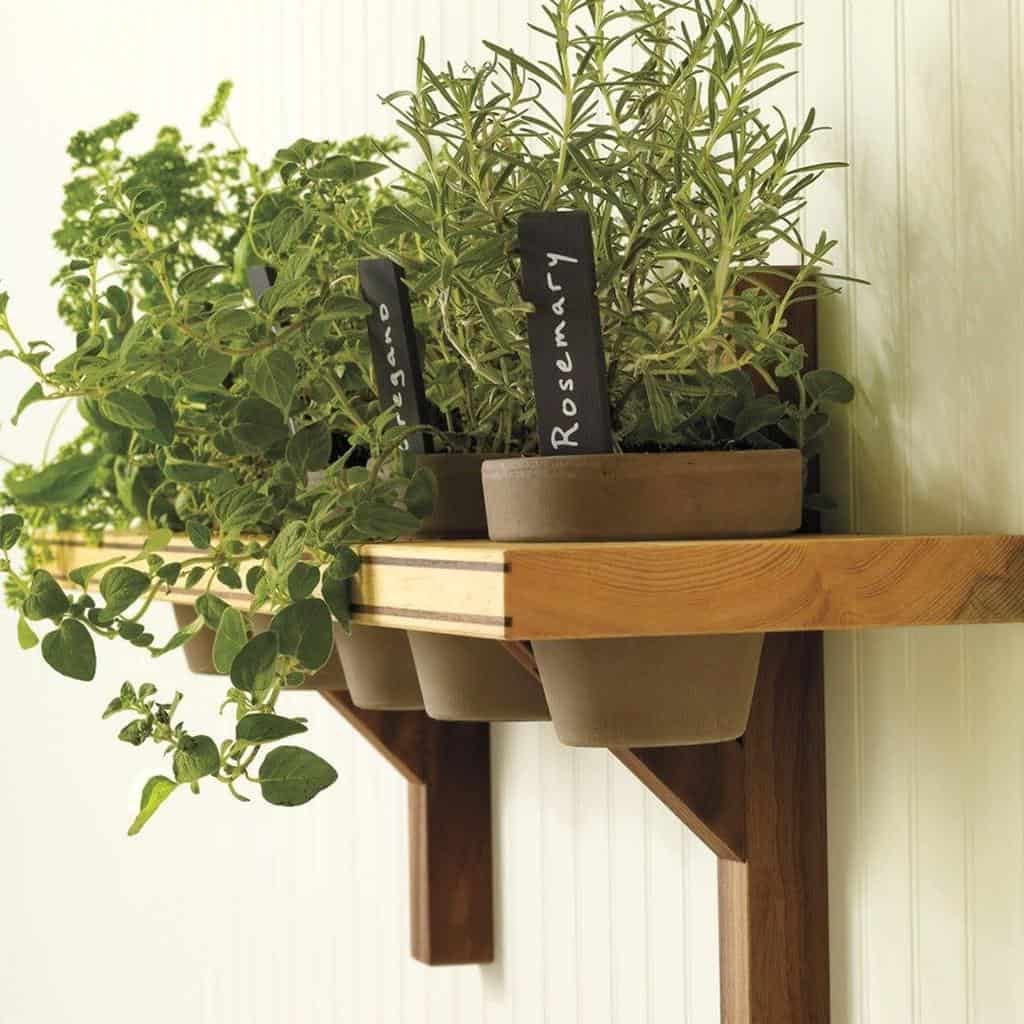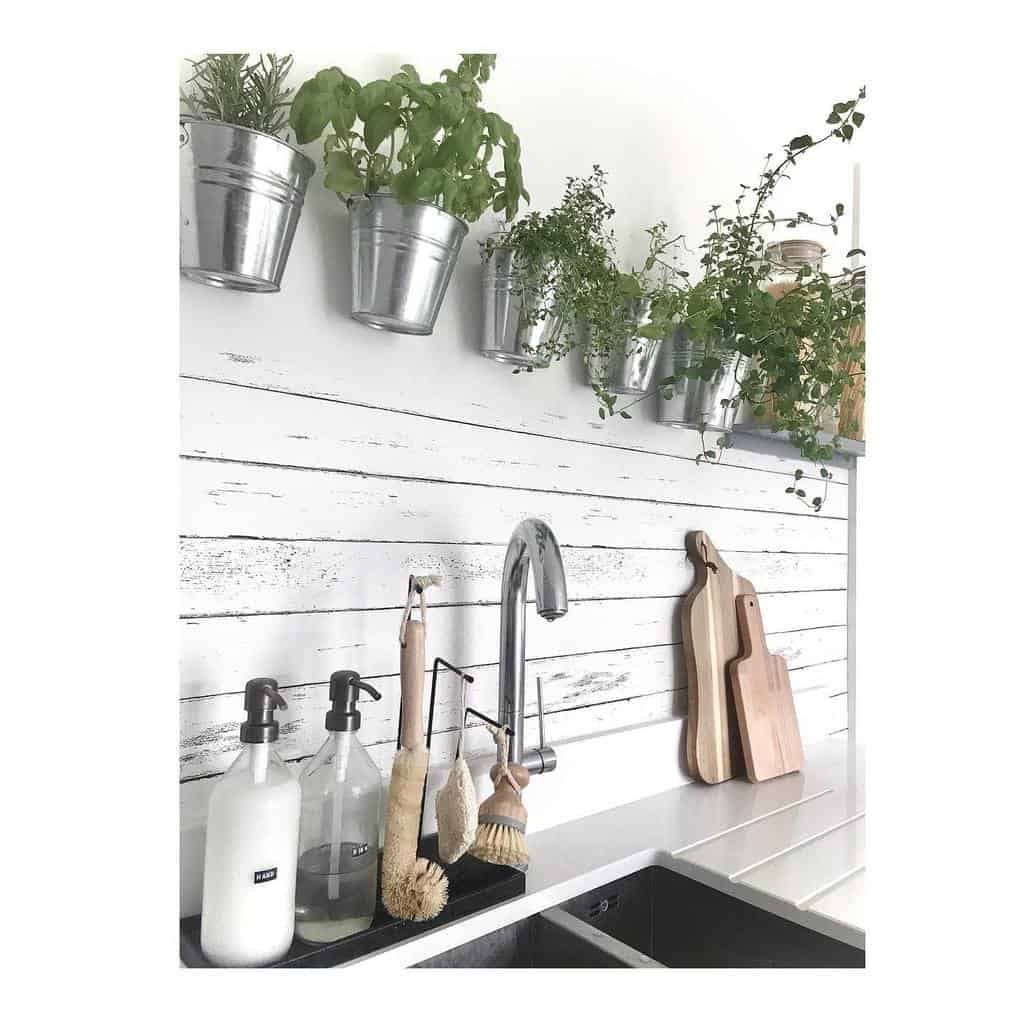 7. Plant Box
Growing an indoor herb garden is the perfect way to add some greenery and a delightful fragrance to your home. To make it easier, plant boxes are a great way to organize your space and keep your herbs in one neat corner of the house!
For those with less counter or tabletop space, an elevated plant box might be the perfect solution – free up every inch of your precious countertop for other purposes and still have your herb garden in full view!
Growing an indoor herb garden is also incredibly rewarding; you will be able to use freshly grown ingredients for cooking and bask in that amazing smell of herbs!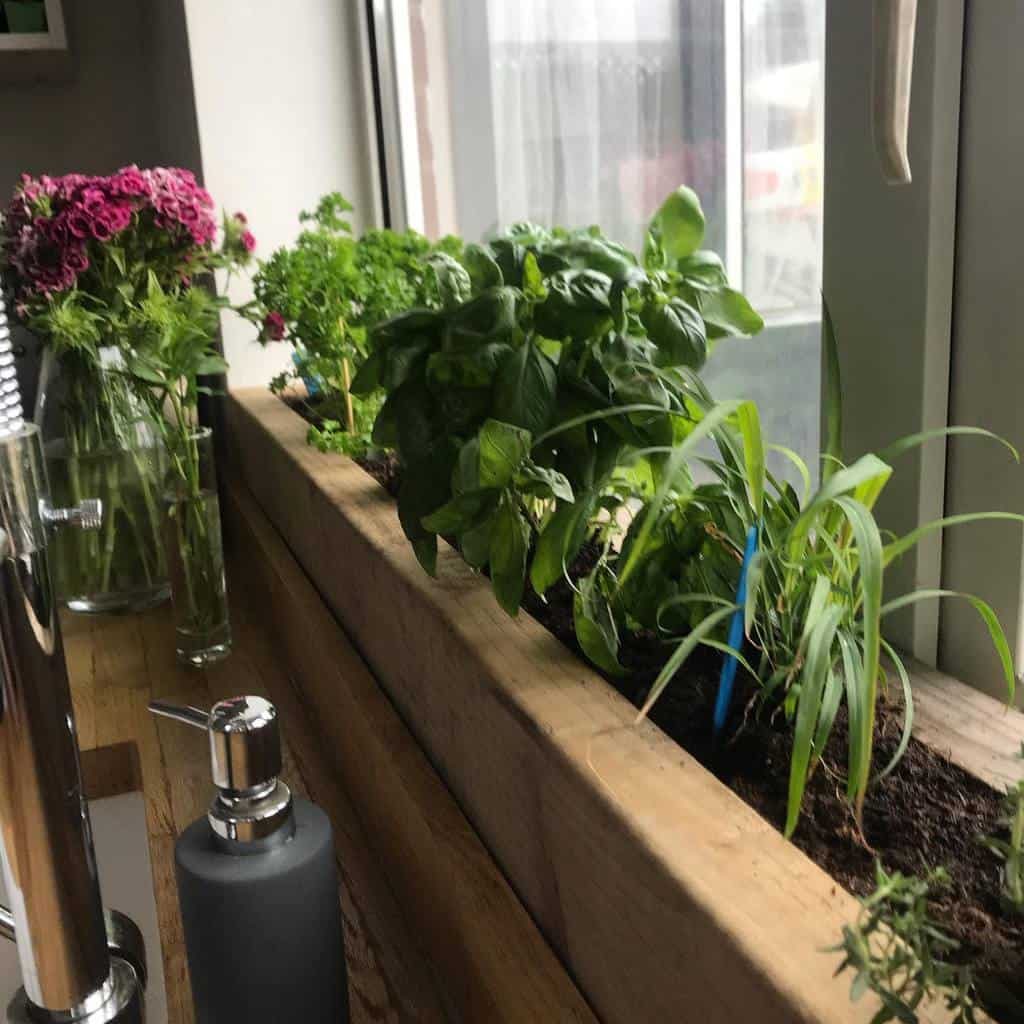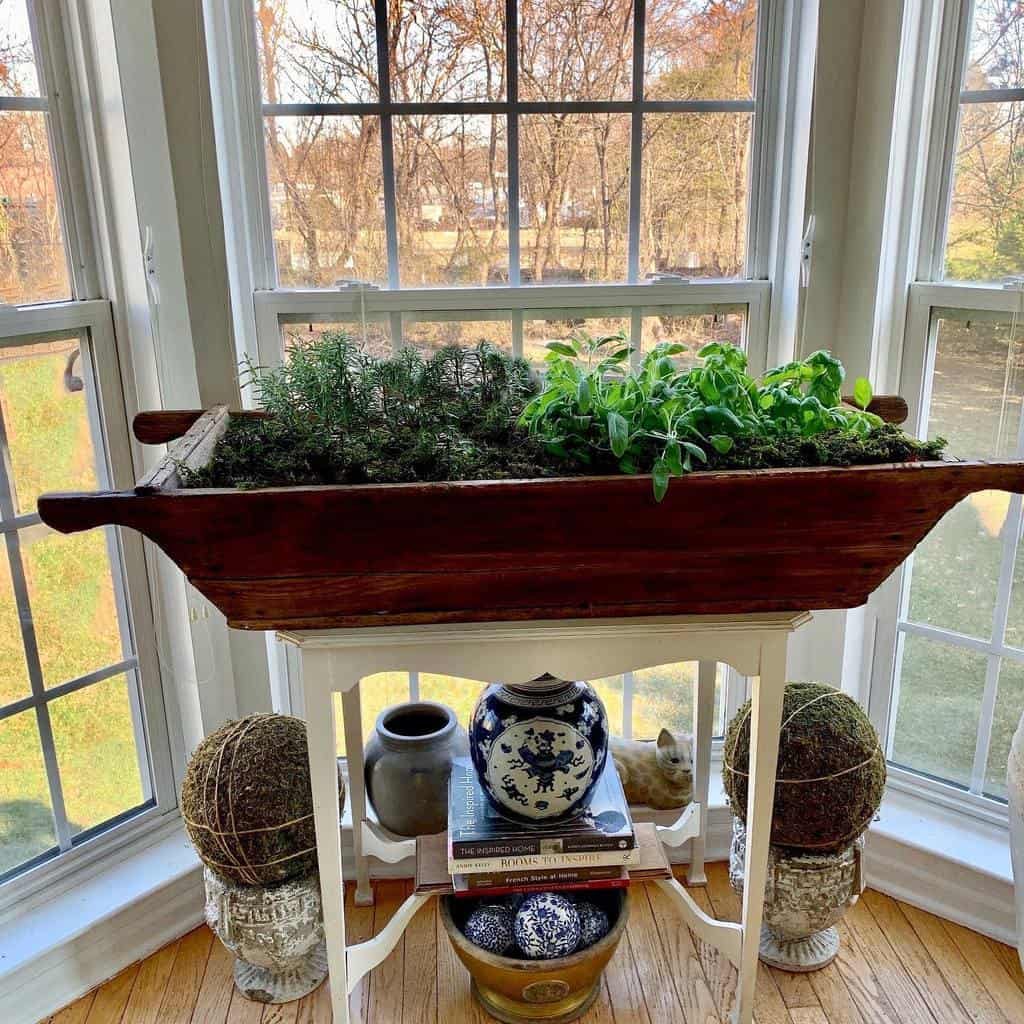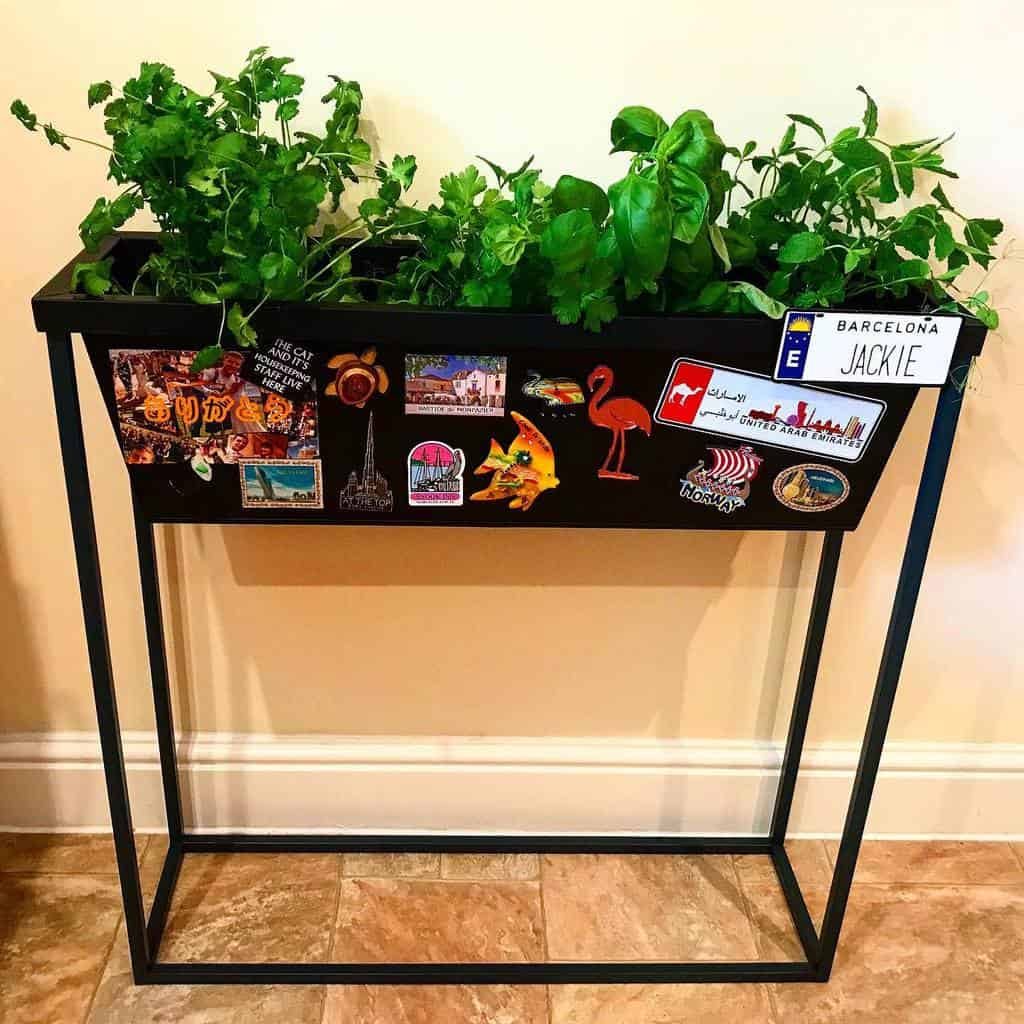 8. Planters With Grow Lights
If you've always dreamed of having an herb garden at home but don't have the luxury of outdoor space or bright indoor space, planters with grow lights are the perfect solution! Utilize low-light areas in your home and planters with built-in UV lights to create your own indoor herb garden.
Herbs like basil, oregano, rosemary, parsley, and thyme all do particularly well indoors with a minimal amount of care. Whether you're just starting out or a seasoned expert, planters with grow lights are sure to be useful for any successful indoor herb garden!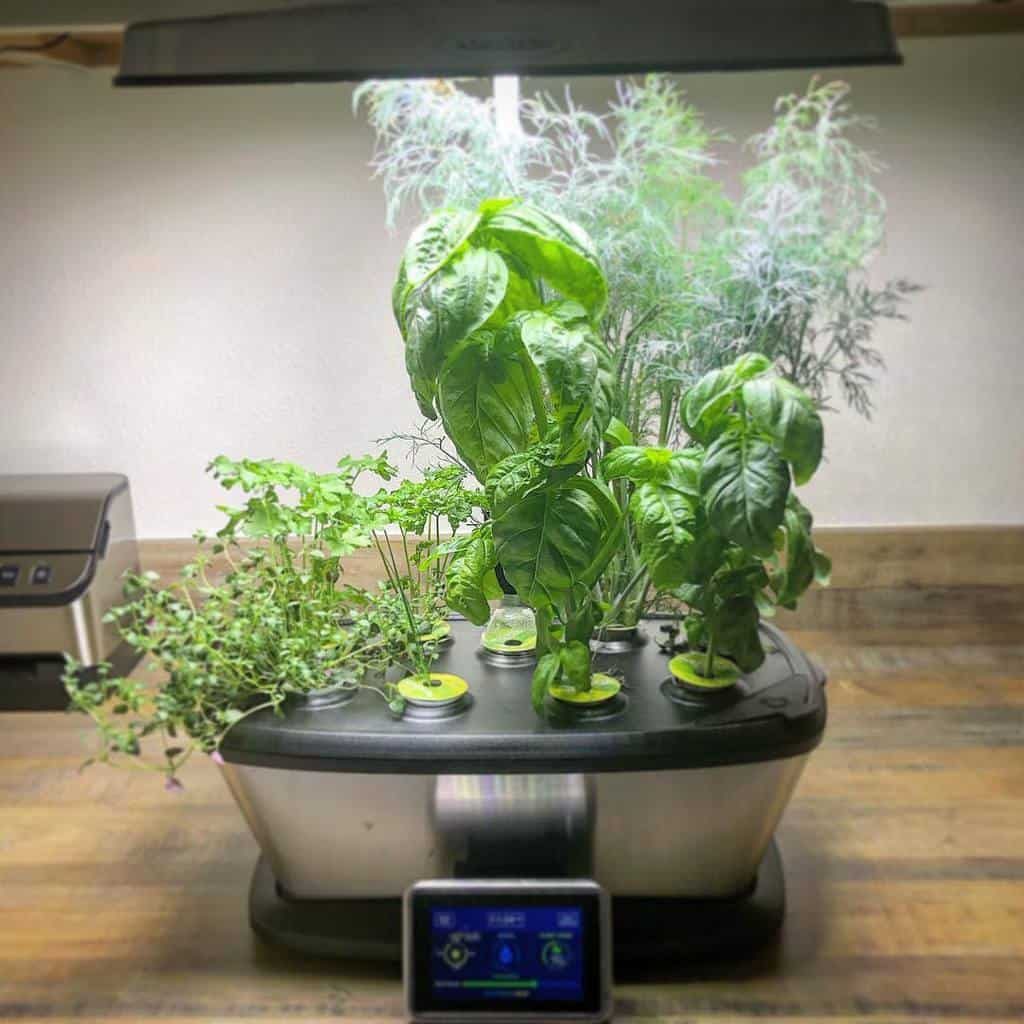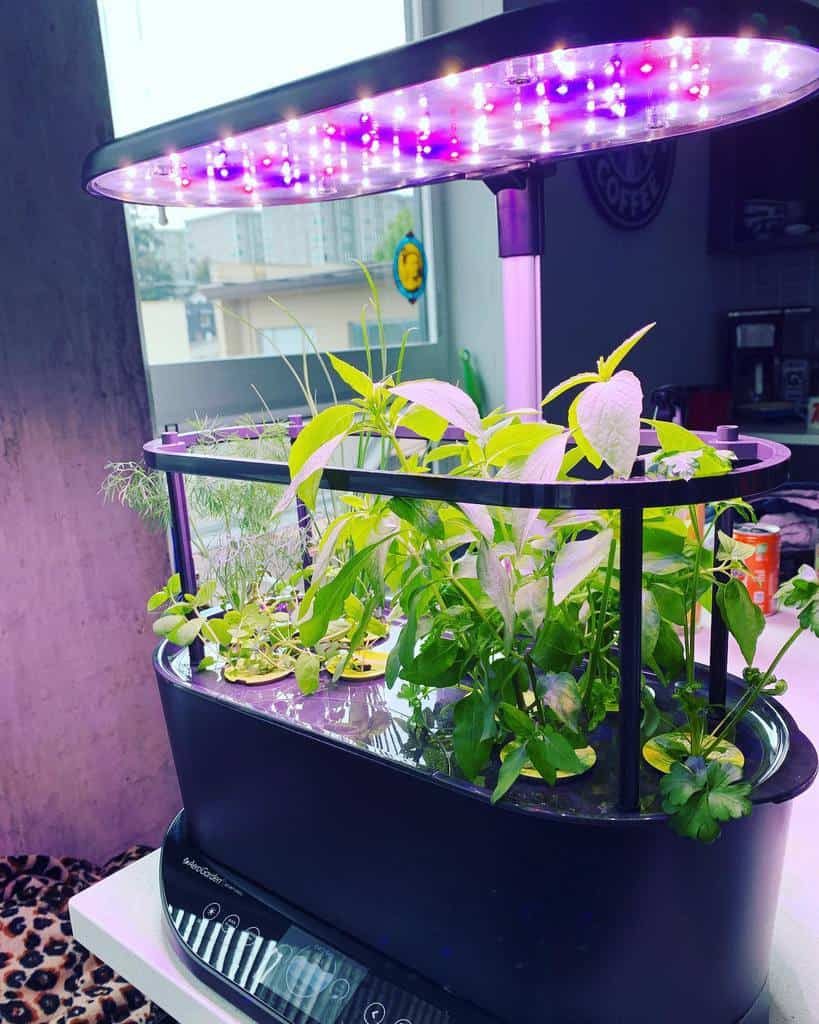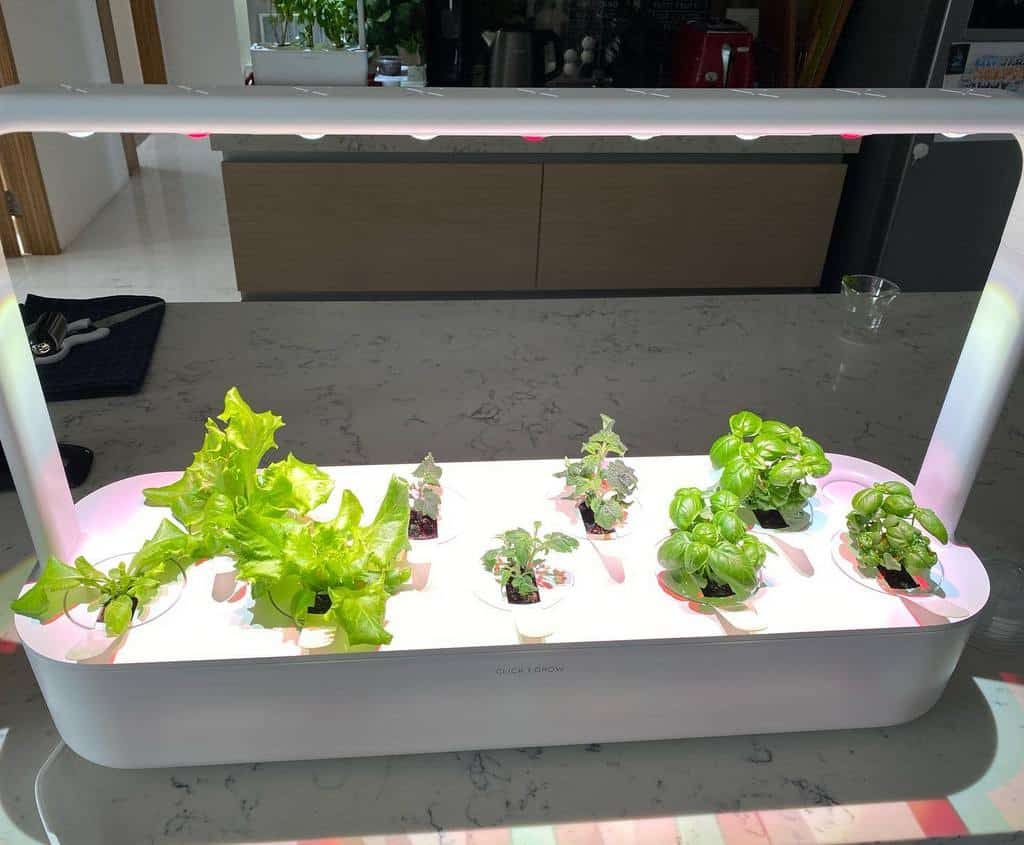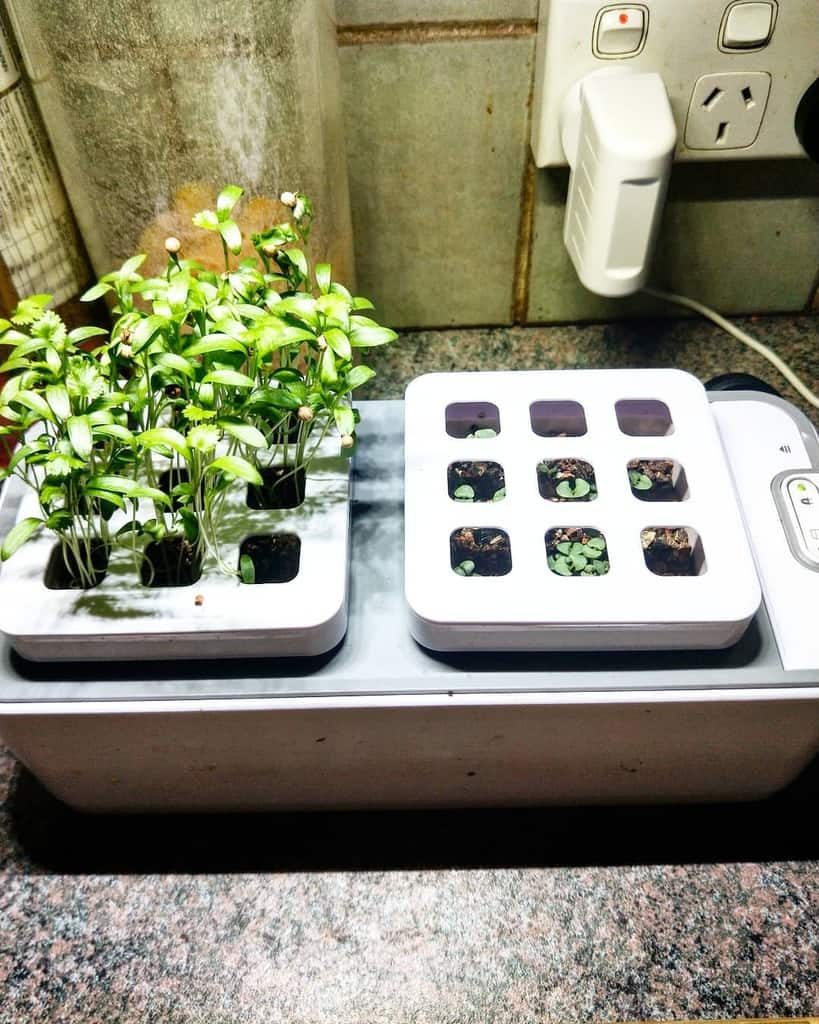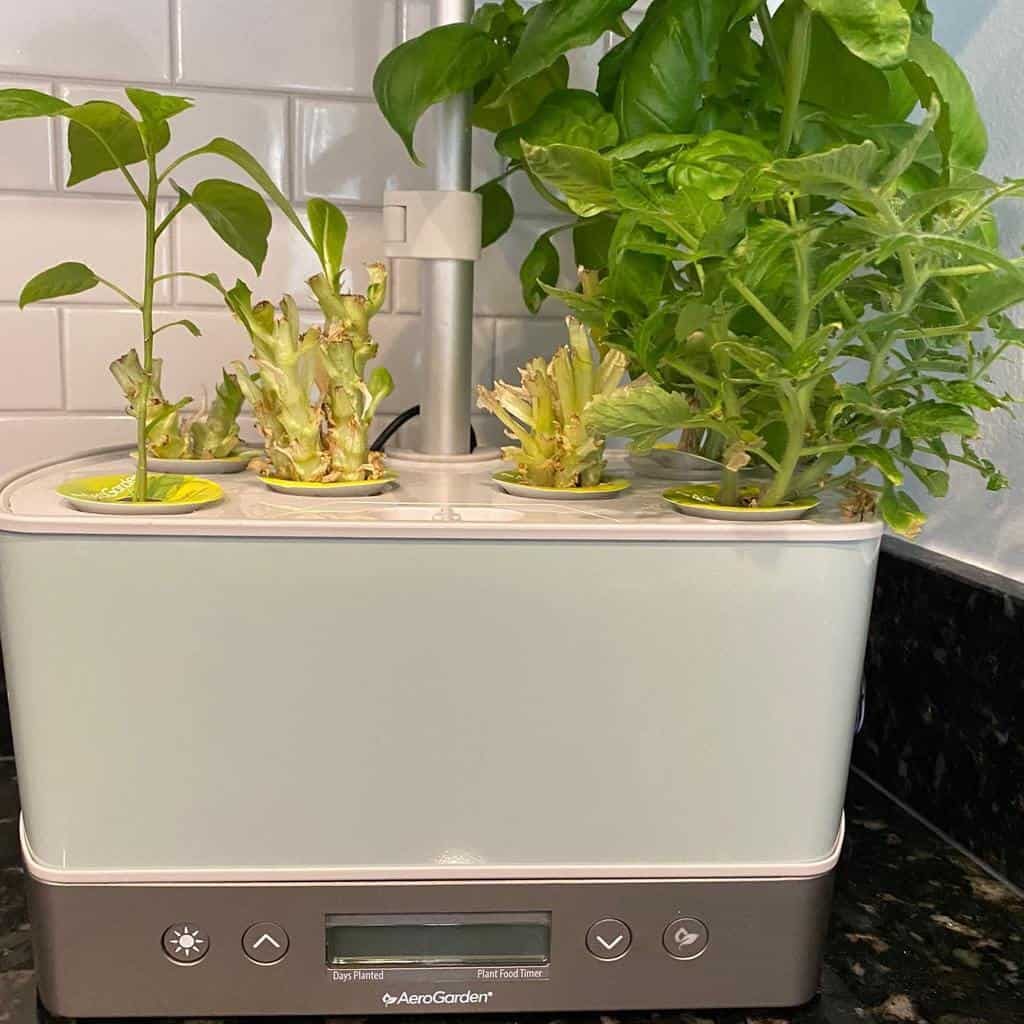 9. Basket Cover Pots
Many creative things can be done when it comes to indoor herb gardens. A basket cover pot is a great way to bring your garden indoors. This functional and decorative option comes in a variety of styles and finishes, so you can easily find one that matches the look you're going for. You can then fill each basket with the soil and herbs of your choice.
Additionally, consider hanging some of your pots from the ceiling or mounting them on the wall to create an eye-catching display of greenery. With these ideas, your herb garden will be the perfect addition to any home!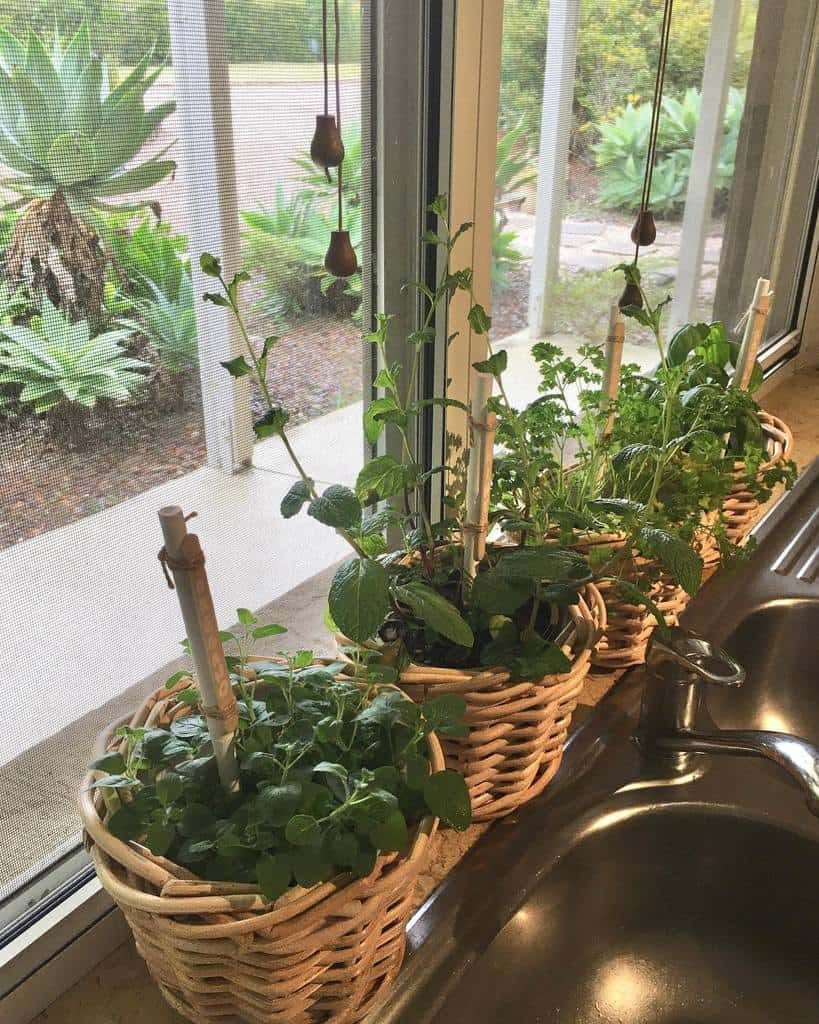 10. Dainty Ceramic Pots
Consider decorative ceramic pots or can covers as decorative pieces in your kitchen and use them to house fresh herbs. With proper care, these plants will thrive and serve up a burst of flavor in your cooking all year round.
Other ideas for indoor herb gardens include repurposed mason jars, decorative hanging planters, DIY terrariums, and even makeshift hangers out of spare driftwood you might have around the house. Get creative and come up with an herb garden setup that matches the style of your home!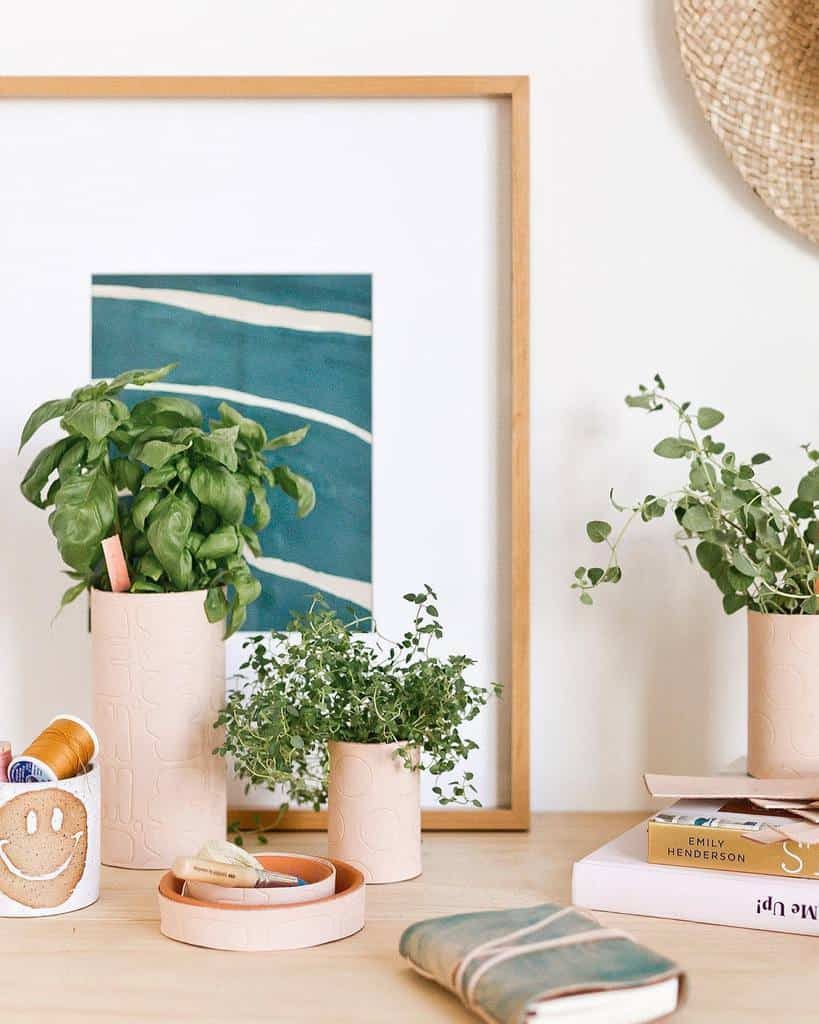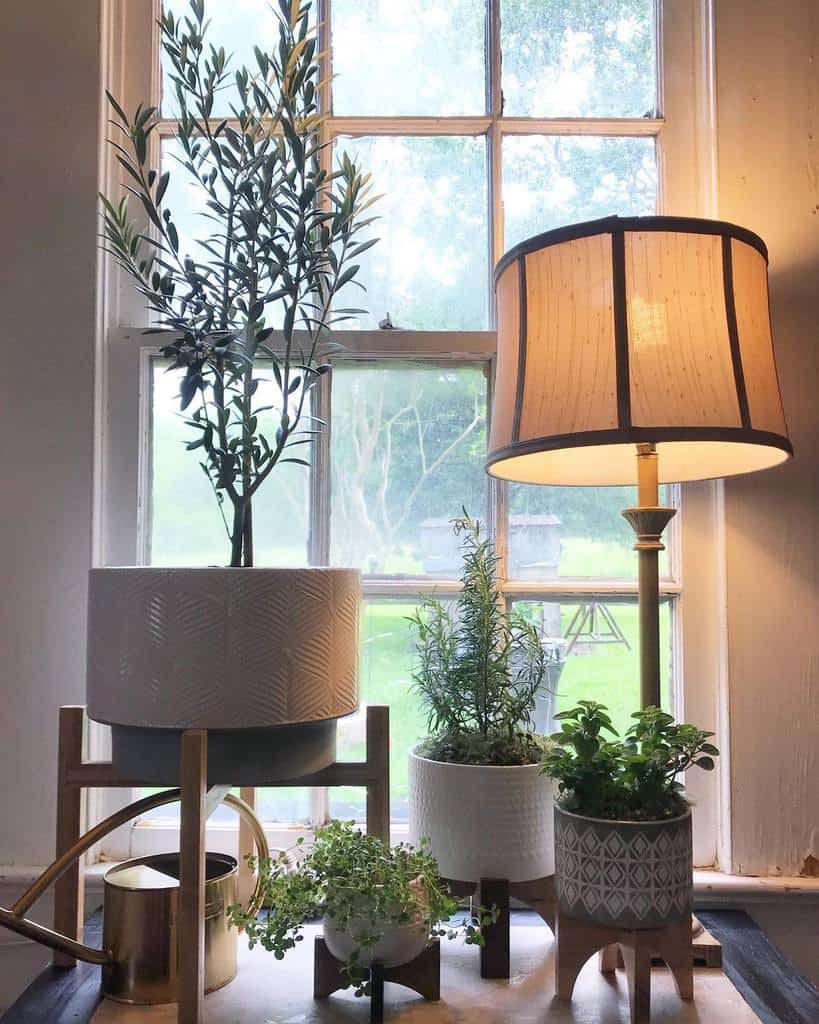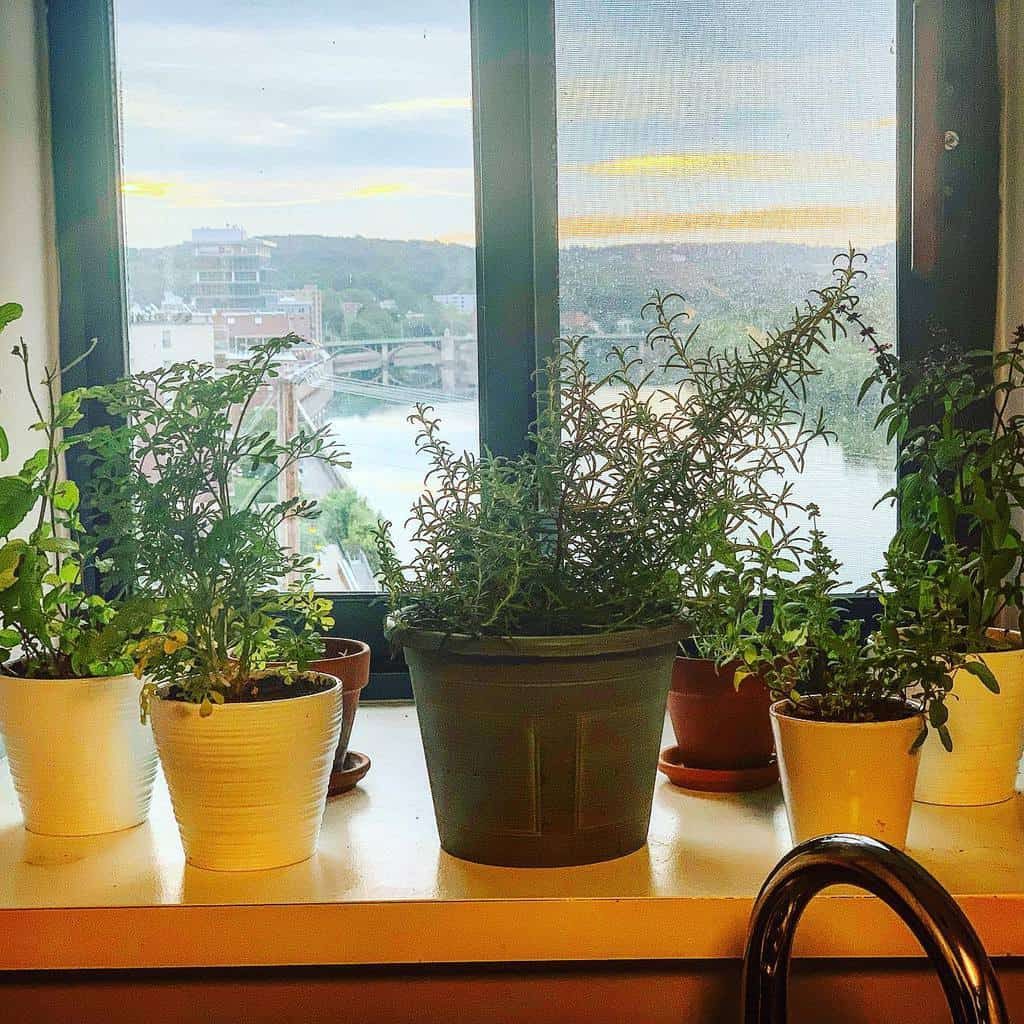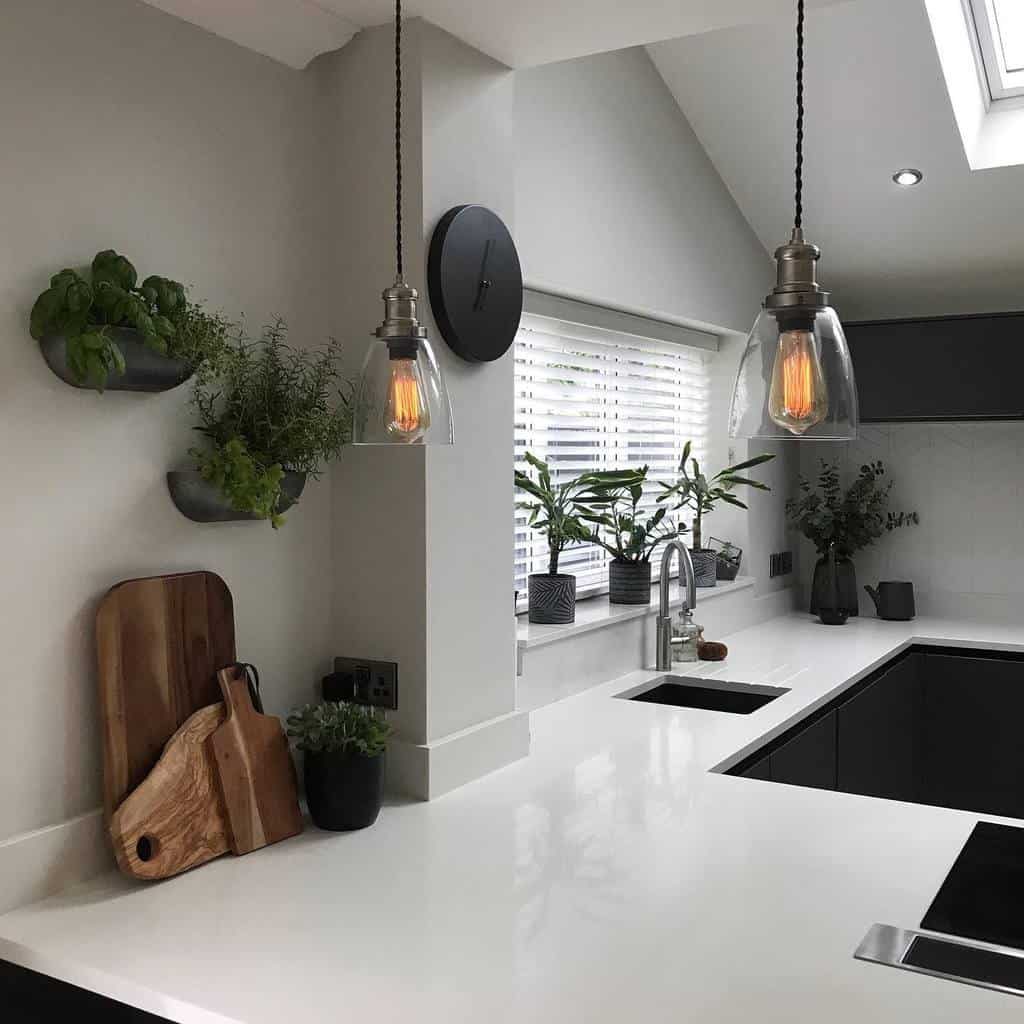 11. Labelled Pots
Don't let the lack of outdoor space prevent you from having an herb garden! Indoor herb gardens are easy to maintain with a few creative ideas. Start by getting labeled herb pots – pick out something that will fit your existing decor and give it an extra touch by painting on the pot with your favorite colors or designs.
To make things much easier, label each pot clearly at the top with a popsicle stick or mark the pots with paint. Plus, this is also a great way to add more personalized features to your herb garden. With these simple steps and the right selection of herbs, you'll be able to enjoy a fresh harvest indoors in no time!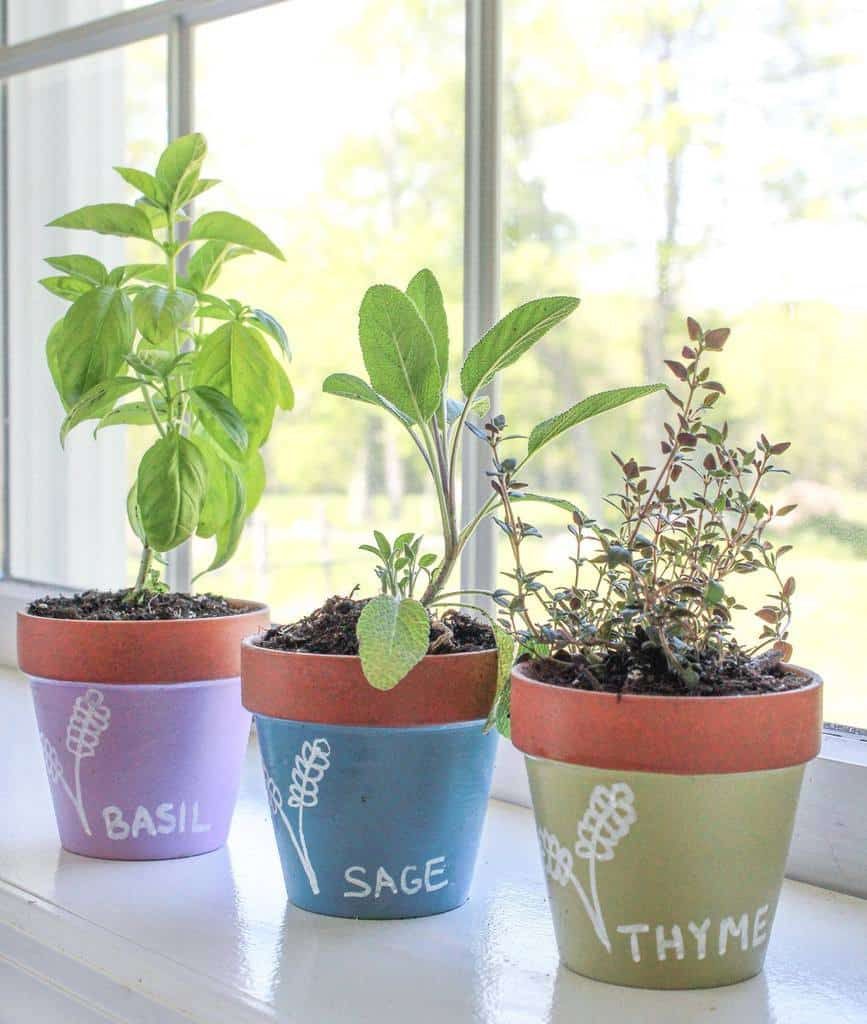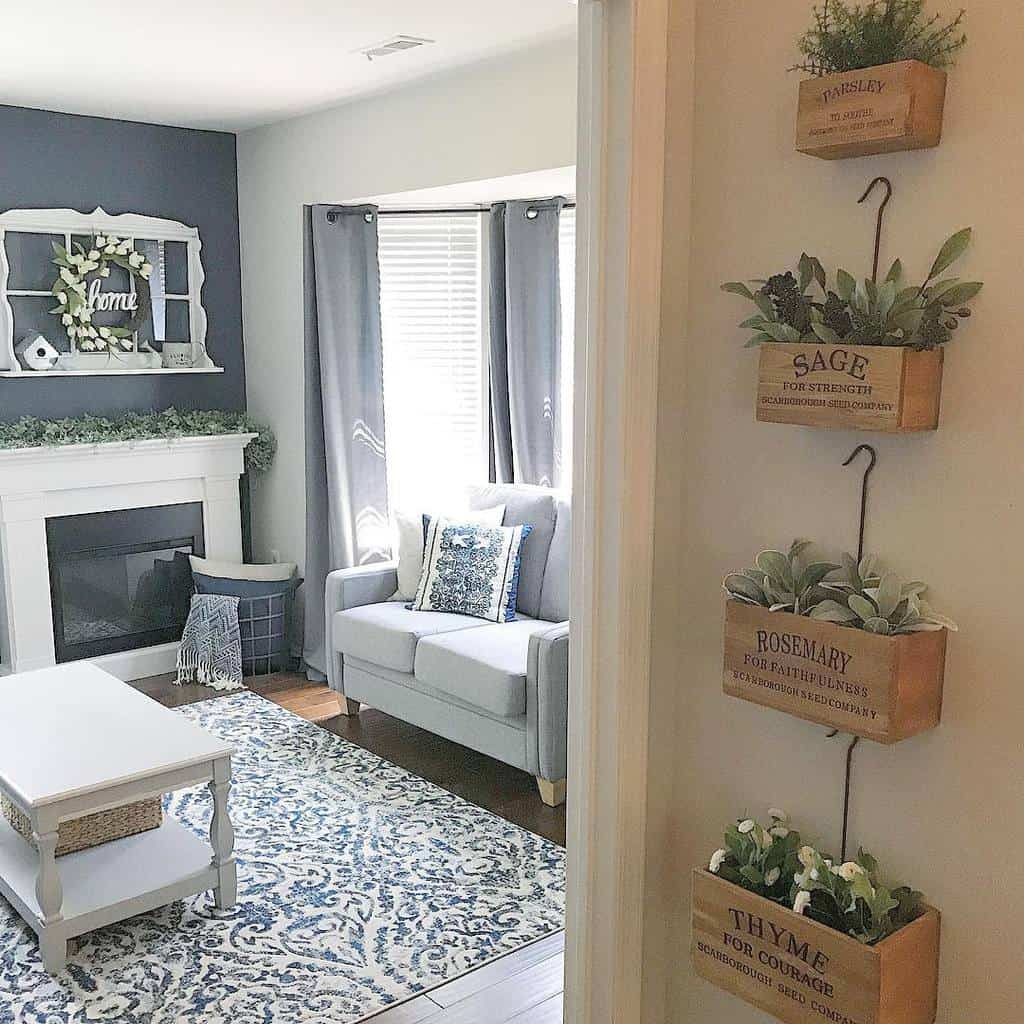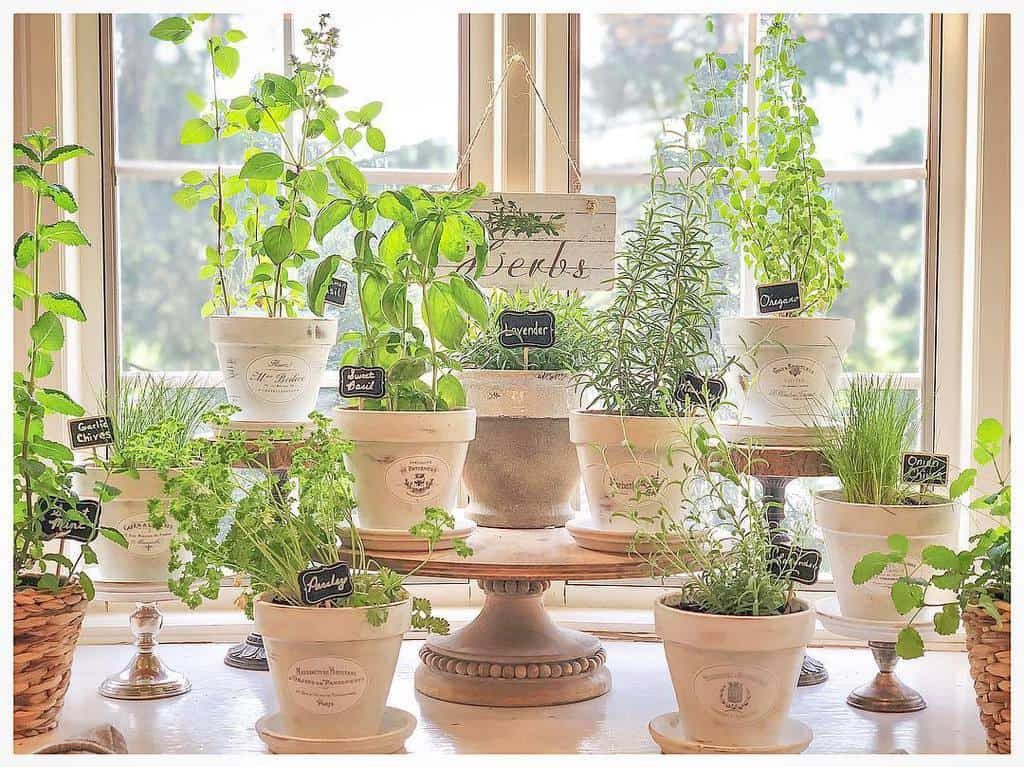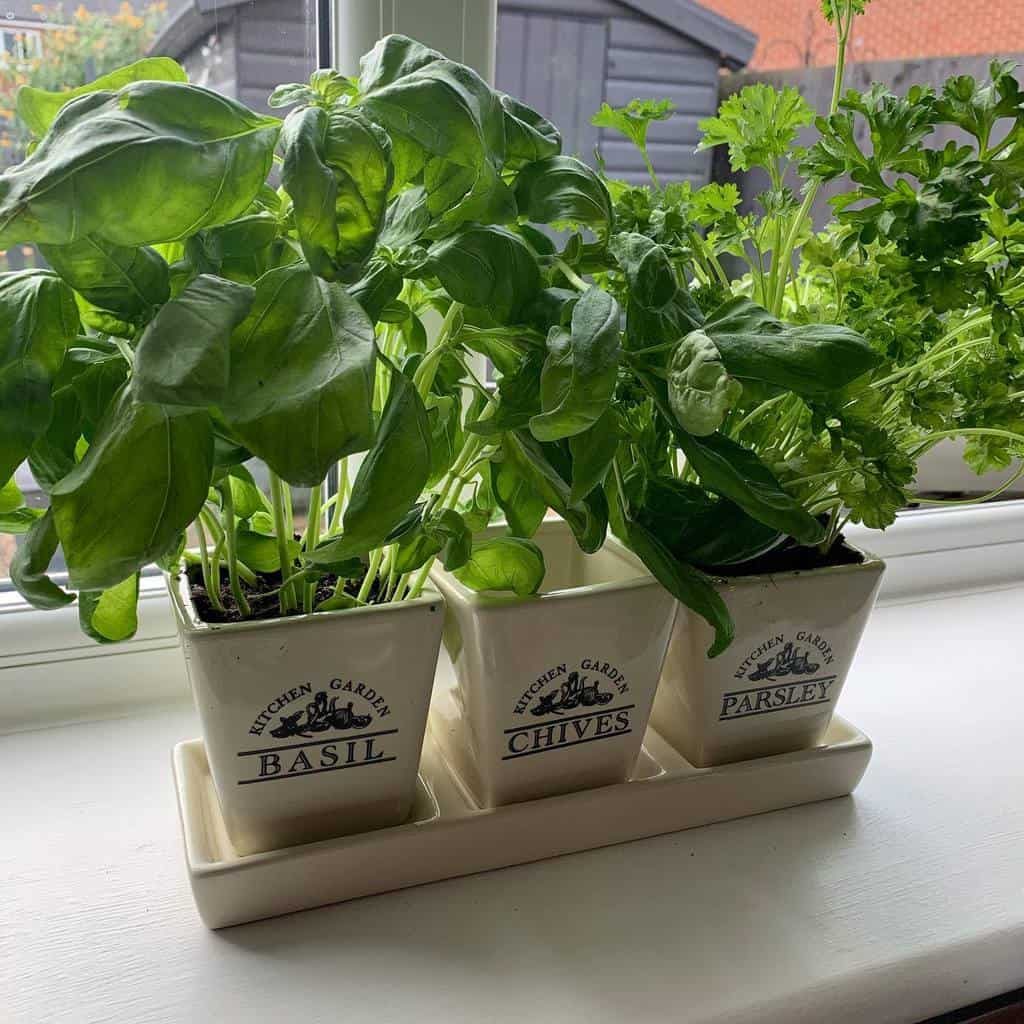 12. Potted Herbs In A Rolling Tray
Looking for an easy, creative way to cultivate potted herbs indoors? Try incorporating a rolling tray into your indoor herb garden ideas. By putting potted herbs on a movable, wheeled platform, your plants can easily transition from room to room and receive the best possible lighting throughout the day.
That way, you can keep them near windows and away from other furniture or objects that could cast shadows onto your garden.
A rolling tray also allows fine-tuning of water drainage and eliminates potential spills while distributing the right amount of humidity in the air. Together with proper care, this simple yet effective solution is sure to bring forth a successful harvest every time.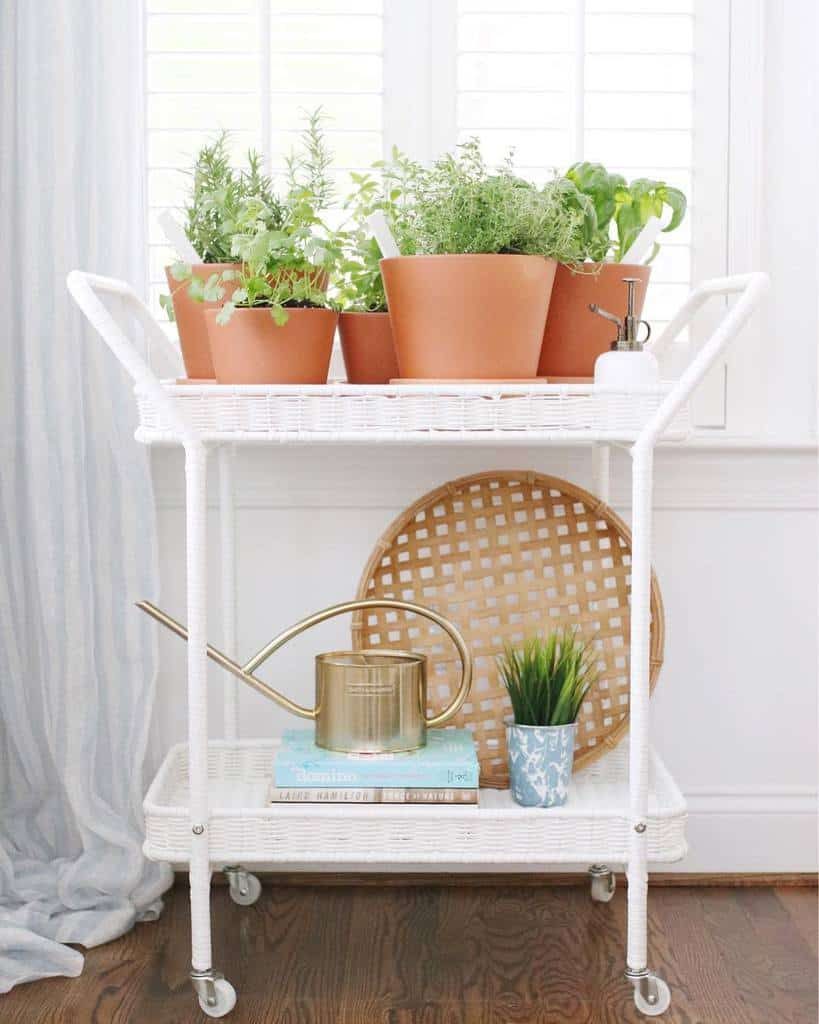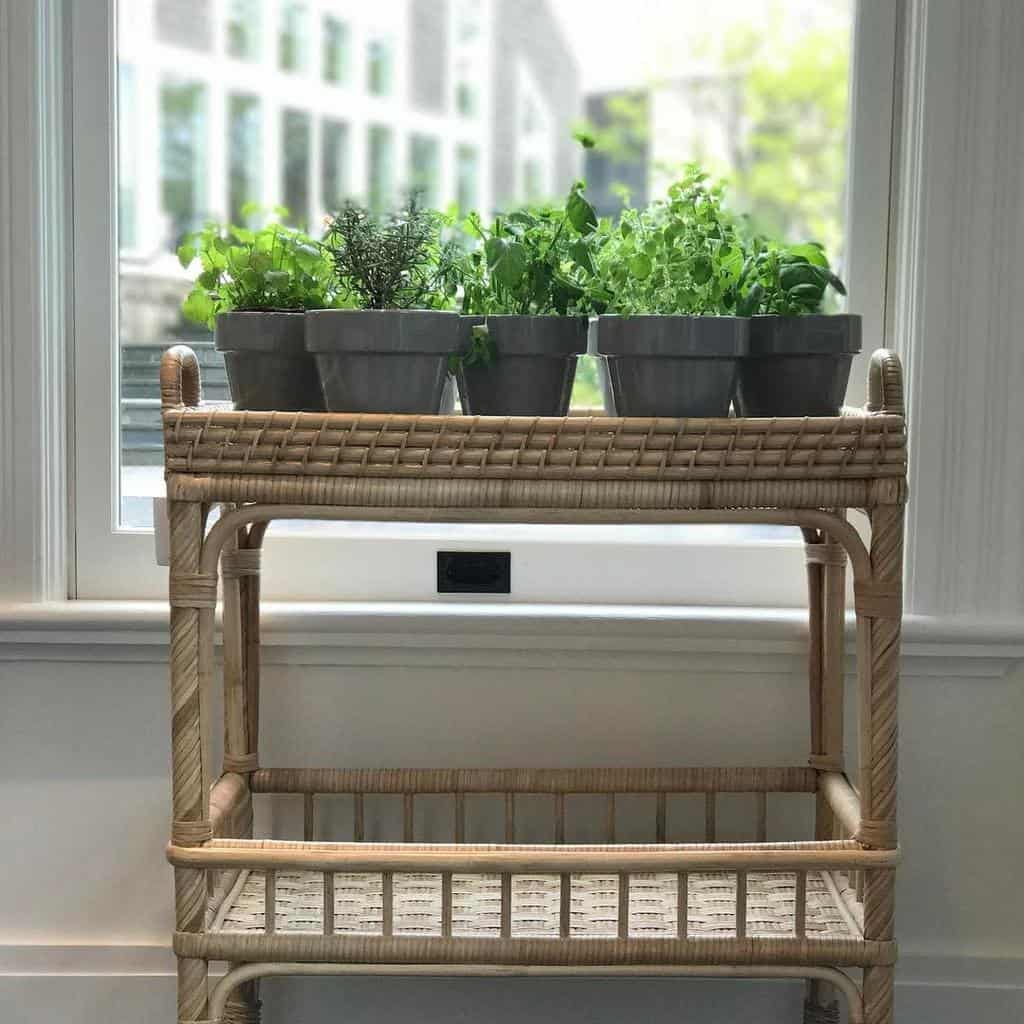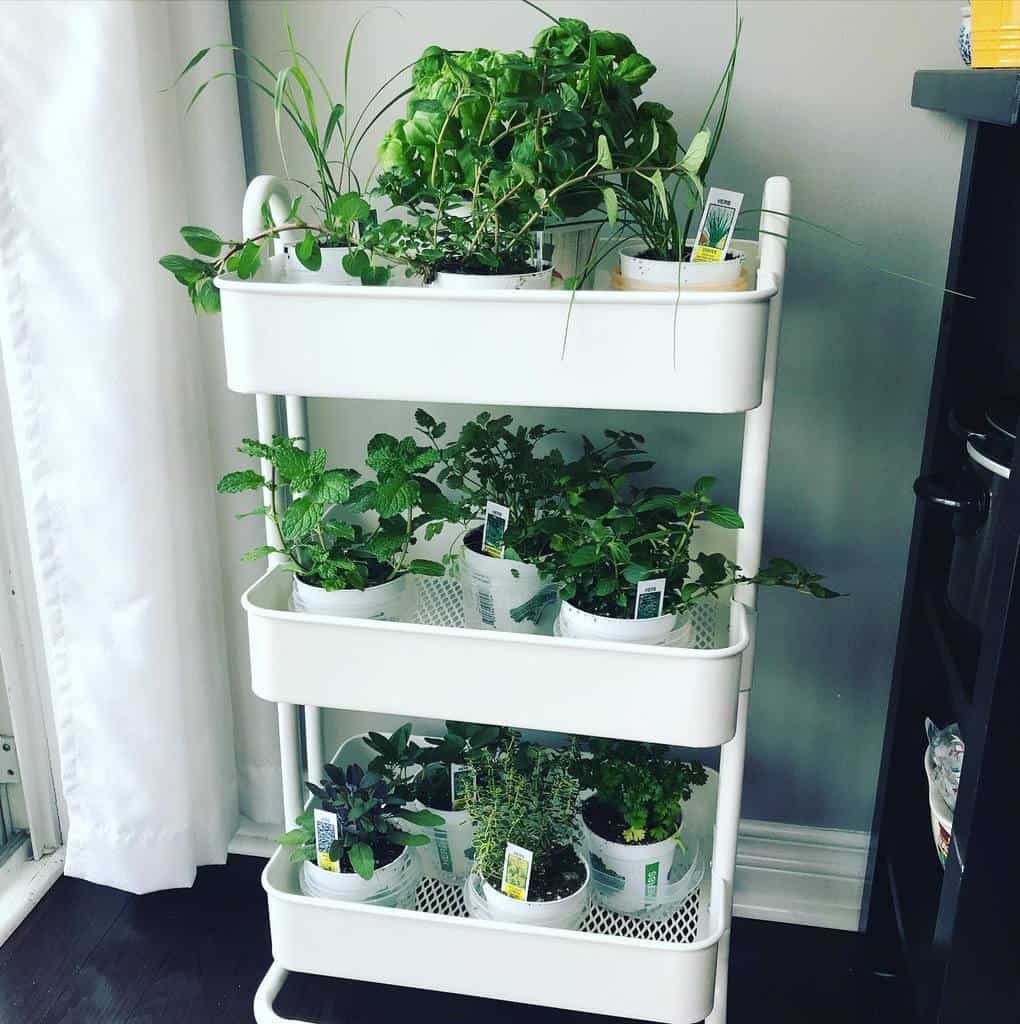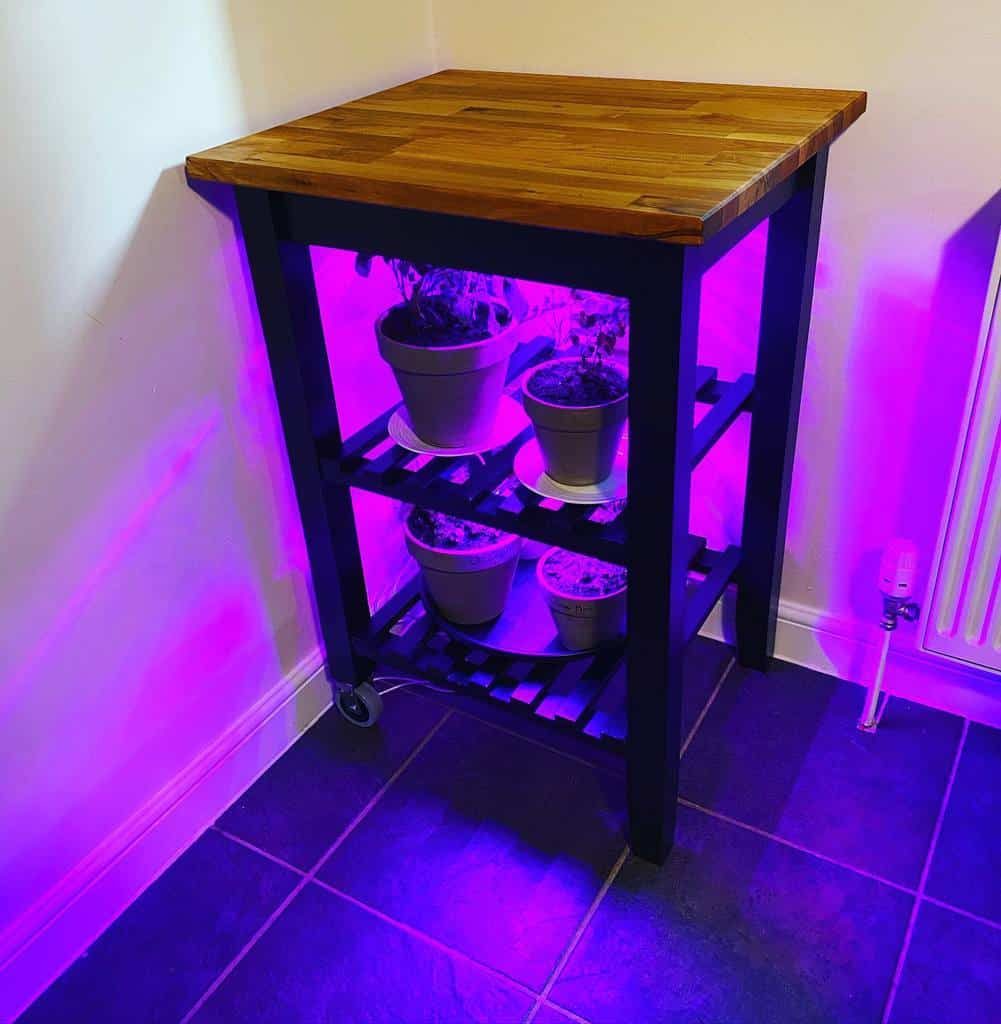 13. Indoor Herb Glasshouse
For indoor herb gardeners who are looking for something unique and creative, there are myriad ideas to explore beyond just peppermint and basil in a window box. Consider having an indoor glasshouse for your kitchen herbs—not only will it look great, but the enclosed environment is optimal for homegrown produce that needs an appropriate level of humidity.
Or add a touch of whimsy with potted herbs in an aquarium: the swim-by setting is not only visually appealing, but you don't have to worry about your basil floating away! Get creative with your indoor herb garden today!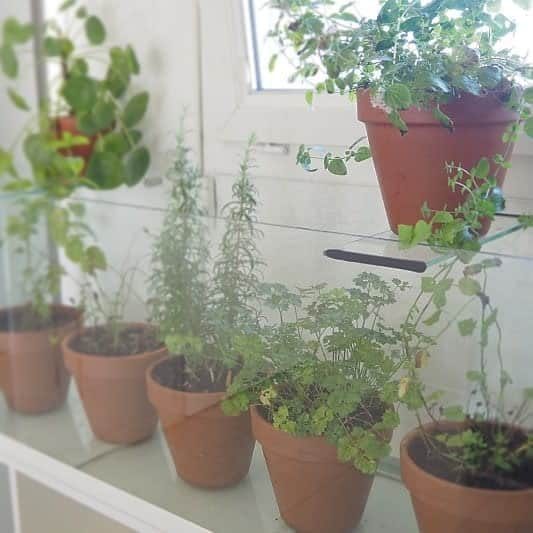 14. Vertical Herb Pots
If you're looking for fresh, easy ways to bring herbs into your home, vertical herb pots may be exactly what you need. Not having a lot of extra space in your kitchen does not have to impede your love for cooking with fresh herbs. With vertical herb pots, the opportunities are endless: you can hang them on the wall or set them up against the window sill.
Once you've got your vertical herb pots sorted out, it's time to get creative with the herbs and plants that make it inside – consider choosing lavender and oregano for their unique scents, or opt for rosemary and peppermint to give flavor to your meals. The final step? Enjoy all these fun new flavors in your cooking!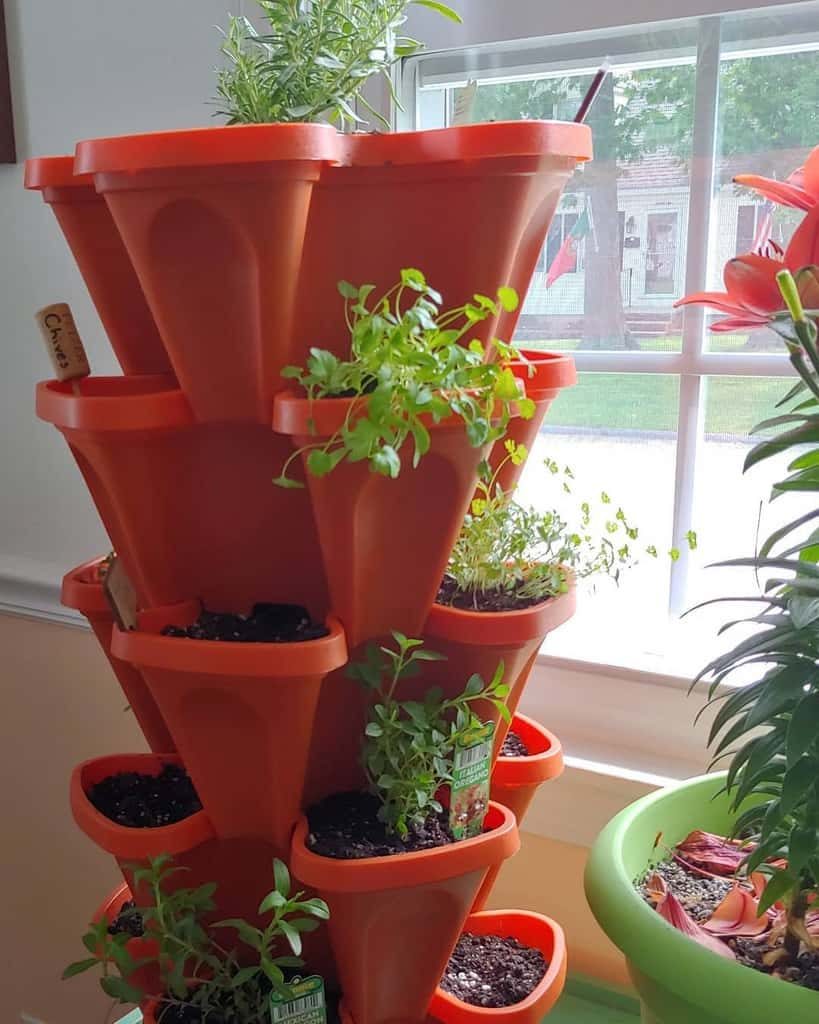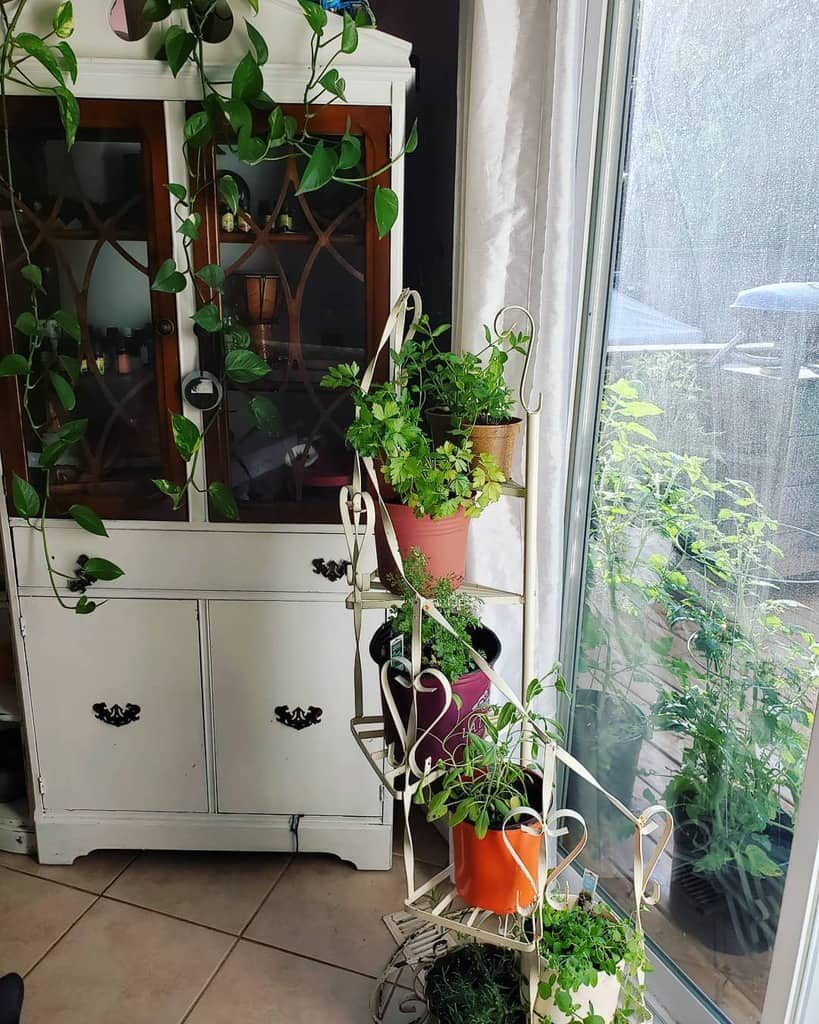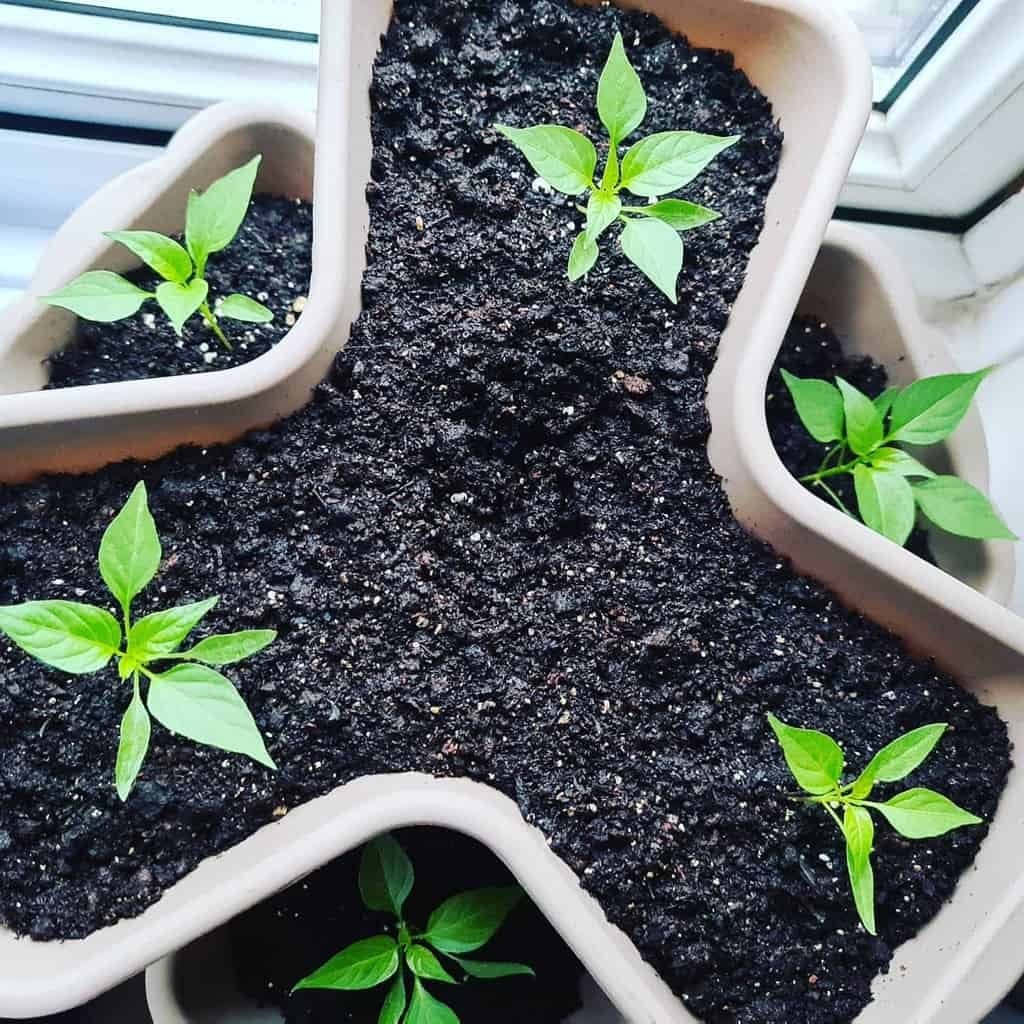 15. Herb Shelves
Spice up your home with potted herbs! For those starting a new indoor herb garden, consider hanging potted herbs on a vertical shelf. This is not only an aesthetically pleasing way to organize but is also ideal for ensuring that all of your plants get the right amount of light.
With a little creativity and some repurposing of materials, you can turn any wall or corner into an oasis of potted herbs. And don't forget to mix it up and create interesting combinations – many colors and varieties alongside one another add a truly vibrant touch.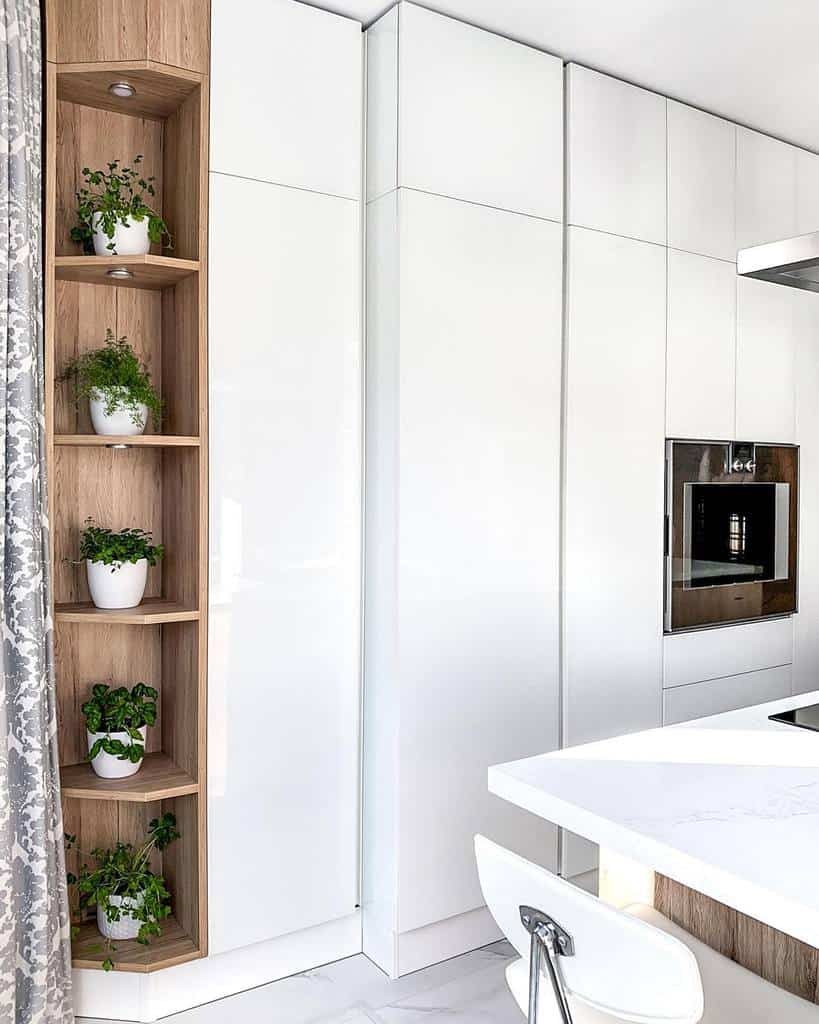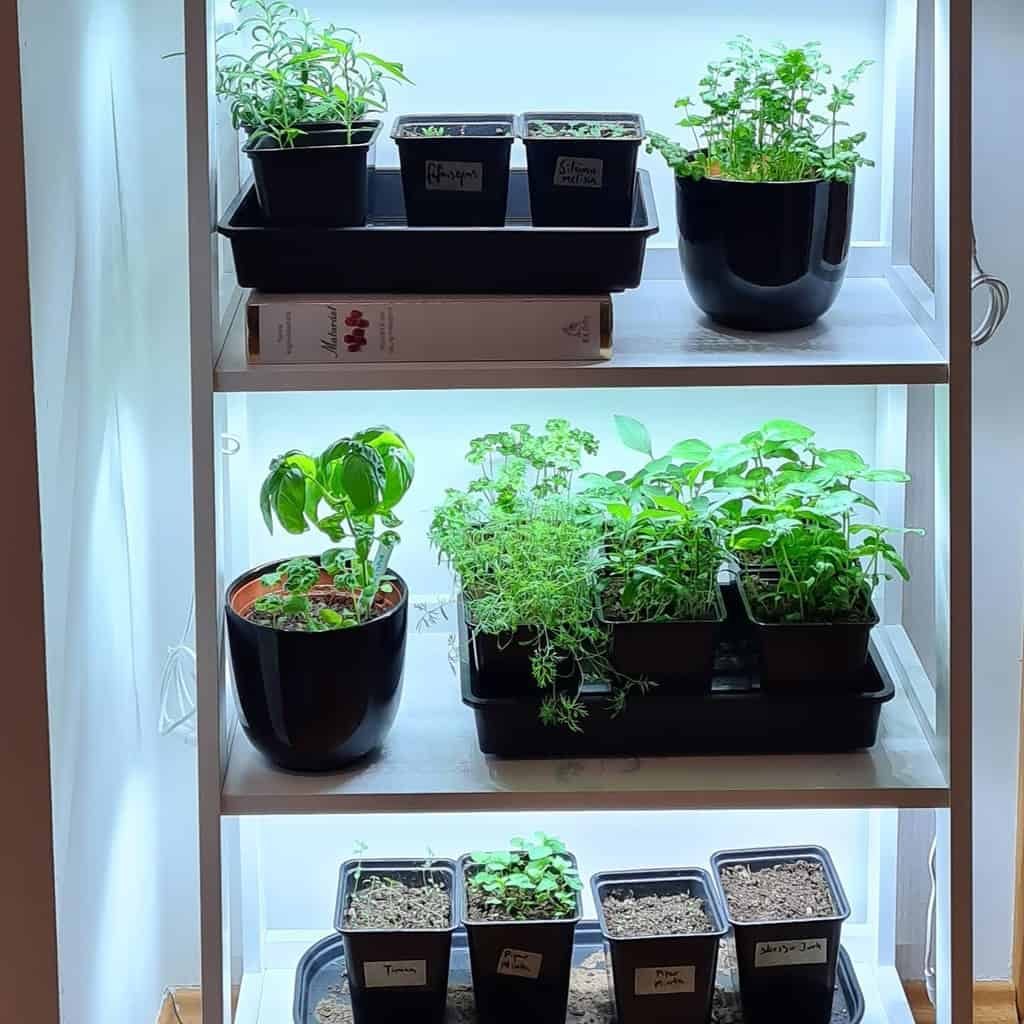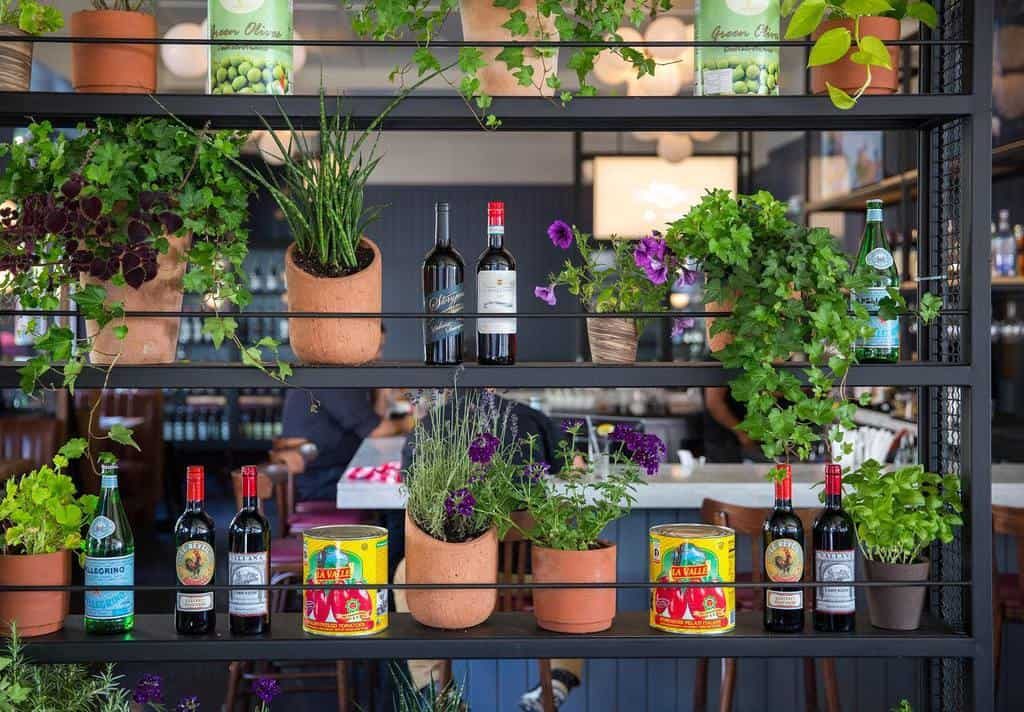 15. Pocket Wall Herb Garden
If you're looking to try out an indoor herb garden, pocket wall herb gardens are an excellent option. Not only are they creative and stylish, but they also make caring for your indoor herbs easily and efficient – plus the pocket wall provides a great display of your hard work and dedication!
Unlike traditional herb gardens, pocket wall herb gardens usually require smaller amounts of space – allowing you to store your herbs conveniently near their respective locations in the kitchen or somewhere else in the home.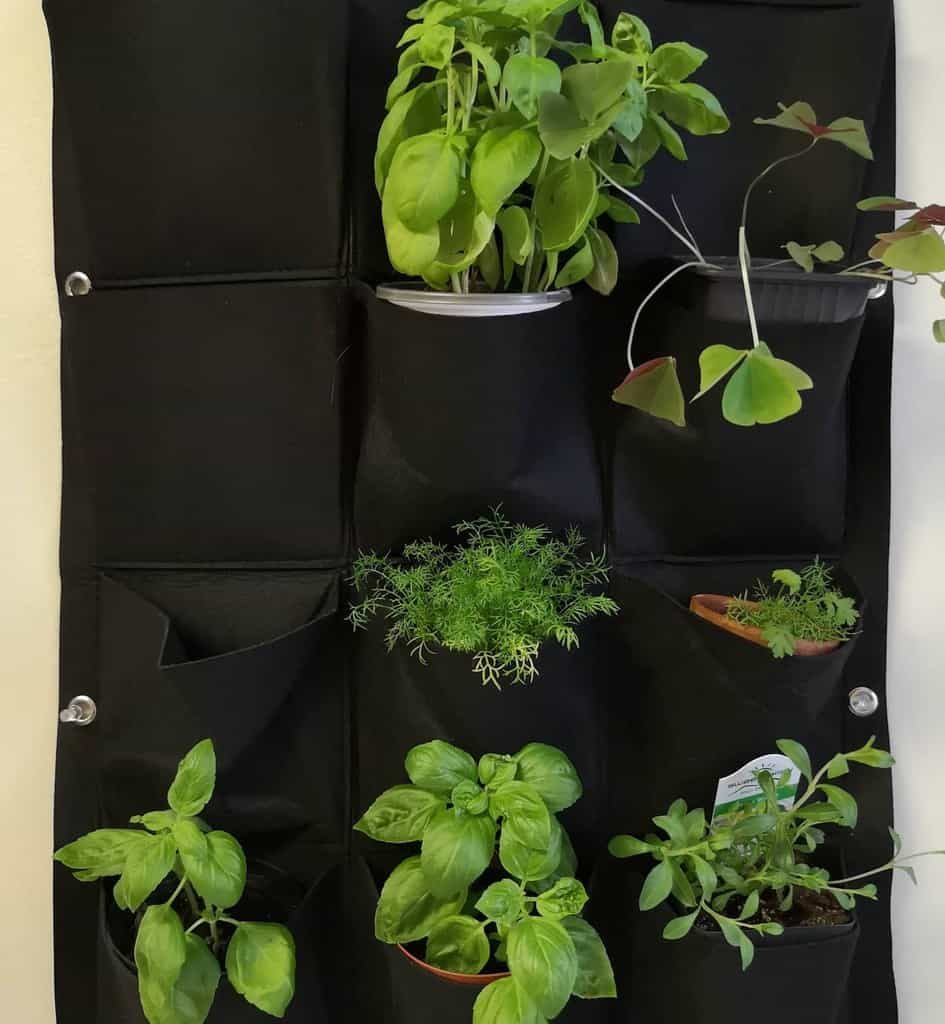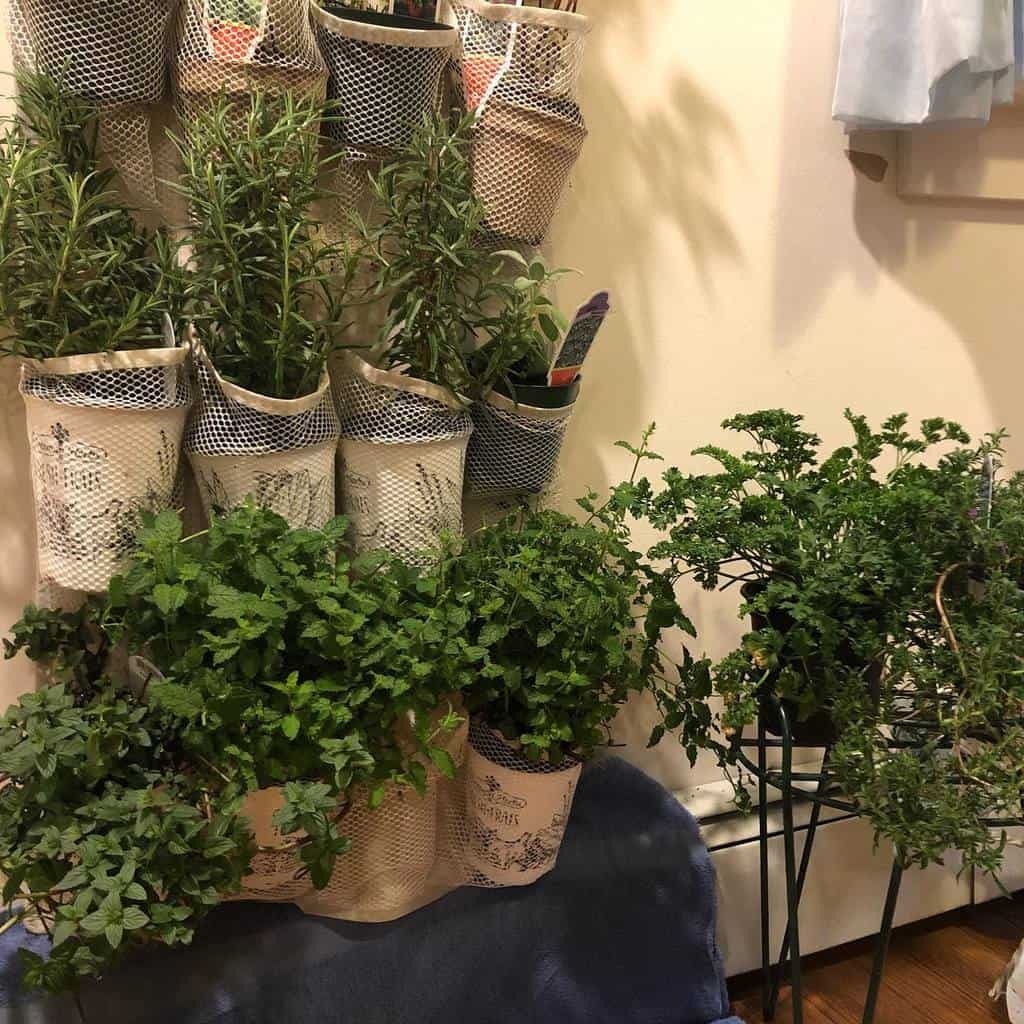 16. Plastic Pots
Creating an indoor herb garden can be a fun and flavorful DIY project! Before getting started, start by evaluating how much space and light you have indoors. If the room is limited, plastic pots will help you save on space as they are lighter and easier to move around as needed. You can also use plastic pots for hanging herb gardens to make the most of your available vertical wall space.
Another great way to create an indoor herb garden is with containers that fit into drawers of the cabinet or even install shelving units inside cupboards to give herbs an abundance of light near the window. Whatever your creativity leads you to, having an indoor herb garden will provide versatile flavorings and fragrances unique to your home.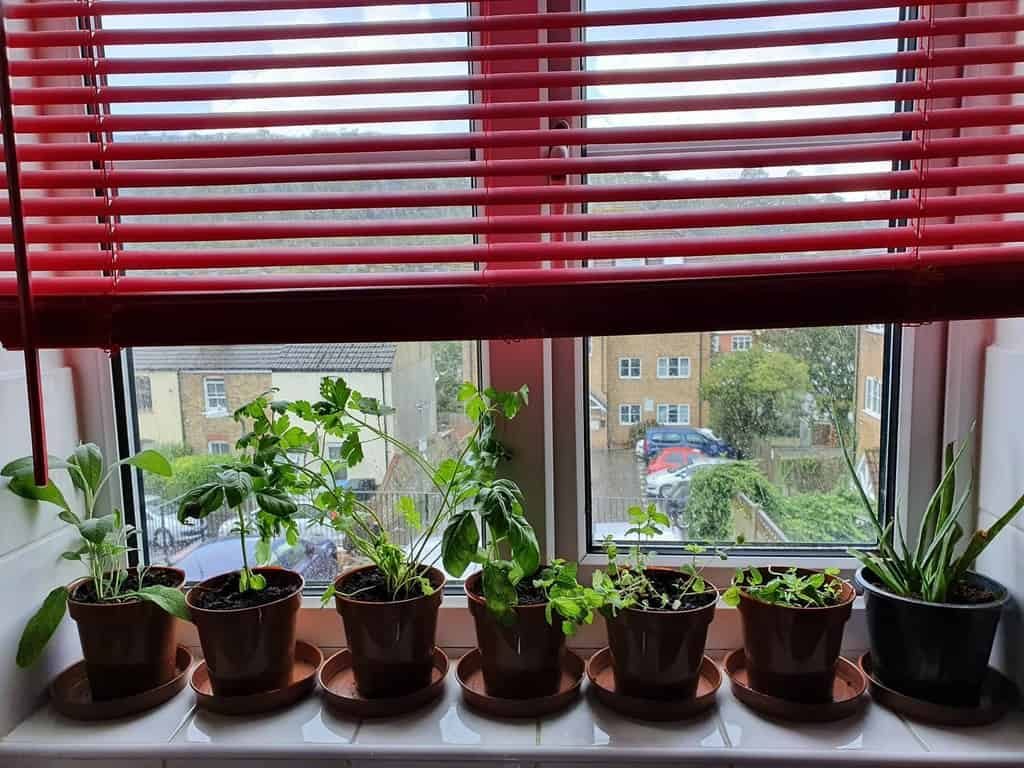 17. Bay Window Herb Garden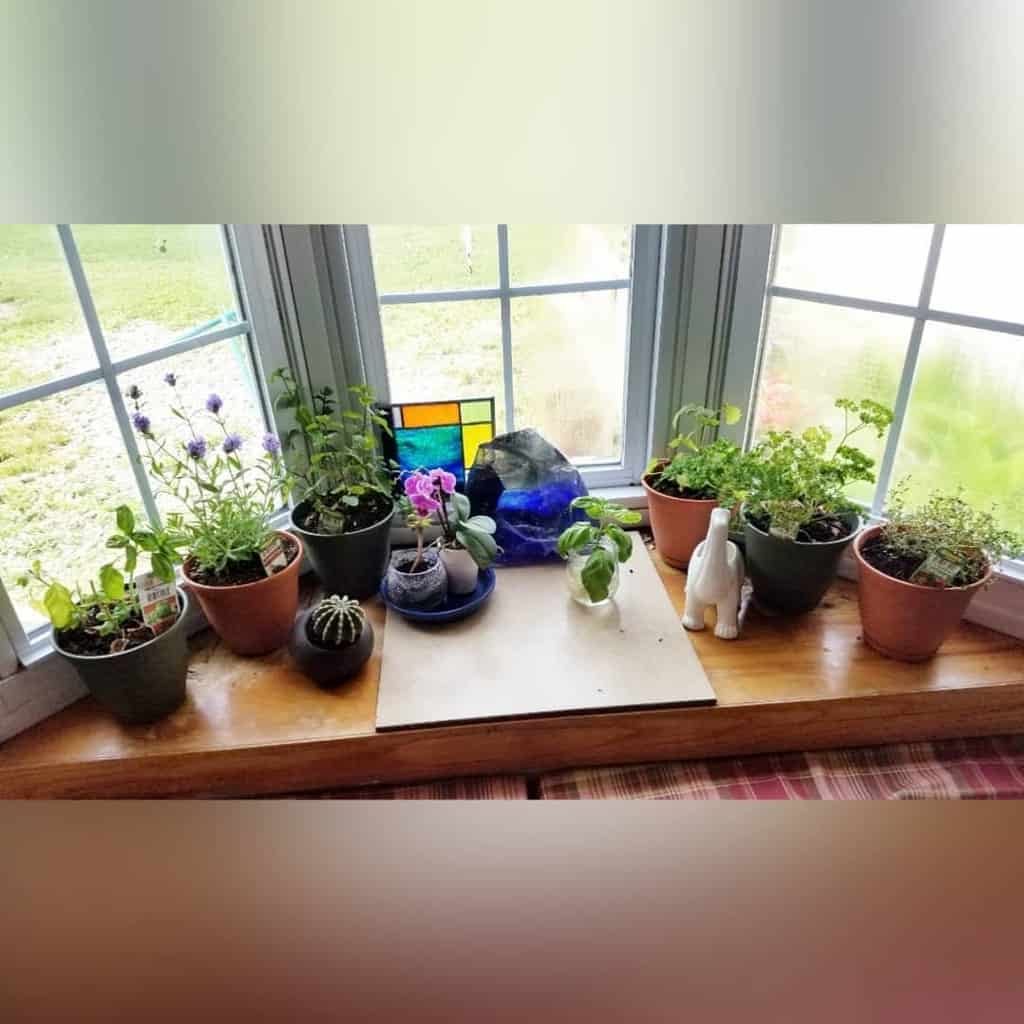 Your other option is to build a shelf on which you can place several pots. This gives you the freedom to move the plants around as needed to find the perfect growing spot for each one. You can also easily bring the pot with the herb you want to cook with over to your workspace. This eliminates making several trips back and forth as you're cooking.
If your kitchen faces the wrong direction, your window may not get enough light. You could compromise by putting your herb garden in a different windowsill that does get the right amount of light.
Indoor Herb Garden FAQs
Which herbs grow best indoors?
The best herbs to grow indoors are basil, oregano, parsley, and rosemary. These are perennial herbs that you can get from your local hardware store or garden center. You could even grow many of them from a clipping taken from a more mature plant.
Which herbs can be potted together?
You can grow sage, thyme, rosemary, marjoram, and oregano together. This makes sense since they are all Mediterranean herbs that you see used together when cooking. Basil and parsley grow well together because they prefer similar growing conditions. Mint should always be by itself.
How do you keep herbs alive indoors?
The most important things to consider are proper watering and sunlight. Create adequate drainage so that the roots don't rot. Then water them just enough to make them happy. Place the herbs in an area of your kitchen that gets plenty of natural sunlight. Then, learn how to harvest your herbs correctly so that you don't damage the plant when taking your clippings.