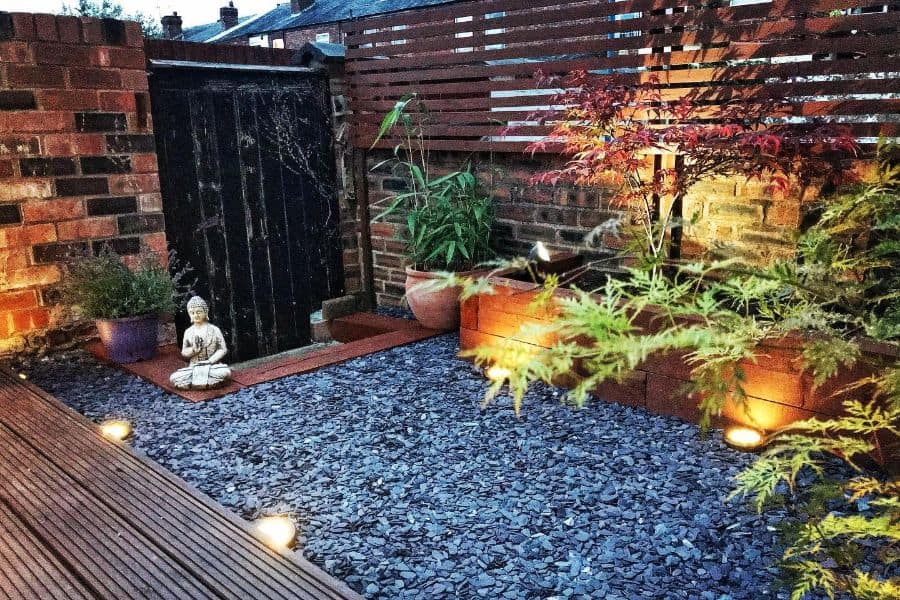 51 Japanese Garden Ideas for a Zen Backyard
Contemporary gardens are inspired by trends from all over the world. Many such origins are given right in the name, as is the case with English, Meditteranean, and Japanese gardens.
Japanese garden design takes inspiration from plants native to the islands, as well as Japanese art and culture as a whole.
You don't need to live in Japan to use these elements in your own gardening ventures. But it's extremely important to do your research on the history of Japanese gardens before you start.
Keep reading to learn about what differentiates these ornamental gardens from other landscape trends. Plus some of the top Japanese garden ideas you can incorporate in your own backyard.
1. Backyard
Japanese garden design is the perfect choice for those living in temperate climates who want something sustainable and low-maintenance.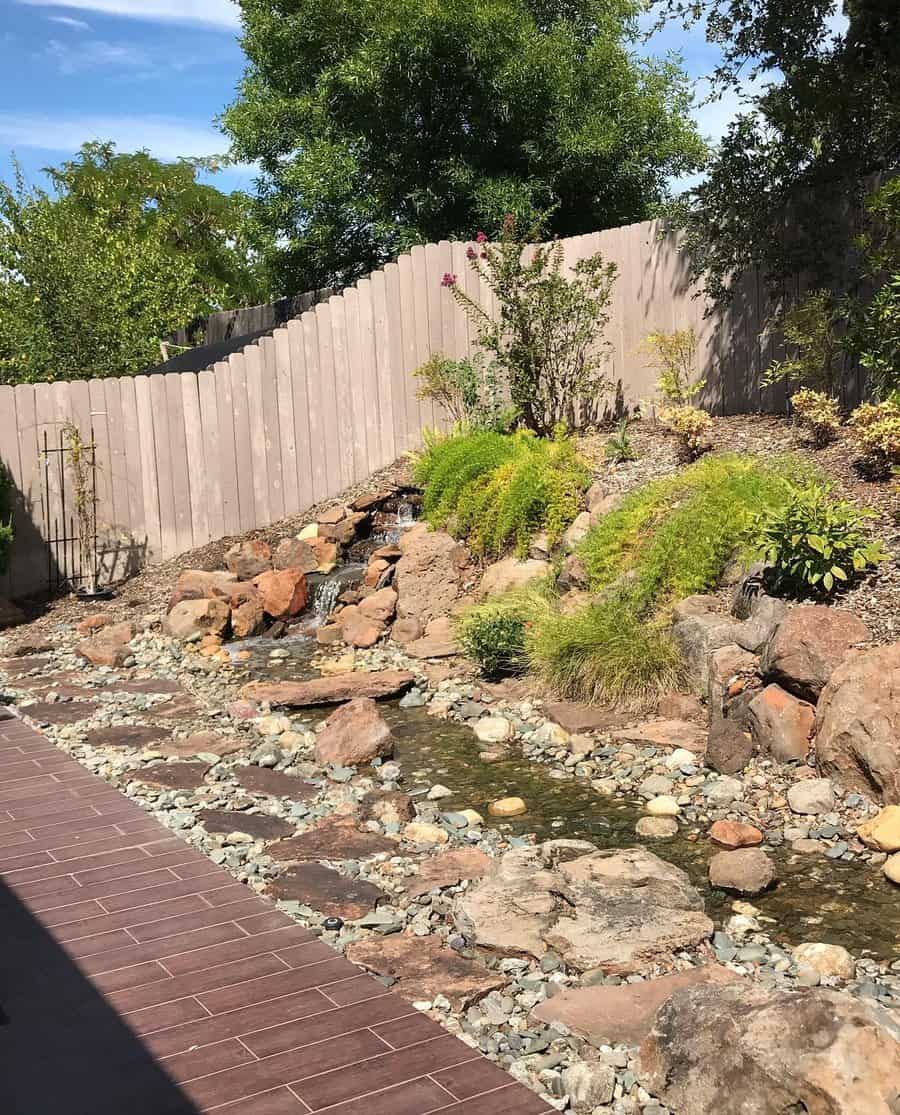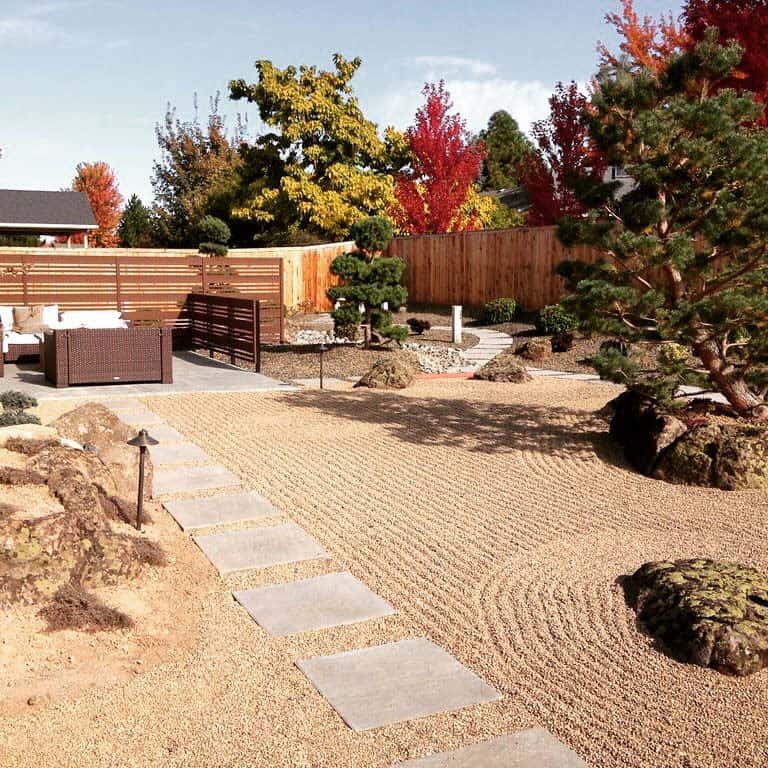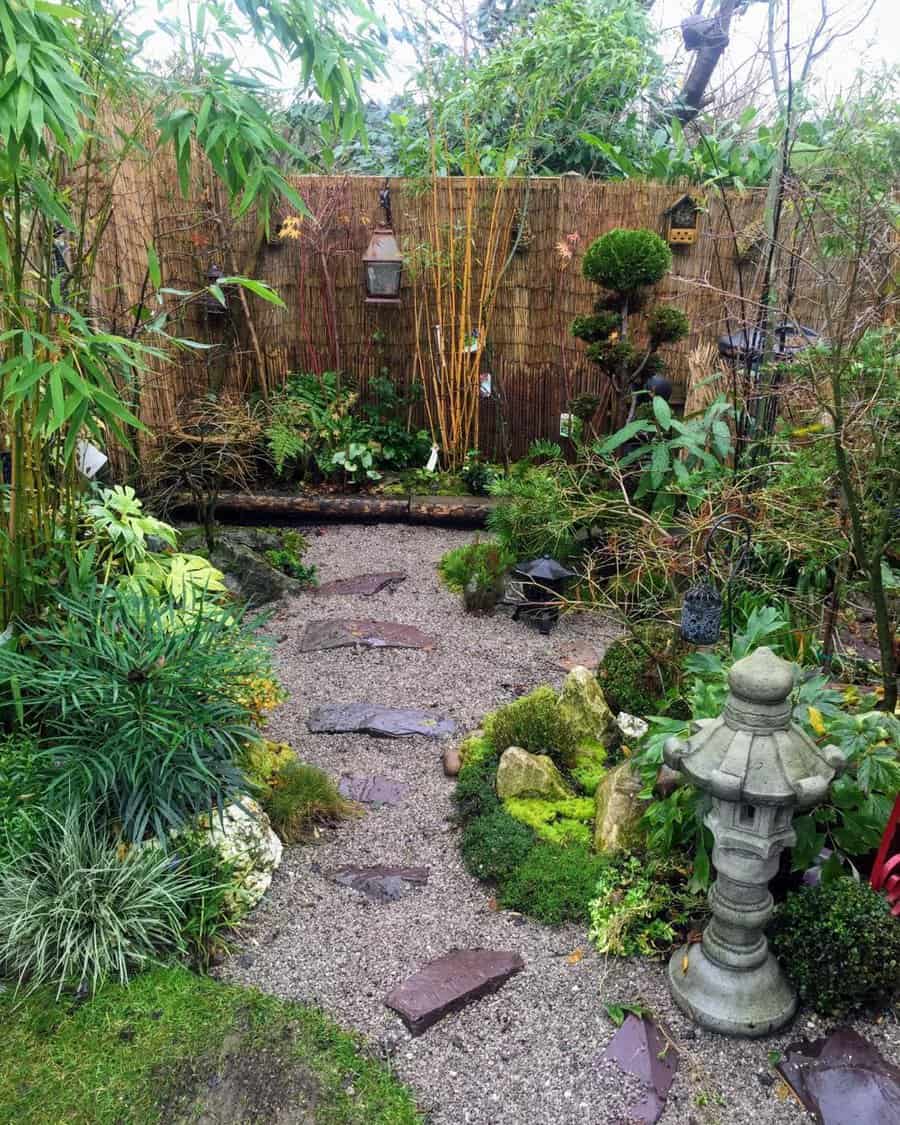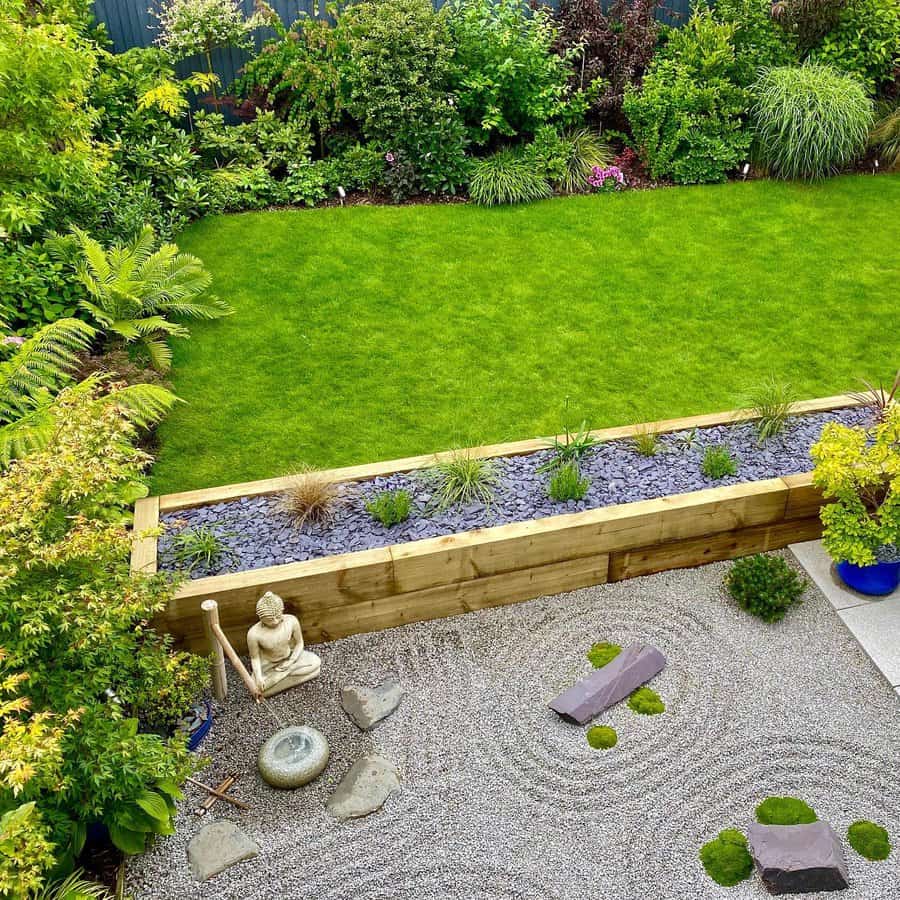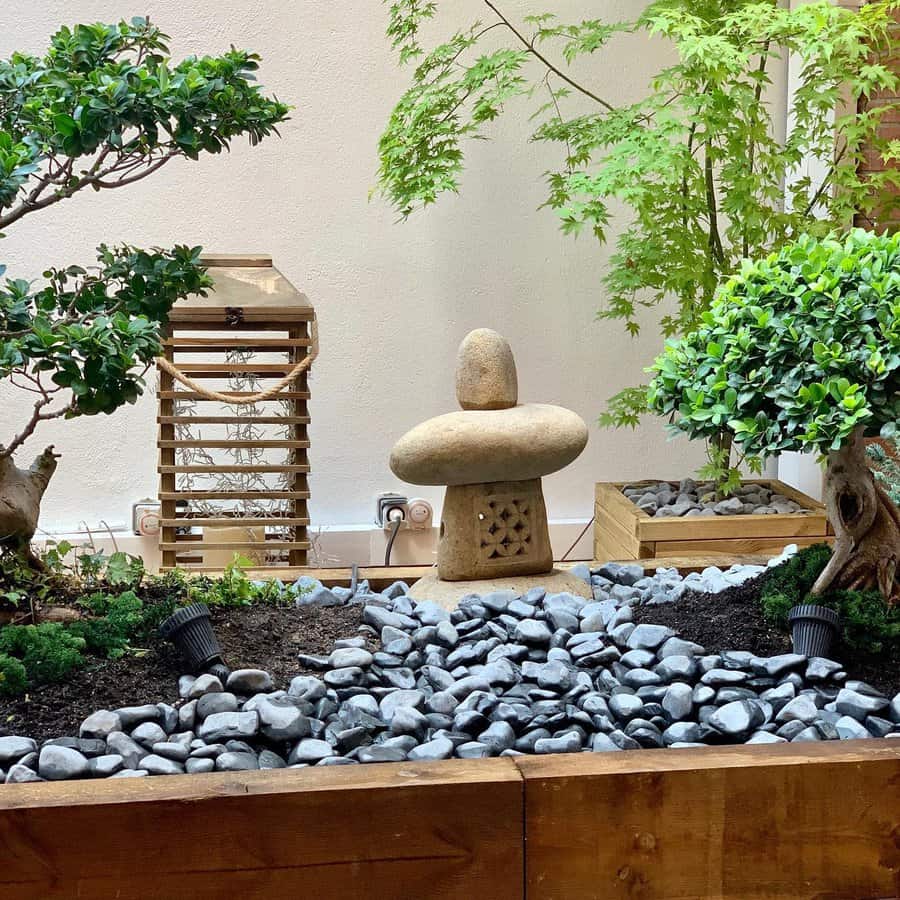 While you can include hardscaping elements like sculptures or walkways, all you really need are the right plants. Evergreen shrubs and trees work great in Japanese-style gardening and require minimal care. Fill in the rest of your backyard with greenery like ferns, moss, and native flowers.
You can also easily swap out traditional turf grass for gravel or sand — this isn't a requirement, though. Natural rocks make excellent decor. Large boulders can even be used in place of patio furniture.
2. Bridge
Many traditional Japanese gardens are built around a natural stream or koi pond. If you choose to include a water feature in your own design, consider installing a bridge as well.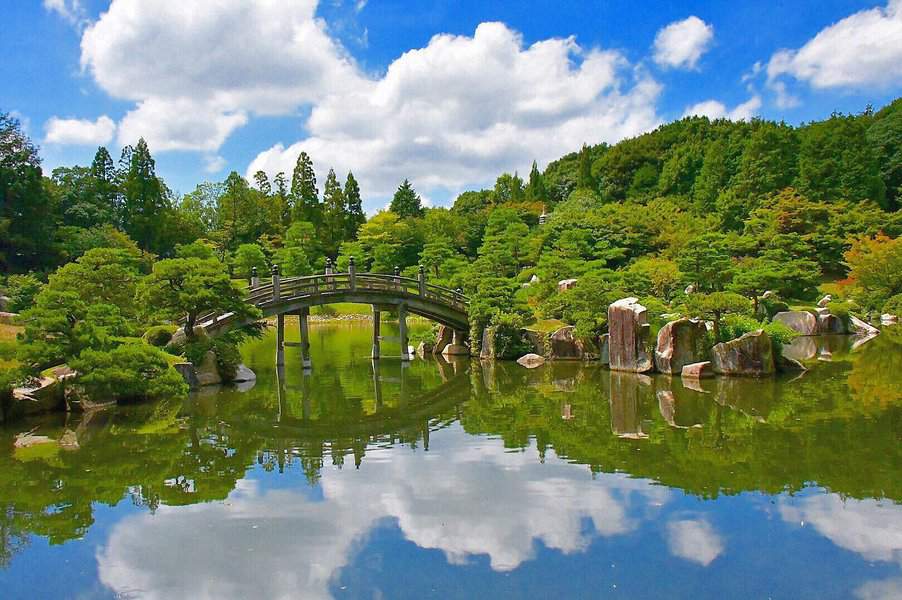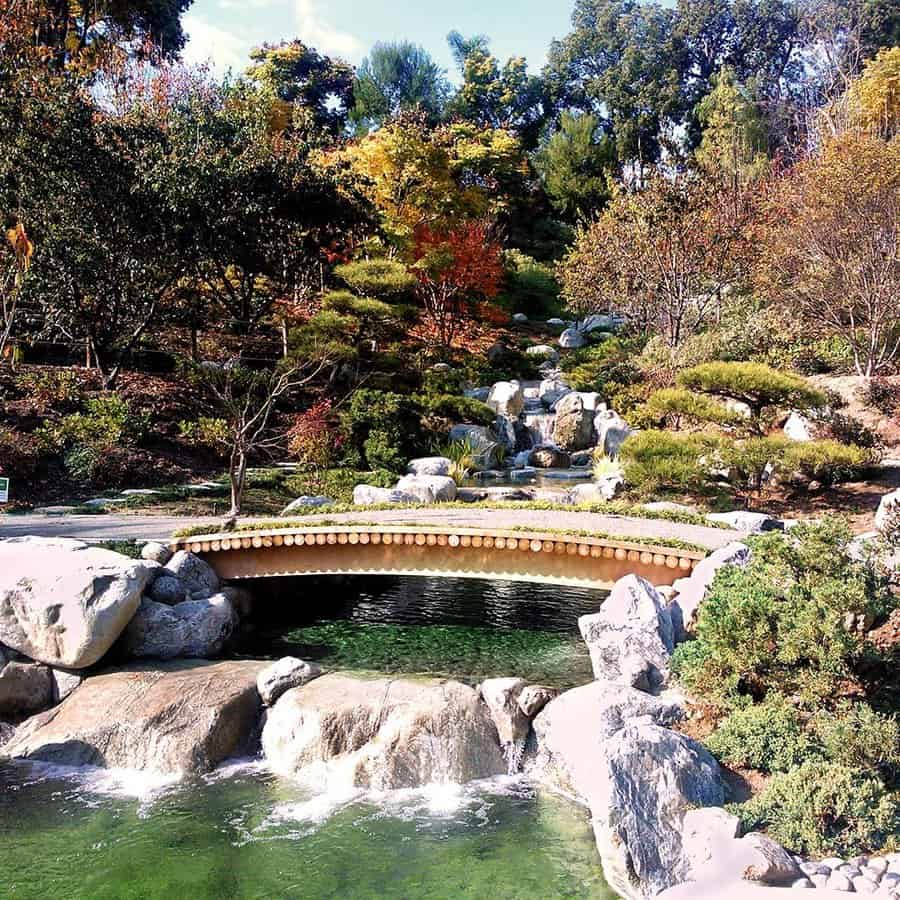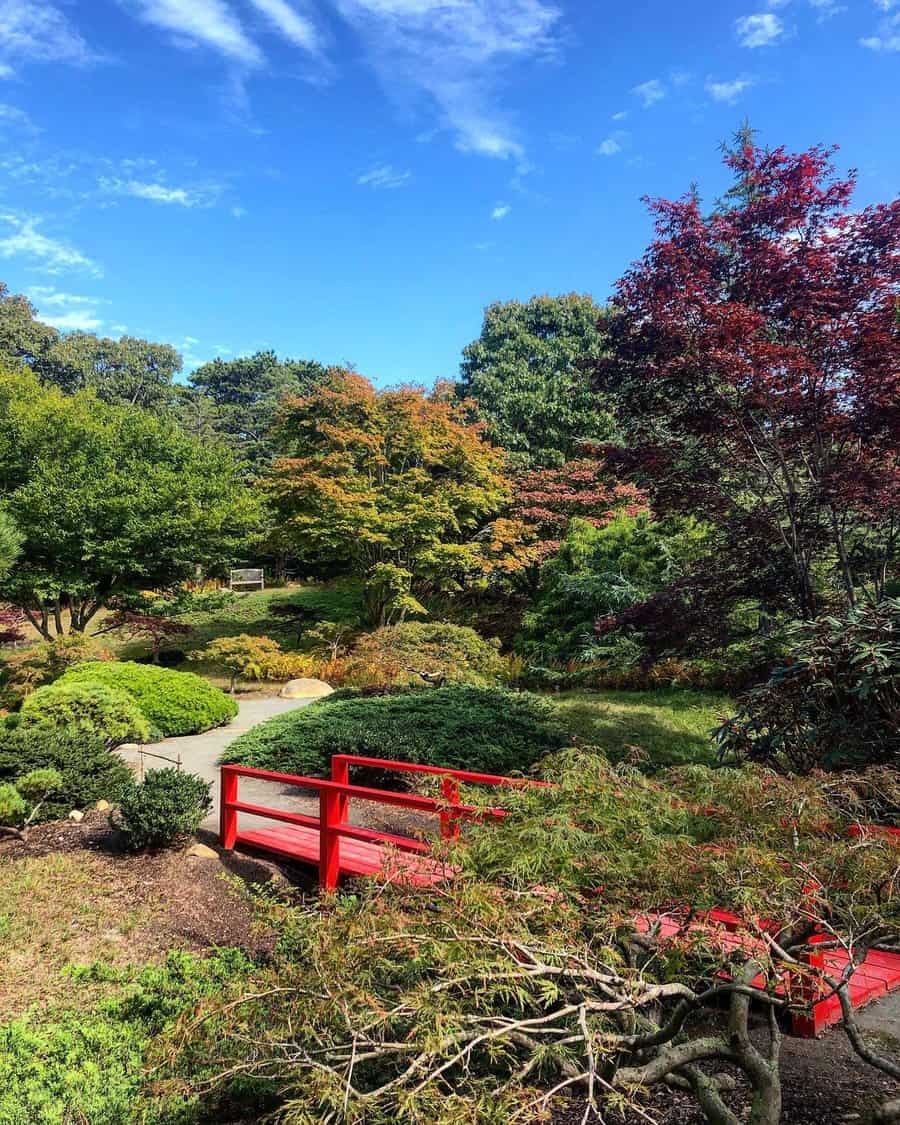 Your bridge does not need to be large or ornate. Some of the most beautiful garden bridges are made with wood planks or stepping stones. Be sure to include a path leading to and from your bridge.
If you love the aesthetic or meaning of including a bridge in your Japanese garden but don't have the means to install a pond, consider creating a dry river. This raked gravel element mimics the look of a real waterbed without any of the mess and maintenance.
3. Fountain
There's more than one way to include water in your garden design. Fountains also offer the tranquil sound of running water. They're also easy to install in almost any outdoor space.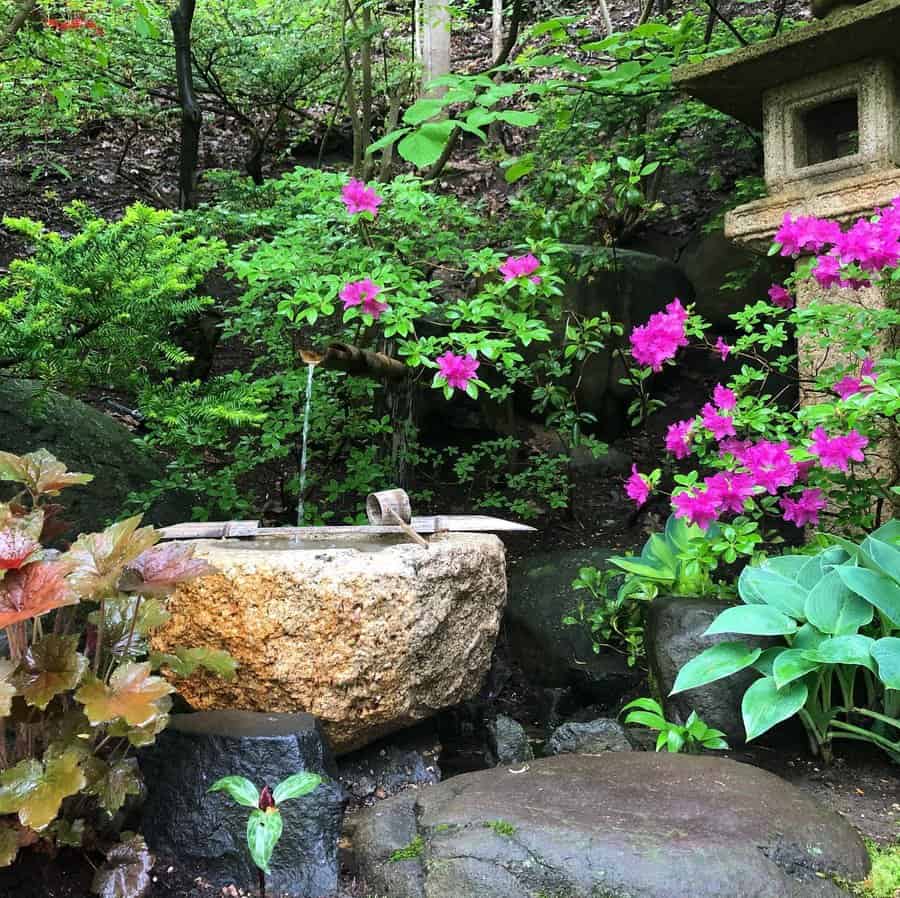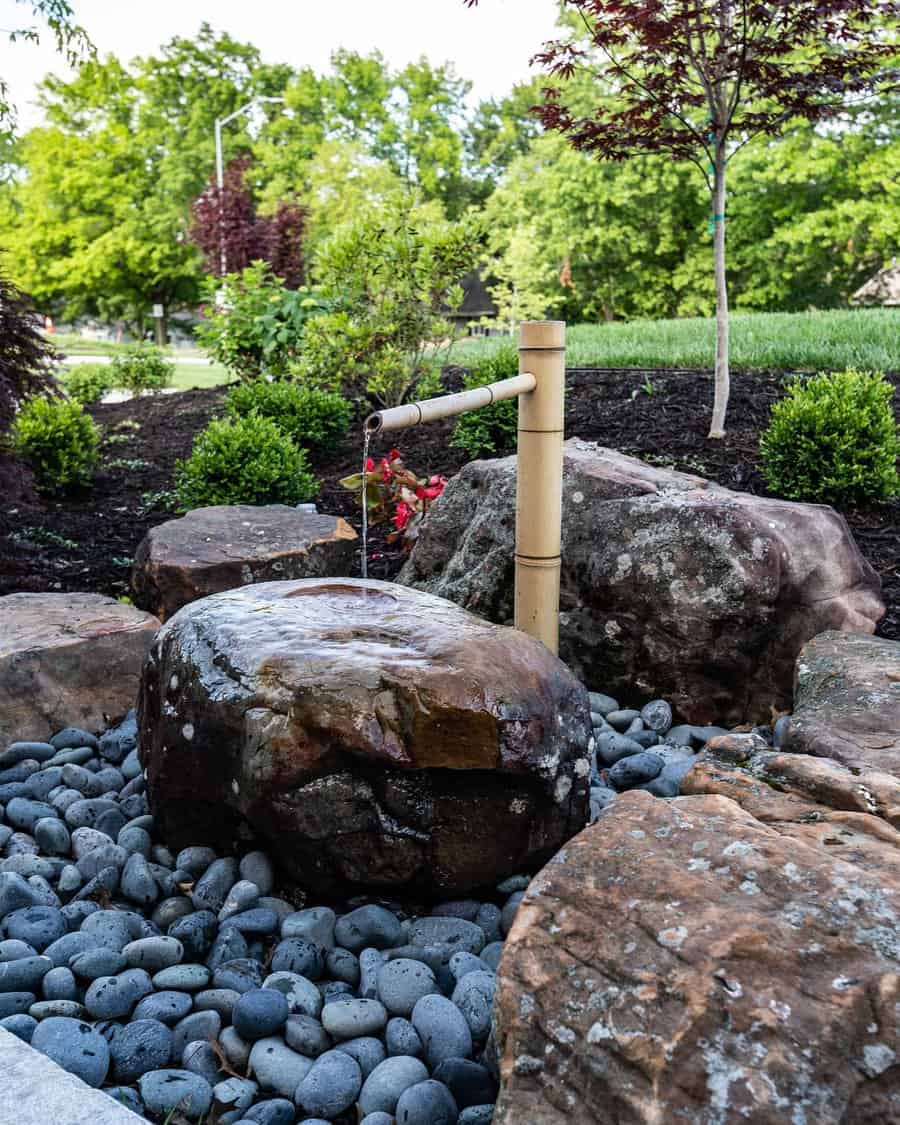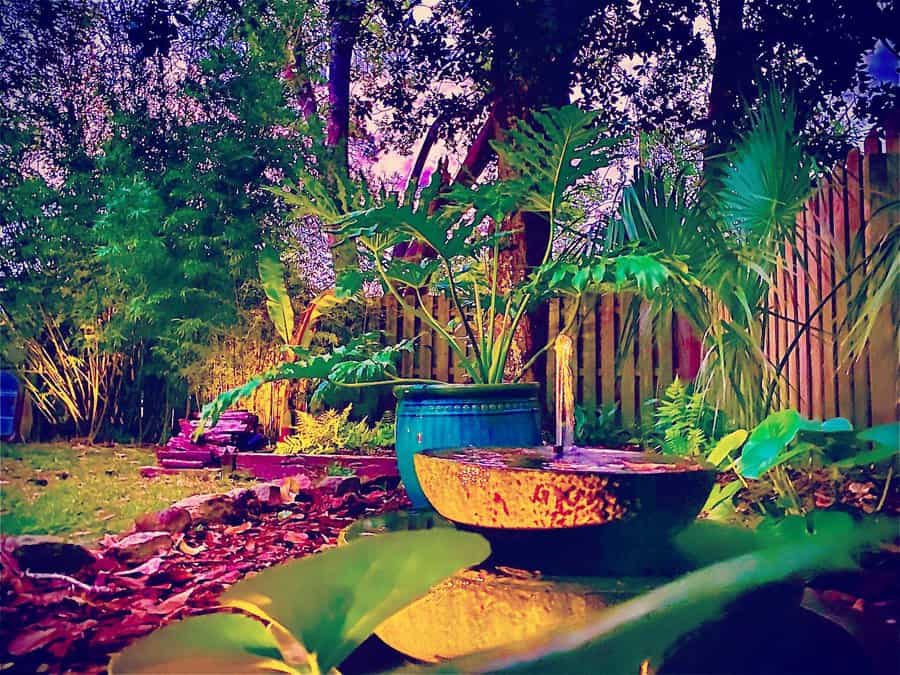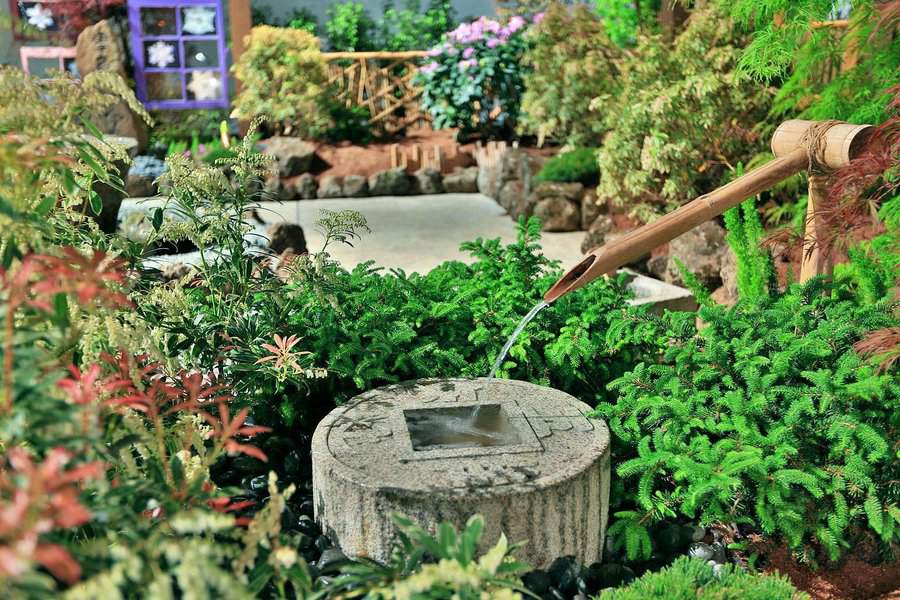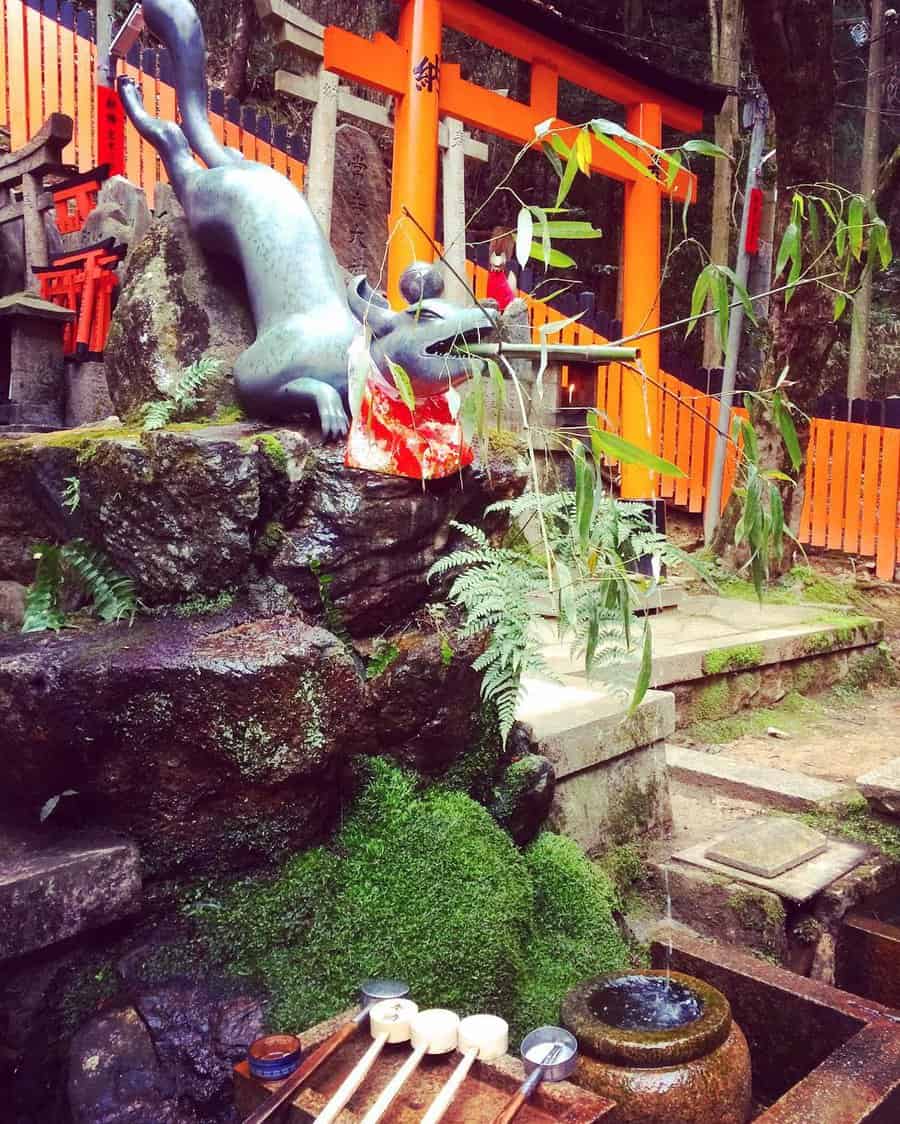 Are you familiar with the faucet-shaped fountain called a Shishi-odoshi (or "deer scarer")? This bamboo structure doesn't just look nice. While the noise made by these fountains is pleasant to human ears, they also work to scare away deer and other garden intruders.
You can have your garden fountain feed into a stream or pond. Or you can set up a basin underneath to collect and recycle the water. If you choose the latter, look for a basin made of or resembling natural stone.
4. Large
Most private gardens take up just a few square yards — an acre at most. But Japanese-inspired garden design is suited to projects where covering lots of land is the main goal.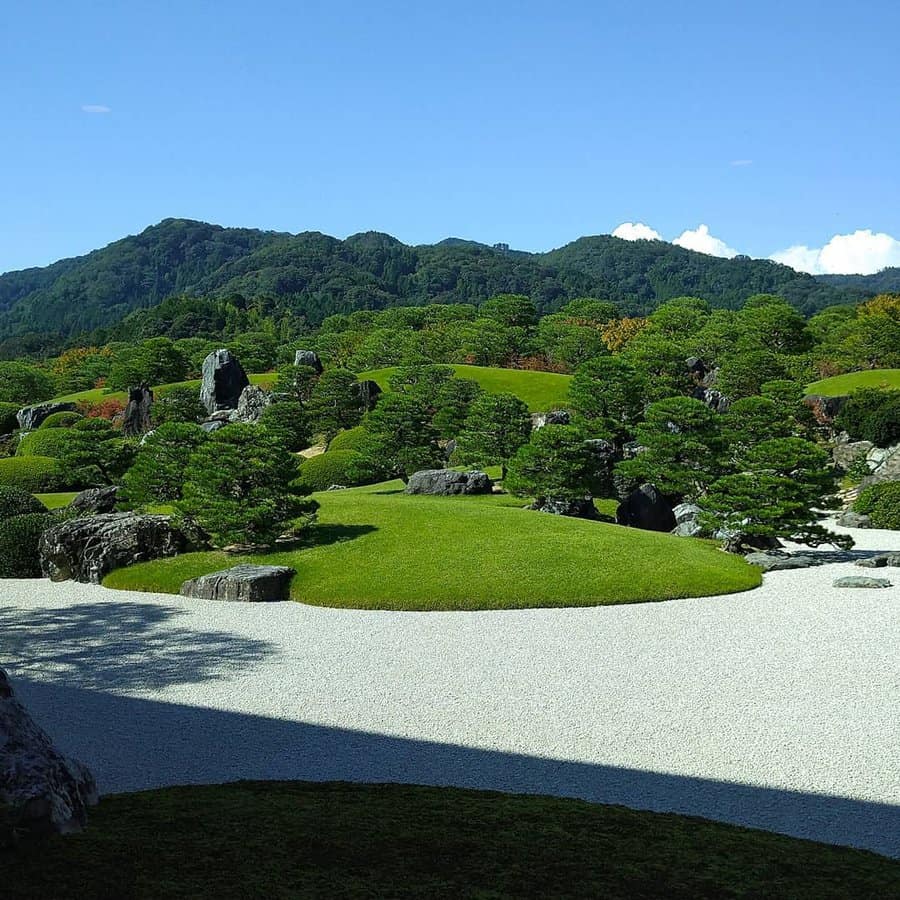 The plants commonly used in Japanese gardens thrive with minimal maintenance. This includes irrigation, pruning, and other time-consuming tasks. You can even replace traditional grass with moss or another ground cover species to cut down on mowing.
Between plantings, you can cover plenty of land with dry garden elements like sand, gravel, or large rocks. Water features (with or without koi fish) are another excellent way to keep a large garden space from falling victim to monotony.
5. Modern
If you stop to compare modern architecture with common design elements of Japanese culture, it becomes instantly clear that the former draws inspiration from the latter.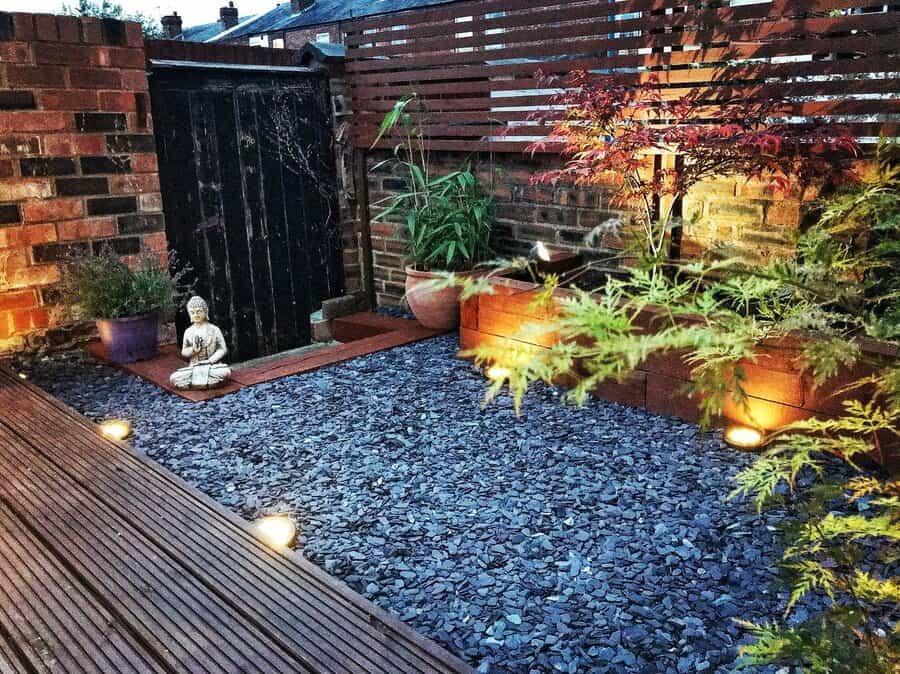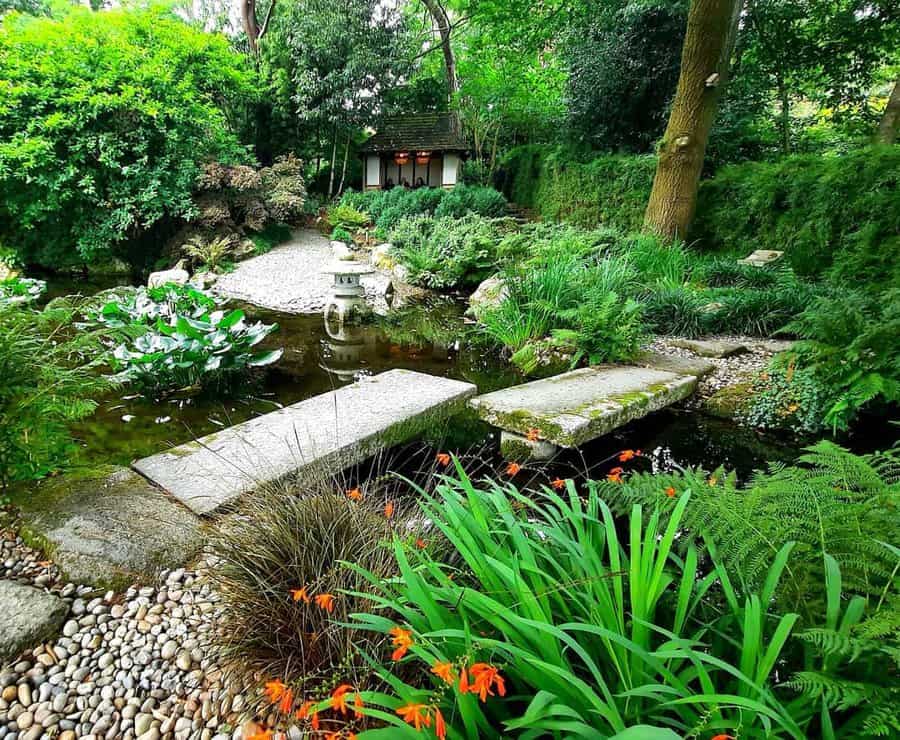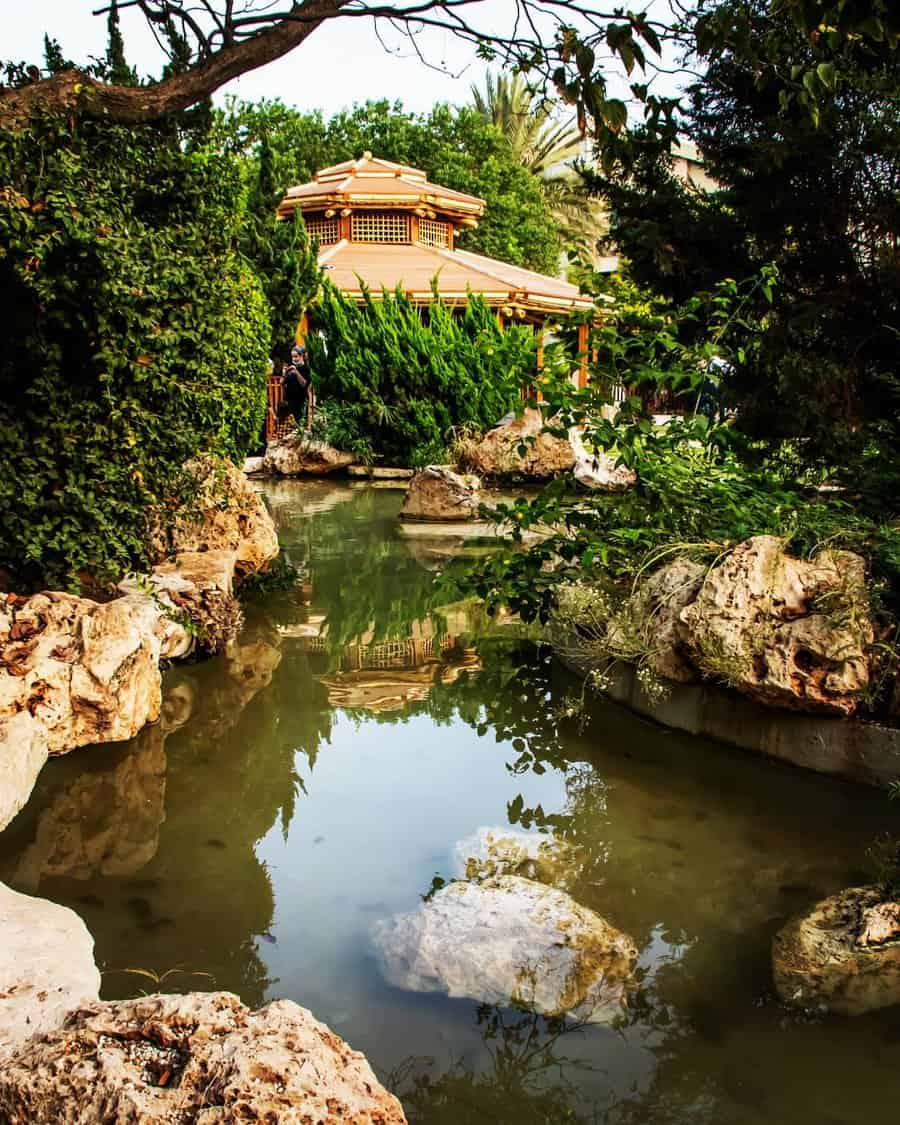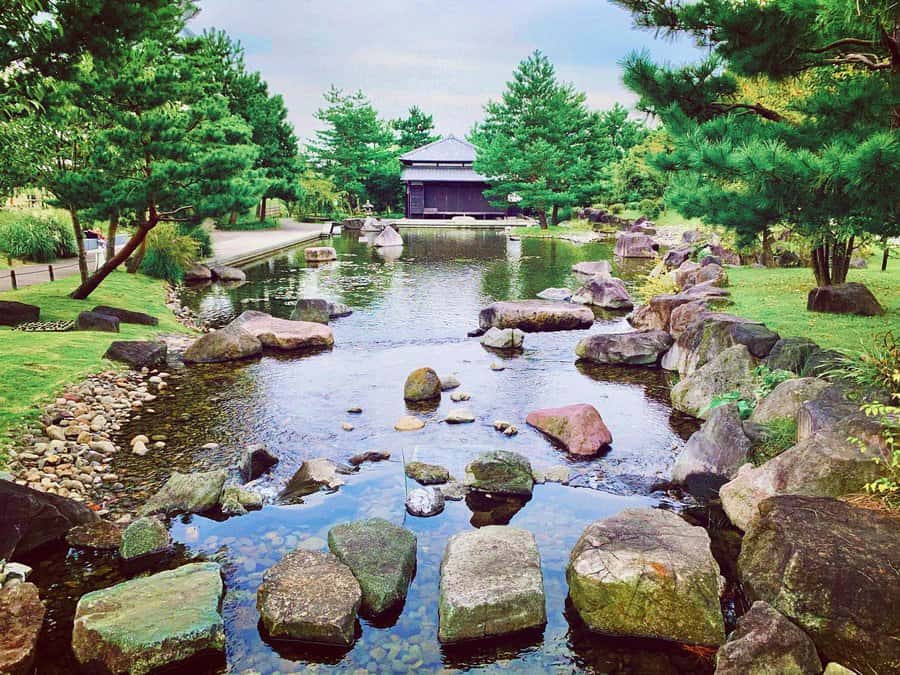 Play against the organic elements of Japanese garden design with modern angles and geometric shapes. You can do this with circular ponds, rectangular stepping stones, or tiered garden beds.
Your garden decor should be minimal — even for a Japanese-inspired landscape. Instead, use natural boulders and unique shrubs or trees to add color, shape, and texture to the space.
6. Pagoda
Pagodas are towers seen throughout many parts of southern and eastern Asia, including Japan. These structures are recognizable by their tiered roofs and sloped eaves.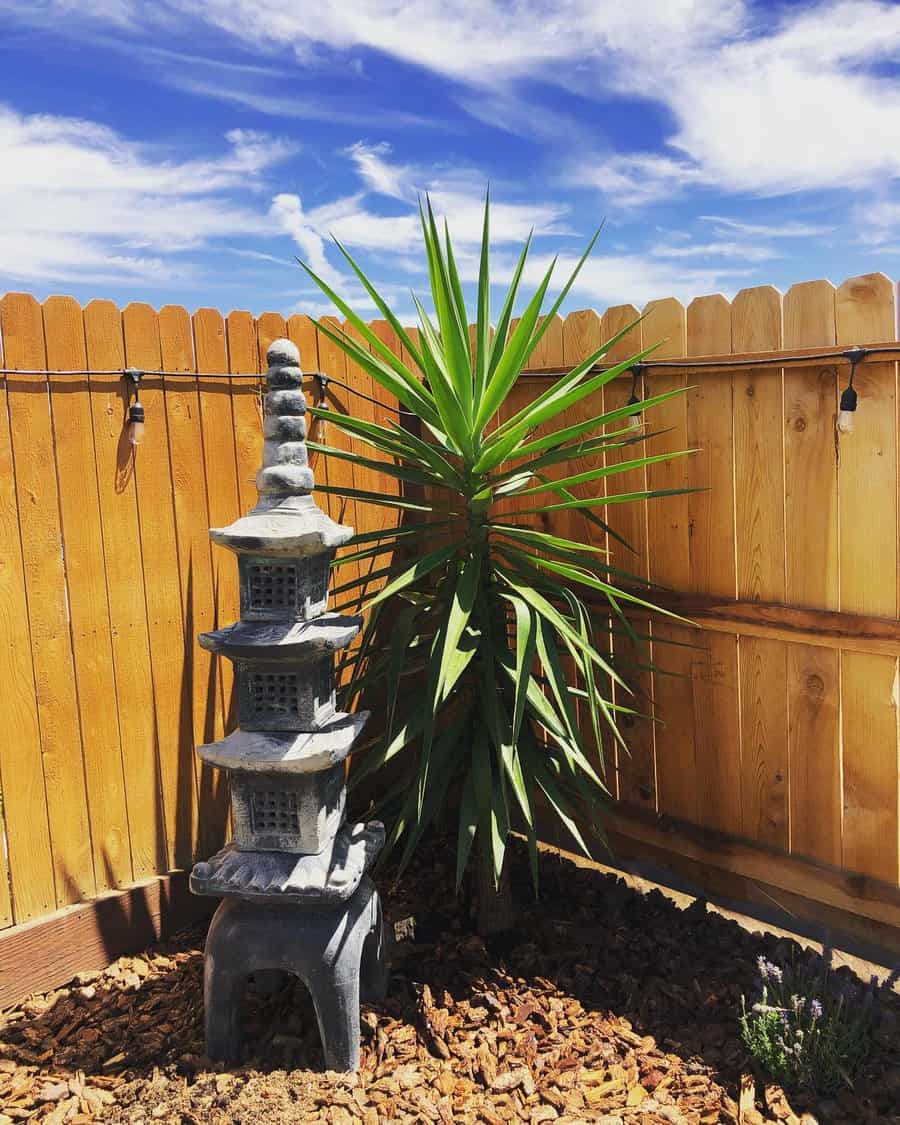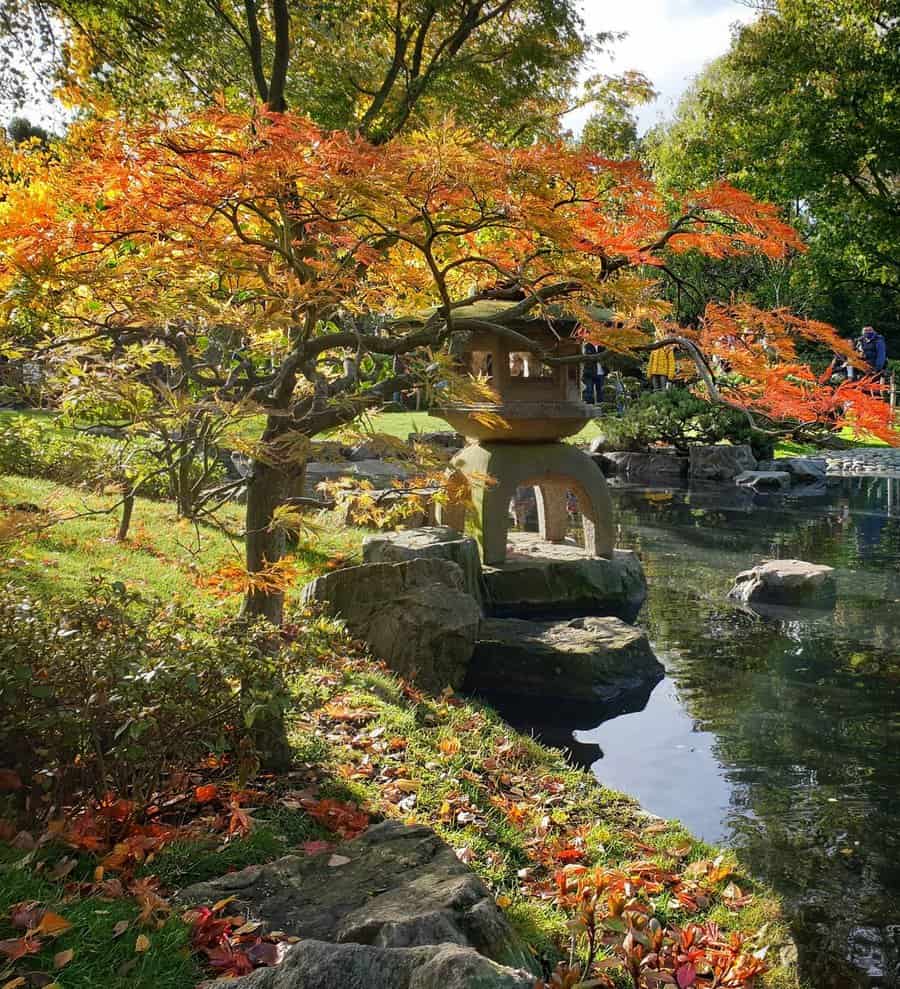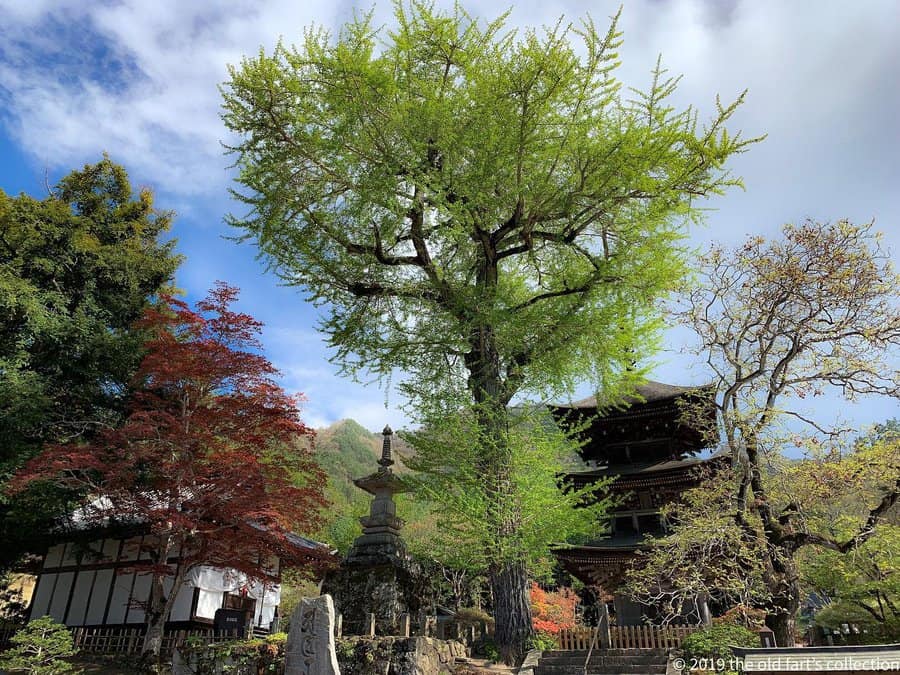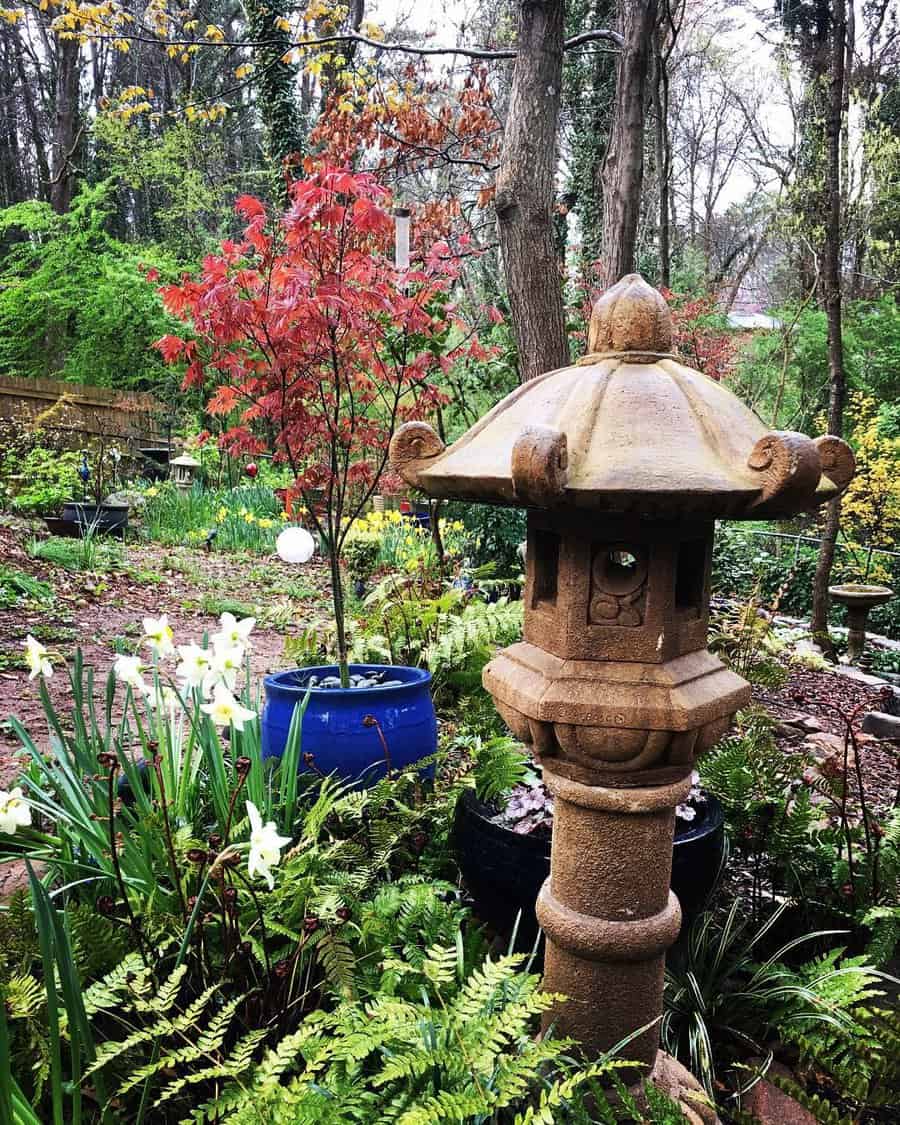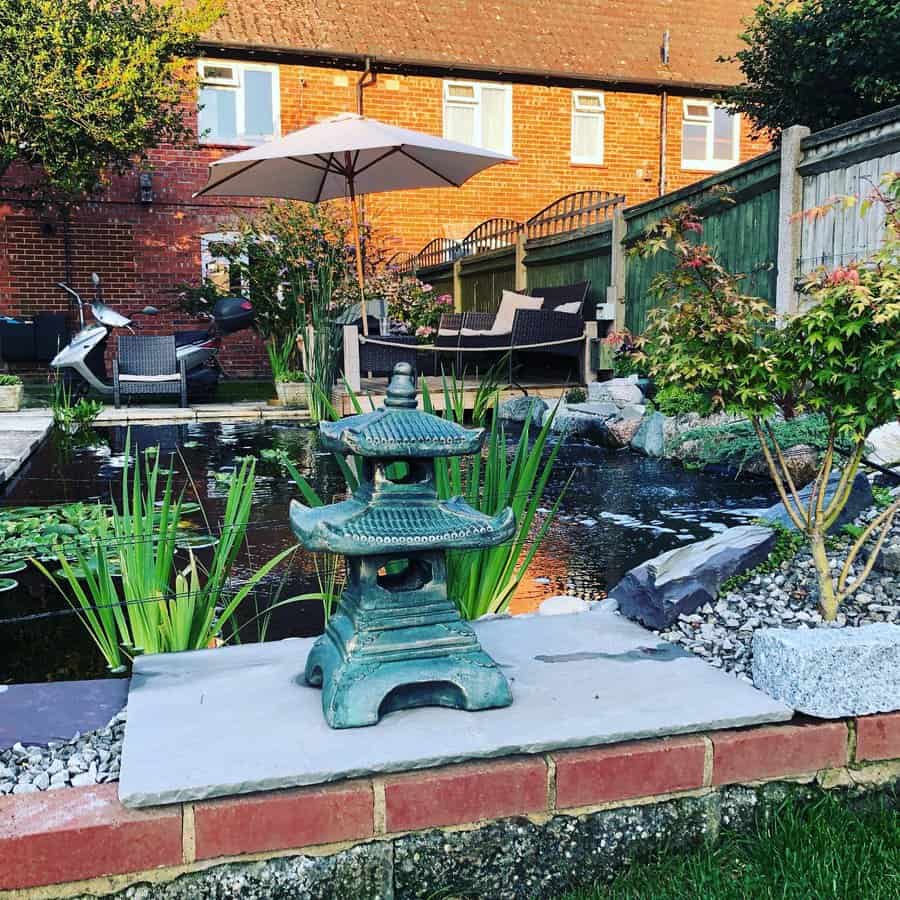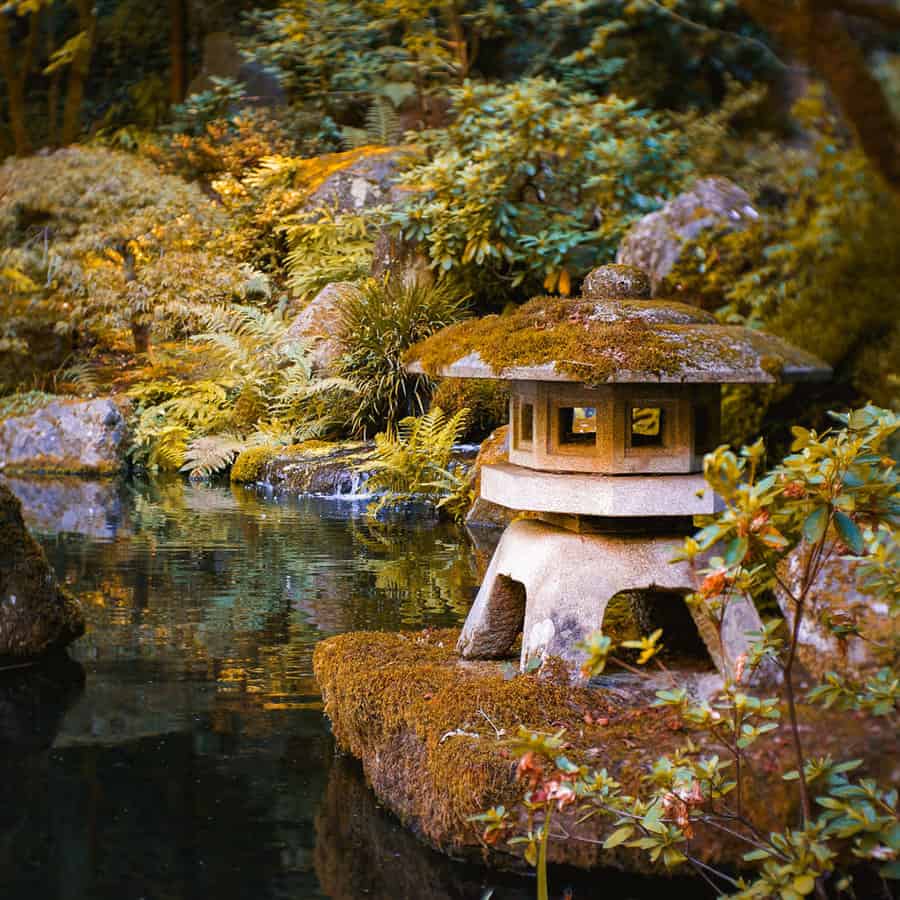 Historically, the pagoda was most commonly seen in religious temples. While many pagodas contain altars or serve as tombs, others act as scenic outlooks.
You'll often see pagoda-inspired structures in traditional Japanese garden design in the form of lanterns or statues. Some gardens even feature full-size pergolas with pagoda-style roofs.
7. Path
It's common for Japanese gardens to have paths throughout the entire property. These paths don't just lead guests through the garden. They also encourage a calm, meditative state because you don't need to think about which direction to walk.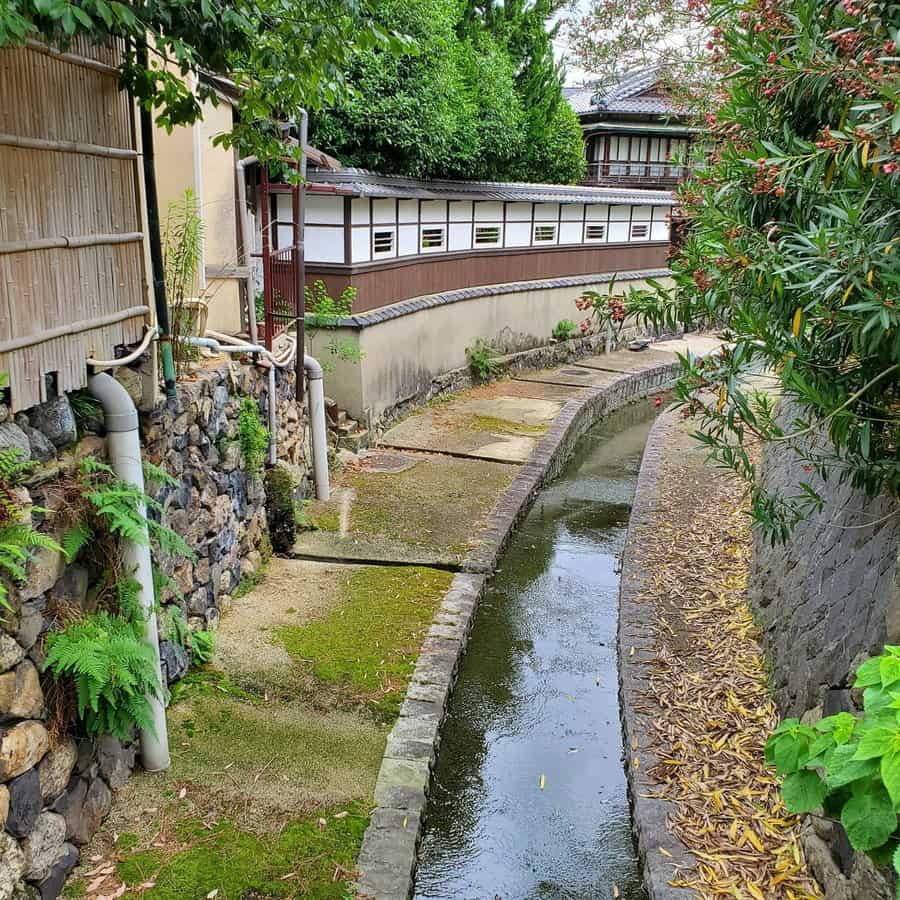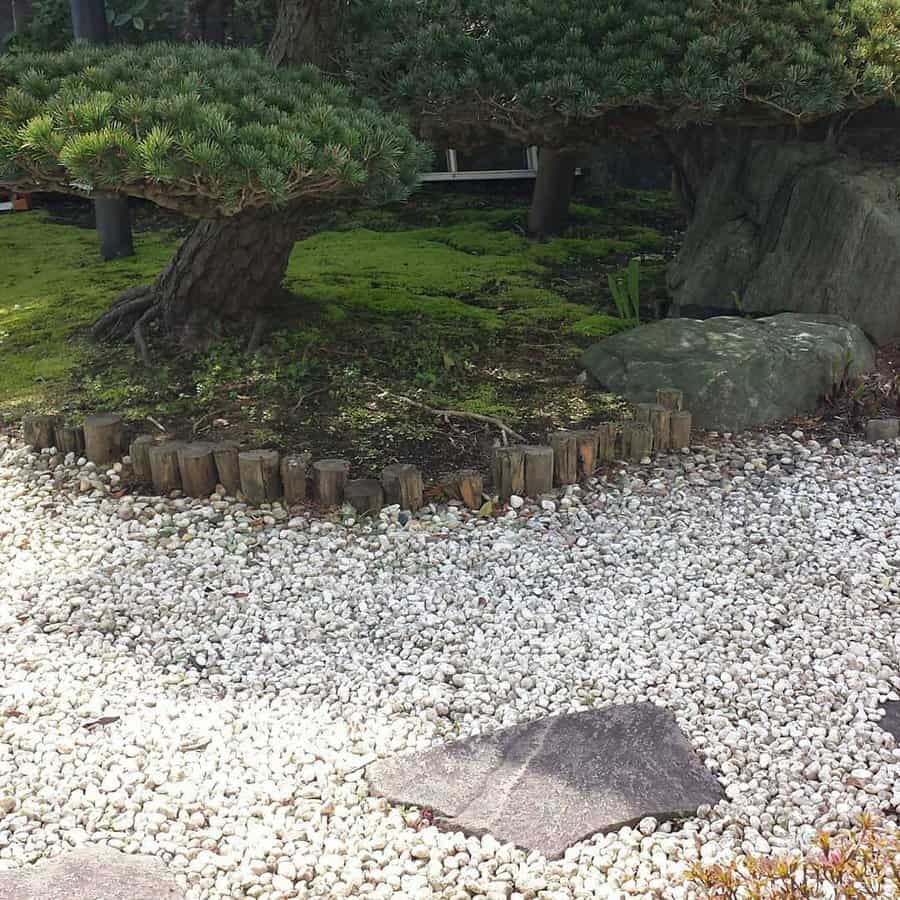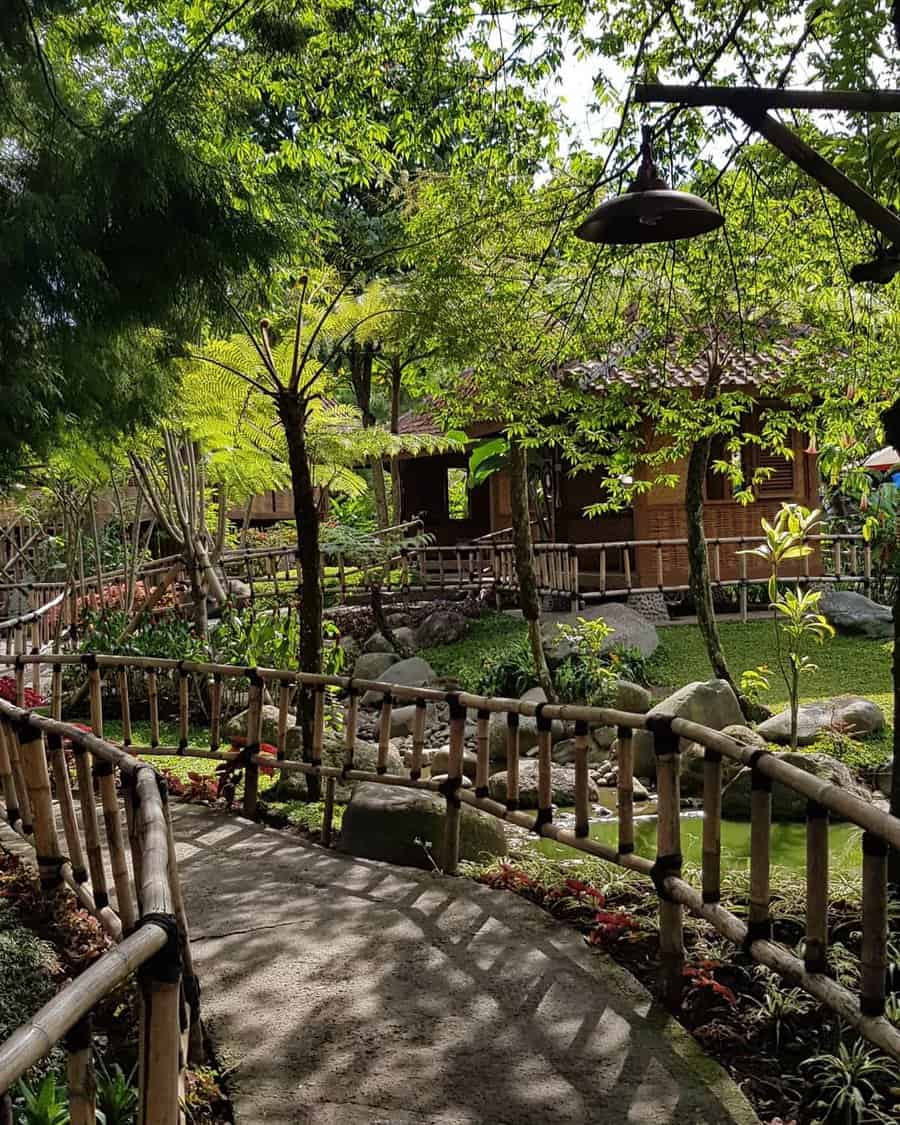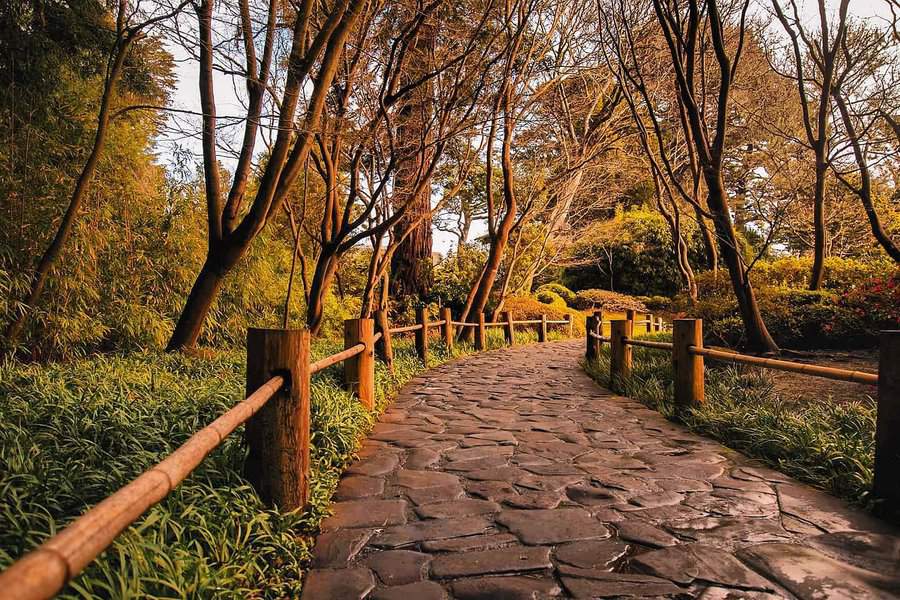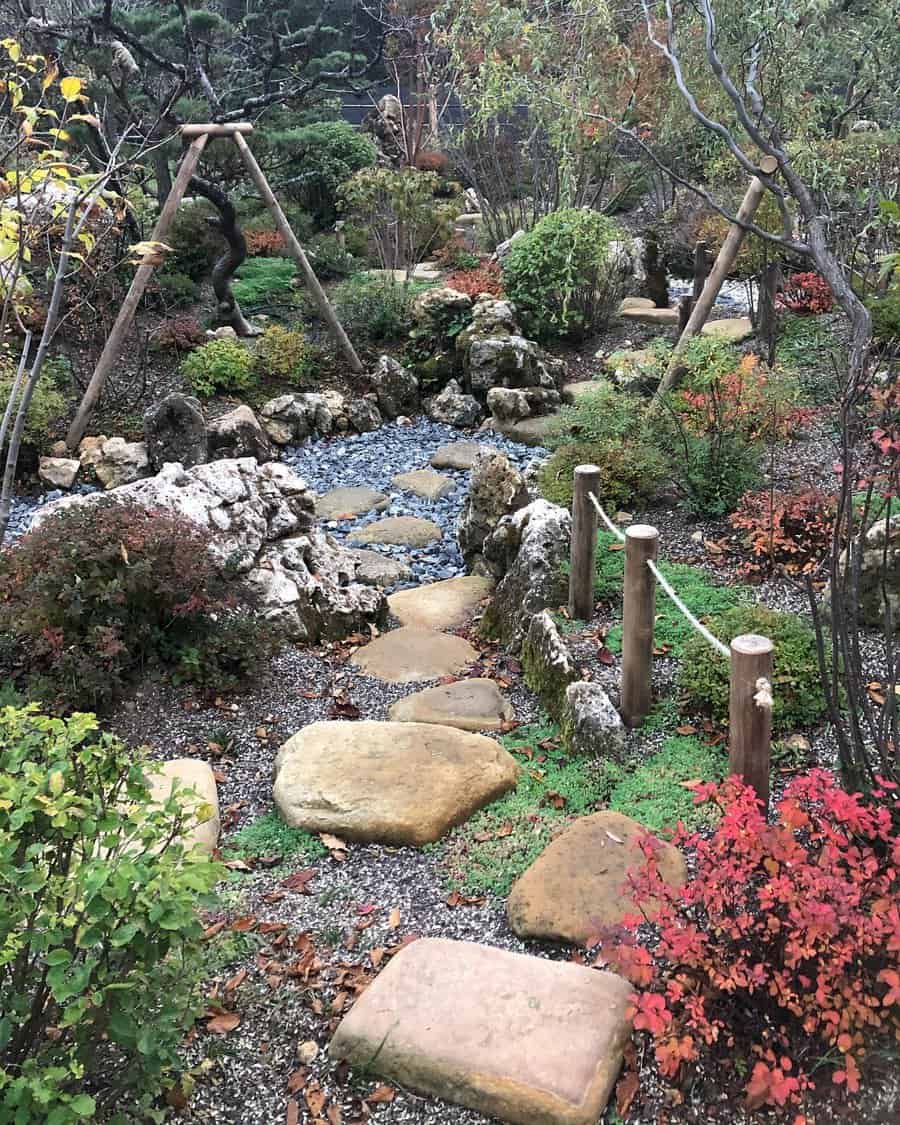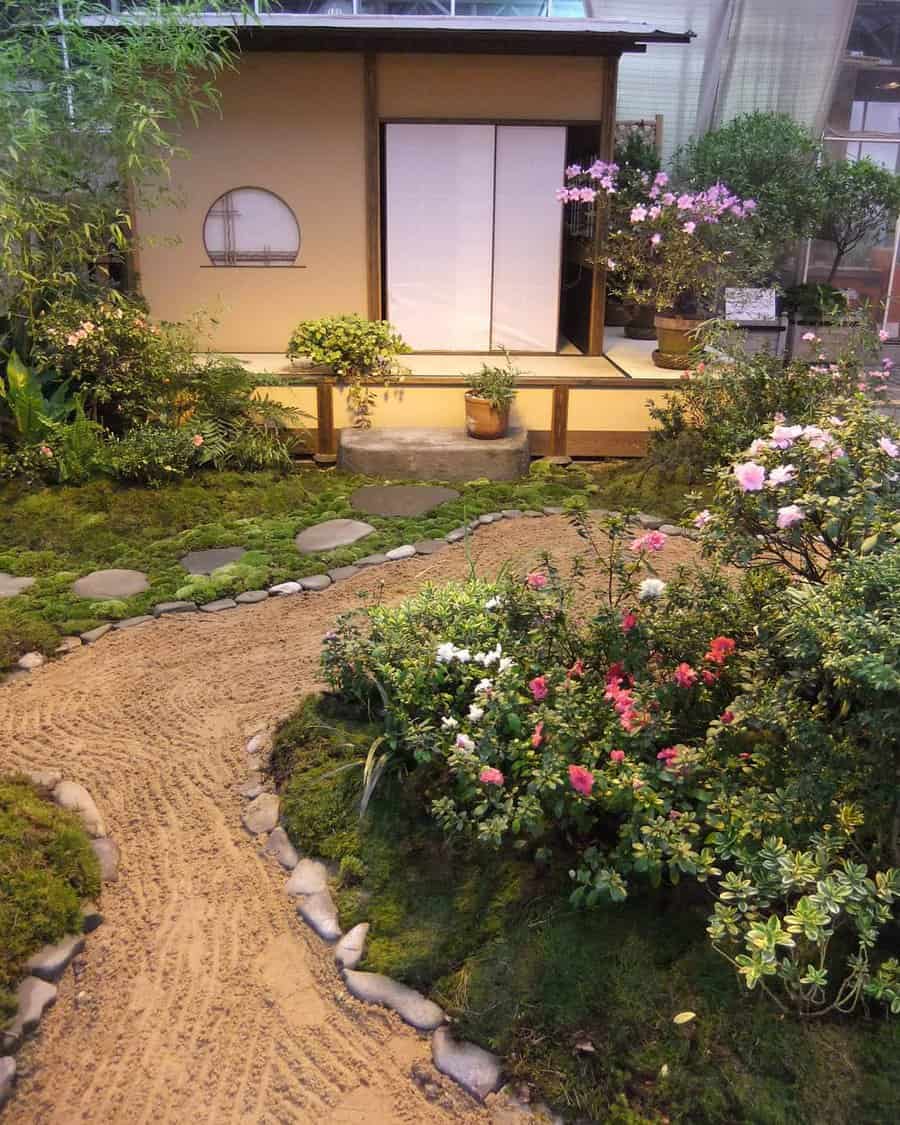 With a few adjustments, you can scale this popular design element down to fit into the small Japanese garden in your backyard. Build a weaving path from one end of your garden to the other. Or plan your garden out in a complete loop.
Use stone pavers, sand, gravel, or even poured cement for your strolling garden path. You can even incorporate stairs, benches, or a bridge in your walkway design.
Read more: Top Garden Path Ideas
8. Simple
Designing the spaces inside your home is hard enough. So it's no surprise that so many homeowners choose to leave their landscape to its own devices.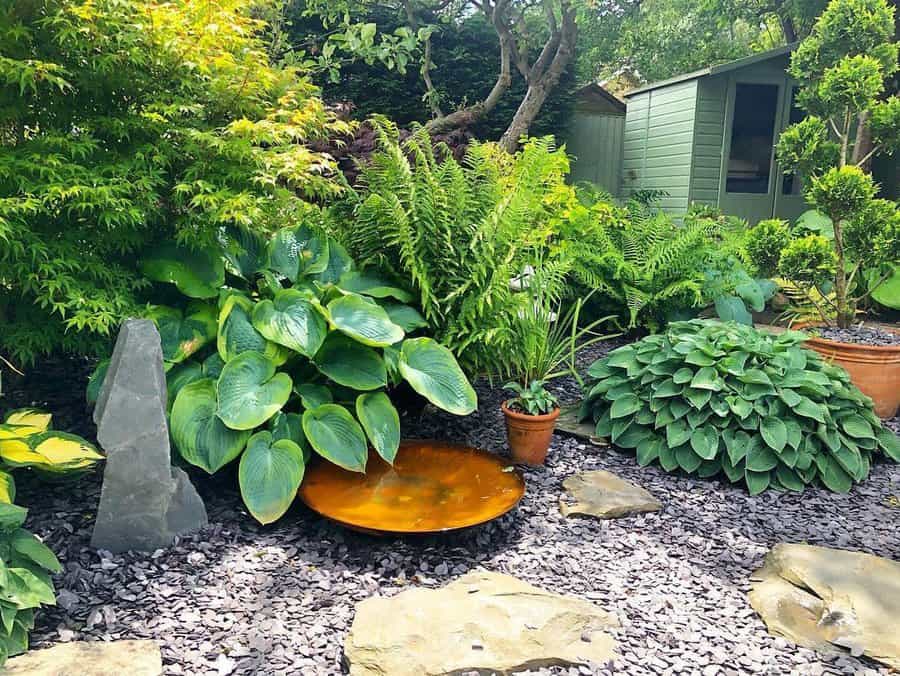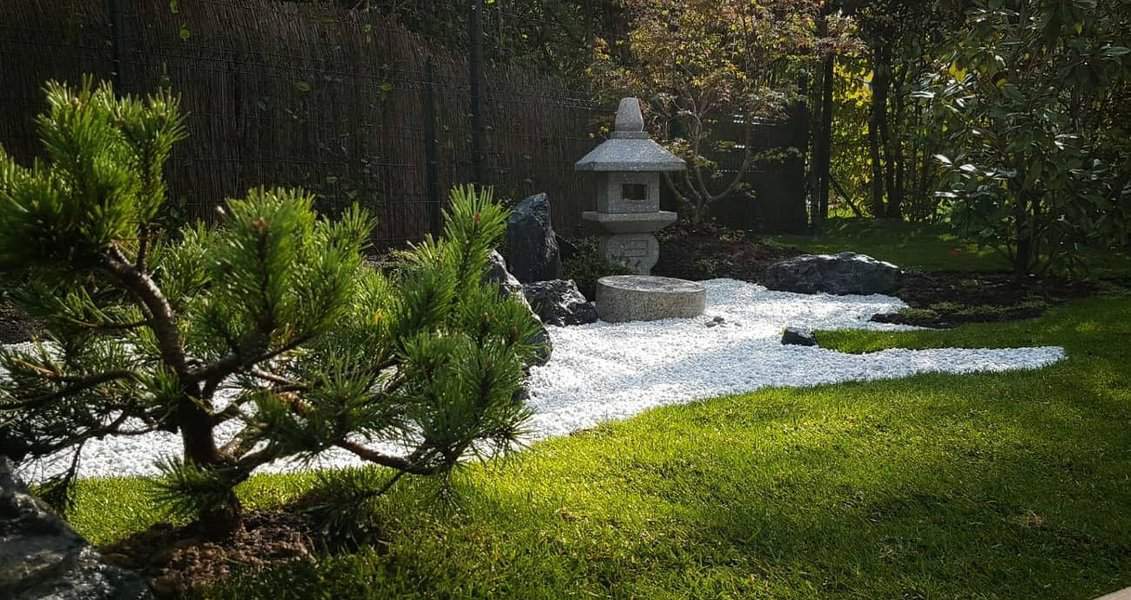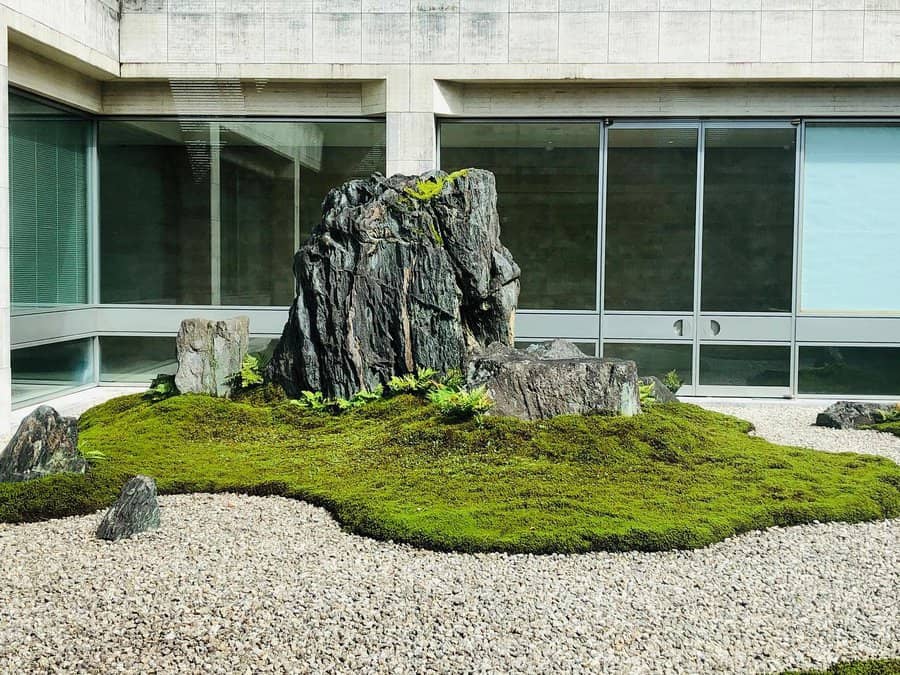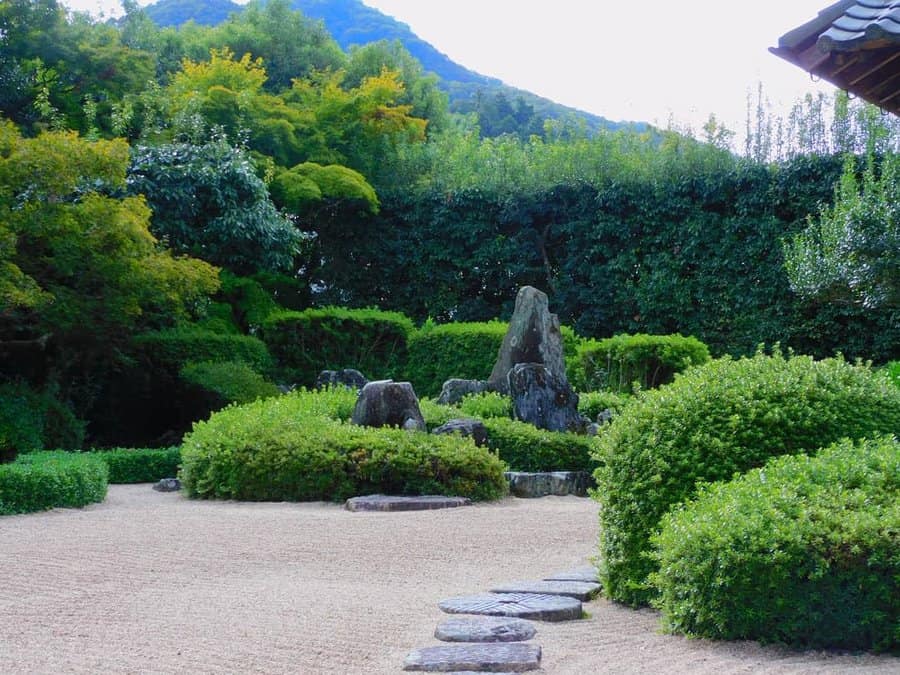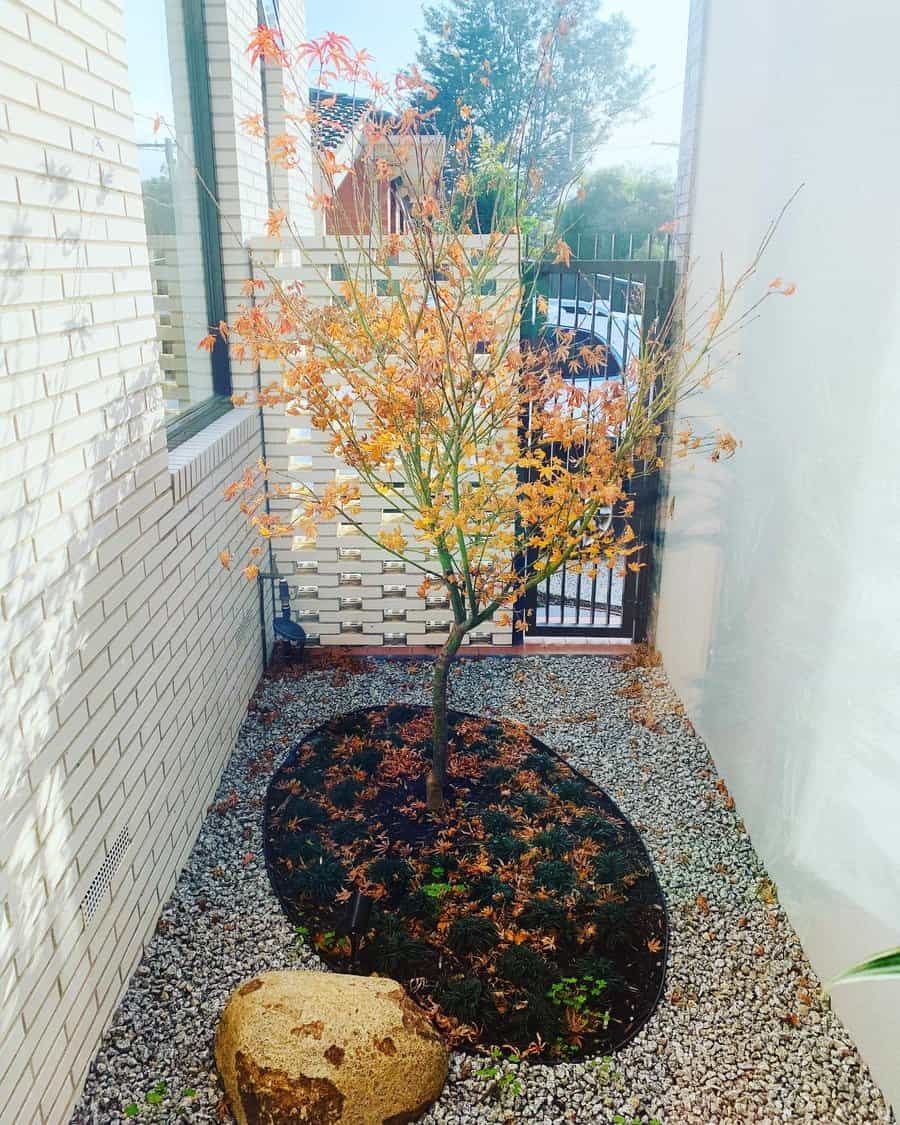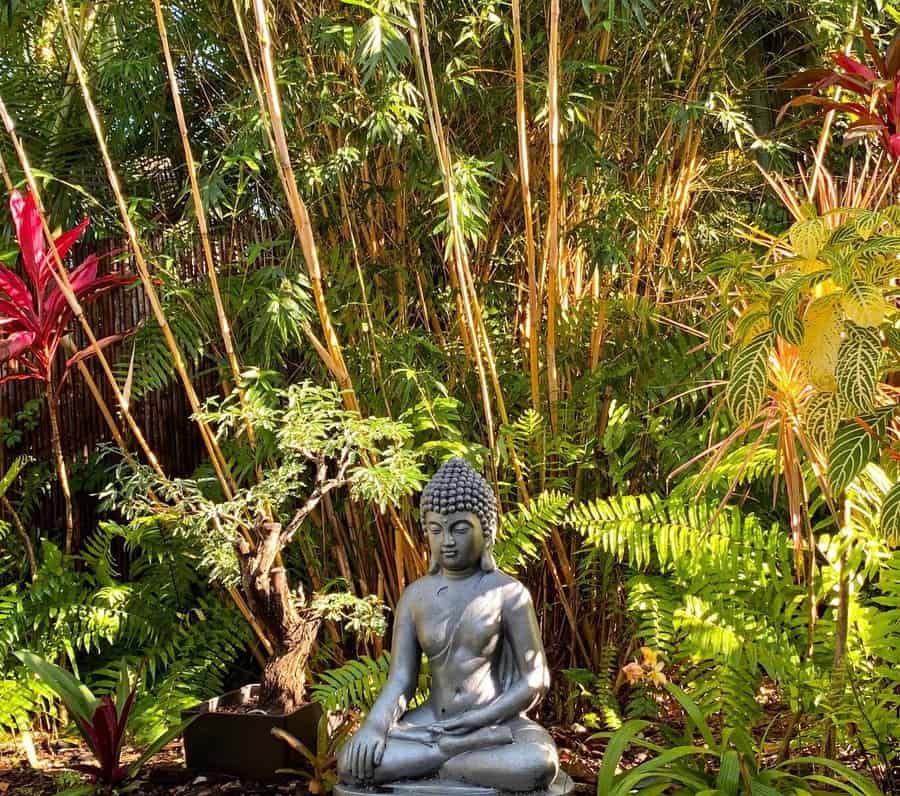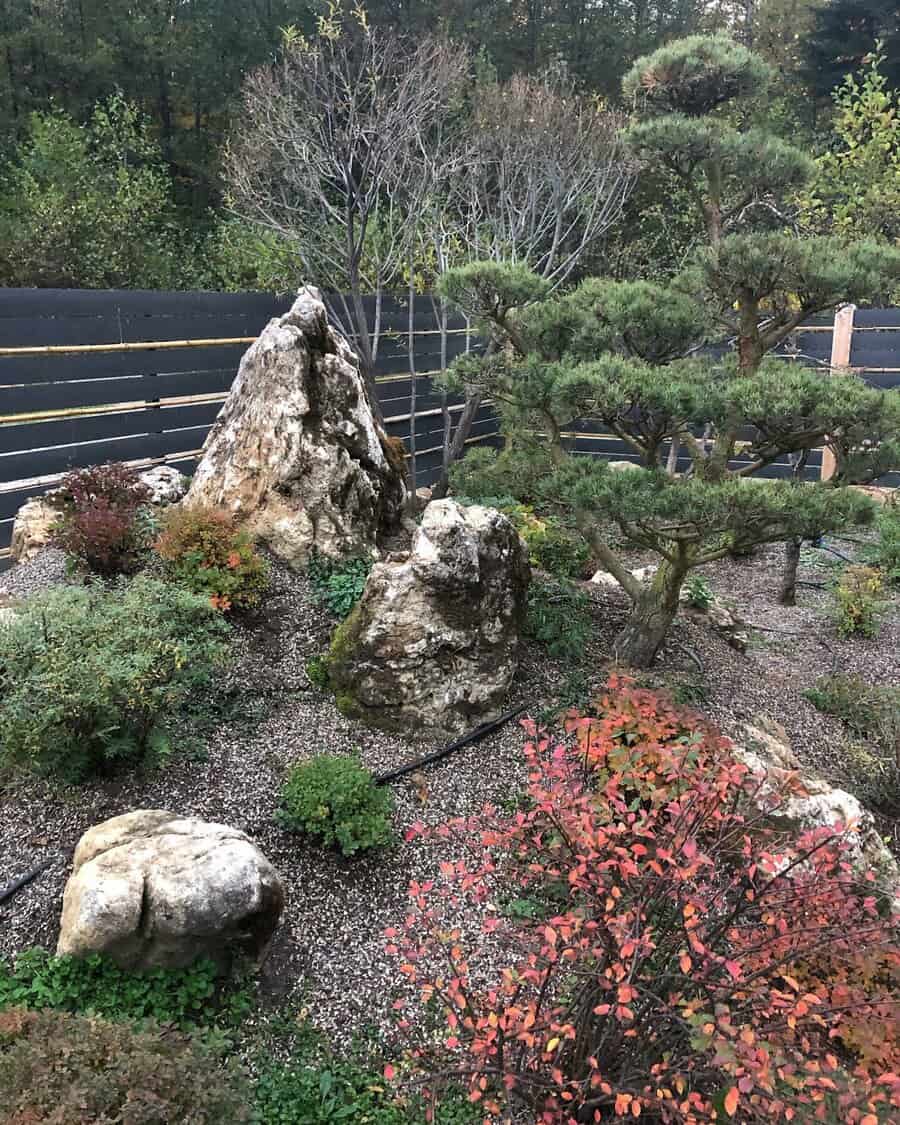 If you're looking for a simple, no-nonsense garden aesthetic, then Japanese design is perfect. Since Japanese gardens are built around minimalism, you can plant as much or as little as you want (or have time for!).
If caring for living plants isn't in the cards right now, consider installing a Japanese rock garden. Combine hardscaping and greenery to create the perfect garden idea for your schedule and household needs.
Read more: Top Simple Landscaping Ideas
9. Stream
Streams are a classic element of Japanese garden design. Chances are, though, you don't have a natural stream running through your small backyard (or large, for that matter).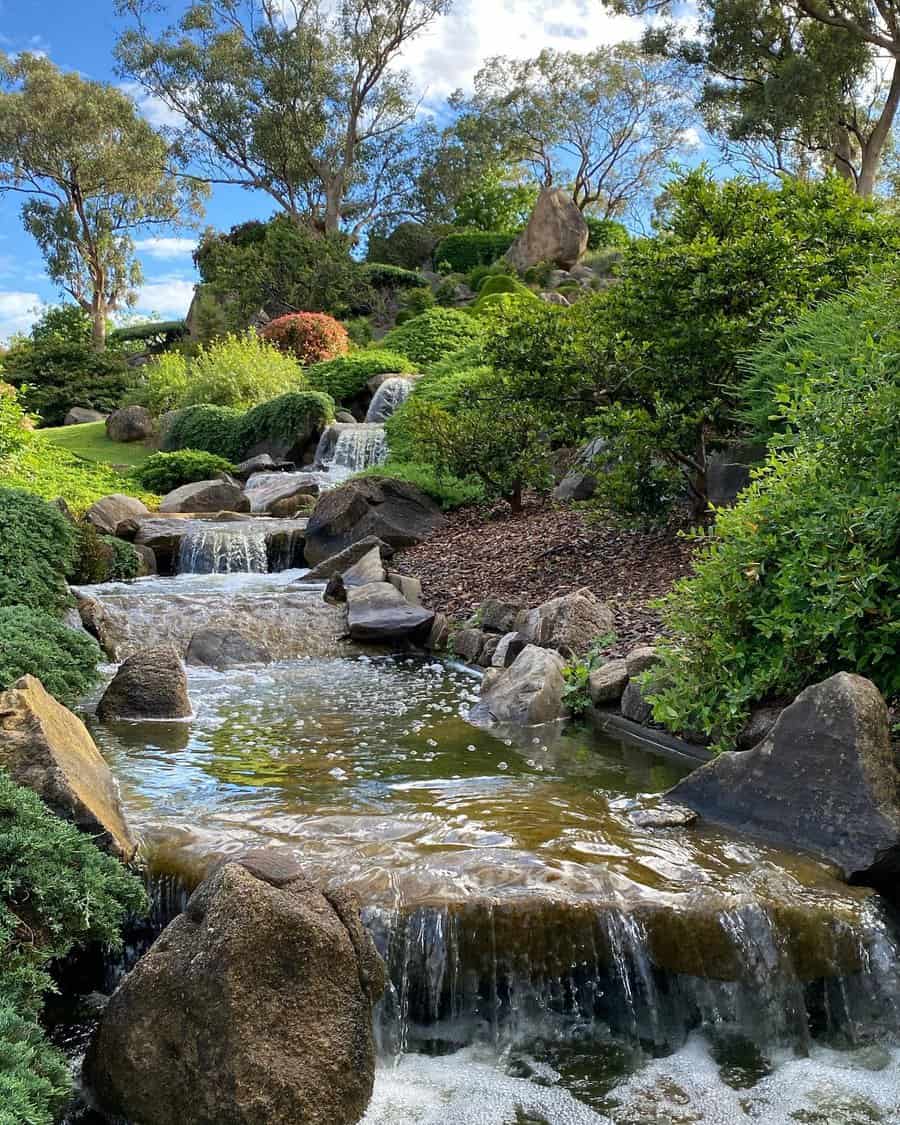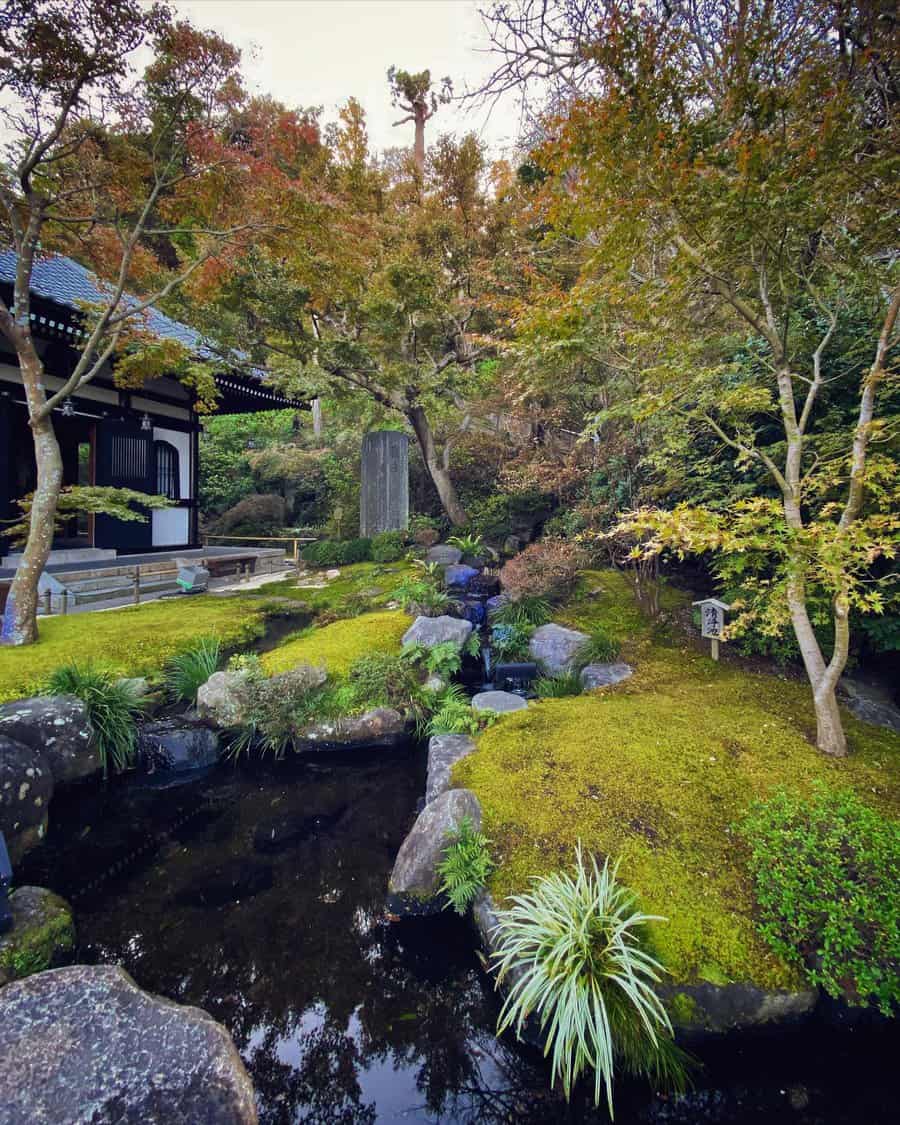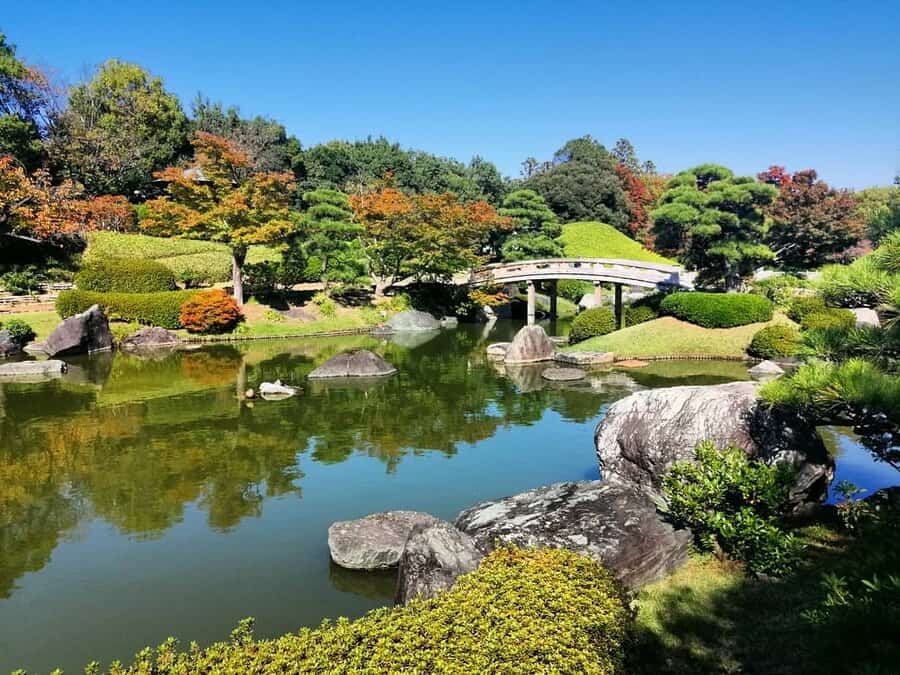 Dry streams are found throughout Japanese landscaping and are easy to DIY. But if your property is sloped, you can install your own running water feature with relative ease.
Once in place, your manmade stream will catch rainwater and carry it through your garden for visual and aural tranquility. Create a sustainable bog filter with aquatic plants and stone to forego the need for a noisy motor.
10. Traditional
Traditional Japanese gardens include several key elements: Water, rocks, hills, and plants. Gardens built for specific purposes (like performing a tea ceremony) may also feature stone lanterns, temples, and more.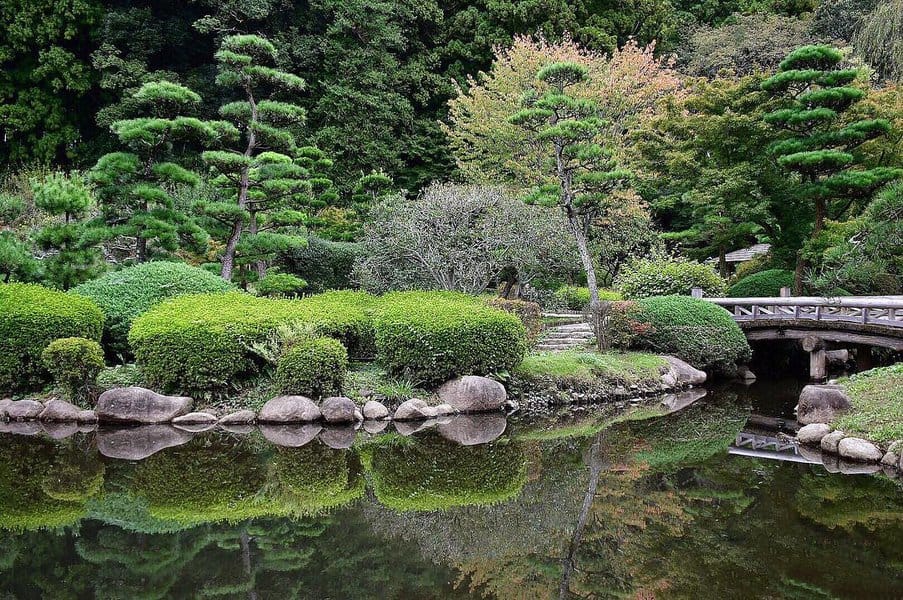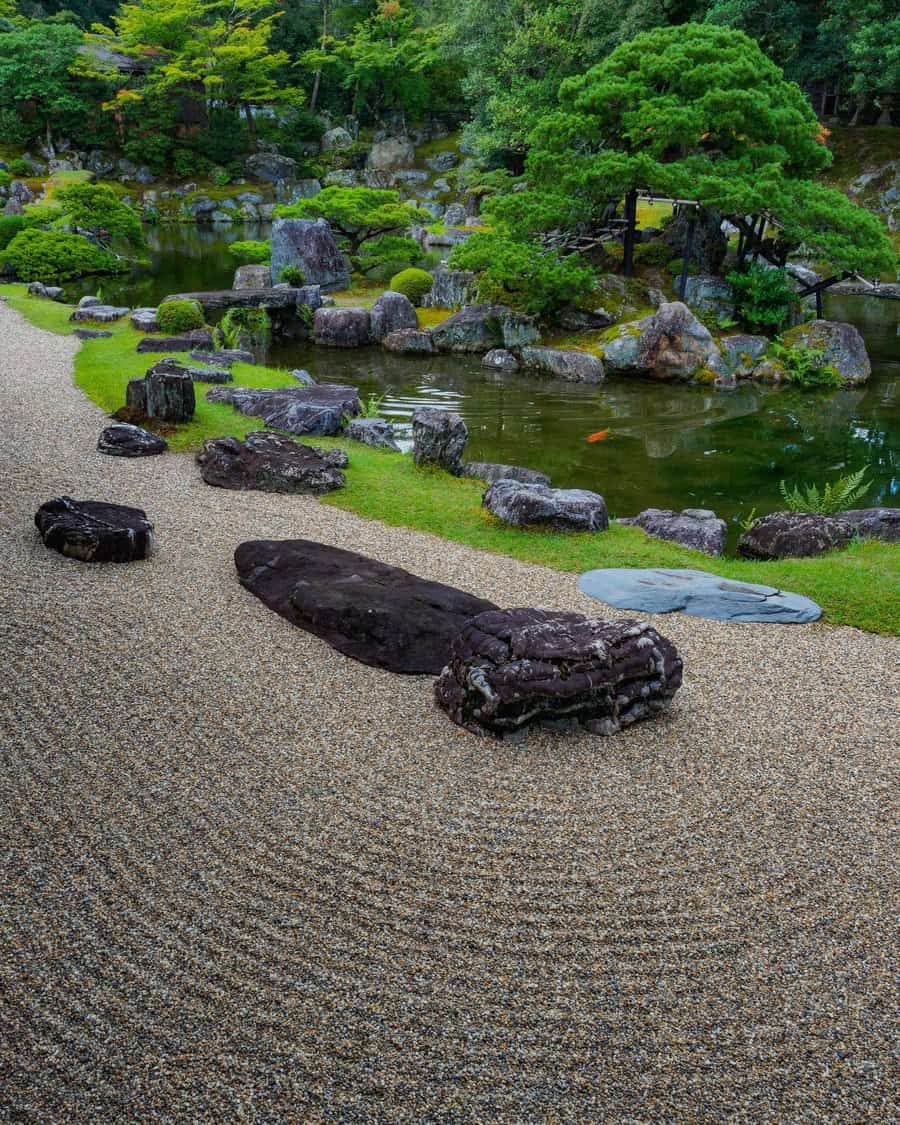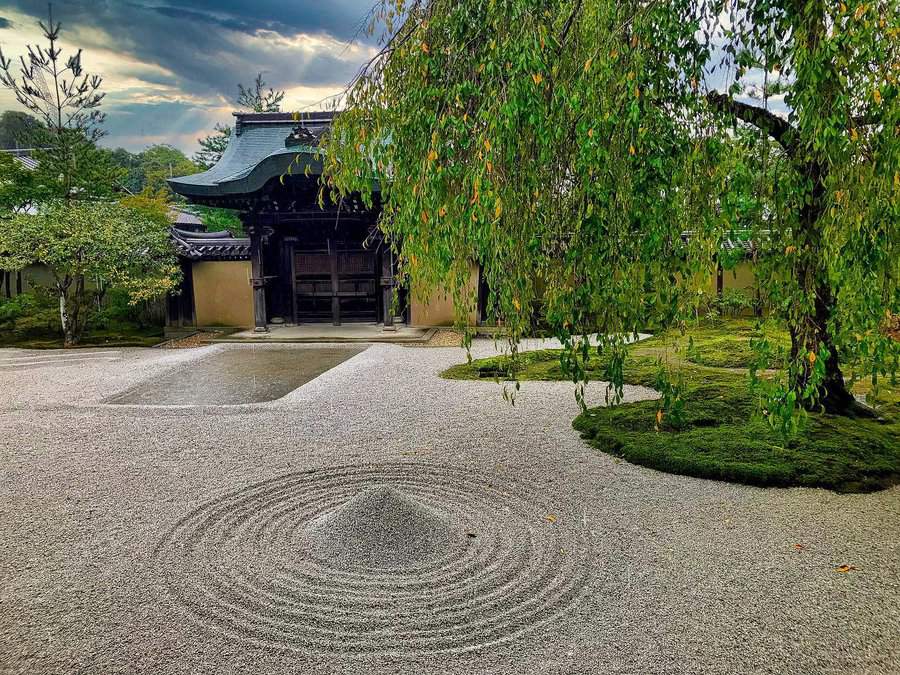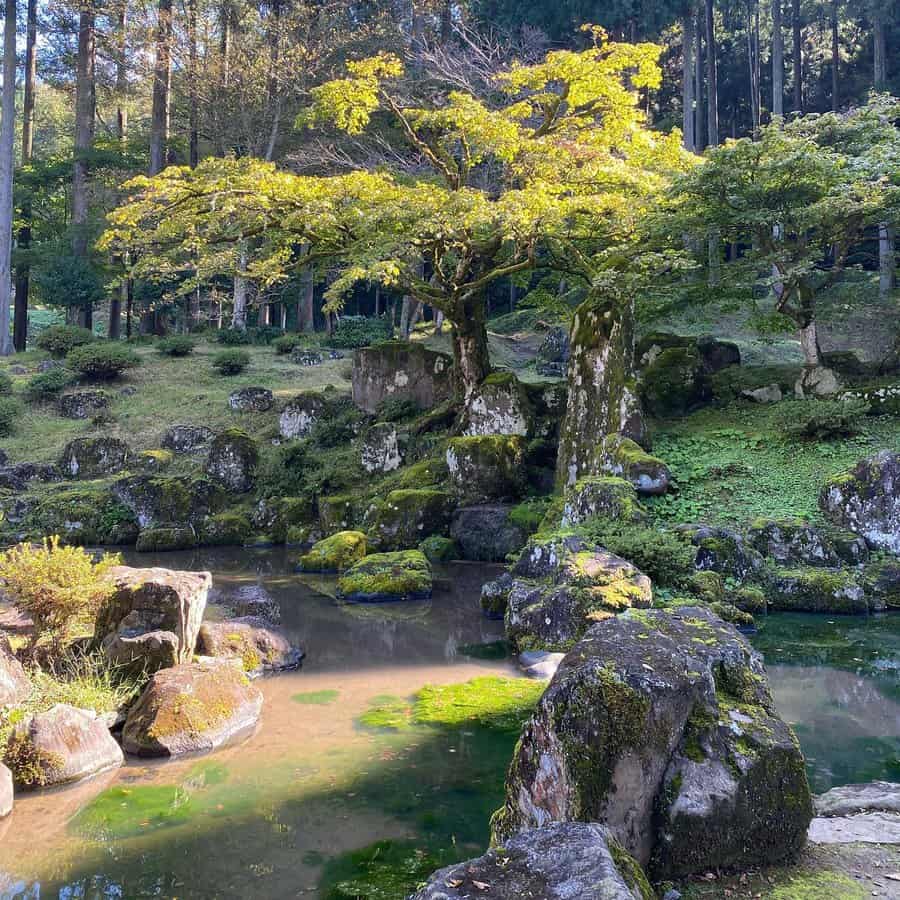 As with any garden, you need to work with what grows best in your region. Fortunately, the plants most often used in Japanese gardening are quite hardy.
Plant a Japanese maple or cherry tree as the focal point of your garden bed. There are countless cultivars to choose from, so there's a good chance of finding one that suits your climate. Select a hardy evergreen shrub and moss to fill out the rest of your garden's green space.
11. Zen
Japanese gardens are diverse. Some are rich with symbolism. Others are designed with appearance solely in mind. The zen garden is the perfect example of both factions colliding.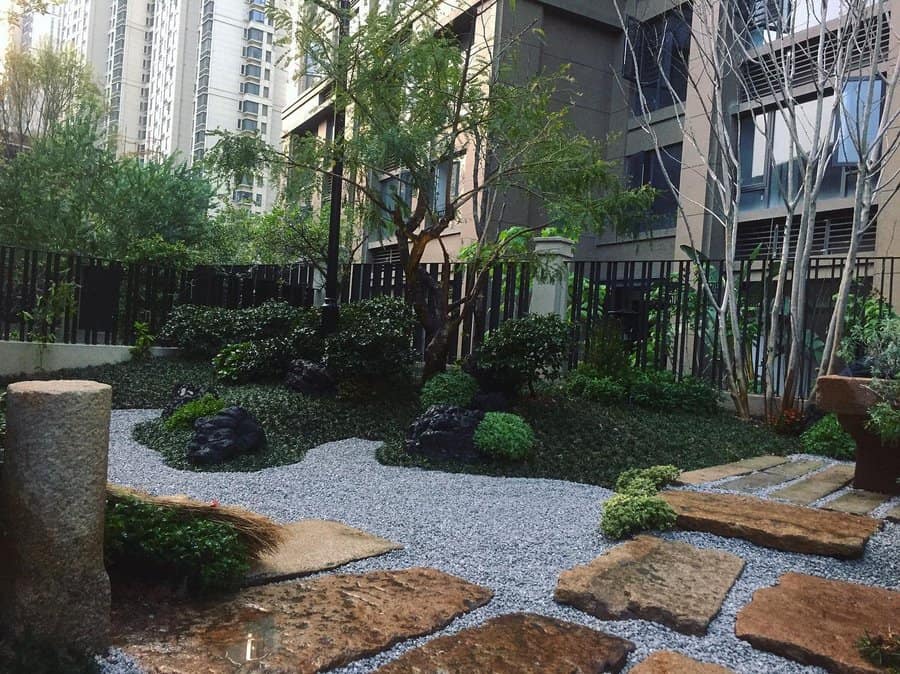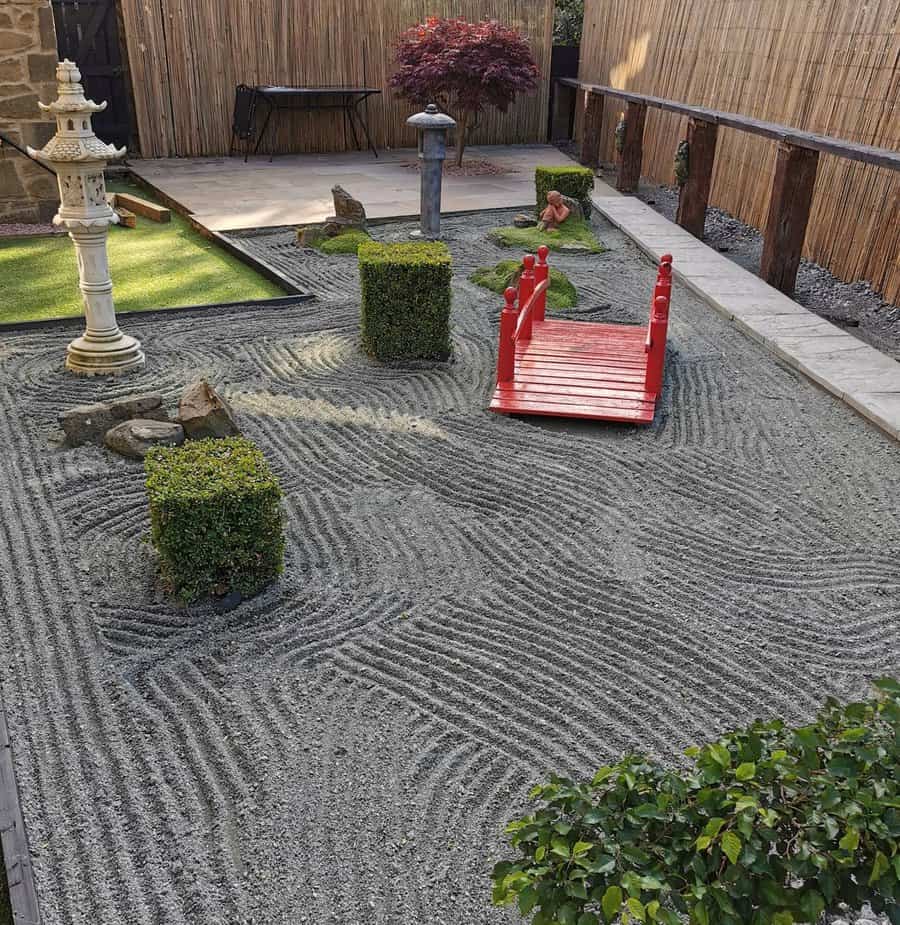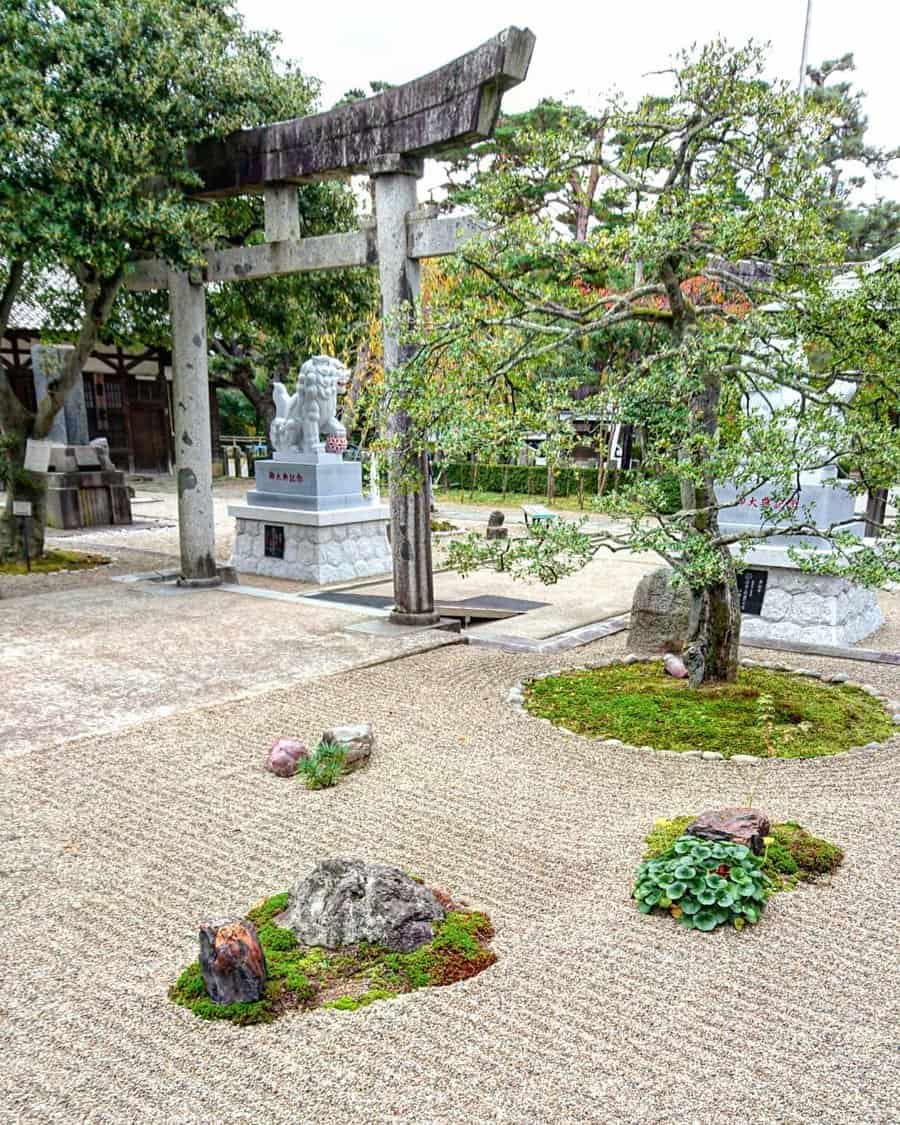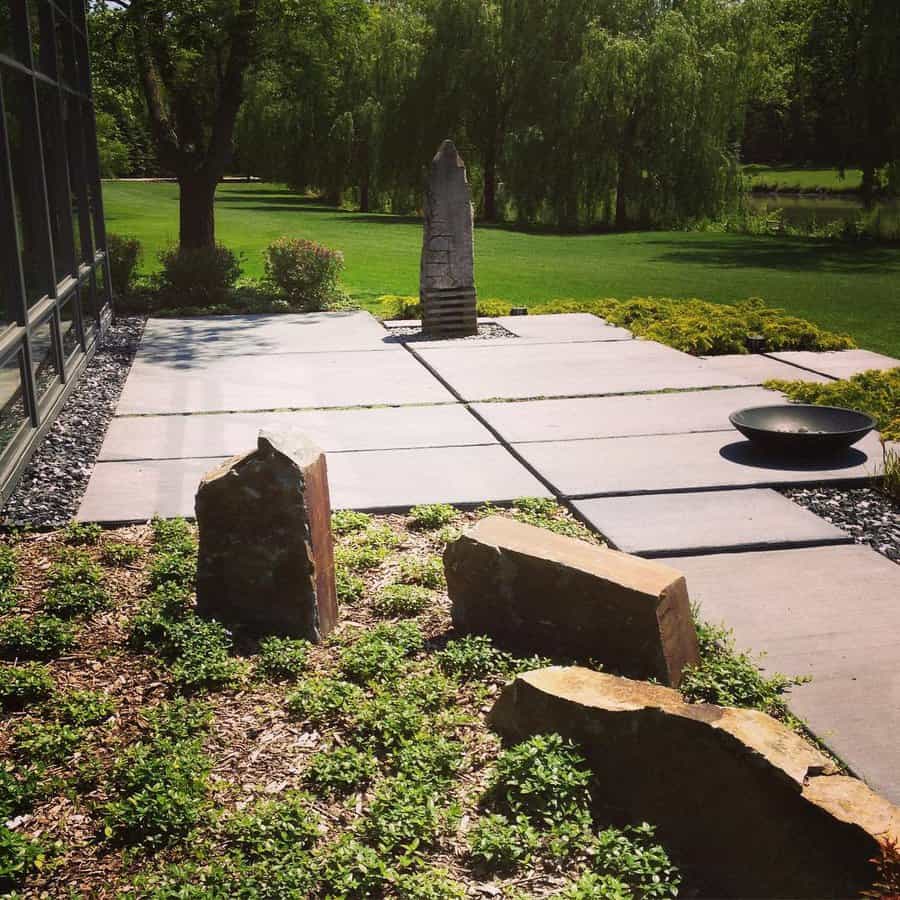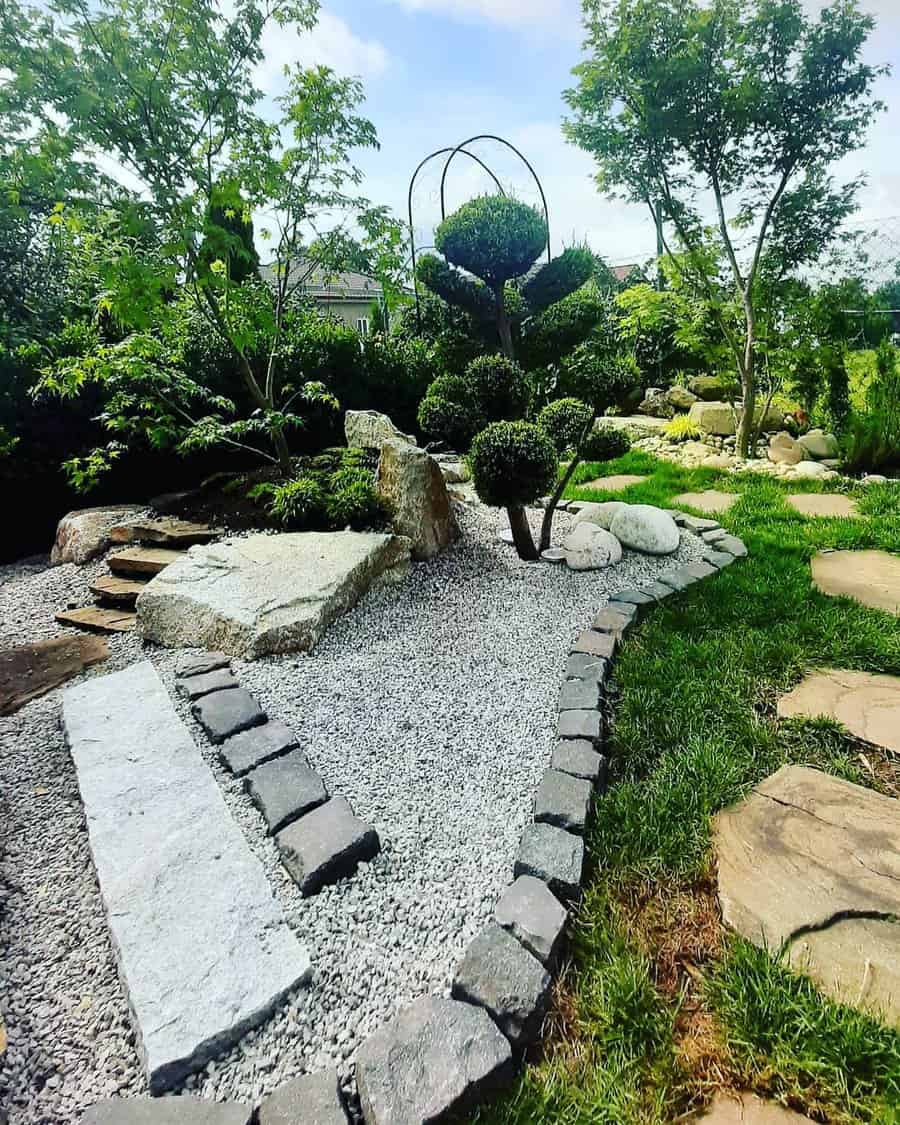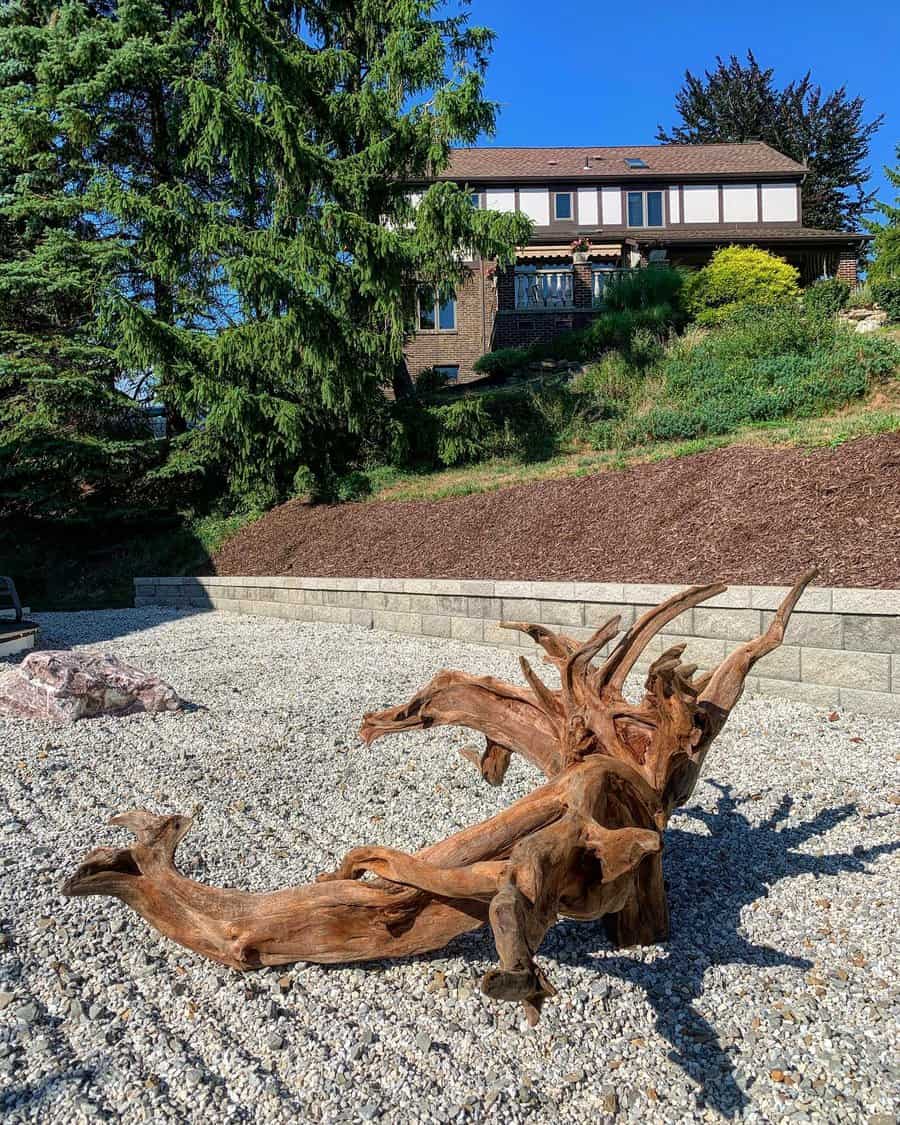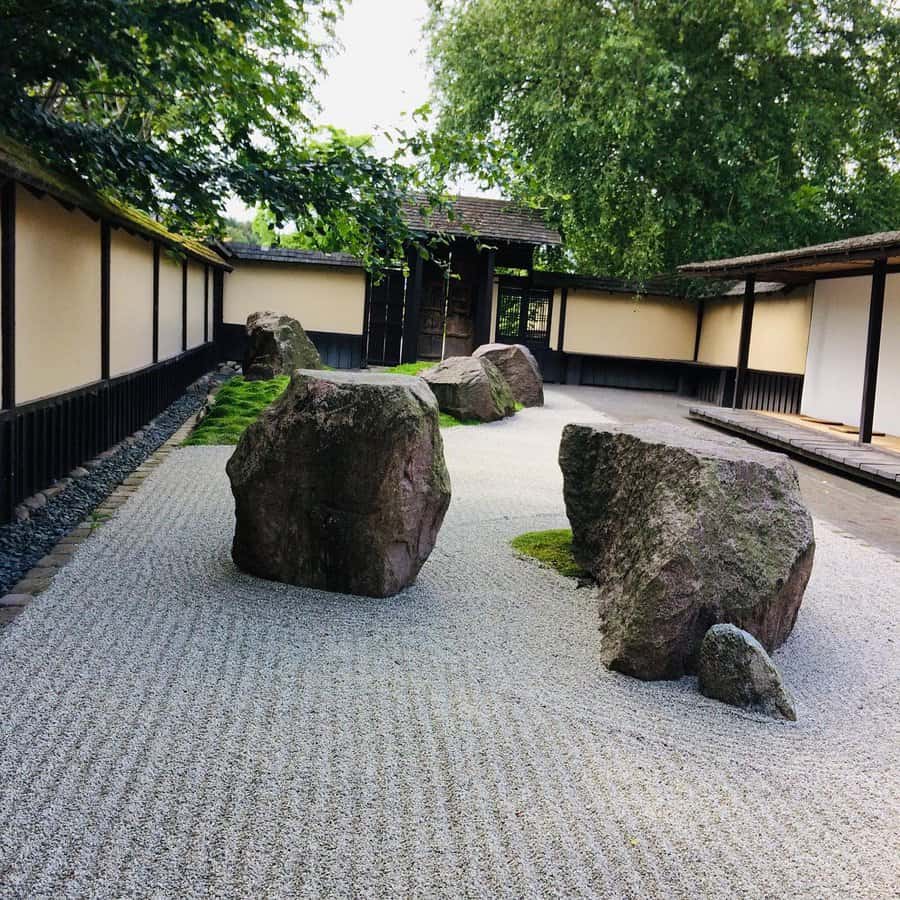 The zen garden was first created as a form of meditation outside of Zen Buddhist temples. These gardens were completely dry — white sand or gravel was used in place of water.
Contemporary zen gardens are often more about looks than meditation. But the same design principles still apply. On top of being aesthetically pleasing, a Japanese zen garden is a great choice anywhere water conservation is a major concern.