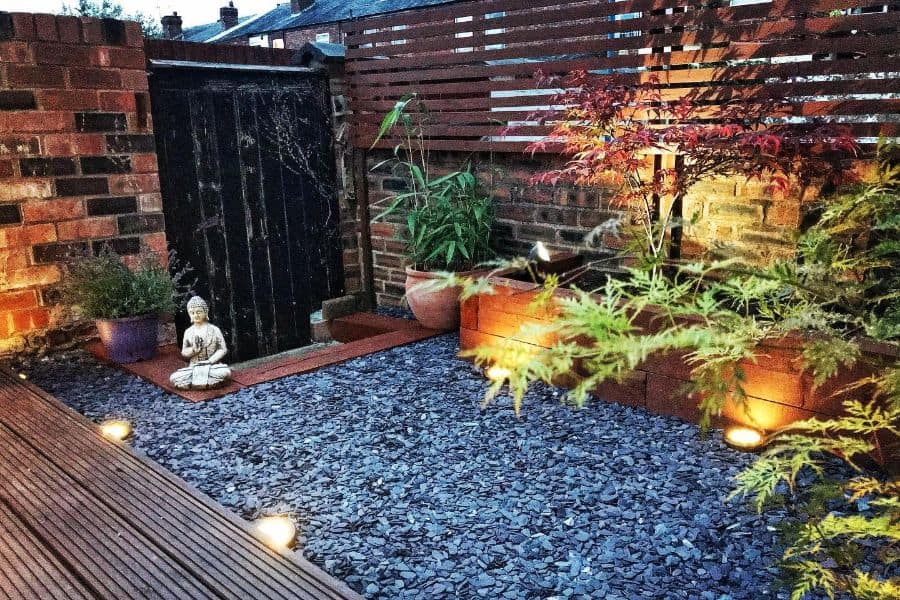 51 Japanese Garden Ideas for a Zen Backyard
by — Kendrick Hulse

Published on May 24, 2021

Updated on October 17, 2023
Contemporary gardens are inspired by trends from all over the world. Many such origins are given right in the name, as is the case with English, Meditteranean, and Japanese gardens.
Japanese garden design takes inspiration from plants native to the islands, as well as Japanese art and culture as a whole.
You don't need to live in Japan to use these elements in your own gardening ventures. But it's extremely important to do your research on the history of Japanese gardens before you start.
Keep reading to learn about what differentiates these ornamental gardens from other landscape trends. Plus some of the top Japanese garden ideas you can incorporate in your own backyard.
1. Pebbles and Rocks for Serenity
Japanese gardens are known for their serene pebble landscapes, carefully designed to evoke peace and harmony. To create your own, choose a variety of pebbles, considering size, shape, and texture. Arrange them thoughtfully to form captivating patterns, encouraging mindfulness and meditation.
As the pebbles connect to each other, your garden will offer tranquil moments in a serene atmosphere. Consider complementing this with other Zen elements like a meditation space or a flowing stream for a complete Zen backyard experience.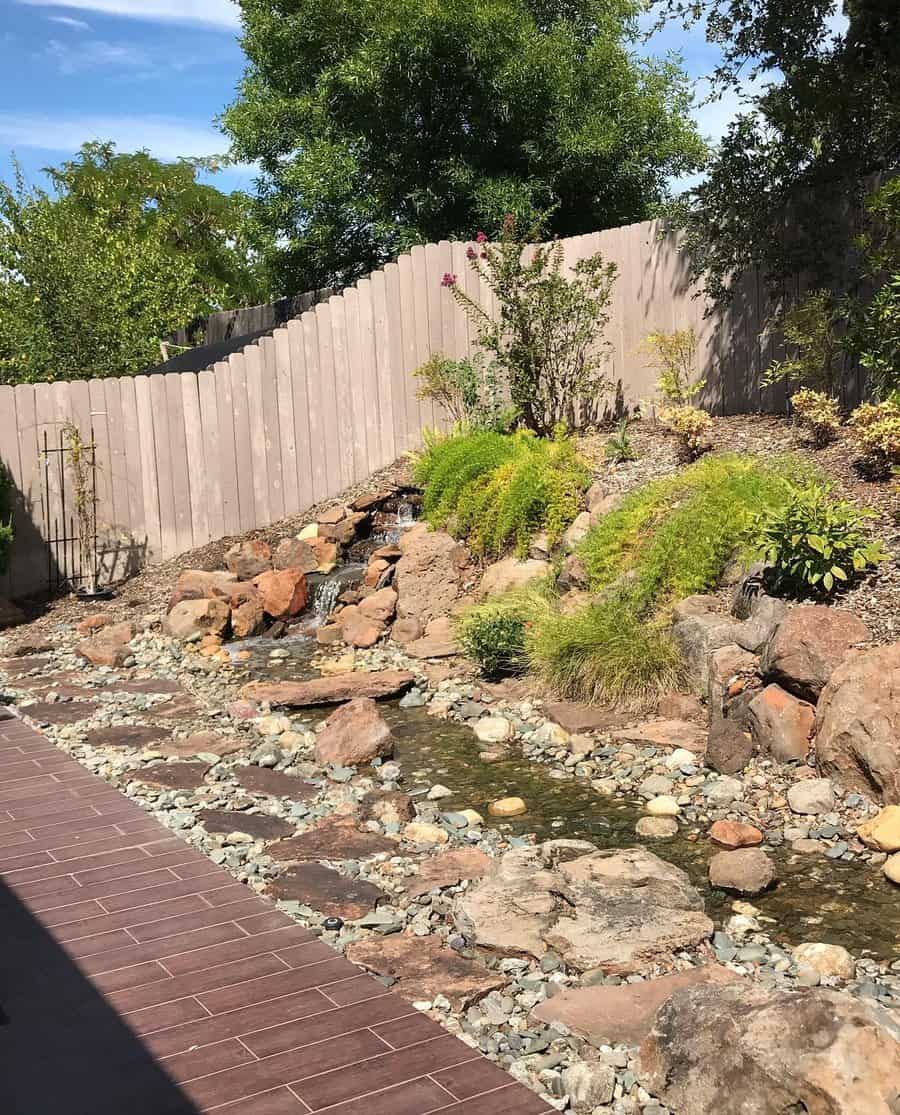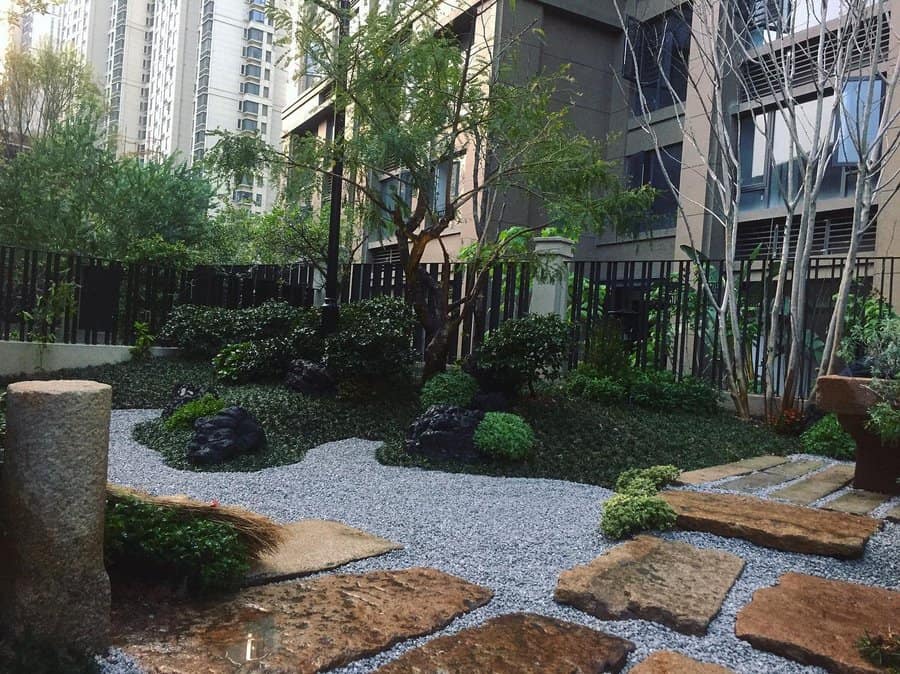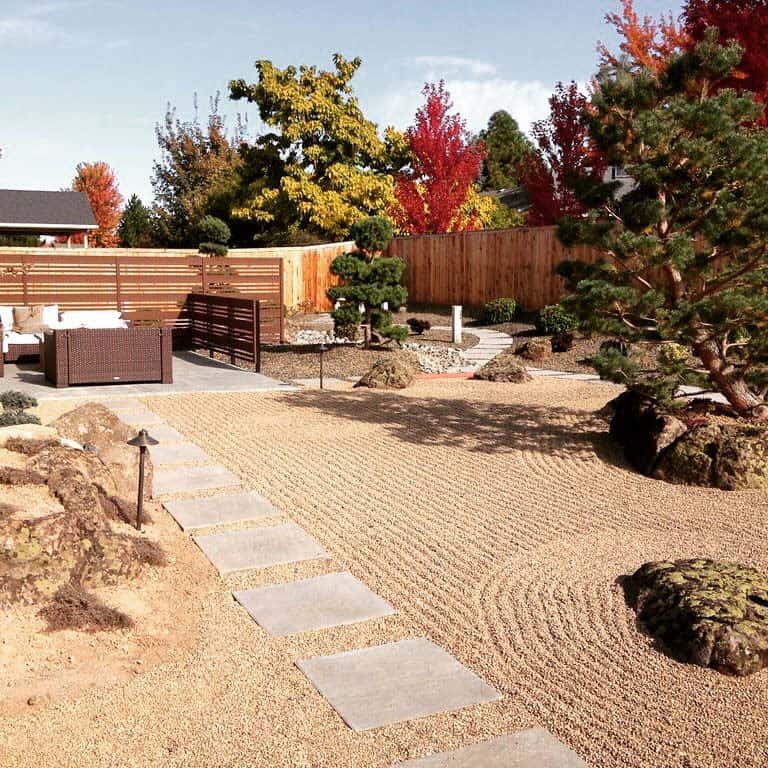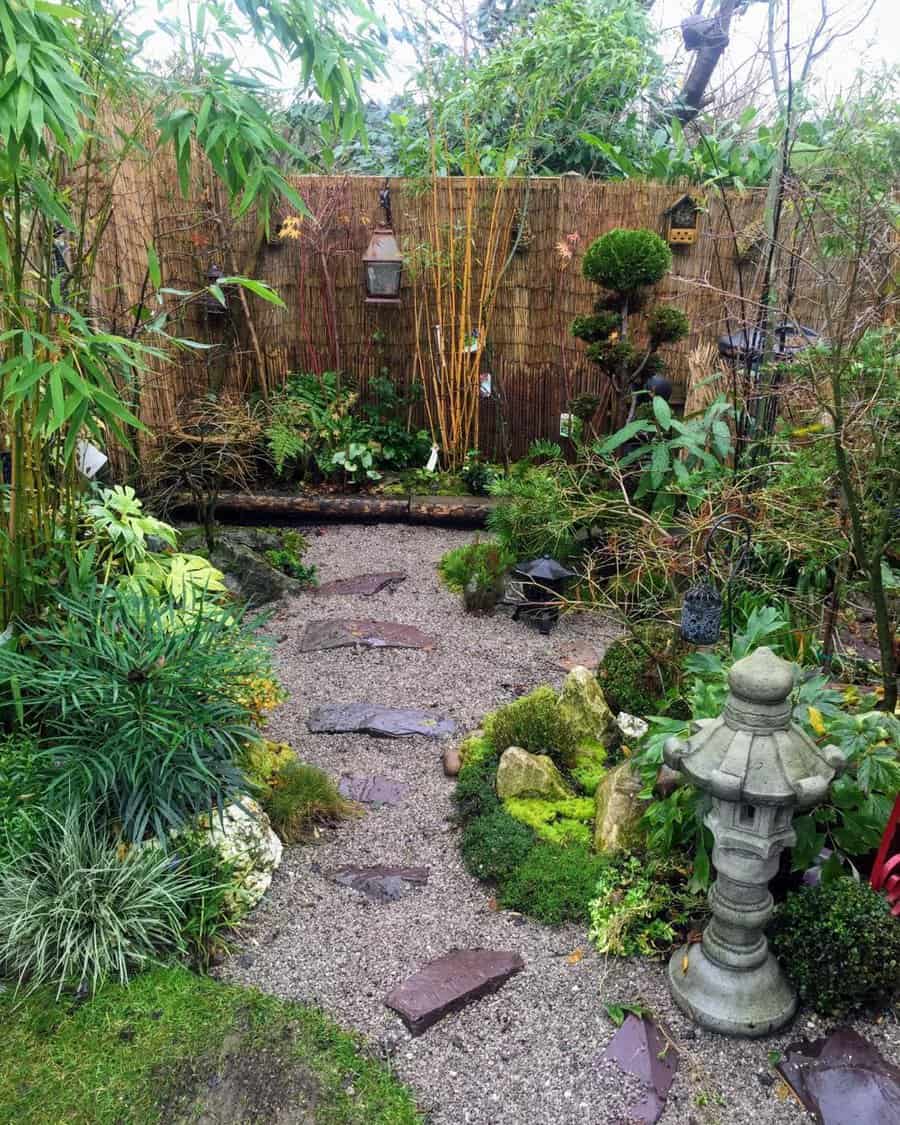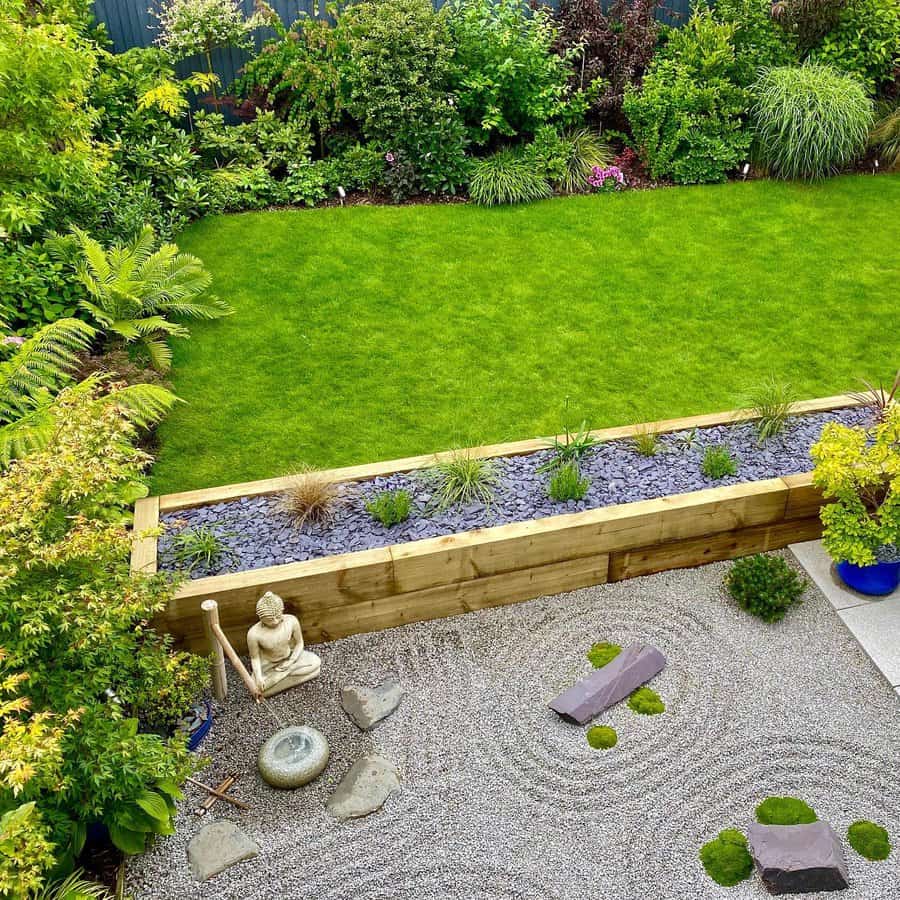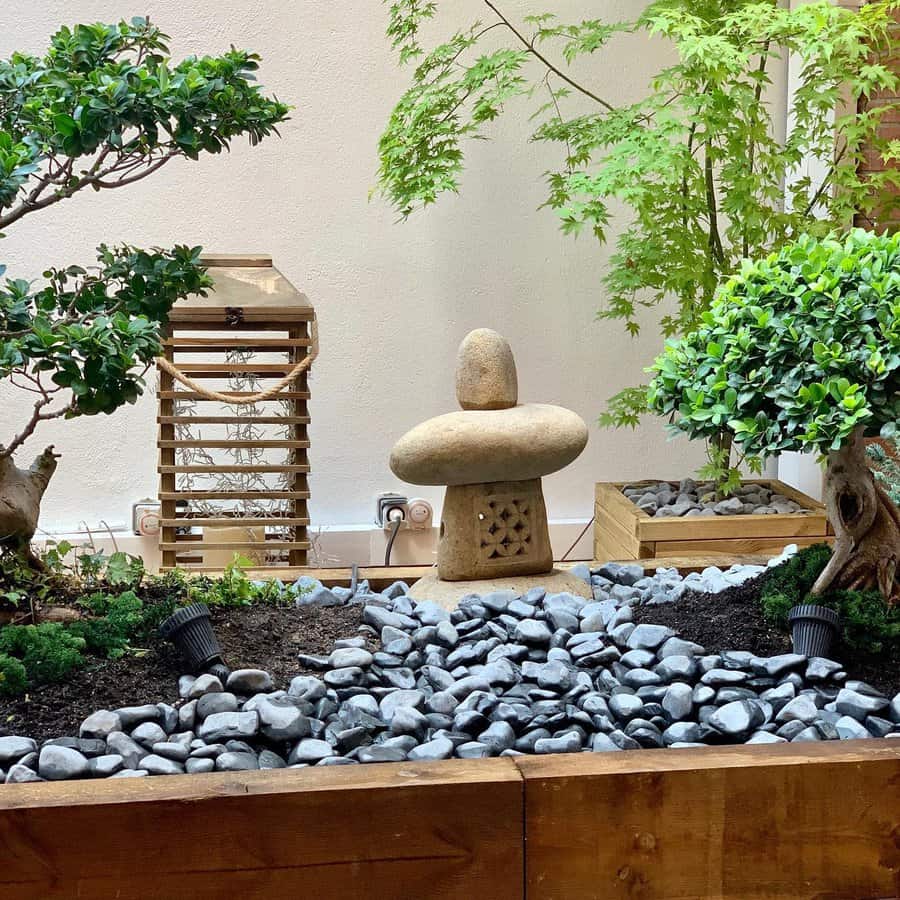 2. Koi Pond Bridge Tranquility
Incorporating a koi pond with a bridge is a quintessential feature of Japanese gardens, imparting an immediate sense of serenity and charm. When designing your Zen backyard, consider the timeless beauty of carefully selected gray and black rocks to enhance the pond's aesthetics.
The koi pond can serve as the central element, uniting other garden components, and creating a harmonious atmosphere. Complement this with surrounding greenery, a meditation area, or a pagoda statue for a complete Zen garden retreat.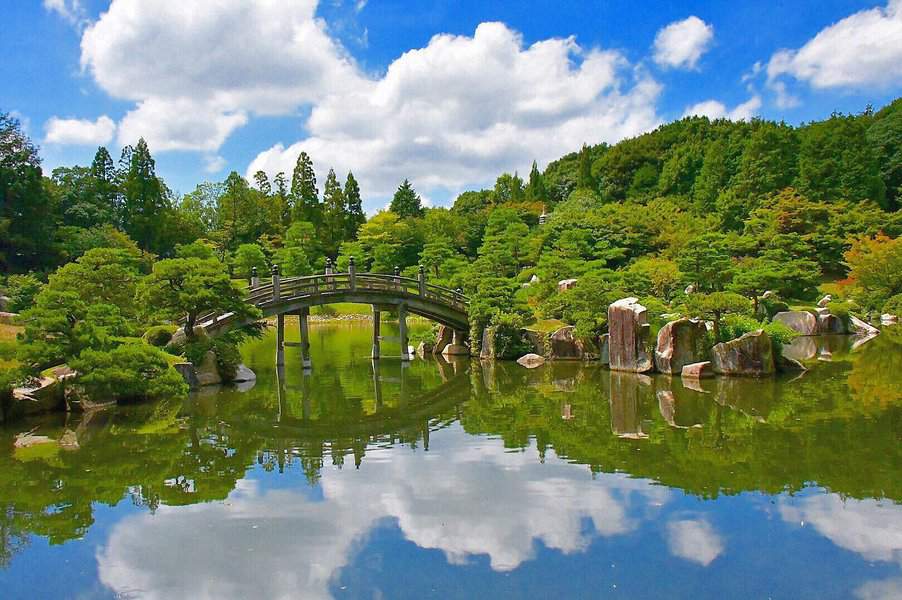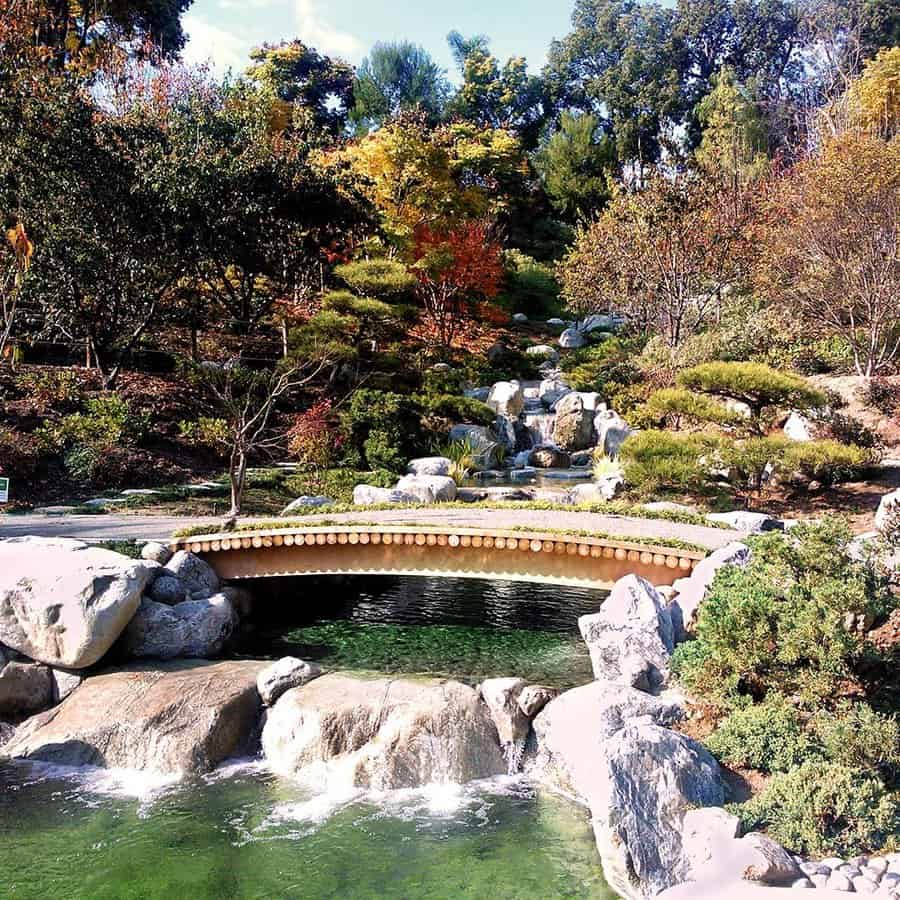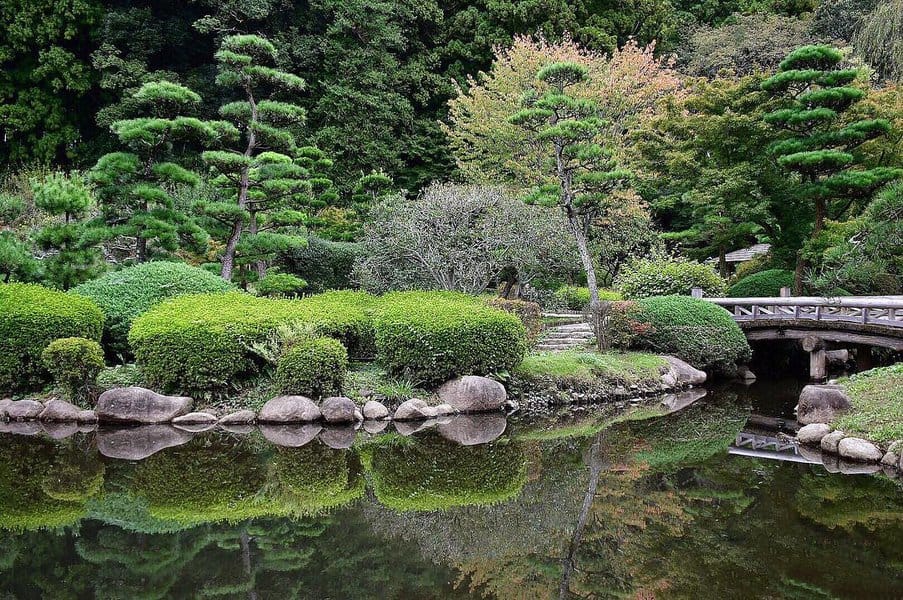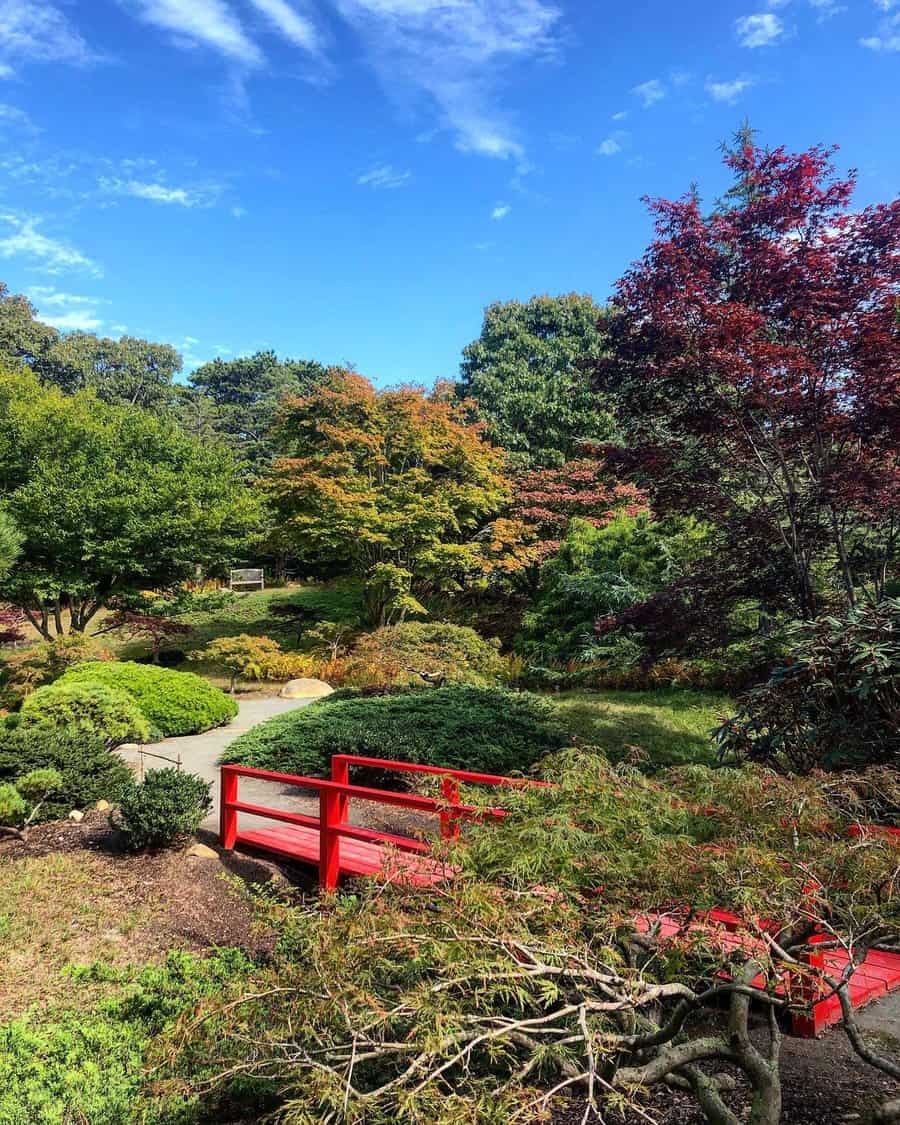 3. Tranquil Space with Fountain
Enhance your Japanese garden with the soothing presence of a water fountain. Opt for fountains made from rocks or statues for an authentic touch. The gentle sound of flowing water adds to the serene ambiance, making your garden a peaceful oasis. Complement the fountain with well-placed stones, lush greenery, and strategic lighting to create a harmonious Zen backyard retreat.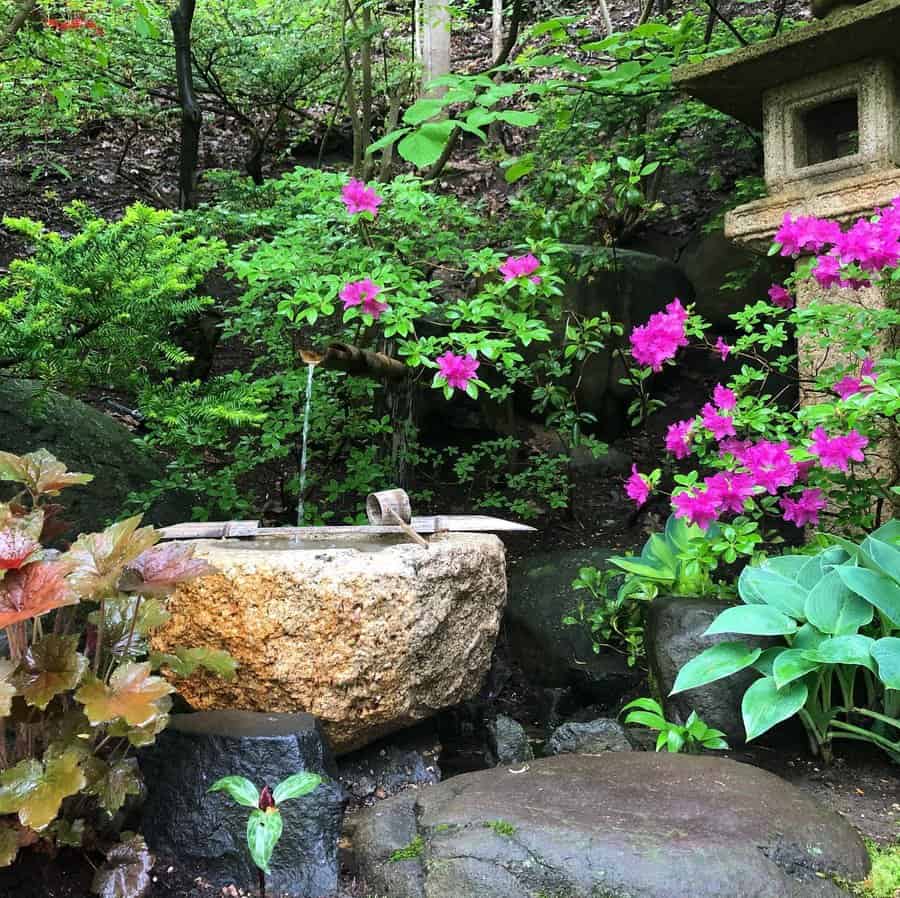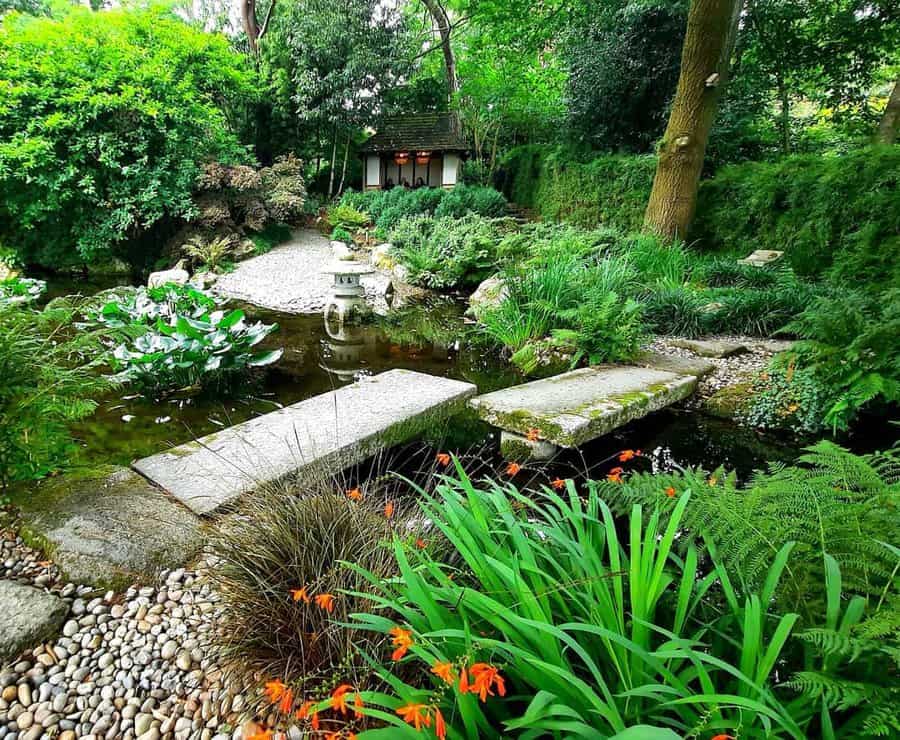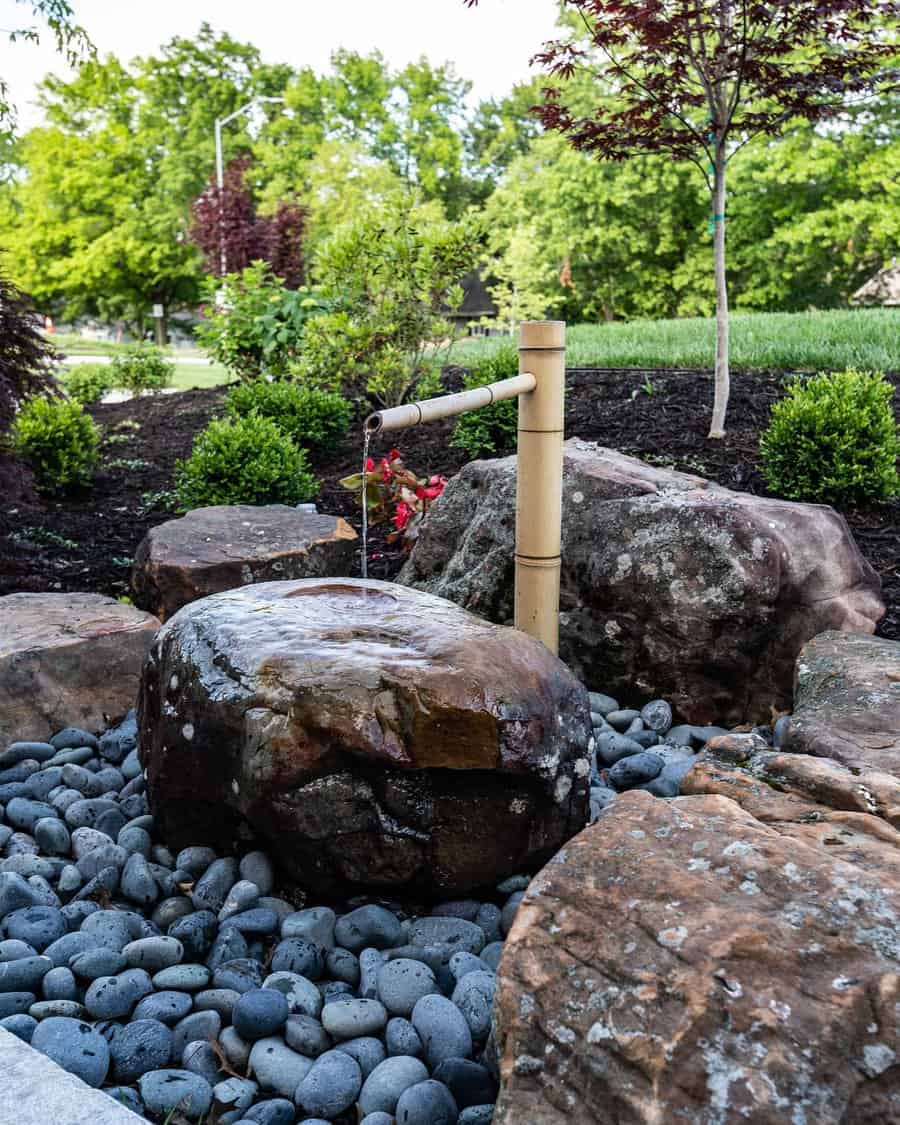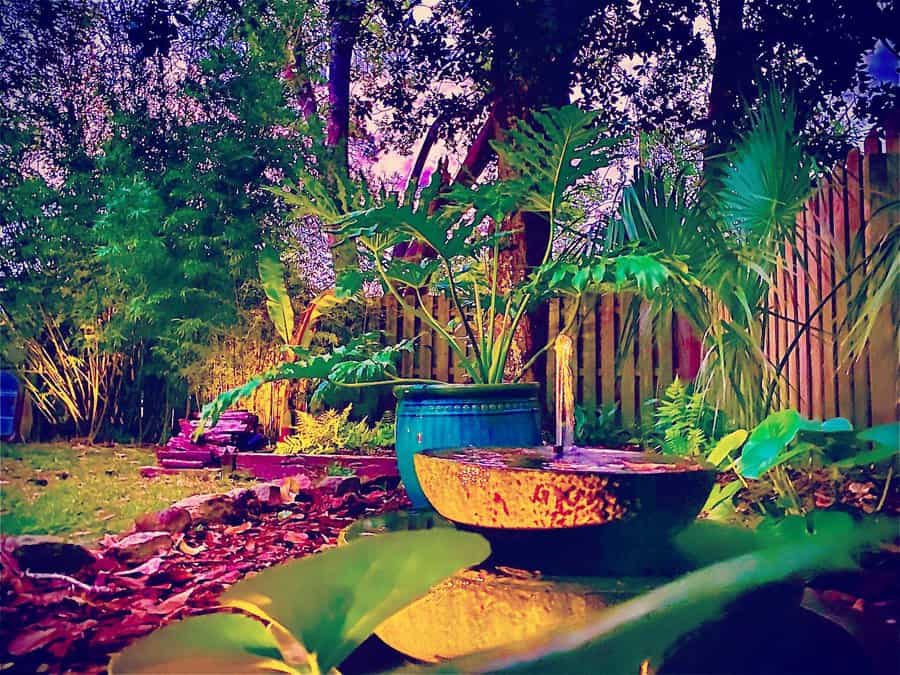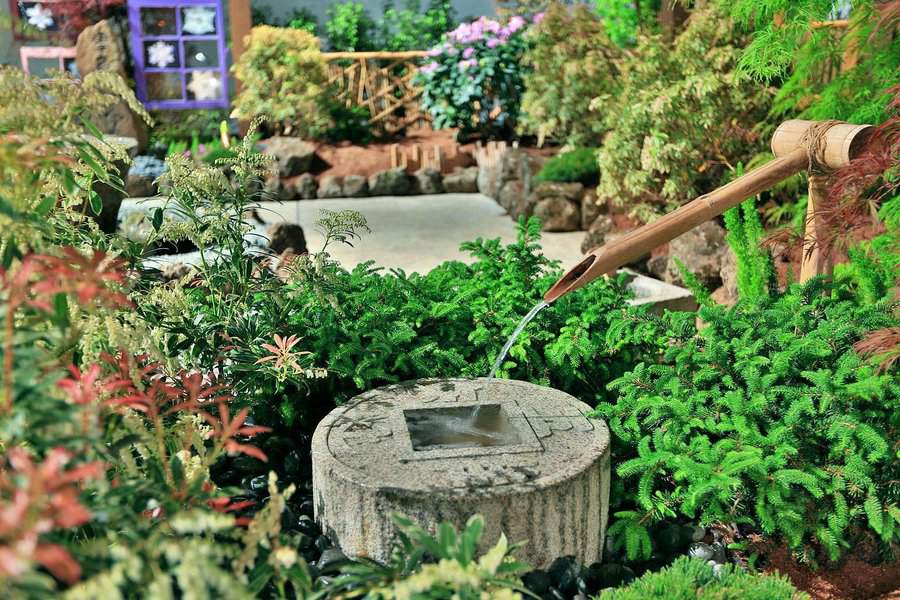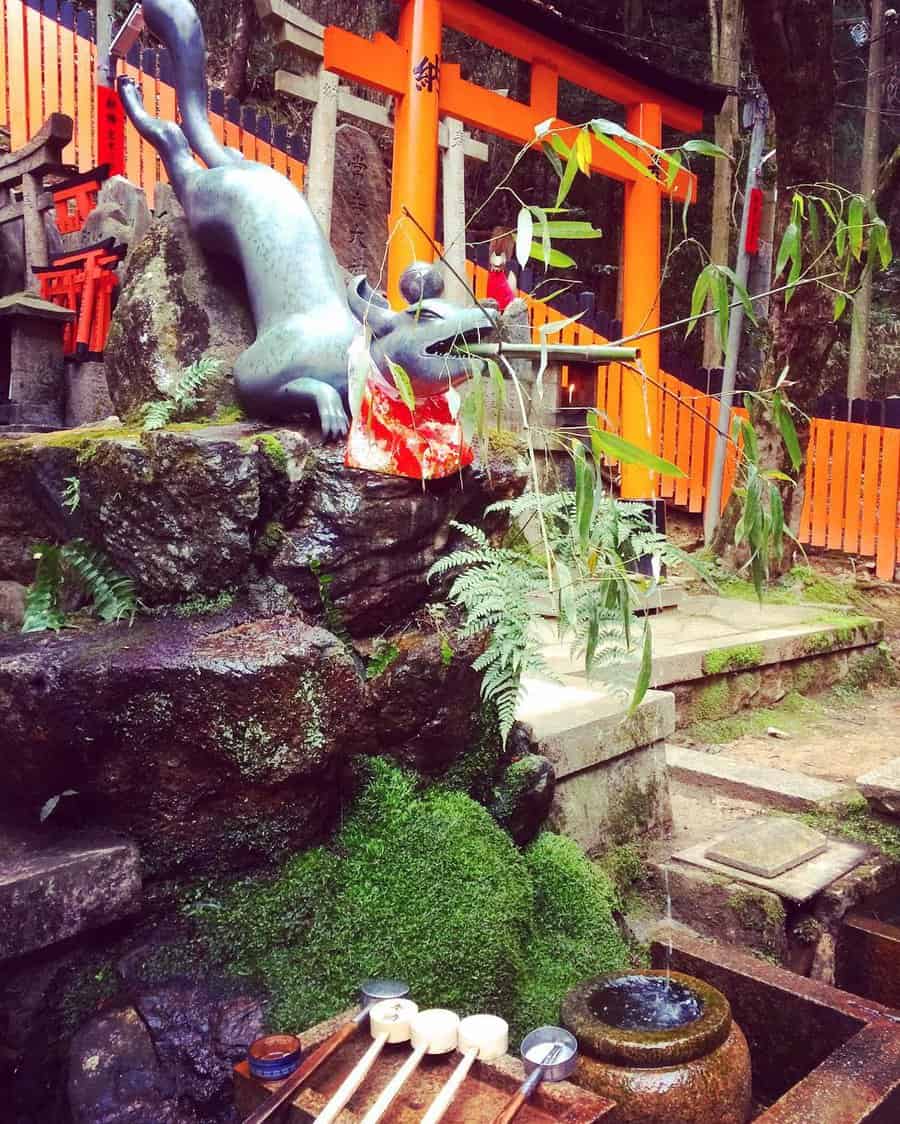 4. Embrace the Power of Space
Creating a sizable Japanese garden in your backyard can be a fulfilling endeavor, instilling tranquility into your outdoor space. Prioritize the use of white space, areas free from excessive elements, which encourage reflection and appreciation of nature's beauty. Ensure well-maintained grass and gravel paths to achieve the traditional aesthetics of a Japanese garden.
To embark on this project successfully, engage in patient planning, dedicated maintenance, and thorough research, turning your outdoor space into a serene retreat. Consider adding elements like stone lanterns, bamboo, or a meditation area to complement the open spaces for a complete Zen garden experience.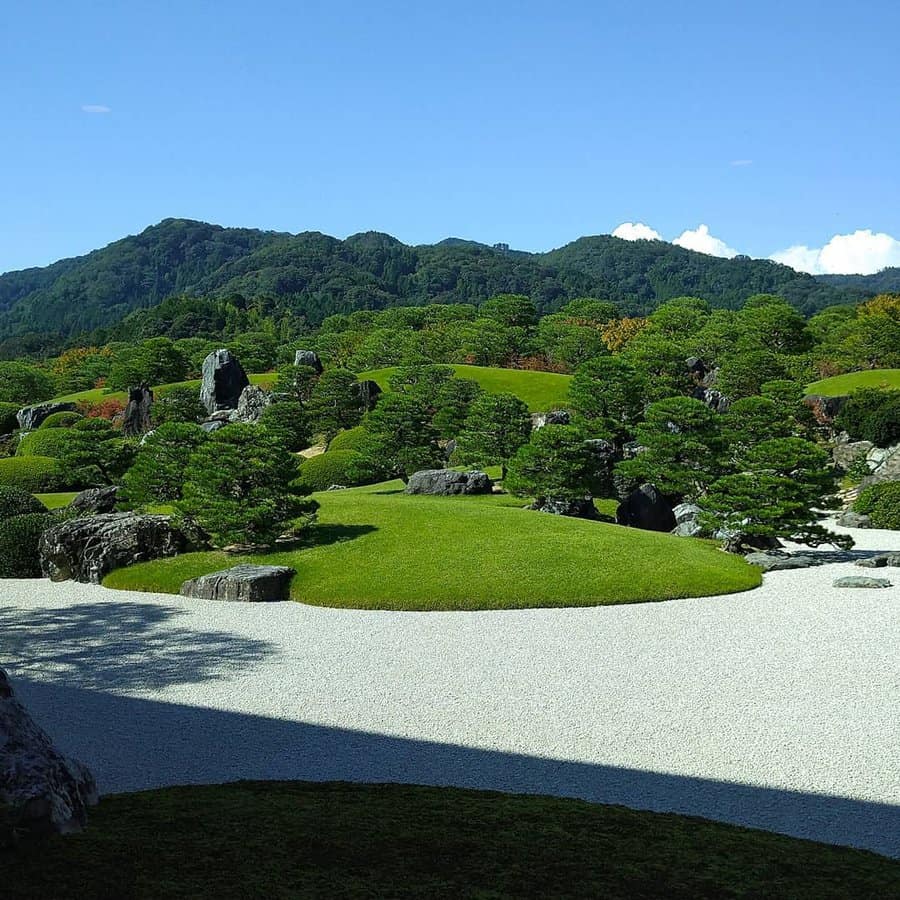 5. Dramatic Lighting for Ambiance
To infuse your Japanese garden with an inviting and enchanting ambiance, consider incorporating strategically placed floor lights. These lights can cast a warm, dramatic glow along paths or around ponds, creating a captivating effect.
Whether it's day or night, floor lights allow you to dynamically illuminate your garden, ensuring it's always welcoming. For a complete Zen backyard experience, combine dramatic lighting with elements like bamboo, stone lanterns, or a small meditation area to maximize the garden's tranquility and allure.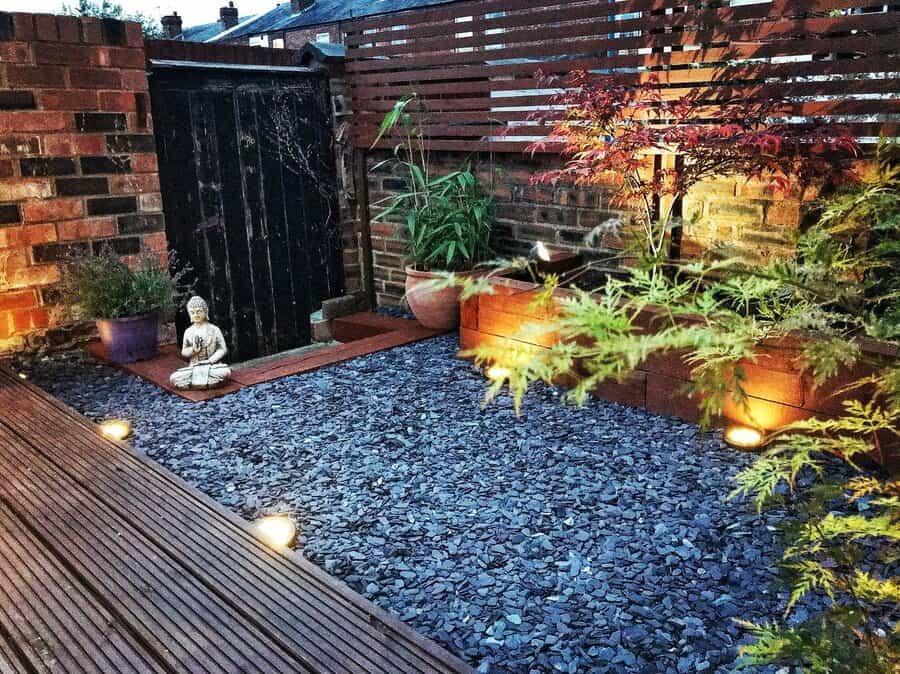 6. Creating Zen with a Pavilion
A Japanese pavilion surrounded by a pond can be a captivating addition to your Zen backyard. When choosing a pavilion, prioritize personal connection and emotional resonance. Seek pavilions within lush gardens, featuring serene ponds and calming rockeries.
Before entering, take a moment to admire the pavilion from afar to fully appreciate its serenity and beauty. Complement this architectural element with elements like stone lanterns, bamboo, or a meditation area to create a harmonious and contemplative garden space.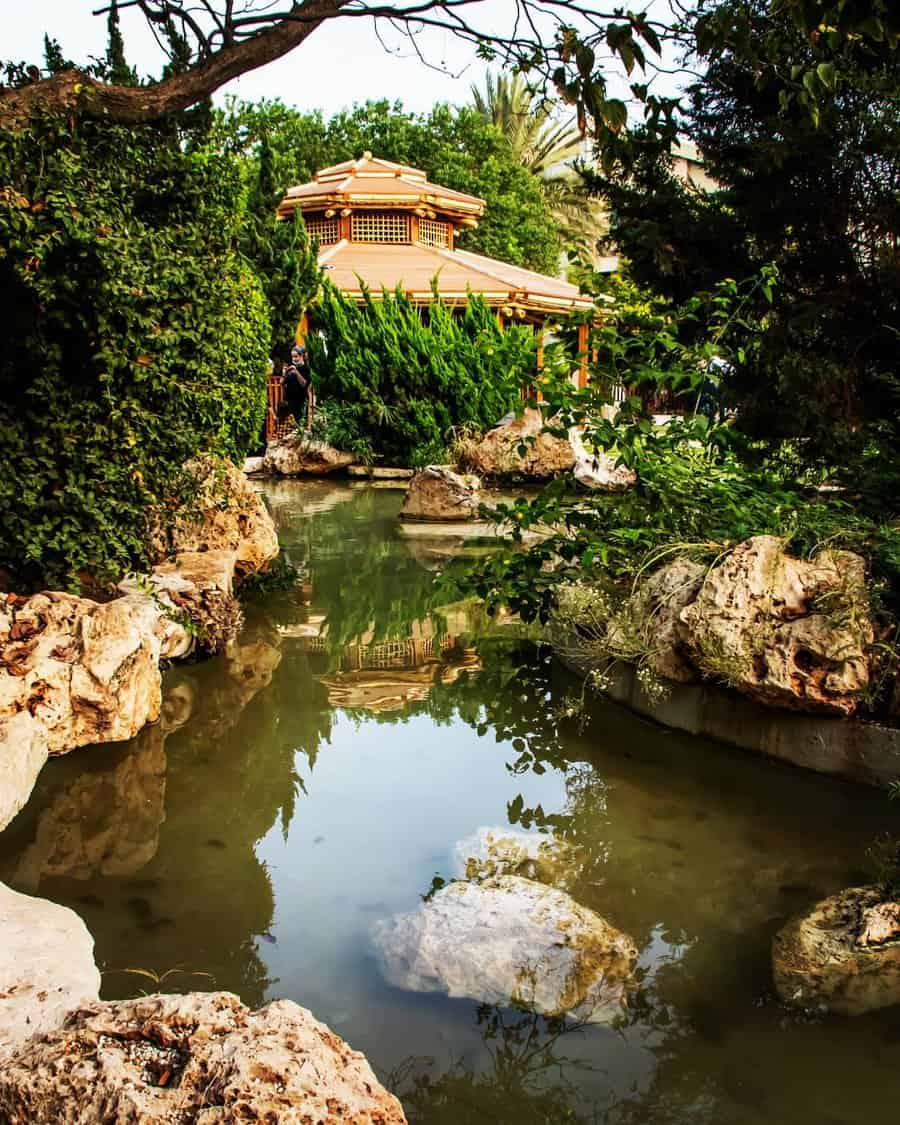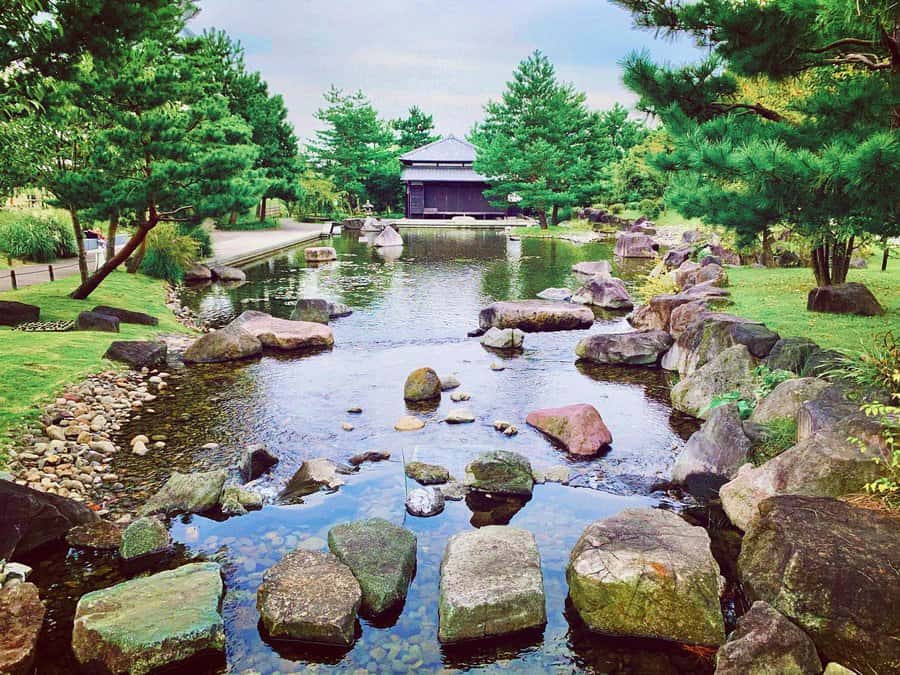 7. Pagoda Statue Elegance
Introducing a pagoda statue into your Japanese-inspired garden infuses your outdoor space with timeless elegance. To enhance the serene ambiance, surround the pagoda with a selection of trees, such as pine, maple, and bamboo, which not only add natural beauty but also create a tranquil atmosphere with their rustling leaves.
Ensure the pagoda's placement commands attention and serves as a focal point. For a complete Zen backyard, consider adding elements like stone lanterns, a koi pond, or a meditation area that harmonize with the pagoda's grace and contribute to the garden's peaceful paradise.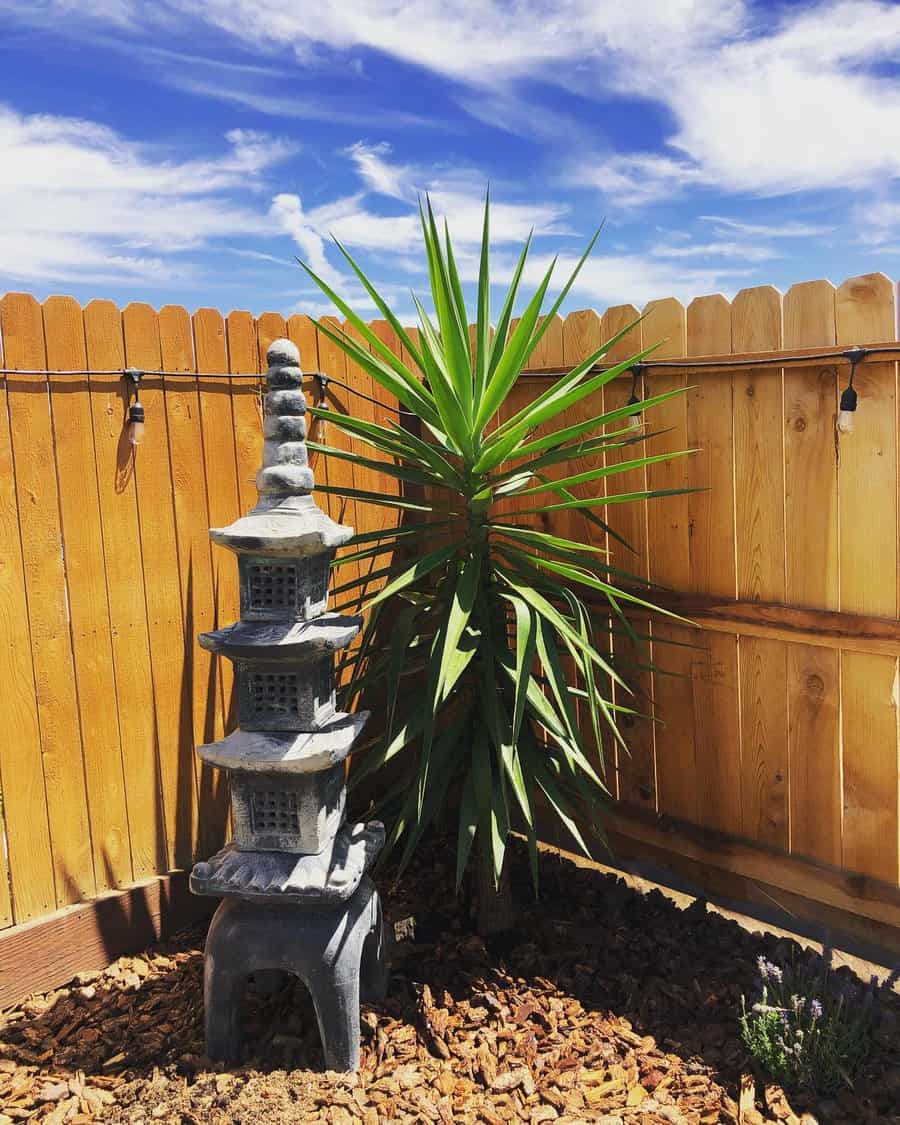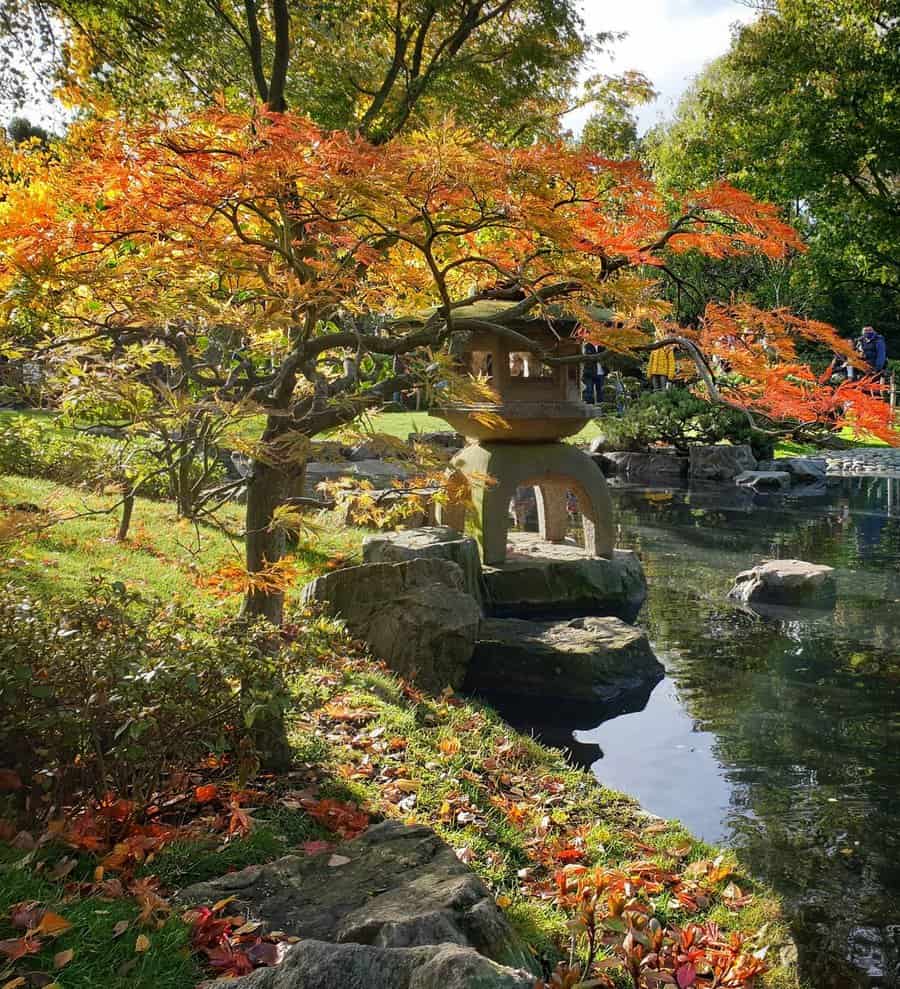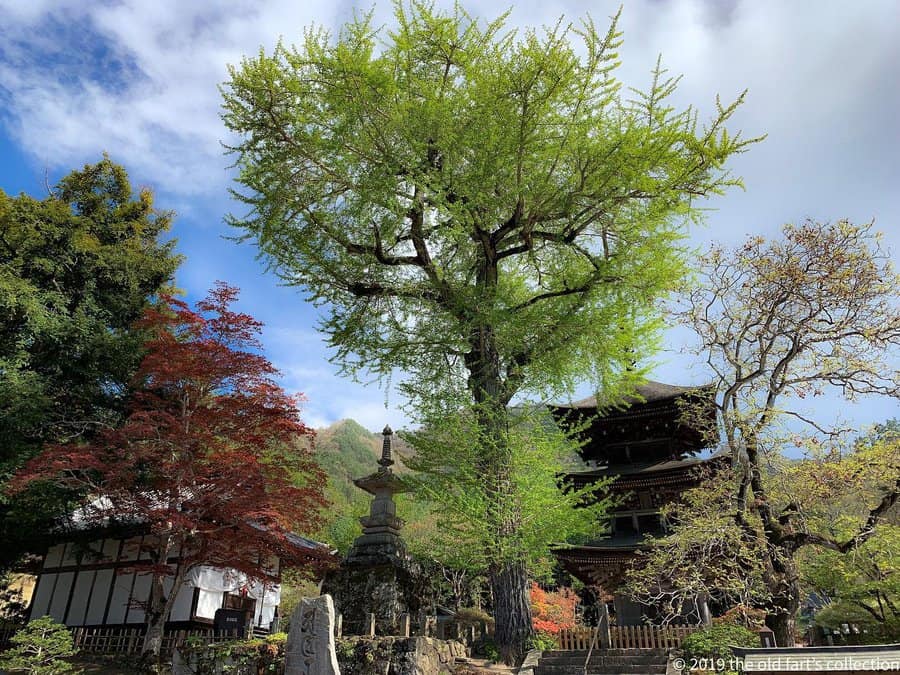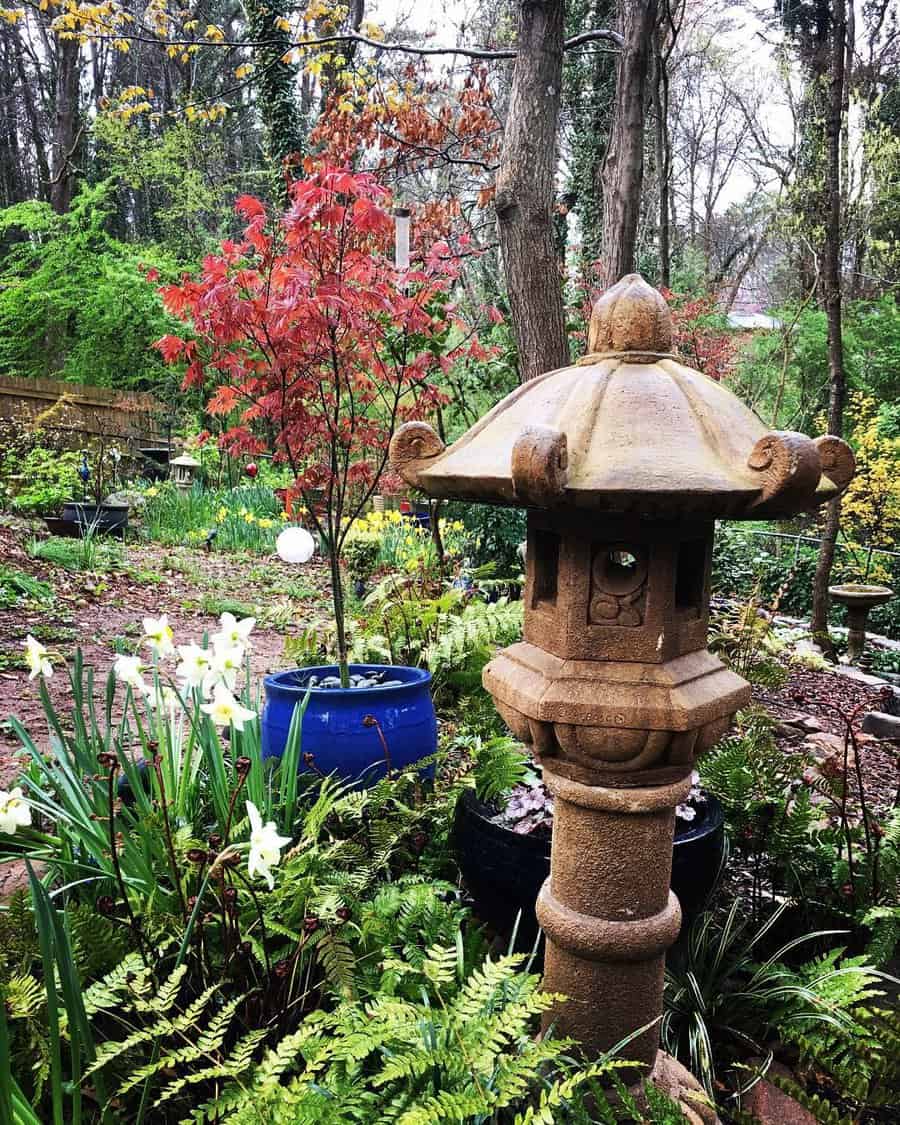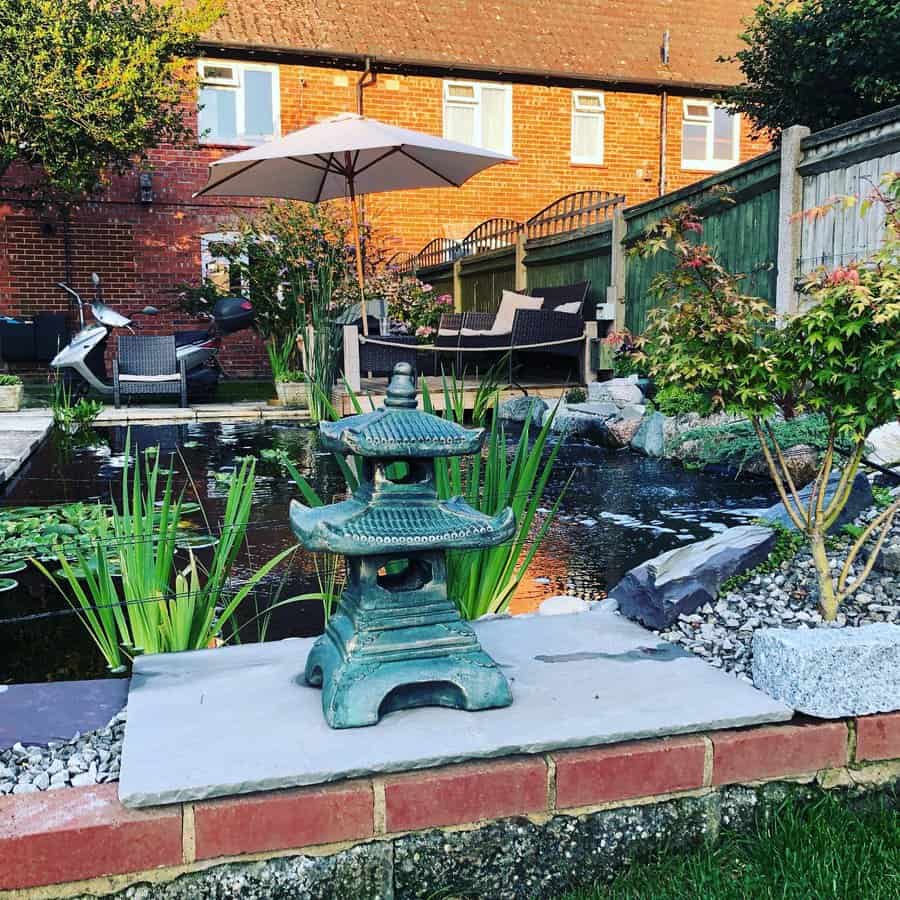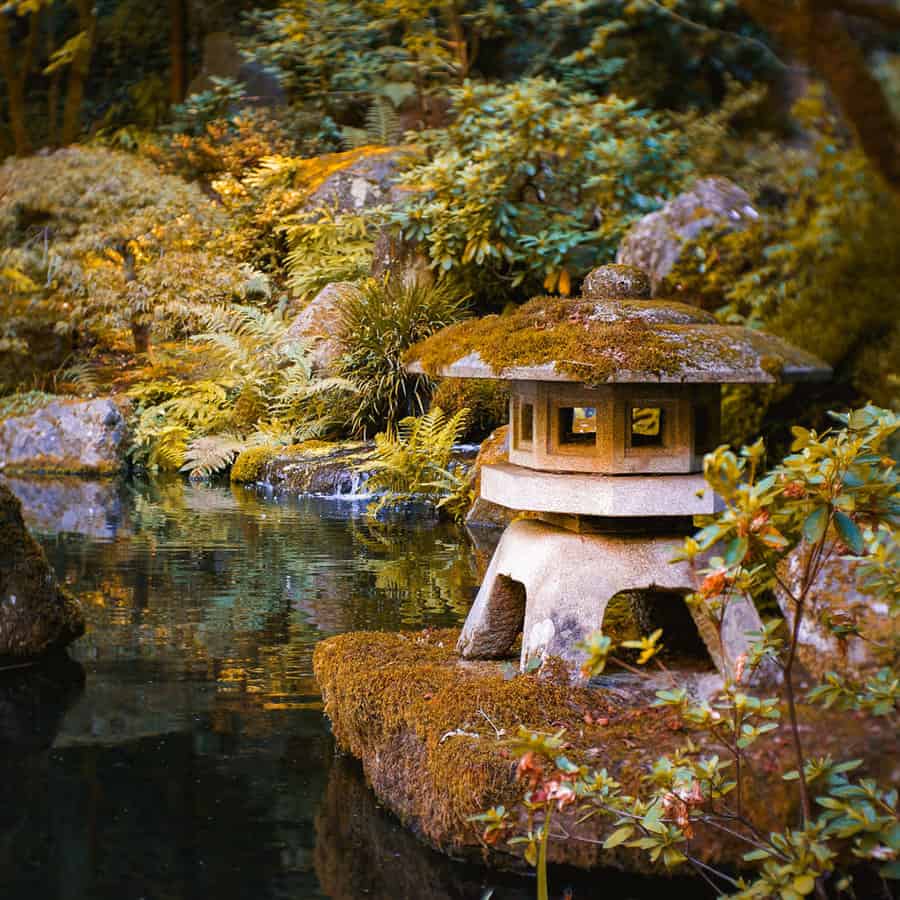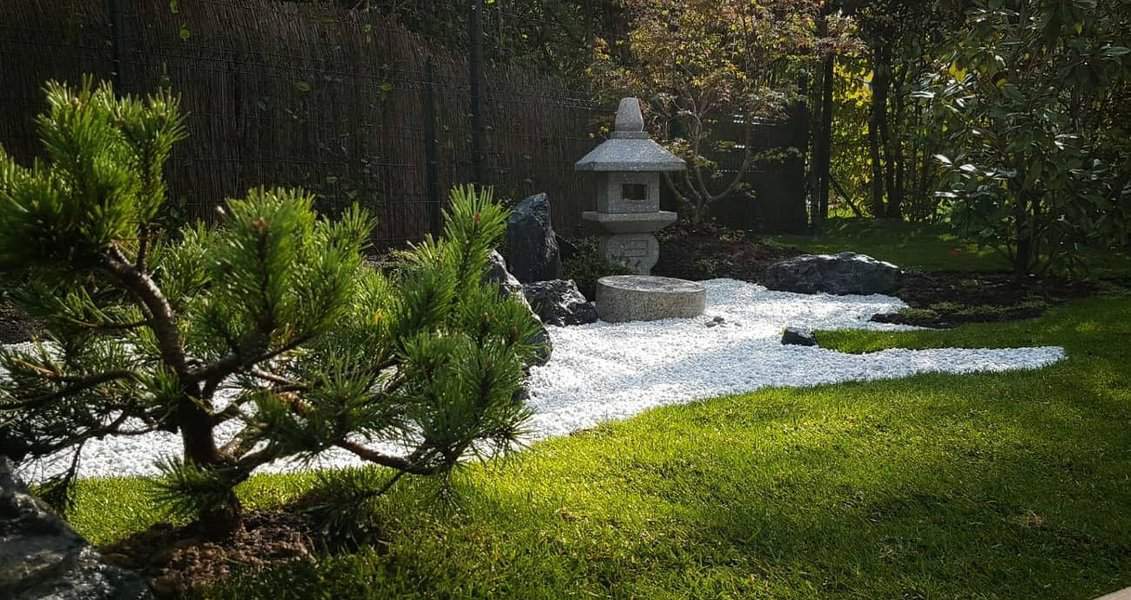 8. Meditation Paths Amidst Nature
Japanese garden walk paths are designed to inspire meditation and mindfulness. As you wander these paths, pay attention to the "white space," the gaps between elements that encourage reflective appreciation of details.
Striking a balance between structured order and natural elements is key to the captivating beauty of Japanese gardens. Enhance this experience by adding stone lanterns, water features, or a pavilion along the meditation paths to create a harmonious and tranquil backyard retreat.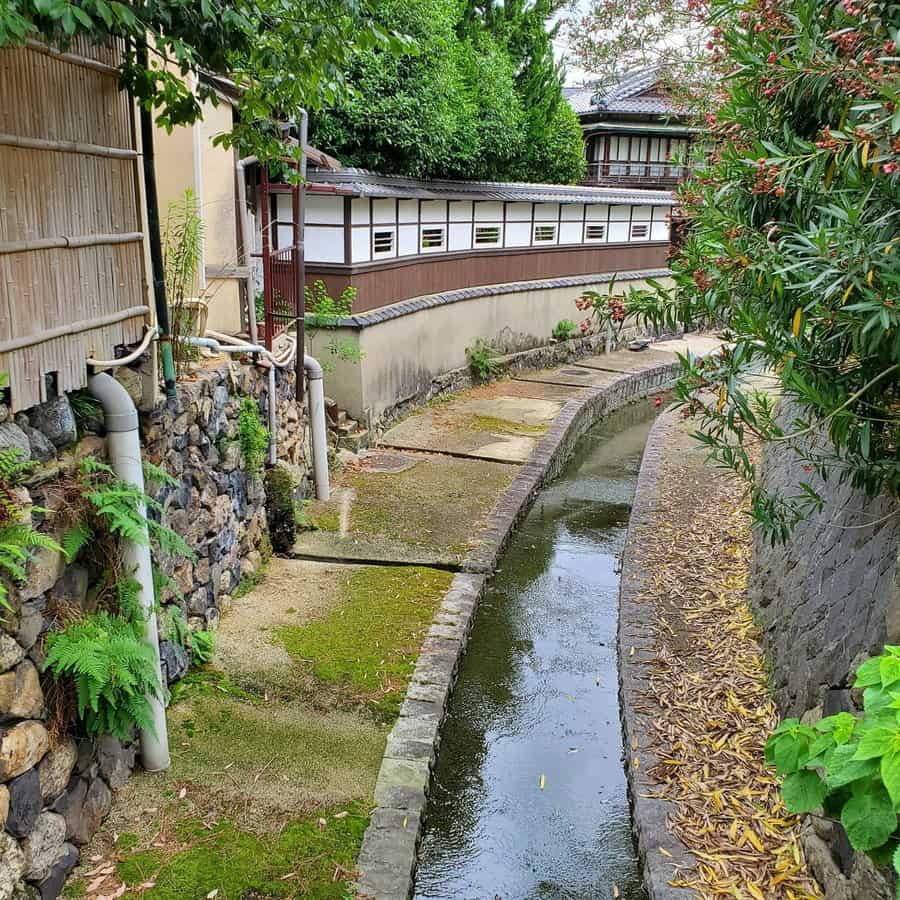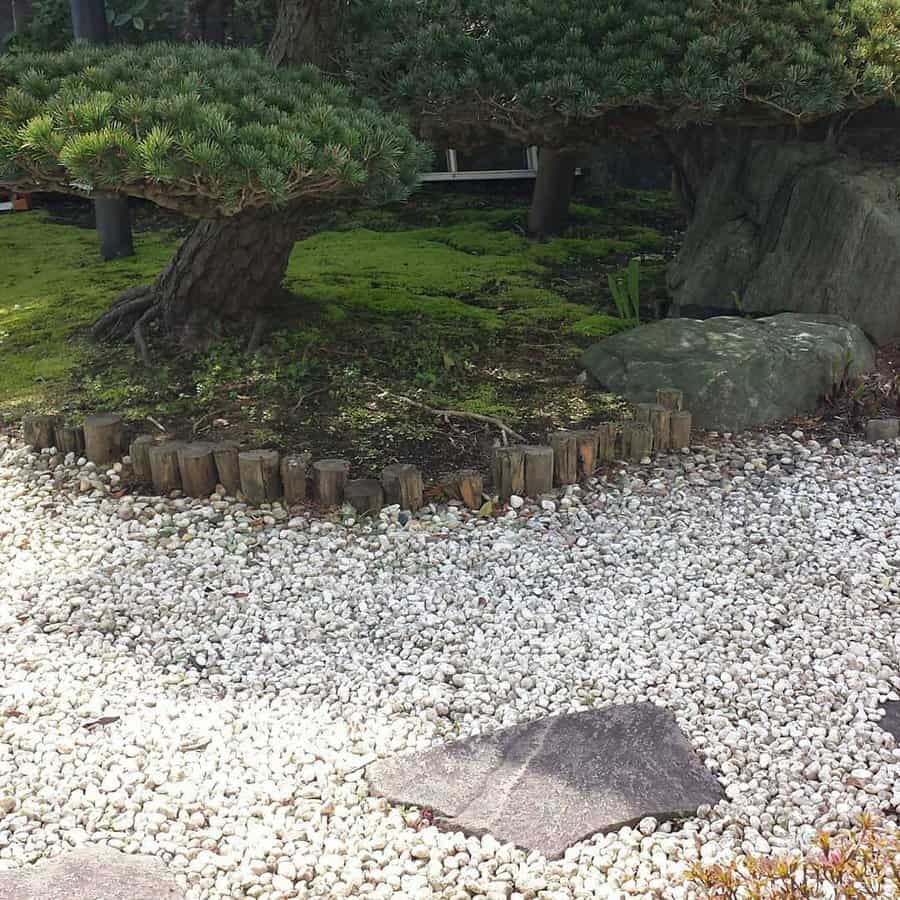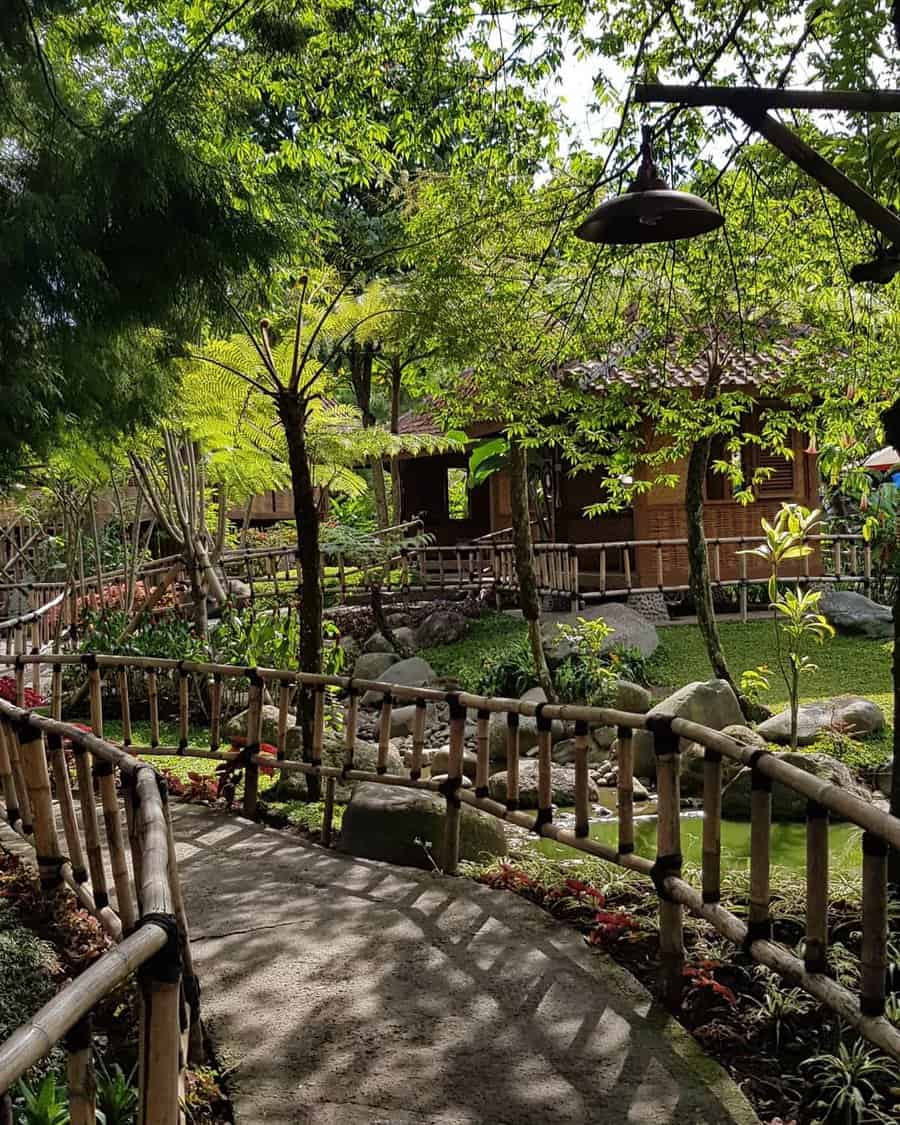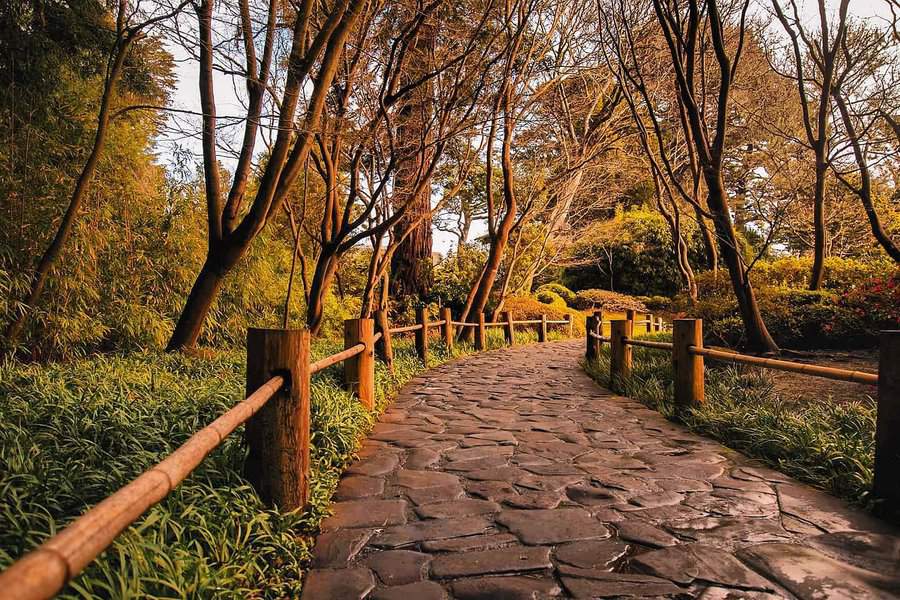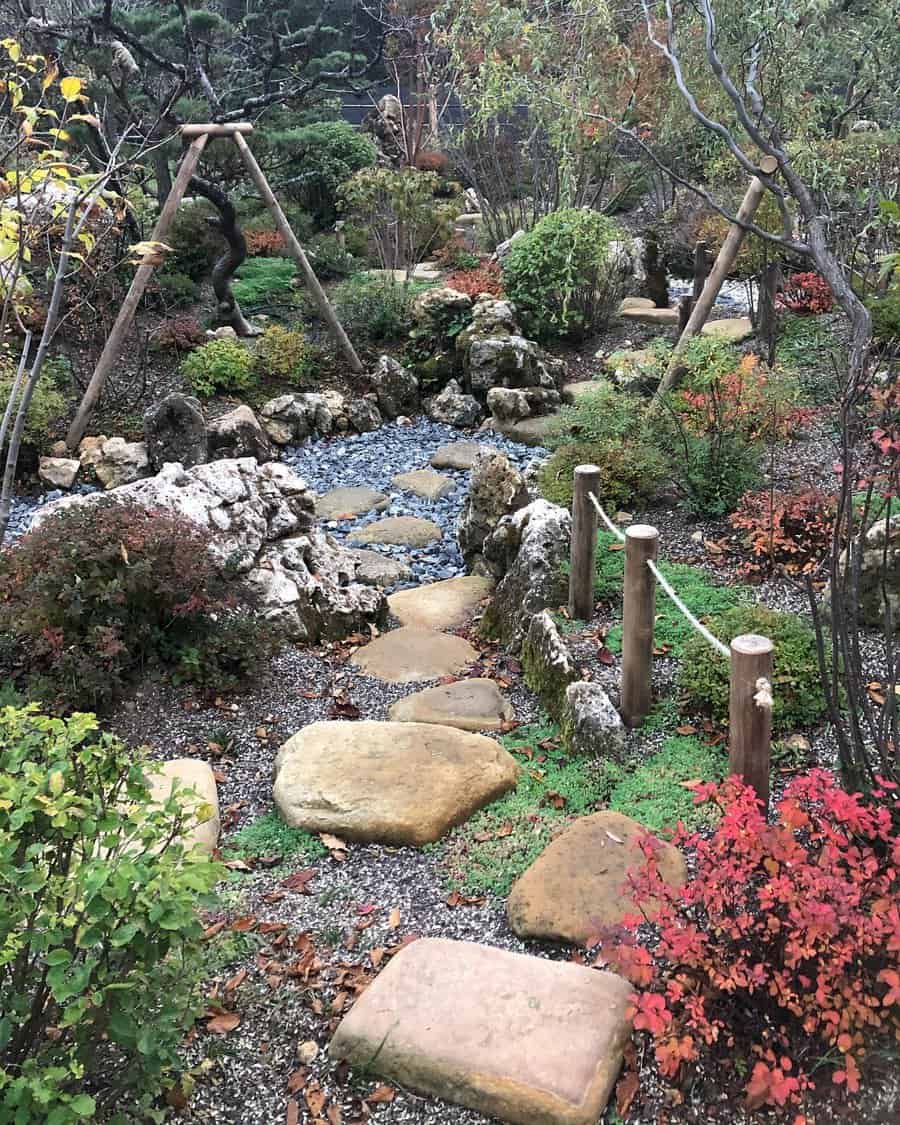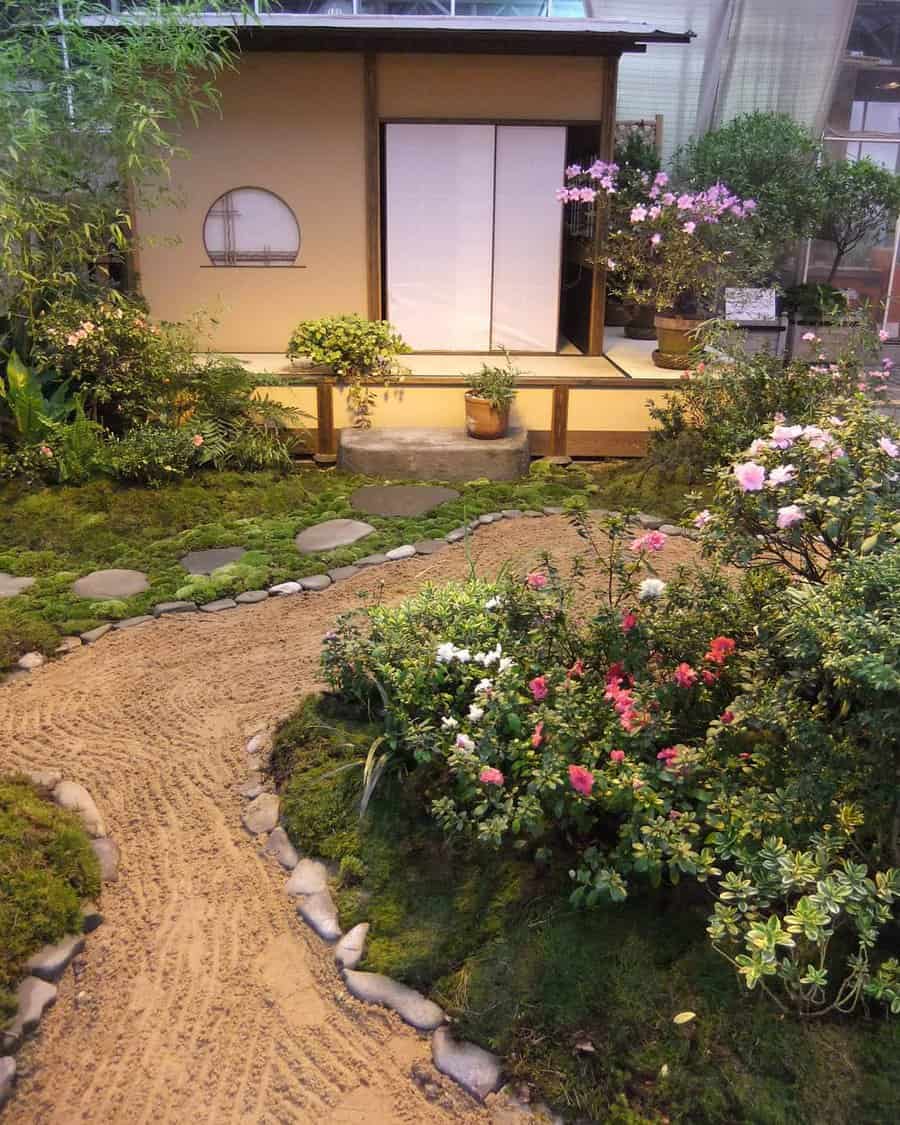 9. Abundant Zen Garden Greenery
Select lush, evergreen plants to create a verdant and captivating Japanese garden. These plants offer year-round beauty and a calming ambiance. Incorporate smooth pebble pathways and strategically placed rocks to add texture and visual interest to your garden. To complete the Zen atmosphere, consider including stone lanterns, a koi pond, or a meditation area that harmonizes with the greenery, ensuring your backyard exudes tranquility and admiration.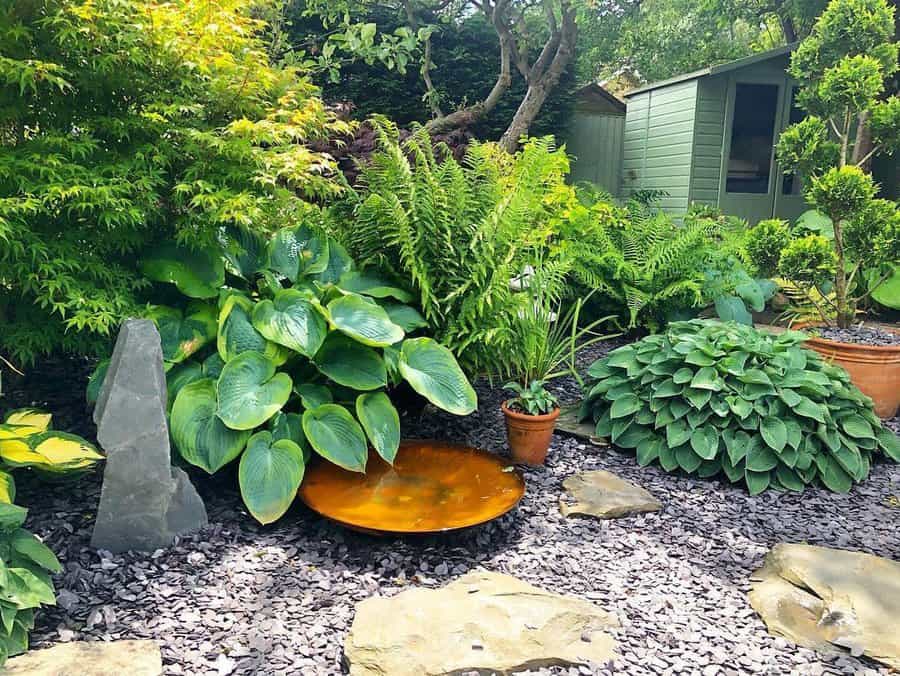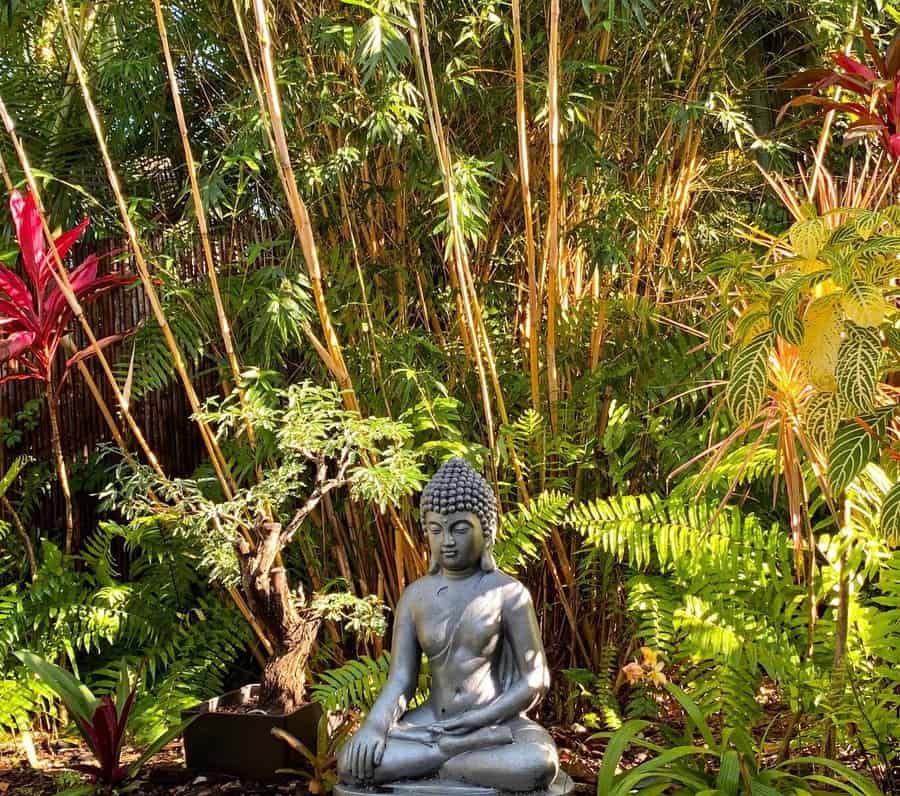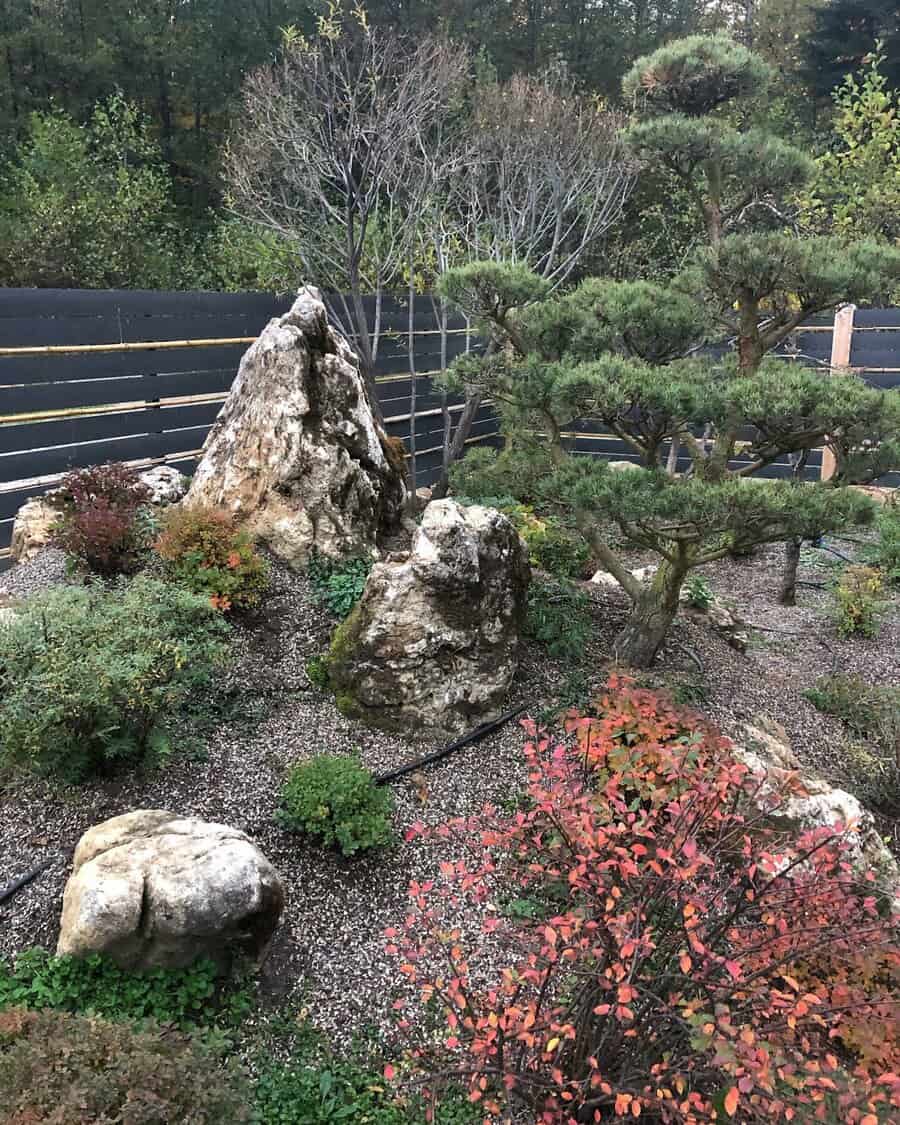 10. Rocky Garden Islands Landscape
Transform your garden into an oasis of tranquility and beauty by crafting Japanese-style landscaped islands. Begin by forming island gardens with grass, plush moss, and meticulously arranged rocks to create an aesthetically pleasing pattern.
Enhance the texture and style with the addition of pebbles, which can also serve as pathways, guiding you through this serene garden retreat. To complete the Zen backyard experience, consider incorporating stone lanterns, a koi pond, or a meditation area that complements the lush, natural beauty of your landscaped islands, ensuring a peaceful and captivating garden space.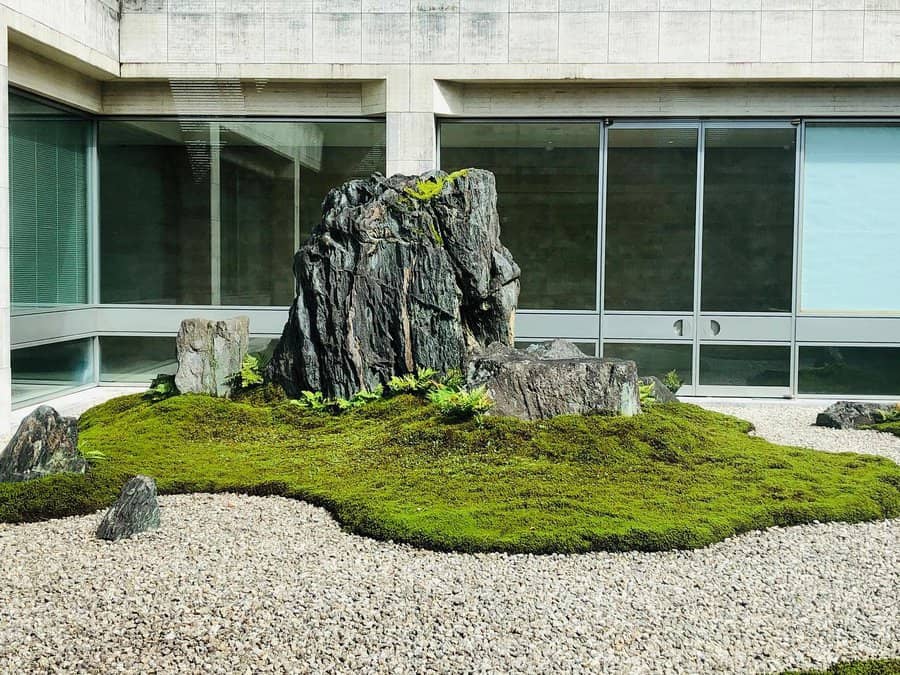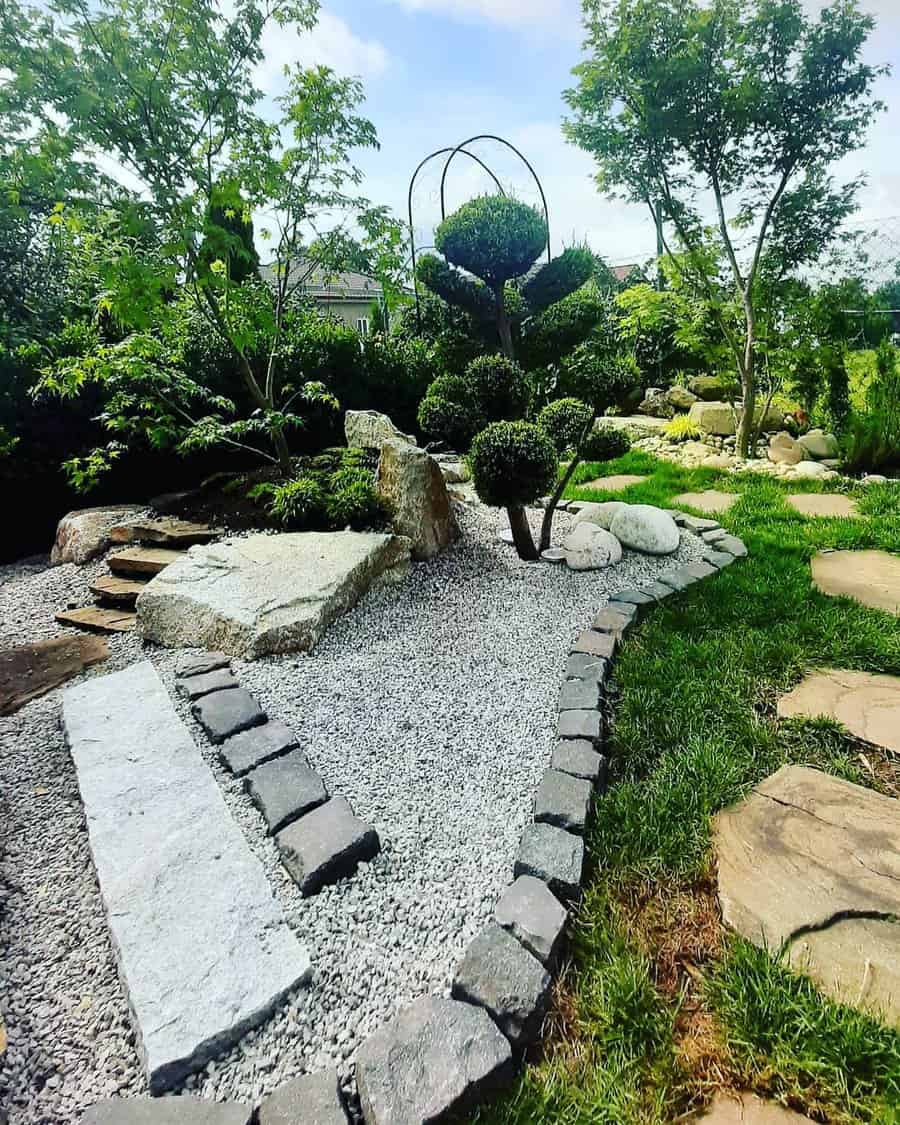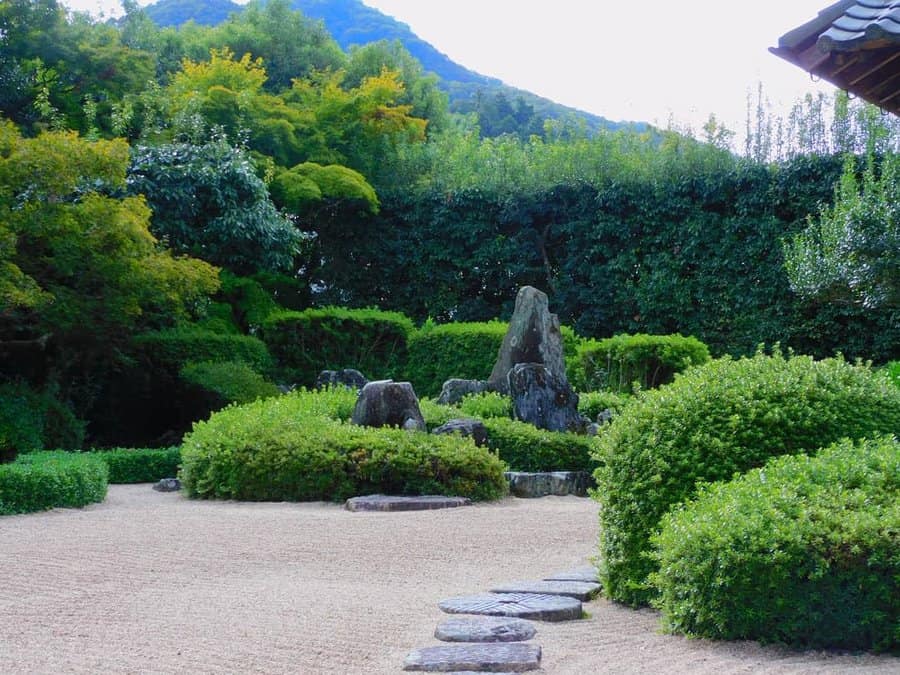 11. Zen Garden Tree Planting
In a Zen garden, the inclusion of a well-placed tree is essential for creating a sense of permanence and natural beauty. To achieve this, carefully position the tree within your garden's design to maximize its impact.
Consider evergreen varieties for year-round appeal, and ensure that your tree complements the arrangement of stones and other design elements. Adding a stone lantern, gravel paths, or a water feature can further enhance the Zen aesthetic of your garden, making it a serene and inviting space for contemplation and relaxation.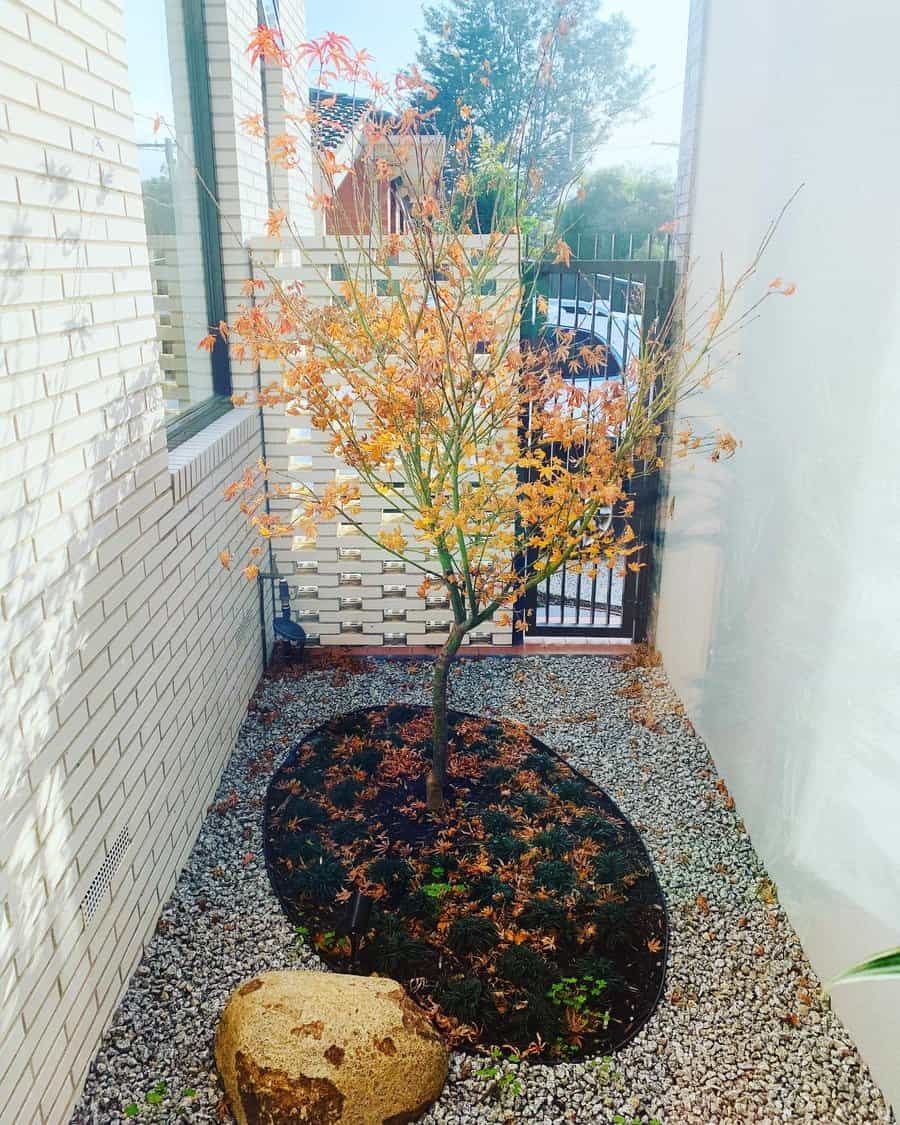 12. Peaceful Stream Recreation
Turn your backyard into a peaceful retreat by crafting a DIY stream within your Japanese garden. For authenticity, utilize large rocks to define the stream banks and create gentle waterfalls. Layer gravel, sand, river pebbles, and larger stones to add depth and visual interest. Enhance the ambiance with carefully selected plants, trees, and shrubs to complete the landscaped garden.
Place benches or chairs near the stream to allow for relaxation and appreciation of the soothing sounds of flowing water. Complement this with stone lanterns, bamboo, or a meditation area to create a harmonious Zen backyard.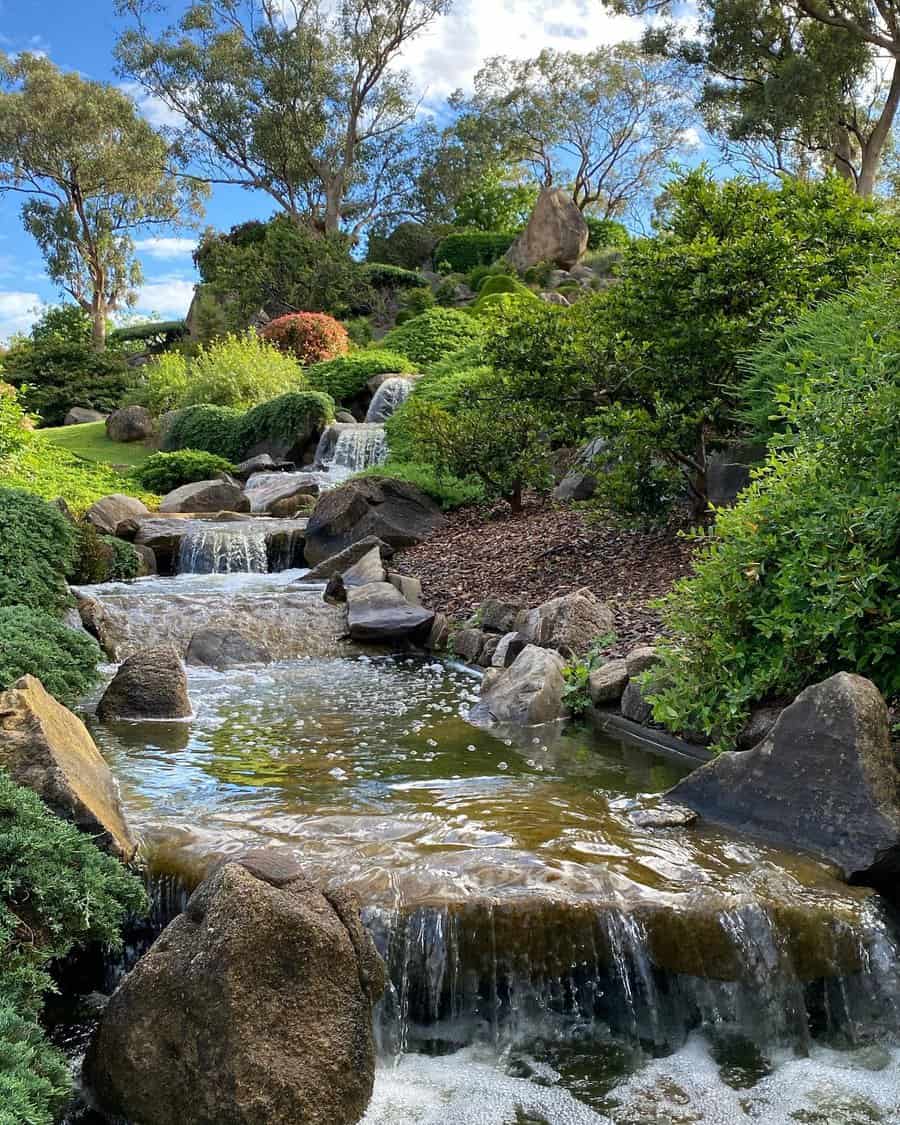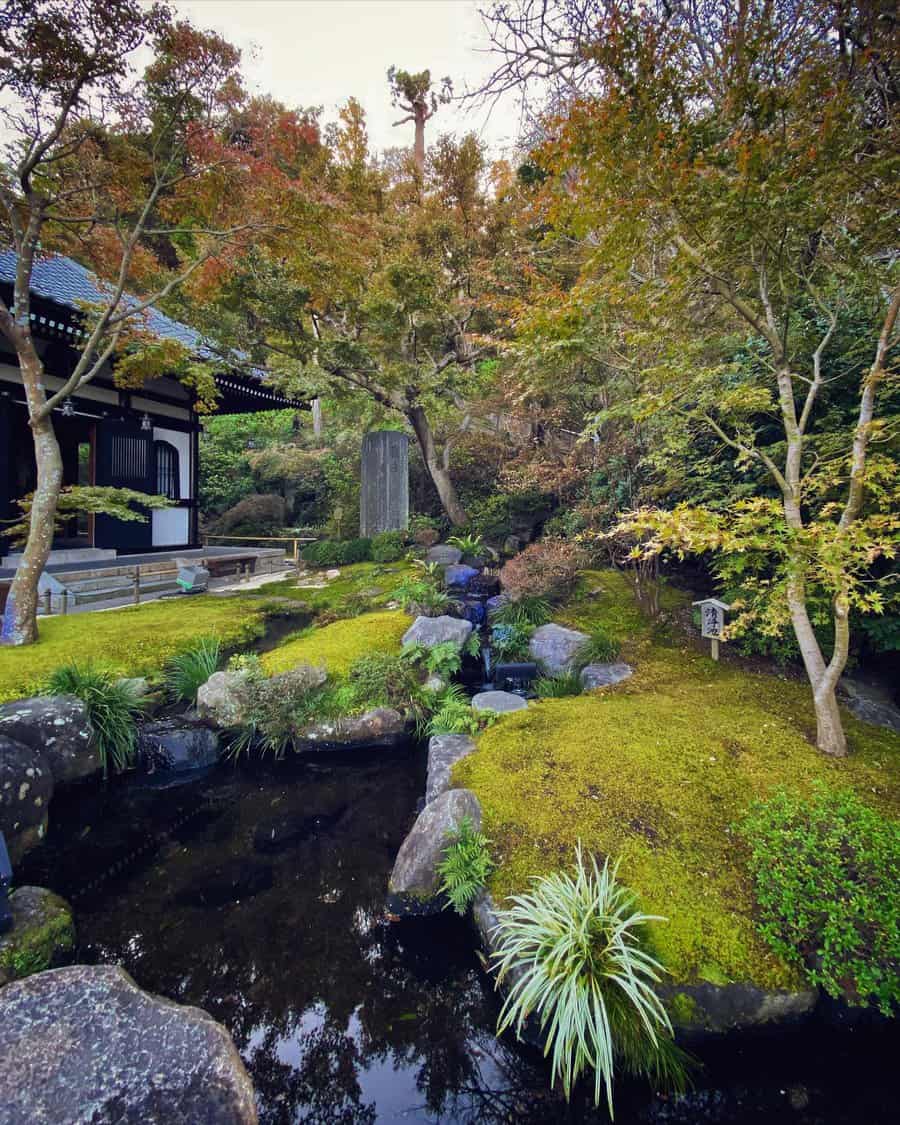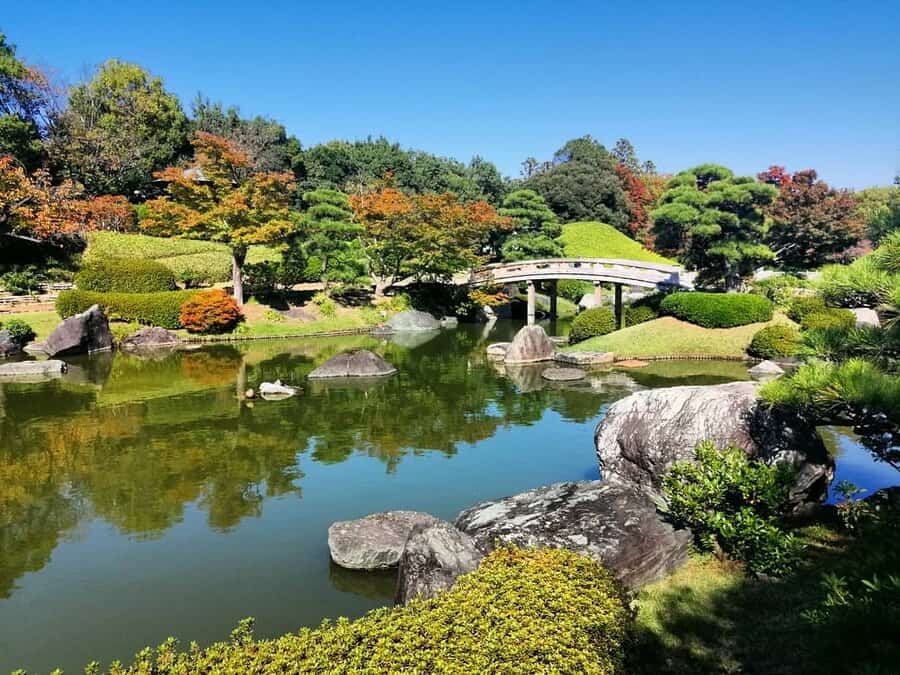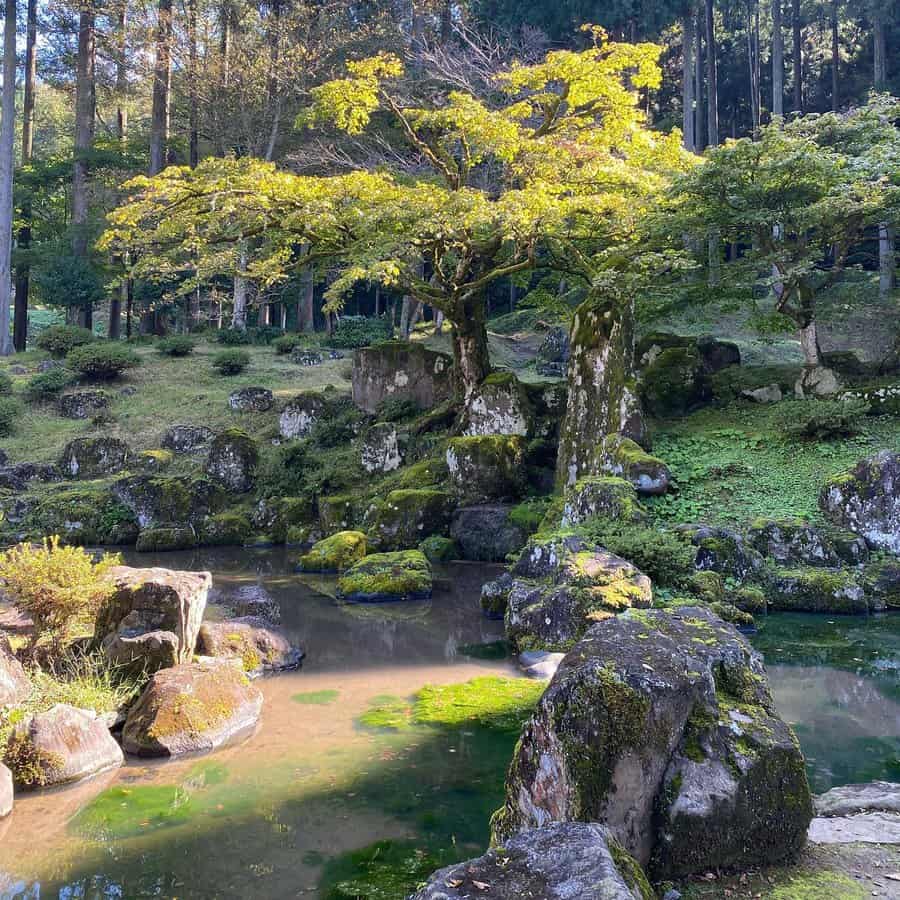 13. Zen Art in Sand and Gravel
Embrace the serenity of a Japanese garden by incorporating sand and gravel. Use various sand shades to craft pathways and serene designs. Gravel can complement these paths, leading your gaze and highlighting key elements. Careful planning and maintenance will transform your backyard into a peaceful oasis.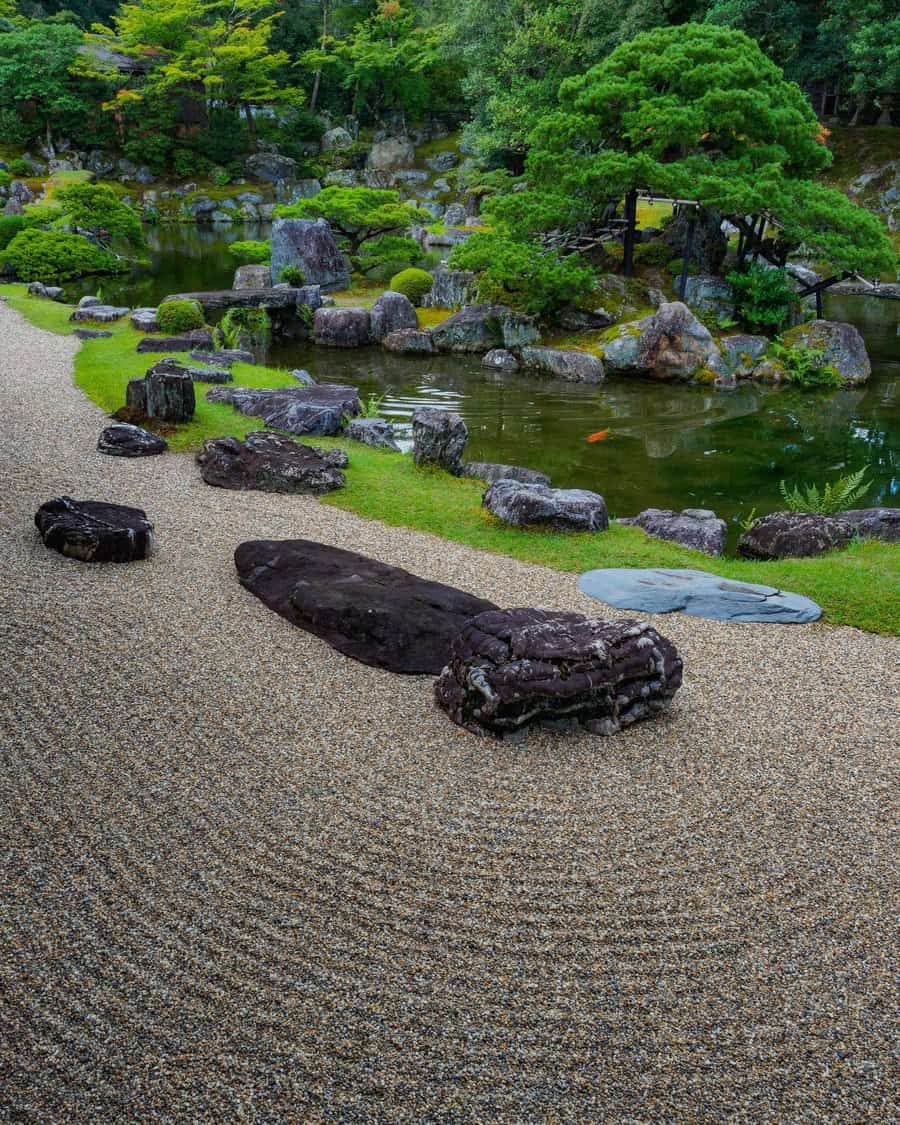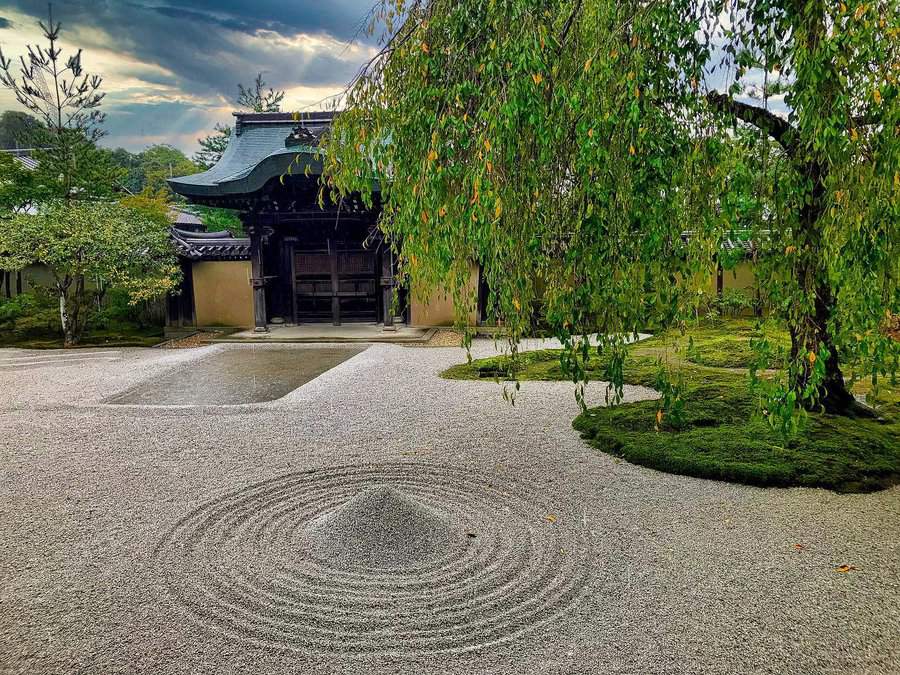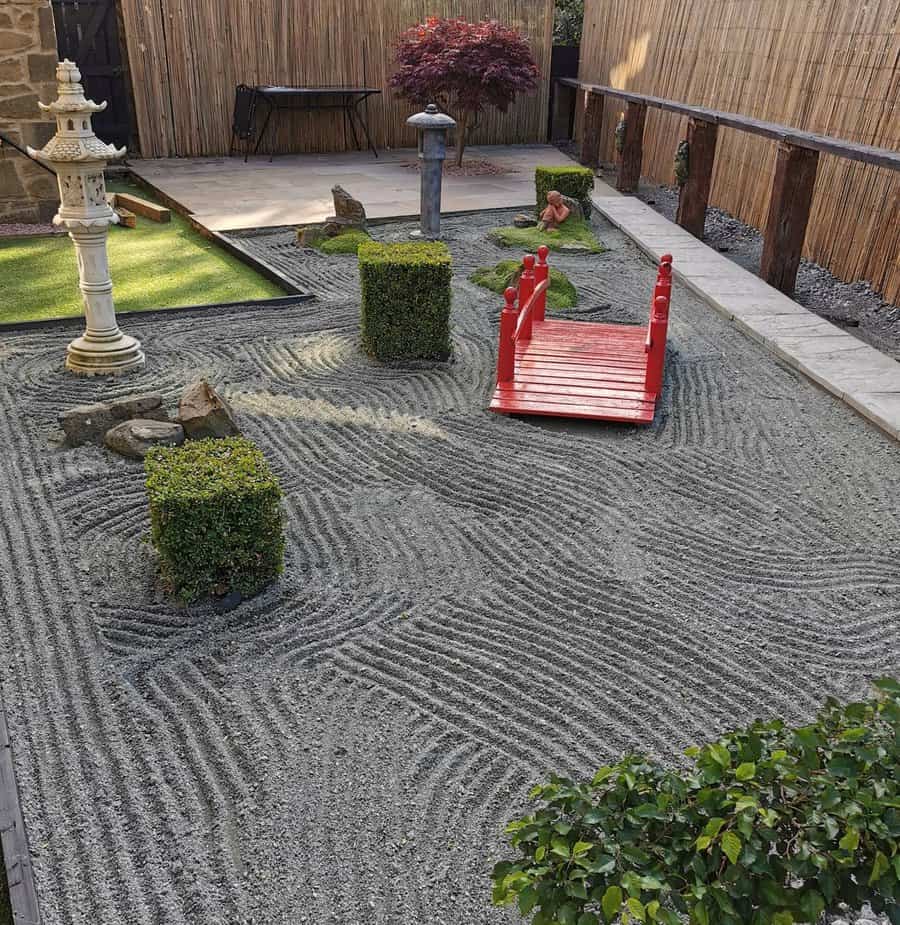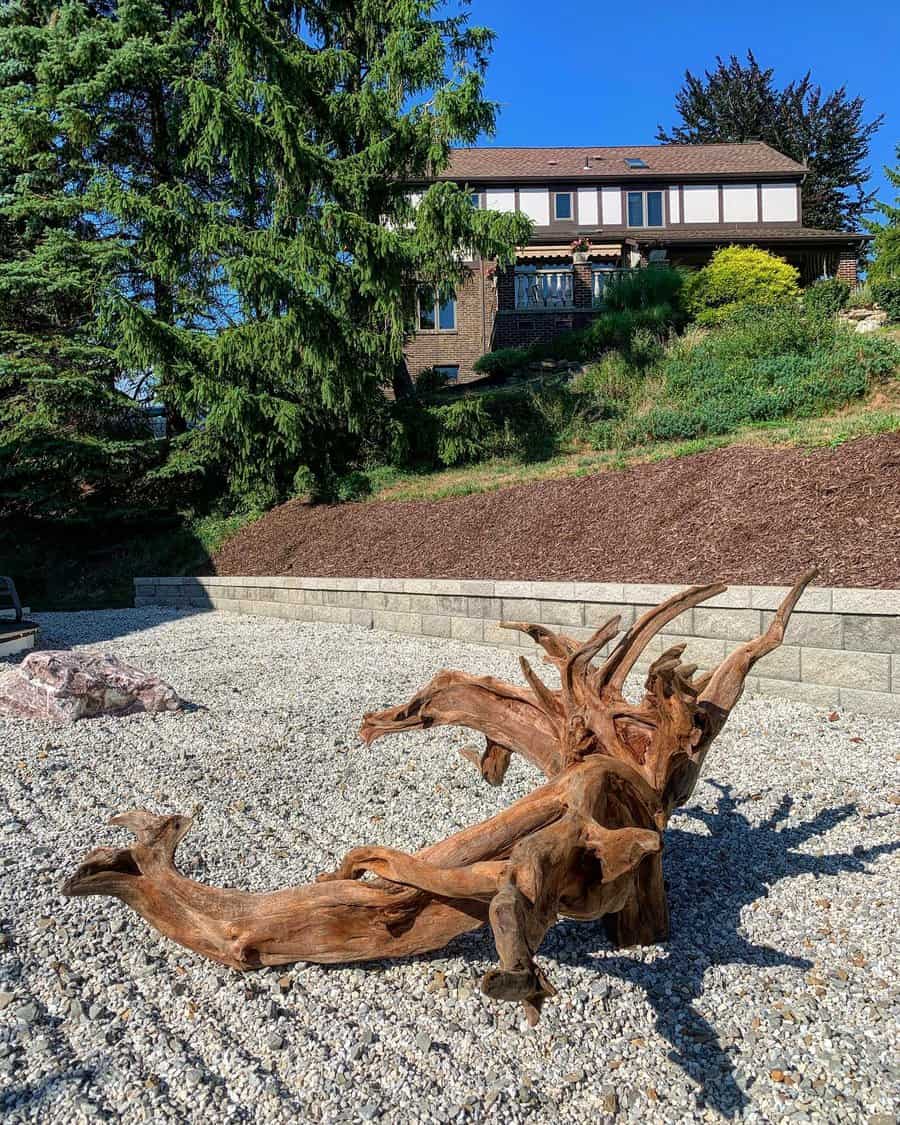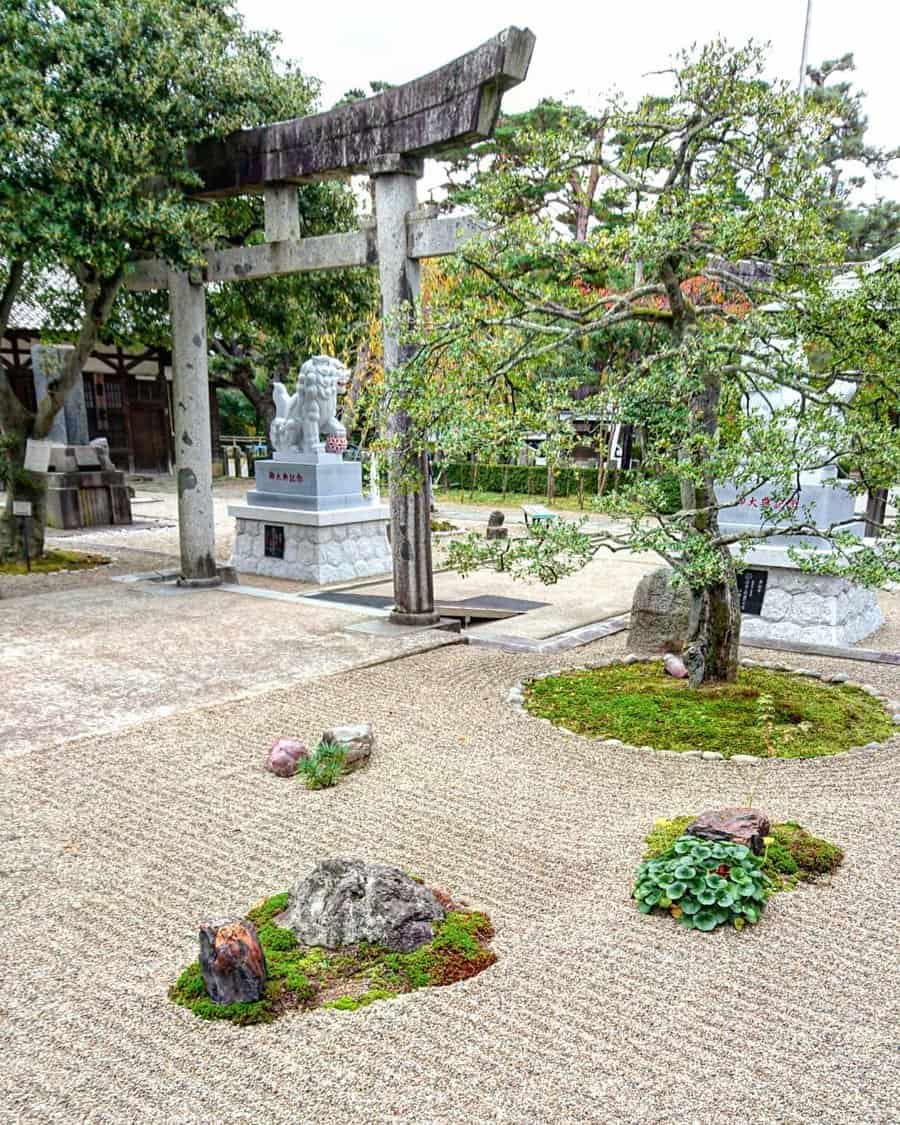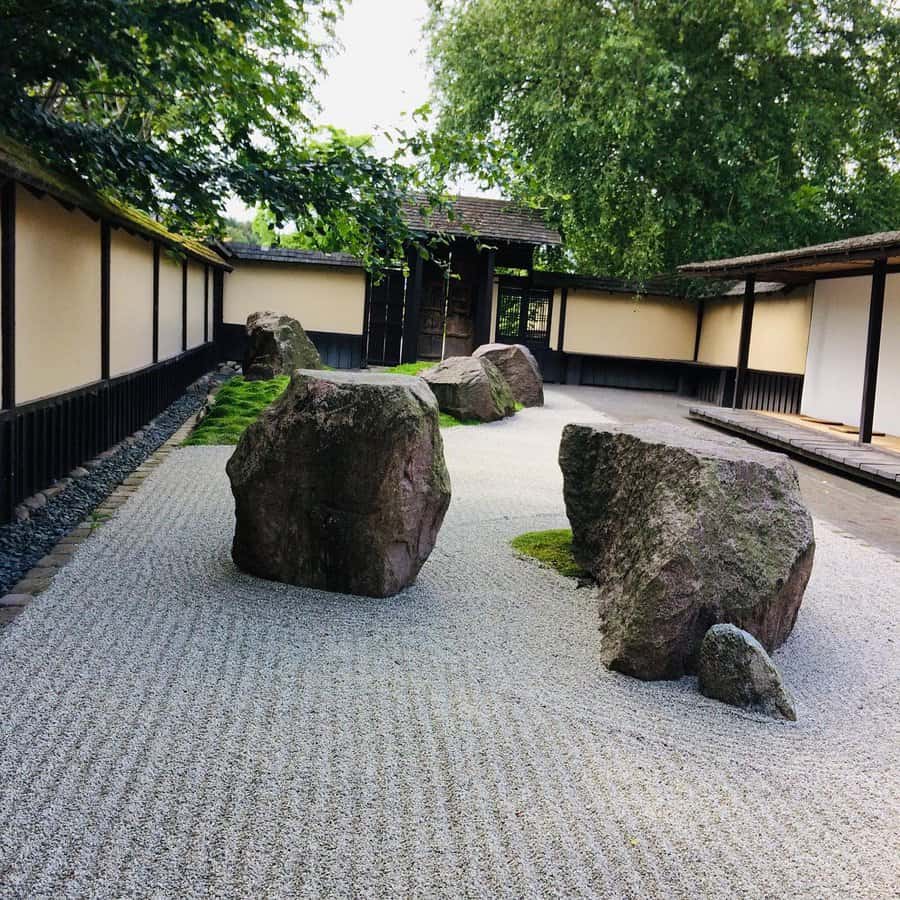 14. Concrete Pavers in Zen Design
Incorporate concrete pavers into your Japanese garden to infuse tranquility into your outdoor area. Craft an inviting, meandering walkway that guides the gaze toward your serene oasis. Use concrete pavers along this path to achieve a timeless look in harmony with the traditional Japanese garden style. For extra impact, outline the concrete pavers with natural stones, enhancing contrast and visual intrigue along your journey to tranquility.