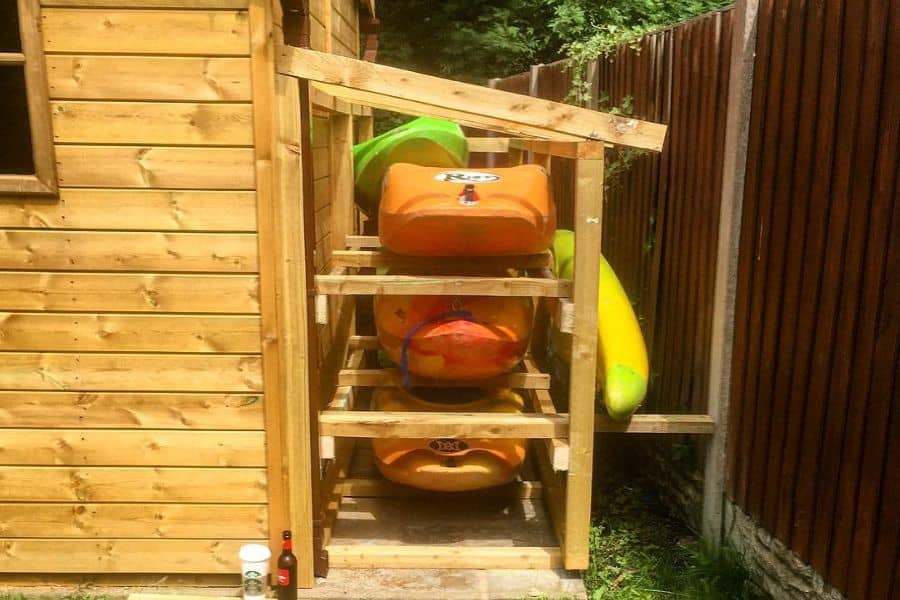 Kayaking is a great physical pastime for getting some exercise while enjoying nature. While you could rent your kayak, this gets tedious and means you are dependent on someone else. Instead, owning your kayaks means you can head out on the water for free any time you want. You just need to figure out where to put your kayak when you're not using it. What you need is a kayak storage rack.
These kayak storage ideas will help you figure out what to do with your kayak while you're not out on the water.
1. Beach
If you're lucky enough to live near the beach, then you could skip the hassle of transport and keep your kayak directly on the beach. You'll see this commonly done with hard shell kayaks. A freestanding rack is ideal because it gets the kayak off the ground.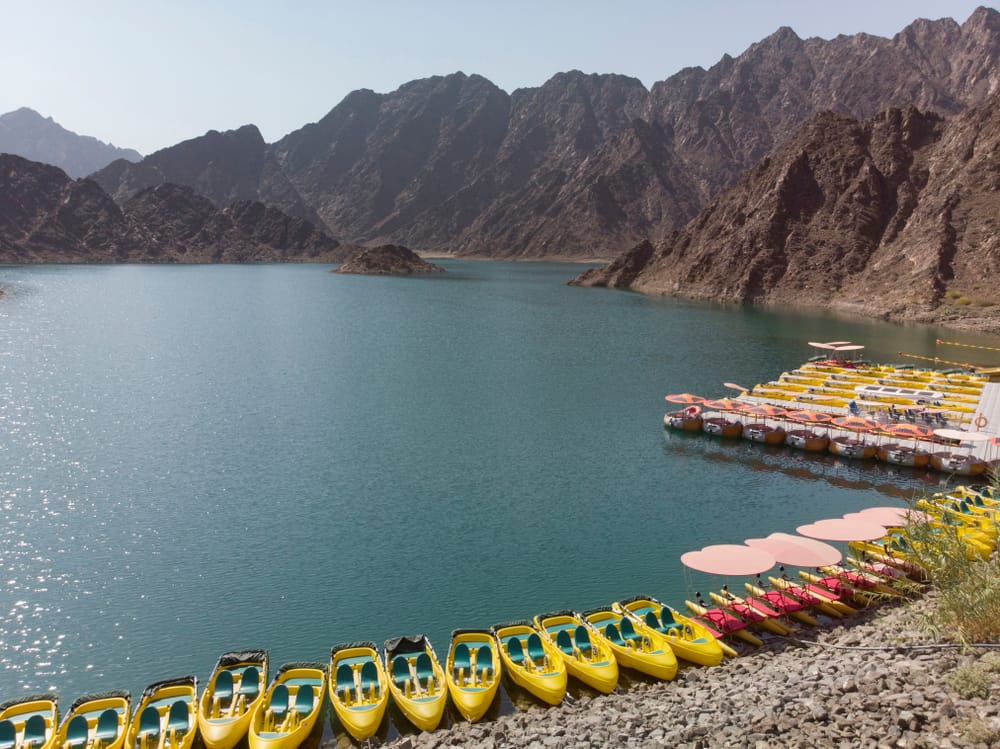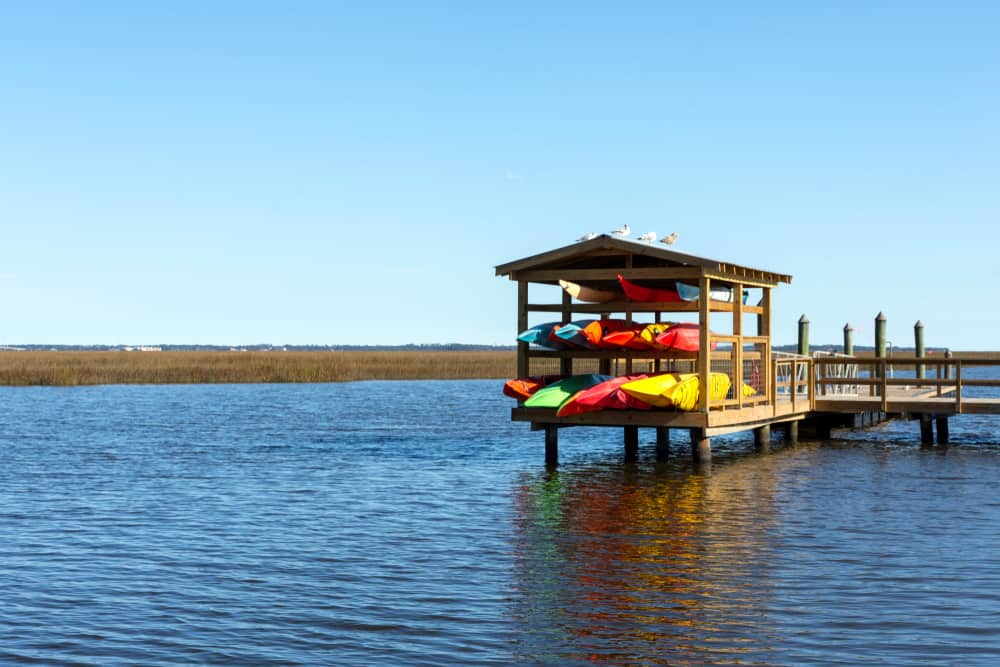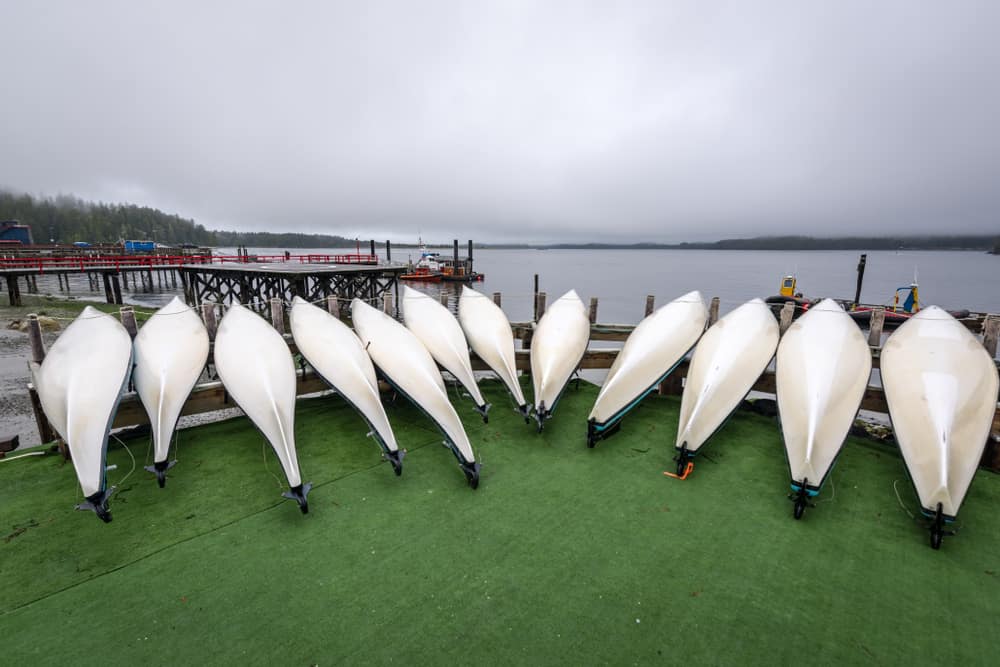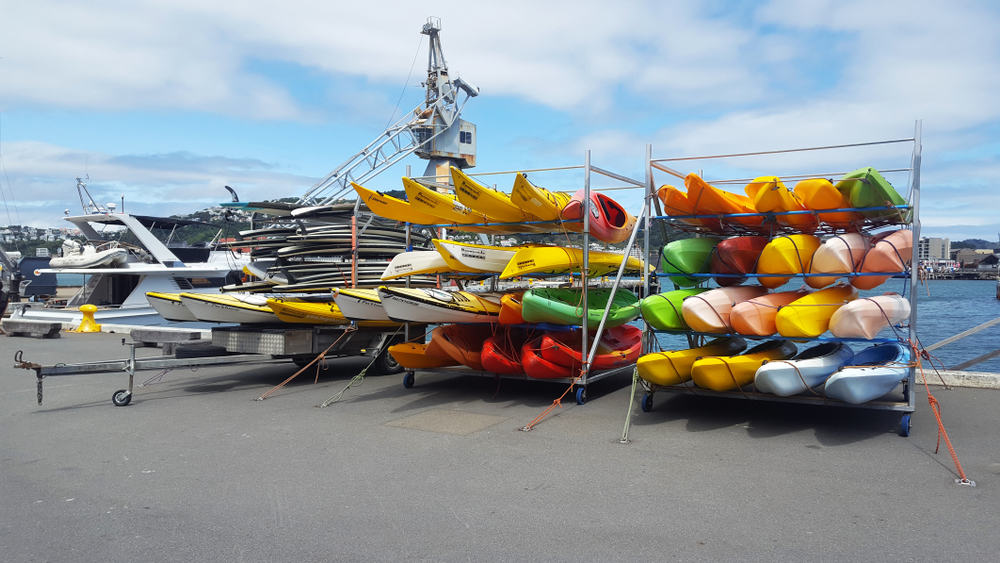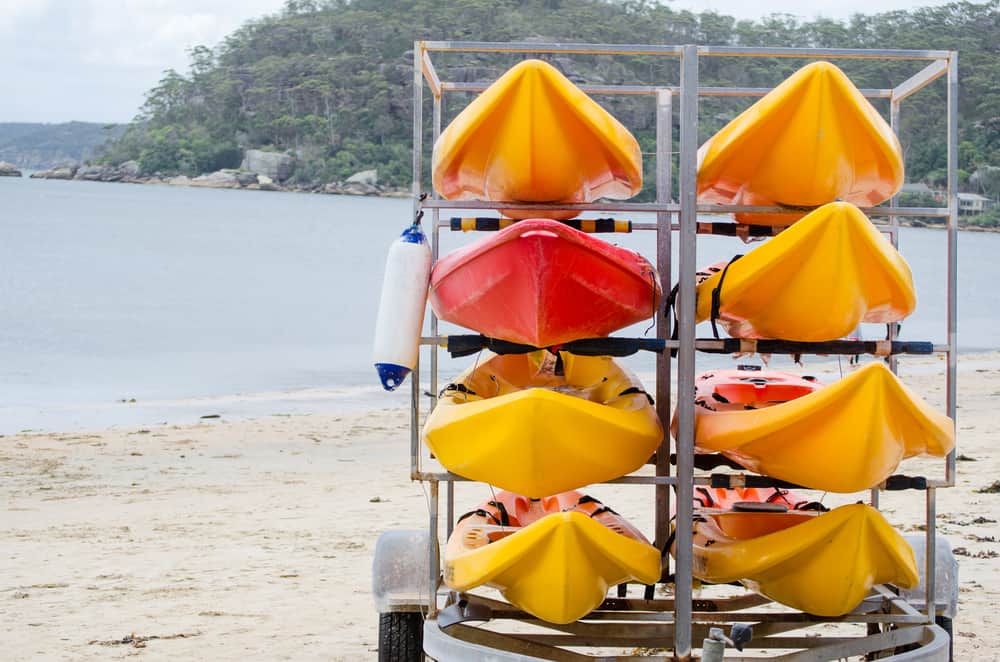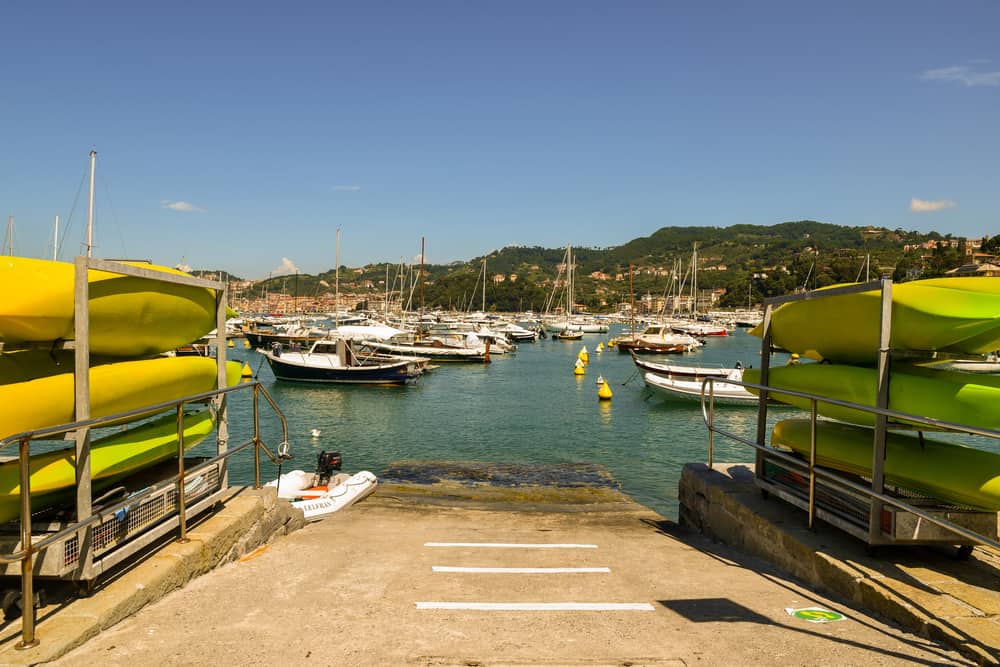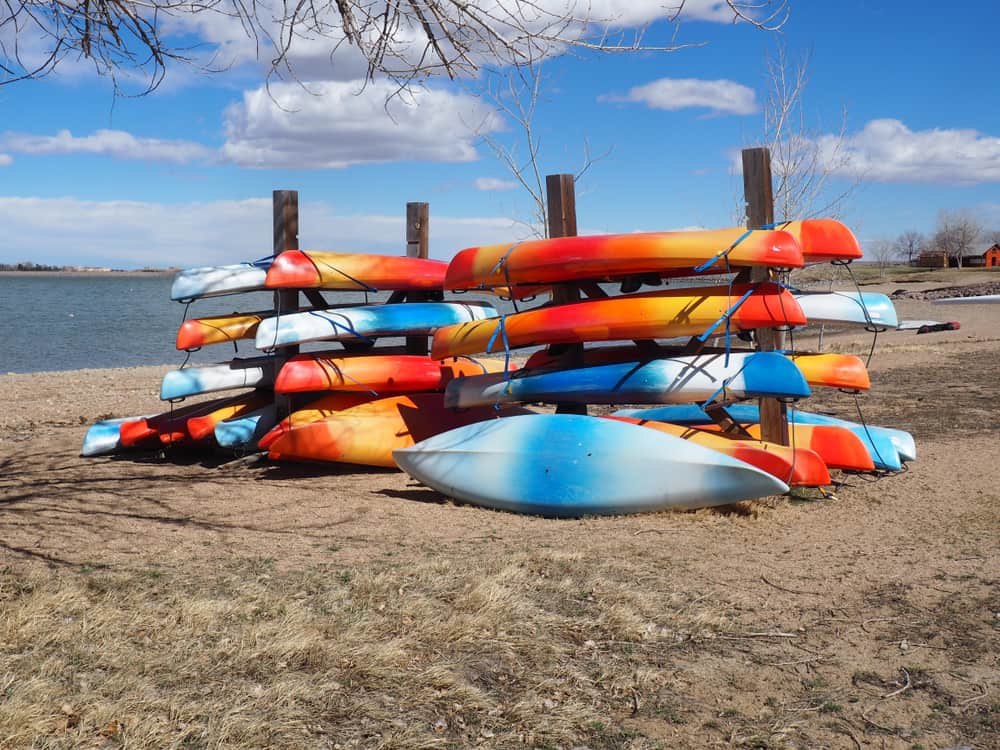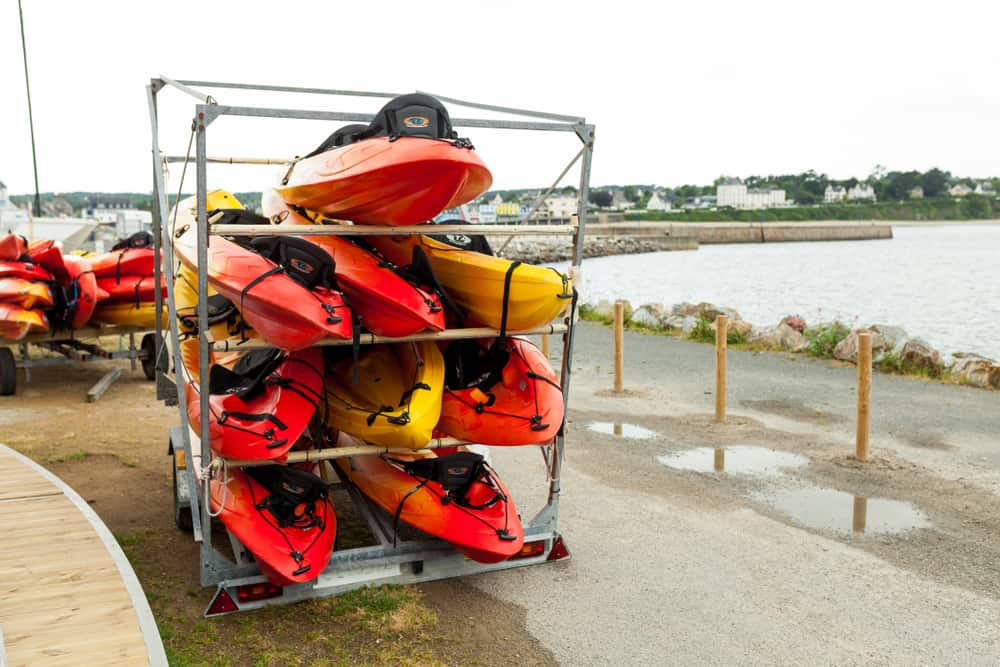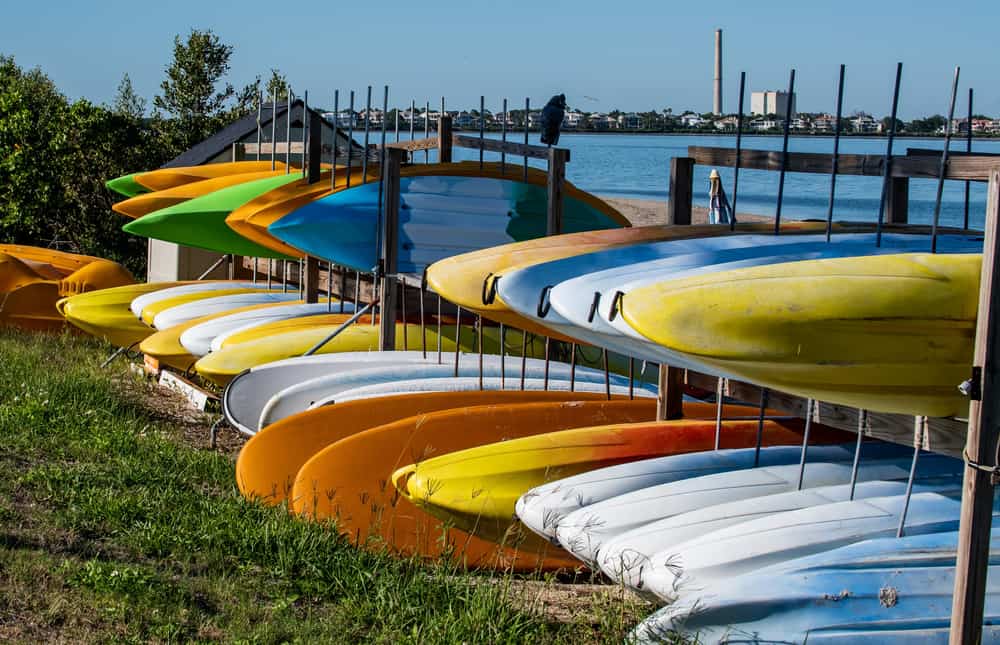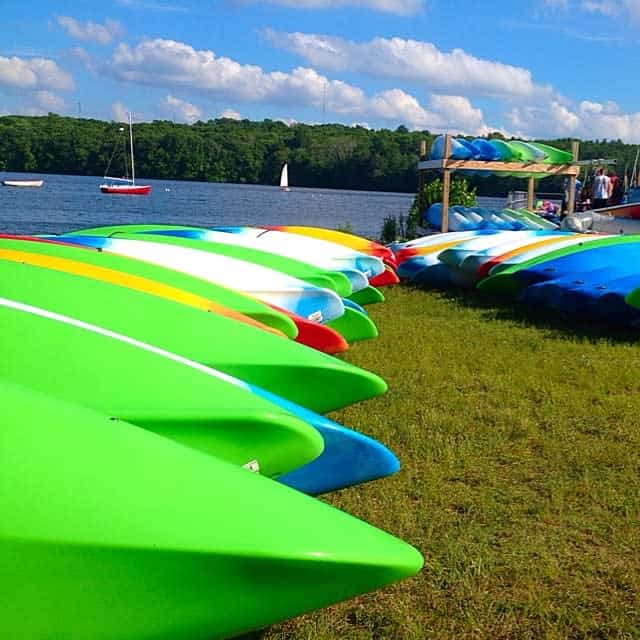 Make sure to always turn them upside down while on the rack. It should also have a cover overhead. This will protect the kayaks from the sun's harmful UV rays. You don't want the molded plastic growing brittle and cracking from exposure.
2. DIY
While there are many fancy kayak storage racks and kits that are available, you don't have to go this route. Instead, you can easily create a DIY kayak rack plan. Use a tape measure to plan out the size and shape of your rack. Then use wood to build the rack.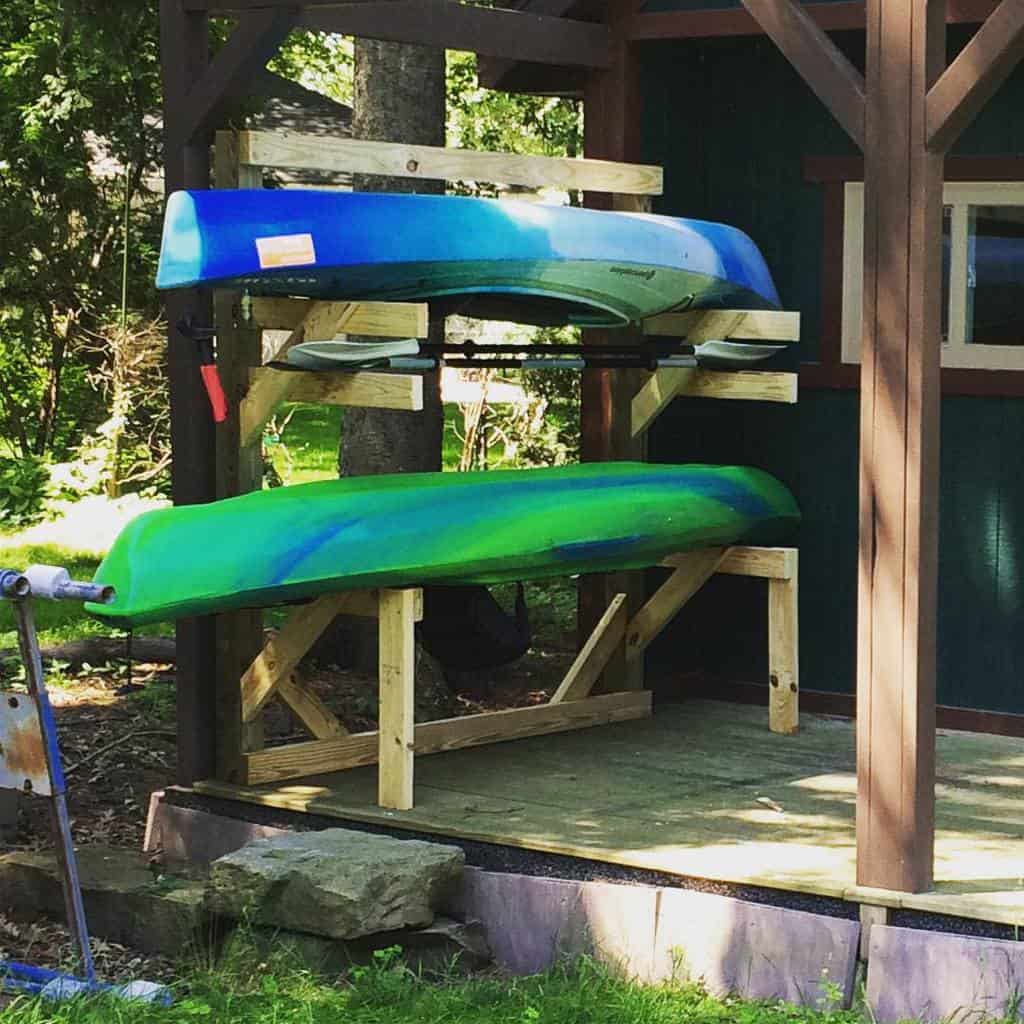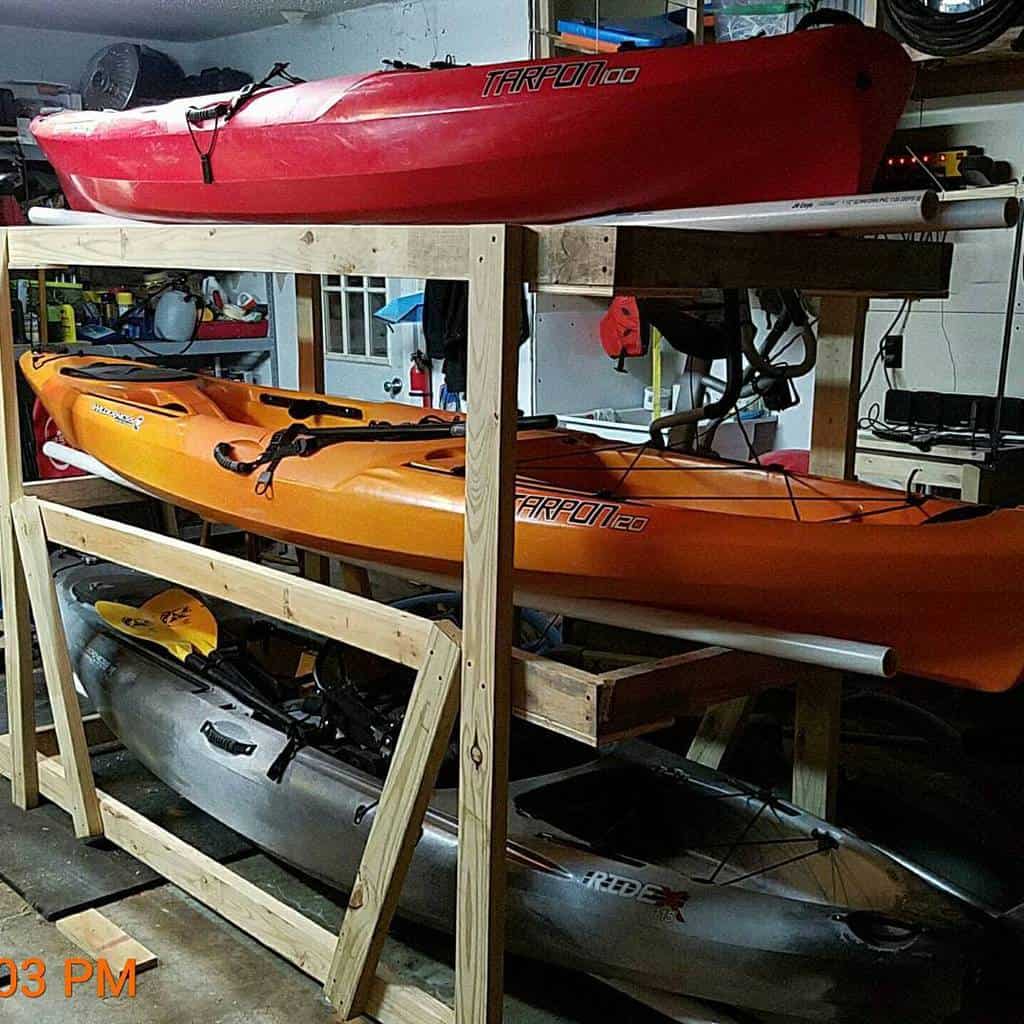 Be sure to reinforce it will plenty of support. You also want to make sure that it stays stable once the kayak's weight is on the rack. To protect your kayak, add foam padding to the support rails.
3. Dock
When you live on the water, the smartest storage option is a dock. This puts your storage location right on the water. Then you have easy access to your recreational kayaks whenever you want them. You could even put your inflatable kayak or canoe on the dock. While they may be more expensive, invest in a floating dock. They are made of durable PVC material and float on the water right at the edge.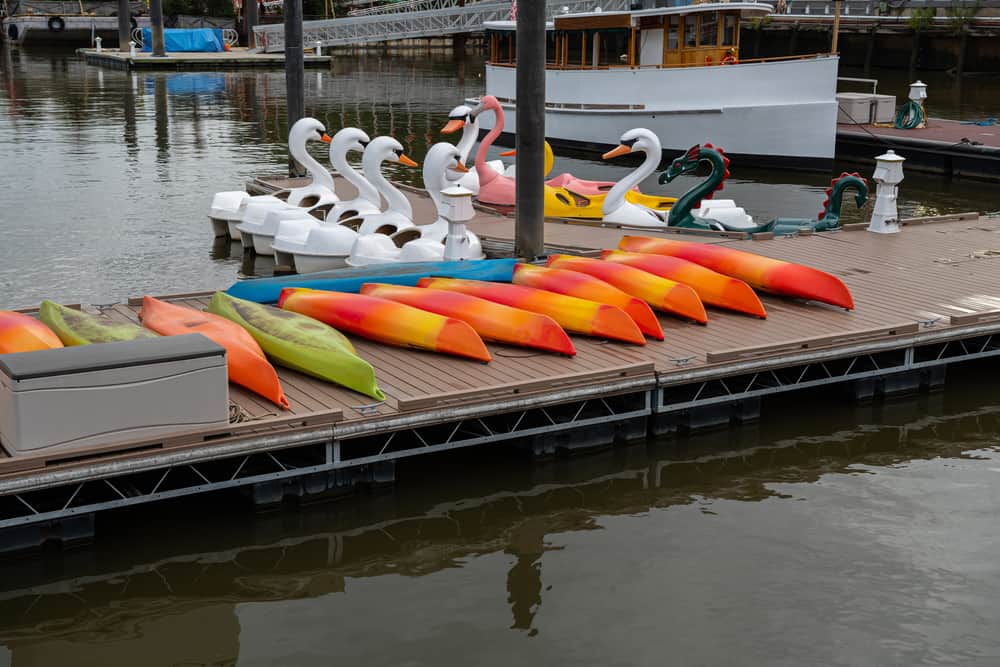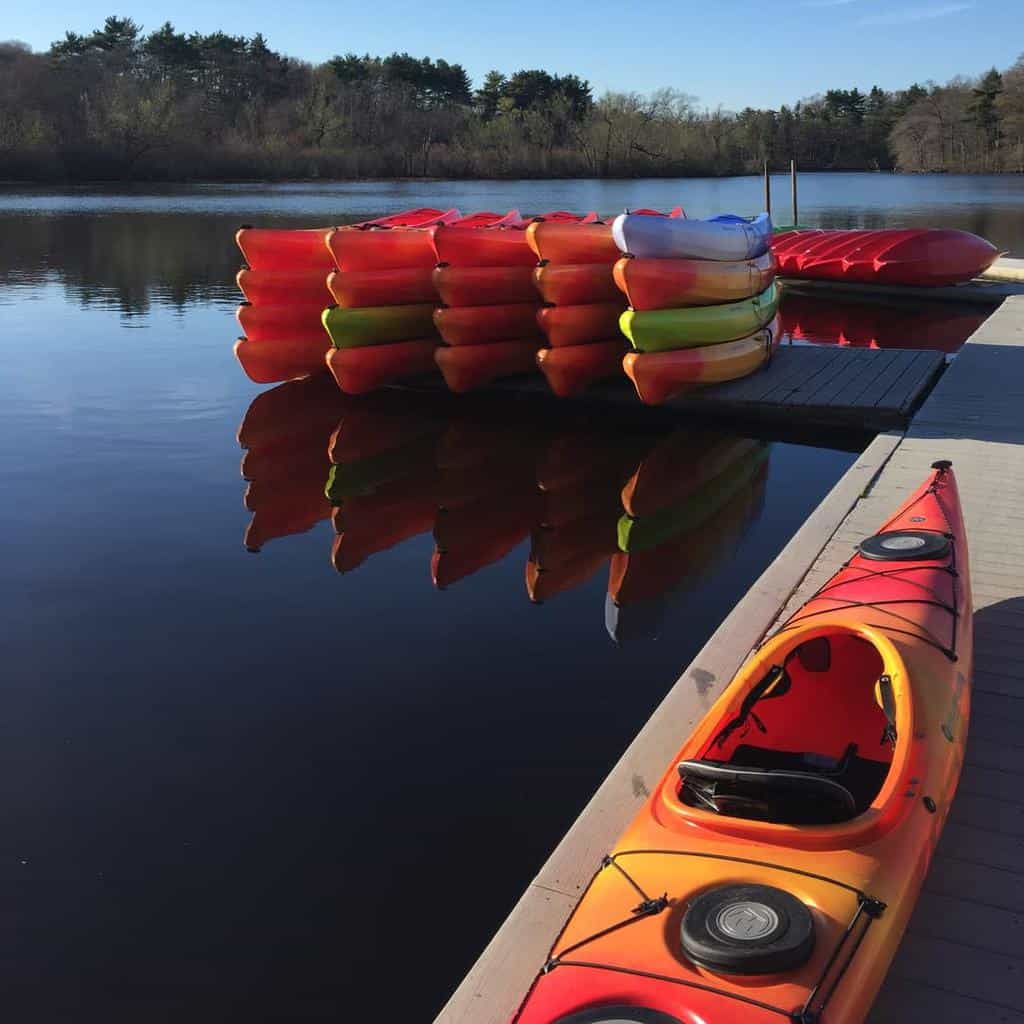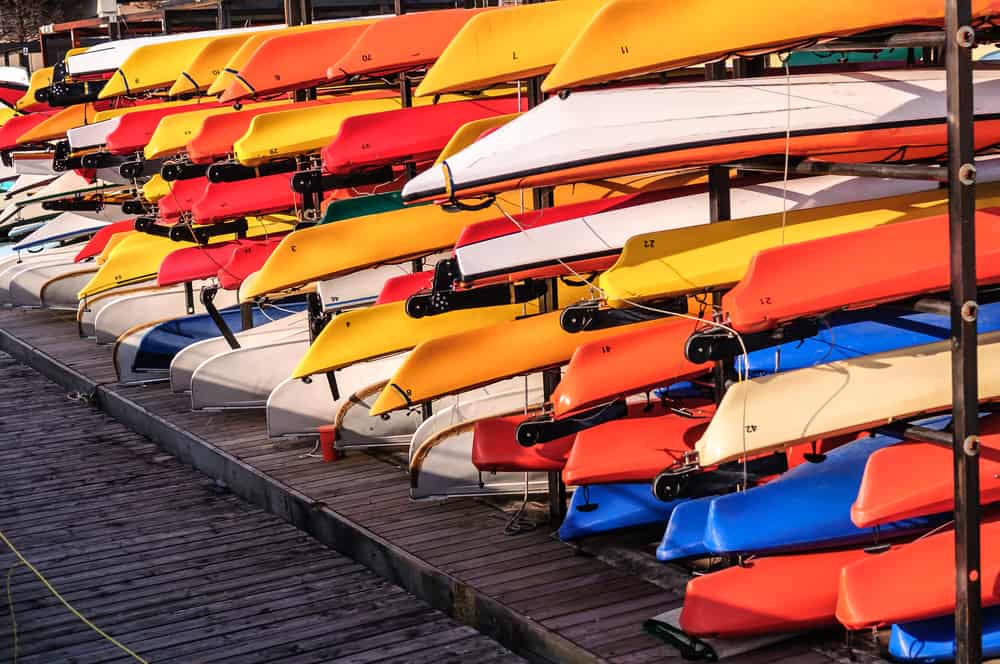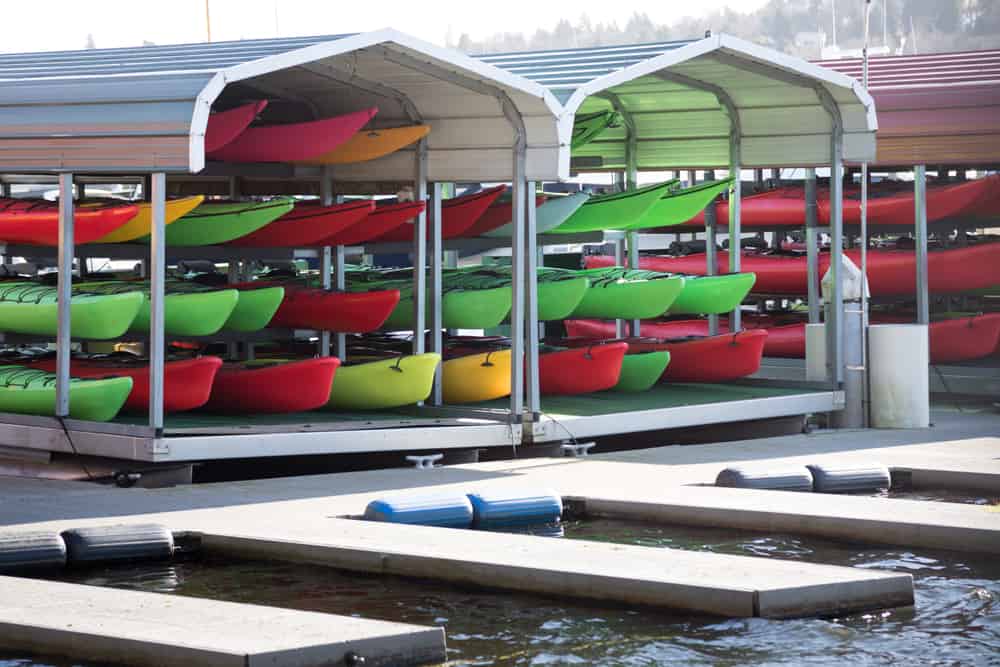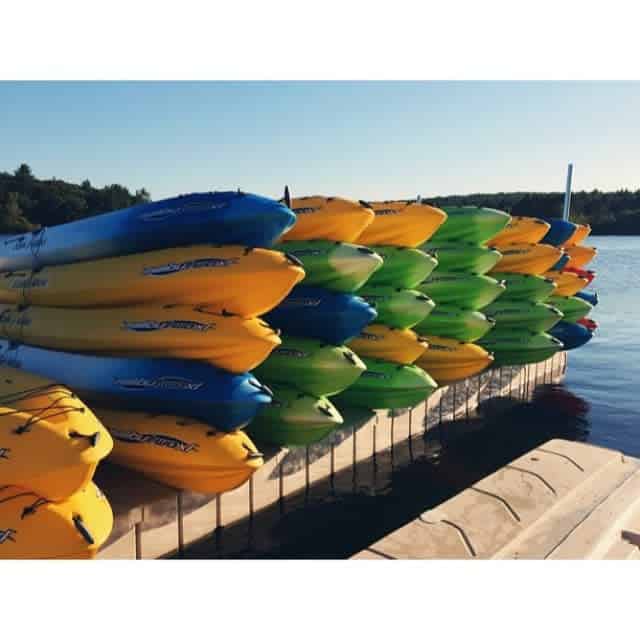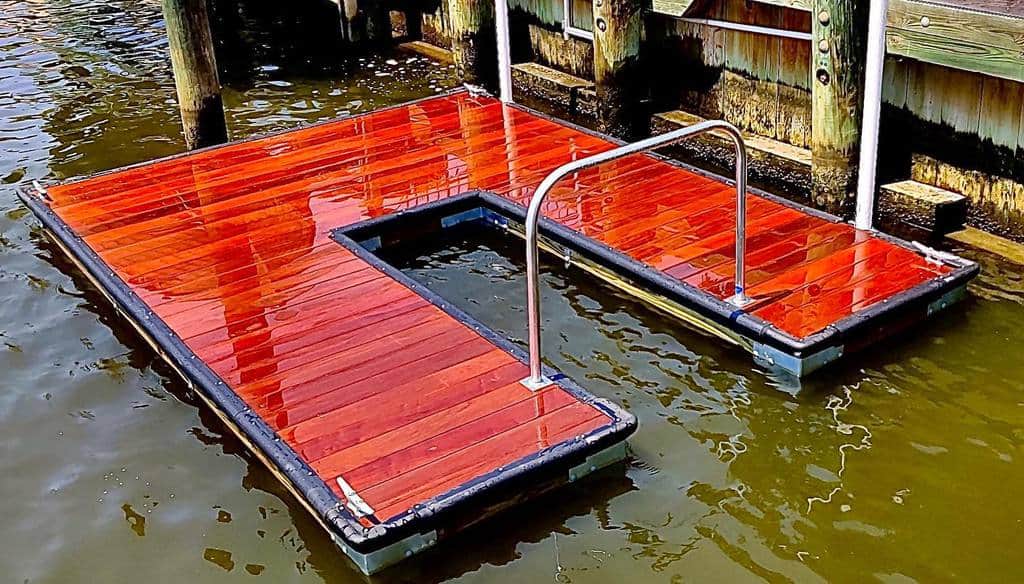 On the water side, it slants down towards the water. That way, you can easily slide the kayak off into the water or paddle up on it.
4. Easy
The easiest kayak storage idea is a freestanding storage rack. You buy it, set it up, and put your kayak on it. If you only have one kayak, there are simple two-stand sets that you can fold up and tuck out of the way when not needed. Or you can move them around as needed.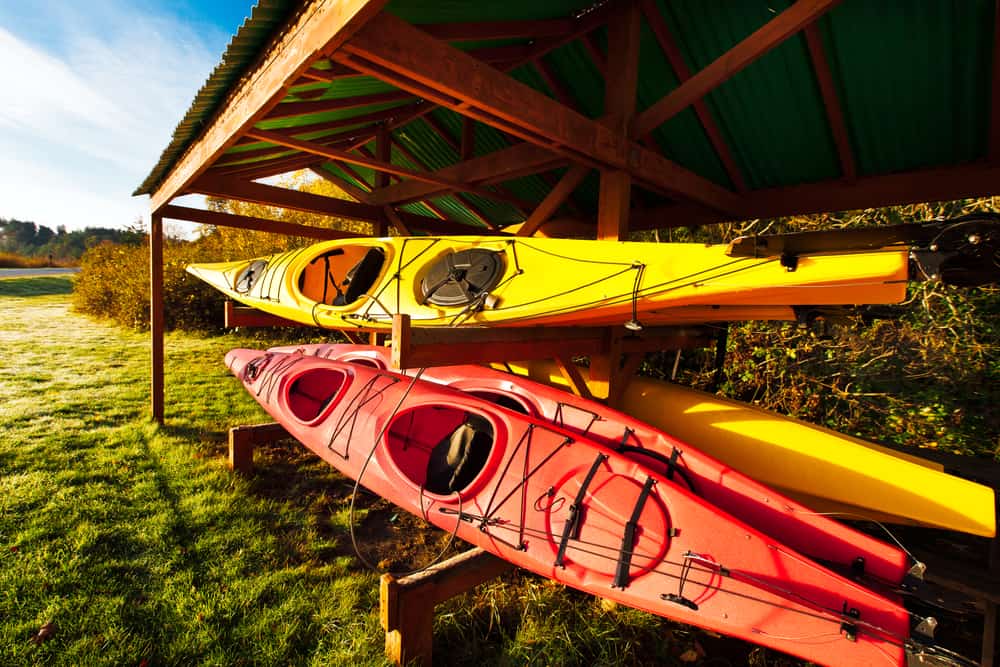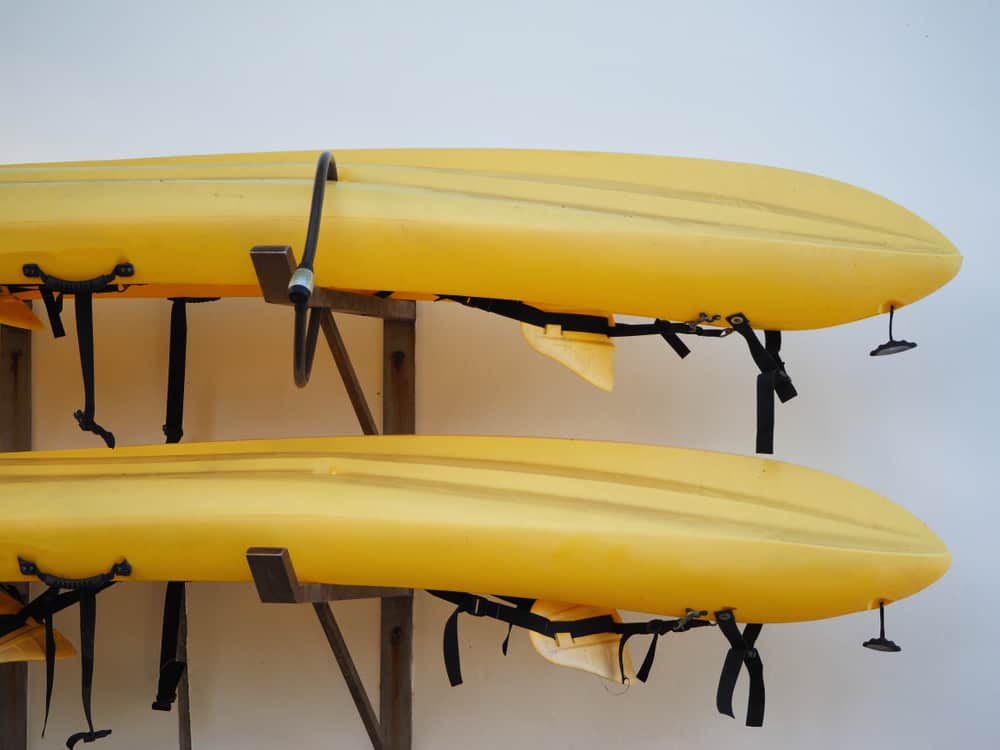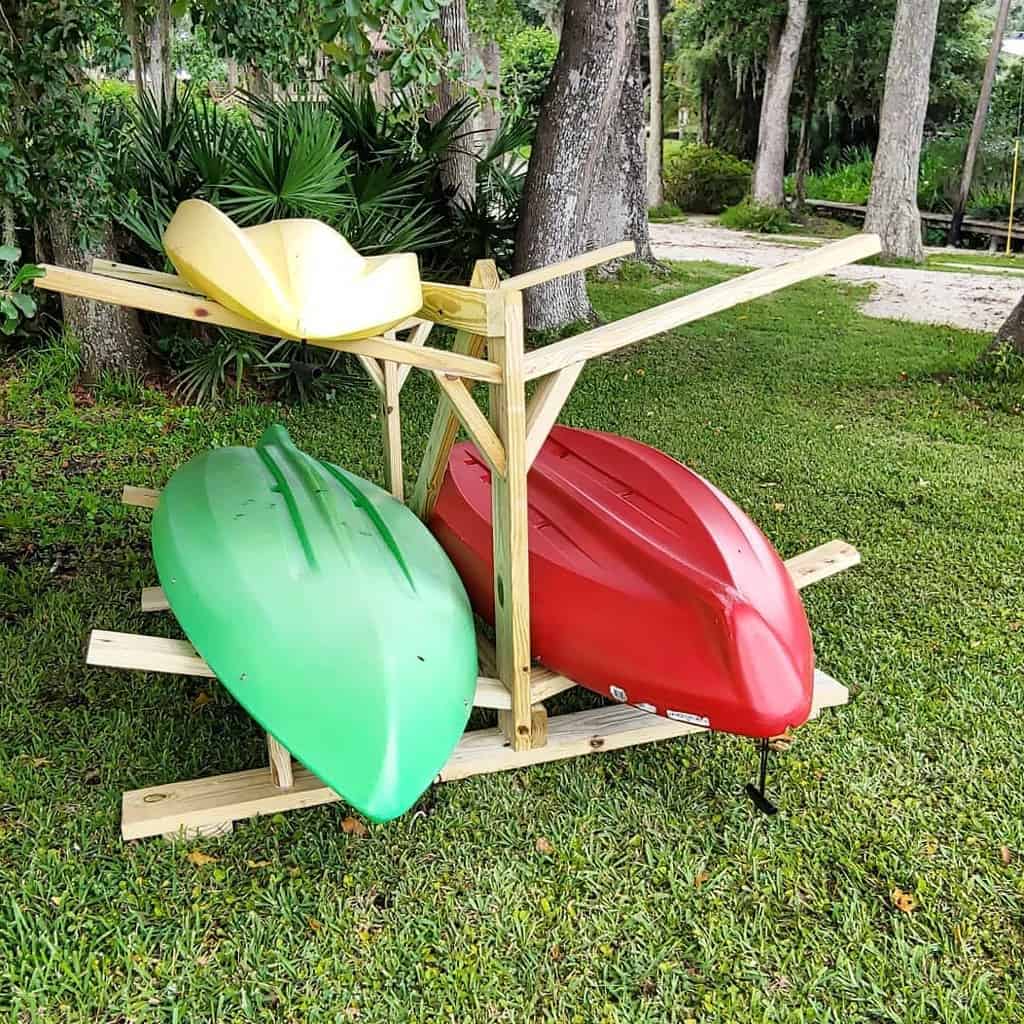 If you can't afford to buy the specialty kayak stand, an even easier alternative is to set up two sawhorses. Just be sure to turn the kayak upside down when placing it on the supports.
5. Garage
If you have a large garage, then it makes sense to bring your kayak indoors for garage storage. An indoor kayak storage rack will help keep your kayak looking and performing to the best of its ability for longer. With indoor storage, your kayak is protected from the elements, such as UV rays and fluctuating temperatures.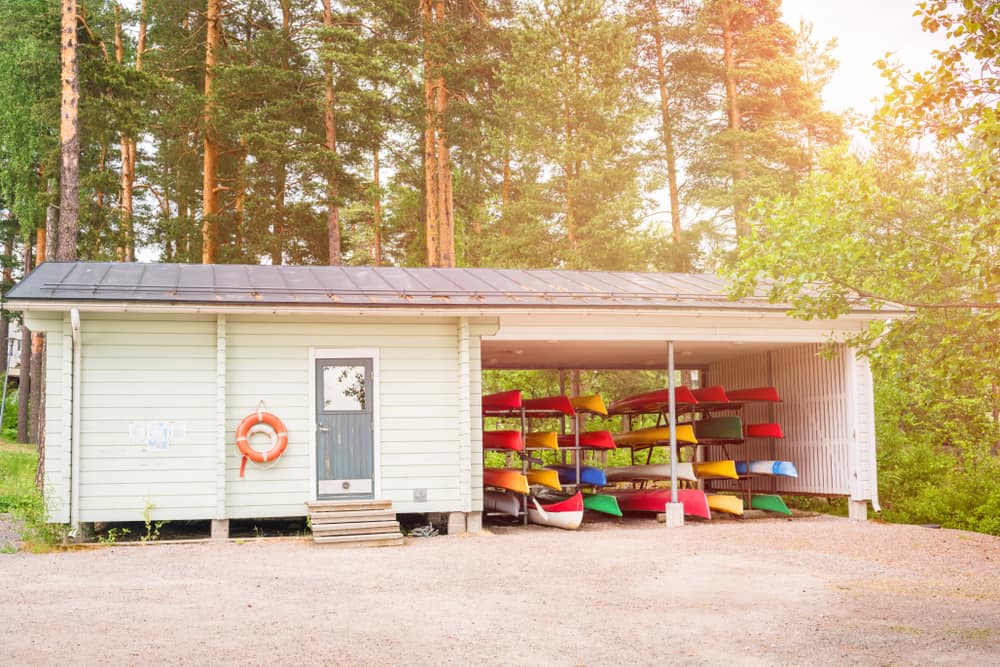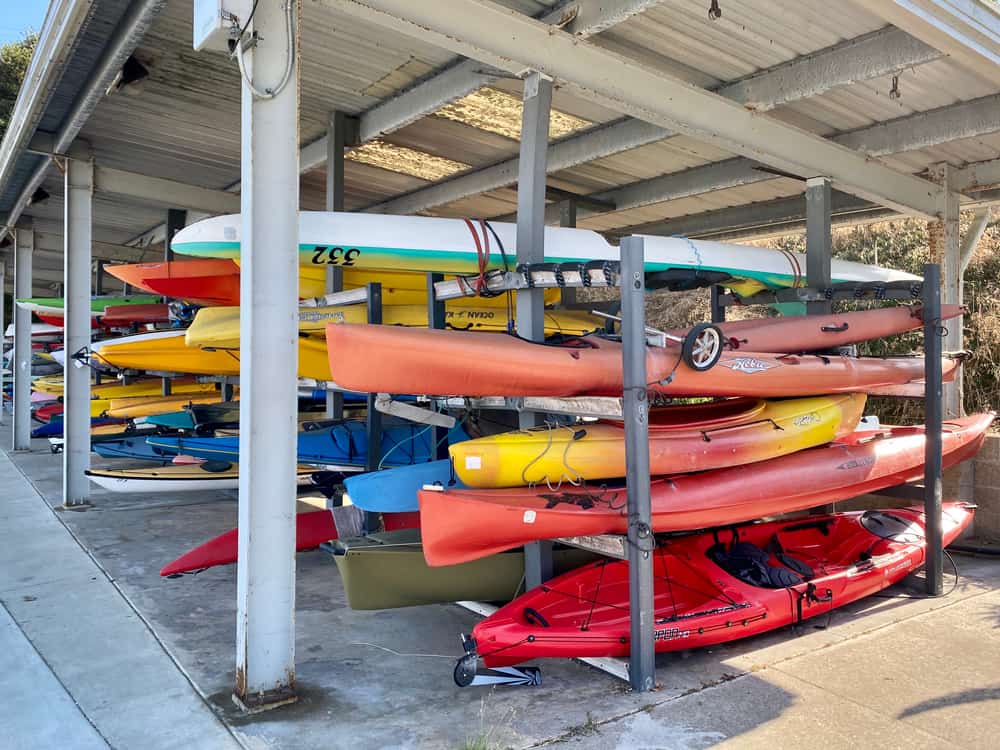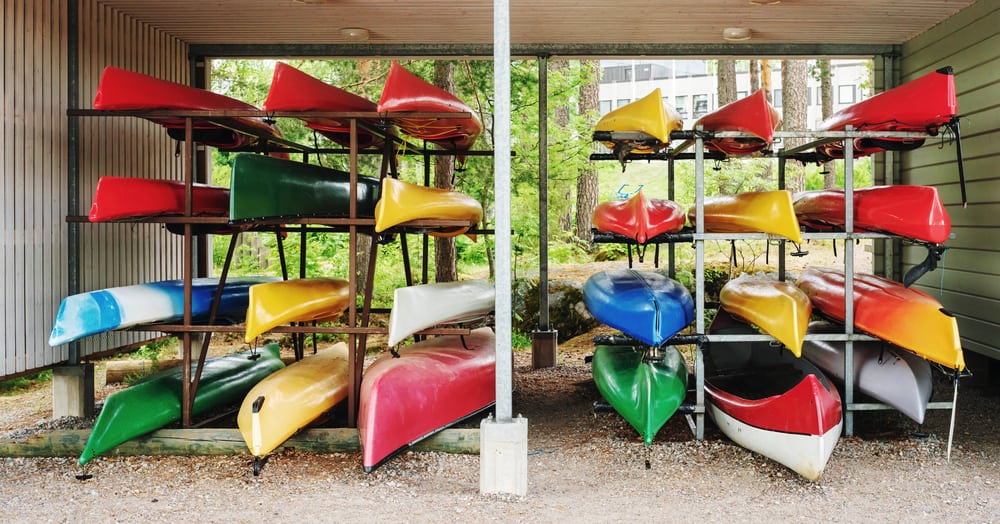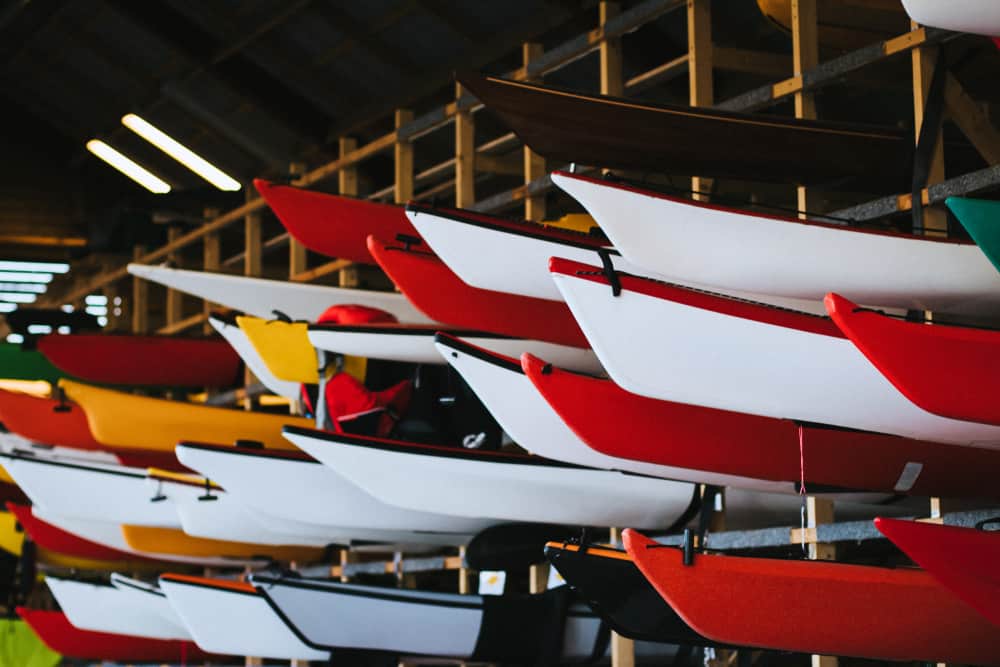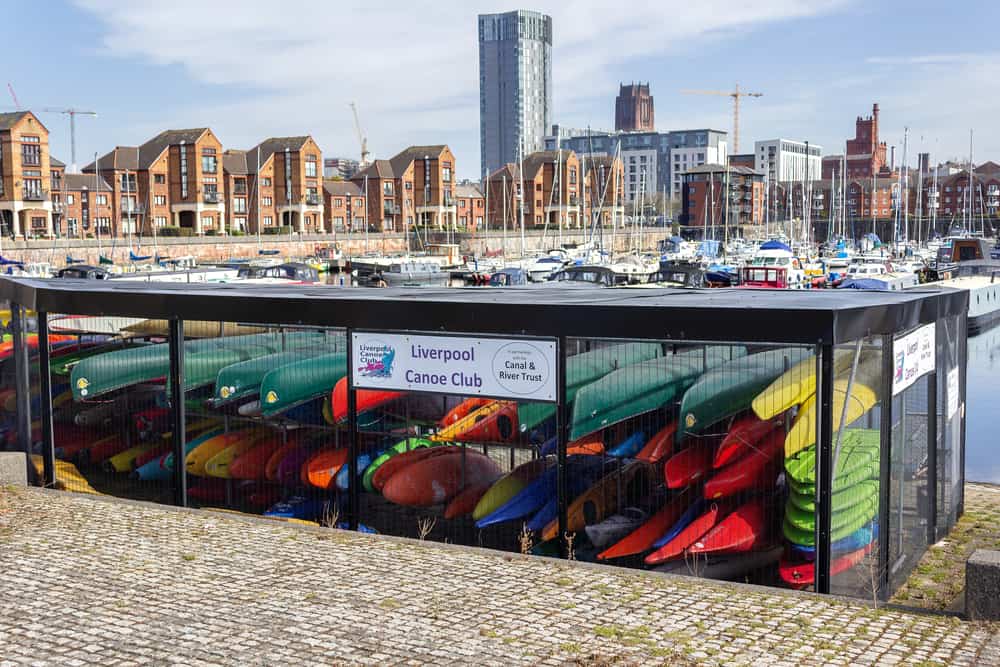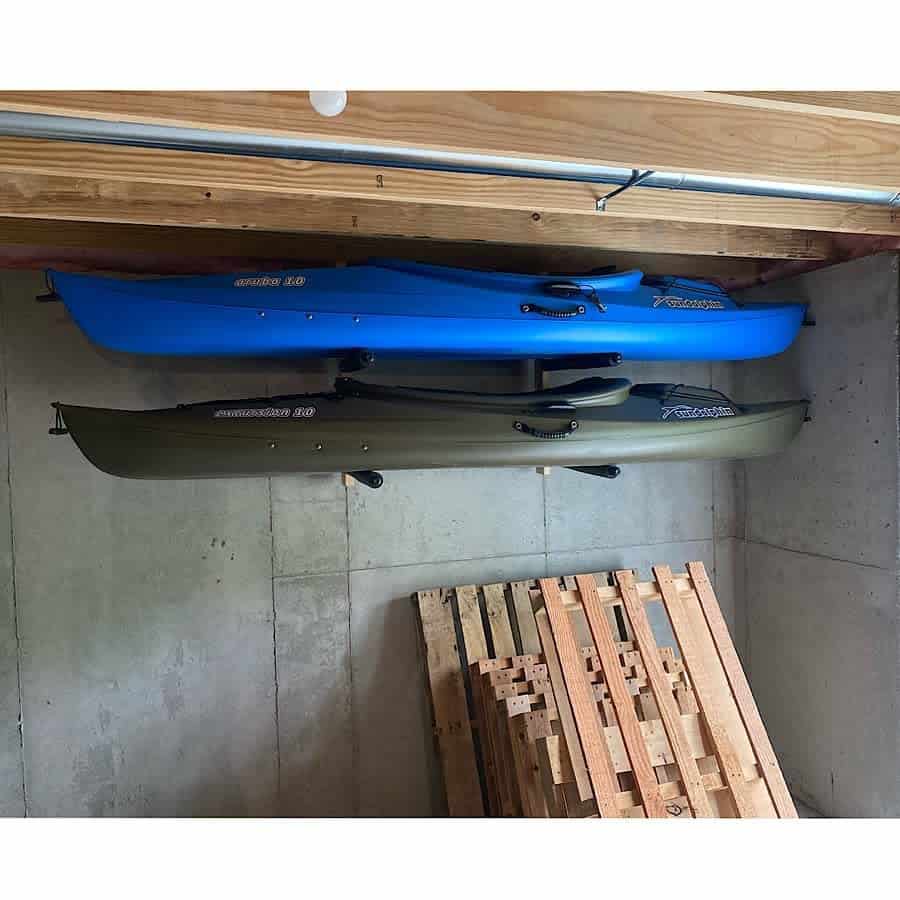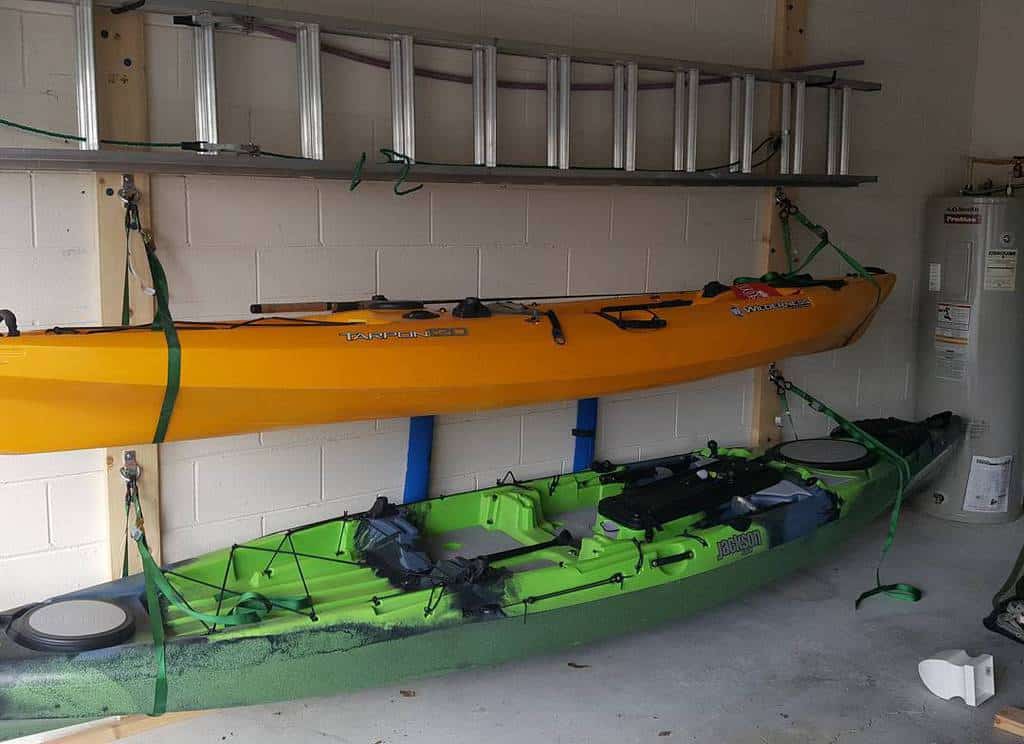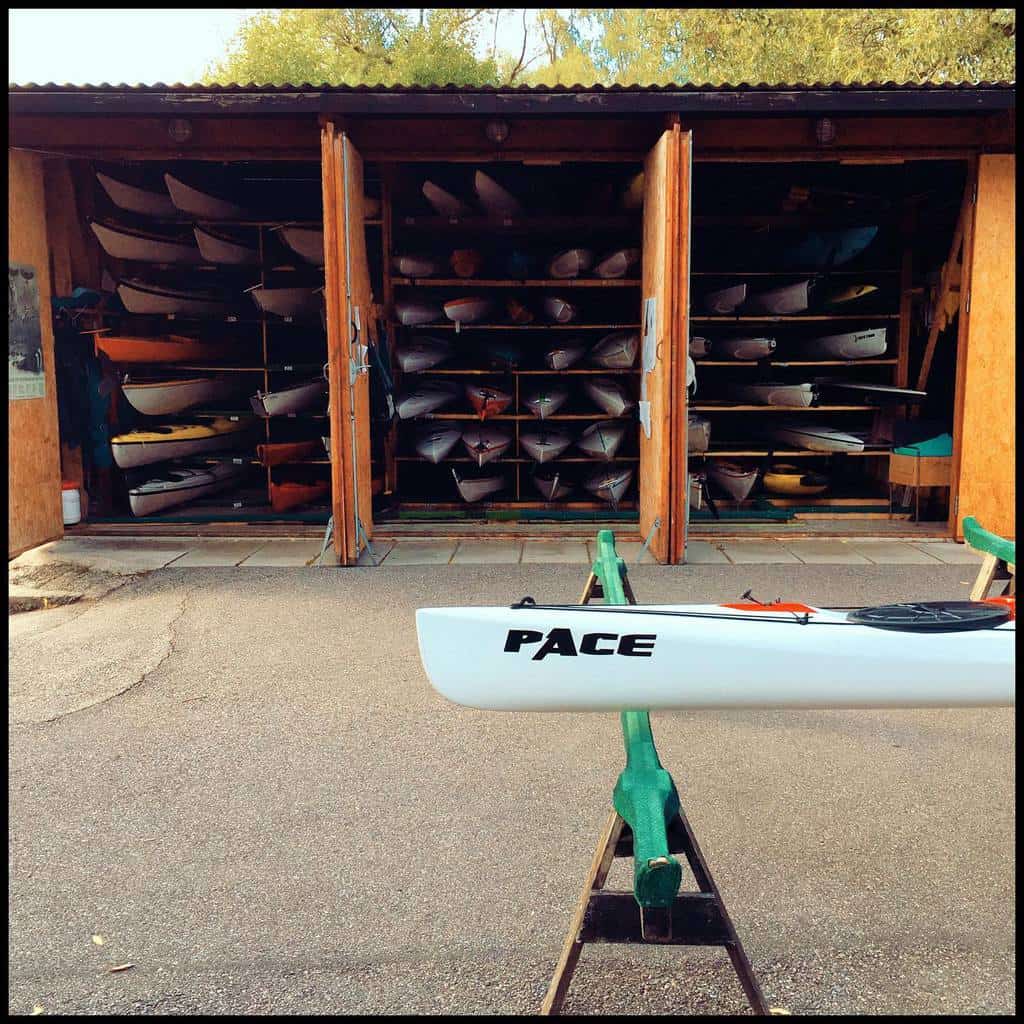 You can stand them up vertically with a rope securing them to the wall if you have a tall garage ceiling. For small spaces, it can make more sense to suspend them from the ceiling.
Read also: 43 Bike Storage Ideas
6. Hanging
If you lack the necessary floor space for storing your kayaks, it's time to look up for your storage solution. Start by looking for a ceiling joist to mount your ceiling rack from. This will give it the necessary support and strength needed to hold the kayak's weight.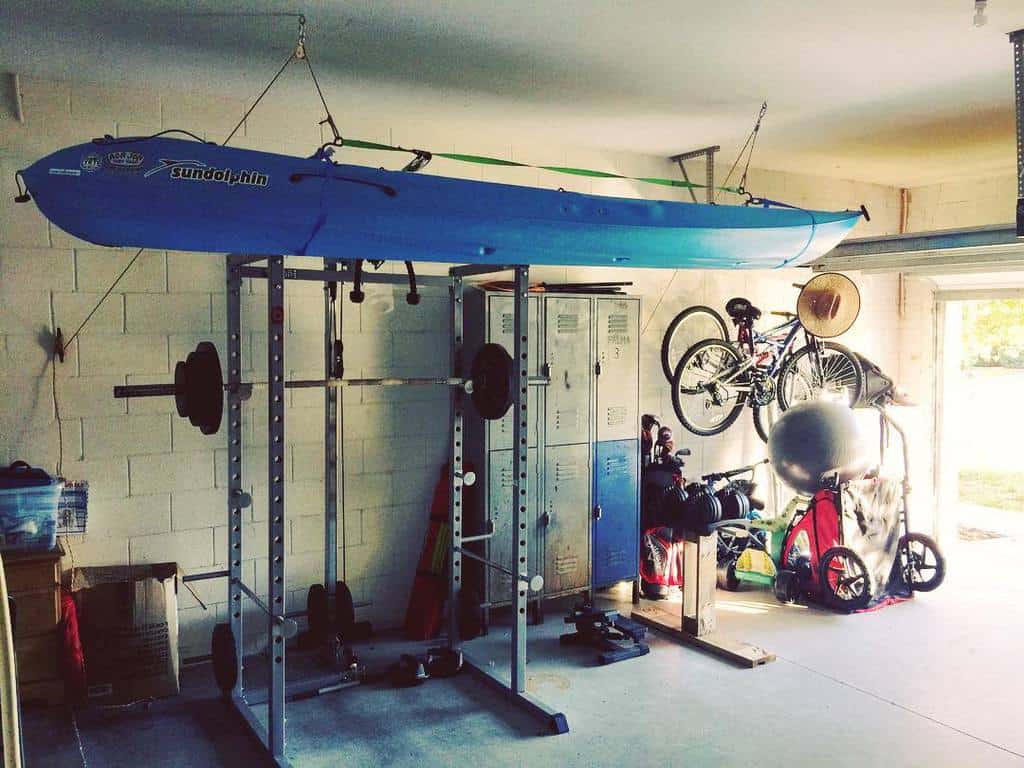 You can buy a mounting hardware kit like Rad Sportz. Once installed, a long cable will release the loops, lowering them to make it easy to put your kayak through the holding loops. Then pull the cable through the pulley system to raise your kayak out of the way. Underneath, you have your storage space back.
7. Outdoor
Kayaks can be quite large, making them cumbersome to keep in your garage. What you need is an outdoor kayak storage solution. It could be a wall-mounted option, freestanding rack, or even a kayak trailer on wheels.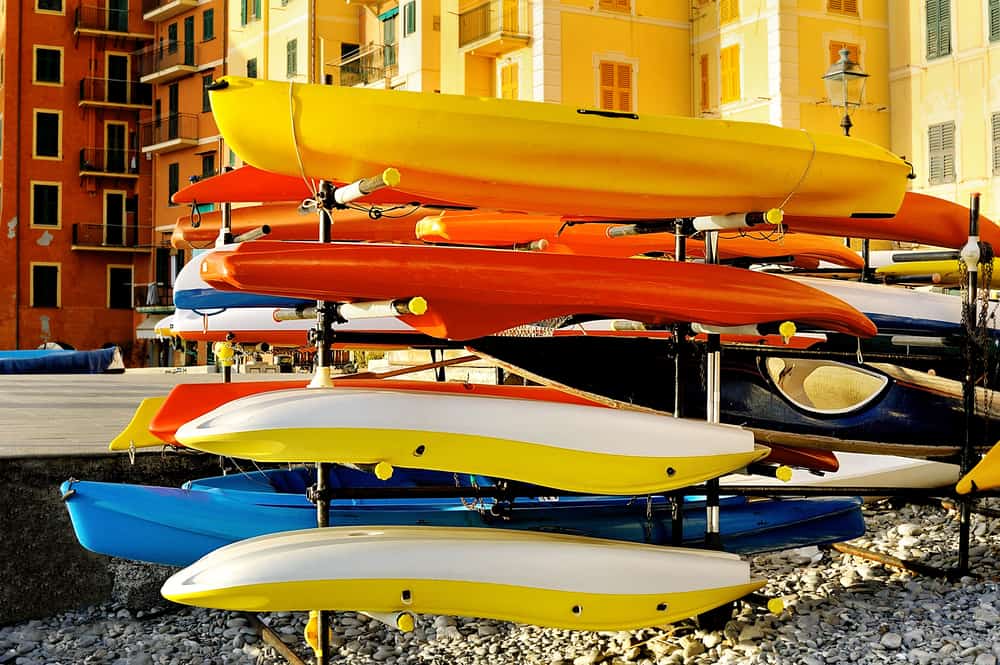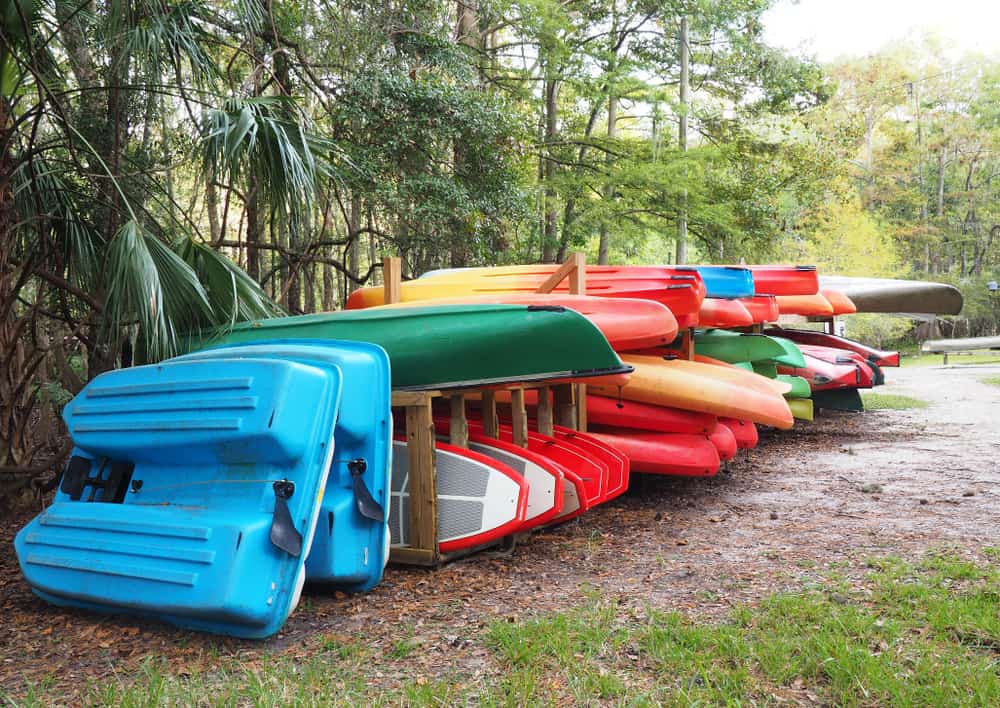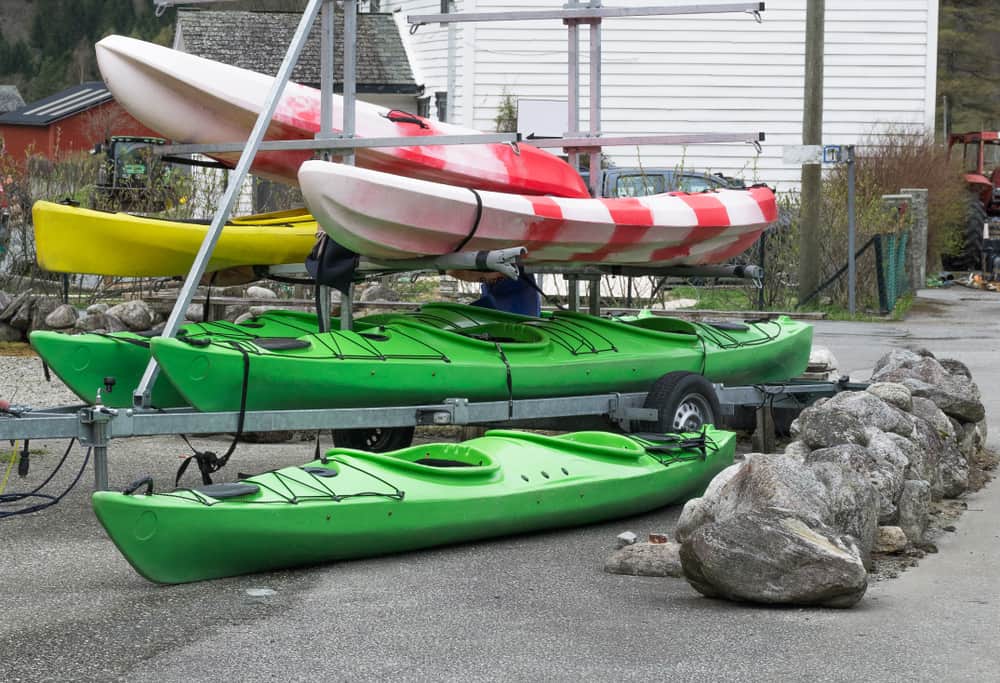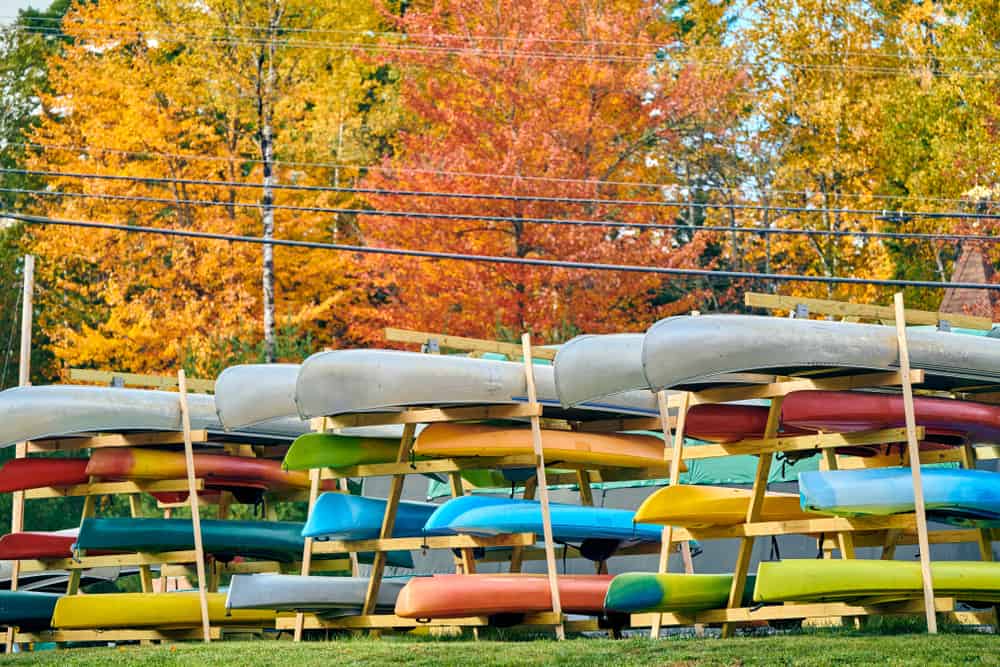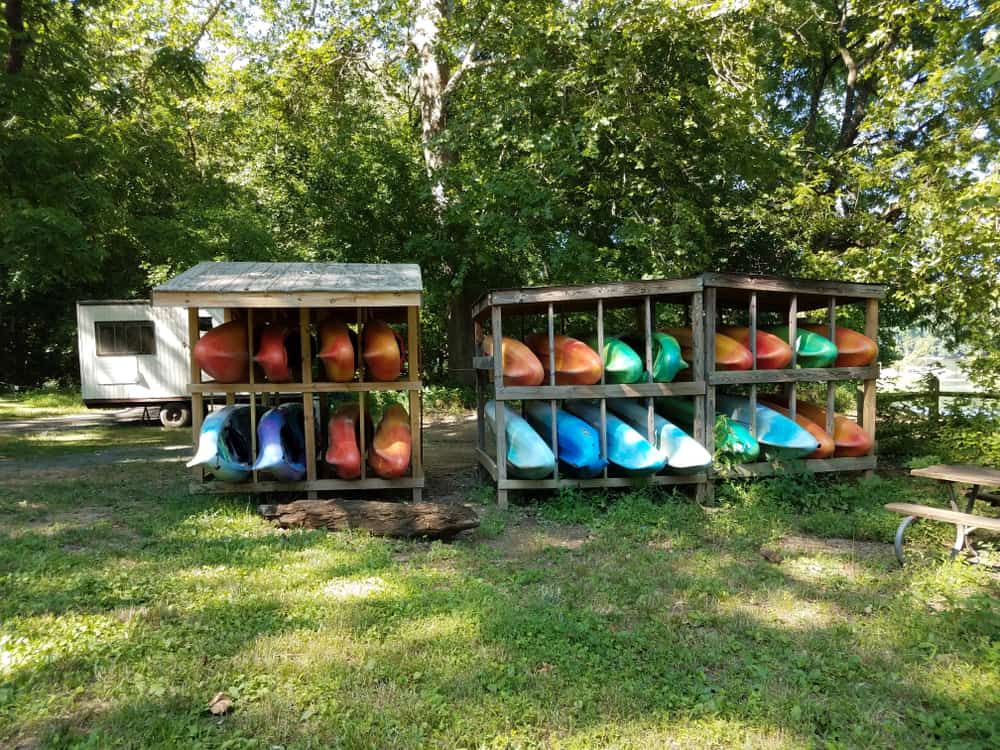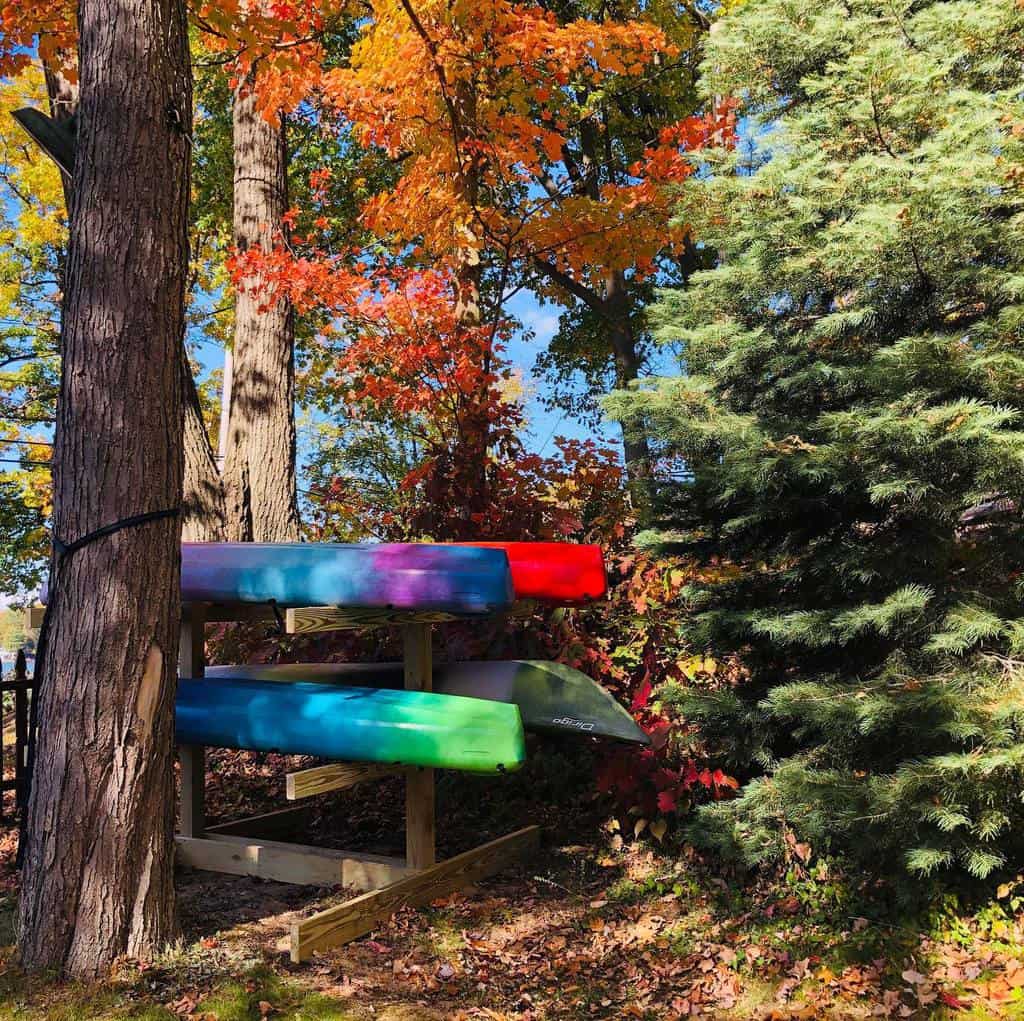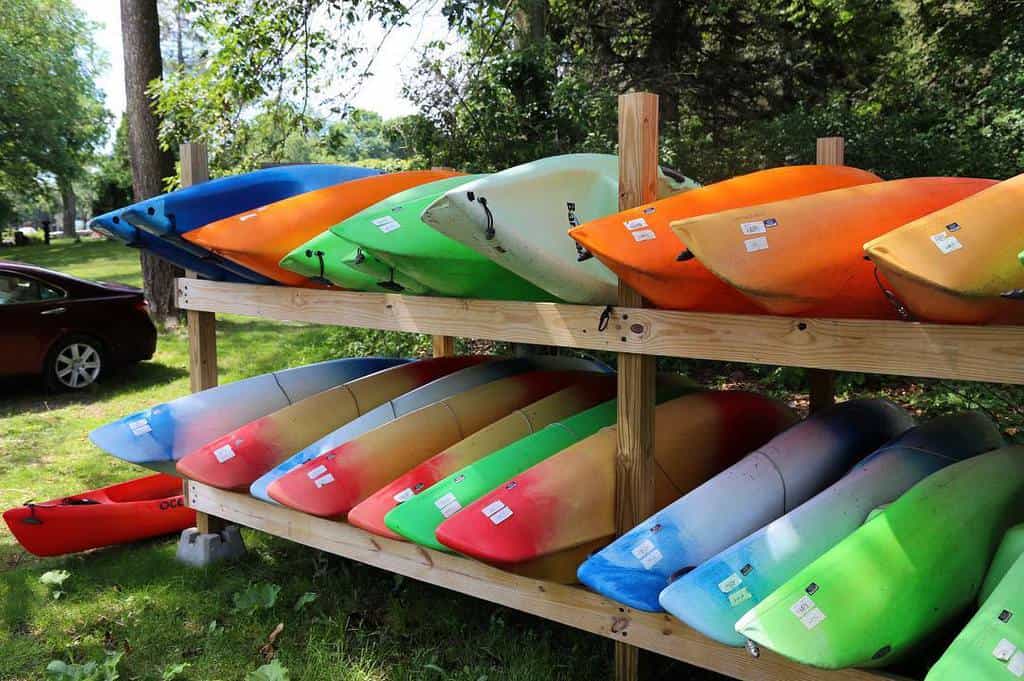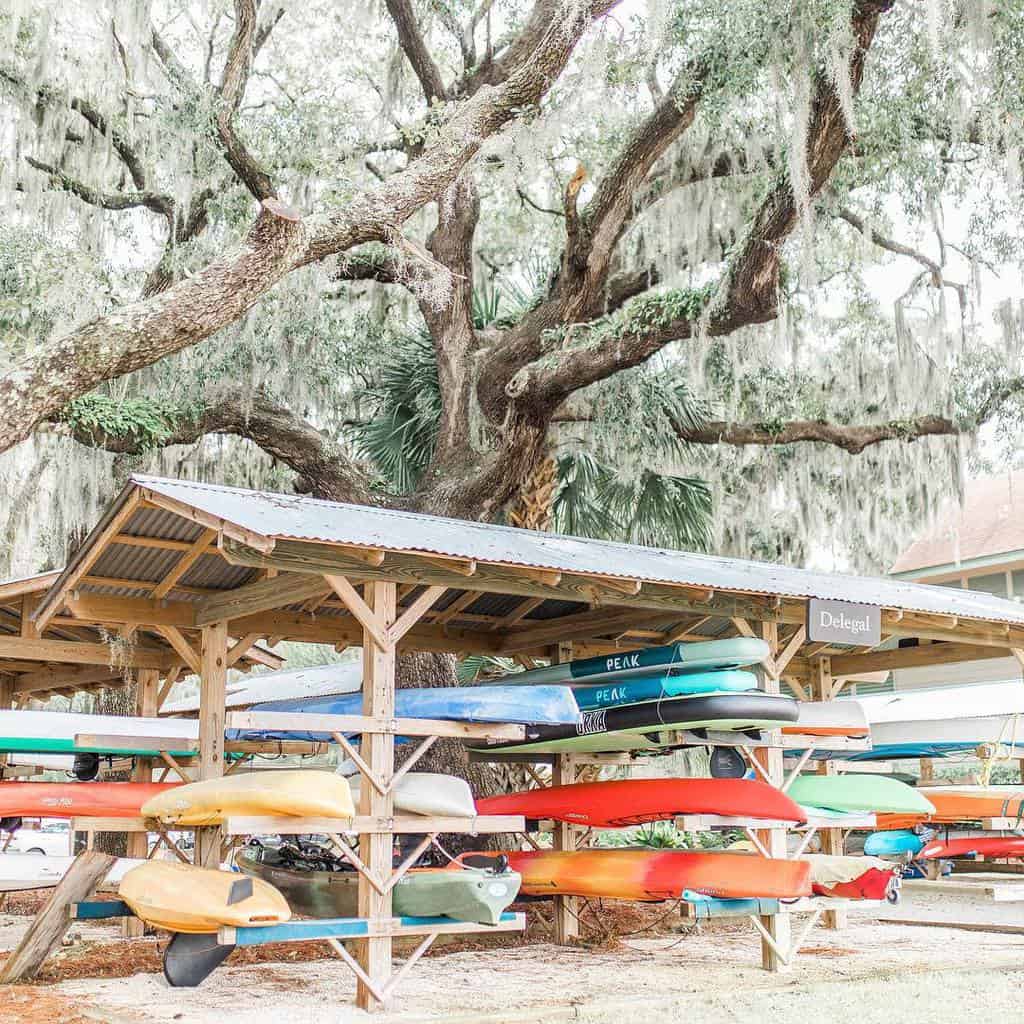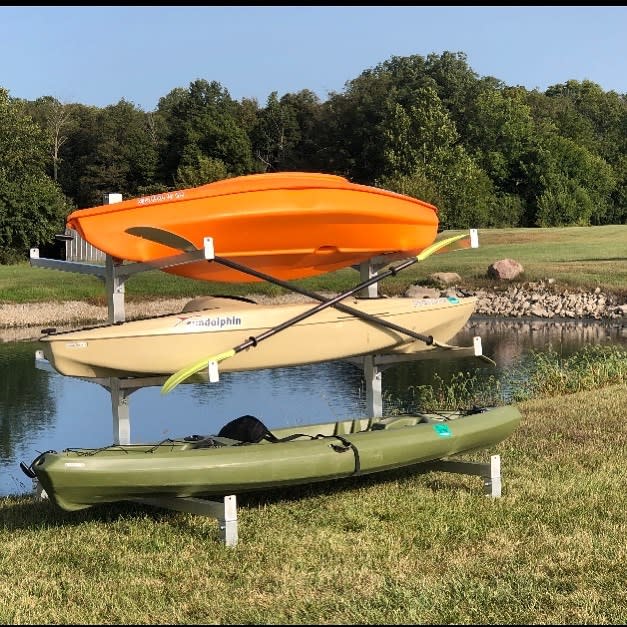 The type of outdoor storage that you decide to use will depend on your budget, available space, and the number of kayaks you need storage for. Simple wall-mounted hooks are affordable but limit the number of kayaks you can hang. A large freestanding unit can be more expensive but ideal for storing many kayaks.
8. Upright
When you head to an outdoor sporting goods store, you'll likely see the kayak on display standing upright. This is done because you can easily store multiple kayaks in a smaller space. You can take the same approach with your at-home kayak storage. It could be a freestanding rack or individual blocks for each kayak stand.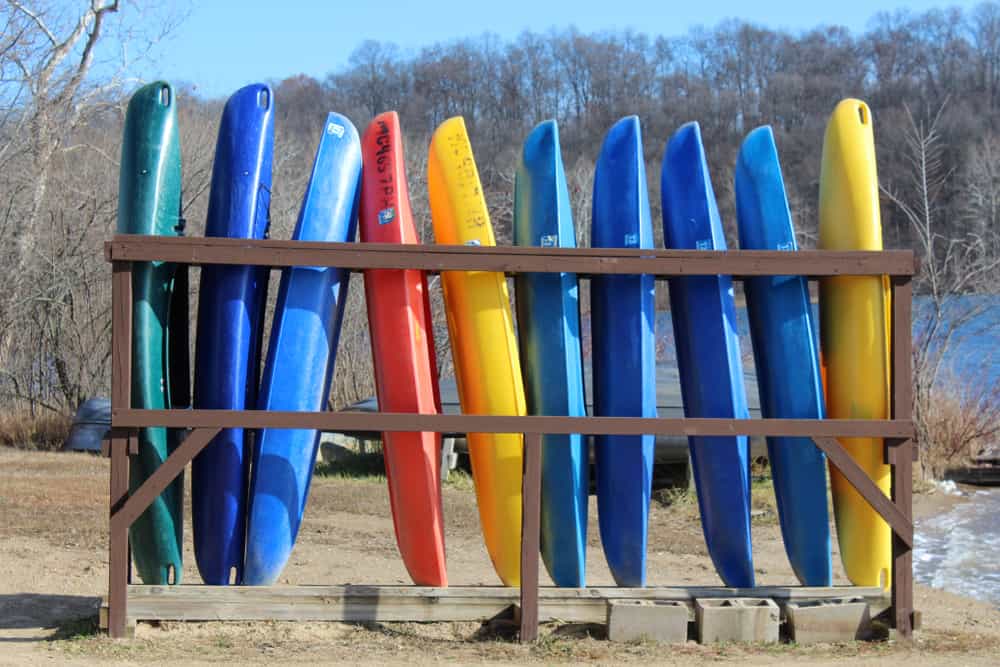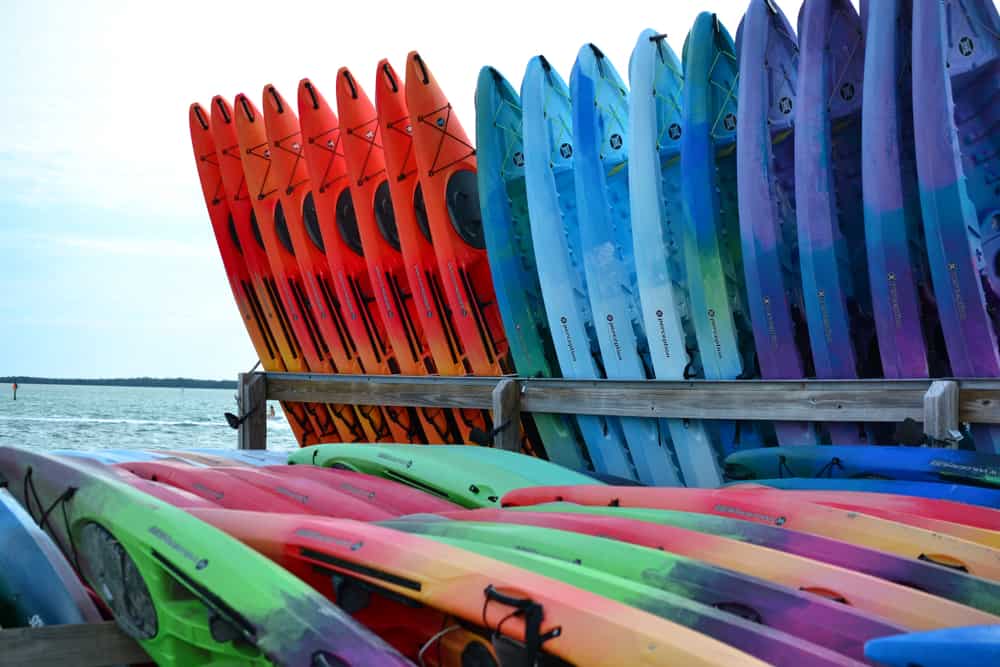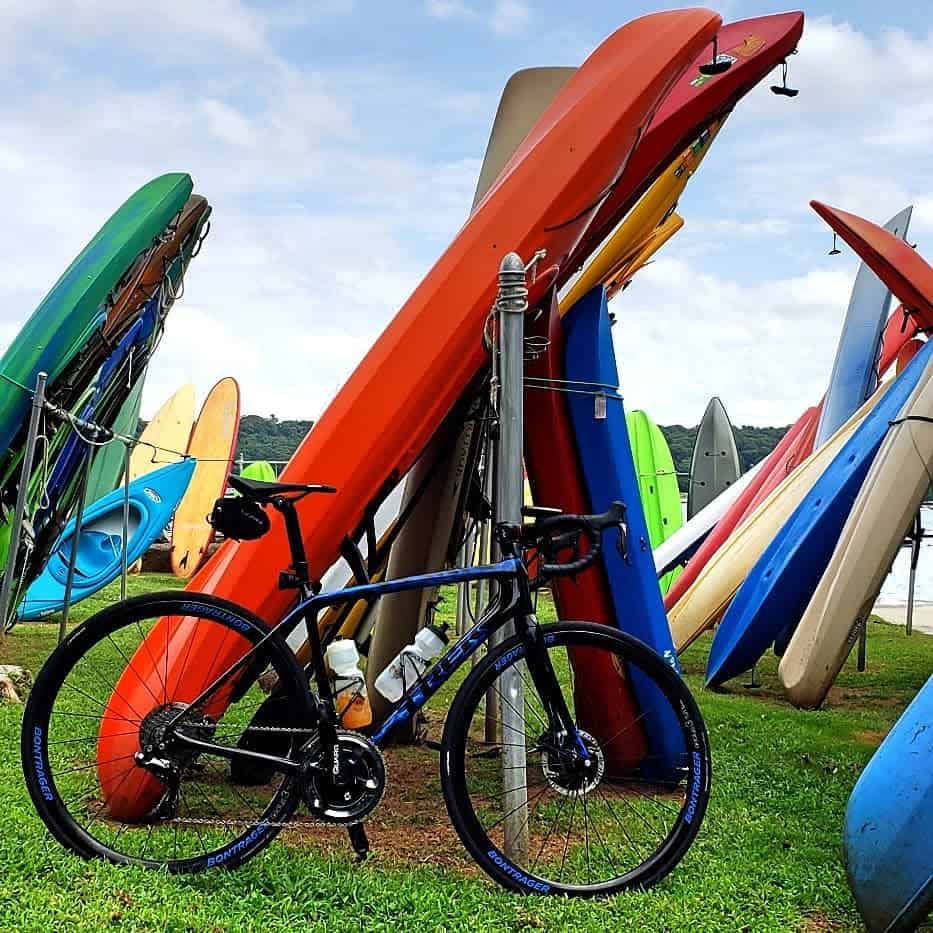 You should also have an adjustable strap that wraps around the middle of the kayak or a second loop mounted higher on the wall for safety purposes. This secures the kayak to the wall while in a vertical storage position.
9. Wall
Wall mounted racks are one of the most common storage methods because you can mount them on any wall at any height. They typically come as individual hooks that are bolted to the wall. You place the kayak in the hooks and then use the straps to secure the kayak in the hooks.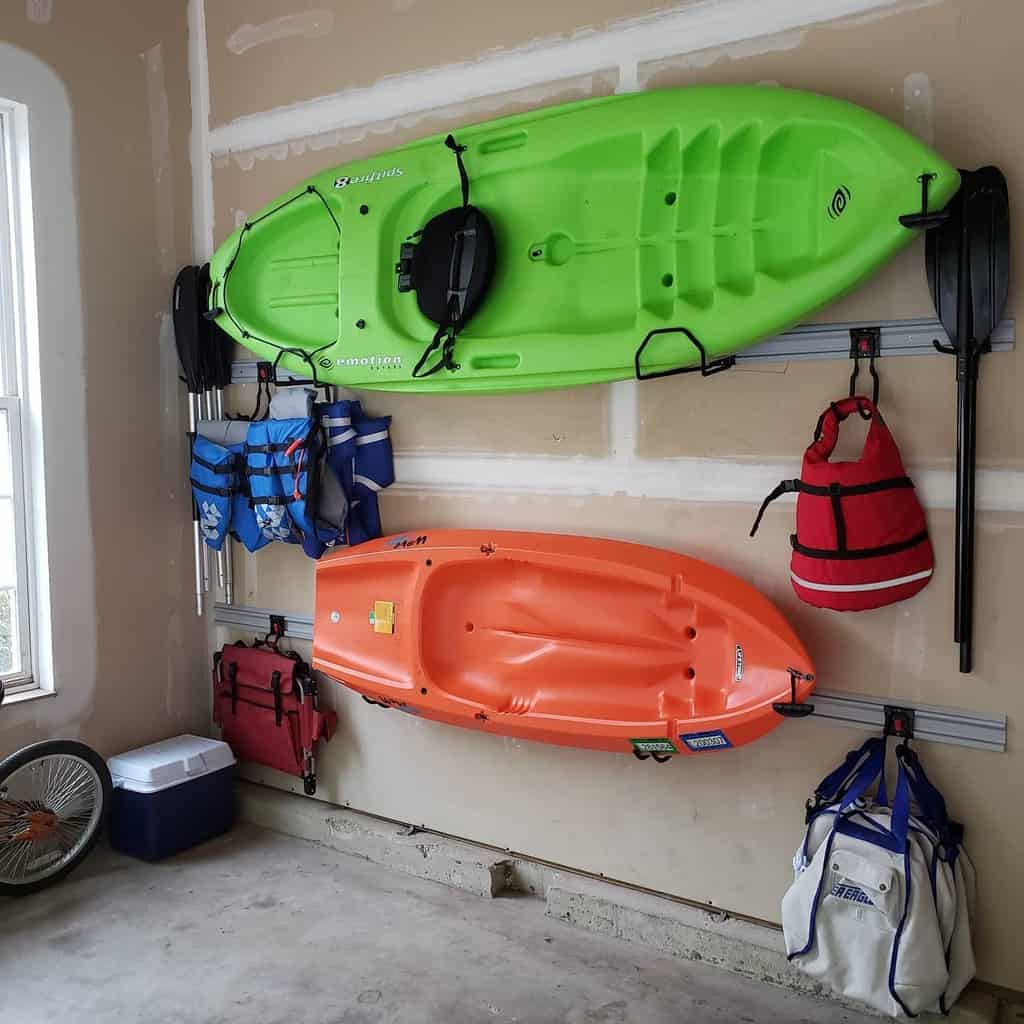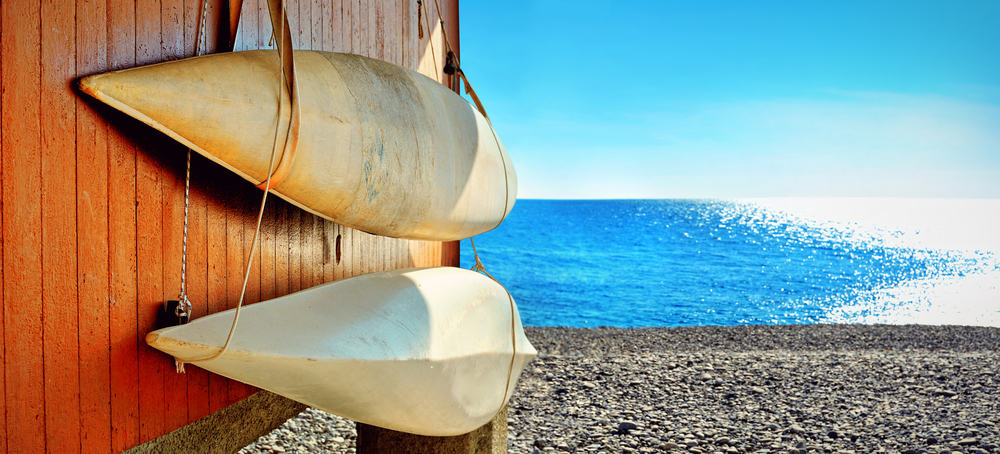 The Suspenz EZ Kayak Rack is a popular option. You can essentially build your own wall rack because the individual hooks are mounted separately. This lets you mount them where you have the available wall space.
10. Wood
If you have a lot of kayaks that you need storage space for, then building a wood rack is an ideal option. You can easily build a freestanding rack from available kits. Most kits can hold three to six kayaks. They will feature two arms for each kayak. You'll place the kayak in from the side so that it rests on the two supports.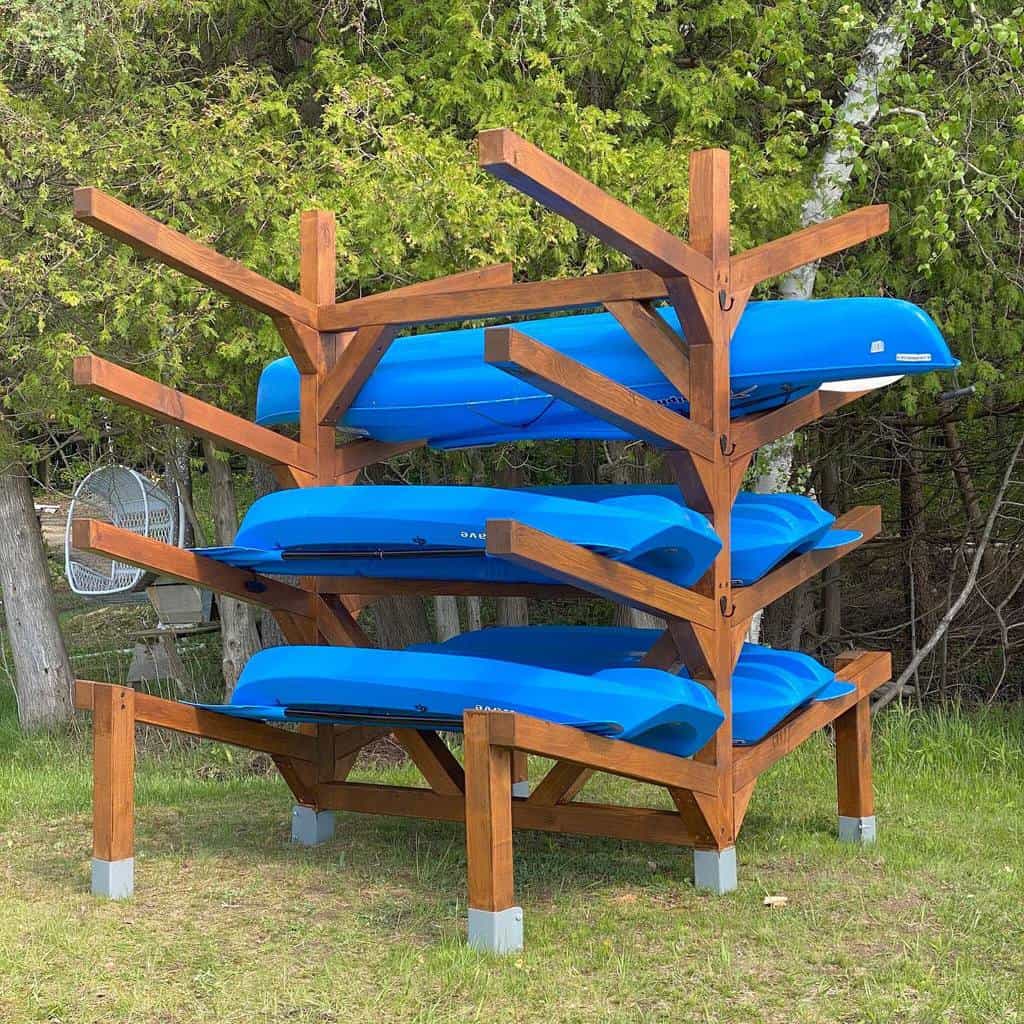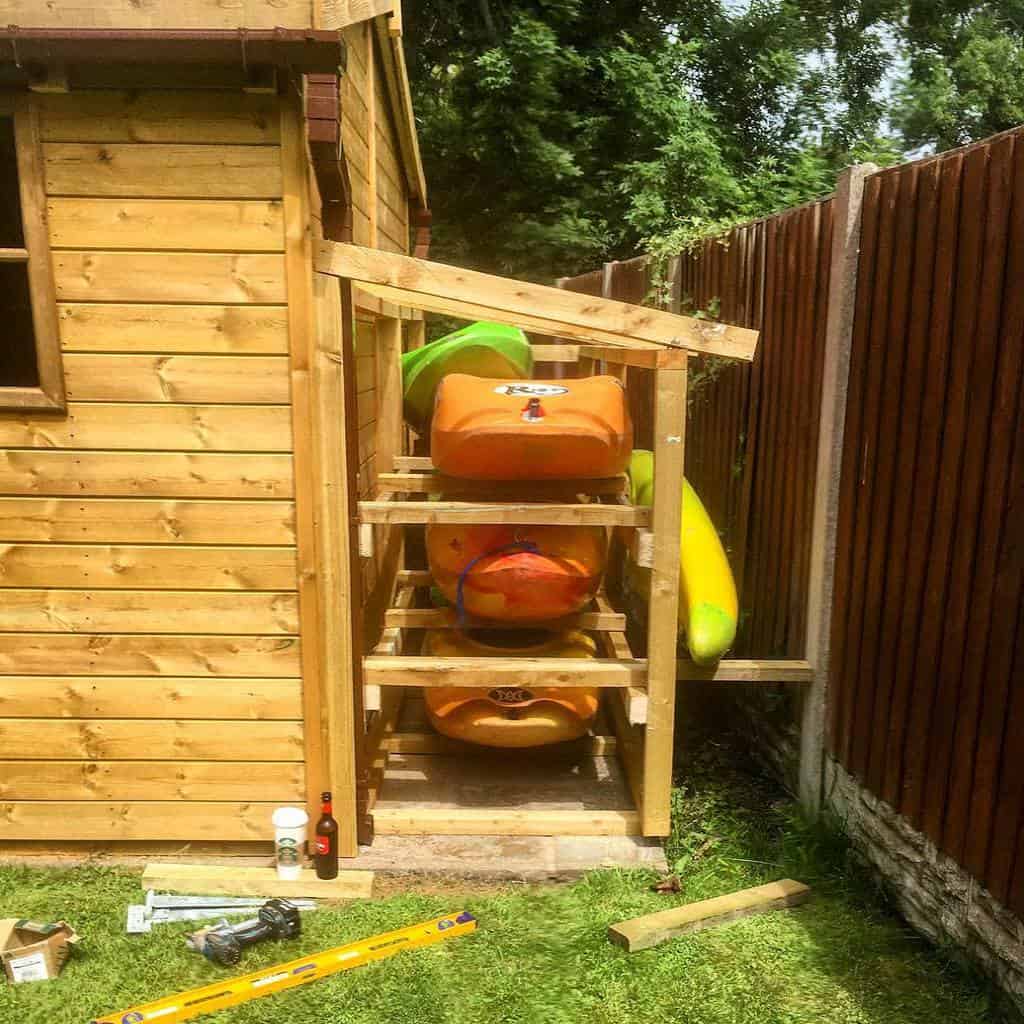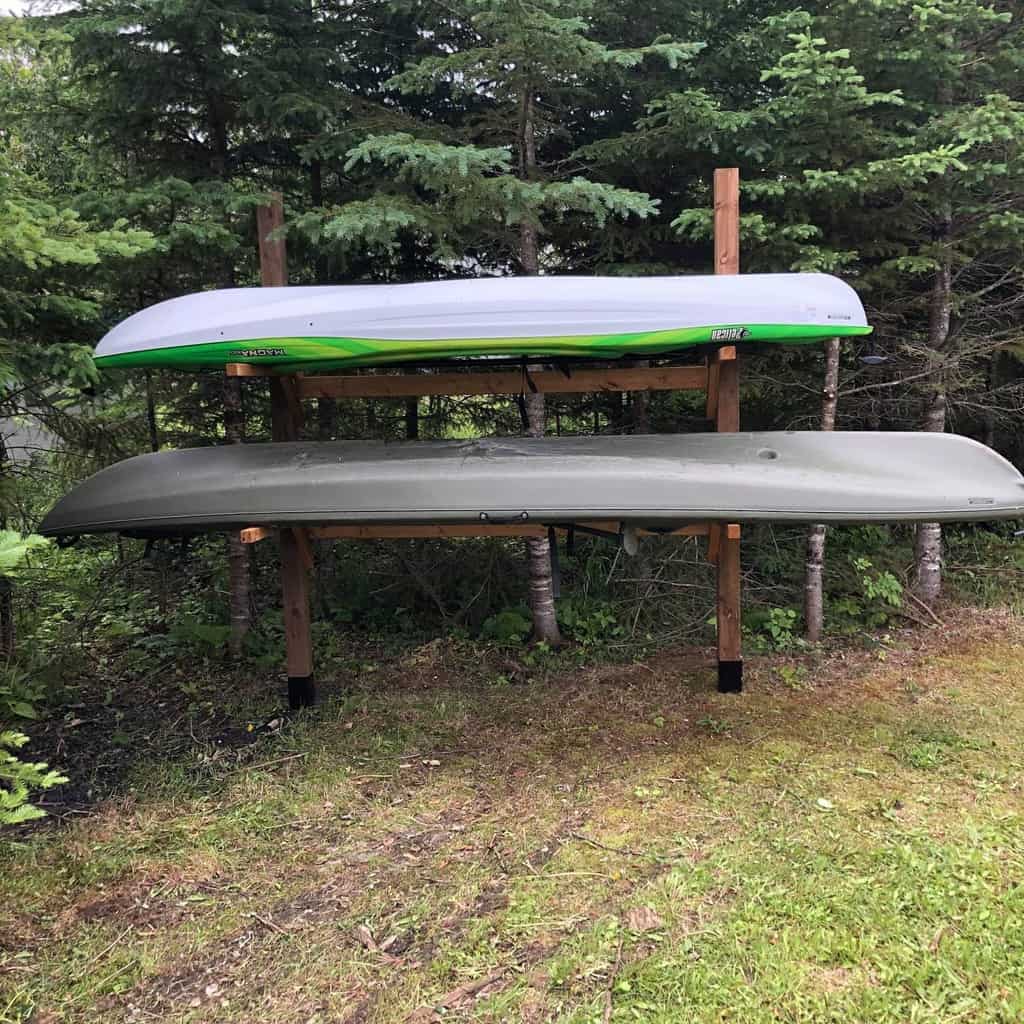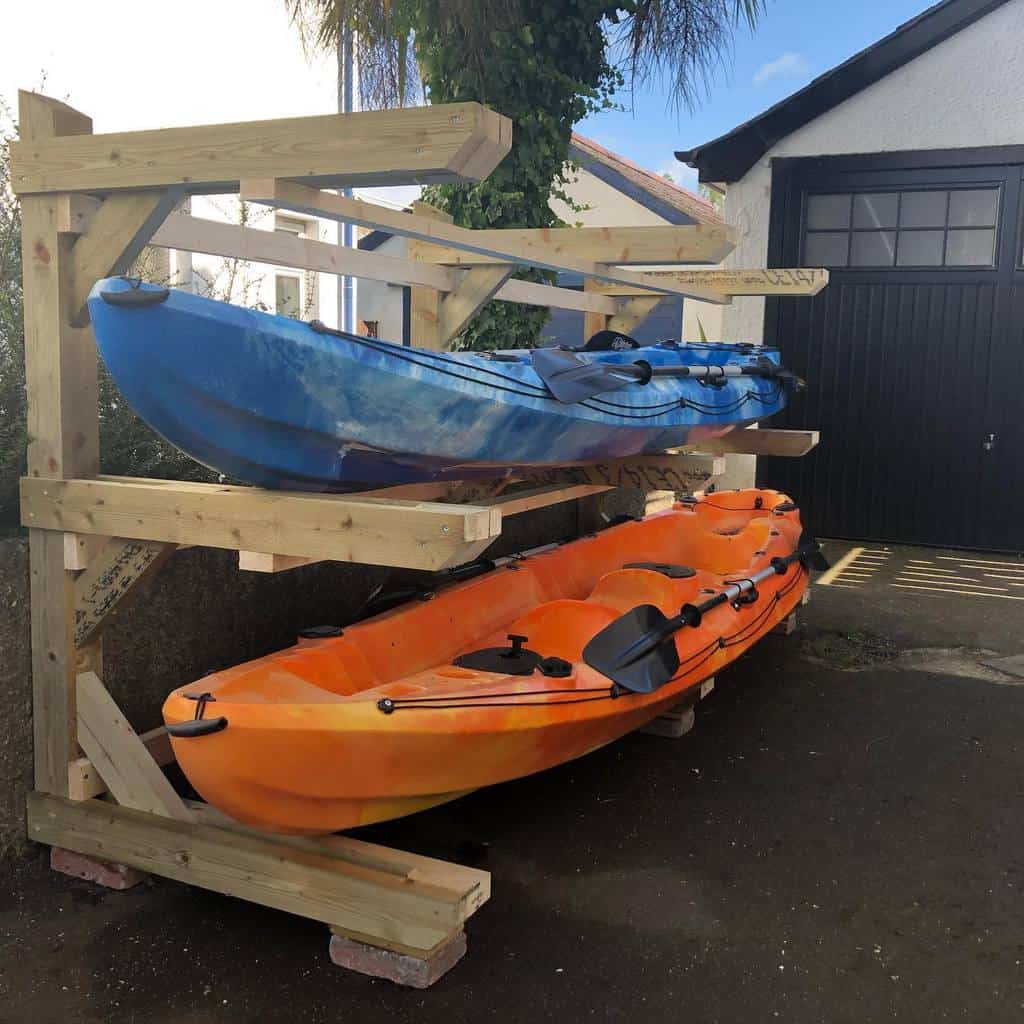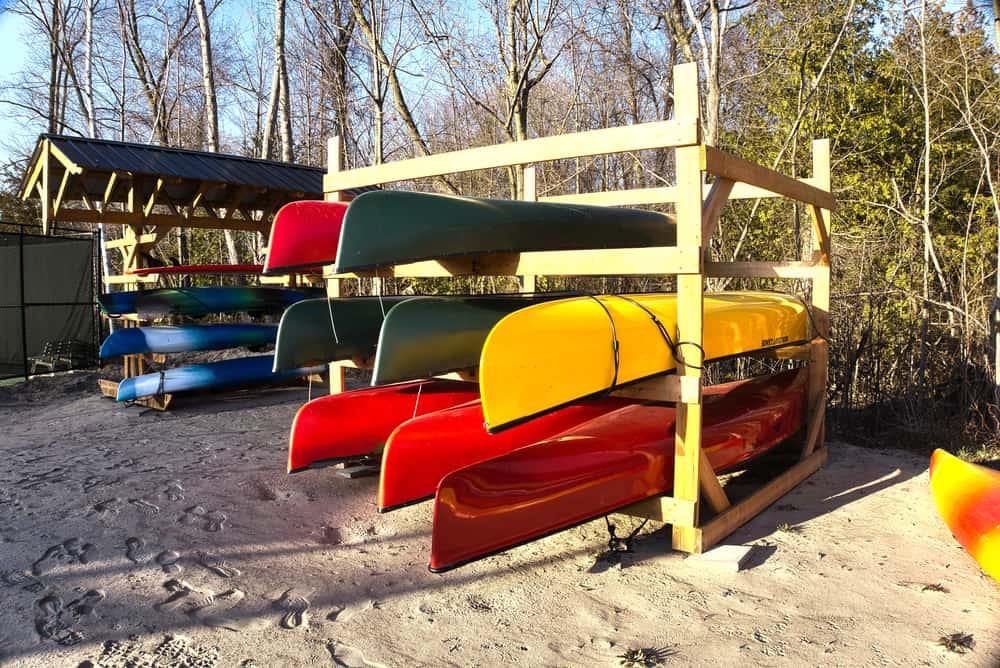 This is the most user-friendly method because it's easy to take the kayaks on and off. An alternative option is where the kayaks get placed on the stand from the end. This style of rack is best when you don't have enough room to load them from the side, such as when the rack is on a dock.
FAQs
Can you leave kayaks outside in the winter?
Depending on where you live, you may or may not be able to leave your kayak outside during winter. Warm climates that don't experience snow and ice are suitable for outdoor winter kayak storage. Colder climates that do experience snow and ice can cause damage to your kayak. In addition to creating dents, the freeze and thaw cycle can crack the molded plastic of the kayak. 
Can you sit in a kayak on the ground?
You shouldn't leave your kayak sitting on flat ground for longer than a few days. Kayaks aren't designed to sit on their hull for extended periods. The excess weight of the kayak will cause the kayak to flatten and damage the exterior of the kayak.
How do you lock a kayak outside?
If you decide that storing your kayak outside is the best option, you'll want to secure the kayak to the rack. Otherwise, you risk someone walking away with your kayak. To do this, start by running a lock cable through the scupper plug holes and handles, then around the secured rack and locking it. To prevent temptation, place the kayak in a storage bag or cover it with a tarp. That way, it's not readily seen.