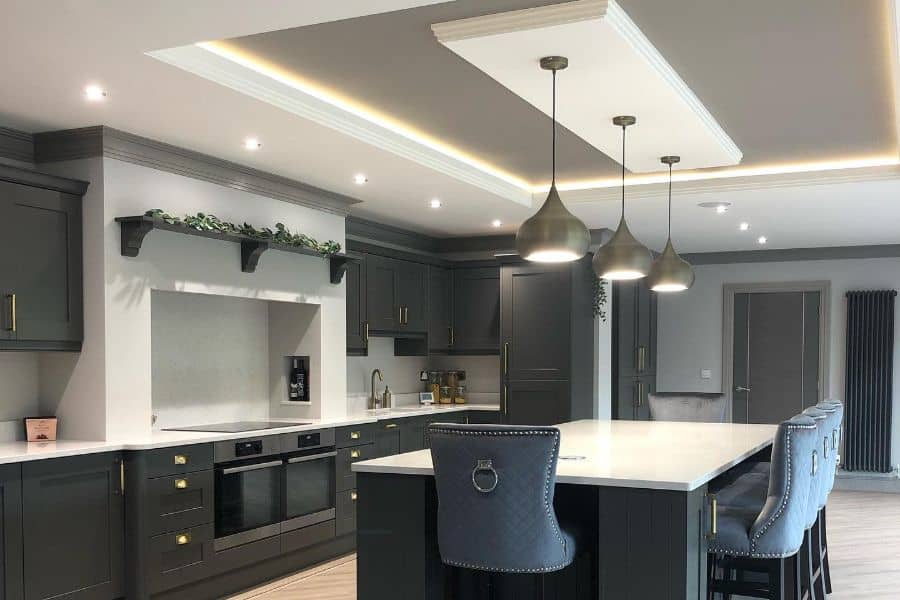 The Top 39 Kitchen Ceiling Ideas
"The kitchen really is the castle itself. This is where we spend our happiest moments and where we find the joy of being a family." – Mario Batali
What does your kitchen ceiling look like? If your home is a bit older, then you probably have a popcorn ceiling. Unfortunately, this old-school method for finishing your ceiling dates your home and is undesirable. It's also a terrible idea for a kitchen because it creates millions of crevices where grease, food particles, and bacteria can get trapped.
Upgrade the look of your kitchen and make it more sanitary by checking out these kitchen ceiling ideas. You could do this as a part of a much larger kitchen remodel or upgrade the ceiling on its own.
1. Rustic Wood
A wooden ceiling adds a rustic touch to the space, bringing to mind cozy cabins and warm fires. The natural grain of the wood adds texture and interest to the ceiling, making it a focal point of the room.
Whether you choose to stain the wood a dark walnut or leave it natural, a wooden ceiling is sure to create a warm and inviting ambiance in your kitchen.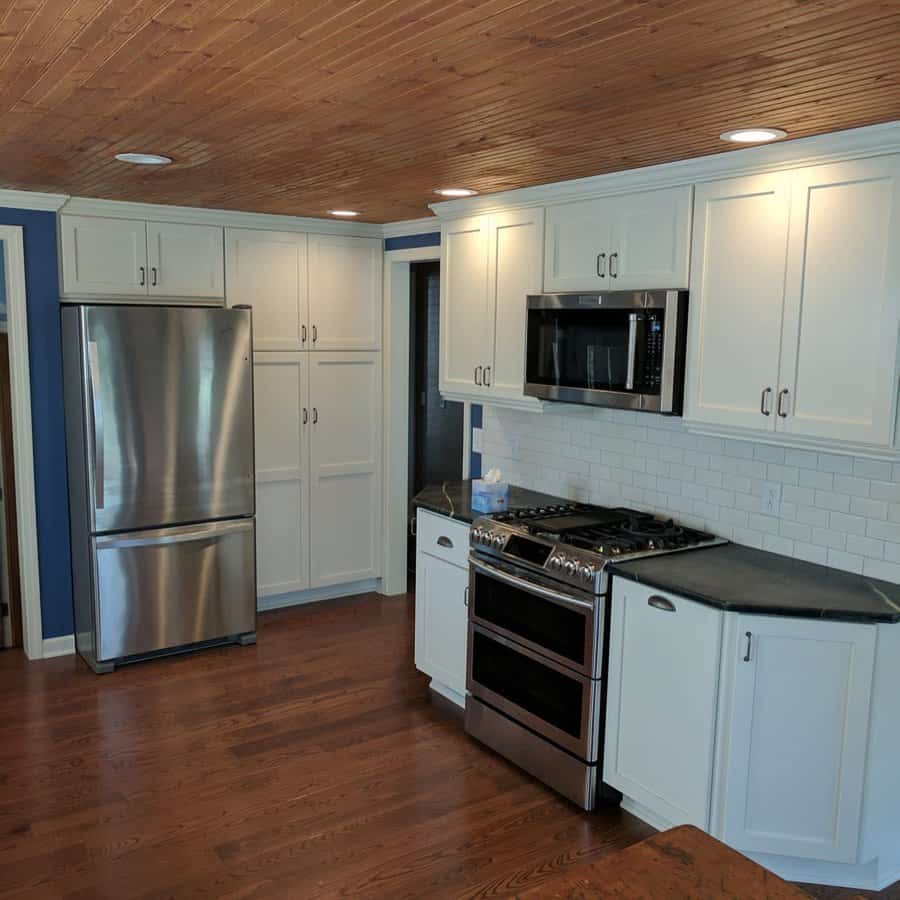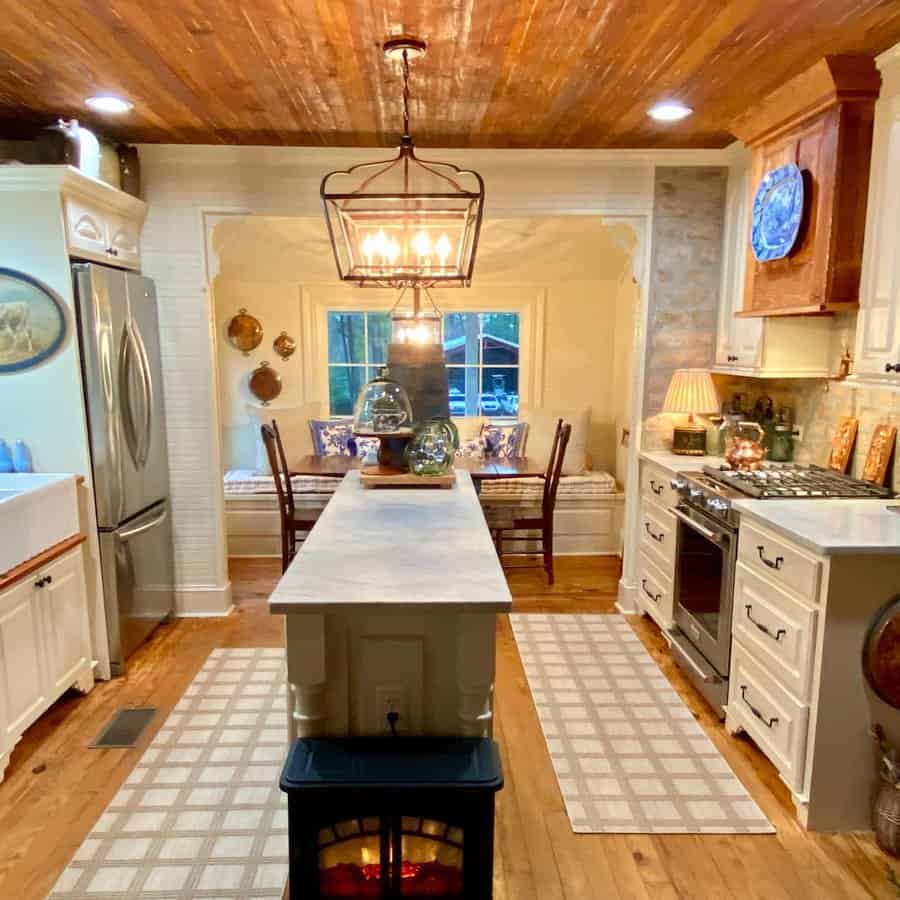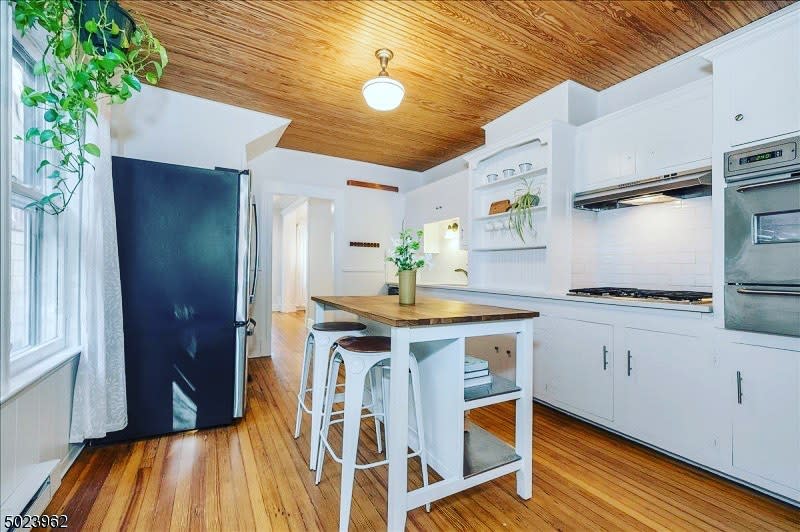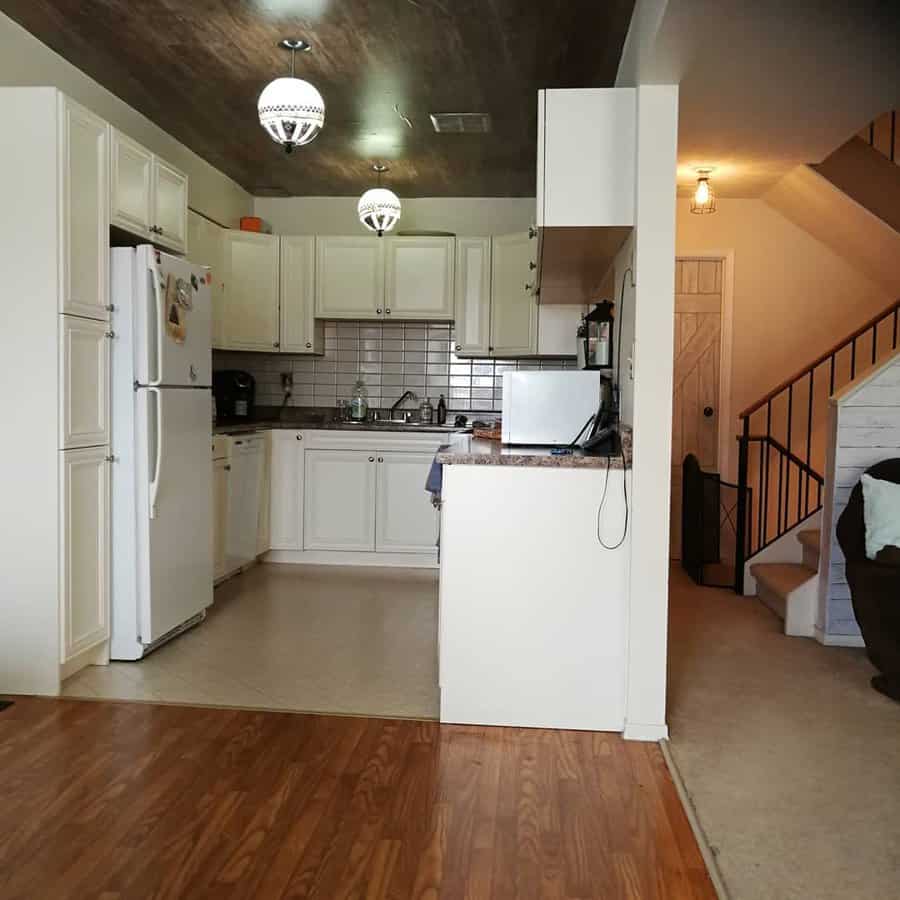 2. Shabby Chic Shiplap
Nothing transforms a room quite like a unique ceiling. If you're looking for kitchen ceiling ideas that will make a statement, consider a white shiplap ceiling. The beauty of shiplap lies in its simplicity, and its timeless appeal.
Whether you're going for a modern, minimal look, or a shabby chic interior, white shiplap is a perfect choice. Its clean lines and bright finish will create a cheerful atmosphere in your kitchen while adding subtle charm to the overall design.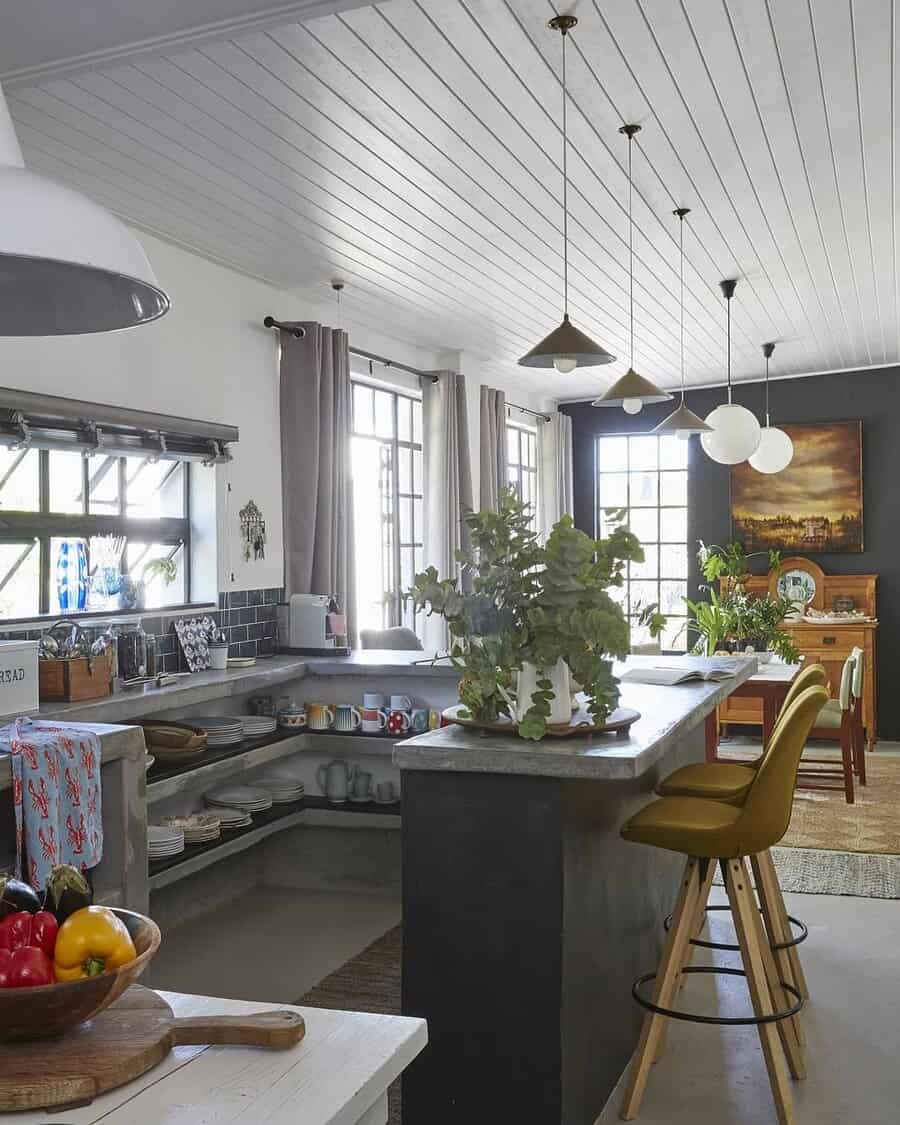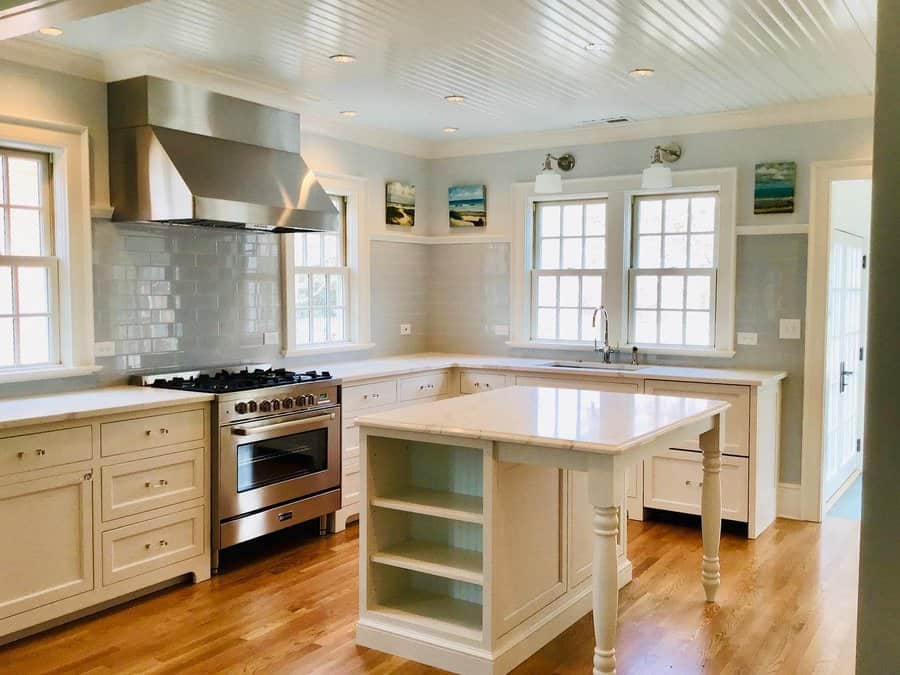 3. Tidy White
The kitchen is the heart of the home, and a white ceiling can help to create a bright and spacious atmosphere. But, a plain white ceiling doesn't have to be boring. You can easily jazz it up with the use of pendant lights or downlighting fixtures that can add character and personality to your kitchen.
Pendant lights can be hung in clusters or individually to create a focal point, while downlights are perfect for highlighting specific areas of your kitchen. With the right combination of lighting fixtures, your kitchen ceiling can become a standout feature in your home.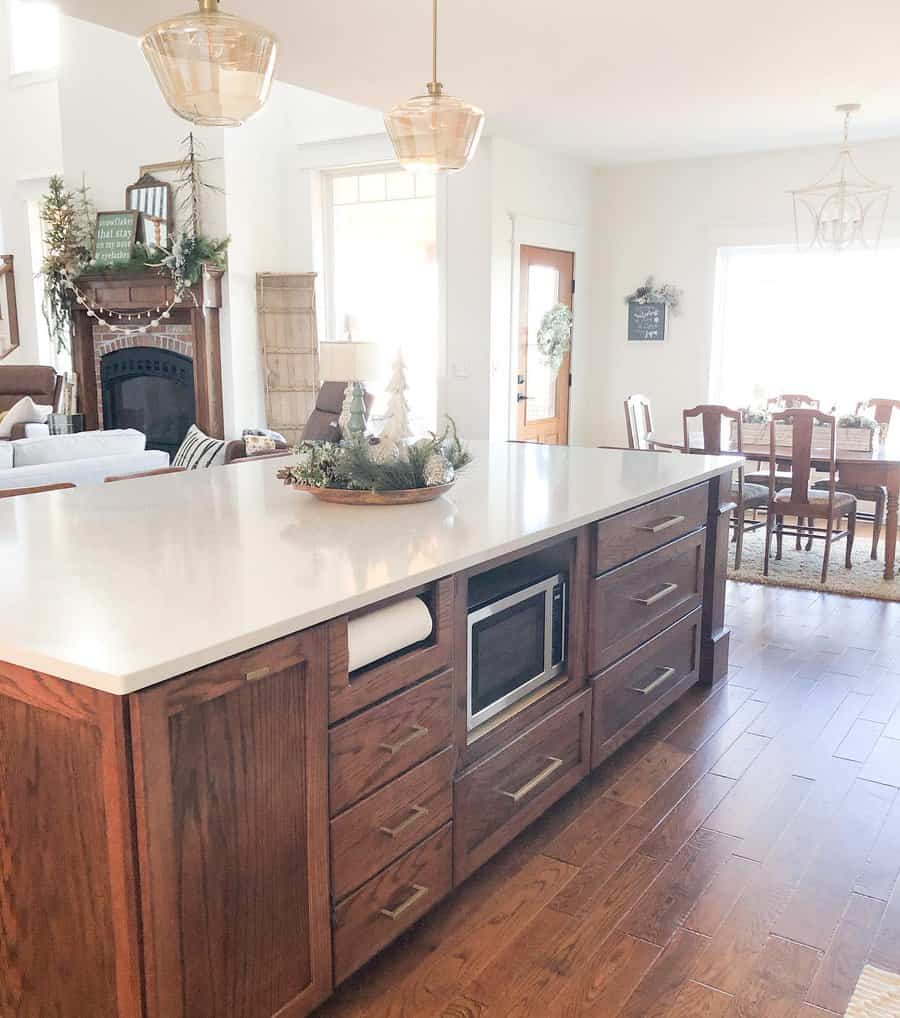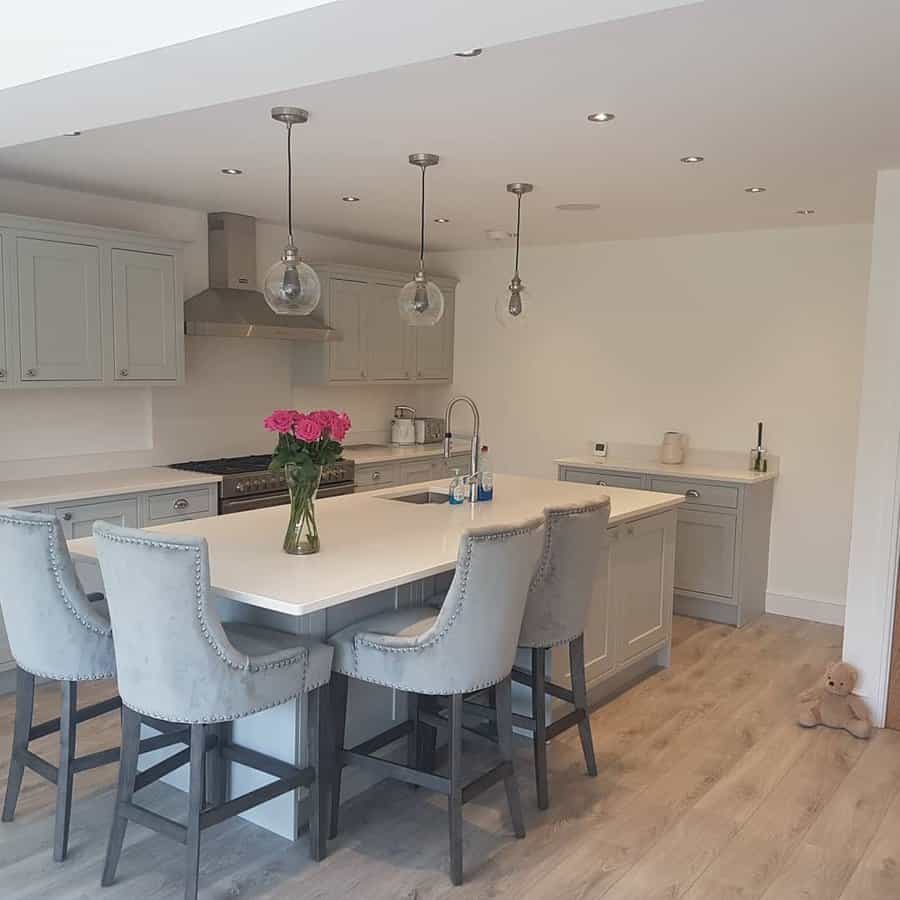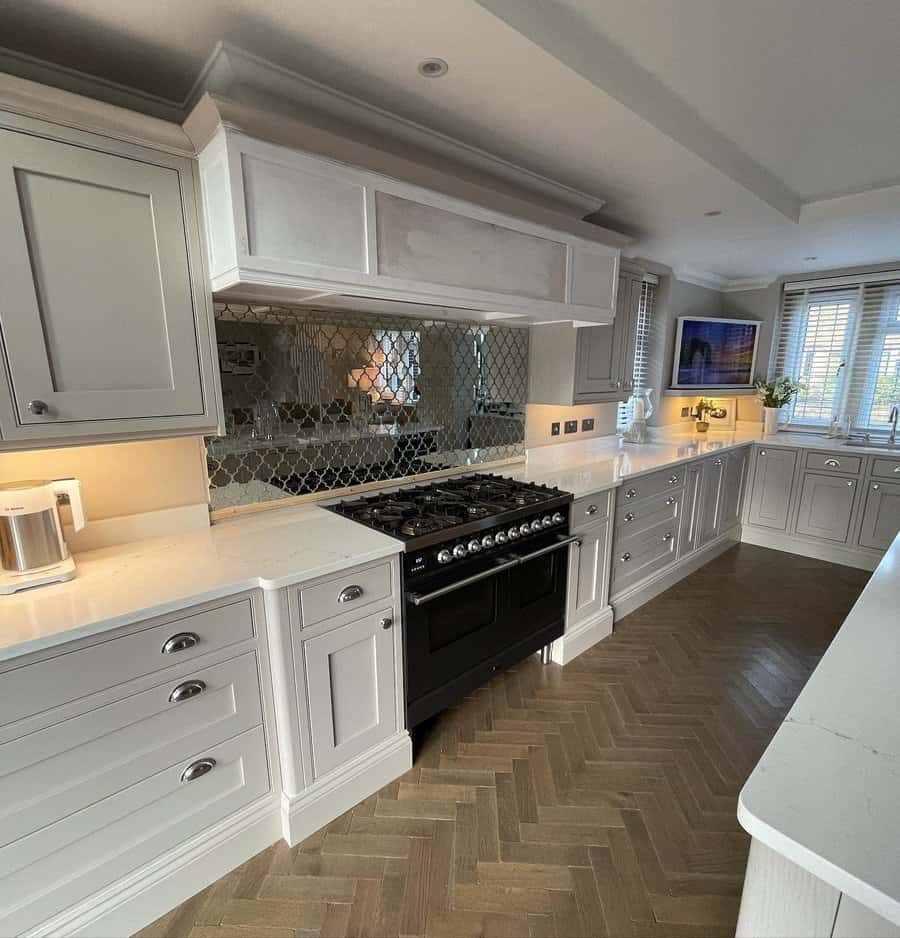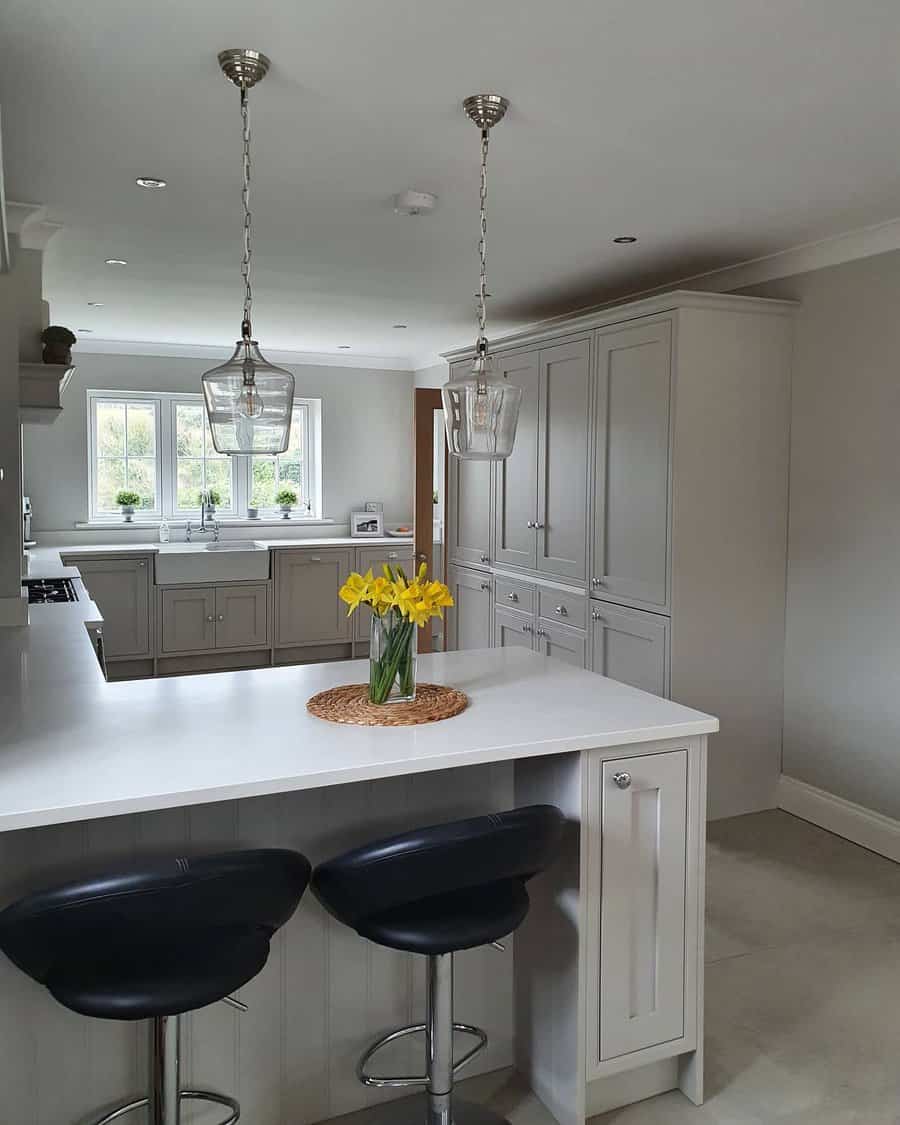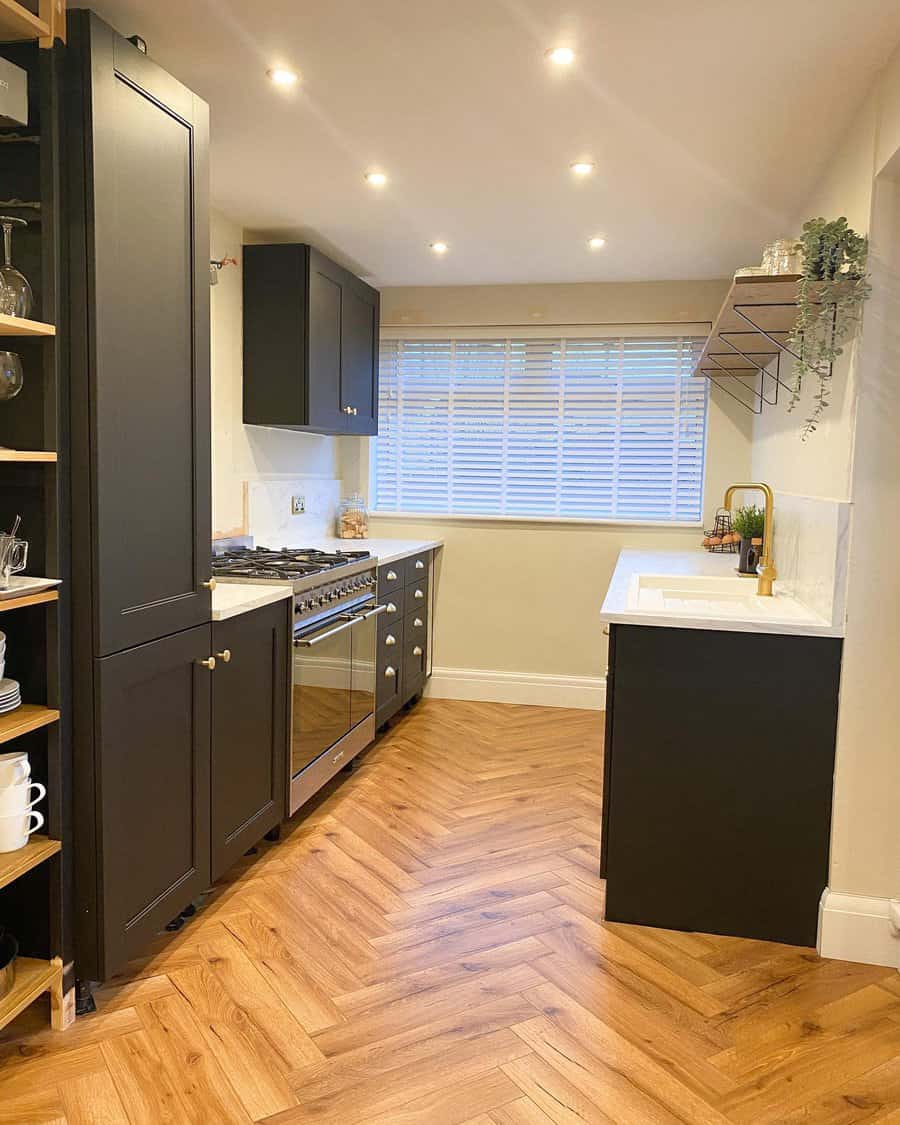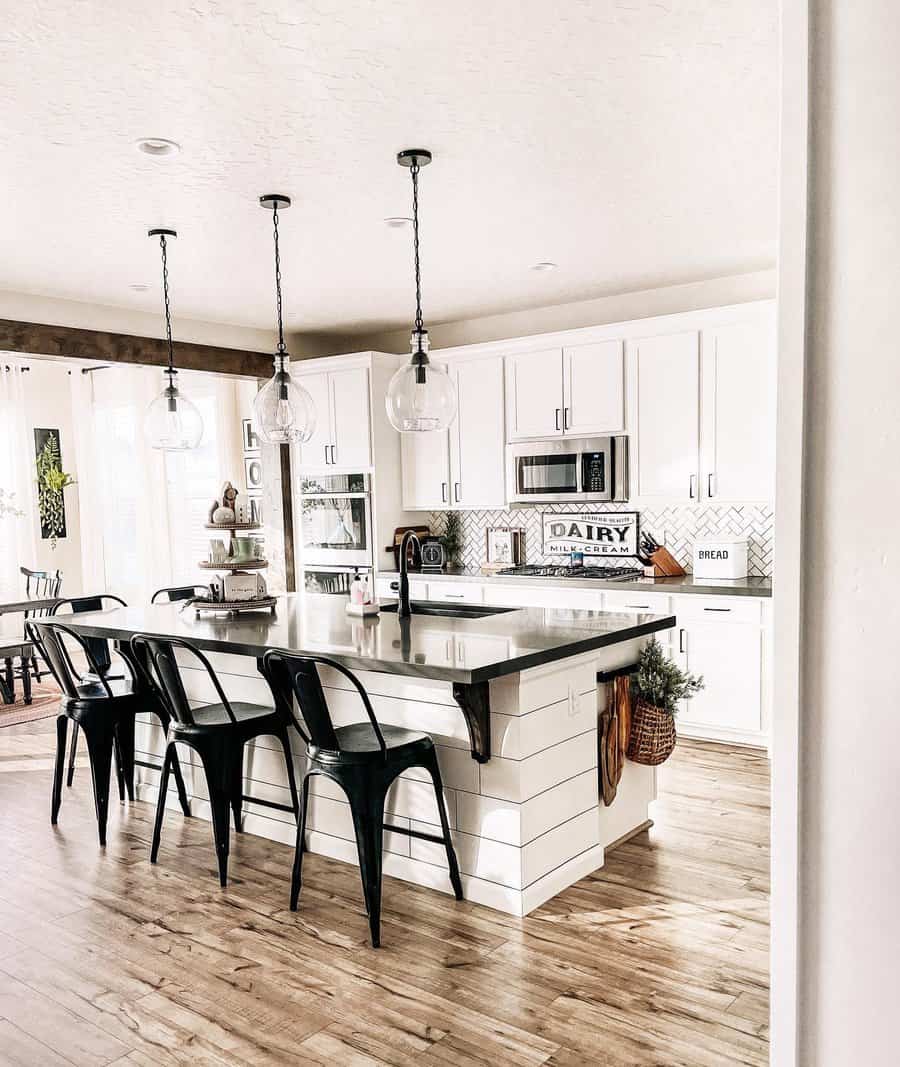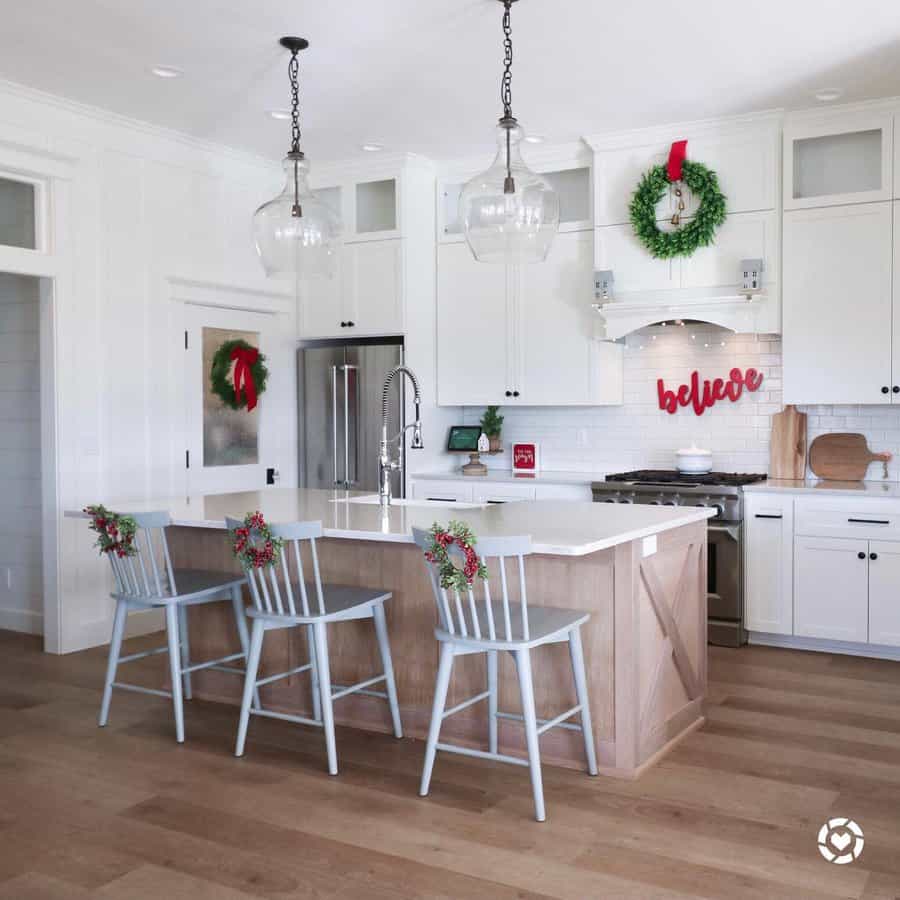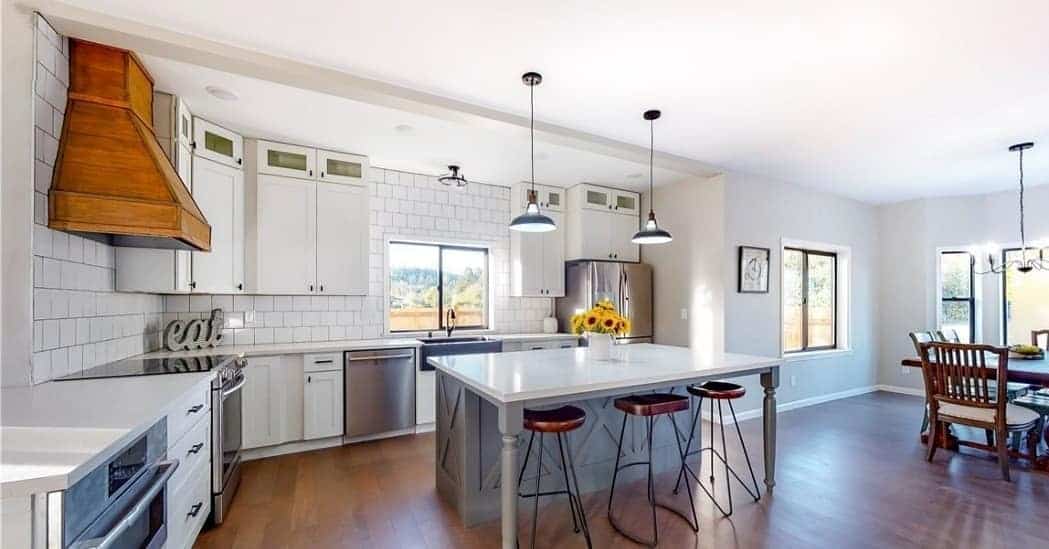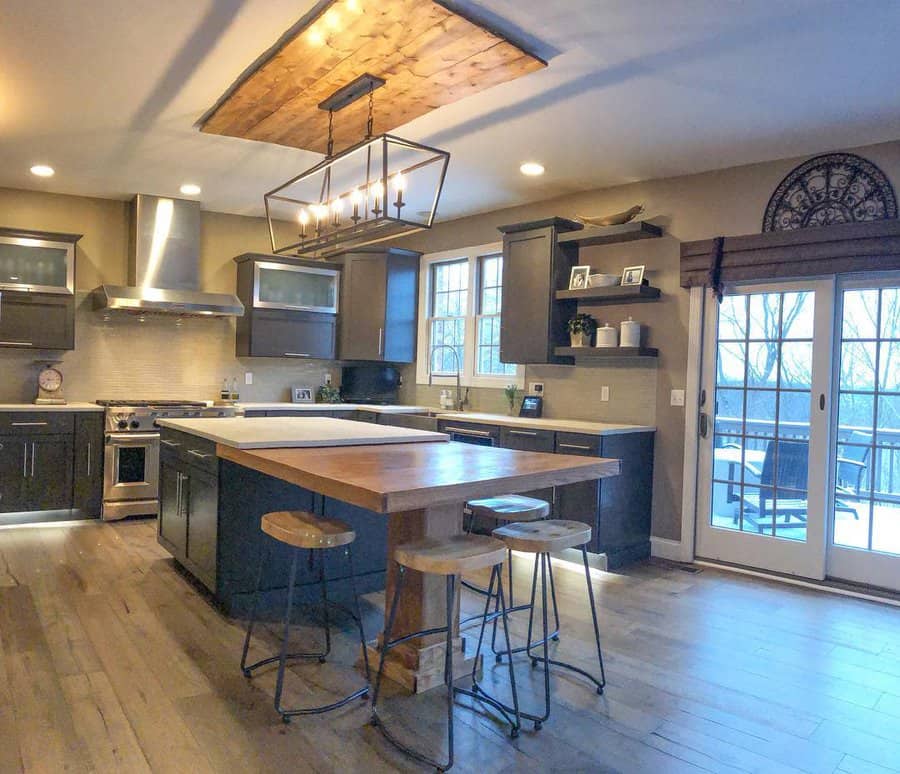 4. Protruding Accent Ceiling
If you're looking to spice up your kitchen's style, consider adding a protruded ceiling accent to give the space some added dimension. This simple touch can transform an average kitchen into something extraordinary, making it feel more spacious, modern, and unique.
Depending on your personal preferences, there are a variety of ways to incorporate a protruded ceiling accent into your kitchen's design. You could choose to paint it a bold color to make it pop, or add a subtle texture for a more natural feel.
Whatever your vision, a protruded ceiling accent is an excellent way to add depth and character to any kitchen.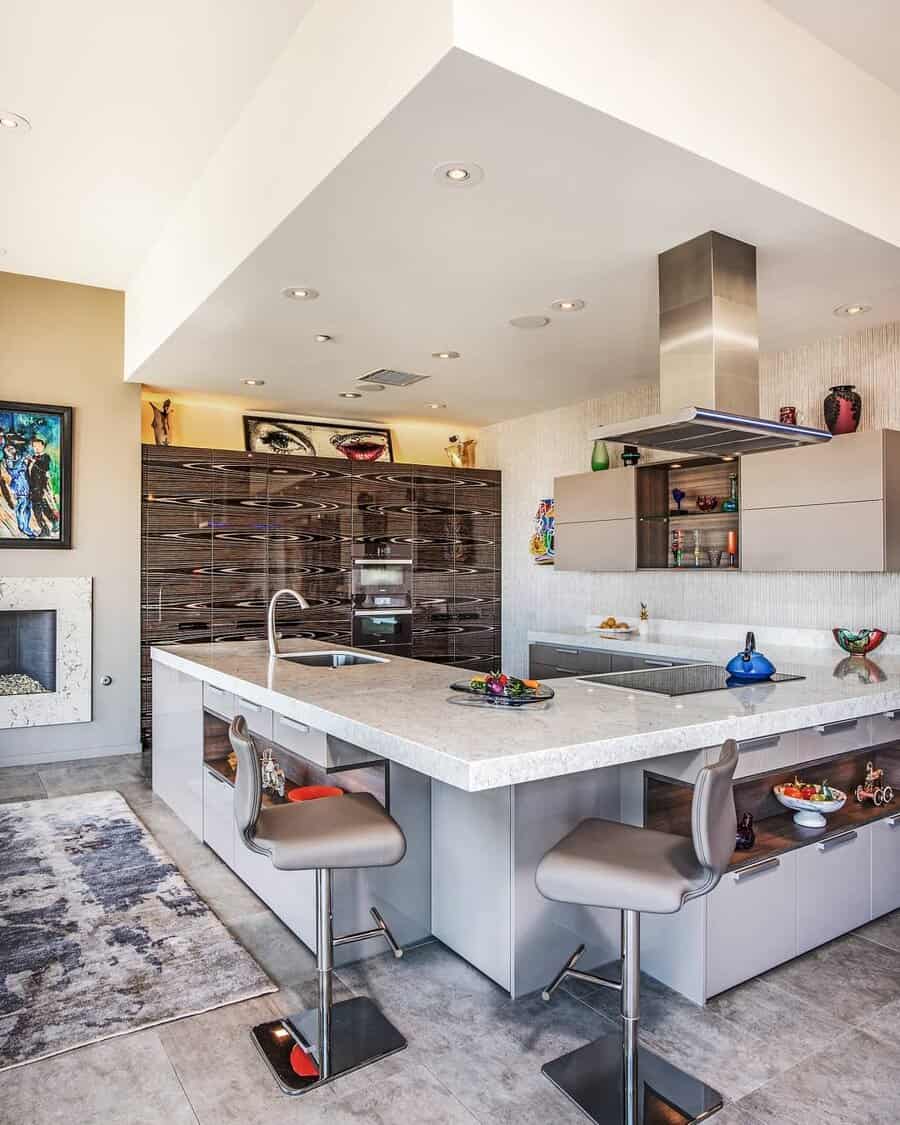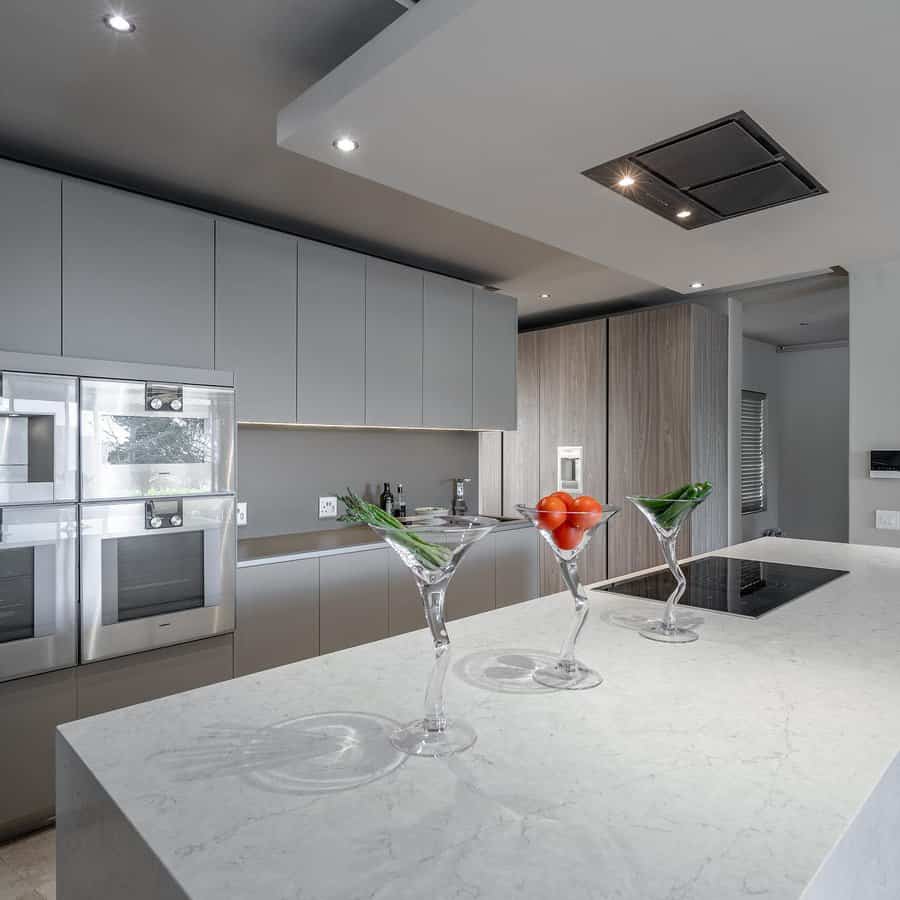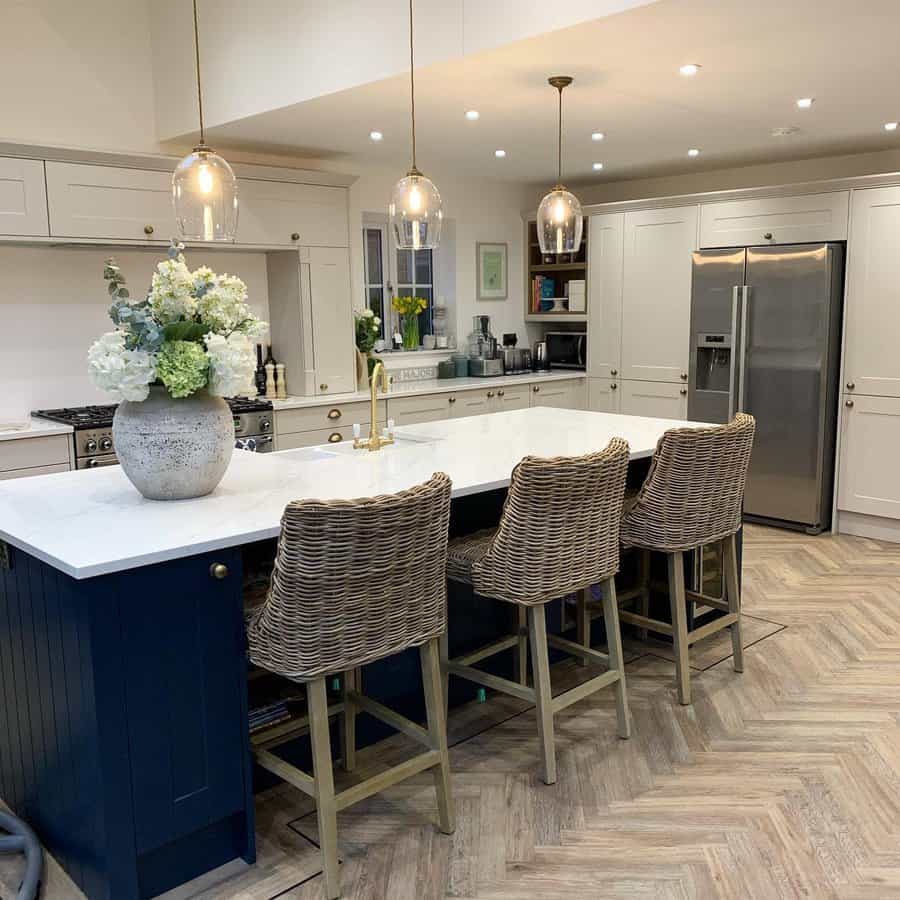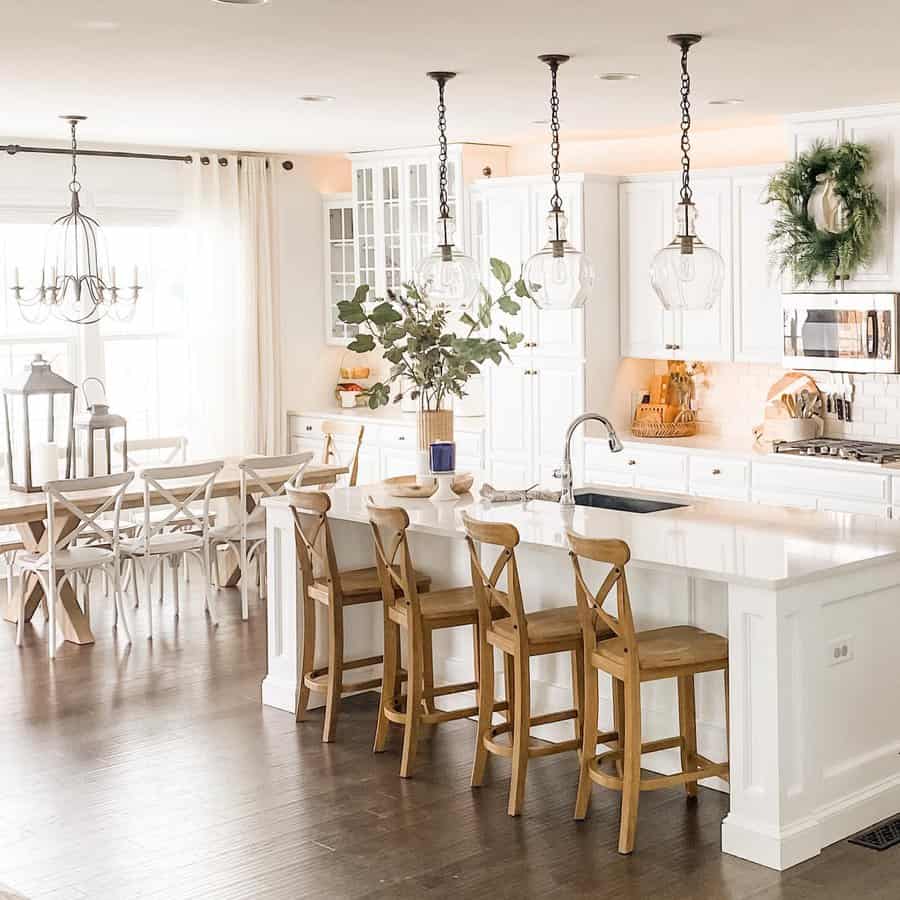 5. Wainscoted Ceiling
If you're looking to add a touch of elegance to your kitchen, consider installing a wainscotted ceiling. This design element not only adds visual interest, but also adds a sense of depth to the room. The vertical paneling can also help to visually lengthen the space or create a cozier atmosphere.
Choose a classic white or cream color for a timeless look, or add a pop of color with a bold shade. No matter the color palette, a wainscotted ceiling is sure to make a statement in your kitchen.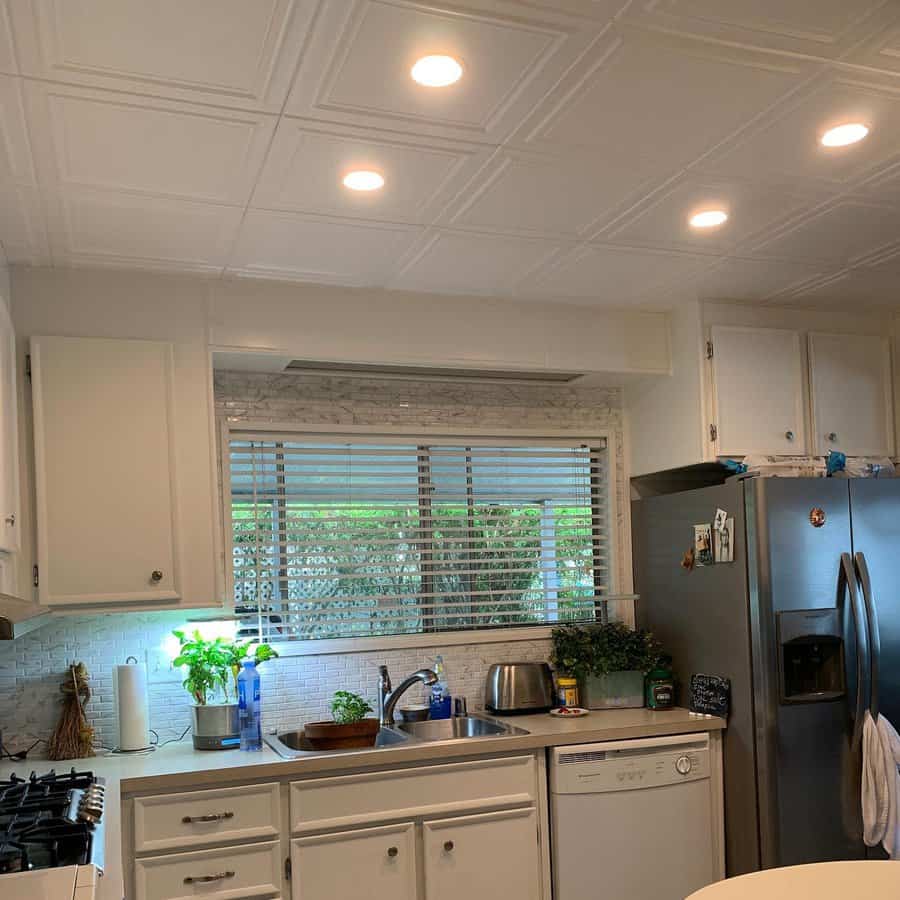 6. Multiple Recessed Lights
The kitchen is often considered the heart of the home, but when it comes to small spaces, it can be a challenge to make everything fit seamlessly. That's why finding the perfect lighting solution is key.
Multiple recessed lights in the kitchen ceiling can give any small space the illusion of being larger and brighter. Plus, a minimalist design approach ensures your kitchen remains uncluttered and functional.
With the right lighting, a small kitchen can be transformed into a cozy and inviting space perfect for cooking up a storm.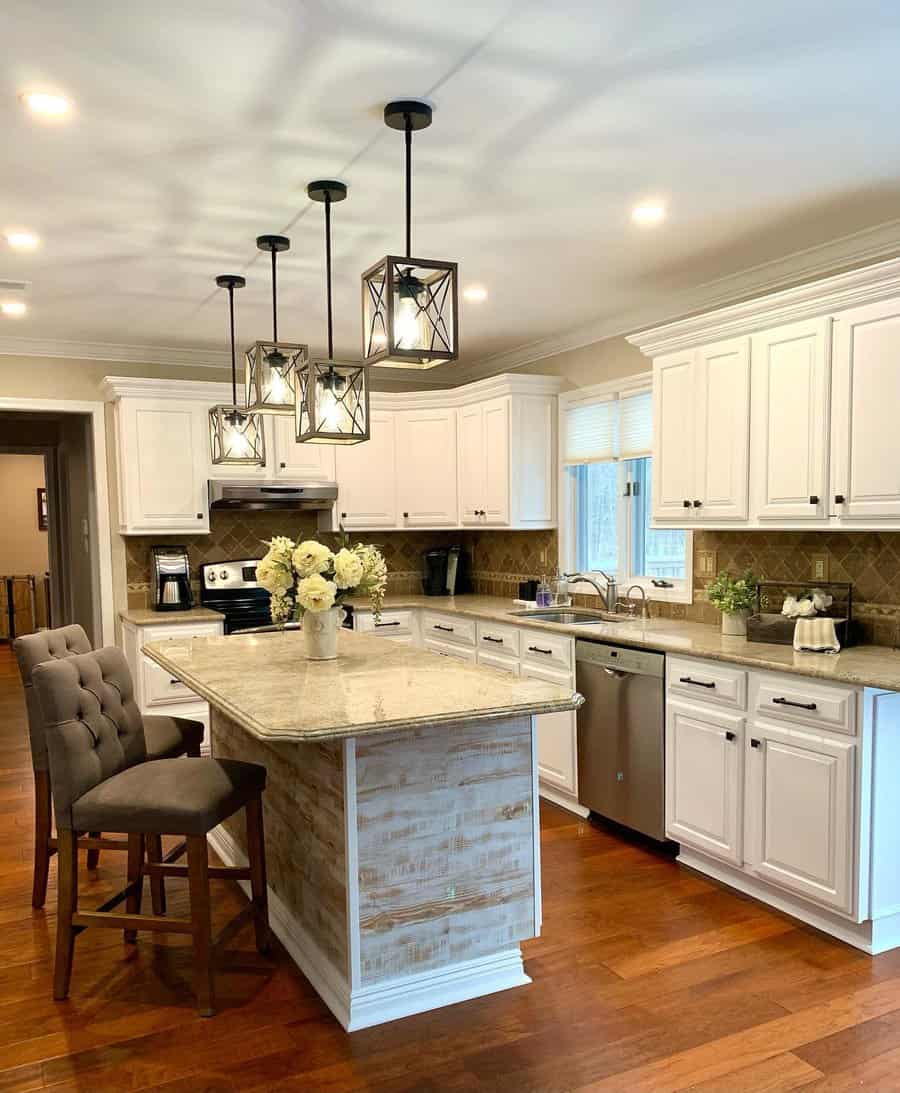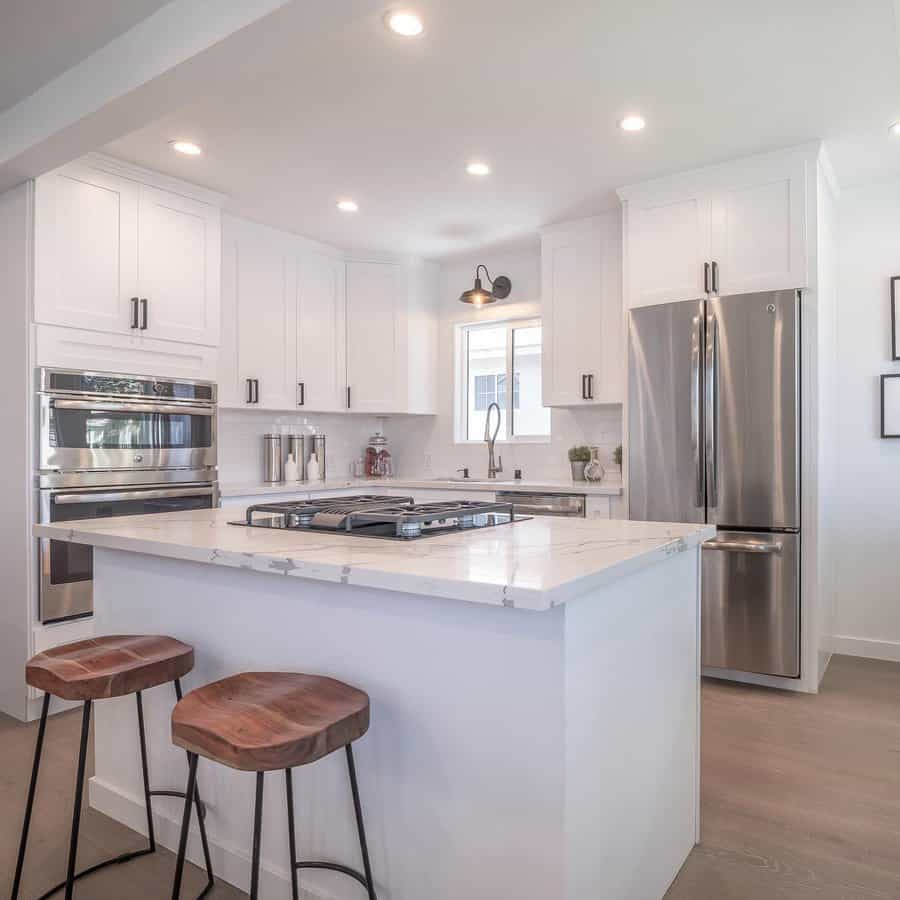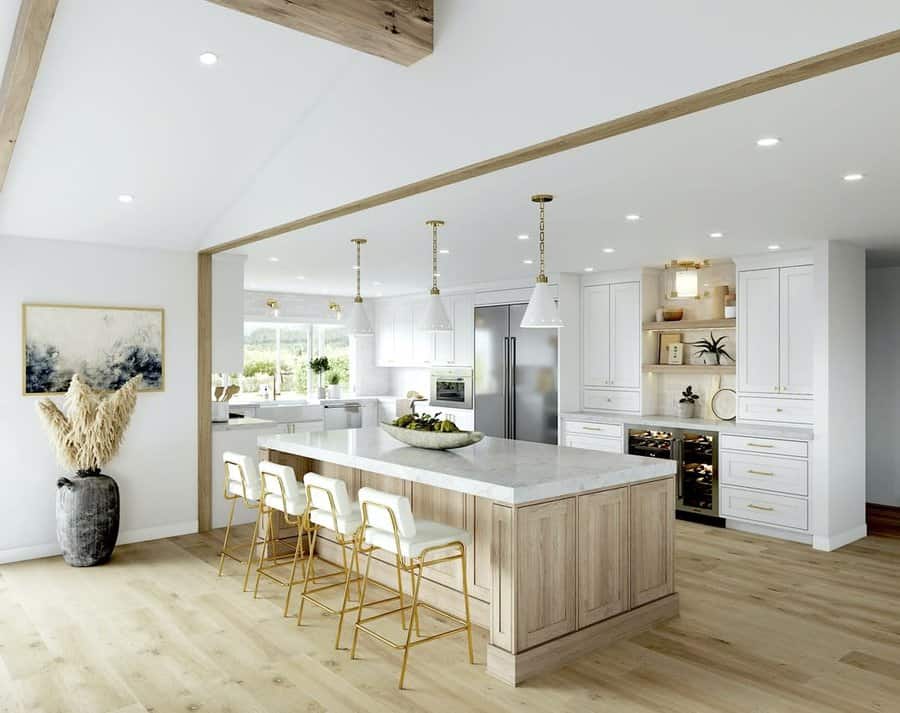 7. Ceiling Beams
If you're looking for ways to add a touch of country charm to your kitchen, then consider installing ceiling beams. The exposed timber and natural finish of ceiling beams can help create a cozy farmhouse-style aesthetic that feels timeless and inviting.
Not only do ceiling beams add character to your space, but they can also provide practical benefits such as hiding exposed ductwork or wiring.
Available in a variety of materials including reclaimed wood or faux beams, incorporating this simple design element can instantly transform your kitchen into a warm and welcoming gathering place for family and friends.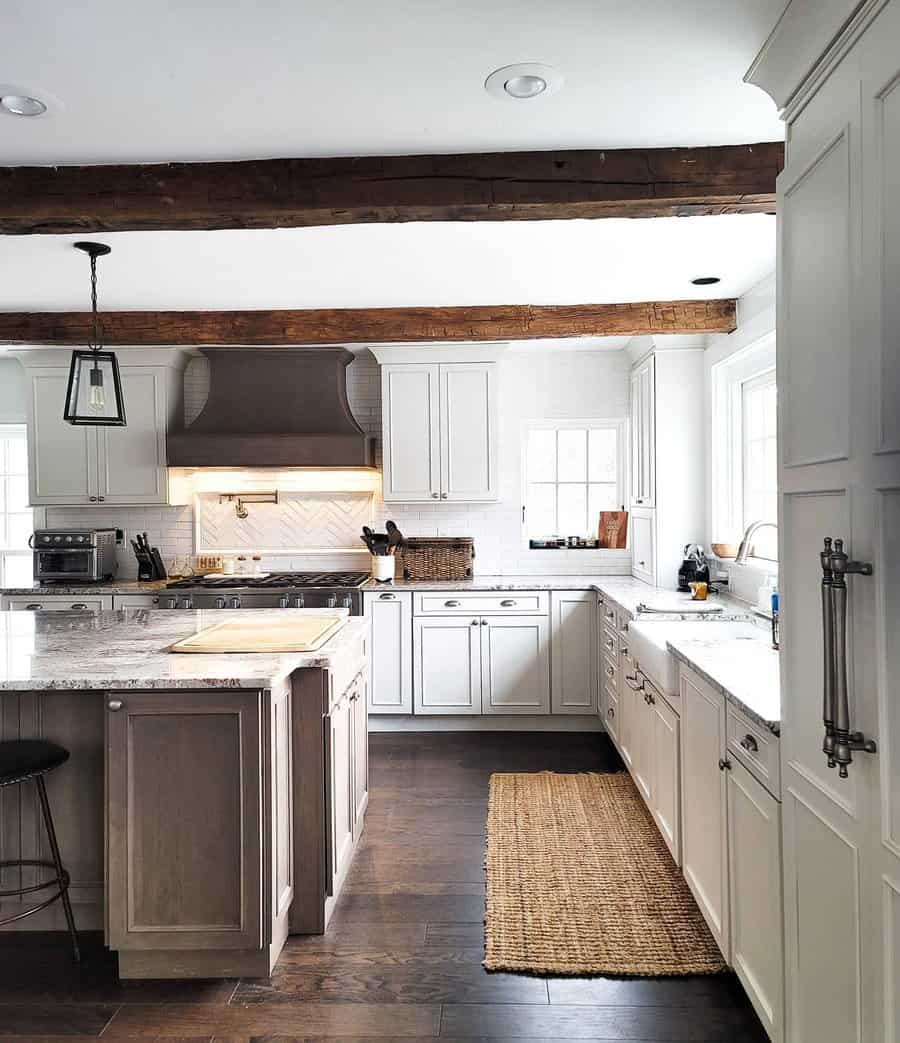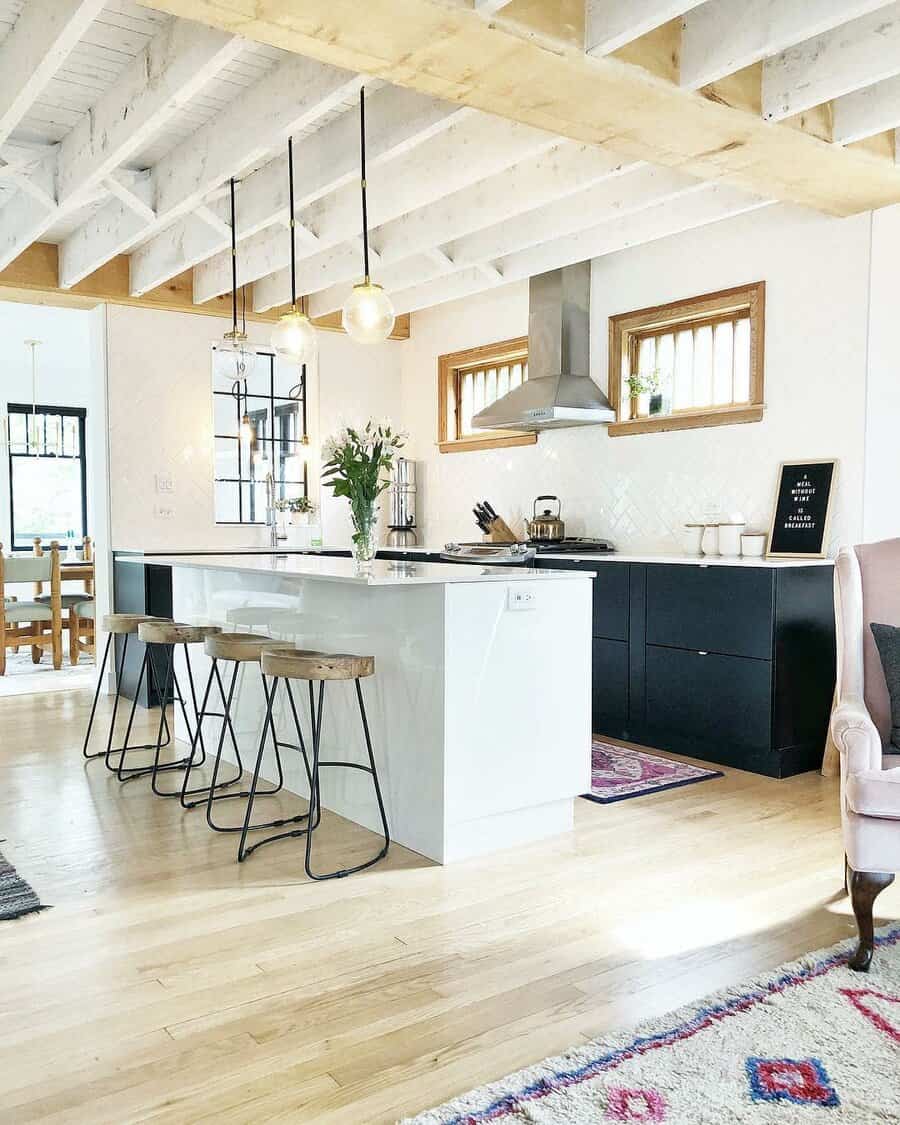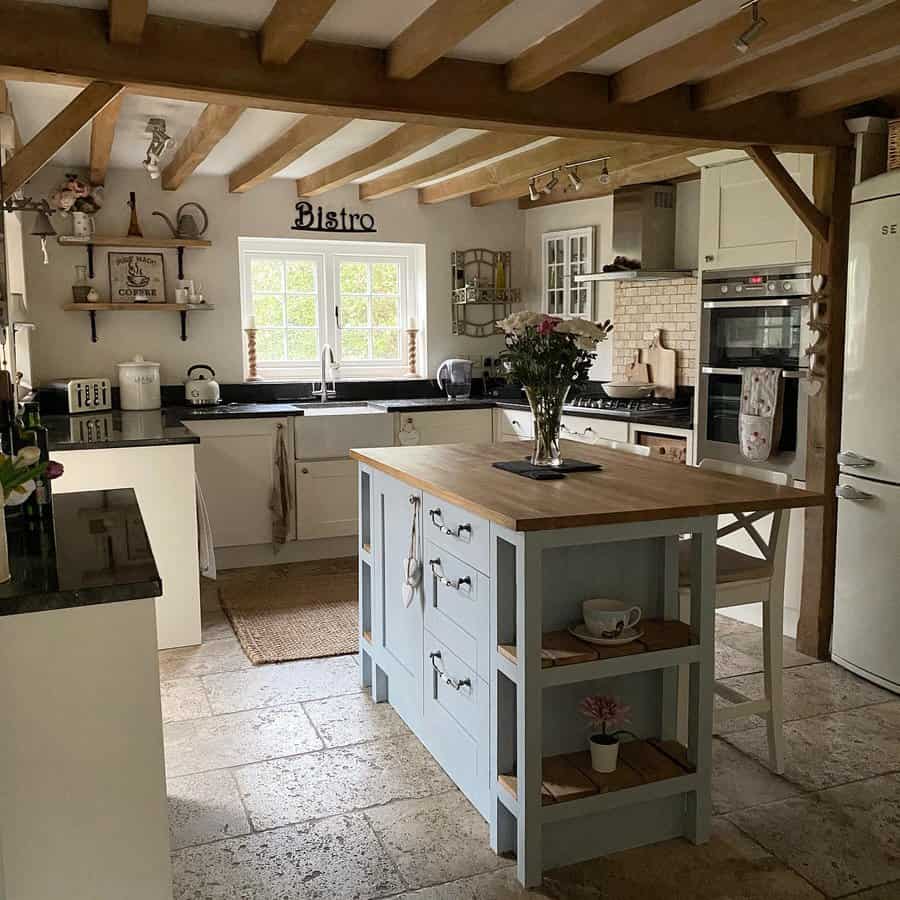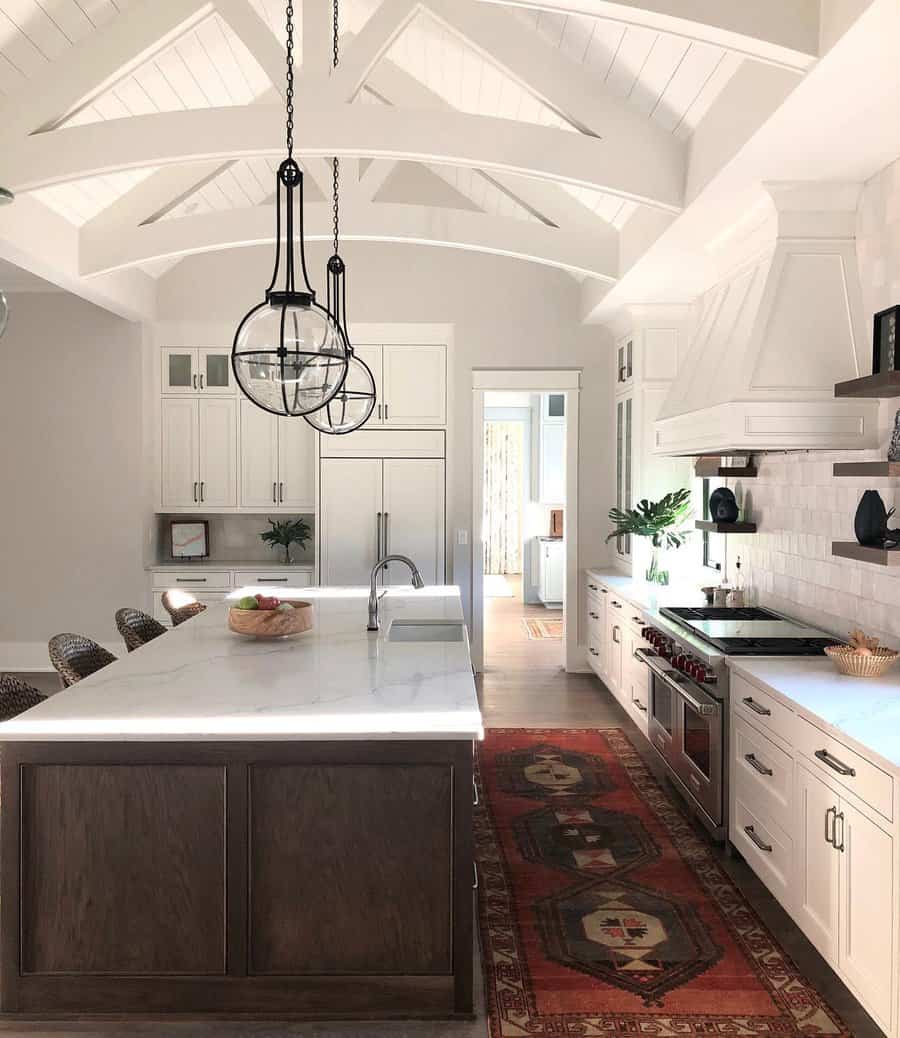 8. Skylight Windows
The kitchen is often the hub of the home, and it's important to make the space feel bright and open. One way to achieve this is to incorporate skylight windows into the kitchen ceiling. Not only do skylights provide a unique design element, but they also allow for ample natural light to flood the space.
Imagine cooking breakfast under the warm glow of the sun, or prepping dinner as the moon rises overhead. Skylights provide endless possibilities for bringing the beauty of the outdoors inside, creating a bright and inviting atmosphere in the heart of the home.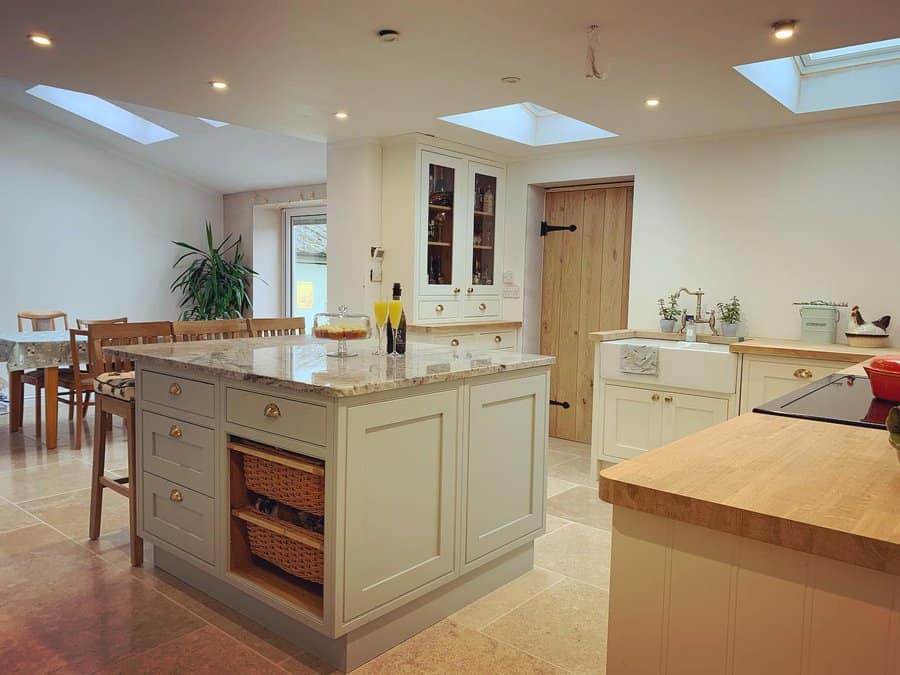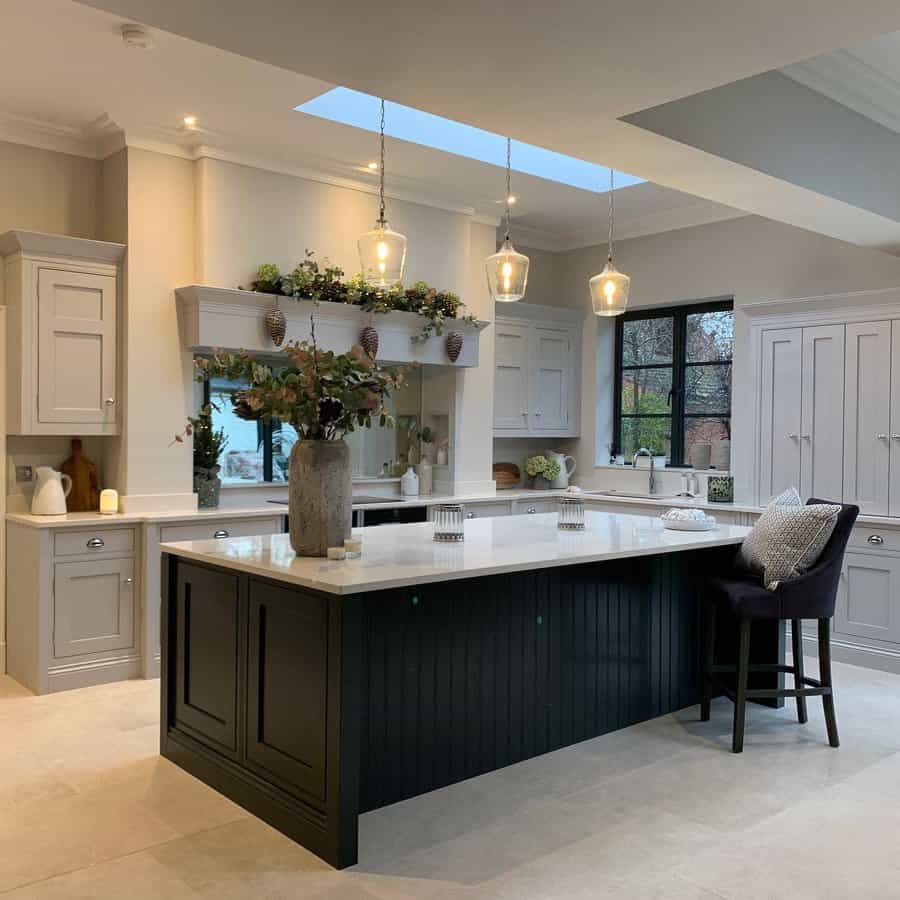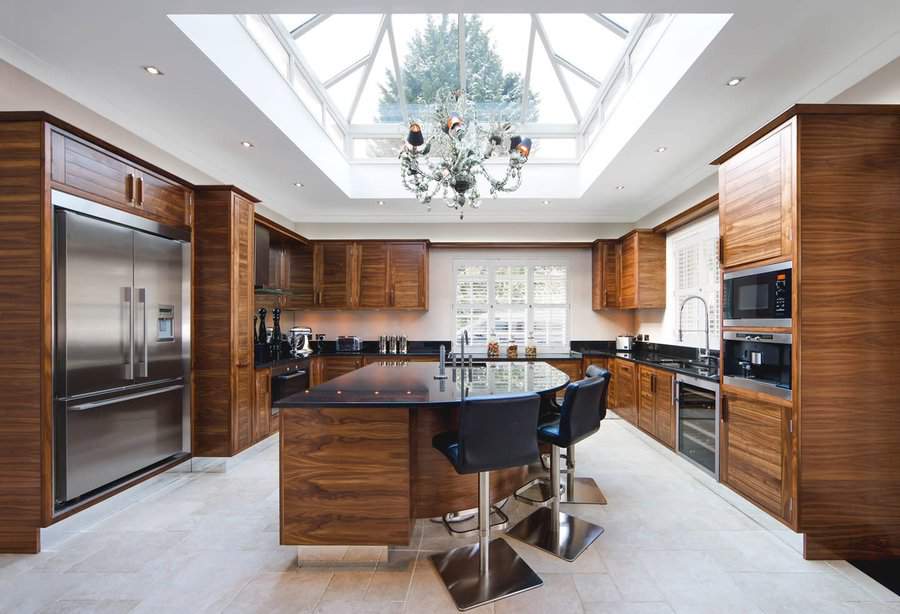 9. Pendant Lights
A kitchen is more than just a place where meals get prepared, it's a focal point of the whole house. This is precisely why it's important to make sure that kitchen ceilings are designed to perfection. One quick and easy way to add visual interest to any kitchen is by incorporating statement pendant lights.
Not only do they provide practical illumination, but they also work as a stunning design element. Pendant lights come in different sizes, styles, and materials, and can fit in any kitchen aesthetic.
Whether you want to add a pop of color or go for a sleek, modern design, pendant lights are sure to elevate your kitchen style. So why not consider adding pendant lights to your kitchen ceiling to create a warm and inviting atmosphere?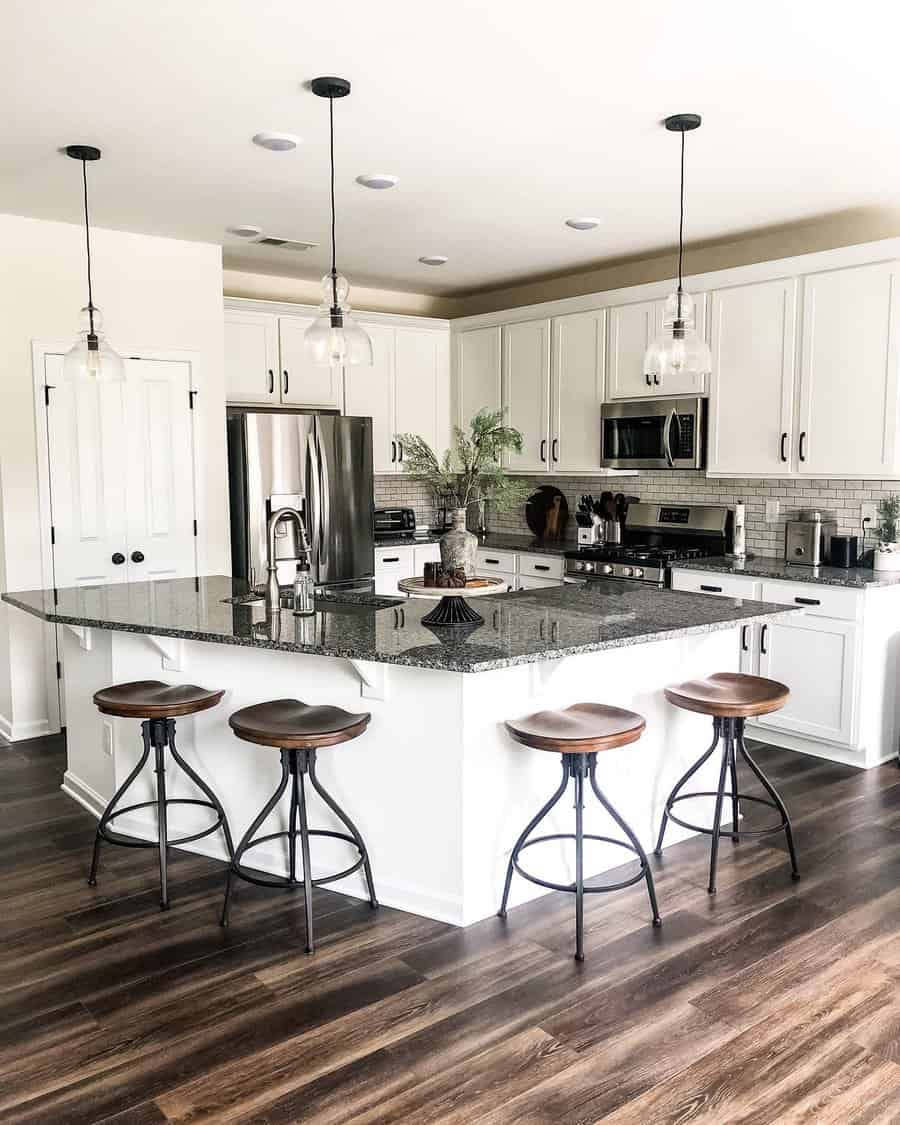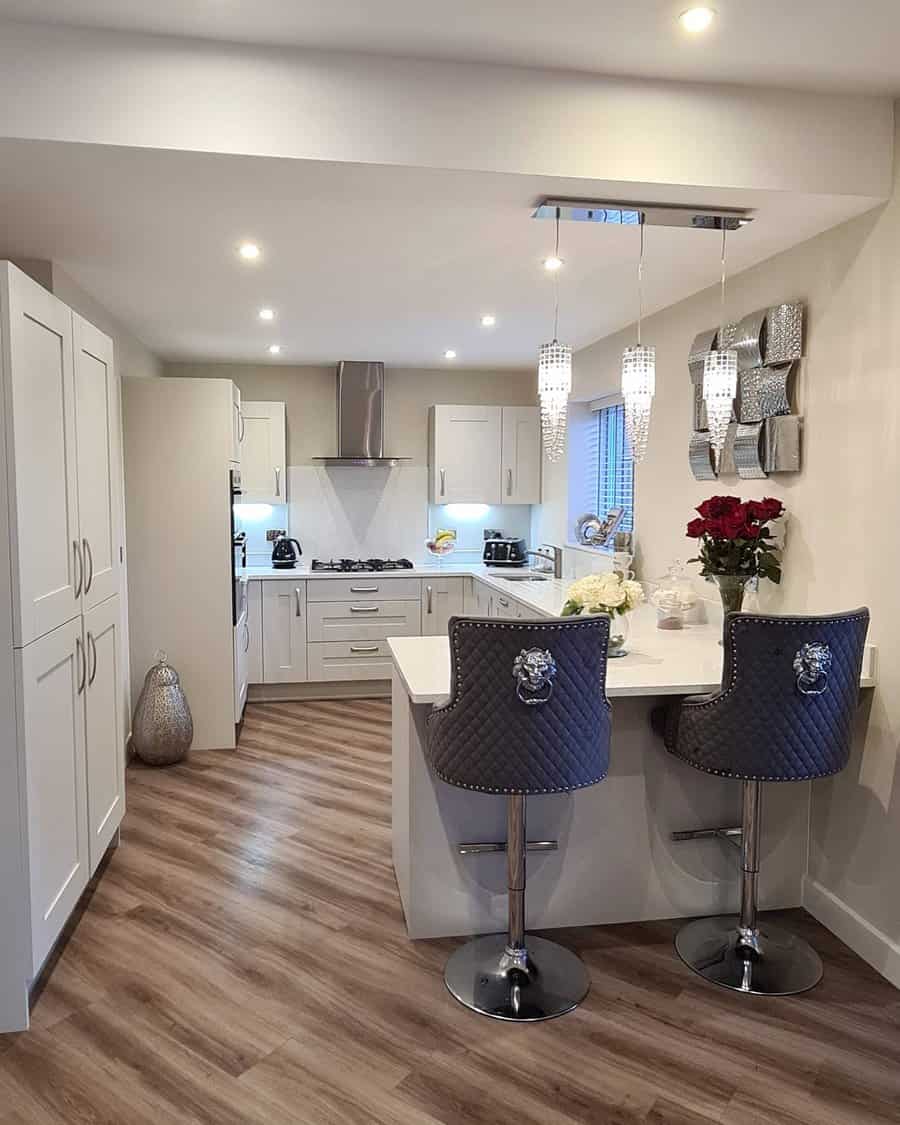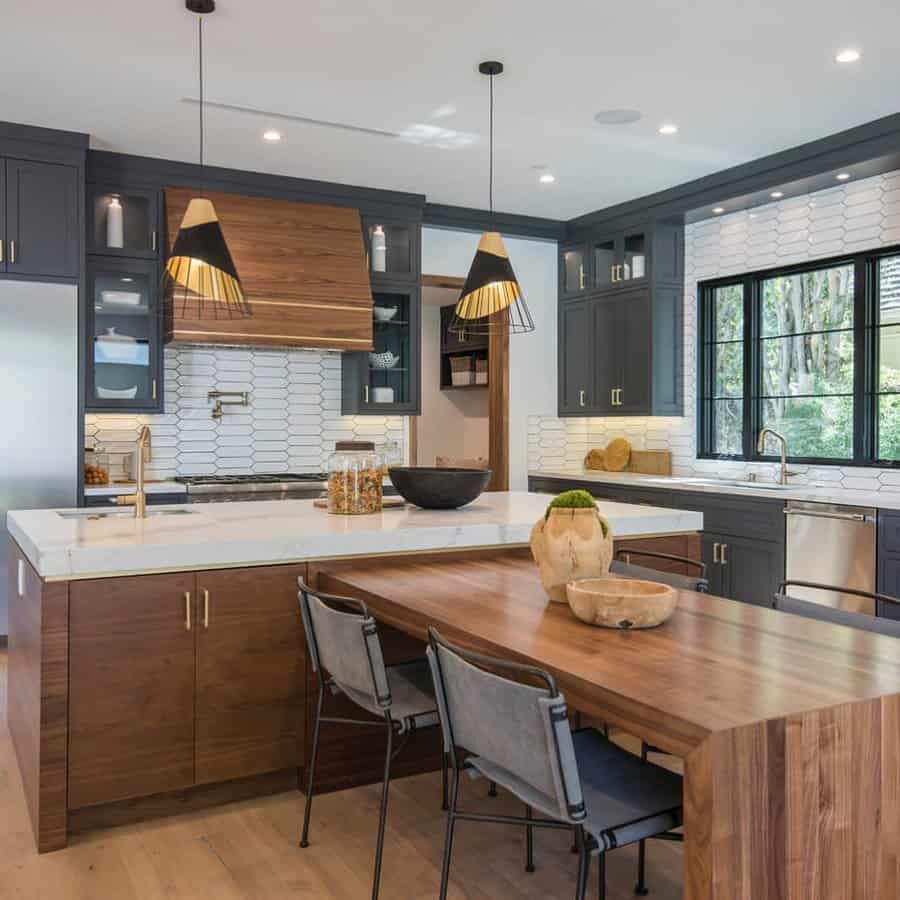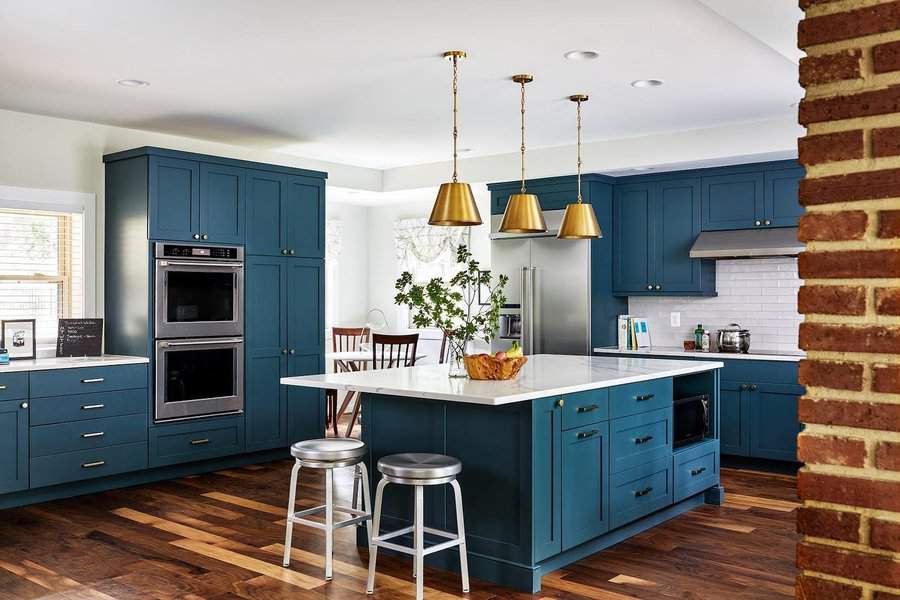 10. Low Ceiling
Low kitchen ceilings can often feel cramped and uninviting, but with the right design ideas, you can transform your space into a cozy haven. One option is to paint the ceiling with a light color to make it appear taller and more open.
Alternatively, a statement light fixture can draw the eye upward and create the illusion of height. Another solution is to install open shelving instead of upper cabinets, which will avoid visually weighing down the space.
No matter which kitchen ceiling idea you choose, make sure that it aligns with your personal style and complements the overall aesthetic of your home.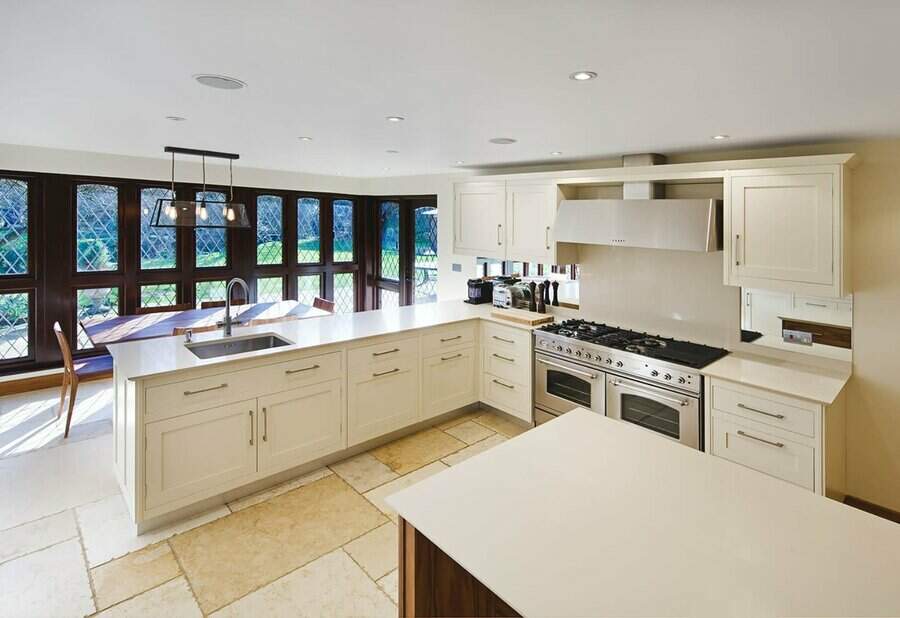 11. LED Strips
If you're looking to add some pizzazz to your kitchen, you might want to consider incorporating LED strips into your recessed ceiling. Not only does this provide ample lighting for your cooking and meal prep needs, but it also adds a touch of modern elegance to your space. Whether you opt for warm yellow lighting or crisp cool-toned strips, LED lights are a versatile addition that can be customized to fit your desired aesthetic.
Plus, with various brightness settings, you can easily adjust the lighting to fit the mood or occasion. Say goodbye to drab and uninspired kitchen lighting and hello to a bright and inviting space with LED strips on a recessed ceiling.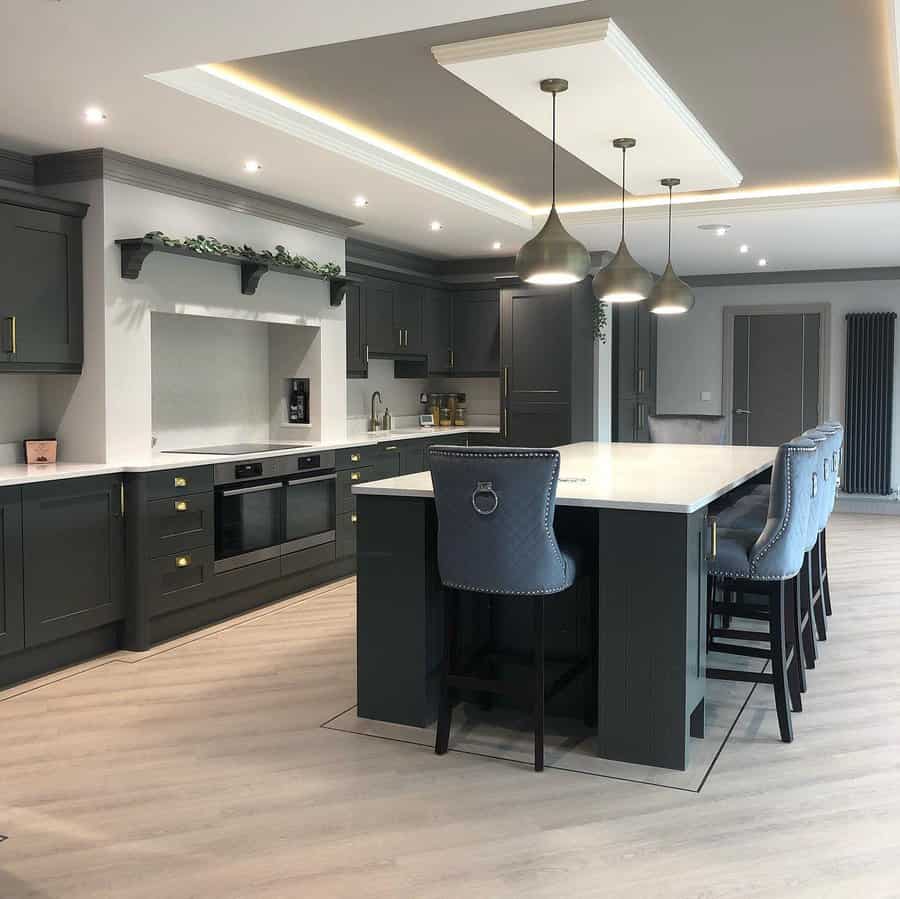 Kitchen Ceiling FAQs
What can I put on my kitchen ceiling?
There is a wide range of materials that you can put on your ceiling. Drywall is a good generic material that creates a smooth, flat surface. Other common options are ceiling tiles, wood boards, beams, or a drop ceiling. In some situations, you can even use glass. 
What is the cheapest way to cover a ceiling?
The cheapest way to cover a ceiling is to paint it. Other options are tin tiles, moldings, or beadboard. If you have the budget for it, you could build a coffered ceiling. You could add beams and paint the ceiling to create a color-contrasting look.
What is the easiest way to cover a popcorn ceiling?
Popcorn ceilings used to be the go-to finish for homes. Today, they are ugly and a nightmare to deal with. They instantly date your home. The easiest way to deal with a popcorn ceiling is to cover it. You can use beadboard and wood planks to create a shallow coffered design over the popcorn ceiling for an easy upgrade.