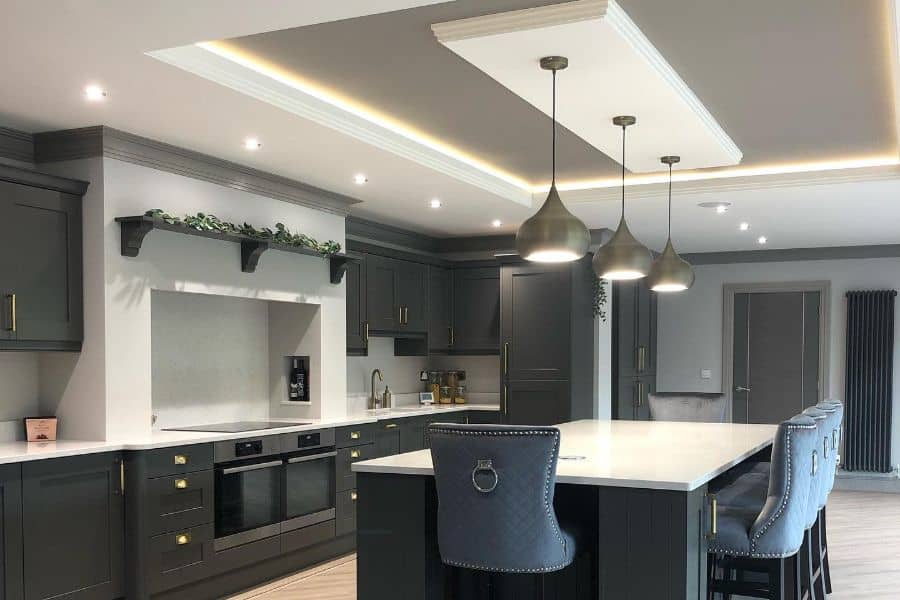 The Top 39 Kitchen Ceiling Ideas
"The kitchen really is the castle itself. This is where we spend our happiest moments and where we find the joy of being a family." – Mario Batali
What does your kitchen ceiling look like? If your home is a bit older, then you probably have a popcorn ceiling. Unfortunately, this old-school method for finishing your ceiling dates your home and is undesirable. It's also a terrible idea for a kitchen because it creates millions of crevices where grease, food particles, and bacteria can get trapped.
Upgrade the look of your kitchen and make it more sanitary by checking out these kitchen ceiling ideas. You could do this as a part of a much larger kitchen remodel or upgrade the ceiling on its own.
1. Beadboard
The simplest method for refinishing your kitchen ceiling is to cover it up with beadboard. You can do this yourself by buying sheets of premade beadboard from your local hardware store.
You could leave it rustic as raw wood, paint it a bright white, or choose a pale color. What's nice about this method is that you can paint it before you install it on the ceiling.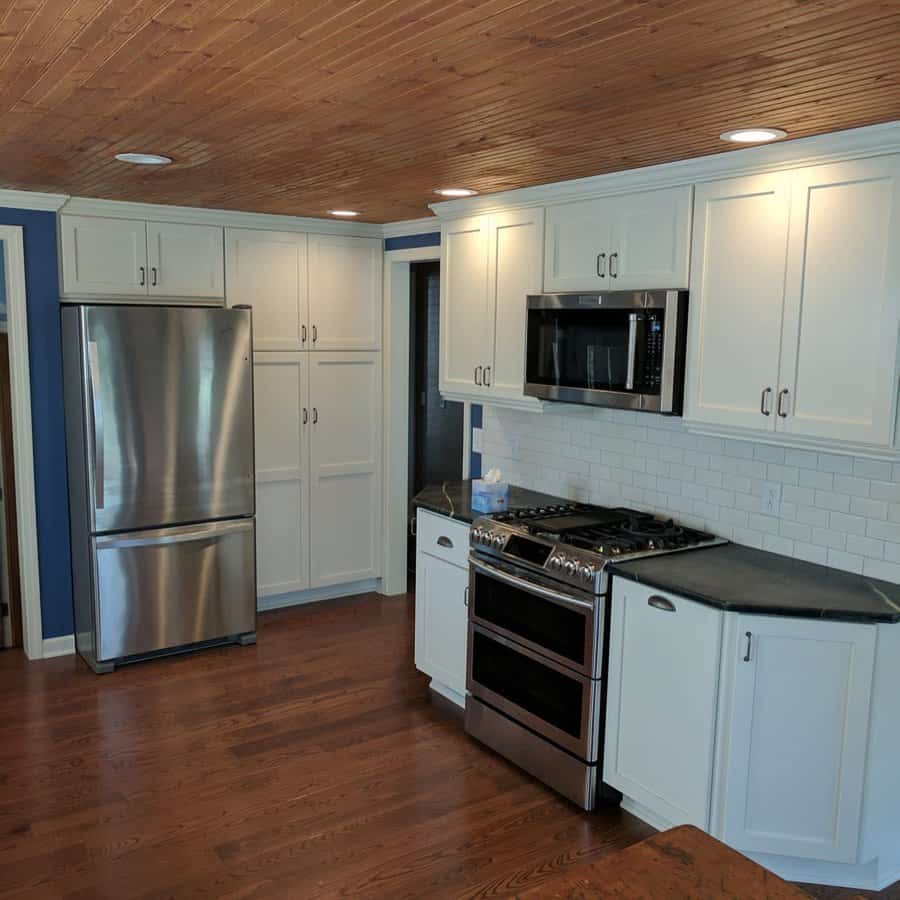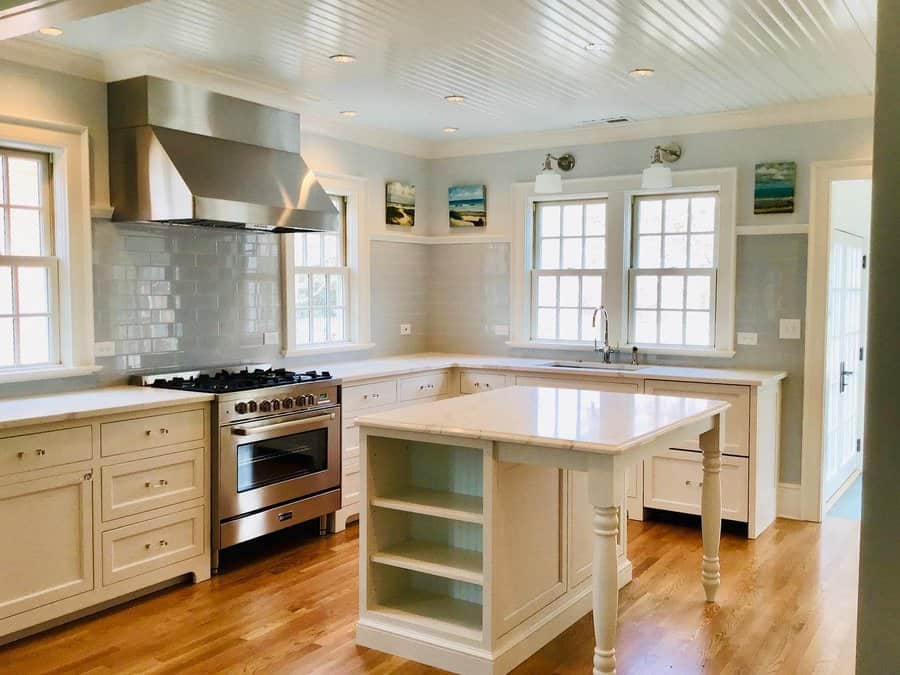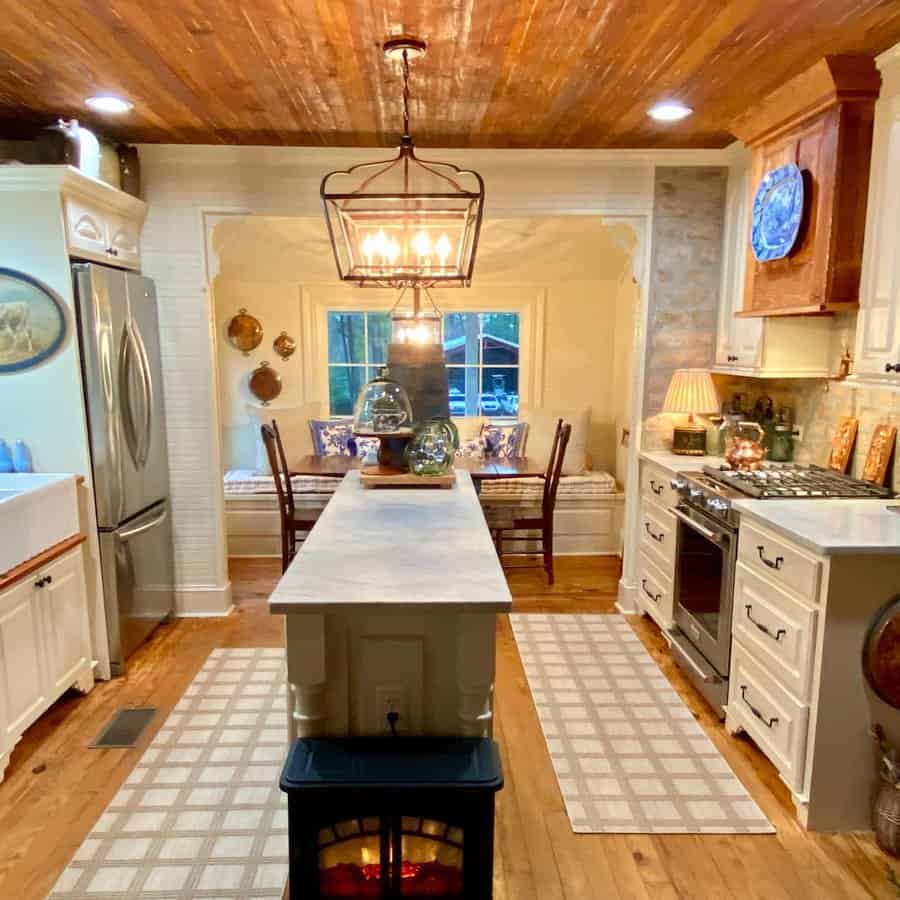 Beadboard adds texture to the ceiling. This makes it a perfect addition for a contemporary, farmhouse, or Scandinavian-inspired kitchen.
2. DIY
You don't have to hire a contractor to do the work of refinishing your ceiling. Doing the work yourself can save you money and give you a sense of pride and satisfaction. Just choose a project that's within your skill level, and you can have a kitchen that looks new again.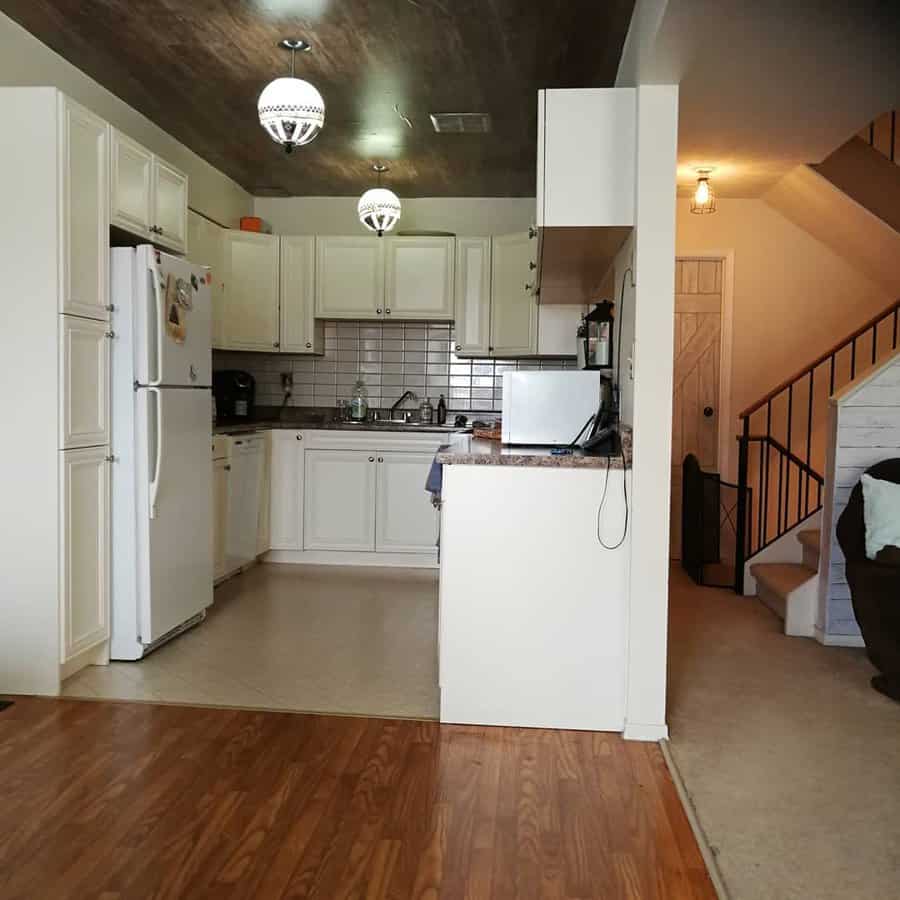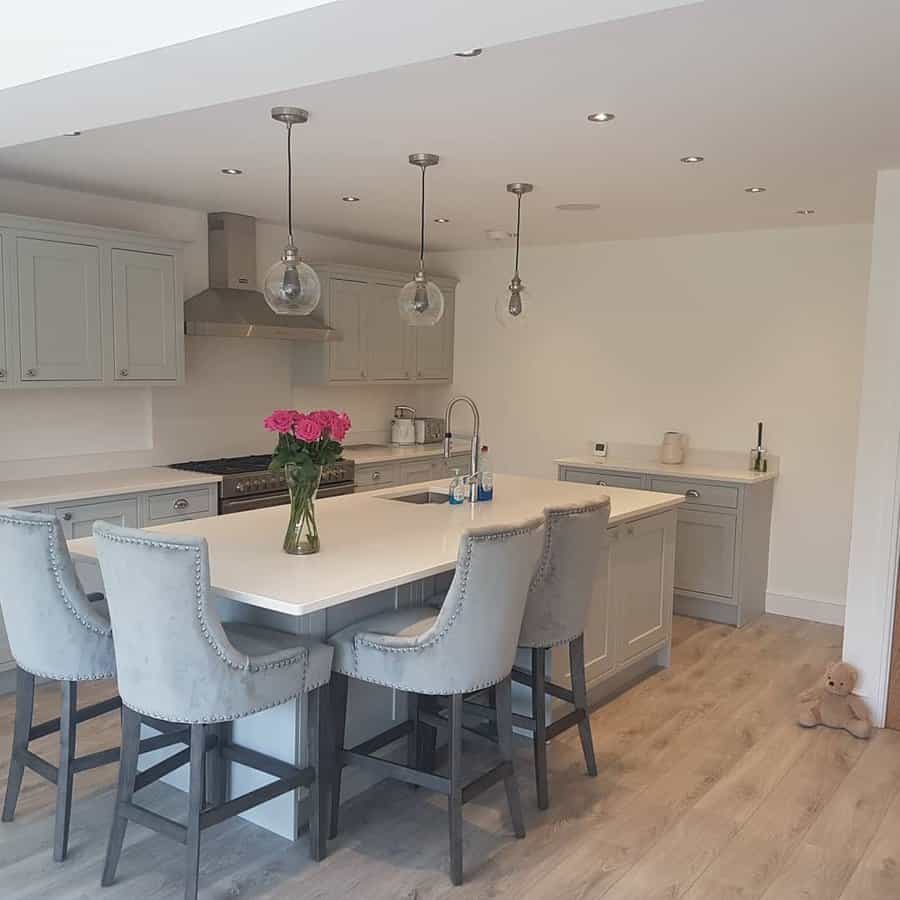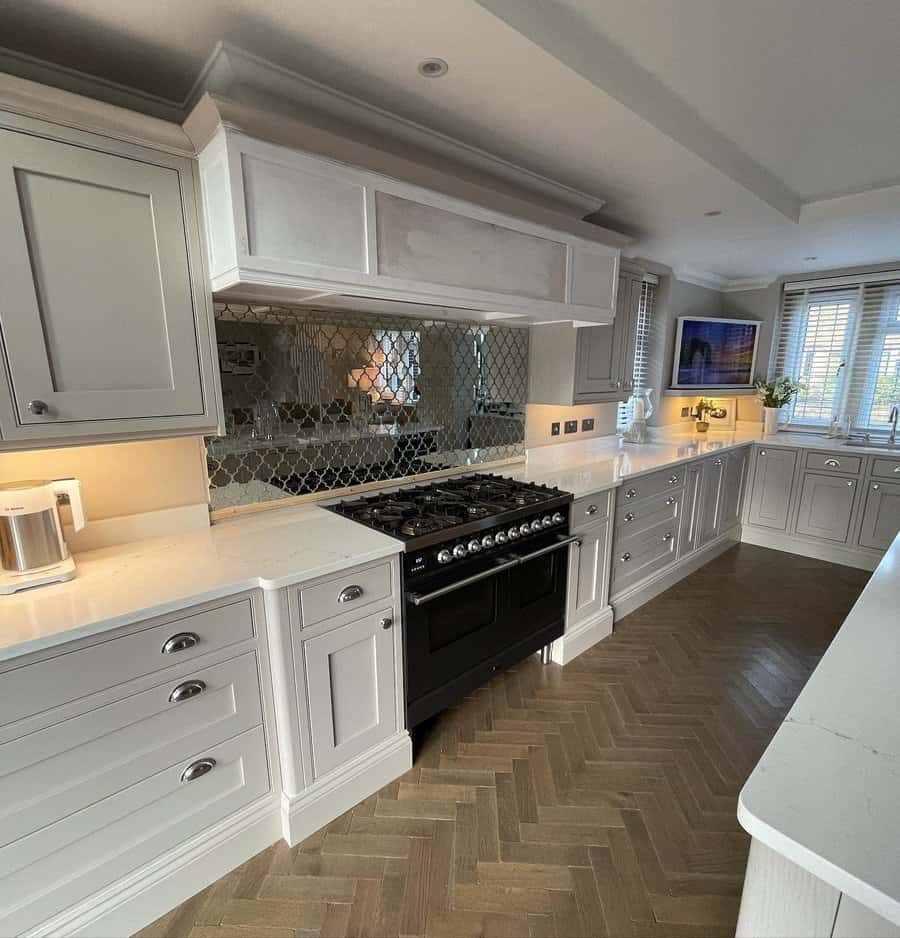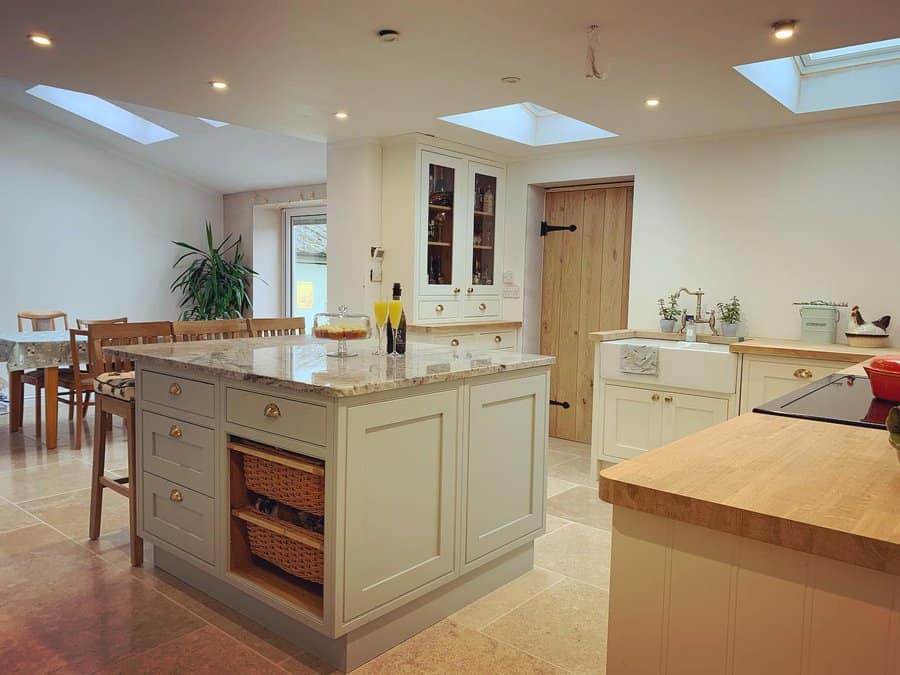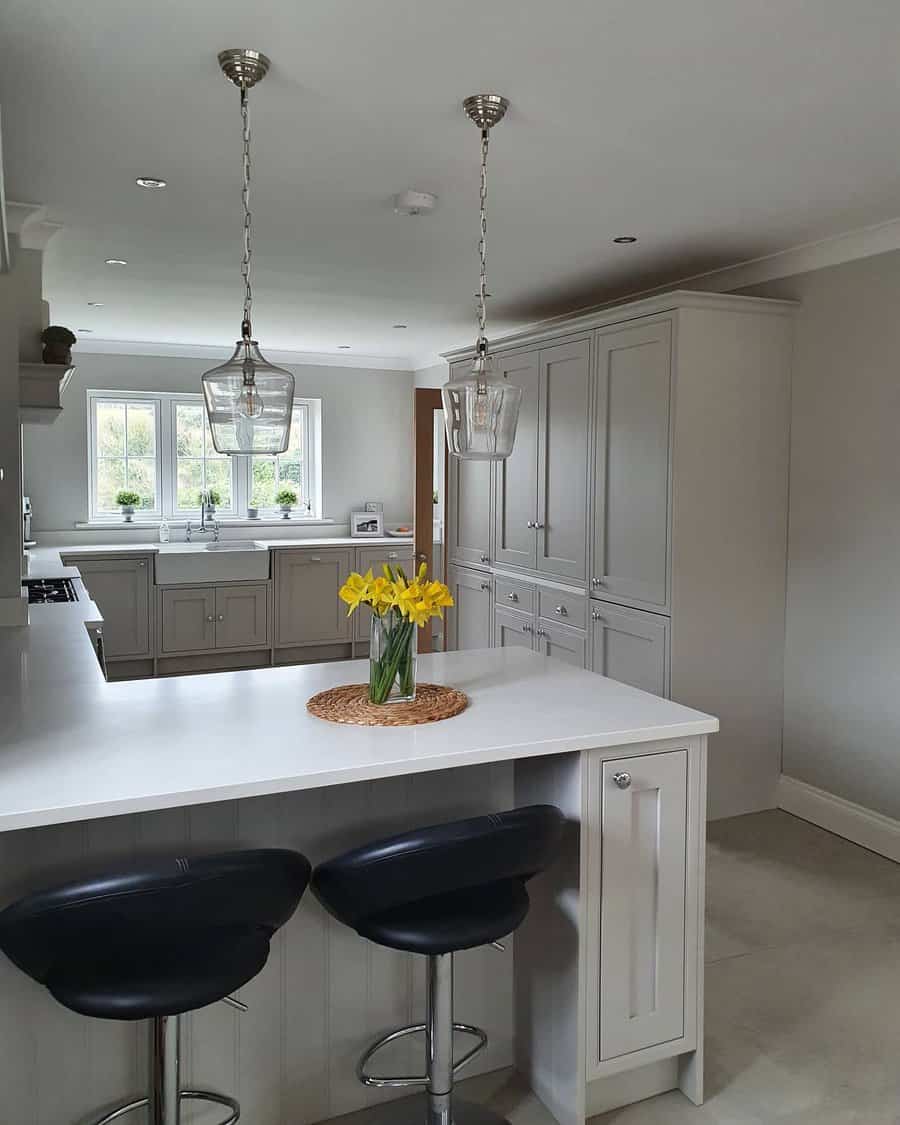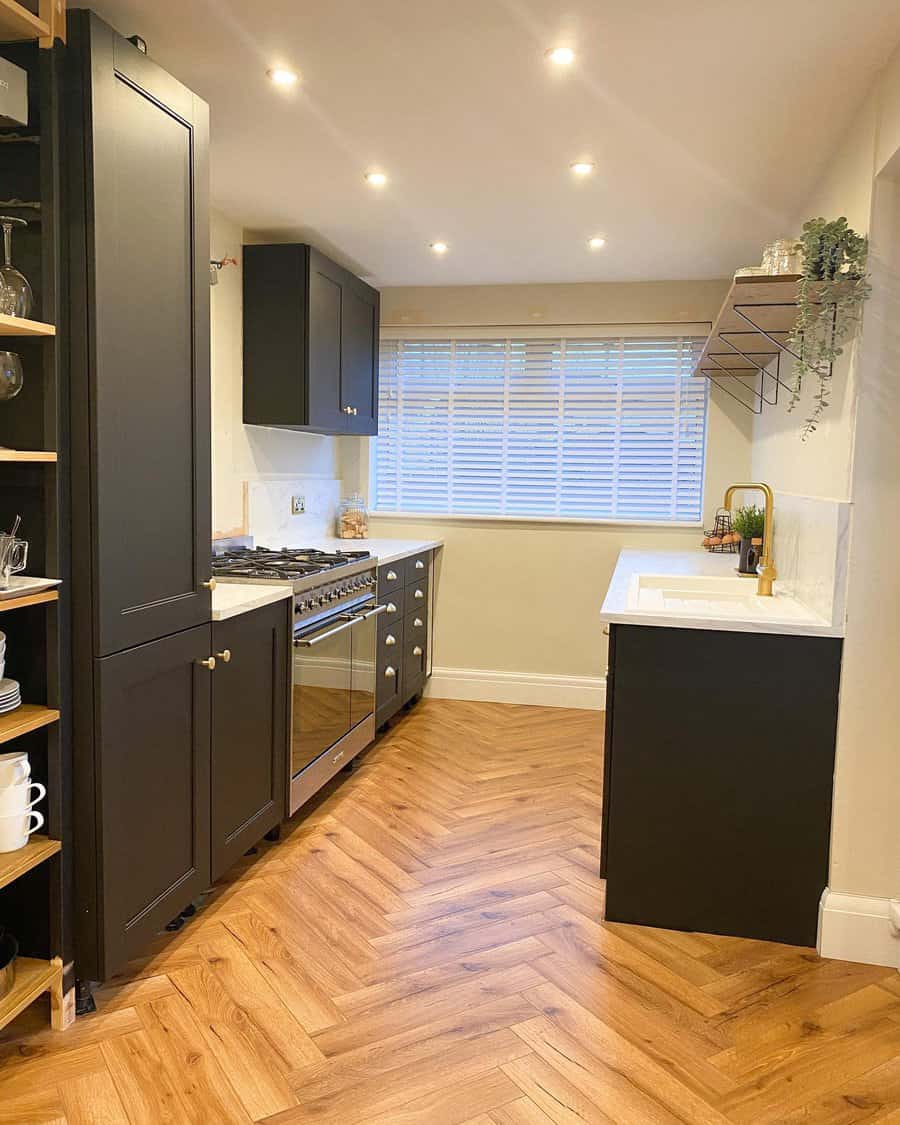 A simple DIY project anyone can do is to paint the ceiling. Buy paint that has a sheen to it. This will make it easier to clean and make the paint more durable. Another DIY project is tin tiles. These aren't like ceramic or porcelain tiles. You can affix them to the ceiling and create a vintage-inspired tin ceiling. Look for tin tiles with an intricate design to reflect plenty of light.
3. Design
When redoing your kitchen ceiling, you need to think about the design of your kitchen and your home. Choosing a design that you like that doesn't necessarily make sense with your home won't look as good as you hope.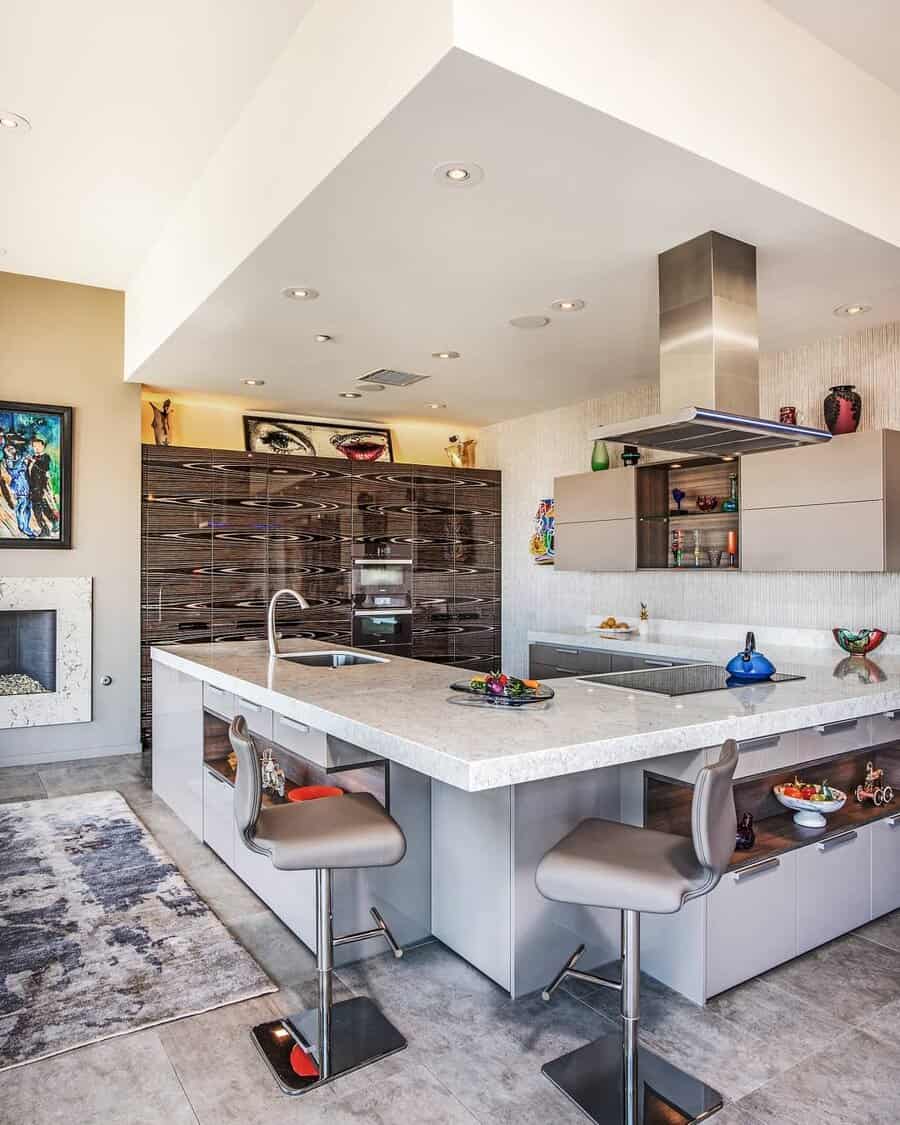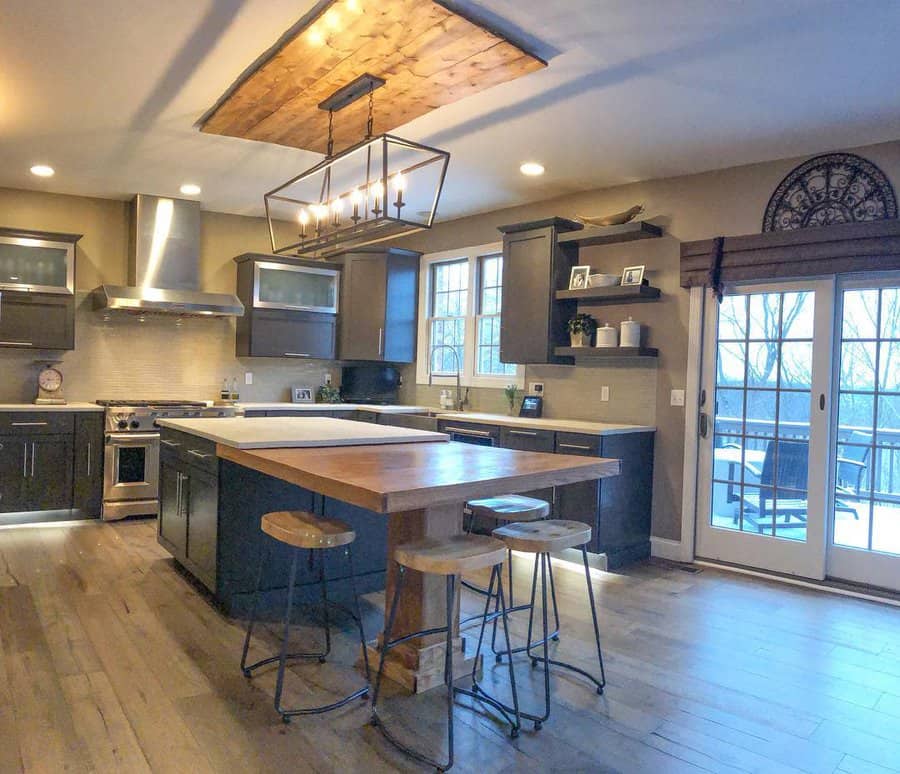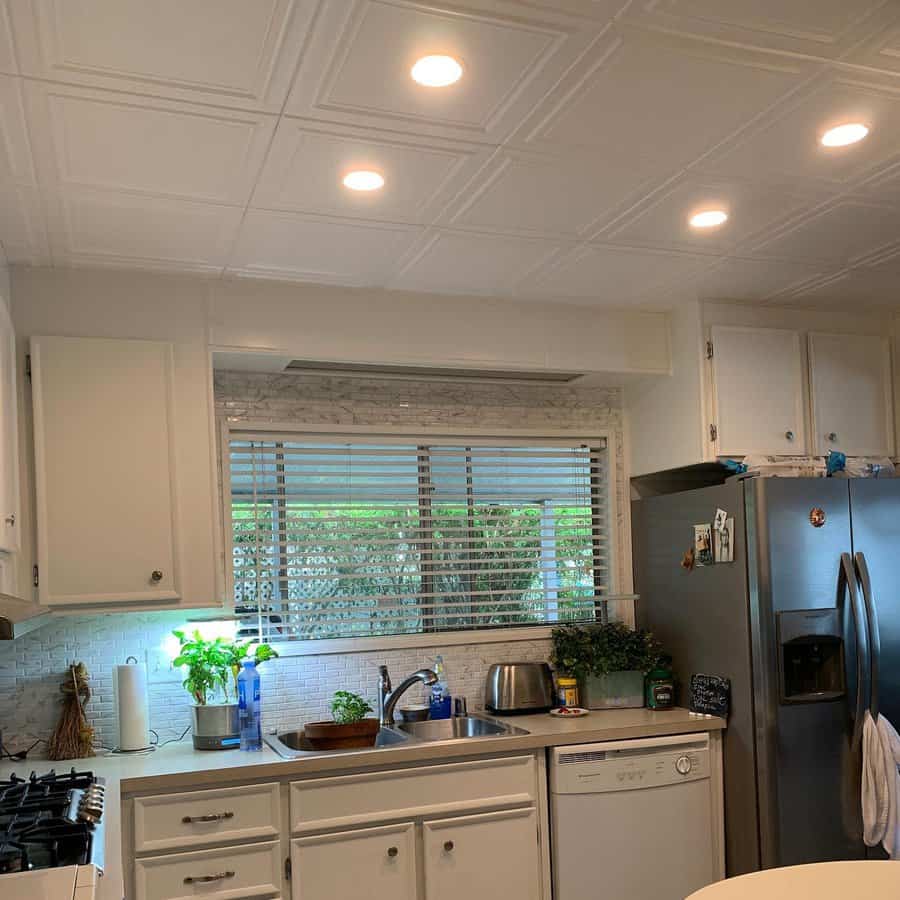 If you decide you want a bold ceiling design, then keep the rest of the kitchen simple. This prevents your kitchen from becoming overwhelming. If you appreciate a minimalist design, then stick with a simpler design for your ceiling.
Don't try to combine designs on your ceiling. Trying to do too many trends at once will conflict and look like a mess. If you plan to sell your home in the near future, stick with something that is universally appealing.
4. Farmhouse
If you love the look of a farmhouse kitchen, then you can't go wrong with a beadboard ceiling. Beadboard is a design that has alternating wide and narrow planks. It was traditionally used on the outside of homes and on the bottom half of walls as wainscotting.
It would provide protection and support to the wall. Modern design has seen it used in a wide variety of applications, including the ceiling.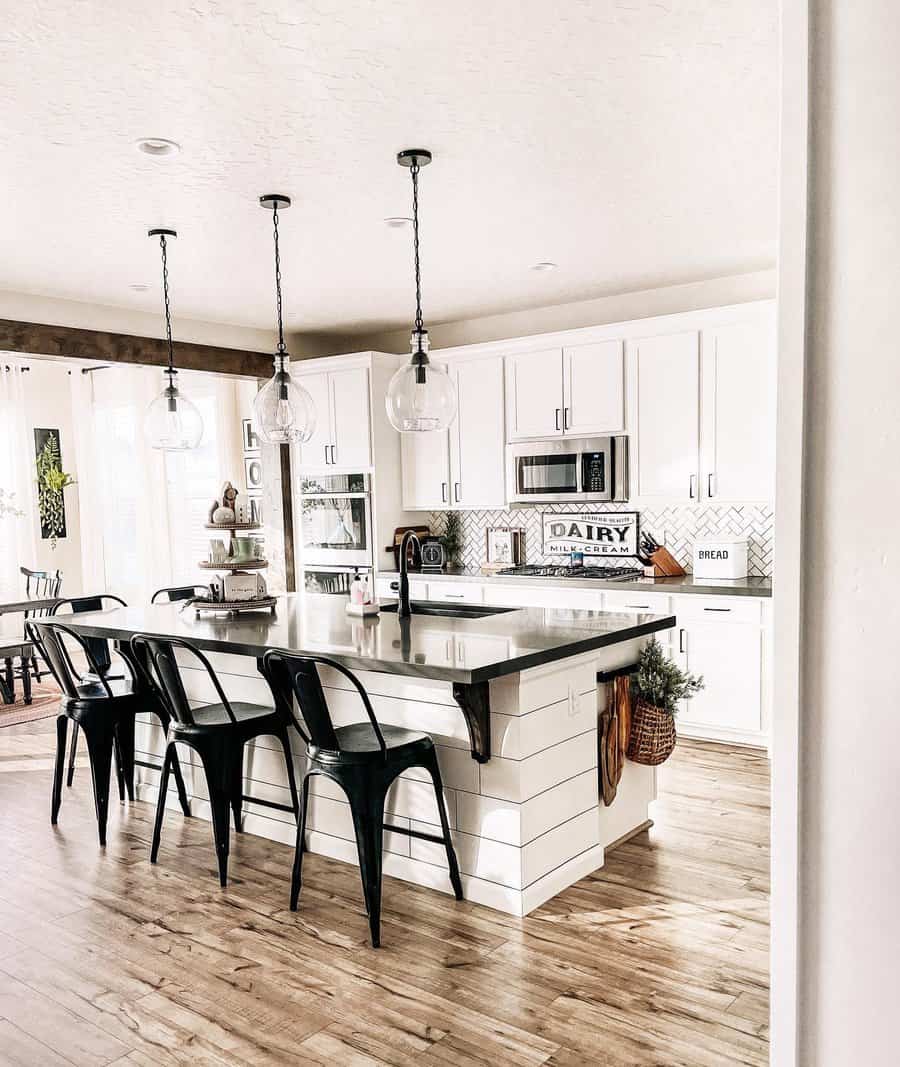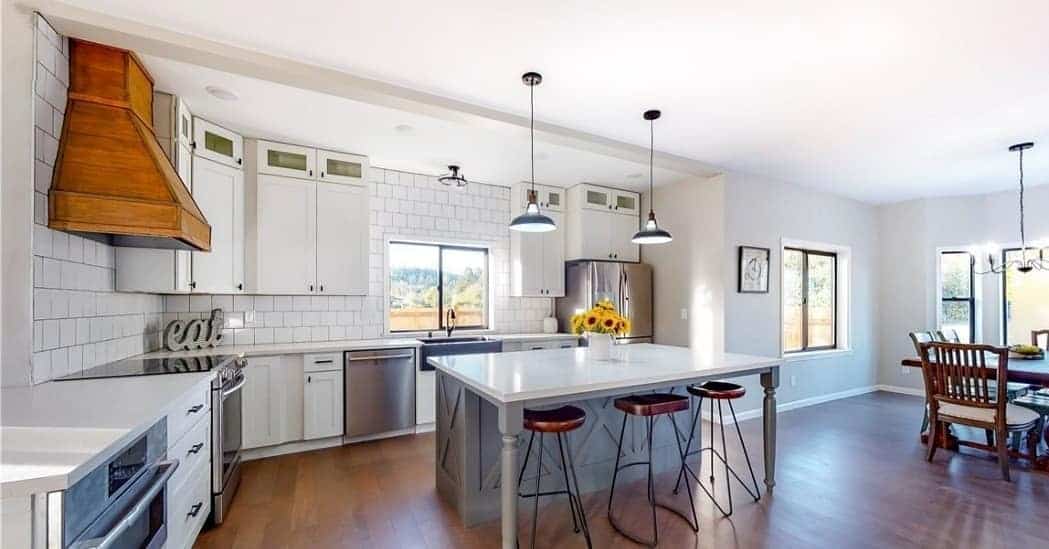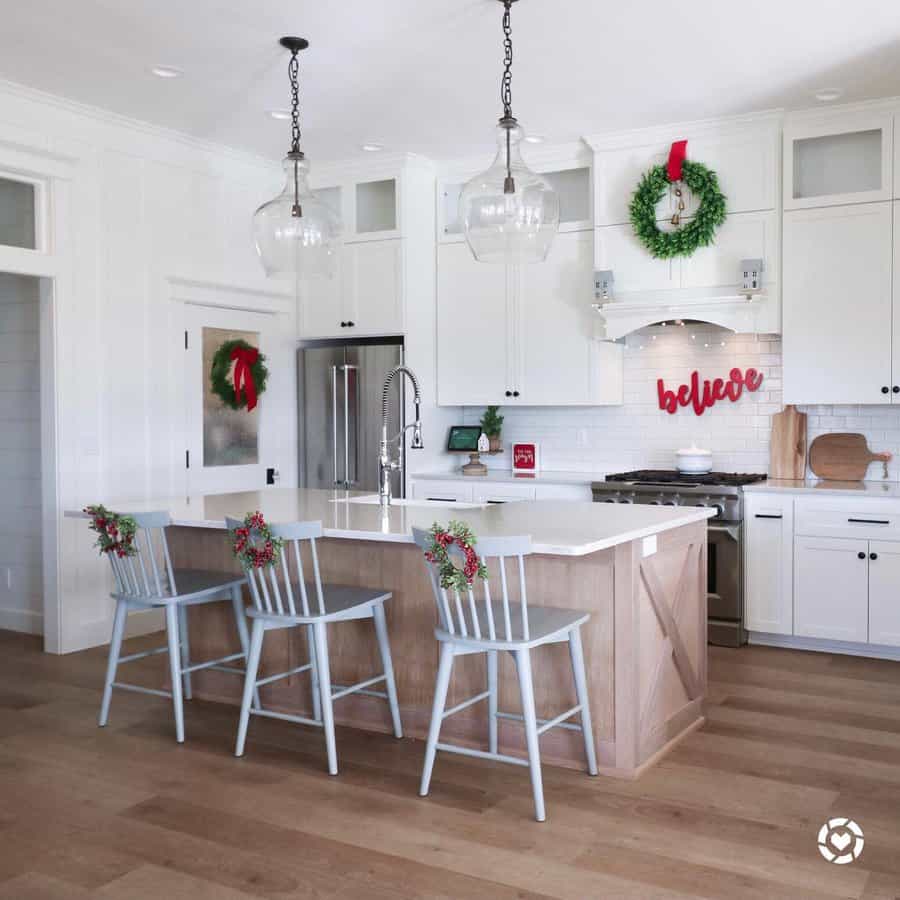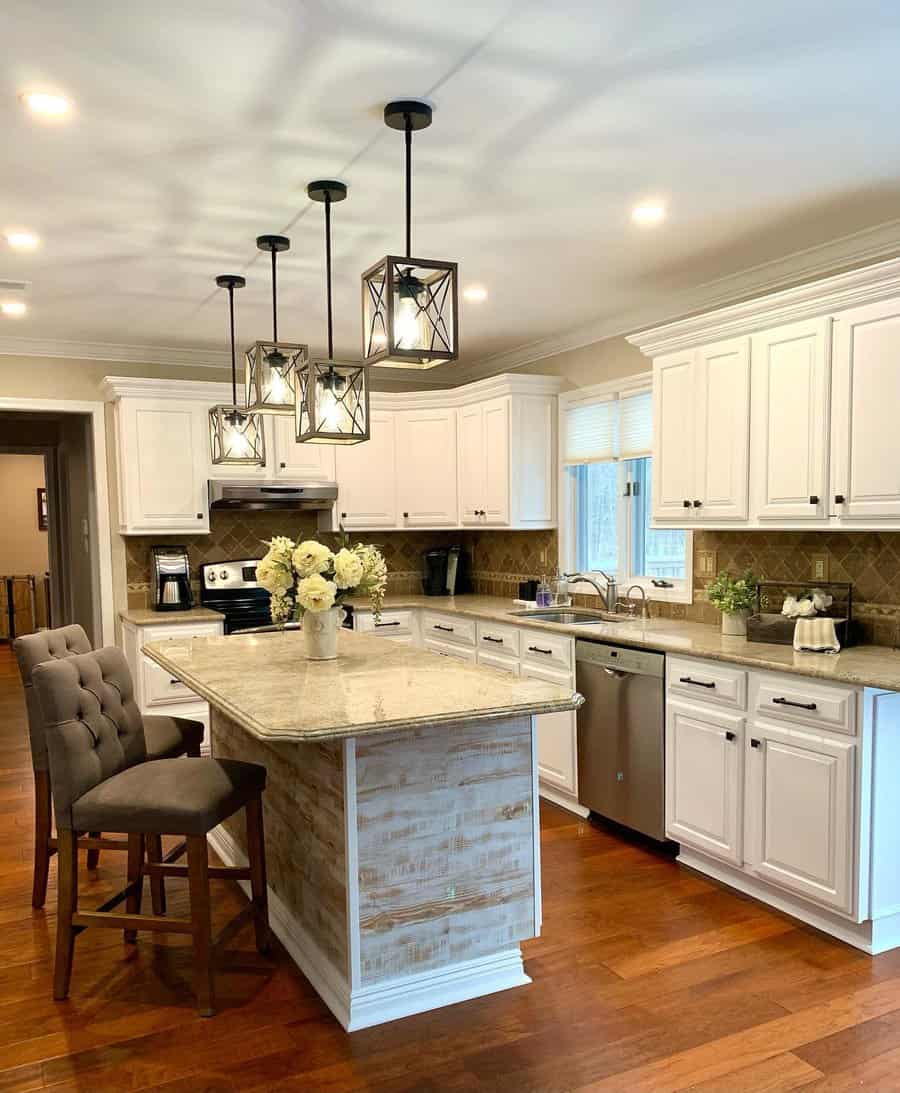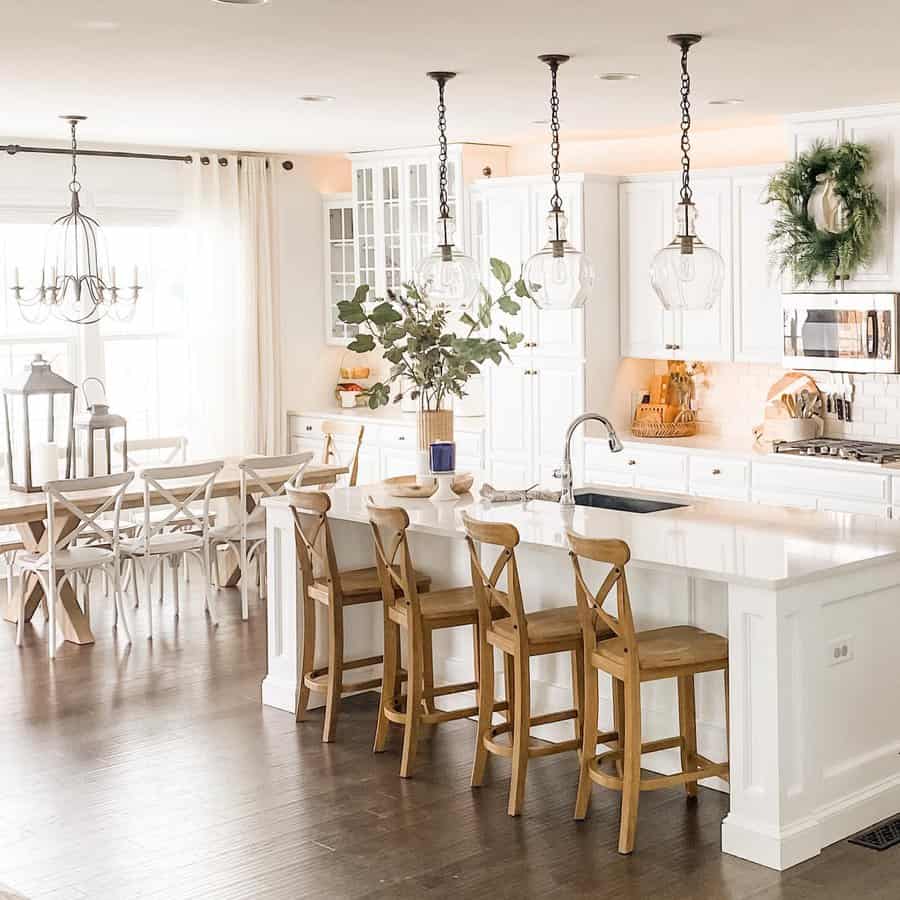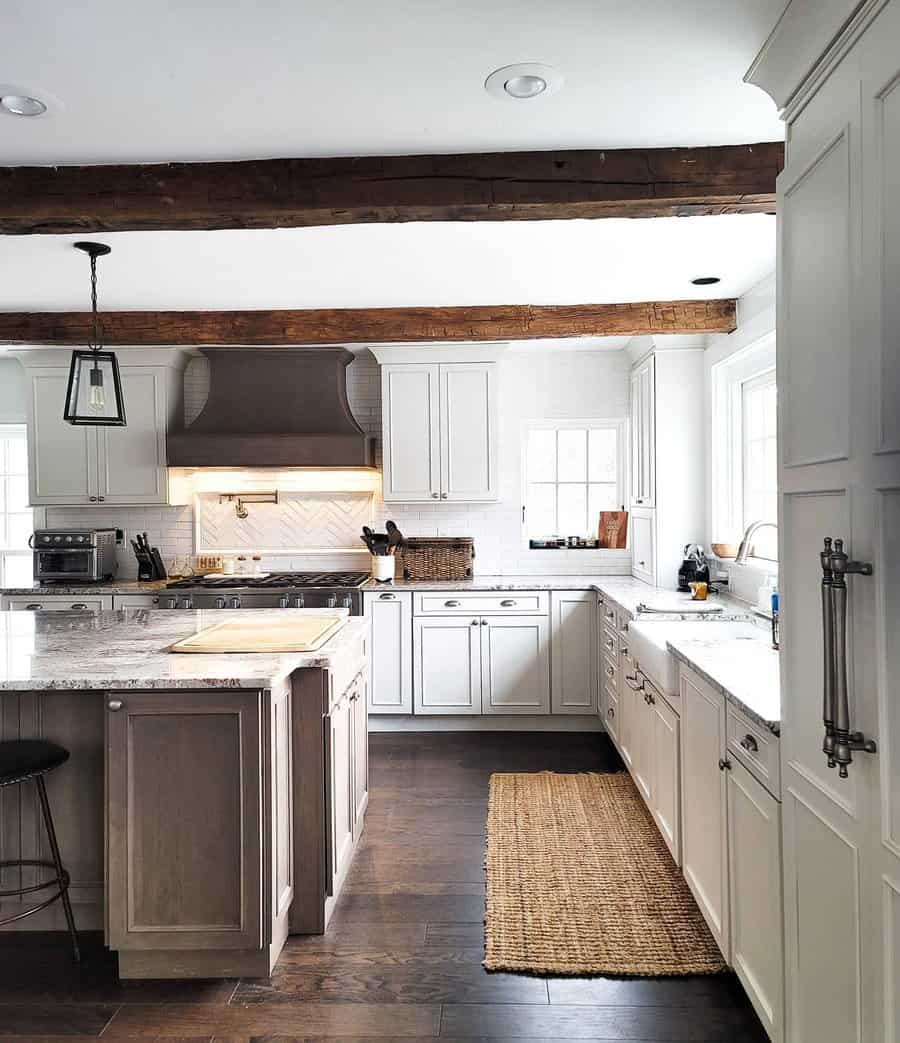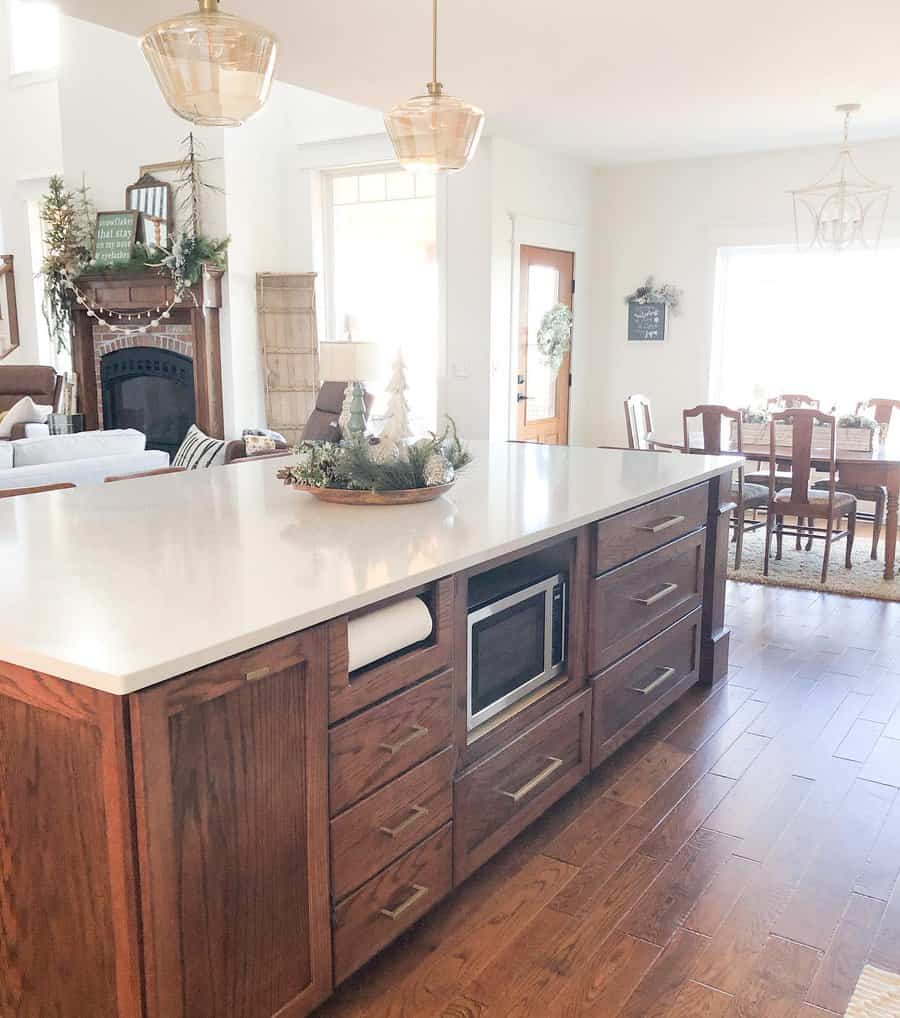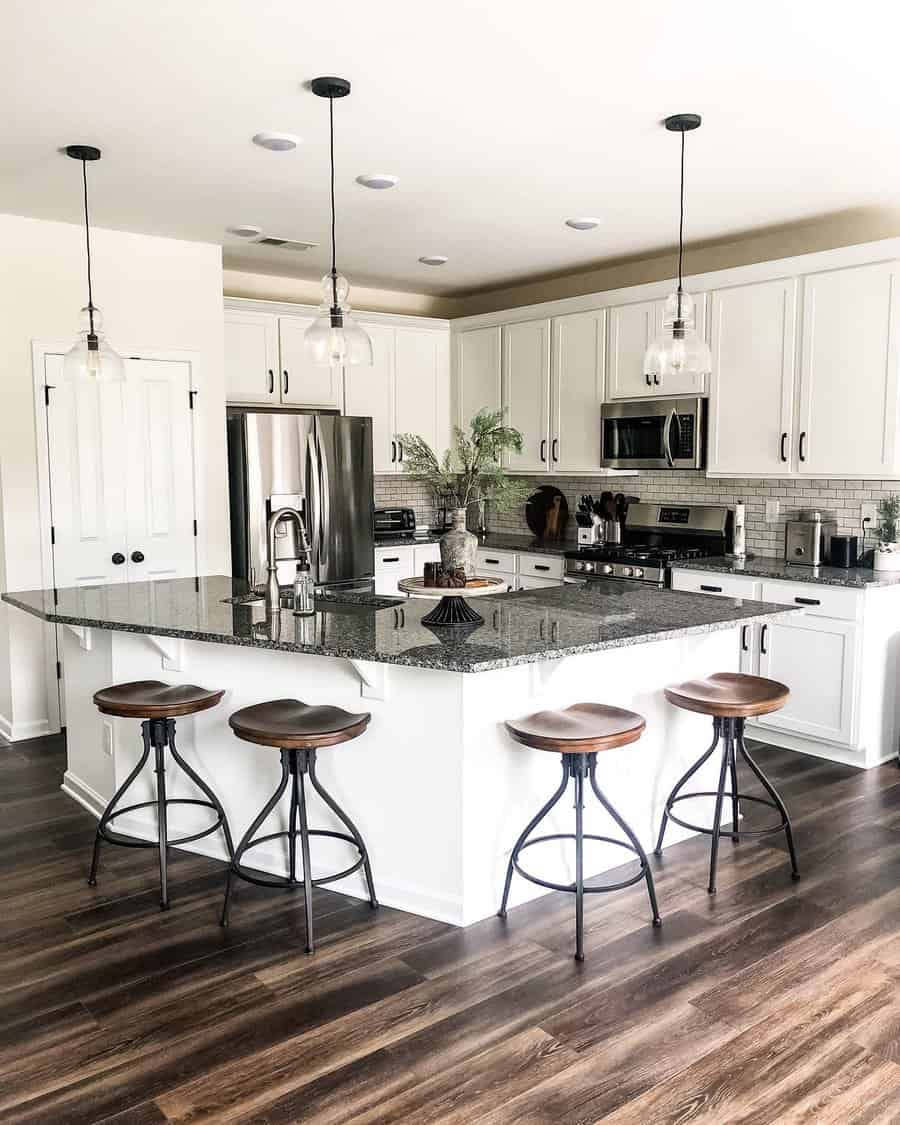 There are various beadboard designs, so look for one that makes sense with the size of your kitchen. If your kitchen ceiling is large and you have a lot of square footage to cover, then you may want to choose a beadboard with wider planks. If you have a smaller kitchen, then scale the beadboard done to have skinnier planks.
5. Lighting
While remodeling your kitchen ceiling, don't forget about the lighting. This is your chance to fix poorly designed lighting schemes or add more lighting to a kitchen that lacks light. If you have a kitchen island, then consider adding lighting fixtures above it. This task lighting makes the island brighter and easier to work on.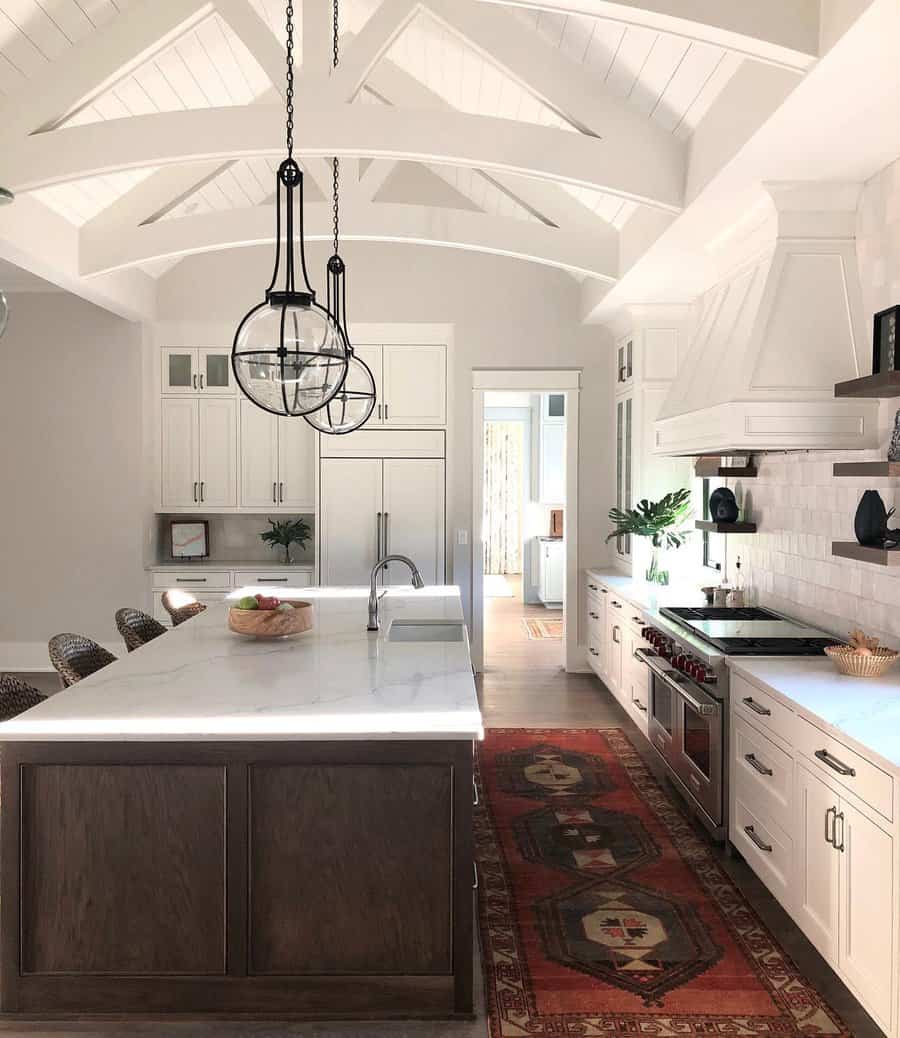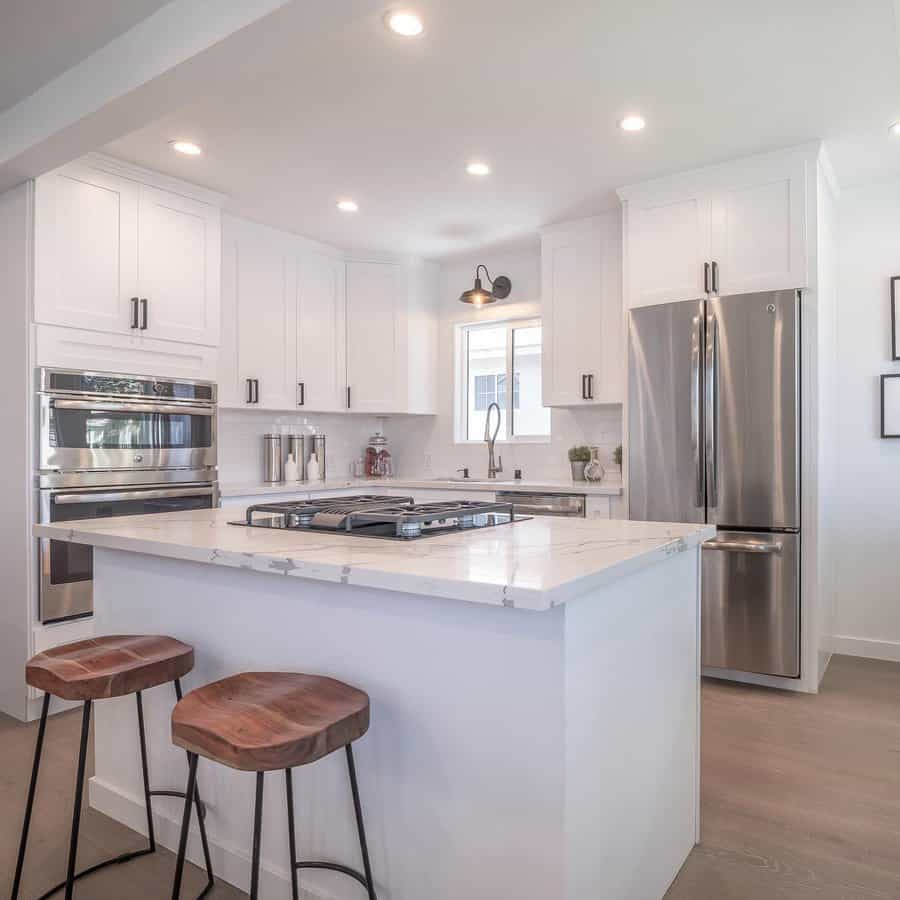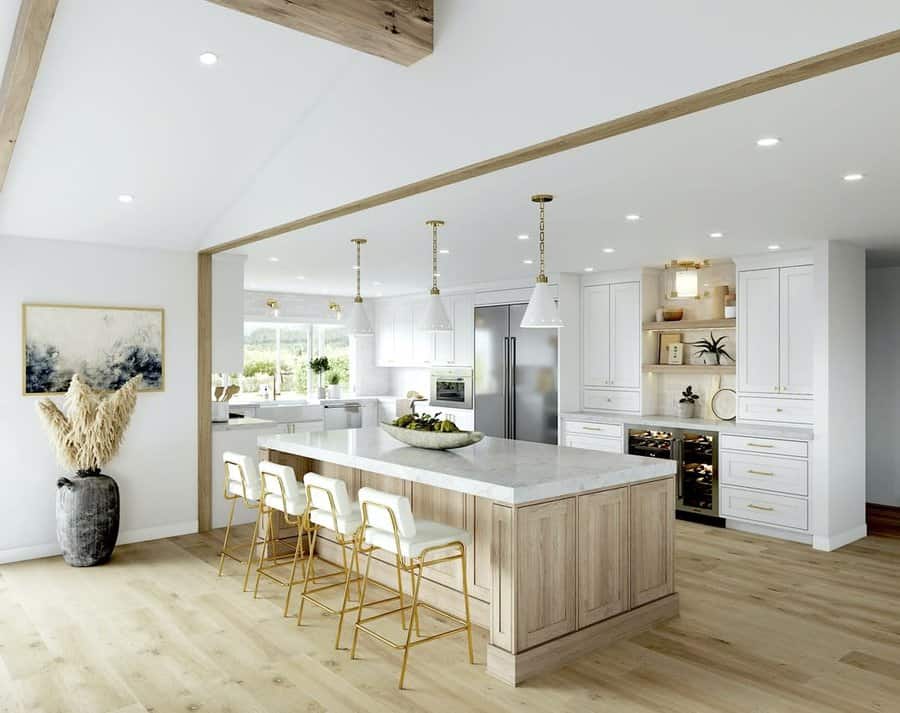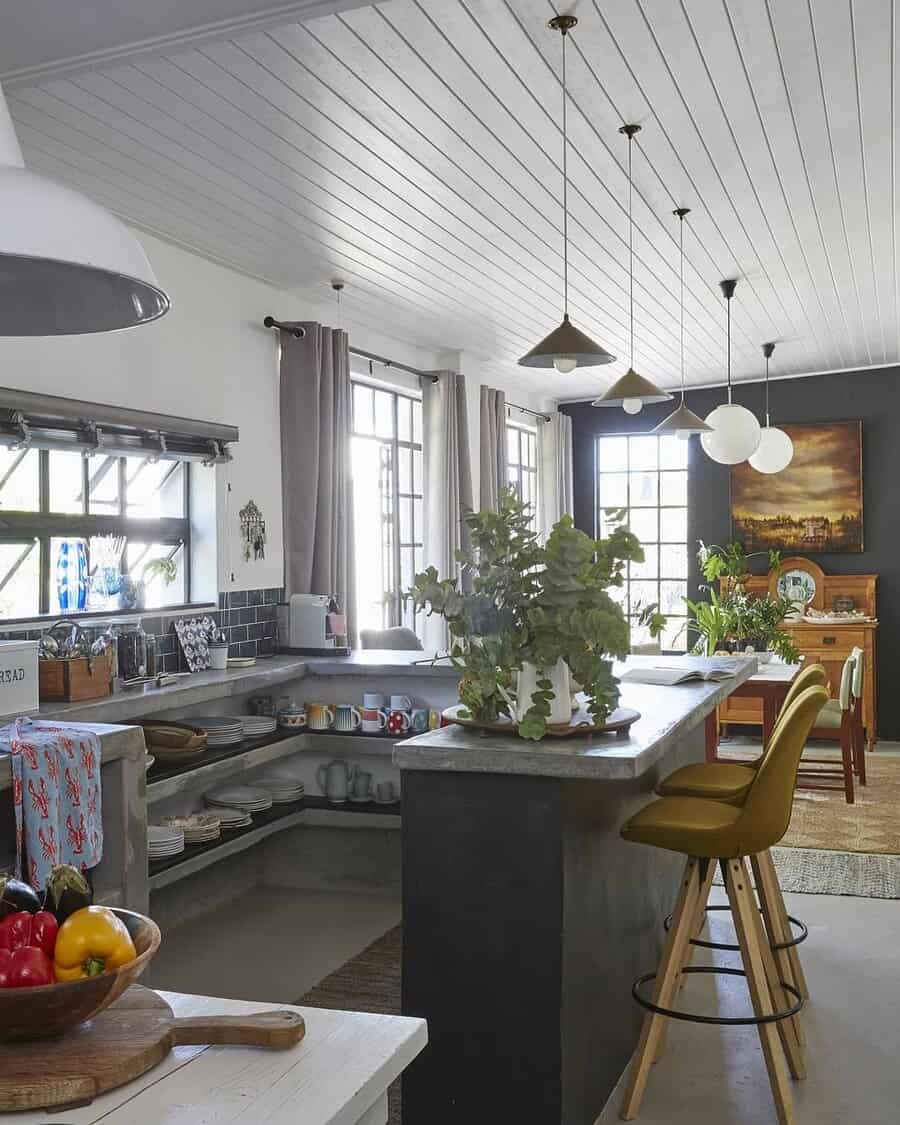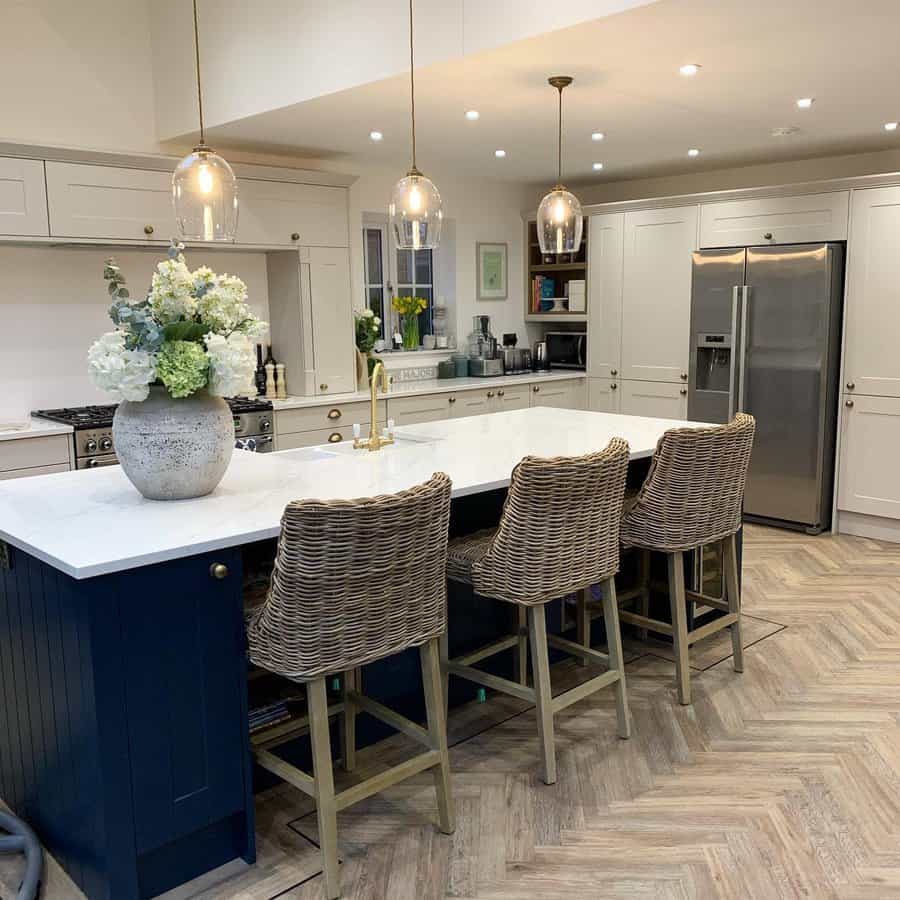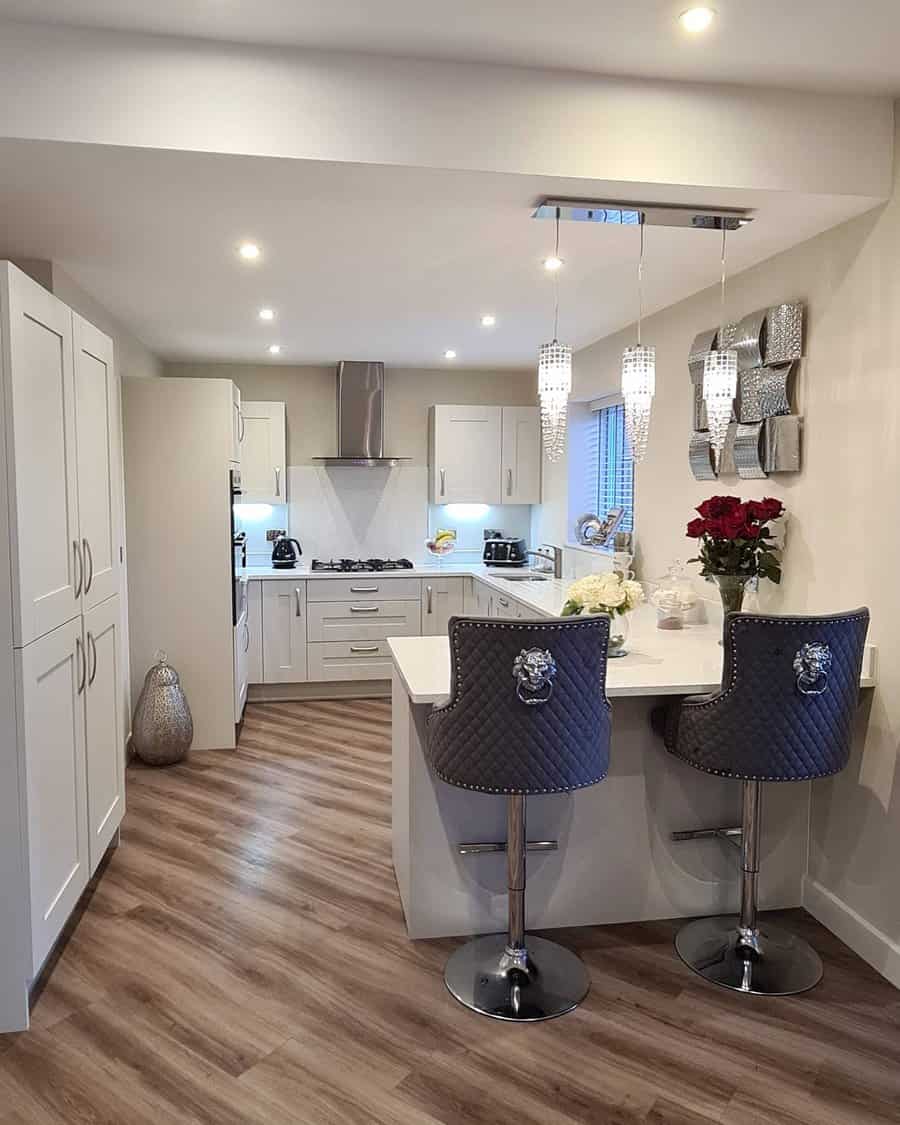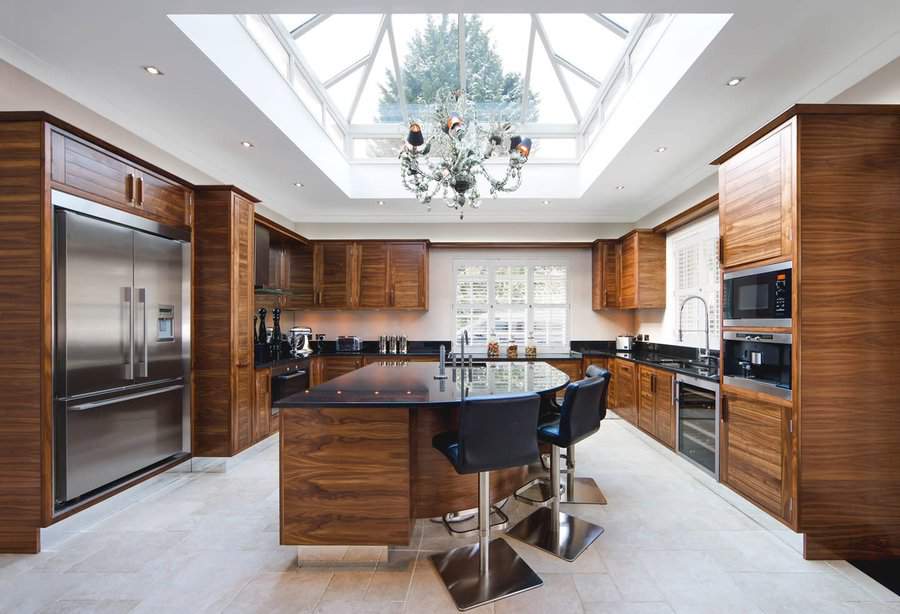 Adding light fixtures that match the rest of your kitchen design. If you have a modern kitchen, then look for fixtures that have minimal ornamentation and detailing. A farmhouse kitchen will look good with fixtures that are vintage-inspired or salvaged from an old building.
6. Luxury
Give your kitchen an upgrade by replacing your current ceiling with one that you would typically find in a luxury home. A tray ceiling is a classic design that works well in flat ceilings.
There is an outer edge that is at a lower level, and then the center of the ceiling is slightly higher. Give it a modern touch by adding LED strips to illuminate the recessed ceiling.
A coffered ceiling is another good option for a flat ceiling. This design has cross beams that stretch across the ceiling vertically and horizontally with recessed boxes between them.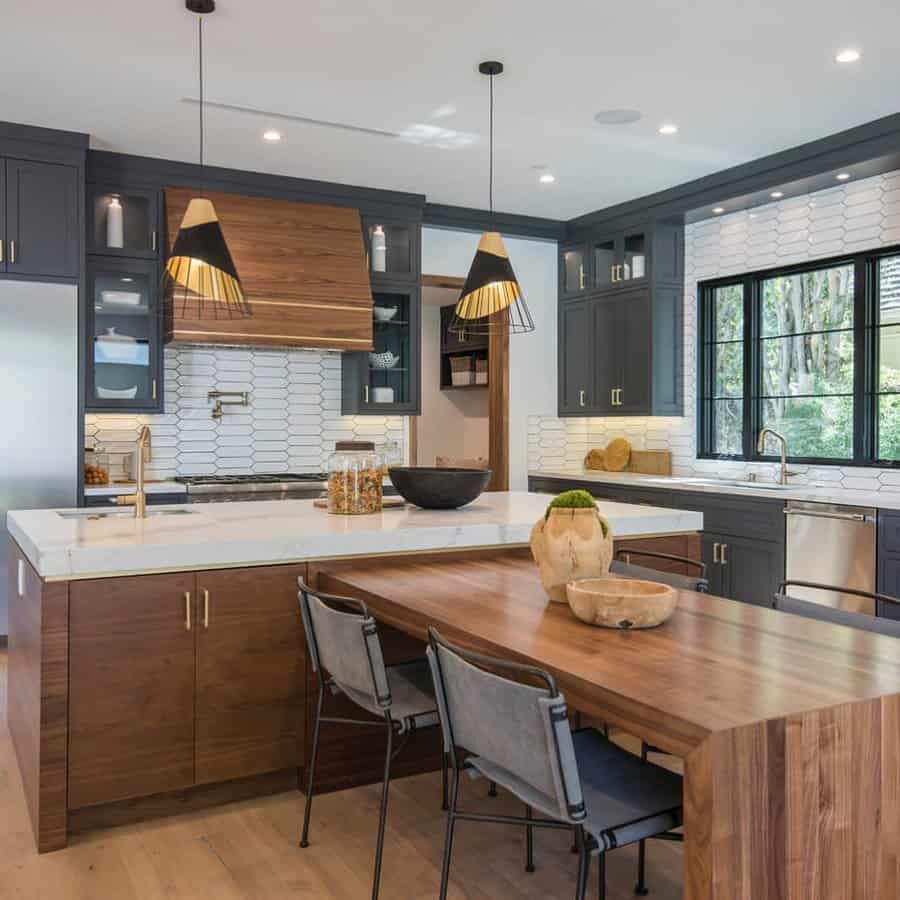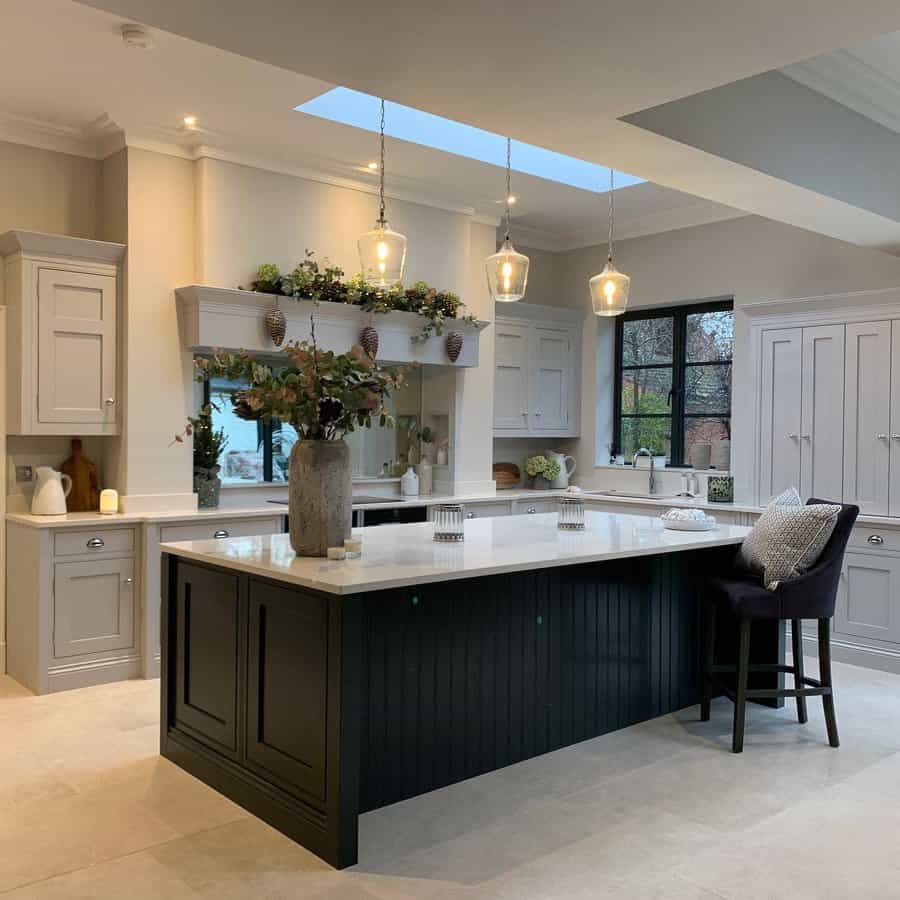 If you have the right roof design and attic space, you could create a vaulted ceiling. This is when your ceiling slants upward. This is a hallmark of more expensive homes because it is hard to create and requires more effort.
If you aren't ready to change your whole ceiling, then you can make a small upgrade by adding crown molding. This is decorative trim that you install at the top of your walls where they meet the ceiling. If you have a central light in your ceiling, add decorative molding around the light.
7. Modern
A hallmark feature of modern architecture is a lot of space. You can create this modern design effect in your kitchen by creating a high ceiling. Look for ways you can lift your ceiling. Perhaps you can remove your drop ceiling tiles or scrape off the popcorn ceiling.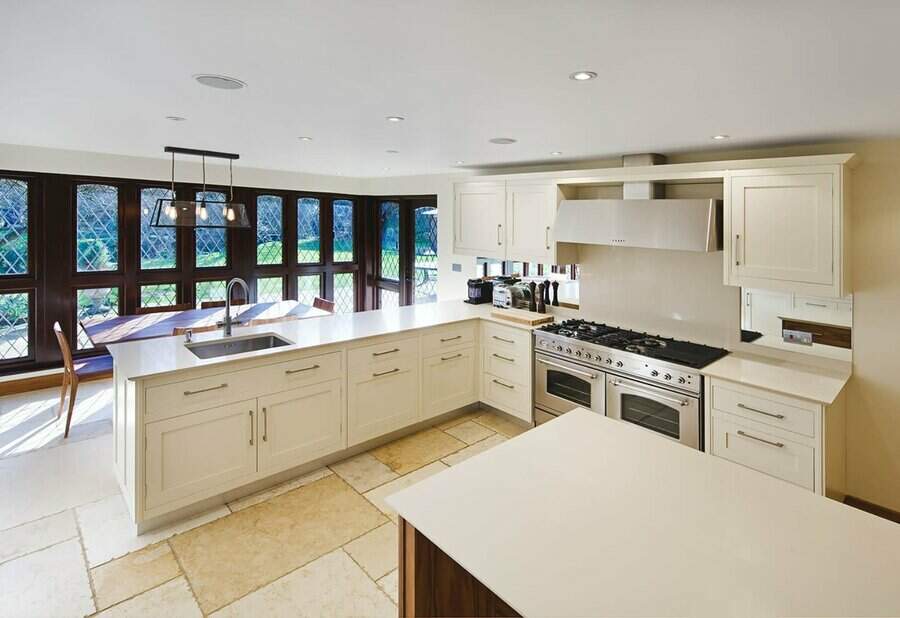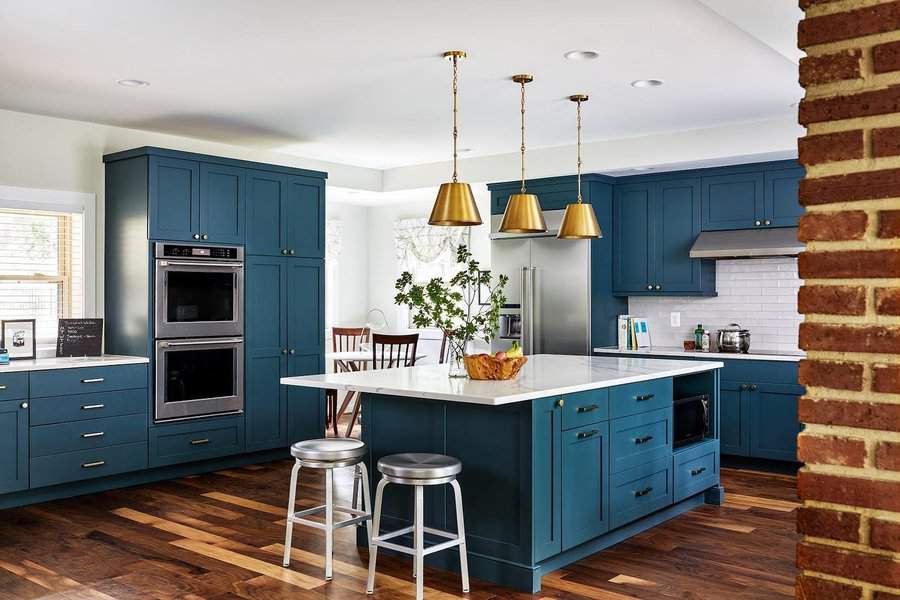 Modern kitchen design doesn't have to be plain, though. Look for ways you can add unexpected touches. Perhaps you install a large glass pane into the ceiling. This goes beyond just a skylight and creates a stunning centerpiece in the ceiling.
8. Recessed
If you have a low kitchen ceiling, then recessed lighting is the solution you need. A recessed light gets its name because it gets sunk into the ceiling so that it is flush with the ceiling. If your ceiling is lower, then it keeps the ceiling feeling as high as possible because you don't have a light fixture that hangs down and breaks up the sightline.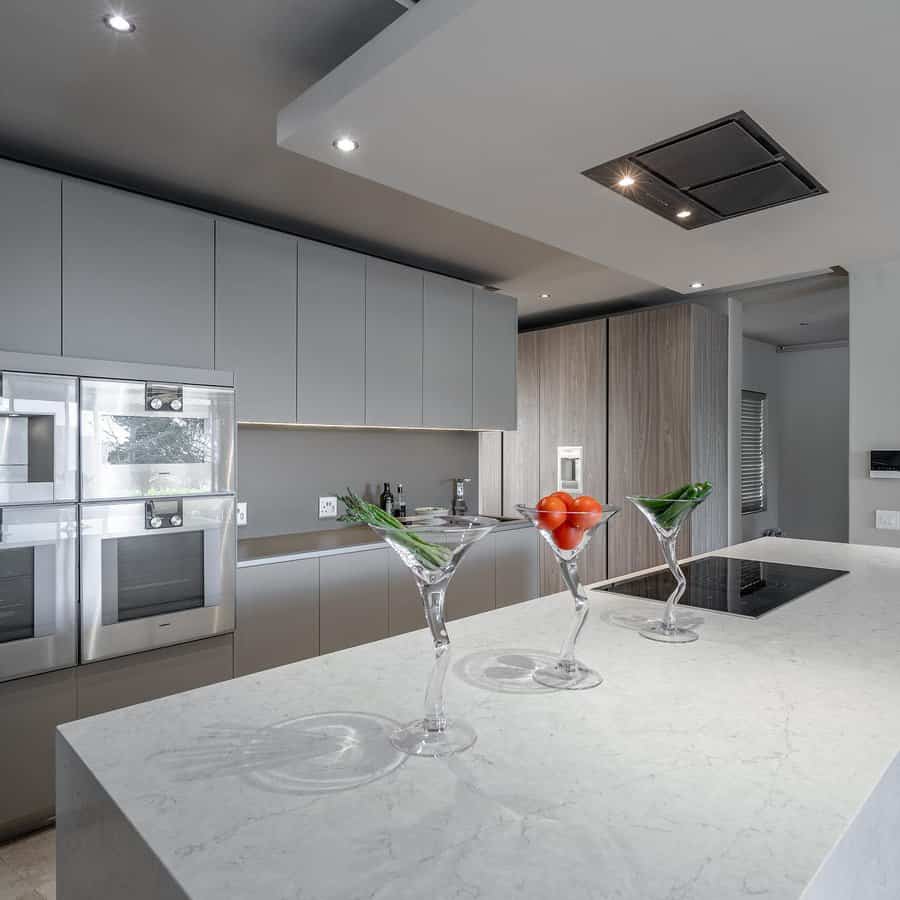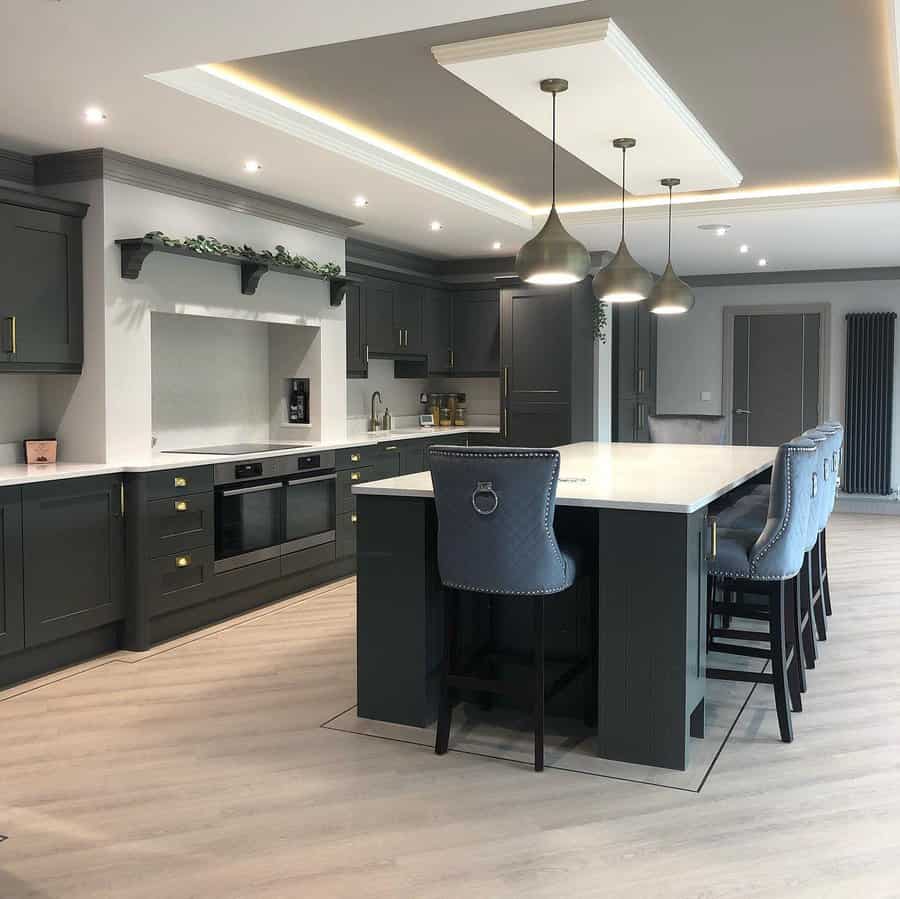 The problem with these ceiling lights is that they tend to run hot and use a lot of energy. They can also have limited lighting ability. They tend to only illuminate the space below them, so you'll need several to light your entire kitchen.
9. Rustic
Give your kitchen ceiling a rustic touch by adding wooden beams. These exposed ceiling beams can be purely decorative that you add to your existing ceiling. The easiest way to do this is by building a three-sided box out of reclaimed wood.
Then mount the open side towards the ceiling. The finished effect looks like a solid wood beam, but it is more affordable and weighs less.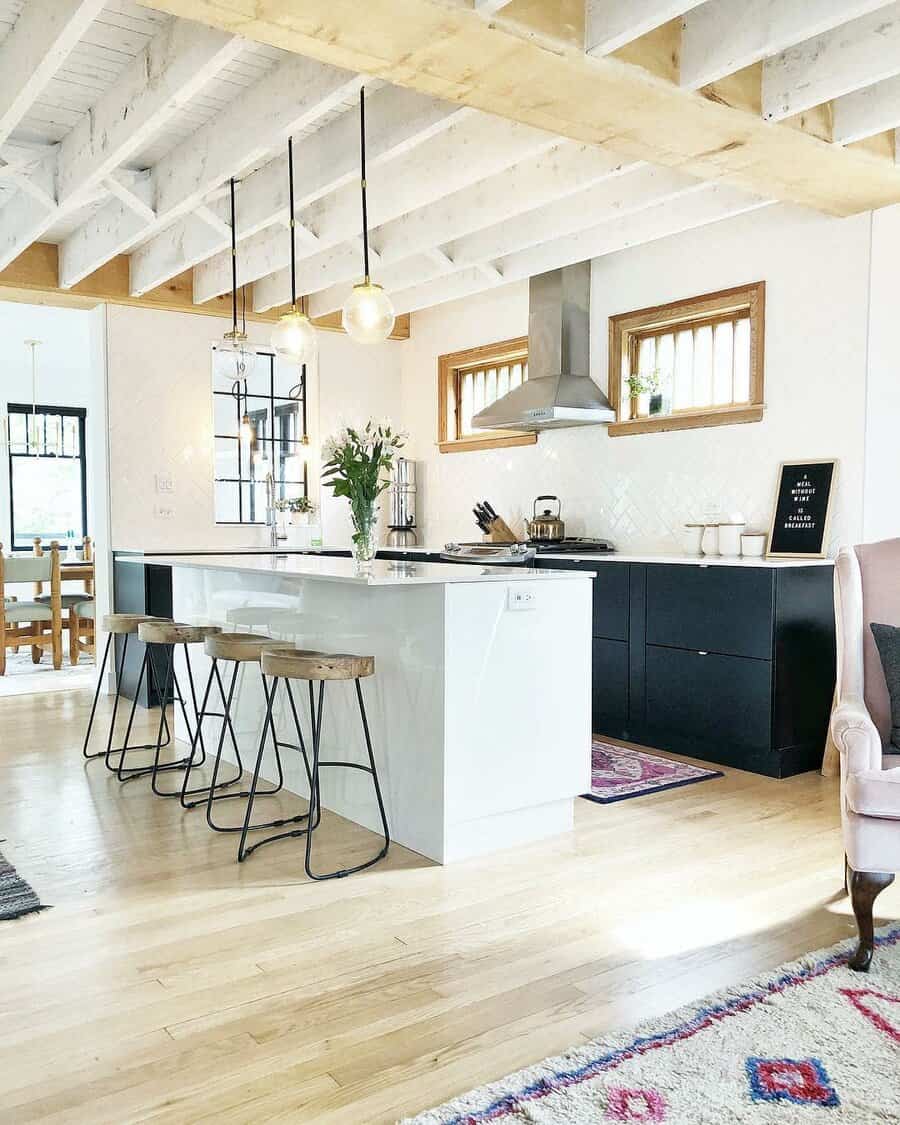 If you want to create more of a rustic effect, then add wood paneling between the beams. This will look similar to beadboard, but there are no skinny separators between the beams.
Don't try to create a perfectly aligned pattern with uniform wood. Embrace the imperfect. Rustic design embraces wear and tear, so signs of previous use help make your rustic design look authentic.
10. Wood
A wood ceiling can look beautiful in more than just a rustic kitchen. Use skinnier pieces of wood with a wider gap, and you have a modern wooden ceiling. Choose wood that has a reddish hue, and you can give your kitchen a tropical feel.
Use light-colored wood and keep your kitchen feeling light for a Scandinavian design. Choose wood with a honey hue to keep your kitchen feeling warm.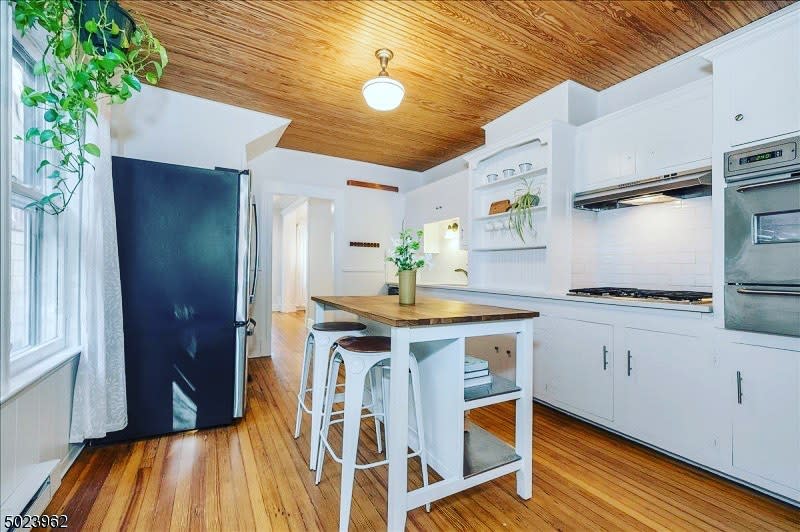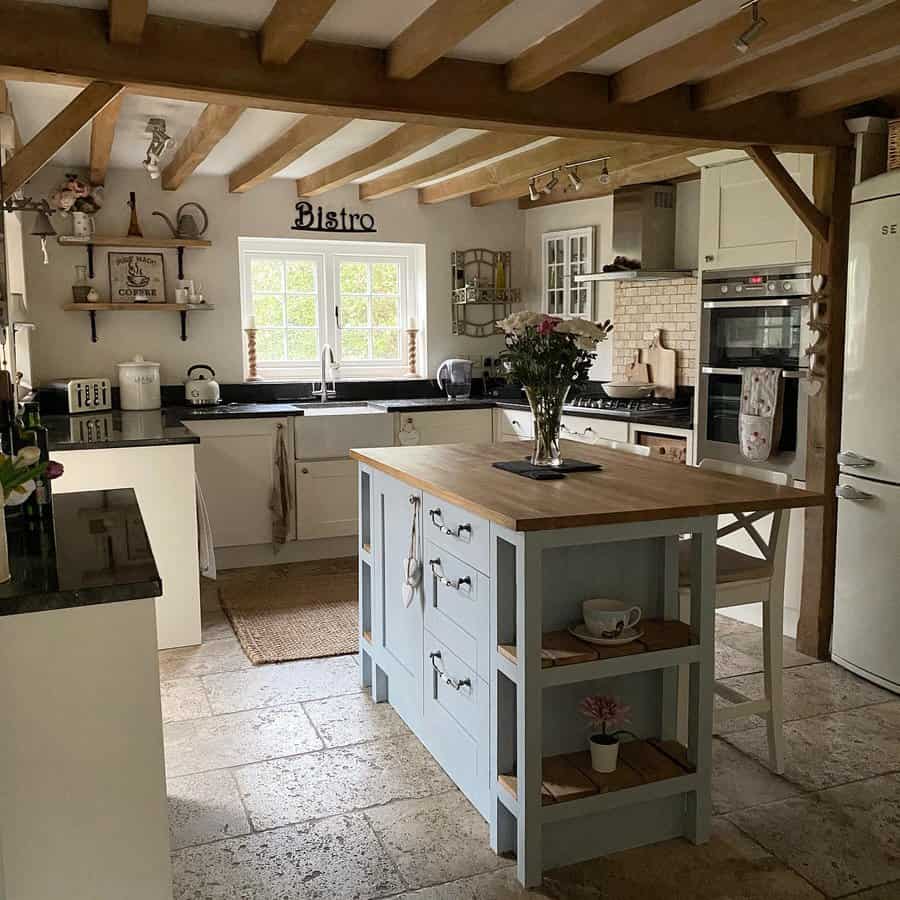 Planks are easy and affordable to work with. However, it isn't your only option. Instead of premade beadboard panels, look for wood panels that have a unique design. It could have a geometric pattern. You could also find panels with varying heights. These panels create depth, giving the illusion of a higher ceiling.
Kitchen Ceiling FAQs
What can I put on my kitchen ceiling?
There is a wide range of materials that you can put on your ceiling. Drywall is a good generic material that creates a smooth, flat surface. Other common options are ceiling tiles, wood boards, beams, or a drop ceiling. In some situations, you can even use glass. 
What is the cheapest way to cover a ceiling?
The cheapest way to cover a ceiling is to paint it. Other options are tin tiles, moldings, or beadboard. If you have the budget for it, you could build a coffered ceiling. You could add beams and paint the ceiling to create a color-contrasting look.
What is the easiest way to cover a popcorn ceiling?
Popcorn ceilings used to be the go-to finish for homes. Today, they are ugly and a nightmare to deal with. They instantly date your home. The easiest way to deal with a popcorn ceiling is to cover it. You can use beadboard and wood planks to create a shallow coffered design over the popcorn ceiling for an easy upgrade.