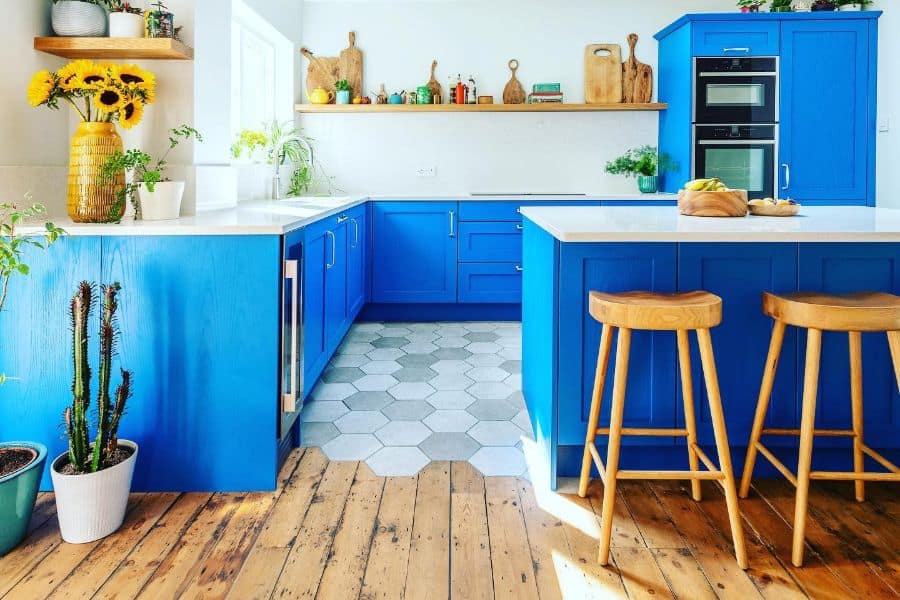 30 Best Kitchen Floor Tile Ideas
by — Andra DelMonico

Published on June 28, 2021

Updated on September 26, 2023
"The kitchen is the heart of every home, for the most part. It evokes memories of your family history." – Debi Mazar
You're tired of the flooring in your kitchen and are ready to give it an upgrade. If you're already planning a kitchen remodel, then it's the perfect time to upgrade your kitchen's flooring.
Tile is perfect for your kitchen flooring because it's attractive and durable. This makes it the perfect choice for improving the look of your kitchen while also giving it longevity.
There are two options when considering kitchen floor tile ideas. Ceramic tile is beautiful but can be susceptible to cracking or chipping.
Porcelain tile is the better option because it is more durable, making it a smart choice for a high-traffic area like the kitchen. Consider these ideas when choosing new tile flooring for your kitchen.
1. Wood-Look Stoneware Tiles
Achieve a timeless kitchen aesthetic with grey stoneware wood tiles. These tiles, when paired with white cabinets, create an elegant and classic look. The intricate stone detail not only adds character but also captures light beautifully.
Opting for grey stoneware wood ensures both durability and longevity, ensuring your kitchen remains beautiful for years. To complement this design, consider adding stainless steel appliances and natural wood accents for a balanced and inviting space.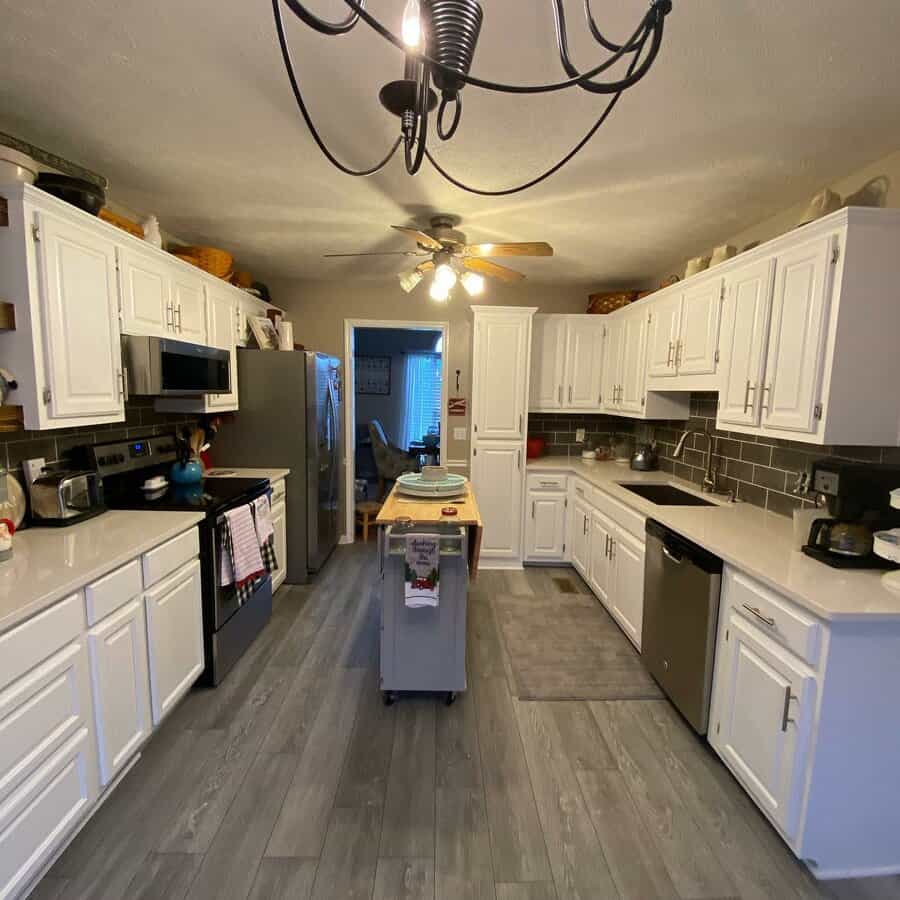 2. Maple Wood Flooring Inspiration
Enhance your kitchen's appeal with maple wood flooring tiles, adding a timeless and warm charm to the heart of your home. To complement this design, consider pairing it with marble walls for a touch of elegance and warmth.
Install a rattan pendant light to infuse a cozy and inviting atmosphere into your kitchen space. With maple wood tiles as your base, you can personalize the style further by adding nostalgic touches and creating a welcoming environment where family and friends can gather to share memorable moments over delicious meals.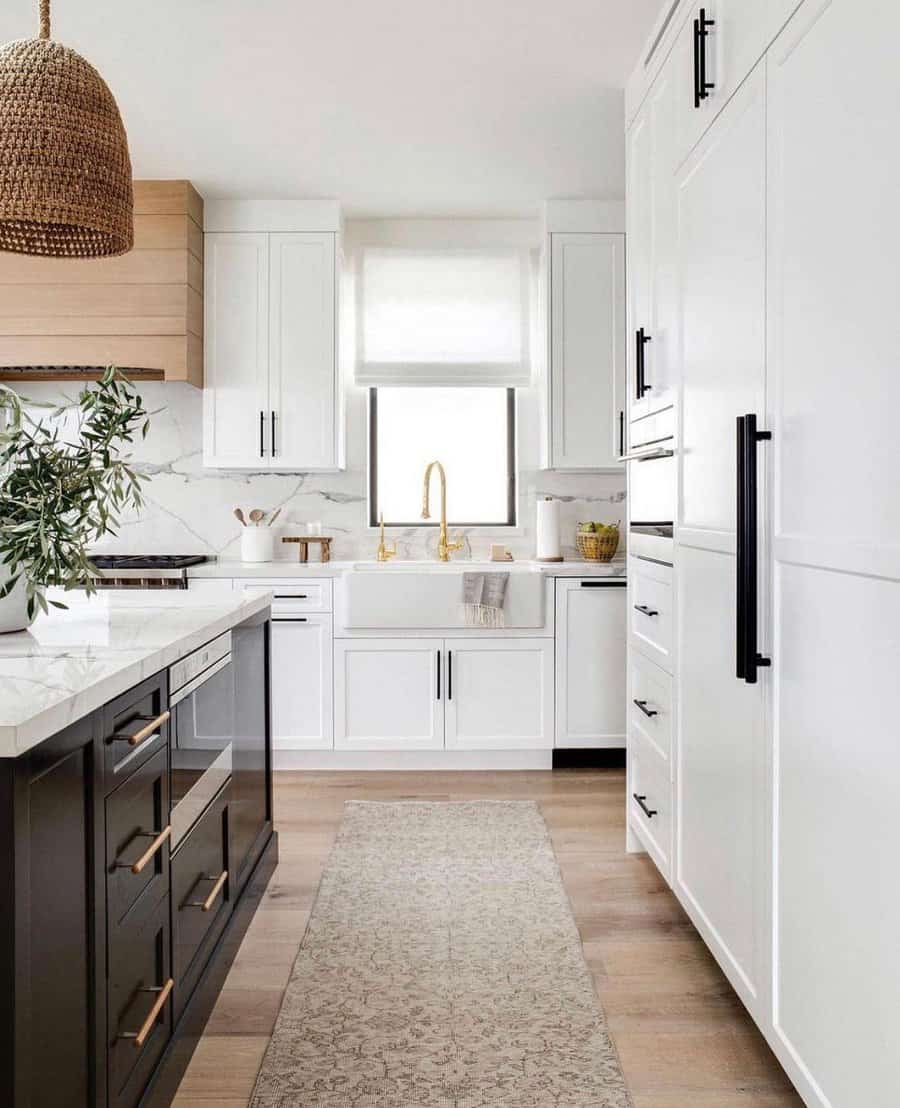 3. Elegant Ironwood Tiles
Elevate your kitchen with the timeless charm of ironwood floor tiles, a durable choice that complements various interior styles. For a modern look, pair ironwood tiles with a sleek grey kitchen island and contemporary design elements.
Whether you lean towards farmhouse chic or minimalist aesthetics, ironwood tiles serve as a versatile foundation for your dream kitchen. To enhance the overall design, consider incorporating stainless steel appliances and pendant lighting for a harmonious and polished feel.
4. Rustic Hickory Wood Design
Transform your kitchen with the inviting charm of hickory wood floor tiles. The warm hues of hickory wood bring a cozy atmosphere to your cooking space, ideal for quality time with loved ones. To enhance this rustic look, consider adding a decorative floor mat for a touch of color or incorporating unique patterned tiles with hickory accents to create a captivating focal point.
Whether you opt for a classic or eclectic style, hickory wood tiles offer a lasting and trendy aesthetic. To complete the look, introduce natural wood accents and open shelving for a cohesive and inviting kitchen design.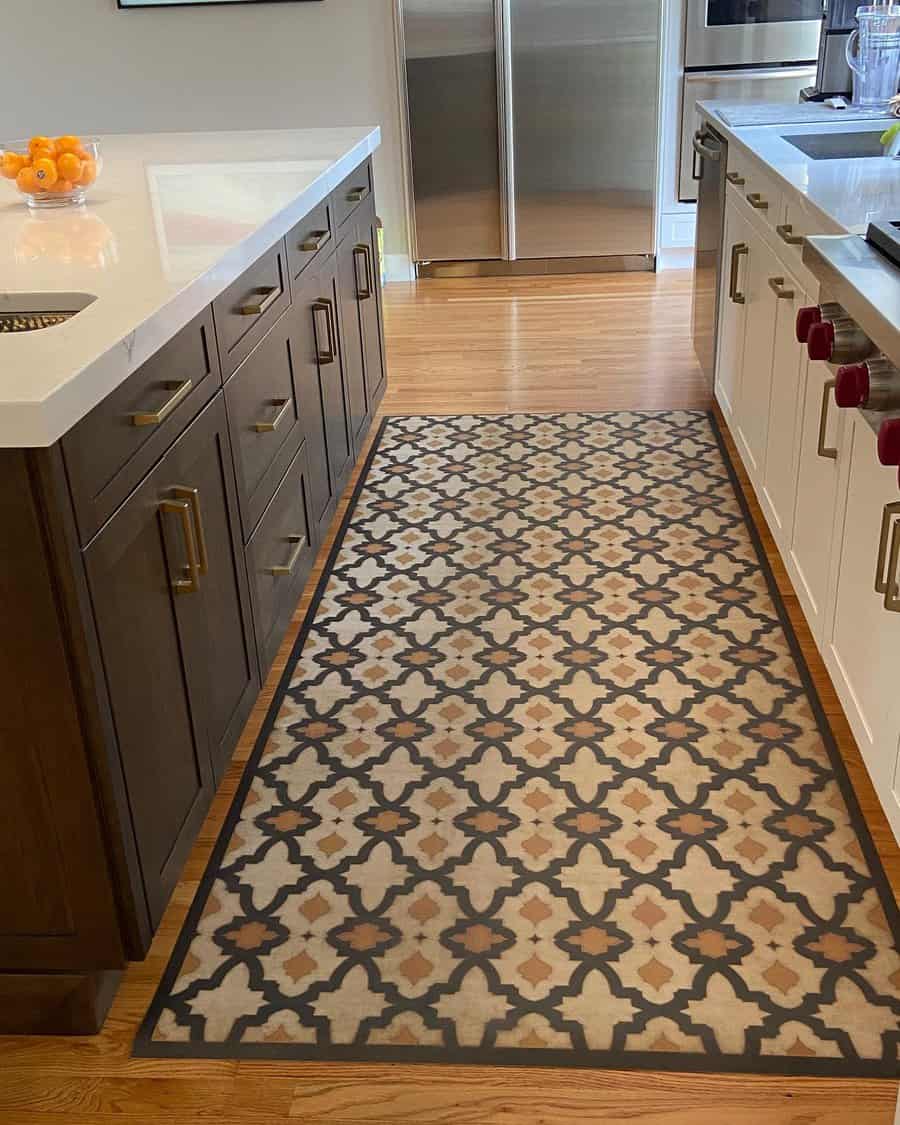 5. Contemporary Concrete Wood Tiles
Elevate your kitchen's design with contemporary concrete wood tiles that serve as more than just a finishing touch. These tiles not only exude modern chic but also effortlessly tie together various kitchen elements, such as white walls, concrete countertops, or monochrome interiors.
When selecting kitchen floor tiles, consider your style preferences, whether you prefer bold tones or subtle hues. To complete the look, complement concrete wood tiles with stainless steel appliances and minimalist decor for a sleek and harmonious kitchen space that stands the test of time.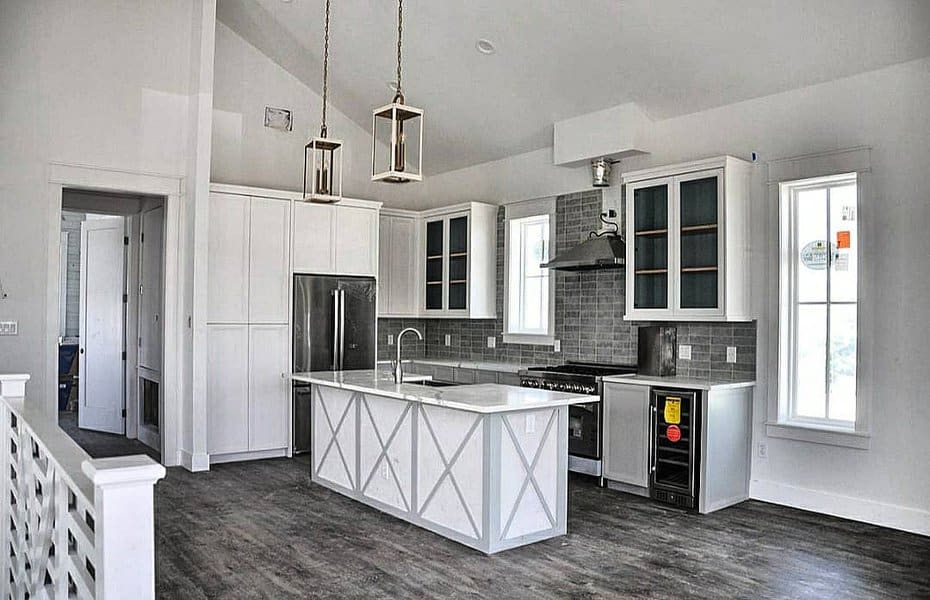 6. Timeless White Marble Ideas
Elevate your kitchen's beauty with the timeless elegance of white marble tiles paired with delicate globe pendant lighting. These glossy tiles not only capture and reflect light but also create a sense of spaciousness and sophistication.
To enhance this design, consider adding complementary elements such as stainless steel appliances and neutral-toned cabinetry for a balanced and inviting kitchen space. Embrace the versatility of white marble, which pairs seamlessly with both classic and contemporary decor styles, ensuring your kitchen remains a captivating and welcoming hub for years to come.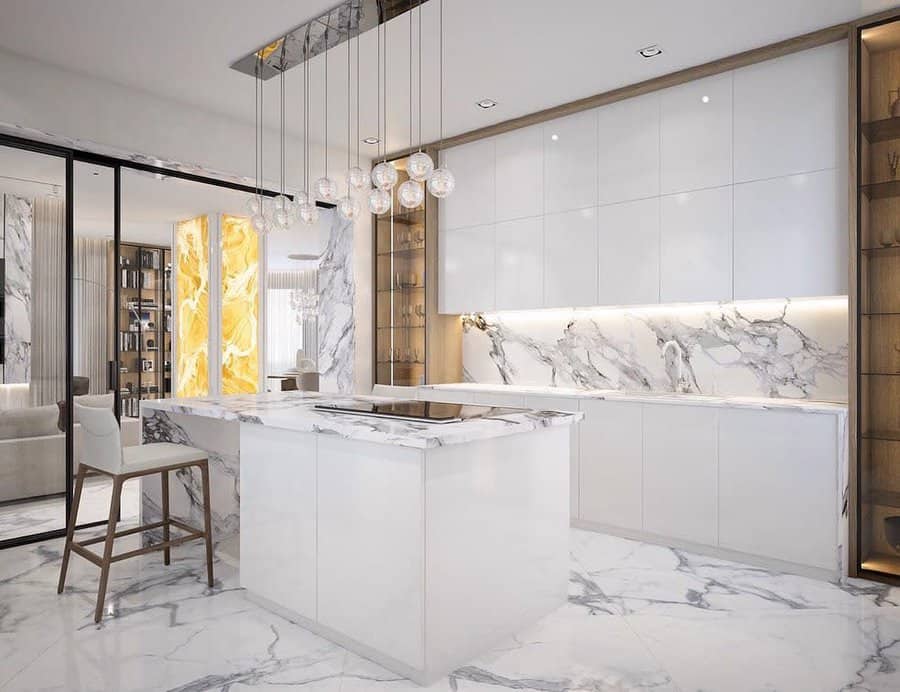 7. Sleek Minimalist Marble Flooring
Revitalize your small kitchen with the elegance of minimalist marble flooring. Marble tiles not only bring a sense of light and modernity but also ensure long-lasting beauty with proper maintenance. To maximize the impact, strategically lay the marble tiles to draw attention to a well-placed window, allowing natural light to flood the space.
Complement the minimalist design with streamlined cabinetry and stainless steel appliances for a cohesive and contemporary kitchen that leaves a lasting impression. Additionally, consider adding a few indoor plants to infuse a touch of nature and freshness into your kitchen design.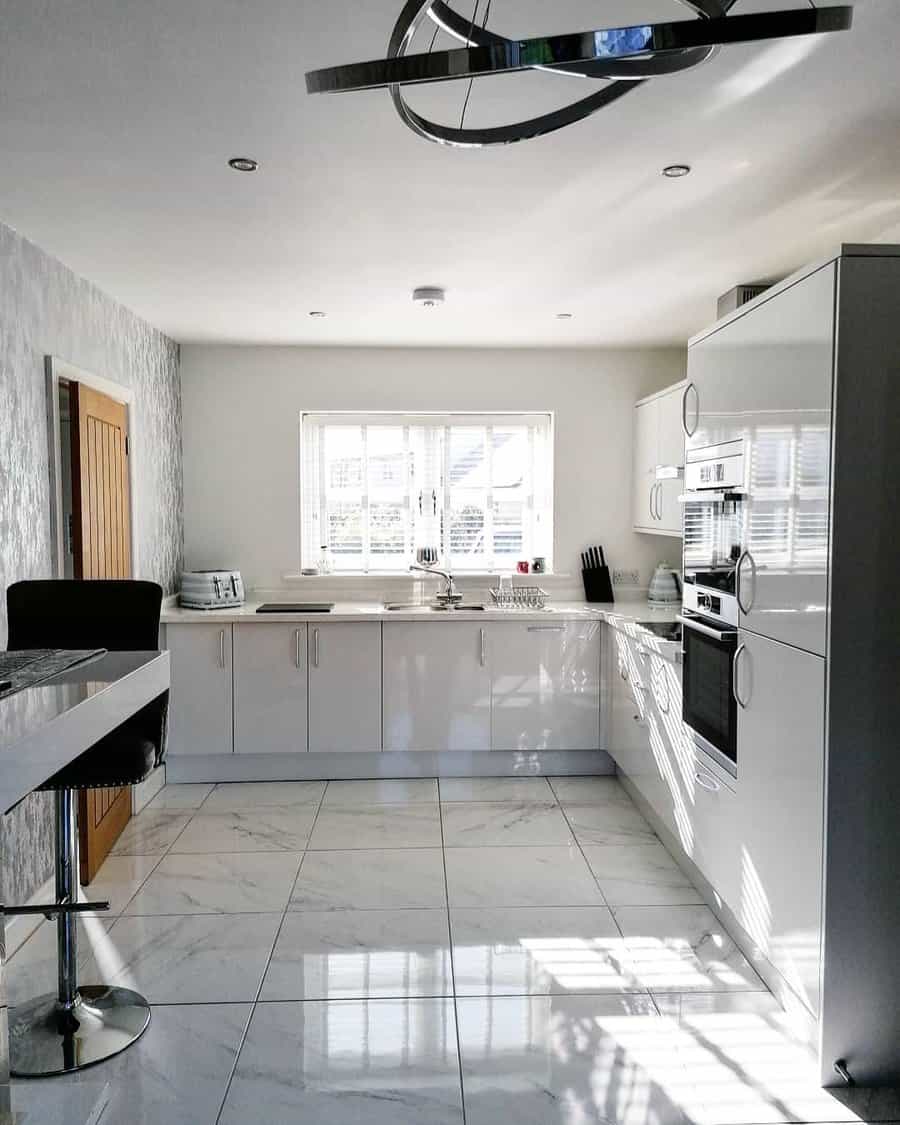 8. Warmth of Beige Granite Tiles
Embrace the enduring appeal of beige granite tiles for your kitchen, as they offer a neutral yet distinctive foundation. To make the most of this versatile backdrop, consider pairing beige granite flooring with a black kitchen island and light grey cupboards for a striking contrast. This combination not only infuses life into your kitchen but also creates a sense of grandeur and spaciousness.
To enhance the overall design, incorporate warm wood accents, stainless steel appliances, and pendant lighting, ensuring a balanced and inviting kitchen space that exudes timeless elegance.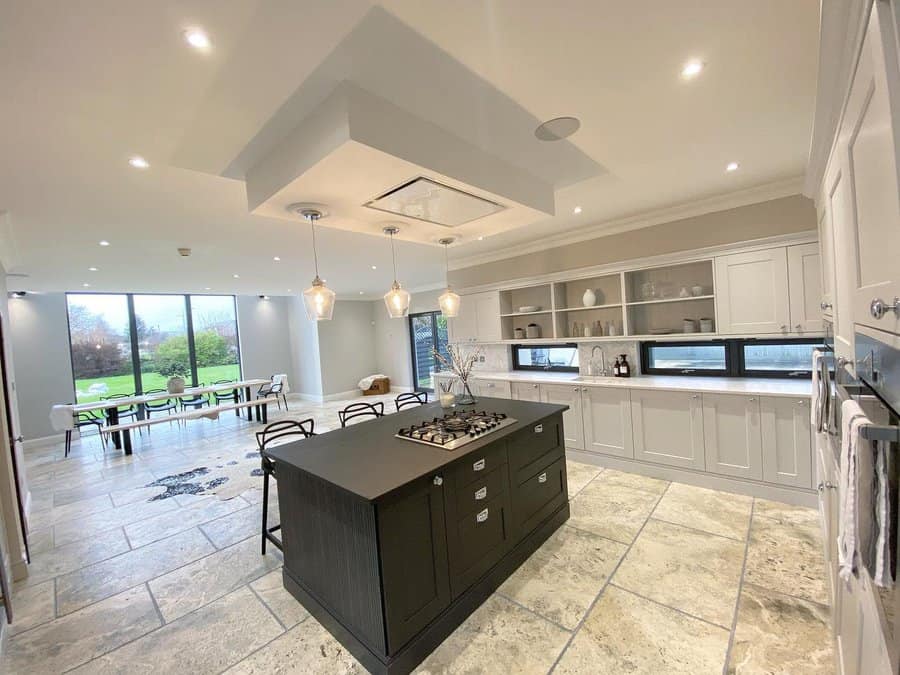 9. Black Limba Heartwood Inspiration
Transform your kitchen with the captivating allure of black limba heartwood floor tiles. The rich black hue creates a striking contrast against white beveled walls, making it the focal point of the room. To complement this design, opt for wood furniture that harmonizes with these tones, adding warmth and continuity to the space.
Introduce natural elements like plants or herbs on the kitchen island to infuse vibrancy and serenity, completing the sophisticated and inviting atmosphere. Incorporate pendant lighting and stainless steel appliances for a well-rounded and stylish kitchen design.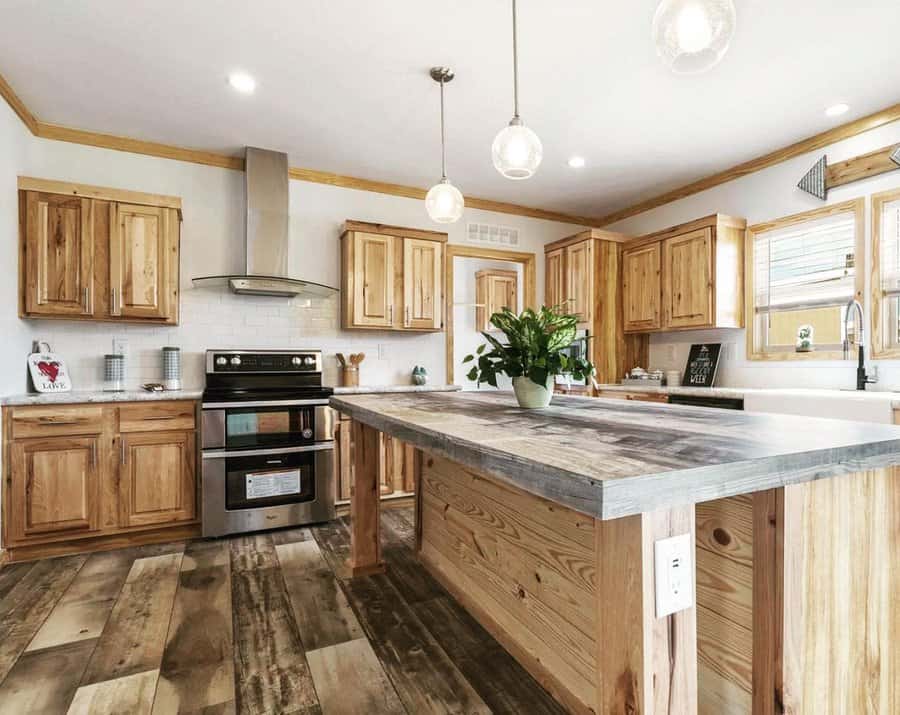 10. Crisp and Clean White Tiles
Elevate your kitchen's elegance with the pristine charm of clean white marble floor tiles. These tiles are a versatile choice for both traditional and modern kitchen designs. To fully embrace this aesthetic, pair white marble tiles with minimalist cabinets and impeccably clean countertops.
Create a serene and inviting atmosphere by incorporating natural light through large windows or glass doors. Additionally, consider adding subtle color accents through kitchen accessories or backsplashes to add depth and personality to the space, ensuring your kitchen exudes timeless sophistication.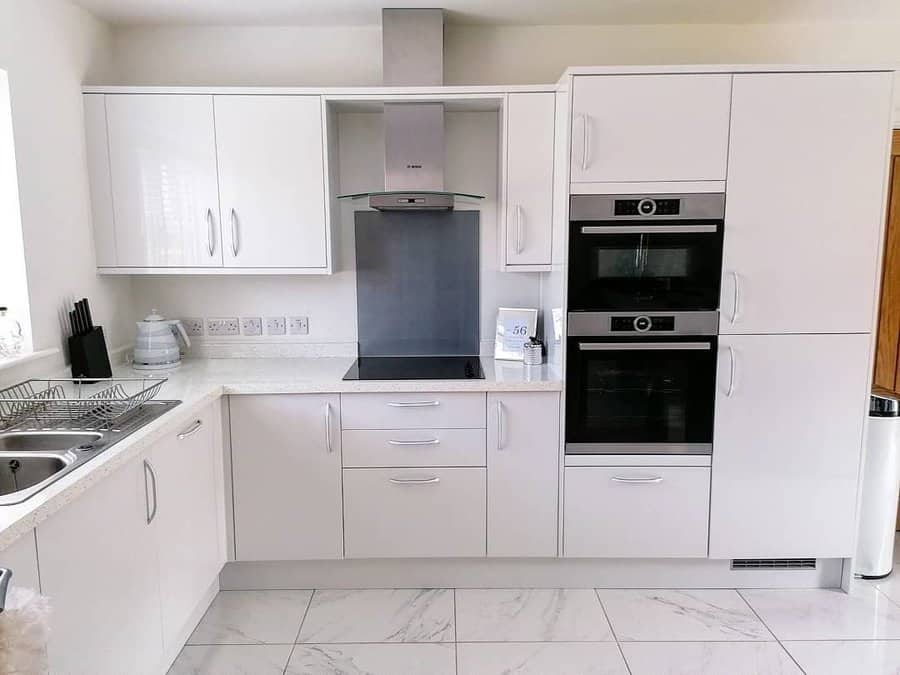 11. Chic Minimalist White Floors
Achieve modern elegance in your kitchen with chic minimalist white floor tiles. White tiles bring timeless appeal to any space, while handleless cabinets offer efficient storage with a sleek look. To enhance the ambiance, incorporate modern drop lights for soft ambient illumination.
Whether aiming for a cozy or sophisticated atmosphere, pairing white tiles, handleless cabinets, and drop lights creates a welcoming environment for your guests. Consider adding contrasting elements like stainless steel appliances or colorful accents to create depth and balance in your white-themed kitchen.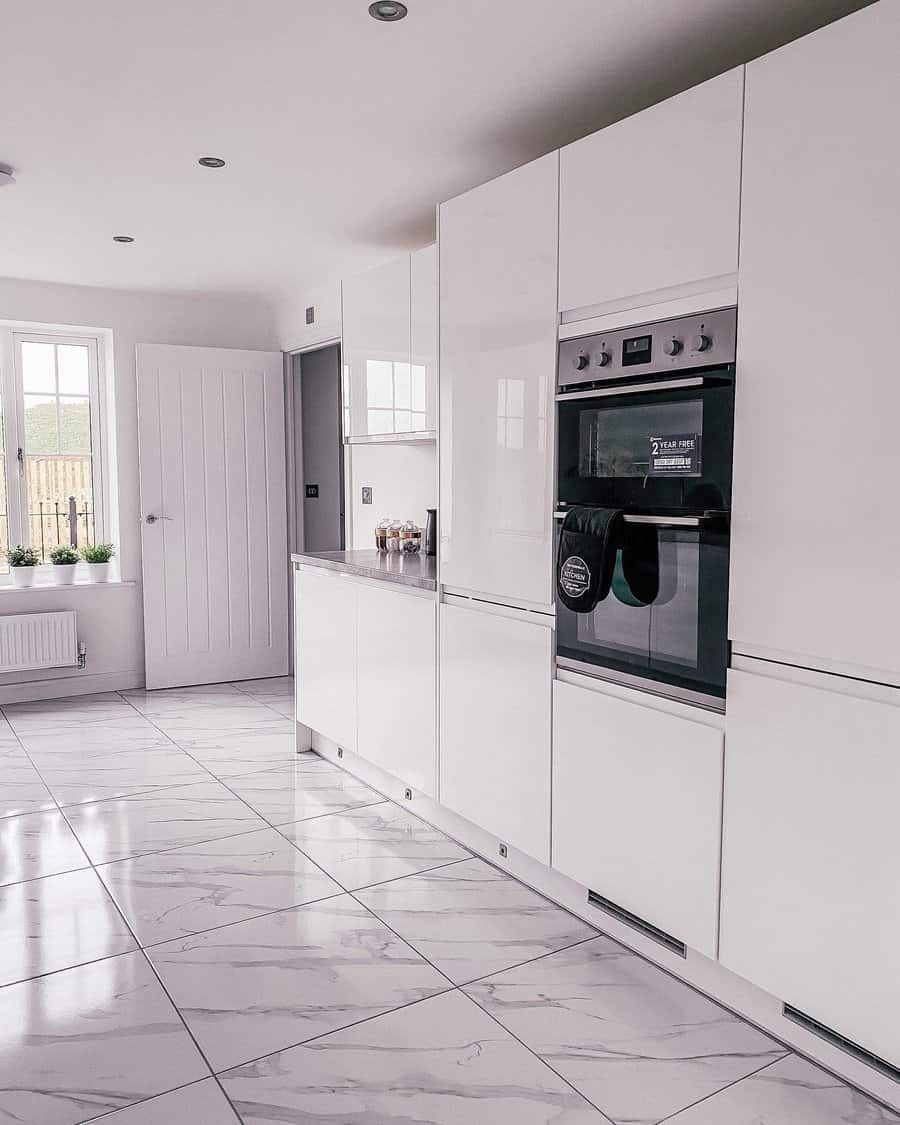 12. Modern Polished Concrete Flooring
Elevate your kitchen with the sleek and contemporary look of polished concrete floor tiles. These tiles add a minimalist and chic vibe to your space, especially when complemented with white and maple furniture. To fully embrace this modern aesthetic, consider open shelving, stainless steel appliances, and pendant lighting.
Polished concrete tiles not only offer unique hues but are also easy to clean and provide excellent insulation, making them a practical choice for a busy kitchen. For added warmth, incorporate a cozy rug or runner to soften the space and create a balanced design that combines style and functionality.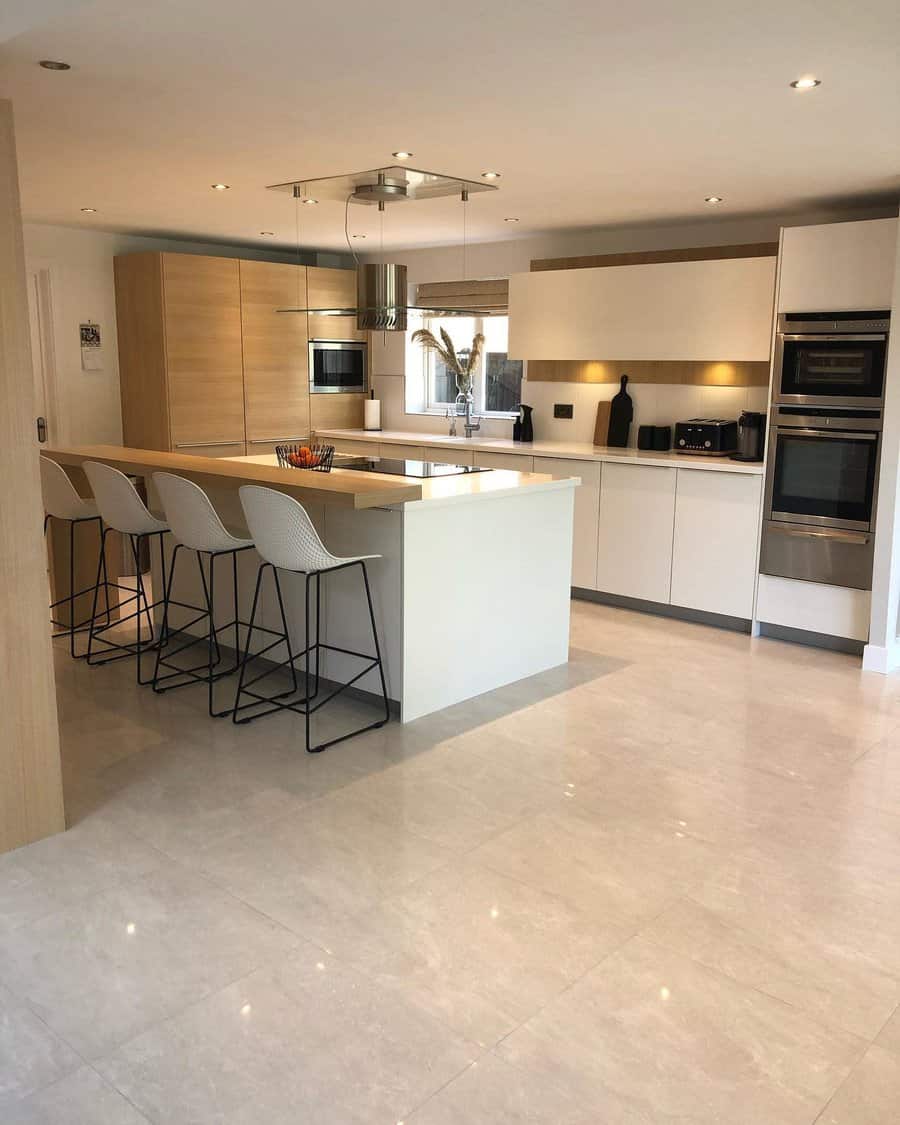 13. Vibrant Teal-Dyed Wood Tiles
Energize your kitchen with the bold and vibrant look of teal-dyed wood tiles. To make a daring statement, consider using these tiles as a backsplash or for the kitchen floor. Pair them with pristine white cabinets to create a captivating shabby chic interior that stands out.
To enhance the overall design, introduce teal accents through kitchen accessories like dishware or small appliances, creating a cohesive and balanced look. Don't hesitate to incorporate natural wood elements and open shelving to infuse warmth and texture into the space while maintaining the vibrancy of teal-dyed wood tiles.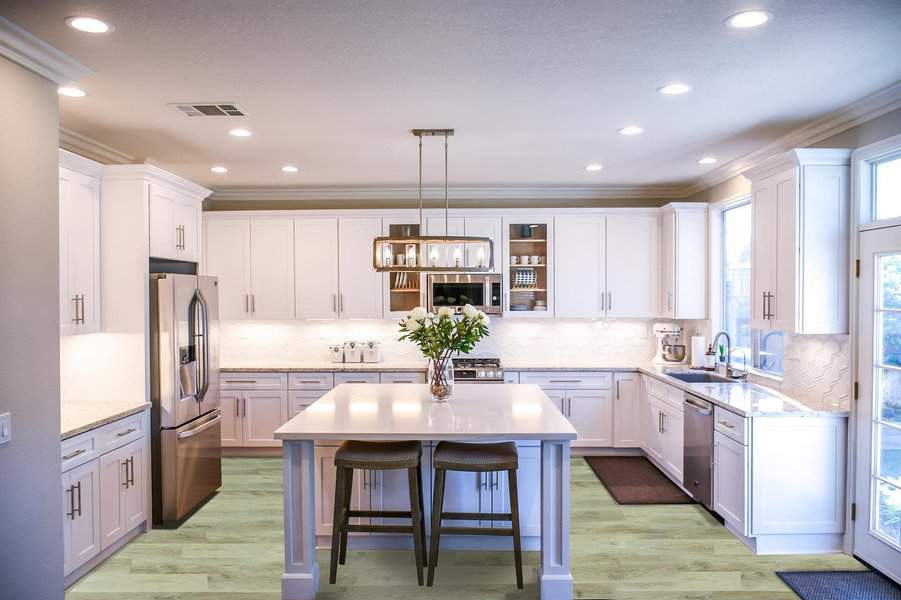 14. Subtle Matte White Marble
Create a charming European bistro ambiance in your kitchen with matte white marble tiles. Combine these luxurious tiles with white cabinets and black handles to fashion an inviting gathering space for family and friends.
The matte finish not only adds sophistication but also enhances visual appeal. To complete the look, introduce rustic wood elements through open shelving or dining furniture to add warmth and character to the space. Additionally, consider incorporating pendant lighting and stainless steel appliances to maintain a harmonious blend of classic and contemporary elements in your kitchen design.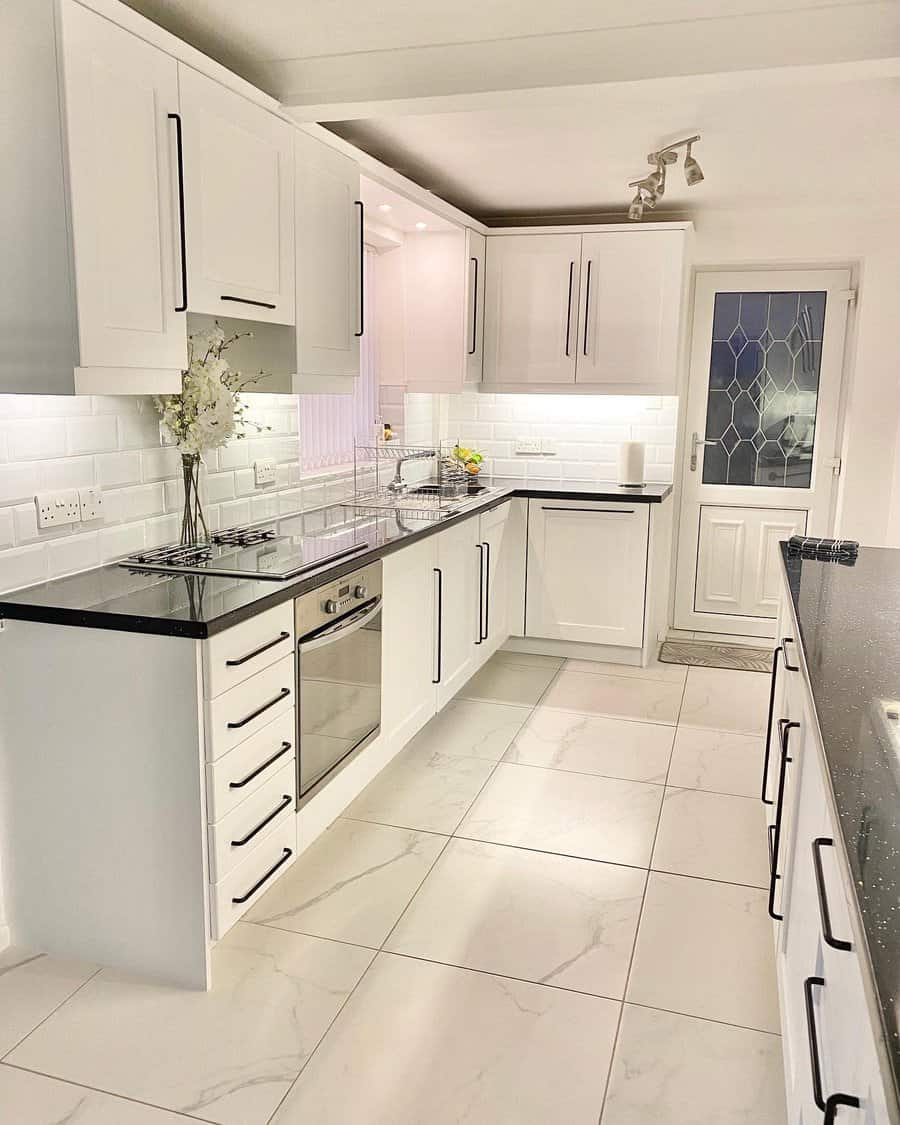 15. Stylish Hexagon and Wood Combo
Revitalize your kitchen with the dynamic blend of hexagon and wood floor tiles, creating a harmonious fusion of color and texture. Experiment with diverse hexagon shades and configurations, accompanied by wood-toned grout lines to achieve a captivating look. To elevate the design, consider pairing these tiles with vibrant blue cabinets and white accents that create a striking contrast.
Infuse a touch of nature into the space by adding potted plants or herbs, enhancing the kitchen's overall aesthetic. To maintain a cohesive appearance, introduce matte black fixtures or hardware for a modern and balanced ambiance.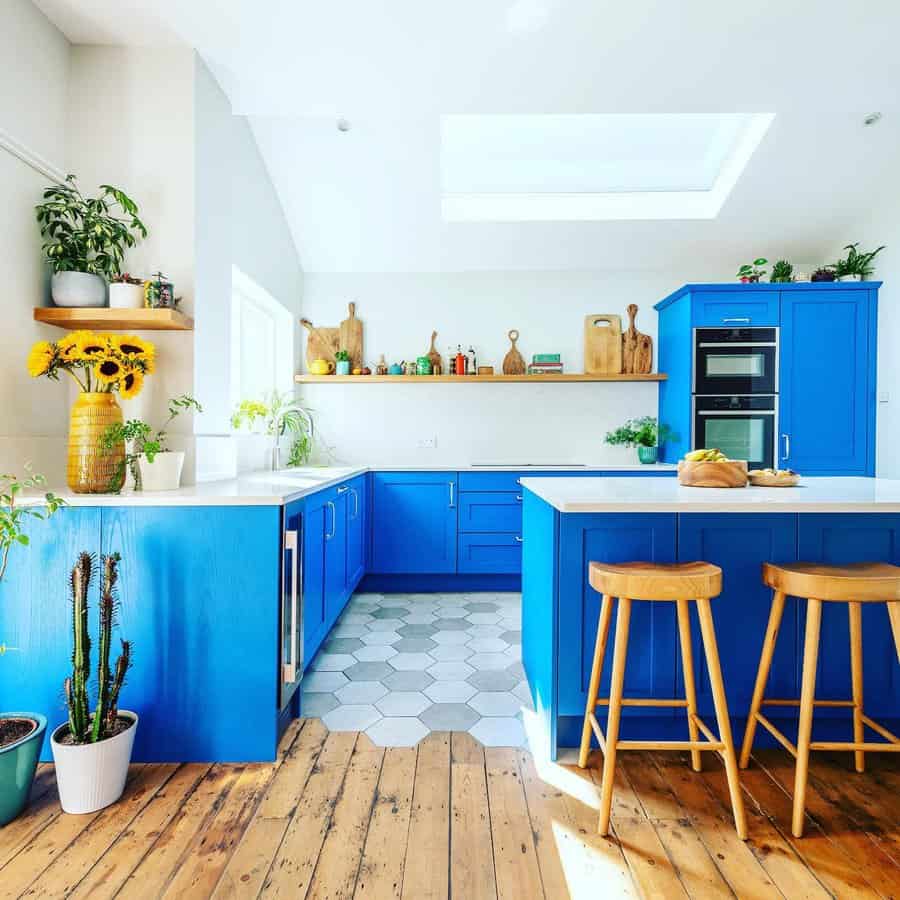 16. Artistic Abstract Tile Ideas
Transform your kitchen into a captivating masterpiece by embracing artistic abstract tiles. These tiles offer endless possibilities, from abstract accents to bold graphic designs, allowing you to create a truly unique space. To enhance this artistic look, pair abstract tiles with modern wood countertops and dark-colored walls to make a striking statement.
For a cohesive design, consider adding pops of color through kitchen accessories and vibrant artwork to create an intriguing and stylish culinary haven that reflects your personal style and creativity.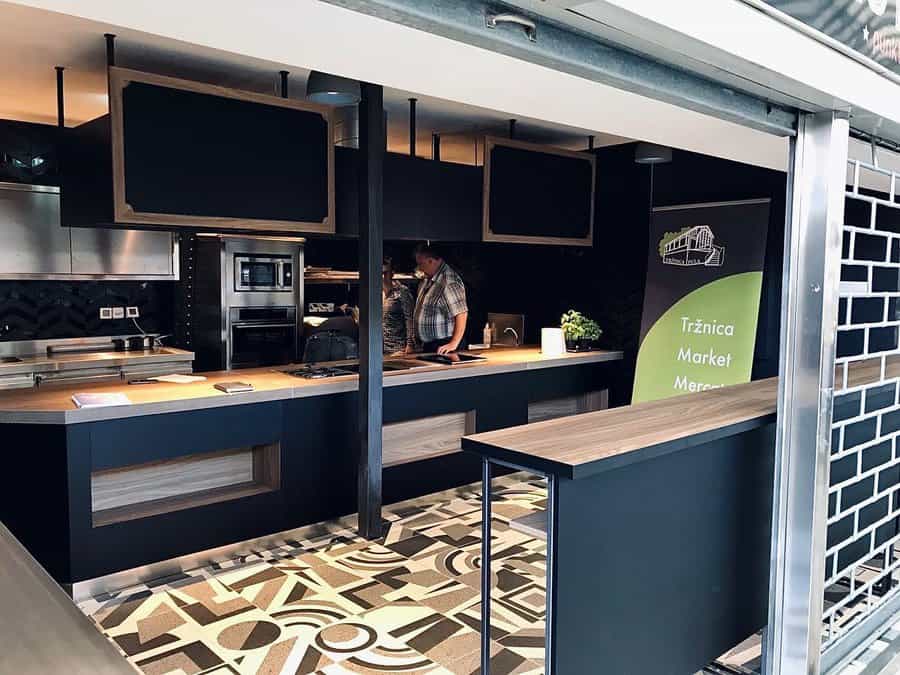 17. Bohemian Kitchen Floor Inspiration
Elevate your kitchen's aesthetic with a touch of bohemian flair using distinctive floor tiles. Explore options like vibrant geometric patterns or classic white cabinets paired with modern grey marble for a chic and eclectic design.
To make the most of your bohemian-inspired kitchen, introduce colorful textiles, open shelving, and eclectic decor items that showcase your personal style. Consider adding vintage rugs and potted plants to infuse warmth and character, creating a welcoming space for both cooking and entertaining.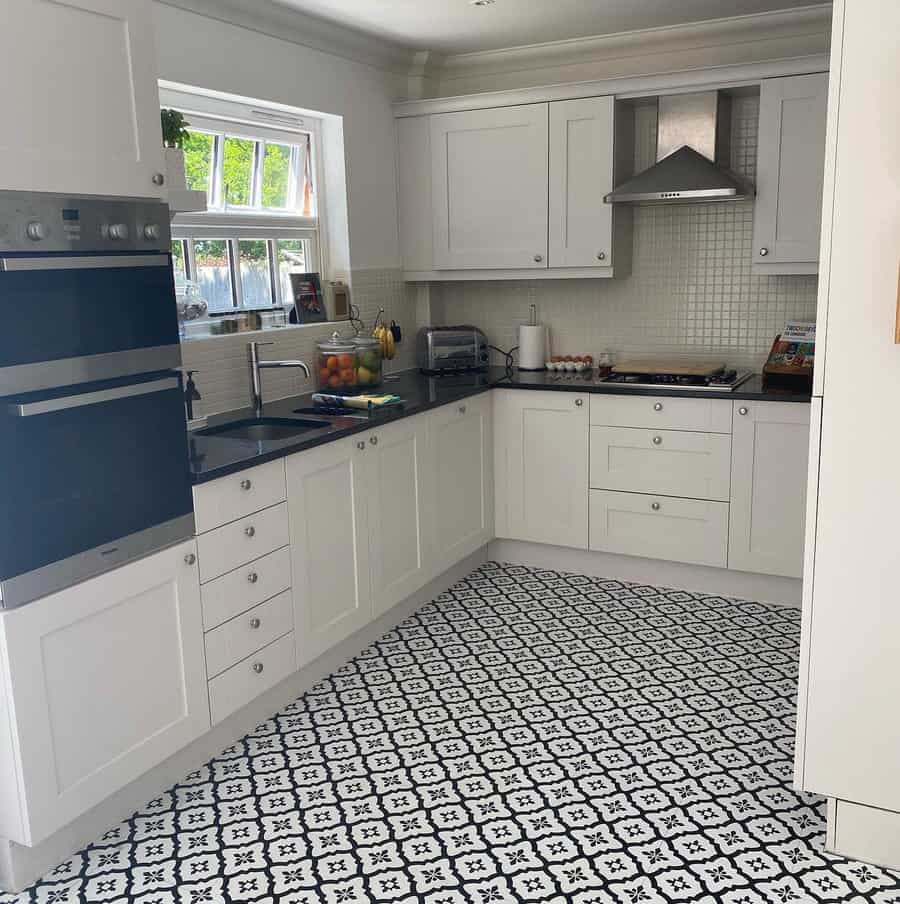 18. Distressed Bohemian Tile Designs
Transform your kitchen with the timeless charm of distressed bohemian tile designs. Whether you prefer intricate patterned ceramics or rustic terracotta, these tiles infuse color and character into your space. To complement this style, pair them with a sleek mahogany countertop and crisp white cabinetry for a warm yet modern ambiance.
For a bolder look, consider vibrant gemstone-like tiles that exude elegance while maintaining a distressed feel. Complete the design by incorporating eclectic decor elements such as vintage rugs, unique pendant lighting, and open shelving to create a bohemian-inspired kitchen that reflects your individuality and creativity.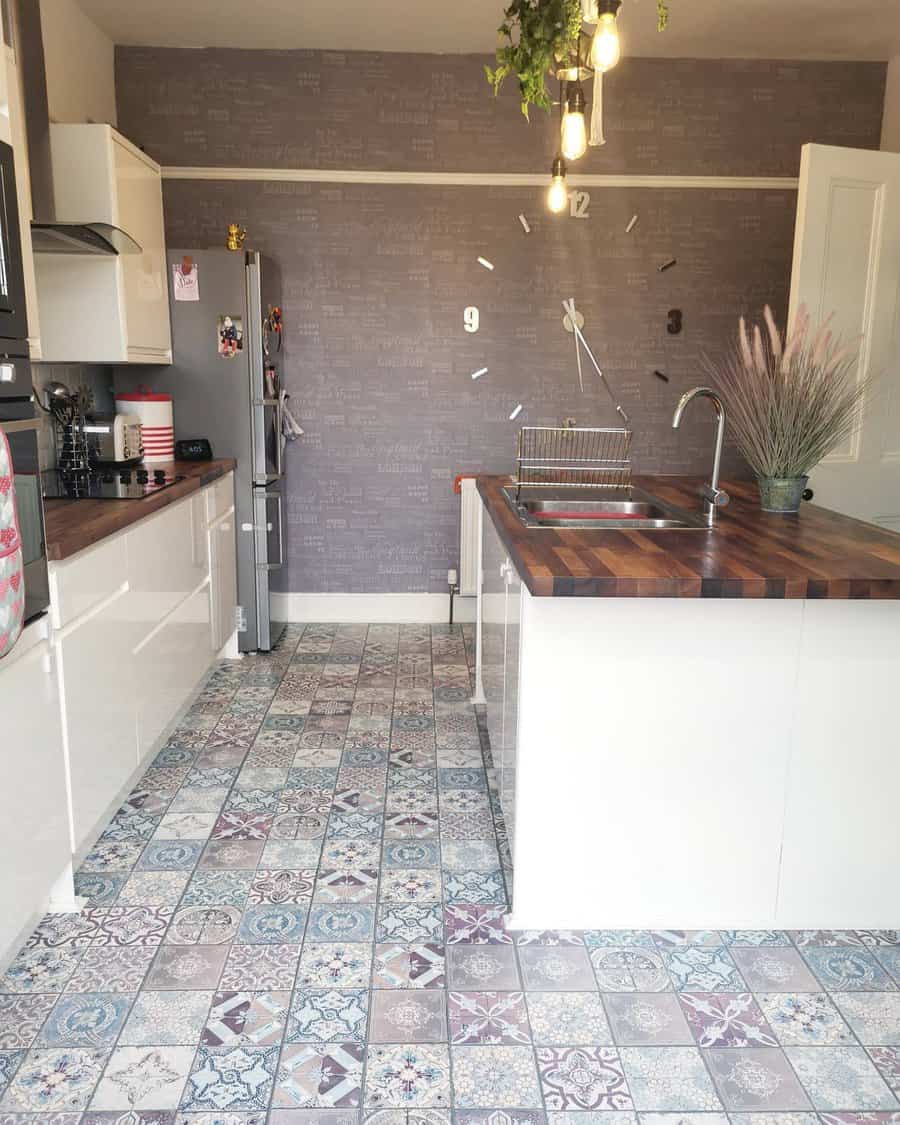 19. Decorative White Floor Tiles
Elevate your kitchen's ambiance by incorporating decorative white floor tiles, transforming it into a modern and tranquil oasis. Enhance the space with a white-tiled accent wall, which can serve as a backdrop for showcasing cherished cookbooks and decorative plates.
For an extra touch of decor, add small potted plants in decorative containers along the shelves. Not only do these tiles add beauty to your kitchen, but they also make cleaning a breeze, simplifying your daily kitchen routines. Craft the perfect cooking area that you'll be proud to share with family and friends, focusing on creating a harmonious blend of style and functionality.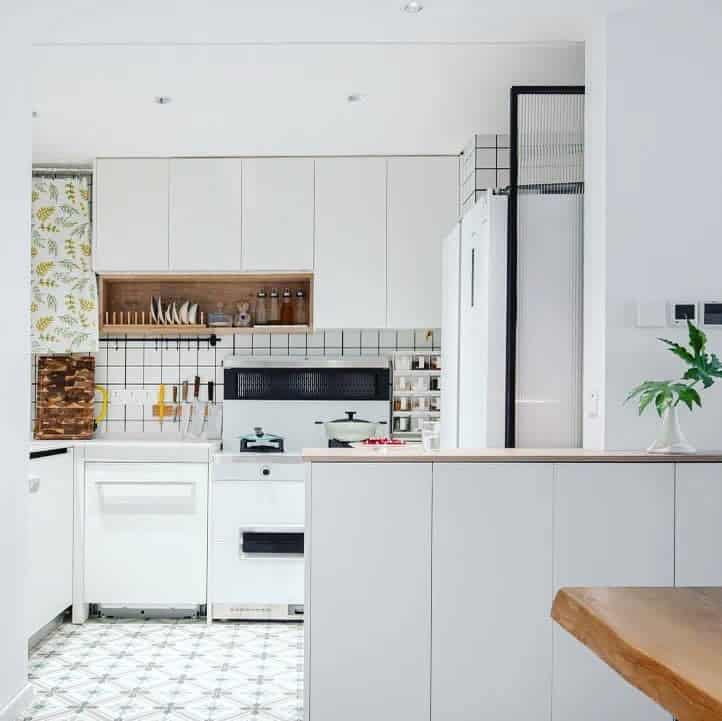 20. Elegant Decorative Monochrome Tiles
Elevate your kitchen's elegance with decorative monochrome tiles, setting the stage for a luxurious yet inviting ambiance. Pair these tiles with pale walls and grey cabinets to achieve a harmonious monochrome palette.
To enhance the overall look, introduce a white marble countertop that adds a touch of grandeur to the space. When it comes to transforming your kitchen, don't hold back; use kitchen floor tiles as a key element in creating your dream culinary haven, combining both style and functionality in perfect harmony.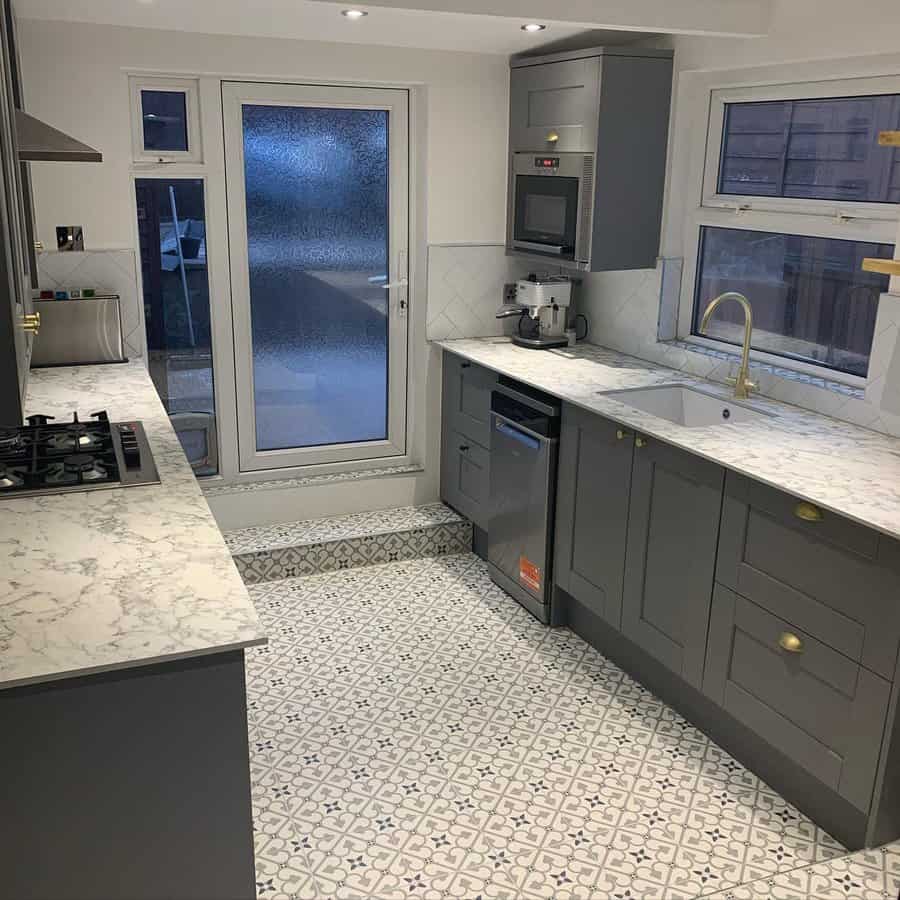 21. Minimalist Beauty of Beige Tiles
Achieve an understated yet exquisite kitchen ambiance with beige floor tiles paired with dark grout. These tiles harmonize beautifully with maple wood cabinetry, as well as black and white cabinets, creating a captivating blend of natural tones and striking contrasts.
To complete the transformation into a modern-day oasis of sophistication, consider incorporating sleek stainless steel appliances and minimalist decor elements. This minimalist approach to design allows you to create a tranquil yet visually appealing kitchen that radiates timeless beauty and elegance.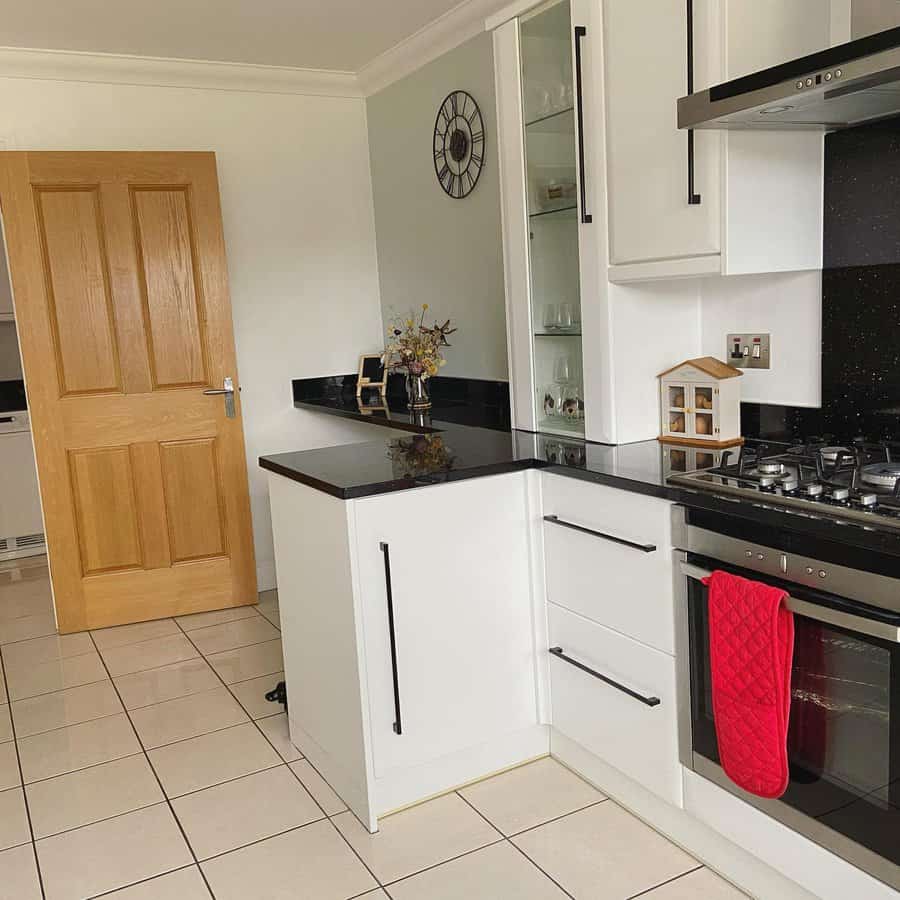 22. Grey Wood Flooring Inspiration
Elevate your kitchen with the timeless appeal of grey wood floor tiles, a perfect match for modern appliances and industrial-style fixtures. These tiles effortlessly blend with sleek kitchen essentials, creating a classic yet contemporary look that impresses guests.
Extend the impact by incorporating a wooden kitchen island with matching grey tiling from countertop to floor. To introduce texture, consider opting for grey wood effect tiles or incorporating glass mosaic tiles for added visual interest. Whatever your style preference, grey wood tiles provide a striking foundation for crafting your dream kitchen that marries style and functionality.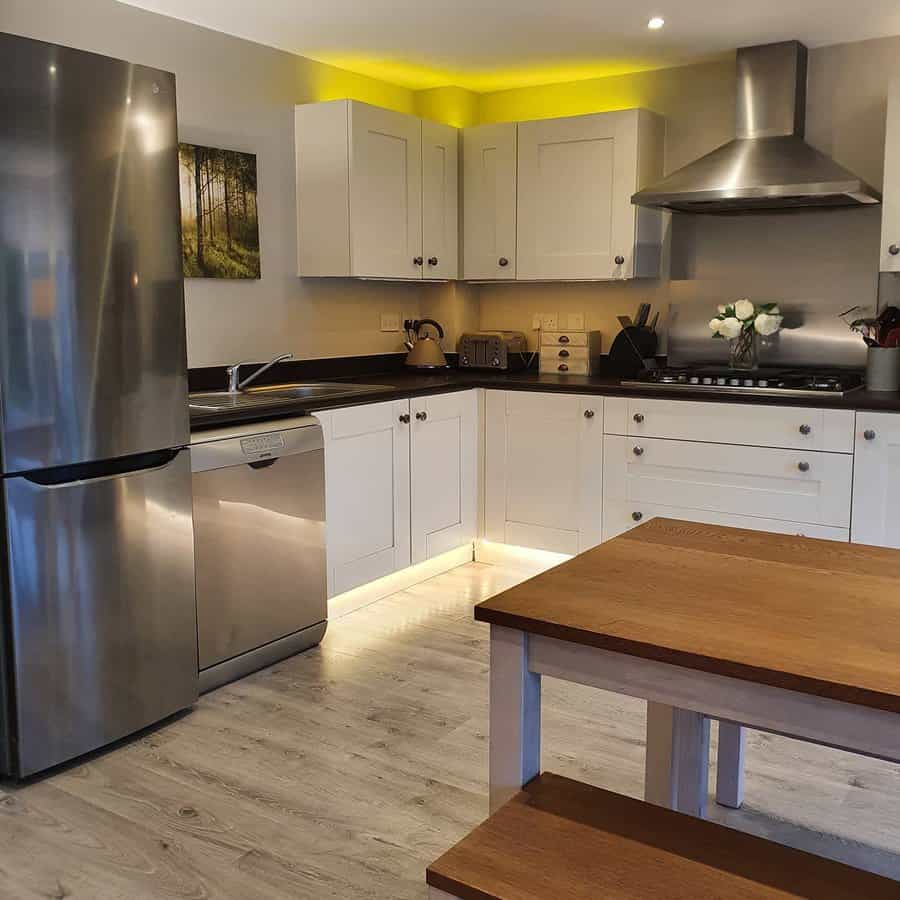 23. Monochrome Checkered Patterns
Introduce timeless charm to your kitchen with beige checkered tiles that effortlessly blend warm beige tones and mosaic-style squares. These tiles capture the essence of a farmhouse-style kitchen, making them an ideal match for your kitchen island.
As natural light graces your space, the checkered pattern casts soft, inviting shadows, accentuating the intricate craftsmanship of each tile. Enjoy the rustic appeal of a farmhouse-style kitchen without compromising on style and sophistication by incorporating beige checkered floor tiles into your design.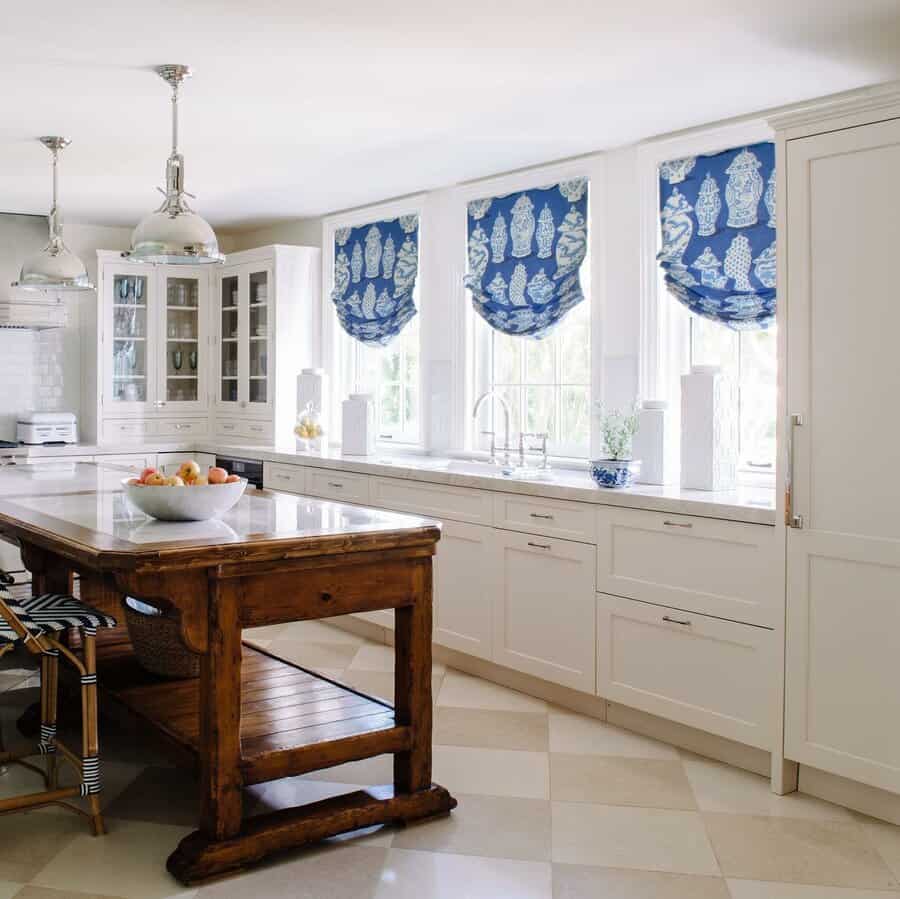 24. Teak Wood Floor Elegance
Elevate your kitchen's ambiance by incorporating teak wood tiles into your flooring design. These tiles not only introduce a touch of warmth and texture but also seamlessly complement wooden cabinets. For a harmonious look and feel, combine teak wood tiles with beige walls, creating a versatile yet captivating backdrop. With teak wood flooring, your kitchen will radiate inviting elegance, setting it apart from the ordinary.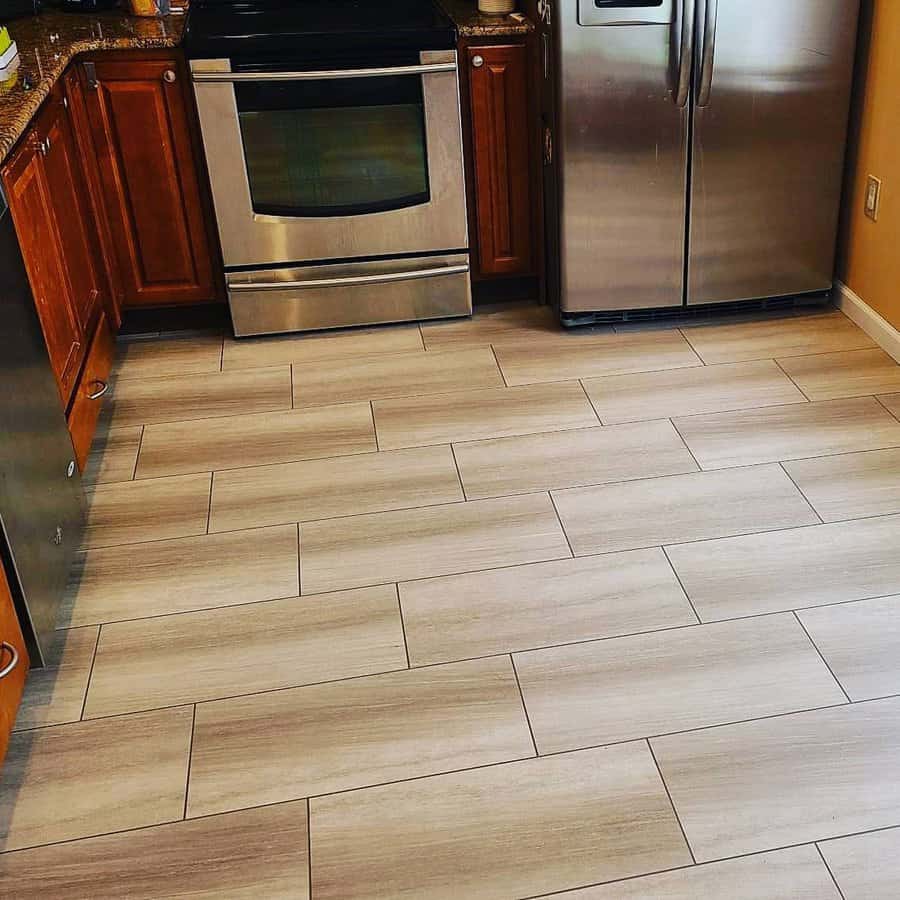 25. Red Oak Herringbone Patterns
Elevate your kitchen's elegance with the rich and captivating red oak herringbone patterned floor tiles. The intricate design creates a luxurious ambiance, reminiscent of red wine glistening in candlelight. Pair these tiles with brown leather kitchen stools to complete the sophisticated look, making your kitchen the perfect space to unleash your culinary creativity.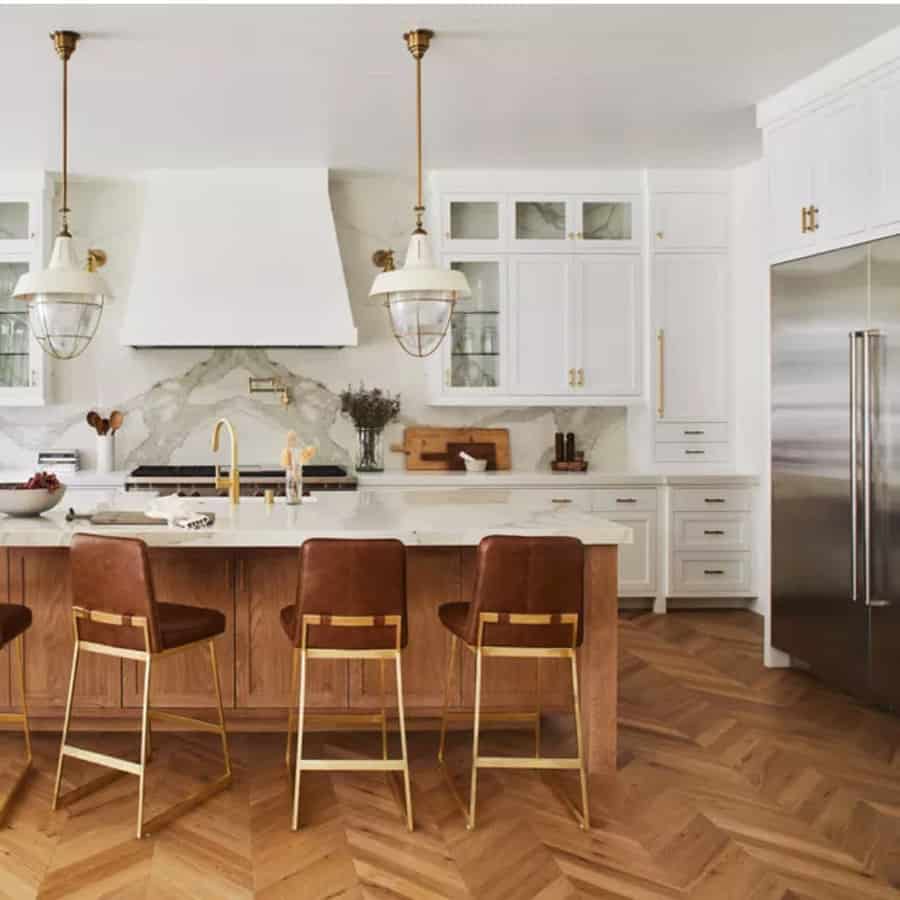 26. Ash Wood with Dark Grout
Maximize the potential of your narrow kitchen by opting for ash wood tiles paired with dark grout. These tiles don't just enhance the aesthetics but also allow you to create captivating patterns with the dark grout, making your kitchen appear more spacious.
Whether you prefer classic black and white checkered designs or daring circular patterns, ash wood tiles with dark grout infuse sophistication and elegance into your culinary space. Let this newfound beauty inspire your inner chef and elevate your cooking experience!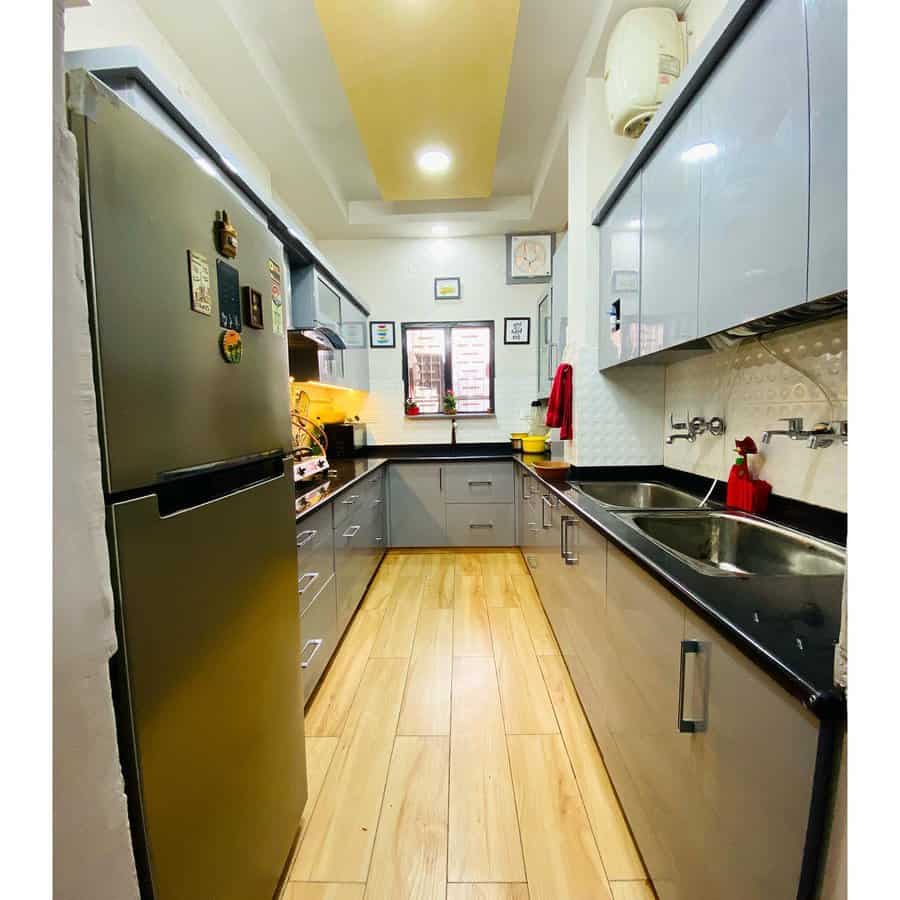 27. Large Herringbone Patterns
Elevate your modern kitchen design with the bold statement of large herringbone patterned tiles. These distinctive floor tiles bring texture and vibrancy to your space. Complement them with sleek black countertops and contemporary cookware to achieve an updated and energetic look. Large herringbone patterns draw attention to your kitchen, creating contrast with the surrounding surfaces and infusing your space with dynamic style.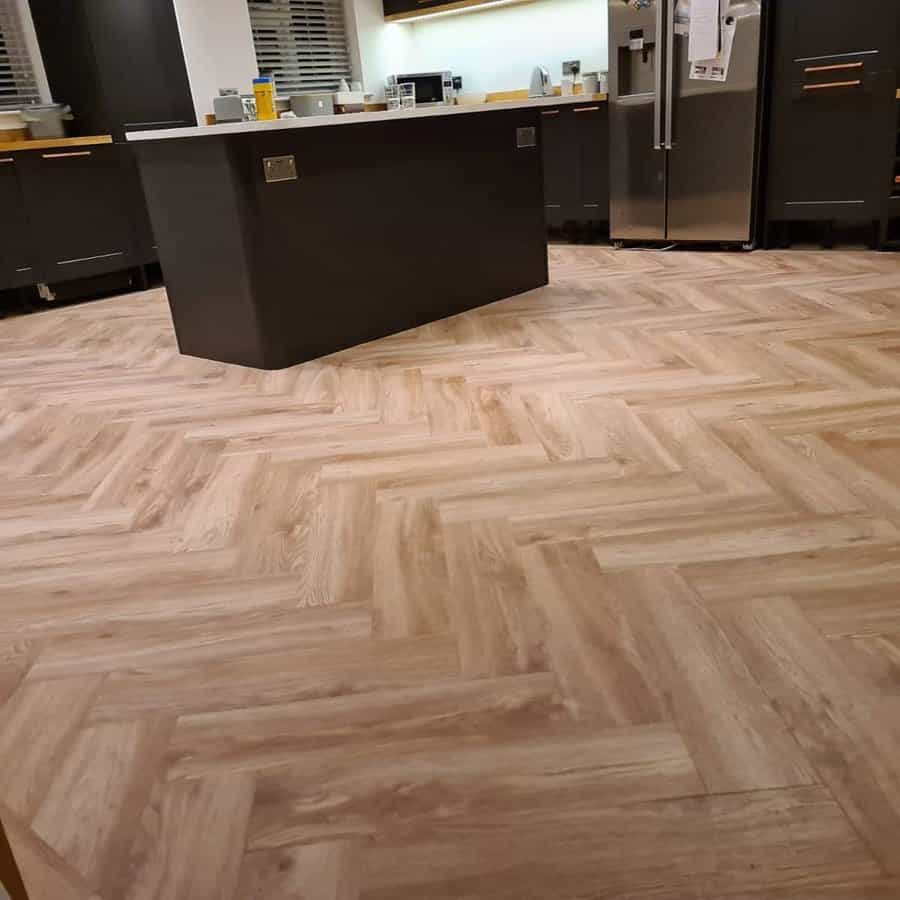 28. Hickory Wood with White Grout
Elevate your kitchen's aesthetic by making hickory wood tiles with crisp white grout the focal point. Whether you choose classic grey walls or patterned blinds, hickory wood tiles can effortlessly unify your kitchen's overall look. Their versatility, available in various hues and mosaic-inspired designs, makes them suitable for a range of styles, from rustic to modern. Let these hickory wood tiles take center stage, creating an updated kitchen design that's sure to impress any guest.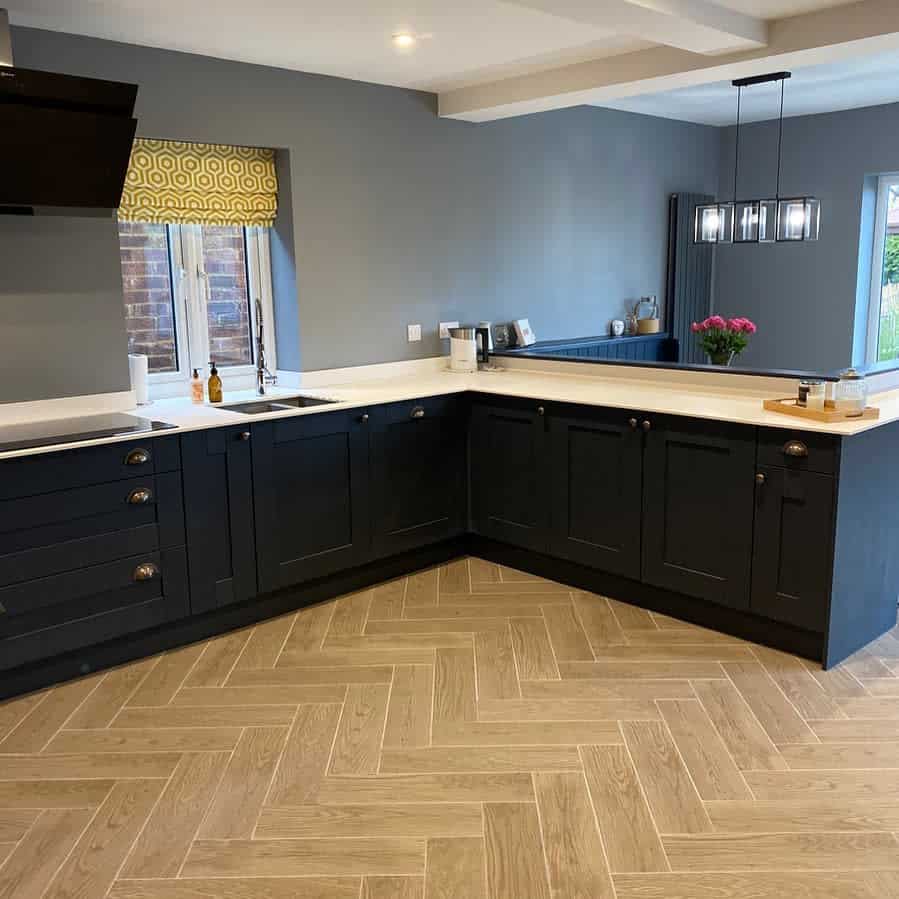 29. Versatile Wood Flooring Ideas
Achieve the WOW factor in your kitchen by combining the timeless beauty of real wood flooring with marble beveled wall tiles. This classic duo brings out the kitchen's character, blending earthy warmth with elegant opulence. Whether you're a gourmet chef or enjoy hosting dinner parties, this combination is guaranteed to leave a lasting impression on your guests.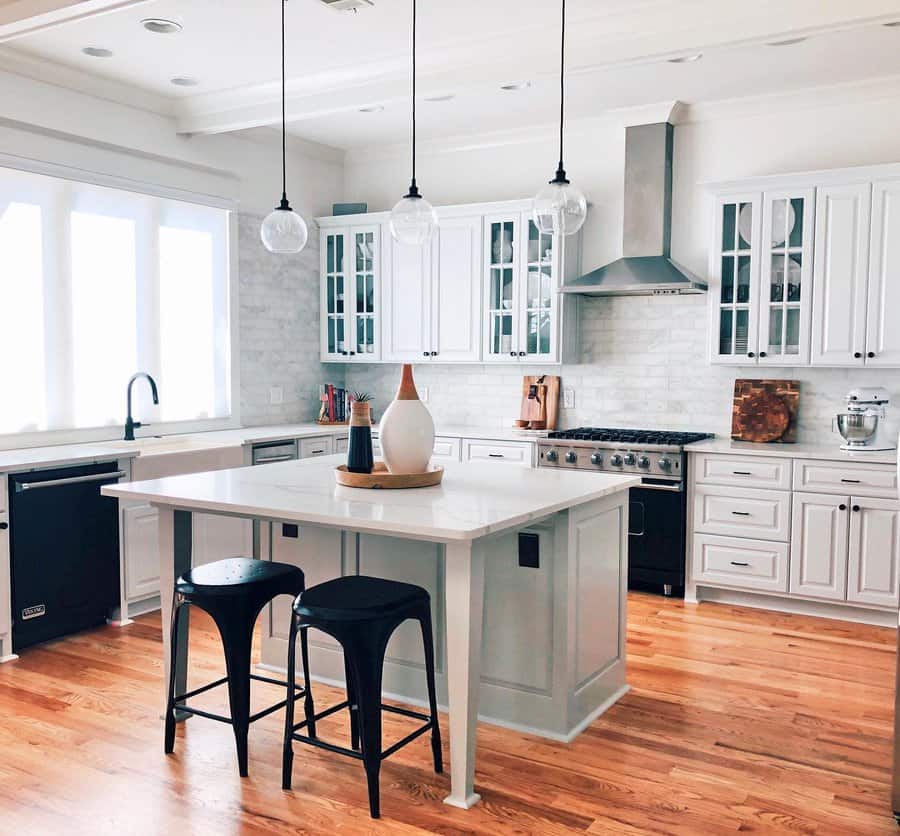 30. Grey Wood Herringbone Patterns
Transform your kitchen into a luxurious haven with the timeless elegance of grey wood herringbone flooring and stylish terrazzo countertops. This combination creates a design that exudes sophistication and creativity.
Consider adding a splash of color, whether through bold tiles or neutral tones, to infuse vibrancy into your cooking space. With these elements, you can turn an ordinary kitchen into a truly exceptional one that stands the test of time.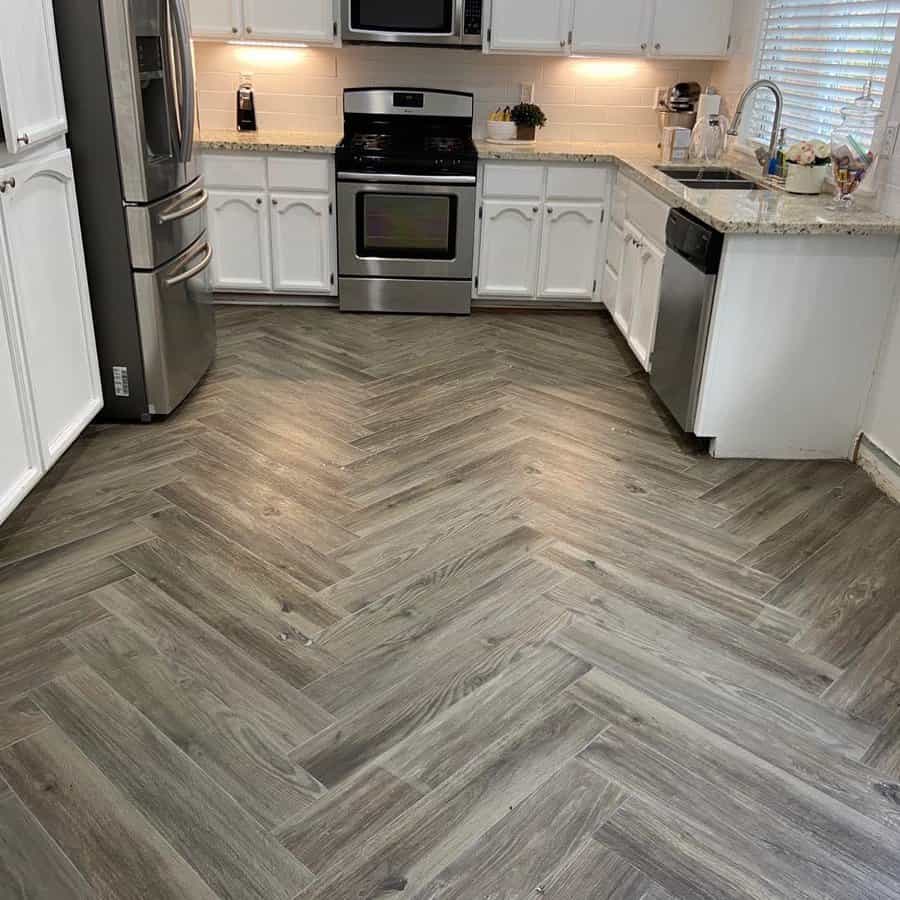 Kitchen Floor Tile FAQs
What is the best tile for a kitchen floor?
The best tile for your kitchen is porcelain. It's strong, durable, and looks great. These tiles are made by mixing clay and sand together and then treating them with heat and pressure. The result is a dense and less porous tile.
Are tiles in a kitchen a good idea?
Tile is a great idea for your kitchen because it's durable and practical. It's impervious to water, making it easy to clean. Tile comes in a variety of shapes, colors, and sizes so that you can give your kitchen a custom look.
What color tile is easiest to keep clean?
The easiest tile to keep clean is polished porcelain tile. You can use almost any type of soap and water on it. However, you want to be careful not to choose a smooth polished tile. It can get dangerously slippery when wet. White will show all of the dirt right away.
A natural stone with a variety of brown, beige, and tan will hide the most dirt, oil, and grime. However, you want your kitchen to be clean, so a tile that can hide the dirt will be harder to ensure your kitchen is sanitary.