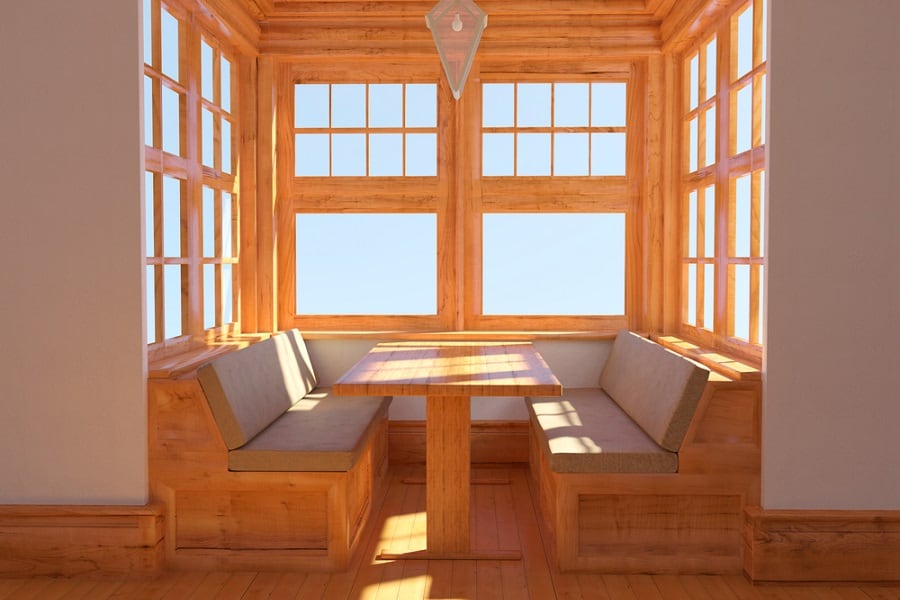 The Top 33 Kitchen Nook Ideas
Where do you eat day-to-day meals? In the dining room? In front of the TV? Or standing at your kitchen counter? No matter what your daily routine looks like, there's a good chance your home would benefit from a cozy breakfast nook!
Breakfast nooks aren't just for consuming eggs and bacon. This dining room alternative can be used for all casual meals — plus much more.
And if you think a kitchen breakfast nook would clash with your home's aesthetic, think again. There are virtually endless breakfast nook design ideas to choose from, ranging from modern to classic.
Keep reading for the top kitchen nook ideas that will make your home more stylish, functional, and trend-forward!
1. Banquette
Banquette seating can make the most of a small space, whether that's a spare corner or your entire kitchen dining area. But if you think all banquette-style kitchen nooks look the same, you're very mistaken.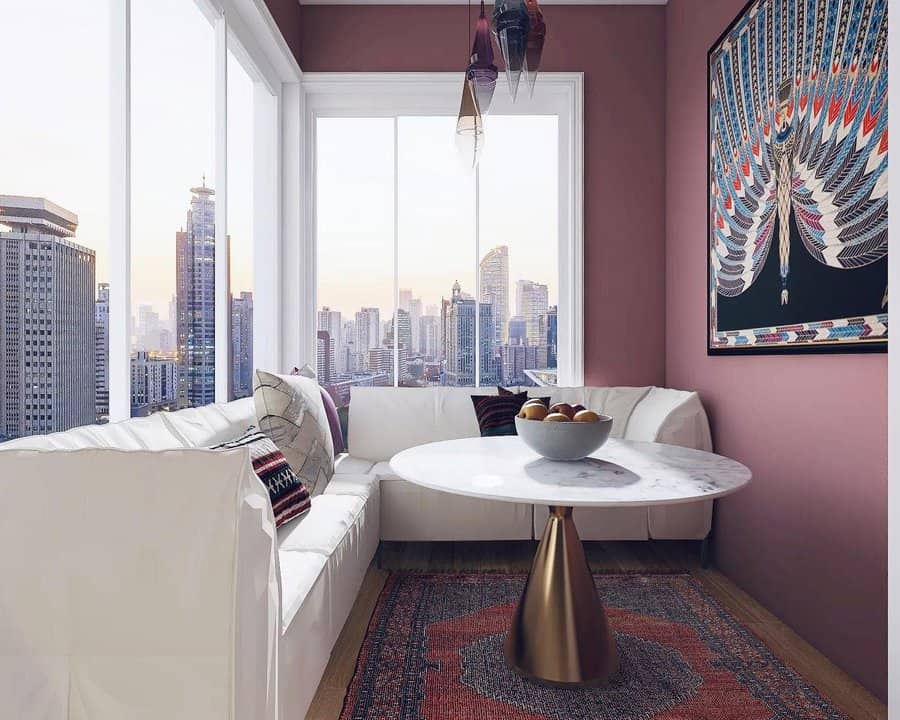 It's a common misconception that banquette seating is always ultra-casual. A luxurious upholstery finish — velvet, leather, or suede — can give your breakfast nook a high-end appearance. Pair the banquette seat with coordinating chairs on the opposite end of the table.
On top of being incredibly space-conscious, banquette seating is super comfortable. Use the space for everyday meals, sharing cocktails with friends, or as a makeshift office space for your take-home work.
2. Bay Window
If your kitchen or dining room features bright bay windows, neglecting to transform the space into an inviting breakfast nook would be doing your home a disservice.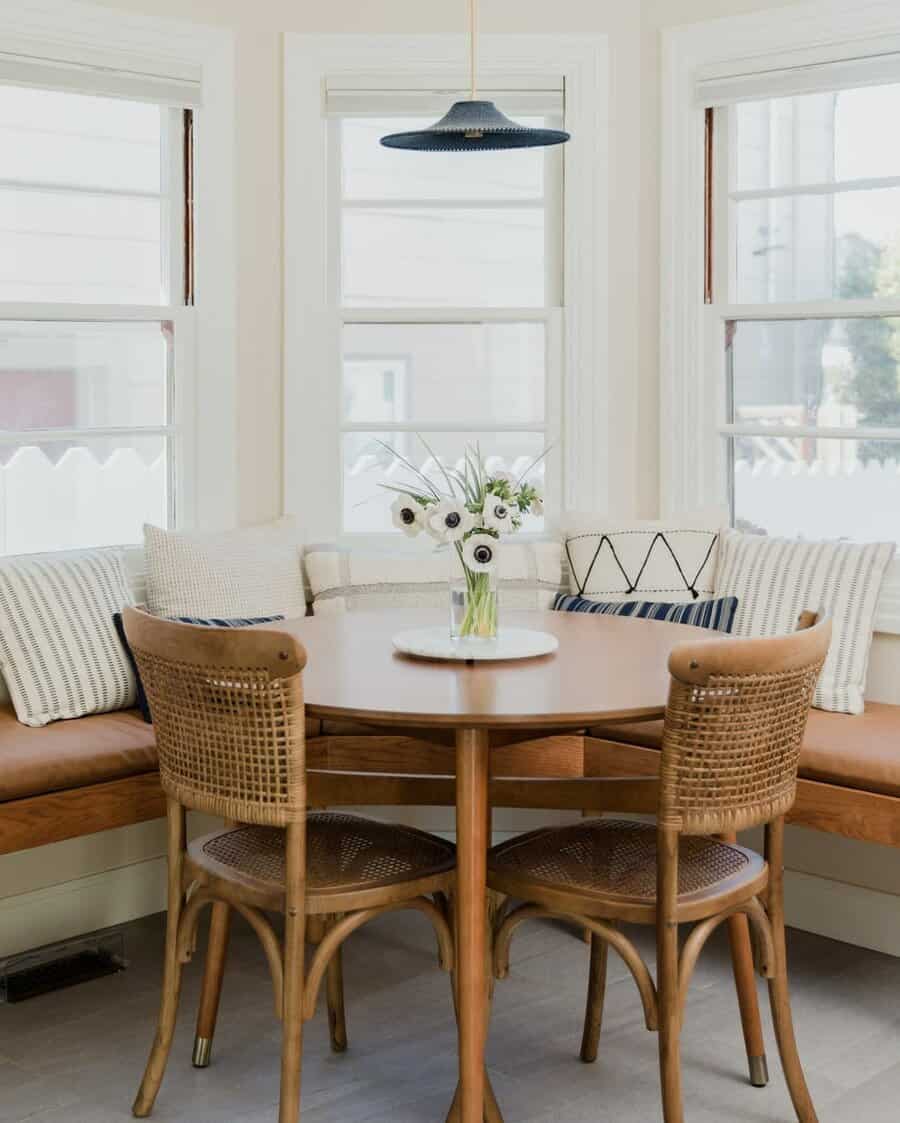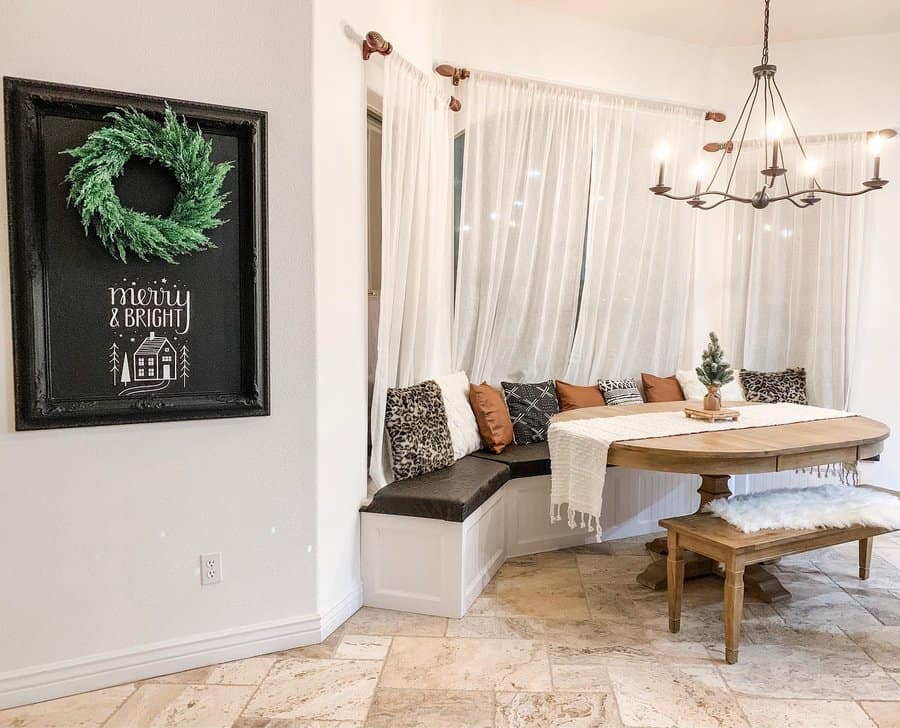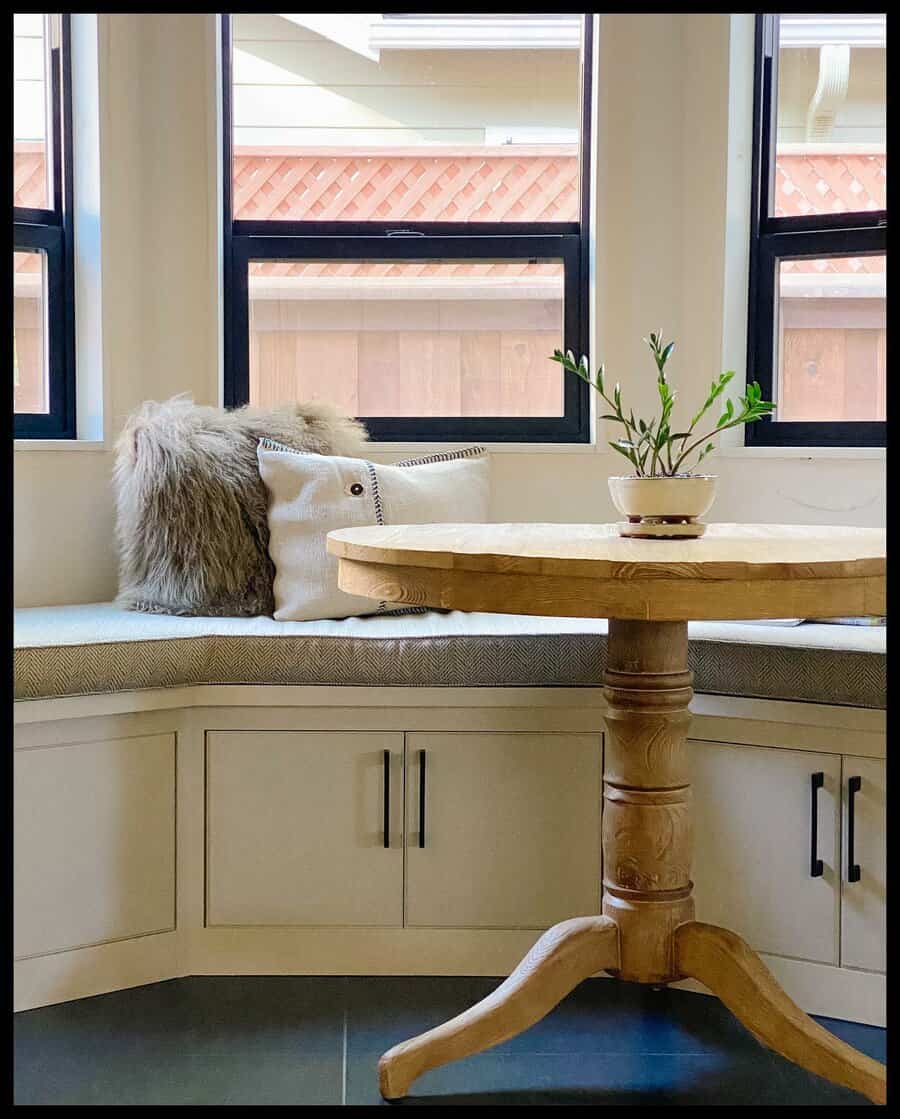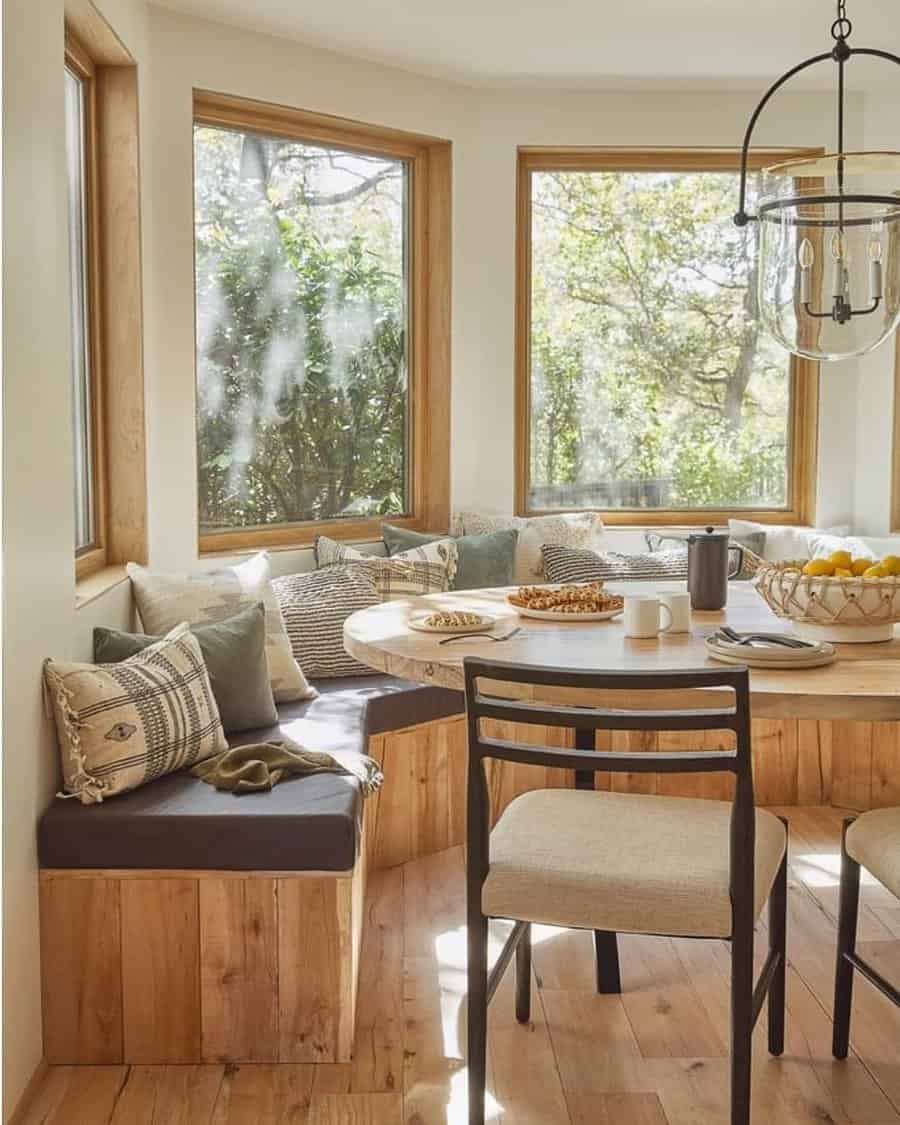 Avoid heavy window treatments that will weigh down the nook as a whole. Instead, leave the window panes bare or opt for inline blinds that can be discreetly tucked away. Wooden shutters will give your dining nook a sweet, rustic aesthetic.
Even the largest windows won't do much good come nightfall. Supplement your kitchen nook's incredible natural lighting with a hanging chandelier or pendant lamp. Take advantage of the sunlight to cultivate your favorite potted plant as a centerpiece.
3. Bench Seating
While all three seating styles are very similar, bench seats offer a much more casual atmosphere than banquette- or booth-style seating. A bench is an easy, versatile way to add seating to your kitchen nook without investing in heavy or built-in furniture.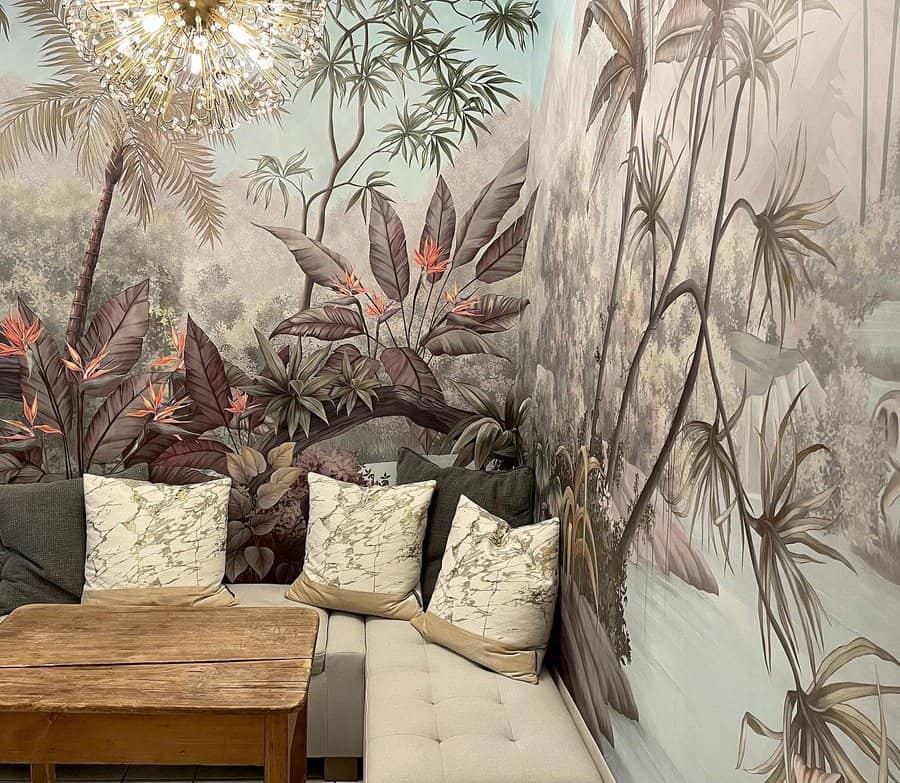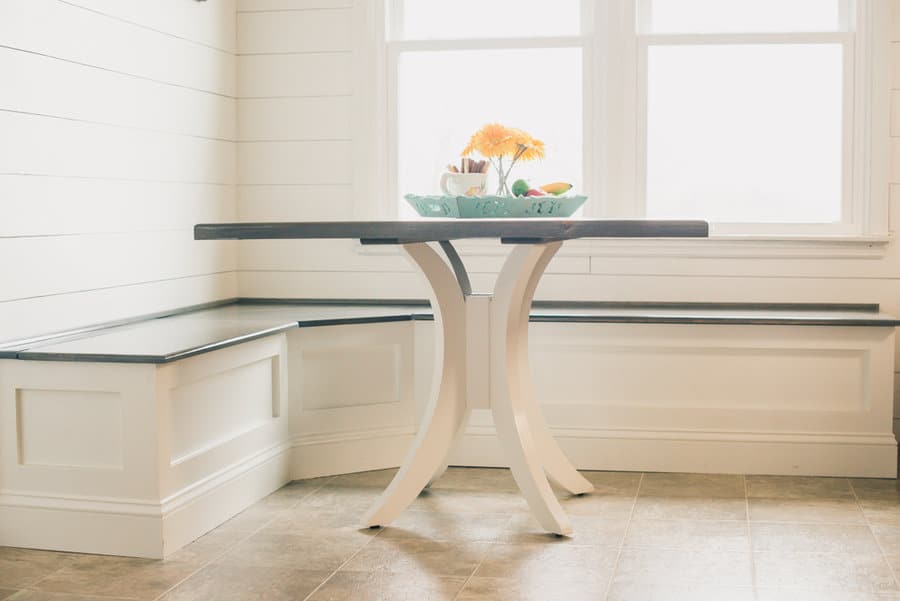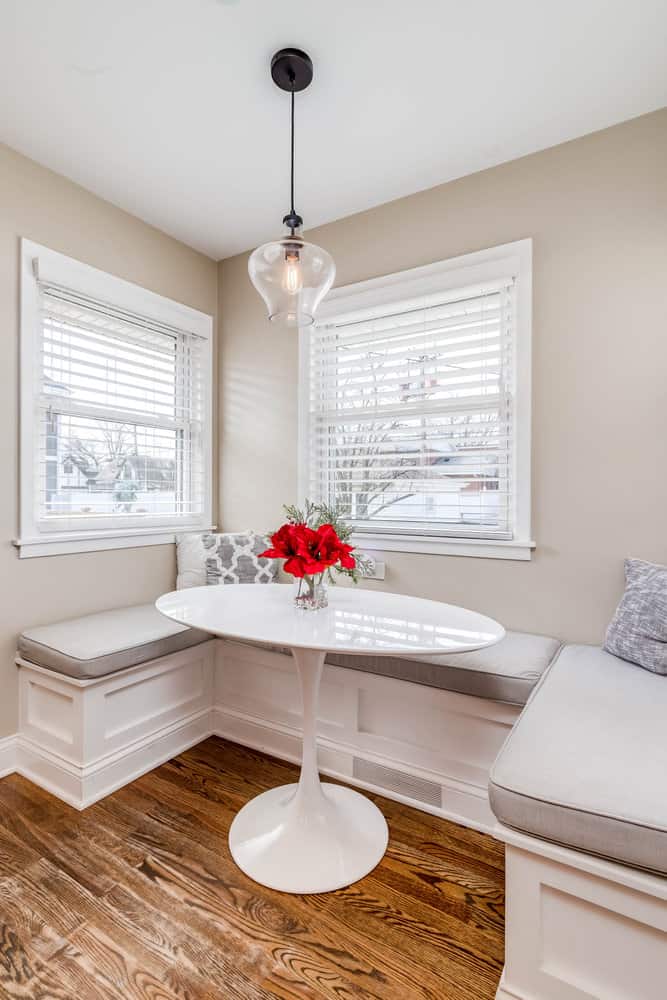 Leave your kitchen bench bare for a simple aesthetic and easy clean-up. Or cover the surface with a plush cushion to mimic the look and feel of a banquette seat.
If your kitchen is short on storage space, choose a bench seat with a hidden compartment underneath. This is the perfect place to store spare throw pillows, table settings, and seasonal table decor.
4. Booth Seating
Bench and banquette seating is typically placed on just one side of the table. If you want to create a cozy, intimate breakfast nook within your kitchen space, opt for a traditional booth setup instead.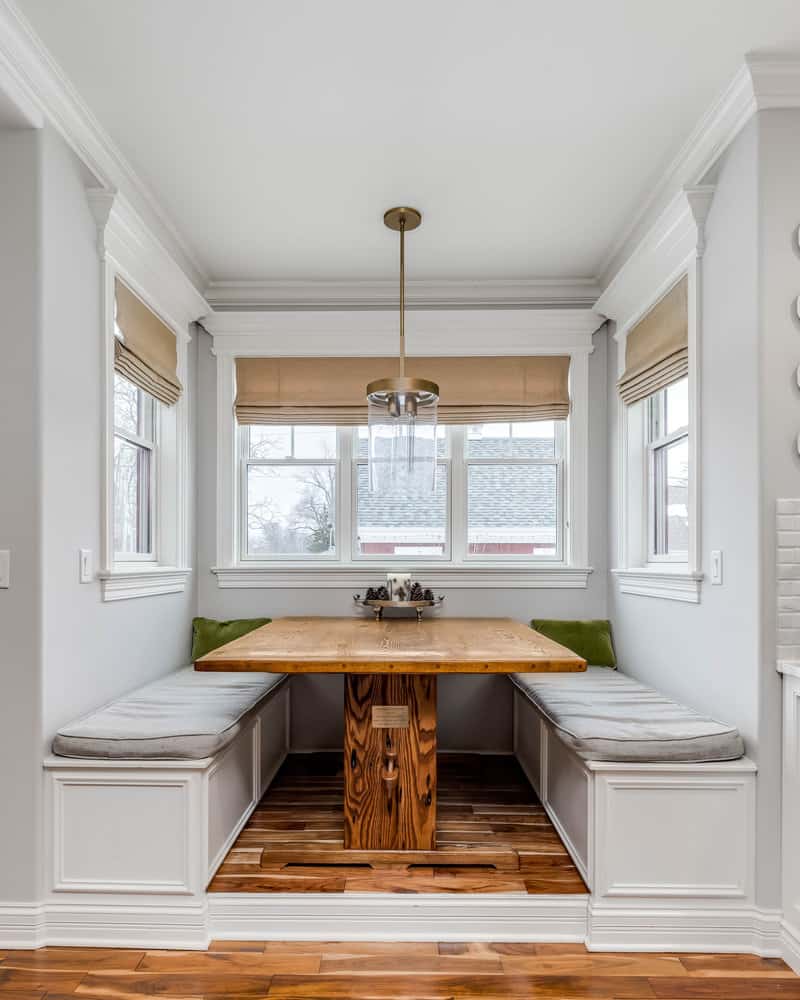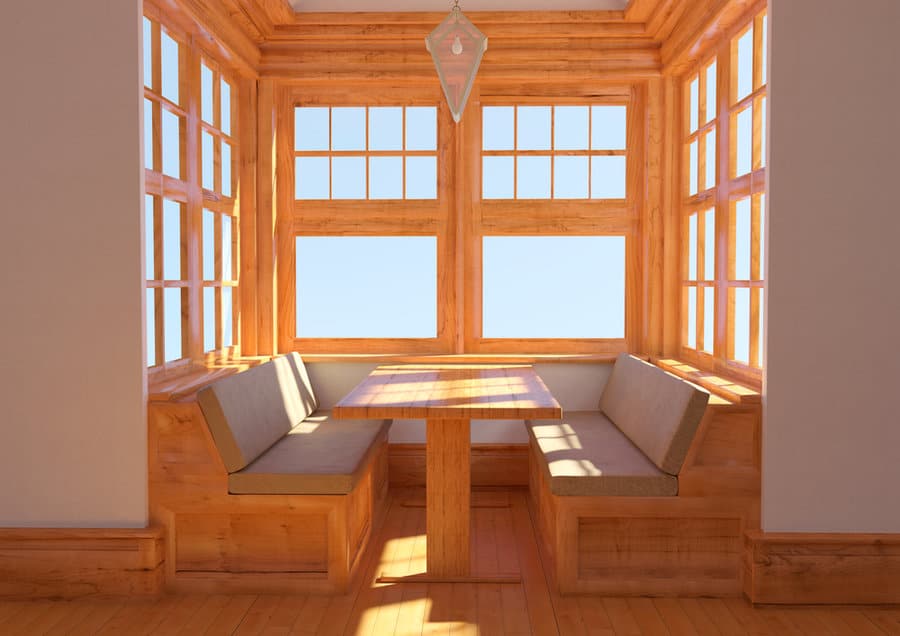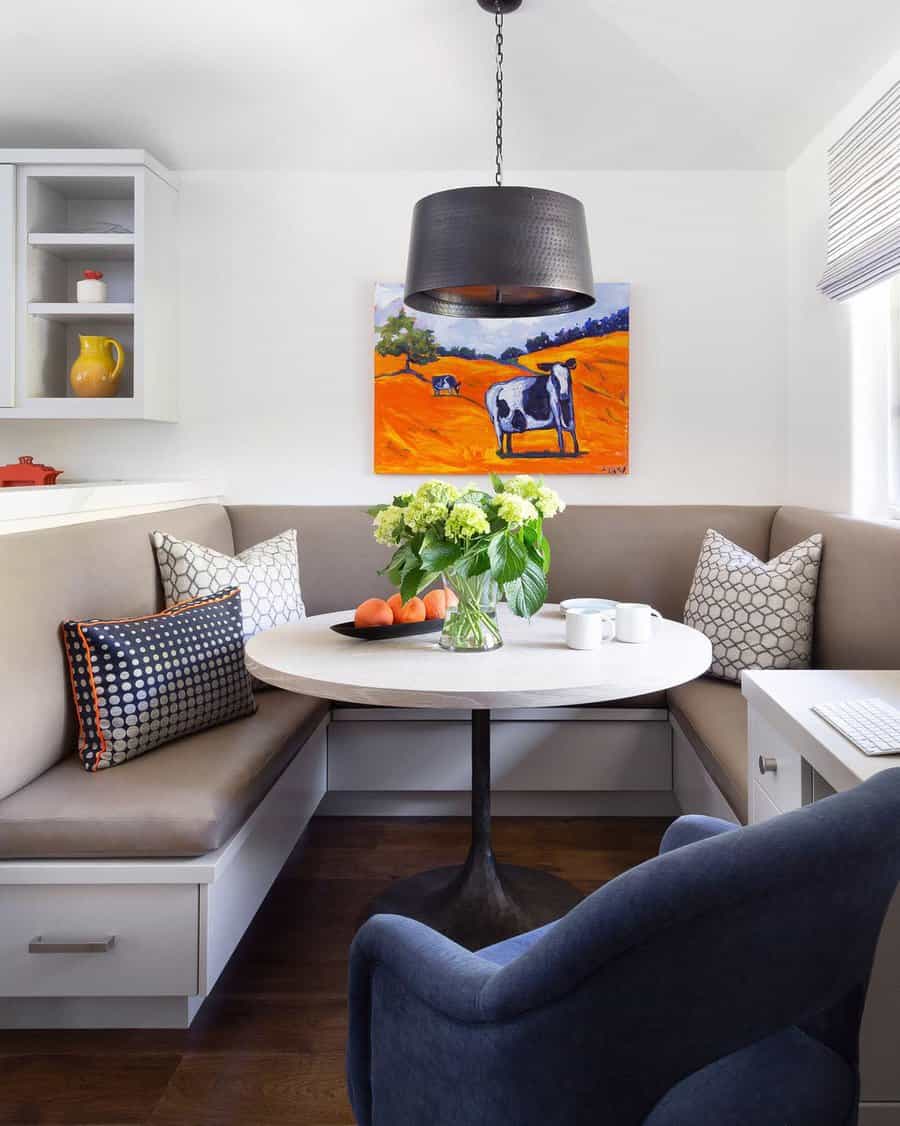 Booth seating is easy to customize to suit whatever space you have available. Place two booths parallel to each other or create a U-shaped dining area to maximize the potential seating space.
A booth that is tucked into a corner or recessed nook can easily feel dim and claustrophobic. Install adequate lighting throughout the space and invest in a sleek pedestal table to free up as much foot room as possible.
5. Coastal
There's something about a breakfast nook that just looks right at home in a beach-themed kitchen. Even if your house is completely landlocked, you can still bring a touch of bright and airy coastal life into your living space.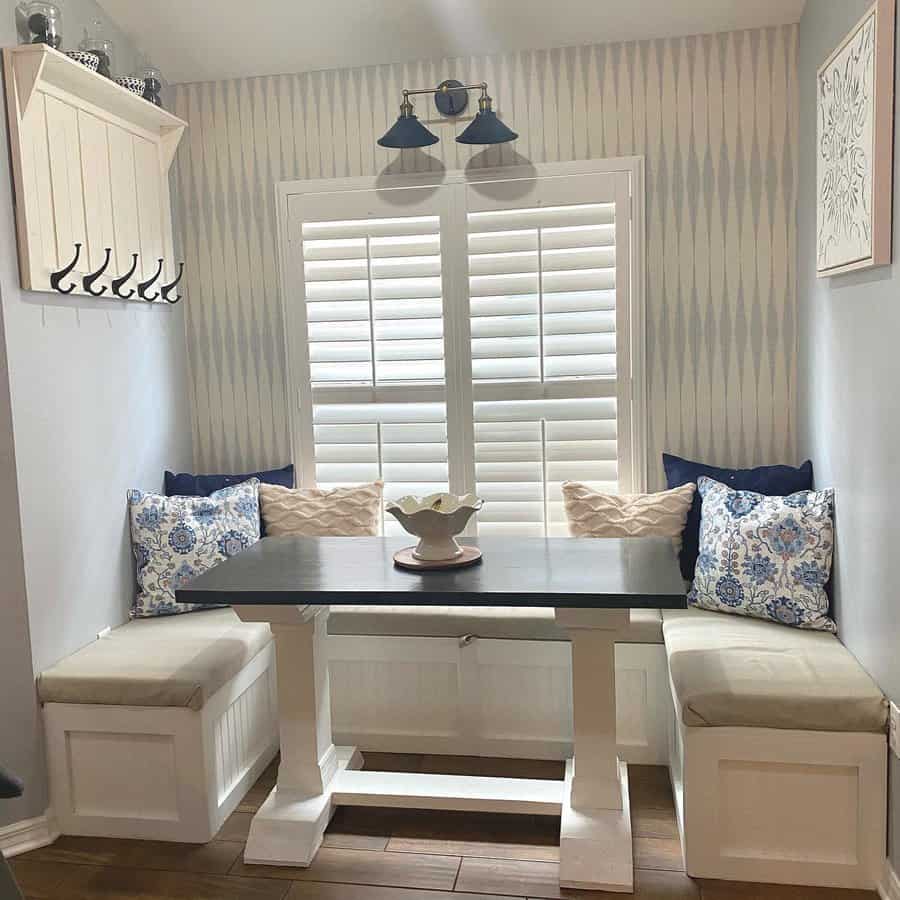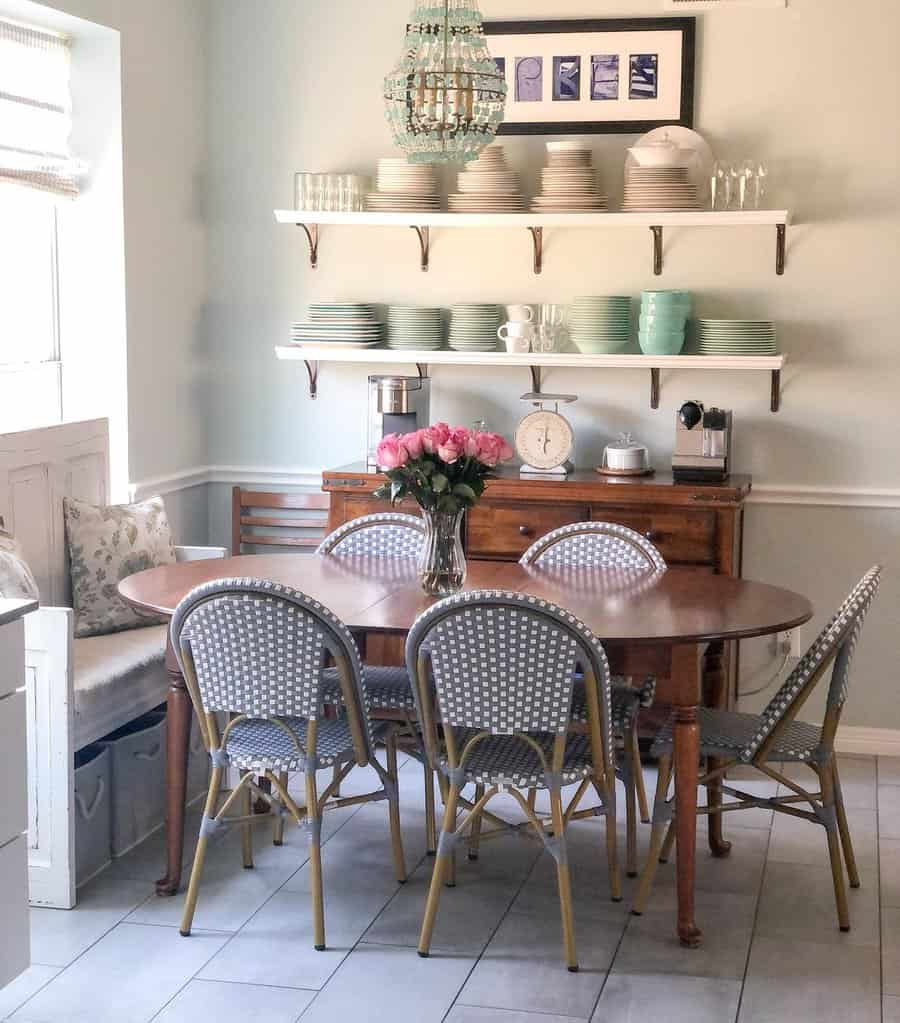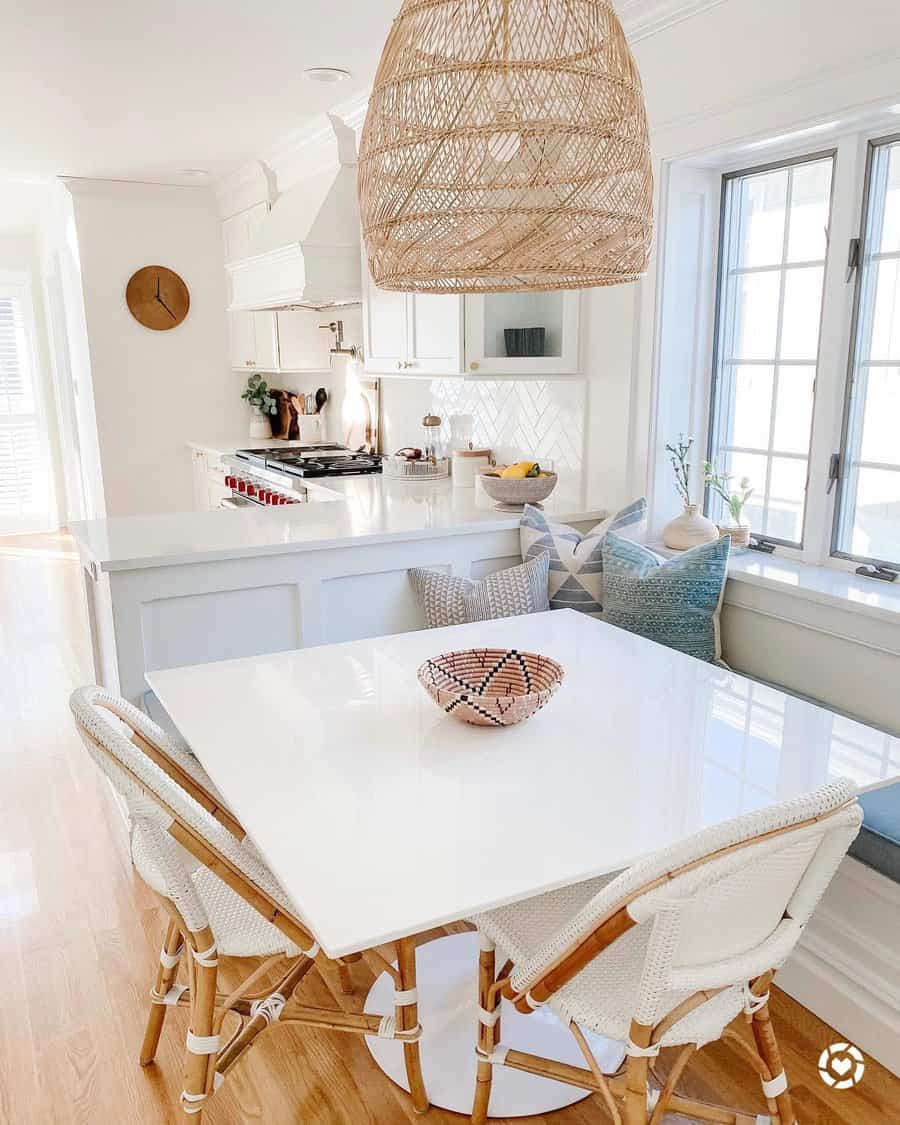 Color scheme is incredibly important to creating a coastal atmosphere. Reach for light neutrals — white, cream, tan, sandy pink — paired with subdued shades of blue. Organic materials like woven grass, wicker, and wood planks are ideal options for furniture and miscellaneous decor.
It's very likely that the space will serve as more than an eating nook. Experiment with ways to make the area as cozy as possible, including adequate cushions, extra seating, and plenty of room to move around.
6. Curved
Yes, a corner bench is simple and practical. But if you want to create a modern breakfast nook that gives off an air of sophistication, investing in curved seating is 100% worth it.
A curved banquette seat can be tucked into a corner to soften the space as a whole without giving up valuable square footage. Use the empty corner behind the bench for storage or to display a tall potted plant.
Some homeowners may even find themselves working around a curved bay window. Install a custom curved window seat along the wall. Add a proportional round
7. Dining Table
A dining nook is a perfect spot to enjoy casual meals without dirtying your home's formal dining room. But there's also nothing wrong with using this space for all of your family meals!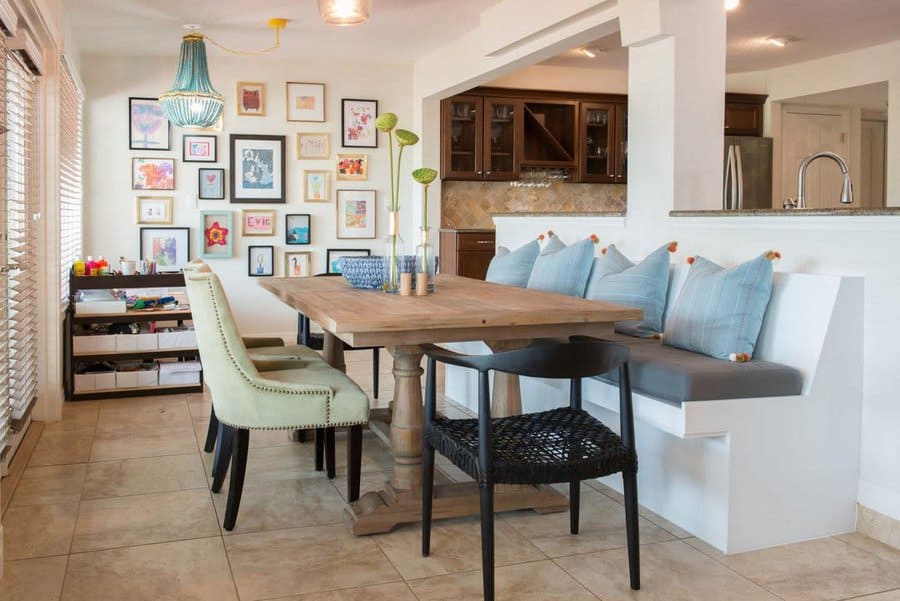 Unless your household is particularly small, you'll need to expand on the traditional breakfast nook to accommodate everyone. A long, narrow dining table is the best style for most kitchen nooks. Invest in a table with removable leaves for extra versatility.
Another thing you'll want to consider is how easy it is for diners to get in and out of your kitchen nook. Whether you're eating with family or beloved guests, no one wants to cause a stir every time they need to leave the table!
8. Farmhouse or Country
The farmhouse kitchen is a behemoth of contemporary home design. And every farmhouse-inspired kitchen should include a cozy nook within its floor plan.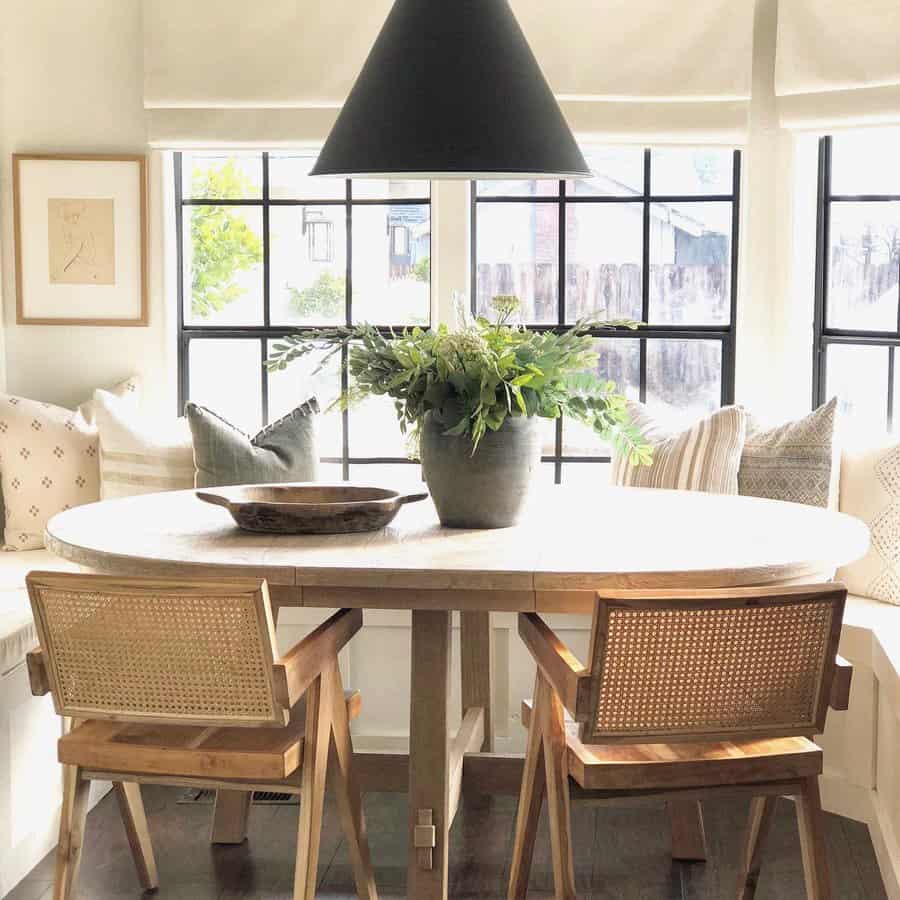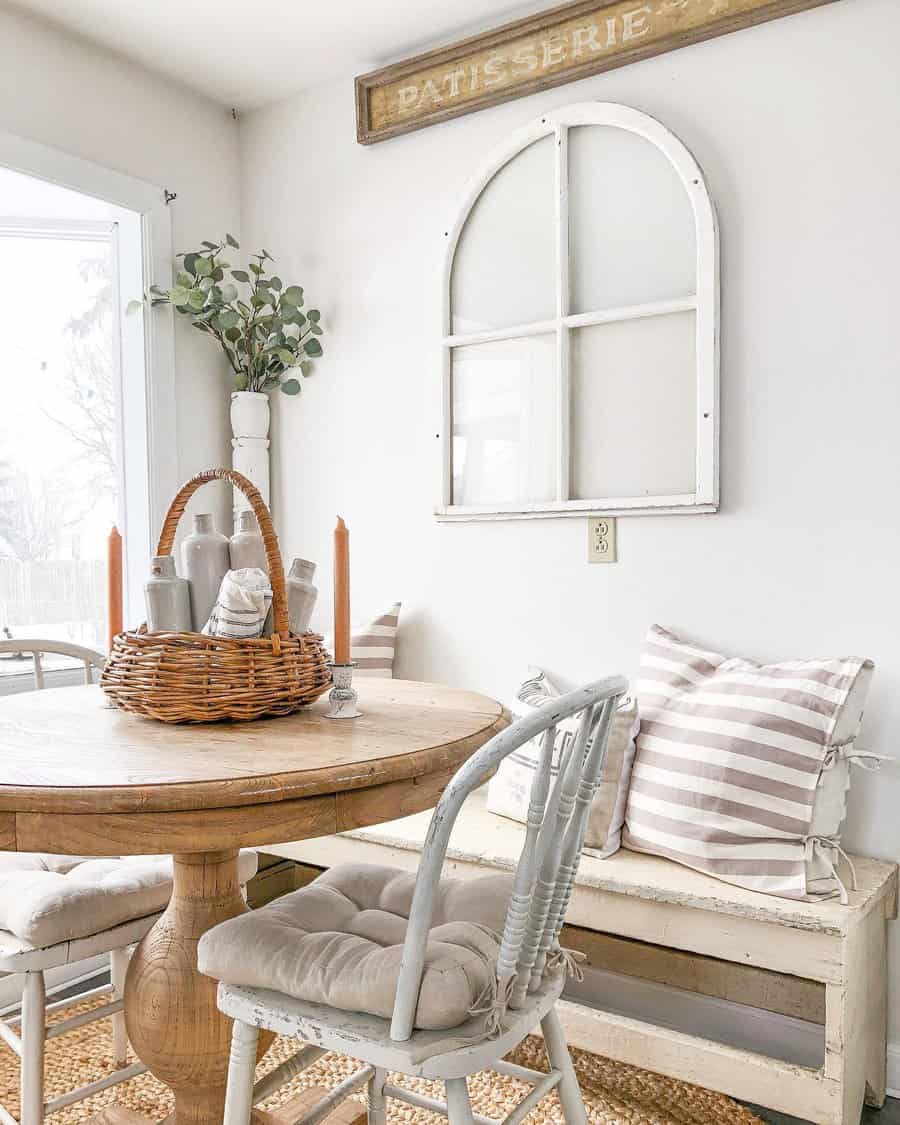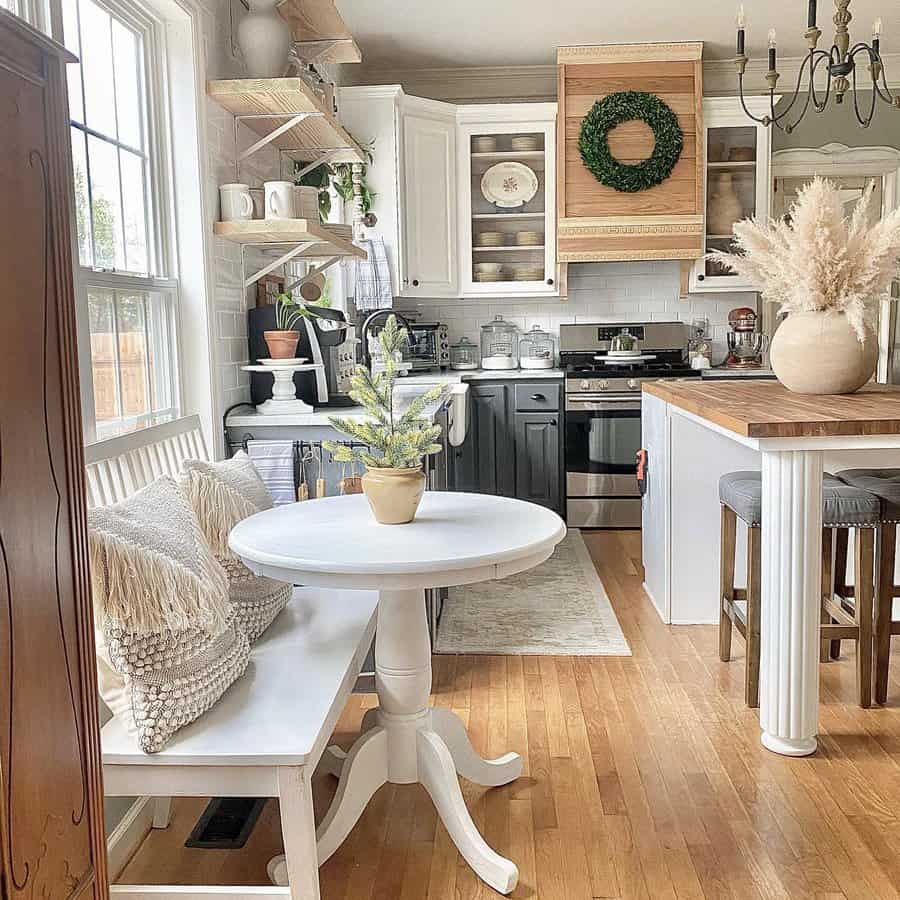 A country-style nook can be incredibly simple. If you're short on space, even a small pedestal table and two-person bench will suffice. There's no need to give up your dream of a breakfast nook just because you have a small kitchen!
Plus, you don't need to worry about everything in your kitchen nook matching. Farmhouse decor can vary greatly — even within a single room. Feel free to incorporate mismatched dining chairs, cushions, and more to give your charming breakfast nook a truly lived-in aesthetic.
9. Island
The open-concept layouts that are so popular today are far from conducive to the traditional idea of what a breakfast nook is. So instead of looking for a non-existent corner to tuck a small breakfast nook into, consider adding one to your kitchen island.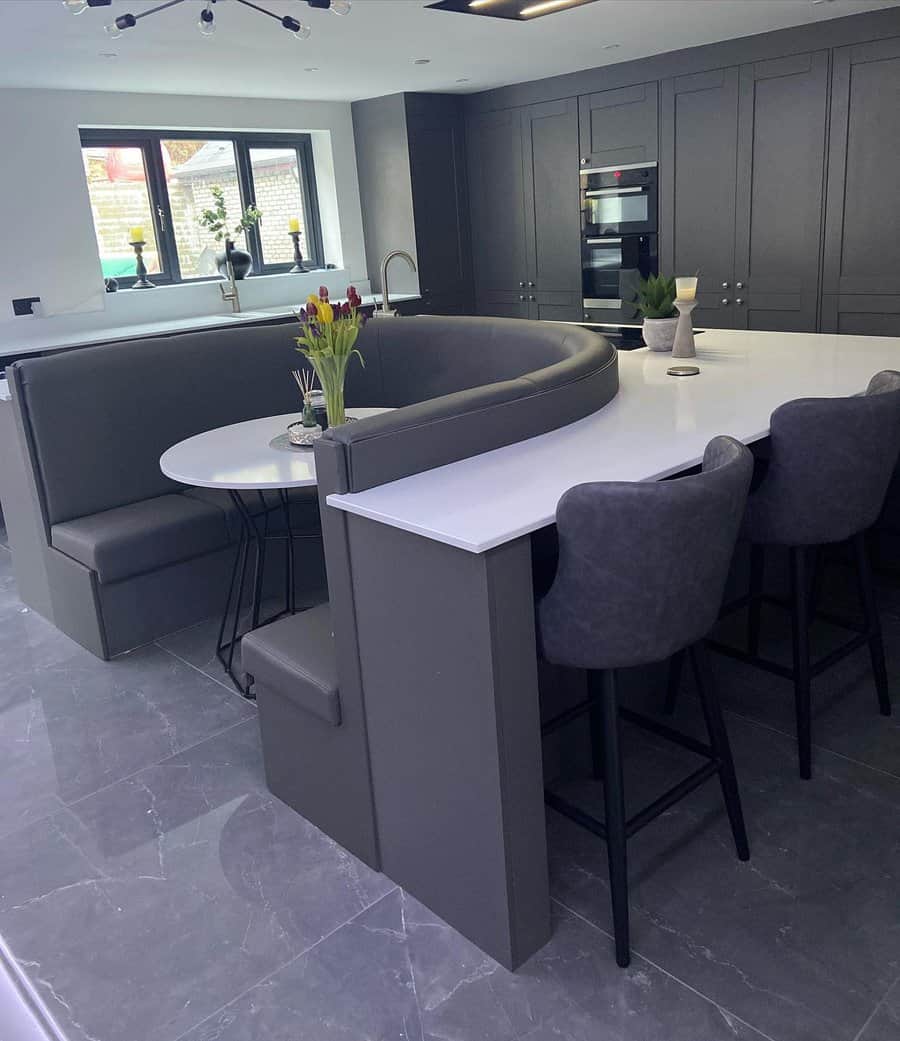 Allowing your kitchen island to take the place of a backing wall is a great way to include a classic corner nook into your open-concept living space. It's also an extremely efficient use of the available floor space!
The tenets of decorating a kitchen island nook are the same as any other. However, you'll want to err on the side of simplicity to prevent your kitchen nook decor from competing with the rest of the room.
10. L-Shape
Whether you're trying to accommodate a large household or just want the freedom to move around your new breakfast nook, few layouts are as space-efficient as an L-shaped bench.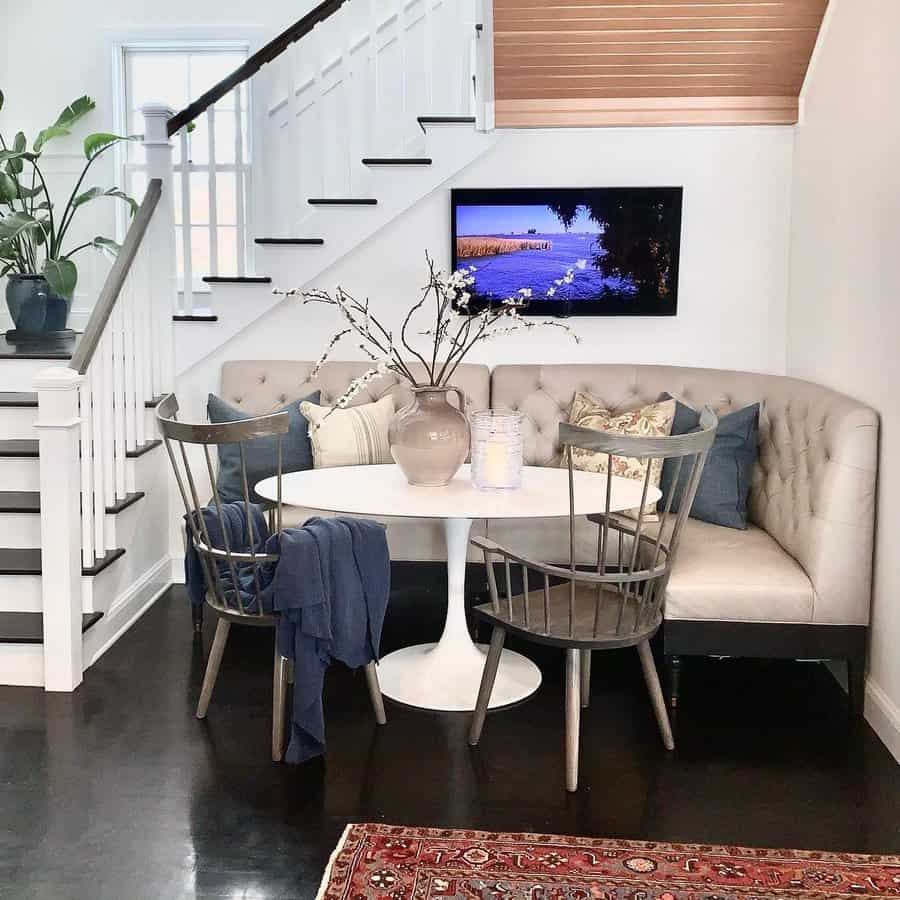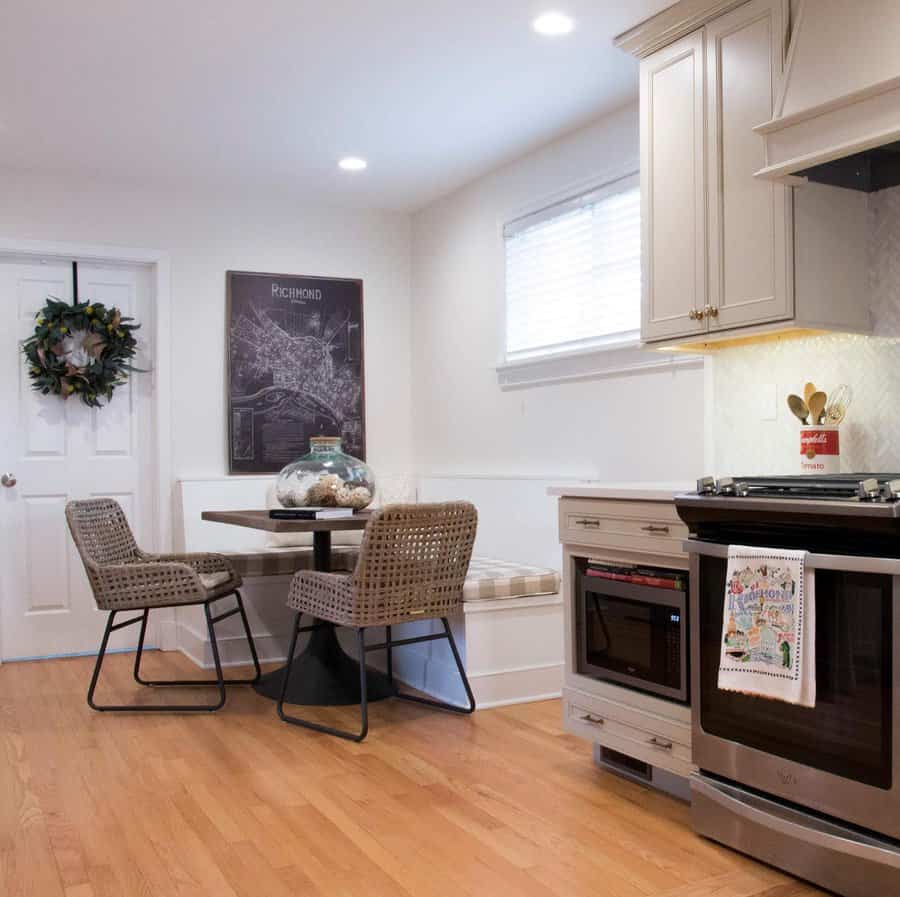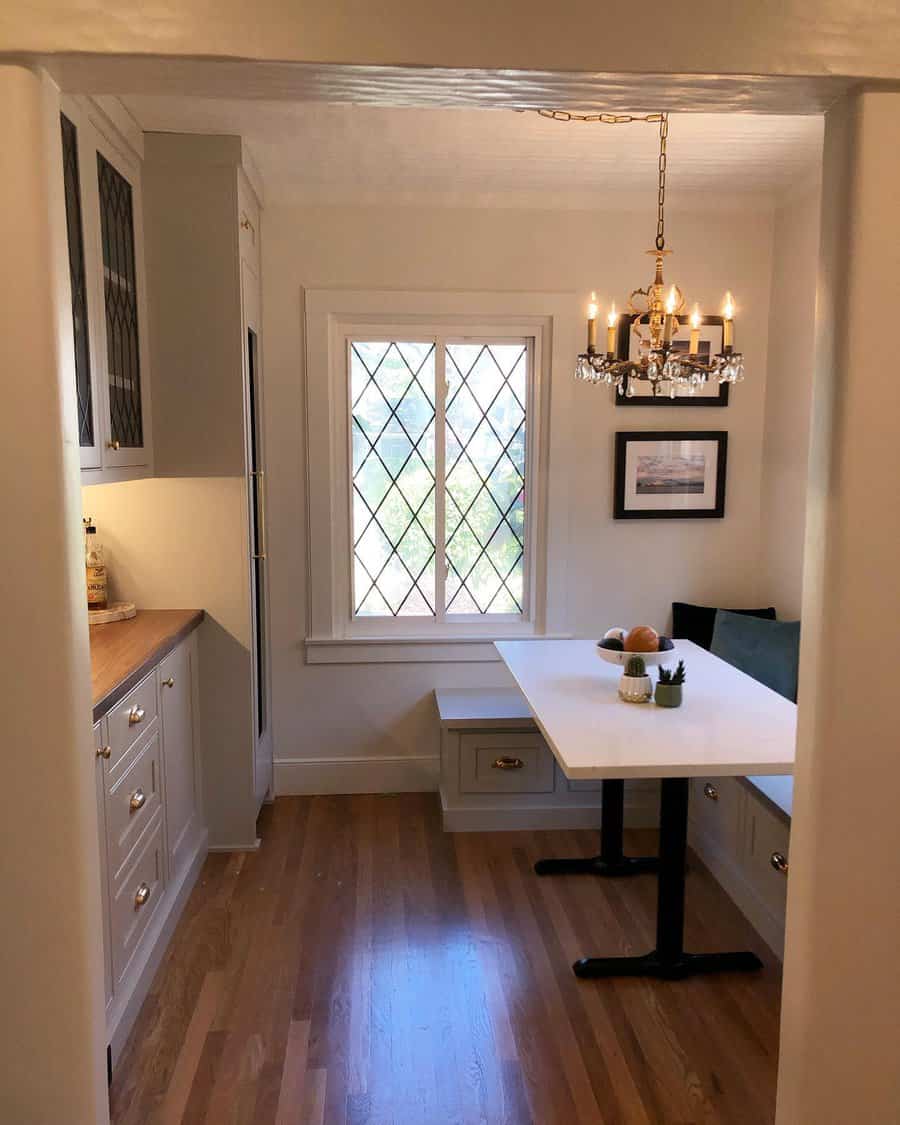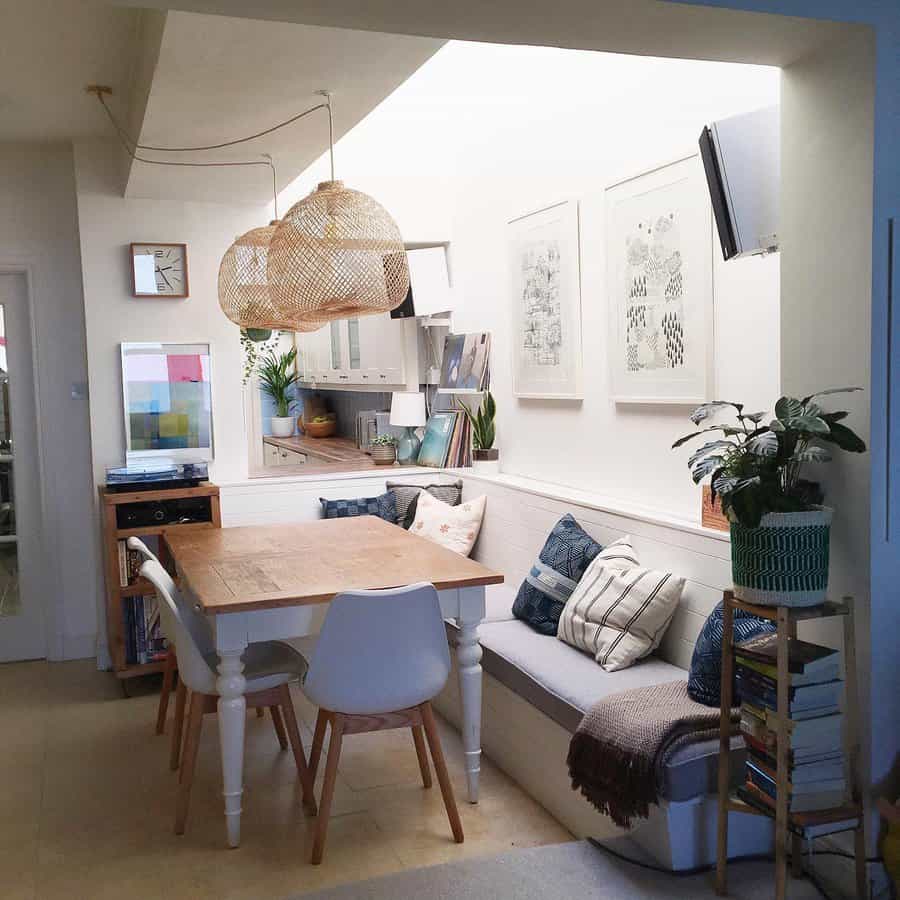 An L-shaped bench can be paired with any style of dining table. While a square or rectangular table is the most obvious choice, a round or oval table will also work as long as it is an appropriate size.
A slightly rounded bench will ensure that the entire seat is equally functional — no one wants to get stuck in the corner. On the other hand, if you want your eating area to double as a private reading nook, that corner is valuable real estate for curling up with a book.
11. Small
Don't fall for the idea that you need a ton of extra space to include a dining nook in your kitchen design! In fact, a breakfast nook is one of the most space-efficient setups you could possibly choose.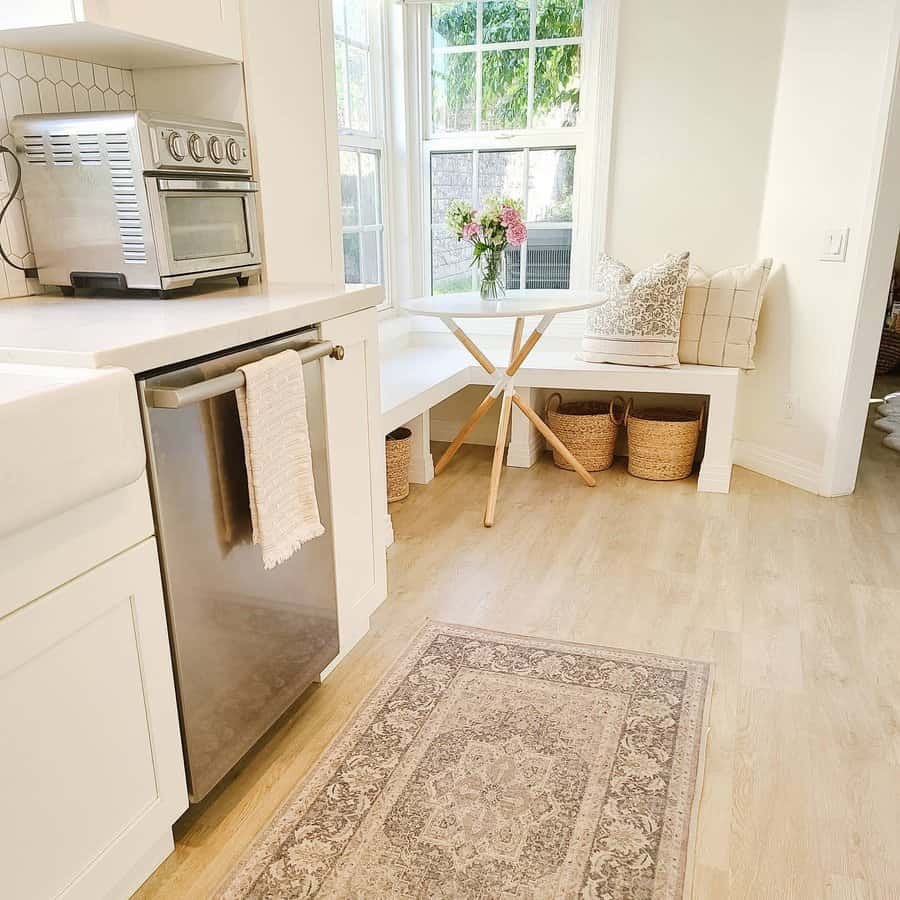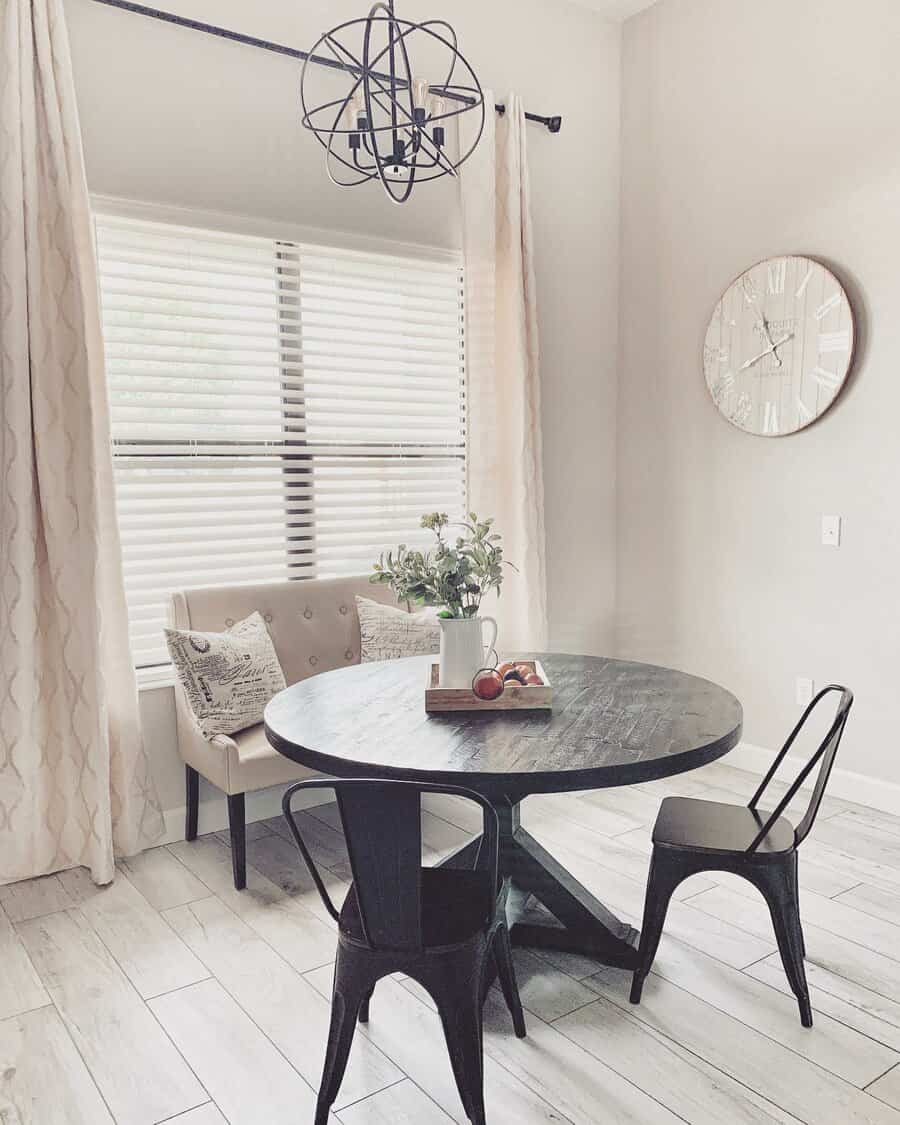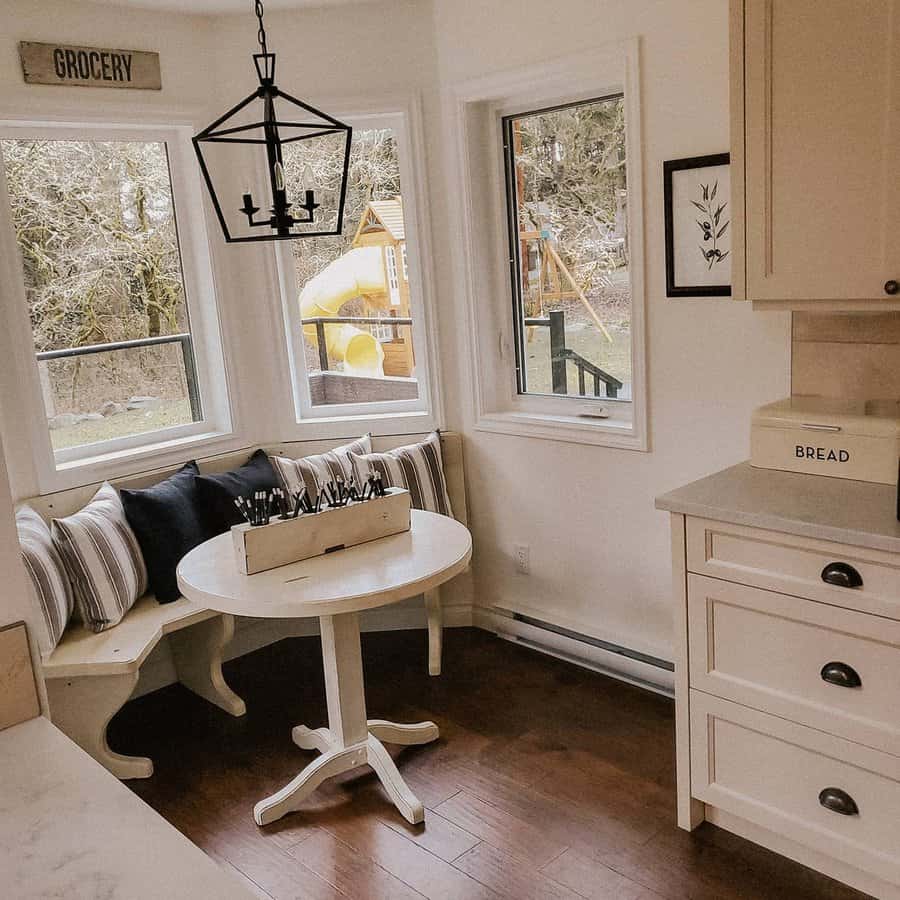 A bench is almost always the most compact seating option for a breakfast nook. If you need a bit more flexibility, however, don't hesitate to outfit your nook with standalone chairs that can be moved out of the way as needed.
Before you start purchasing furniture or decor, it's important to understand the size and shape of your chosen location. Be sure to account for day-to-day foot traffic in your measurements (and any extra room needed to pull out dining chairs).
12. Window Seat
Neglecting to turn your kitchen's bay window into a seating area should be a crime. But even homeowners without access to a bay window can take advantage of the natural light within their kitchens.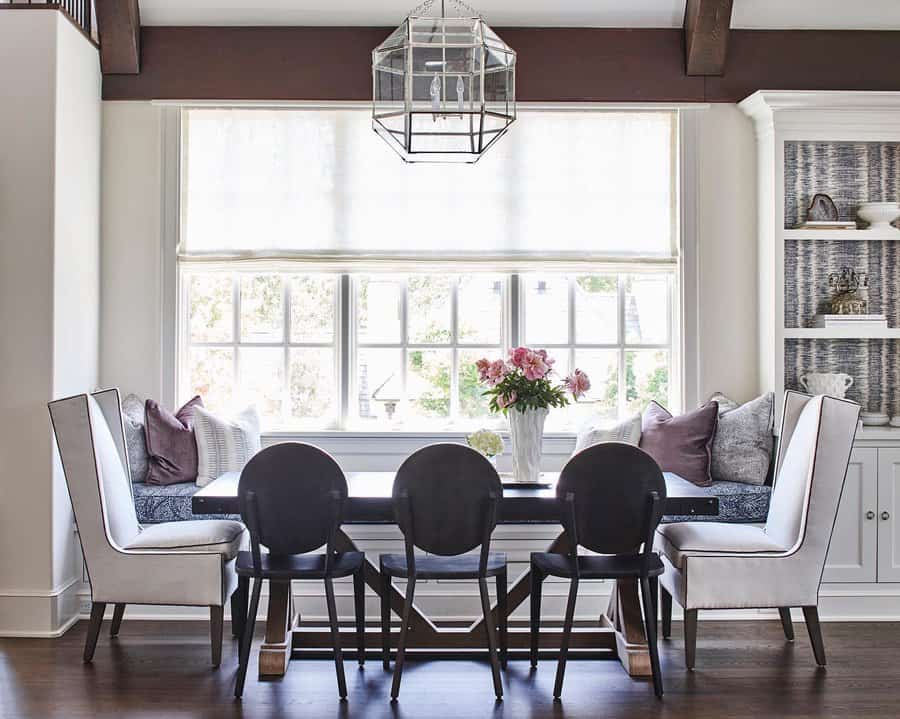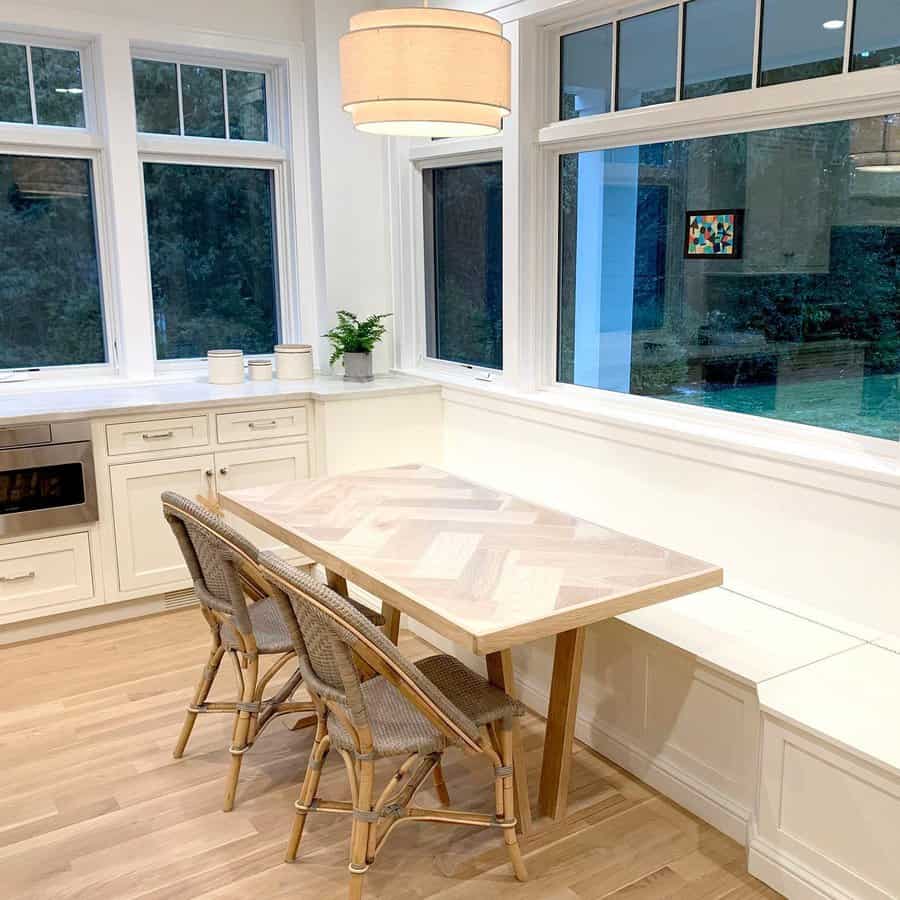 Any window can be furnished with a window seat and table to create a stylish nook. Be sure to invest in furniture and decor that leaves the window unobscured. You don't want to cover up your kitchen windows with excess throw pillows or a dramatic chandelier.
Heavy drapes will interfere with the bright airy aesthetic you're going for (and aren't very practical for a dining space, anyway). Install sleek blinds or do away with window coverings altogether for maximum light.
13. Wood
There is a time and place for high-concept kitchen nook designs. For those looking for a simple yet elegant dining area, however, you can't go wrong with natural wood grain.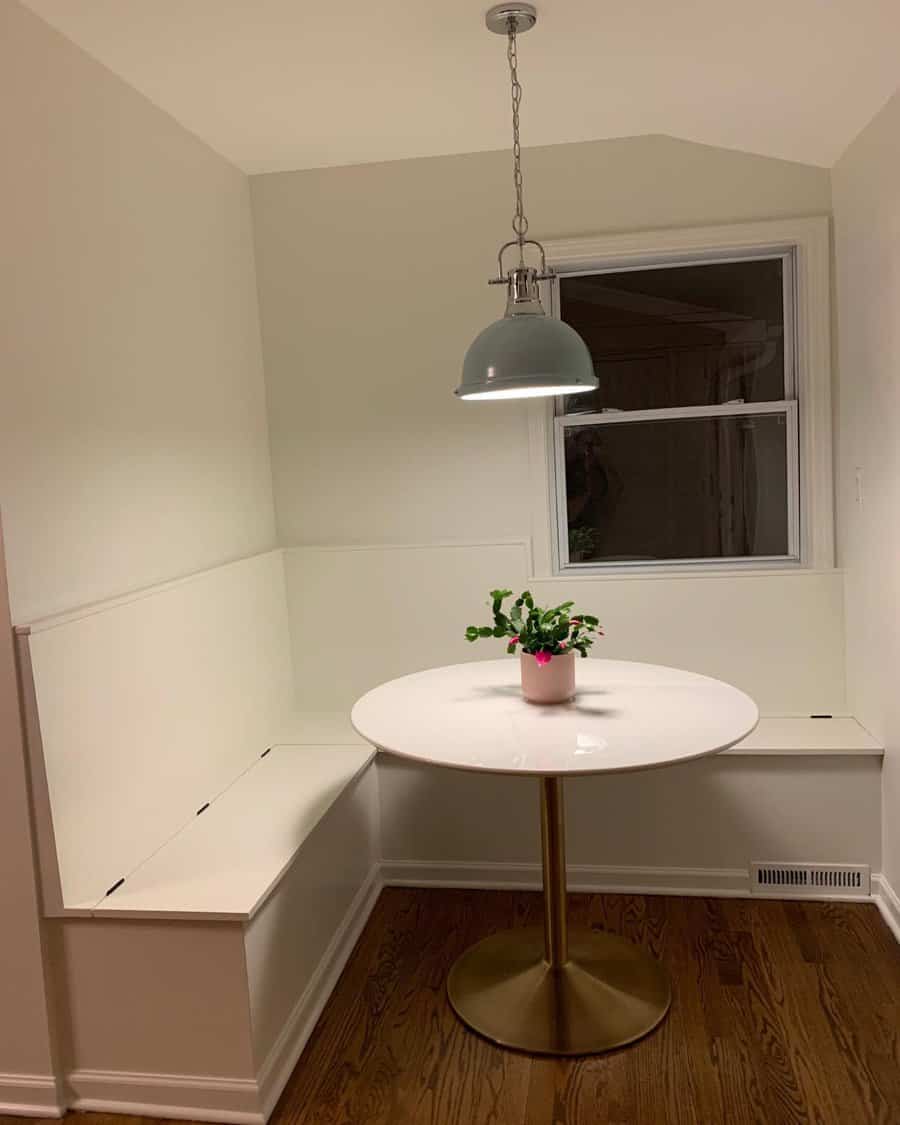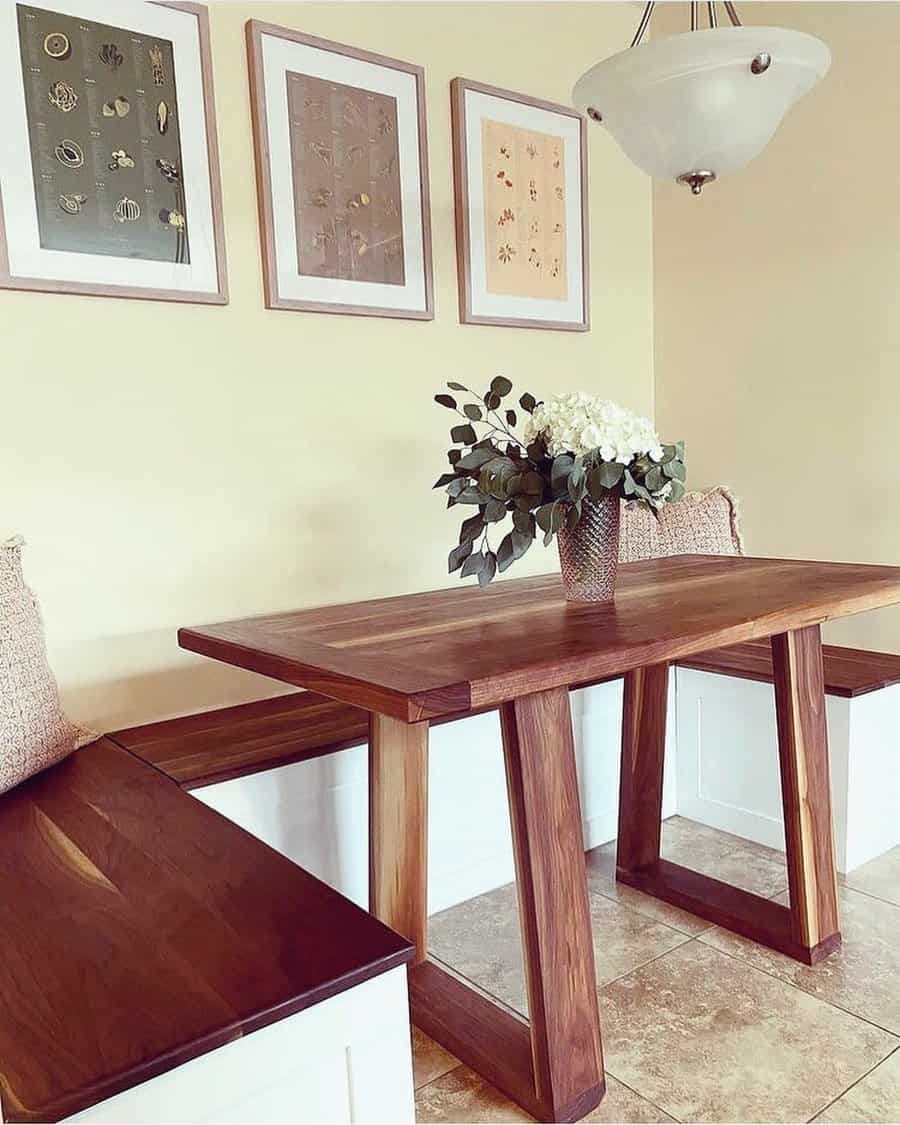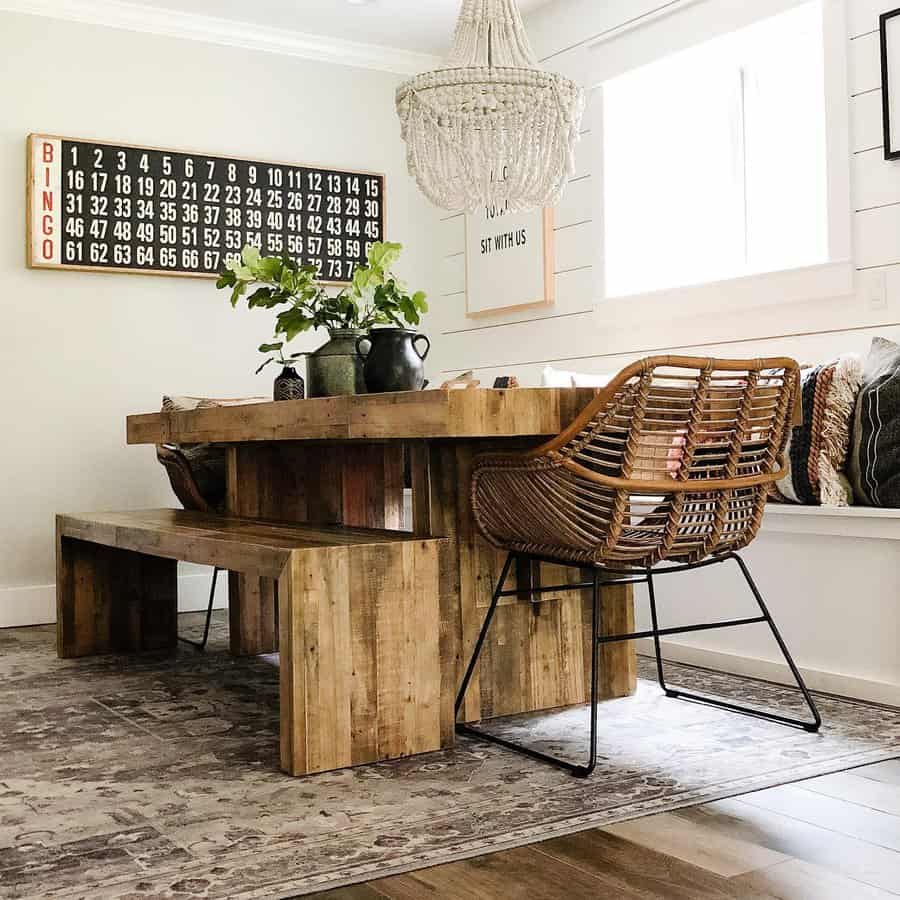 If you enjoy changing up your interior design, then investing in wood furniture is an excellent strategy. These items look right at home alongside farmhouse, modern, and contemporary decor. And, if desired, you can paint the wood for an entirely fresh look.
A wooden bench seat is the perfect base for plush pillows and supportive cushions. You can mix and match your favorite textiles to suit your kitchen design without committing to a single aesthetic.
Kitchen Nook FAQs
Are breakfast nooks a current trend?
Yes and no! The breakfast nook first gained popularity in the early-20th century. Since then, it largely fell out of favor and was replaced by kitchen islands and other casual dining spaces.
In recent years, though, many vintage home trends have resurfaced. The breakfast nook is just one noteworthy example.
So while breakfast nooks are not a new concept, and some people may consider them out-of-style, there are plenty of homeowners and interior designers finding contemporary ways to use cozy nooks in their kitchens.
What can a breakfast nook be used for besides meals?
If you think building a breakfast nook would be a waste of space because of a lack of versatility, you're sorely mistaken!
A kitchen nook is not just an alternative to a traditional dining room. This space can be used to prepare meals, complete homework, participate in arts and crafts, or work from home. If you frequently entertain, then there's no better place to set up your guests as you put the finishing touches on dinner.
These are just a few ways to use a built-in kitchen nook — we're sure you'll come up with even more of your own!