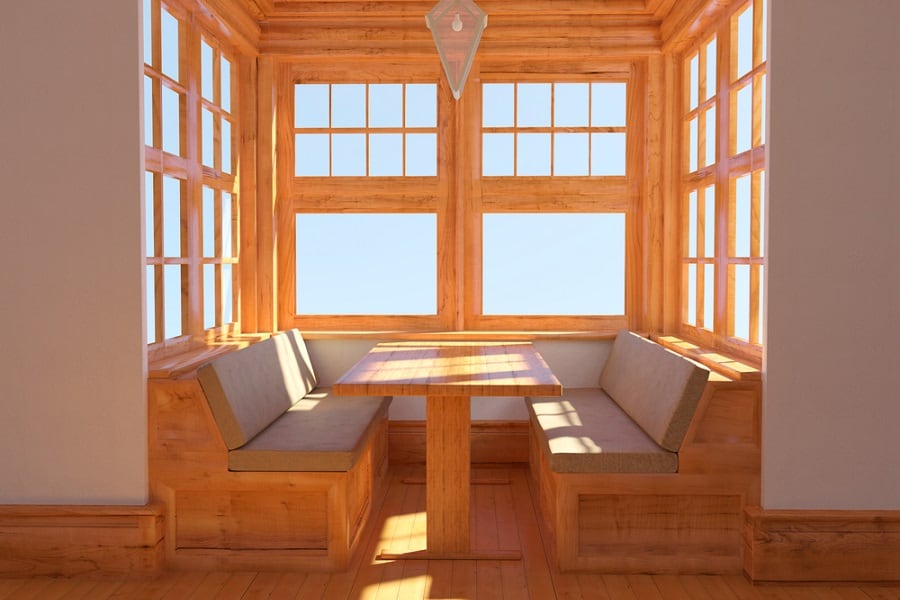 The Top 33 Kitchen Nook Ideas
Where do you eat day-to-day meals? In the dining room? In front of the TV? Or standing at your kitchen counter? No matter what your daily routine looks like, there's a good chance your home would benefit from a cozy breakfast nook!
Breakfast nooks aren't just for consuming eggs and bacon. This dining room alternative can be used for all casual meals — plus much more.
And if you think a kitchen breakfast nook would clash with your home's aesthetic, think again. There are virtually endless breakfast nook design ideas to choose from, ranging from modern to classic.
Keep reading for the top kitchen nook ideas that will make your home more stylish, functional, and trend-forward!
1. Add A Sofa Couch
Give your kitchen nook a cozy makeover with some creative ideas! Transform the look and feel of the kitchen with stylish furniture pieces such as a sofa couch and coffee table. They can make the area comfortable for family gatherings, so it's perfect for sharing cozy meals or having conversations over afternoon tea.
Don't forget to add small accents, like unique vases or artwork, to give the space even more character. With just a few simple touches you've now turned your ordinary kitchen into an inviting place that will be enjoyed by all!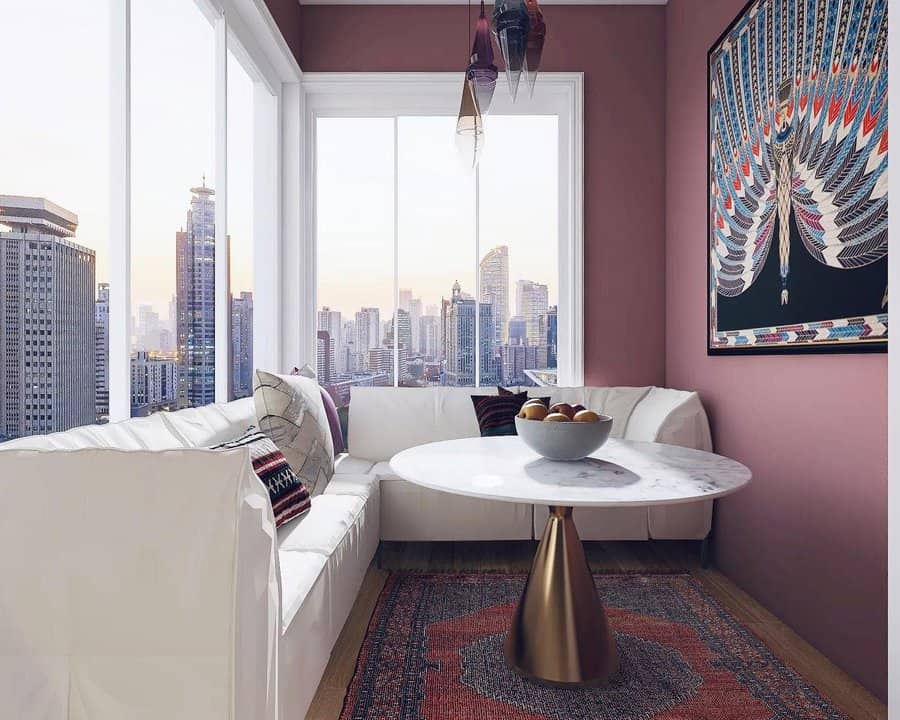 2. Bay Window Bench
Incorporate a bay window bench, with or without built-in storage, to give your morning coffee spot some style as well as ample seating for casual family meals. Surrounding it with plenty of sunlight makes one feel all the cozier in the space. Install shelving underneath the bay window bench to easily store kitchen items, making the area feel less cluttered.
If possible, add a vintage rug or cushion to invite an even more inviting atmosphere. Whether having breakfast by yourself or hosting guests around dinner time, this kitchen nook will become a beloved gathering spot in no time.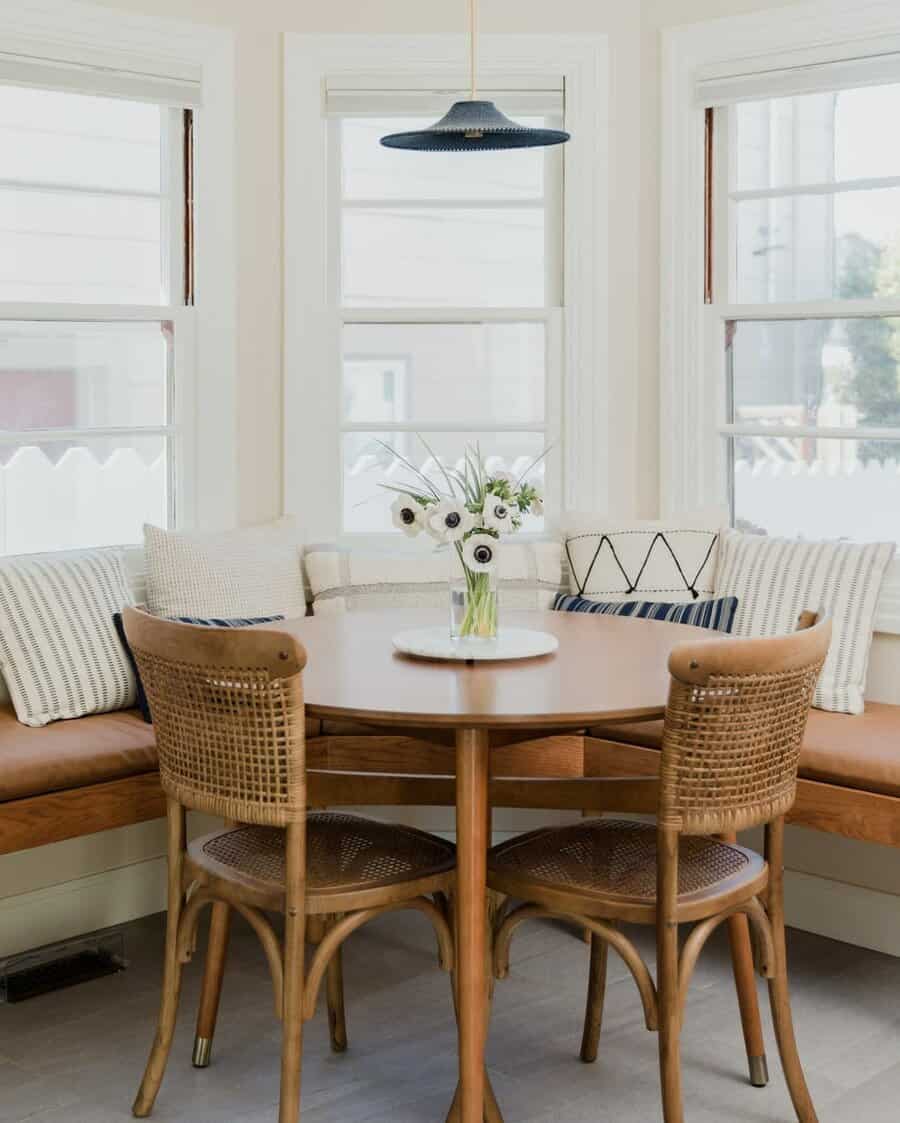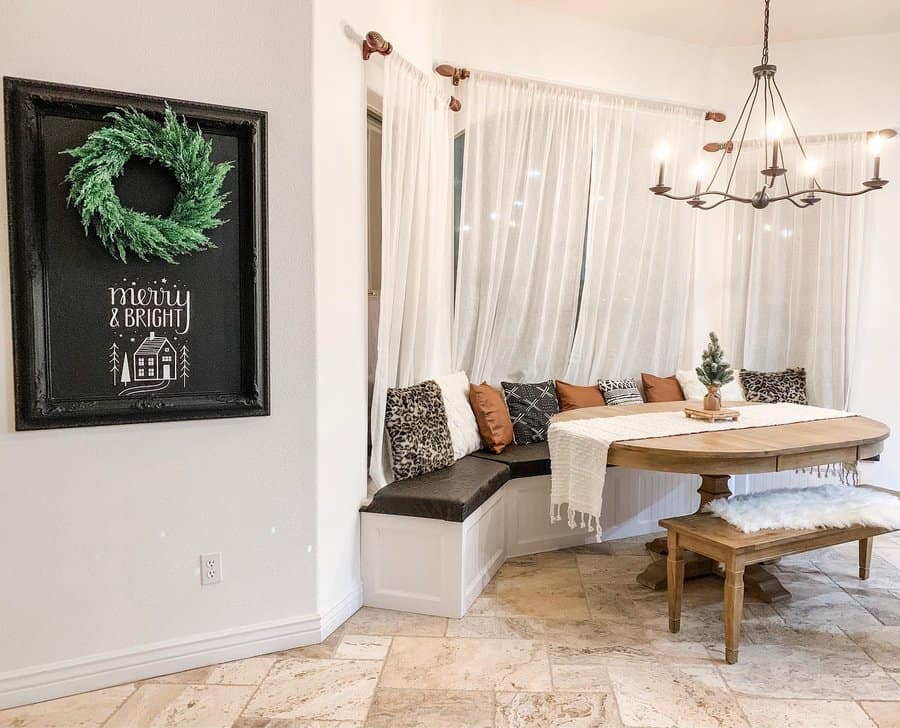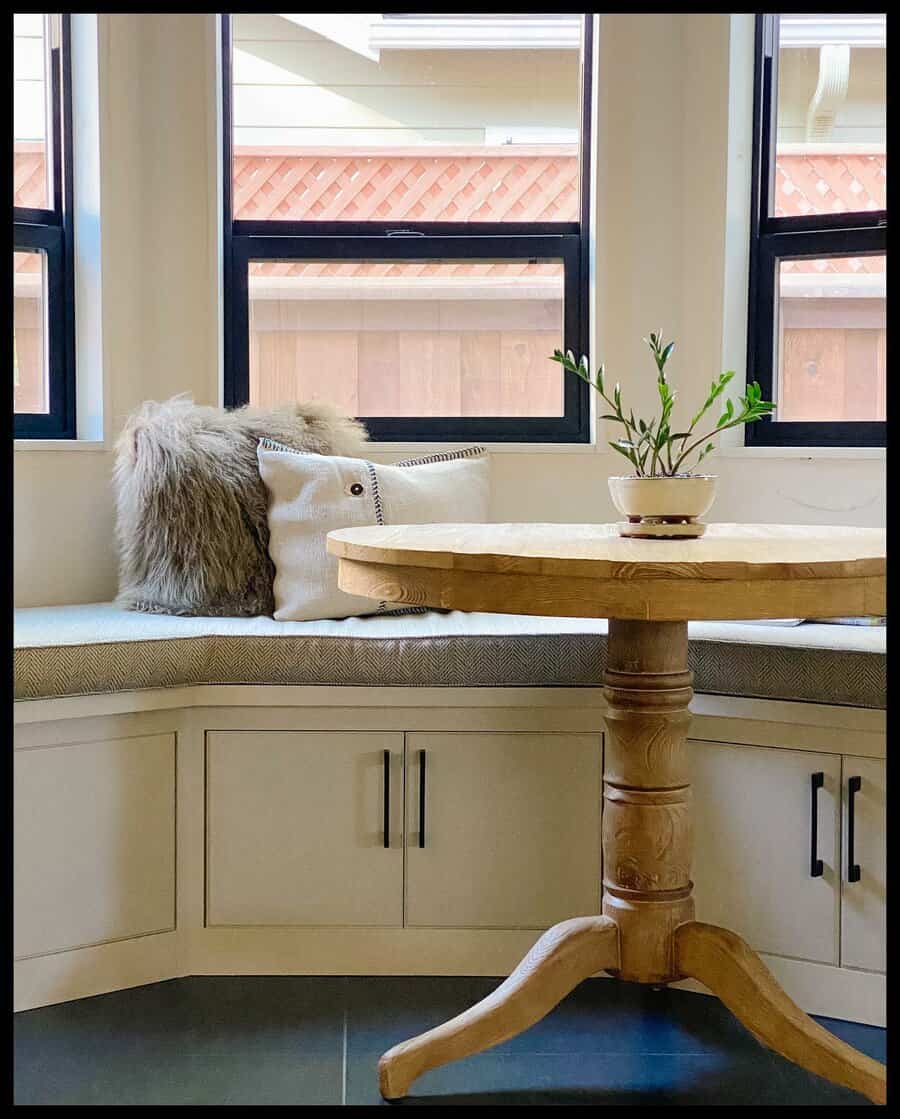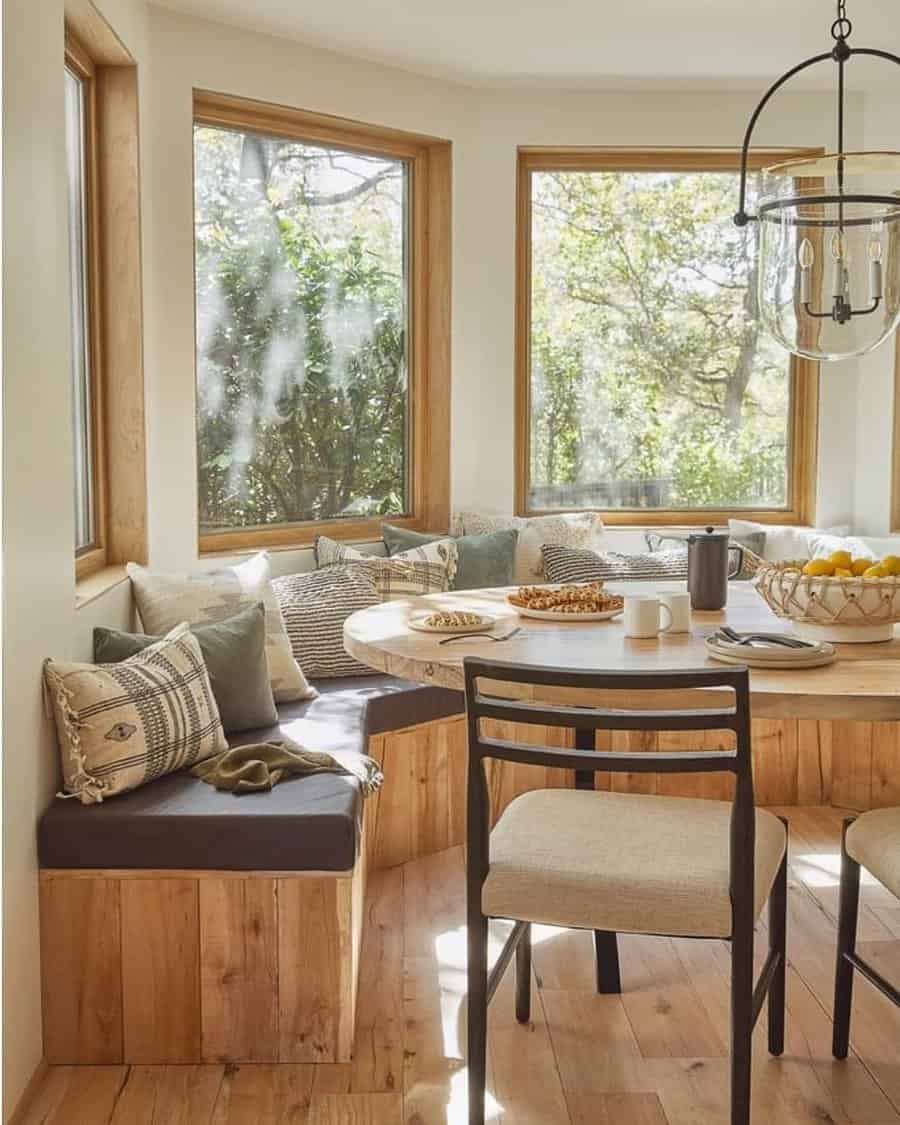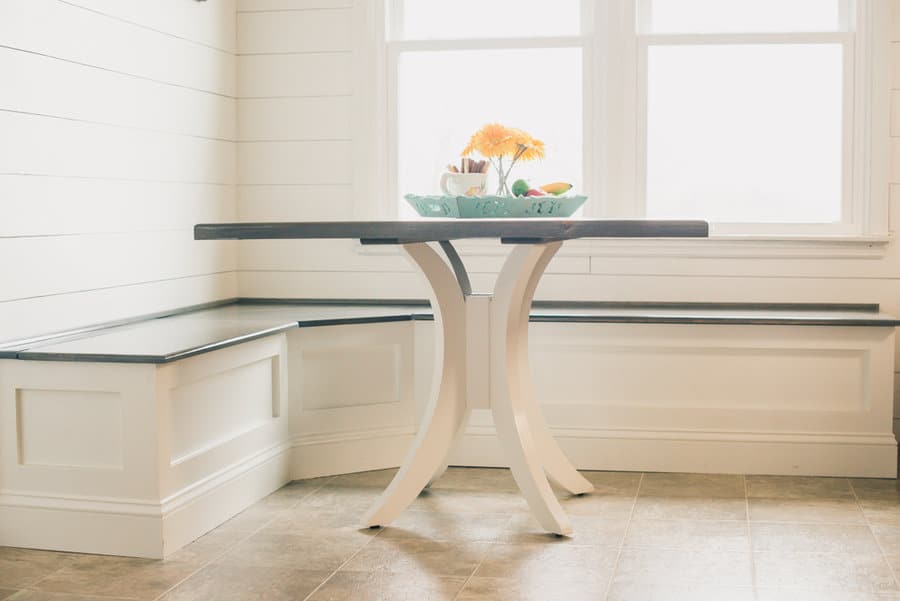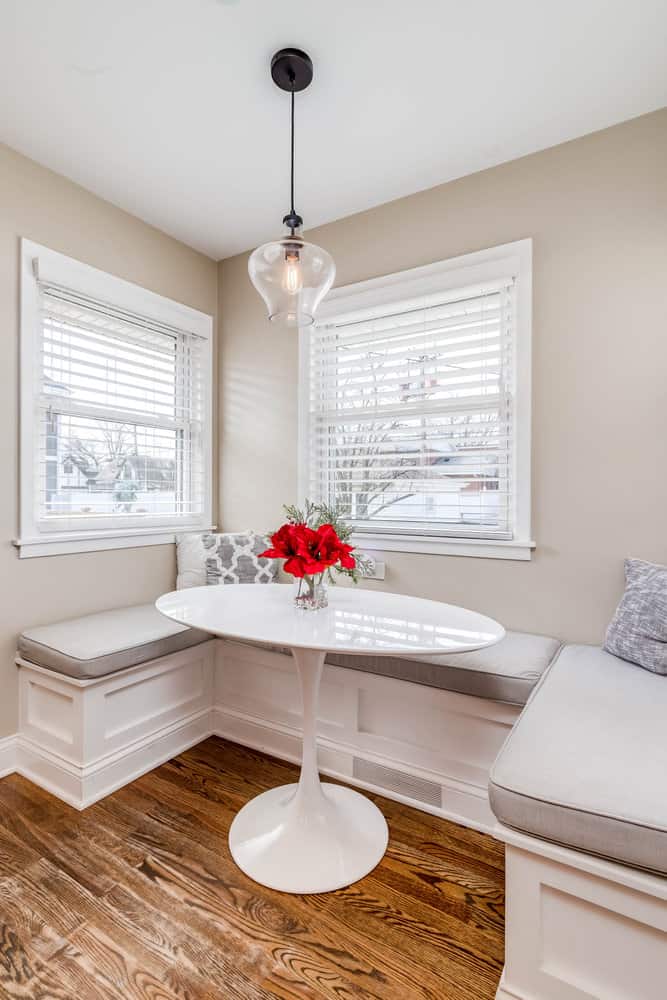 3. Paint A Wall Mural
A kitchen nook is a great place to express your creativity—it's the perfect spot to add color and vibrancy. Consider an accent wall covered with a mural of your choice. Get creative and take it further by adding patterned tiles, hanging colorful artwork, or incorporating custom seating.
It's an opportunity to put your spin on the room and make it unique! Have fun with different hues, shapes, and textures, while keeping it in line with the overall design aesthetic you've created for your home.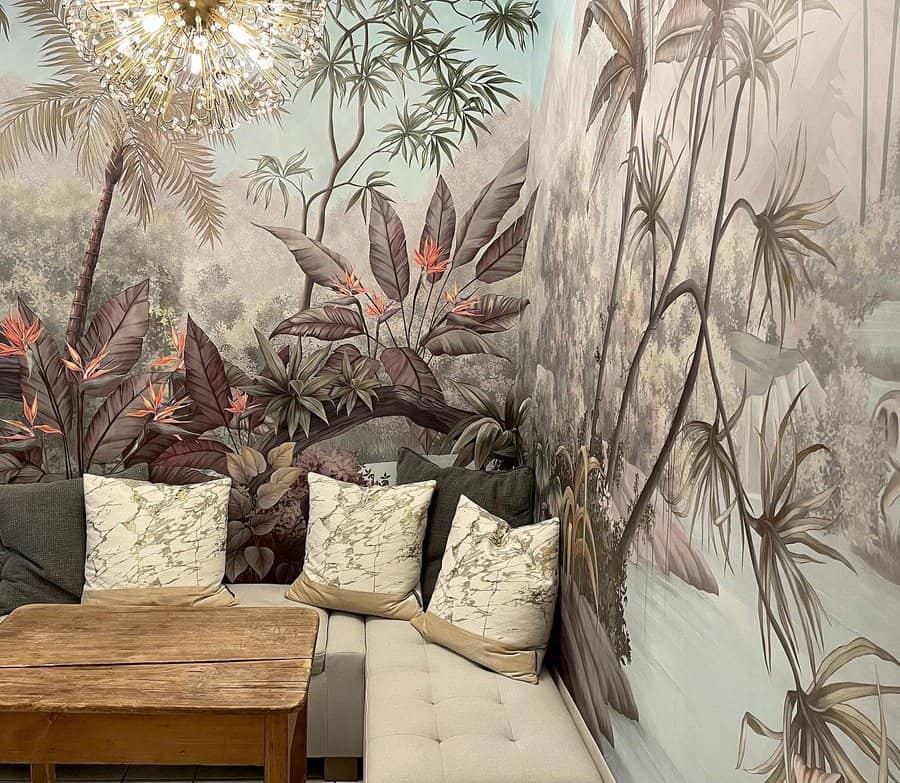 4. Banquette Bench
A kitchen nook can be an innovative way to add a unique style and extra seating to any home. For those looking for comfort, the addition of a banquette bench will add a touch of charm and allure. This not only provides seating that blends into the existing room design but also offers a diner-style dining experience. Furthermore, utilizing a variety of patterns and materials gives the space an interesting visual appeal that is sure to make the kitchen nook an essential part of any festive family gathering or informal family meal.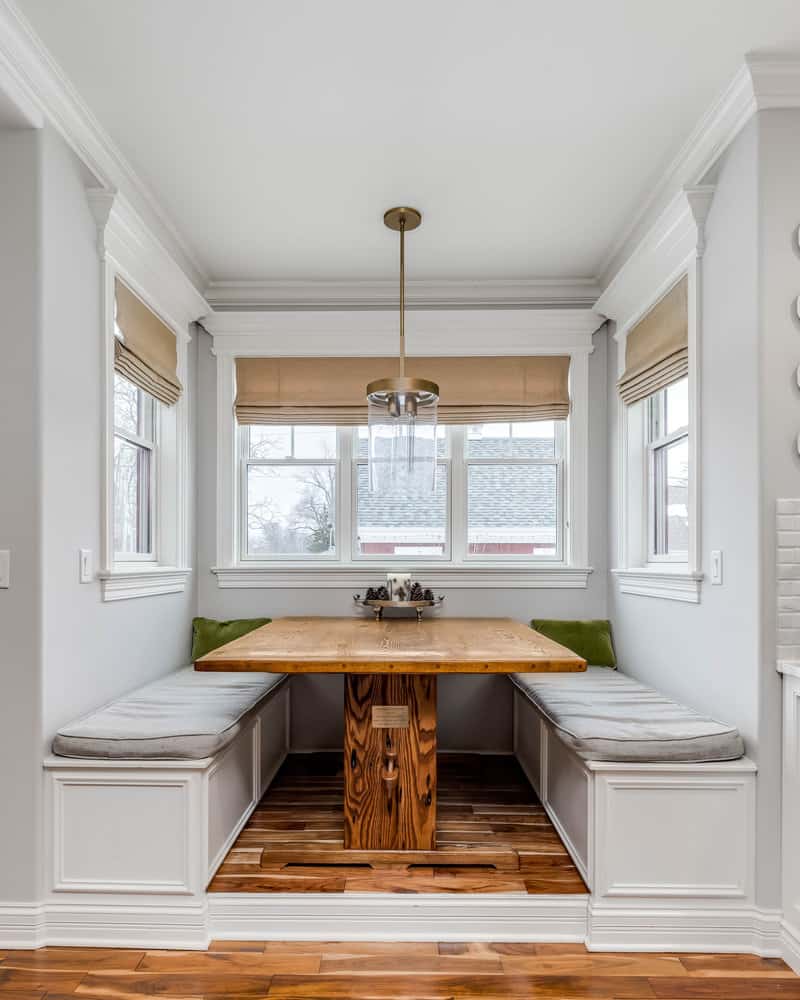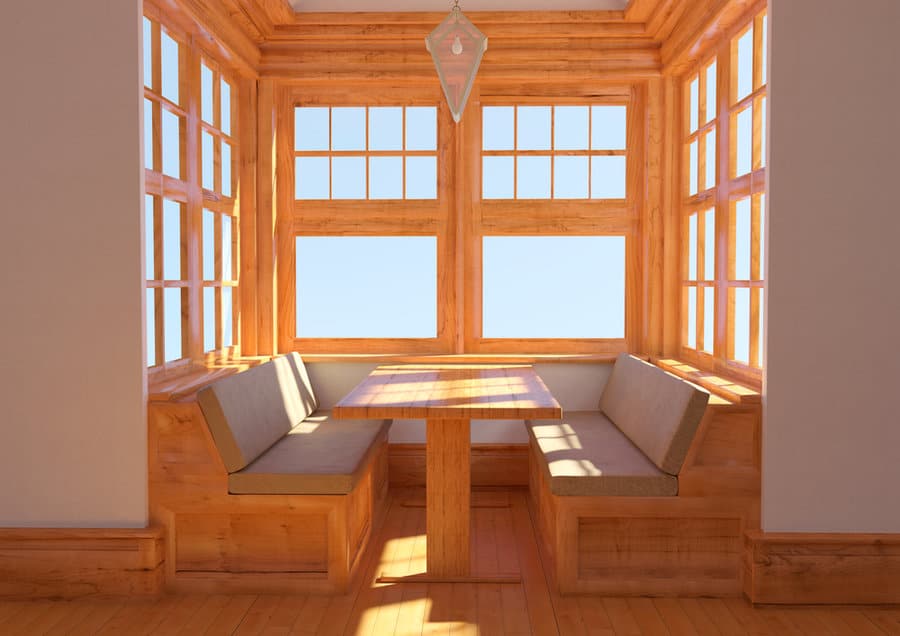 5. Opt For A Round Table
Creating a lovely kitchen nook can be easy and fun! For starters, think about the shape of your table: opt for a round table for an inviting atmosphere, as it brings everyone together. This also creates the opportunity for more seating than a rectangular or square table.
When picking seating, consider versatility and comfort. Opt for chairs with backs and arms for added support, particularly cozy cushions, and pillows to make your nook even more comfortable.
Choose items such as statement lights that bring pizzazz to the area or embellishments with special meaning related to your culture or hobbies. Utilize kitchen nook ideas while also bringing out your creative side!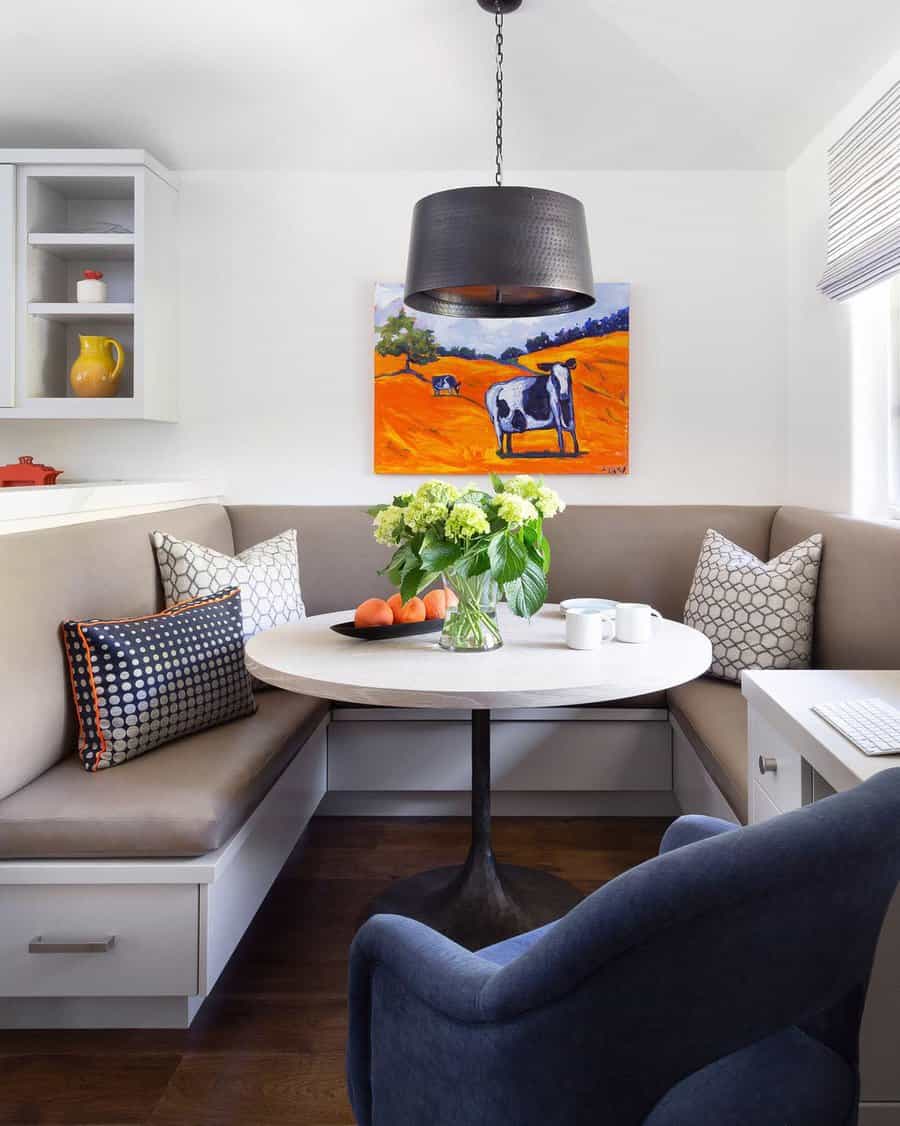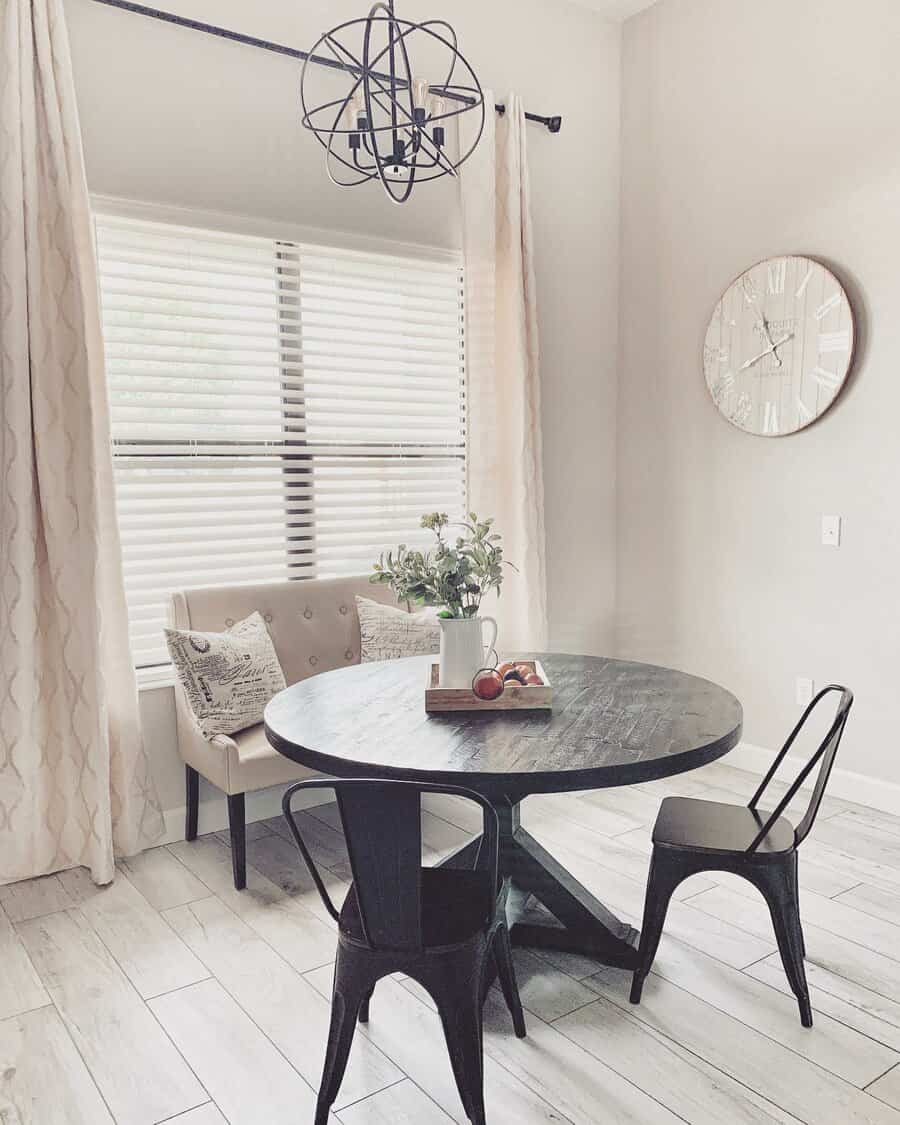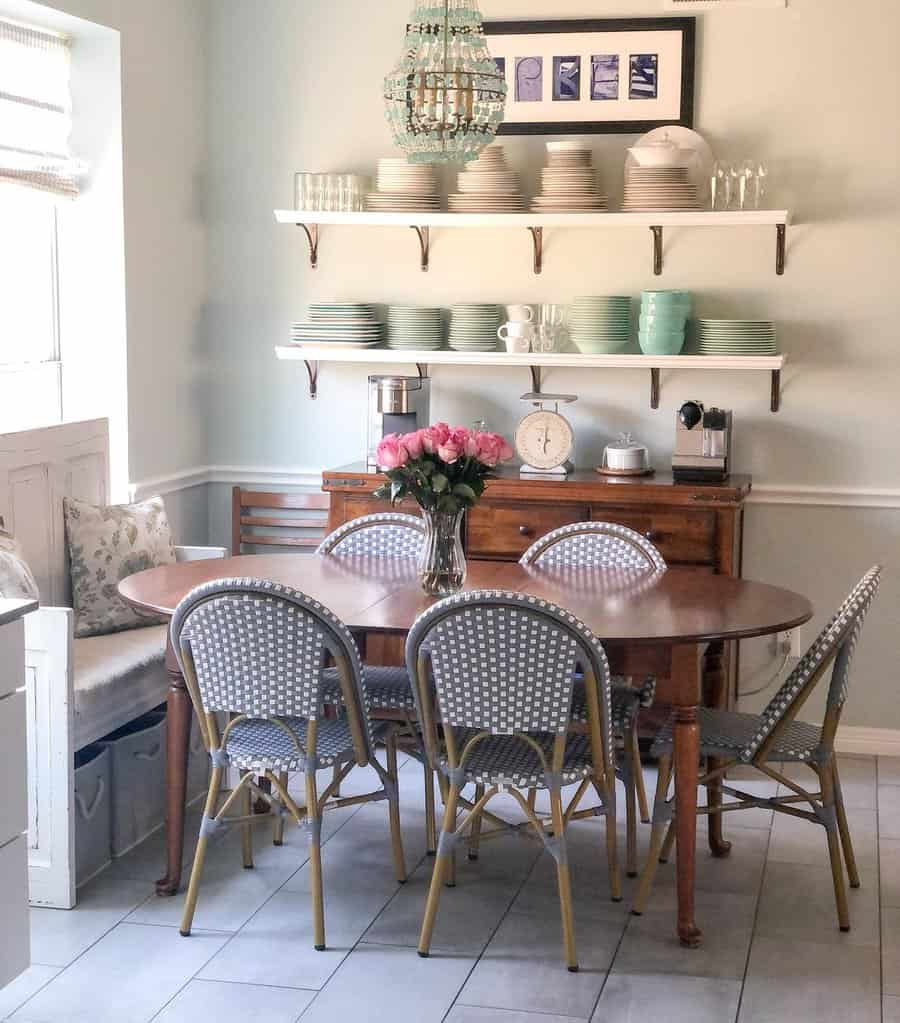 6. Recessed Nook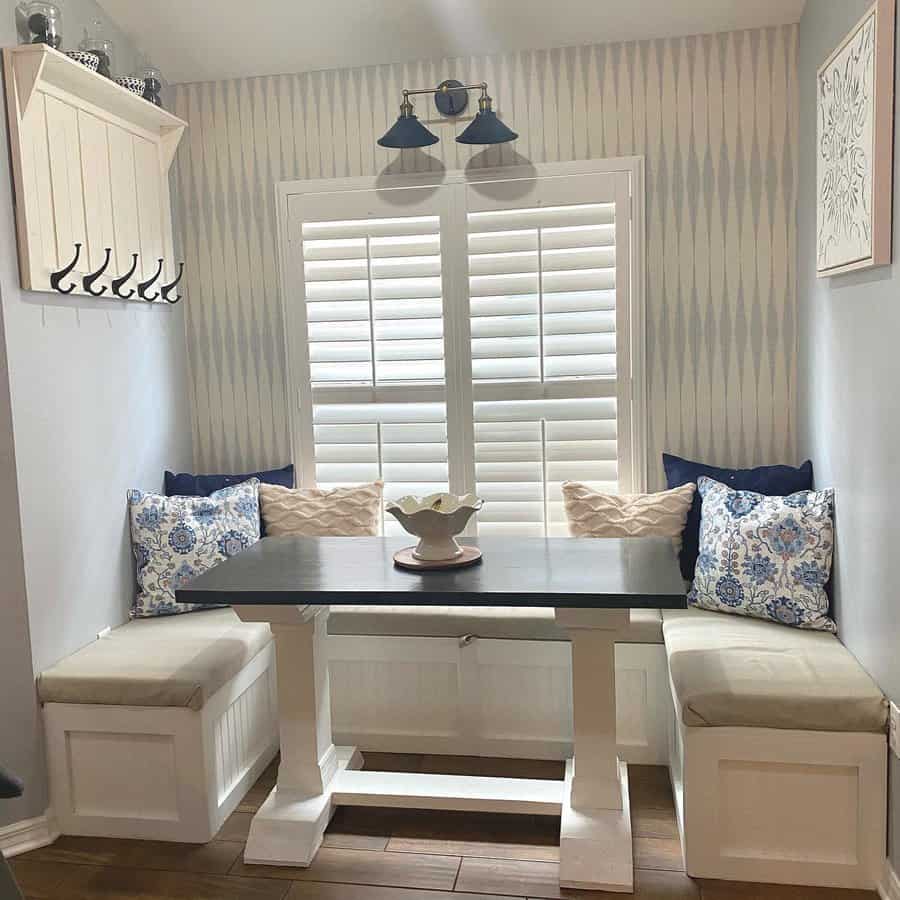 7. Bright & White Nook
A white kitchen nook is a perfect way to open up your kitchen. Not only does it add brightness and extra seating, but it also gives your kitchen an airy feel that breathes new life into any space.
Whether you use a classic farmhouse table or a modern bistro style, this brilliant idea is sure to add character to your kitchen.
With endless style options, ranging from weathered wood to bright whites, the possibilities for creating an inviting atmosphere are truly endless!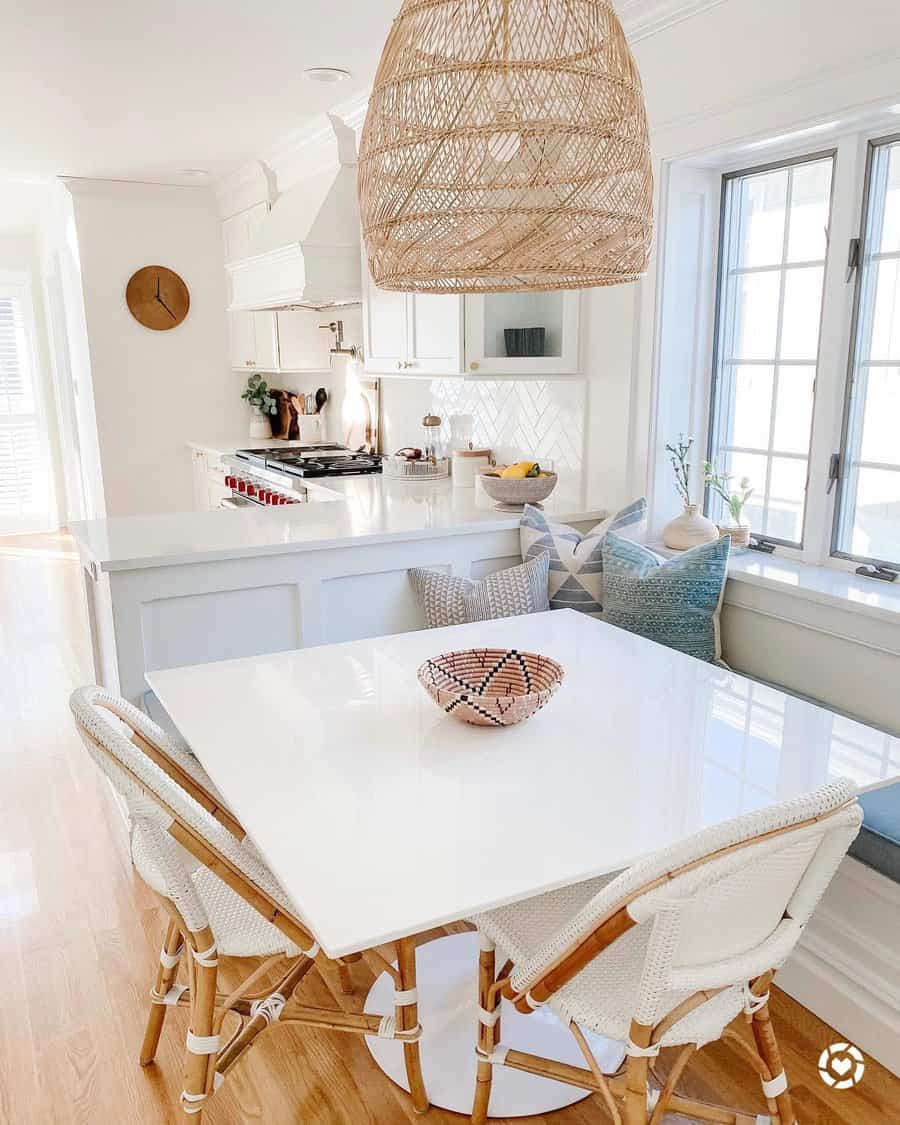 8. Diversify Seating
Consider diversifying your seating options by adding a comfortable couch or sofa, or if you are feeling extra creative opt for a bay window bench near the window, where natural light can brighten up your quaint kitchen corner.
Break away from tradition to make your kitchen nook an inviting space that speaks to your style. After all, the possibilities are endless and you have the power to create something truly unique!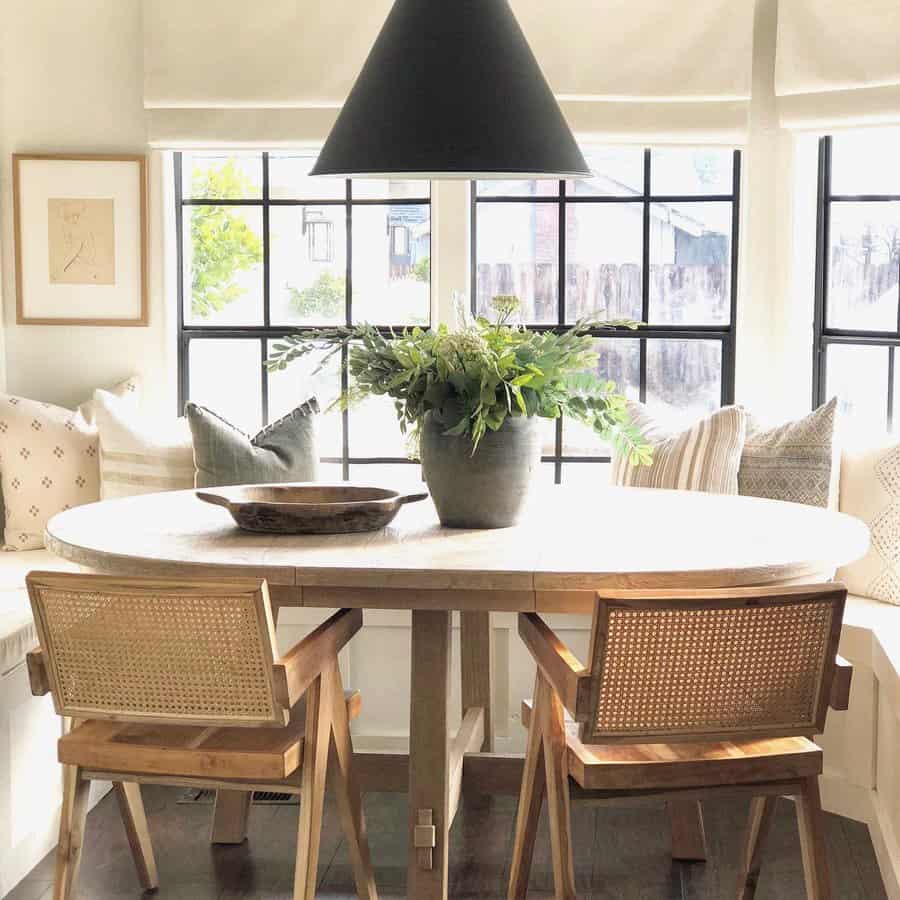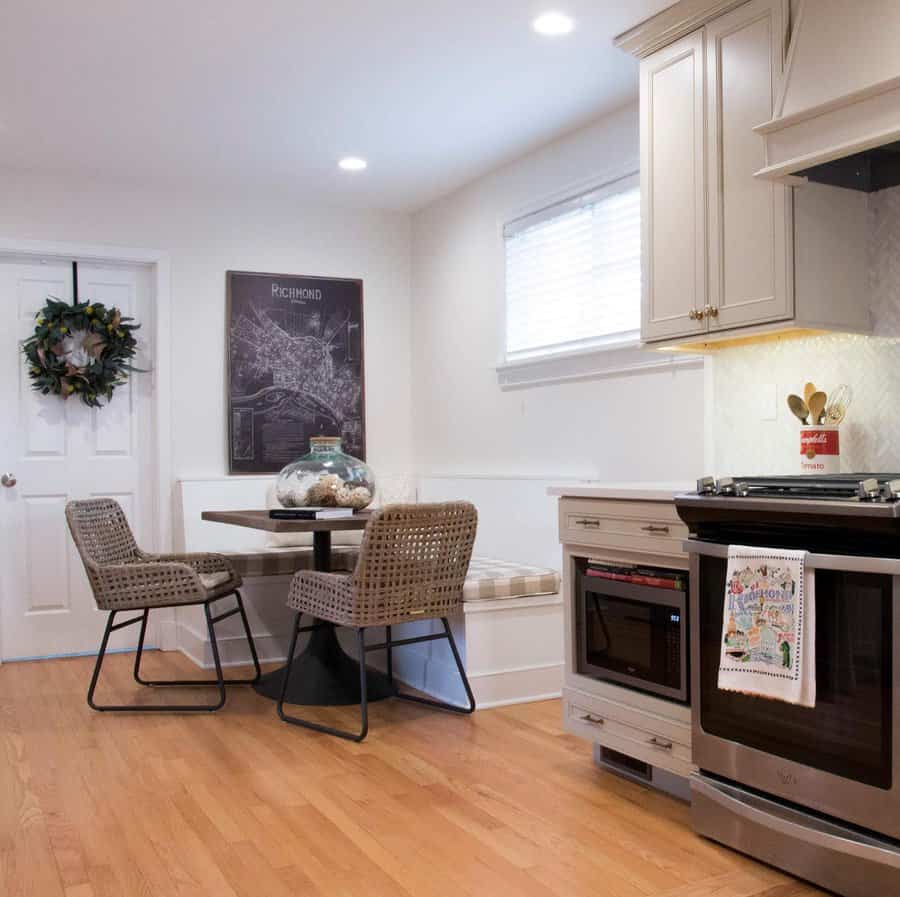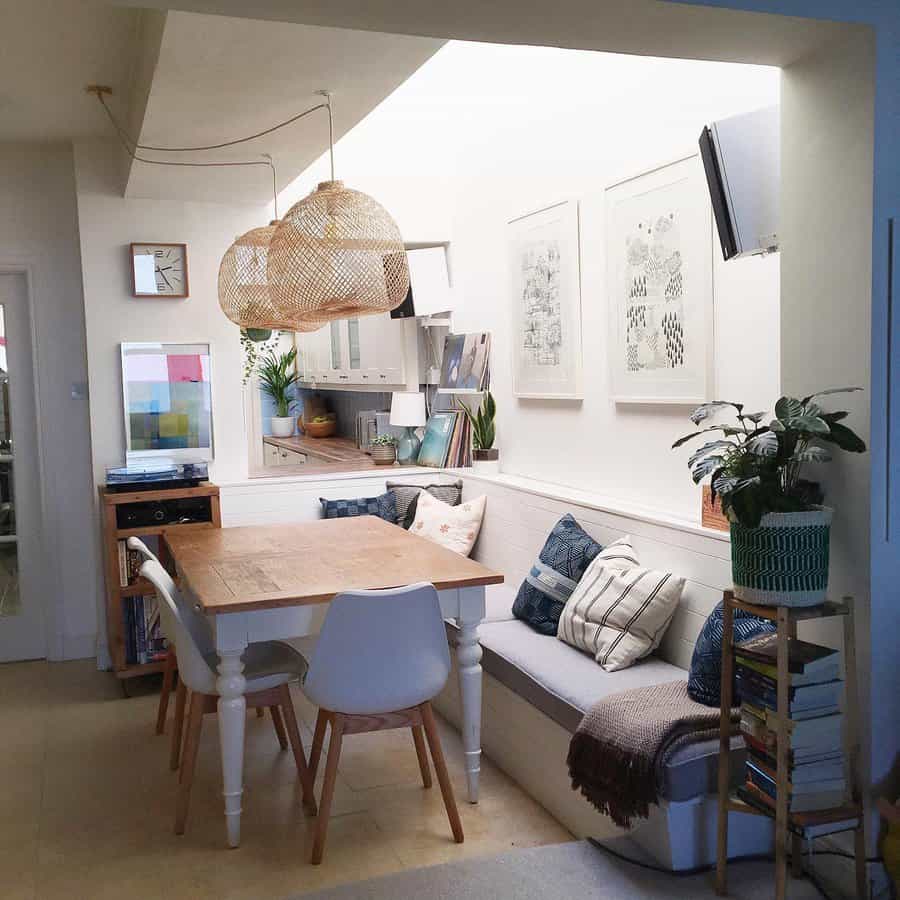 9. Standalone Coffee Table
Are you looking for a creative way to get extra seating and storage in a small kitchen? Look no further than a standalone coffee table for your kitchen nook! It's the perfect solution for anyone short on space—not only are these tables typically movable, but they also look great and provide an inviting spot for snacks or meals.
With the right design, this cozy nook can transform into an elegant centerpiece of your kitchen. Whether you opt for something sleek and contemporary, shabby chic, or vintage-inspired, adding this functional furniture item will instantly give your kitchen more personality and character.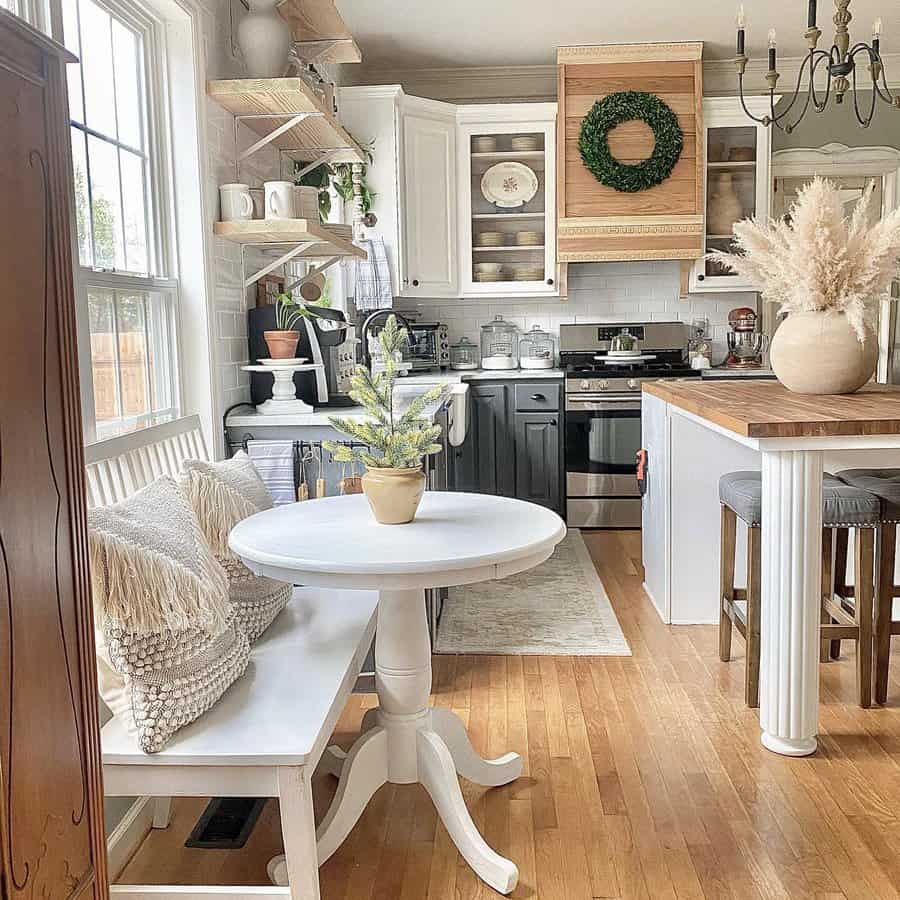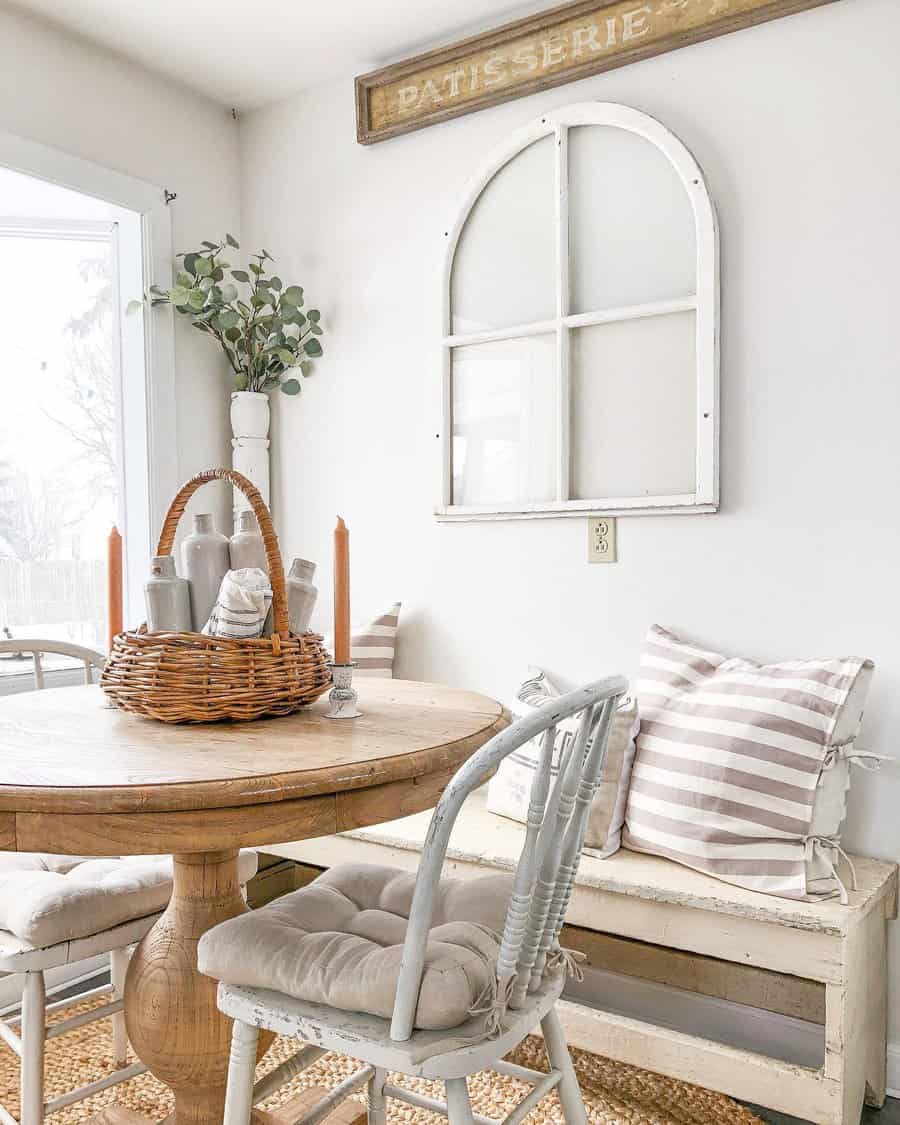 10. Gather-Round Bench
Need a cozy space for friends and family to get together? Transform your kitchen with a round nook! A gather-round bench and round table create an intimate atmosphere that encourages conversation. Utilize small table lamps or string lights for a warm ambiance.
Add decorative accents like toss cushions and wreaths to fill out the space and make it feel every bit as inviting as your living room. With a few tweaks, your kitchen can become the perfect social hub of your home.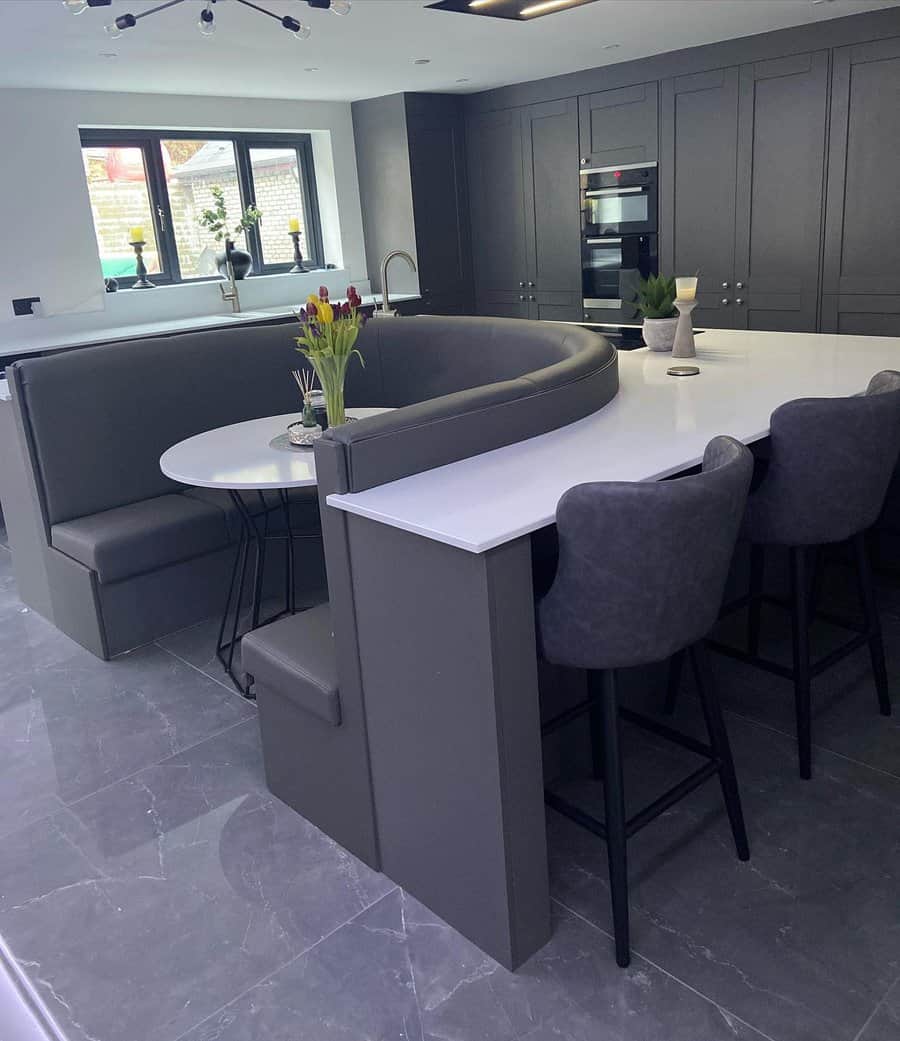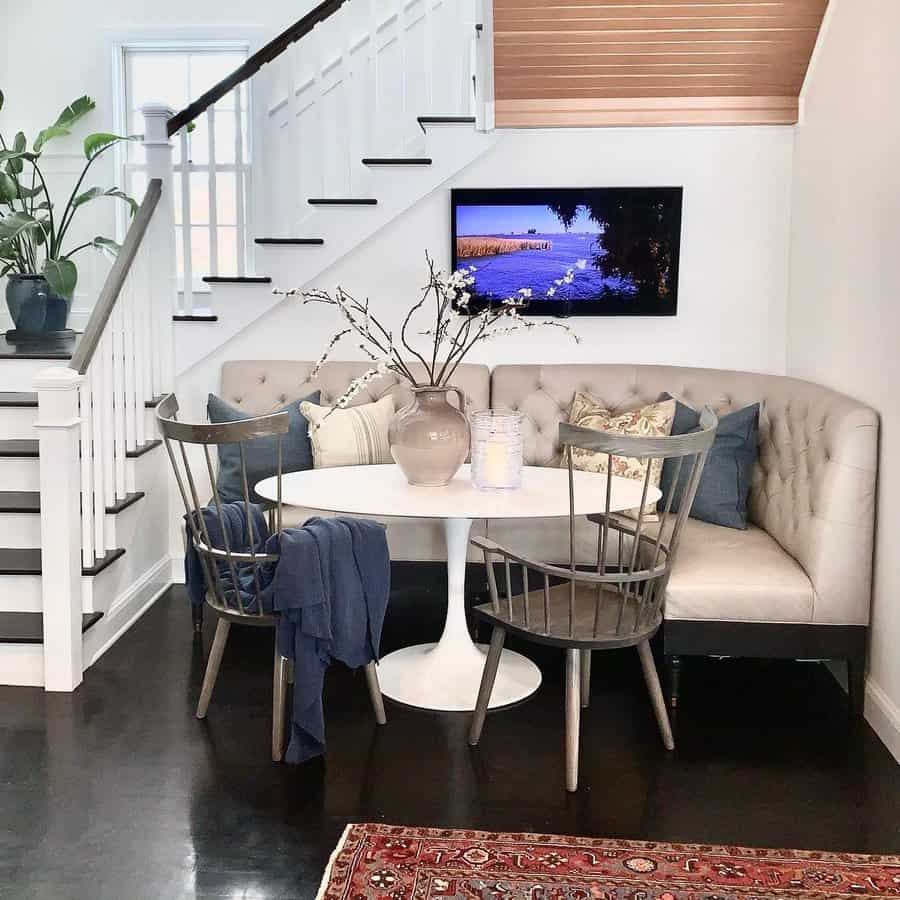 11. Under-The-Bench Storage
Why not go for one with a built-in bench with under-the-bench storage so that you can tuck away those extra kitchen essentials and make the most of your space?
You could choose comfortable cushions in the colors of your choice and add a few plants or fairy lights to inject extra warmth into the atmosphere. Not only will this create an inviting environment, but you'll also enjoy having quick access to all your cooking needs.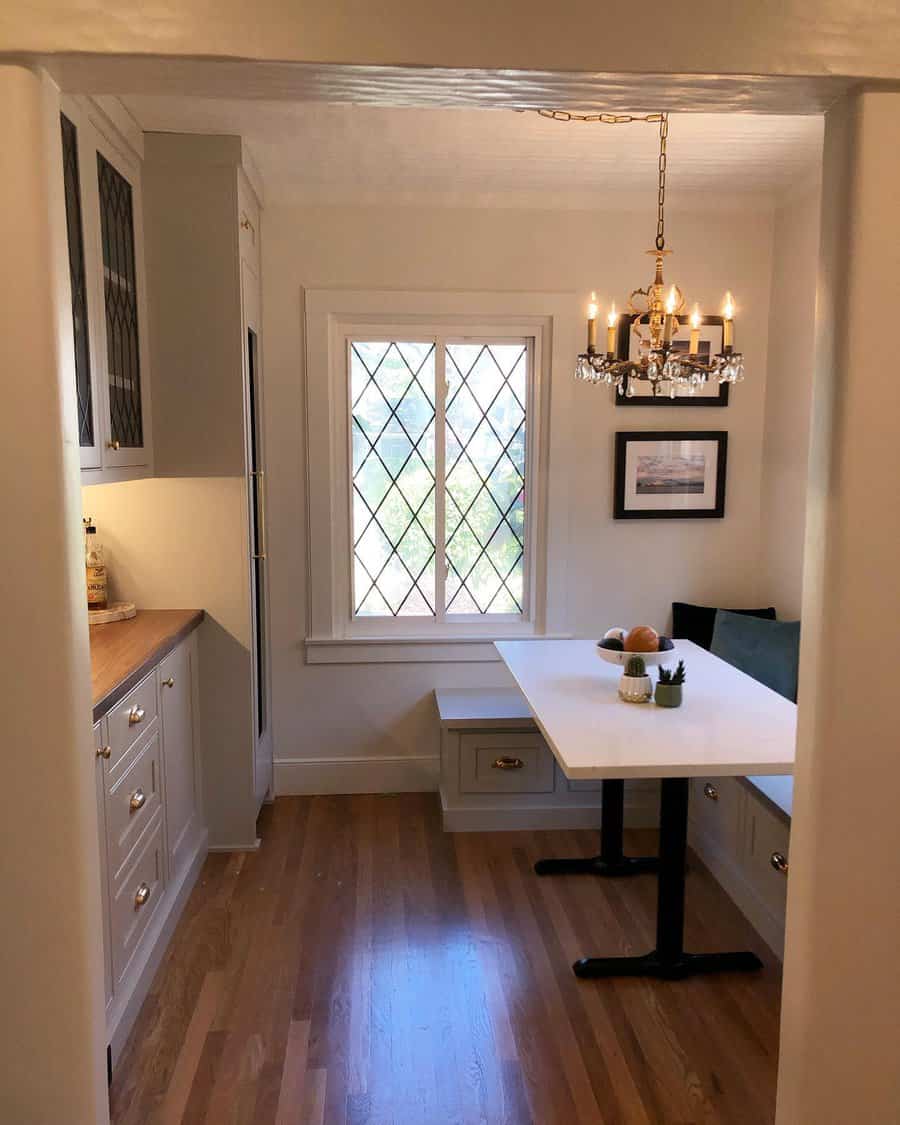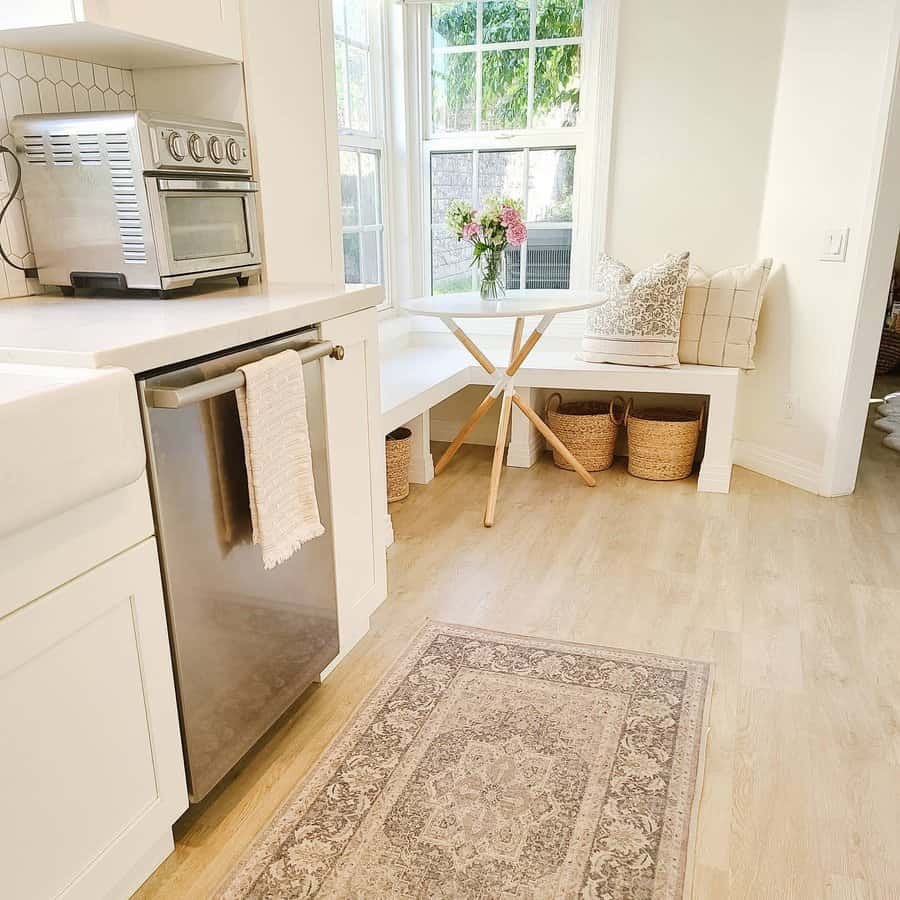 12. Cozy Up With Throw Pillows
Get creative with your kitchen nook ideas and create a warm, inviting atmosphere for the whole family. Use throw pillows to spruce up an existing bench or build a bench from scratch. Throw pillows add comfort, color, and texture to the room and make it feel cozy.
Don't forget about lighting — use floor lamps, wall sconces, or both to create an inviting ambiance any time of day. With just a few ideas and minimal effort, you can transform your kitchen into an oasis of relaxation that you'll never want to leave!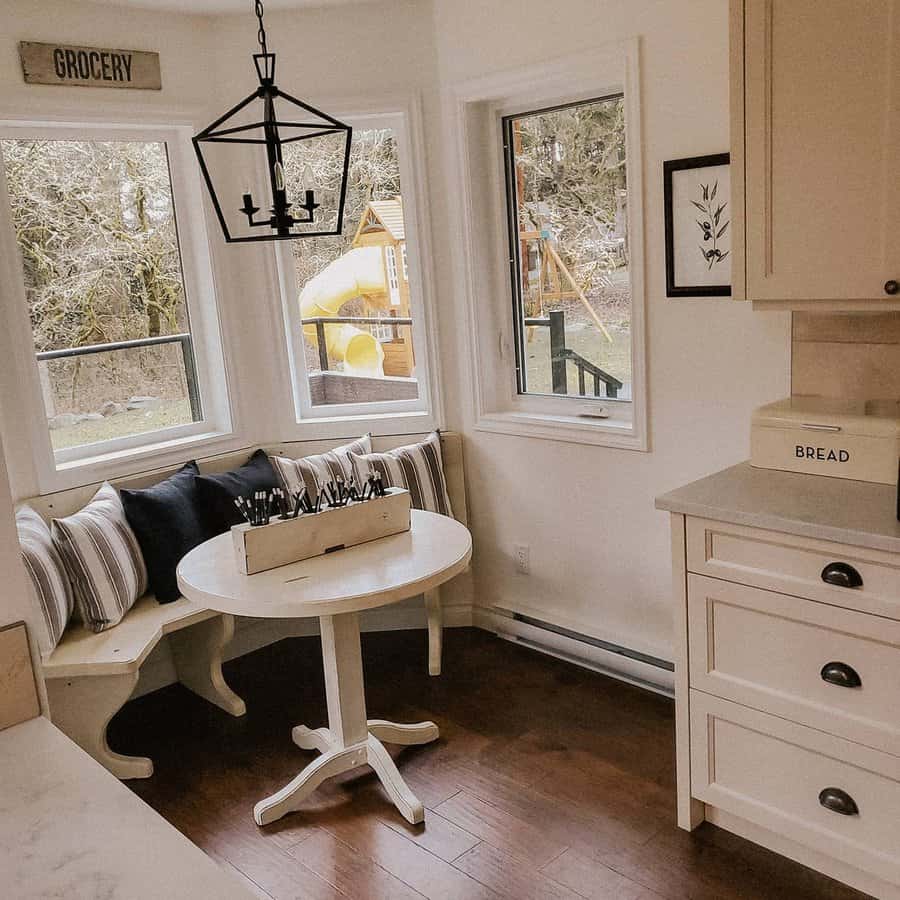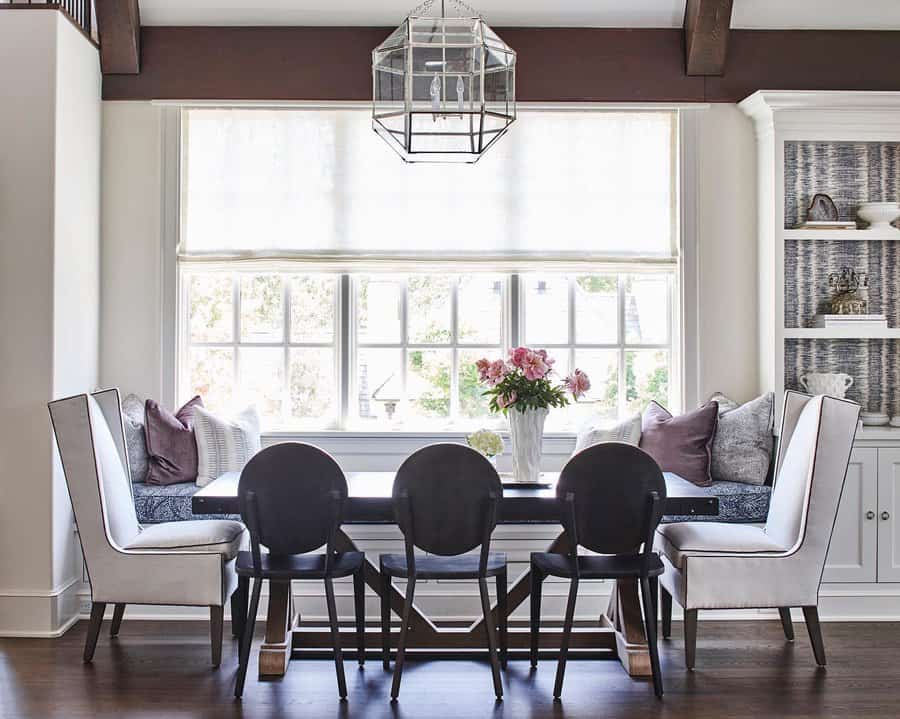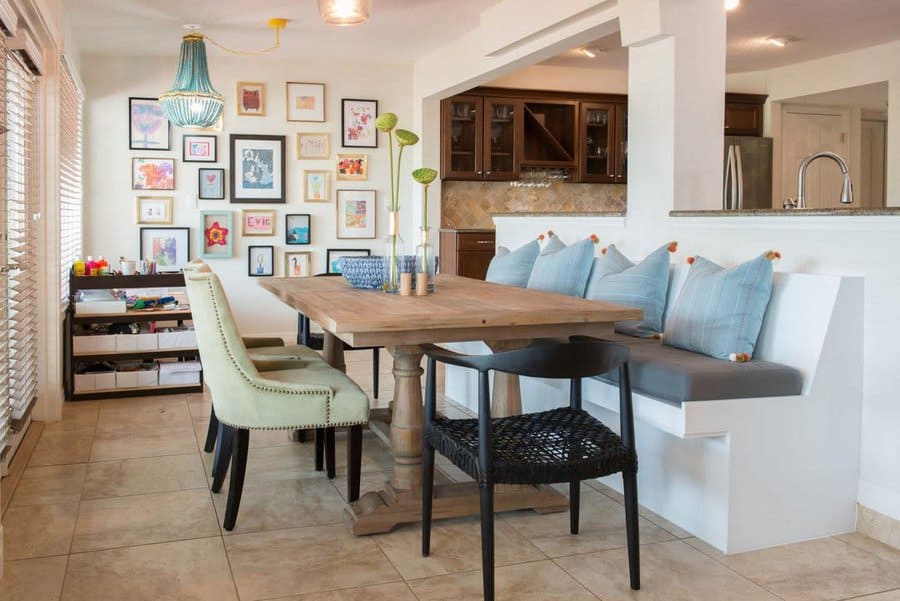 13. Add Pendant Lighting
A kitchen nook with pendant lighting can be the perfect spot for relaxing over morning coffee or enjoying Sunday brunch. The pendant lighting will act as a focal point in this special area of the room while providing extra warmth and atmosphere.
Add some prints, colorful cushions, and candles to complete your space and you'll have the ideal setting for socializing with friends and family.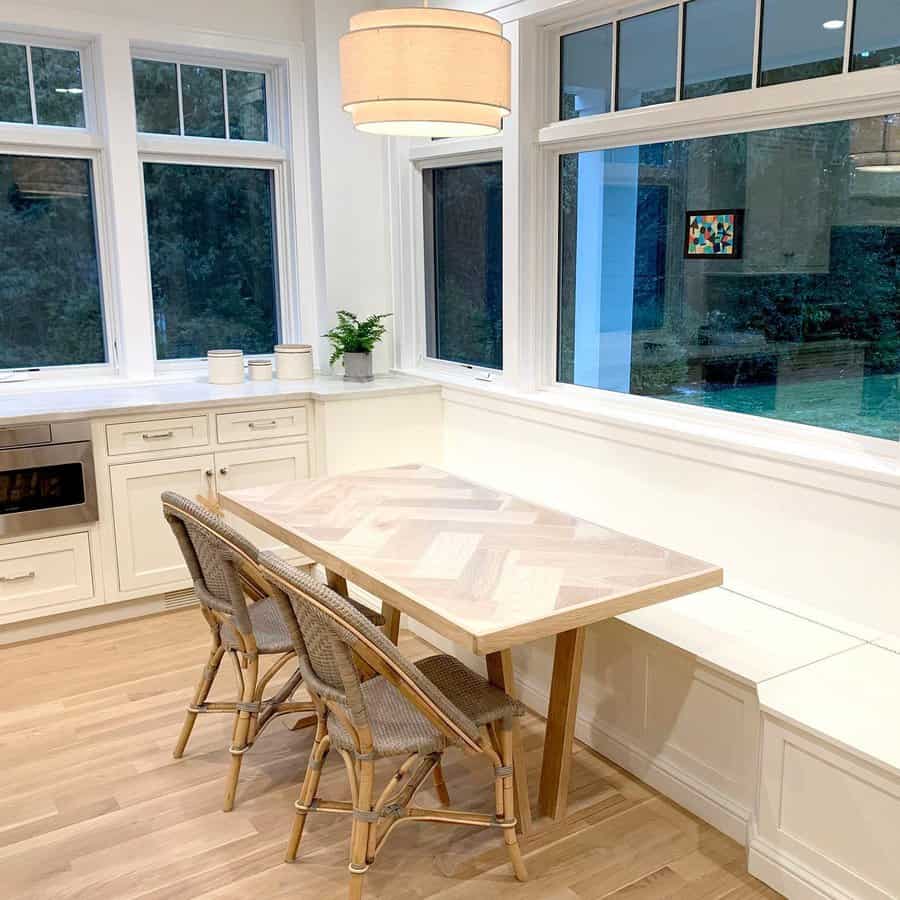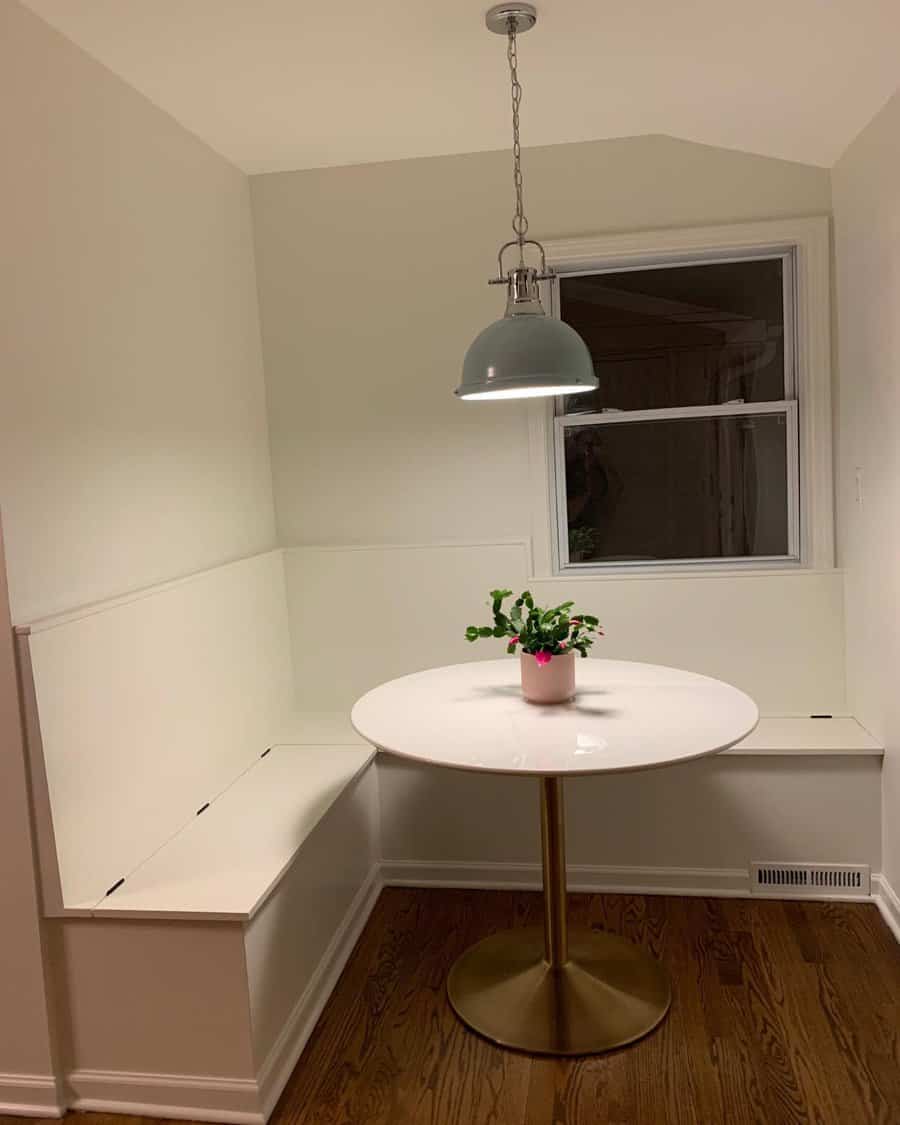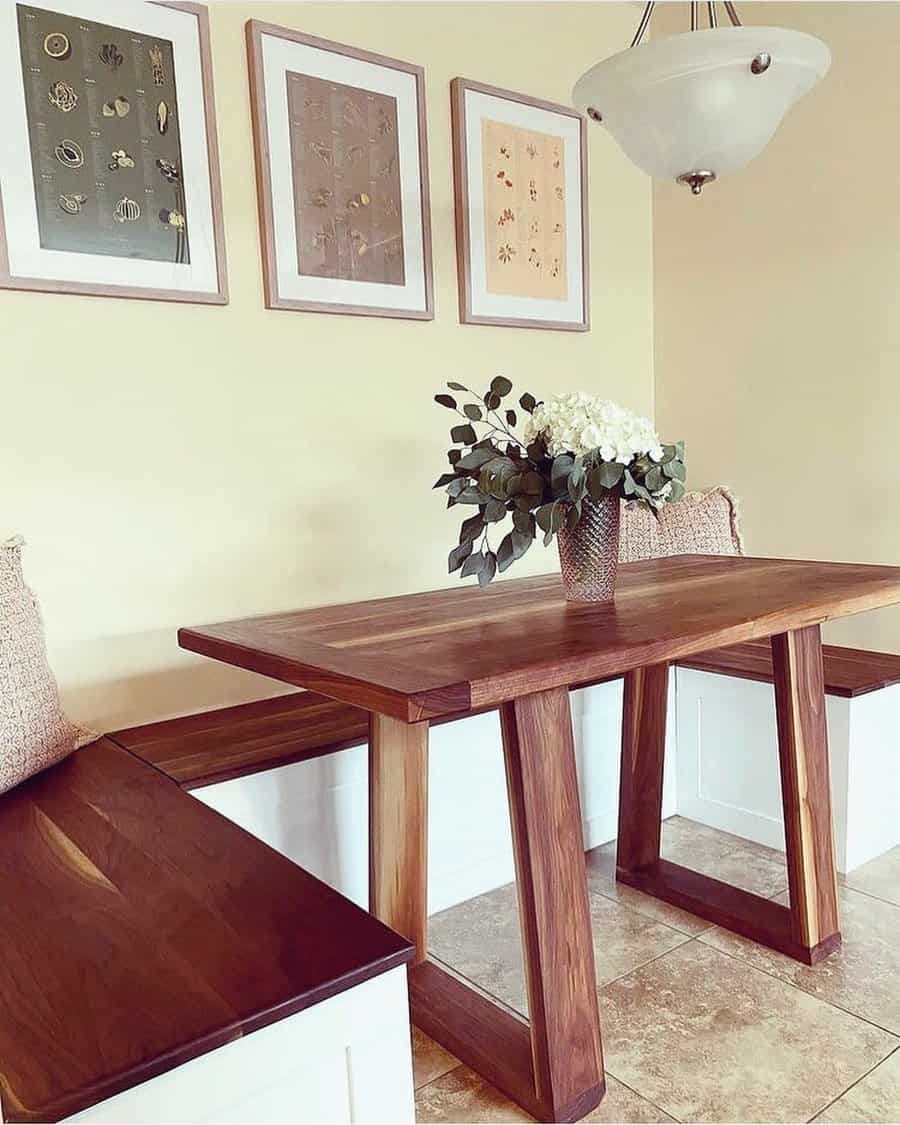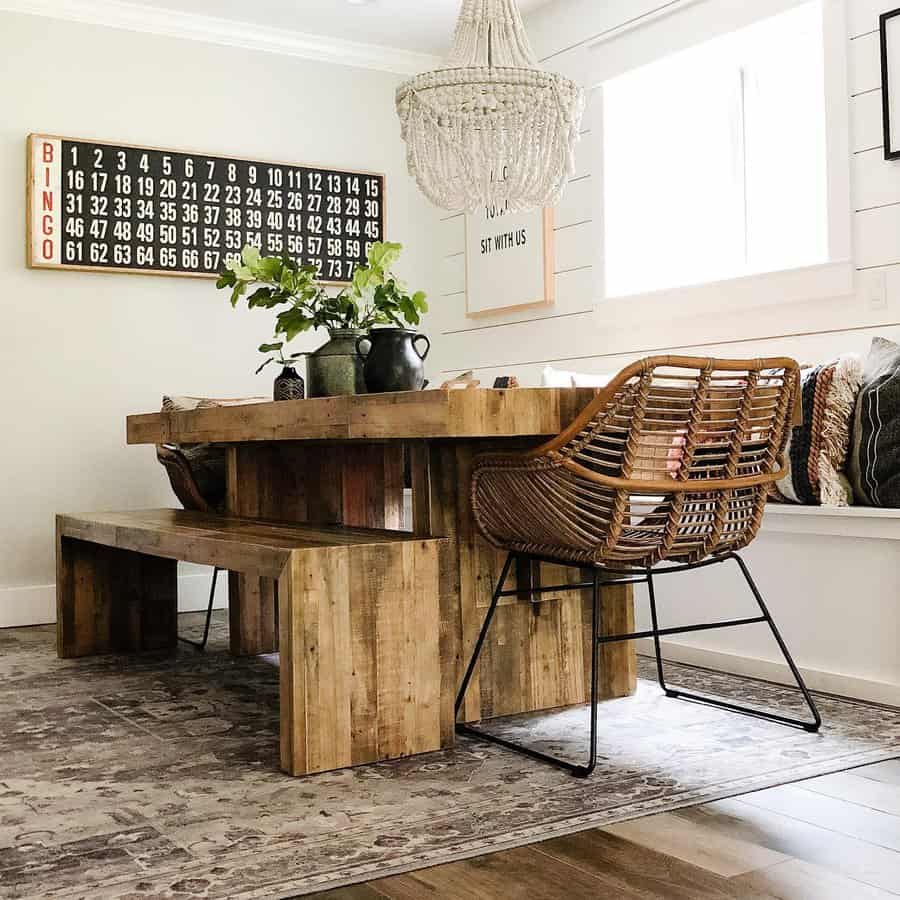 Kitchen Nook FAQs
Are breakfast nooks a current trend?
Yes and no! The breakfast nook first gained popularity in the early-20th century. Since then, it largely fell out of favor and was replaced by kitchen islands and other casual dining spaces.
In recent years, though, many vintage home trends have resurfaced. The breakfast nook is just one noteworthy example.
So while breakfast nooks are not a new concept, and some people may consider them out-of-style, there are plenty of homeowners and interior designers finding contemporary ways to use cozy nooks in their kitchens.
What can a breakfast nook be used for besides meals?
If you think building a breakfast nook would be a waste of space because of a lack of versatility, you're sorely mistaken!
A kitchen nook is not just an alternative to a traditional dining room. This space can be used to prepare meals, complete homework, participate in arts and crafts, or work from home. If you frequently entertain, then there's no better place to set up your guests as you put the finishing touches on dinner.
These are just a few ways to use a built-in kitchen nook — we're sure you'll come up with even more of your own!