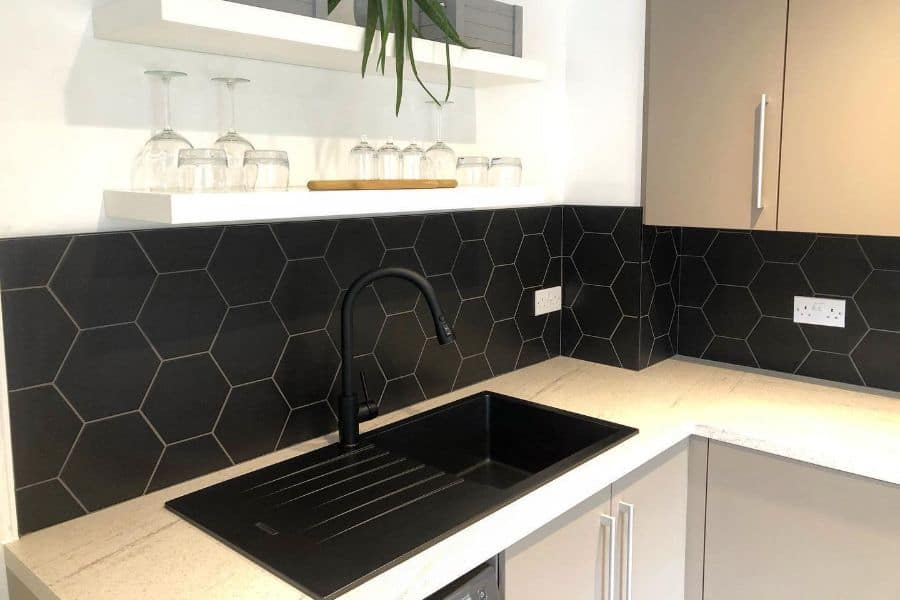 The Top 69 Kitchen Sink Ideas
The kitchen sink is so important to daily life that it's found useful in one of our favorite sayings: "Everything but the kitchen sink." Yet this importance is often overlooked by homeowners actually designing a kitchen of their own.
Your kitchen sink is, in many ways, the centerpiece of your entire kitchen. It plays an integral role in the layout and workflow of your kitchen, and no culinary space can function without one.
Keep reading for some of our favorite kitchen sink ideas that will prove just how crucial this element is to the perfect home.
1. Belfast Kitchen Sink
Make a statement in your kitchen with a timeless and elegant Belfast kitchen sink. With its deep basin and distinctive design, the Belfast sink adds a touch of classic charm to any culinary space. Crafted from durable and high-quality materials, this sink is not only a stylish addition but also a practical choice for busy kitchens.
The deep bowl provides ample space for washing dishes, pots, and pans, while the wide apron front creates a focal point that exudes character and sophistication. The clean lines and smooth surface of the Belfast sink make it easy to clean and maintain, ensuring that it remains a standout feature in your kitchen for years to come.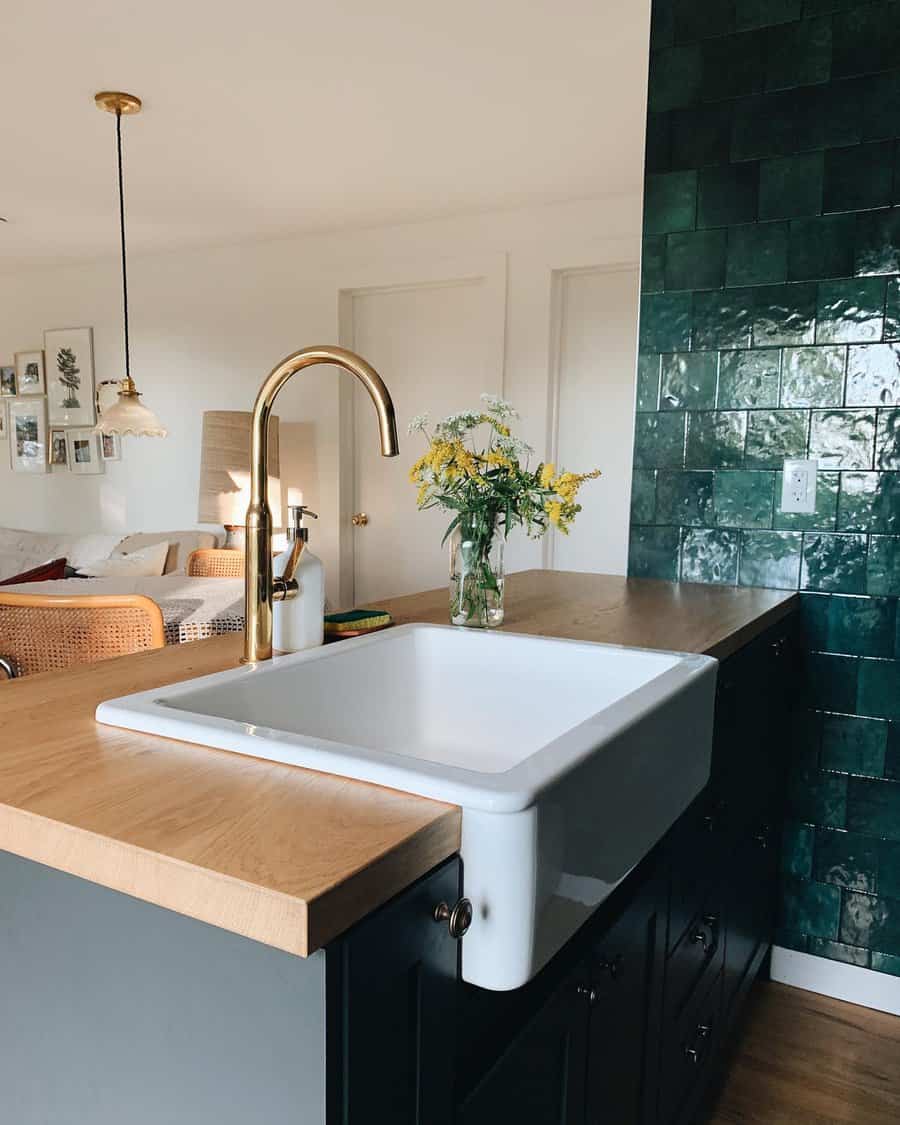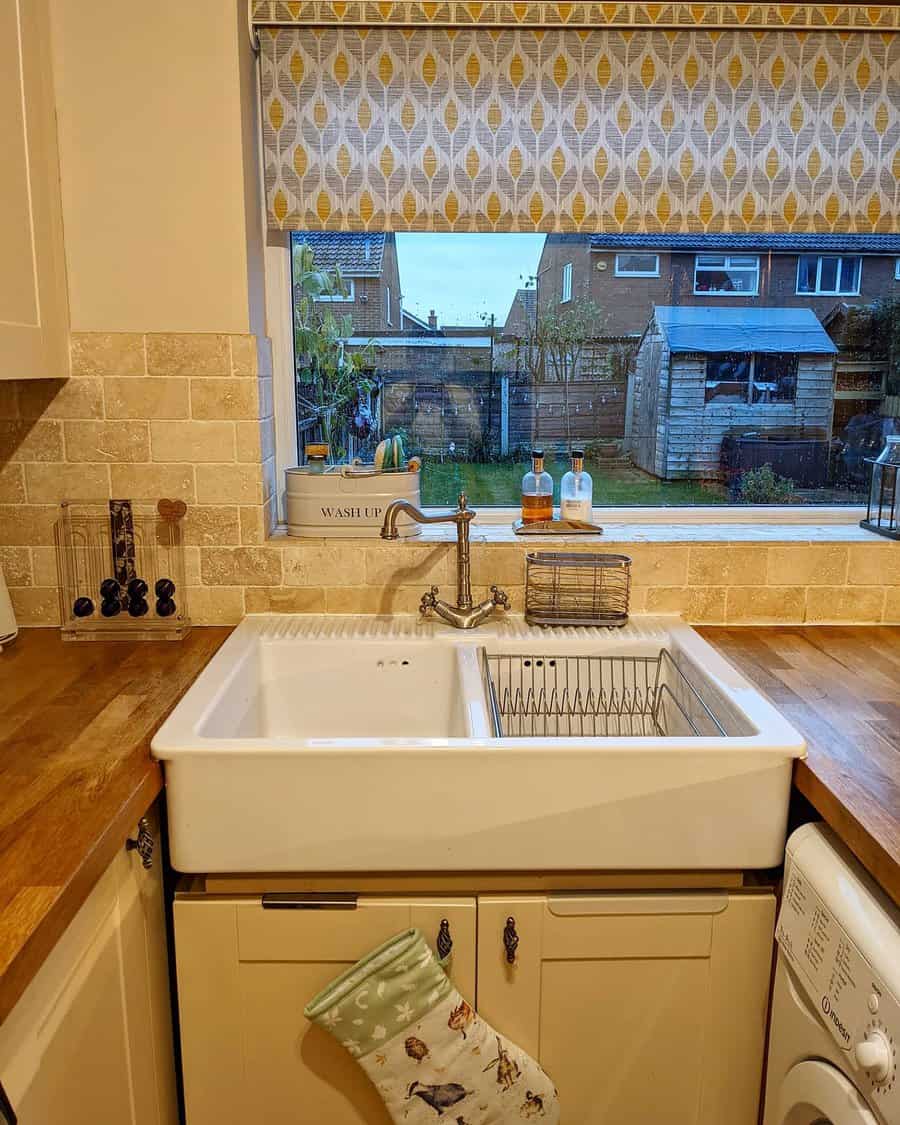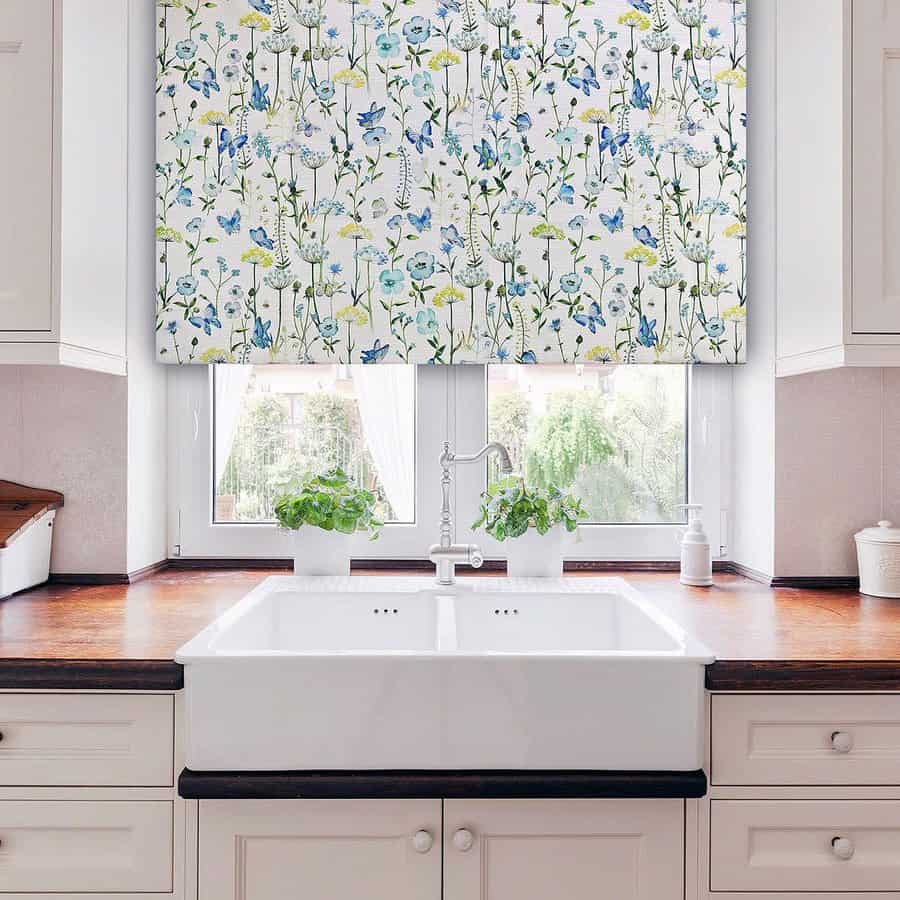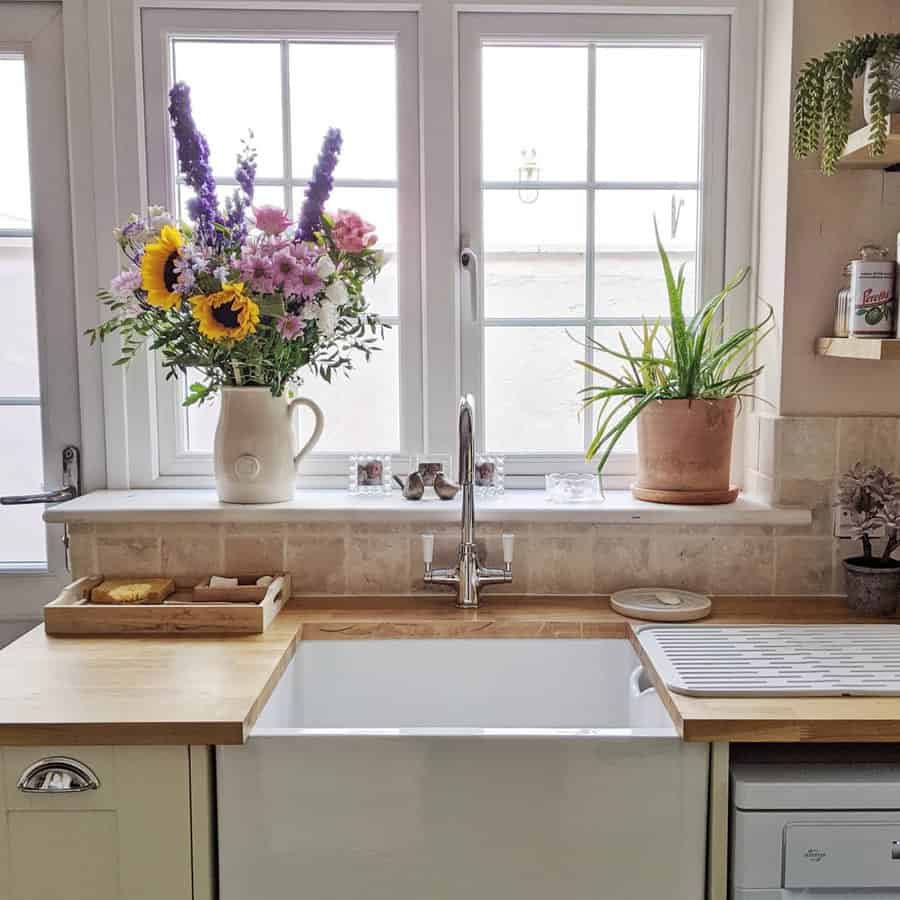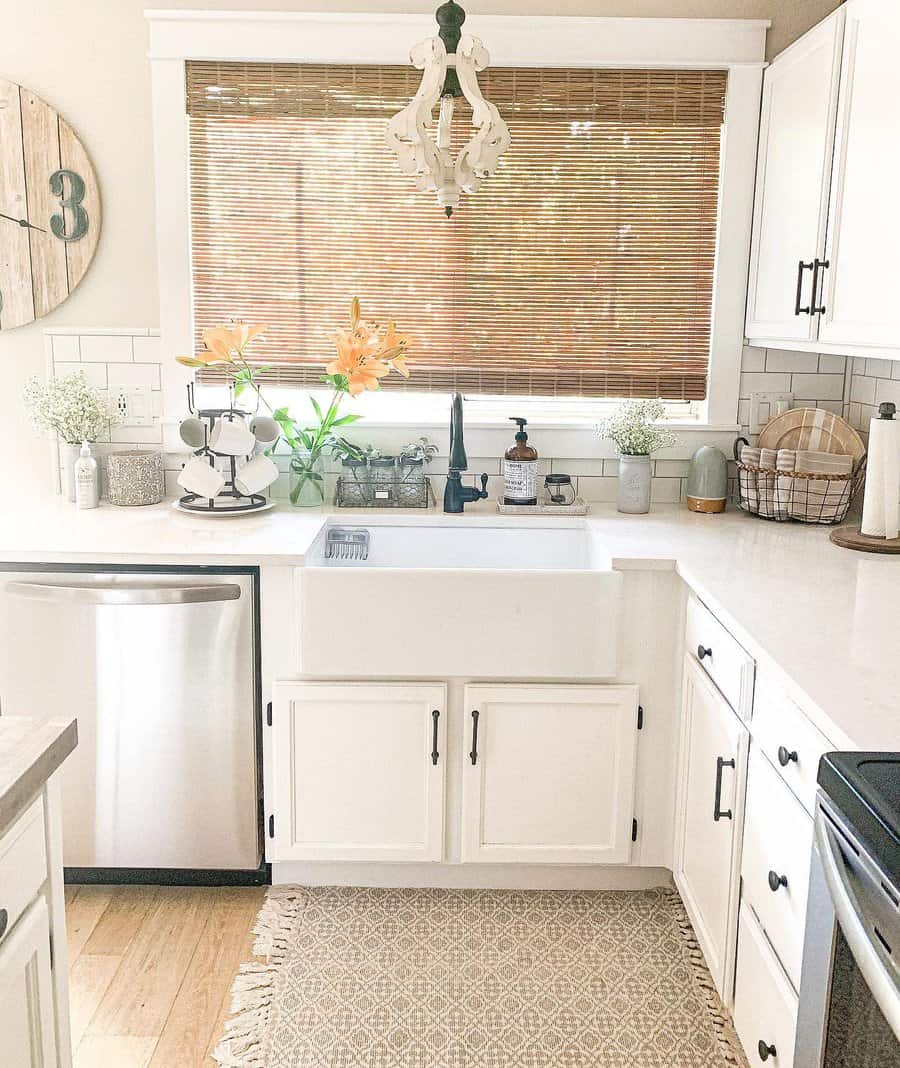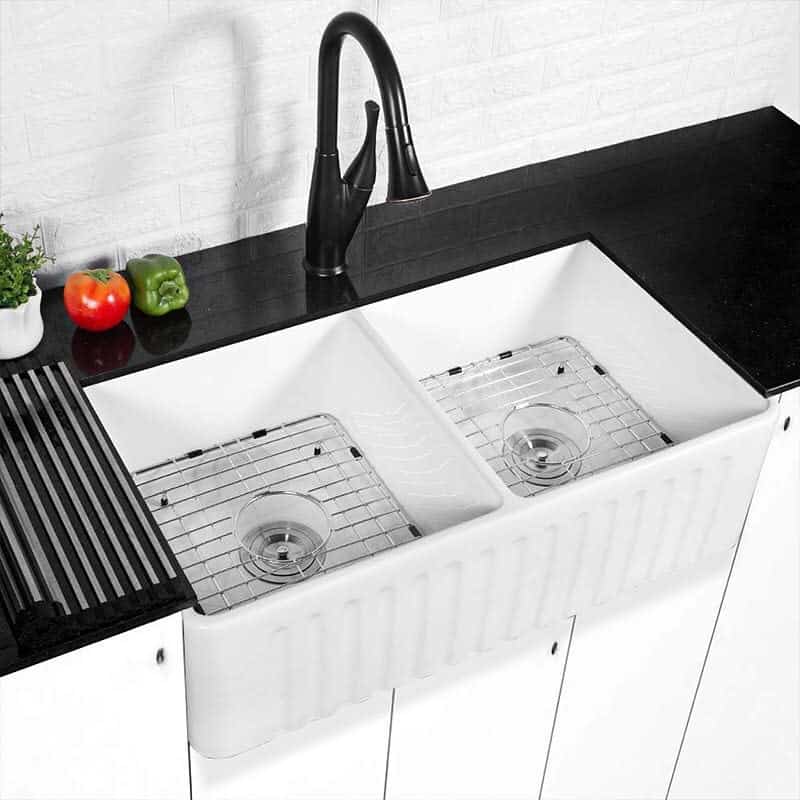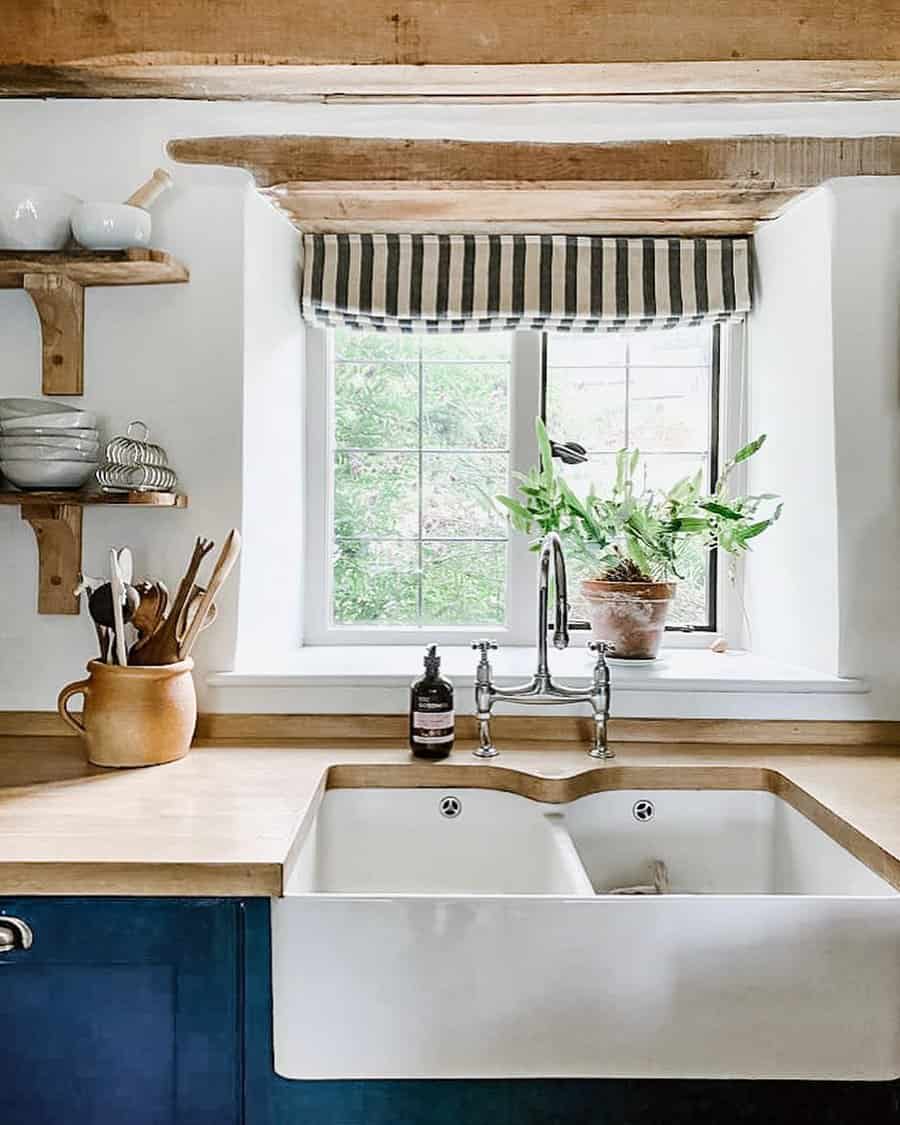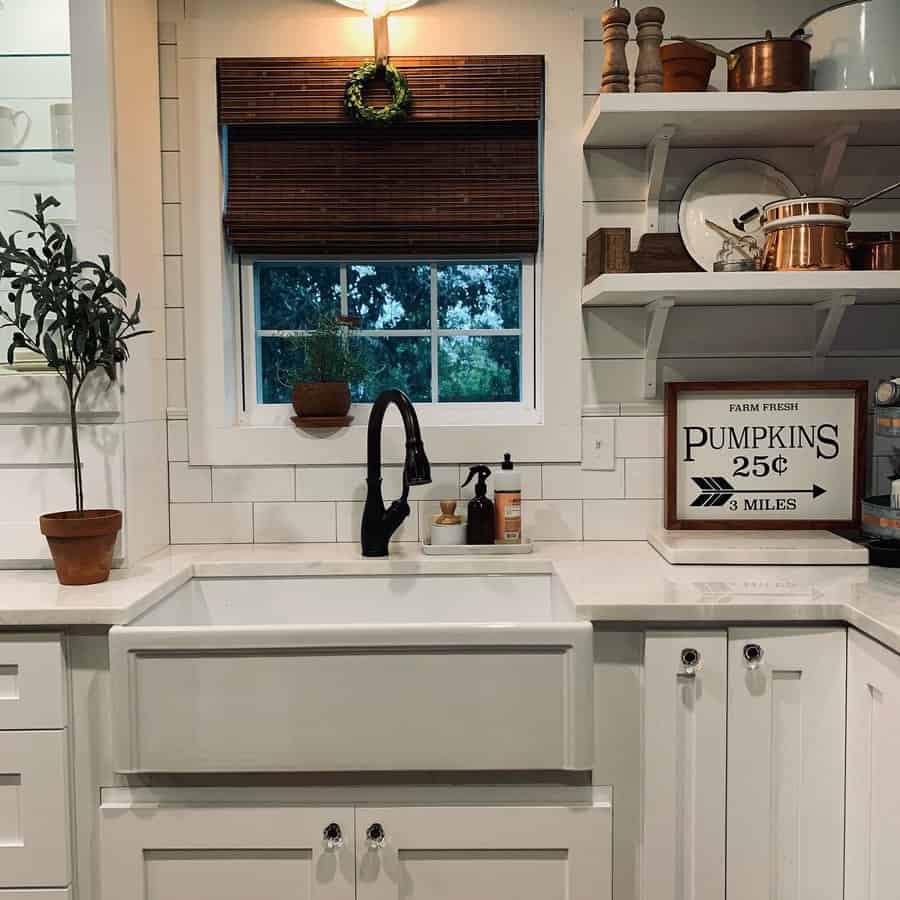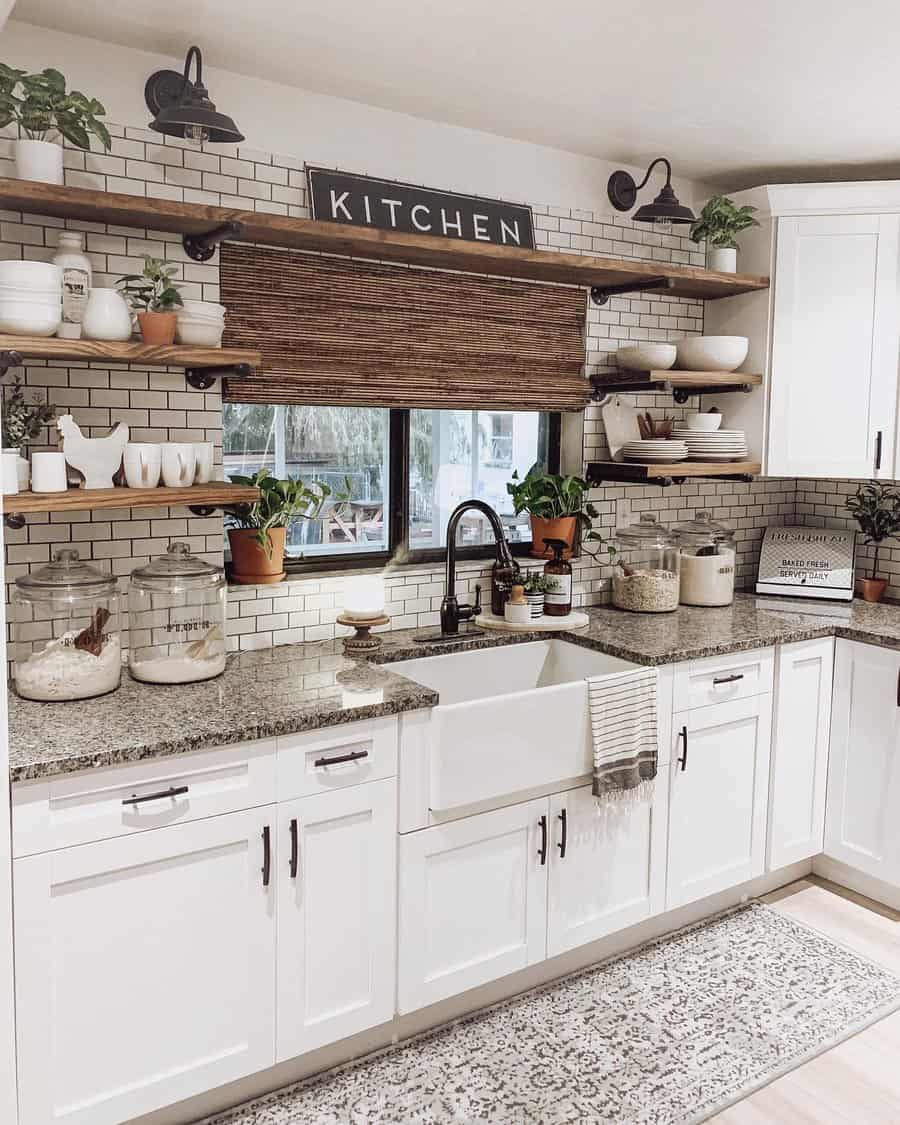 2. Integrated Drainboard Sink
Elevate your kitchen functionality with an integrated drainboard sink, the perfect marriage of style and practicality. This innovative sink design seamlessly combines the convenience of a sink and a built-in drainboard into a single, sleek unit. No more clunky dish racks or water pooling on your countertop – the integrated drainboard allows water to effortlessly flow from the dishes directly into the sink, keeping your kitchen clean and organized.
Beyond its functionality, the integrated drainboard sink adds a touch of elegance to your kitchen space. Its seamless design creates a visually pleasing and cohesive look that enhances the overall aesthetics of your kitchen. From prepping ingredients to washing dishes, this multi-functional sink makes your kitchen tasks a breeze.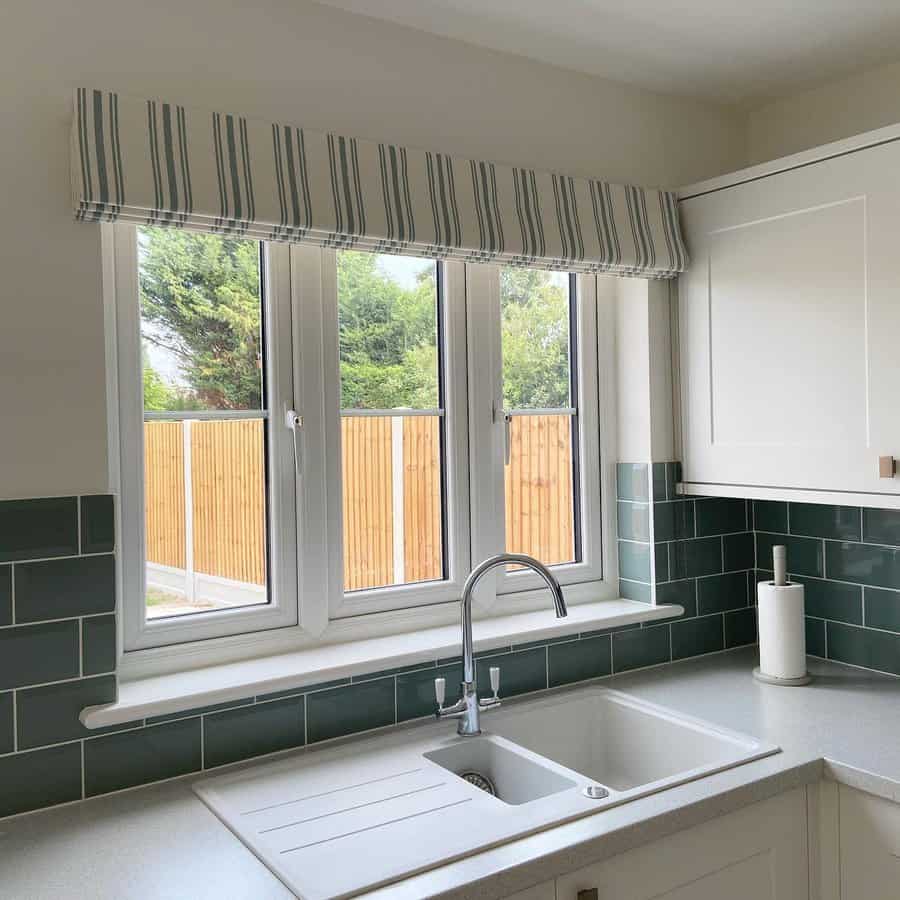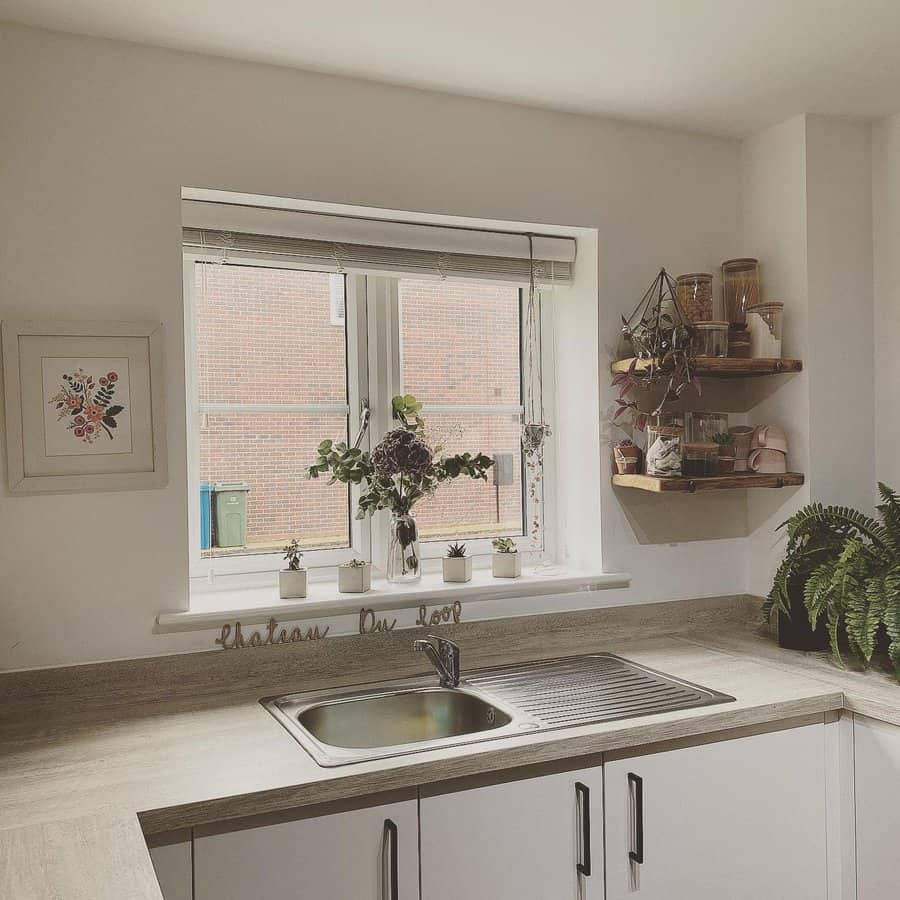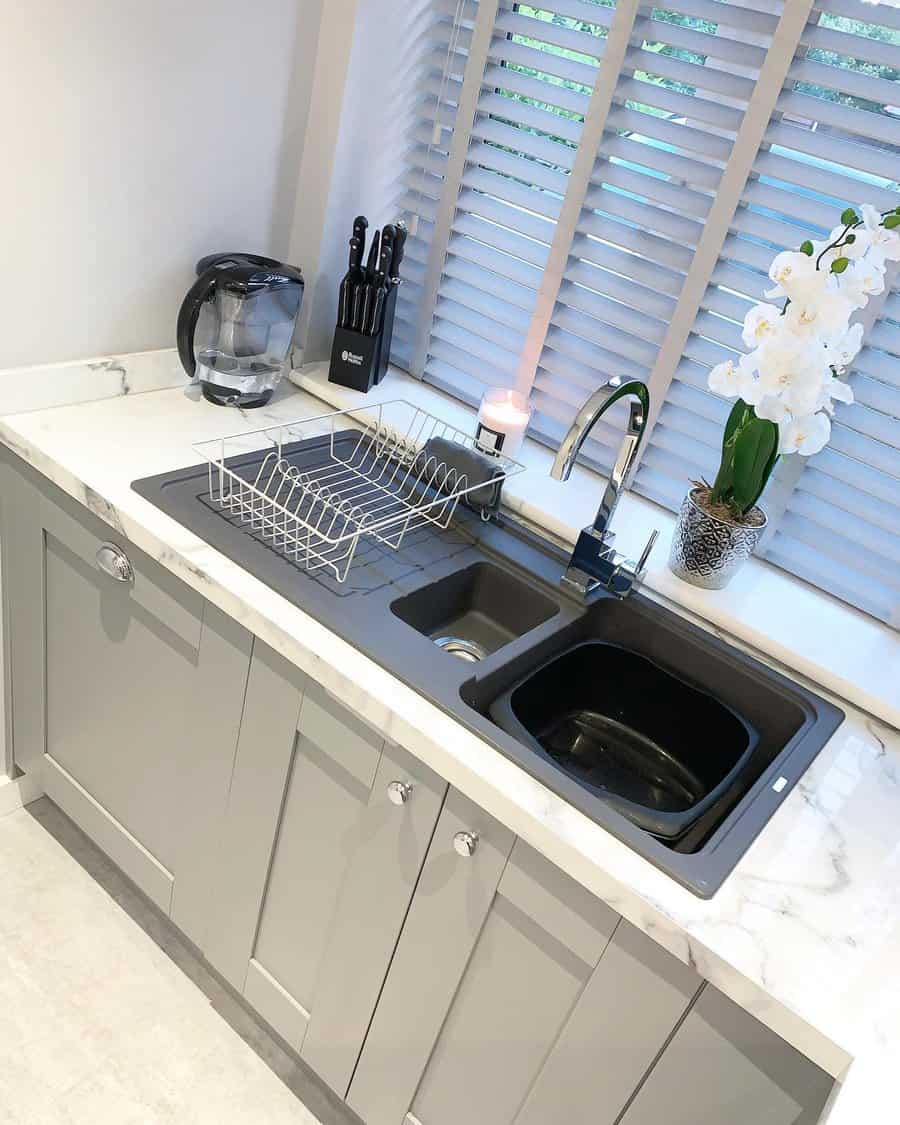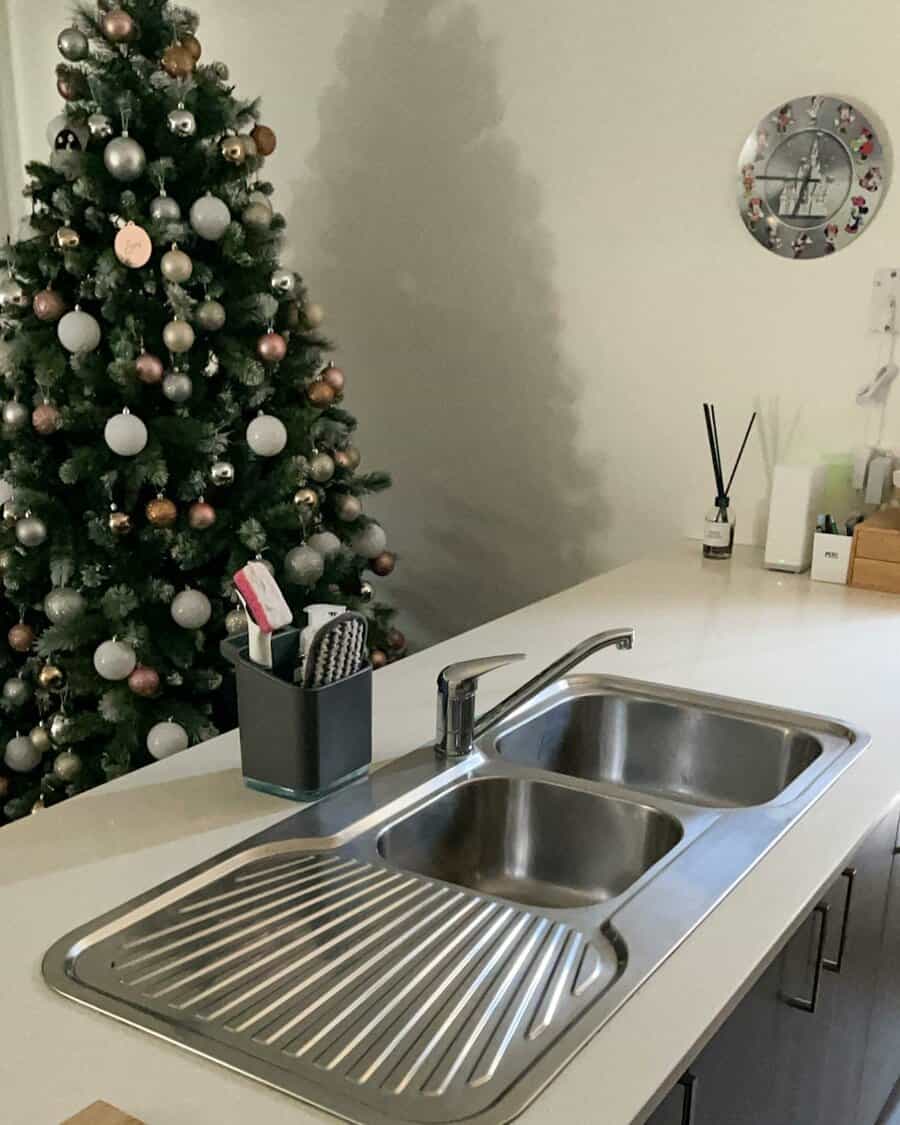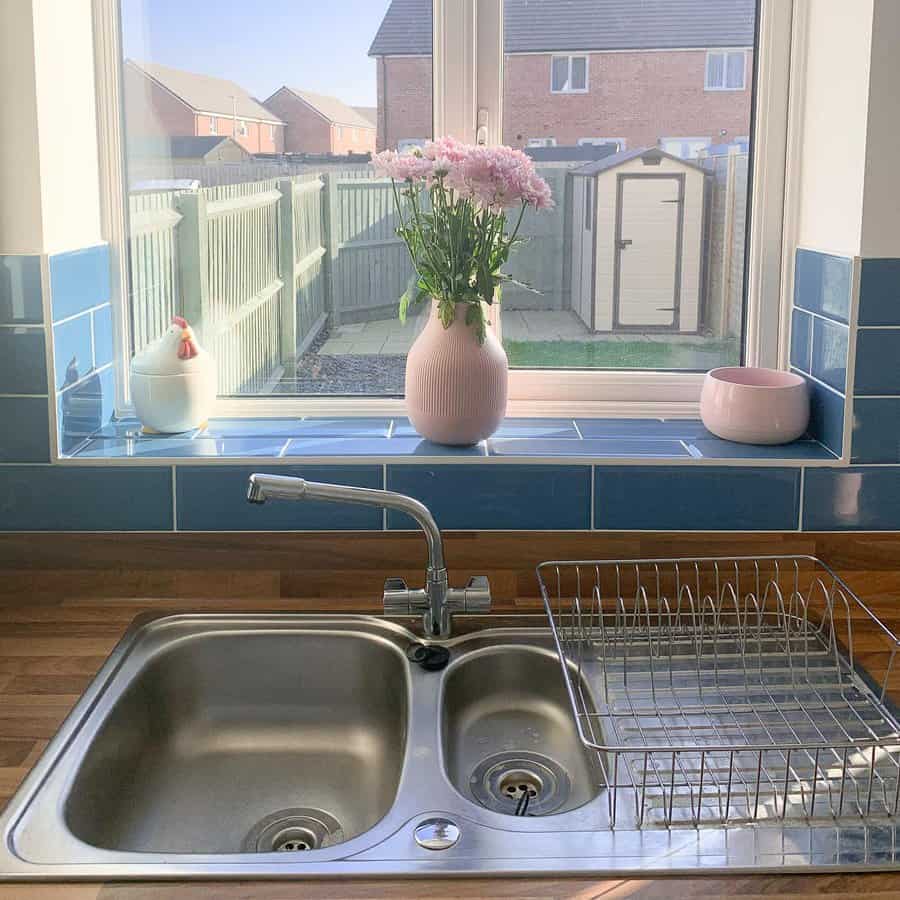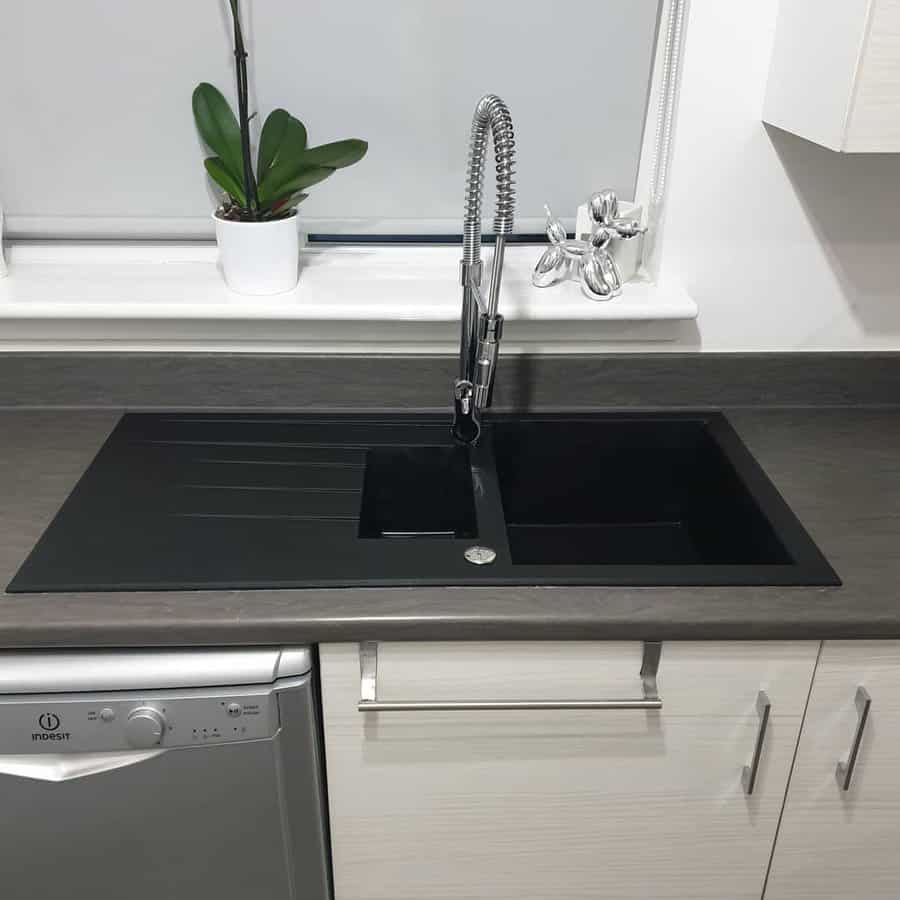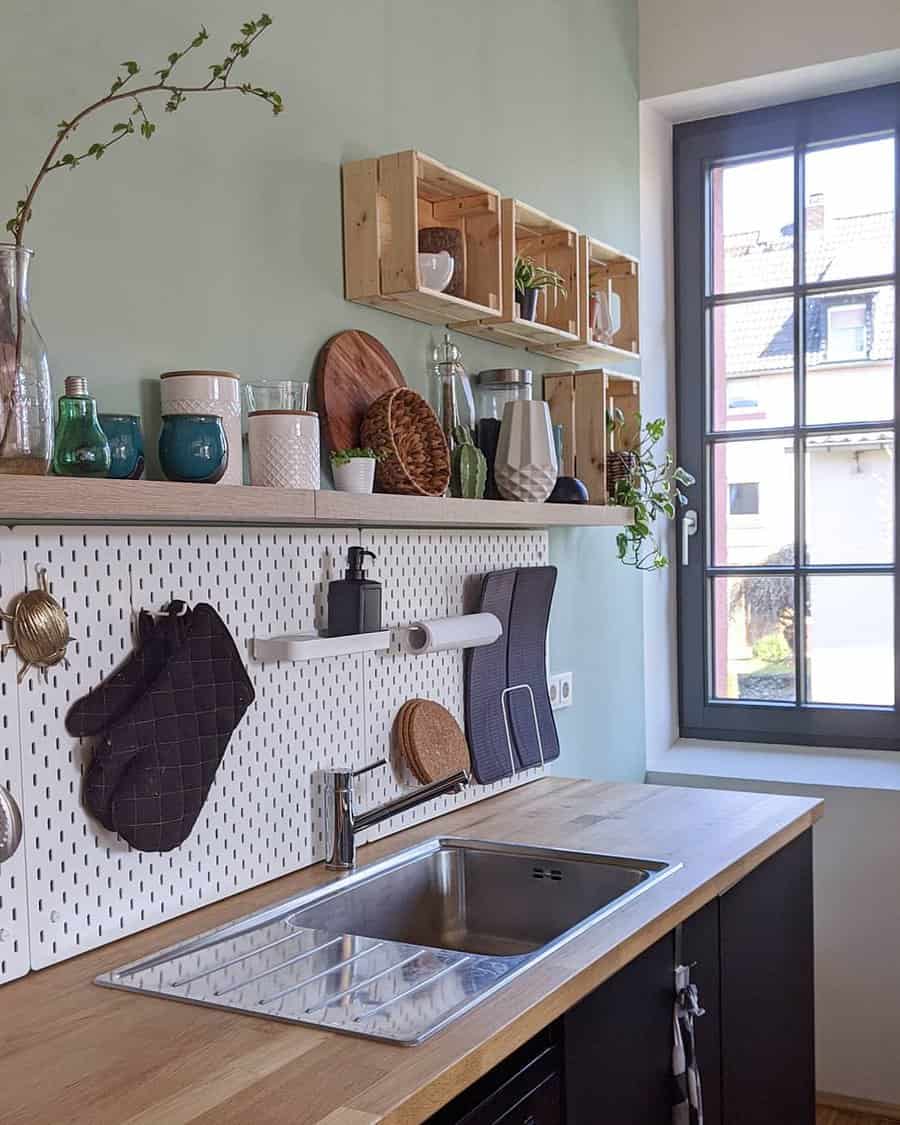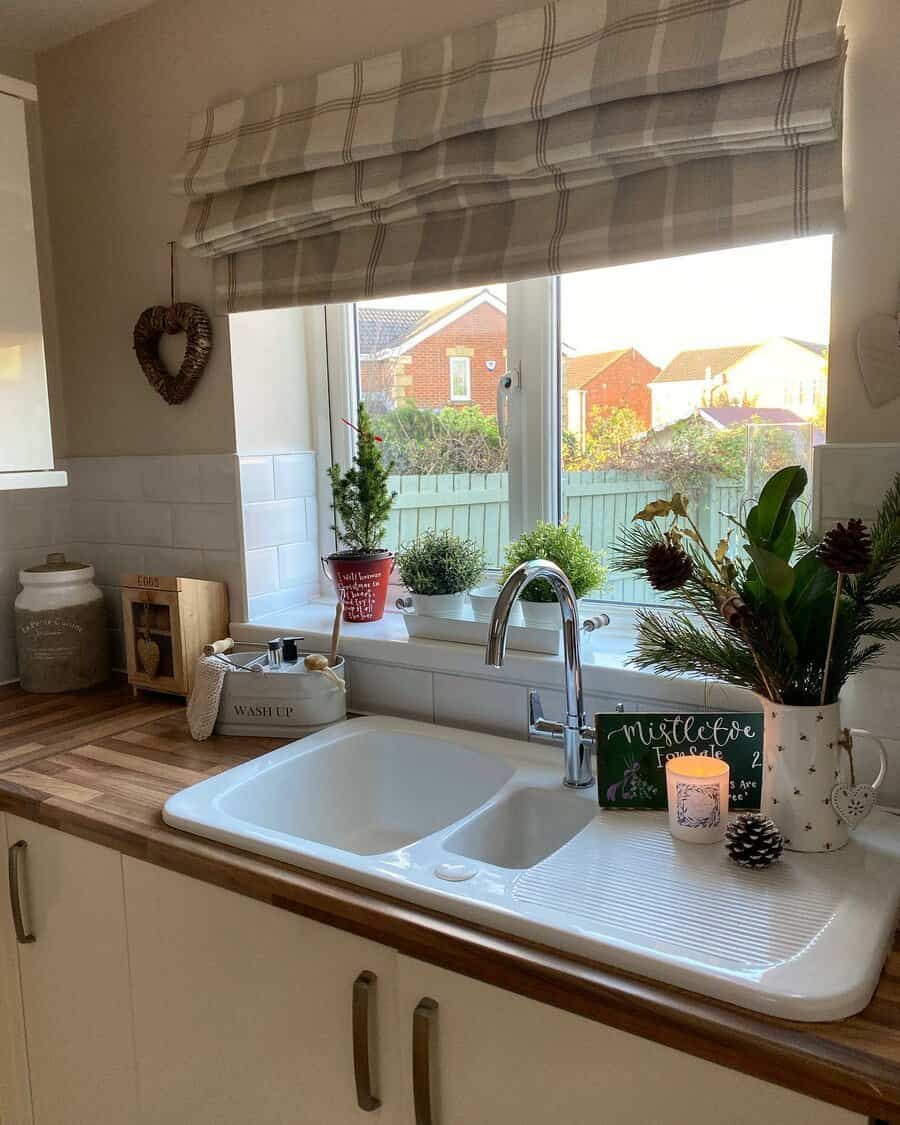 3. Kitchen Sink With Vintage Fixtures
Imagine the gleam of a classic porcelain sink, complemented by beautifully detailed vintage faucets and handles. These fixtures exude character and craftsmanship, giving your kitchen a unique and curated look. The mix of old-world charm and modern functionality is a winning combination, as you enjoy the convenience of a high-quality sink paired with the charm of vintage accents.
The vintage fixtures add a touch of sophistication and personality, making your kitchen sink a true statement piece. Let the warm, patinaed finishes and intricate detailing transport you to a bygone era, while the reliable construction ensures the sink's durability and practicality for everyday use.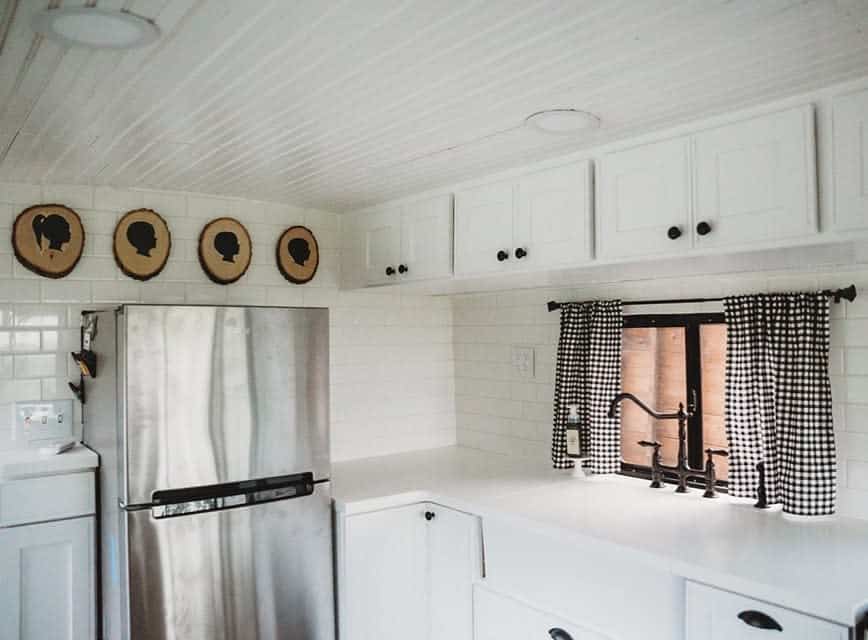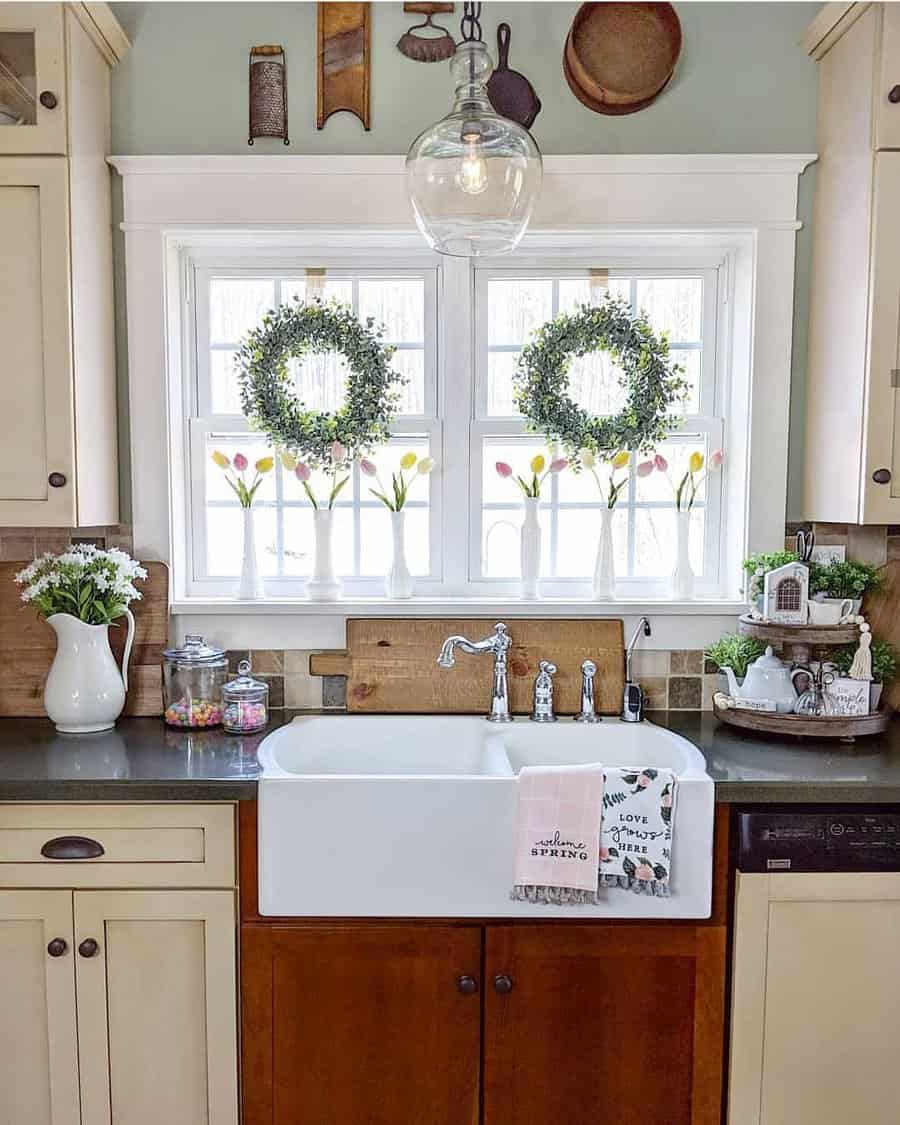 4. Kitchen Sink With Gold Fixtures
This luxurious choice instantly adds a glamorous and refined element to your culinary space. The warm and lustrous tones of gold beautifully complement a variety of kitchen styles, from modern to traditional. The combination of a sleek, functional sink design with the opulence of gold fixtures creates a harmonious blend of practicality and visual appeal.
Whether you choose a farmhouse sink with elegant gold faucets or a contemporary under-mount sink with gold handles, the result is a kitchen centerpiece that exudes timeless charm. The golden accents add a sense of luxury and prestige, transforming your kitchen into a space that feels truly special.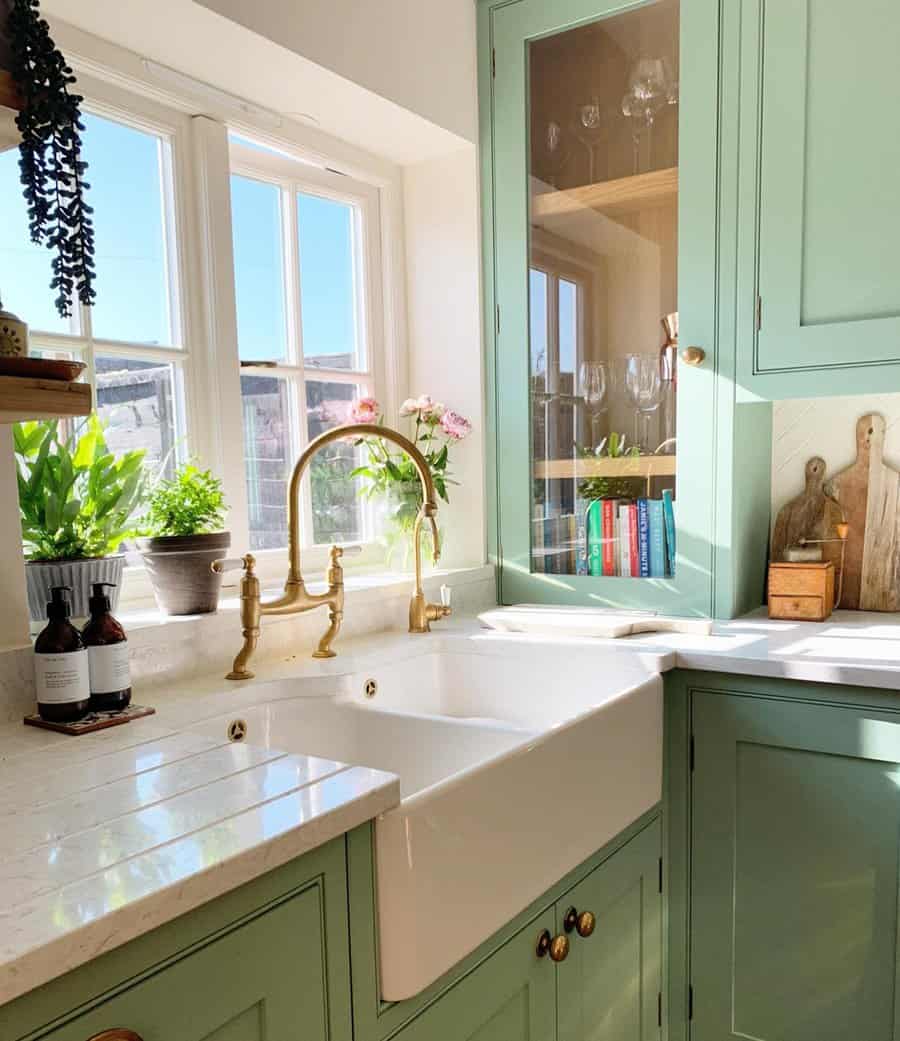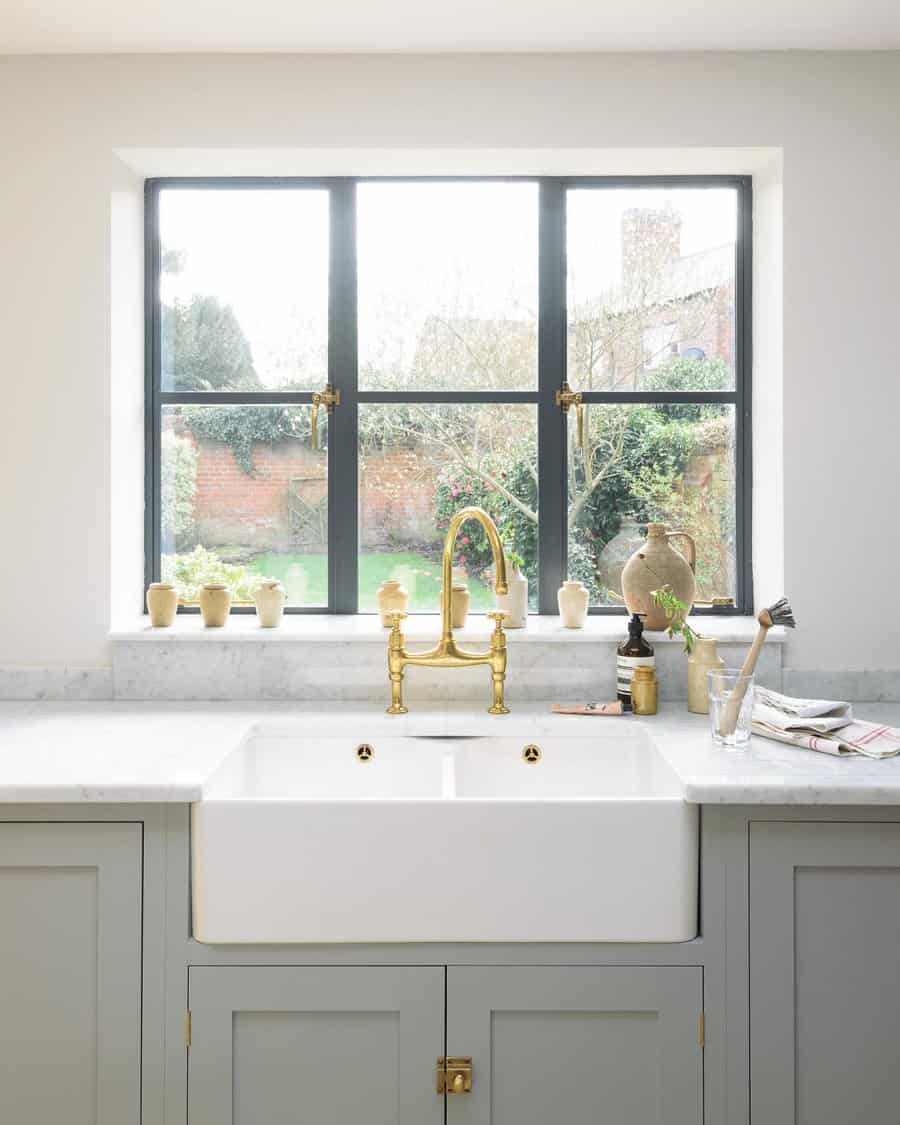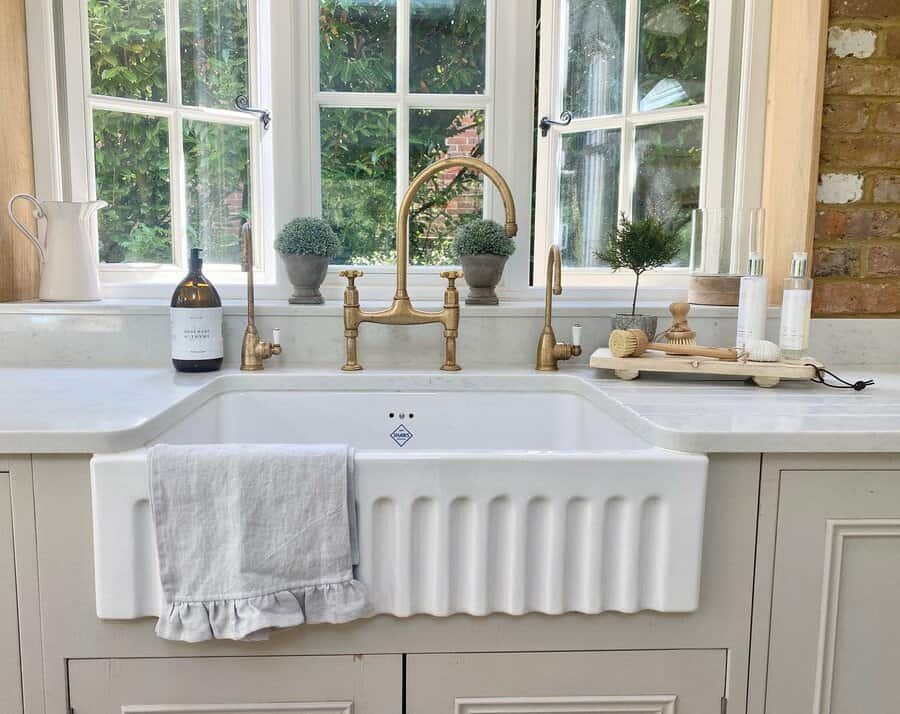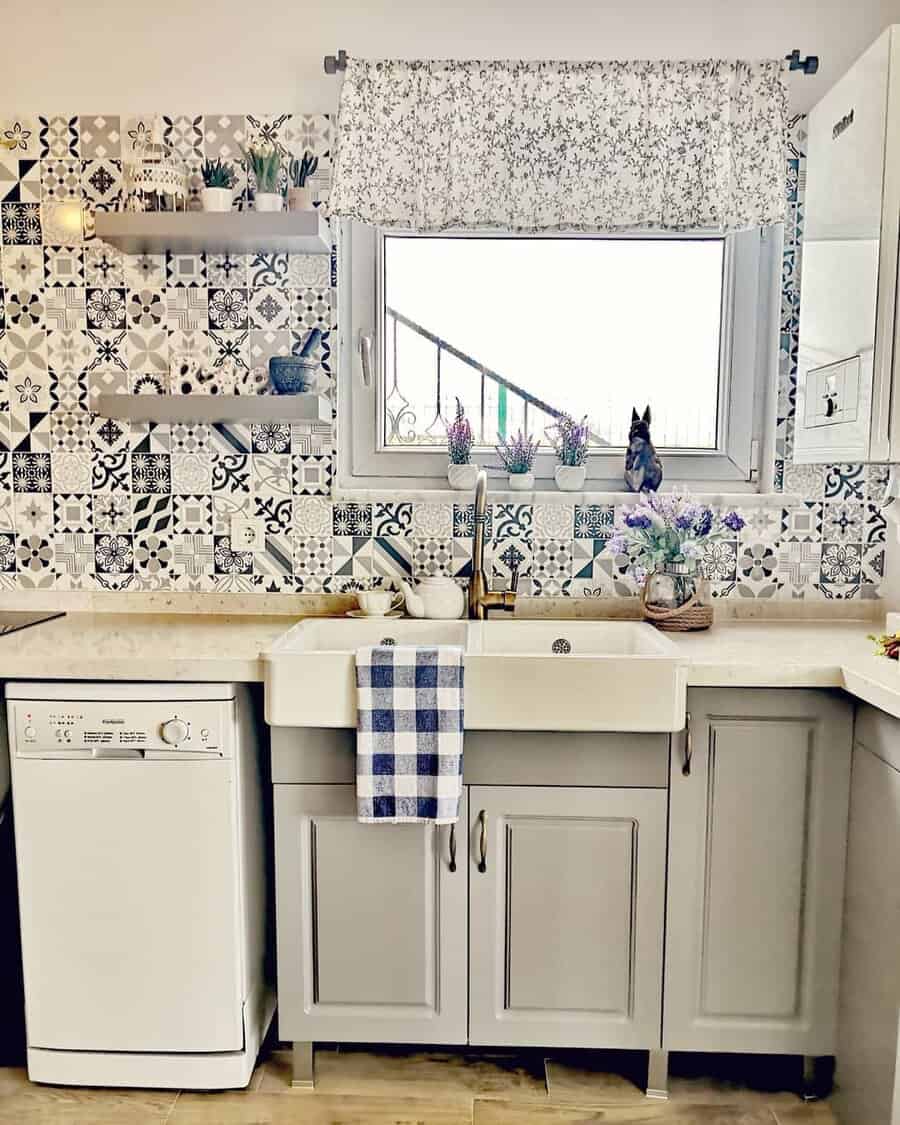 5. Wooden Kitchen Sink
This rustic-inspired choice will infuse your space with warmth, character, and a unique charm. A wooden sink brings a natural element into your kitchen, creating a connection with the outdoors and adding a cozy ambiance. The grain patterns and rich textures of the wood provide visual interest and make each sink truly one-of-a-kind.
Whether you choose a sleek and polished finish or embrace the raw beauty of unfinished wood, the wooden sink will undoubtedly become the focal point of your kitchen. Its warm tones and organic appeal perfectly complement a variety of design styles, from farmhouse to contemporary.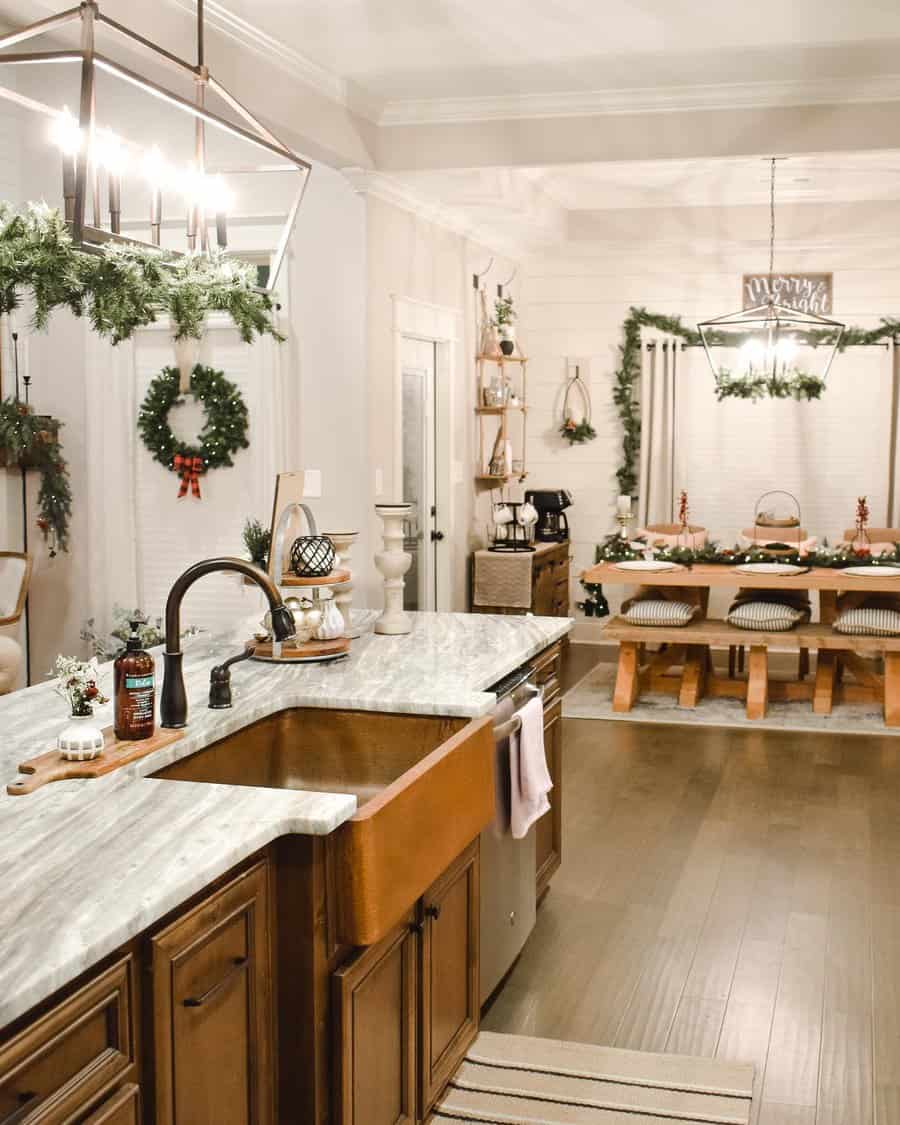 6. Under-mount Kitchen Sink
Transform your kitchen into a sleek and seamless culinary haven with an undermount kitchen sink. This stylish sink option offers a seamless look that effortlessly blends into your countertop, creating a clean and modern aesthetic.
With its installation below the countertop surface, the under-mount sink provides a smooth transition and eliminates the need for a visible rim or edge. This design choice not only enhances the overall visual appeal but also makes cleaning a breeze.
The absence of an exposed rim means you can easily sweep debris and water directly into the sink without any obstructions. Additionally, the under-mount sink maximizes the usable space of your countertop, allowing you to have more room for food prep and other kitchen activities.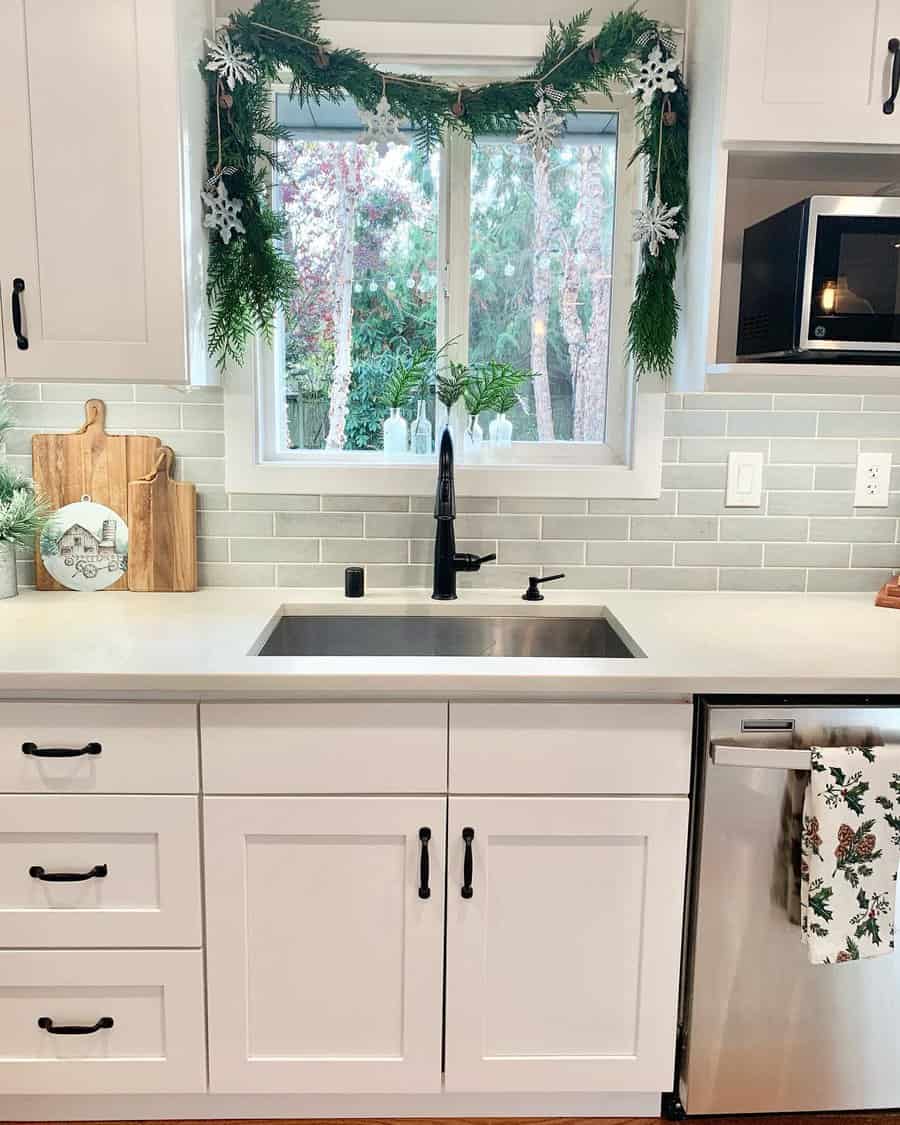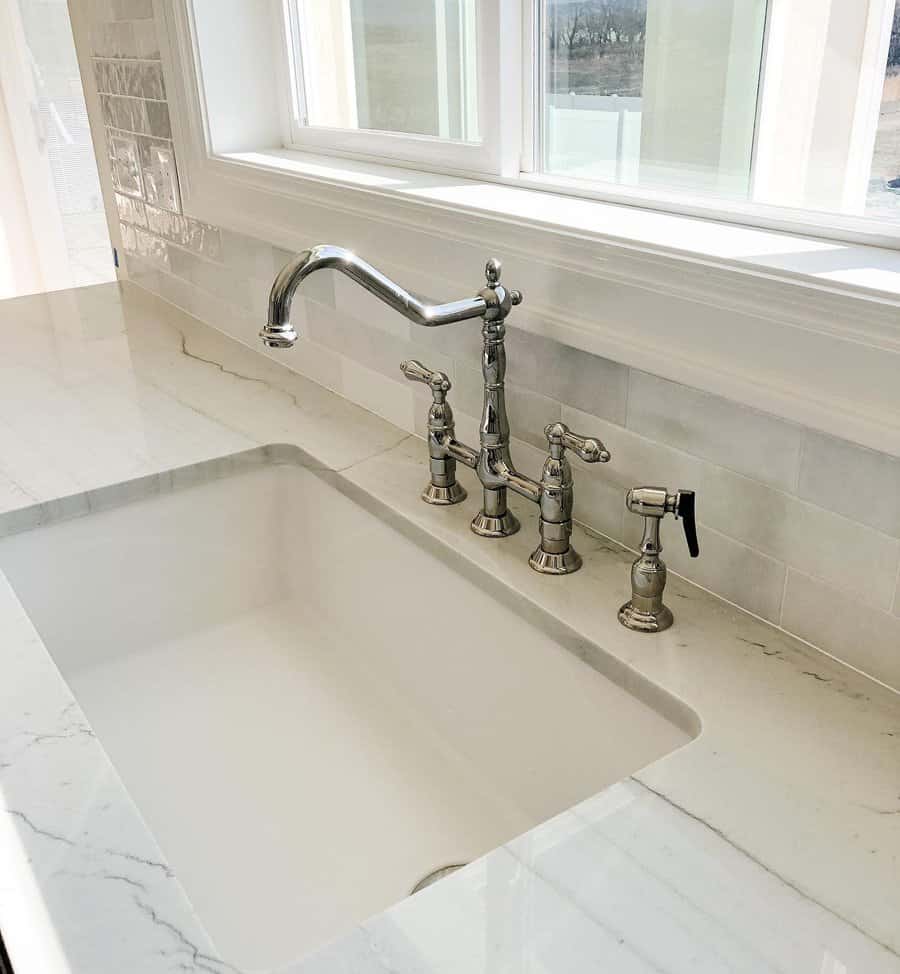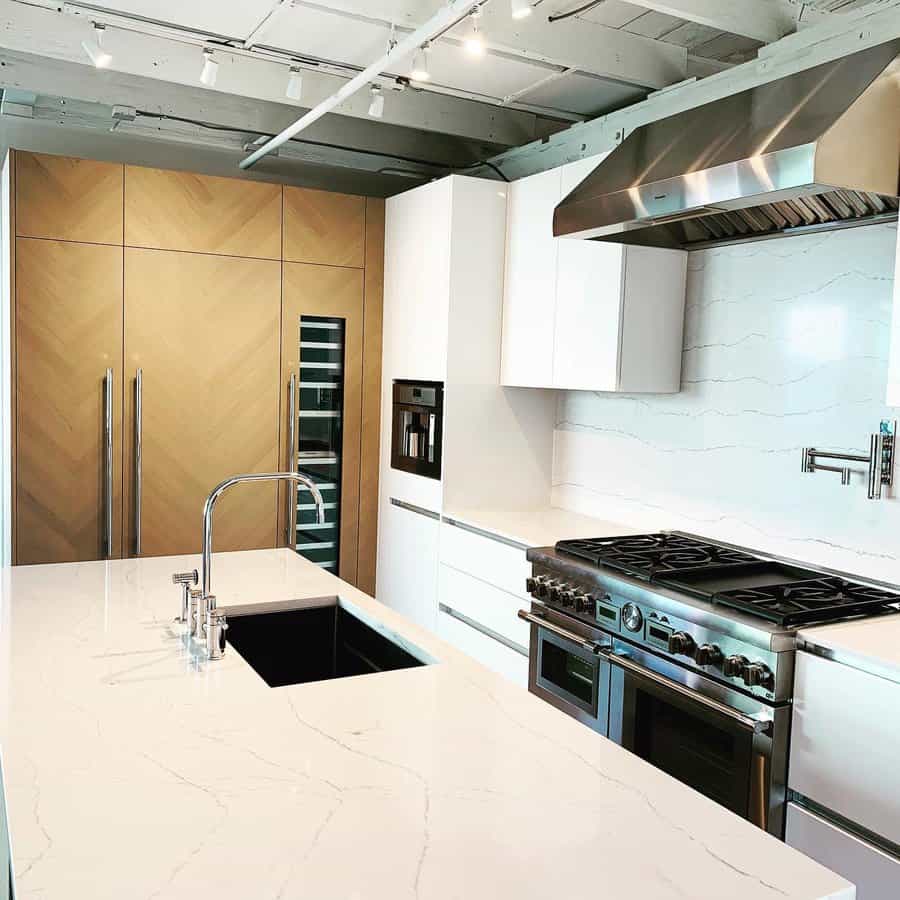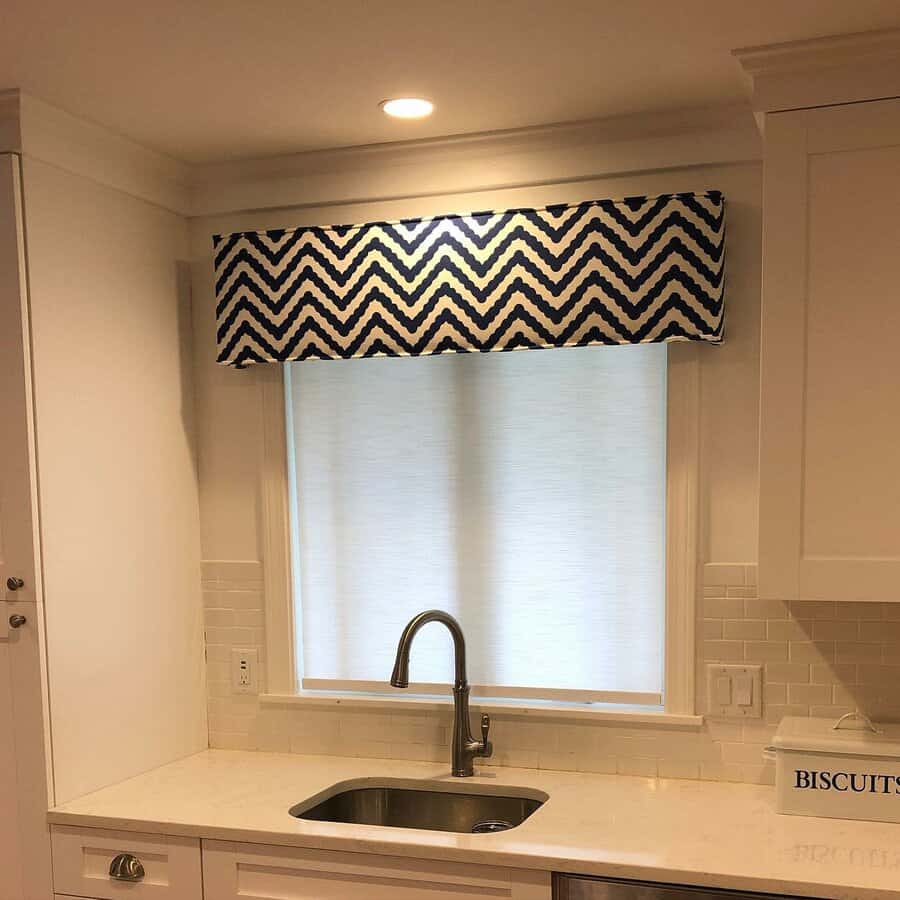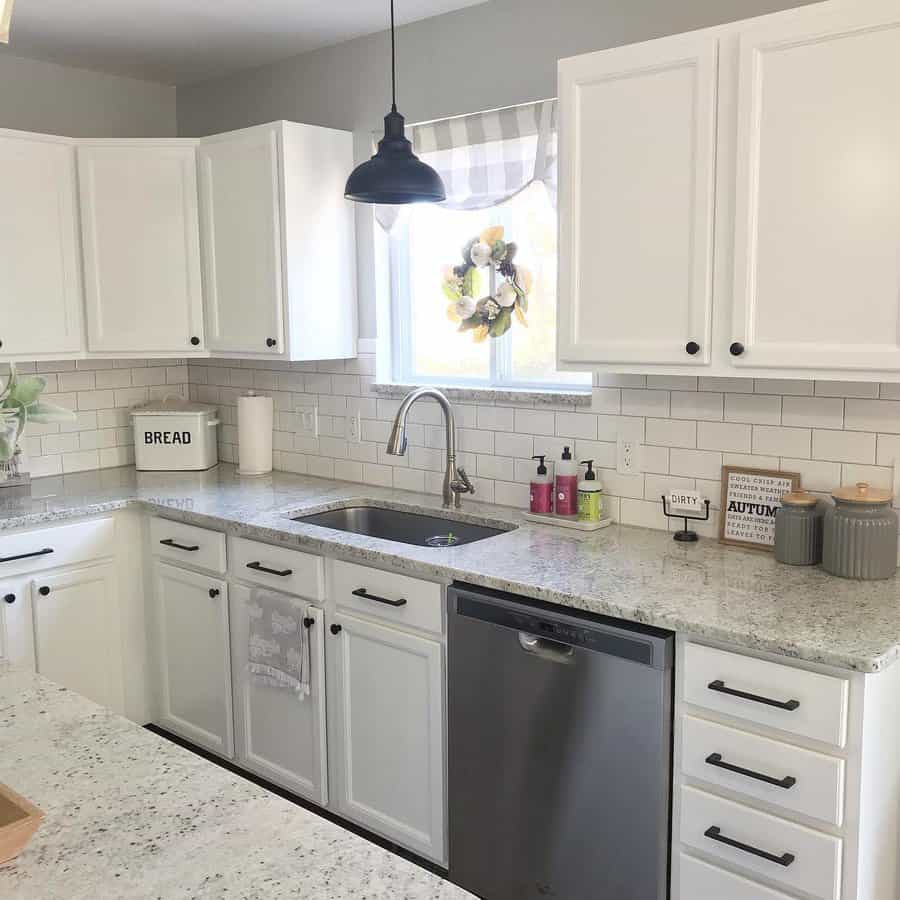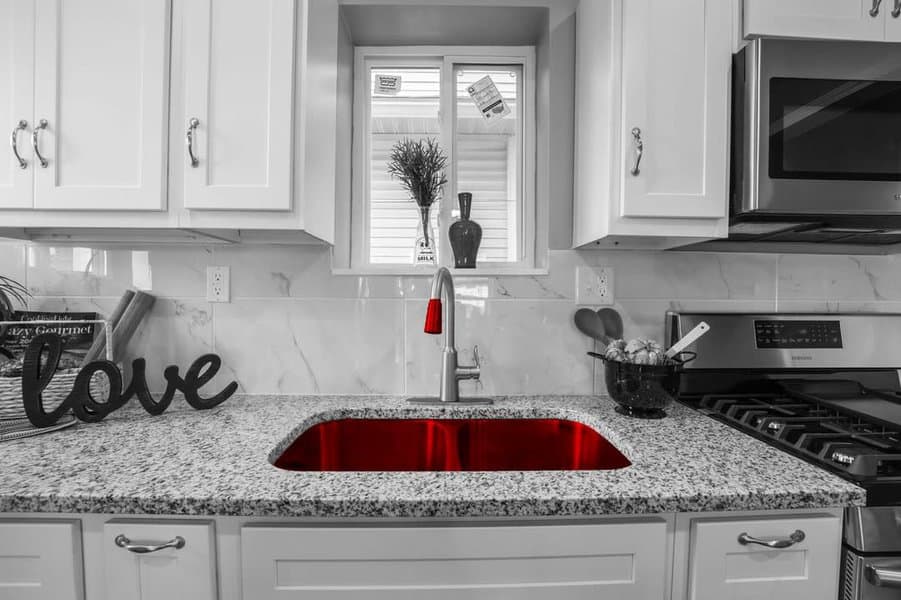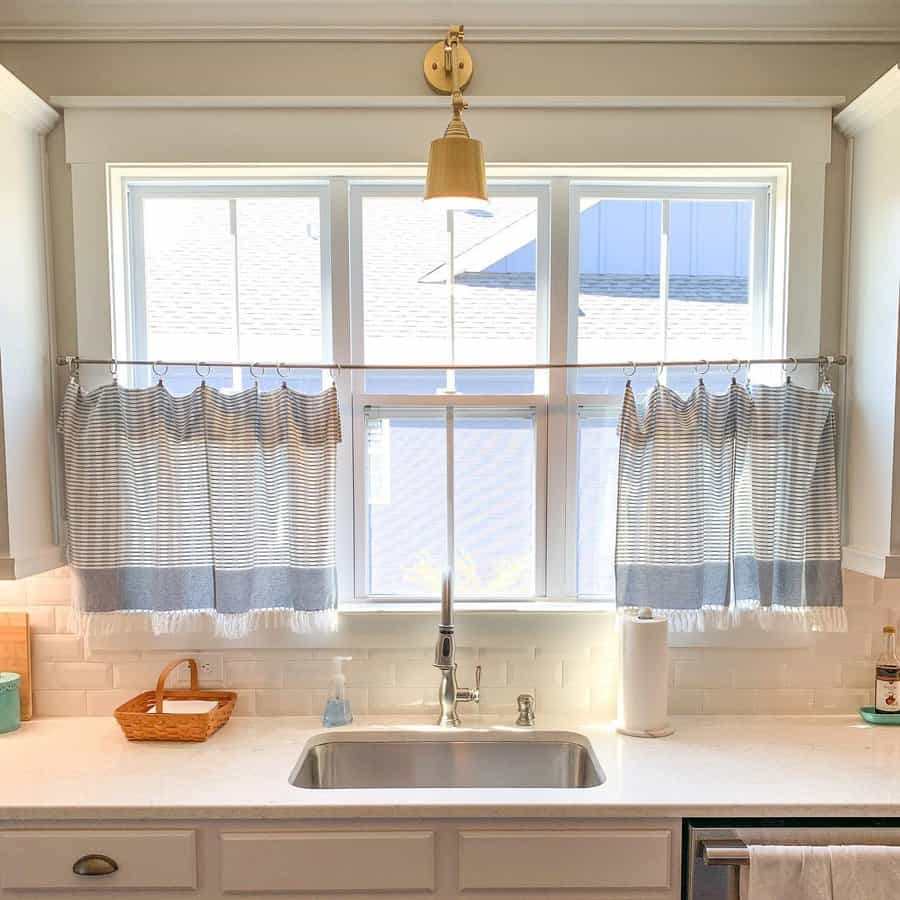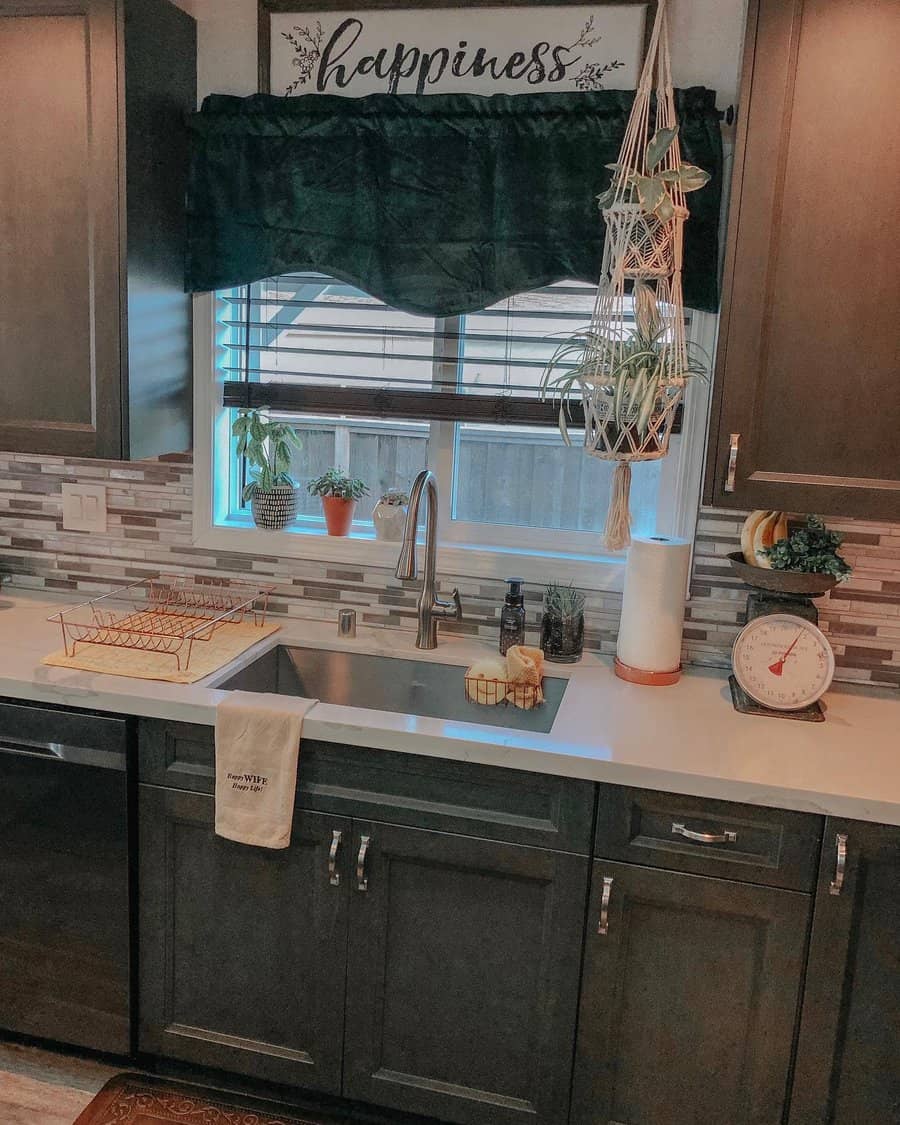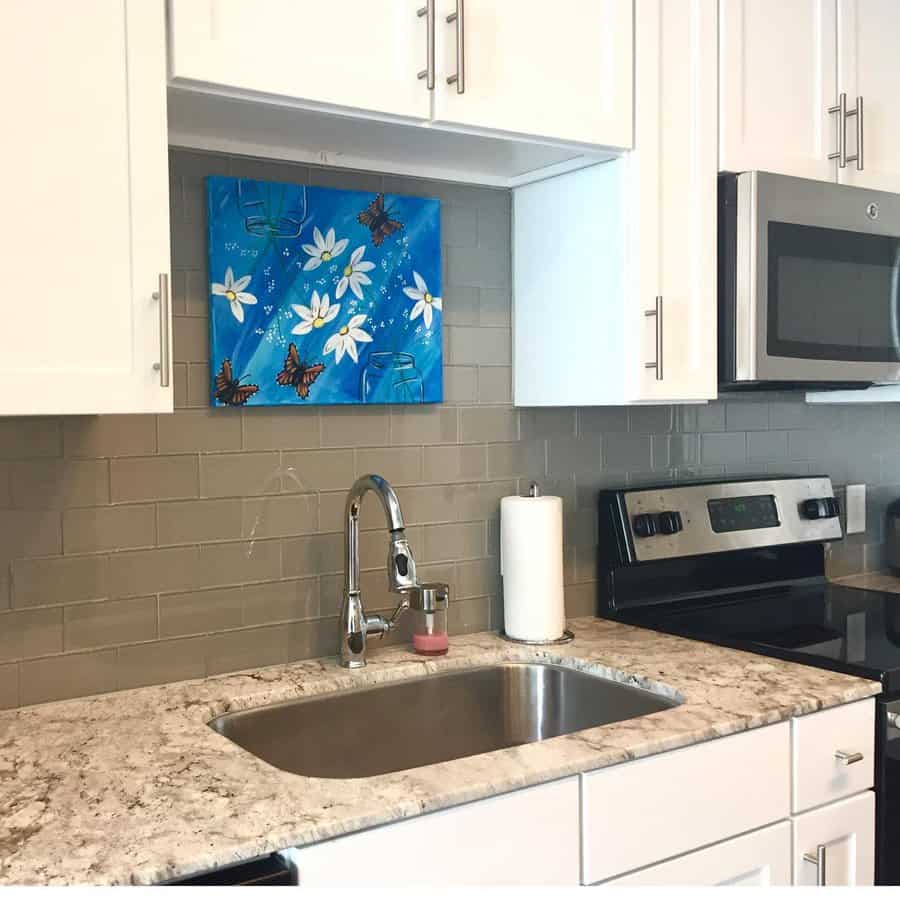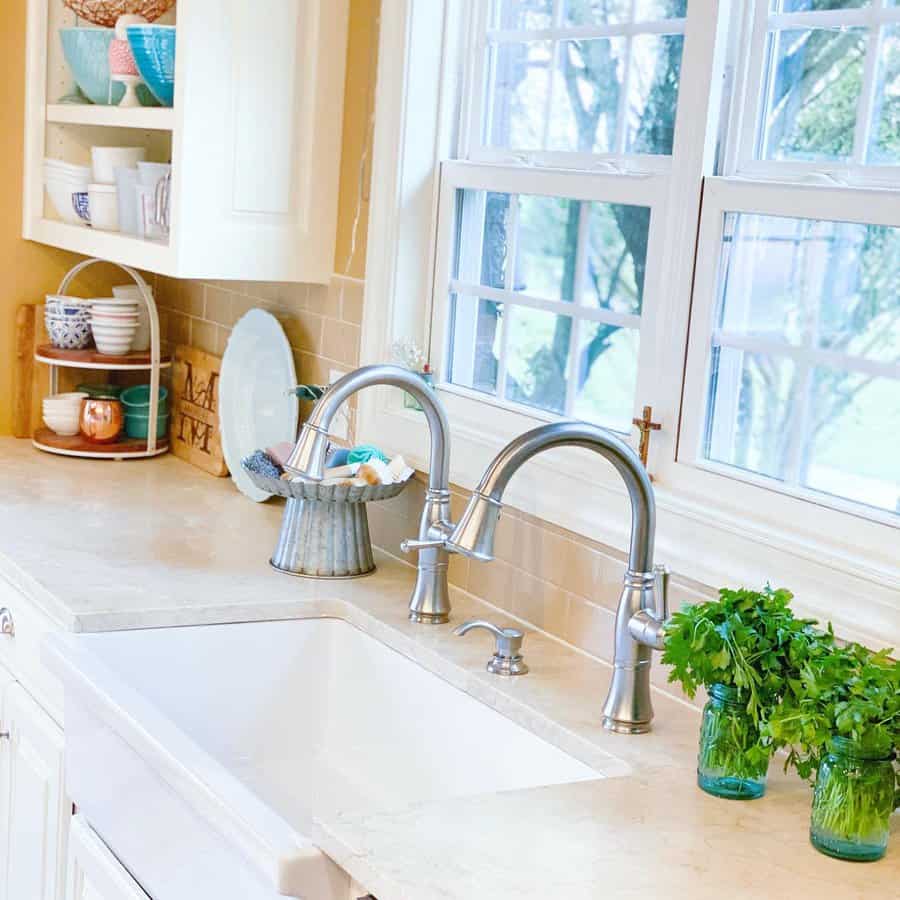 7. Corner Kitchen Sink
A corner sink creates a seamless flow within your kitchen by making efficient use of the often-overlooked corners. It allows for smooth movement and easy access to your countertop workspace, making meal preparations a breeze.
The corner placement opens up the central area, providing ample room for other essential kitchen elements. Whether you prefer a contemporary stainless steel design or a charming farmhouse-style sink, a corner sink adds an element of surprise and intrigue to your kitchen's aesthetic.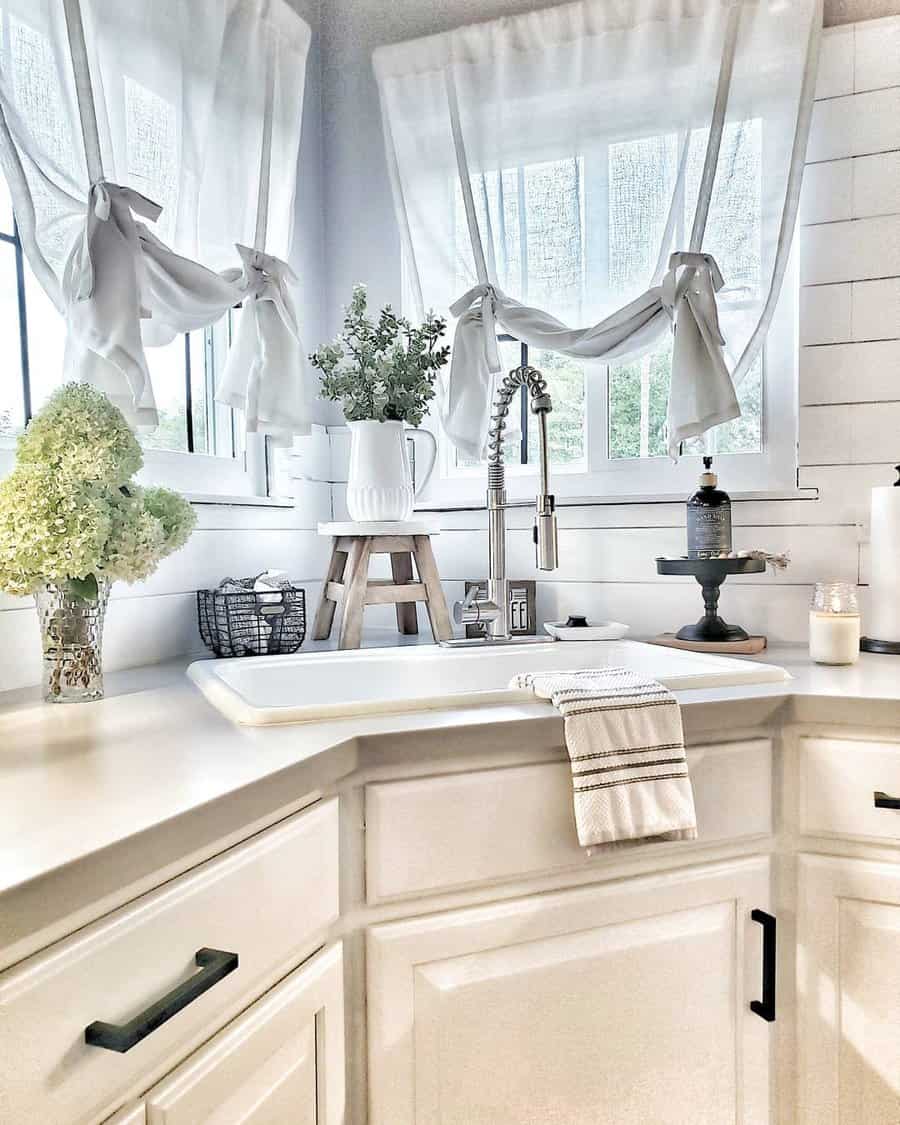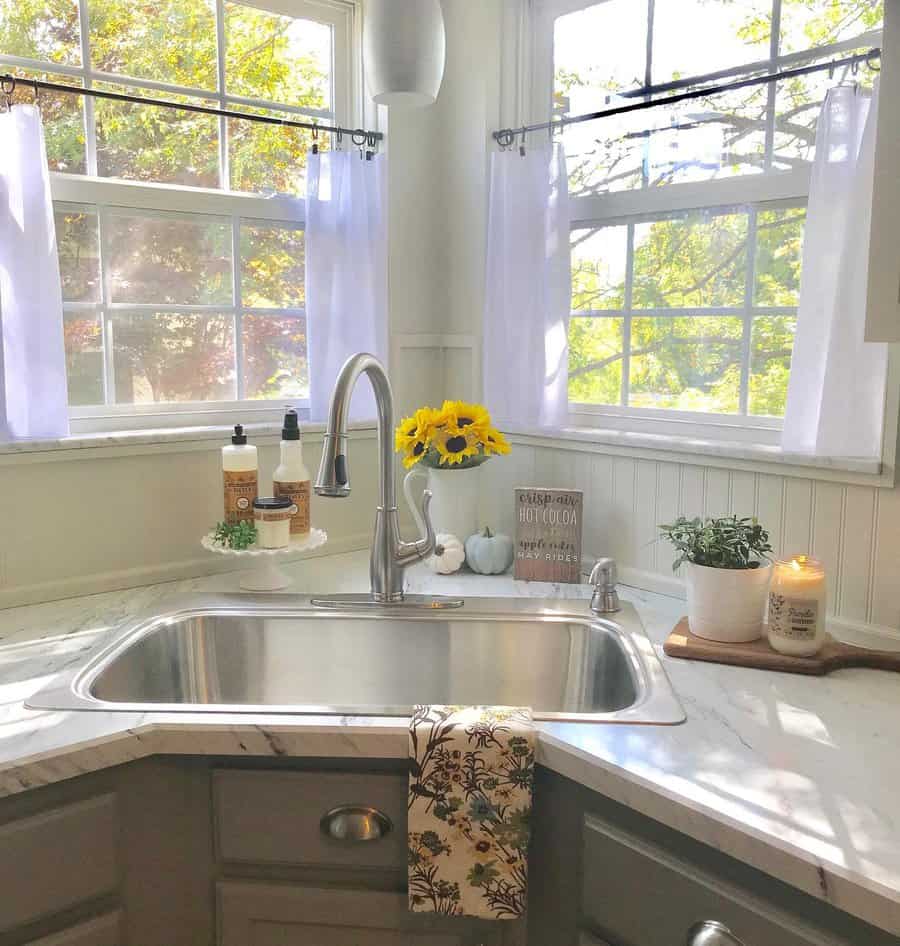 8. Kitchen Sink With Black Fixtures
The contrast of the dark fixtures against a clean white or neutral sink creates a striking visual impact that instantly catches the eye. The black fixtures bring a sense of sophistication and depth, making them a perfect choice for those who want to make a statement in their kitchen.
Whether you prefer a farmhouse-style sink or a sleek under-mount option, the black fixtures will enhance the overall aesthetic and create a focal point in your kitchen. The combination of the sleek lines and the dark finish creates a sense of luxury and refinement.
Pair the black fixtures with other black accents or contrasting materials like stainless steel appliances or marble countertops for a truly stunning and cohesive design.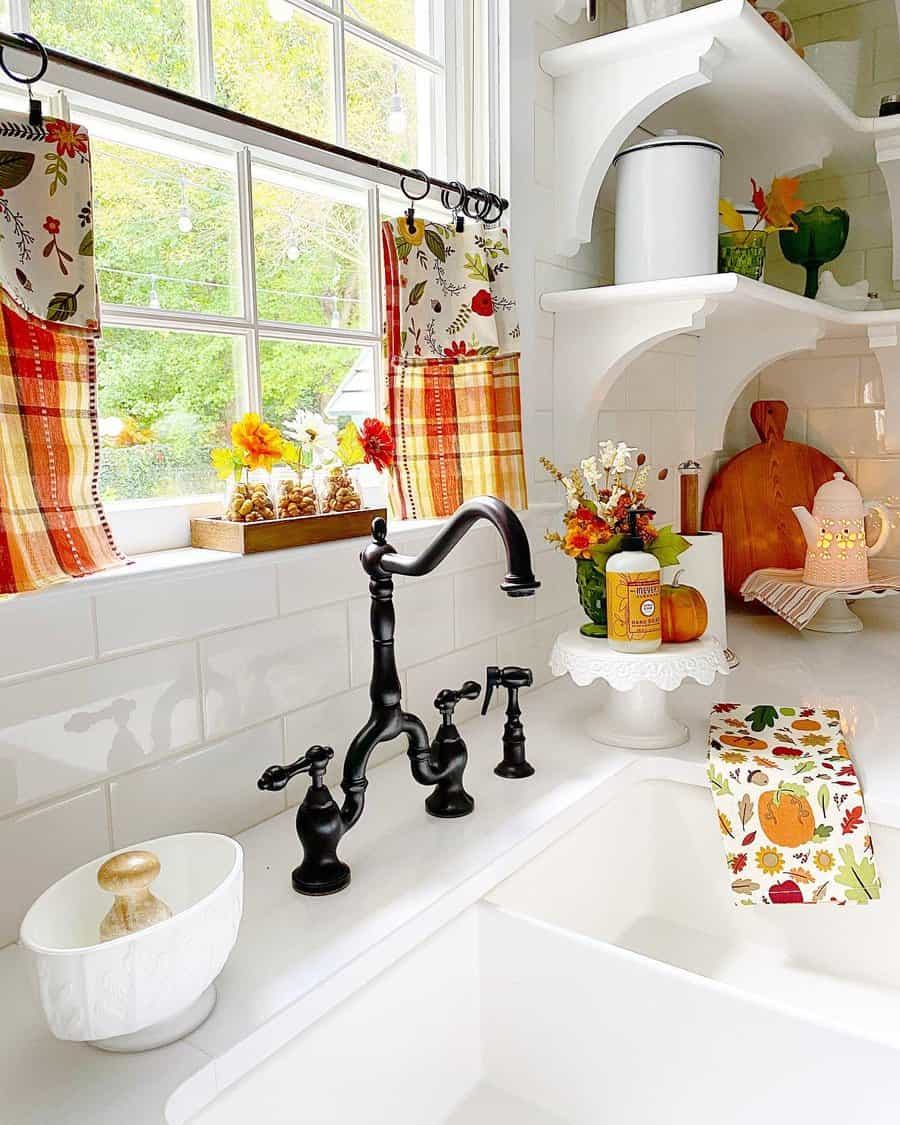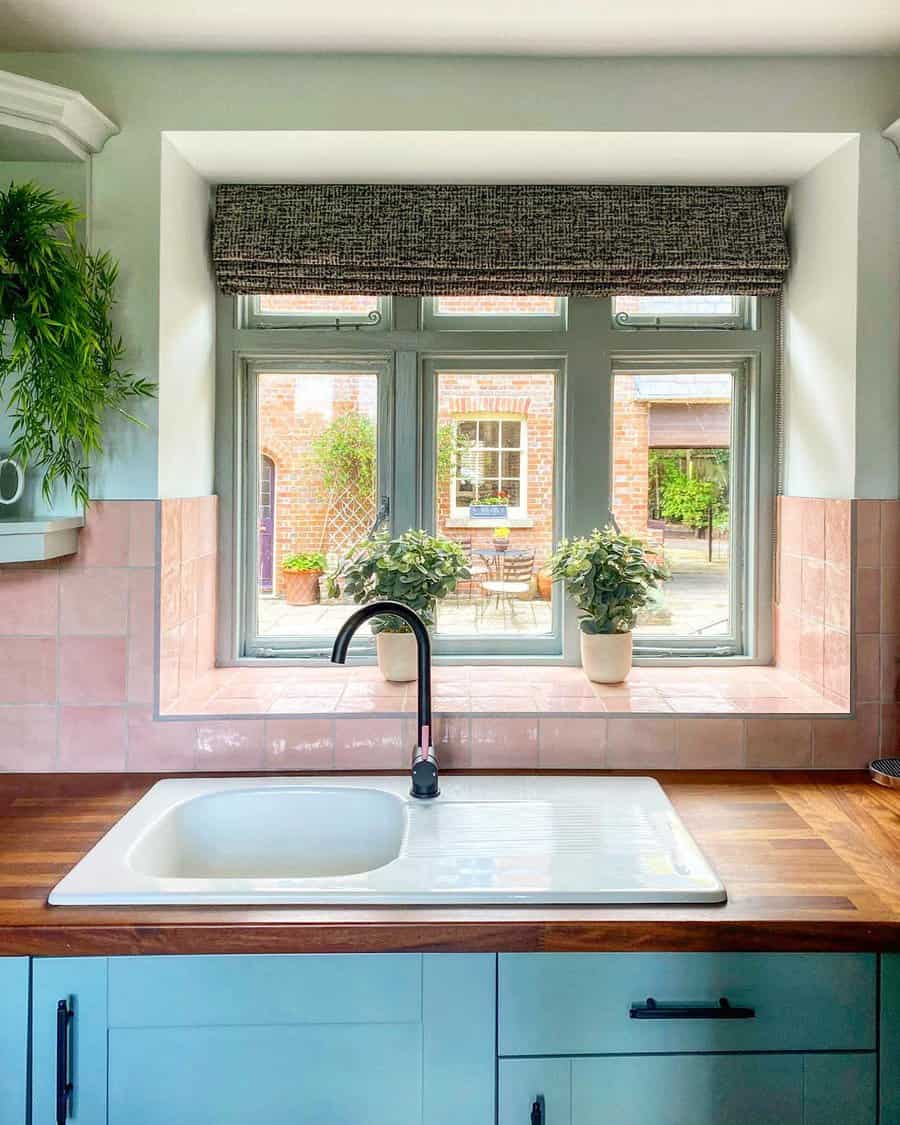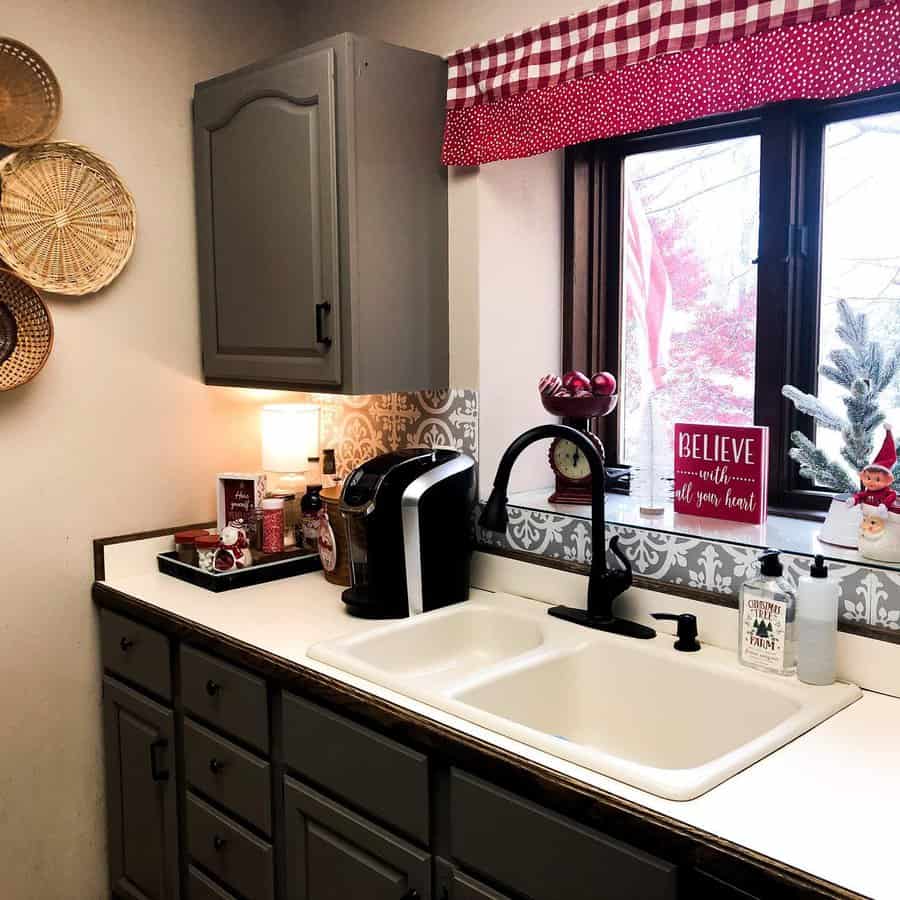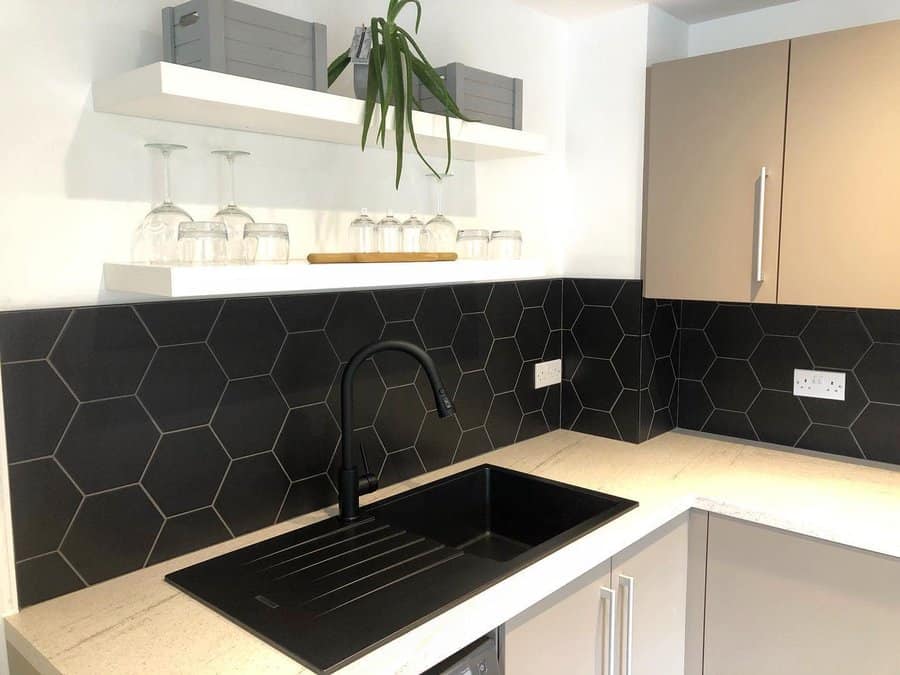 9. Pull-Down Kitchen Faucet
A kitchen sink with a pull-down kitchen faucet is the perfect addition to enhance your daily workflow. This innovative design allows for easy maneuverability, allowing you to effortlessly fill pots, rinse dishes, and wash produce with precision and convenience.
The pull-down feature provides flexibility and reach, ensuring that every corner of your sink is easily accessible. Say goodbye to awkwardly maneuvering around a fixed faucet and hello to seamless functionality.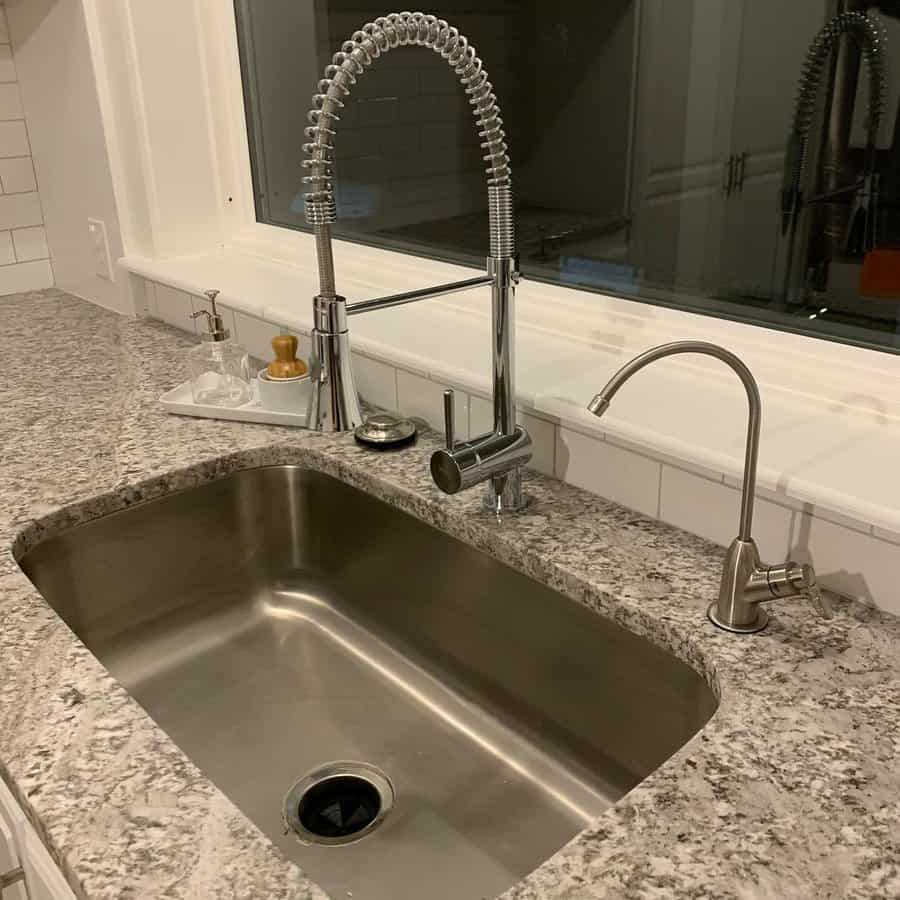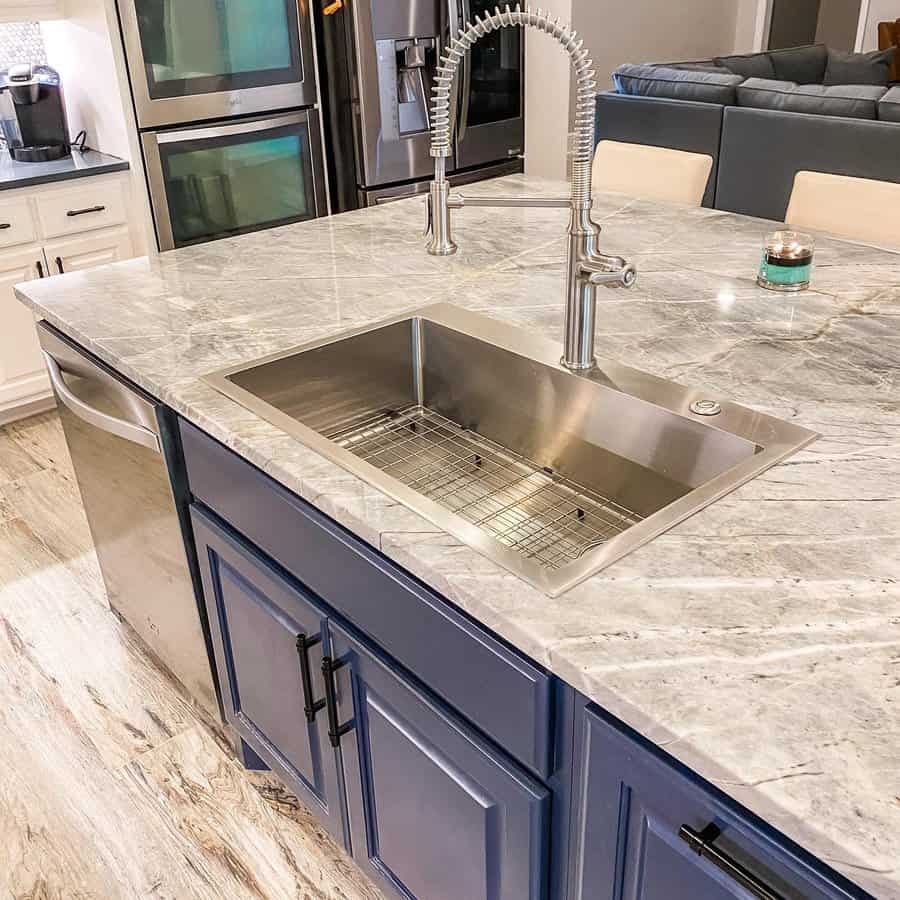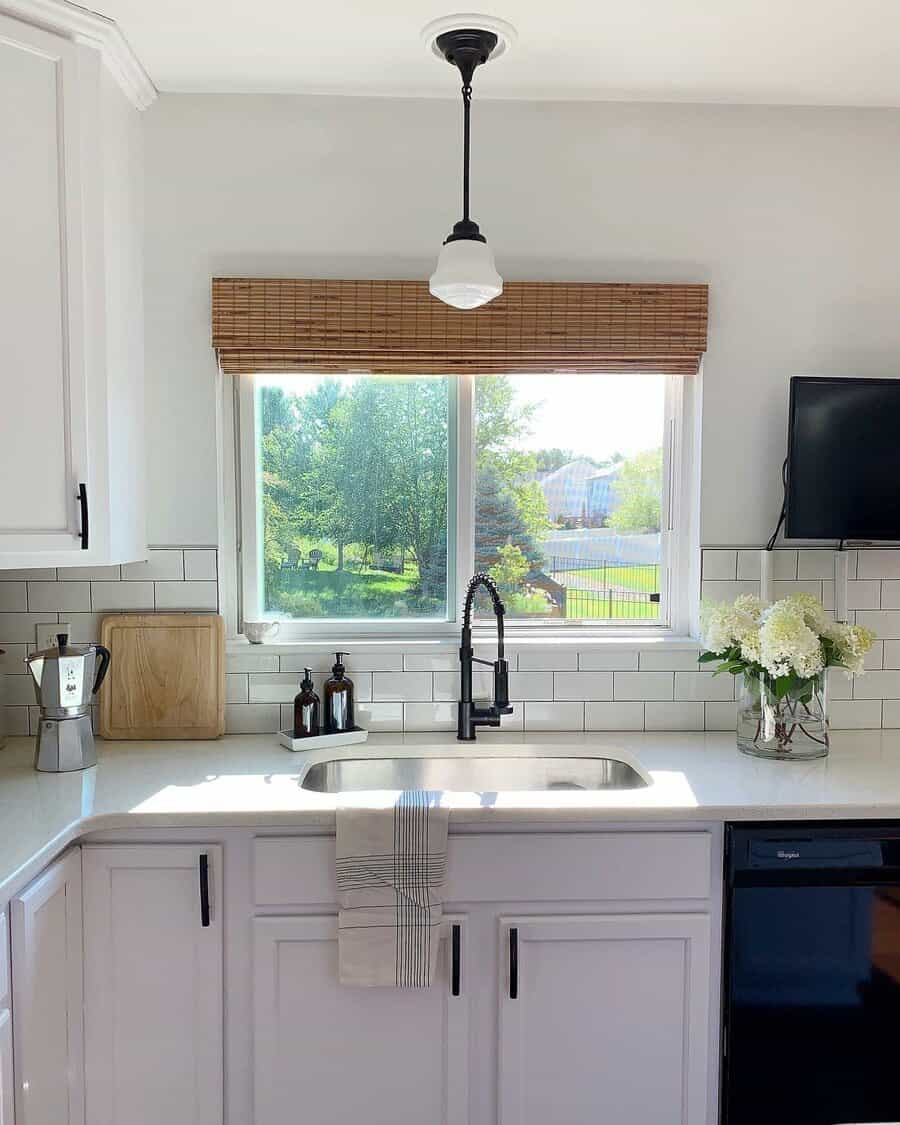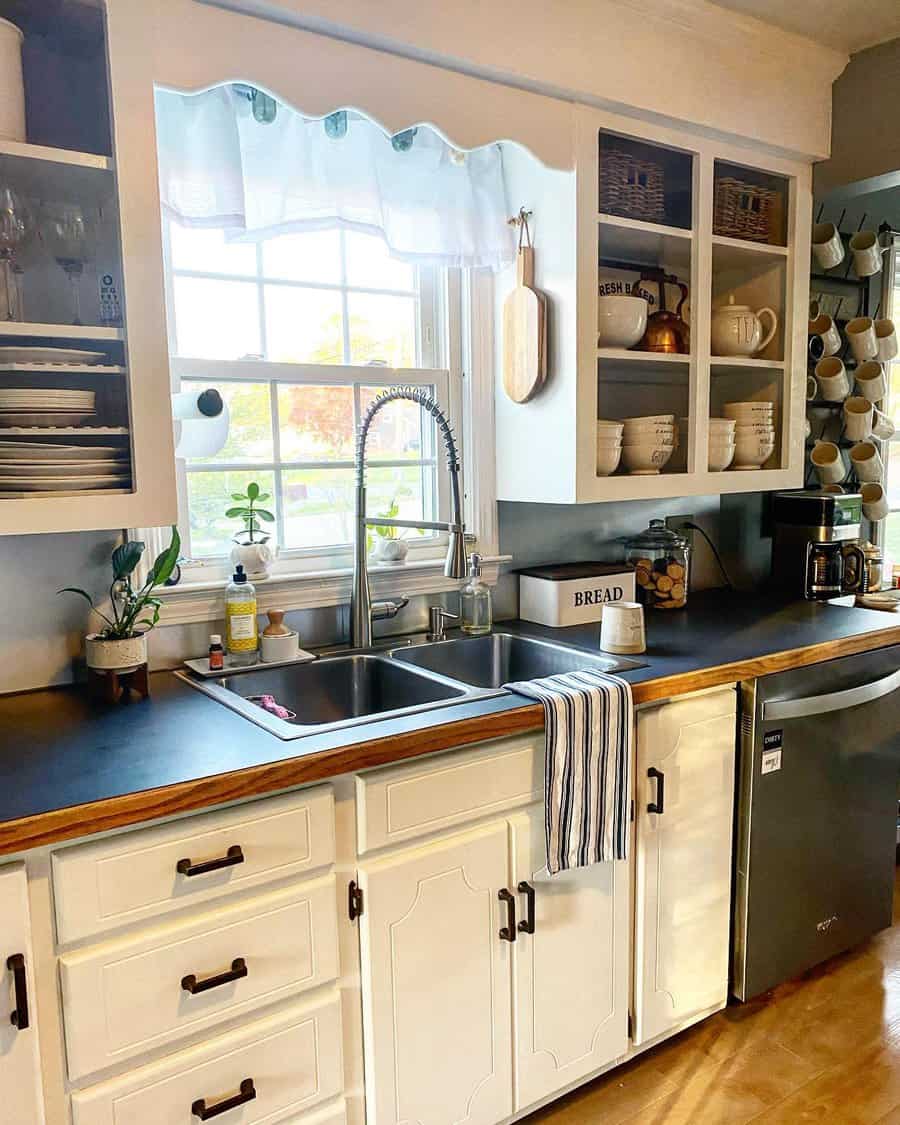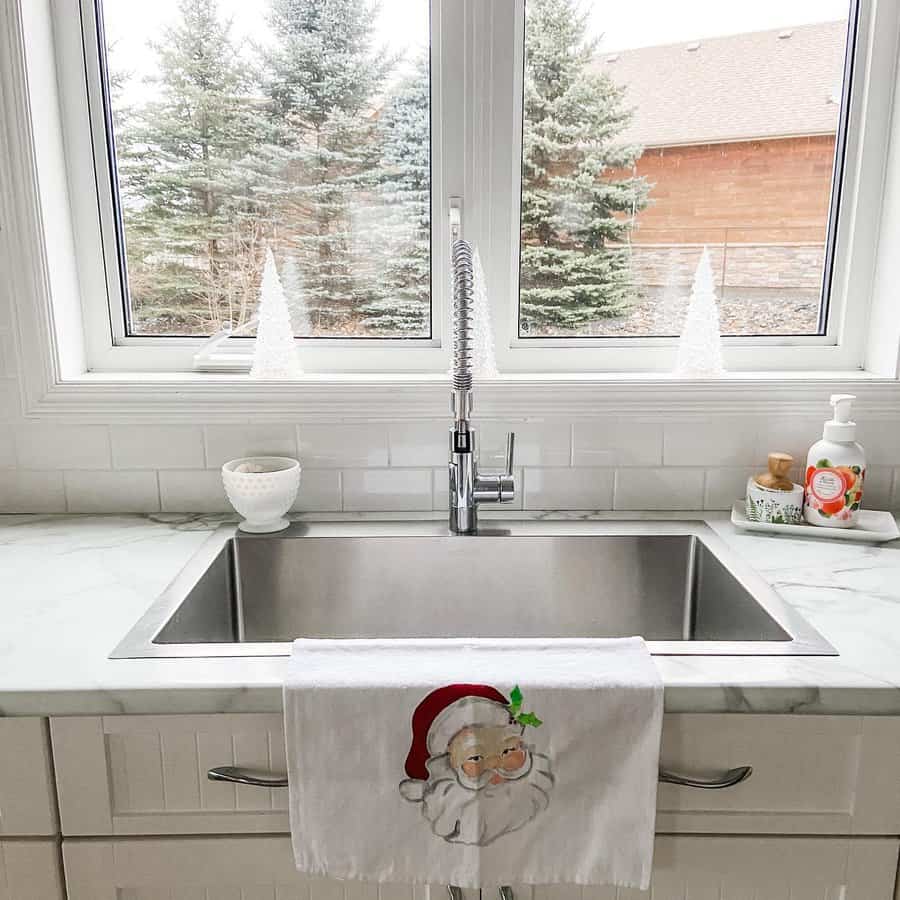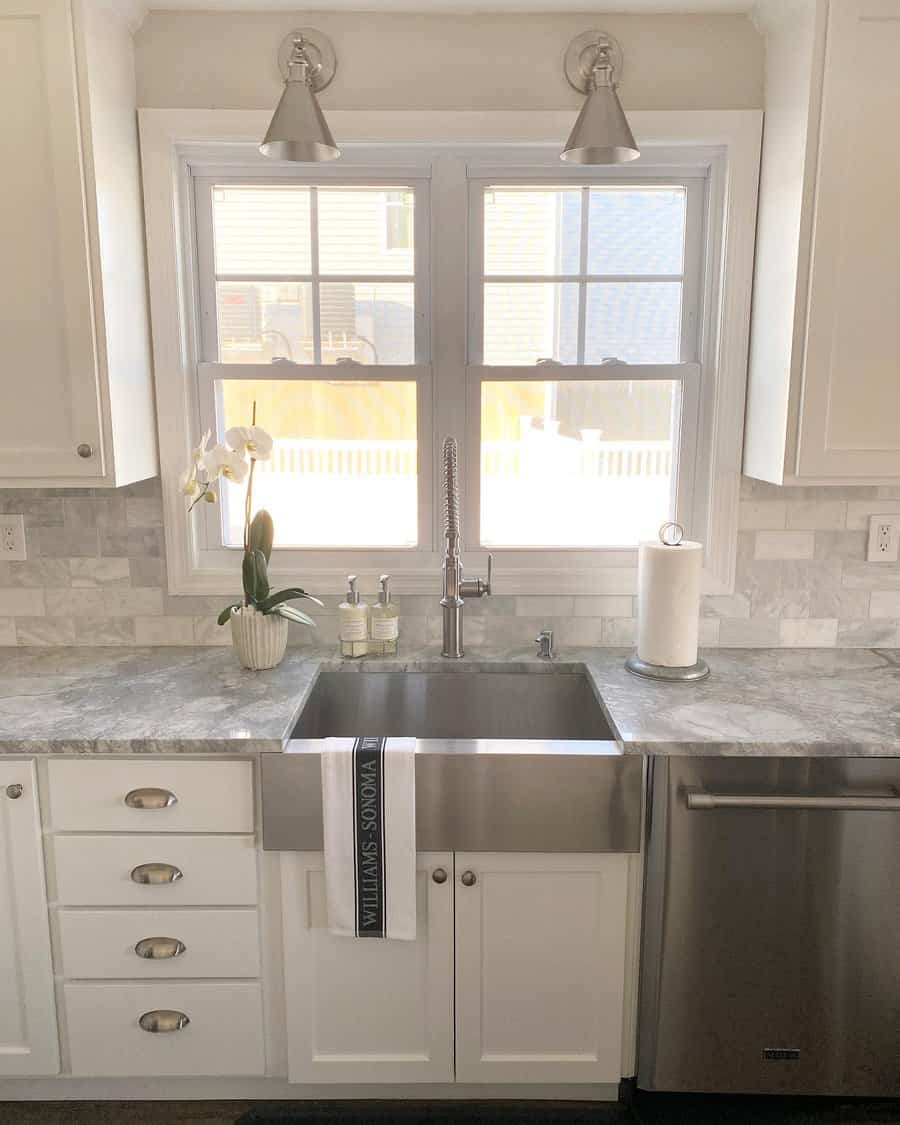 10. Kitchen Island Utility Sink
The kitchen island serves as a central hub where you can prep ingredients, wash dishes, and even entertain guests while enjoying an overview of your kitchen as opposed to a window-facing sink. The utility sink, seamlessly integrated into the island, offers a dedicated workspace for all your washing needs.
With its spacious basin and convenient features, such as a pull-out faucet and built-in drying rack, the utility sink ensures that your kitchen remains organized and clutter-free. Not only does the kitchen island utility sink provide practicality, but it also adds a touch of sophistication to your kitchen.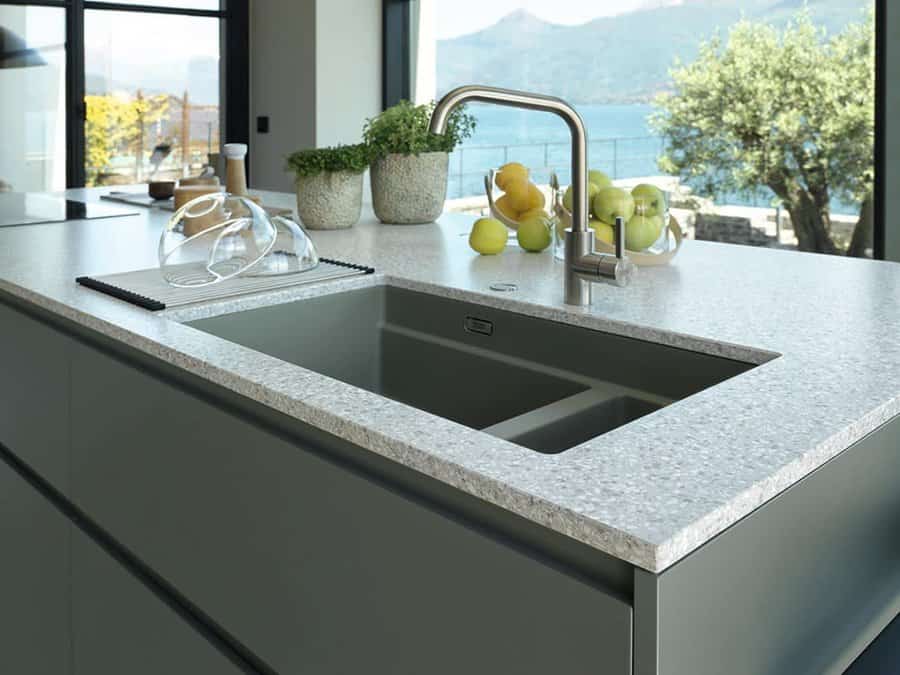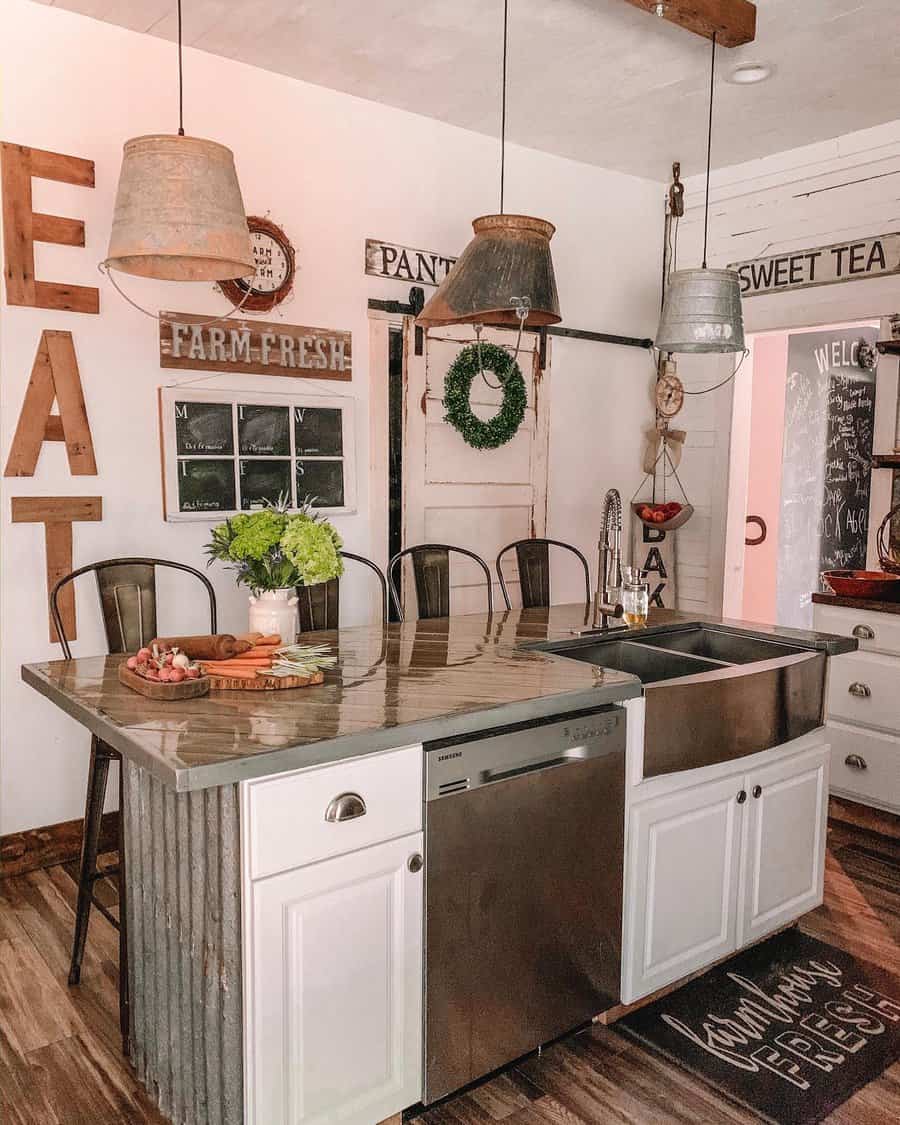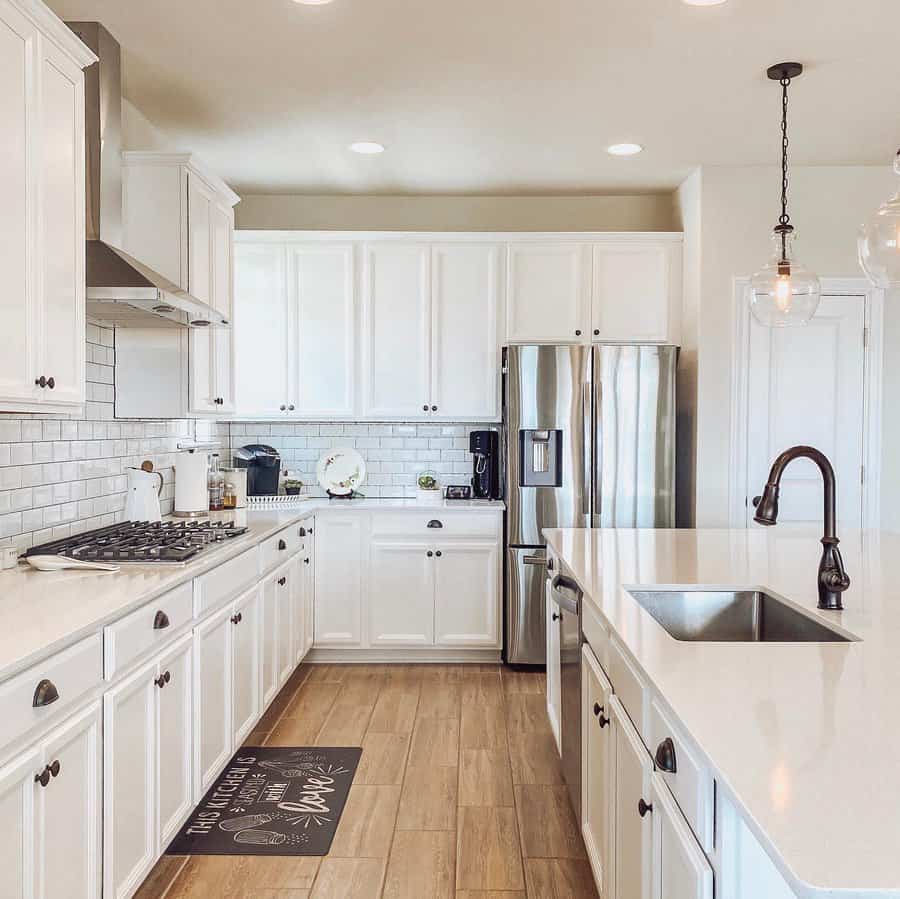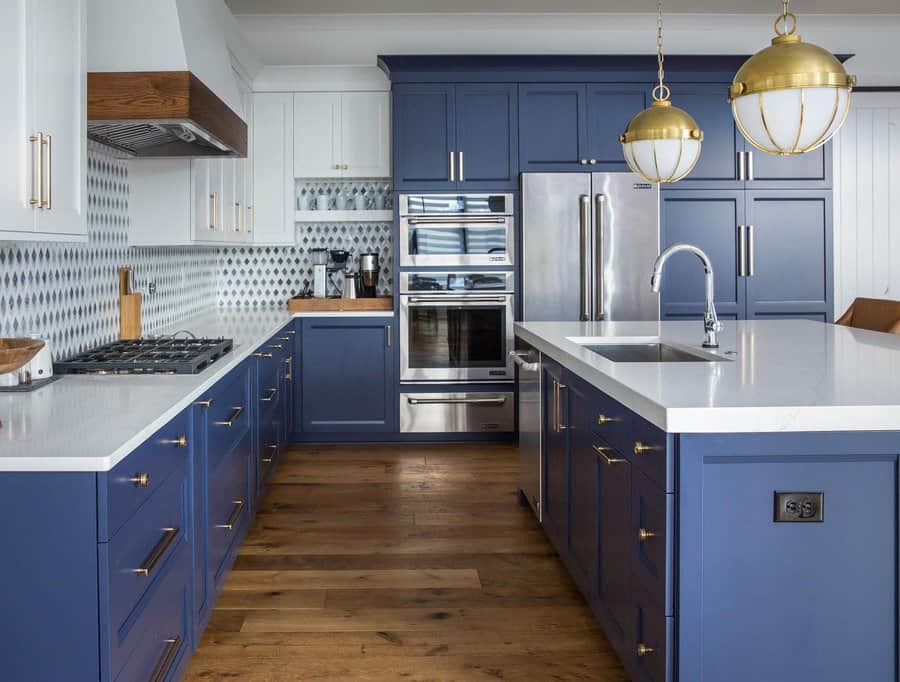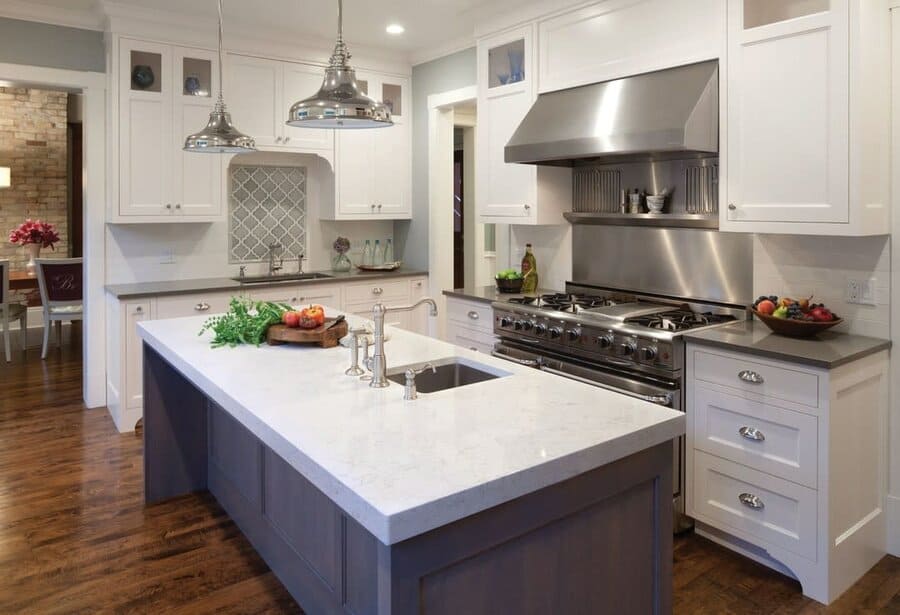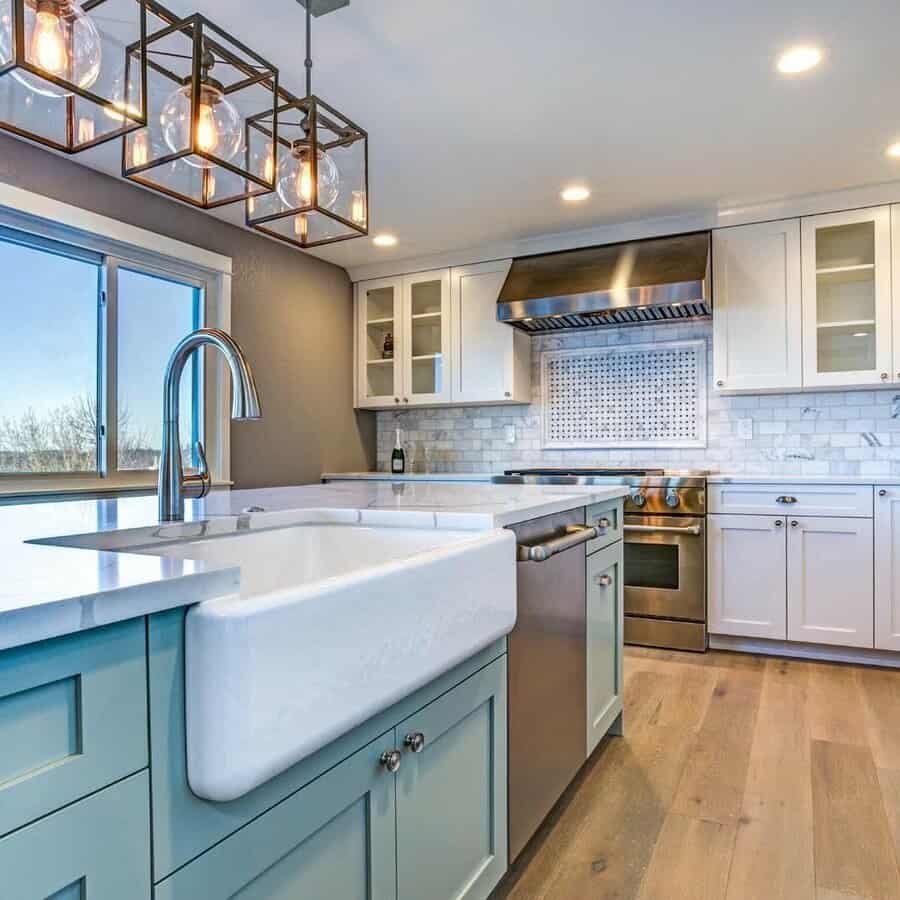 11. Single Bowl Kitchen Sink
This compact and versatile sink design offers a range of uses that make it a functional and essential element in any culinary space. The small single bowl is ideal for various tasks, such as washing fruits and vegetables, rinsing dishes, or even soaking small kitchen utensils.
Its compact size allows for efficient use of countertop space, making it a perfect choice for smaller kitchens or those seeking a minimalist aesthetic. Despite its size, a single bowl wash basin doesn't compromise on functionality. The deep basin provides ample room for easy cleaning and ensures that you have enough space to handle your kitchen tasks with ease.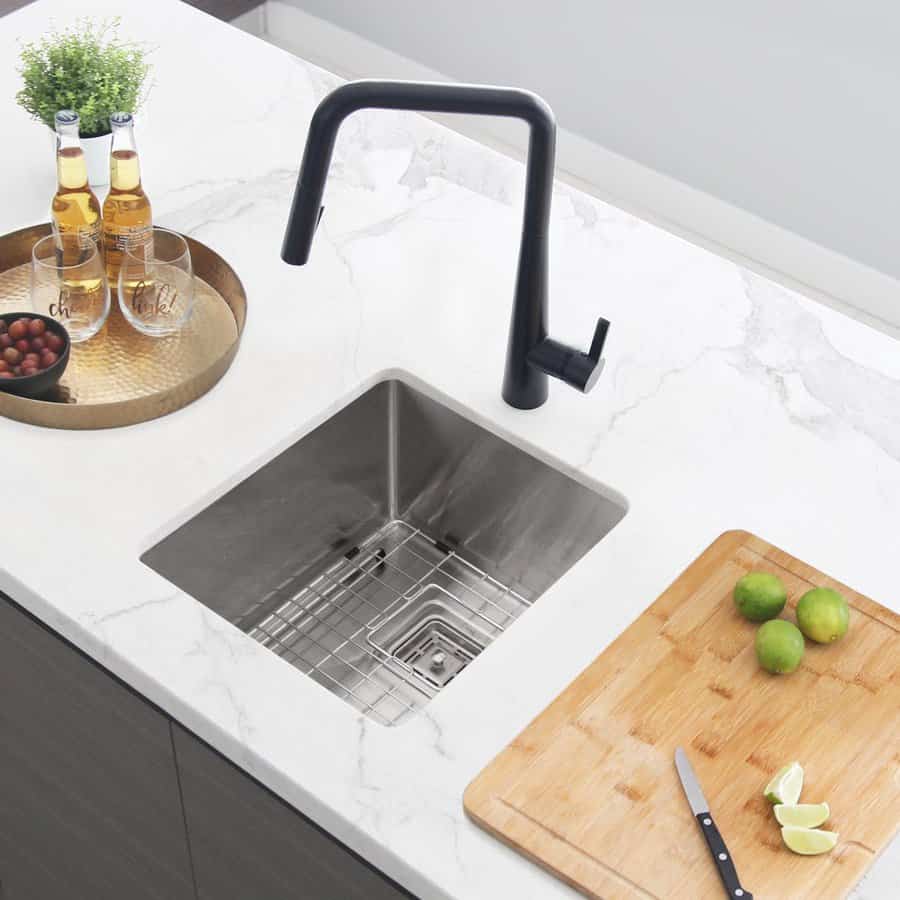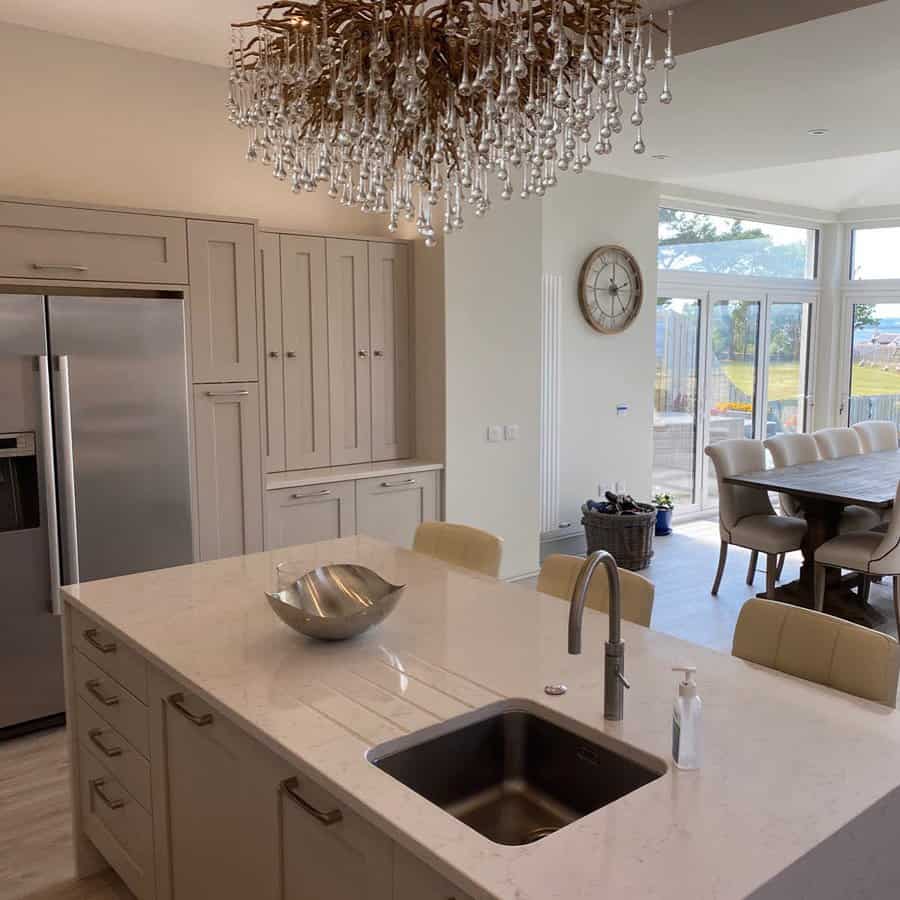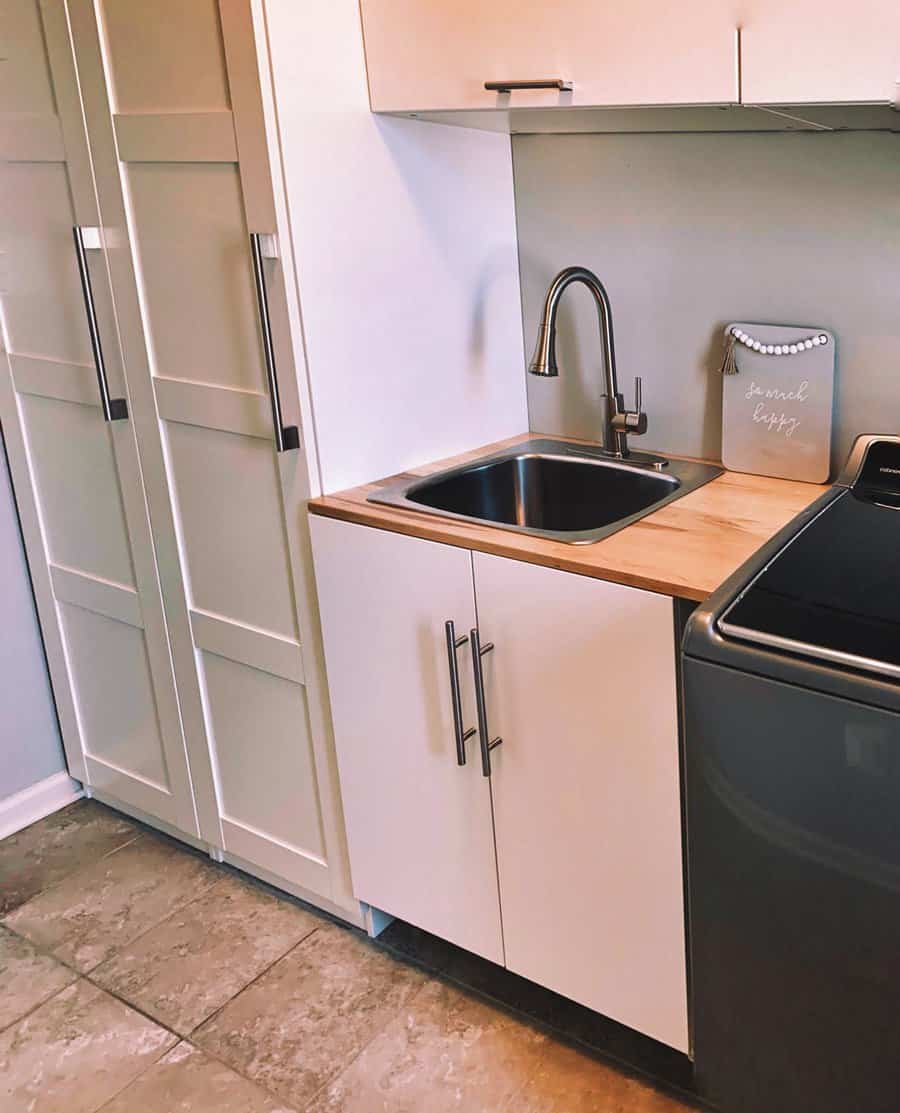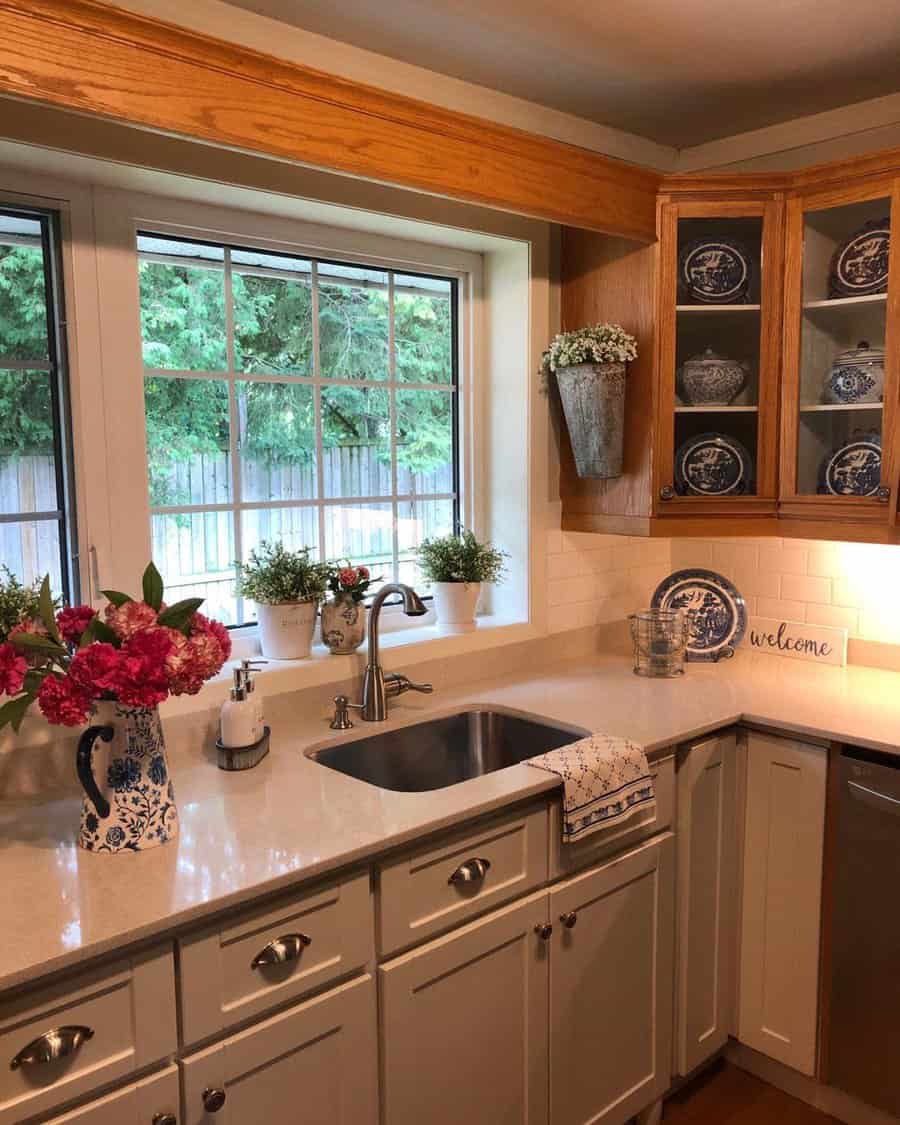 12. Aluminum Wash Basin
The sleek and metallic appearance of the aluminum wash basin exudes a contemporary and modern vibe, perfect for those seeking a kitchen with a stylish edge. Its smooth surface is not only visually appealing but also easy to clean and maintain. The lightweight nature of aluminum makes it a practical option, allowing for flexibility in installation and positioning.
Whether you choose to mount it under the countertop for a seamless look or showcase it as a freestanding feature, an aluminum wash basin sink adds a distinct personality to your kitchen.
Its reflective properties create an illusion of a larger space, making it an ideal choice for compact kitchens. Combine this unconventional sink with complementary fixtures and accents to complete the overall aesthetic of your kitchen.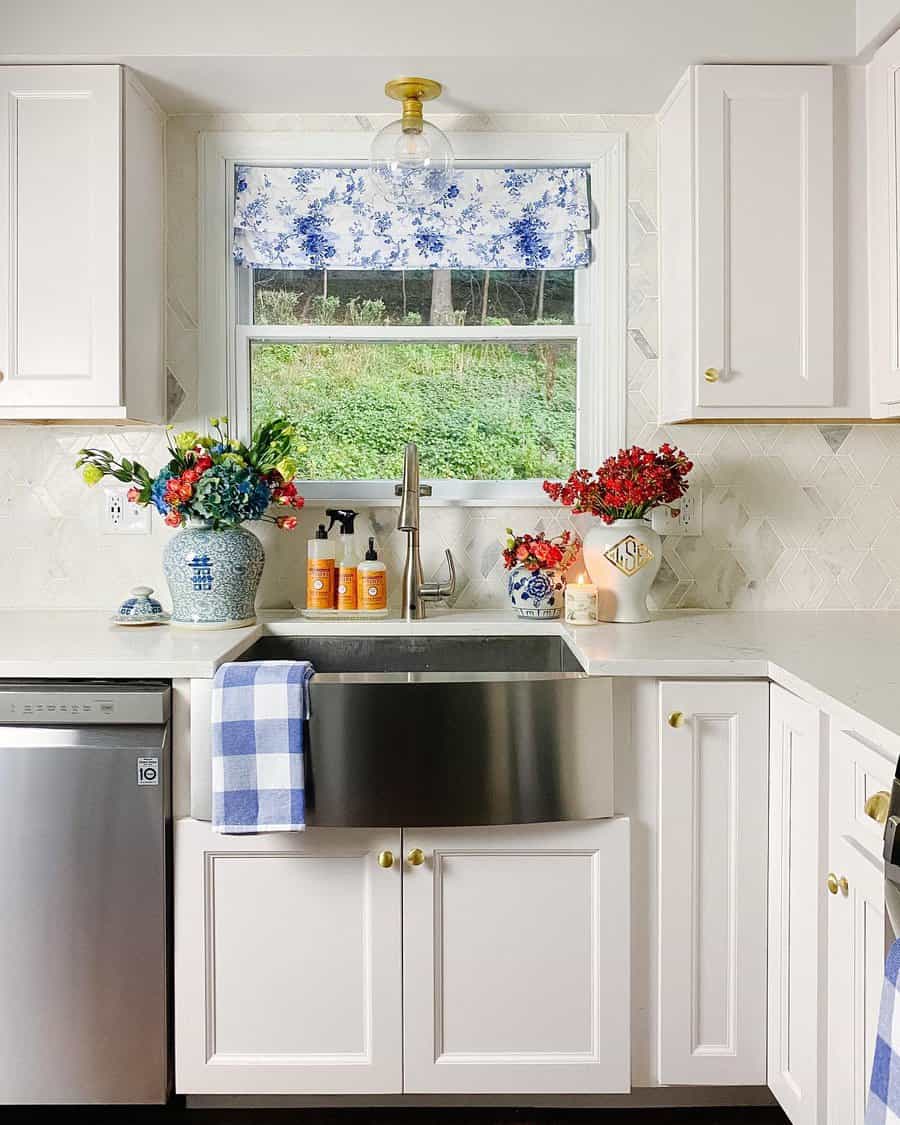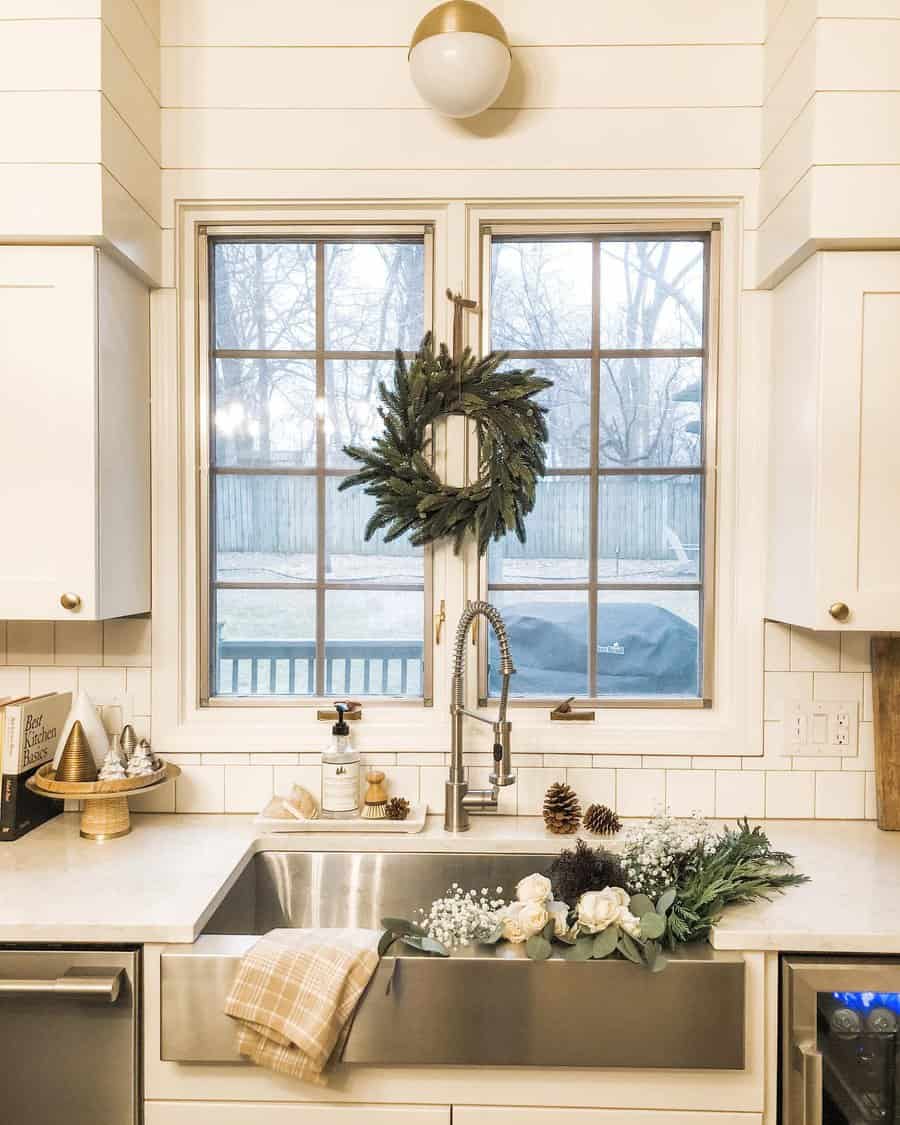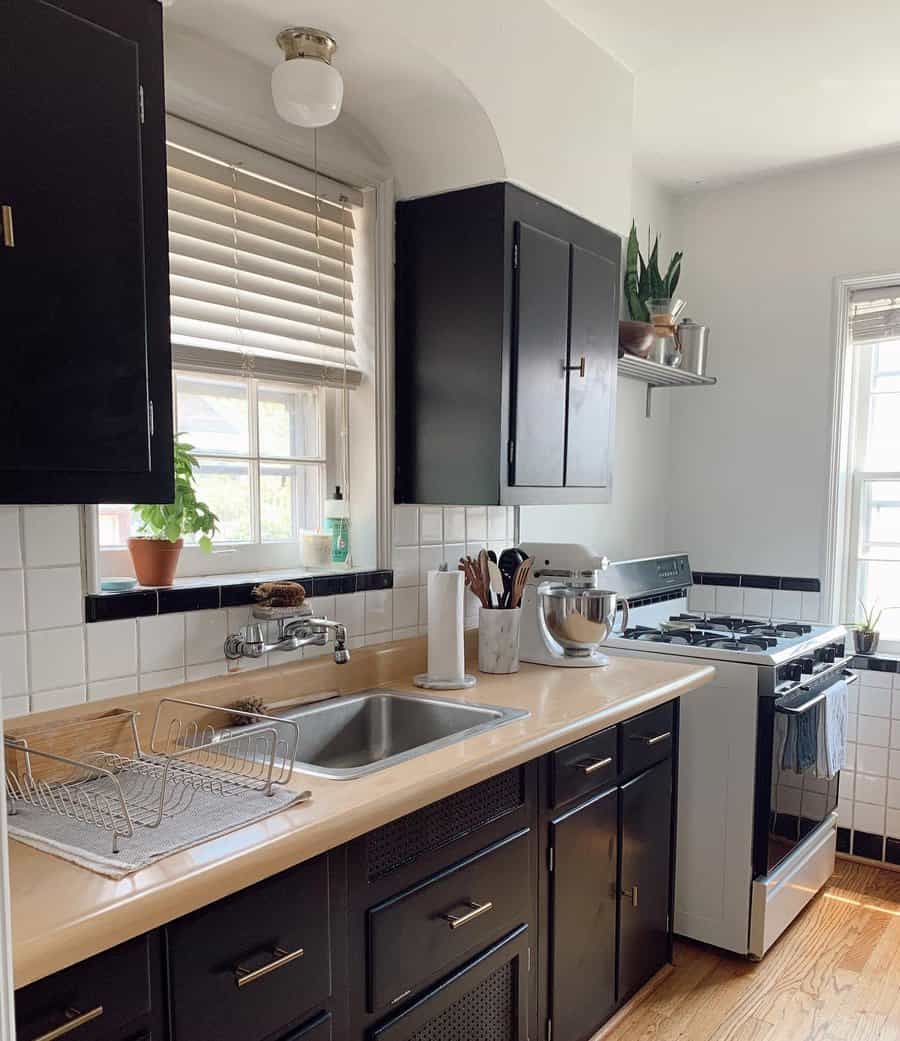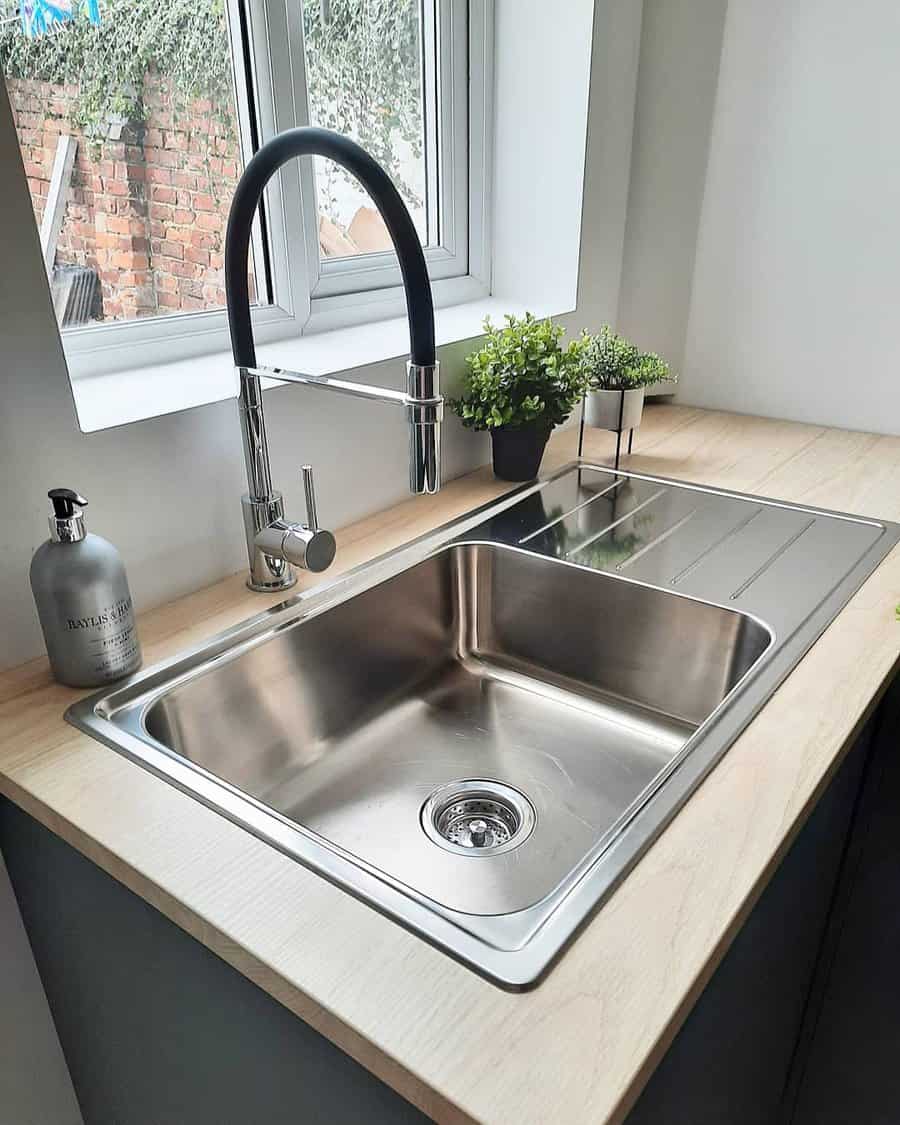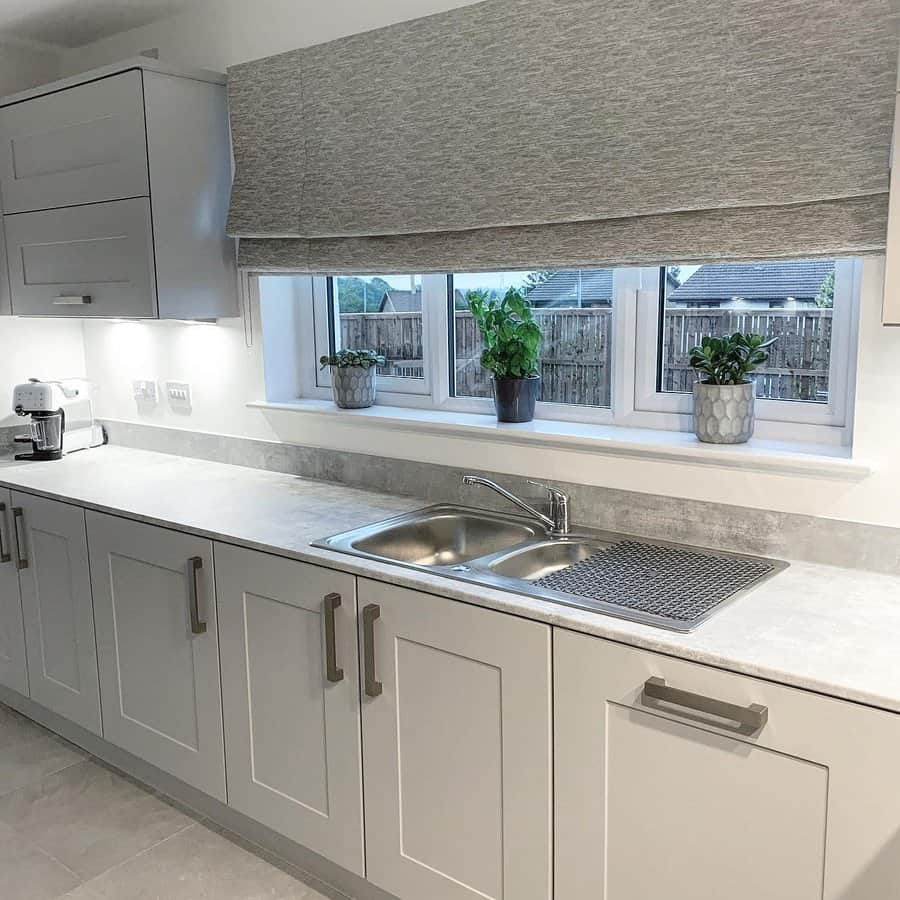 13. Double Wash Basin Kitchen Sink
Upgrade your kitchen with the practicality and versatility of a double-basin kitchen sink. This stylish and functional sink option brings convenience to your daily kitchen activities. The dual basins allow you to multitask with ease, making meal preparation and clean-up a breeze. Imagine effortlessly rinsing fruits and vegetables in one basin while soaking dirty dishes in the other.
The separation of tasks allows for better organization and efficiency in the kitchen. The double-basin design also comes in handy when you have a busy household, as it provides ample space for everyone to chip in during mealtime.
Additionally, the sleek and contemporary aesthetic of a double-basin sink adds a touch of sophistication to your kitchen decor. With various materials and finishes available, you can choose a sink that complements your overall design scheme.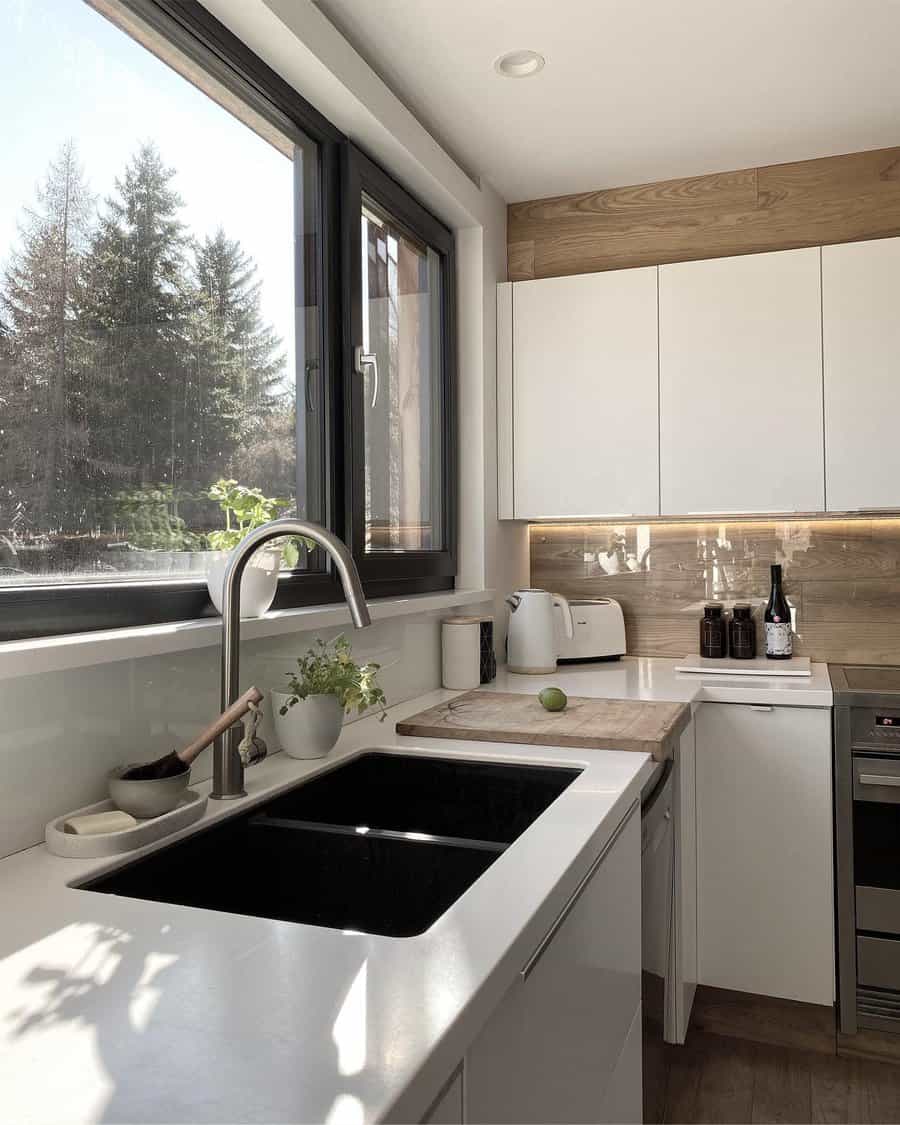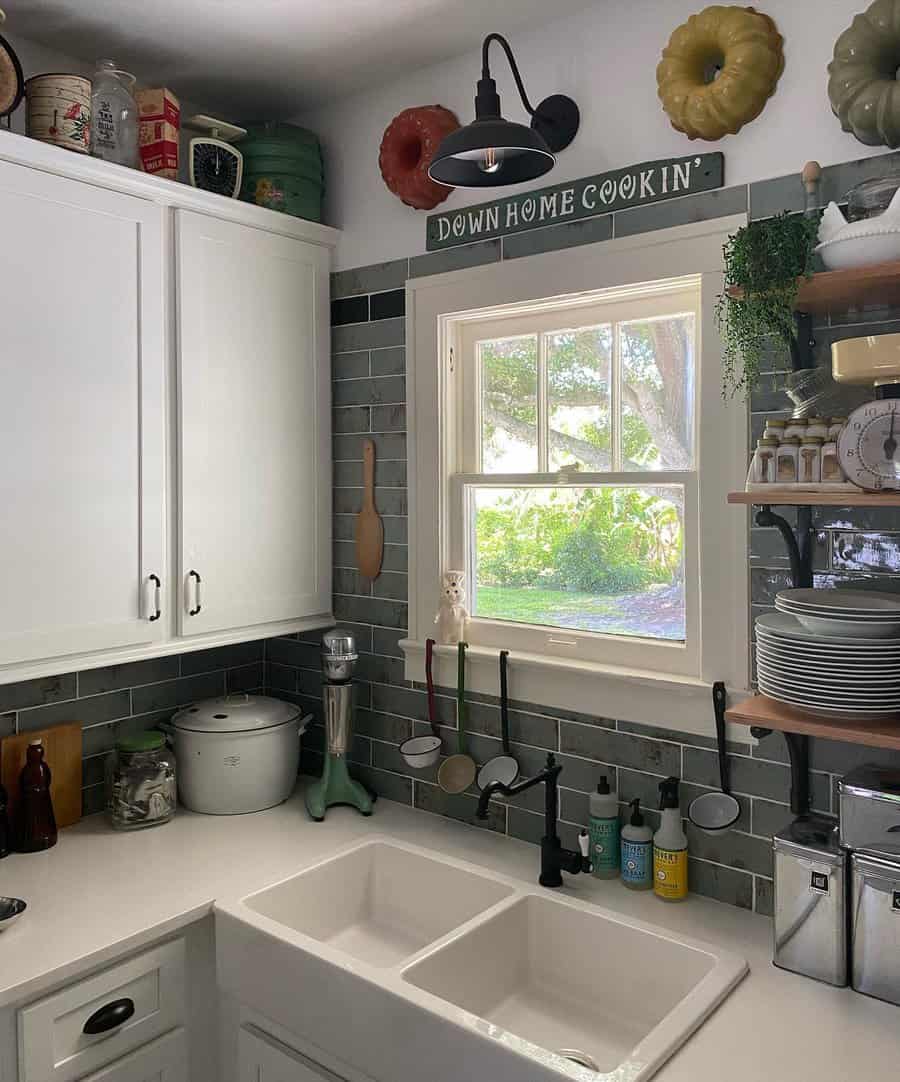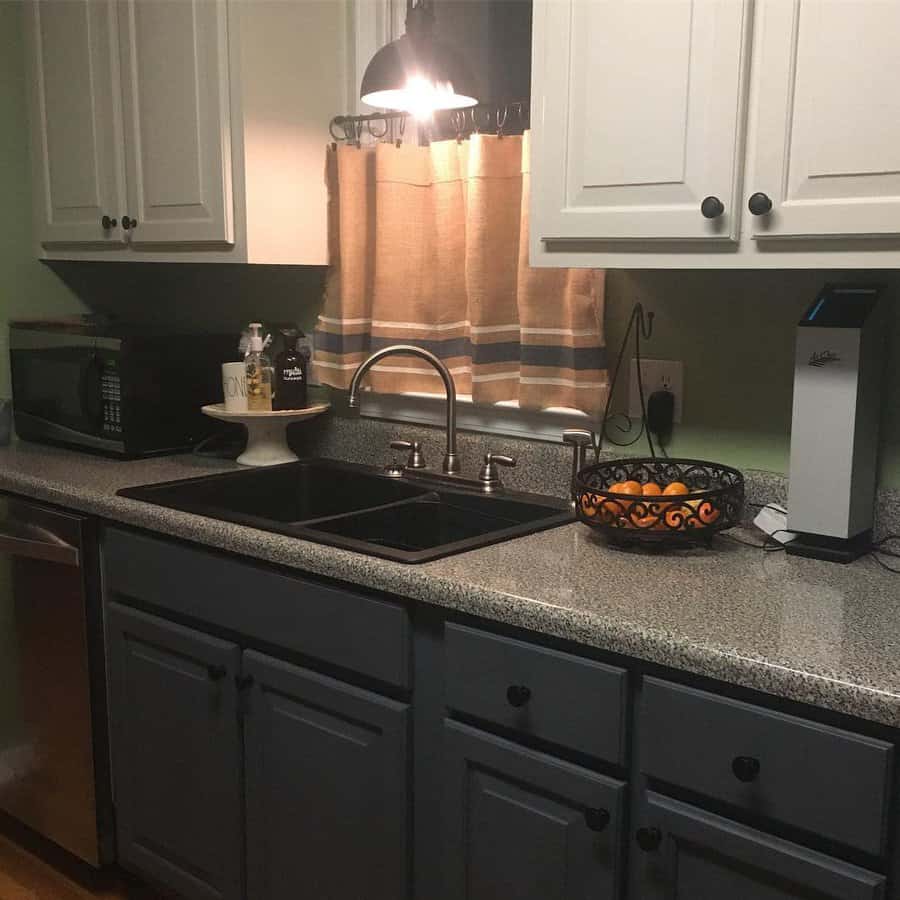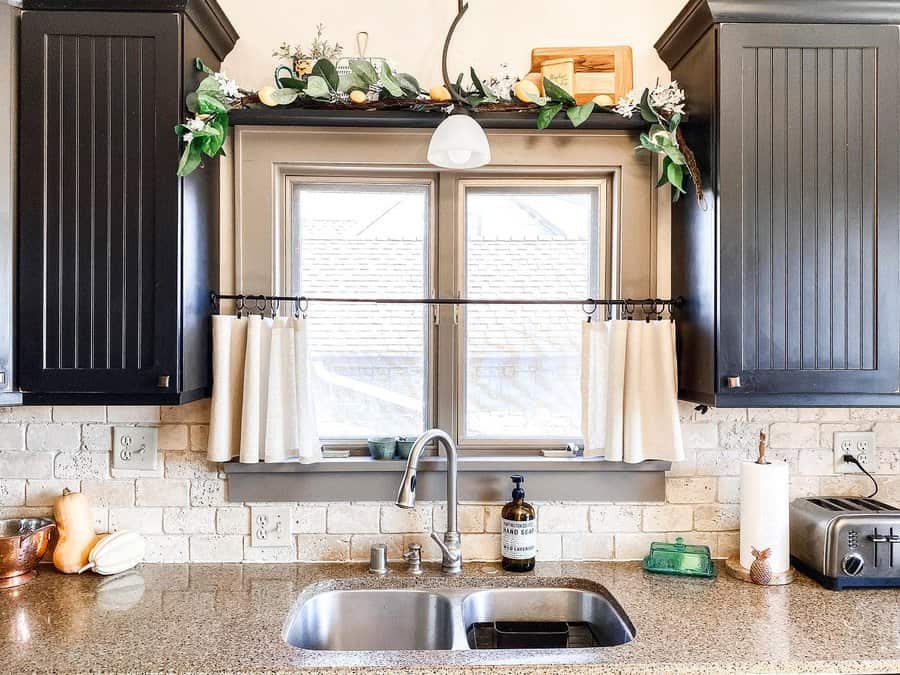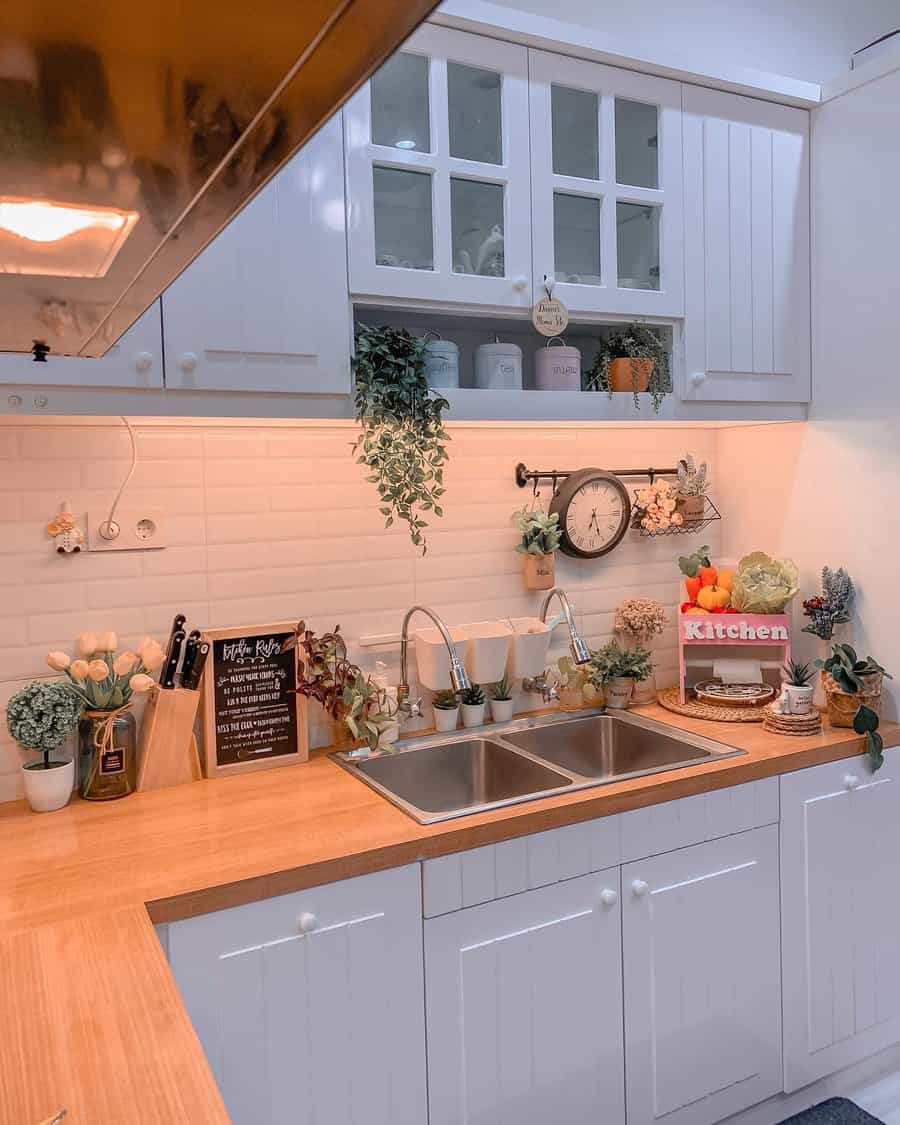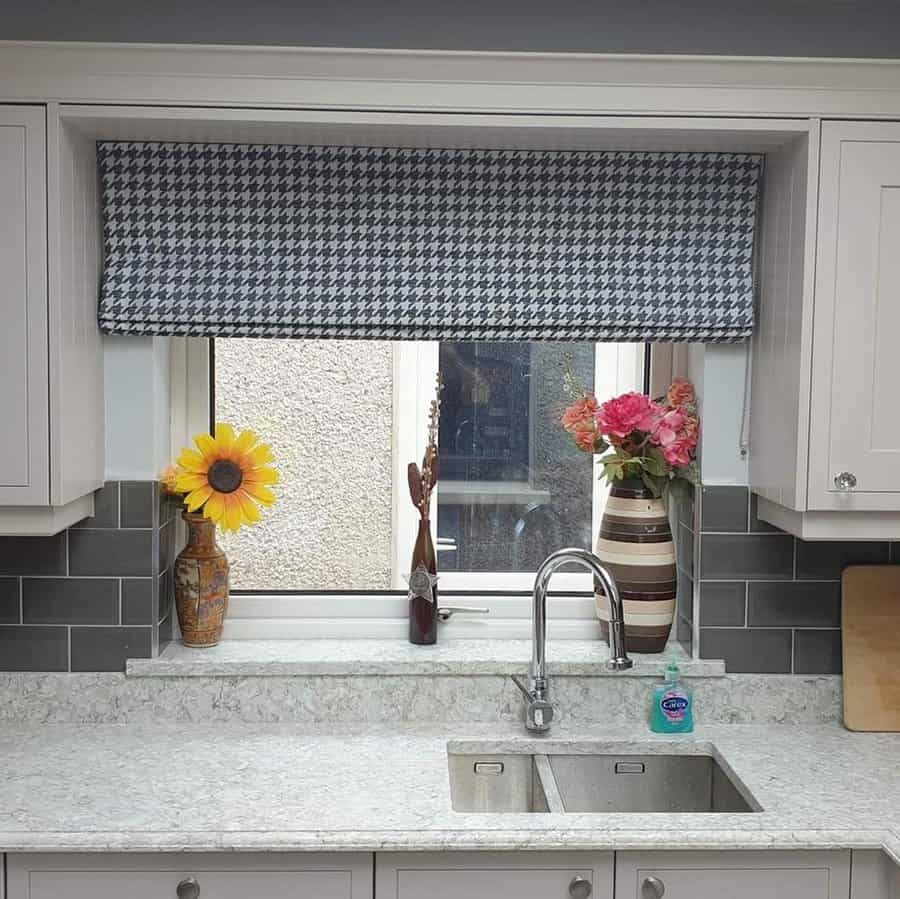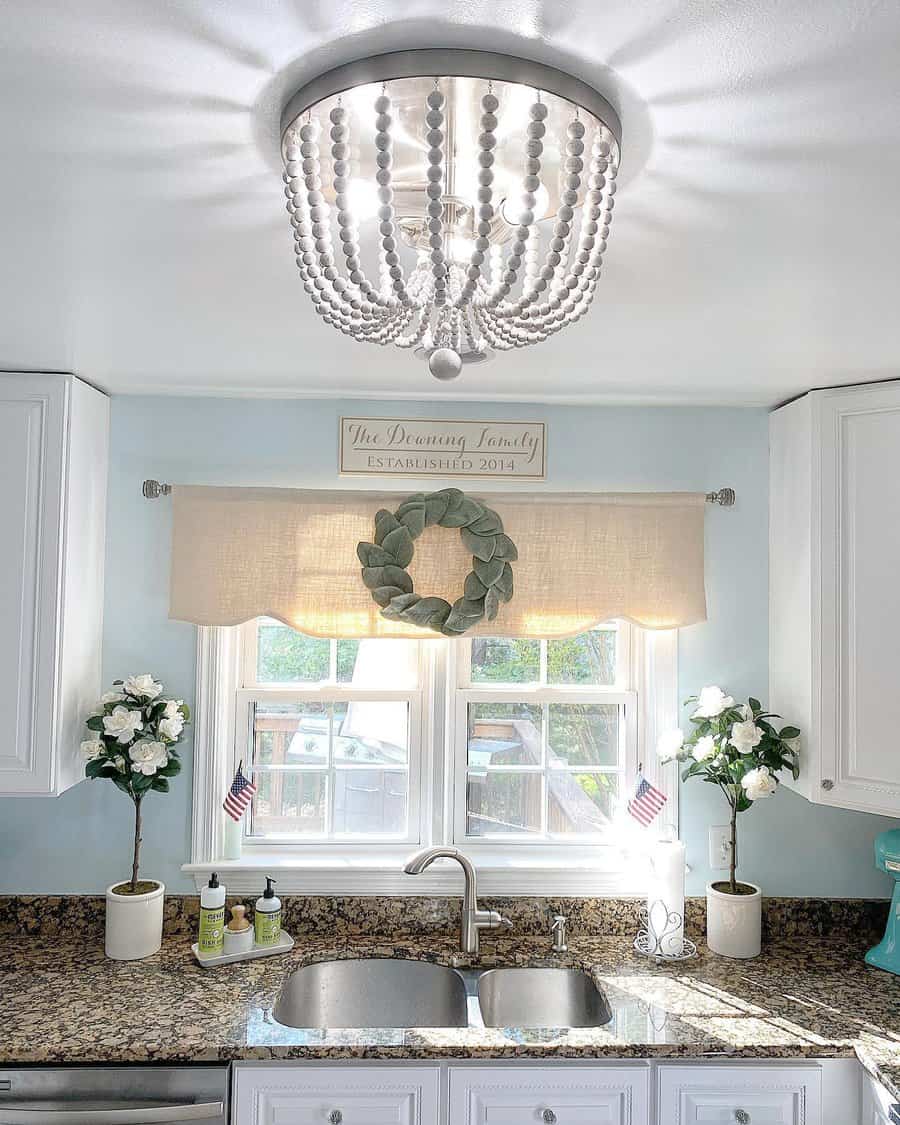 14. Top-Mount Kitchen Sink
This classic sink style offers a versatile and functional solution for your culinary needs. With its sleek and seamless design, a top-mount sink effortlessly blends into any kitchen decor, whether you're aiming for a modern, farmhouse, or traditional aesthetic. The top-mount installation ensures easy and hassle-free setup, making it a popular choice for both remodels and new constructions.
The generous basin size provides ample space for washing dishes, prepping ingredients, and handling all your kitchen tasks with ease. The elevated rim of the sink creates a distinctive look while also preventing water from spilling over the countertop.
Available in a variety of materials, such as stainless steel, porcelain, or composite, you can choose the one that suits your style and durability preferences.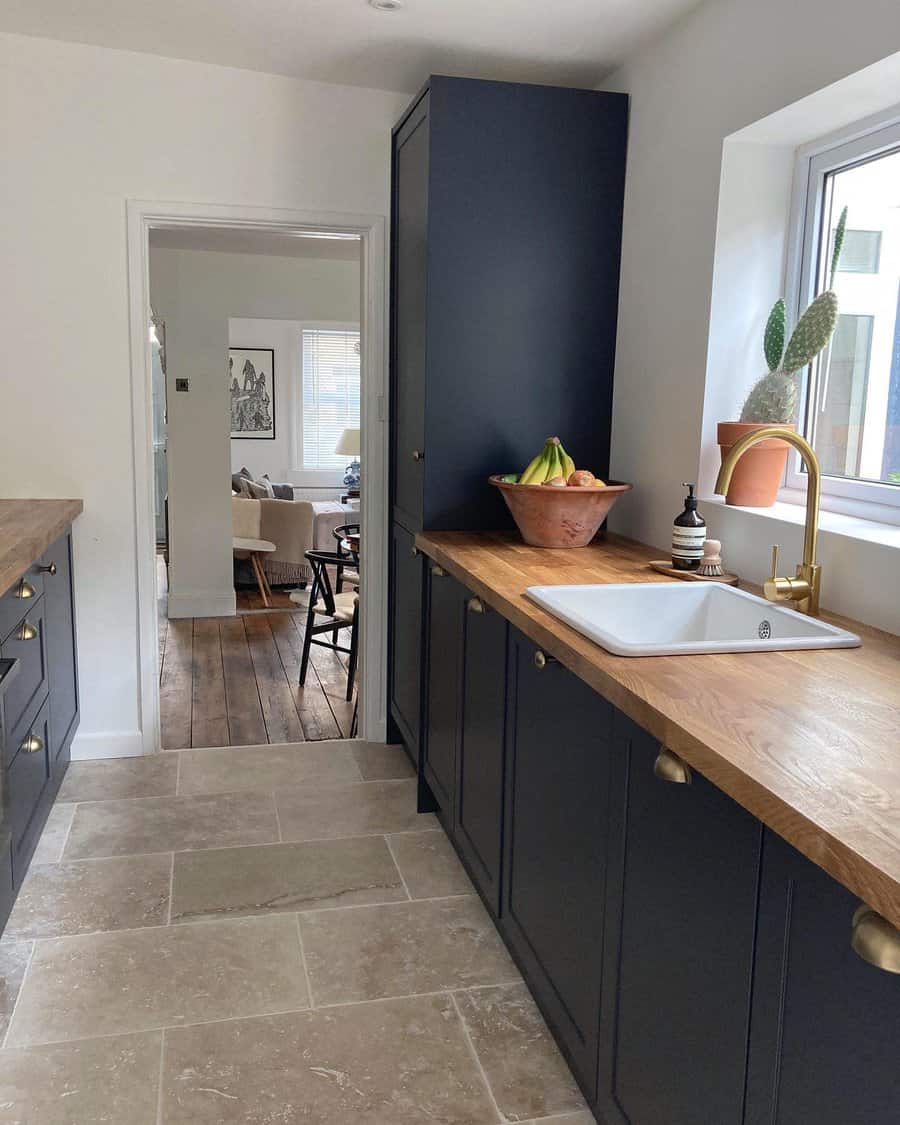 Kitchen Sink FAQs
Can you use a kitchen sink in the bathroom?
The main difference between a kitchen sink and a bathroom sink is the capacity. Kitchen sinks tend to be larger, with plumbing to match.
As long as you account for the difference in water capacity, nothing is stopping you from using a kitchen sink in your bathroom design (or vice-versa).
Some bathroom sinks might not be able to withstand the wear and tear of heavy dishes and sharp cutlery. Be sure to take your lifestyle and the sink material into account before installing a bathroom sink in the kitchen.
What is a 60/40 kitchen sink?
A 60/40 sink, also known as an offset sink, features two basins of different sizes. In this design, one side of the sink is slightly larger than the other rather than both basins being equal.
A 60/40 sink offers the benefits of a double sink without many of the potential annoyances. You can easily wash bulky pots and pans in the larger side while still separating dirty dishes from clean ones.