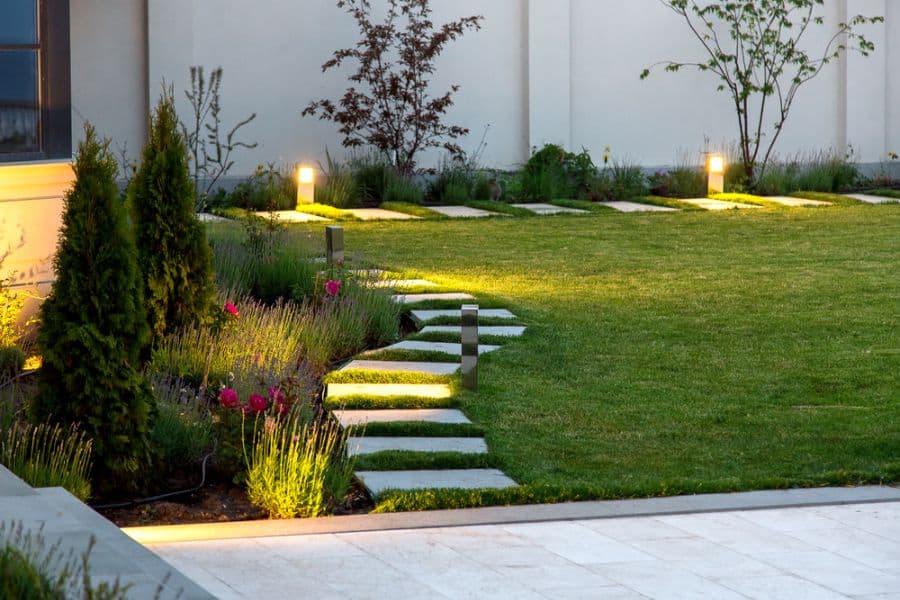 26 Landscape Lighting Ideas
Don't you wish you could spend more time outside? You're enjoying your time on your patio, gazing out over your landscaping and garden. However, the sun is setting, and soon you'll be sitting in the dark. With a few lights, you can enjoy your outdoor space more and get more use out of it.
These landscape lighting ideas will help find the perfect solution for your backyard. You may need more than one type of light to create layers of light and serve multiple purposes.
1. Decorative
Adding decorative landscape lights to your patio, deck, or balcony helps to create a soft atmosphere. You don't need a ton of light, just enough to safely move about.
A set of string lights or rope lights will do the trick. You can string them up overhead, on a wall, around a deck railing, or around the surrounding plant life.
Fairy lights are another good option. These are much smaller lights that twinkle and accent whatever you put them on. Get creative with your lighting design.
Add your fairy lights to a potted plant. Or coil them up in a large glass vase on a coffee table. Add them to a lantern that you hang from your pergola.
2. Fixtures
There's more to choosing the right lighting than its landscape lighting effects. You also need to consider the landscape lighting fixture. The light fixture you choose needs to add to the look of your home and backyard while also being durable enough to last.
Look for a light fixture that is made from durable materials. Plastics and polycarbonates should have a UV-resistant treatment to prevent them from fading or cracking. Metal housings should be made from aluminum or corrosion-resistant steel. This prevents them from rusting out.
3. Garden
If you have a garden in your backyard, this is the perfect place for adding accent lighting. You can easily add low-voltage landscape lighting around your plants in the ground or over your raised plant beds.
Accent lights let you check on your plants at night and enjoy the fruits of your labors after the sun sets. You can also use these lights to protect your garden from intruders. This could be other people or even wild animals.
Look for outdoor lighting ideas that work with the style of garden that you have. Perhaps you want to create a British country garden effect or cultivate a modern garden design.
4. House
Sometimes your backyard lighting is purely for safety. Exterior lighting around your house illuminates the property, making it less appealing for criminals.
You can mount motion-reactive lights or ones that are on timers. Look for floodlights that will create a lot of ambient light and illuminate as much of the yard as possible.
You can also add decorative lights to the front of your home. These could be lights on either side of your garage door or front door. Add another light to illuminate your house numbers. This makes it easier for people to find your home when it's dark out.
5. Solar
Solar lights give you the freedom to install outdoor lights anywhere you want. These lights use the power of the sun to charge an internal battery and power the light. They come in various sizes and styles so that you can use them everywhere, from the paths to the side of your house.
Be careful with solar lighting. These lights need plenty of sun exposure to ensure they get fully charged. Without this, the light may not be as bright as you'd like or last as long as you want.
6. Tree
If you have trees in your backyard, adding a spot light to them can add an effect to your yard. An LED landscape lighting design helps your yard look just as appealing at night as it does during the day.
Use more than one type of light for your outdoor landscape lighting. Have a spotlight on a tree or large flowering bush. Then add uplights along your driveway and path lights along the walkway.
Finish your lighting scheme with a security light that only turns on when there's motion. This lets your yard look accented until you need an entire wash of light.
7. Uplight
Uplights are ground lights that create a unique lighting effect. This outdoor lighting solution is good for walkways and driveways. The lights typically sit flush in the ground and point upward. They have a soft light that marks the edge without blinding people.
There are also much larger uplights that create a lot of directed light upward. They are perfect for creating a spotlight on a tree or other landscaping features. These larger lights sit above the ground and have a bright wash of light.
8. Walkway
If you have a patio, deck, or walkway on your property, you should have lights illuminating them. Path lights direct people where to go when it's dark out.
Deck lights signal to people where the edge of the deck is while also creating ambiance. This element of your hardscape gives it dimension and more usability.
When choosing your path lighting, look for lights that make sense with your path. For example, if you have a modern walkway, then you'll want pathway lights that are also modern. The easiest pathway lighting to add is solar-powered. But if you're looking for something more permanent, then you'll want hardwired lights.
9. Wall
Mounting wall lights are an easy way to create a lot of outdoor light. You can easily hardwire the light into the electrical wiring of your home. This gives you a reliable light that requires minimal maintenance.
Look for a light that has multiple heads that you can adjust in different directions and angles. This lets you control where the light shines.
Halogen bulbs are the traditional lights, but these aren't the most durable or energy efficient. LED lighting is the modern alternative. This is a better choice because LED bulbs are long-lasting, consume very little energy, and are durable.
Landscape Lighting FAQs
How do you make landscape layout lighting?
Start by drawing out a sketch of your yard and decide what areas of your yard that you want to add lights to. Then decide what type of lights you want to use and mark where you want to place them on your diagram. Finally, think about the ease of installation, power supply, and the type of illumination you'll create.
How far apart do you put landscape lights?
Most outdoor lights look the best when they are six to eight feet apart. This is the standard distance when illuminating a walkway or path. Consider the lumen and size of the light. For a brighter effect, place them closer together.
Are LED landscape lights worth it?
Adding landscaping lights is totally worth it because they can increase your property's curb appeal and safety. You can use them to make it easier to walk around at night and discourage would-be criminals. Lights in your front yard will improve the curb appeal and make your home look more welcoming.