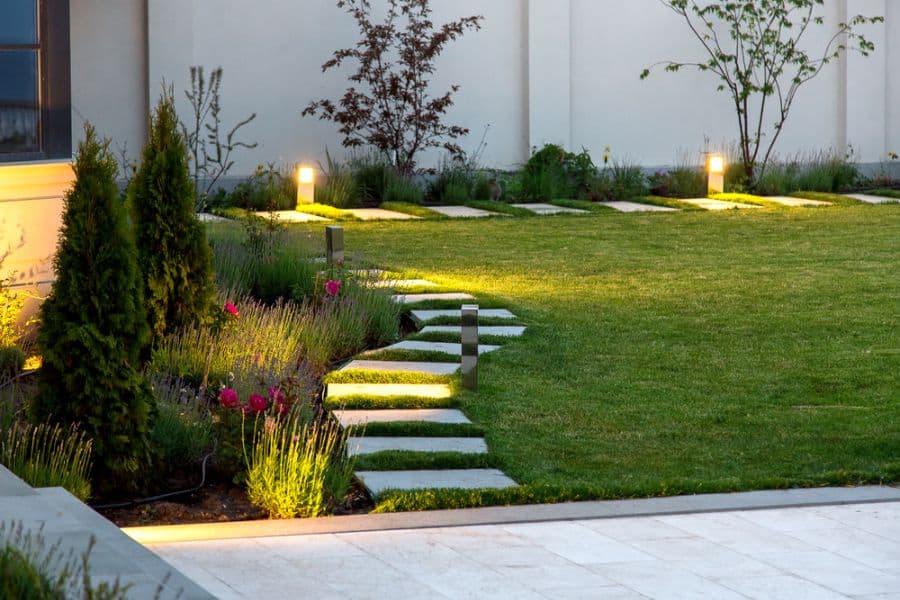 26 Landscape Lighting Ideas
Don't you wish you could spend more time outside? You're enjoying your time on your patio, gazing out over your landscaping and garden. However, the sun is setting, and soon you'll be sitting in the dark. With a few lights, you can enjoy your outdoor space more and get more use out of it.
These landscape lighting ideas will help you find the perfect solution for your backyard. You may need more than one type of light to create layers of light and serve multiple purposes.
1. Bungalow Garden Lamp
Transform your bungalow garden into a magical fairyland with landscape lighting! A bungalow garden lamp is a perfect centerpiece for any backyard, bursting with warm light and casting glowing shadows.
But that's not all – add a bit of elevation for an impressive multi-tiered look. Treat yourself to the perfect nighttime ambiance for special occasions and events, not to mention just a lovely way to end the day.
With landscape lighting, create a delightful spectacle and add character to your bungalow garden.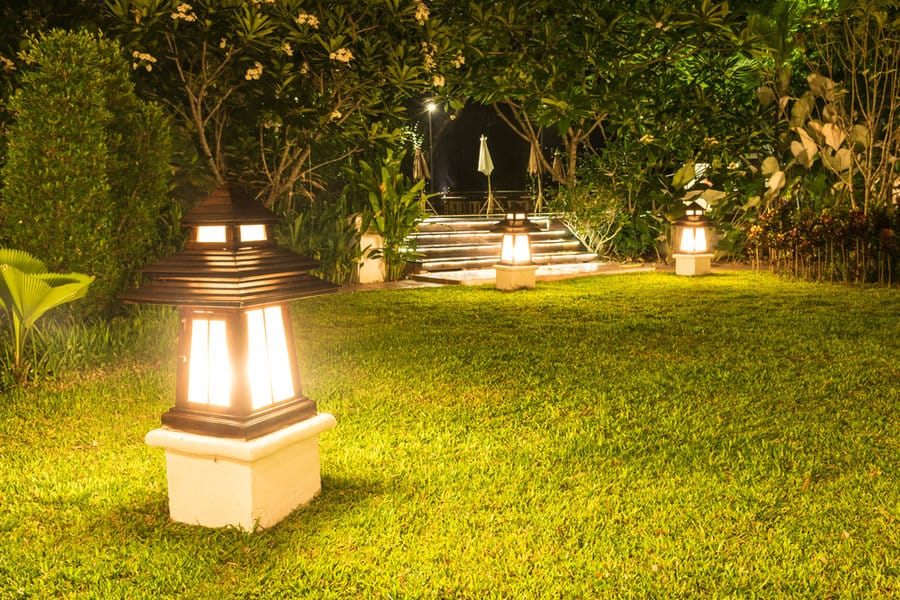 2. Camouflage Rock Garden Lighting
With the rock garden lamp with light strips, your rocky landscape is no longer a silhouette at night. This brilliant lighting strip illuminates your rock garden in a whimsical, ambiance that gives every rock formation a unique presence and transforms your landscape into an enchanting wonderland.
Enjoy being mesmerized by the natural beauty of lit-up rock formations making their own unique patterns in your outdoor space – only made possible with this unique rock garden lamp!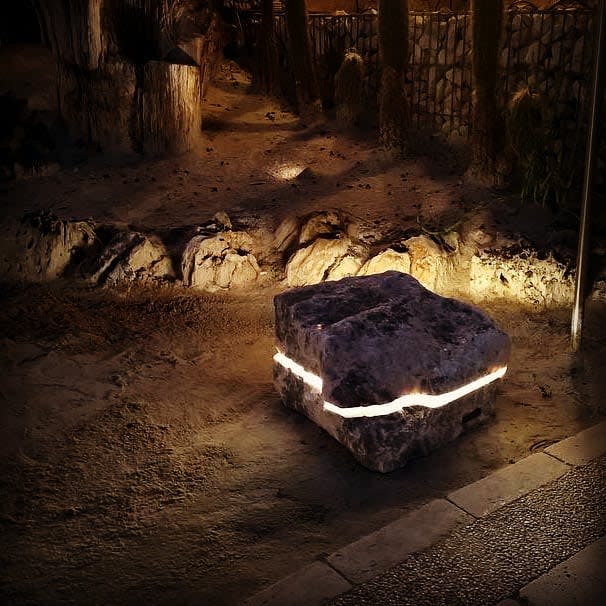 3. Minimal Path Lights
Transform your backyard into a peaceful, tranquil retreat at night by incorporating landscape lighting. A rock pathway lined with minimal outdoor lighting creates a dreamy, ethereal experience and allows for an enjoyable ambiance as you relax in the yard during the night.
With landscape lighting, you won't have to worry about tripping over unseen objects or relying on moonlight—you can take a leisurely stroll without ever losing sight of your surroundings.
Create your own backyard oasis with rock pathways lined with subtle lighting fixtures and enjoy your outdoor space all through the night!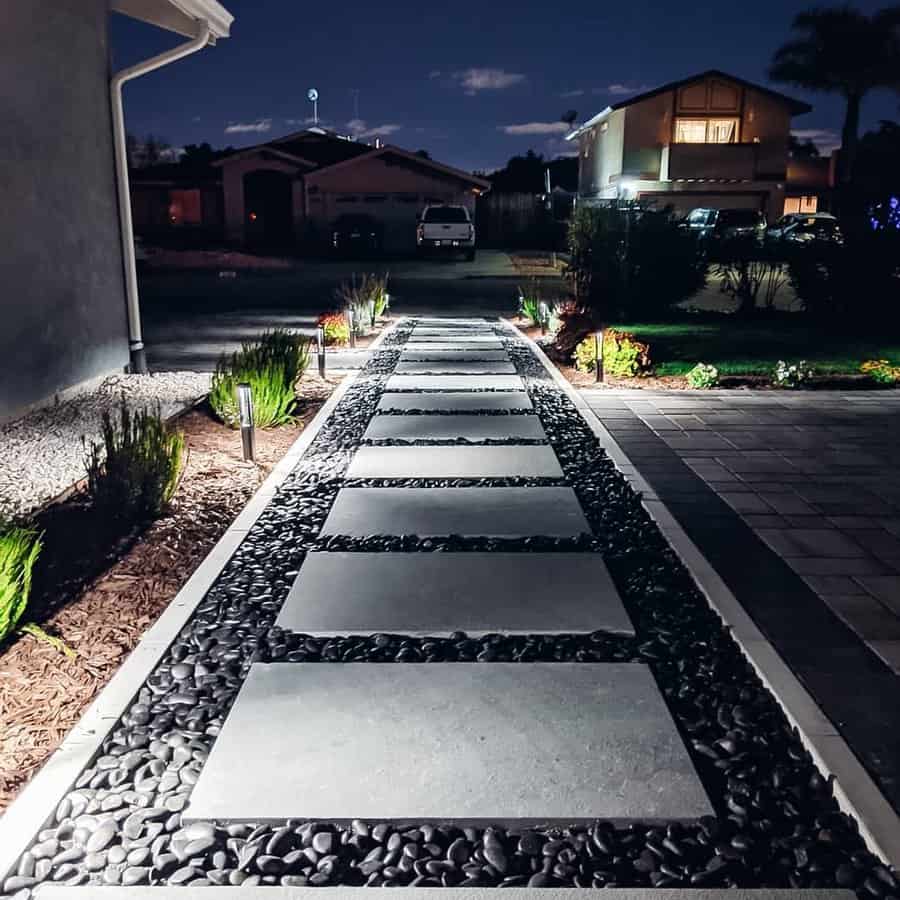 4. Garden Island Lighting
Make your garden an island paradise with landscape lamps! Create a tranquil garden atmosphere by lighting it in a soft and inviting way.
Invite your guests to bask in the warm, bright light of your garden island. Imagine finishing off the evening garden parties with the beautiful backdrop of twinkling lights illuminating the garden foliage.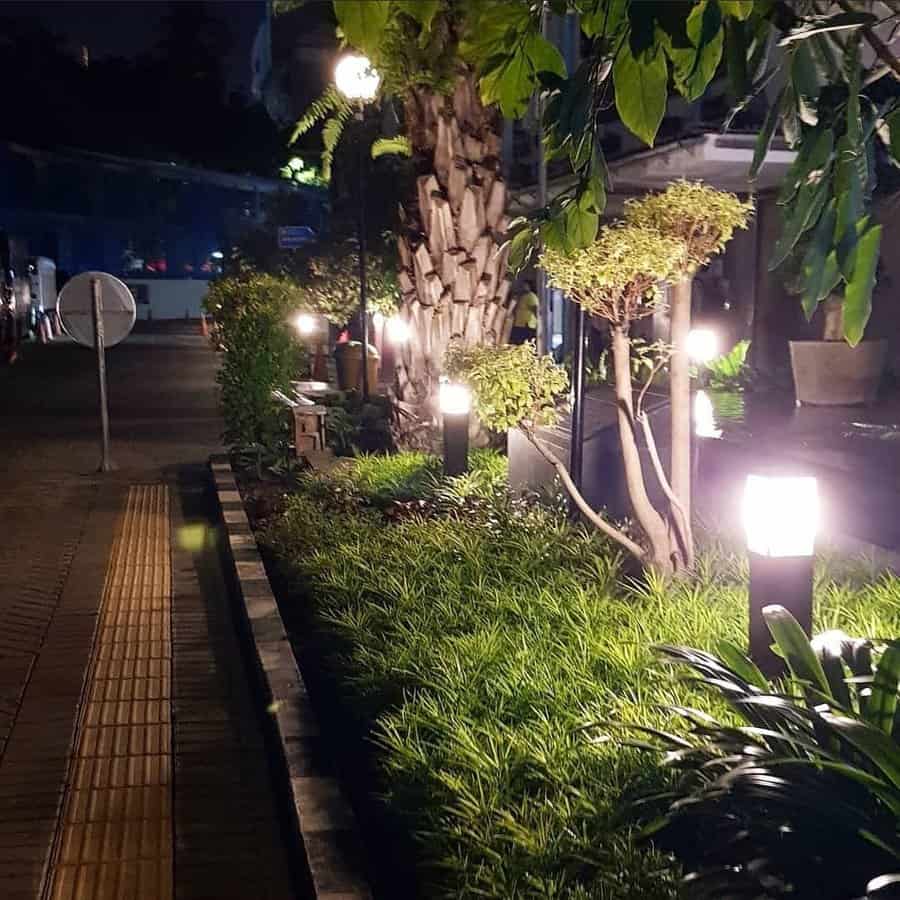 5. Small Solar Path Lights
Elevate your nighttime outdoor experience with landscape lighting. Whether you have a small garden or sprawling acreage, small solar path lights can add a touch of enchantment and elegance to any outdoor space.
For a modern edge, install warm-tinted LEDs that will curve along the exterior of your home or along a small rolling hillslope. If you want something creative, consider combining multiple small solar path lights with a multi-colored stone garden landscape for a unique dreamscape perfect for enjoying nights spent outdoors with family and friends.
Enjoy the look of landscape lighting before sundown and accentuate its beauty after dark.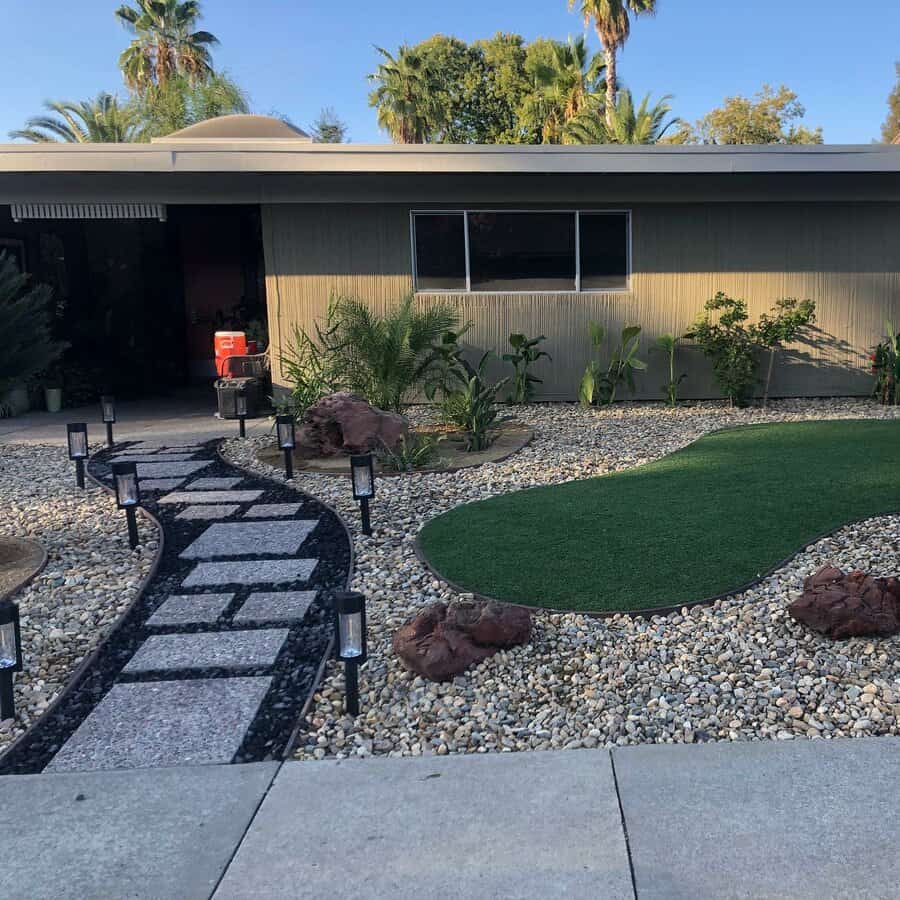 6. Outdoor Bollard Lamps
Adding bollard lights in the front or back yard of a modern minimalist home can take its landscape lighting to the next level. These bollards, situated along pathways and driveways, create an inviting atmosphere, while also providing safety benefits after dark.
Additionally, bollard lights provide an opportunity for stylish illumination through their many varieties of elegant design options – from wood bollards to metal bollards – that complement any home's aesthetic.
With bollard lights as part of your landscape lighting plan, your home can easily become the envy of neighbors and friends alike!
7. Modern Minimalist Bollard Lamp
A modern minimalist bollard lamp can be the perfect addition to any cobblestone and grass landscape. Instantly transform your outdoor area by transforming sunshine into moonlight with this sophisticated yet easy-to-install lighting device.
With modern enhancements, these are now more than just a light to keep your garden paths illuminated; they bring a certain charm, elegance, and unique feel to any outdoor space.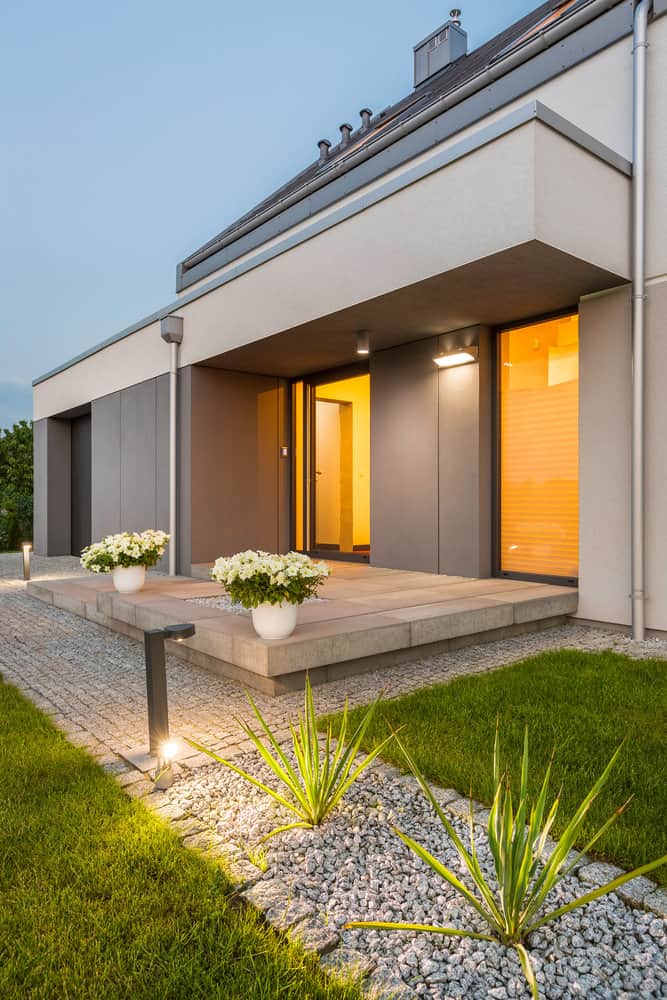 8. Garden Floor Lamp
Illuminate the garden floor with garden floor lamps for a beautiful ambience and watch as shadows of trees and plants give way to mesmerizing silhouettes on walls.
For a more captivating look, string some fairy lights across shrubs to bring texture and sparkle to your garden.
From twinkling LEDs that add depth, to garden spotlights that highlight accents – landscape lighting can be used as a creative medium to bring out the best of your garden after dark!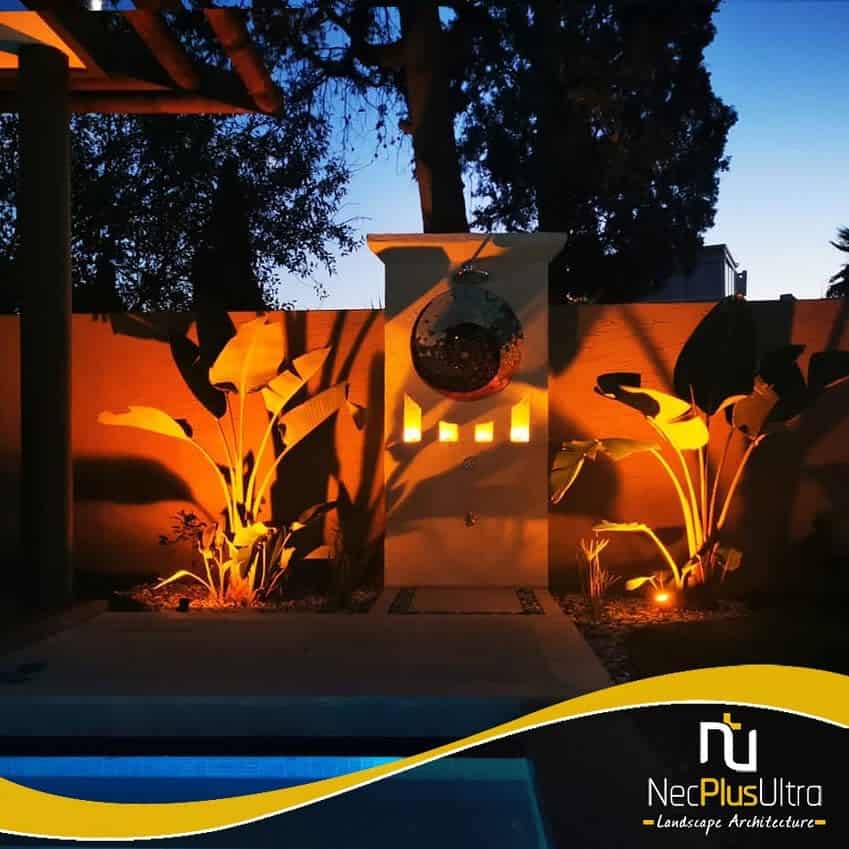 9. Hidden Elevated Garden Lamps
Landscape lighting can truly transform your outdoor living space into a hidden oasis during the night. With hidden landscape lights, you can bring plants and shrubs to life by illuminating their beauty.
Whether it's a pathway to create a safe entrance or accenting your favourite focal point with subtle light, hidden lights are an ideal way to make the most of any garden or yard.
From bold and unique fixtures, to soft curves and hidden spots – no matter what look you're trying to achieve, hidden lights can help create an inviting and magical atmosphere.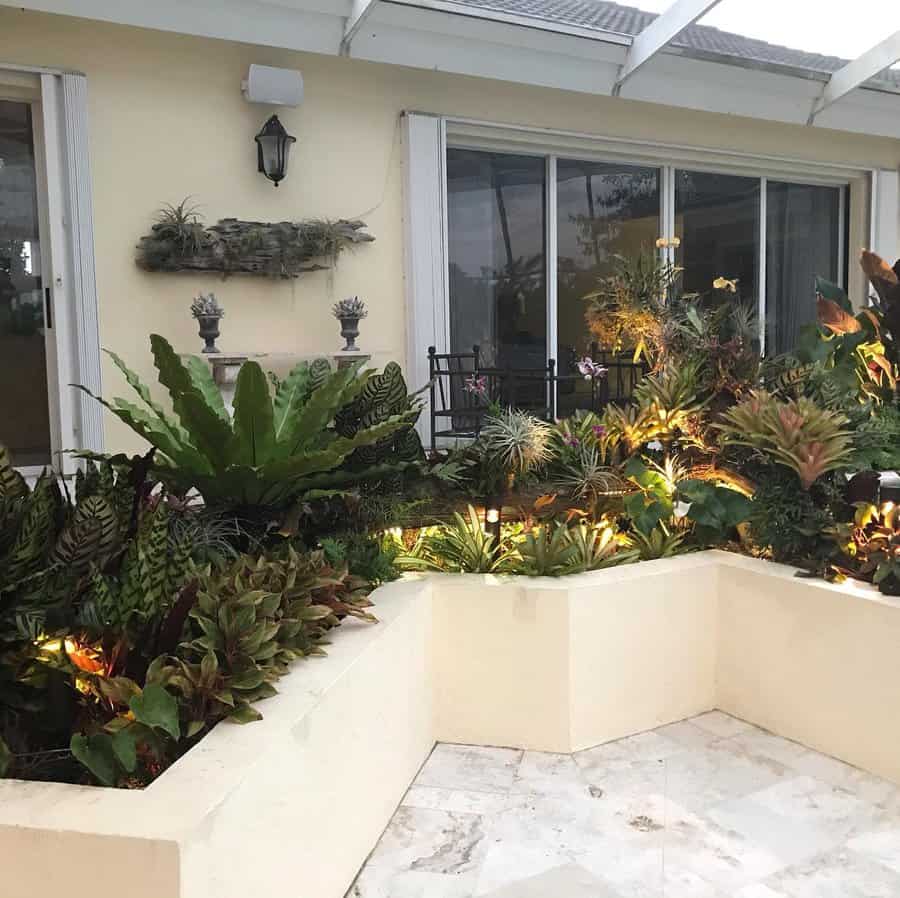 10. Subtle Garden Lighting
A subtle garden floor lamp can produce an ambient and minimal nightscape, perfect for turning an ordinary evening into a magical escape. Just imagine the soothing sound of flowing water highlighted by subtle glows of warm light against the earthy hues of your garden.
Whether used to accentuate pathways or simply enjoy a peaceful evening, landscape lighting has everything you need to create a relaxing atmosphere for any occasion.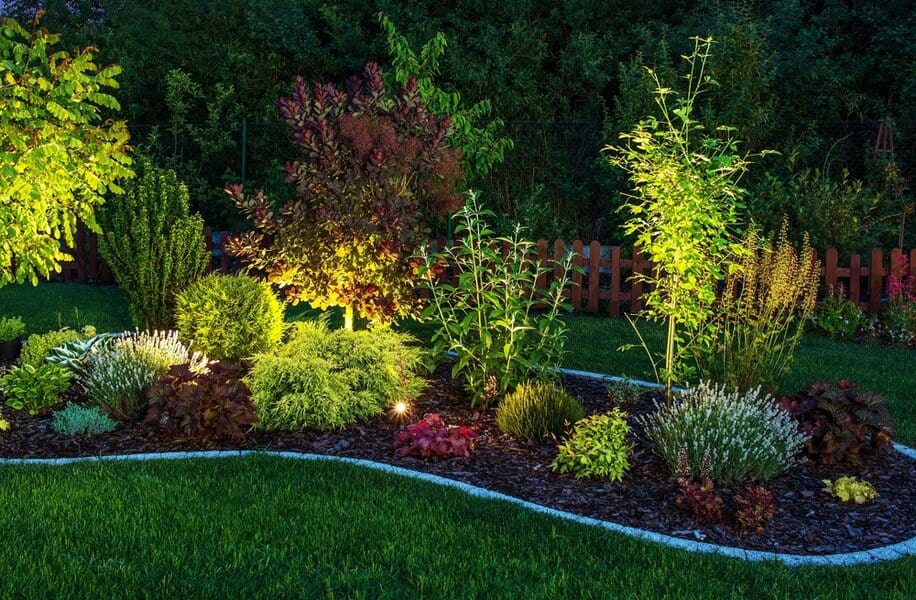 11. Bright Entrance Lamps
An easy way to spruce up your outdoor area is with bright entrance lamps that can be installed near an entryway – highlighting activity even in the dead of night.
With a unique spin, small bollard lamps can be spread throughout flower beds or Gardens, making them look more aesthetically pleasing than ever before!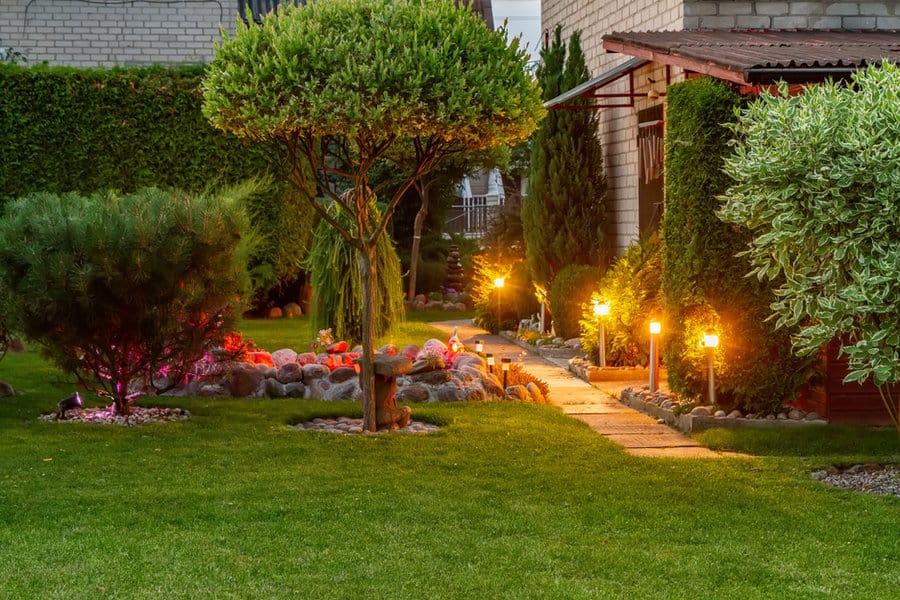 12. Wall Up Lights
By adding up lights on wall and entrance wall lamps to your garden or patio, you can impart a deep richness to your surroundings and create a unique nighttime ambience.
Not only does landscape lighting add warmth and enchantment, but it also provides an extra layer of security, lighting up dark pathways and unfamiliar spots.
Now everyone can enjoy the beauty of their lawns by day or night!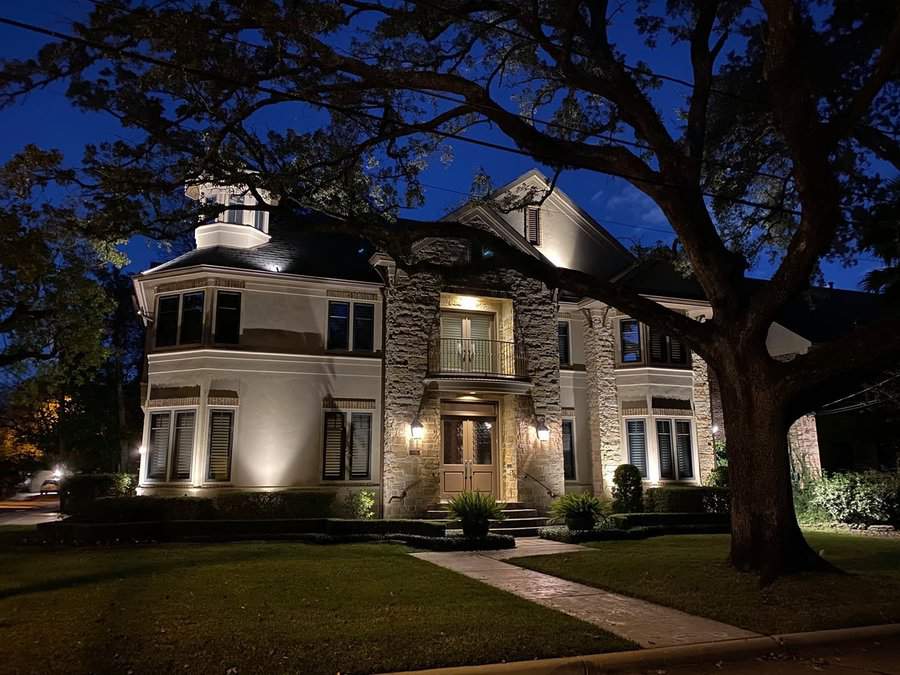 13. Tiki Torch Landscape Lamp
Light up any outdoor space with tiki torch landscape lamps! Add a touch of romance and a sense of adventure as dusk falls: tiki torches help create a tranquil, ambient atmosphere that will turn any evening into one to remember.
From bougainvillea to Japanese maples — even the most humble of flower and plant beds — tiki torches will help bring any garden, terrace, or other outdoor space to life after dark.
With tiki torches, you'll be able to linger outside for longer periods of time peacefully, enjoying the peace of your favorite outdoor nook late into the night.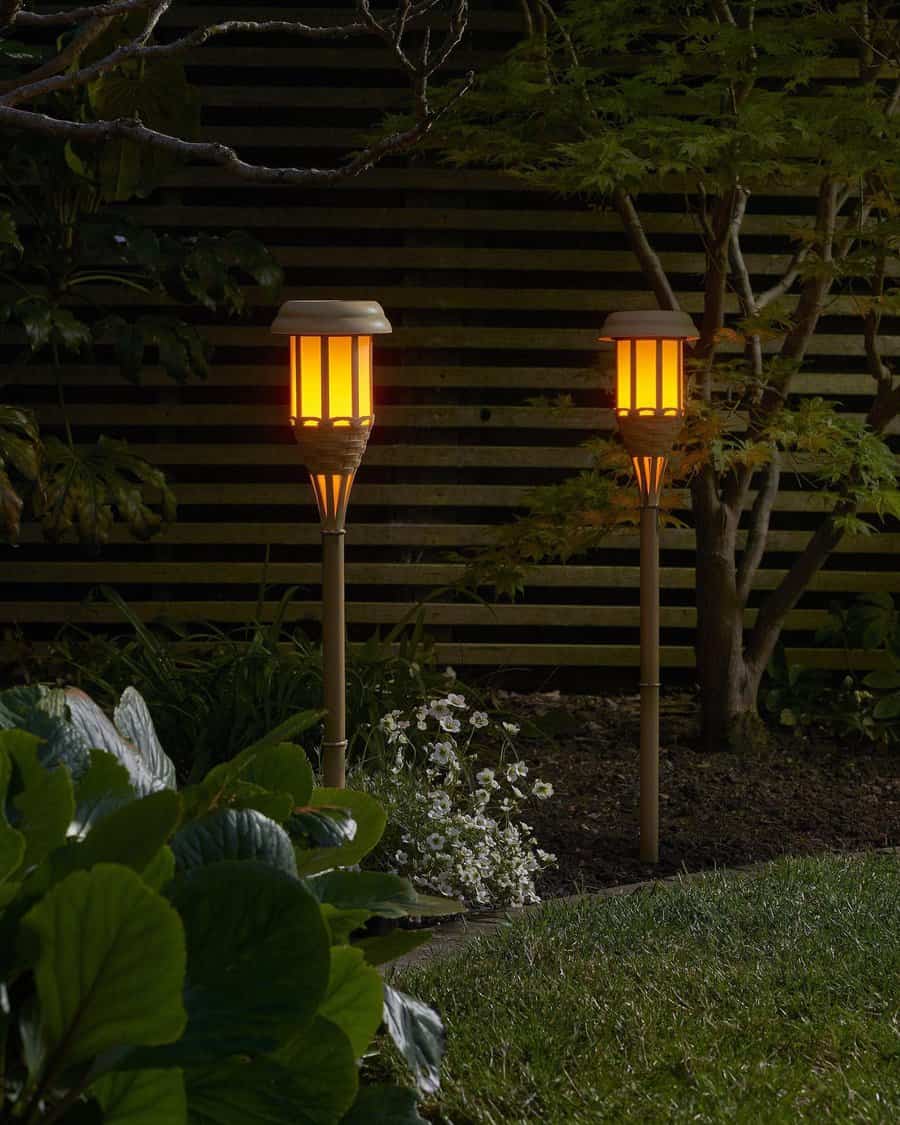 14. Decorative Solar Lamp
Landscape lighting is an easy way to add decorative charm and increased safety to your outdoor space. With decorative solar lamps, you can paint the night sky with silhouette patterns that create a magical atmosphere around the your home.
From fence posts to pathways, your garden will instantly be transformed after dark with solar-powered decorative lights that enhance even the most mundane of spaces.
Landscape lighting can also add greater security for yourself and your guests by allowing for enhanced visibility throughout the area.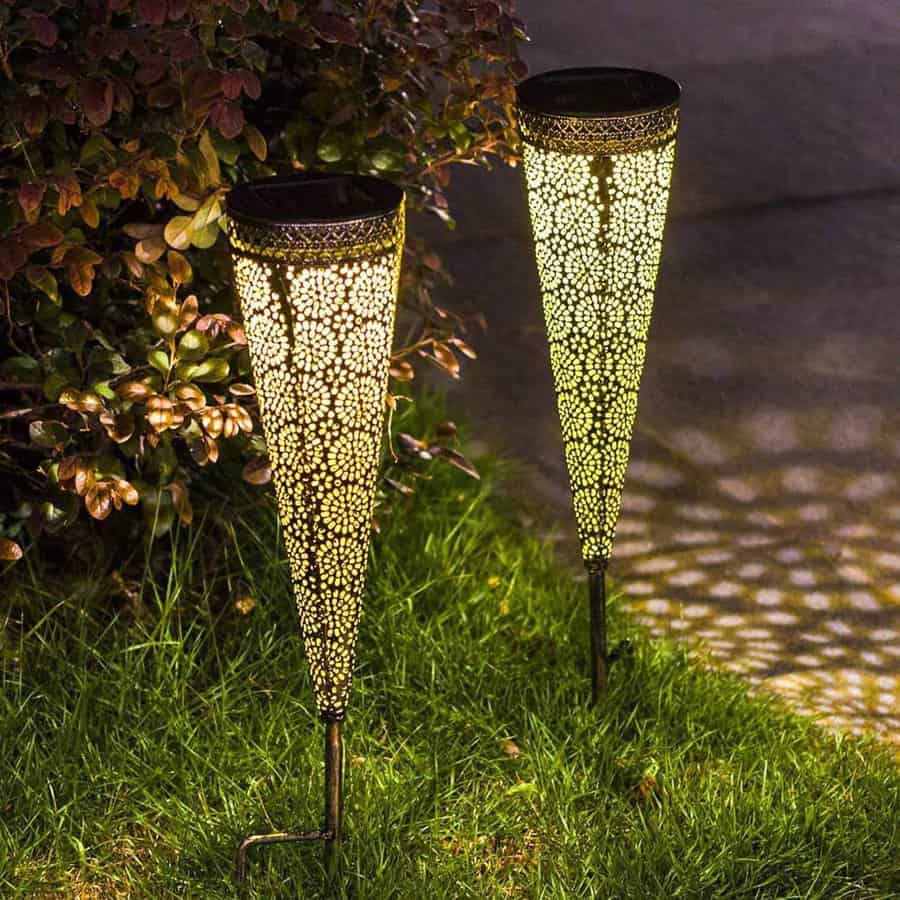 15. Silver Bollard Pathway Lamps
A silver bollard lamp casts light into a grey pebble garden, transforming it from a bare garden to a magical outdoor space.
With the perfect angle of light at night, the scene feels like something out of an enchanted fairytale. The silver lamps create subtle shadows that dance across the surface of the garden, creating an ambience that will set any nighttime gathering into a romantic mood.
The silver polish glimmers in the night sky, bringing to life even the most desolate areas and enhancing its alluring beauty.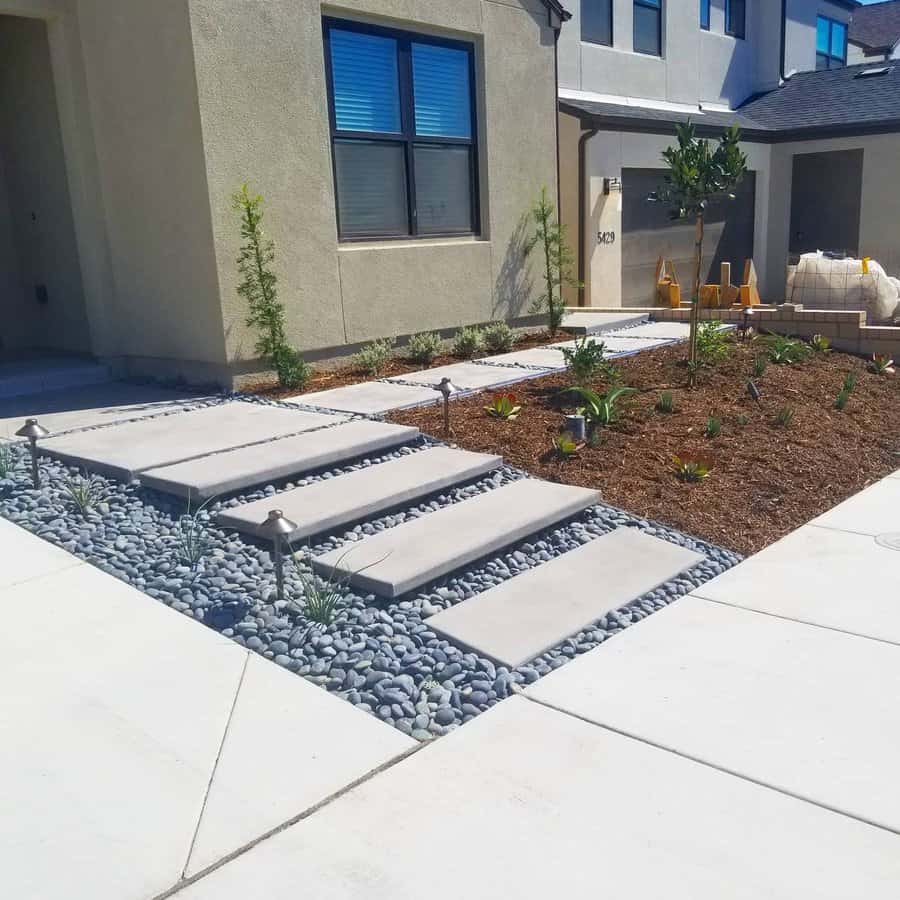 16. Straightforward Solar Lantern
When it comes to landscape lighting, simple solar lanterns are the perfect solution. Affordable and attractive, they can provide an inviting atmosphere to any outdoor area.
Whether used as a decorative touch or simple illumination, their light adds a unique touch of character to the area. With the simple press of a button, these lights come to life and create a cozy ambiance that provides just enough light while allowing you to enjoy the natural beauty around you.
By choosing simple solar lanterns for your landscape lighting needs, you're sure to love the result!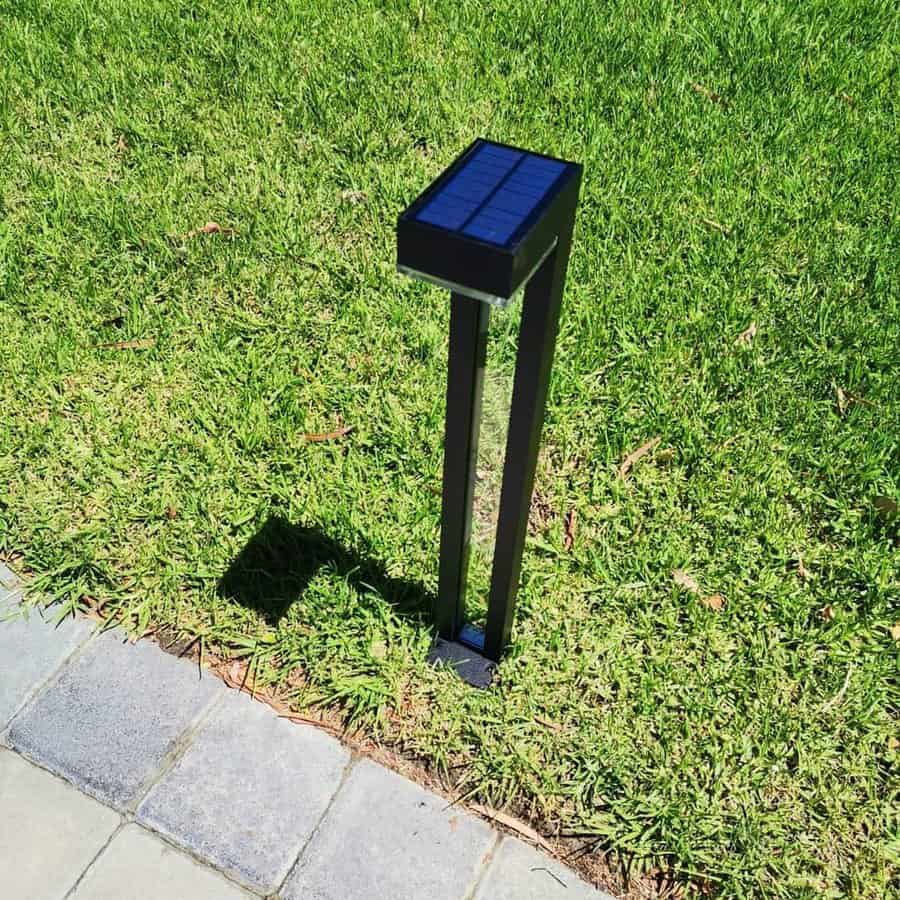 17. Alternating Path Lights
There is something truly magical about alternating path lights in a grass landscape. Whether it is the soft light that bounces off of the blades of grass, or the subtle shadows dancing around, landscape lighting can bring a unique ambience to any outdoor space.
Offering both practicality and style, alternating path lighting is a great way to provide a bit of extra illumination while adding character to your lawn.
Whether you are looking to make a grand statement or just add some subtle charm, alternating path lights give any grass landscape an eye-catching glow perfect for any evening get together.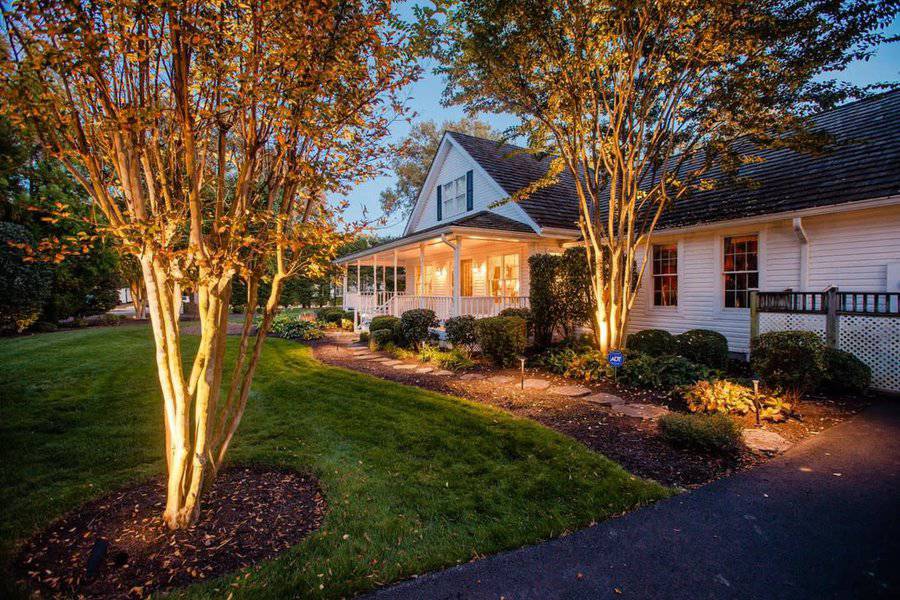 18. Patio String Lights
Add some sparkle and enchantment to your outdoor space with the beautiful ambiance of this unique landscape lighting. From string lights hung delicately on tree branches, to uplighting adding a warm glow to patios, there are countless possibilities when it comes to illuminating your home's exterior.
Whether you're looking for decorative path lighting for a romantic stroll in your garden or color-changing string lights for an al fresco dinner party, the options are nearly endless — let the artist inside of you create a masterpiece!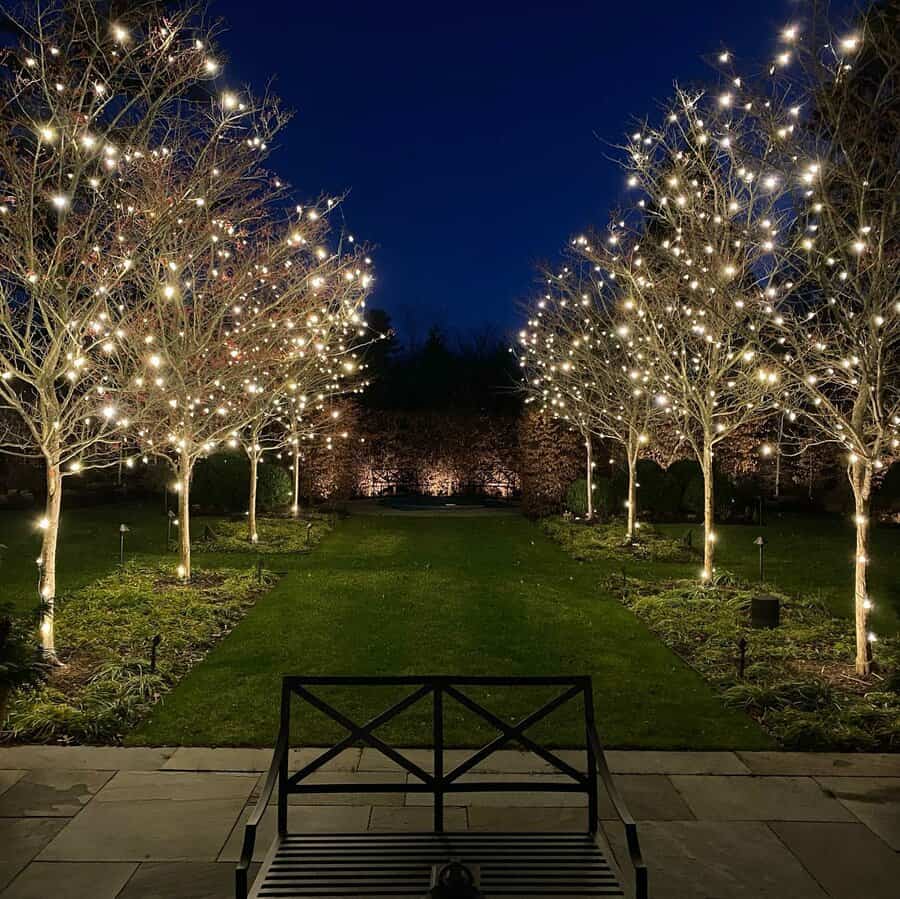 19. Entrance Floor Up Lights
Nothing sets the mood for your entrance better than strategic landscape lighting. Take entrance floor up lights, for example – they'll draw attention to your entrance with a stunning light effect and simultaneously create dramatic shadows on walls that give off a mysterious vibe.
Not only do entrance floor up lights look spectacular, but they can also be beneficial by easing visitors who may be a little uncomfortable in the dark. Step up your entrance game with this gorgeous landscape lighting!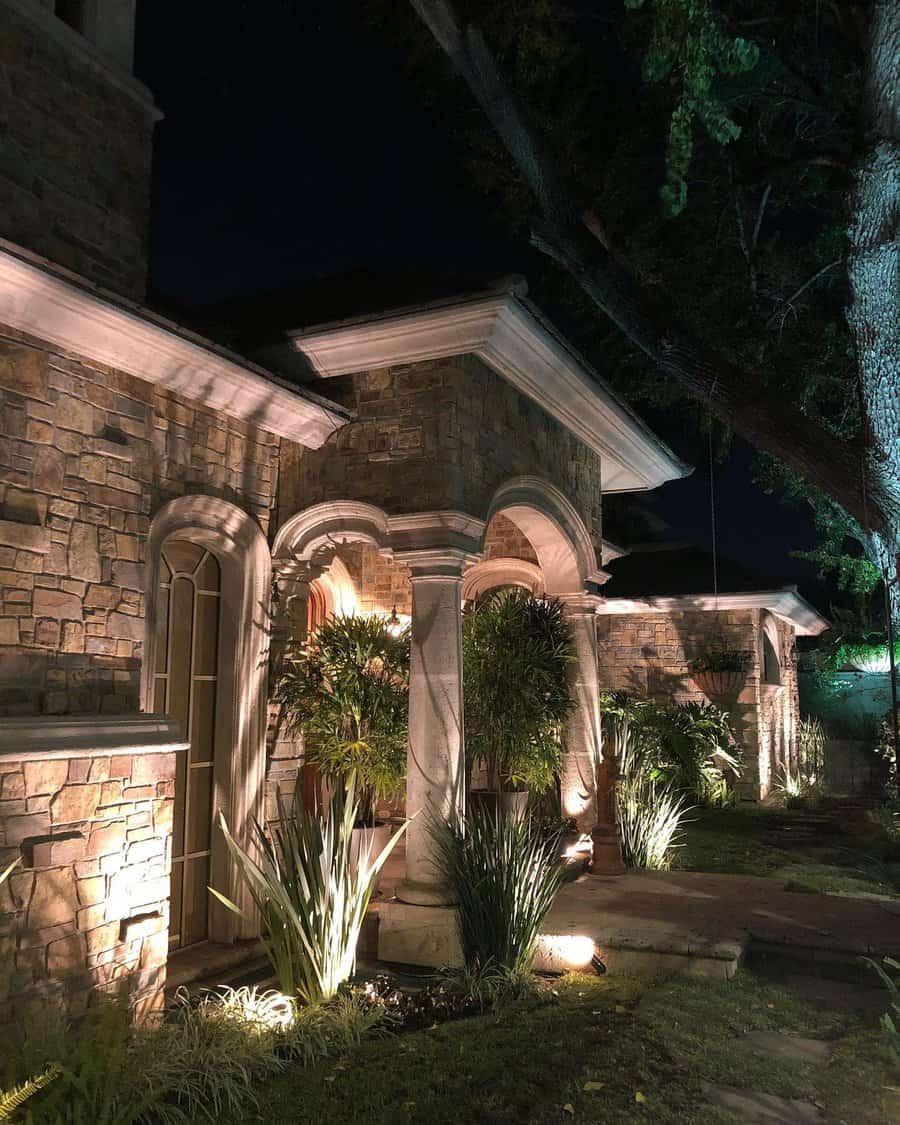 20. Micro Garden Floor Lamps
When it comes to lighting up your outdoor landscape, micro floor lamps are an innovative and creative way to add some flair. Not only can these small fixtures highlight a specific feature in your garden, but they can also draw attention to the shadows they create among surrounding plants and pine trees.
Imagine a moonlit night with micro floor lamps gifting subtle glows amongst the columns of evergreen pines – truly a captivating experience!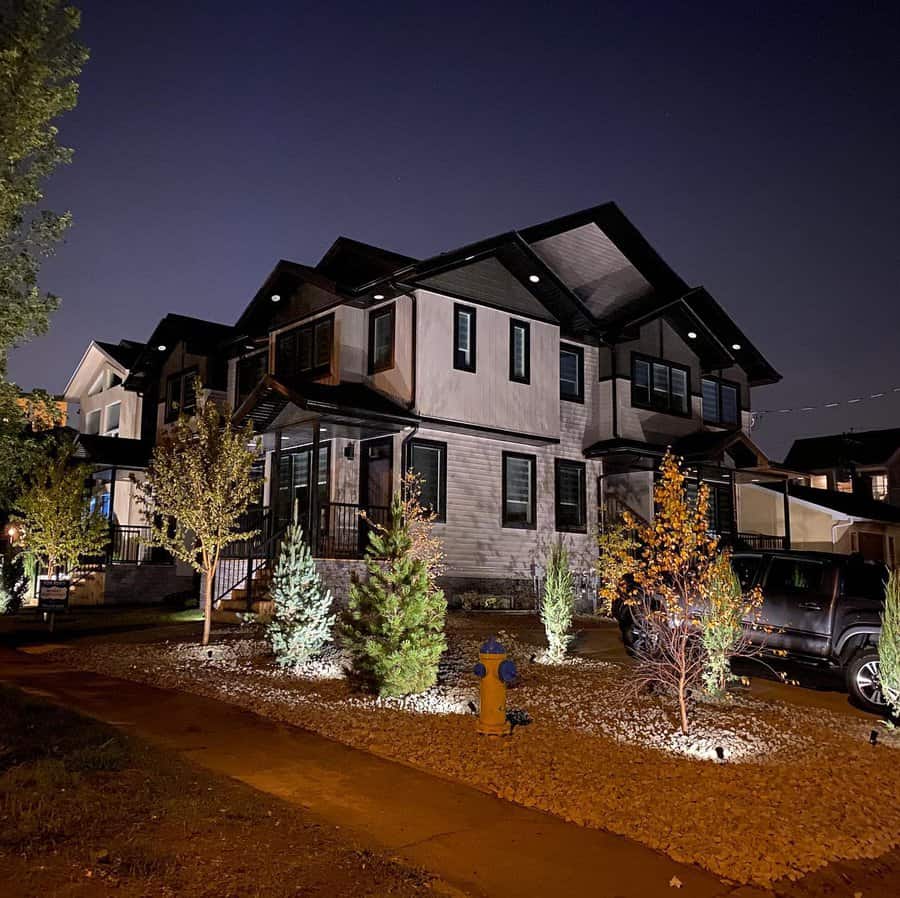 21. Up Lights On A Backyard Paneled Wall
Landscape lighting is an artful way to highlight the beauty of the stunning outdoors. The up lights placed along a wood-paneled wall give off a glow that allows your garden and lawn to become something of a masterful work of art.
By strategically placing up lights and blending them together with your minimal garden landscape, you can create an incredible atmosphere for yourself, friends and family, making every evening spent outside mesmerizingly magical.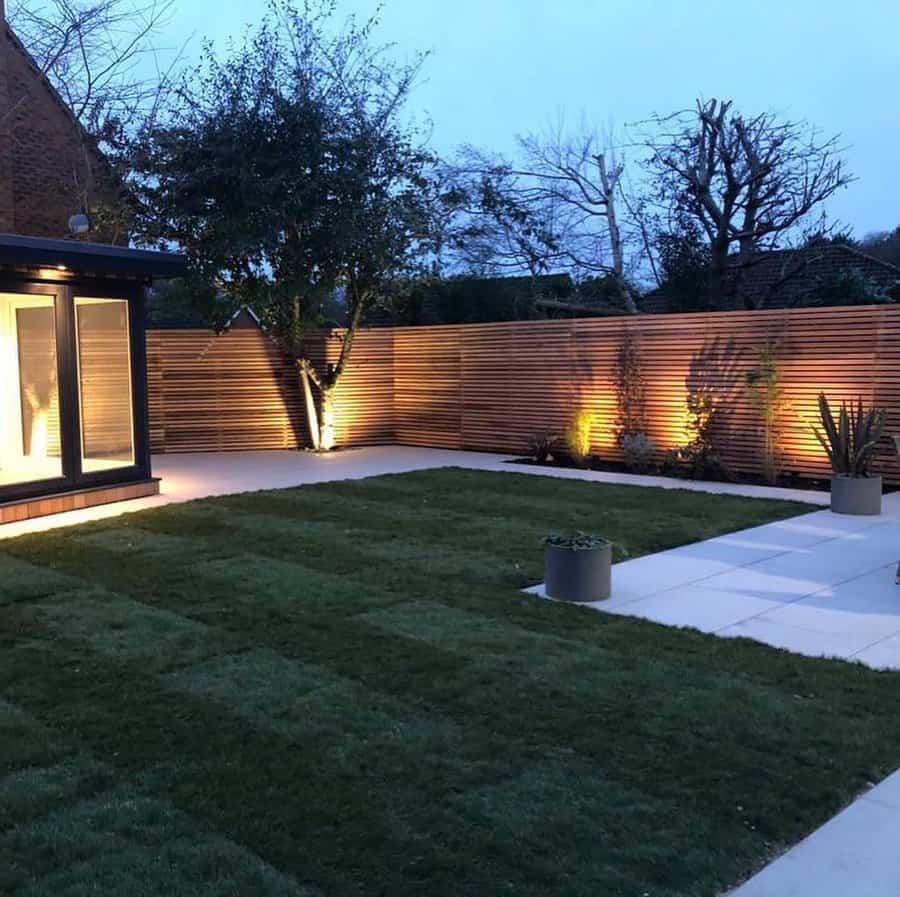 22. Brightly Lit Front Yard
Illuminate the unique features of your home and garden and design a tranquil escape reminiscent of a romantic resort. Let soft yet vibrant glows bring out the natural beauty of your outdoor space, perfect for intimate gatherings with family and friends or relaxing under the stars after sunset.
With properly installed landscape lighting, you can create stunning scenes that will keep you captivated day in and day out.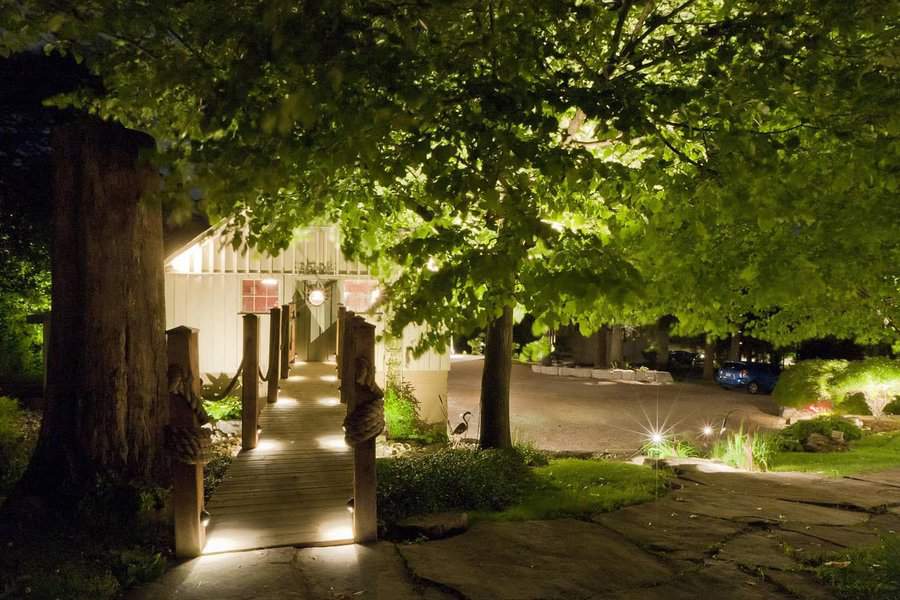 23. Pavement Lights
Illuminating your pavement doesn't have to be drab and boring; this landscape lighting can give your pavement a creative and inviting look. Not only will pavement lights draw attention to driveways, paths, and garden walkways, but also provide gentle light that helps guide visitors without becoming intrusive or harsh.
This subtle landscape lighting is an inviting way to light up your pavement while creating atmosphere in a subtle, but captivating way. With the right eye-catching placement and some well-thought out designs, you can highlight the beauty of your outdoor exterior.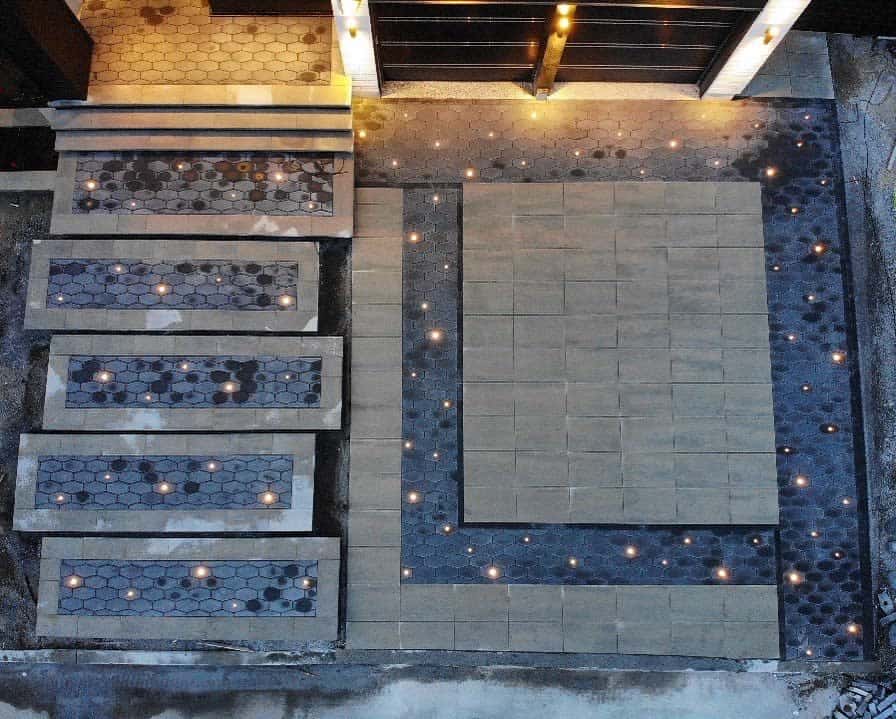 24. Box Bollard Path Lights
Nothing lights up an outdoor space quite like box bollard lights! A box bollard light adds a stylish and modern touch of landscape lighting to any garden or pathway.
Lined along a stone path at twilight, box bollard lights create an inviting atmosphere that's perfect for backyard gatherings.
Whether you go with classic box bollards in basic black or bright and colourful box bollards, they make the perfect accessory to your outdoor decor. Start planning your outdoor landscape lighting today – box bollard lights are sure to transform your dull outdoor space into something magical!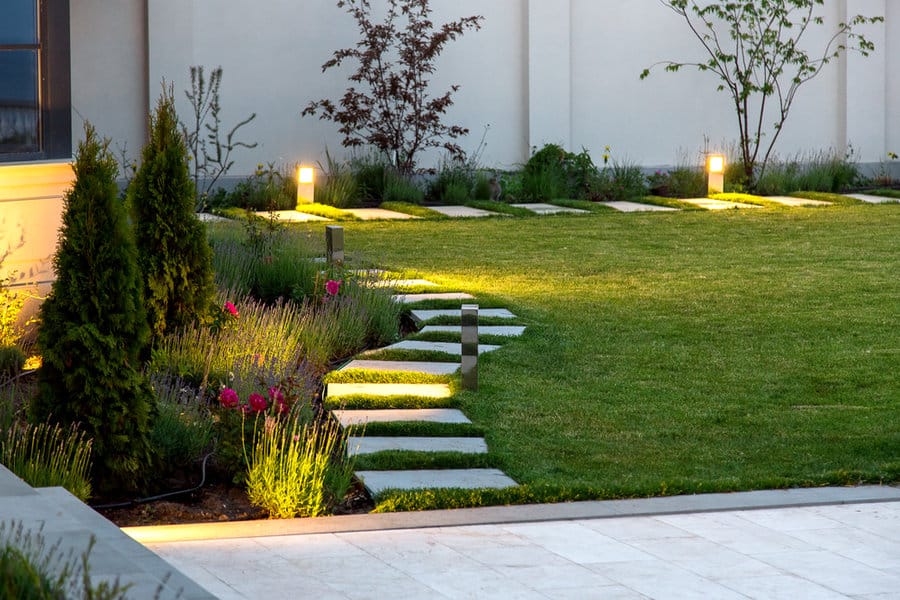 25. Up & Down Landscape Lighting
Turn up the drama in your backyard with up and down landscape lighting. It will ensure a captivating performance as darkness falls, adding that extra layer of ambience to your gathering space.
Whether it's a low-key BBQ or a night of friends and family around the fire pit, you can set up stunning up lights that wash the walls, shower trees in every shade of twinkle and cast romantic shadows across pathways for an experience to remember. Pop up a few up down lights here and there throughout your backyard for soft illumination without ever having to leave a light burning all night long.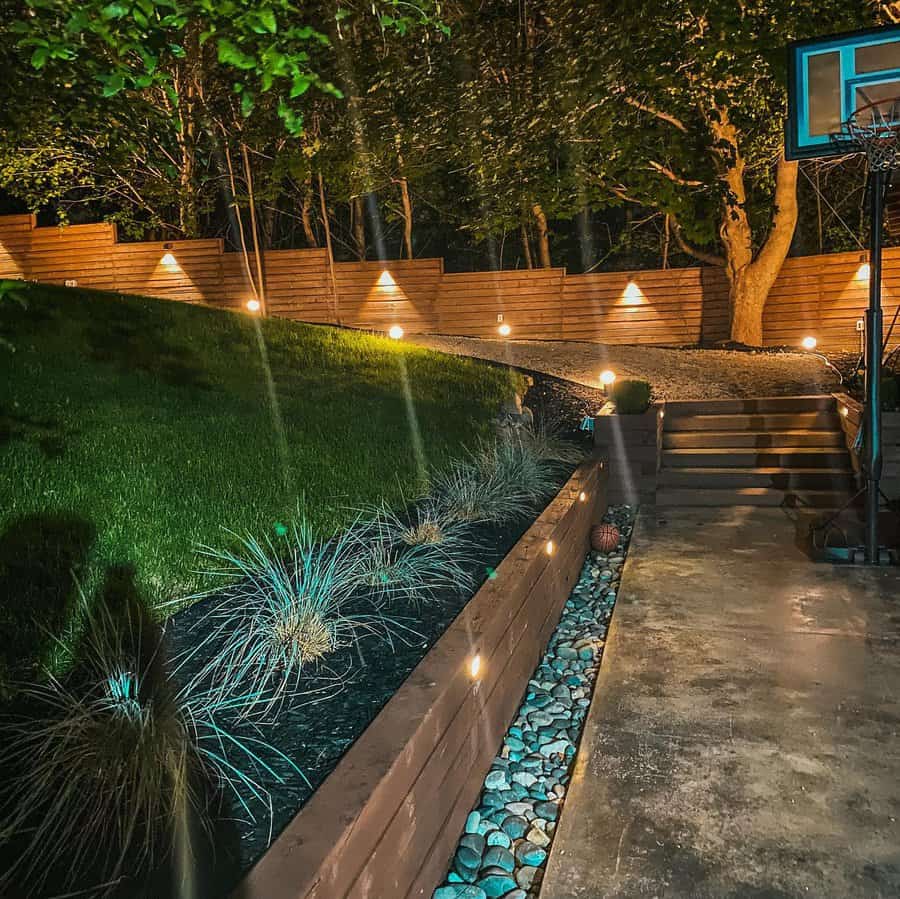 Landscape Lighting FAQs
How do you make landscape layout lighting?
Start by drawing out a sketch of your yard and decide what areas of your yard that you want to add lights to. Then decide what type of lights you want to use and mark where you want to place them on your diagram. Finally, think about the ease of installation, power supply, and the type of illumination you'll create.
How far apart do you put landscape lights?
Most outdoor lights look the best when they are six to eight feet apart. This is the standard distance when illuminating a walkway or path. Consider the lumen and size of the light. For a brighter effect, place them closer together.
Are LED landscape lights worth it?
Adding landscaping lights is totally worth it because they can increase your property's curb appeal and safety. You can use them to make it easier to walk around at night and discourage would-be criminals. Lights in your front yard will improve the curb appeal and make your home look more welcoming.