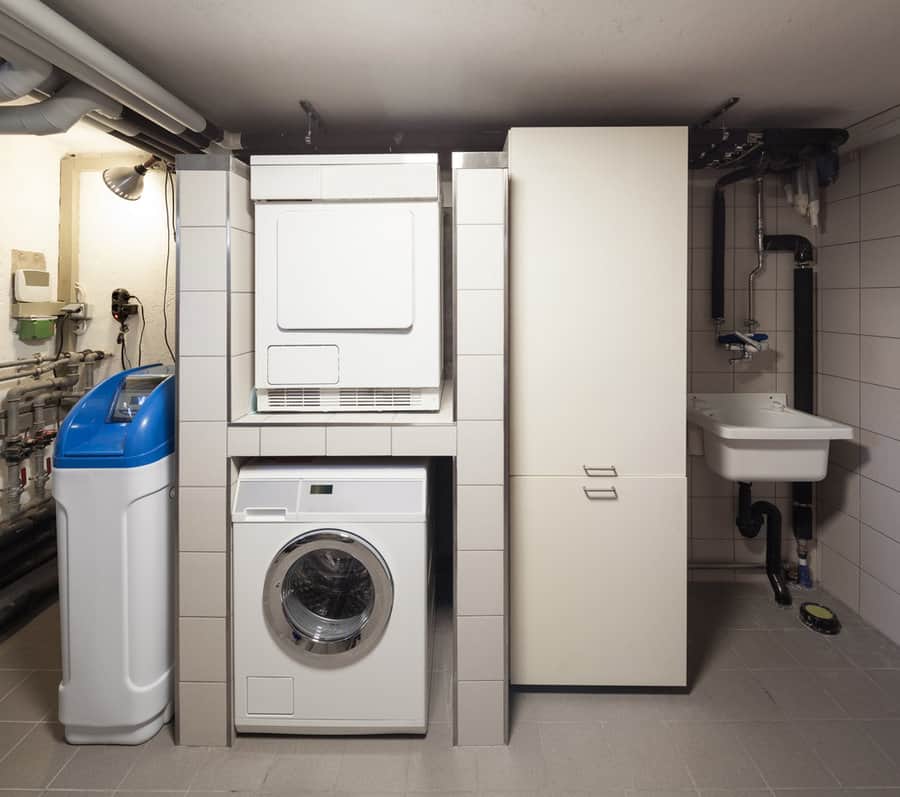 58 Functional and Stylish Laundry Room Ideas
In the busy world of today, maintaining an efficient and inspiring laundry room is not just about preference, it's about crafting a space that promotes productivity, comfort, and even creativity. Often overlooked and tucked away in the farthest corner of our homes, laundry rooms deserve just as much thought and design flair as any other room.
This gallery article aims to redefine your perceptions of this humble space and equip you with innovative ideas that can transform your laundry room from a drab, utility area to a vibrant, welcoming space filled with charm and practicality.
Whether your laundry room is a spacious multi-functional area or a snug corner in your apartment, our selection of ideas caters to various needs and spaces. From clever storage solutions to decorative accents, laundry technology to ergonomic designs, this article is filled with inspiration.
With a little imagination and our curated ideas, your laundry room might just become the next favorite room in your house. Get ready to roll up your sleeves and step into a world where functionality and style coexist harmoniously. Welcome to the dynamic realm of laundry room ideas. Let's dive in, shall we?
1. Tiered Dryer & Washer Storage
By utilizing vertical space, you can create dedicated storage areas for your dryer and washer, making it easier to keep your laundry essentials organized and within reach. Imagine having shelves or cabinets above your appliances where you can store detergent, fabric softener, and other supplies neatly. Additionally, you can add hanging rods or hooks on the sides for air-drying delicate garments or hanging freshly ironed clothes.
This tiered storage not only optimizes your space but also adds a touch of chic design to your laundry room. With a variety of materials and finishes available, you can choose options that complement your overall aesthetic, whether it's sleek and modern or charmingly rustic. With a tiered dryer and washer storage, laundry time becomes more efficient and enjoyable, as everything you need is conveniently accessible.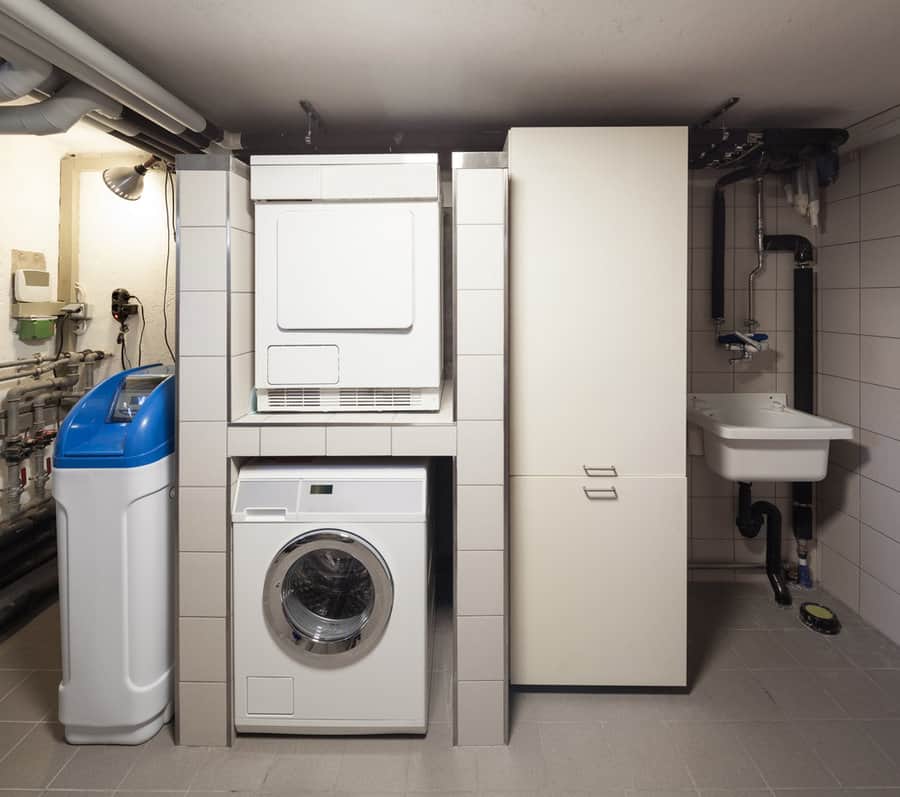 2. Runner Rug
By incorporating a runner rug, you not only infuse a pop of color and pattern but also create a cozy and inviting atmosphere. Choose a runner that complements your existing color scheme or adds a bold statement to the room. From vibrant geometric patterns to timeless Moroccan-inspired designs, there's a runner rug out there to suit every taste.
Not only does it enhance the visual appeal, but it also adds a layer of comfort underfoot, making your laundry routine a more enjoyable experience. The runner rug also helps to protect your floors from potential spills and adds an element of warmth to the space.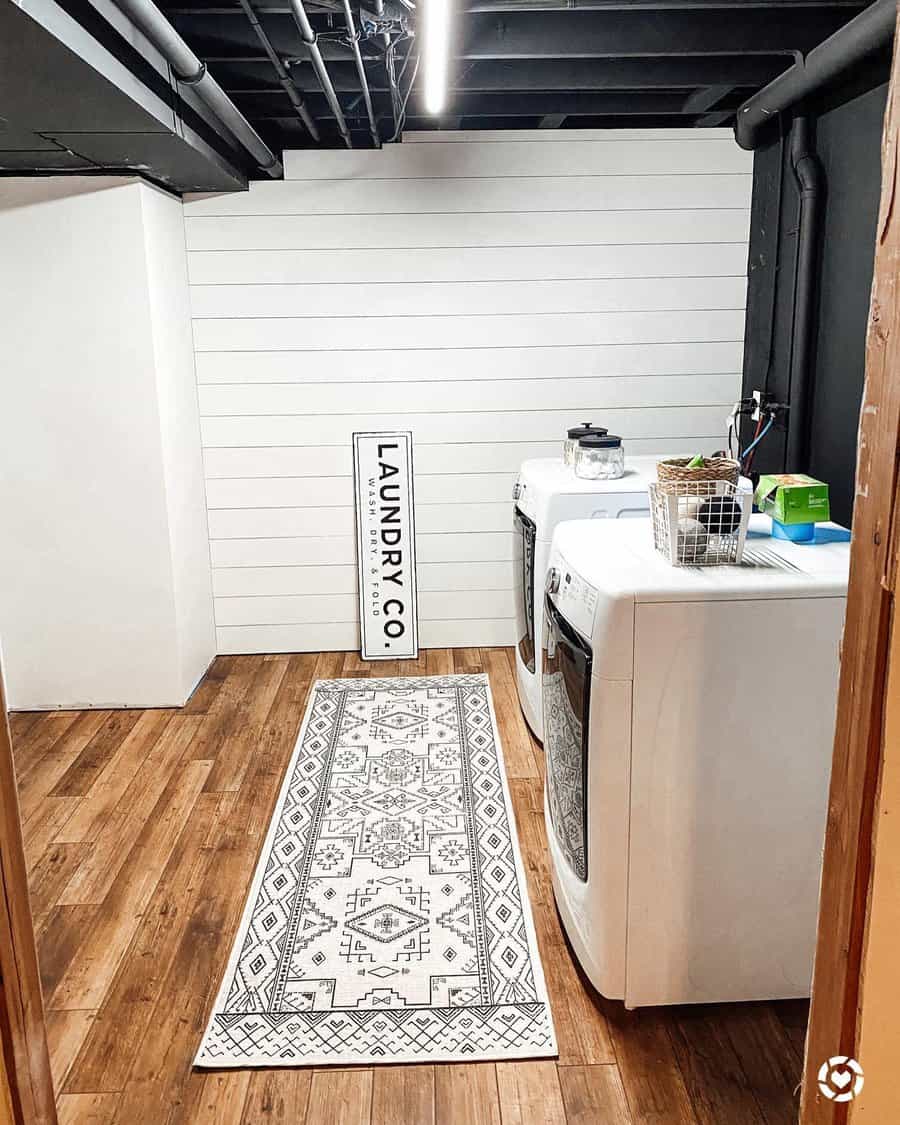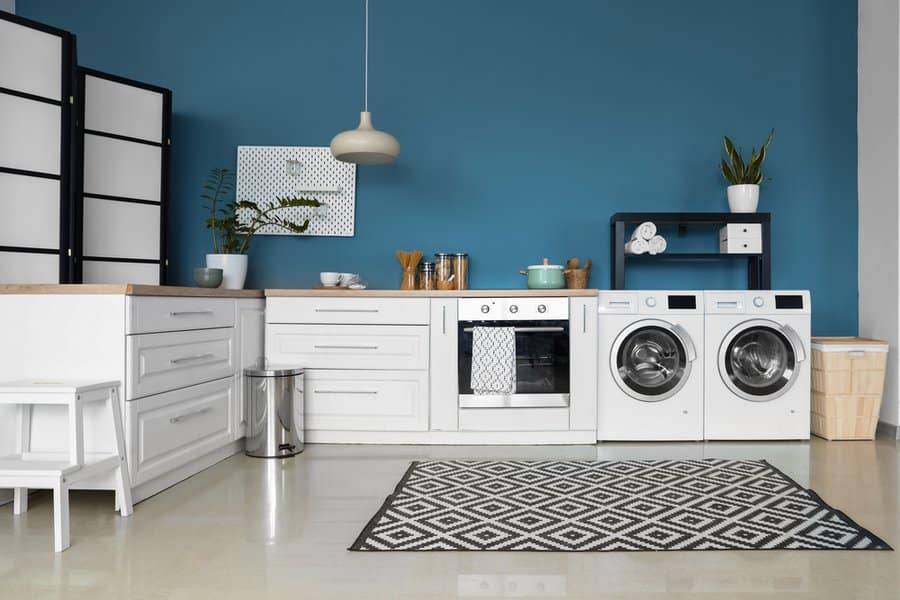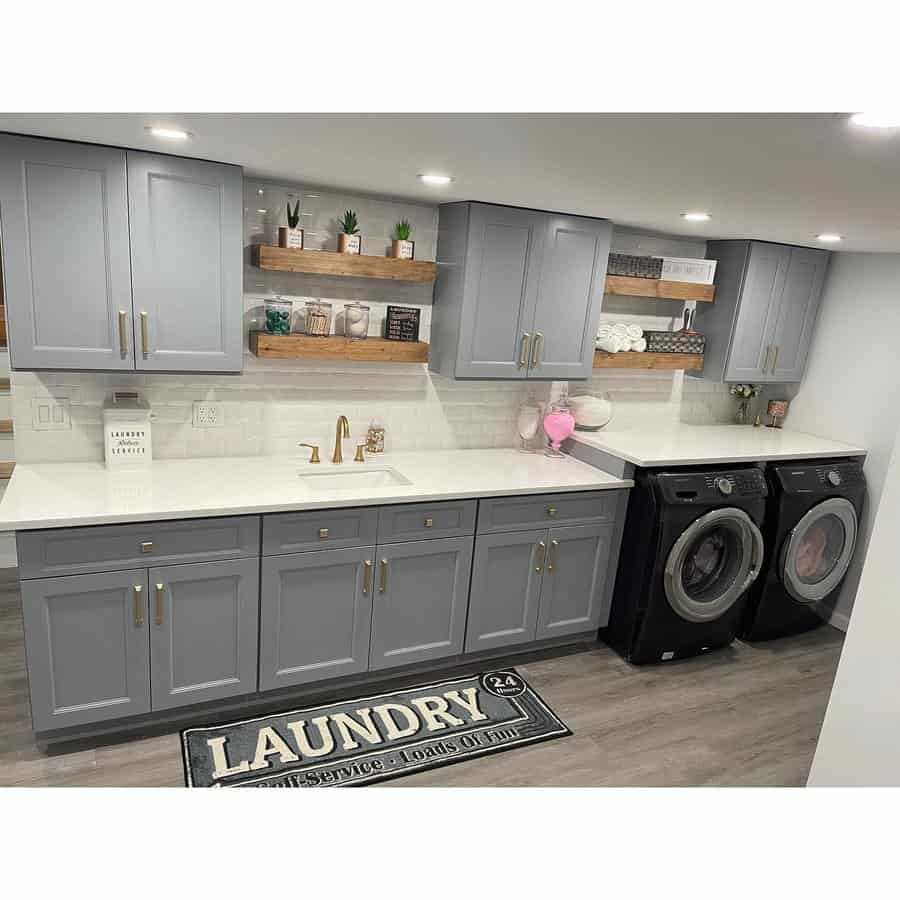 3. Bathroom Laundry
Imagine stepping out of the shower and immediately being able to toss your clothes into the washer or dryer just a few steps away. With clever design elements and thoughtful organization, a bathroom laundry room maximizes every inch of space, making the most of a compact area.
Incorporate stylish cabinets and shelving to store laundry essentials, towels, and toiletries, creating a cohesive and clutter-free environment. Opt for sleek appliances and modern fixtures that blend seamlessly with the bathroom aesthetic, bringing a touch of elegance to this functional space. Additionally, consider adding a folding station or a retractable drying rack to maximize efficiency.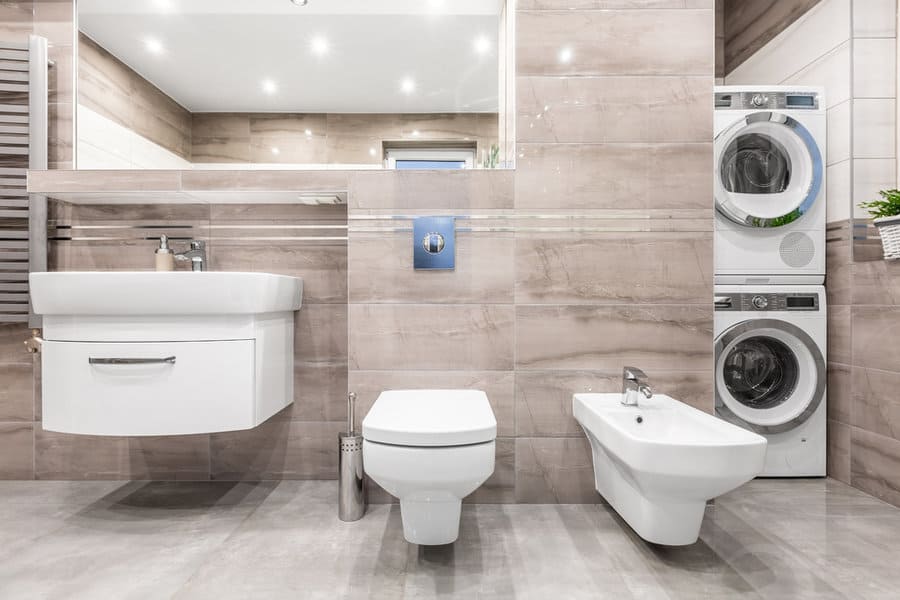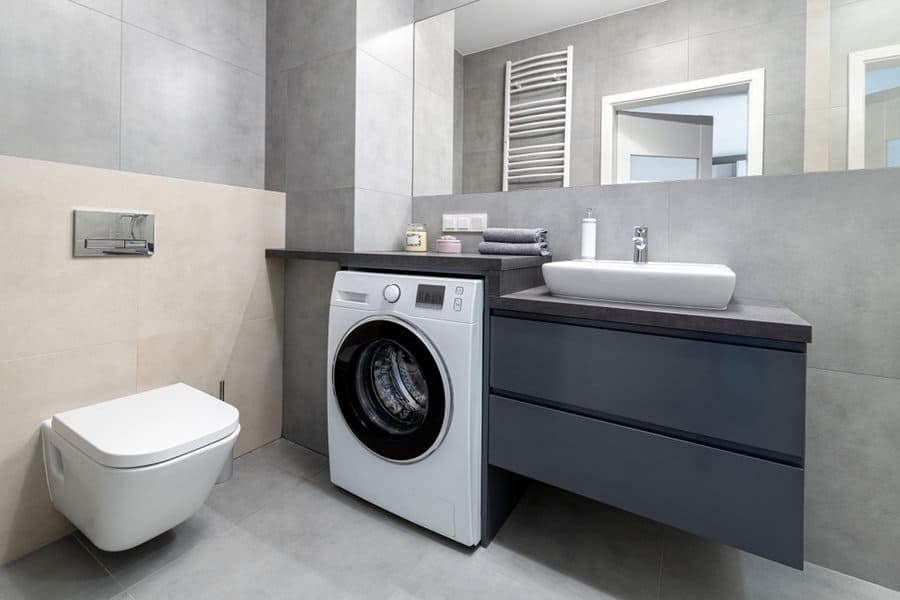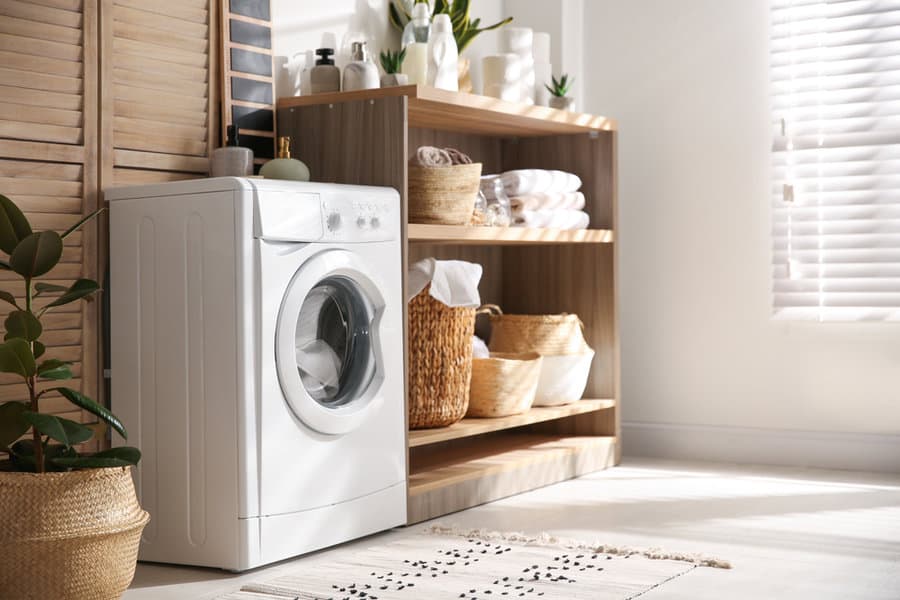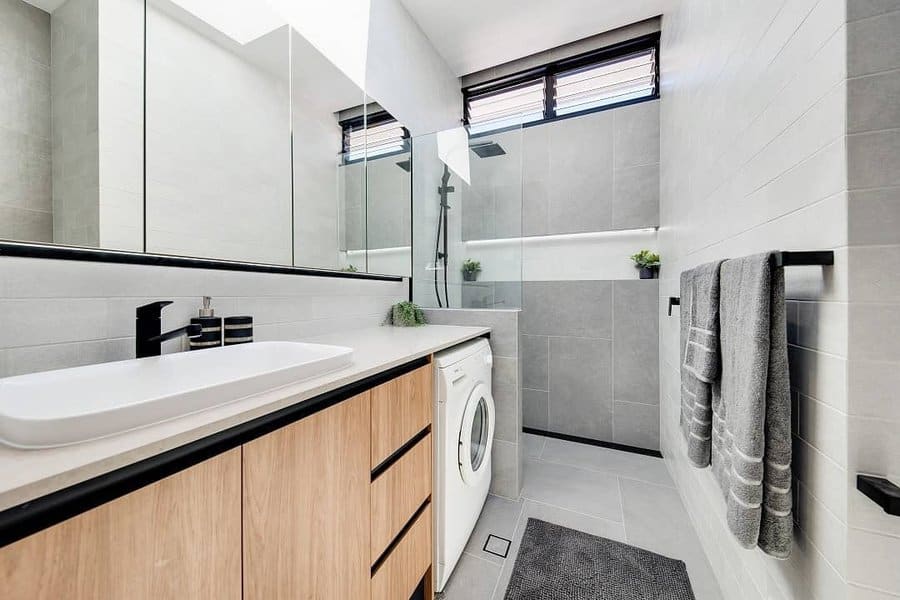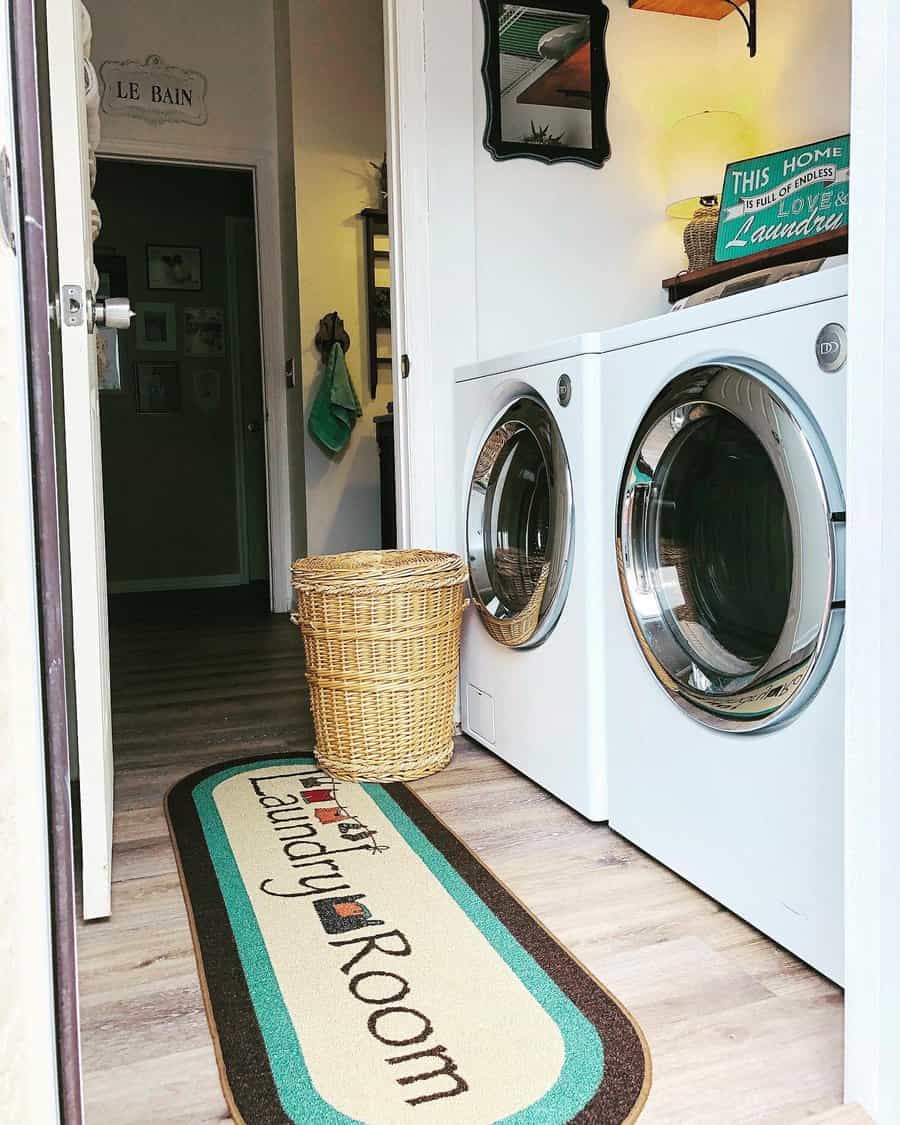 4. Tension Rod
Installing a tension rod in your laundry area is a breeze, requiring no complicated tools or extensive renovations. Simply position the rod between two walls or cabinets, and you're ready to go. The versatility of the tension rod allows you to hang various items, from clothes to drying racks, creating an organized and efficient space.
Say goodbye to cluttered countertops and embrace the convenience of a designated area for drying and organizing your laundry. The tension rod is not only easy to install but also adjustable, allowing you to customize the height and width to fit your specific needs. It's a practical solution that maximizes space and keeps everything within reach.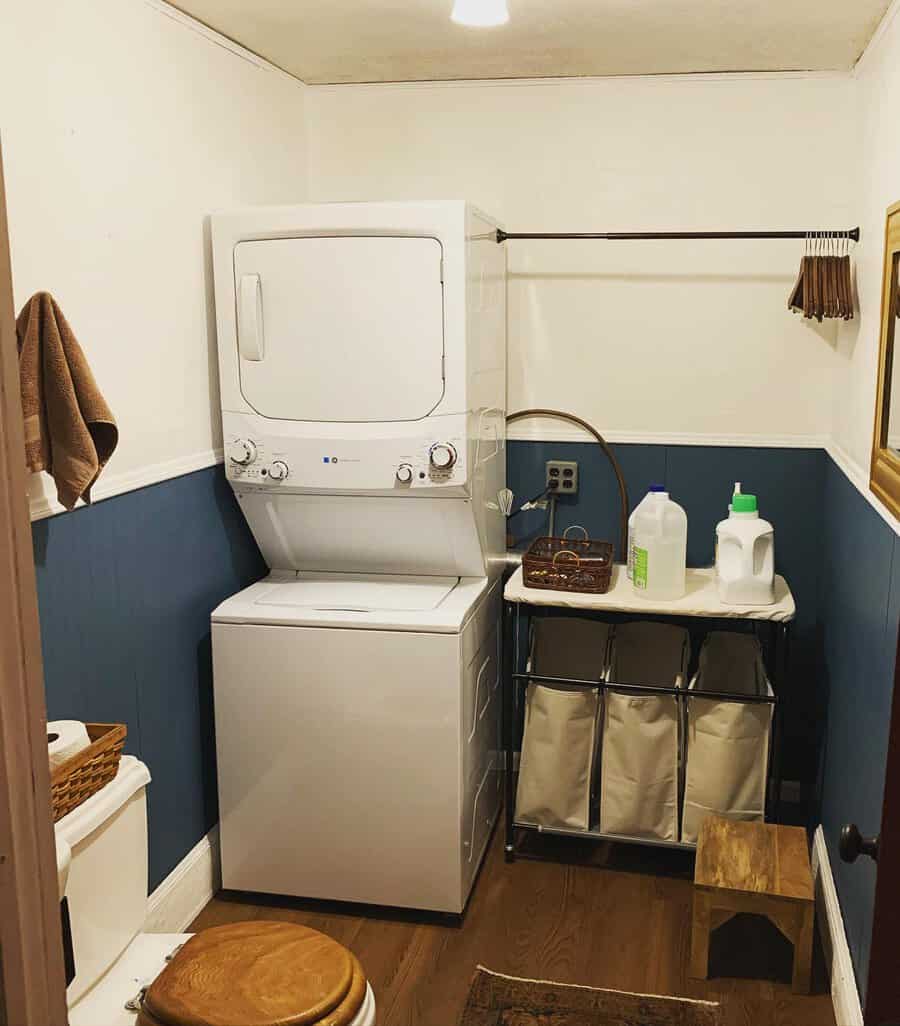 5. Washer & Dryer Storage With Countertop
Turn your laundry room into a functional and stylish space with the addition of washer and dryer storage paired with a sleek countertop. This clever idea not only maximizes storage but also provides a convenient workspace for folding clothes and organizing laundry essentials. With a countertop, you make way for a smoother workflow, from sorting and folding laundry to making the task feel more enjoyable and efficient.
Choose a countertop material that suits your style, whether it's a durable quartz for a contemporary look or a warm butcher block for a touch of rustic charm. Additionally, consider adding decorative elements like floating shelves or wall-mounted baskets to further enhance the functionality and visual appeal of your laundry room.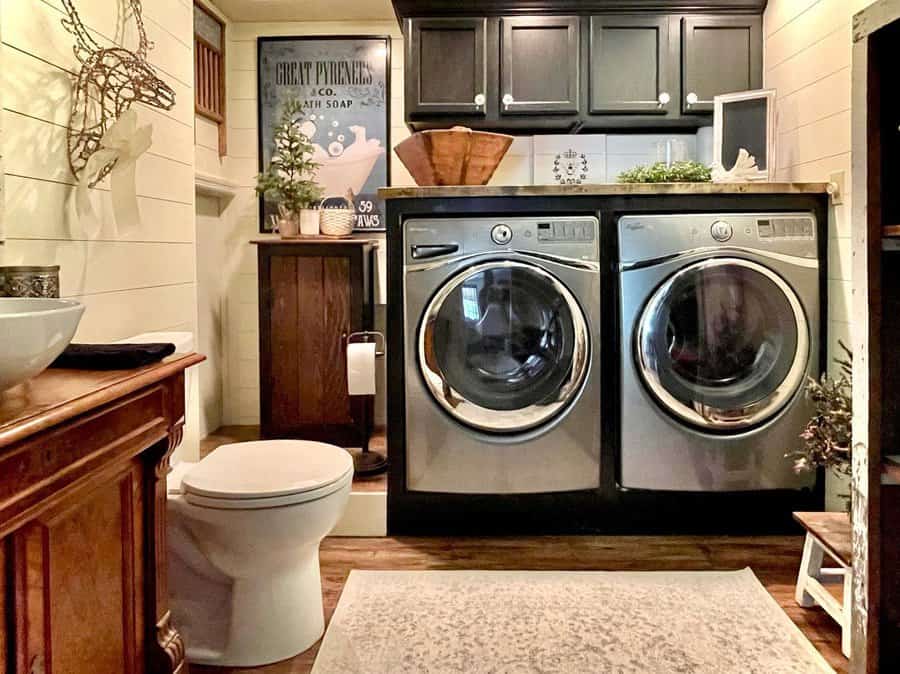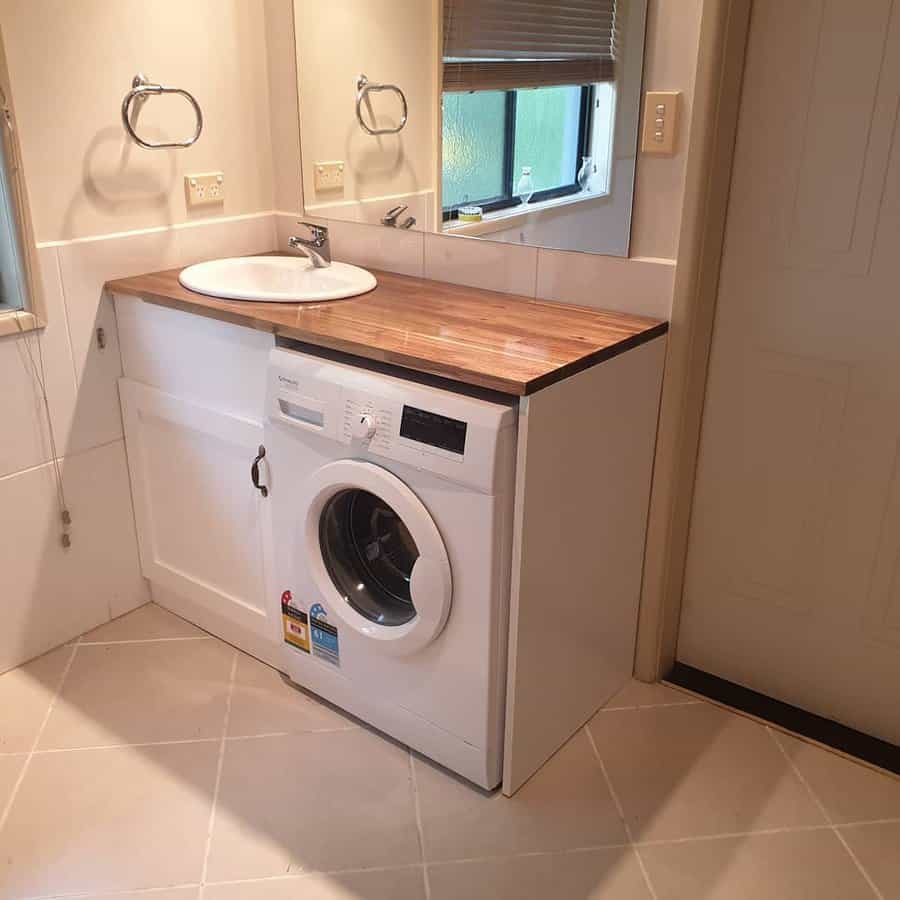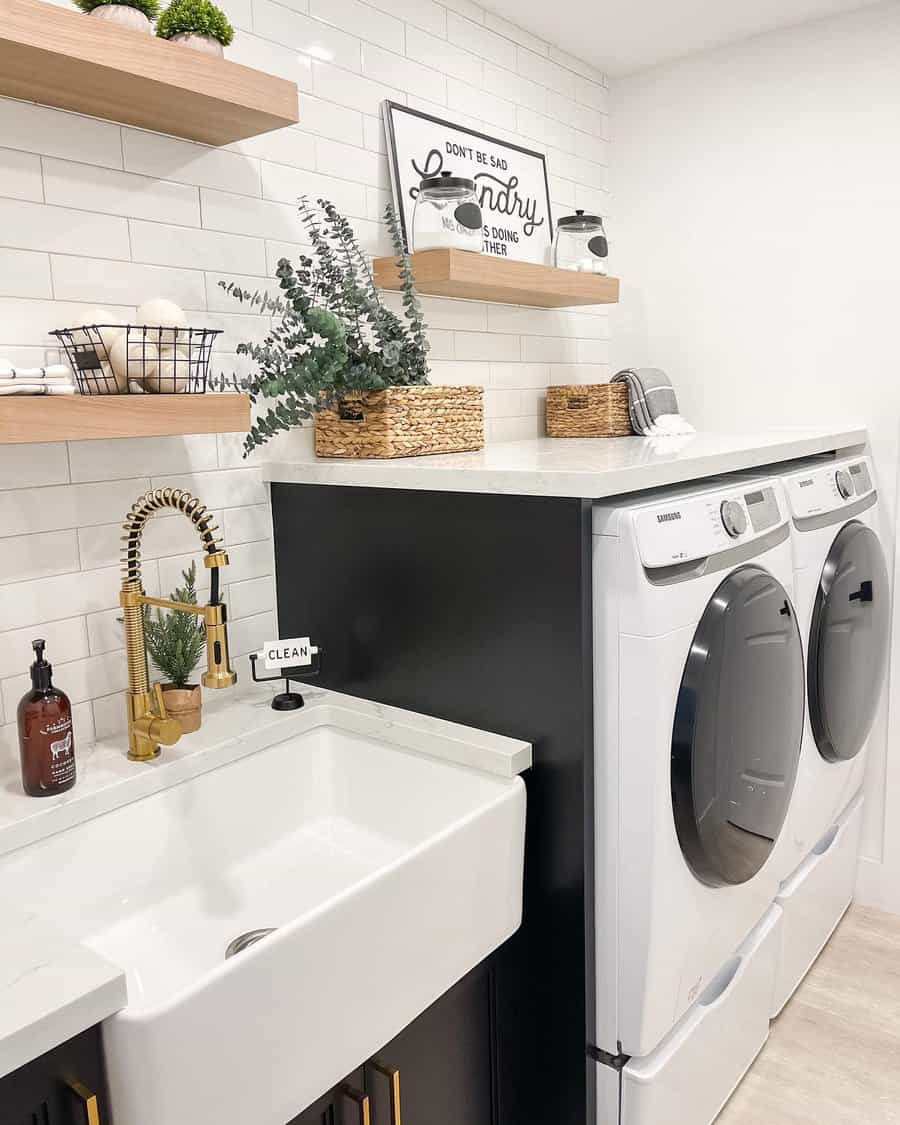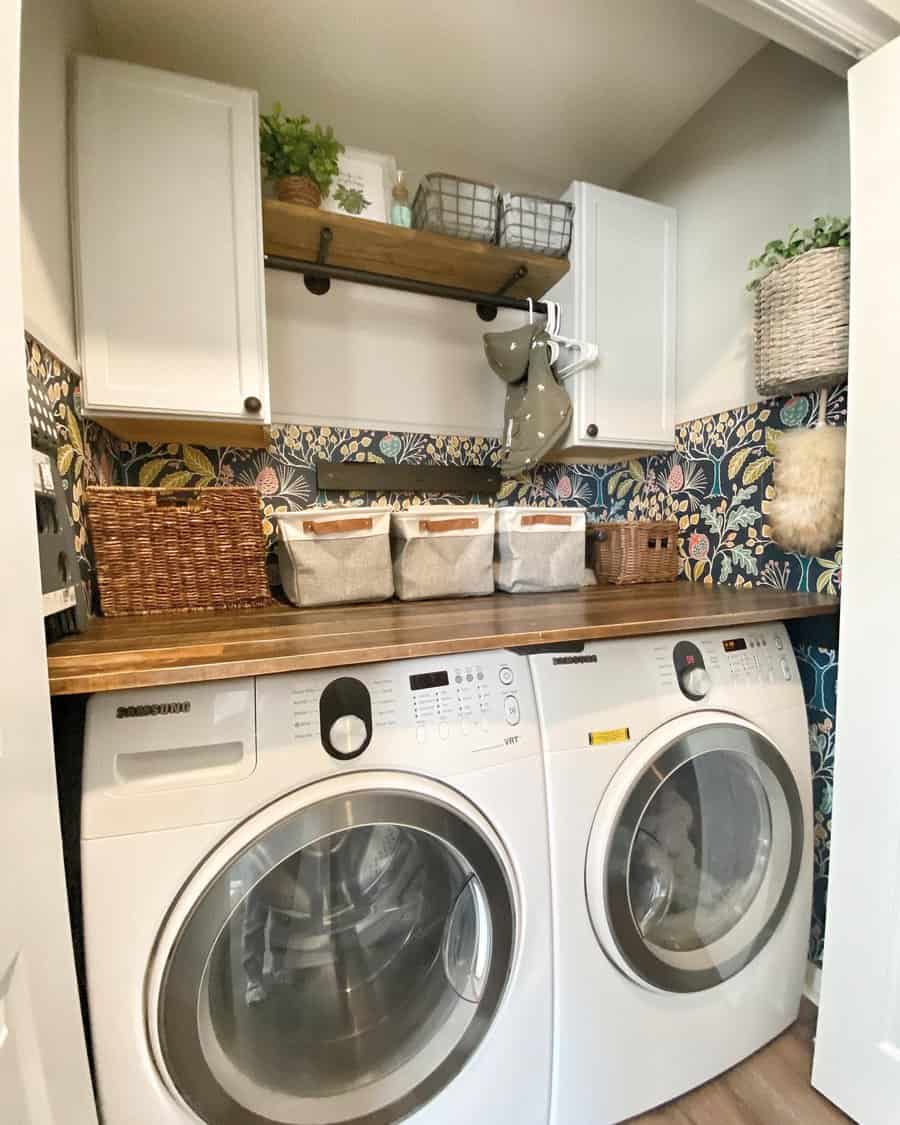 6. Closet Laundry Area
By incorporating closet doors into your laundry space, you can effortlessly conceal your washer, dryer, and other laundry essentials, creating a clean and organized look. These doors not only add a touch of sophistication to the room but also provide the benefit of hiding any clutter when the laundry is not in use. With a closet laundry area, you can maximize your available space and keep everything neatly tucked away.
Customize the interior of the closet with shelves, drawers, and hanging rods to create designated storage for laundry detergents, baskets, and other supplies. Choose doors that complement your existing decor, whether it's sleek and modern or rustic and charming. With this clever and stylish solution, your laundry room will become a hidden gem that seamlessly blends into the overall aesthetic of your home.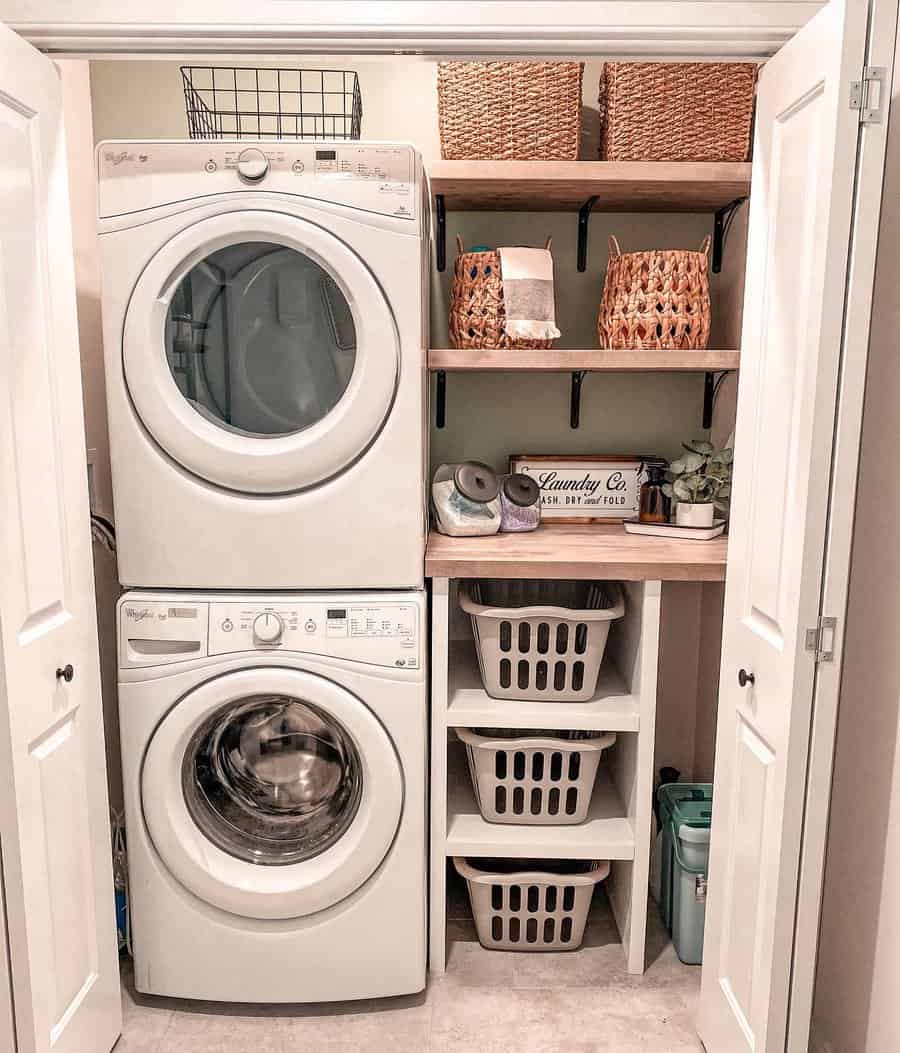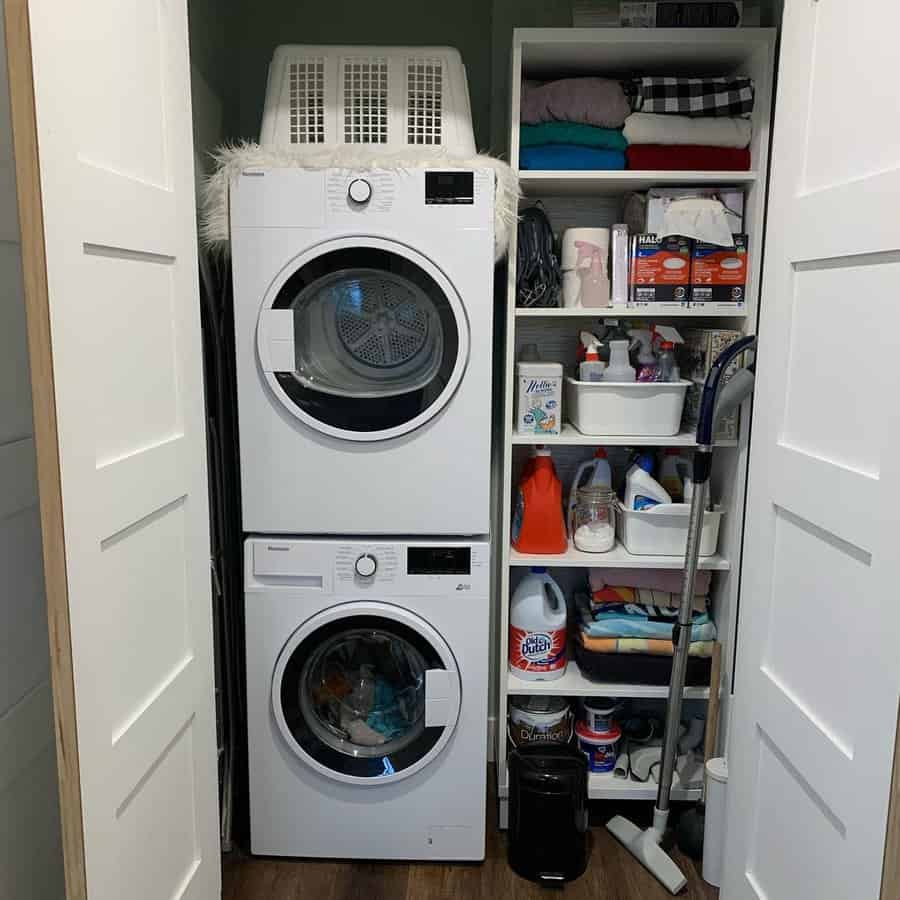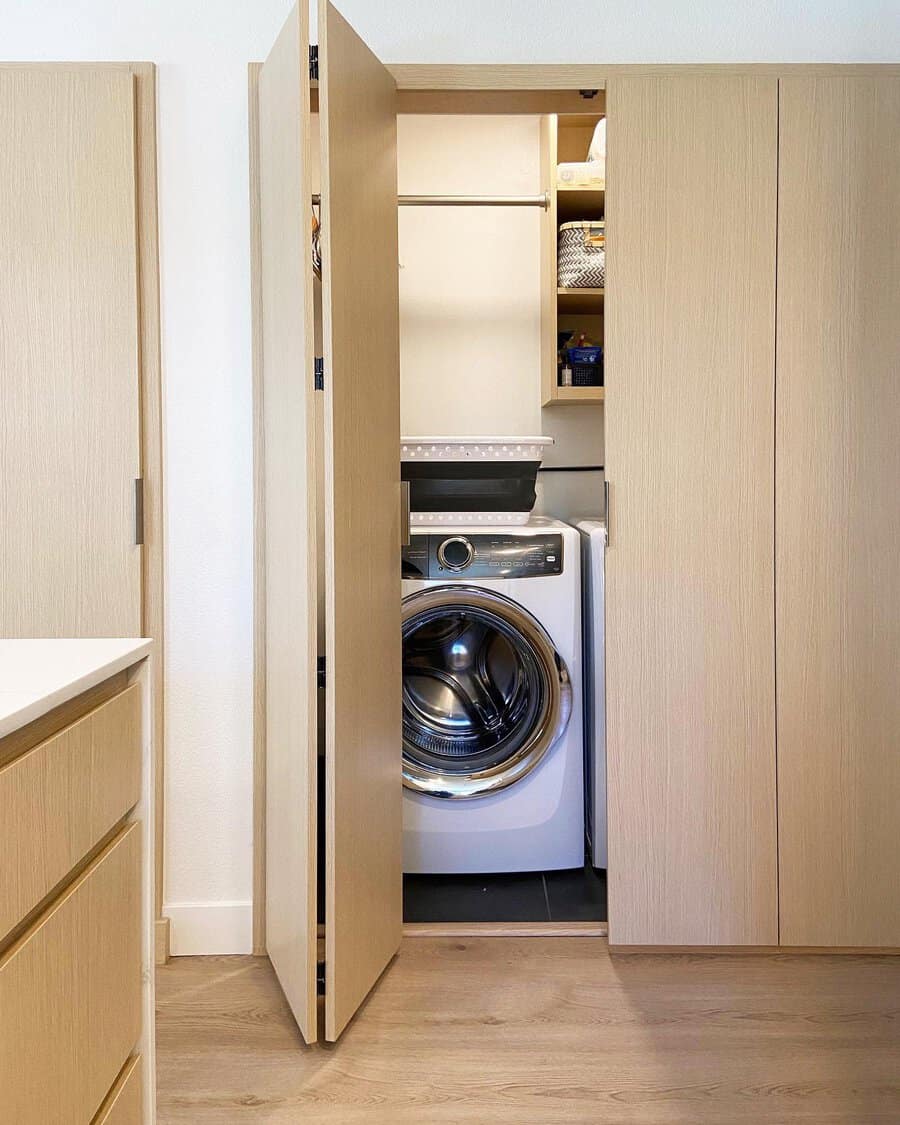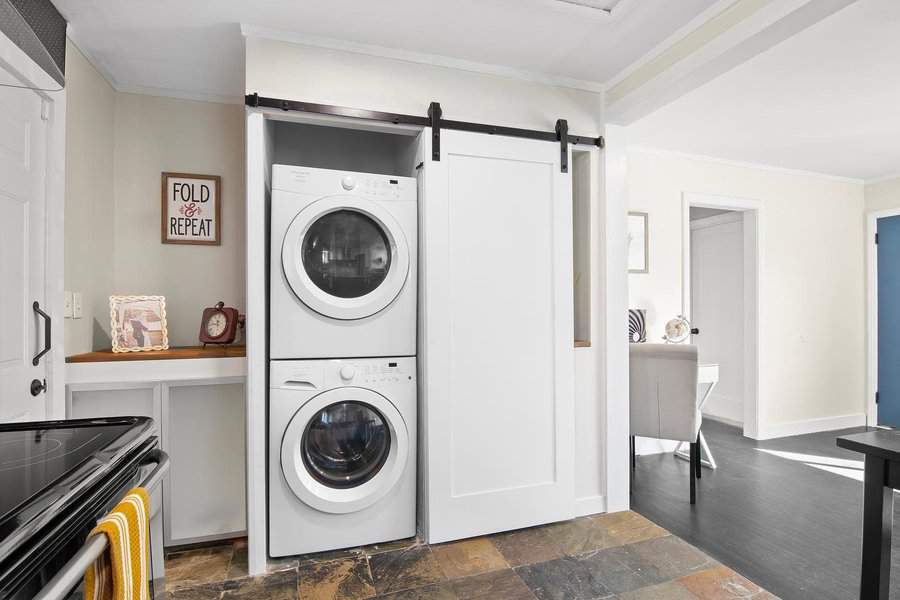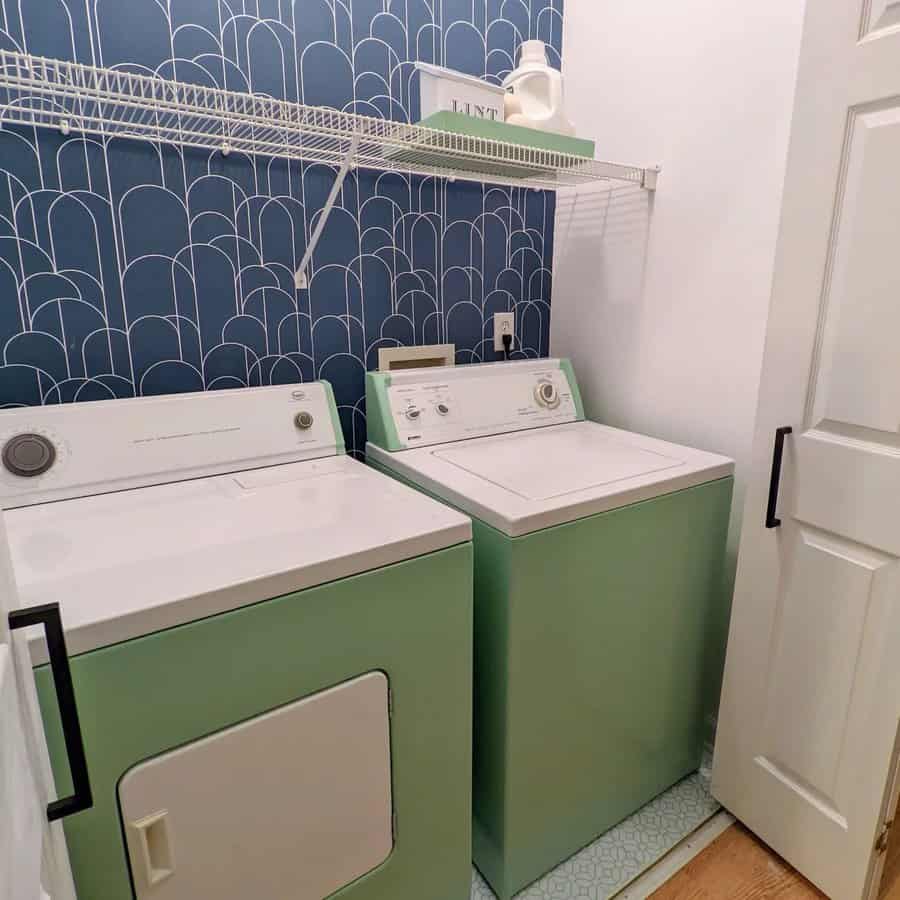 7. Laundry Floating Shelves
These versatile shelves not only provide a practical storage solution but also serve as a canvas for decorative elements that can infuse your laundry room with personality. Install floating shelves above your washer and dryer to keep essentials within reach, such as detergent, fabric softener, and dryer sheets. Utilize decorative baskets or stylish storage boxes to corral smaller items and create a tidy and organized space.
The beauty of floating shelves lies in their ability to showcase your personal style. Add a touch of greenery with potted plants or incorporate decorative jars to store clothespins or dryer balls. Consider displaying art prints, framed quotes, or vintage laundry signs to create a visually appealing and inspiring environment. Whether you choose sleek and minimalist shelves or rustic reclaimed wood, the possibilities are endless.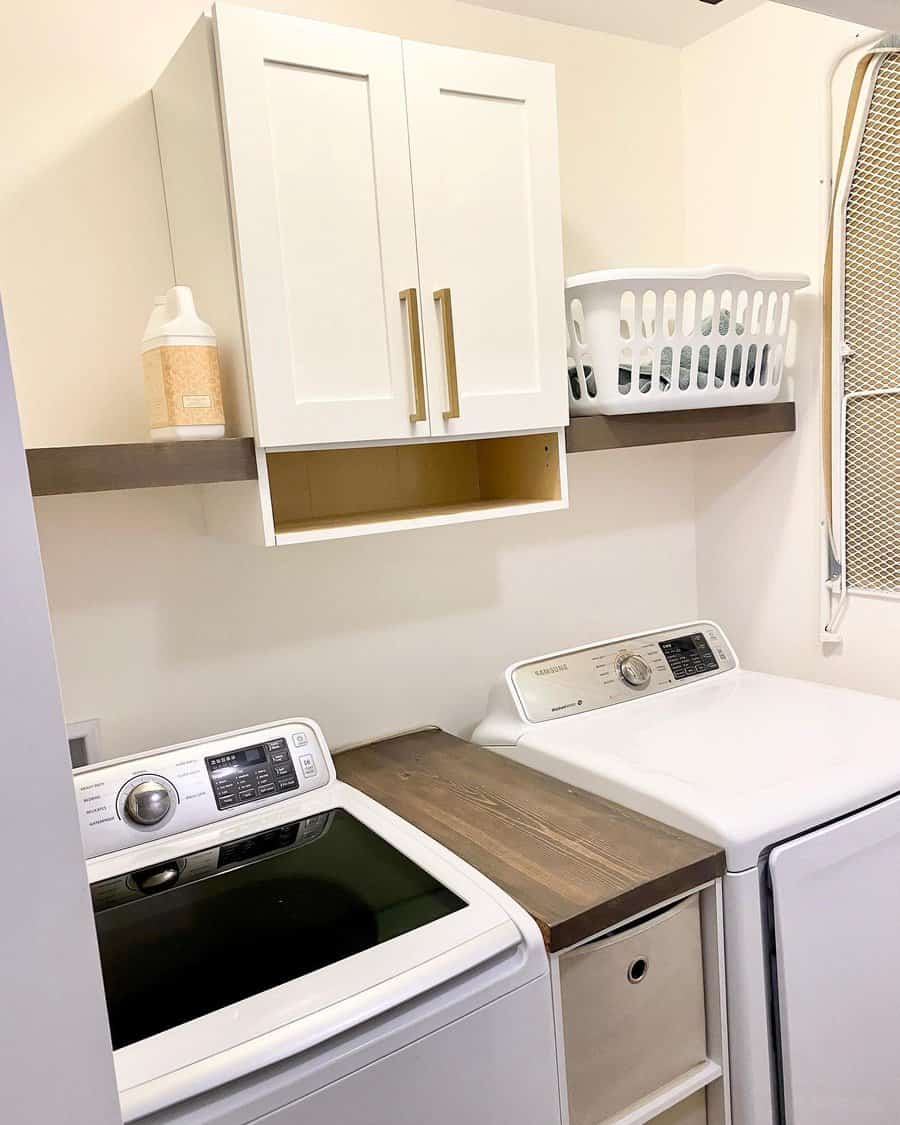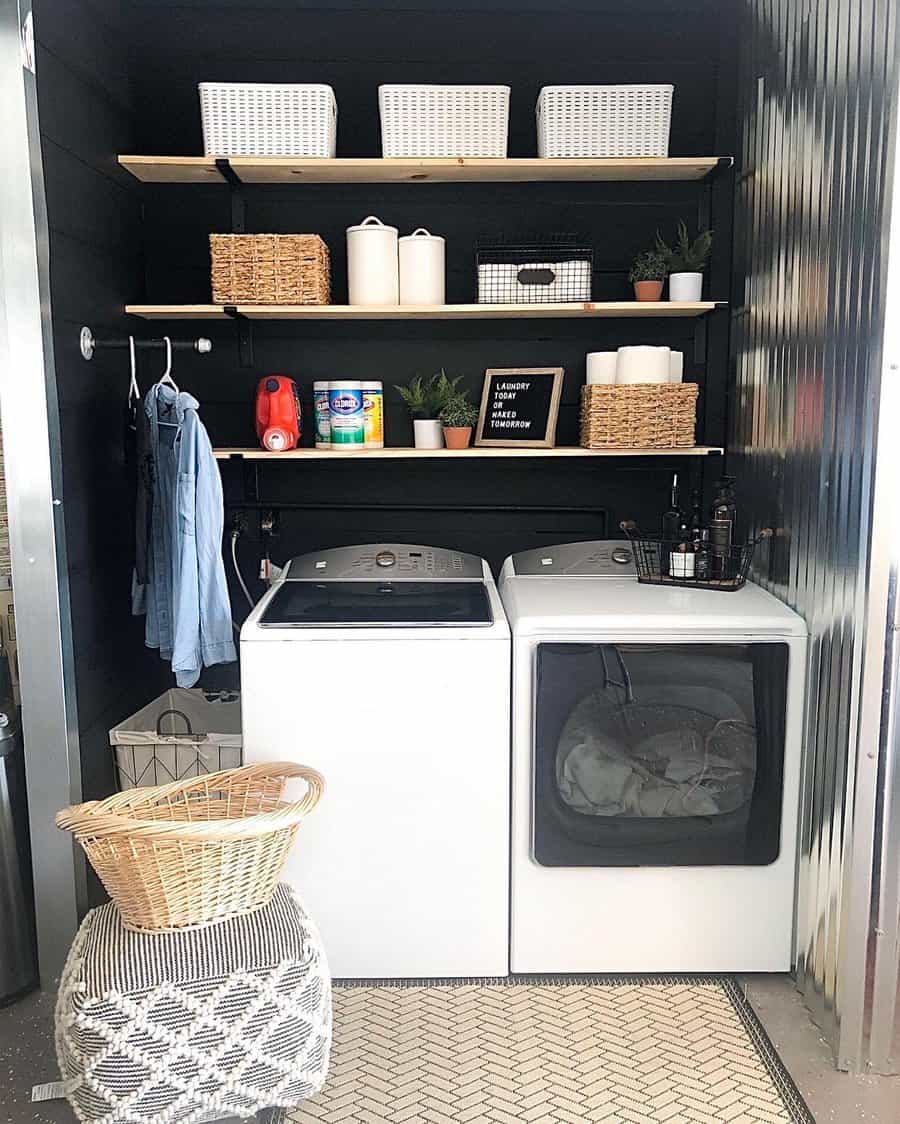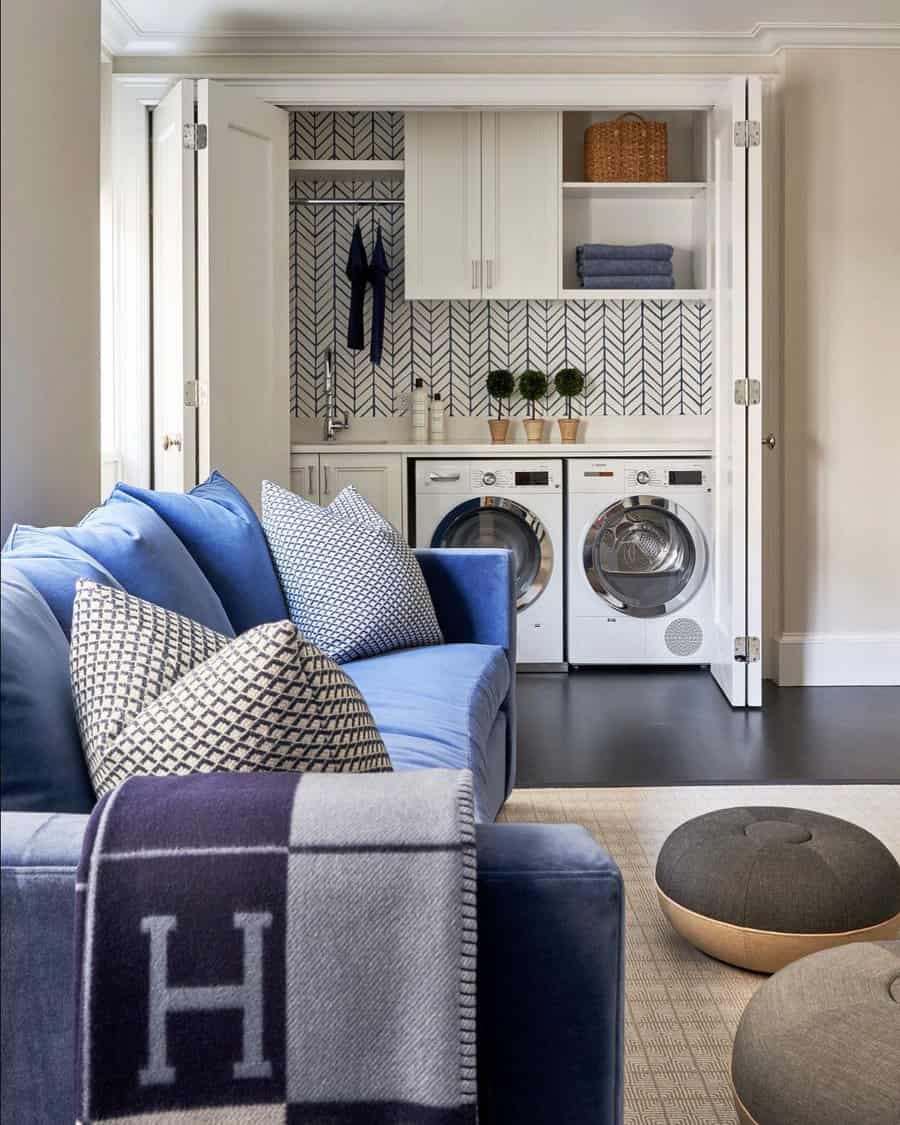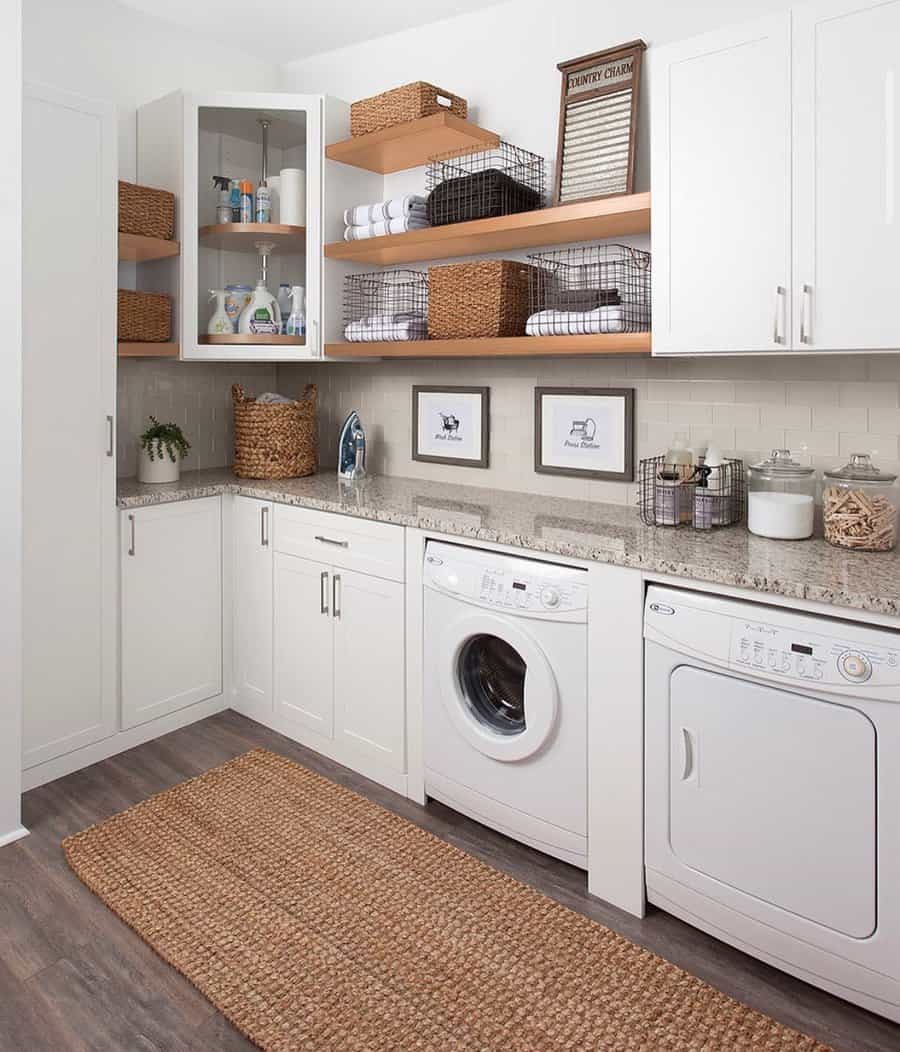 8. Farmhouse-Themed Laundry Area
Turn your laundry room into a charming farmhouse-inspired haven with these chic and functional ideas. Embrace the rustic charm by incorporating baskets for sorting and storing laundry, adding a touch of warmth and texture to the space. Hang your freshly laundered clothes on wooden hangers, elevating the everyday task with a hint of elegance.
Utilize crate organizers for holding detergents, fabric softeners, and other laundry essentials, keeping everything neatly organized and within easy reach. To enhance the farmhouse aesthetic, consider installing shiplap walls, creating a cozy and inviting atmosphere. With these thoughtful details, your laundry room will go from mundane to magnificent, combining functionality with chic farmhouse style.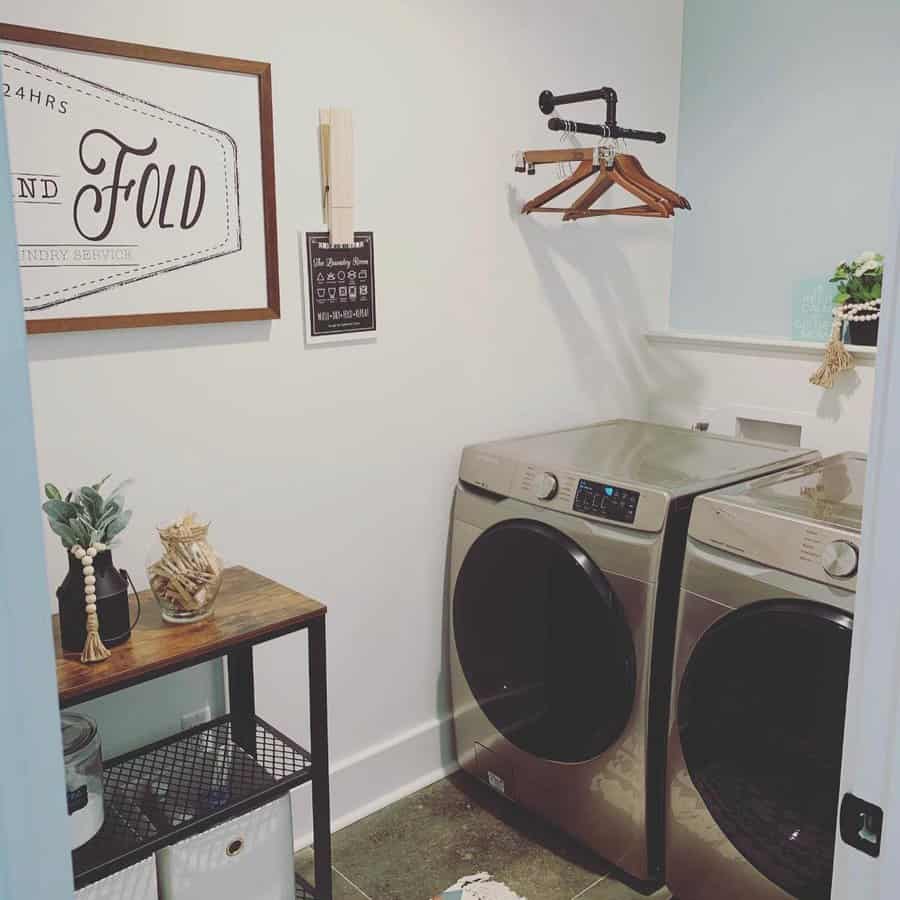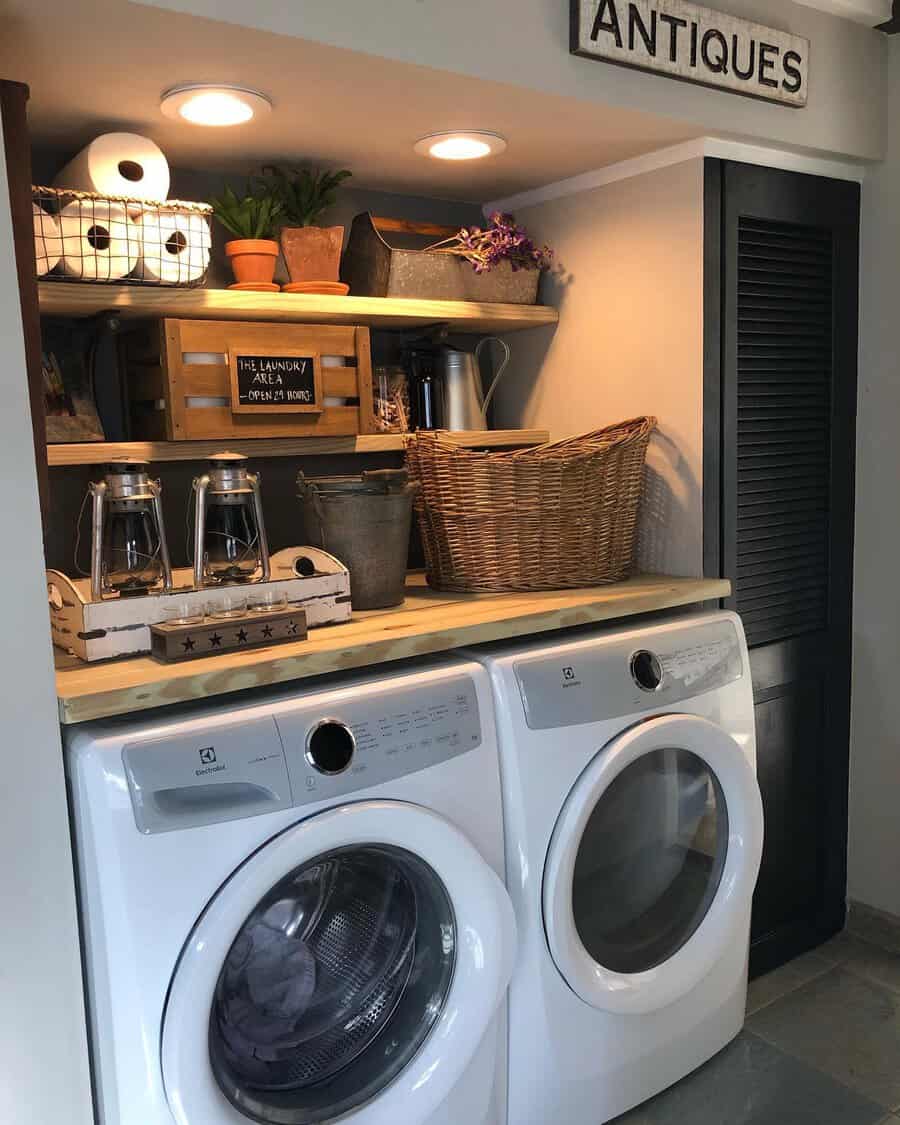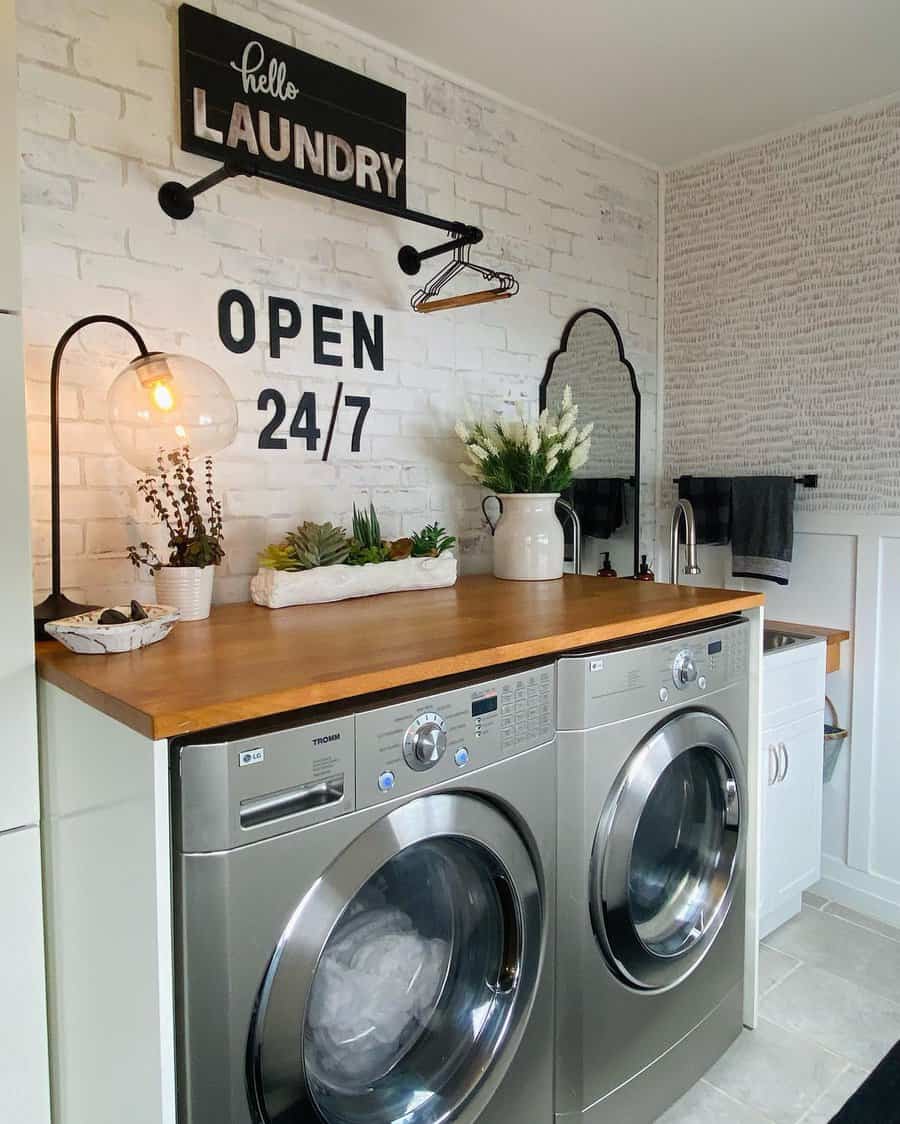 9. Decorative Wall & Flooring
Who says laundry has to be mundane? By adding visual interest to your laundry room, you can turn this functional space into a chic and enjoyable area. Consider a statement wall with bold wallpaper or a vibrant paint color that reflects your personality and adds a pop of excitement to the room.
If you prefer a more subtle approach, opt for textured wall panels or a gallery wall displaying inspiring artwork. Another option is to focus on the flooring by choosing patterned tiles or a colorful rug that adds personality and makes laundry a bit more fun. With these decorative touches, you'll find yourself looking forward to doing laundry and spending time in your stylish laundry room.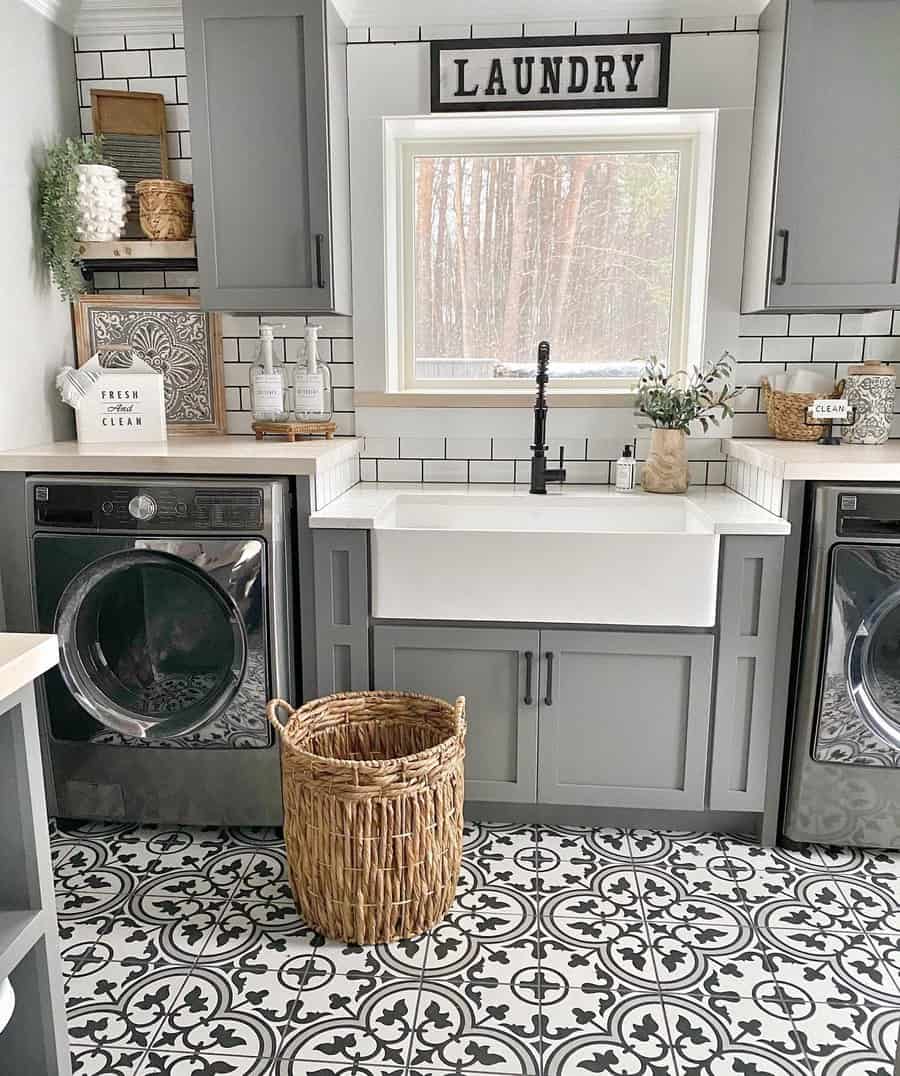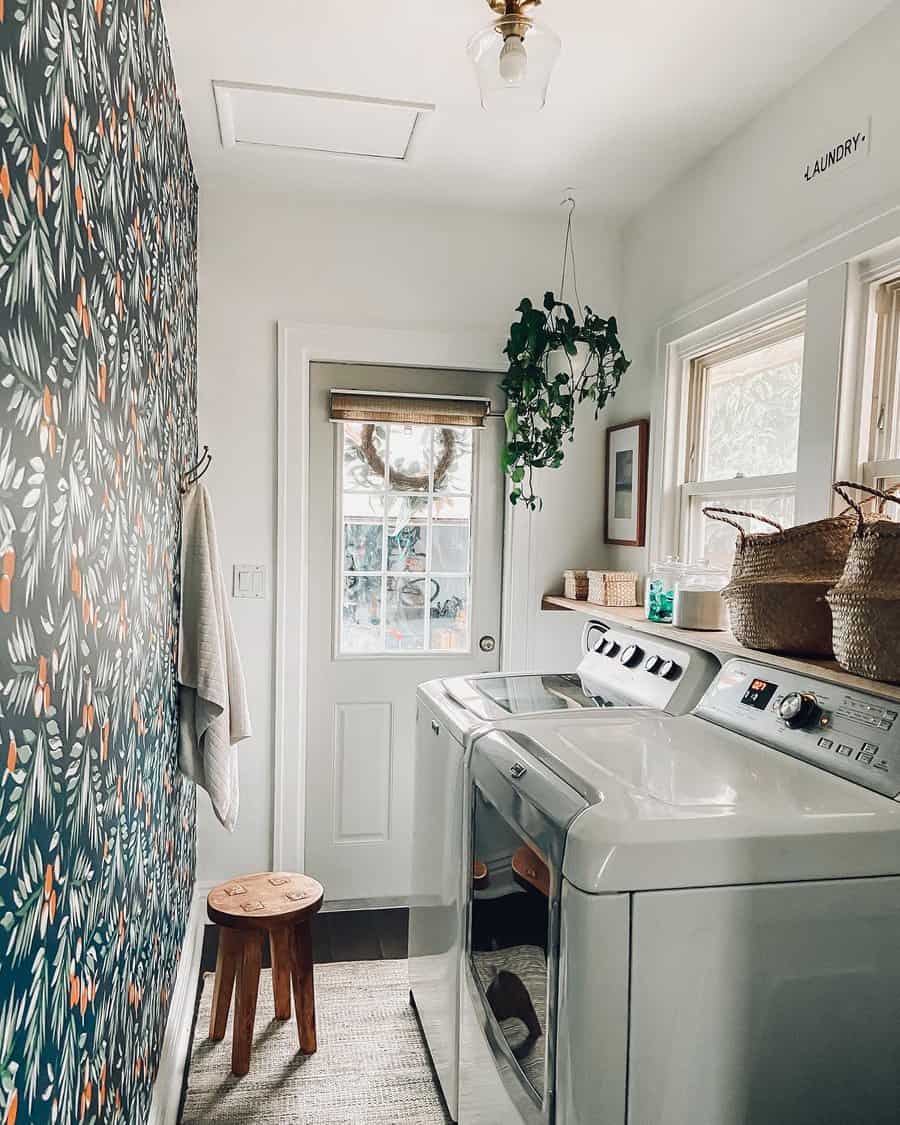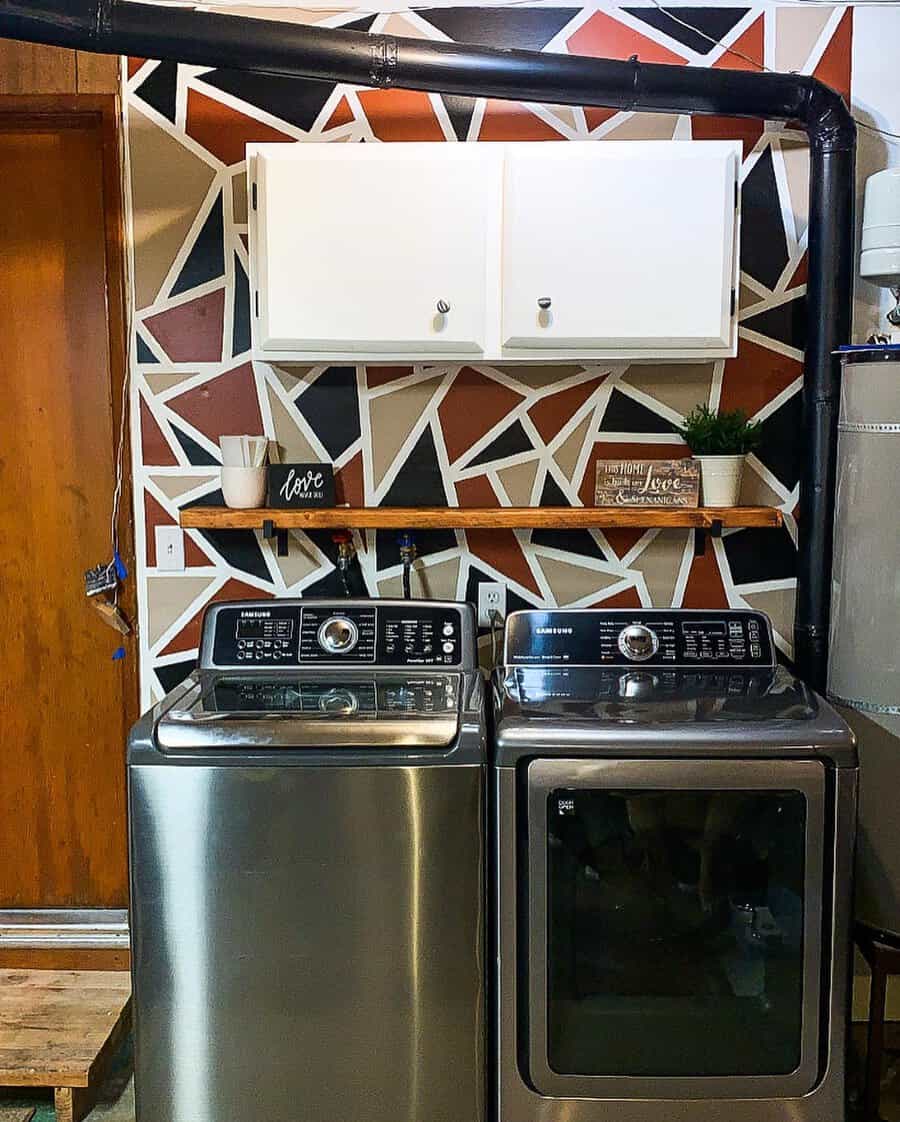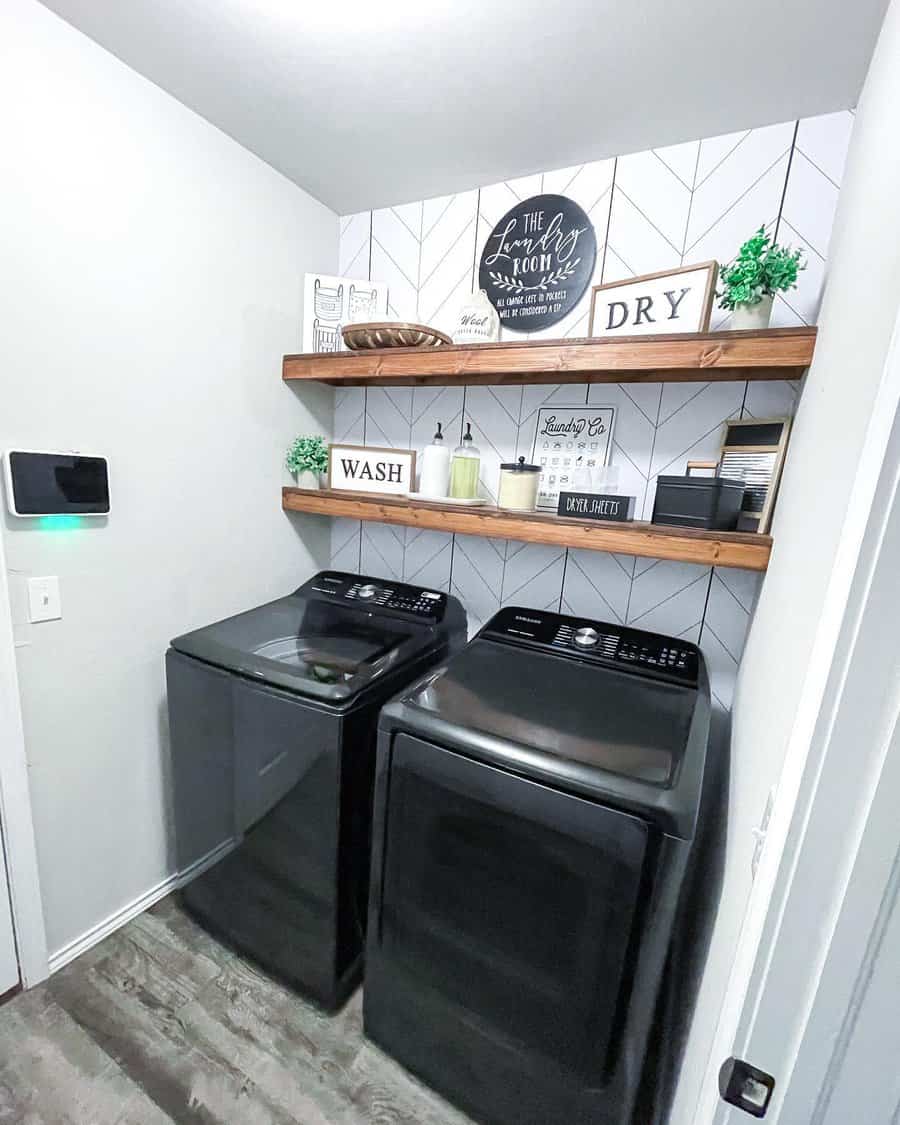 10. Garage Laundry Room
By utilizing the space in your garage, you can create a dedicated area for all your laundry needs while keeping the rest of your home clutter-free. Install pull-out shelves and cabinets to maximize storage and keep your laundry essentials organized and easily accessible.
With clever design and smart solutions, you can create a chic and efficient laundry room that seamlessly blends into your garage. The garage laundry room concept offers the perfect balance of functionality and style, allowing you to tackle your laundry tasks with ease while maintaining a clean and organized space.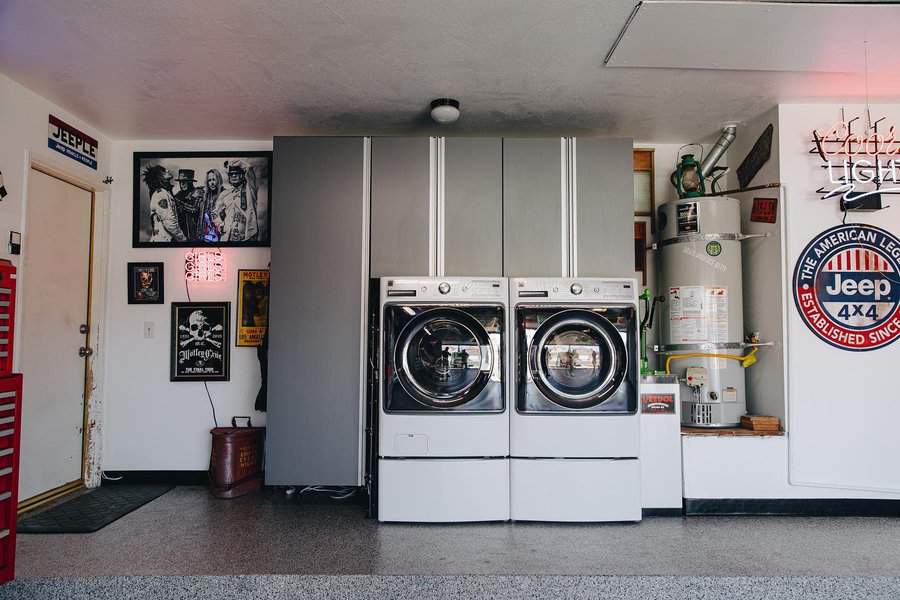 11. White Laundry Room
A white laundry area exudes a sense of freshness and simplicity, creating a serene and inviting space for all your laundry needs. The white color palette brings a sense of brightness and cleanliness to the room, making it feel open and spacious. Incorporate white cabinetry and shelving units to provide ample storage for laundry supplies, detergents, and cleaning products, keeping everything organized and easily accessible.
Install a sleek white countertop for folding clothes and a white farmhouse sink for added convenience. Enhance the functionality of the space with white wall-mounted drying racks or a retractable clothesline to optimize drying space without compromising on style. Add a touch of texture with white subway tiles as a backsplash, creating a timeless and elegant look.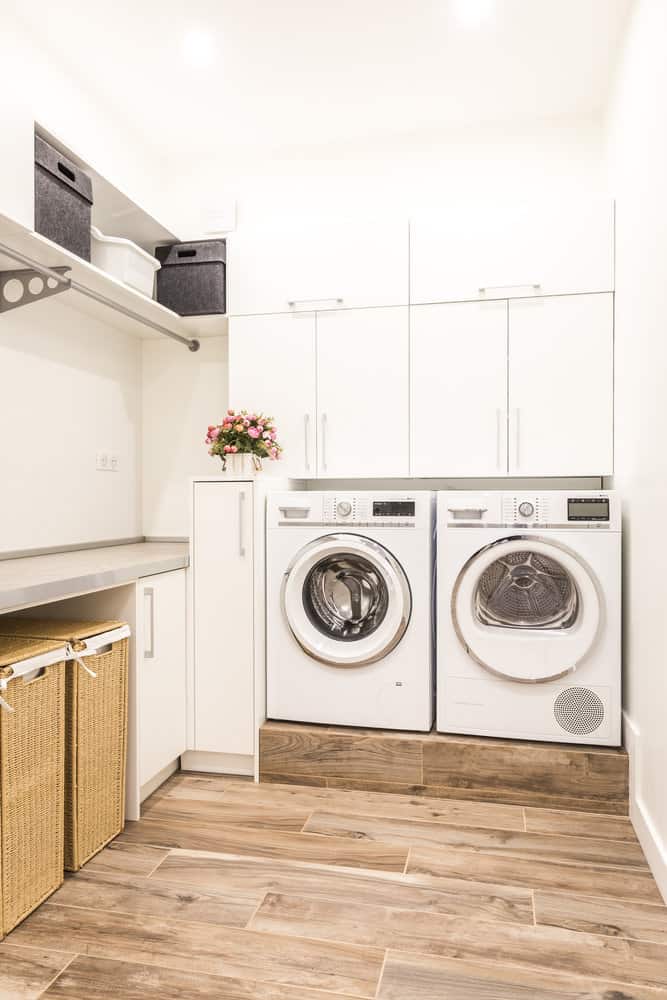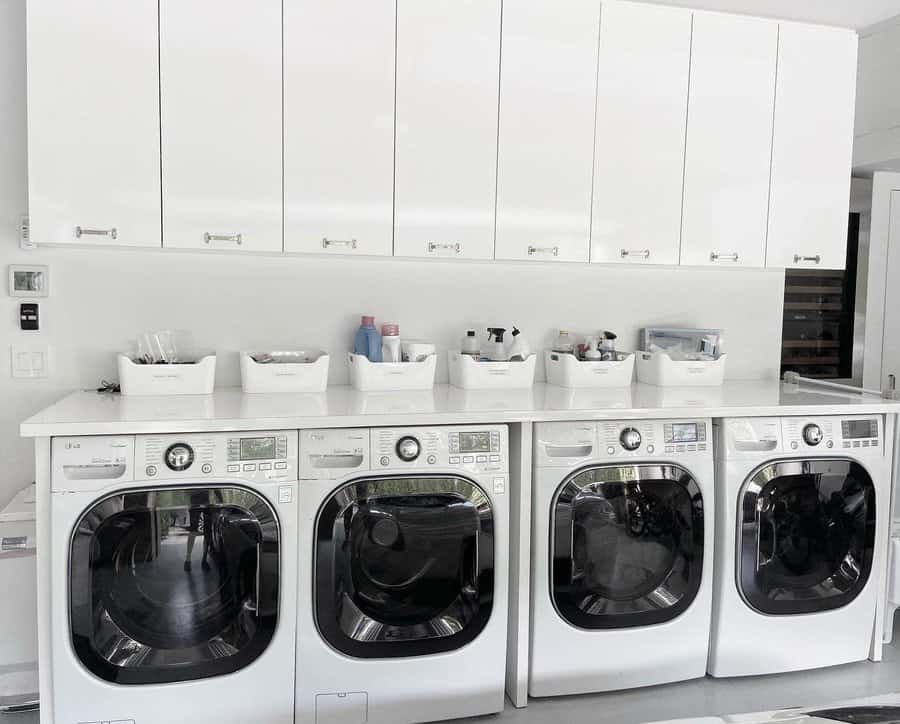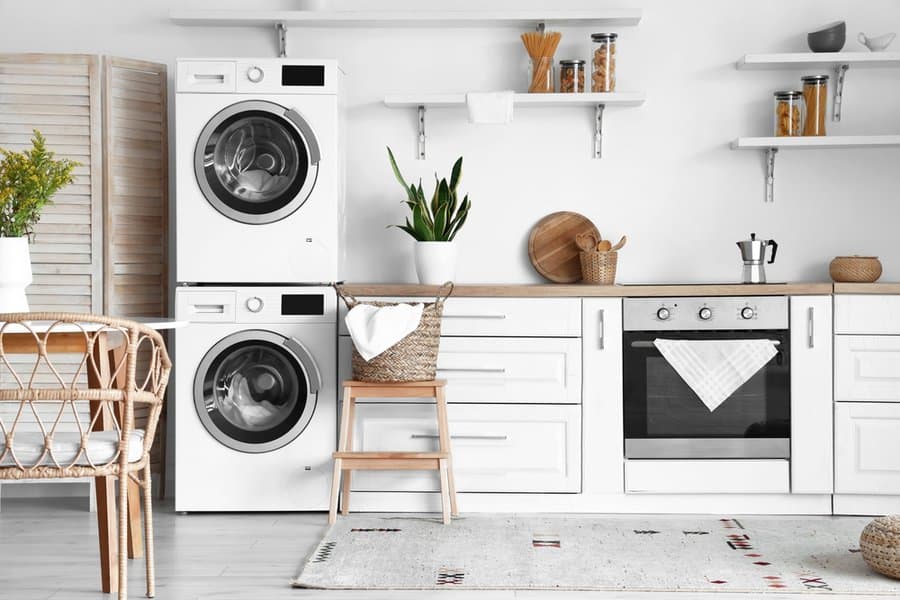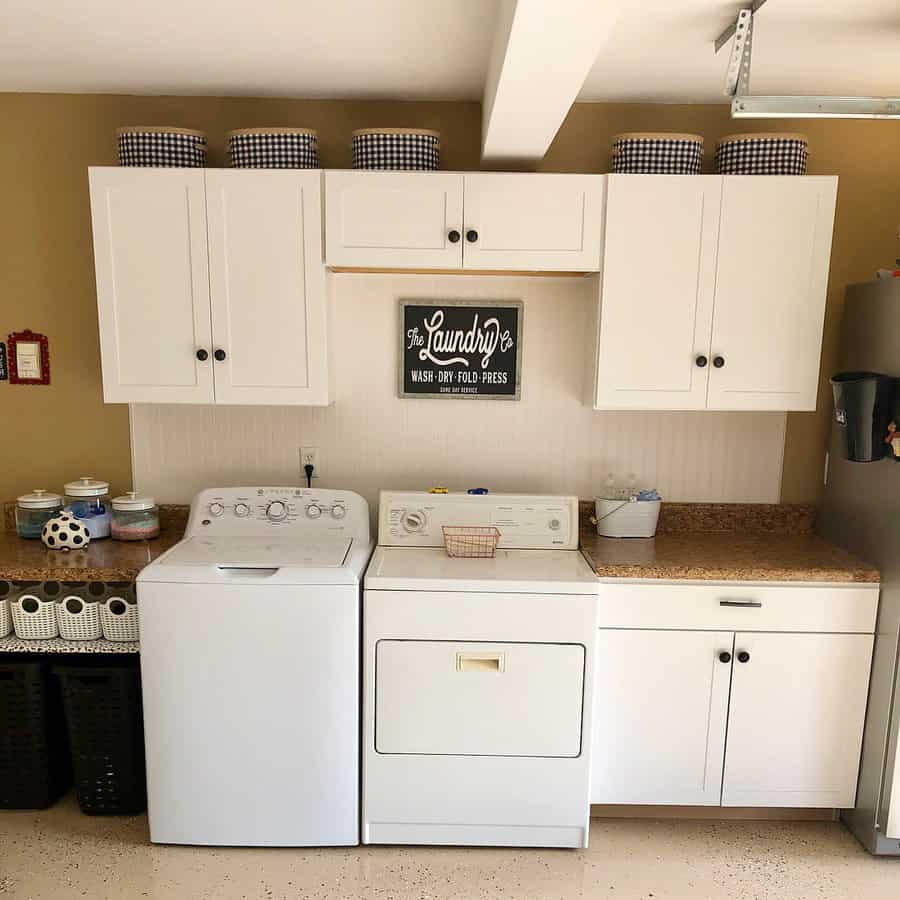 12. Kitchen Laundry Area
Combining the functionality of a laundry space with the stylish design elements of a kitchen, this innovative concept takes your laundry experience to a whole new level. Imagine a well-organized and efficient laundry area seamlessly integrated into your kitchen layout. With clever storage solutions, such as pull-out laundry hampers or built-in cabinets, you can keep your detergents, cleaning supplies, and laundry essentials neatly tucked away. Incorporate a spacious countertop for sorting, folding, and ironing clothes, allowing you to multitask with ease.
Install a Belfast sink for hand-washing delicate garments or soaking stained items, adding a touch of charm to the space. Don't forget to incorporate stylish lighting fixtures and decorative accents to create a cohesive and inviting atmosphere. With a kitchen laundry room, you can say goodbye to the days of lugging laundry baskets up and down the stairs and embrace a more streamlined and efficient laundry routine.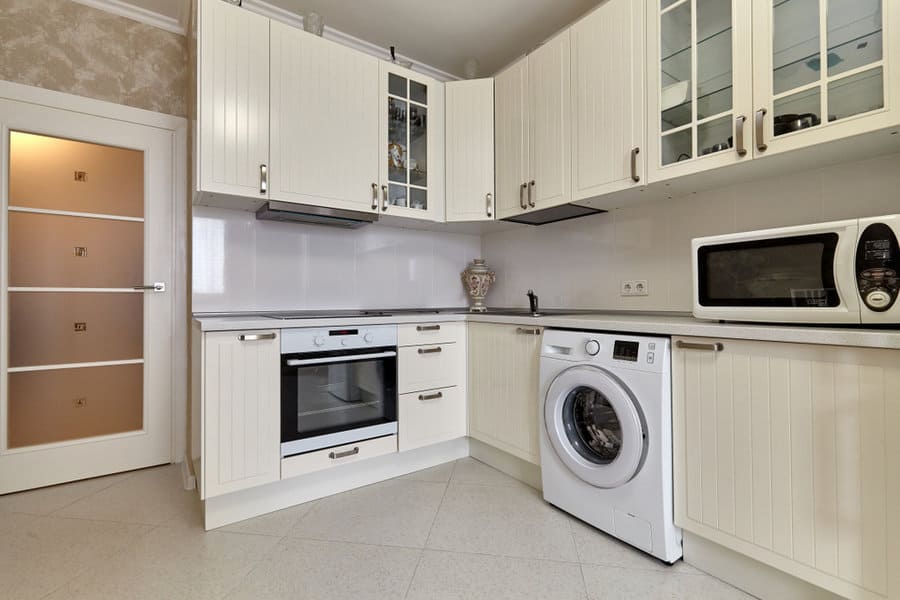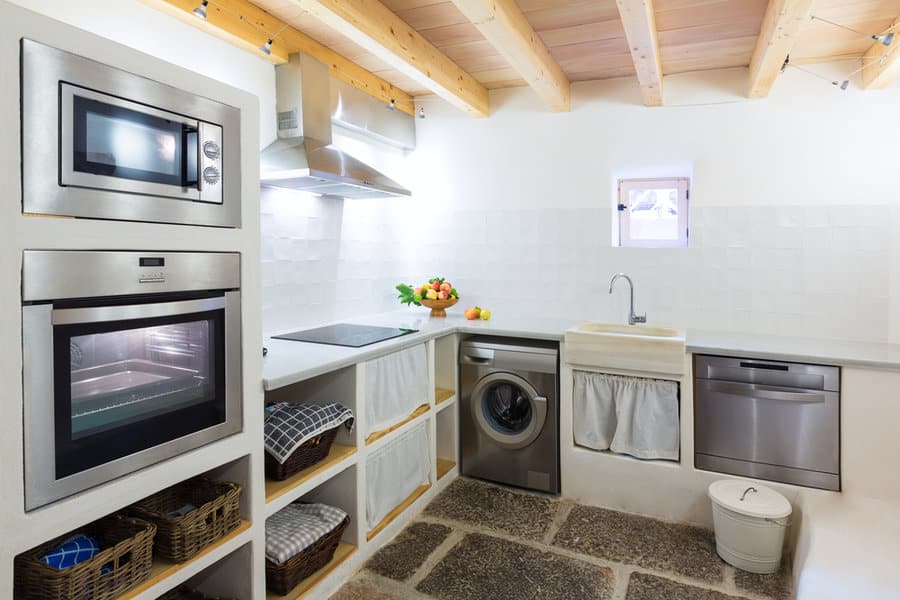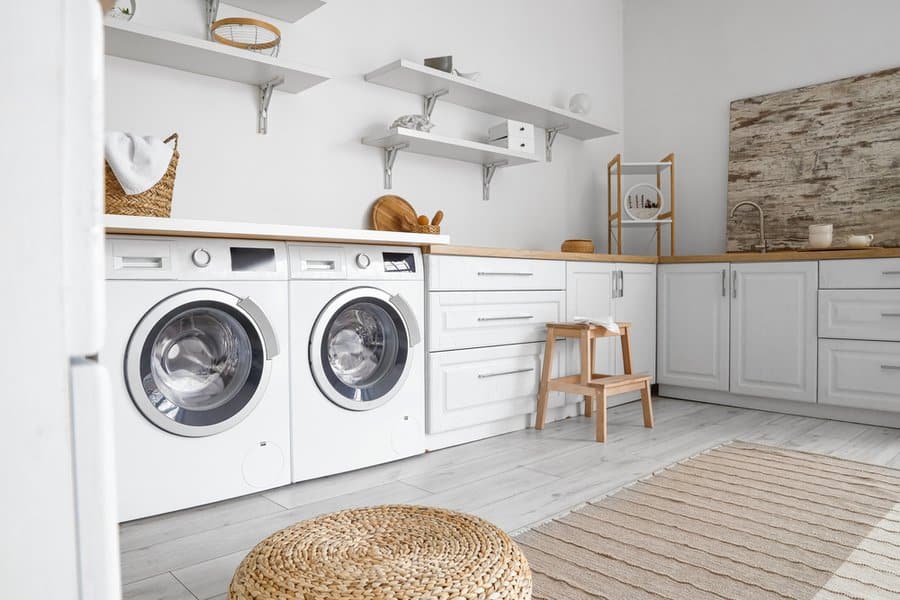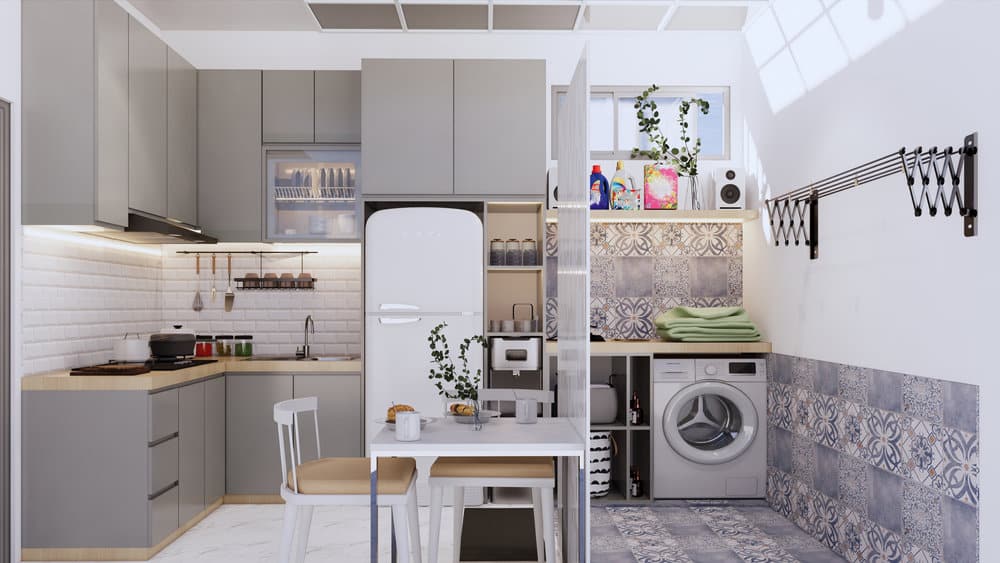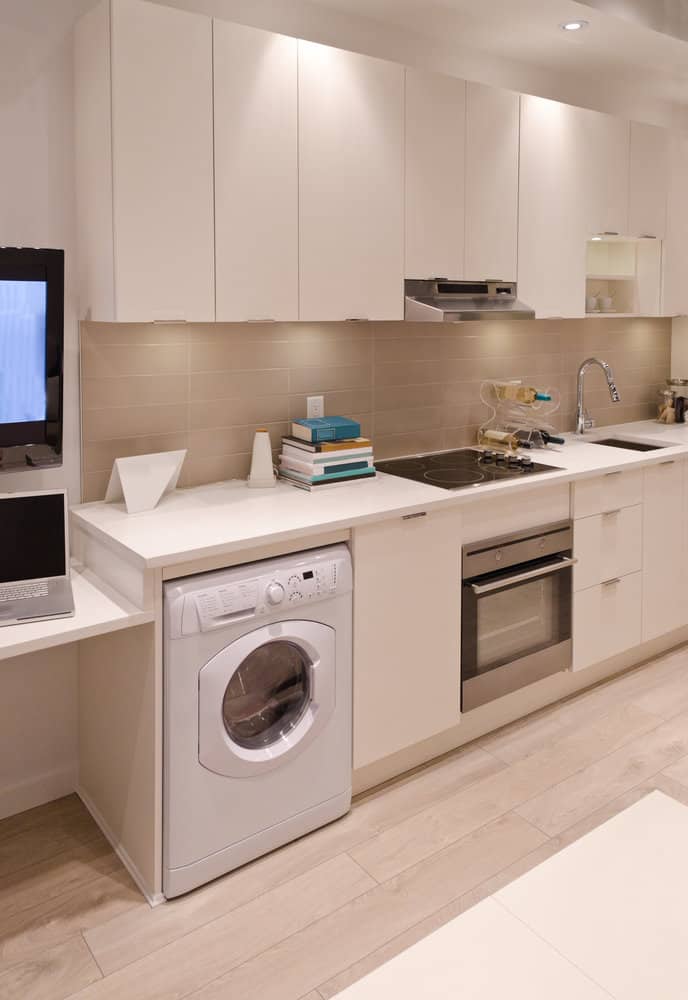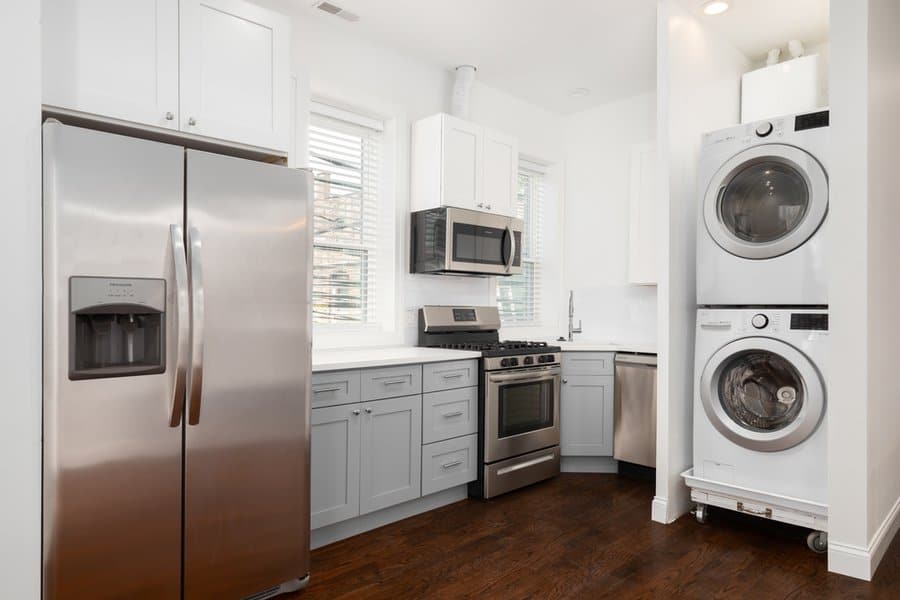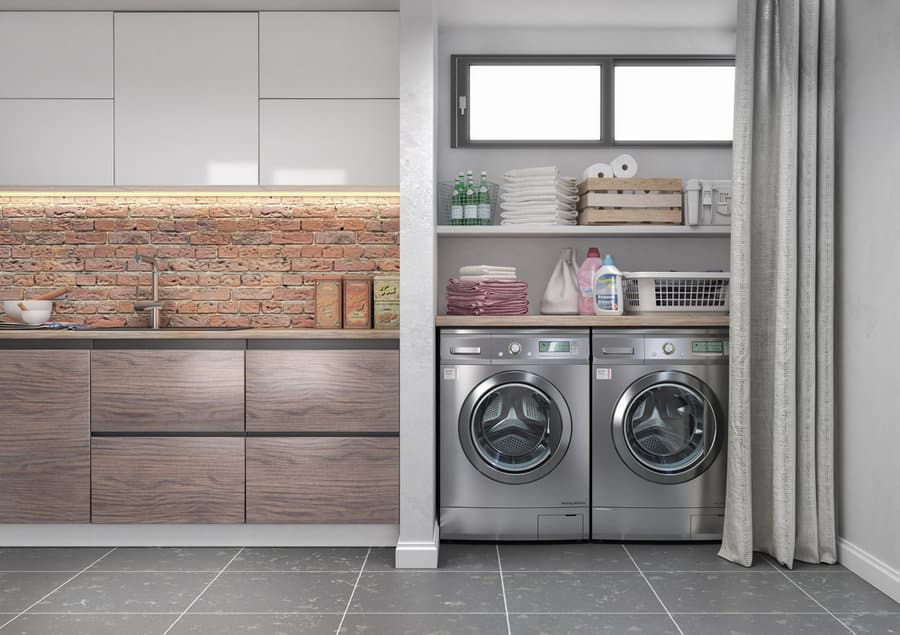 13. Laundry Storage Cabinets
These stylish cabinets not only provide ample storage for all your laundry essentials but also add a touch of elegance to your space. With a variety of sizes and configurations available, you can easily find the perfect cabinetry solution to fit your laundry room layout. Enclosed cabinets keep your laundry supplies neatly tucked away, creating a clean and organized appearance.
No more searching for lost socks or detergent bottles hidden among the chaos. Everything will have its designated place, making laundry day a breeze. Additionally, the sleek design of the cabinets adds a touch of sophistication to your laundry room by packing supplies away, elevating its overall aesthetic.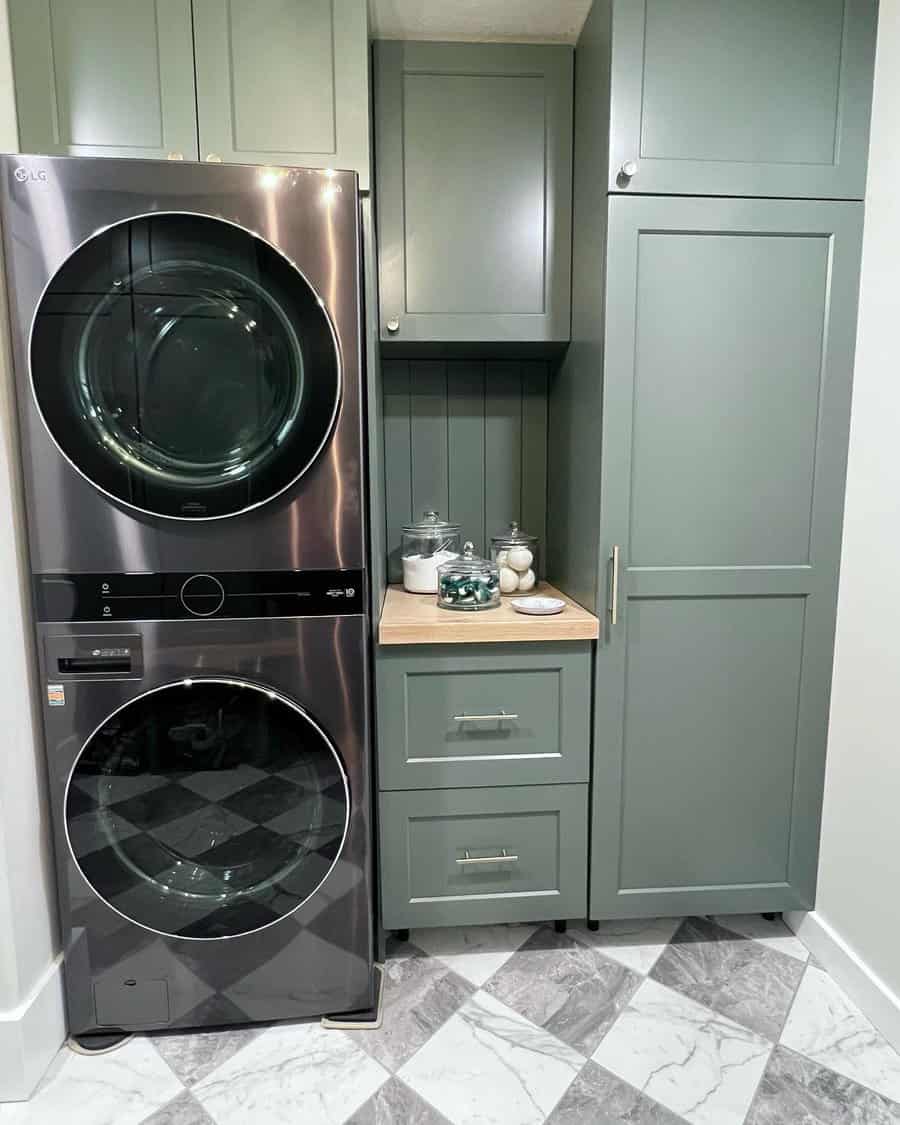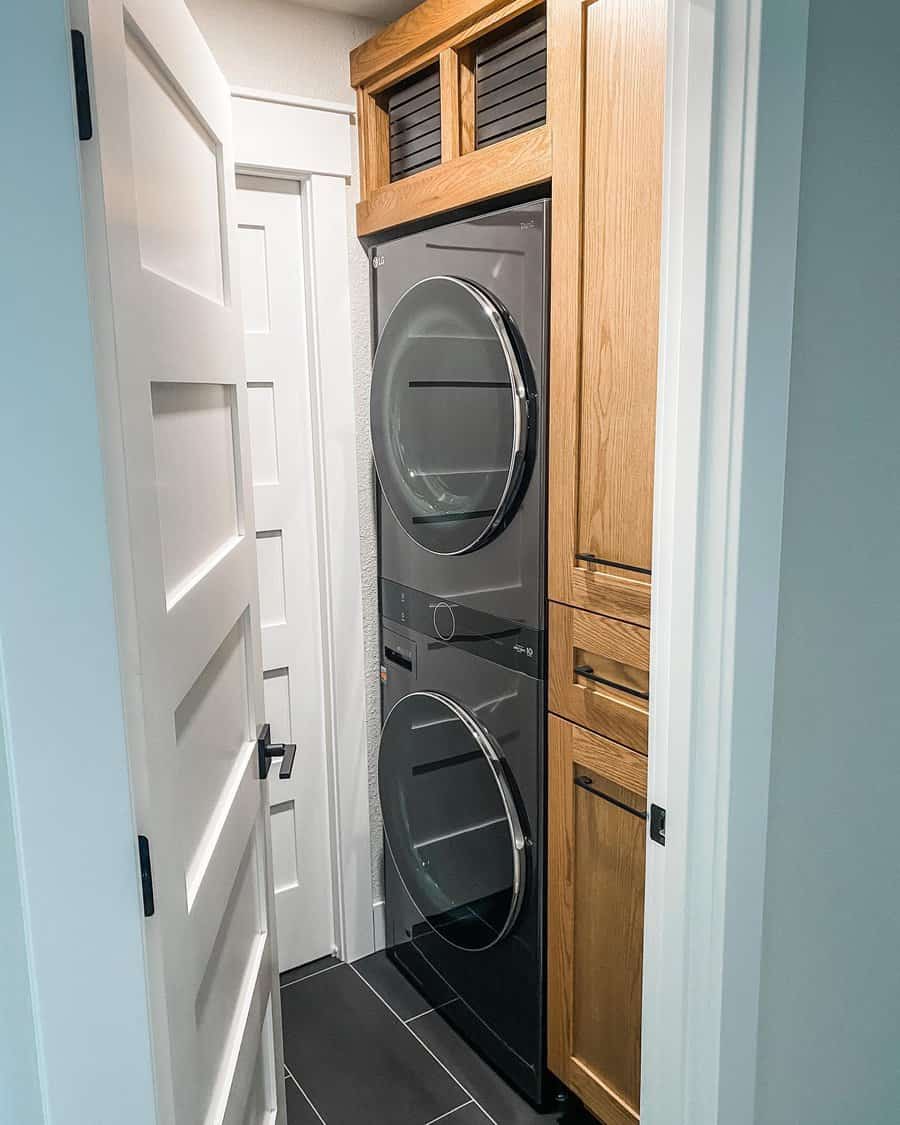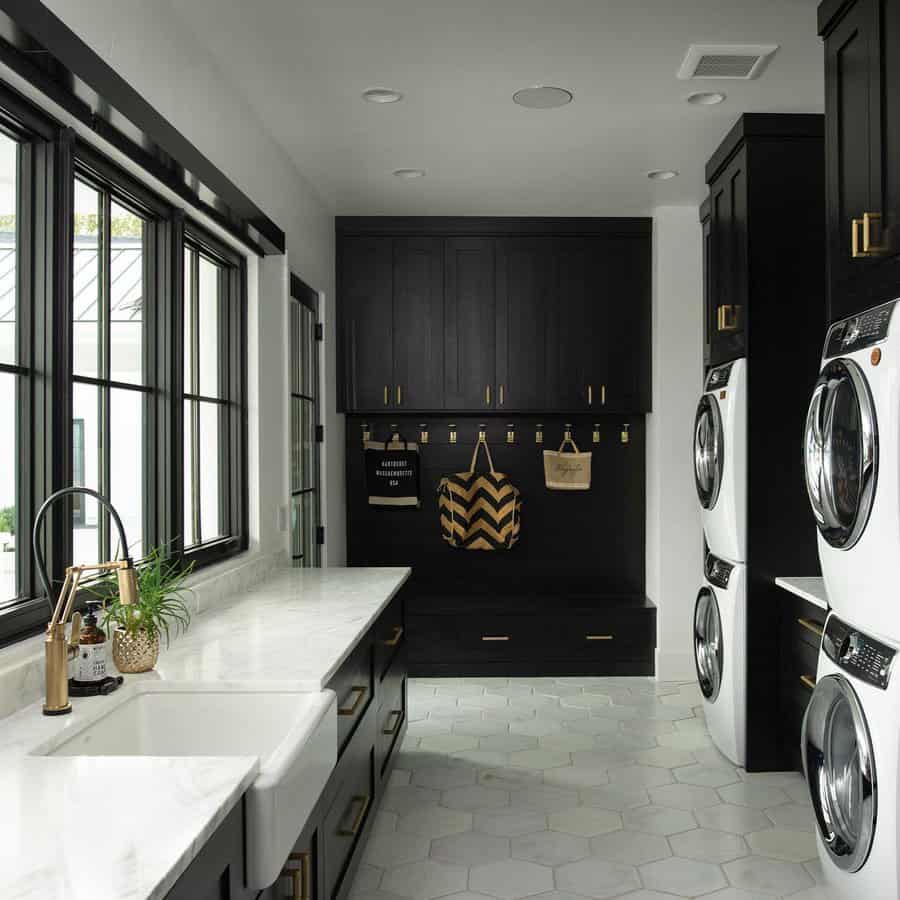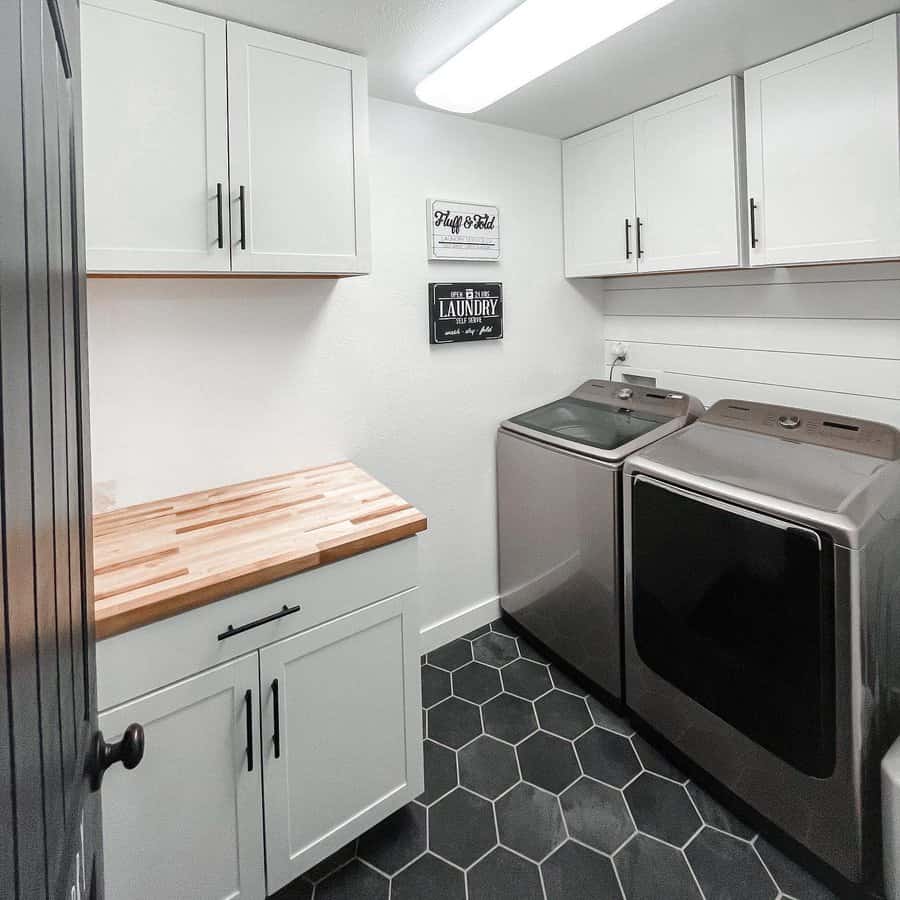 15. Rustic-Themed Laundry Area

Elevate your laundry routine with a functional and chic rustic laundry area. Embrace the charm of white-washed wood and weathered textures to create a cozy and inviting space. Install white-washed wood cabinets and shelving to provide ample storage for your laundry essentials.
A weathered countertop adds a touch of character while providing a practical surface for folding clothes. Don't forget to bring the outdoors in by adding plants to brighten up the space and bring a sense of freshness. Vintage decor pieces, such as antique laundry signs or repurposed washboards, add a nostalgic flair to the room.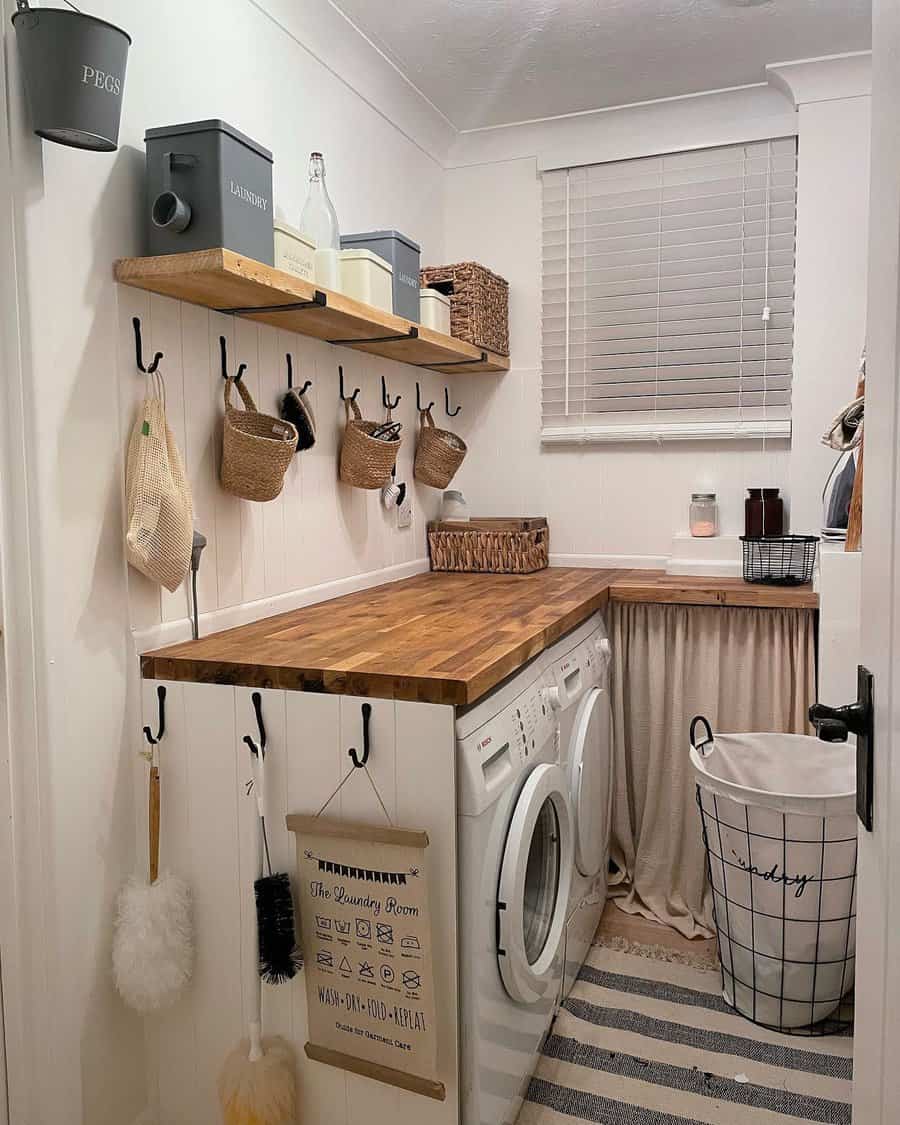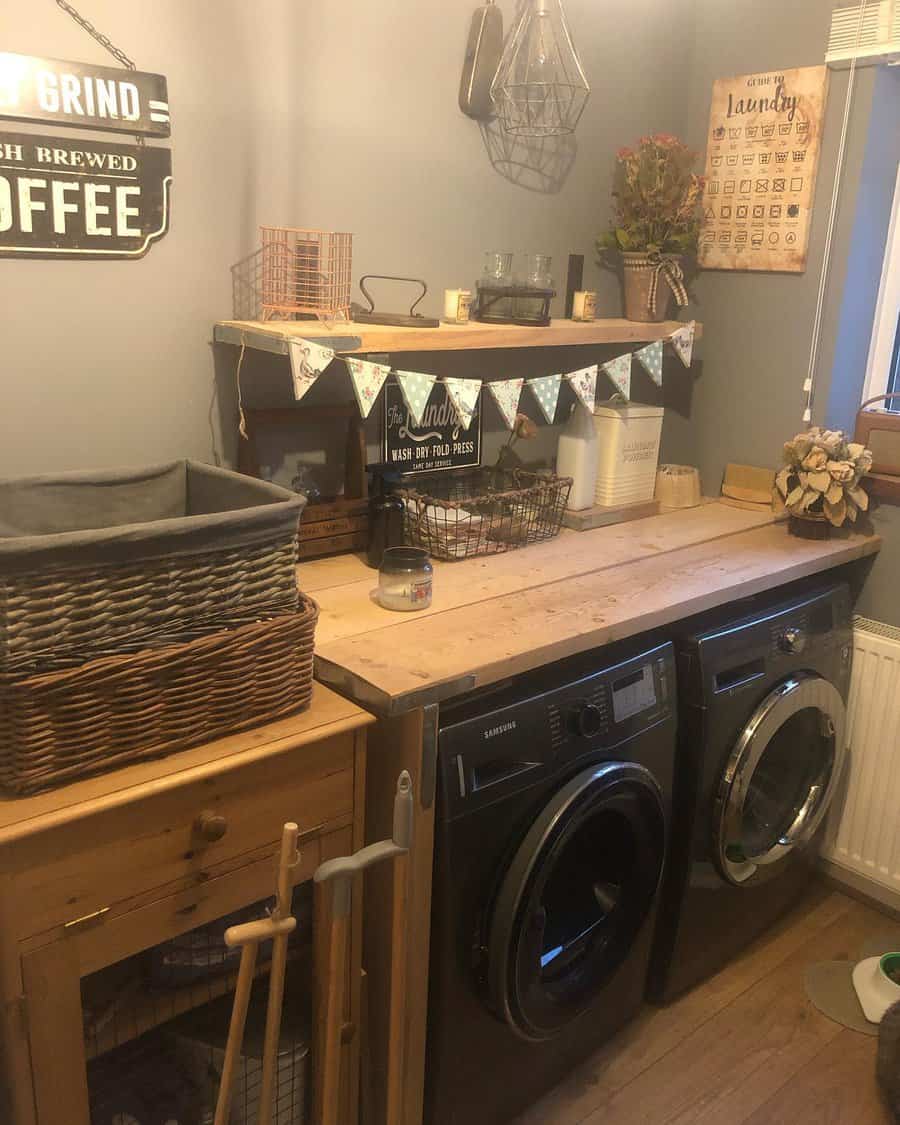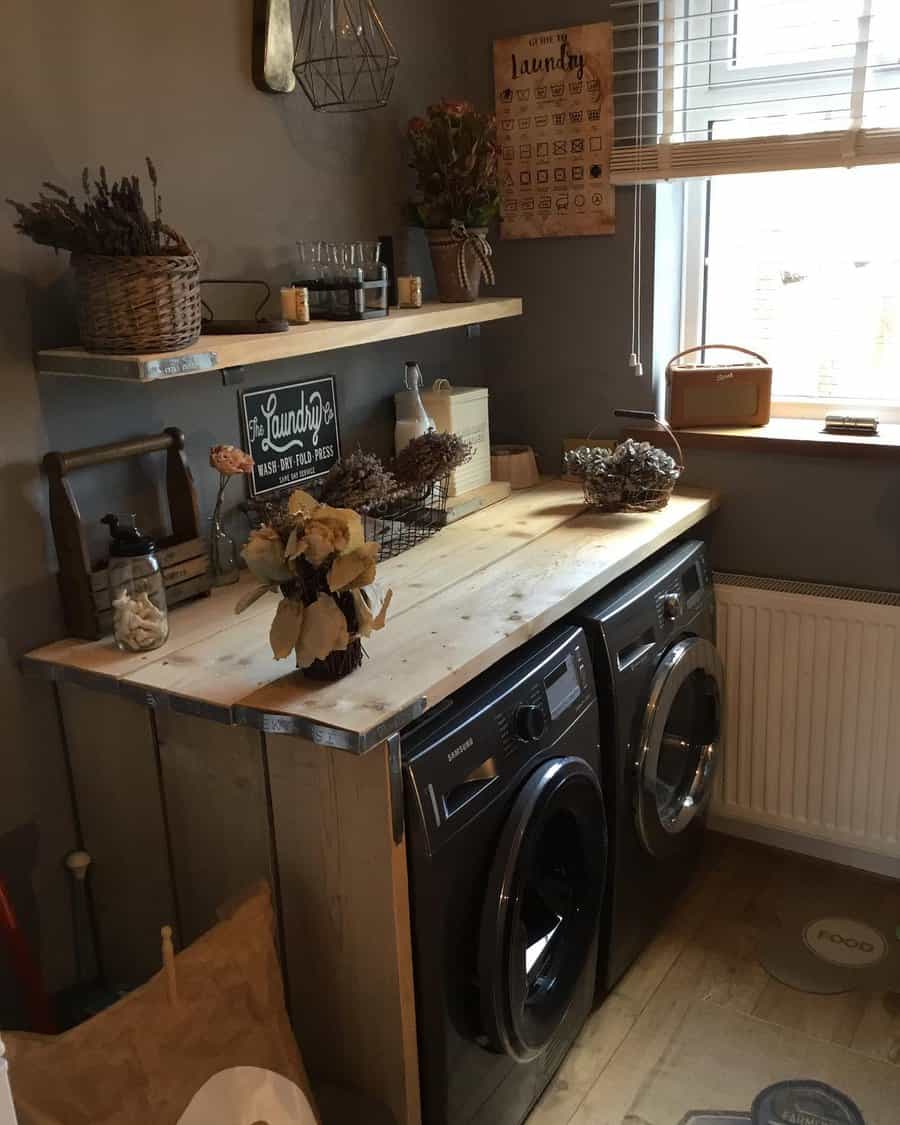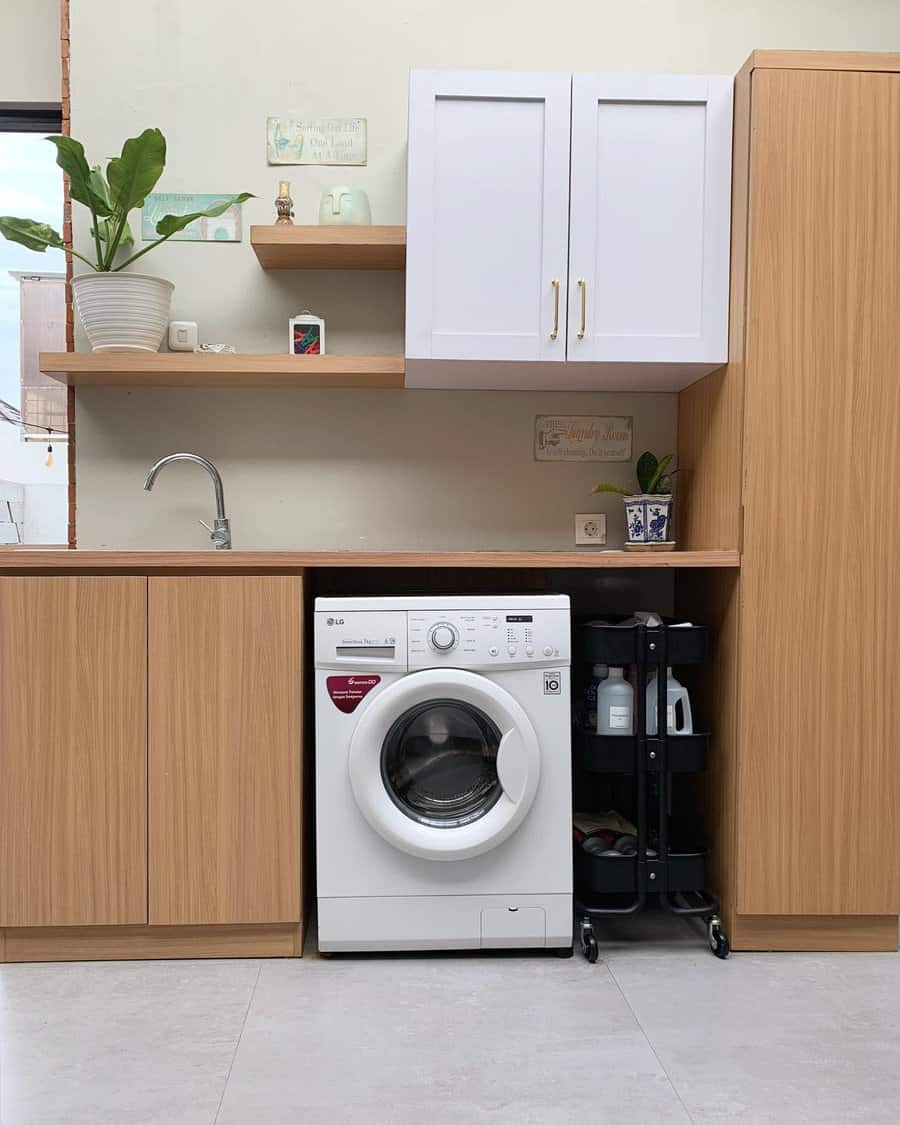 16. Under-The-Stairs Laundry
With a cleverly designed under-the-stairs laundry area, you can maximize the use of space in your home while maintaining a chic and organized aesthetic. Install a sleek countertop that spans the width of the space, providing ample room for folding clothes and sorting laundry. Utilize the vertical space by incorporating built-in storage for your washer and dryer, keeping them neatly tucked away and easily accessible.
Add open shelves or cabinets above the appliances to store laundry supplies and essentials. To enhance the functionality of the area, consider installing a hanging rod for air-drying clothes or a built-in ironing board for quick touch-ups. With a well-designed under-the-stairs laundry area, you'll have everything you need within reach, making laundry day efficient and enjoyable.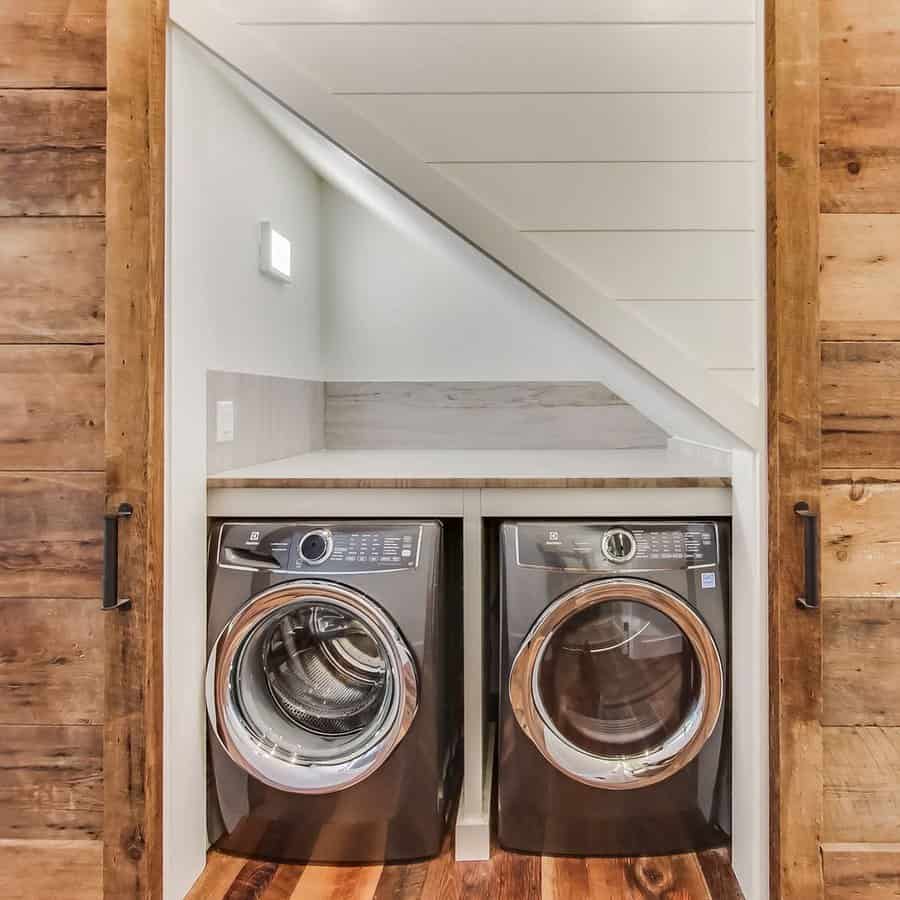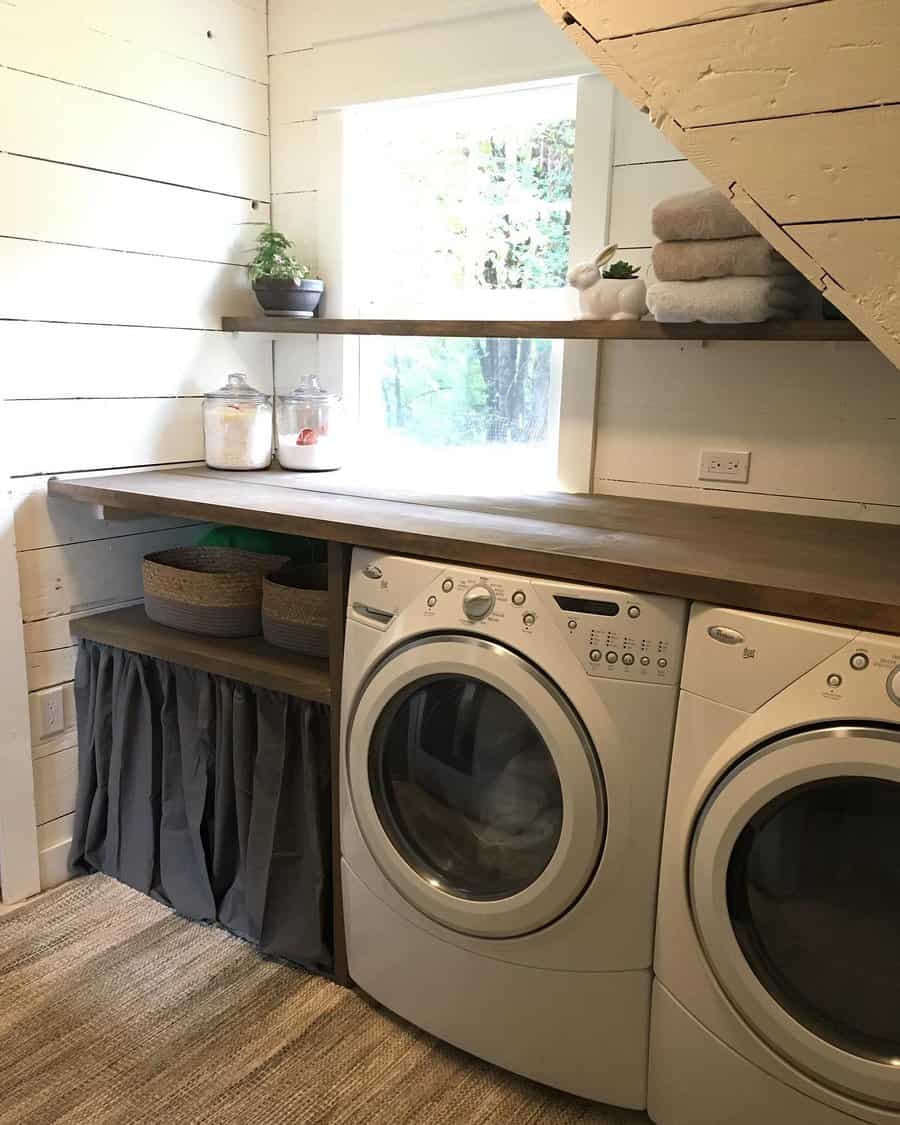 17. Recessed Laundry Area
Transform your laundry room into a functional and stylish space with the innovative idea of a recessed laundry area. Say goodbye to the traditional, mundane laundry room setup and embrace a more streamlined and efficient design. By recessing your laundry appliances into a designated area, you can create a seamless and integrated look that maximizes the available space.
This clever design not only adds a touch of sophistication to your laundry room but also helps to free up floor space for other purposes. You can opt for built-in cabinets and shelves to keep your laundry essentials neatly organized and easily accessible.
Consider installing a countertop above the appliances to provide a convenient folding and sorting area. With the recessed laundry area, you can maintain a clutter-free and visually pleasing space while efficiently tackling your laundry chores.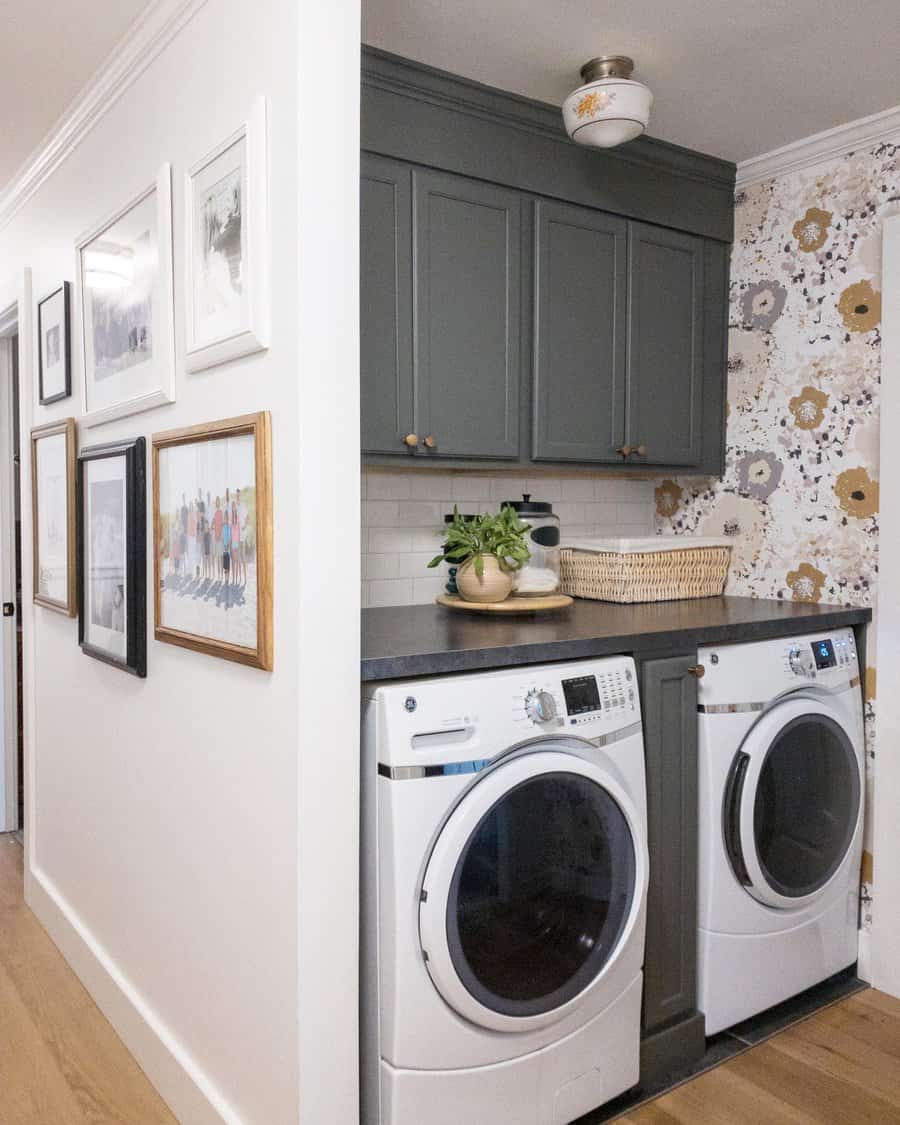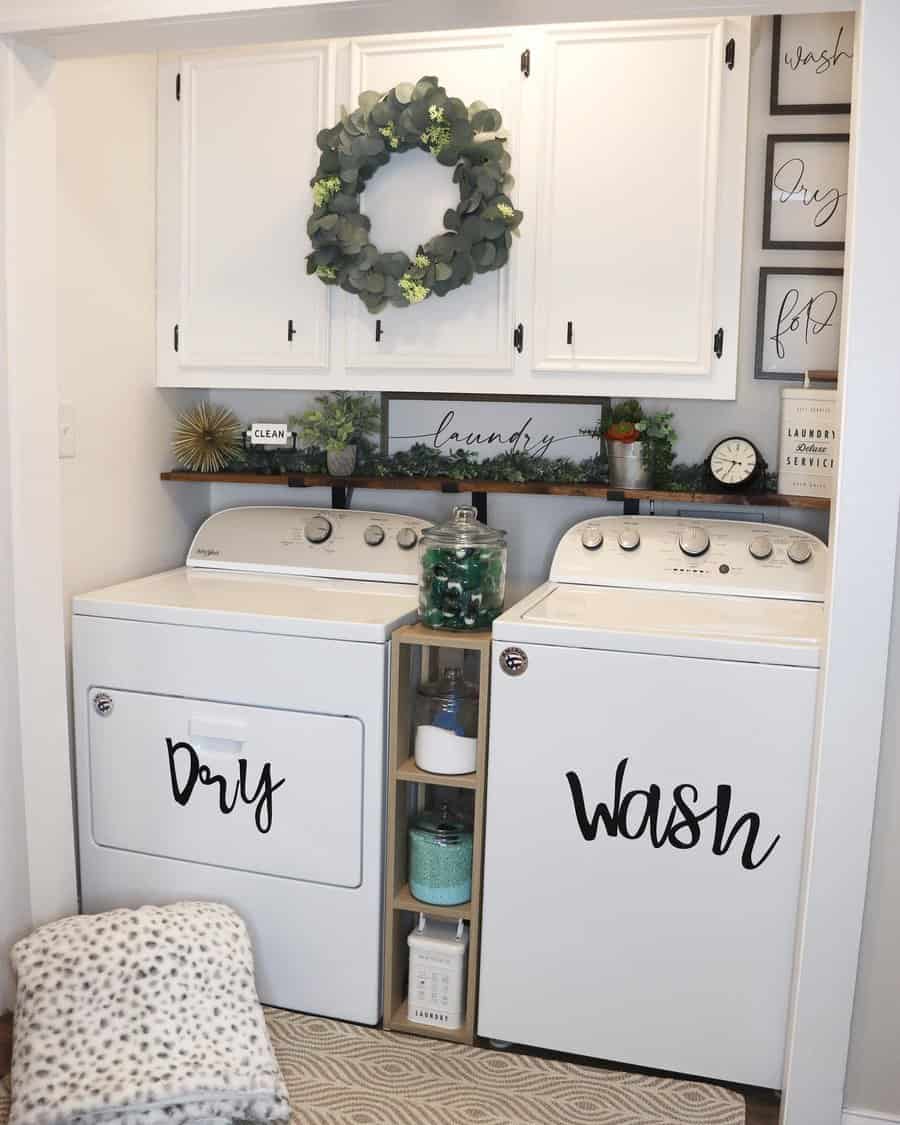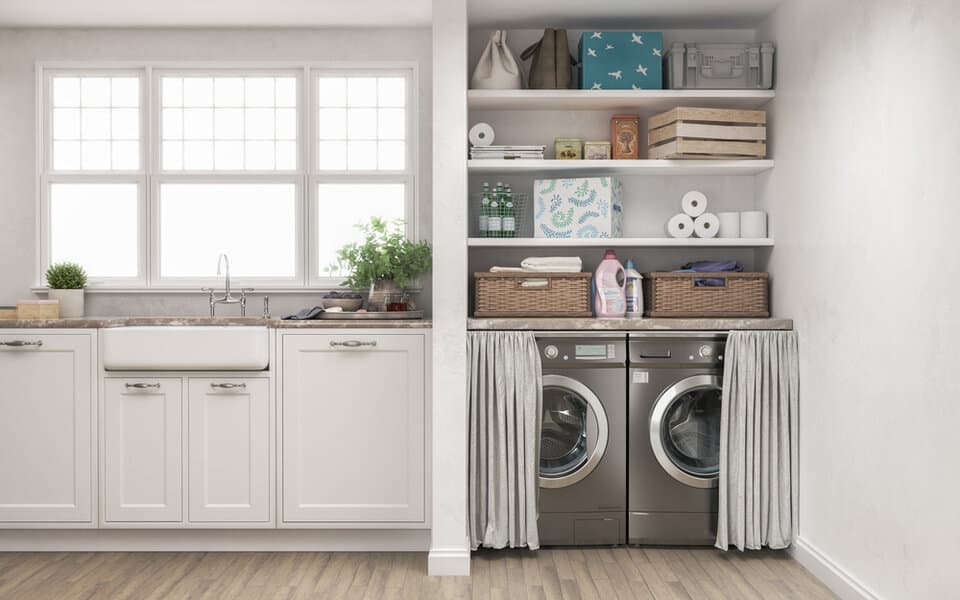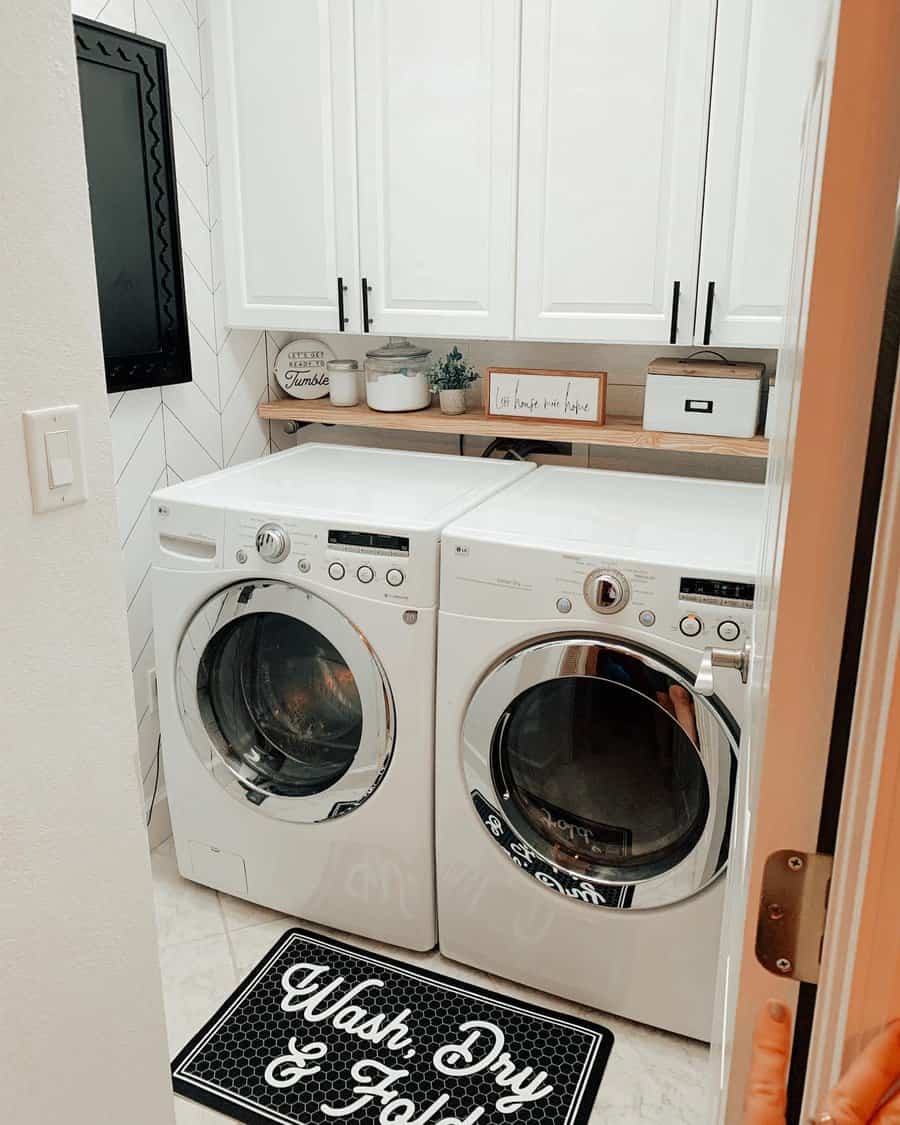 18. Laundry Organizers
One of the key elements to achieving an efficient laundry room is incorporating organizers. These versatile and sturdy organizers provide ample storage for all your laundry essentials. From detergent and fabric softener to cleaning supplies and extra linens, you can neatly arrange everything on these racks, keeping them easily accessible and off the floor. Utilize different shelves and compartments to categorize items, making it effortless to find what you need when you need it.
Additionally, metal racks are not only practical but also add a touch of industrial chic to your laundry room's aesthetic. Their sleek and modern design elevates the overall look, creating a space that's both functional and visually appealing. So, if you're ready to revolutionize your laundry routine, embrace the power of laundry organizers with stylish metal racks. Your laundry room will become a well-organized haven where functionality meets chic design.