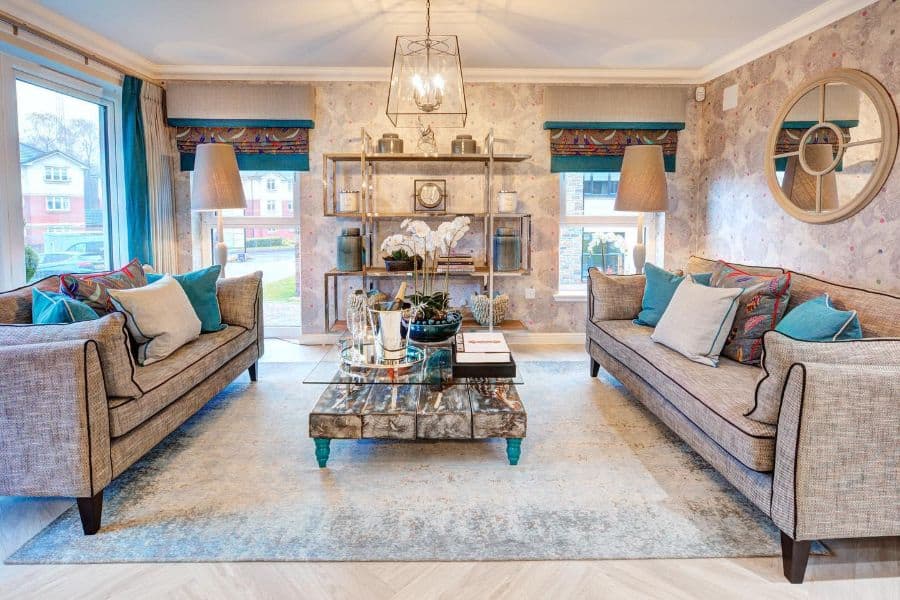 56 Living Room Lighting Ideas to Brighten Your Living Space
There are a few things no living room can go without. But perhaps the most important aspect of any living space is adequate lighting.
How you light your living room plays a role in its functionality and atmosphere. It sets the stage for the rest of your interior decor, whether that be ultra-casual or elegant and luxurious. If your lighting solutions don't match the room's aesthetic as a whole, the entire design will fall flat.
Check out the living room lighting ideas below to find the perfect lighting option for your own home!
1. Install A Statement Pendant Lamp
When it comes to lighting ideas for your living room, statement pendant lamps are a great option. Not only do they stand out and look beautiful, but they also bring a modern and stylish touch to the space. Pendant lamps can instantly elevate the mood of the room while providing much-needed illumination when you need it.
Think of them as statement pieces that will make your guests feel welcome, adding vibrancy and energy that so many otherwise dull living rooms lack. With carefully chosen statement pendant lamps, you can take your living room from average to extraordinary in an instant.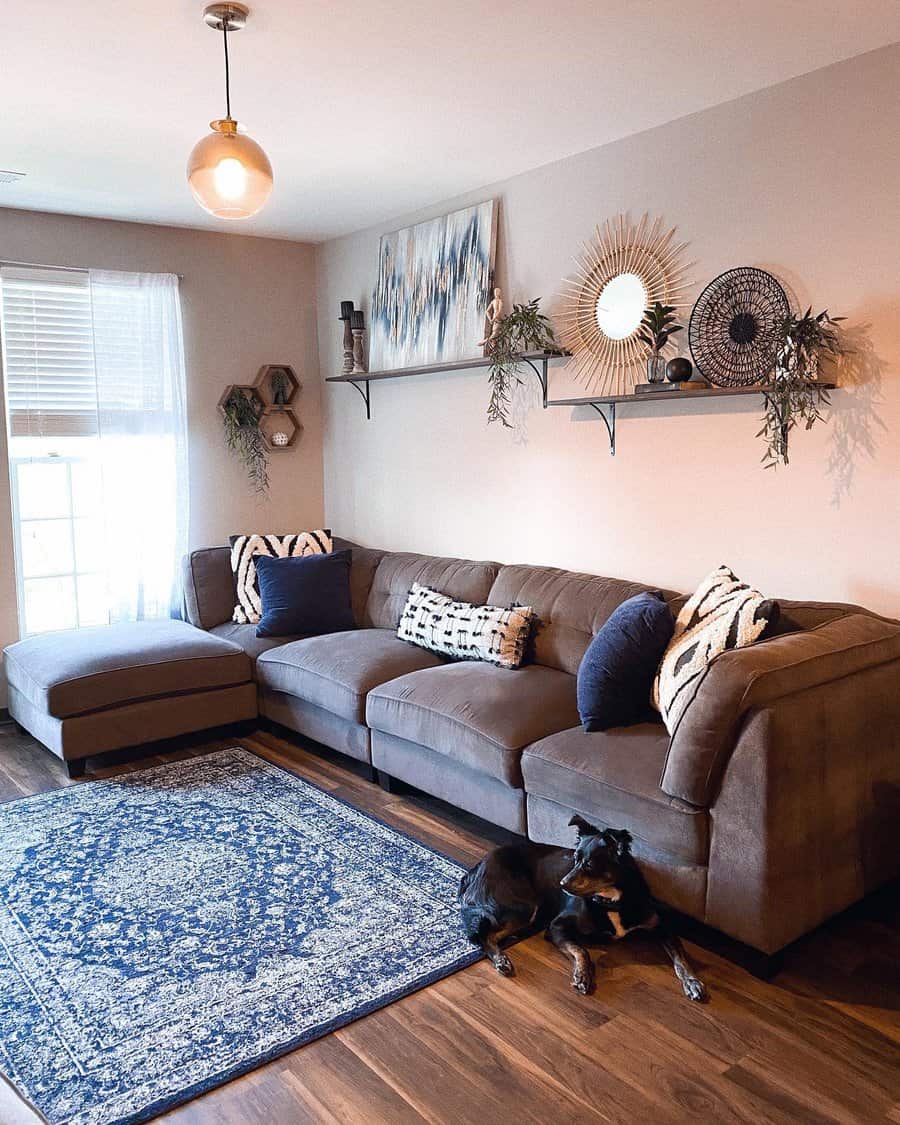 2. Choose A Standalone Lamp
If you're looking for creative lighting ideas for your living room, there are some great alternatives to ceiling light fixtures. Standalone lamps can be an attractive addition to the room and draw attention from visitors.
Floor lamps are an understated way to bring more light into a living area and can be moved around with ease. For added flexibility, consider wall-mounted lamp fixtures that can be moved around when necessary; this type of lighting allows you to adjust the amount of natural, ambient light in any space depending on the time of day and year.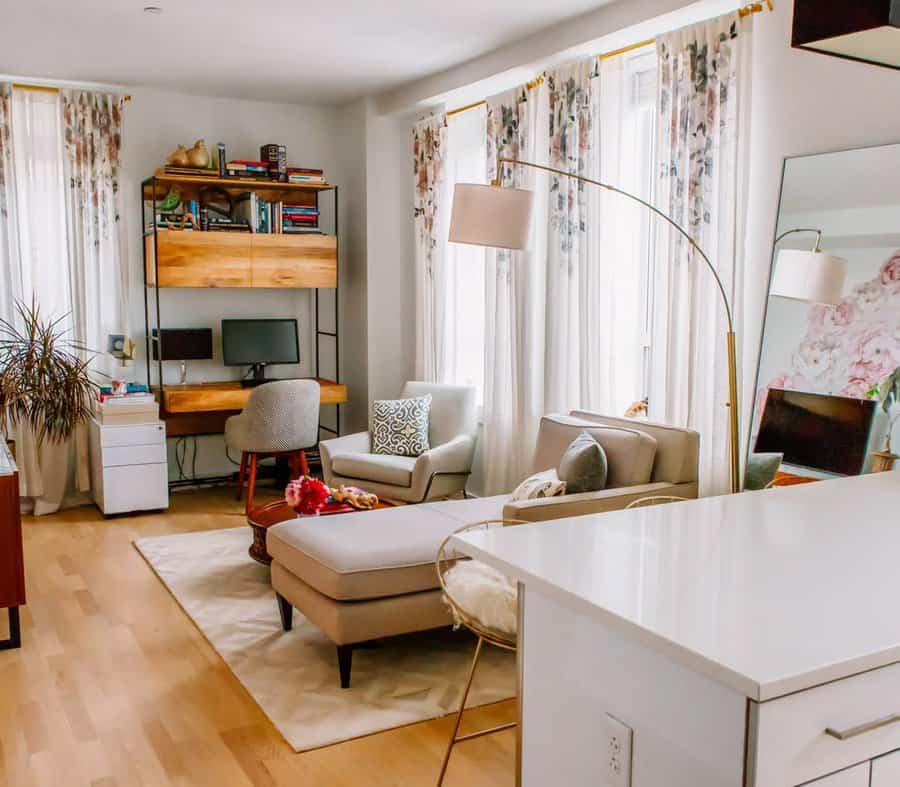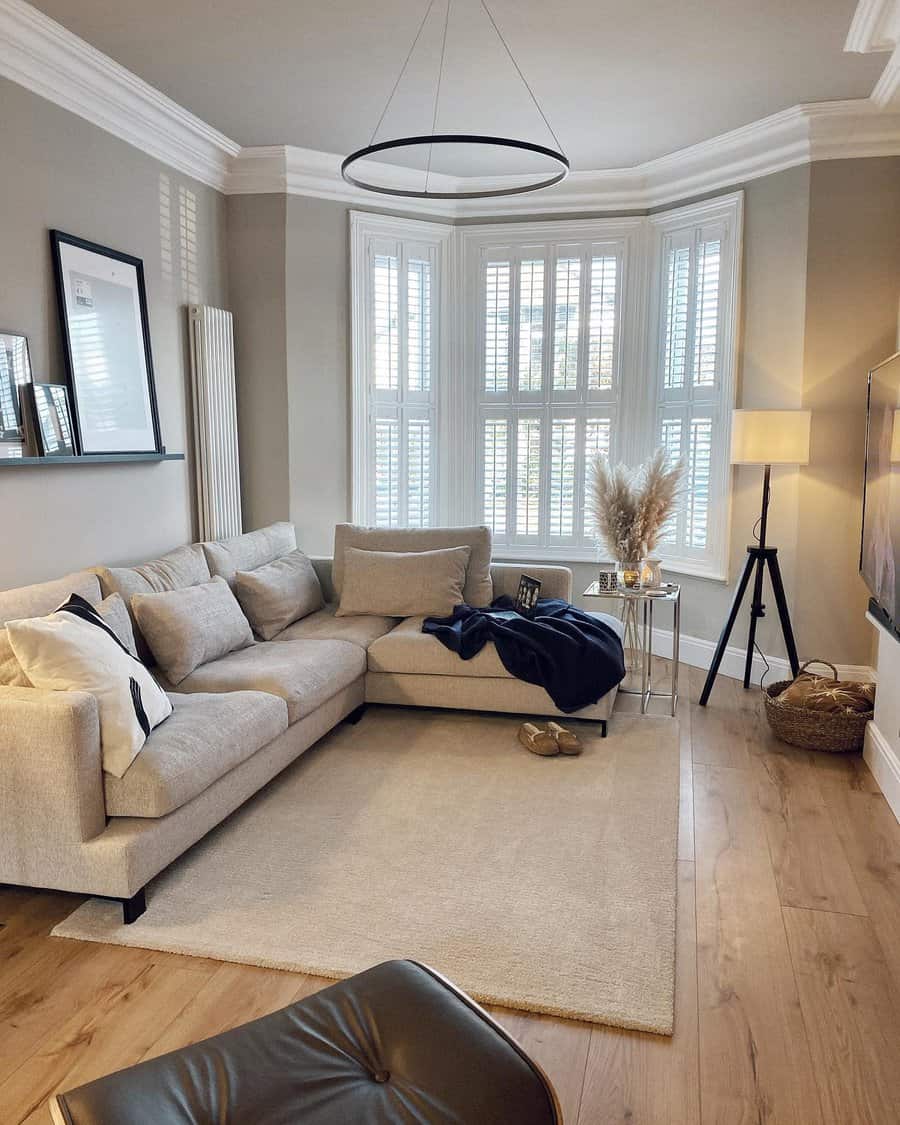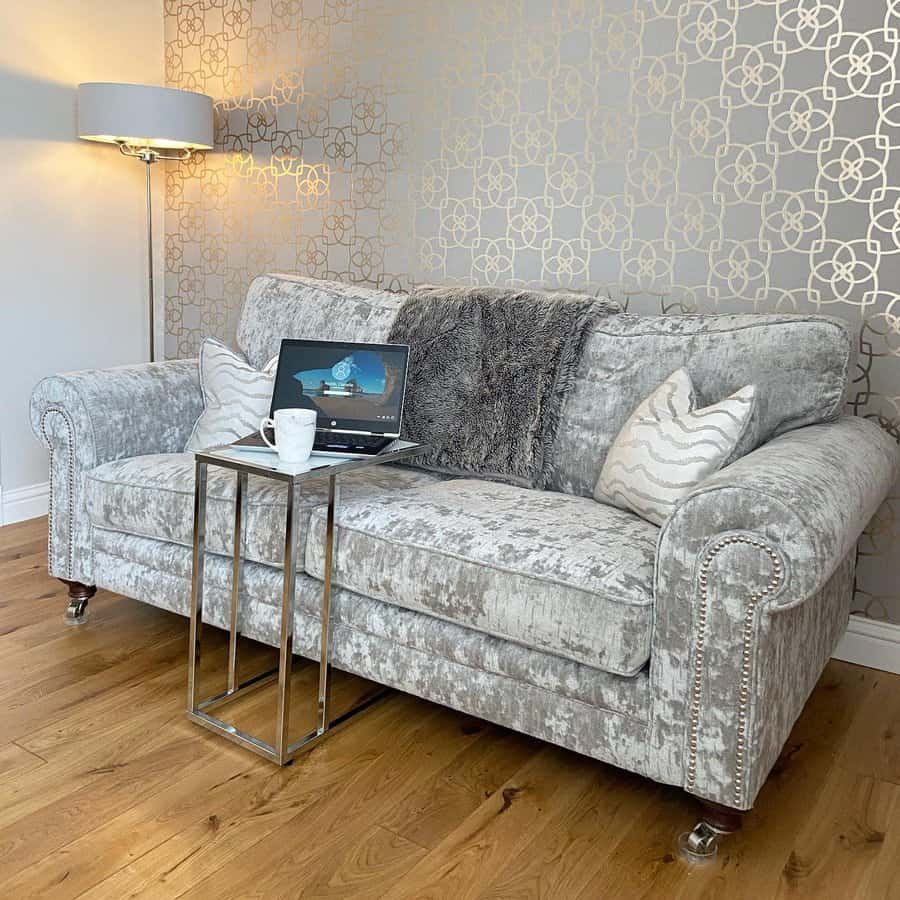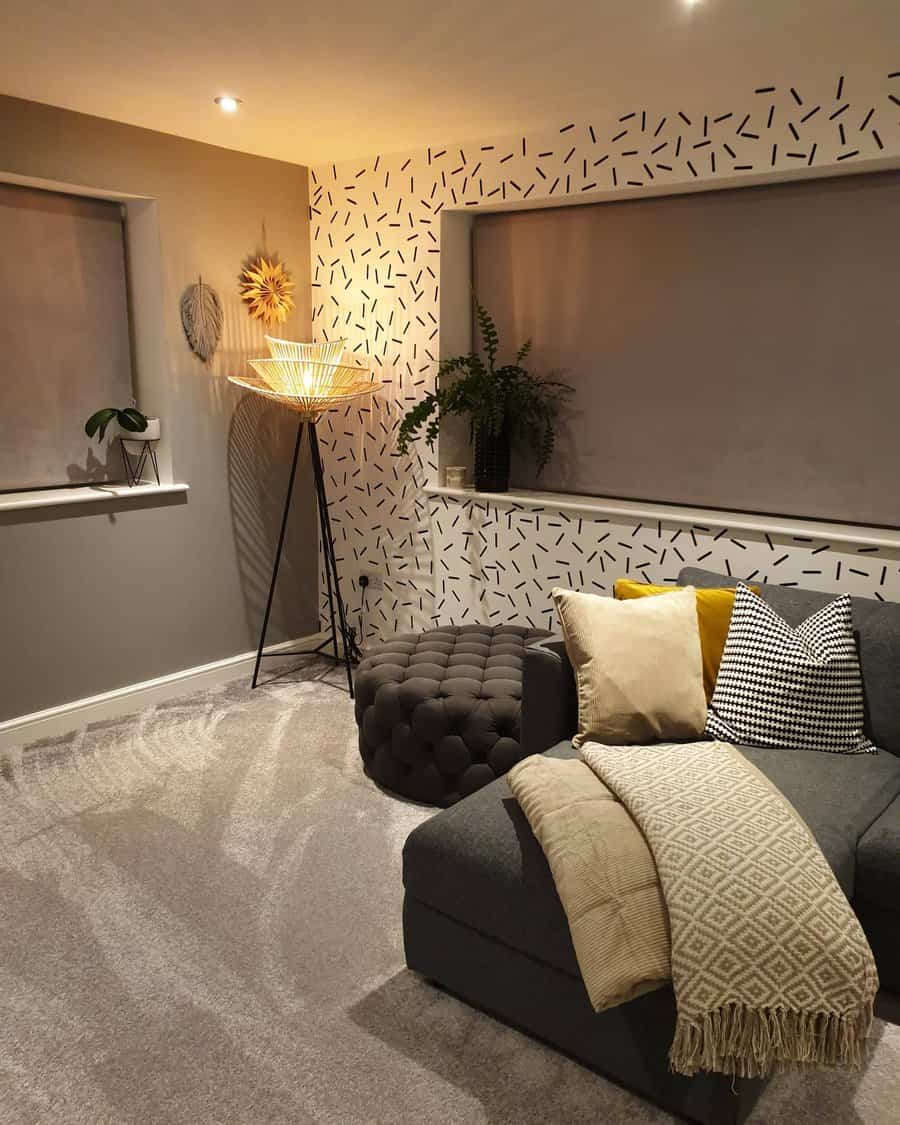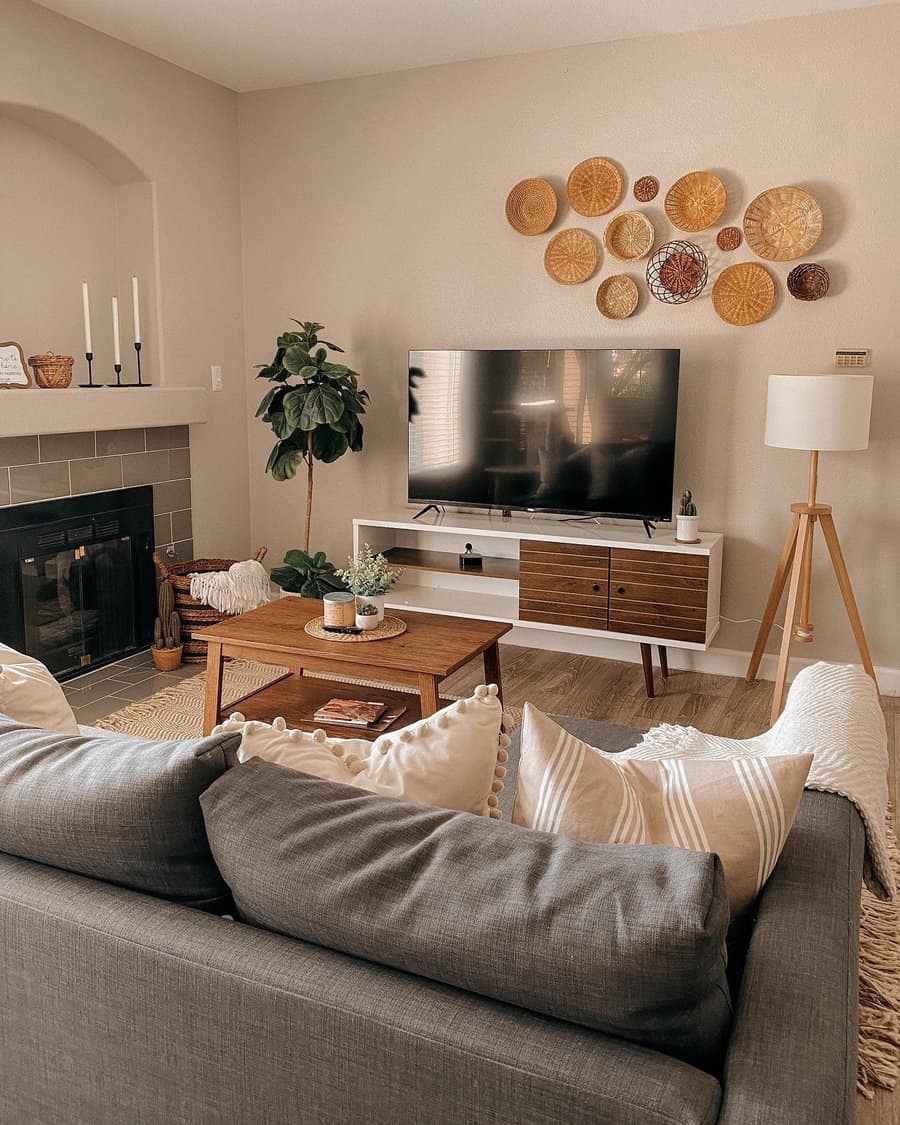 3. Go For Traditional Table Lamps
Revitalize traditional spaces with a traditional table lamp placed on either side of your favorite chair, or sides tables, and go bold with a unique standalone lamp behind your sofa. Enhance the room's atmosphere with strategically placed accent lighting, such as wall sconces or soft downlights in strategic corners.
Layering these types of lighting solutions provides an inviting and warm environment for those moments when you just want to relax and unwind.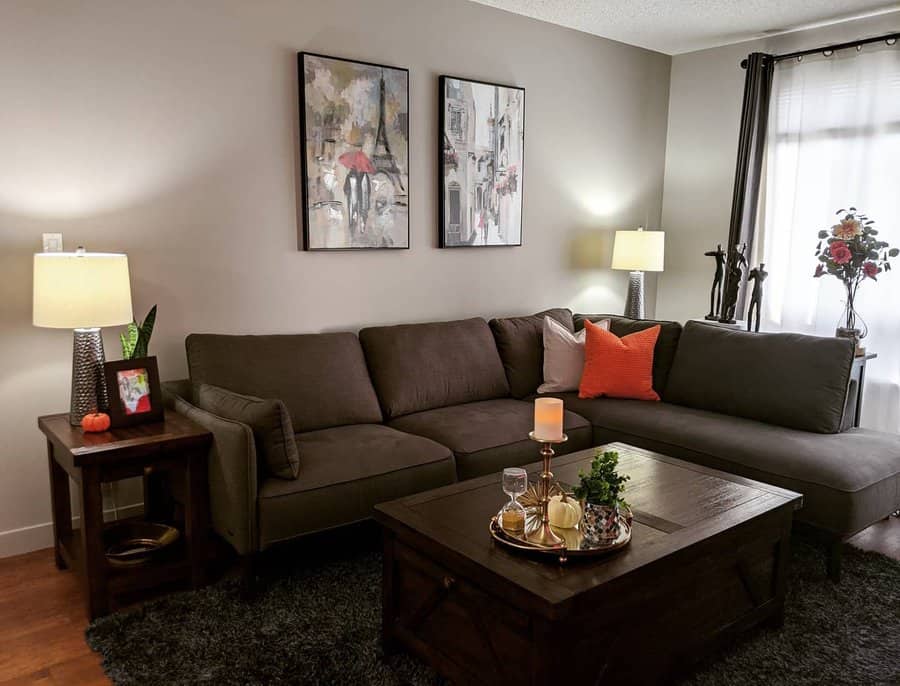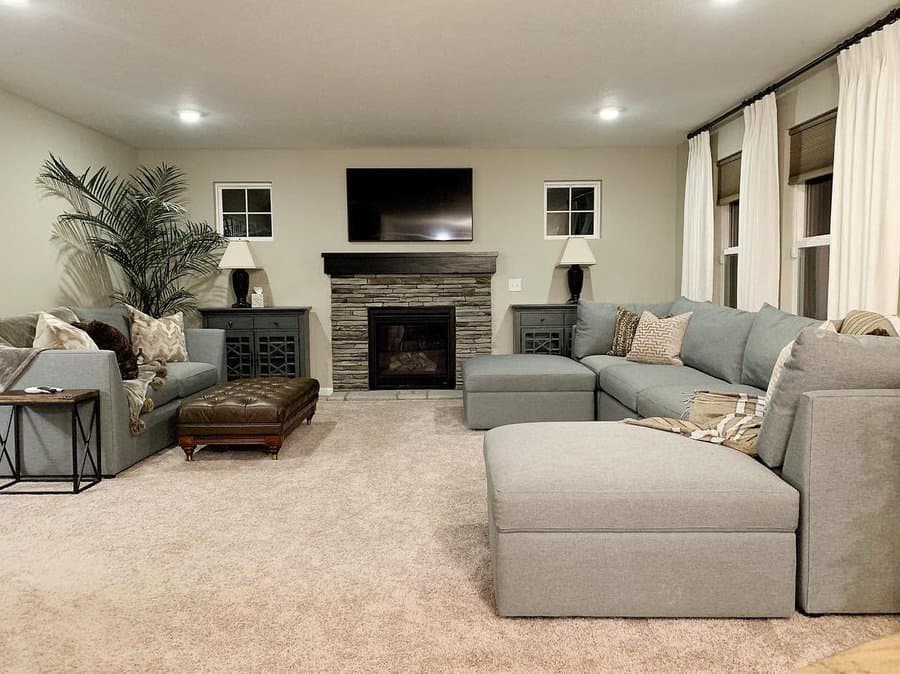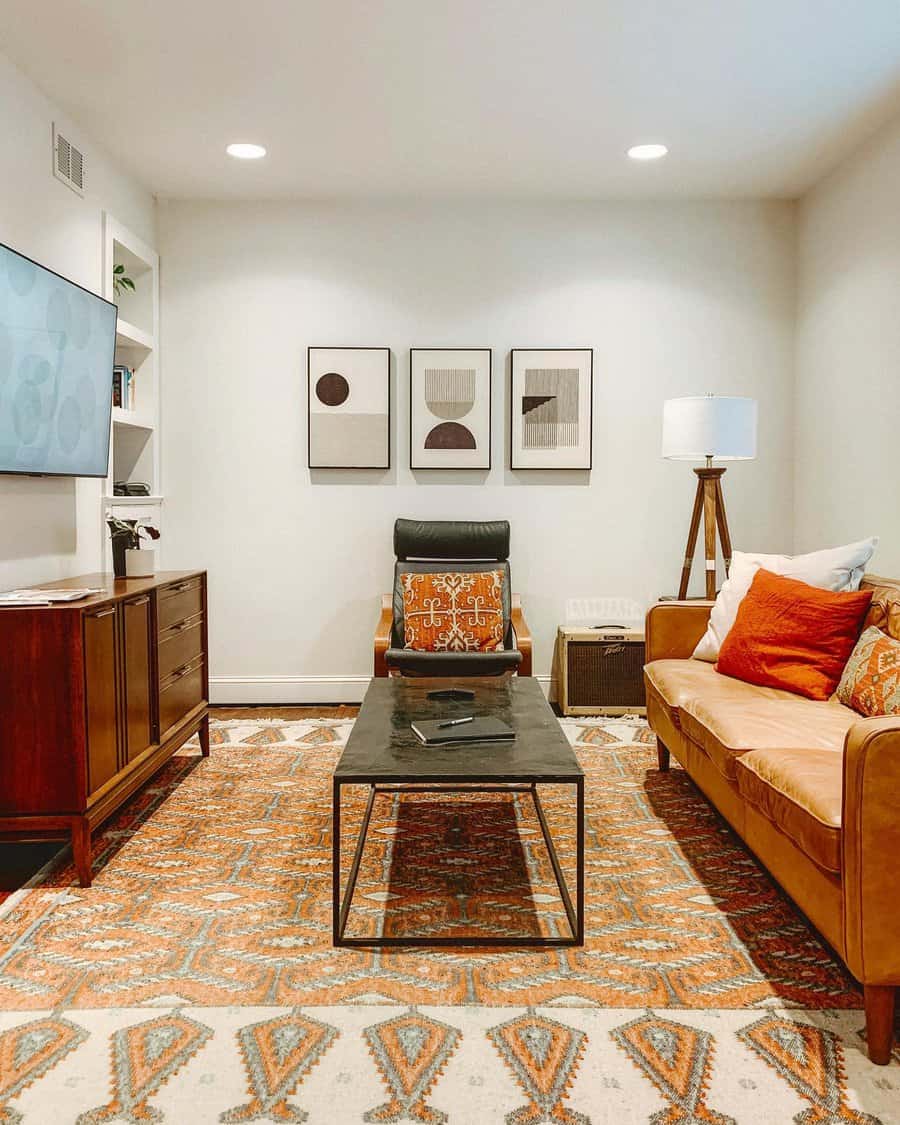 4. Diffuse The Light With Ceiling Beams
If you're looking for a creative way to light up your livingroom ceiling, consider adding ceiling beams! Not only do ceiling beams create a warm, homey atmosphere, but they can also be utilized to diffuse and disperse light from overhead lighting fixtures.
A combination of ceiling lights and indirect wall silhouettes will help ensure even illumination throughout the room while still offering a cozy atmosphere– perfect for living rooms and other gathering spaces.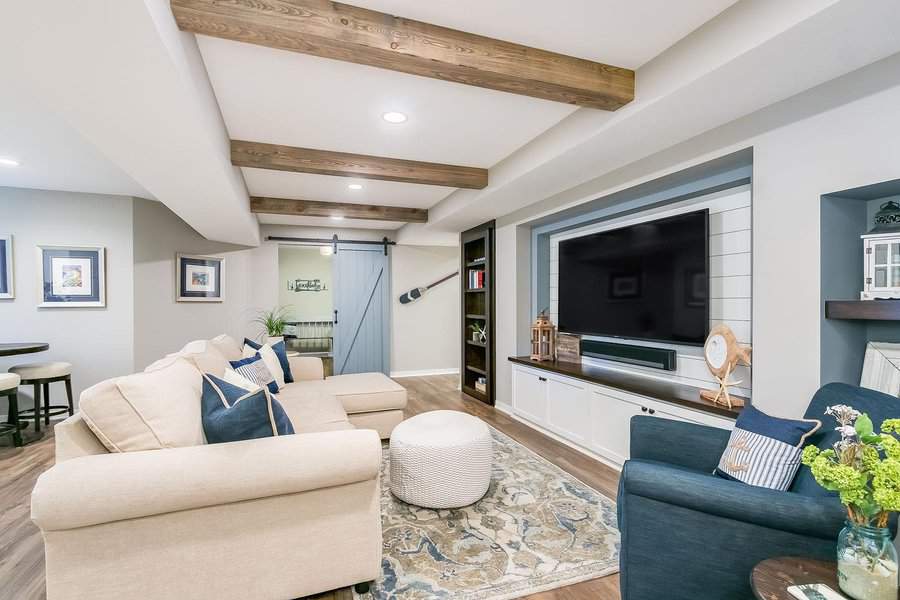 5. Transform A Room With A Chandelier
When it comes to living room lighting, chandeliers are the way to go. Not only are chandeliers a timeless and chic addition to the atmosphere, but they also have the capability of being either modern or traditional depending on your specific style.
Hanging an elegant chandelier in your living room brings a luxurious feel that can't be matched. It will act as a subtle focal point, exuding sophistication and class. When it comes to lighting up your living room, chandeliers won't lead you astray!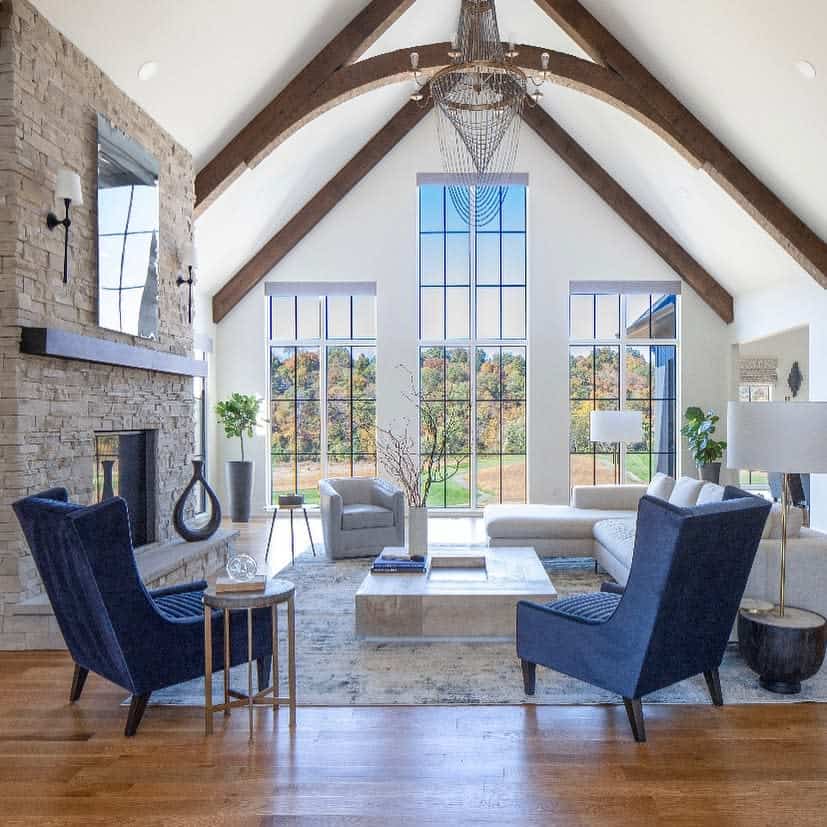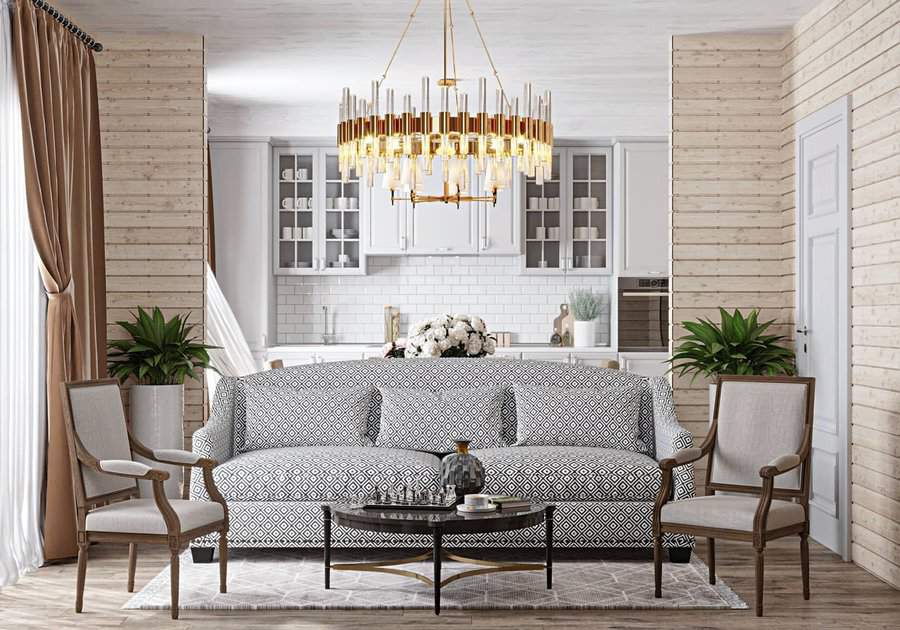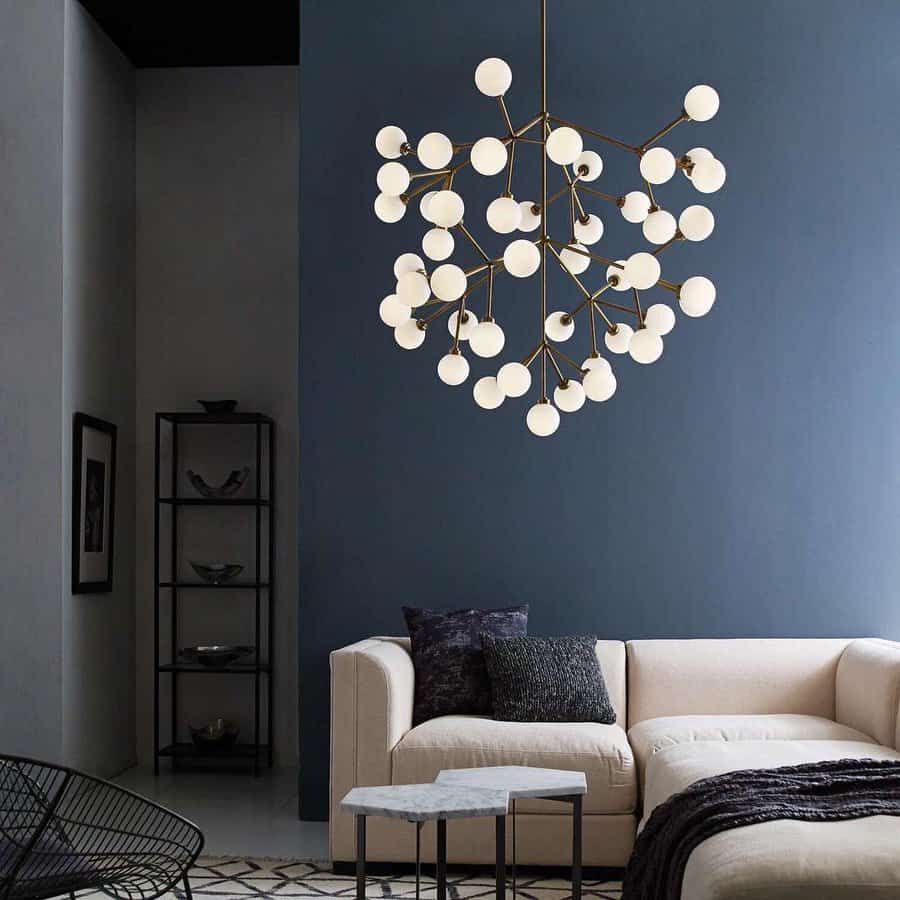 6. Stand Out With Contemporary Lighting
Light up your living space with contemporary lighting! Swapping out old, outdated lights with something more versatile and modern can let your living room shine in a whole new light. Whether you prefer clean lines or bold designs, contemporary lighting fixtures offer an elegant look that will bring instant sophistication to any room.
Not only does contemporary lighting add chic elegance, but it also illuminates the room to various degrees of darkness and brightness that make creating a comfortable atmosphere much easier. So go ahead and give yourself a living space transformation with contemporary lighting!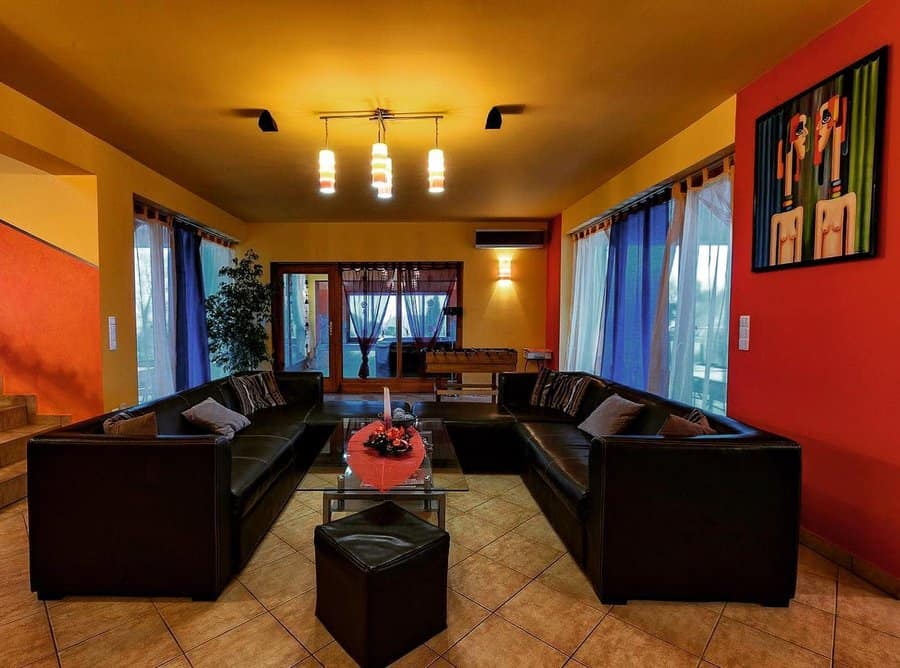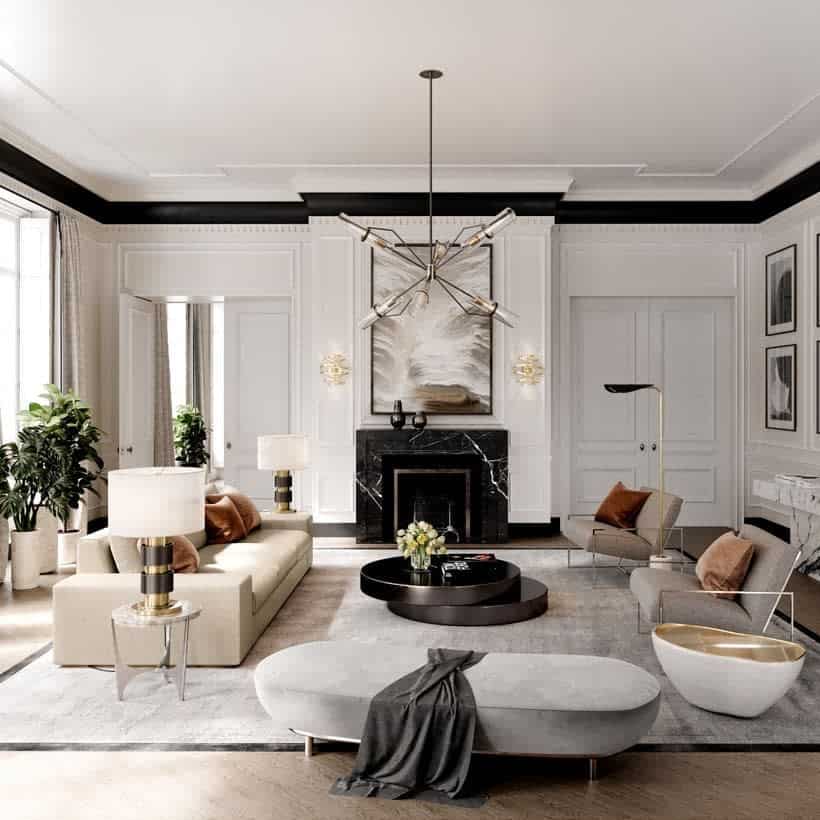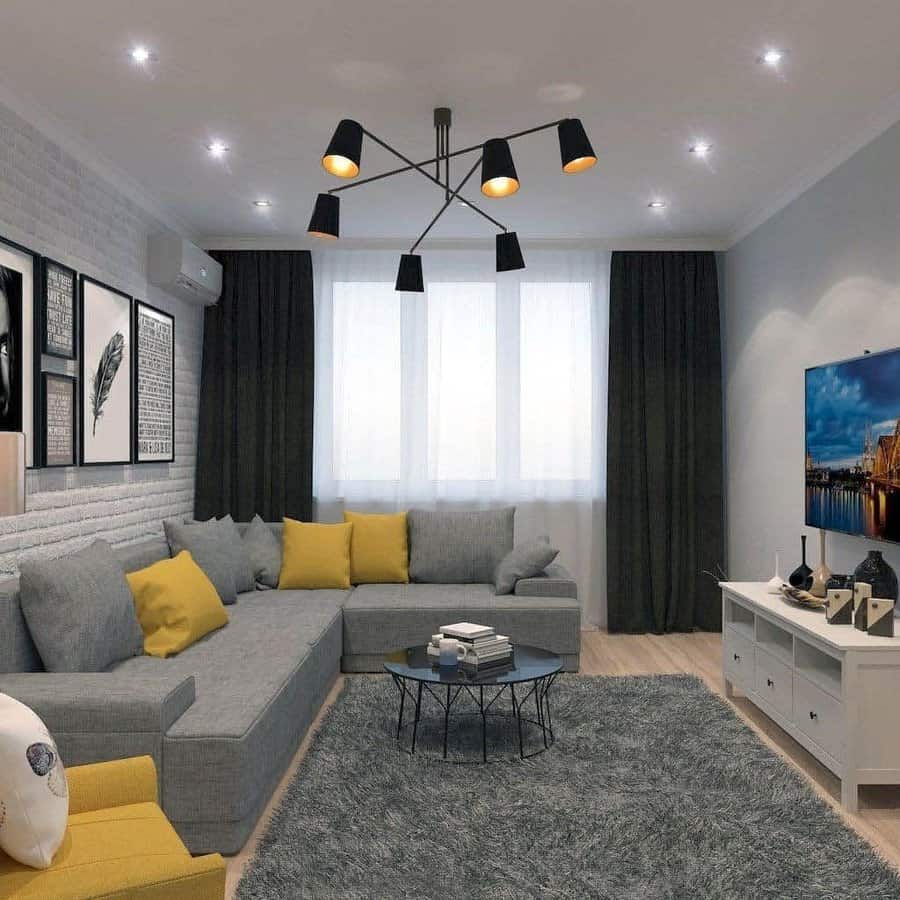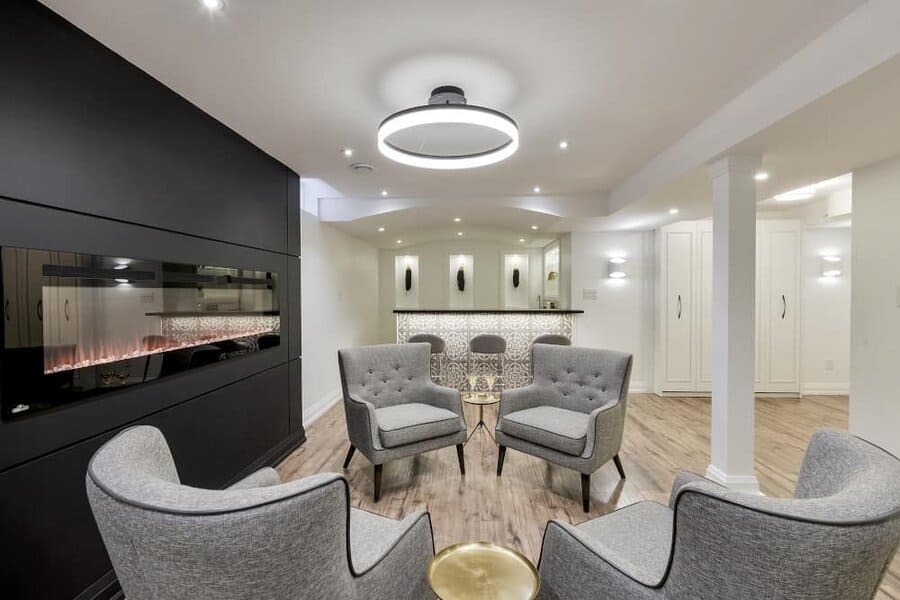 7. Be Creative With Natural Resources
If you're looking for an effortless way to bring a rustic touch to your living room, wrap lights around a treated wood slab for creating an easy and beautiful lighting feature. This simple DIY trick will give your space a warm and cozy atmosphere that is perfect for unwinding during the evening hours.
For a more dramatic effect, add some texture by placing greenery around the base of the wooden centerpiece. Not only will you love the elegant look of this rustic setup, but it's also budget-friendly and surprisingly easy to achieve.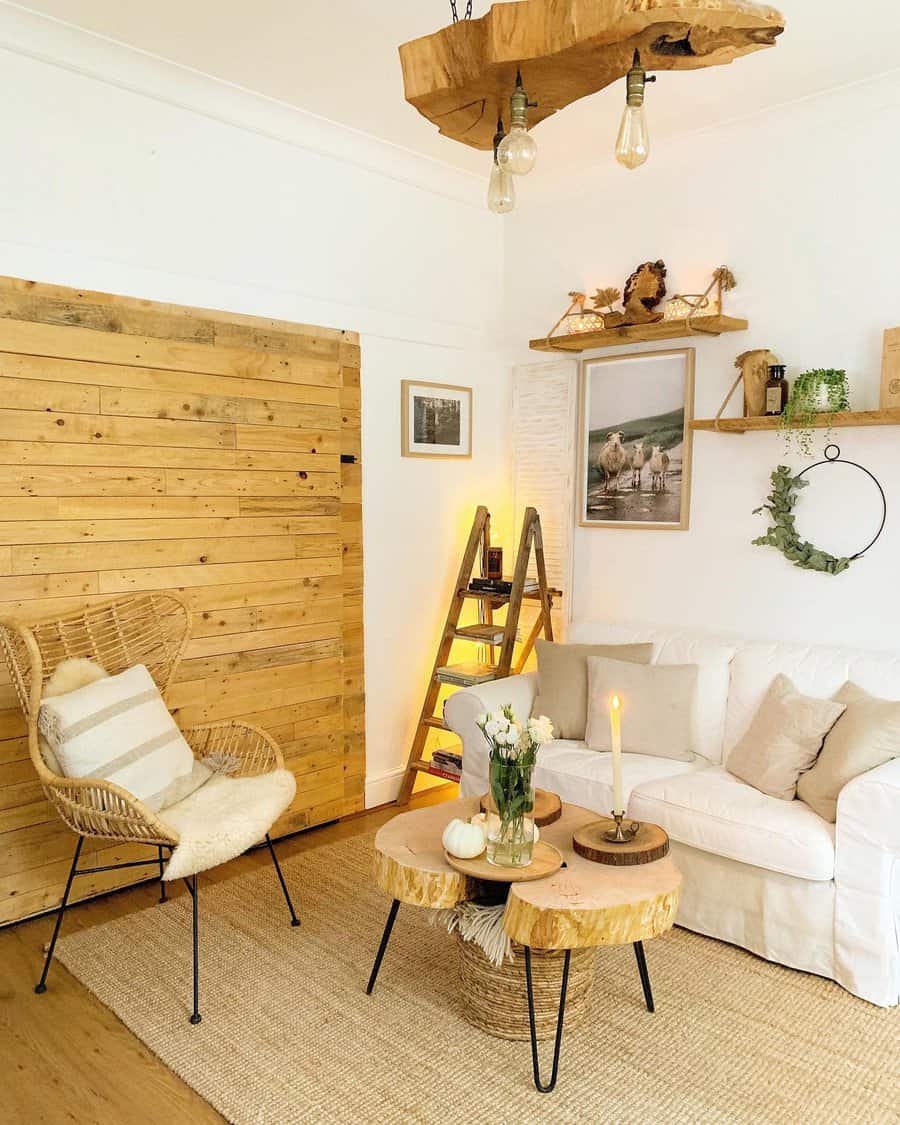 8. Go For Gold Fixtures
Lighting chosen for a living room can transform the atmosphere of the room, and there is no better way to do that than with lighting fixtures that include gold. The warmth of gold lighting fixtures brings an extra element of comfort and luxury to any space it is placed in while adding modern flair with its light reflective properties.
An immaculate combination of style and practicality, lighting with gold fixtures changes the game for lighting design in a living room. Look for smart lighting solutions coupled with unique styles to maximize the potential of this eye-catching choice. Transform your living space today with gold lighting fixtures!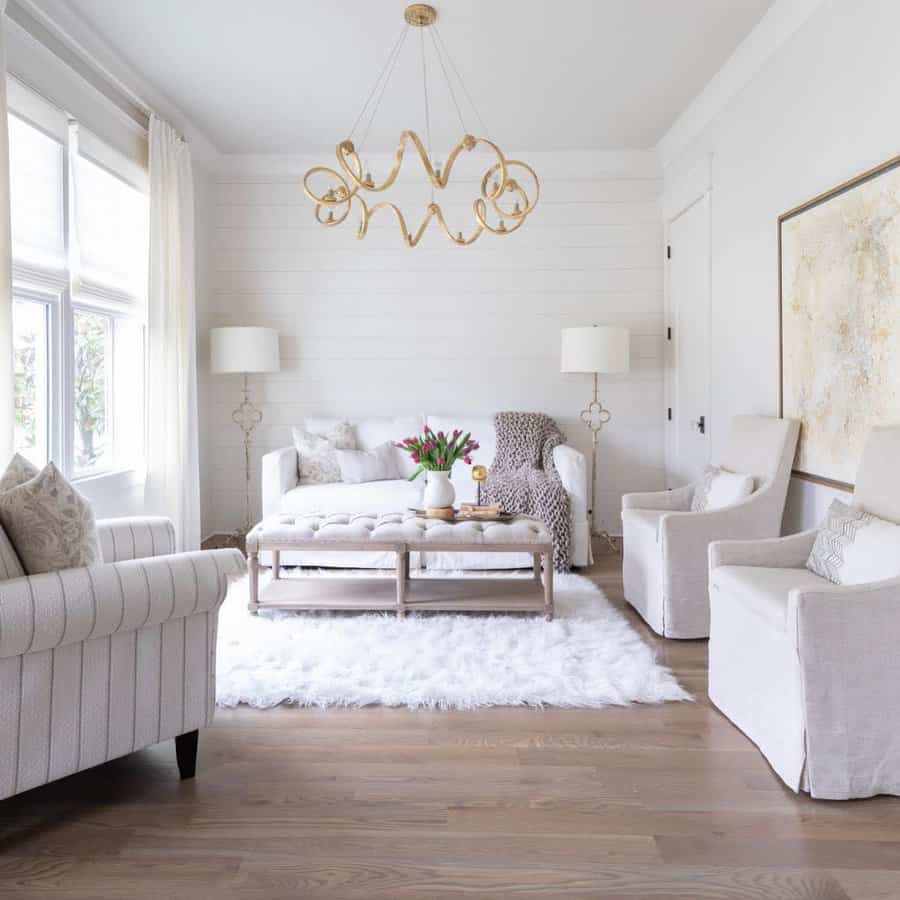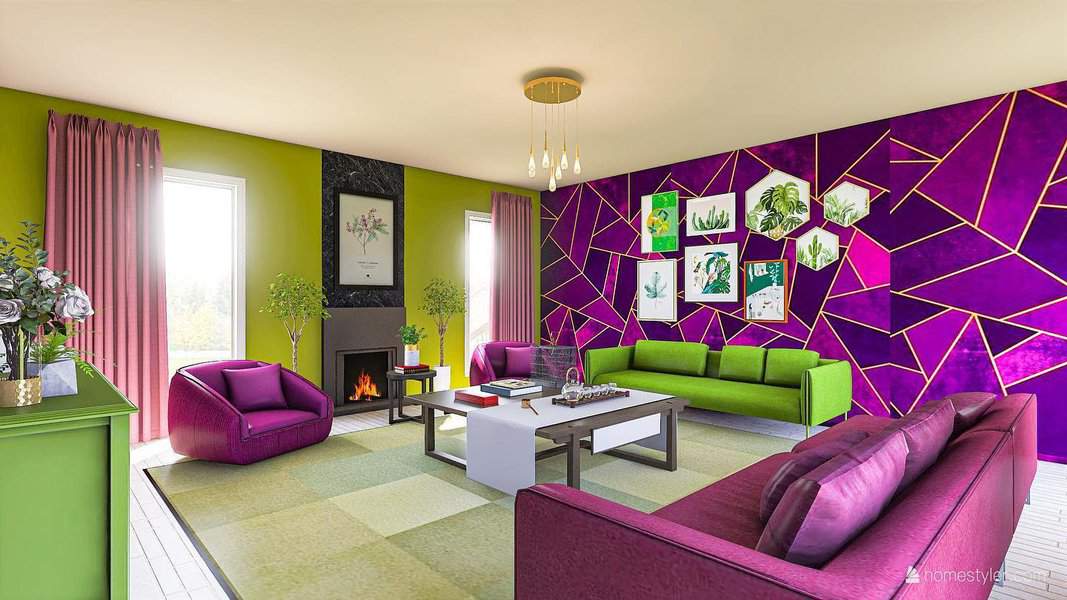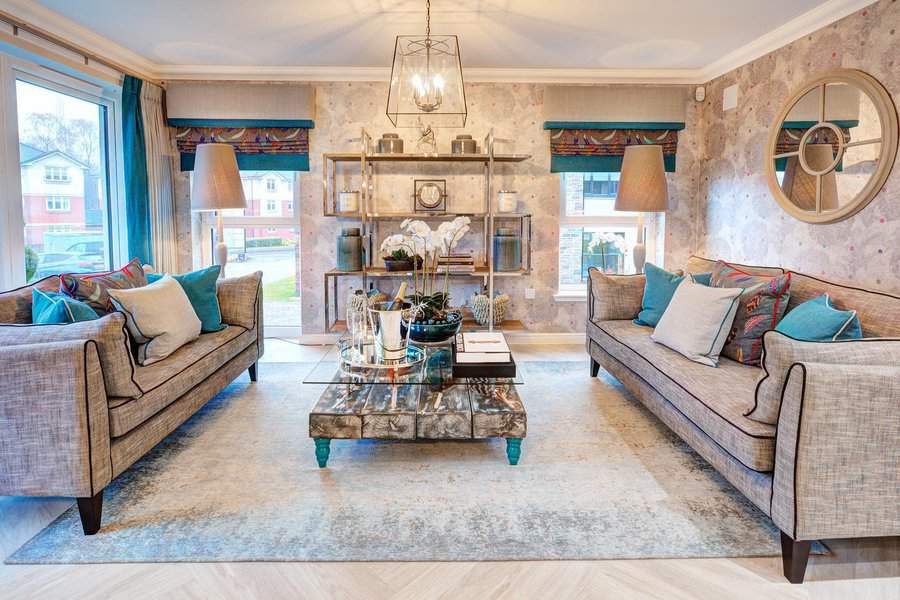 9. Wagon Wheel Chandelier For A Farmhouse Look
For a classic farmhouse-style living room, wagon wheel chandeliers are the perfect combination of function, style, and rustic charm. Subtle and understated wagon wheel chandelier designs create an atmosphere that is both timelessly chic and cozy.
To truly complete the look and feel of your farmhouse-style living room, pick lighting fixtures that feature elaborate designs with intricate details and plenty of charm.
Whether you're looking for a wagon wheel chandelier with a traditional twist or something more avant-garde, there is no shortage of stylish options to light up your living space in rustic elegance.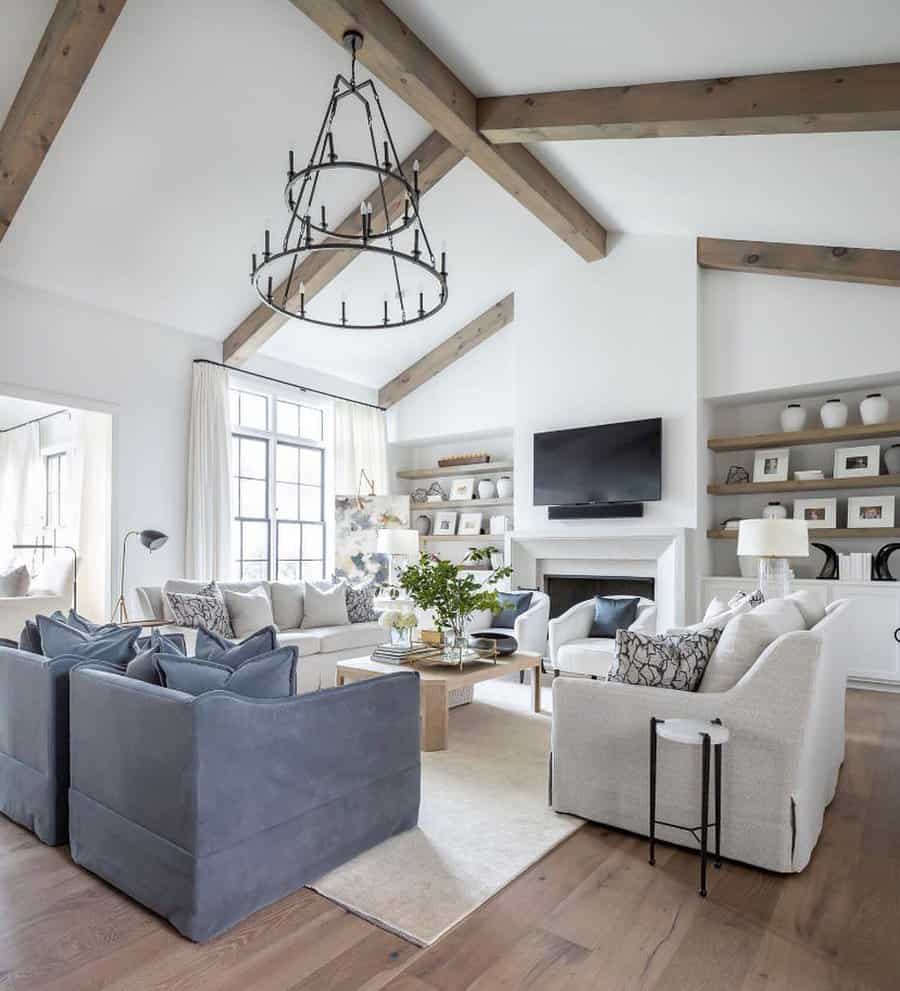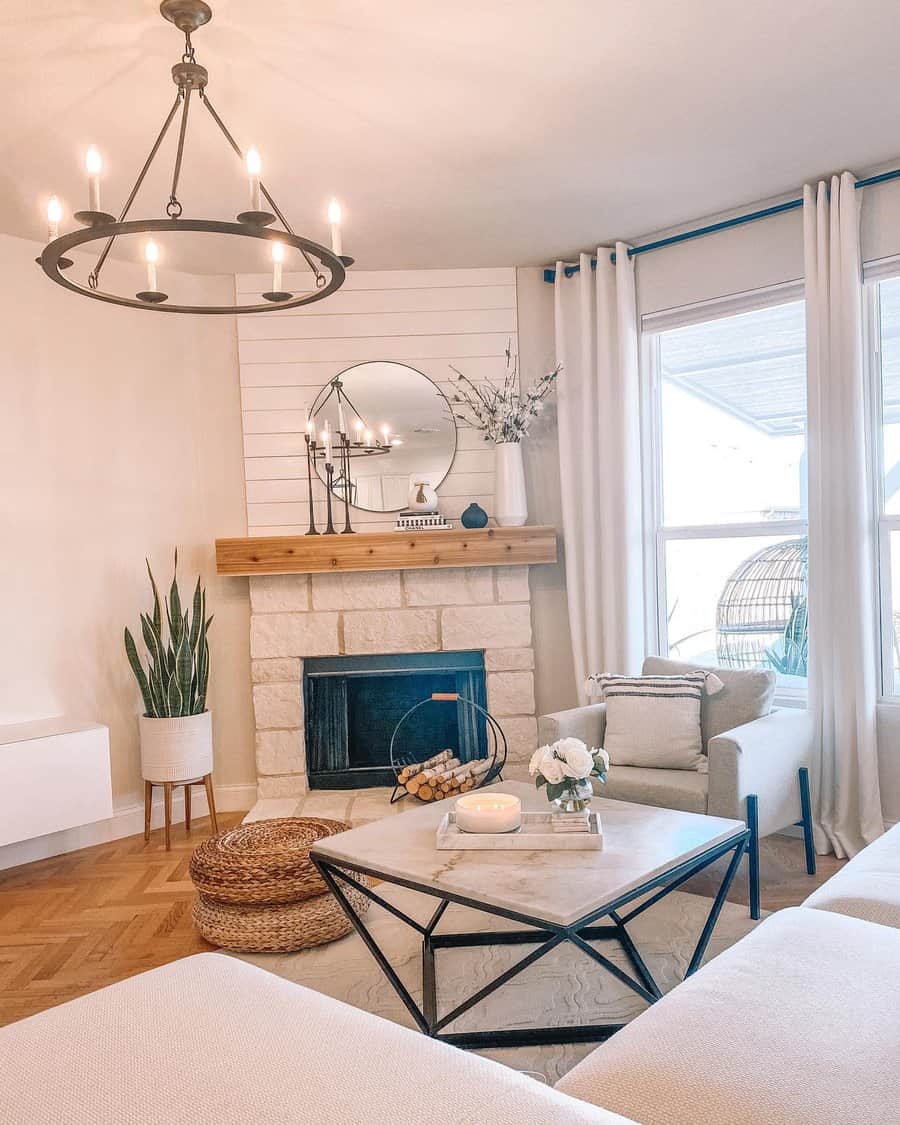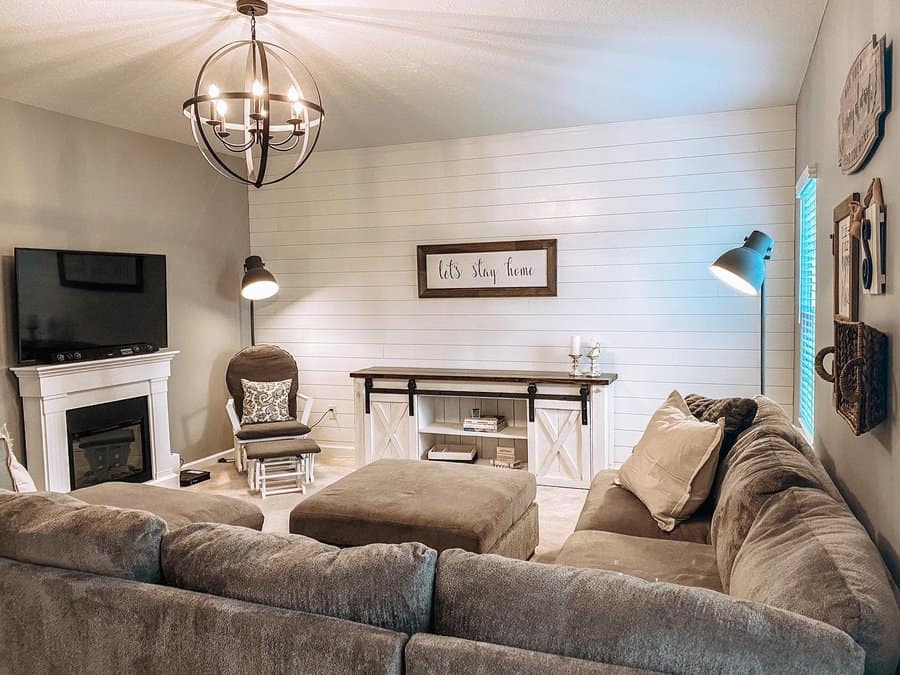 10. Simple Recessed Lighting
Upgrading your living room with simple recessed lighting can make a huge difference. Not only will the light itself add a touch of warmth and atmosphere, but it can also help highlight other features in the room, such as artwork or rugs.
Reimagining the lighting scheme to focus on simple recessed lighting allows you to create an inviting atmosphere where you and your guests feel comfortable and welcome. It's also possible to use dimmer switches to adjust the amount of light within the room based on the time of day or type of occasion.
With simple changes in how you manage your light, you can revolutionize how comfortable and inviting your living room is!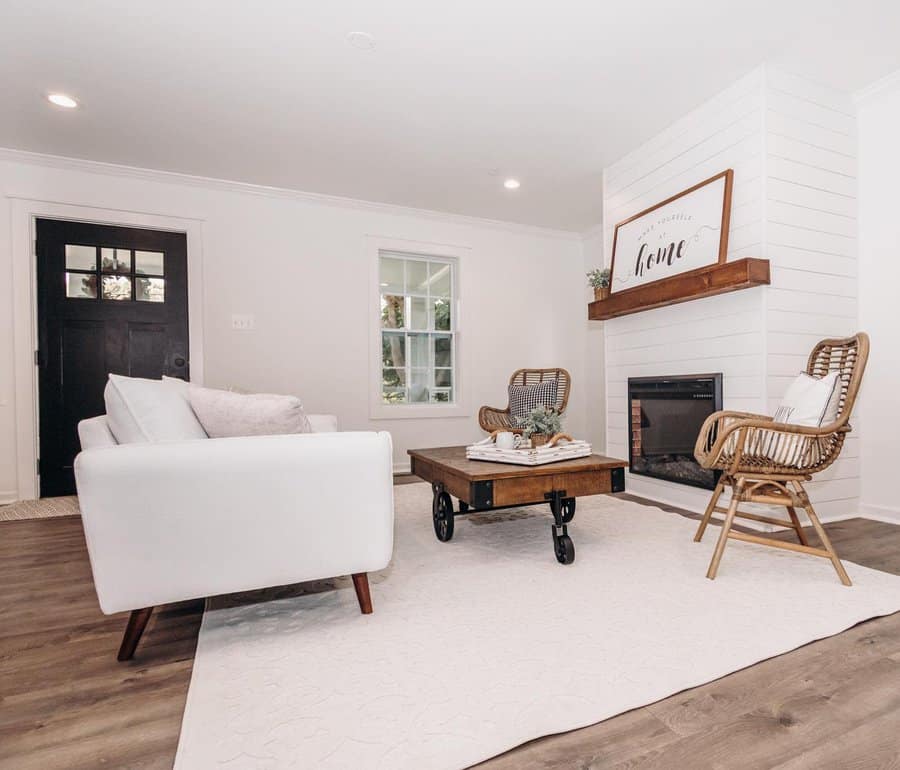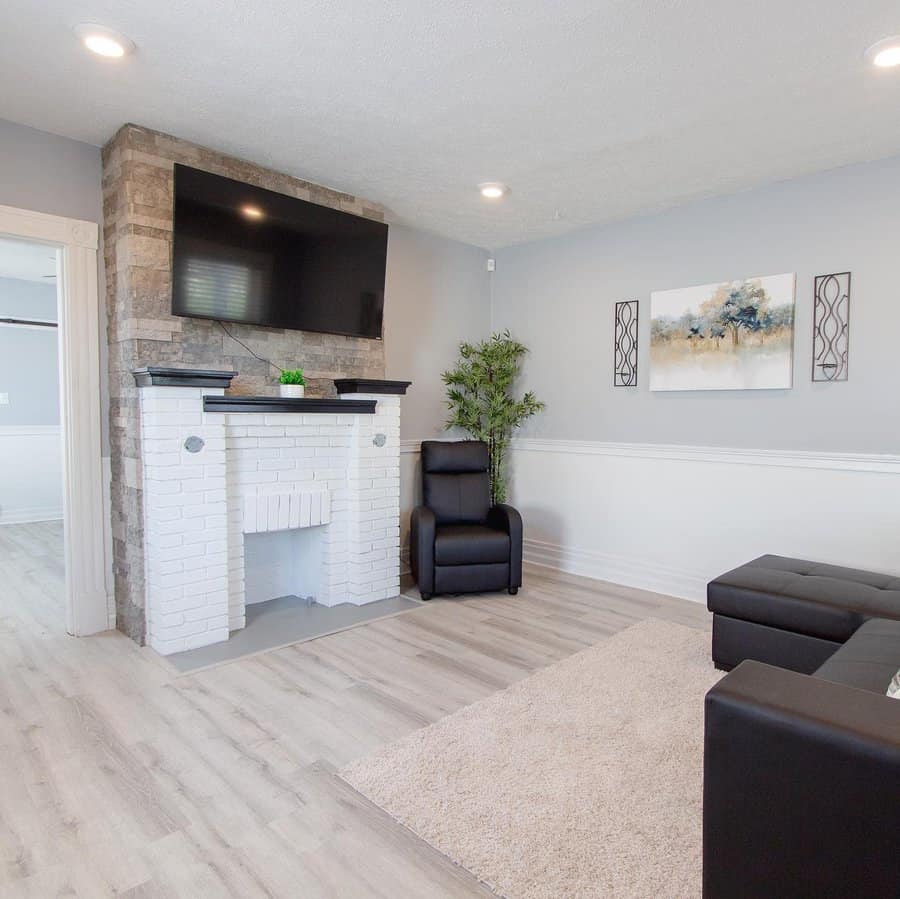 11. Ceiling Fan With Pendant Lighting
It's time to shed some light on your living room! Whether you want to create a cozy ambiance or explore brighter, energizing styles, a ceiling fan with pendant lighting is the perfect choice for adding both aesthetic charm and function.
This popular ceiling accent combines a ceiling fan with an eye-catching chandelier featuring various amounts of hanging lights that are connected by slender metal arms. If you're looking to inject layers of style and purpose, a ceiling fan with pendant lighting offers it all – subtle but effective!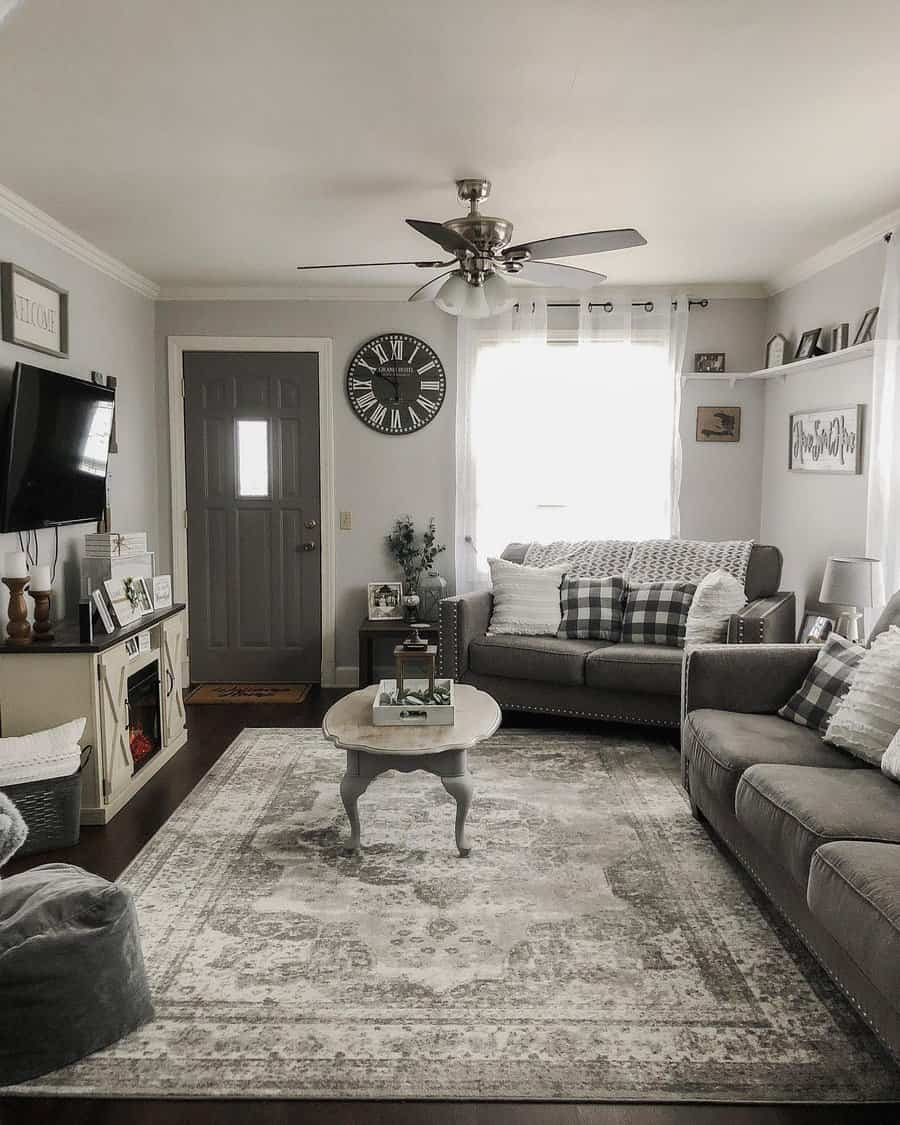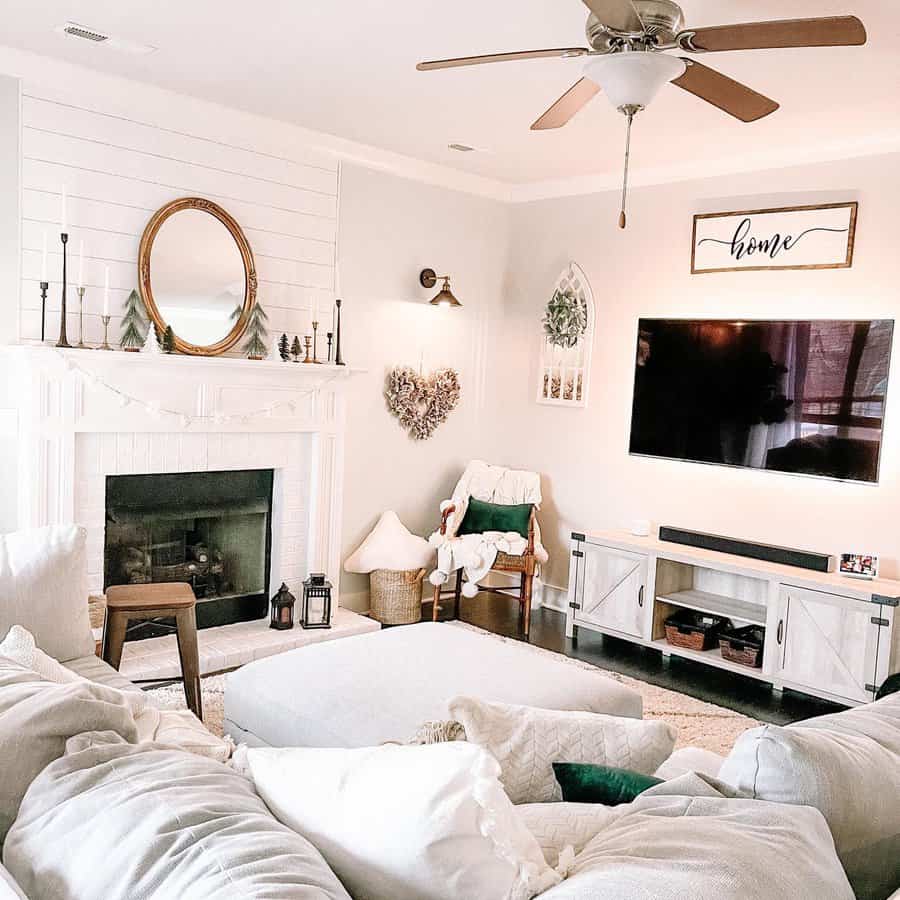 12. Wrap Around Lights For An Industrial Edge
Add an edgier, more industrial look to your living room with hanging wrap-around lights. This type of raw, rugged lighting is great for creating a modern and sophisticated industrial interior. Not only does it provide you with quality illumination, but it also lends a unique charm and personality to the space.
Whether hanging from a single ripple or in combination with other hanging light fixtures, these hanging wrap-around lights are sure to add the perfect finishing touches to any industrial living room.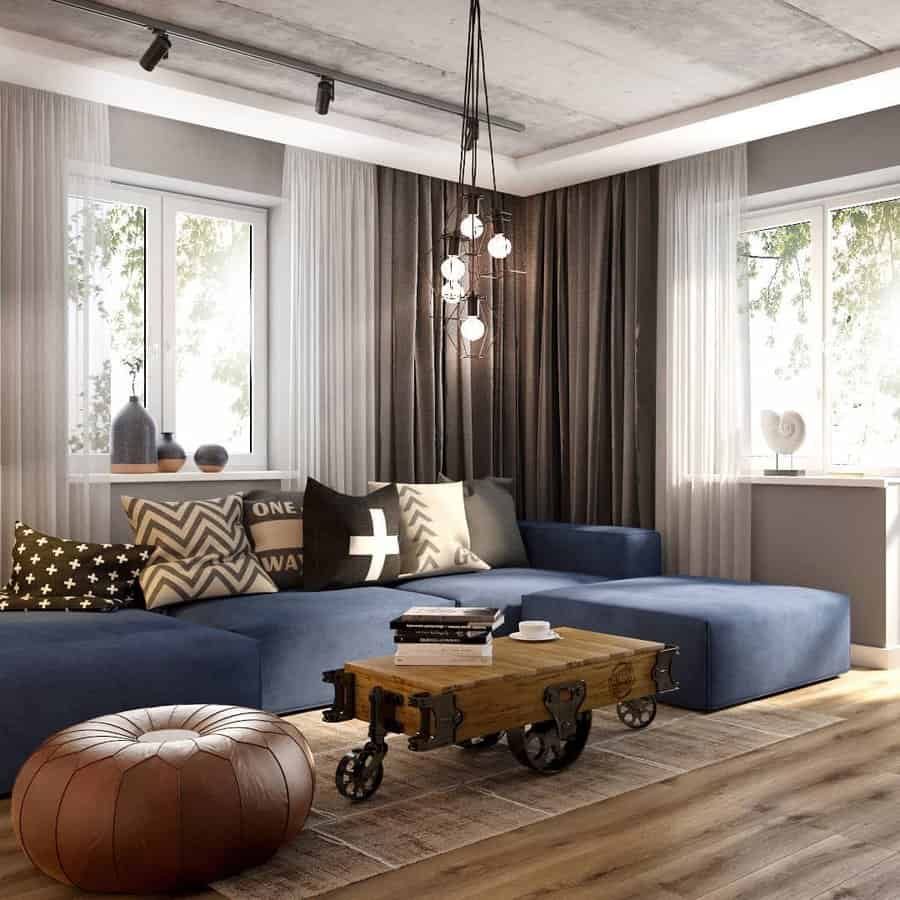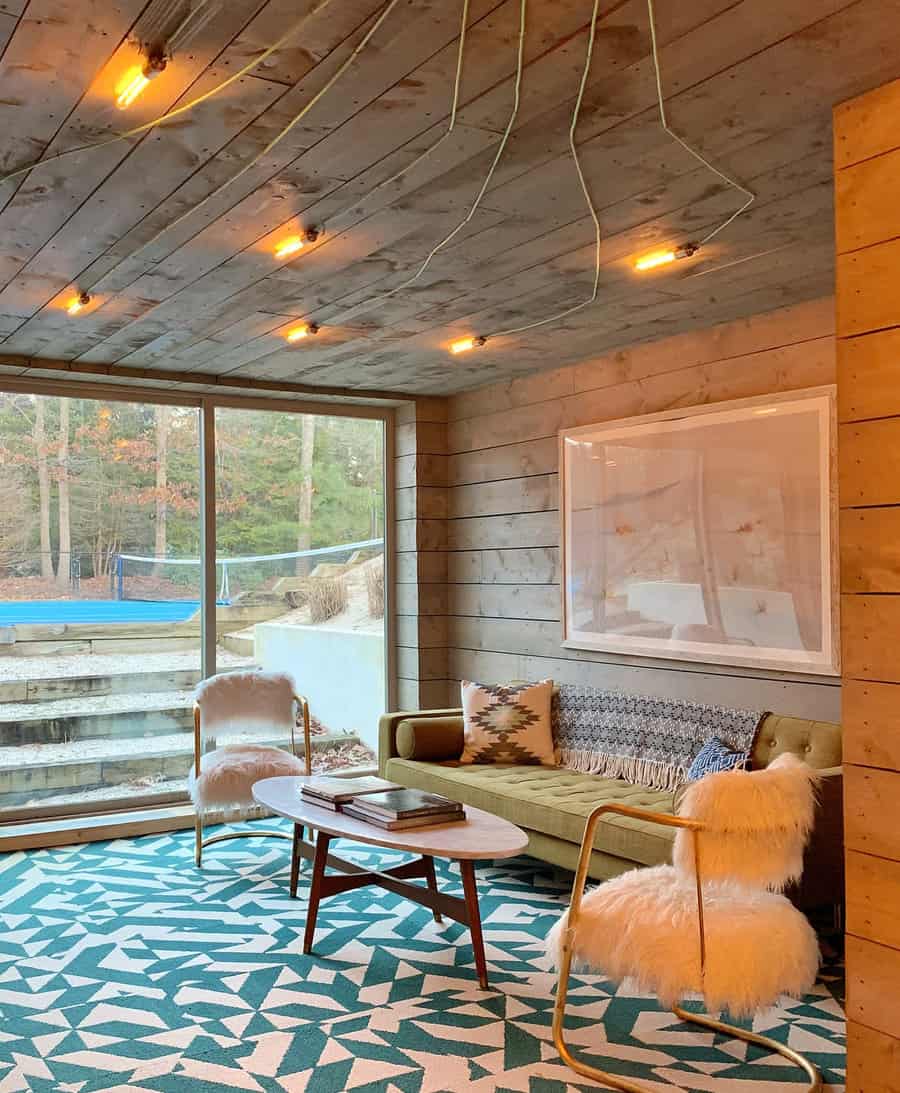 13. Drop Lights For A Dramatic Flair
Looking for a way to add a touch of drama to your living room? Try drop lights! Lighting from above adds an element of seriousness and sophistication – perfect for more formal gatherings. Plus, drop lights are also a great way to highlight your favorite pieces of art or furniture in the room, adding plenty of character and charm.
For a maximum dramatic flair, consider different colored drop lights; they can create visual contrast and interest that will pull the entire look together. With drop lights, you can enjoy not just the ideal amount of light but also the perfect amount of drama!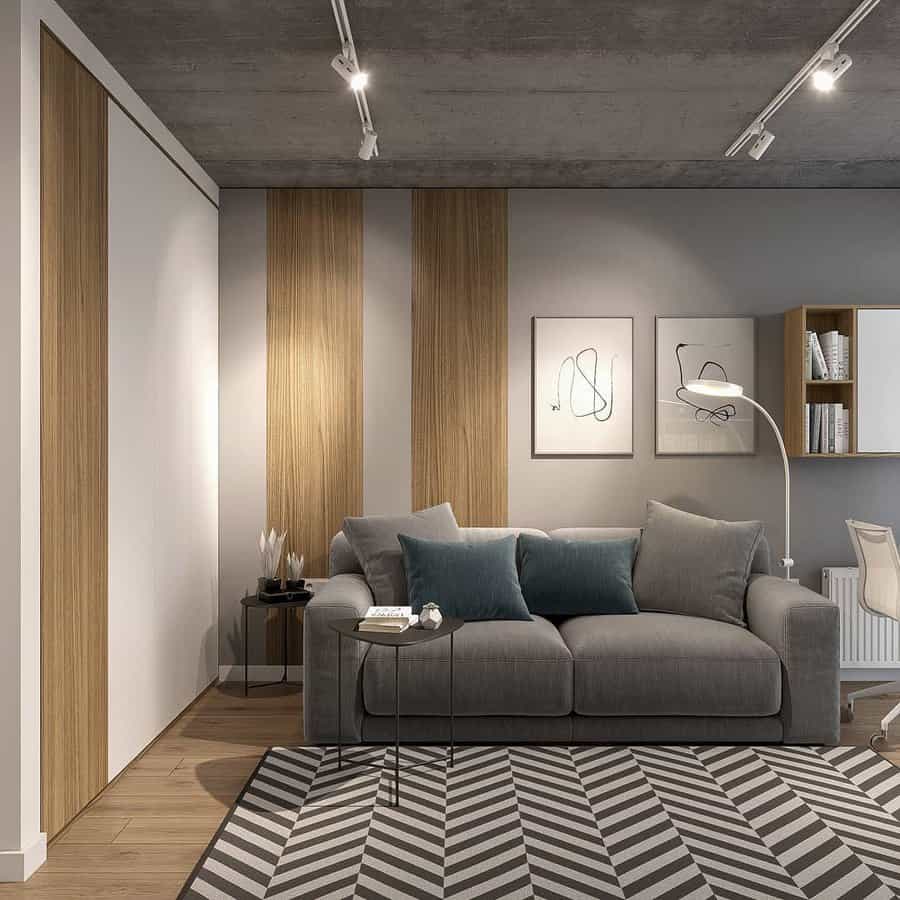 14. Oversized Statement Lighting
Boasting oversized statement lighting is a creative way to light up a large living room. Make sure your chosen oversized lighting coordinates with any existing decorations in the room. To make the oversized statement fixture stand out more, pair it with white walls and neutral furniture.
Playing with oversized statement lighting will act as an accent piece that makes a bold impression in any large room.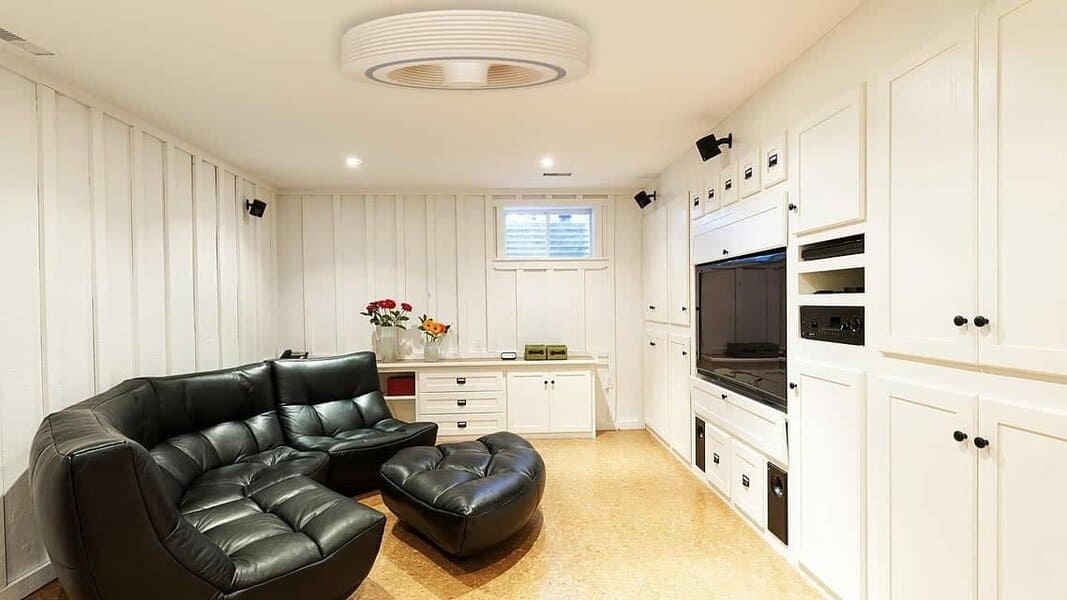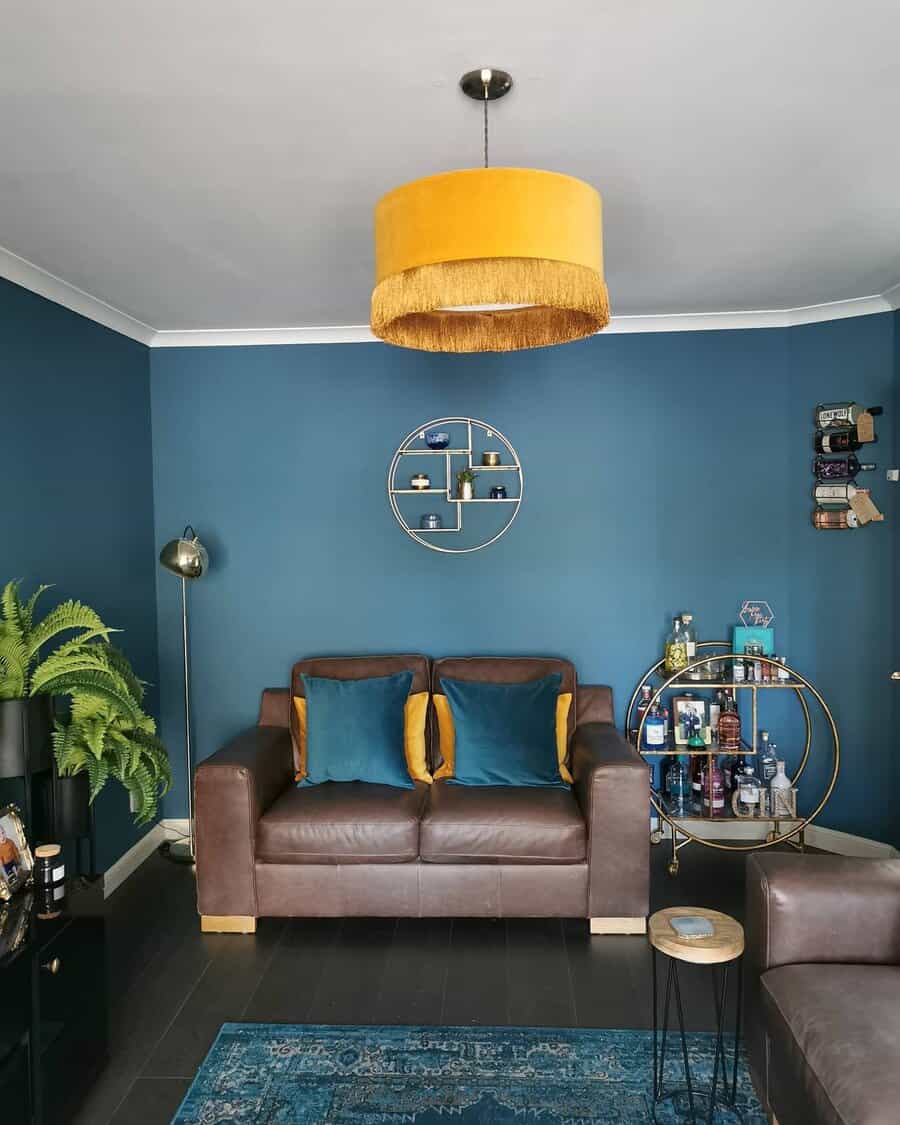 15. Sculptural & Artistic Lighting
When it comes to living room lighting, the options are vast. From sculptural floor lamps to eclectic overhead clusters of oversized artistic pendant lighting, your creative vision will be sure to come alive.
Consider adding shades of blues and greens throughout the room as a background color or incorporating bulbs in multiple colors for an interesting visual effect.
When selecting a ceiling fixture, consider making a statement with something sculptural yet out of scale – many modern pieces will do the trick! With so many choices on the market, it's easy to find the perfect piece for your living room.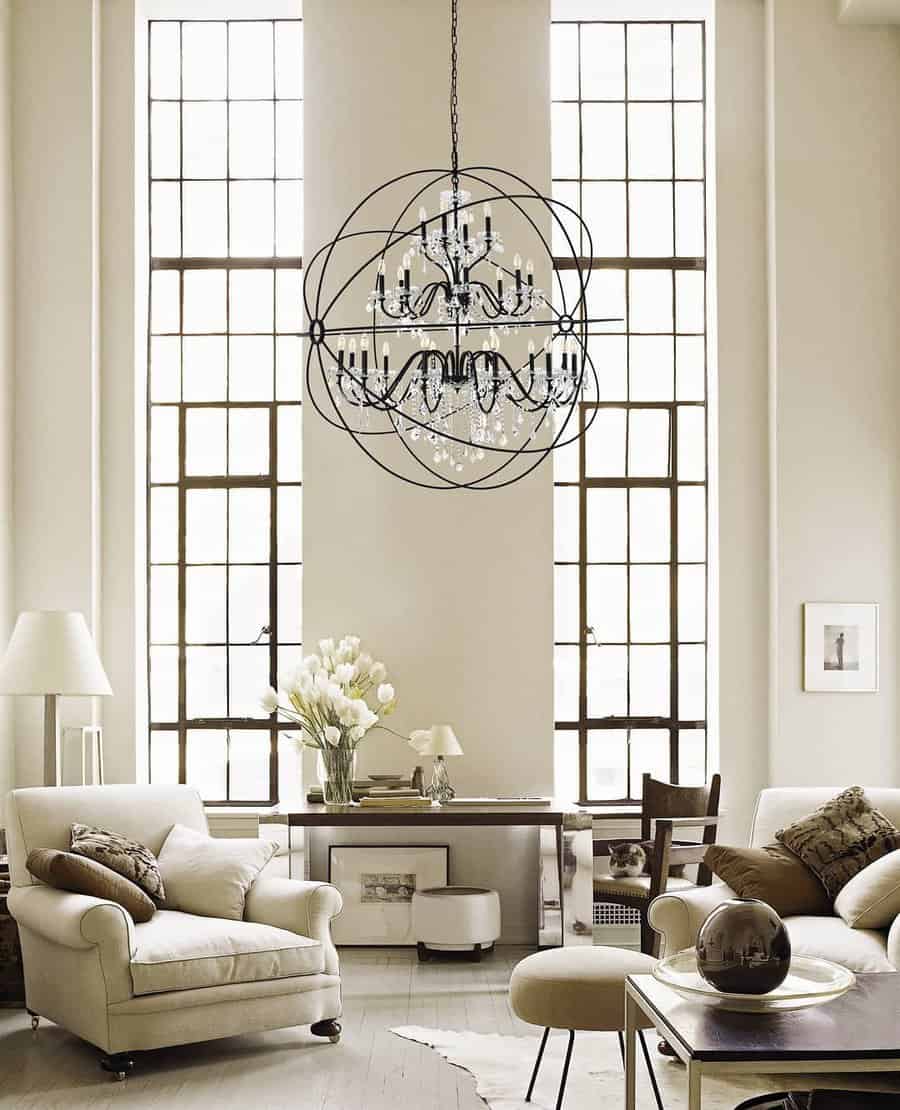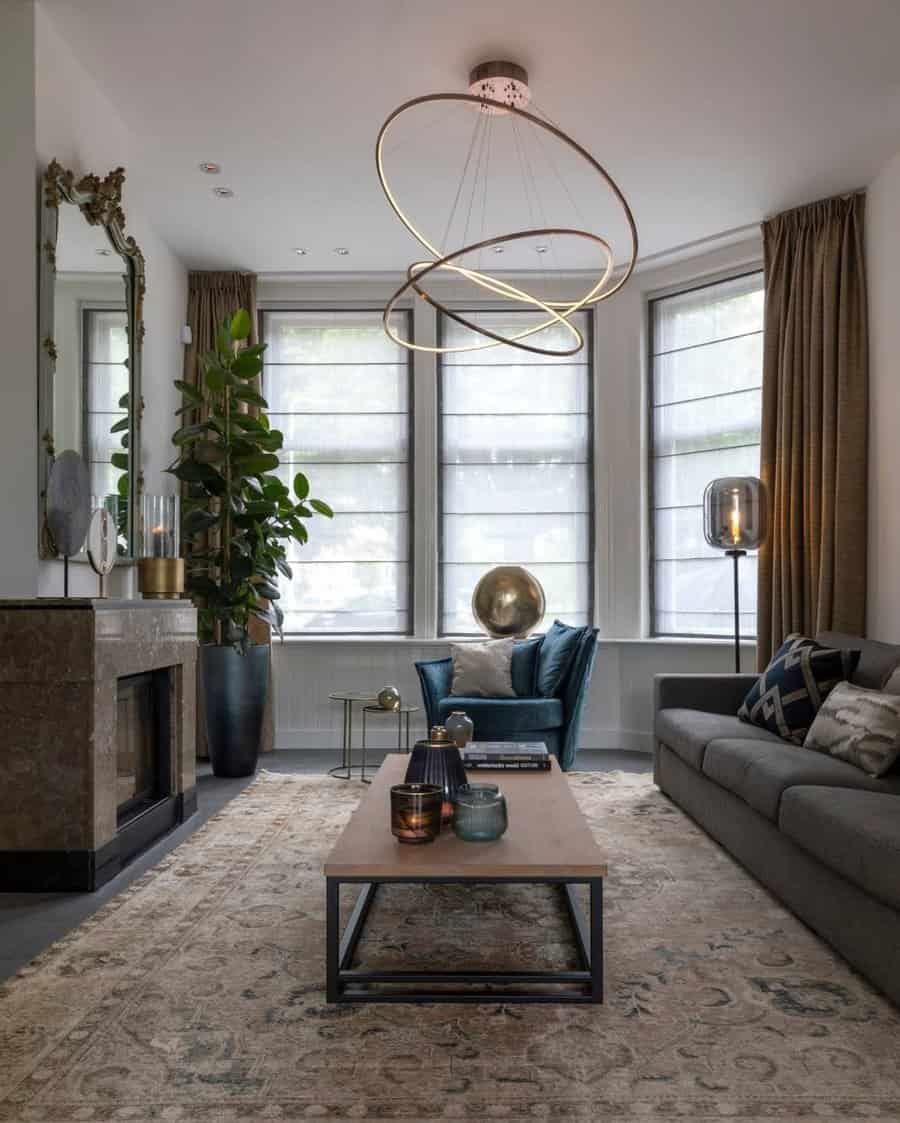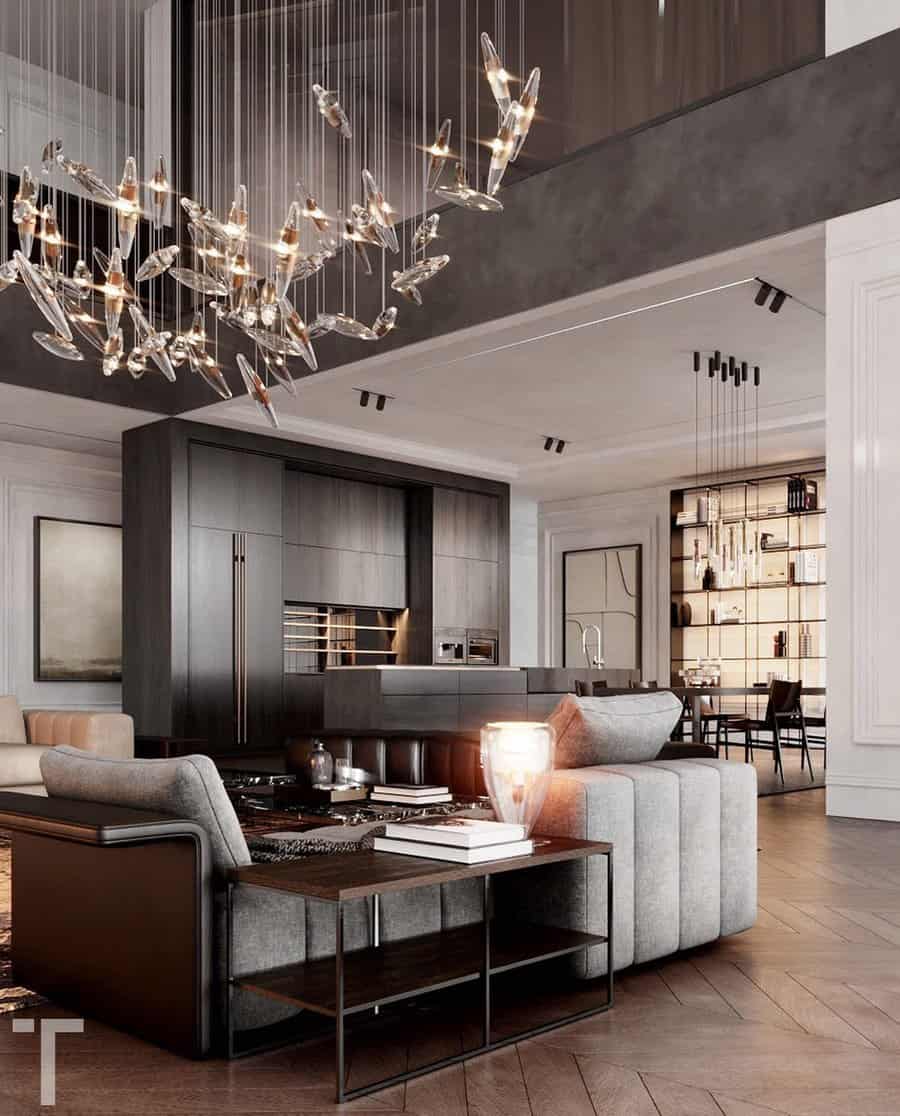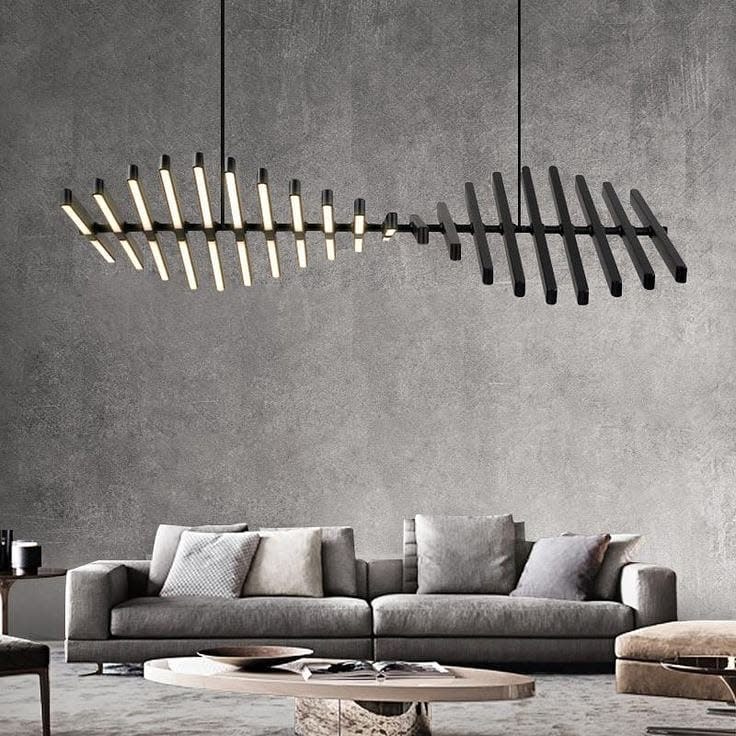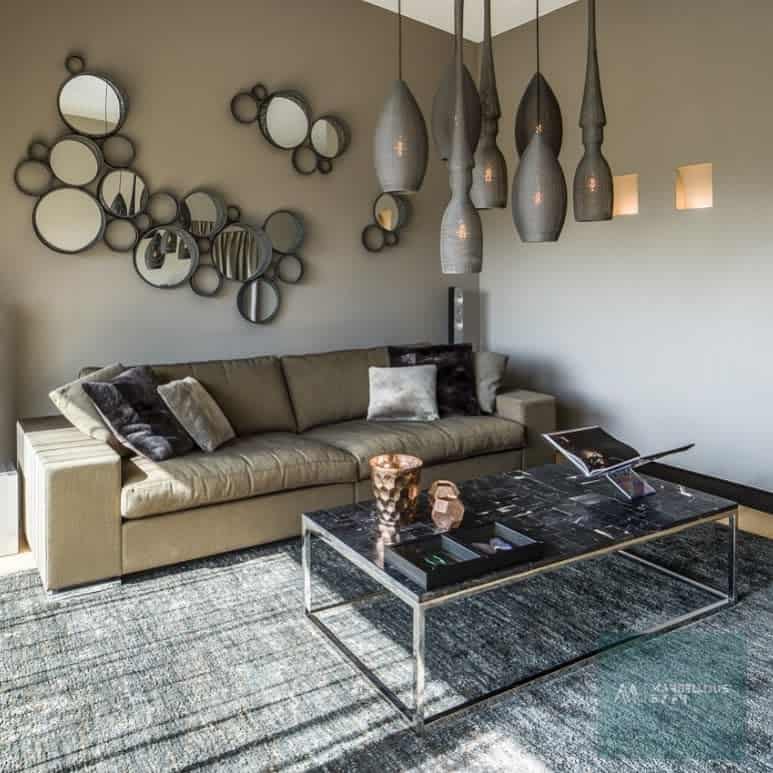 16. LED Strips To Diffuse Light
Achieving the perfect lighting in your living room doesn't have to be a complicated ordeal. LED strips can provide both direct and diffuse light sources while bringing an interesting aesthetic to your living space—without sprawling, unsightly wires.
Aim to fill your rooms with natural light first before considering LED strips, as LED lighting can cause cold glare if used too much. When placing LED lighting, opt for discreet placement spots such as behind furniture or in the corners of a ceiling.
With softer LED lights mixed with stronger natural light sources, you can create a cozy atmosphere that shows off all its features perfectly.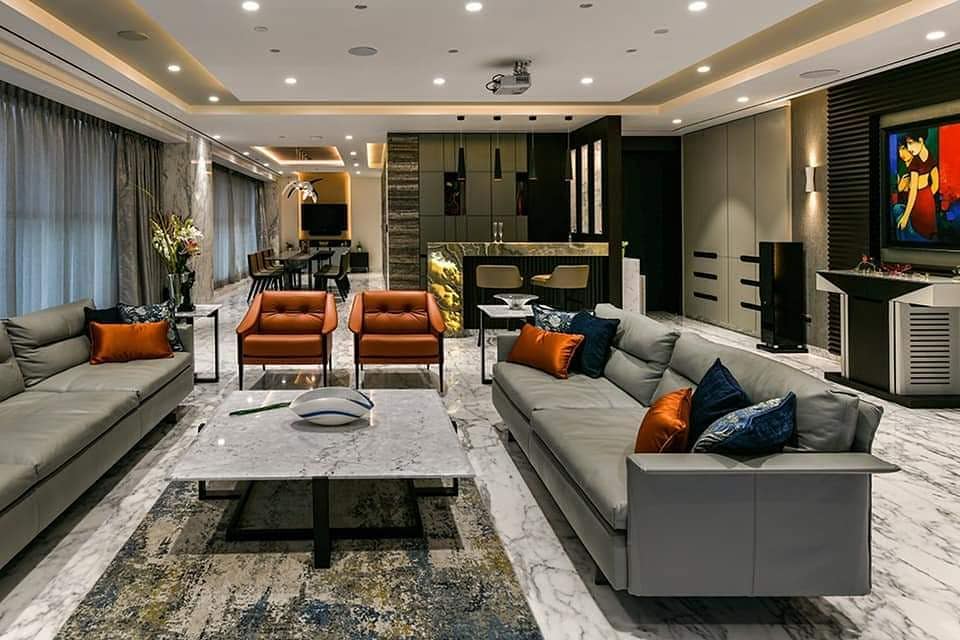 12. Glass Pendant Light For Small Spaces
When it comes to lighting your living room, glass pendant lighting can be an excellent choice. Not only does this look stylish and chic, but it has the added bonus of helping to open up the room while providing a great and adjustable ambiance.
This is especially ideal for small spaces; glass pendant lighting requires less overhead area compared to bulky overhead fixtures and casts light in a way that helps de-clutter the space. Add glass pendant lighting to your living room for not only a designer look but more space too!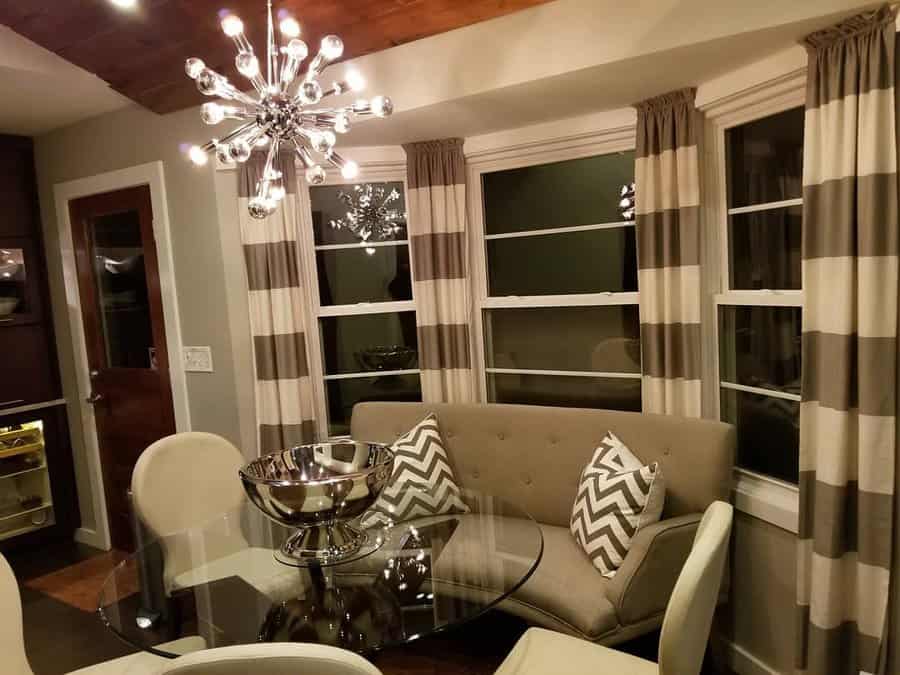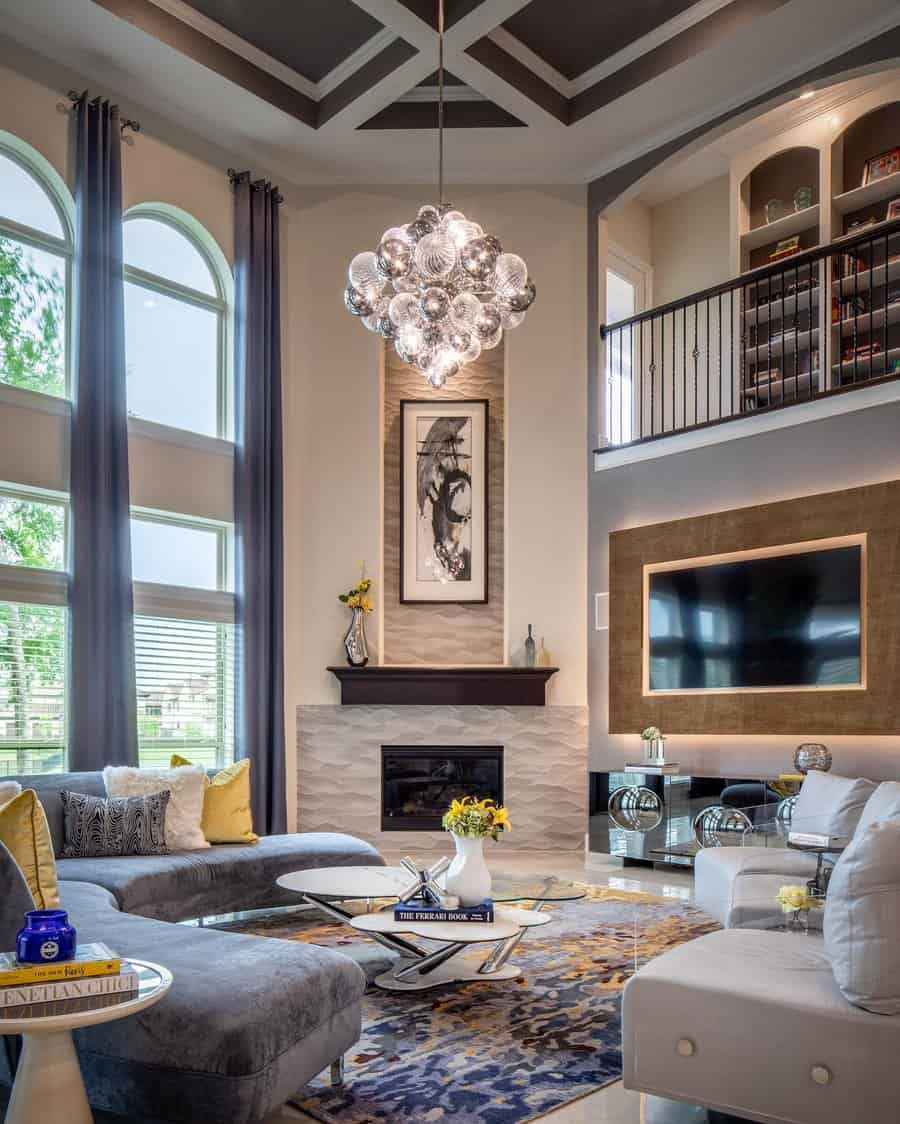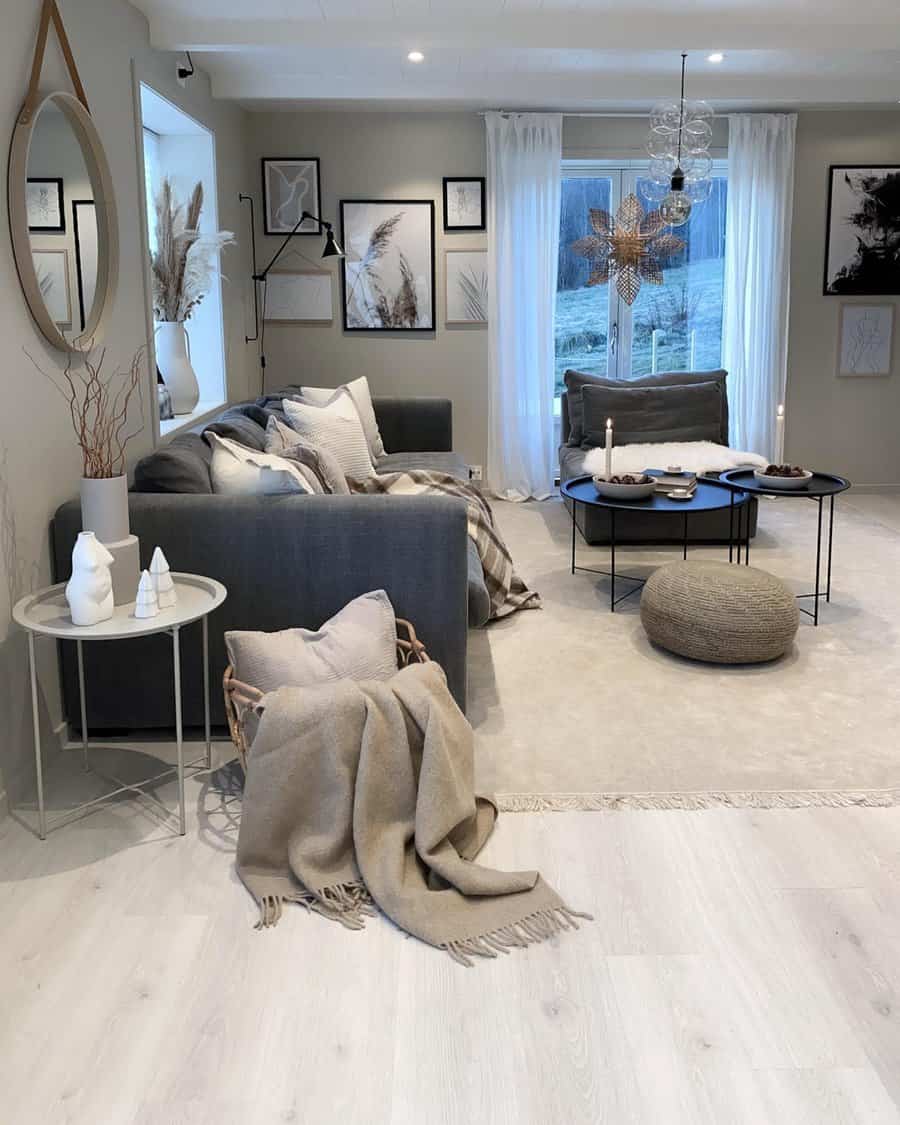 13. Clerestory Windows For Added Natural Light
Living room lighting can be tricky to get right–you want to ensure that the space is inviting and well-illuminated throughout the day. One great way to add natural light is to incorporate clerestory windows into the design plan.
Not only do clerestory windows look beautiful and add a sense of grandeur, but they also provide added natural light, creating a brighter space during the day. Whether you opt for clerestory windows or another source of brightening up your living space, making sure your lighting contributes to an atmosphere of comfort and relaxation should be a top priority.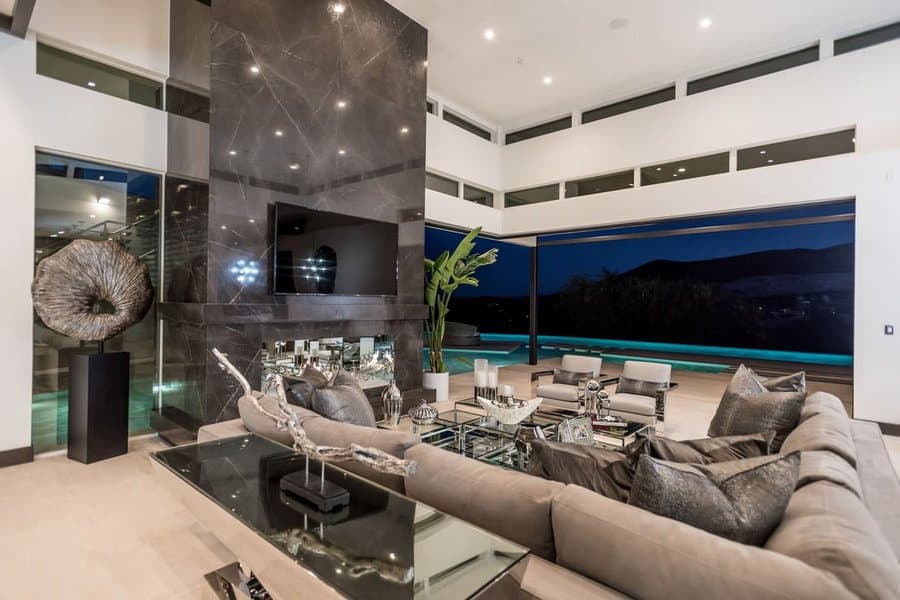 14. Crystal Chandelier Light For A Sophisticated Look
A crystal chandelier can make any living area feel sophisticated and special. Going for opacity in the crystal gives off a nice warm vibe, creating an inviting atmosphere for guests, or the perfect setting for a romantic dinner. When playing around with light fixtures, think about adding accents that create shadow play on the walls — wall sconces or adjustable spots are ideal here. This kind of layering creates scope for dynamic atmosphere changes throughout the day and will add warmth and personality to your living room.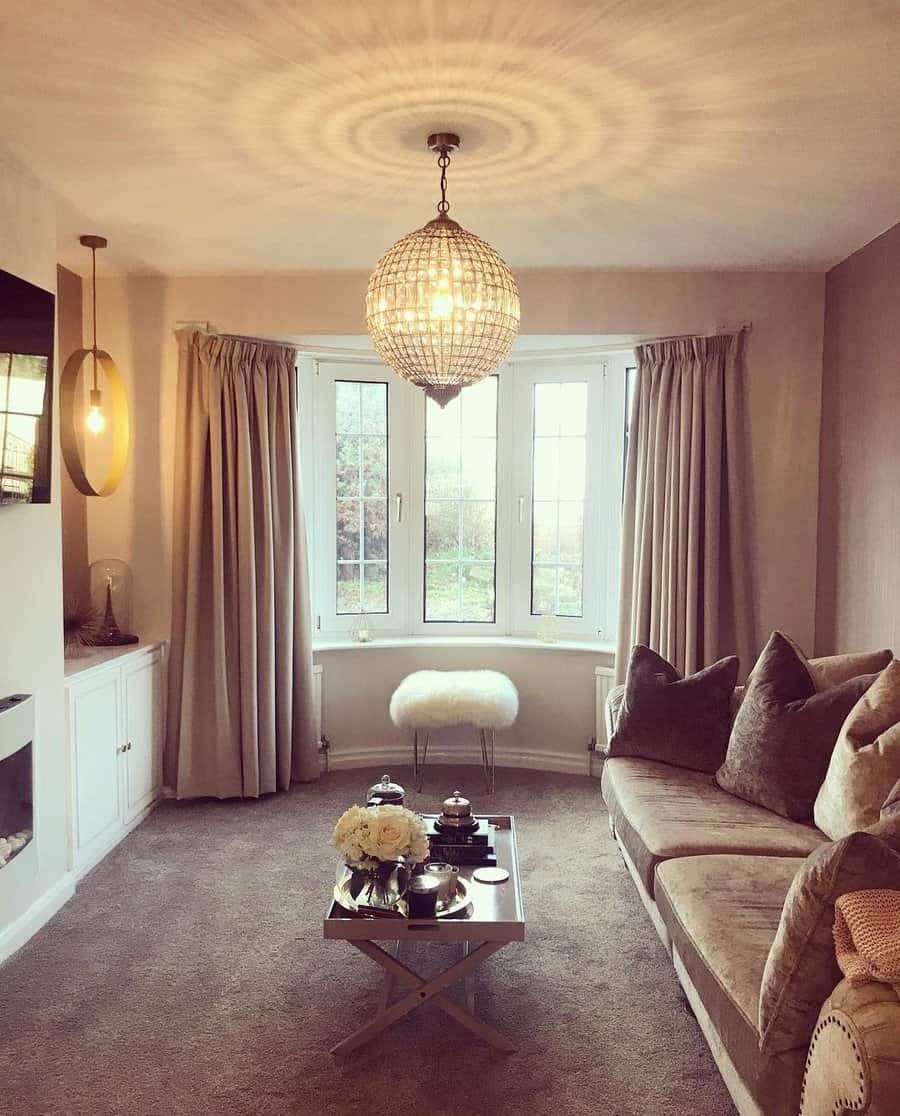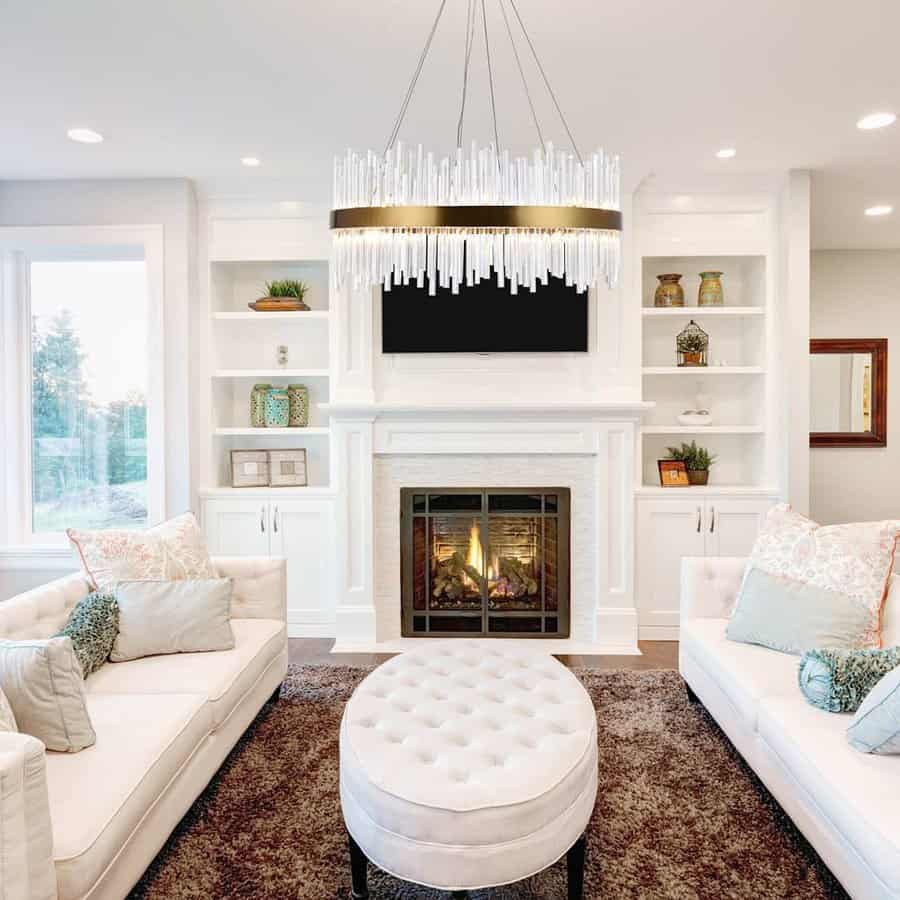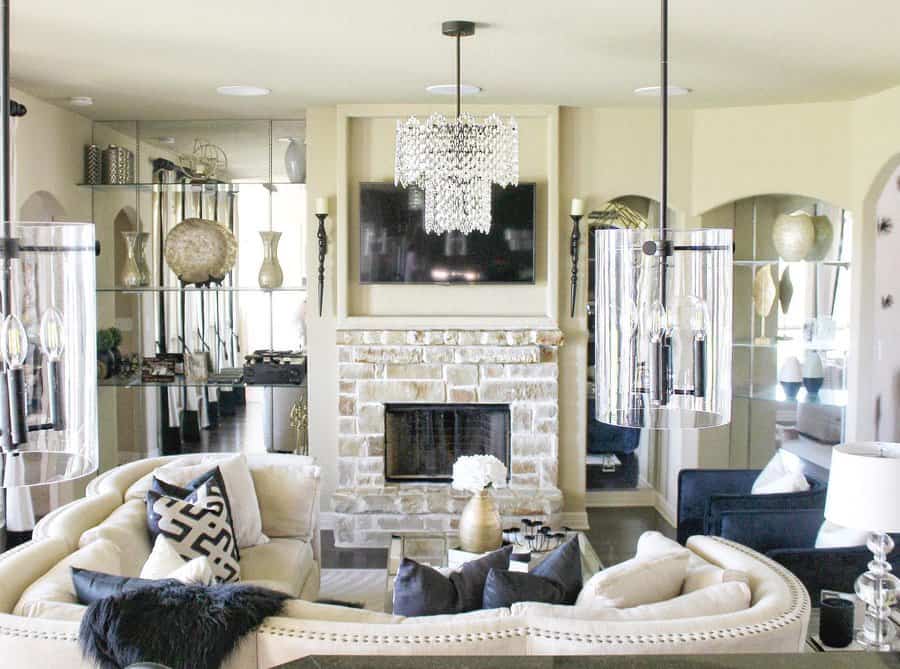 15. Old-Style Light Fixtures For A Nostalgic Ambiance
Turn your living room into a dreamy oasis with old-style lighting fixtures! If you want to give your home an old-world charm, it's hard to beat the effect of an old-fashioned candle chandelier. The rise in popularity of upright bulbs has made it easier than ever to update old showpieces and find the perfect pieces for any size room.
Depending on how you choose to arrange them and what type of lighting you prefer, they can help create a subtle yet stylish atmosphere in your living space!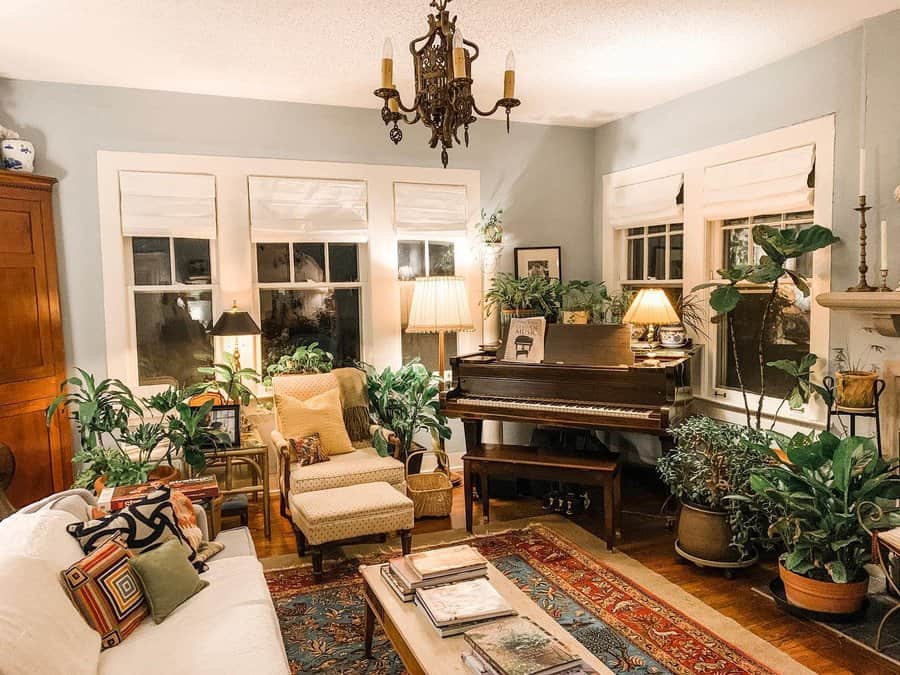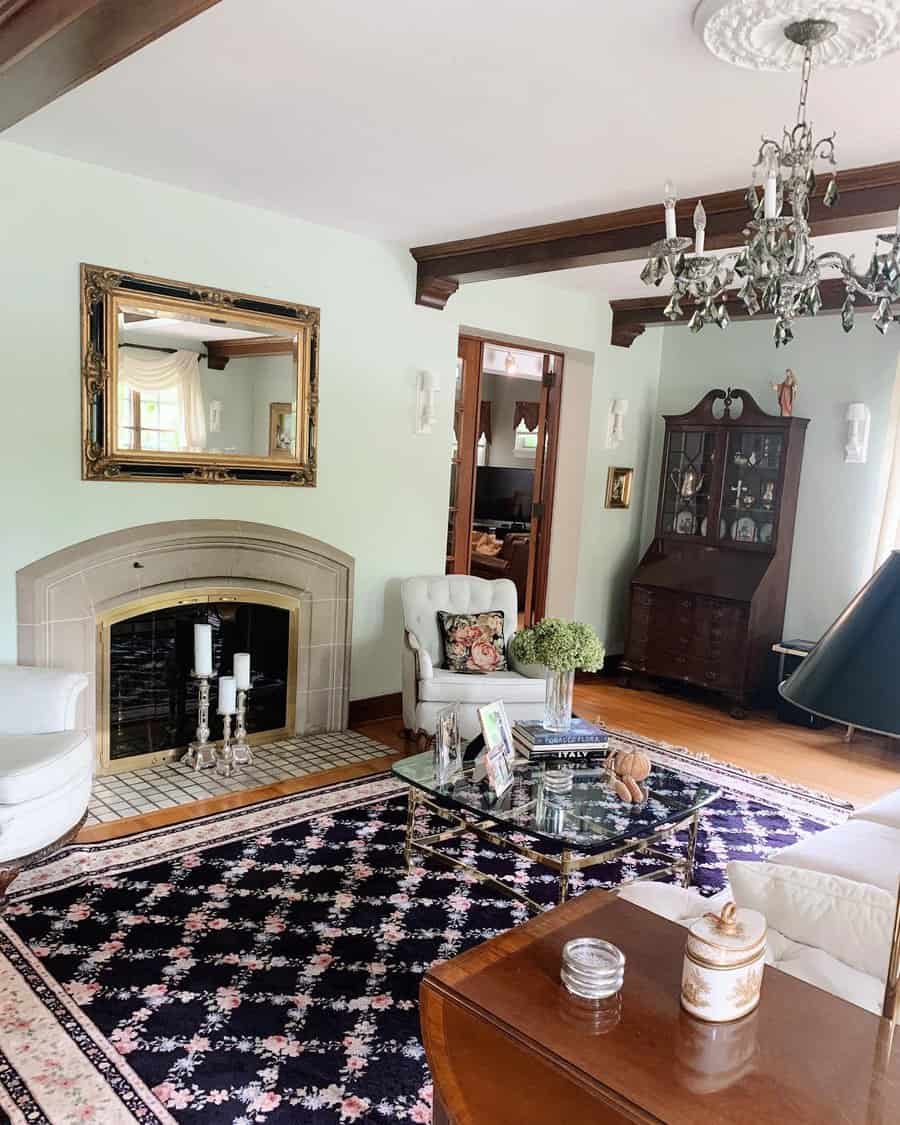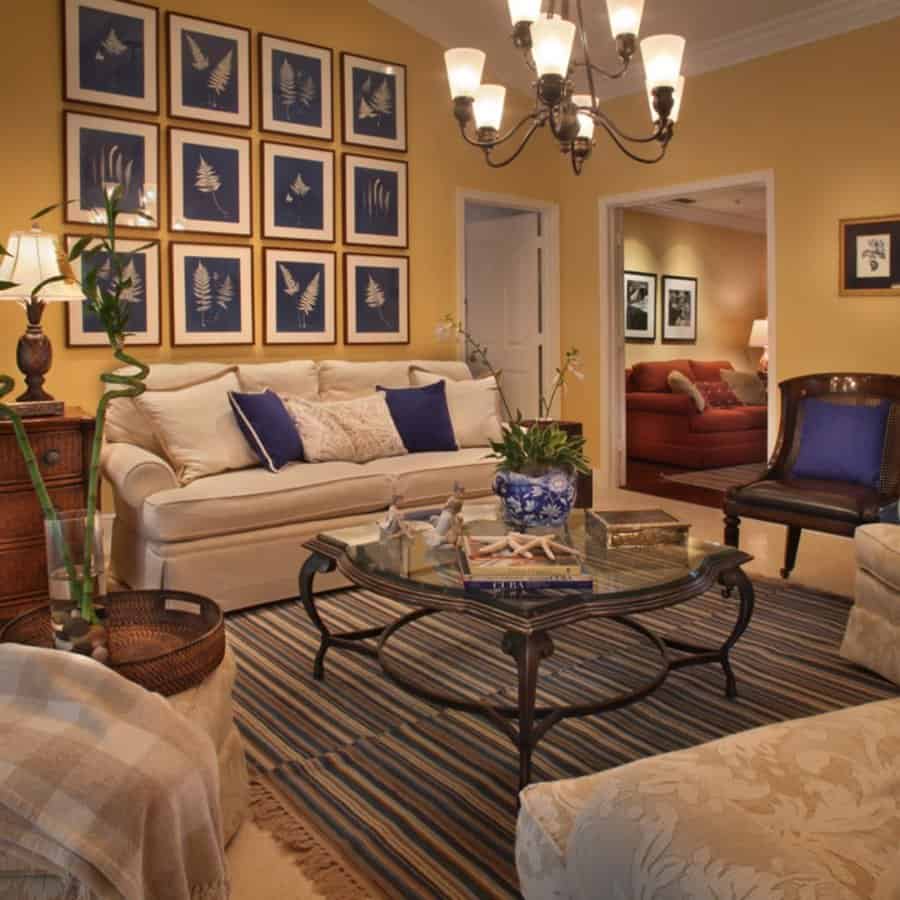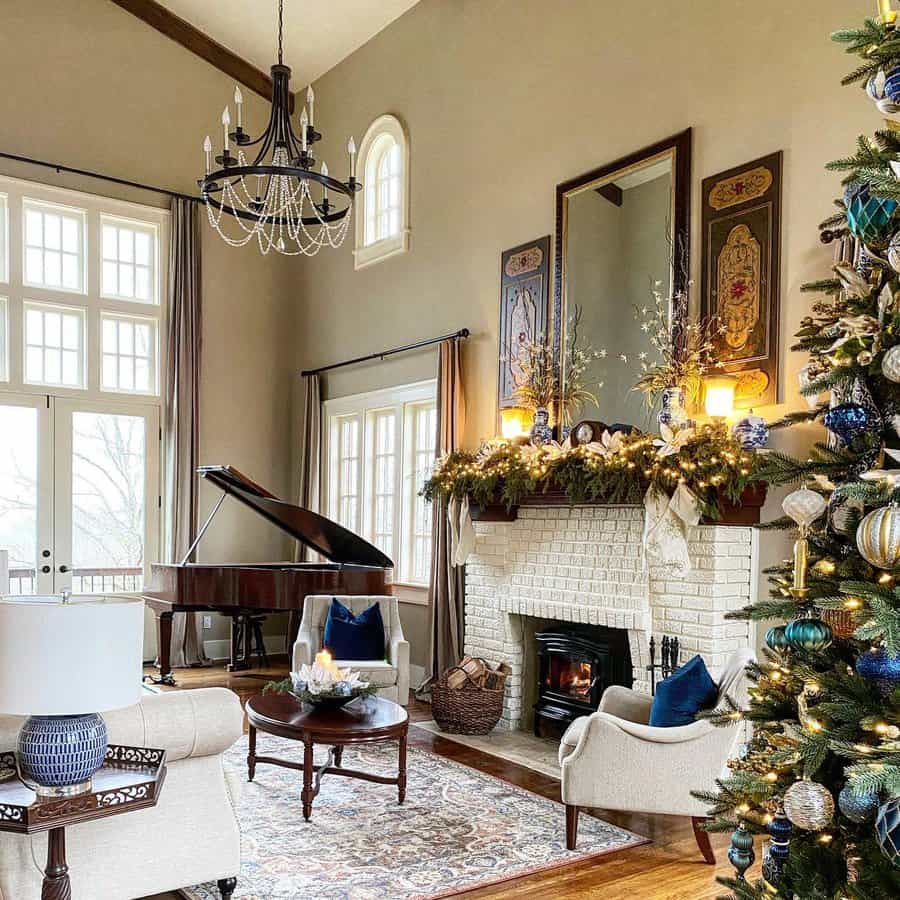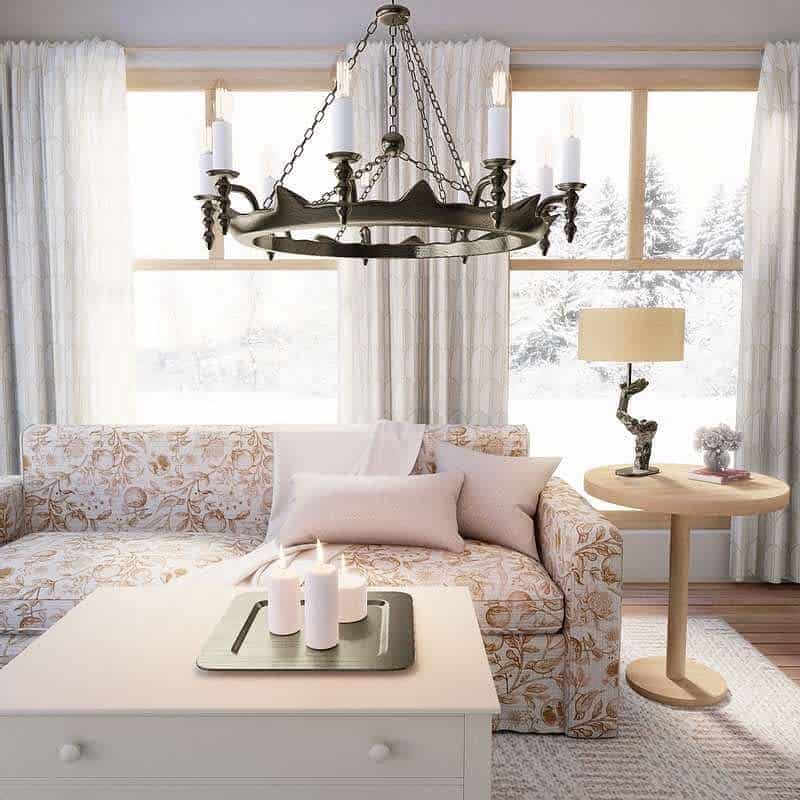 16. Wall Sconces For Added Accent
Lighting is an important part of any living room experience. Whether you opt for bright, overhead light or soft accent lighting, a good strategy for achieving the desired ambiance is to layer your wall sconces with lamps and table lighting. Wall sconces can provide an added level of sophistication and elegance when carefully placed around a room.
They not only provide extra illumination but their visual impact provides added texture and accent to your wall décor. Sconces come in a variety of looks that are sure to integrate seamlessly into the overall theme of your living room.
So if you are looking to transition from overhead lighting to wall illumination, wall sconces will be the perfect piece to spin up your style quotient!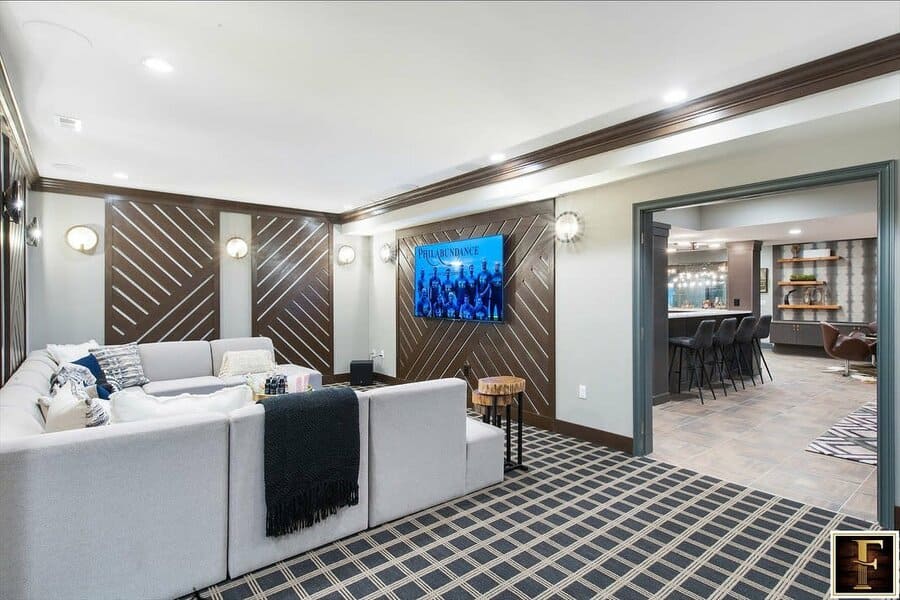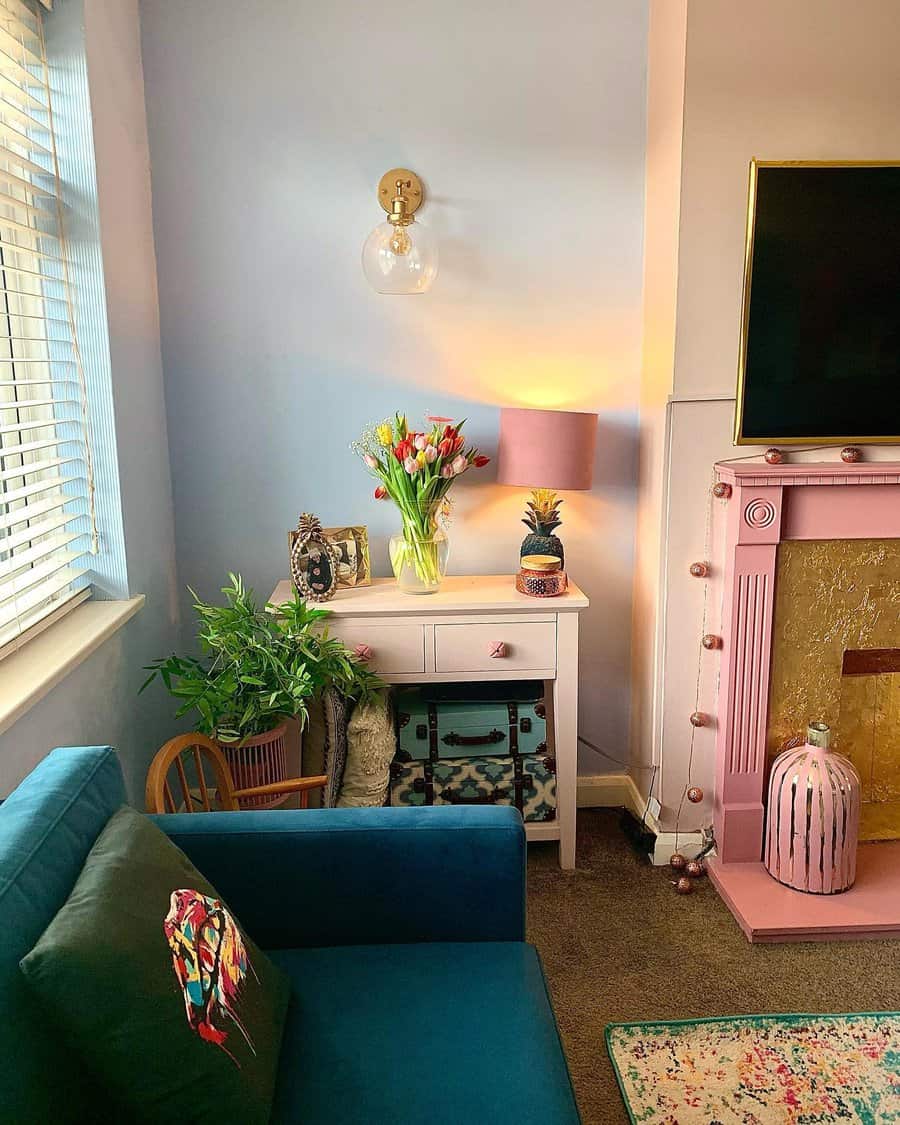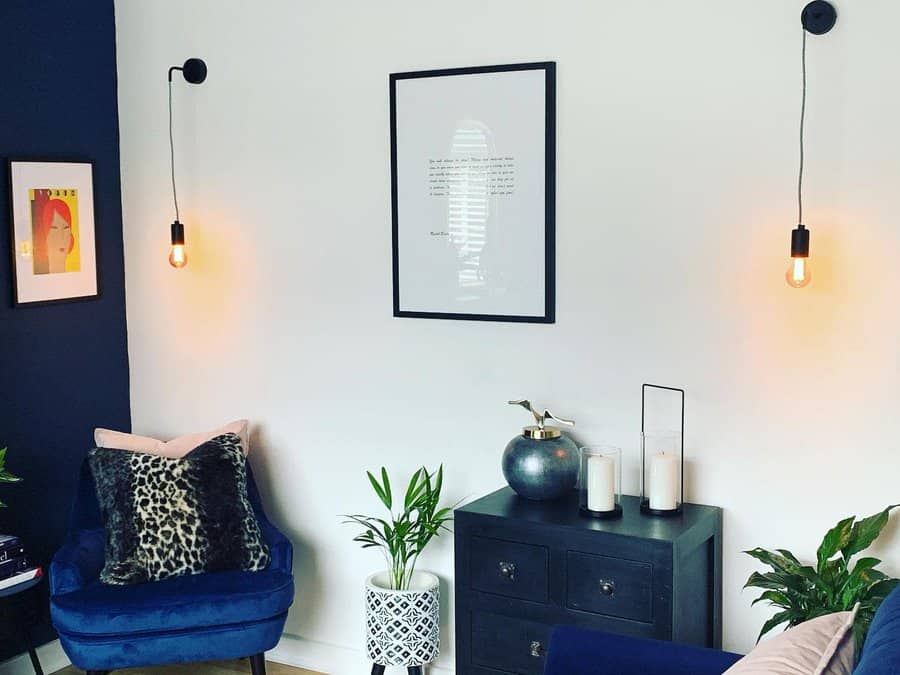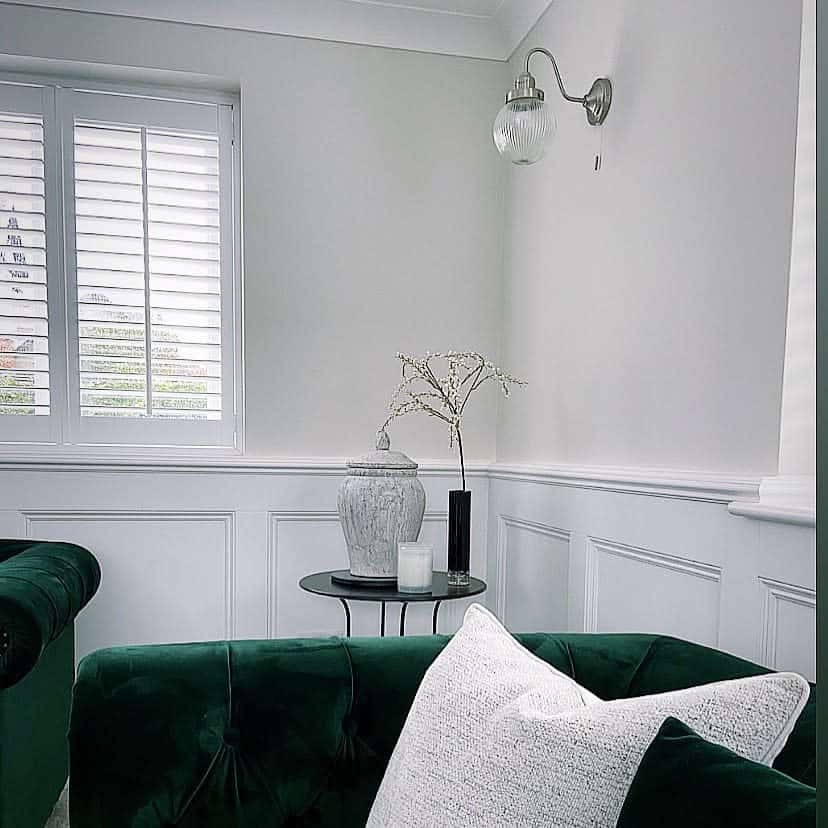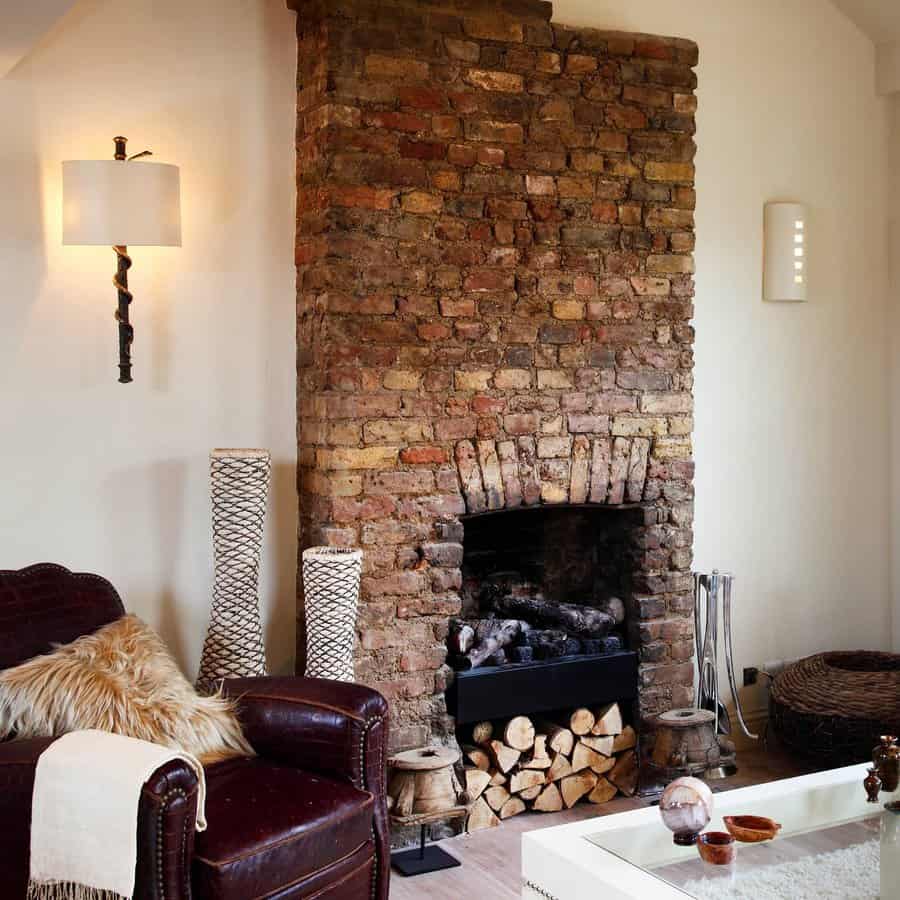 Living Room Lighting FAQs
What color and brightness level should living room lighting be?
Most homeowners prefer using warm white lighting within the living room. This type of light bulb offers the perfect balance of coziness without interfering with the room's color palette.
If your living room has lots of natural lighting, then you can get away with about 60 watts to illuminate the space. For rooms with limited natural light from windows, 75 watts is often best.
What is the difference between ambient and task lighting?
Every living room should have a variety of lighting types, including ambient and task lighting.
Ambient lighting is what illuminates the room as a whole. It's not the brightest type of lighting but it does cover the most area. Ceiling lights are the most common source of ambient light in a living room.
Task lighting is a targeted light source that is usually only turned on at certain times. It's typically brighter than ambient lighting but covers a much smaller area. Table and floor lamps are both examples of task lighting in a living room.