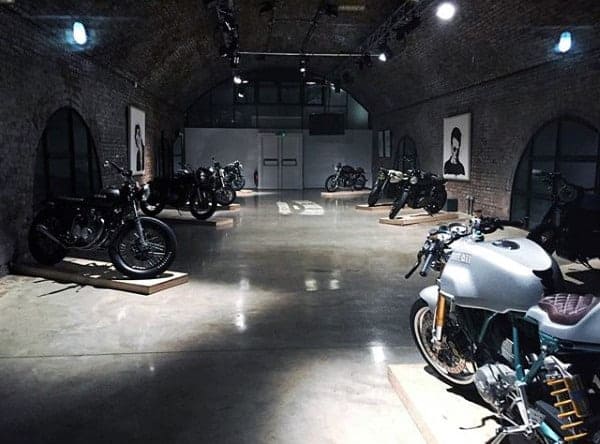 40 Luxury and Modern Garage Ideas
Transform your garage into a luxurious and modern haven with our inspiring ideas. Explore innovative designs, high-end features, and cutting-edge technology that will elevate your automotive space to new heights. Get ready to reimagine your garage as a stylish showcase for your prized vehicles and a functional extension of your home.
You'll find countless masculine design ideas for reasonably revamping your garage. Some of these guides includes things like garage paint colors, flooring, lighting, storage and much more. Let's face it, the garage is the place where man, well goes to get some space. Why not make it as enjoyable to work in as it is to admire your automobiles?
Let's continue with the collection.
1. Luxury Garage Drop Lights
Imagine walking into your garage and being greeted by the warm glow of garage drop lights, strategically placed to cast dramatic shadows and highlight the stunning lines of your cherished cars.
From adjustable spotlights that accentuate the gleaming curves to custom-designed LED strips that trace the contours of each vehicle, the lighting in your luxury automotive garage will transform it into a mesmerizing spectacle.
Picture the play of light and shadow dancing across your prized possessions, adding an air of mystery and allure to your personal automotive haven. With creative lighting techniques, your garage will become an immersive space that celebrates the beauty and power of your collection.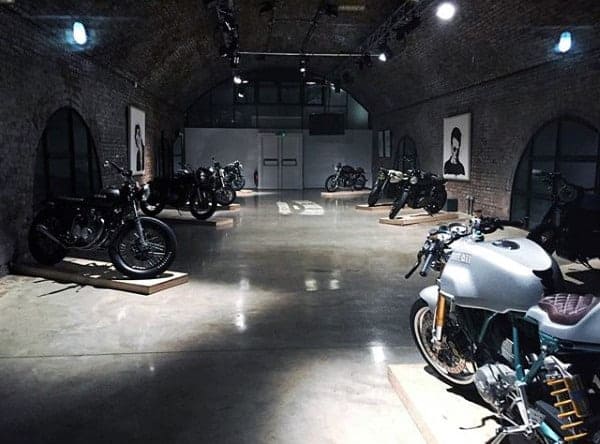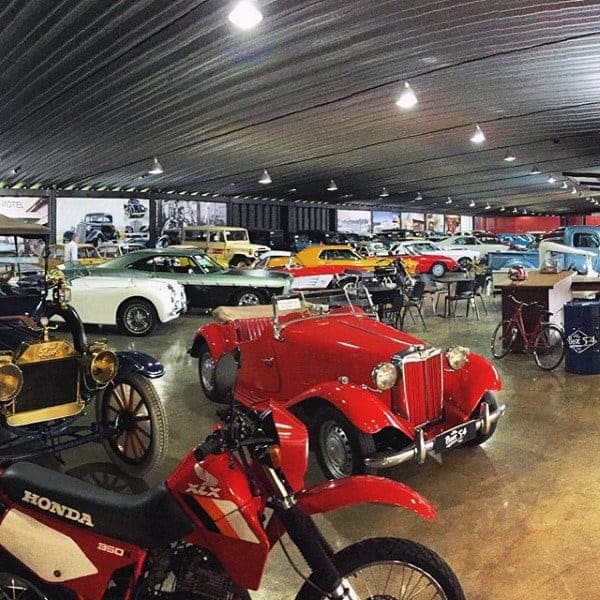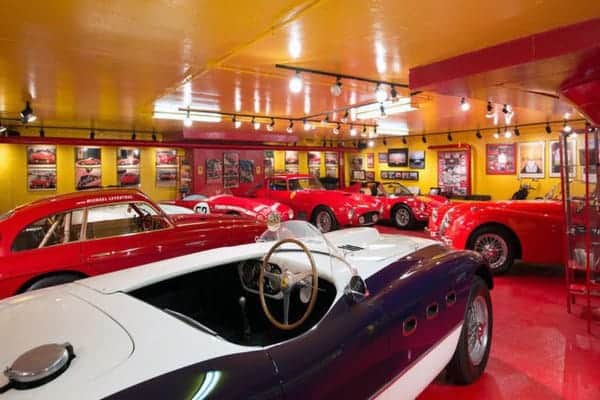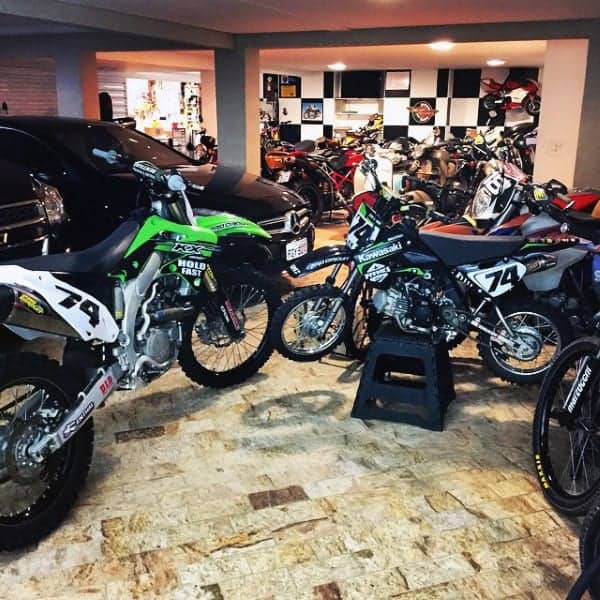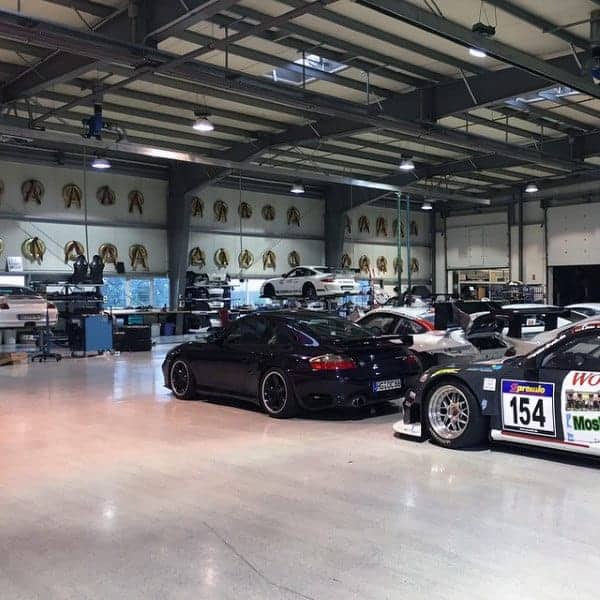 2. Two-Level Luxury Garage
As an interior designer specializing in garage design, I believe in pushing boundaries and embracing creative solutions. Why settle for a single level when you can have the ultimate luxury of a two-story automotive haven?
Picture this: a stunning spiral staircase leading to a mezzanine level where your prized vehicles are showcased like works of art. Not only does a two-level garage double your parking space, but it also adds a touch of grandeur and architectural brilliance to your space.
The upper level becomes a captivating viewing gallery, allowing you to admire your collection from a different perspective. Imagine hosting exclusive events or gatherings where your guests can indulge in the awe-inspiring sight of your automotive marvels.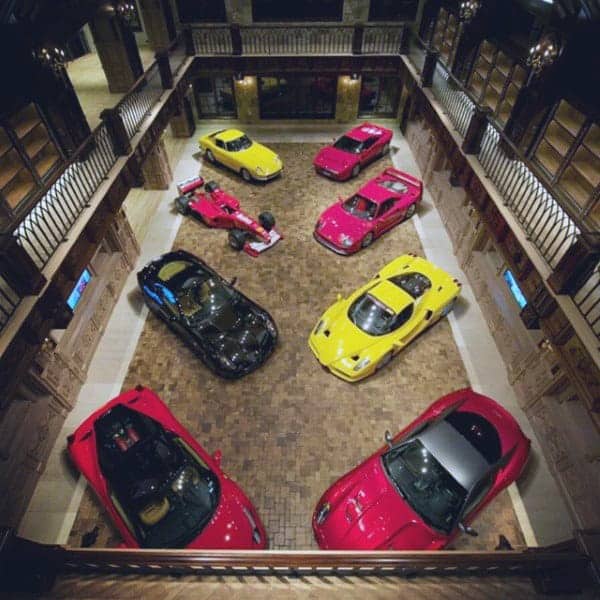 3. Garage With Pendant Lights
Pendant lights are the perfect choice for adding a touch of sophistication and creativity to your garage. These elegant fixtures not only provide ample illumination but also serve as captivating design elements.
Imagine the soft glow of pendant lights gracefully illuminating your car collection, casting mesmerizing shadows and creating a captivating visual spectacle. Not only do pendant lights elevate the aesthetic appeal of your luxury automotive garage, but they also offer practical benefits.
With adjustable heights and directional lighting, you can effortlessly highlight specific areas or accentuate certain features of your vehicles. Whether you're hosting a gathering or simply spending time in your garage sanctuary, pendant lights will infuse your space with a warm and inviting atmosphere.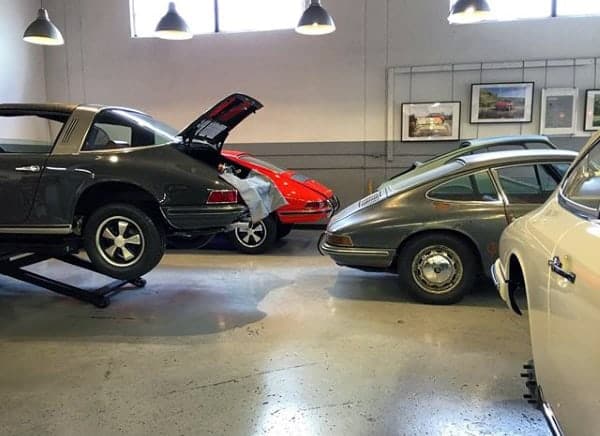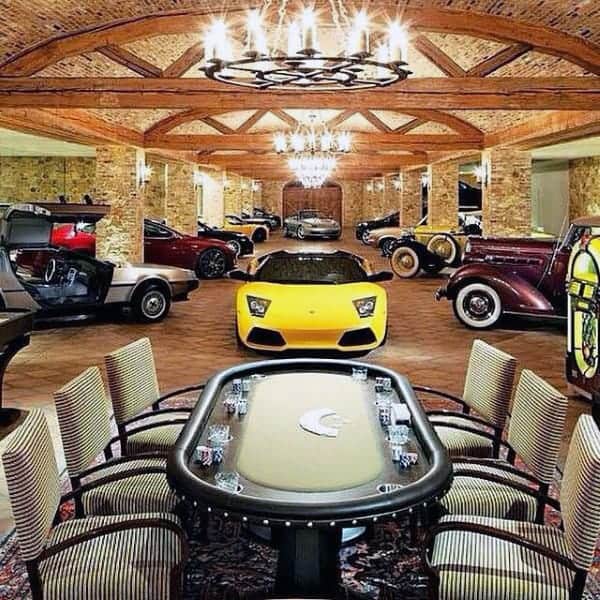 4. Spacious Car Lift Installation
The benefits of a car lift are twofold: not only does it maximize the use of vertical space, but it also adds a sense of prestige to your collection. With a car lift, you can effortlessly showcase your prized automobiles while optimizing the available square footage.
Imagine the convenience of having multiple cars neatly arranged, with one gracefully suspended above, allowing for easy access and a captivating display.
Let your imagination run wild as I infuse the space with bespoke lighting, sleek storage solutions, and stylish finishes, creating an ambiance that truly reflects your passion for automotive excellence.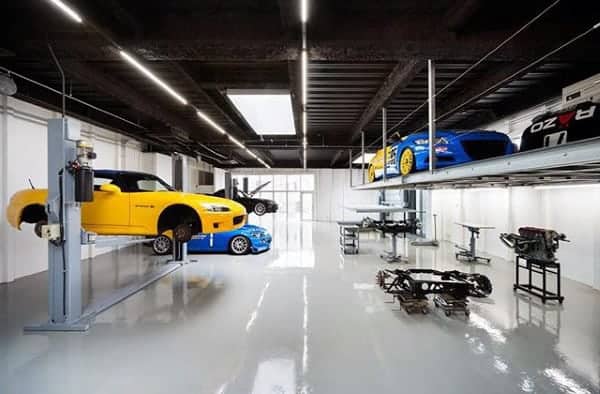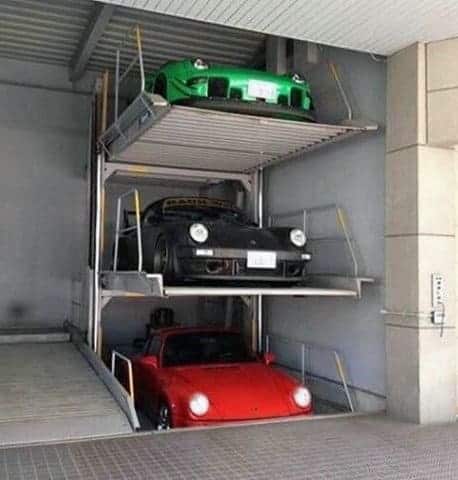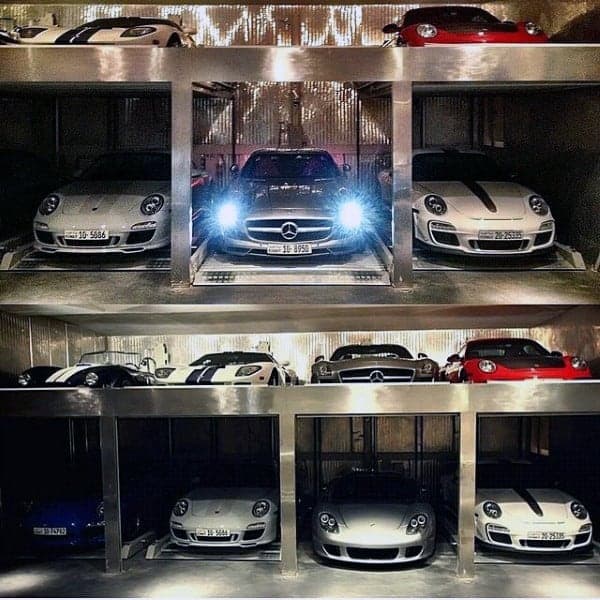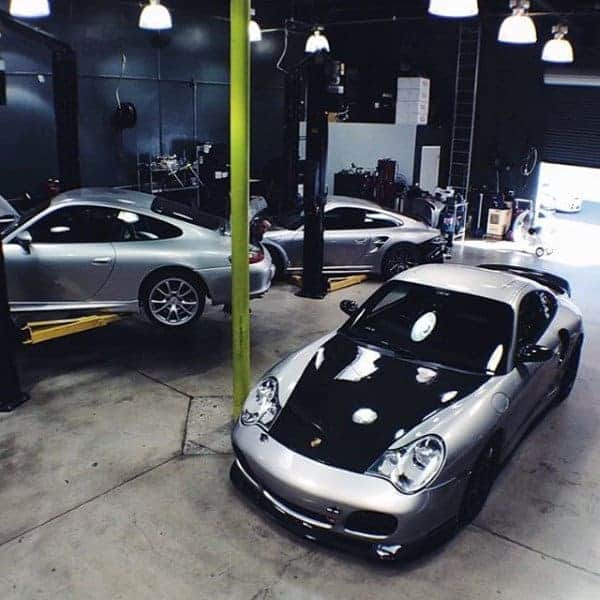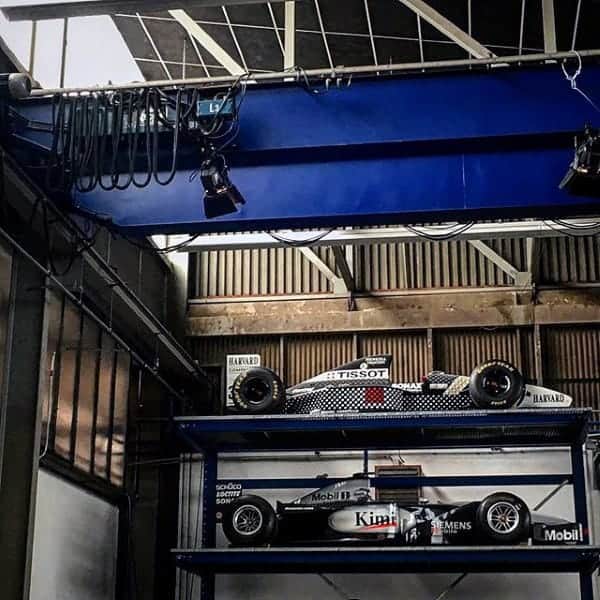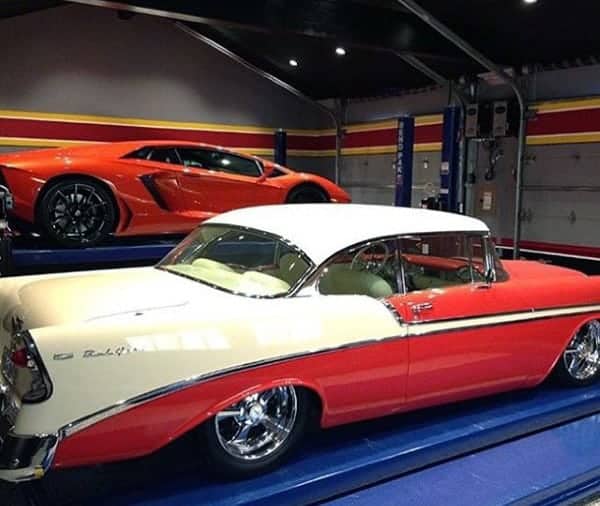 5. Customized Cabinet Solutions
Envisiona garage where every tool, accessory, and supply has its designated place, neatly tucked away in stylish cabinets that seamlessly blend with the overall aesthetic. These cabinets not only serve as a practical solution for organizing your garage but also elevate the space to new heights of sophistication.
From sleek and minimalist designs to bold and statement-making finishes, the possibilities are endless. Imagine the joy of effortlessly finding your supplies, thanks to cleverly designed compartments and shelves tailored to your specific needs.
Whether you're a car enthusiast or a professional mechanic, a luxury automotive garage with cabinet storage ensures that functionality and style coexist harmoniously, creating an environment that inspires and delights.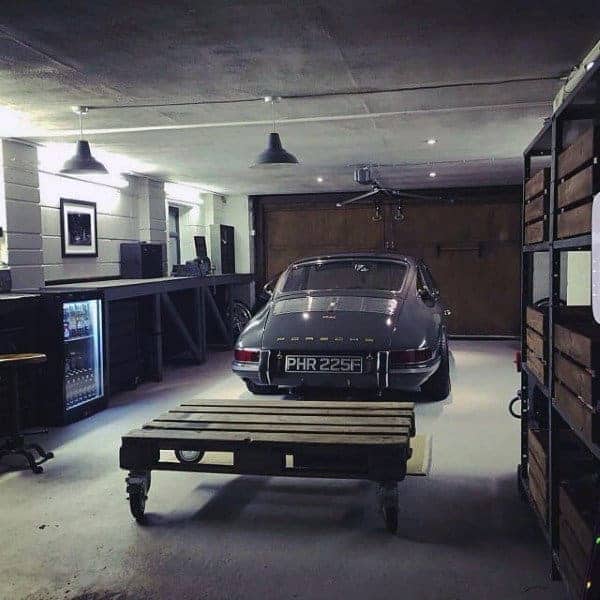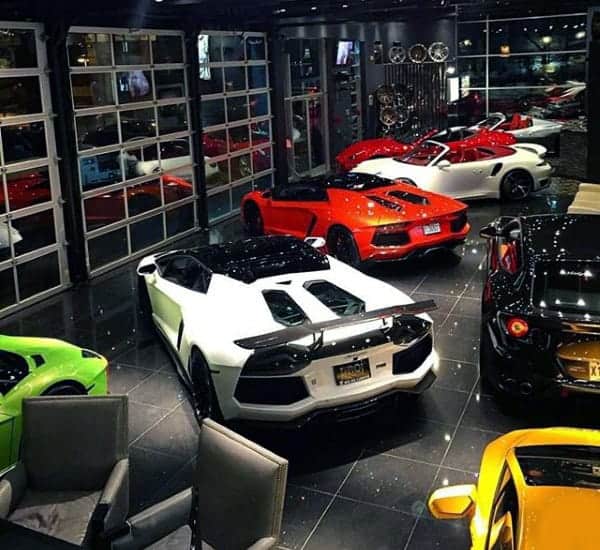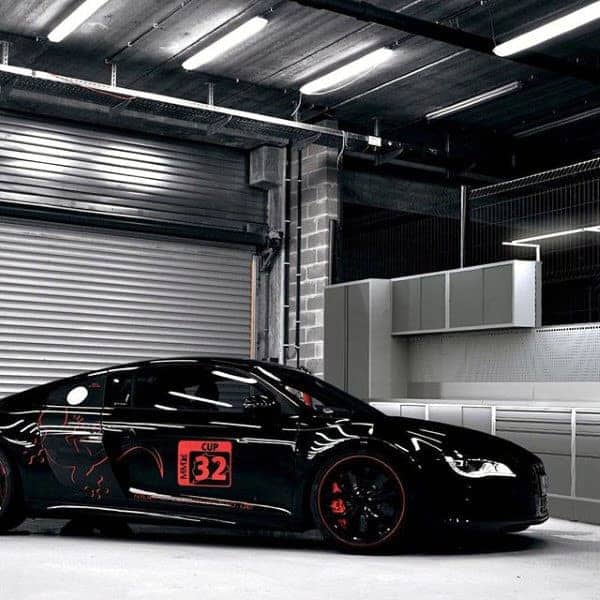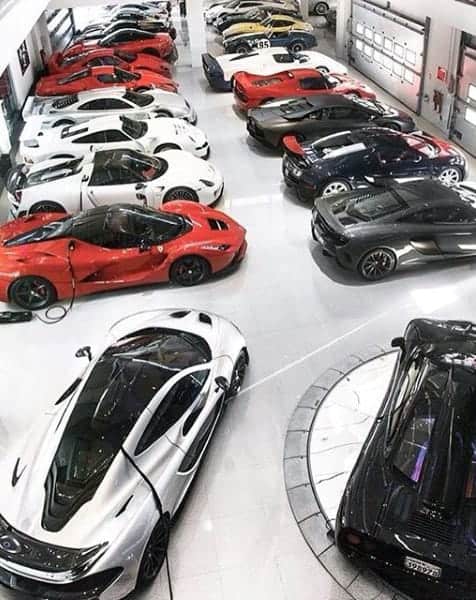 6. Motor Garage Parking
As an interior designer specializing in garage design, I have the privilege of crafting spaces that transcend the ordinary and transform your motor garage parking into a captivating sanctuary. Imagine a meticulously organized collection of motorcycles, each one showcased in its own spotlight, creating a mesmerizing gallery-like display.
Sleek and polished flooring, complemented by custom-built storage solutions, not only maximizes space but also elevates the aesthetic appeal. Ambient lighting plays a crucial role in setting the mood, illuminating every detail, and highlighting the beauty of your prized possessions.
From integrating a stylish lounge area for socializing to incorporating high-tech features like sound systems and climate control, the possibilities for your luxury motor garage are as endless as your imagination.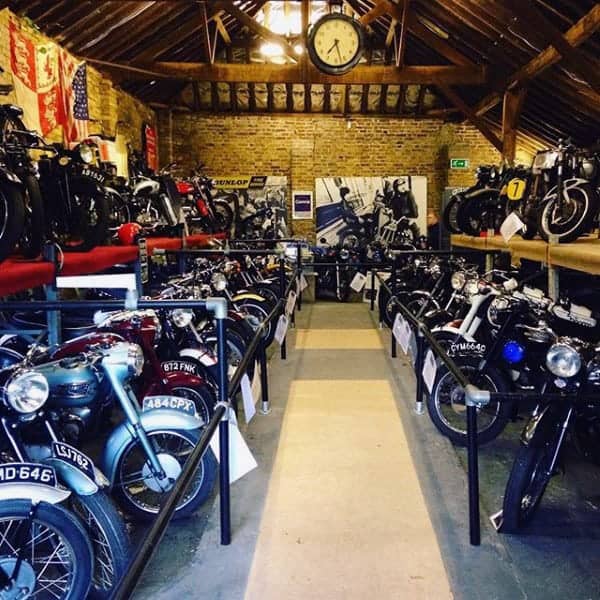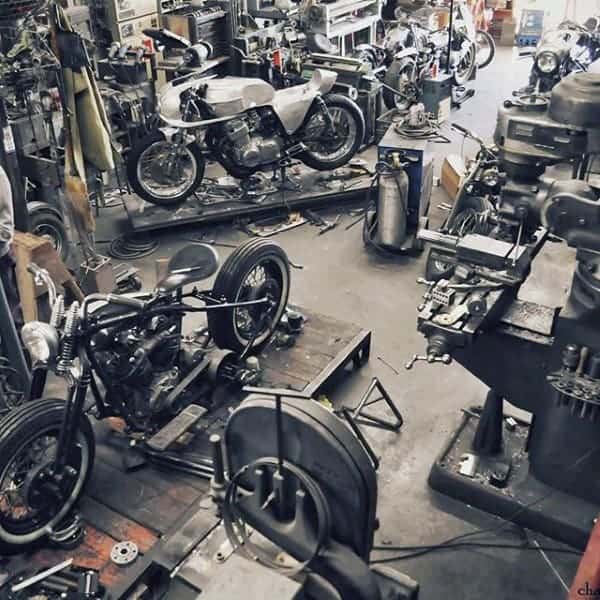 7. Vintage Automotive Decor
Imagine vintage signs lovingly collected and thoughtfully displayed, each one telling a story of automotive history. Every piece, carefully thrifted and curated, adds a touch of authenticity and charm to the space.
From the moment you step inside this garage, you'll be transported to a bygone era, where time-honored craftsmanship meets the allure of classic cars. Whether you're a collector or simply passionate about vintage luxury cars, this garage will become your sanctuary, a haven for your prized possessions.
Prepare to be swept away by the symphony of design as we transform your garage into an extraordinary space that harmonizes the present with the past, immersing you in a world where vintage automotive dreams come to life.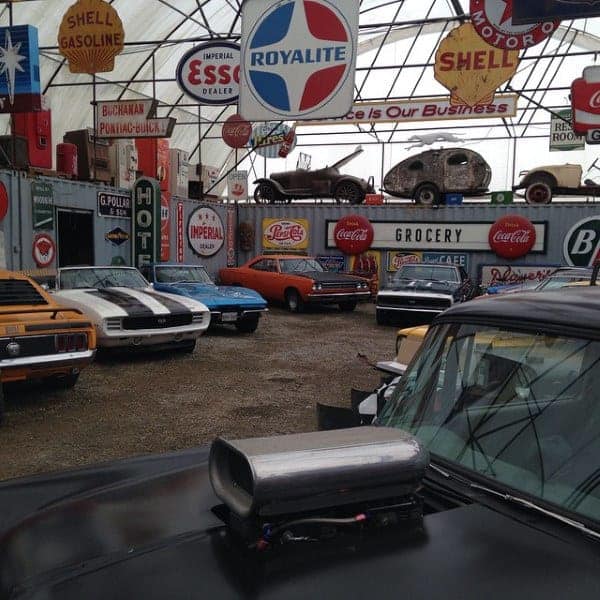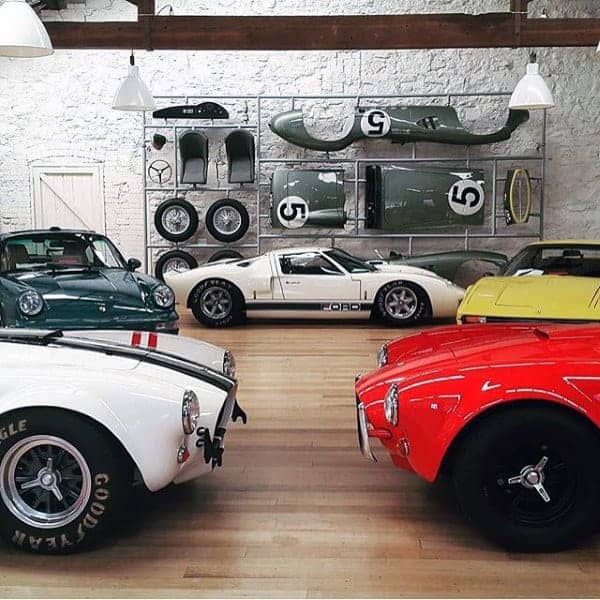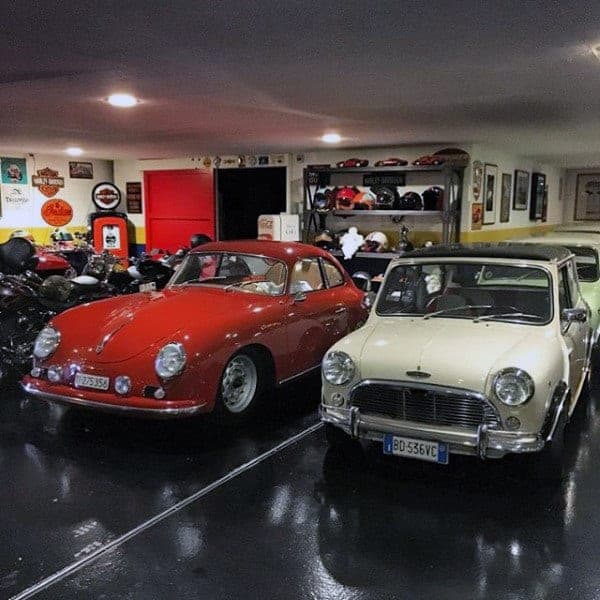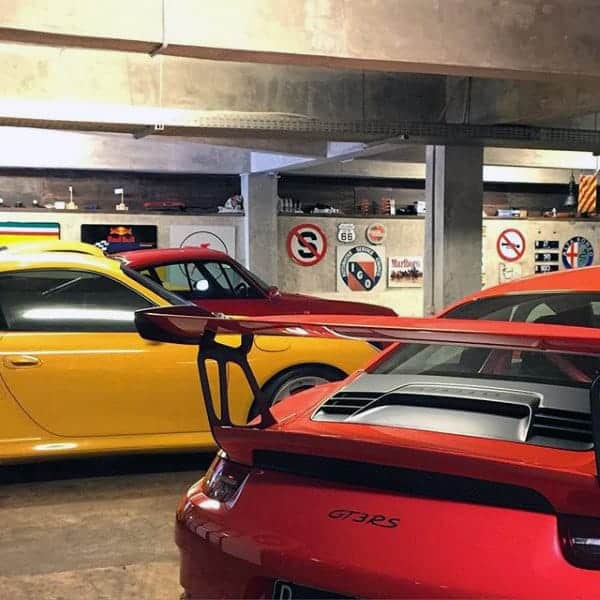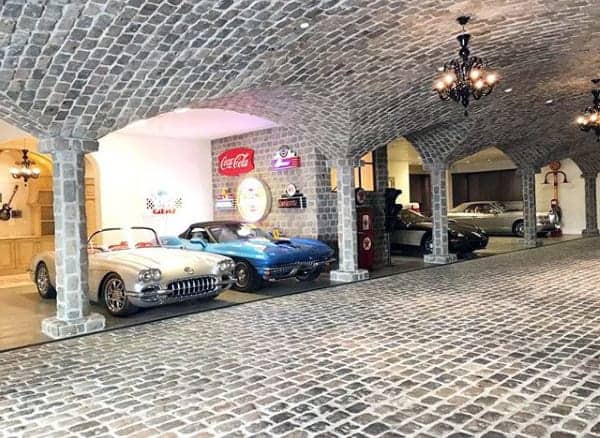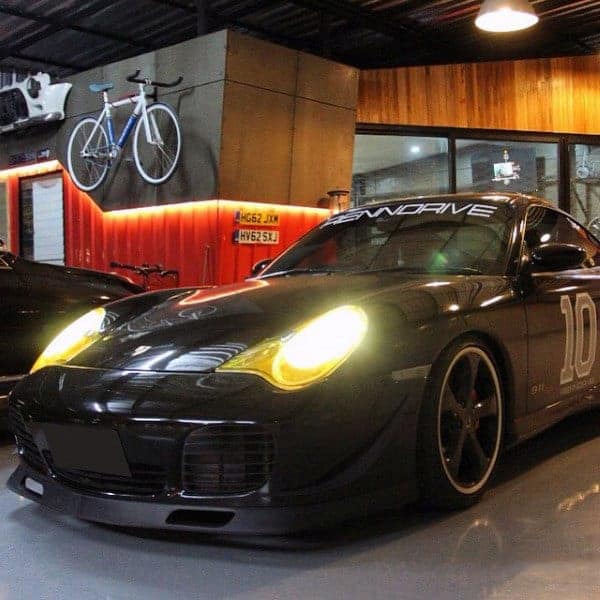 8. Mezzanine Loft
Imagine a garage that transcends its utilitarian origins and transforms into a mesmerizing space that is both elegant and awe-inspiring. At the heart of this design masterpiece lies the garage mezzanine loft, a true marvel that adds an extra dimension to your automotive sanctuary.
This ingeniously crafted loft provides not only a practical solution for storage but also an inviting lounging area, inviting you to relax and indulge in the beauty of your beloved vehicles.
Picture yourself perched atop this elevated oasis, surrounded by the gleaming curves of your prized automobiles, with every detail meticulously considered to enhance your experience.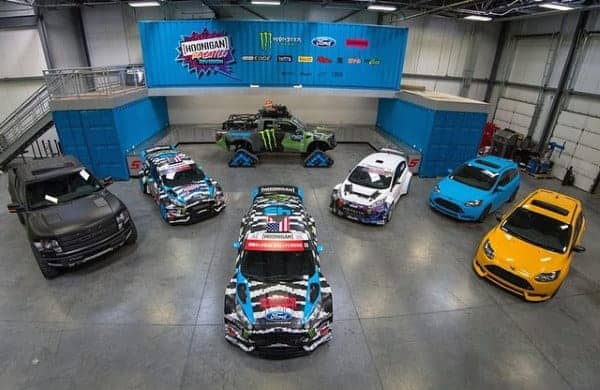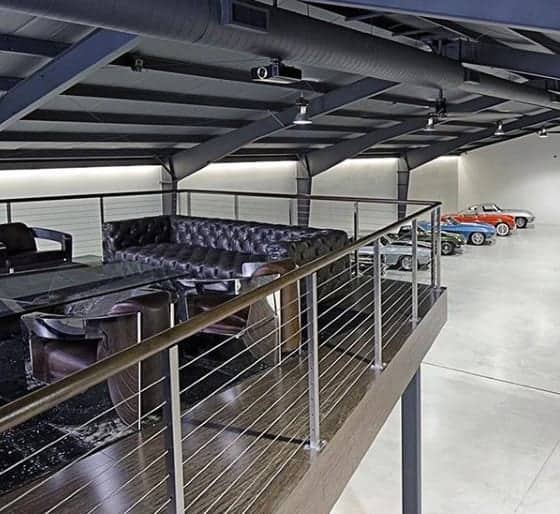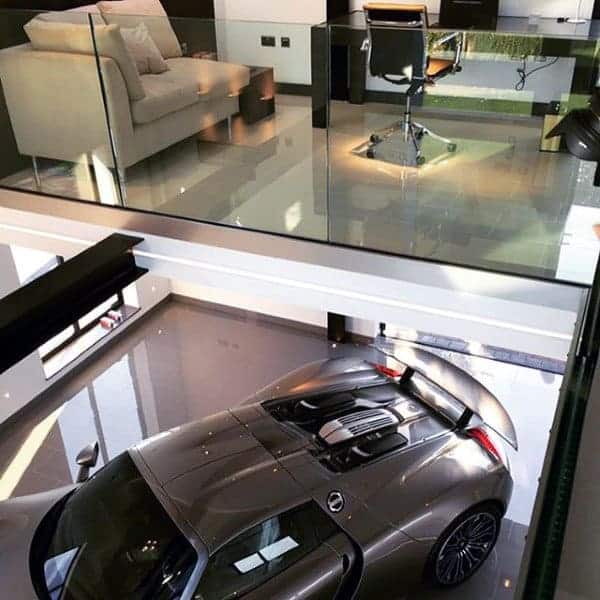 9. Minimalist Modern Garage Design
The key to this aesthetic lies in a neutral color palette that envelops the surroundings, with shades of sophisticated grey dominating the scene. Embracing the essence of minimalism, every element in this garage serves a purpose, with no extraneous distractions.
Clean lines and sleek surfaces create a harmonious atmosphere, allowing the spotlight to shine on your prized automotive possessions. It's a creative sanctuary where every detail is meticulously designed, captivating your senses and inspiring your automotive passions.
In this enchanting space, the allure of minimalist luxury unveils itself, and your automotive treasures find the sanctuary they truly deserve.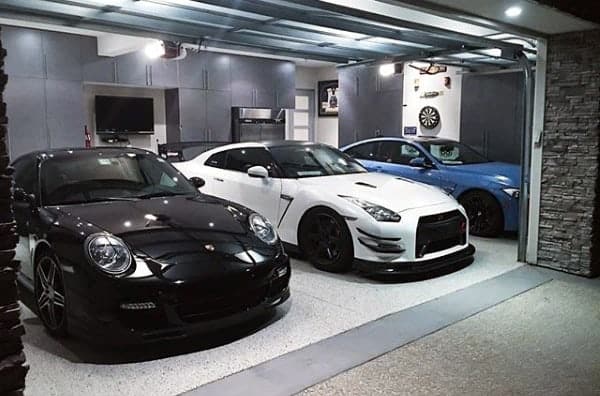 10. Automotive Display Platform
Picture stepping into a realm where automotive masterpieces come alive, and the car display platform takes center stage. This exquisite space is meticulously crafted to highlight your impressive collection, elevating each vehicle to a status of revered art.
With a touch of creative finesse, your garage becomes an engaging haven, a symphony of design and passion where every visitor is greeted by a breathtaking ensemble of automotive excellence.
The car display platform transcends a mere parking space, instead becoming a shrine for your most cherished possessions, where their magnificence radiates with every curve and reflection.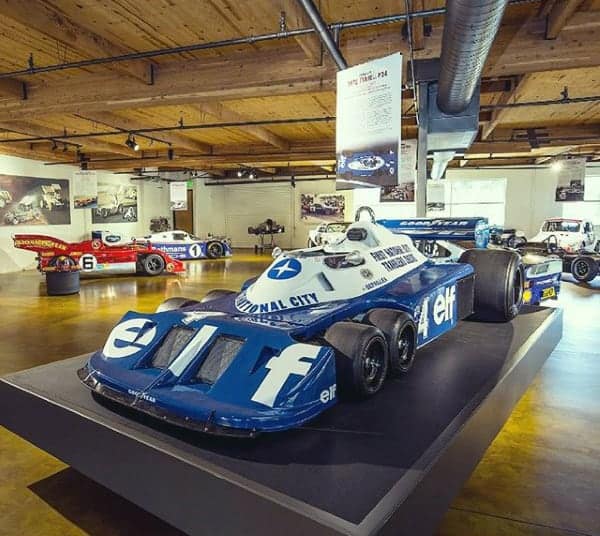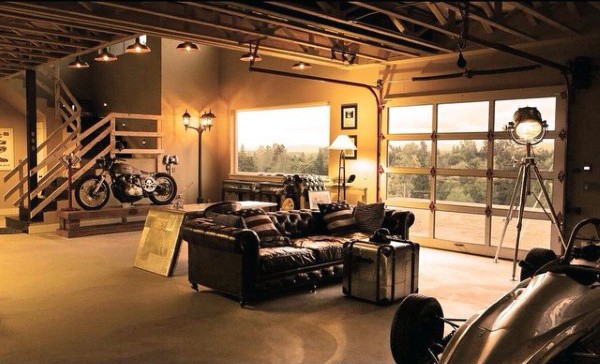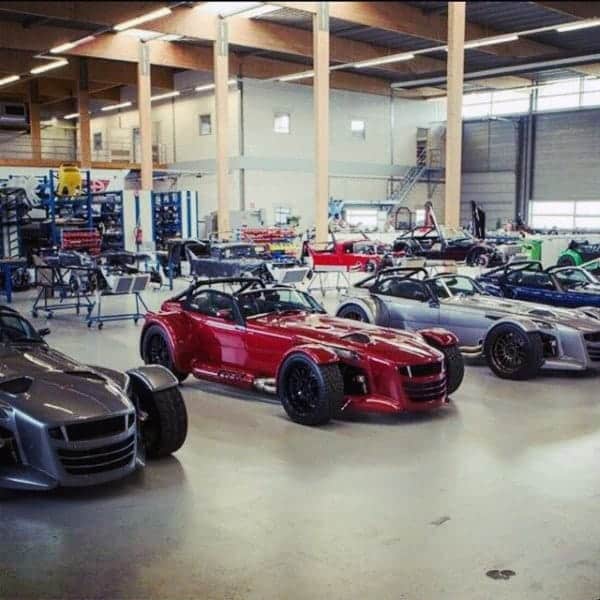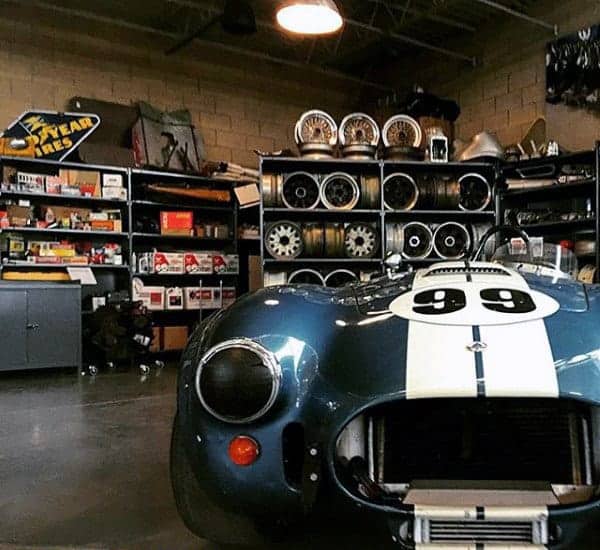 11. Arched Garage
The arched roof design of this garage creates a sense of grandeur, instantly captivating anyone who enters. Creative lighting arrangements highlight the sleek lines and exquisite curves of your prized vehicles, casting an enchanting glow that enhances their beauty.
Picture a gallery-like space, carefully curated to showcase your automotive collection like a work of art. The arched roof not only adds architectural interest but also allows for ample natural light to flood the space, creating a bright and airy atmosphere.
Every detail is meticulously crafted, from the polished concrete floors to the custom storage solutions that keep your tools and accessories organized and easily accessible. The luxury automotive garage becomes an extension of your refined taste, where functionality seamlessly intertwines with aesthetics.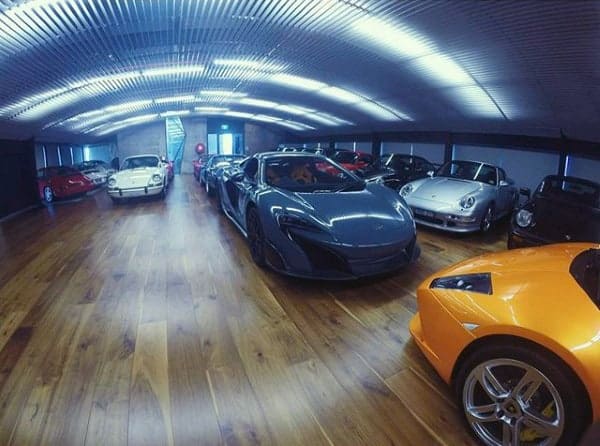 13. Multiple Garage Doors
Prepare to be awestruck by the grandeur of this exceptional space, featuring not one, not two, but three magnificent garage doors. As you approach, the sleek design of the multiple garage doors commands attention, hinting at the treasures within.
This multi-entrance concept offers unrivaled convenience and efficiency, allowing you to seamlessly access and showcase your impressive collection of vehicles. Imagine the thrill of effortlessly gliding through those expansive doors, unveiling your prized automobiles in all their glory.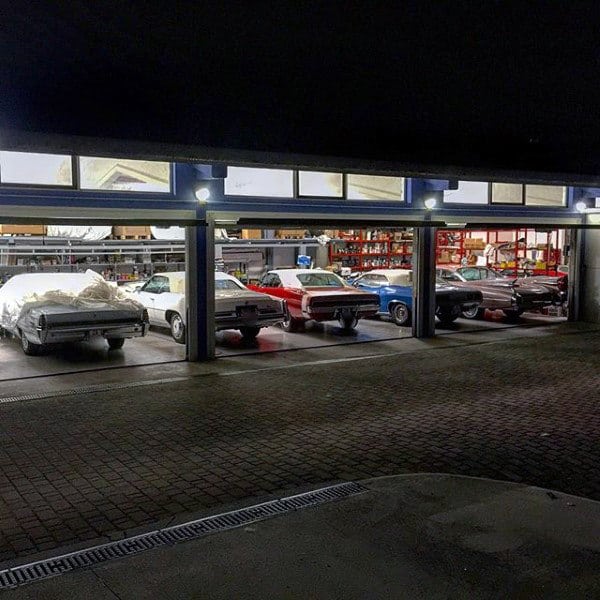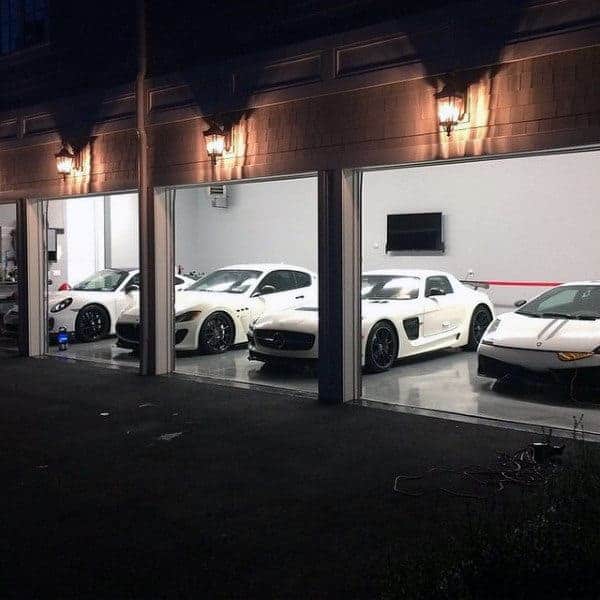 14. White Automotive Garage
Step into the realm of automotive opulence with the captivating allure of a luxury white automotive garage. This design concept is a masterpiece that not only showcases your prized vehicles but also creates an atmosphere of refined elegance.
The crisp white palette acts as a blank canvas, drawing attention to the cars themselves and highlighting their beauty. A minimalist approach ensures a clean and uncluttered space, allowing automobiles to take center stage. Every detail is meticulously planned to exude sophistication, from the sleek white cabinetry to the polished concrete floors.
The choice of white also offers practical benefits, as it is low-maintenance and easy to clean, ensuring your garage stays pristine. Thoughtfully placed lighting fixtures accentuate the lines and contours of the vehicles, casting a soft glow that enhances their allure.
With a luxury white automotive garage, you can bask in the seamless blend of aesthetics and functionality, creating an environment that not only protects your vehicles but also elevates them to the status of true works of art.