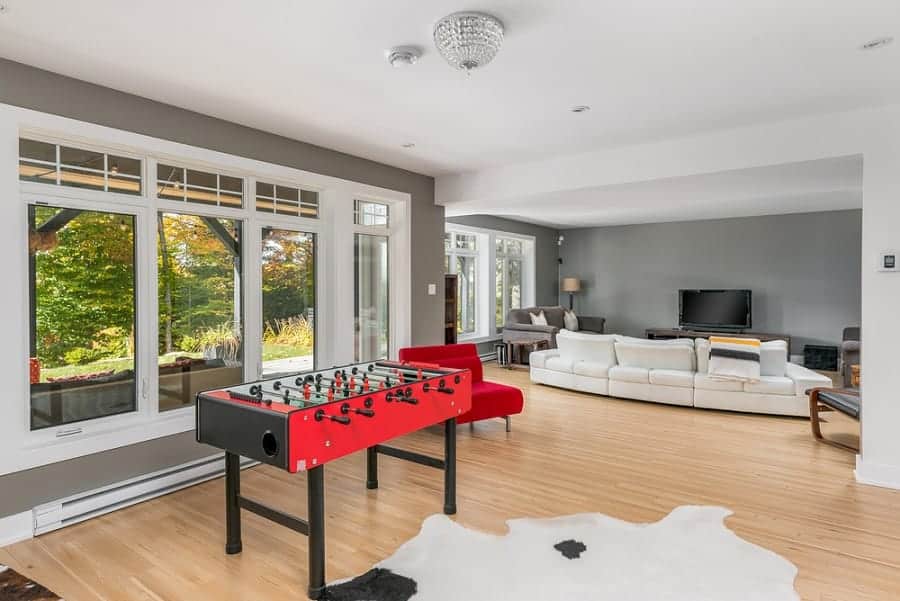 7 Must-Have Accessories for Your Man Cave
Your man cave should be a place where you and your closest friends can get together, kick back, and relax. This means you need more than an empty room with a couch and mini-fridge.
The right mix of man cave accessories is what takes your boring, run-of-the-mill man cave and turns it into a cool place to hang out. There should be plenty of comfortable seating, a place for making drinks, entertainment, and themed decor.
Outfit your man cave with things that interest you and your friends most. Perhaps you are sports fans and need large TVs for watching the big game.
Or maybe you are hardcore gamers and need just the right lighting and comfortable seating. Then there are the classic man caves that look like your favorite local hole-in-the-wall bar.
Check out these man cave accessories and trick out your man cave.
1. Entertainment Center
An entertainment center is a must for your garage or basement man cave. It creates a natural focal point in the room and gives you a place for housing your TV.
Choosing the right entertainment center also gives you additional storage, which is nice you have gaming equipment, movies, or sports memorabilia that you need to store somewhere.
You could choose a basic entertainment center, like a mid-century modern design. These are low profile and minimalist in design. These are good for small man caves because they won't take up a lot of visual space.
Larger entertainment centers are better for larger man caves. They can give your man cave a traditional feel with dark wood and decorative carvings.
Rustic entertainment units will have wood that looks weathered and worn. They can give your man cave a farmhouse and relaxed feel.
ClassicFlame Old Wood White TV Stand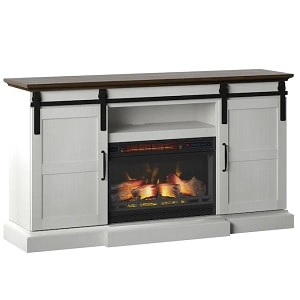 Check Price
This slightly rustic look entertainment center comes with an added bonus of a built-in electric fireplace. The entire unit measures 17.50 x 63 x 34.50 inches and can support up to 70 pounds, making it compatible with TVs that are up to 70 inches in size.
The electric fireplace is a 5,200 BTU infrared quartz that can warm a space that is up 1,000 square feet.
The unit's body is white with a dark wood top and classic barn door style hardware on the front. You can move the doors from in front of the four shelves on each side to the center to cover the fireplace. This gives you hidden storage for books, movies, games, or entertainment equipment.
2. Comfortable Seating
You need enough comfortable seating for everyone that you plan to invite over. Nothing is worse than inviting people over, and only half of them can actually sit down. You will notice that people quickly leave if this happens.
The more comfortable the furniture is, the longer people will sit back, relax, and hang out. One approach is to have a sizeable plus couch and a love seat. Then place a coffee table in the middle and have a living room or lounge feel.
You could take a traditional approach or look for one that has cave man specific features like built-in cup holders. If you want more of a bar feel to your man cave, then skip the sofas and use bar stools and high tops instead.
Kirwan Genuine Leather Flared Arm Reclining Sofa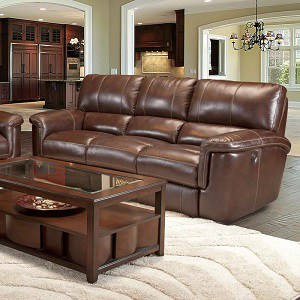 Check Price
This beautiful brown leather sofa will invite people to sit down with its plush cushions. It is upholstered with genuine leather for a high-quality look and feel. It has a standard seat depth, making it comfortable for the majority of people.
A nice extra feature is the power reclining seats, making these seats incredibly comfortable for long-term sitting. It also has an impressive maximum weight capacity of 750 pounds, making it suitable for bigger men.
Keep in mind that this sofa is quite large at 41 H x 92 W x 40 D inches, making it too large for some smaller man caves.
3. Technology
Add technology to your man cave and bring it into modern times. It does not have to be anything over the top of fancy. There are plenty of small gadgets and devices that would make perfect man cave ideas.
Even if the guys are not tech-savvy, there are plenty of devices that anyone can use. Adding smart plugs to the electrical equipment can make it simple to use voice control or program their operation.
Cameras can ensure no one uses the man cave when you are not home. Bluetooth speakers can create the ultimate surround sound experience. Smart home devices can sync the man cave with other rooms in the house for easy communication with those who are not in the man cave.
Smart lights can create custom lighting that gives your bar a party theme or your sports den a wash of your team's colors. There are even sofas with USB plugs so that you can charge your phone.
Kasa Smart Home Plug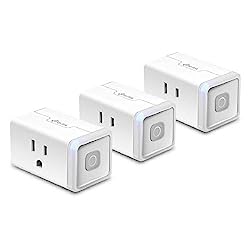 Check Price
These smart home plugs are convenient and useful because they work with any electrical plug. This lets you turn anything that plugs into a smart device. It is Wi-Fi compatible and does not require a special hub to operate. Once set up, you can integrate it into your Amazon Alexa, Echo, or Google Home.
It comes with several features, including scenes, away mode, smart actions, grouping, remote control, and scheduling. These plugs are incredibly easy to set up with an app that walks you through the process.
The only drawback is that these plugs can randomly go offline. This requires you to reconnect them by going through the setup process again. This can become annoying.
4. Bar Station
What will you serve your guests to eat and drink while they are hanging out? Sure, you could head to your kitchen, but that will get old fast after the fourth or fifth trip. It is much easier to have food and drinks readily available in your man cave. Then you never have to leave.
You could build a full bar, but for most people, this is more than necessary. Instead, you just need a station where you can store your beer mugs, bottles opener, shot glasses, decanters, liquor dispensers, kegerator, or bar accessories.
A fridge is also nice for keeping drinks cold and at the ready. You could go with the classic stainless-steel appliances or make them blend in with cabinet fronts. When designing your bar, think about the type of alcohol you typically drink. Your bar should be tailored to making those types of drinks.
Jamison Black Bar with Expandable Storage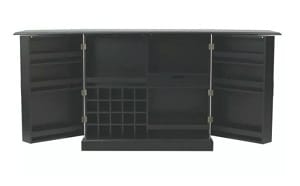 Check Price
This all-in-one bar unit is a perfect addition to your man cave. It is a freestanding unit, so you can place your bar anywhere you want. Then if you decide to move it in the future, you can. The dark wood finish gives it a masculine and sophisticated feel.
When closed, it looks like a regular cabinet. However, when you open it, you will see that it can hold up to 20 bottles and 24 wine glasses. There are also several shelves to hold small bottles and cans.
A conveniently placed drawer is perfect for organizing tools. The entire unit measures 37.25 in. H x 40 in. W x 19 in. D and is made of pressed pine. You will need to assemble it upon delivery. You will also need additional space around the unit to fully open the doors.
5. Games
You need something for you and your friends to do while hanging out in your man cave. If you and your friends enjoy playing video games, this is one option. However, it doesn't get you truly engaging with each other.
For a bar-like feel, you can add traditional games. For example, you can set up darts, foosball, or a pool table. These are all great additions because they get people up and interacting with each other.
Plan out your man cave before you start buying games, though. Some of these can take up quite a bit of room. Try to create zones in your man cave. That way, some people can play games and others can sit and relax without interrupting each other.
Kirkwood Seven-Foot Pool Table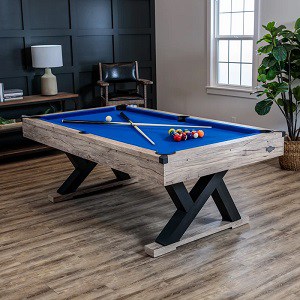 Check Price
This modern-looking pool table features bright blue felt and comes with drop pockets, balls, cues, and chalk. This seven-foot table may take up a lot of room in your man cave, but it will make an impressive stance.
The finish is a light rustic blonde wood that sits on black angular resin legs. The play surface is solid wood, and the table is CSA certified.
Because this table comes with everything you need, you can start playing as soon as you get it set up. However, it is a heavy pool table. It will take quite a bit of effort to set it up and get it level.
6. Display Unit or Shelves
Let's face it, your basement man cave may start out bare and empty, but it will not stay that way for long. As people learn about your new hang-out spot, they will begin to buy you gifts and decor. Before you know it, you will have more decorations and knickknacks that you can handle.
Embrace these gift ideas and invest in a shelf or shelving unit to display them all. If you have the floor space, a freestanding unit will work. If you don't have enough room, then stick with a floating shelf.
Mounting shelves on the wall lets you utilize the vertical space while keeping the space feeling open. Finally, choose a shelving solution that matches the rest of the decor and furniture.
If your other furniture is rustic, then choose shelves that are also rustic. If your sofa looks sleek and modern, then your shelves should also. If you have already bought dark or light wood furniture, then stick with the shade when buying wood shelves.
Danya B. Brown Laminate Shelf Kit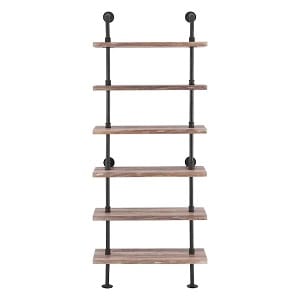 Check Price
This industrial-looking shelving unit has a unique design with a pipe and wooden board. The wood is finished with a distressed look, helping it to blend with farmhouse and rustics interior designs. The black metal pipe gives the shelves an edgy and industrial feel.
Measuring 31.5-in x 10-in x 67-in, these shelves won't take up too much space in your man cave. While it mounts on the wall, it does extend to the floor, giving it a more solid feel than a typical floating shelf.
One drawback of this unit is that the pipes go through the shelves, limiting your full use of each shelf.
7. Custom Man Cave Decor
Every old-school man cave has a neon sign. They make great man cave gifts, brighten up any wall, and look right at home among sports memorabilia. While traditional neon signs are typically beer logos or branding, modern signs can be anything.
There are plenty of man cave decor ideas that show you how you can order one of these personalized bar signs. This makes it one of the most unique decor items.
Choose the color, size, font style, and design that you want your wall art to be. Then you can use your neon sign as decoration and additional accent lighting in your man cave.
Jadetoad Custom Neon Sign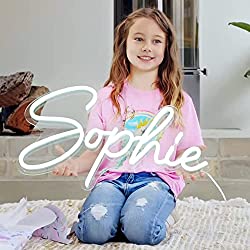 Check Price
It is incredibly easy to order a customized neon sign. This particular one makes it simple by breaking down the process into steps. Start by deciding how many lines of text you want.
You can choose from one, two, three, or four. Then choose your desired size, which can be anywhere from ten to sixty inches. You will then decide what color and type of font you want.
Your sign will be safe to touch because it uses LED technology and comes on a board ready for hanging. It won't get hot like traditional neon, so you can hang it anywhere that is within reach of a plug.
People often make the mistake of ordering a sign that is too small, so measure out your desired sign before ordering so that you choose a large enough size.
FAQs
How Much Does It Cost to Make a Man Cave?
The average man cave costs about $5,000 to $10,000 to set up. The cost greatly depends on how much remodeling is needed at the type of furniture, technology, and decor that are added. The more required, the more expensive your man cave will be.
While you want to invest in your man cave, you don't want to spend too much money on it. It won't add very much to your home's value, so don't expect to get a return on your investment.
How Big Should a Man Cave Be?
There is no requirement for how small or big your man cave should be. Your man cave simply needs to fit the space you have available or be big enough to fit all of the things you want in it.
This means it could be just big enough for a small cabinet bar, a couple of bar stools, and a TV. It could also be large enough to have a full-sized bar, a full couch for a lounge area, and several games.