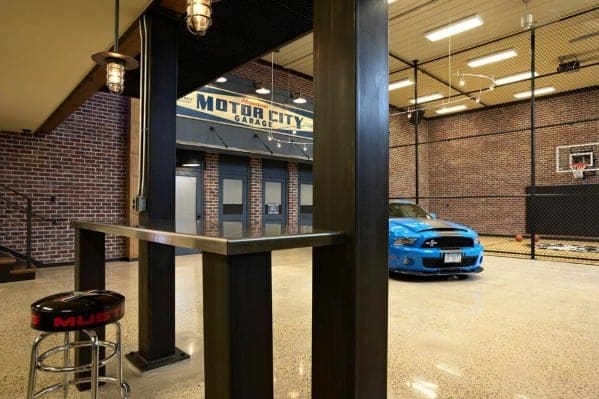 50 Man Cave Room Ideas – Photo Design Guide
When you want to get away from the outside world or perhaps your disgruntled wife at home, the best way to do is to relax in your man cave. For men, these sacred places give us the chance to unwind in comfort and recharge our minds. It's the one space in our homes that's solely dedicated to us, and this space acts as a reminder of our freedom and passion. As secluded rooms inside our homes, man caves also give us the opportunity to admire our collection of treasures without disruption.
Think billiard pool games, movie and media rooms, whiskey taste tasting at the bar, and decor composed of the finest sports memorabilia. No matter what your take on the ideal man cave may be, this living space is distinctively our own. And chances are you've seen those remodeling television shows which feature man cave ideas and overheard the negative perception of most man cave decorating and designs. Yet the reality is the man cave doesn't have to be this ultra-masculine room with a river of nacho cheese flowing through it. Any man can storm up some man cave ideas and create a living space that's functional, modern, and respectable.
In return, we've put together a photo design guide for the best man cave ideas and inspiration from around the world. You'll discover interior design ideas for every type of living space imaginable including basements, garages, and even attics. No matter what size your house may be, these ideas will help you put together the pieces and create a man cave masterpiece.
1. Man Cave With Bar Counter Seating
Step into the extraordinary realm of the man cave, where camaraderie and relaxation intertwine. At the heart of this captivating space stands a magnificent bar counter, exuding an aura of sophistication and conviviality. Here, friends gather, drinks flow, and stories unravel, as the atmosphere buzzes with laughter and shared moments.
The bar counter becomes a focal point for hanging out, fostering a sense of community, and fostering deep connections. Its sleek design and impeccable craftsmanship add a touch of elegance to the surroundings, while shelves adorned with top-shelf spirits and mixology tools beckon the adventurous to indulge in creative concoctions.
Whether it's unwinding after a long day or celebrating life's triumphs, the bar counter in this man cave serves as a haven for unforgettable memories and unbridled joy.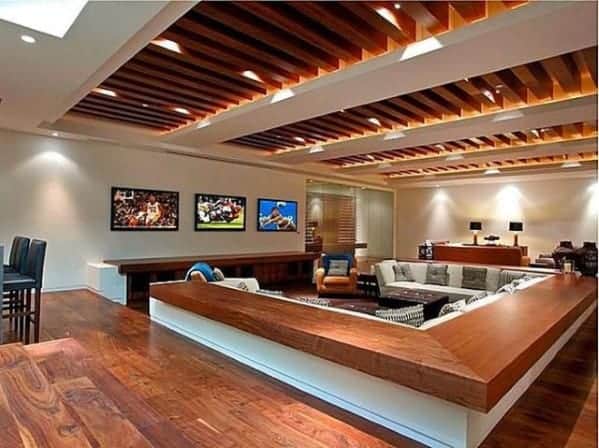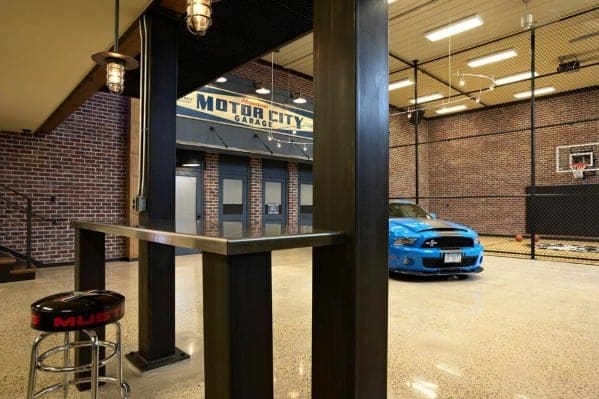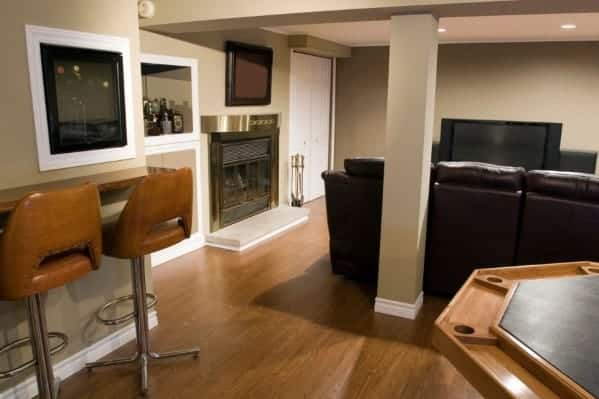 2. Man Cave With Pool Table
Immerse yourself in the epitome of manly bliss with a man cave boasting a captivating centerpiece: a magnificent pool table. This extraordinary sanctuary exudes a creative ambiance, where masculine energy and refined leisure collide.
The pool table takes center stage, beckoning players to engage in thrilling battles of skill and strategy. With each precise shot, the resounding crack of billiard balls fills the air, creating an electric atmosphere. Surrounding the pool table, the walls proudly display vintage sports memorabilia, capturing the spirit of competition and victory.
The room is adorned with sleek, contemporary furniture, offering a comfortable and stylish space for relaxation and camaraderie. With every visit to this man cave, time seems to stand still, and the bond of brotherhood is strengthened through friendly competition and shared laughter.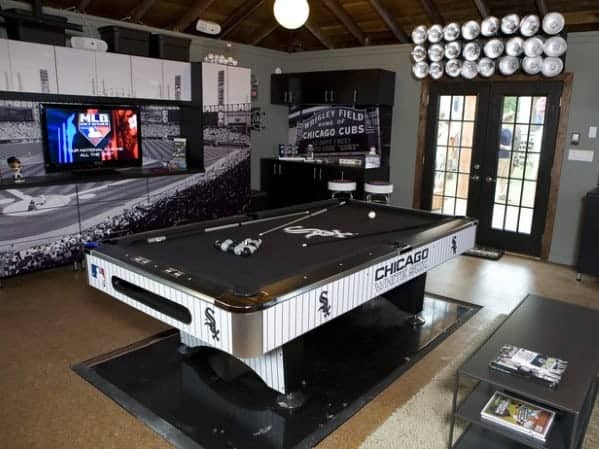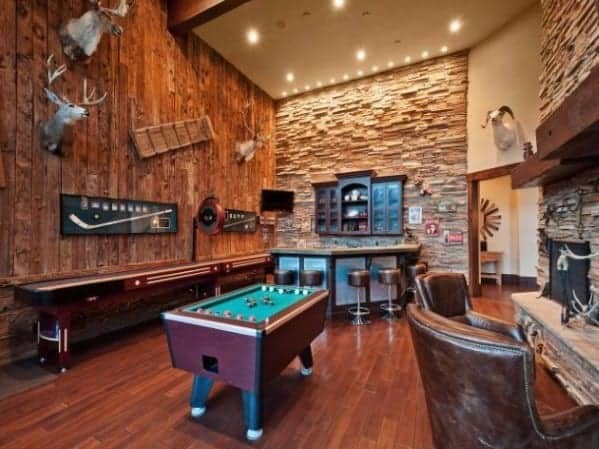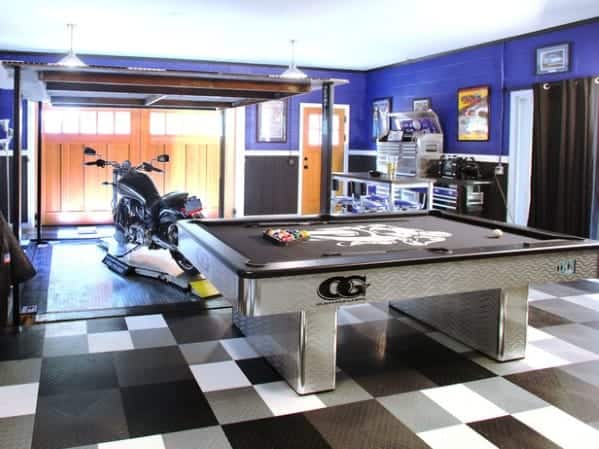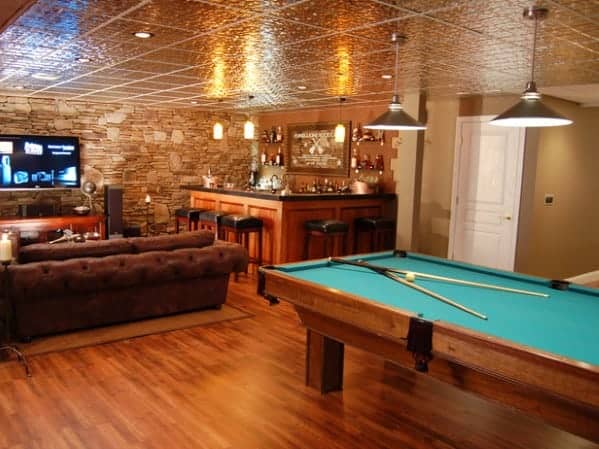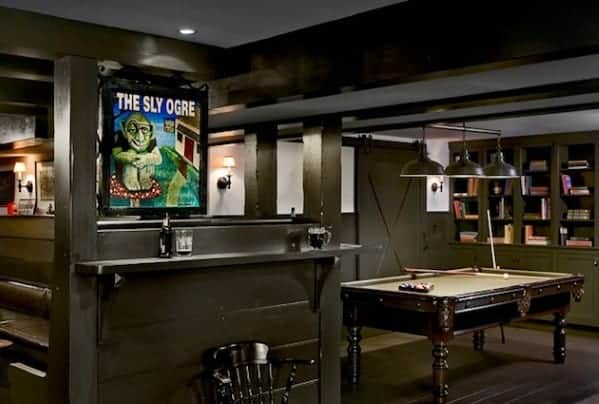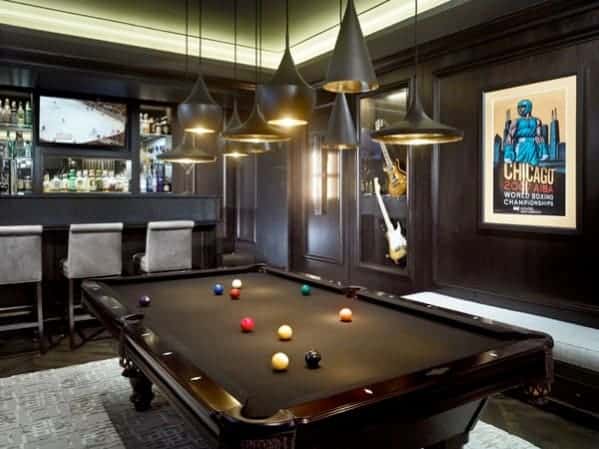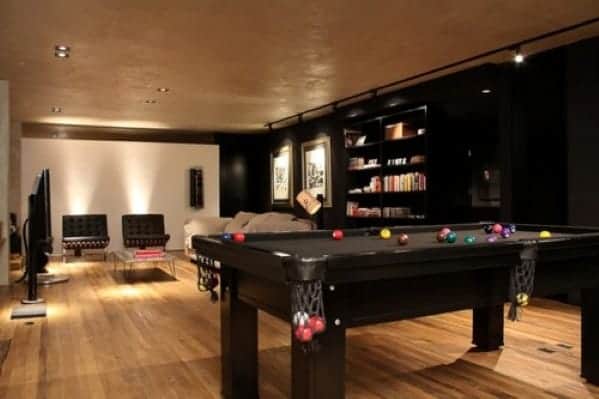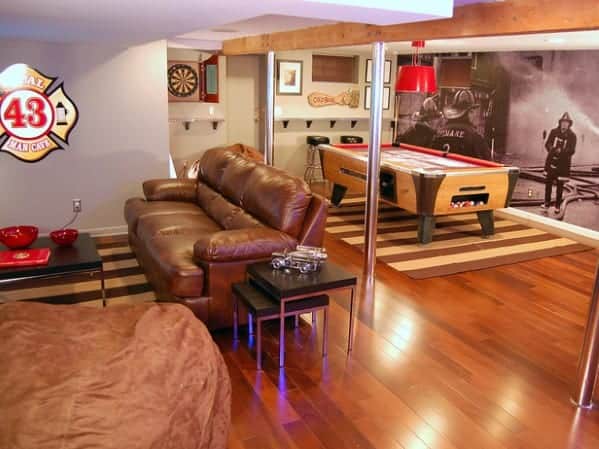 3. Cabin-Themed Man Cave
Escape to the rustic charm of a cabin-style man cave, where the allure of nature is brought indoors. The essence of this retreat lies in the extensive use of reclaimed wood, giving the space a warm and authentic feel. Weathered furniture, carefully selected for its vintage appeal, adds to the rugged aesthetic.
As you step inside, your eyes are drawn to the majestic deer head mounted proudly on the wall, a symbol of both strength and serenity. Every corner of this haven is infused with the spirit of the great outdoors, inviting you to unwind and immerse yourself in the tranquil ambiance.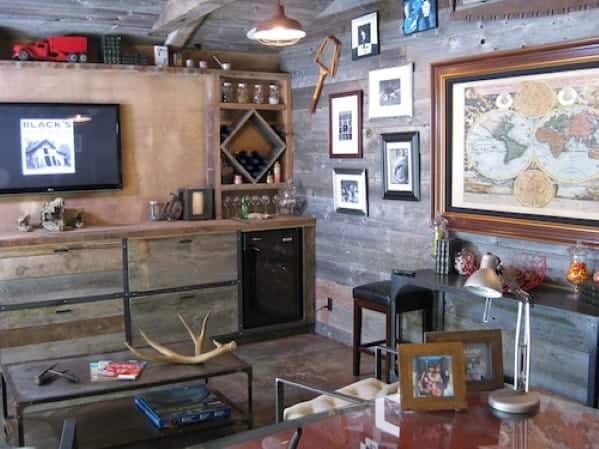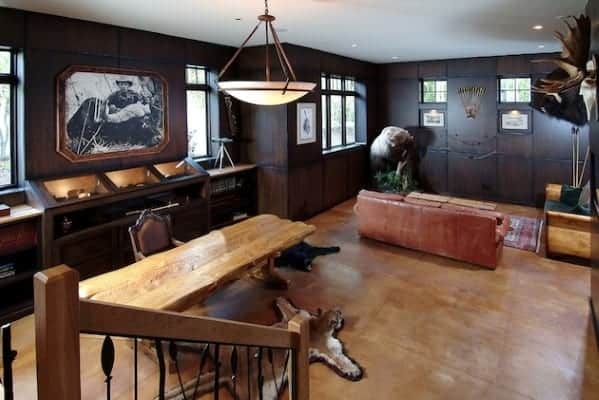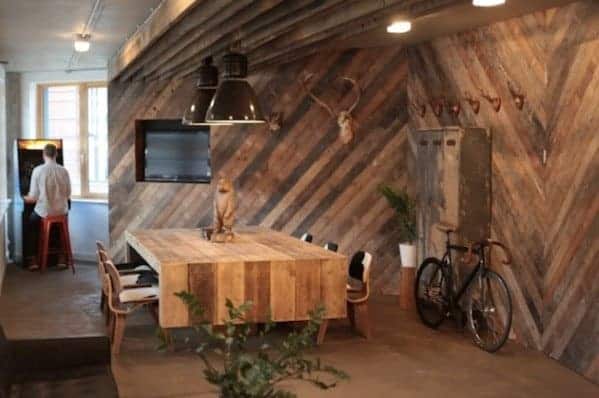 4. Dark Man Cave
Make way for the mysterious realm of the dark man cave, where shadows dance and secrets abound. This enigmatic sanctuary is enveloped in an aura of intrigue, with its dark wood accents and contemporary decor.
The room is bathed in an alluring glow from dramatic drop lights that hang from the ceiling, casting fascinating patterns on the walls. Soft pools of light are created by strategically placed lamps, adding to the ambiance of the space.
The dark tones create an intimate and sophisticated atmosphere, perfect for indulging in hobbies, unwinding, or simply immersing oneself in the allure of the unknown.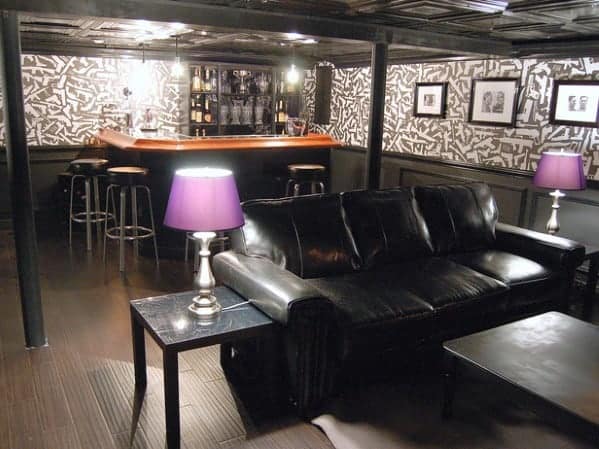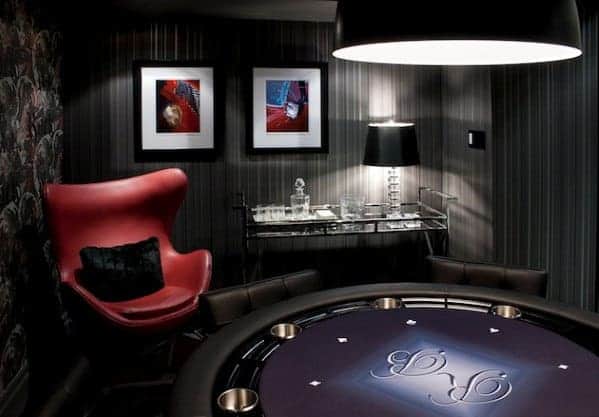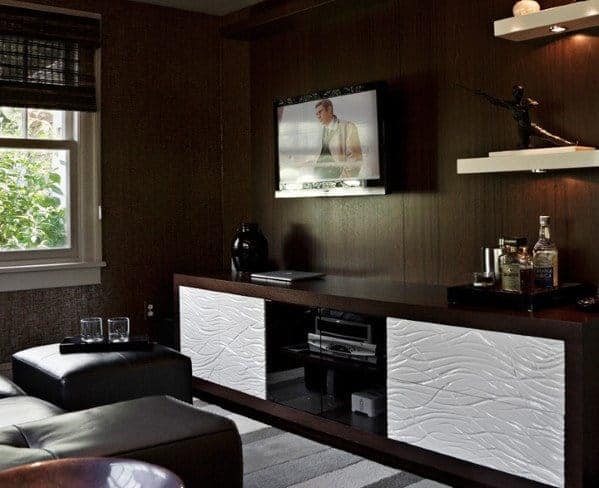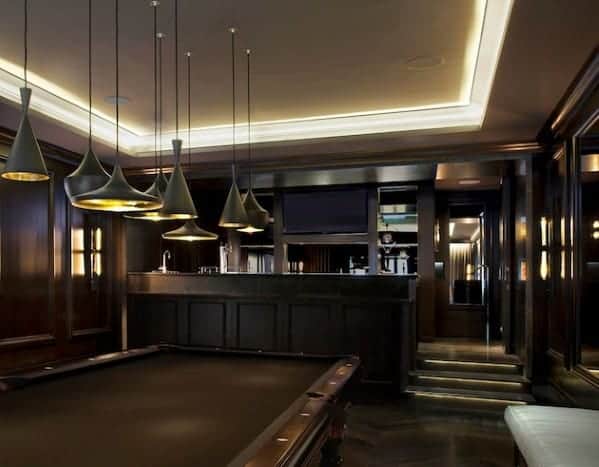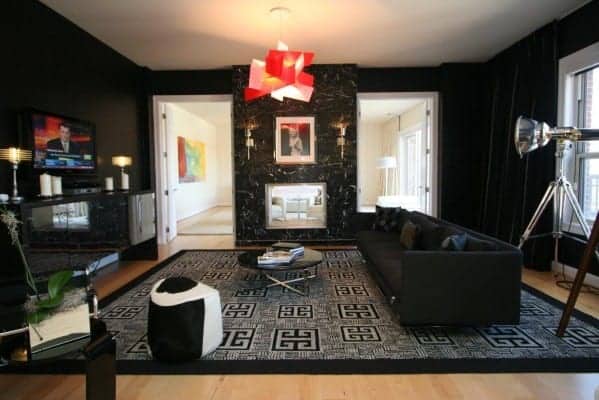 5. Industrial Man Cave
There's nothing like the epitome of industrial cool, the industrial man cave. This rugged retreat embraces the raw beauty of exposed brick walls, sturdy ceiling beams, and polished concrete floors. With a nod to contemporary decor, this space combines sleek elements with the industrial aesthetic.
Think sleek leather sofas, metal accents, and minimalist artwork. Hanging pendant lights illuminate the space, casting a warm glow over the room. A custom-made metal bar takes center stage, complete with a concrete countertop and reclaimed wood shelving.
It's a haven where gritty meets chic, creating a unique and captivating atmosphere for any modern-day machinist or urban dweller.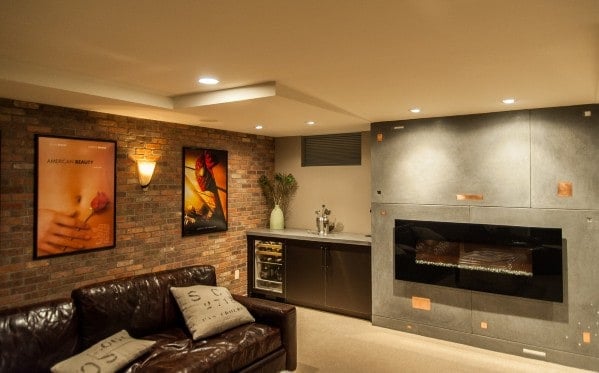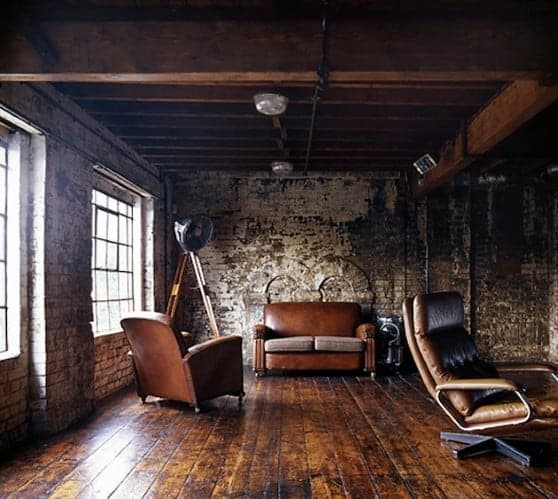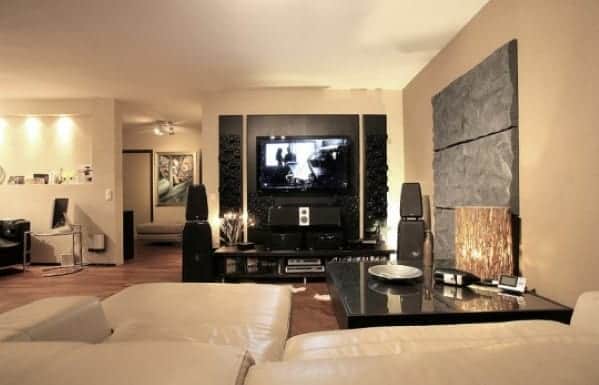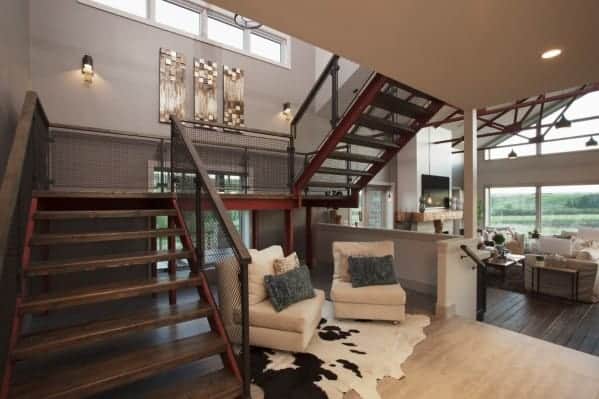 6. Farmhouse-Style Man Cave
Check out this cozy haven of a farmhouse-style man cave, where rustic charm meets contemporary flair. Step inside and be greeted by the timeless elegance of shiplap walls, painted in a crisp white hue, creating a bright and inviting atmosphere.
The fusion of farmhouse aesthetics with modern elements sets the stage for a unique and stylish retreat. Enhancing the space, contemporary decor accents such as sleek metal fixtures, plush leather seating, and abstract art pieces provide a touch of sophistication.
With a perfect blend of old-world charm and contemporary design, this farmhouse-style man cave becomes a sanctuary where relaxation and style coexist harmoniously.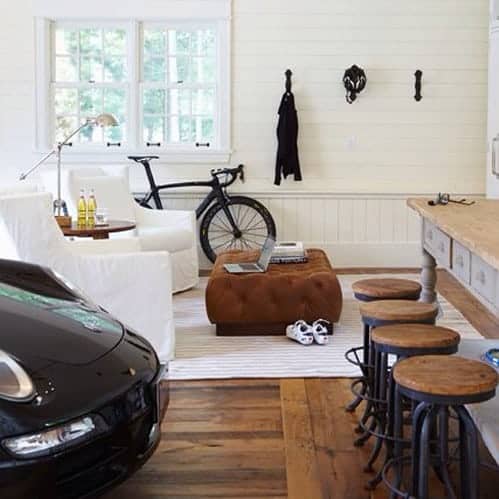 7. Man Cave Library
This captivating sanctuary is designed with a contemporary twist, blending modern decor with the timeless charm of a classic library. The focal point is a full-wall bookcase, elegantly displaying an extensive collection of literary masterpieces.
The interior exudes an air of coziness, with its dark hues and plush seating, inviting visitors to get lost in the pages of their favorite books. Warm lighting casts a gentle glow, creating a serene ambiance that enhances the reading experience.
Accentuating the contemporary vibe are tasteful decor elements, such as sleek sculptures and abstract art pieces, adding a touch of artistic flair to this haven for bookworms.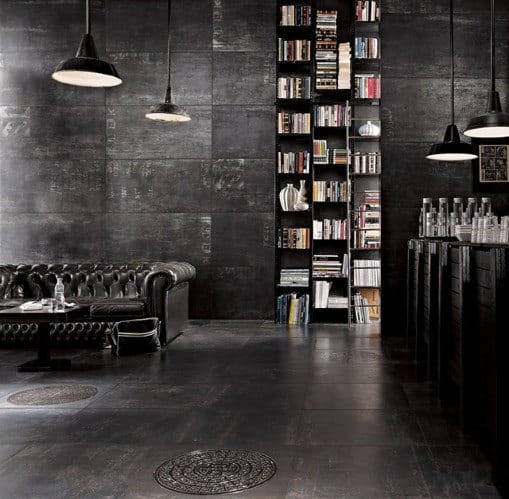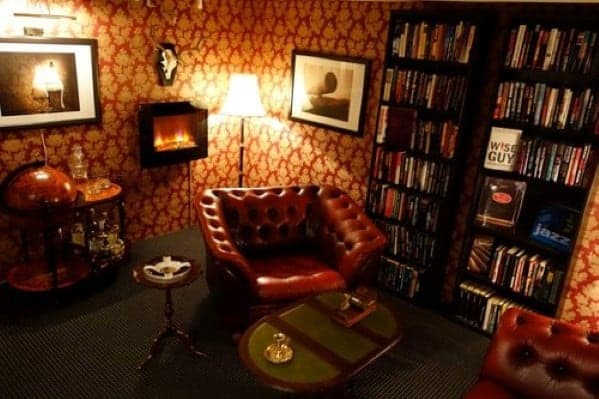 8. Music-Themed Man Cave
Check out these extraordinary music-themed man caves, where rhythm and harmony blend with contemporary decor to create an unparalleled haven for audiophiles. Step into a symphony of style as sleek and modern design elements harmonize with music-inspired accents.
The walls are adorned with framed vinyl records, showcasing legendary artists and their timeless melodies. The focal point of this retreat is a state-of-the-art sound system that envelops the space with rich, immersive sound. Amp up the ambiance with mood lighting, controlled by a smartphone app, allowing you to set the perfect tone for any musical experience.
Surround yourself with vintage guitars, drums, and other instruments, displayed as works of art, inviting impromptu jam sessions. With a plush seating area, adorned with music-themed pillows and throws, this man cave is a symphony of comfort and inspiration.
Whether you're a passionate musician or simply a lover of melodies, this music-themed man cave is a sanctuary that strikes all the right chords.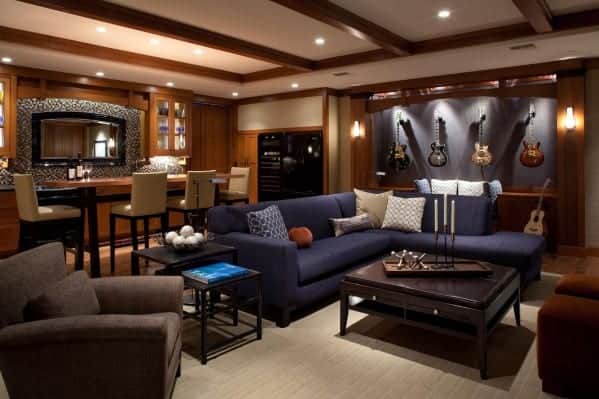 9. Bohemian Man Cave
Step into a captivating bohemian man cave, where creativity and freedom intertwine in a harmonious explosion of color and texture. This haven embraces the essence of maximalist interior design, with vibrant patterns and eclectic treasures that stimulate the senses.
A luxurious Persian rug takes center stage, inviting you to sink your feet into its plush fibers. The space is adorned with an abundance of greenery, with cascading plants and hanging vines that bring nature indoors.
Contemporary decor accents, such as unique artwork and statement furniture pieces, add a touch of modern flair to this bohemian sanctuary. Lose yourself in this enchanting retreat where every corner whispers tales of adventure and self-expression.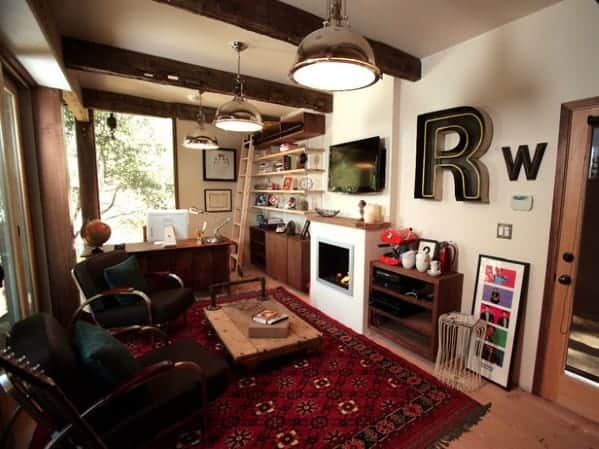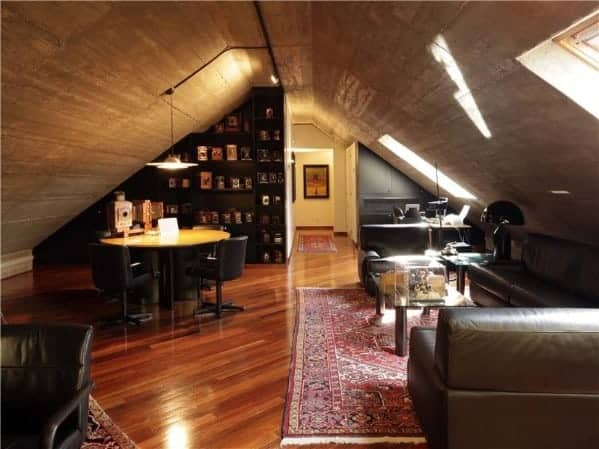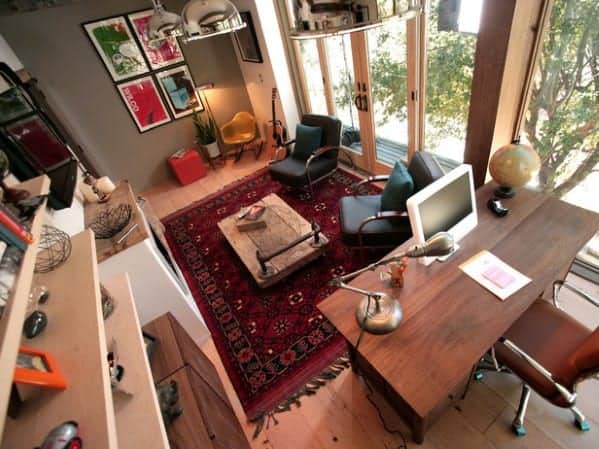 10. Garage Man Cave
Immerse yourself in the epitome of automotive passion with a garage man cave that exudes sleekness and style. This automotive sanctuary is the perfect fusion of contemporary design and sports car memorabilia, creating a captivating space for any car enthusiast.
The walls are adorned with iconic automotive artwork and framed vintage car posters, while shelves proudly display scale model replicas of legendary vehicles. The centerpiece of this remarkable man cave is a meticulously restored classic sports car, gleaming under the carefully arranged spotlights.
Polished concrete floors, accented with vibrant racing stripes, add an extra touch of modernity to the space. With a state-of-the-art sound system and plush leather seating, this garage man cave invites you to relax and immerse yourself in the world of automotive excellence.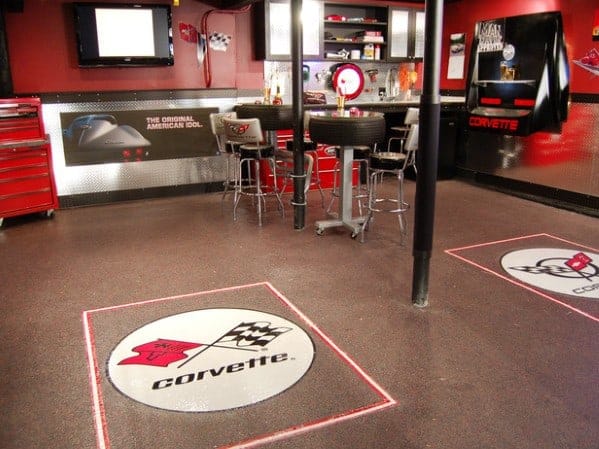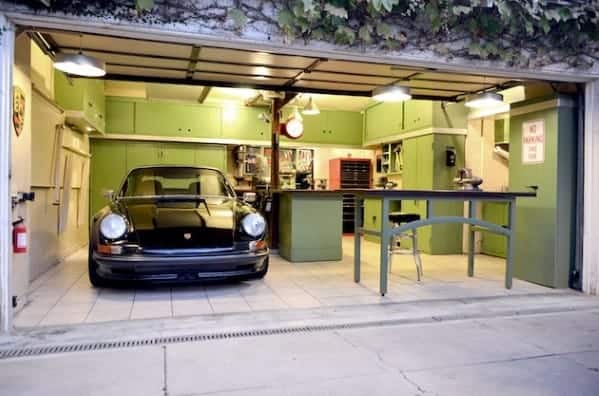 11. Golfer's Haven
Welcome to the extraordinary world of a Golf Man Cave, where golf enthusiasts can escape into their own personal golf paradise. This captivating haven combines the thrill of the game with contemporary decor, creating a space that is both stylish and immersive.
At the heart of this retreat lies a meticulously designed mini golf area, complete with meticulously crafted holes that challenge and inspire. Lush synthetic turf lines the floor, resembling the perfectly manicured fairways of a prestigious golf course. The walls proudly display an impressive collection of golf memorabilia, showcasing treasured golf clubs, autographed golf balls, and vintage tournament posters.
The contemporary decor elements, such as sleek furniture and modern lighting fixtures, add a touch of sophistication to the space, elevating the ambiance to new heights. This Golf Man Cave is a sanctuary where golfers can indulge their passion, practice their swing, and surround themselves with the sport they love most, creating an unforgettable haven that truly epitomizes the art of golf.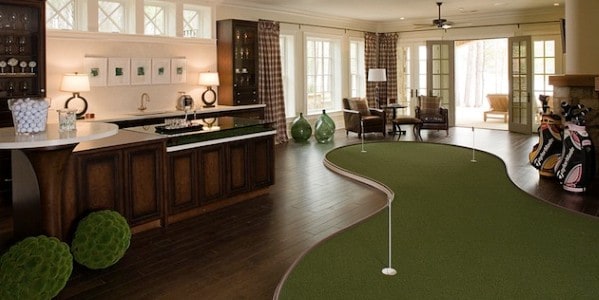 12. Modern Contemporary Man Cave
Step into the world of the modern contemporary man cave, where sophistication meets masculinity in the most captivating way. This urban sanctuary is adorned with sleek lines, minimalistic furniture, and an array of contemporary decor ideas that exude style and creativity. Imagine a space infused with bold colors, geometric patterns, and cutting-edge technology.
Picture walls adorned with abstract art pieces, create a captivating focal point that sparks conversations. The centerpiece of this contemporary man cave is a state-of-the-art home theater system, surrounded by plush seating that invites you to sink in and lose yourself in the immersive cinematic experience.
To complement the ambiance, consider adding a floating bar area with polished metal accents and LED lighting, providing the perfect spot to savor a glass of fine whiskey or mix up a craft cocktail. The modern contemporary man cave is where refined taste meets cutting-edge design, allowing you to escape the outside world and indulge in a space that is uniquely yours.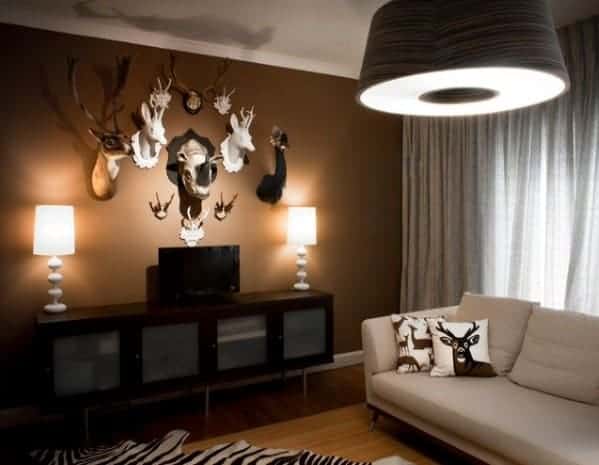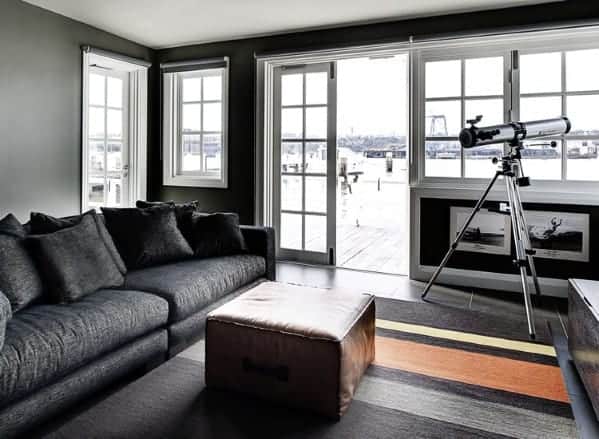 13. Underground Man Cave
Step into the extraordinary world of an underground man cave, nestled in the depths of a basement. As you descend the stairs, anticipation fills the air, and you're greeted by the allure of a hidden sanctuary. The exposed ceiling beams add a rustic charm, perfectly complemented by the vibrant hues of decorative wallpaper that adorn the walls.
This underground haven is a realm where imagination takes flight, where hobbies and passions find their sanctuary. It's a space where one can immerse themselves in the embrace of comfort and indulgence, a creative refuge that sparks inspiration.
Whether it's a place to watch thrilling movies on a state-of-the-art home theater system, engage in epic gaming battles, or simply unwind with friends over drinks in a stylish bar area, this underground man cave is a testament to the limitless possibilities of personal expression.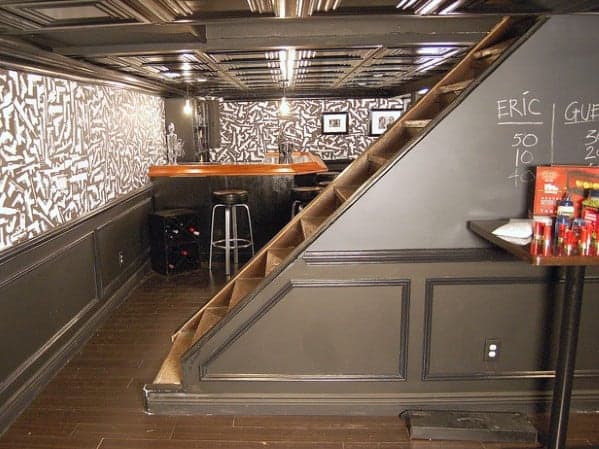 14. Man Cave With Mural Art
Unleash your creative spirit and immerse yourself in a world of vibrant colors and artistic expression. Adorn the walls of your sanctuary with breathtaking murals that showcase your unique personality and passions.
Whether you're a fan of sports, movies, or the great outdoors, a mural can transport you to another dimension within the comfort of your own space. Let the strokes of a skilled artist bring your favorite scenes to life, transforming your man cave into a visual masterpiece that will ignite conversation and ignite your imagination.
Lose yourself in the captivating details and intricate designs that make each mural a truly one-of-a-kind work of art. Step into your man cave retreat, surrounded by the beauty and inspiration of mural art, and let your imagination run wild.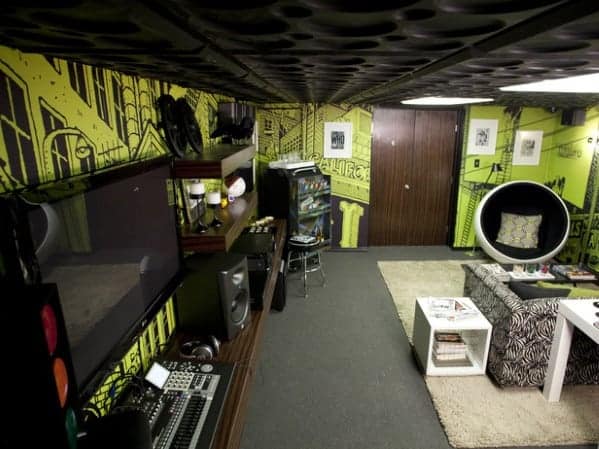 15. Man Cave With Sports Memorabilia
Adorn the walls with iconic sports memorabilia, showcasing autographed jerseys, signed balls, and championship trophies that tell stories of triumph and glory. Install wall-mounted sports tools such as baseball bats, hockey sticks, or golf clubs, turning them into striking decorative pieces that exude a sense of rugged athleticism.
Let the room come alive with vibrant colors, representing your favorite team's hues, and create a focal point with a large, high-definition TV for watching thrilling games and reliving memorable moments. With these creative sports-inspired elements, your man cave will be the ultimate sanctuary for sports enthusiasts, a space that celebrates your passion and love for the game.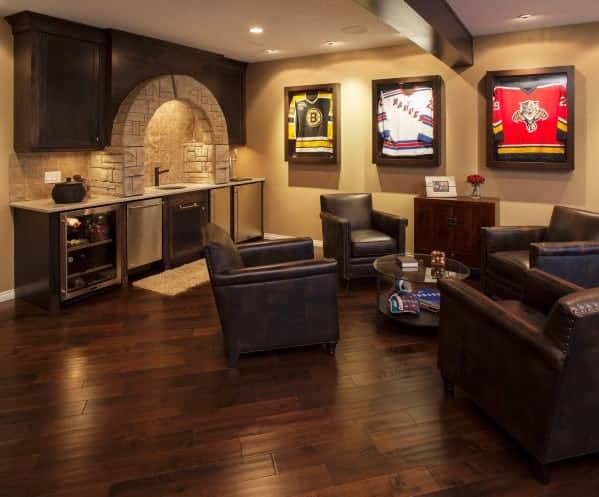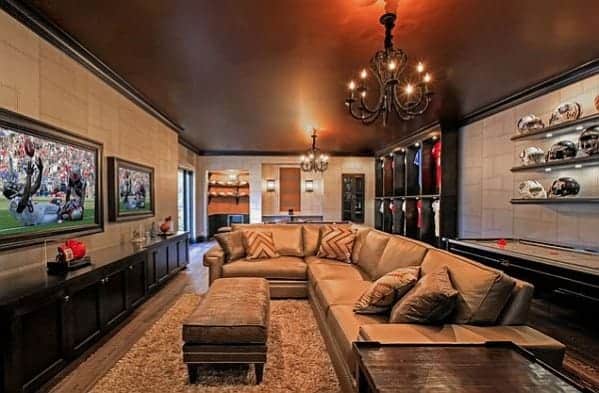 16. Man Cave Wet Bar
One standout feature that can elevate your space is a spectacular wet bar. Imagine a beautifully designed and well-stocked bar area, complete with a sleek countertop, stylish bar stools, and a wide selection of premium liquors and mixers.
This focal point of your man cave will become the go-to spot for hosting friends and enjoying evenings of camaraderie. With dimmable ambient lighting and a collection of unique glassware, your wet bar will exude sophistication and create an inviting atmosphere.
Whether you're shaking up signature cocktails or pouring craft beers, the wet bar will be the centerpiece that brings together your love for entertaining and your personal style. Cheers to unforgettable moments and memorable experiences in your man cave!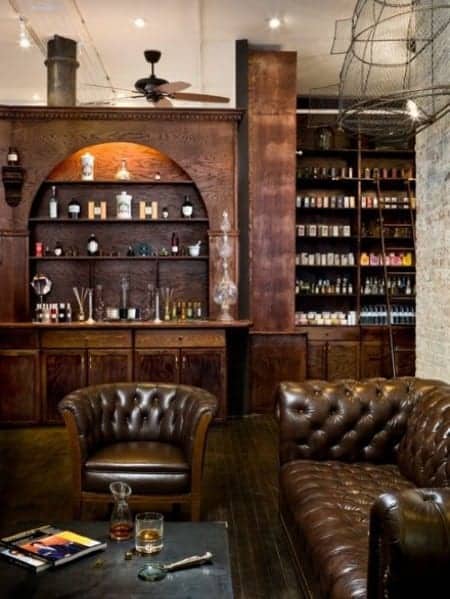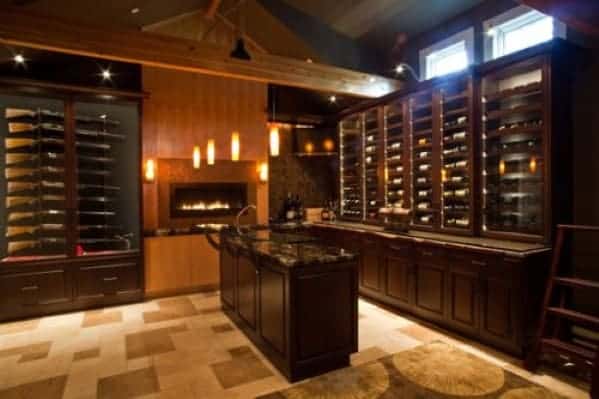 17. Movie Room
Turn your man cave into the ultimate movie room oasis. With a focus on a man cave movie room, you can create a captivating cinematic experience right in the comfort of your own home. Start by installing a large projector screen that will transport you into the heart of the action. Choose a high-quality projector that brings out the vivid colors and crisp details of your favorite films.
To enhance the cozy and relaxed atmosphere, add a comfortable day bed where you can lounge and unwind while enjoying your movie marathon. Complete the ambiance with dimmable LED lights and plush throw pillows for a touch of luxury.
Your man cave movie room will become the go-to spot for entertainment and relaxation, where you can escape into the magic of the silver screen. Let your creative ideas flow and turn your man cave into a movie lover's dream come true.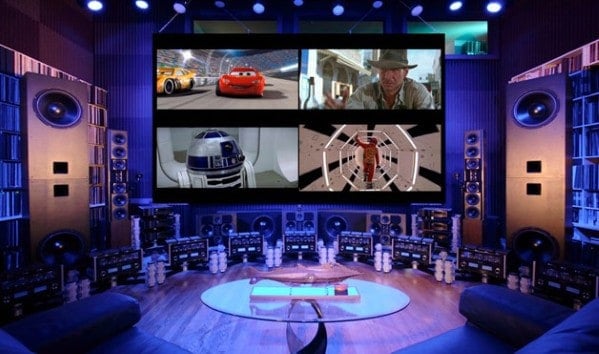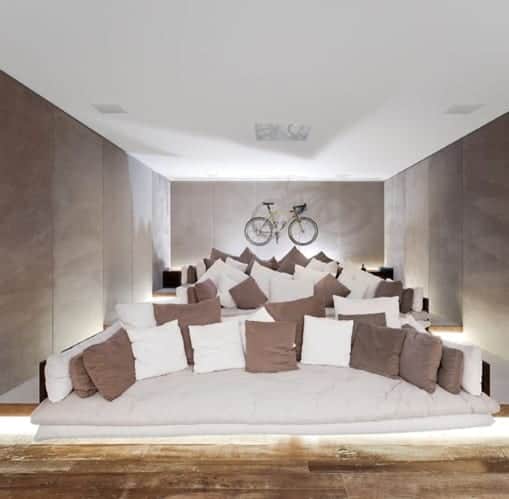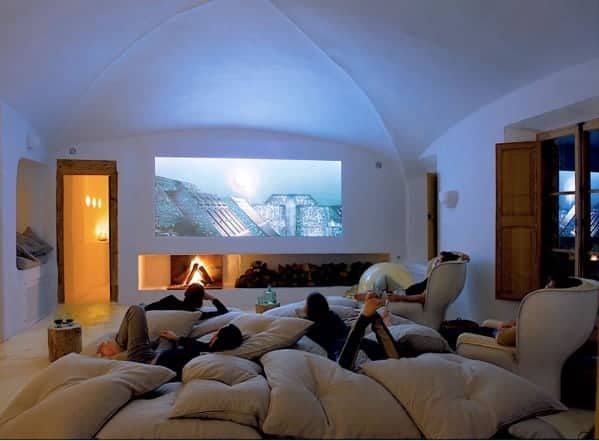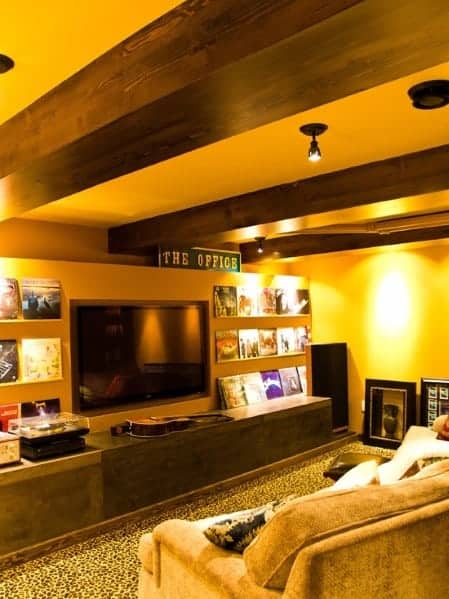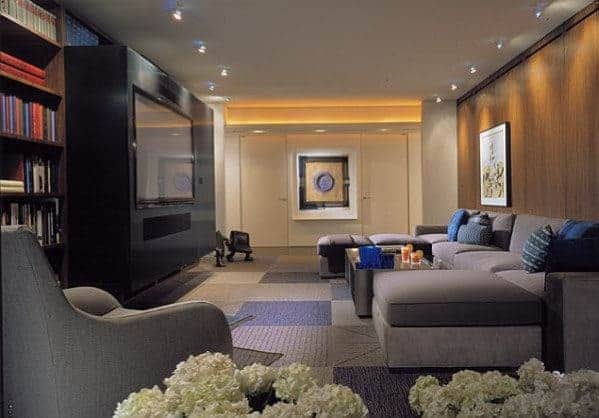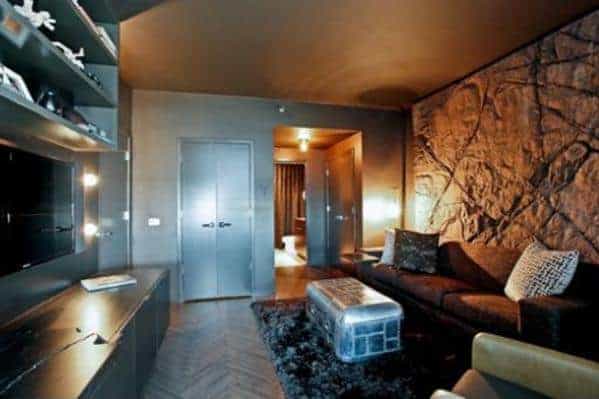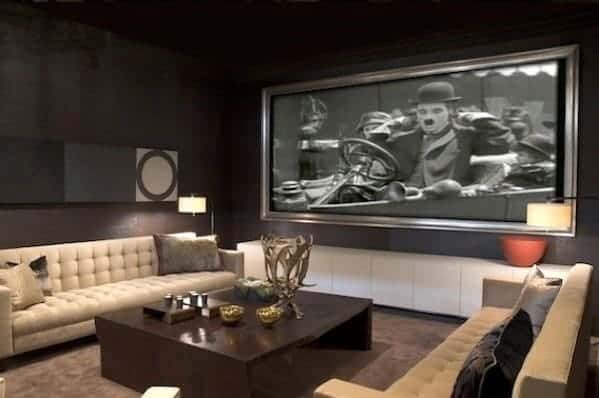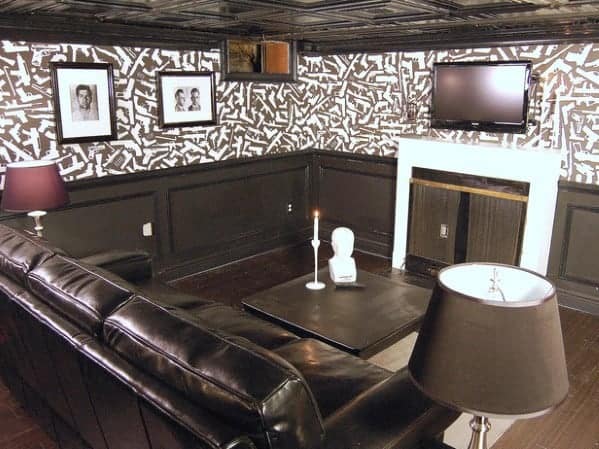 18. Retro Man Cave
Create the ultimate man cave with retro decor! Transport yourself back in time with a space that exudes nostalgia and style. Start by adorning the walls with vintage ads, capturing the essence of a bygone era. Incorporate retro decor pieces such as neon signs, vinyl record players, and old-school arcade games to truly set the tone.
Add a touch of authenticity with a classic jukebox, filling the room with the sounds of yesteryear. Complete the ambiance with vintage-inspired furniture like leather recliners and a well-stocked bar area featuring a collection of aged spirits.
This man cave will become a haven for those seeking a unique and creative space that celebrates the charm of the past while providing a modern twist. Get ready to unwind, relax, and indulge in the nostalgia of your retro-inspired sanctuary!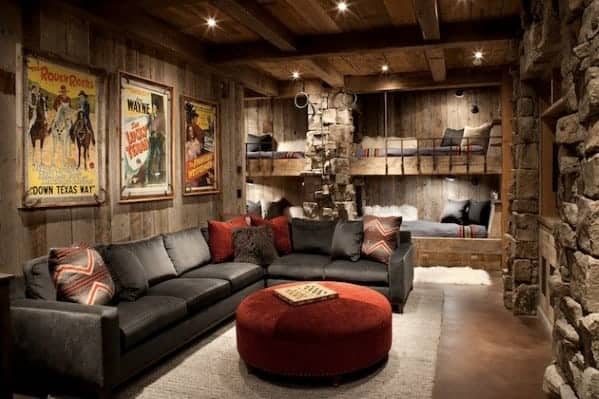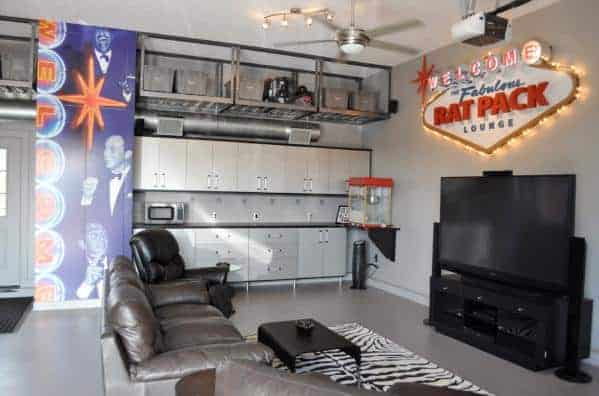 19. Gamer's Den
Nestled within this digital wonderland, you'll find a throne fit for a gaming king—a gamer chair that cradles you in comfort as you embark on epic quests and conquer virtual foes. But the adventure doesn't end there.
Illuminating the room with a mesmerizing glow are vibrant LED lights, casting a kaleidoscope of colors that sync with the intensity of your gameplay. With each flicker, your heart races in anticipation, fully immersed in the world of pixels and possibilities.
This gamer's den is not just a room; it's a gateway to new dimensions, where imagination meets technology in the most exhilarating and creative way possible.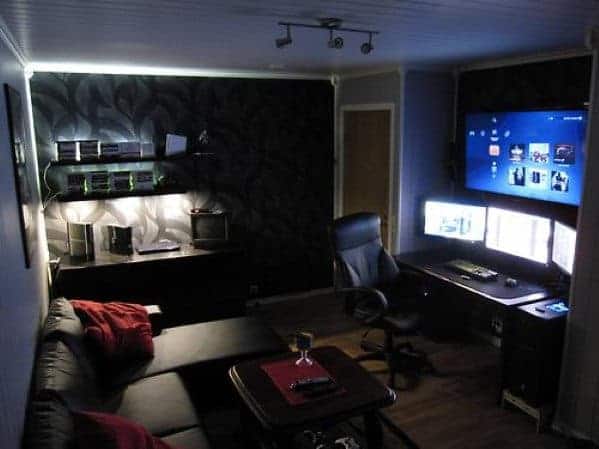 20. Man Cave With Cozy Fireplace
Looking for the ultimate man cave room ideas? Picture this: a cozy retreat with a modern gas fireplace as its centerpiece. Imagine the warmth and ambiance it would bring to your space, creating a haven for relaxation and unwinding after a long day.
To complete the cozy atmosphere, add a plush rug that beckons you to kick off your shoes and sink your toes into its luxurious fibers. The combination of the flickering flames and the softness underfoot creates a harmonious blend of comfort and style.
Whether you're hosting friends for a game night or indulging in some well-deserved solitude, a man cave with a fireplace is the perfect backdrop for memorable moments and creative inspiration.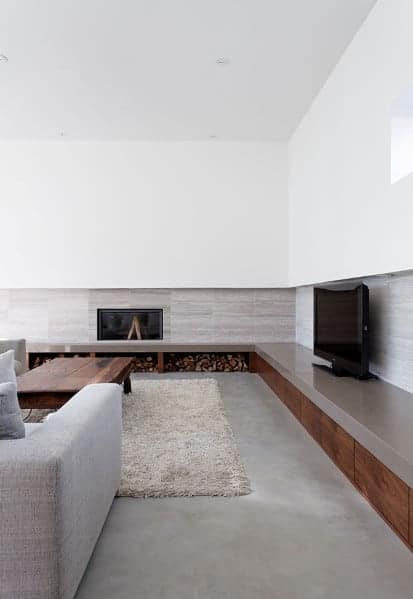 21. Man Cave With Recliner Seating
Transform your man cave into the ultimate relaxation oasis with the perfect centerpiece: a luxurious Reclining Chair. This epitome of comfort is a must-have for movie rooms or lounging areas. Imagine sinking into its plush cushions, reclining back, and losing yourself in the immersive world of your favorite films.
Indulge in the premium features, such as built-in cup holders and integrated speakers, enhancing your movie-watching experience to new heights. During breaks between films, simply adjust the chair to a comfortable lounging position, allowing you to unwind and recharge in style.
The Reclining Chair is not just furniture; it's an invitation to indulge in pure bliss and create lasting memories in your personal man cave retreat.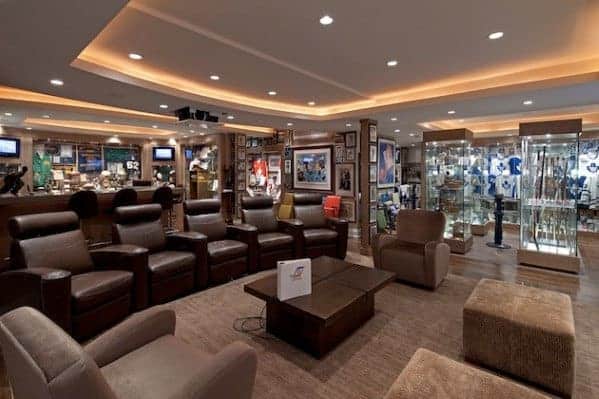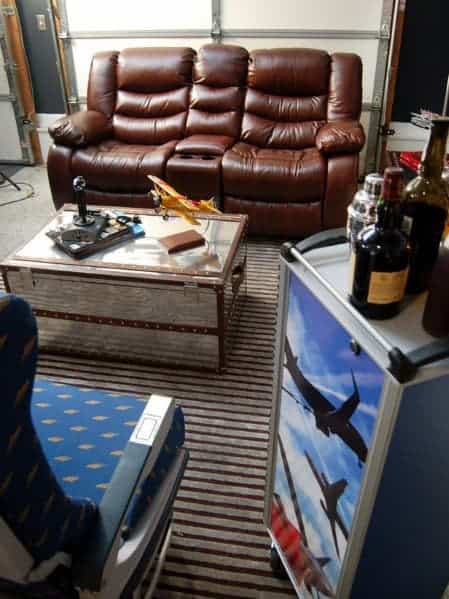 22. Art Deco Man Cave
Create an extraordinary art deco man cave that is bursting with creative flair. Set the stage with a dimpled couch that exudes vintage elegance and invites you to sink into its plush embrace. Hang a mesmerizing globe pendant light from the ceiling, casting a warm and enchanting glow across the room.
Adorn the walls with captivating artwork, showcasing bold geometric shapes, vibrant colors, and striking patterns that transport you to a bygone era. Allow your imagination to roam freely as you curate a collection of art deco-inspired pieces, from sleek sculptures to abstract paintings, infusing your sanctuary with a touch of avant-garde sophistication.
Let this space be a haven where you can fully immerse yourself in the artistic brilliance of the art deco movement, celebrating its timeless allure.